I love shooting weddings at the Turnbull Building here in Chattanooga. The building interior is like a blank canvas waiting for each couple to transform it into their dream wedding space. Every wedding I've shot there has been unique in its own way. When Emily and Ryan contacted me and told me that after months and months of delays, they were finally having their wedding with all of their loved ones at the Turnbull, I was so excited to see how they would make this historic building their own.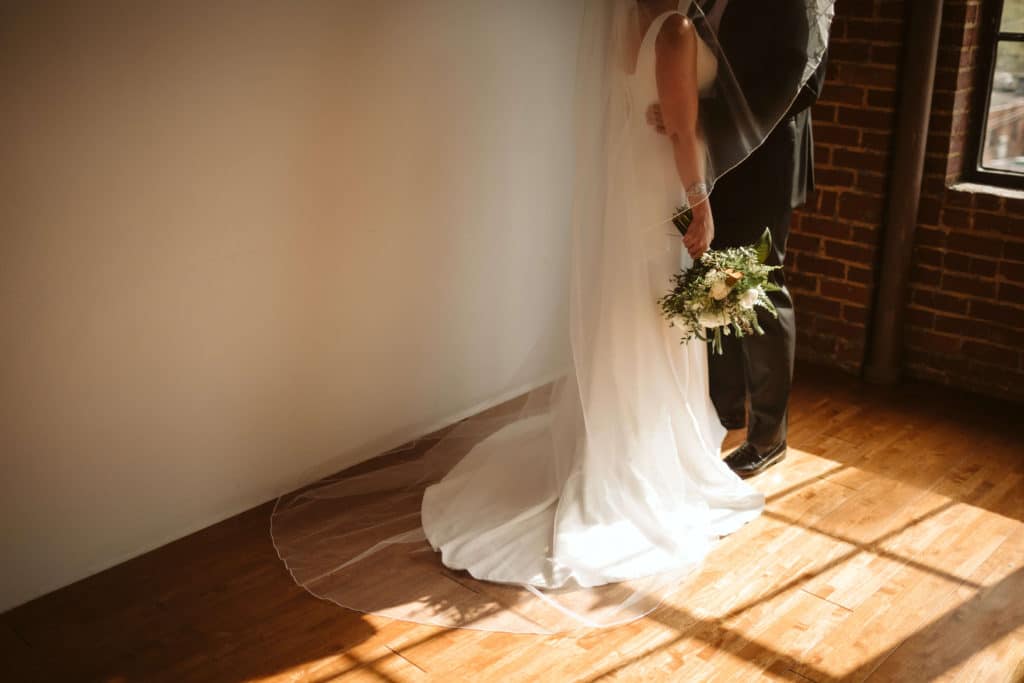 Hosting a Classic Wedding at the Turnbull Building
The Turnbull Building proved to be the perfect location for a wedding that was almost two years in the making. Situated in the beautiful heart of downtown Chattanooga, the Turnbull Building sits between the historic Southside and the riverfront. This is truly a venue designed with a party in mind. Within walking distance from hotels, parking lots, and afterparty locations, you and your guests definitely won't be short on fun and entertainment.
If you're looking to add some historic charm to your wedding, the Turnbull is the perfect place. It was once the site of the Turnbull Cone and Machine Company and is now on the National Register of Historic Places. Currently, the venue consists of the third and fourth floors of a restored warehouse loft. Tons of natural light pours in from vast windows spanning both levels while hardwood floors, exposed brick, and original wooden beams bring plenty of character to the space. The Turnbull provides a modern location that is easily dressed up and designed to match any couple's wedding style.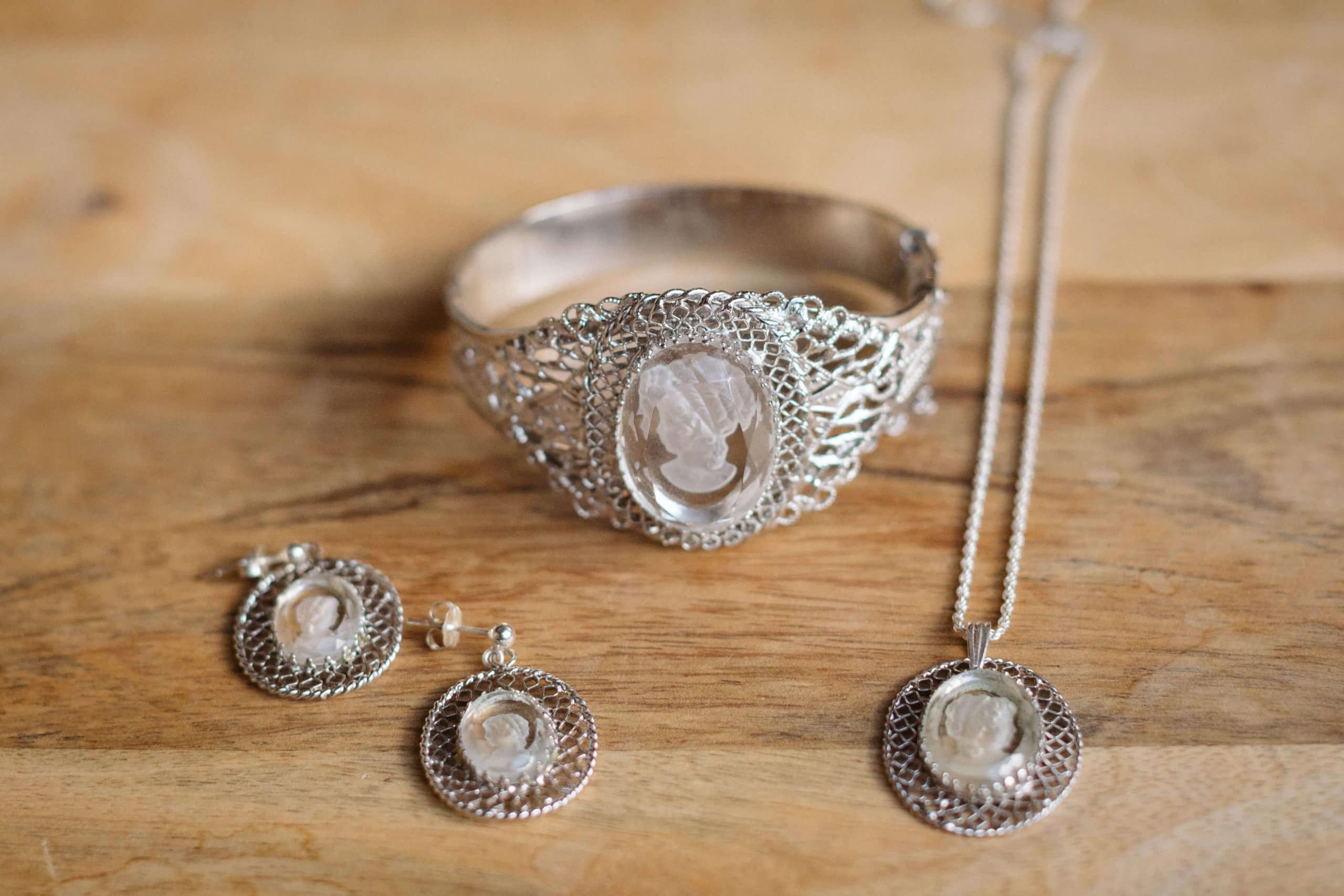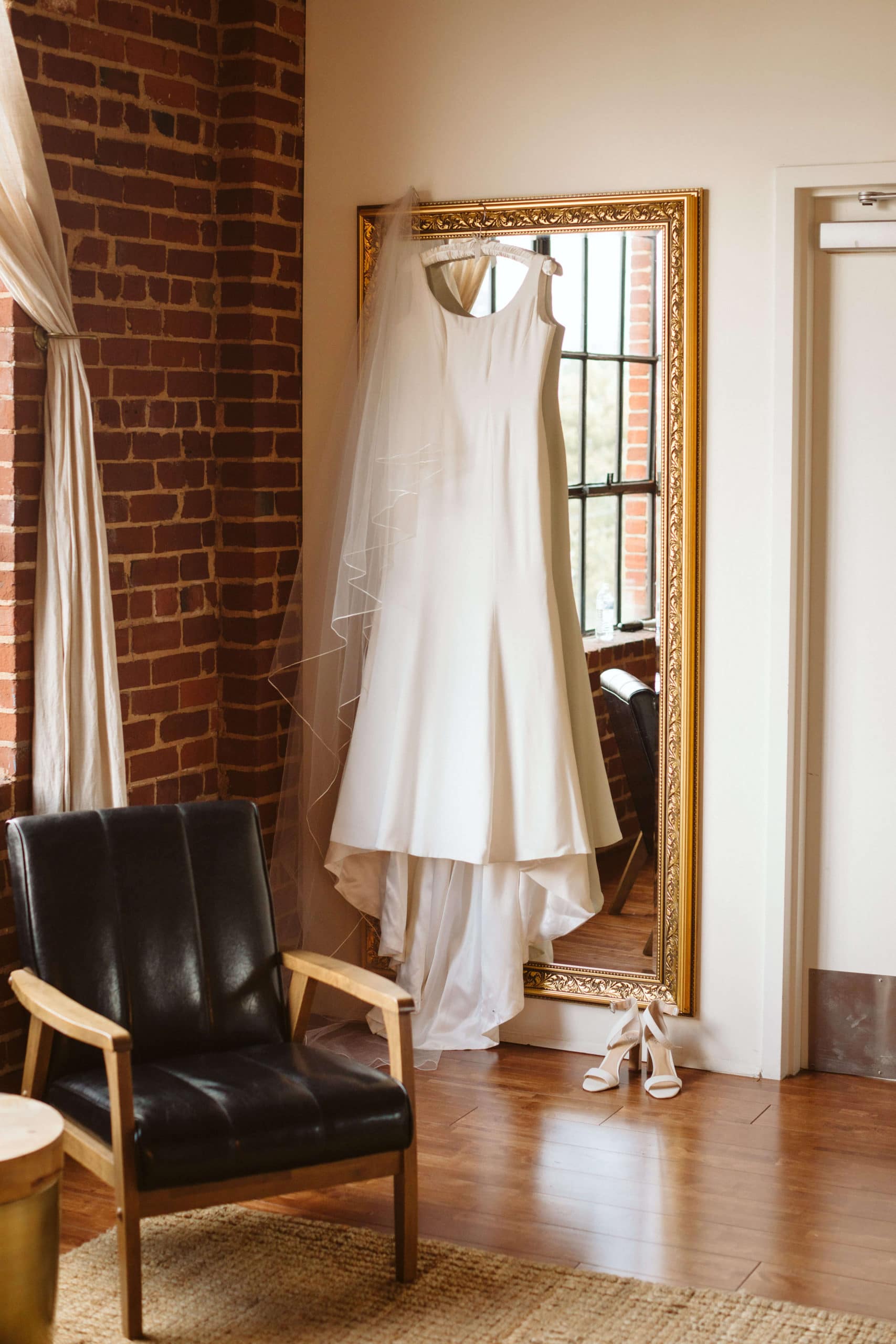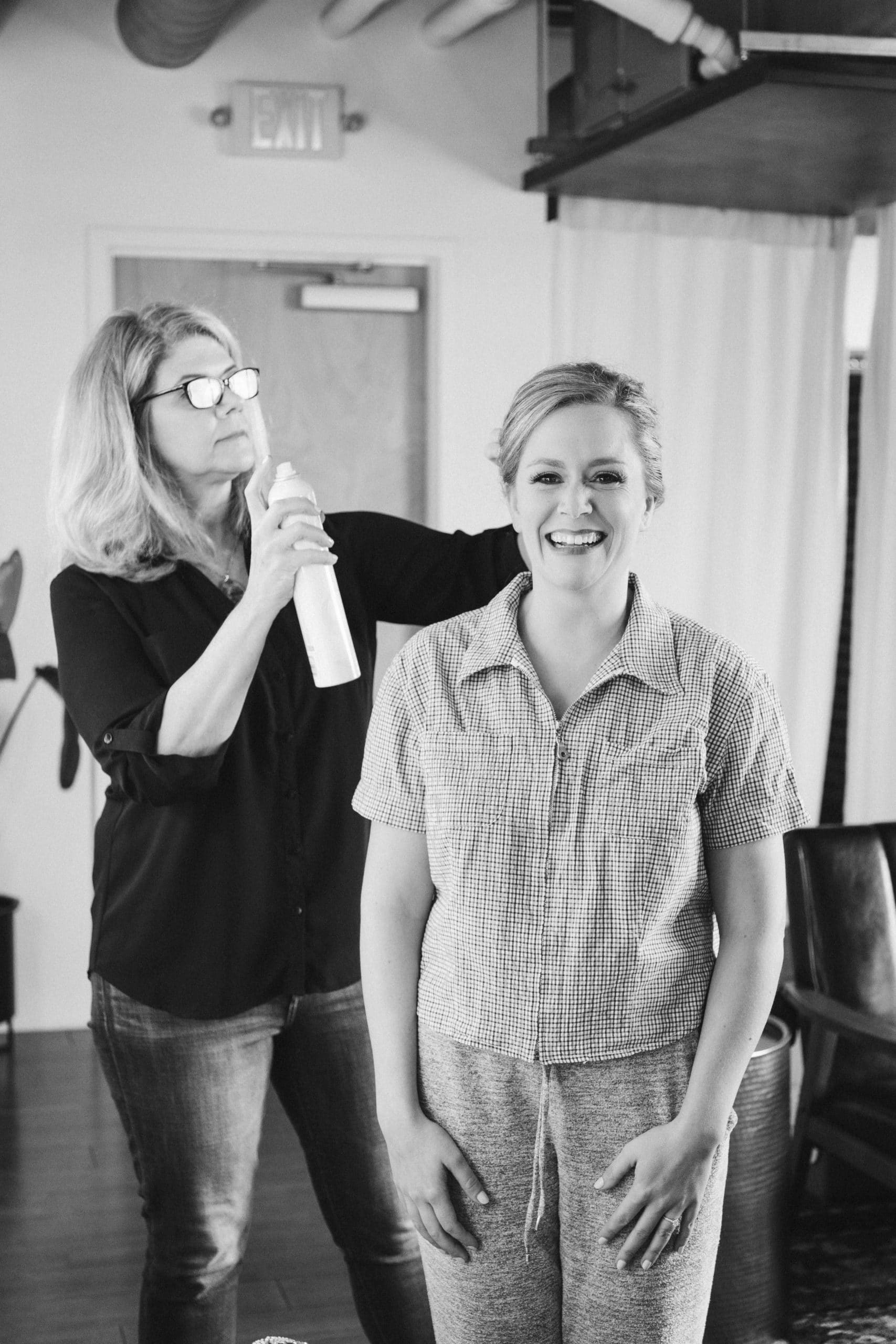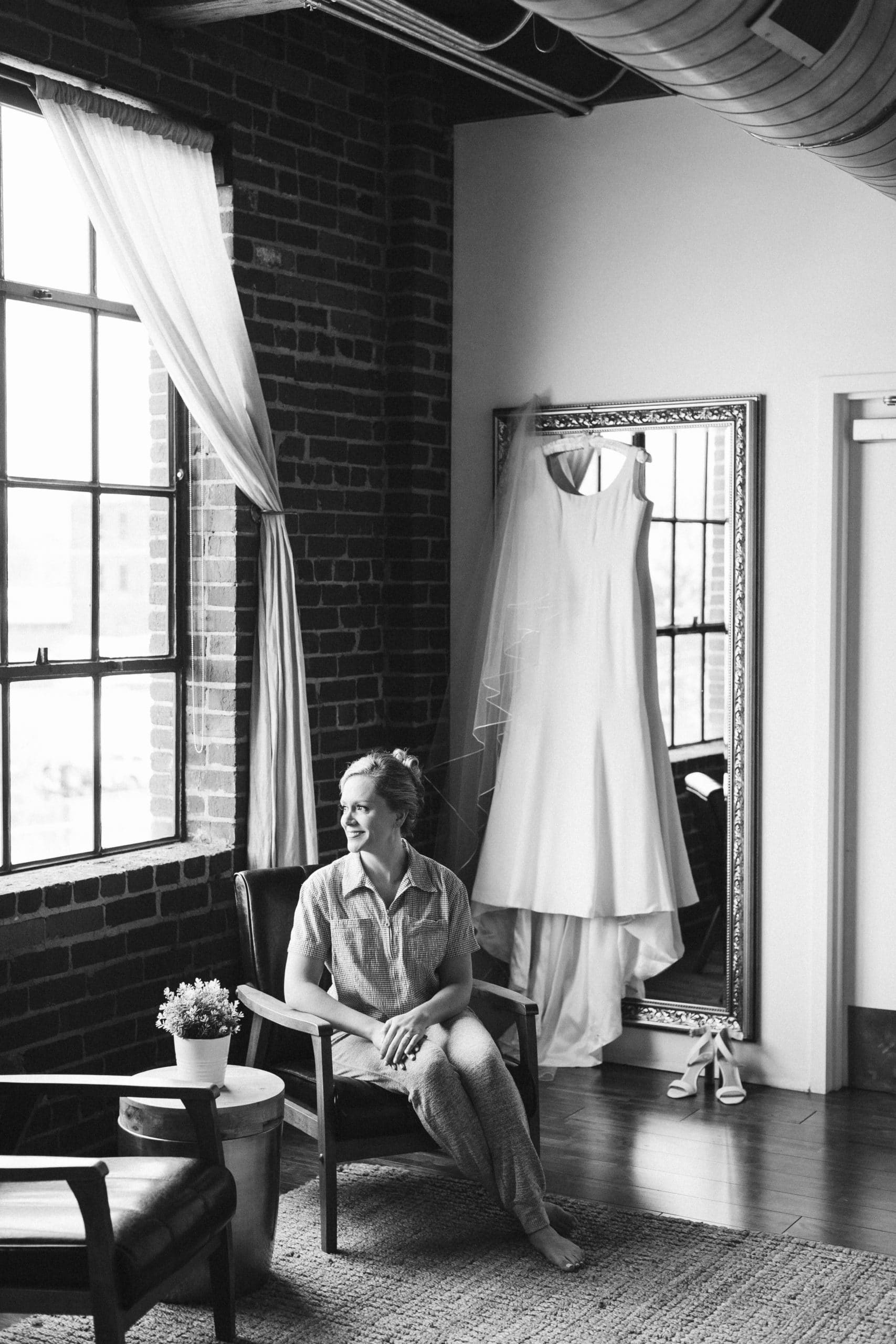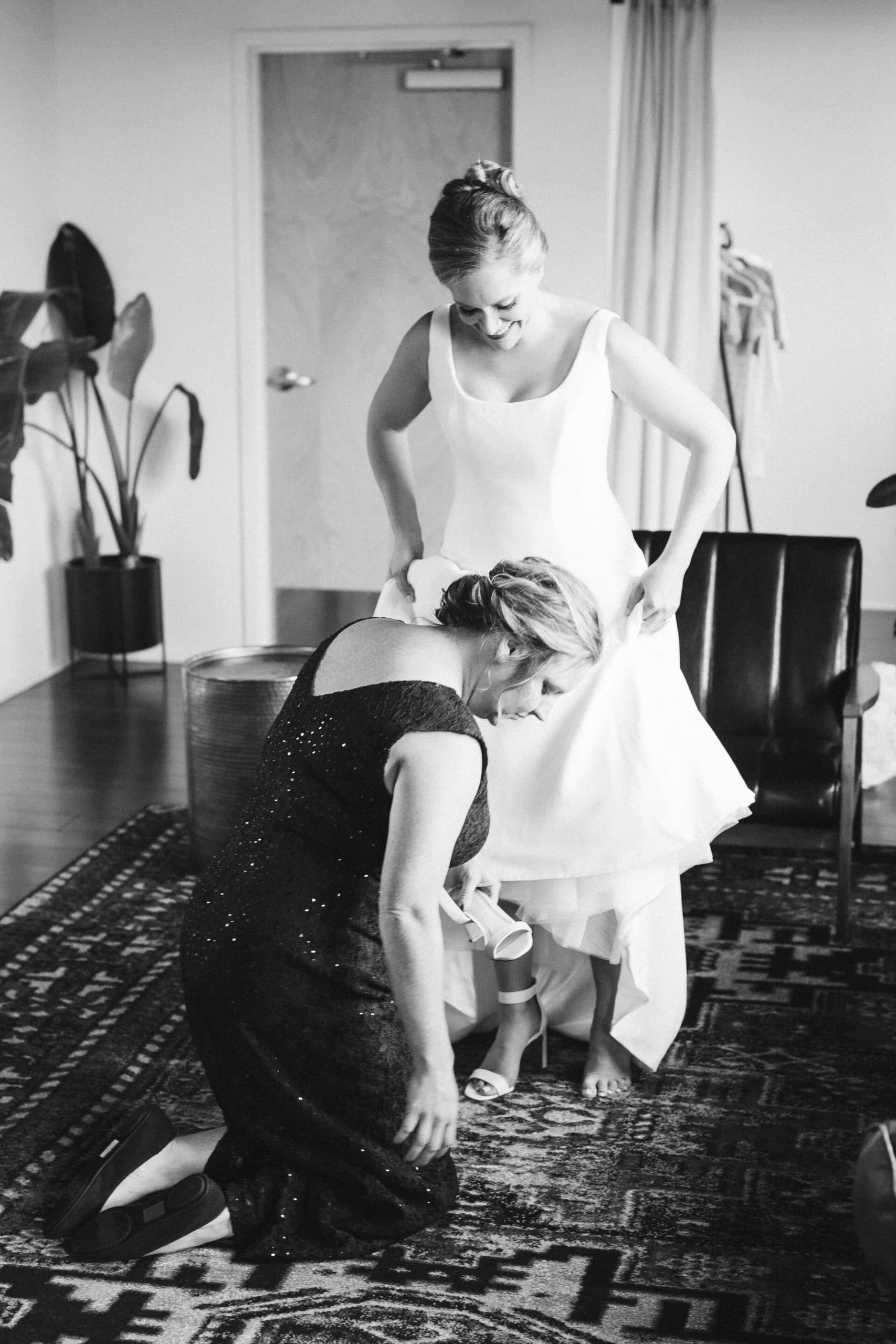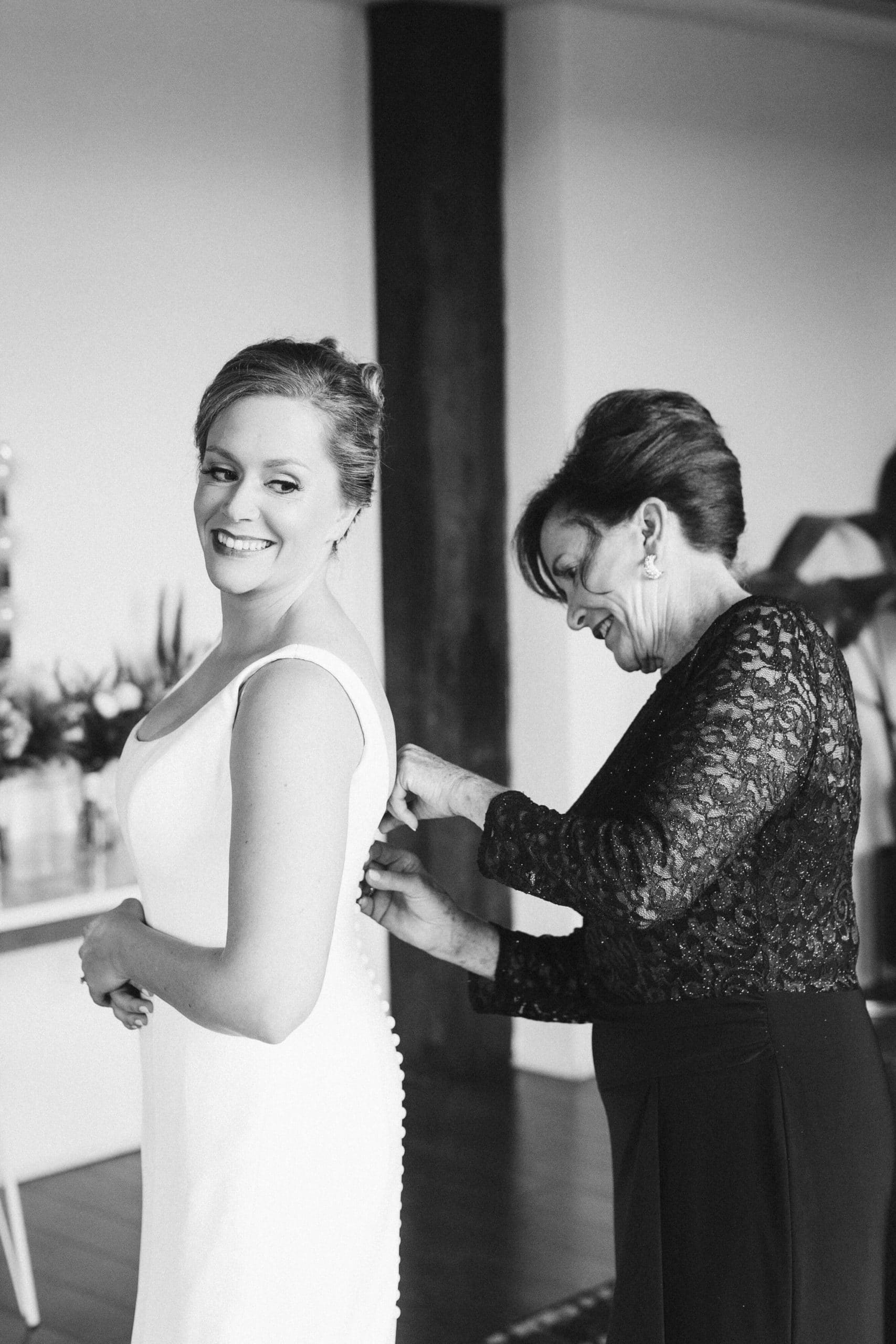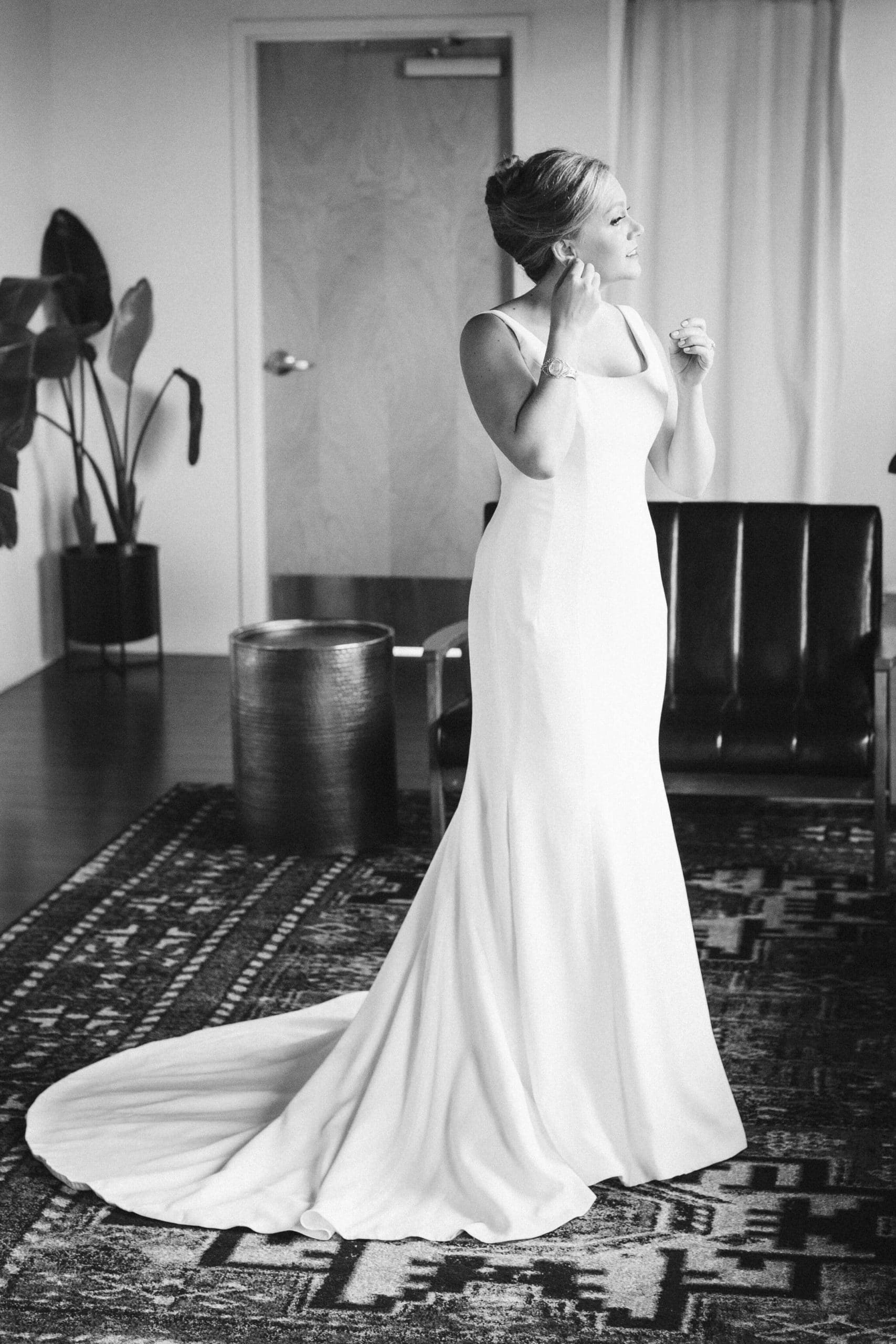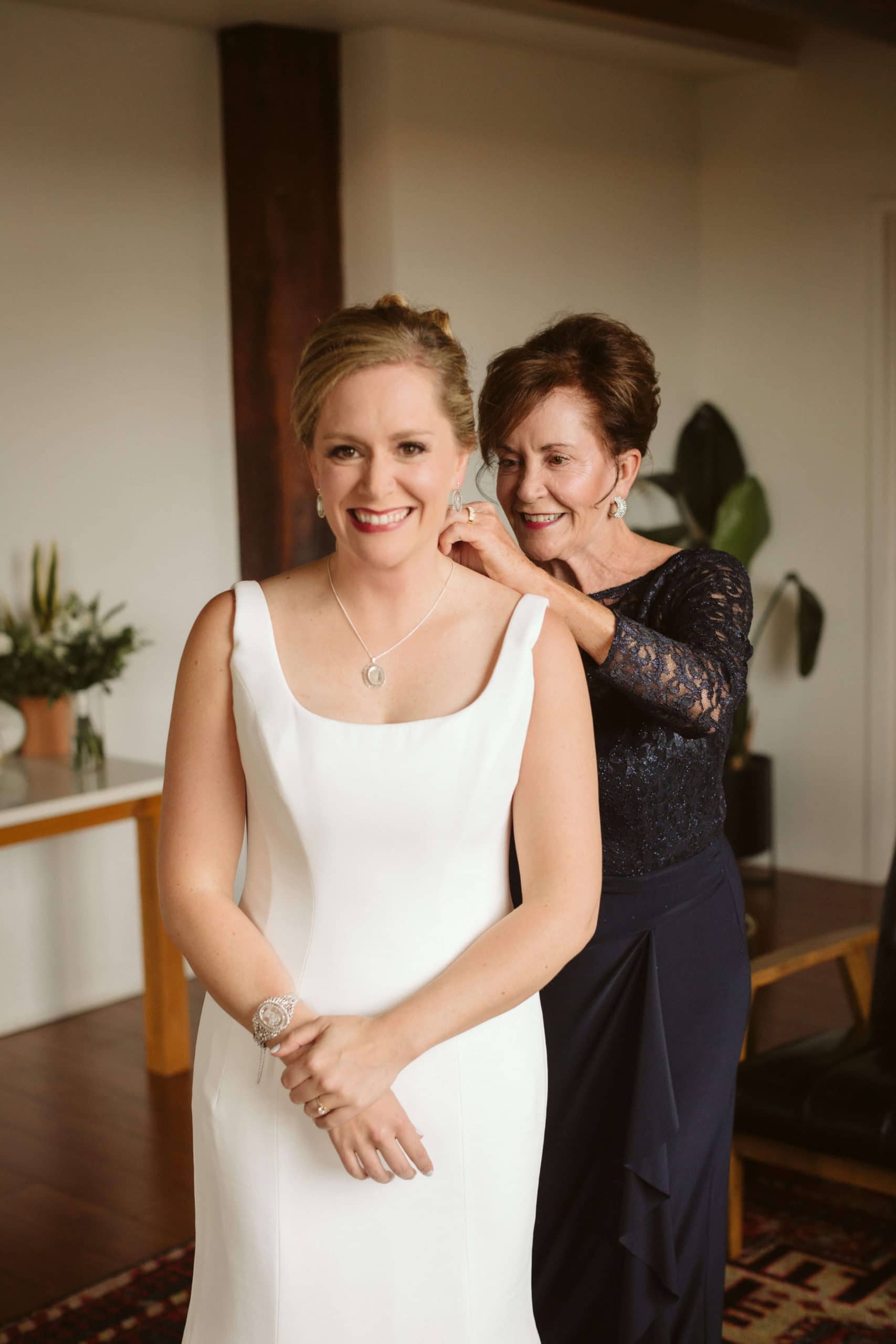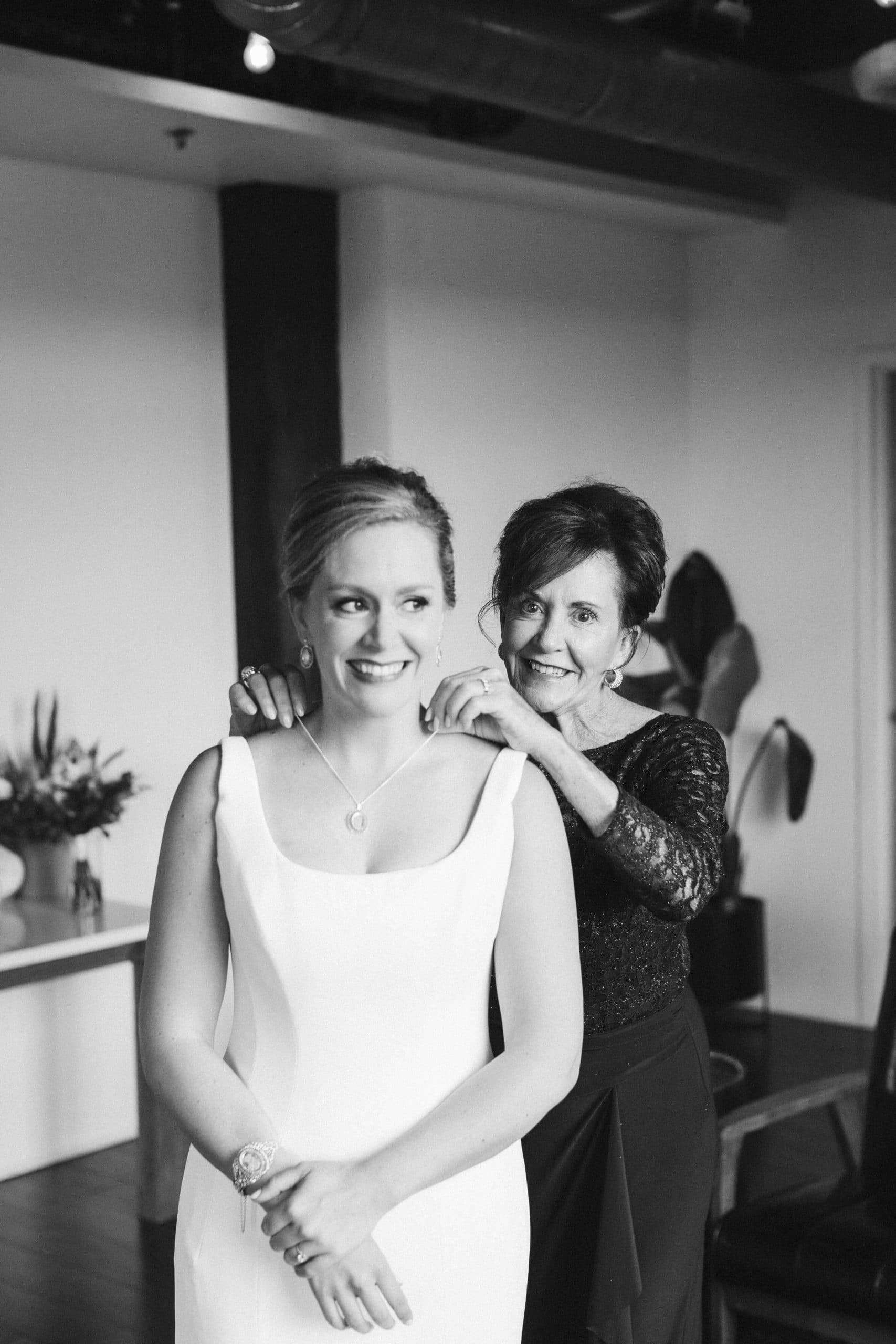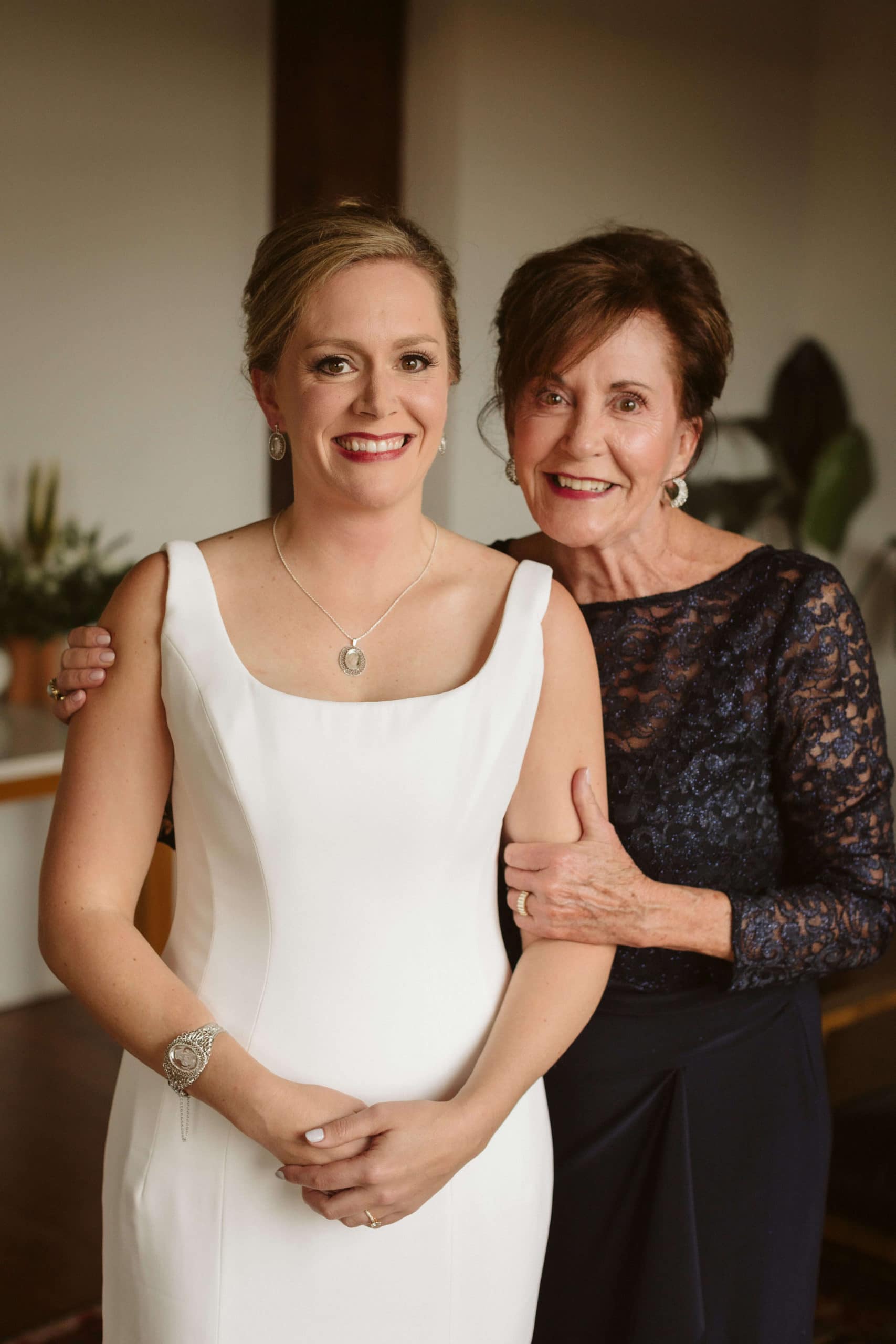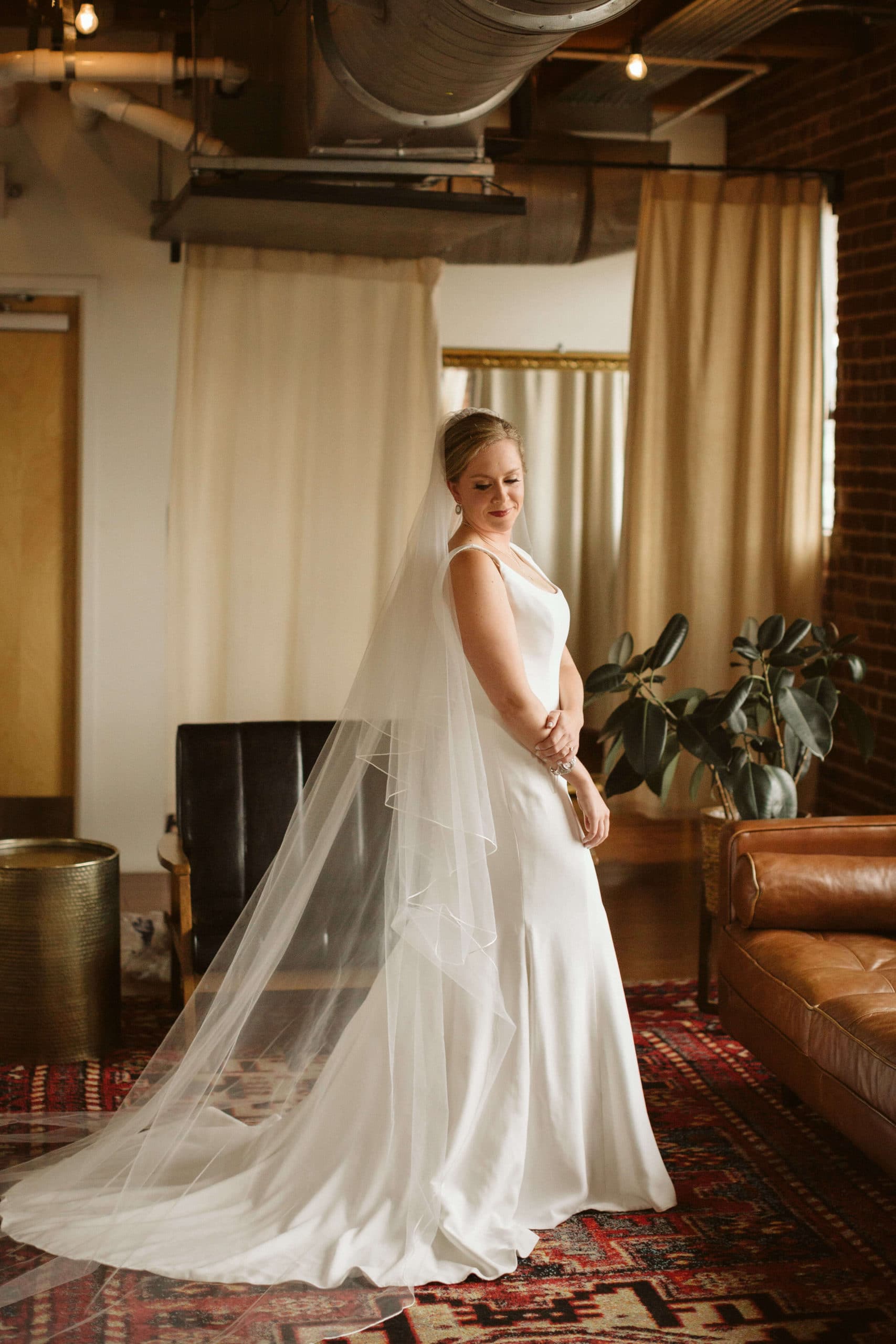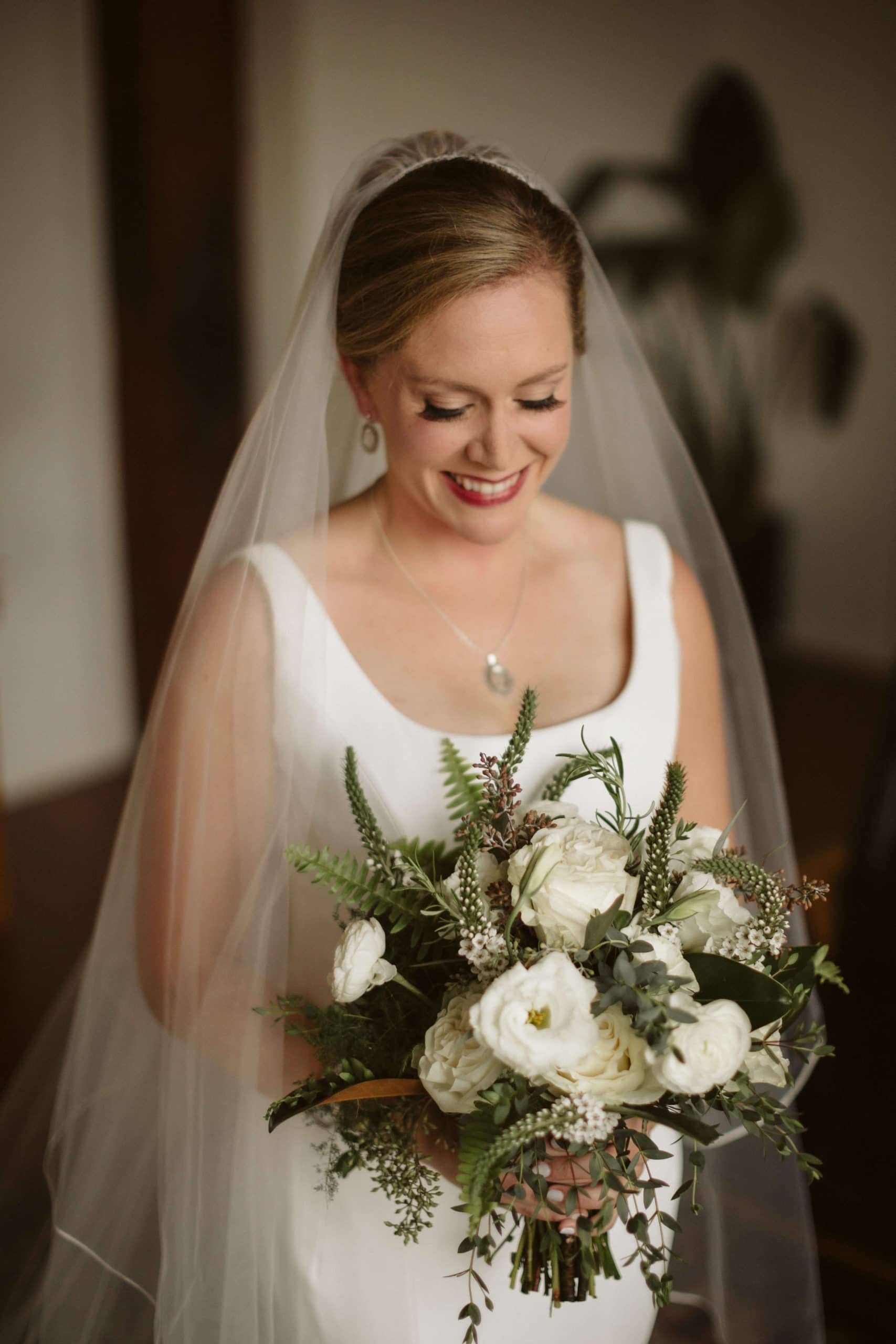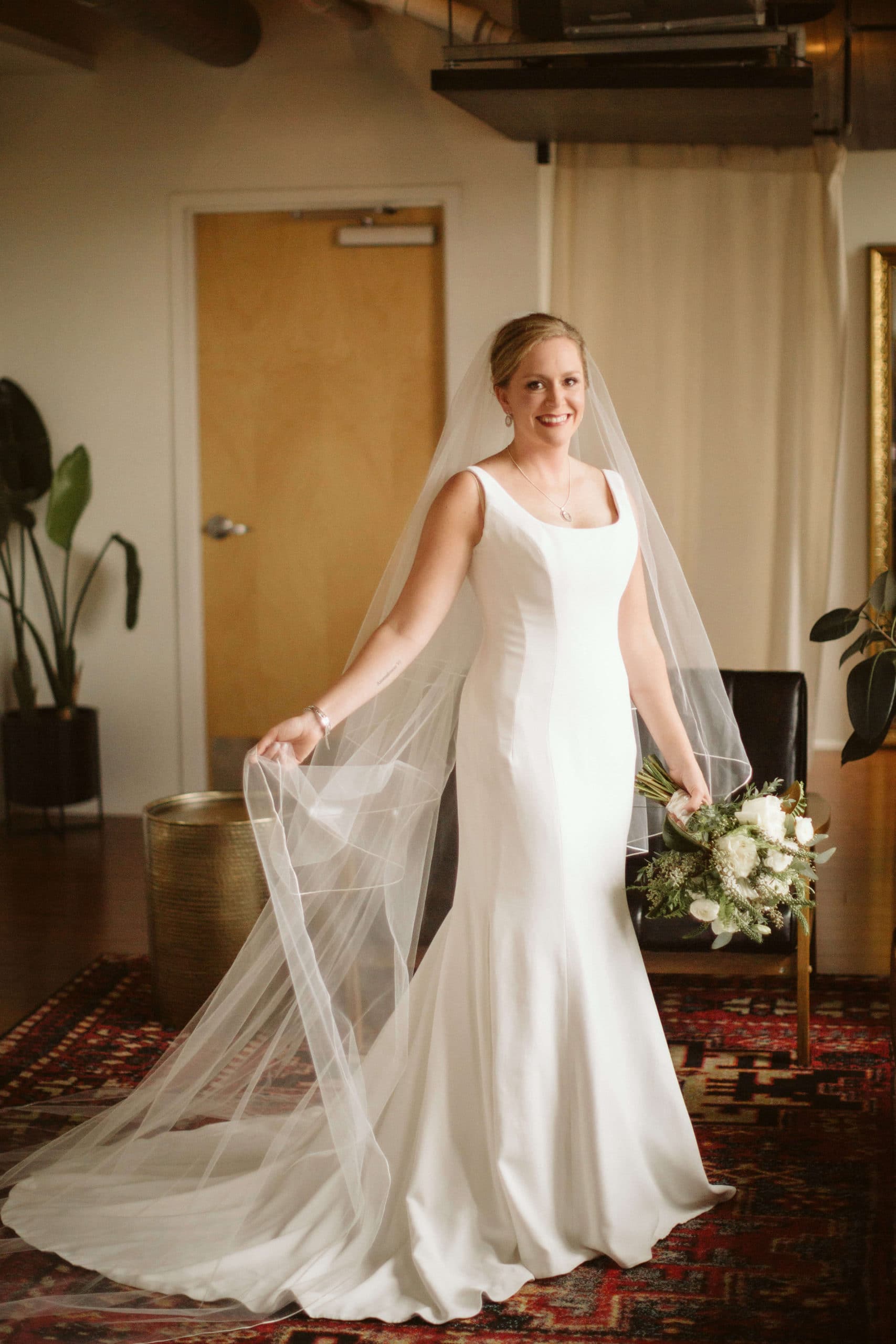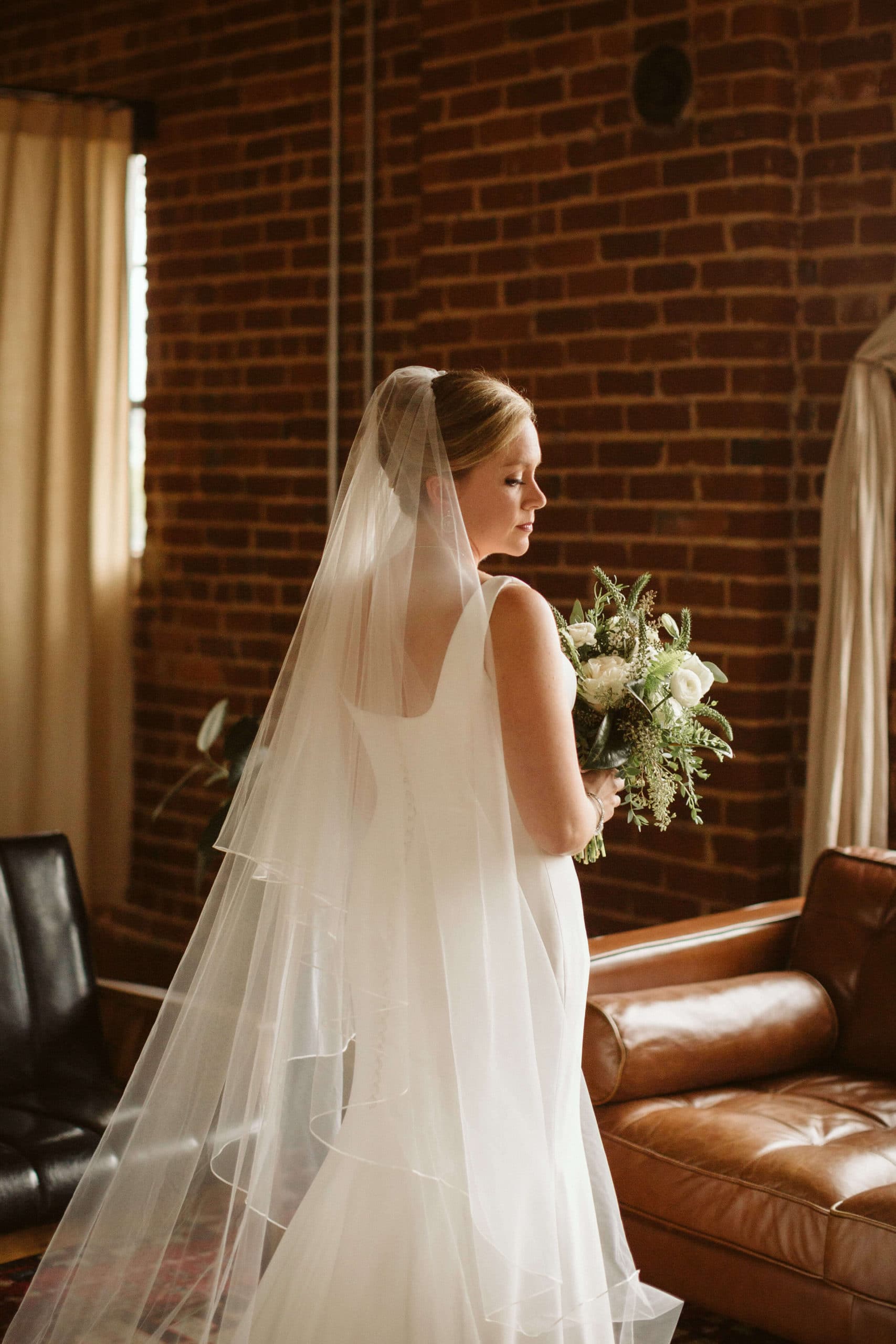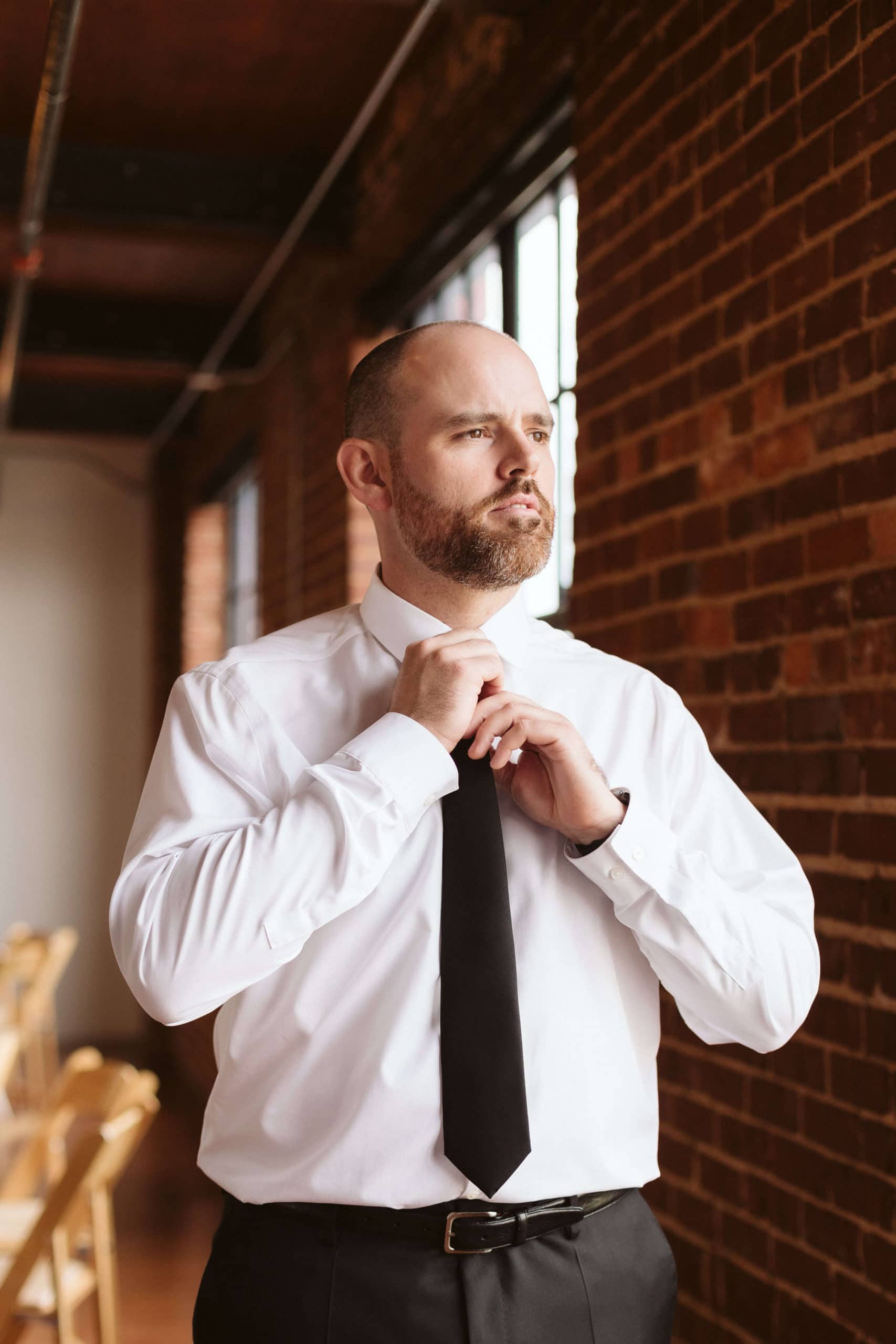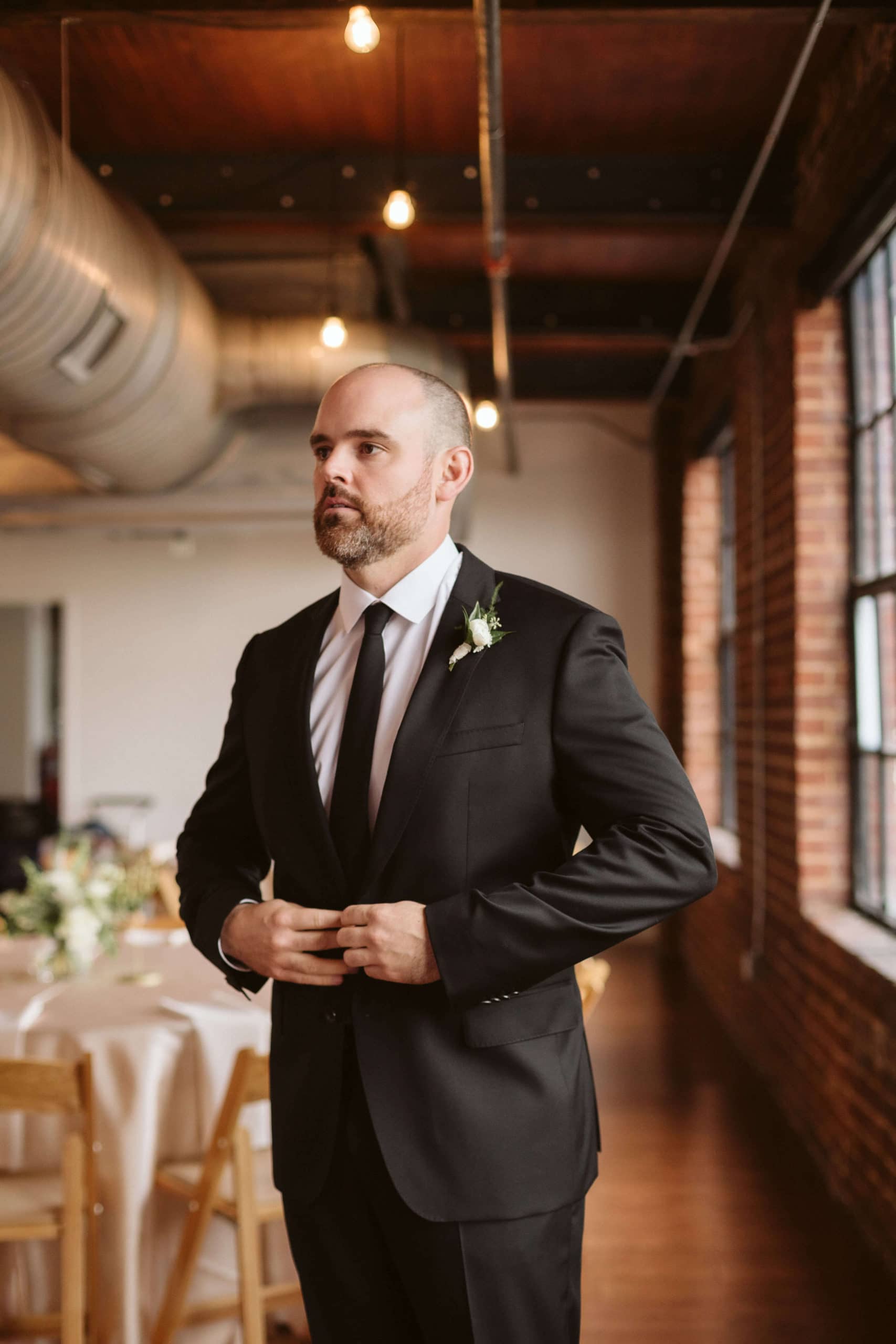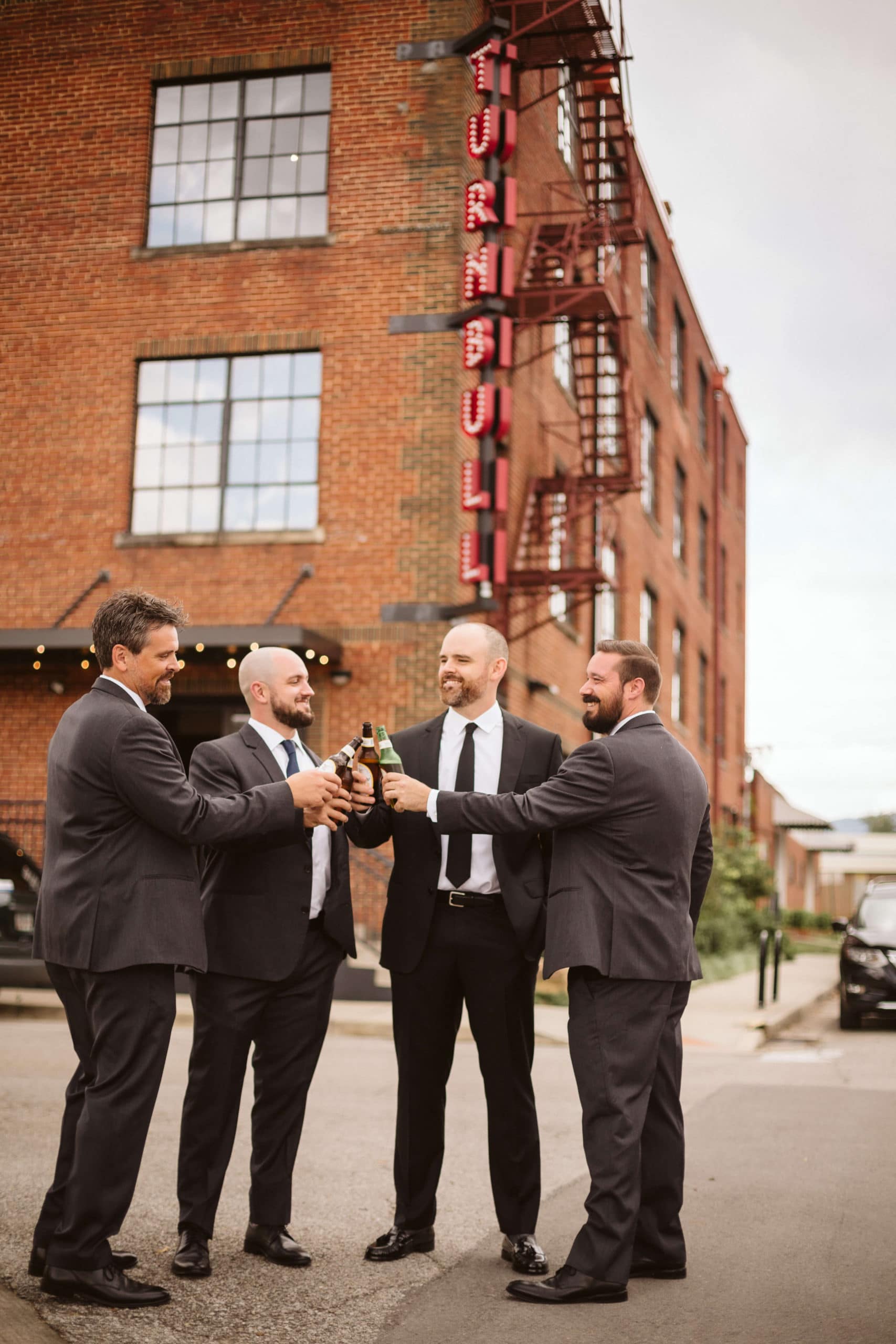 From Bumble to Bride
Just like in any feel-good romantic-comedy, Emily and Ryan had the meet-cute of a lifetime. Everything changed for New Hampshire native Ryan and new girl in town, Emily. Having moved to the state for work, Emily first met Ryan through Bumble – a fun dating app where women are empowered to make the first move. Emily had been using Bumble and trying to find love for what felt like years.
Worn down from her never-ending search for love, when she connected with Ryan, it felt like she had been on a thousand dates that led nowhere. For Ryan though, this was his first. Sparks flew and Cupid's arrow struck home. Emily had finally found The One. It's fairly safe to say that she never needed to search on Bumble ever again. The app was officially deleted from her phone way before Ryan even proposed.
Originally set to marry at the Turnbull in April 2020, Emily and Ryan were forced to change their wedding dates three times before finally being able to tie the knot. More than anything, they wanted their loved ones to be able to be there to celebrate their big day with them. Because of the pandemic, this meant waiting a ridiculously long time. However, by the time they were finally able to set a solid, official wedding date, based on their sweet, tender first look all the way to the wild, crazy fun on the dance floor, all that waiting was worth it in the end.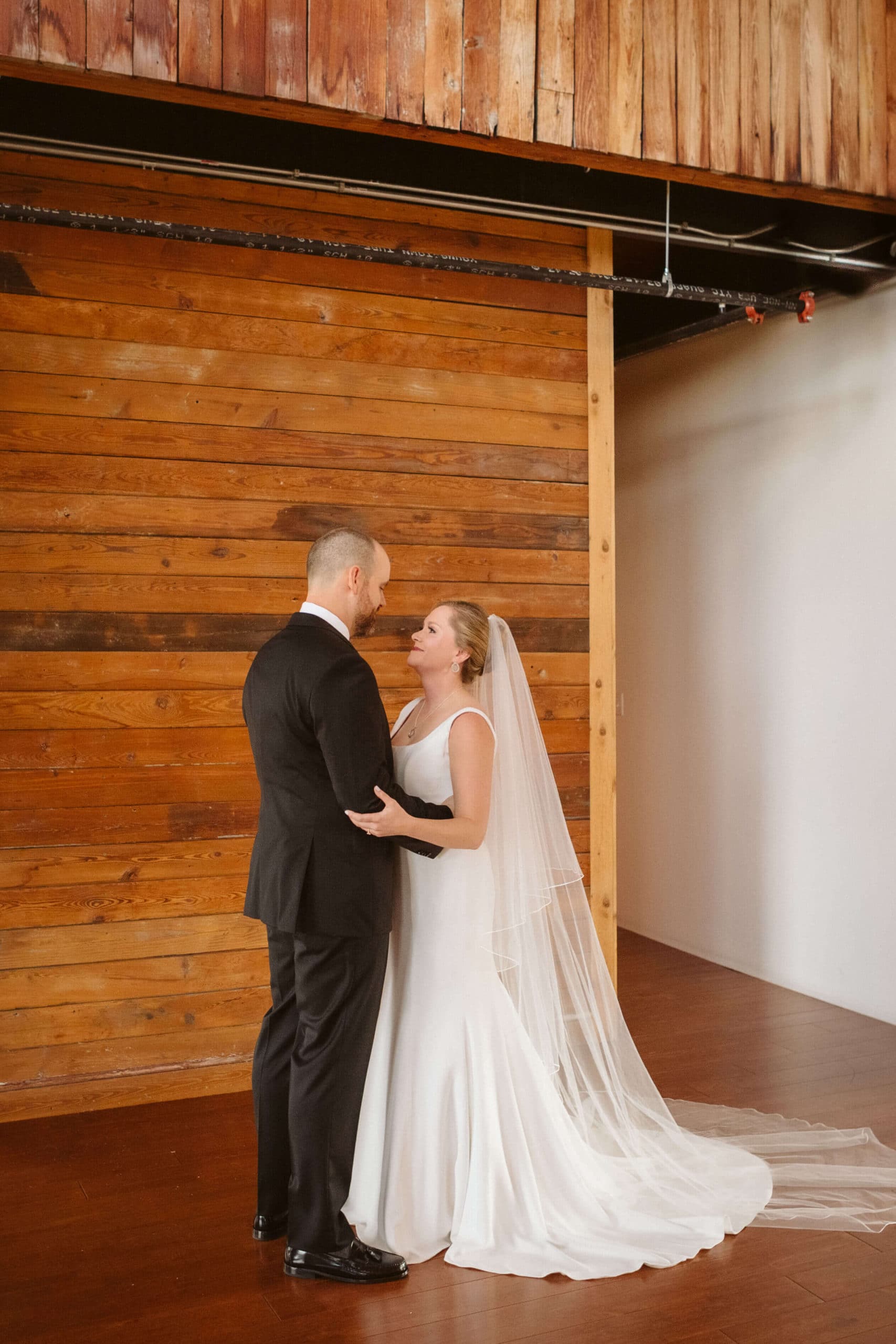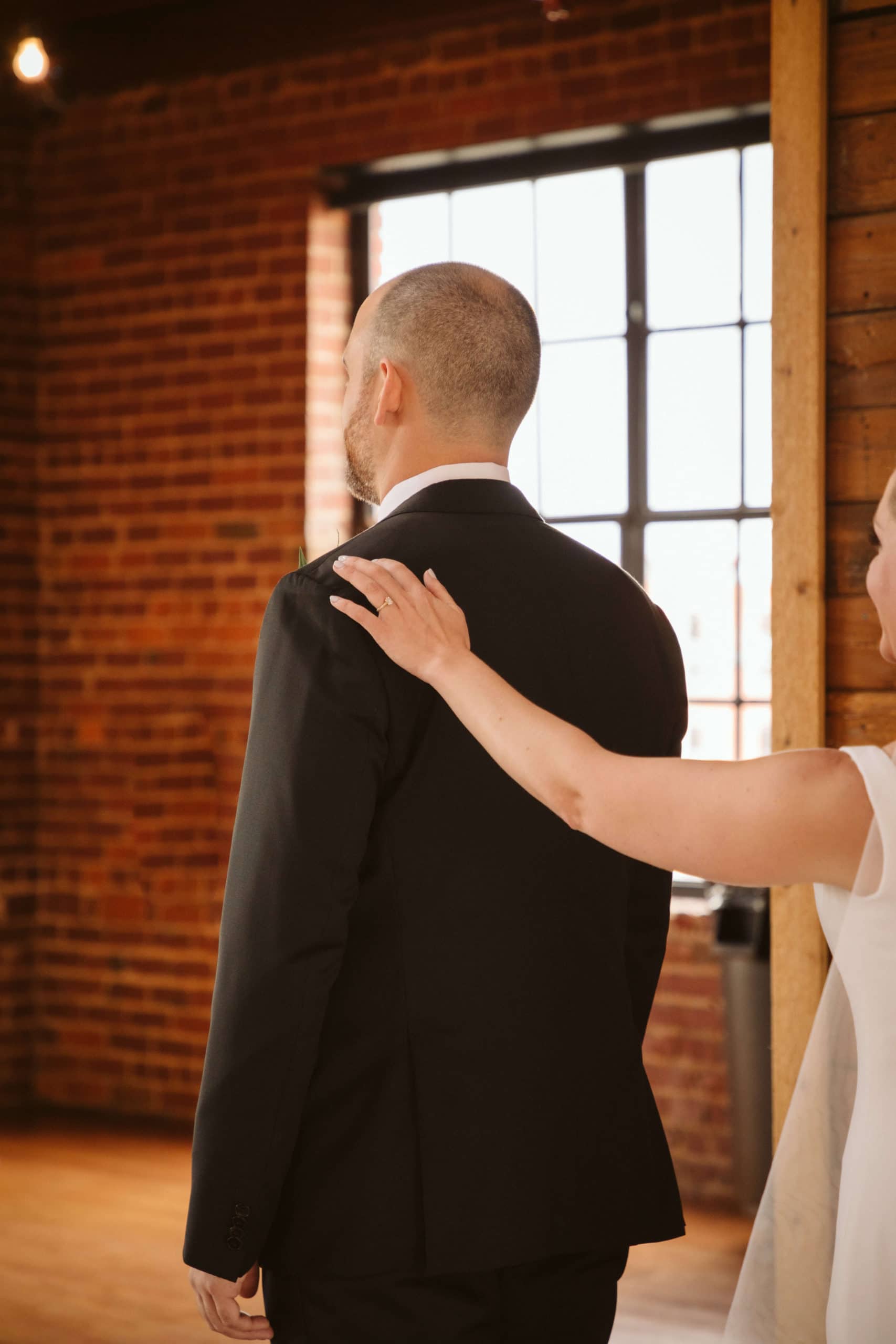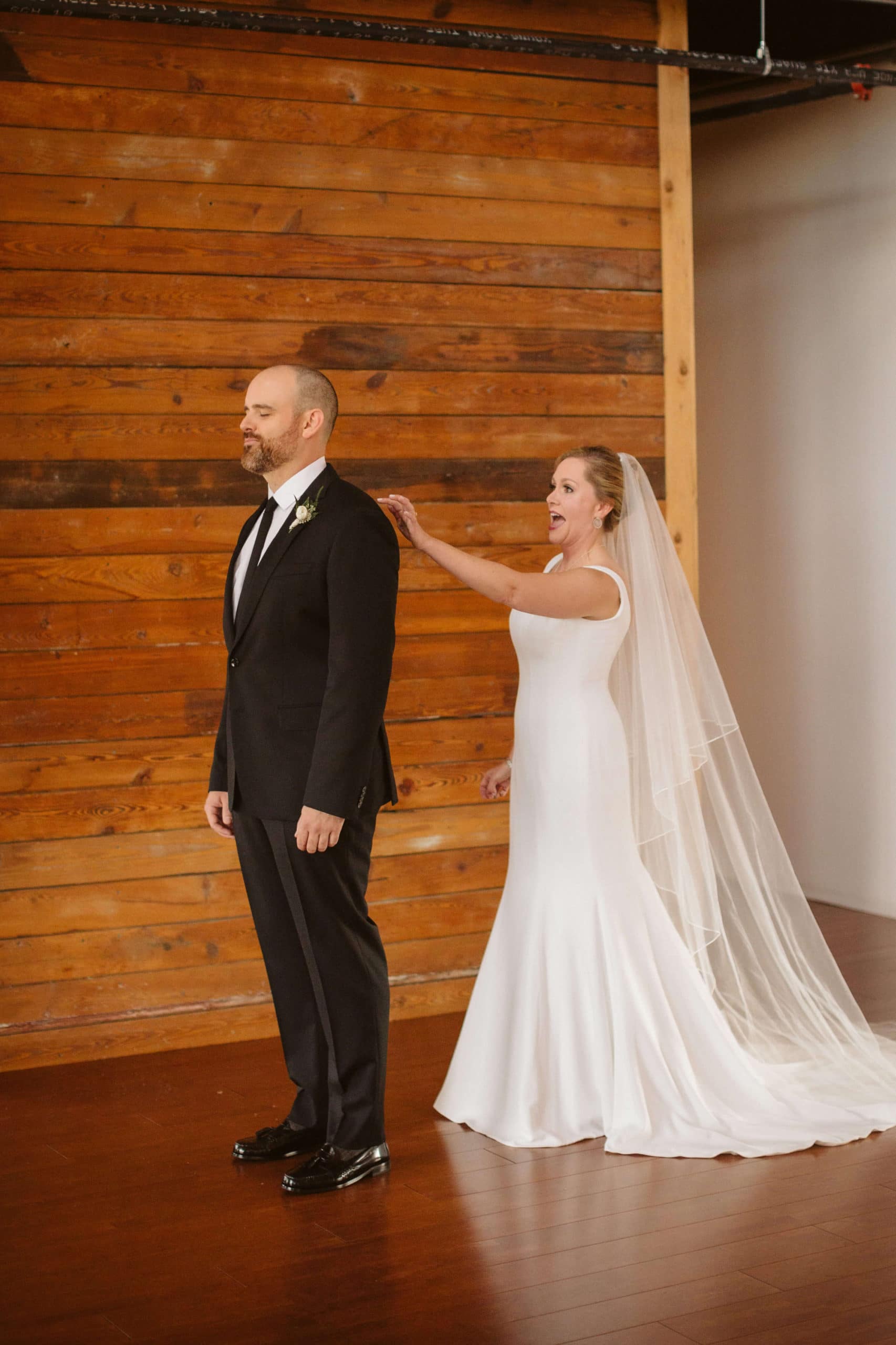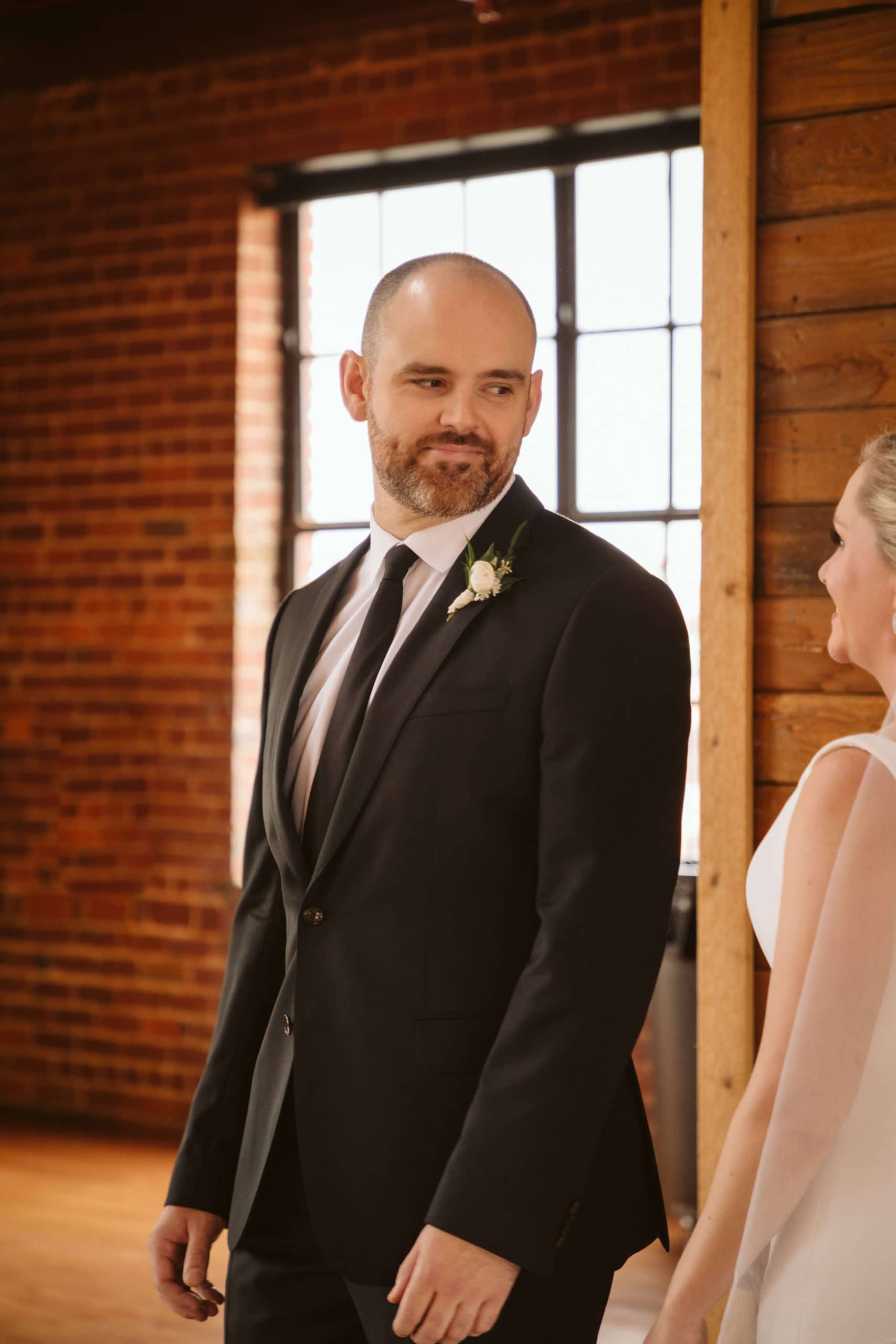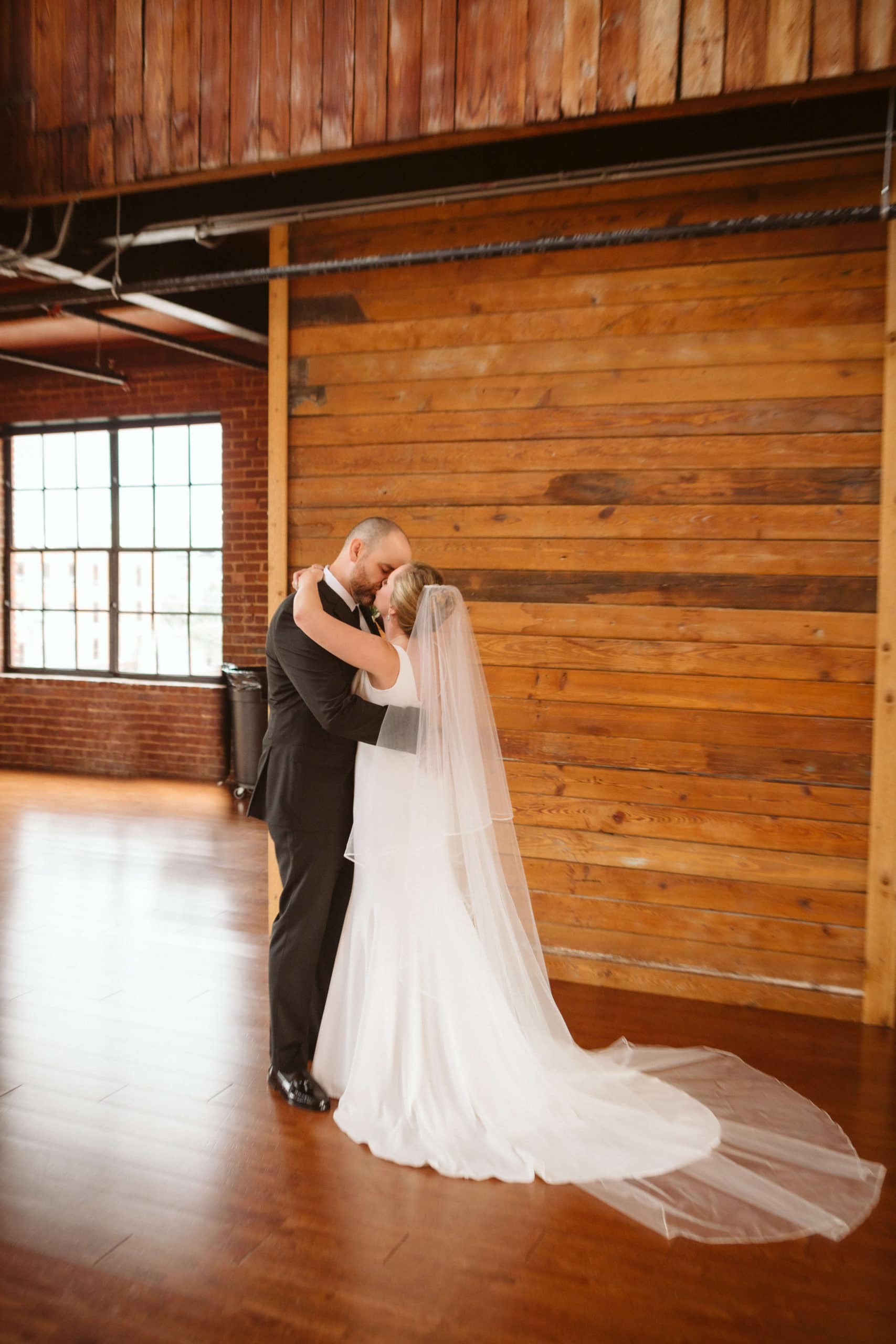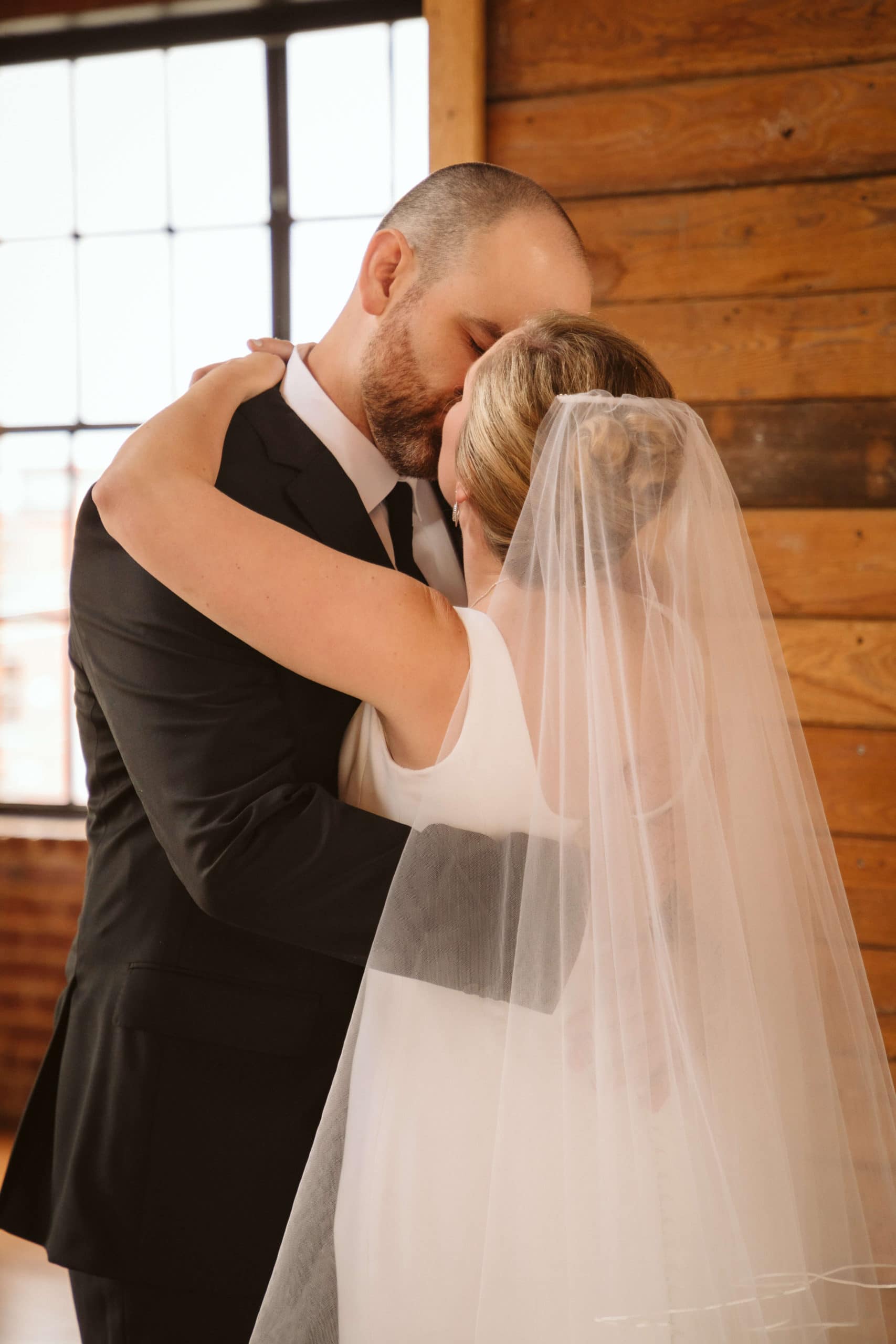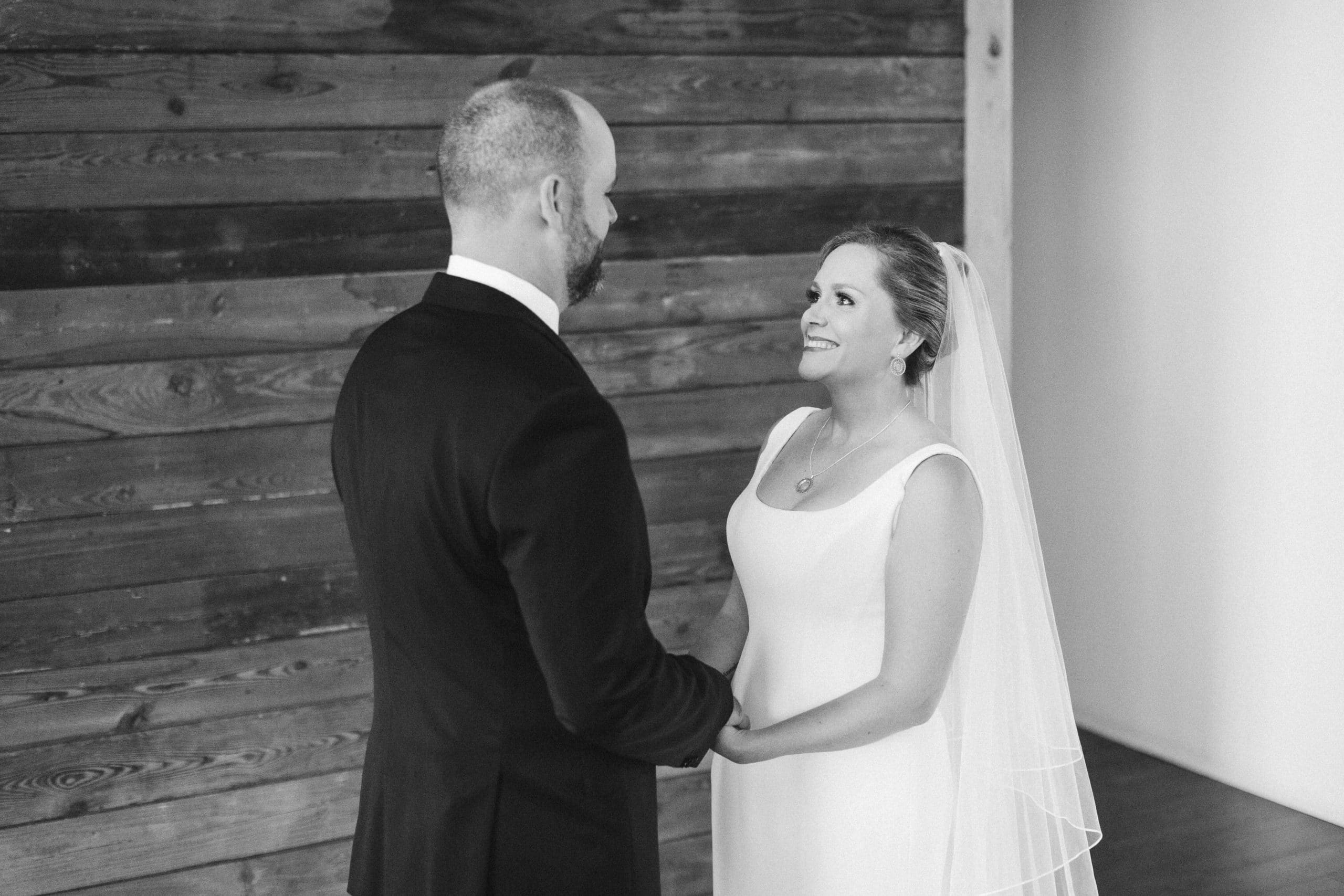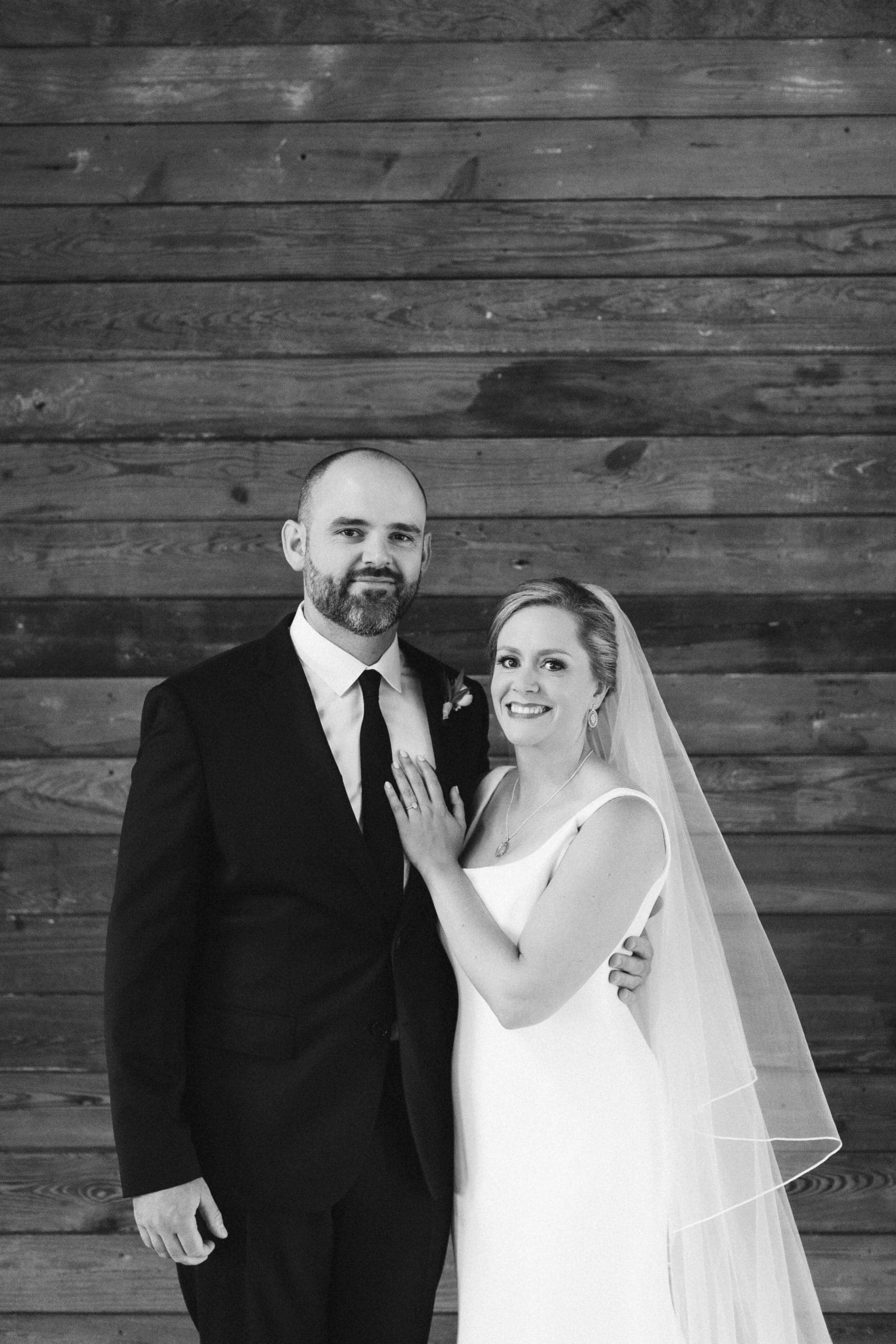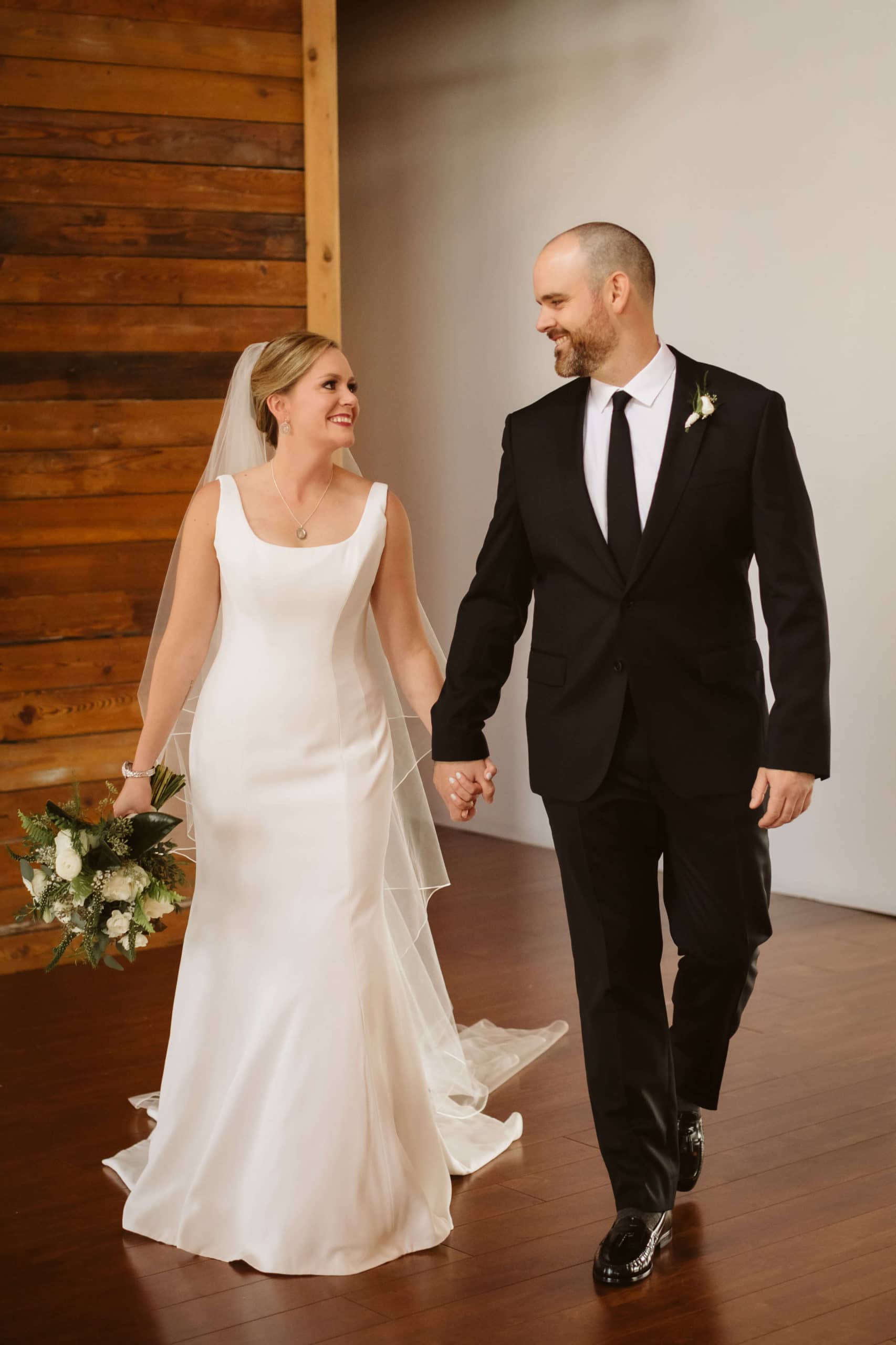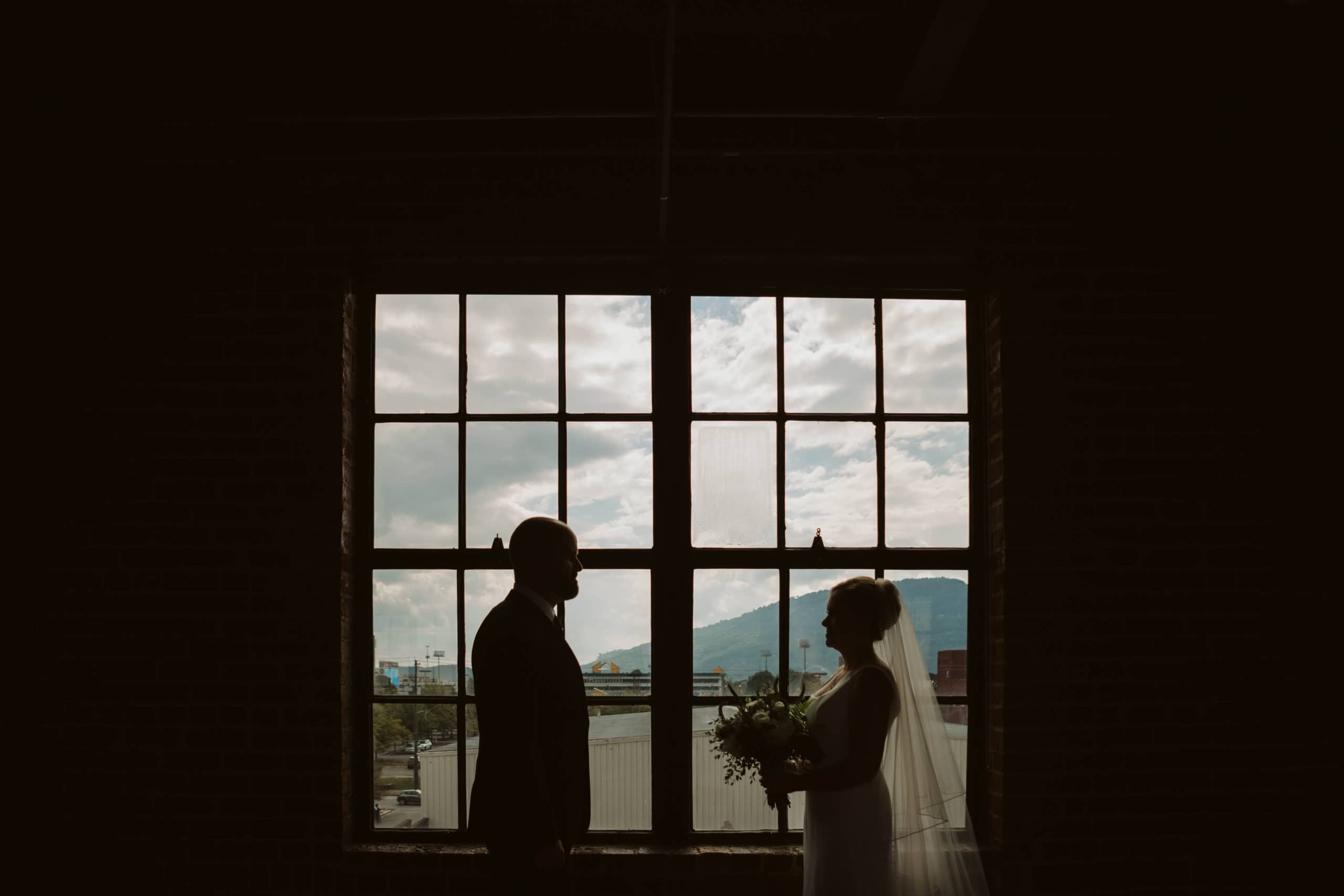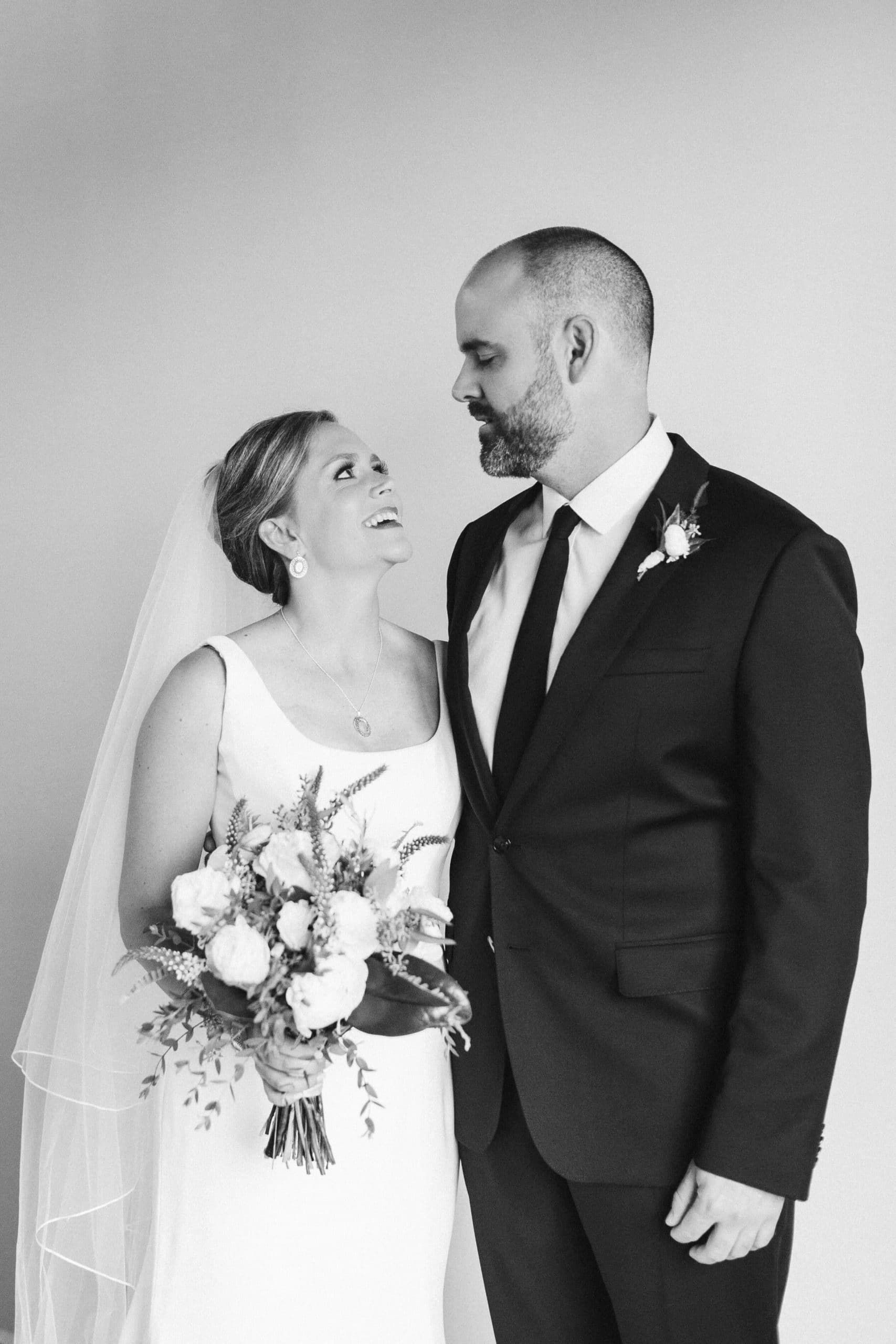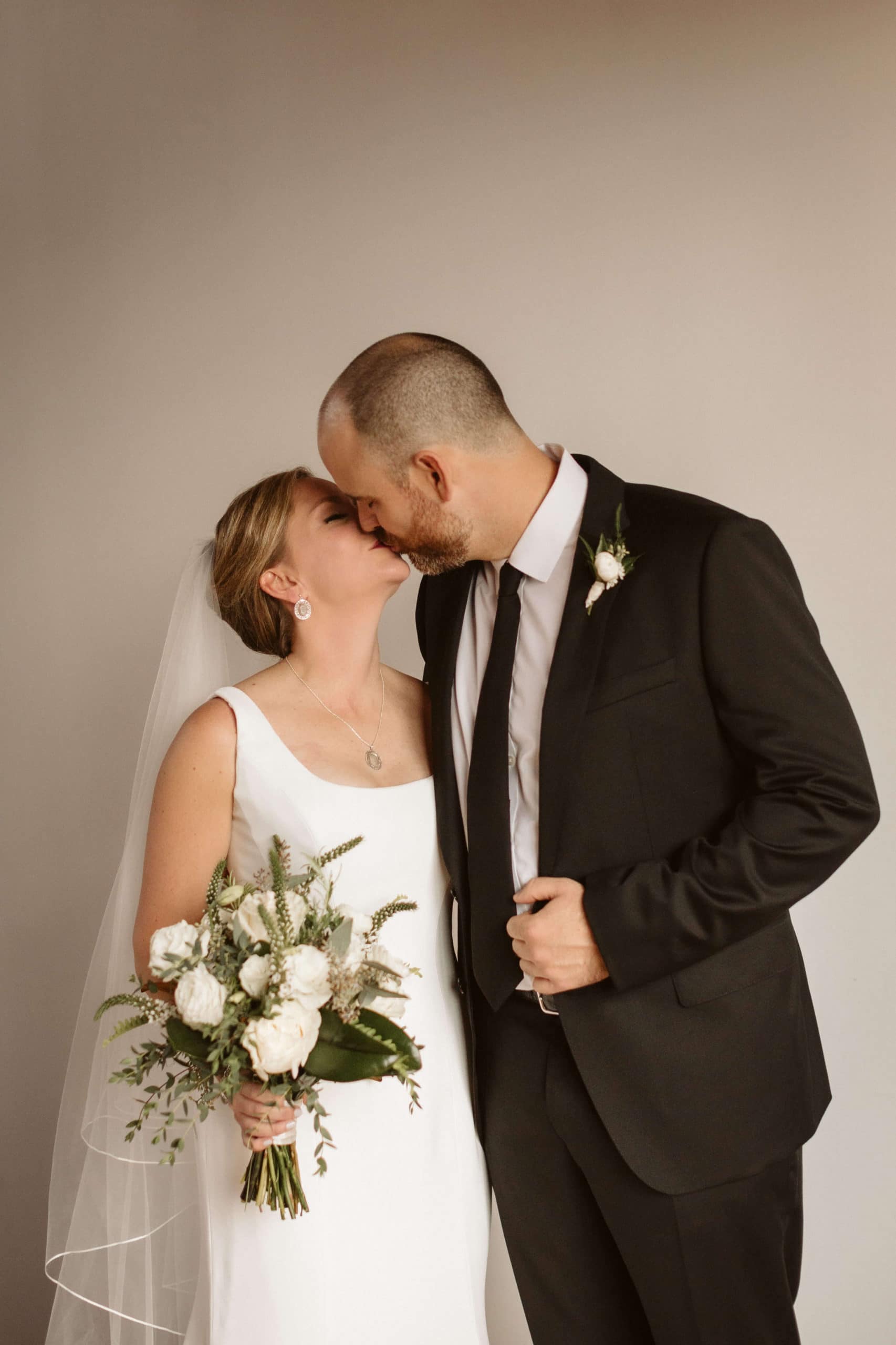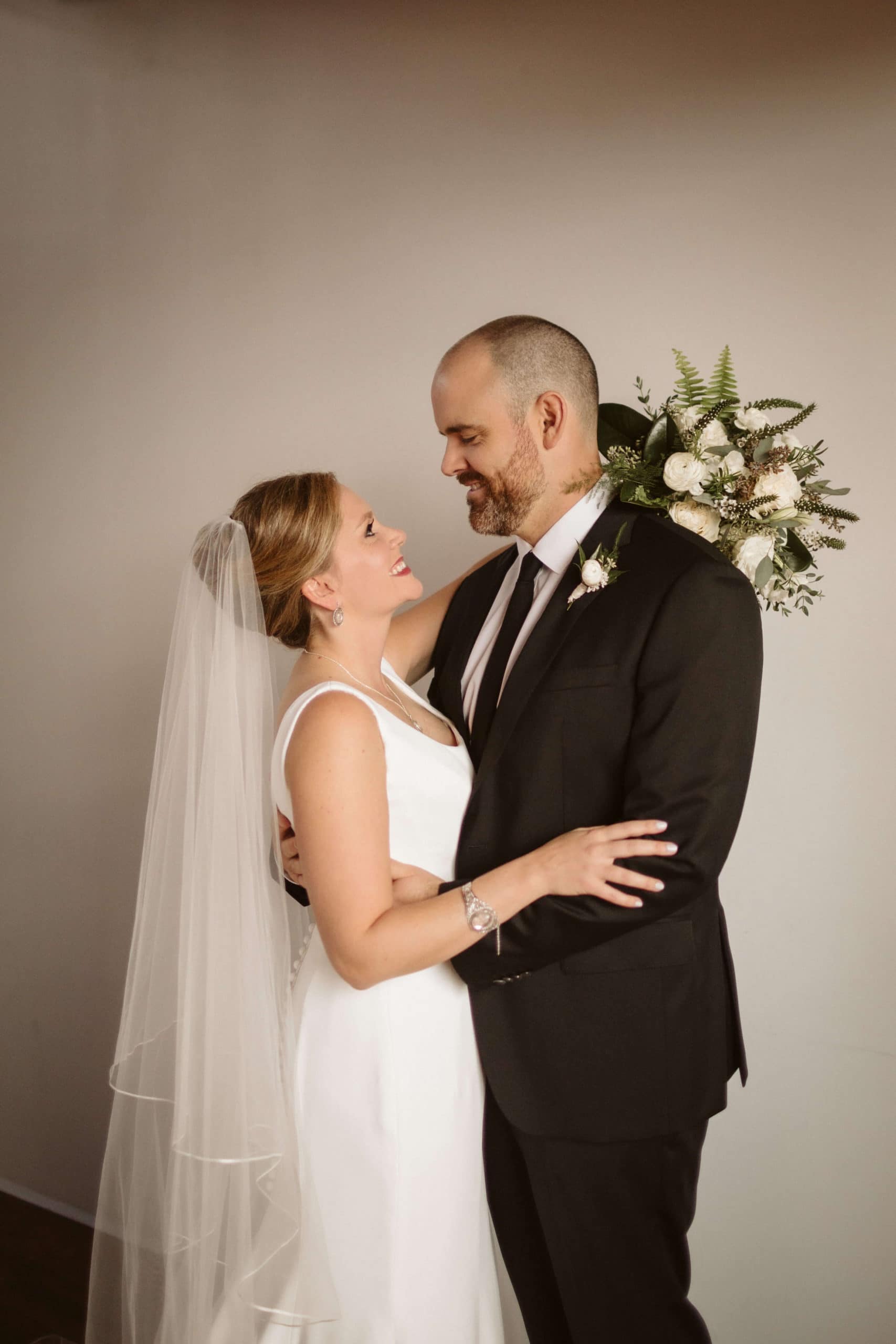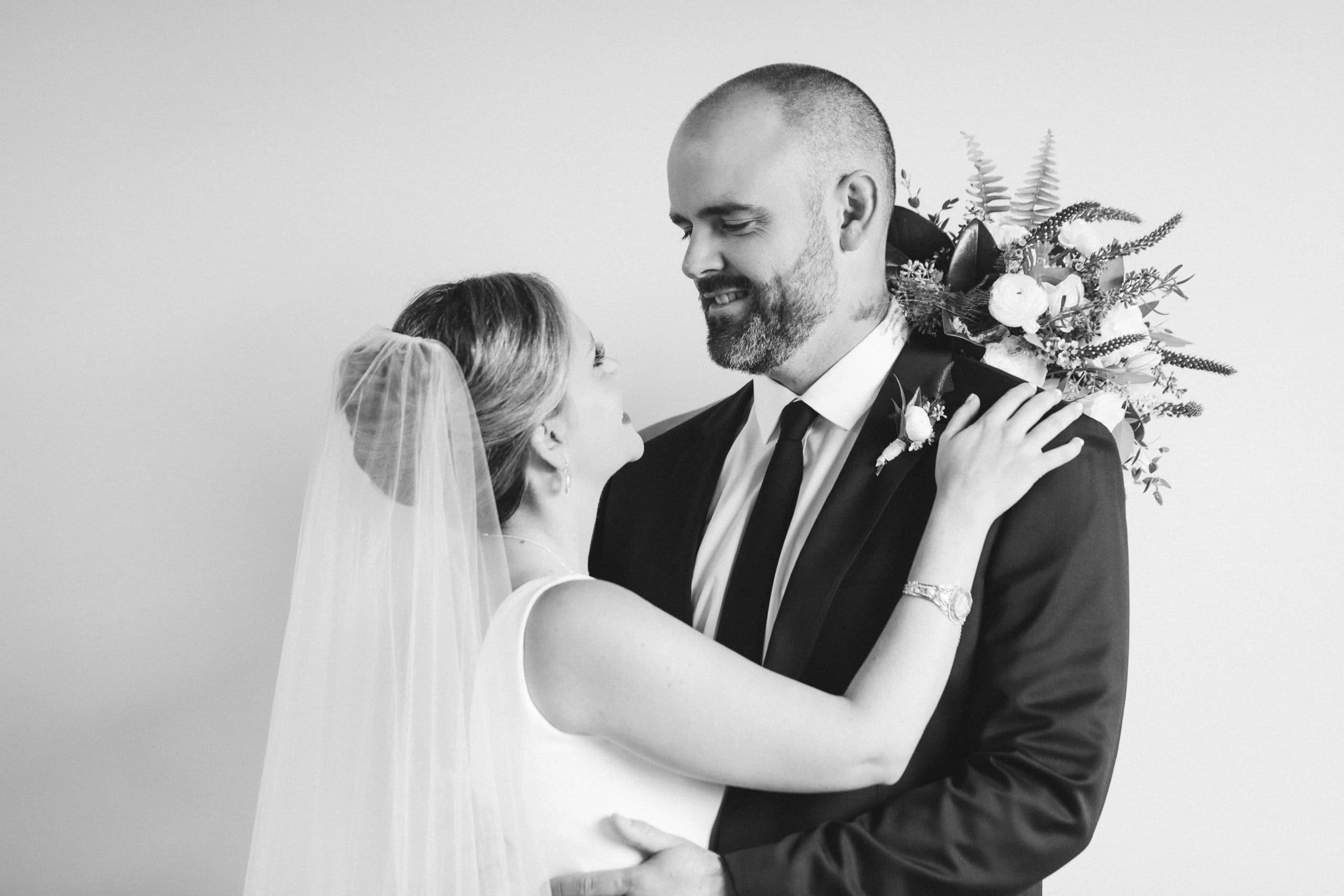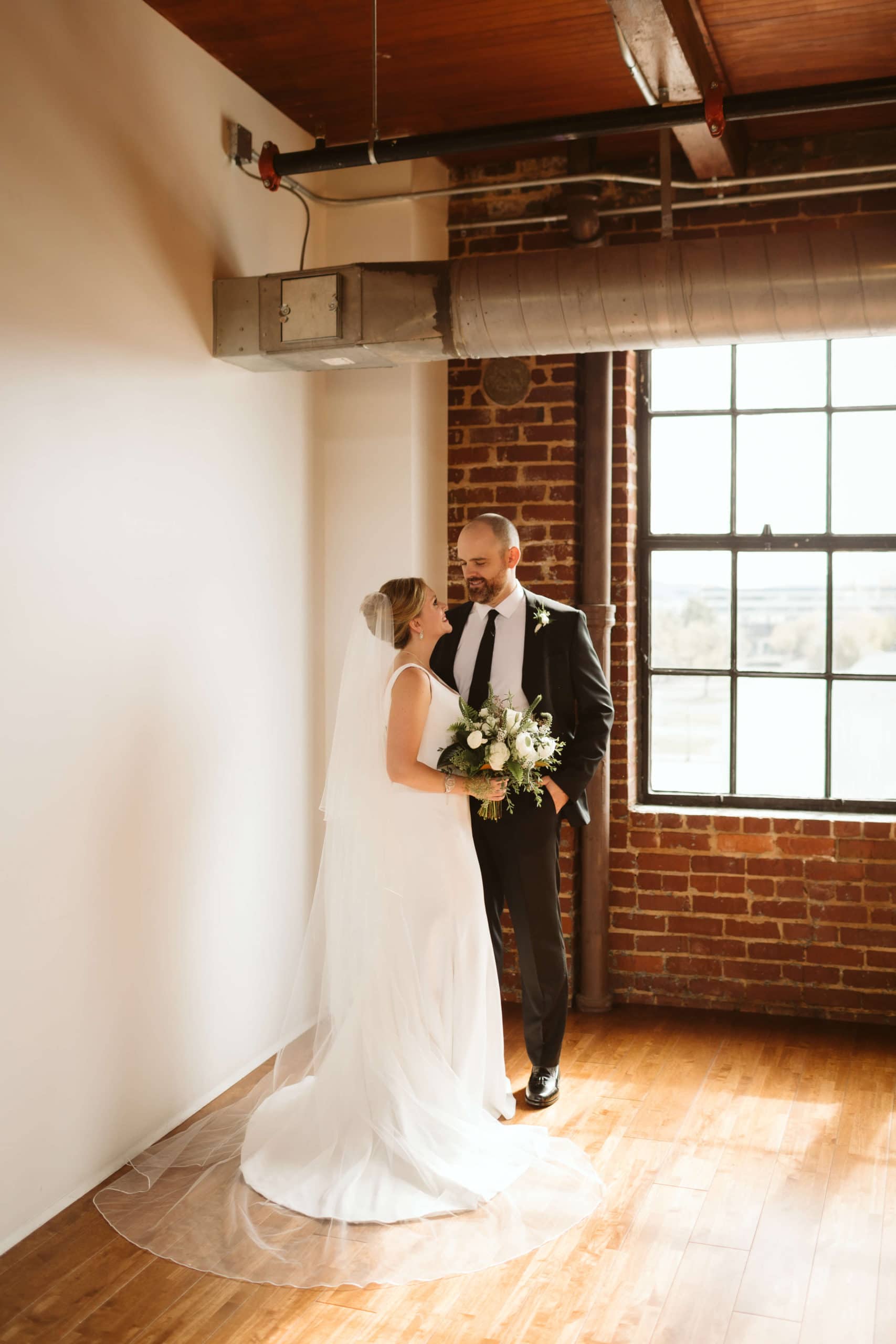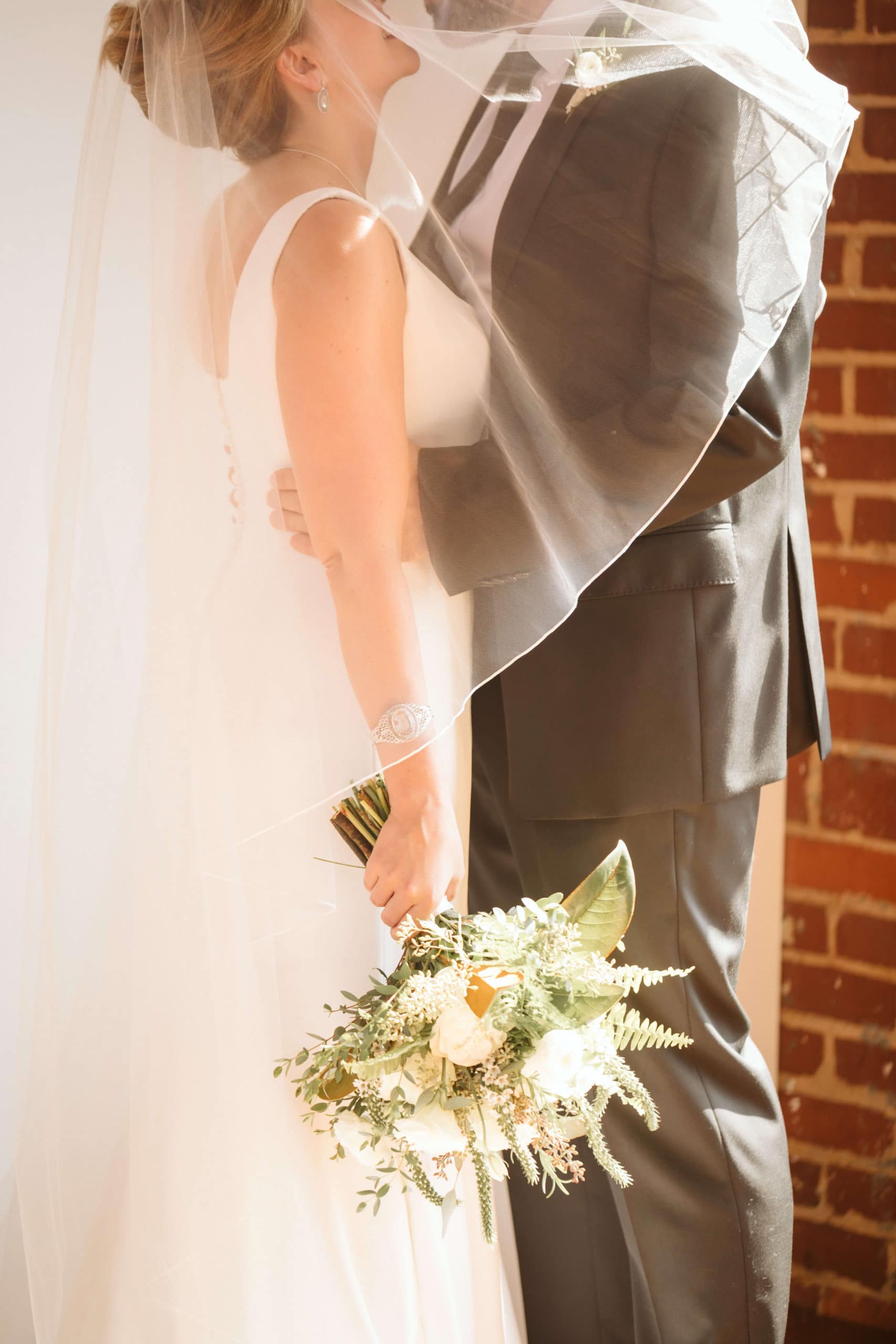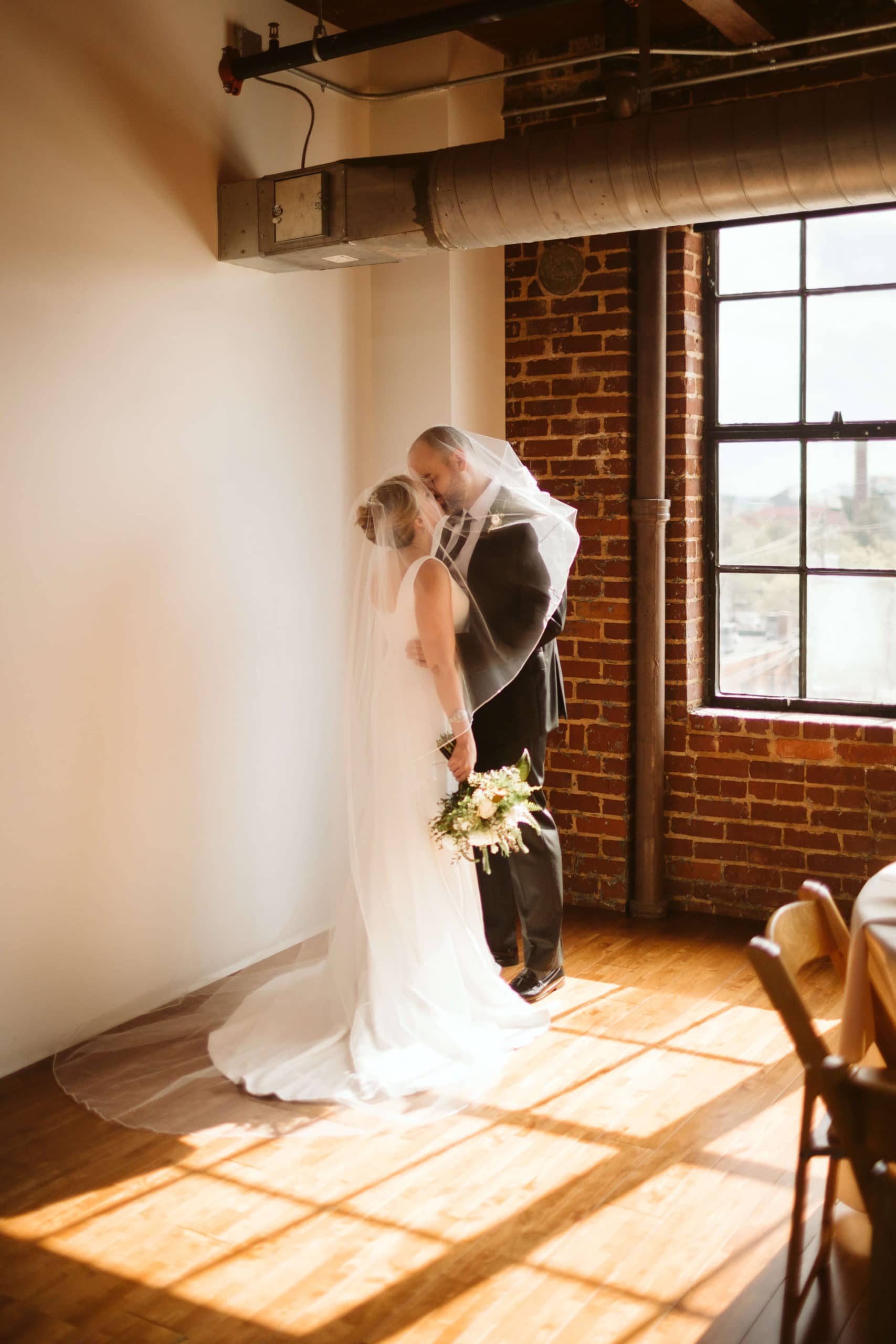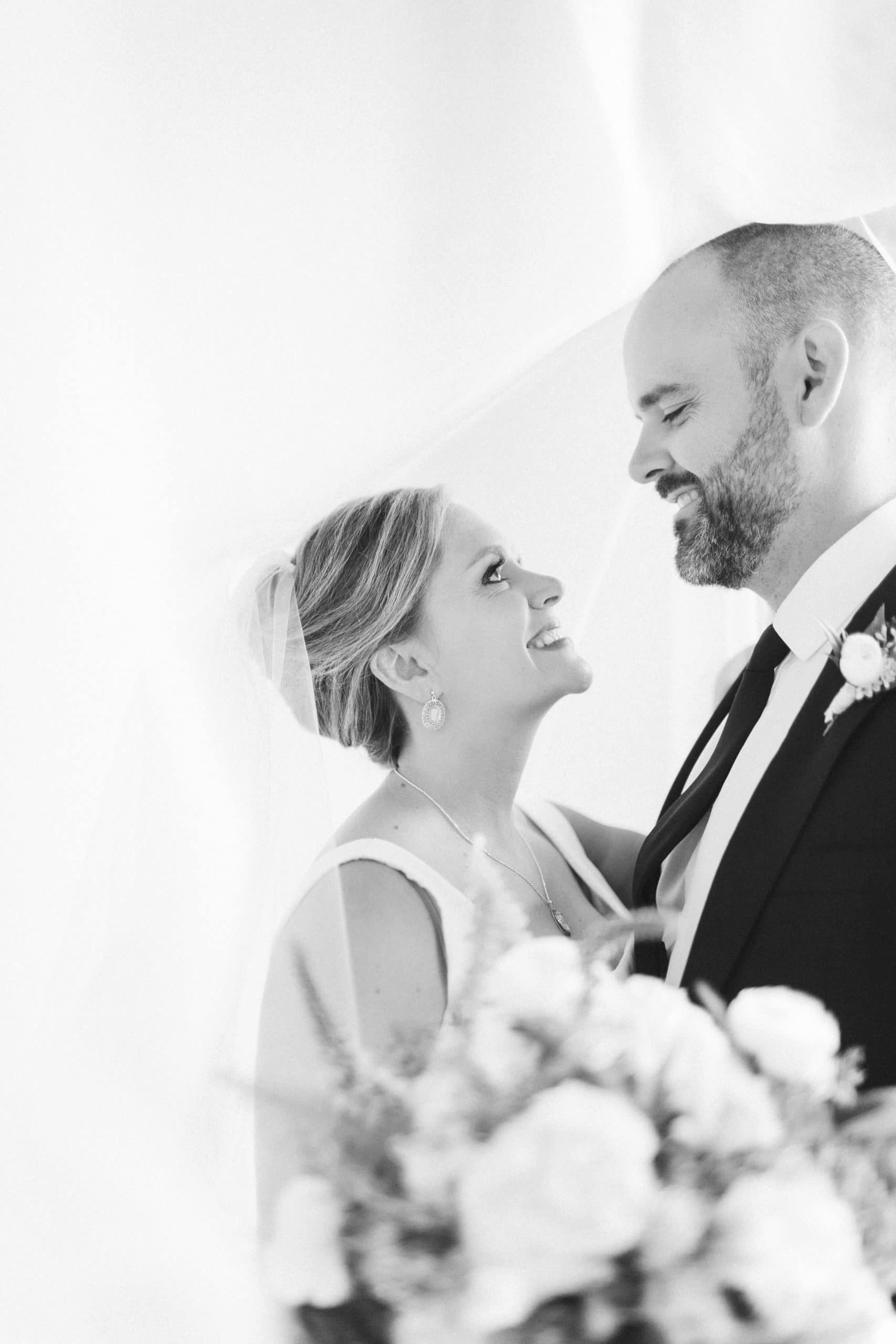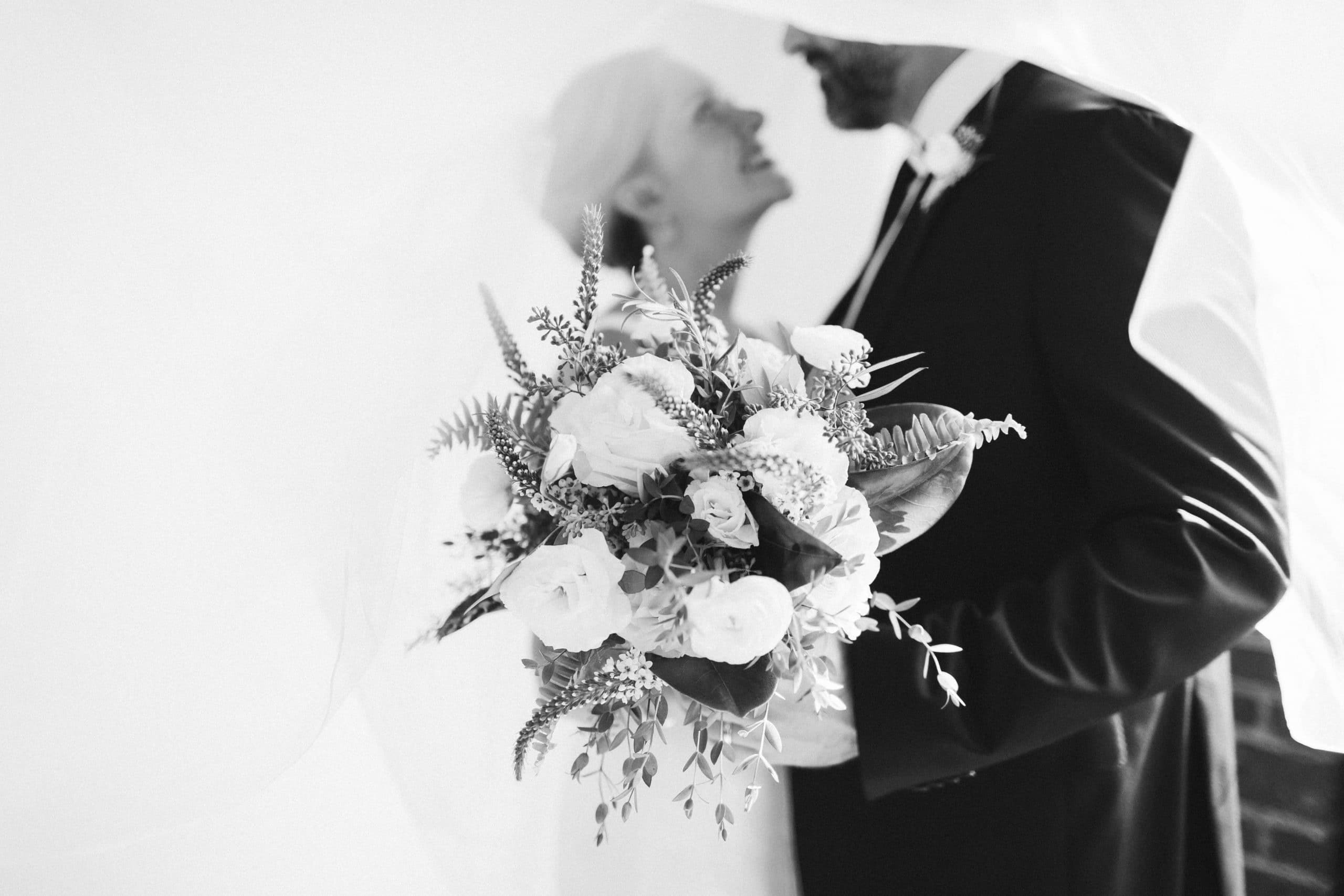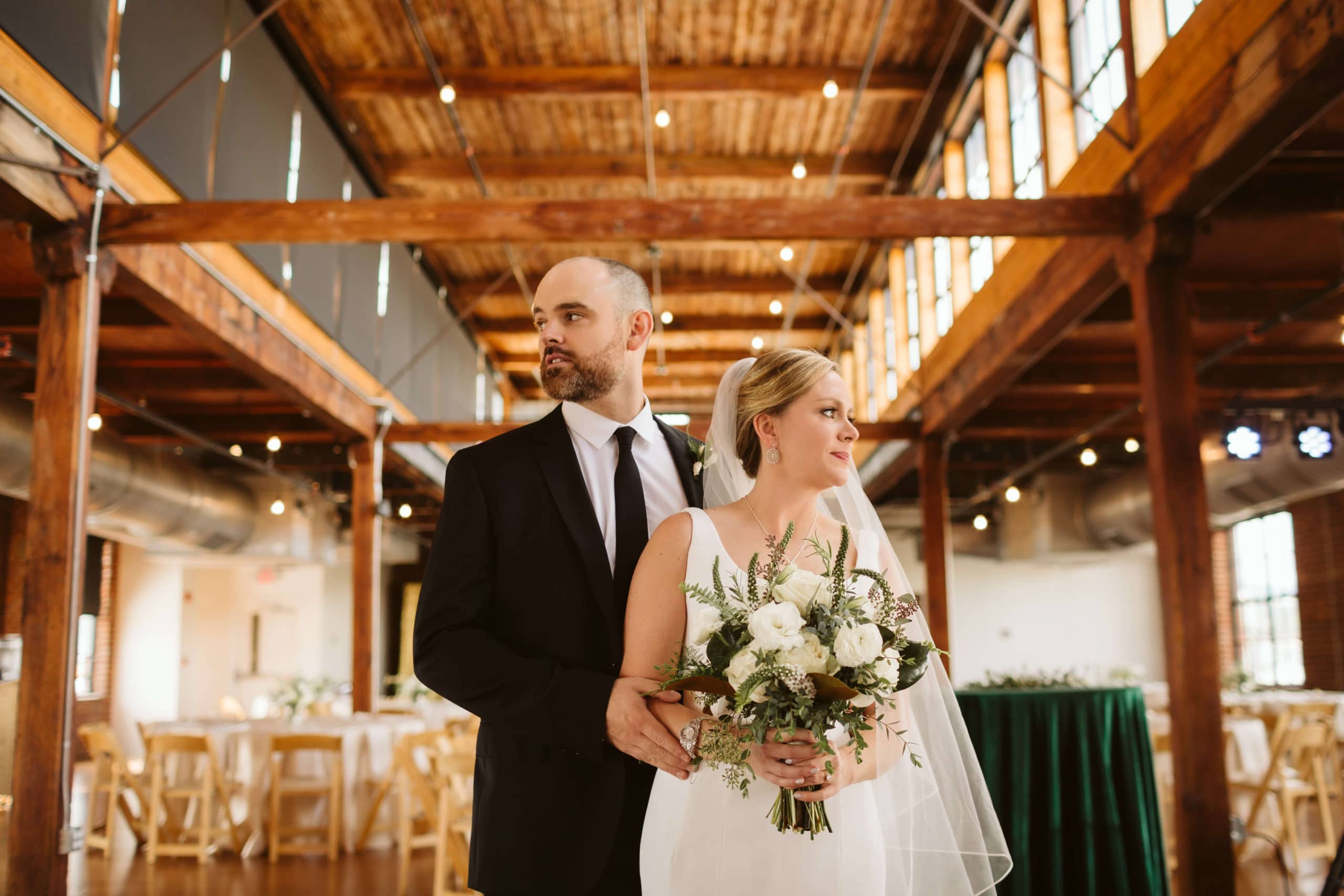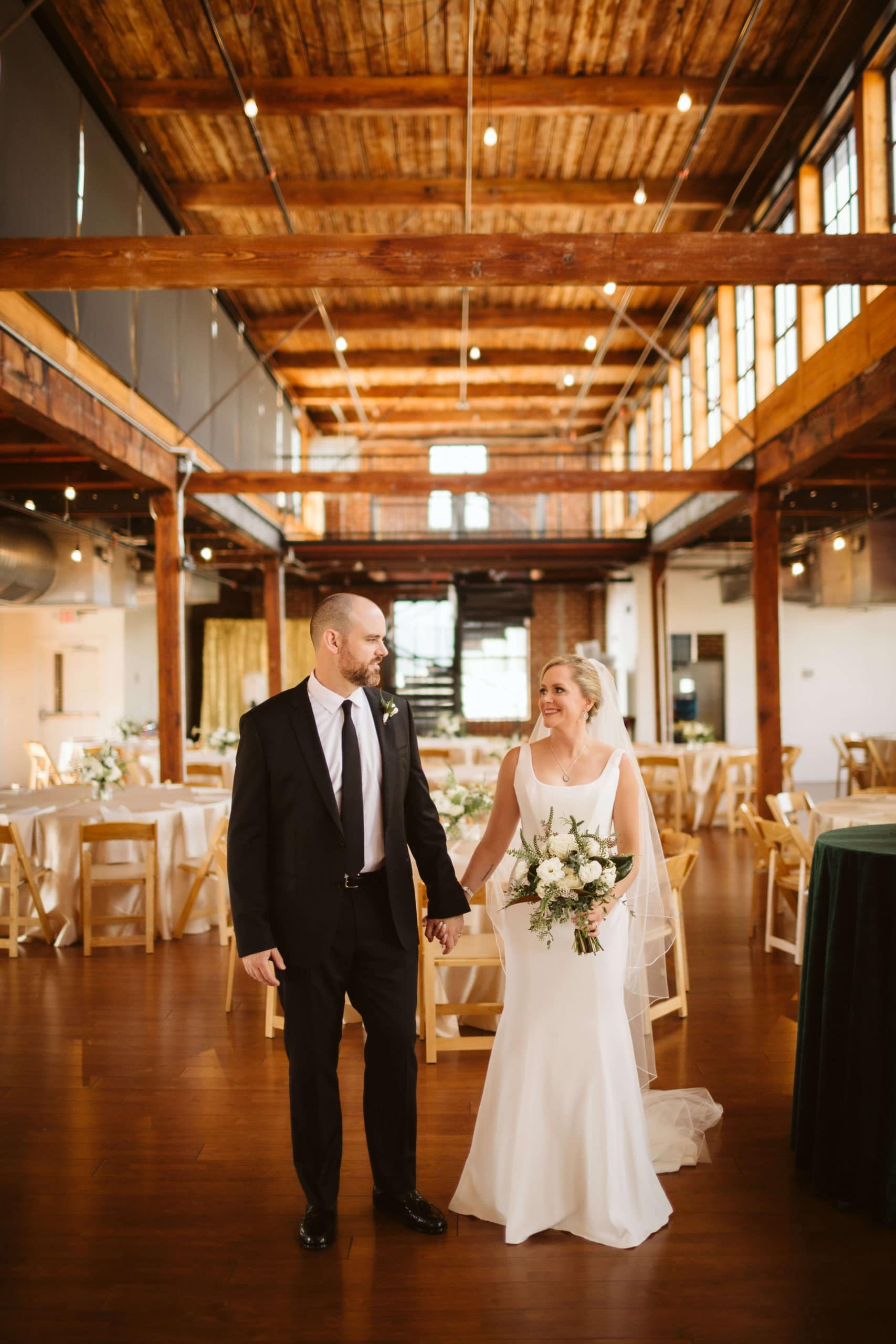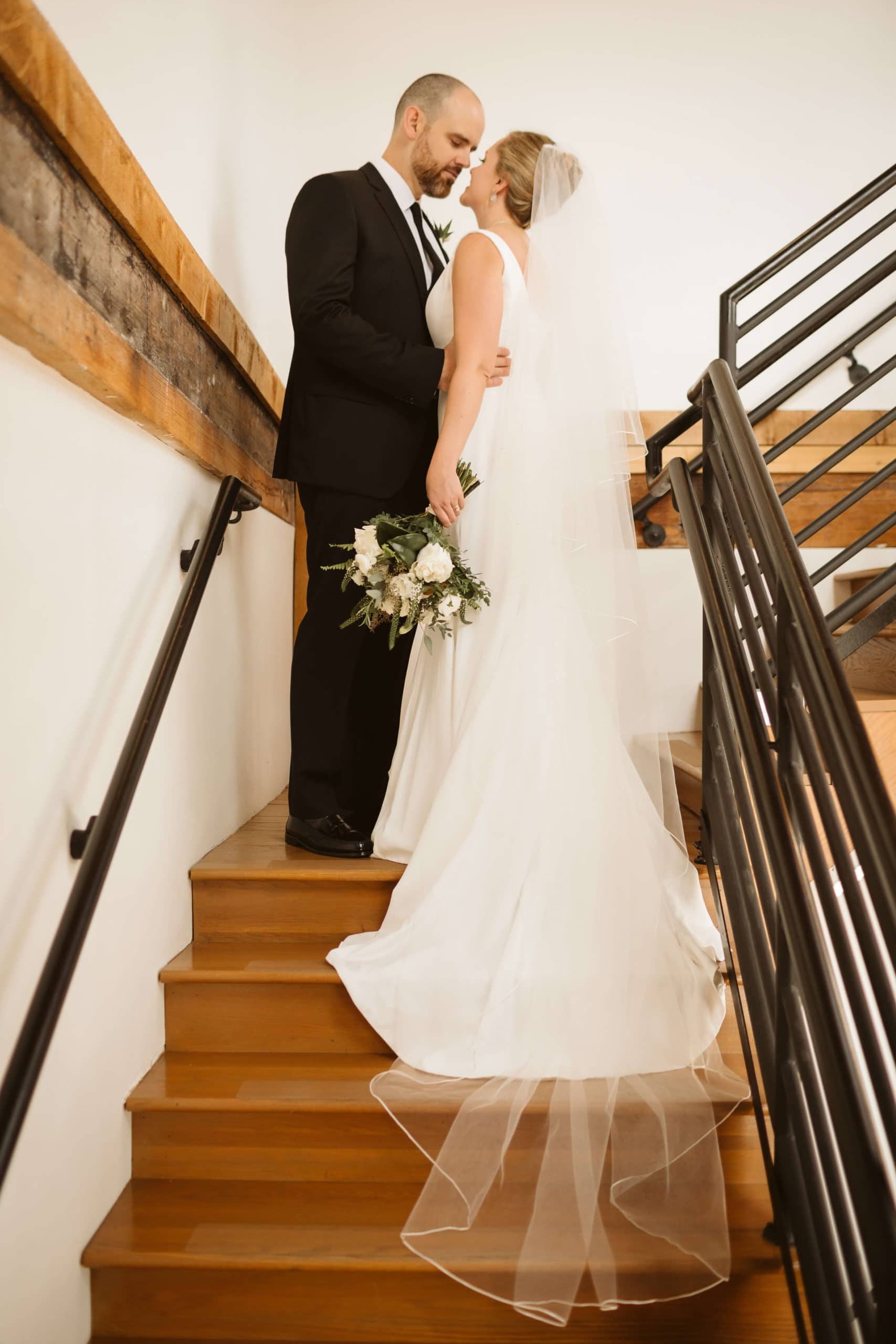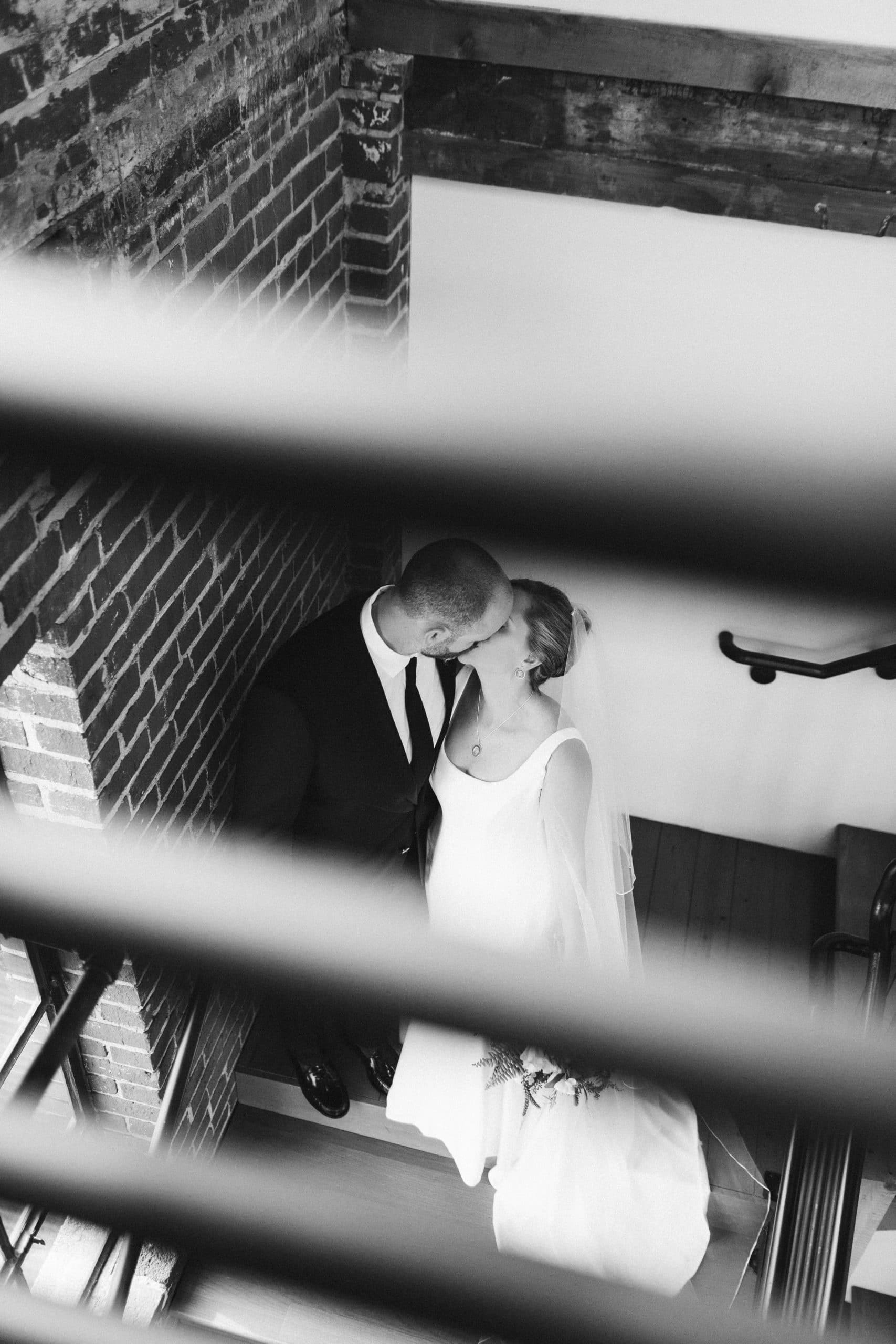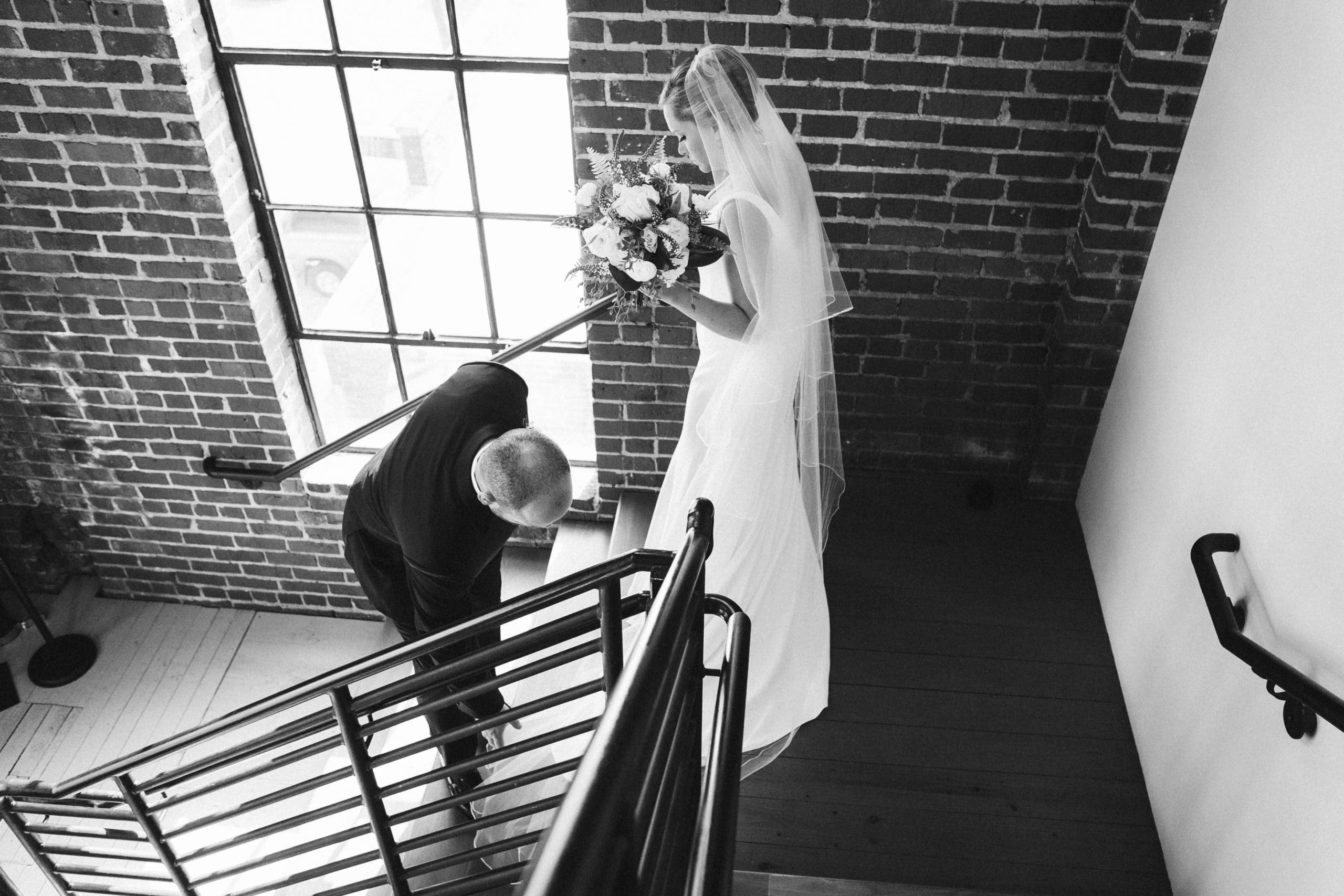 A Lovely First Look and Ceremony at the Turnbull
Shooting for Emily and Ryan's wedding day began in the bridal suite of the Turnbull. While Ryan and his groomsmen were getting ready at their apartment just a block away from the venue, Emily had her makeup and hair done at the Turnbull with her bridesmaids and her mom to help her out. As she got ready and stepped into her shoes, I don't think her smile ever left her face. For me, the most heartfelt moments included her mom, Bonnie. This is the magic of the Turnbull – where family members can gather with little stress to help out on an enchanting day.
Wearing her breathtaking dress from Lovely Bride Atlanta and showcasing her grandmother's jewelry, we set off for some first look photos. Nothing could compare to the moment when Emily appeared at the entrance to the fourth floor and turned the corner where Ryan waited eagerly. She ever so lightly tapped him on the shoulder, and his smile upon seeing her just said it all.
The expression on Ryan's face when he first set eyes on his beautiful bride is the reason why I love first look sessions so much. They are perfect for capturing an emotional moment on camera and for allowing you some intimate one-on-one time with your partner before you're whisked off in the fast-moving pace of your wedding. Weddings go by so quickly. These are the small, emotional moments that make wonderful pictures that you'll treasure forever.
After their first look, Emily and Ryan headed to the ceremony. Located on the third floor of the Turnbull Building, the intimate, light, and airy space felt like a visible manifestation of the love in the room. Standing before his family and friends at the top of the aisle dressed in understated, simple floral, Ryan only had eyes for one person. Emily walked down the aisle with her parents on each side, as the crowd stood to see a gleaming bride.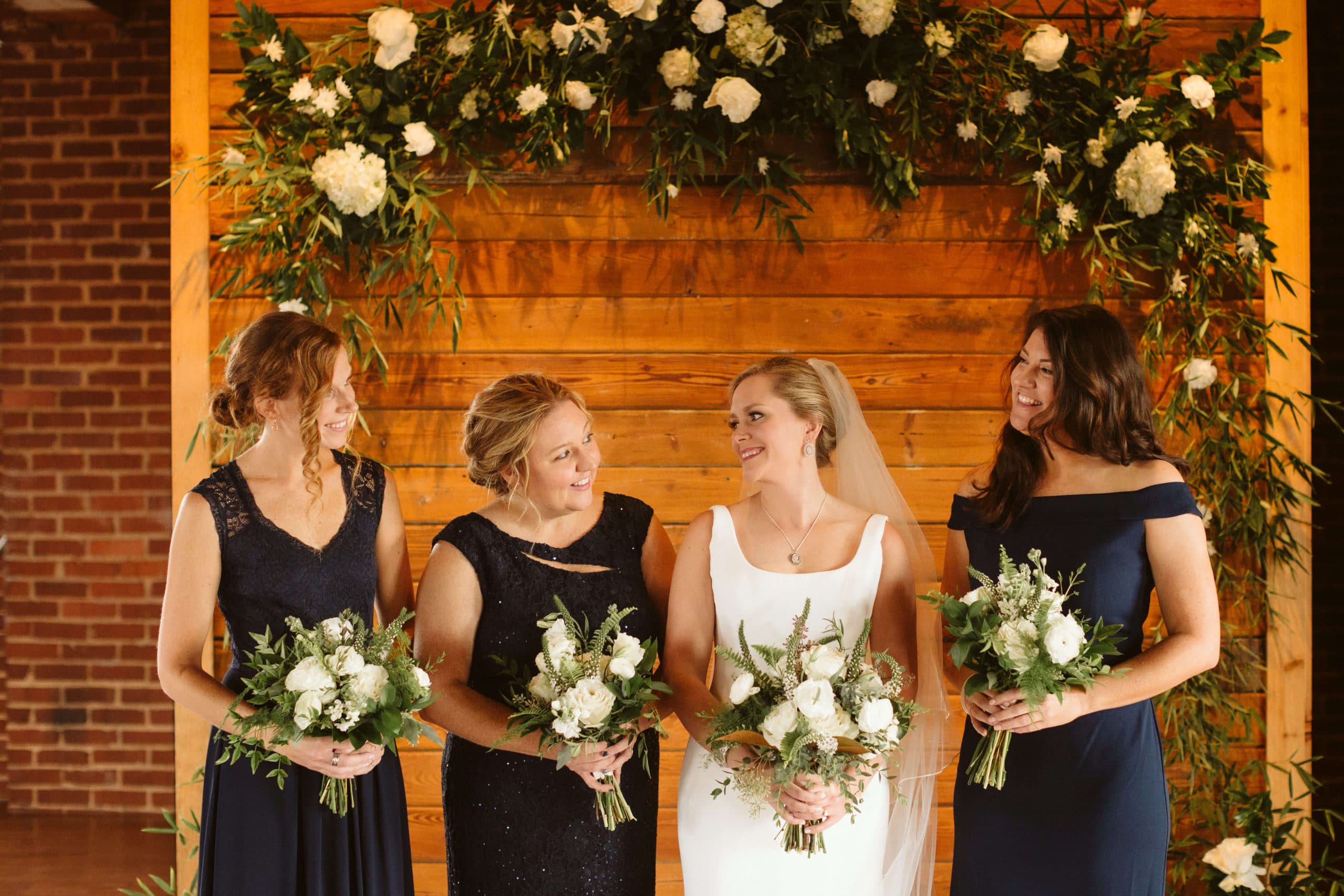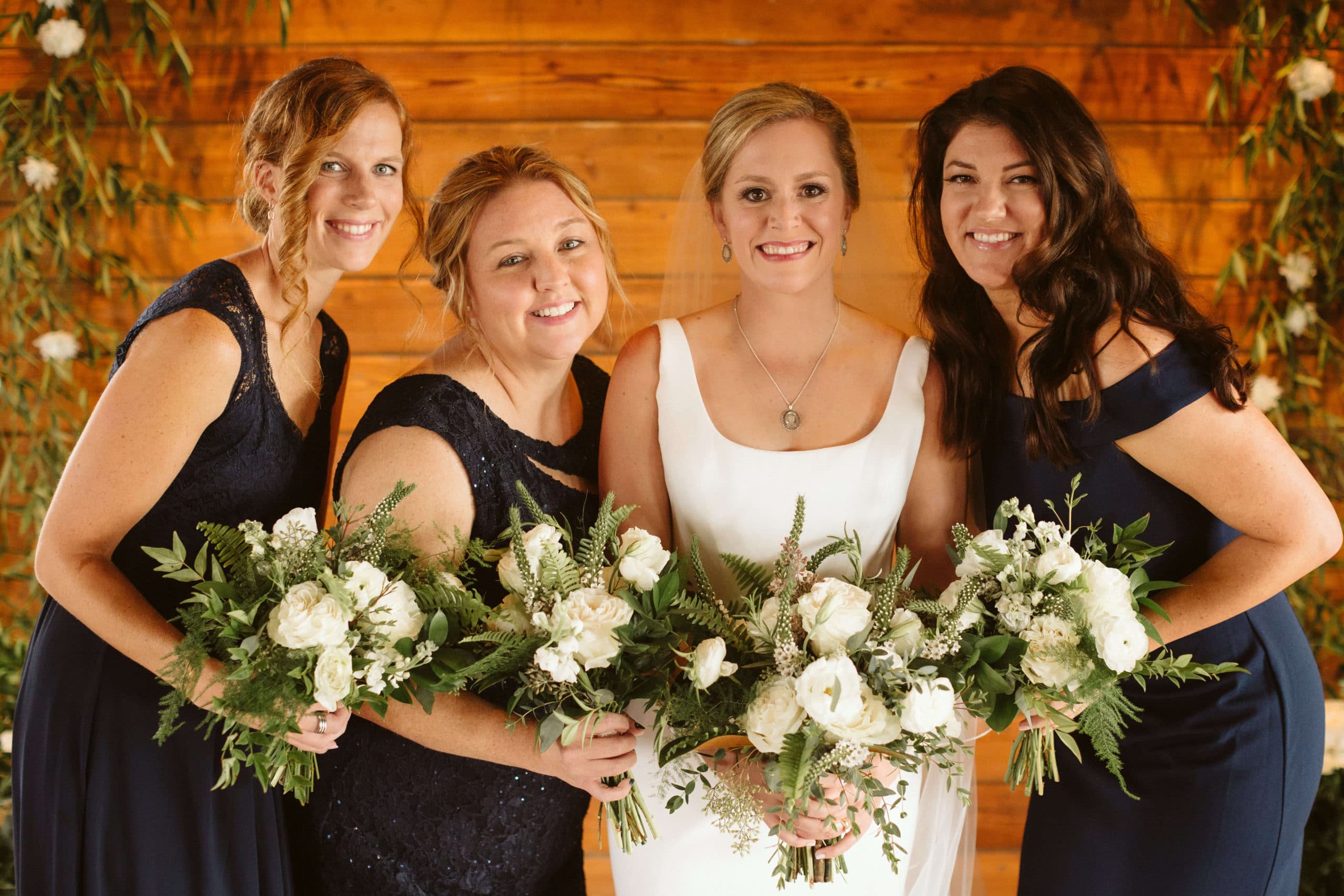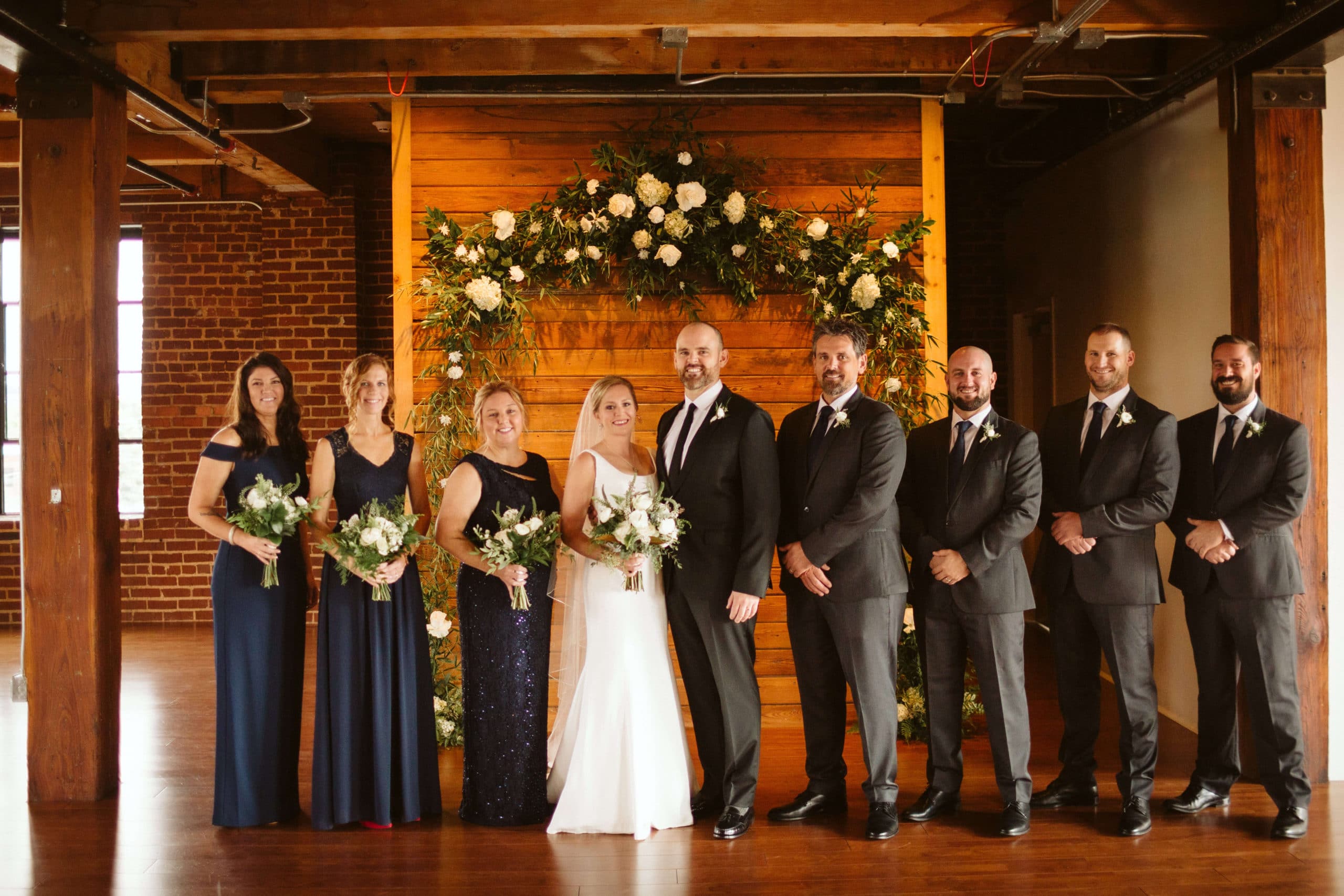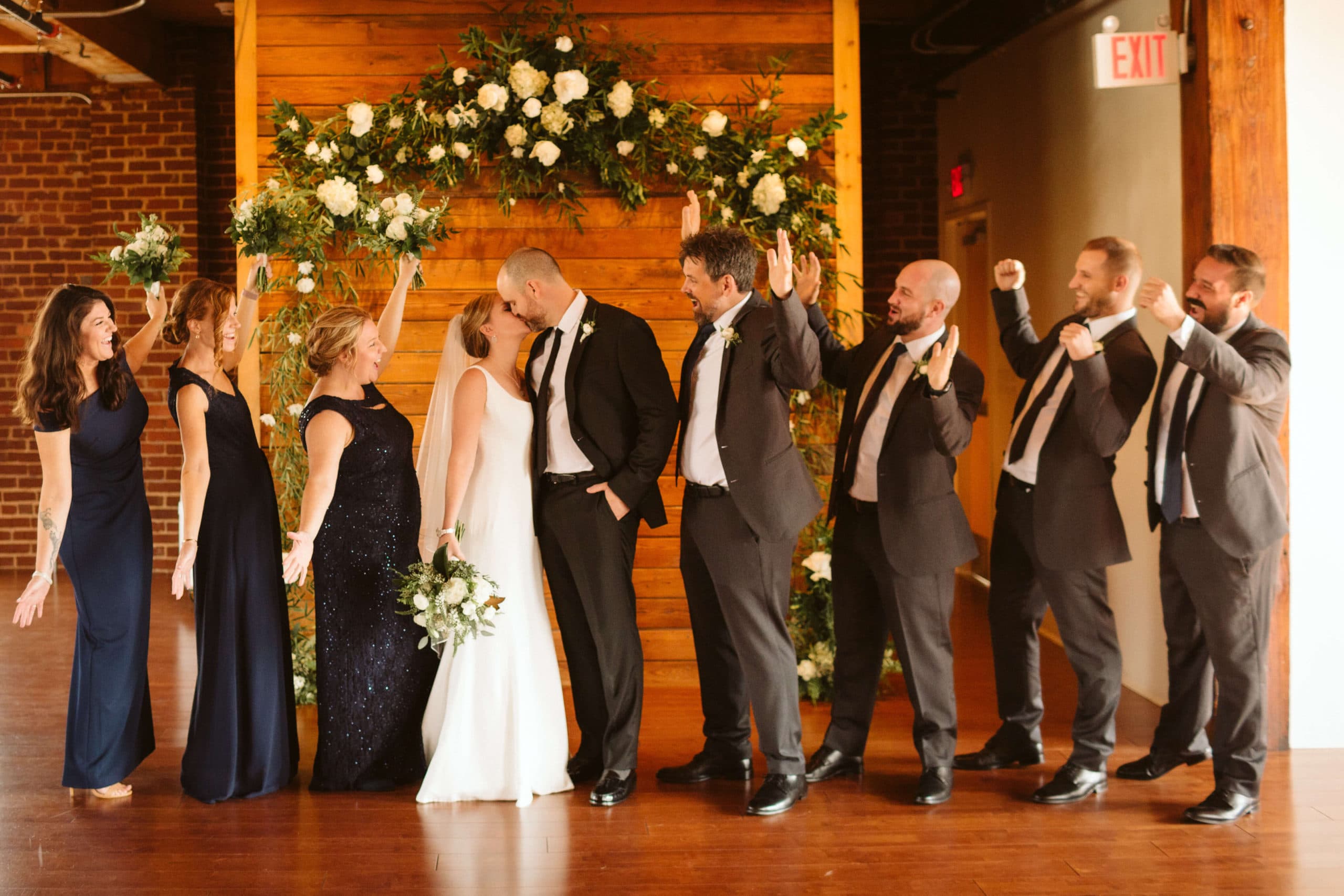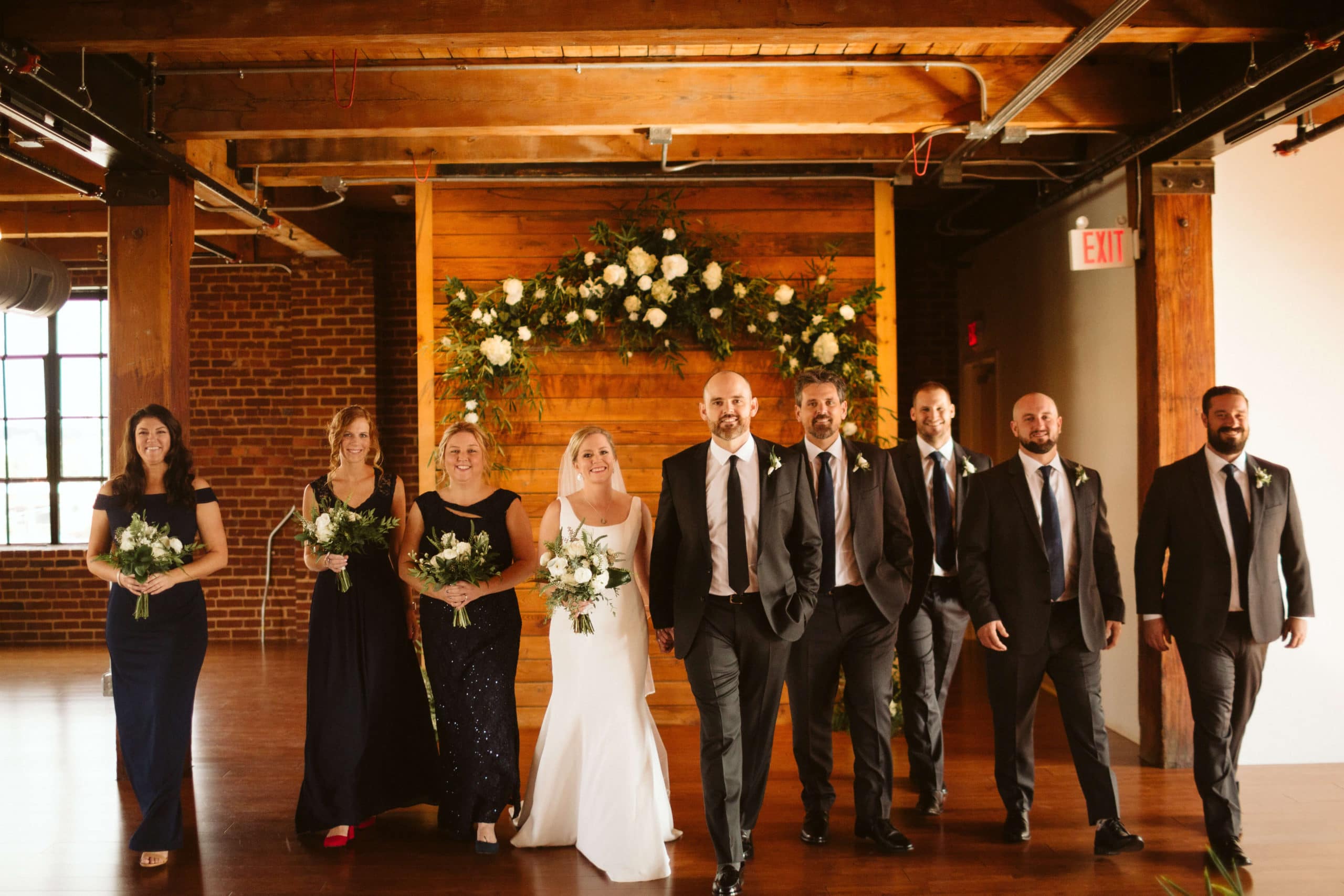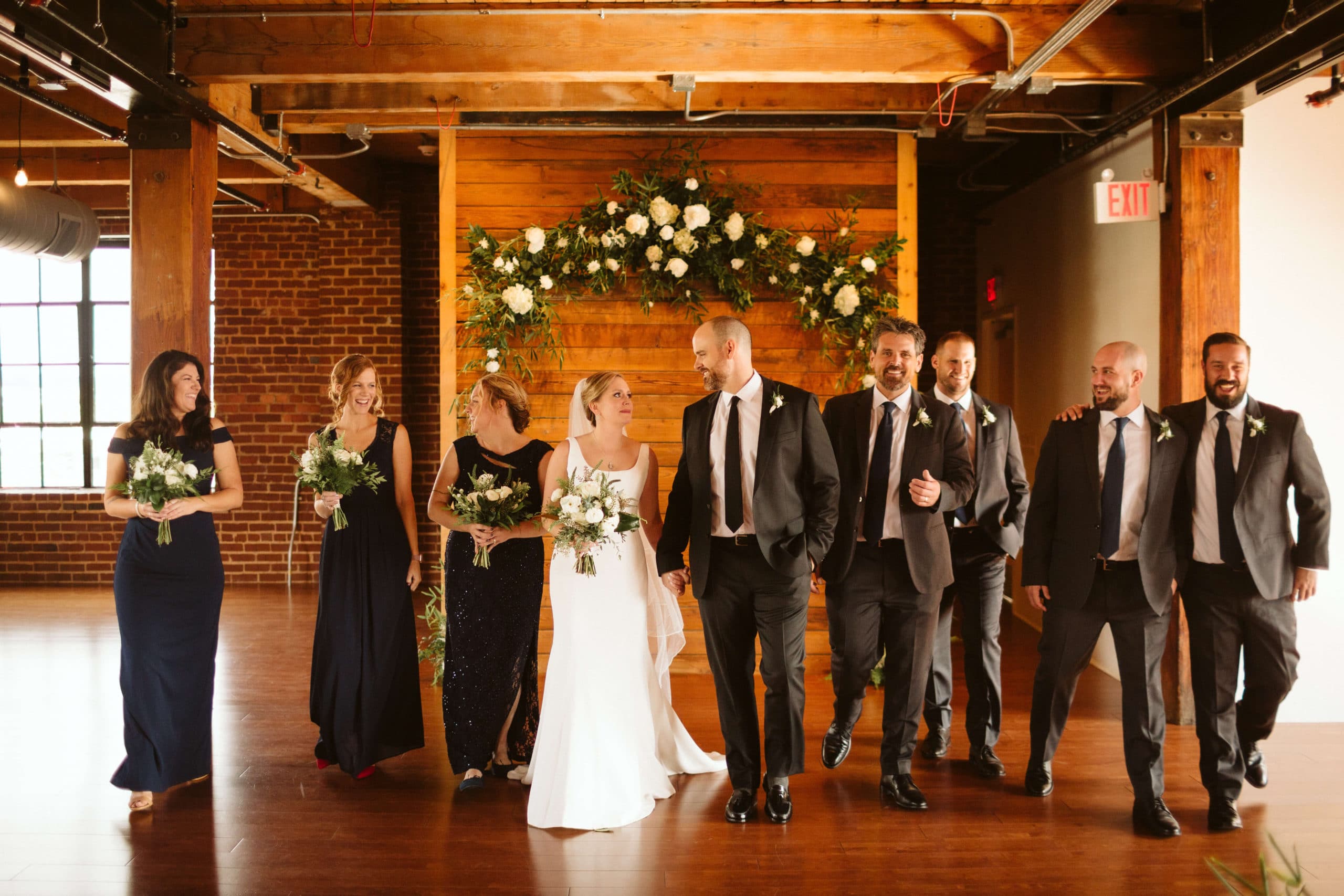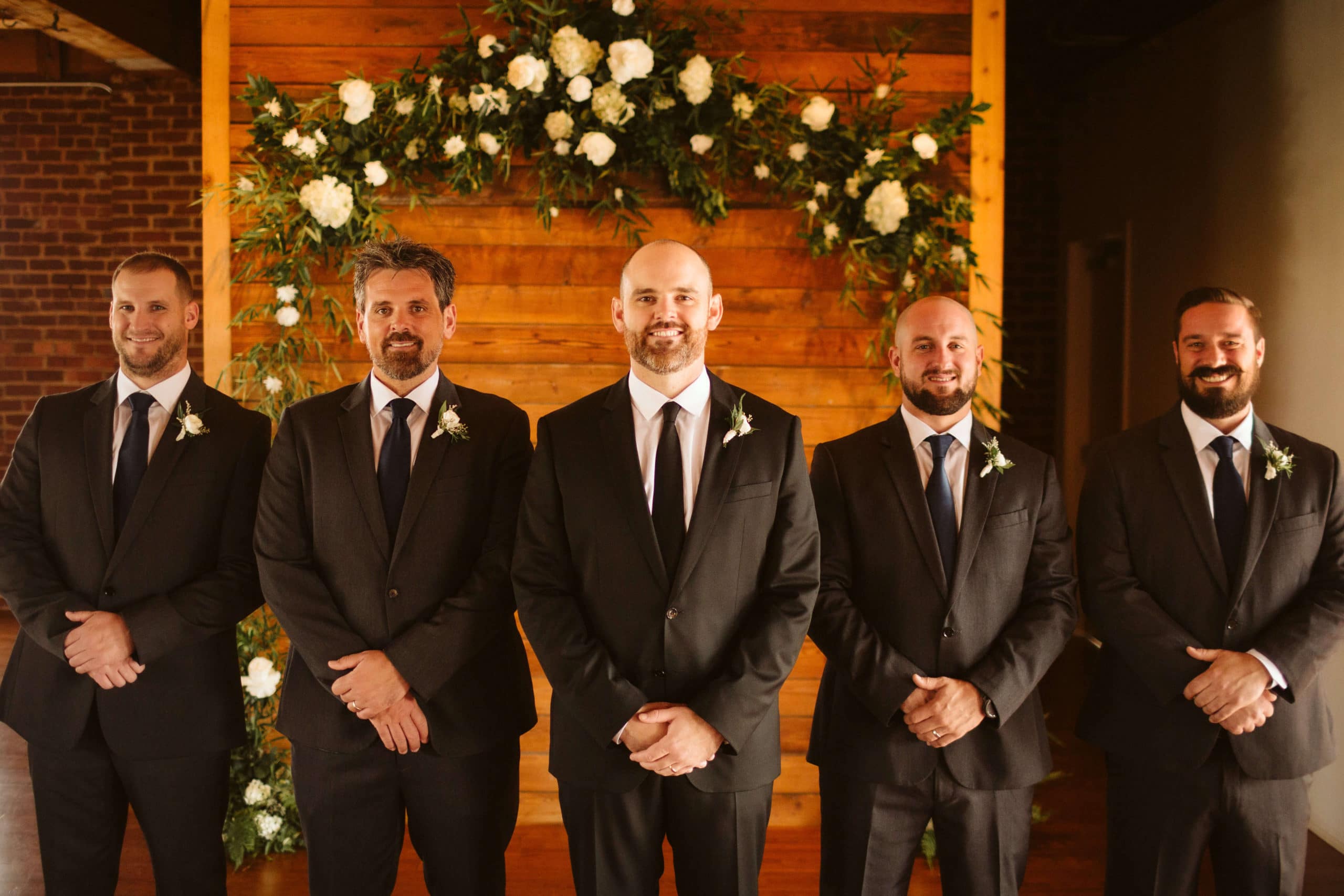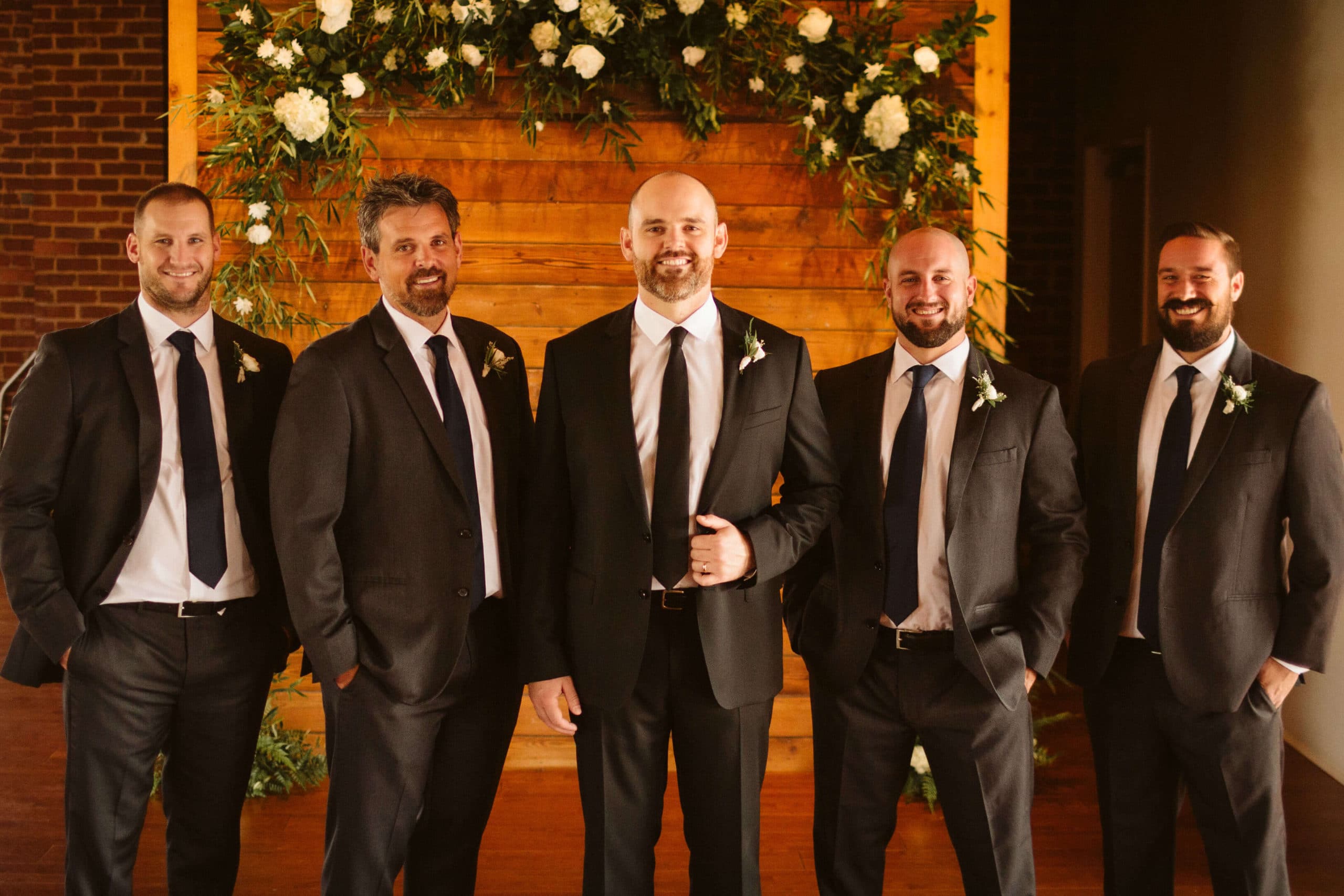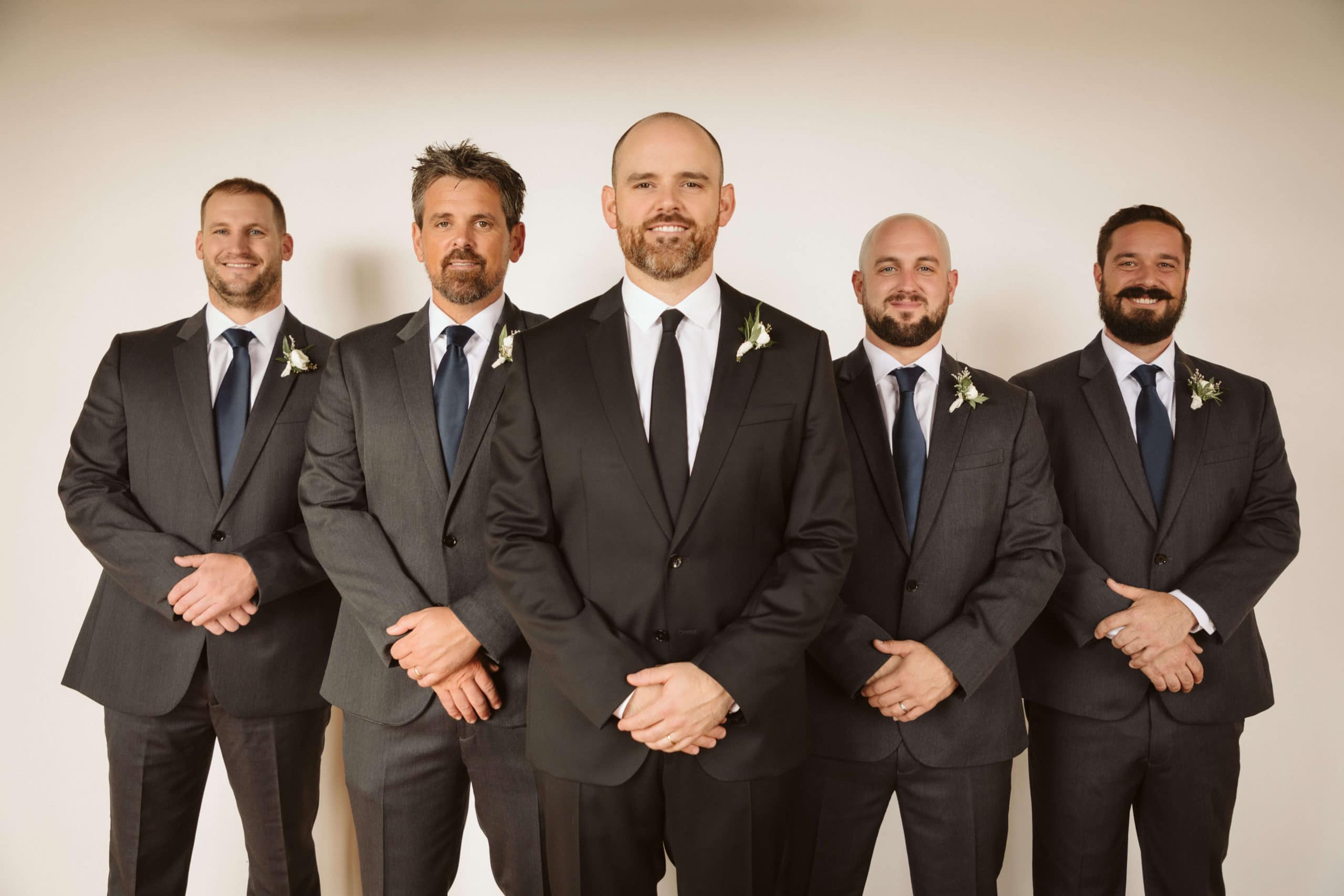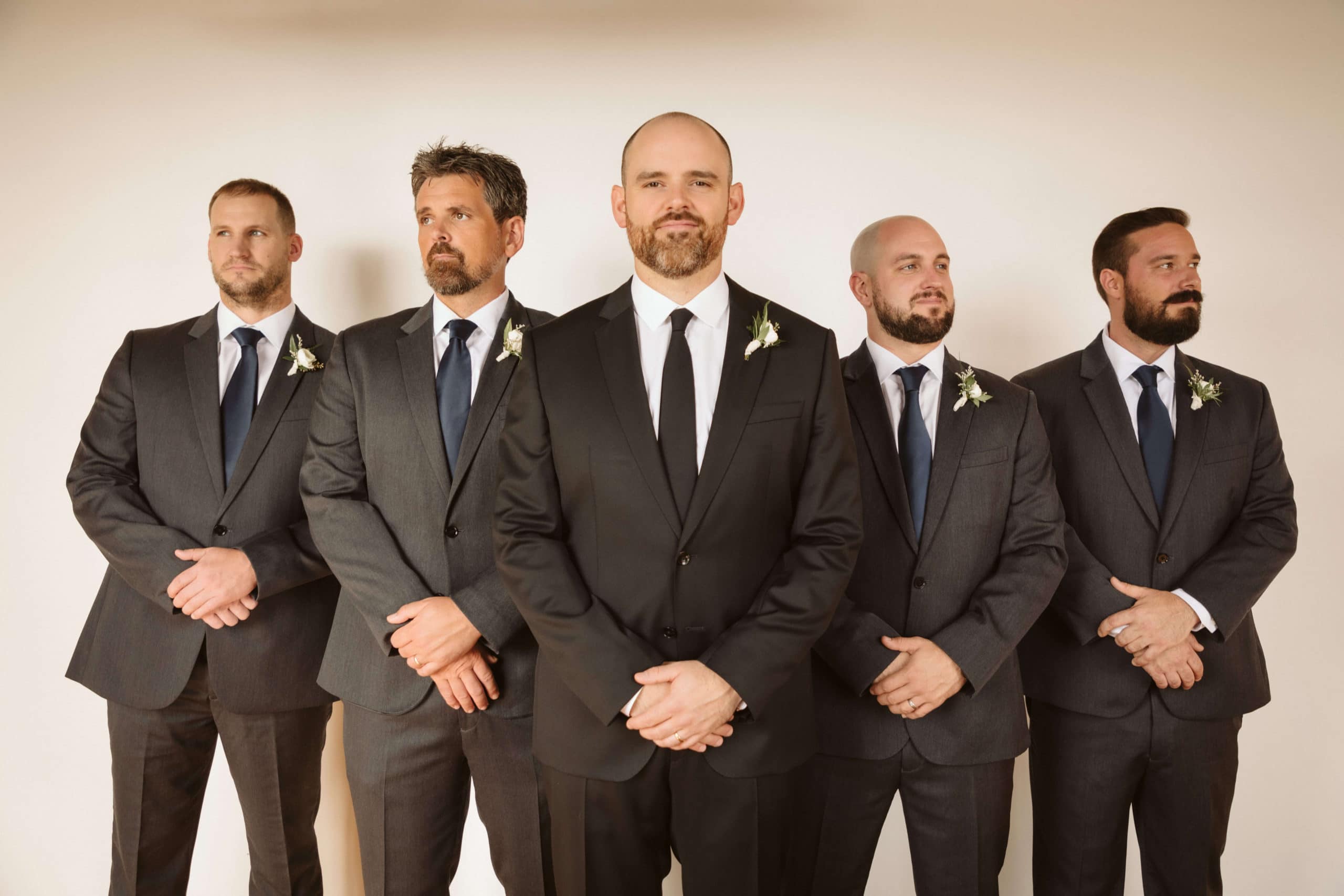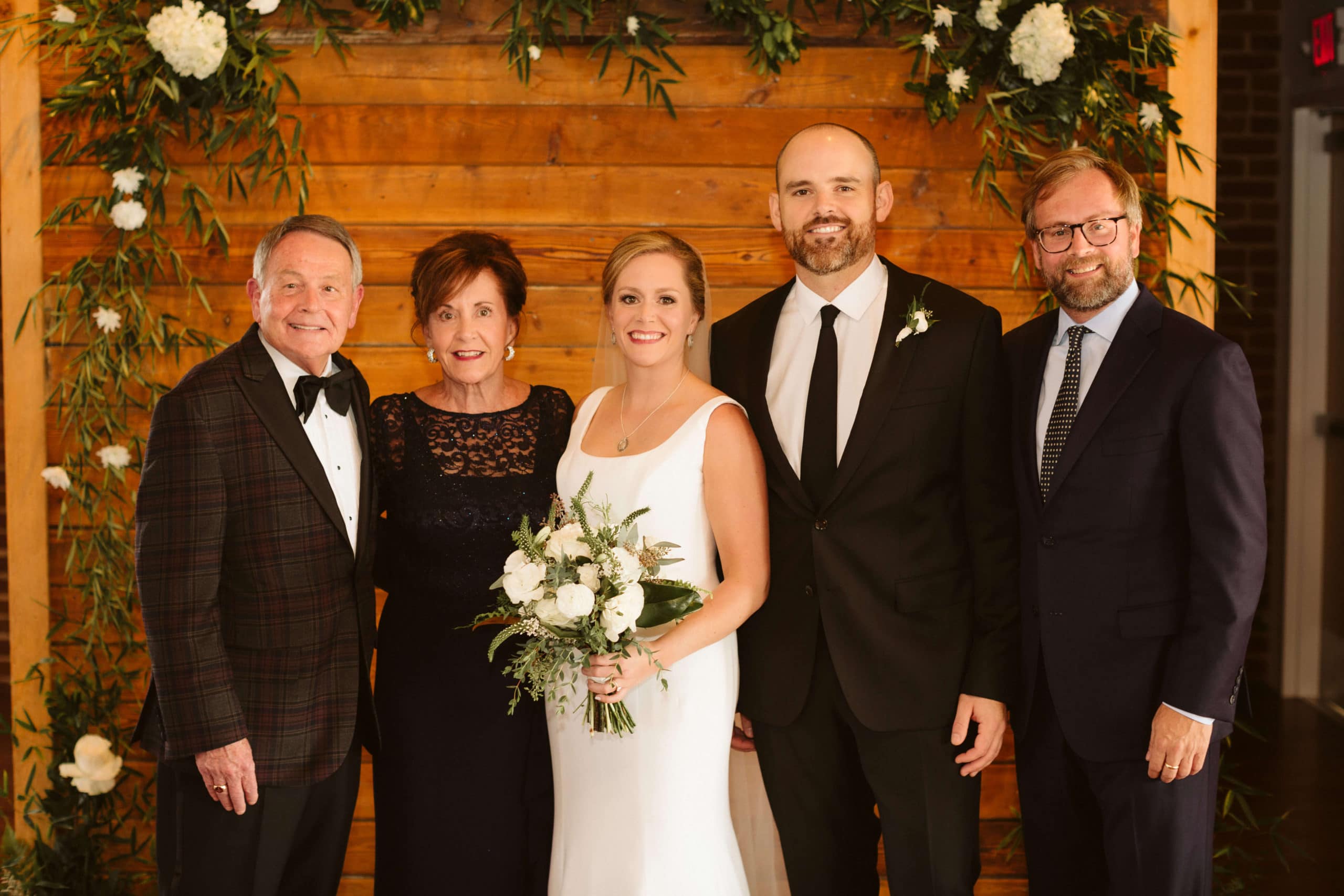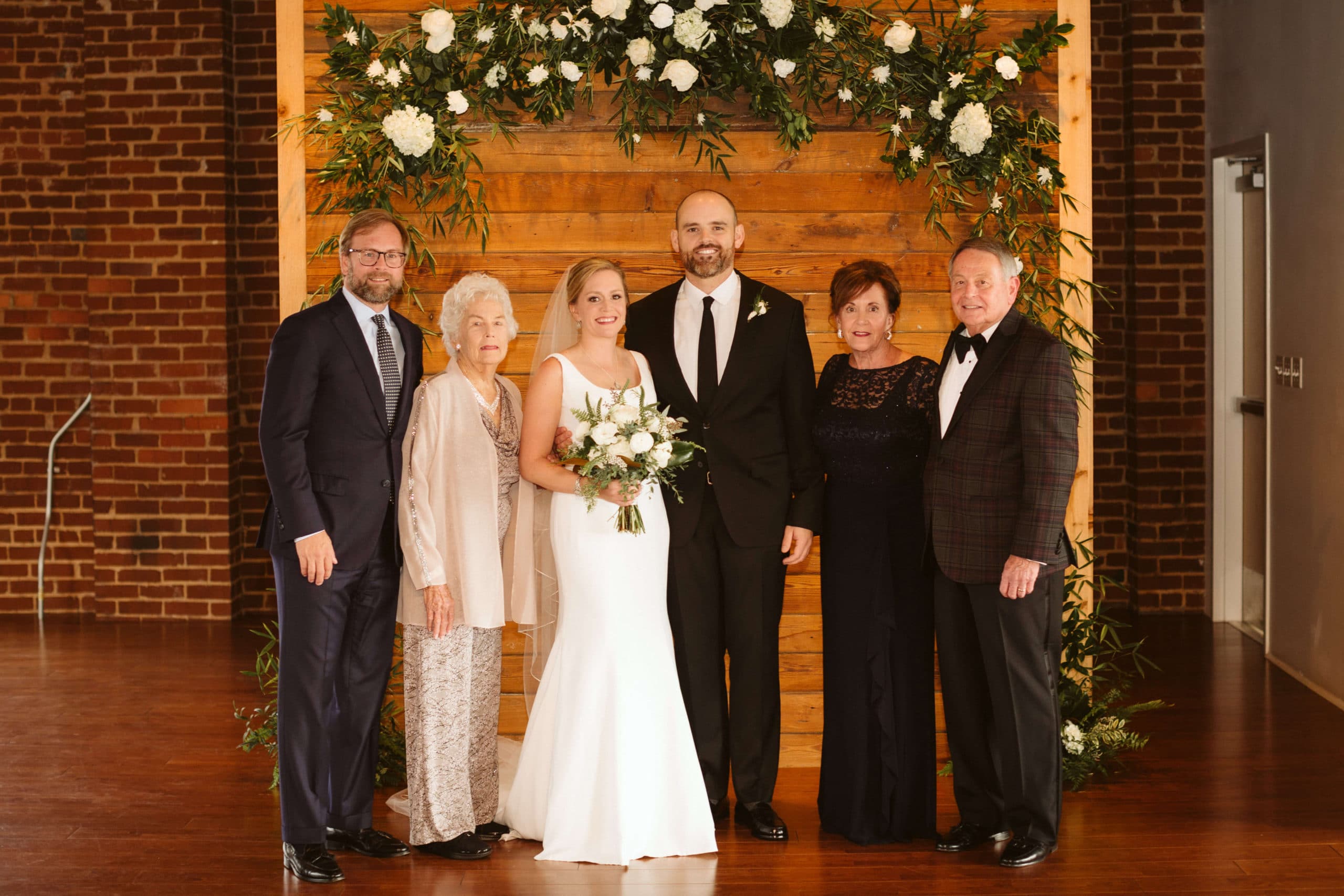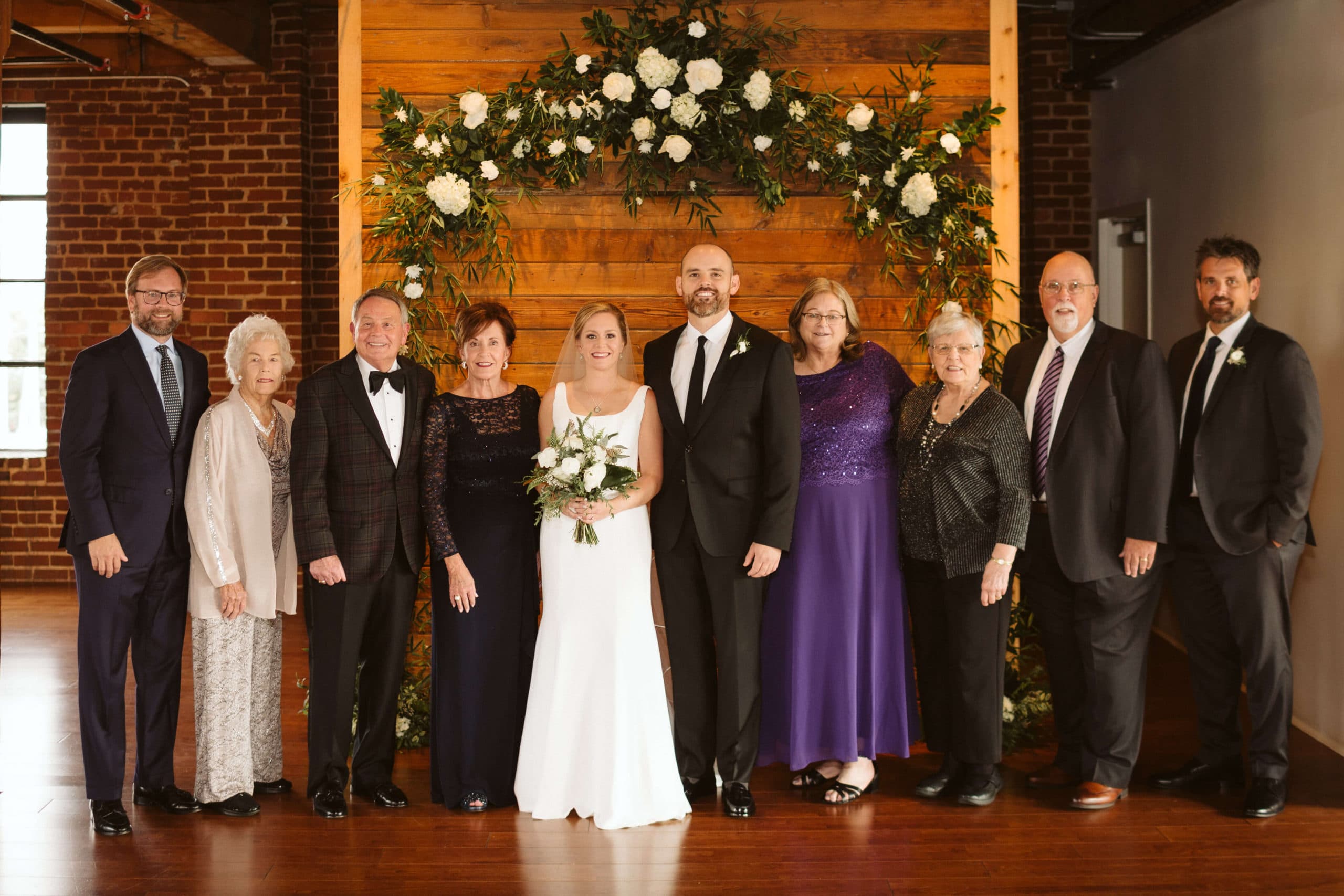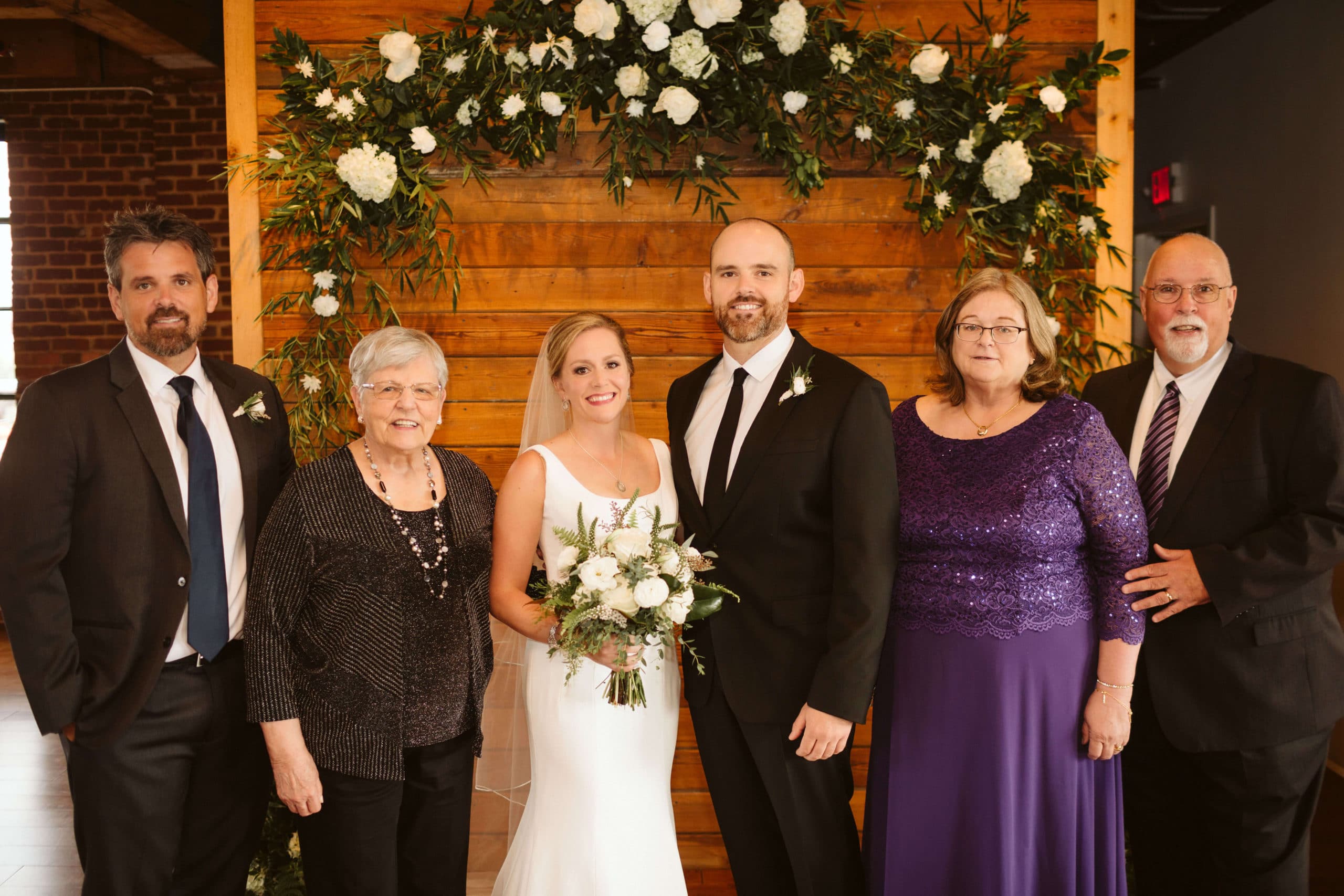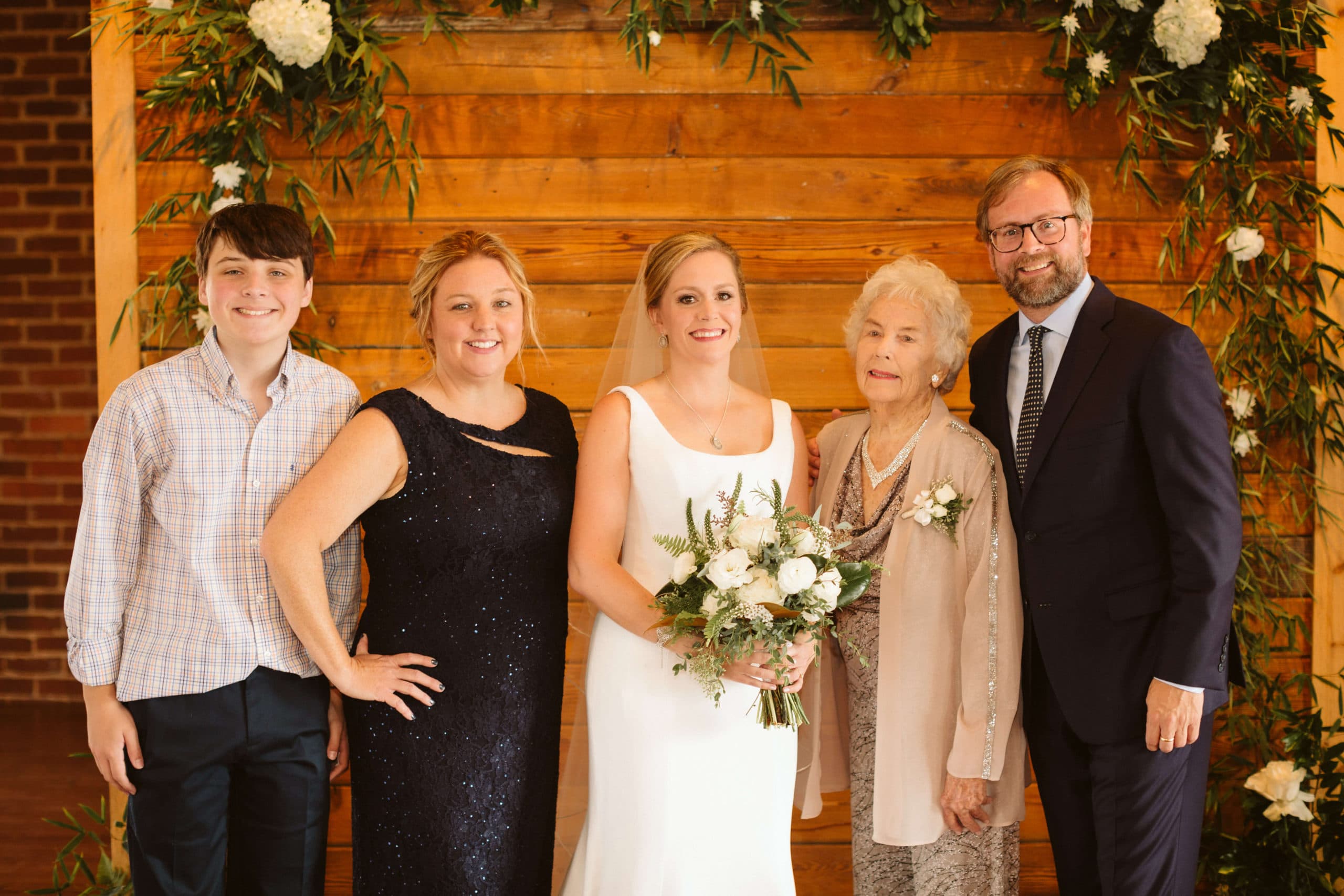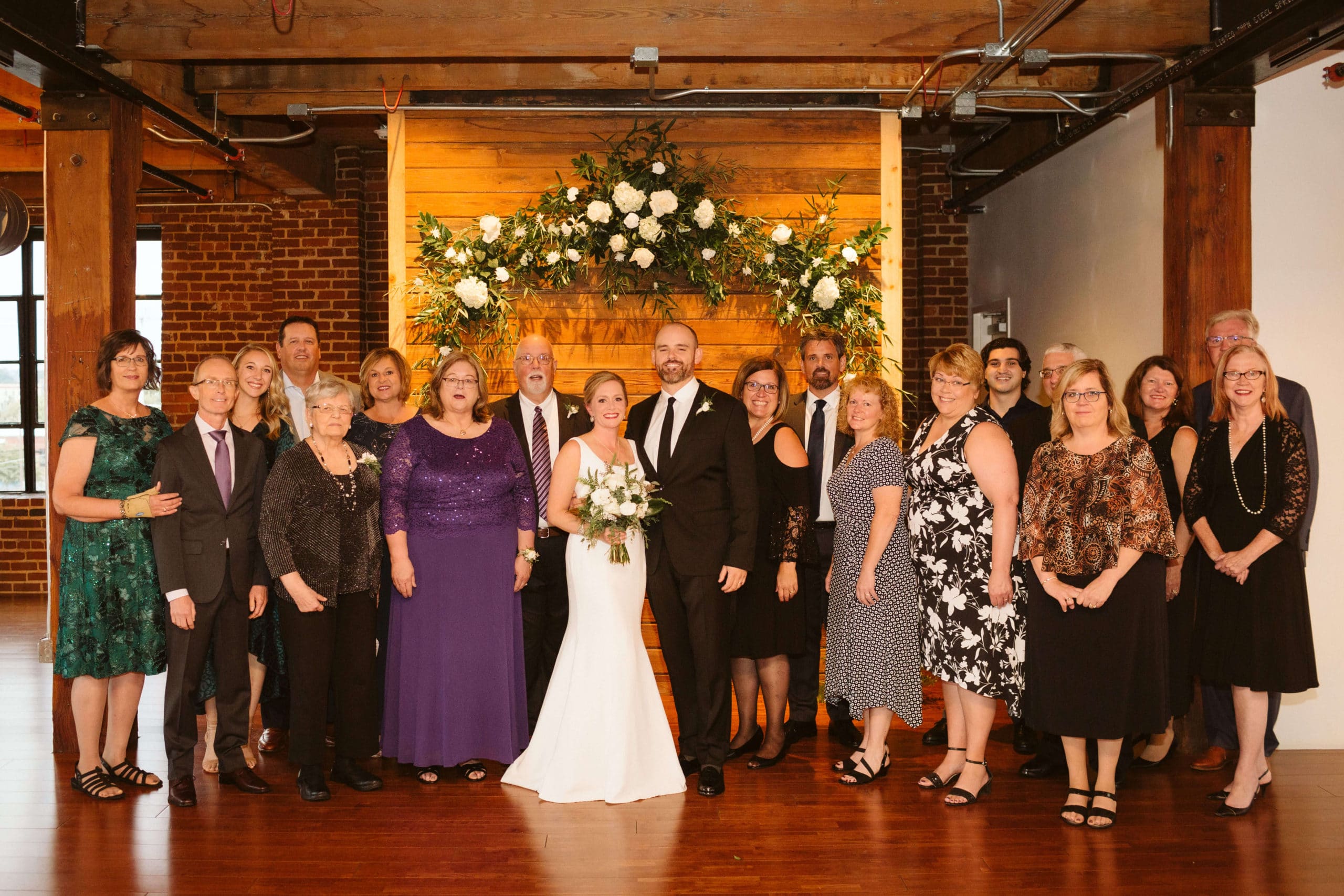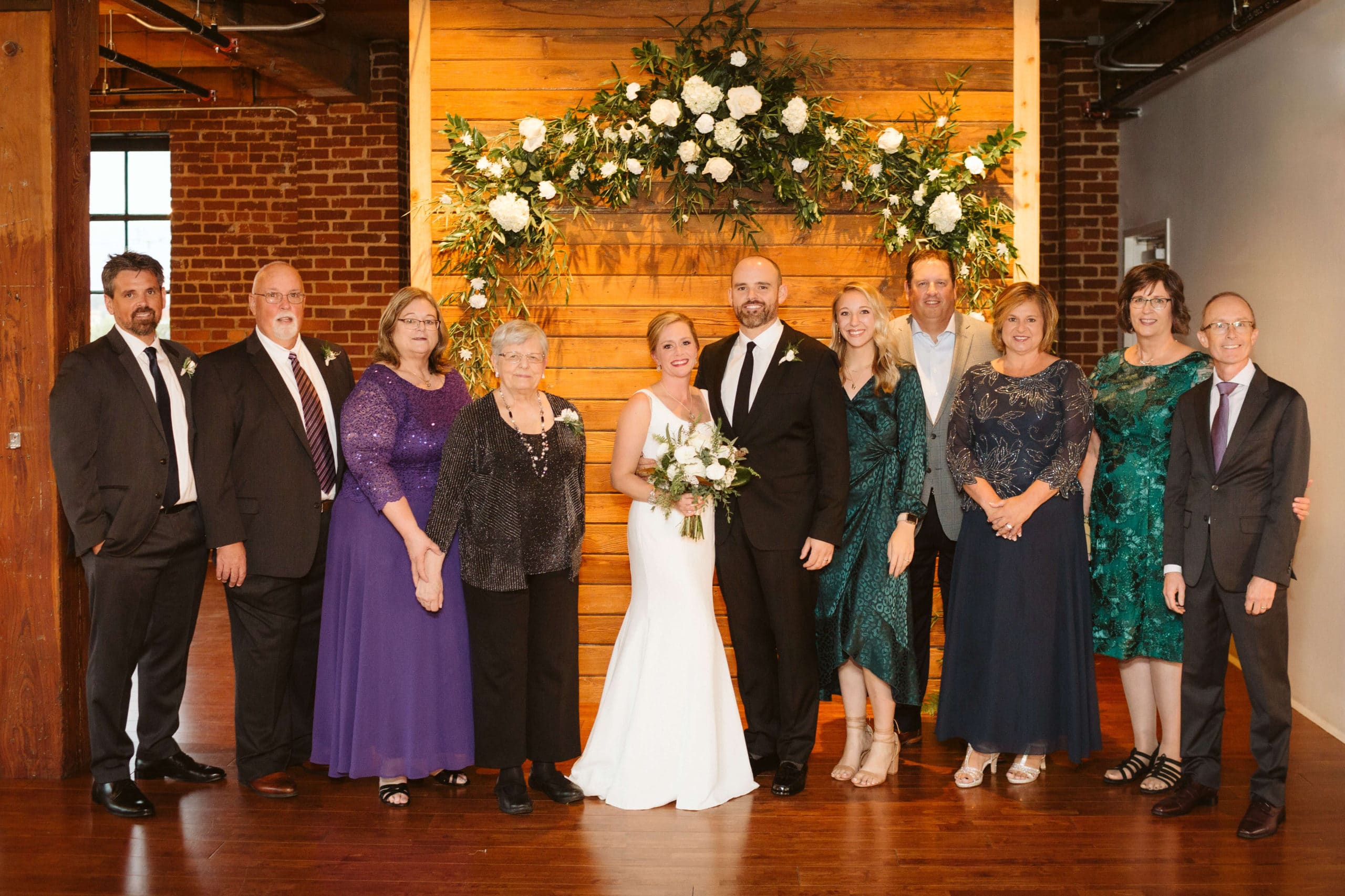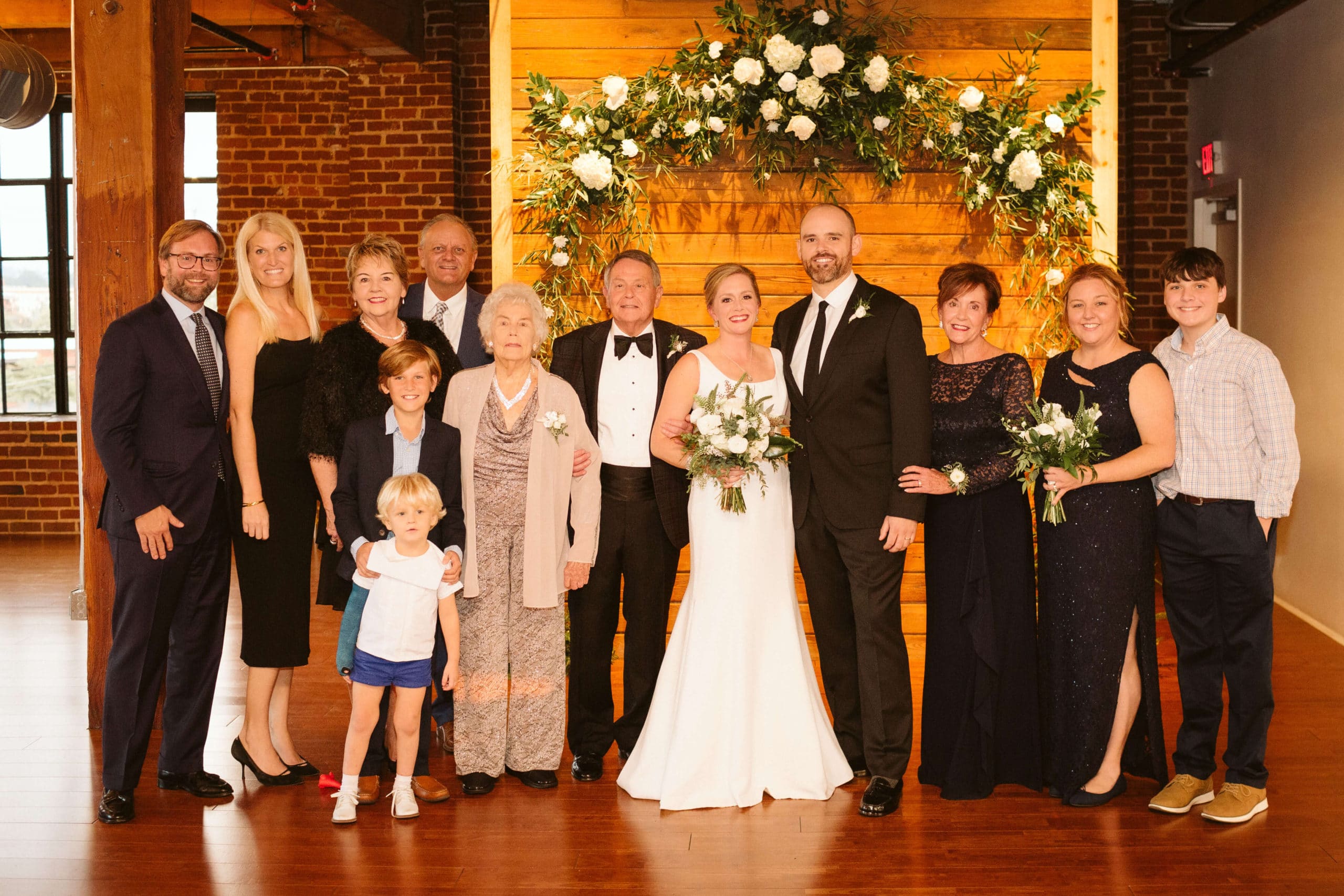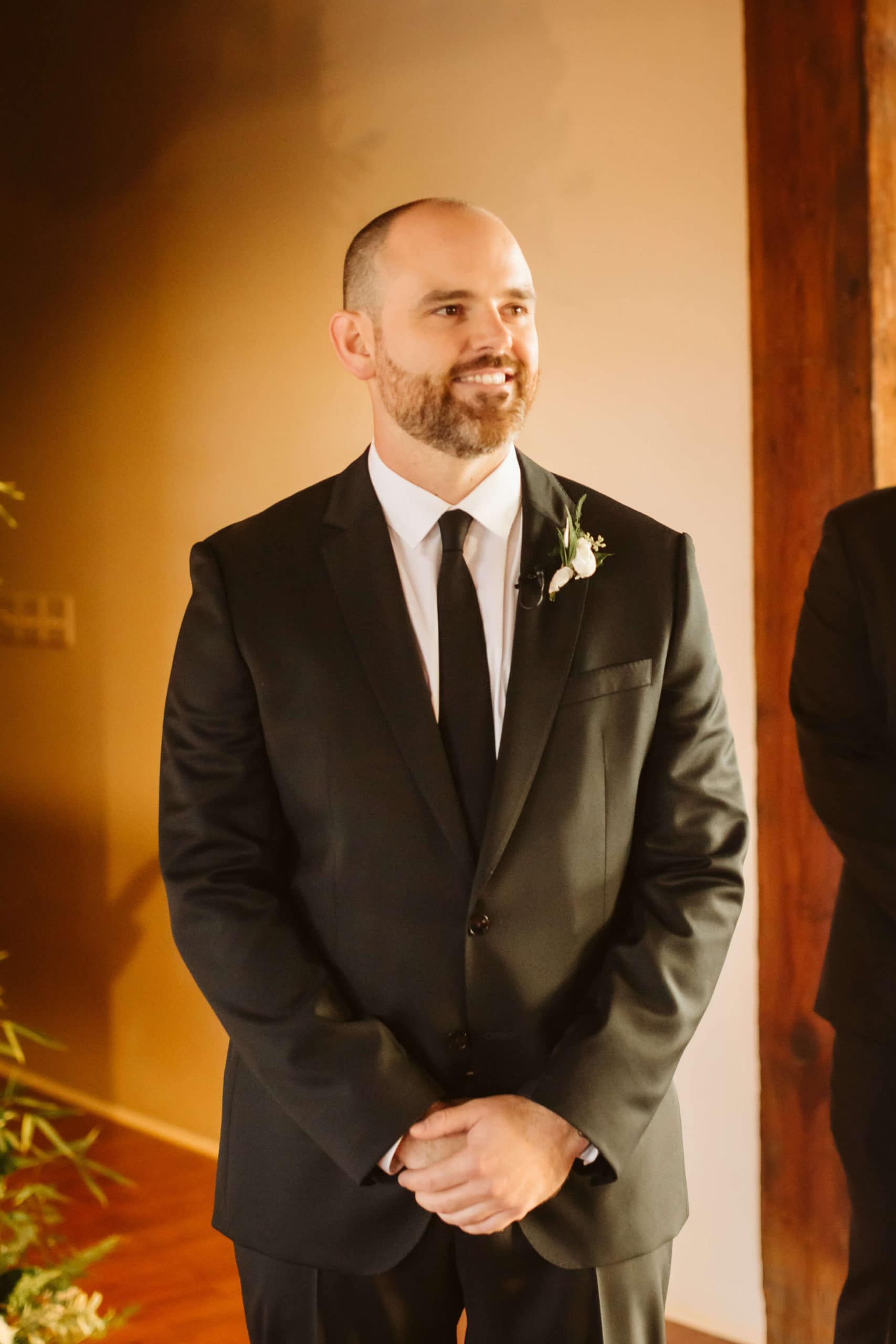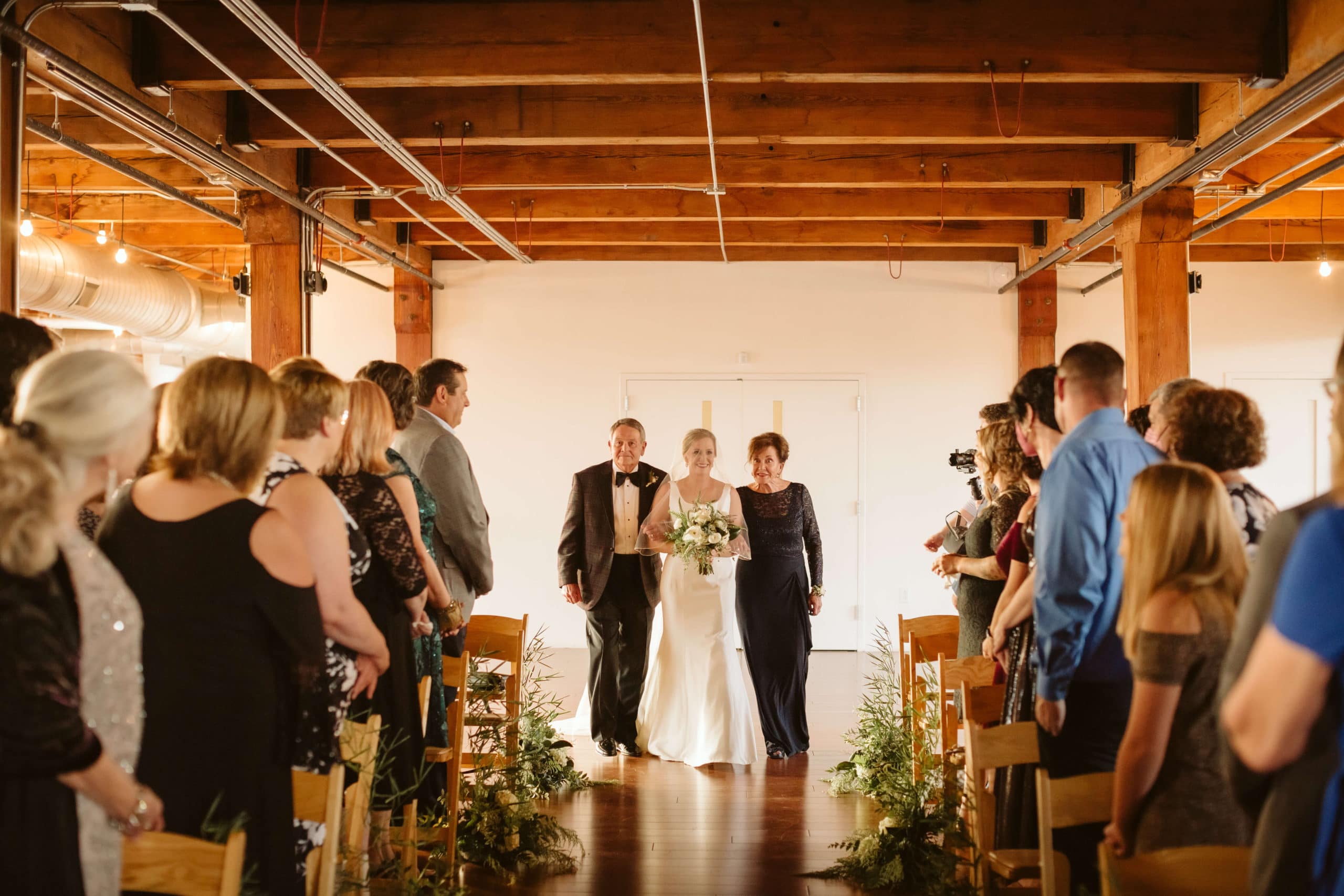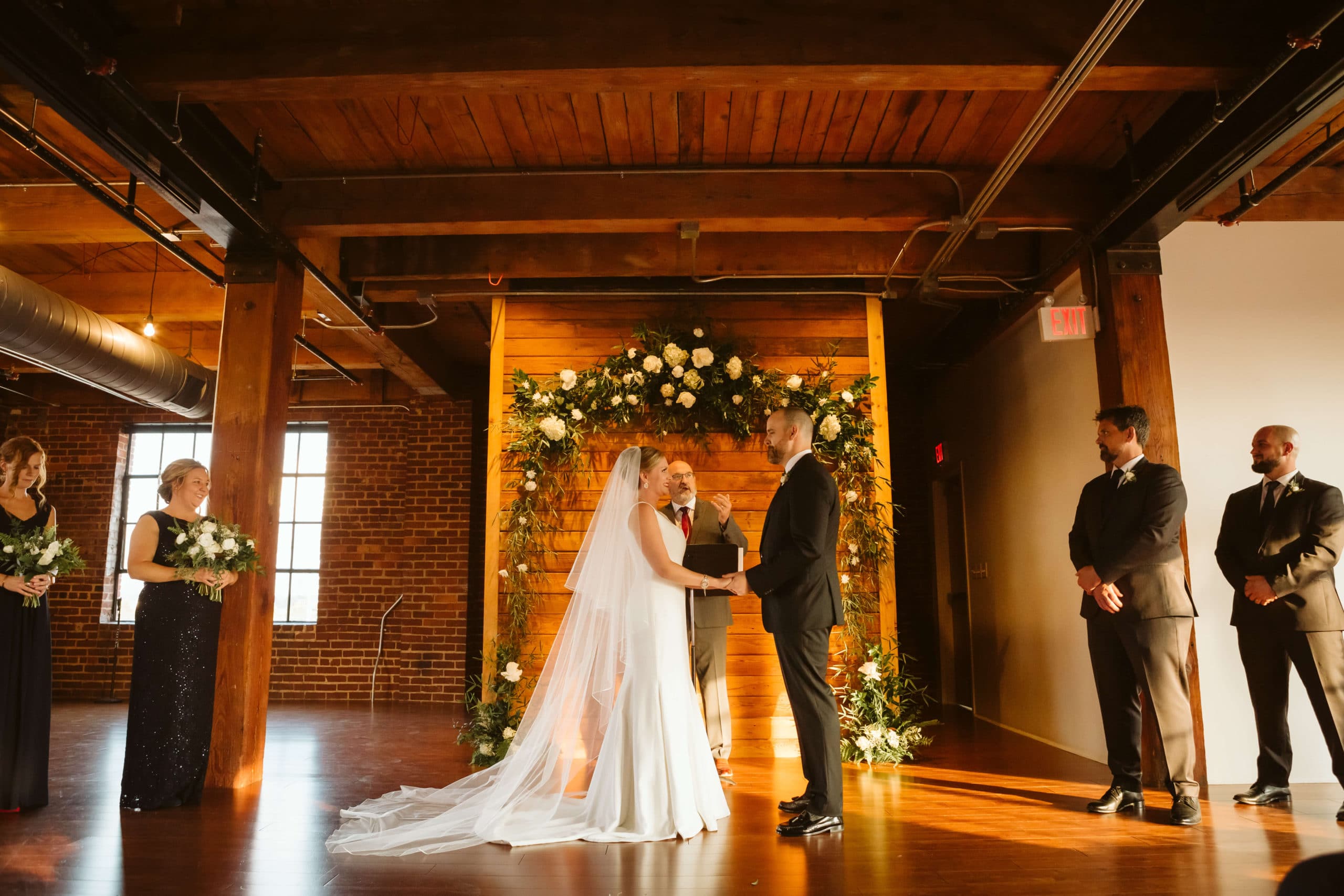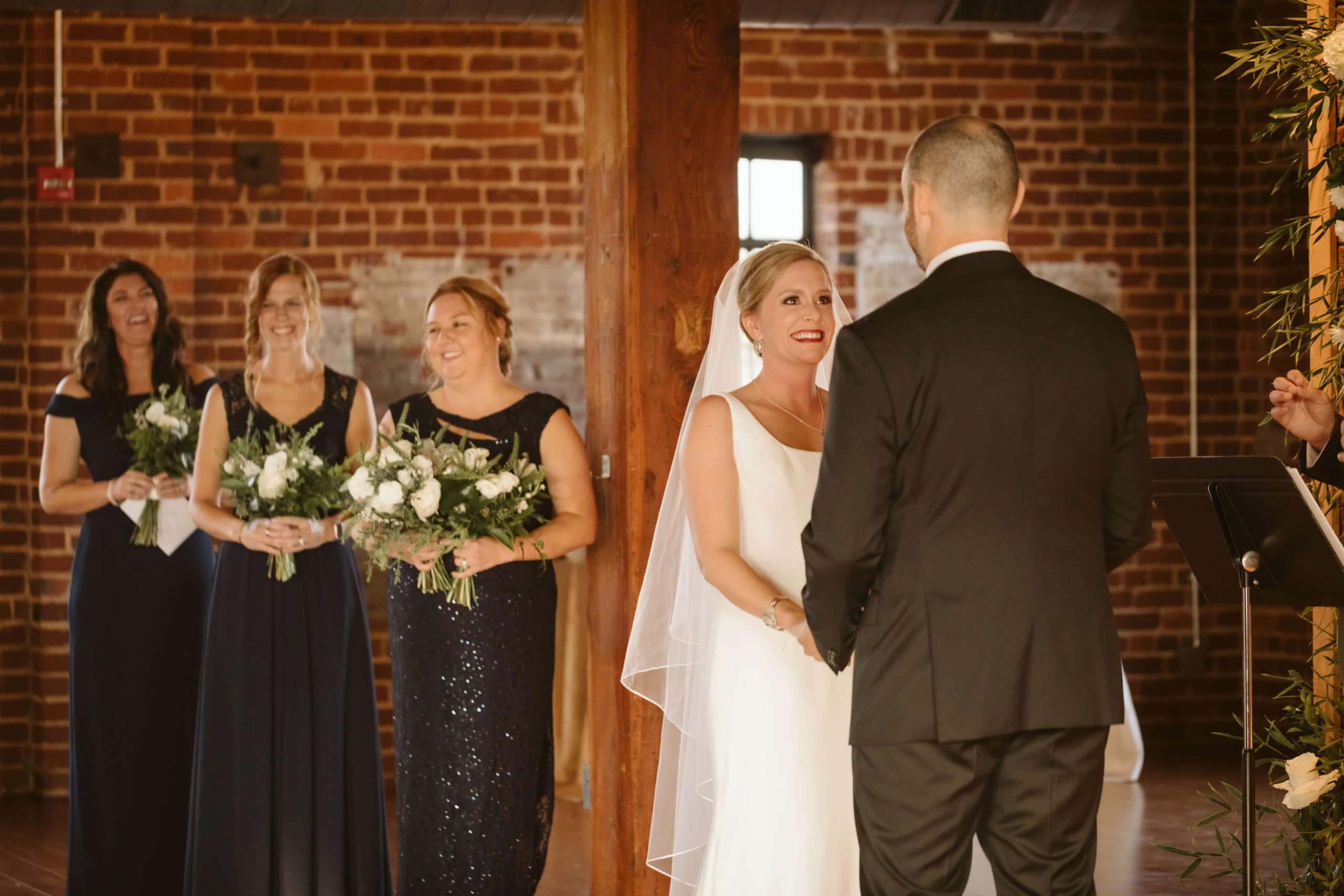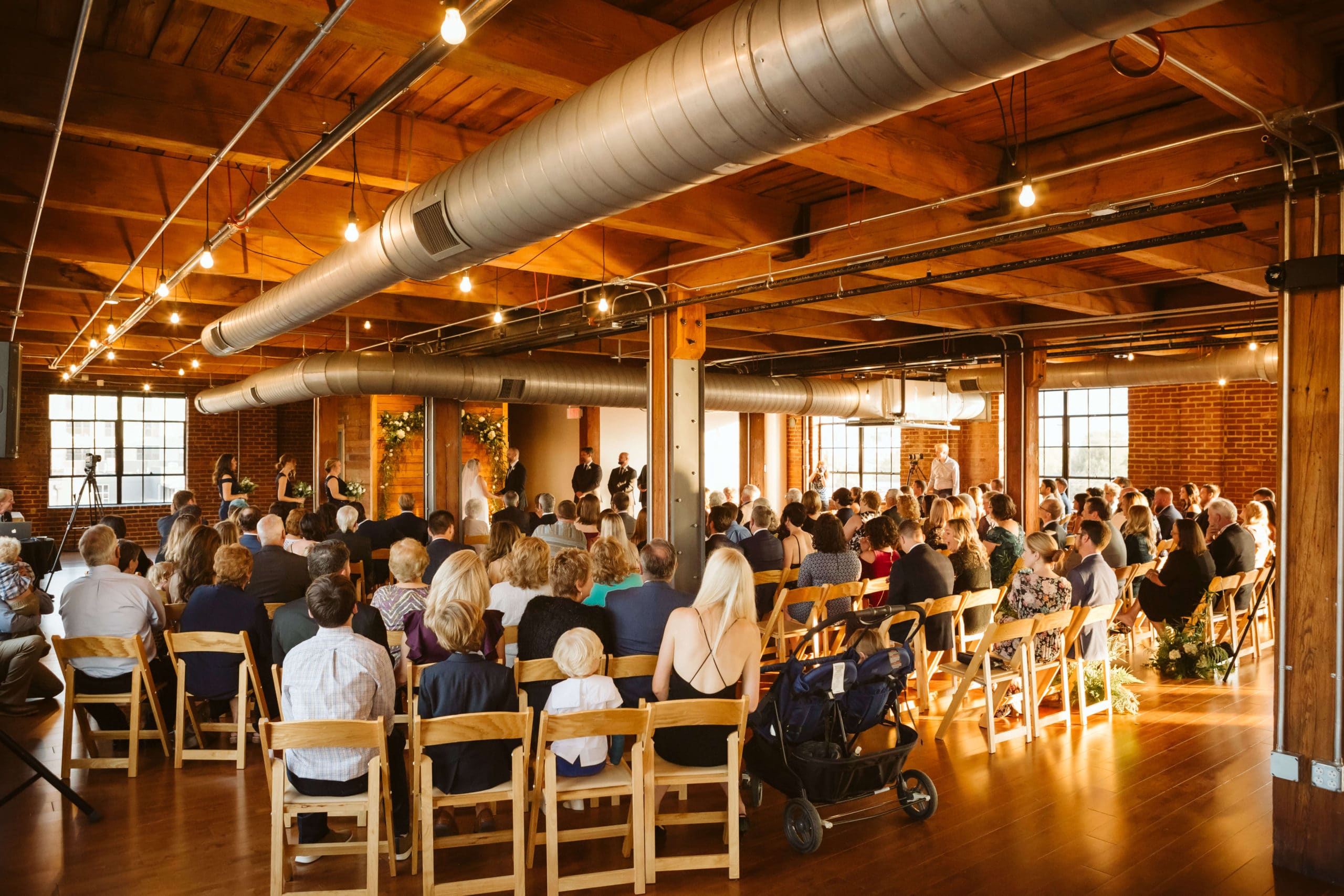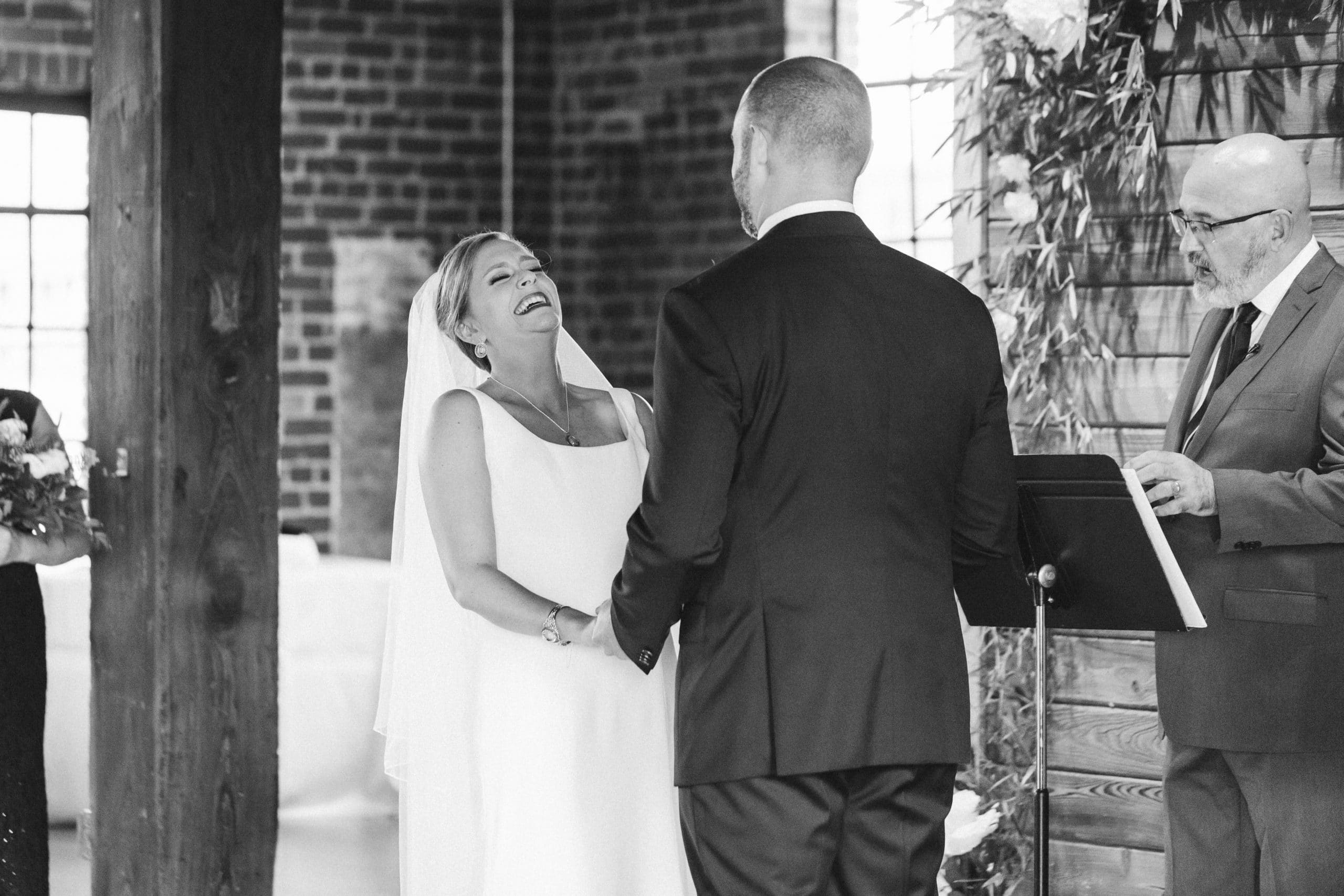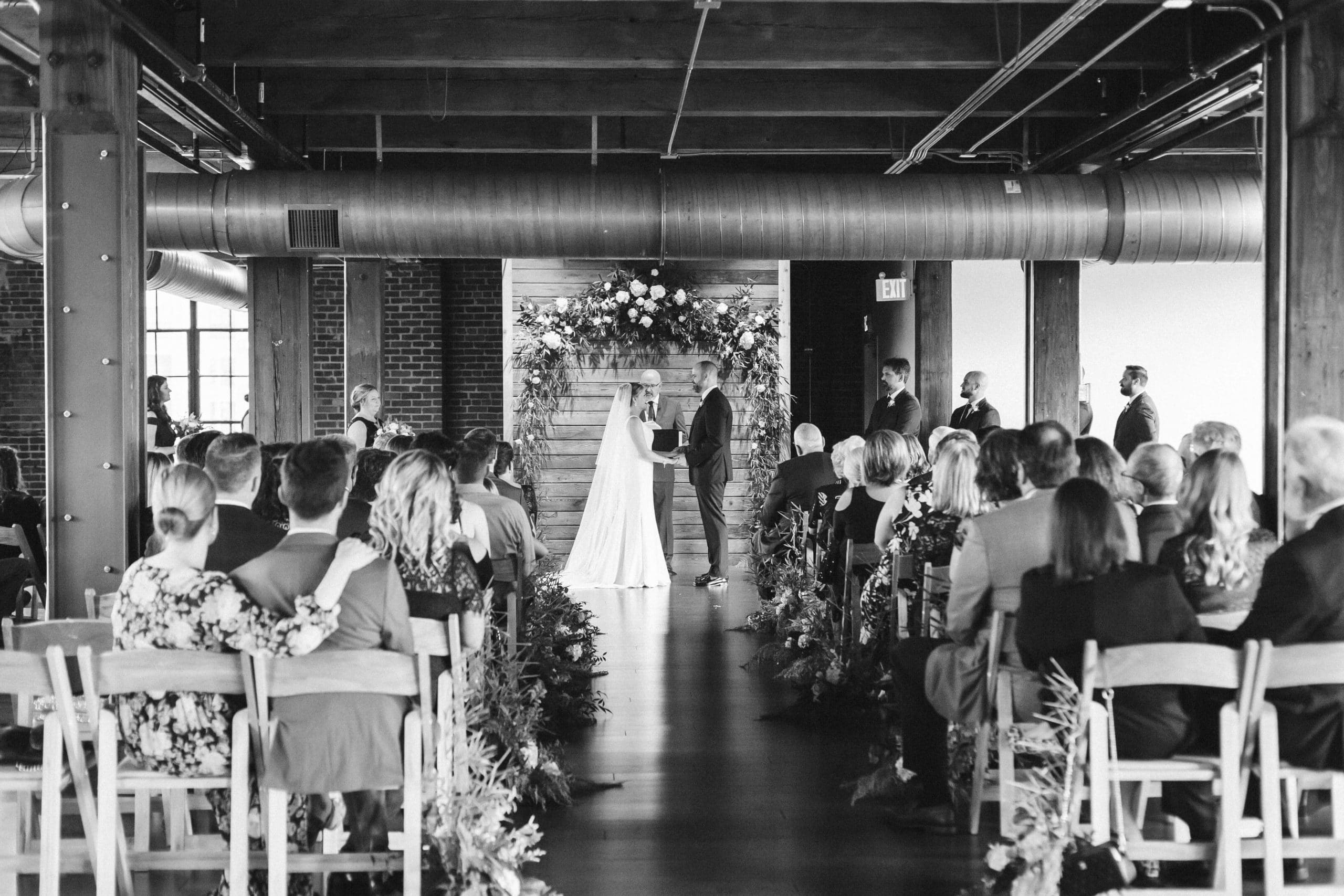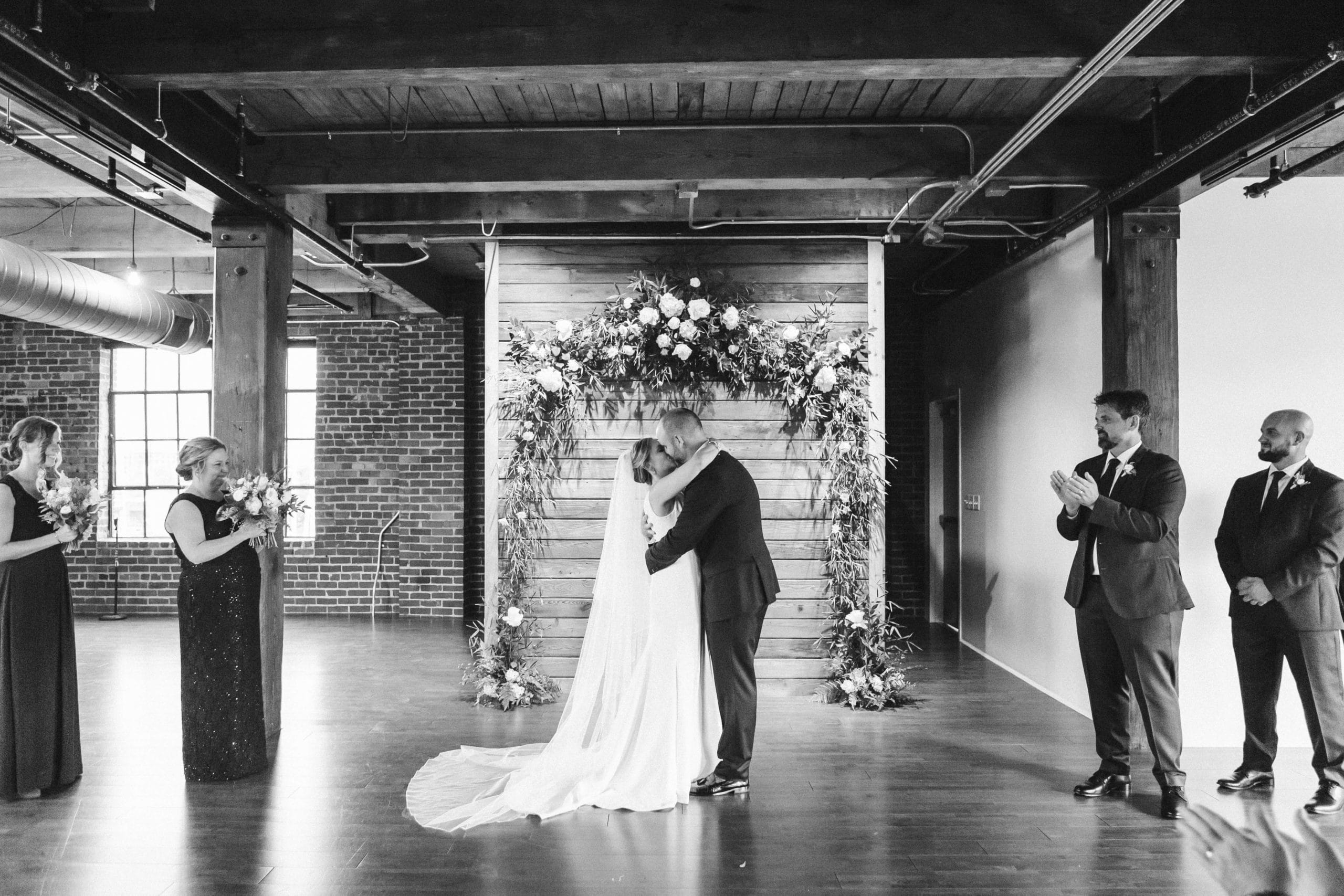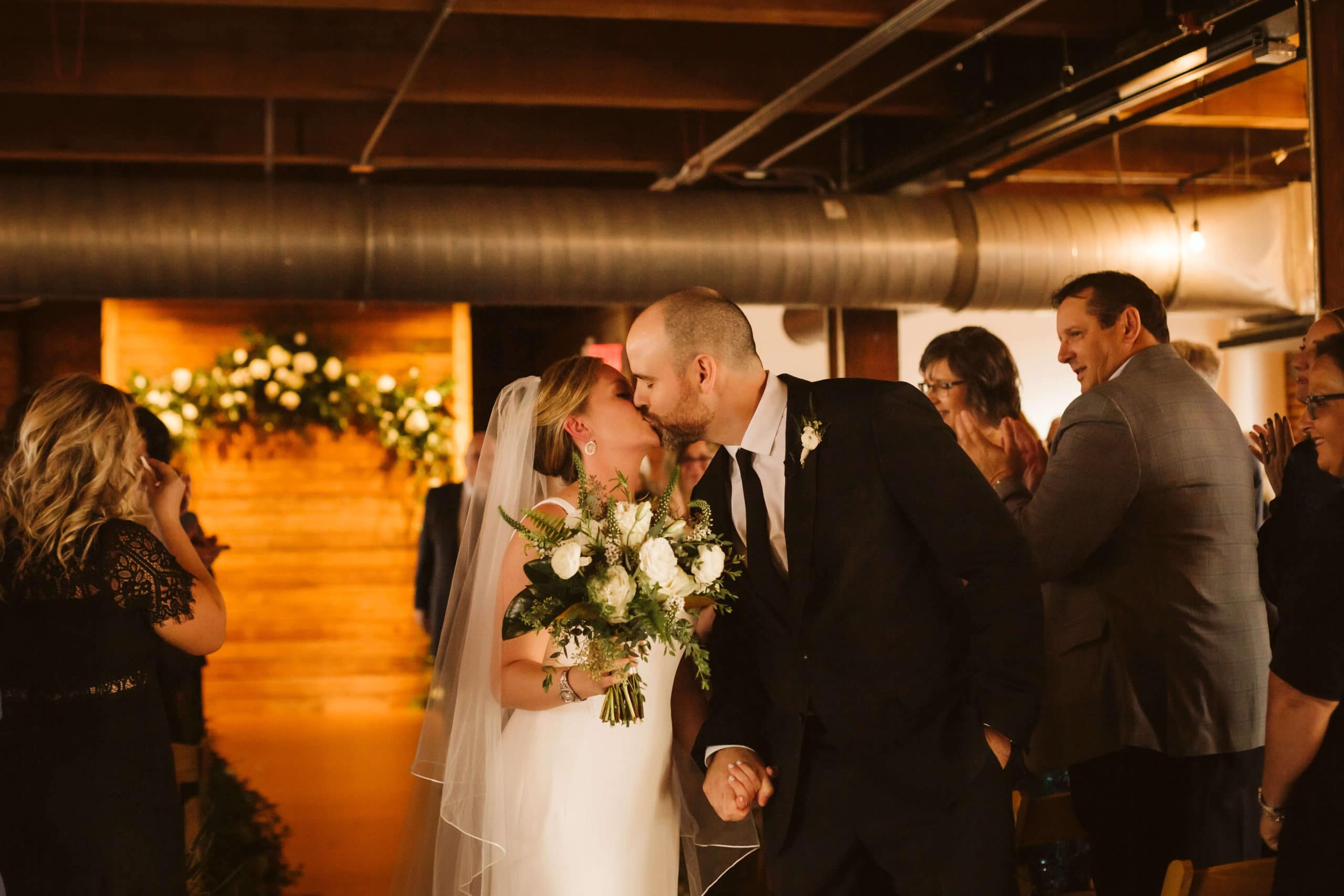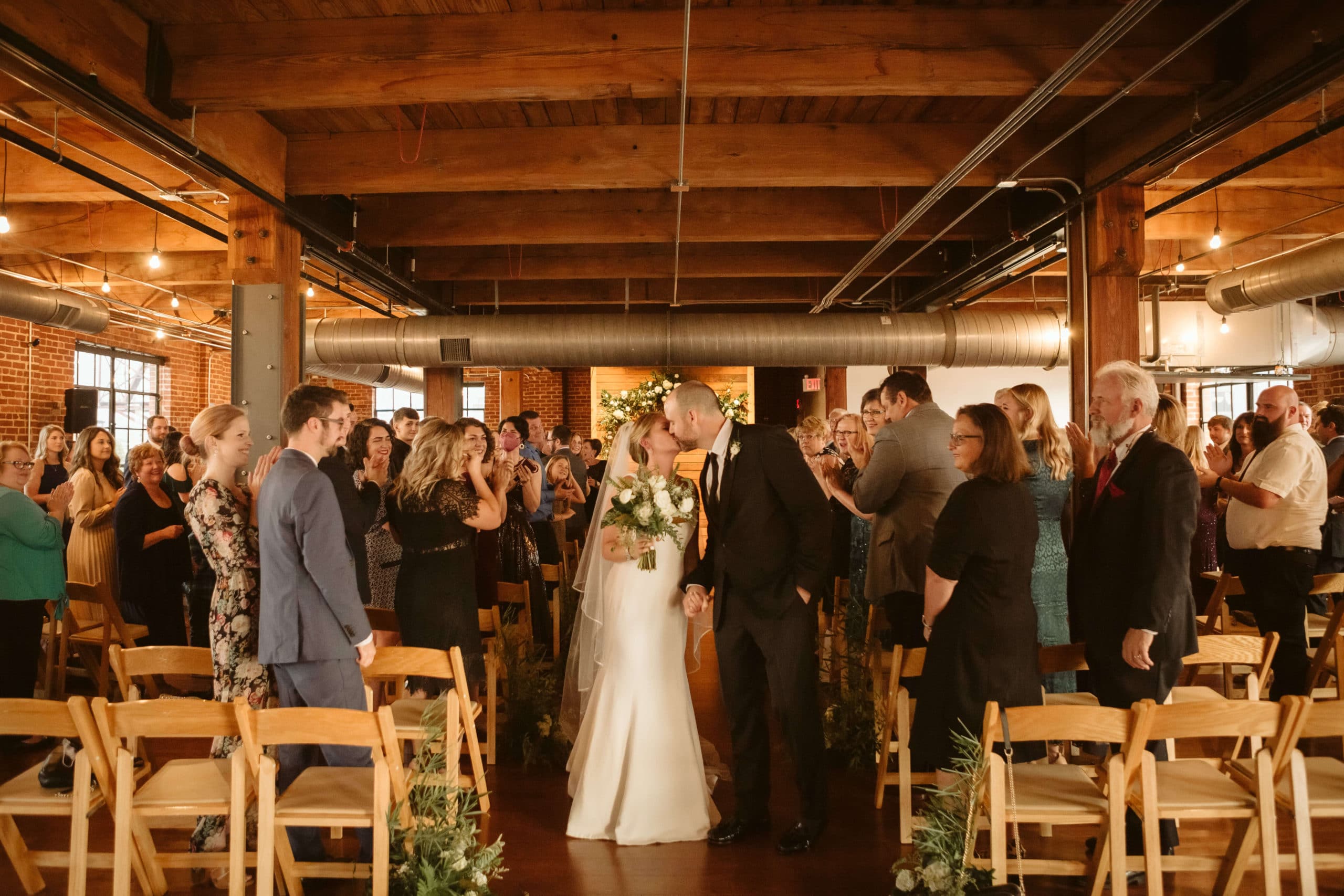 Importance of Including Family in Your Wedding Day
Emily and Ryan were all too excited to finally say "I do" surrounded by their family and friends. In fact, despite many couples tying the knot in a small ceremony, Emily and Ryan chose to wait. They knew that their wedding was more than a celebration about them. It was a celebration of two families coming together. They knew that in order for their wedding day to be absolutely perfect, all of their family and friends needed to be there.
Family was at the heart of this special day from deciding to wait to tie the knot to even how the bride approached her family helping out and giving advice. Emily offered up a new perspective that could be beneficial to many soon-to-be brides. Her philosophy when it came to family members trying to "take over" the wedding planning, was to not immediately assume they were trying to impose. Rather, she embraced the thought that family might also have ideas of how the wedding might go. After all, they're quite excited, too and want to help out!
By sharing ideas with you, your loved ones are ensuring that you know just how special you are to them, and by including them in your planning, in whatever small ways possible, you're showing your love for them as well. Emily and Ryan cemented just how important their loved ones were to them by making sure they had a dedicated time slot for portraits with all their family and friends.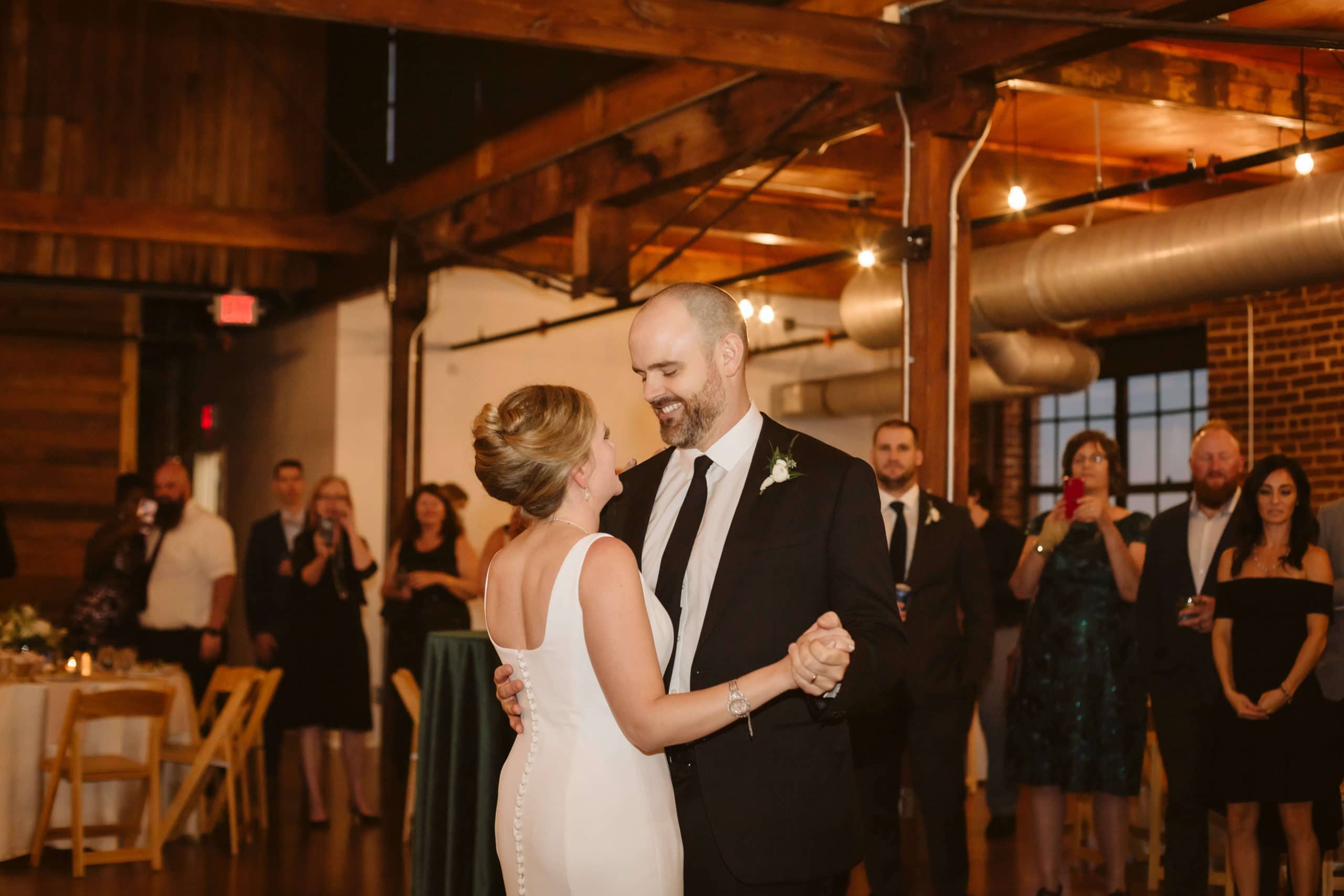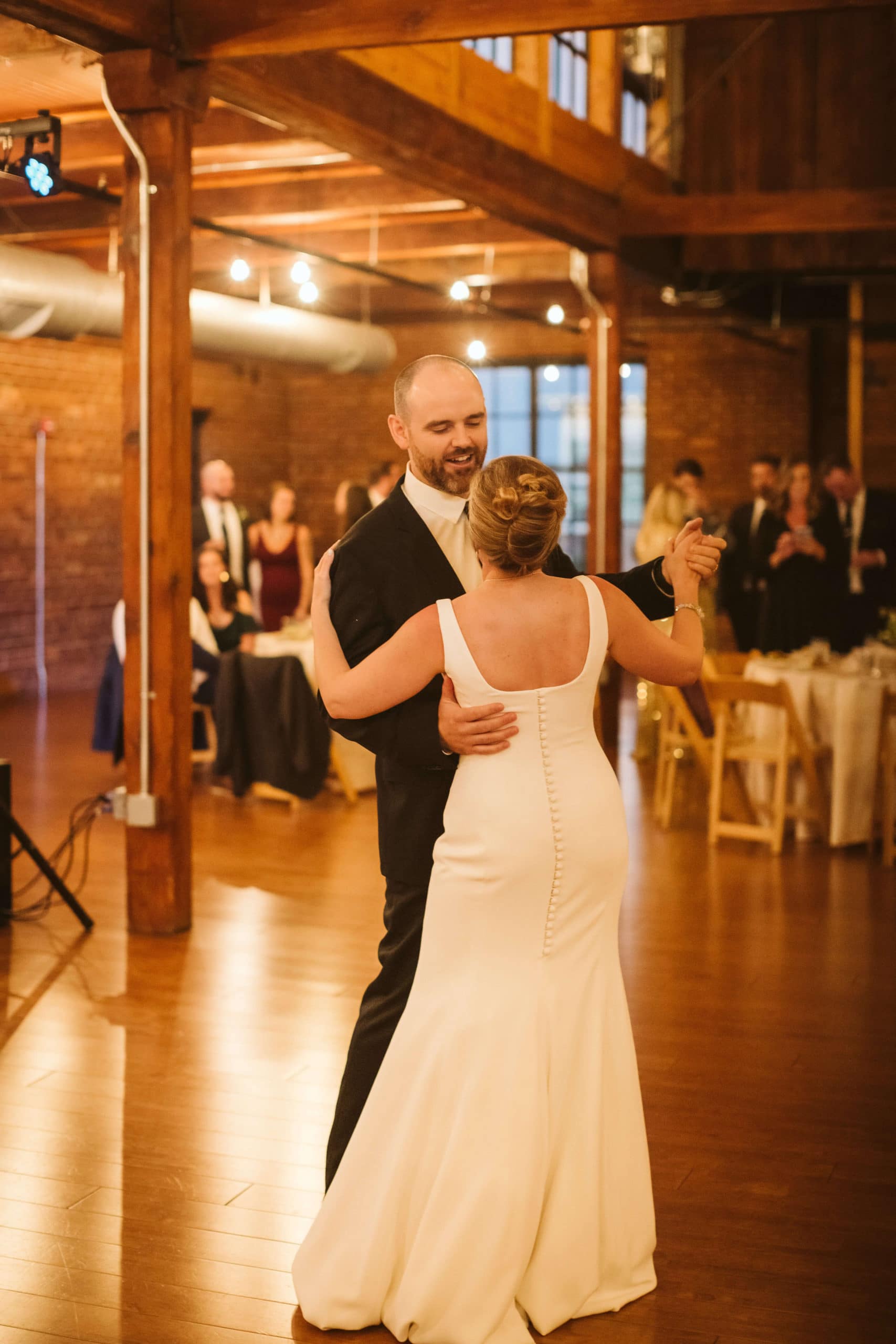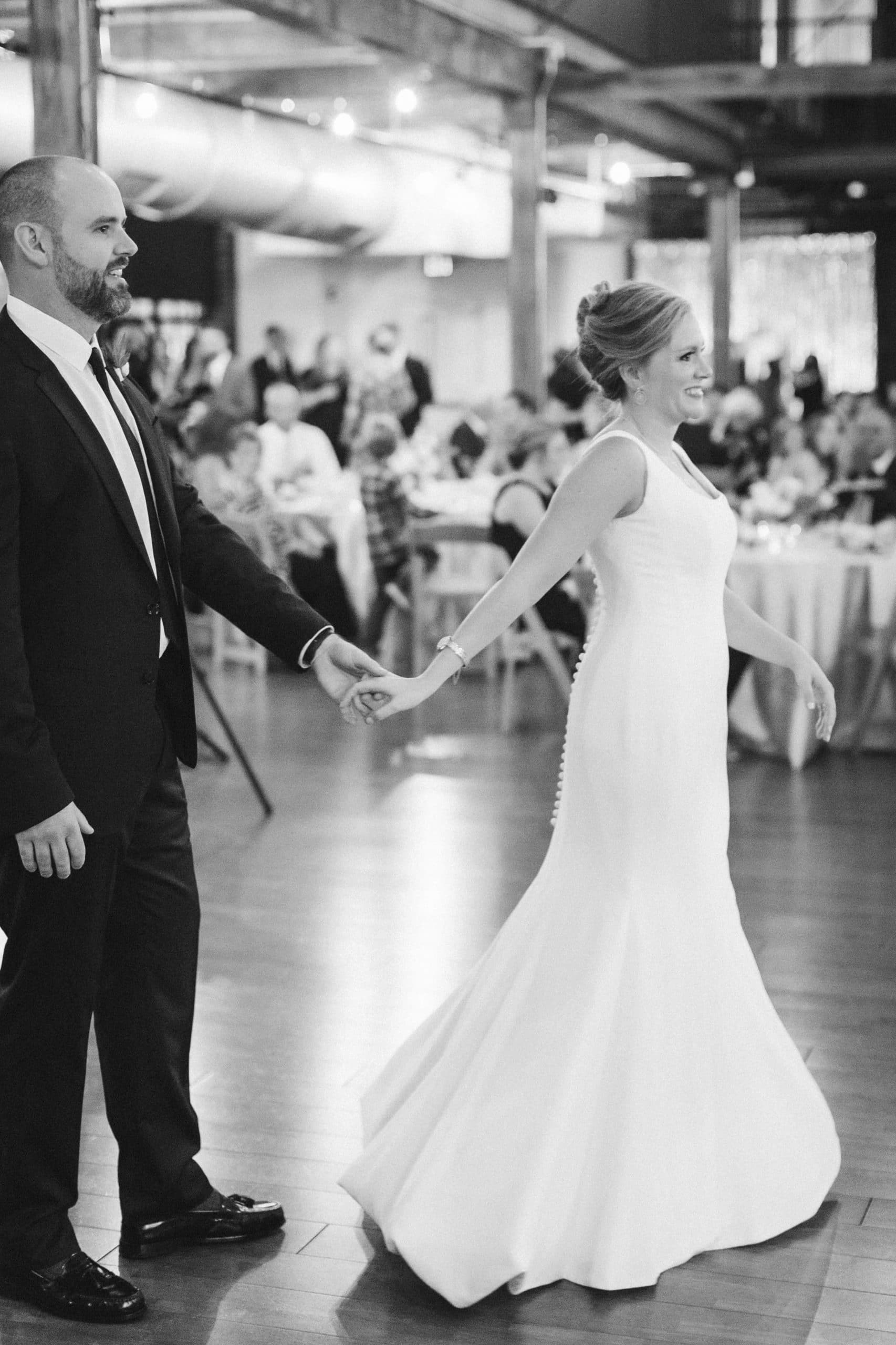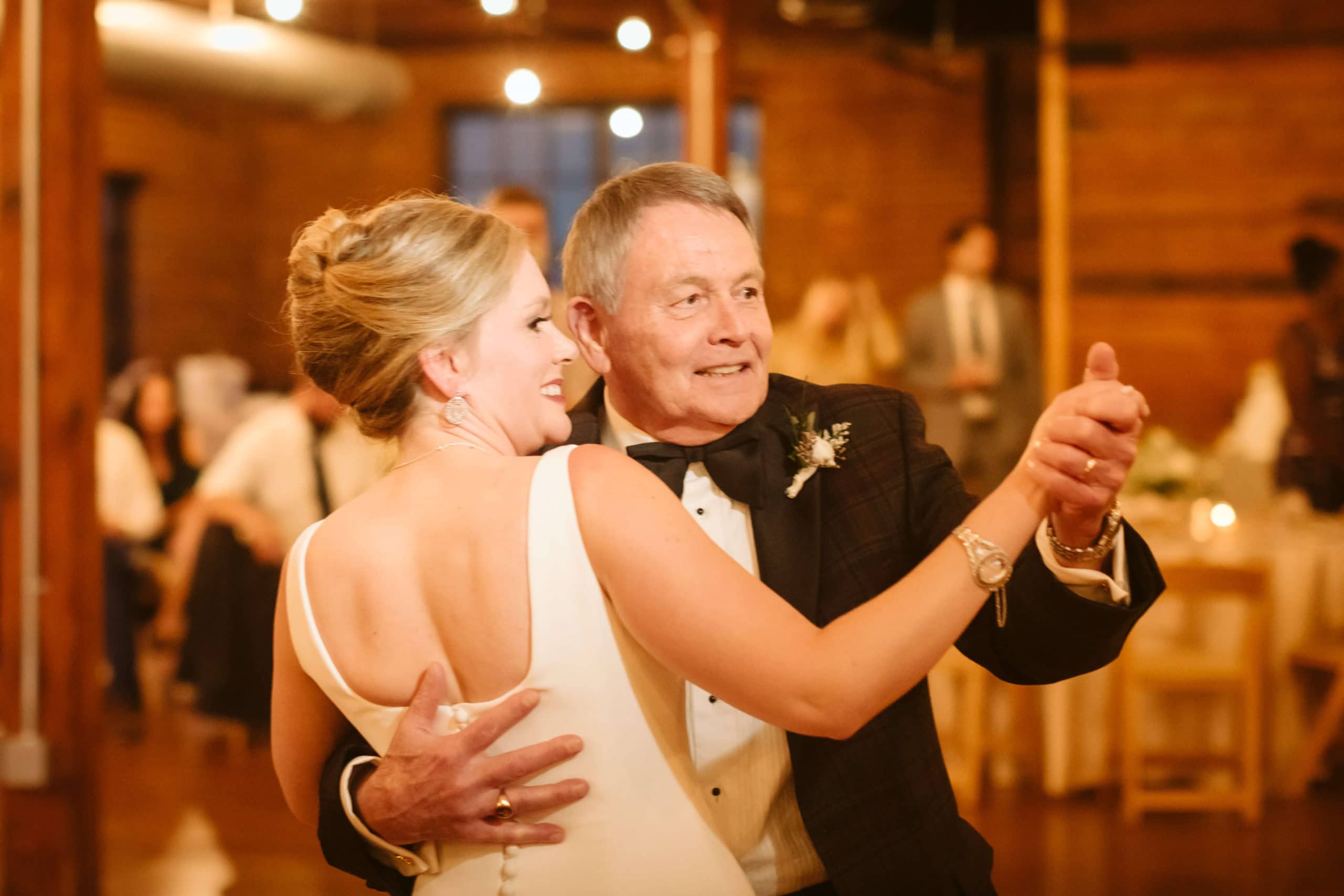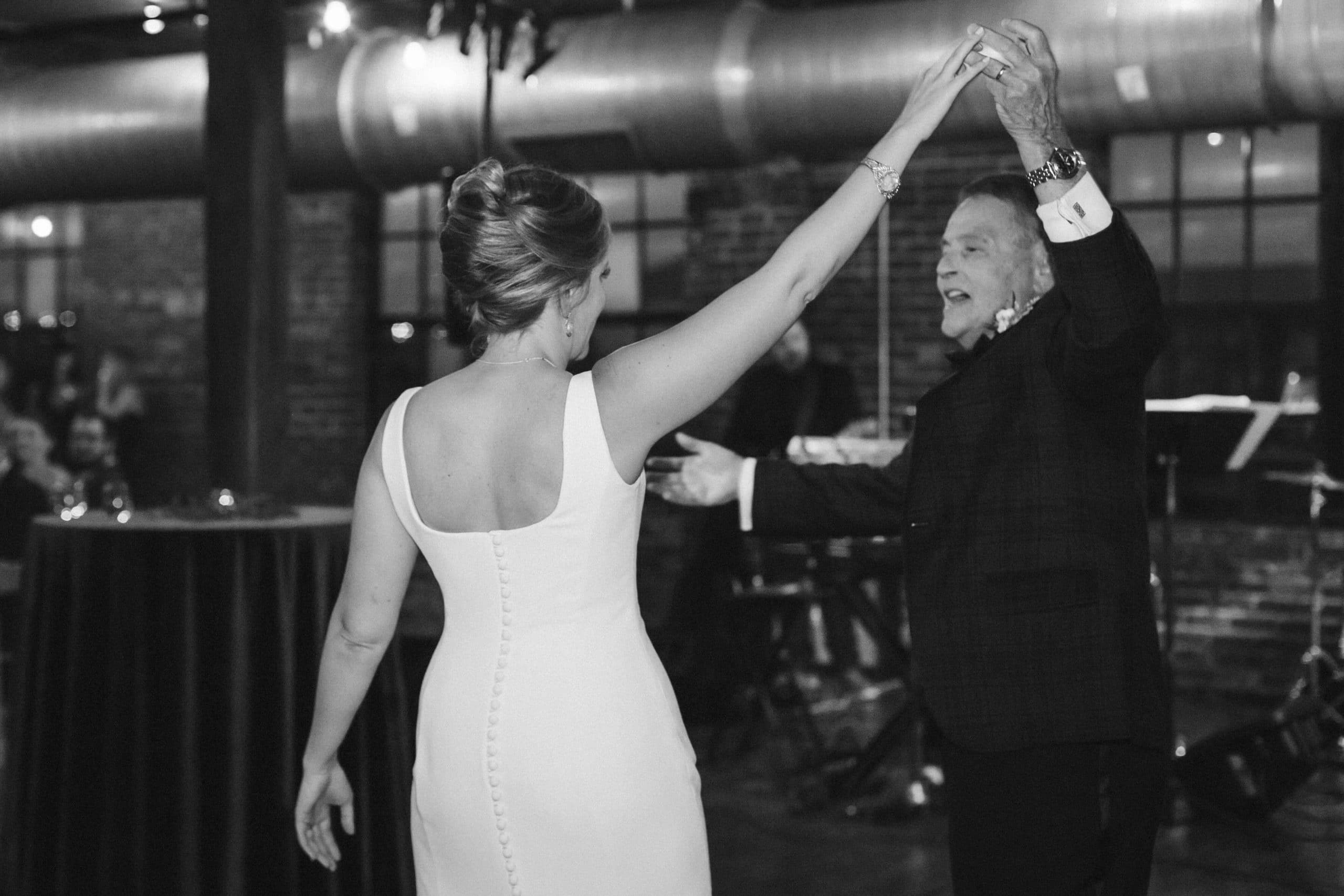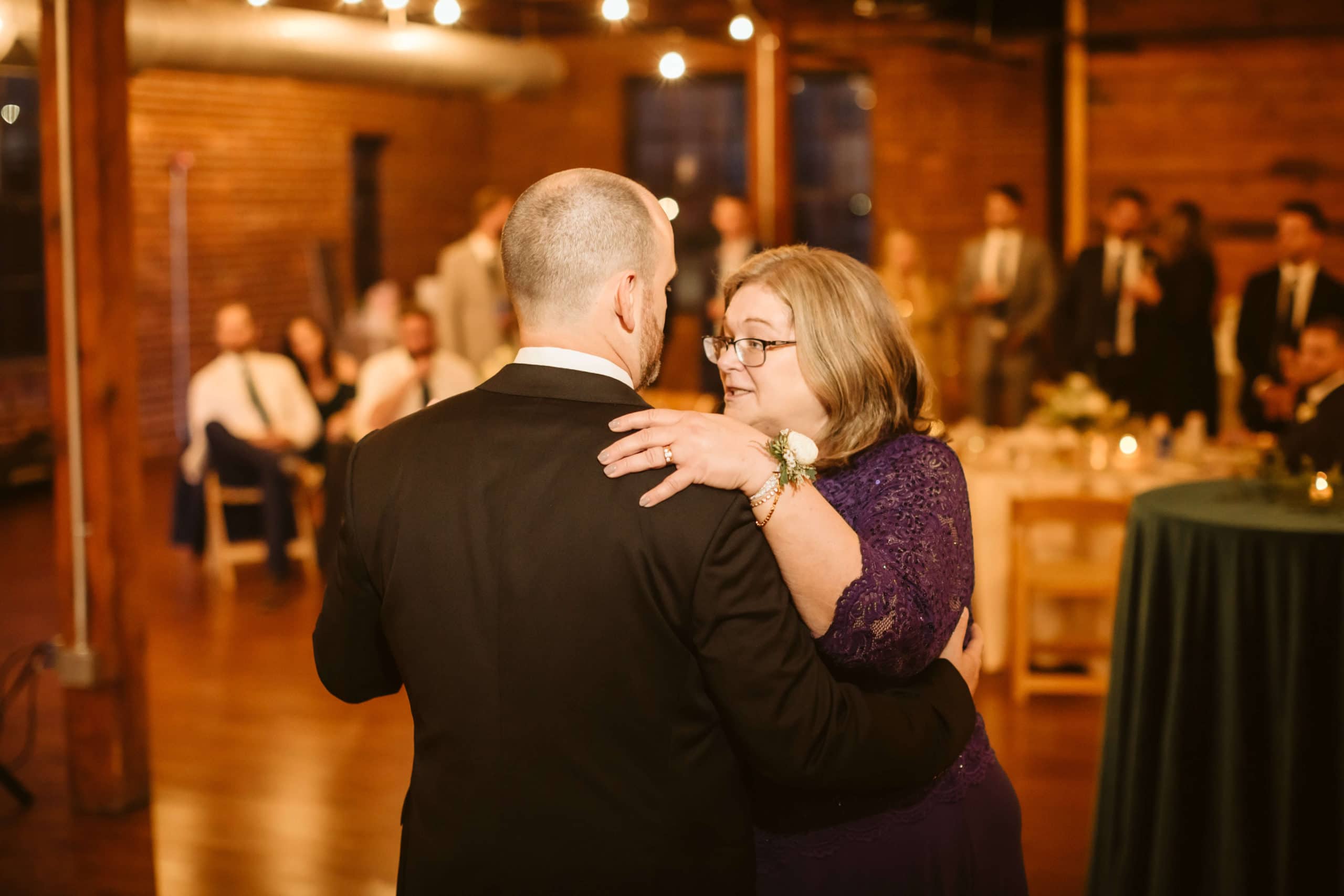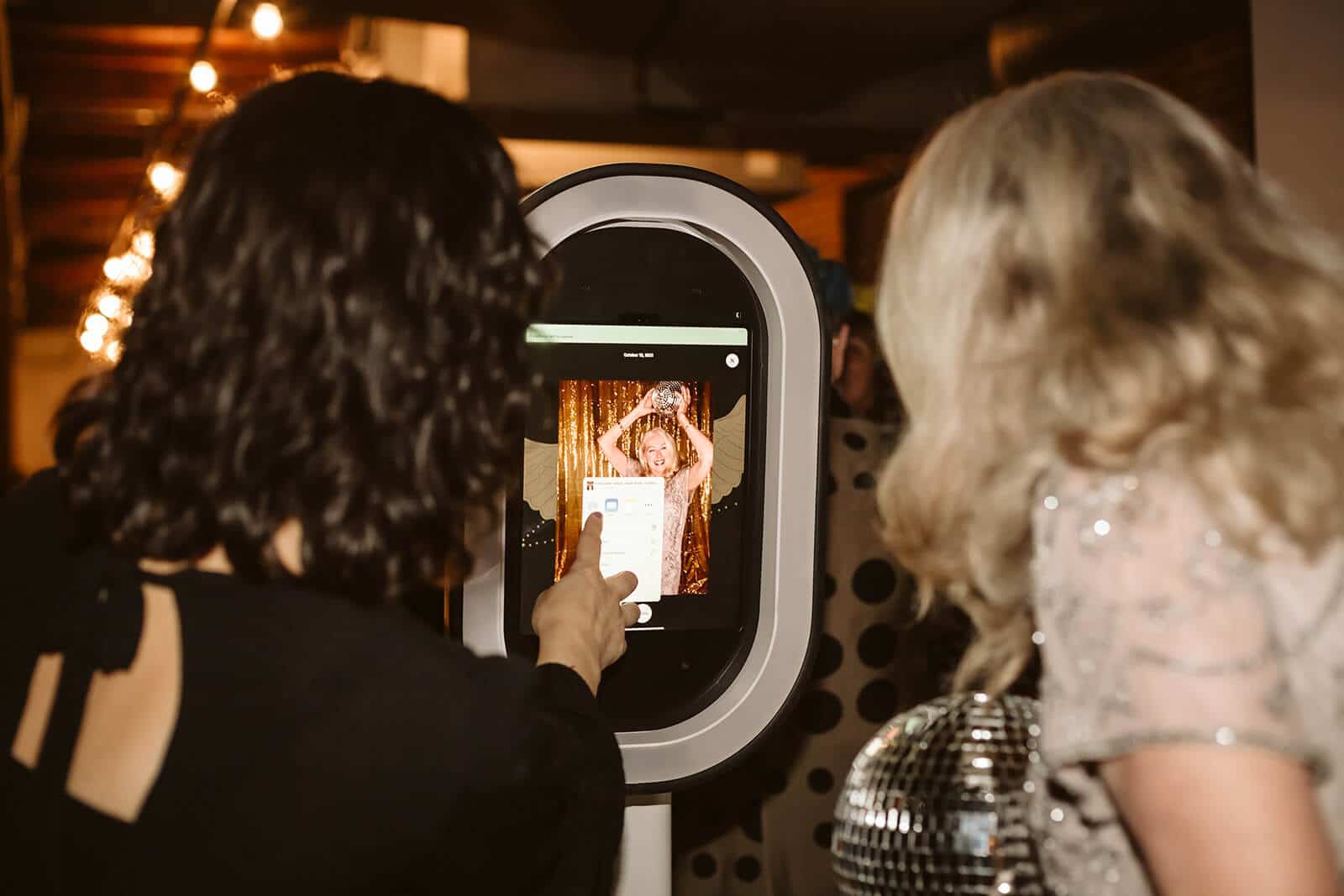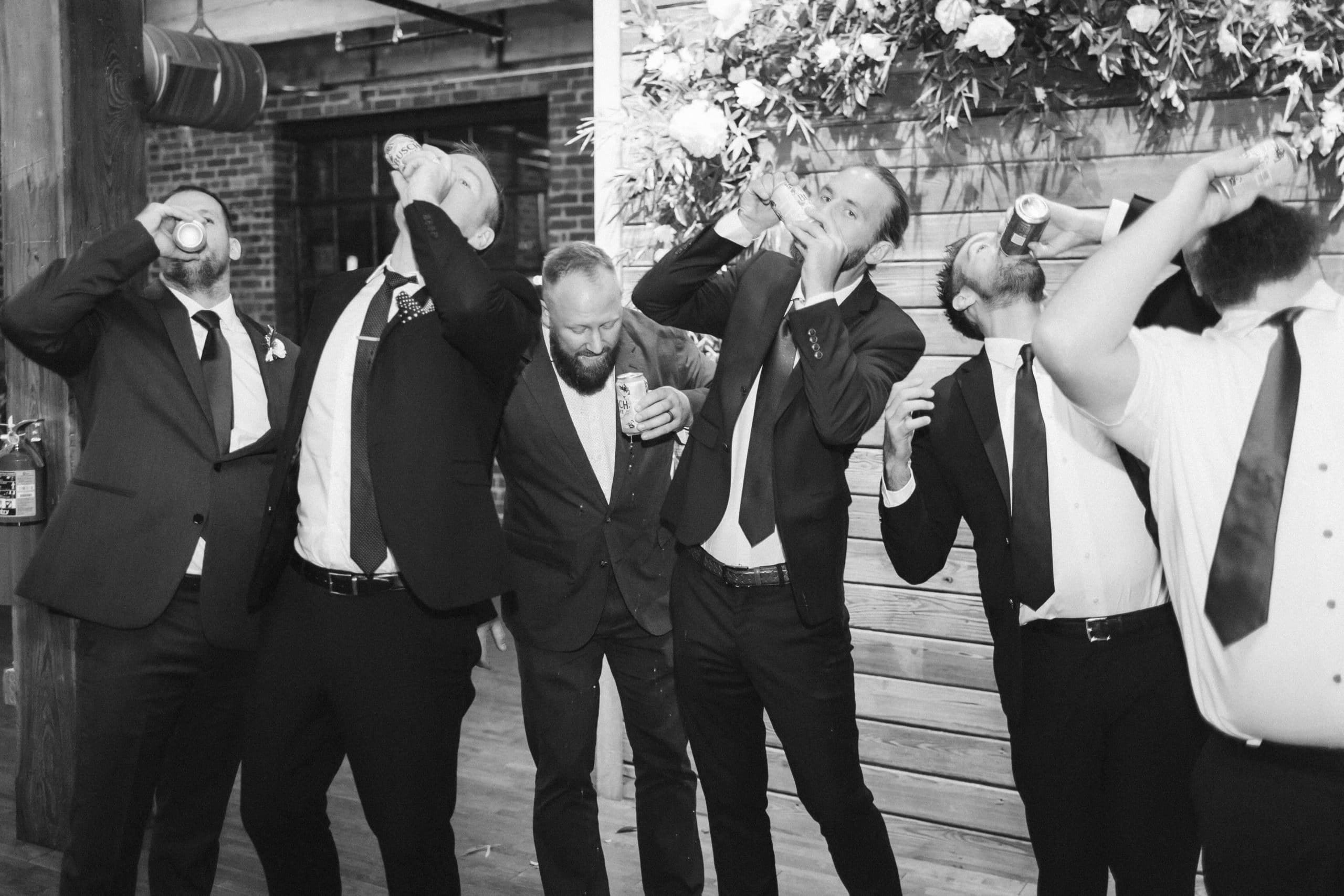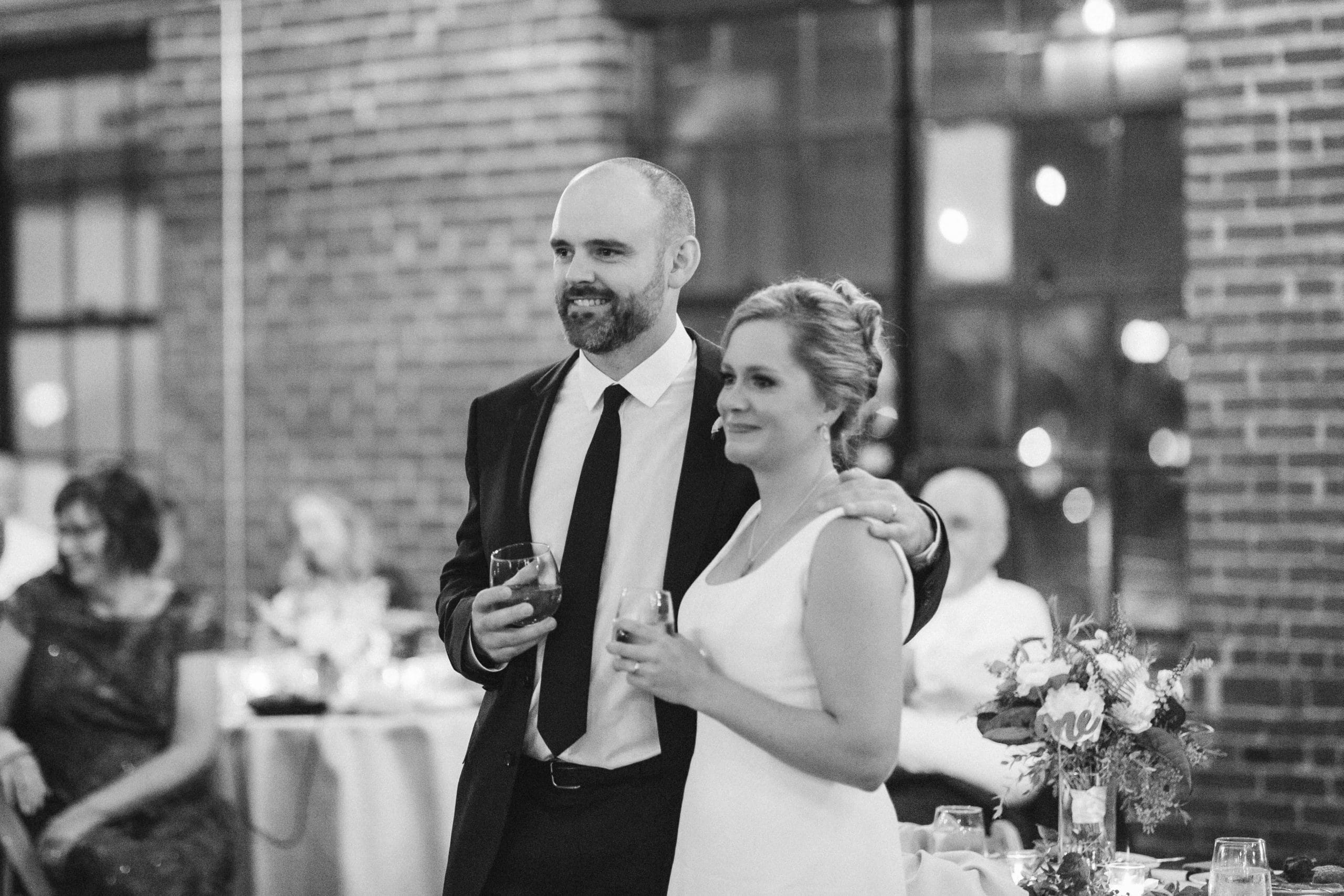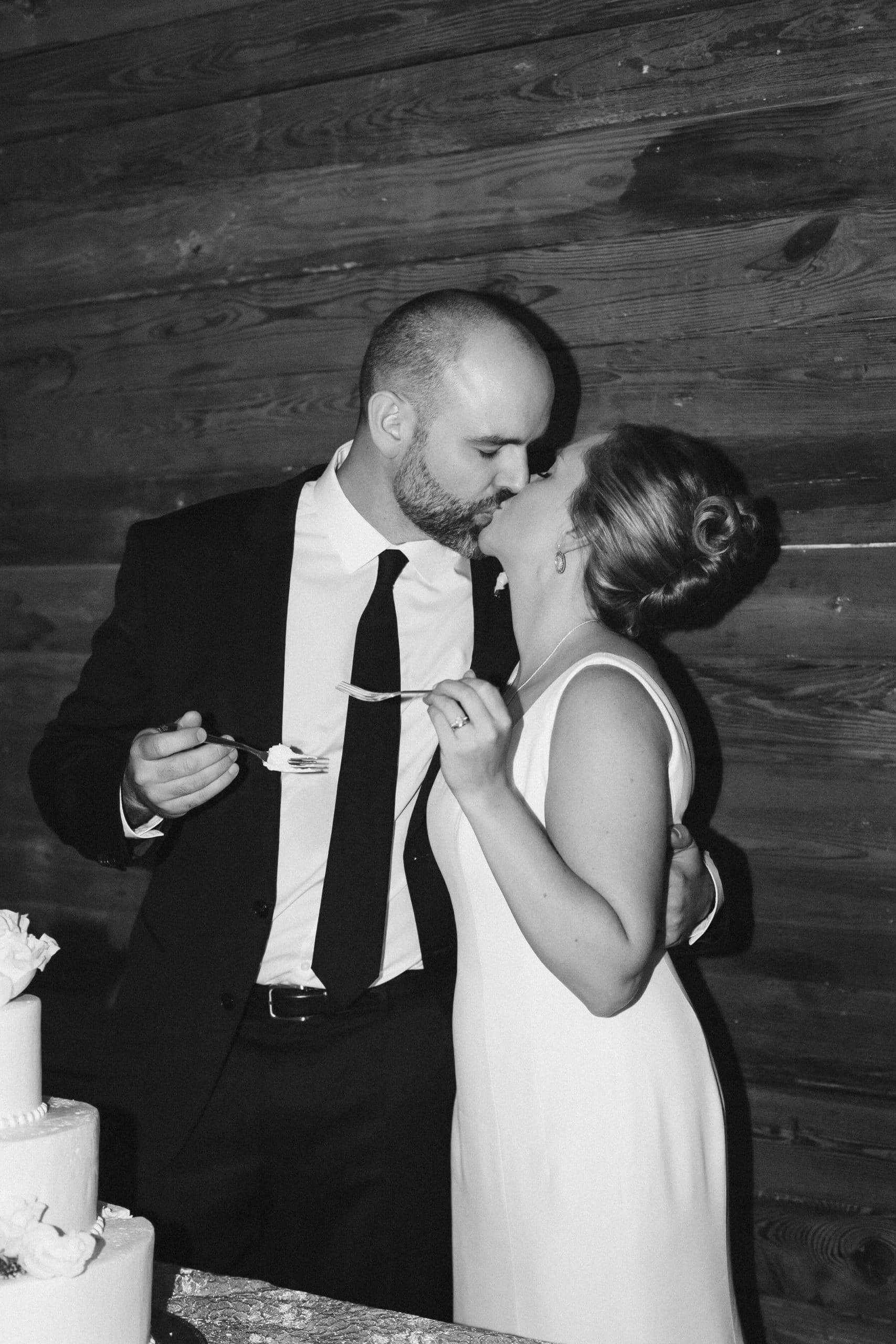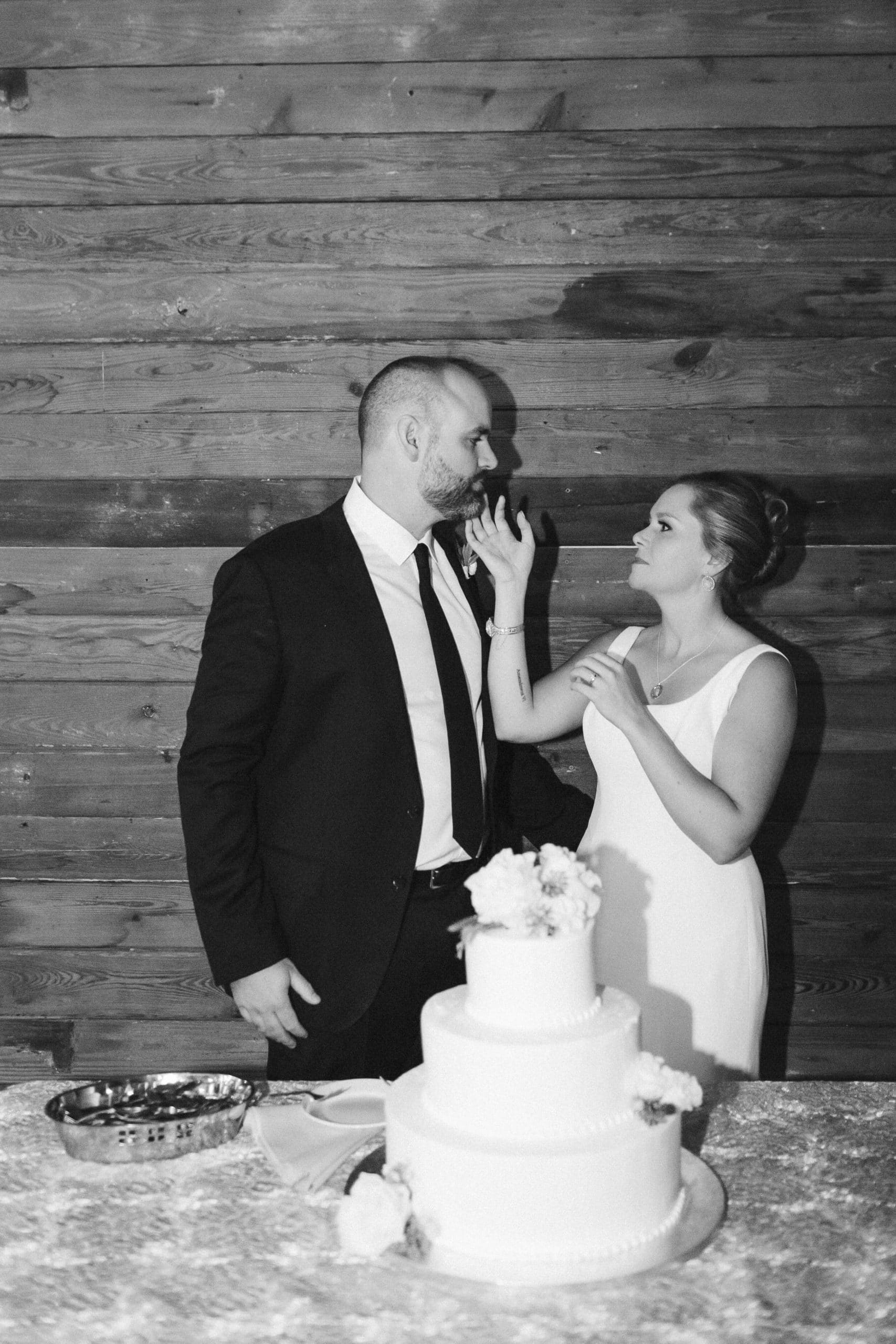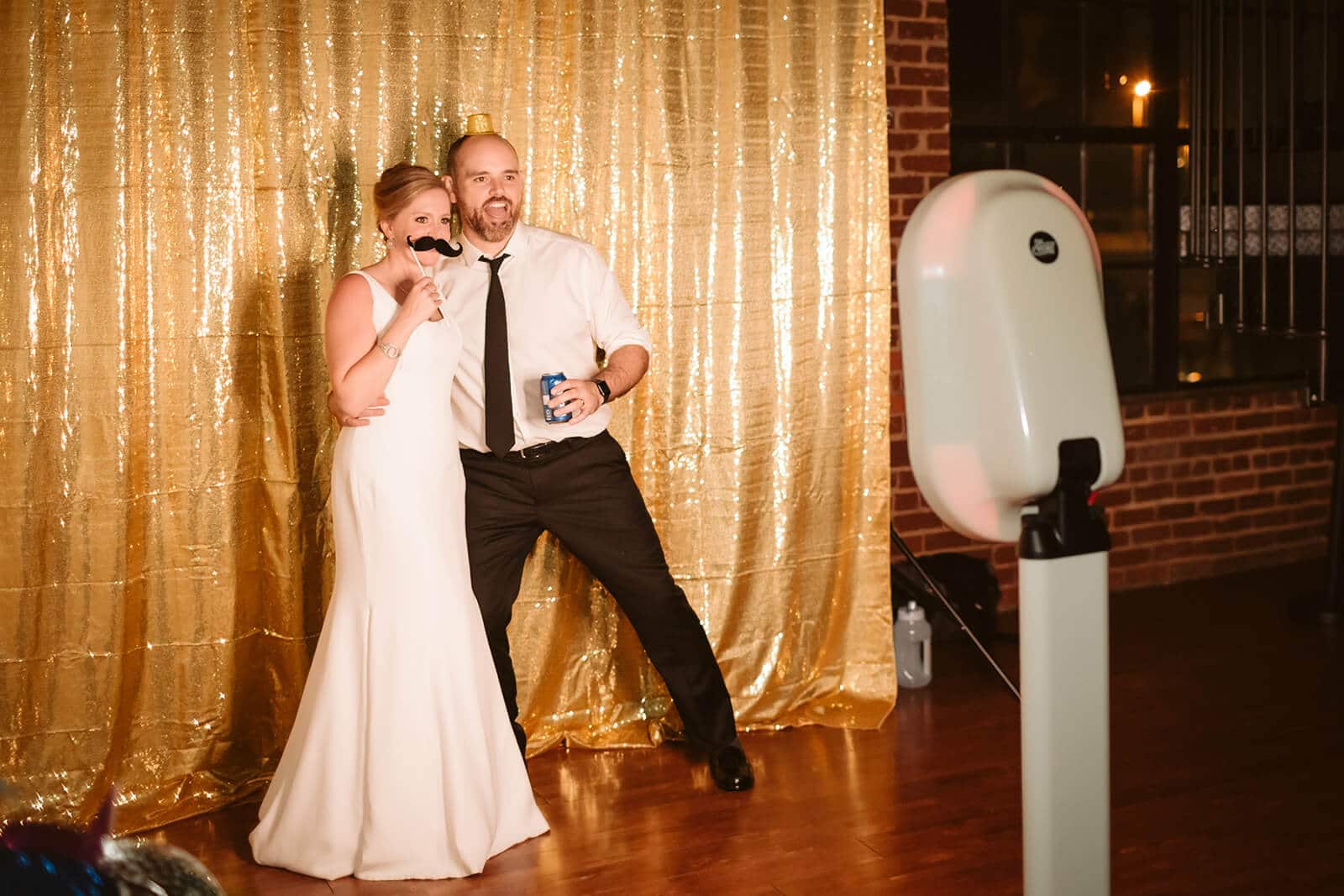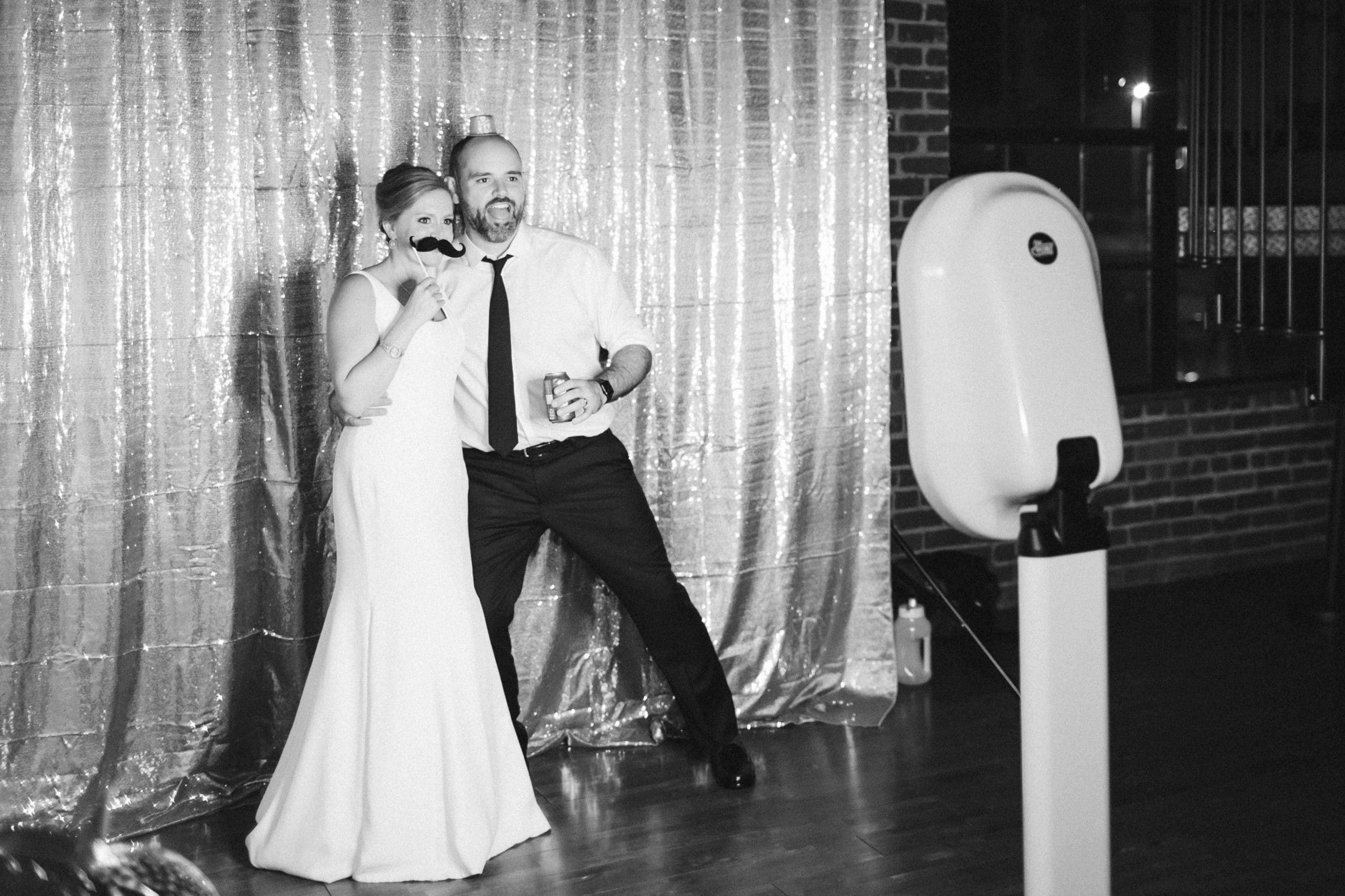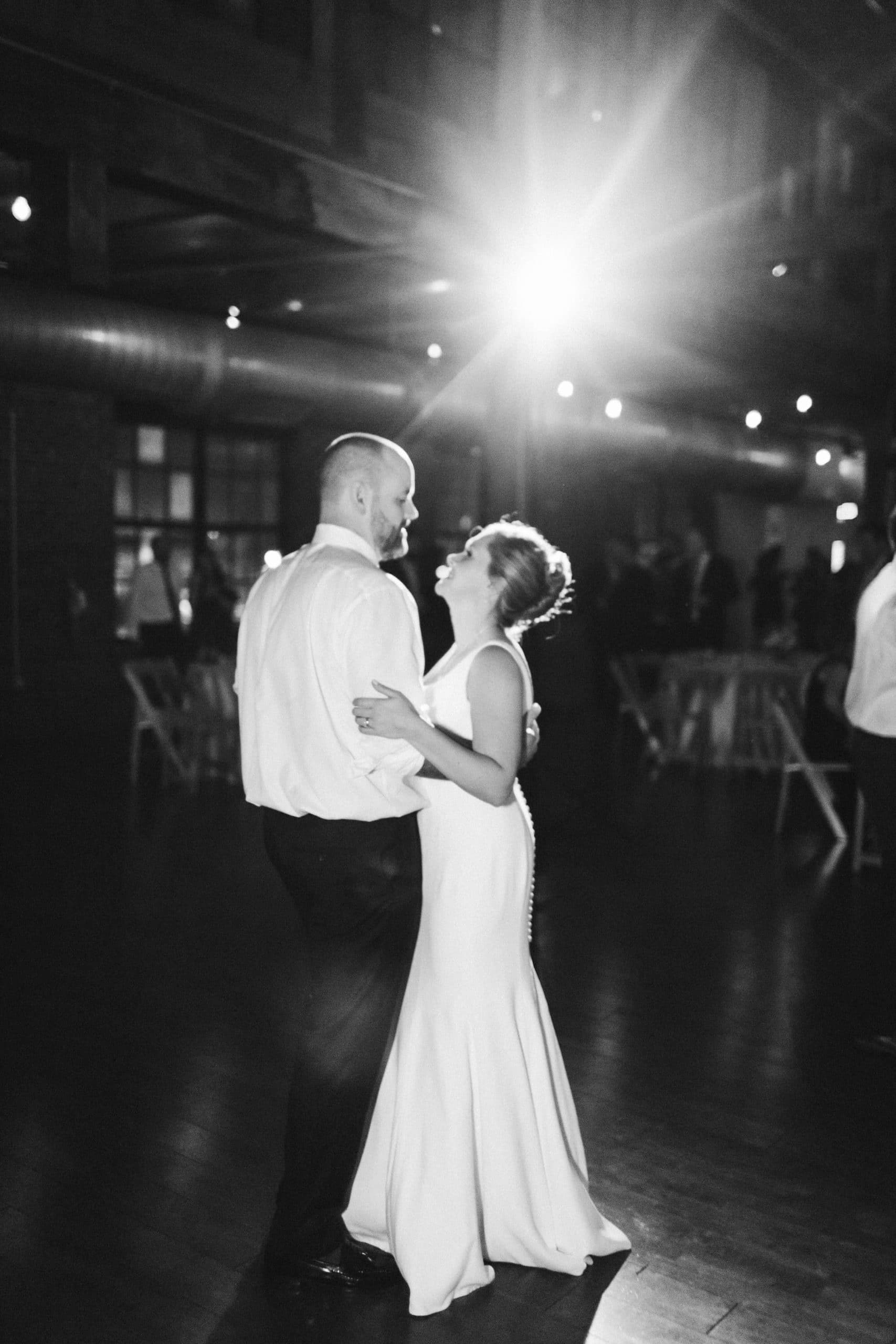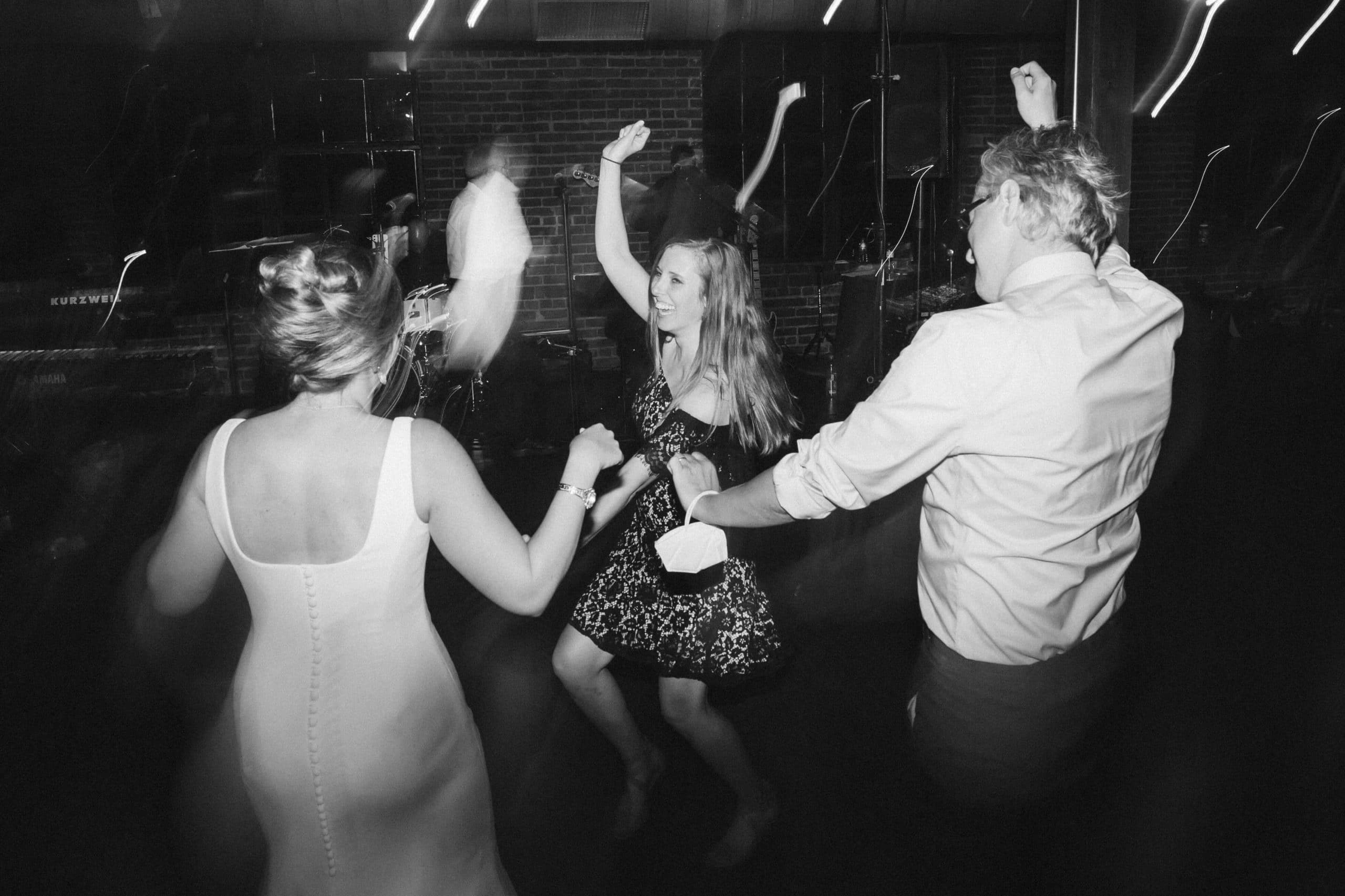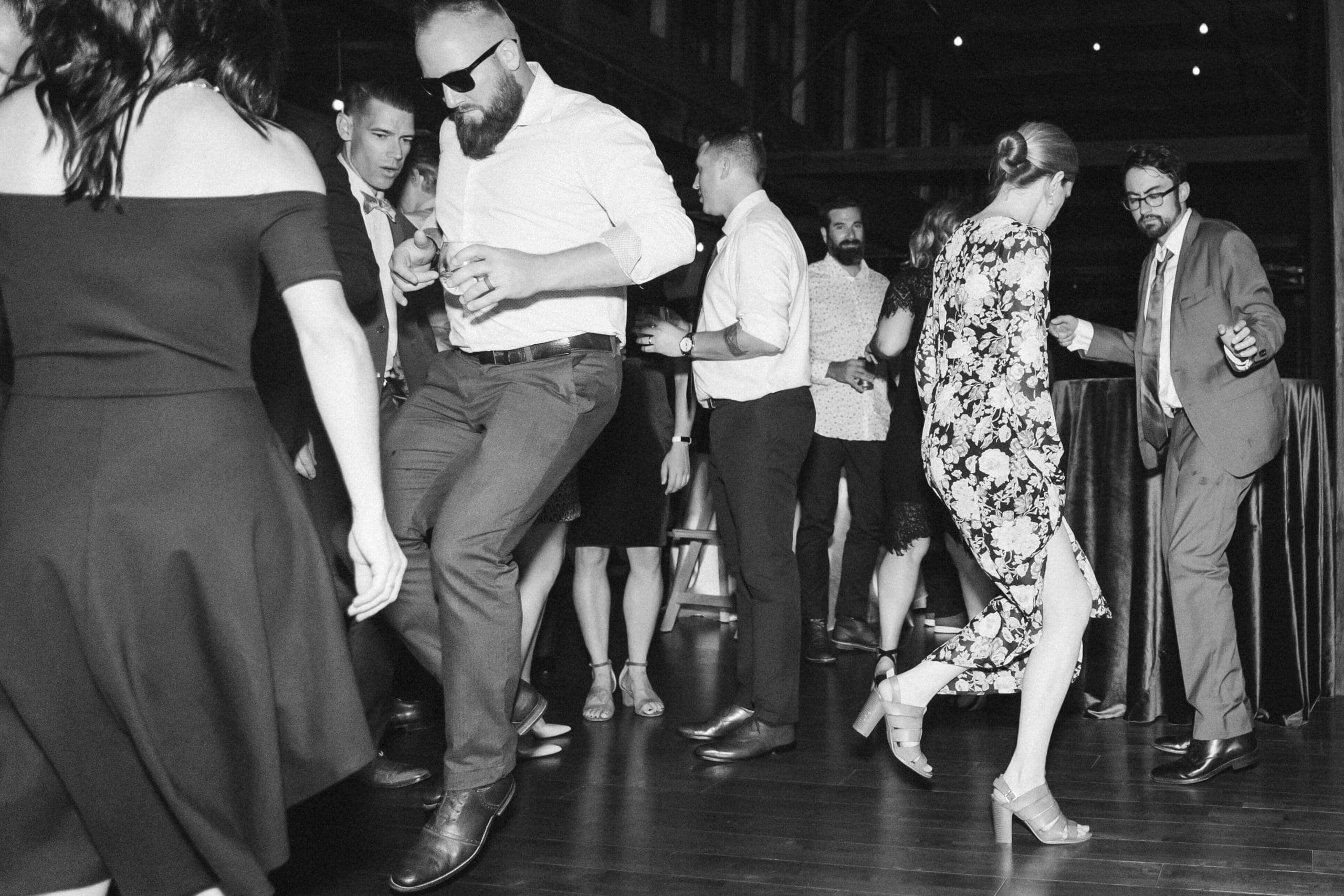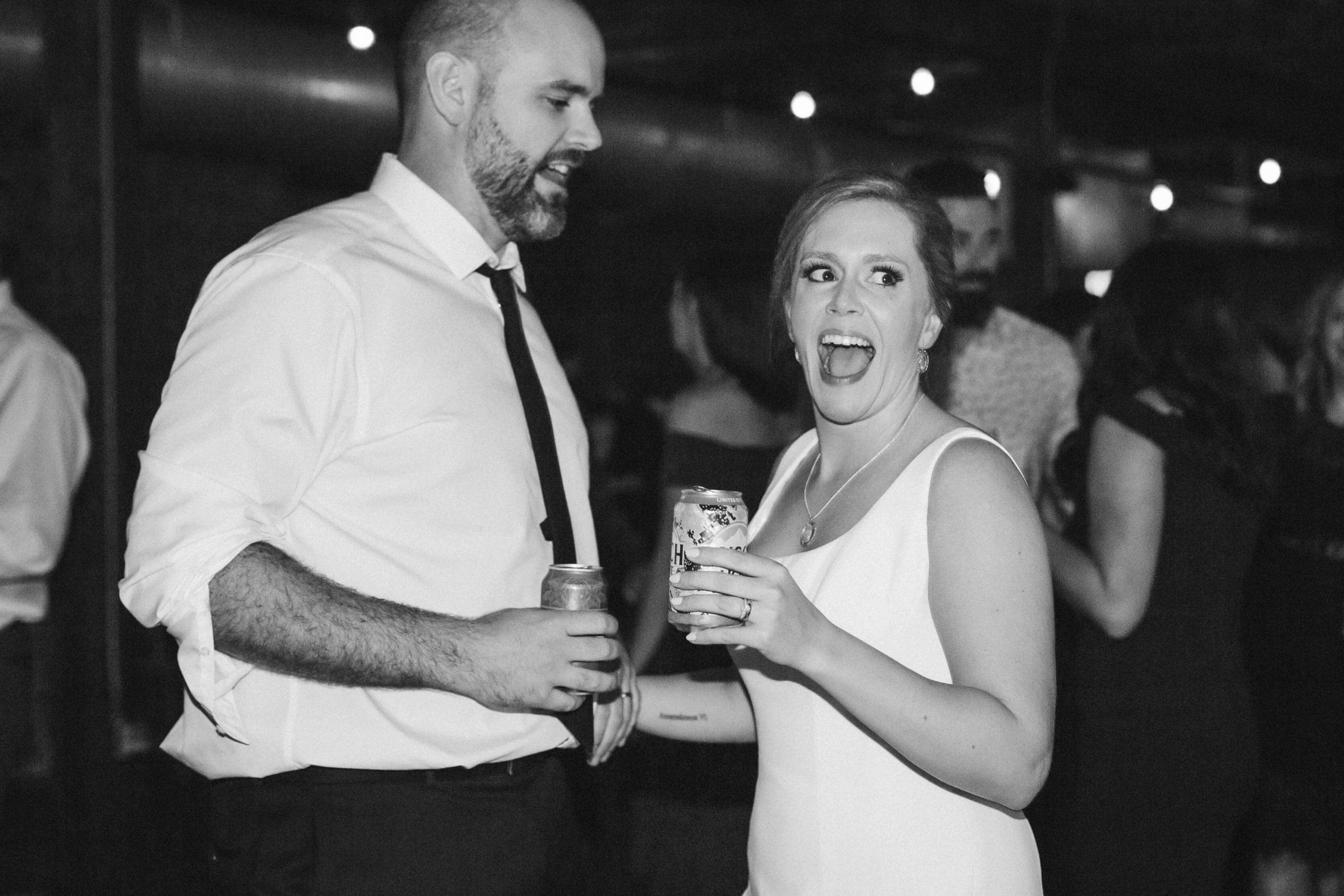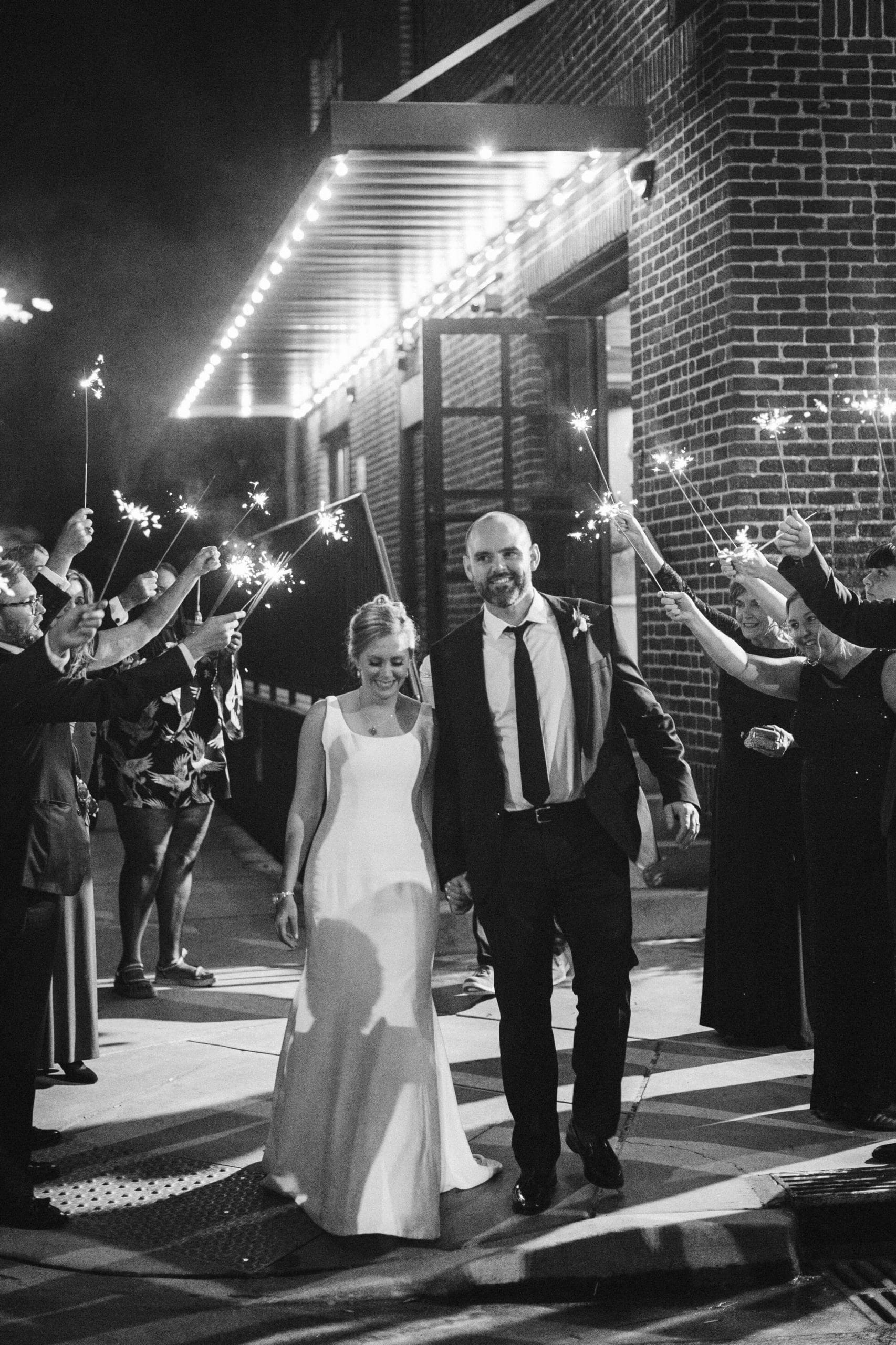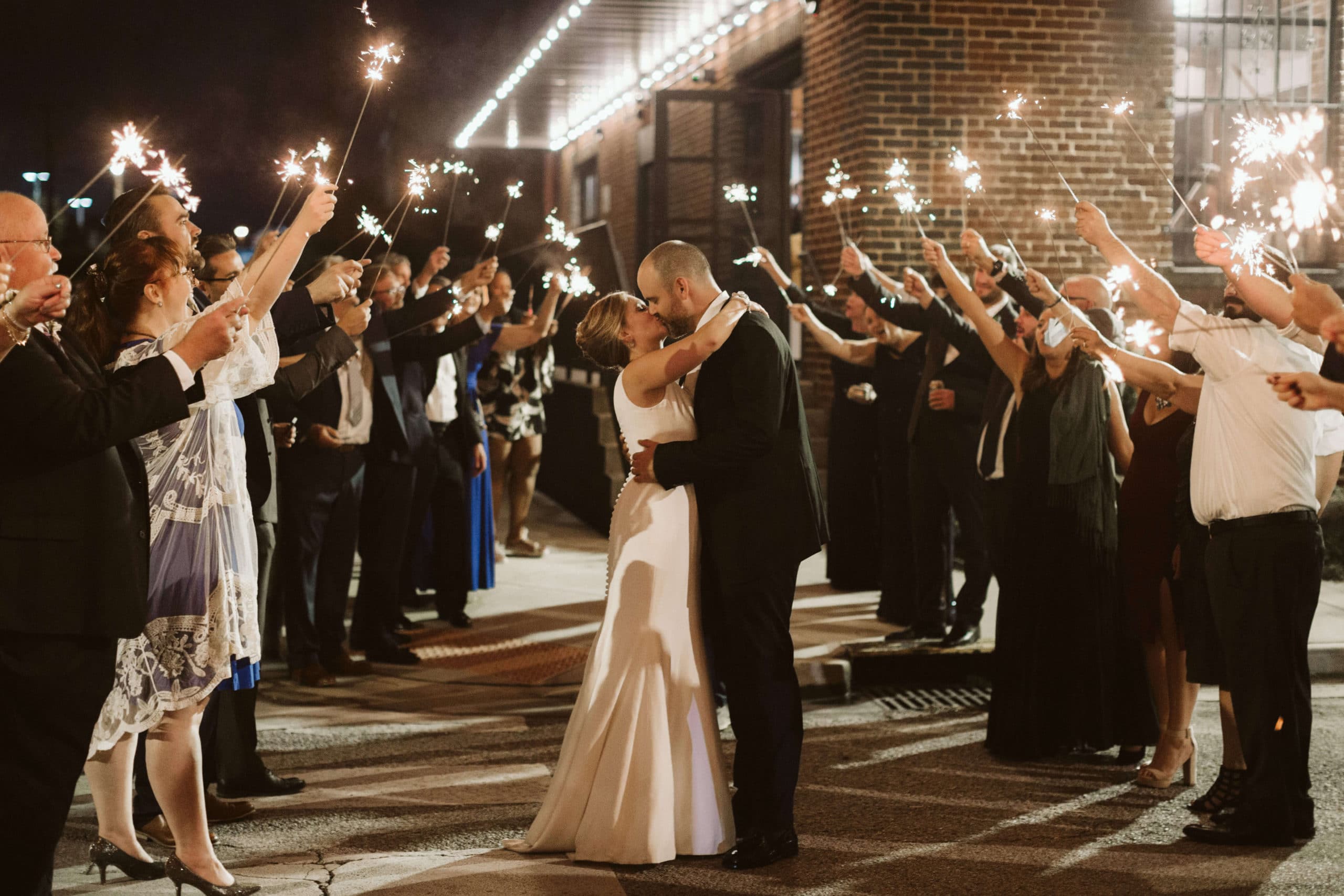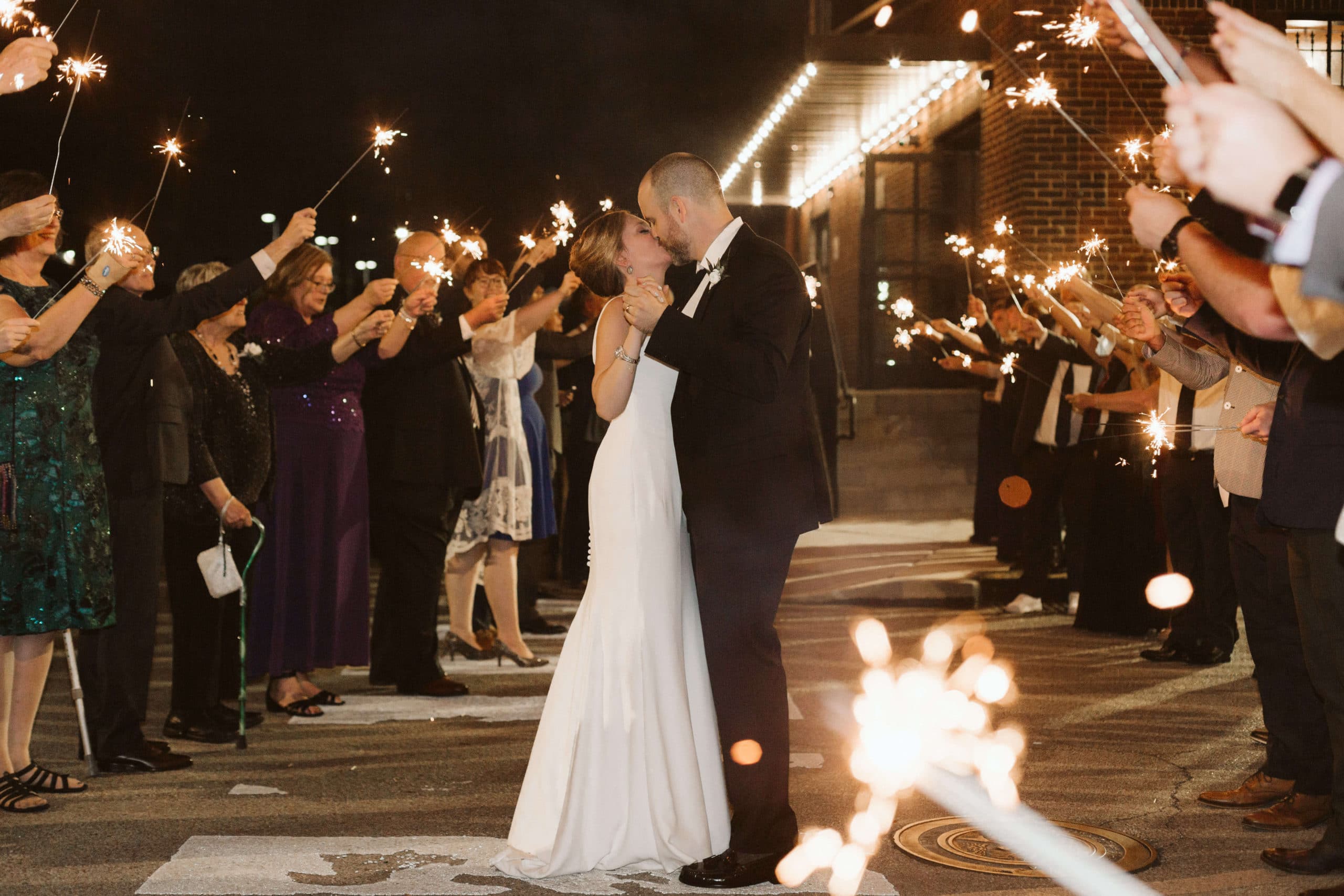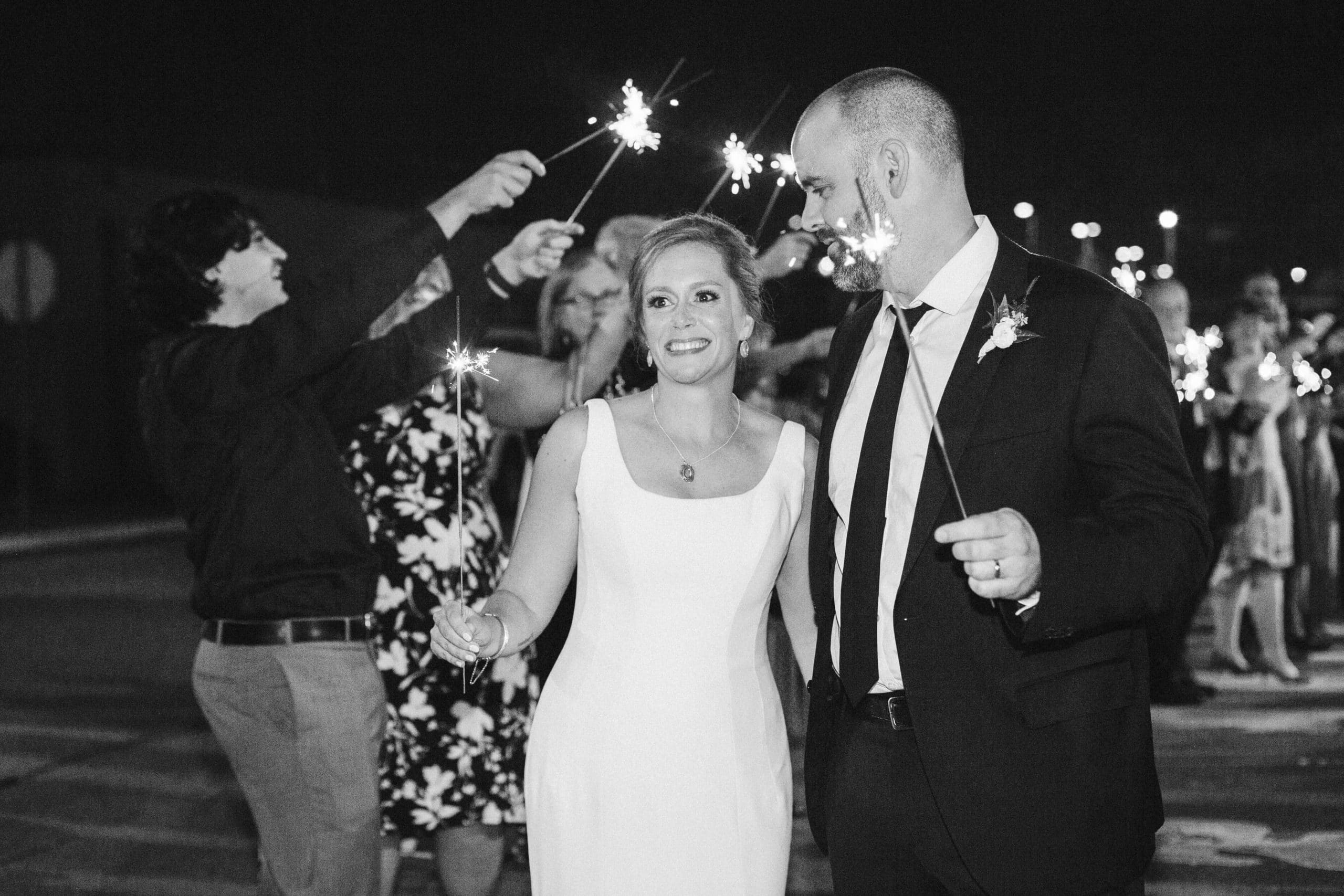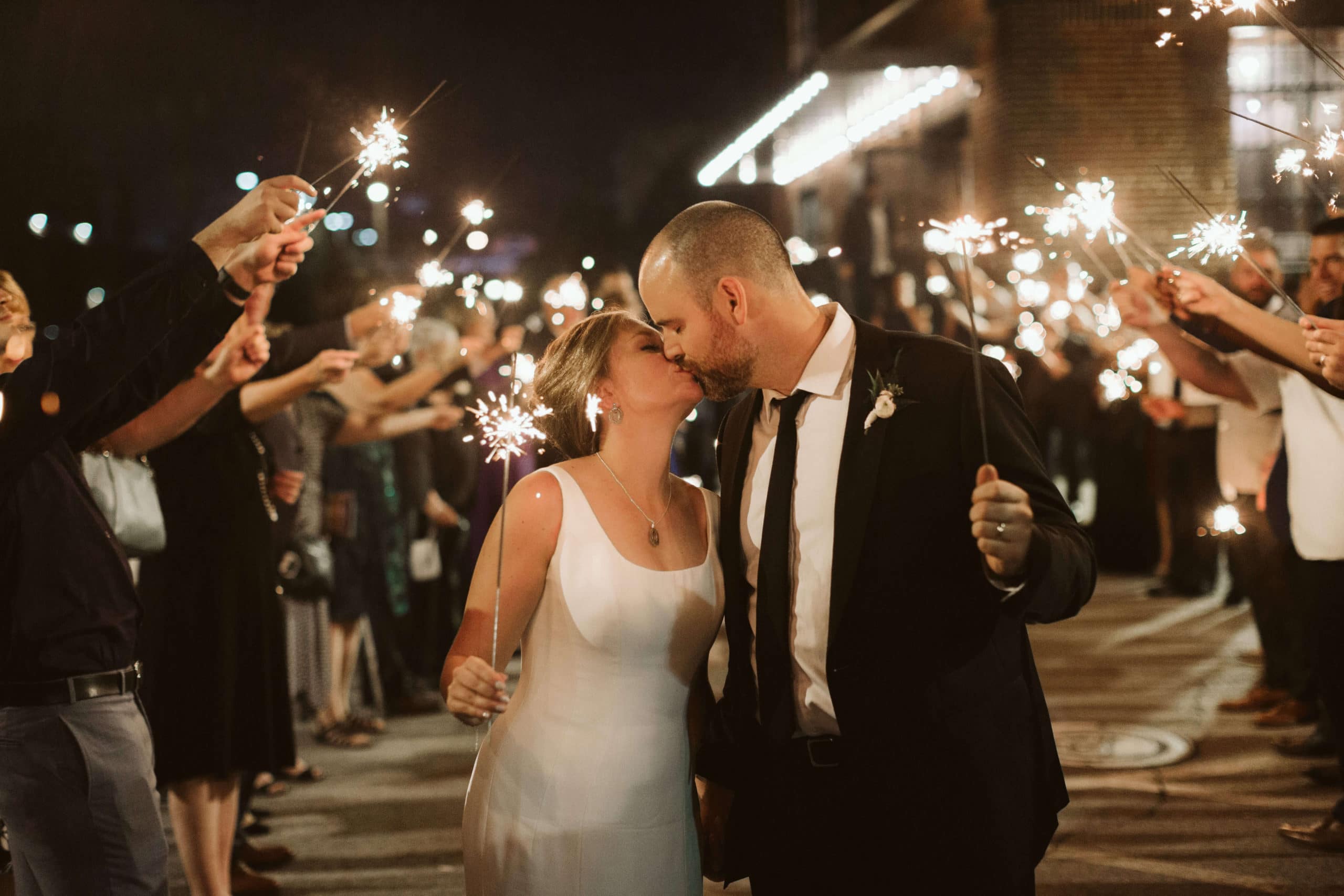 A Fun-Filled Wedding Reception at the Turnbull Building
This is where the party began! The Moxie Band Atlanta knew how to set the atmosphere for the night to come. Emily and Ryan took to the floor for a captivating first dance. Afterward, Emily was joined by her father who had the time of his life as he proudly spun his daughter. Right after Ryan offered his hand to his mom, the first embodiment of love in his life.

As the sun set, the reception proved to be exactly what the couple had been waiting for. Love and fun filled the air as guests took to the dance floor and had a grand time snapping photos with quirky props in the Willow Photo Booth.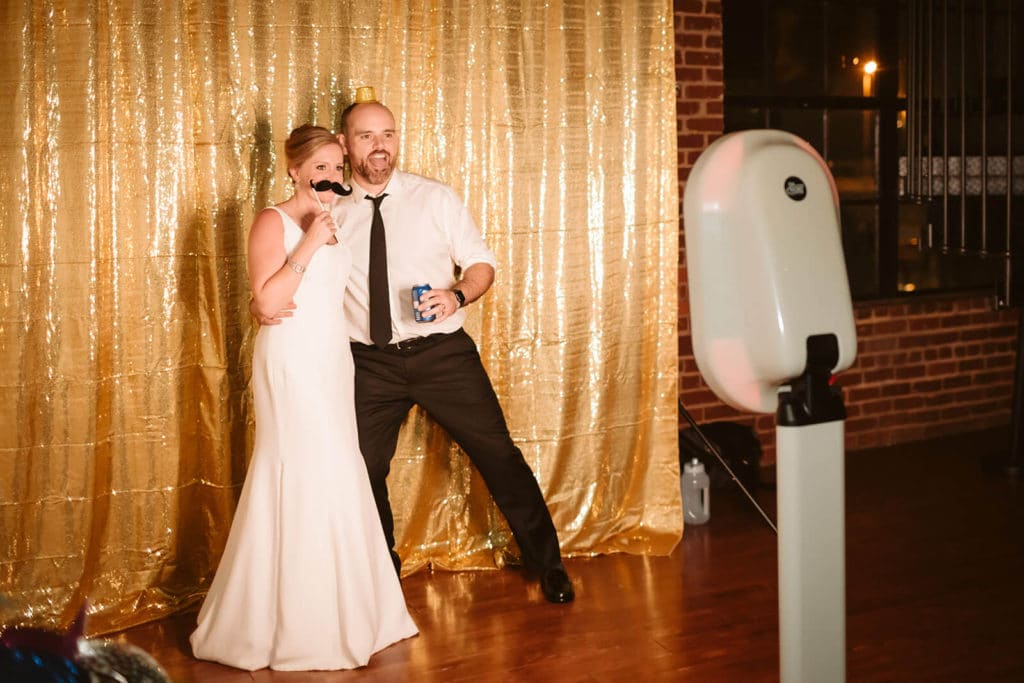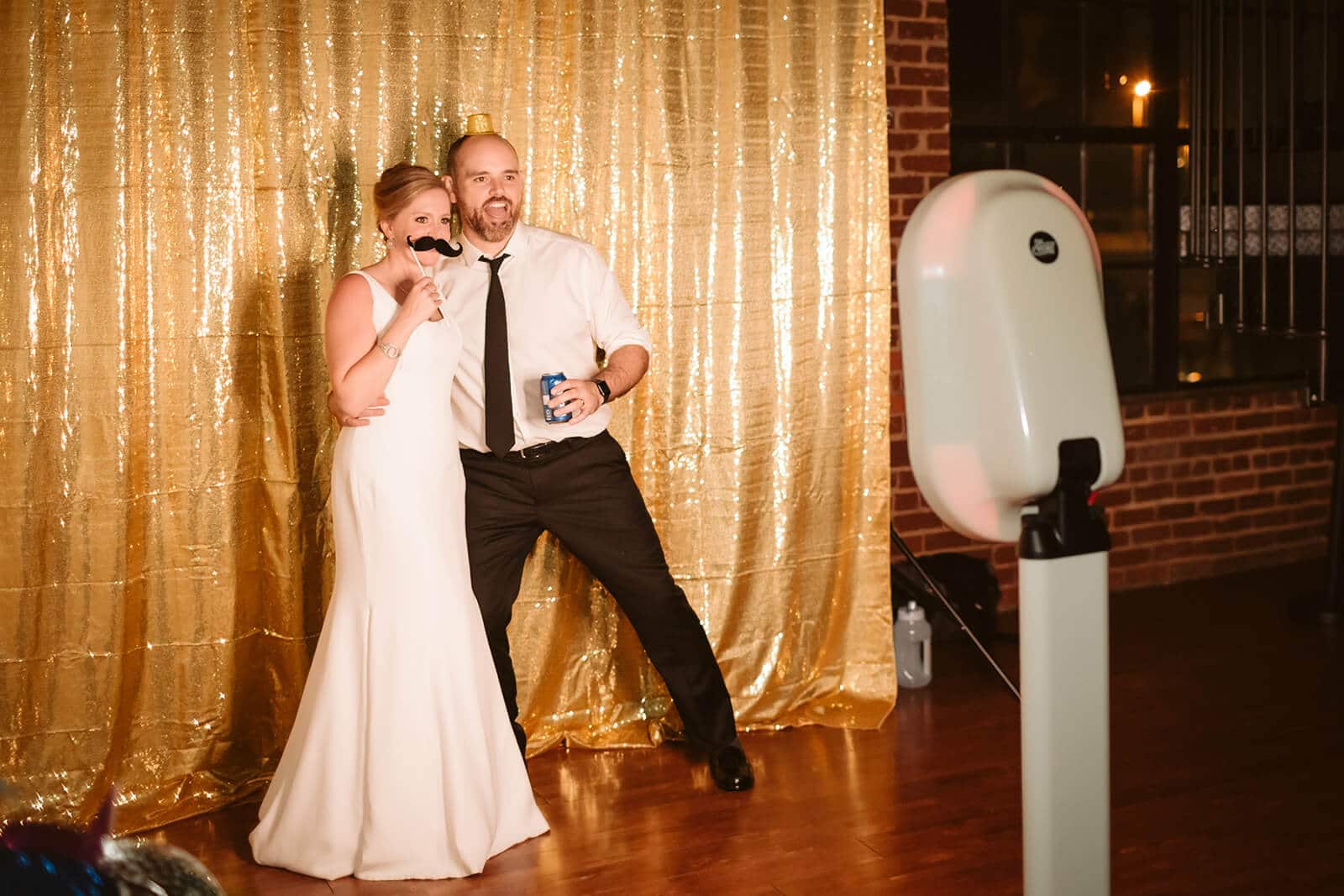 Photo booths are such a great way for couples and all of their guests to have some silly fun during a reception. Emily and Ryan rented OkCrowe's Willow Photo Booth as an add-on to their wedding photography package. The photo booth can be rented for up to five hours (six including one hour set aside for setup) for non-stop fun during your cocktail hour and reception.
The Willow Photo Booth is a bit different from the booths you're probably most familiar with. This entirely digital booth is able to take an unlimited amount of pictures, 'boomerangs', and short video clips that are delivered immediately via text, email, airdrop, or QC code. Depending on your venue, you can choose from an open air background or choose either a black or gold sequin backdrop. Emily and Ryan chose our gold backdrop for a touch of glam in their photos. Best of all, you'll receive an online gallery within two days that includes every photo and video taken at the booth during your event.
To top off the fun-filled night, the couple said goodbye to their loved ones with a magical sparkler send-off. Not only does this send-off make for a special memory but the photos always turn out so beautiful. Emily and Ryan shared a kiss, surrounded by excited family and friends holding their sparklers up high. The moment was practically straight out of a movie scene. All that was needed was to cue the romantic music and send the newlyweds off to their happily ever after.
Are you in the Chattanooga area looking to remember your special day forever? There isn't a part of this amazing city that I don't love, and I would be honored to be a part of your celebration!
Hey y'all! I'm Rachael Crowe of OkCrowe Photography. I'm based right here in Chattanooga and I've shot hundreds of weddings all over this city. I've even done an industrial-chic wedding and a gorgeous winter wedding at the Turnbull before! Whether you're in the Chattanooga area or anywhere else across the country, I'll be more than happy to pack up my camera and capture every moment of your big day. I would love to chat! Reach out through my contact form and let's start planning!