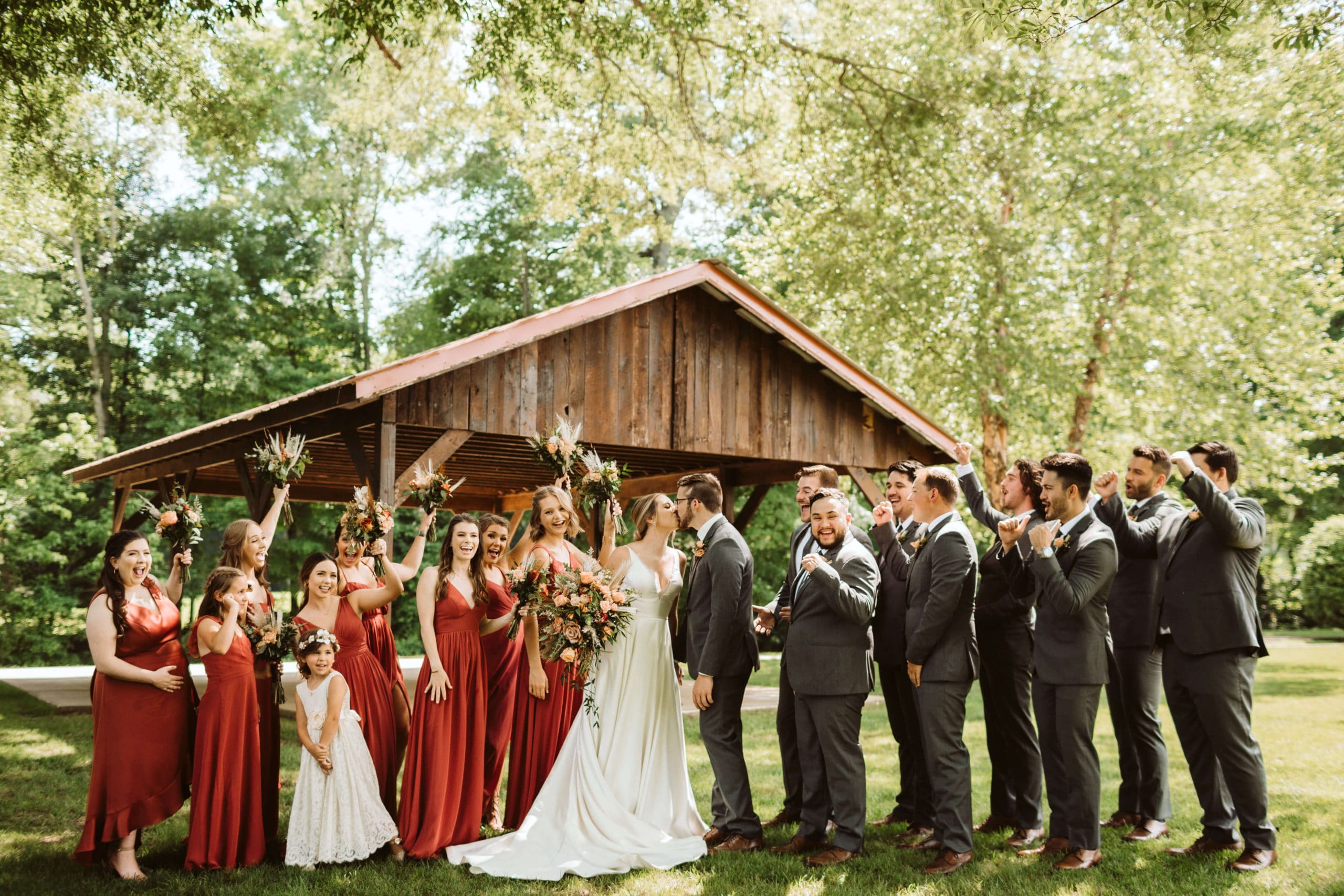 With my home base in Chattanooga, I've photographed weddings at many of our local venues multiple times. So, when Liz and Michael contacted me about their wedding at Ocoee Crest, I was so excited to photograph a wedding at a venue I had never been to before! Ocoee Crest is a venue that opened up a couple years ago in Benton, Tennessee. Its unique structure amidst beautiful, natural settings definitely made for a gorgeous and memorable wedding.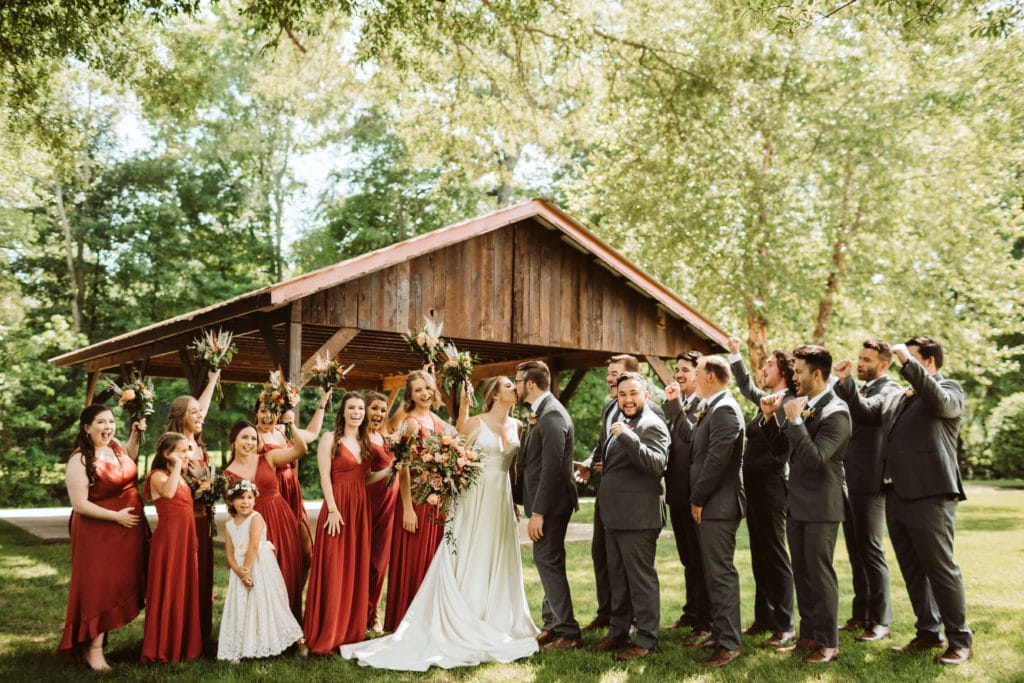 Modern Vibes Meets Classic Elegance at Ocoee Crest
If you've been looking for a wedding venue that's new with a modern style and all of the latest venue accommodations, Ocoee Crest has you covered. Located just 45 minutes away from Chattanooga, the venue sits on 56 acres of TN land. It's a unique, newly built venue featuring every accommodation that a modern bride could hope for. Its ridge location opens up to panoramic views of the mountains and the Ocoee River below for a breathtaking backdrop. 
One of the great things about Ocoee Crest is they truly thought of everything a newly engaged couple would look for in a wedding venue. They covered everything necessary for a wedding from planning decorations to getting ready, all the way to the send-off at the end of the reception. While in the planning stages, you have free access to their Better to Borrow lending closet for décor rentals. Anything they have in their closet, you can use to decorate the ceremony and reception space without worrying about extra fees. As an added bonus, the wedding package includes a 2-hour window prior to your wedding to use the venue for an engagement photography session.
On the day of your event, there are separate suites for the bride, the bridesmaids, the groom, and groomsmen to get ready in the morning without accidentally running into each other. Behind handcrafted doors, there's even a private walkway leading from the bridal suite directly to the outdoor ceremony space so that the bride can make her grand entrance without being seen by guests (or her groom if they haven't had a first look).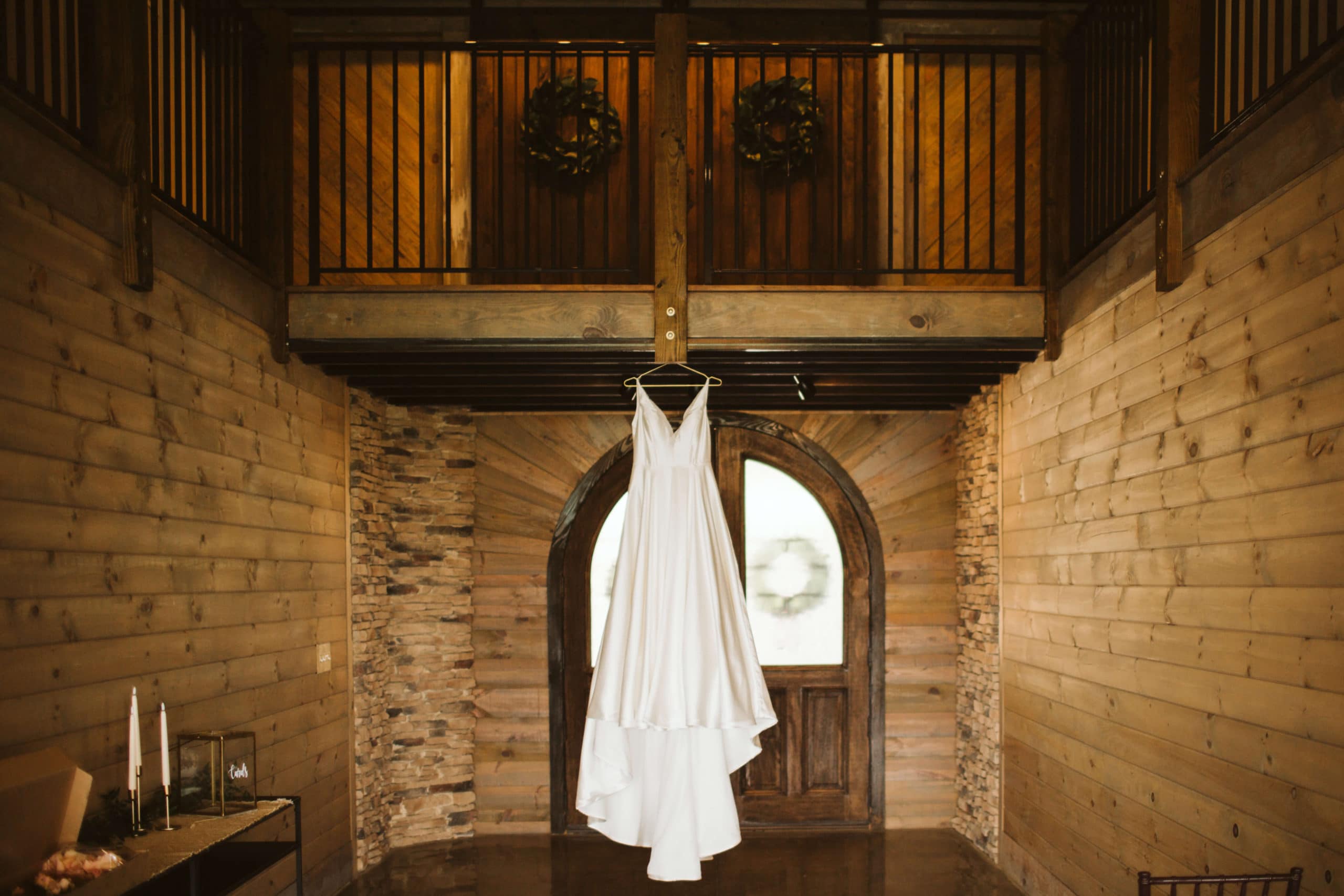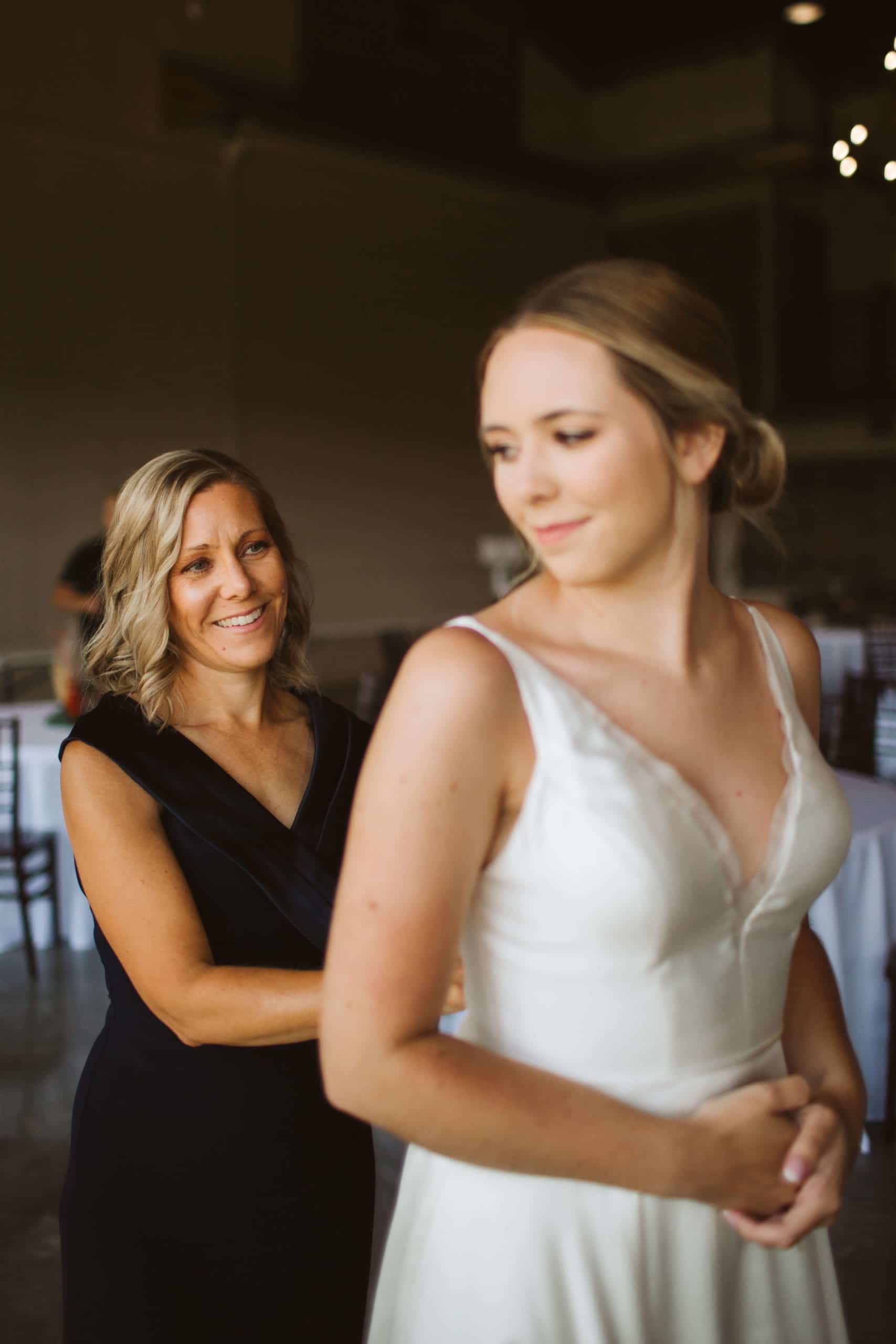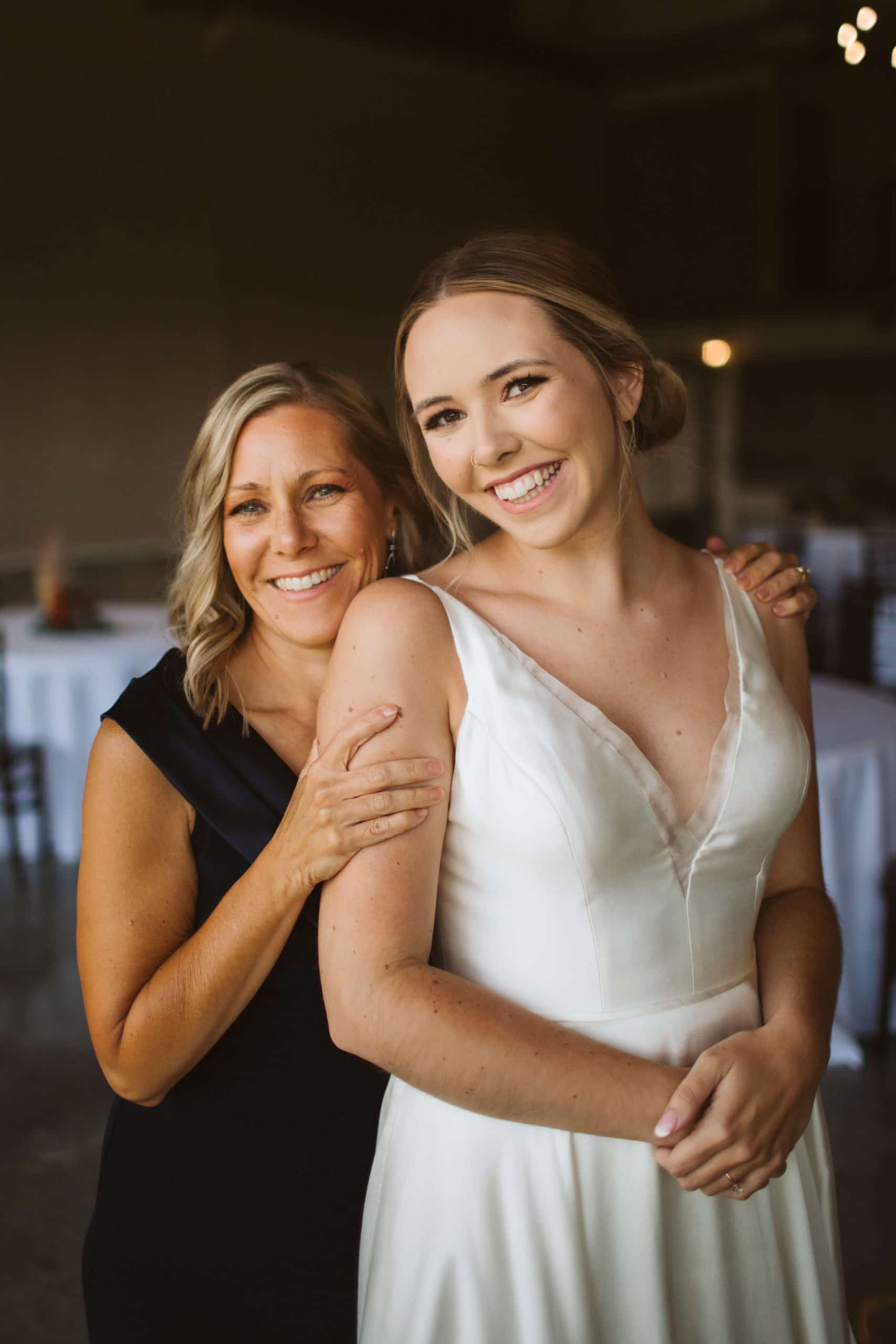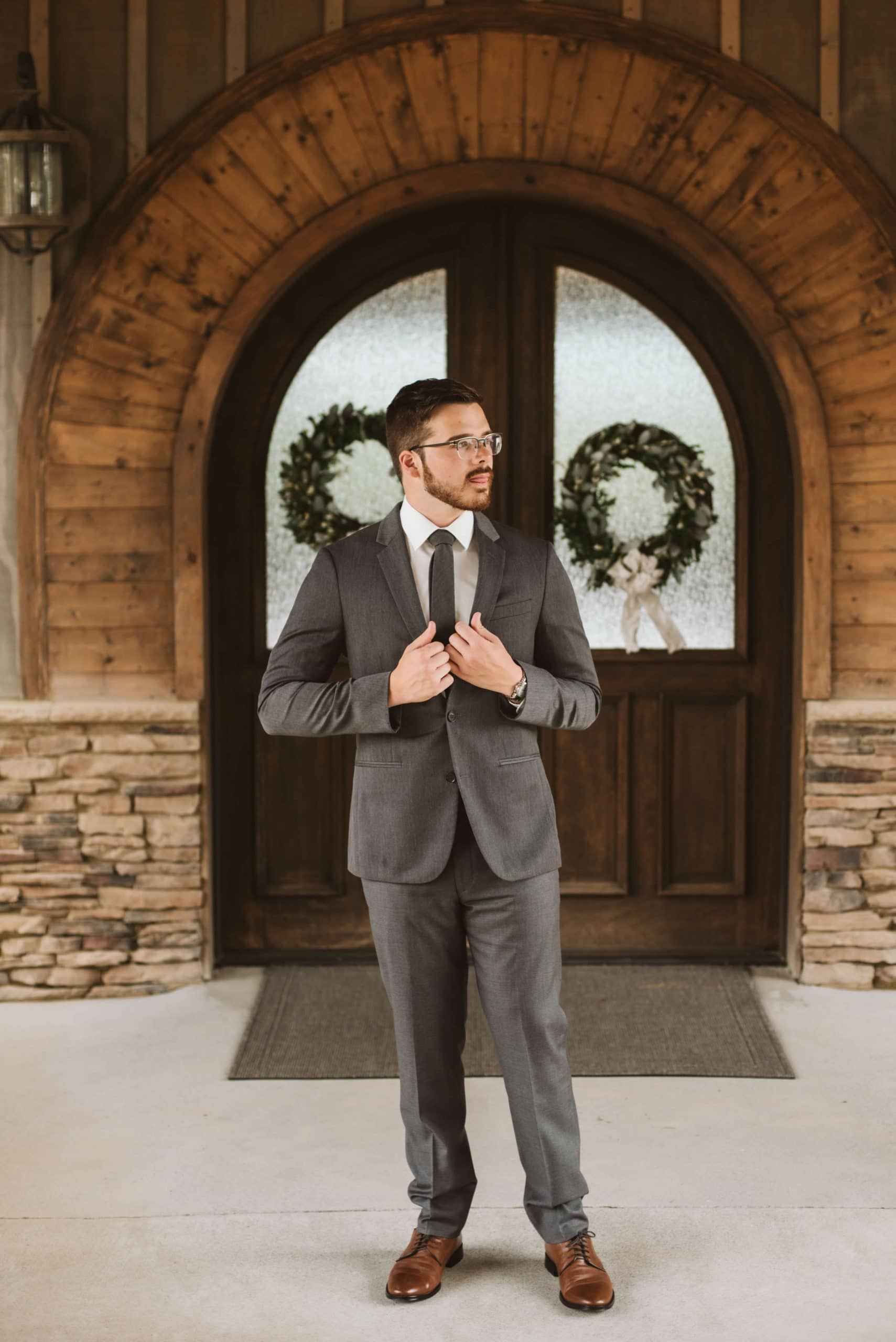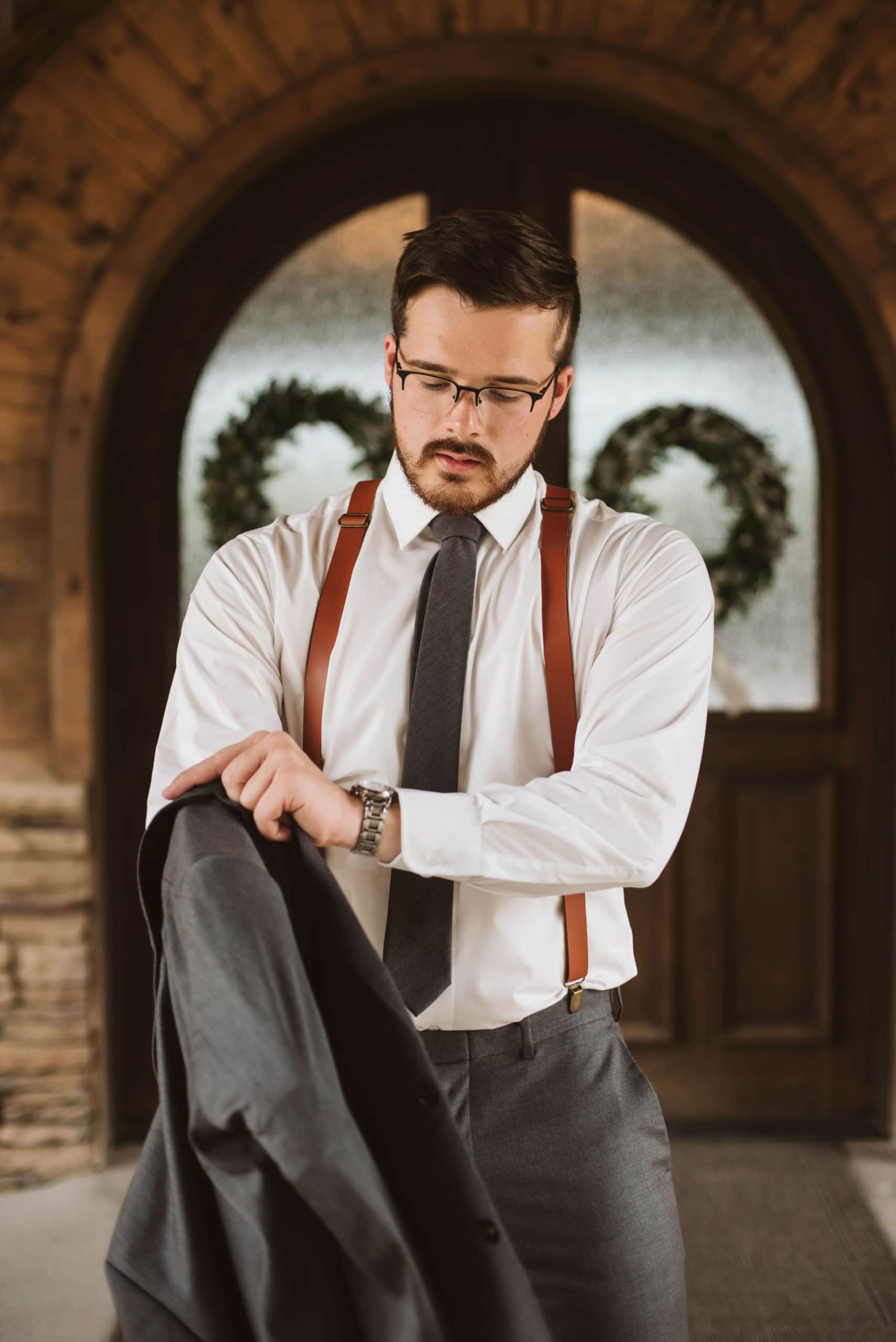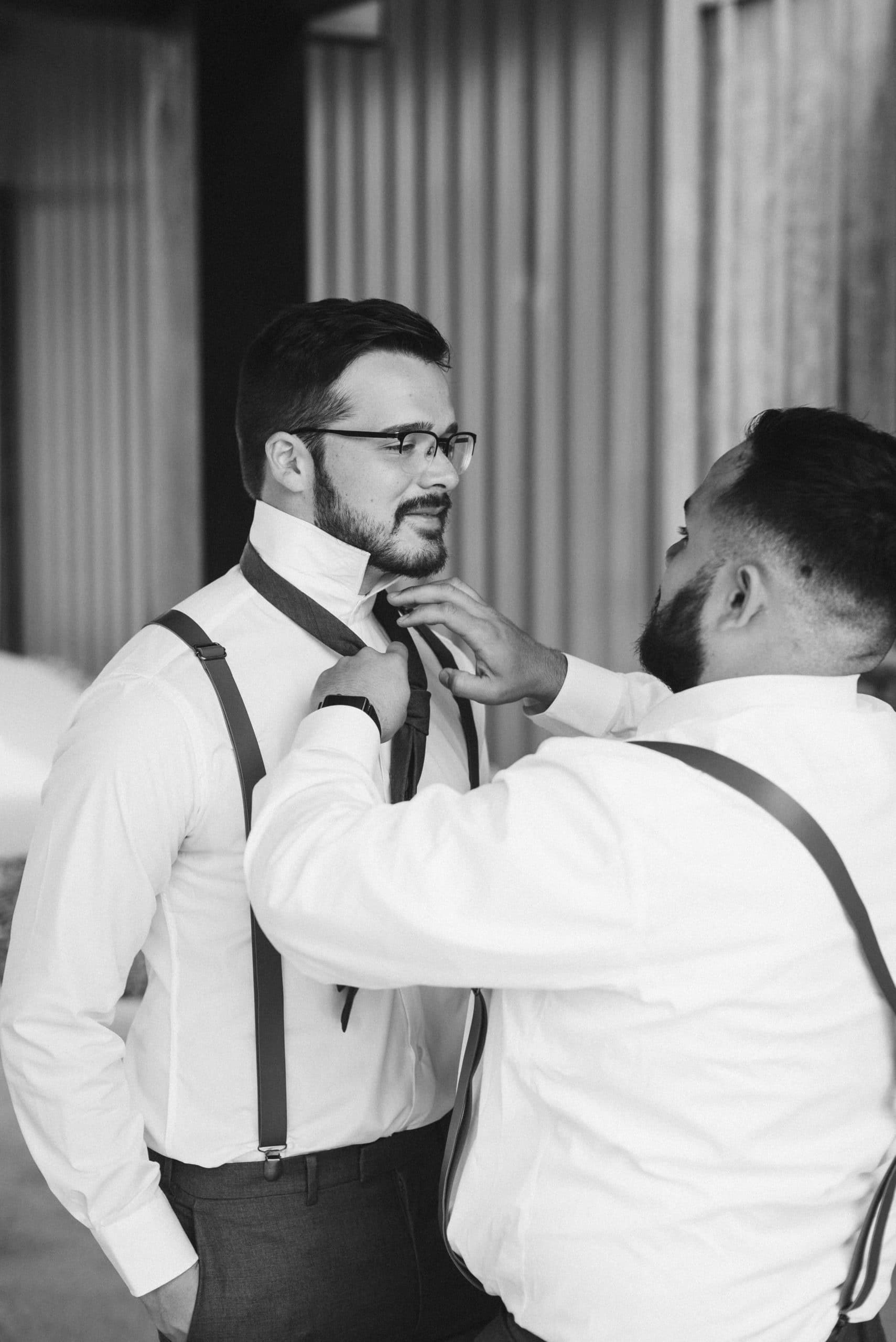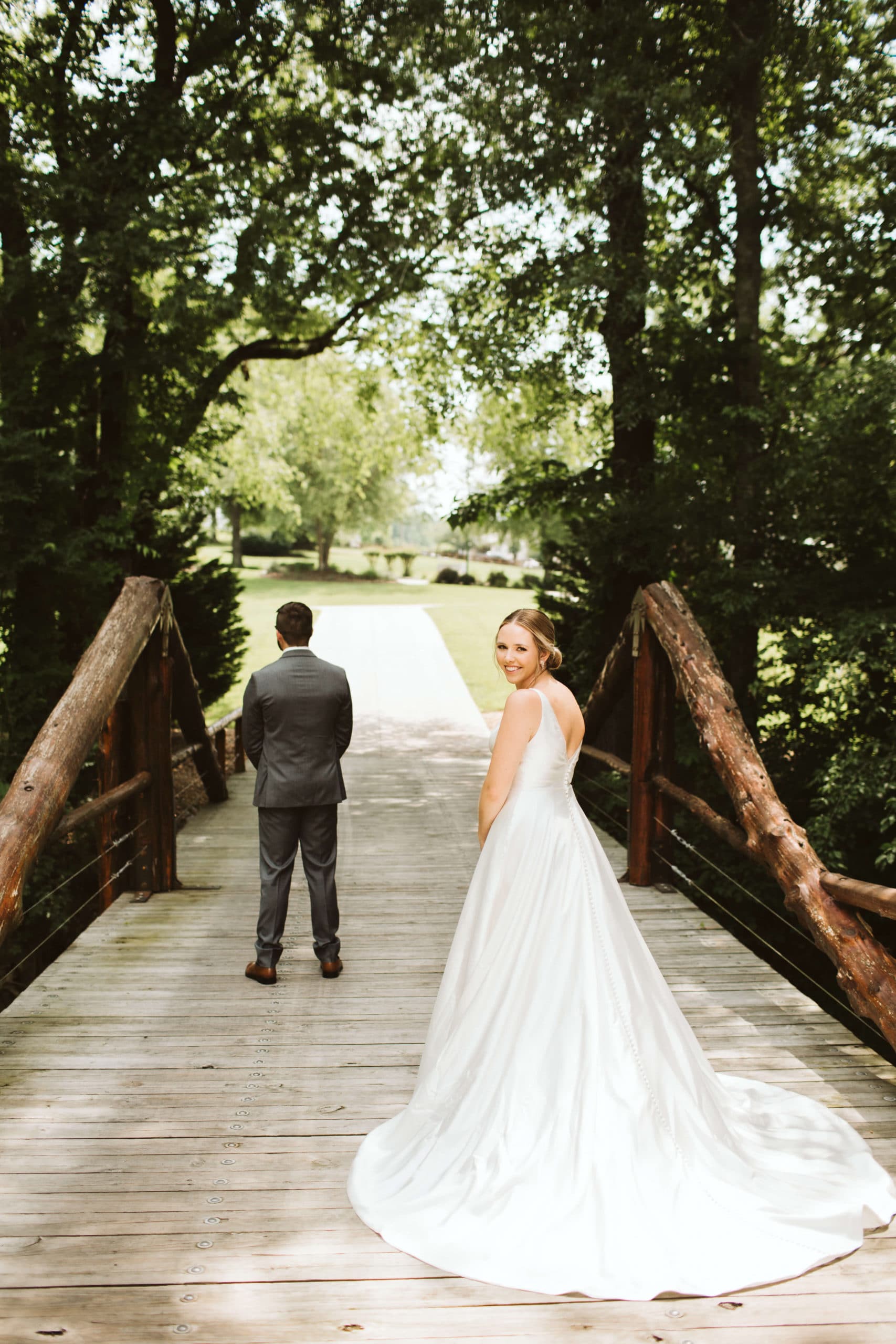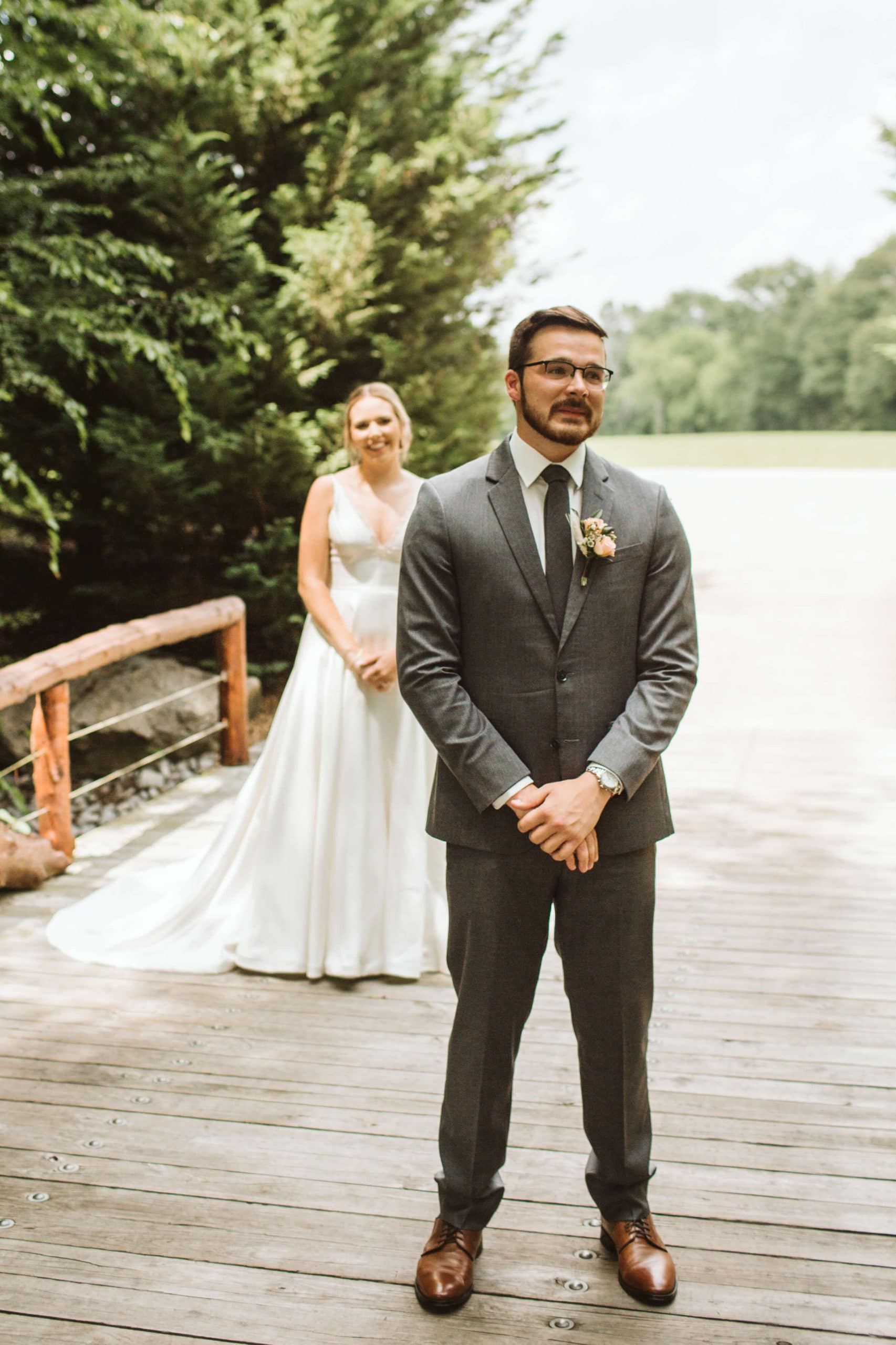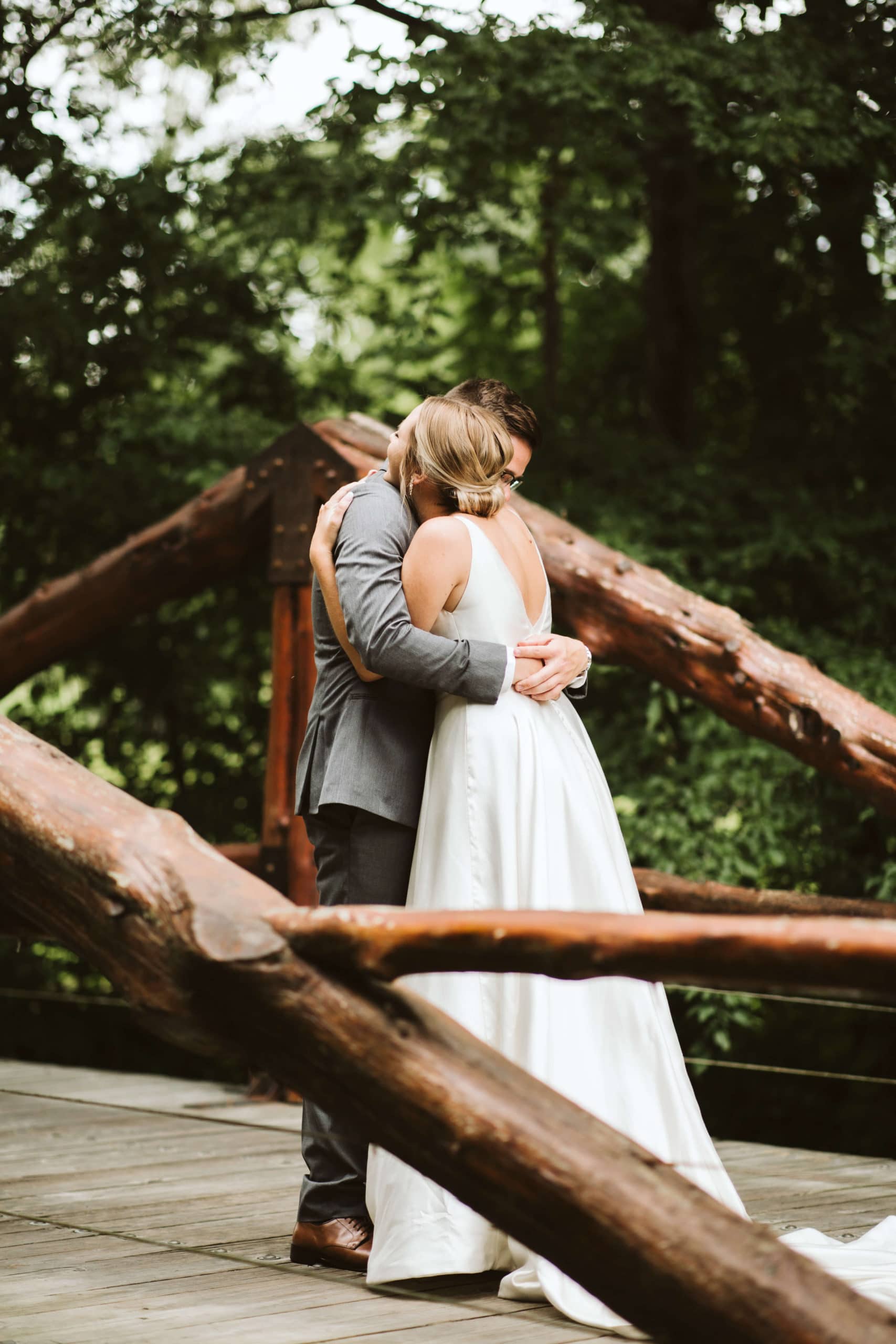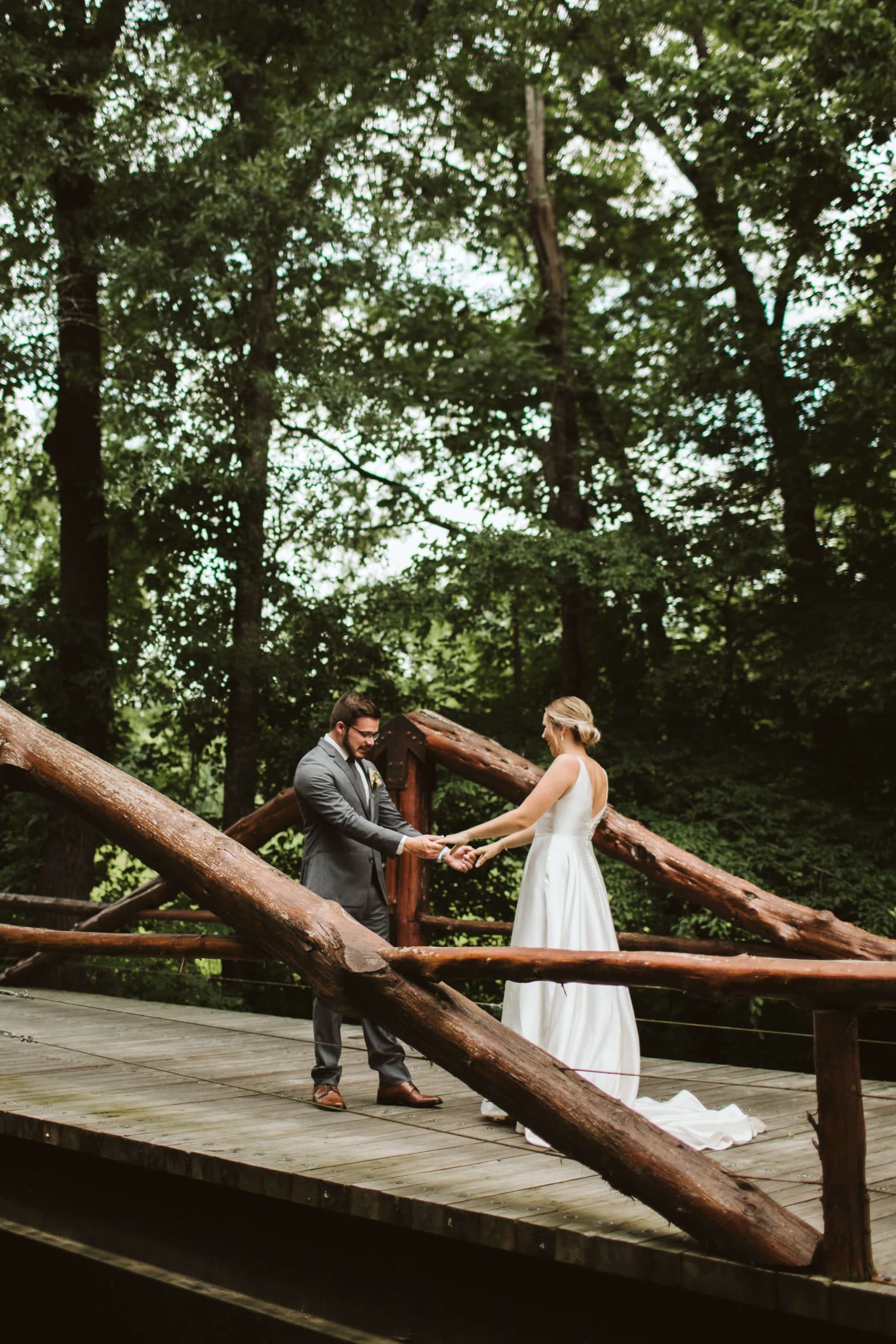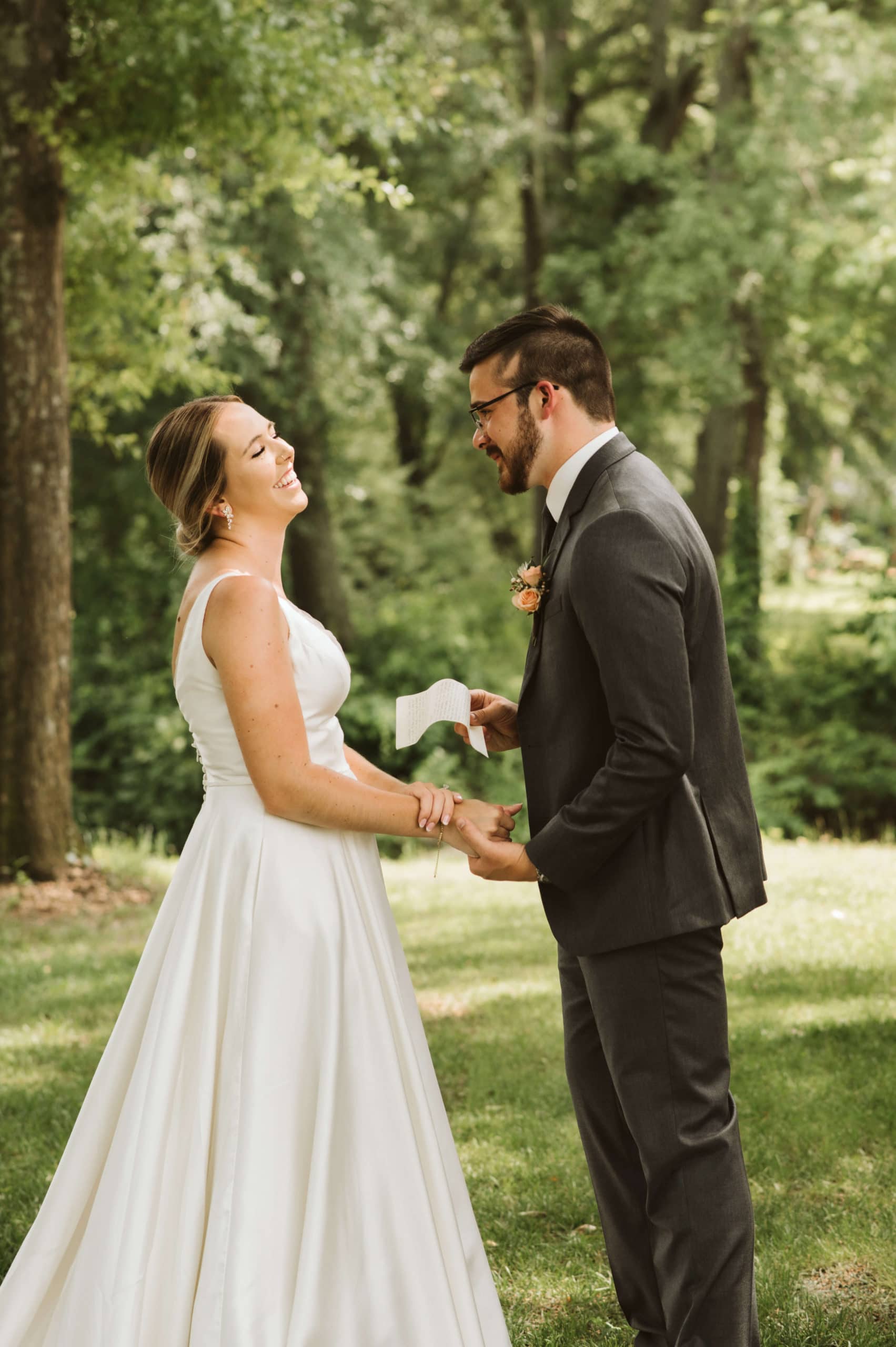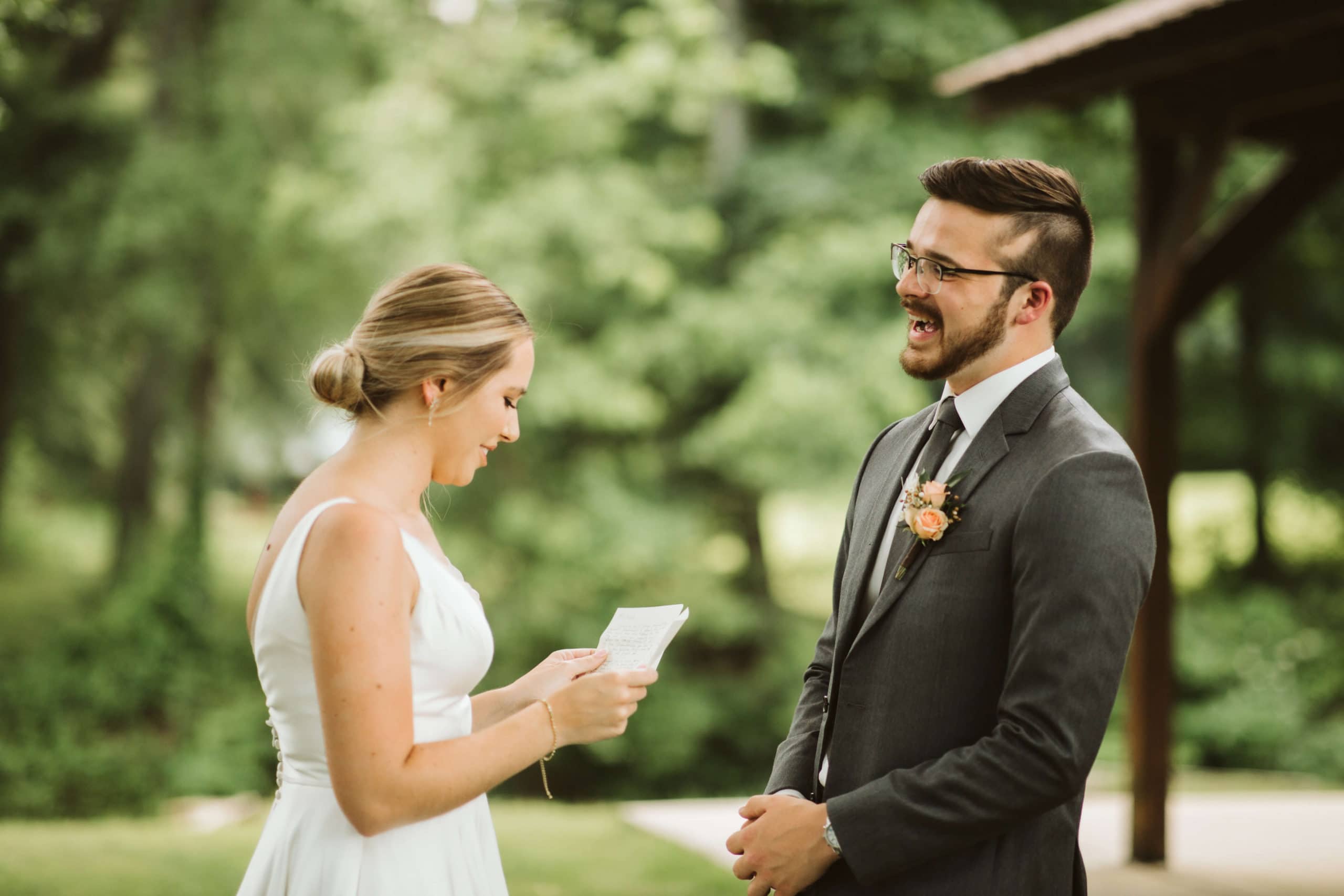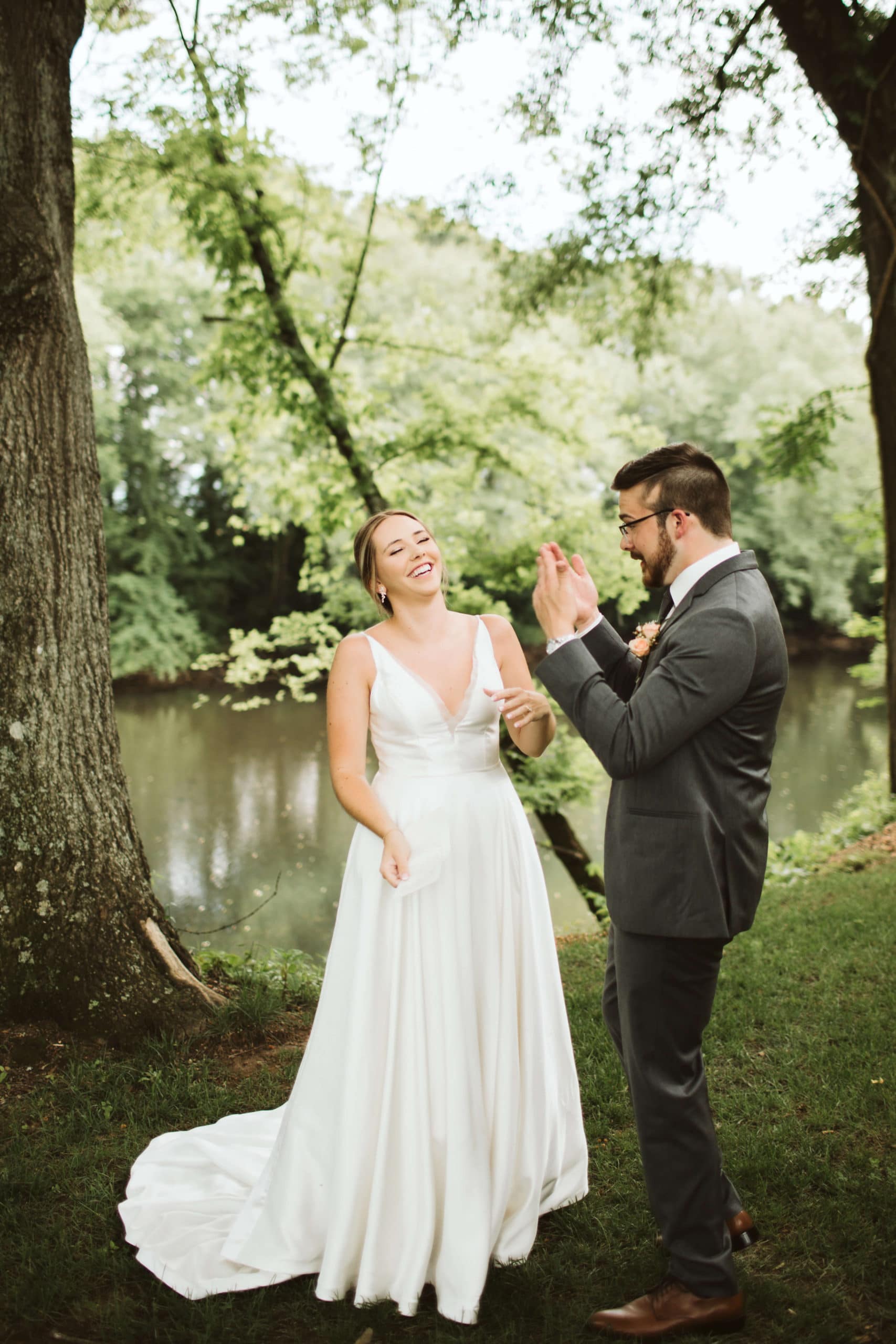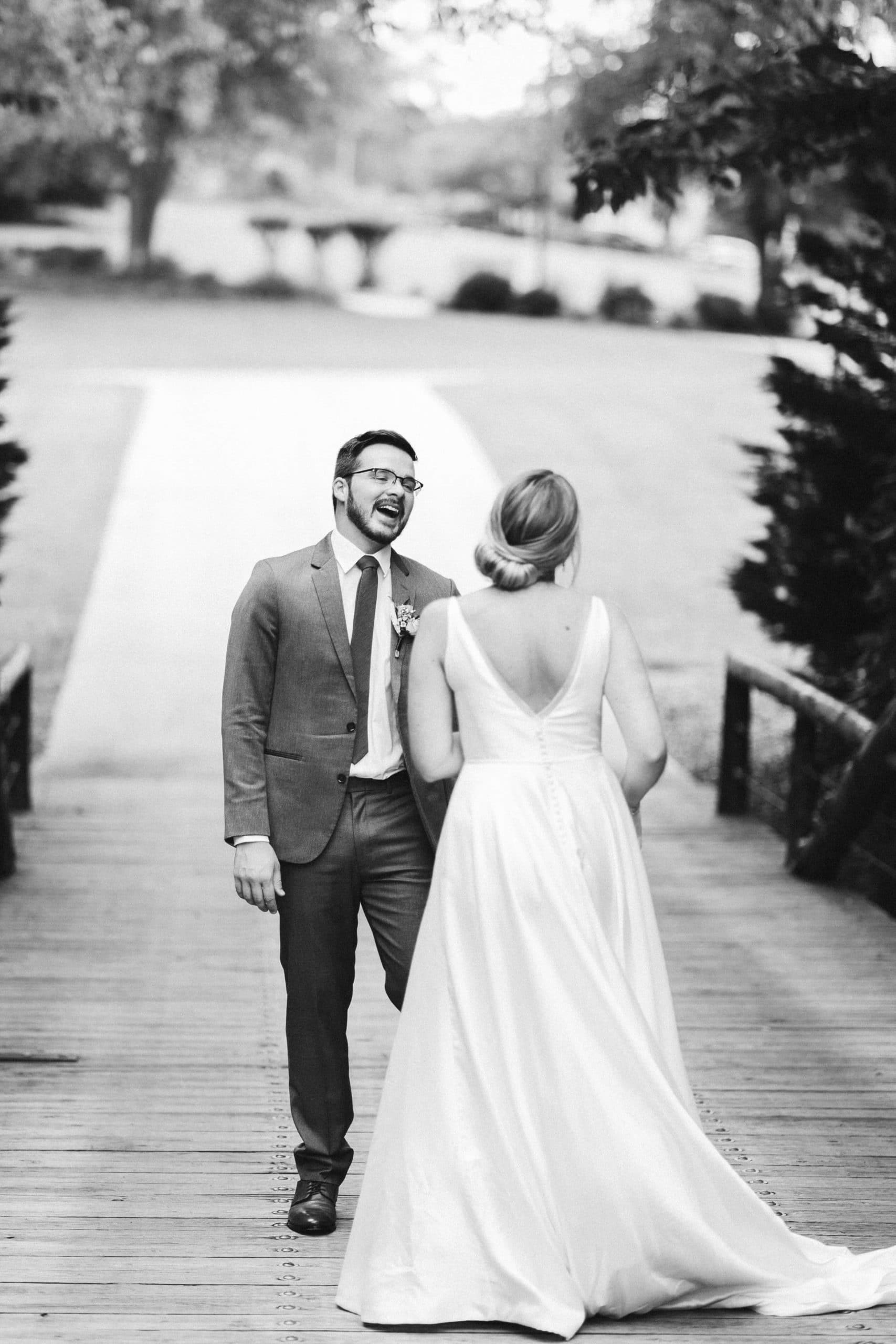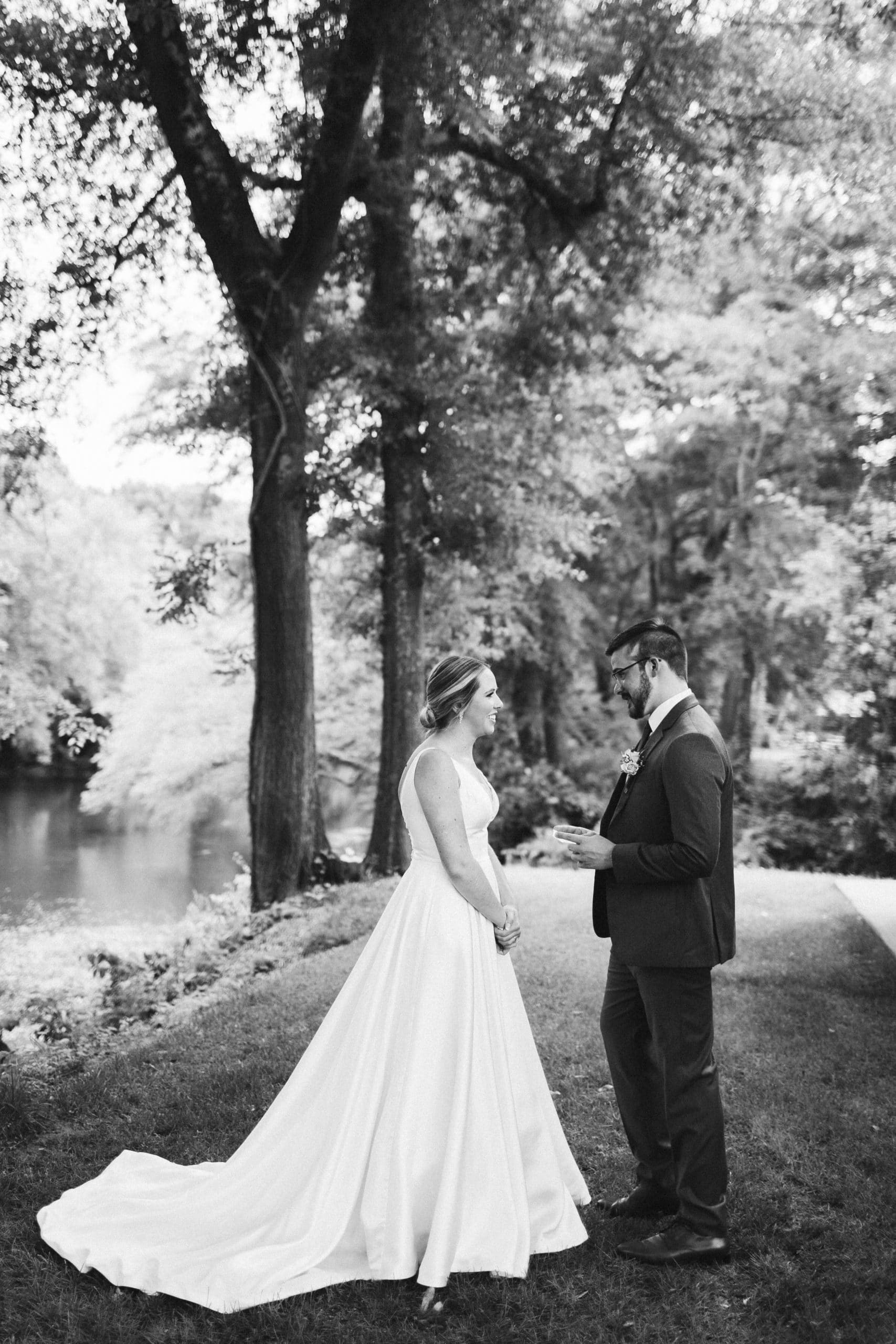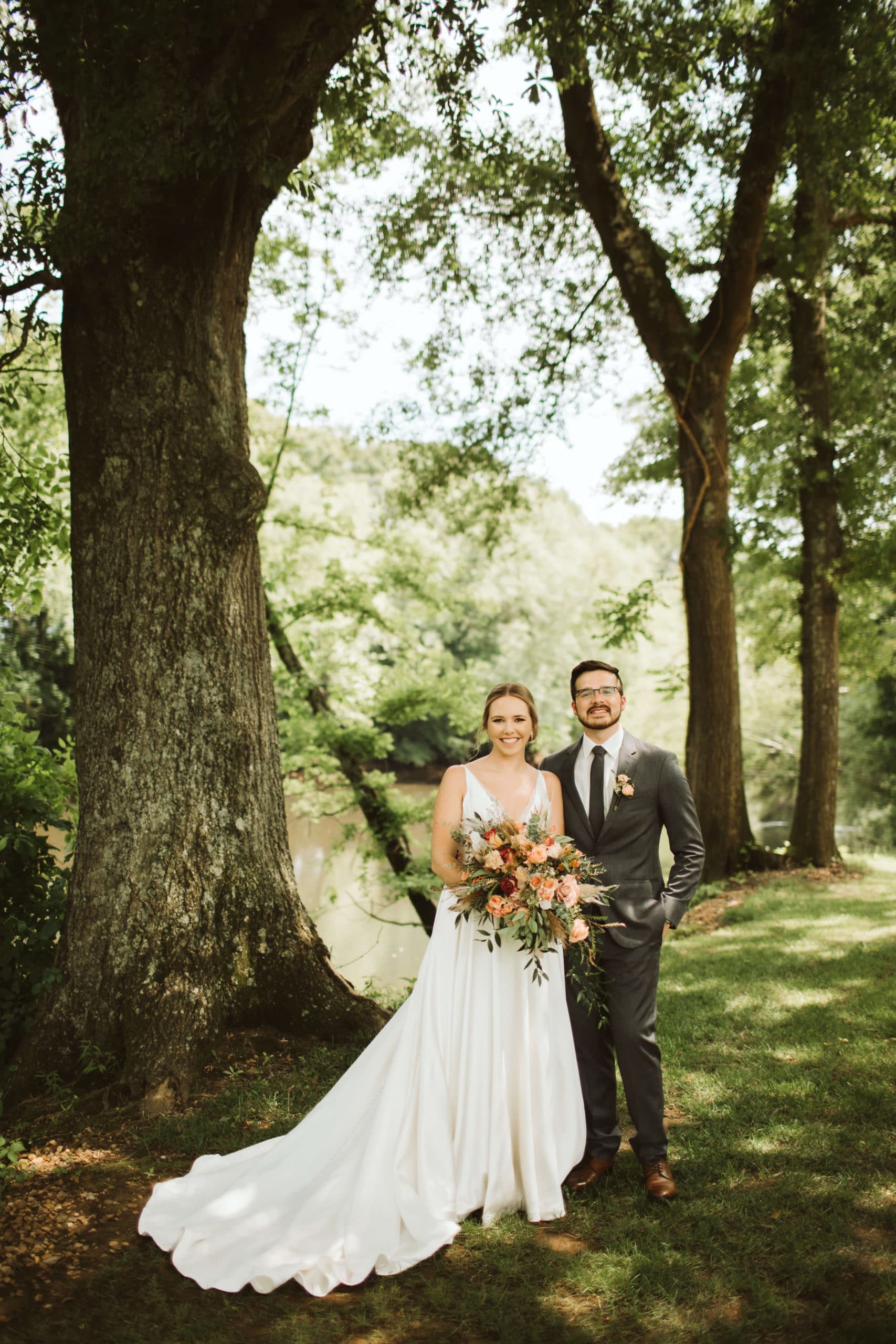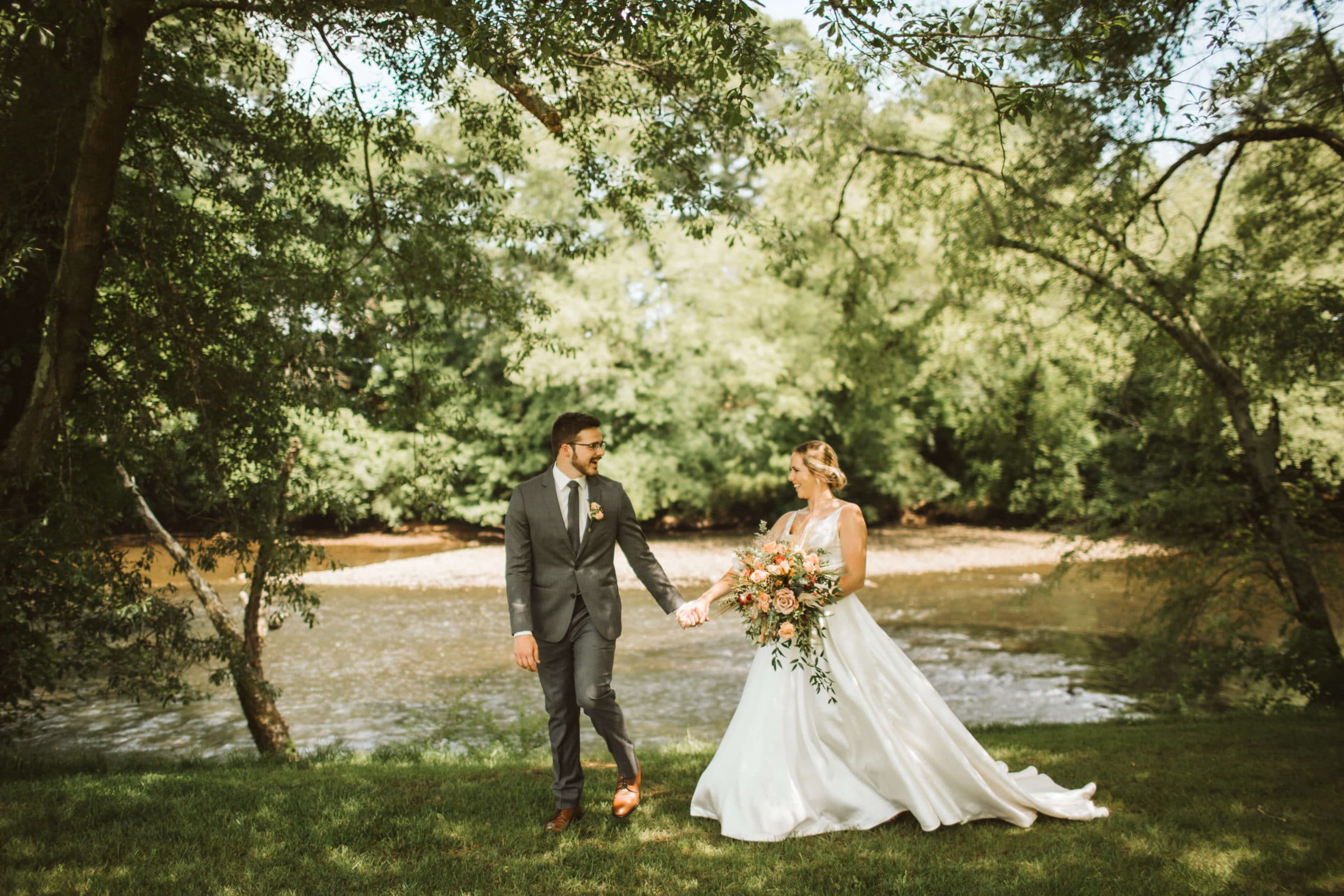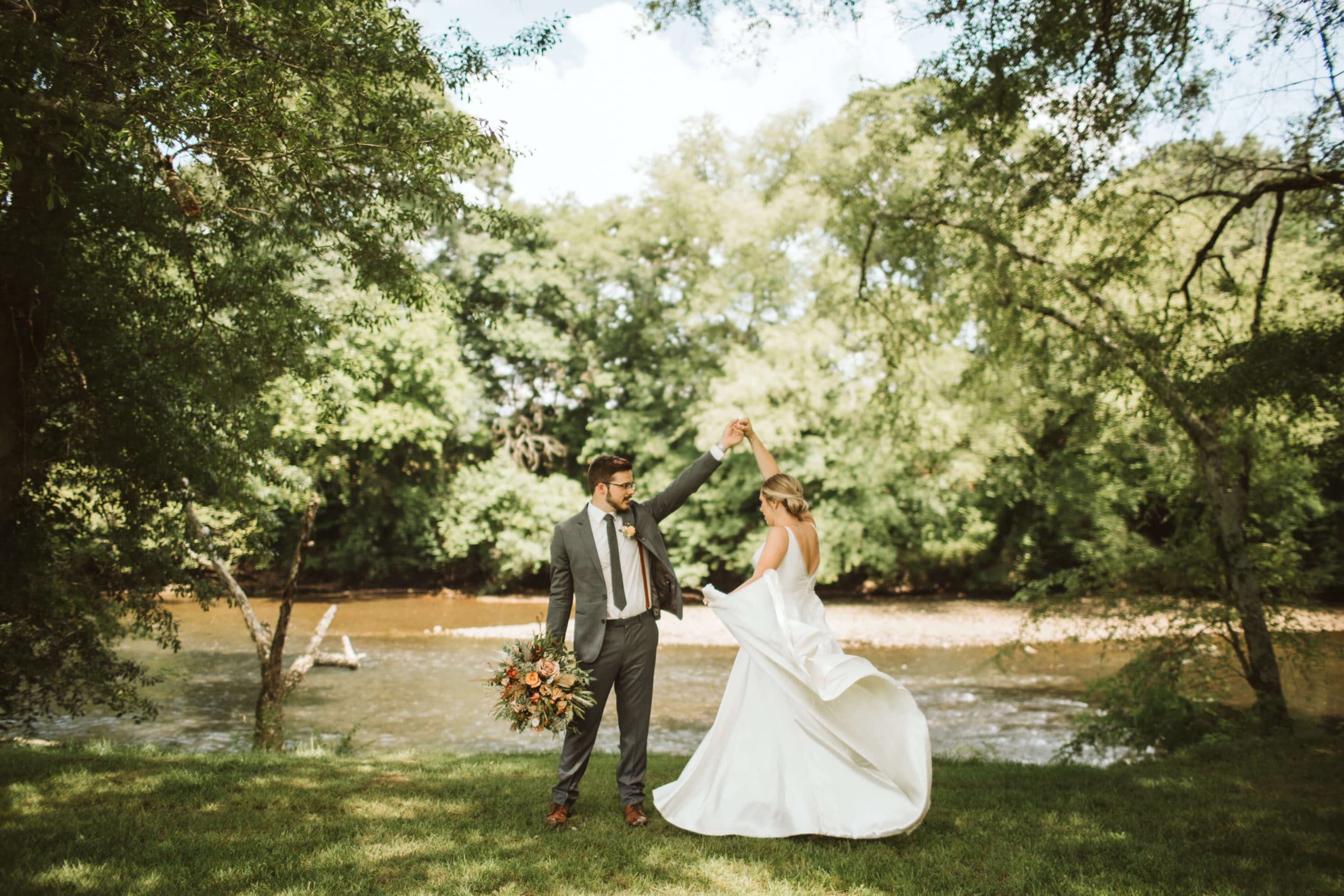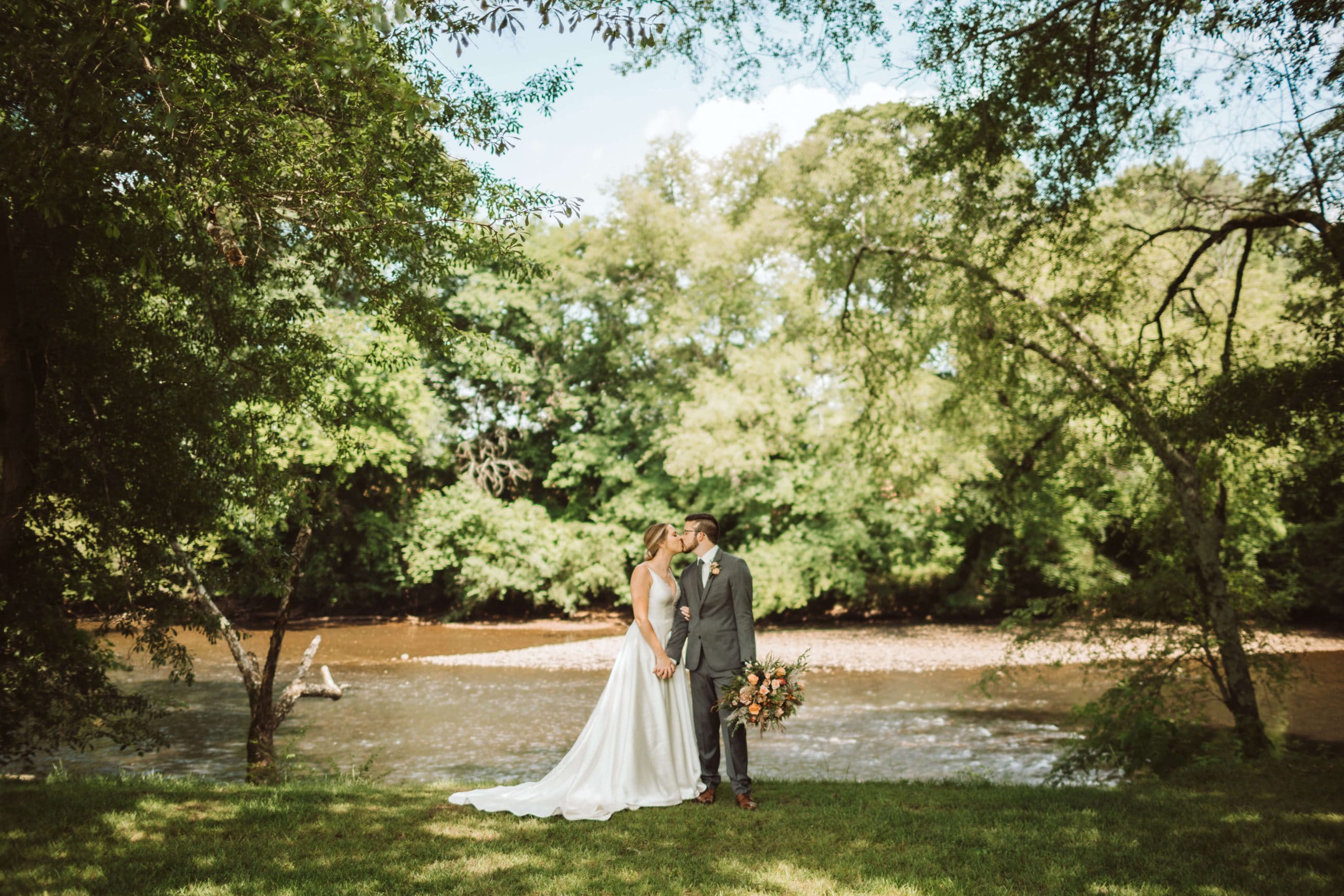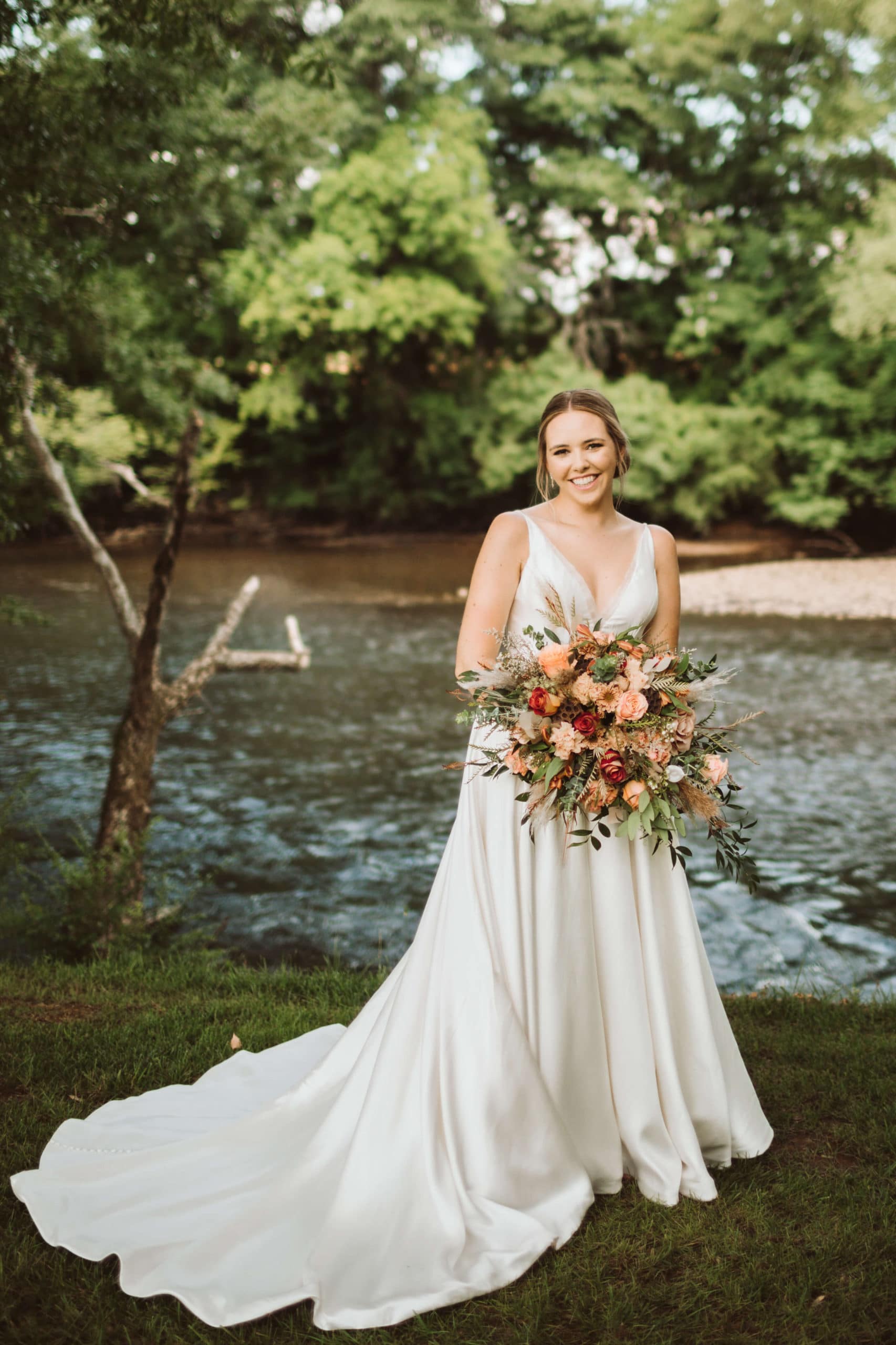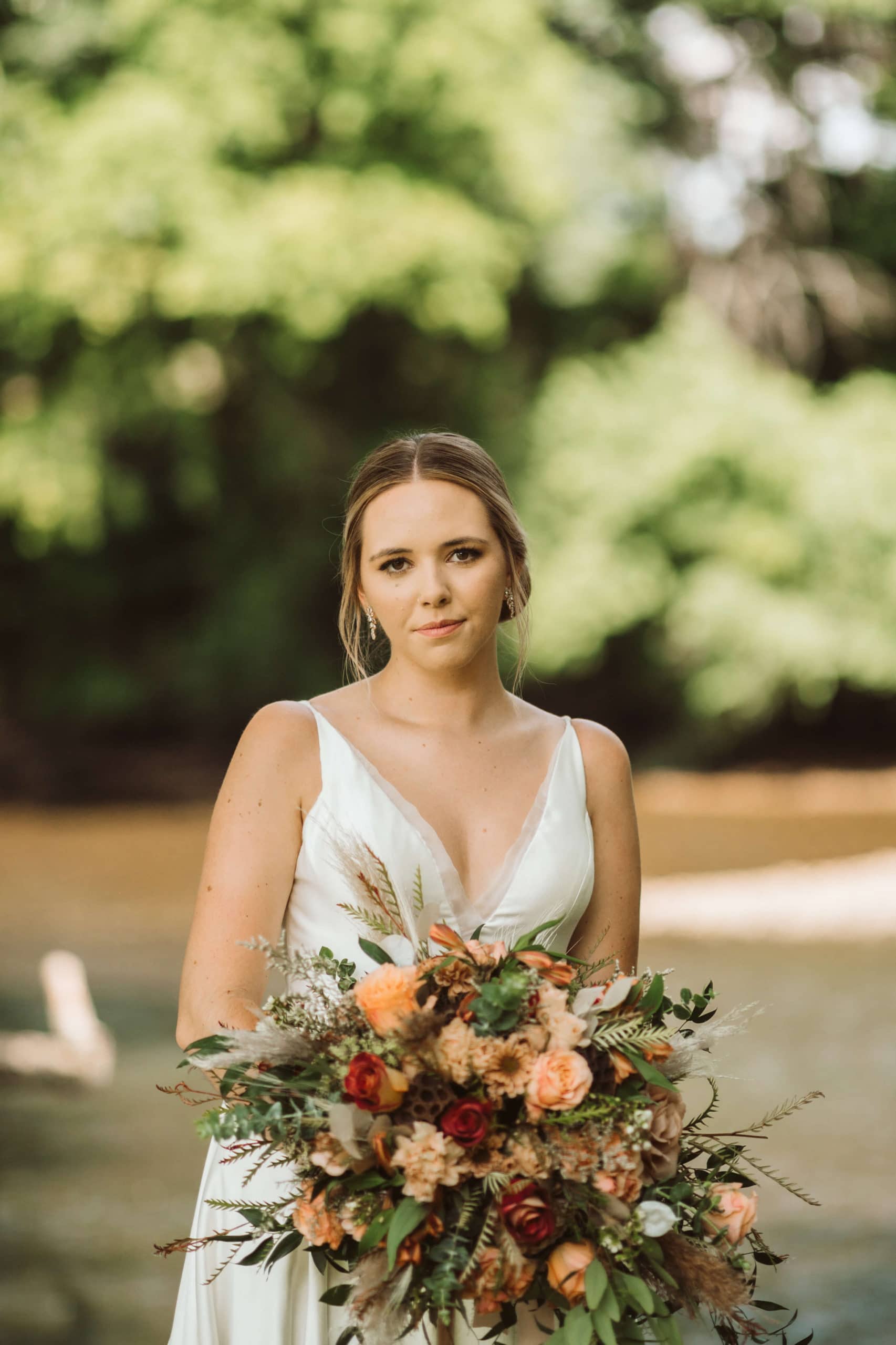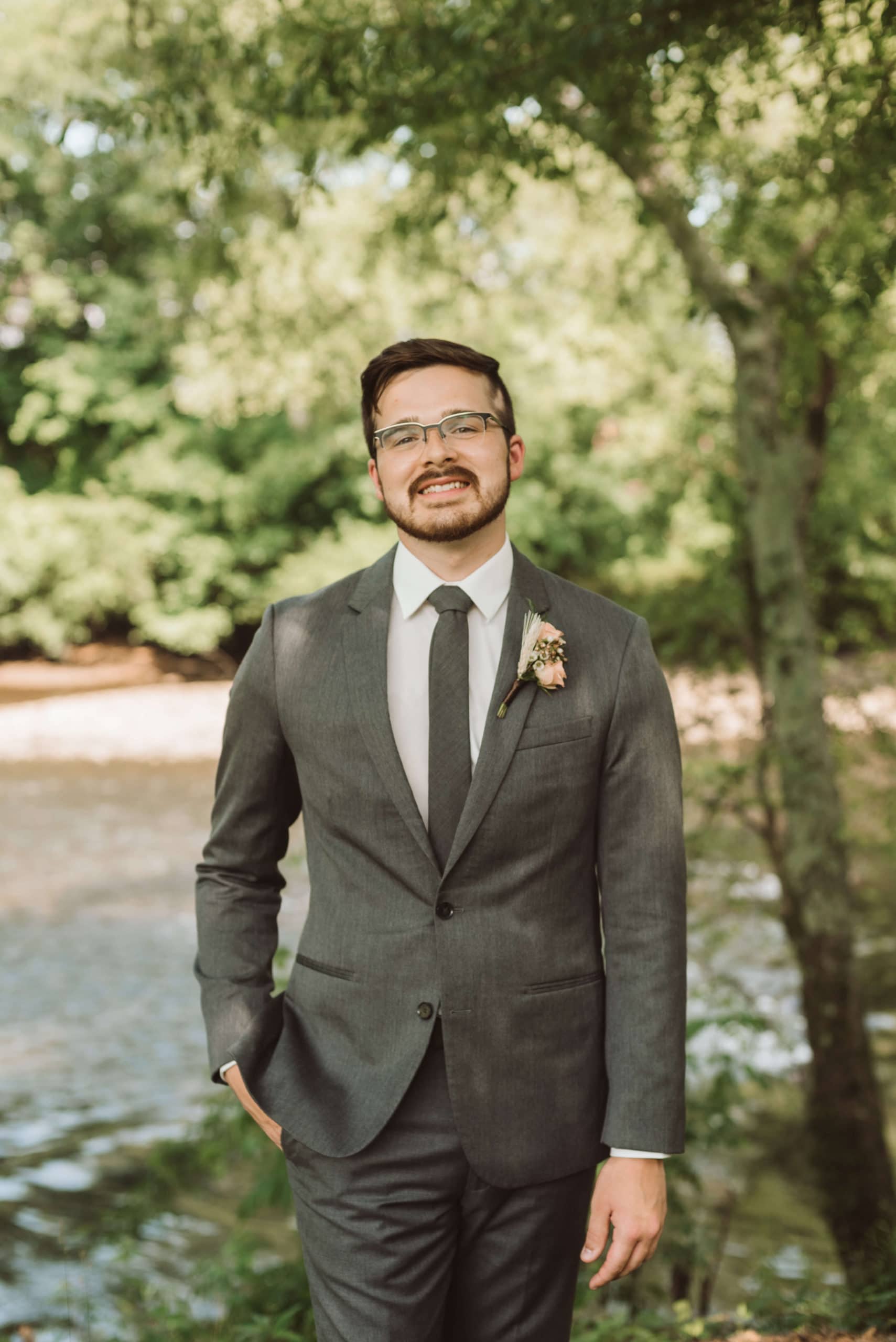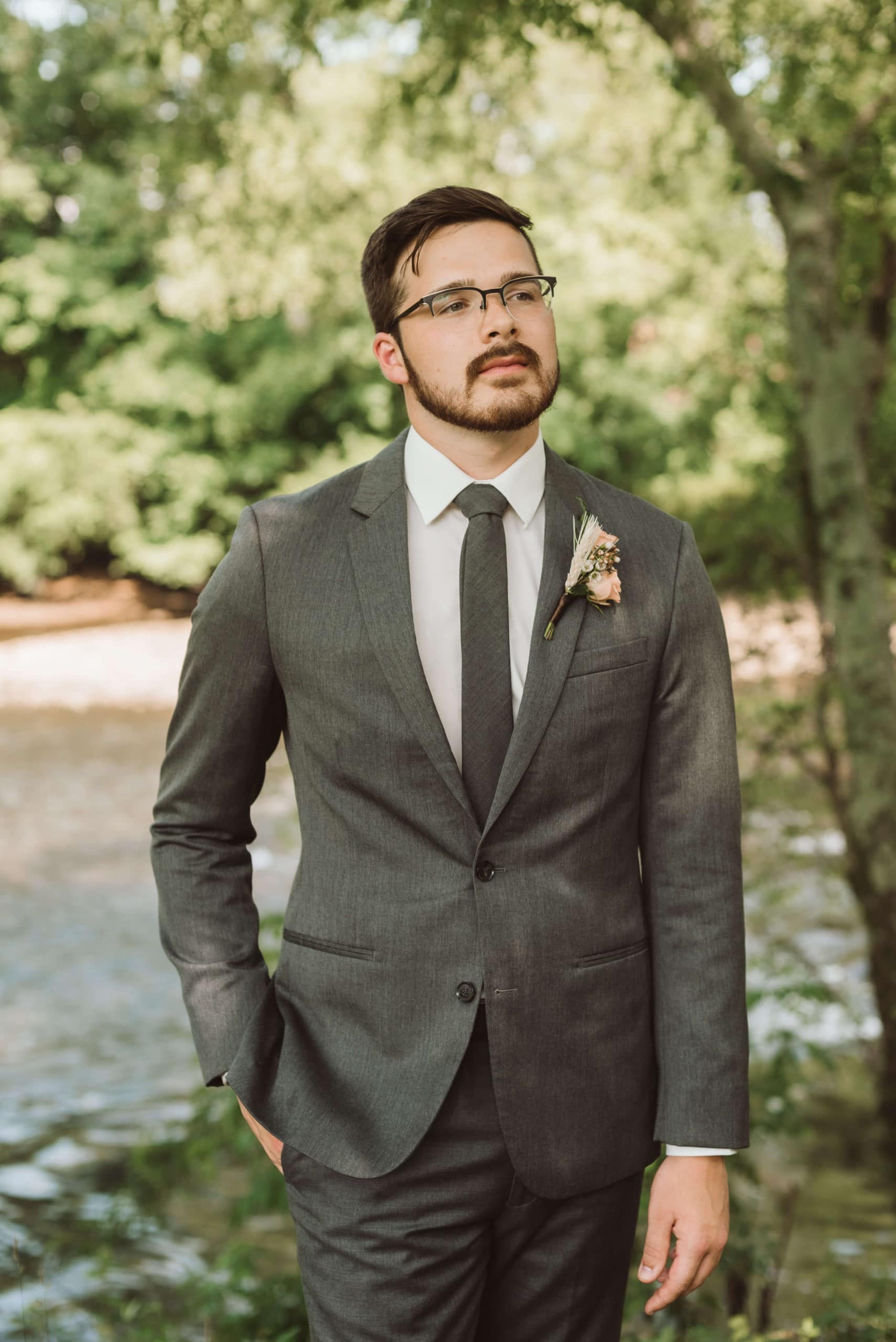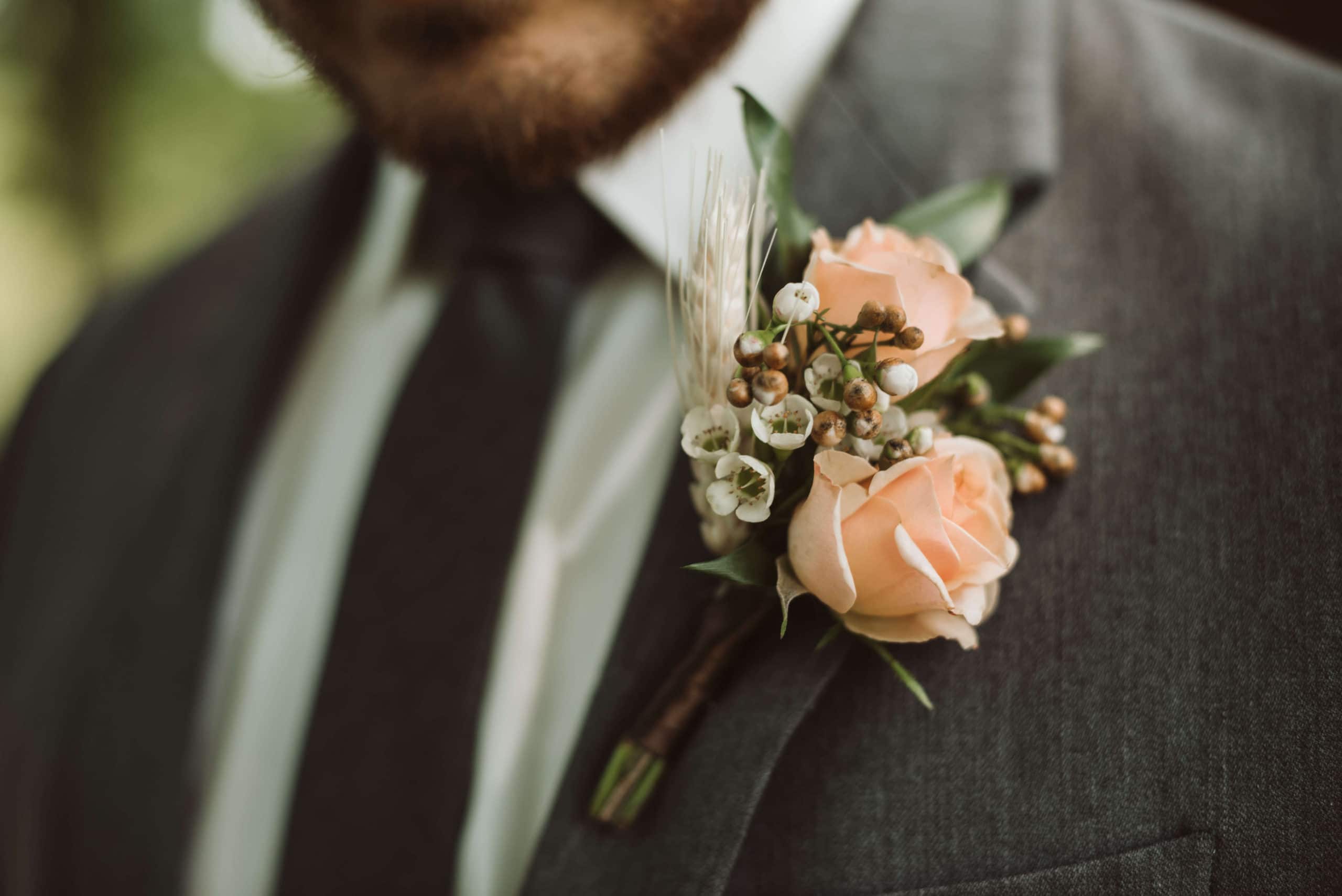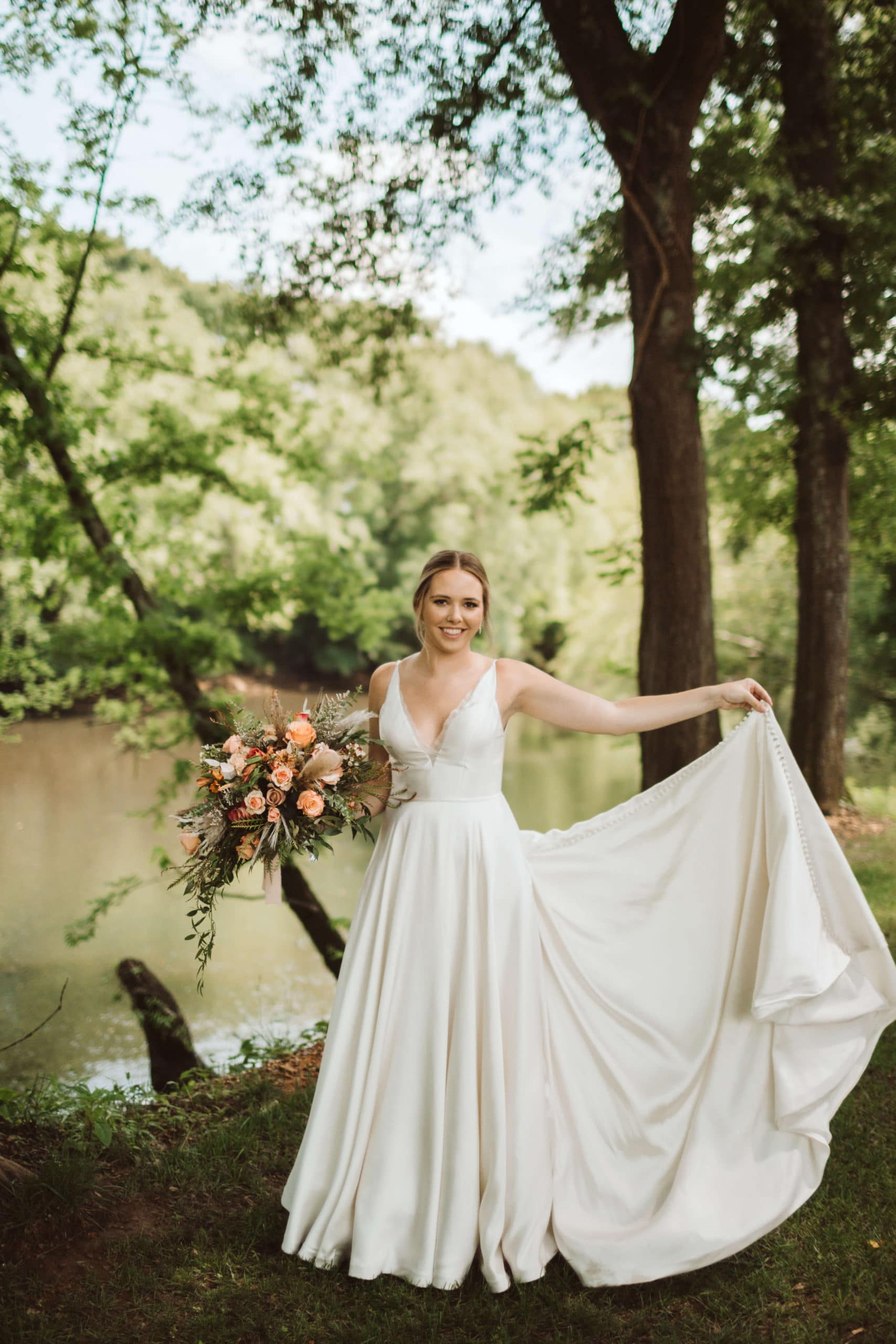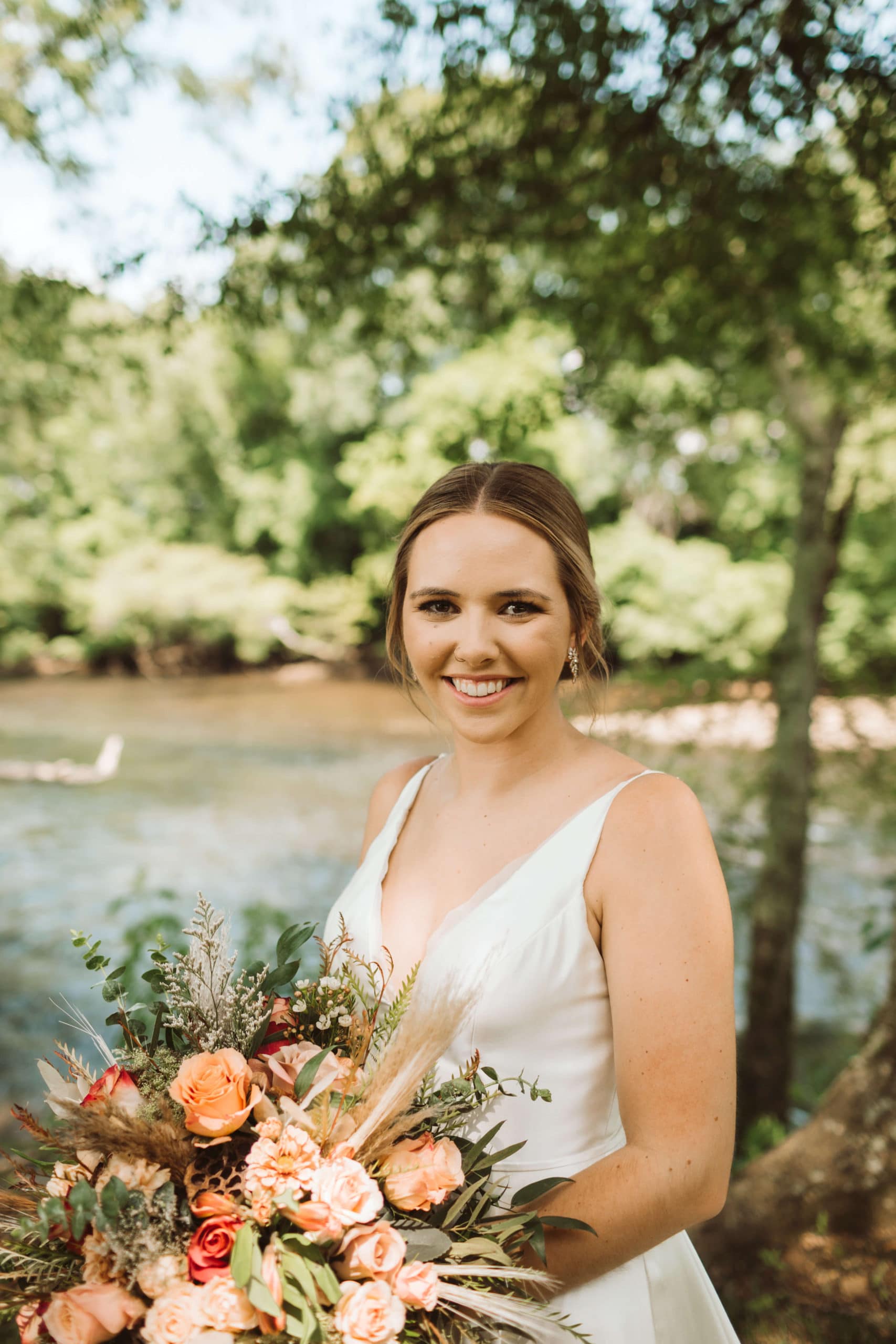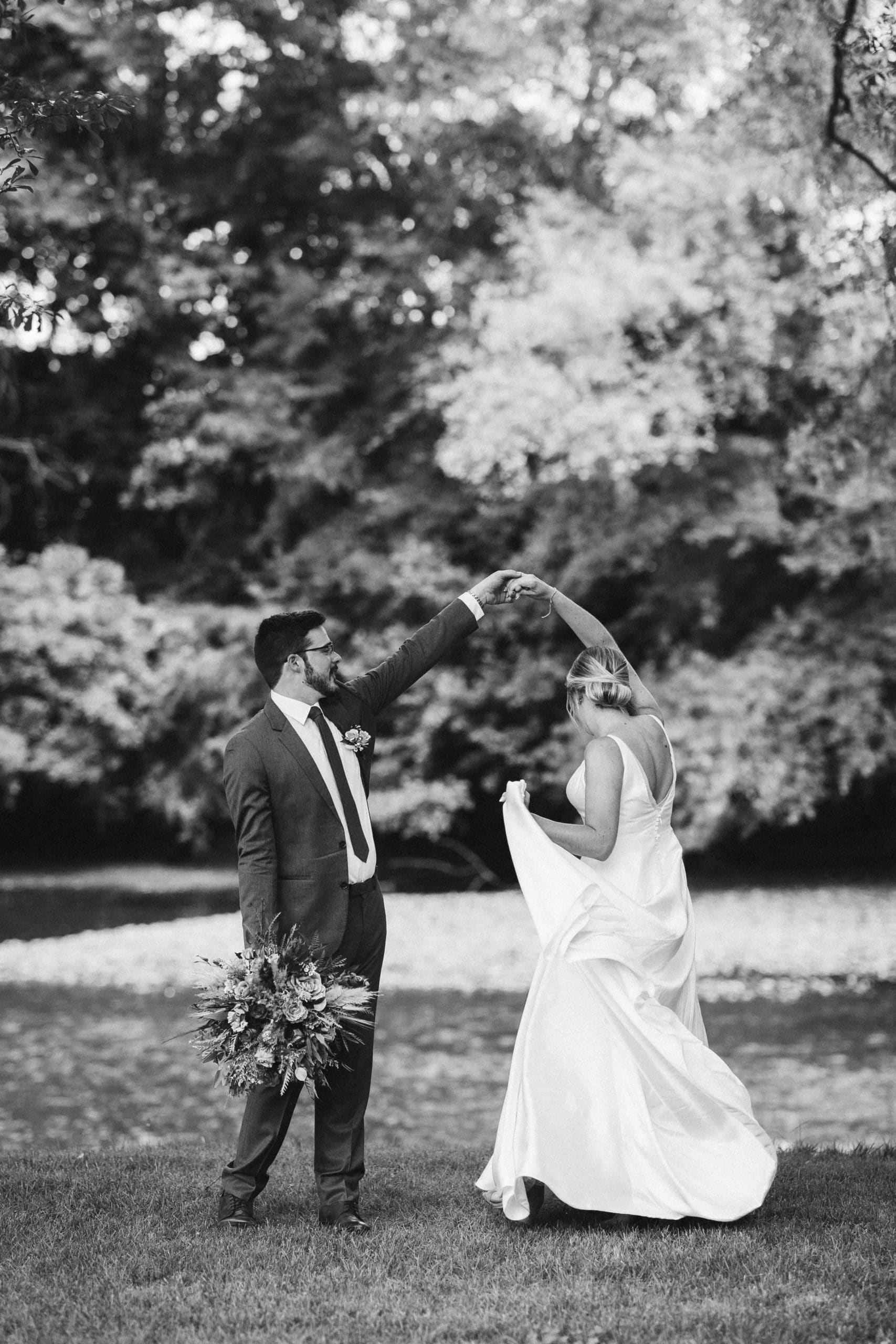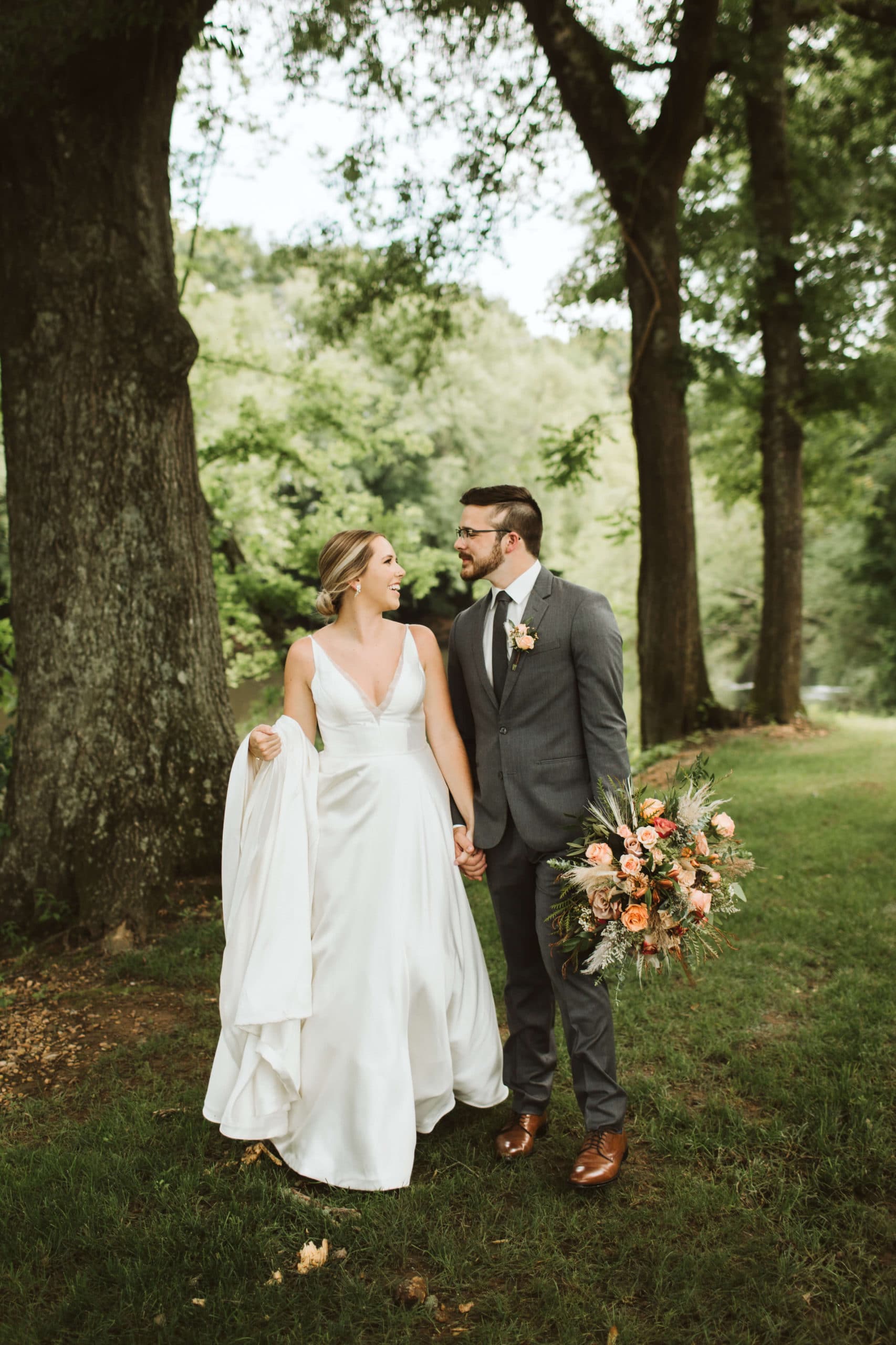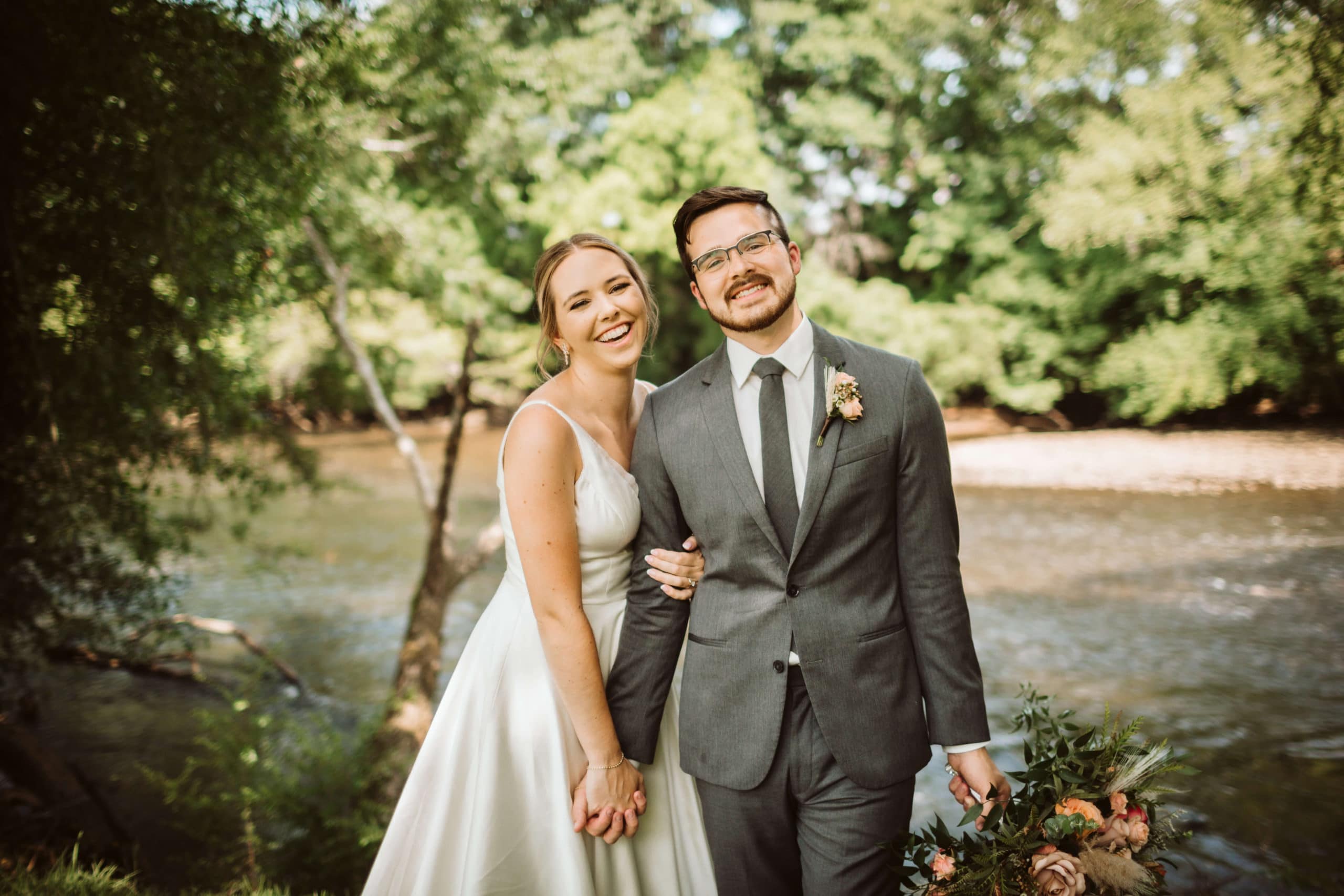 Becoming More Than Just Best Friends
When I first sat down with Liz and Michael to discuss their needs for a wedding photographer, they said they wanted their wedding to be simple but elegant. It was important the day reflect their personalities while focusing on celebrating the occasion with family and friends. 
Liz and Michael met sophomore year of college and clicked immediately. One day they had no idea who the other was, and the next day they were best friends. Neither could remember when or how they met. I love couple's stories like that. It always seems like they were just meant to be in each other's lives. They remained friends for a while even though Michael had asked Liz out a few times. After the third try, Liz finally faced her fear of losing her best friend if their date didn't work and agreed. Their first date was a picnic on the dock of the Ocoee River, and now they'll get married alongside the same river!
Because the river held so much significance to their story together, Liz and Michael wanted to commemorate it somehow during their wedding to add that extra touch of meaningfulness. They decided to have their first look session on a little bridge on the grounds that crosses over the Ocoee. Michael stood in the middle of the bridge with his back turned while Liz approached from behind. Michael was immediately moved to tears upon seeing her. After a heartfelt embrace, the two moved to a secluded spot beside the river and read each other private letters. Even though they would be reciting their vows in front of their family and friends in a few hours, they made sure to make time in the busy day to pause and have an intimate moment for themselves.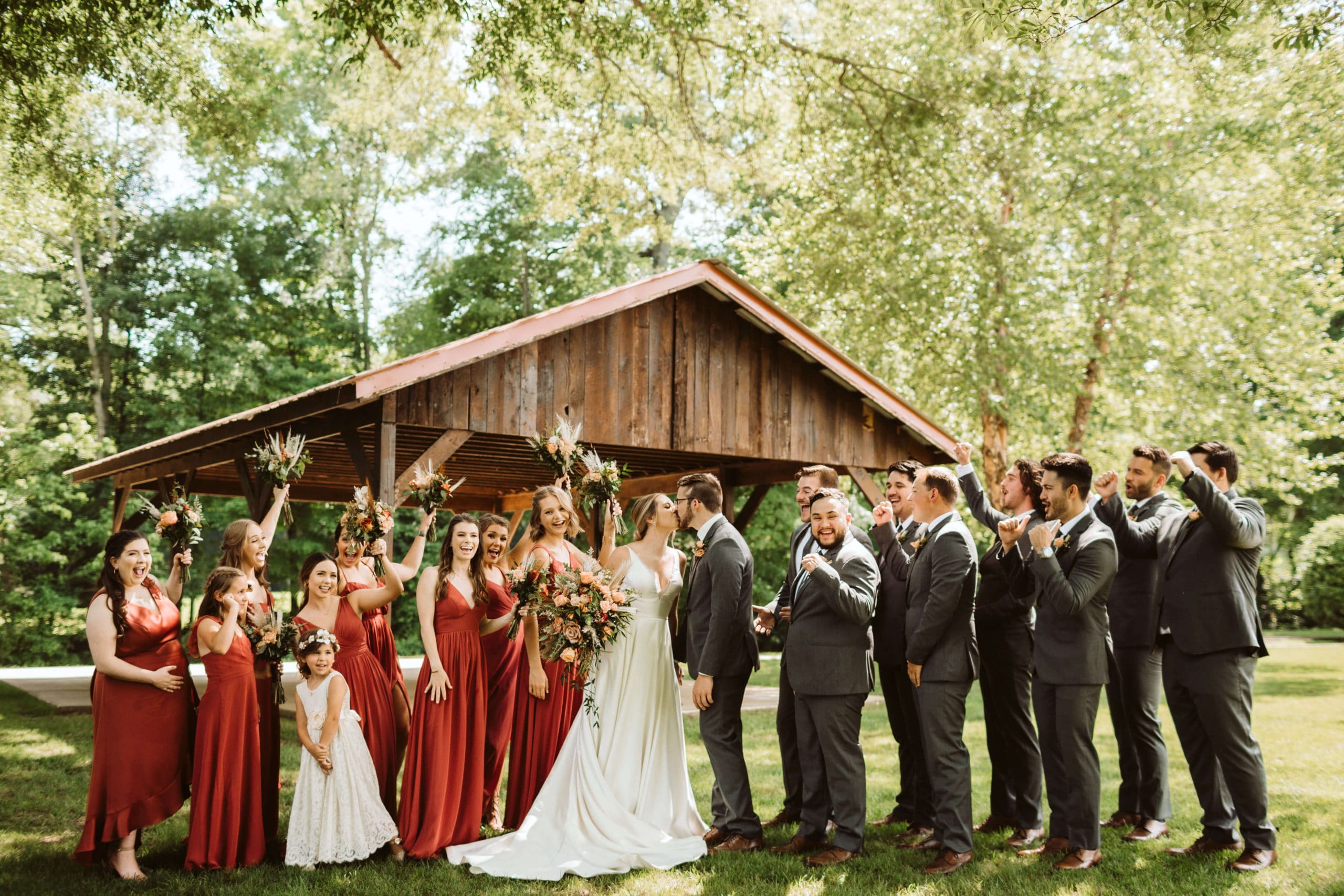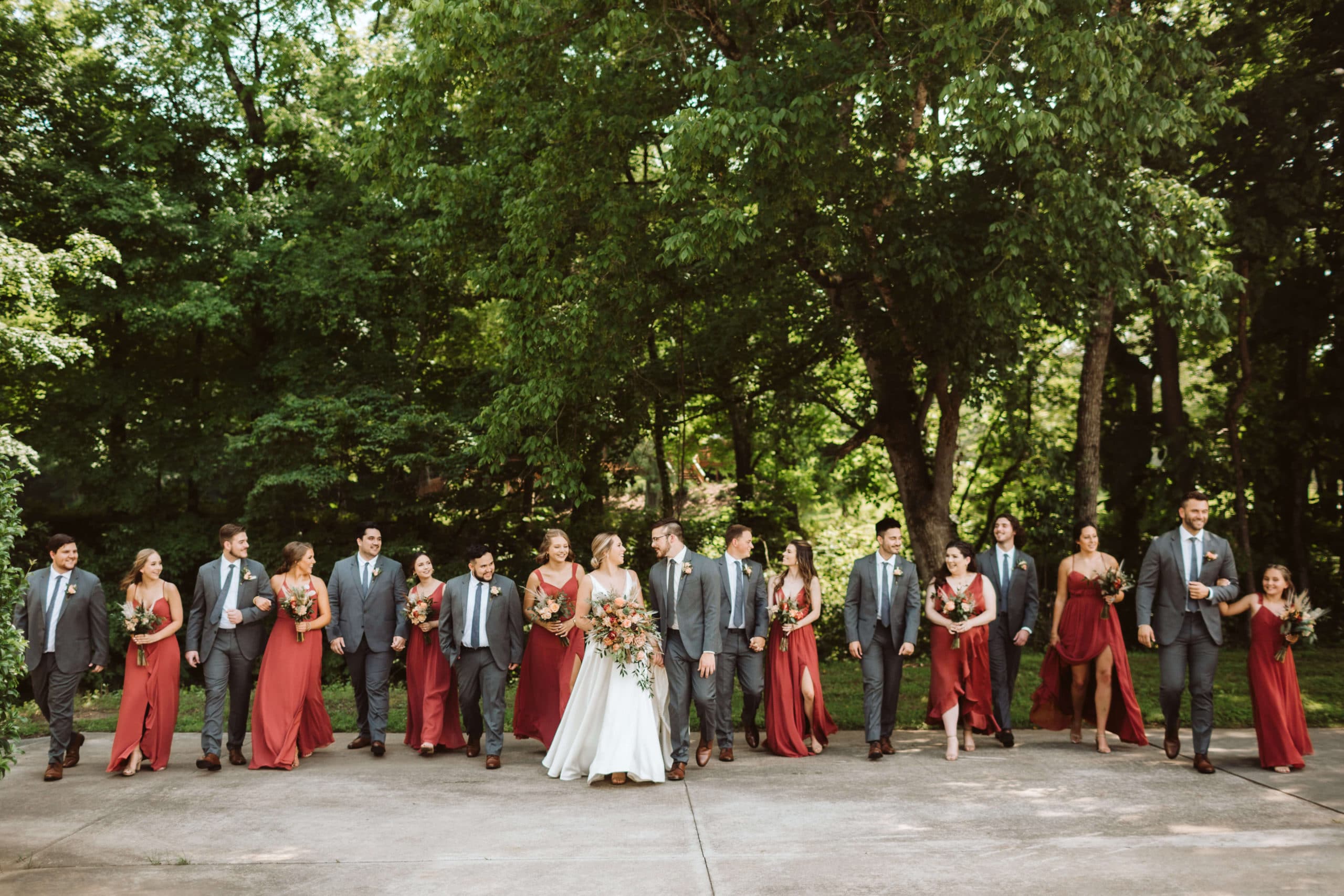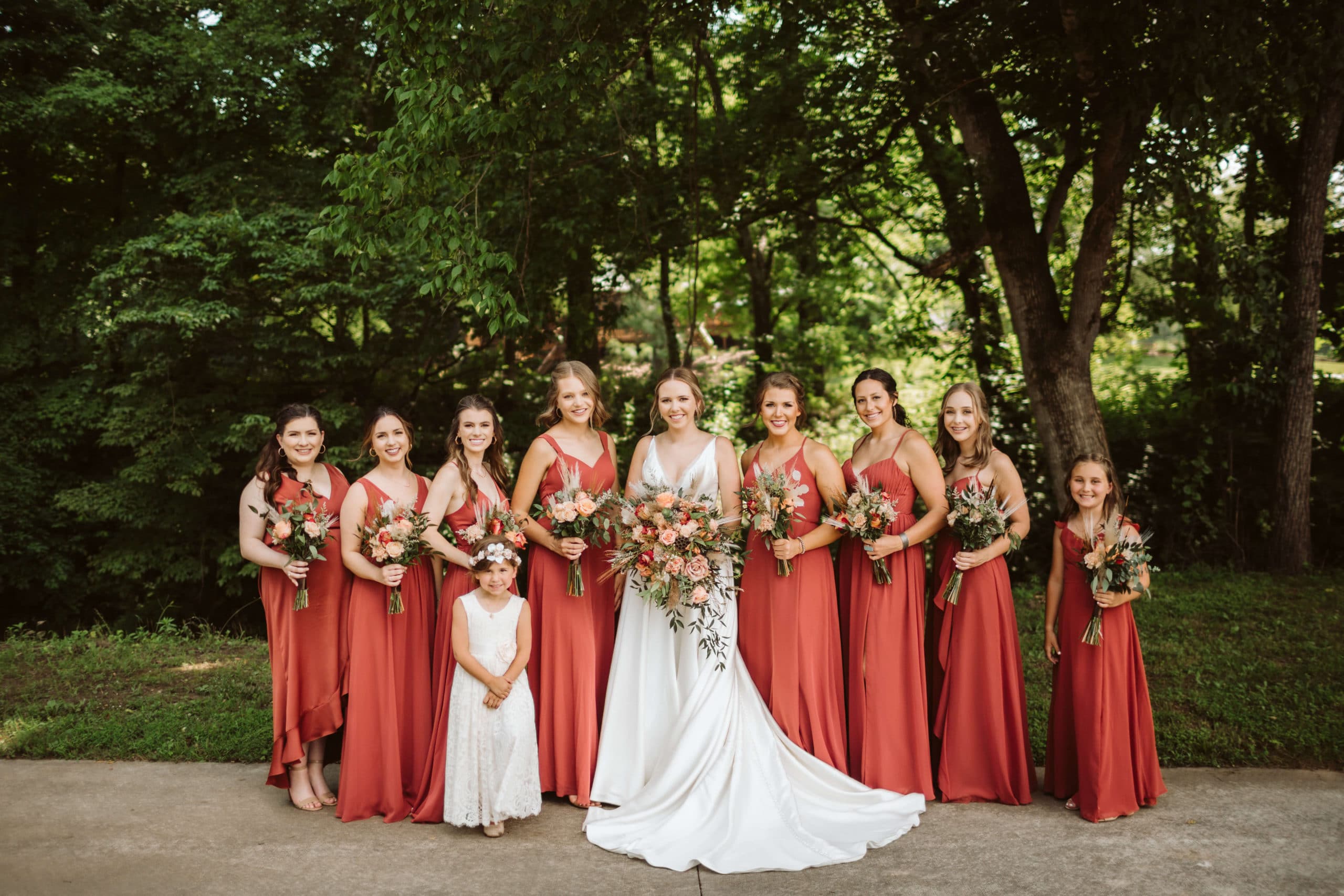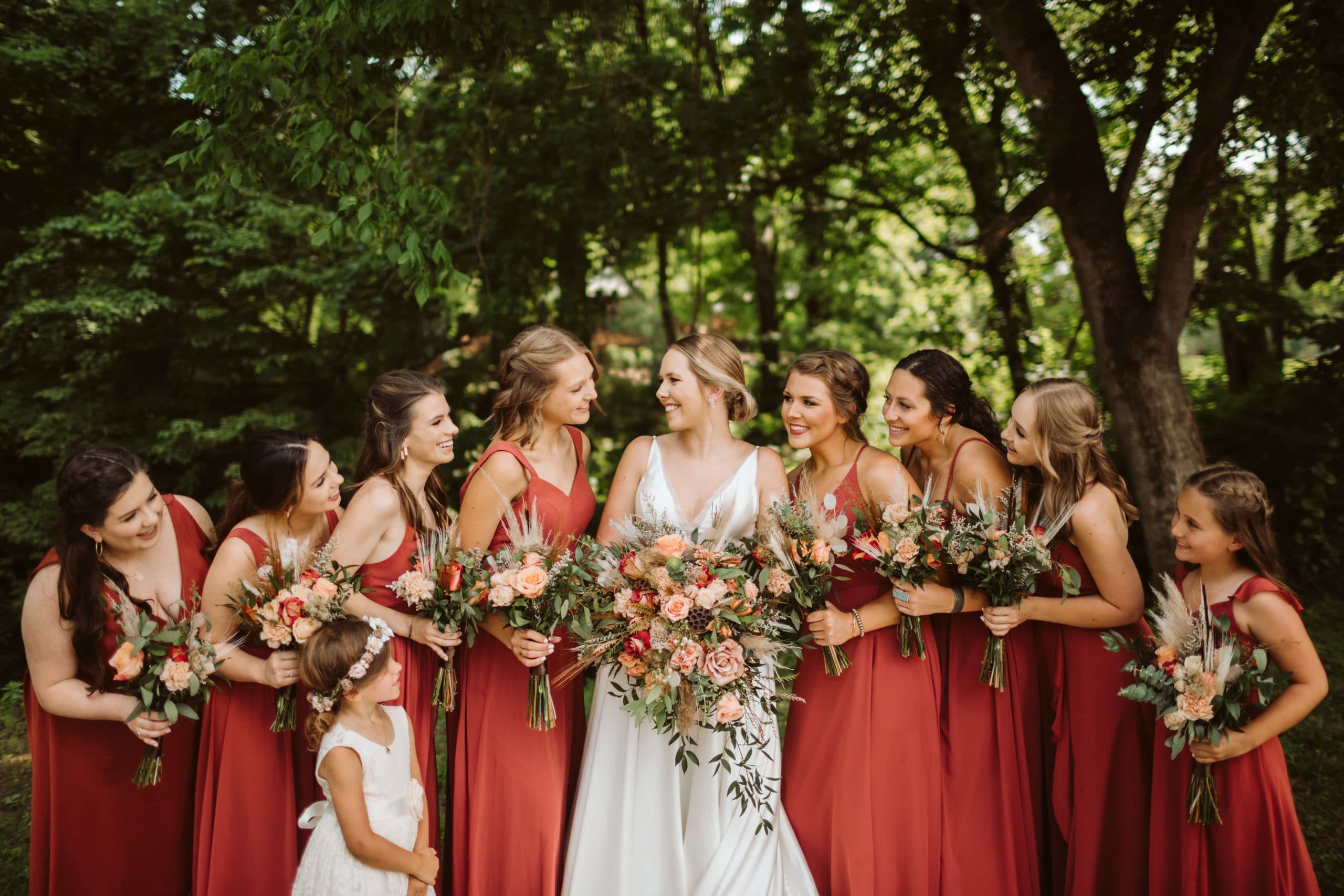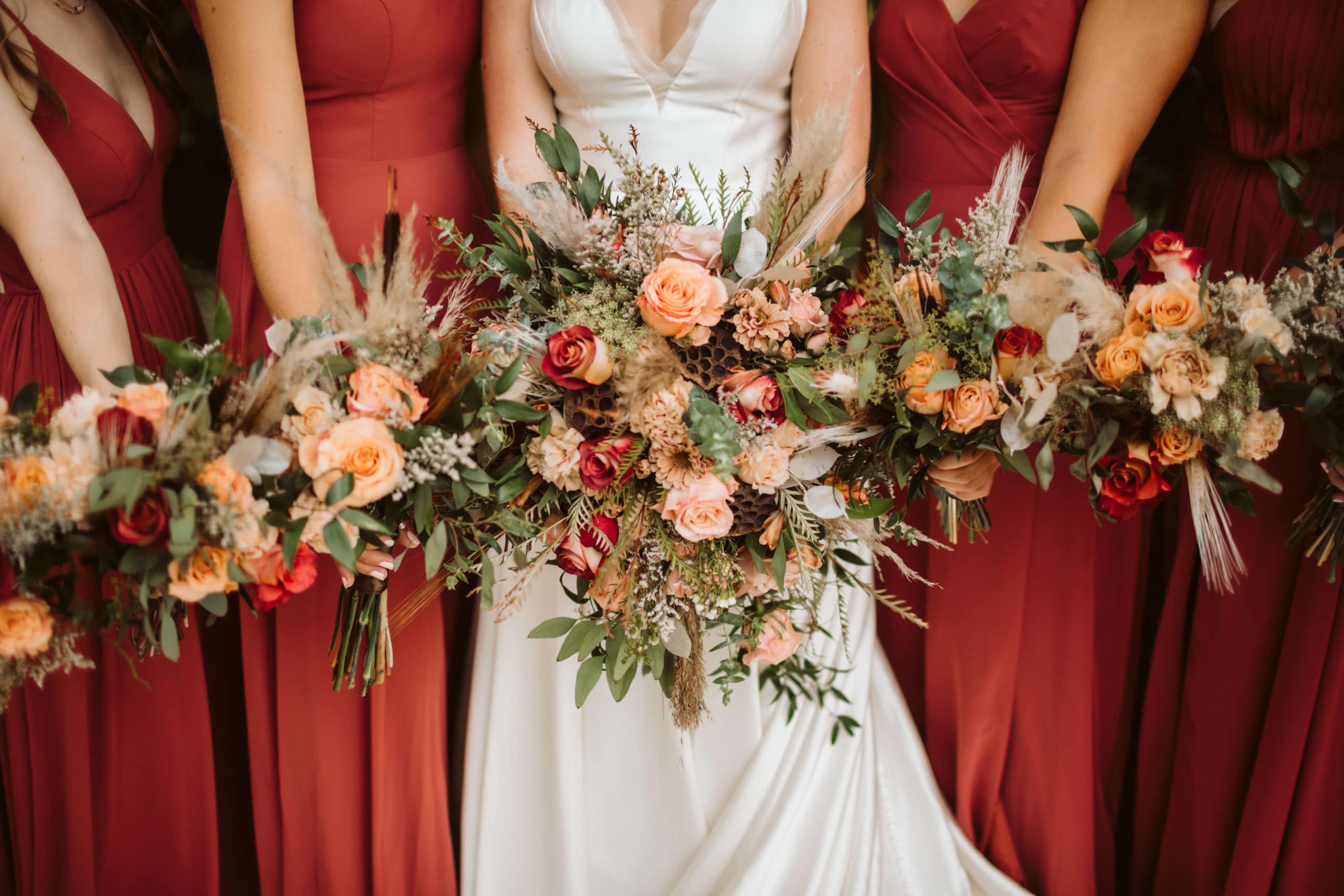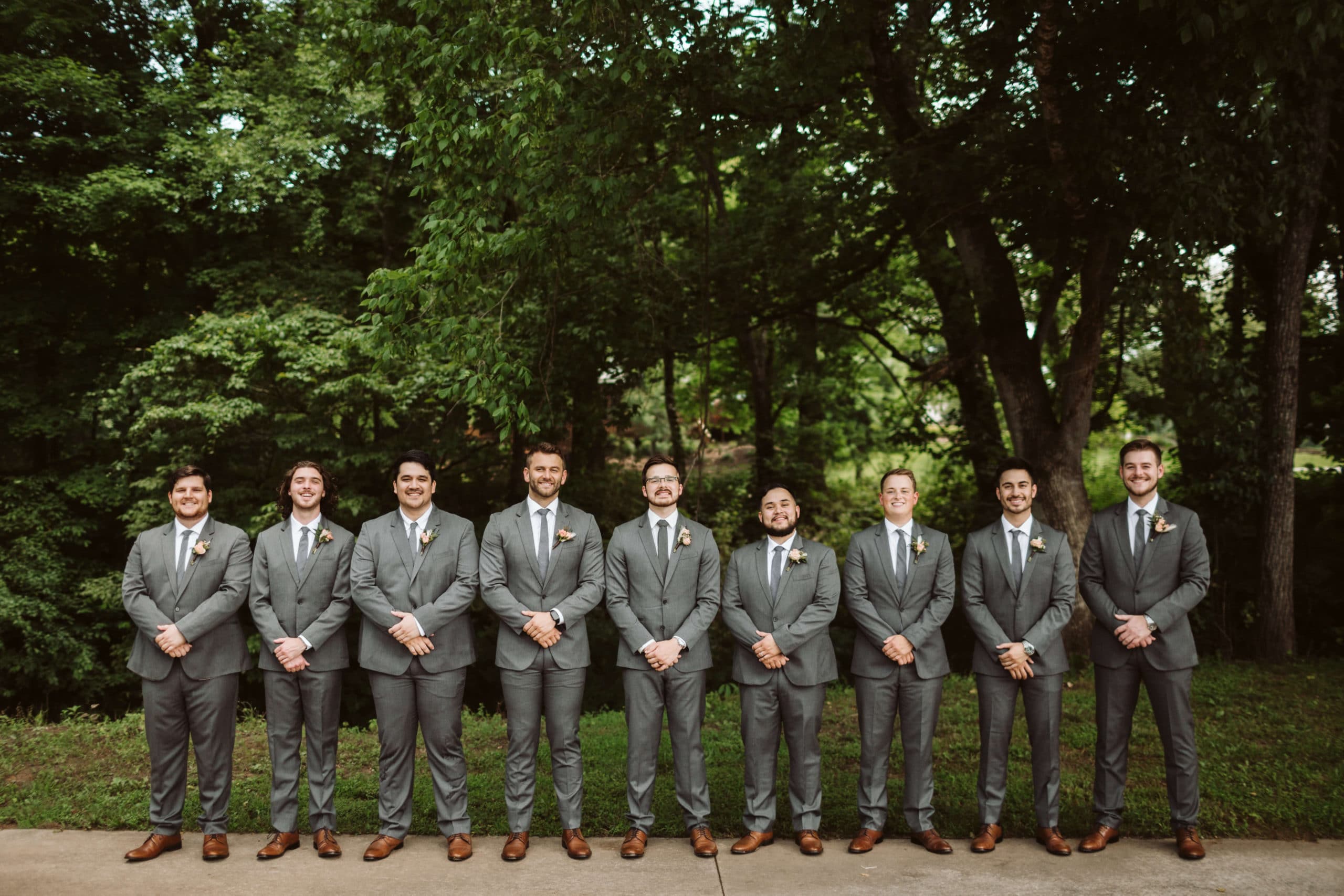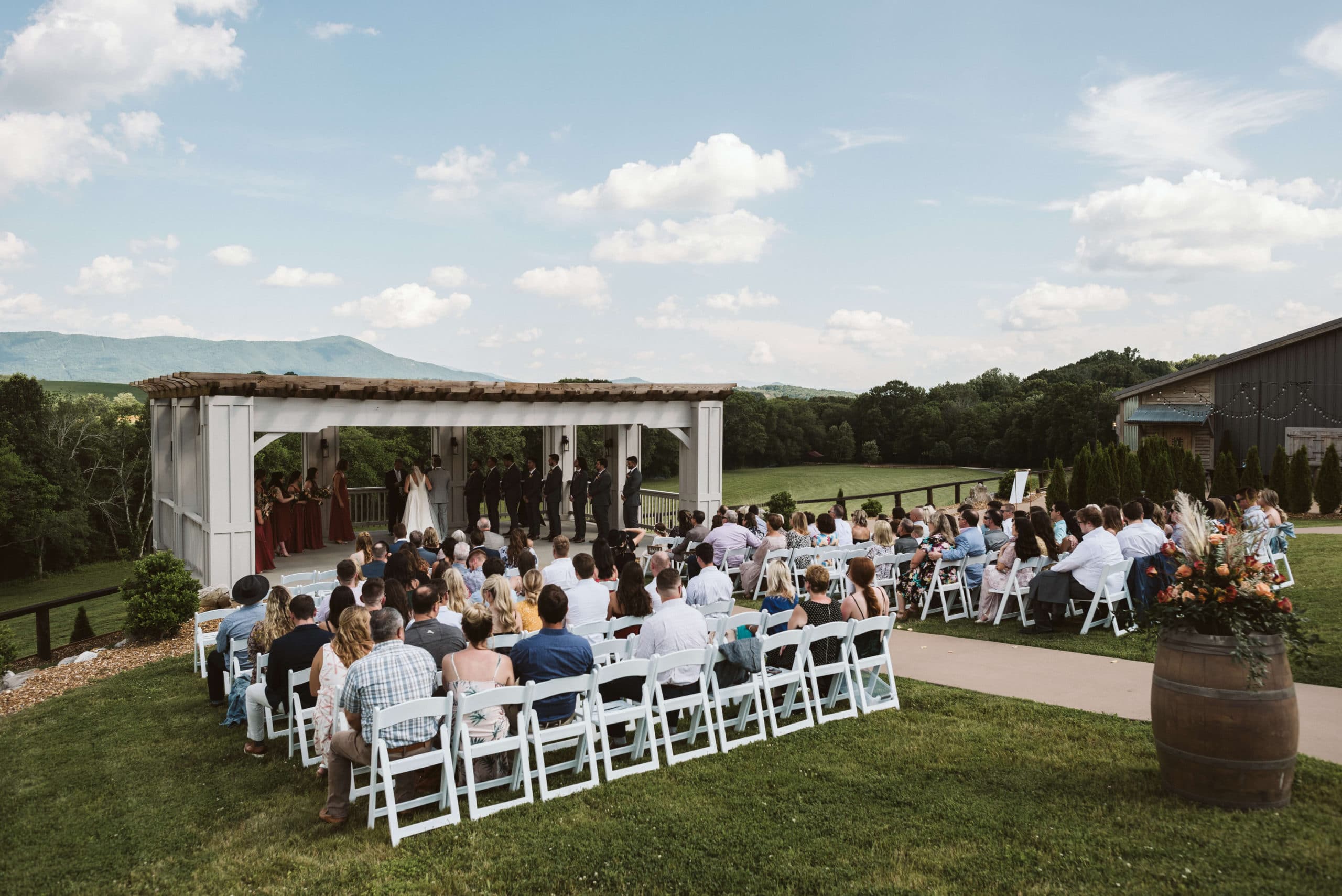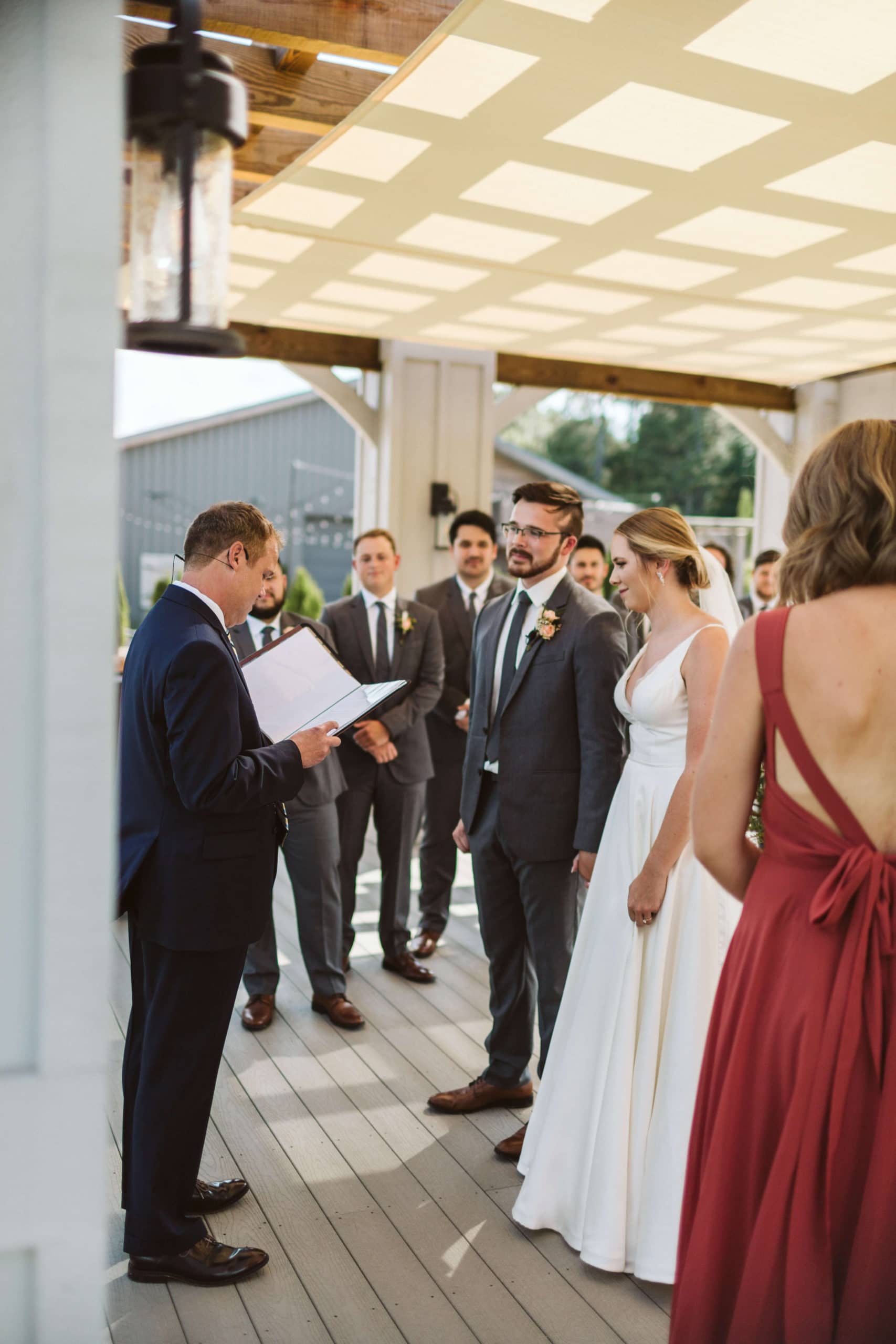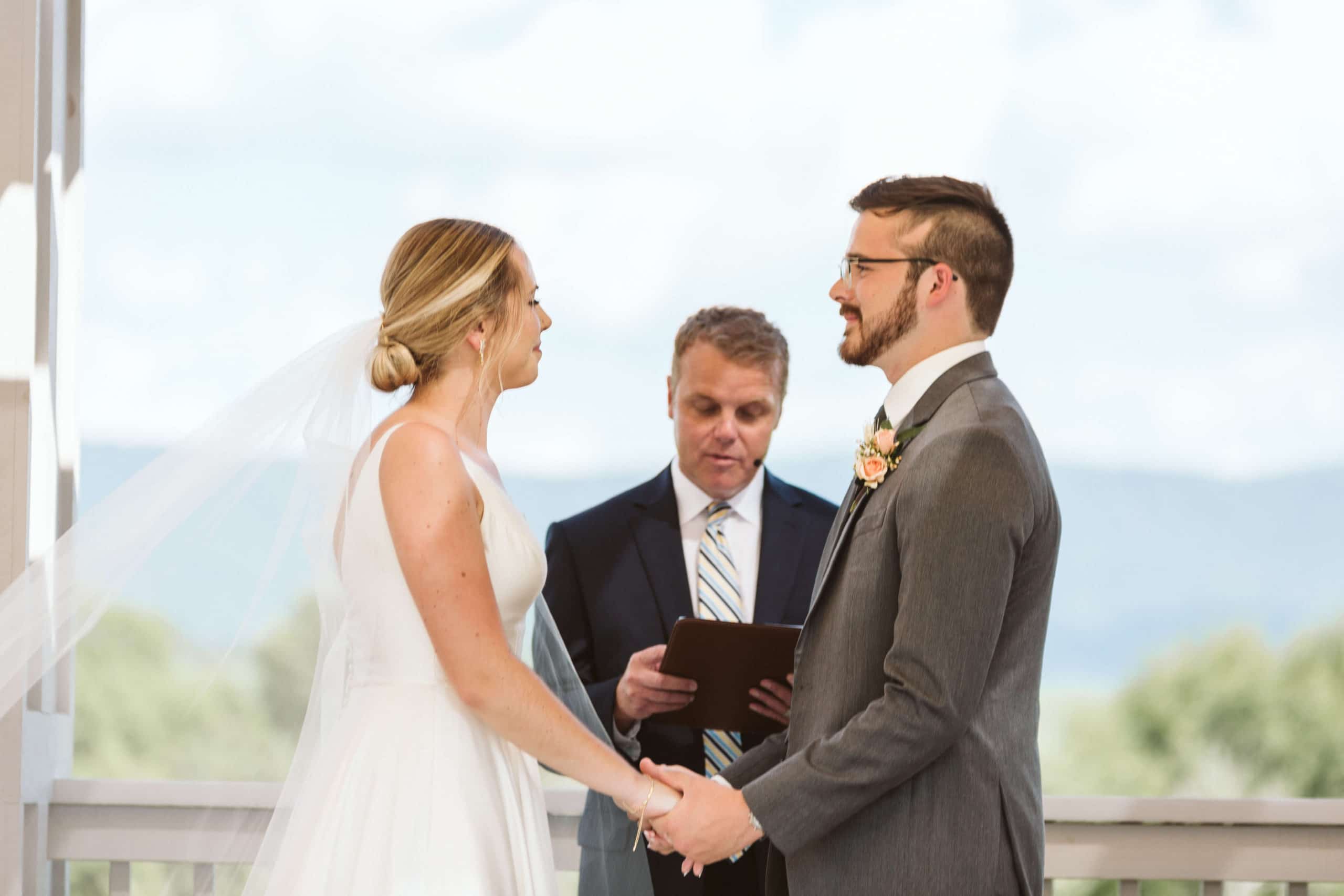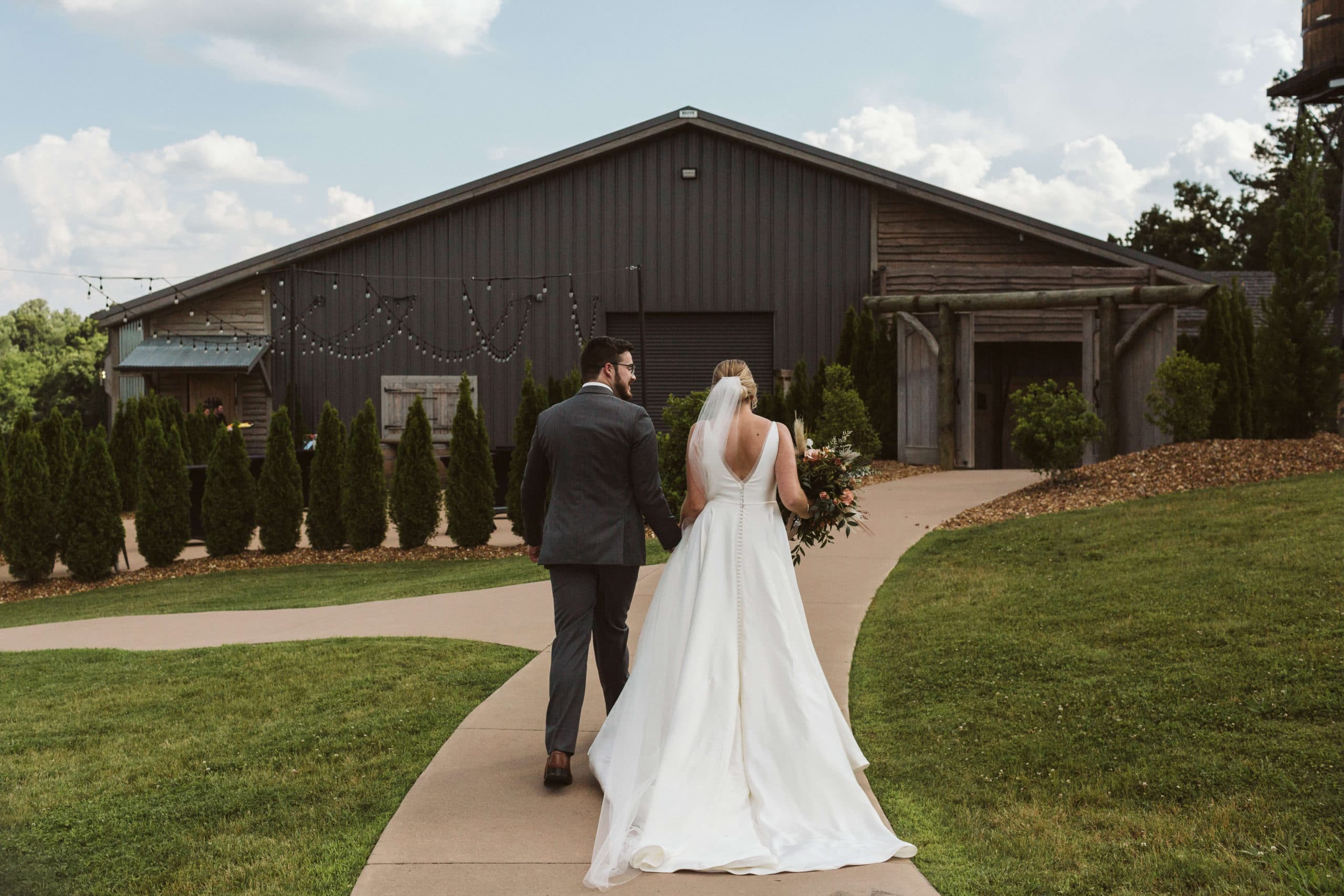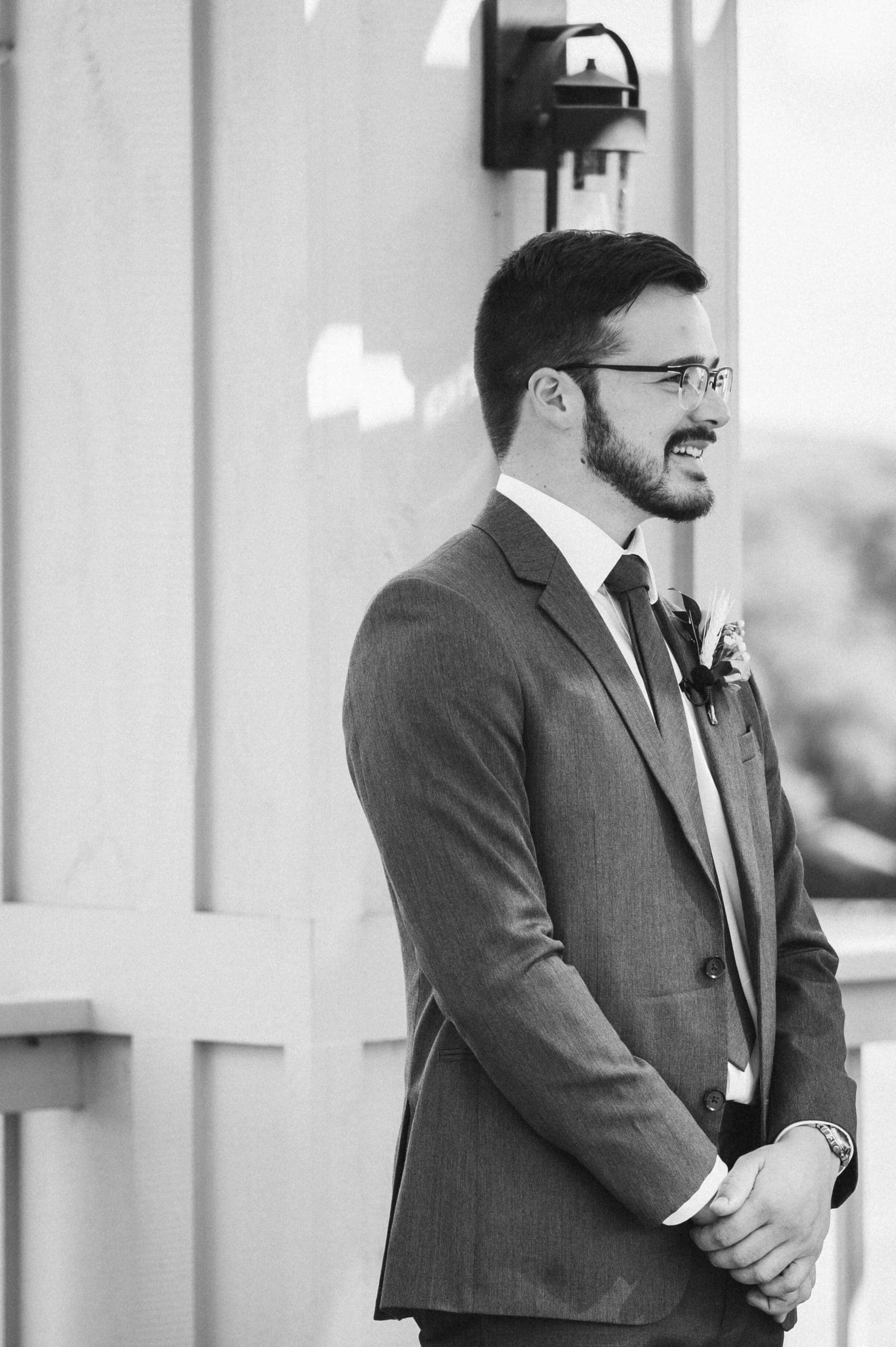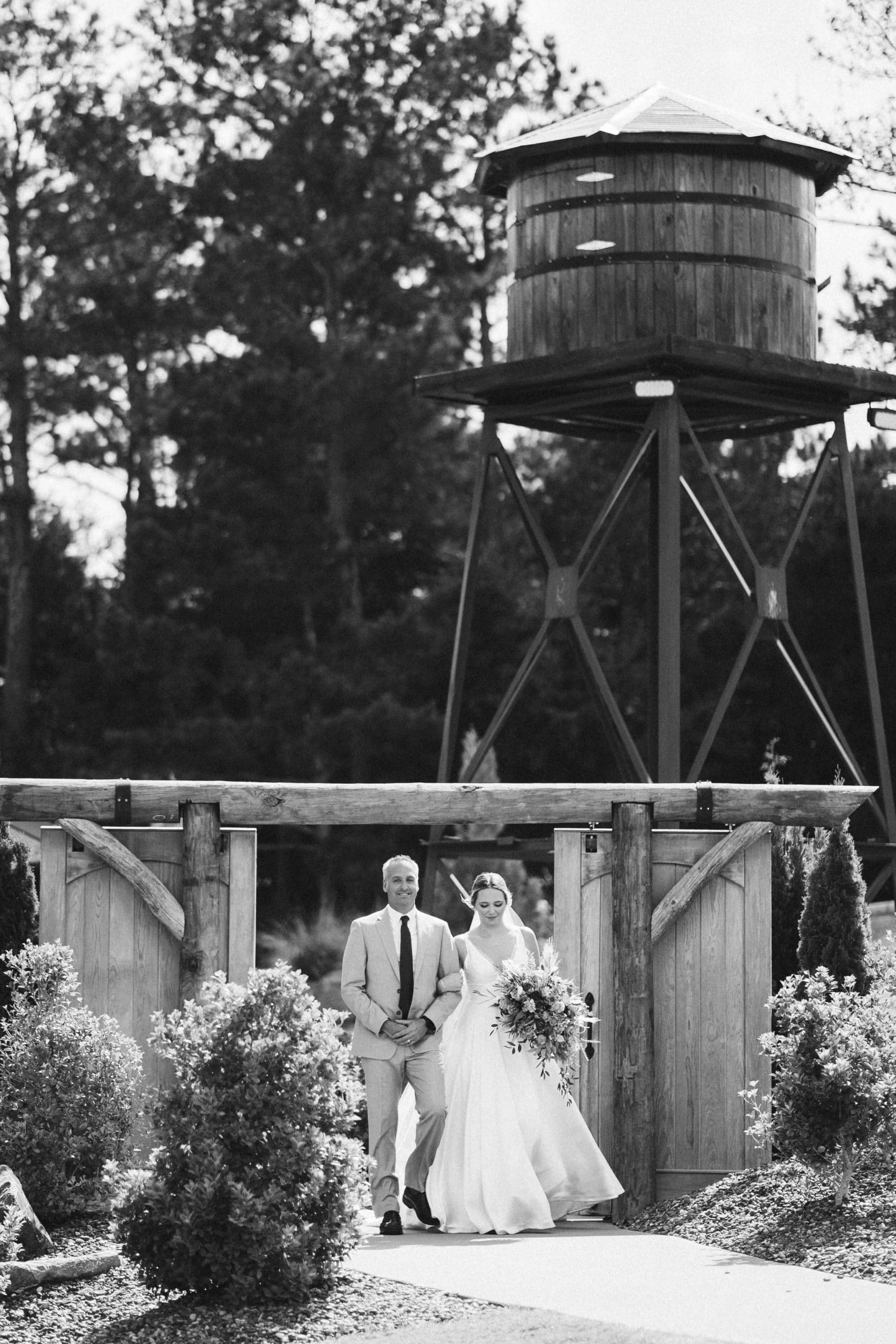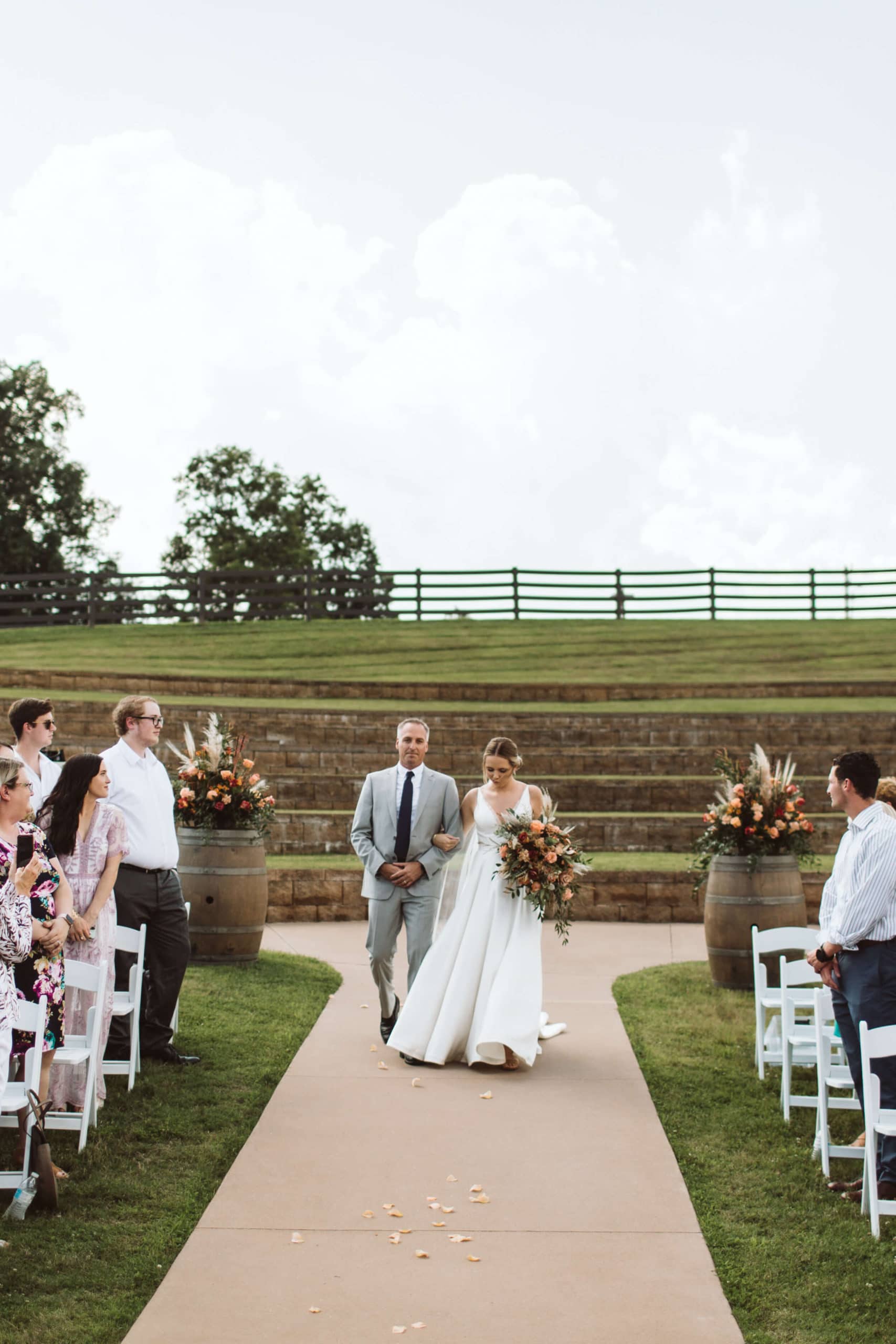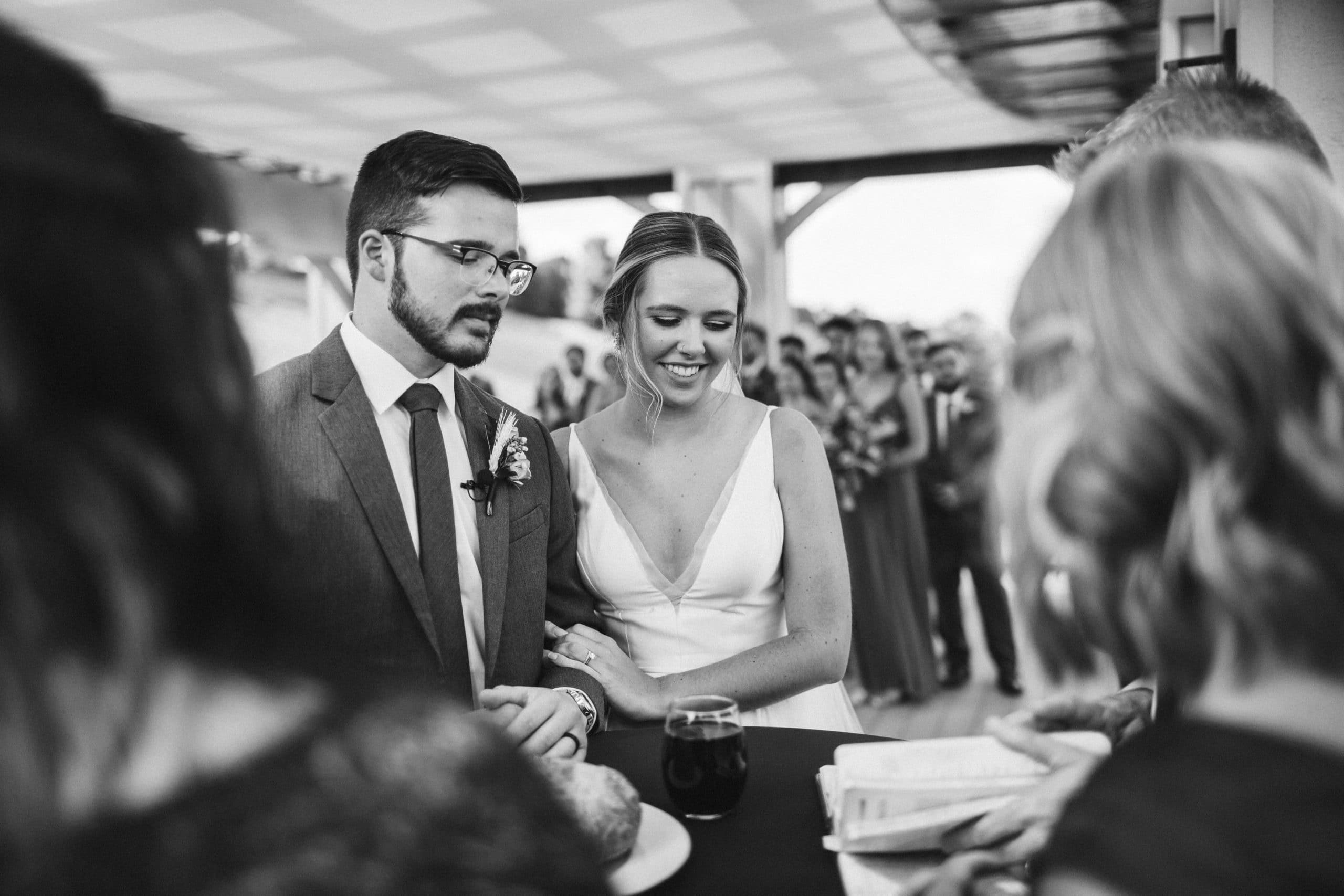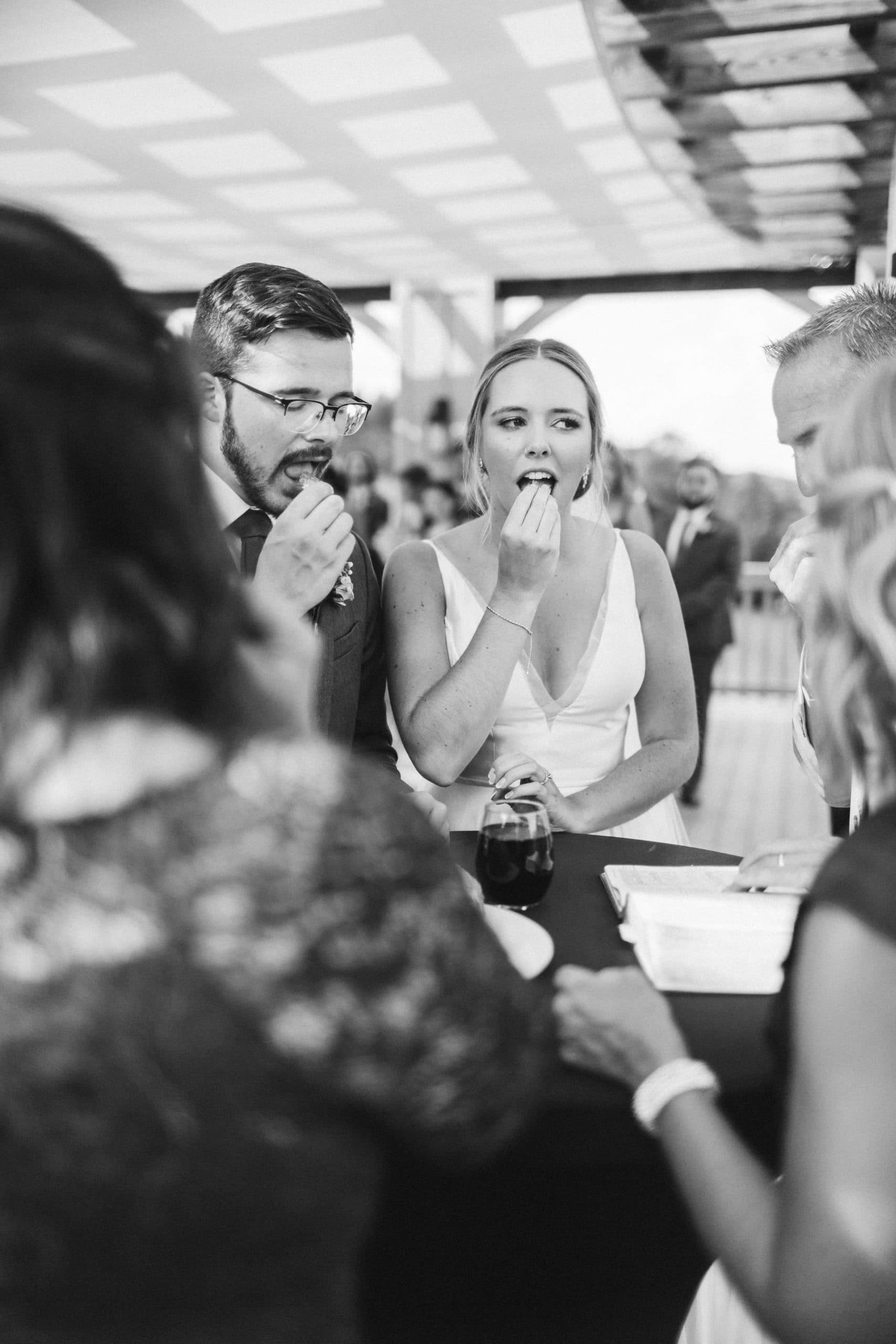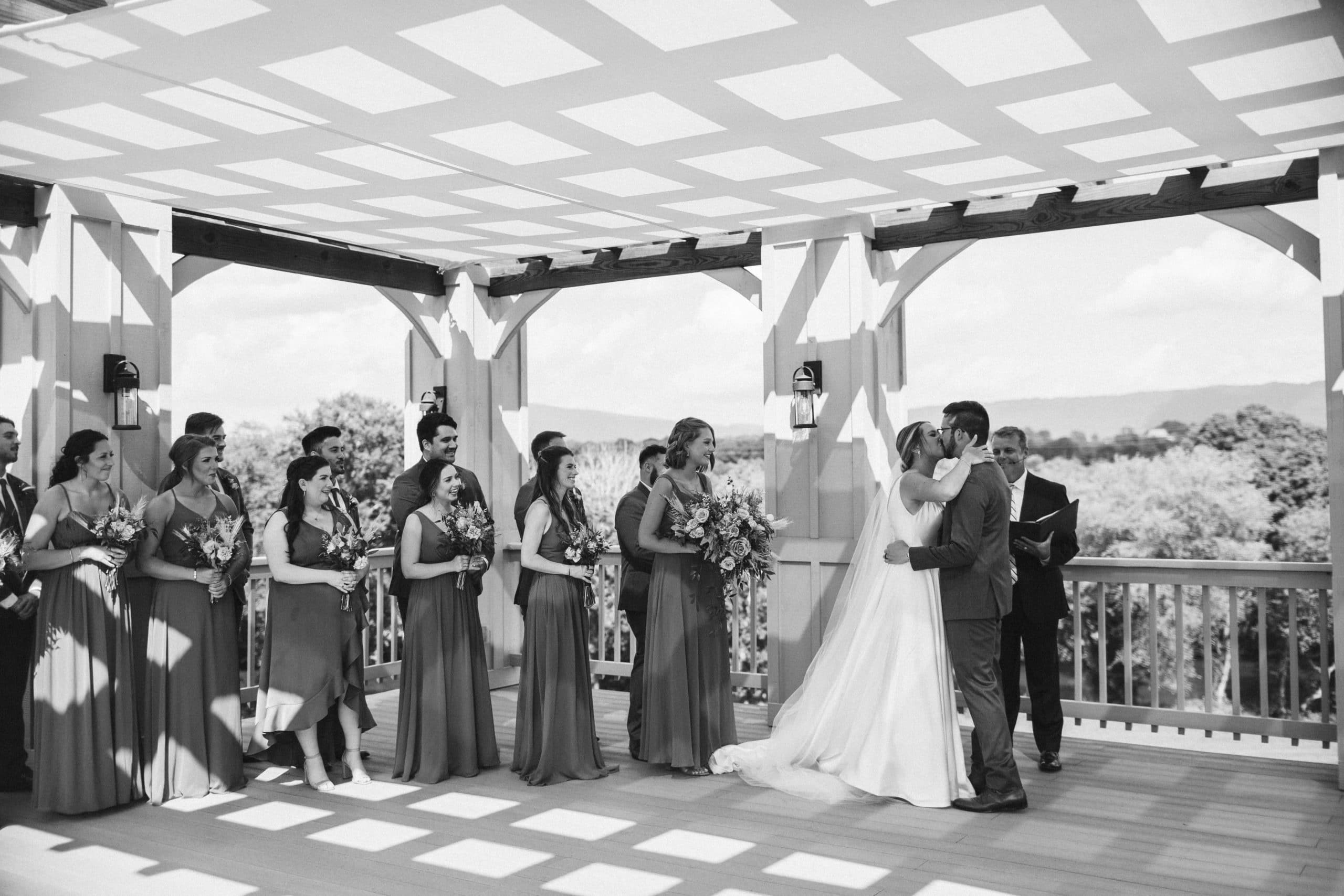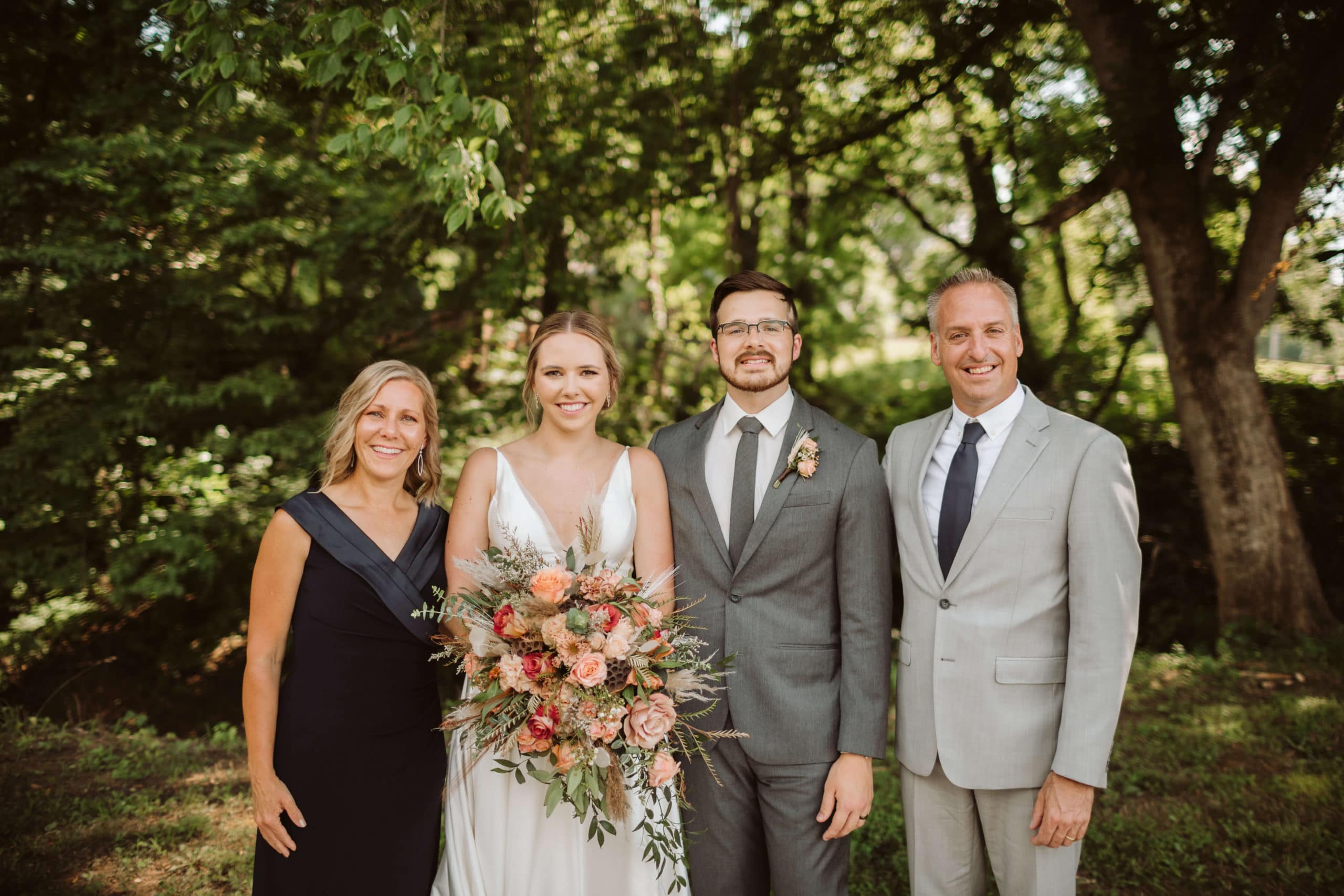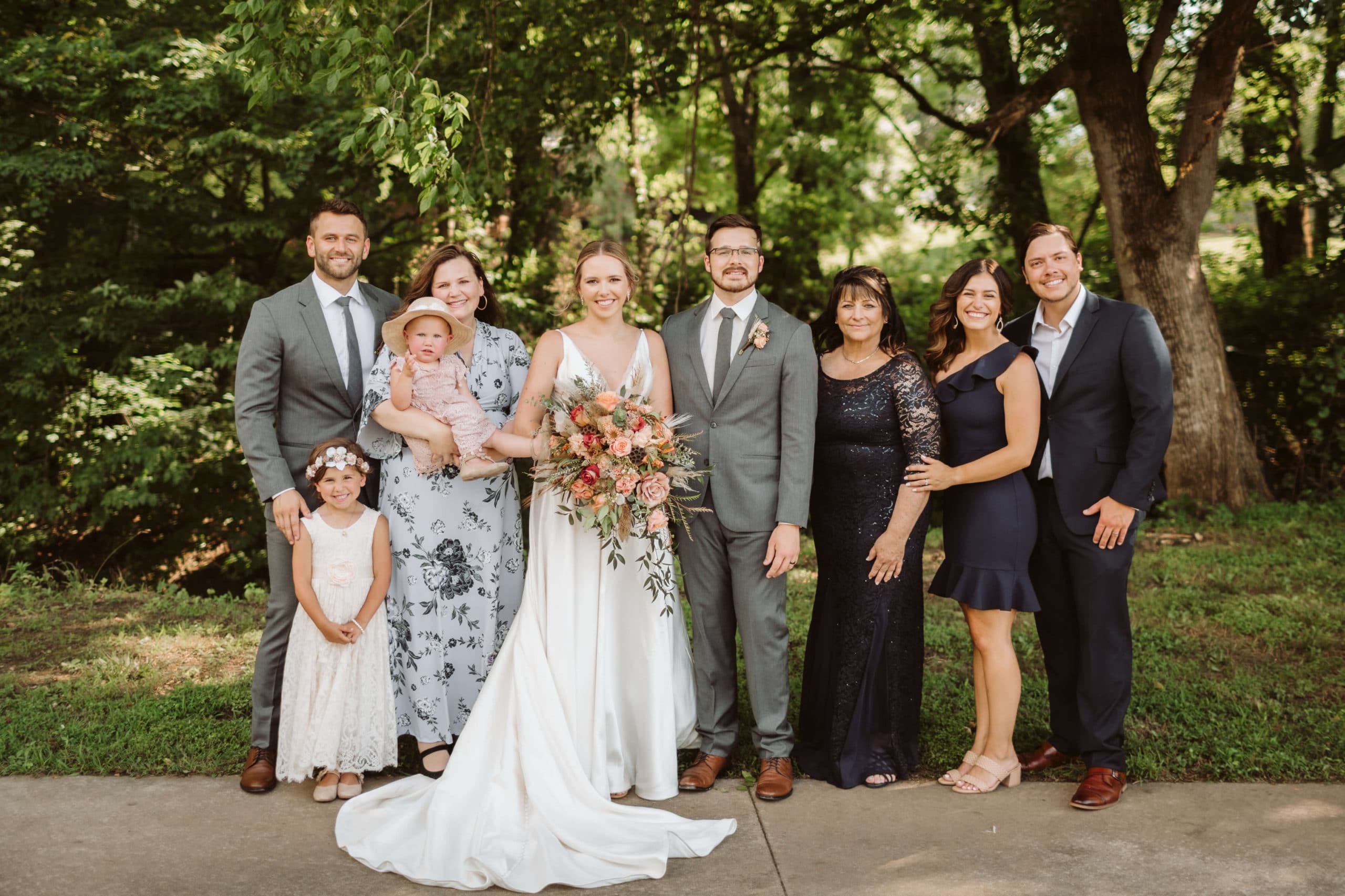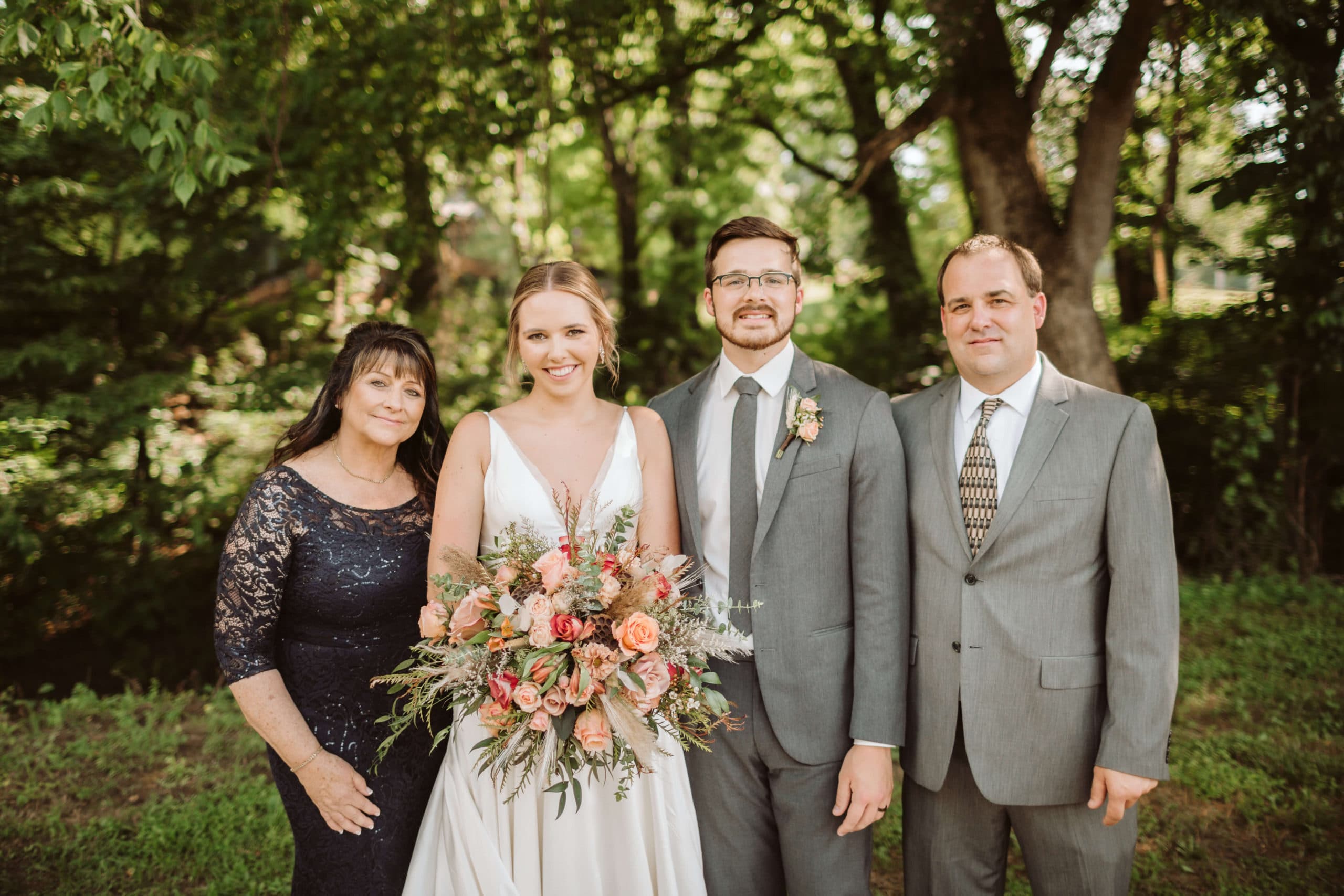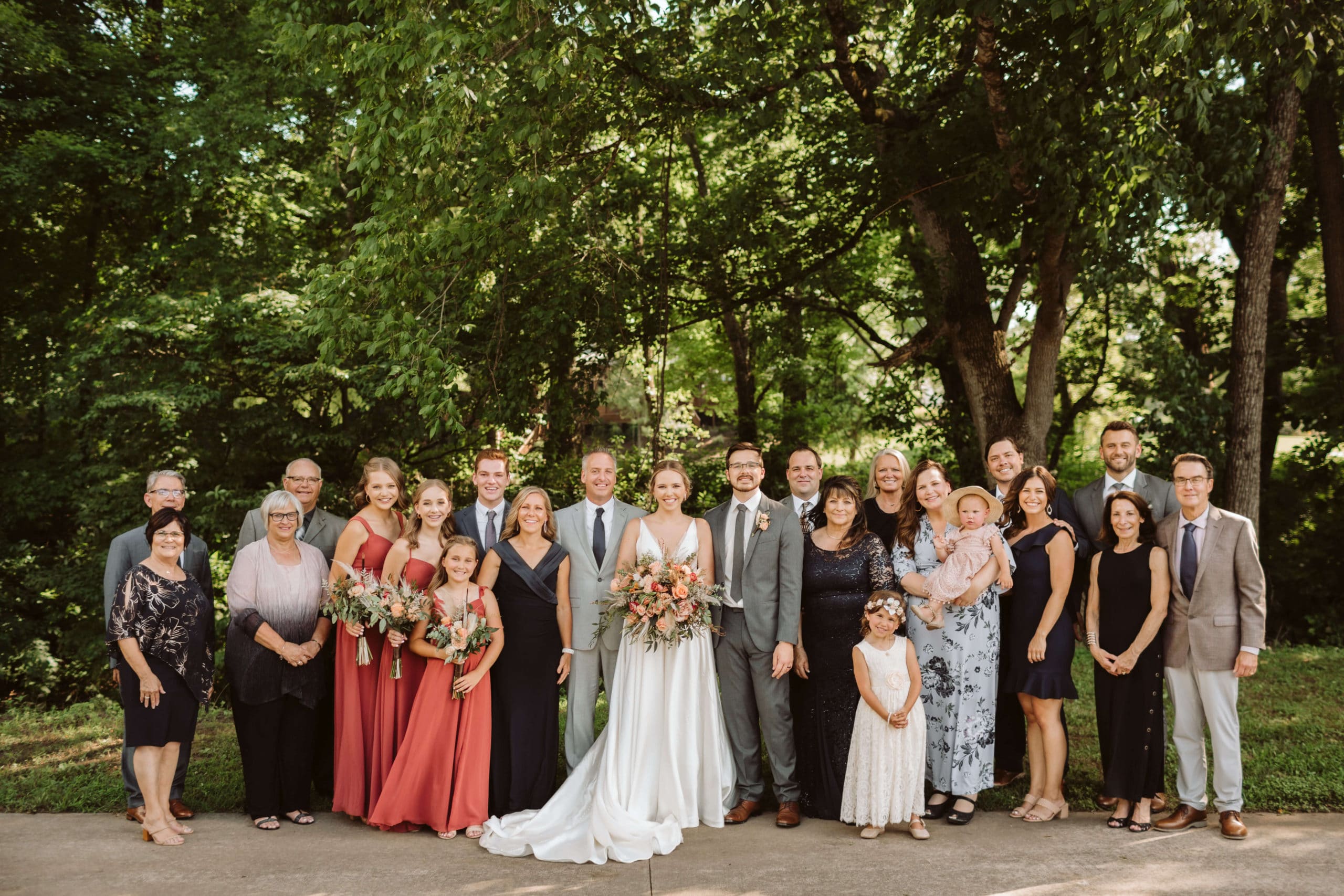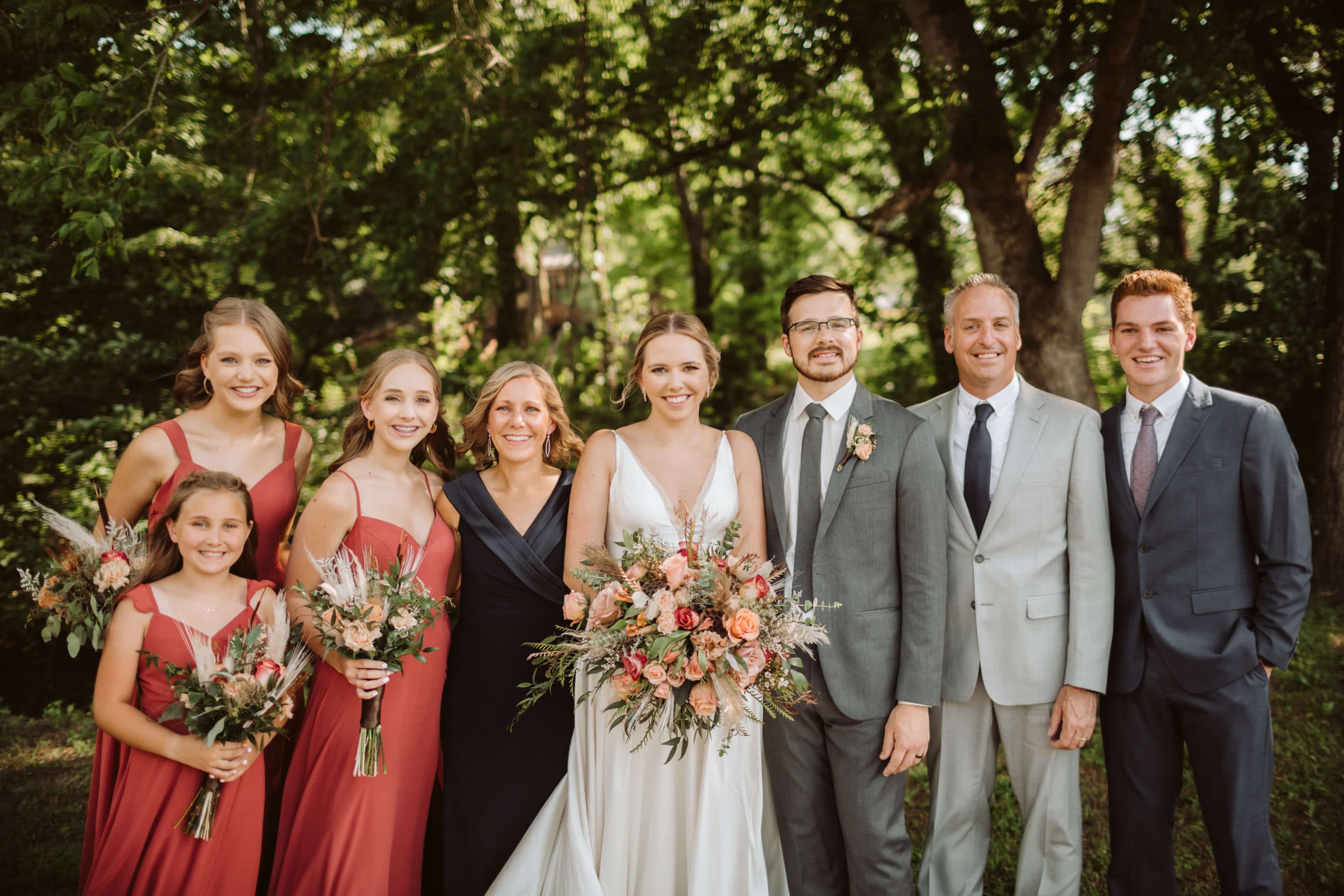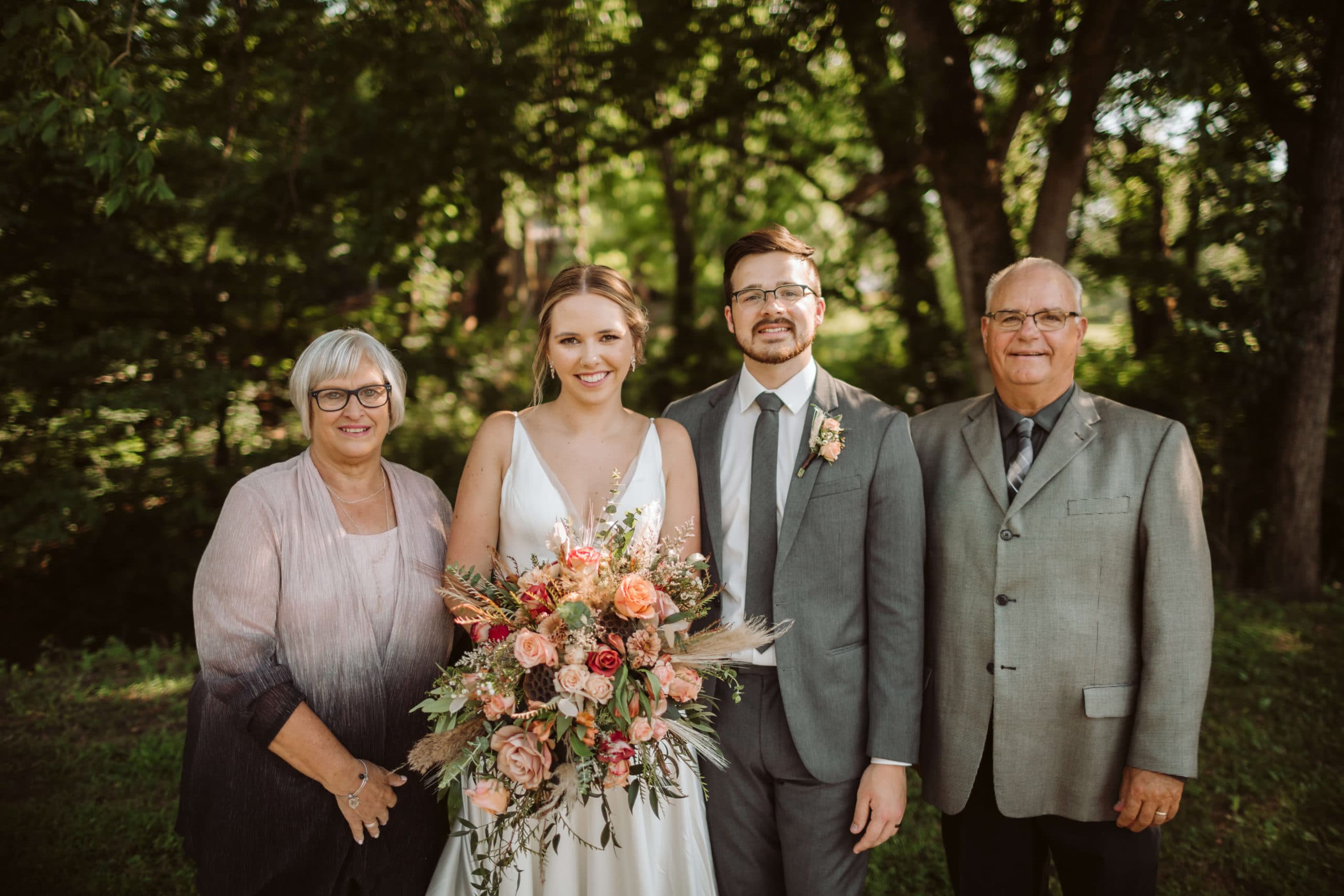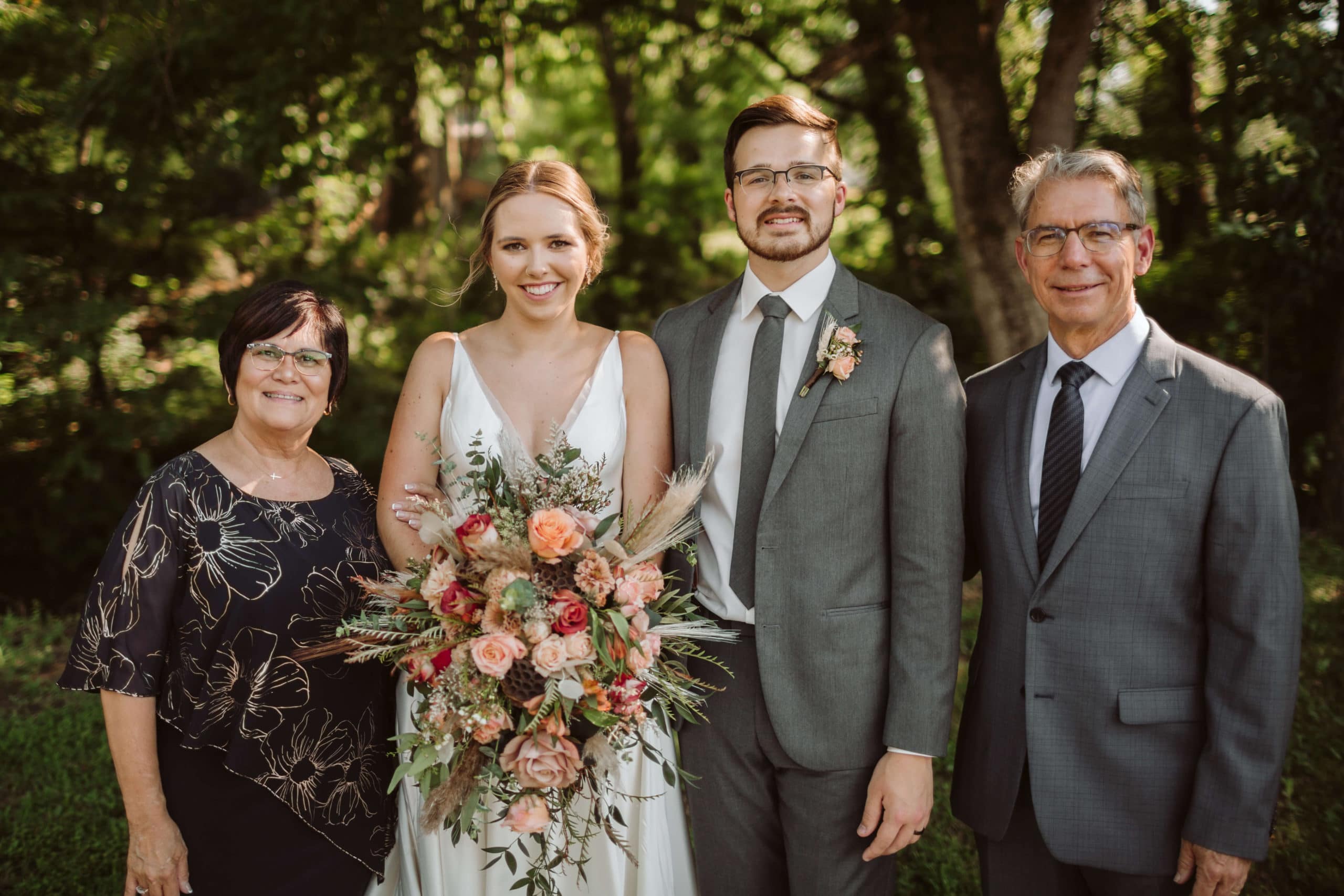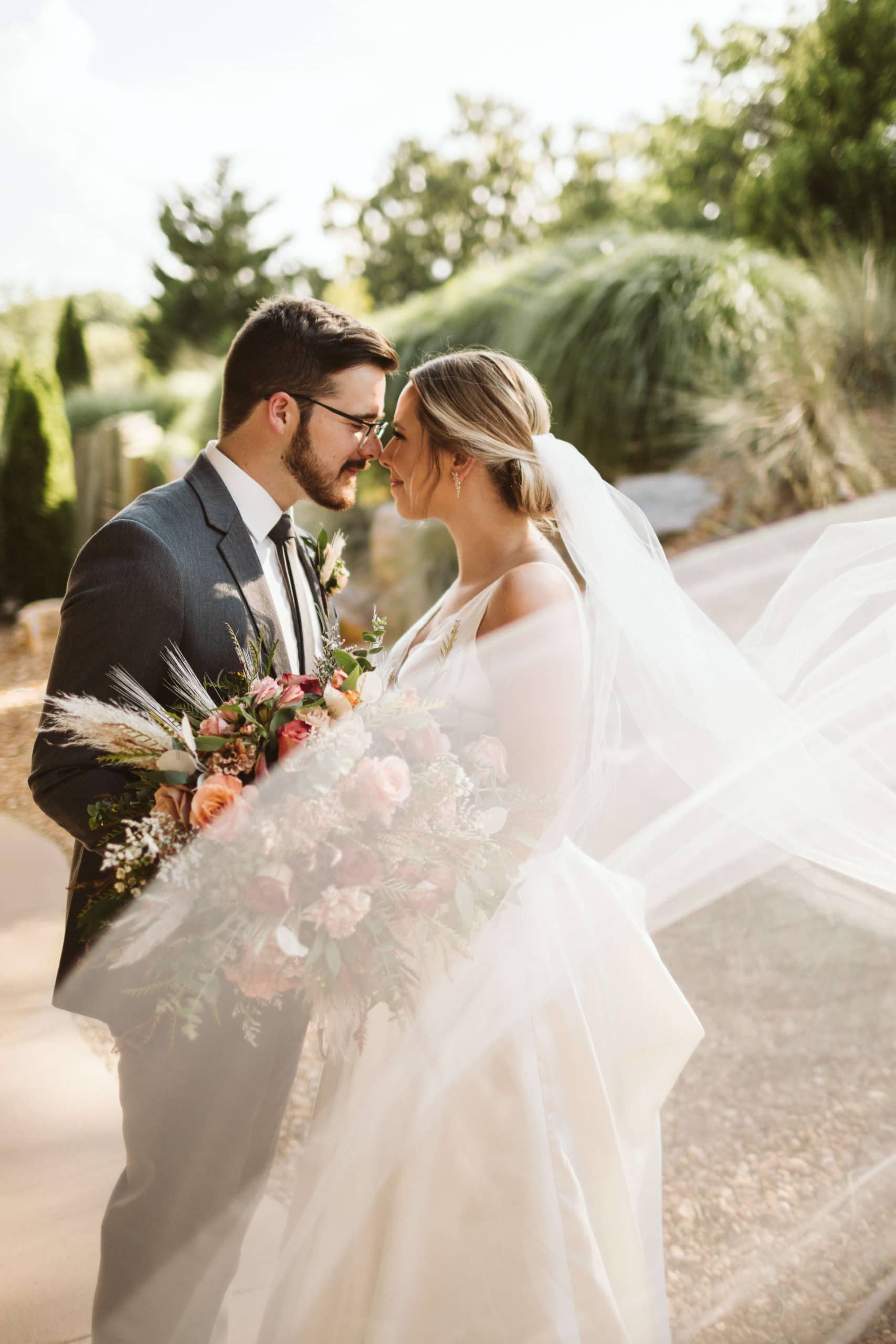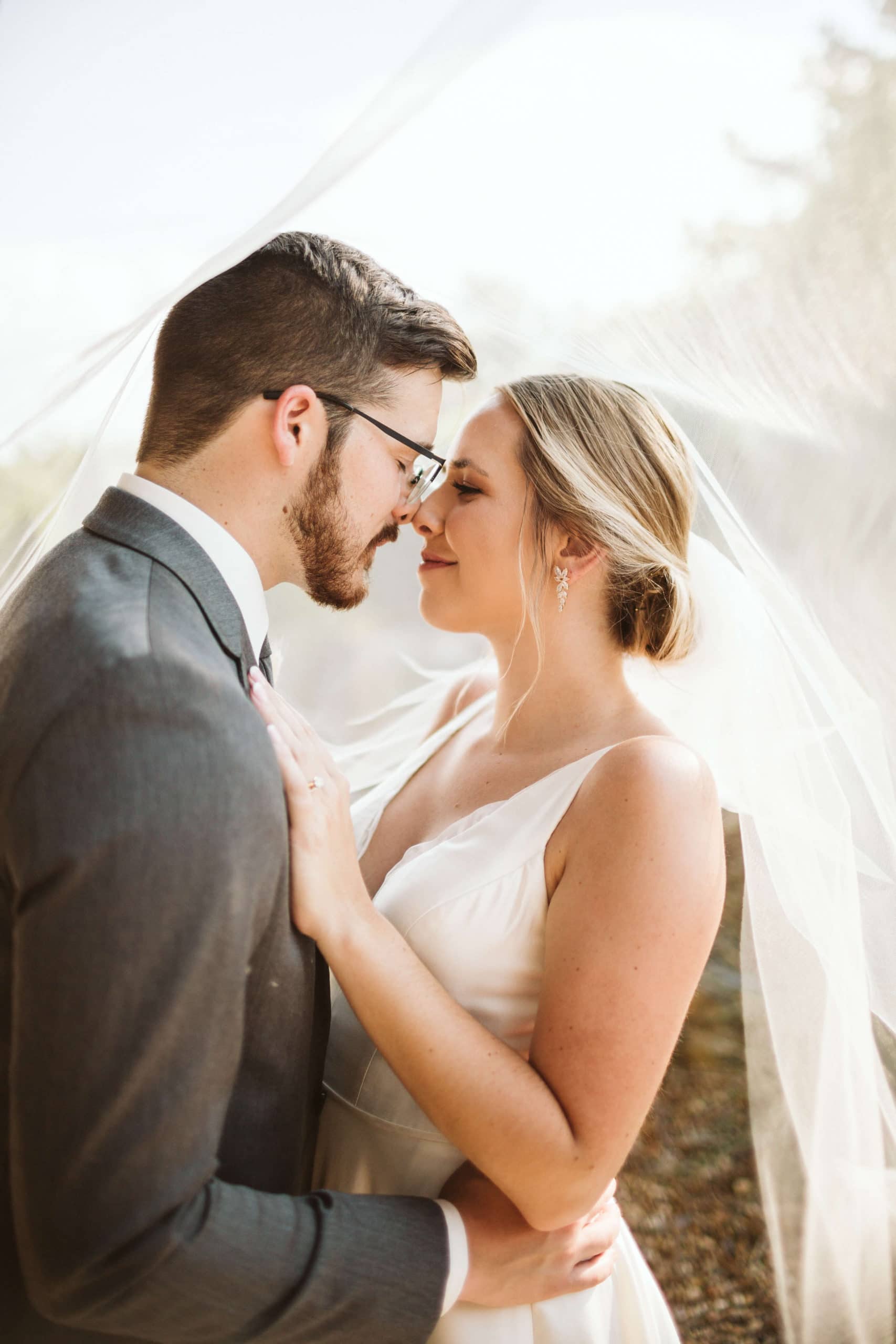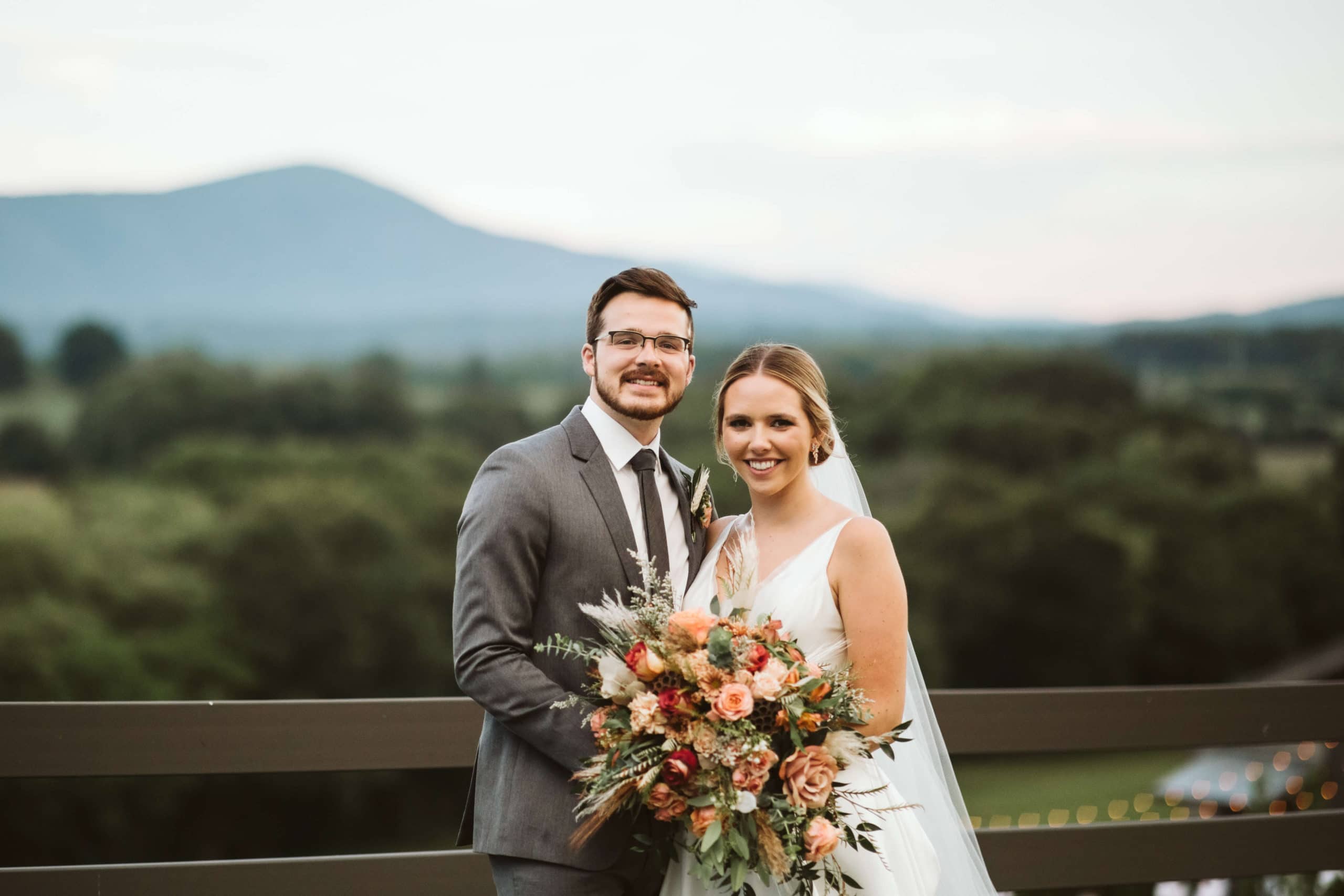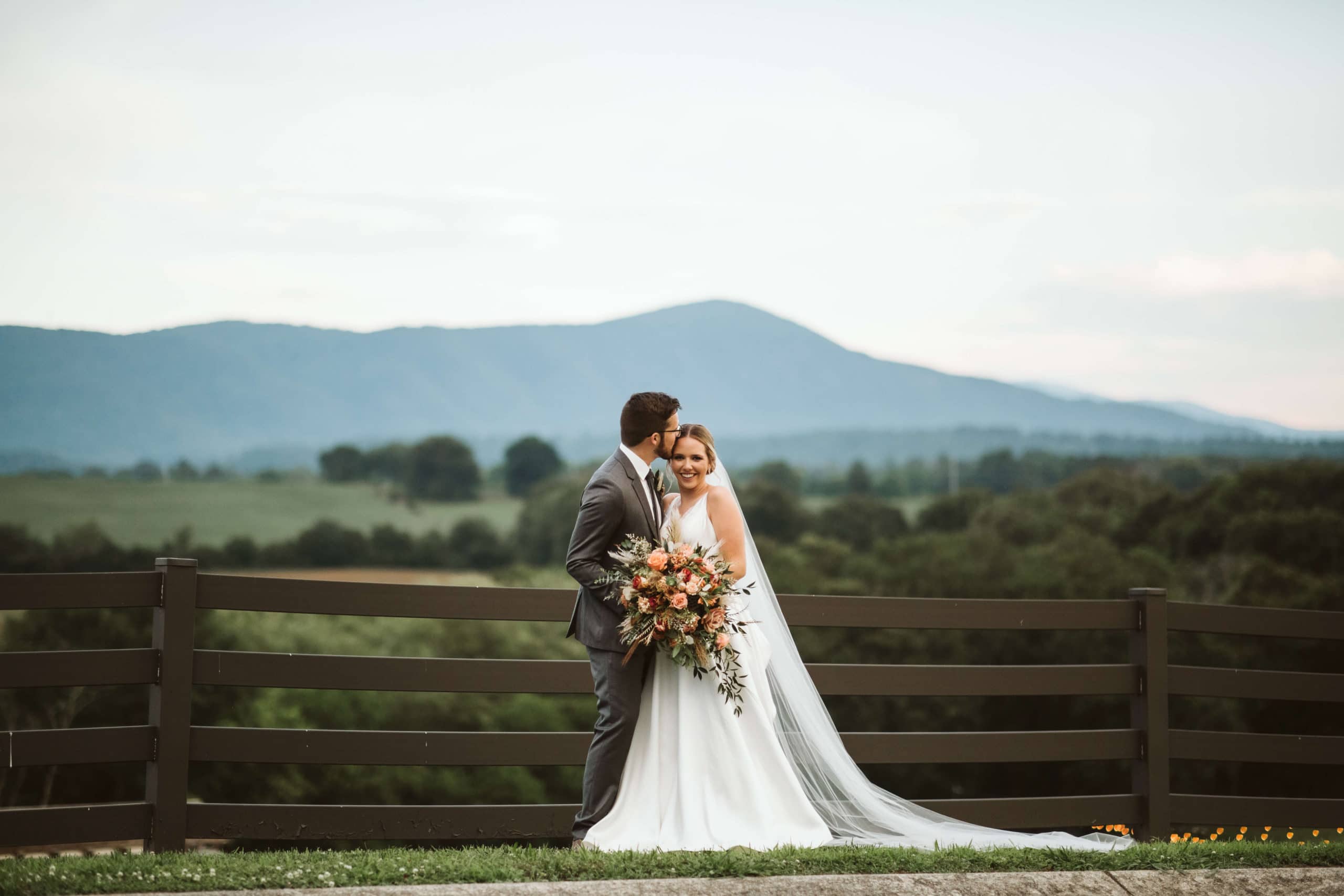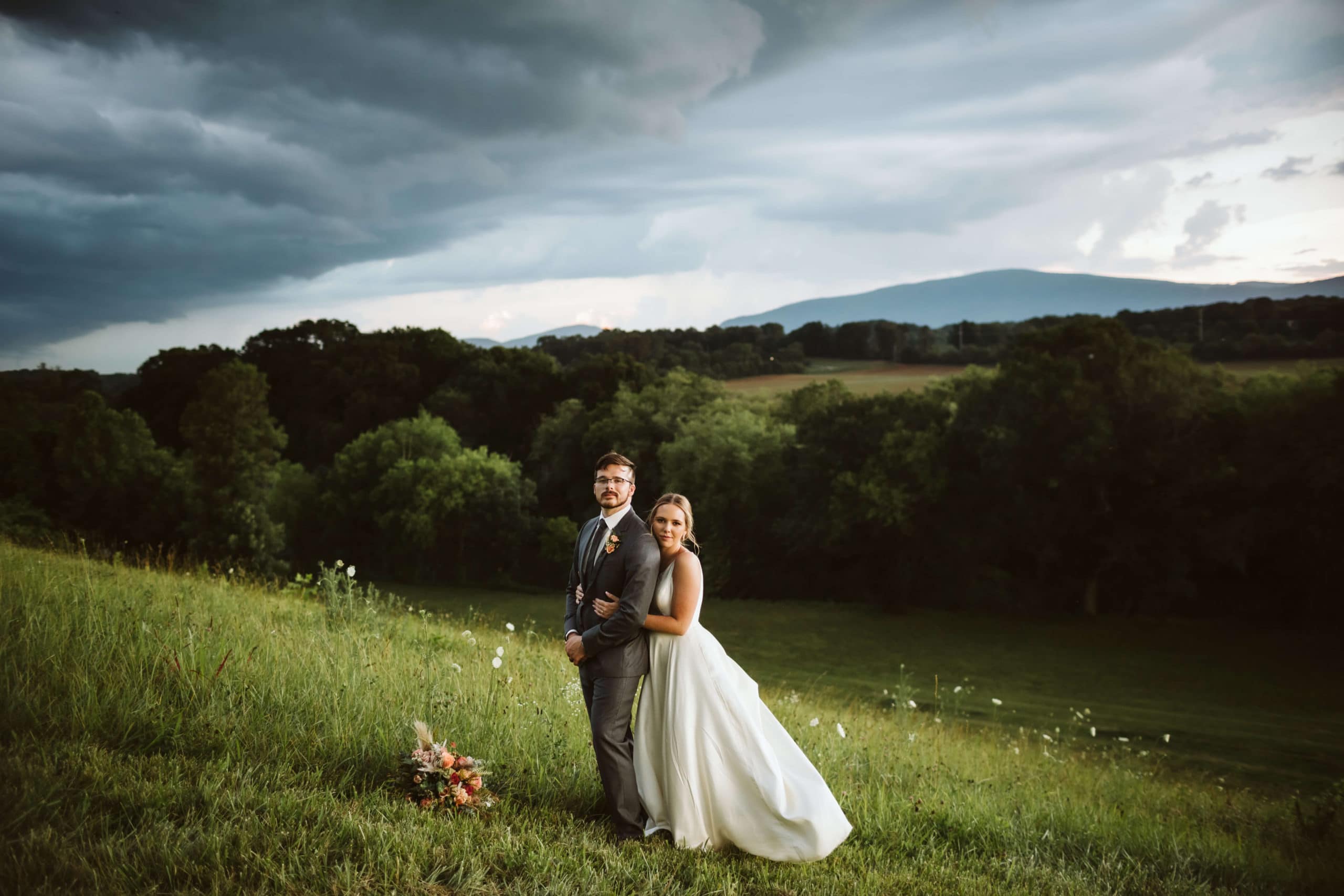 An Outdoor Ceremony with Breathtaking Views at Ocoee Crest
The most amazing feature of Ocoee Crest doesn't have anything to do with the venue itself. Rather, it's the views that the venue offers of the mountains in the distance, verdant trees, and peeks of the river running through it. 
Liz and Michael chose to have their ceremony outdoors. The outdoor ceremony space is a large grassy amphitheater facing the views of the mountains behind a beautiful handcrafted open-air arbor. Because the venue also hosts music events, when you book your wedding, you have the option to use the amphitheater seating or set up traditional chair seating in front of the arbor. Liz and Michael opted for chair seating. Seats were arranged on either side of the paved pathway, and the bridal party processed down the aisle and onto the arbor, creating a picture-perfect frame for their ceremony.
While guests enjoyed cocktail hour on the patio post-ceremony, Liz and Michael took newlywed photos on the venue's grounds. They walked along the pathways, under the awnings by the bay windows, and in the fields. Each shot we took was incredible – but one of my favorites is the picture of Liz and Michael running down the pathway towards the front entrance doors with pure joy on their faces.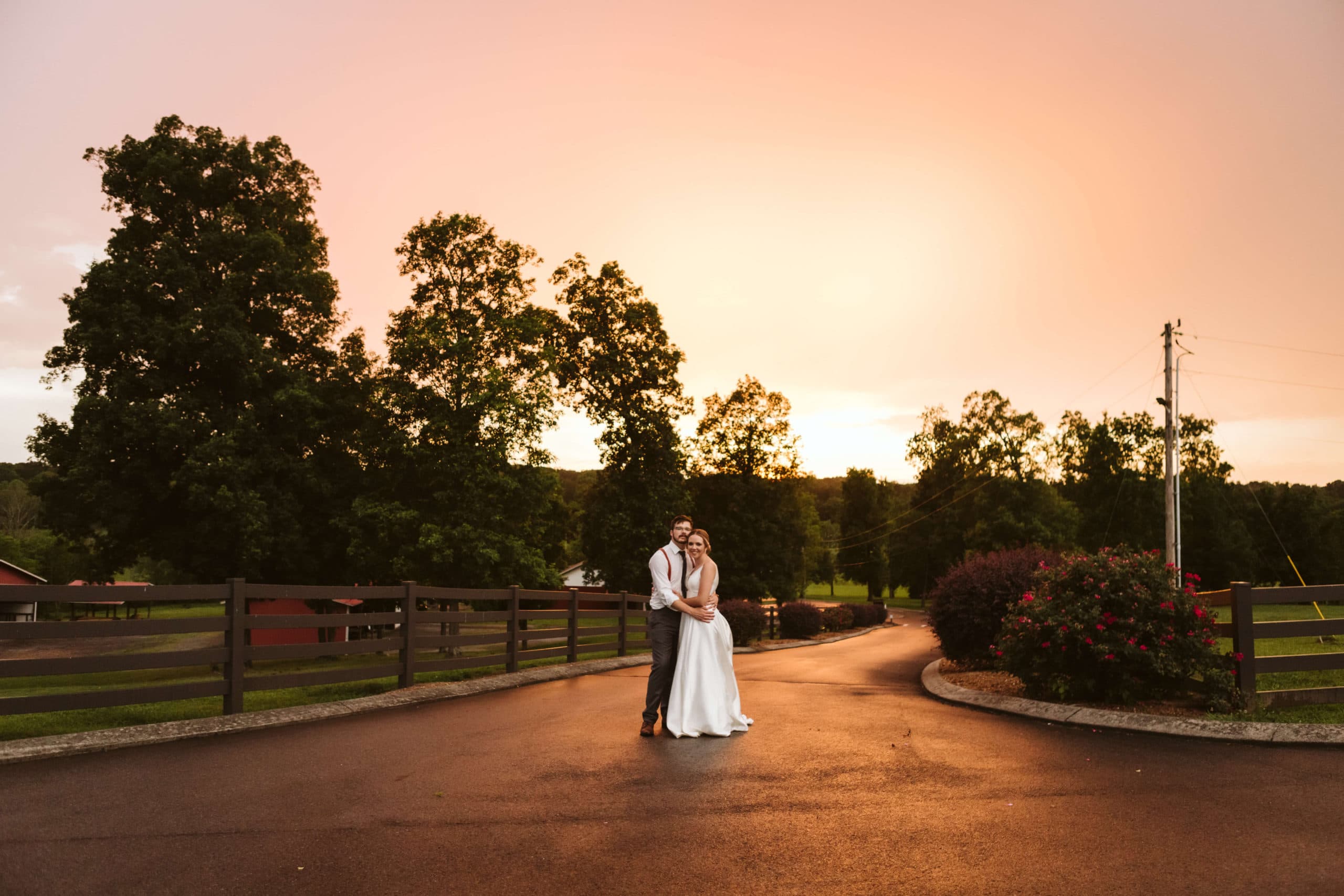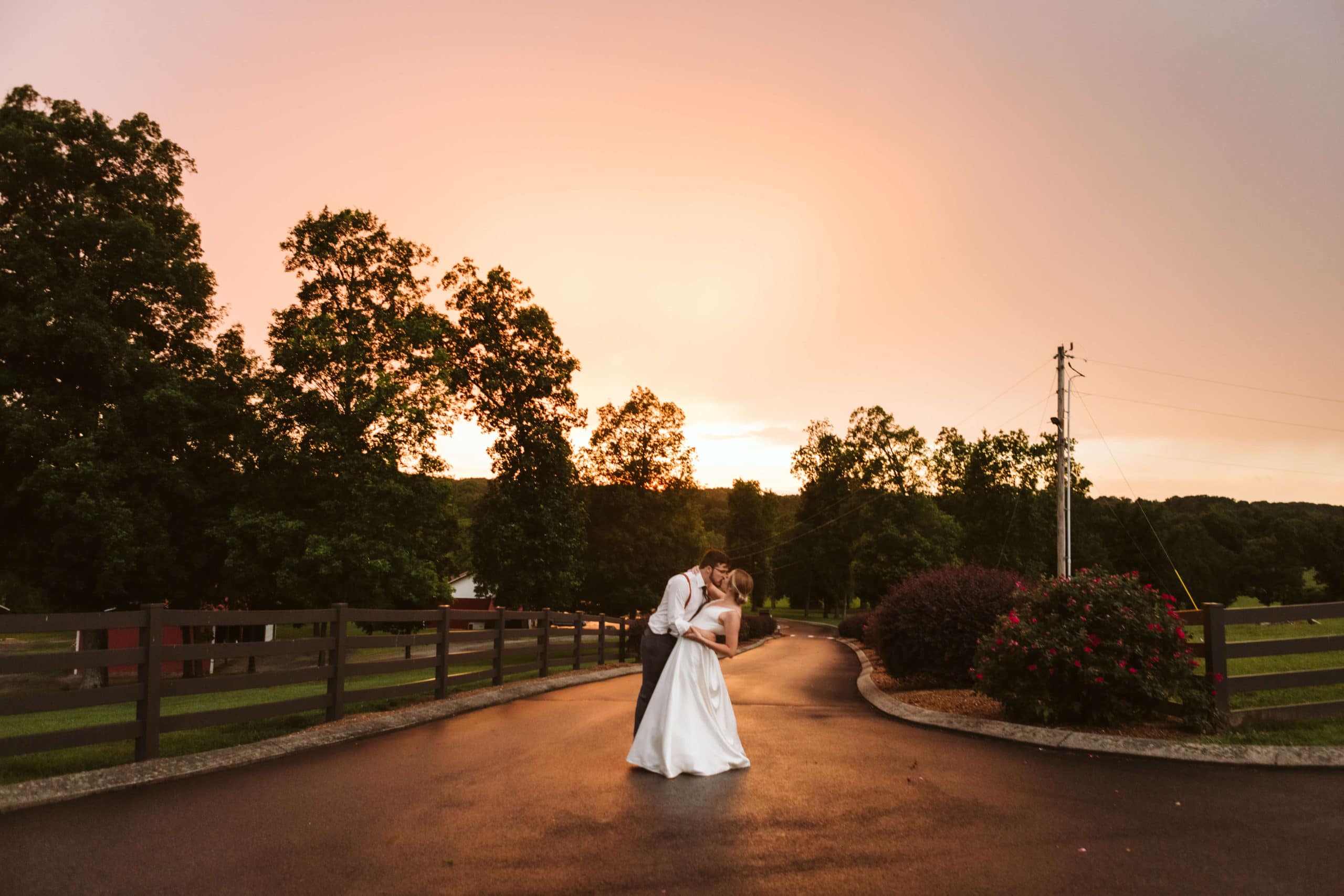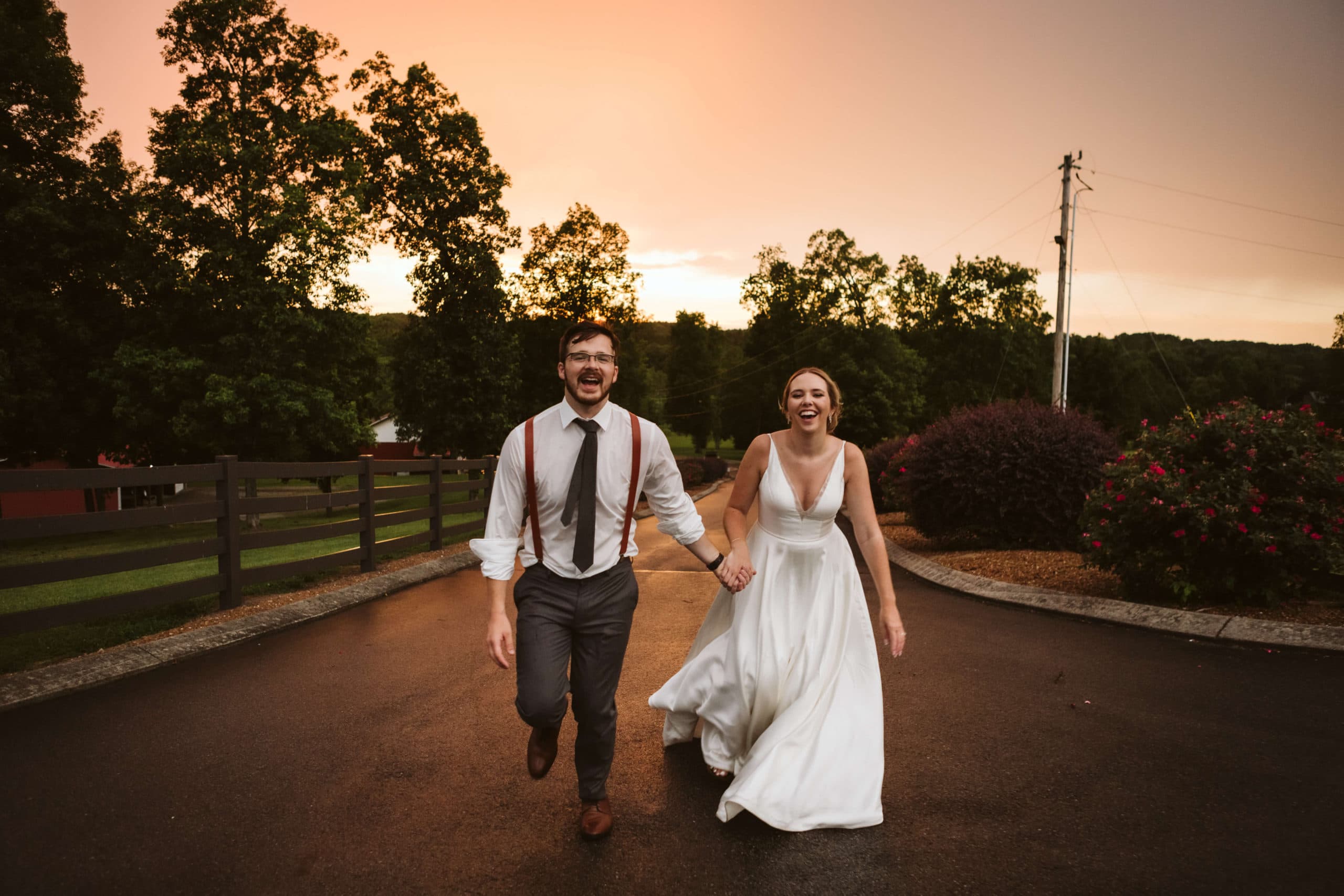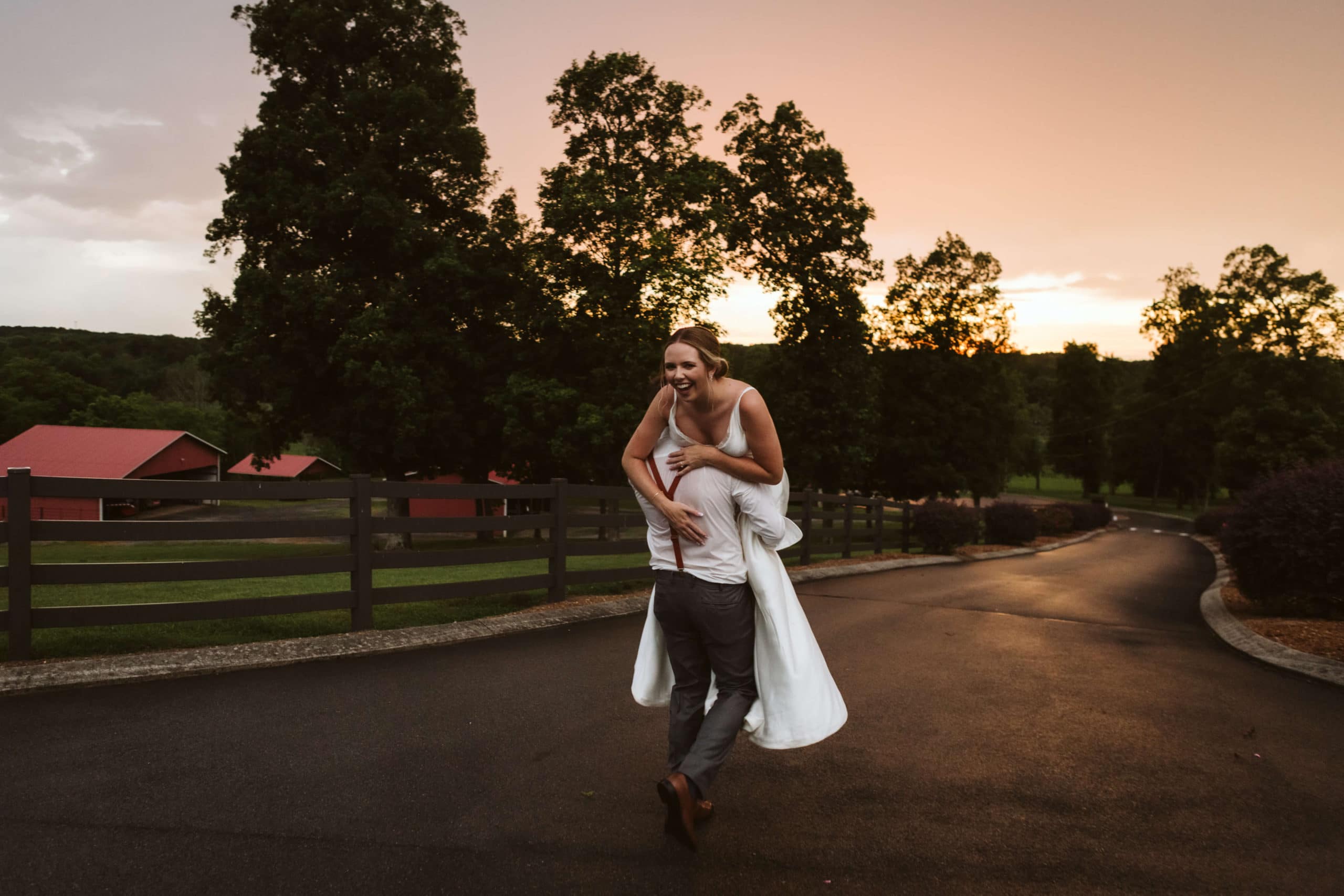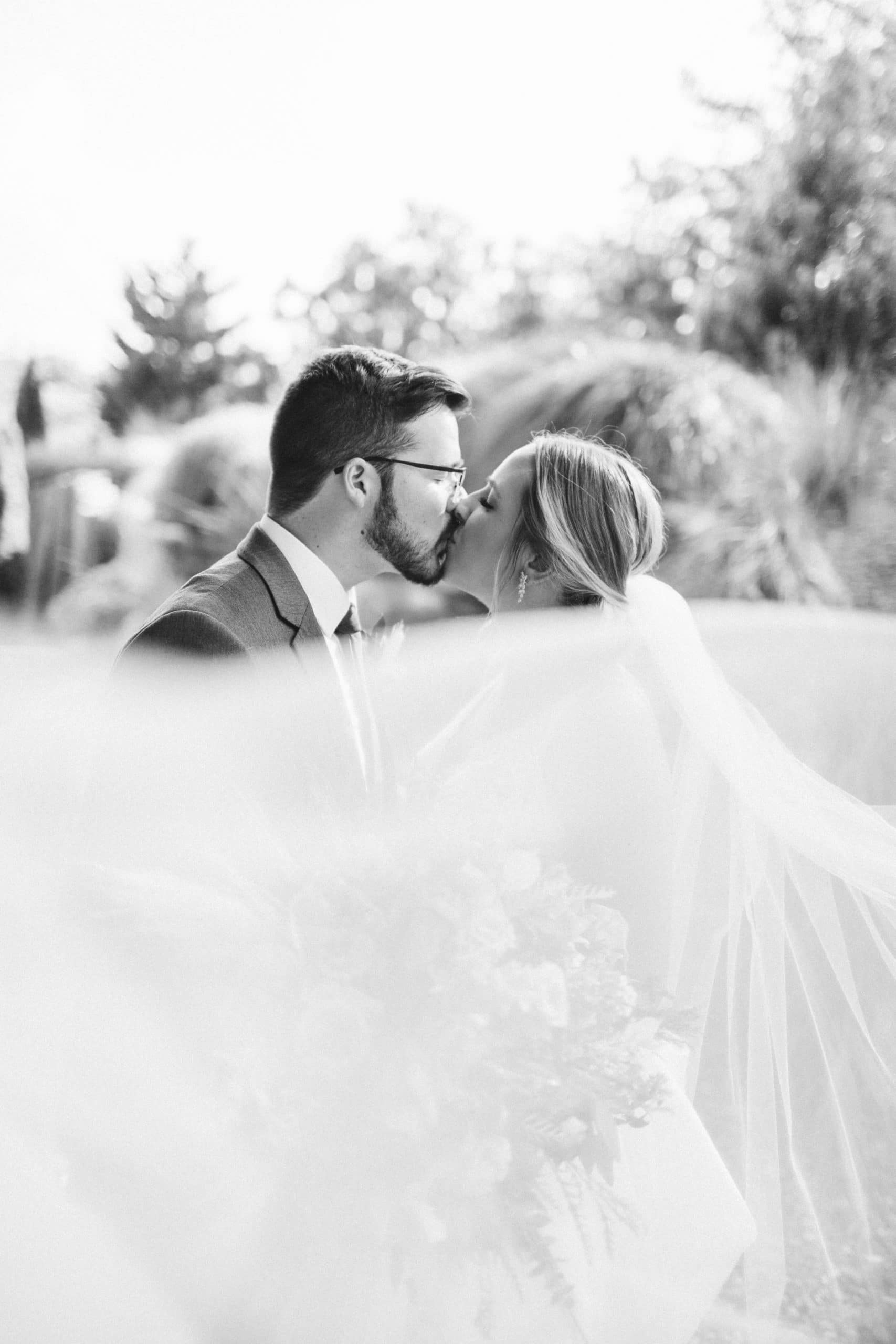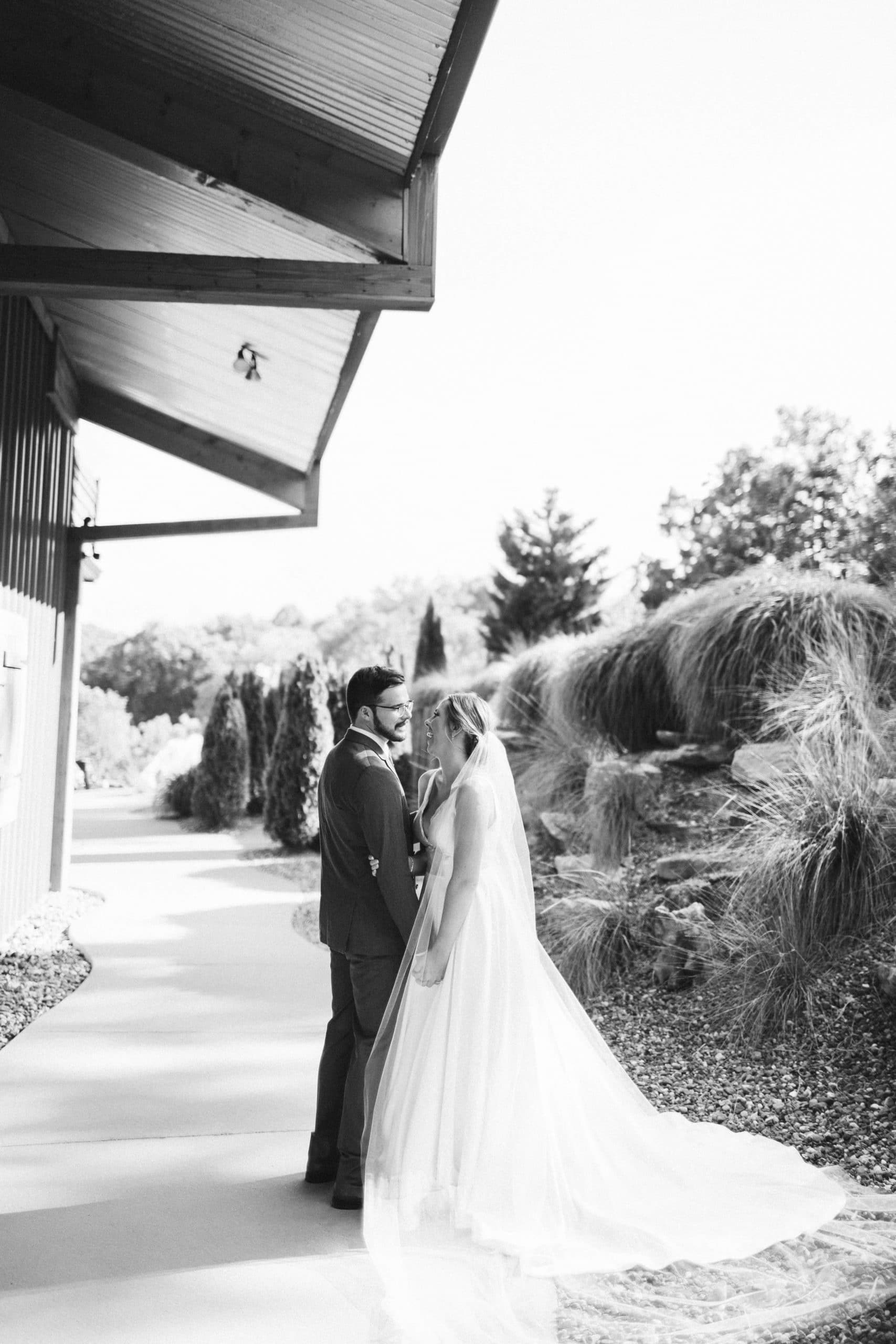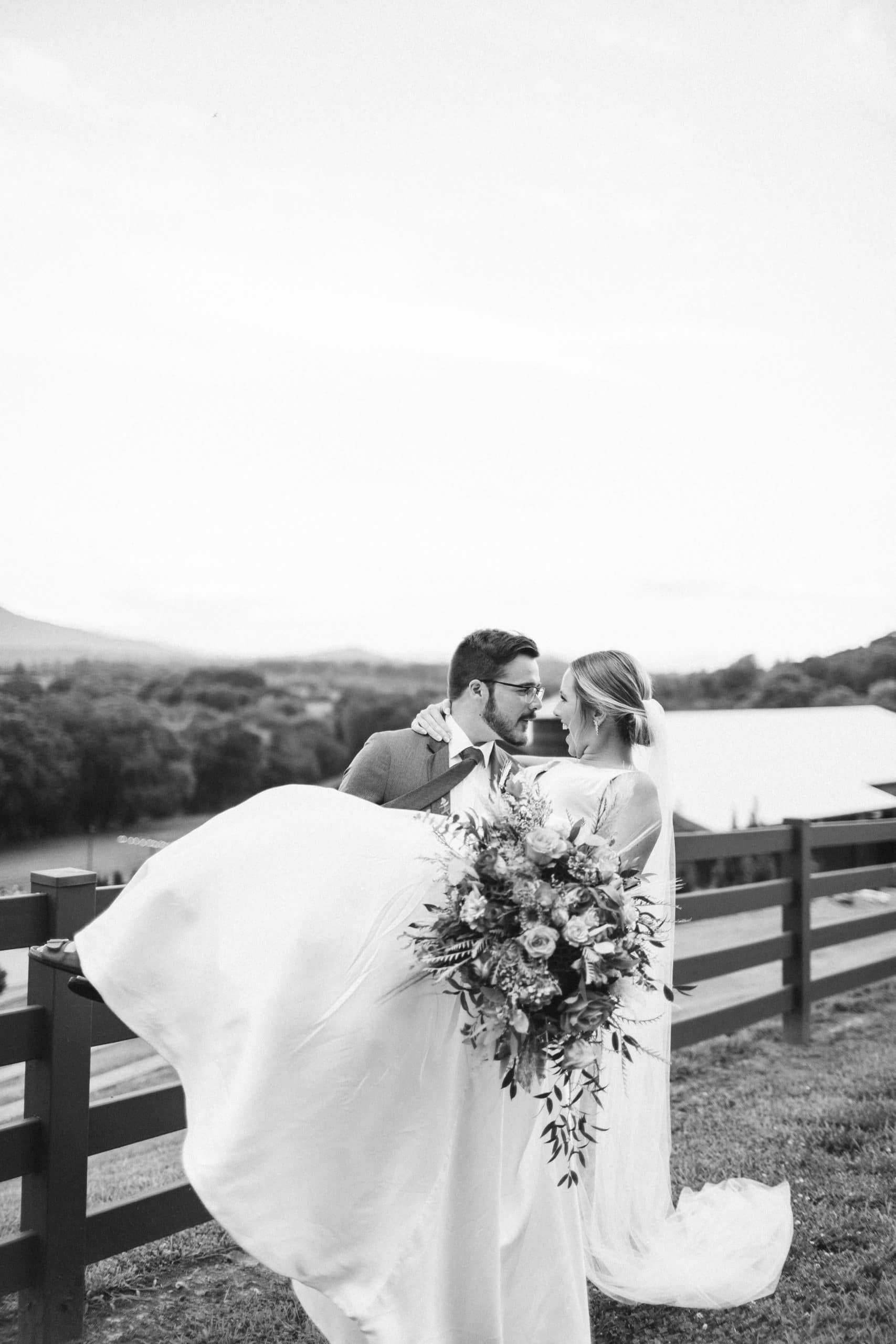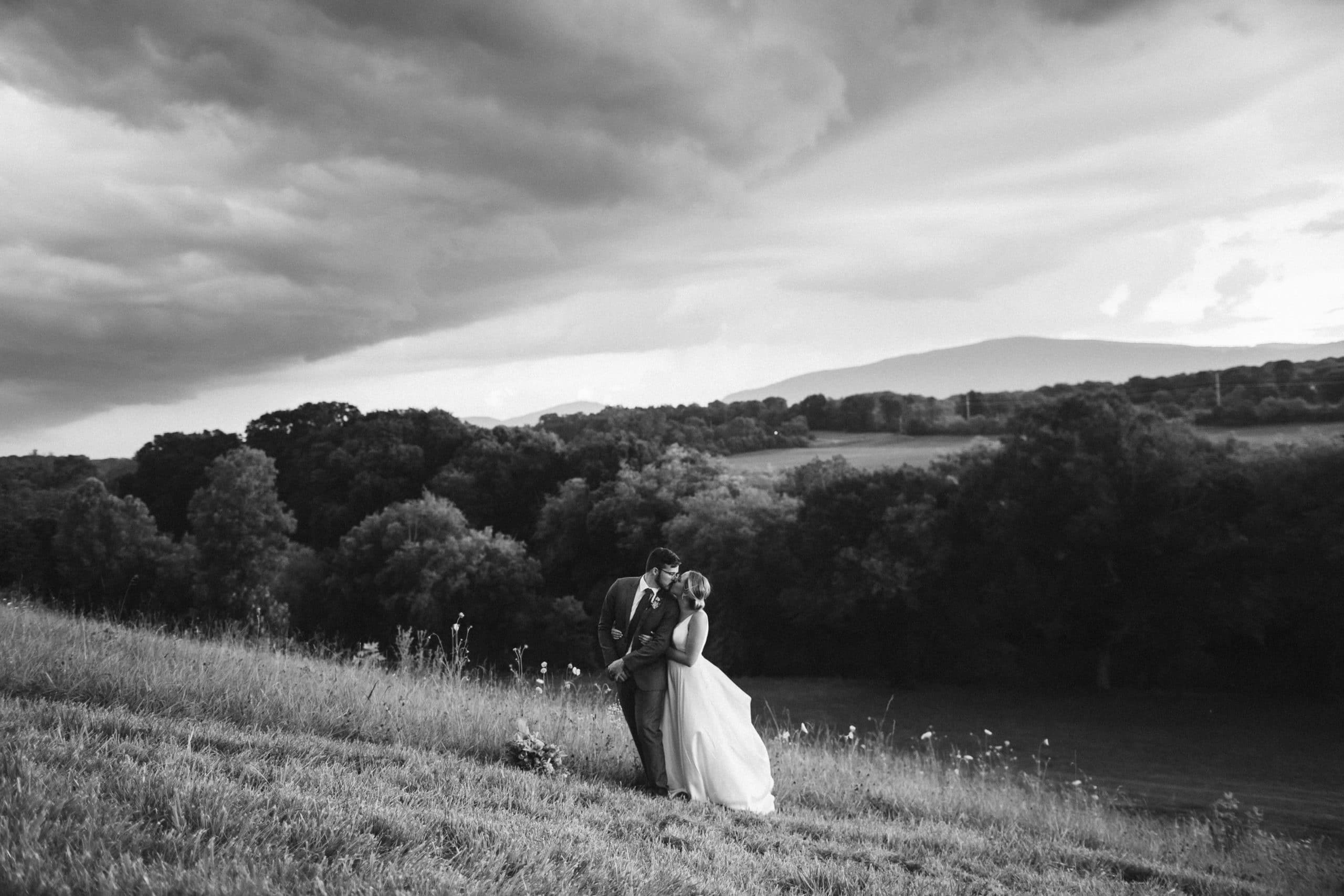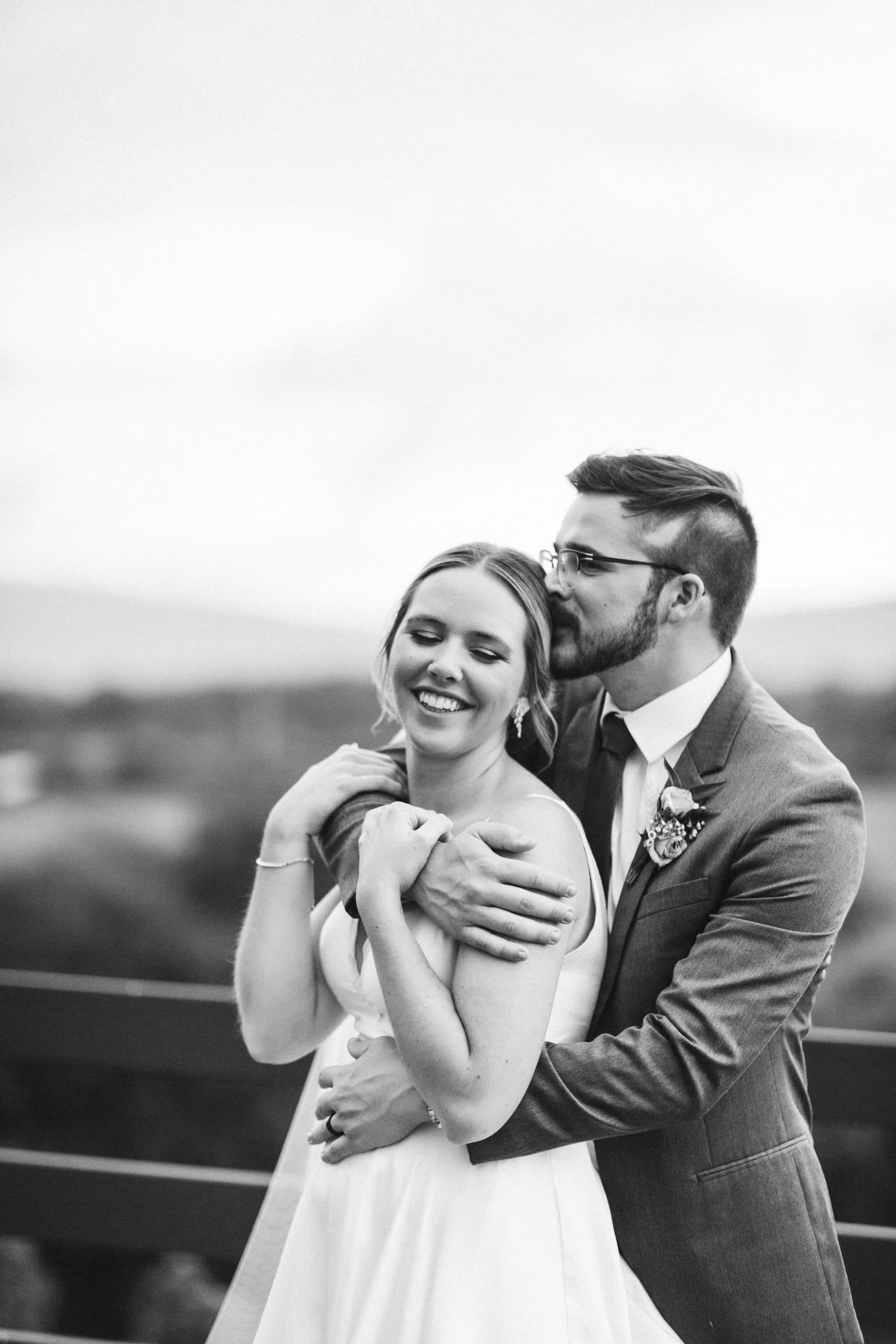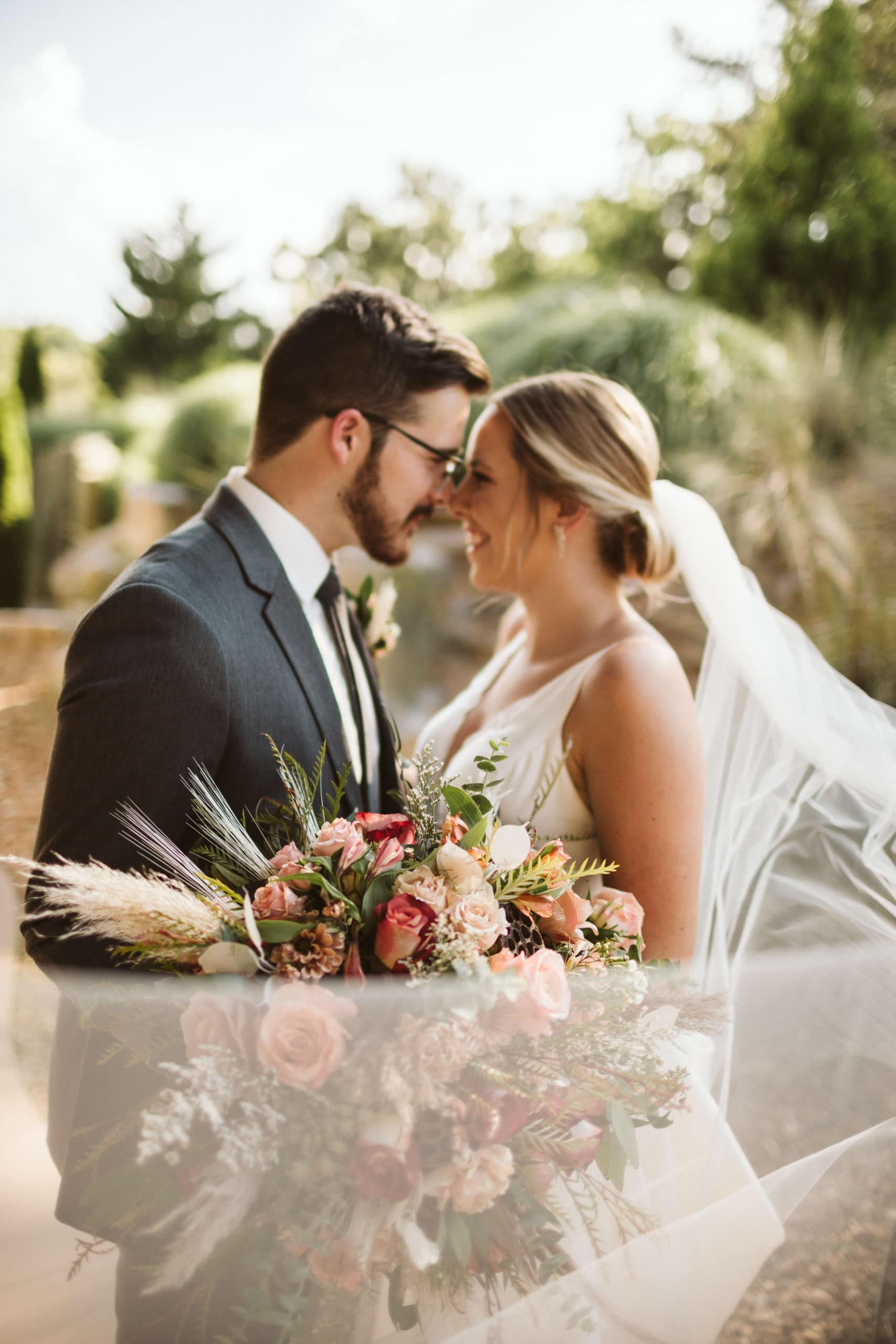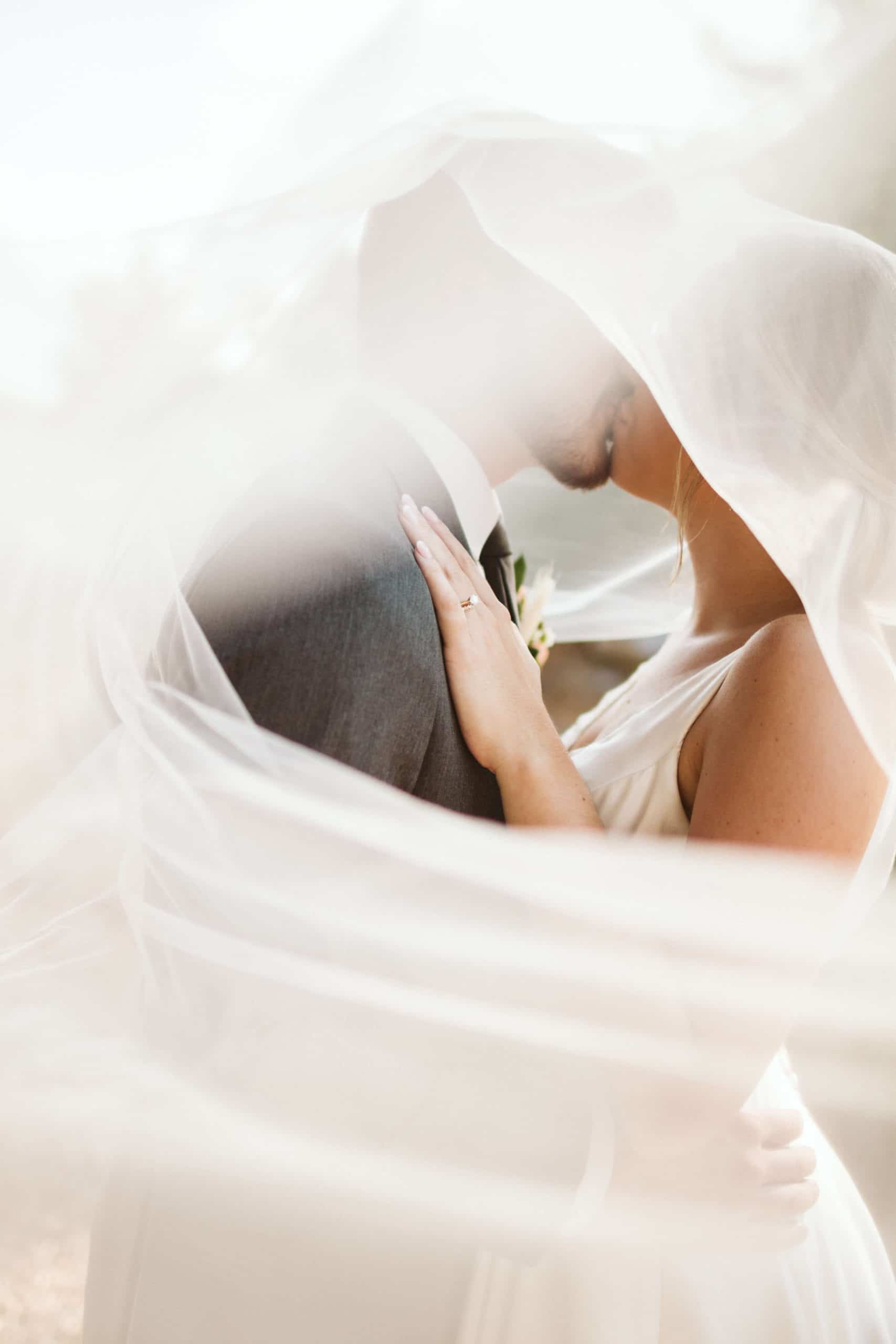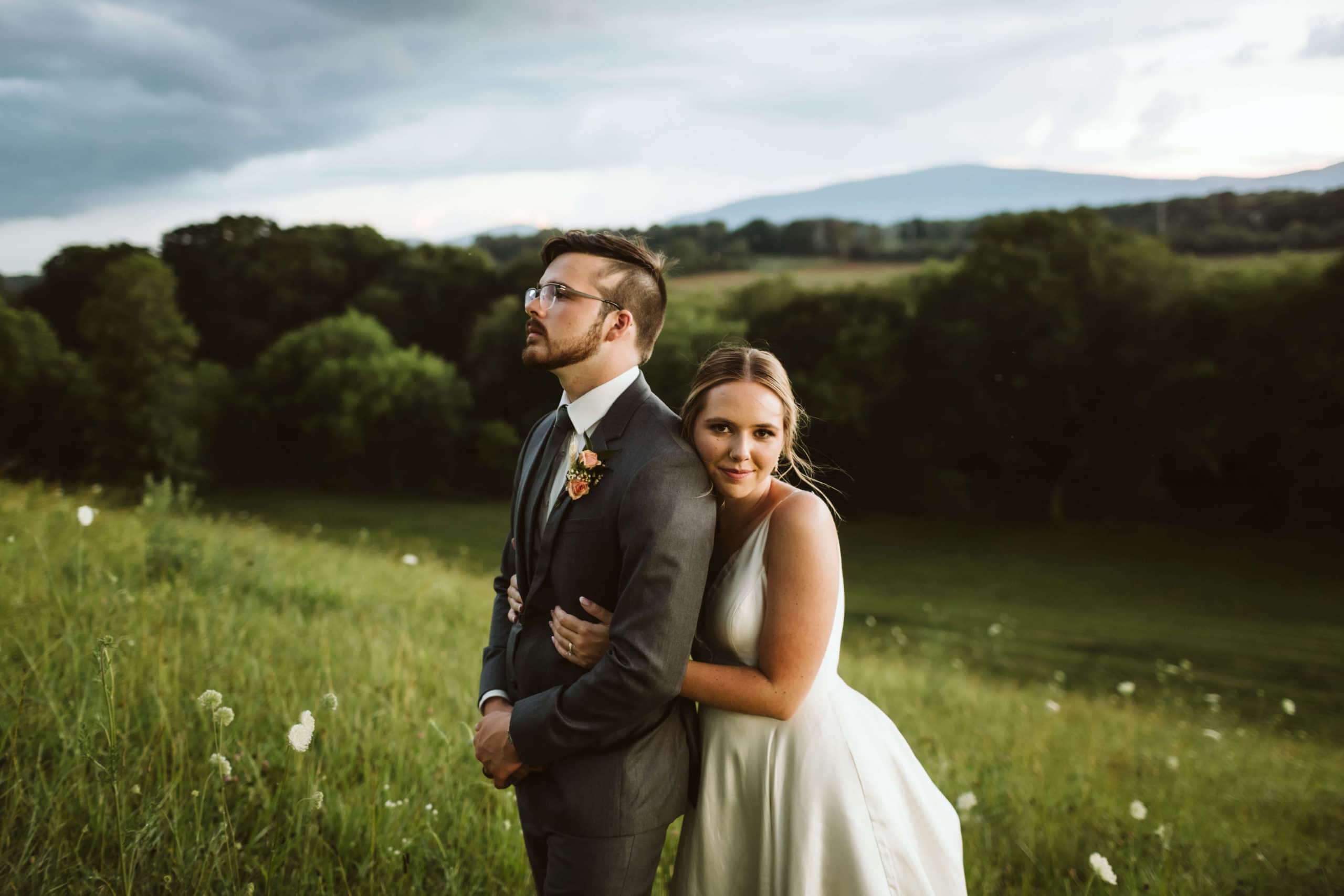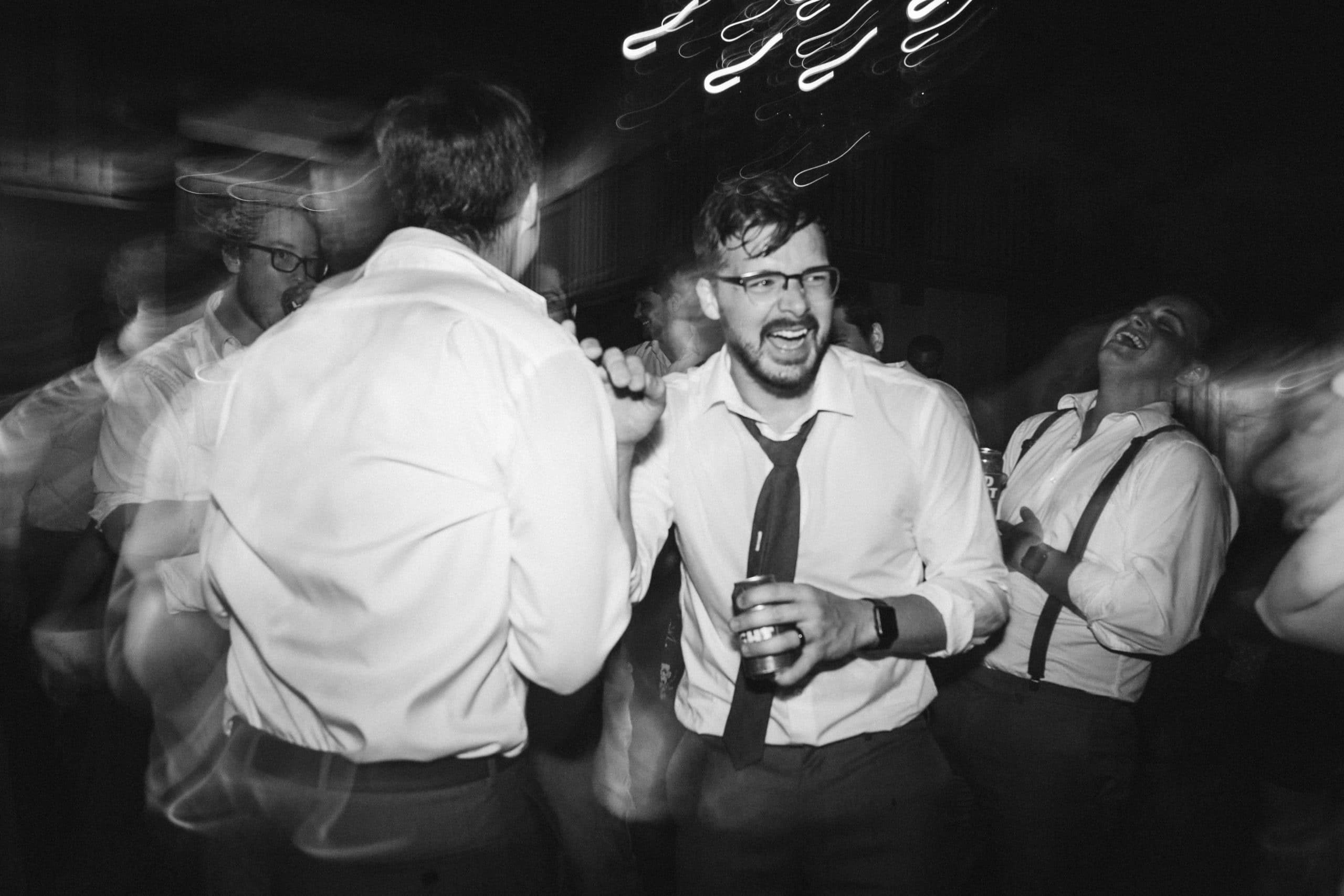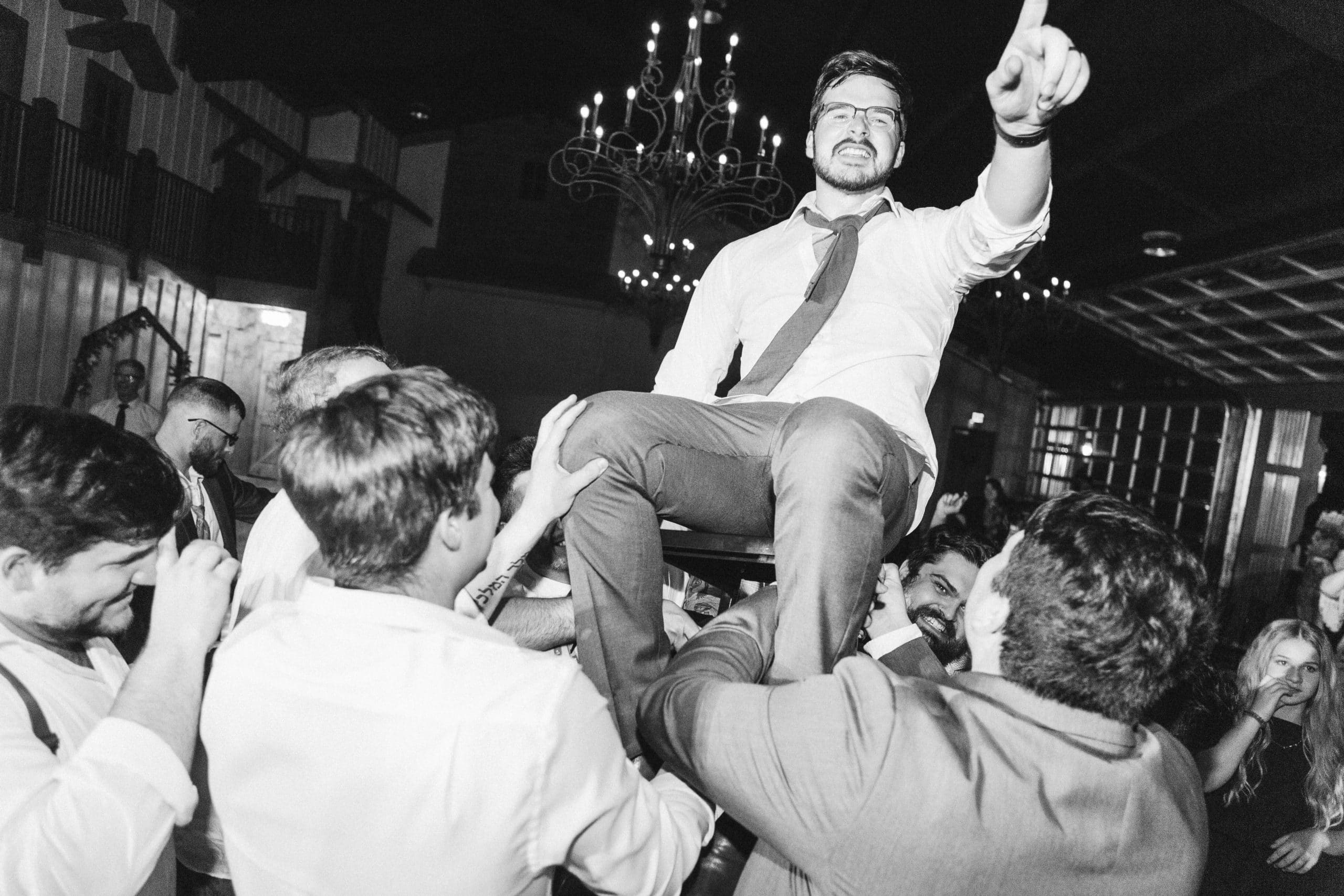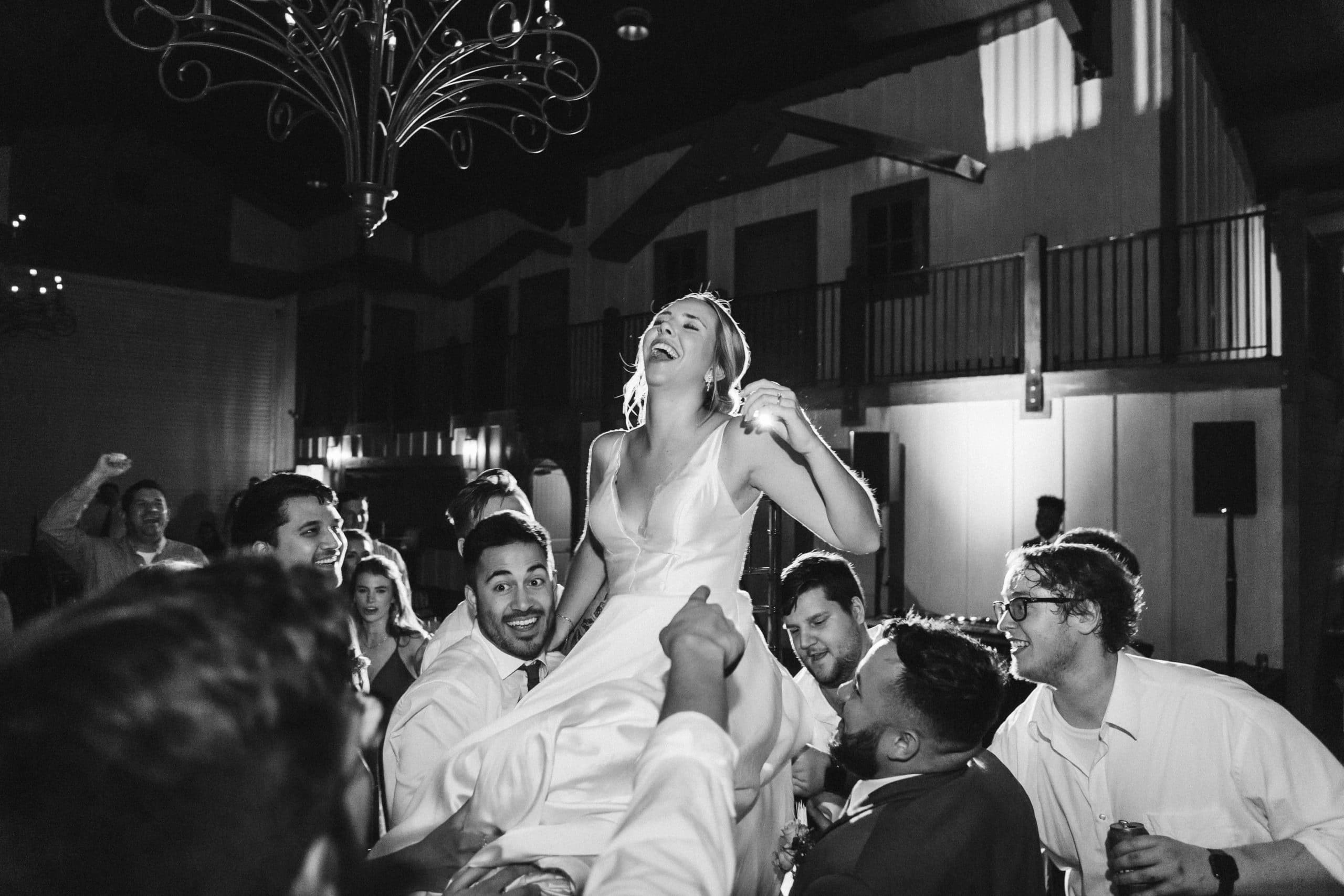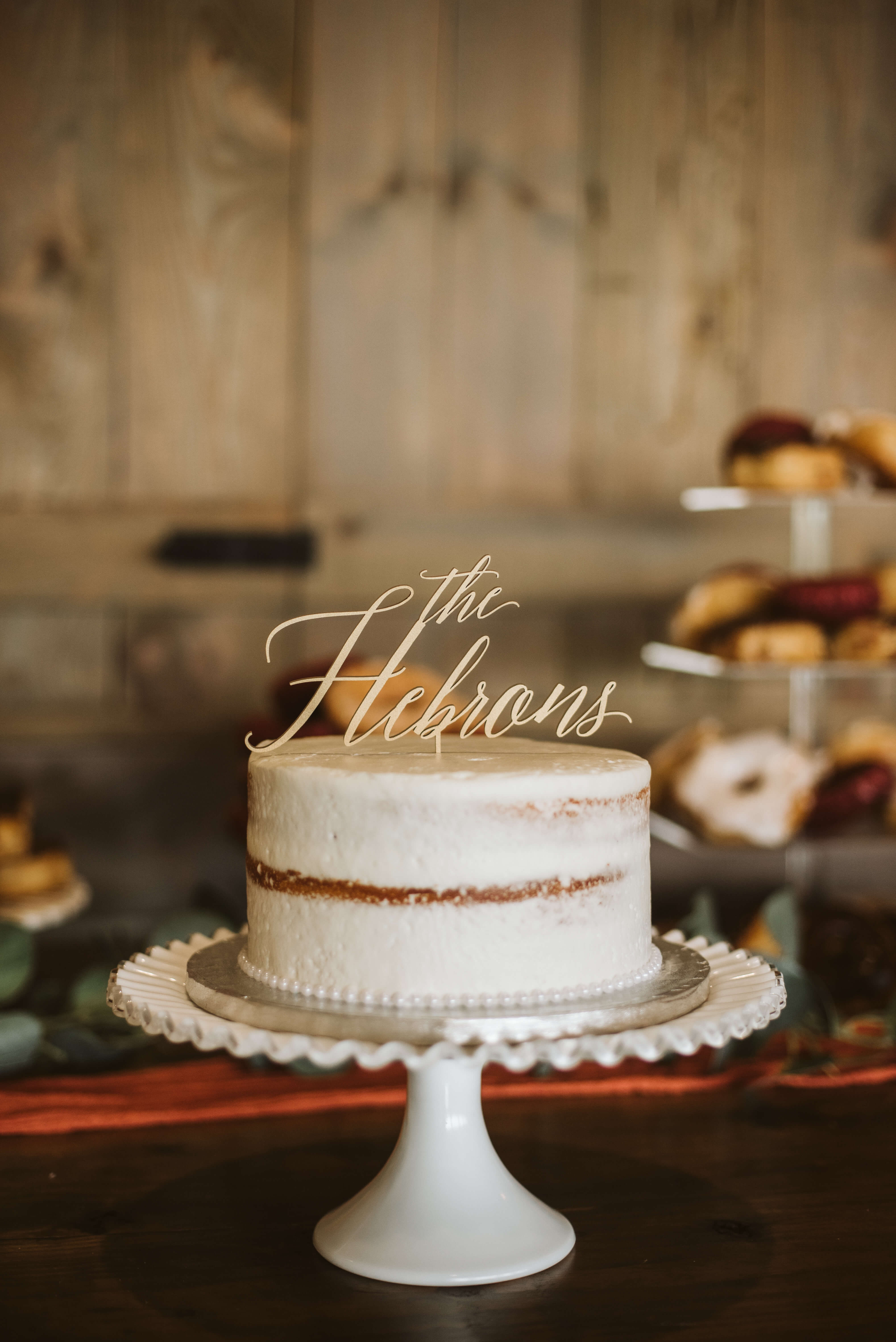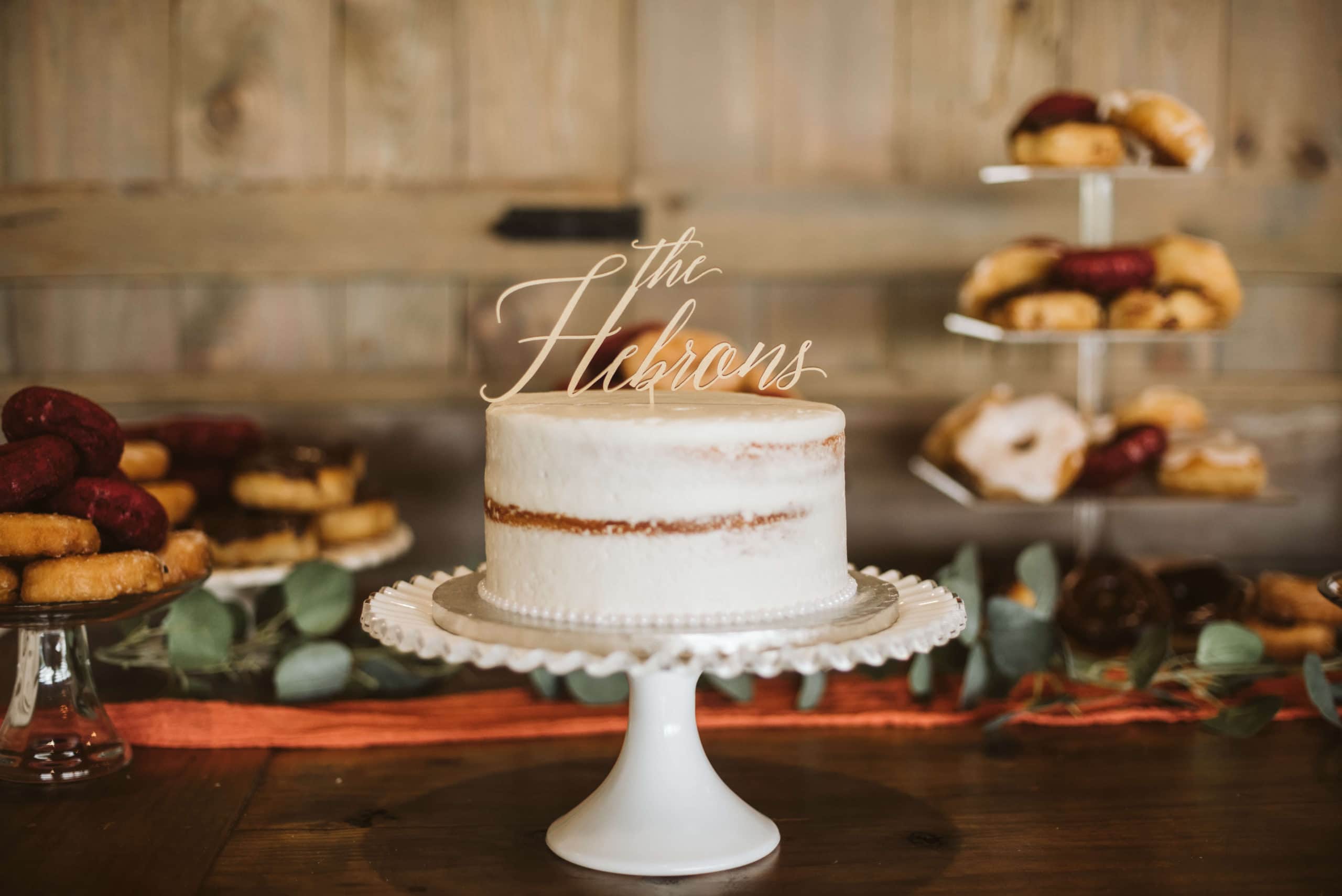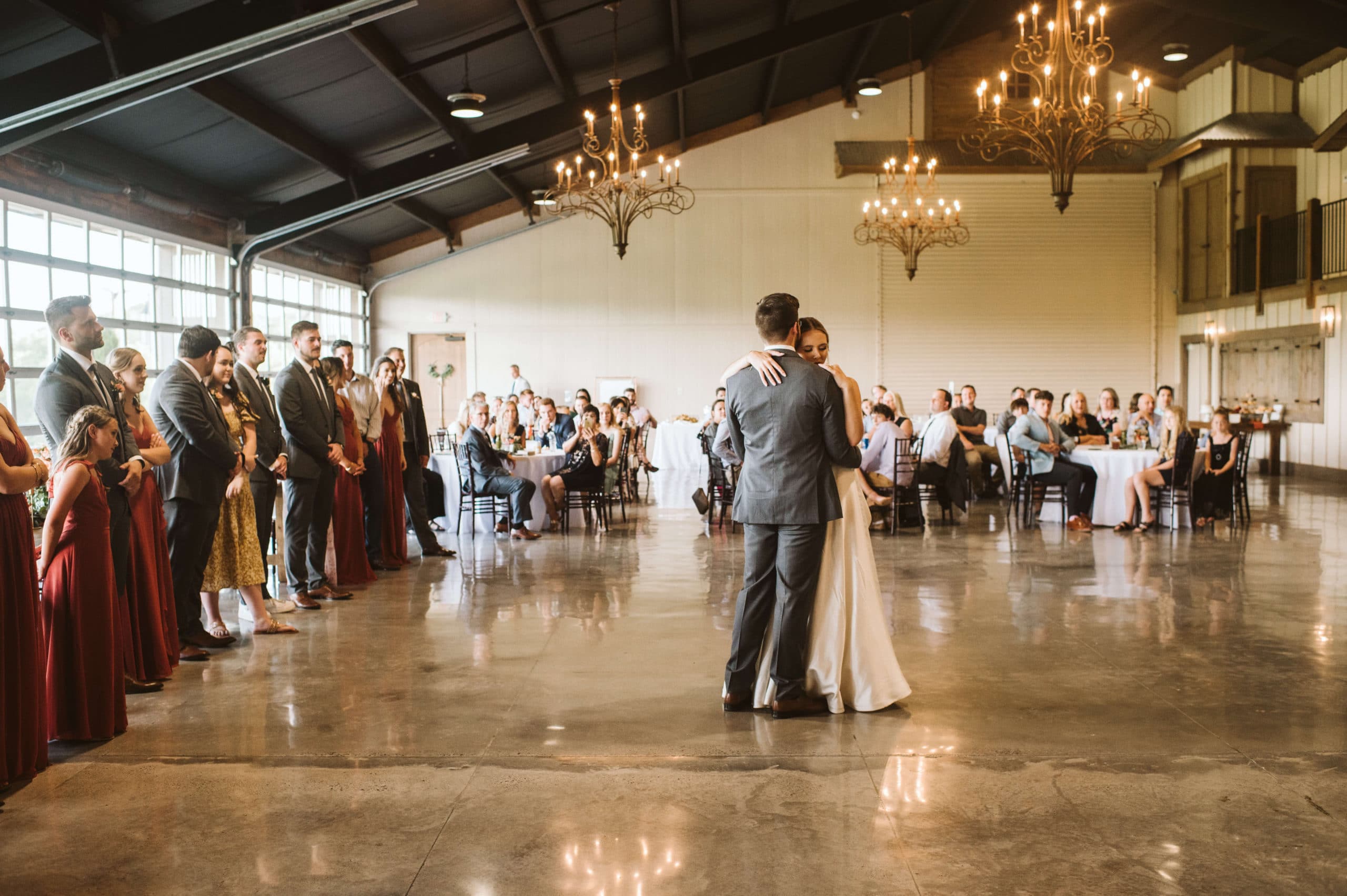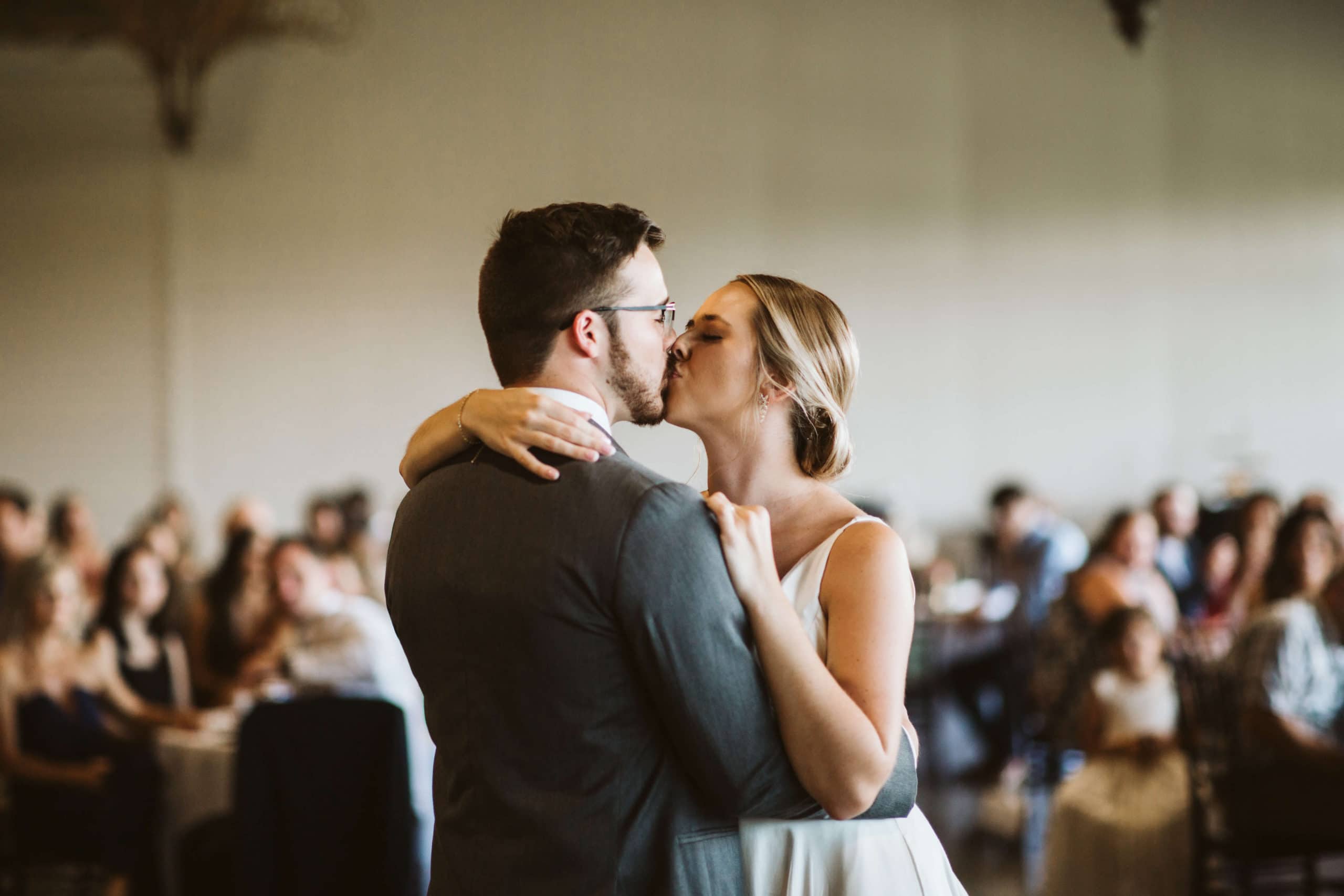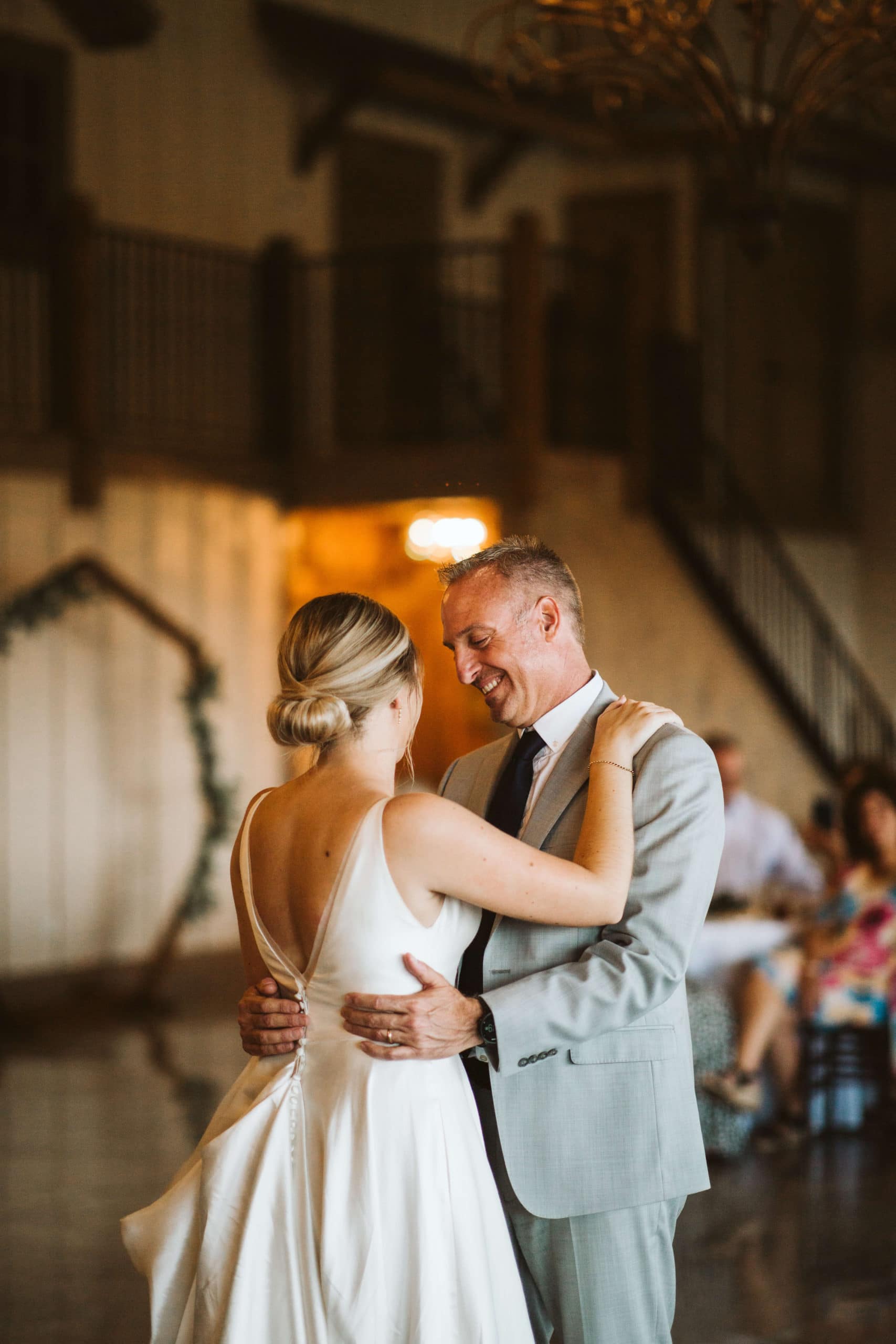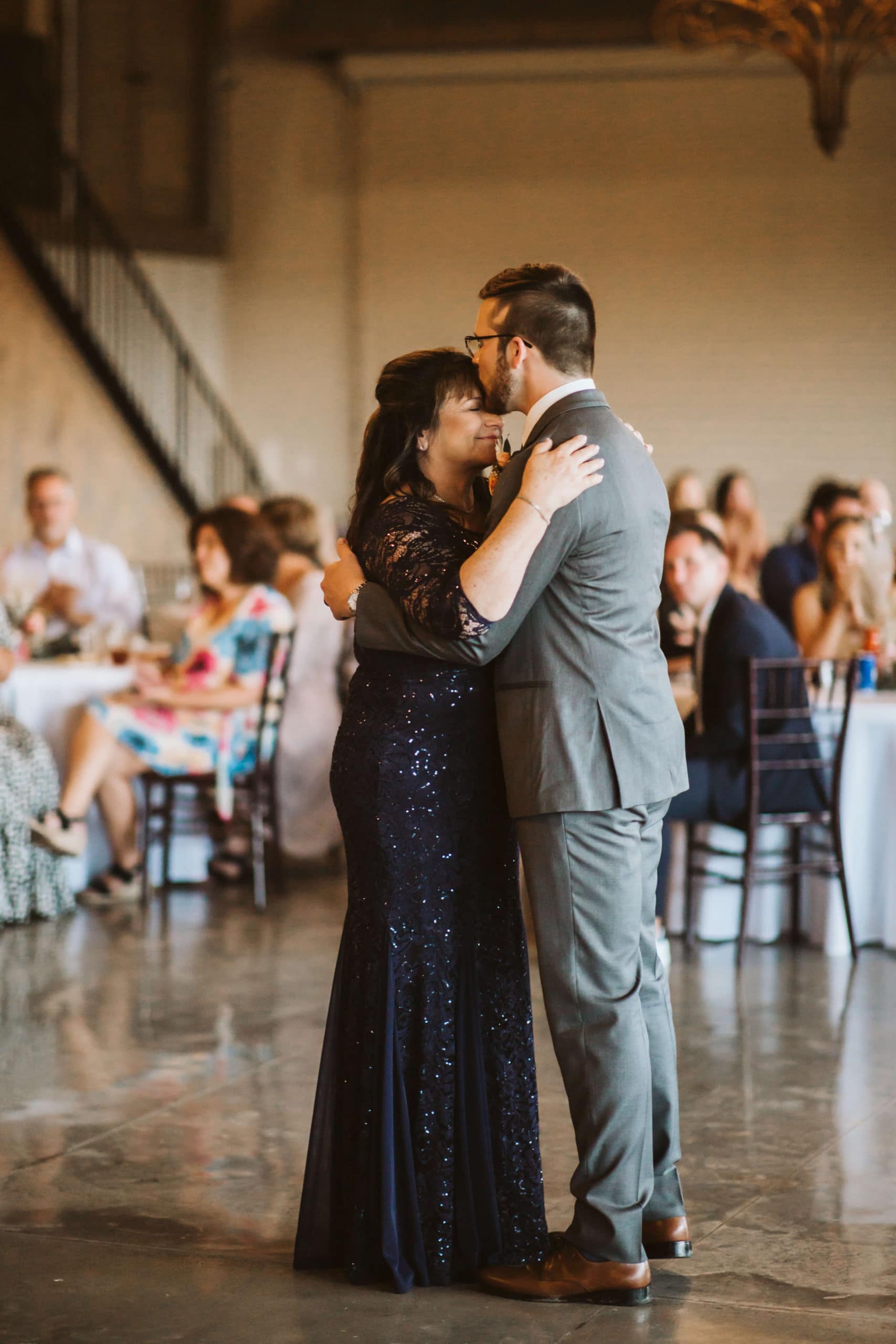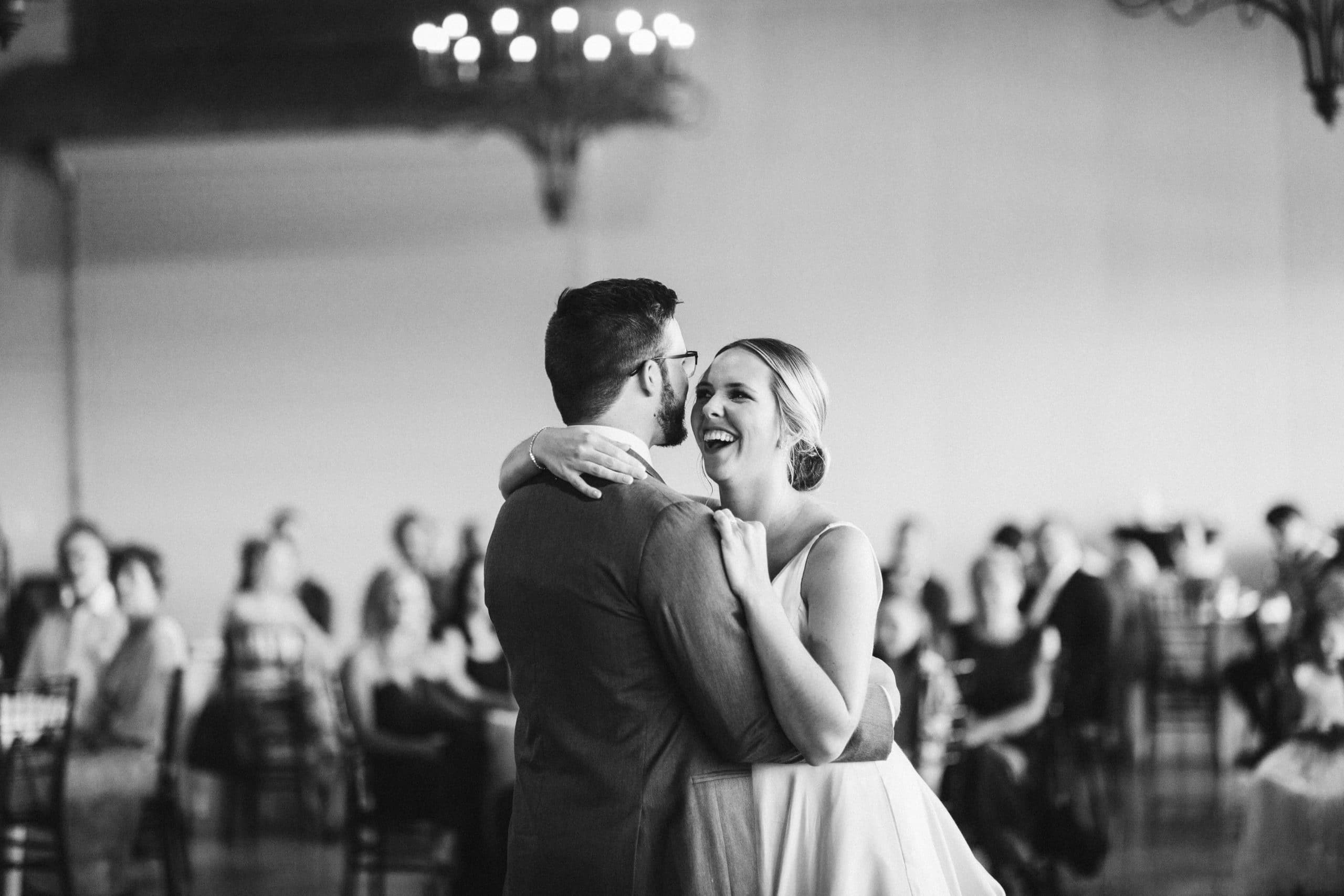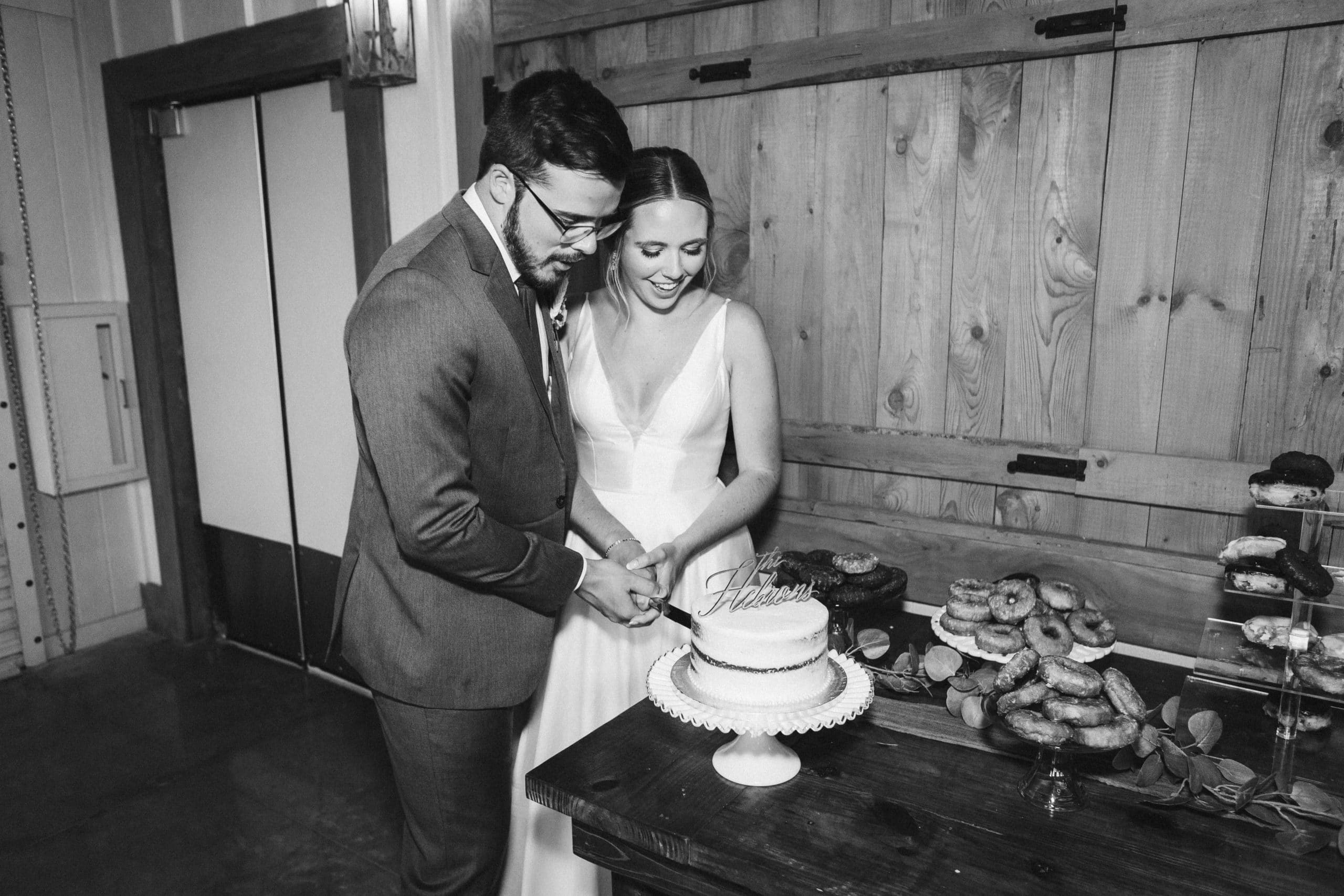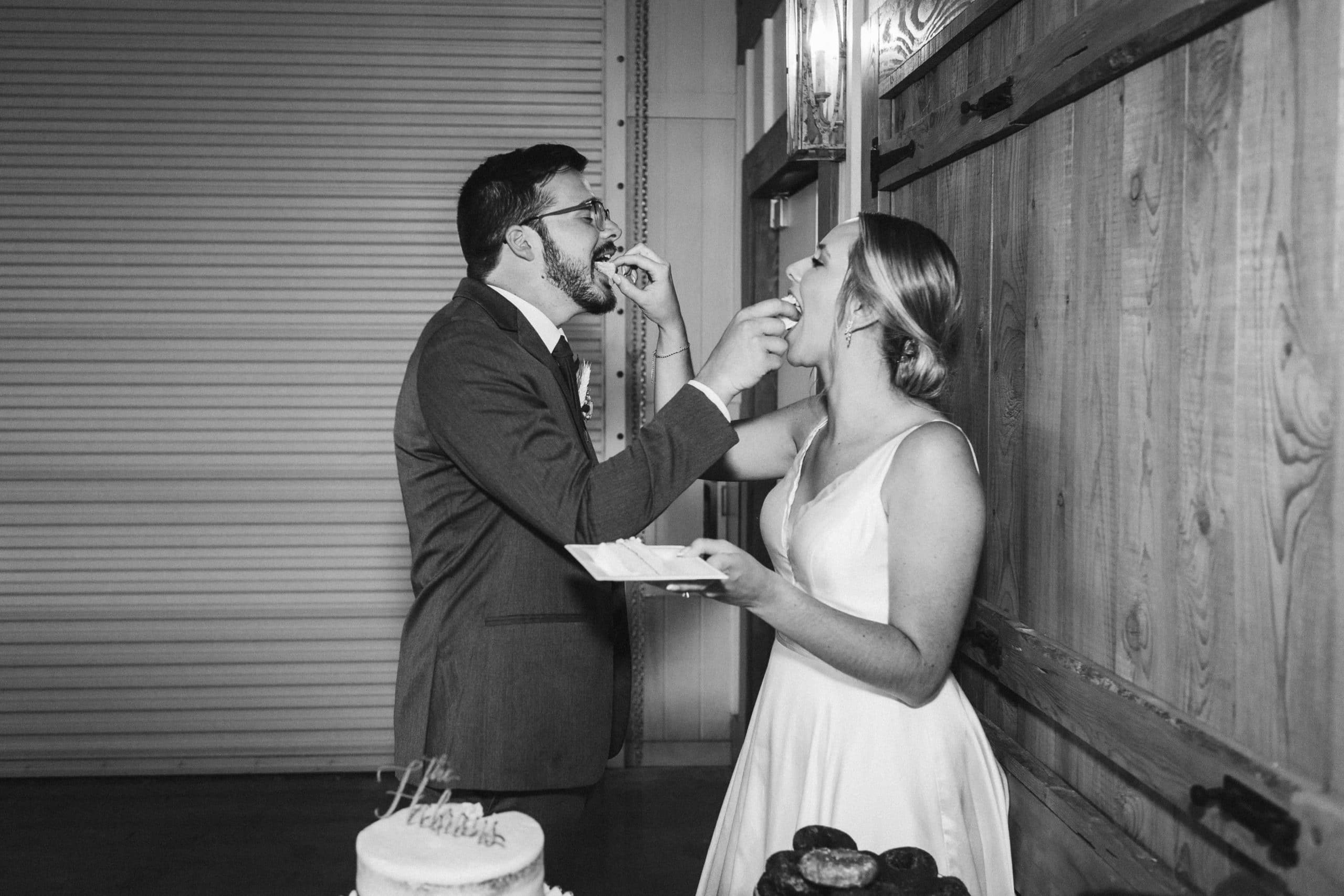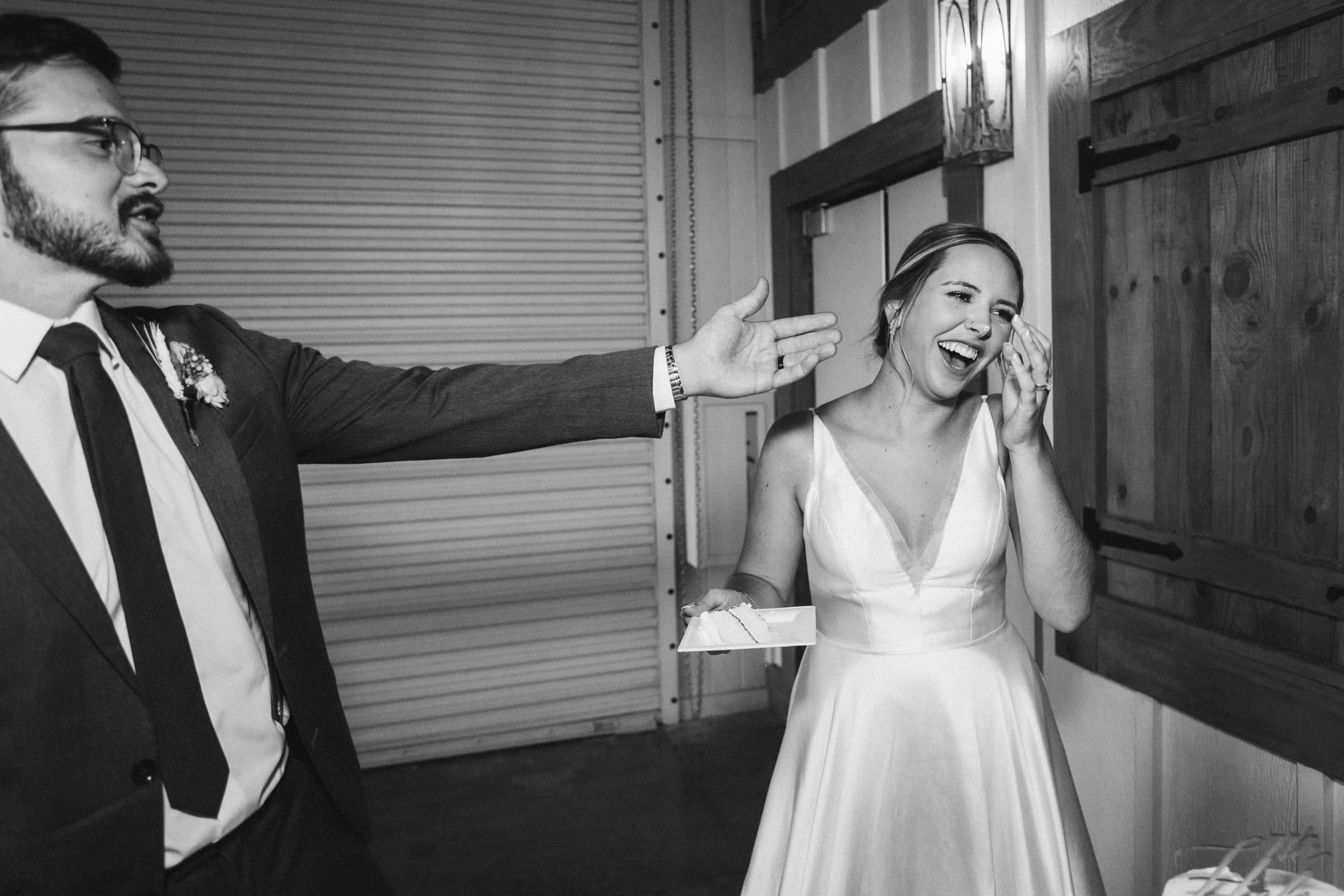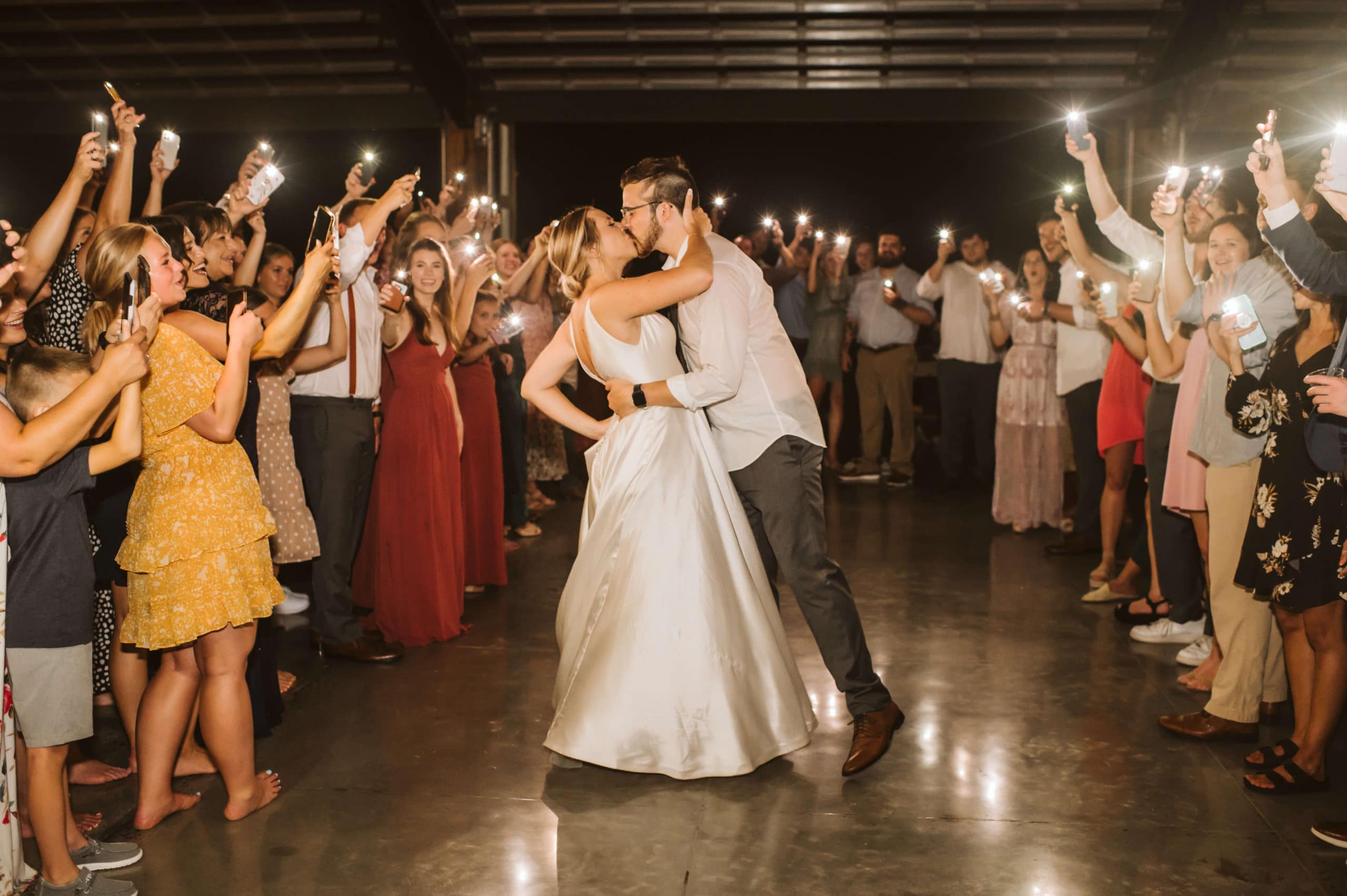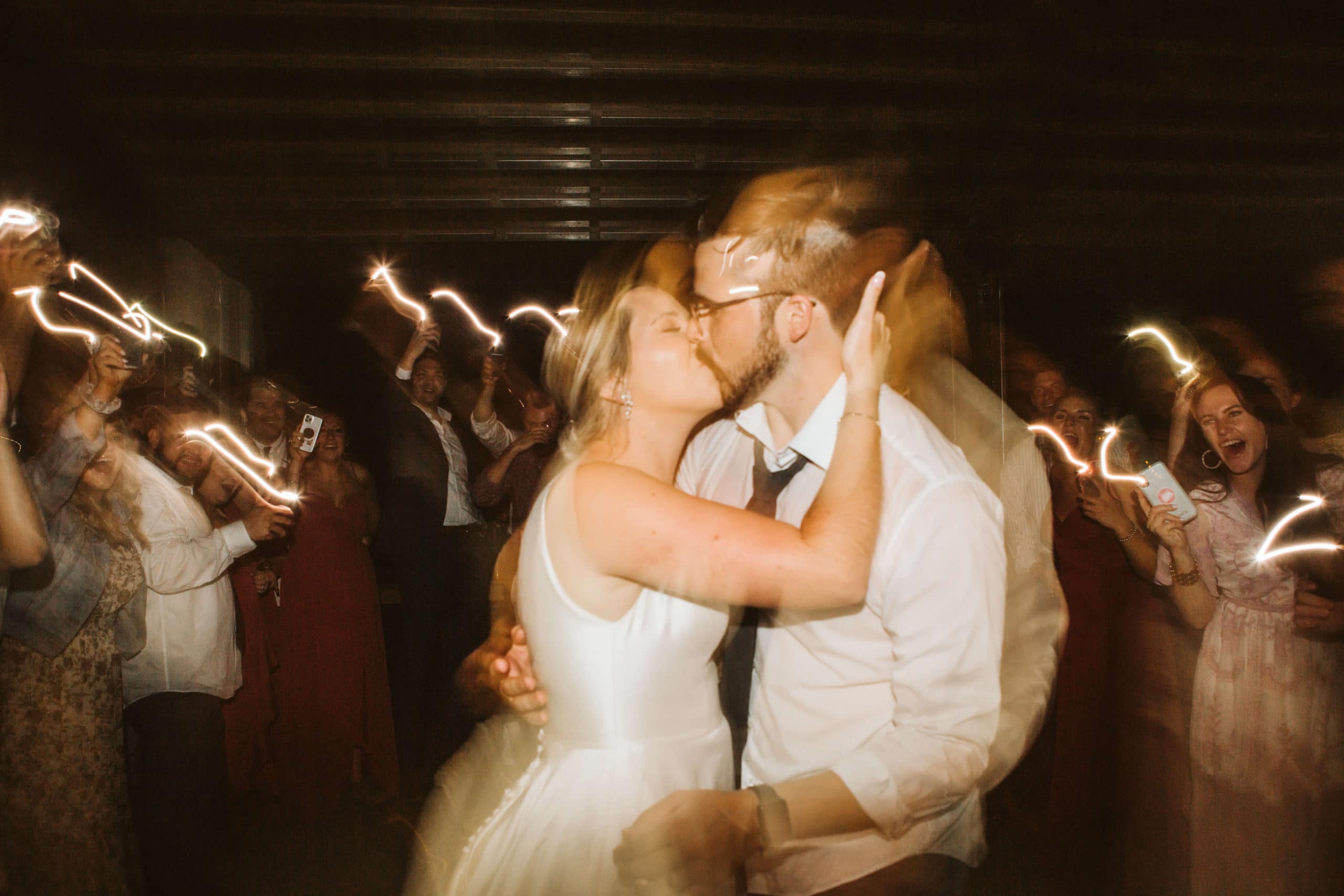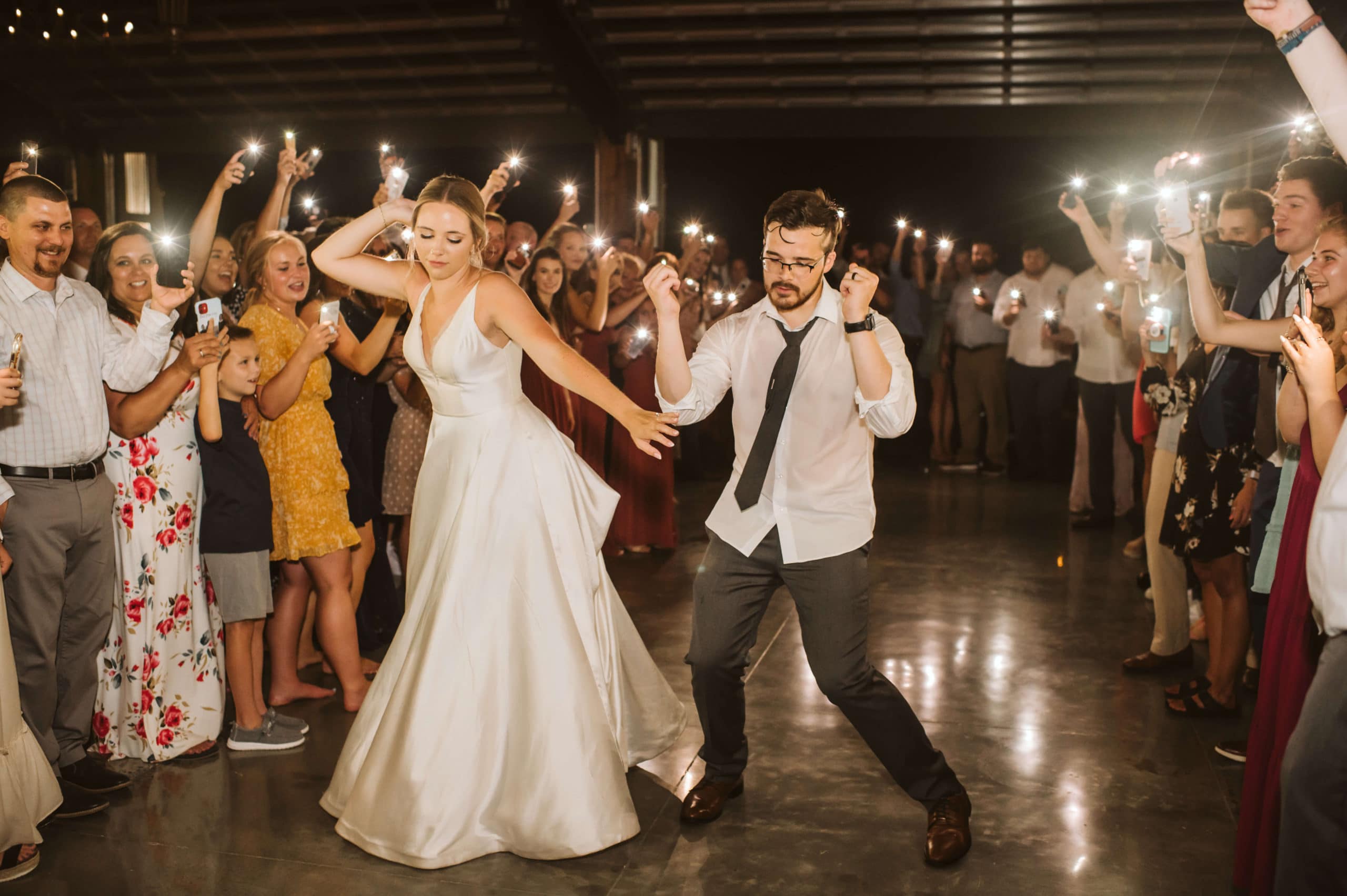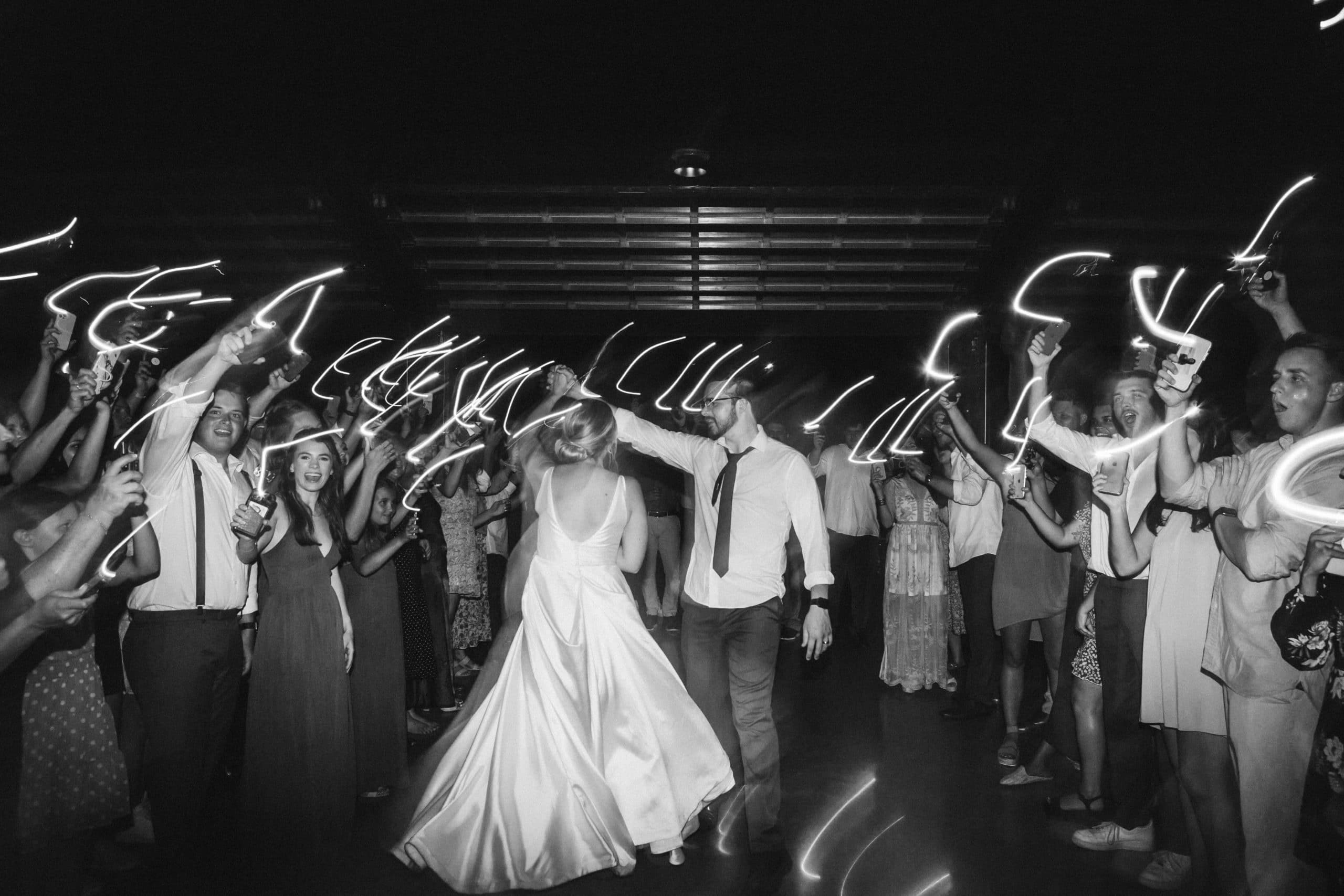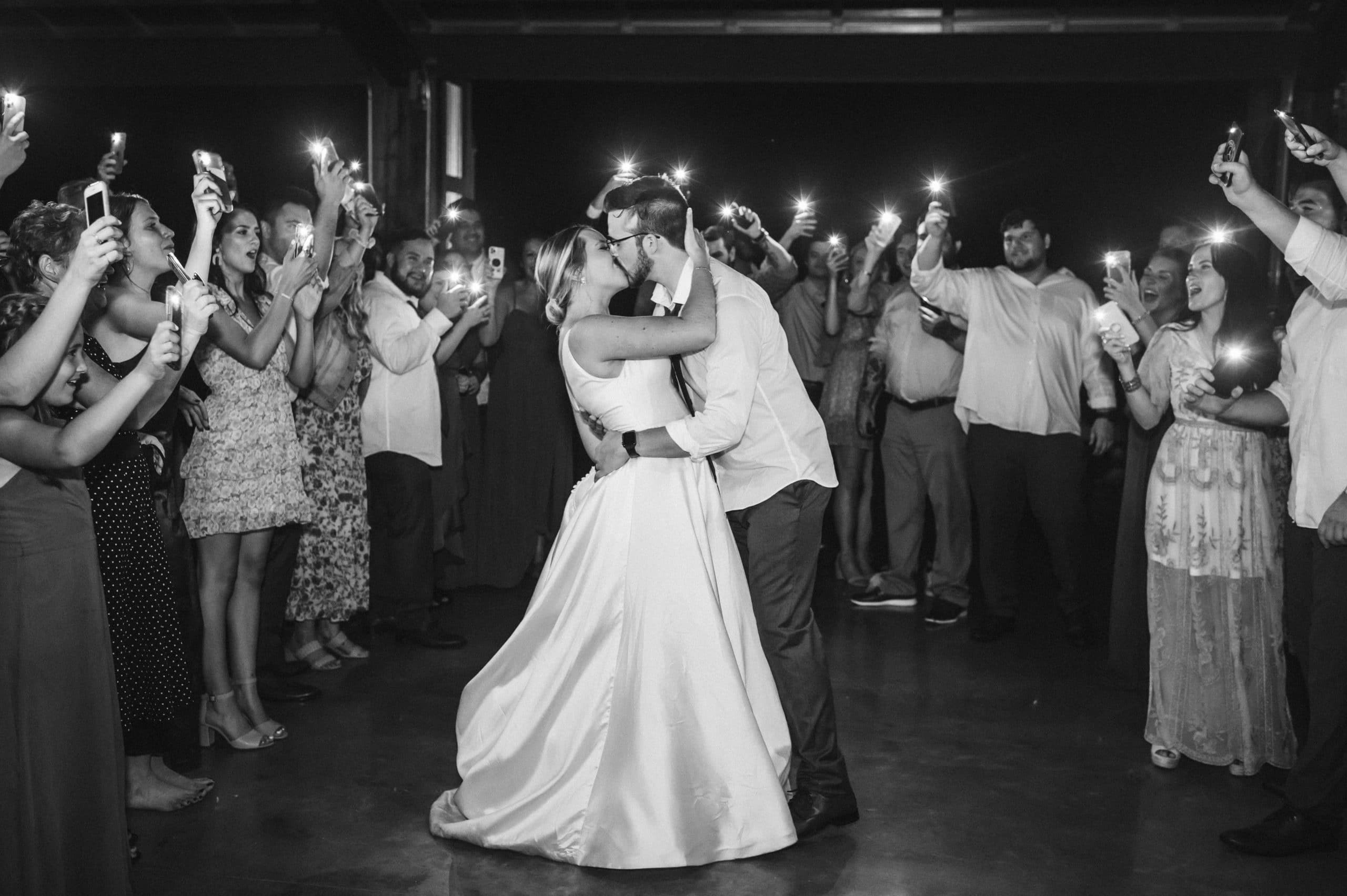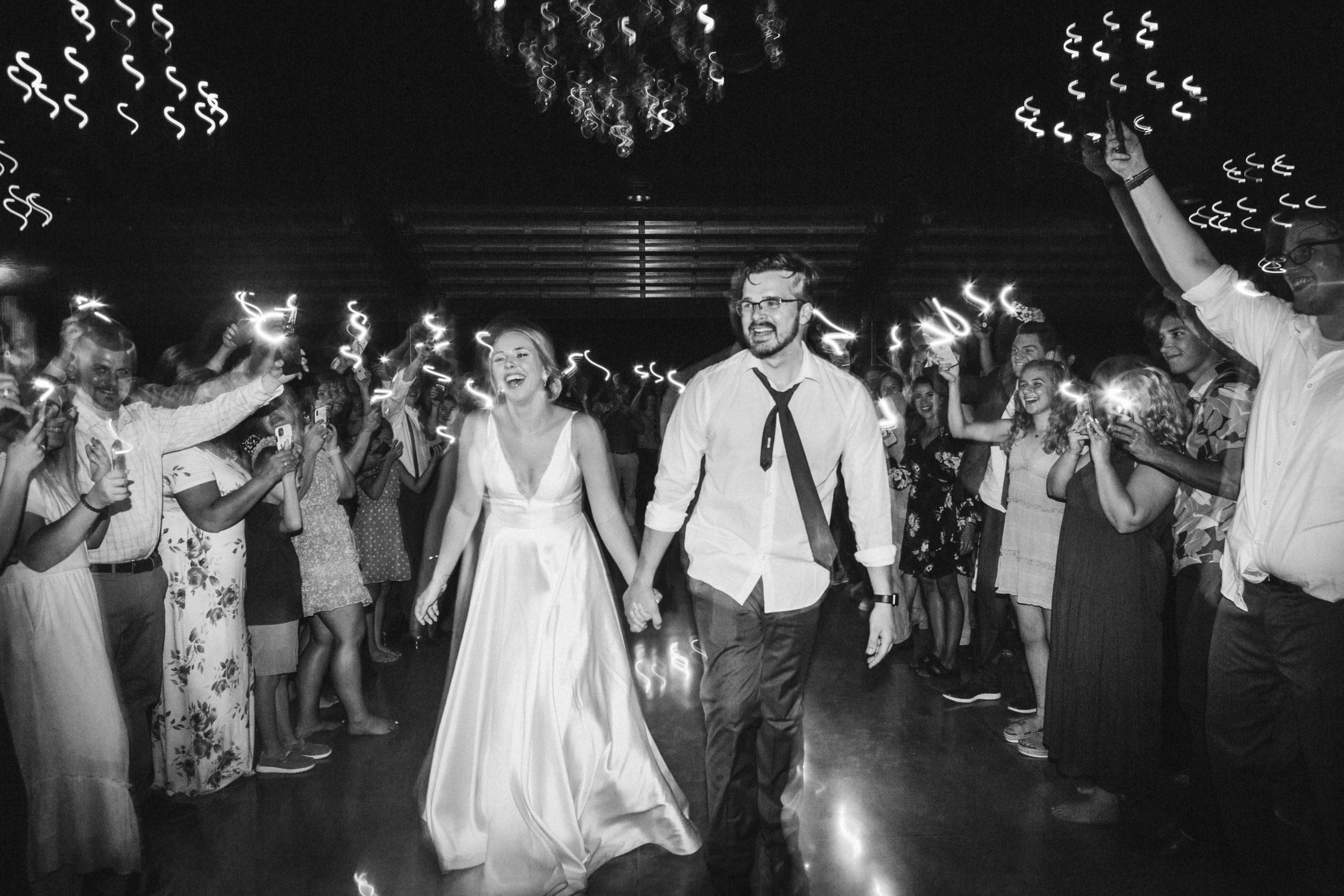 A Spacious Indoor Wedding Reception at Ocoee Crest
The indoor reception space at Ocoee Crest is highly unique. Rather than just a room with a view, this is a 9000 sq. ft space with five floor to ceiling bay windows overlooking the grounds outside the reception hall and the mountains beyond. The windows also slide upwards to the ceiling for a breath of fresh air once the dance floor is opened and reveals an unfiltered view. It's very much the best of both worlds if you are struggling to decide on an industrial-style wedding or a lush, forest wedding. 
The space also doubles as an indoor ceremony option or as a backup option in case of rain. The room easily transforms from reception seating to ceremony seating, both featuring its gorgeous backdrop. 
Liz and Michael made their reception entrance with their wedding party through the arched, double-door entryway. They had their first dance under the soft glow of the chandeliers above them in the large dance floor between the tables. Liz and Michael planned a fun sparkler send-off in the manicured gardens just in front of the entryway to cap off the night, but had to move to plan B due to rain. Of course, I suggested a cell phone send-off (these always turn out great, and guests always have their phones!). All the guests gathered on each side of the dance floor holding up their flashlights while Liz and Michael danced their way to the exit where their car was waiting. What an amazing wedding day!
Are you planning a wedding of your own in the Chattanooga area or beyond? I'd love to be there to capture your day!
I'm Rachael Crowe of OKCrowe Photography. I've shot hundreds of weddings across the Chattanooga area and all over the US. I'd love to be part of yours as well! Whether you're getting married in Central Park or looking for a Tennessee venue with a view, I'd love to be there to answer your questions, capture your day, and help you make your wedding everything you've dreamed it would be. If you're still on the hunt for a wedding photographer, I'd love to chat! Visit my contact form, and let's get started!