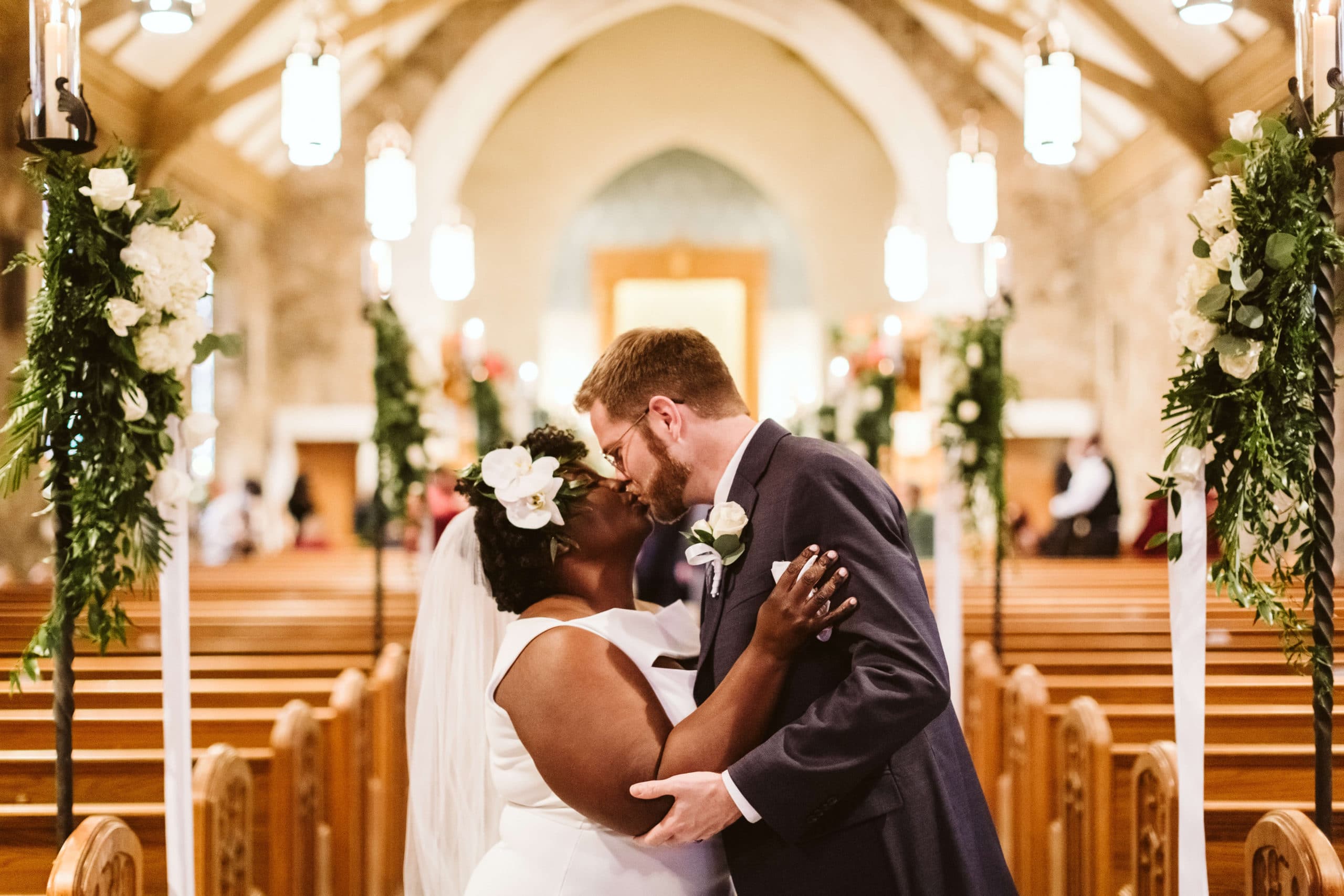 Between stunning mountain ranges and bustling urban areas, Chattanooga is home to a variety of unique wedding venues to fit just about any couple's style. It's a prime location for couples looking to create special moments and tell their love story. Whether you're planning a grand spectacular of a wedding or just an intimate get-together with family, Chattanooga is sure to hold the perfect spot to see your dream day come to life.
An Intimate Wedding on Lookout Mountain
Many couples looking to get married in Chattanooga are immediately lured in by the stunning mountain views. Thankfully, no matter where you go in the city, the mountains can always be seen. However, you just can't beat being surrounded by the gorgeous views the mountains themselves have to offer on your special day. Plus, there's just something so intimate and cozy about a wedding on a mountain. You feel secluded from the rest of the world with the beauty of nature surrounding you and the love of your life at your side.
For Roberta and Joshua, planning to have their wedding on Lookout Mountain was a no-brainer. The two met through their church choir, so naturally they had to hold their wedding ceremony in the church that held so much sentimental value. As far as churches go, Lookout Mountain Presbyterian Church is a striking structure nestled into a small town on Lookout Mountain. Built with natural stones and pathways winding through verdant trees, the church feels old and historic but nevertheless comfortable and inviting.
For their big day, Roberta and Joshua just wanted a small celebration with their families and friends who mattered most. Having their ceremony in the church where they met proved to be perfect for just that.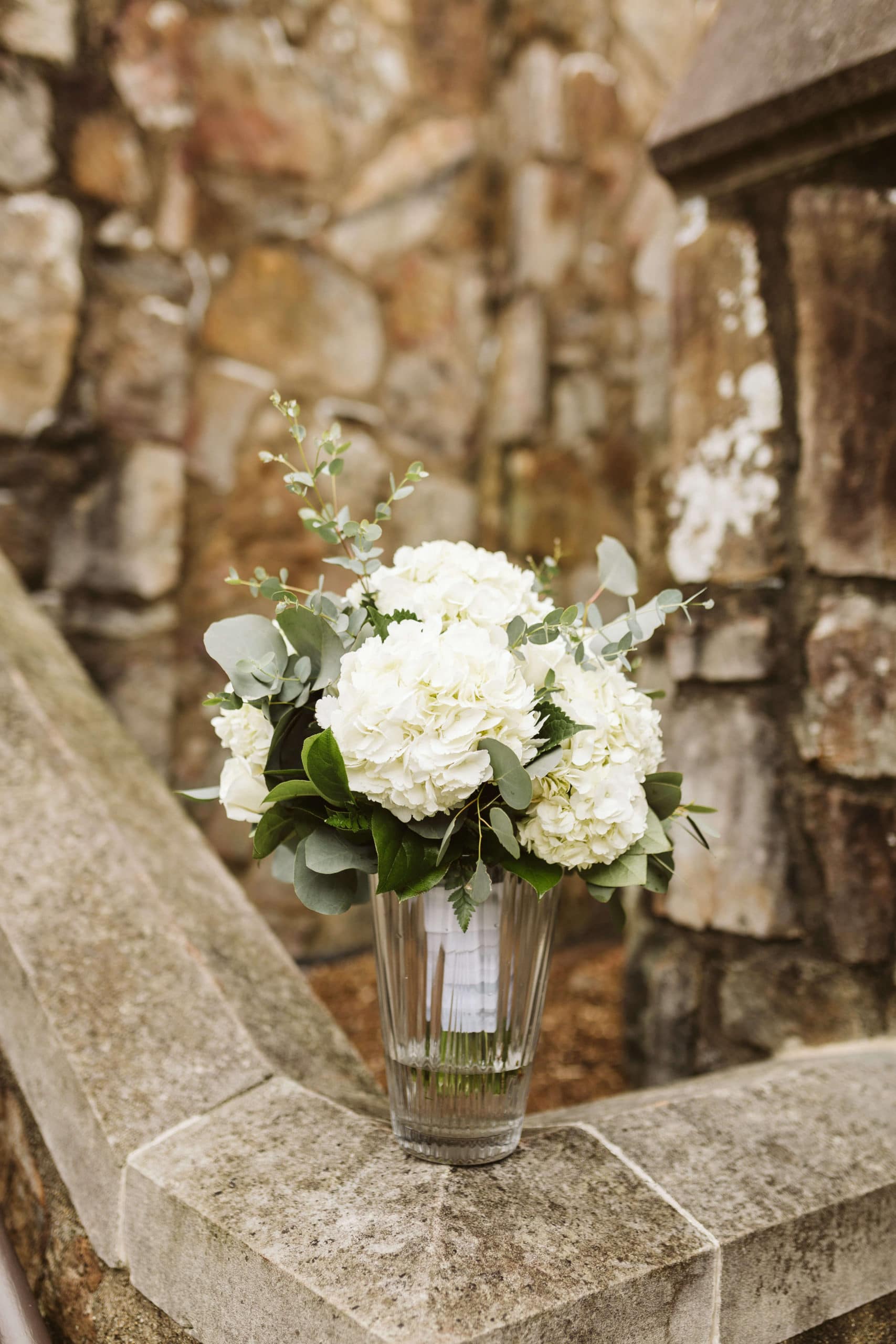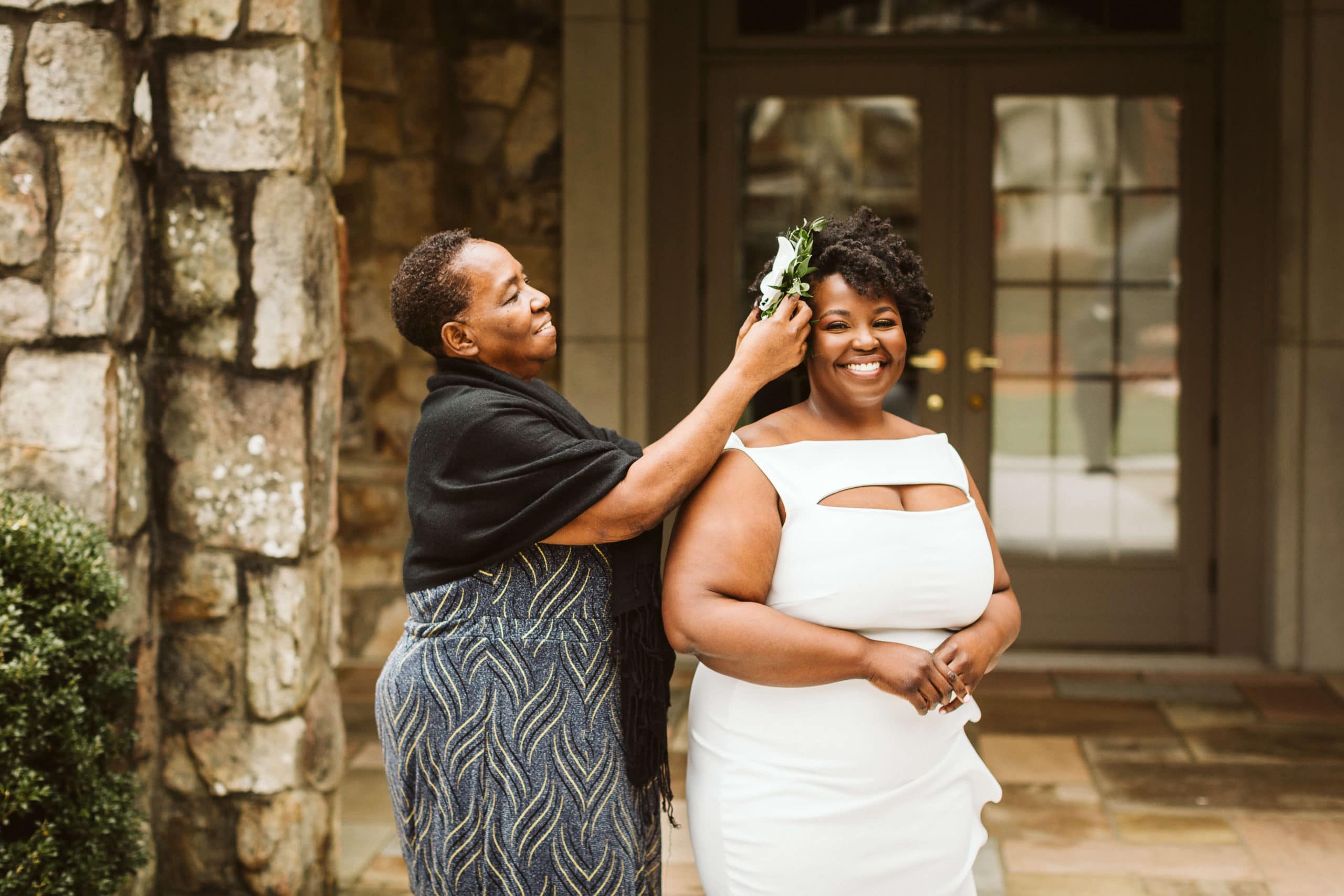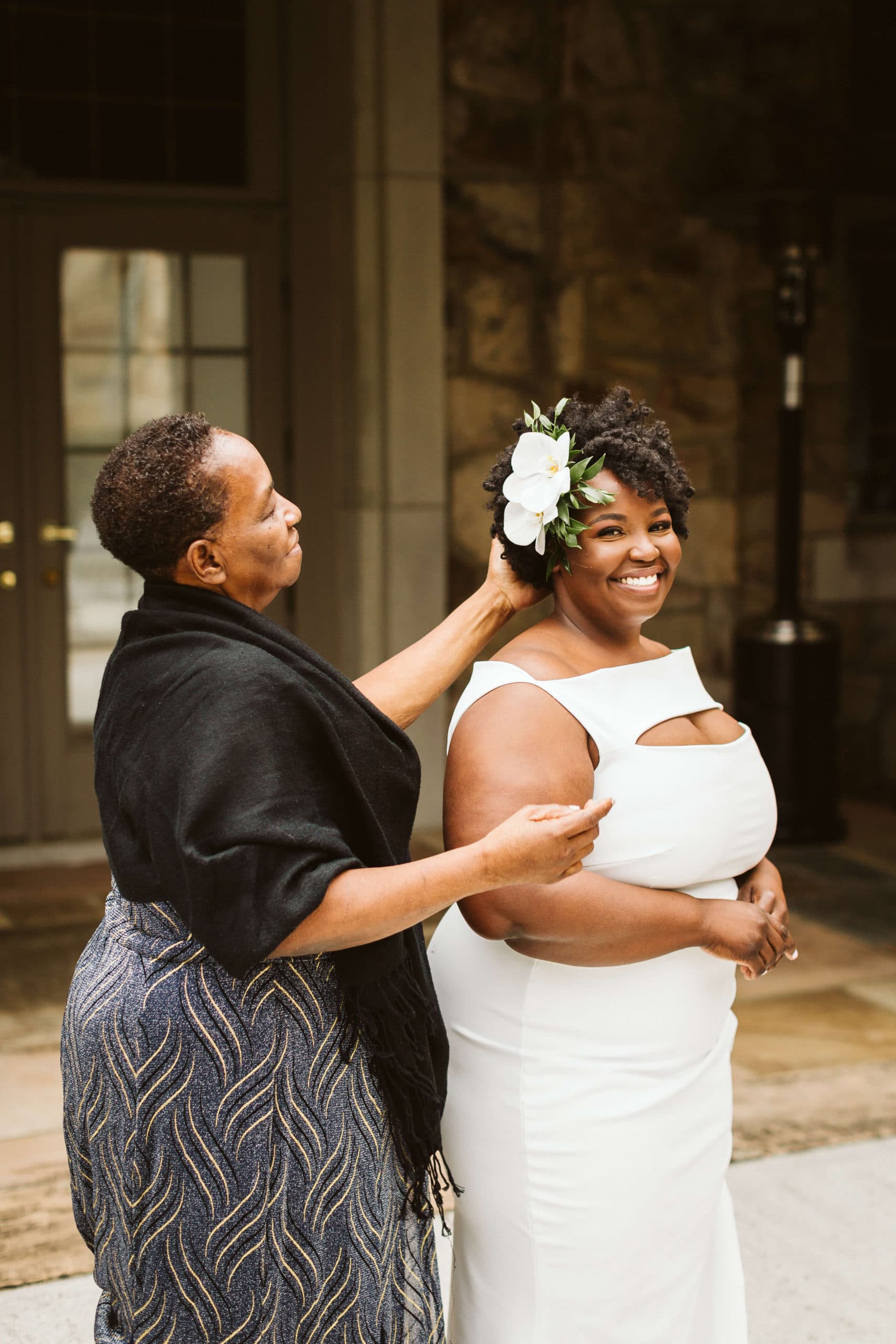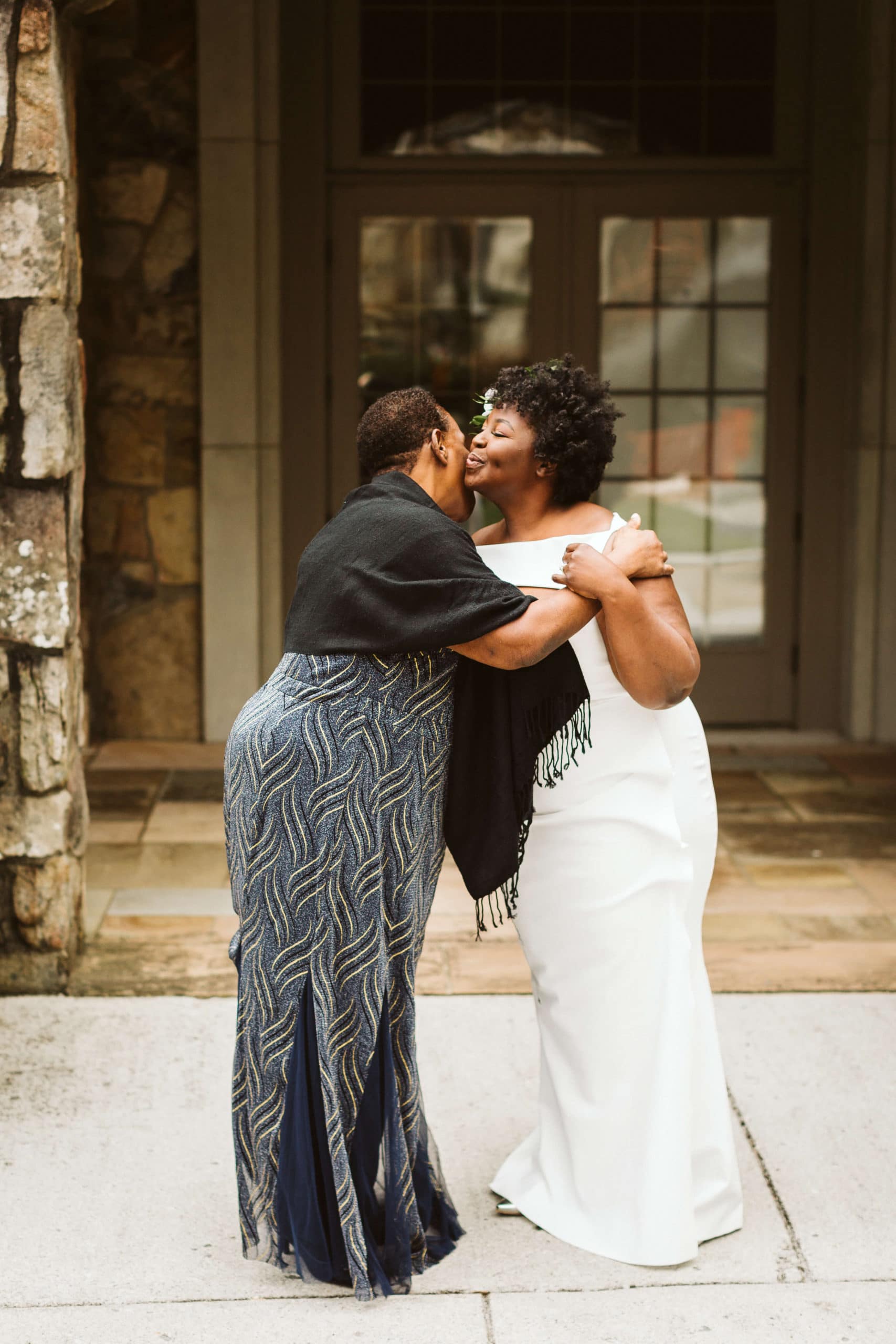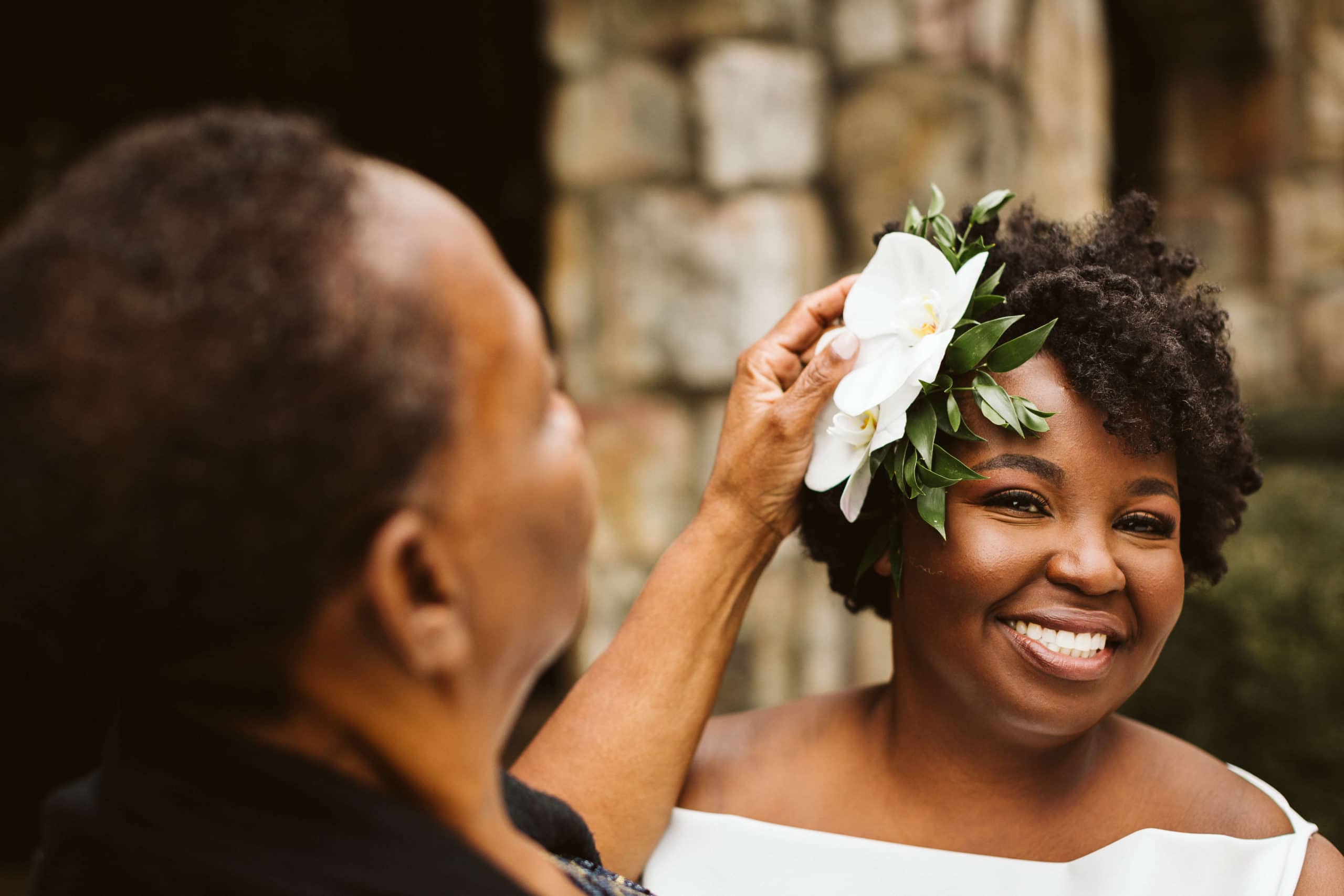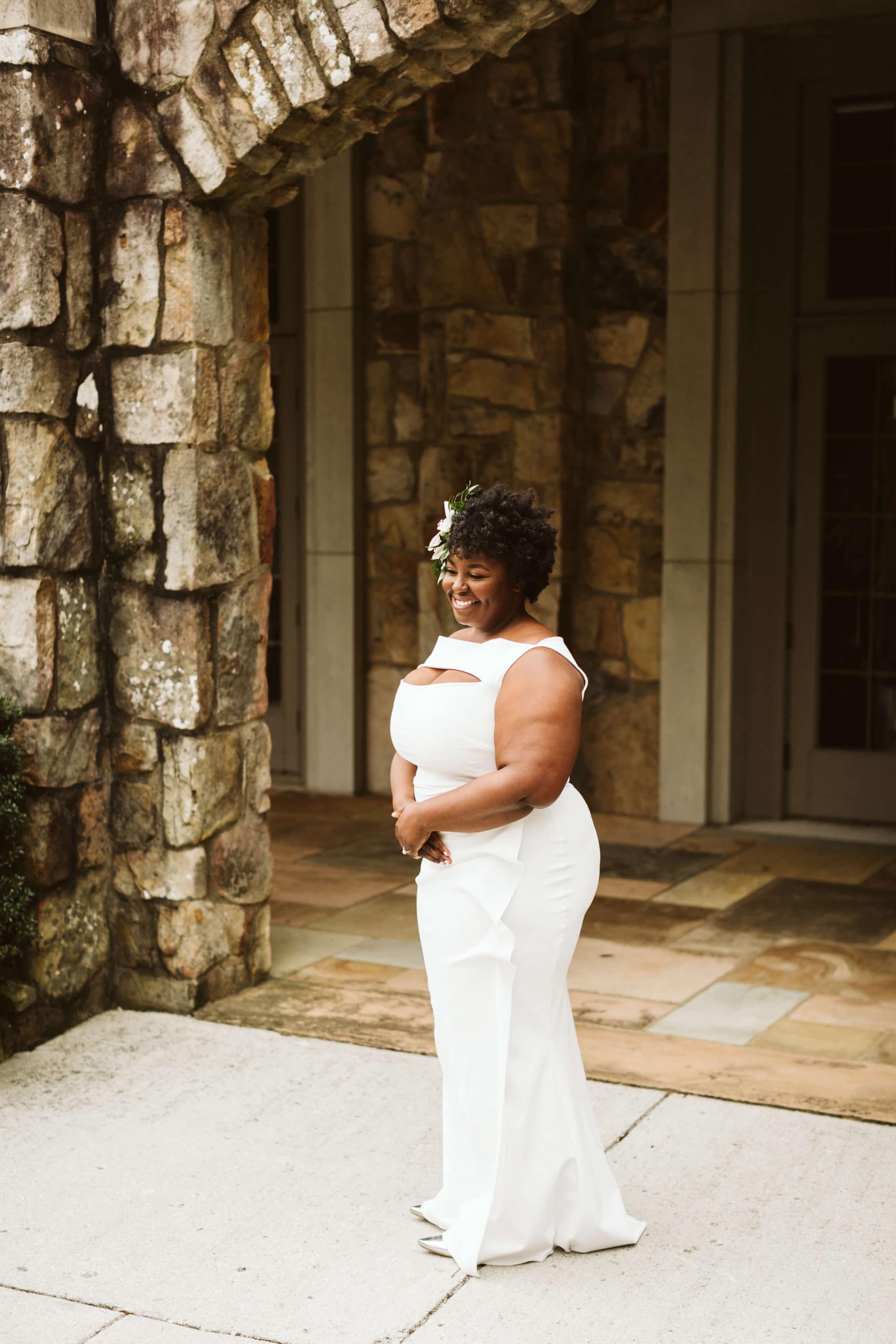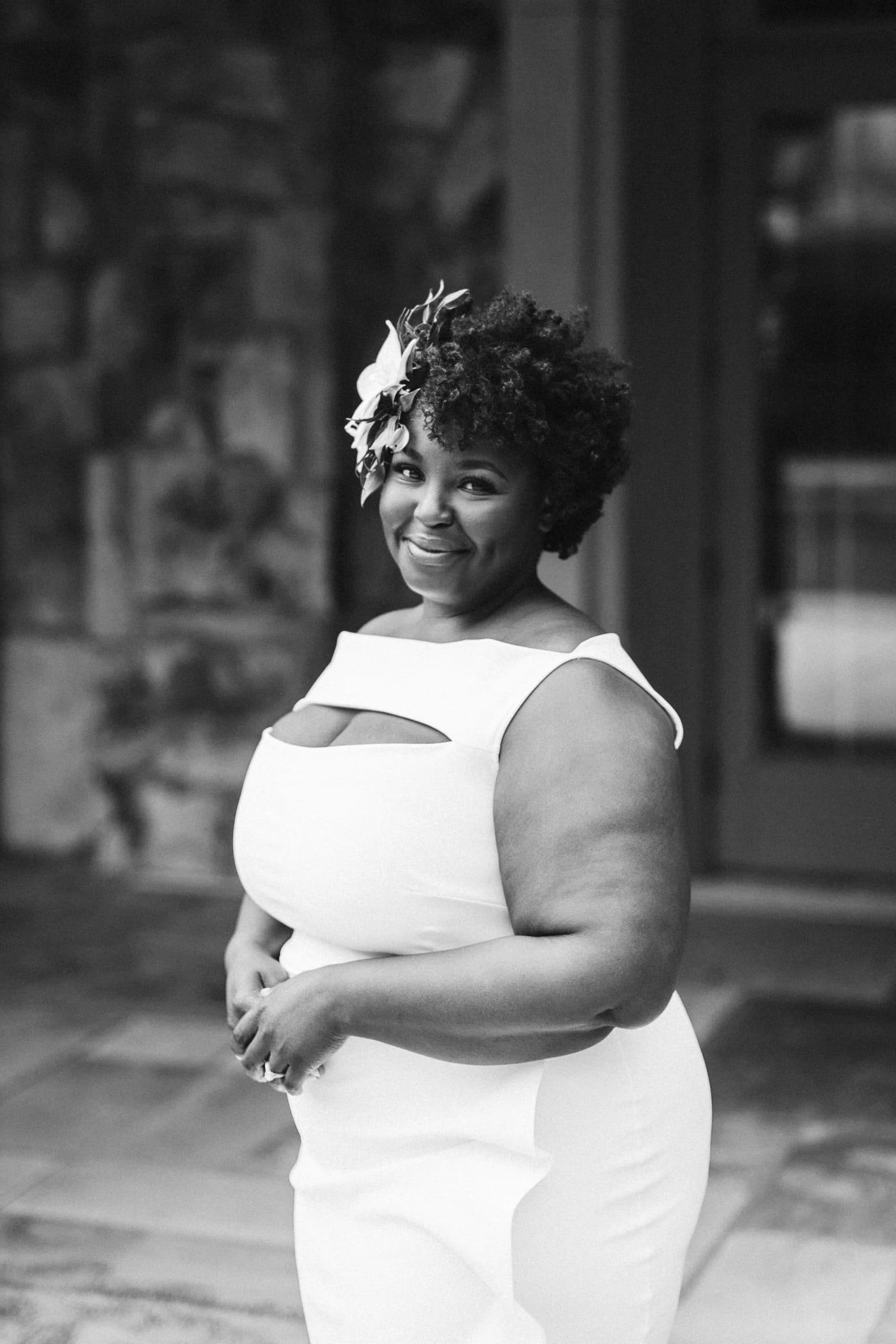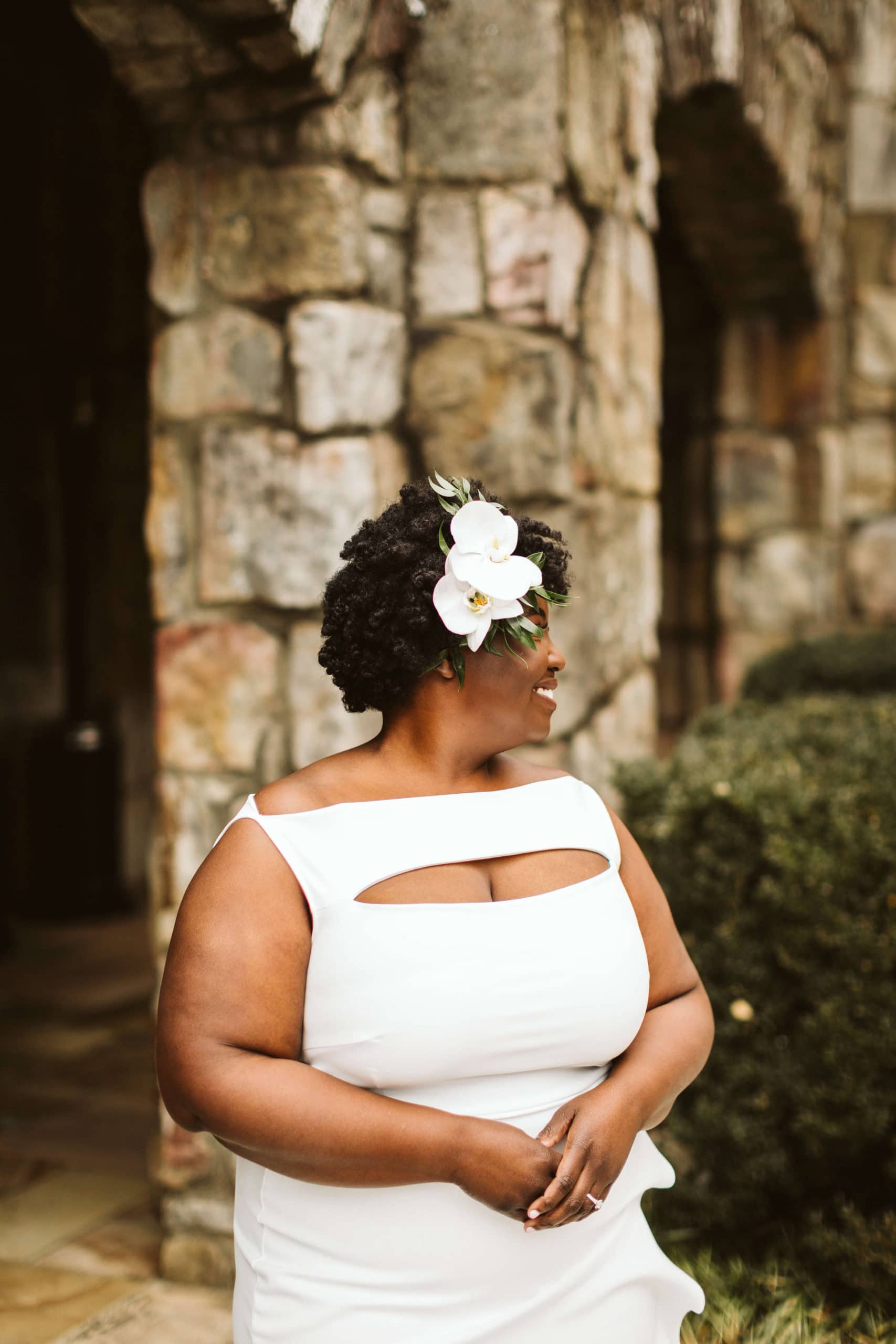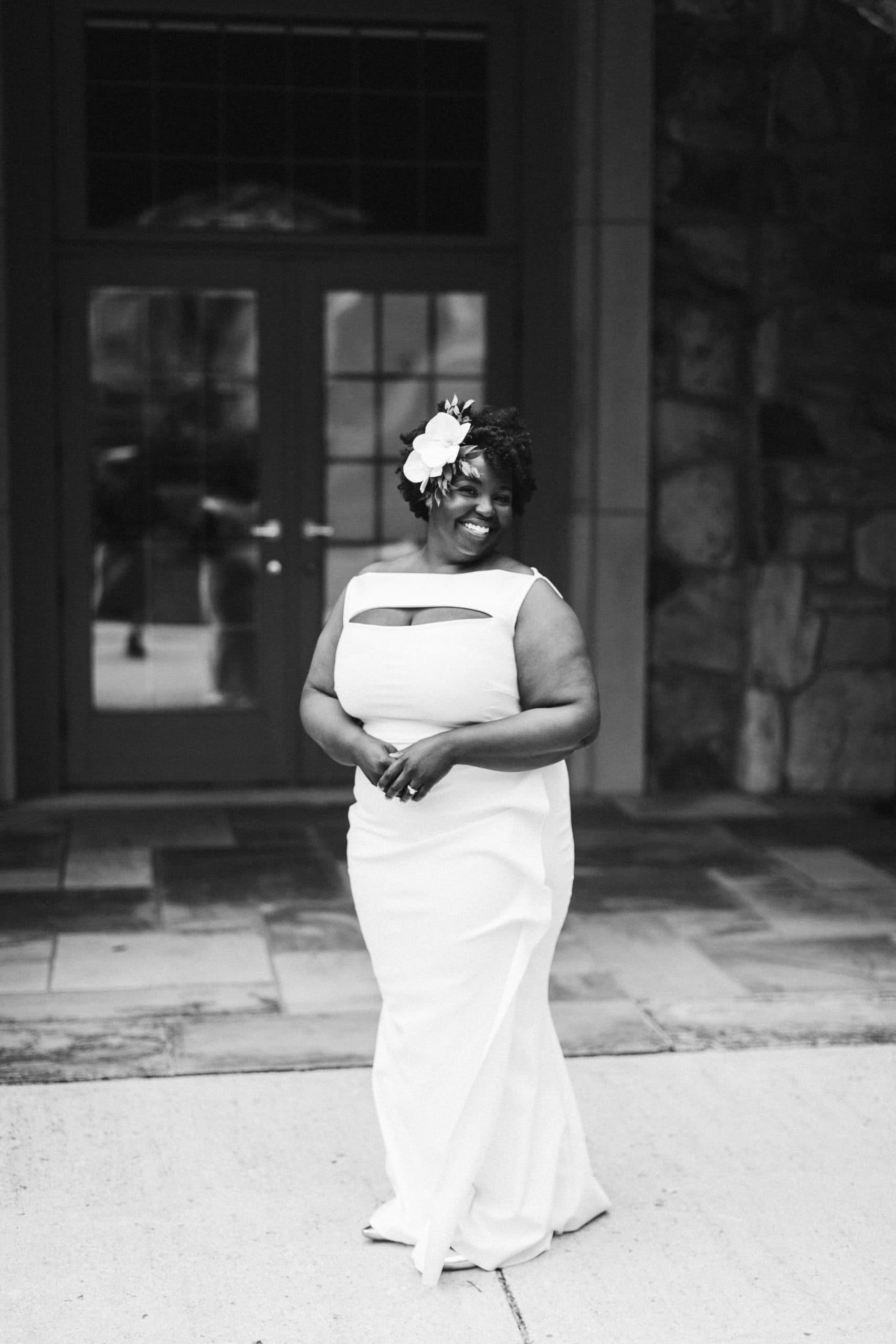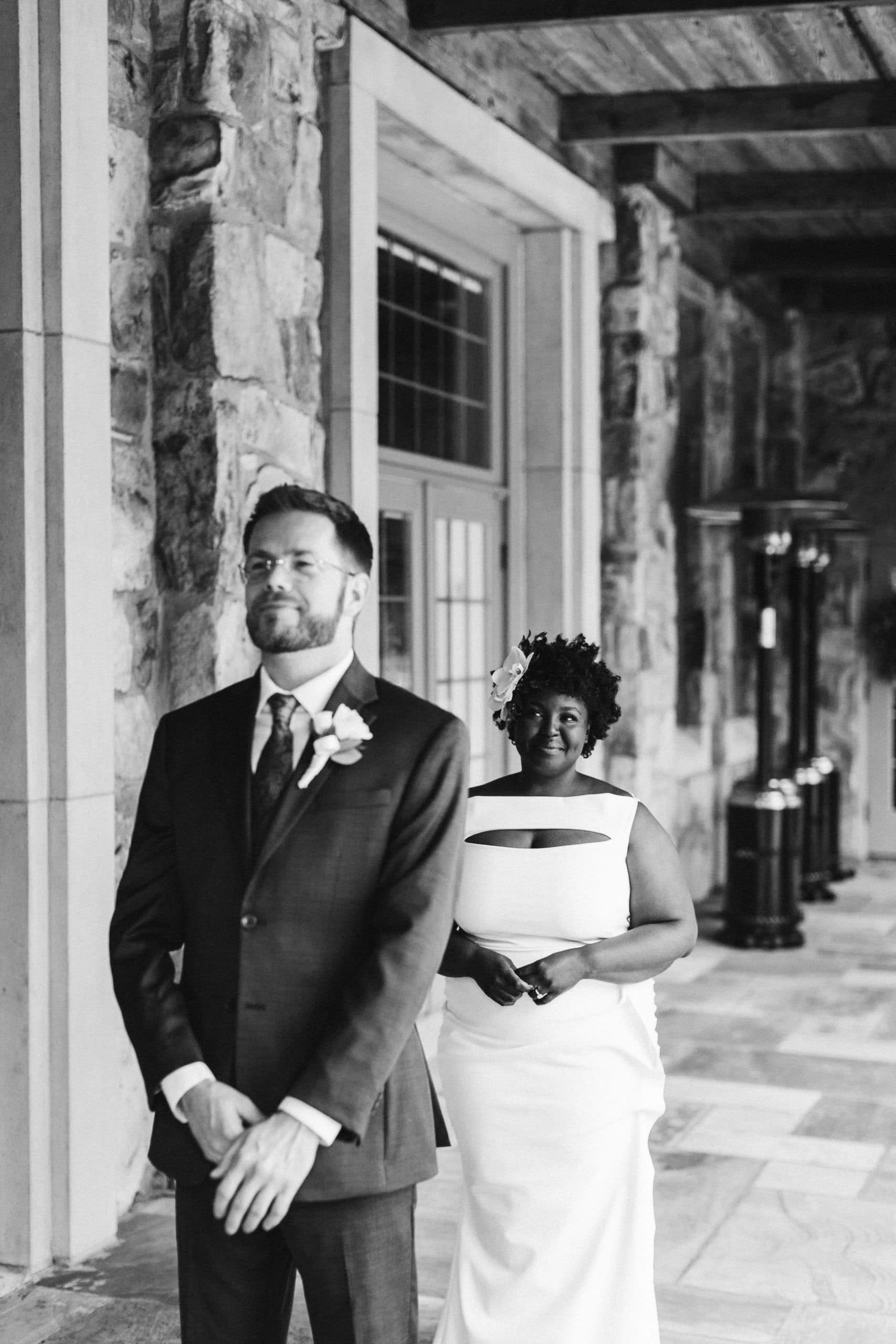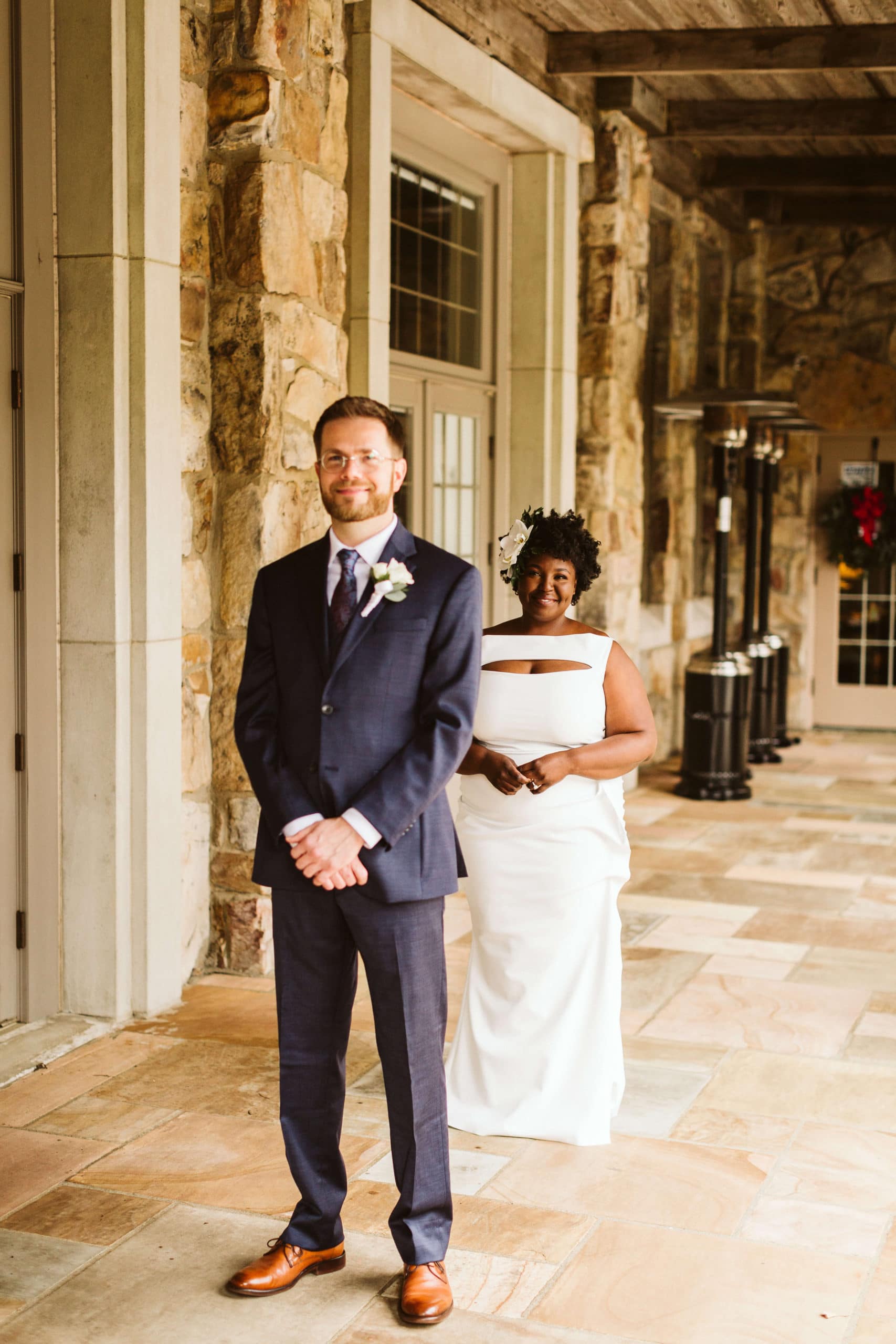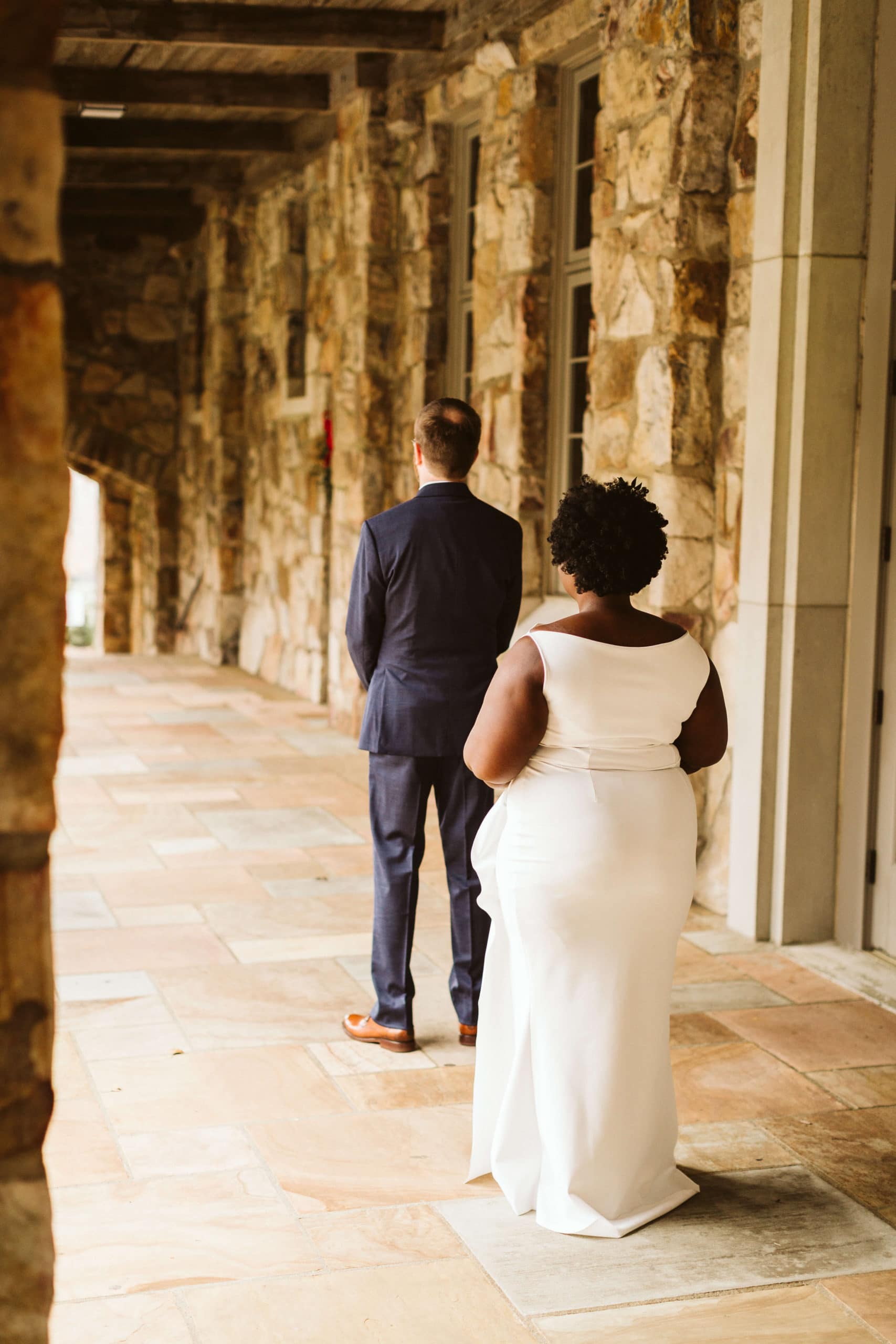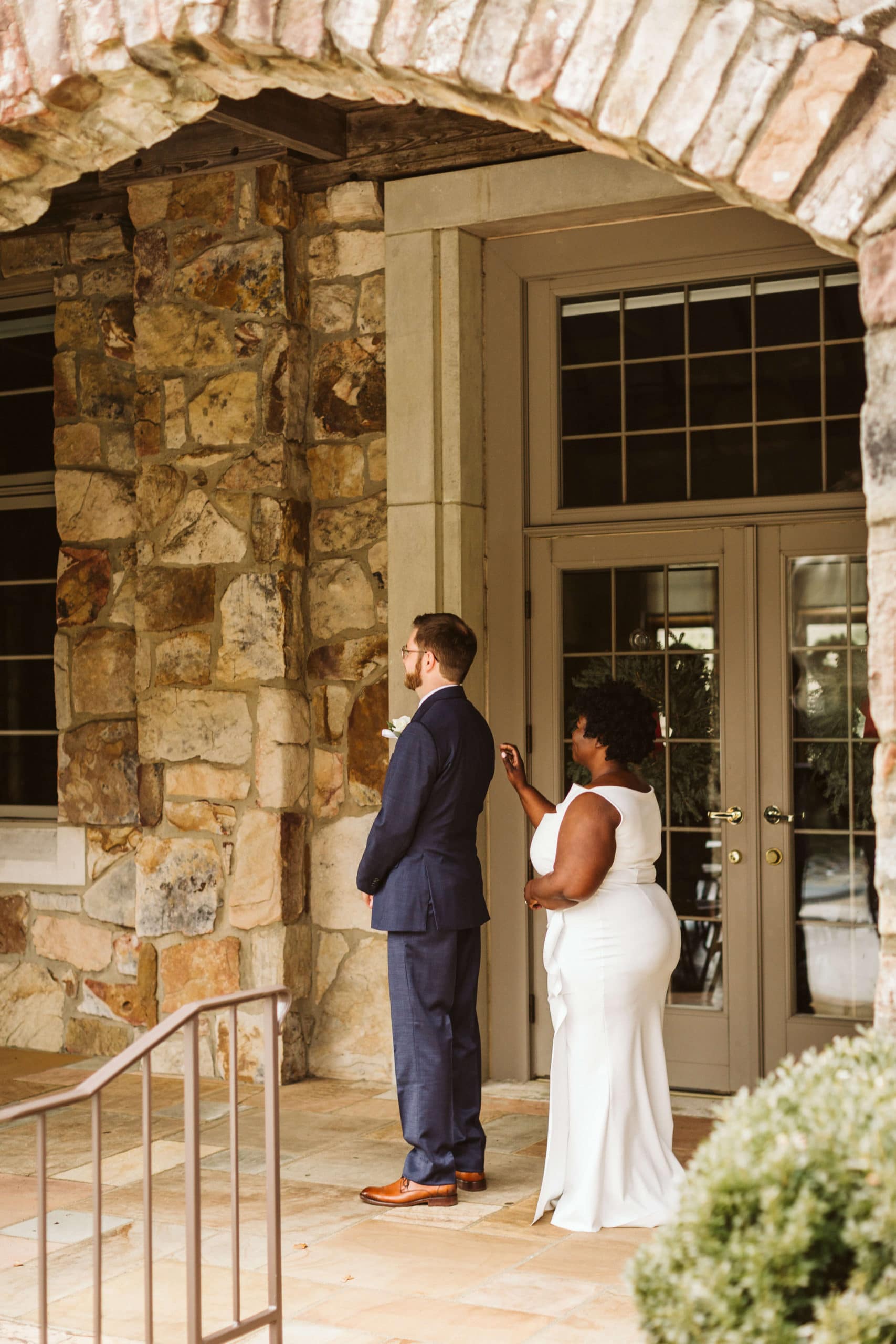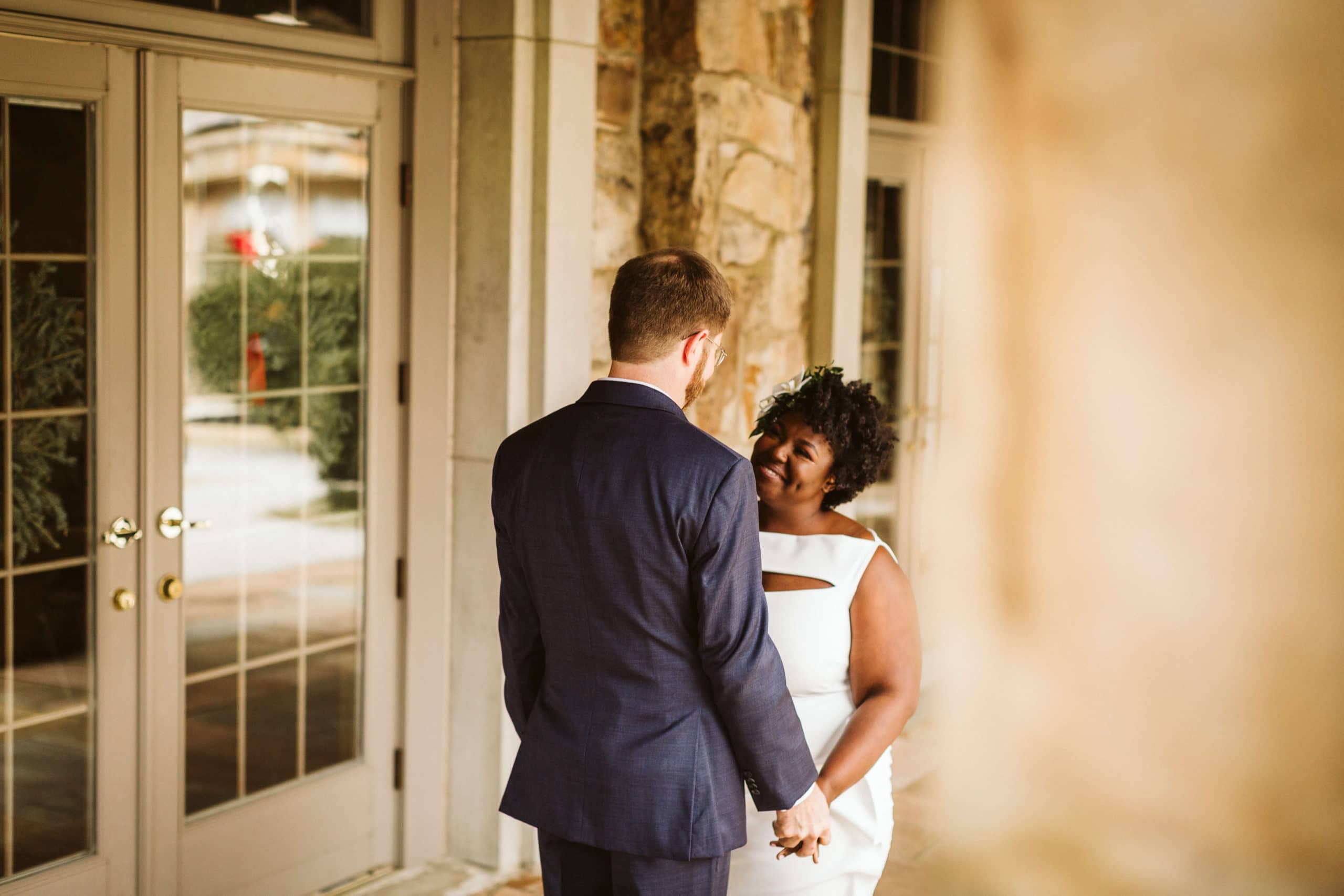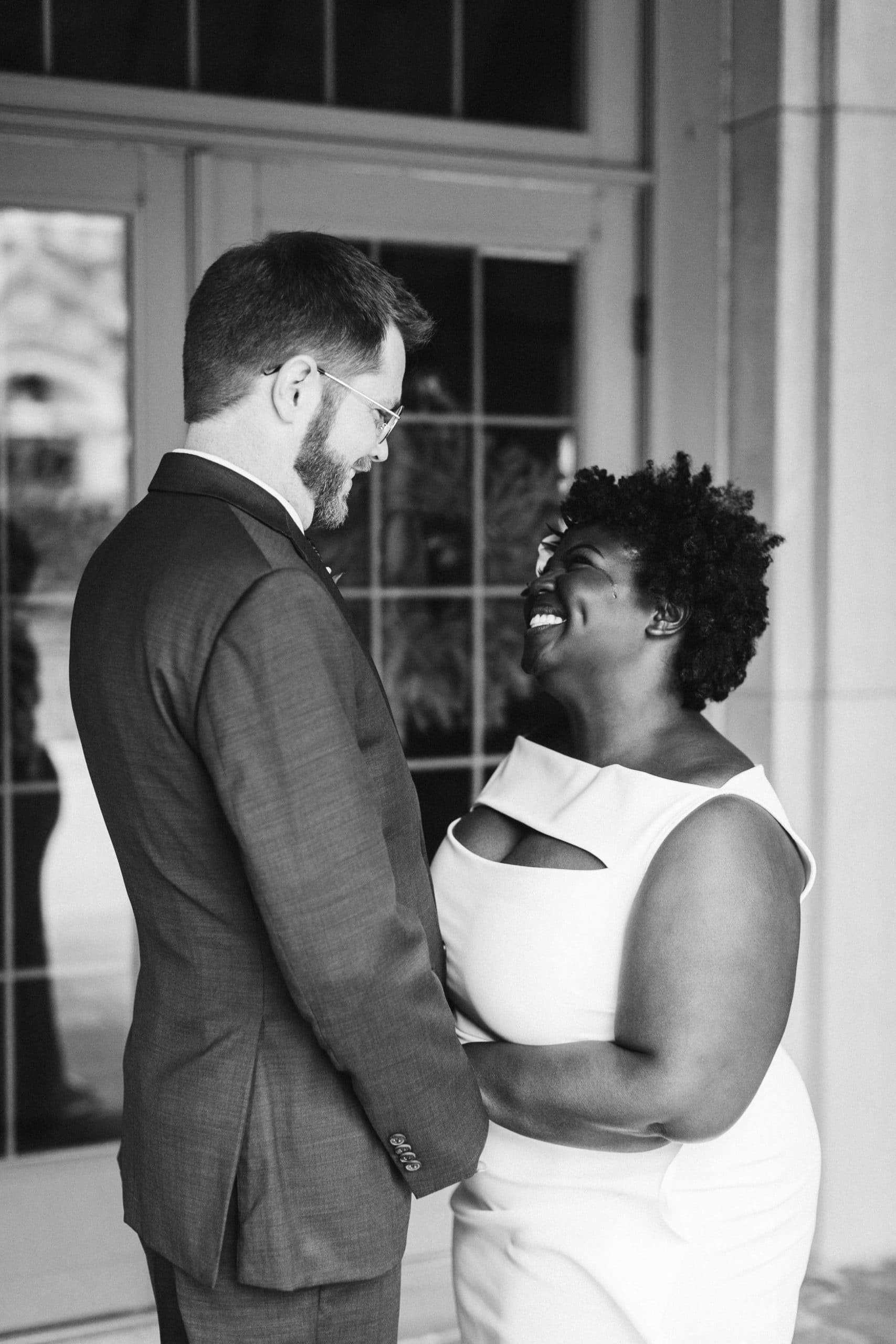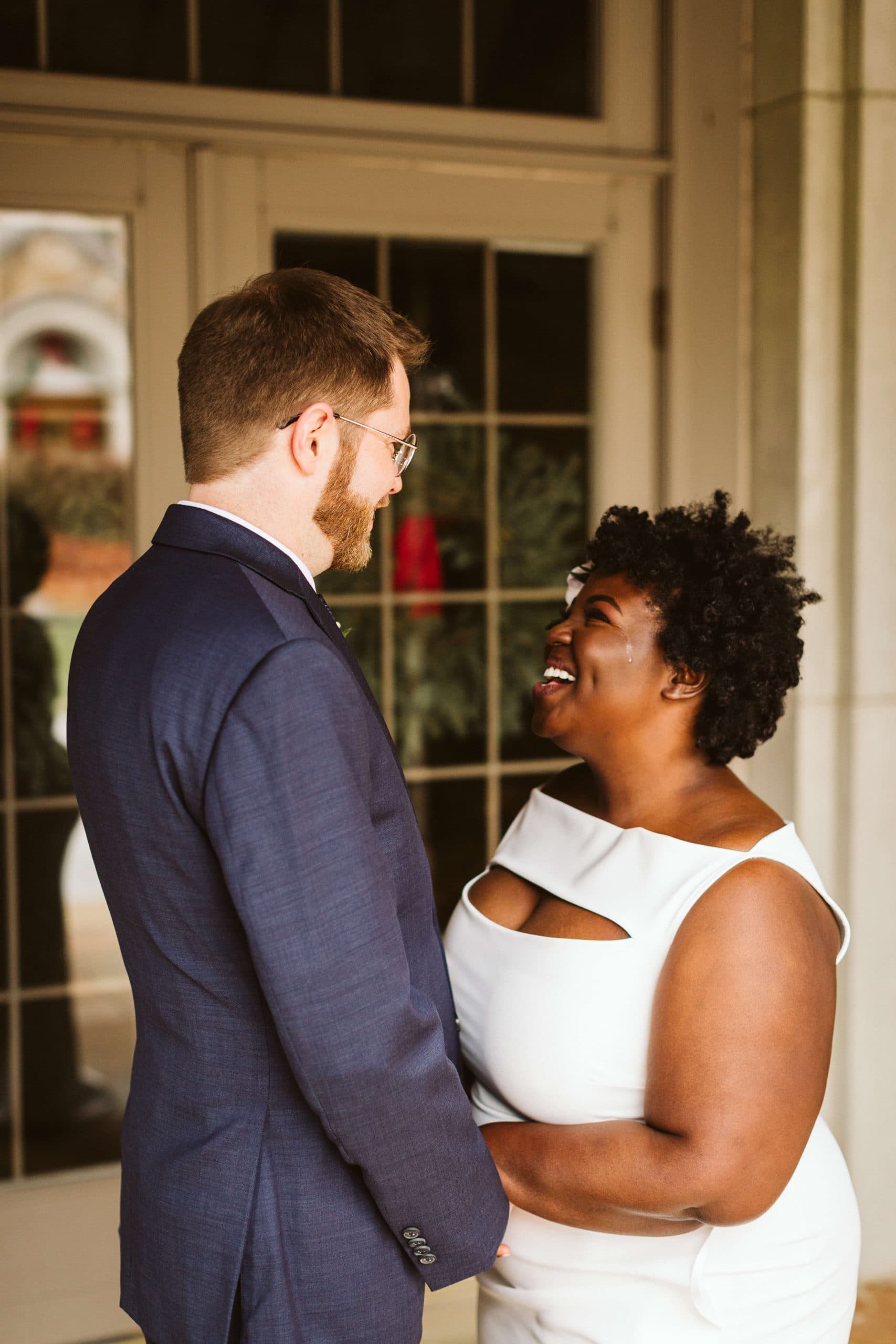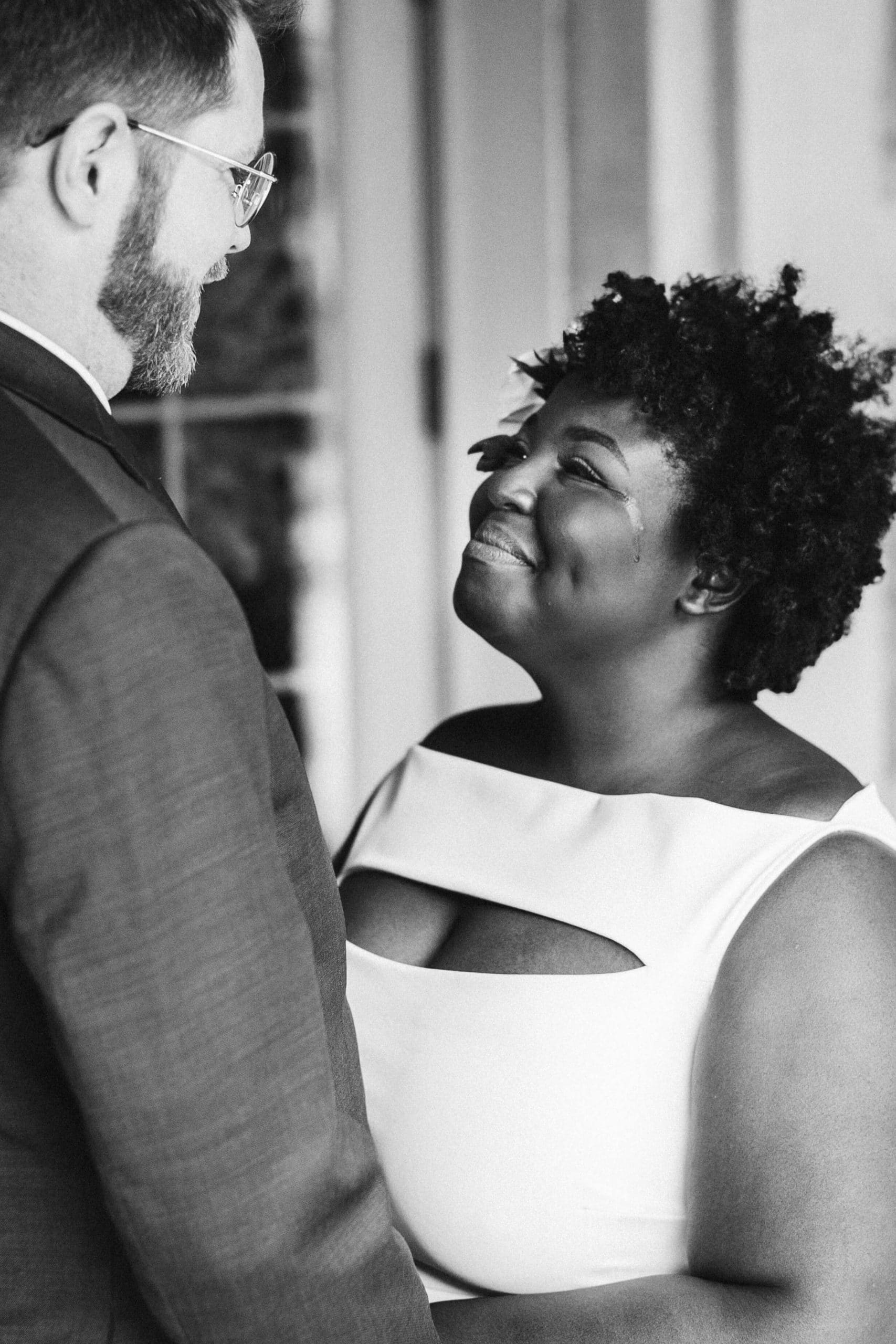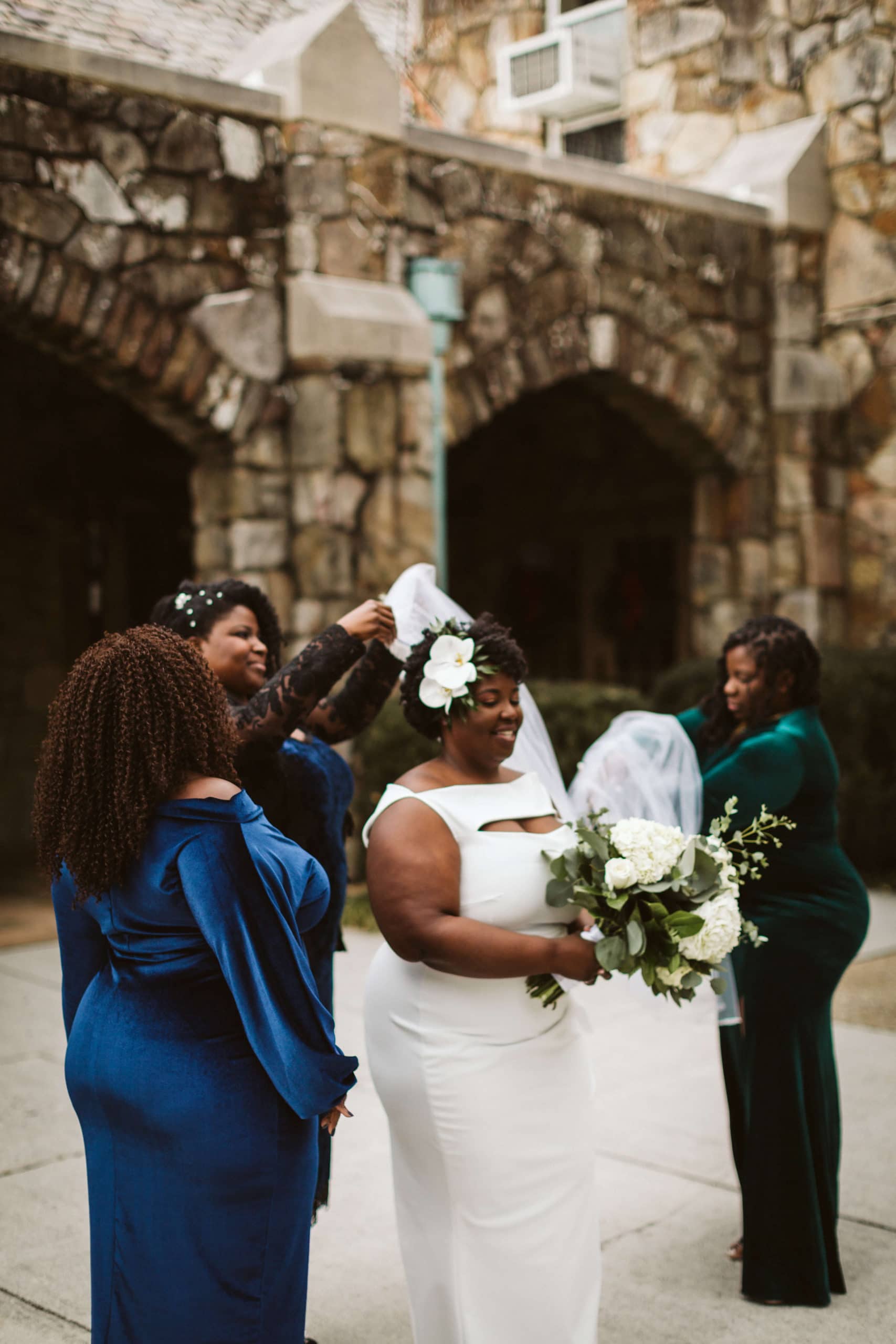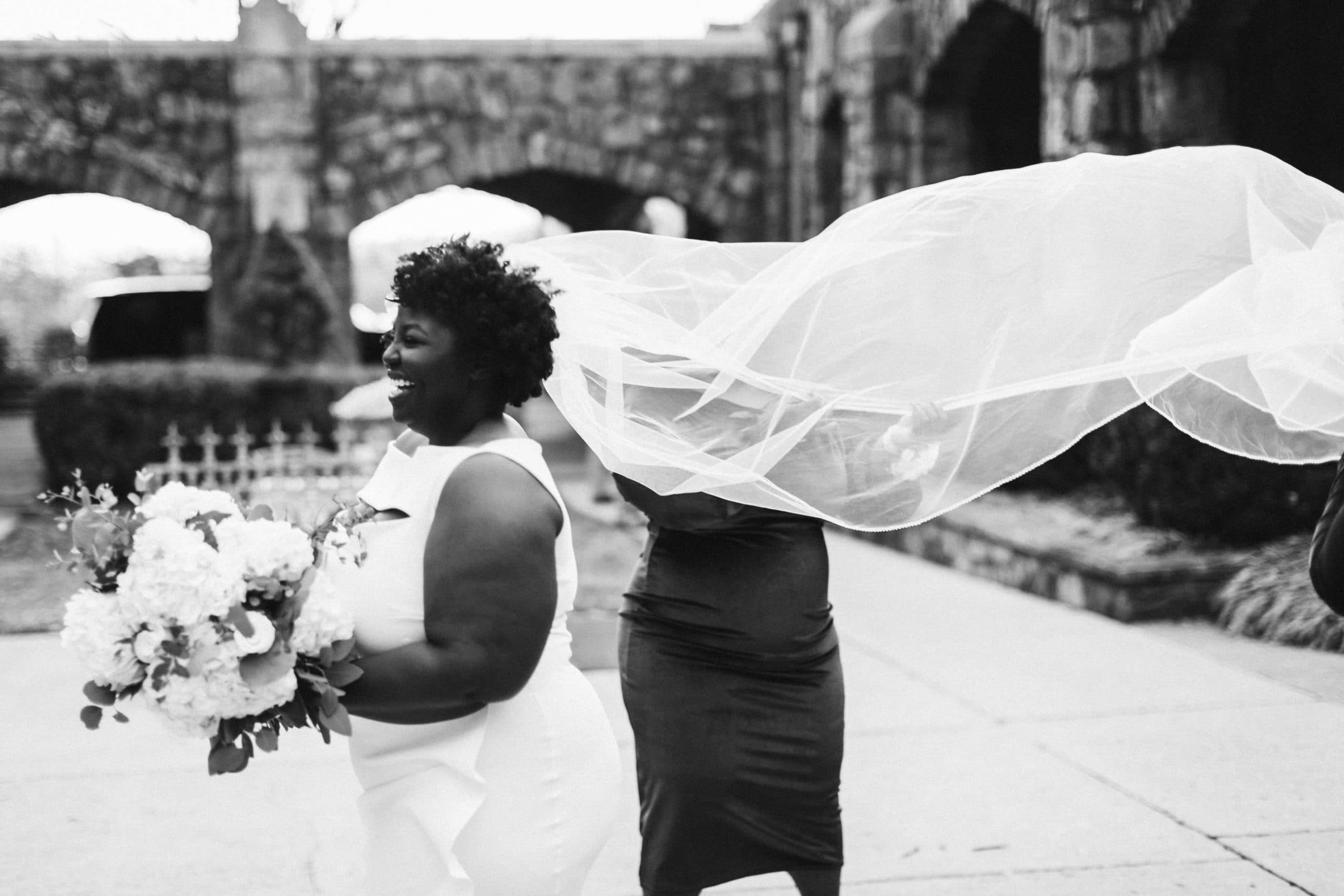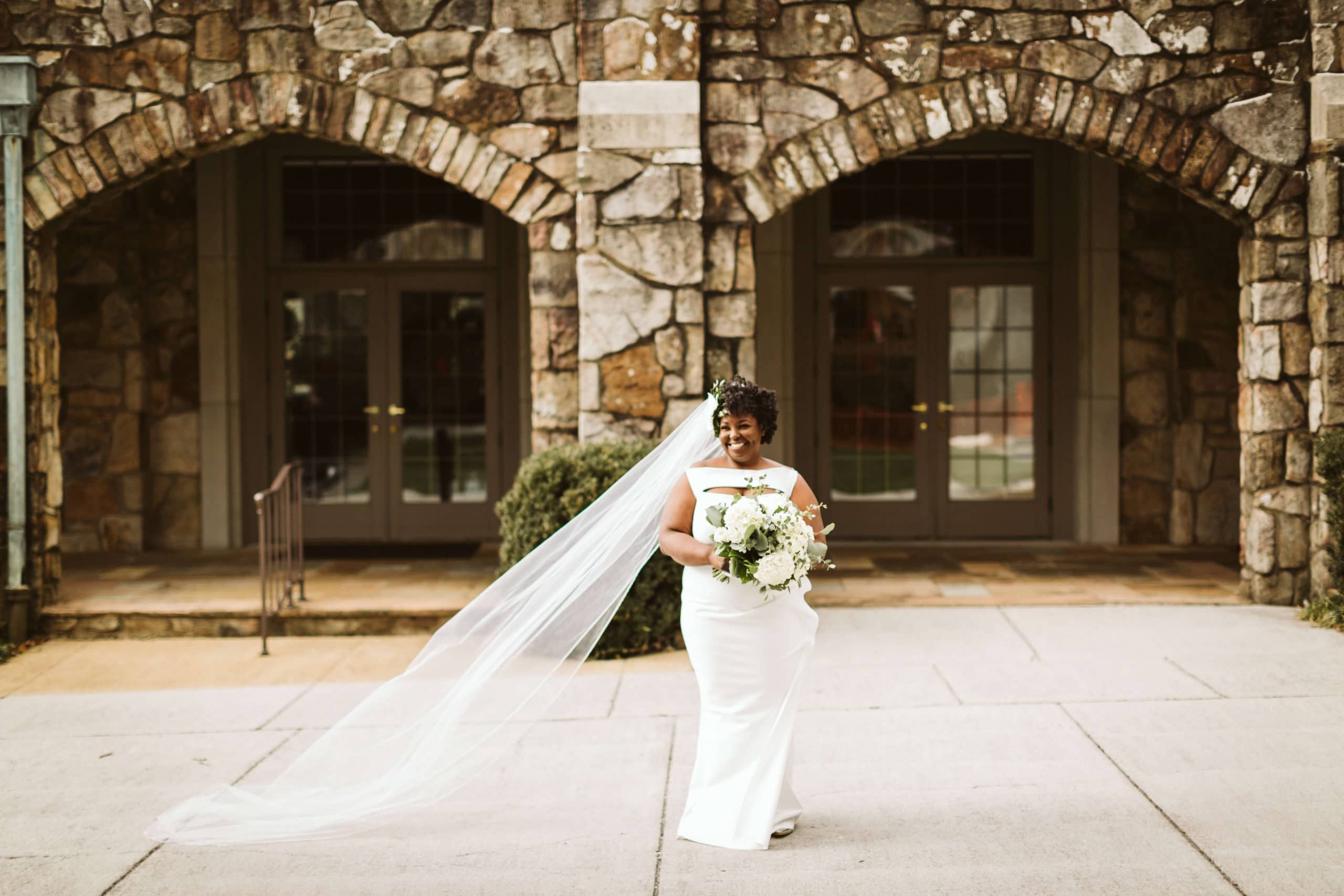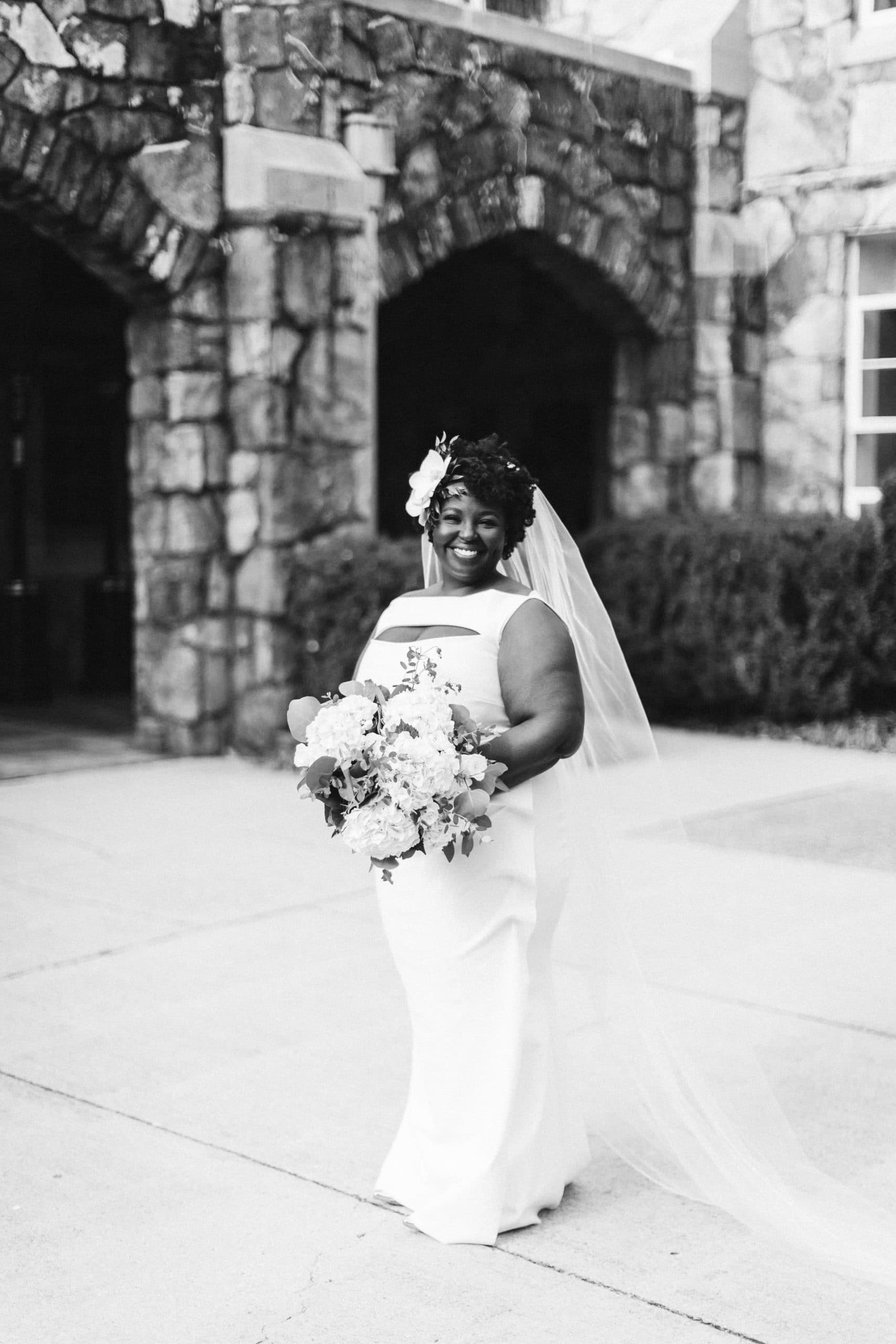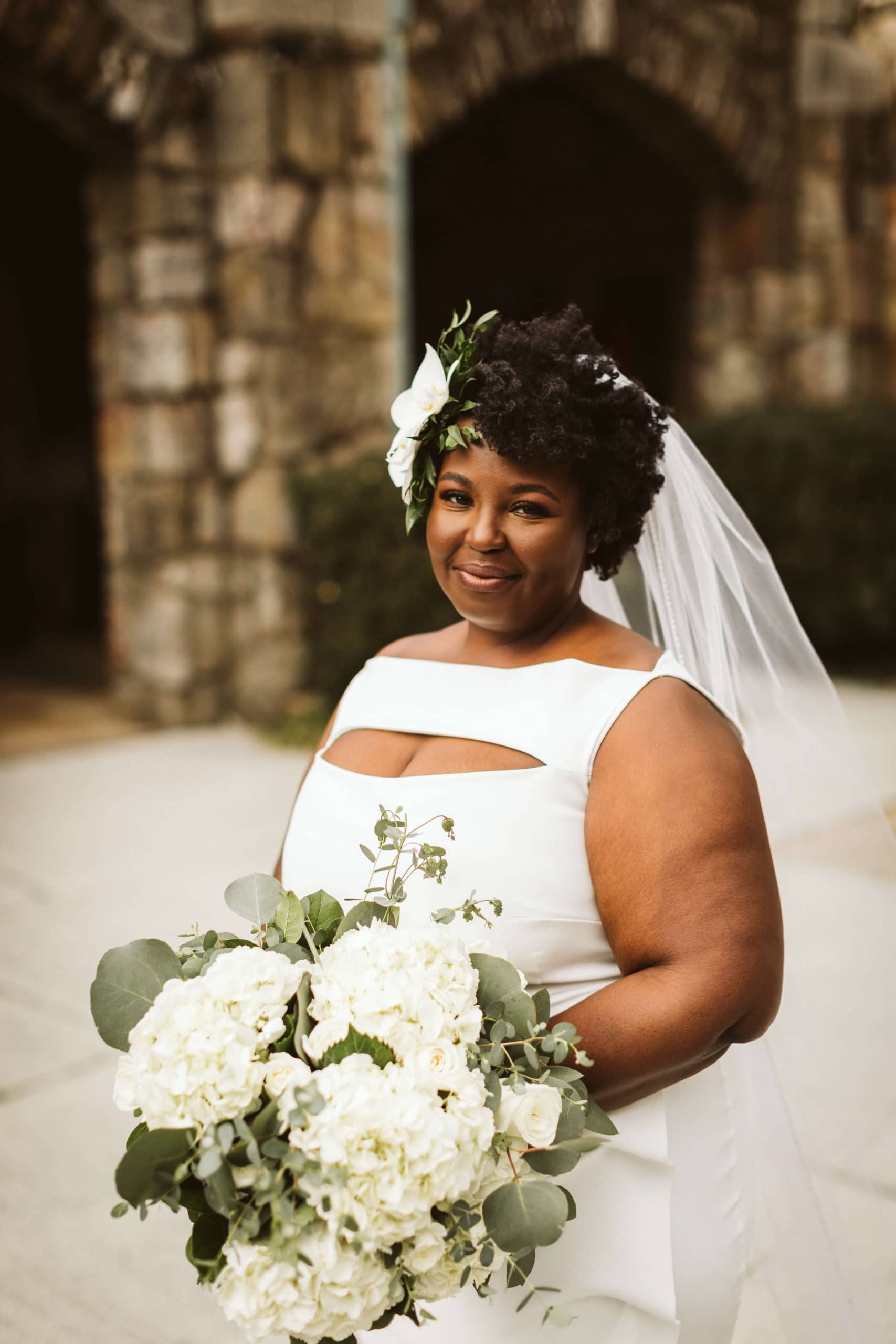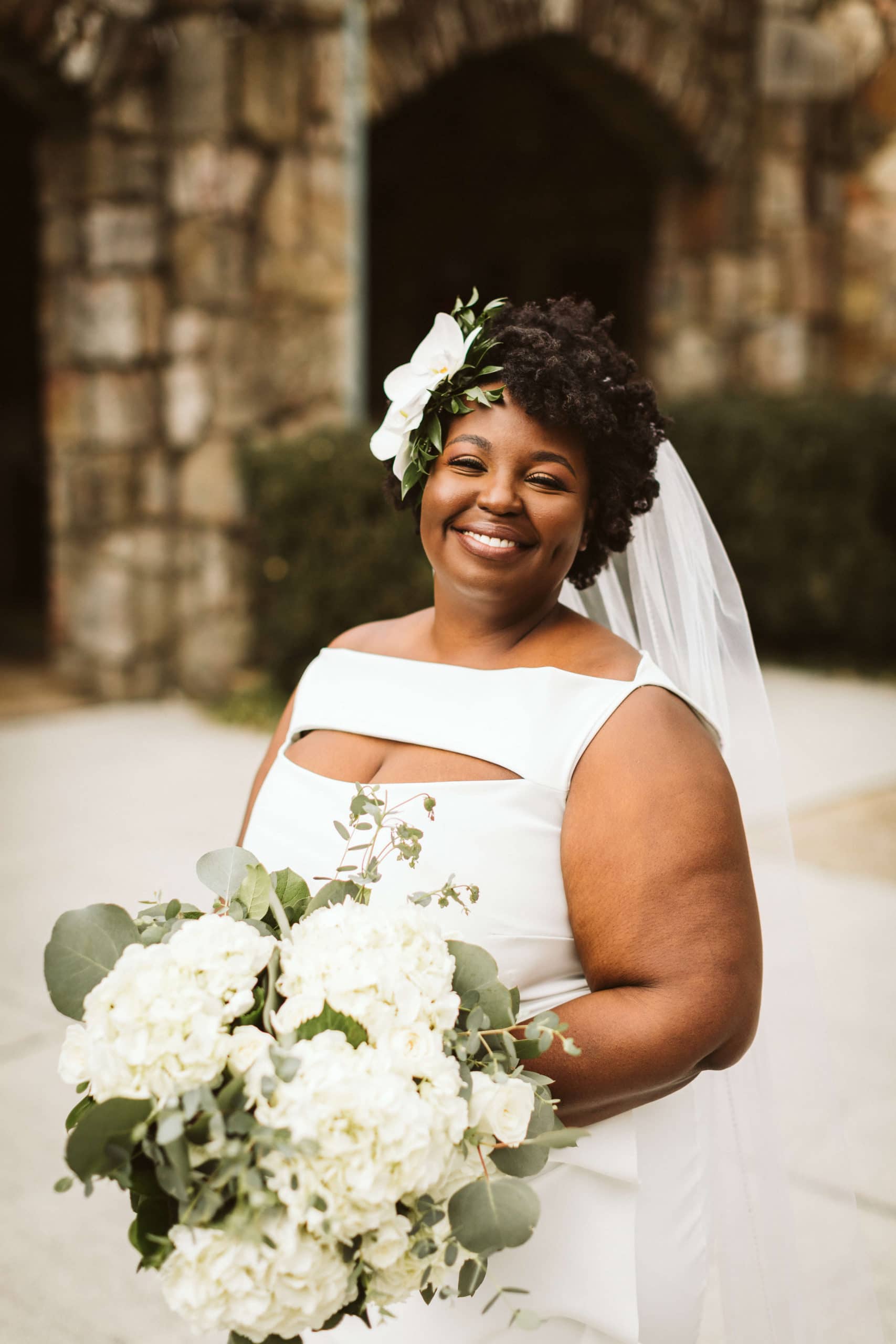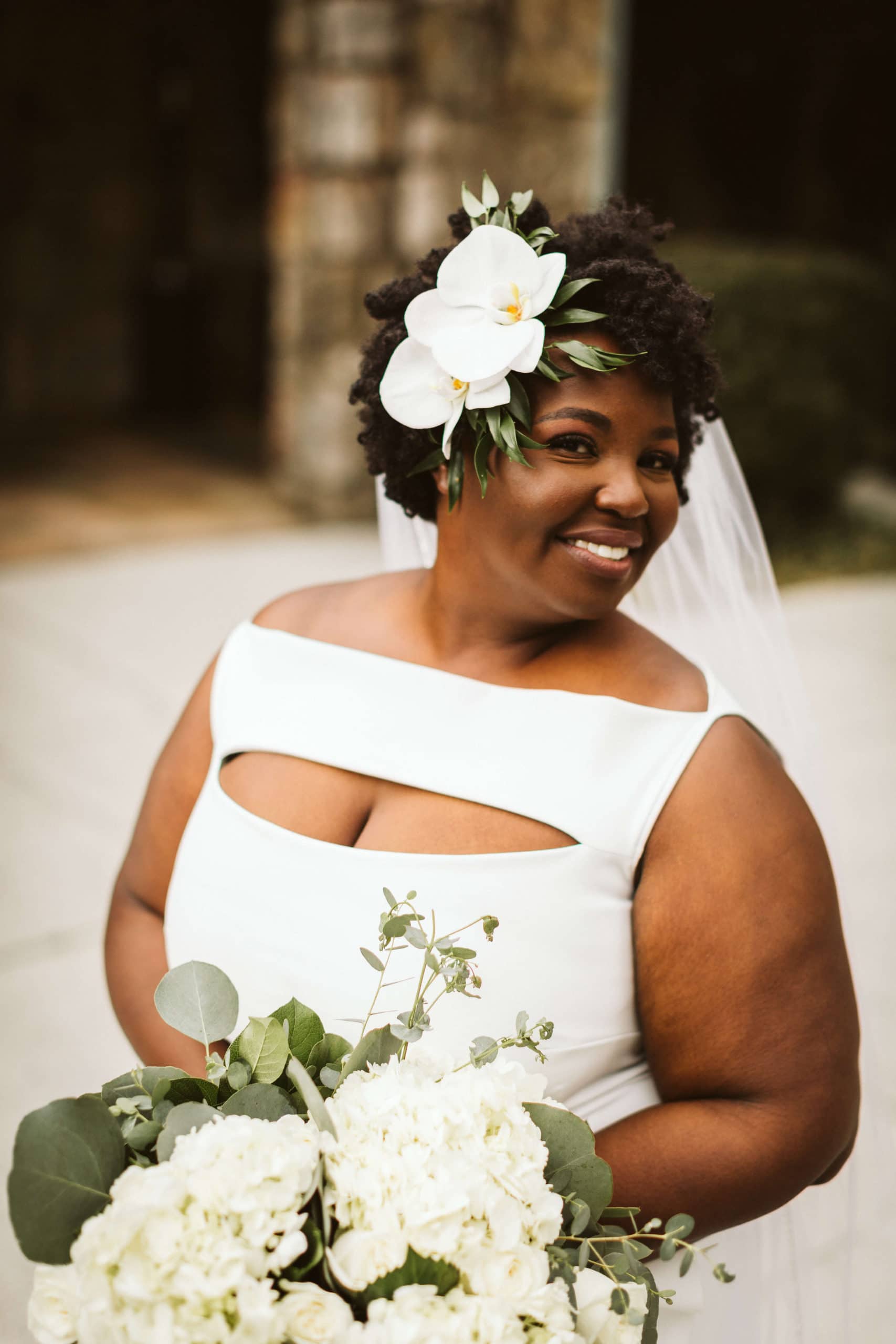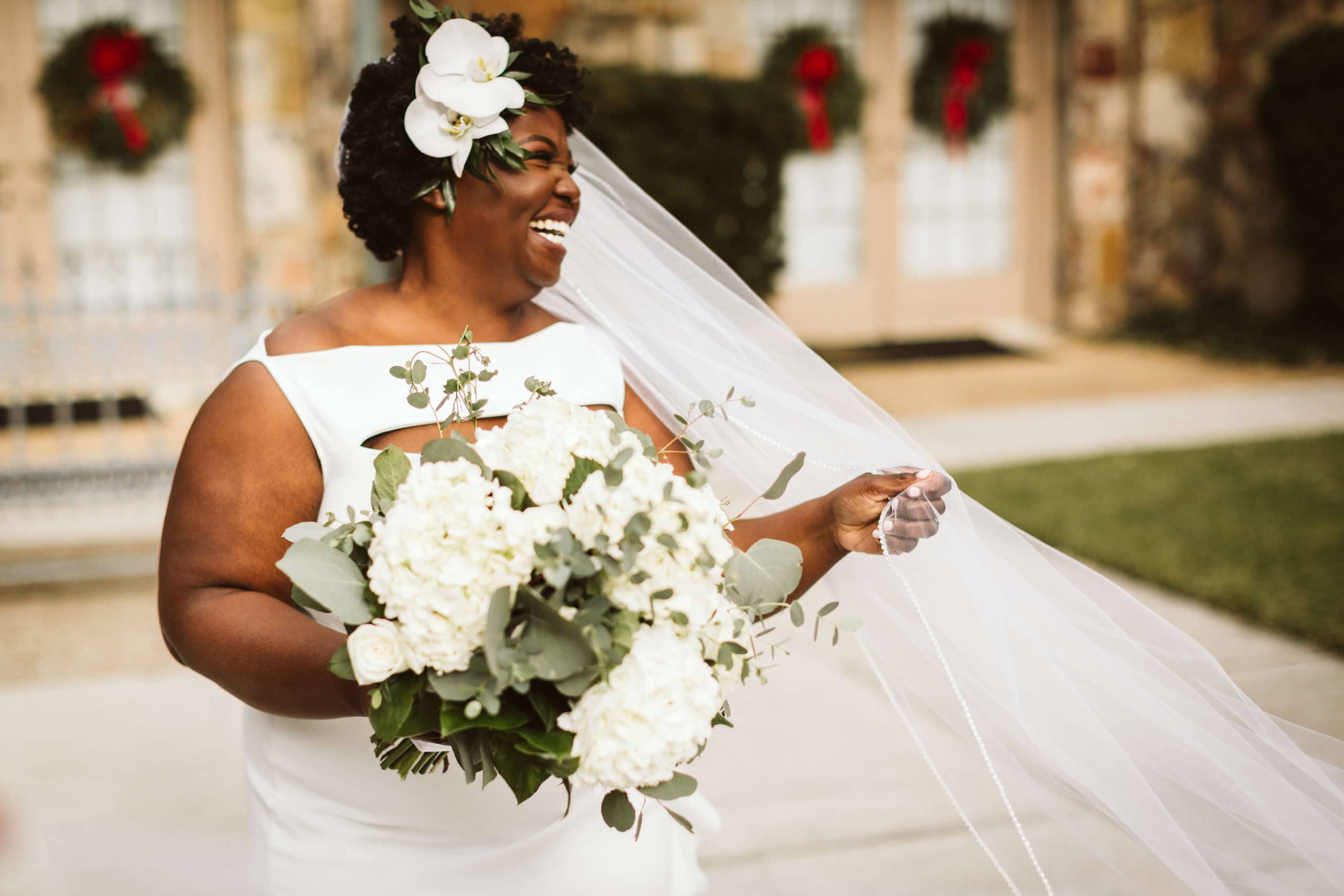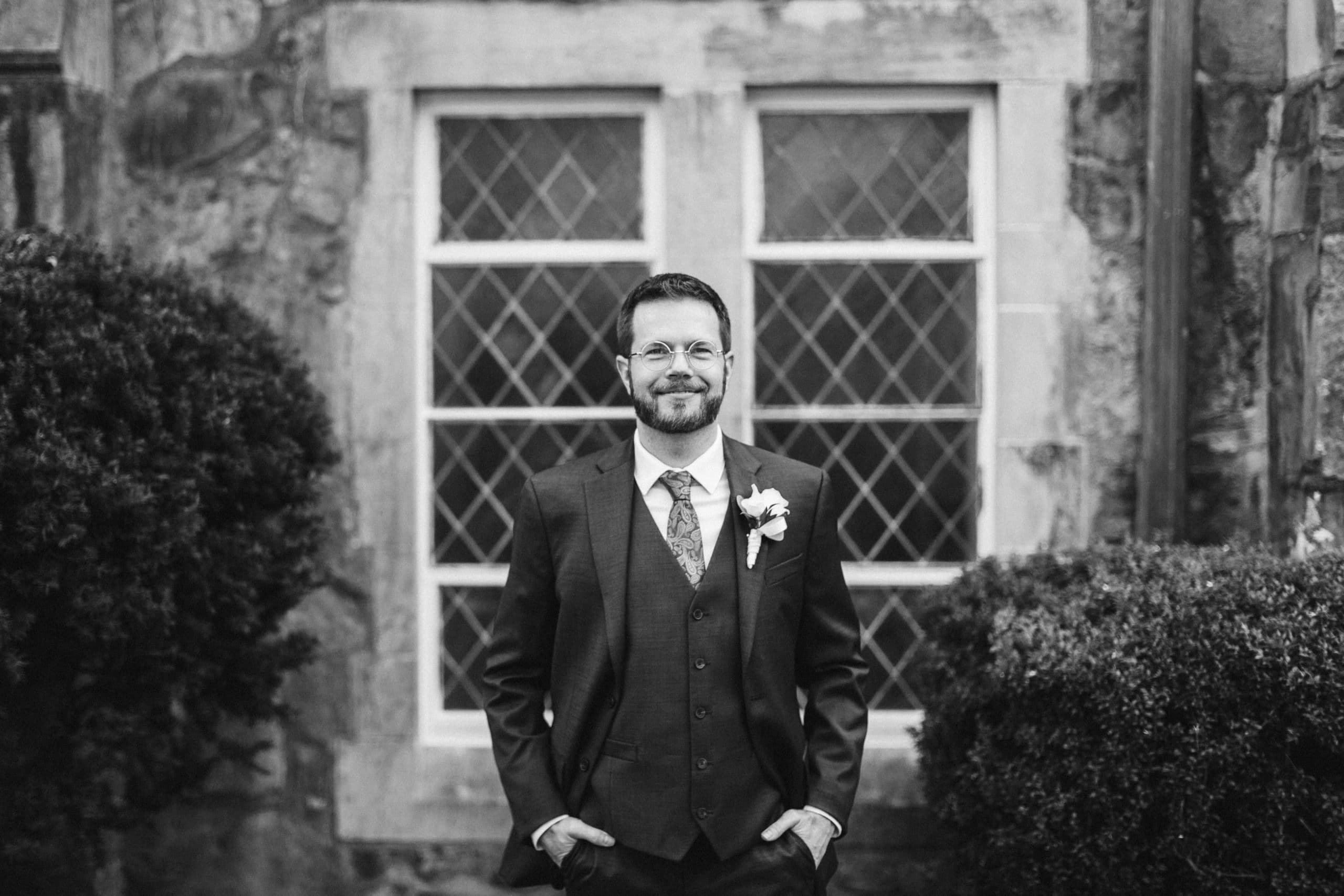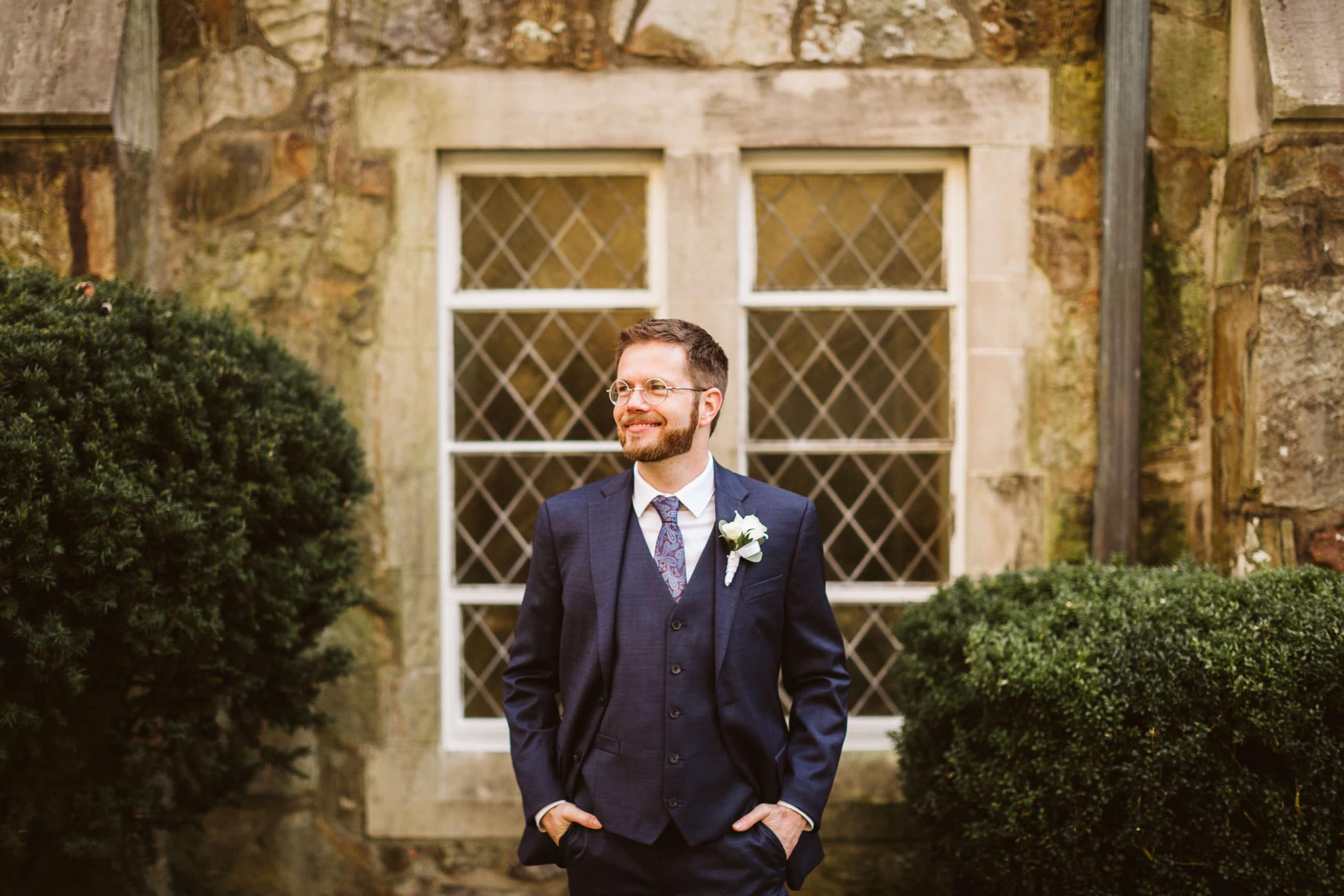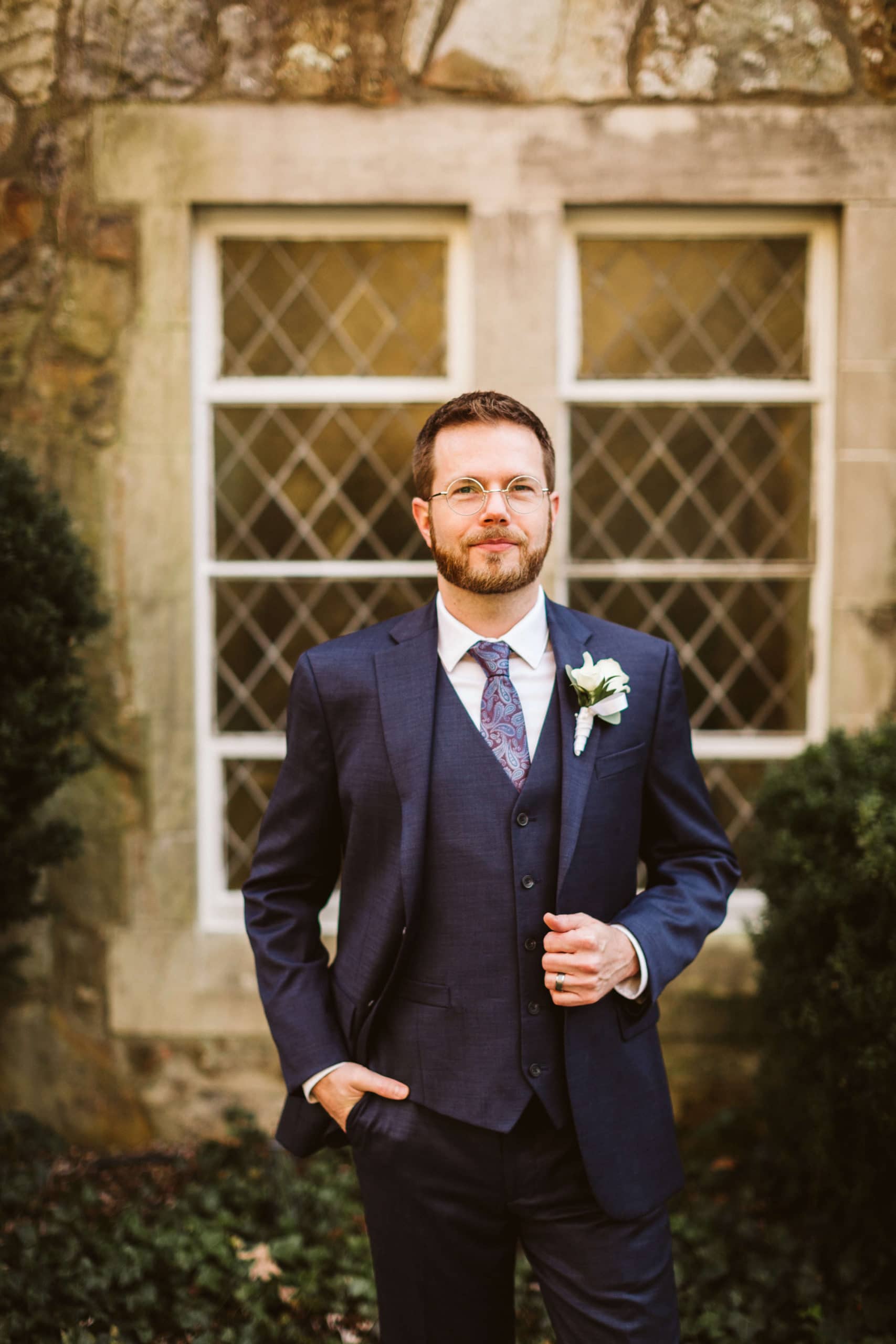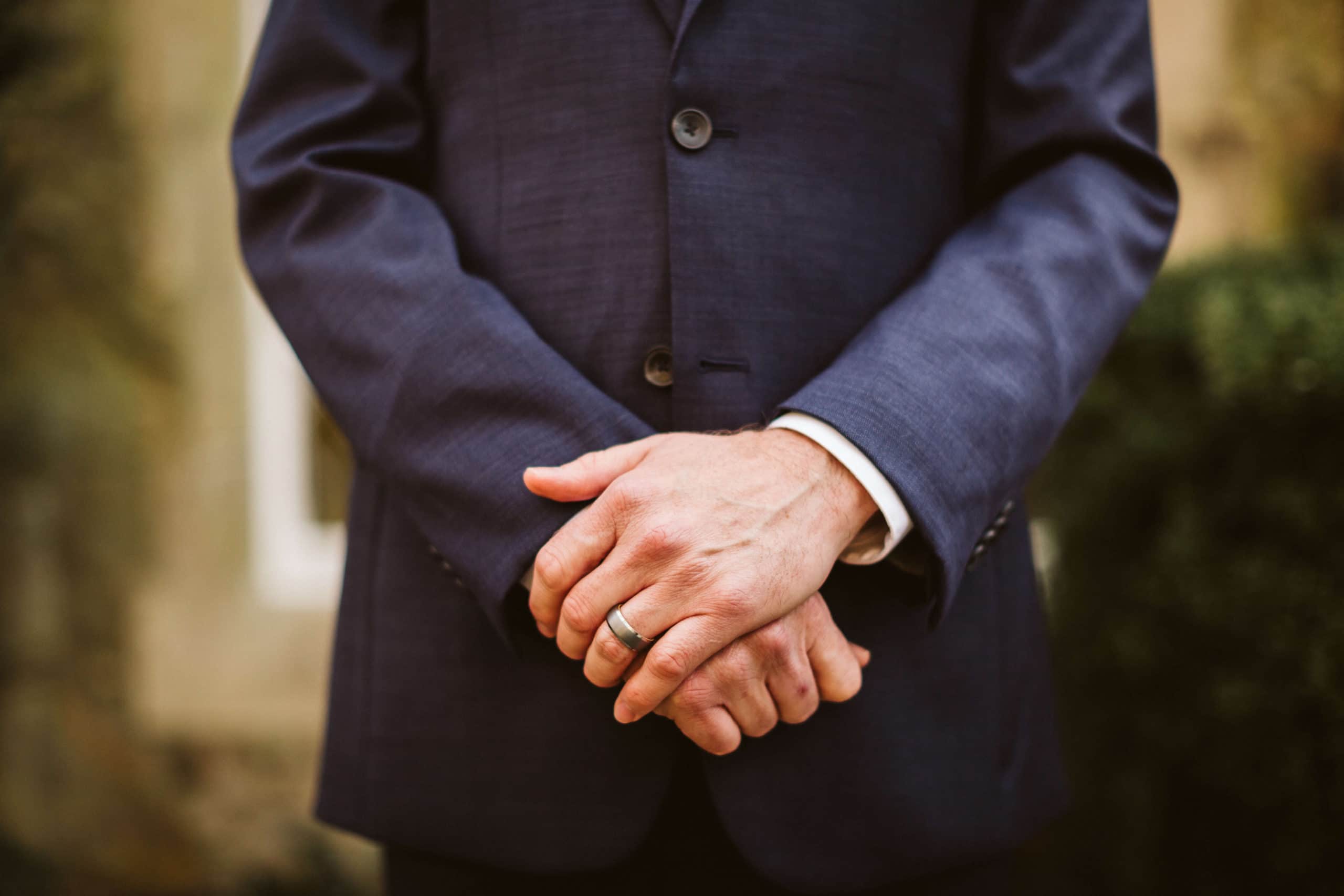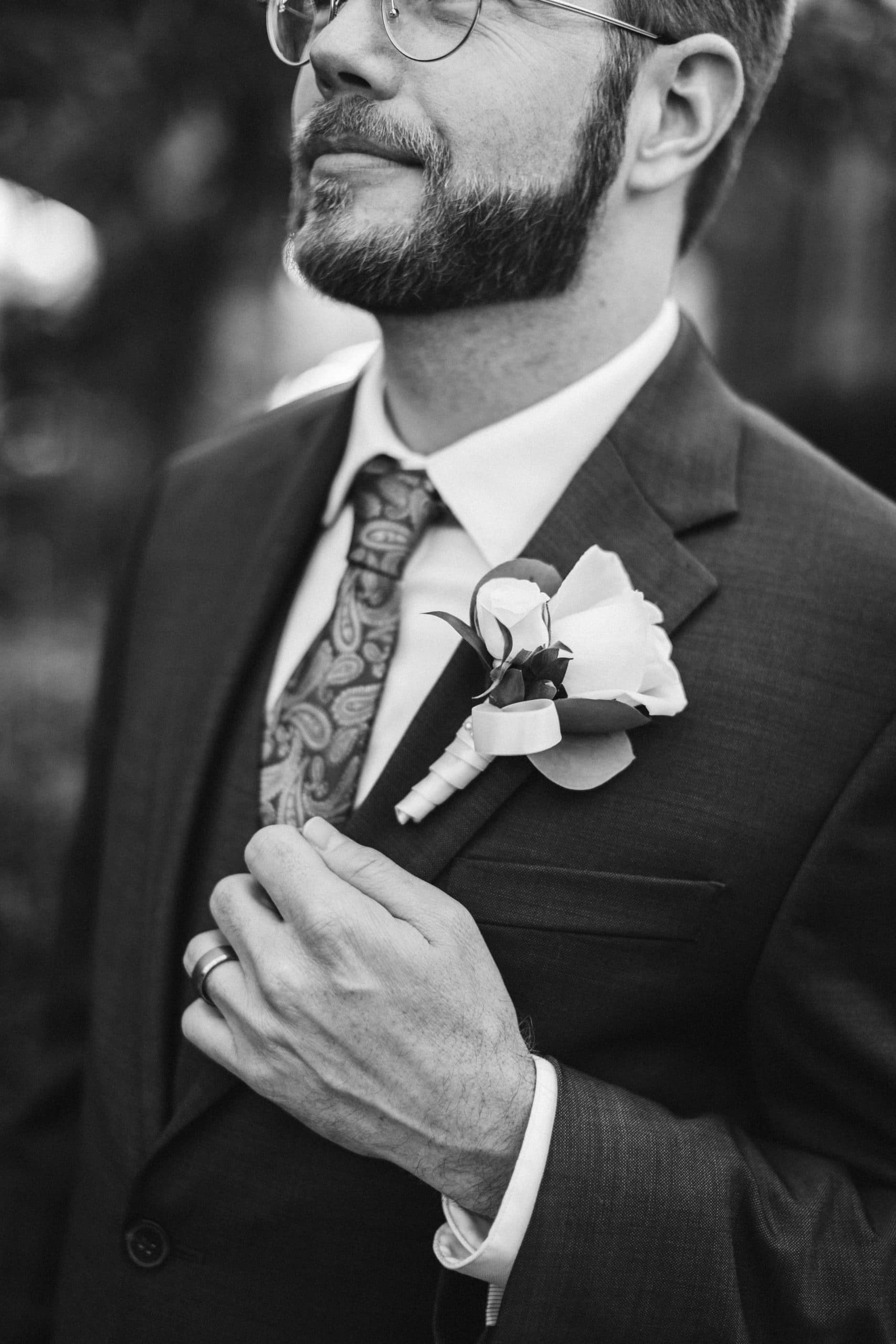 Planning a Wedding Timeline in 30 Days
When Roberta and Joshua reached out to me to photograph their wedding, we had only a month to plan it all out. One of the great things about working with a professional wedding photographer is we have gathered so much information just through shooting so many weddings that we're kind of wedding experts. I ended up helping Roberta and Joshua plan their wedding day timeline and made sure it coincided with all the features that were most important to them.
Roberta and Joshua's photography timeline began bright and early on the day of their wedding. In order to save time later in the evening, they wanted to take the majority of their portrait photos at the church. They definitely wanted to make sure their family was included as much as possible in their photos. We began with some shots of Roberta's family helping her get ready in the morning. I especially love the sweet moments of Roberta's mother adjusting the flowers in her hair. It's such a simple gesture but it's so tender and loving. I was so glad to have been able to capture that on camera.
Afterwards, we moved on to separate portrait shots of the bride and groom where the exterior of Lookout Mountain Presbyterian Church provided a striking backdrop. Bridal portraits were taken in the church's stunning courtyard surrounded by stone archways. Roberta's sisters helped keep the energy fun and playful as they helped her put on her veil and served as my official veil billow-ers for the perfect veil-in-the-wind shots.
When it finally came time for their first look, I stationed Joshua at the end of one of the many stone alcoves on the church grounds. You could see the look of anticipation on his face as he waited for Roberta's hand to softly tap his shoulder. When he finally turned, Joshua caught his breath as he saw Roberta for the first time in her dress and gentle tears streamed down Roberta's cheeks at the sight of her soon-to-be husband.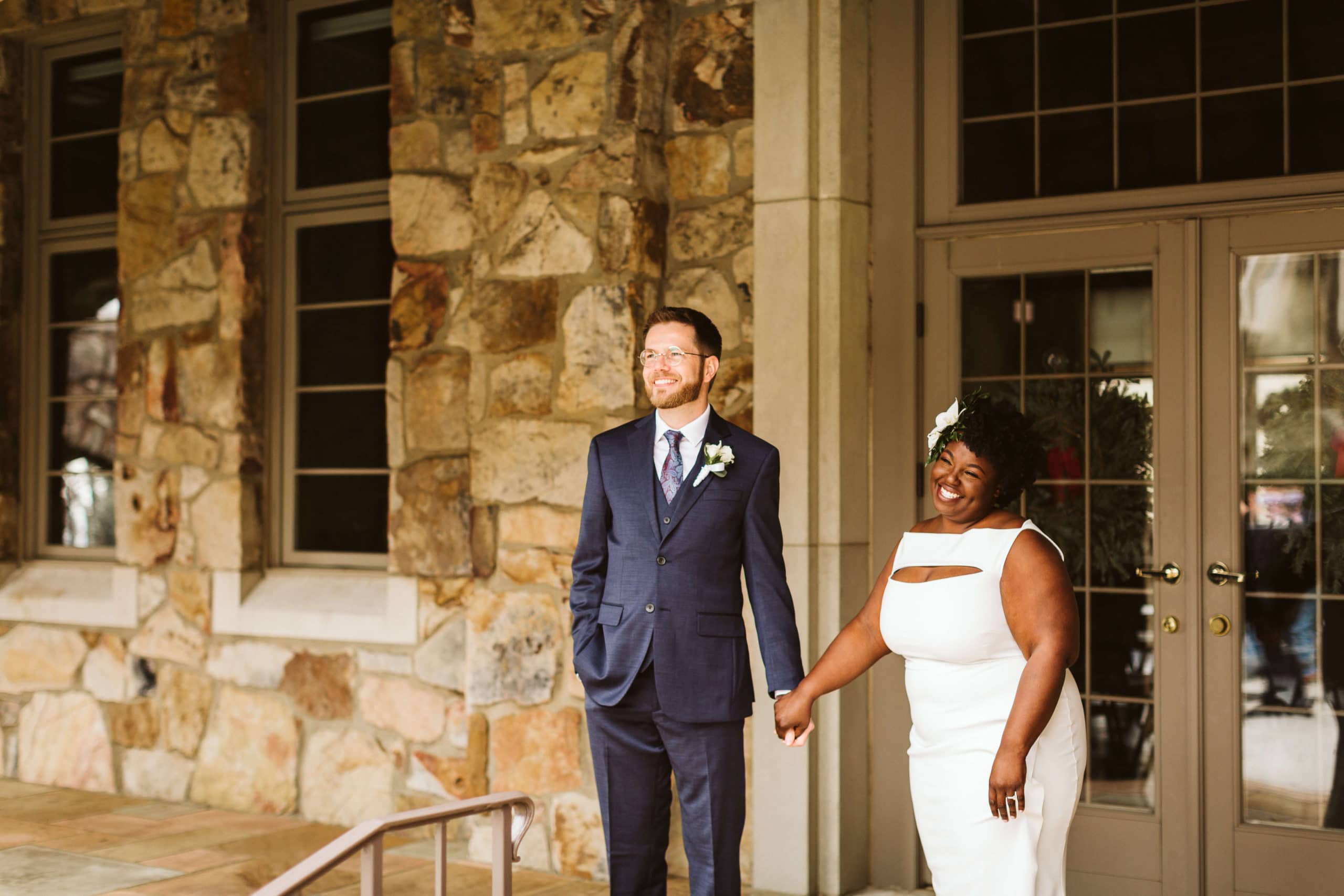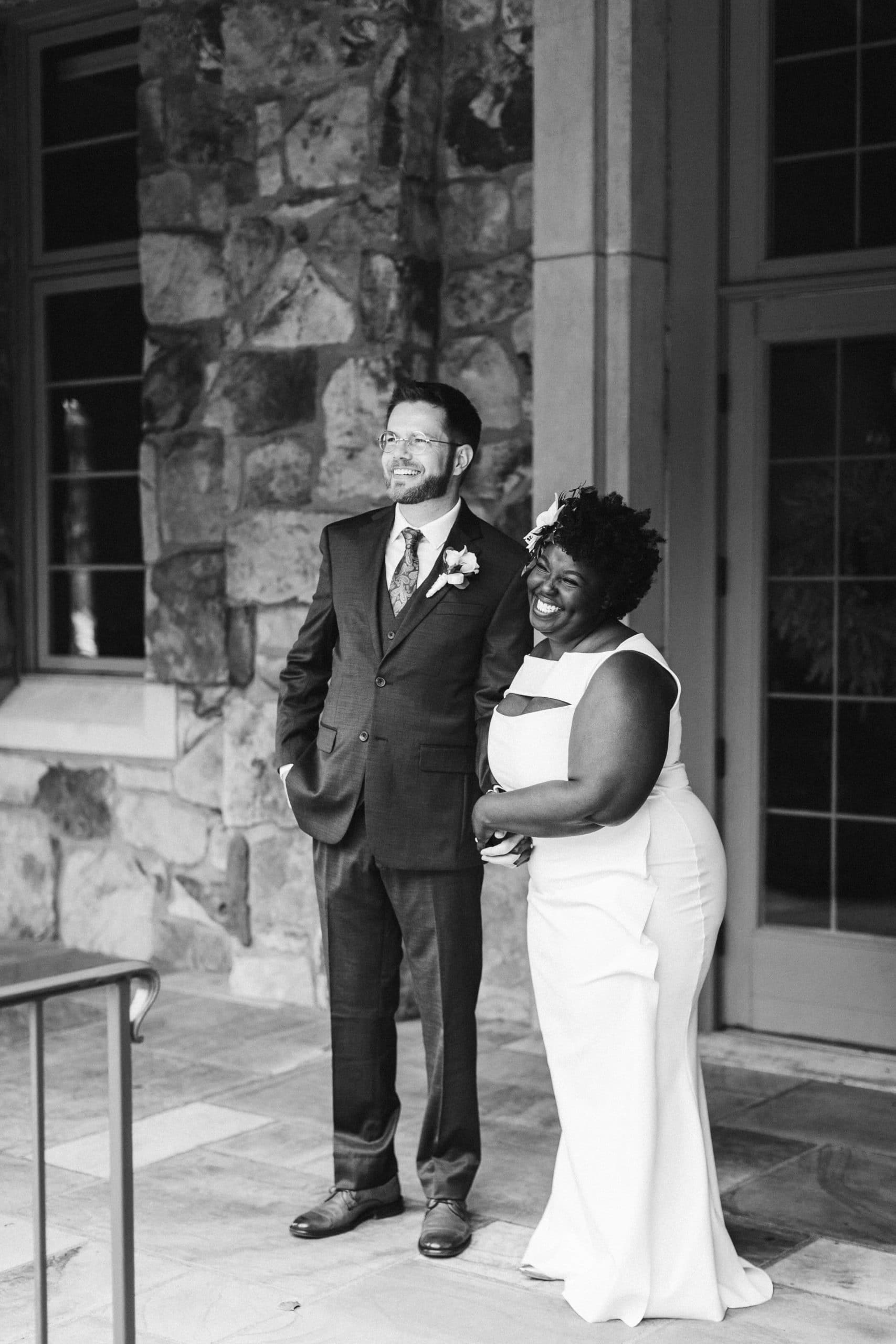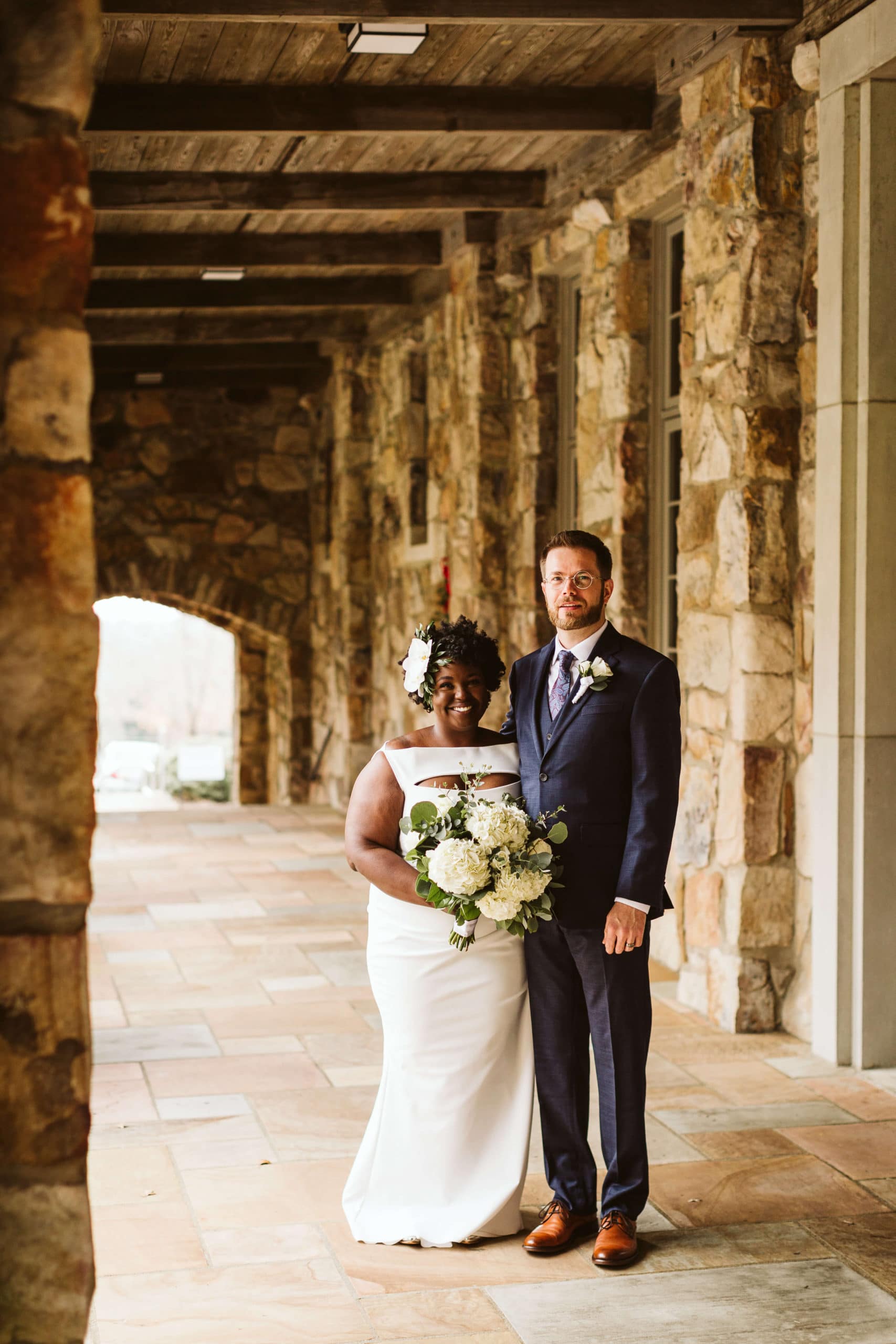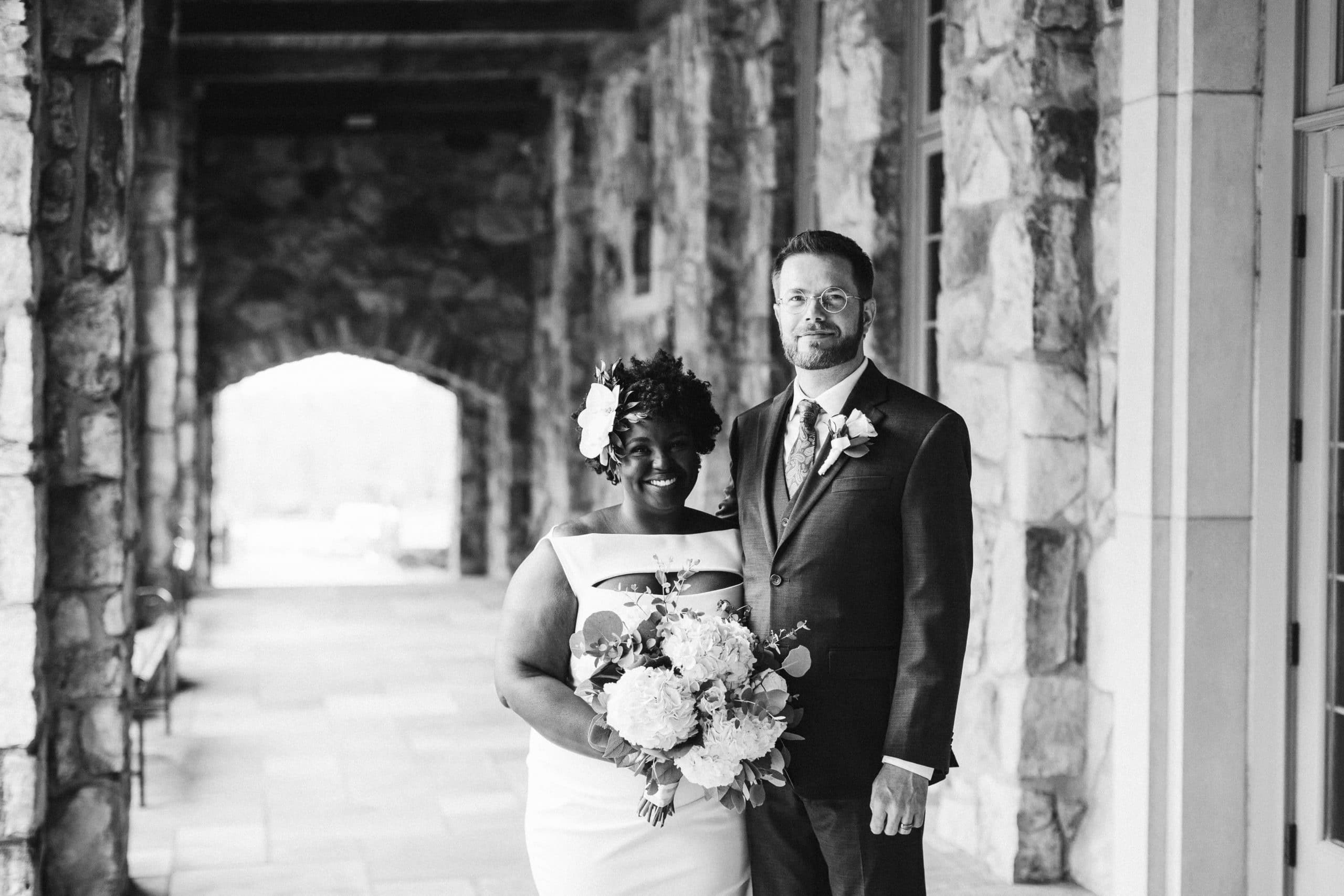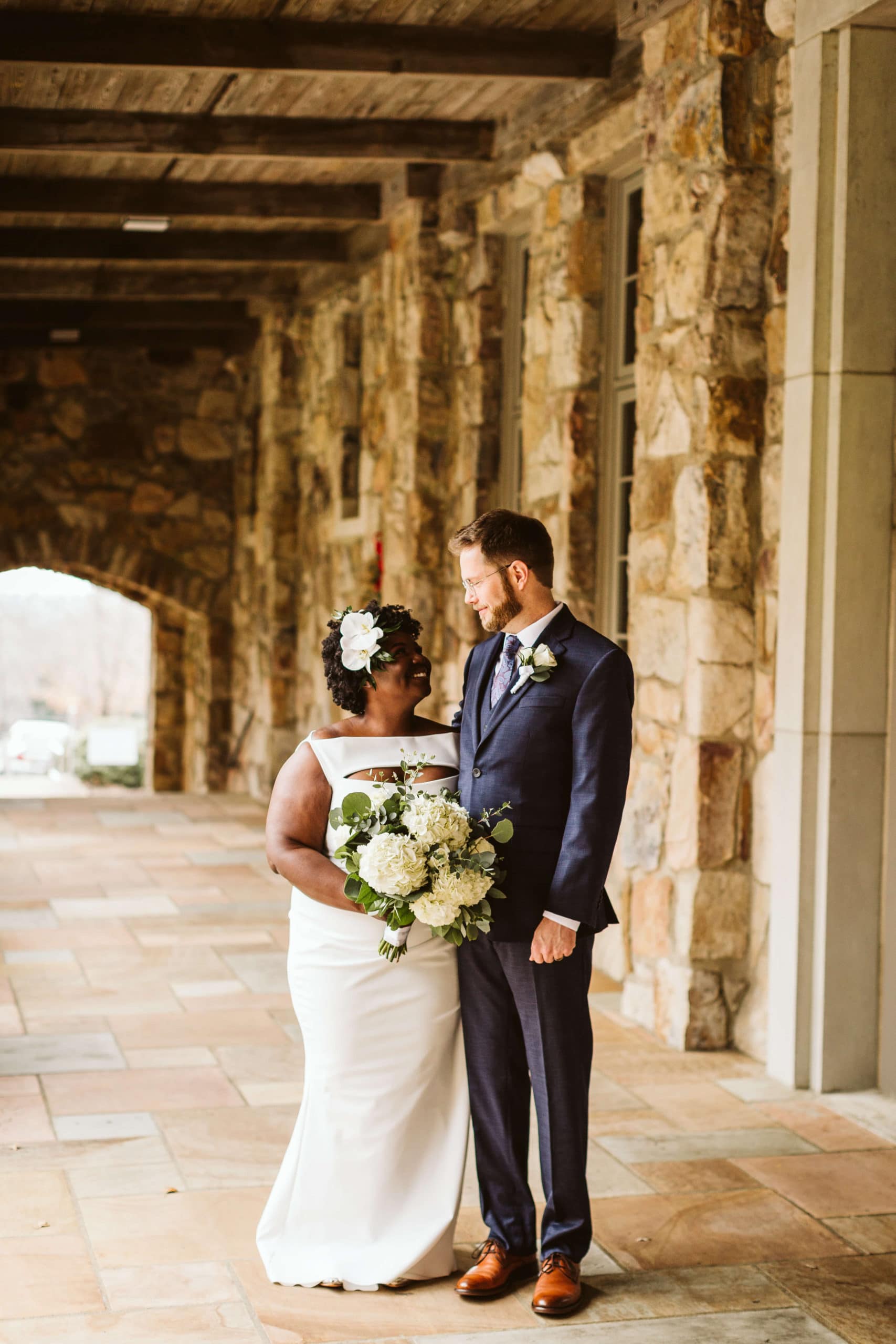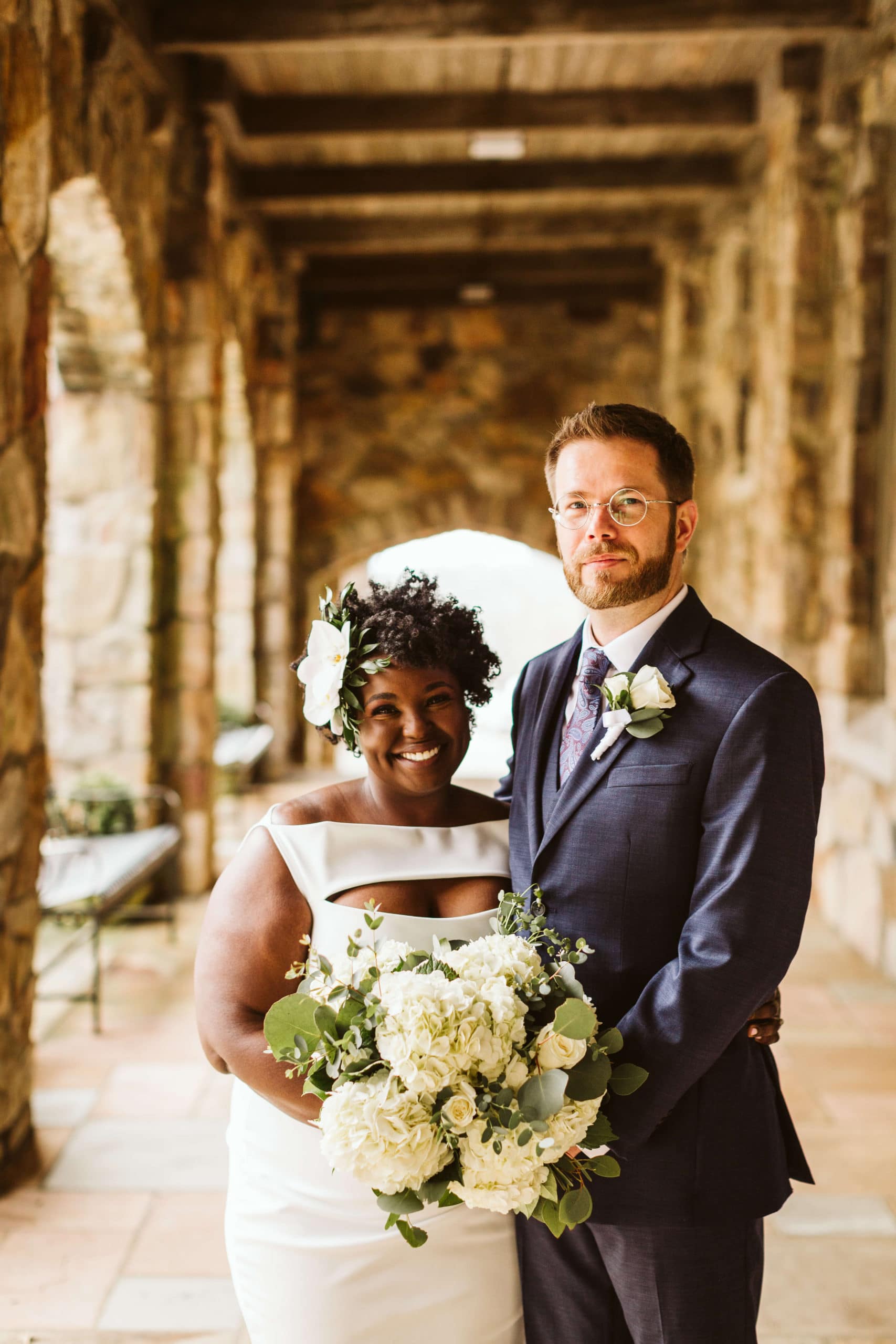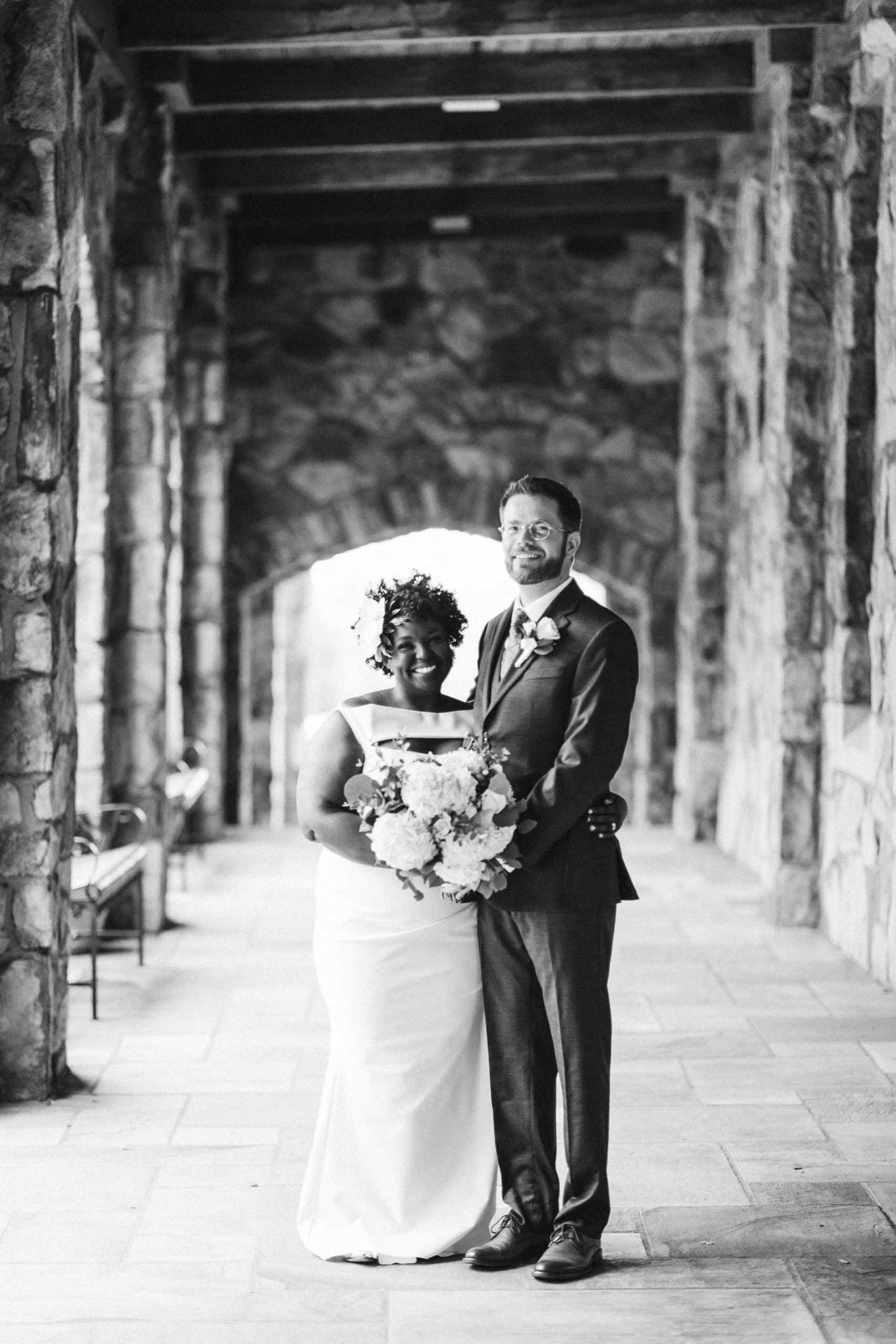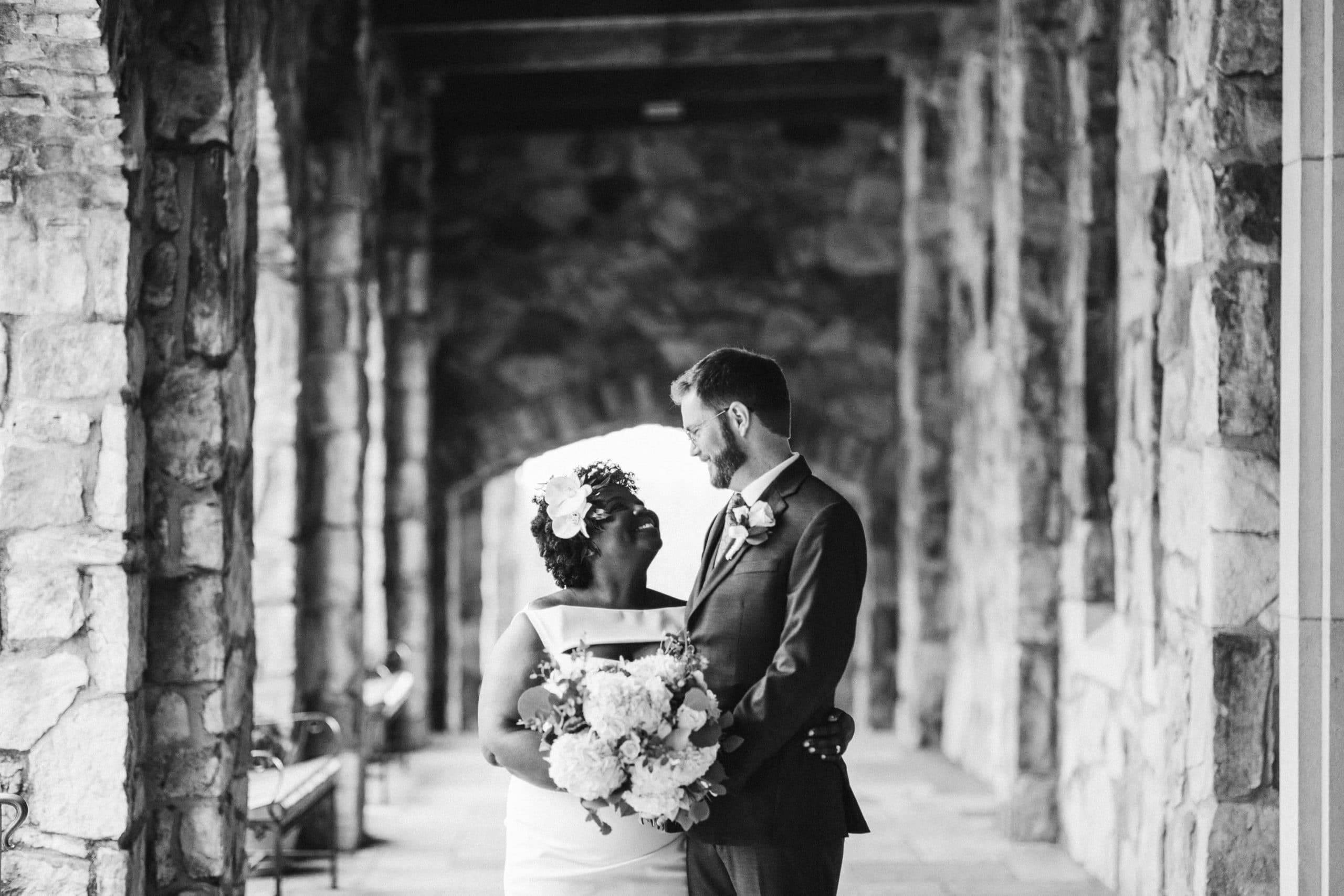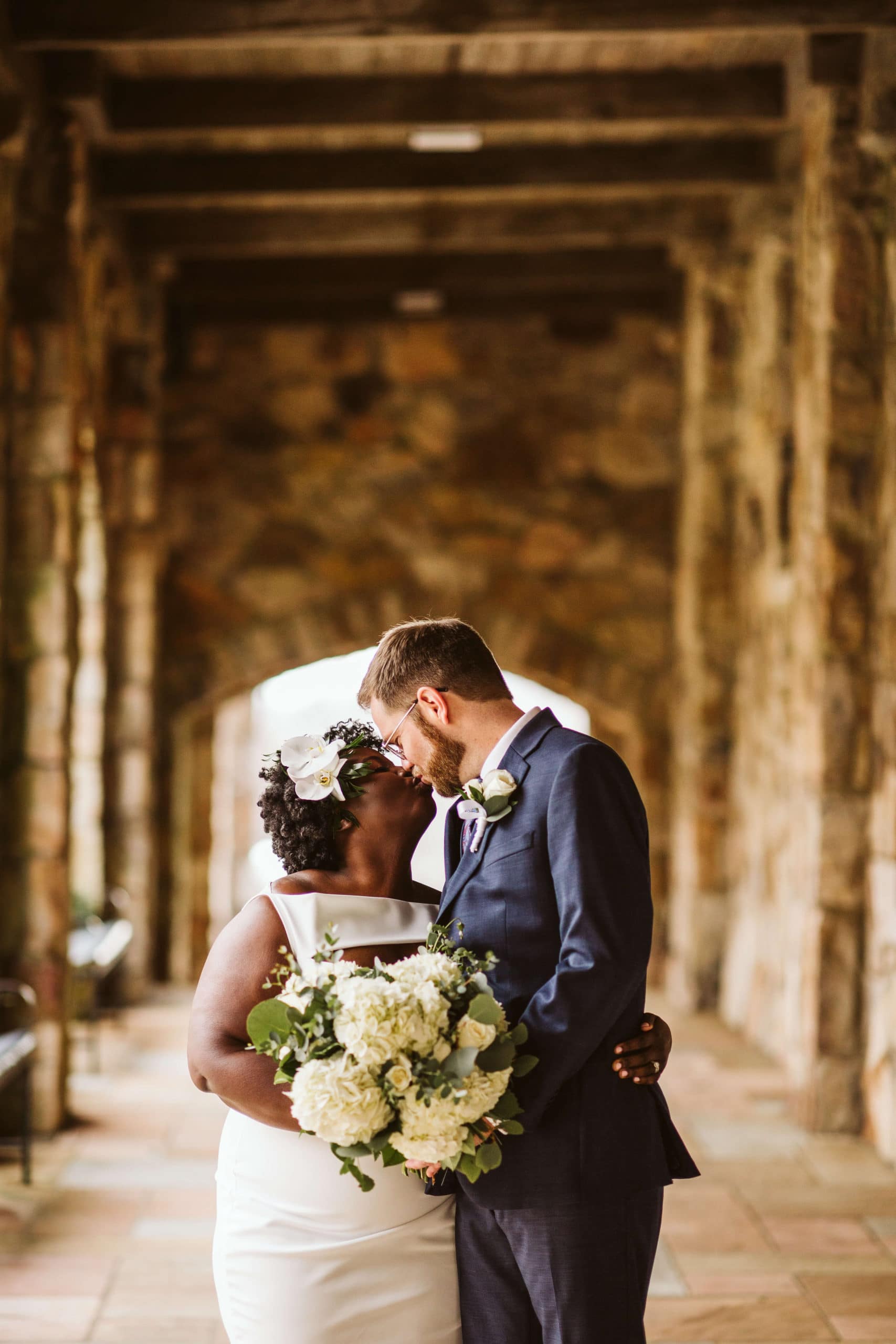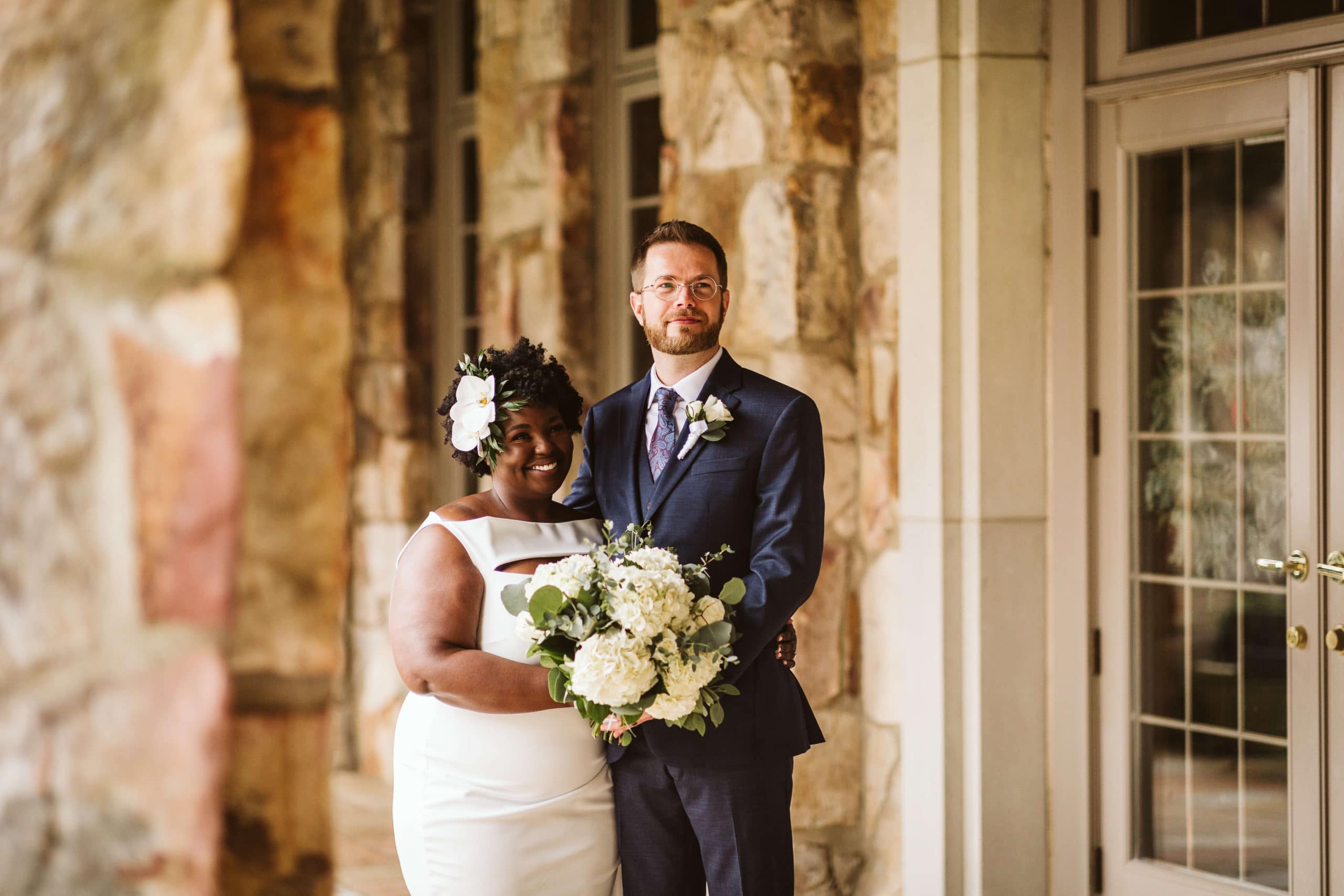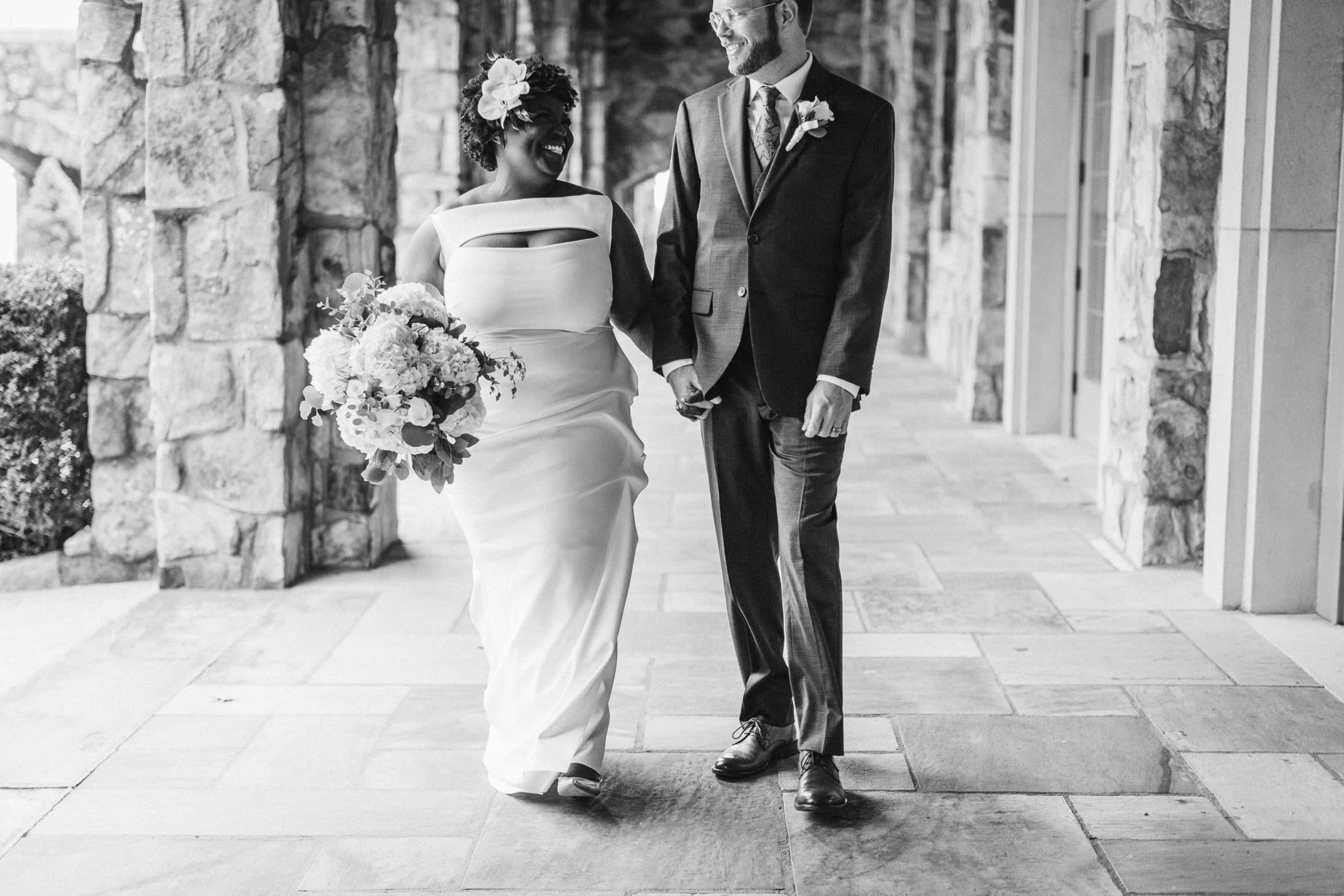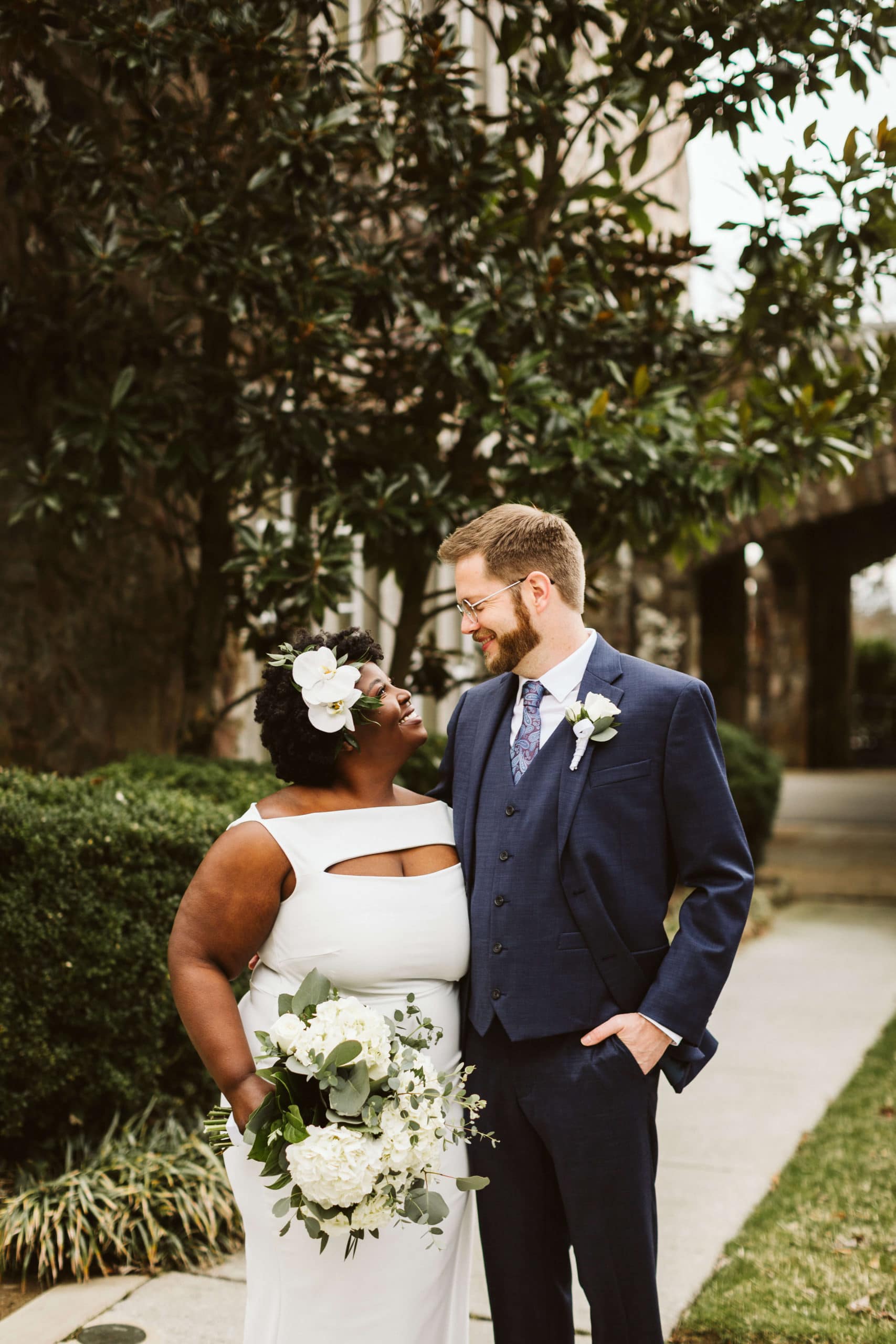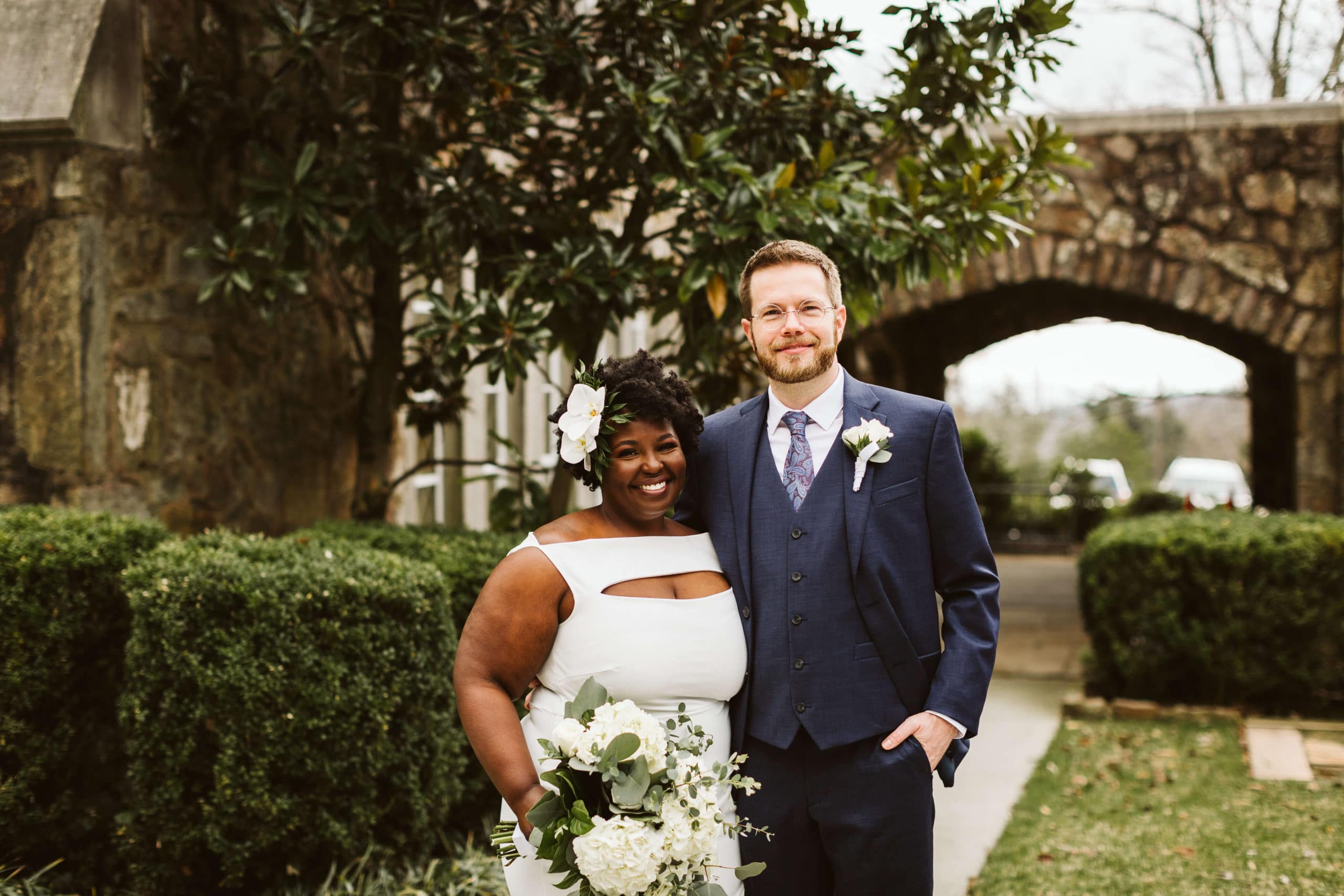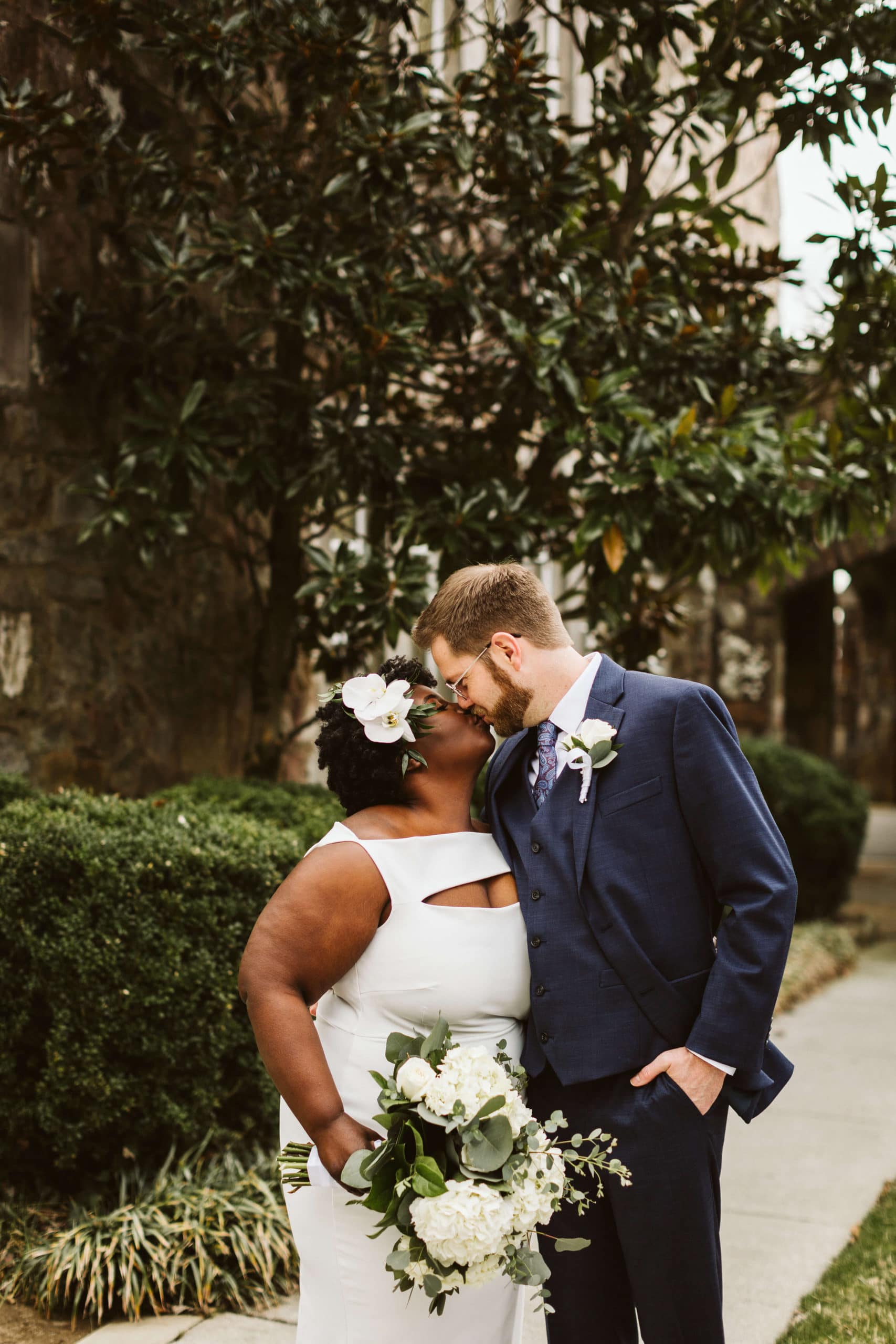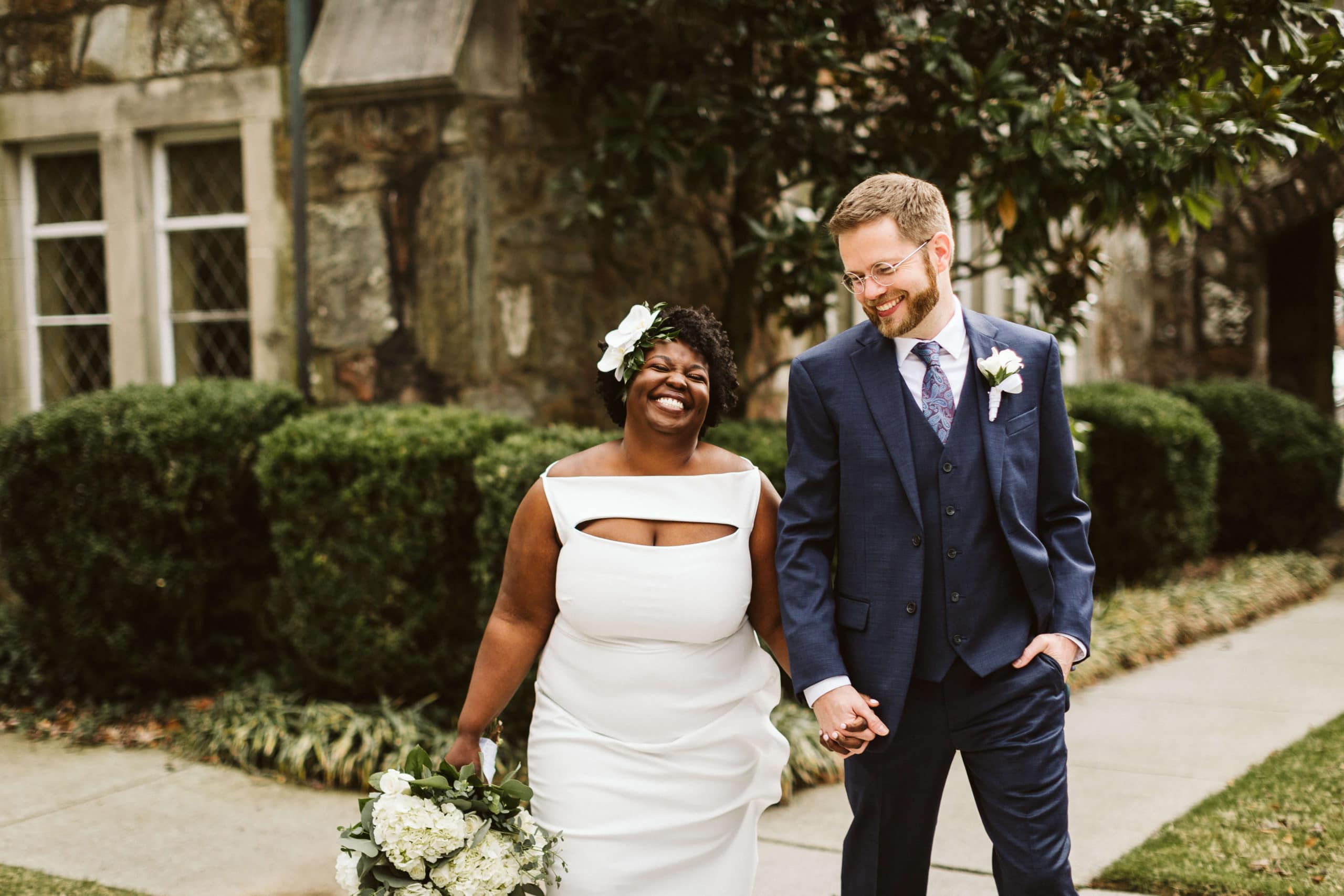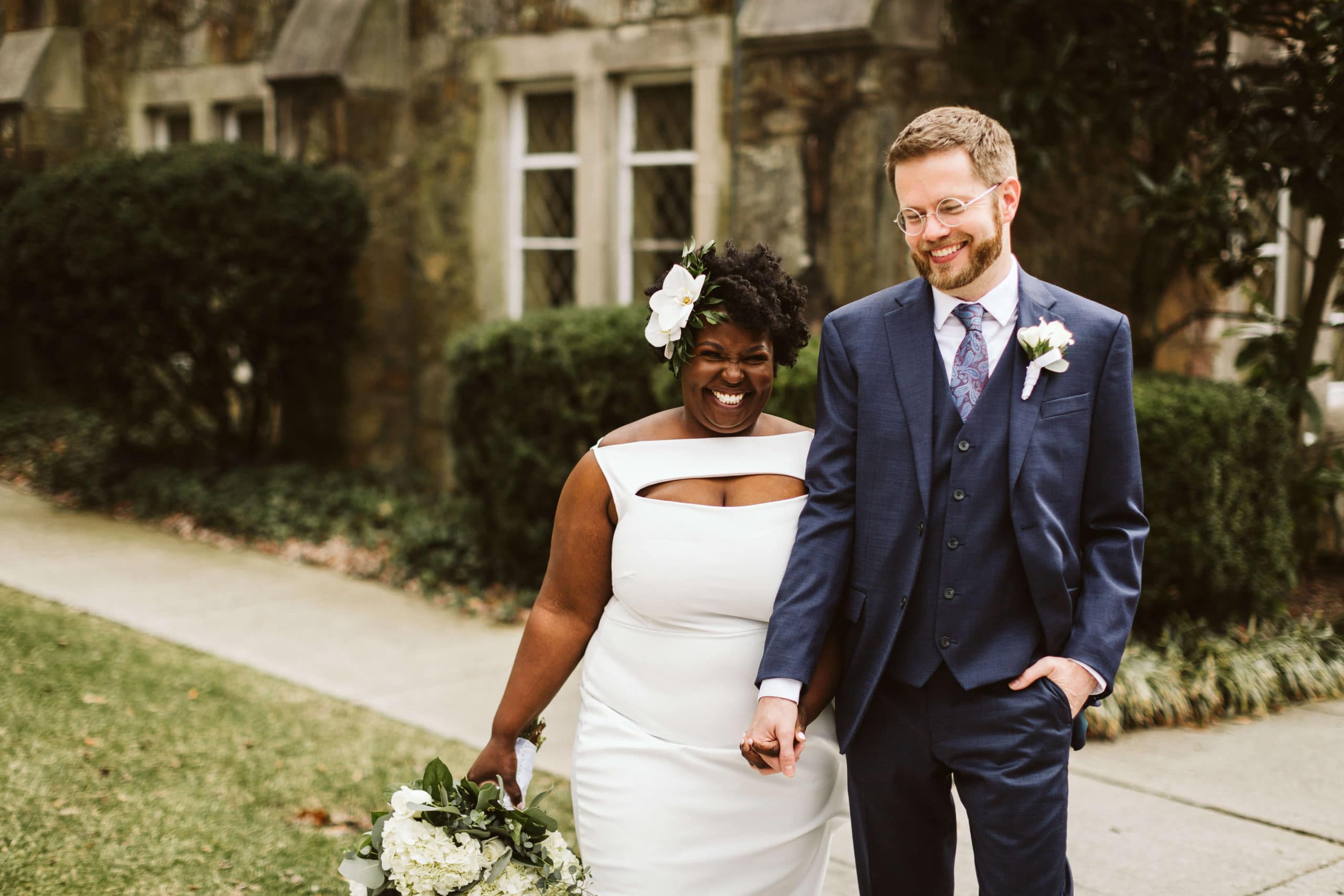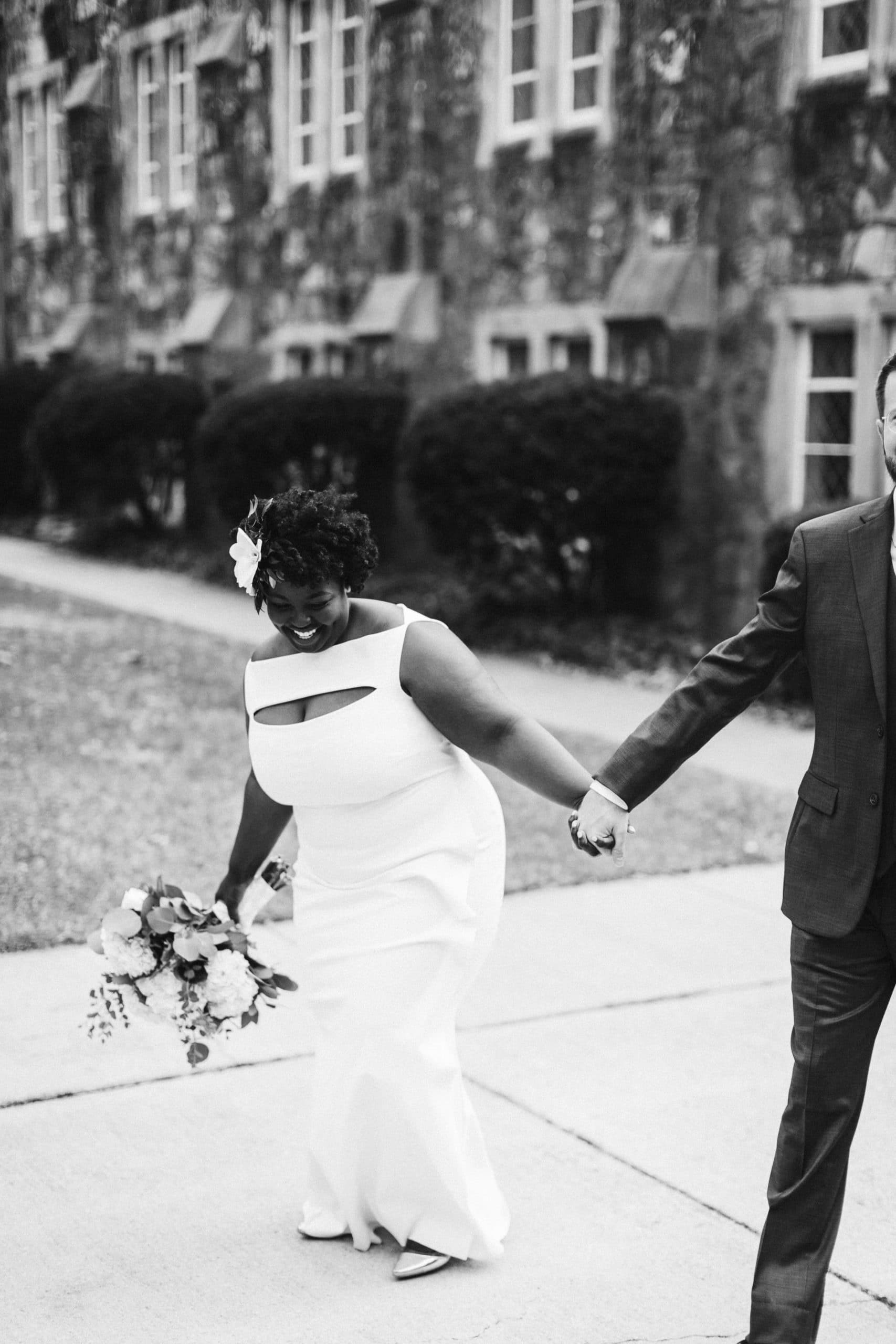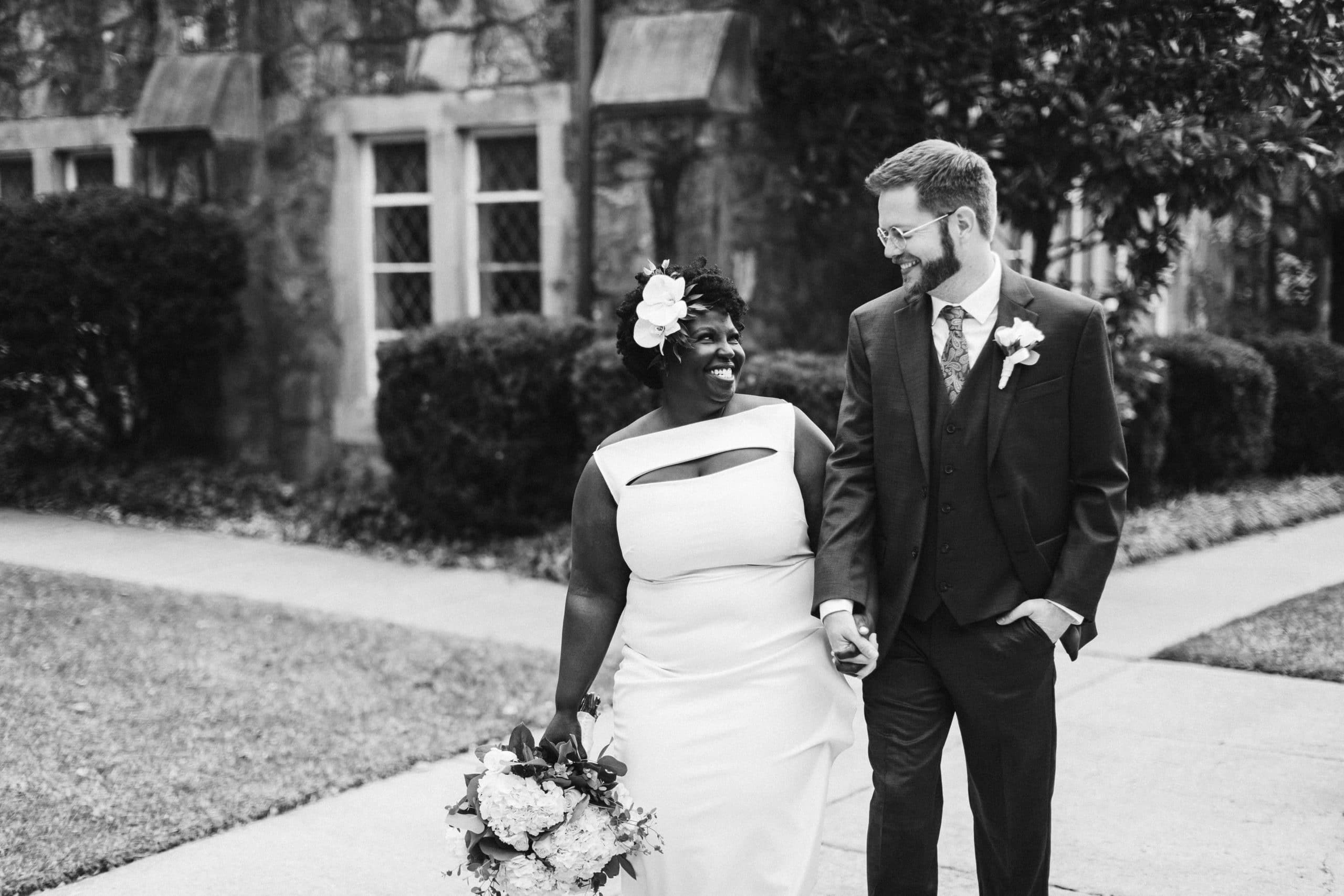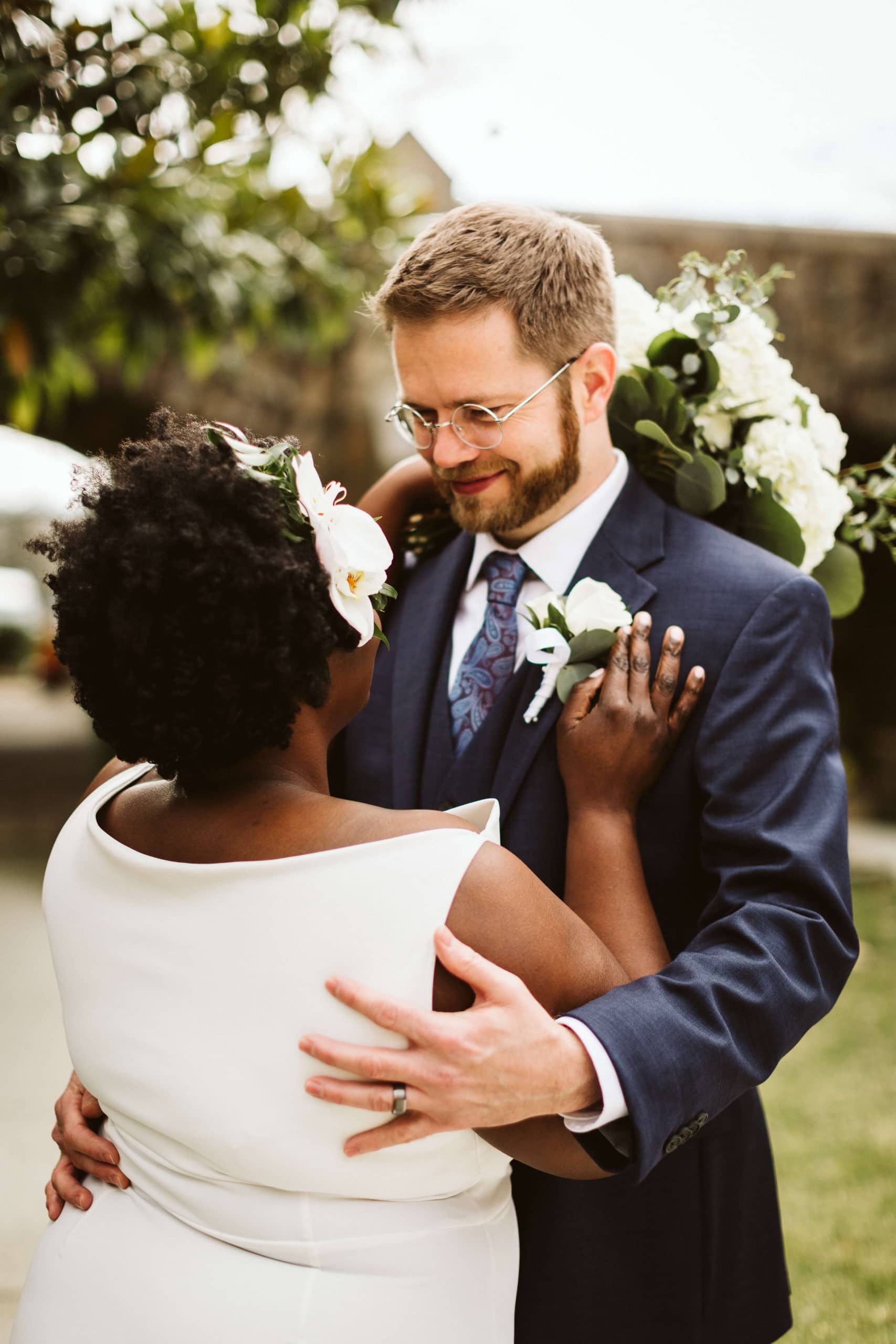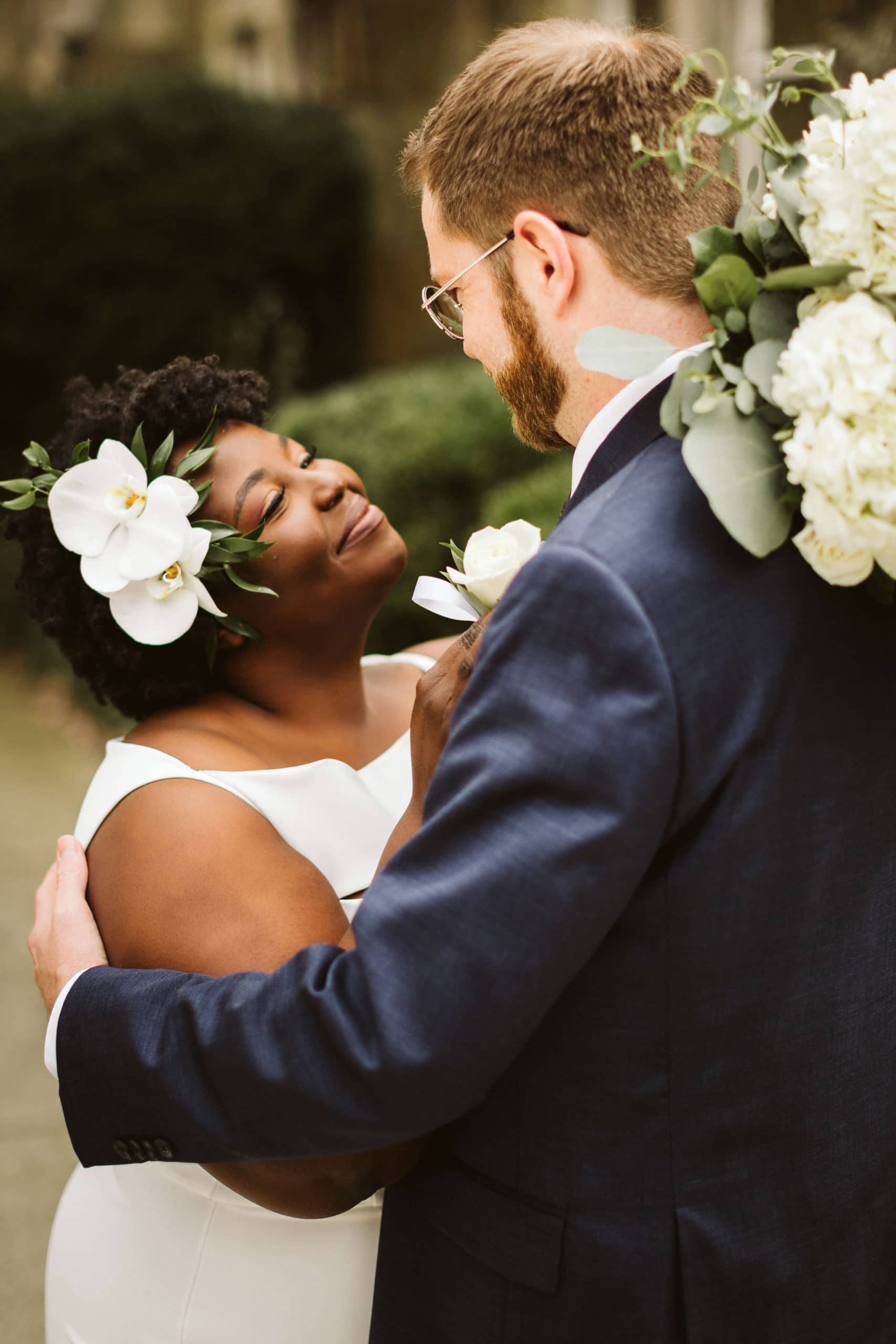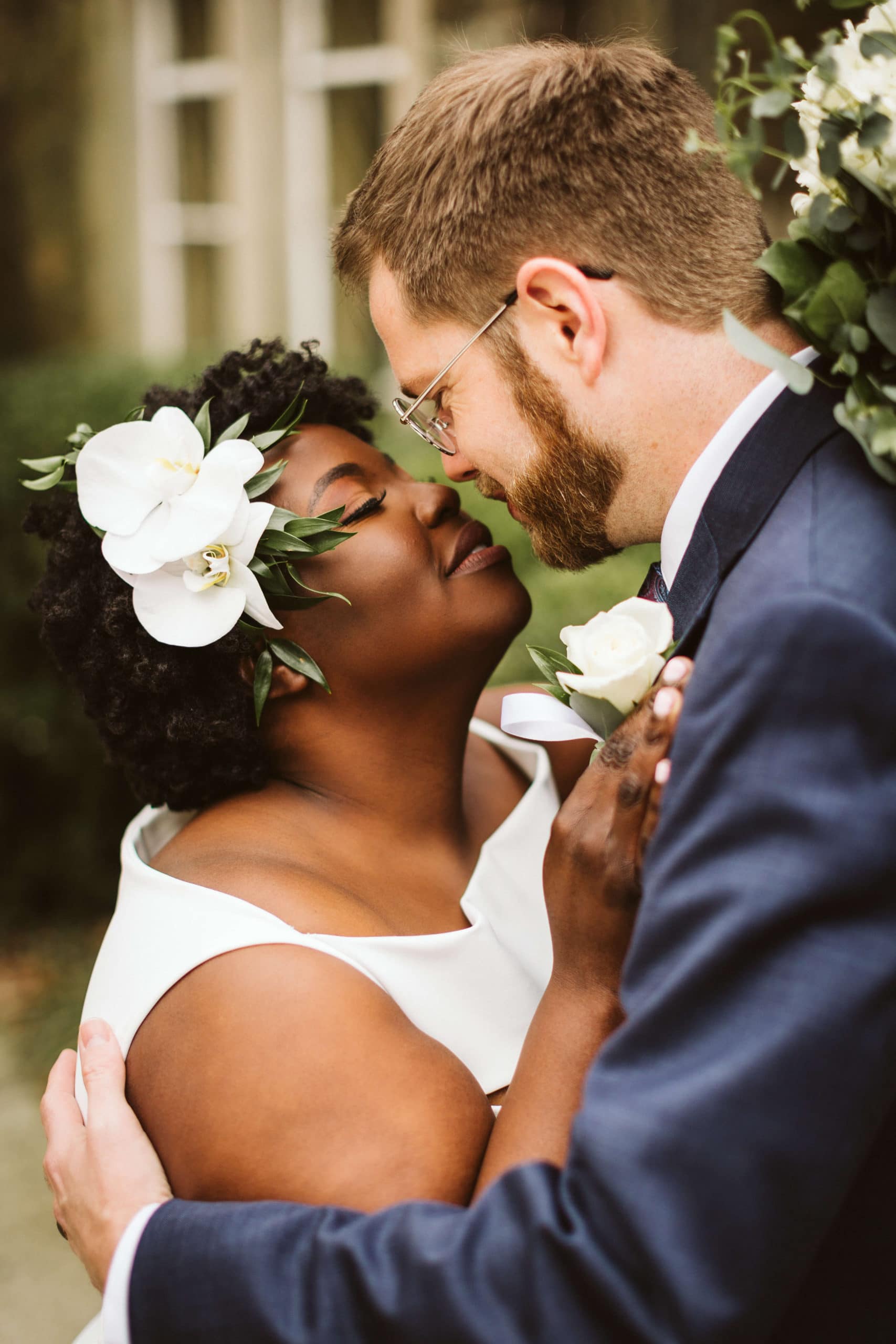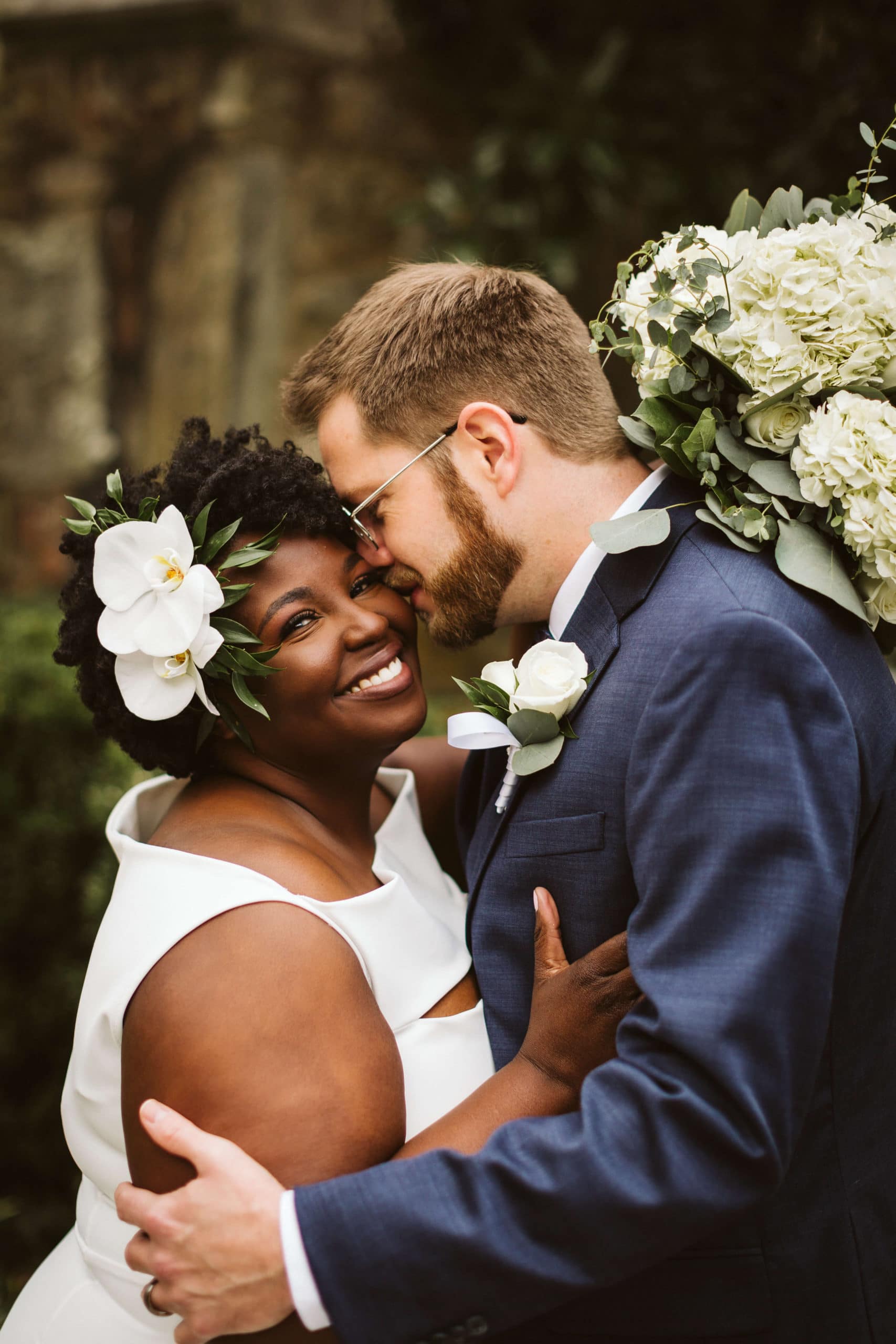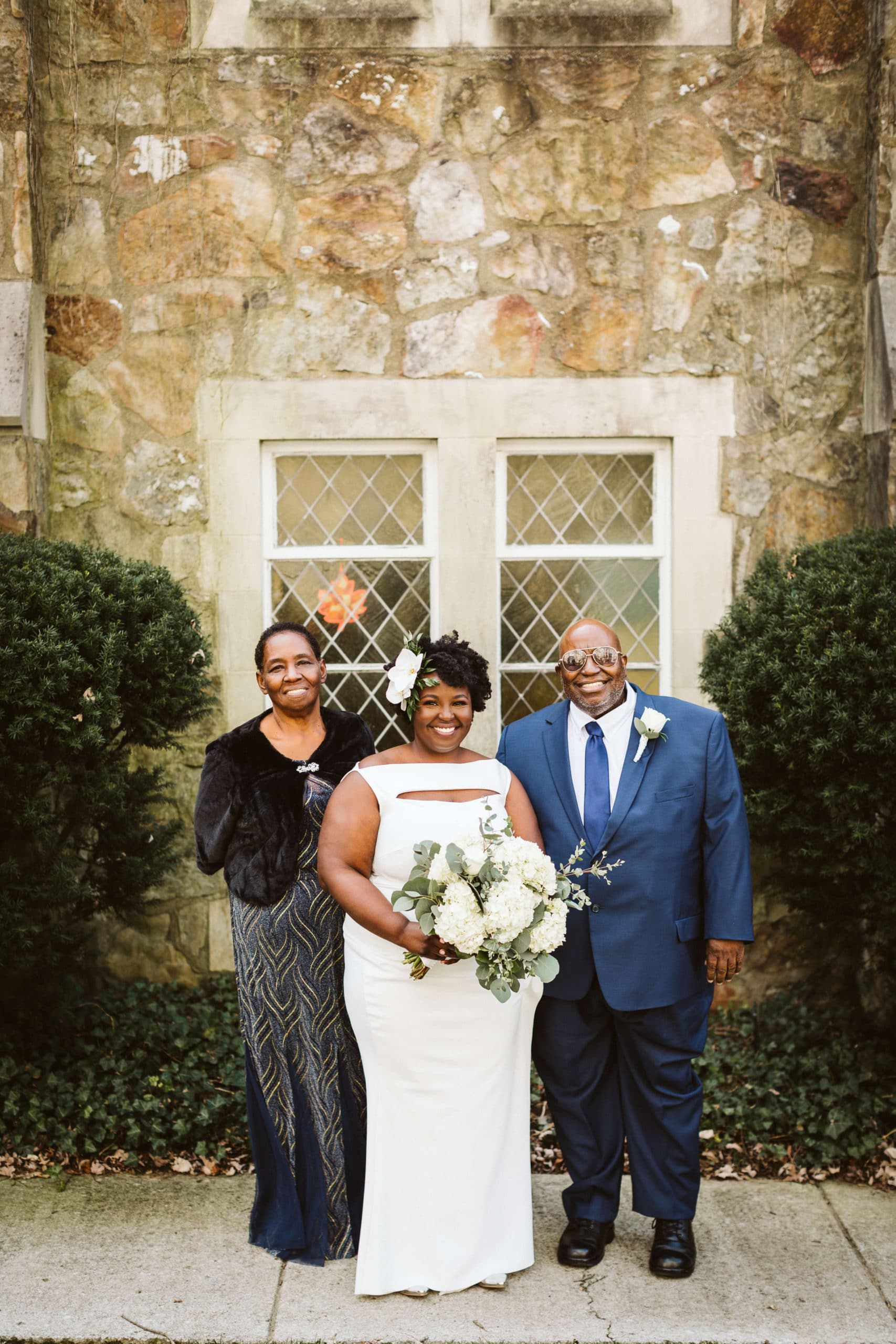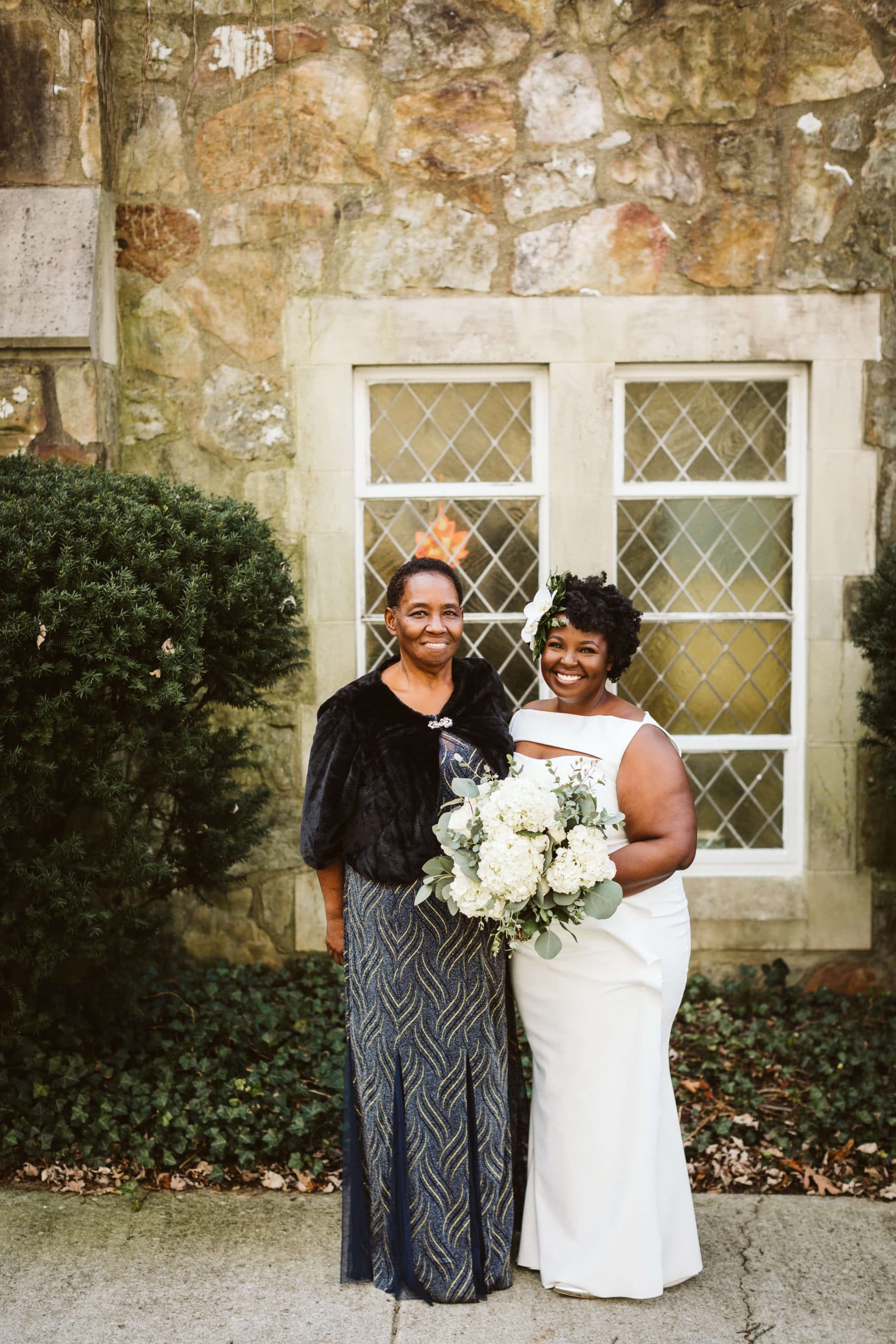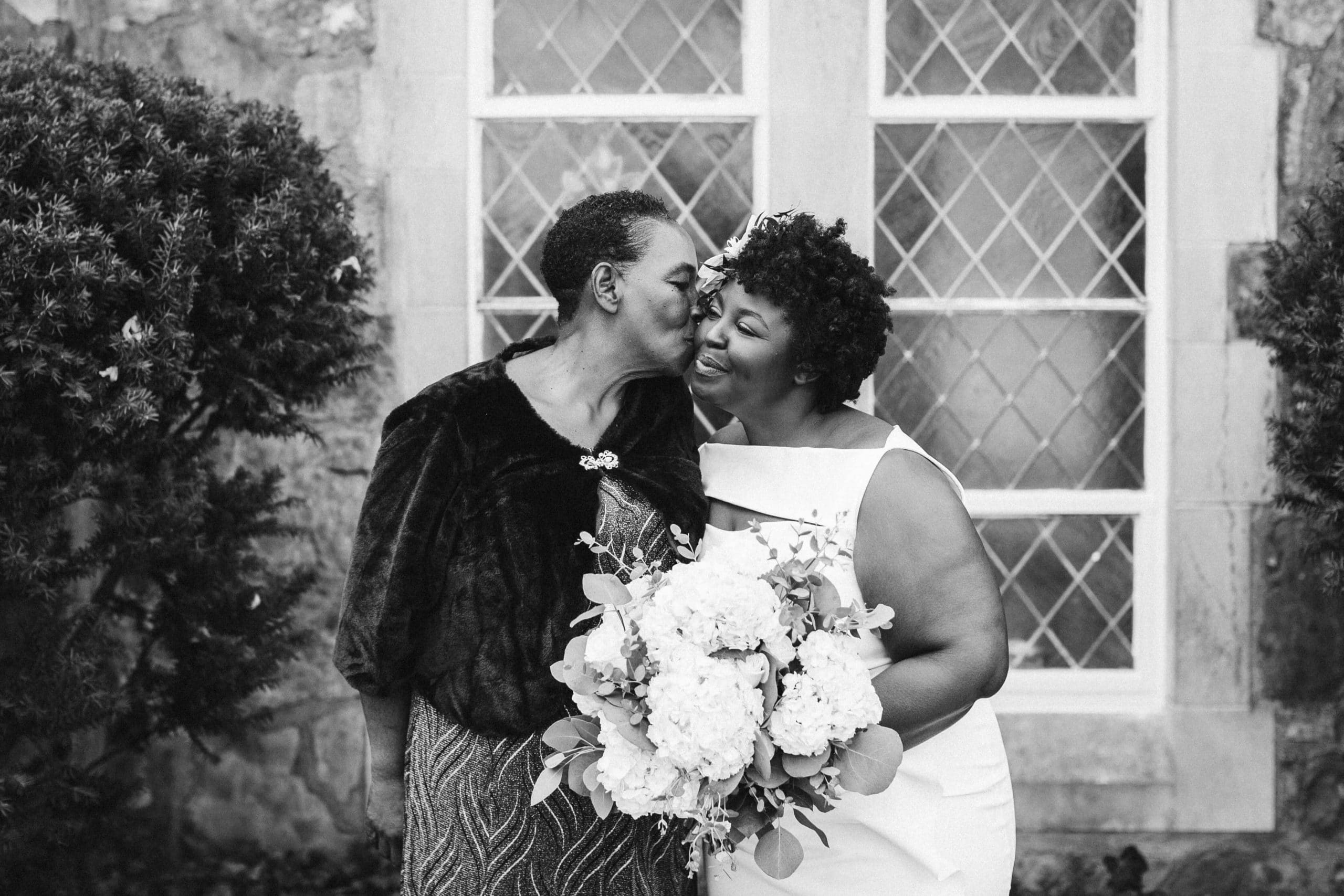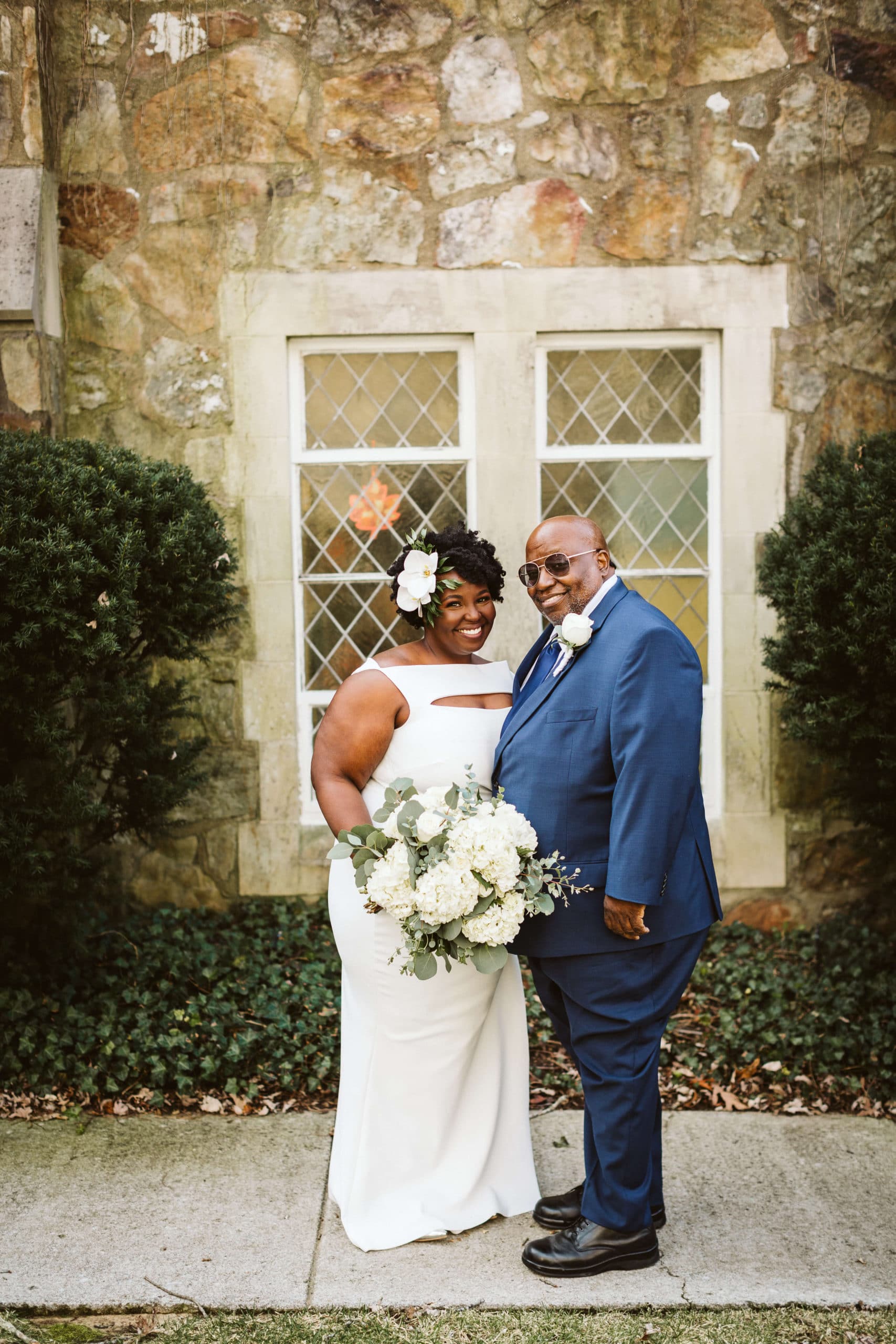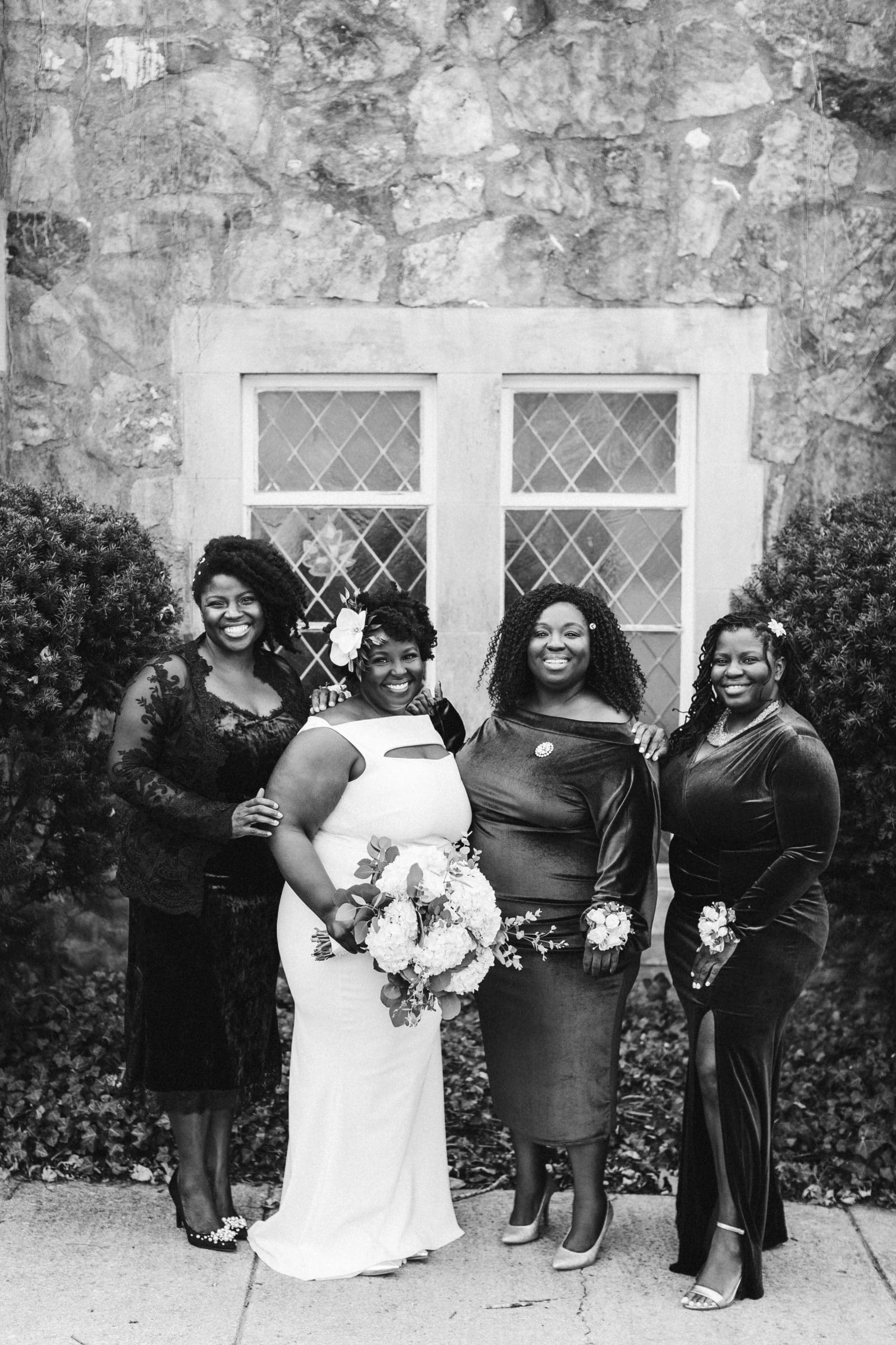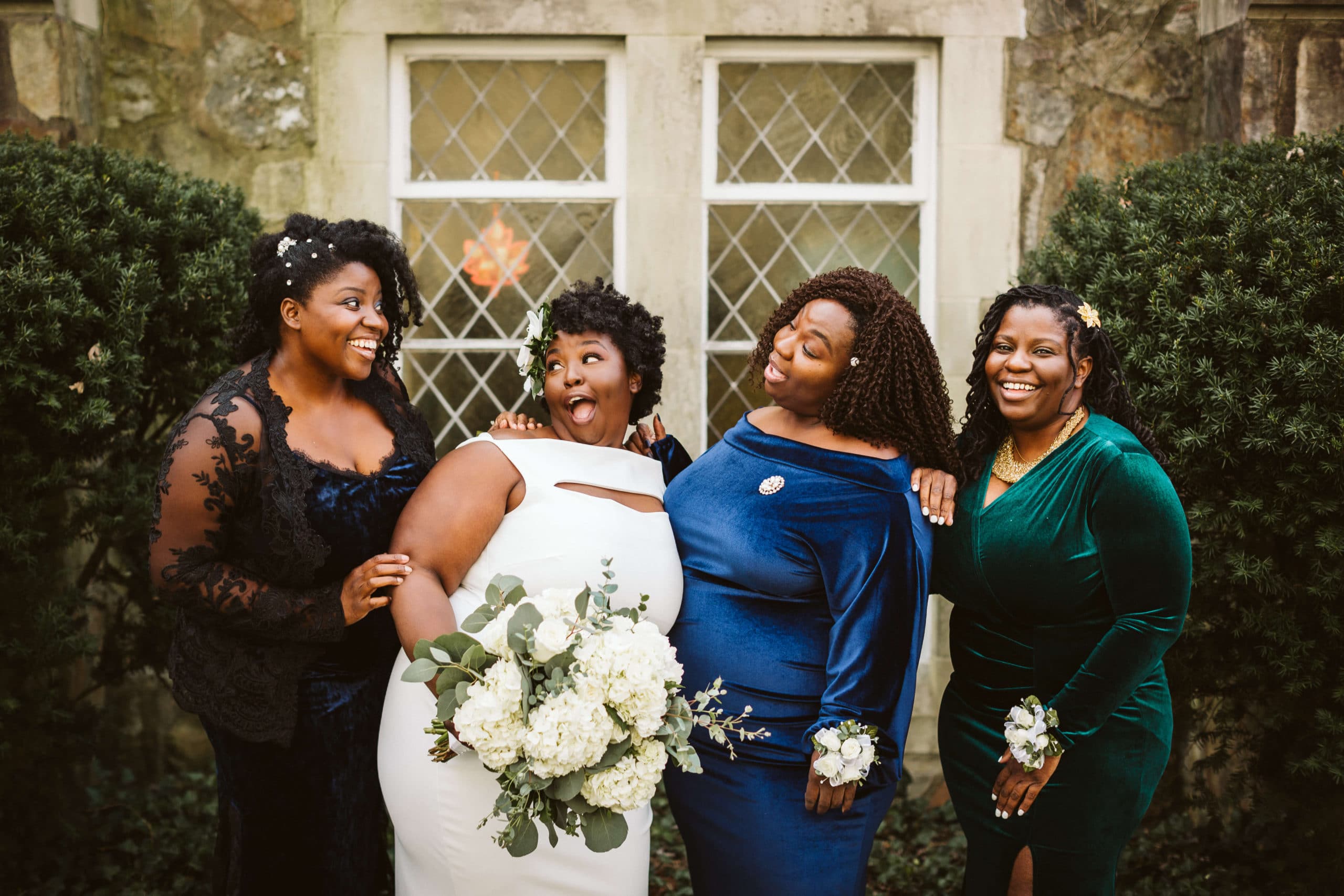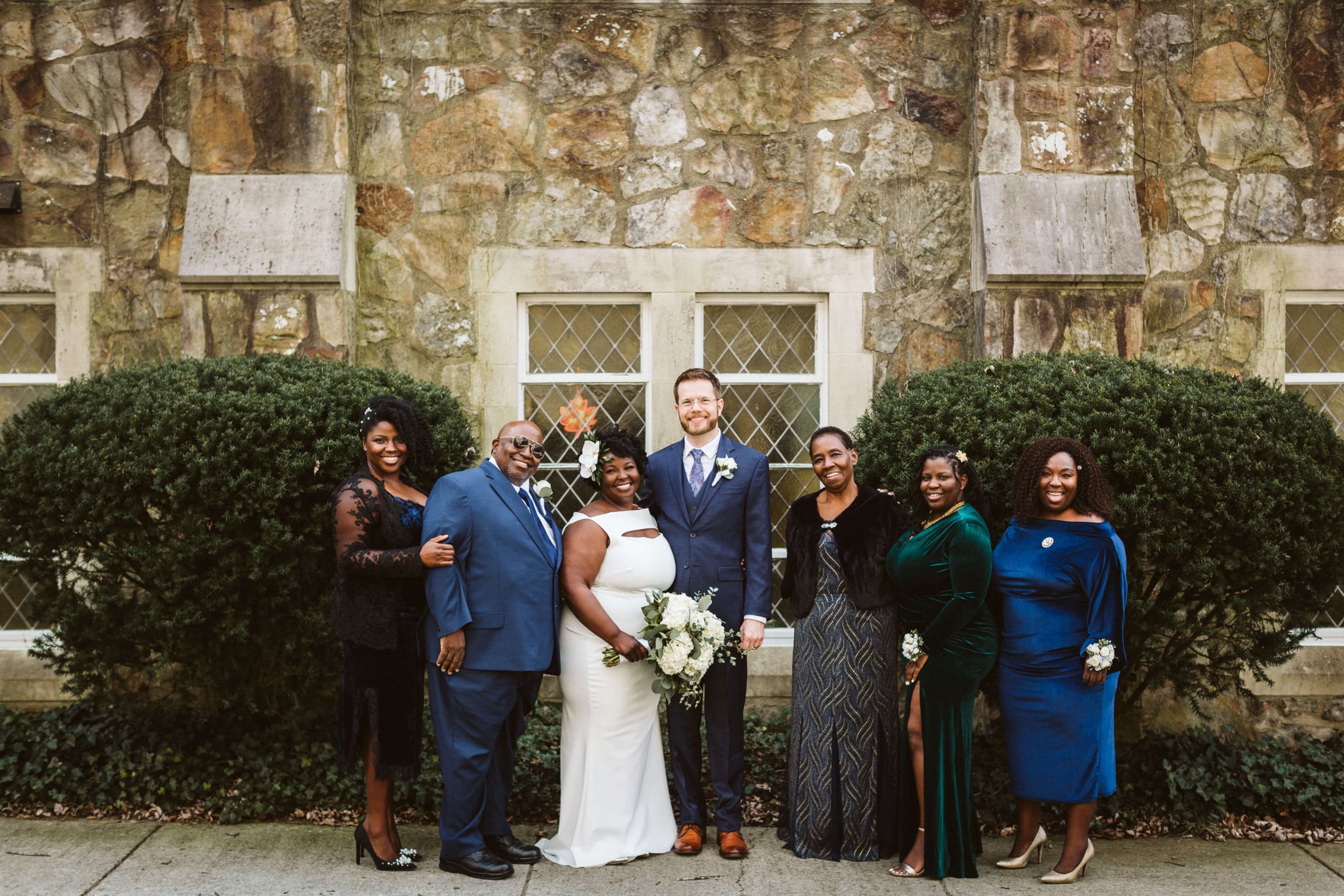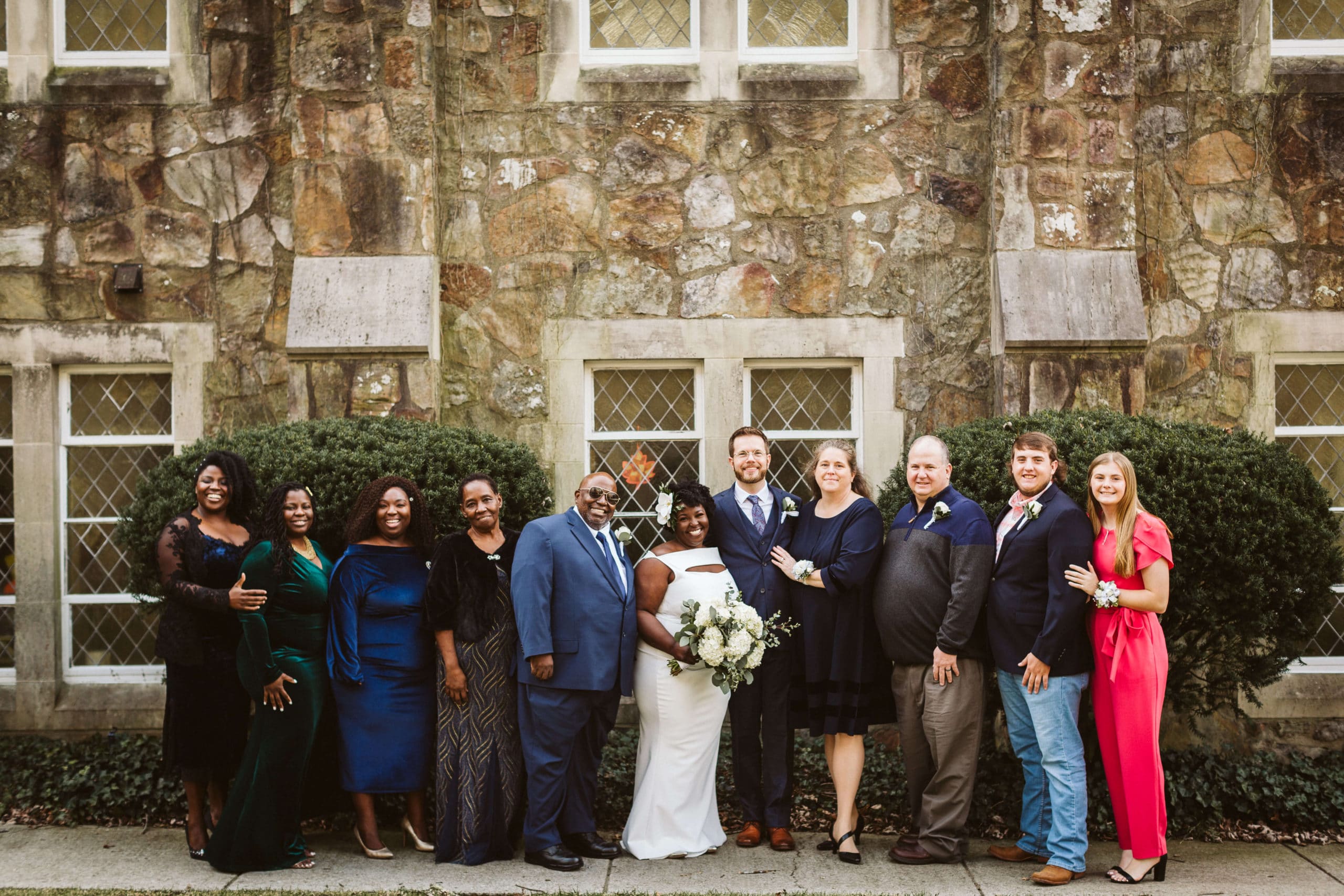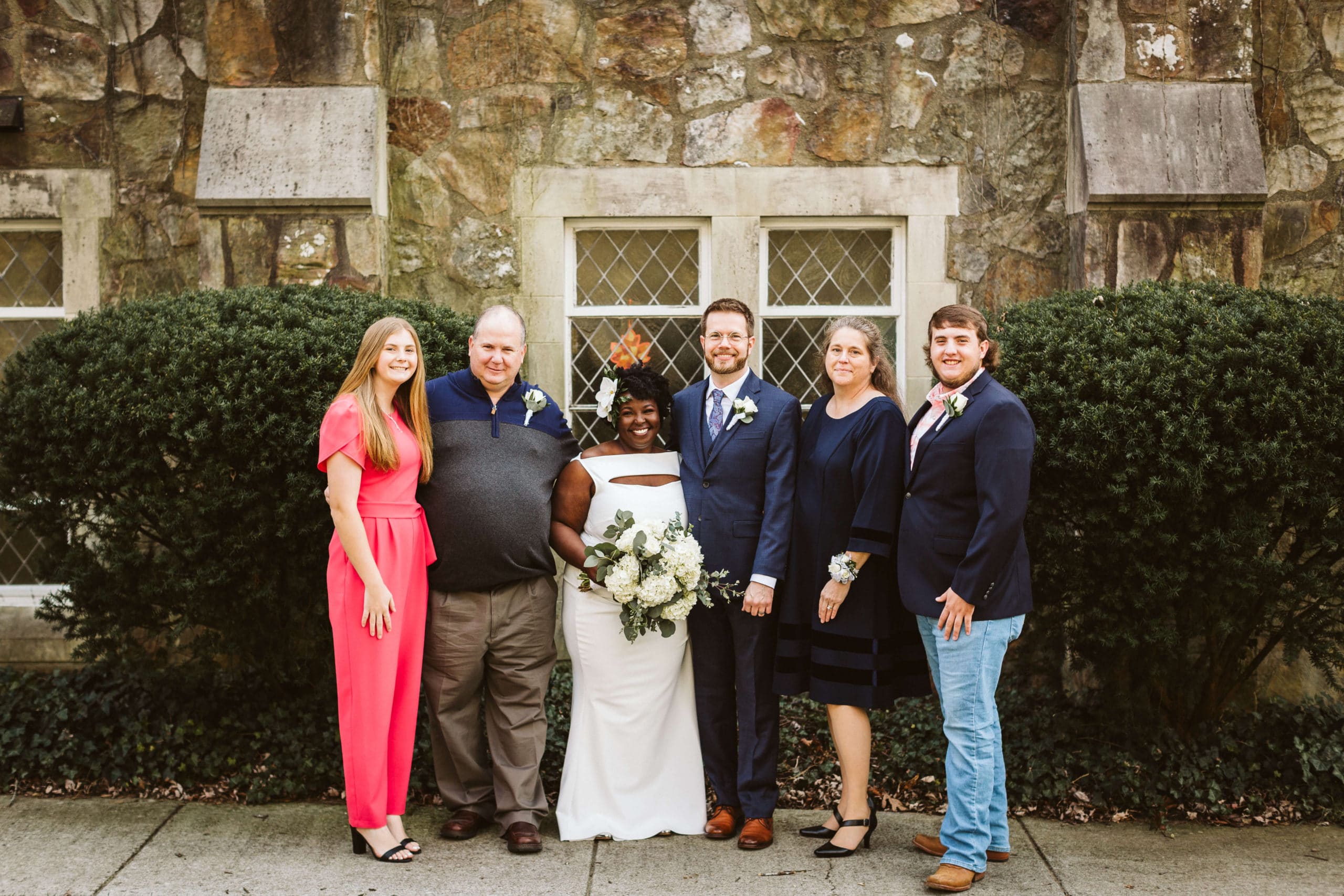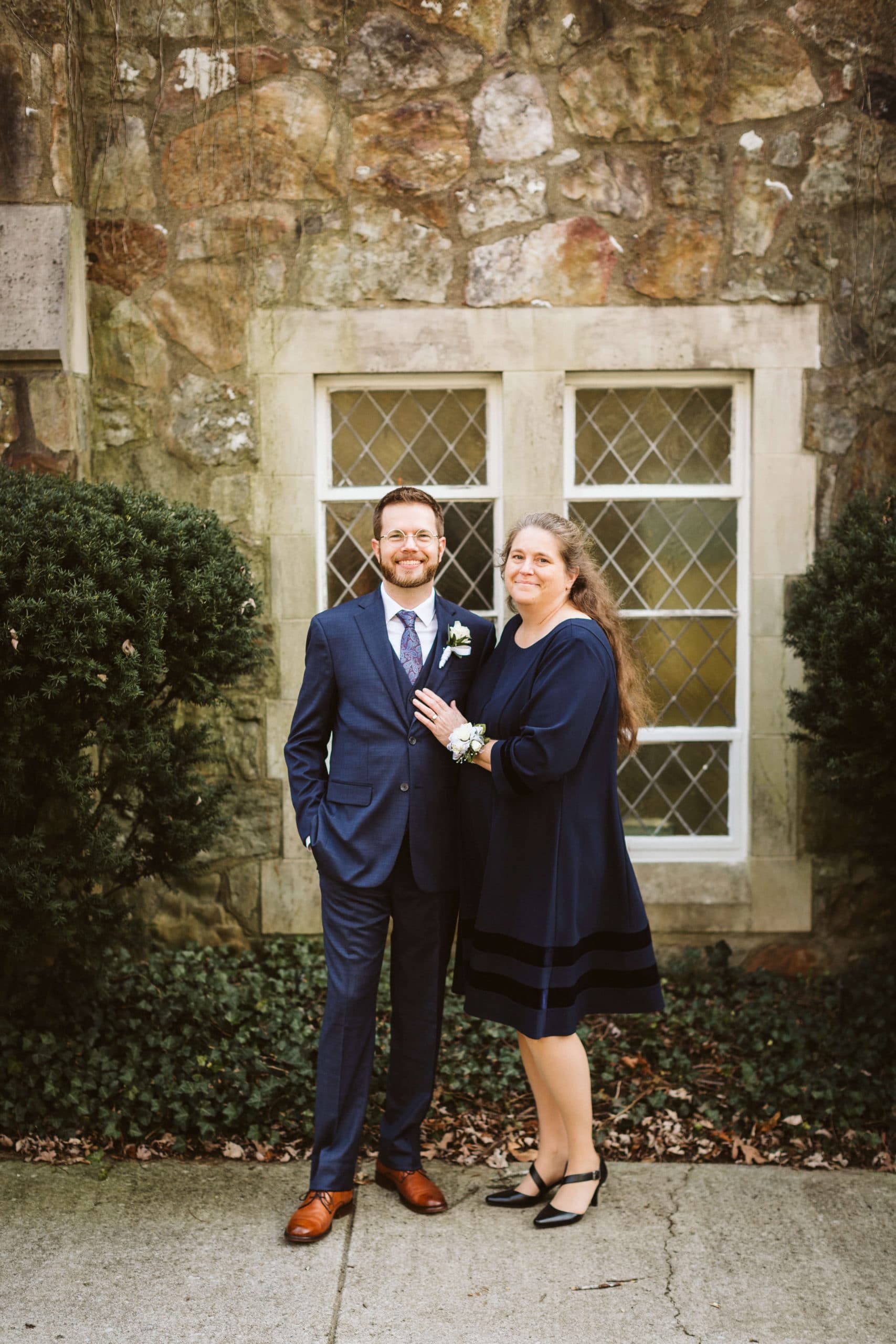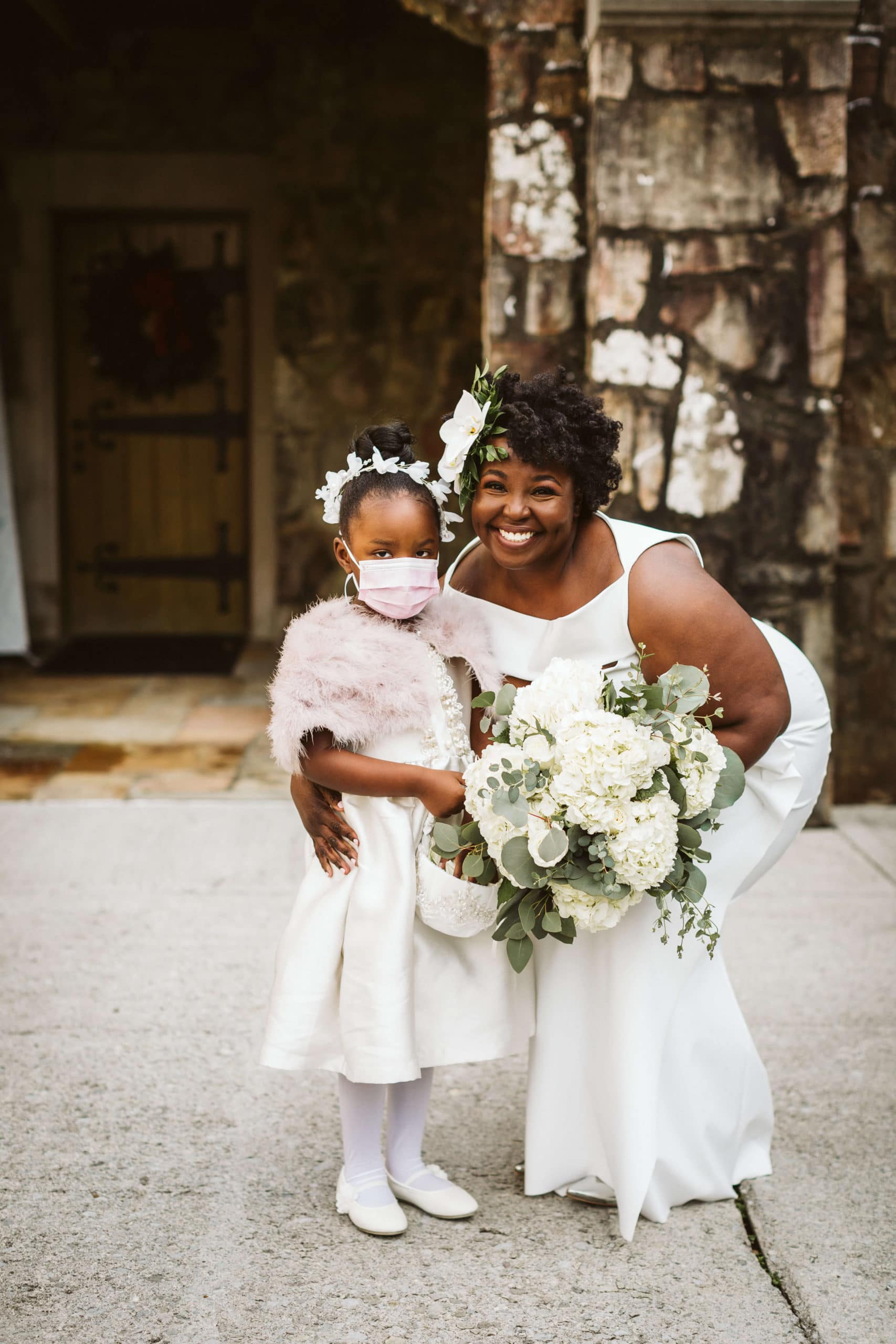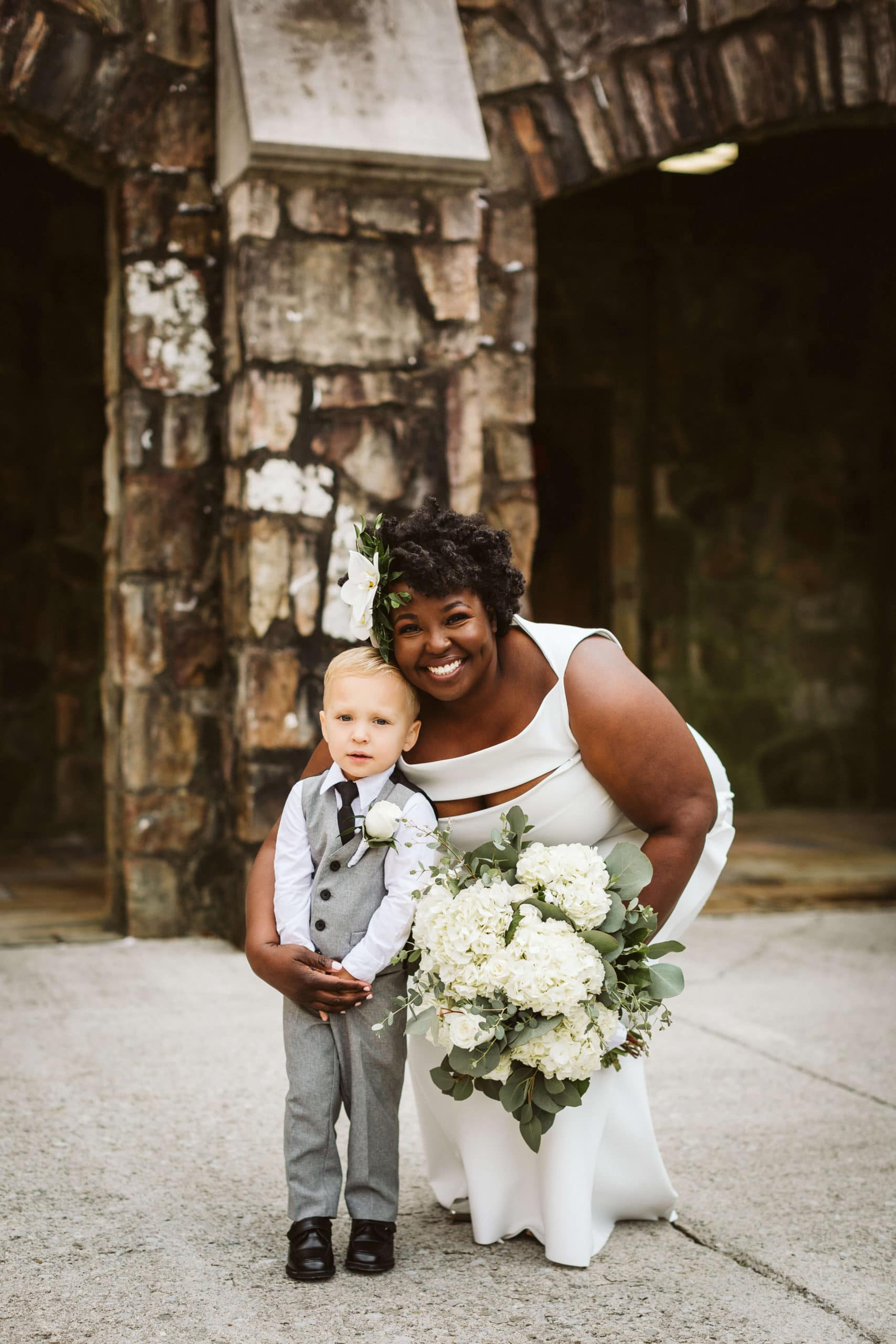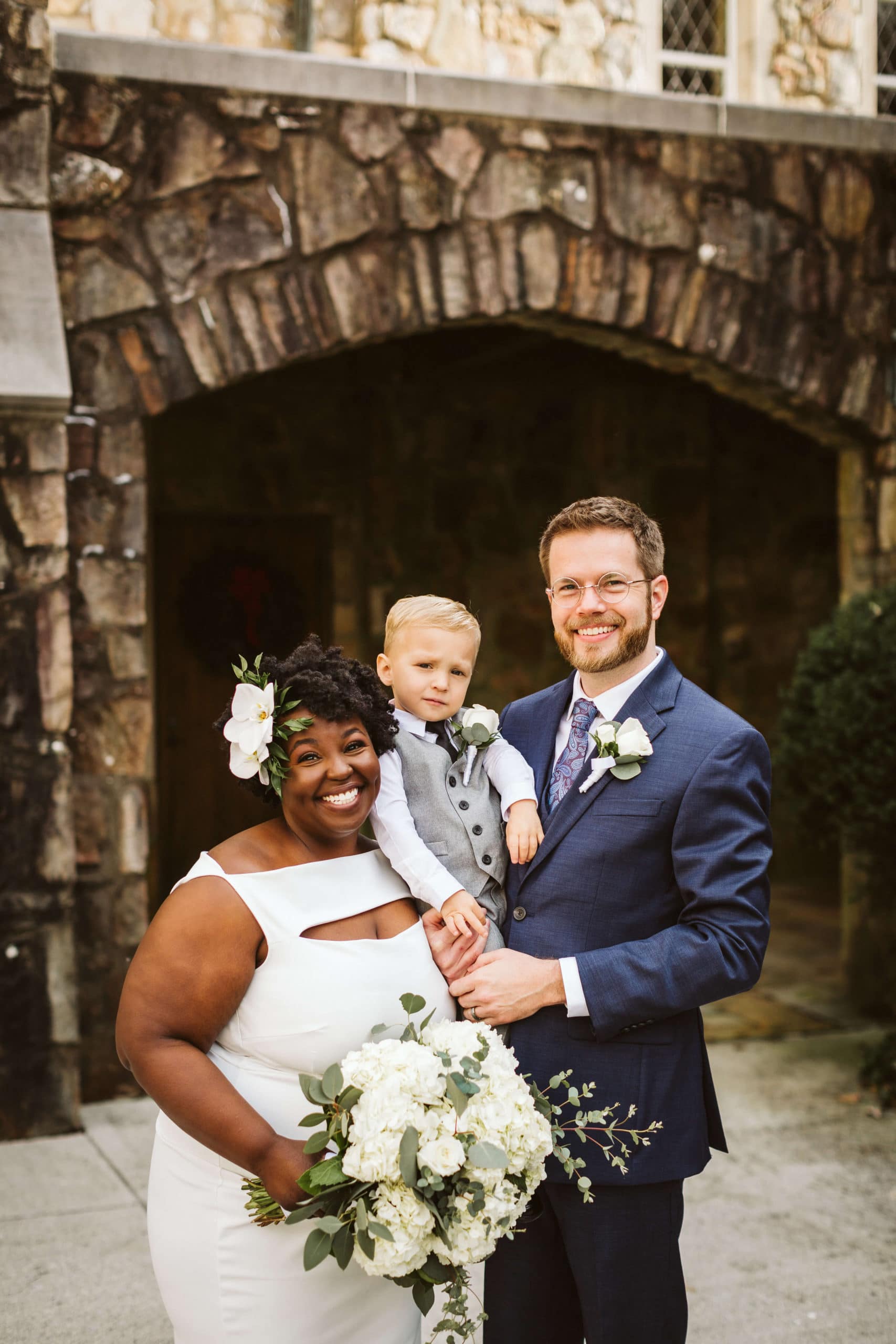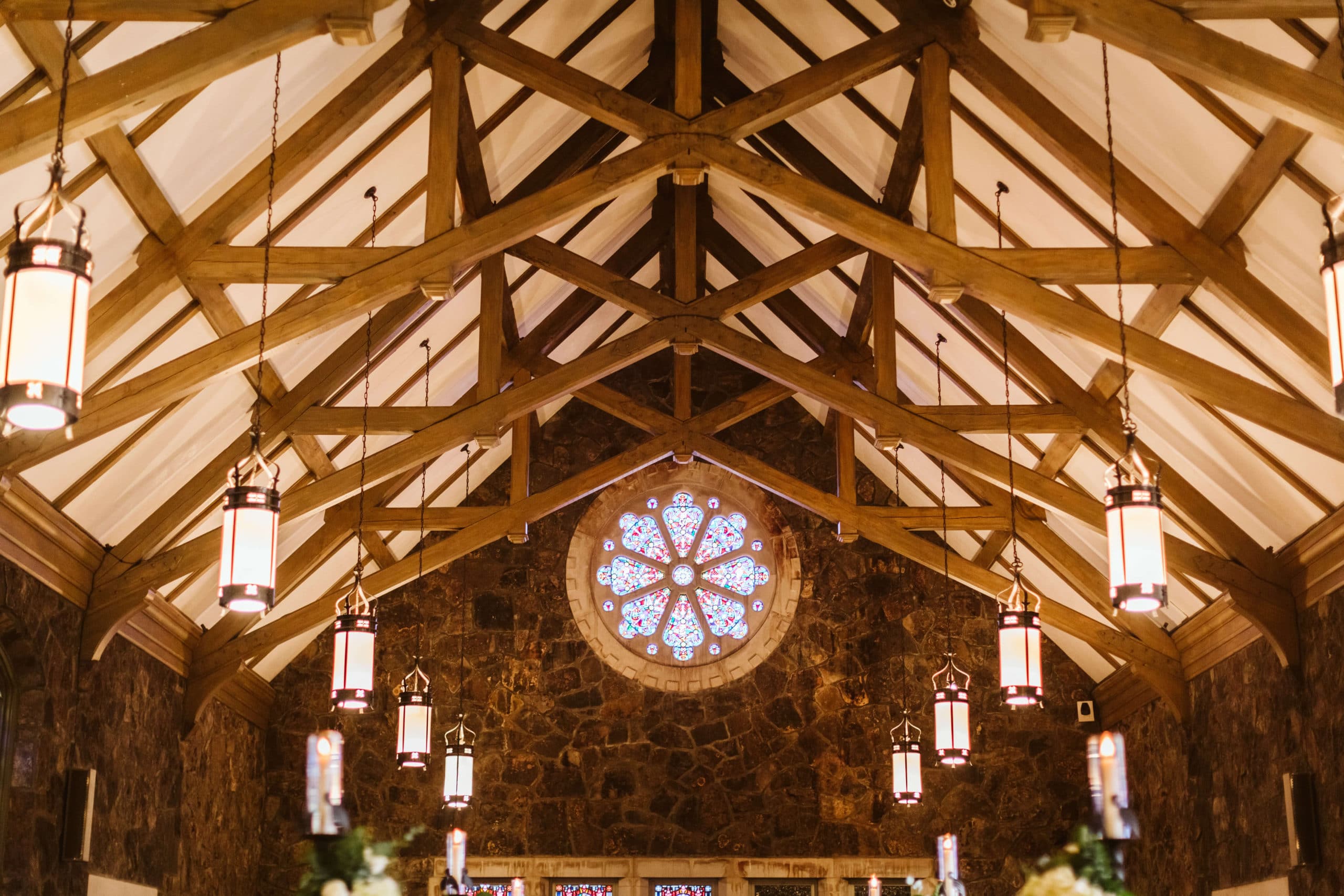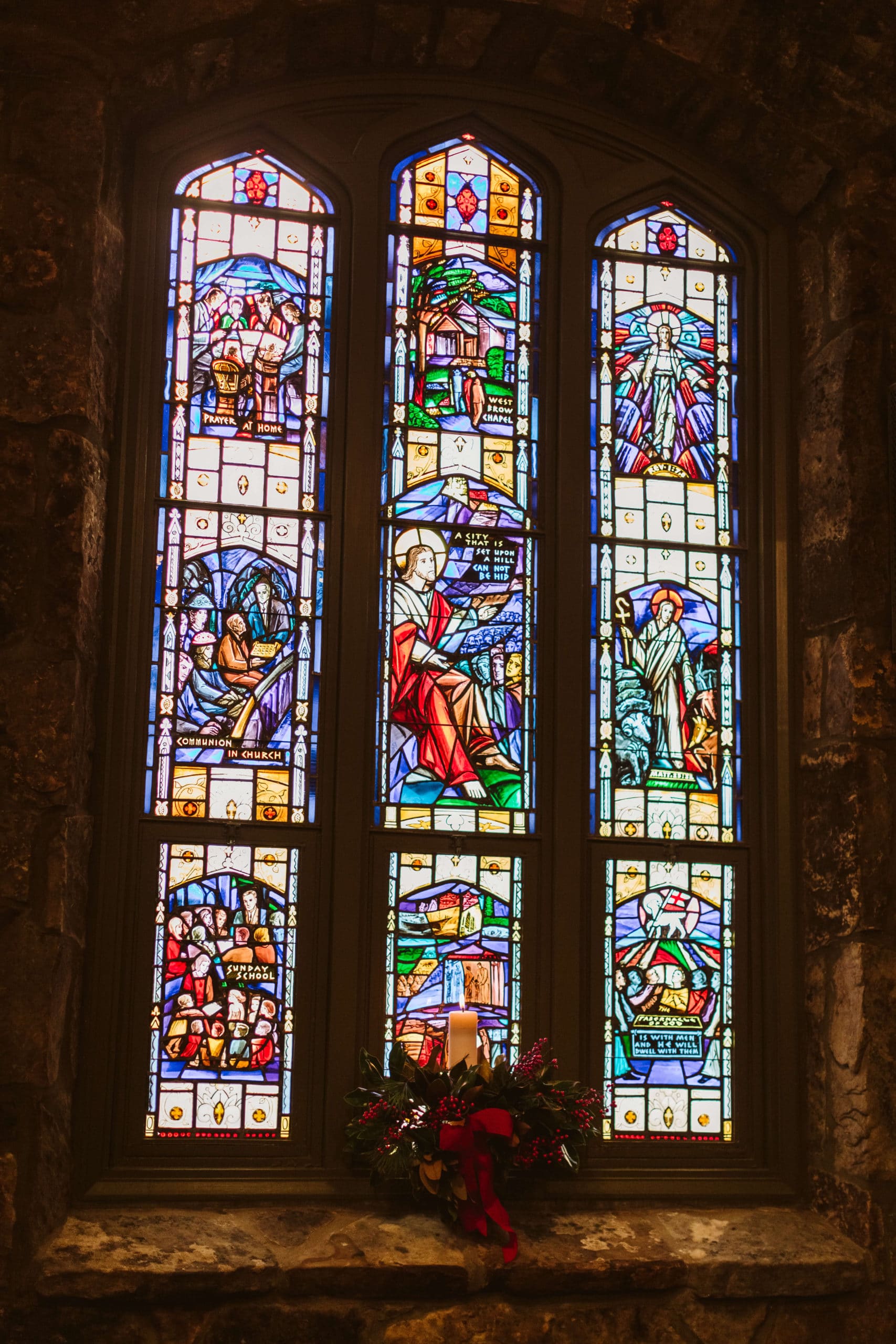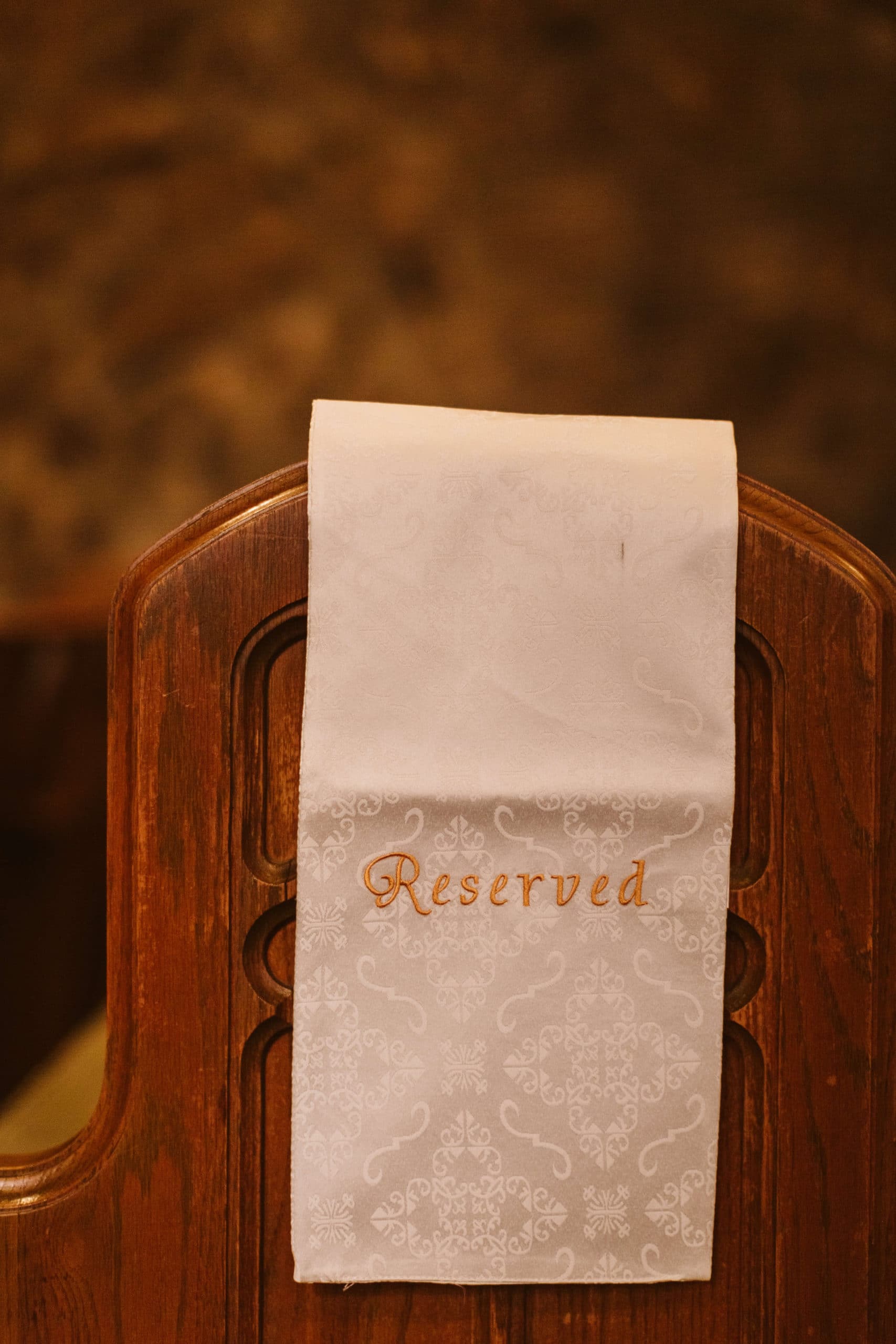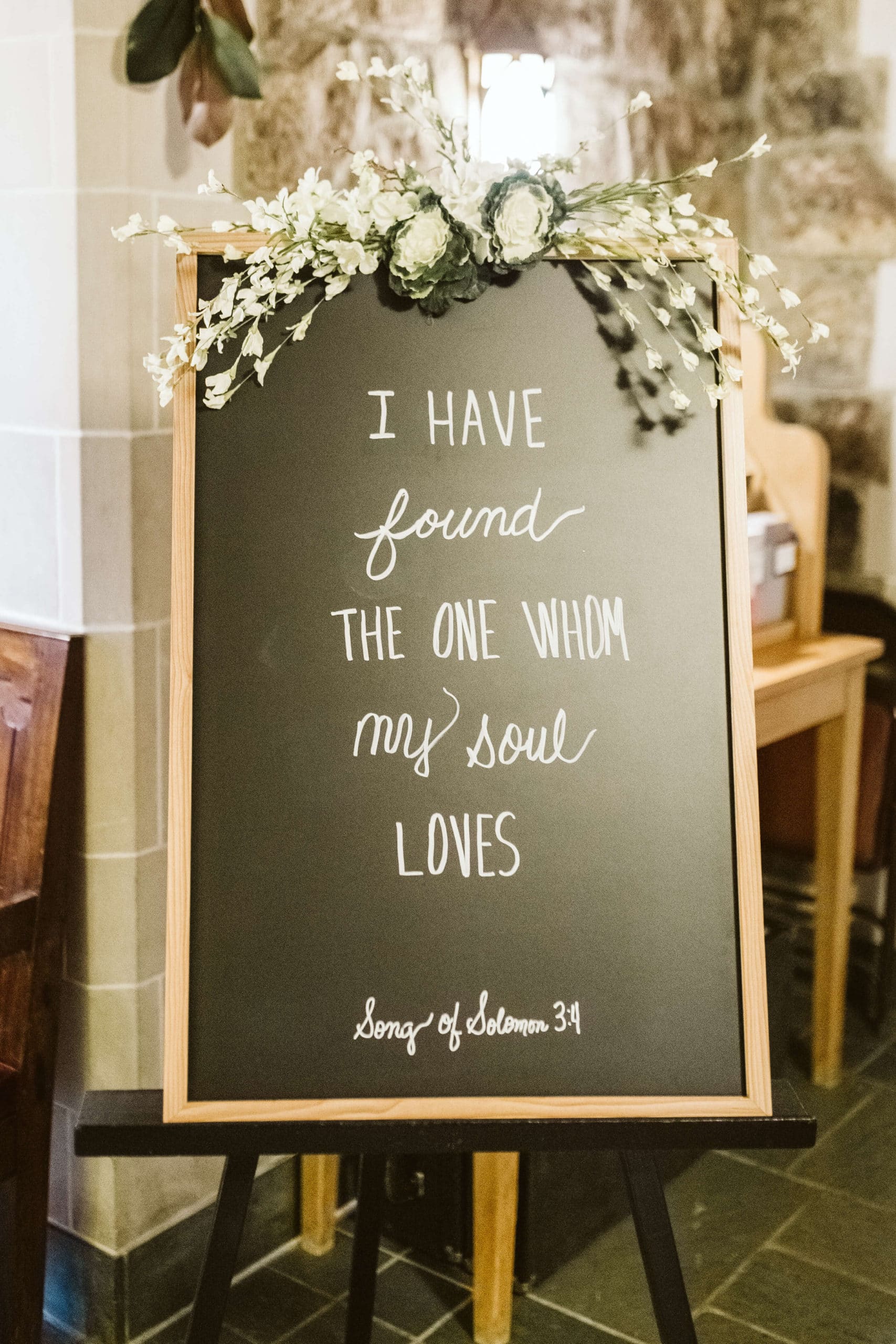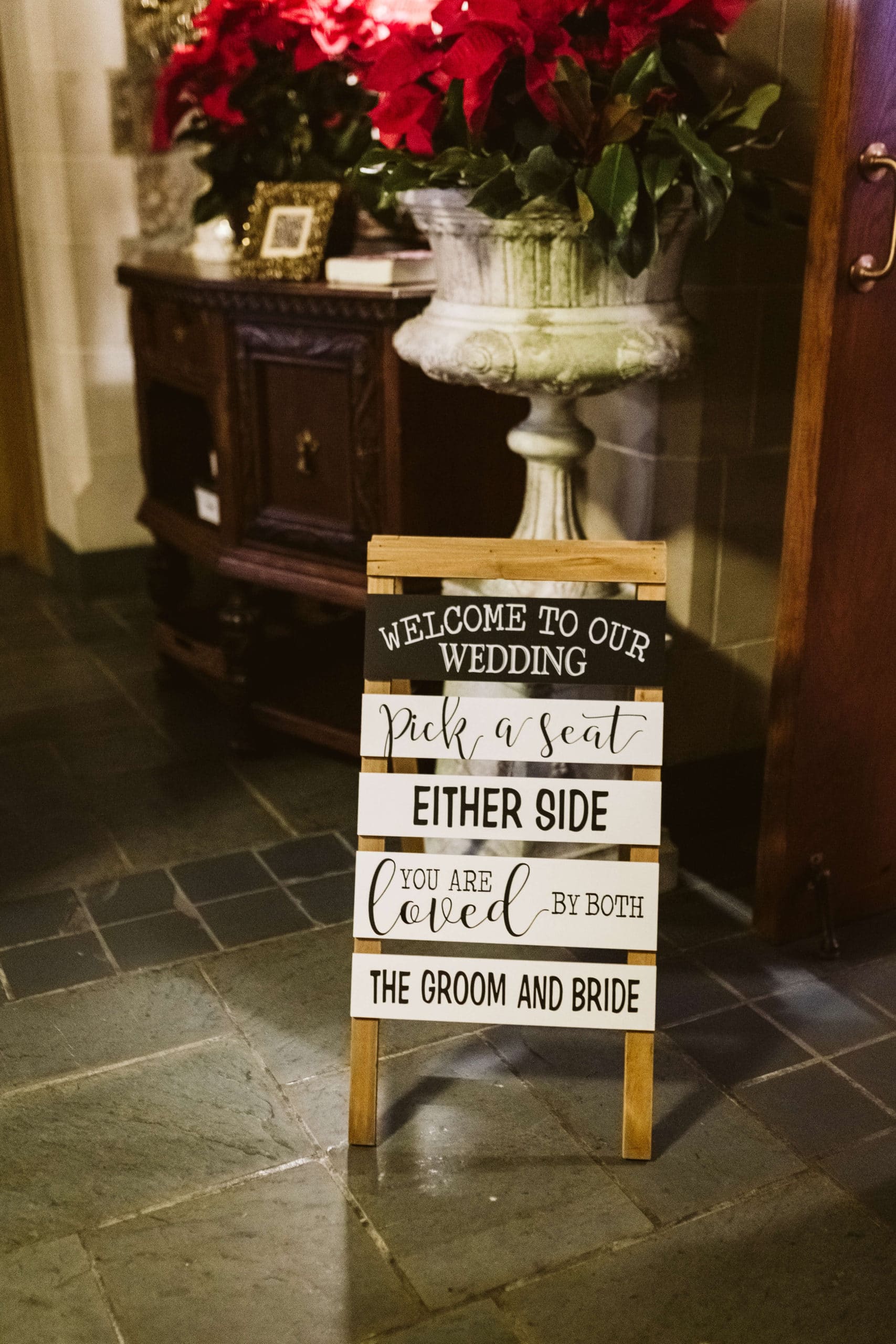 A Ceremony and Bell Send-Off at Lookout Mountain Presbyterian Church
After their first look, Roberta and Joshua made sure a chunk of time was carved out dedicated to family photography. Family is truly what was at the heart of this little gathering – especially since they had been quarantined apart for so long. The couple made sure everyone was caught in front of the camera at least once to commemorate the love surrounding them on this joyous day.
Finally, it was time for their ceremony. The wooden double doors were opened, and the couple's family and friends filed into the church. Lookout Mountain Presbyterian Church was stunning by itself with exposed wooden beams crisscrossing the ceiling, stone walls, and stained glass windows. However, Roberta and Joshua added a few of their own special touches to make the day particularly special.
Guests were immediately greeted by a chalkboard sign with a scripture quote from the Song of Solomon that could not have been more fitting for the day. It perfectly encapsulated the couple's beliefs as well as their love. A table was also set up for guests as they entered the vestibule. With last names like Bishop and Knight, Roberta and Joshua had a little fun with their wedding décor. A bowl of complimentary masks was set up in front of a chessboard with a game partially played on it. The adorable quote "Knight takes Bishop – Checkmate!" was on a sign placed by the chessboard and also embroidered on each of the masks.
Beyond the vestibule, the interior of the church was set up like a fairytale wedding. Tall candle holders with festive greenery and white flowers lined the pews while white rose petals were scattered down the aisle. Joshua walked Roberta's mother to her seat before the ceremony started, then waited at the top of the aisle for his bride. Roberta's niece and Joshua's nephew led the way down the aisle as flower girl and ring bearer for their aunt and uncle. Then, with her father by her side, Roberta walked down the aisle to her forever.
After Roberta and Joshua finally said their I do's, they processed down the aisle and into the church courtyard where their family and friends surrounded them holding bells. Bells are a historical tradition that was once believed to ward off bad luck during weddings. Now, they're seen as a symbol of love and joy at the start of a new life together.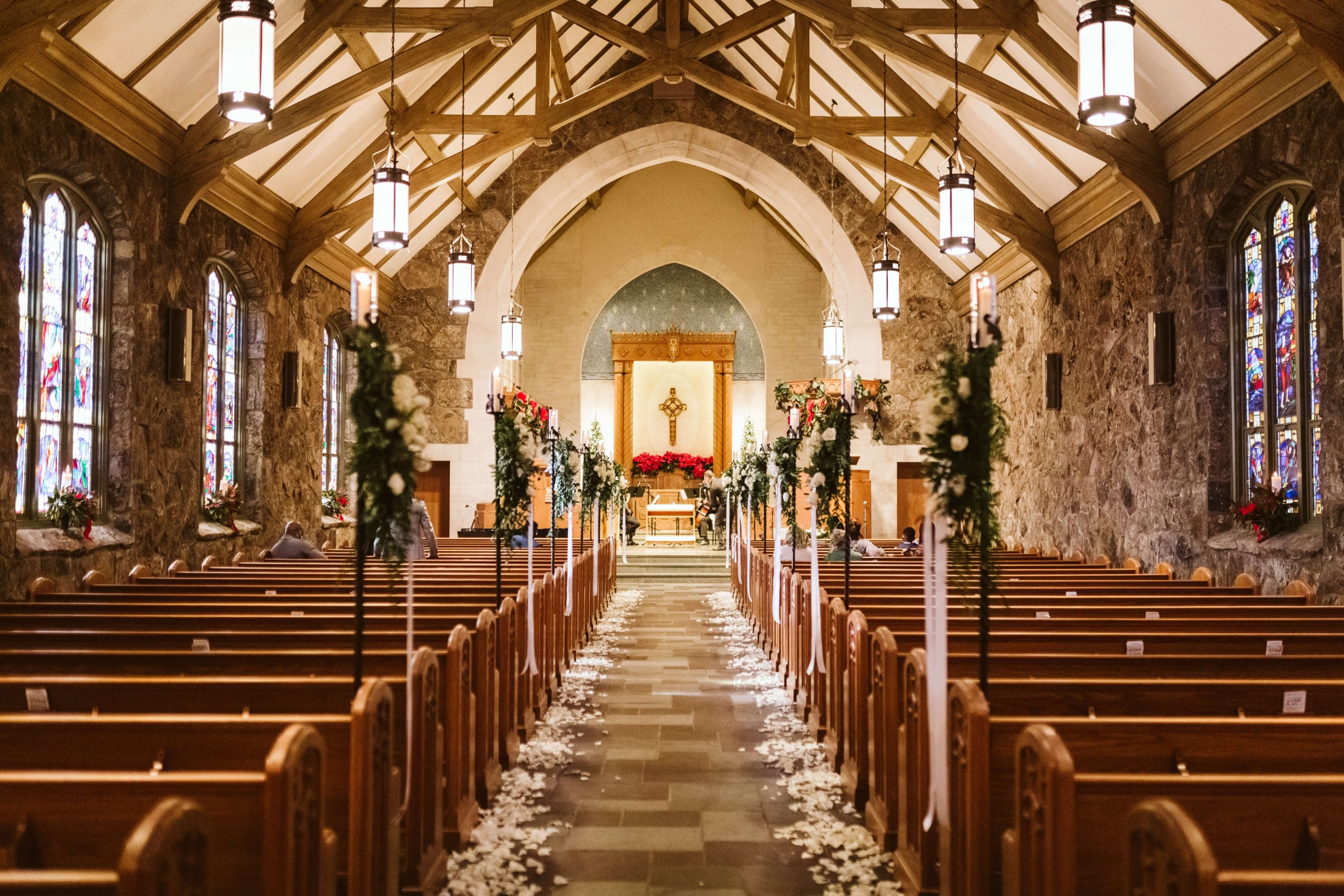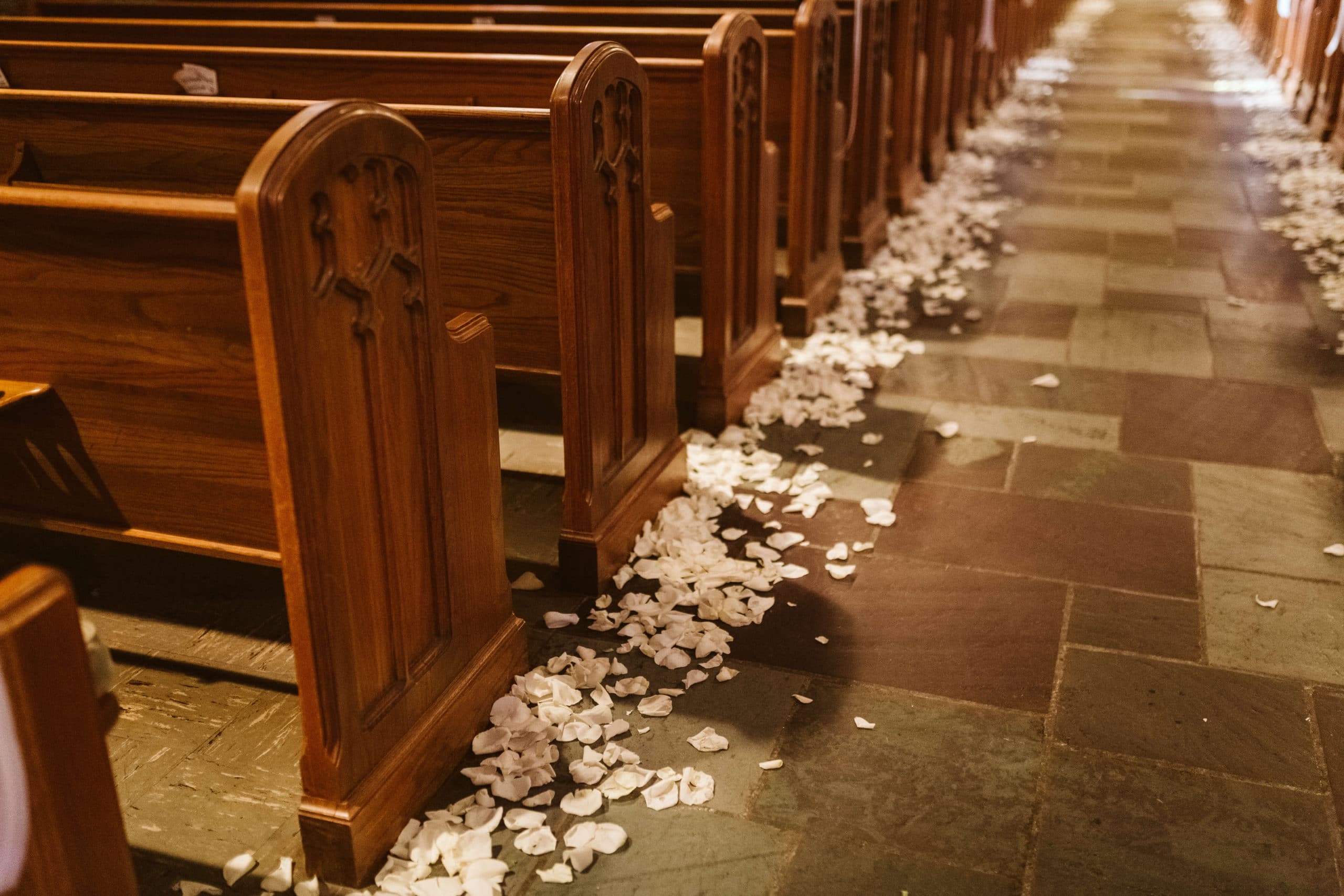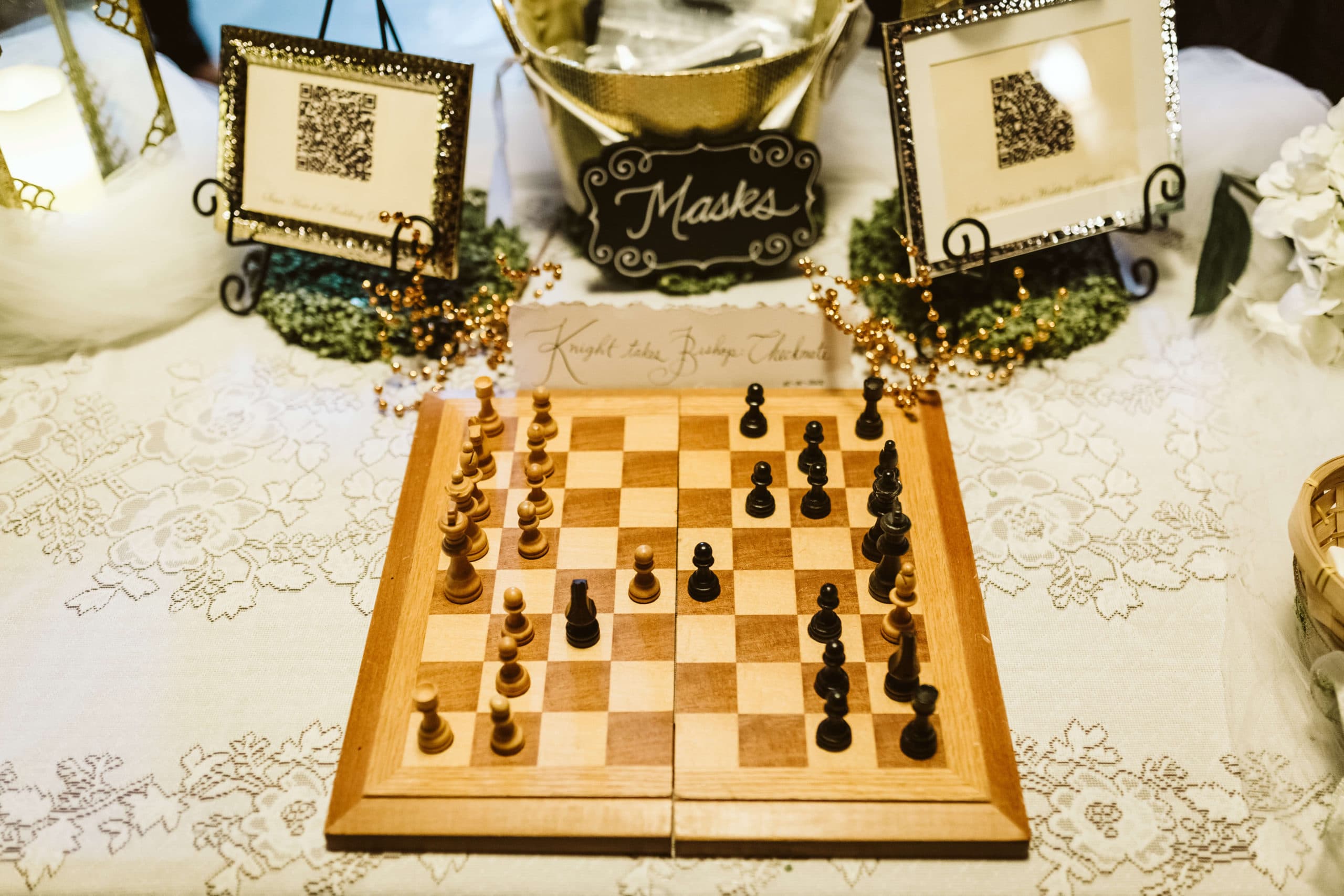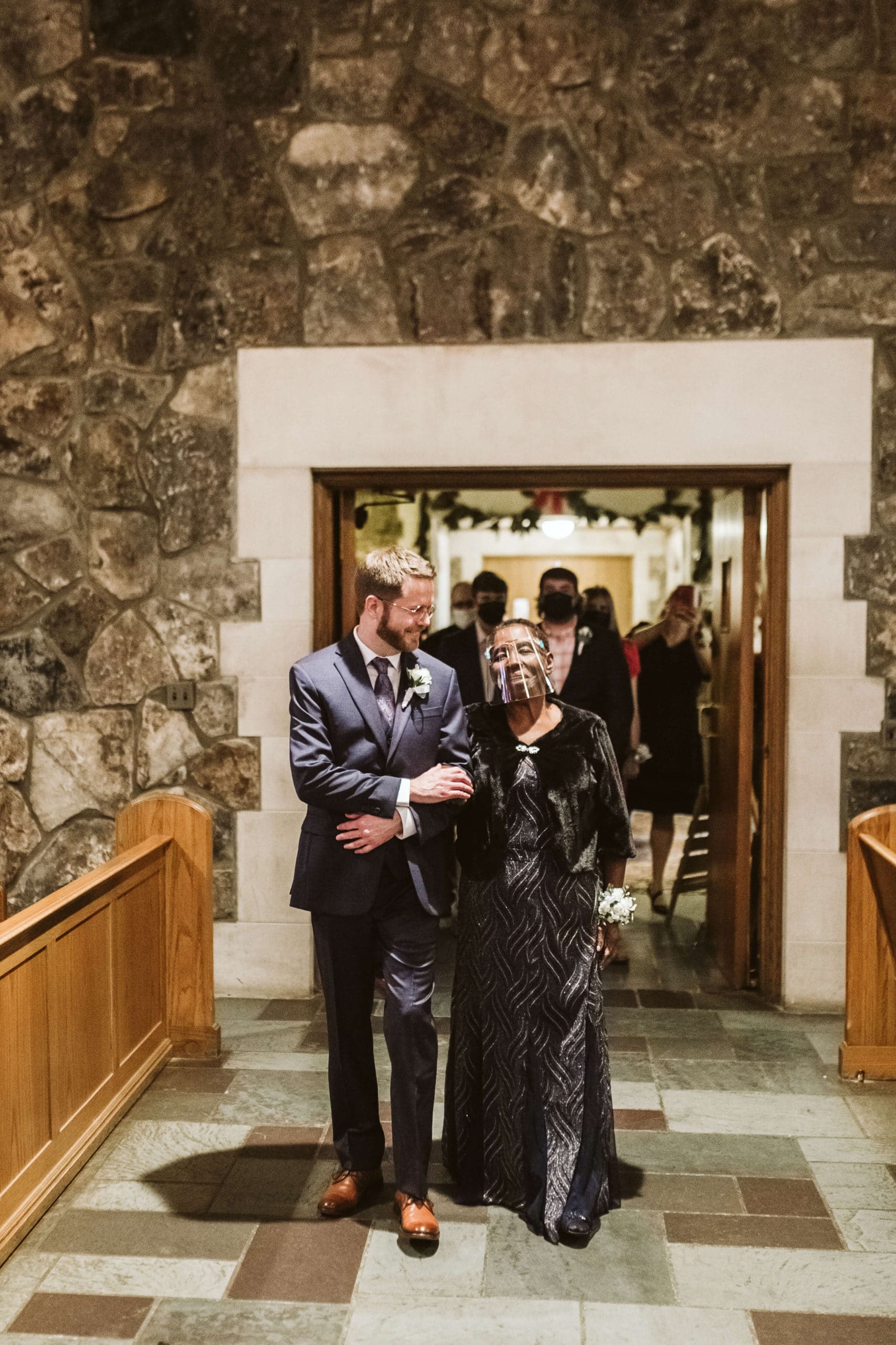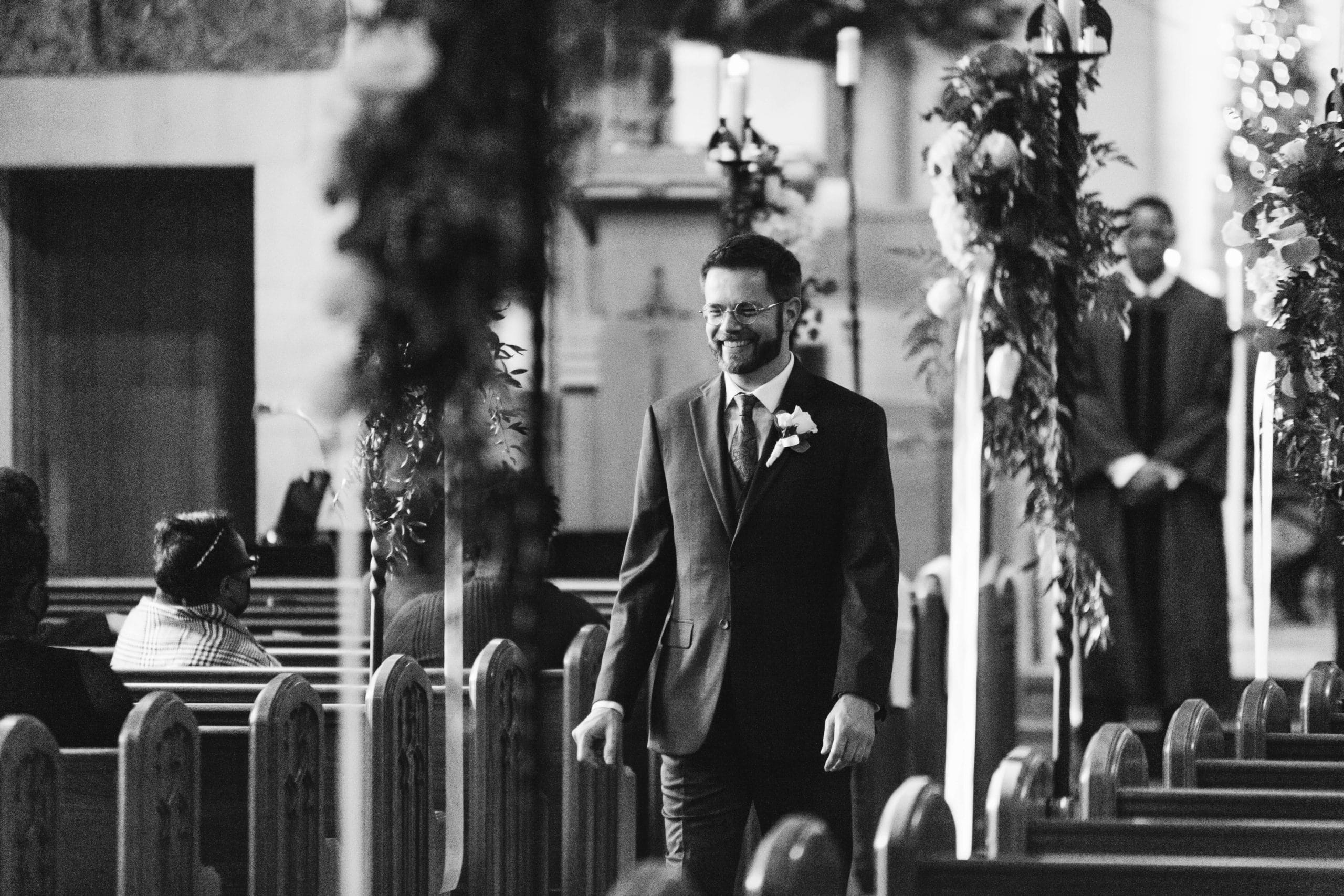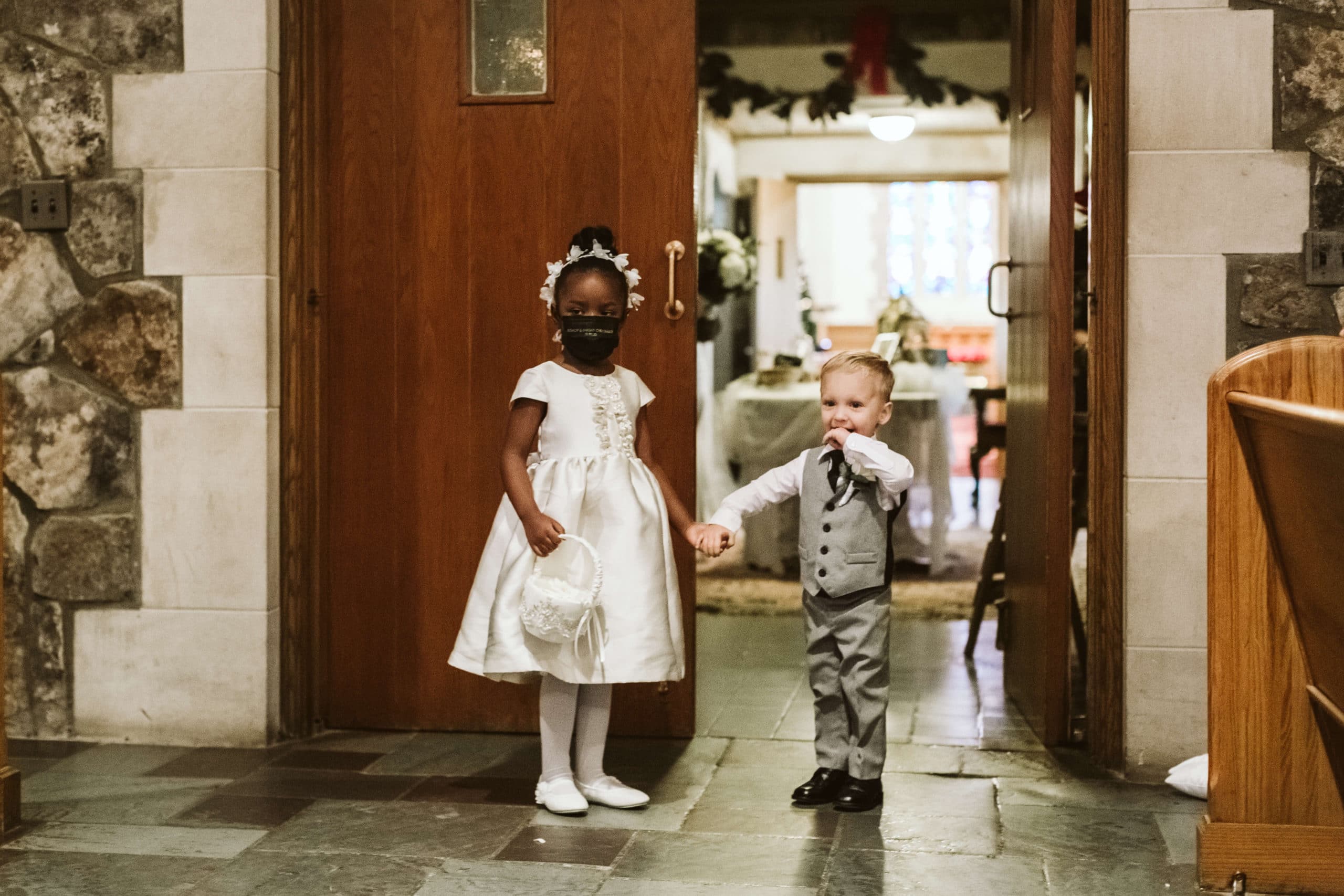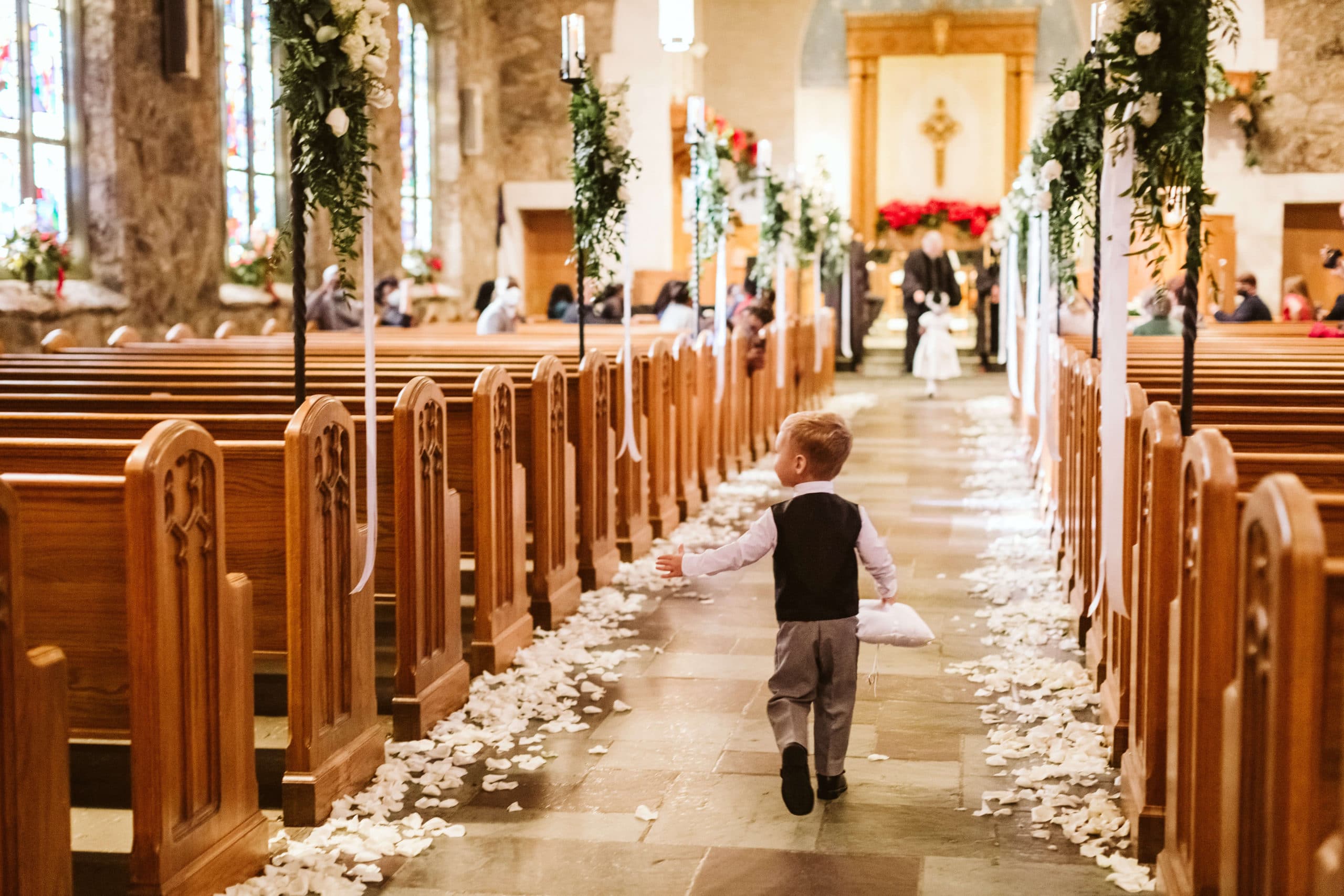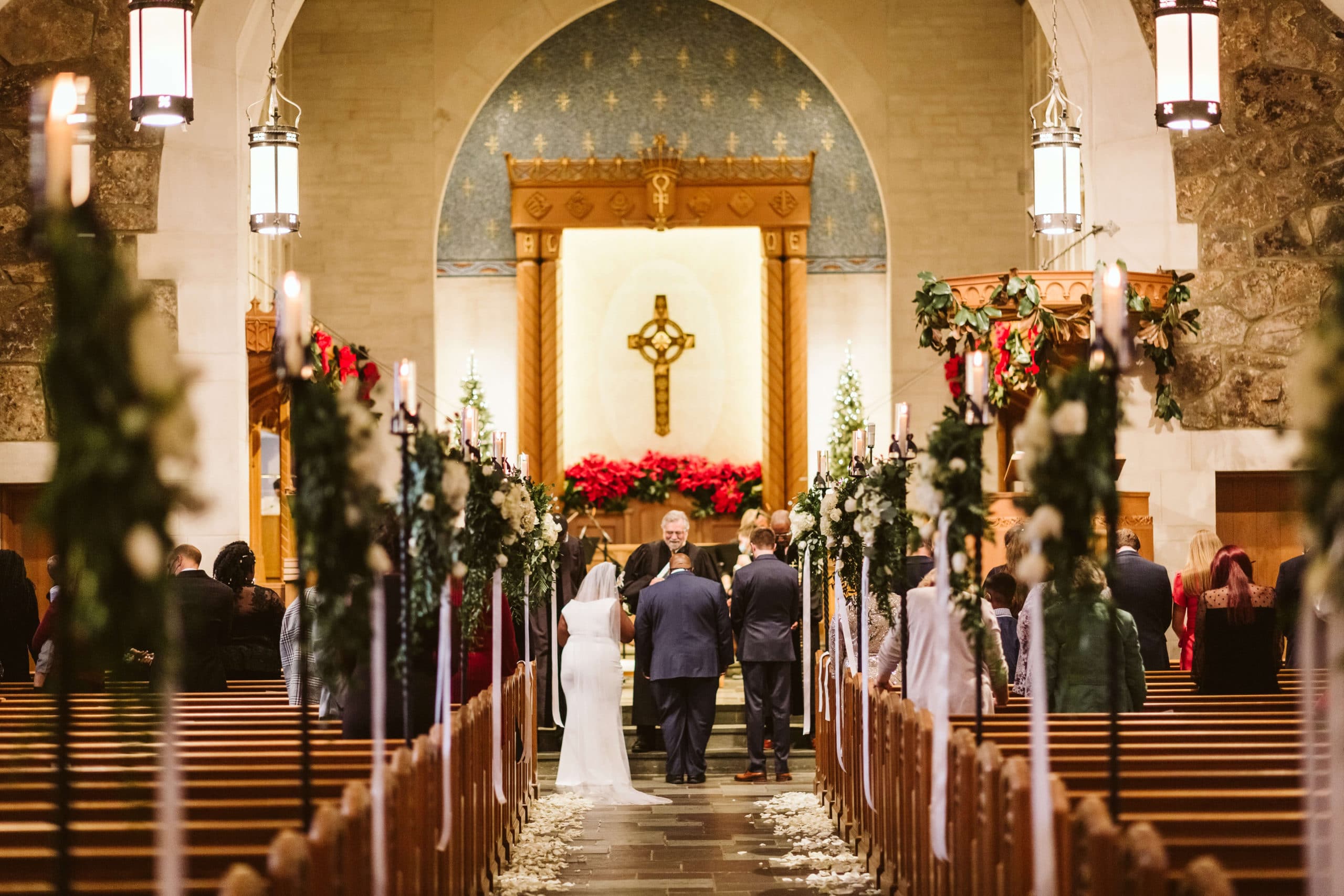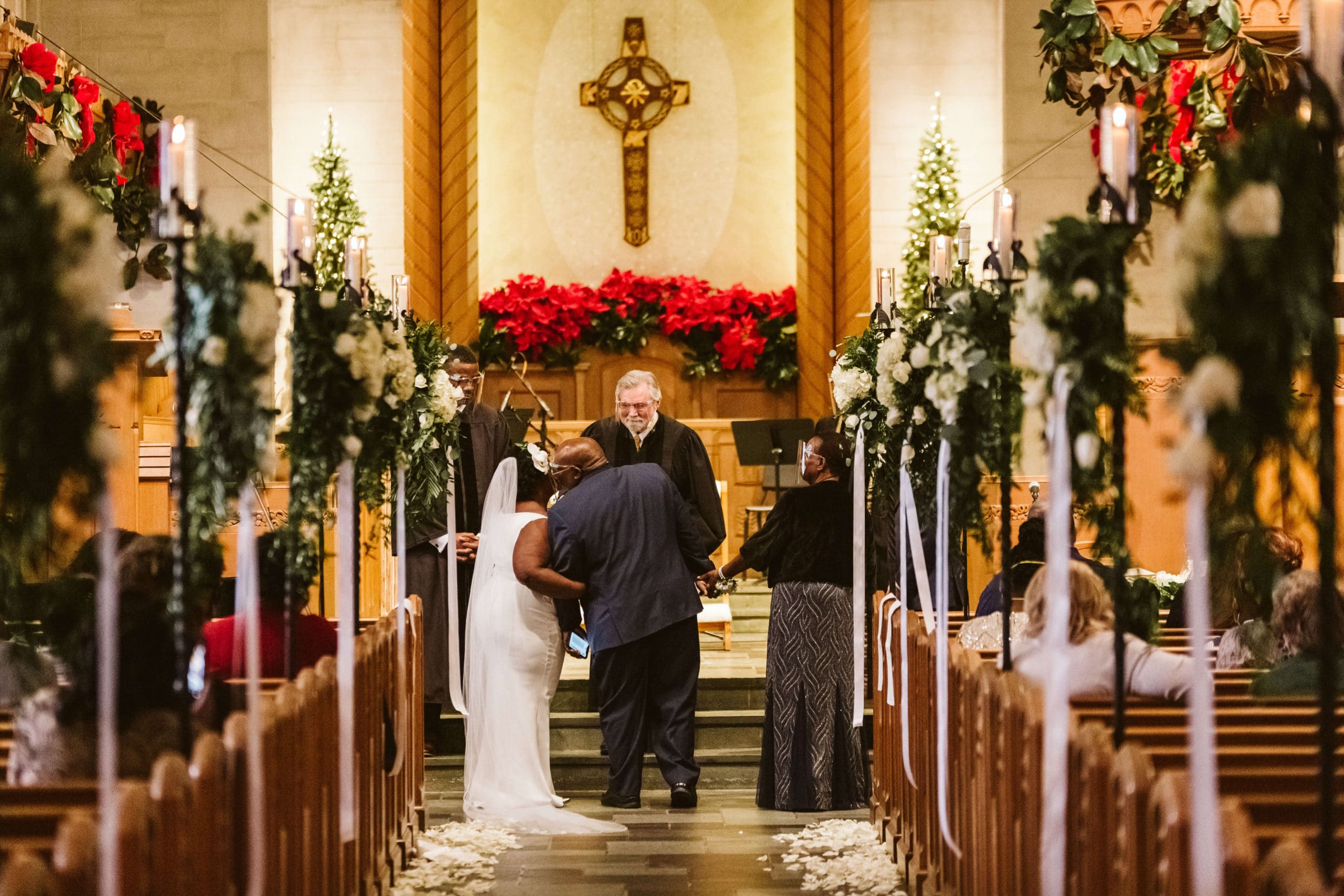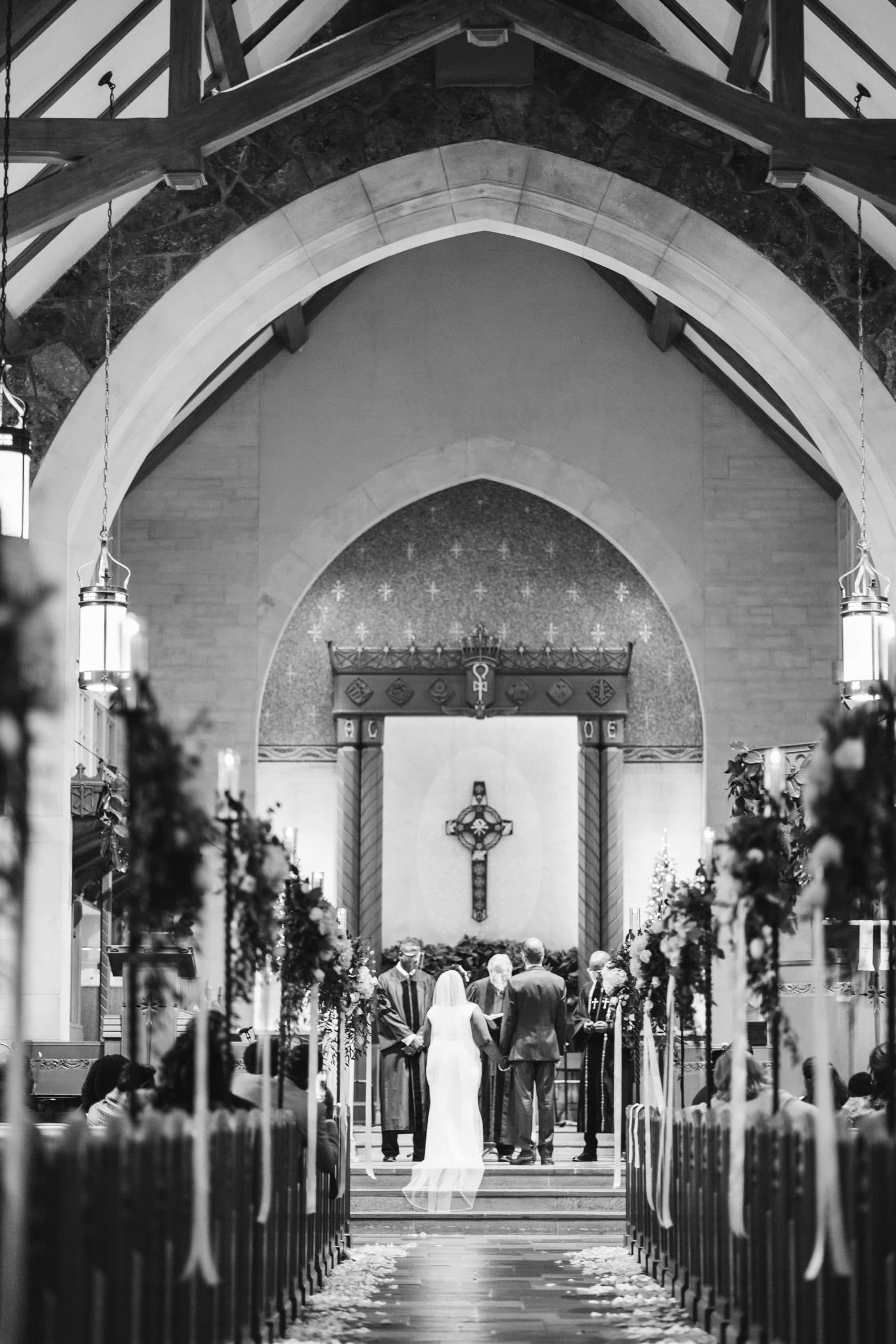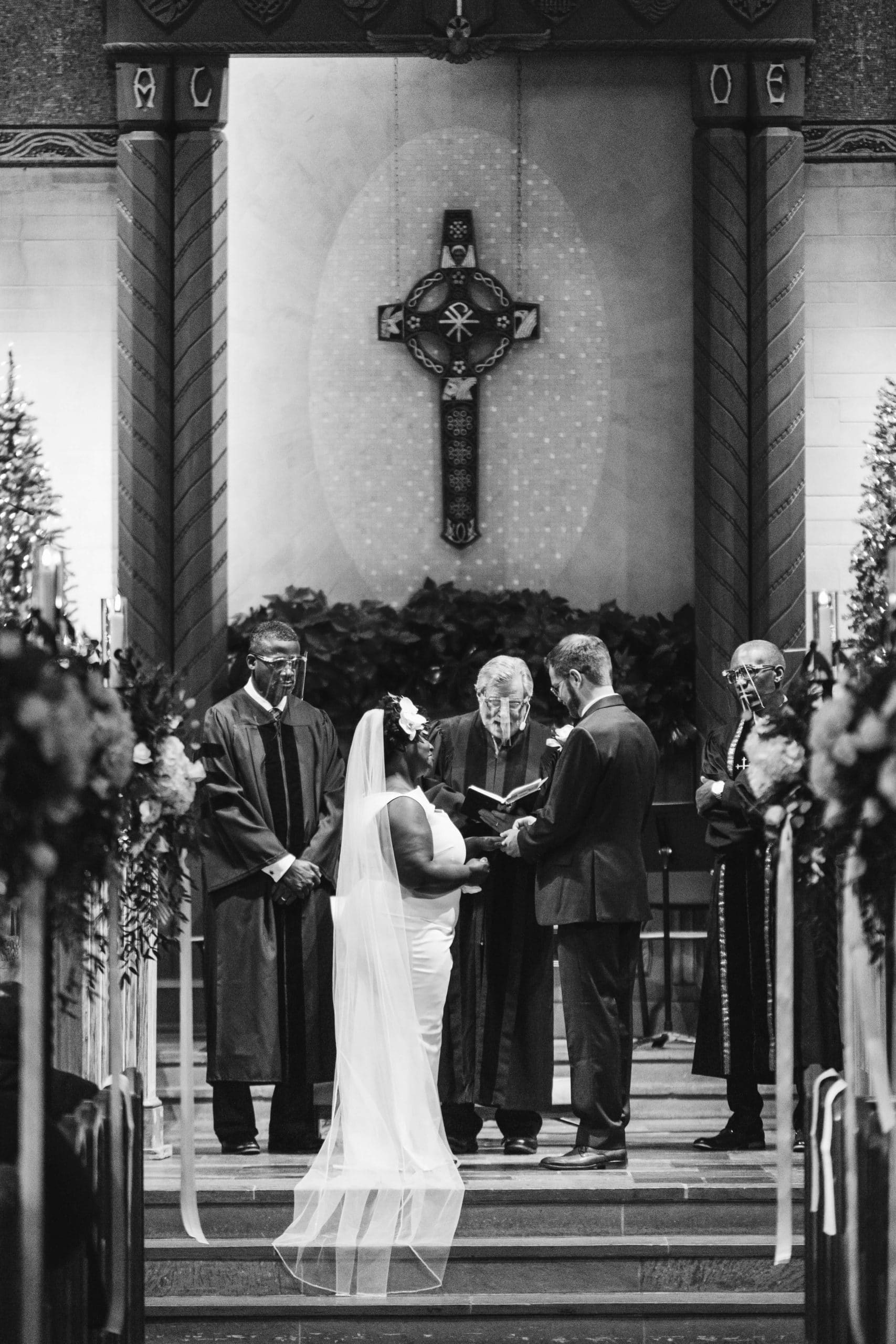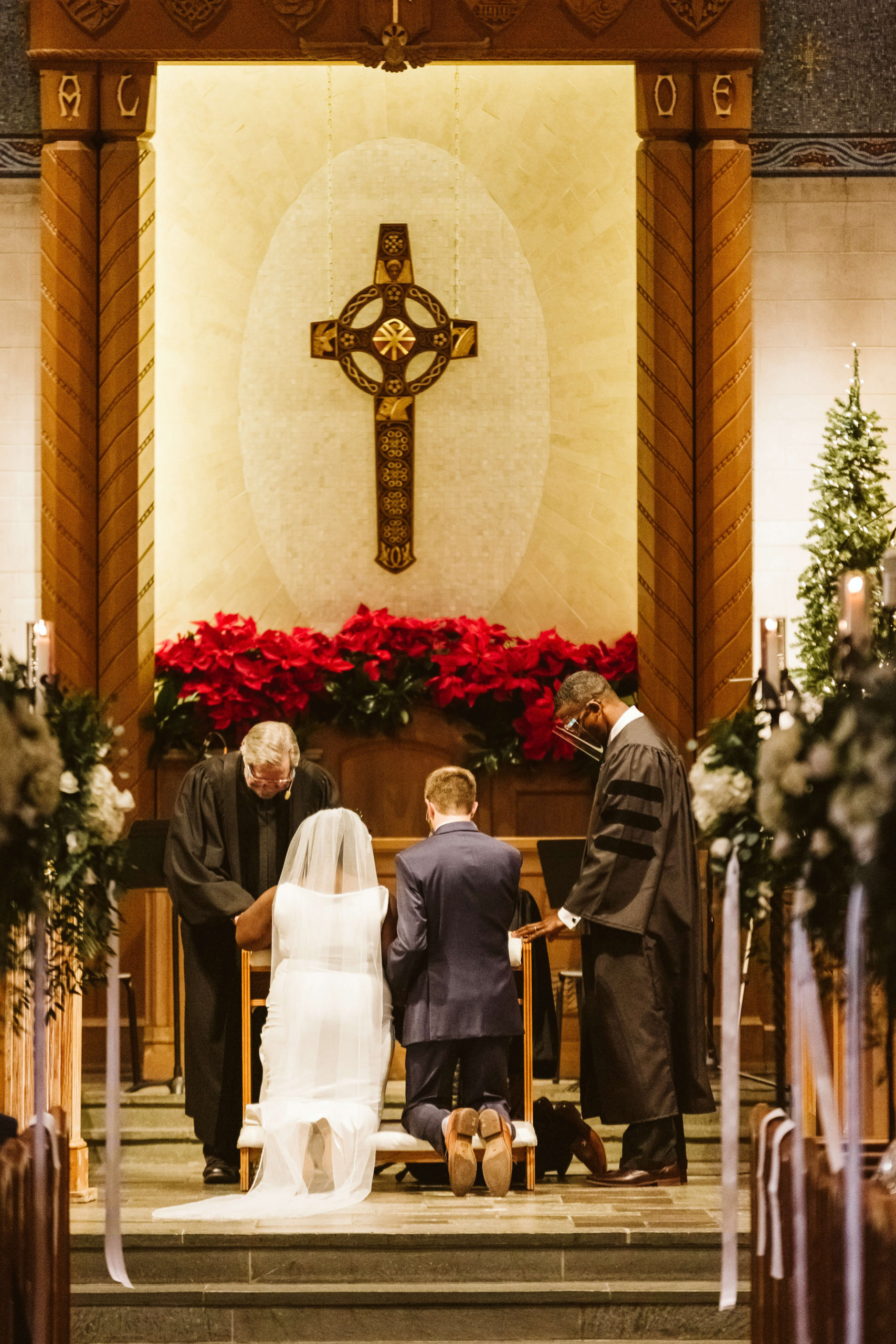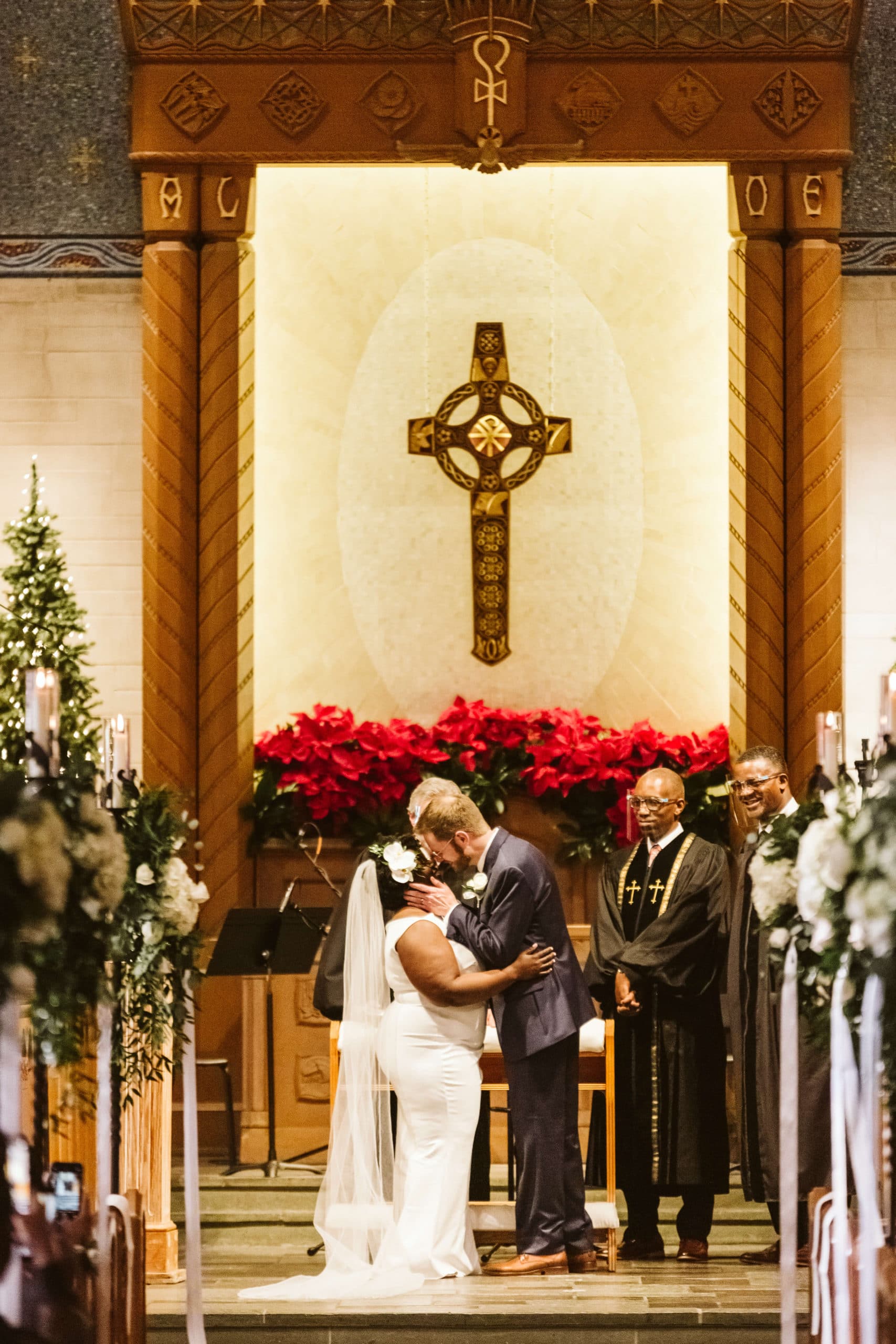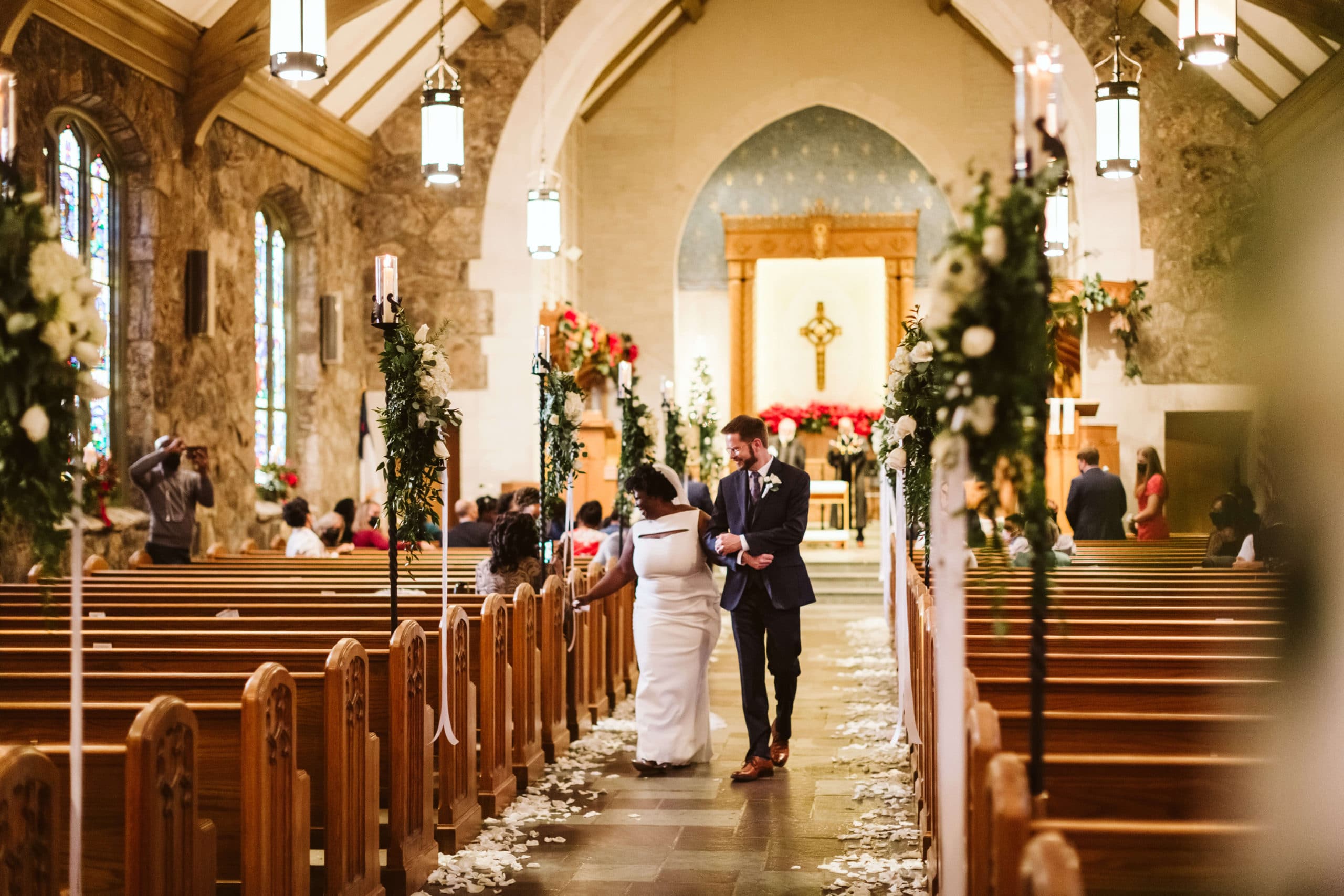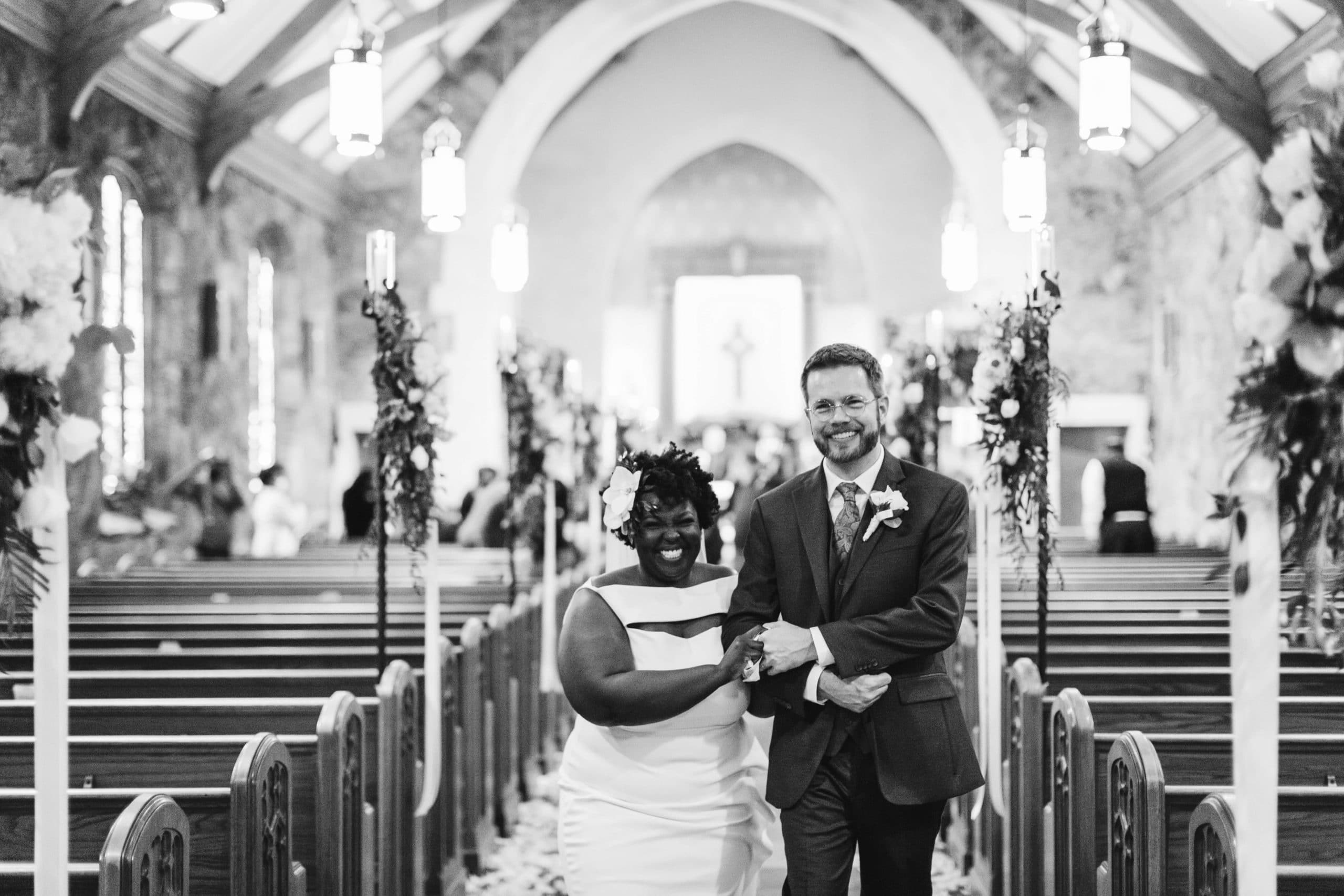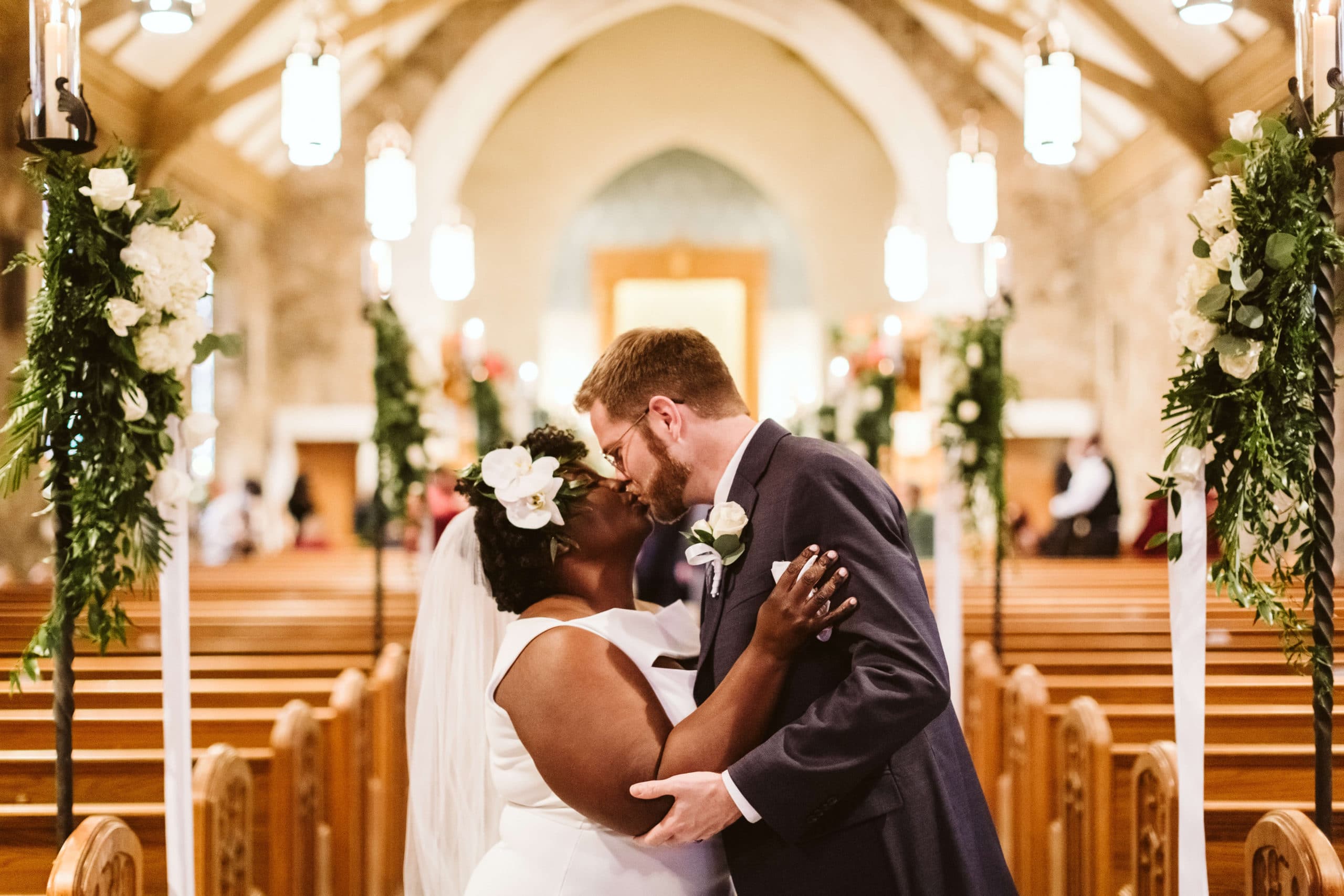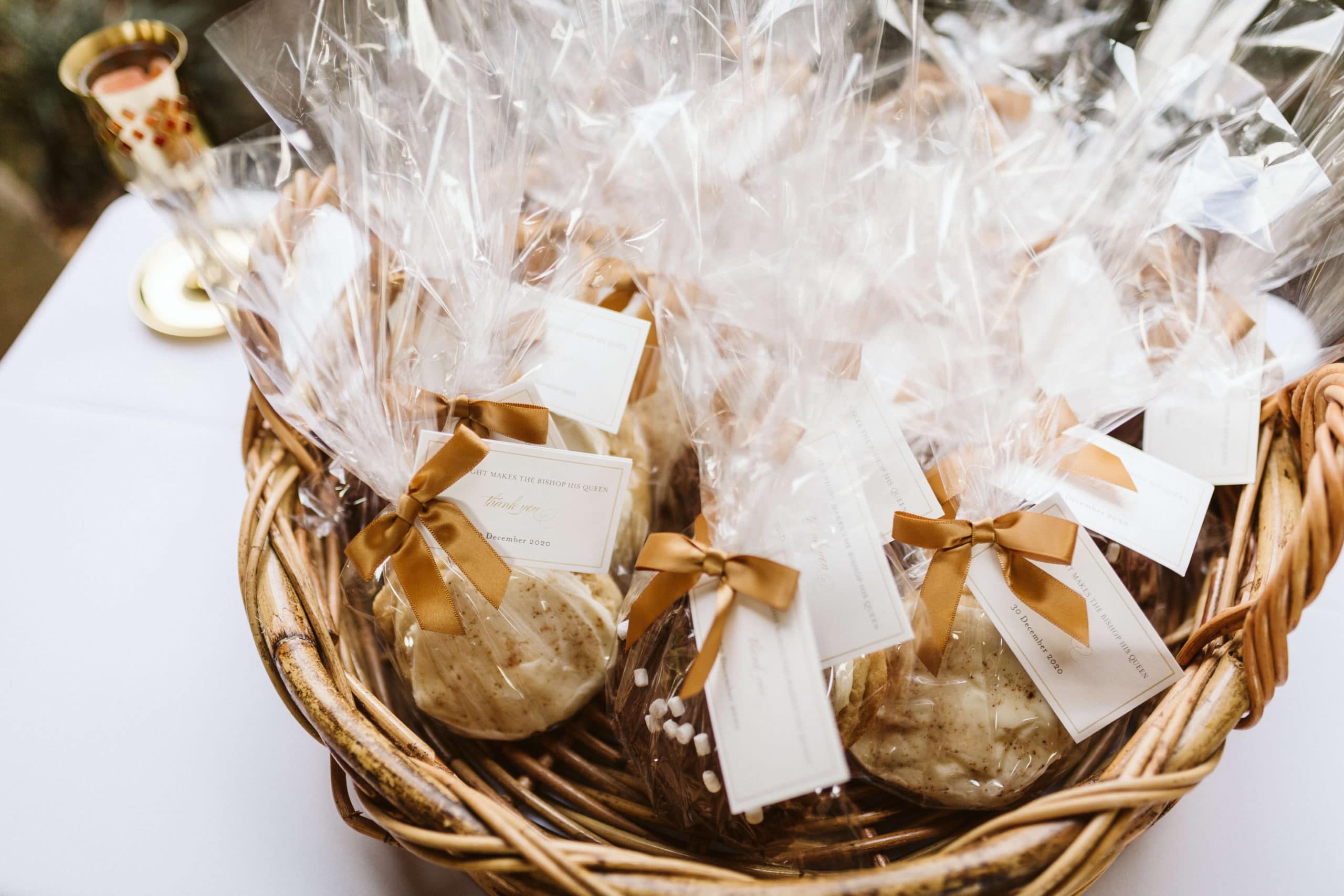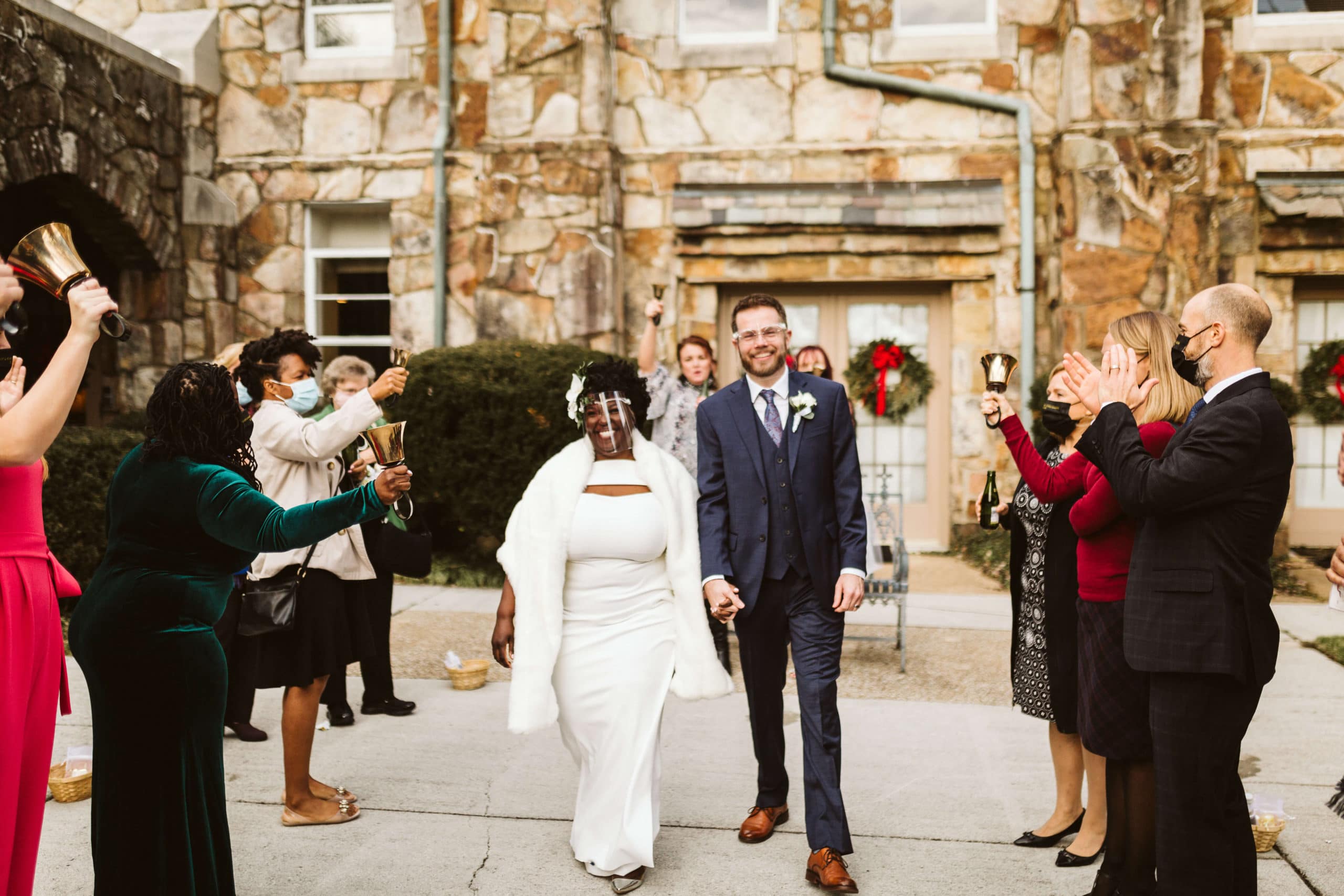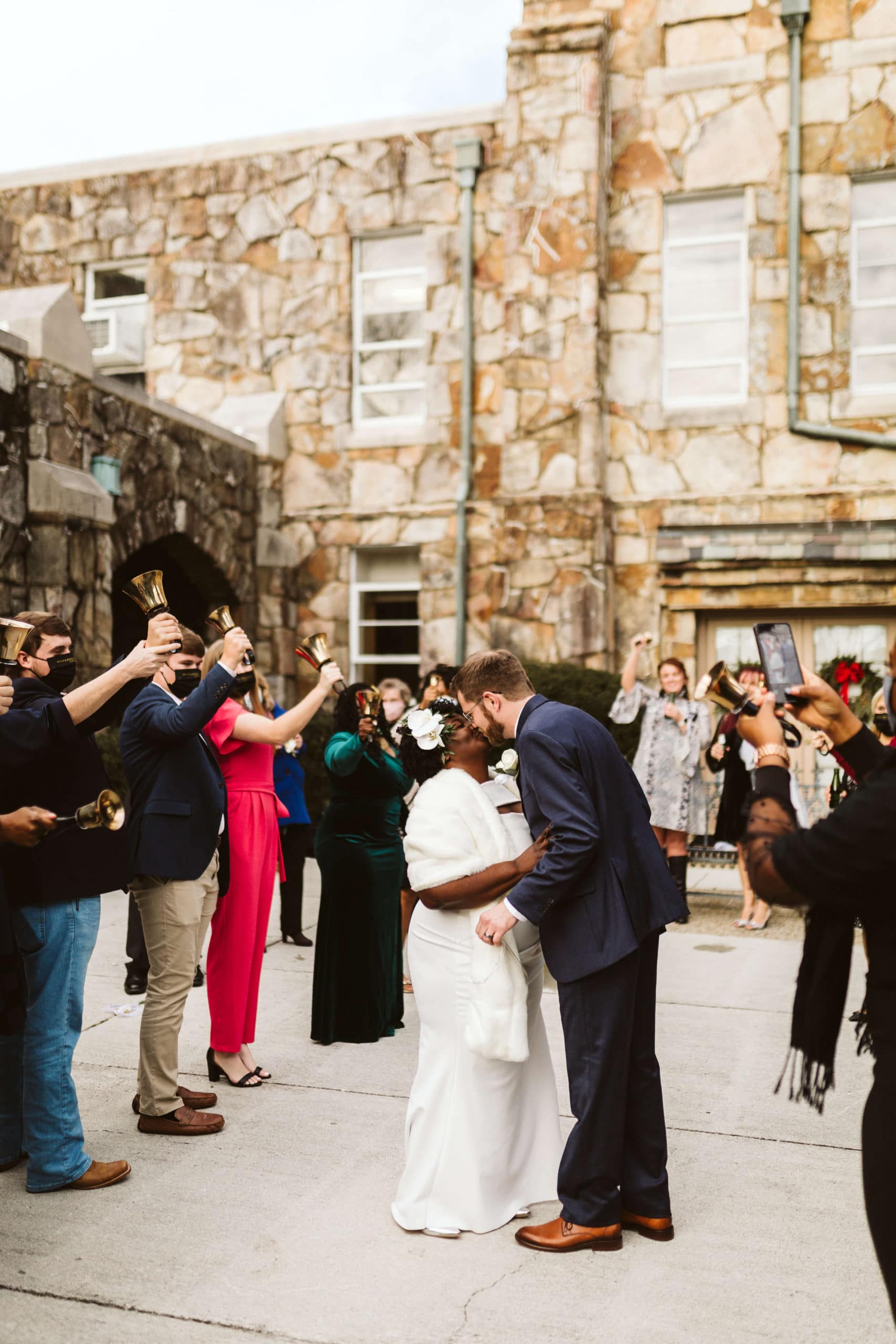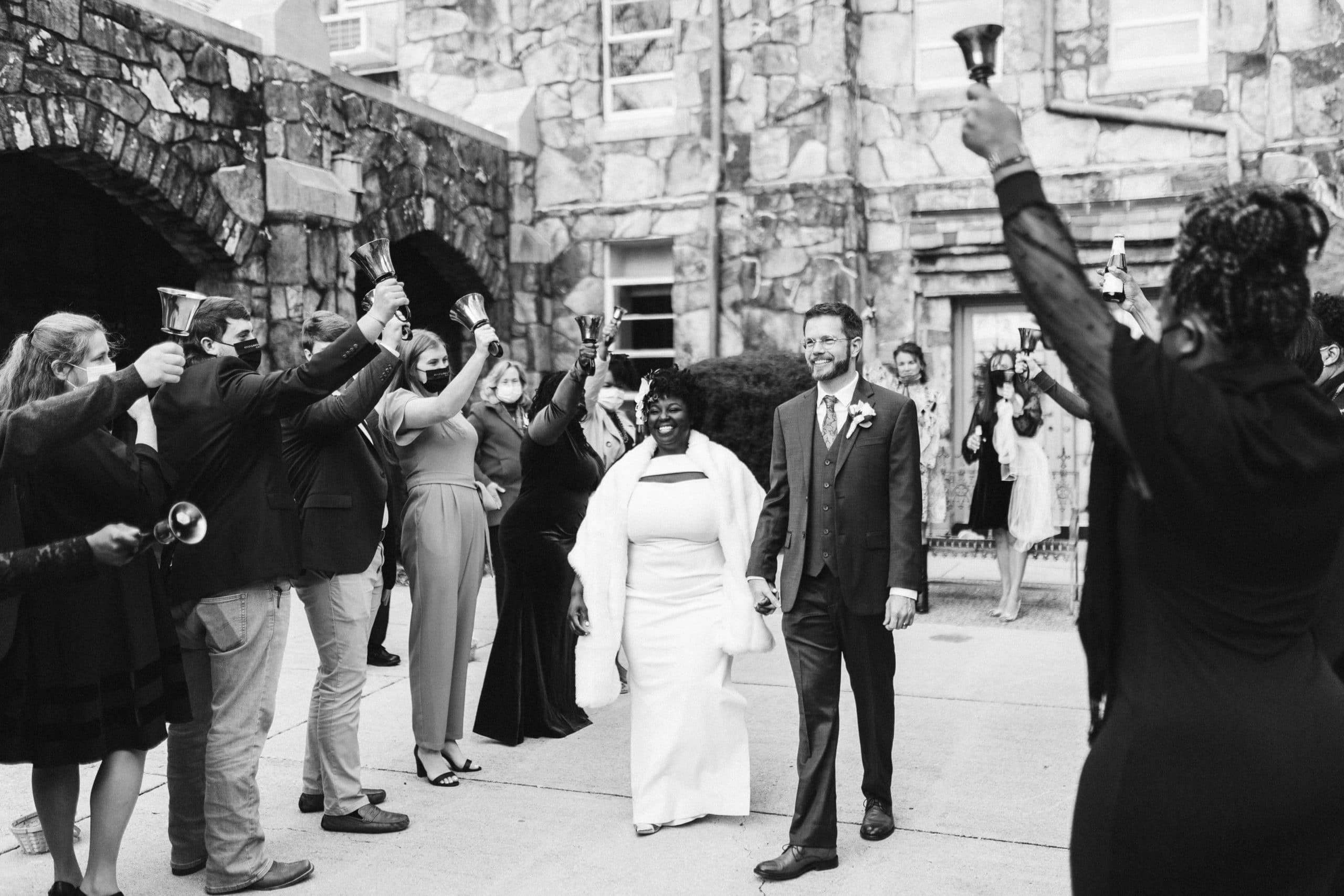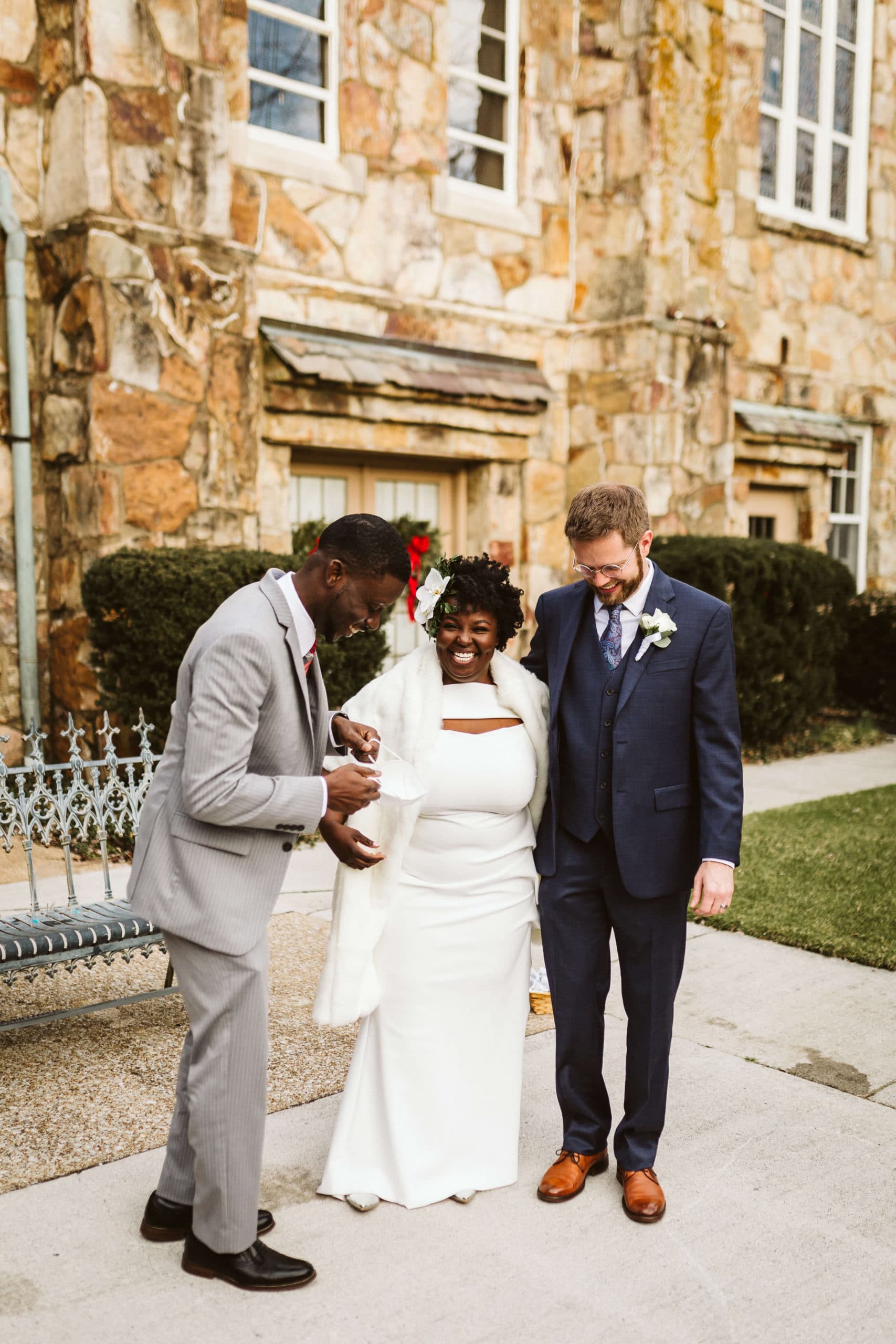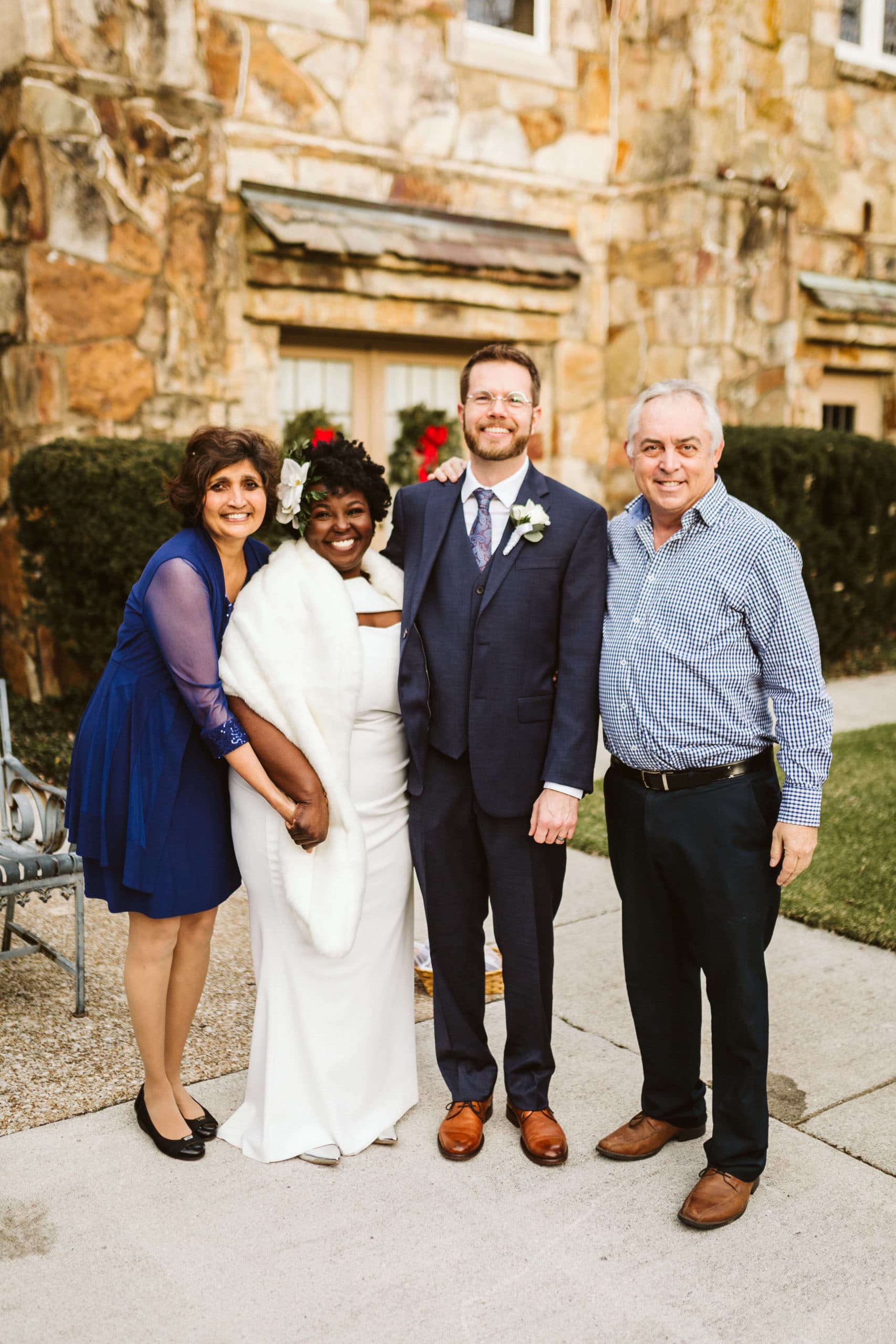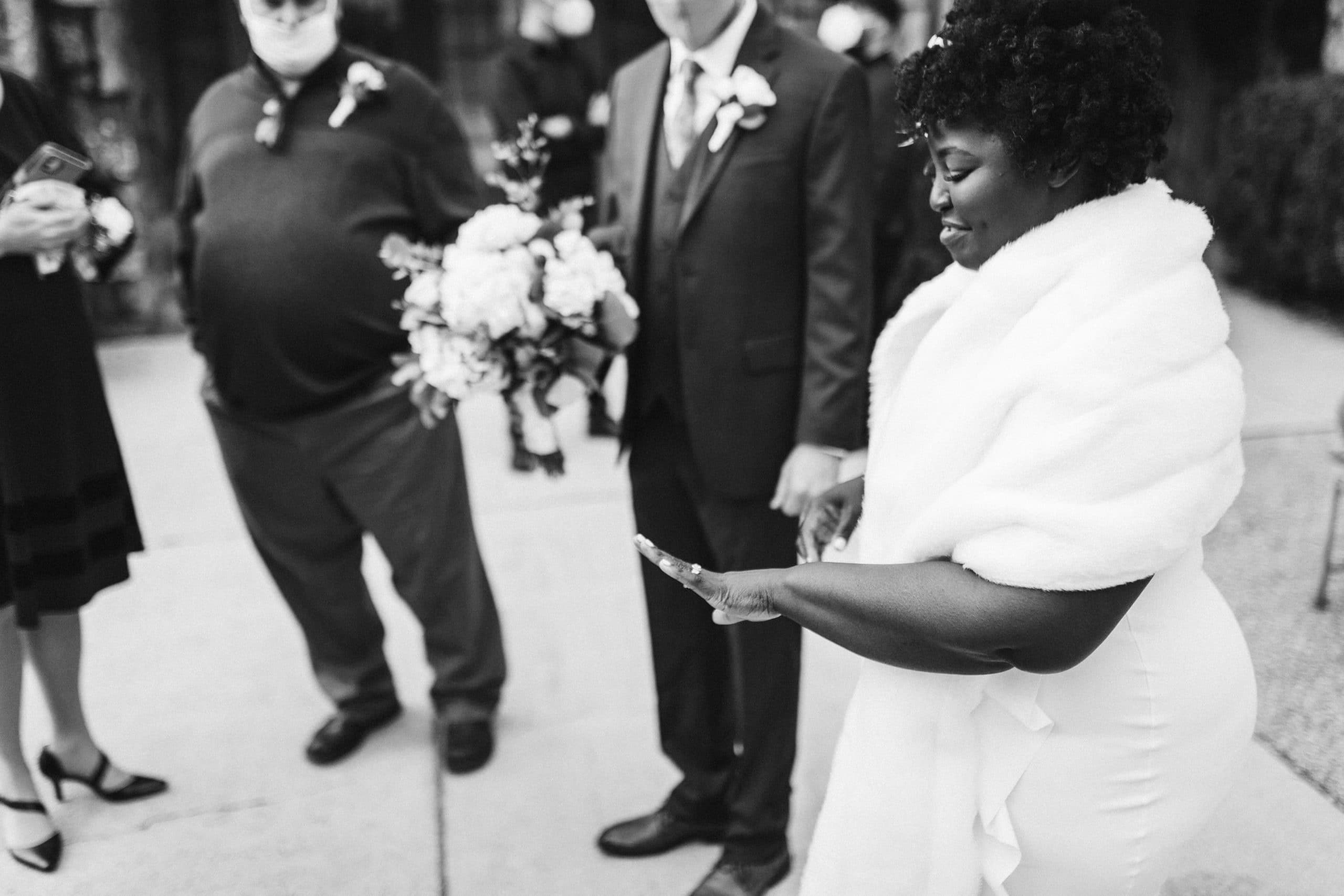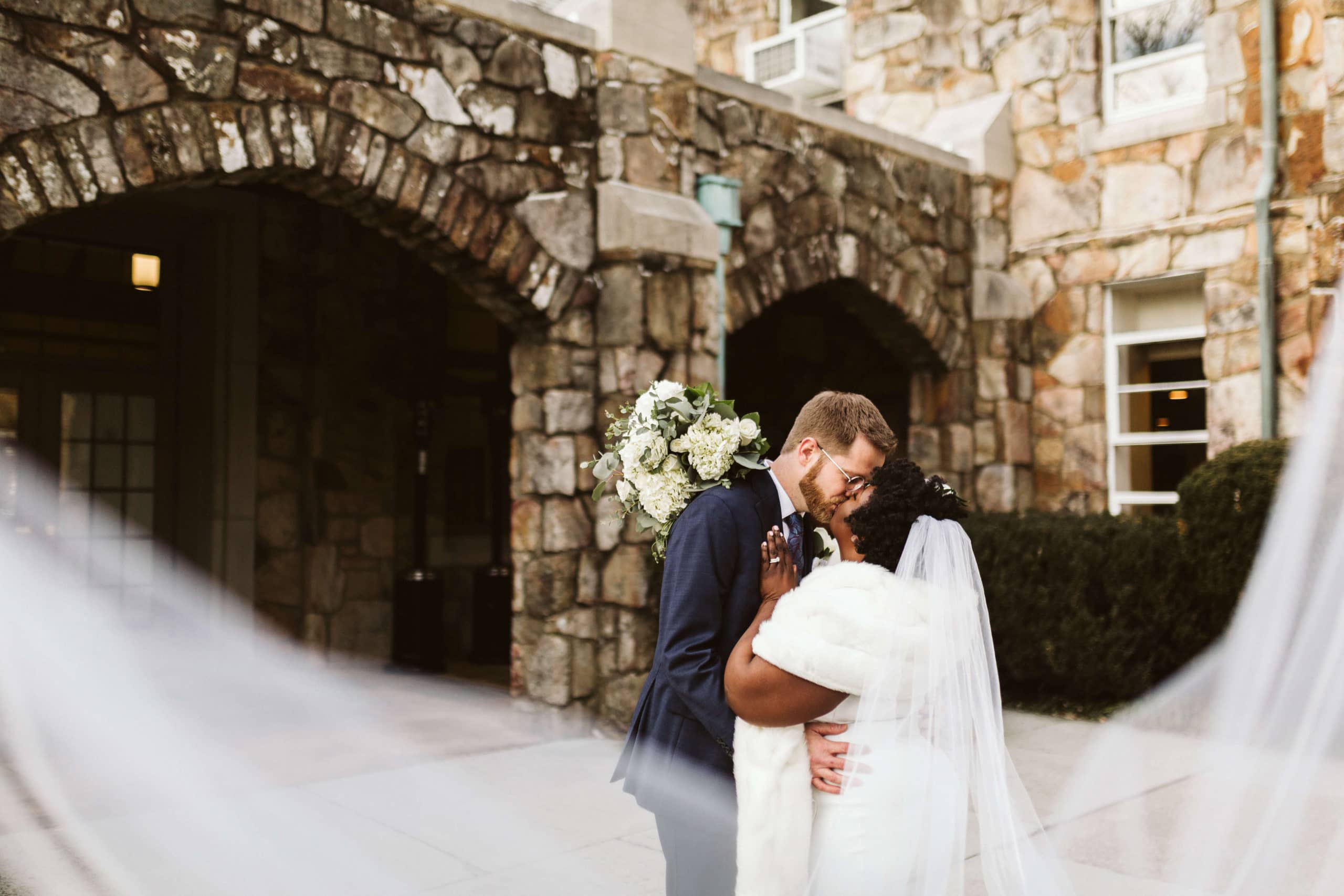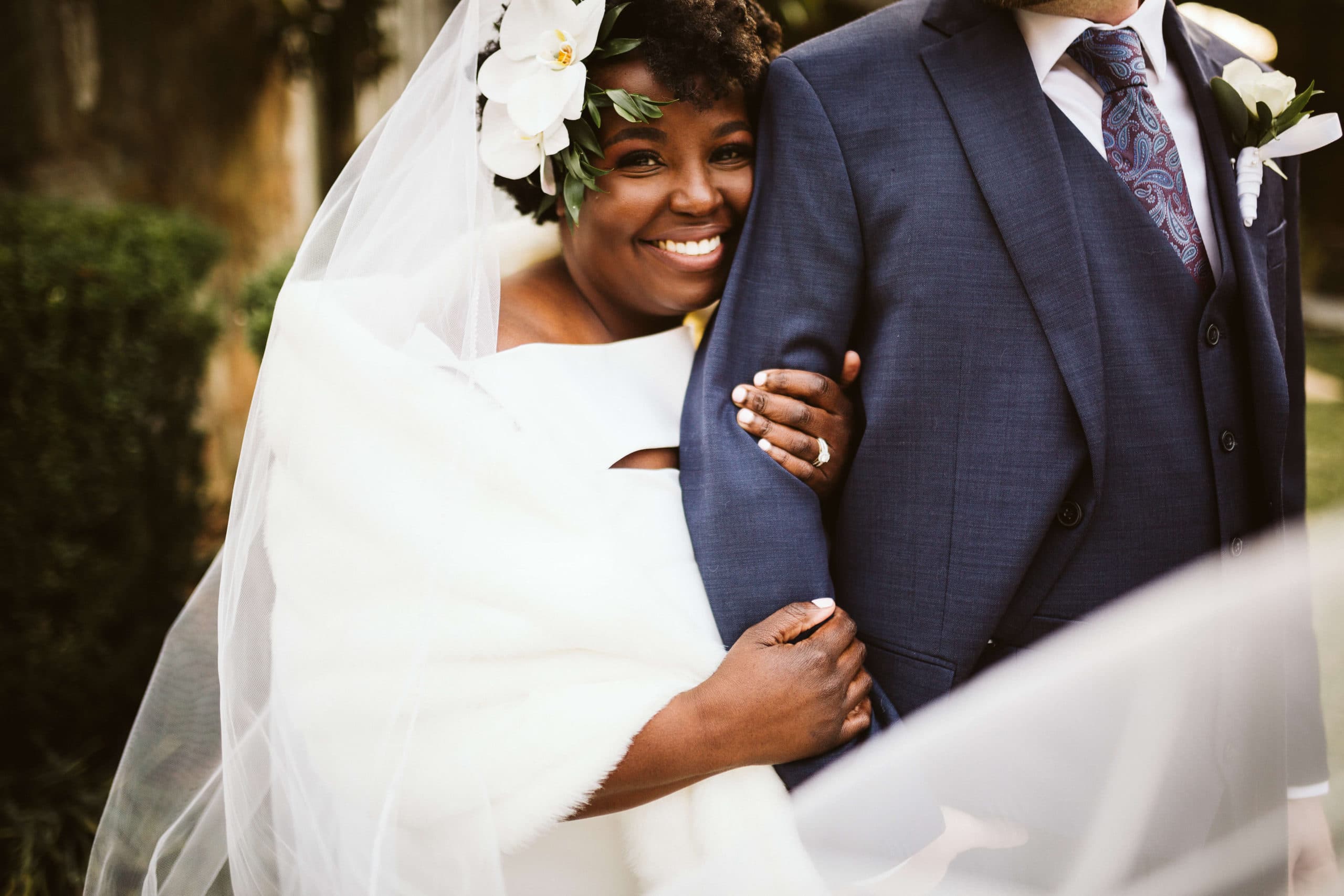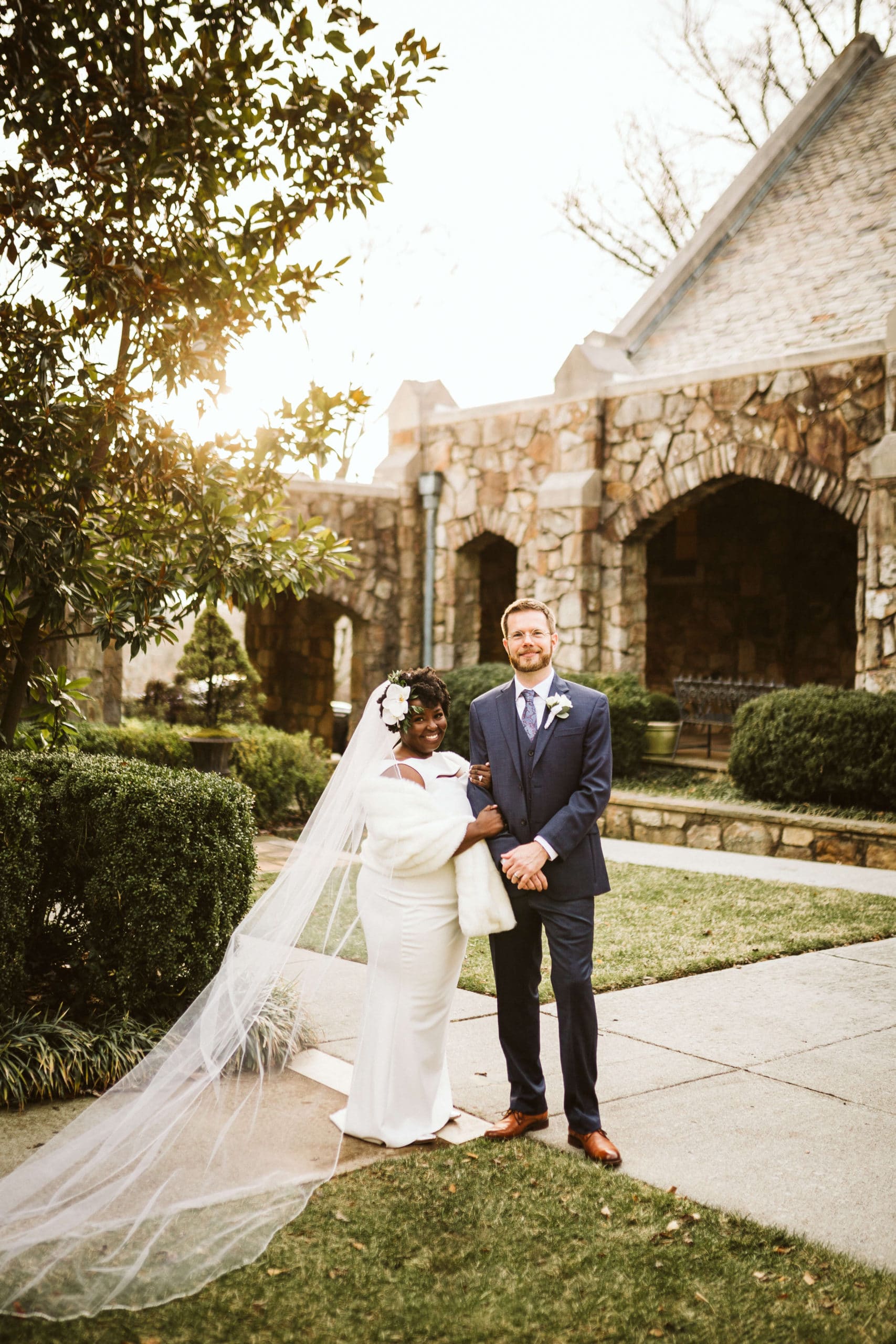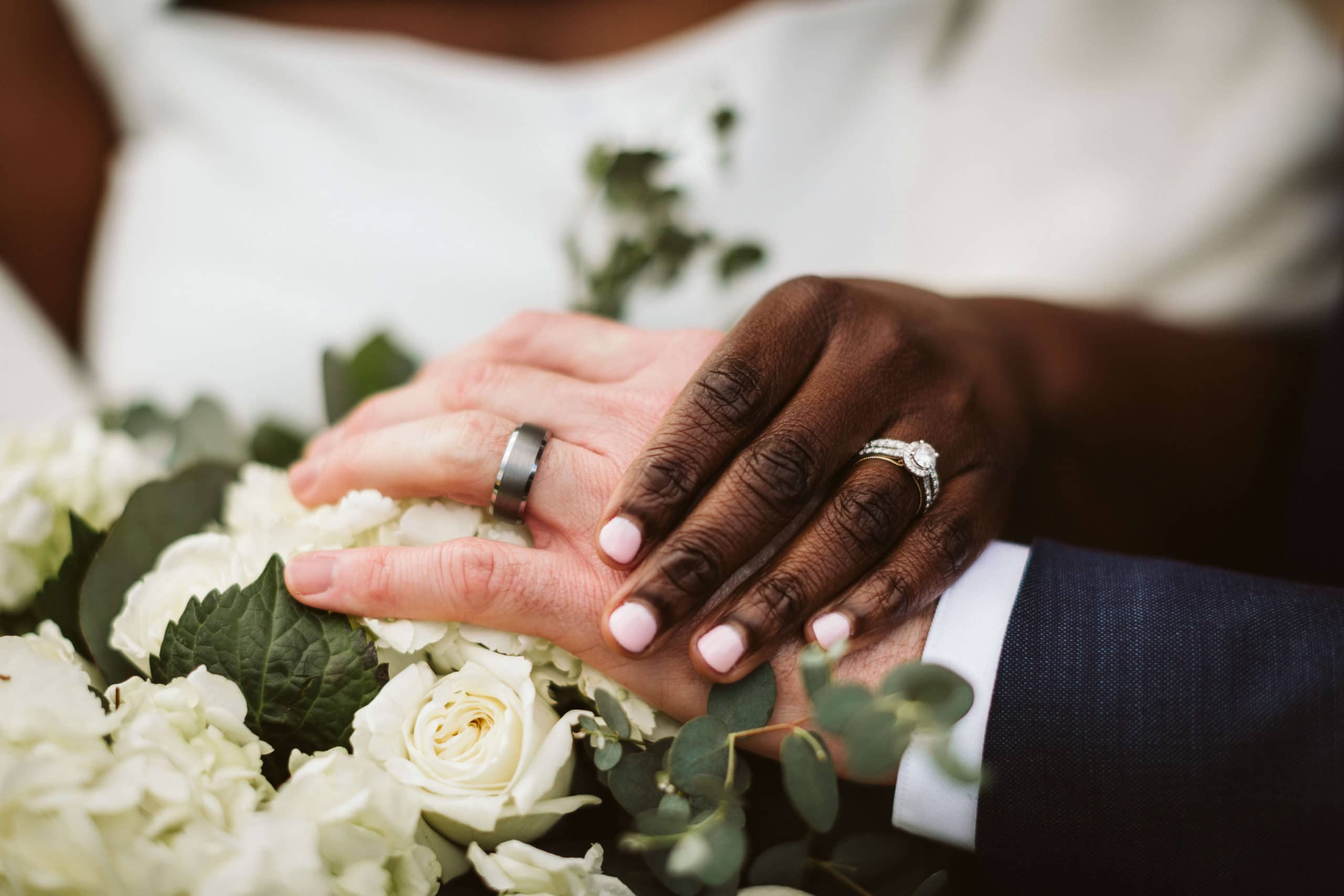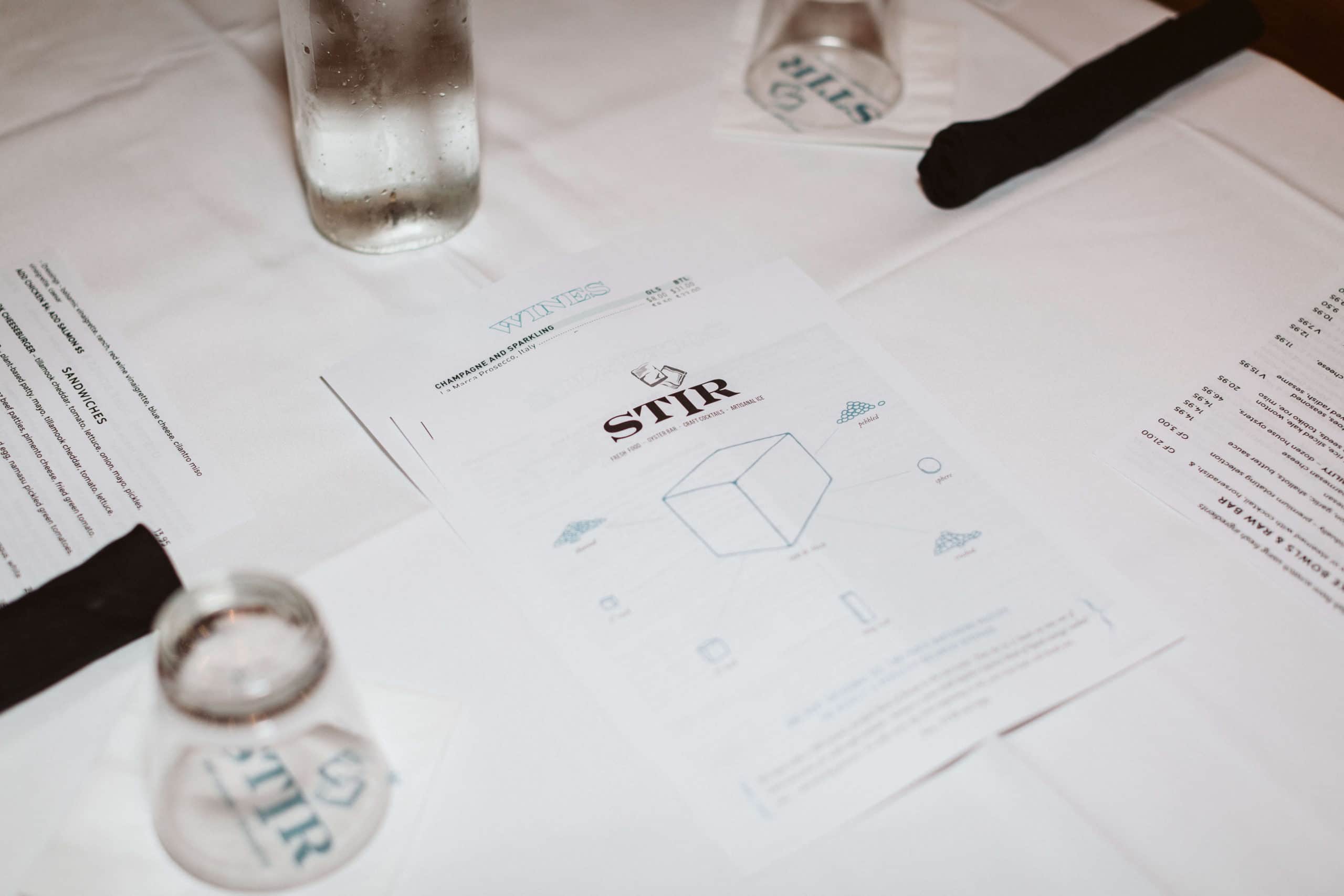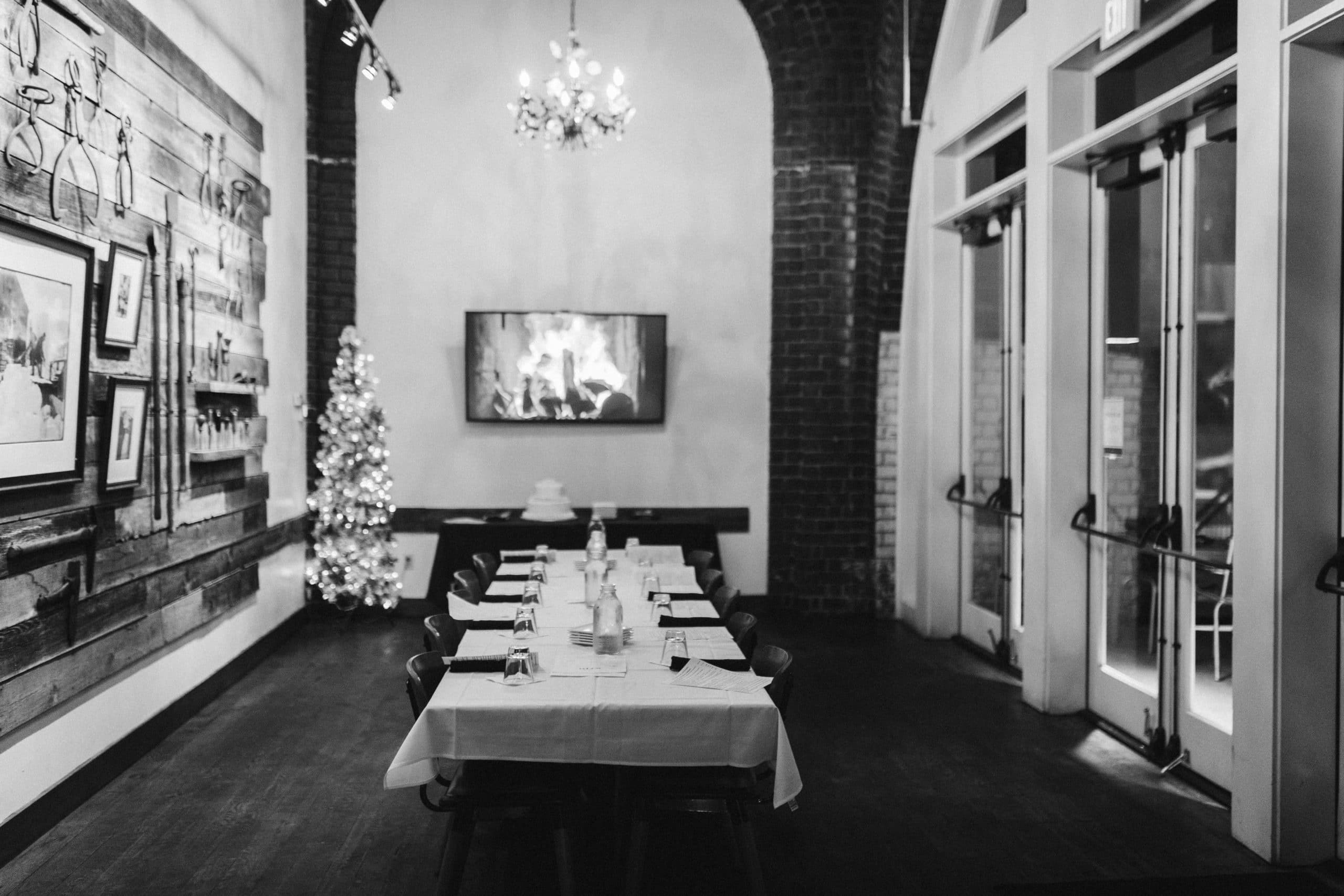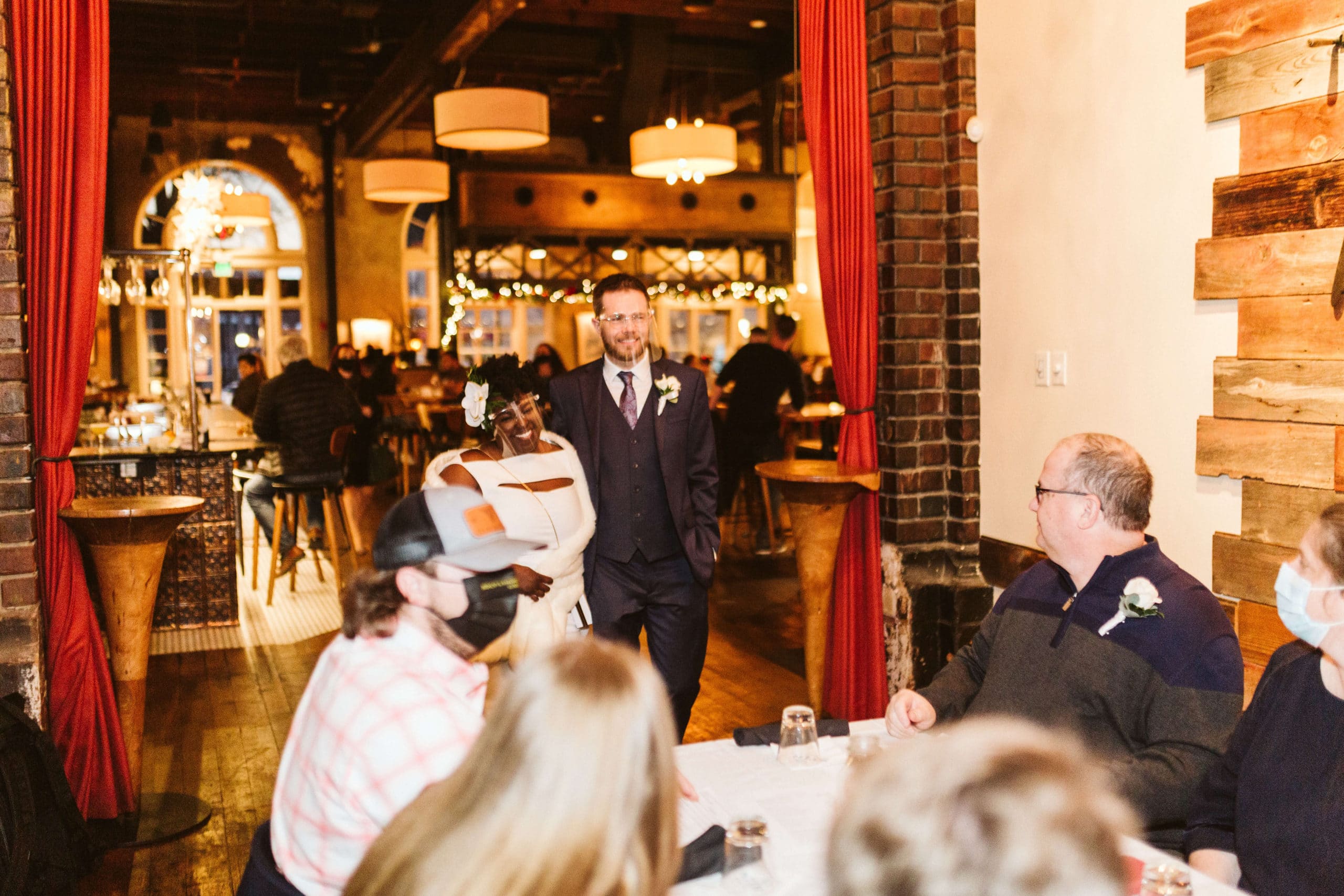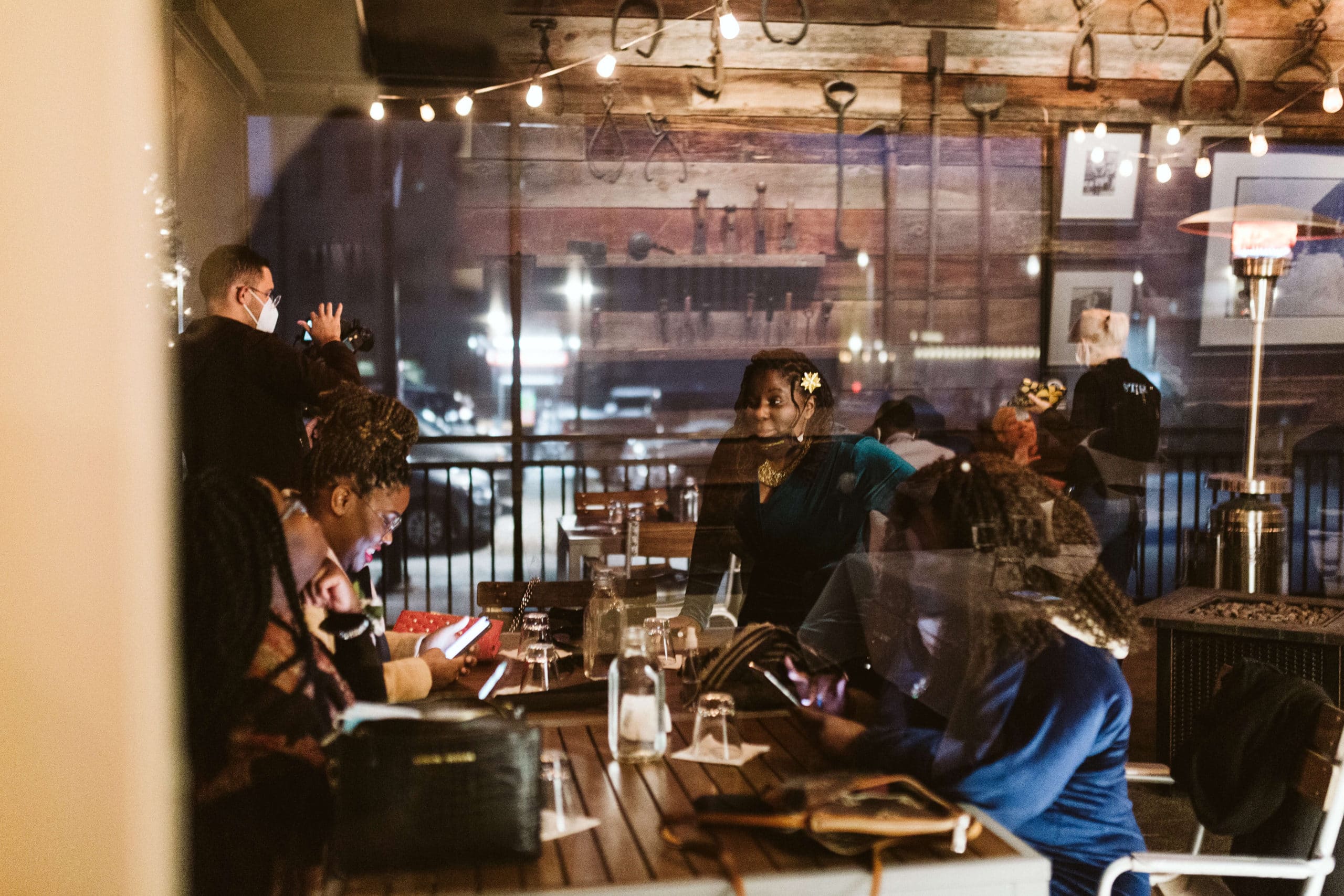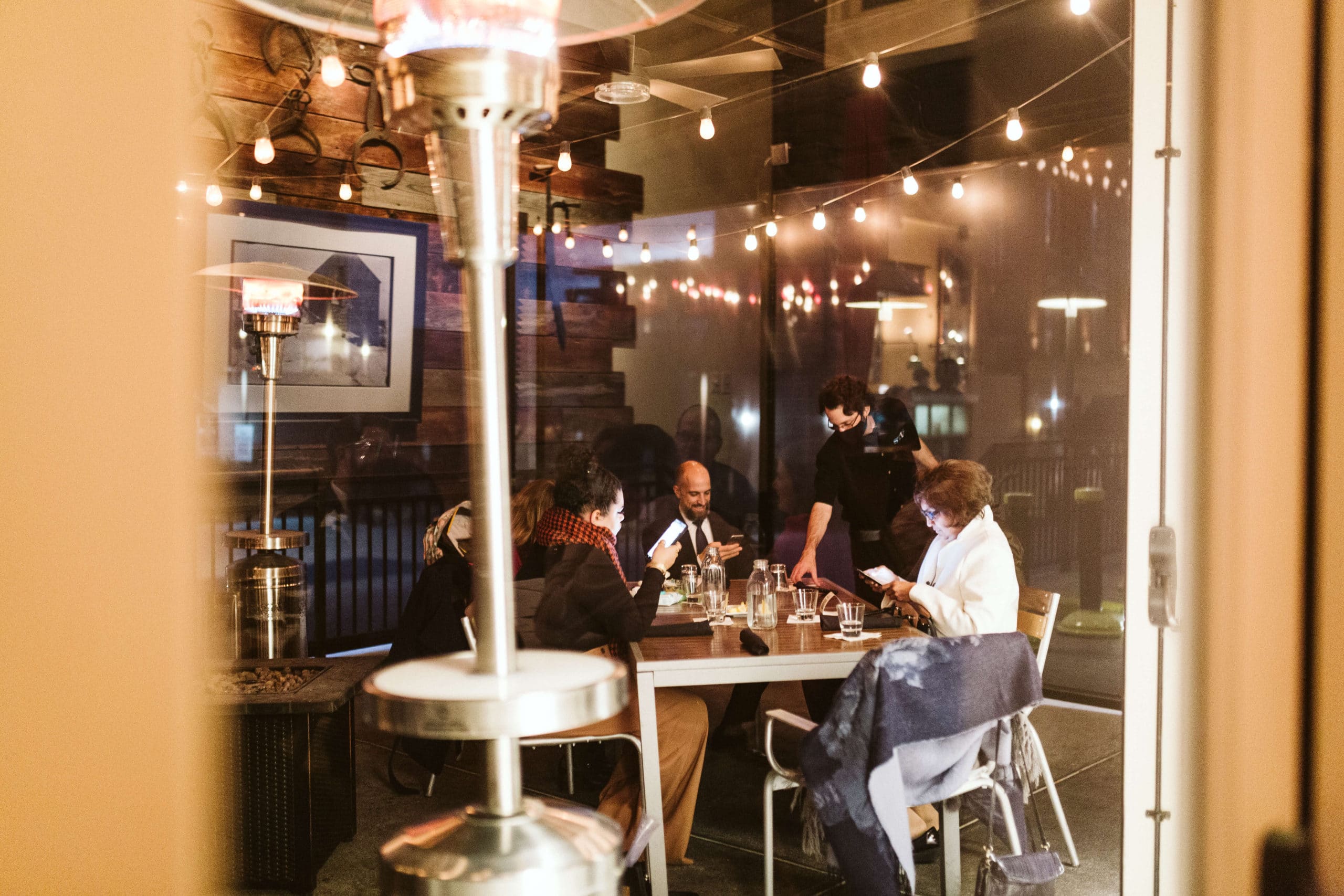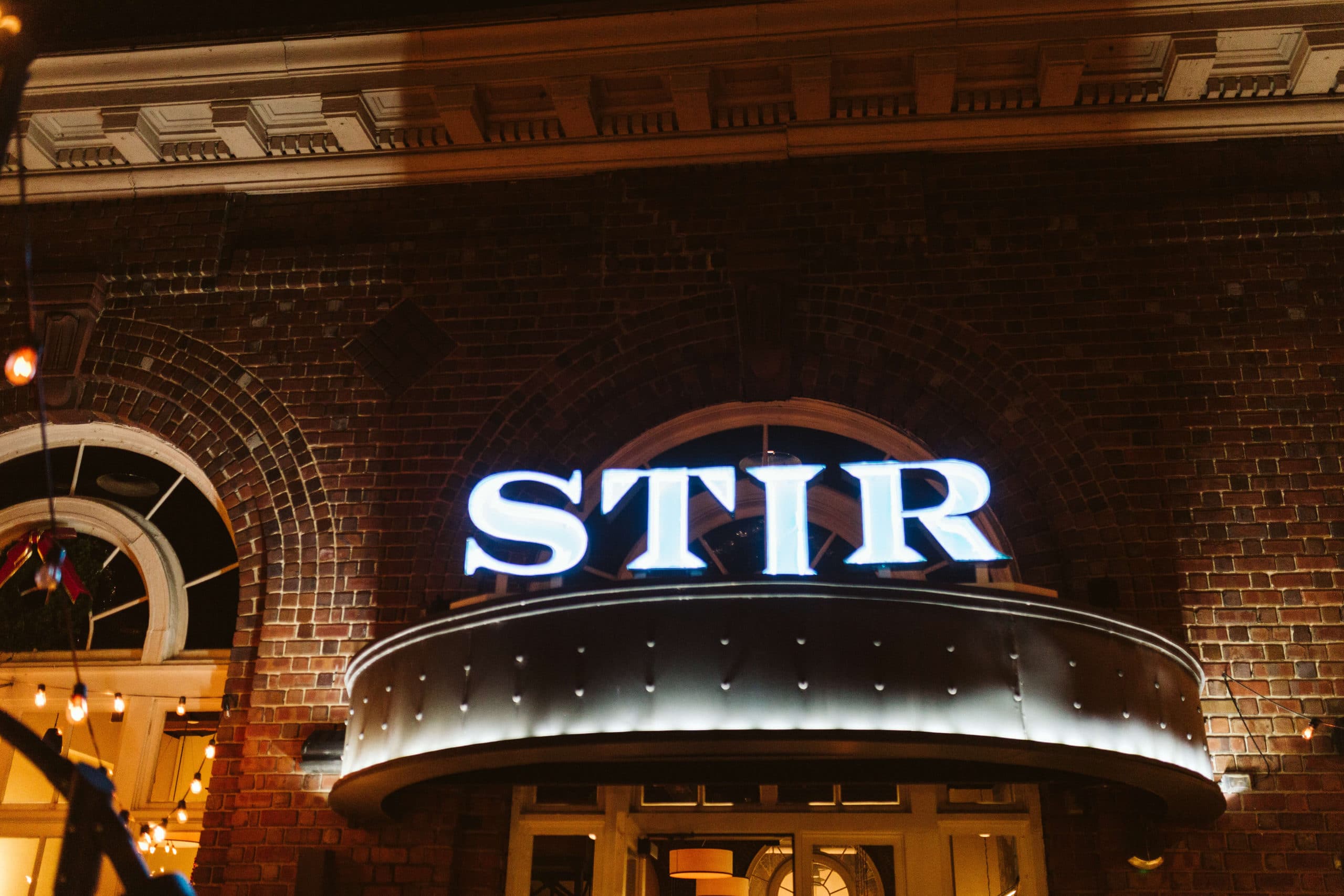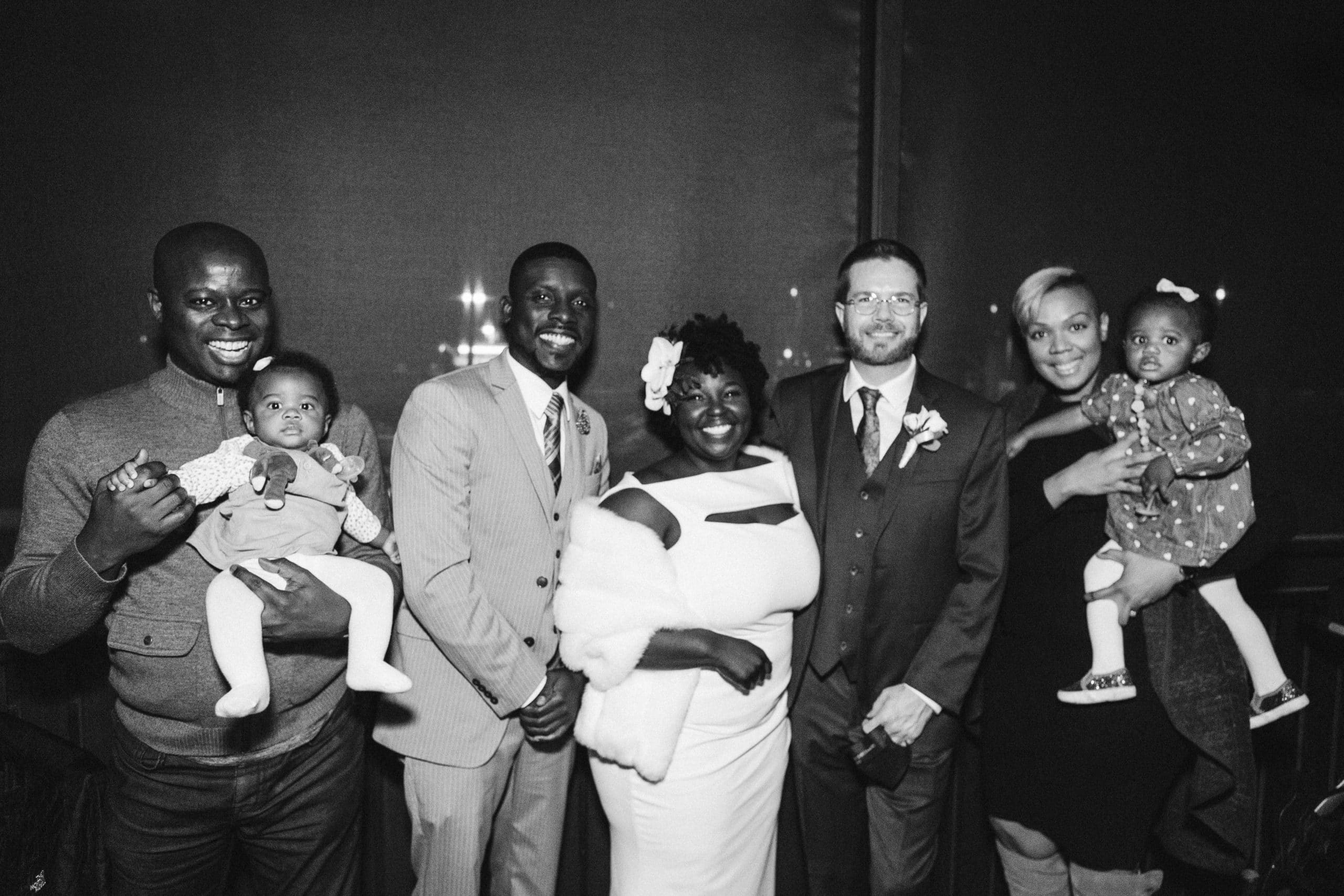 Intimate Wedding Reception at STIR in Chattanooga's Southside
After the ceremony, guests began to head from the church to the reception at STIR in Chattanooga's Southside. Roberta and Joshua lingered behind in the church for a while after their guests left so we could capture some intimate newlywed photos. The look of pure love and adoration Roberta has in her eyes when she looks up at Joshua was simply heartwarming. When we finally made our way to Southside, we paused for a moment to take advantage of the beautiful light from the sunset to take a few evening photos on Station Street.
STIR is one of Roberta and Joshua's favorite restaurants. It's most famously known for its signature cocktails and artisanal ice paired with amazing cuisines including a raw bar made with fresh local ingredients. For big events, they'll help you create a custom menu and fully take care of staffing, set up, and take down for you so you won't have to do anything other than enjoy your day.
The Cabooze Room in STIR is a private room that only holds 50 people for a seated dinner, making it perfect for Roberta and Joshua's intimate wedding reception. Their families were able to comfortably sit down to have a delicious meal or open the double French doors to the patio to enjoy the views on Station Street. Roberta, Joshua, and their families mingled for the rest of the night, simply enjoying each other's company engulfed in the love and happiness of the day.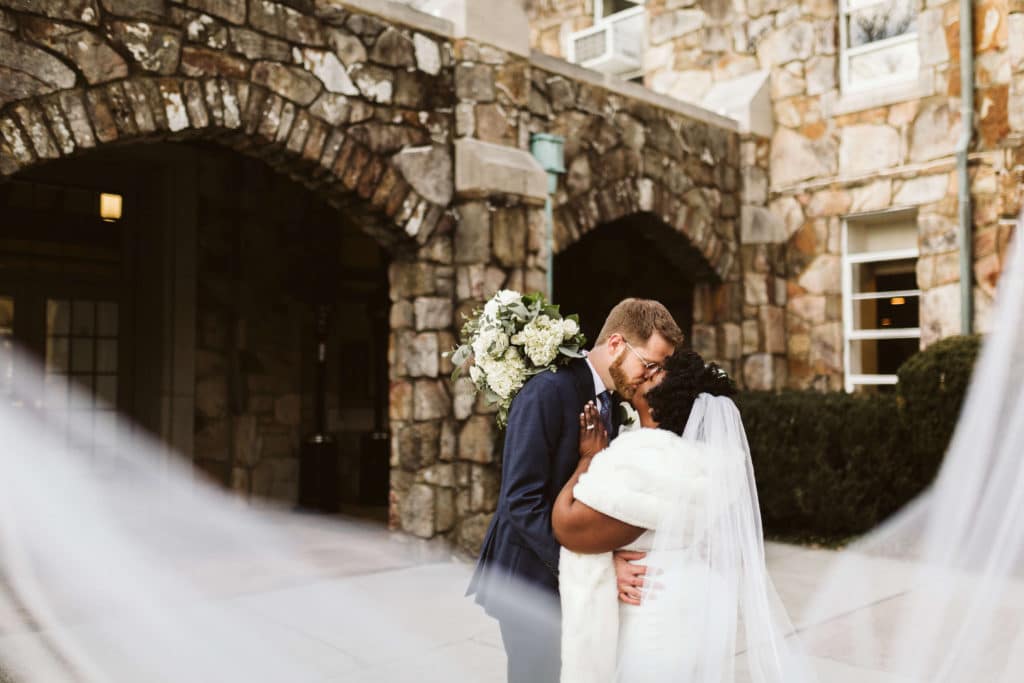 Whether you want an intimate wedding with just family or an elaborate celebration with everyone you know, you deserve wedding photos that capture you and your love story. Let me help you create a day that feels like you!
Hey! I'm Rachael Crowe of OkCrowe Photography. I'm a Tennessee wedding photographer based in Chattanooga but I am always ready to hop on a plane and travel to you to capture the wedding of your dreams. I'm here to answer any and all of your questions and make sure your big day is all about you and your love story. So whether you're planning to elope or having a destination wedding, I would love to chat! Visit my contact form to get started!