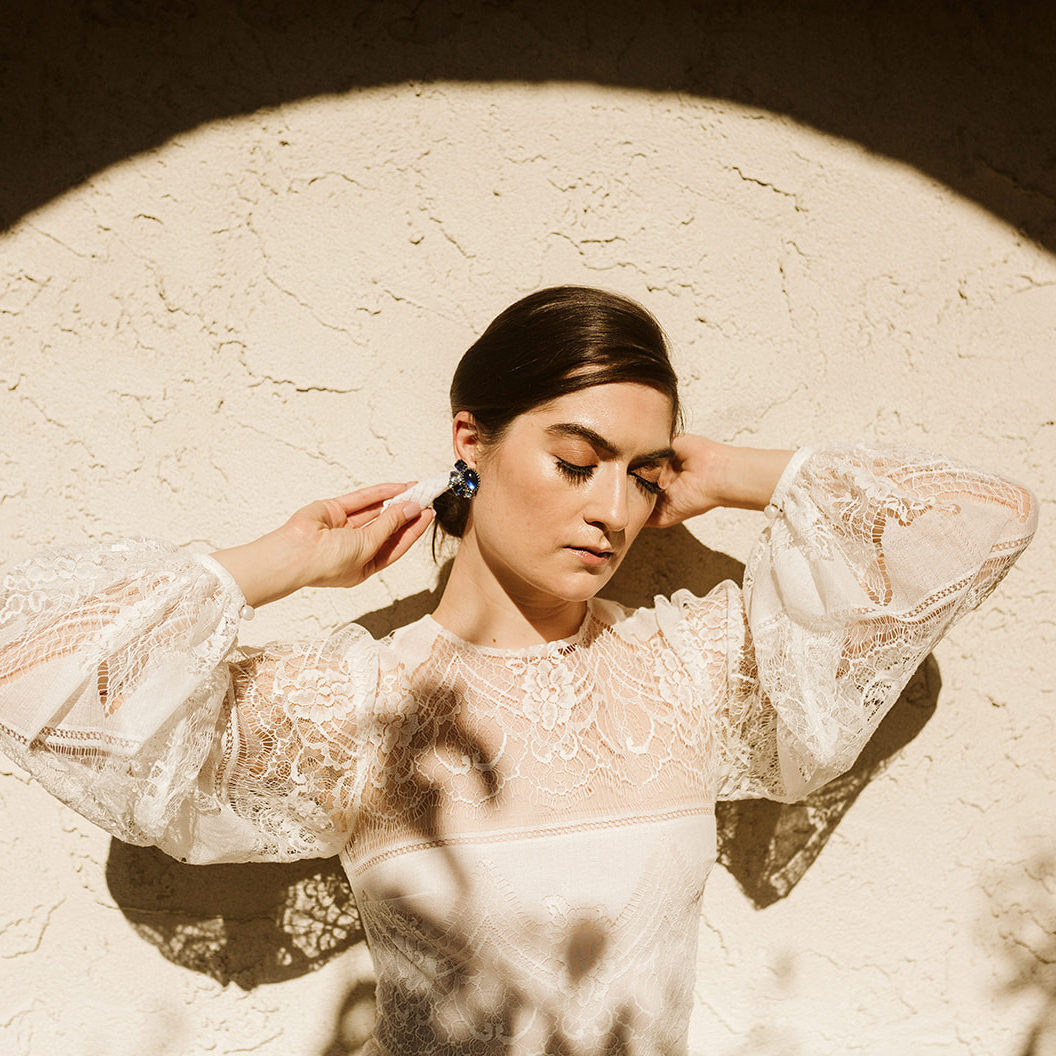 You ever met a couple and thought, "Wow, you two are just going to throw the coolest wedding ever." That's Laine and Brad! After having so much fun during their engagement photo session, I was thrilled when they asked me to shoot their wedding at Tennessee Riverplace here in Chattanooga.
Enjoy this elegant (and a little edgy) wedding from last fall, and if you're planning your own dream wedding, shoot me a message!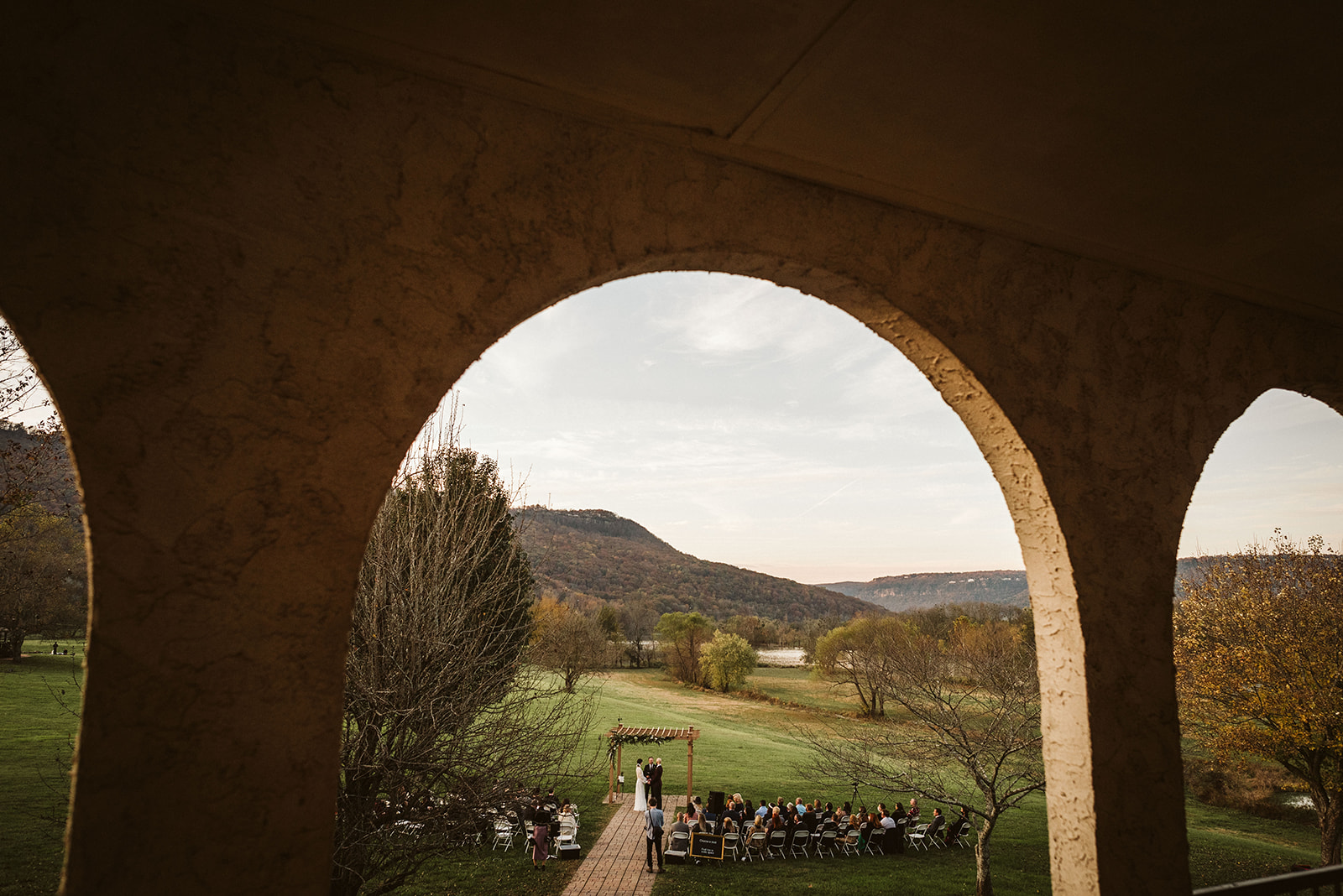 PLANNING THEIR DREAM WEDDING AT TENNESSEE RIVERPLACE
After their engagement session, Laine and Brad decided to book me to shoot their wedding at Tennessee Riverplace last fall. And I'm so glad! Their engagement session was so much fun, and they allowed me tons of artistic freedom. I had a feeling their wedding would be just as cool.
Due to COVID, Laine and Brad did have to cut down their guest list a bit, but they were still able to host a full wedding – complete with ceremony, cocktail hour, and reception.
As with her engagement photos, Laine had a clear vision of what she wanted for her wedding day. I met her the morning of the wedding as she was getting ready. In true Laine fashion, she picked out this killer vintage-style dress, bold blue earrings, and pointed white leather boots. She just exudes cool.
When I met up with Brad, he'd already donned his burgundy suit and tie, and he was ready to see his bride! After a few solo shots of each of them, it was time for the first look.
I set Laine and Brad up in this quiet alcove near the main building, and they got to see each other for the first time under autumn leaves bathed in afternoon light. It was a sweet, simple moment perfect for these two.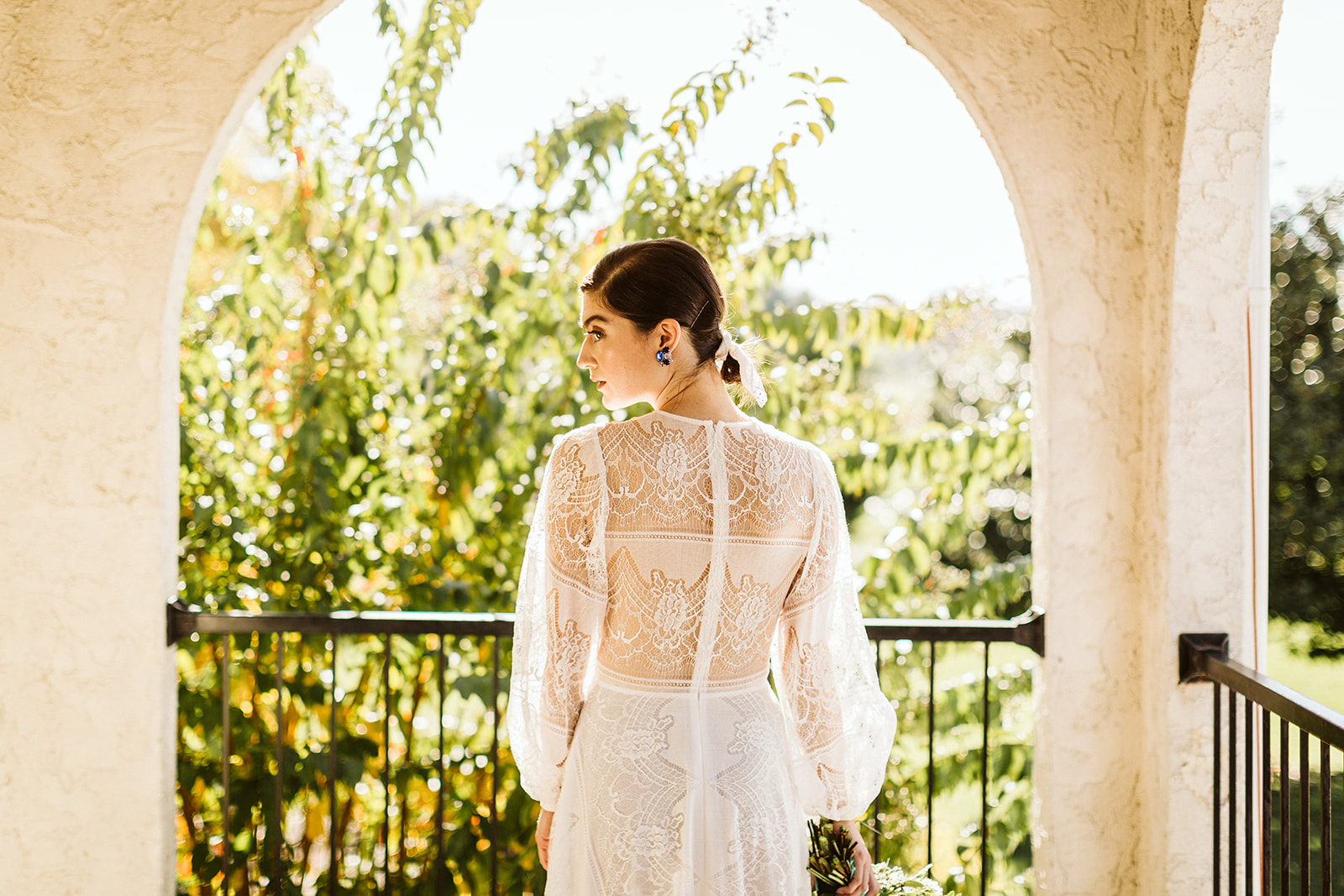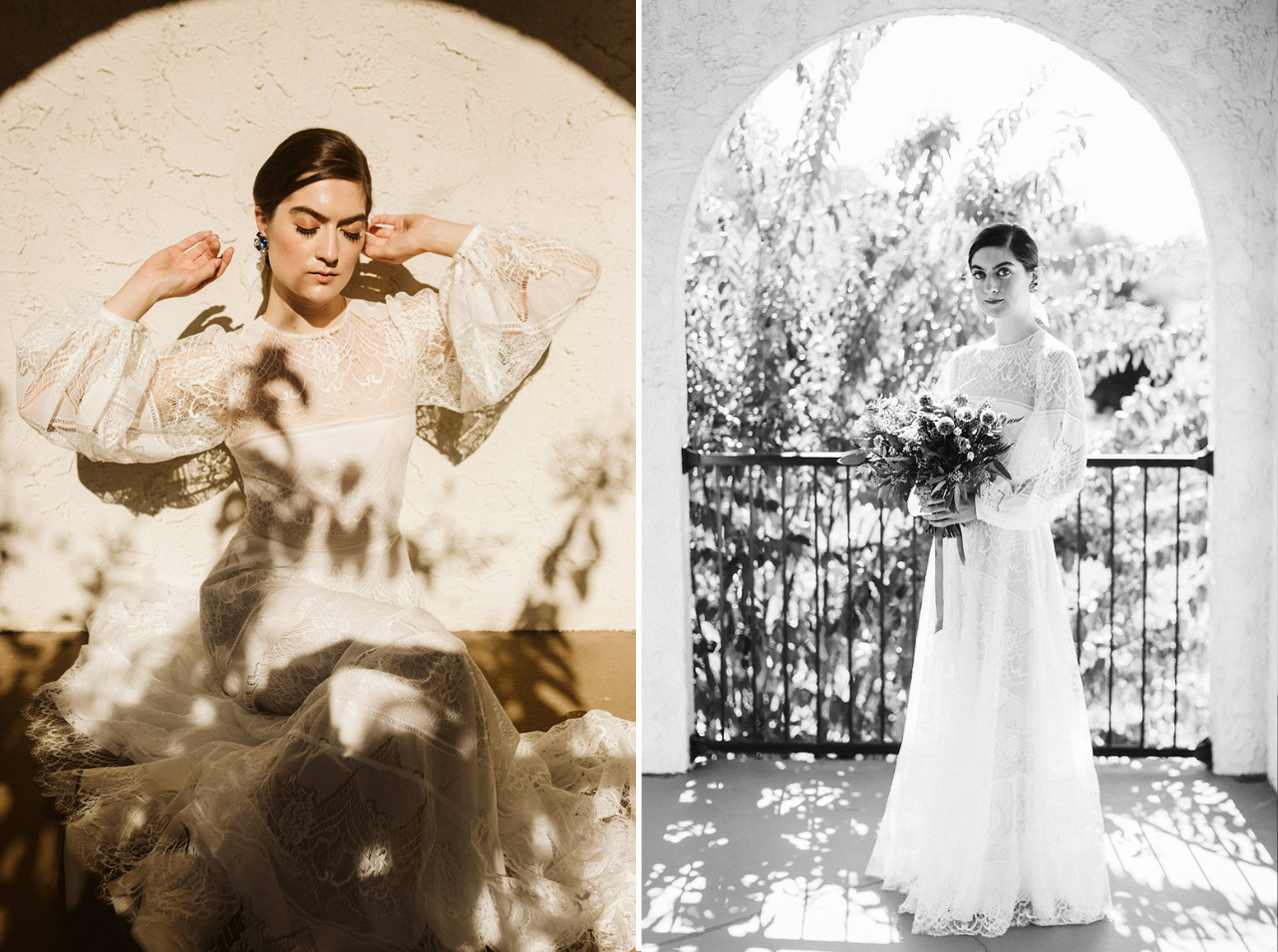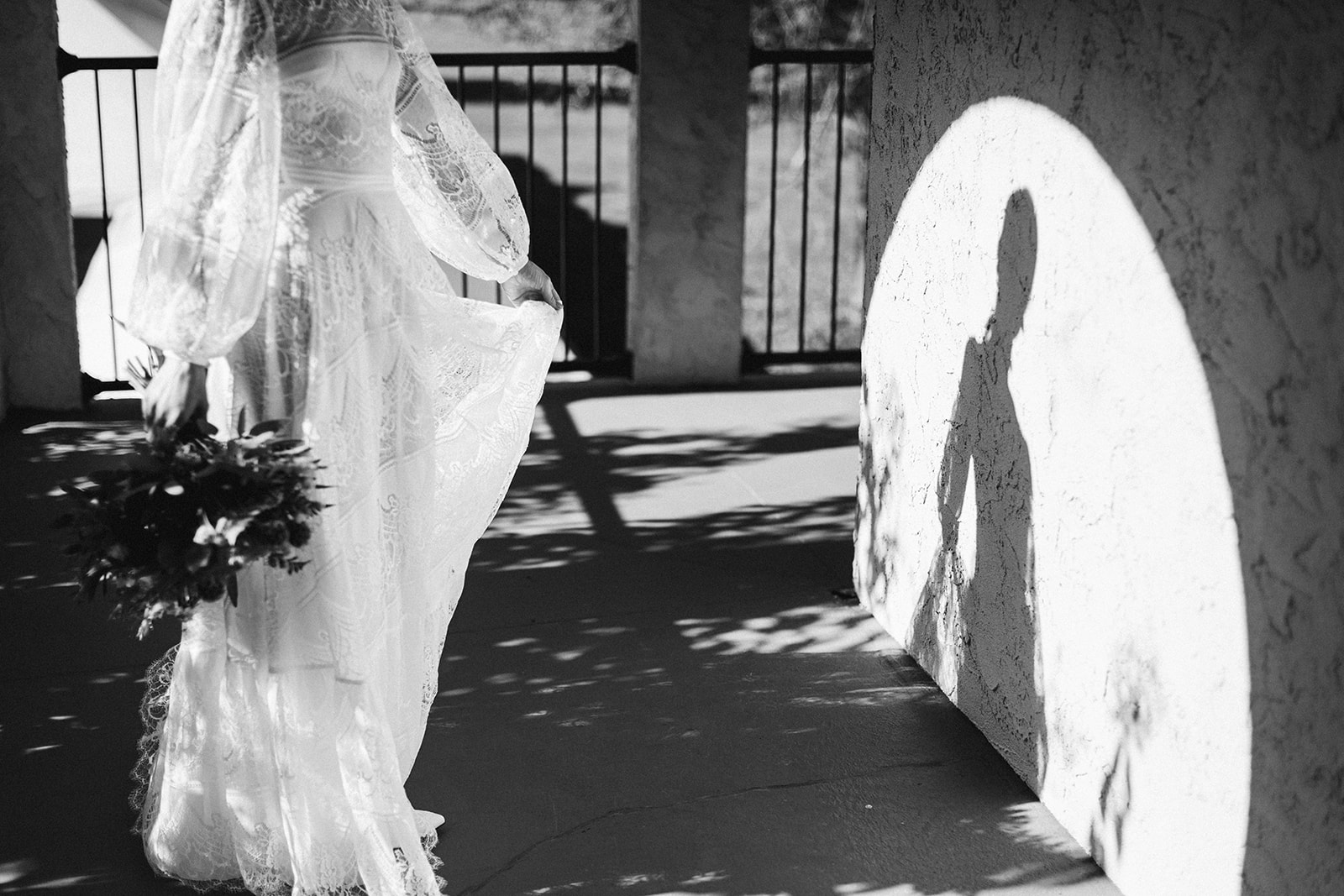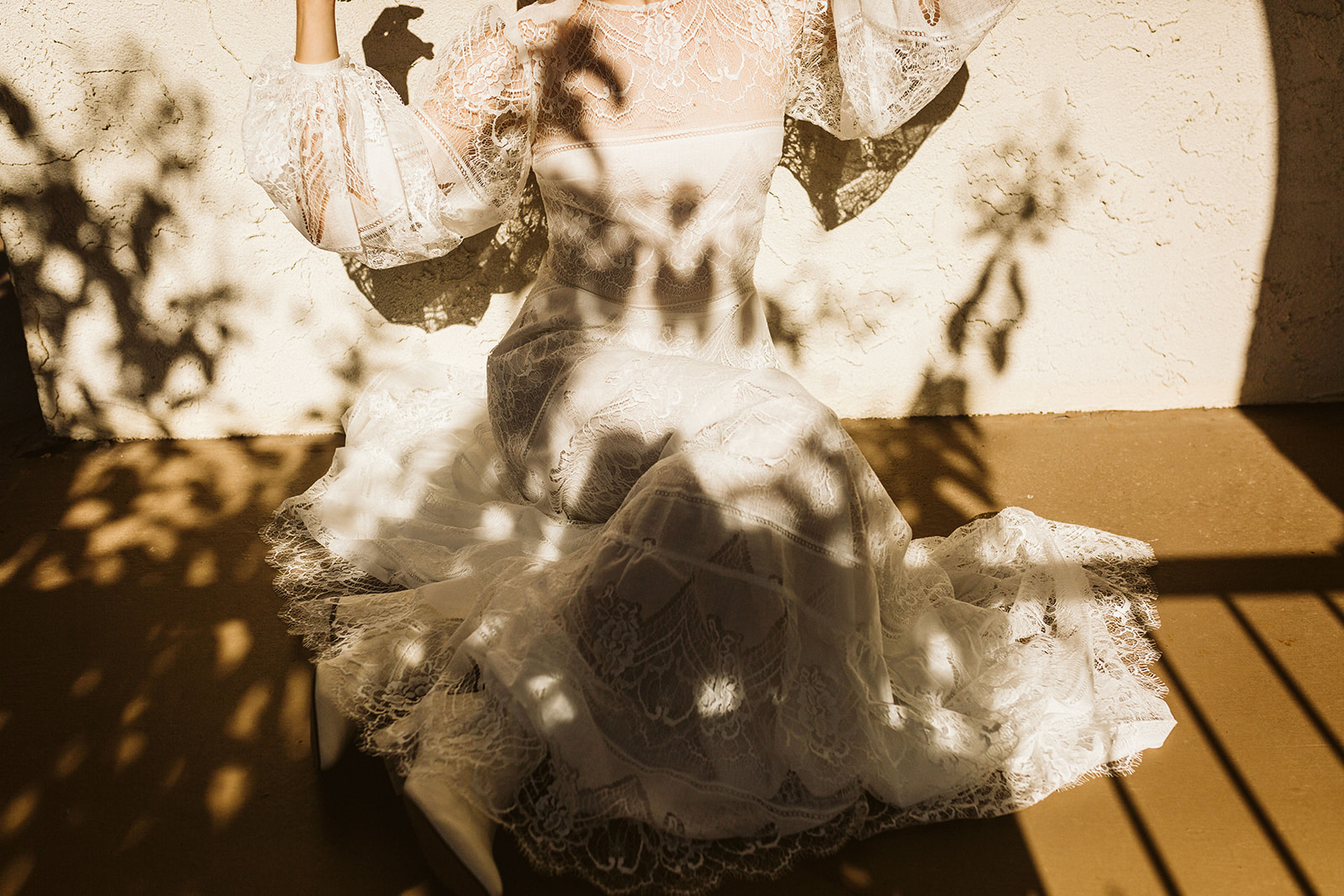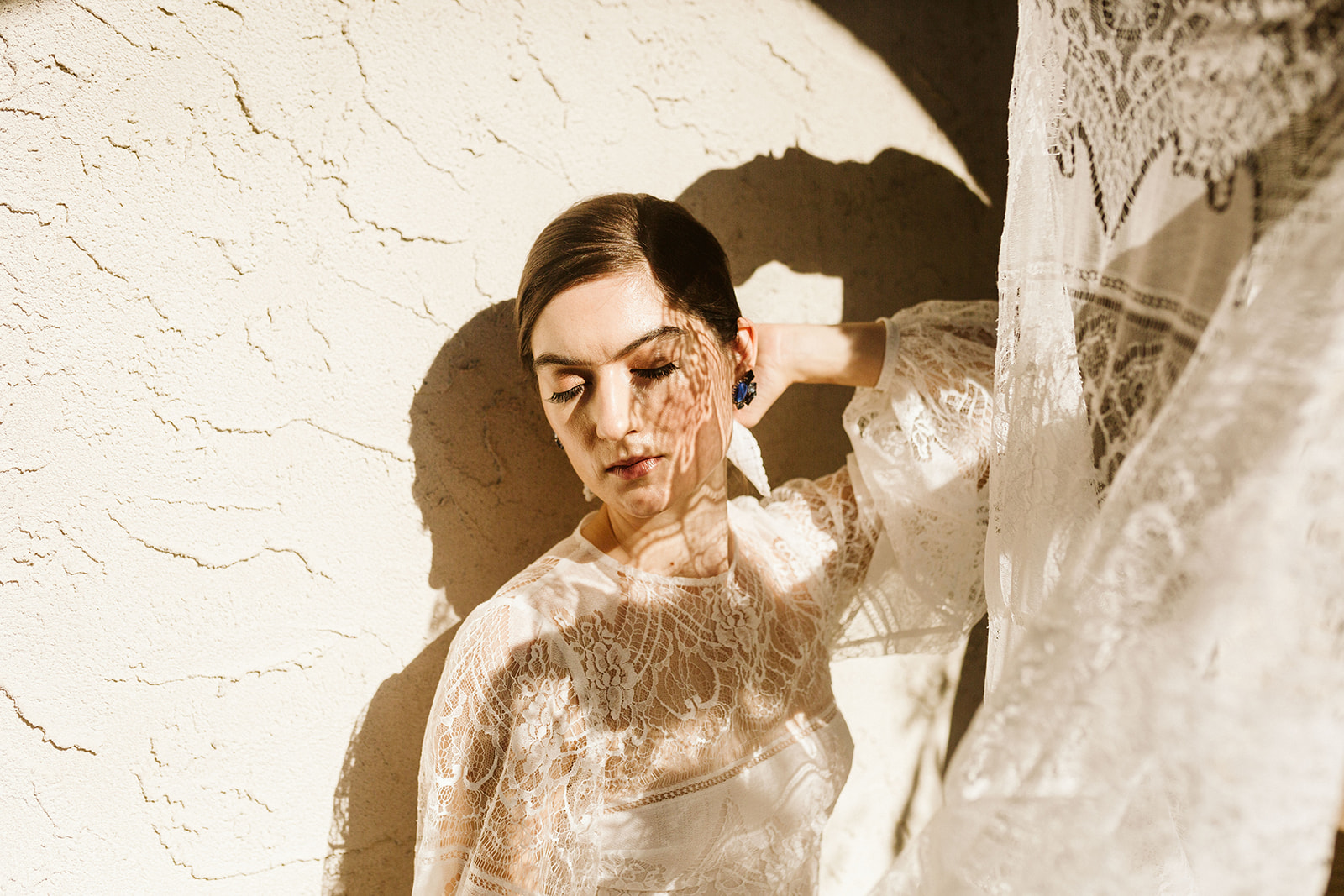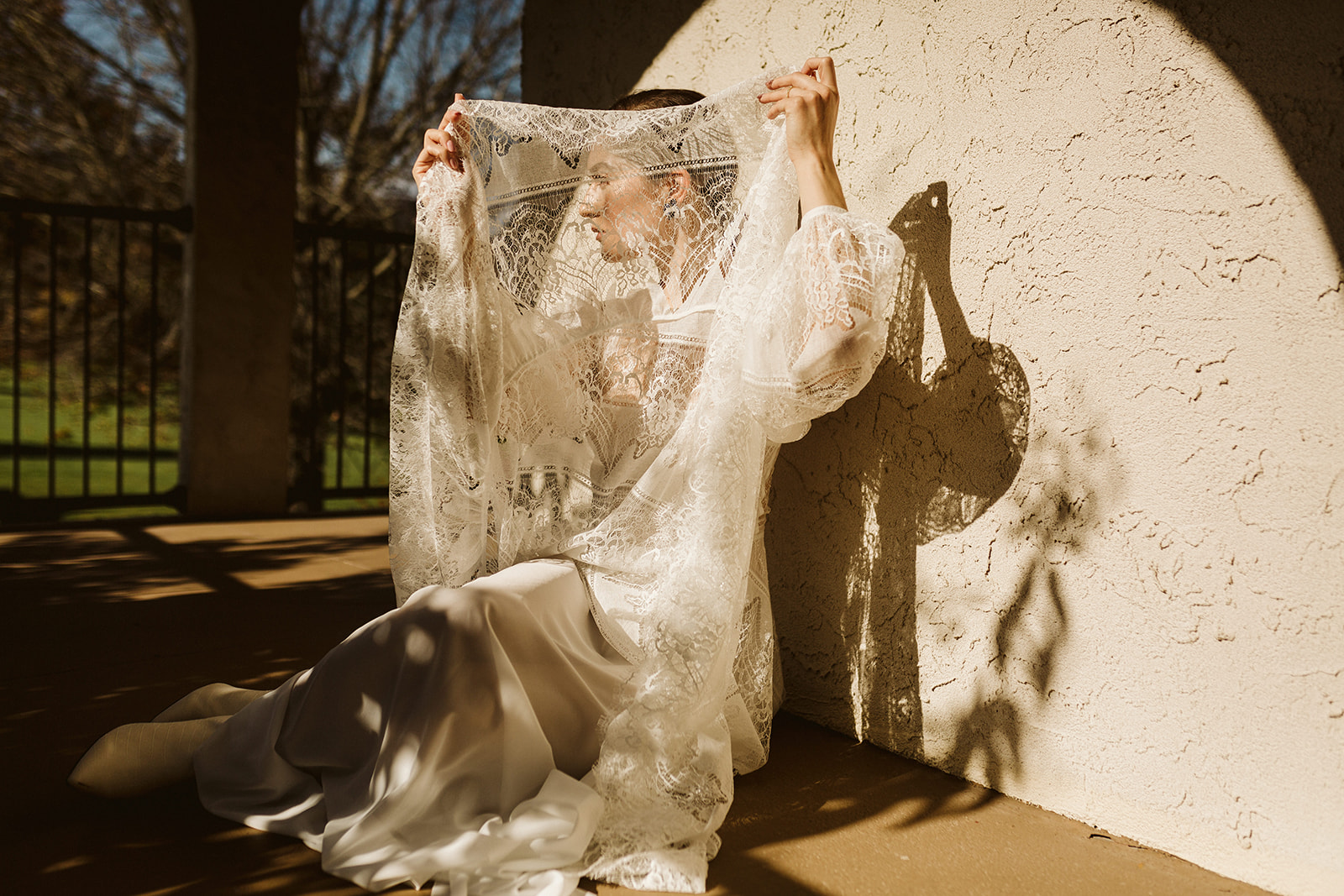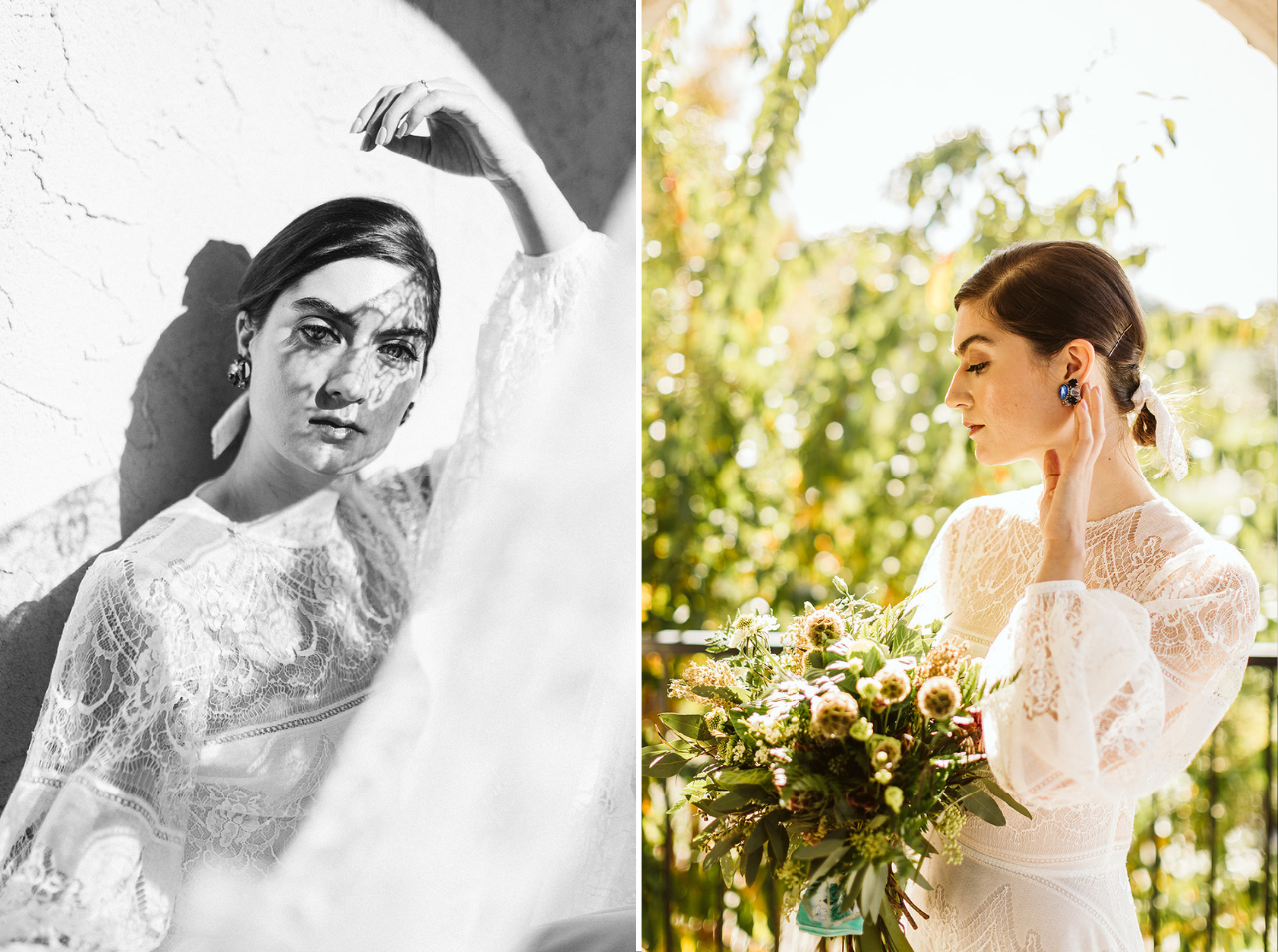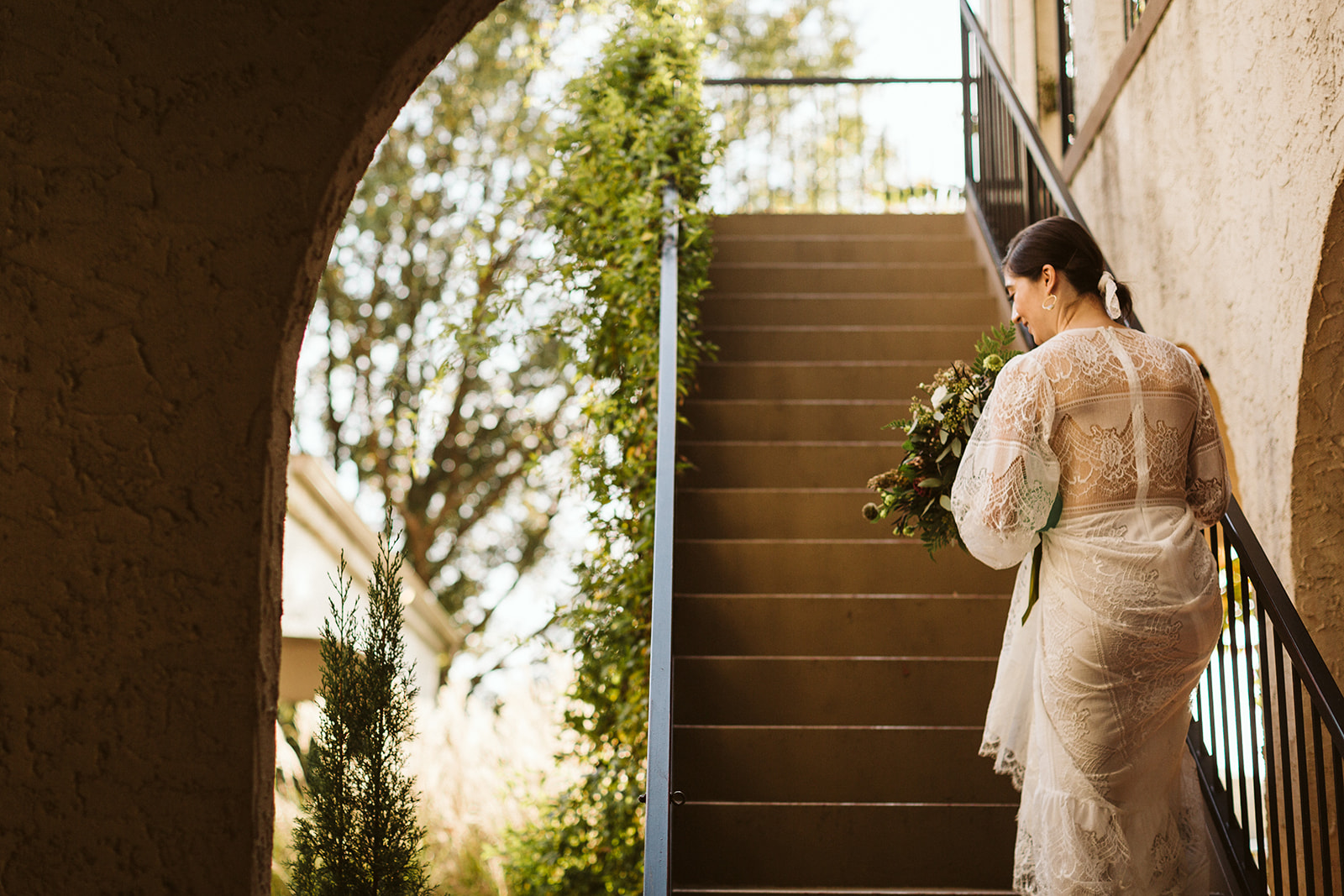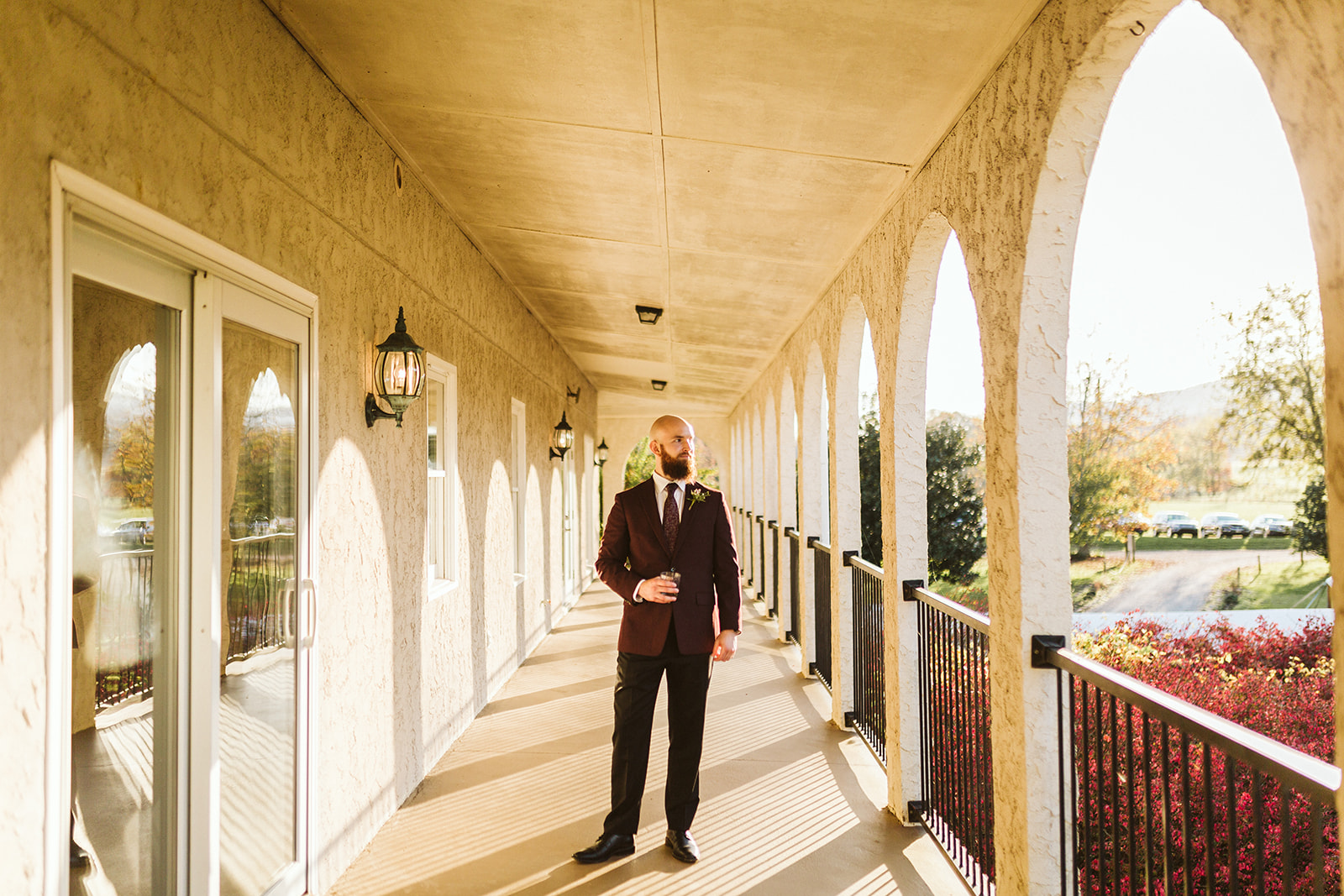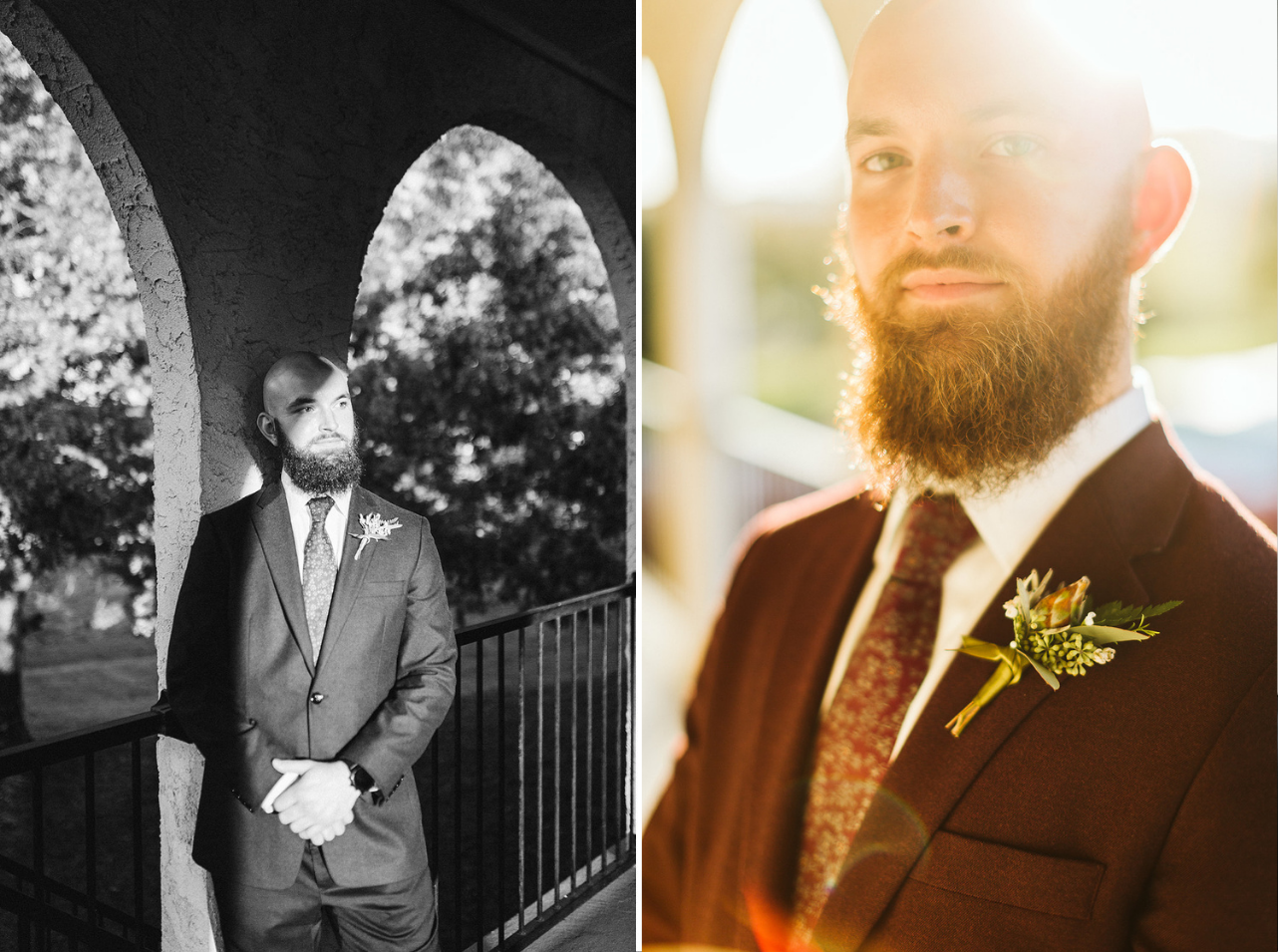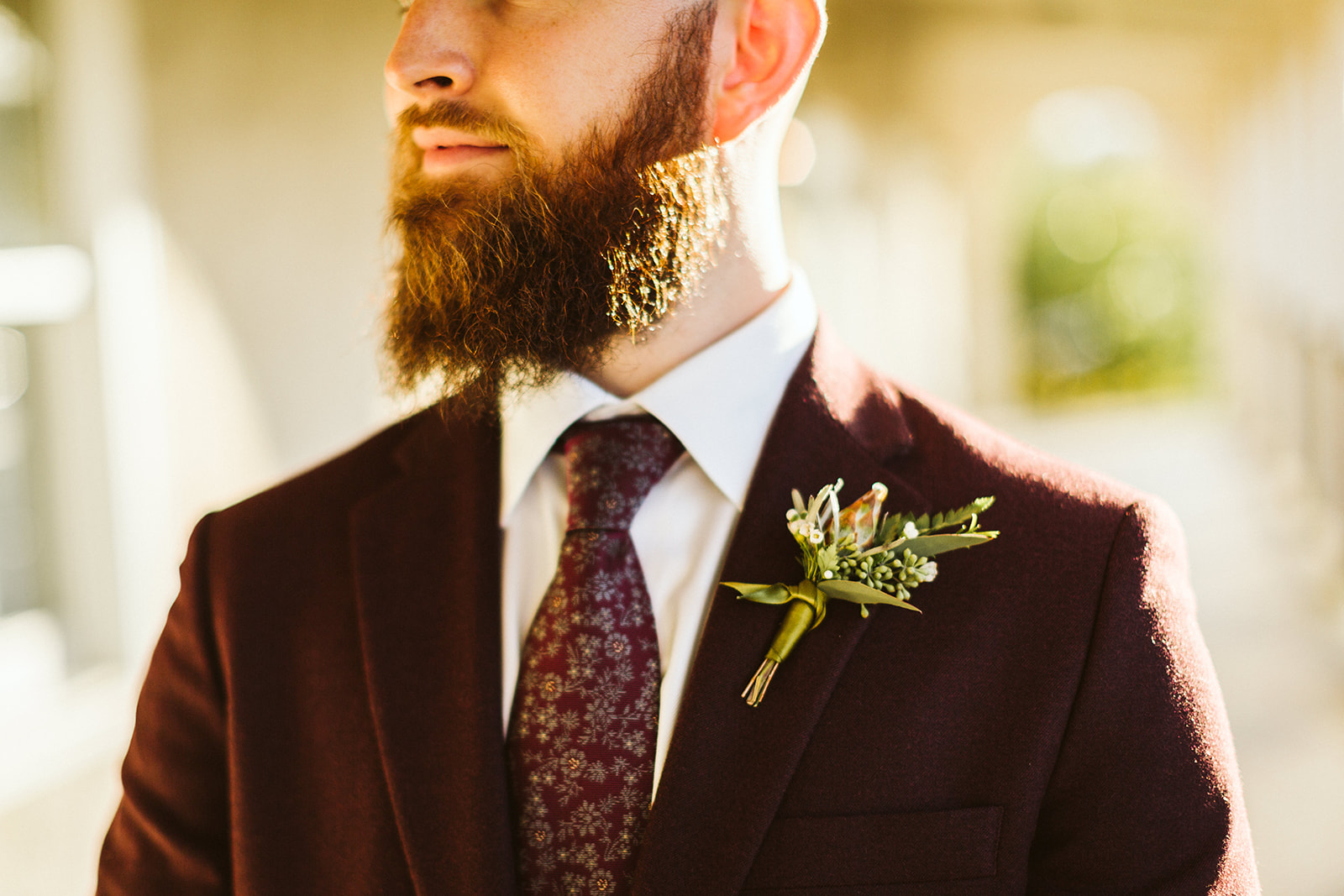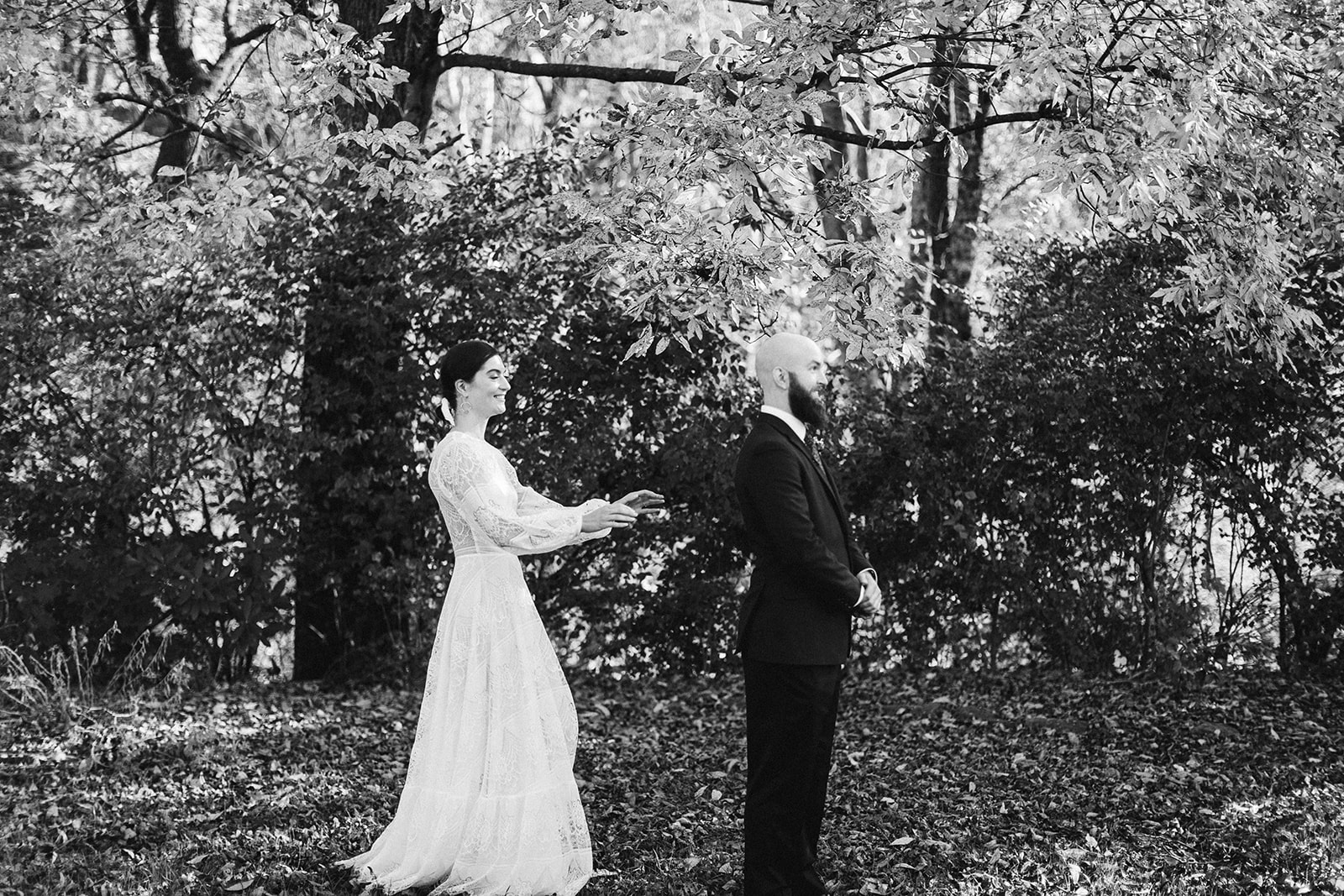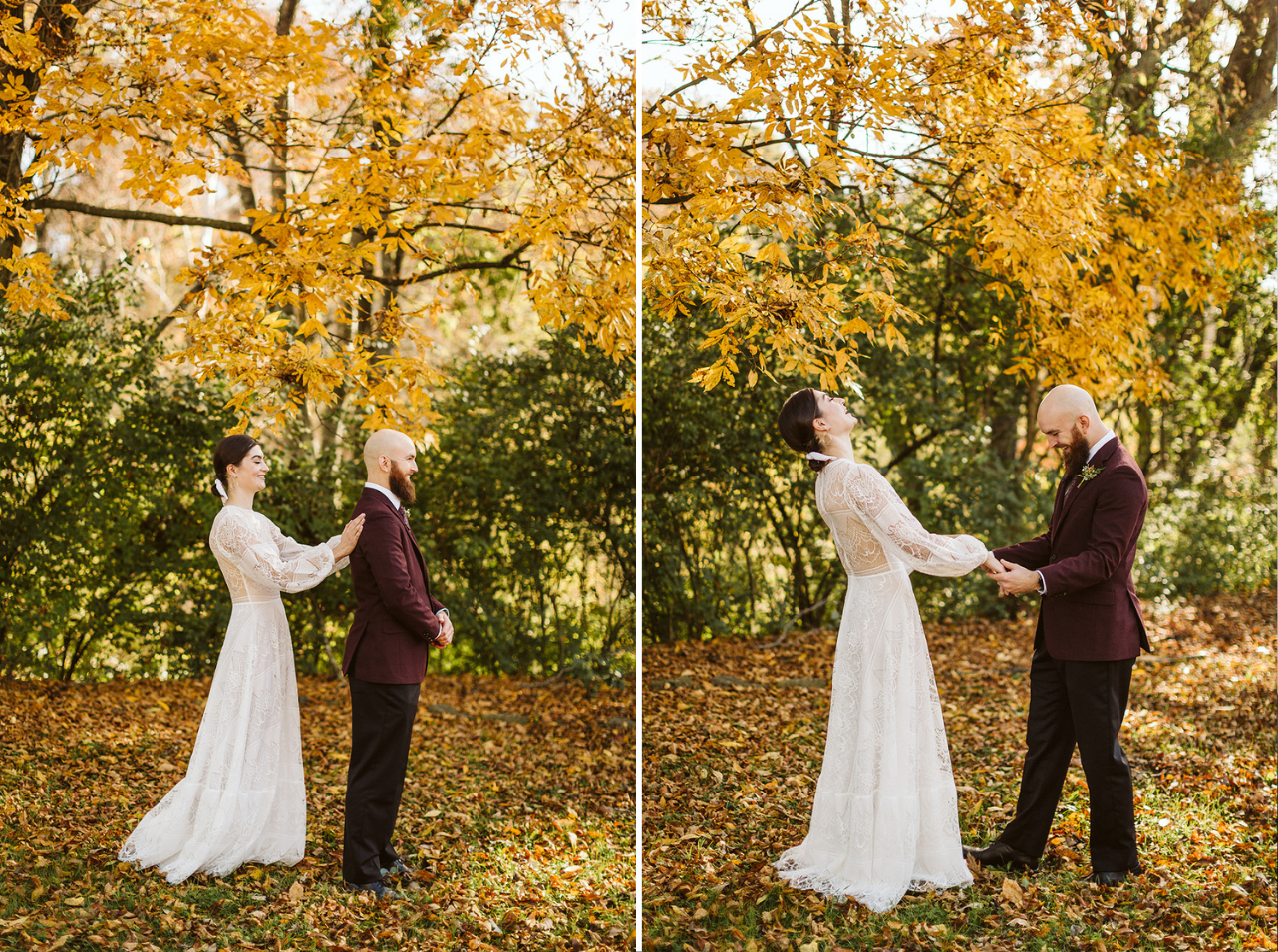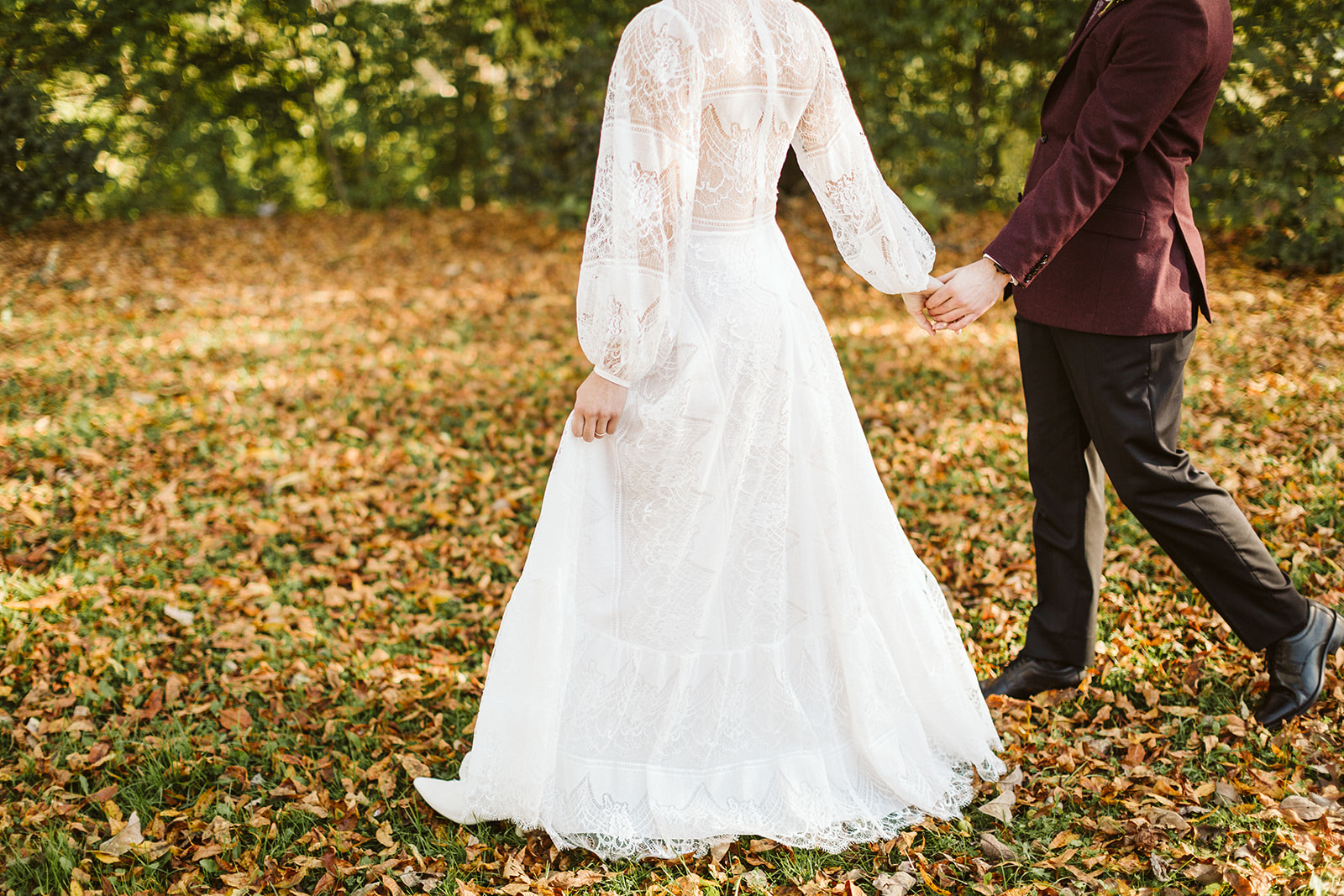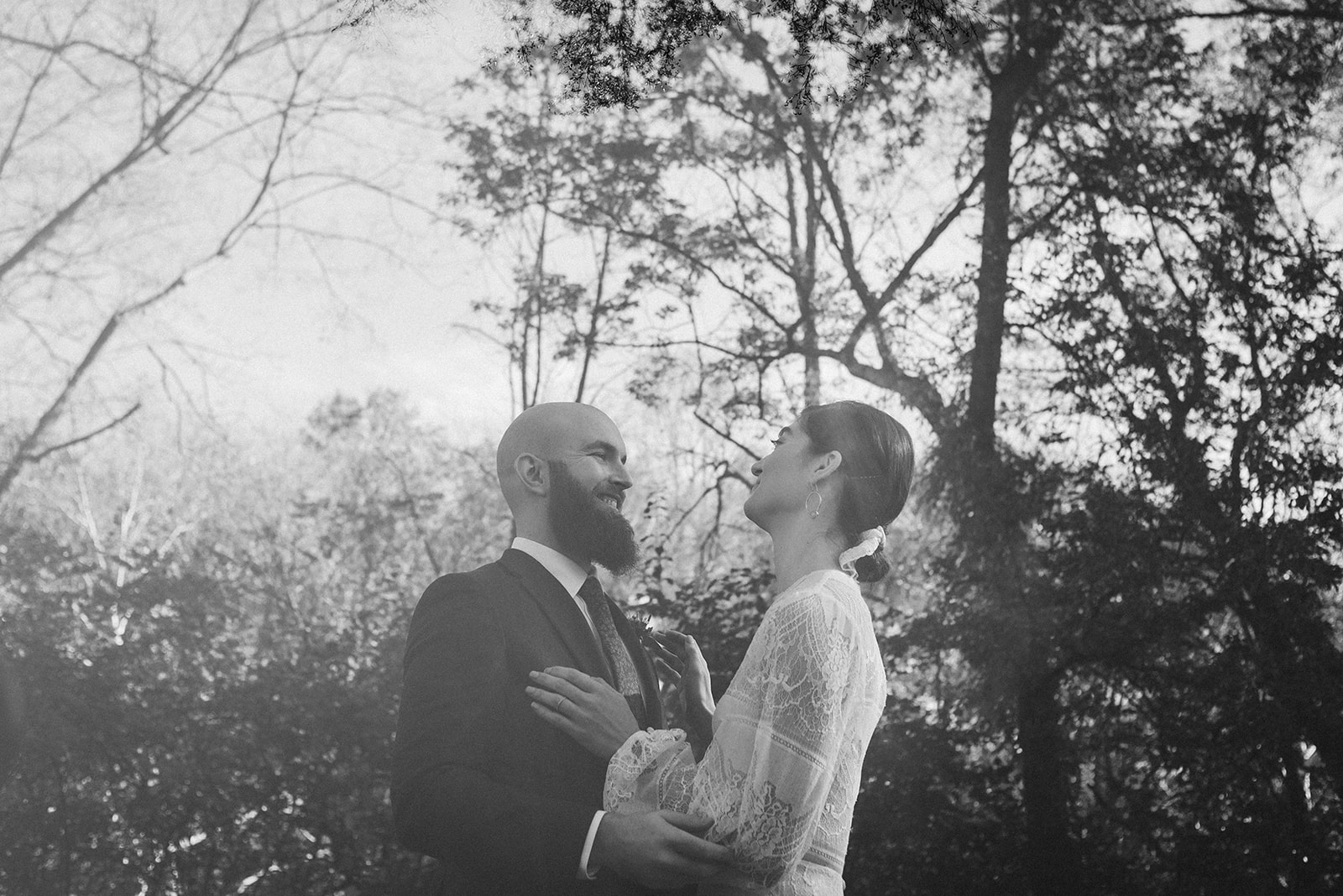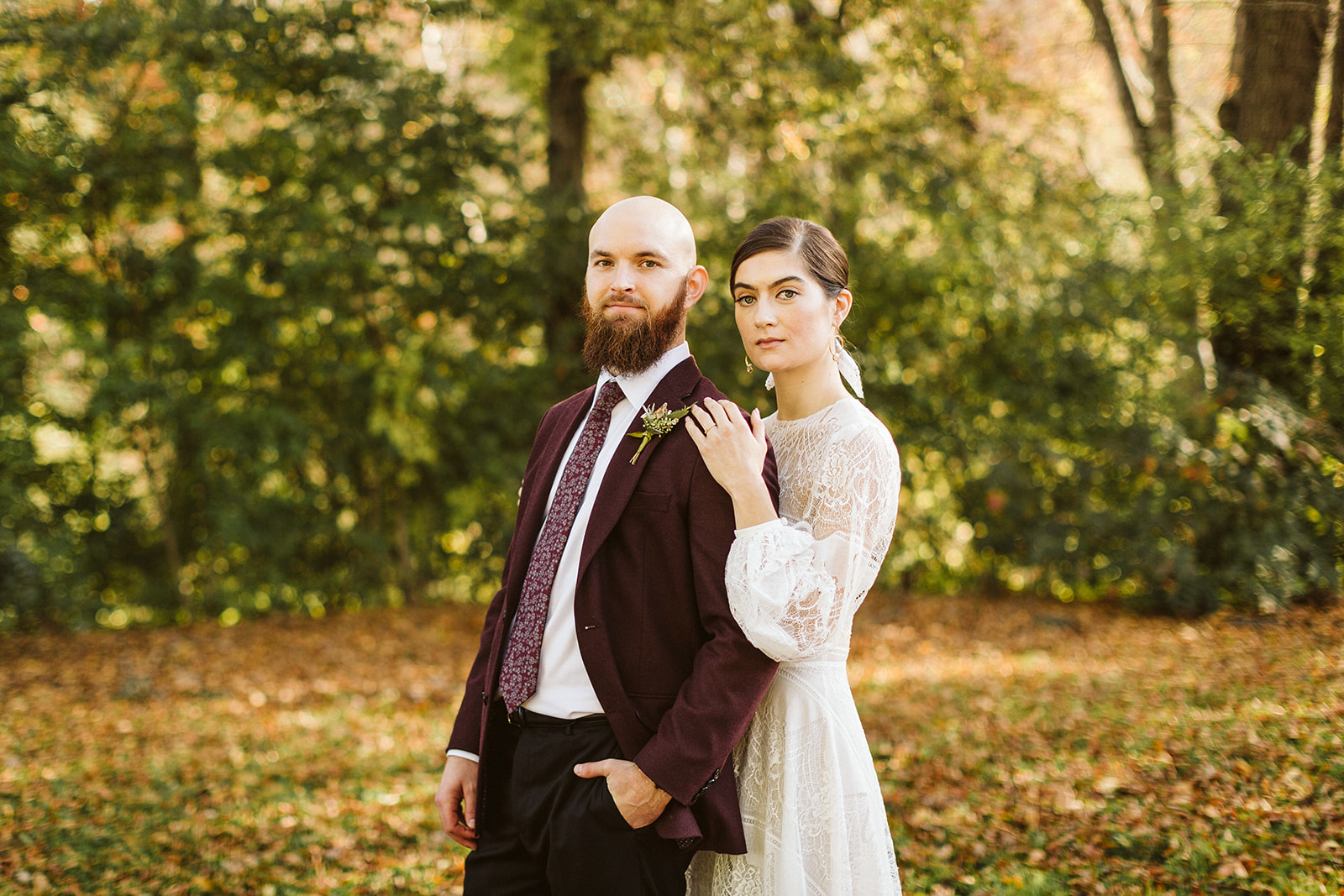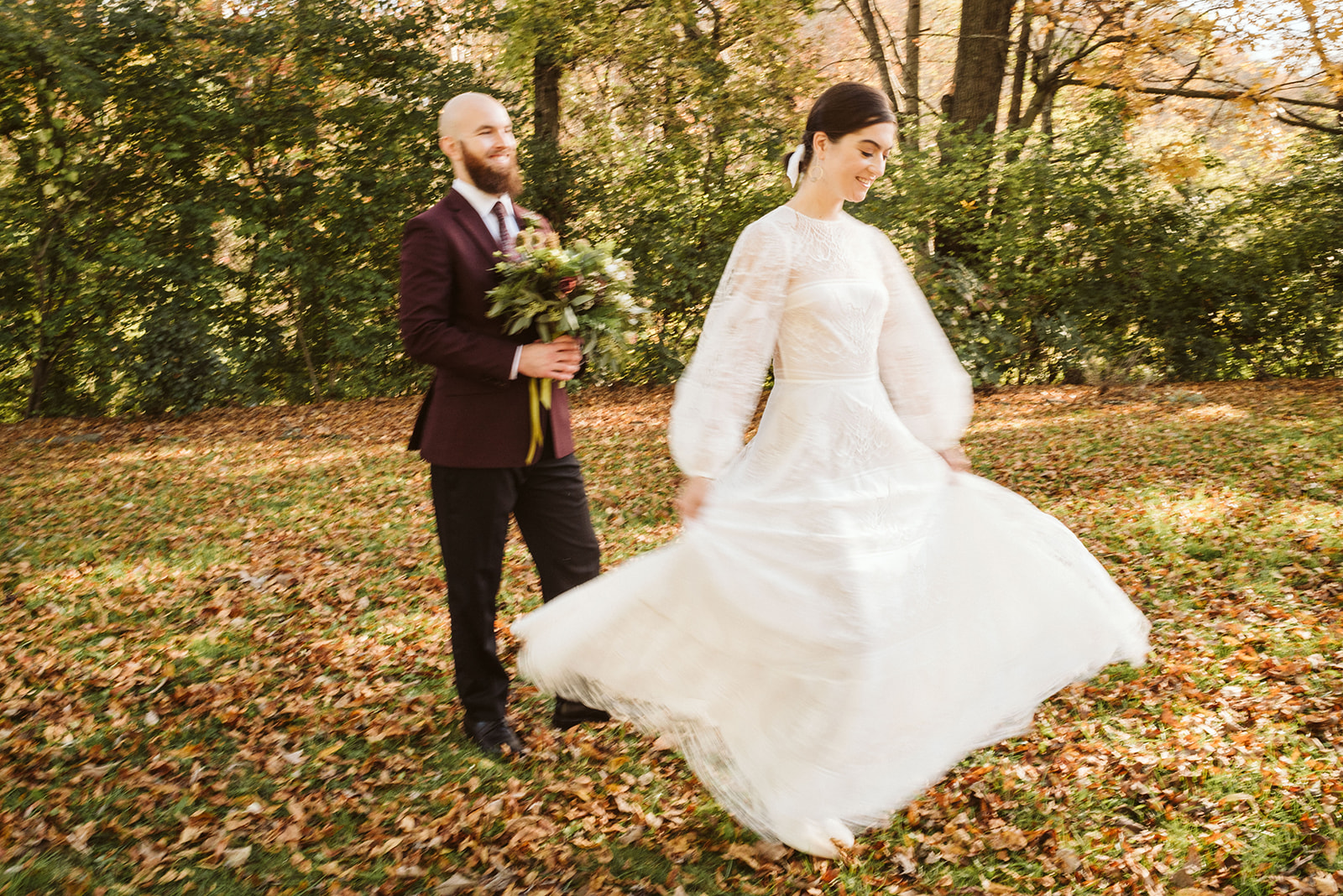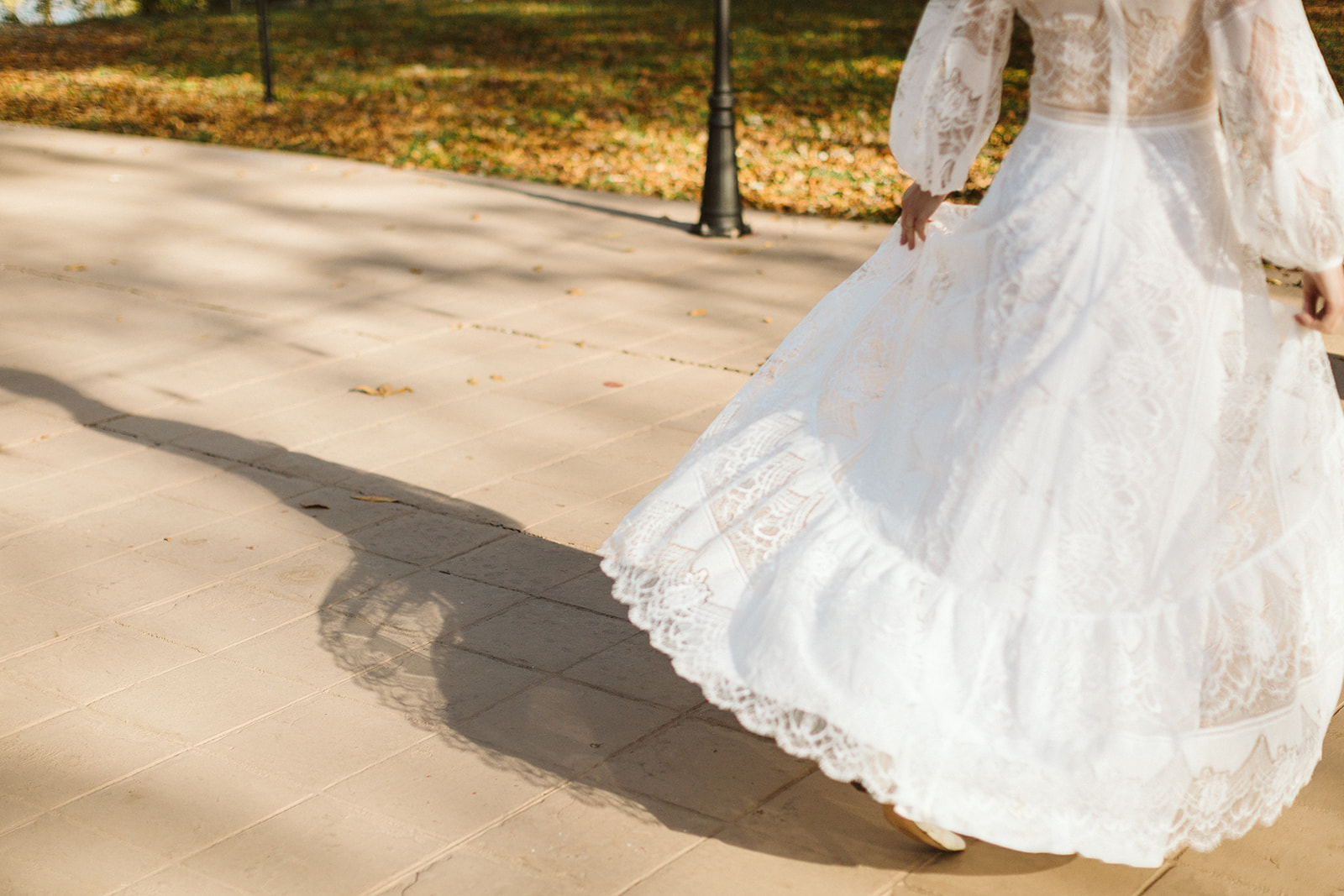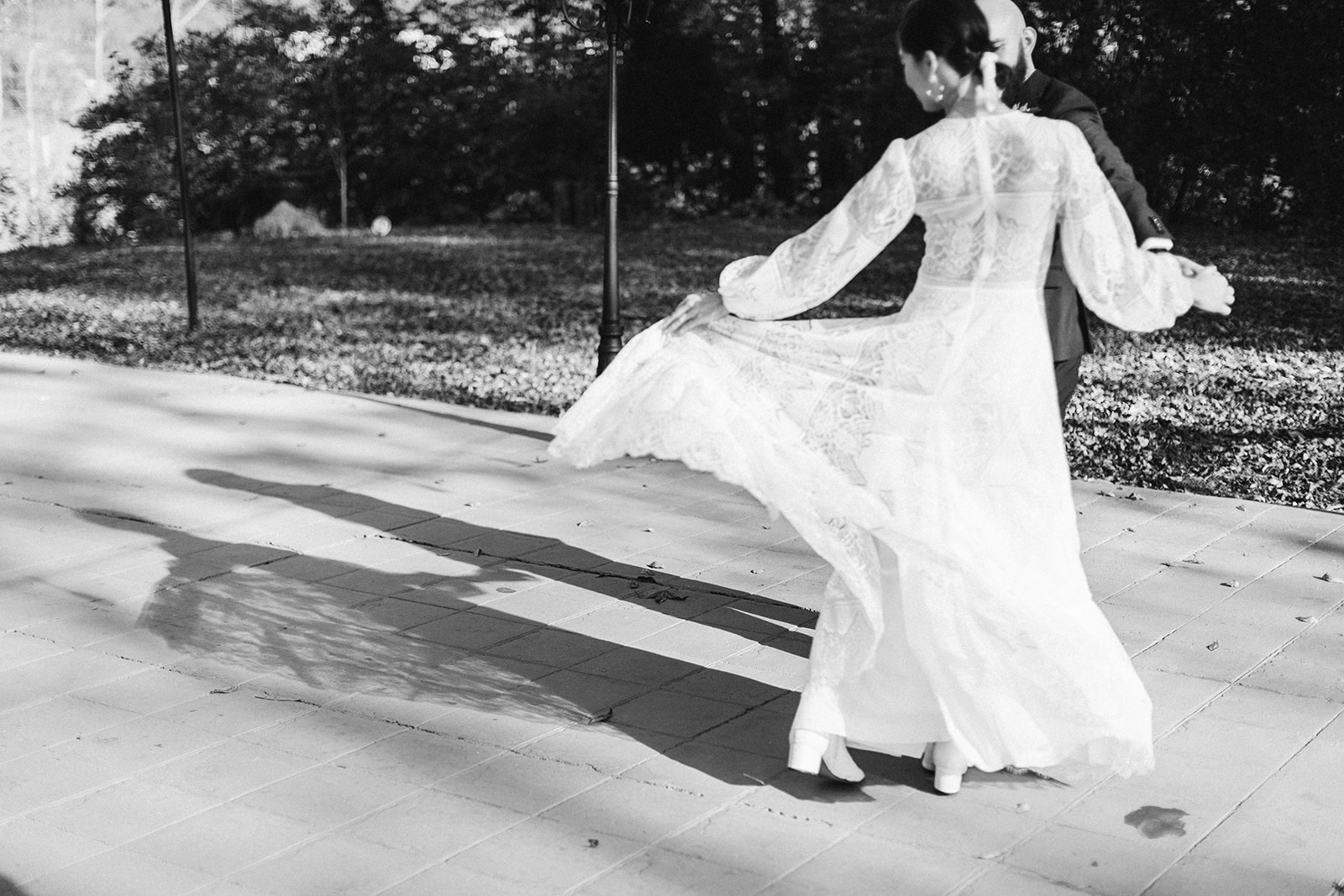 IMPROMPTU SUNSET PHOTOS BEFORE THE CEREMONY
Just like at their engagement session, Laine and Brad gave me tons of room to get creative with their photos. They knew they wanted a unique look and tons of different shots, so they scheduled plenty of time into their day specifically for photos. I was able to sit, think, and really piece together each shot with intention. As you can tell, the results were worth the extra time.
When I shoot weddings, I'm always trying to capture a healthy mix of posed and candid shots. These two, though, are masters at posing. Laine has done some modeling before, but she's also hearing impaired, so Brad helped me communicate with her when I needed to readjust them. For the most part, though, the poses were her idea! She had a vision for her photos, and she absolutely killed it.
As Laine and Brad started to shuffle off for the ceremony, I realized that the sun was going to set during their vows. It was a perfectly clear day, and I didn't want them to miss the gorgeous sunset light, so I asked them to push their ceremony back by just five minutes. We ran off, snapped a few final photos during golden hour, and got back before their guests even realized we were late!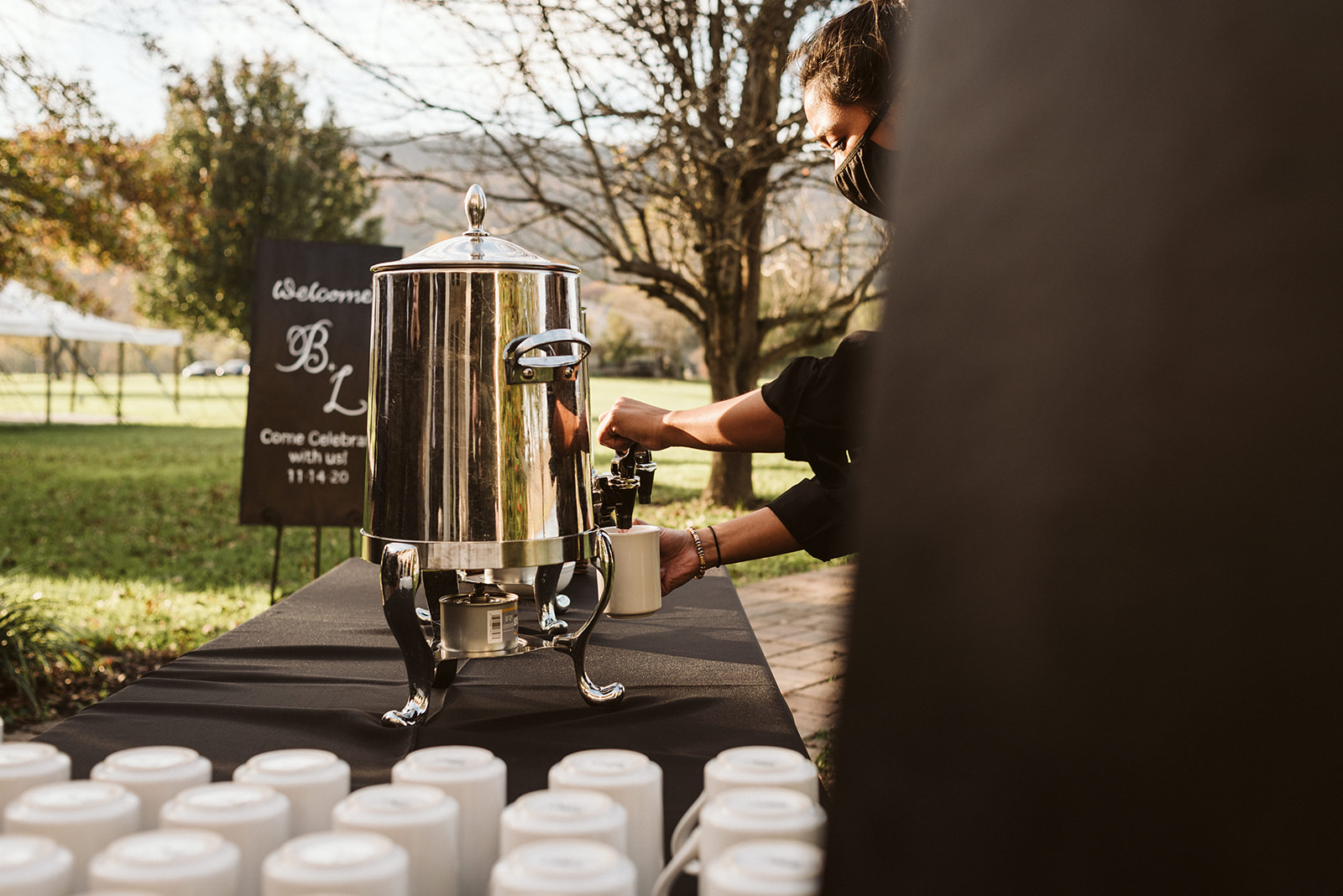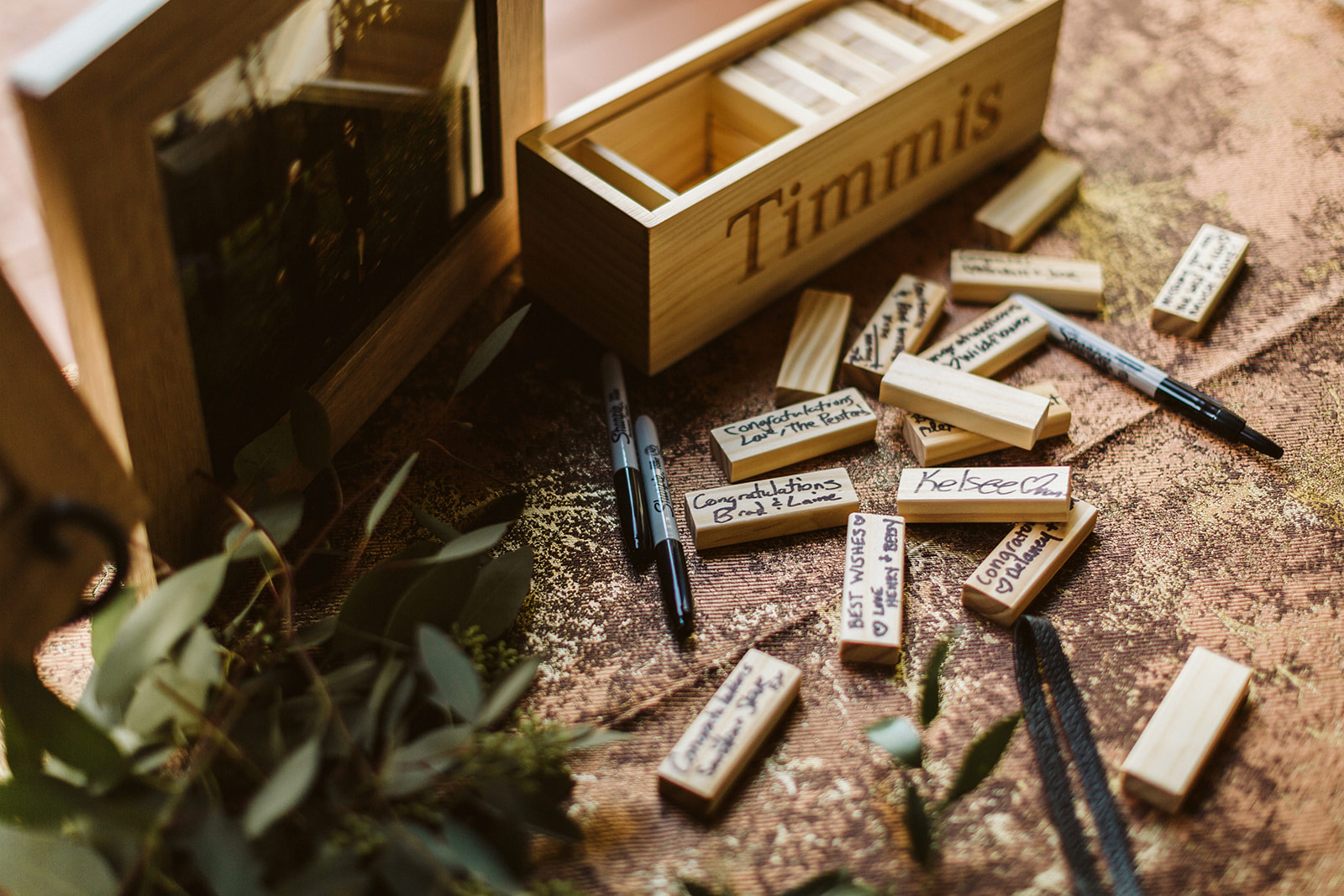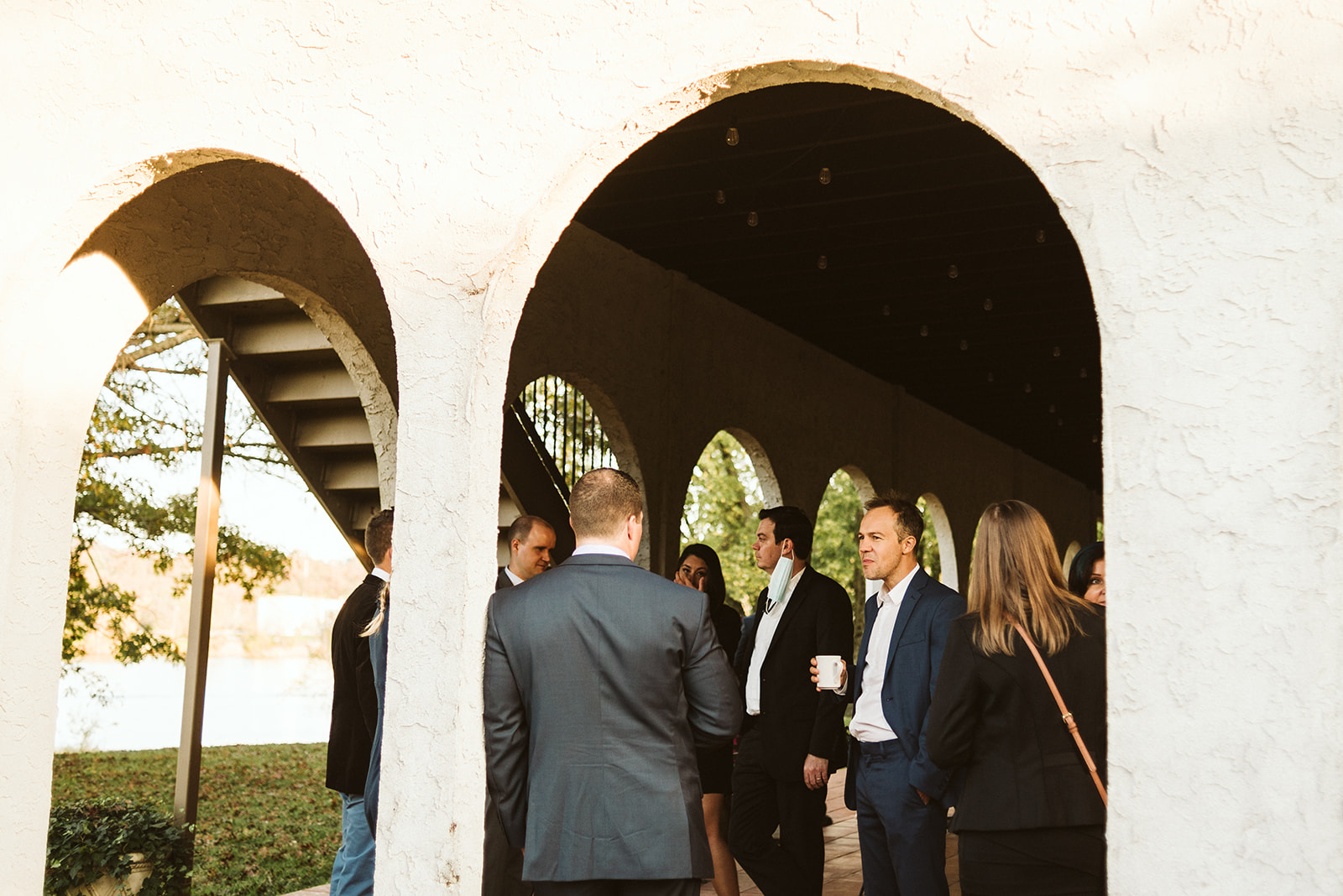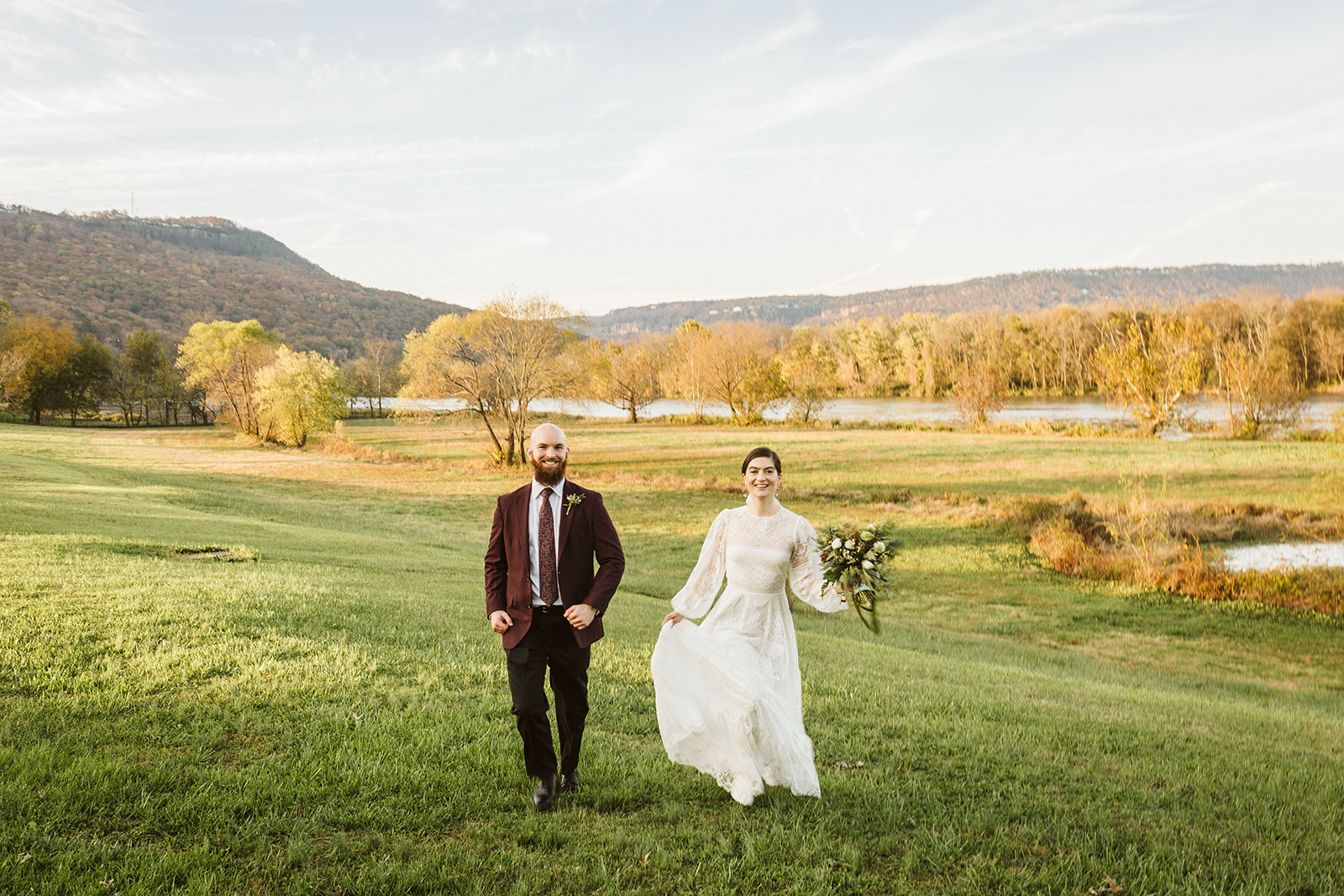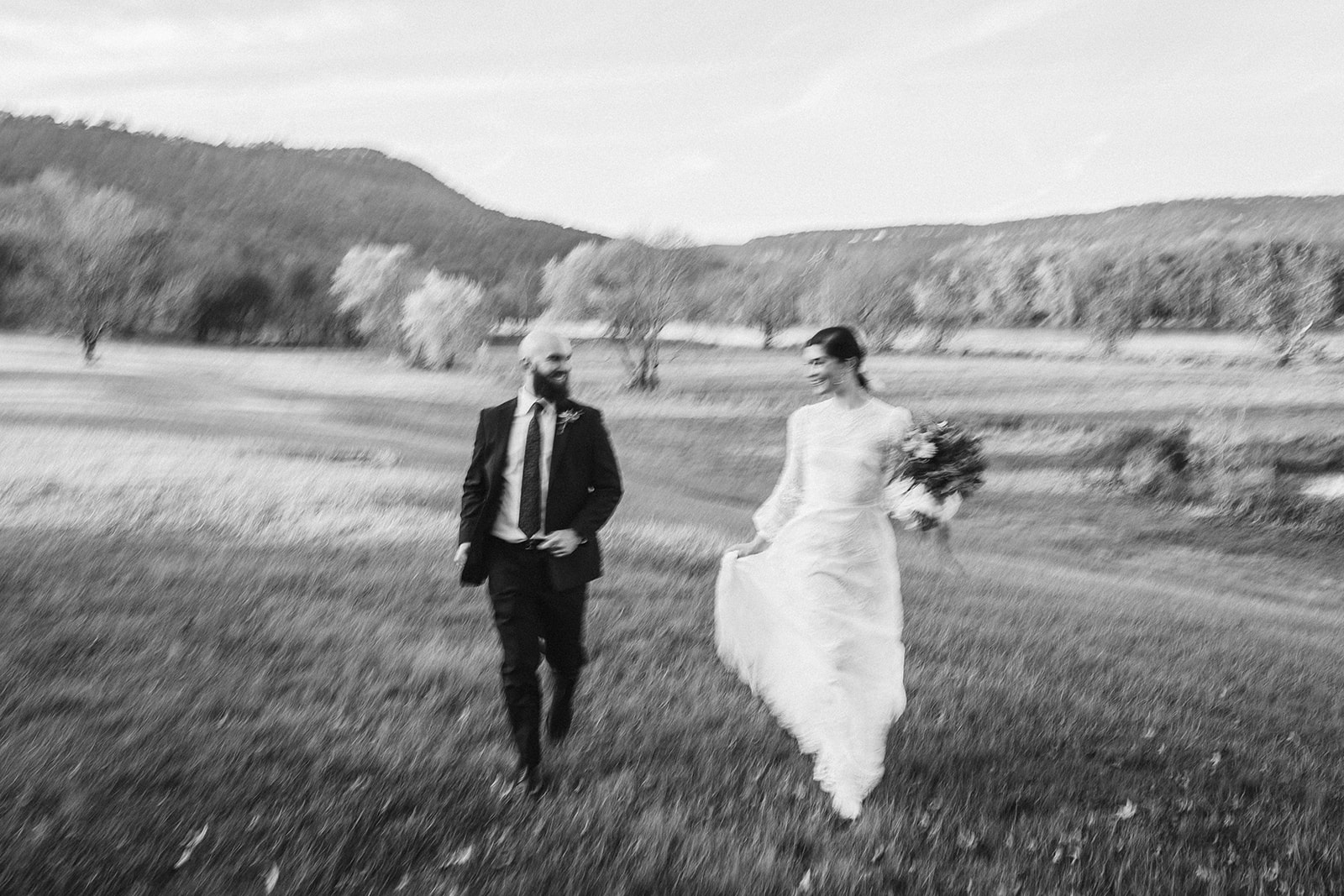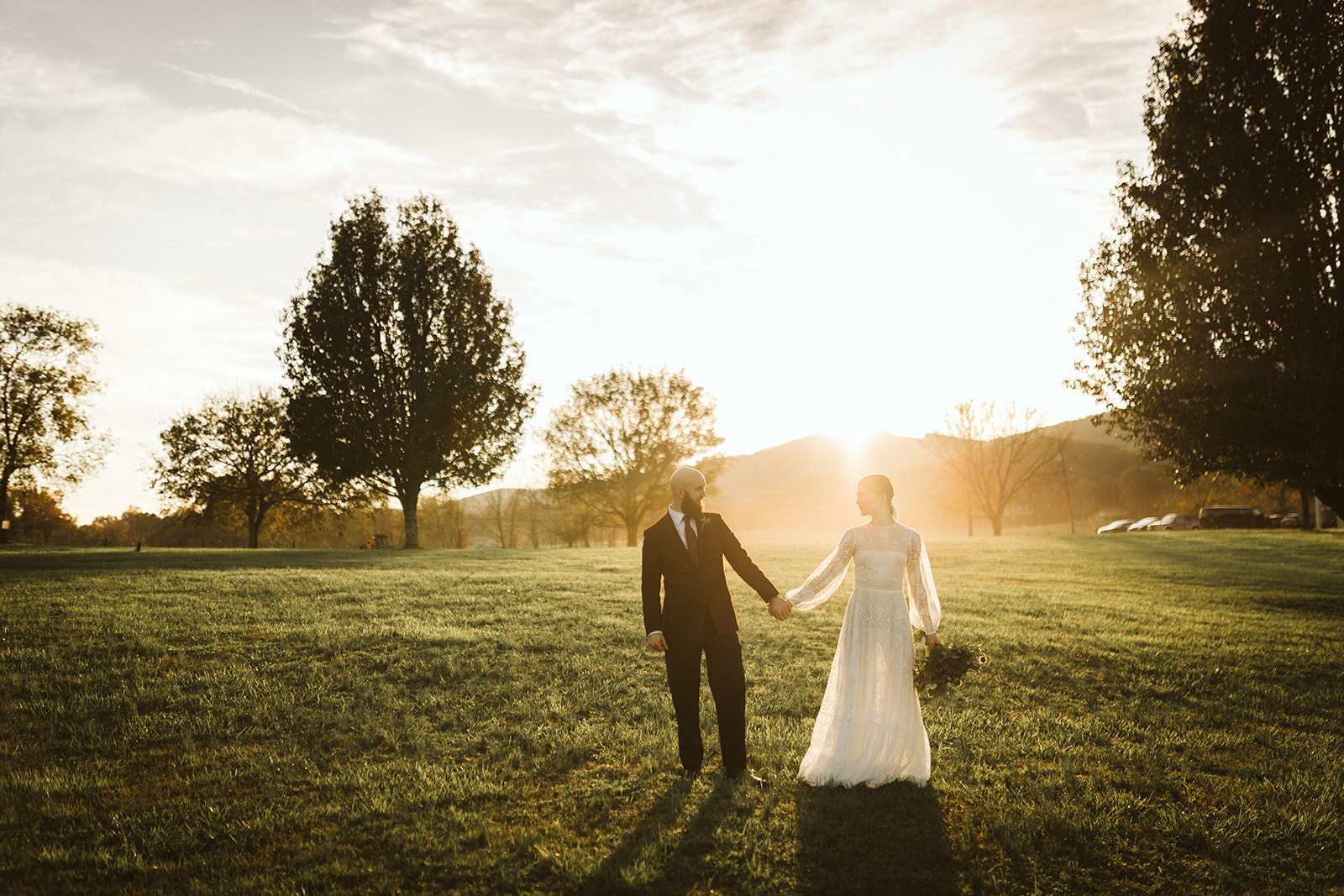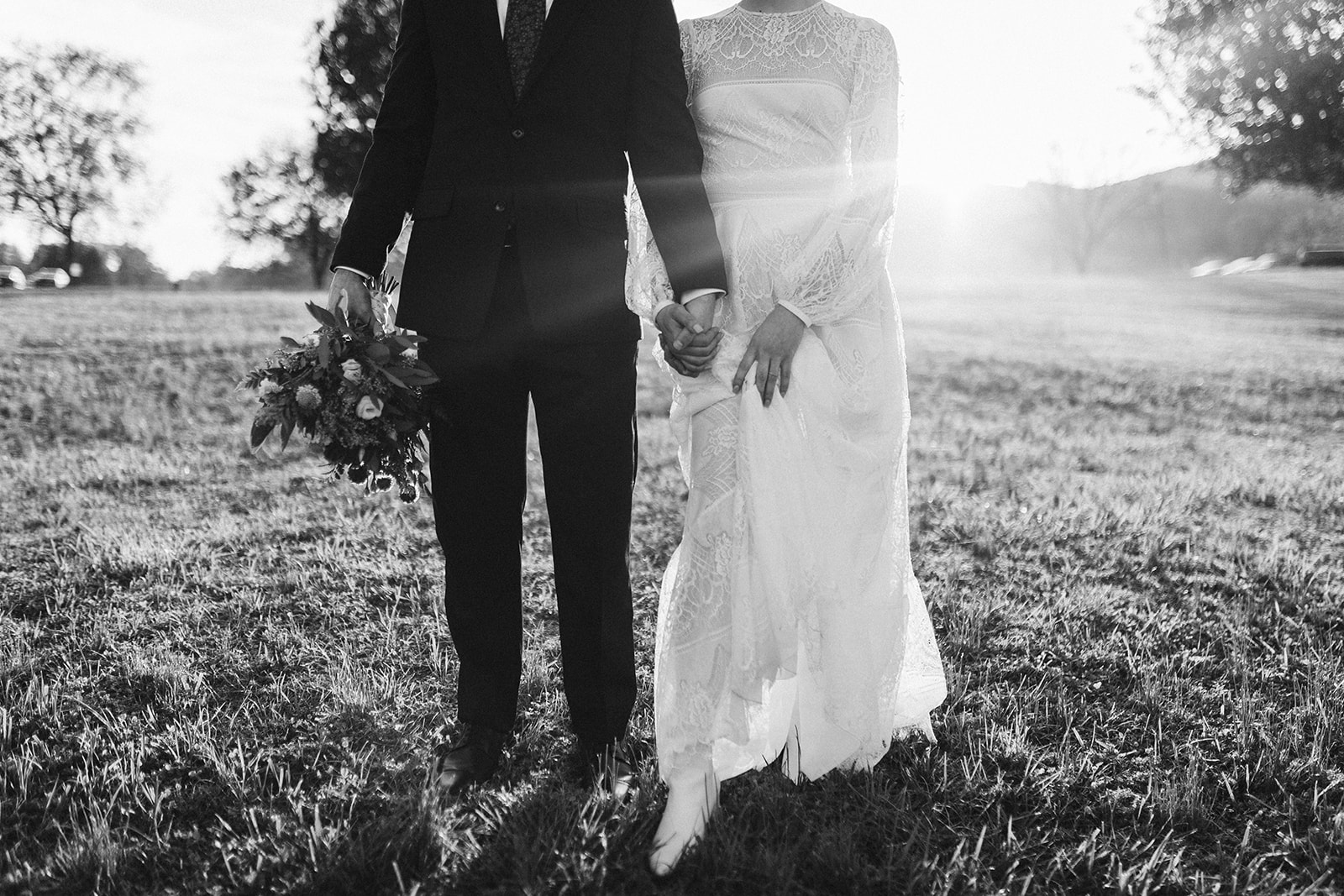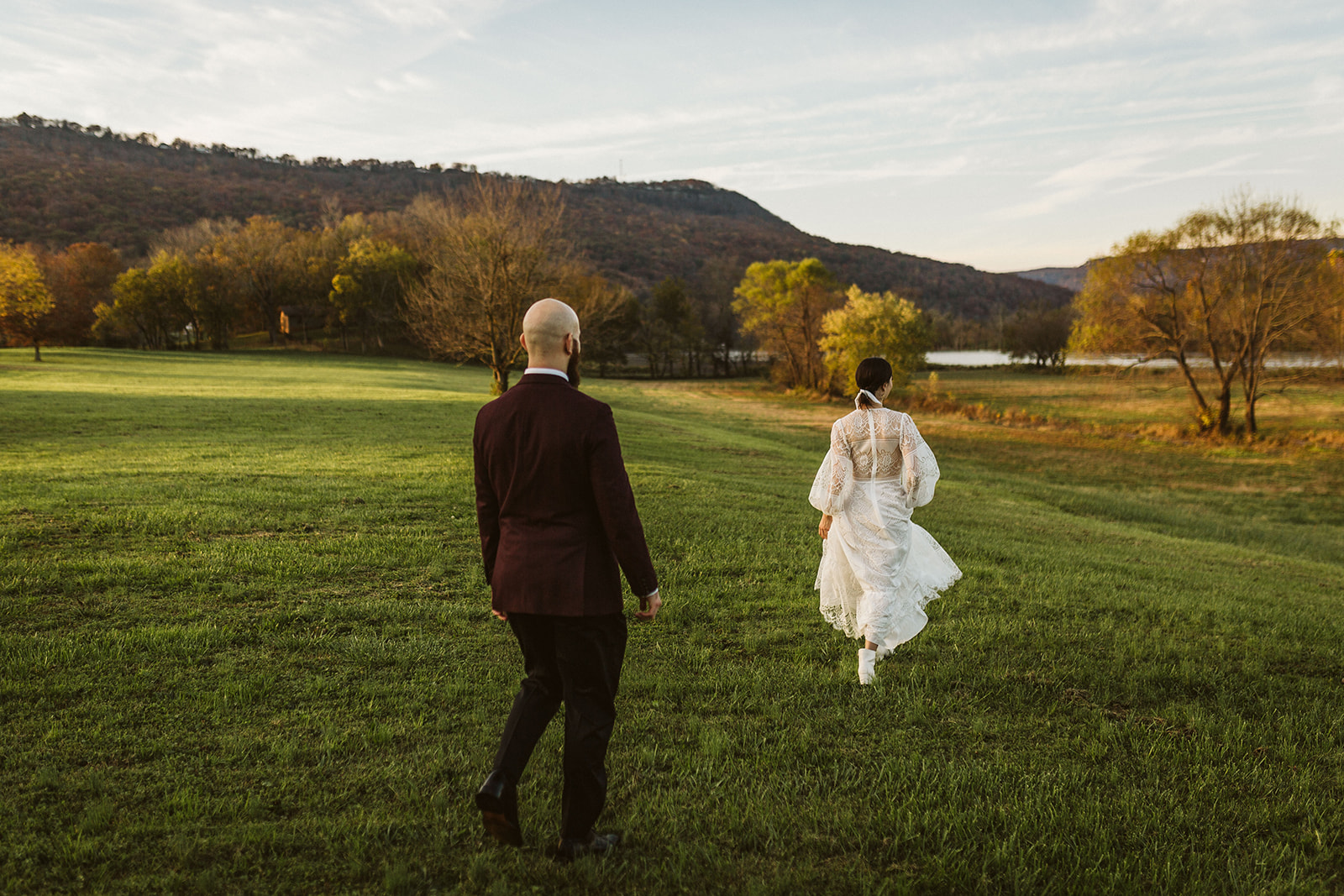 A SPECIAL PHOTO REQUEST
Like I said, Laine and Brad were more than willing to give me creative freedom during their wedding photos. They had just one special request: to recreate a specific photo from their engagement session.
We stopped in this sunny field surrounded by rolling hills, got into position, and recreated the original image almost perfectly. I love the shot, and Laine even said she wants to hang the photos side-by-side in their home.
There's no need to show up on your wedding day with a mile-long list of shots you want, but I do love creating these special images with my couples. We can recreate your first photo together, your parents' wedding photos, or – like Laine and Brad – your favorite shot from your engagement session. I'm always down to add that personal touch!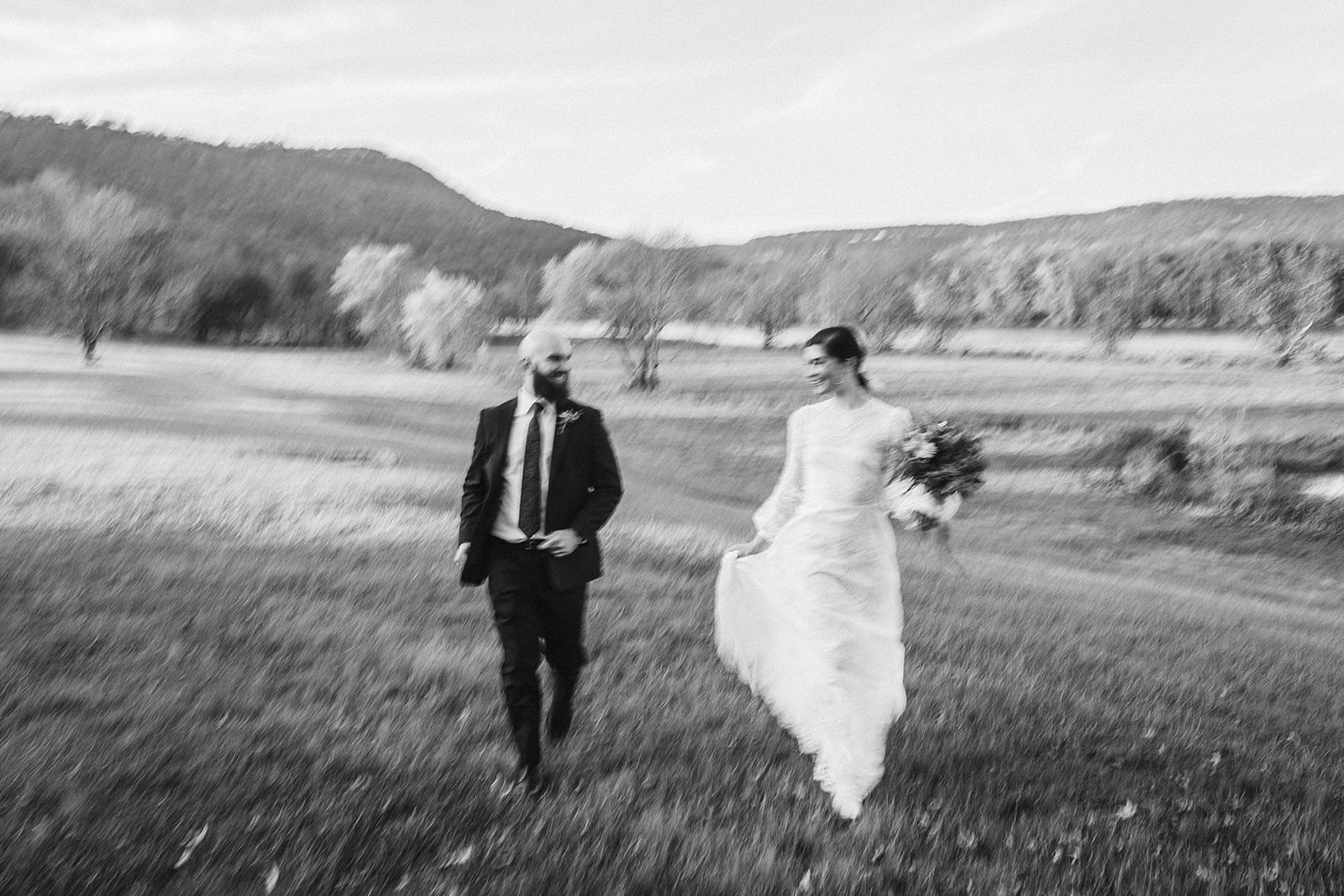 AN ELEGANT OUTDOOR CEREMONY AT TENNESSEE RIVERPLACE
Laine and Brad exchanged vows under an arbor on the Tennessee Riverplace grounds. Behind them, the river flowed gently and the autumn leaves just barely shifted in the breeze. The weather could not have been more perfect, and the setting sun provided gorgeous, glowy light for their simple ceremony.
After they said "I do," Laine and Brad snuck away for a private dinner together. I'm a big fan of scheduling alone time into your wedding day, especially between the ceremony and reception. These are your first few moments as a married couple, and you don't want to spend them being swarmed by a crowd. Don't be afraid to sneak away and spend a few minutes basking in that just-married feelings.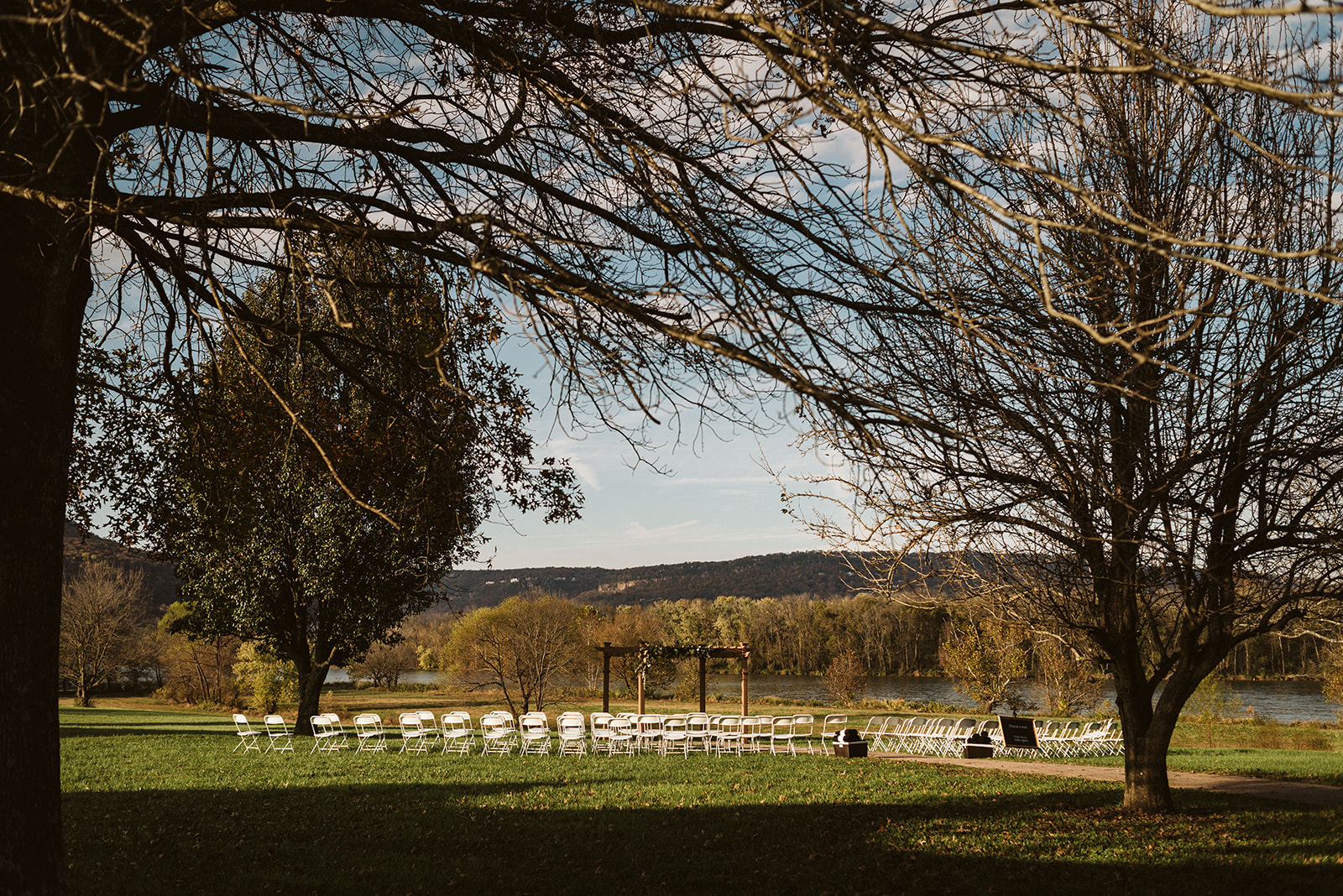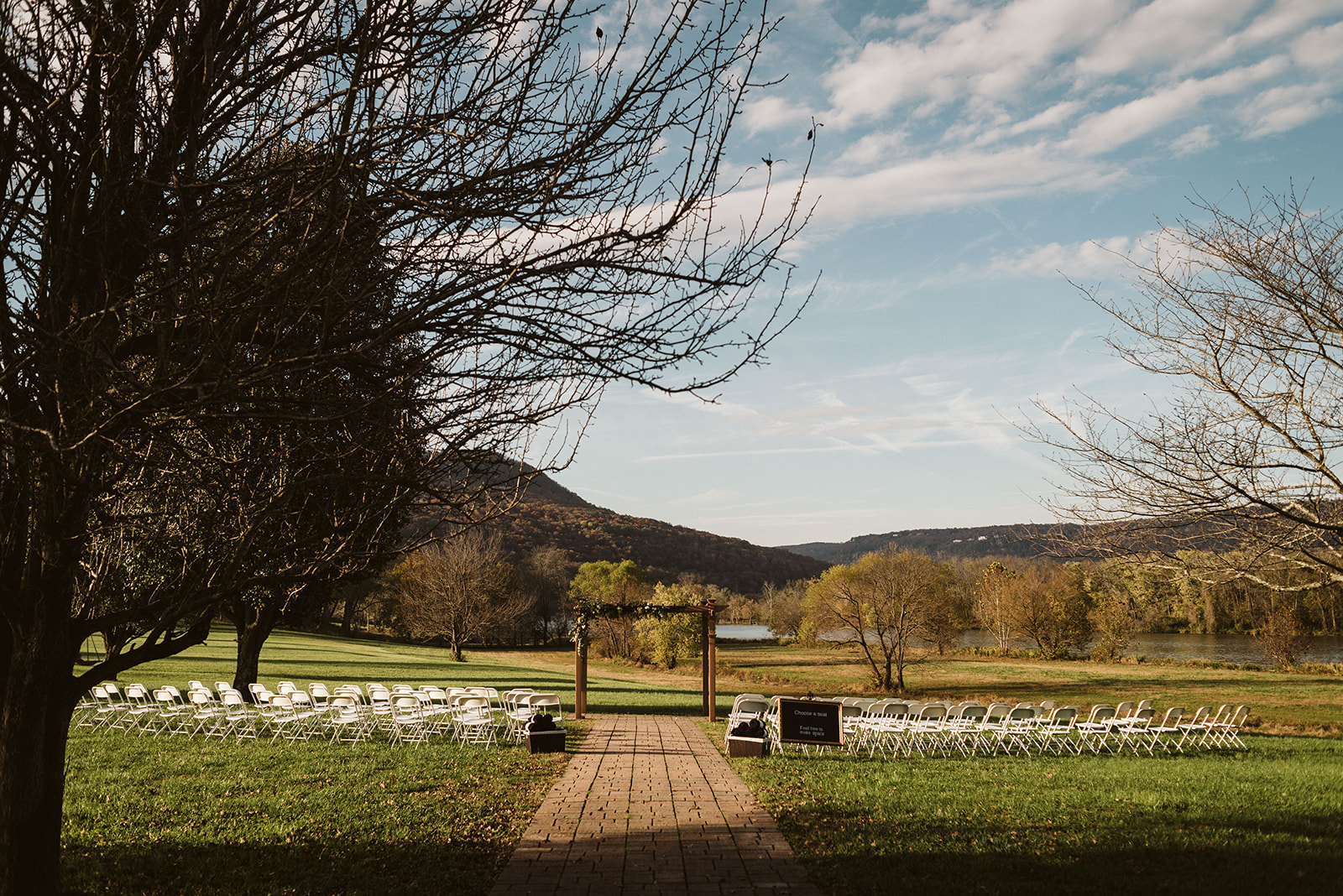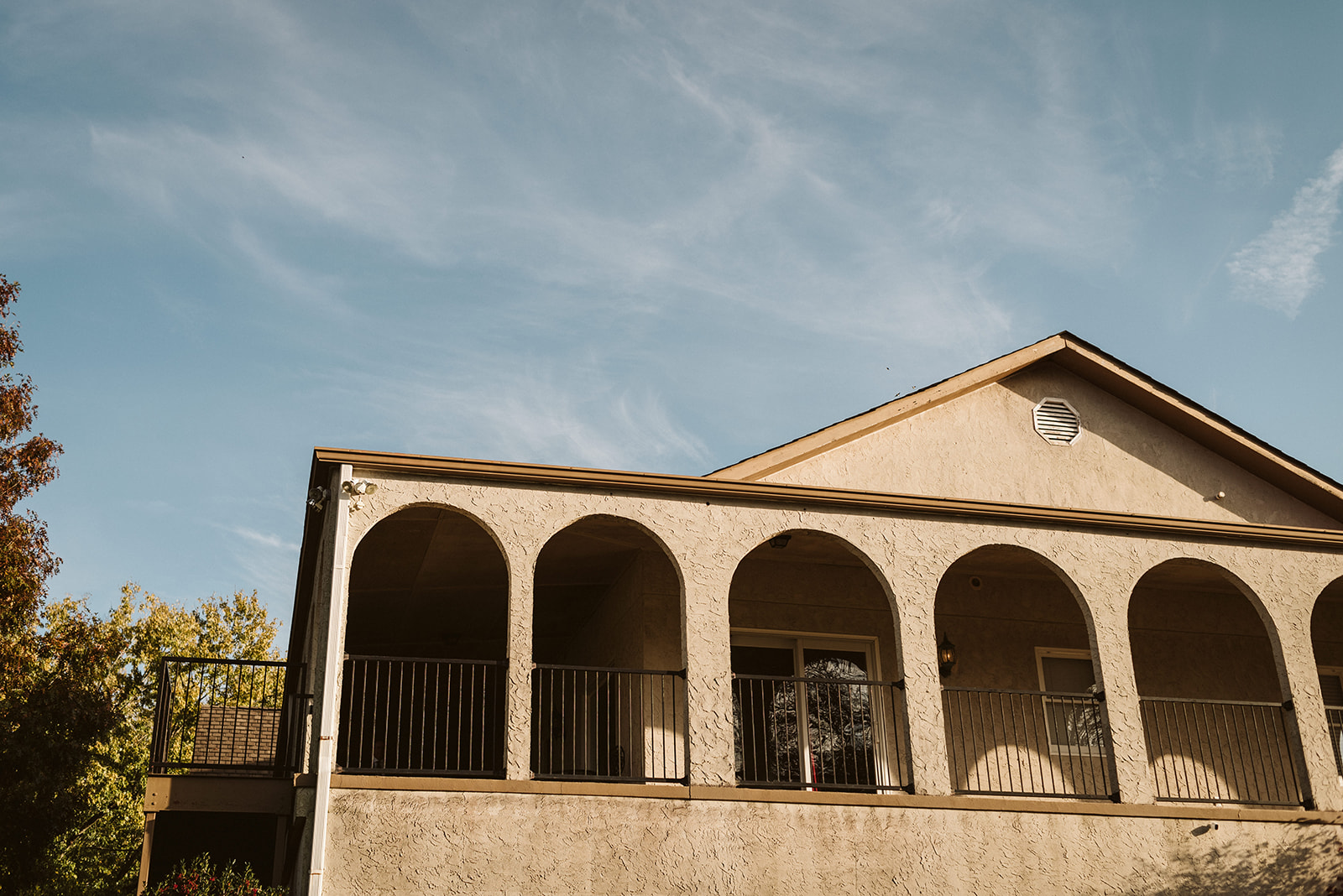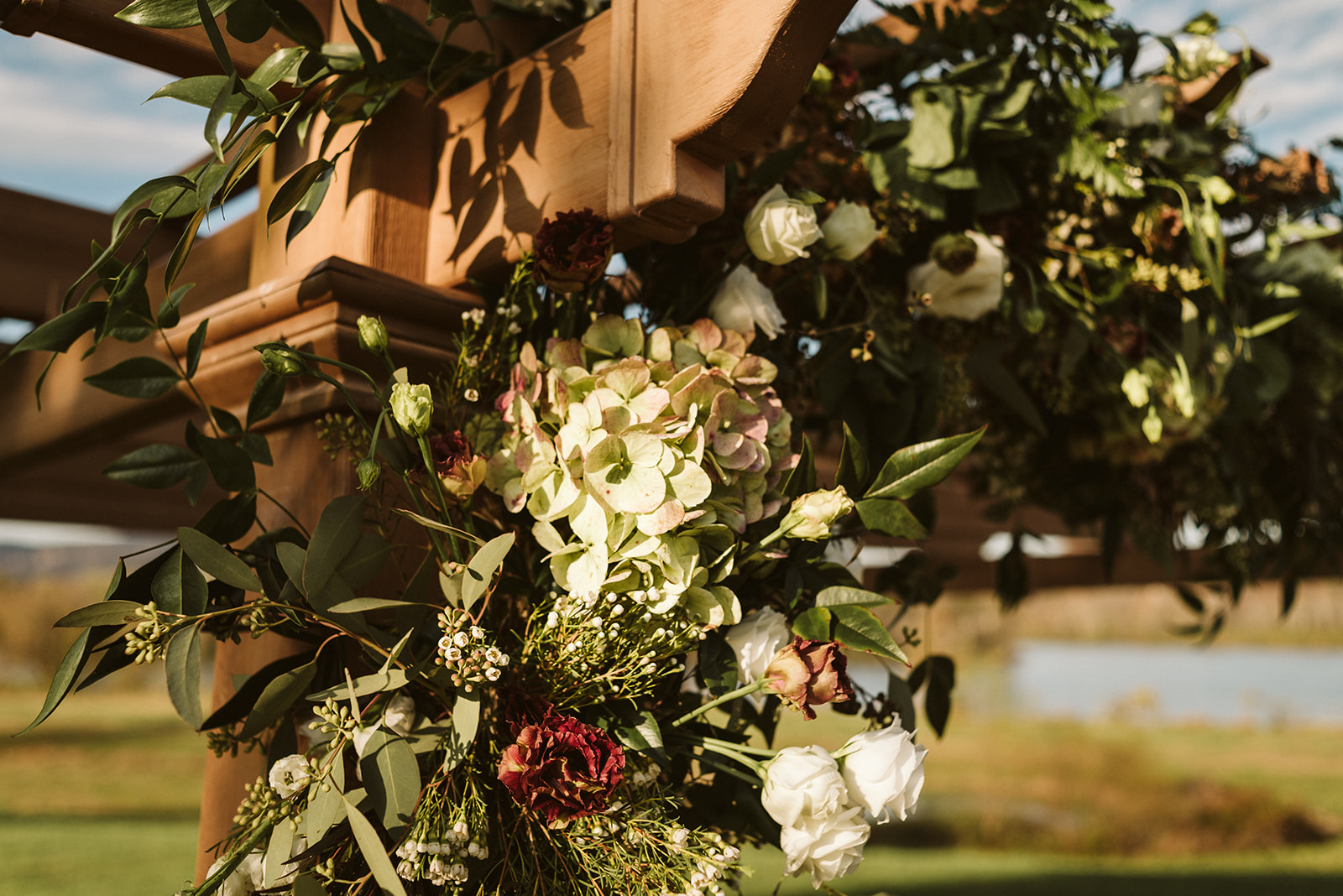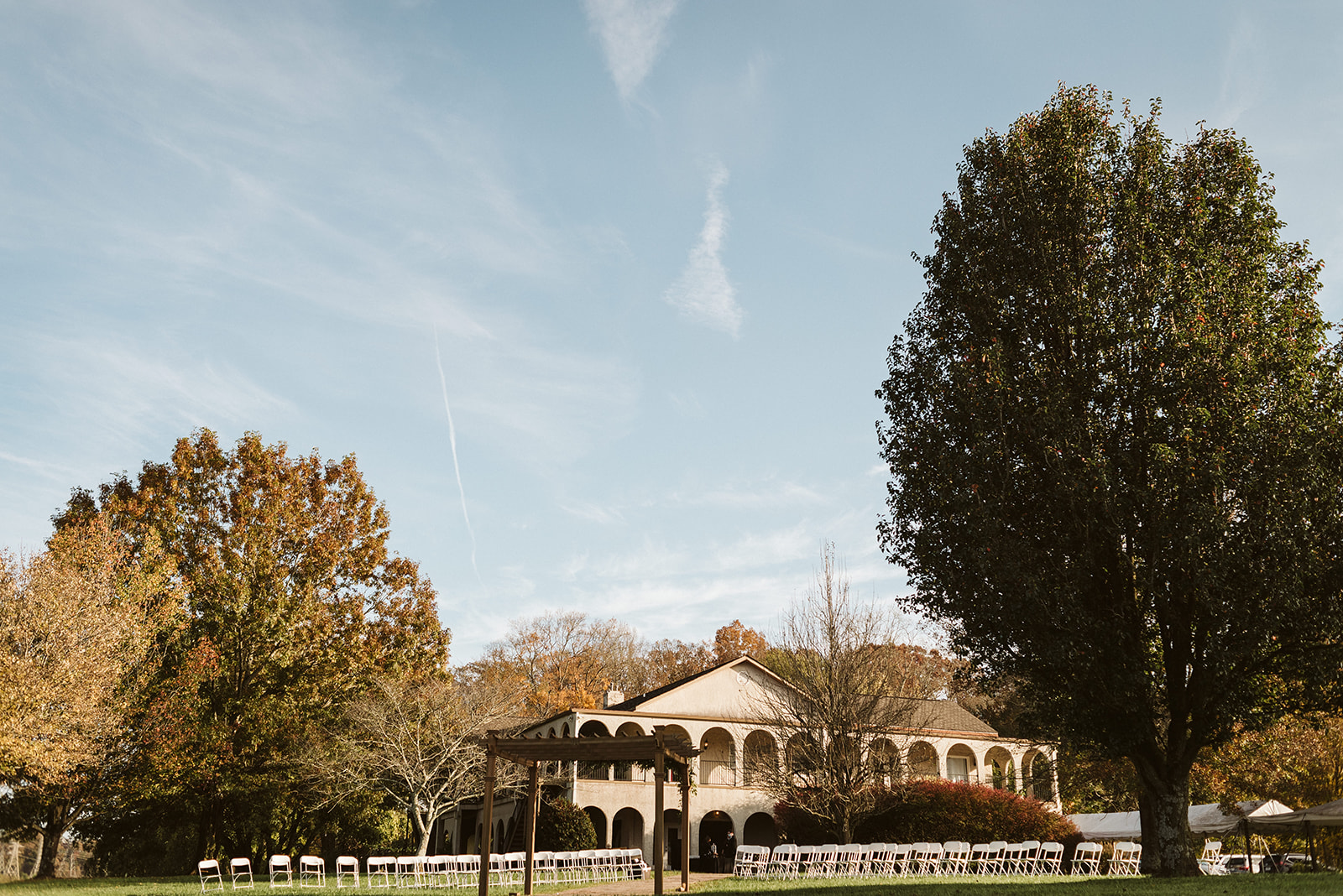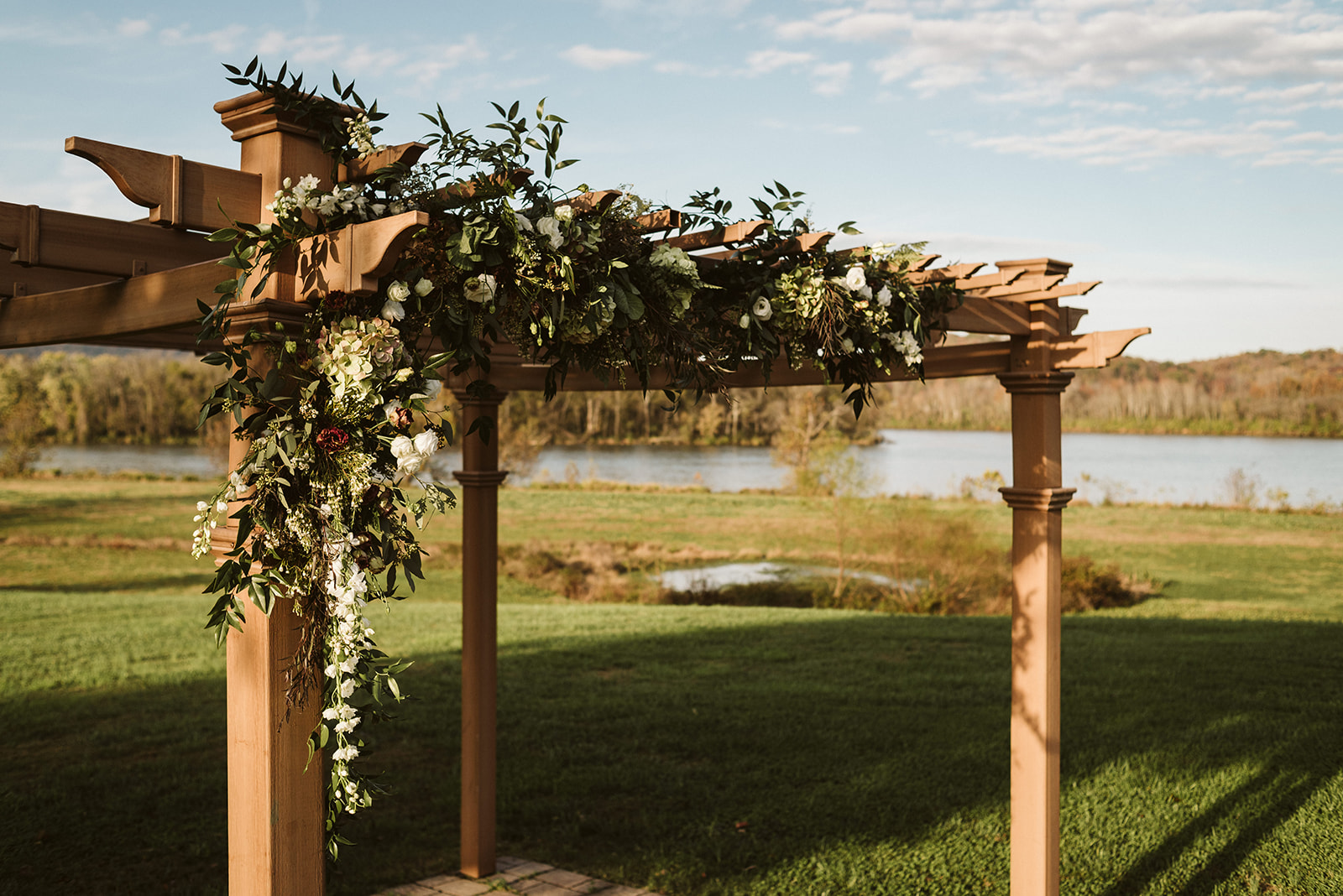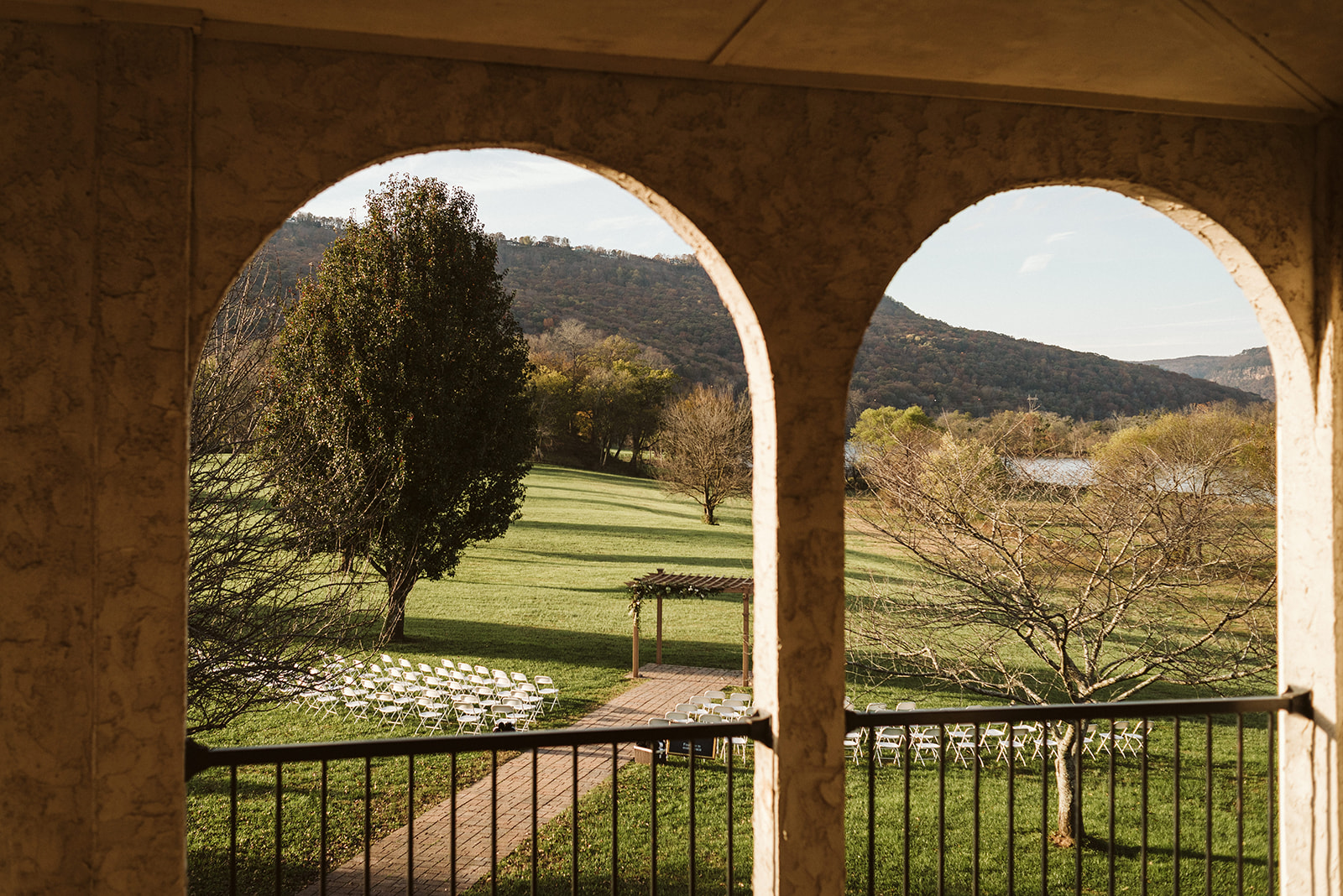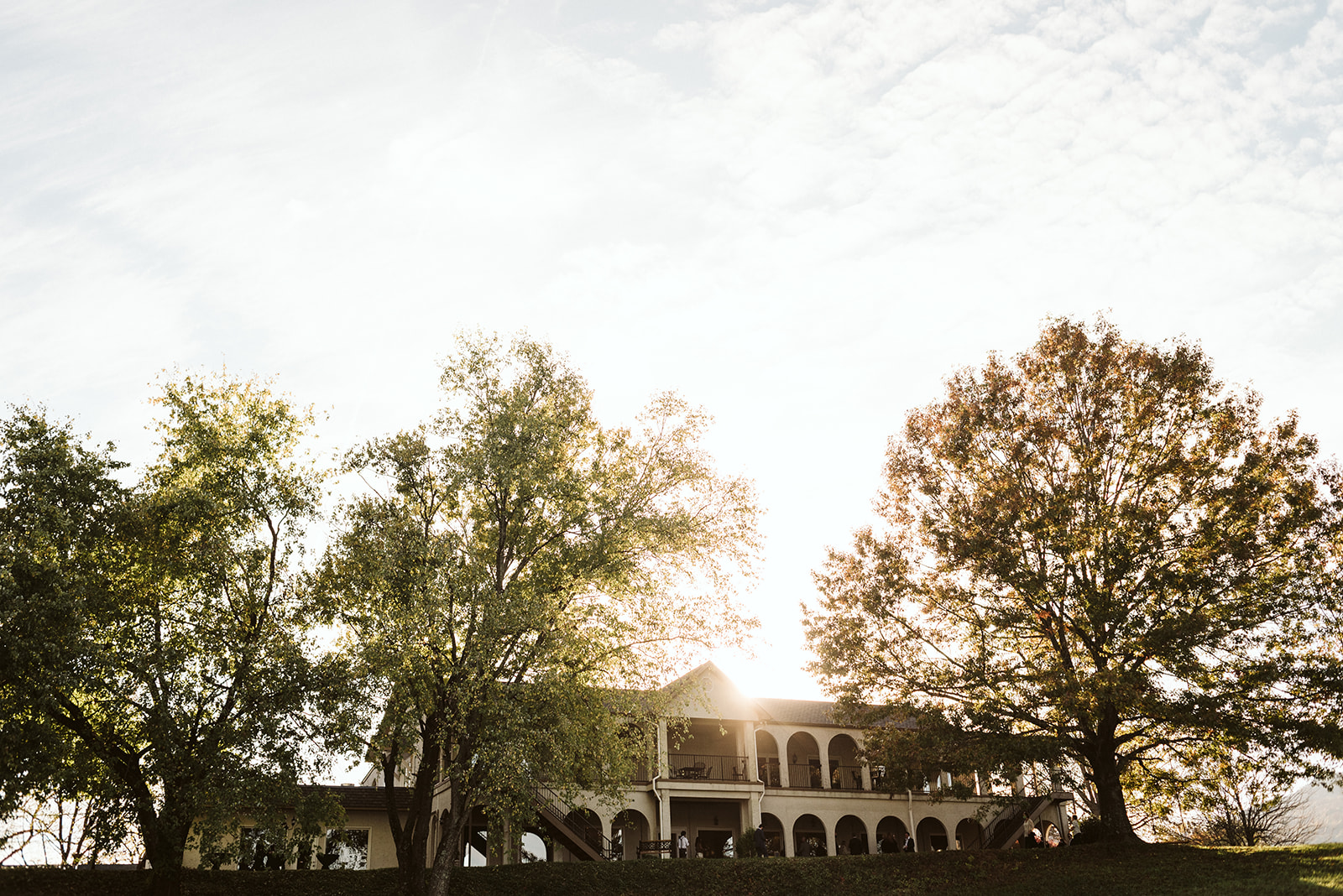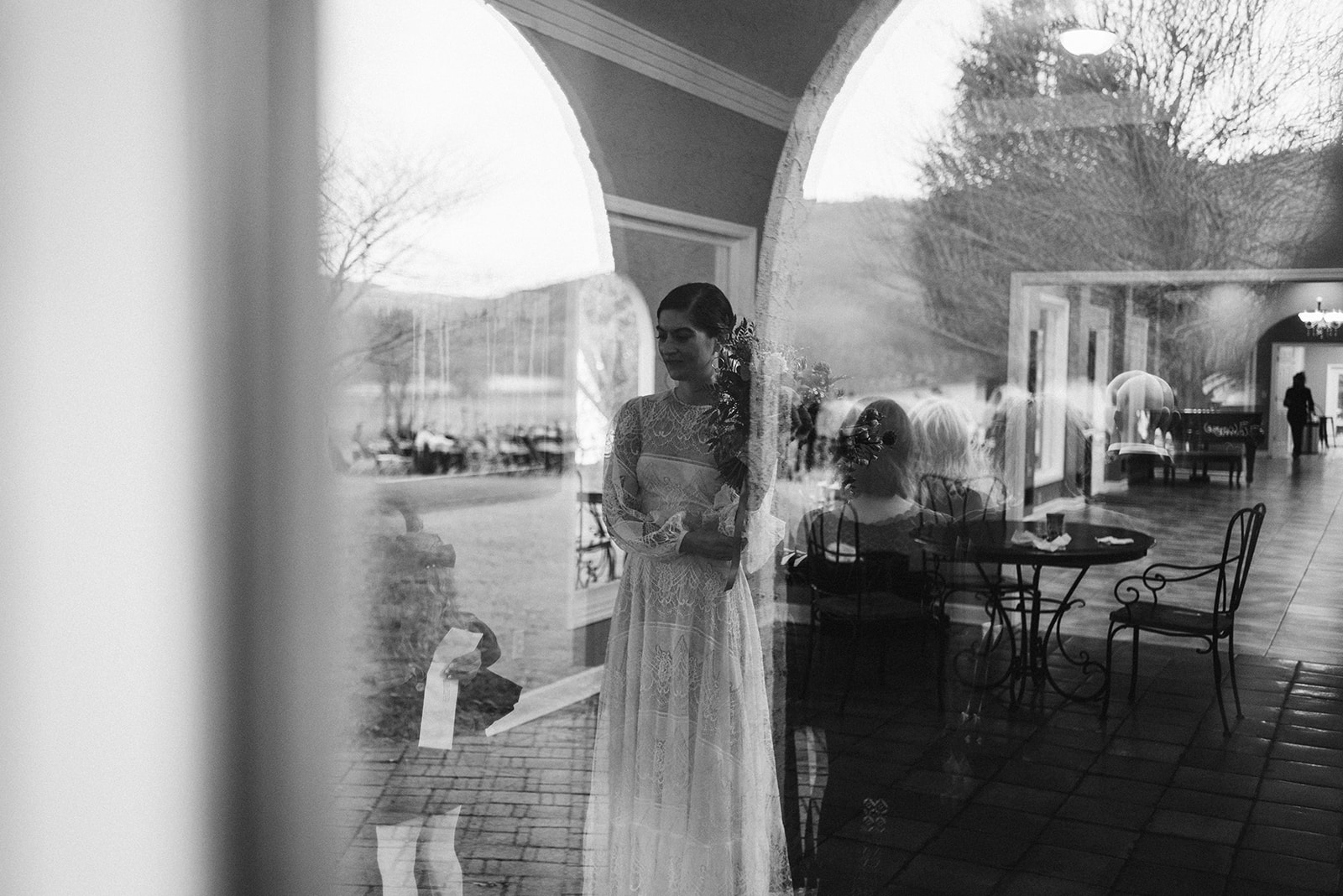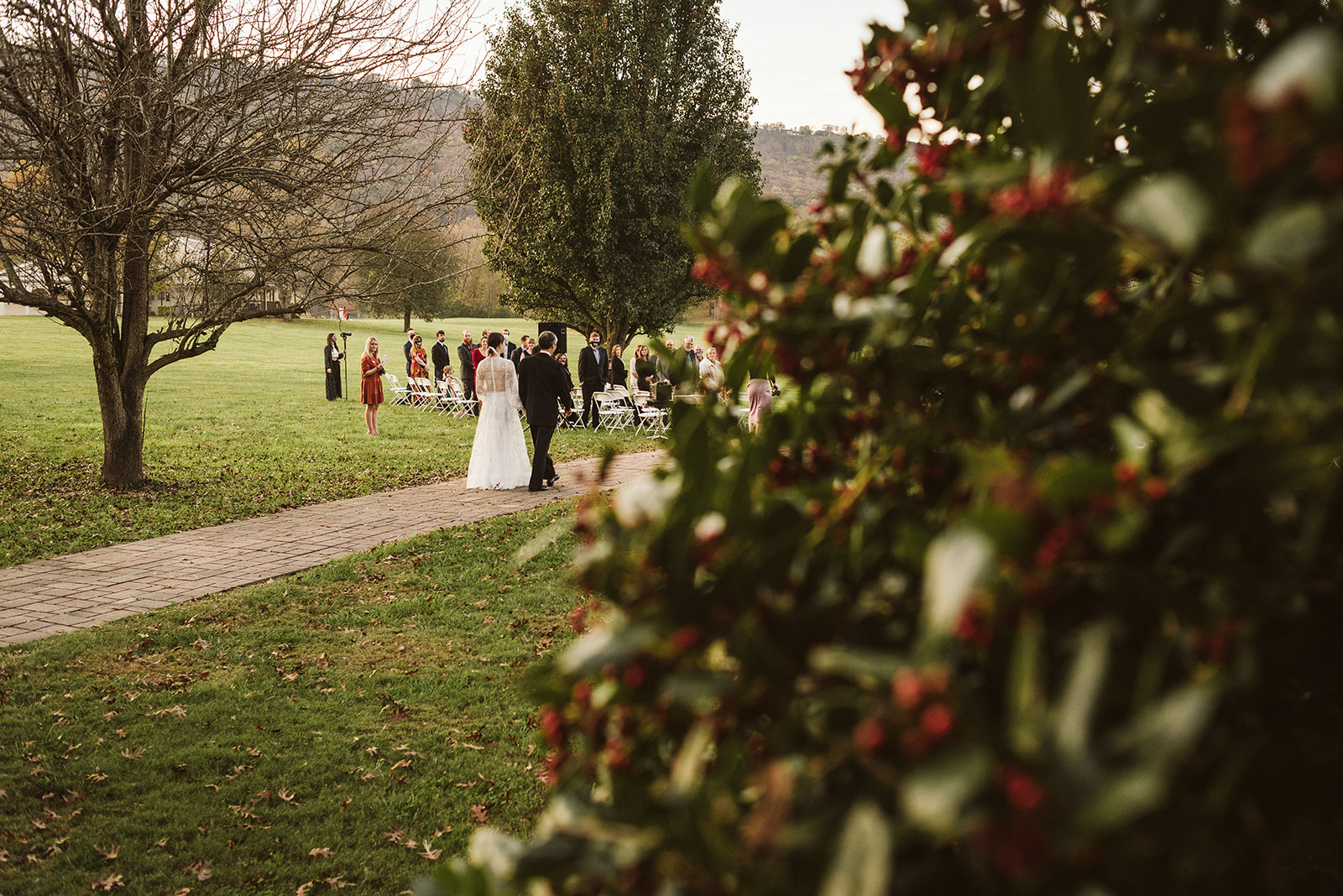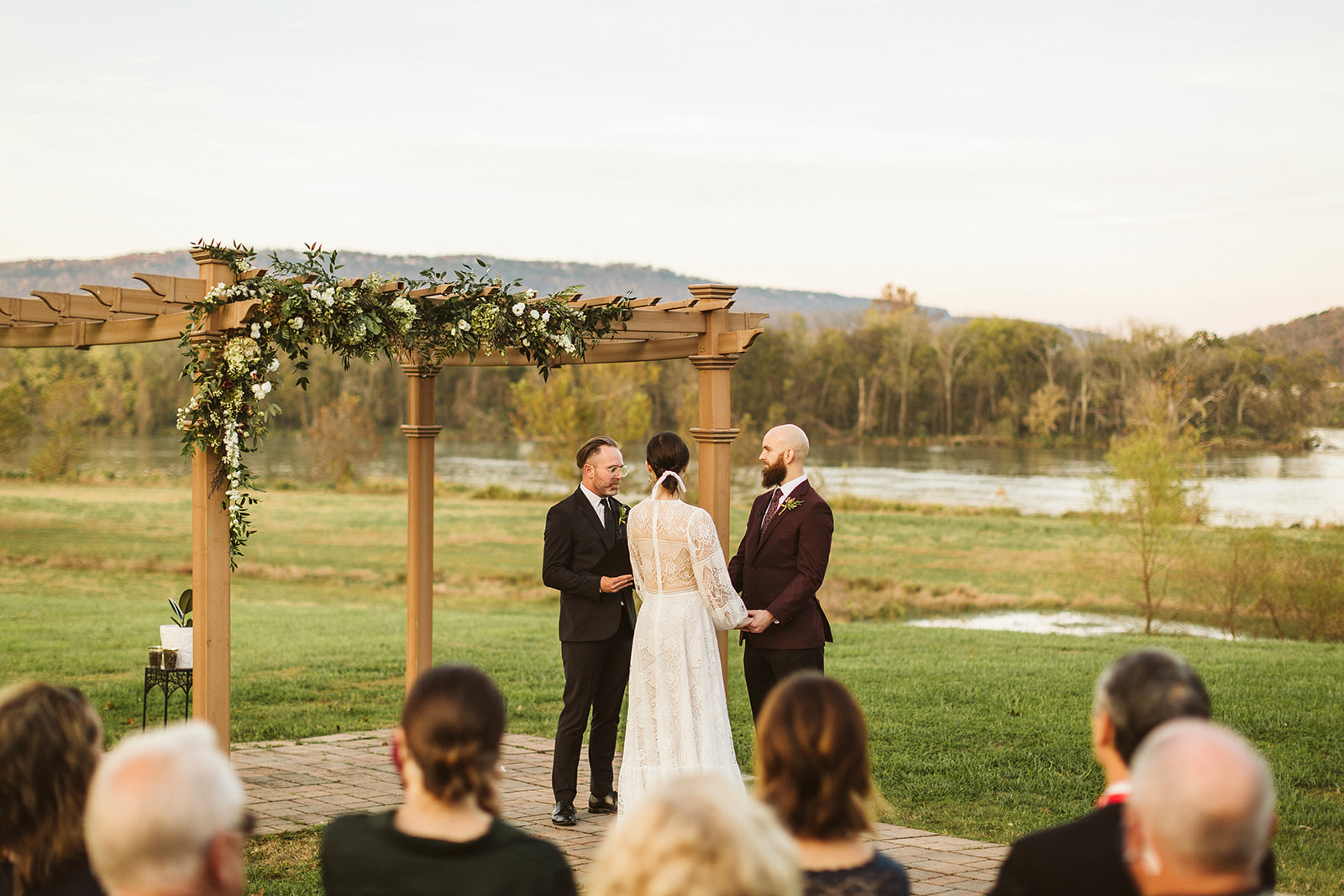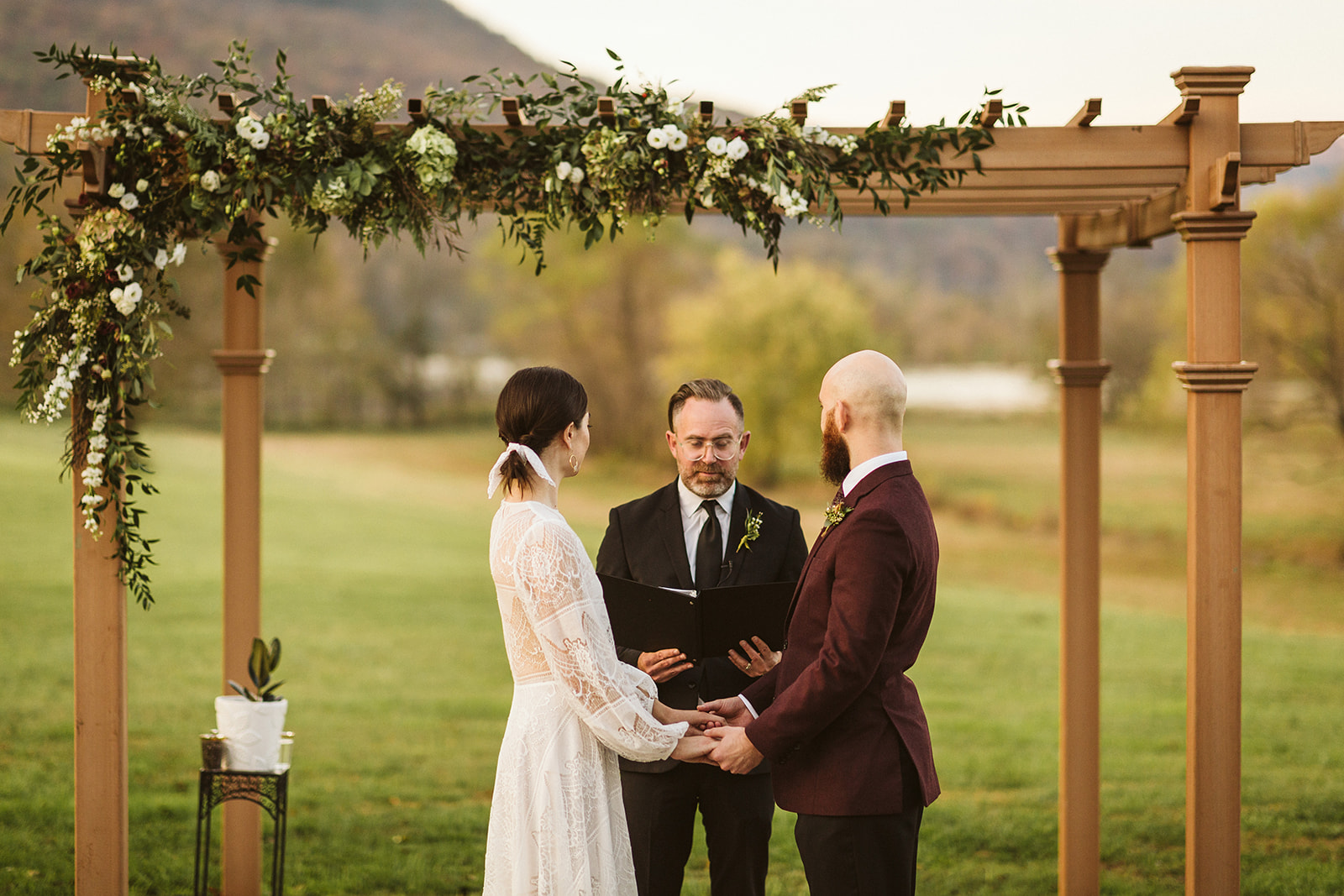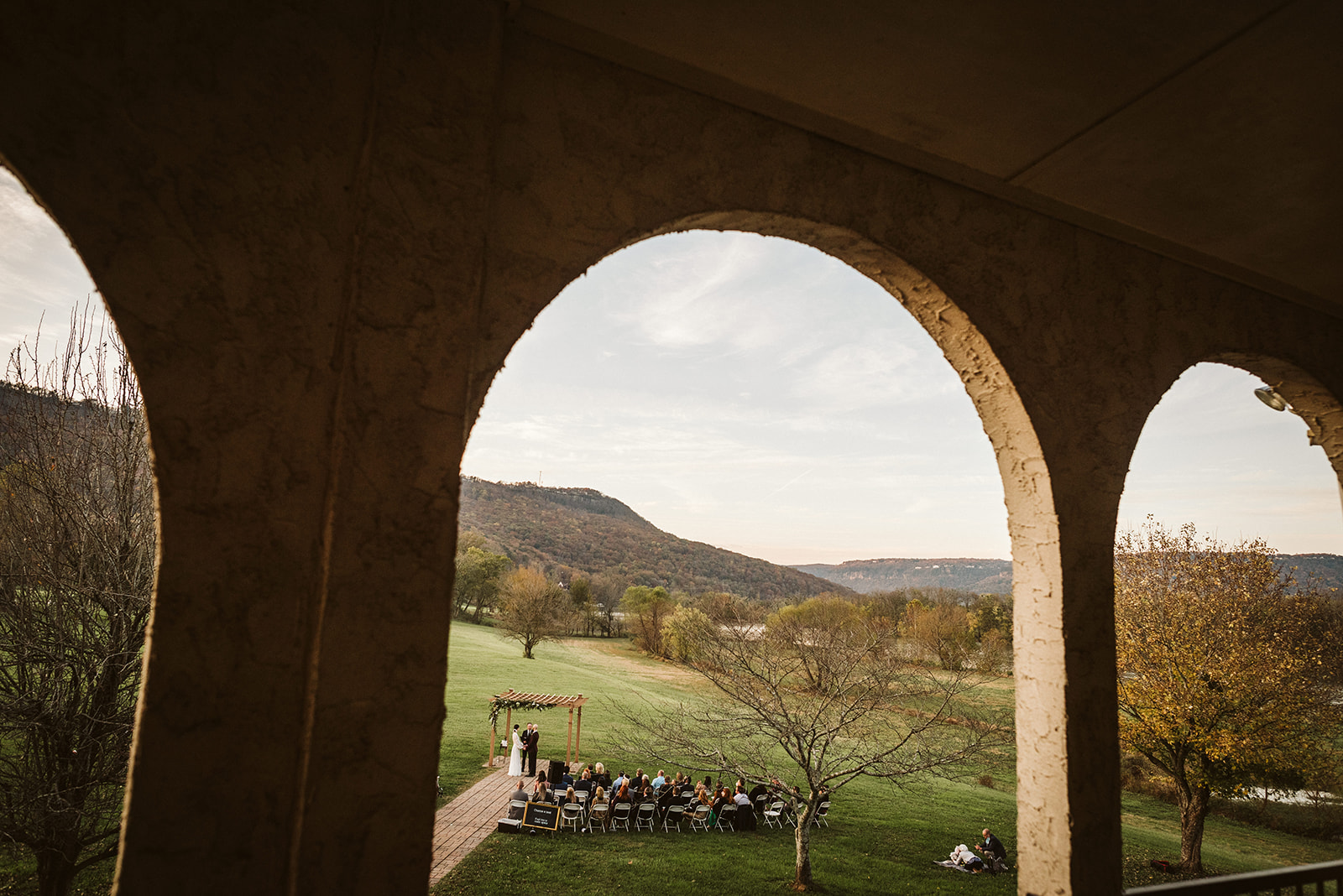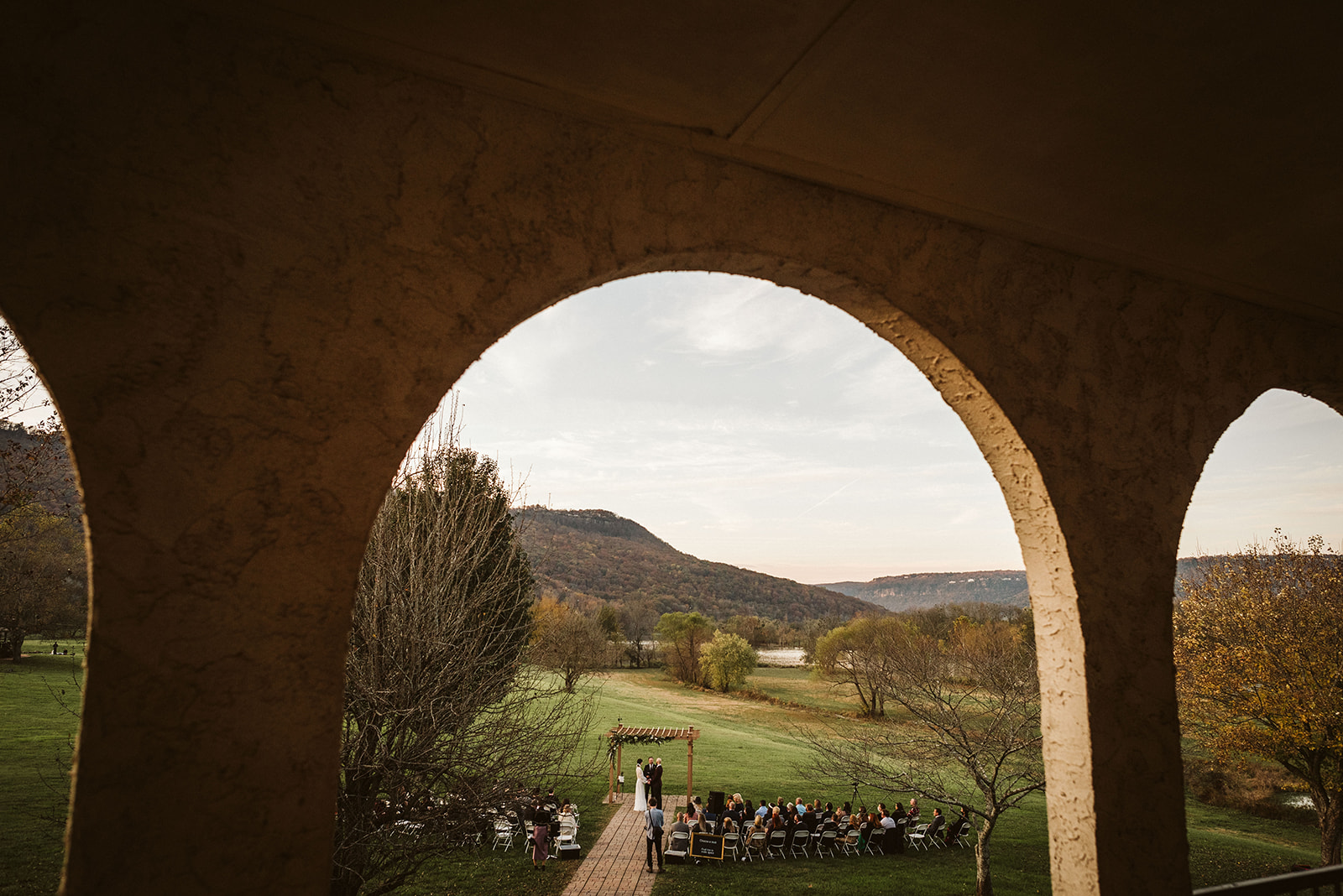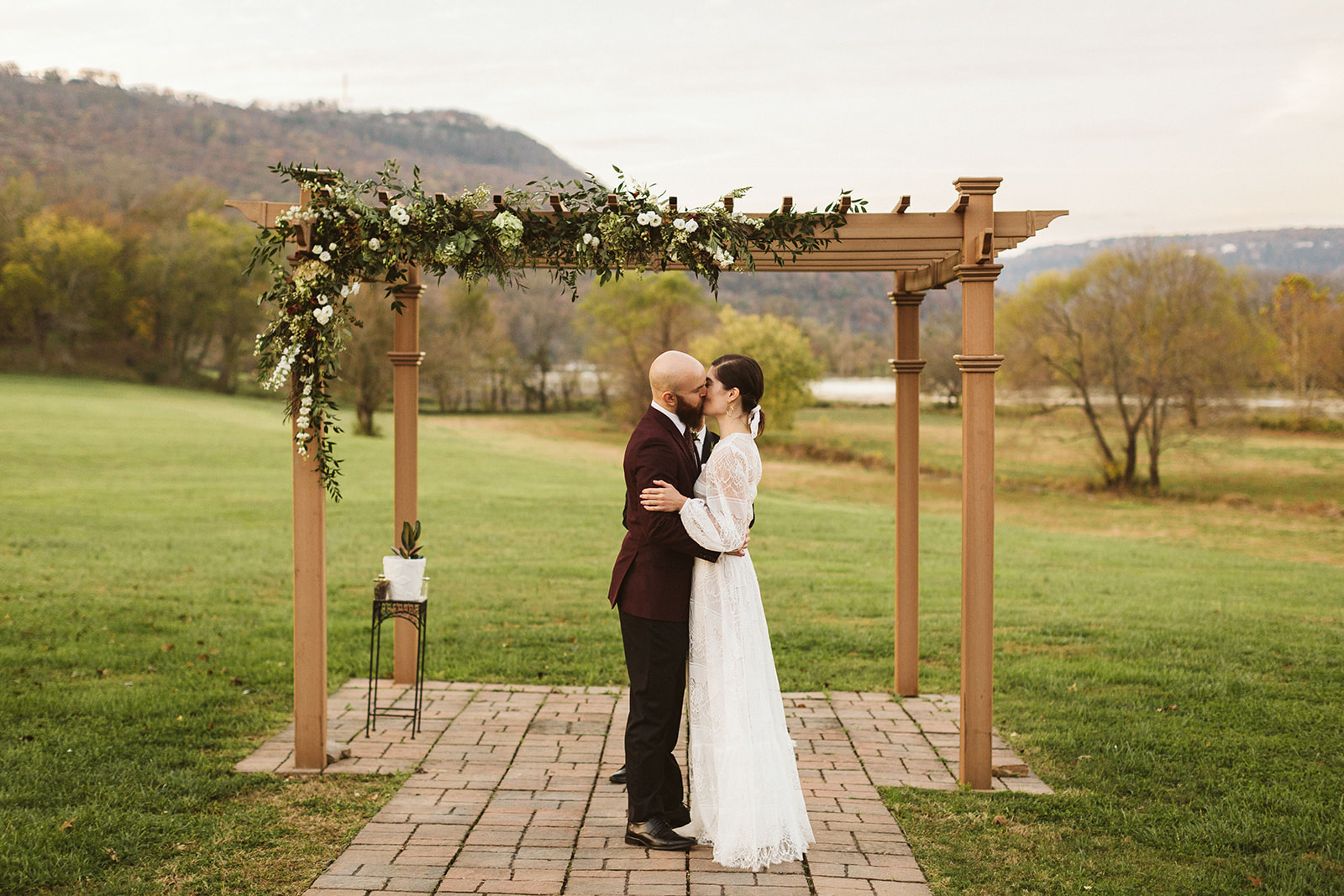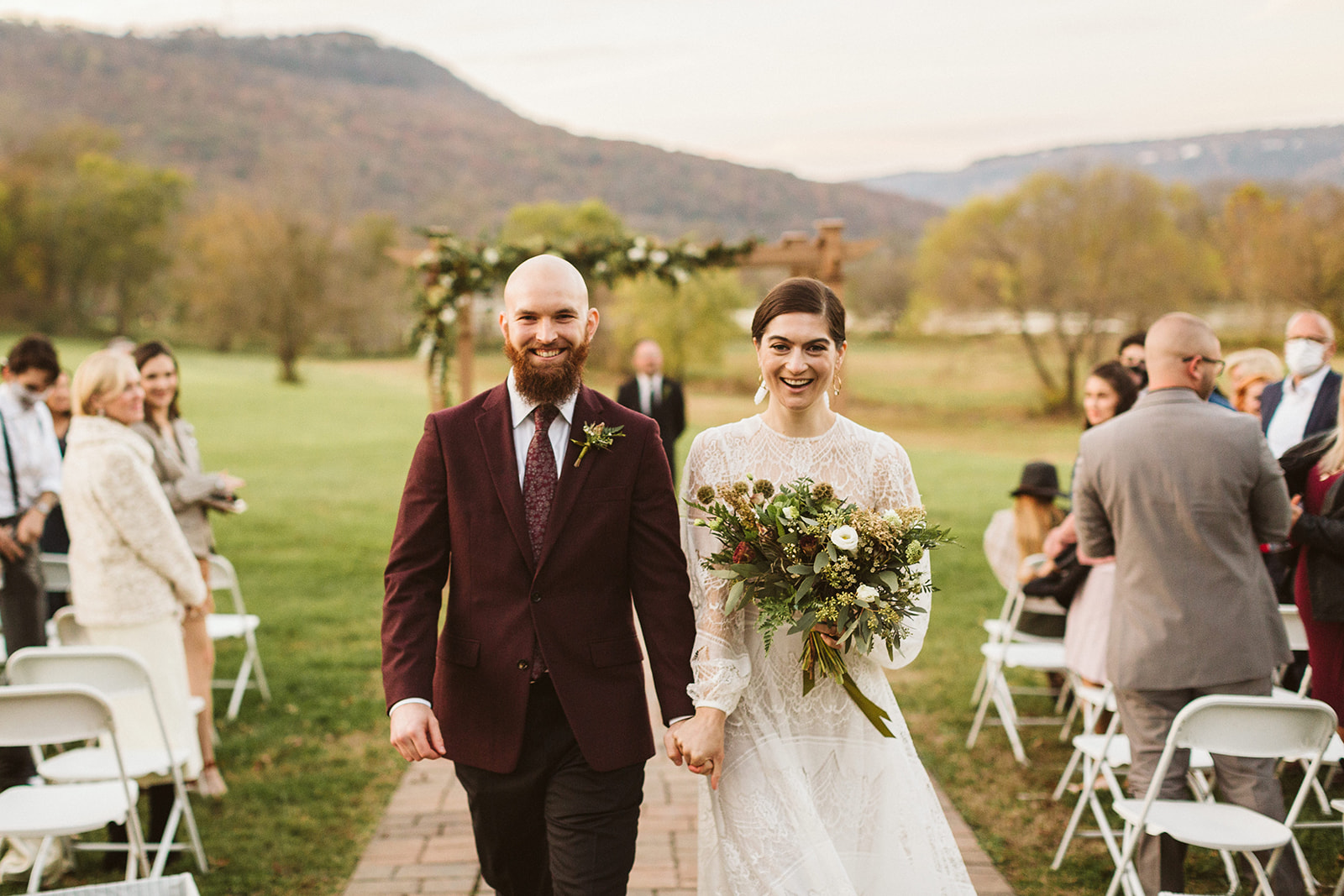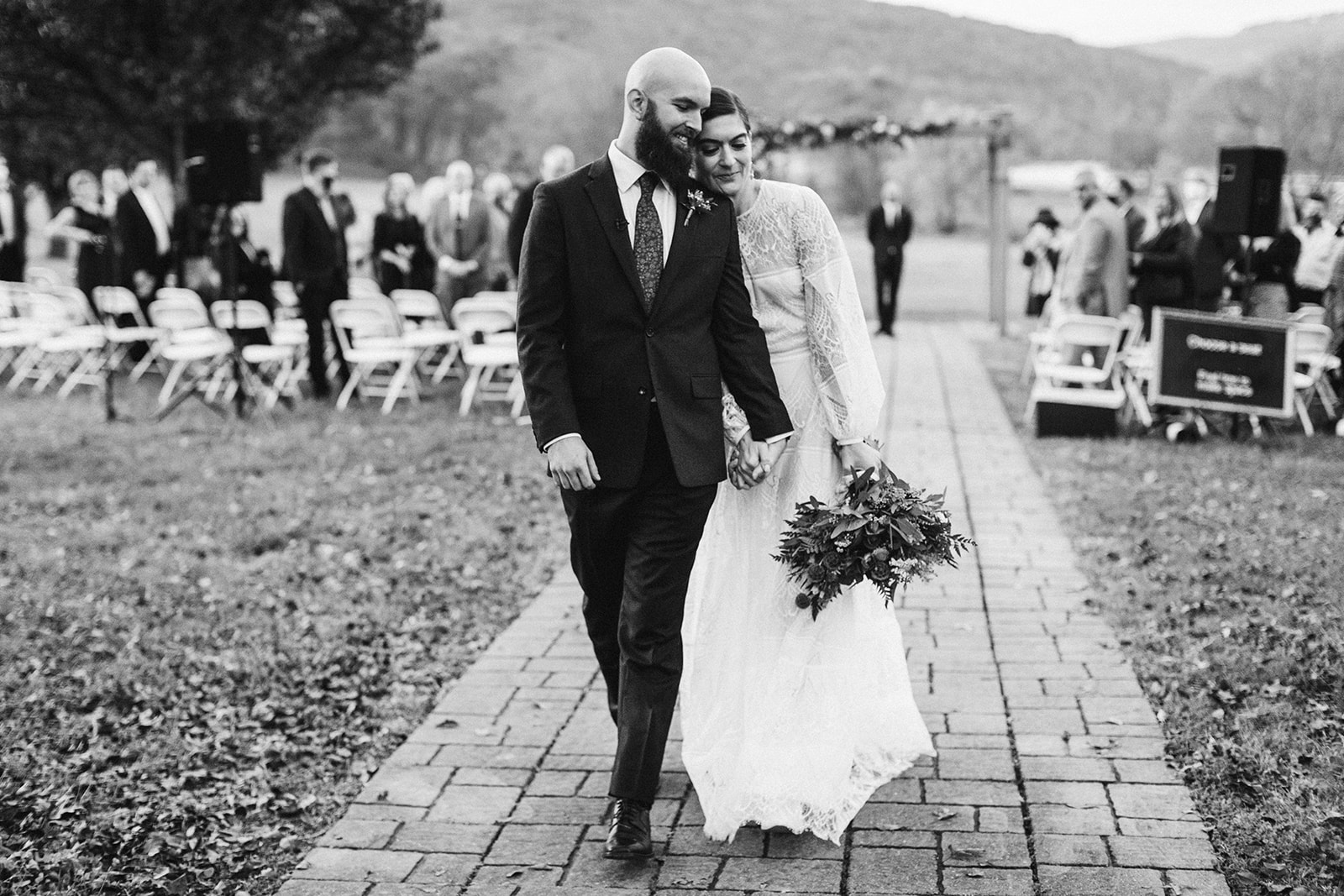 A FUN, ARTSY OUTDOOR RECEPTION AT TENNESSEE RIVERPLACE
For their reception, Laine and Brad had a vision of an elegant but artsy outdoor dinner. The patio was strung with Edison bulbs, and there were tiny touches of gold throughout the decor to bring everything together. The Copper Quail supplied all the vintage pieces and really brought the couple's vision to life. They also put together the gorgeous floral arbor for the ceremony. I've shot a few weddings with them in the past, and their decor never disappoints. If your Pinterest boards are full of vintage tableware, big velvet armchairs, and ornate rugs, check out The Copper Quail. (Pssst, winter brides! You can also rent vintage fur wraps from them!)
To keep their guests entertained, the couple planned a cocktail hour… with a twist! Just as everyone grabbed their drinks and started to settle in, a group of drag queens burst in and performed a show! They totally took the guests by surprise, and the theatrics put everyone in a great mood headed into the reception.
Catering was covered by Events With Taste, an amazing local vendor here in Chattanooga. They even had a coffee bar ready for the guests when they arrived to the ceremony! They served dinner on a gorgeous farmhouse-style table, and the great food and drinks kept everyone happy (and warm!) as the sun went down. If you're on the hunt for your perfect caterer, I can't recommend Events With Taste highly enough.
Even with the pared-down guest list, Laine and Brad's reception was a party. After a banquet-style dinner, everyone shifted to the dance floor. They danced to a live band under the stars, mingled with their guests, and kept the party going long into the night.
I love every wedding I shoot, but there's something special about seeing a couple's personality really shine through on the day. Laine and Brad's wedding was entirely them: modern and elegant with a little artsy edge. I won't be forgetting this wedding anytime soon, and I don't think their guests will either.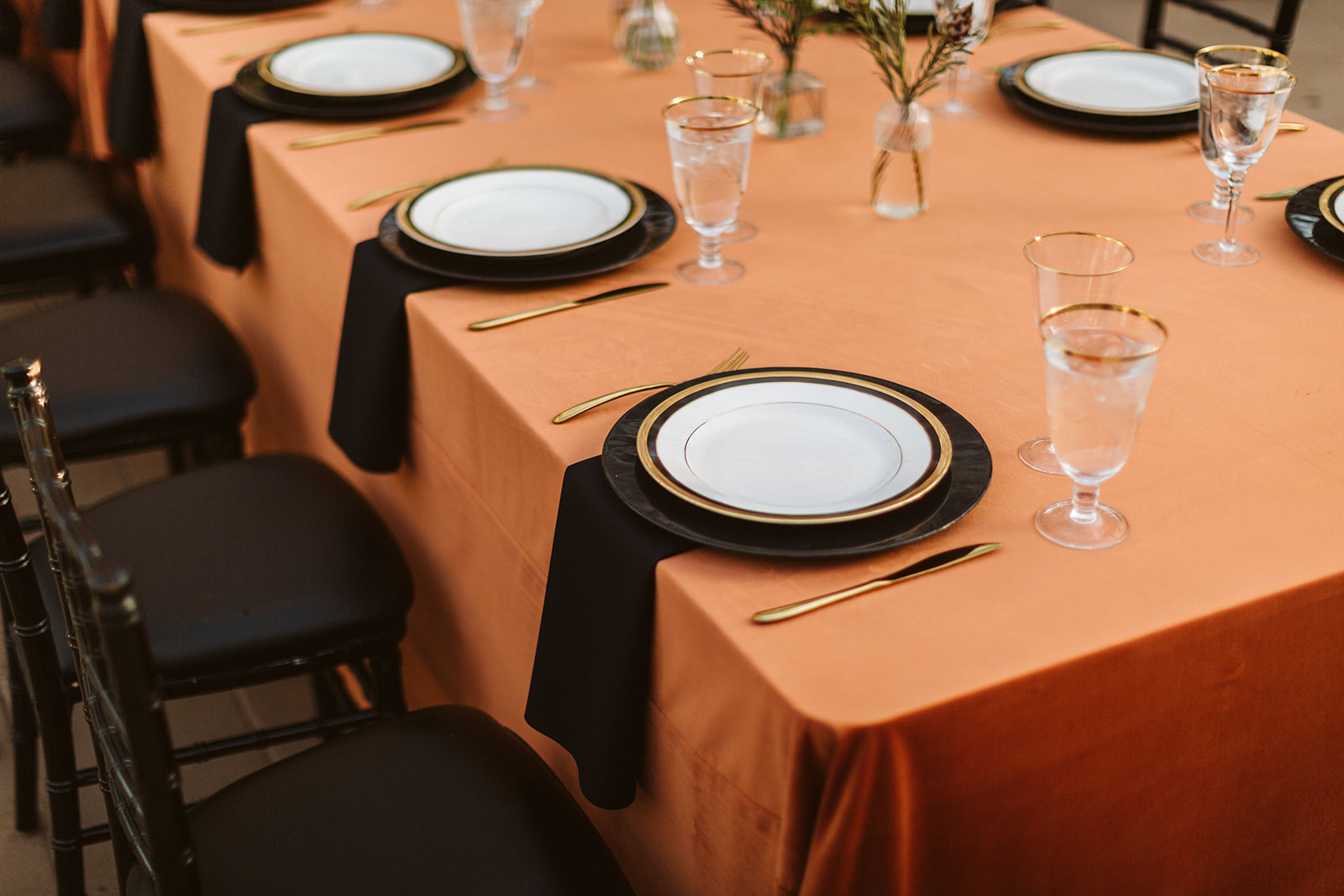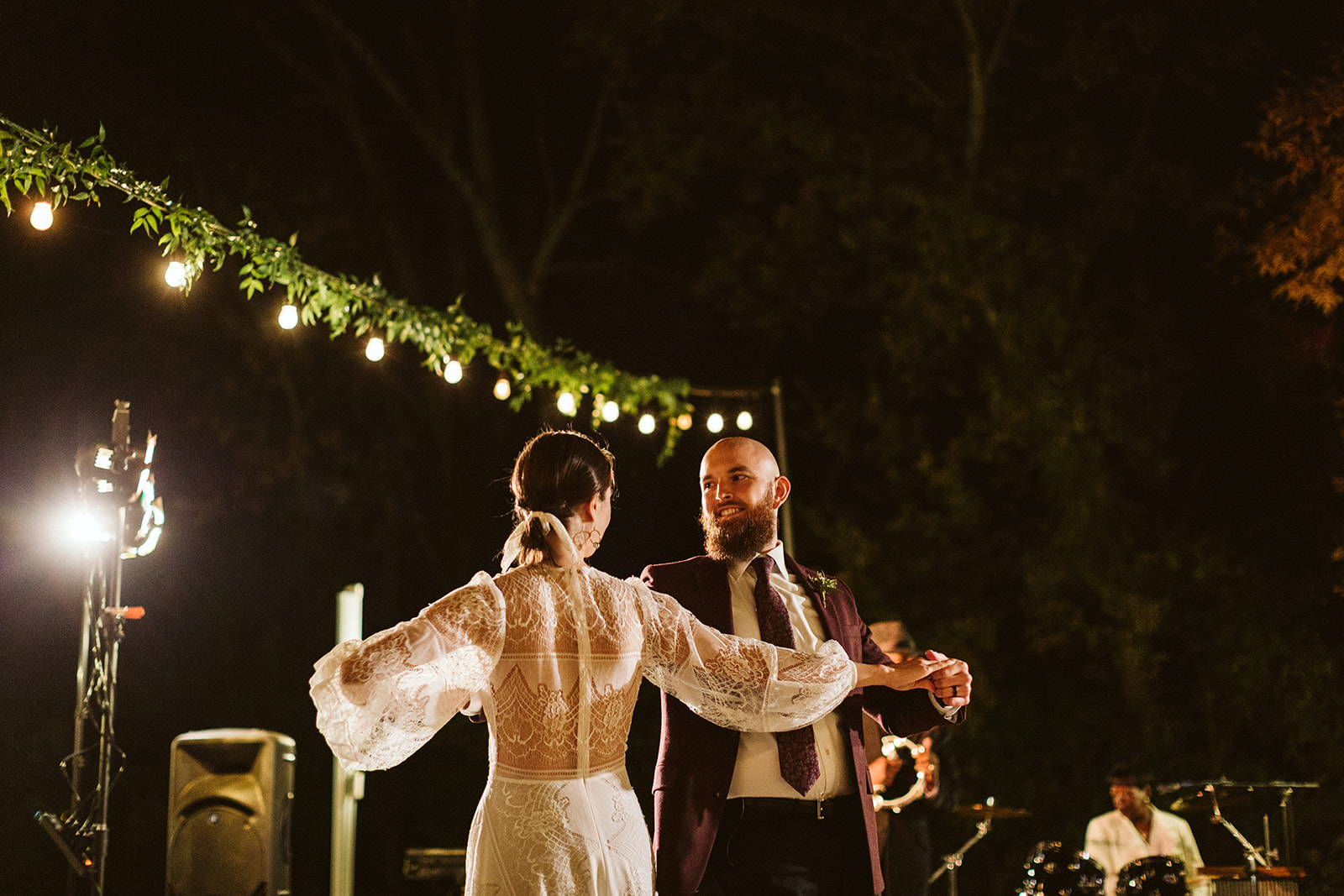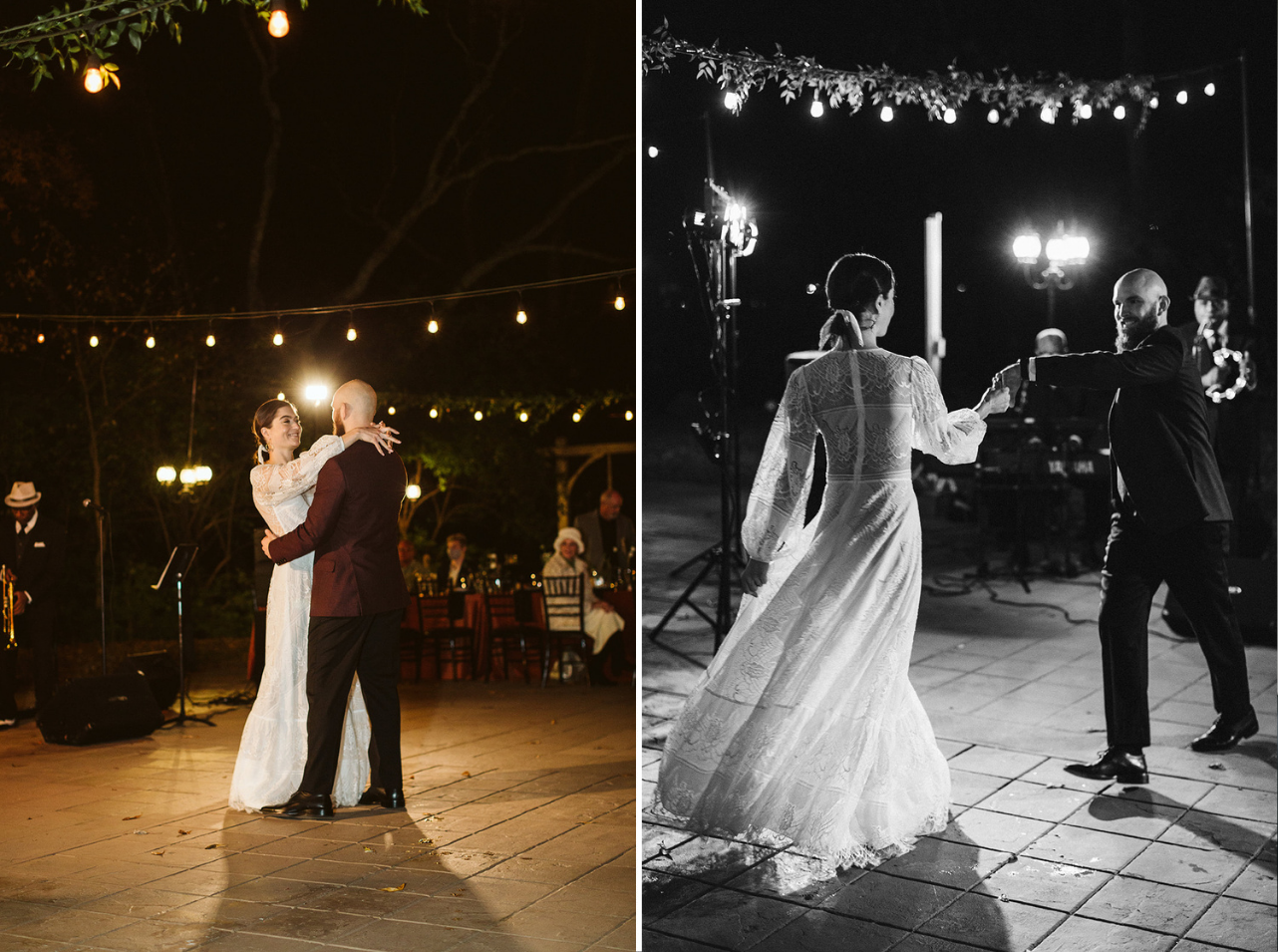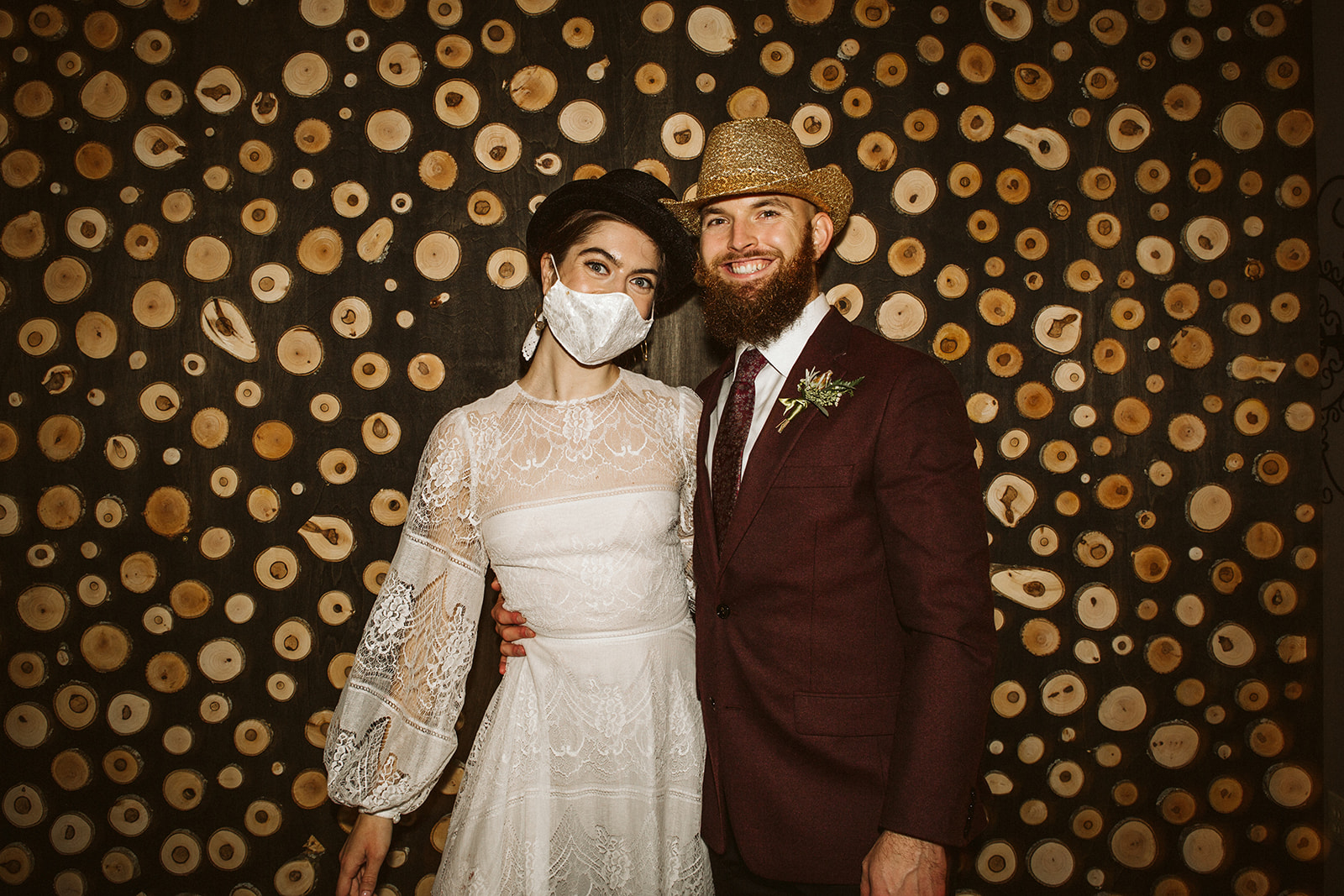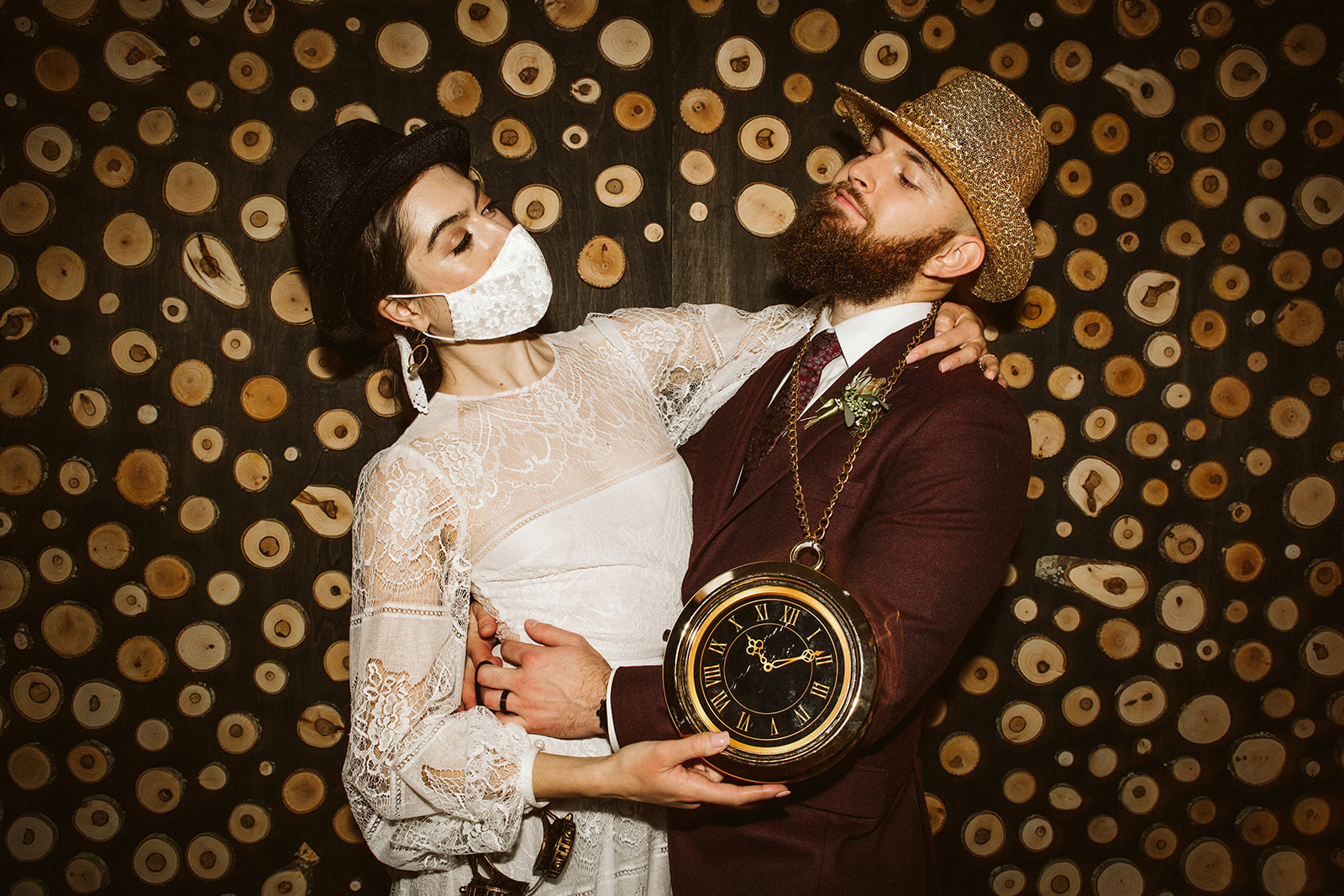 PLANNING YOUR OWN WEDDING NEAR CHATTANOOGA? I'D LOVE TO HELP MAKE YOUR DAY EVERYTHING YOU DREAM OF.
I'm Rachael Crowe of OKCrowe Photography. I've shot hundreds of weddings across the Chattanooga area and beyond. I'd love to be part of yours as well! Whether you're eloping on a mountaintop a thousand miles away or hosting a big wedding right here in town, I'm here to answer your questions, capture your day, and help you make your wedding everything you've dreamed it would be.
If you're still on the hunt for a wedding photographer, I'd love to chat! Visit my contact form, and let's start planning your dream wedding!