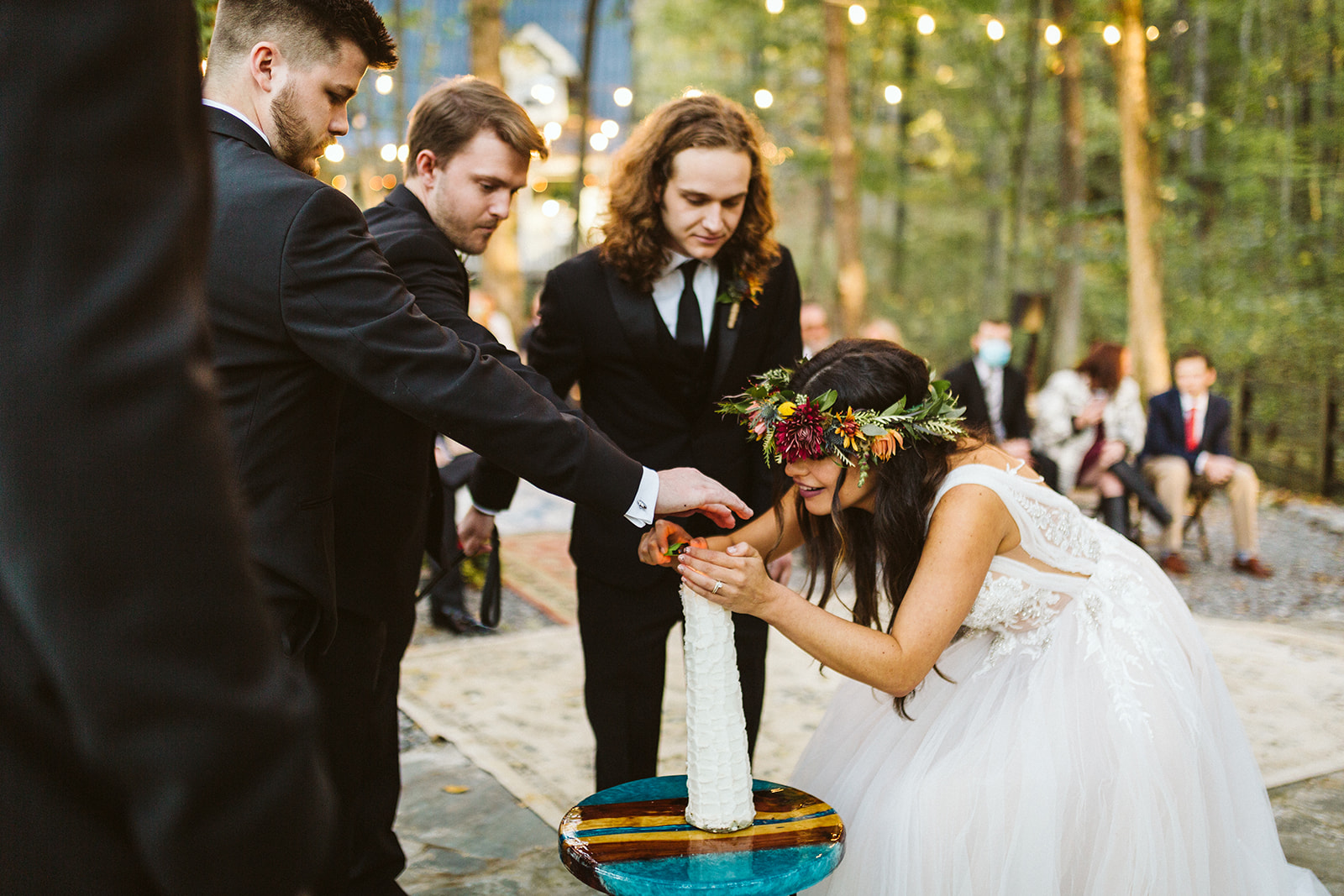 Looking for a way to give your wedding ceremony a personal touch? Try one of these unique unity ceremony ideas!
Traditionally, this is the part of the wedding ceremony in which the couple perform a ceremony symbolizing their unity and the tying together of two families. It's sometimes based in religion, but not always! Throughout my time as a wedding photographer, I've capture tons of unique unity ceremonies, both religious and not.
Here are a few of my favorite unique wedding ceremony ideas I've come across. Use them as inspiration for your own ceremony!
My Favorite Unique Unity Ceremony Ideas
1. Plant a tree.
For a unity ceremony with a natural touch, plant a tree! During this unity ceremony, the couple work together to plant a sapling (or another kind of plant) in a pot and surround it with soil. When you're done, you can say 'I do' before your tree, and if you have a green thumb, you can enjoy your tree for years to come! Plant it in your yard, watch it grow, and who knows? Maybe your grandchildren will get to play underneath it one day.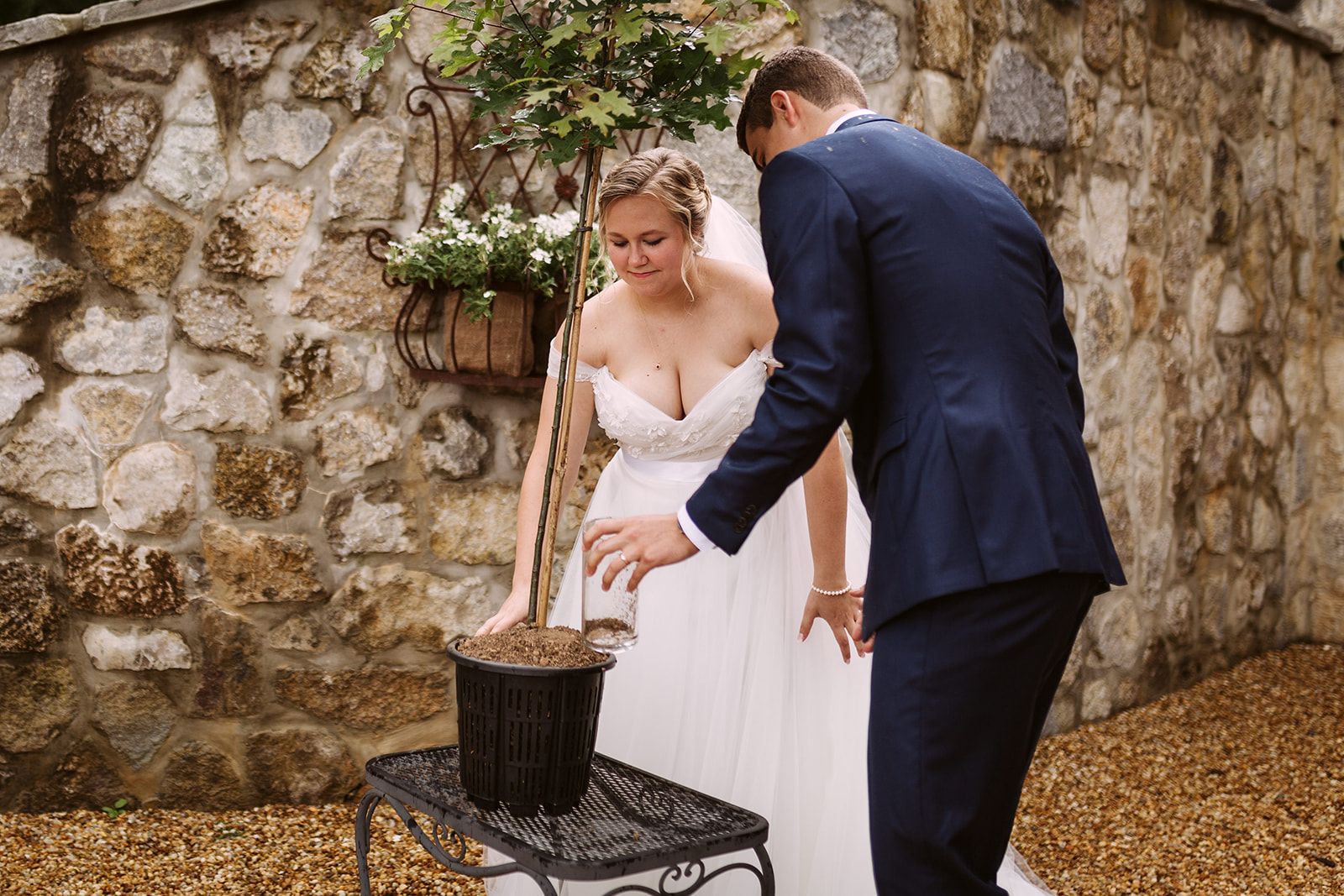 2. Light a unity candle.
The unity candle has been around for a while, but that doesn't mean you can't put your own unique spin on it! One of my couples used a blue candle they'd inherited from the groom's grandparents, who only lit the candle once a year on their anniversary. The bride and groom lit this unity candle for their wedding ceremony, and they plan to keep the tradition alive on their own anniversary.
If you don't have a family heirloom, use your unity candle to start a new tradition! You can commission a custom unity candle from a small business or go with one from your favorite local shop. Don't be afraid to take a long-standing wedding tradition and make it your own!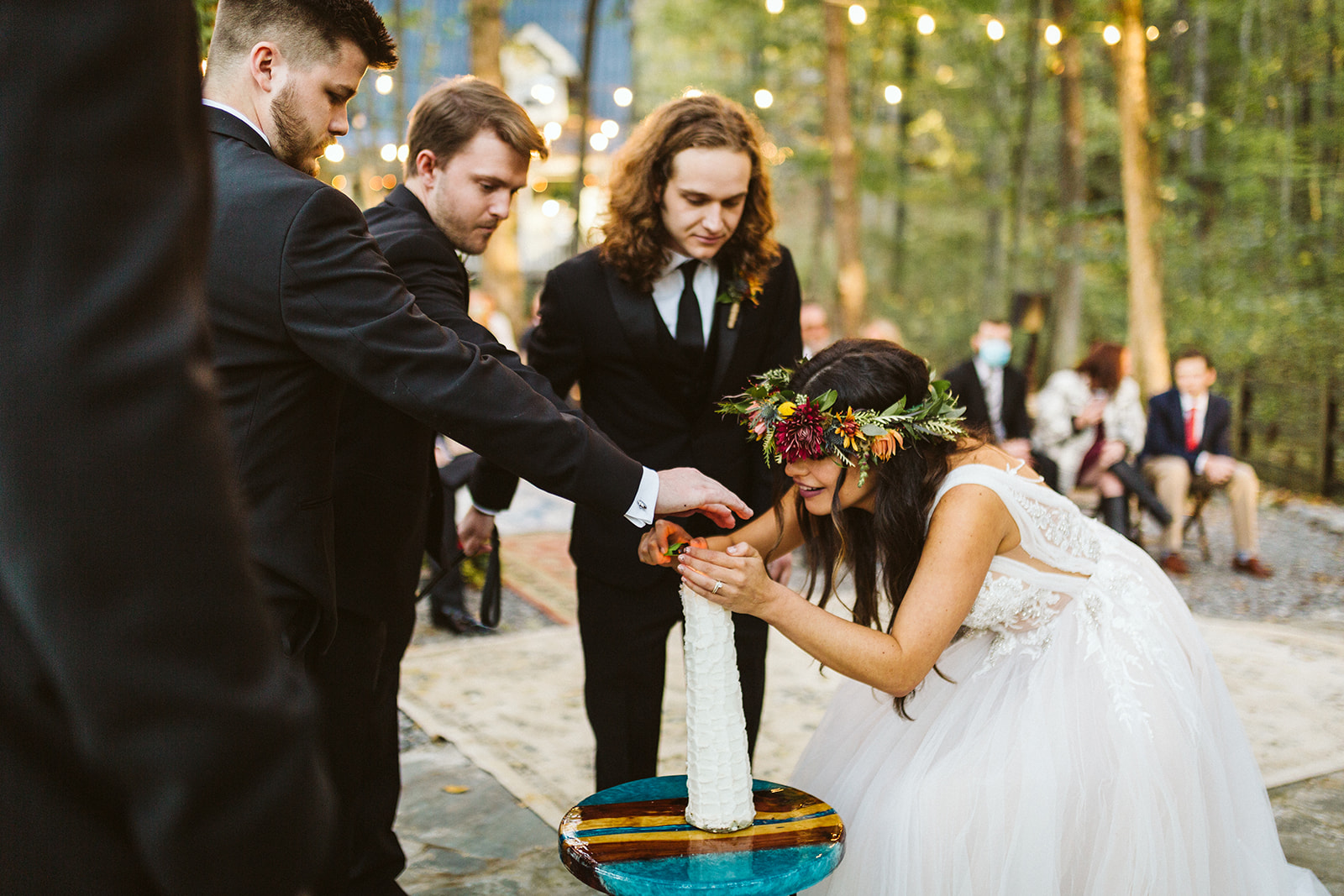 3. Tie knots.
This unity ceremony idea takes the collaboration of the unity candle and turns it into a unique piece of art you can keep forever. In this ceremony, the couple braids ropes or ties a knot together, symbolizing the coming together of two people and two families to create a strong bond.
This unity ceremony actually stems from a Bible verse, Ecclesiastes 4:12, "A cord of three strands is not quickly broken." But I've seen non-religious couples put their own spin on it! If you're a couple of adventure seekers, tie a knot with rock climbing rope. If you enjoy boating, tie a sailing knot. No matter how you do it, physically 'tying the knot' is a beautiful representation of the bond you've created in your marriage.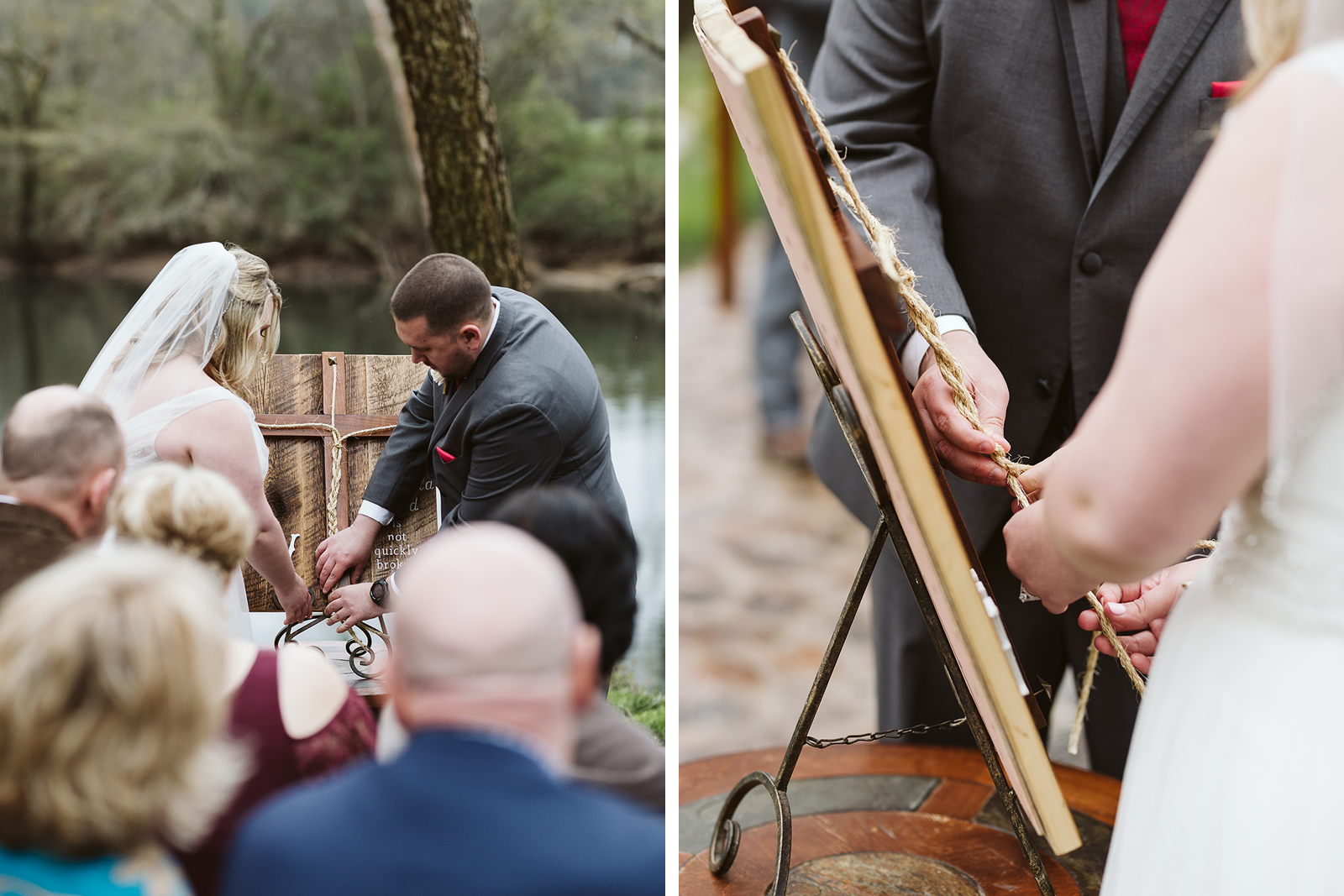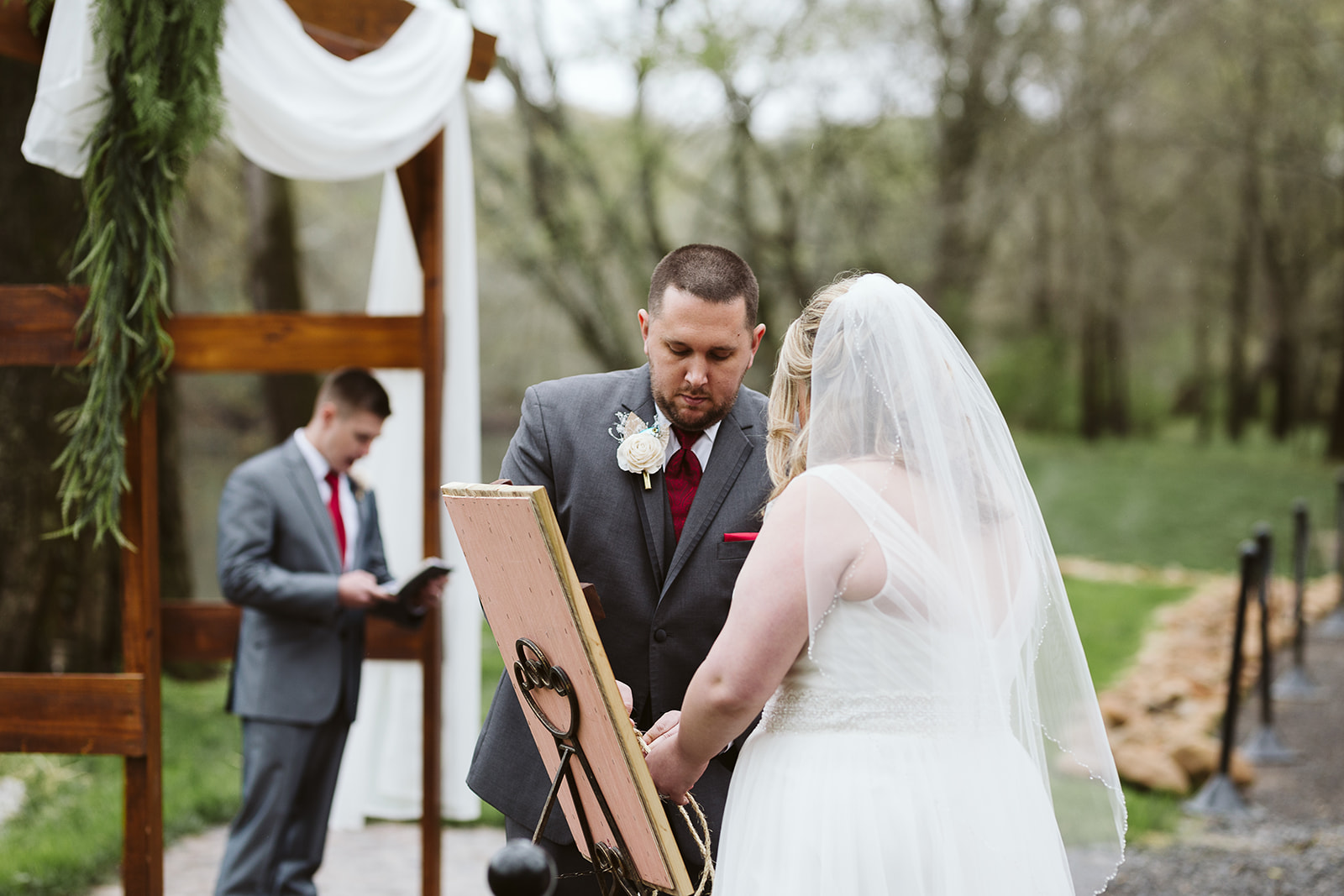 4. Have a ring warming ceremony.
This unity ceremony is a great way to get your loved ones involved in the ceremony. The officiant introduces the ring warming ceremony, and then the couple's wedding bands are passed through the crowd (either tied together, in a mesh bag, or in a box). Everyone in attendance gets a moment to silently 'bless' the rings in their own way. They might say a prayer, think encouraging thoughts, or just send good vibes. Then, when everyone's had their turn, the couple exchanges their rings, now warmed by the love of their family and friends.
A word of warning, though: at a large wedding, the ring warming ceremony can take a long time. Be sure you have music queued up for this part of the ceremony!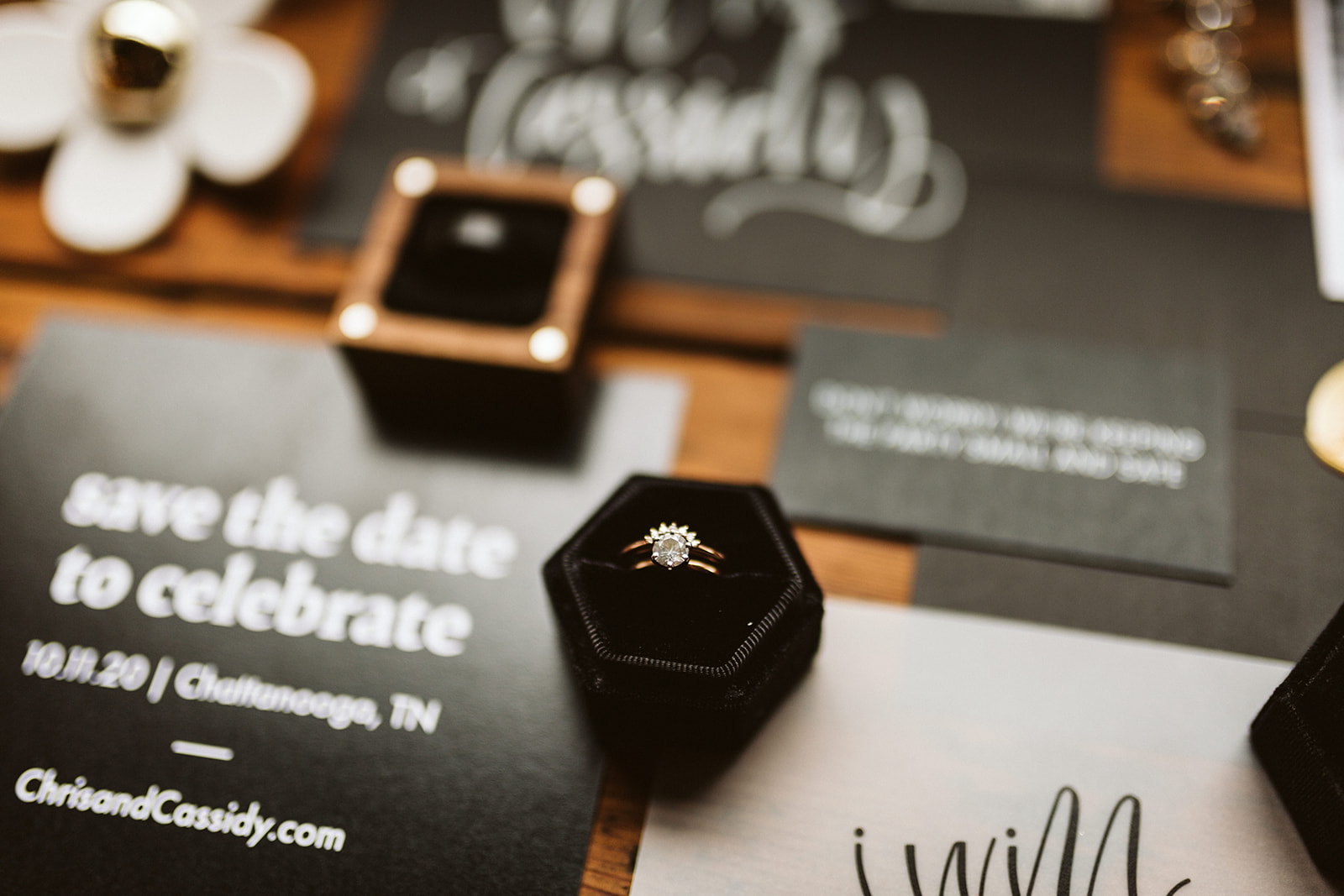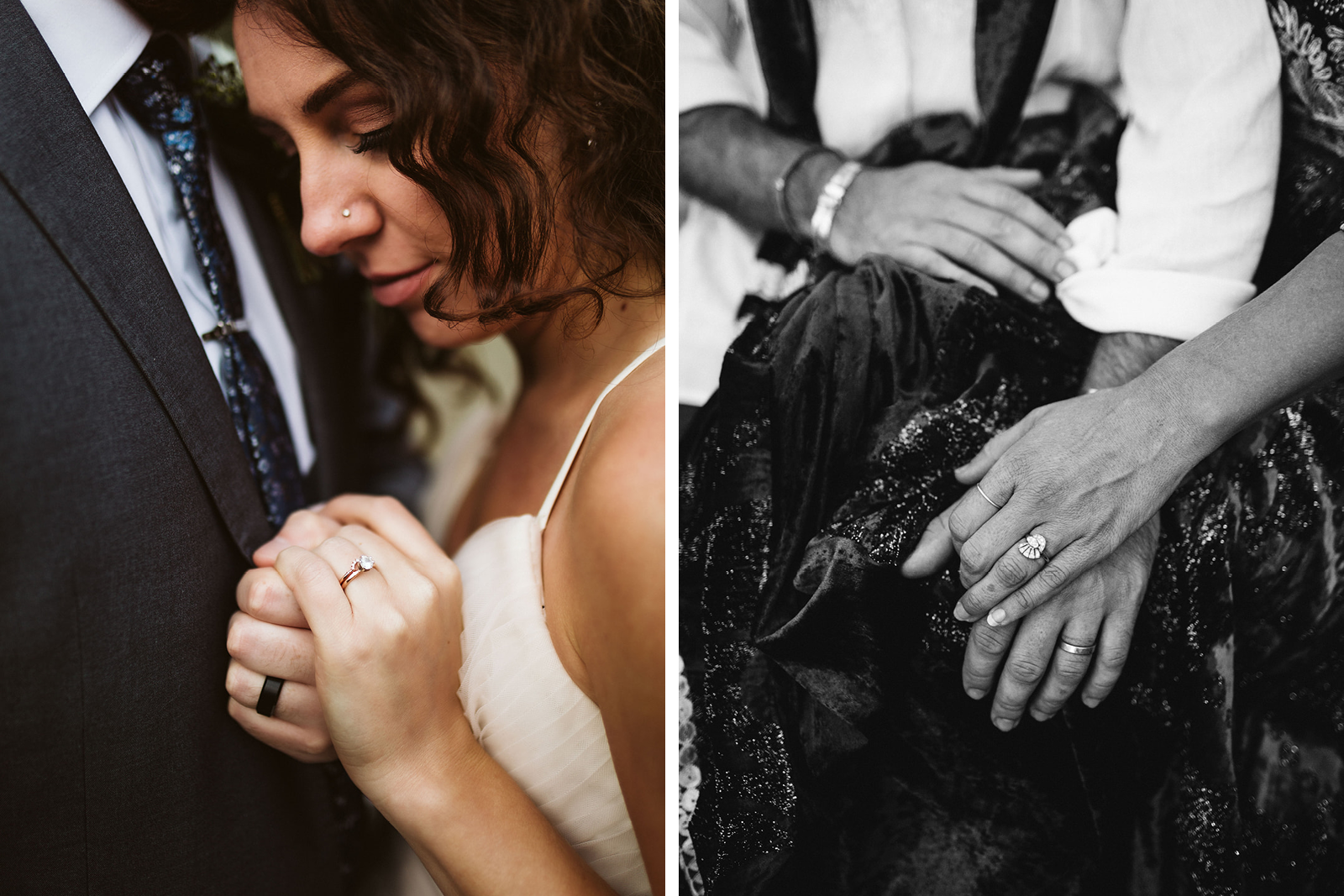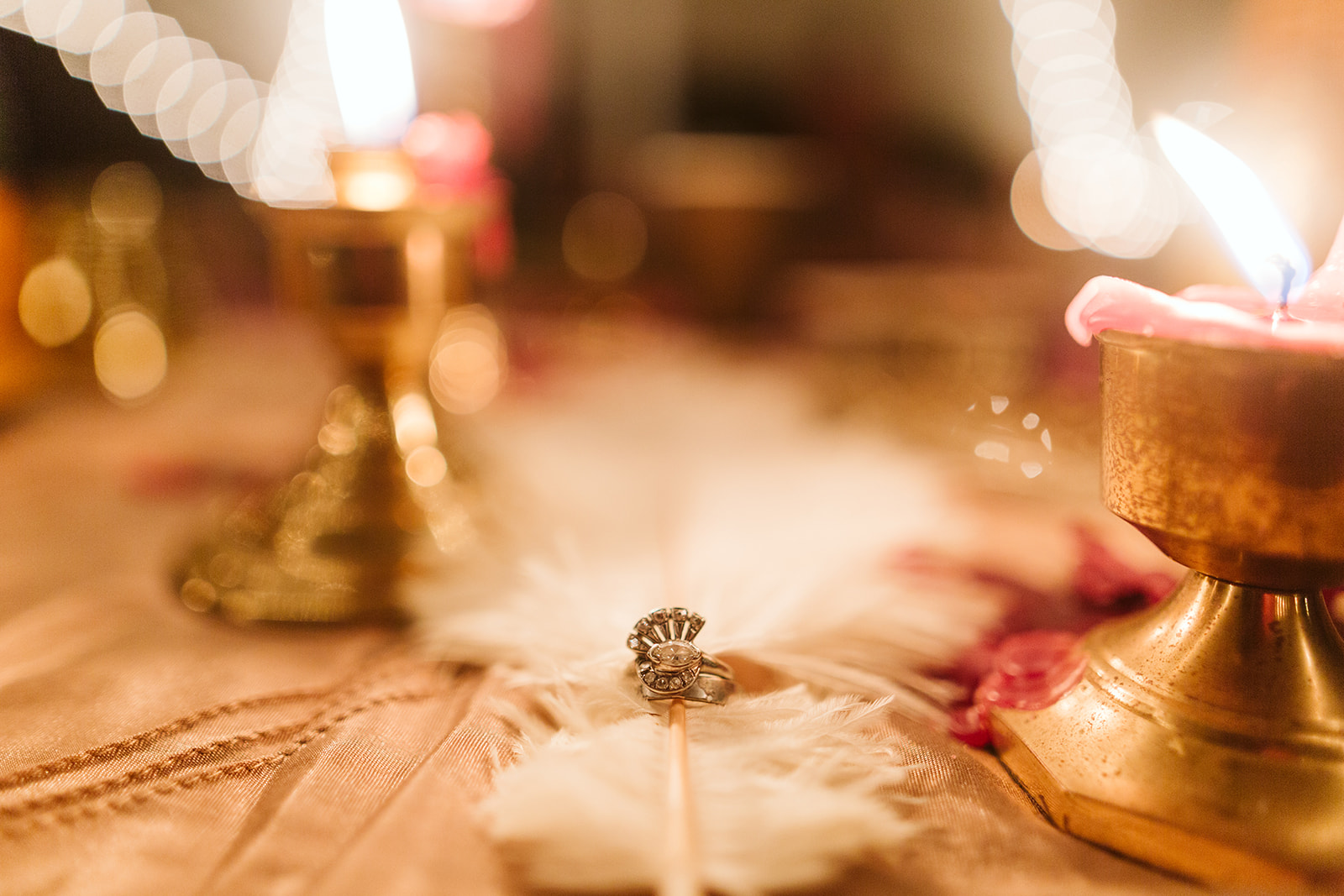 5. Take a shot together!
Want to keep things fun at your wedding? Take a shot with your partner! Pick your favorite liquor, pour each other a shot (or offer shots to all your guests), and knock one back! It doesn't get any more fun than that!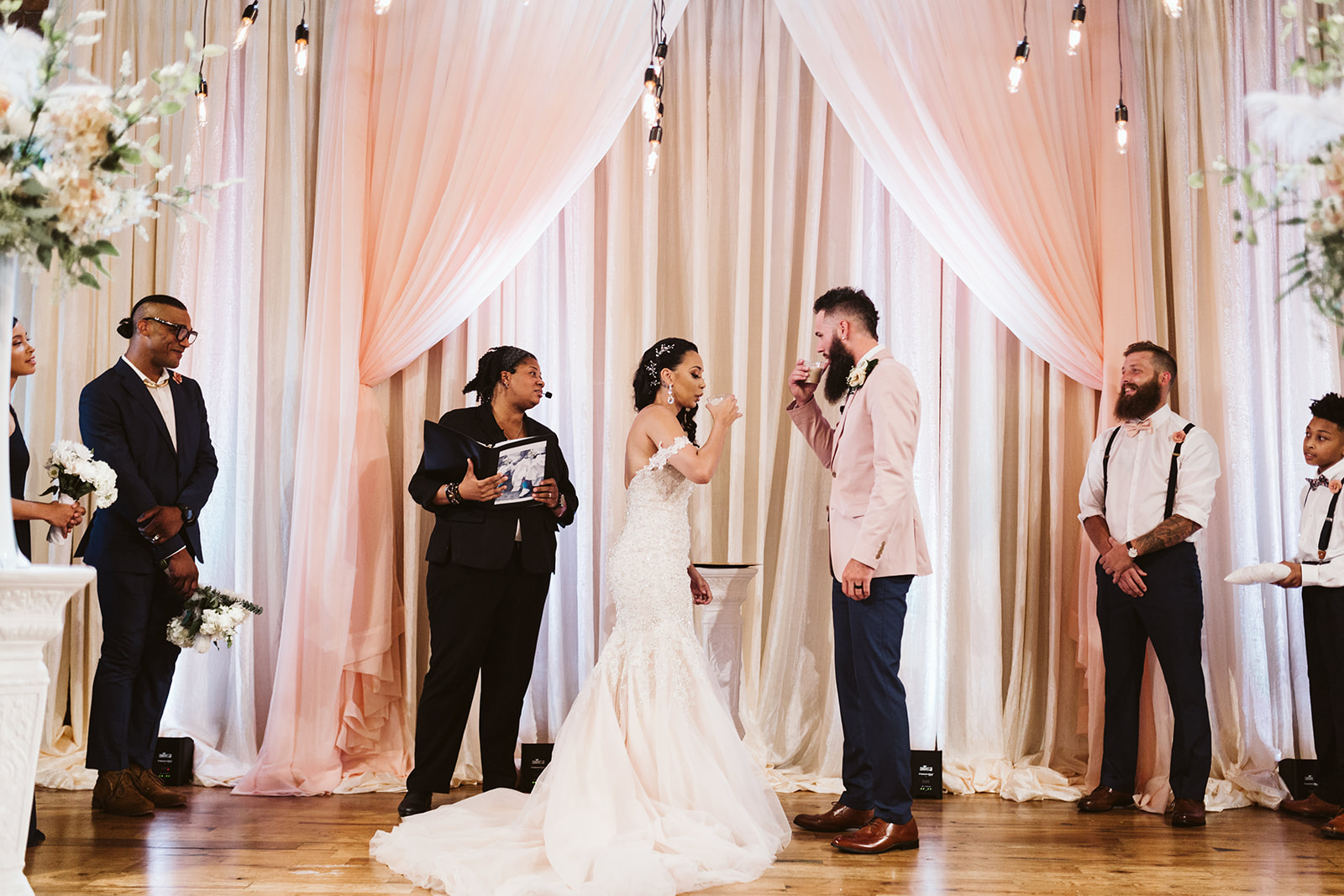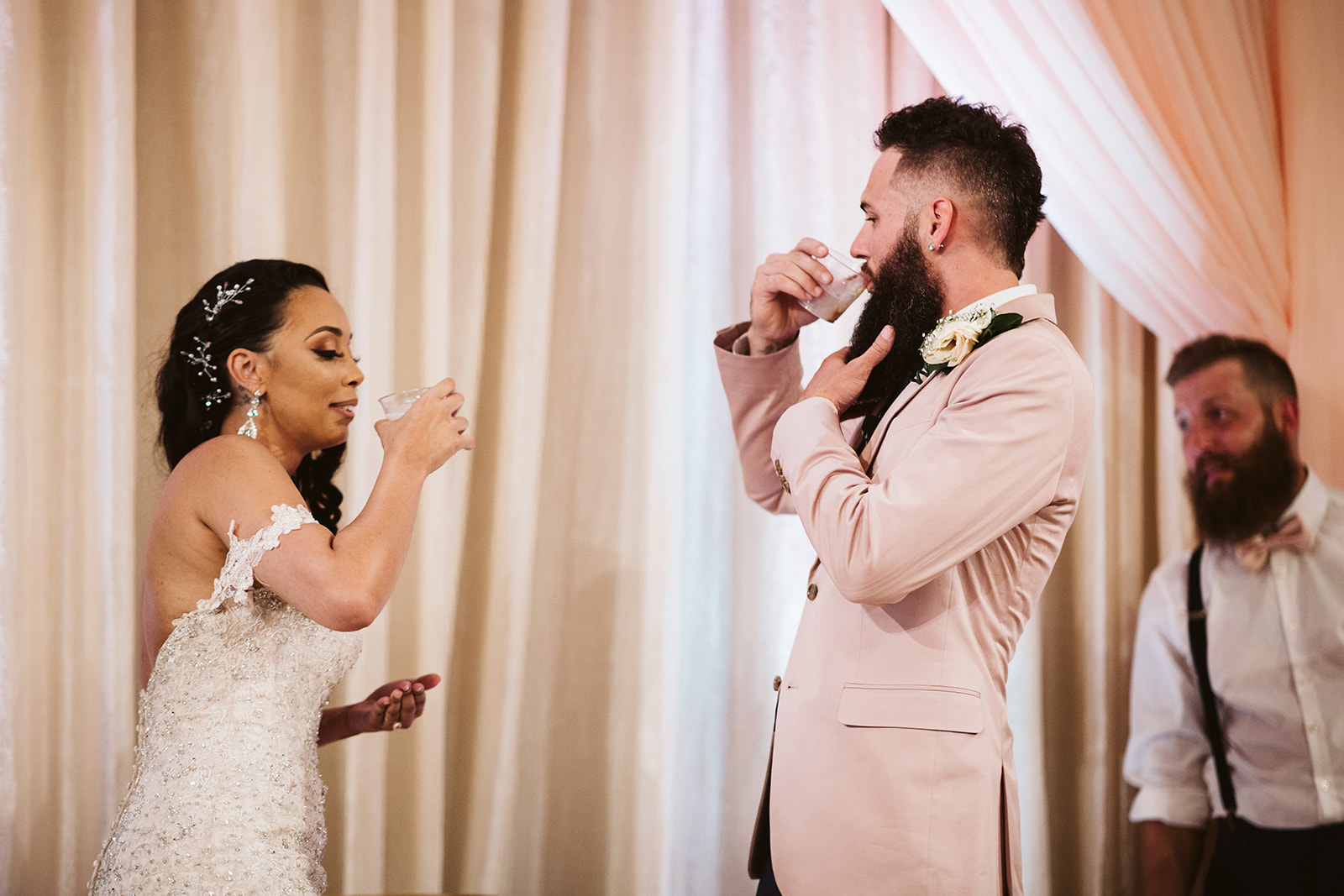 ---
Thank you so much for reading about my favorite unique ceremony ideas! I hope you found something that will work for your own ceremony.
There are a million ways to make your wedding ceremony your own. If you're looking for ideas, check out my blog for past weddings I've had the honor to shoot. If you're still not sure how to plan a unique wedding ceremony, just ask! I love helping my couples explore ways to make their weddings one-of-a-kind.
Pin this blog for later! ↓