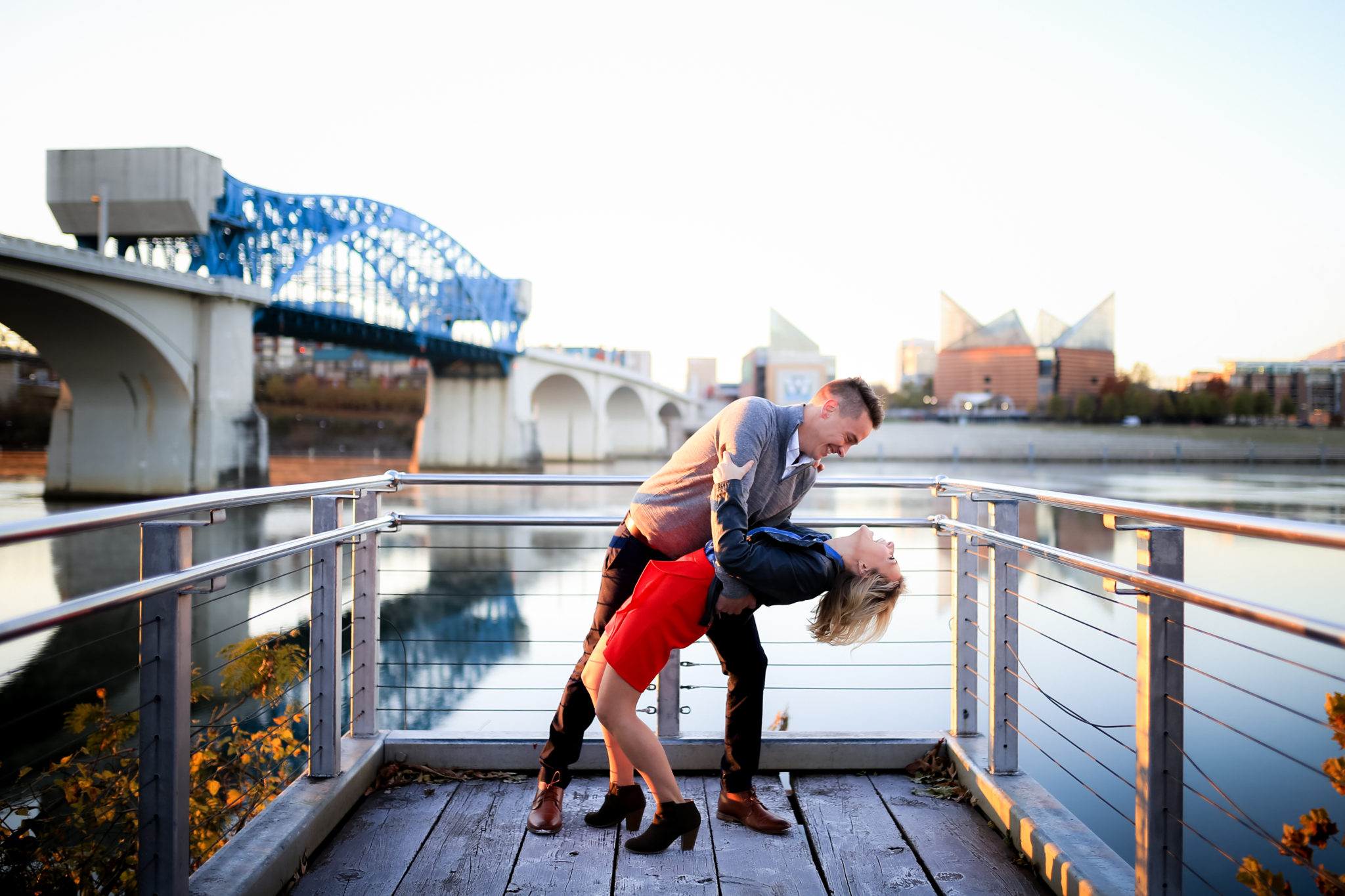 So you're looking for ideas for what to wear for your engagement shoot. I hear you! When I help couples plan their engagement photos, one of the most asked questions is:
"What should we wear to our engagement session?"
We all feel your pain! I get it--you may be using these photos for Save the Date cards or holiday cards or your wedding website. You want your engagement photos to look perfect, and finding the best outfit for engagement photos may not be as easy as opening your closet doors.
If you're reading this blog, you've probably already been scrolling search results and Pinterest for engagement outfit inspiration. It's possible your significant other is not quite as interested in choosing the perfect look, or maybe you're reading through this cuddled up side-by-side on the couch, pinning away. Either way – I've got you AND your boo thing covered. So yeah, what to wear to an engagement photoshoot...read on!
I've also linked my Pinterest board at the end of this blog for some engagement photo outfit and styling ideas. Make sure to check that out!
Top 5 tips on what to wear for your engagement shoot in 2022
1. Two is better than one.
Can't decide between outfits? Bring two! Nobody ever said you can't have casual engagement photos as well as formal engagement photos! Having a choice of two outfits allows you to get the best of both worlds. Going jeans and t-shirt and then changing into a sexy dress for engagement photos is totally acceptable.
Tip: Make sure you plan for a changing location during your shoot – there's nothing like bonding with bae while changing clothes in the middle of the woods. Another option is to wear neutral base items – a slip, or tank top and spandex shorts – to comfortably switch between your outfits.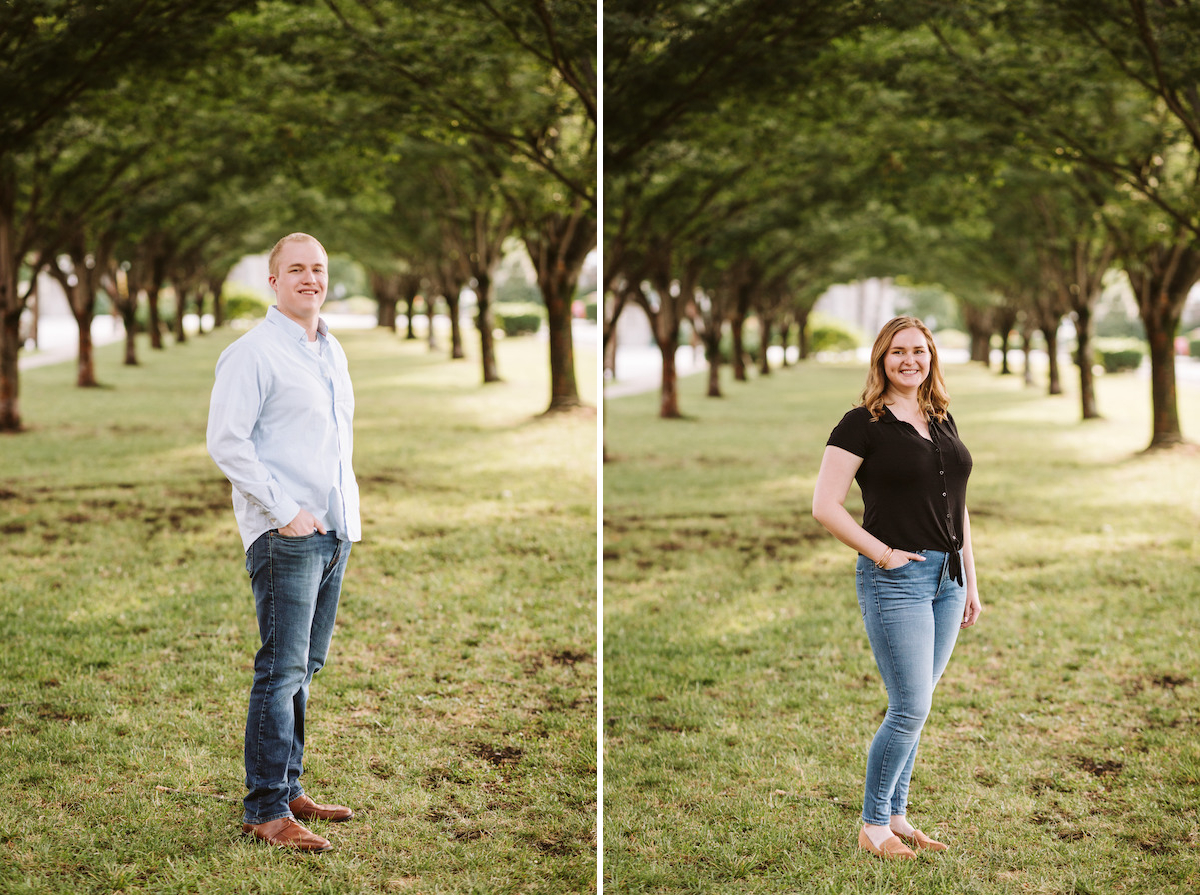 2. When in doubt, go with a neutral piece.
Your first reaction to this one may be – "boooring!" – but hear me out! Neutral colors (like tan, gray, black, or navy) ensure that YOU are the center of attention in your engagement photos instead of your shirt being the eye-catcher.
Neutrals are great for coordinating outfits for engagement pictures, too! Don't worry, this isn't family portraits from the '90s. Coordinating is not the same as matching. If you and your partner begin with a neutral base, you're already a huge step closer to looking like the cute little matched set that you are.
One more thing: Neutrals are flattering for every skin tone, which makes them a good start before you mix and match. So, if you're unsure or even a bit anxious, this is a great way to go!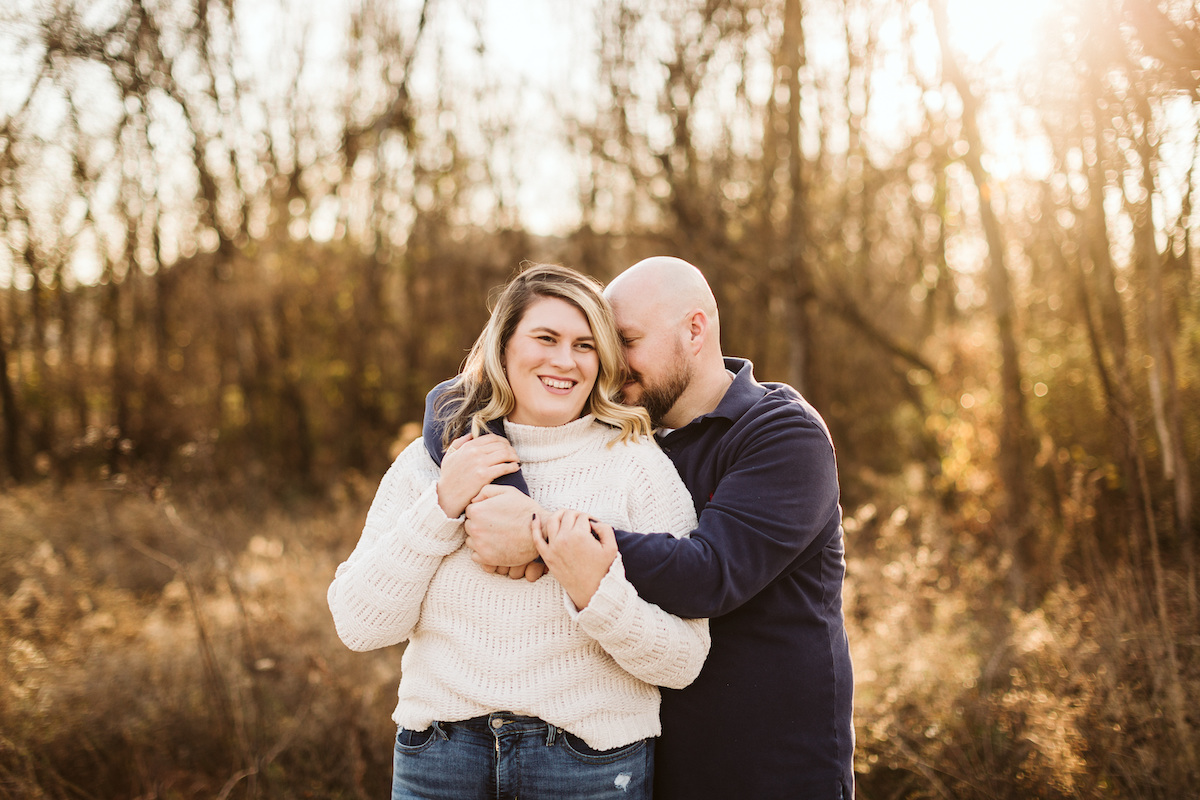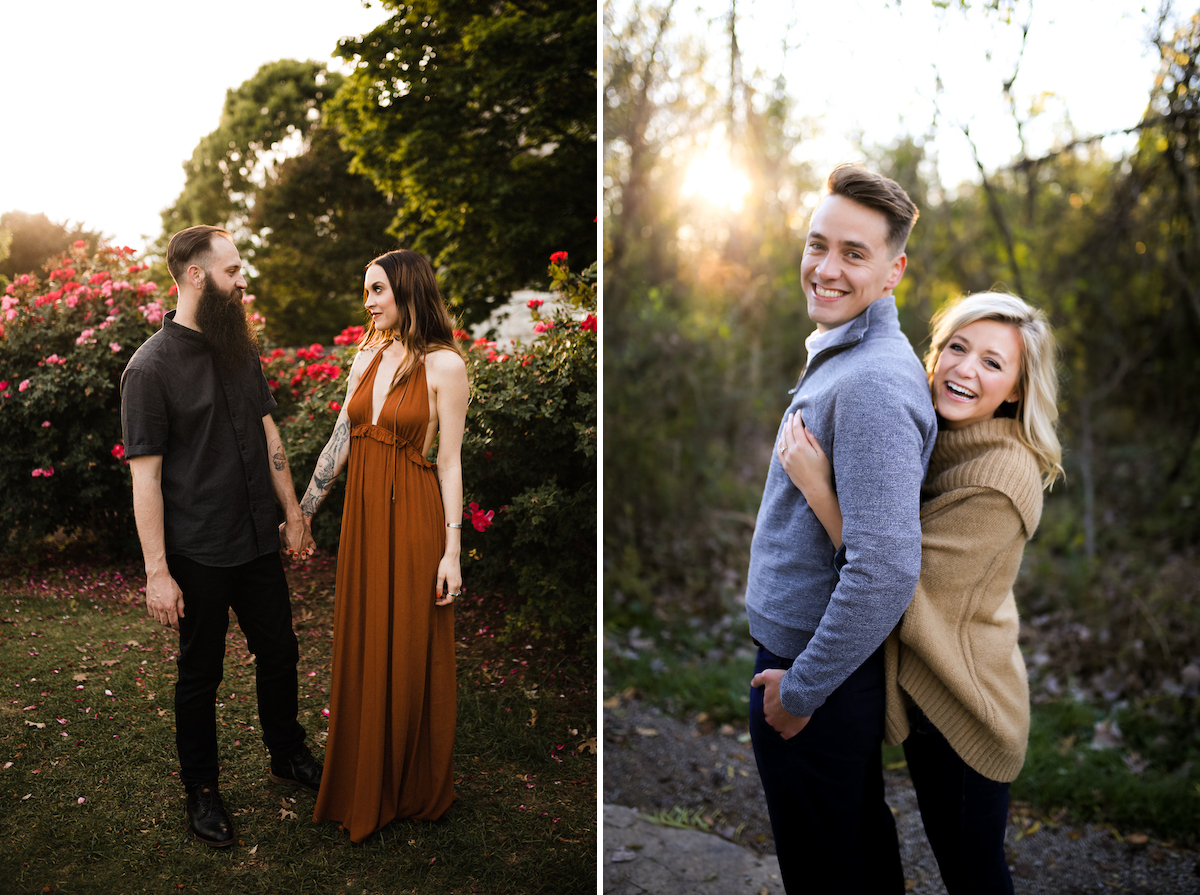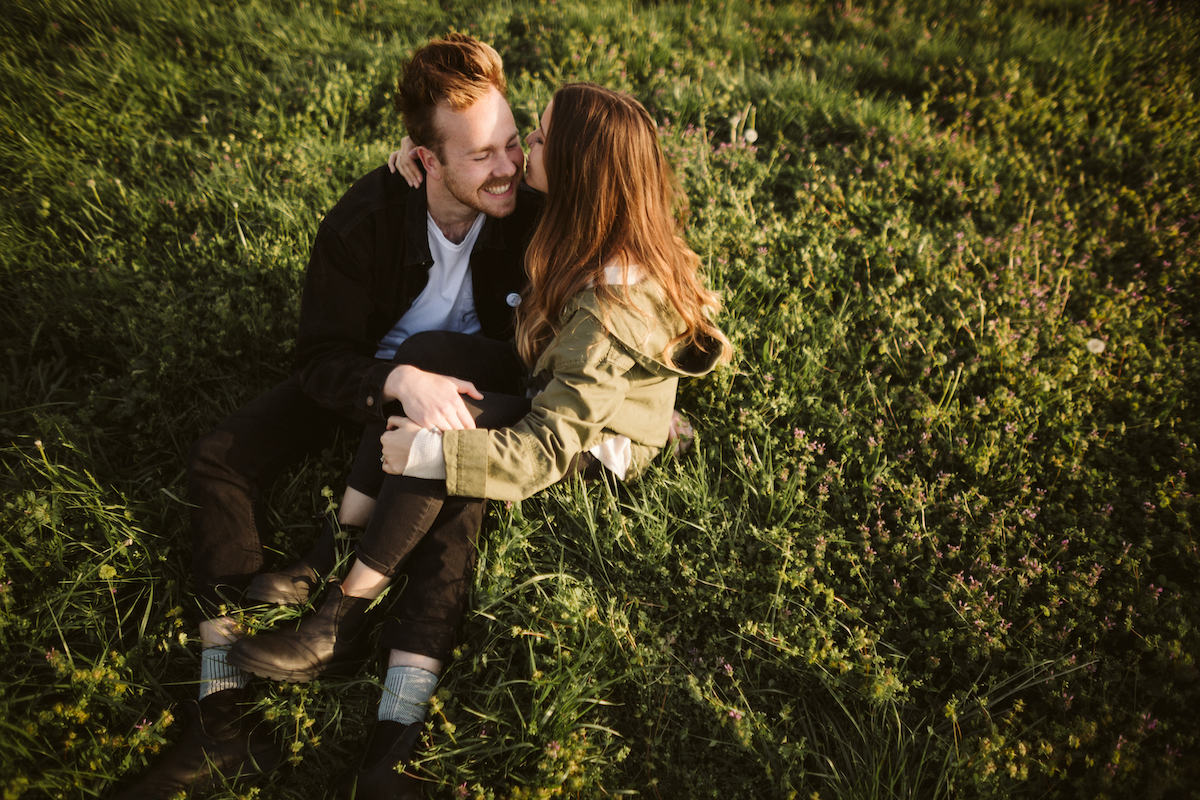 3. Go bold with gem tones.
Think ruby, emerald and sapphire. If you're going for colorful, opt for a gem tone instead of neon colors (lime green or bright orange) to get that punch of color.
These vibrant gem tone colors can be paired with neutrals or color-blocked to add a punch of color without being distracting. Gem tones photograph beautifully, and the color transfers well (a.k.a. the color turns out in photos how you see it IRL).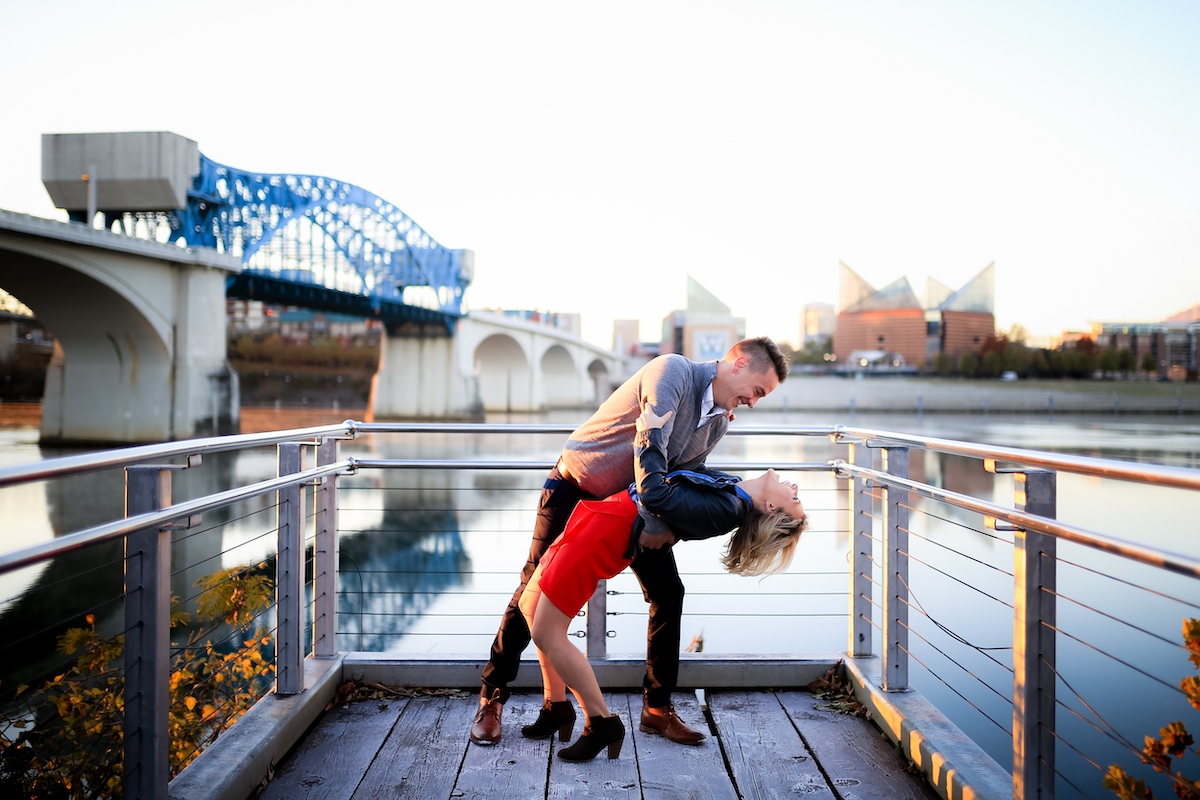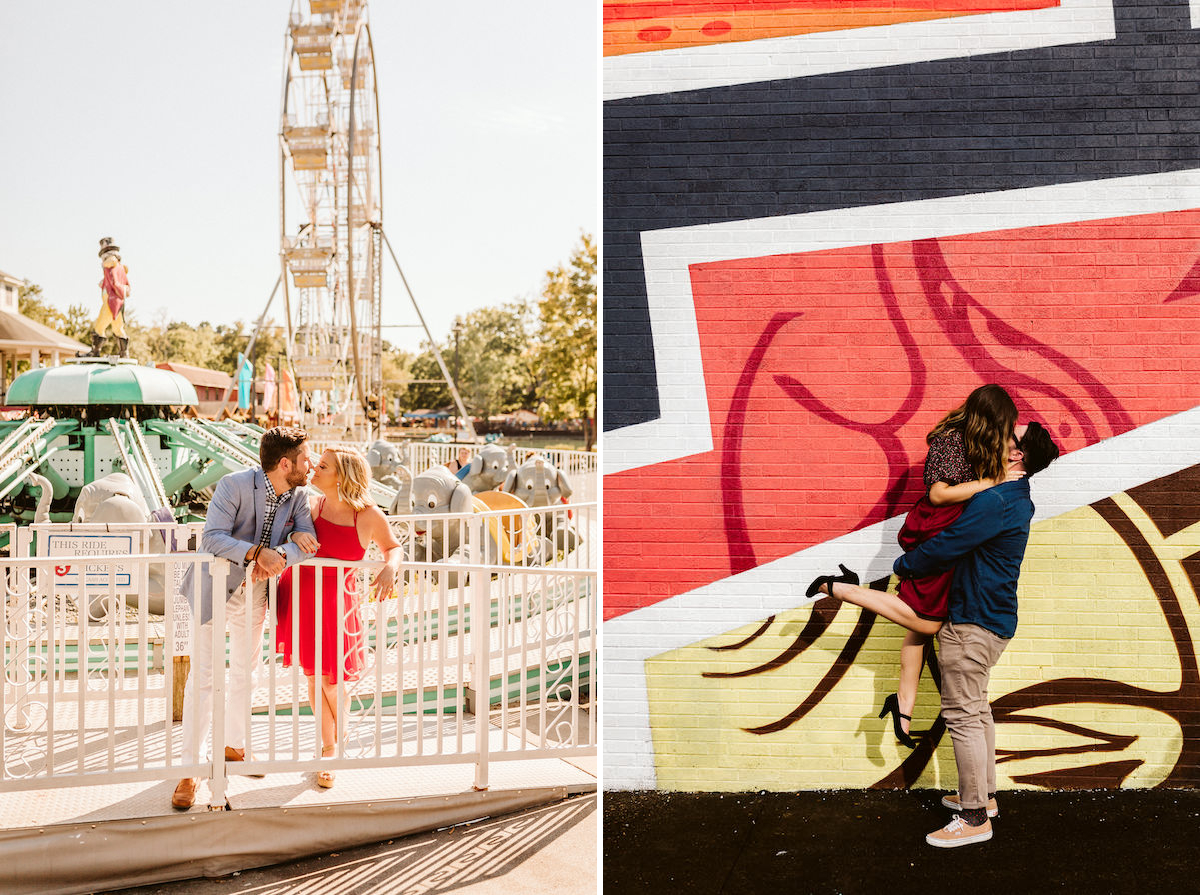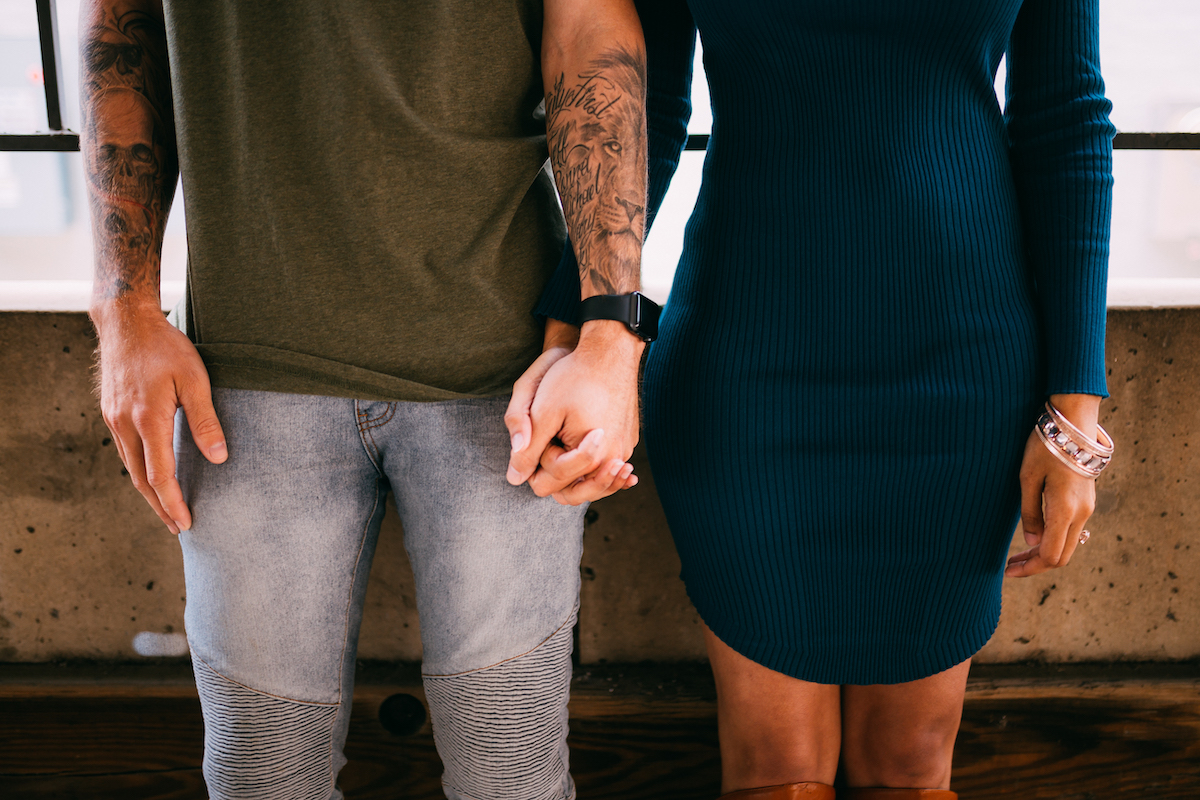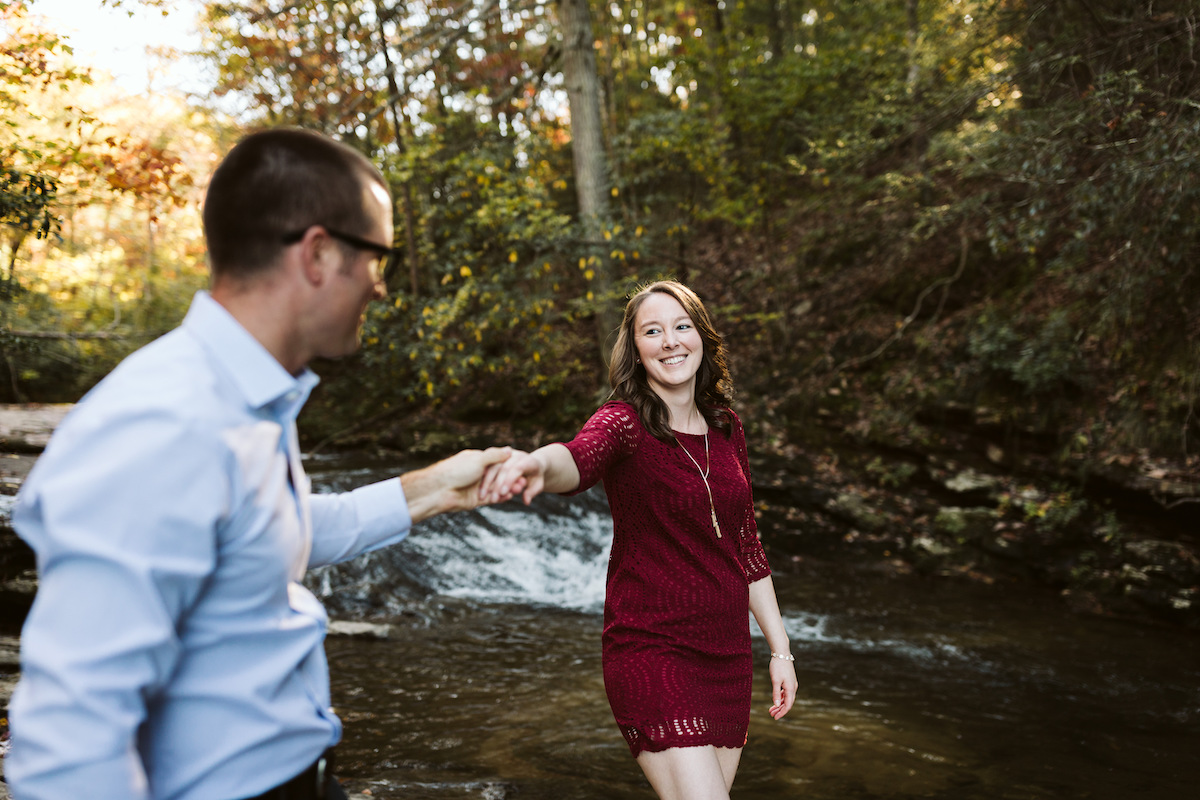 4. Spice it up!
If you love to make a daring statement on the regular, you have so many ways to execute in style! Start with your interest pieces – like a bold print, a chunky necklace, a boho hat, or a floral skirt – and build your dream engagement outfit around it.
Warning: Sometimes bold patterns can look unflattering in pictures if they become distorted with your posing, but if bold is your style, then I believe we can rock it!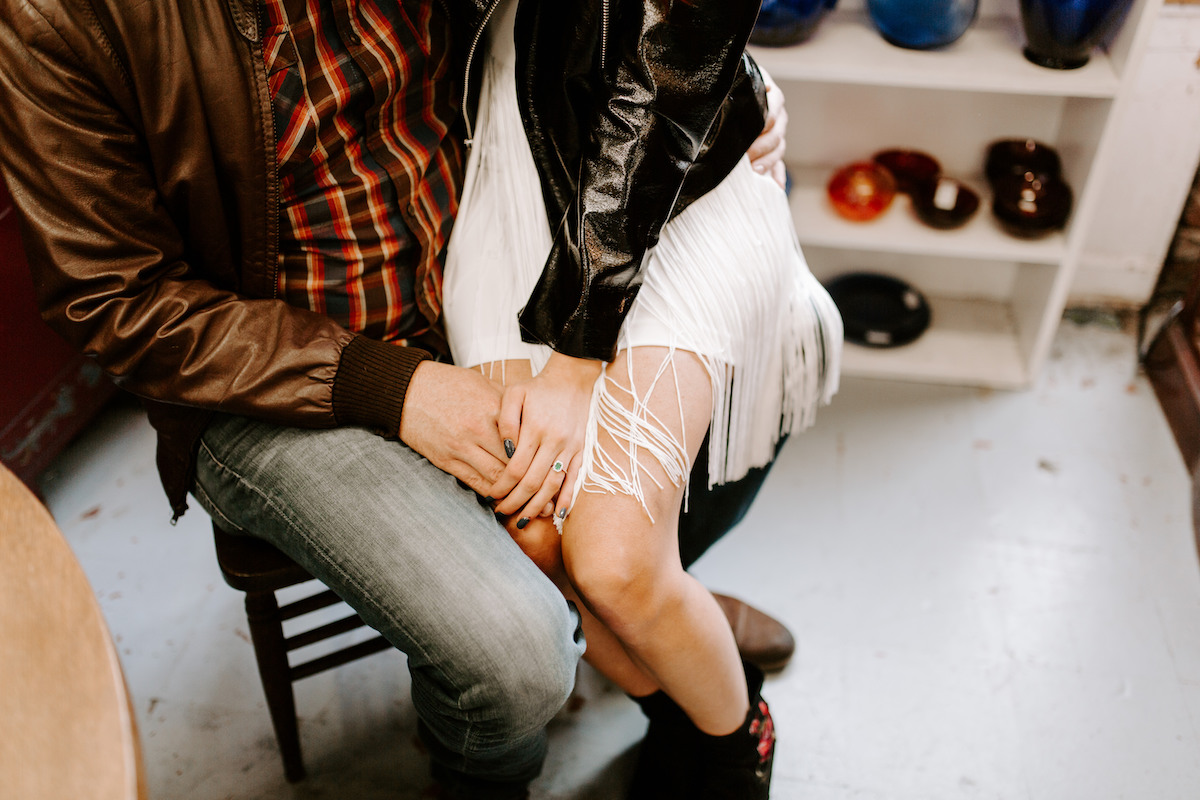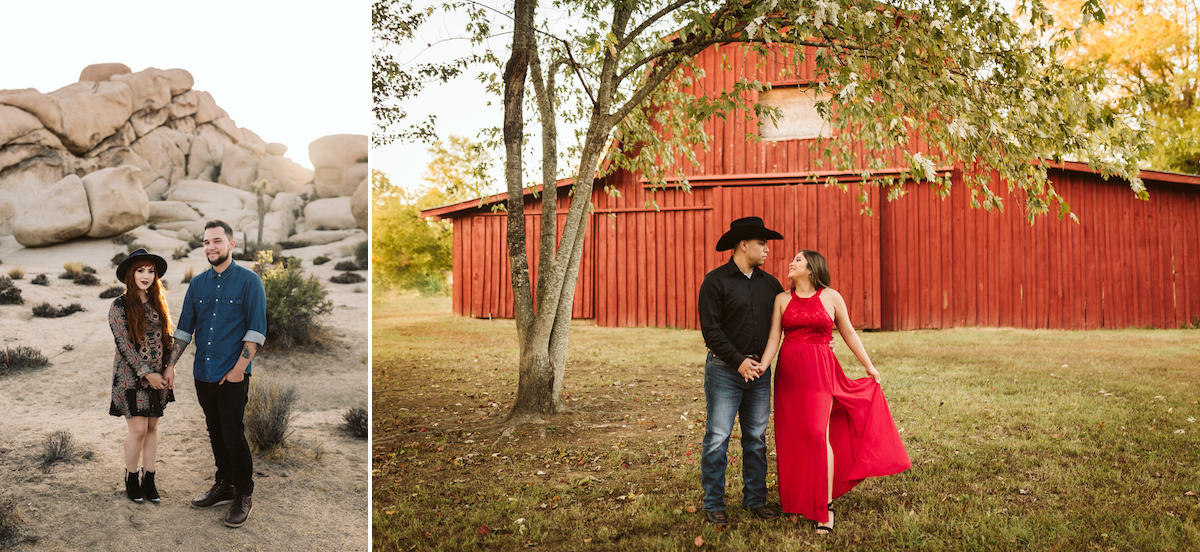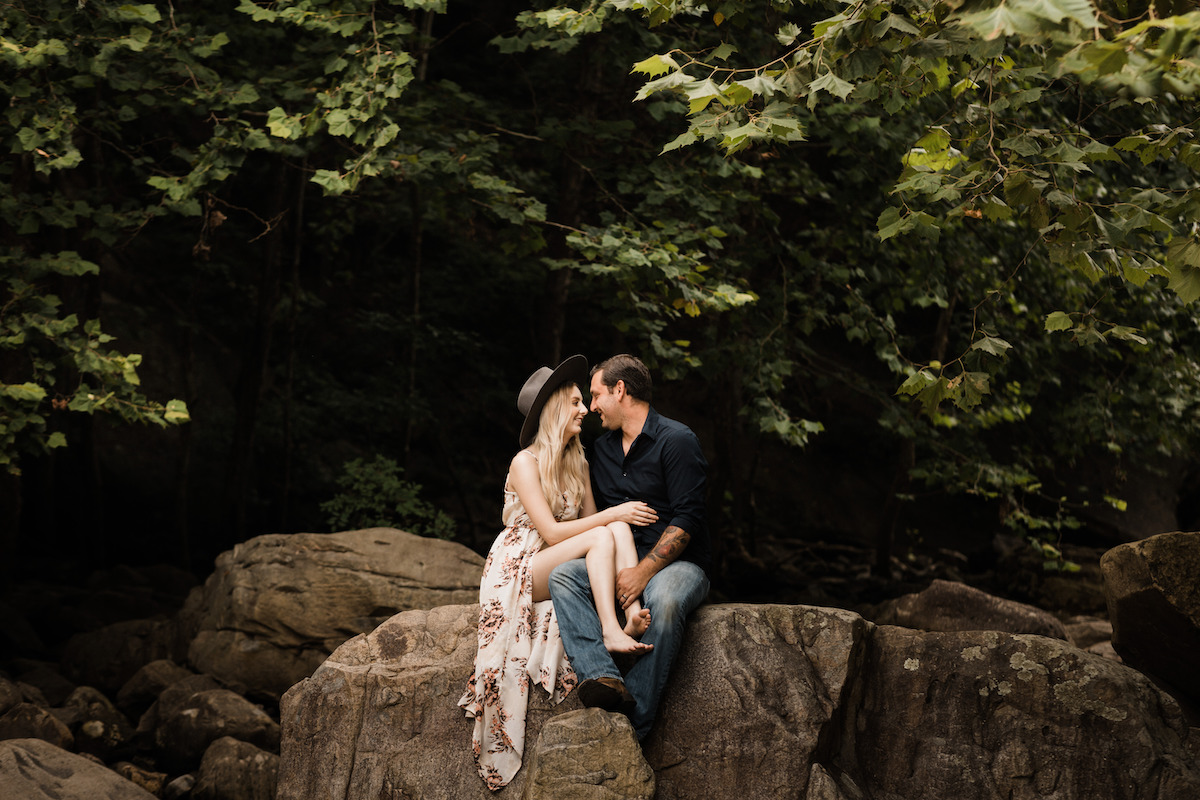 5. Choose comfort.
Obviously you'll look your best when you feel your best (there's probably a scientific law about this). You really want to choose an outfit that makes you comfortable. I promise you, if you're uncomfortable, it's going to show in your photos!
While a form-fitting outfit will show off your figure better, be careful that you won't be counting down the minutes until you can strip out of that dress. Through the session you'll sit, stand, snuggle, jump, twirl, and more. So be sure you've got on comfortable shoes and clothes with some stretch and breathability.
My two cents? Do yourself a huge favor, and when you're planning what to wear for your engagement shoot, start with comfort.
Tip: Comfort doesn't have to mean dressed down! It's really all about making sure your engagement photo outfits aren't entirely out of line with who you are or what you wear on the daily.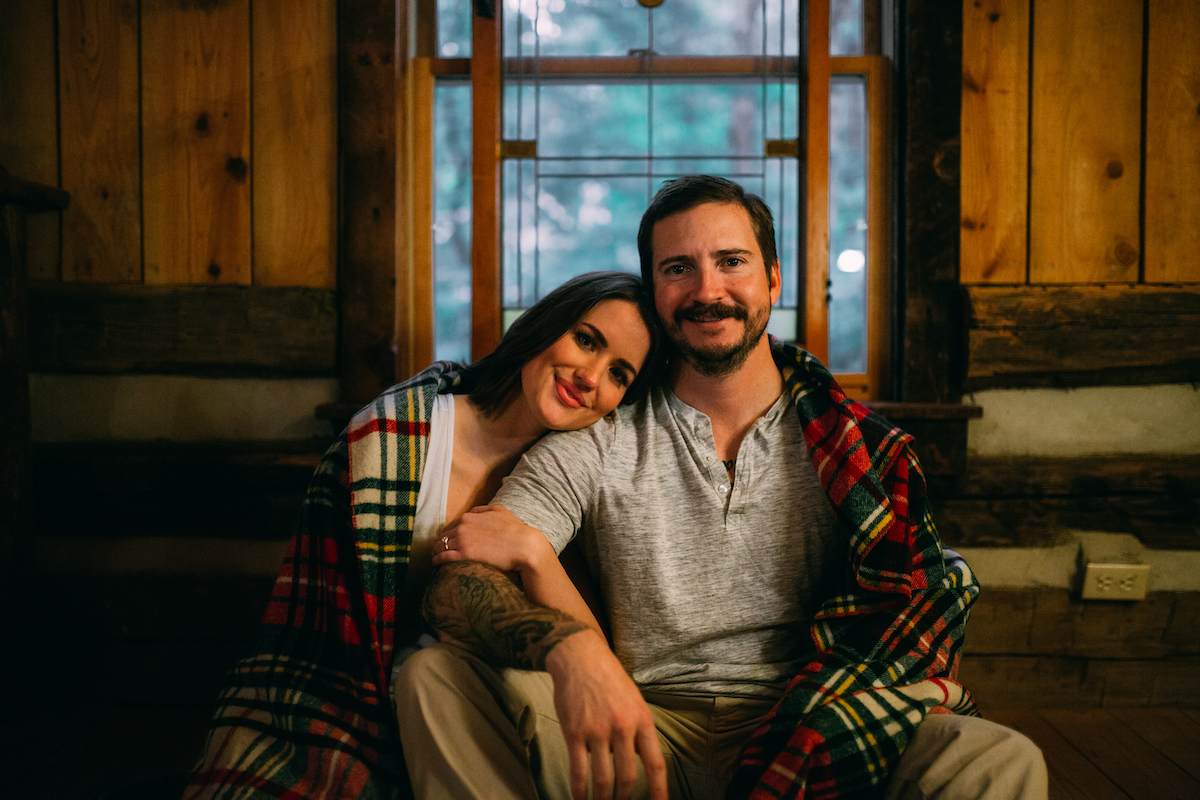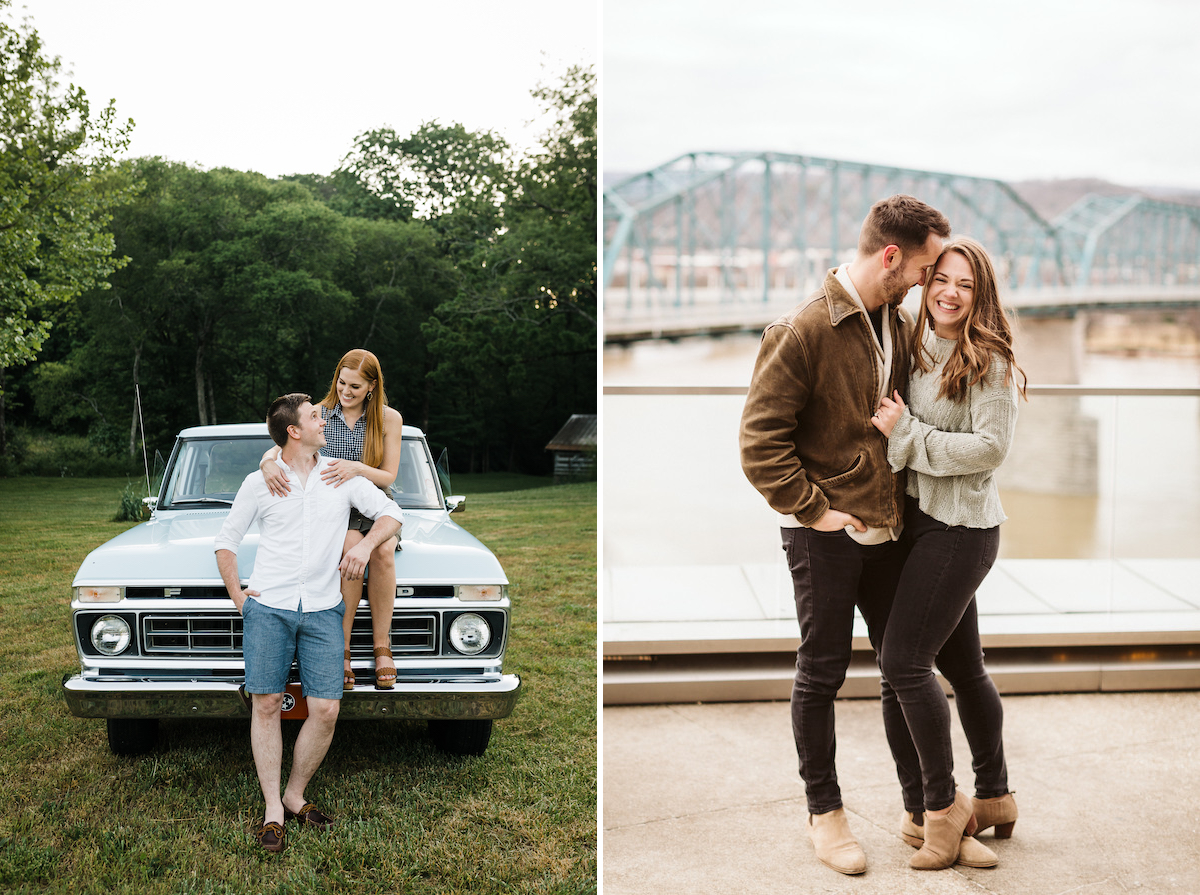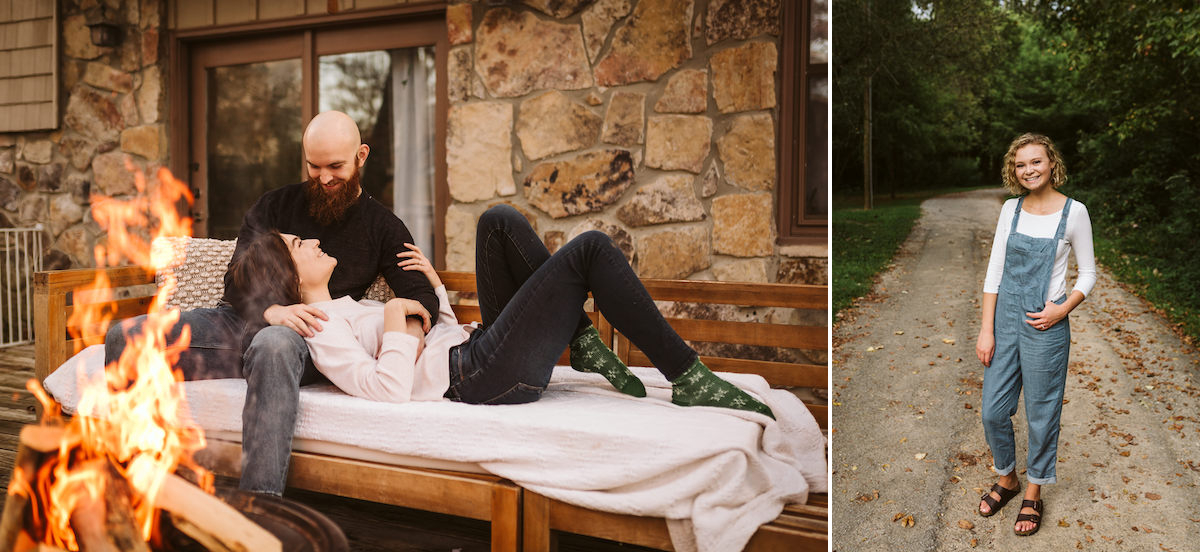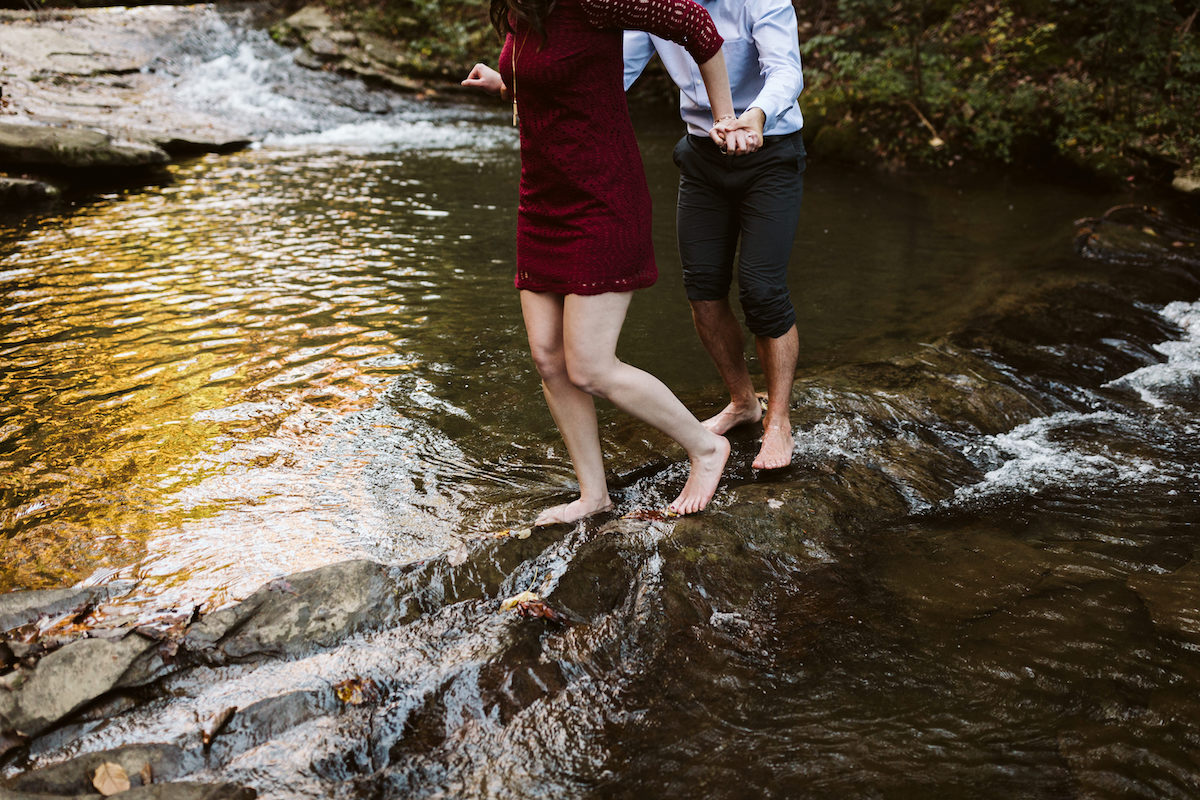 Bonus Tip 6: Picked some options, but still not 100%? Consult with trusted friends, or send me a couple outfit ideas for an unbiased opinion! Your crew and (photographer) are often the best place to go for honest thoughts and confidence-boosting affirmation, so you'll go into your engagement photoshoot feeling like the fabulous duo you are!
---
Ready to start making your selections? Check out my Pinterest board curated with my top 5 engagement shoot outfit ideas in mind! Then CONTACT ME to schedule your shoot!
Hey, Chattanooga! I'm Rachael Crowe of OKCrowe Photography. Sick of scrolling through Google and Instagram to find the perfect location for your engagement photos? I've got your covered there as well! Check out my top five Chattanooga engagement photo locations. Needing some more ideas for what to wear for your engagement shoot? Look through my recent engagement blogs for inspiration.
I recently updated my travel schedule for 2022. If you're on the hunt for your wedding or elopement photographer, my calendar is booking up quickly! Shoot me a note through my contact form so we can start planning.
---
Editor's note: This post was originally published in April 2019, and has been revamped and updated for accuracy and comprehensiveness.
Pin this blog for later! ↓