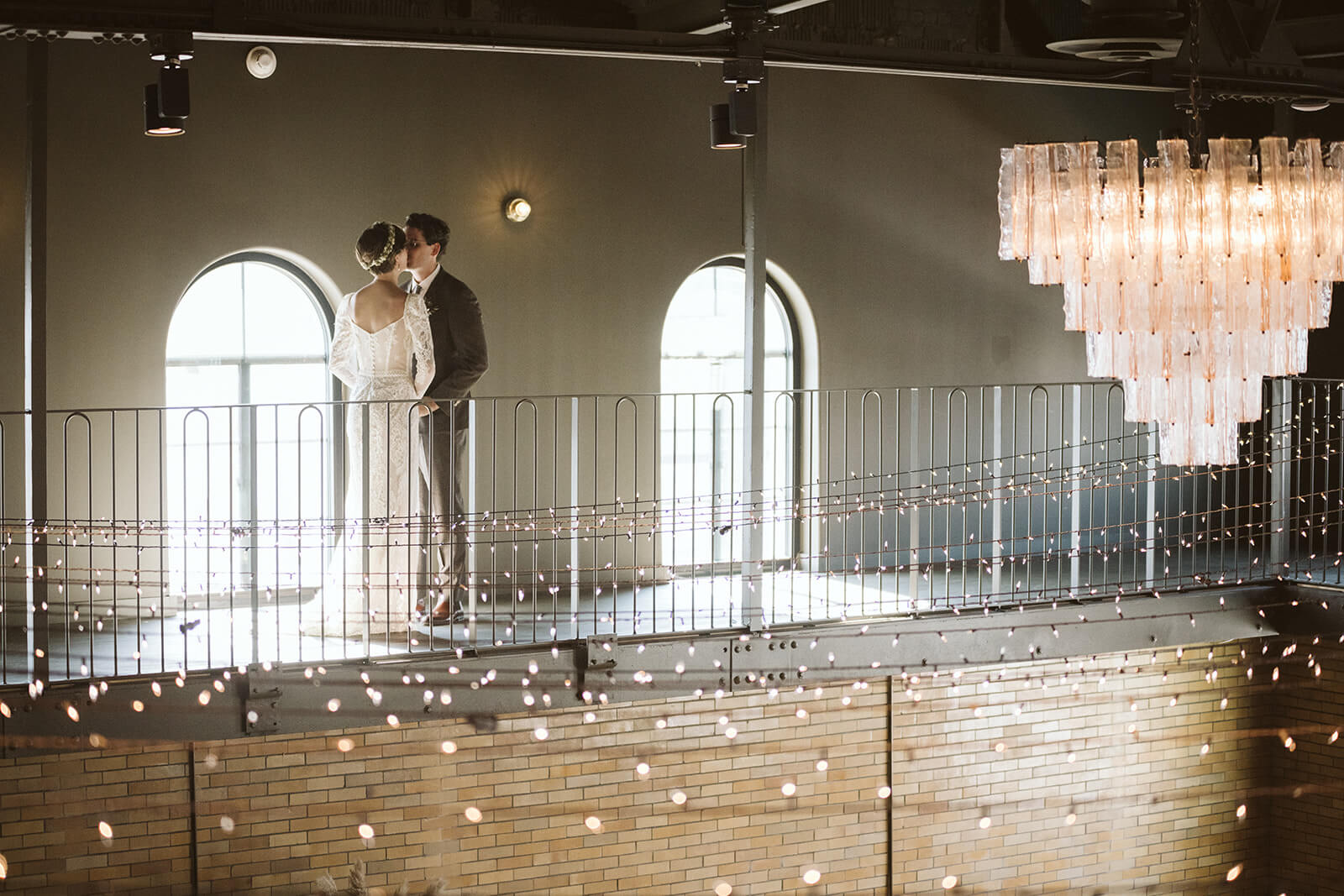 Chattanooga has seen many love stories unfold. Between the charming allure of mountain and forest backdrops and the eclectic urban feel of downtown city life, many couples from all around Tennessee flock to Chattanooga to exchange their vows. However, for Emily + Pat, their love story was written right here along Chattanooga's streets. It was only fitting for them to say their I Do's in the city where they met and built a life together.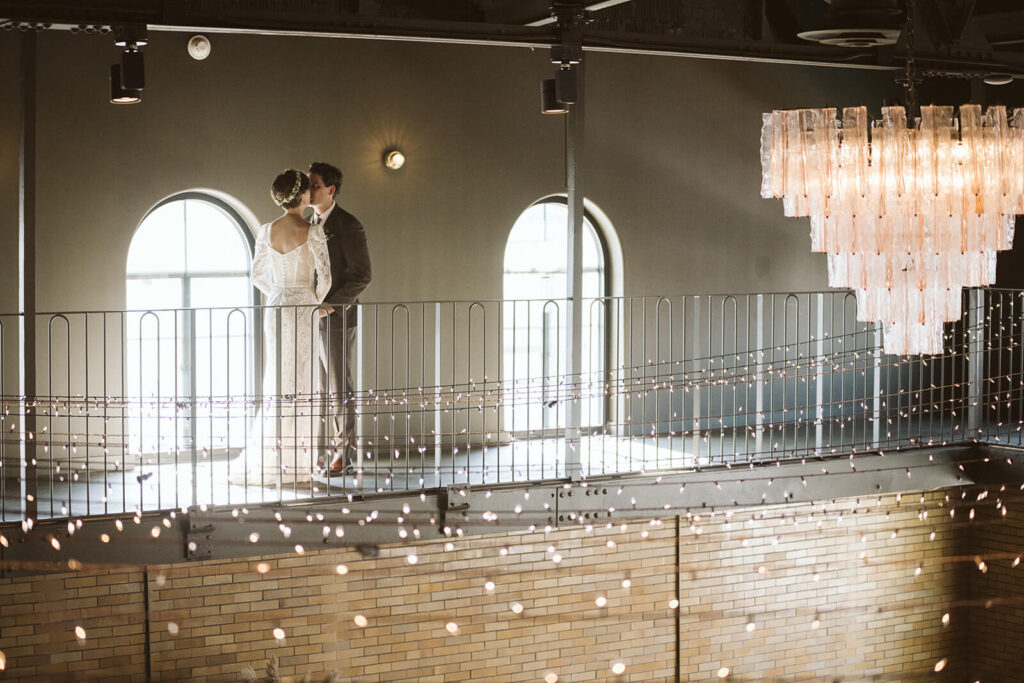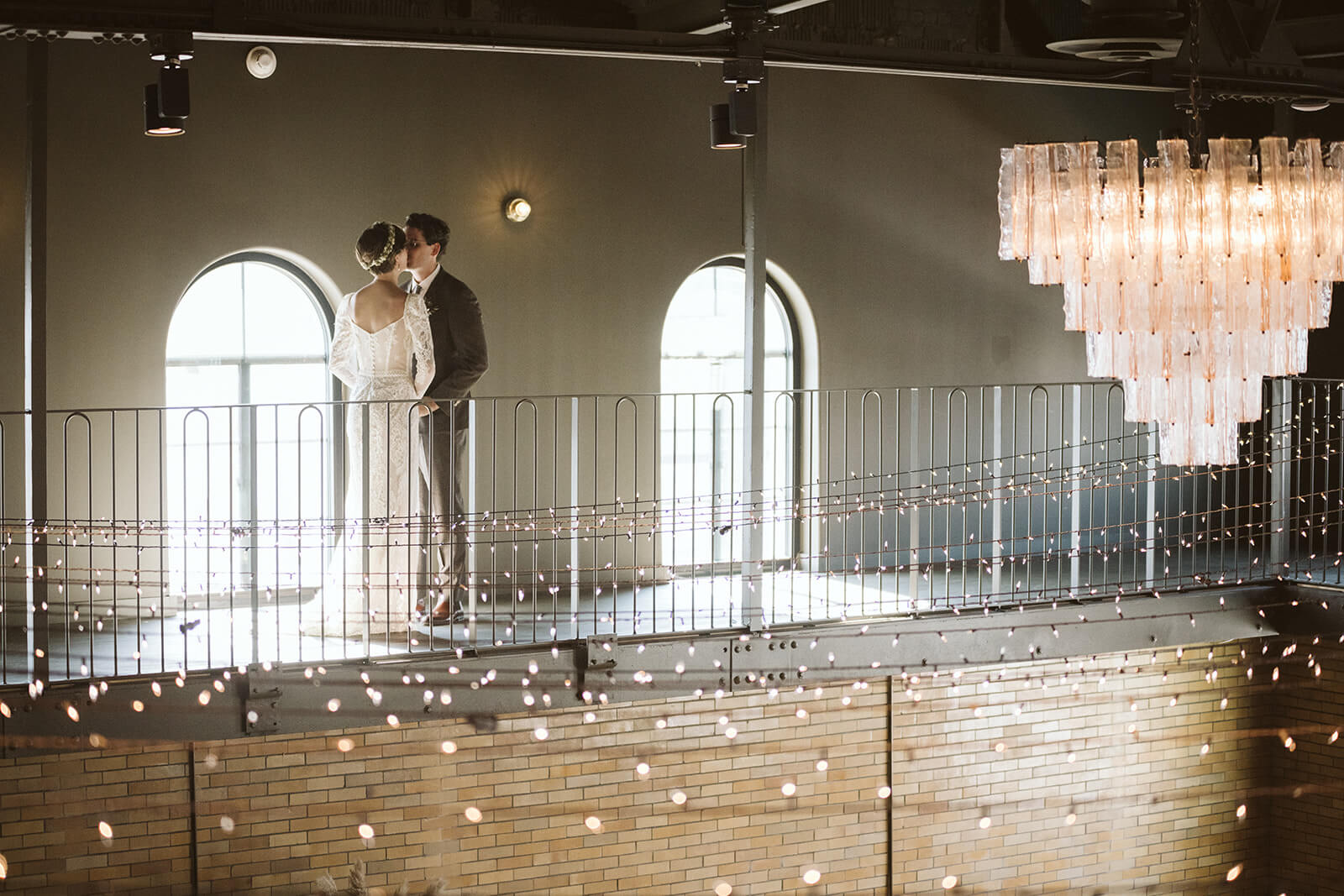 A Chattanooga Love Story
Emily + Pat met on their first day of college and immediately became best friends. Both of them are graphic designers, and together, they spent many late nights hunched over the drawing room table designing and working on projects. As their college years went on, their relationship deepened until the day they graduated practically hand-in-hand.
As artists, something that Emily + Pat have discovered is that a relationship is a lot like the art that they create. There's a lot of making, revising, and evolving involved to forge a relationship with a strong foundation that's built to last. Together, they've learned how to work together as a team – not just in graphic design but in their life as a couple as well. Planning a wedding was no different. They wanted their wedding to be a full collaborative effort to create an experience meant to be enjoyed by their guests but created with each other and for each other as well. After all, a wedding is only the beginning of a lifetime of collaboration.
For Emily + Pat, Chattanooga has always been a main character in their love story. It was the place where they met and went to college and the place where they lived and worked. And after six years of dating, Chattanooga is where they've shaped a life together. It only made sense for their wedding to be hosted in the city that's always been there for them. When the Common House was built along the very streets that they walked through almost daily, they knew there could be no other place more perfect for their wedding.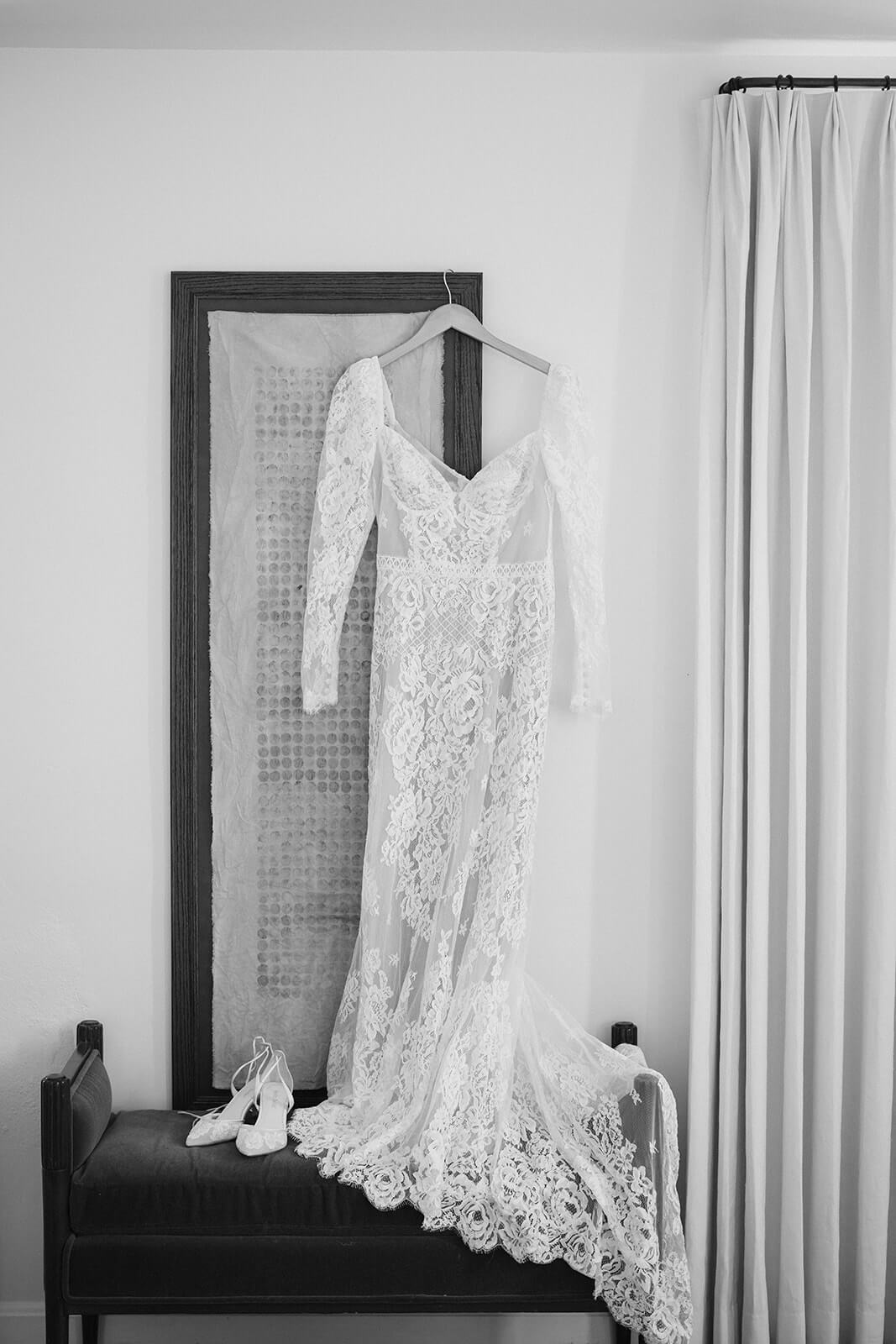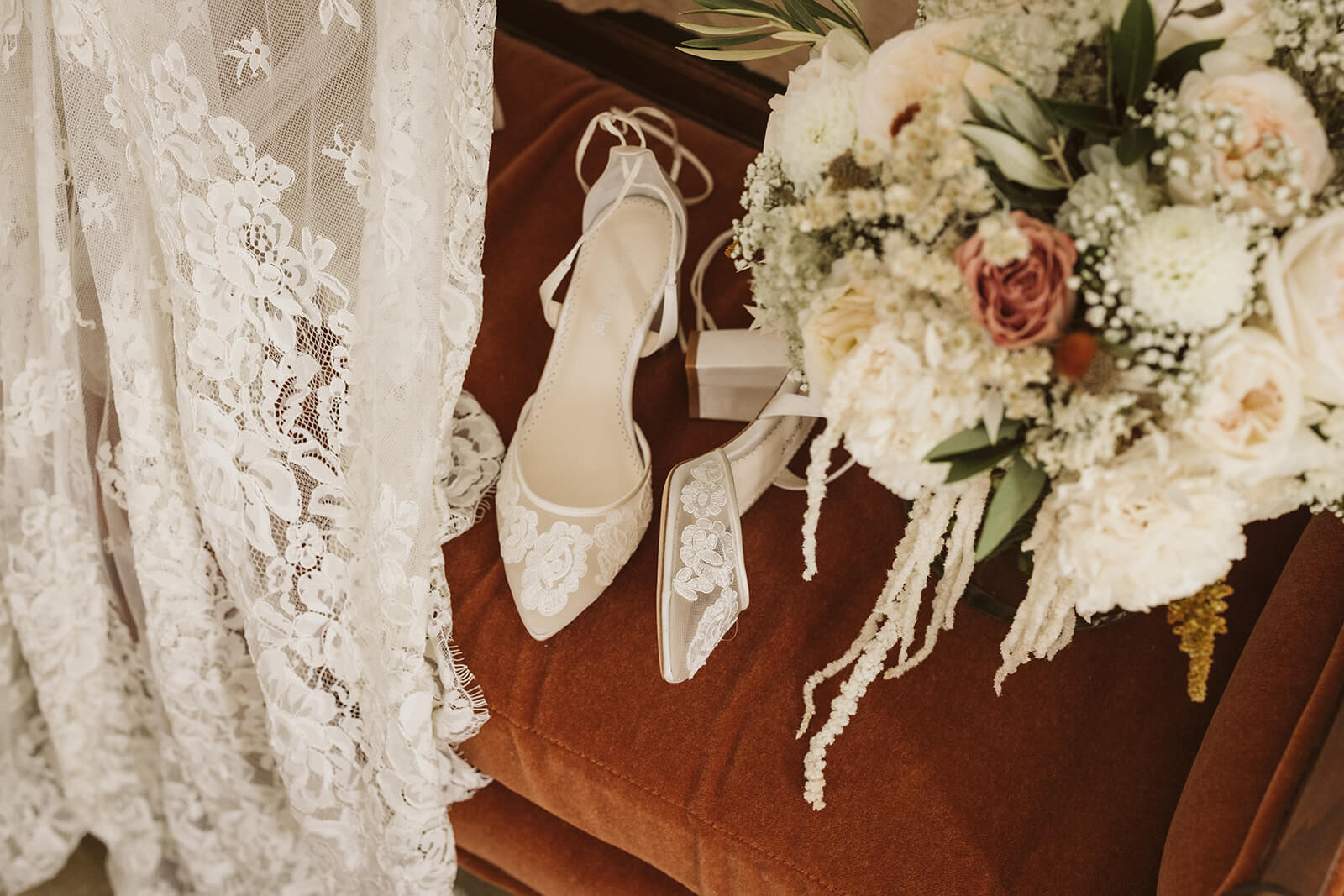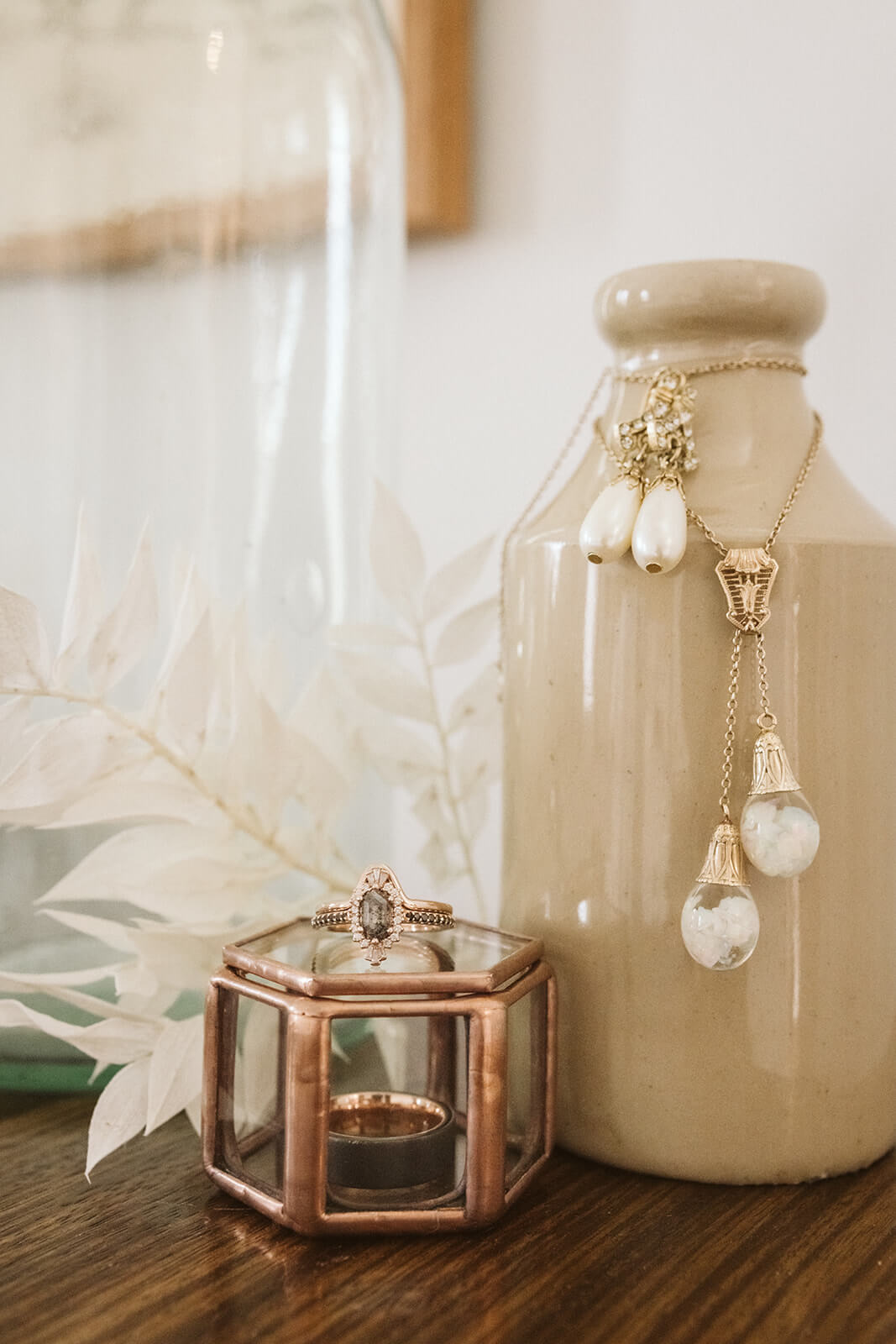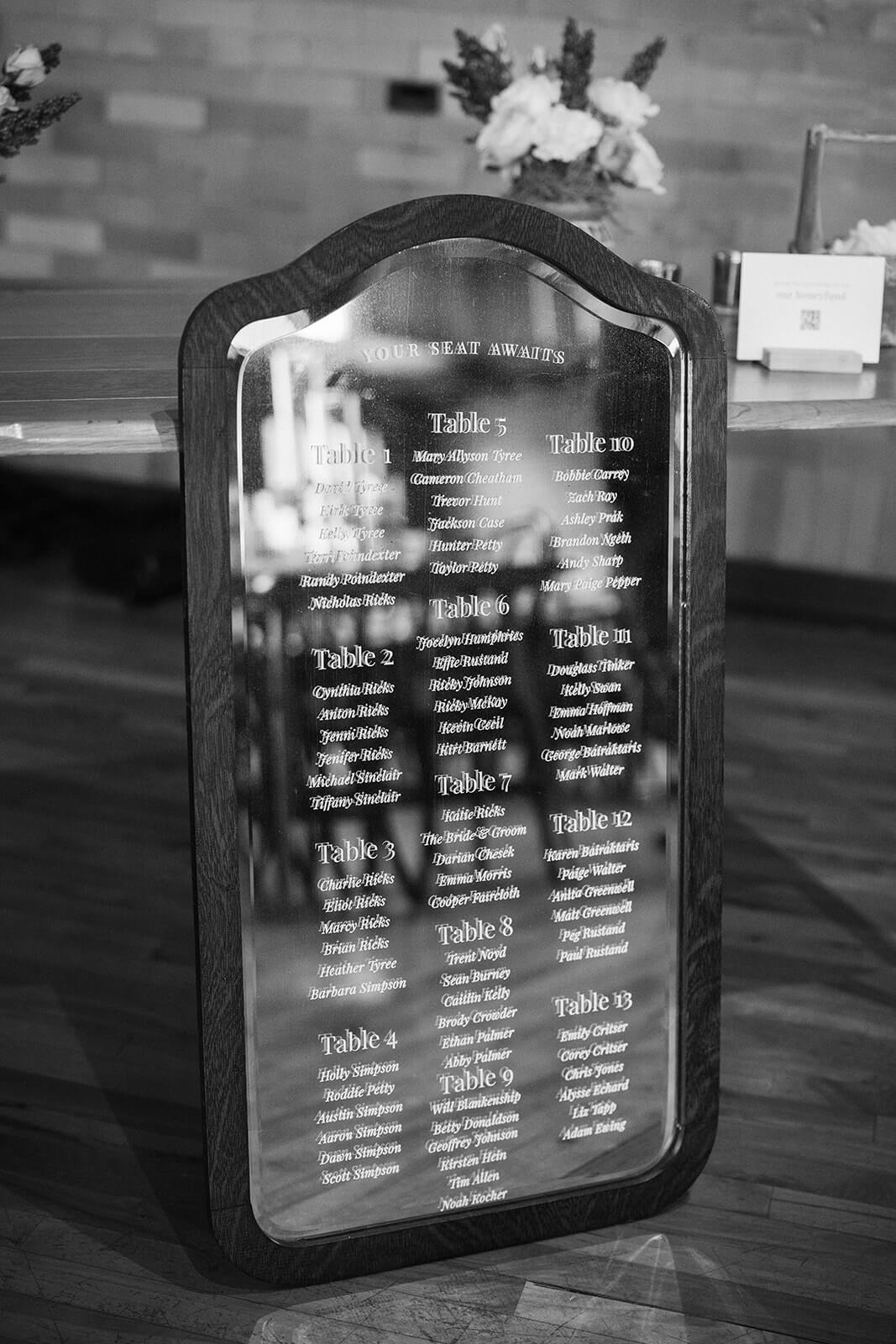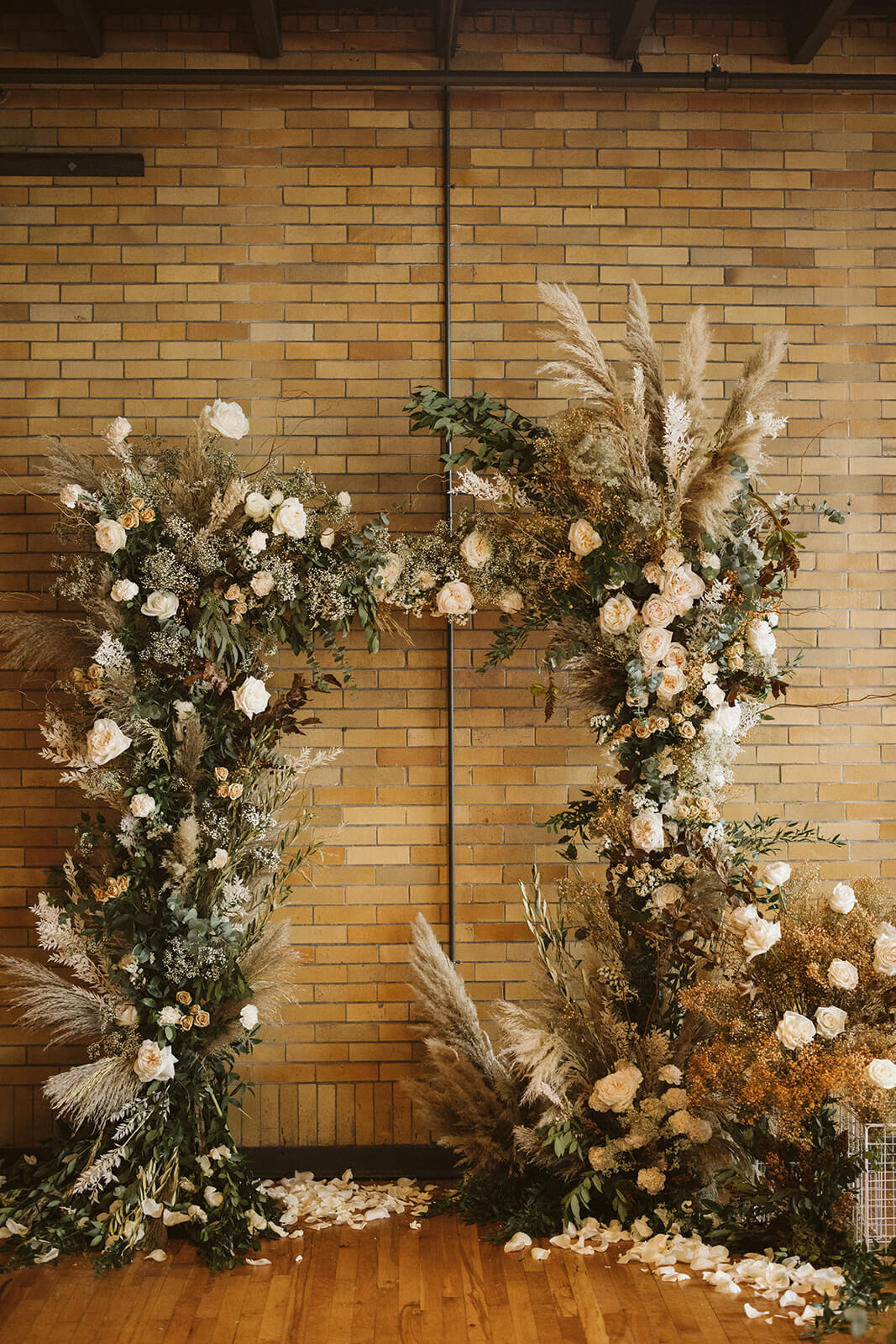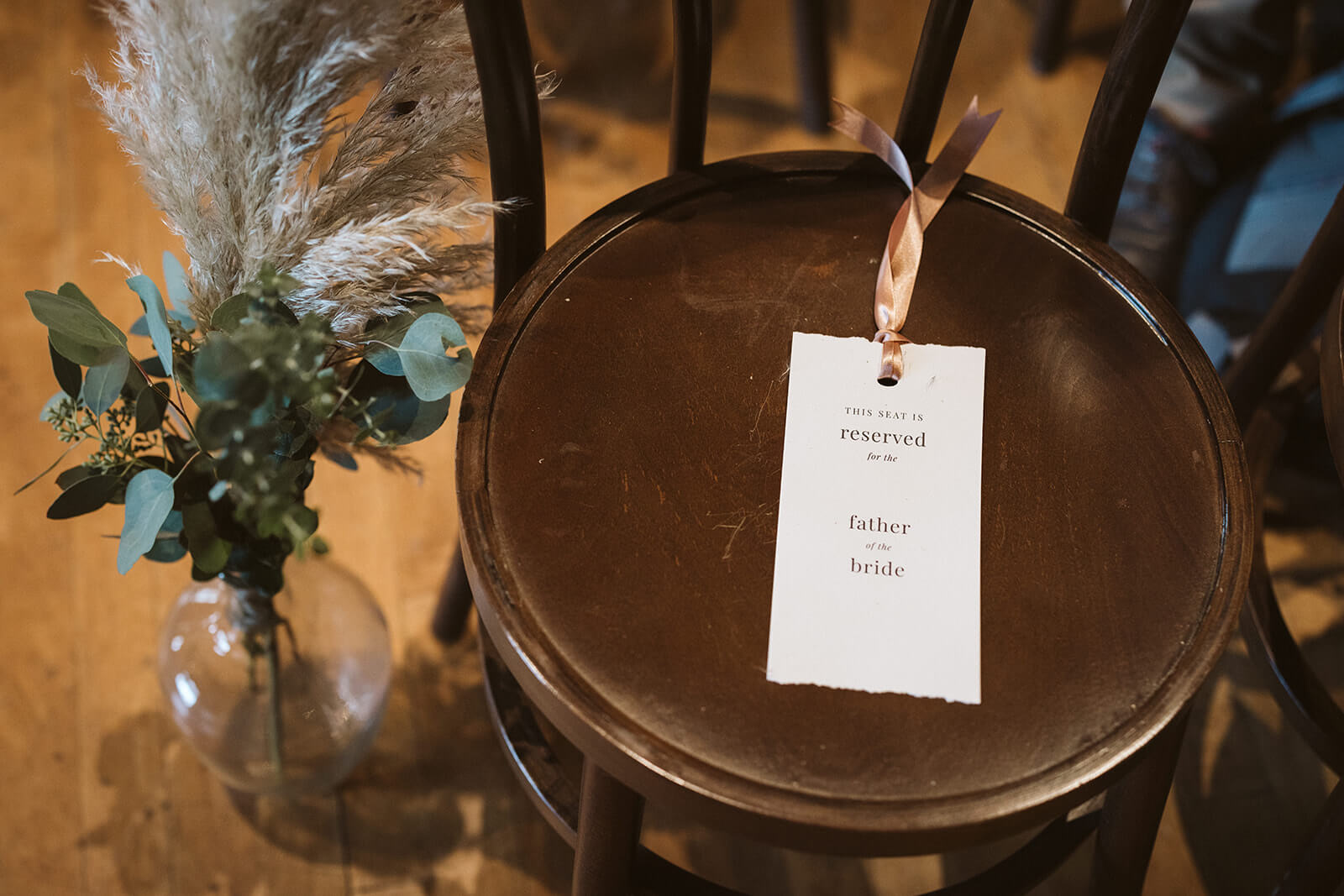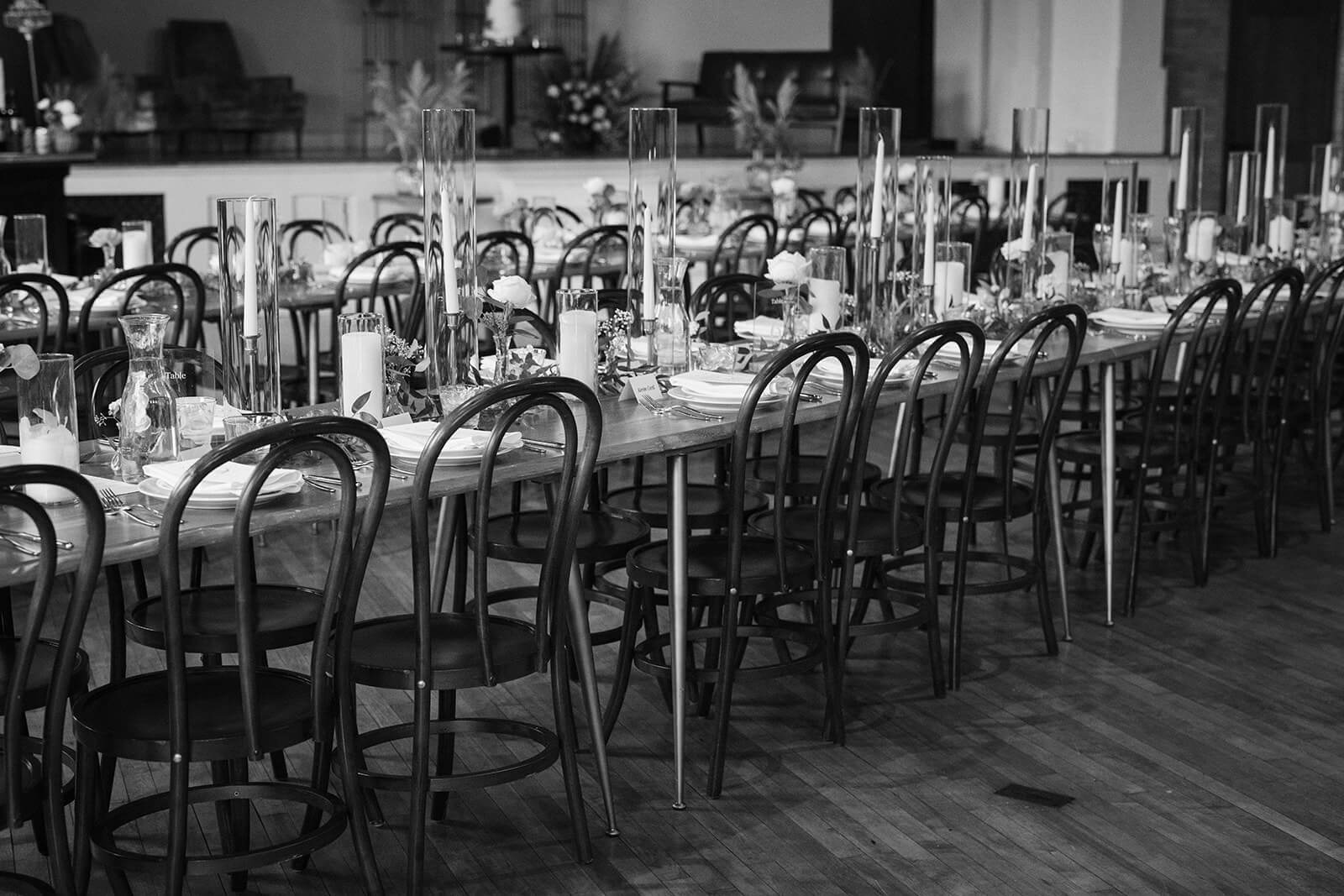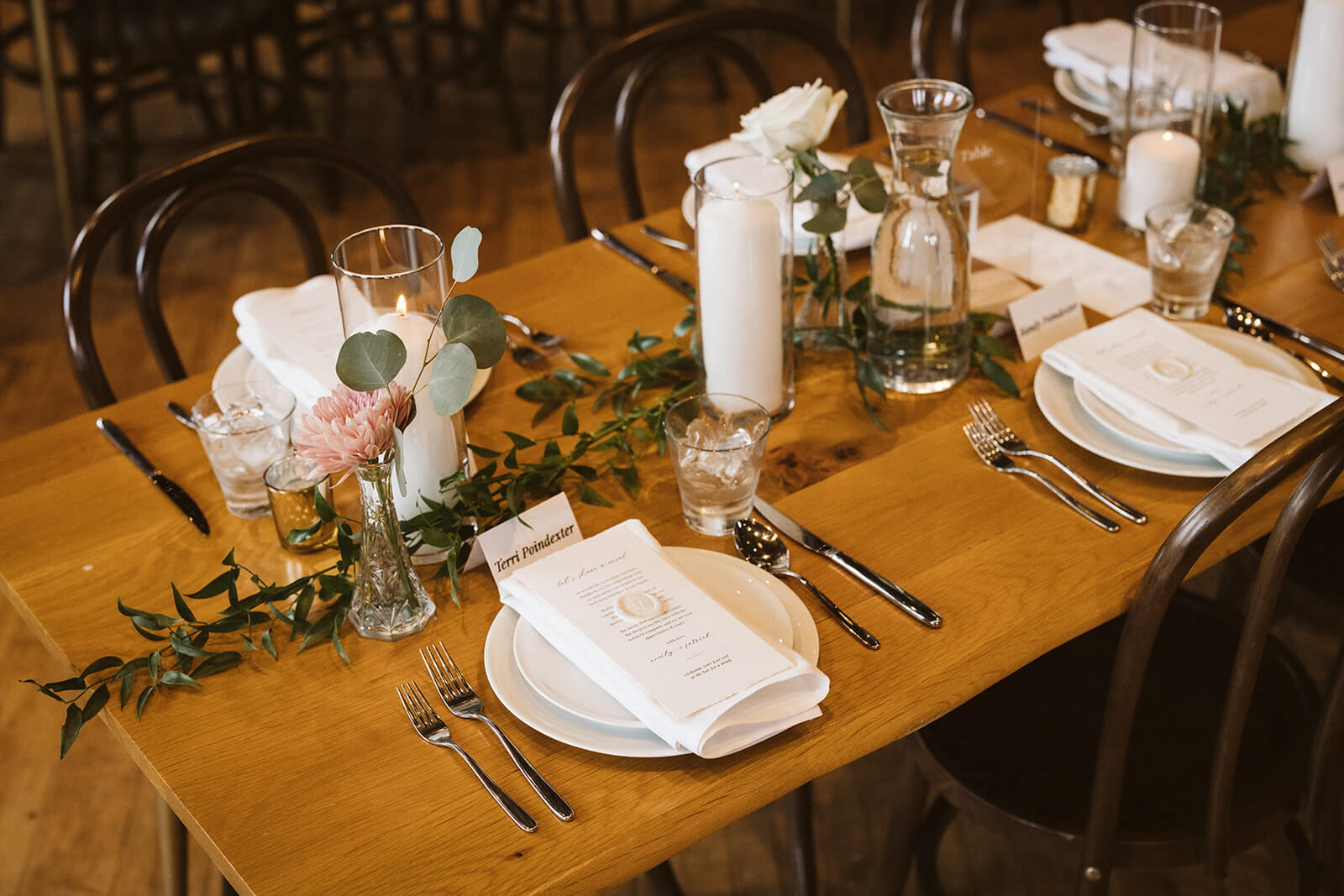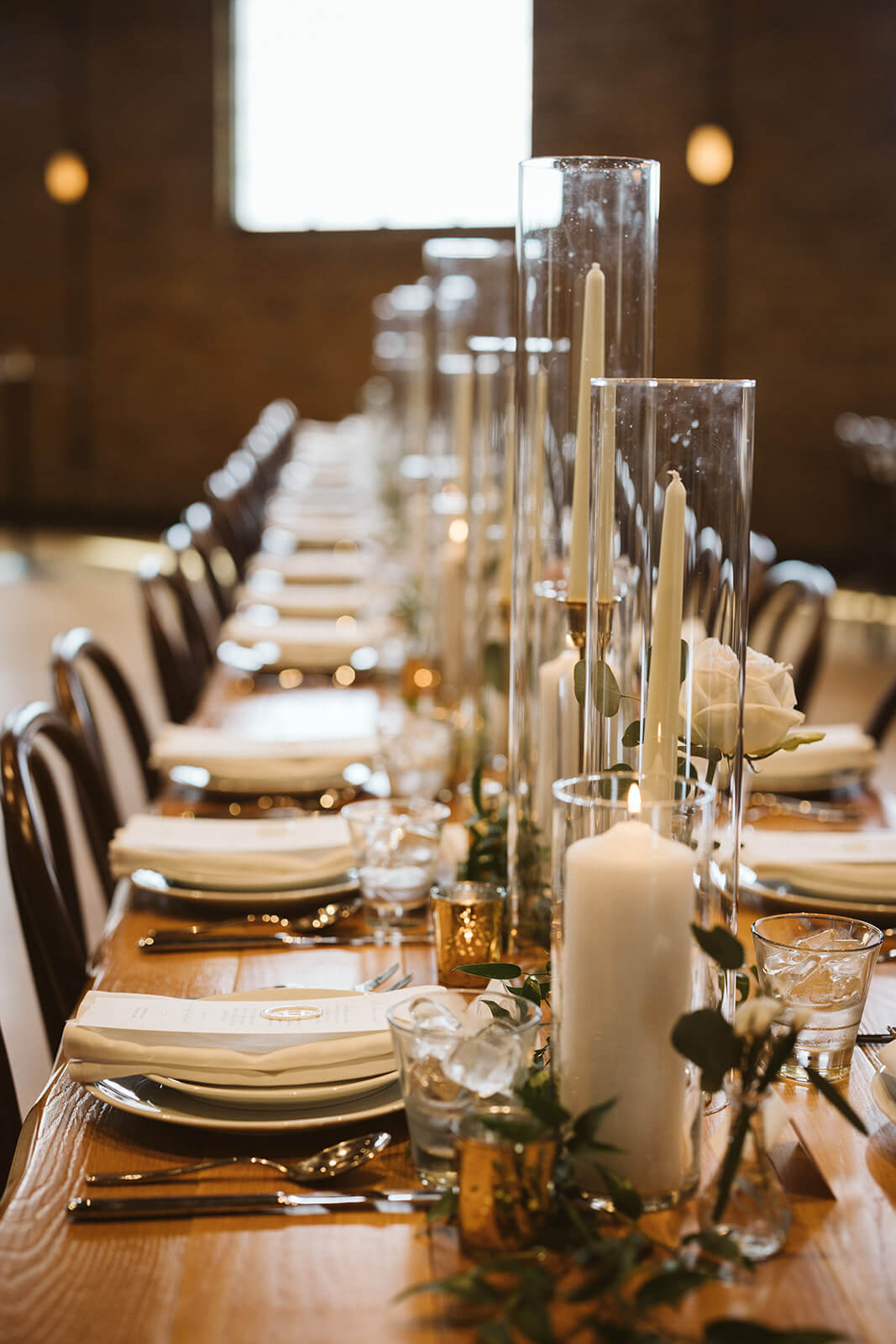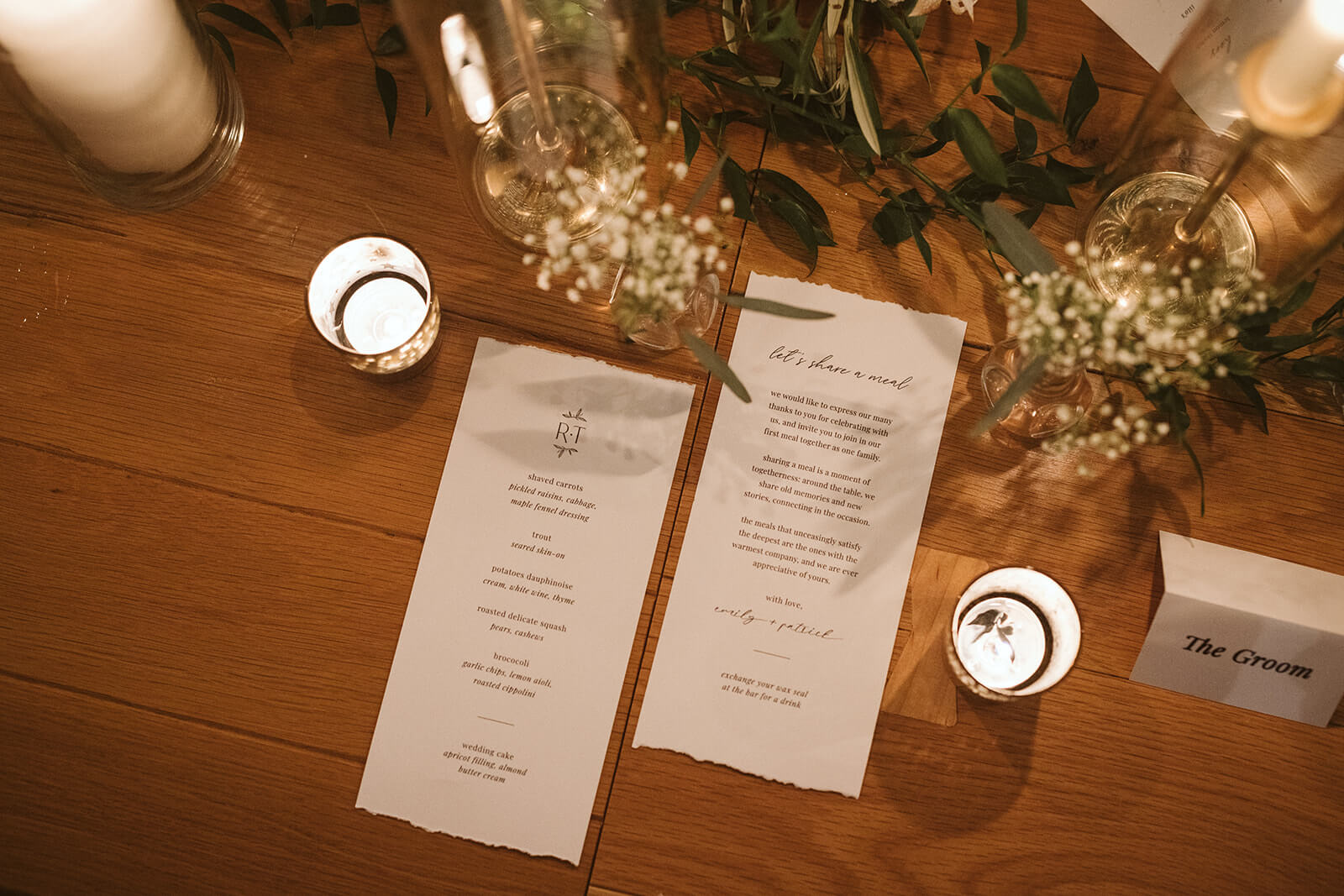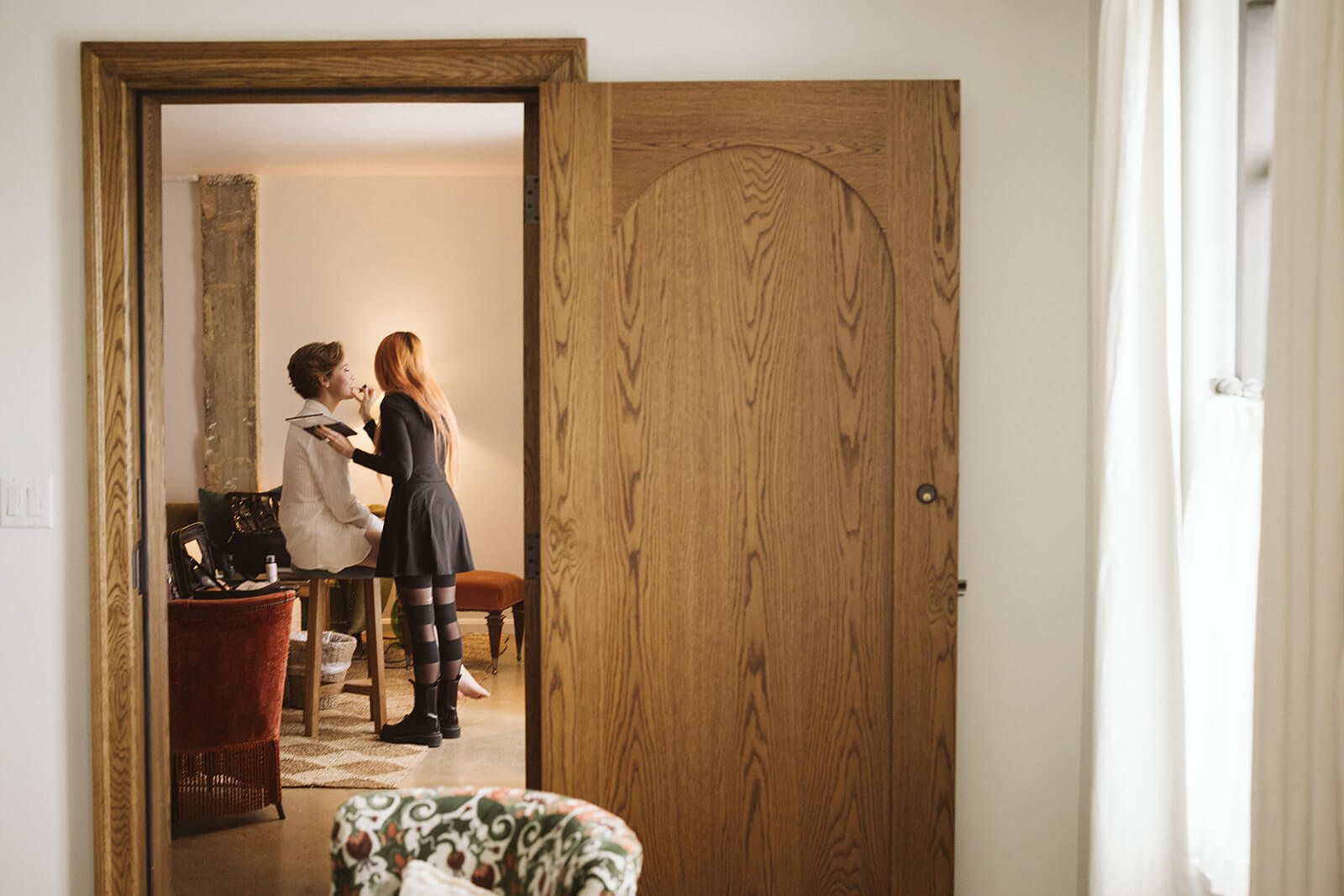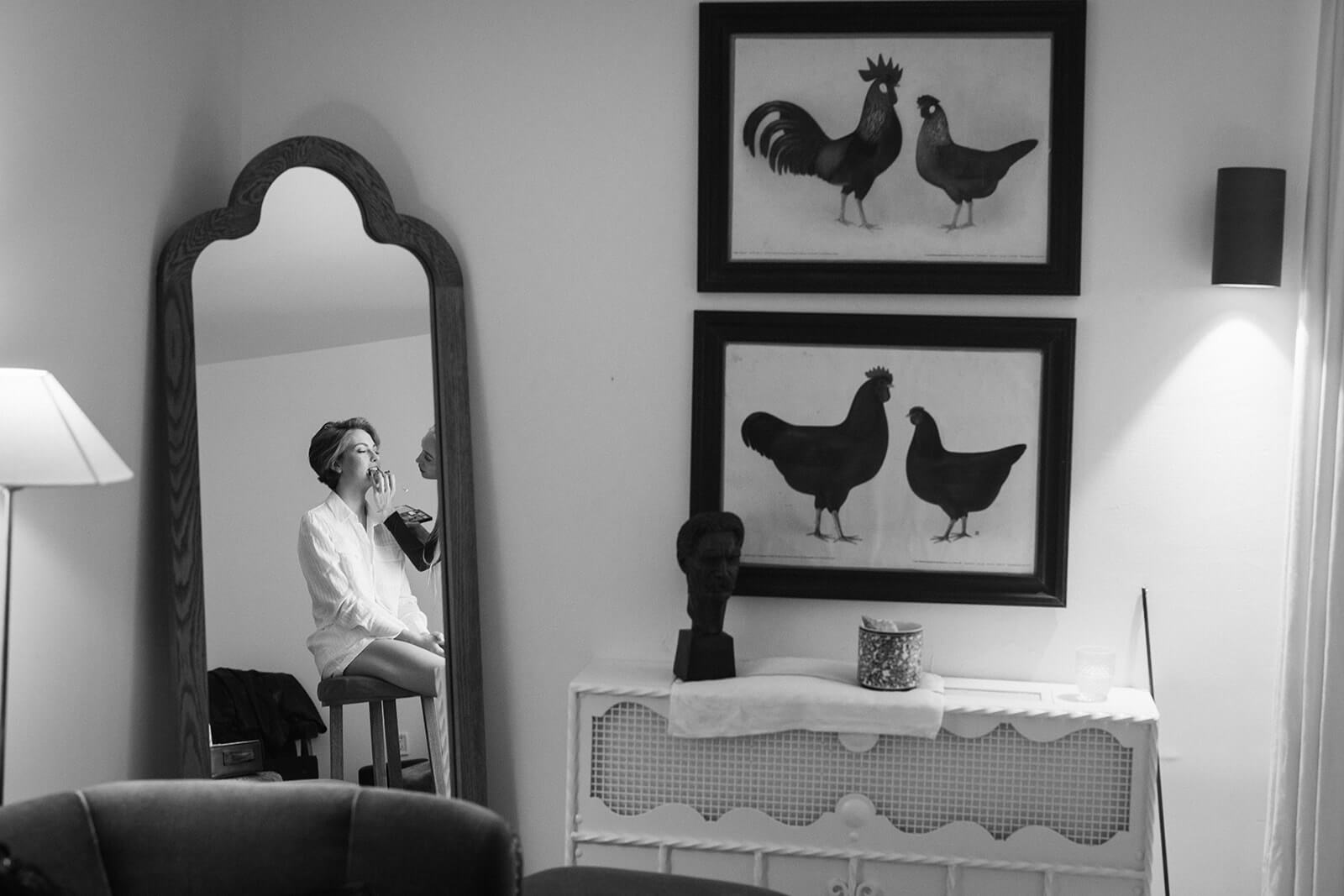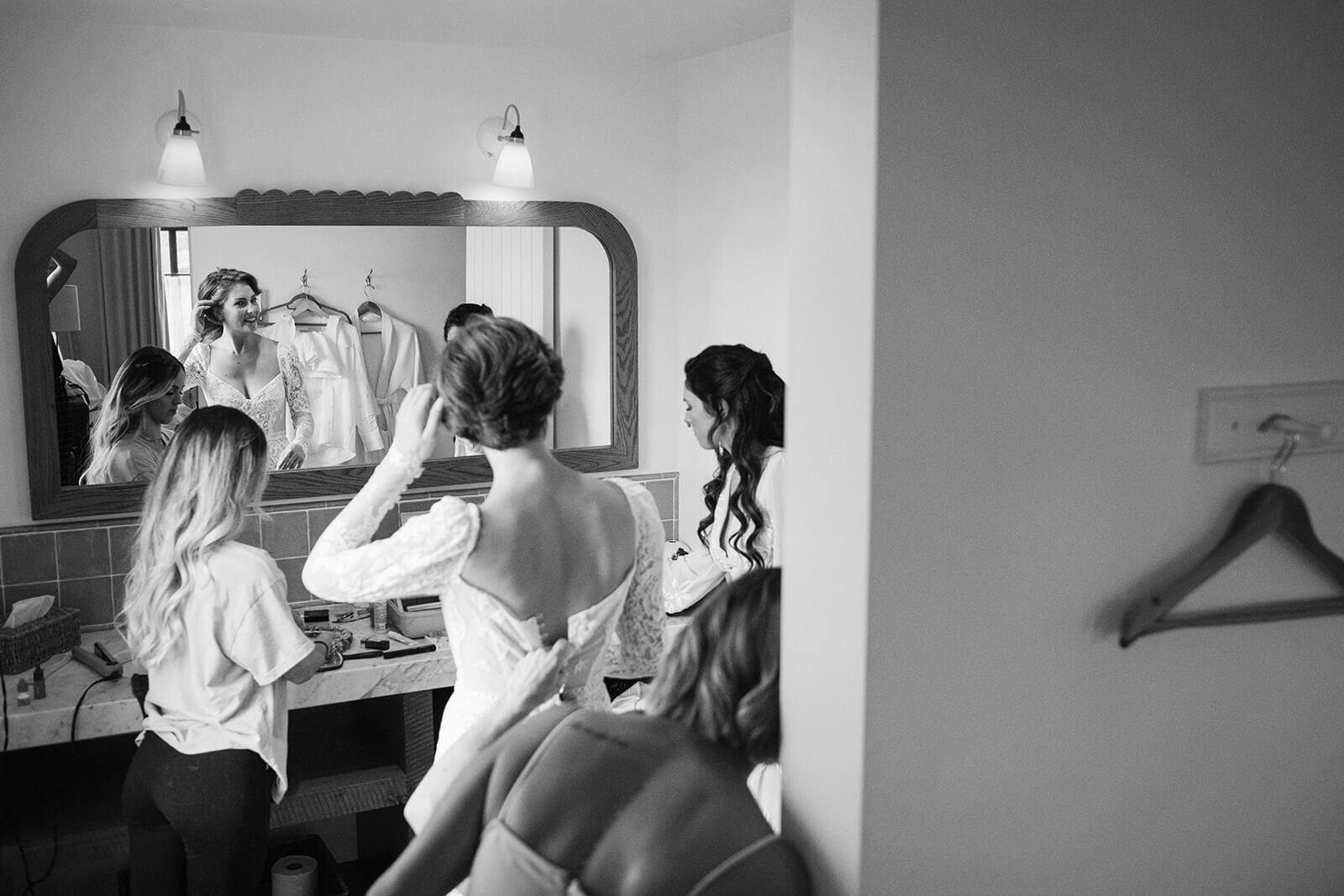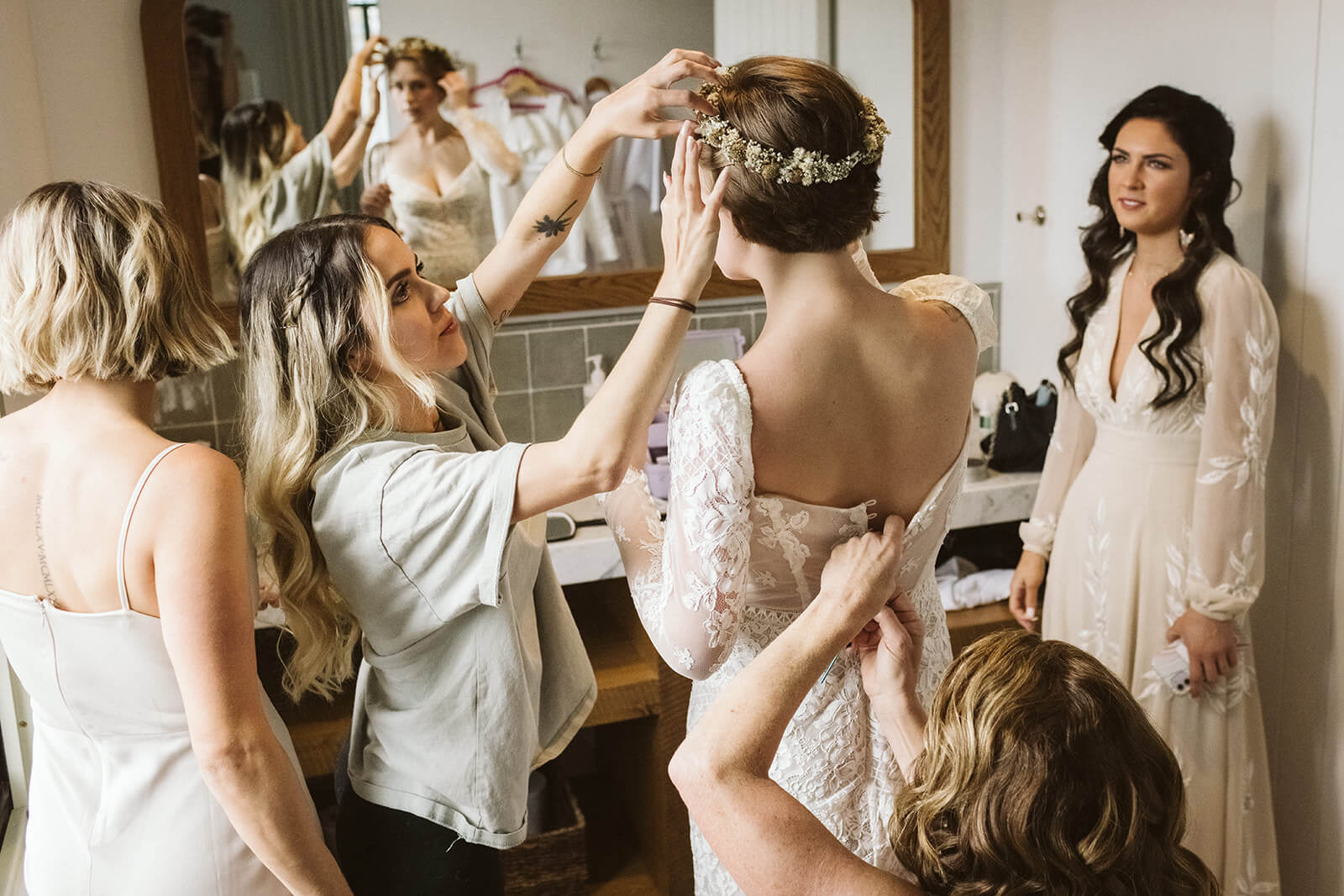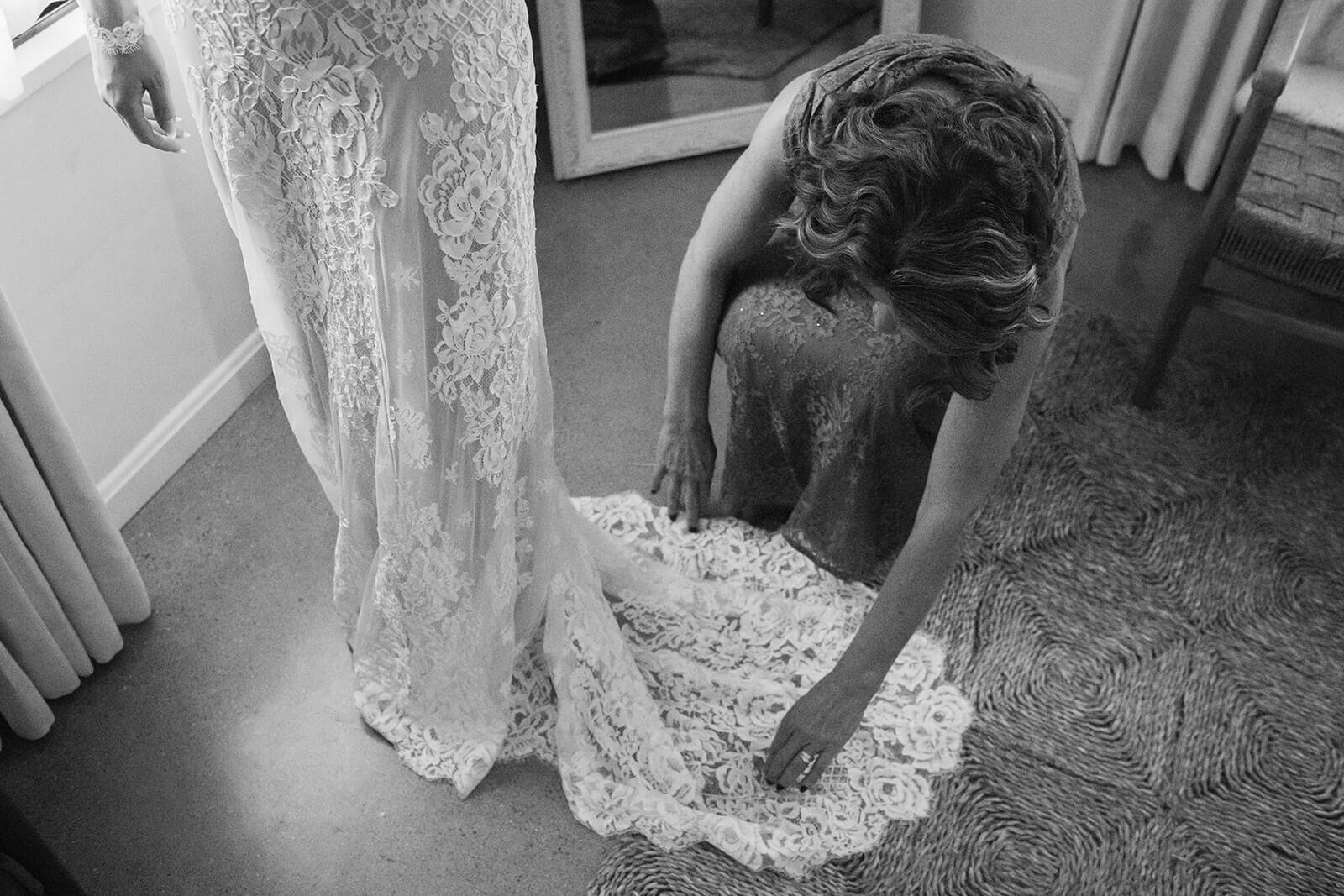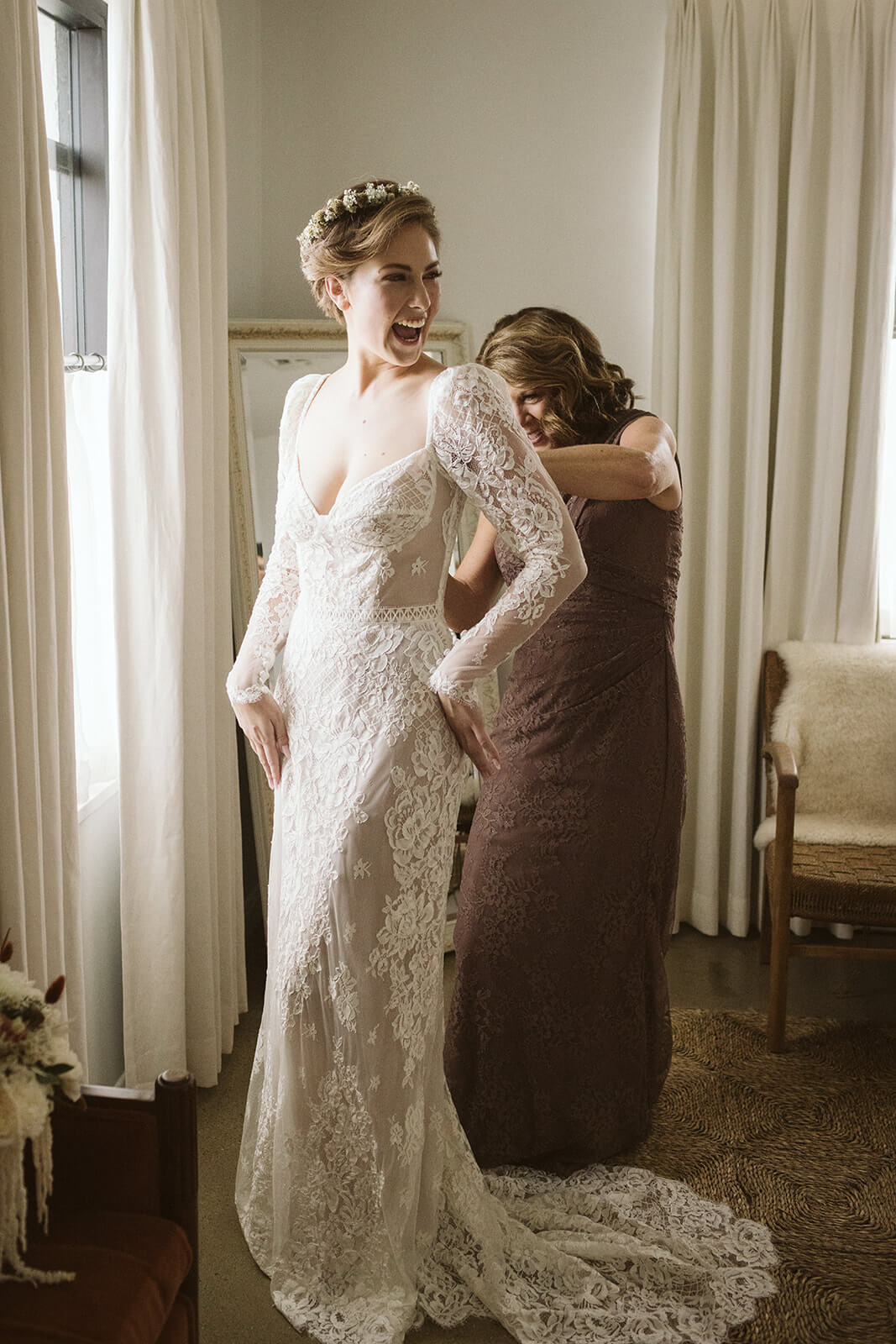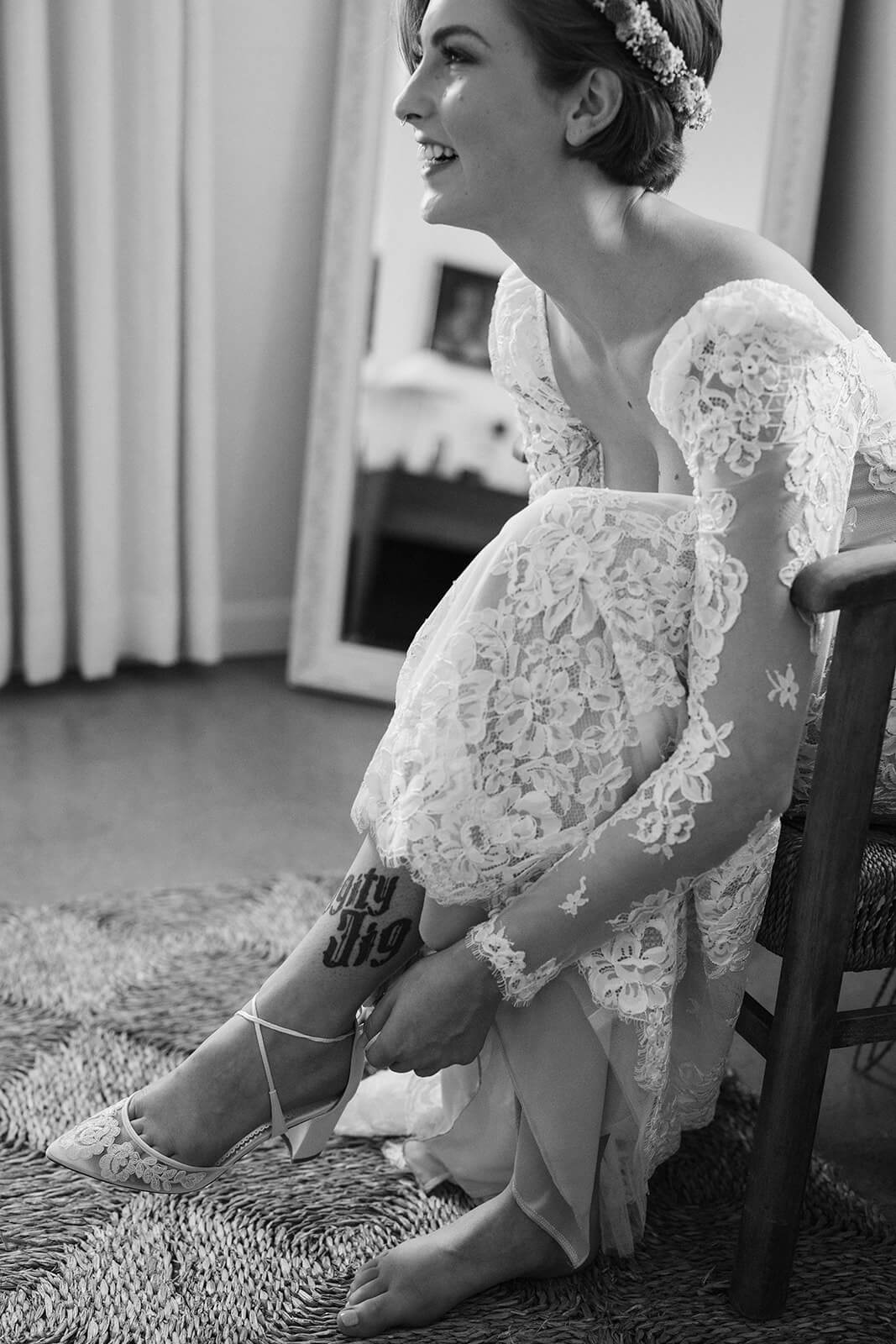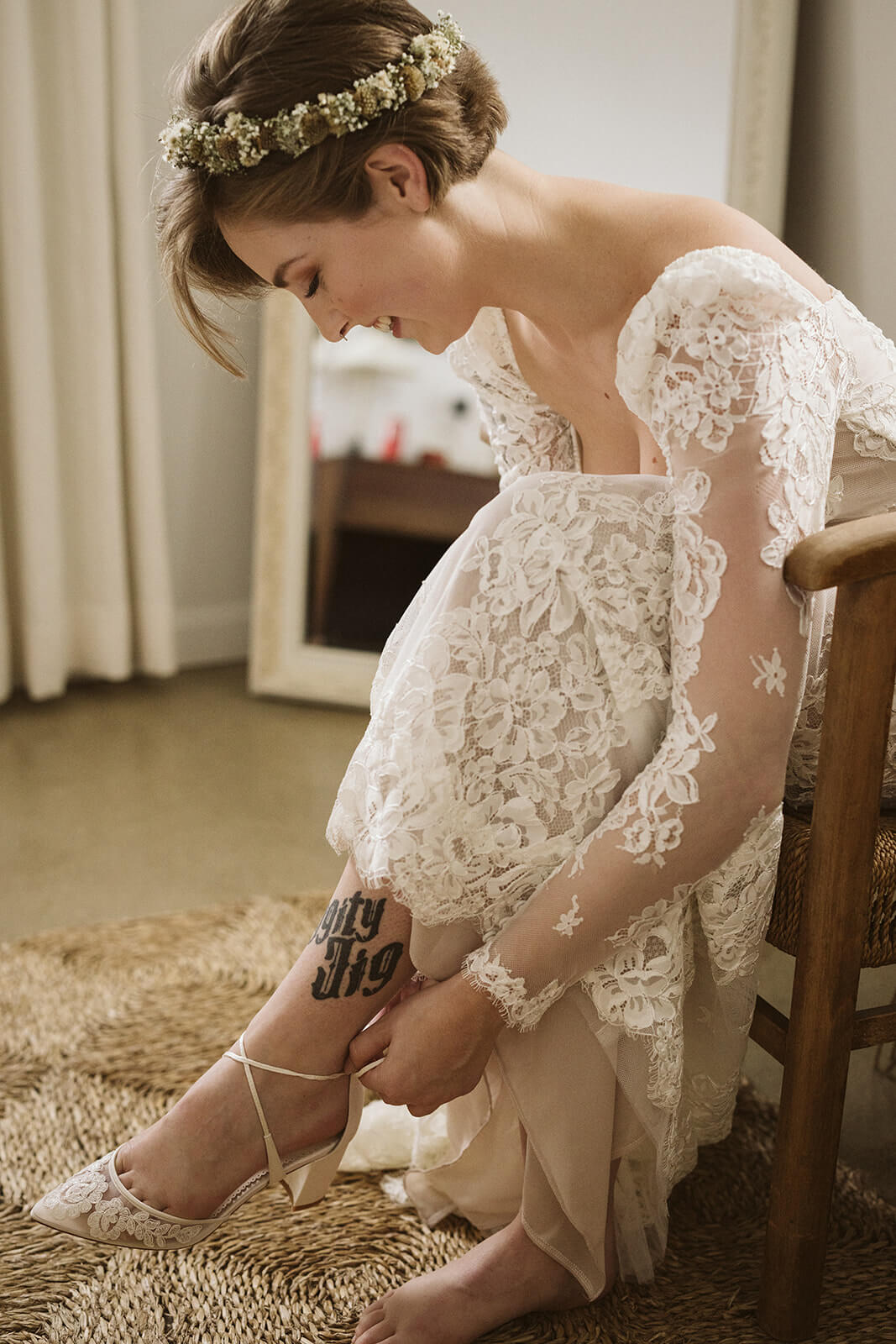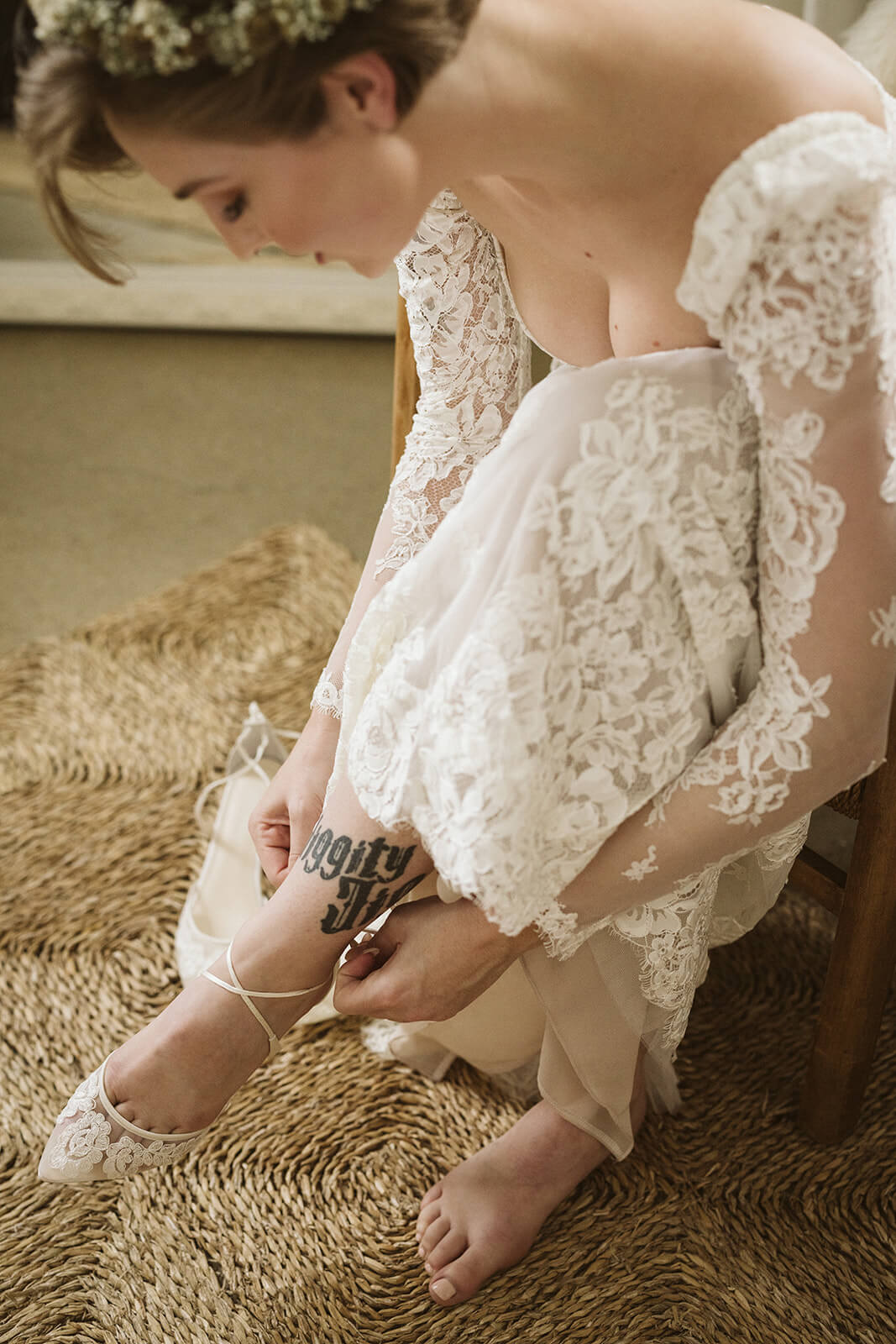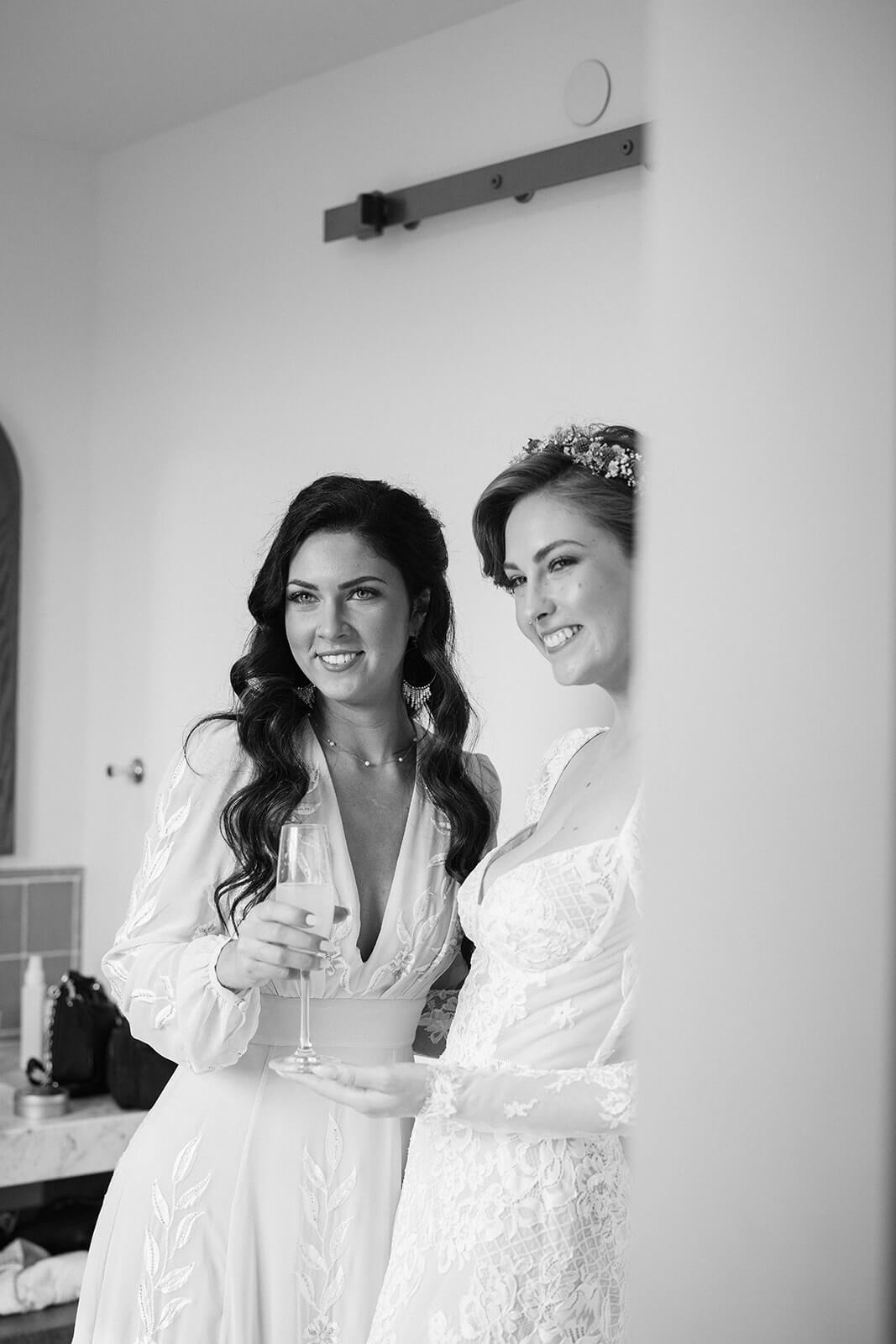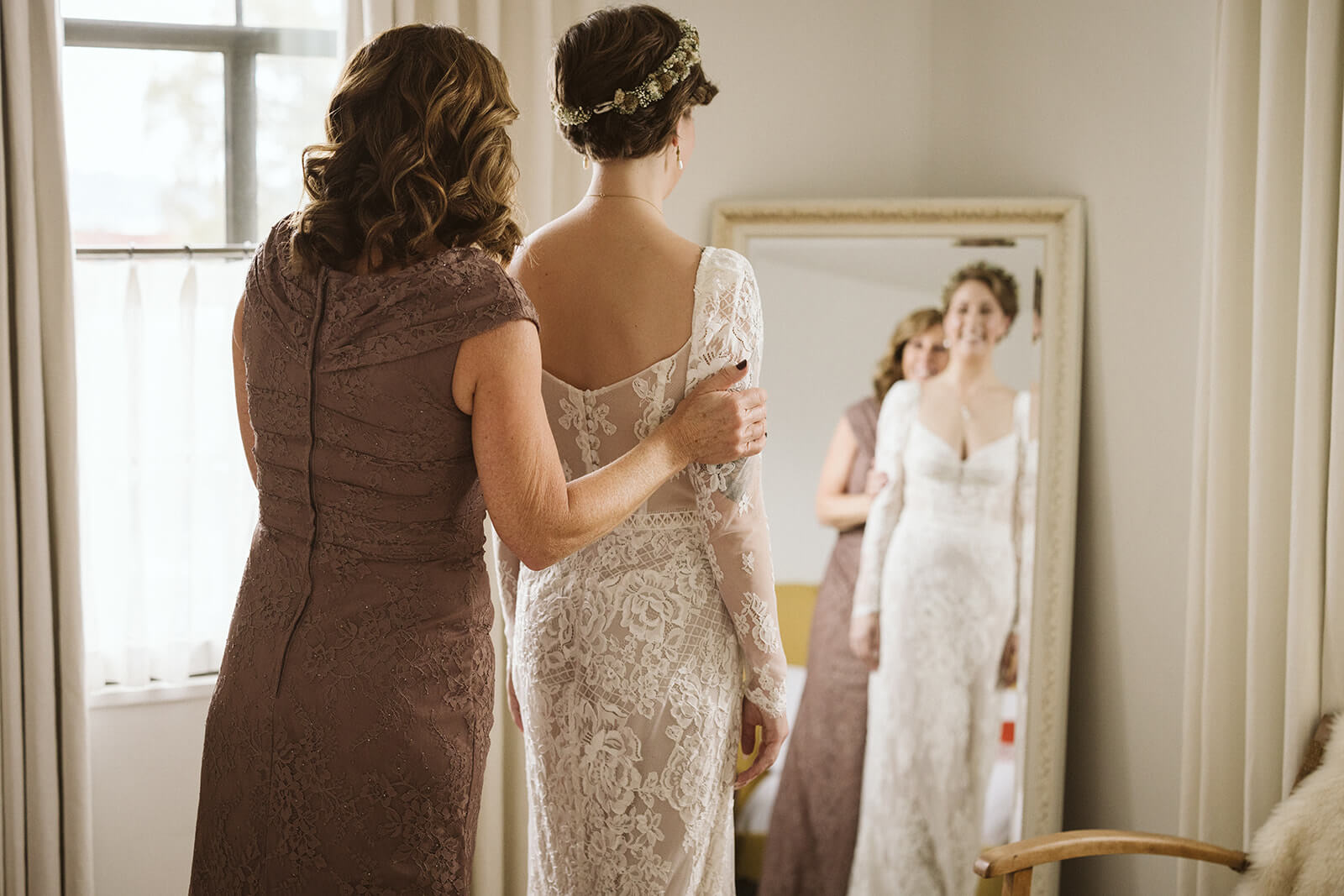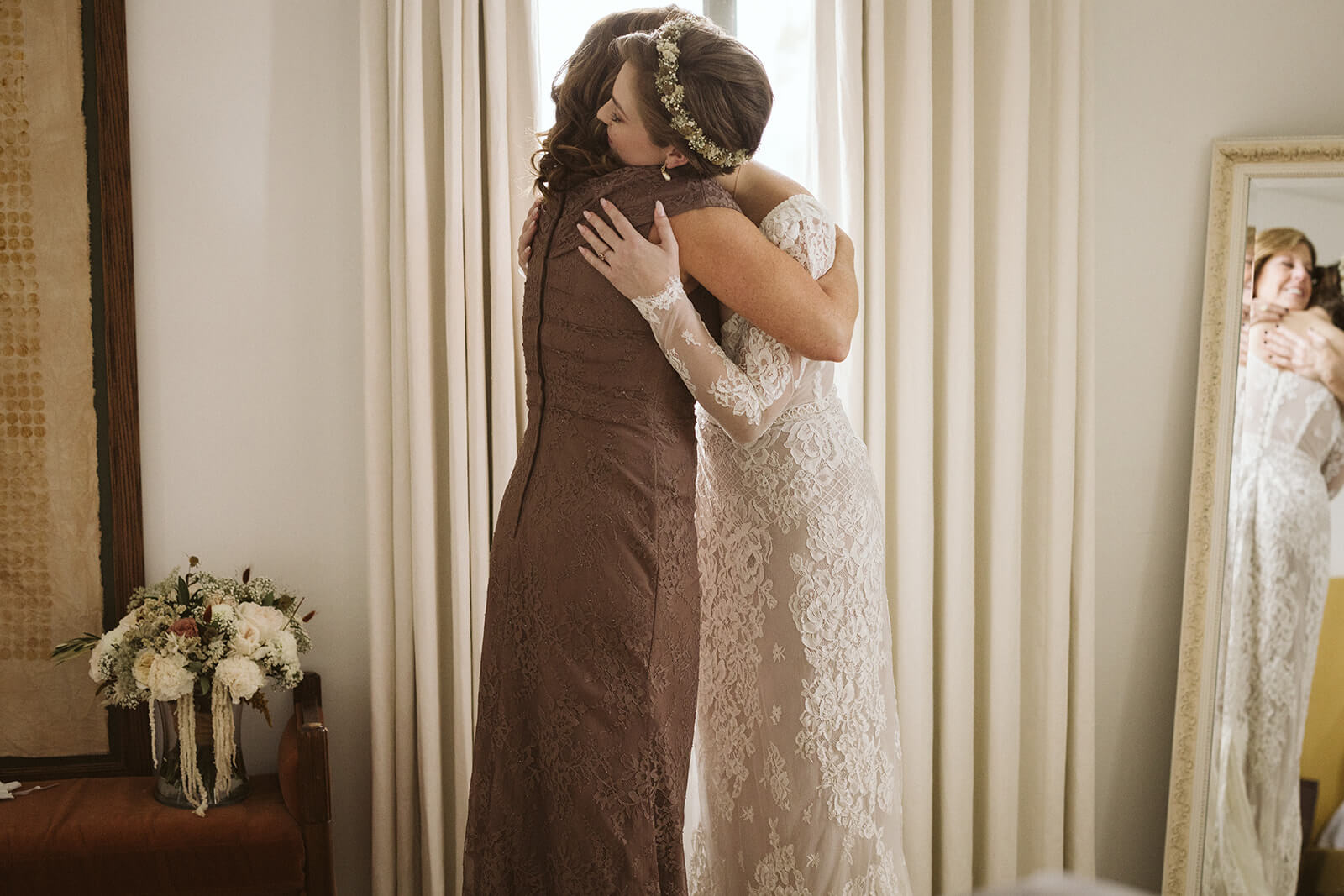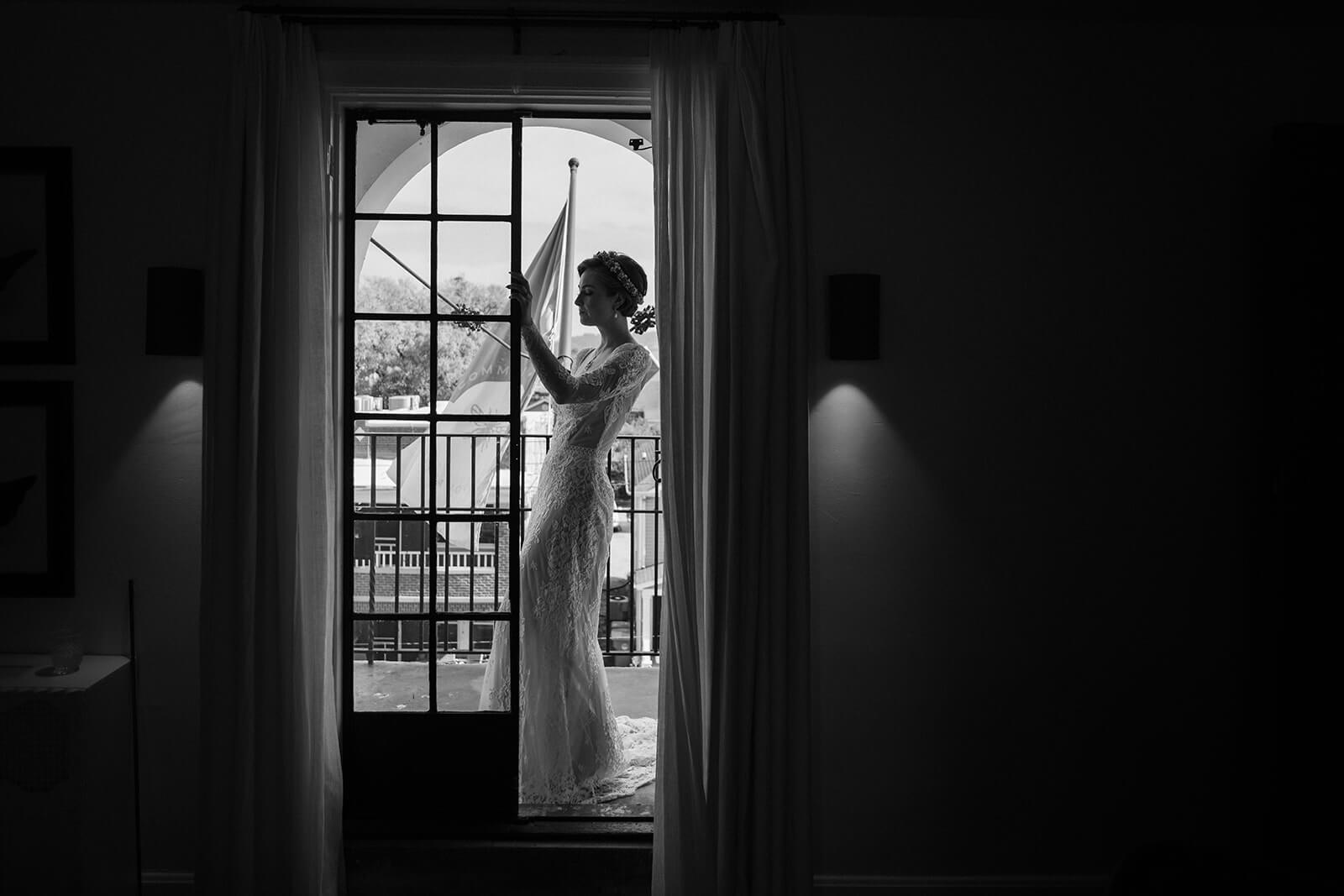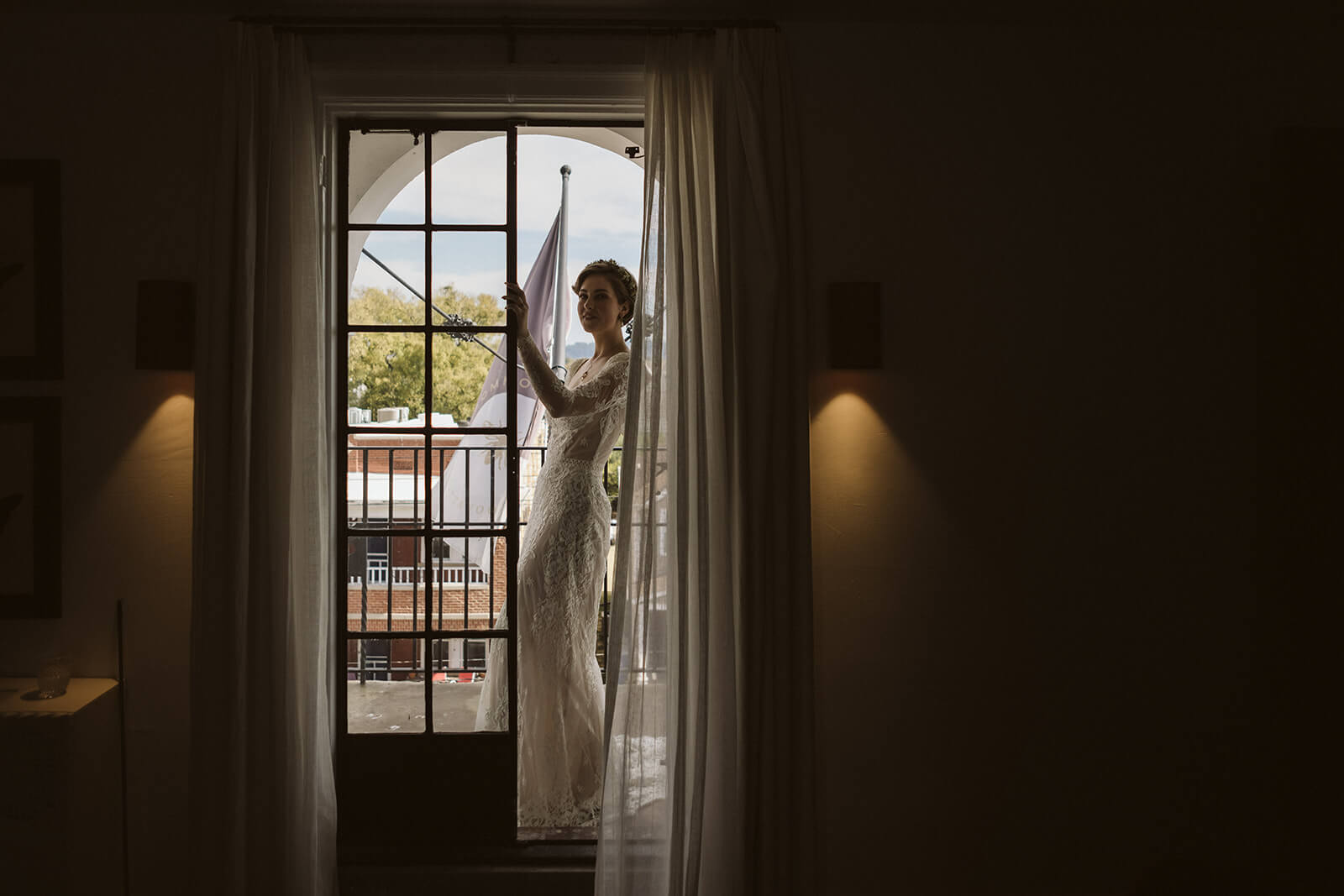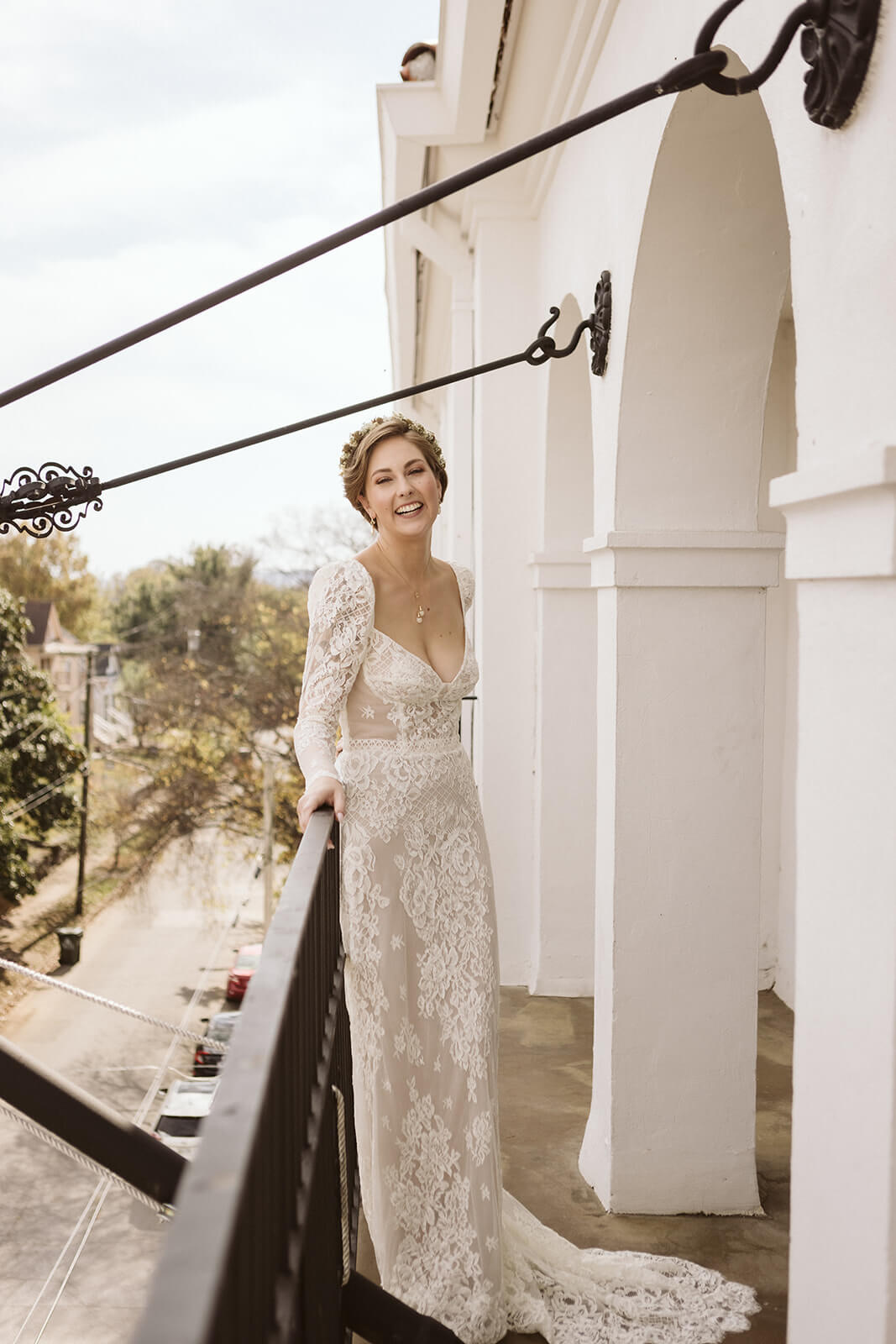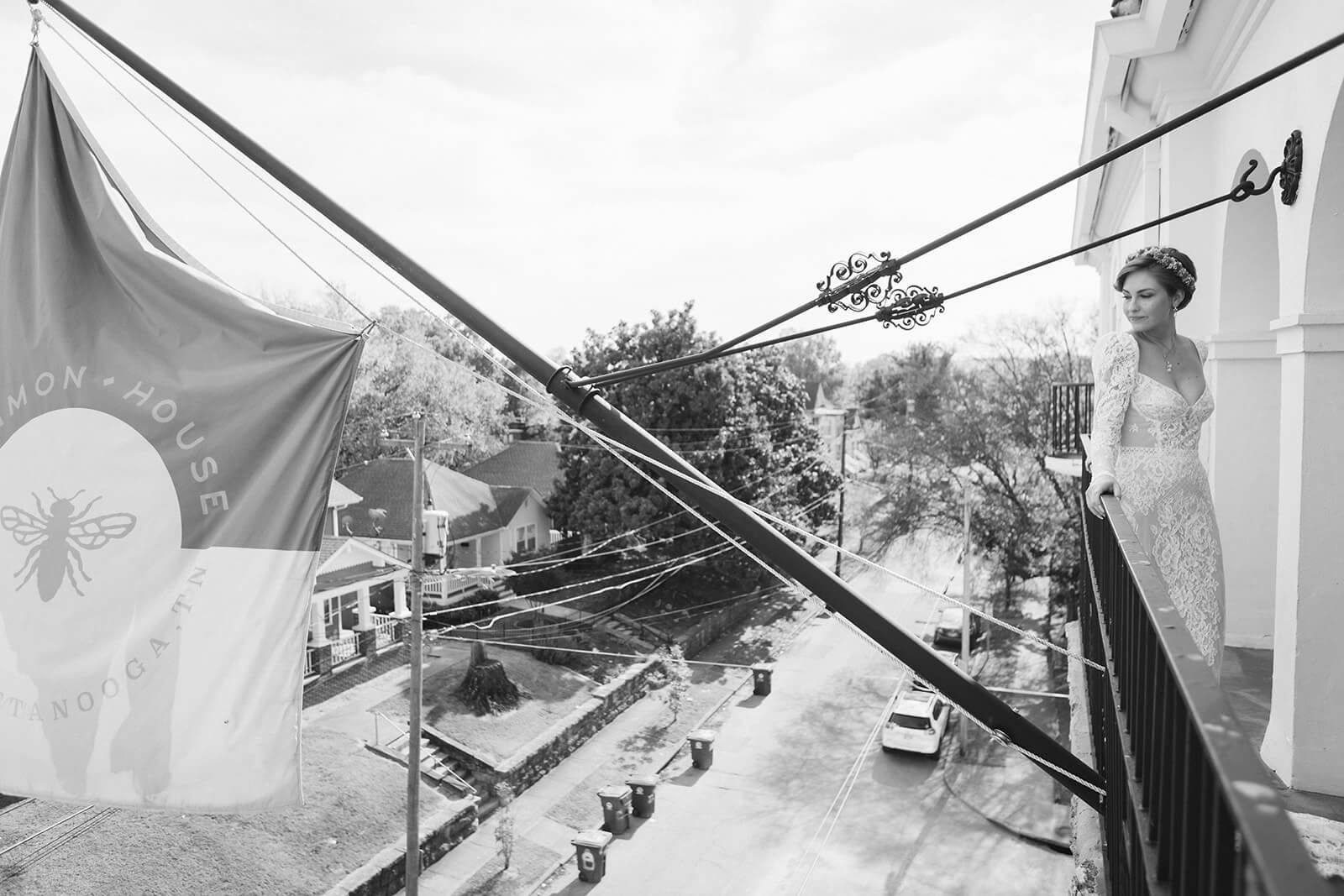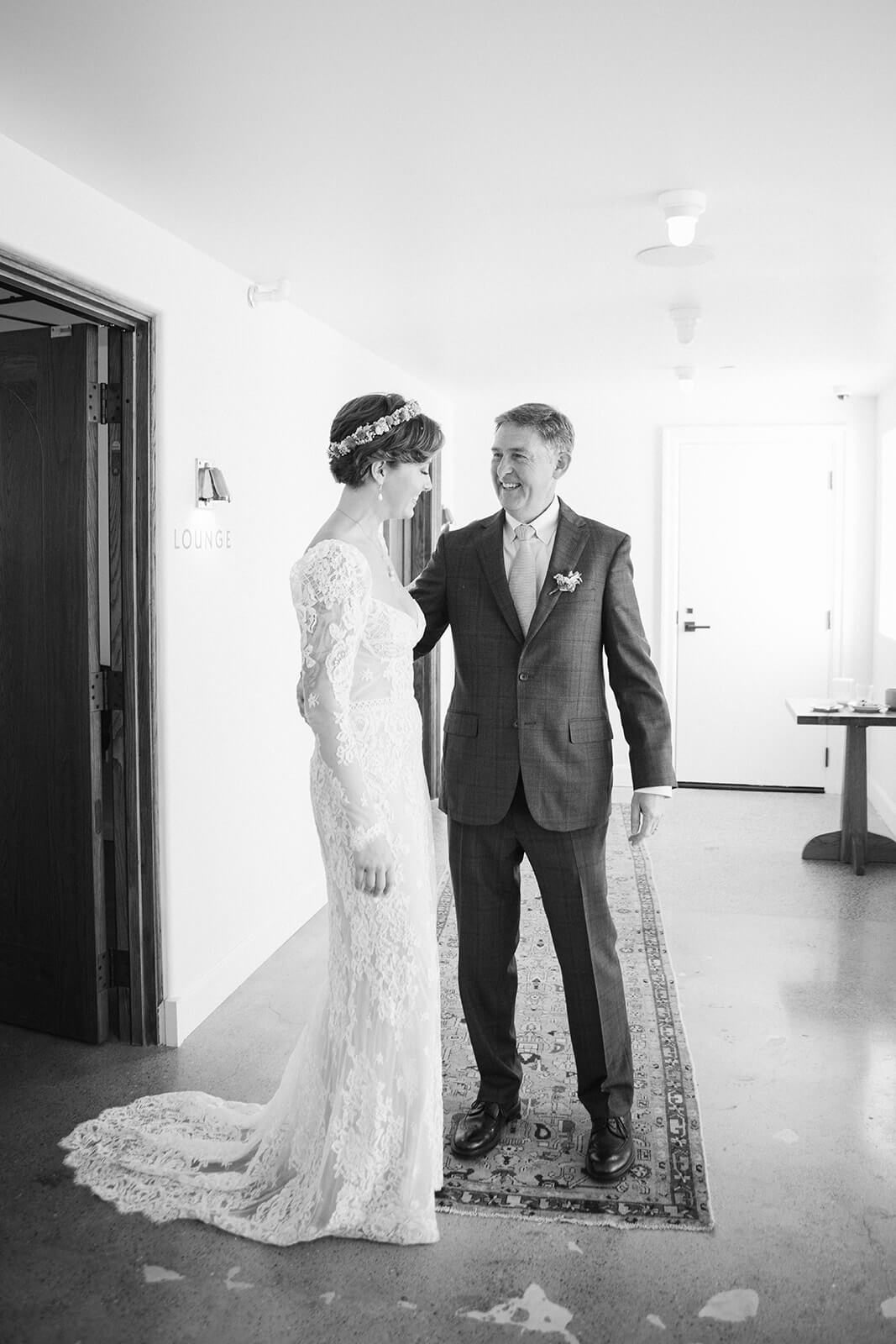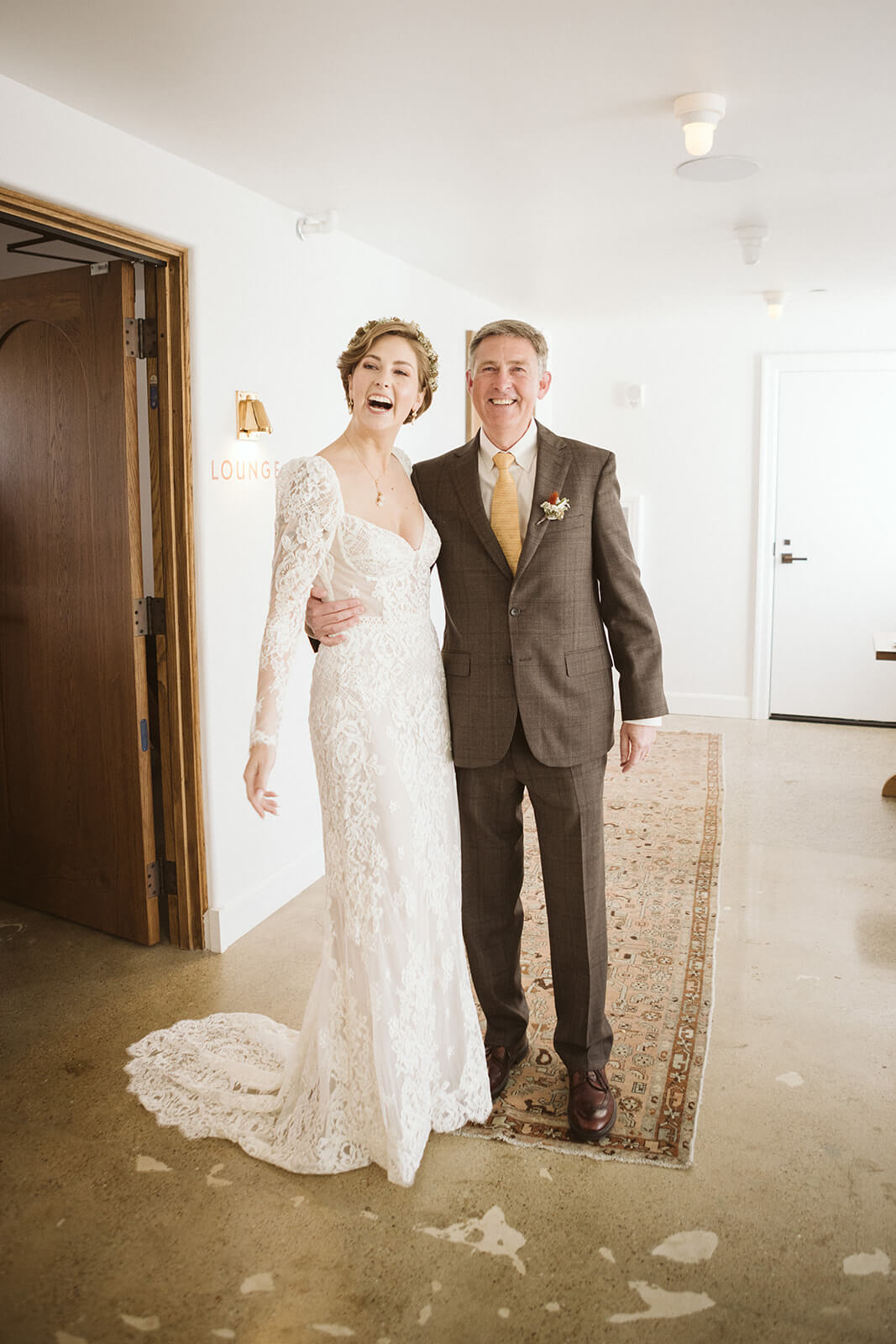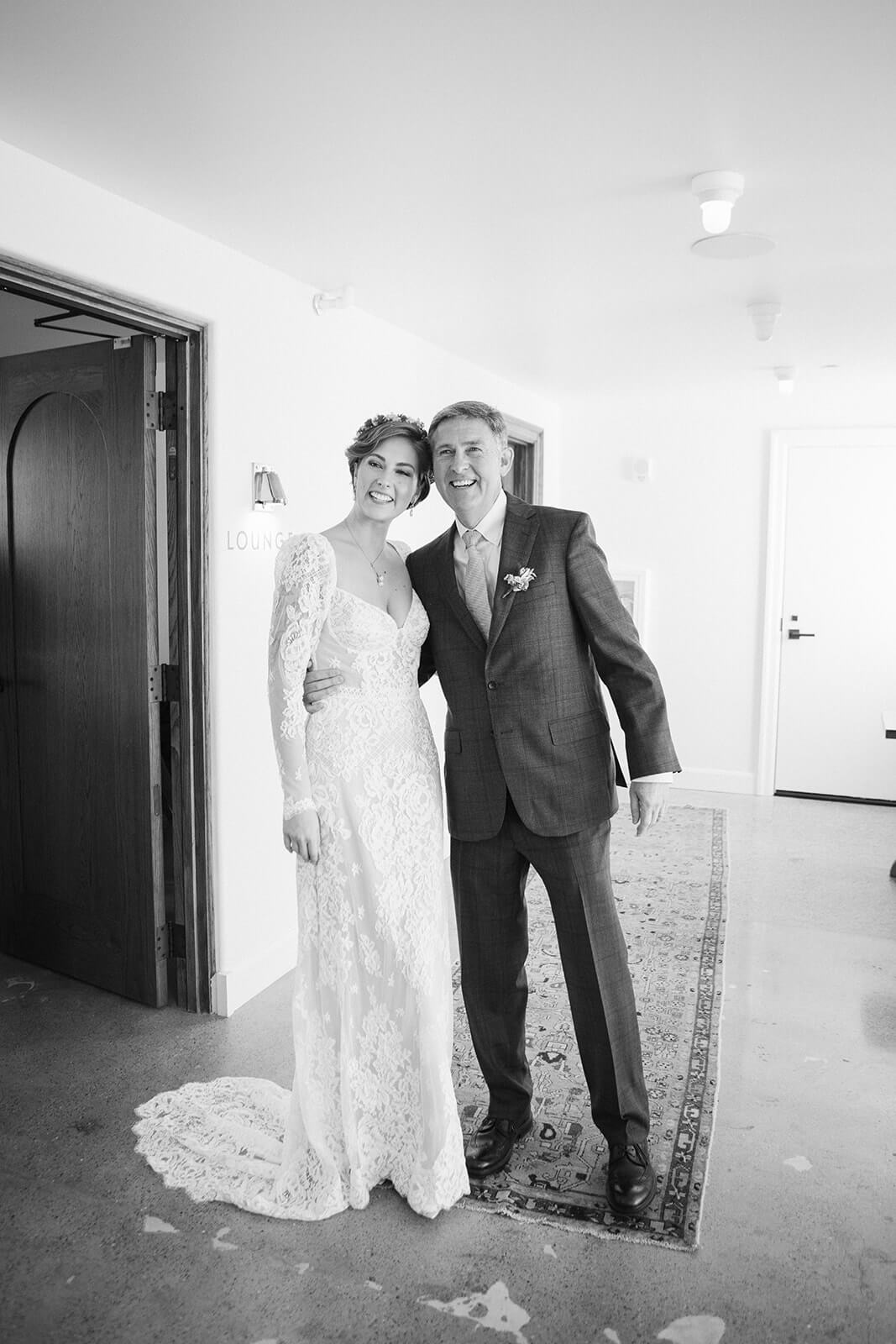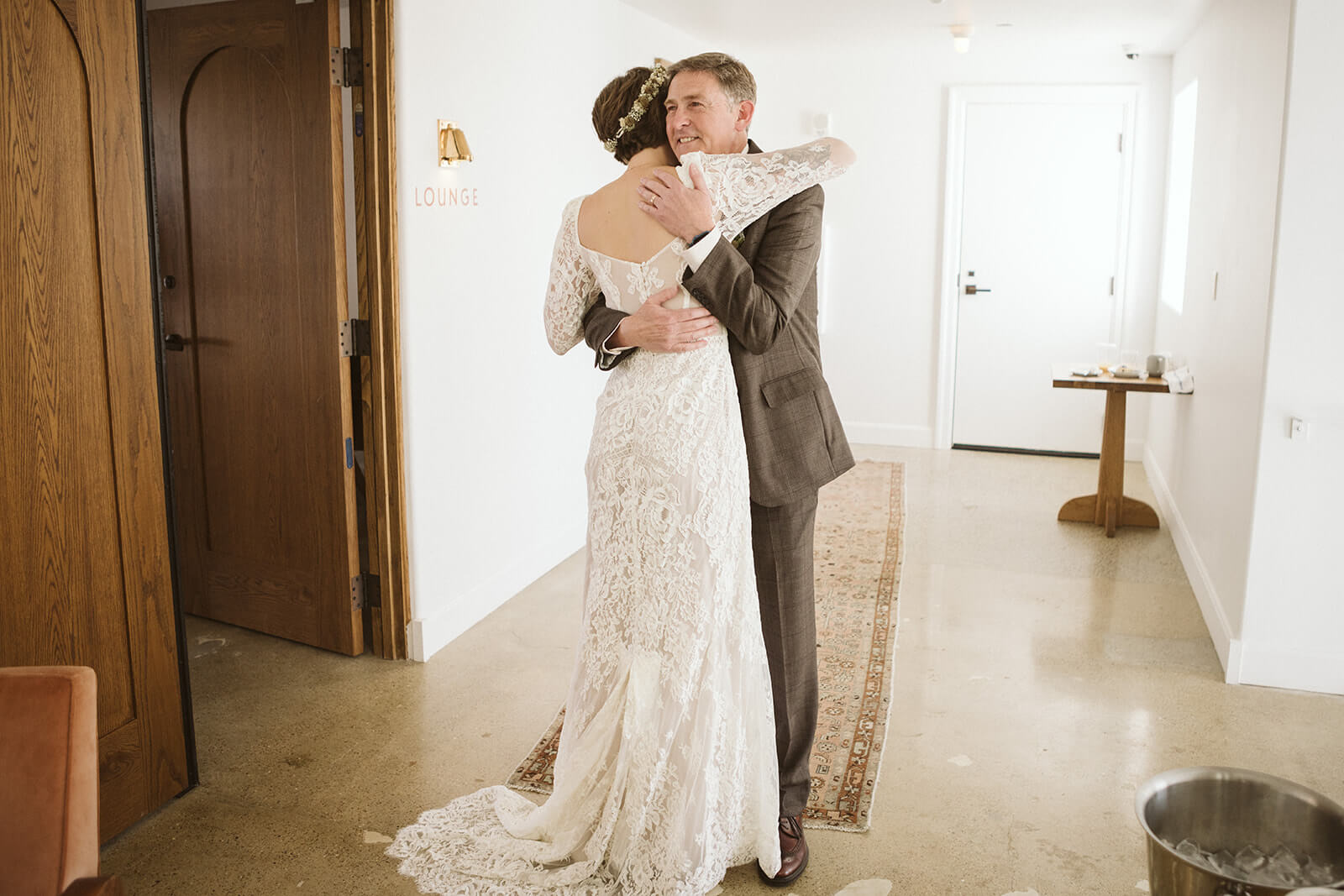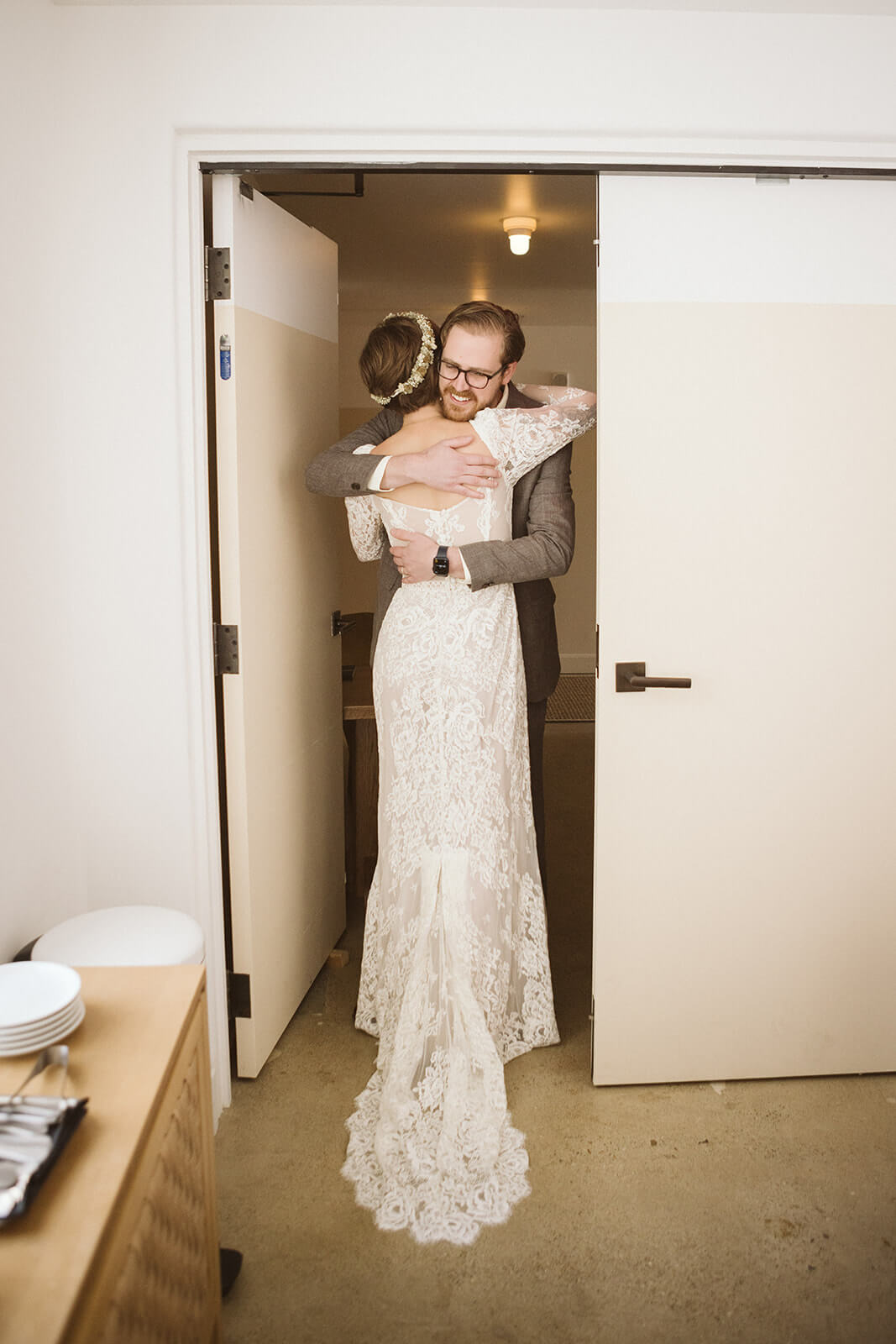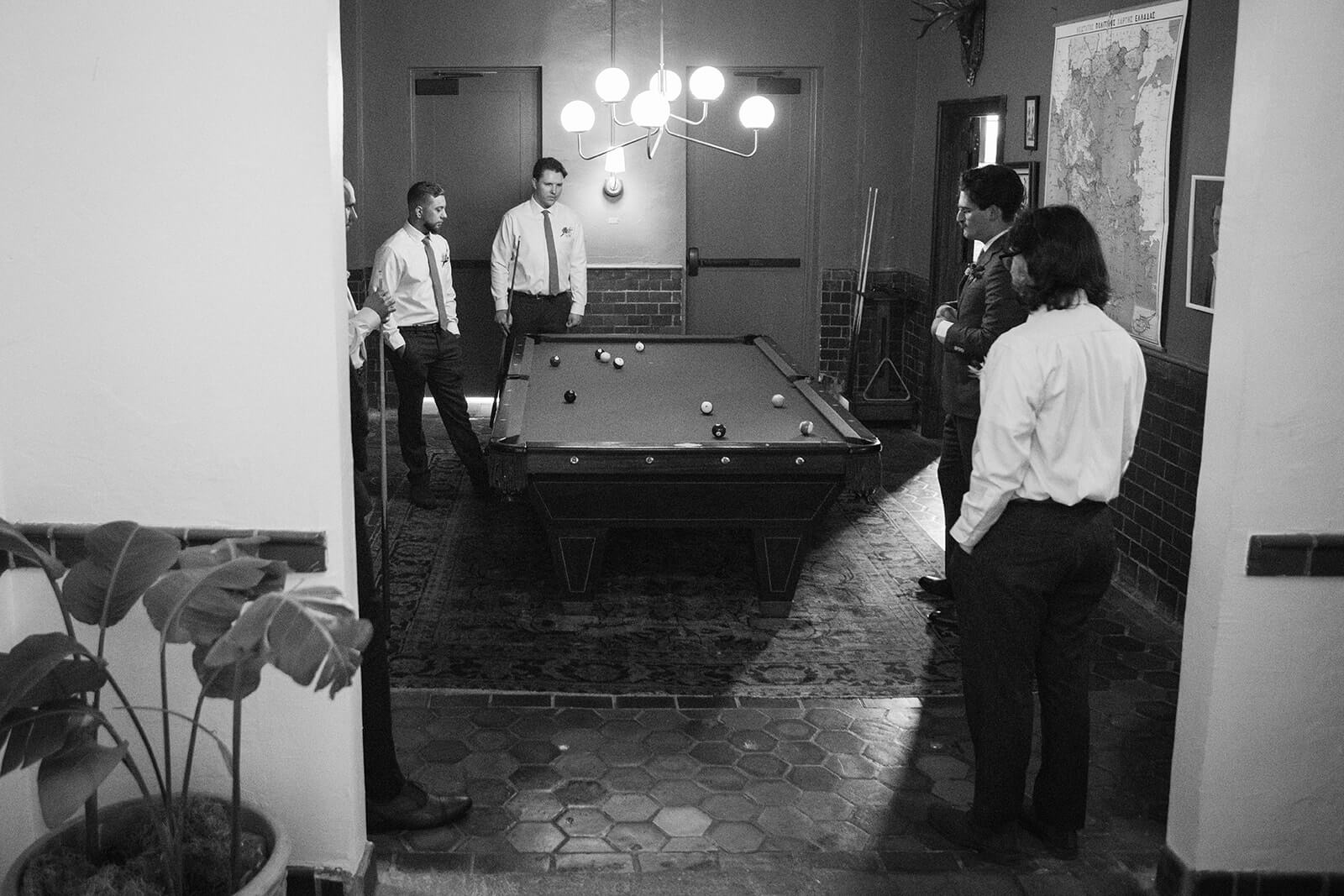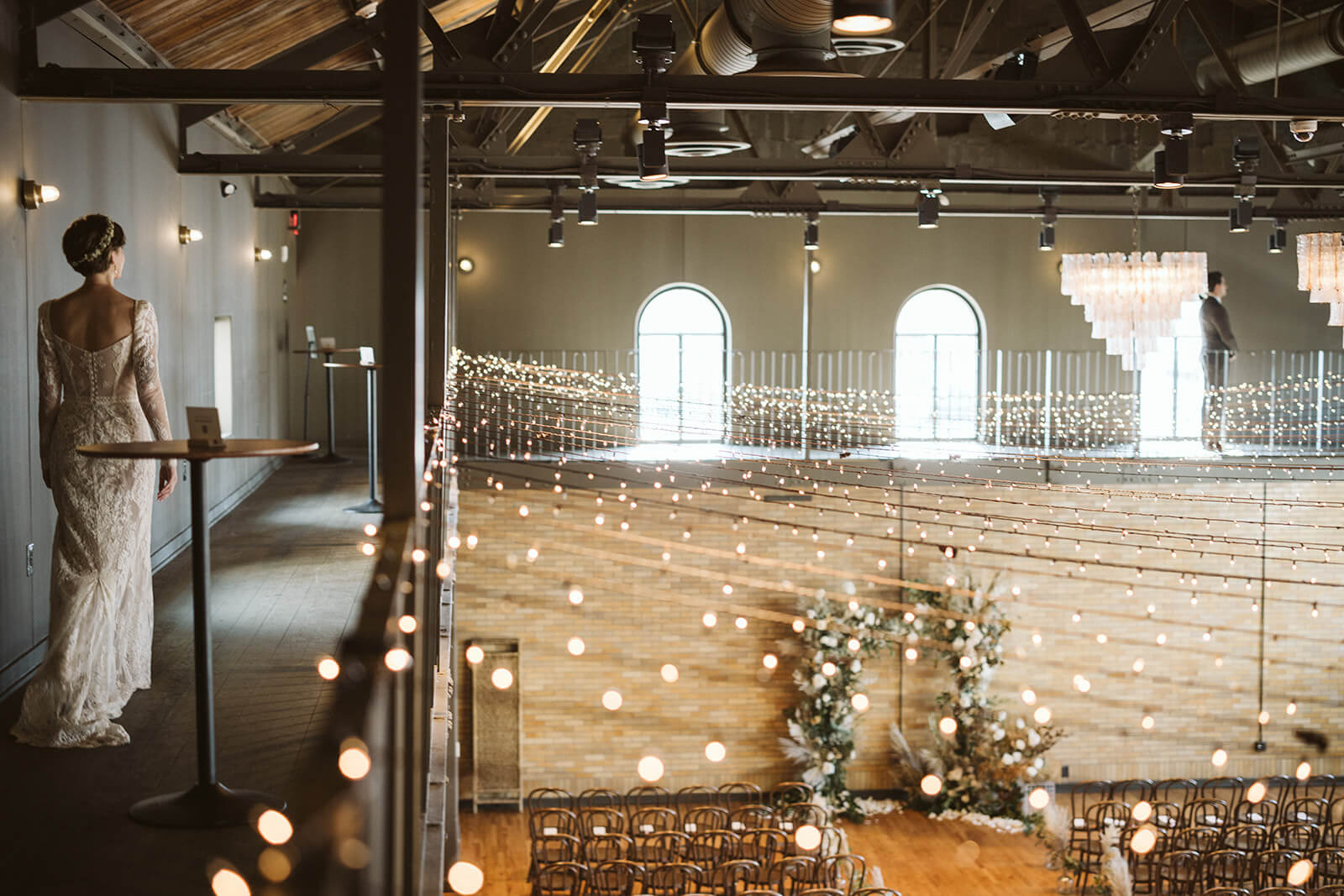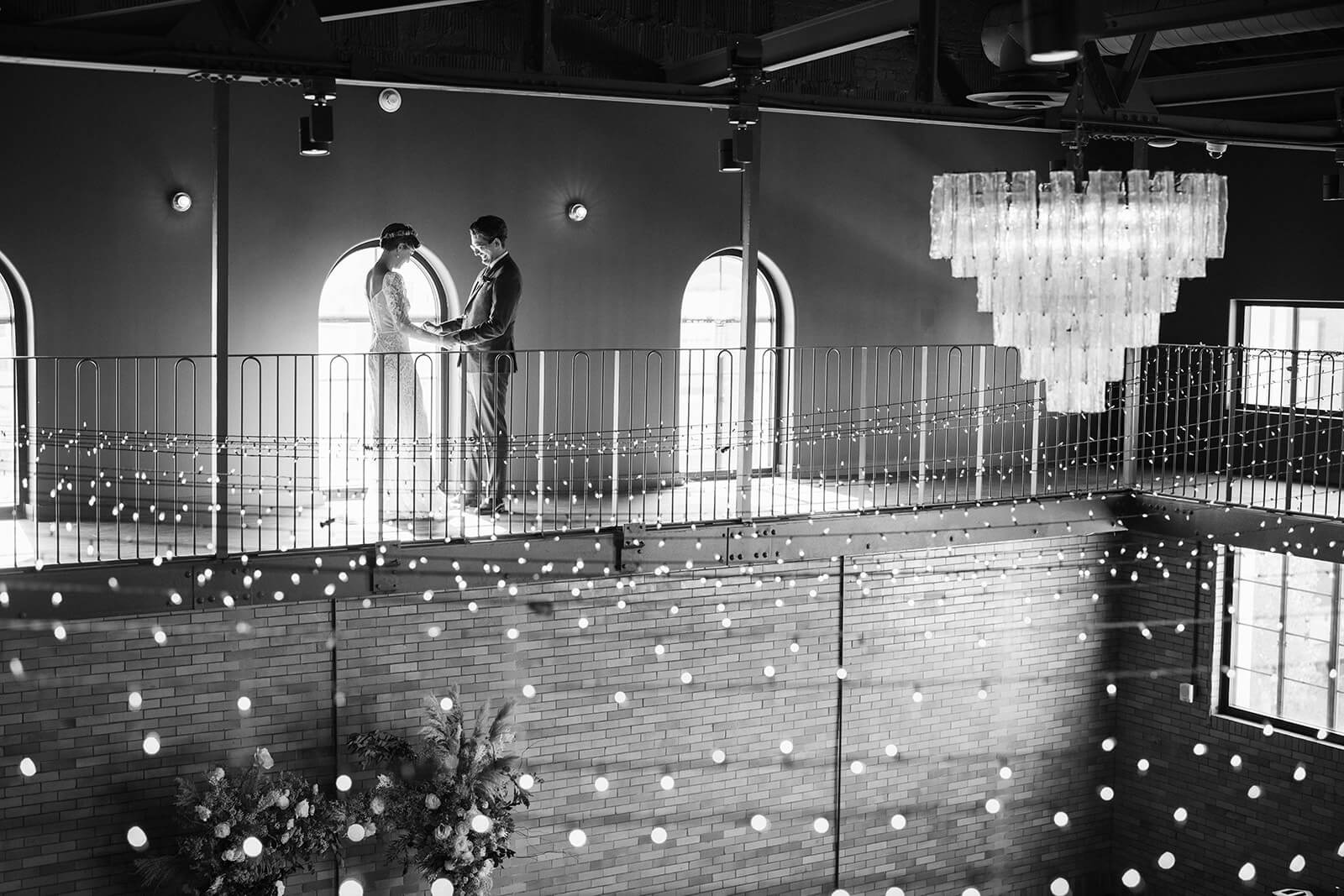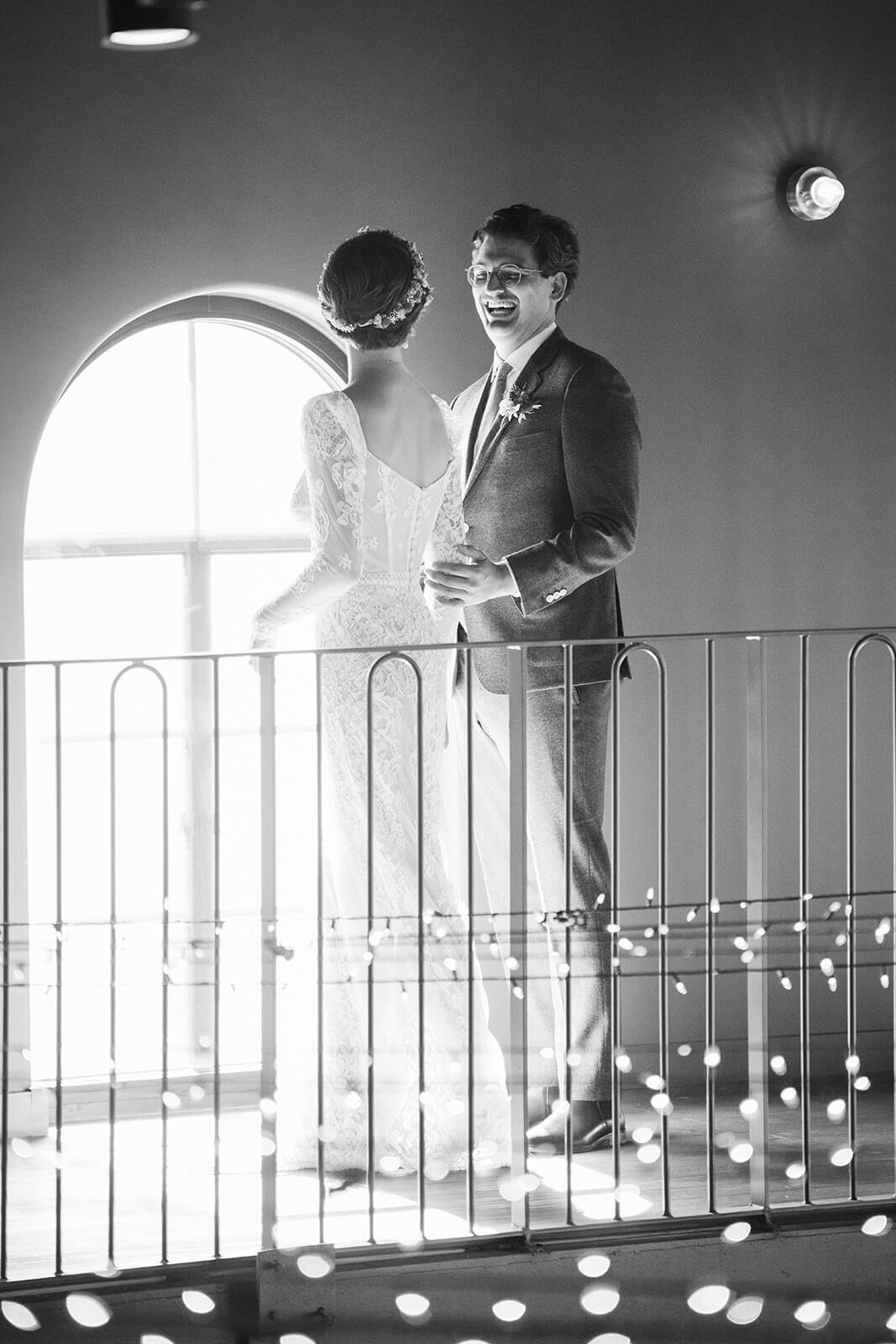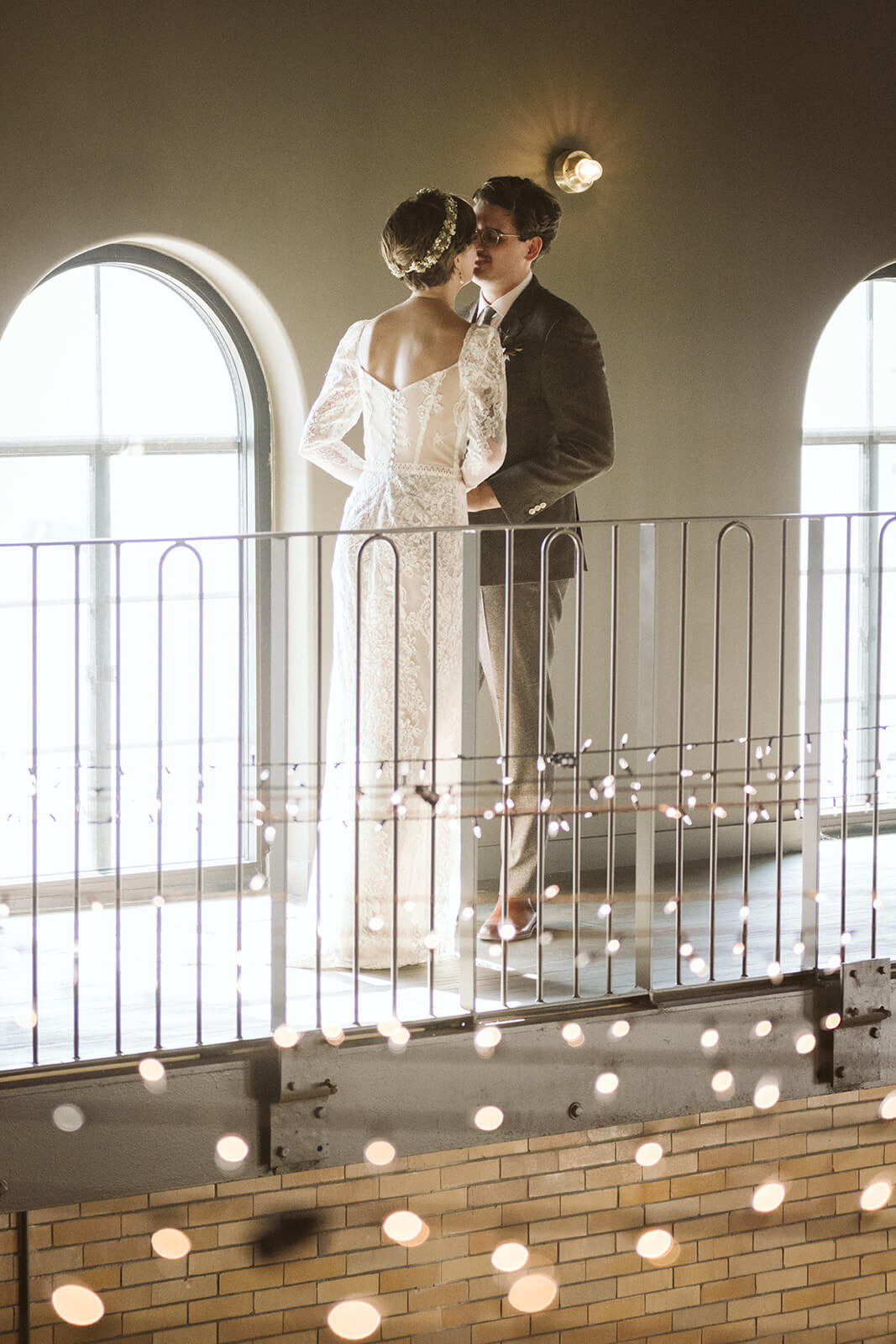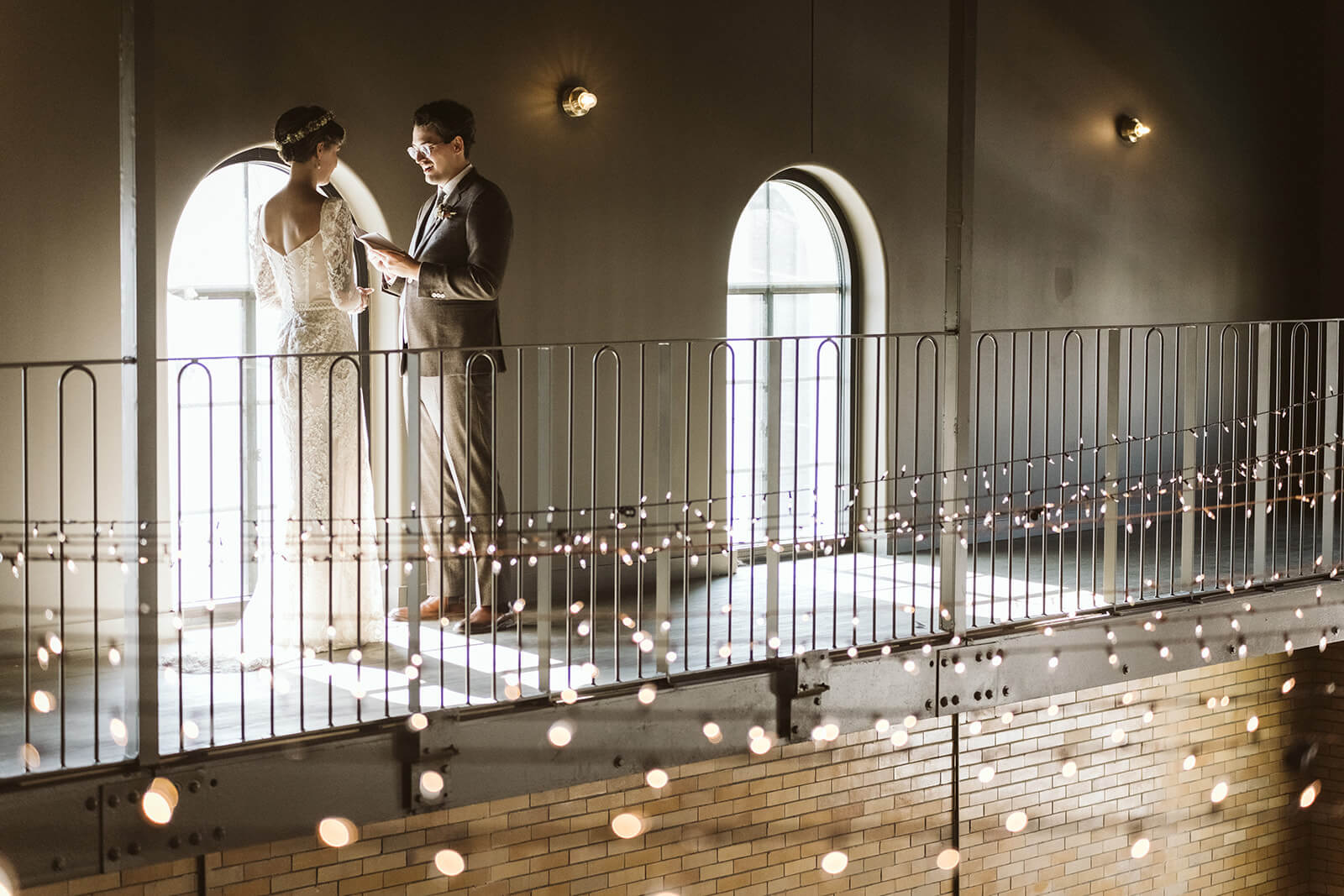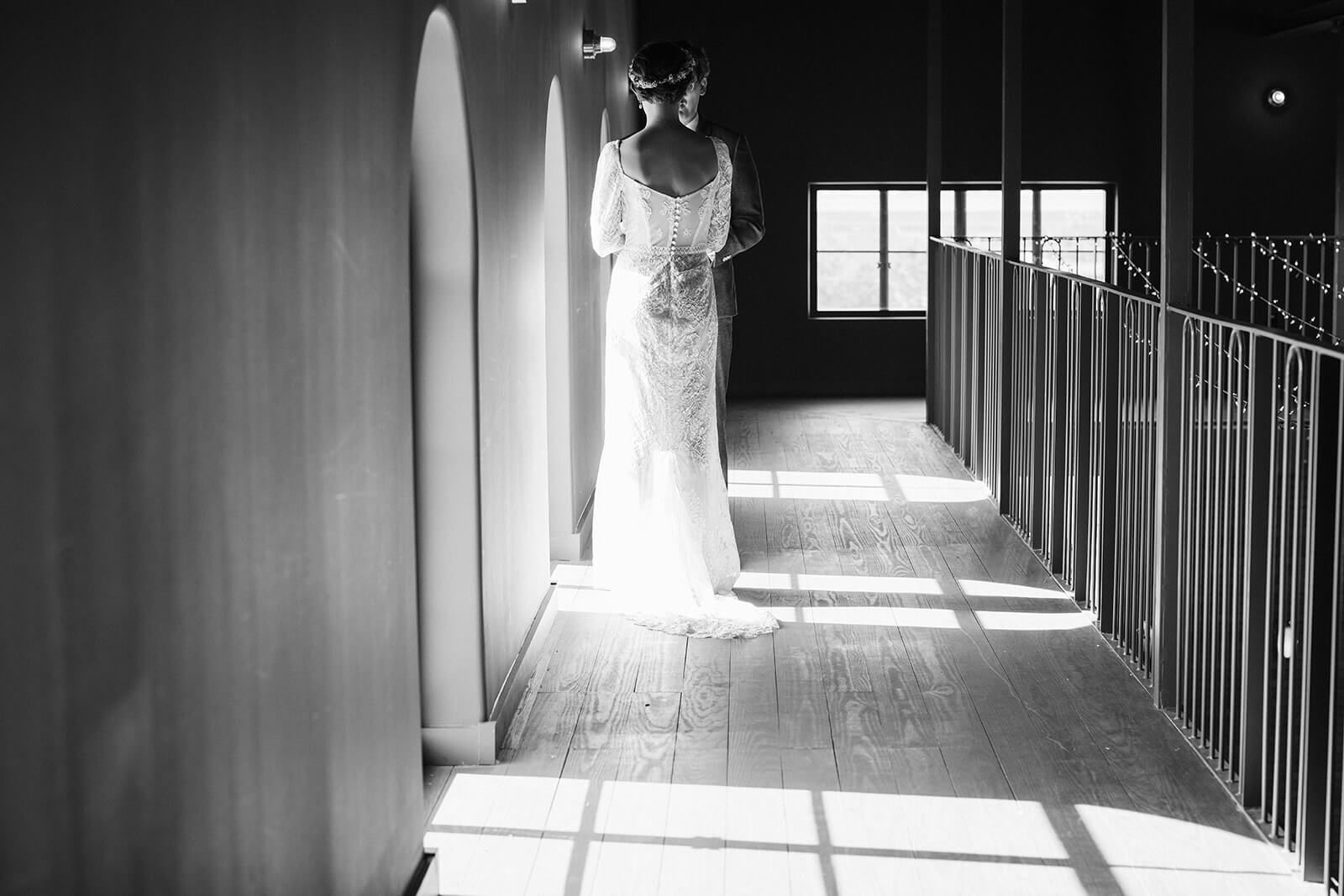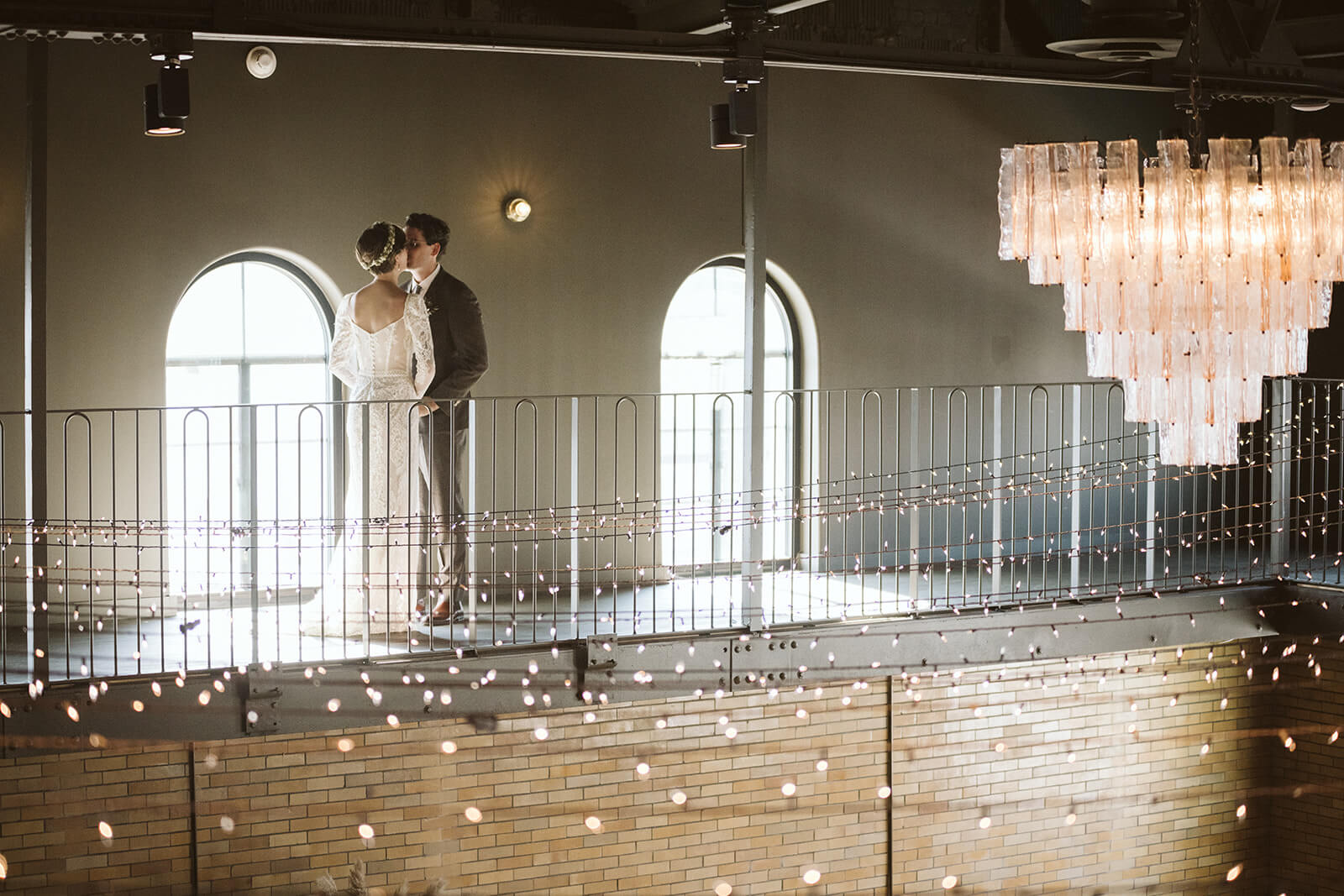 Planning a Wedding at the Common House Chattanooga
One of Emily + Pat's favorite things to do is simply walking around Chattanooga. During their free time, they have spent countless hours simply talking and wandering new routes. In their six years of living in Chattanooga, they never could have imagined that one day, the abandoned building that they pass on their way home from grabbing coffee would one day become their wedding venue.
The Common House Chattanooga opened back in May 2021. Like the other two house locations in Charlottesville and Richmond, Virginia, the Common House Chattanooga is a social club that was purposefully crafted to be a space for people to gather and make meaningful connections with each other. It's that aspect of connection that makes the Common House a popular venue destination for couples to host weddings and elopements.
Weddings hosted at the Common House Chattanooga can be as elaborate or as simple as you and your partner are comfortable with. As an all-inclusive wedding venue, the Common House covers all aspects of your special day. From the finest details to the culinary delights and expertly crafted beverages, the wedding you've always dreamed of is sure to come to life. Whether you're a club member or not, you can join the ranks of couples who have included the Common House in their love story, adding their part to Chattanooga's rich tapestry.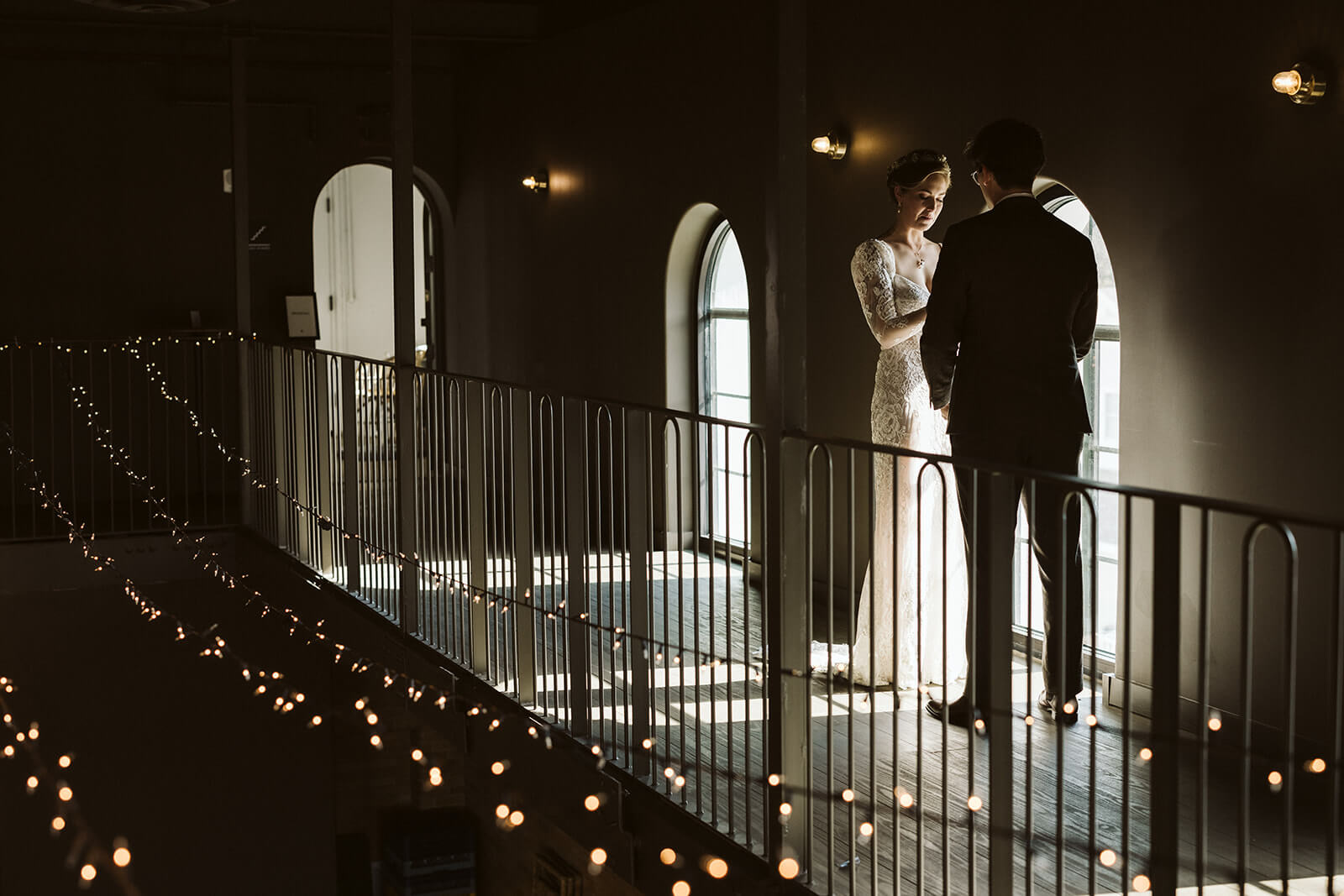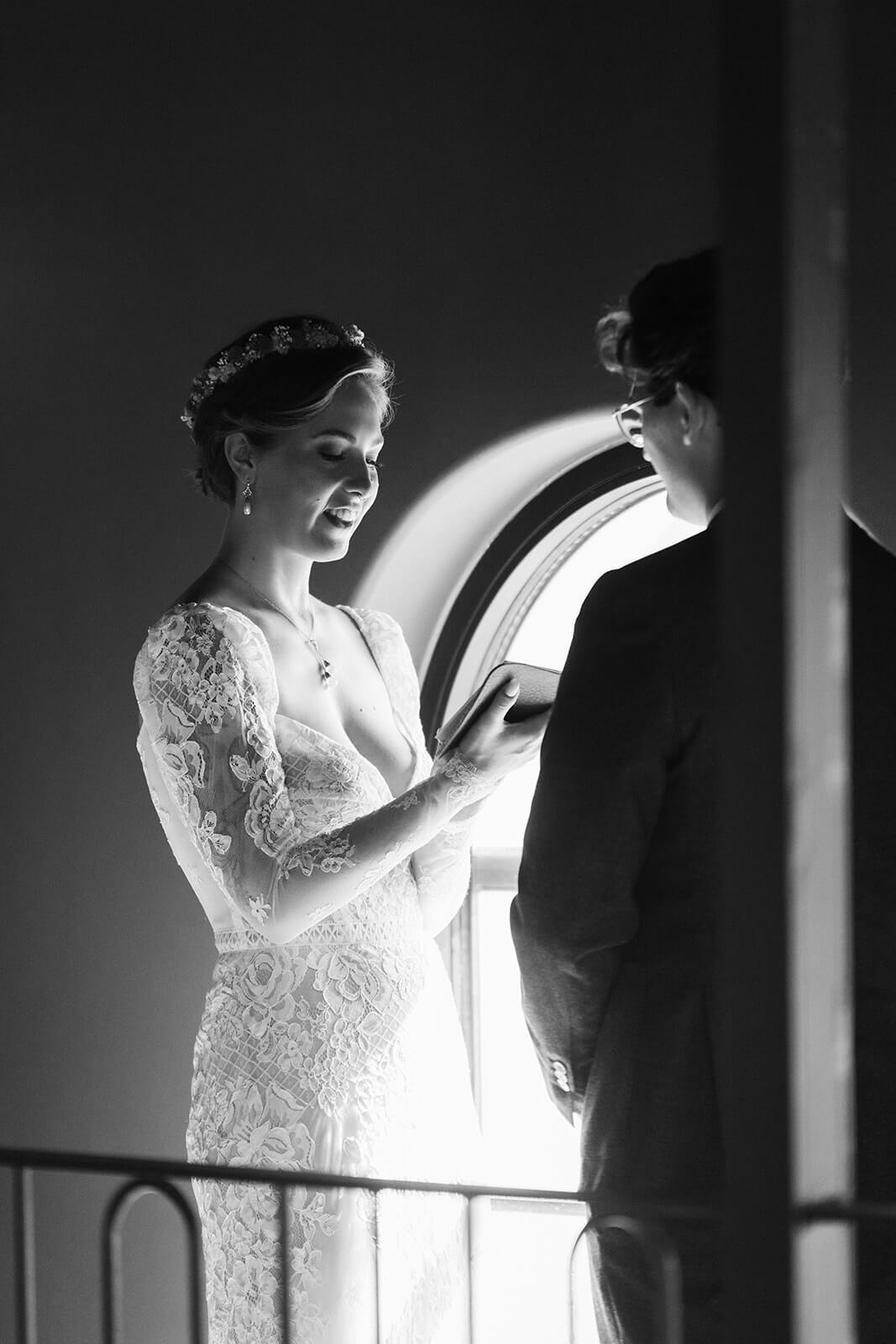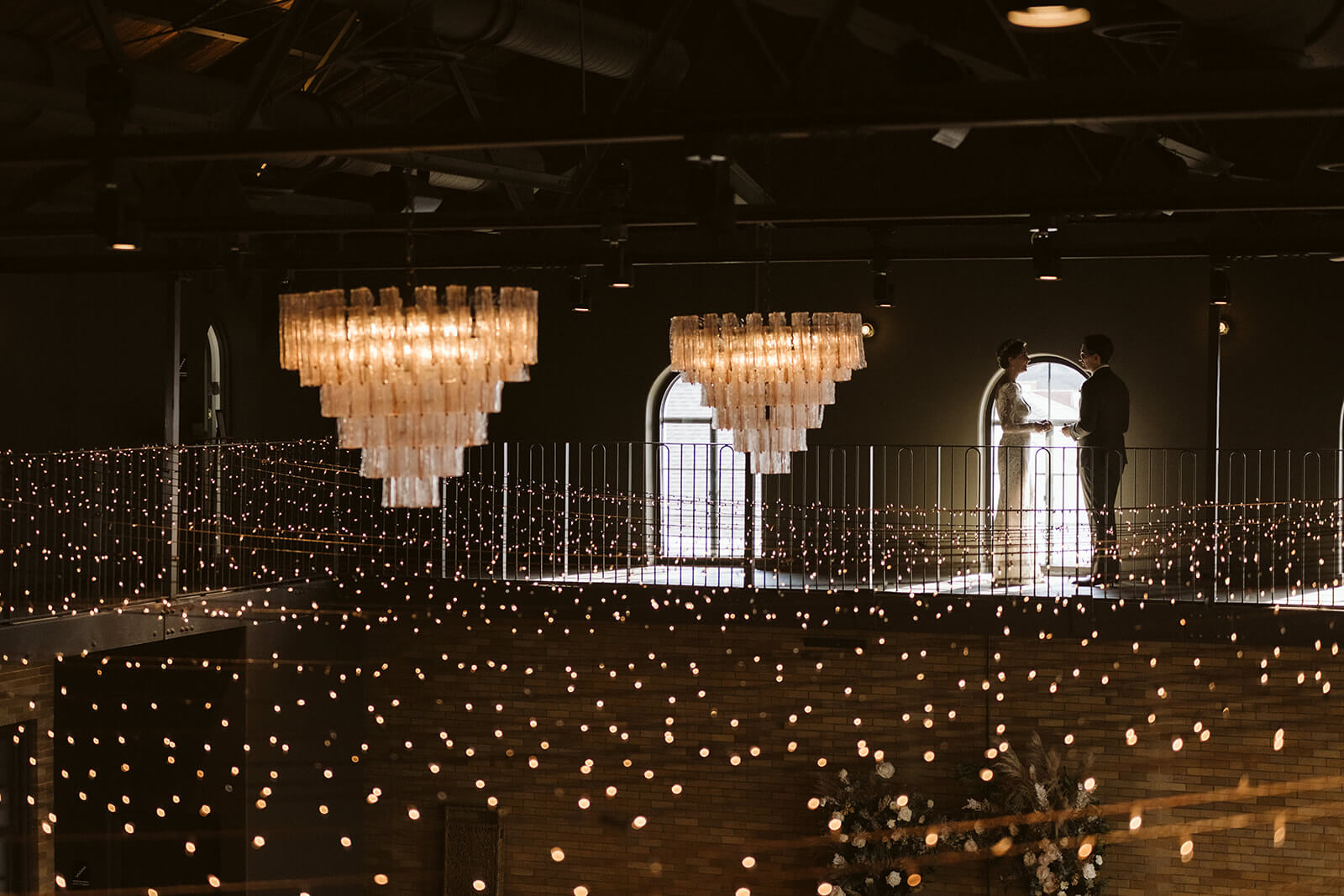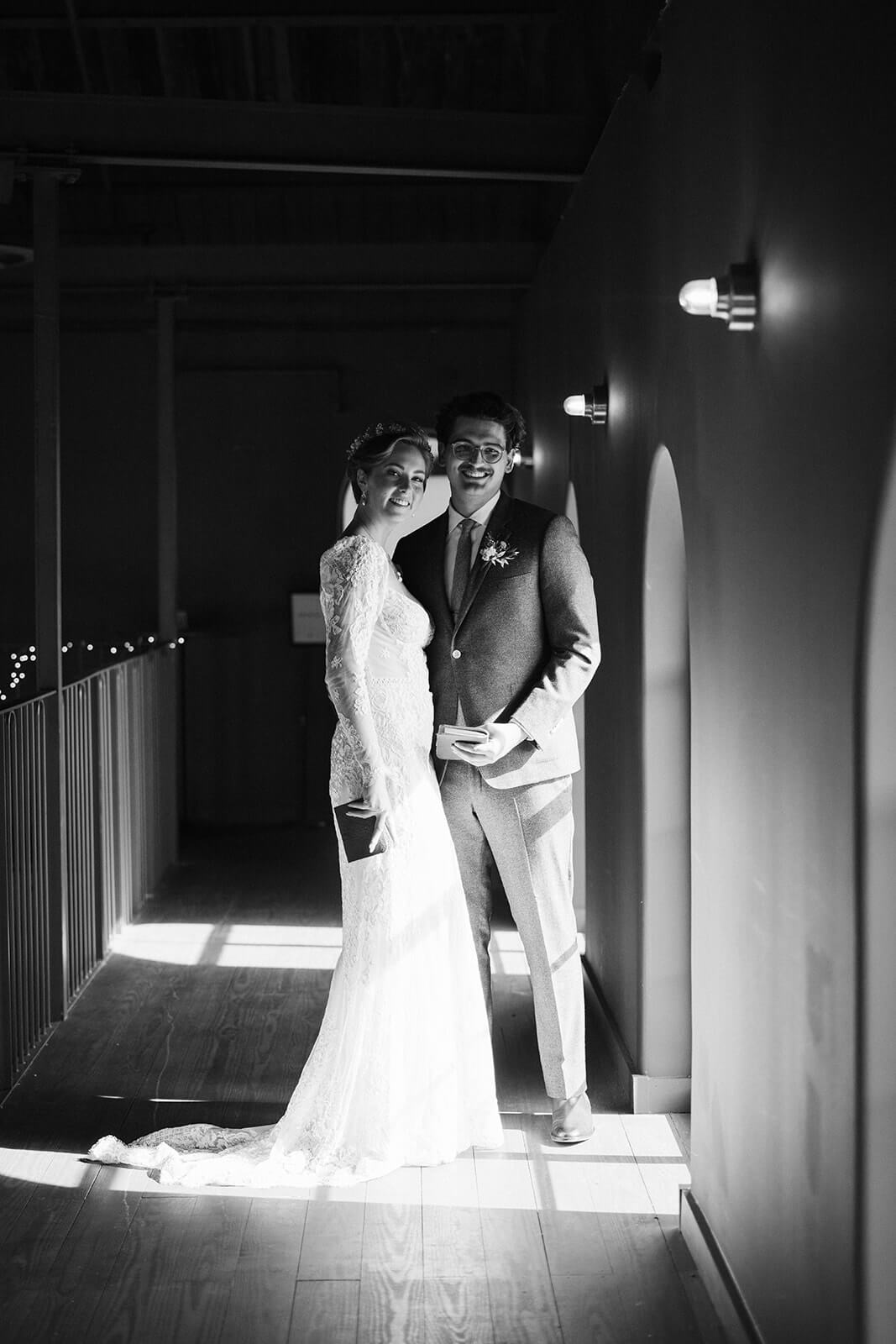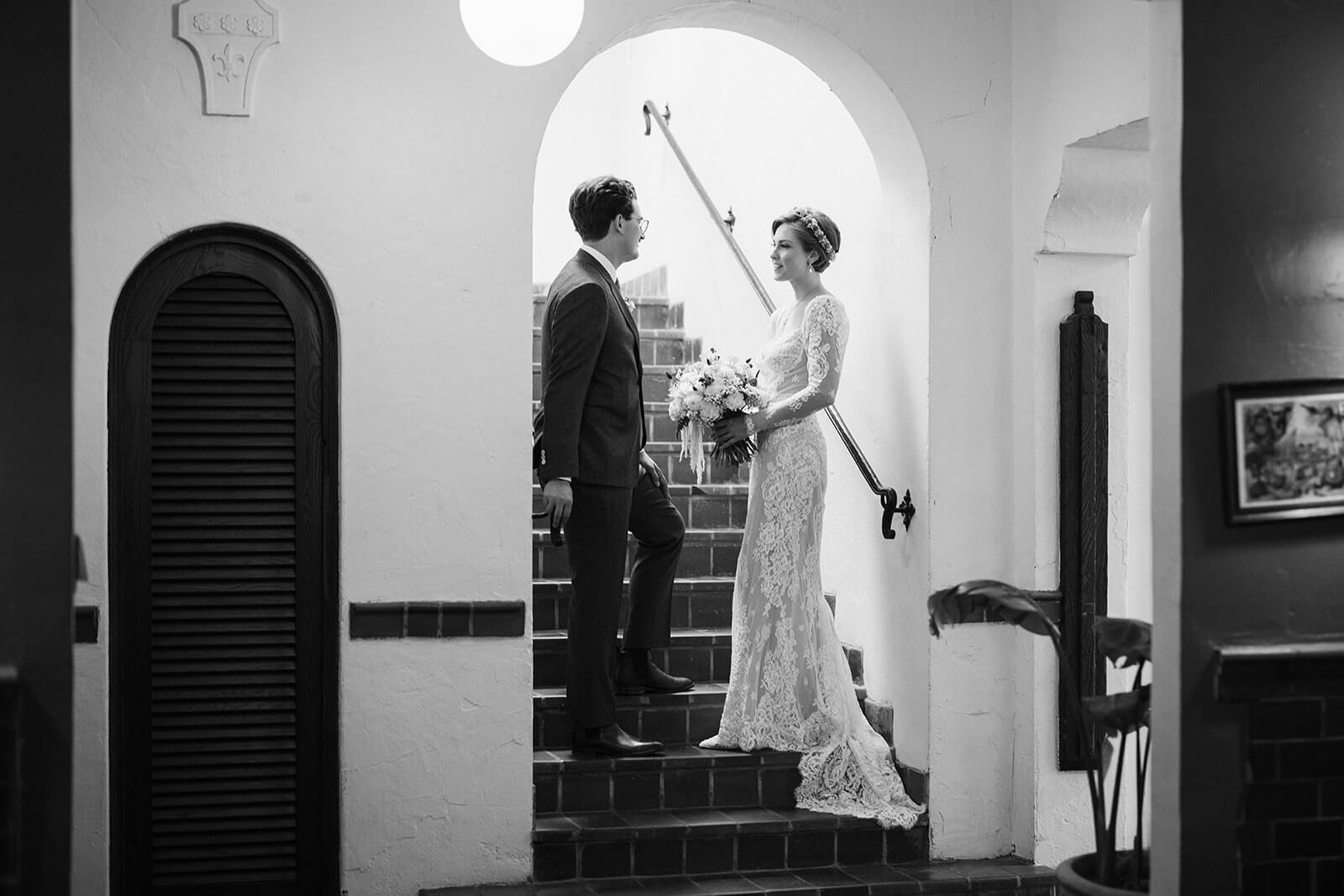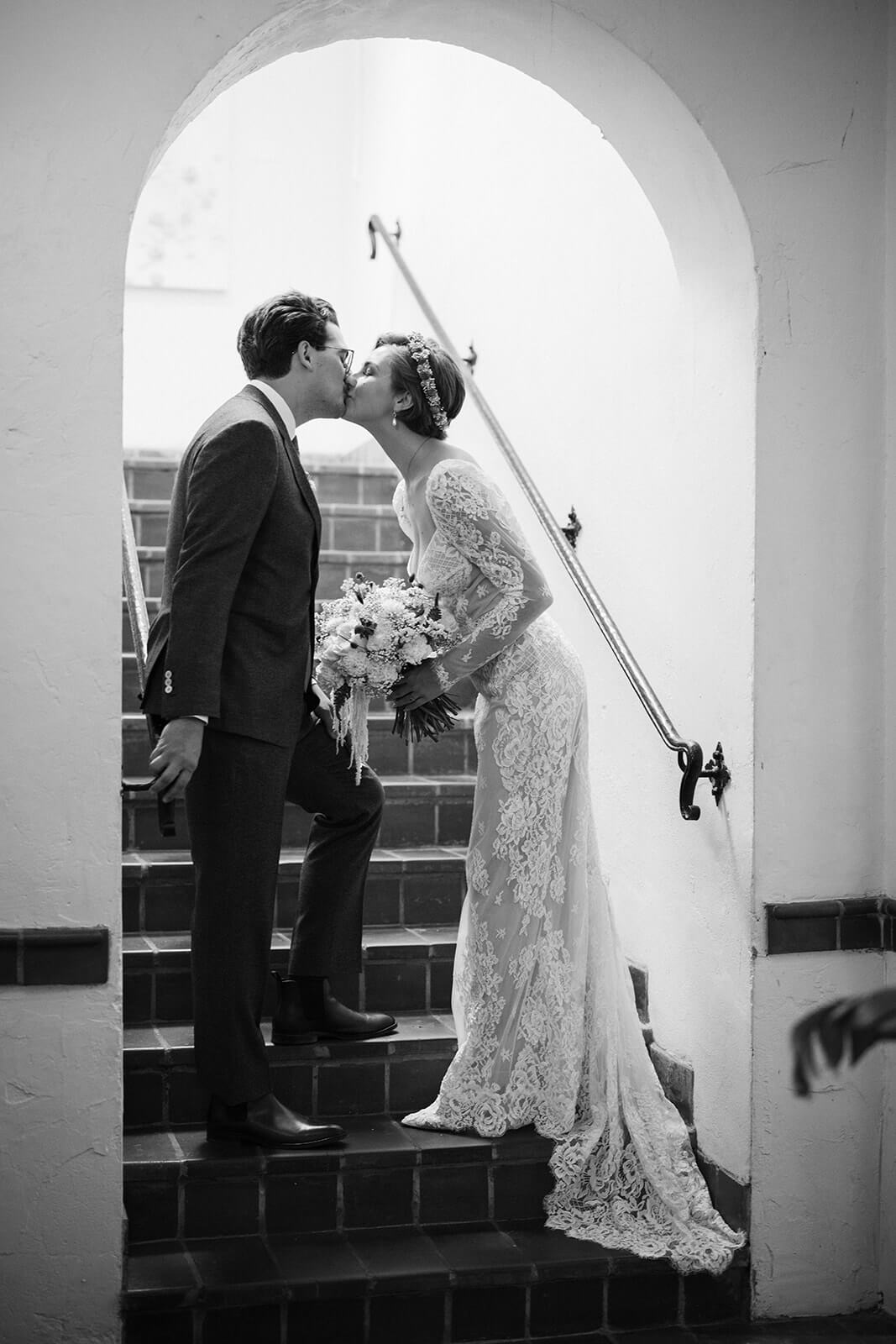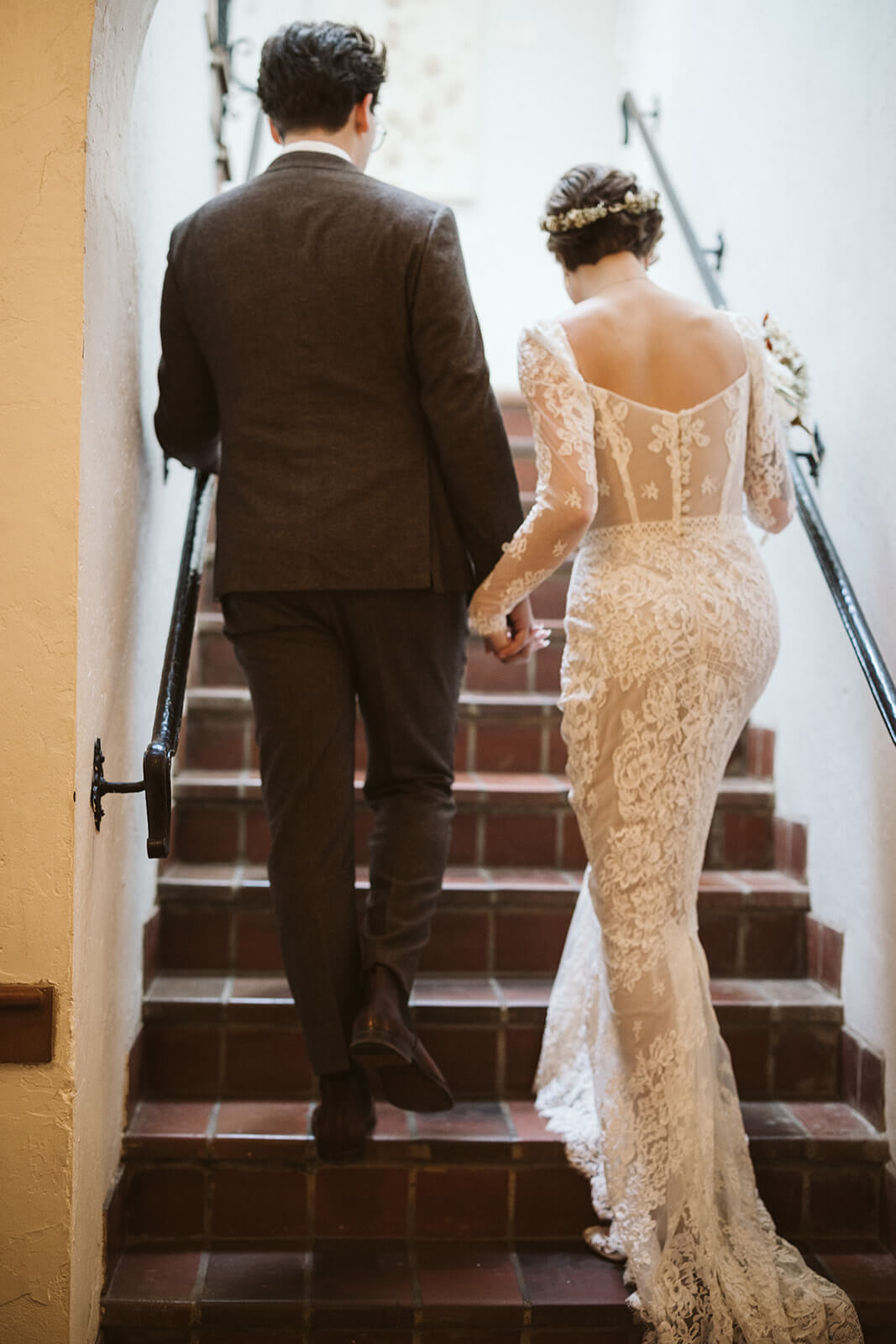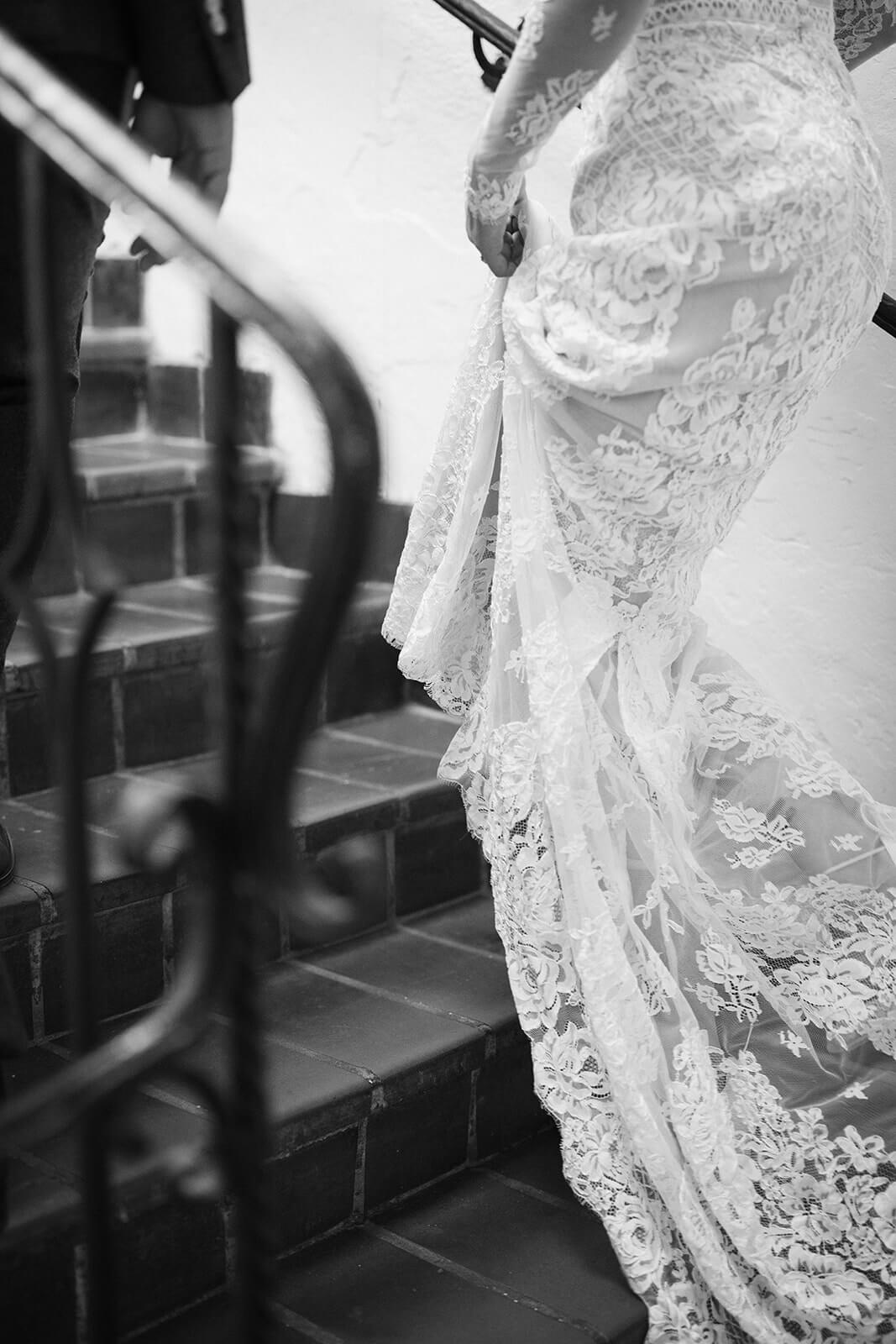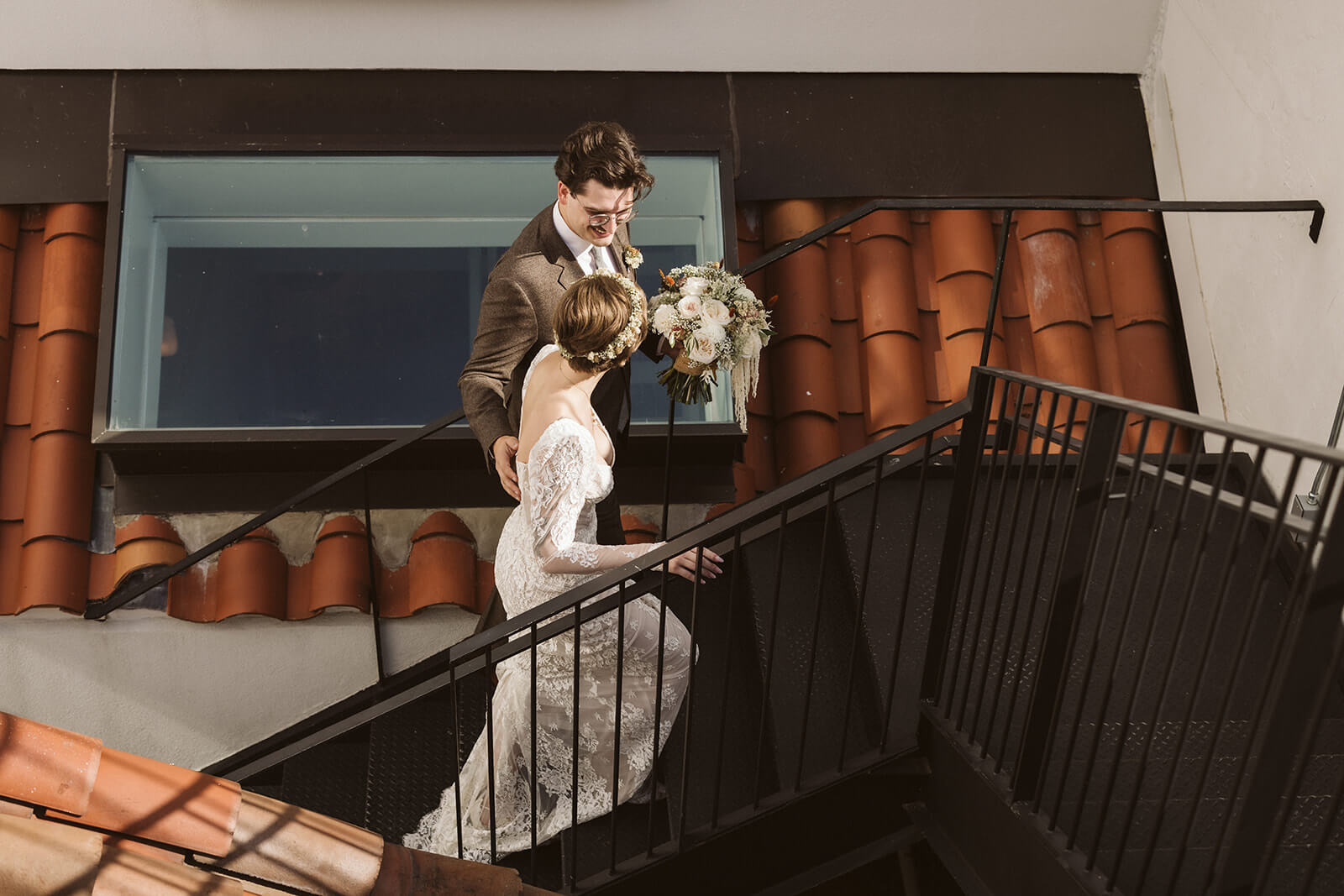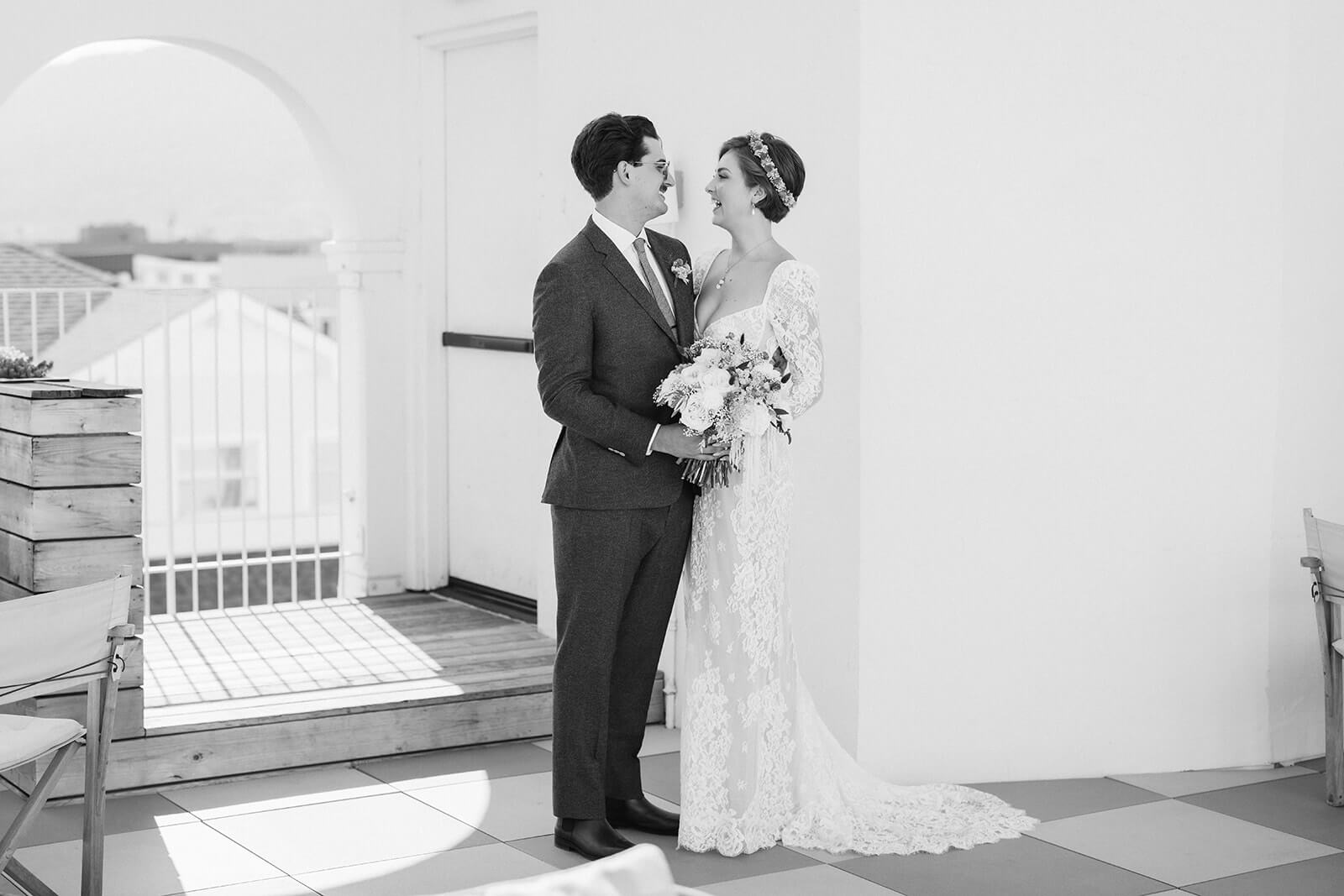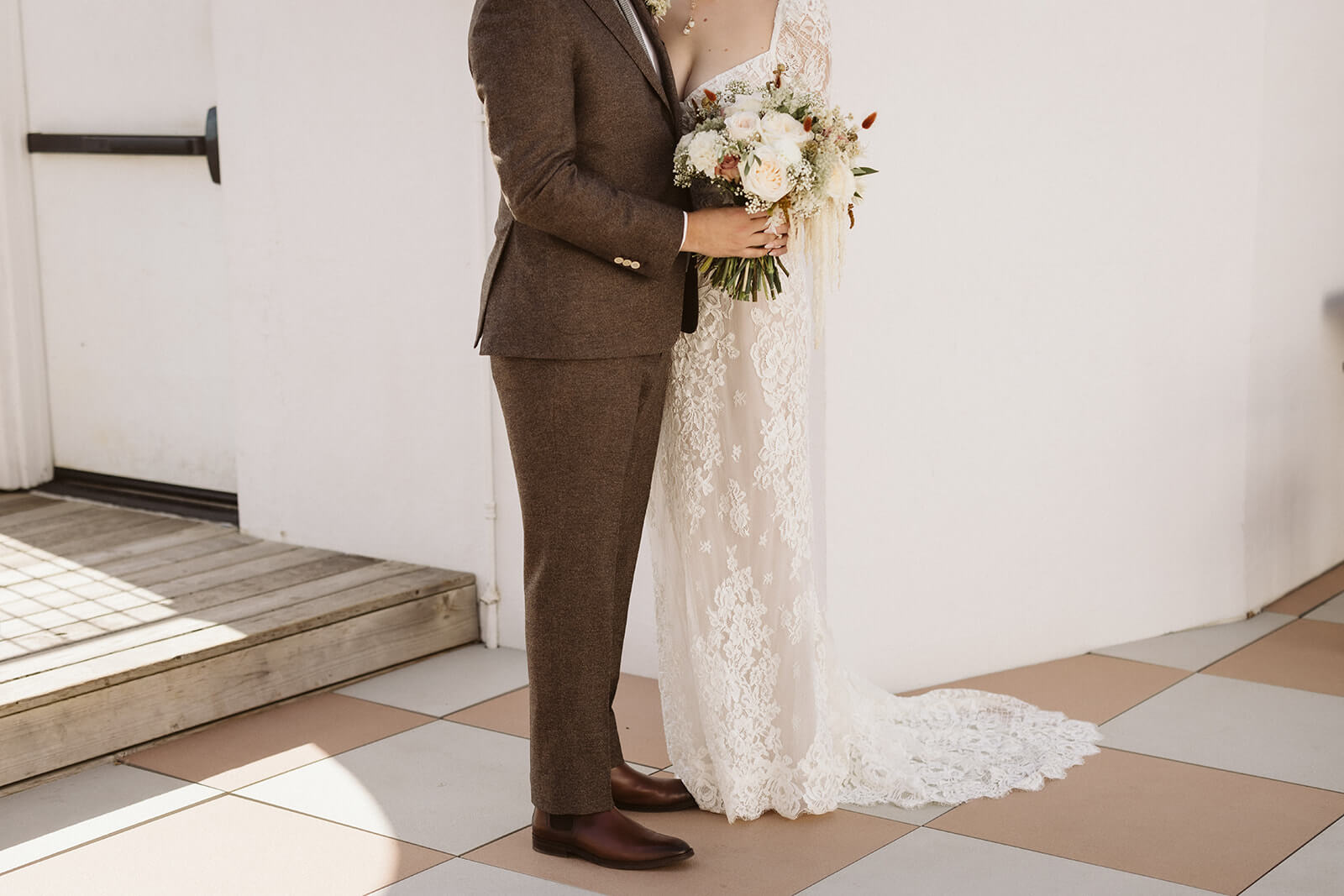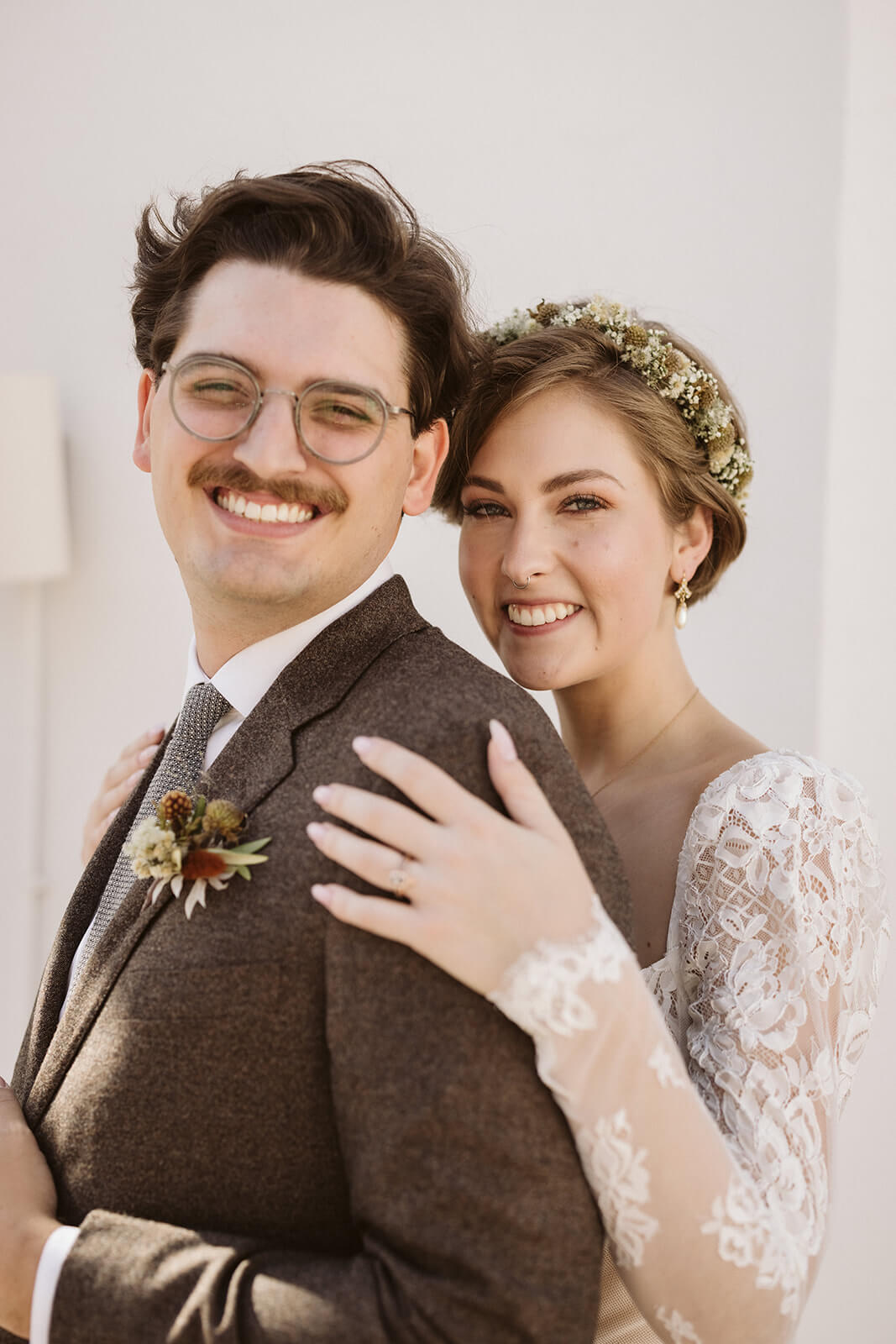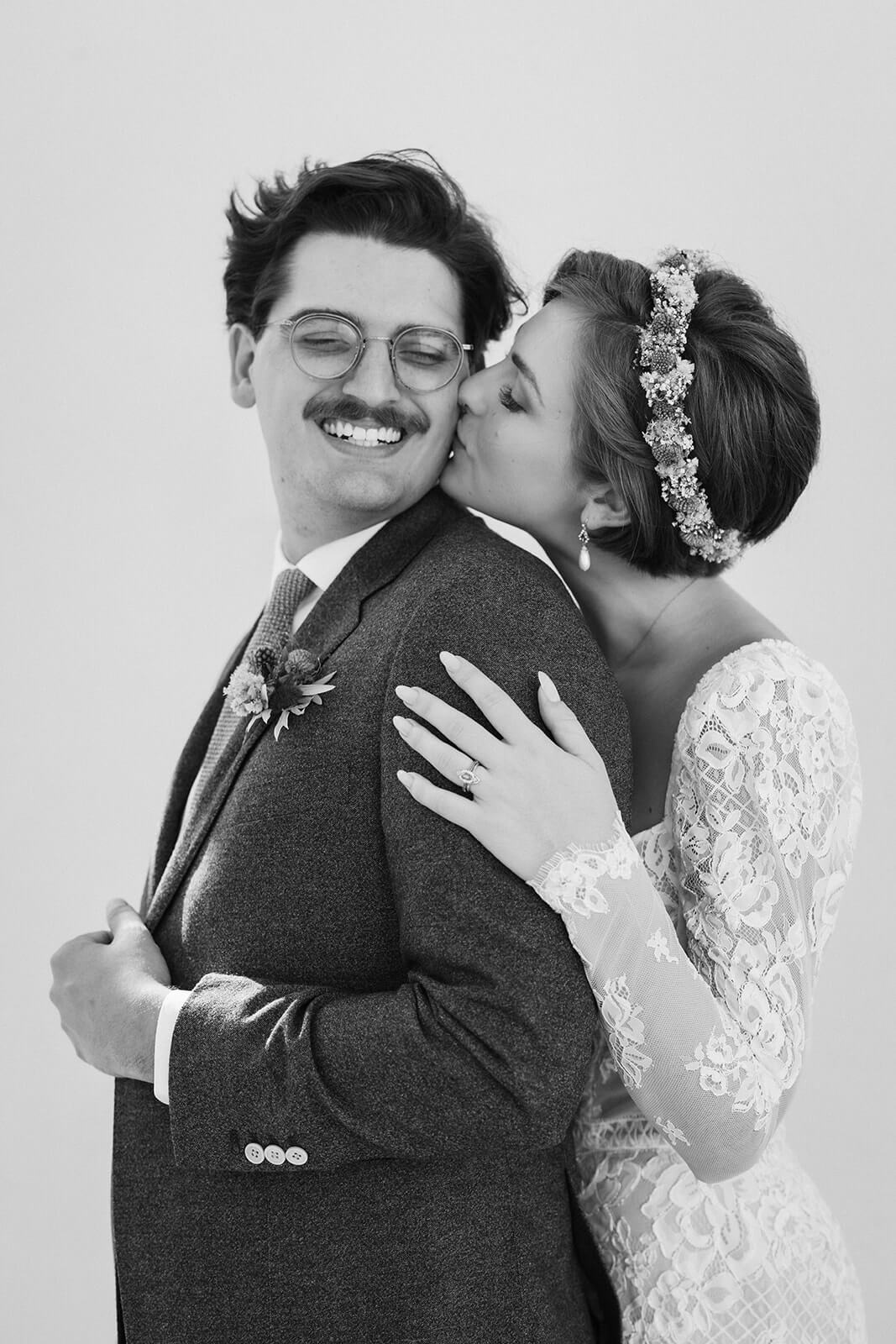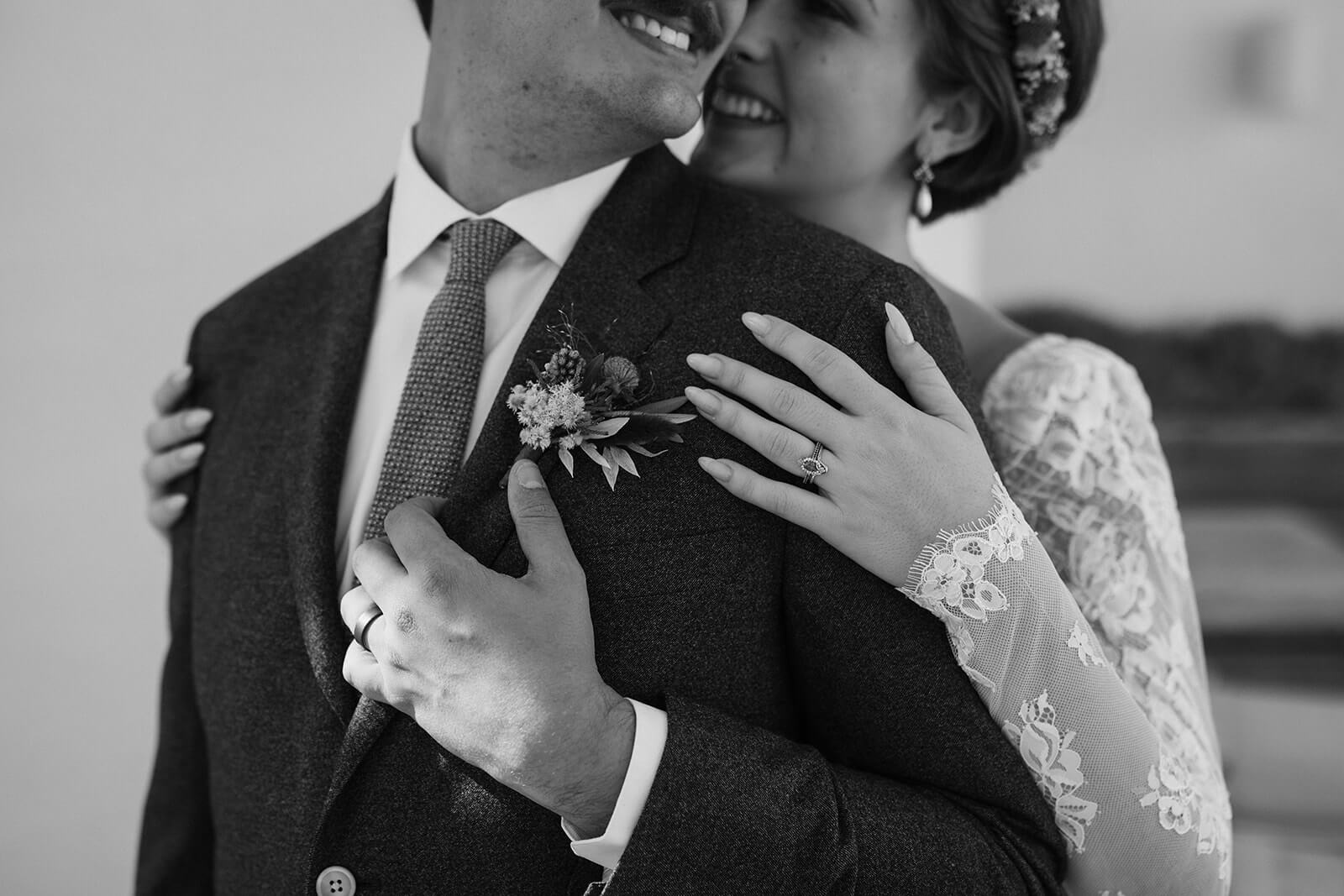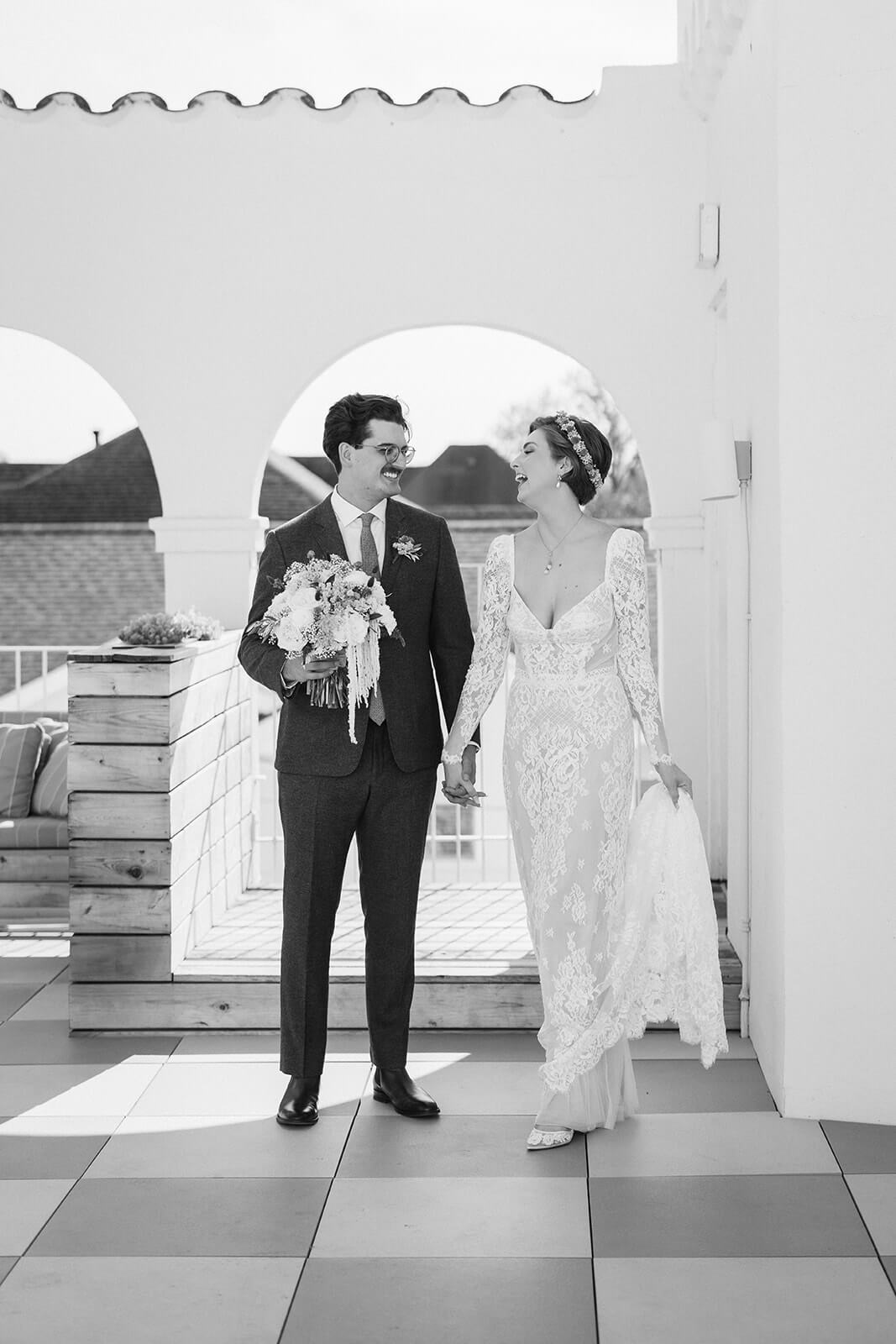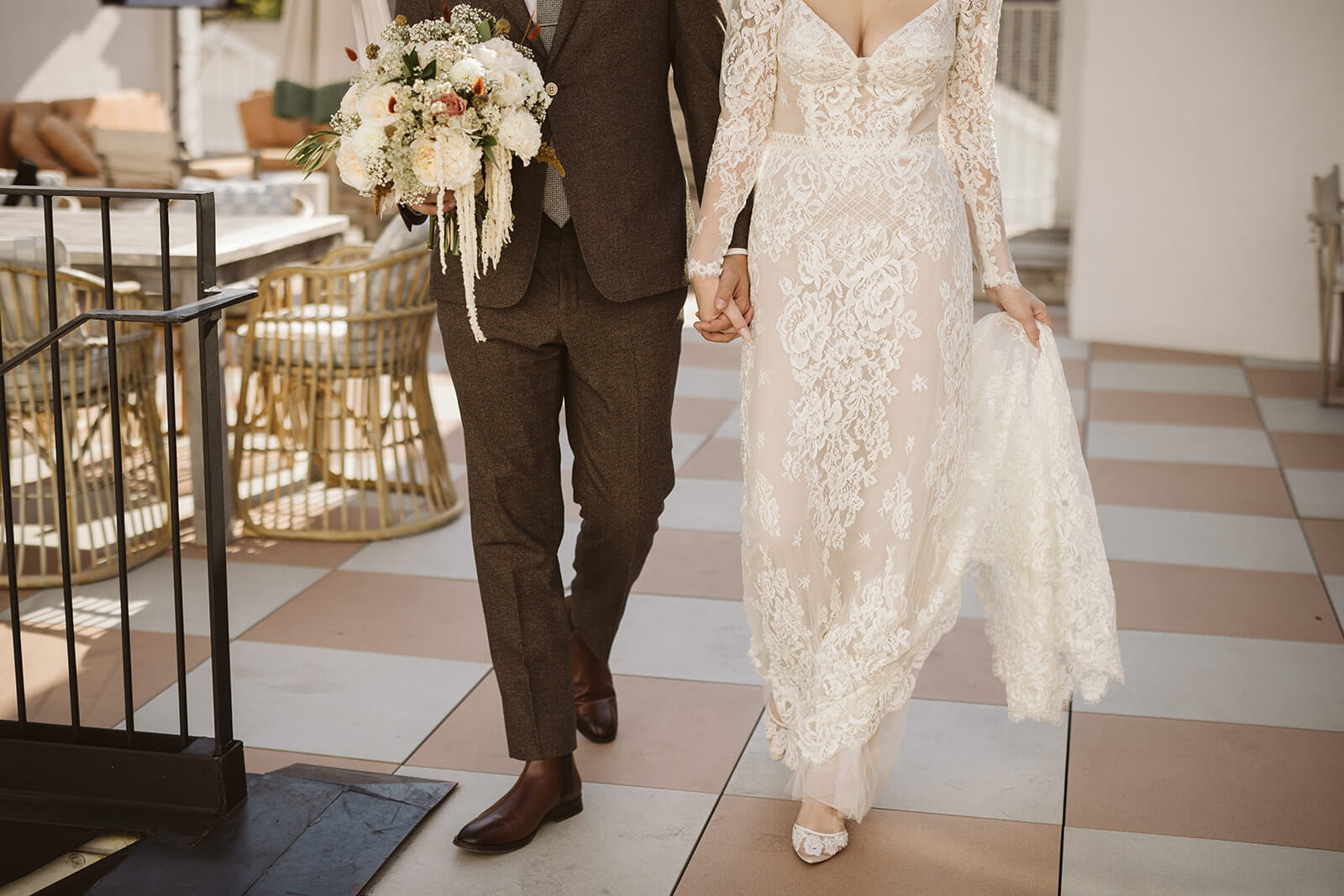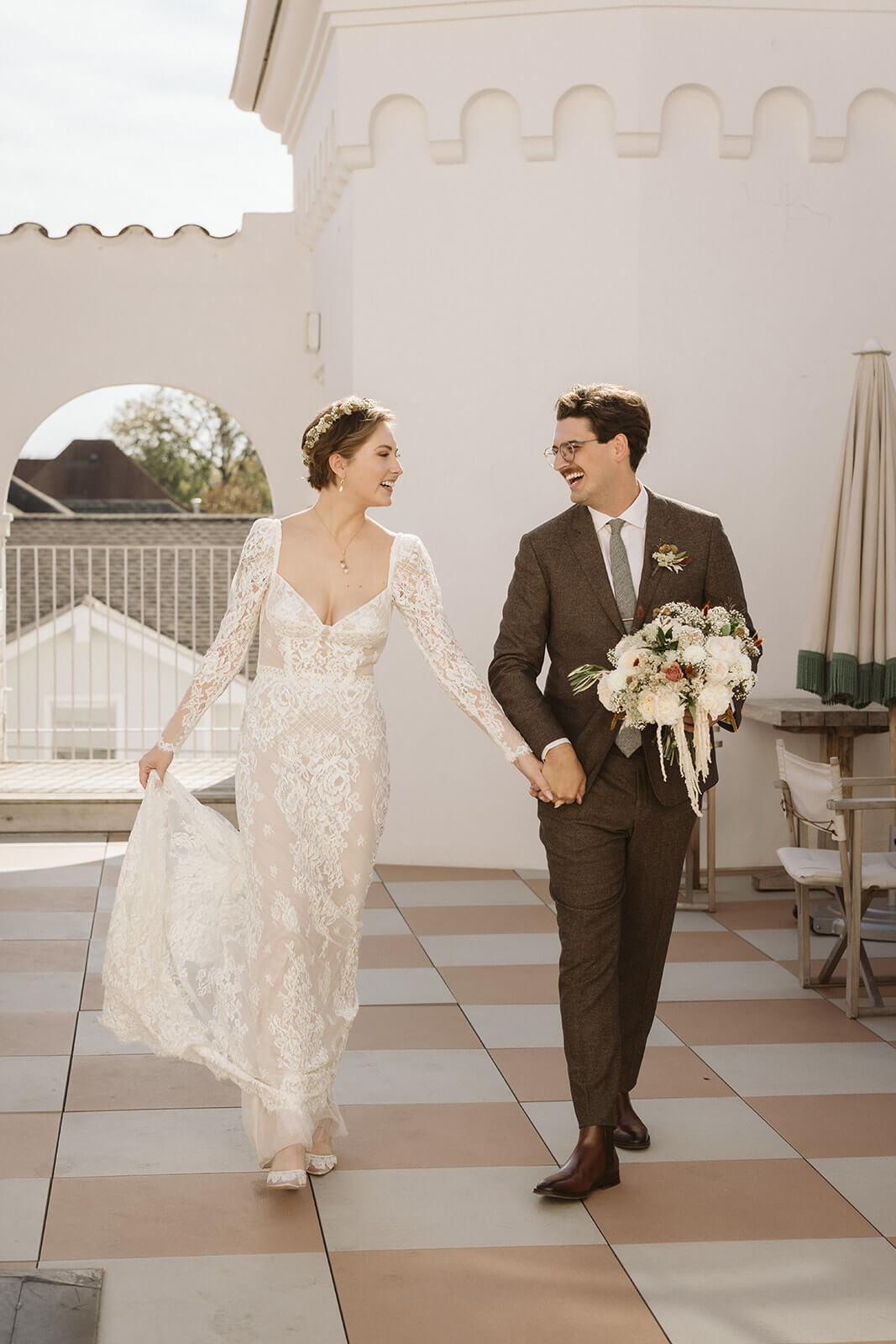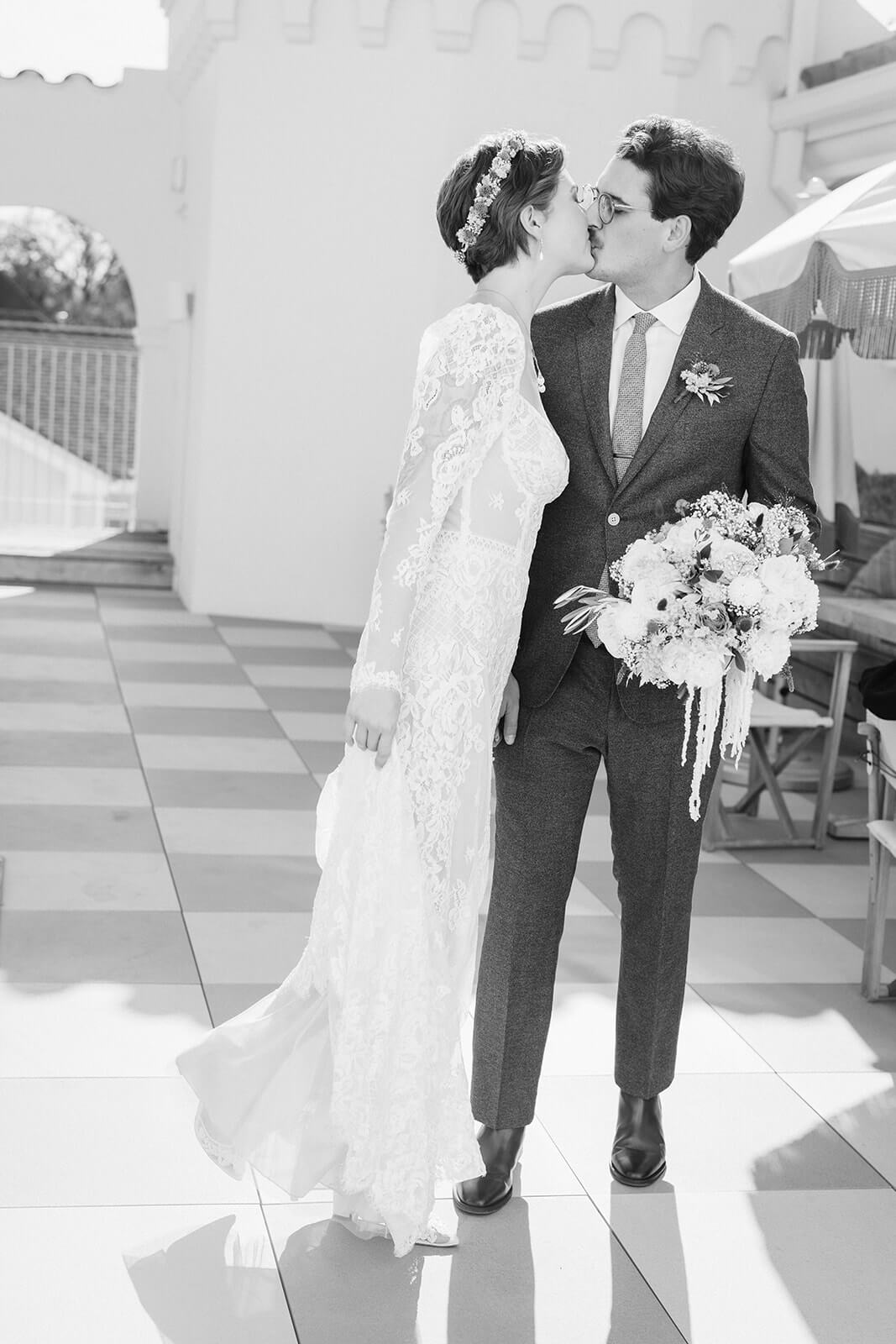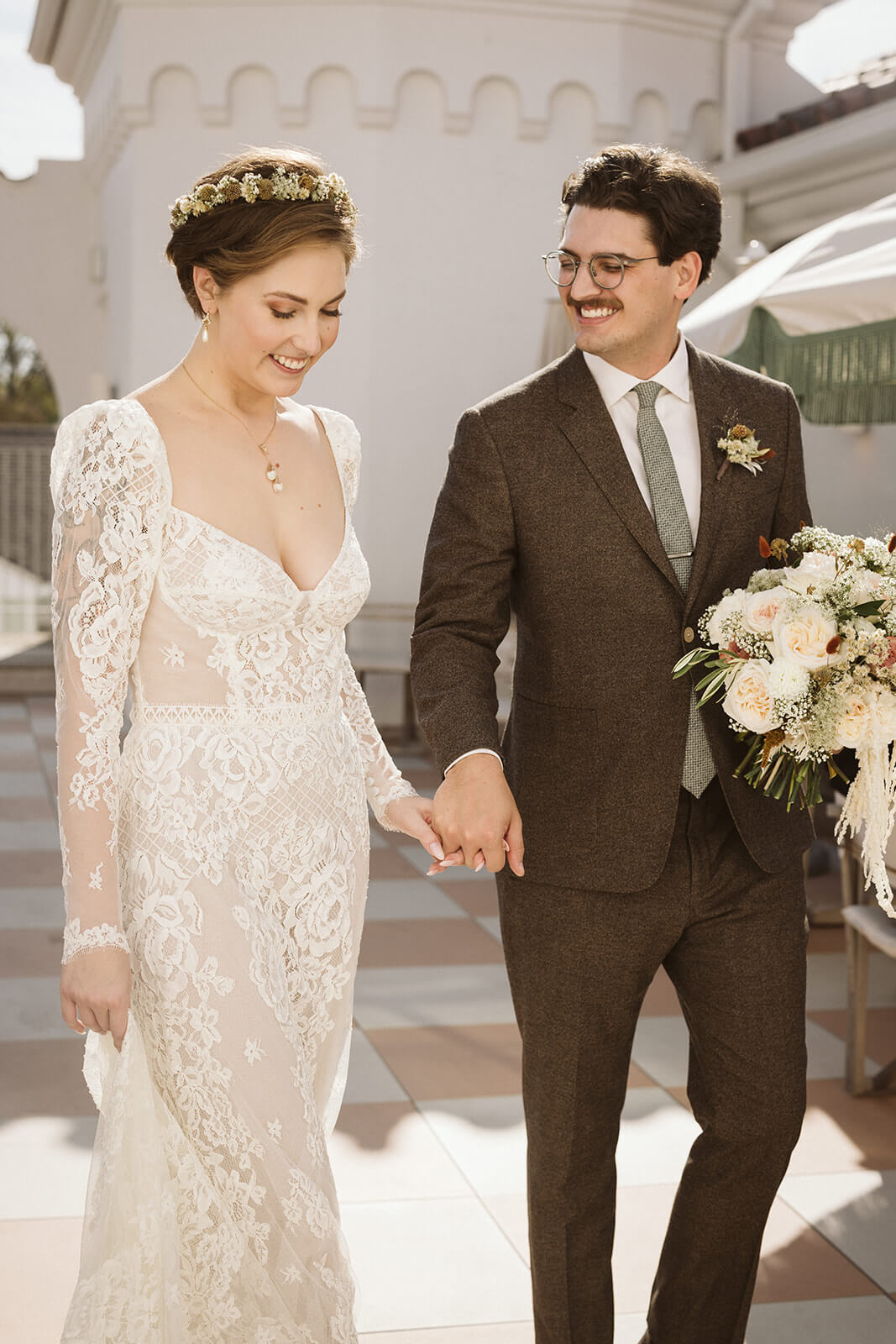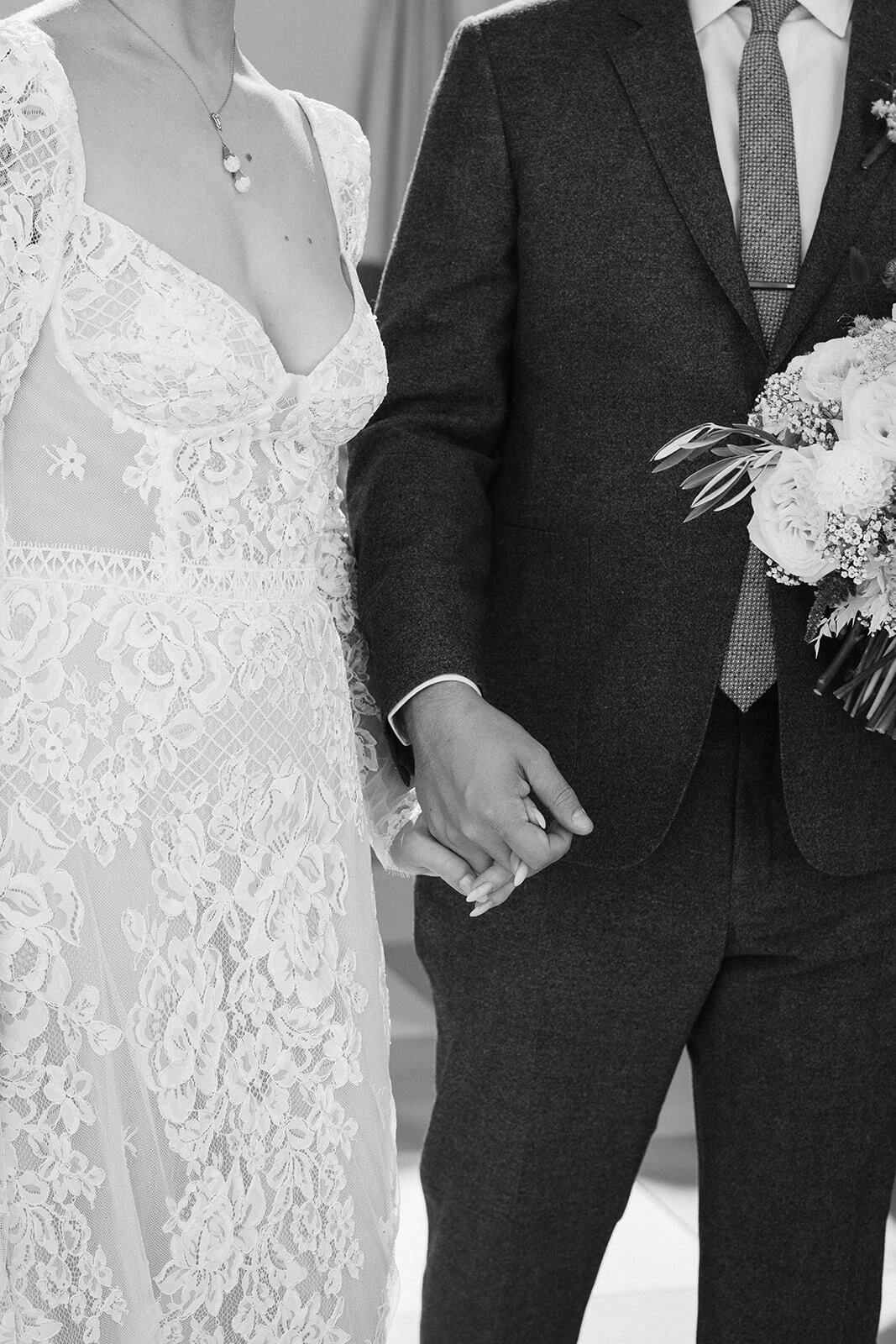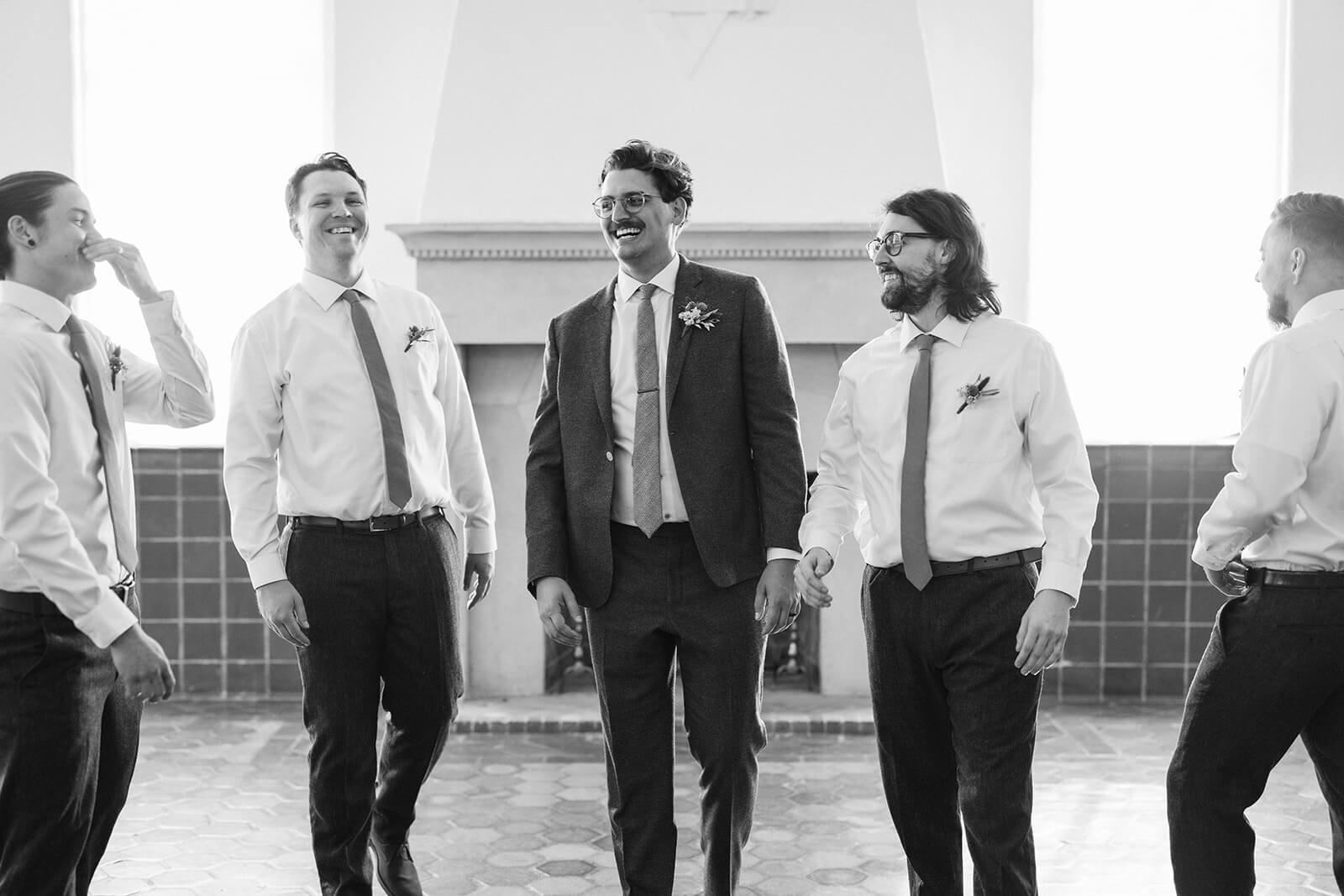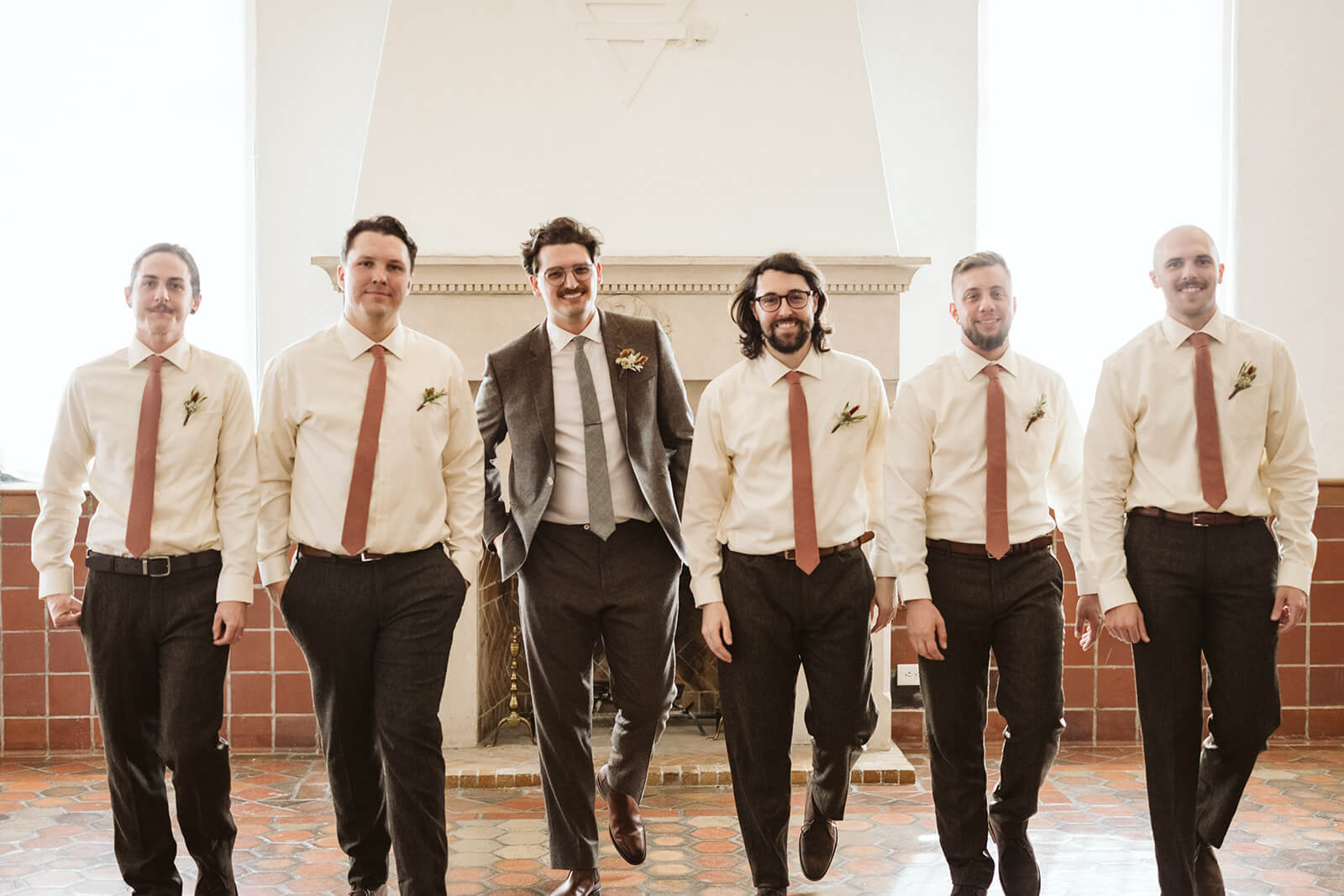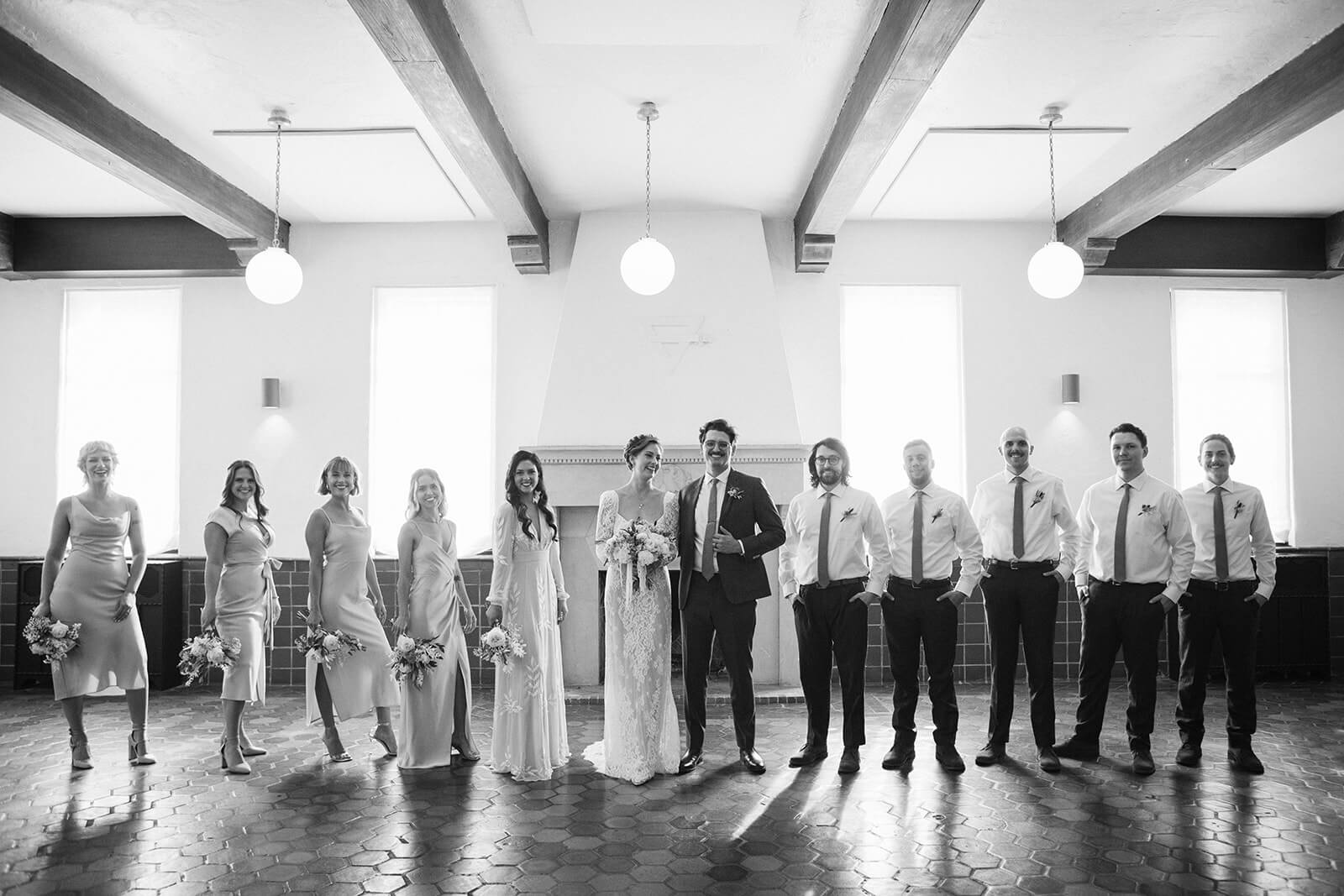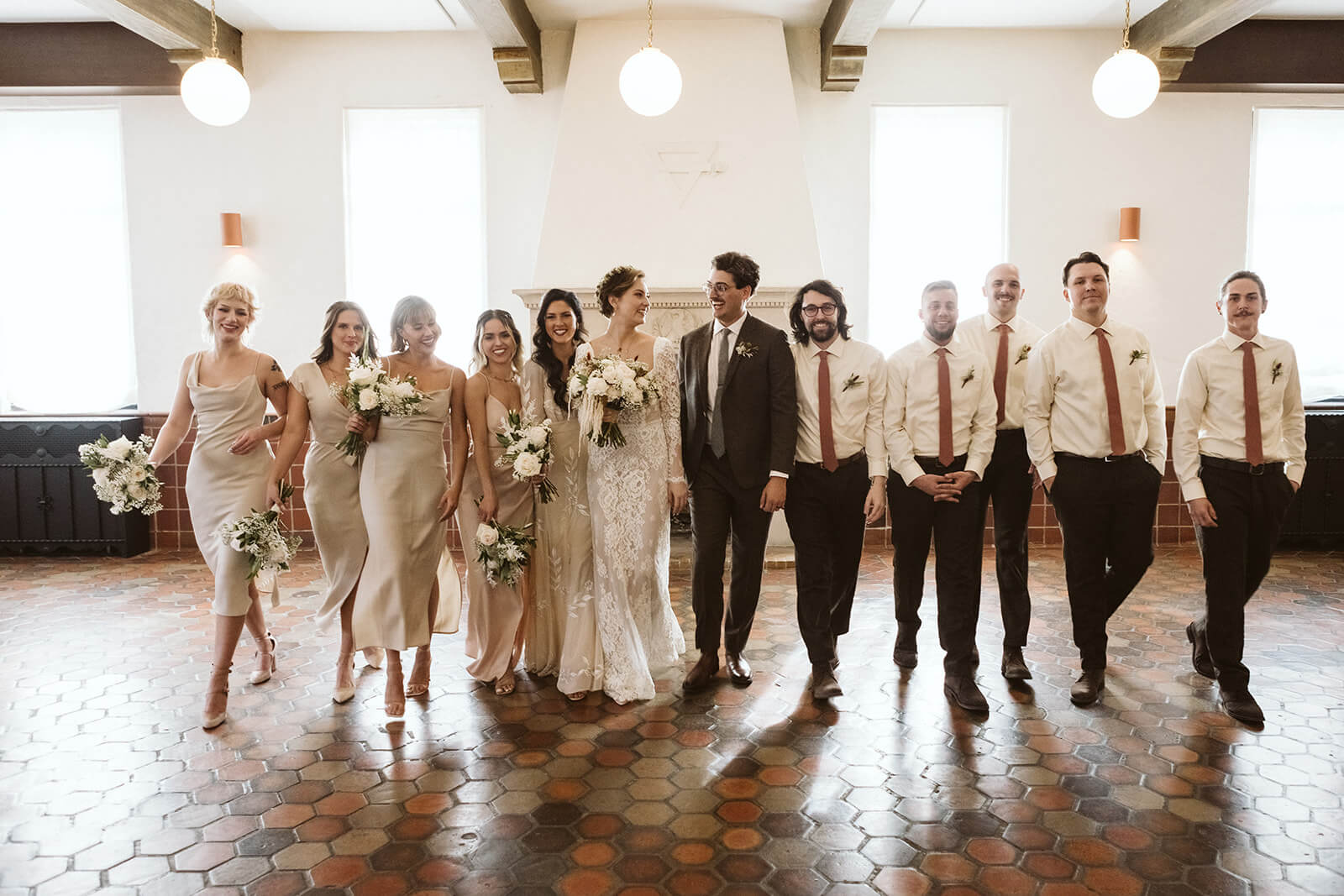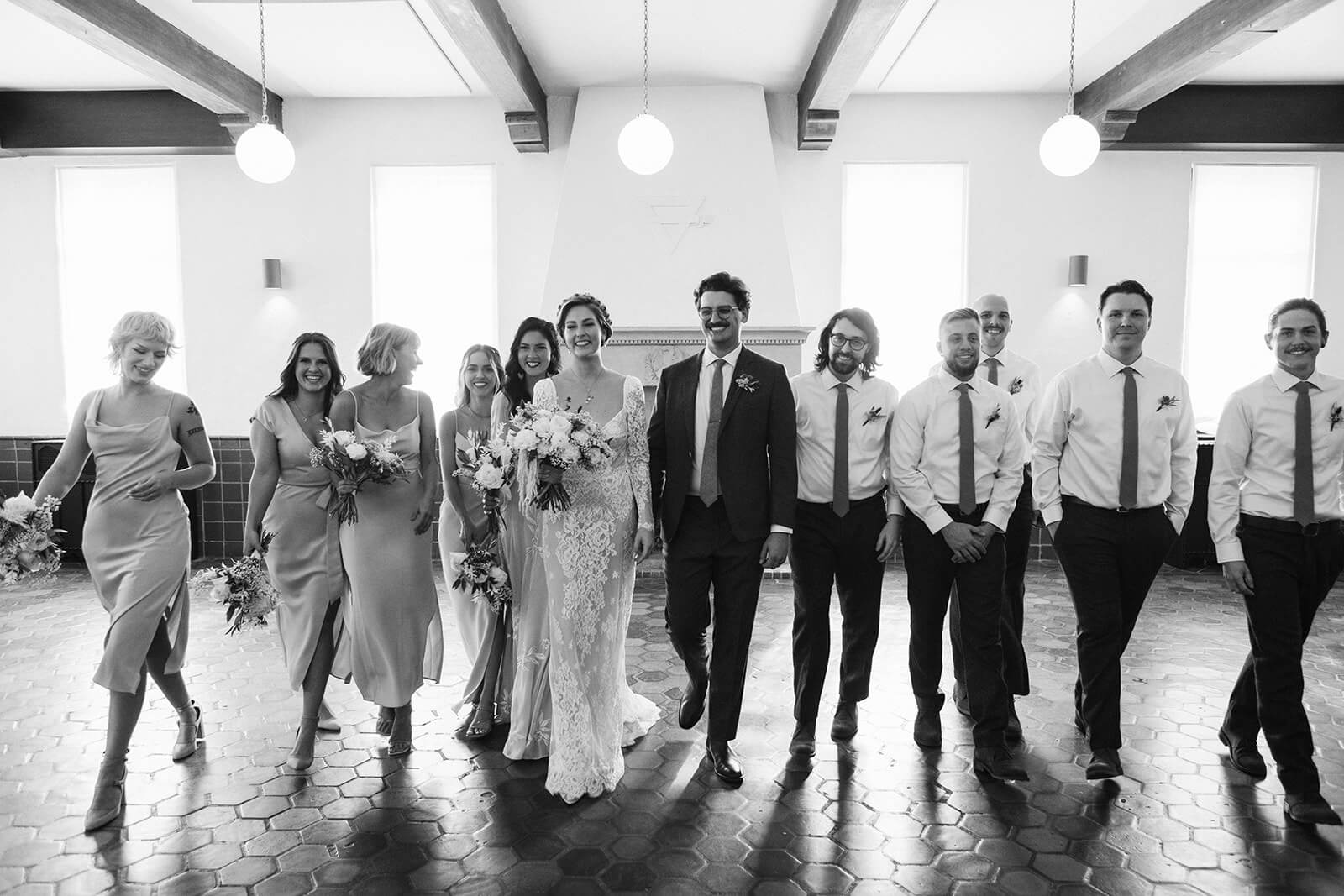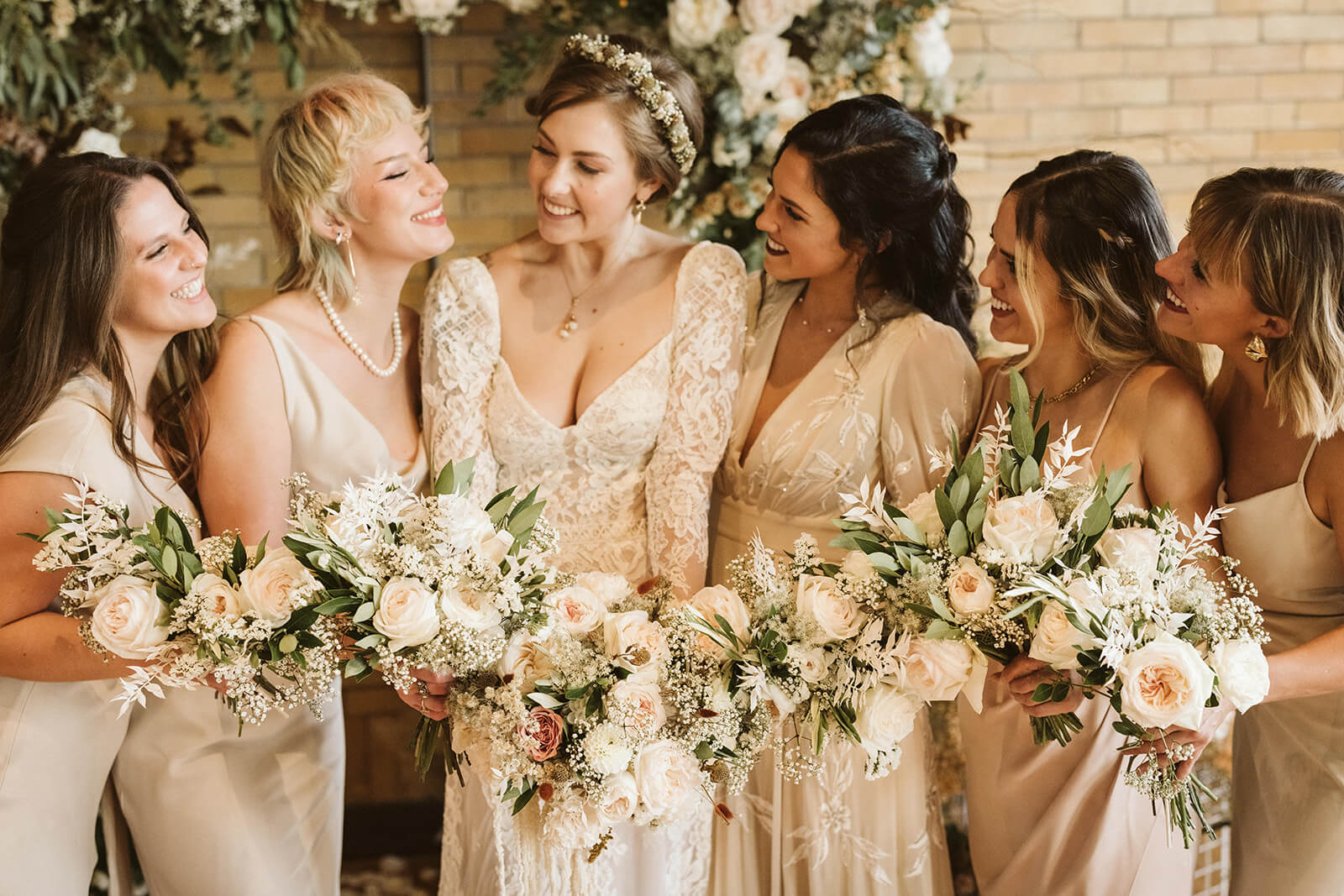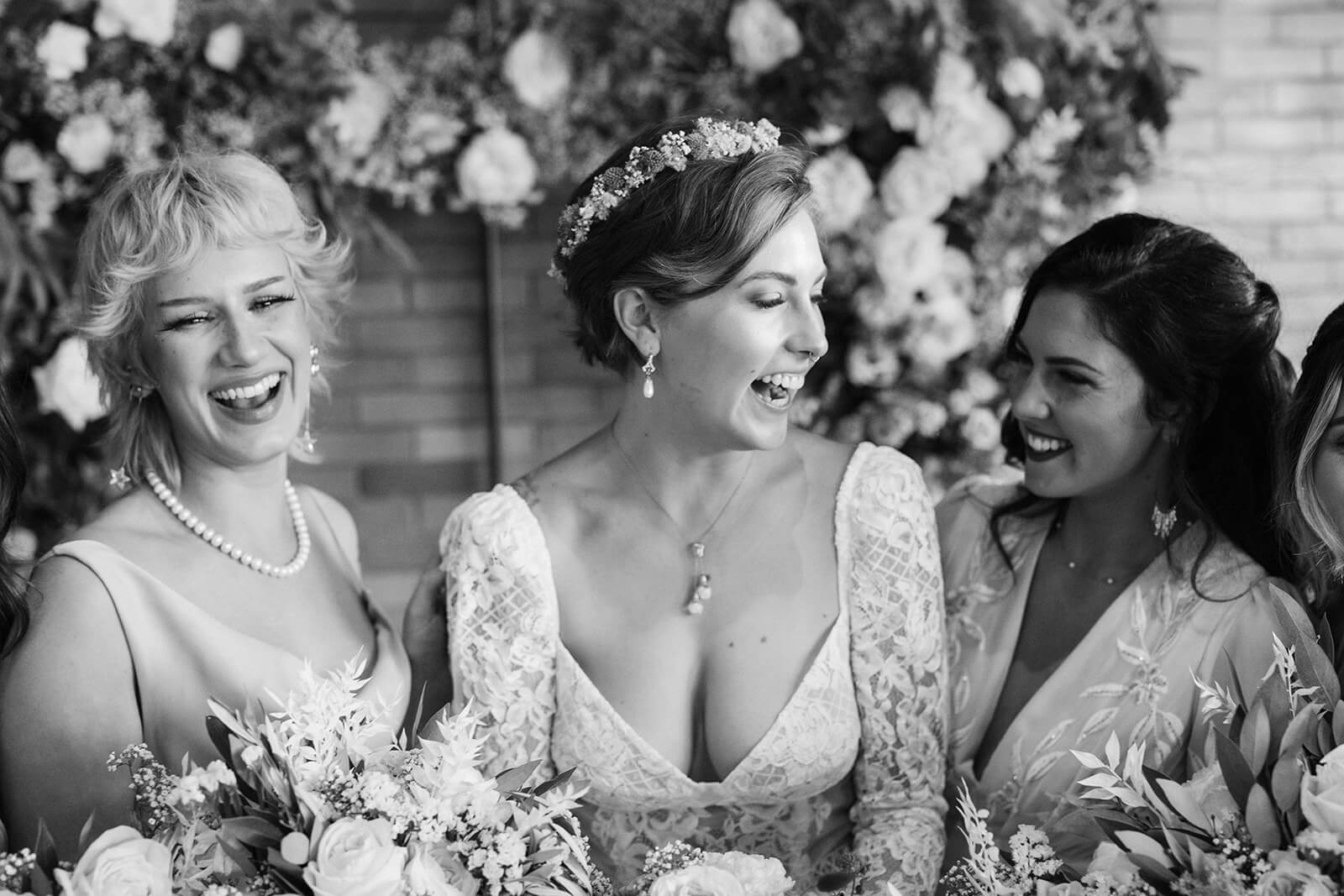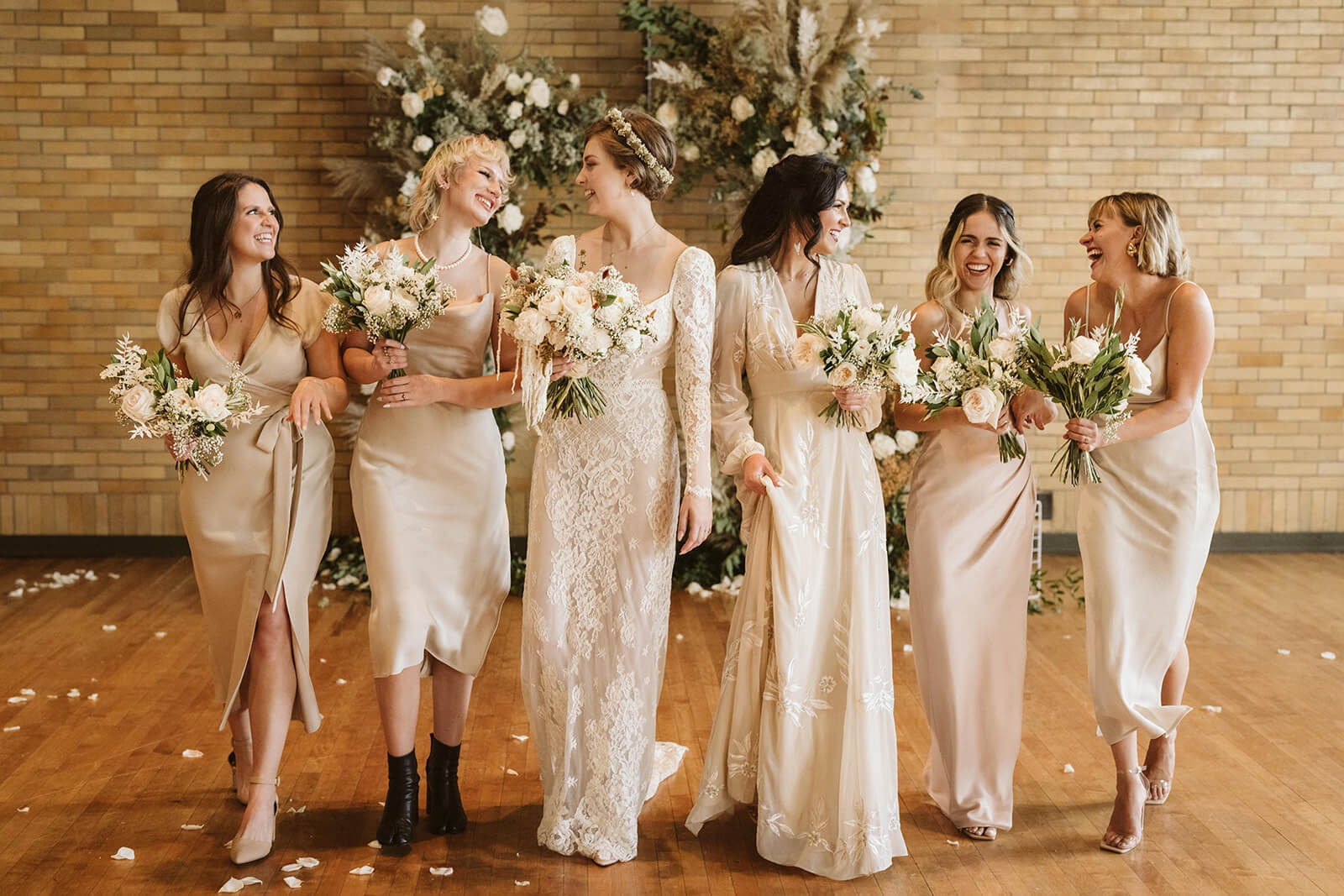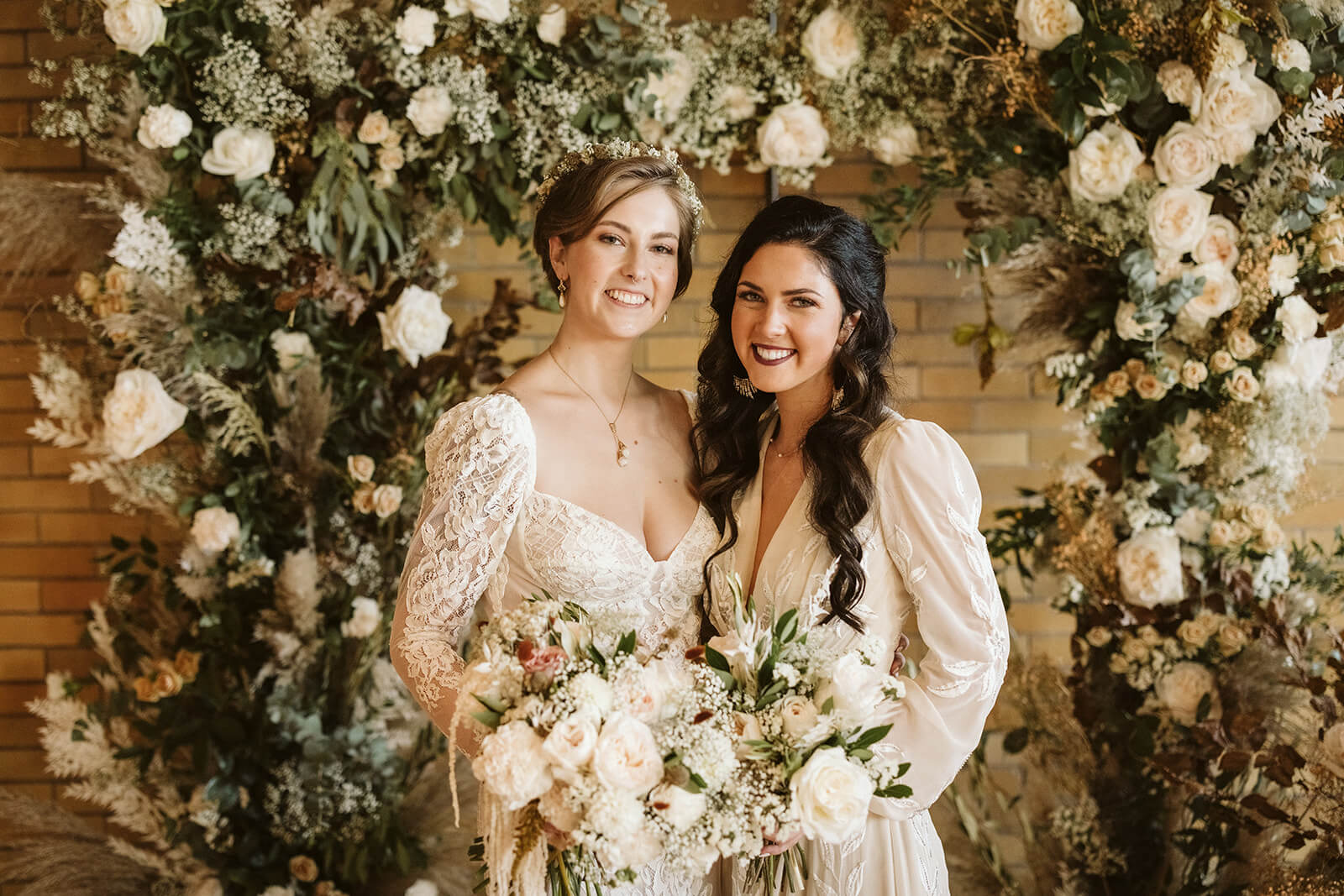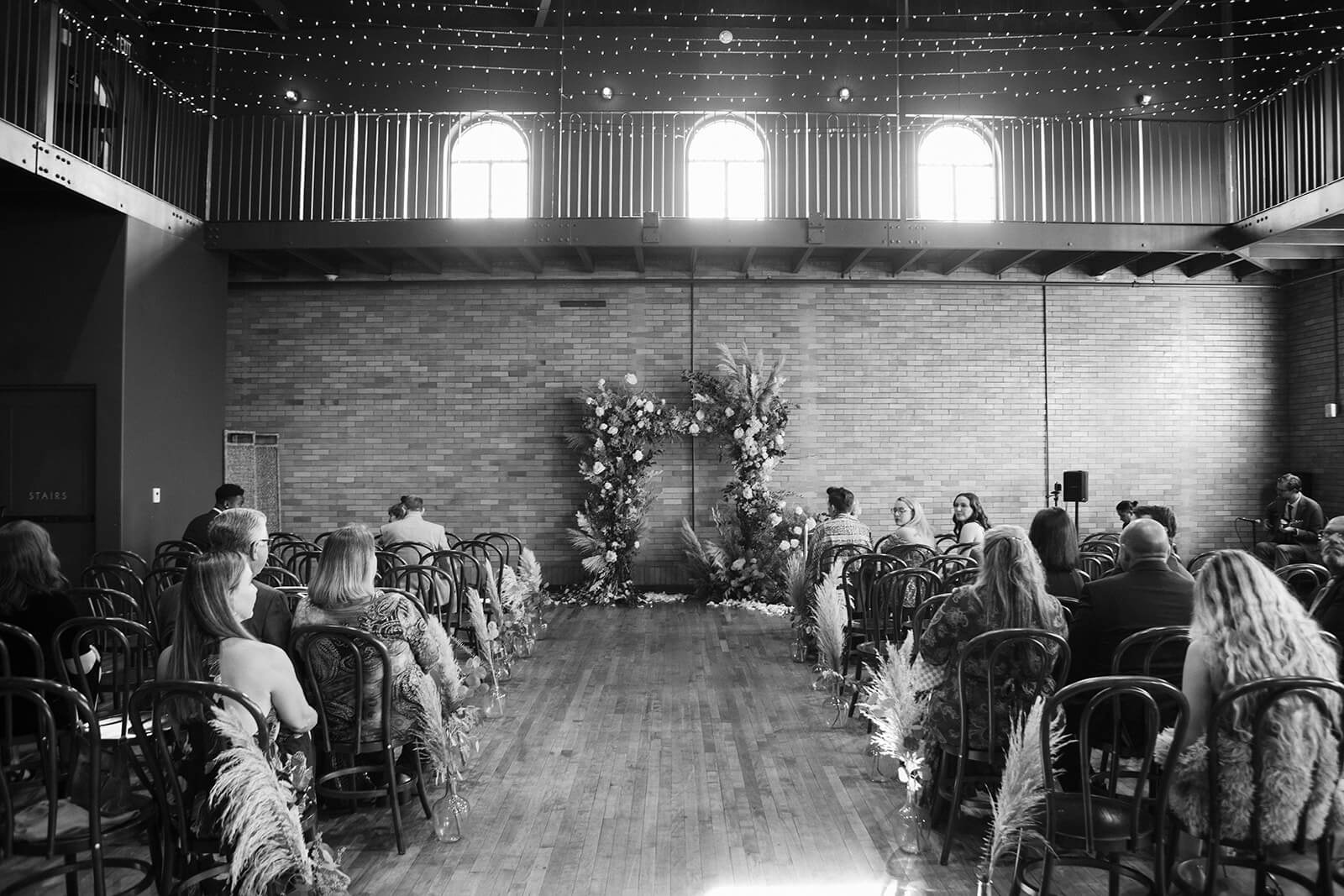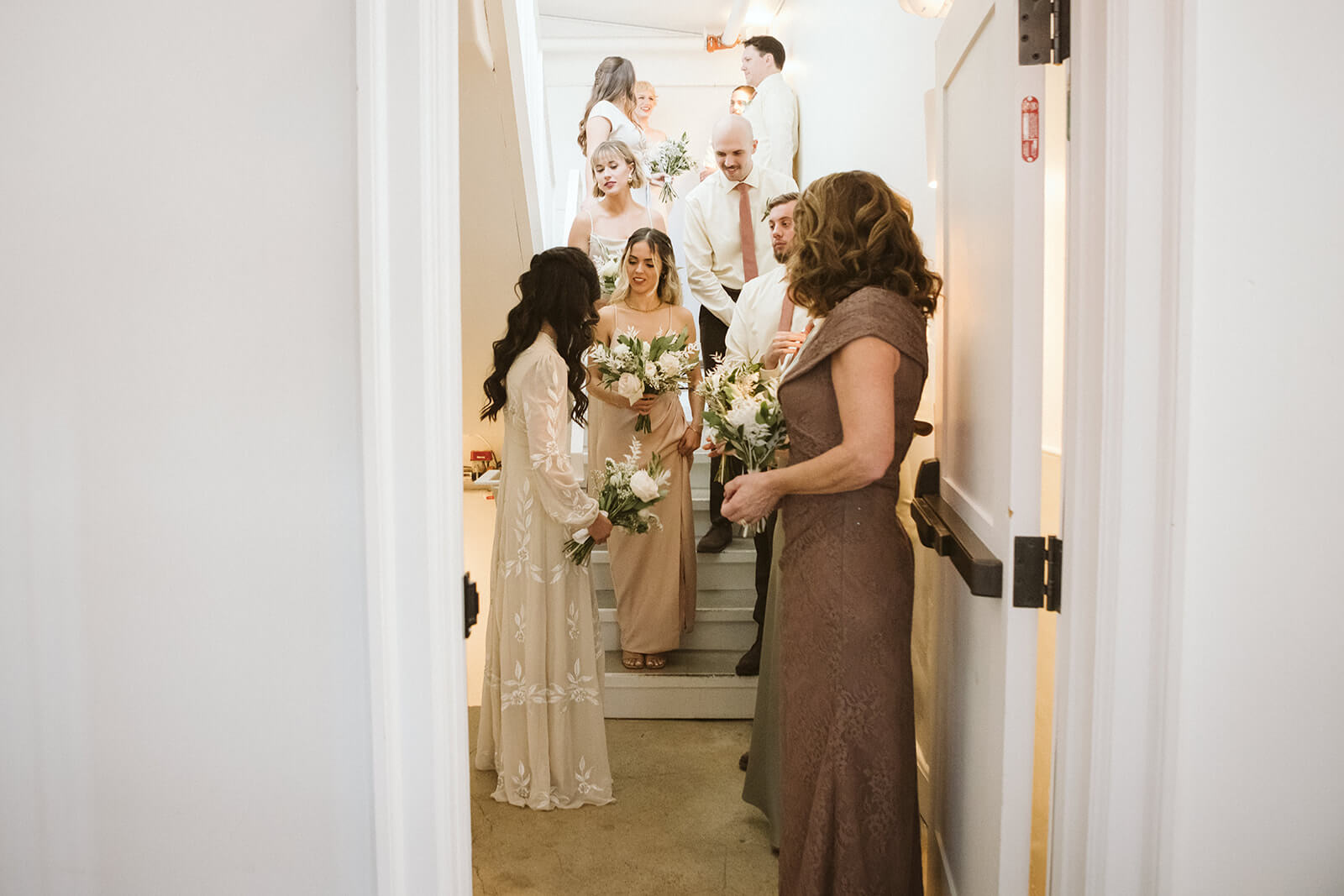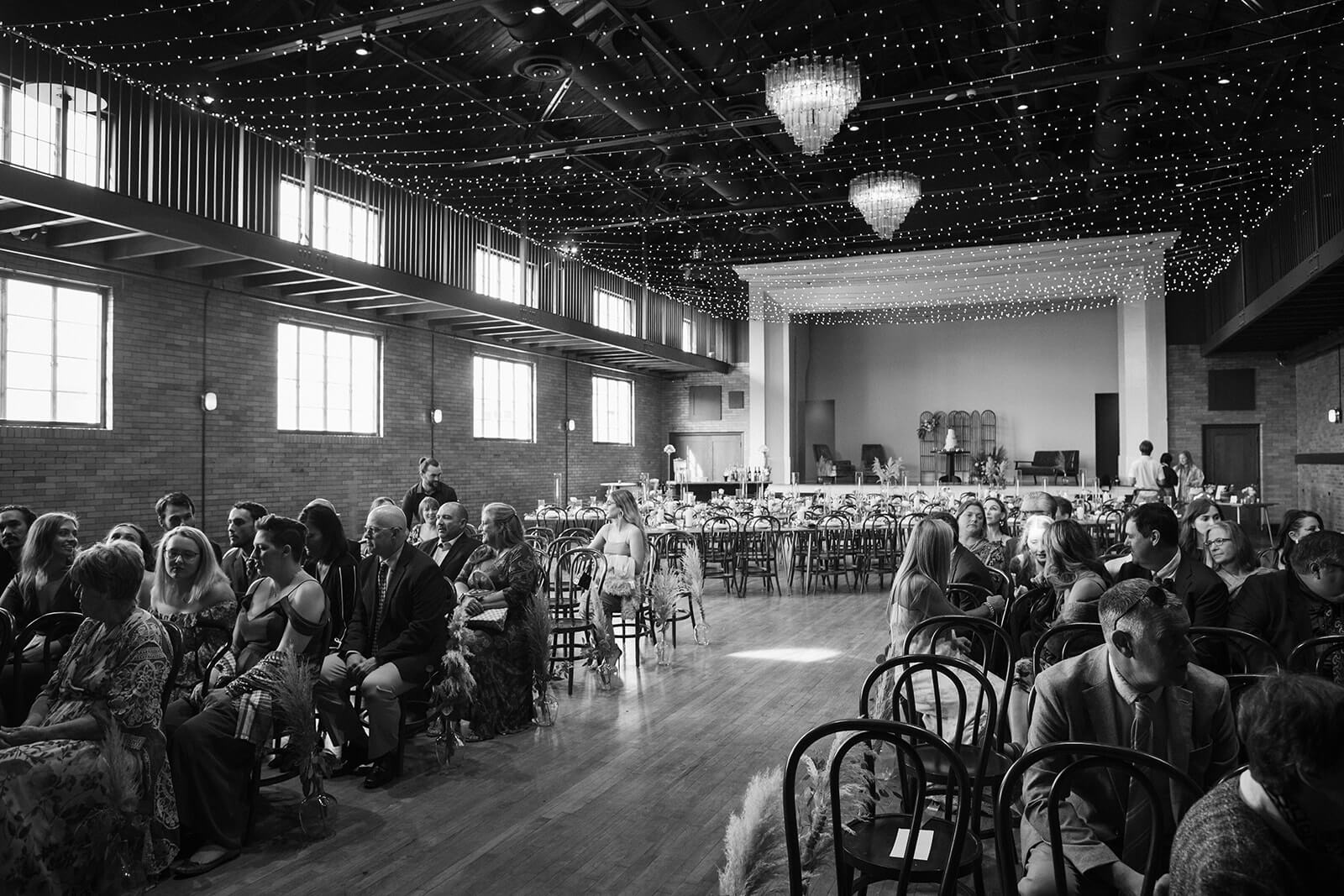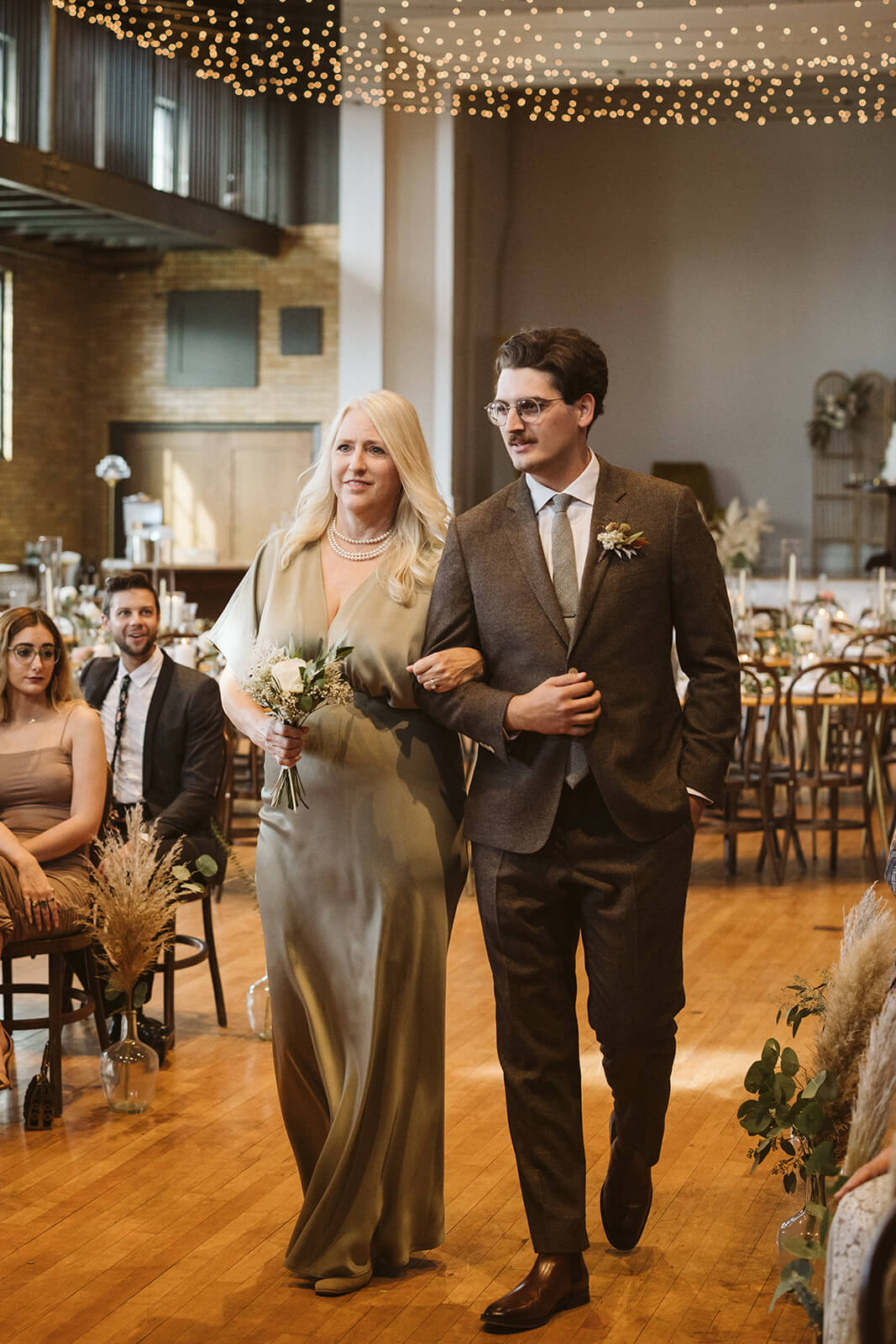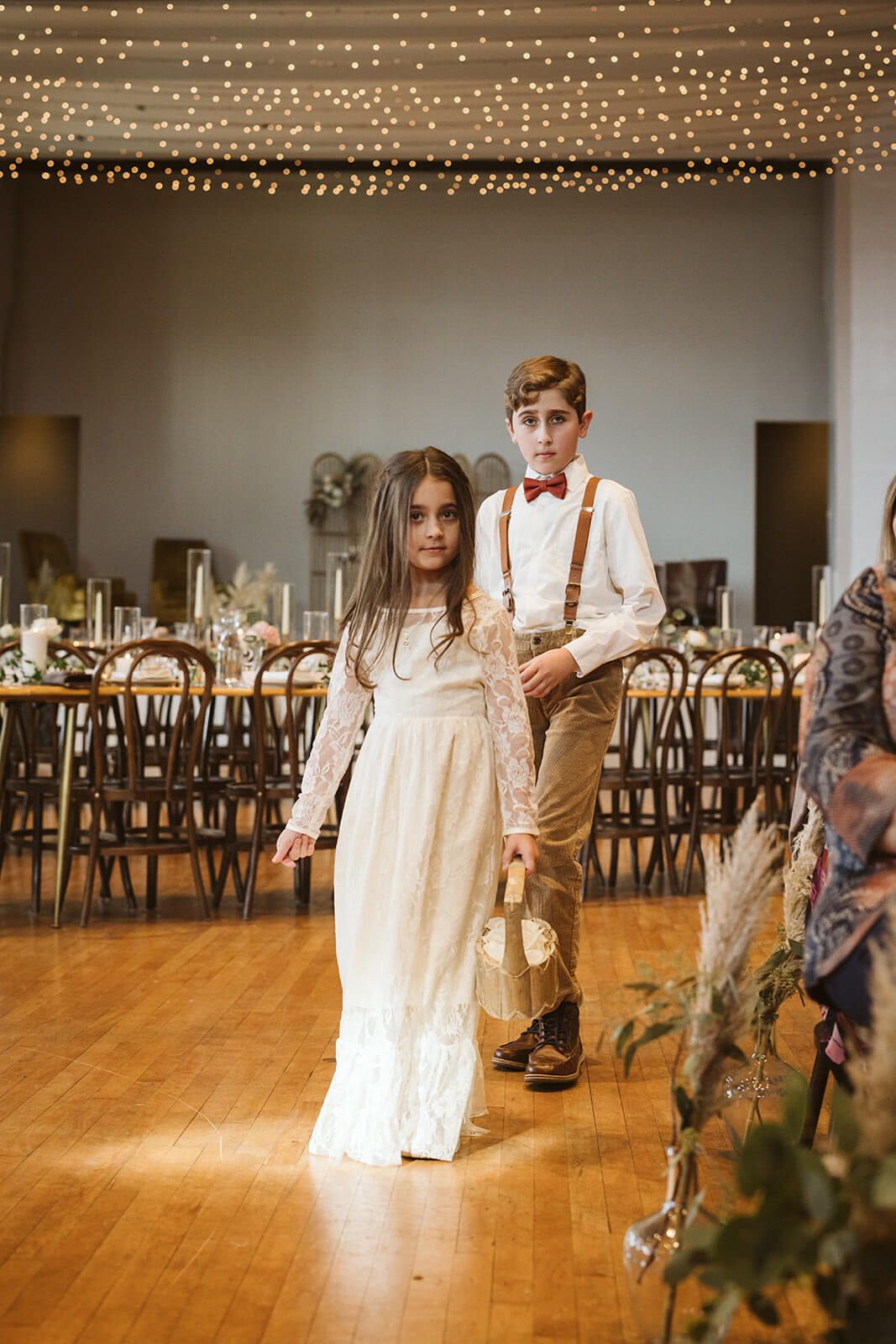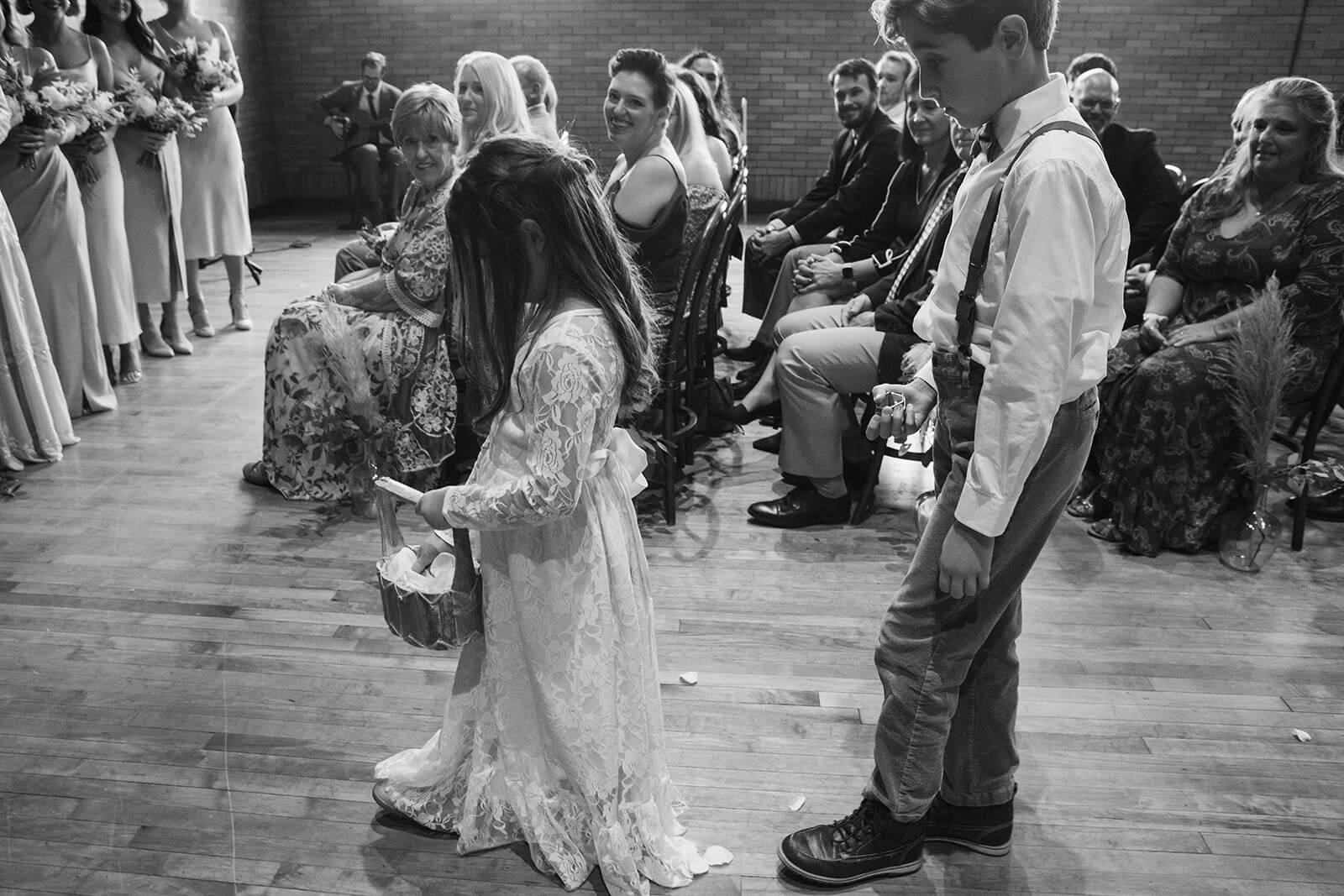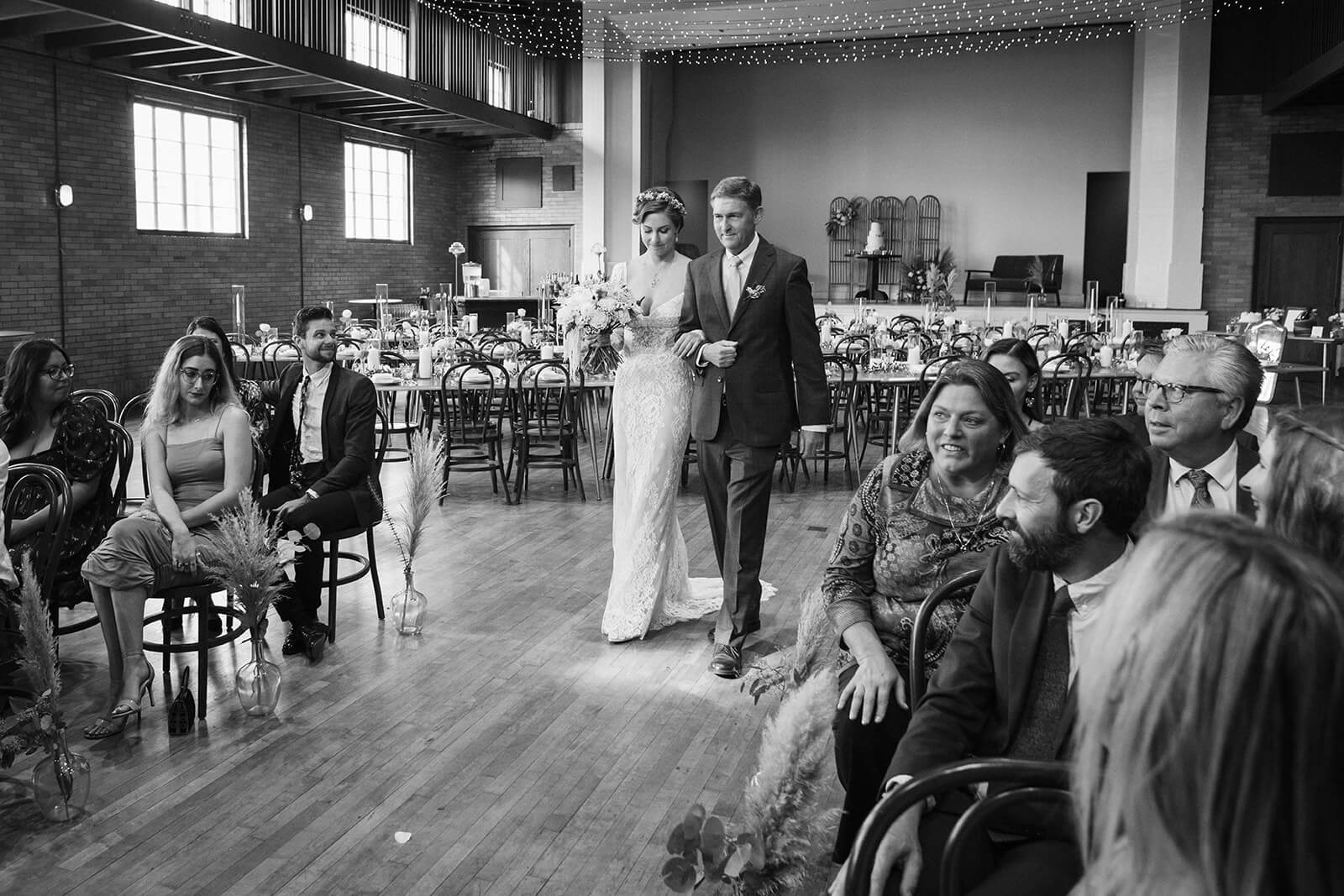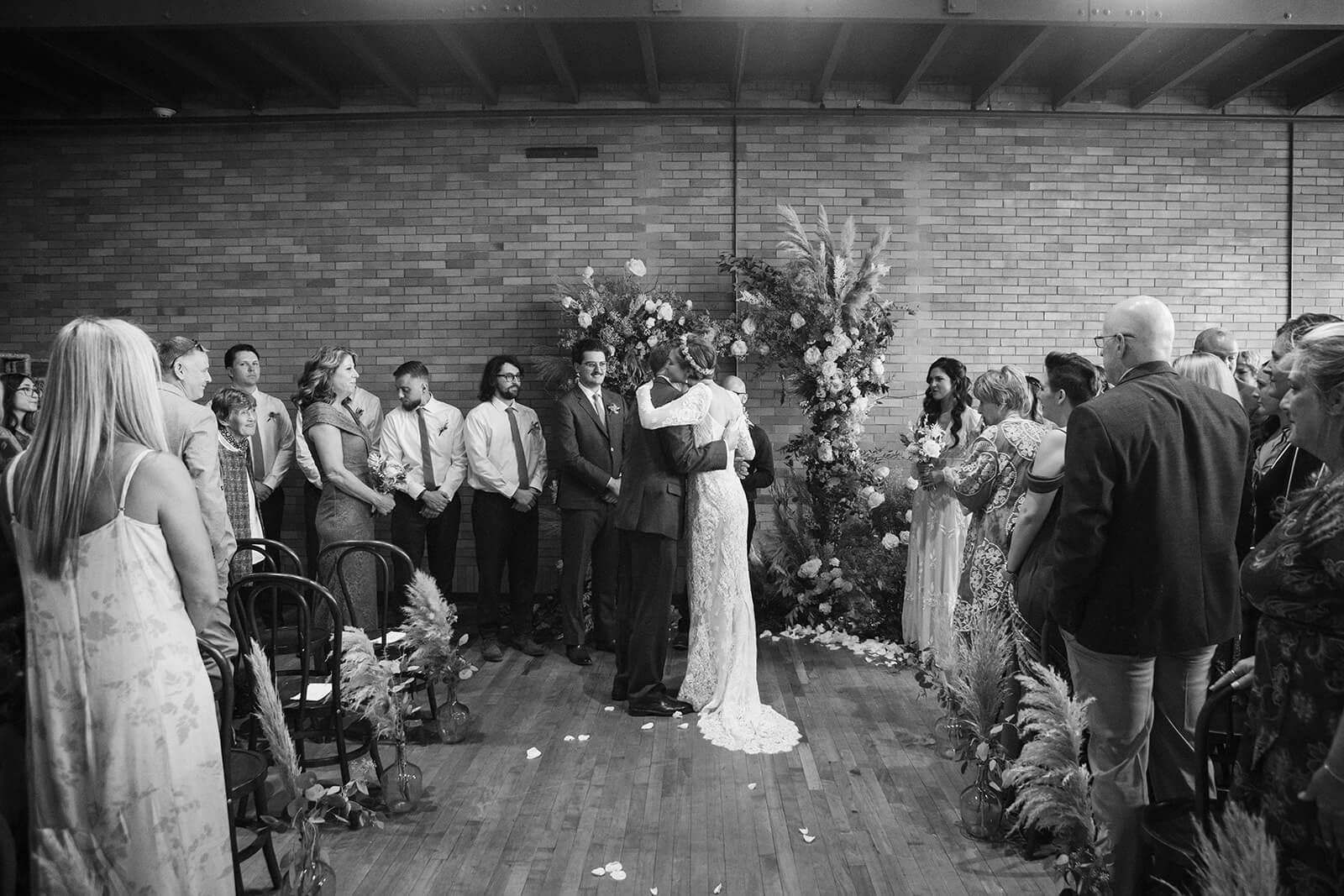 Getting Ready in the Modern Bridal Suite & First Looks
On the day of their wedding, Emily, her mom, and her bridesmaids gathered in the spacious bridal suite to prepare for the big day. The room's vintage décor paired with modern furniture and design gave the room a cozy and timeless feel, making it the perfect backdrop for capturing those cherished pre-wedding moments that will be cherished for years to come.
While her bridesmaids were getting ready, Emily's mom helped button her into her stunning lace wedding gown. These classic pictures of a mother helping her daughter get ready on her wedding day evoke such a sense of love, tradition, and mother-daughter bond. They were made even more beautiful by the streaks of bright natural light flooding in from the many tall windows. And to make sure both parents were included, when Emily was finally ready, she exited the bridal suite to where her father was waiting in the hallway for a touching father-daughter first look.
After her first look with her father, Emily made her way down to Ruby Hall, where both their ceremony and reception were going to be held. However, in the dim lighting and quiet before their guests began to arrive, the hall was a magical, private sanctuary for Emily + Pat's first look. By the time Emily arrived in Ruby Hall, Pat was already stationed on the catwalk above the venue.
The anticipation was palpable in the air as Emily's soft footsteps padded up the winding stairs. Lights strung between the railings created a sea of twinkling stars that Emily crossed before pausing a few steps behind Pat to call his name. The expression on his face when he turned to see Emily was one of pure love and affection. Framed by the floor-height windows, the two embraced and then took the time before the day's events began to exchange heartfelt private vows.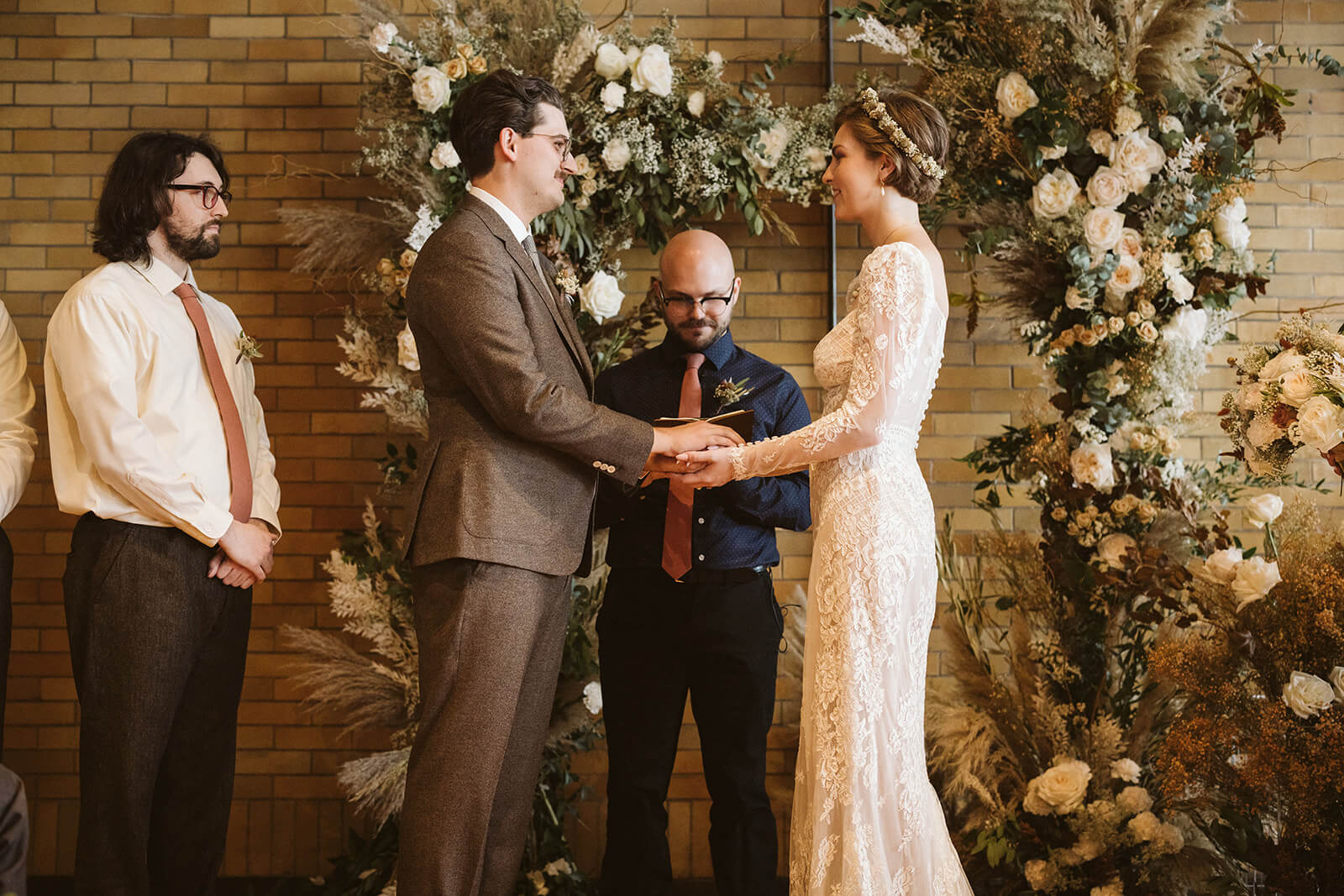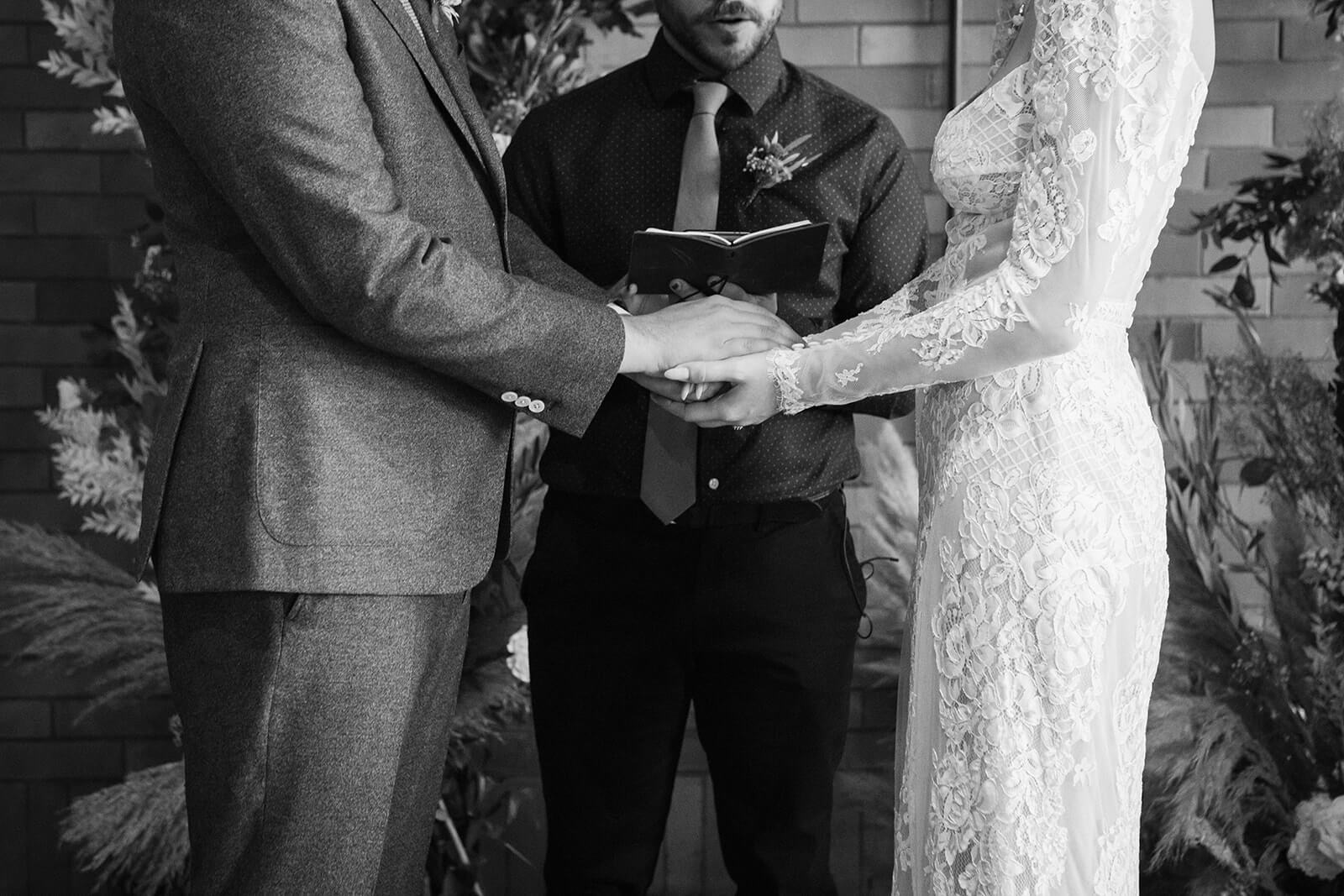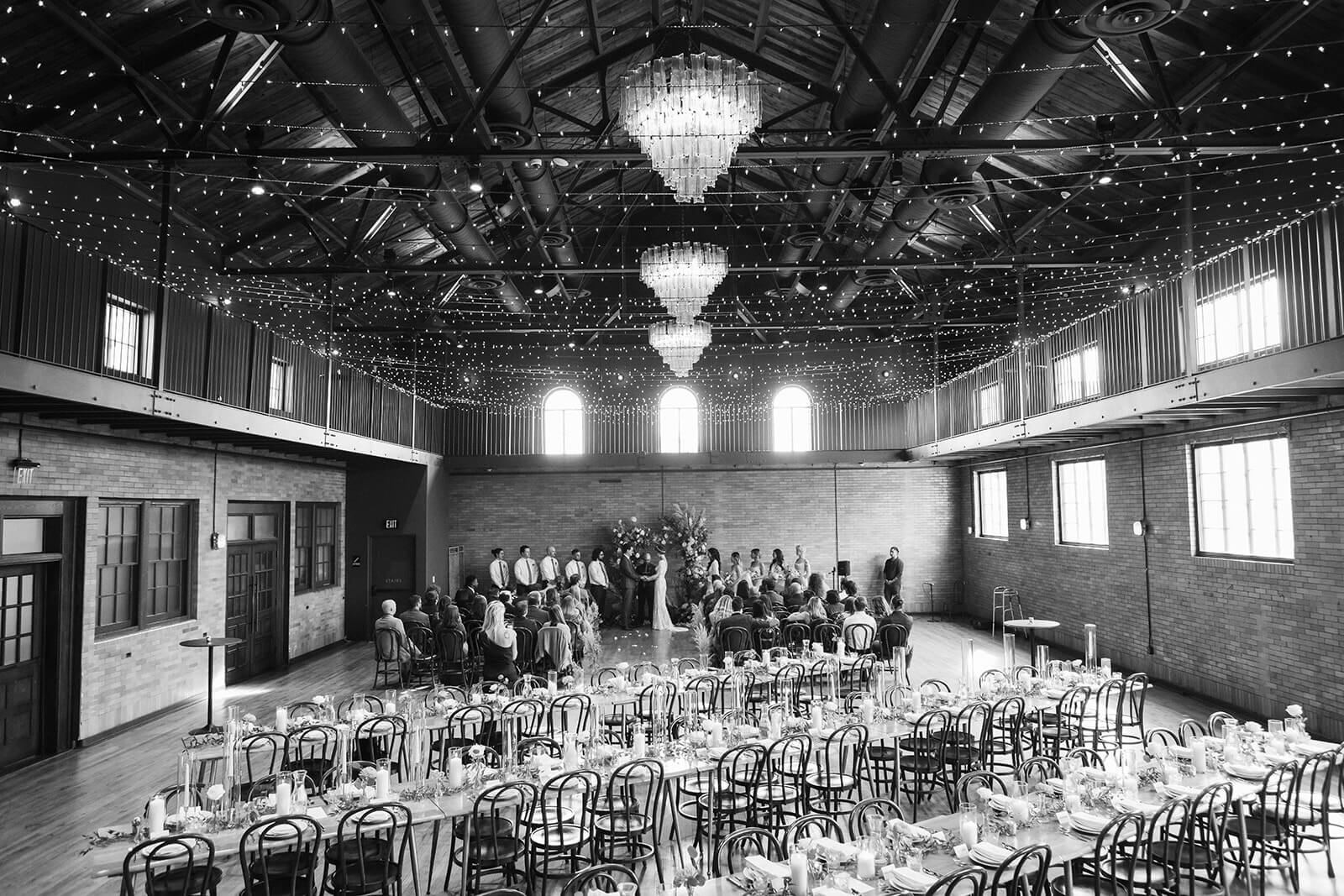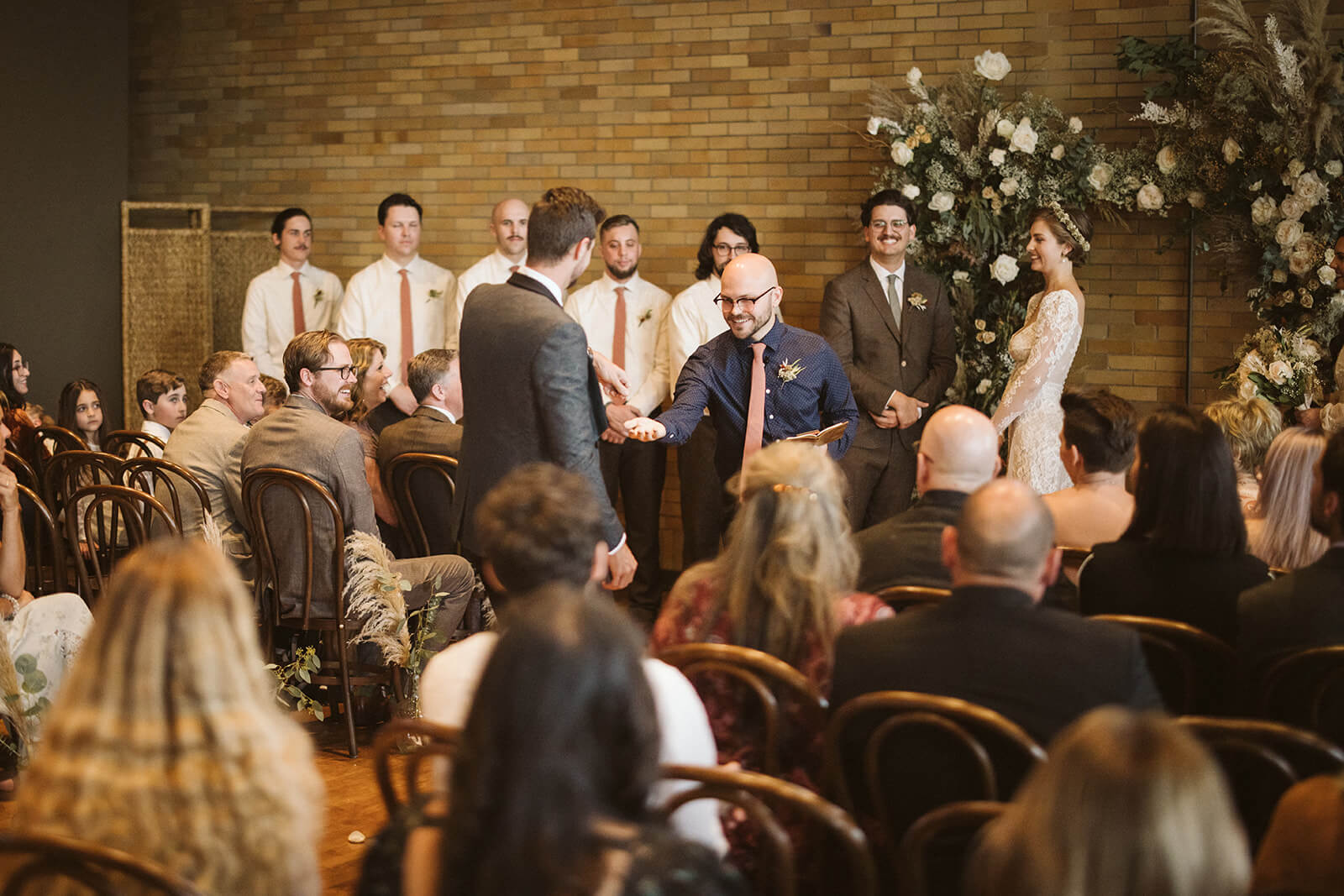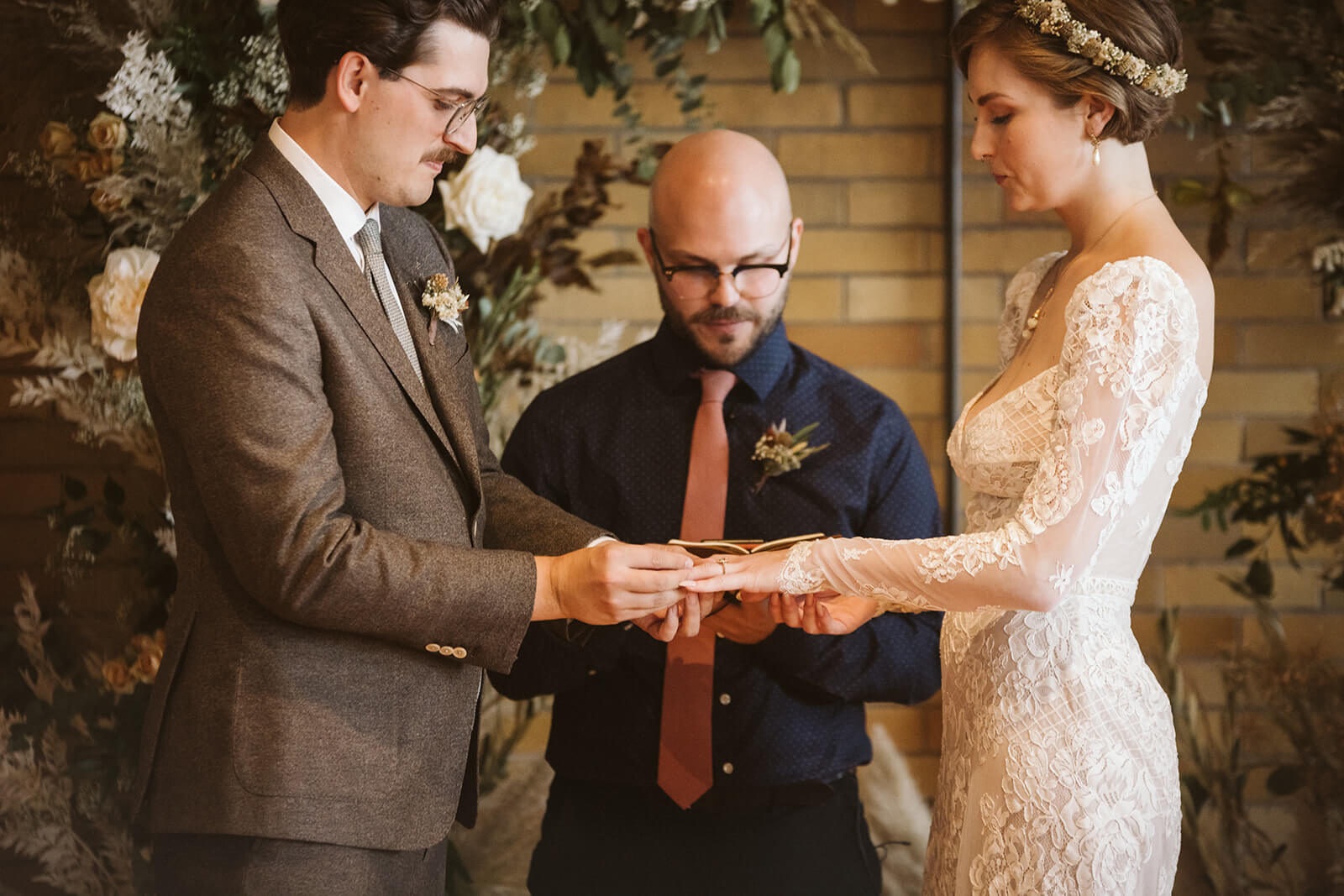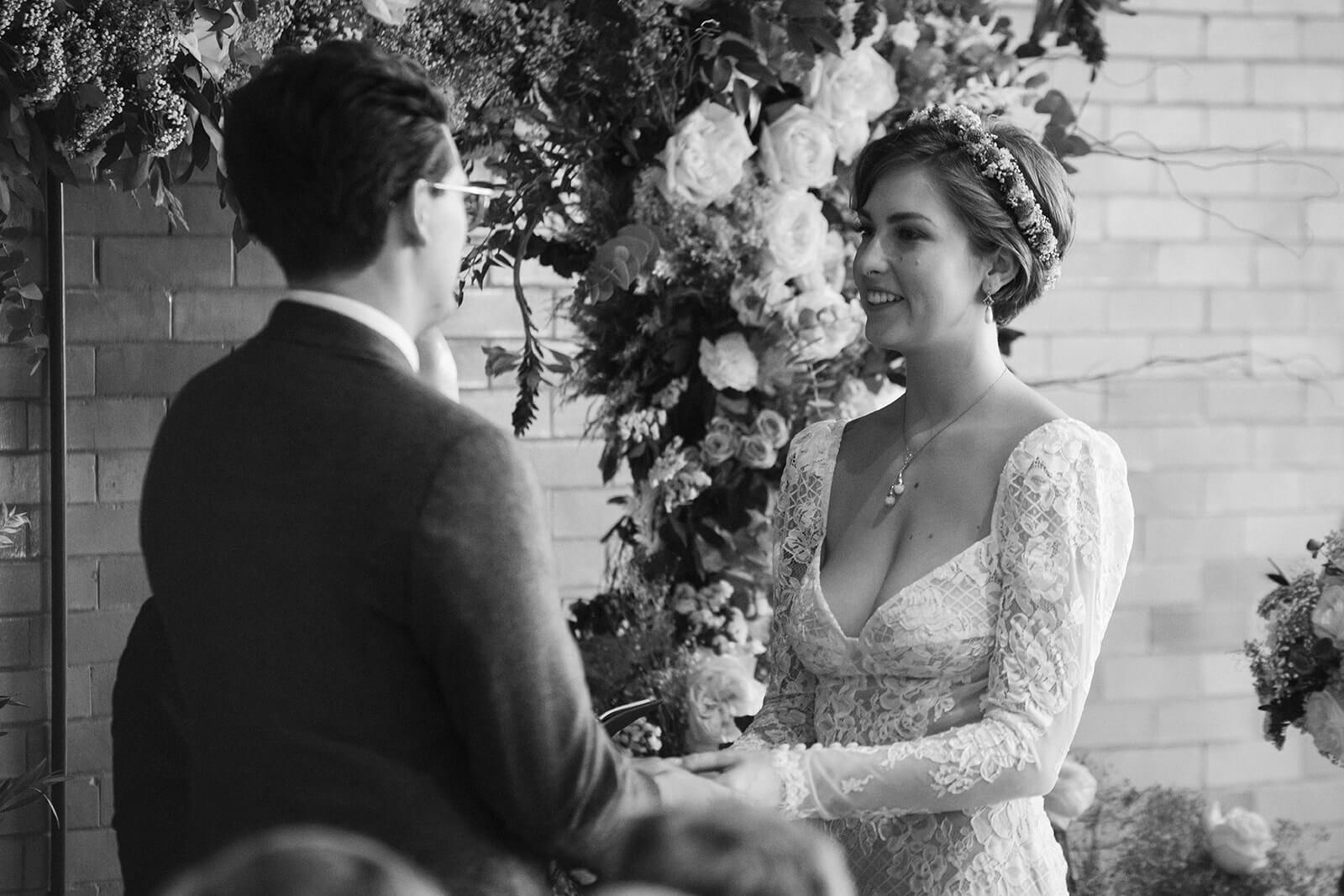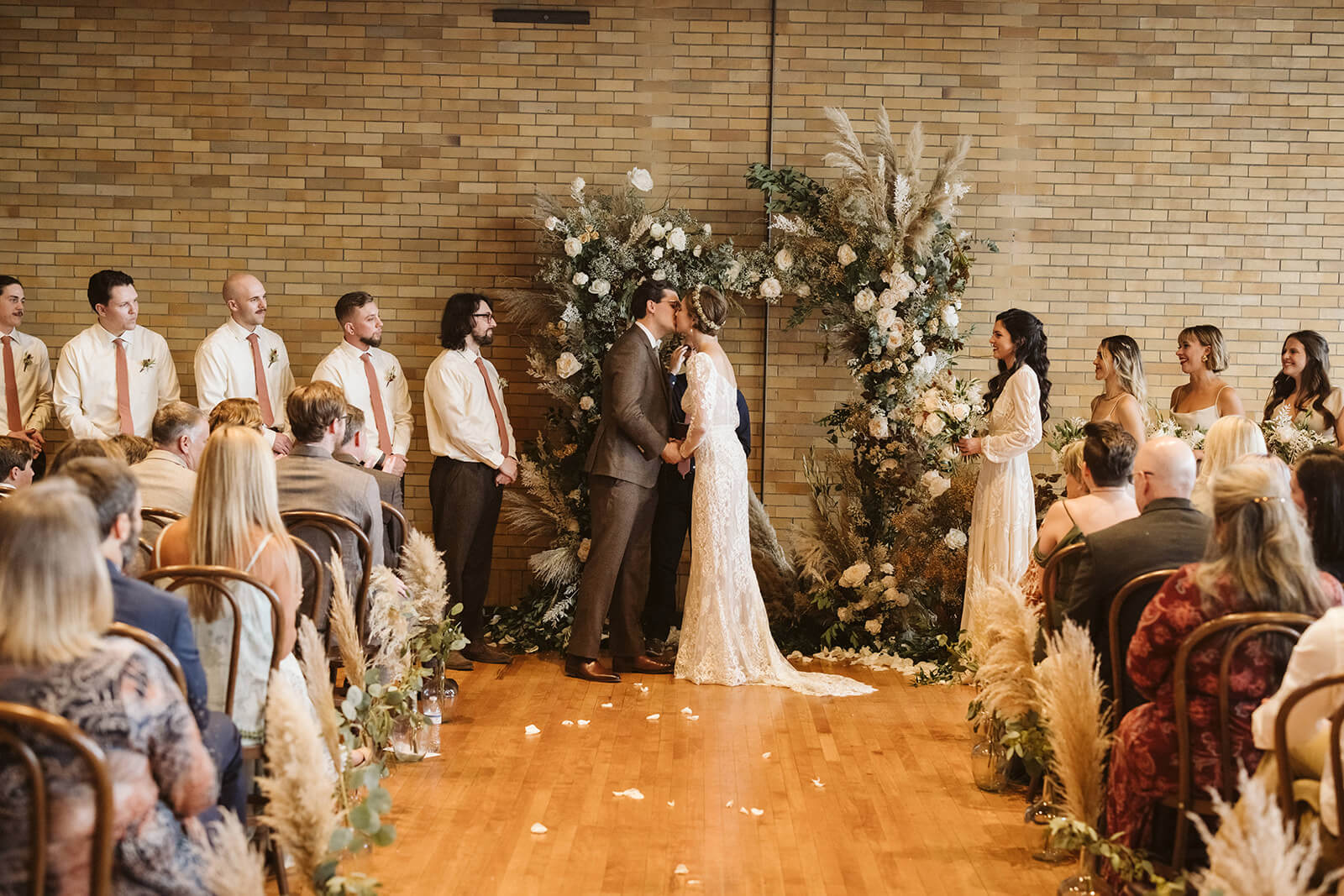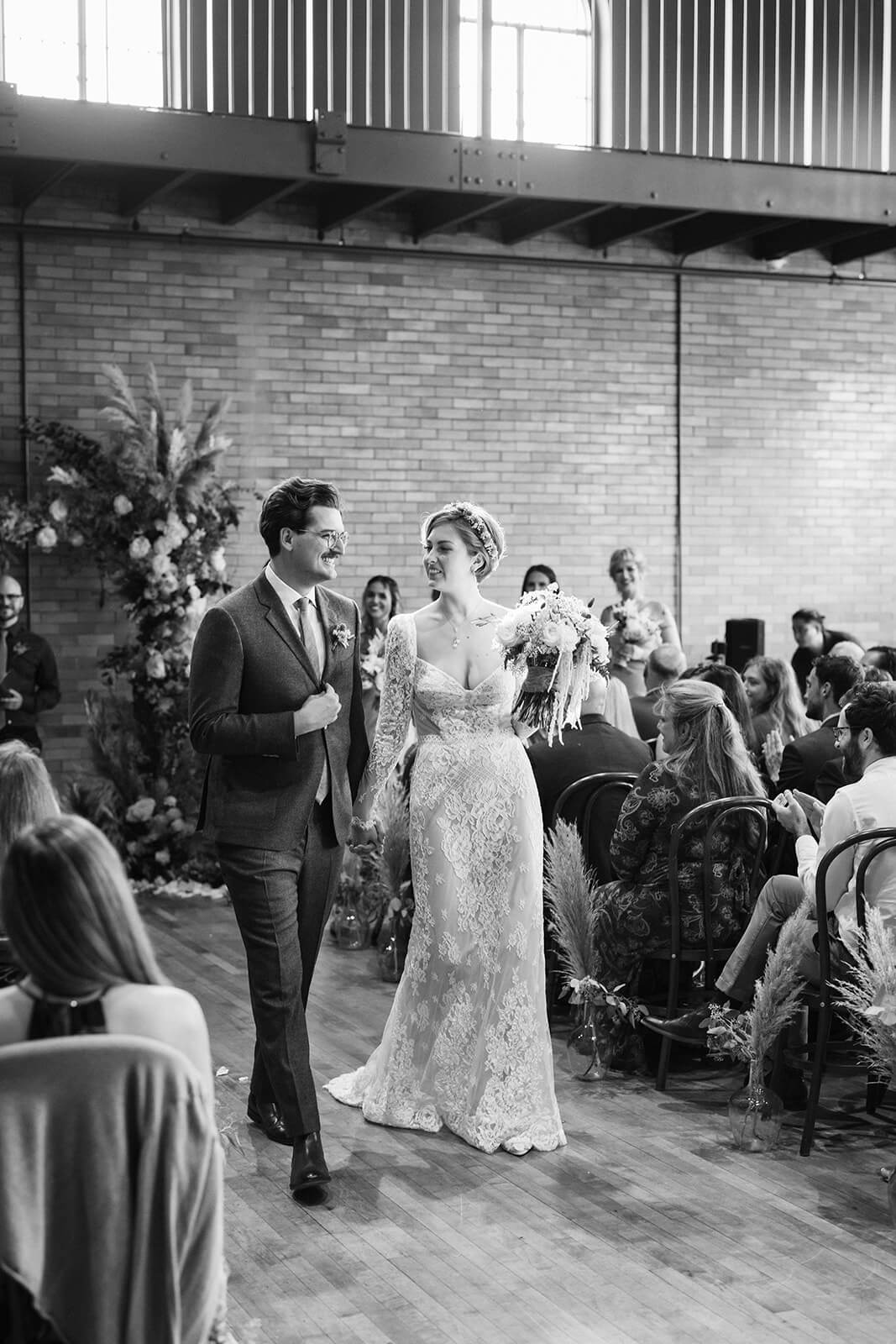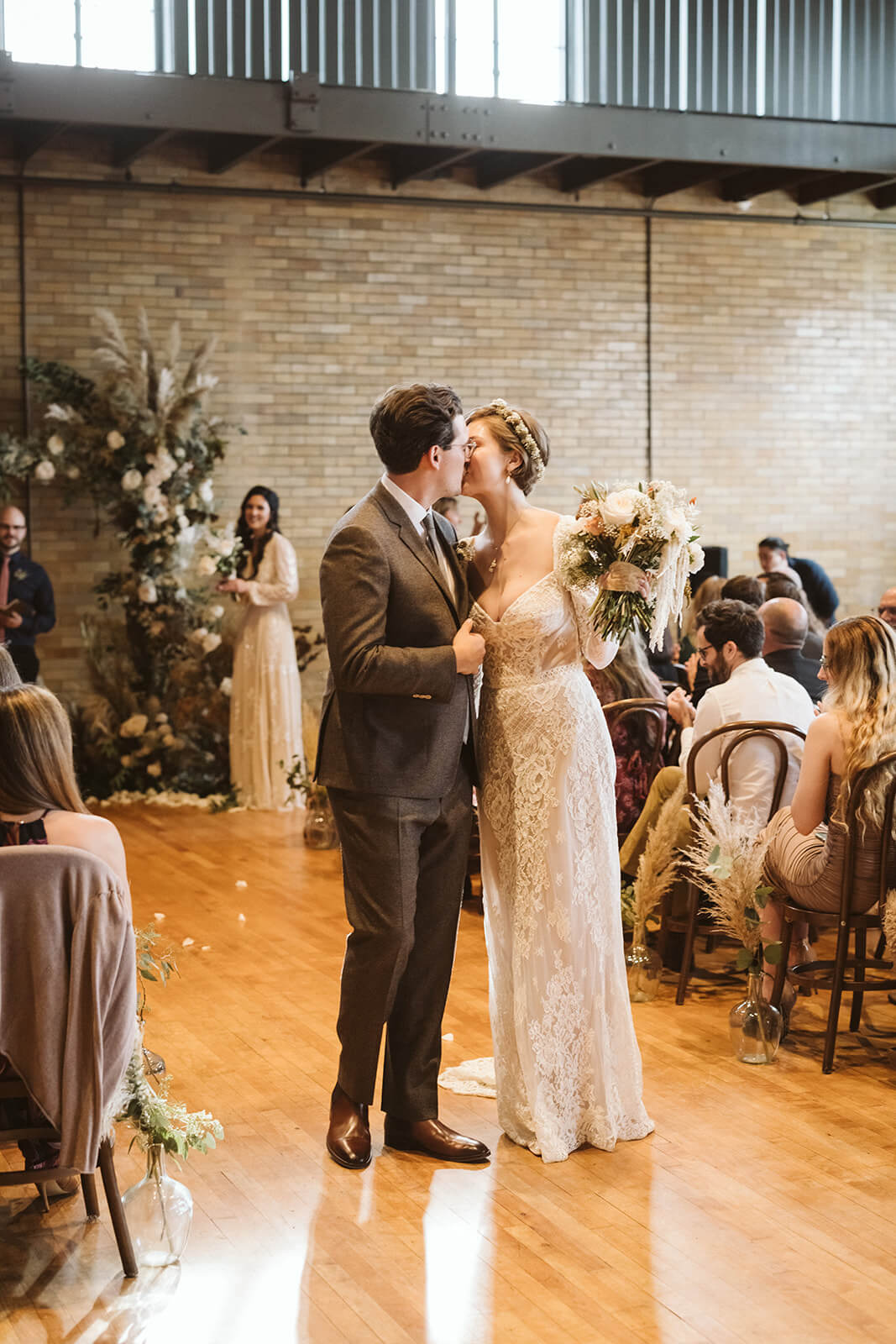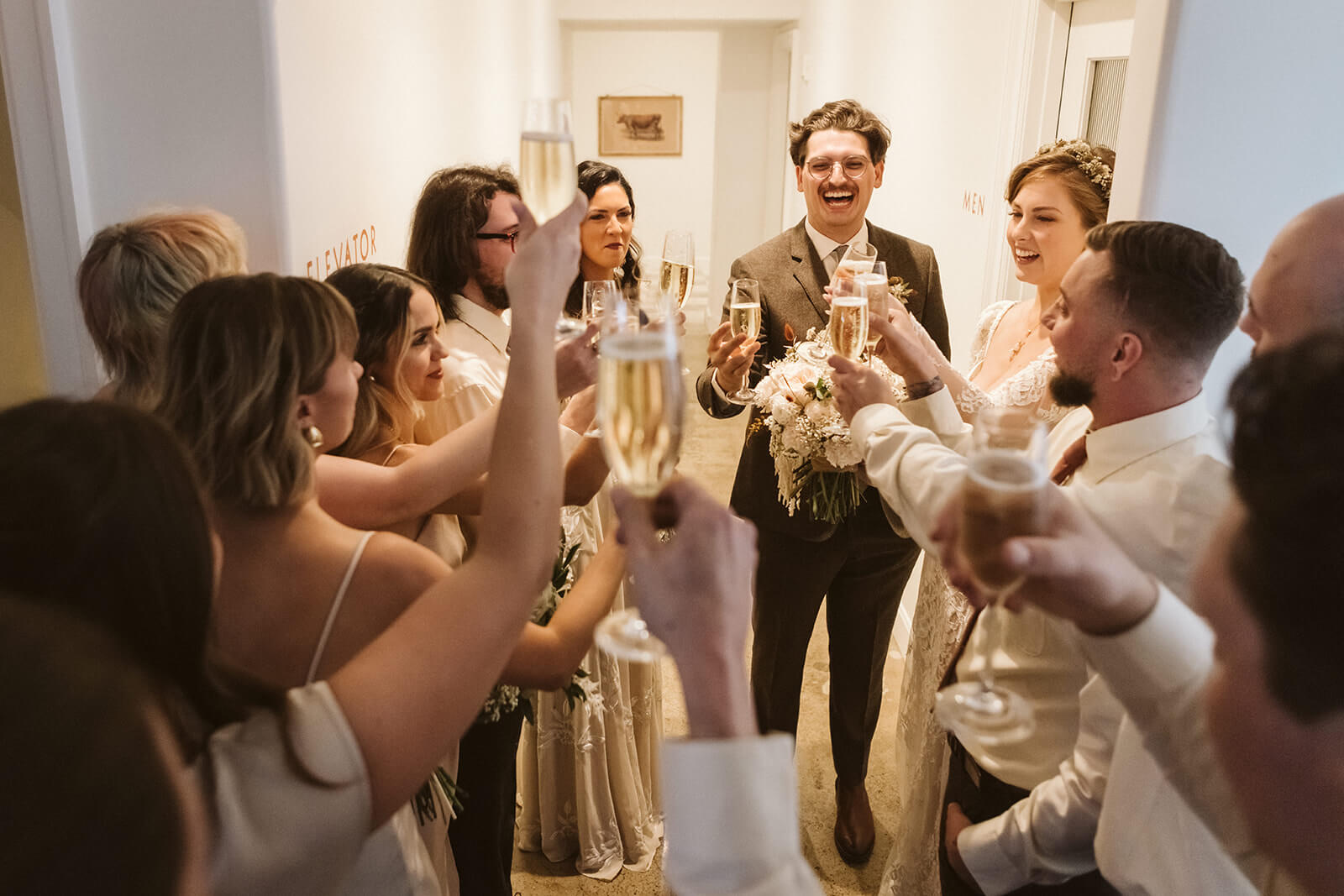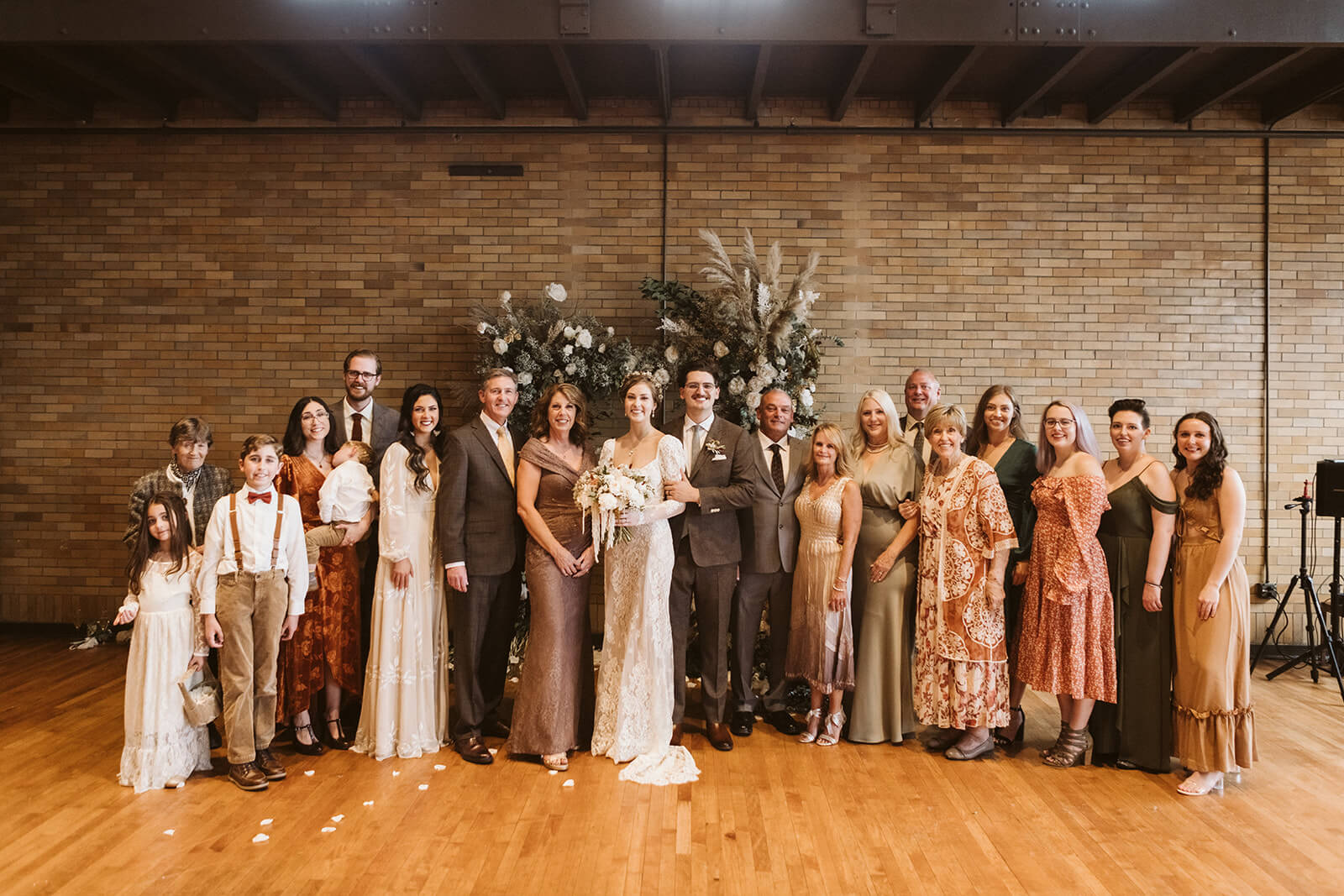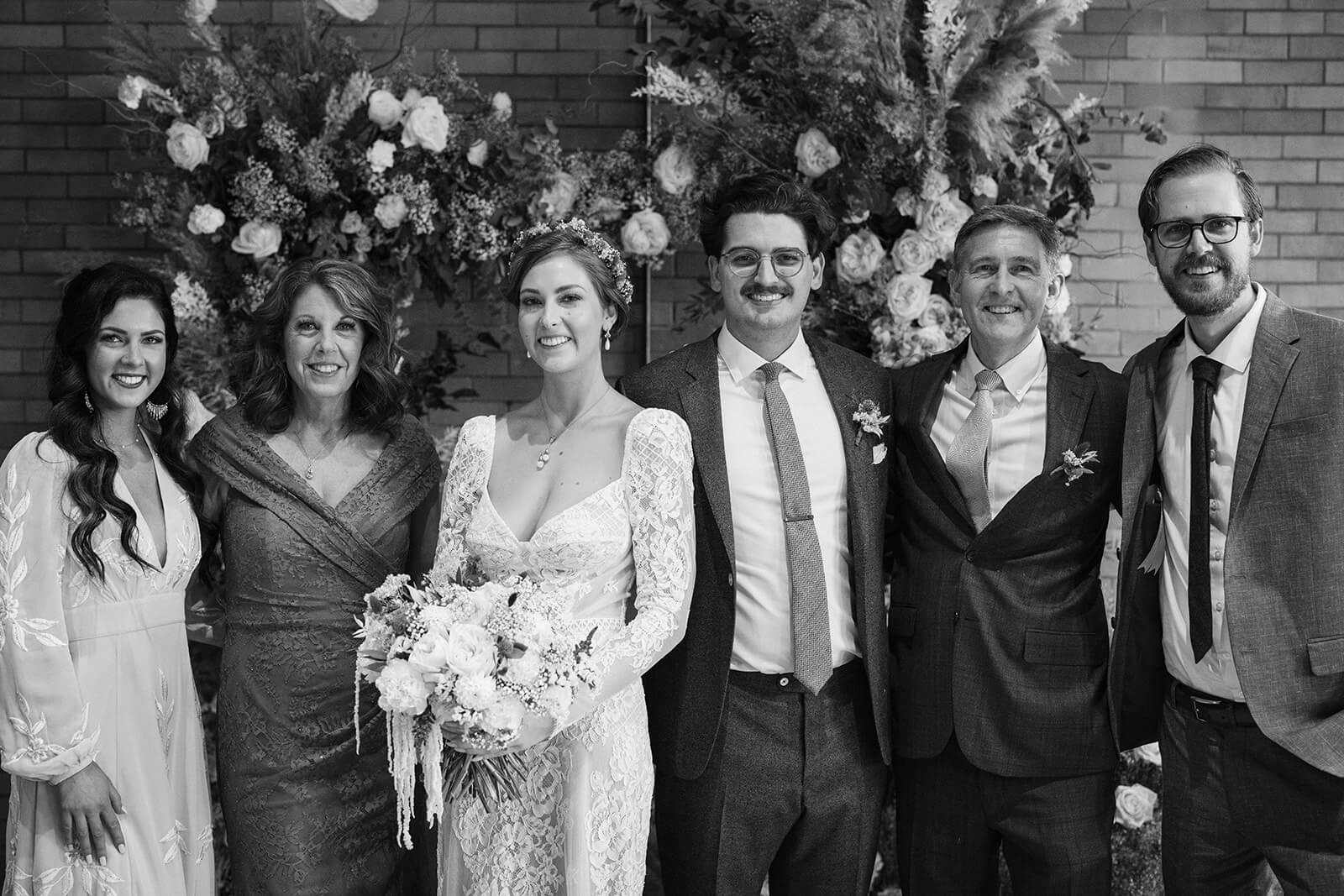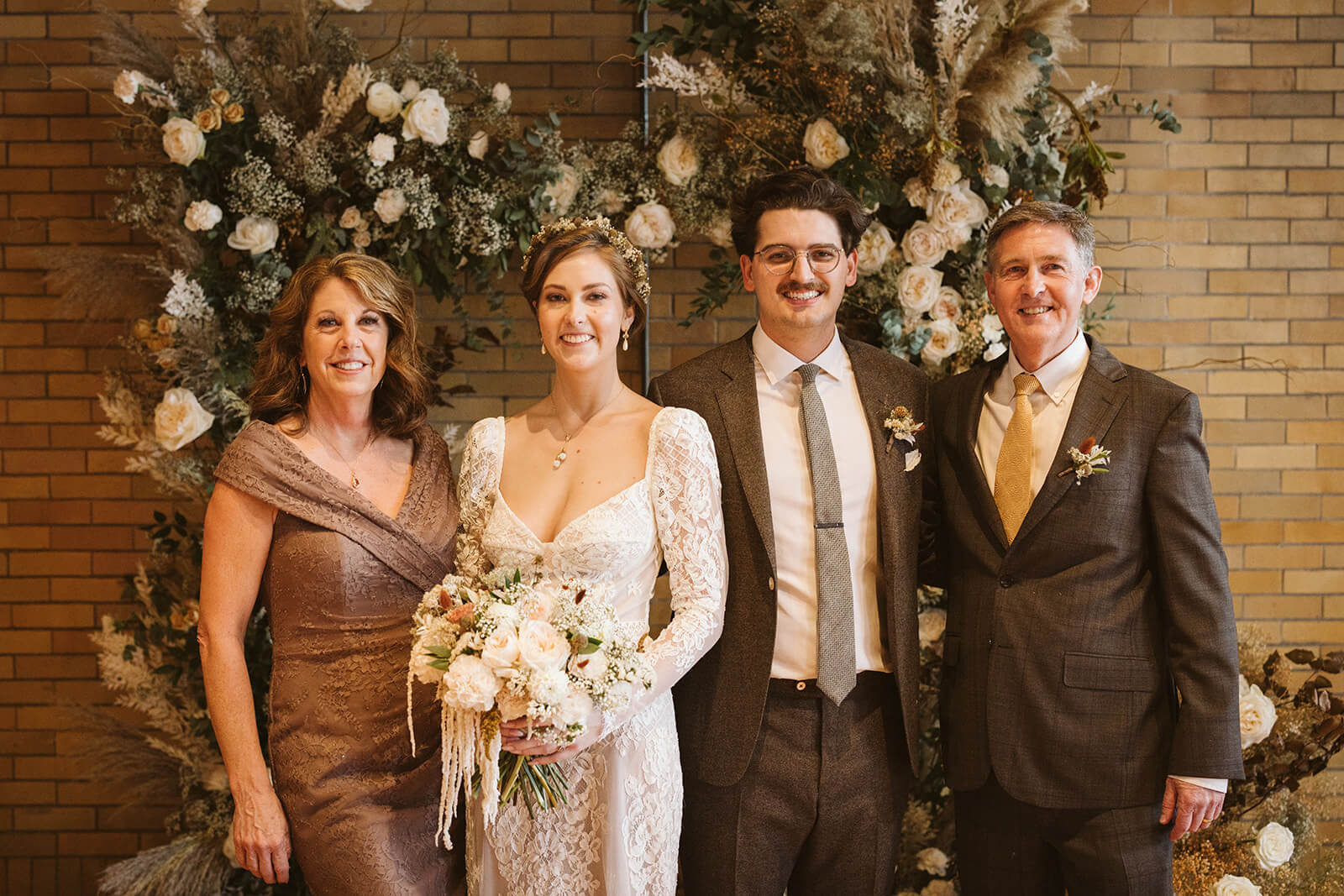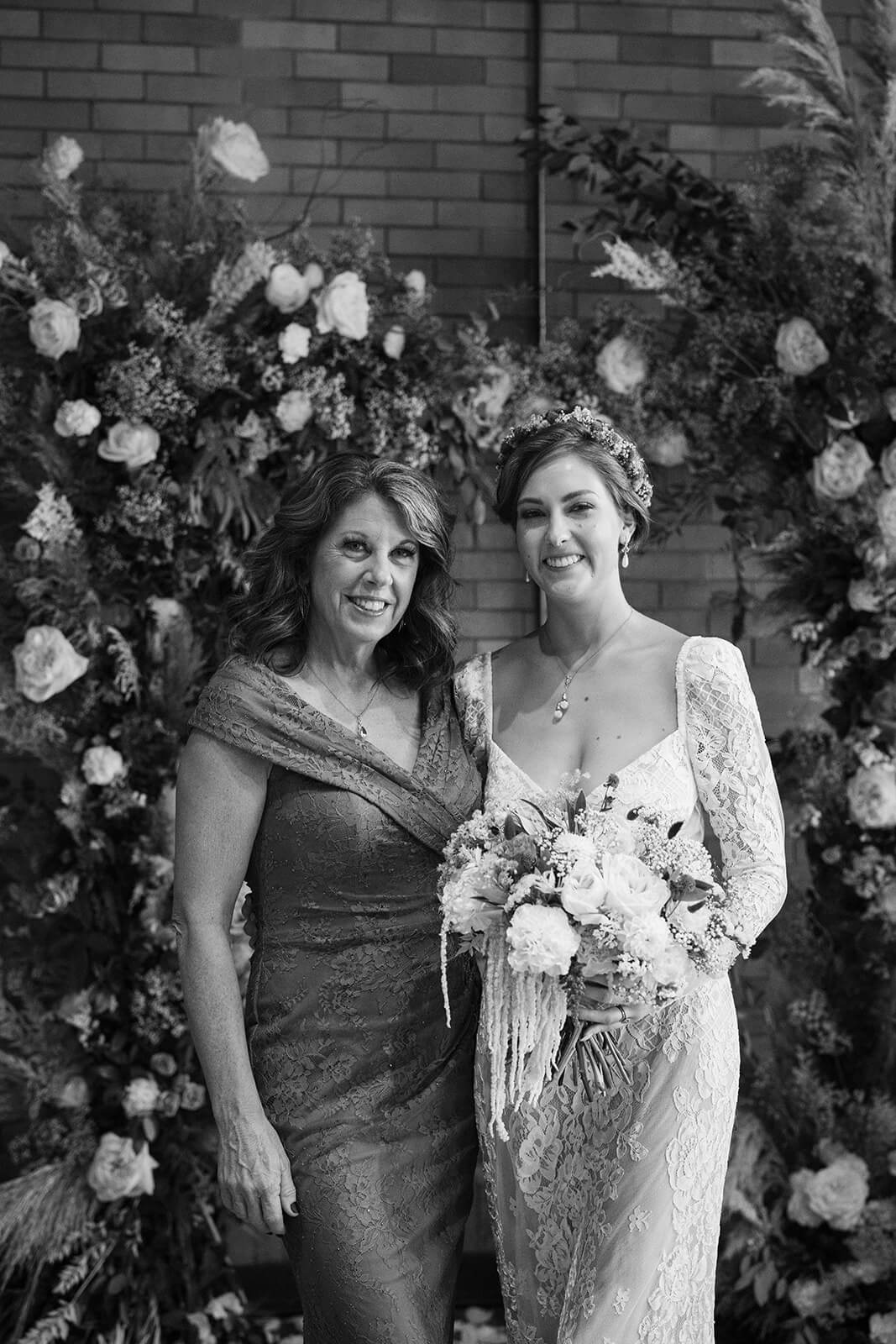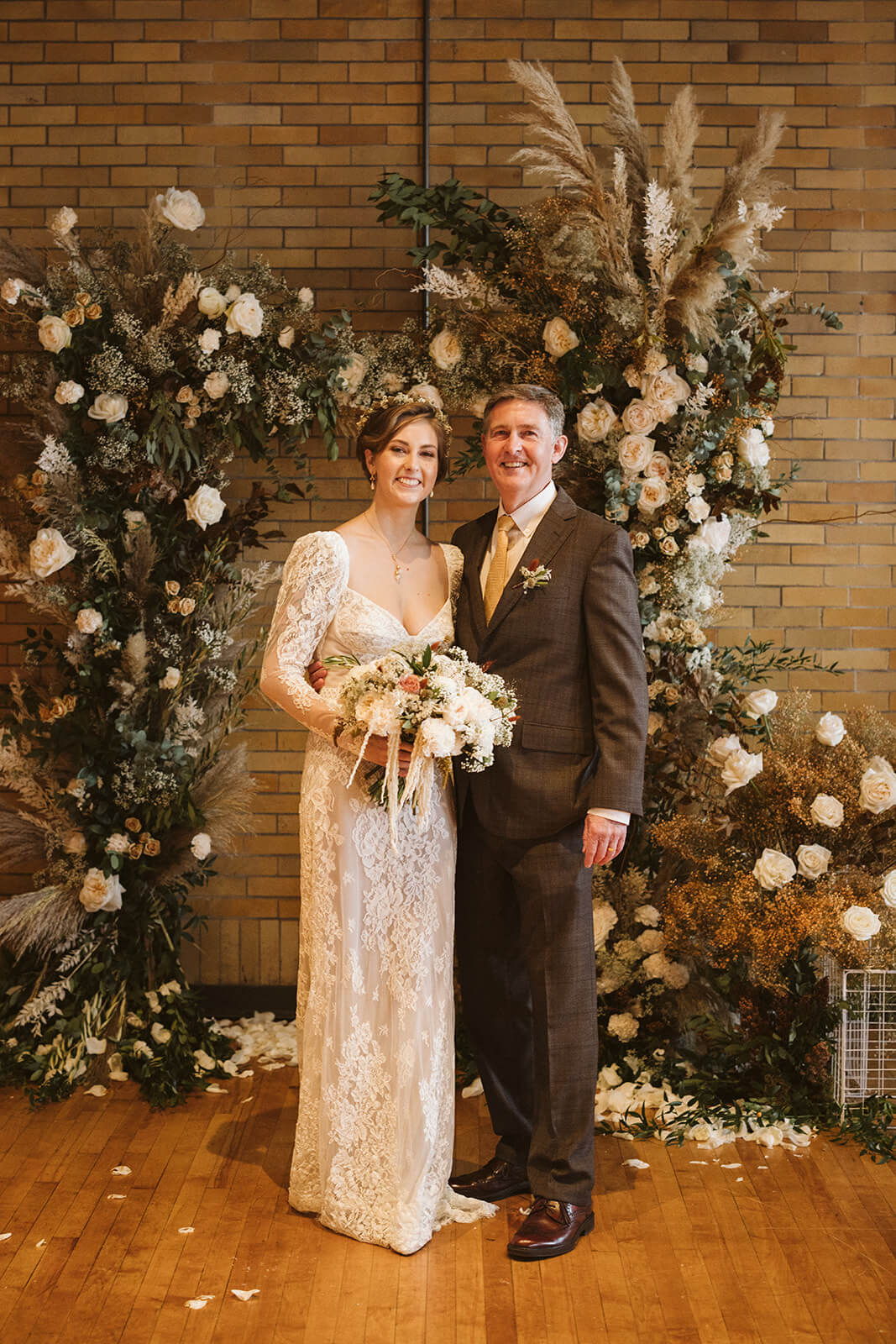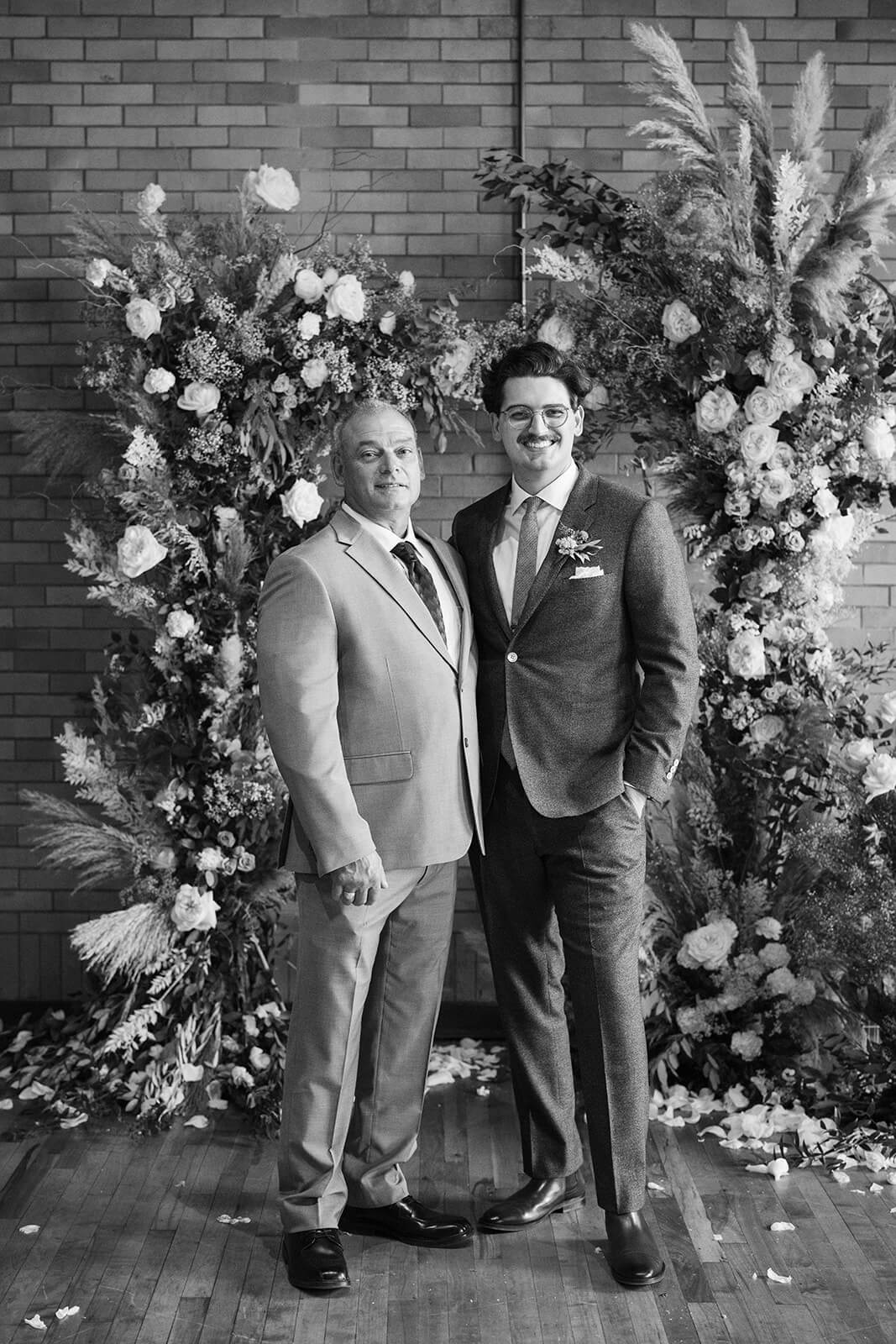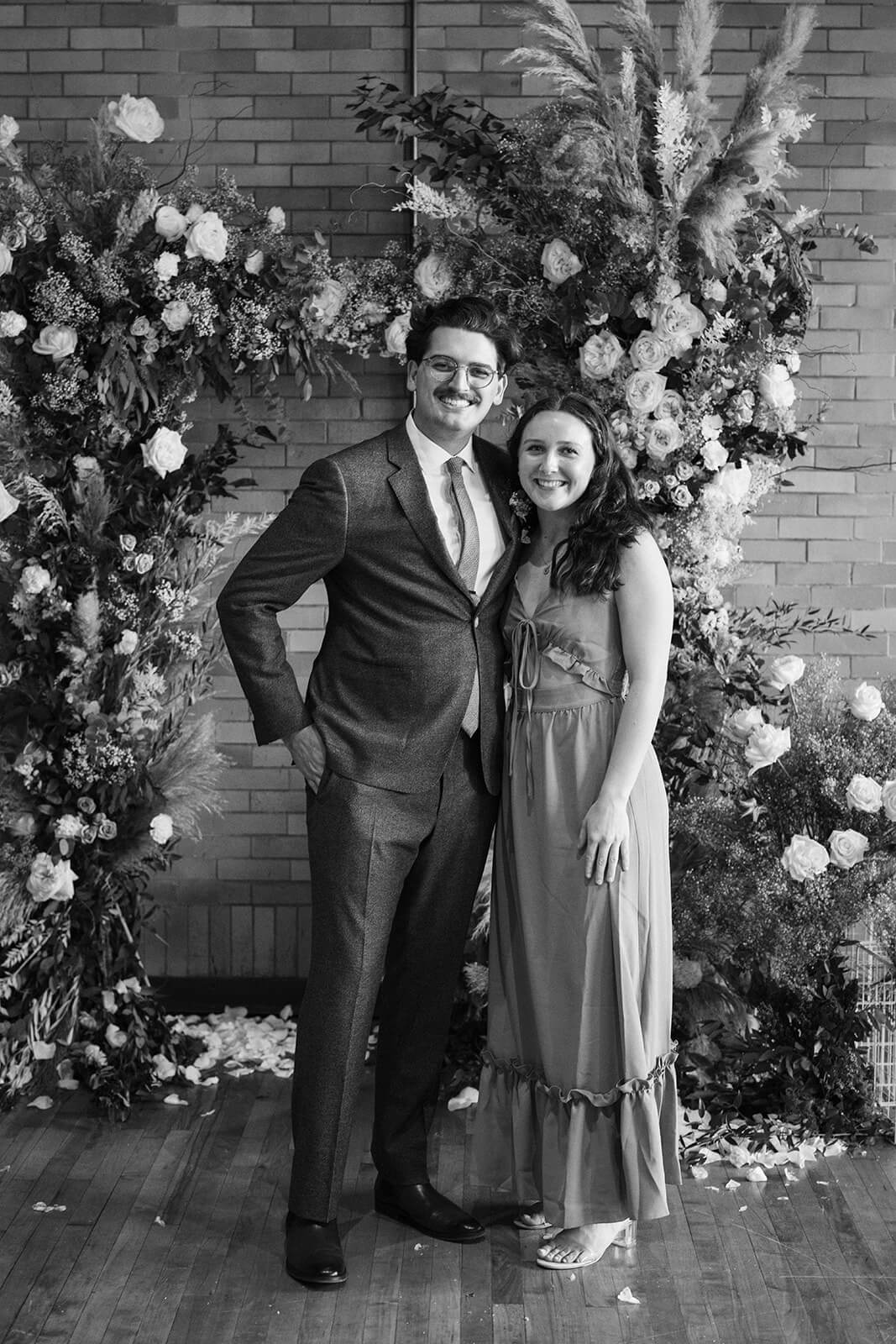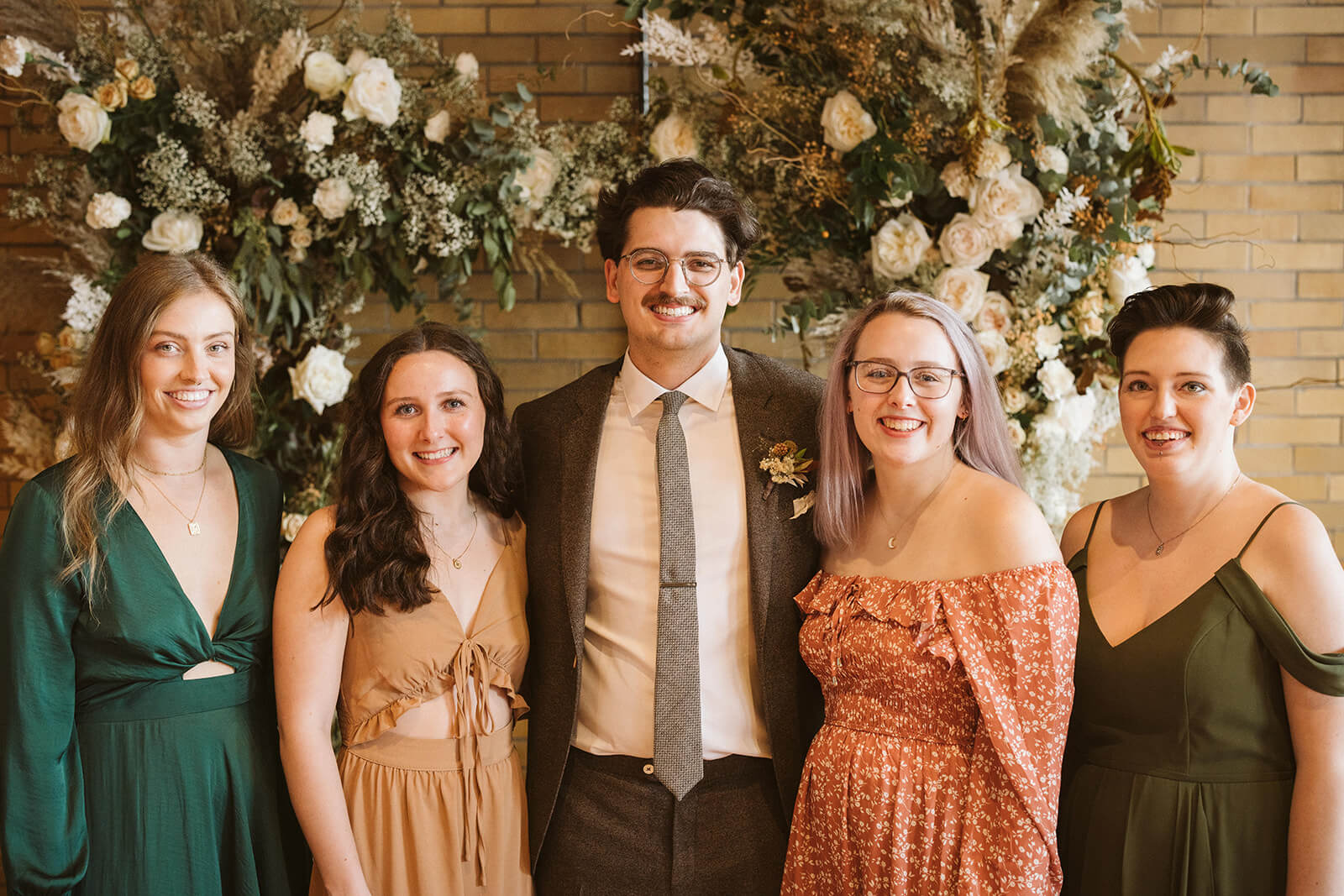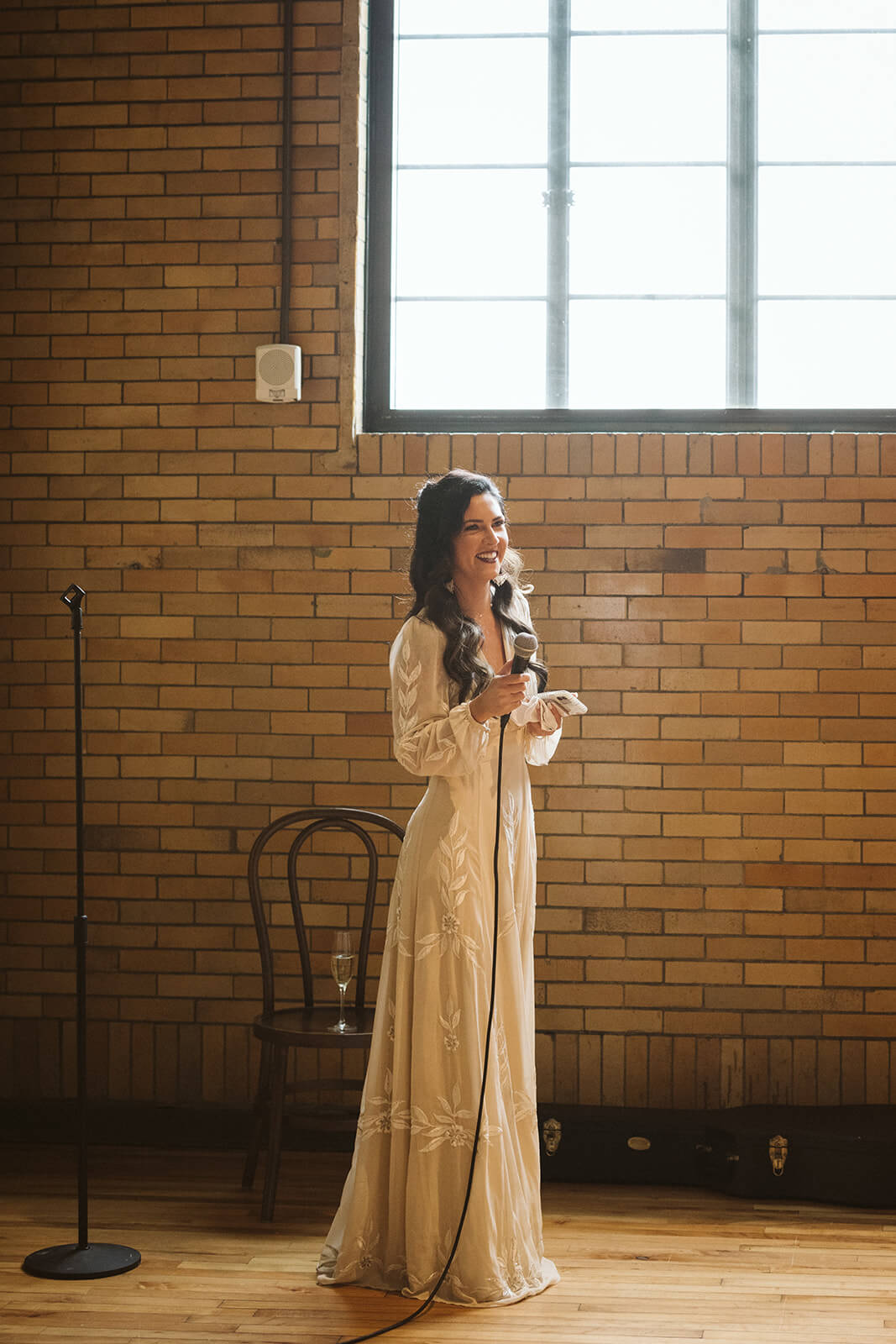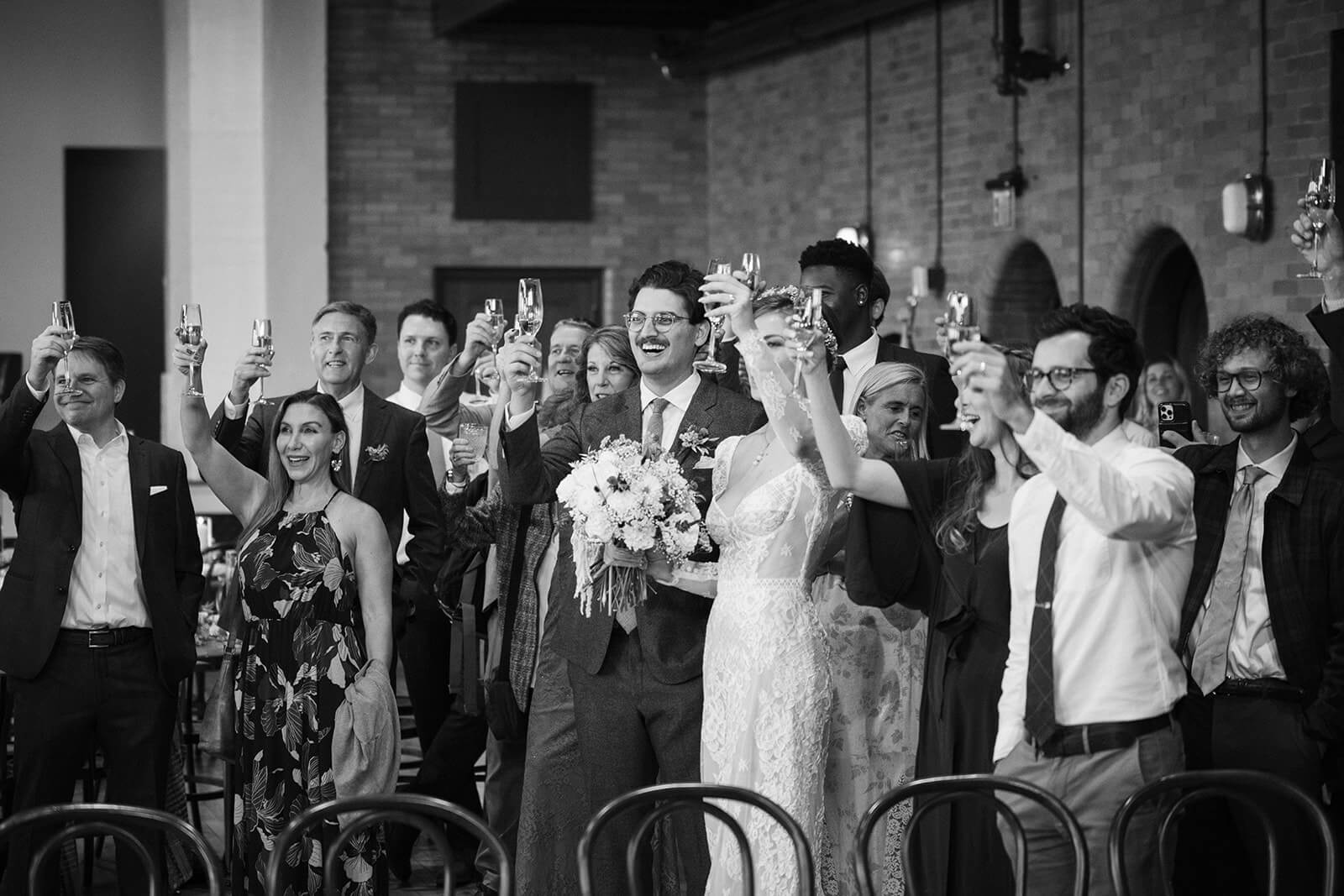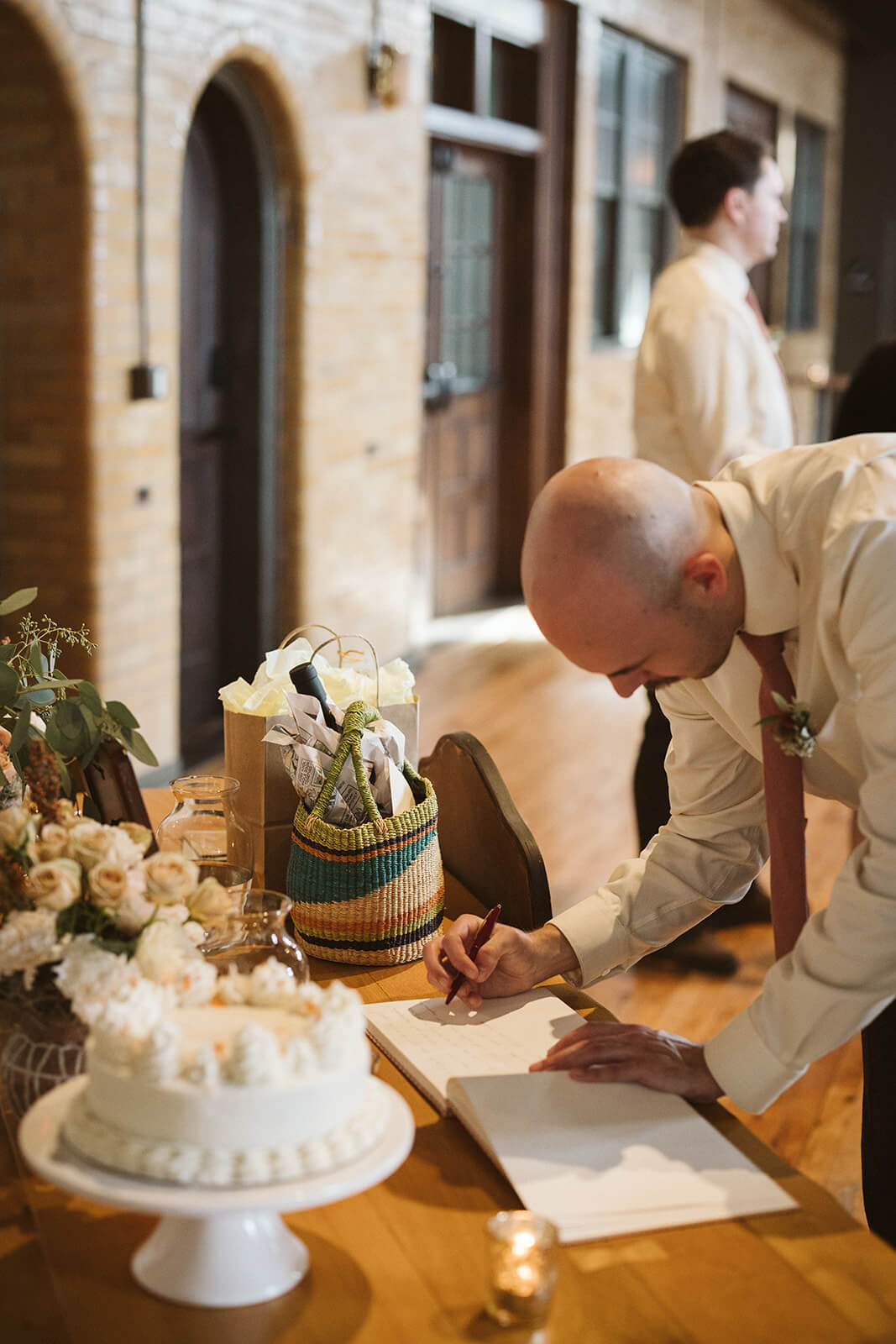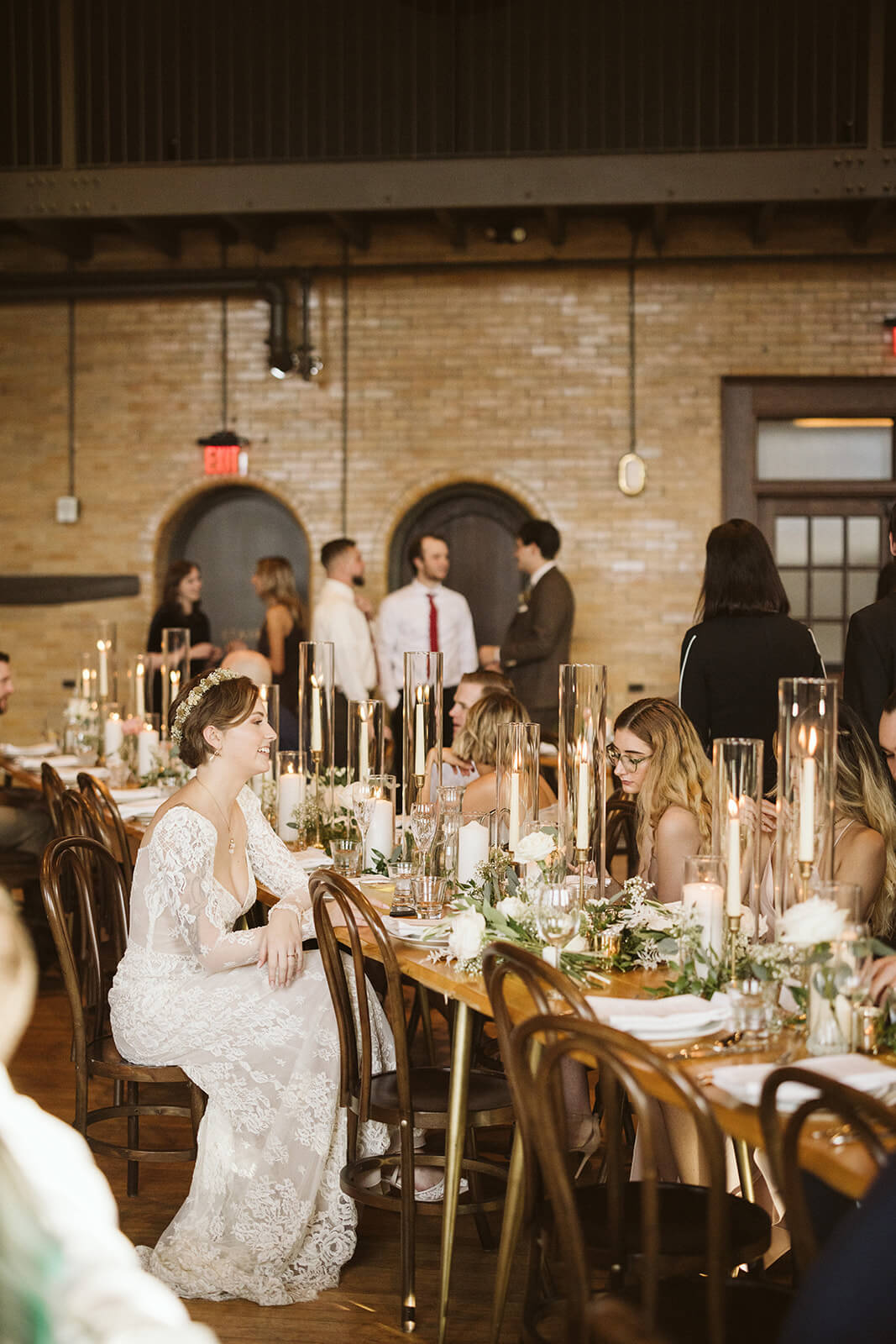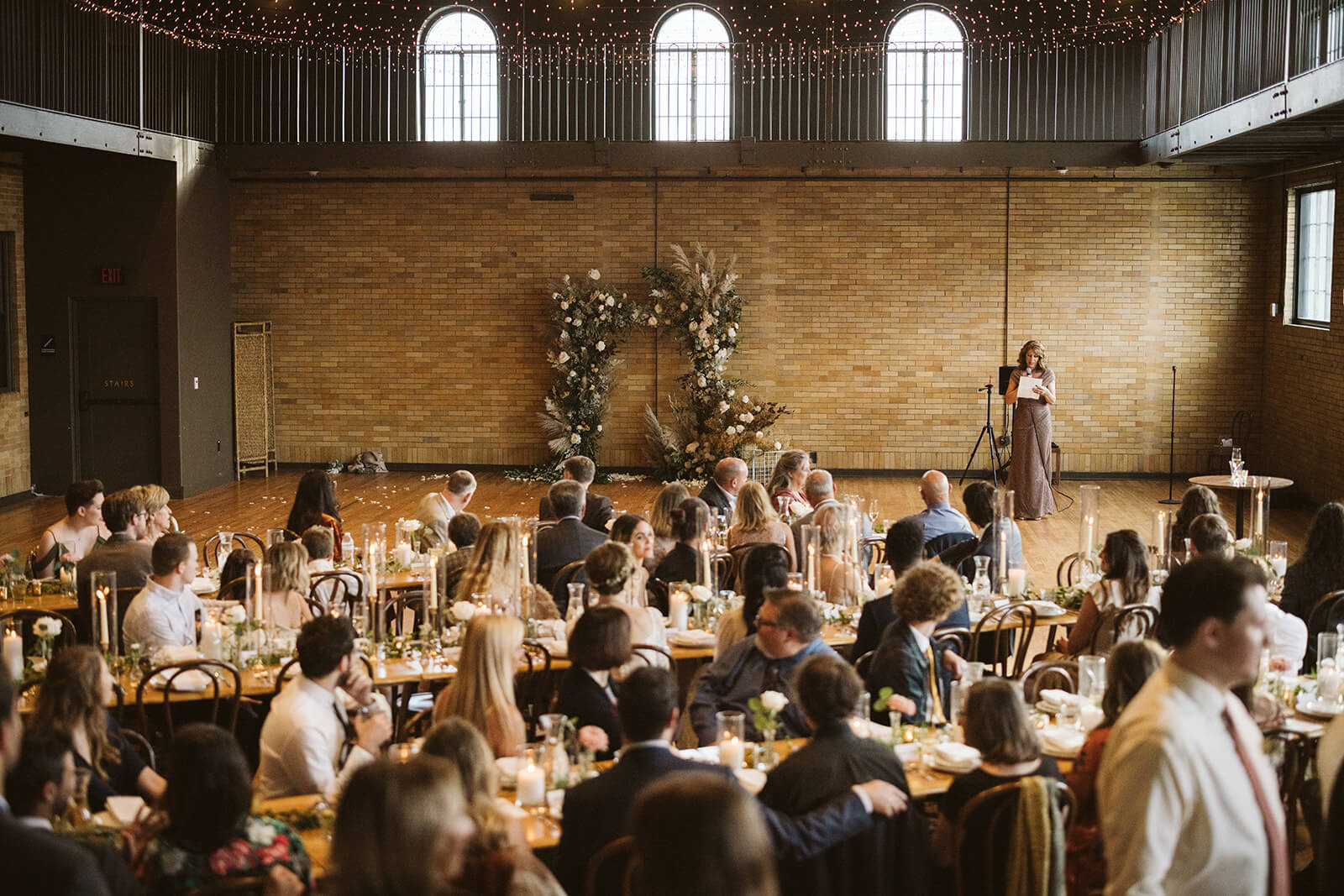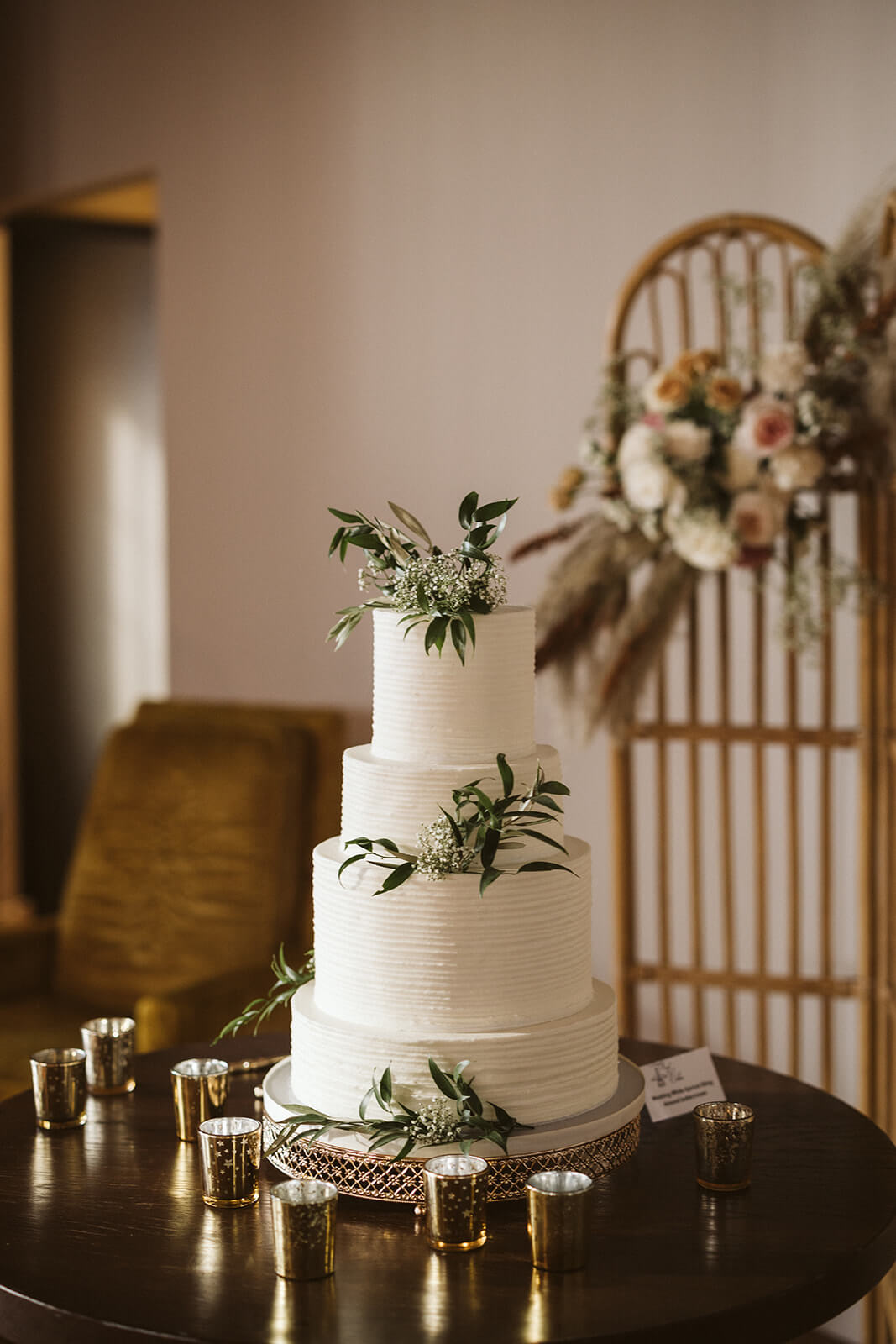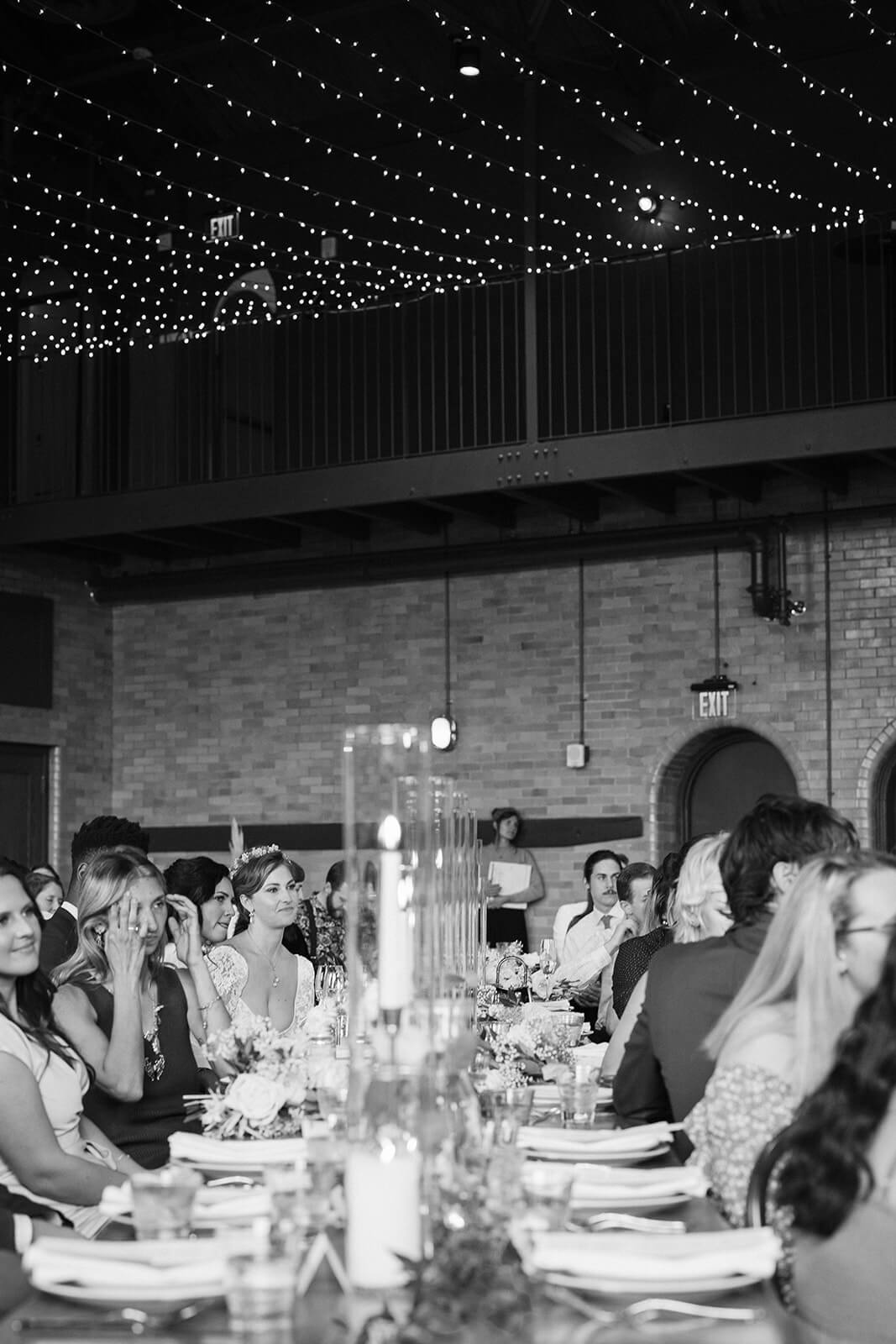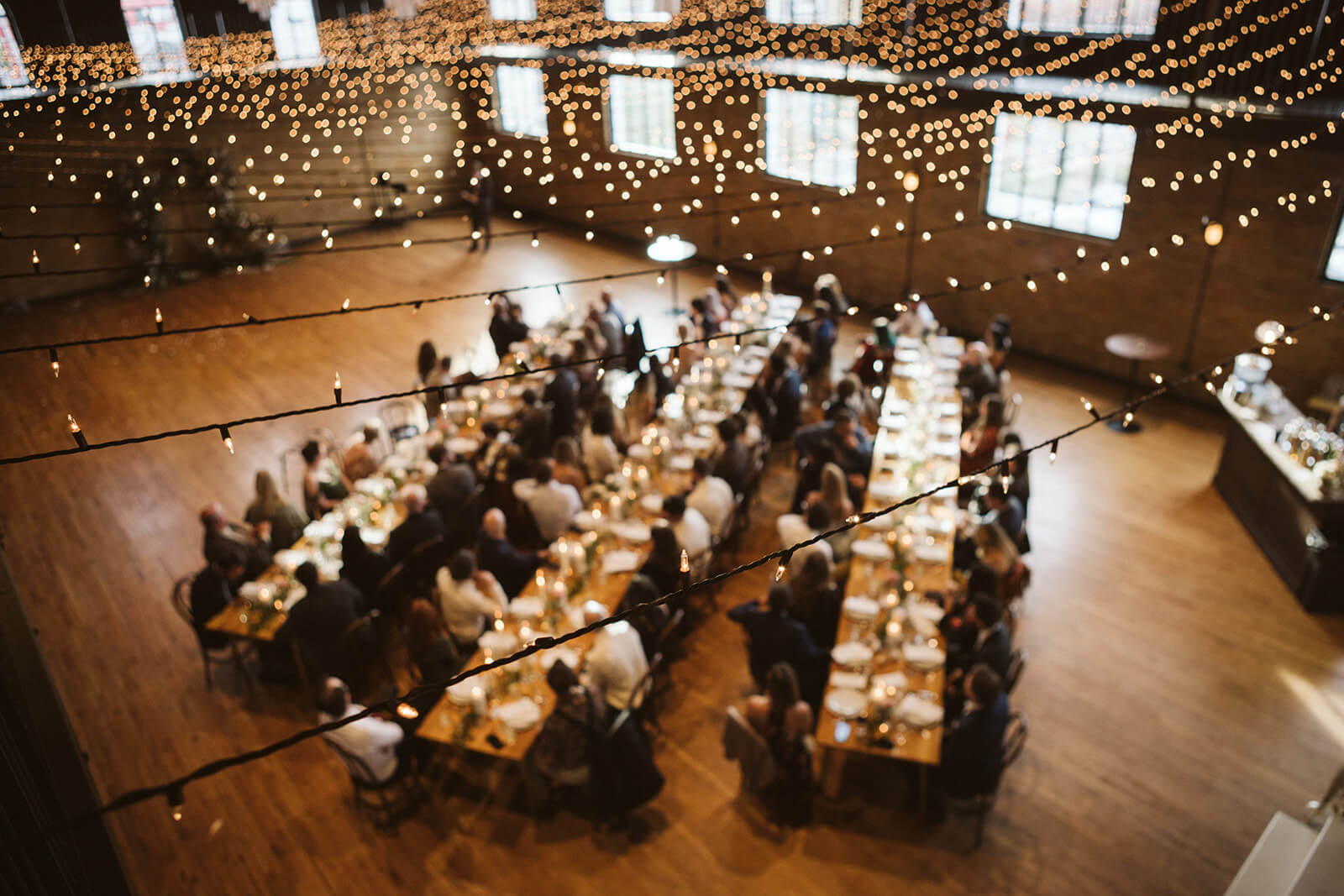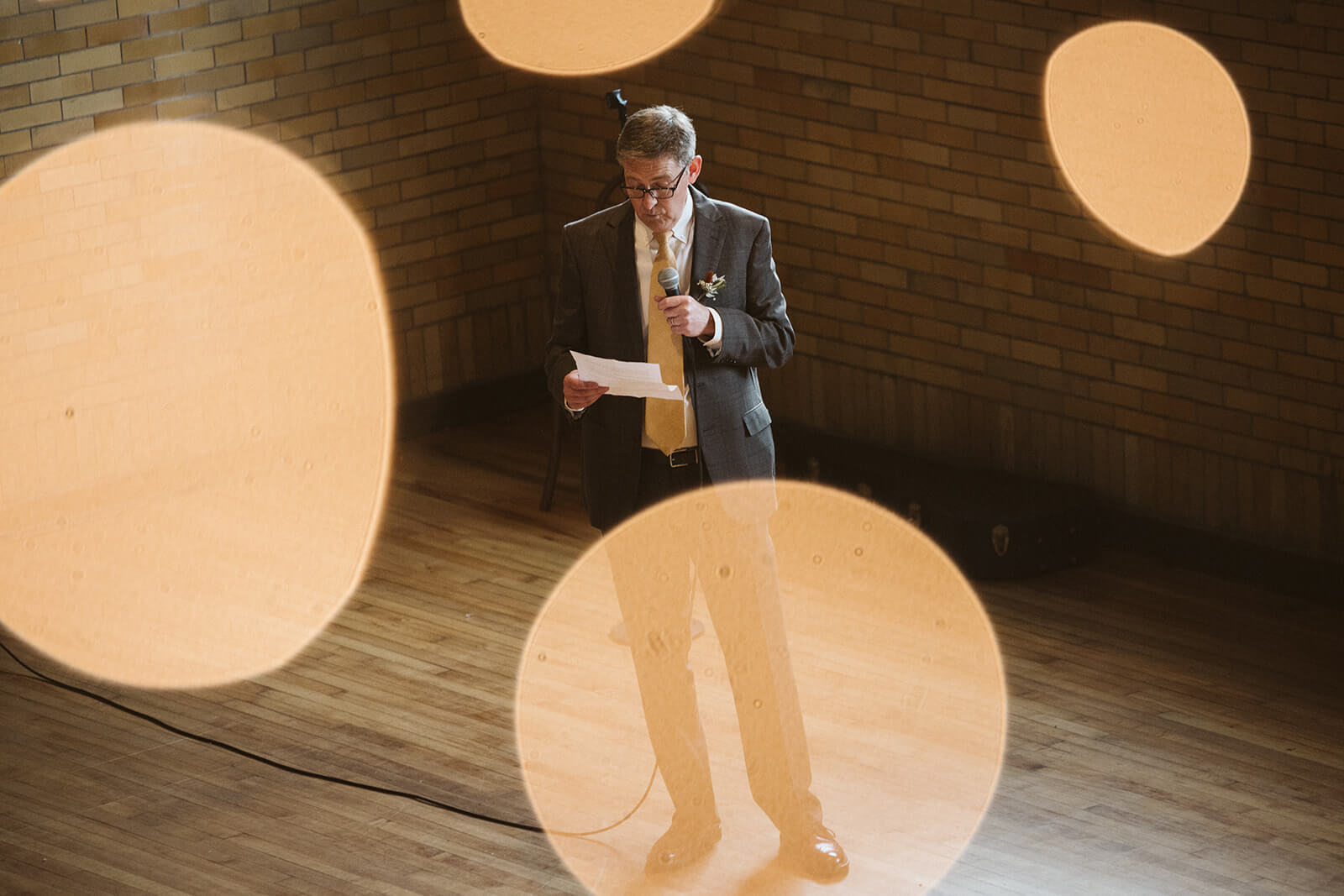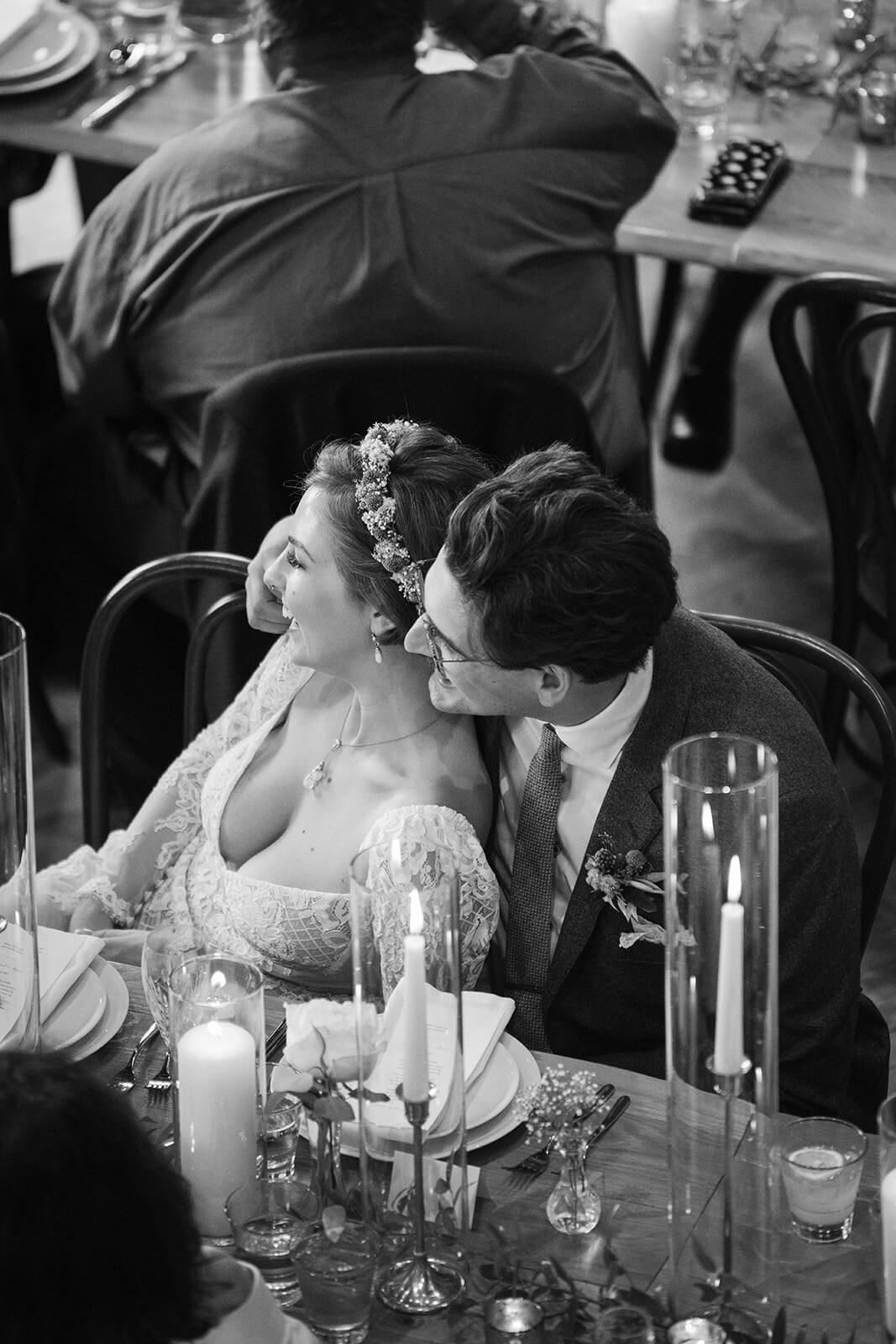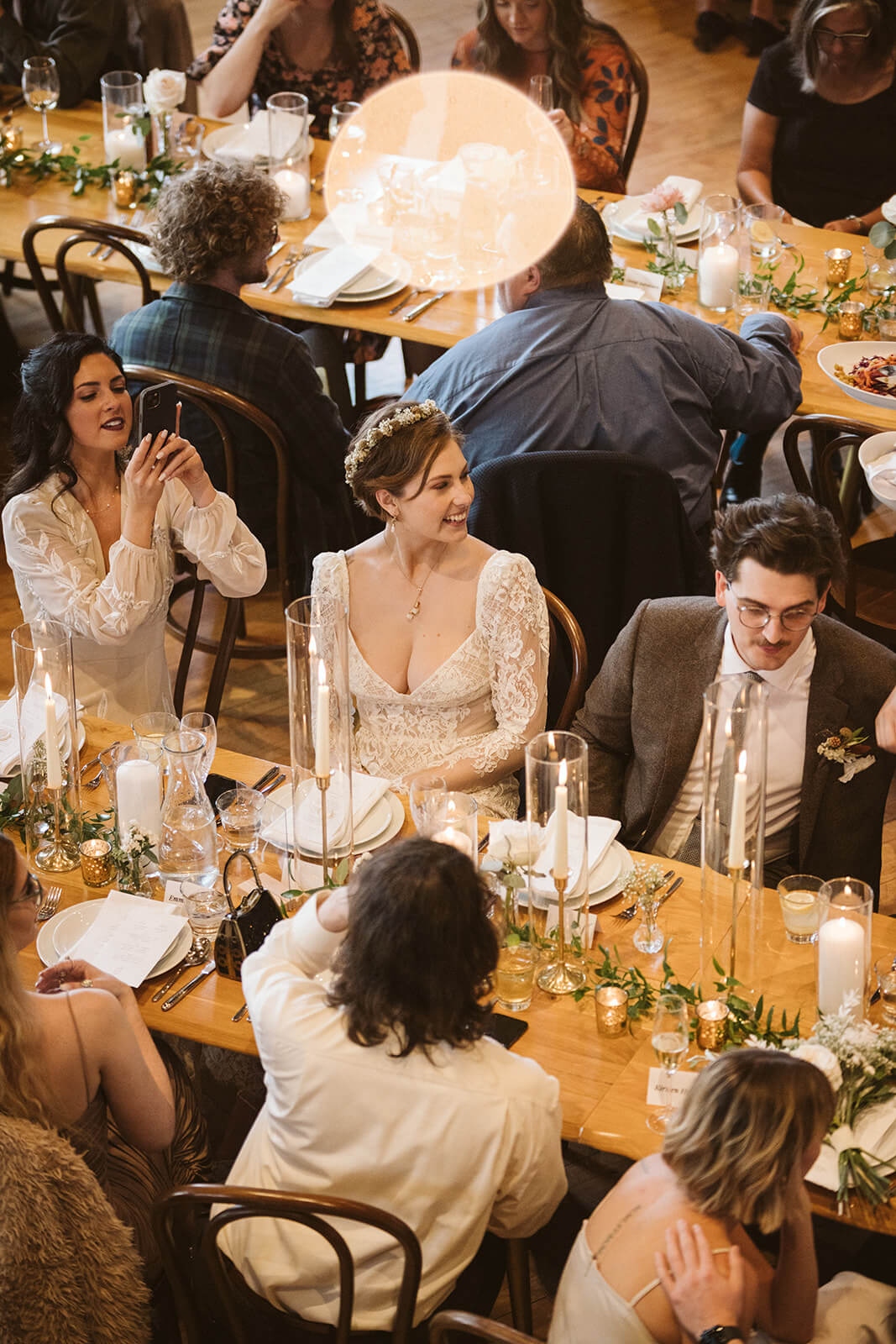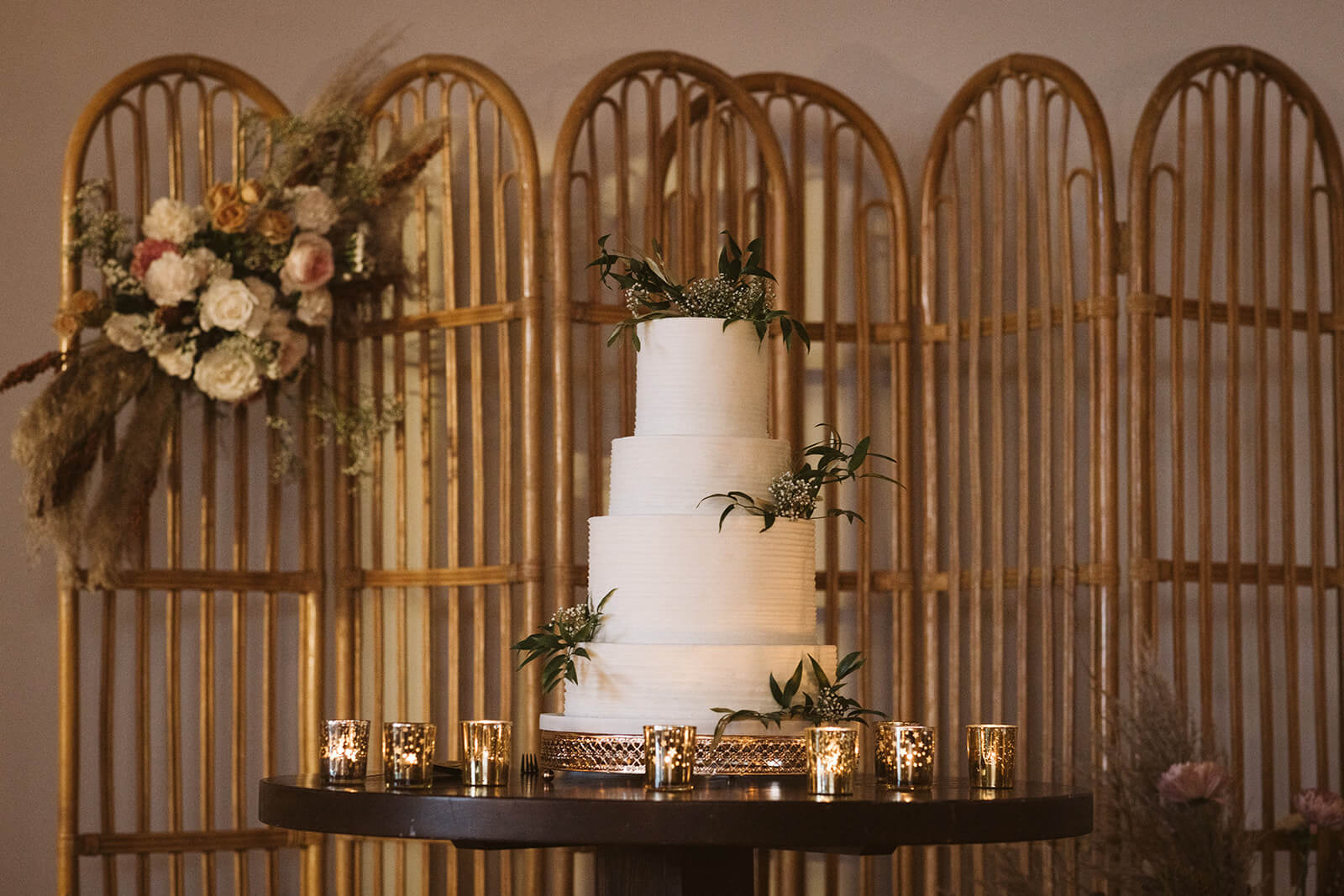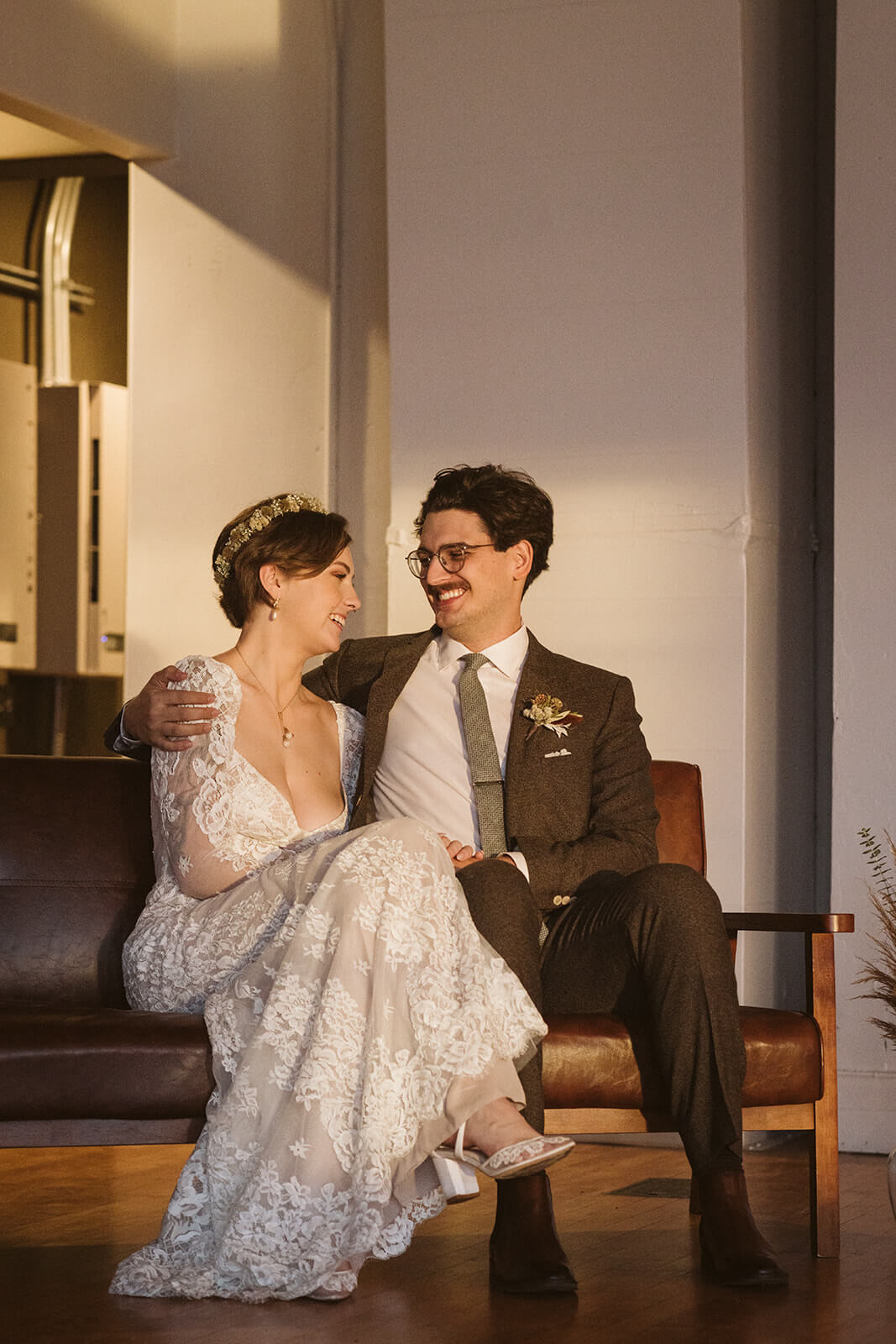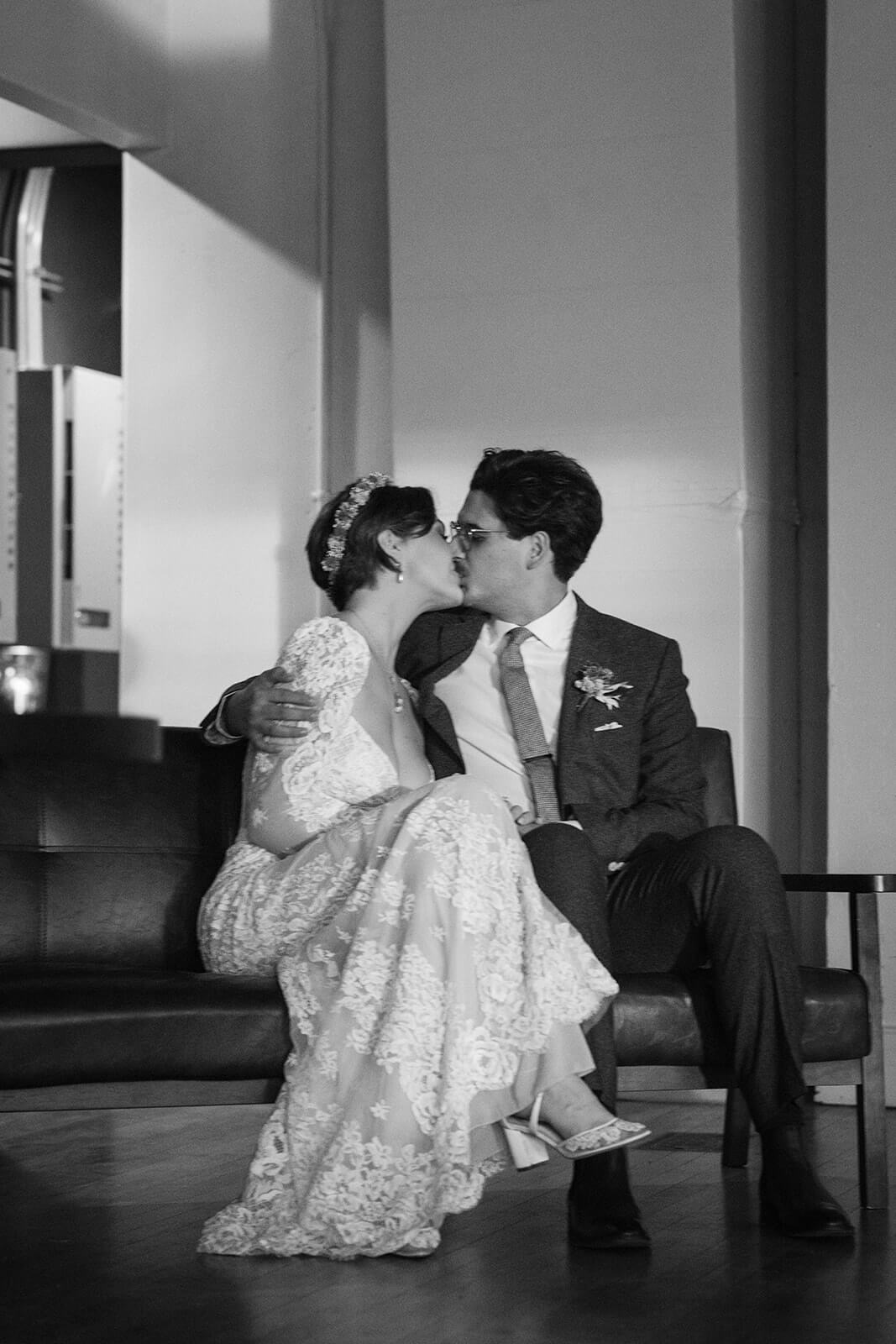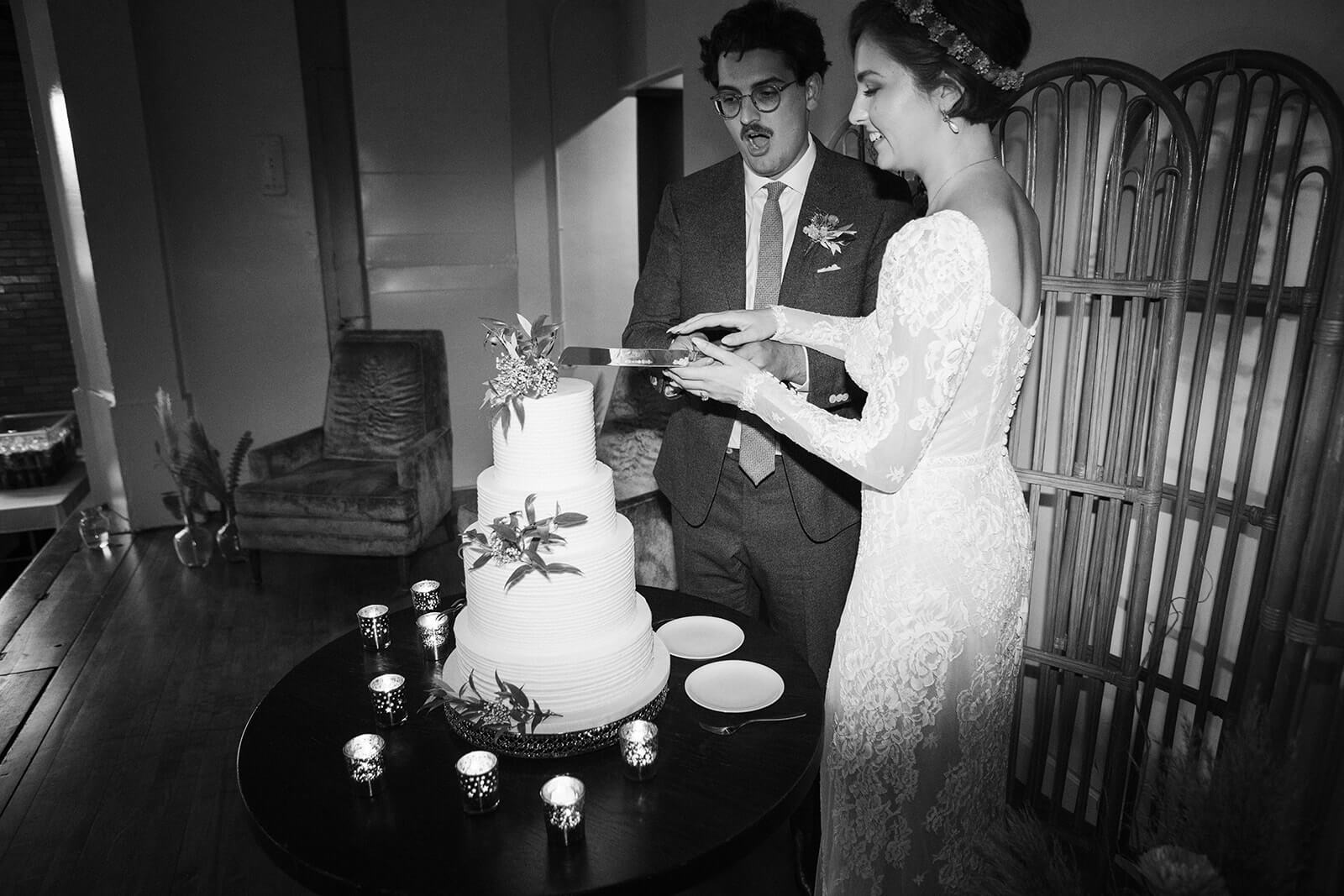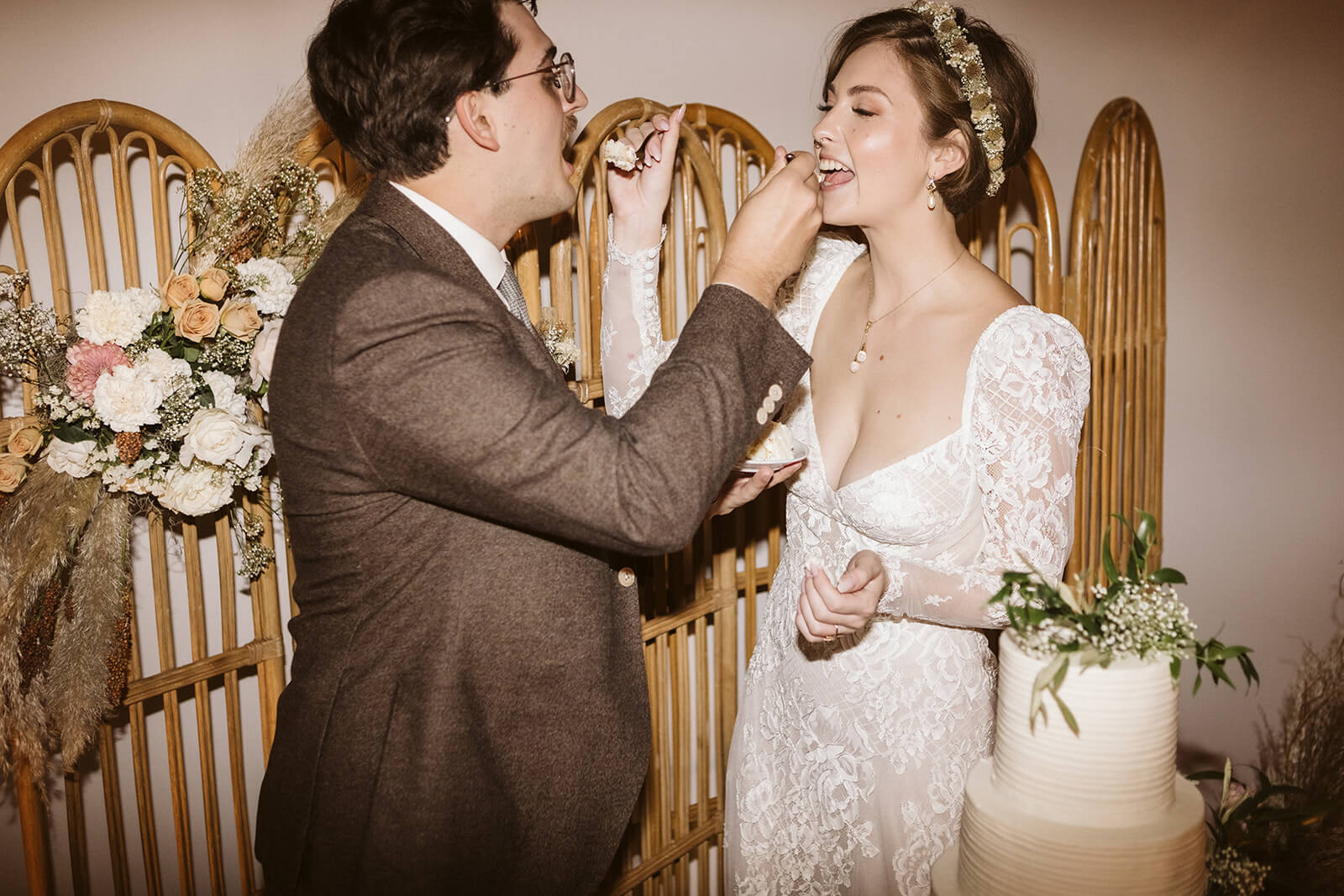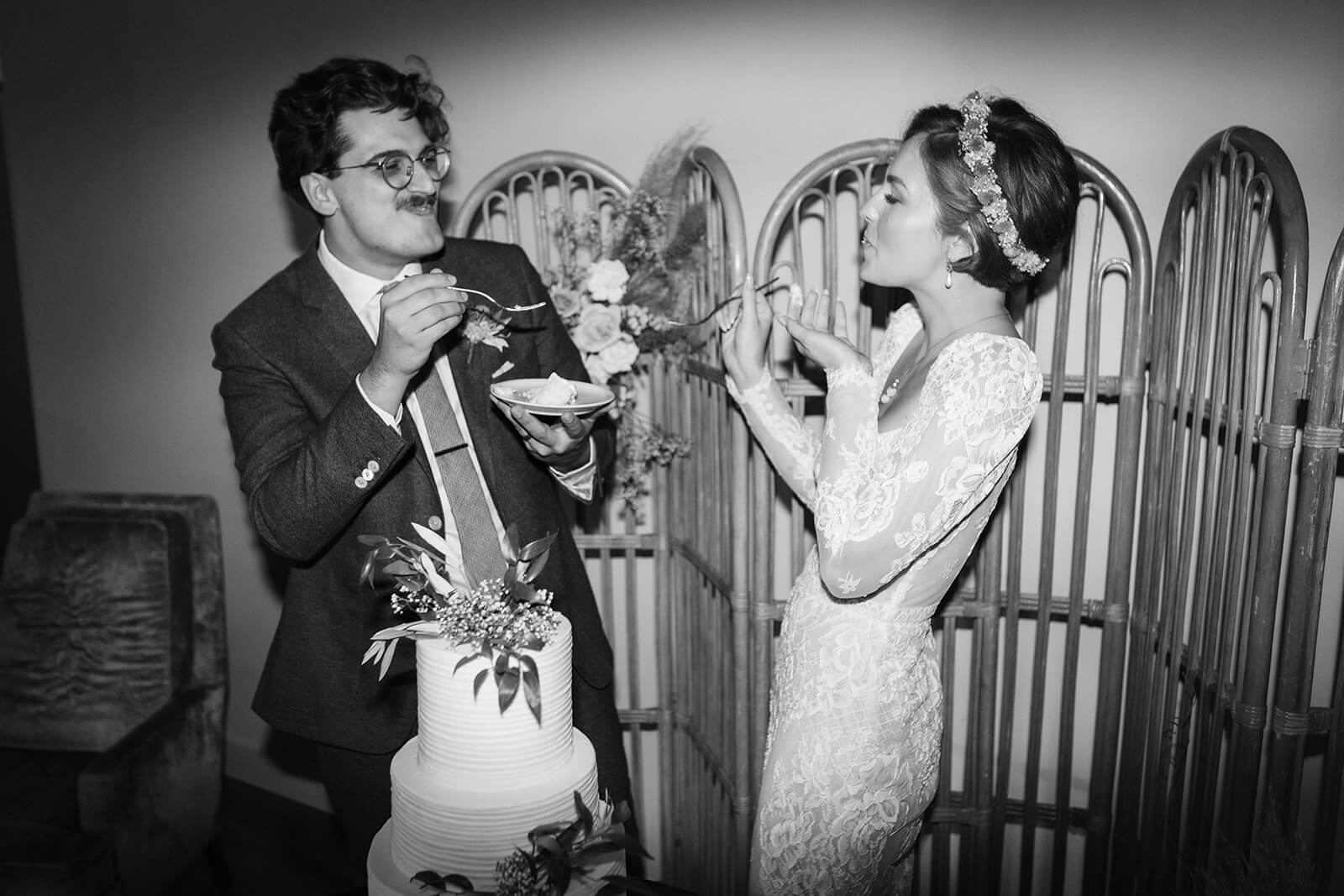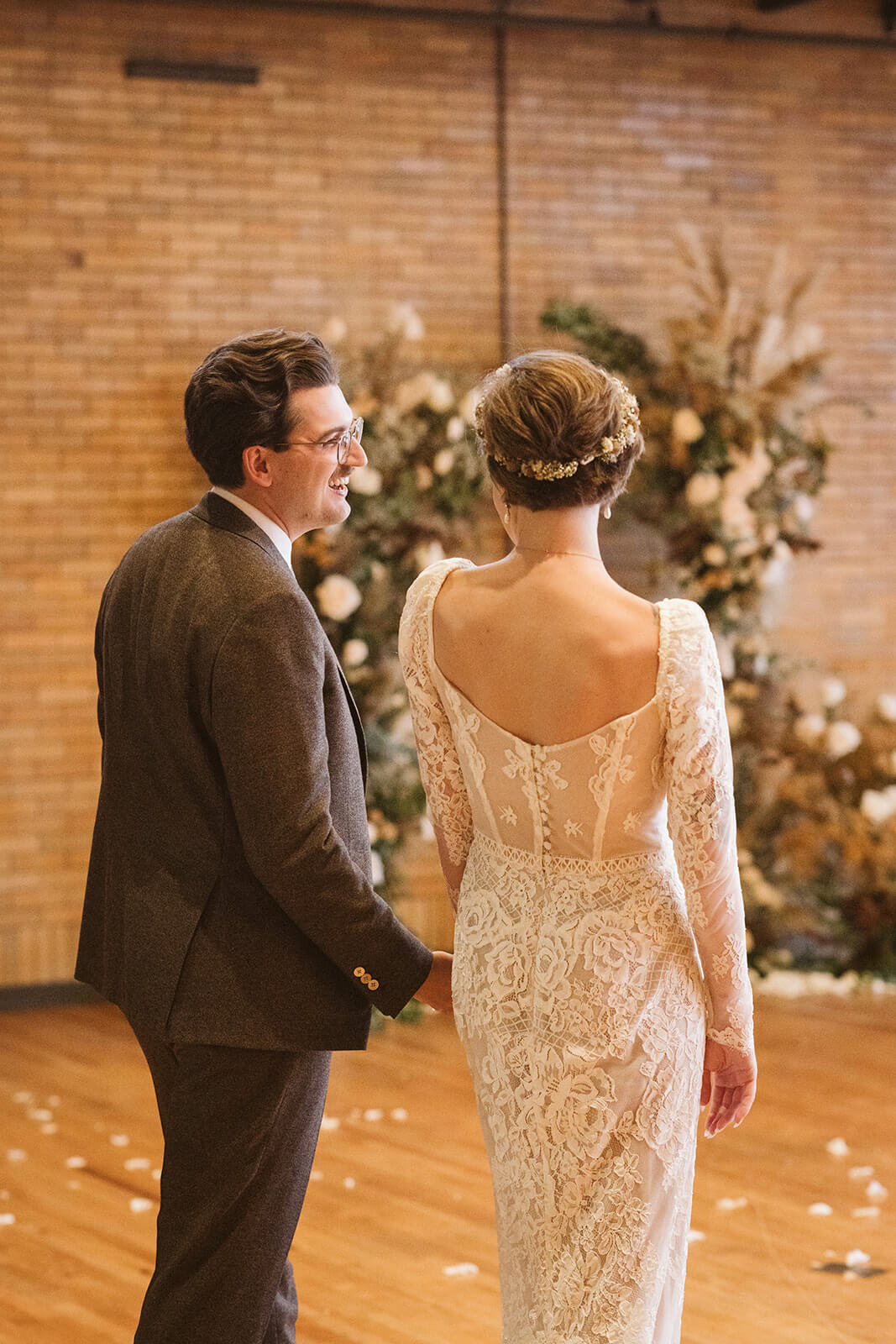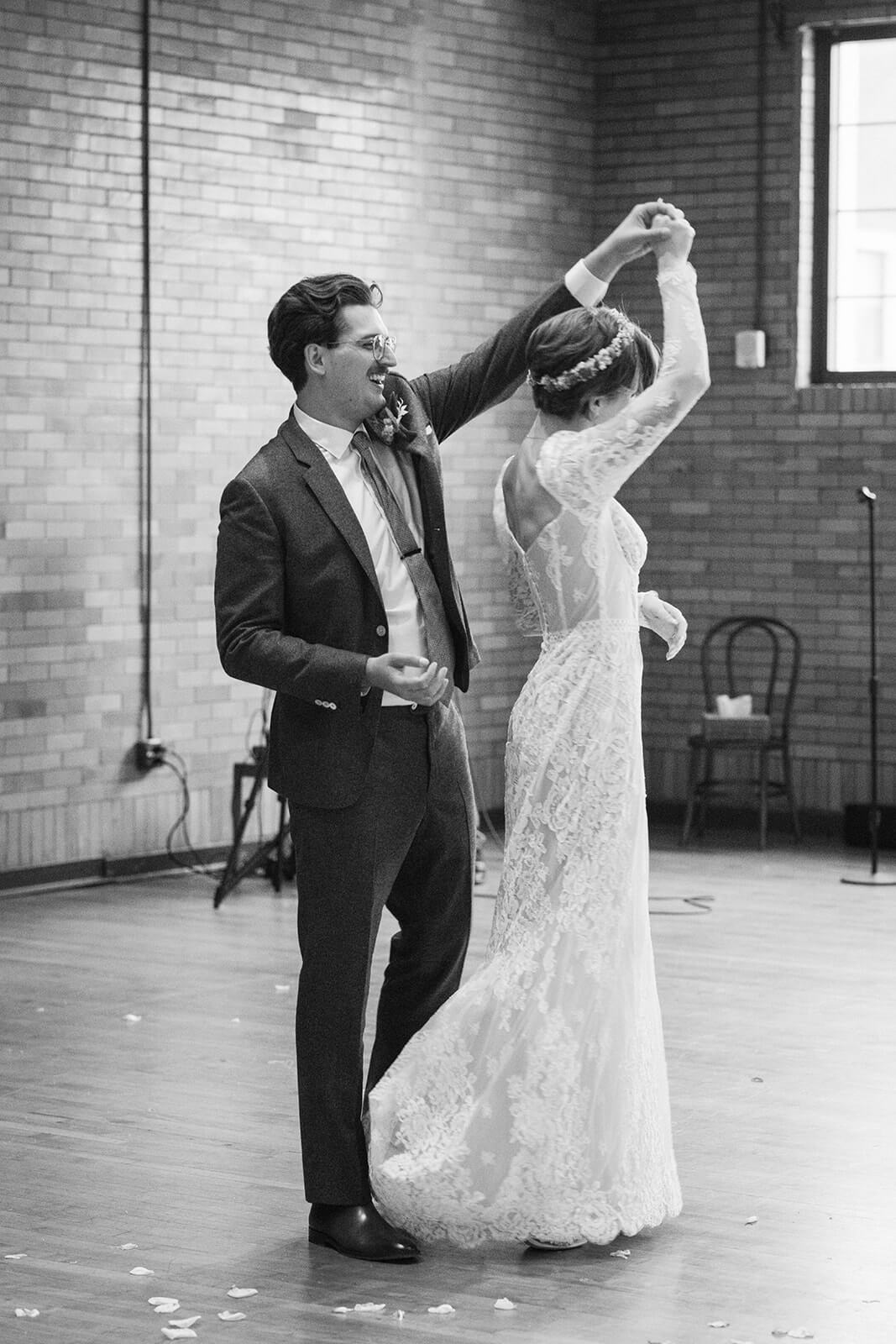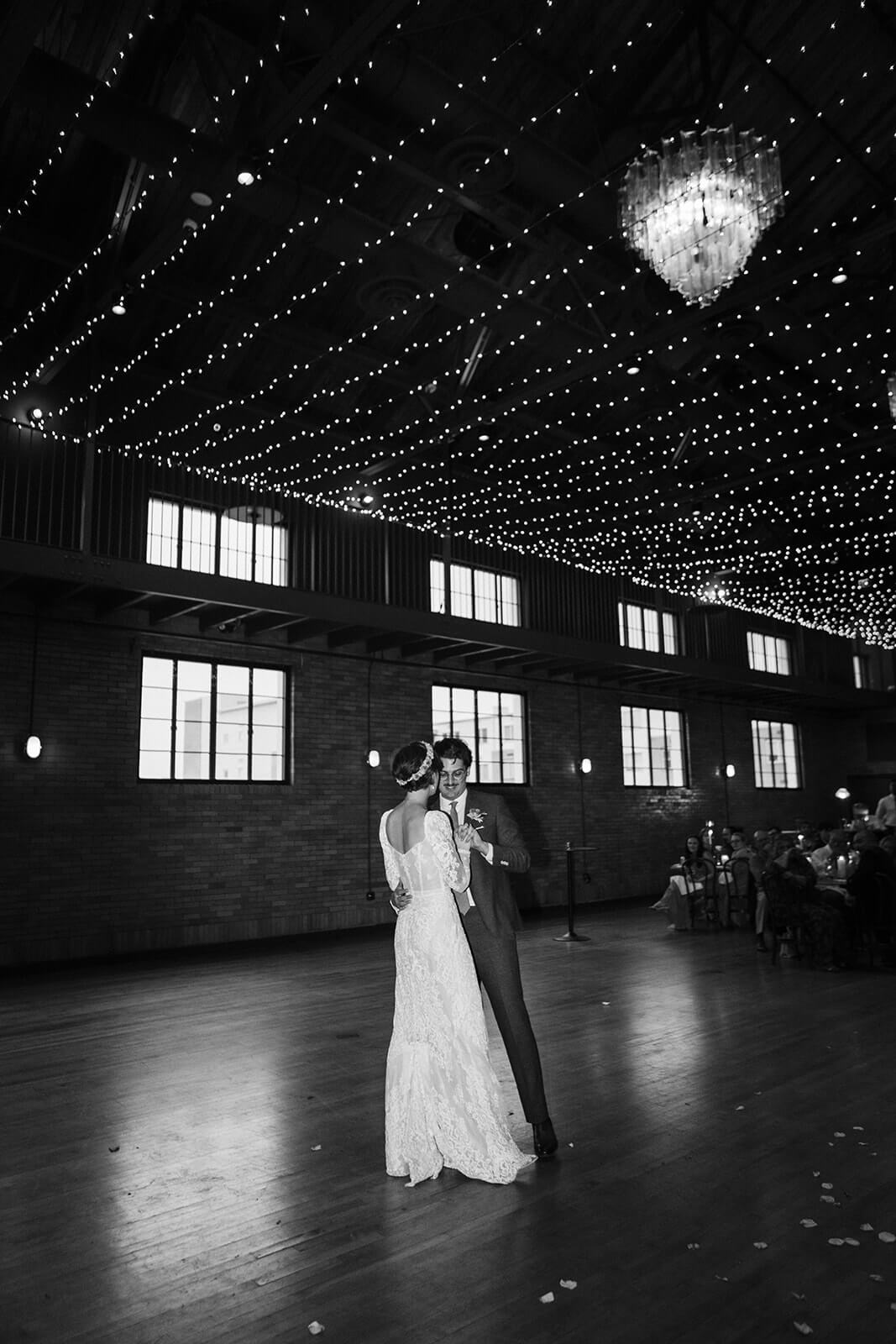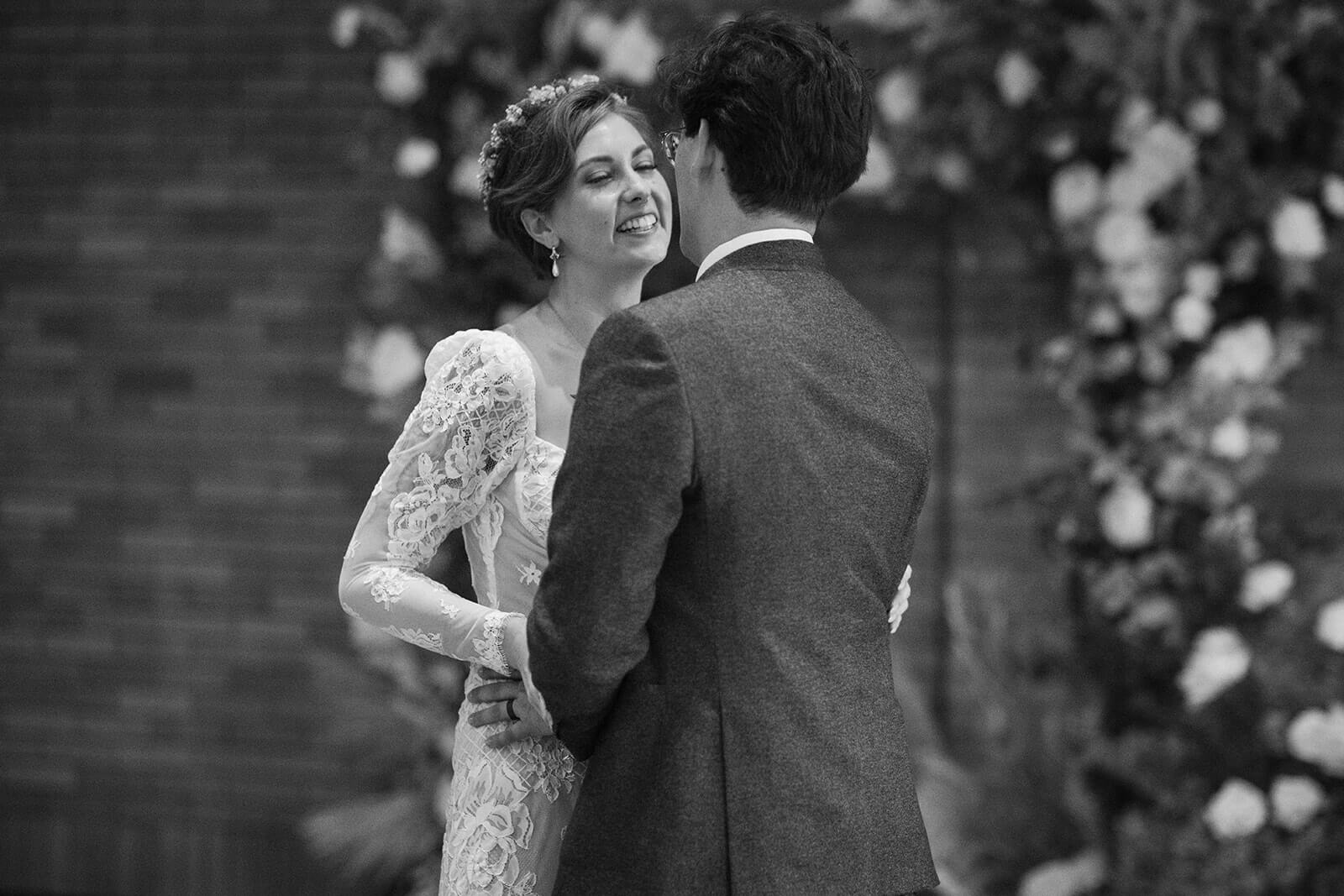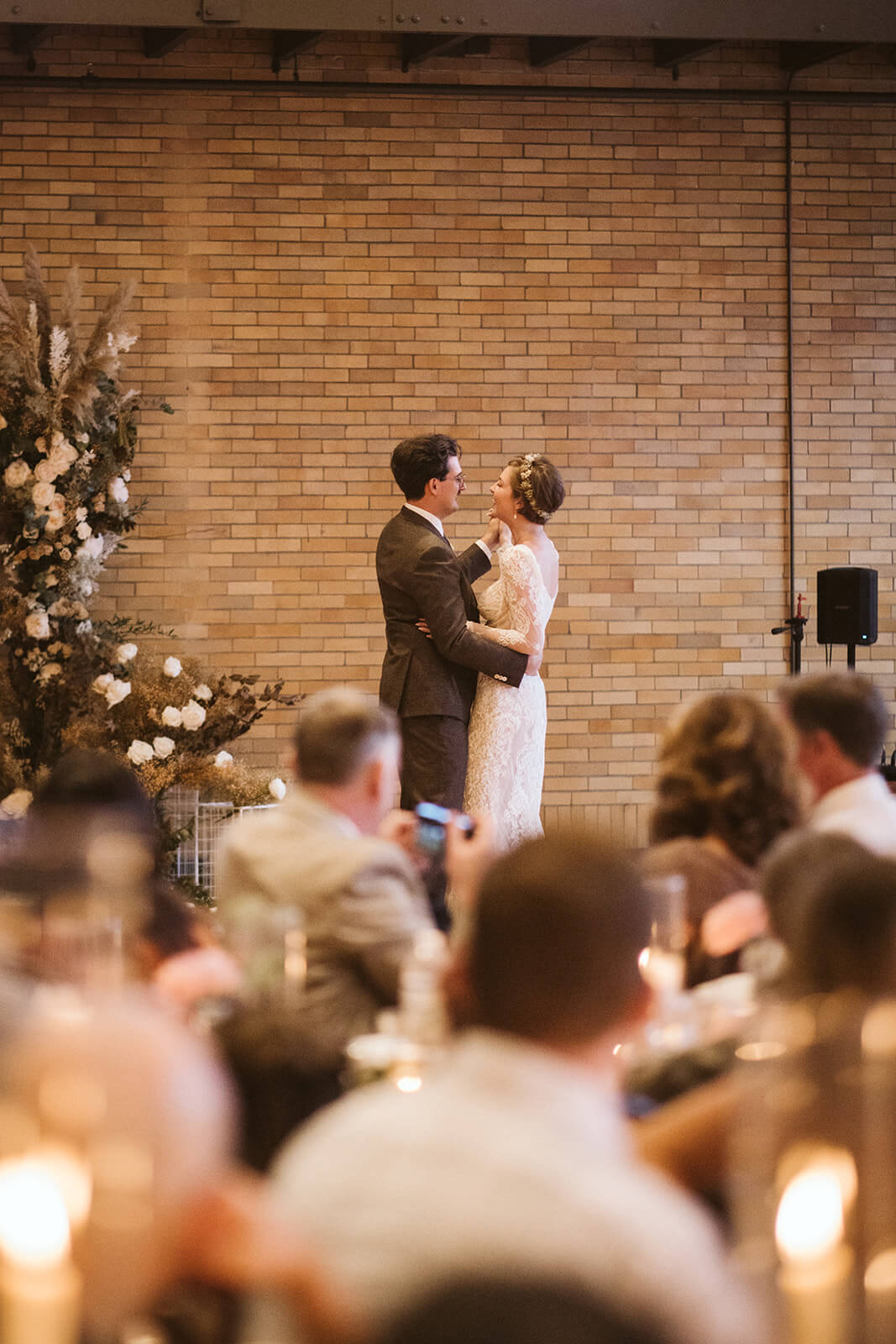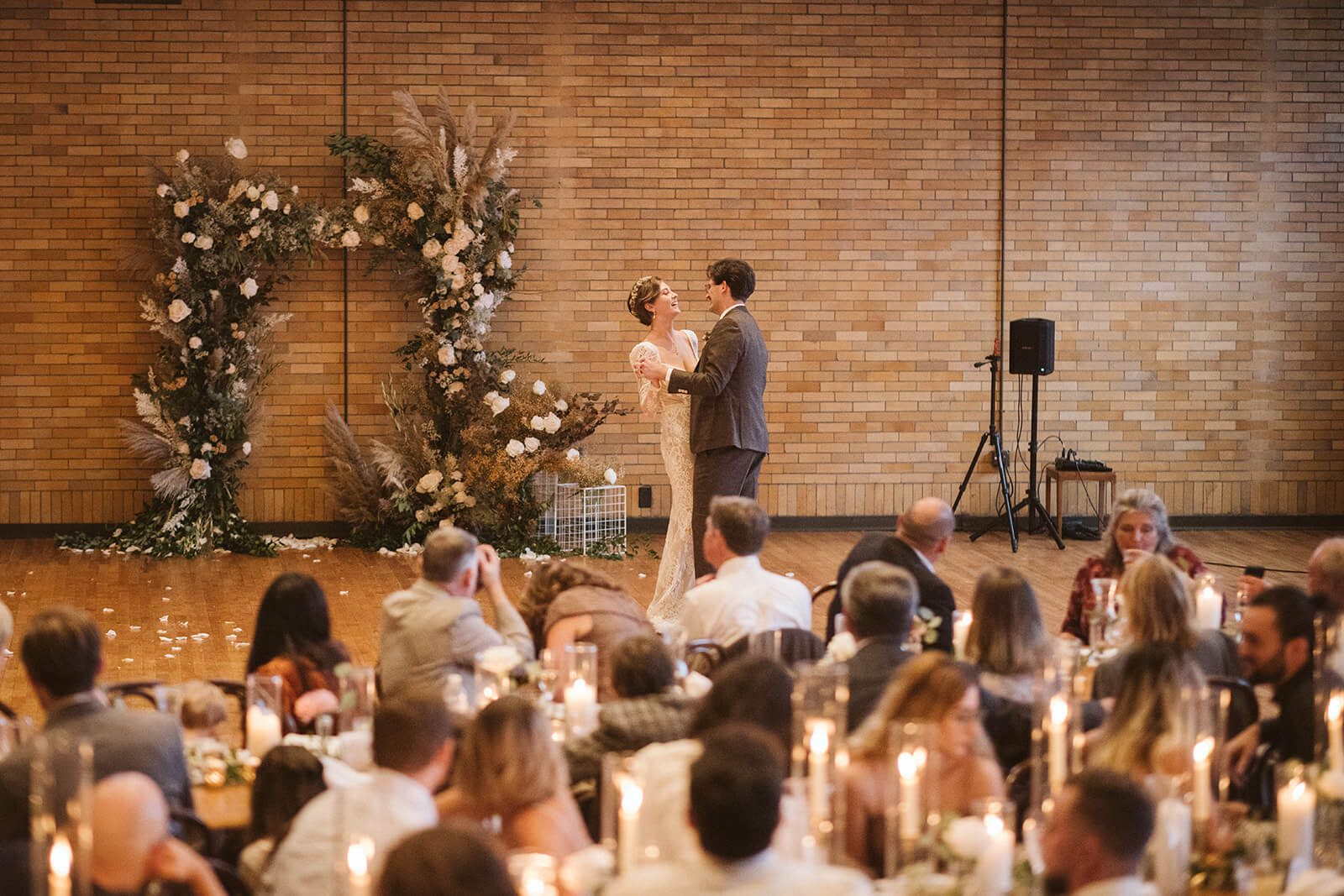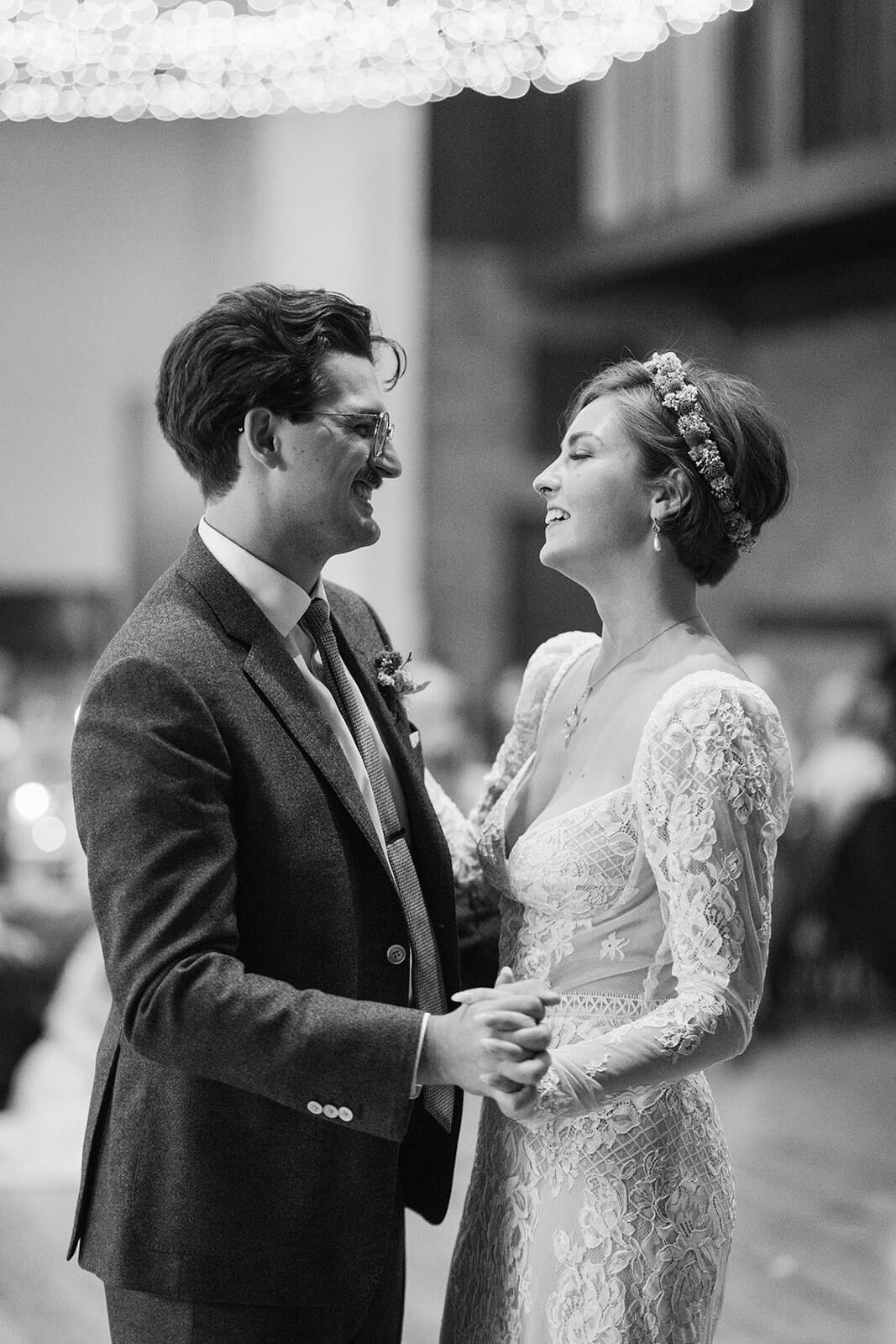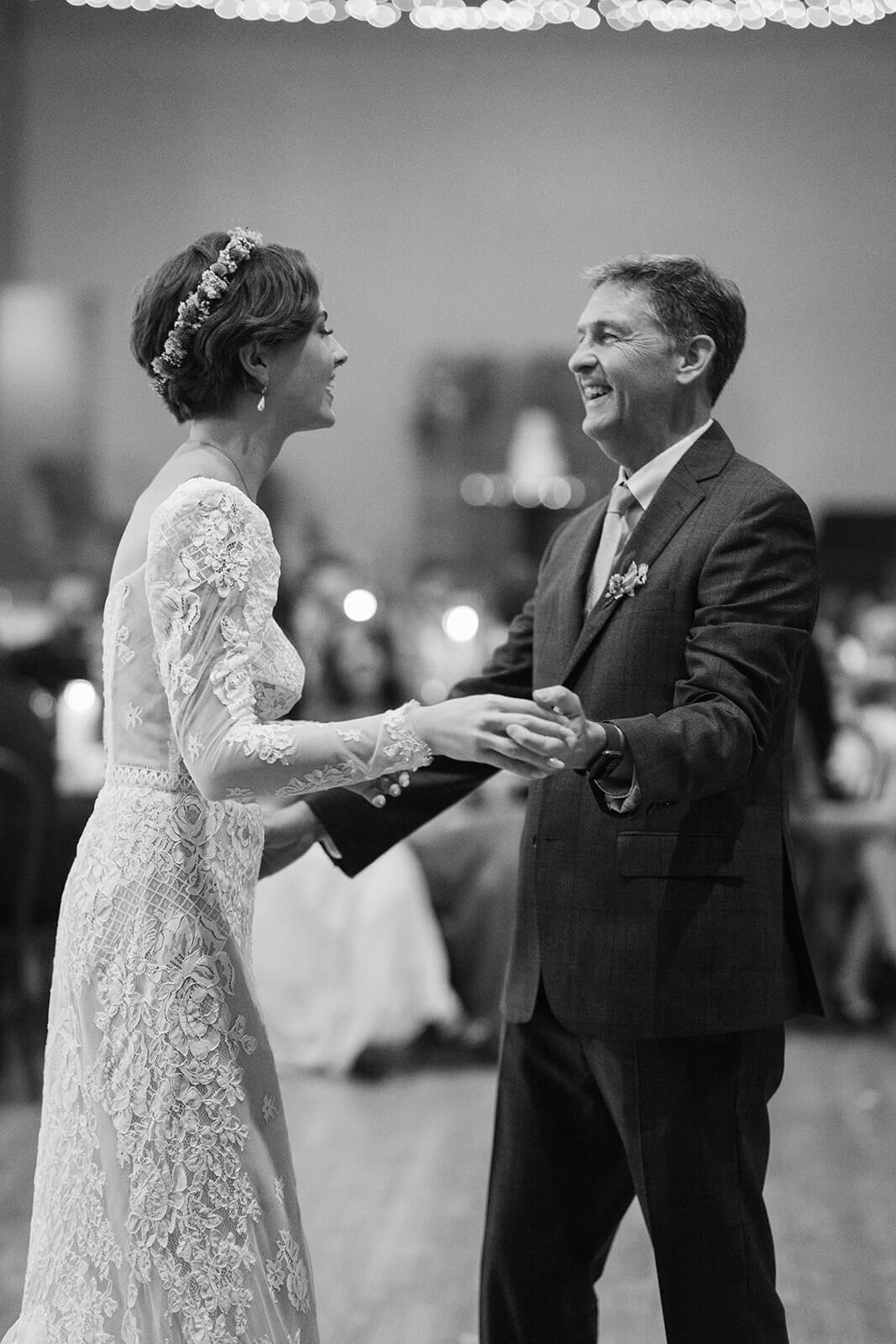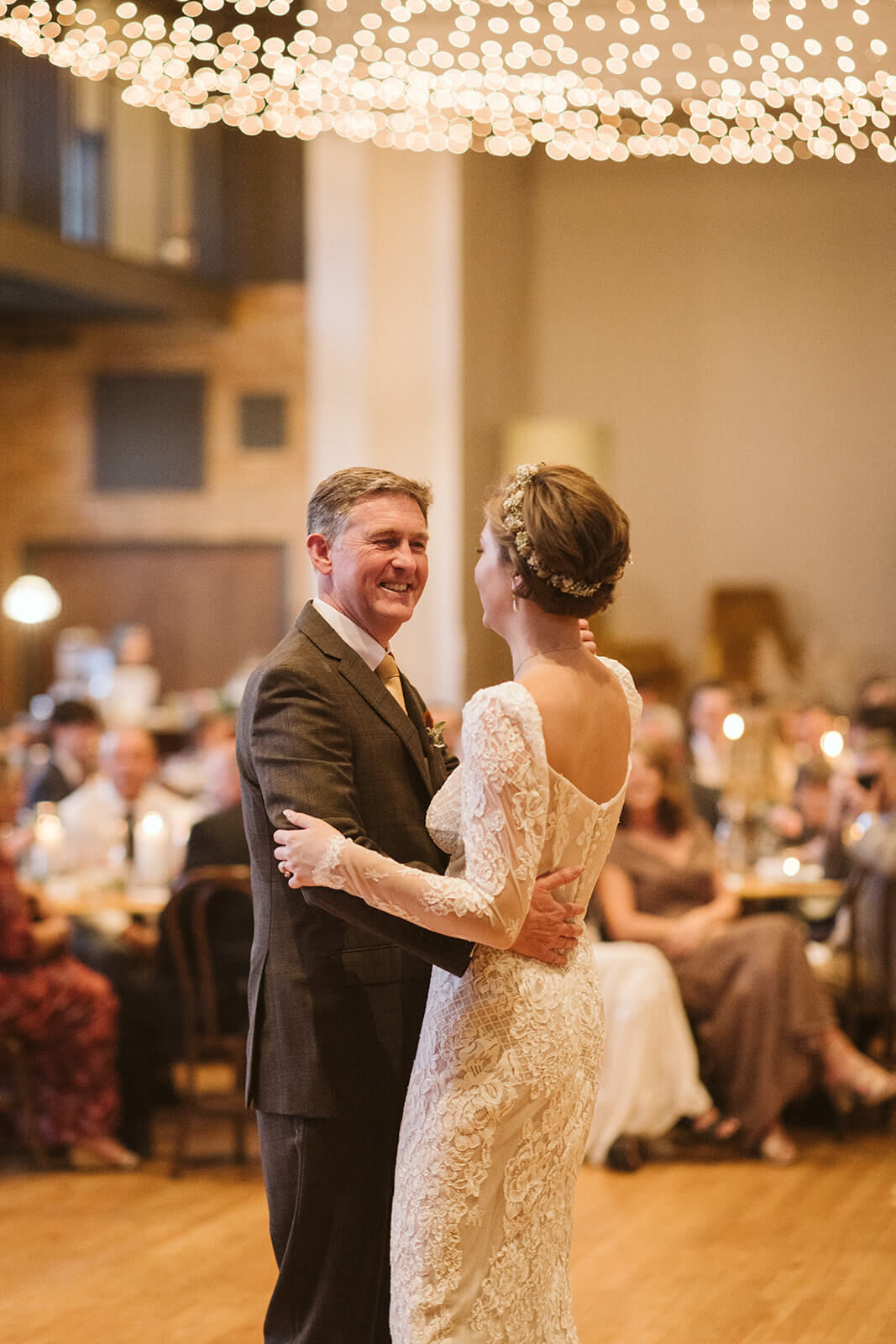 A Heartfelt and Intimate Ceremony
After their private vow reading, we headed up to the rooftop terrace for outdoor bride and groom photos. The bright blue sky and the Mediterranean-style architecture were the perfect complements to the couple's radiant smiles. Then, we moved back inside to the Pennybacker Room and to Ruby Hall for portraits with their wedding party until, finally, it was time to line up for the ceremony.
For Emily + Pat's ceremony, Ruby Hall was set up with two sections. The section closest to the stage area was lined with tables where dinner would soon be served. Meanwhile, the opposing side of the hall was set up with rows of chairs in front of an arbor covered in boho-chic florals for the ceremony.
Once guests were settled into their seats, Emily's brother prompted the start of their ceremony by playing soft, romantic melodies on the guitar. There was an undeniable sense of love and unity in the air as Emily + Pat promised their love for love each other and exchanged rings. As they shared their first kiss as a married couple, the cheers and applause that followed reverberated with joy throughout the room.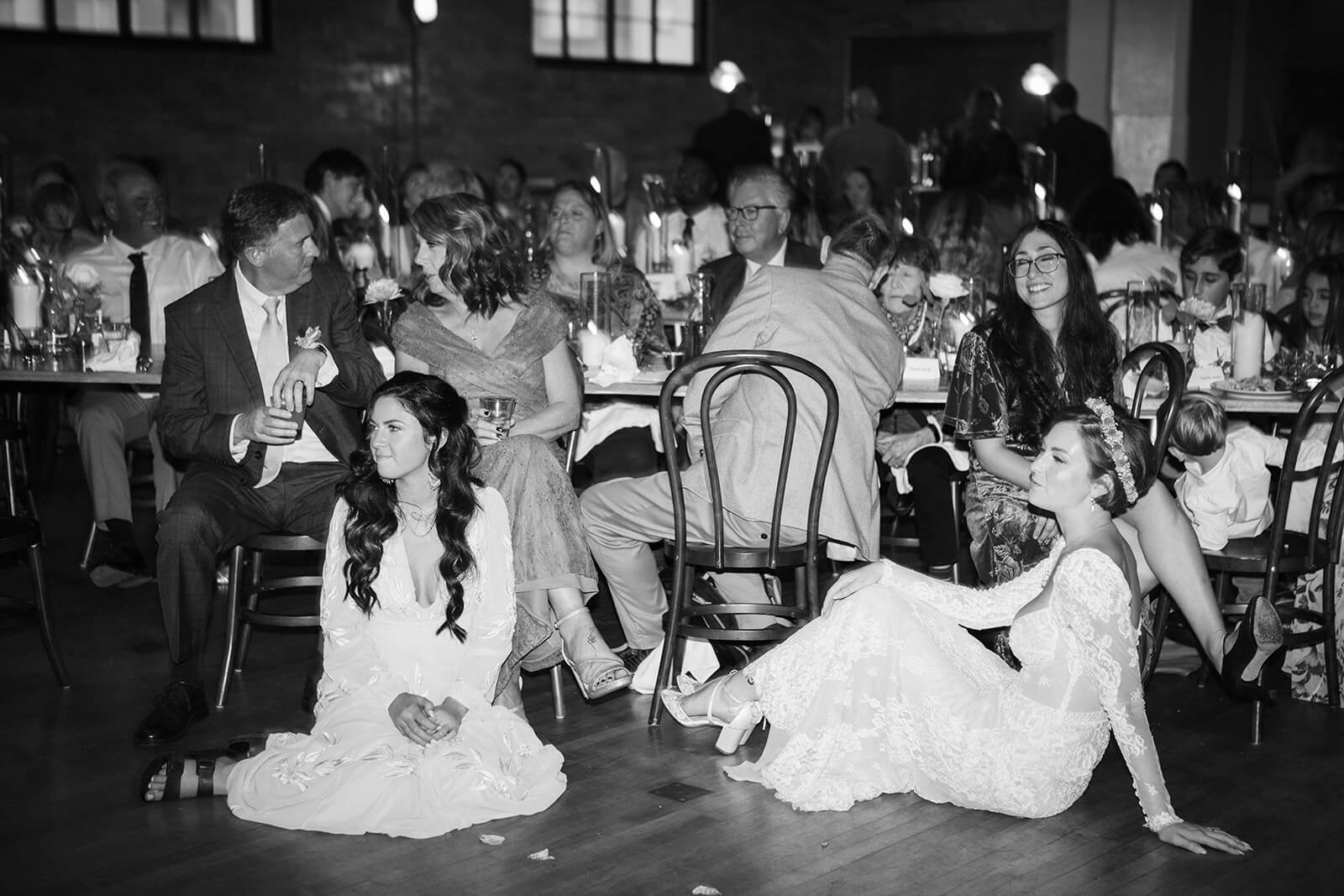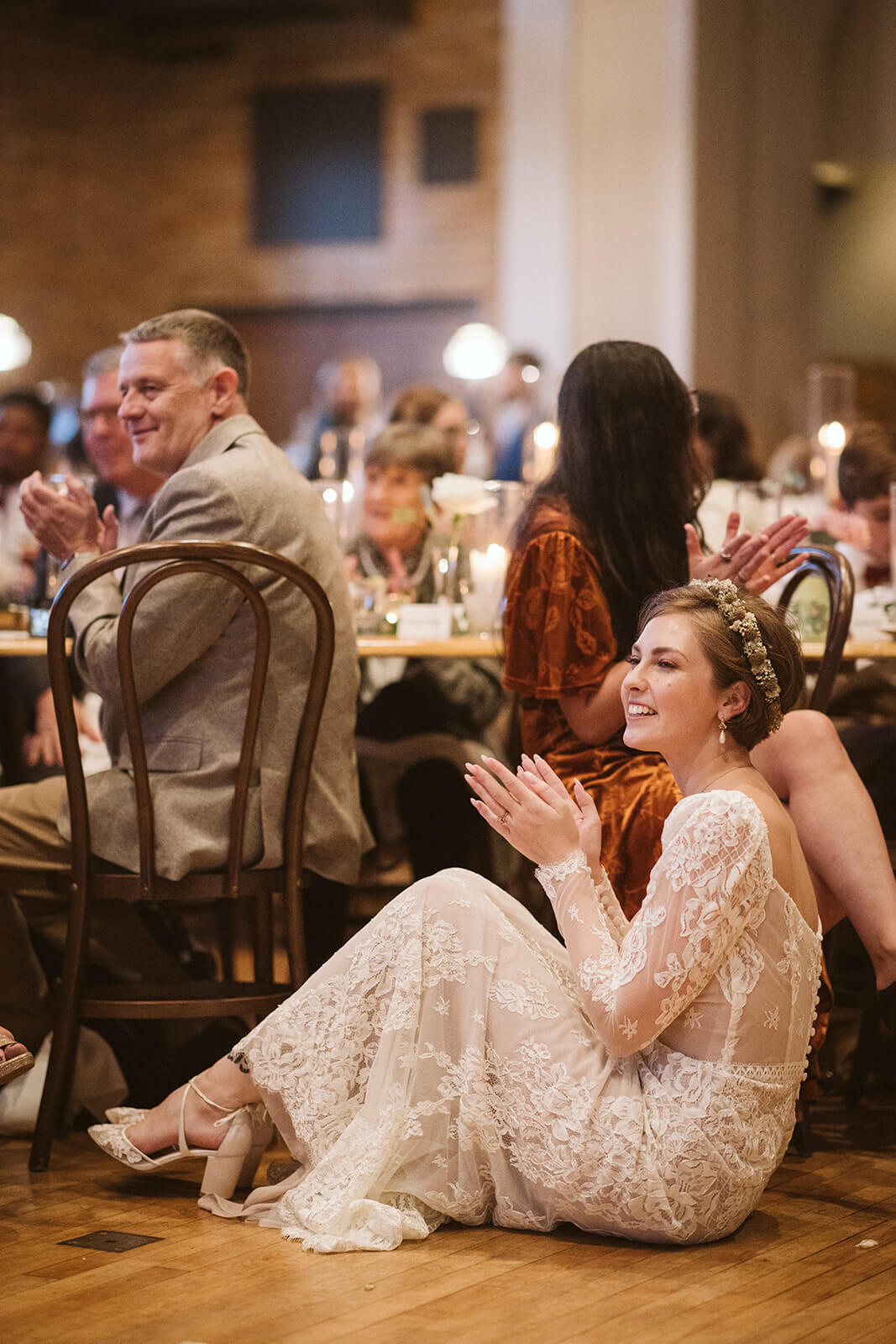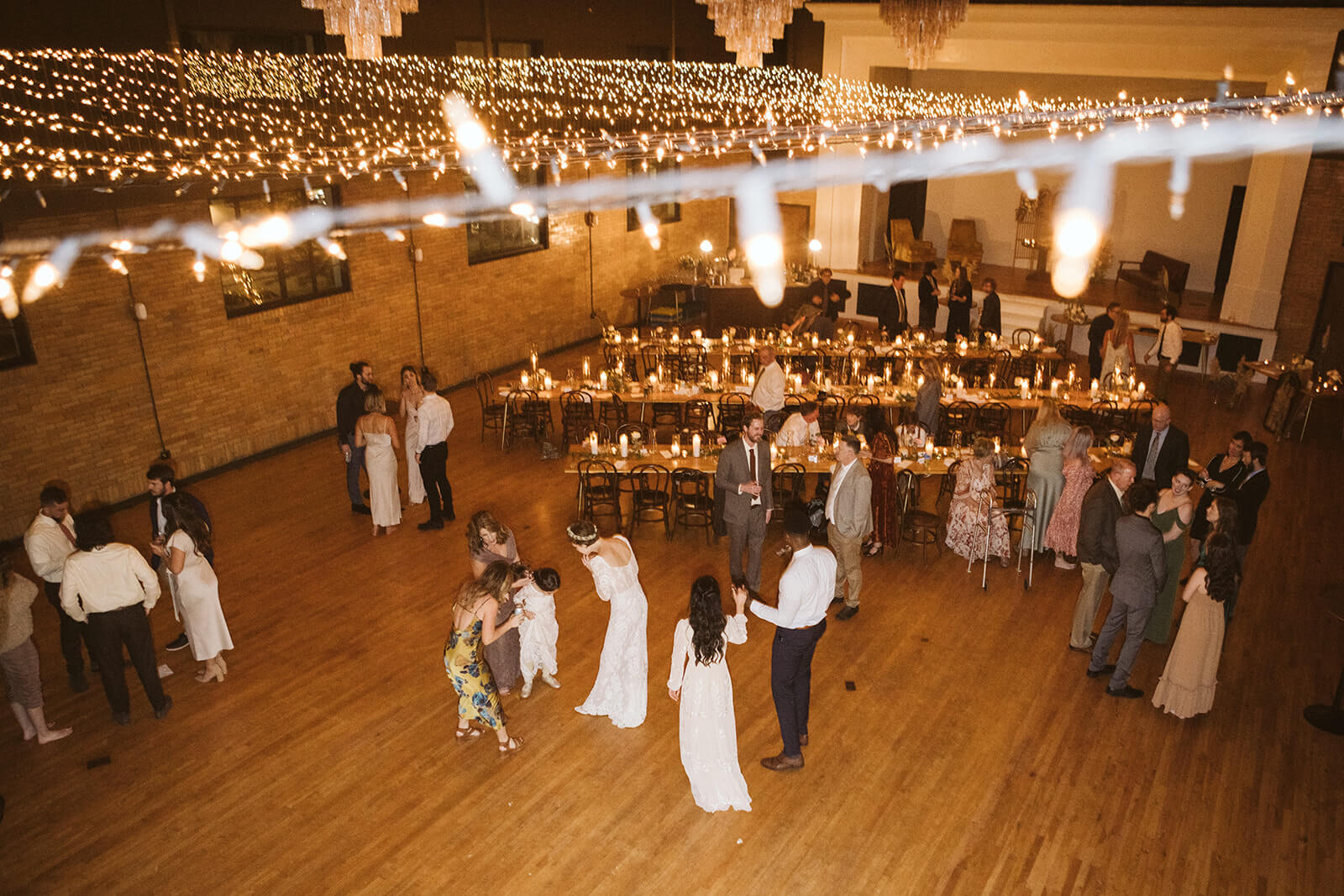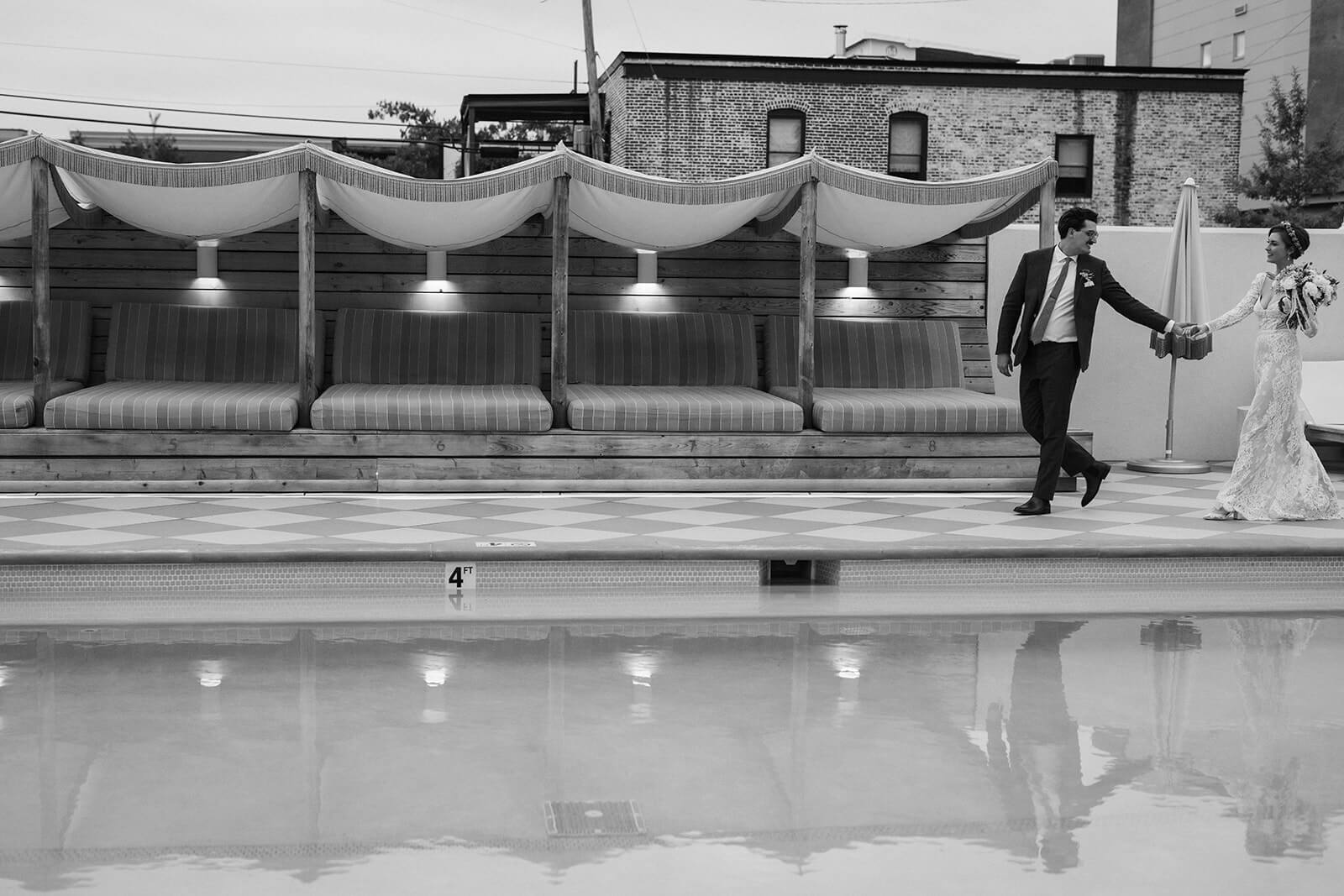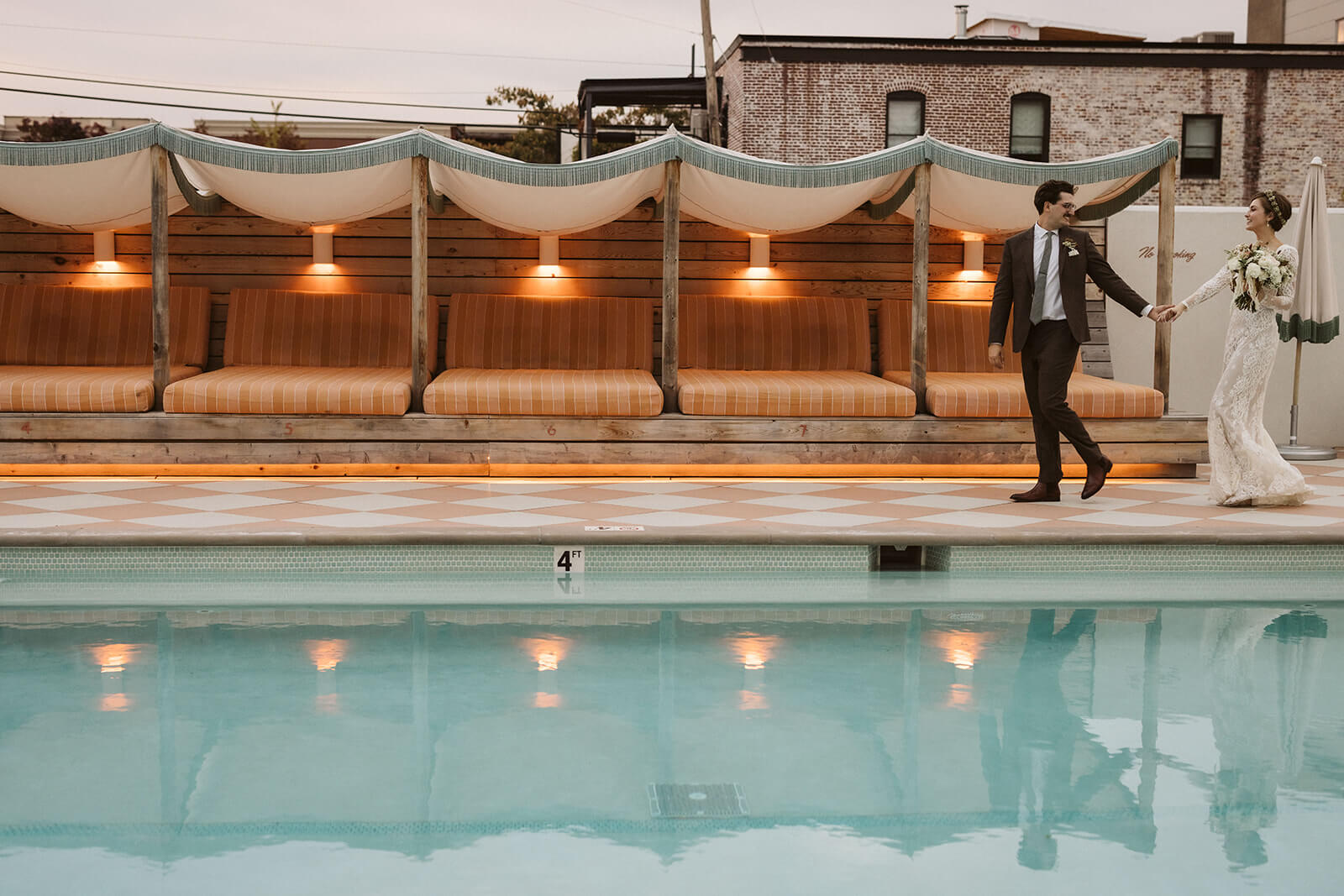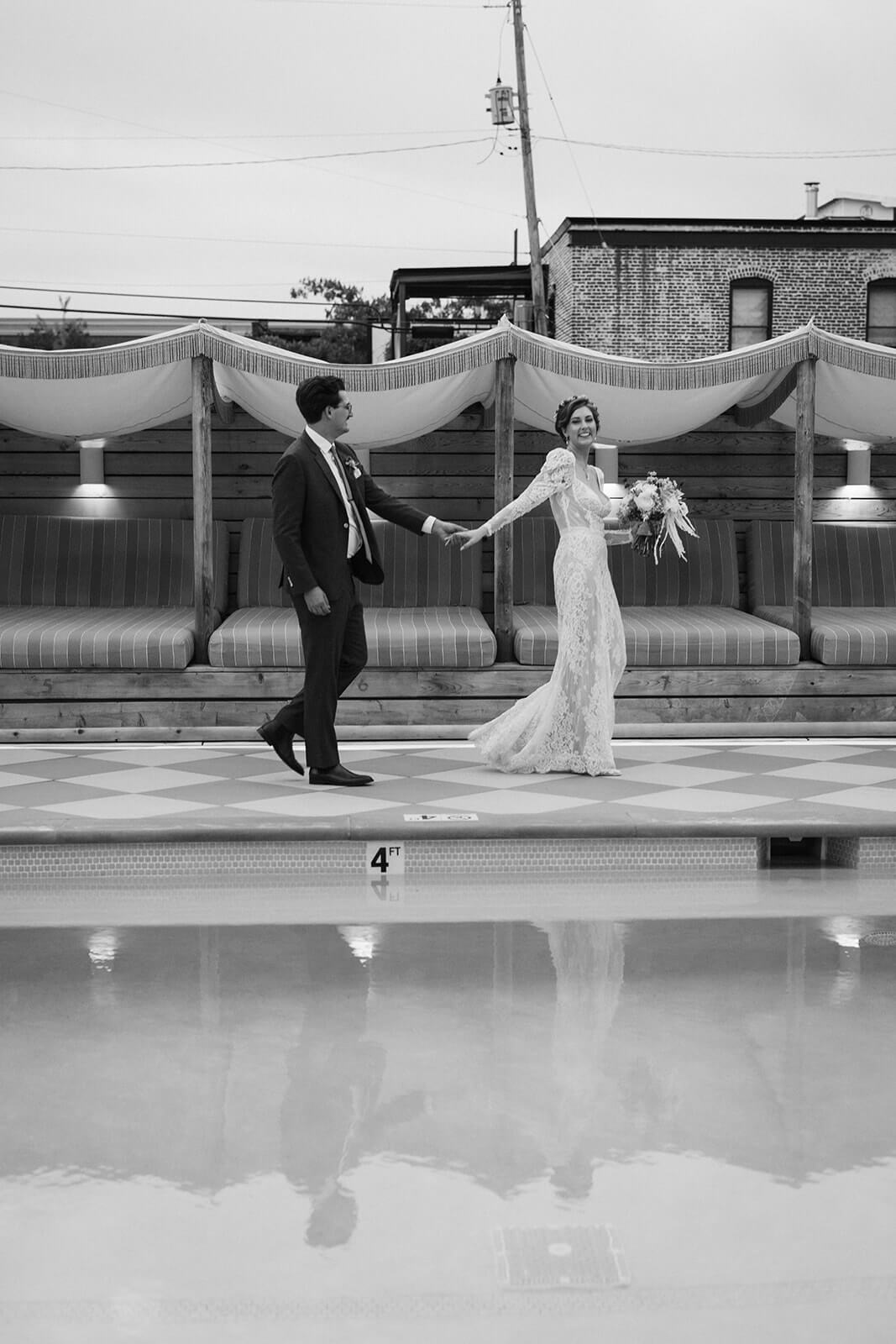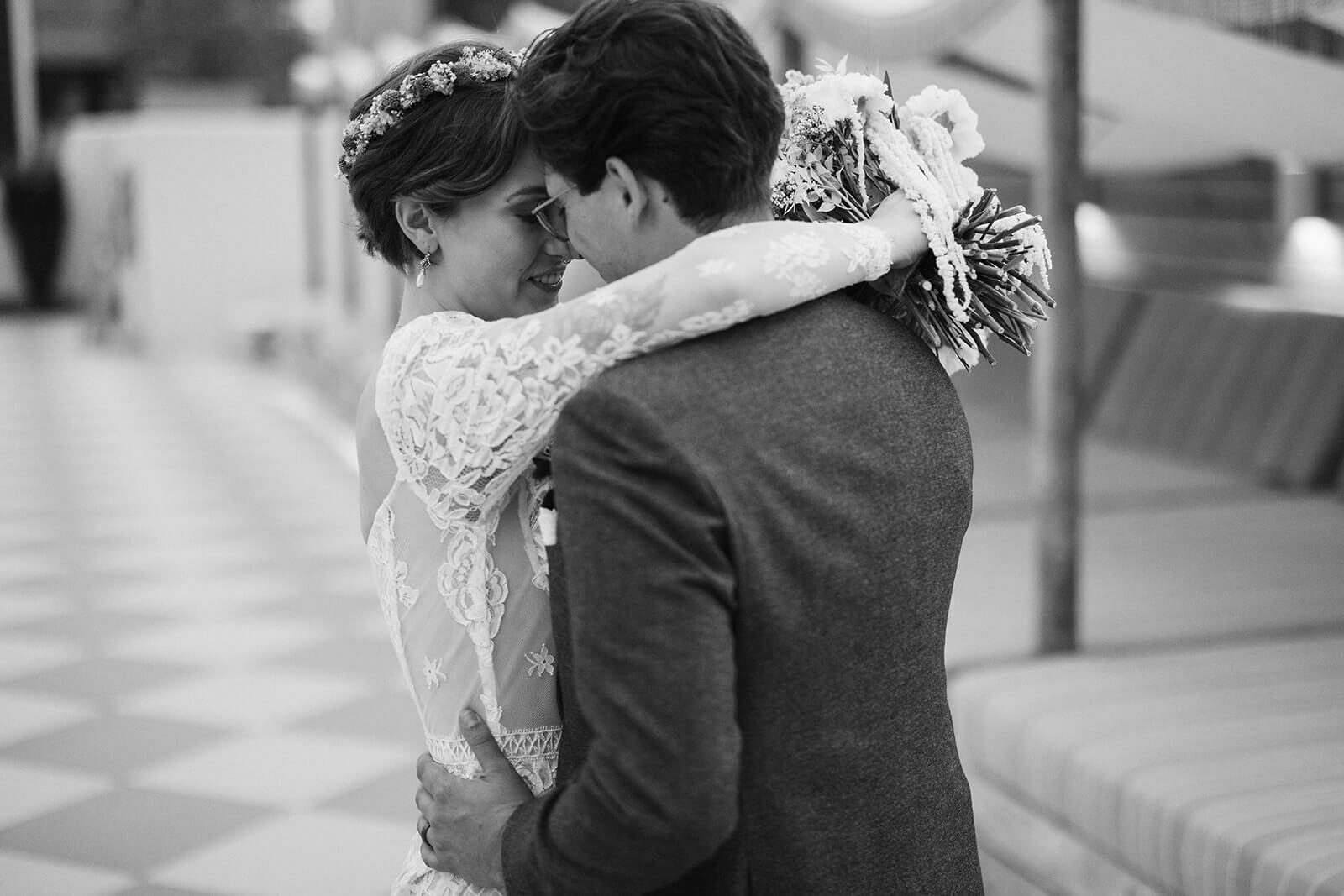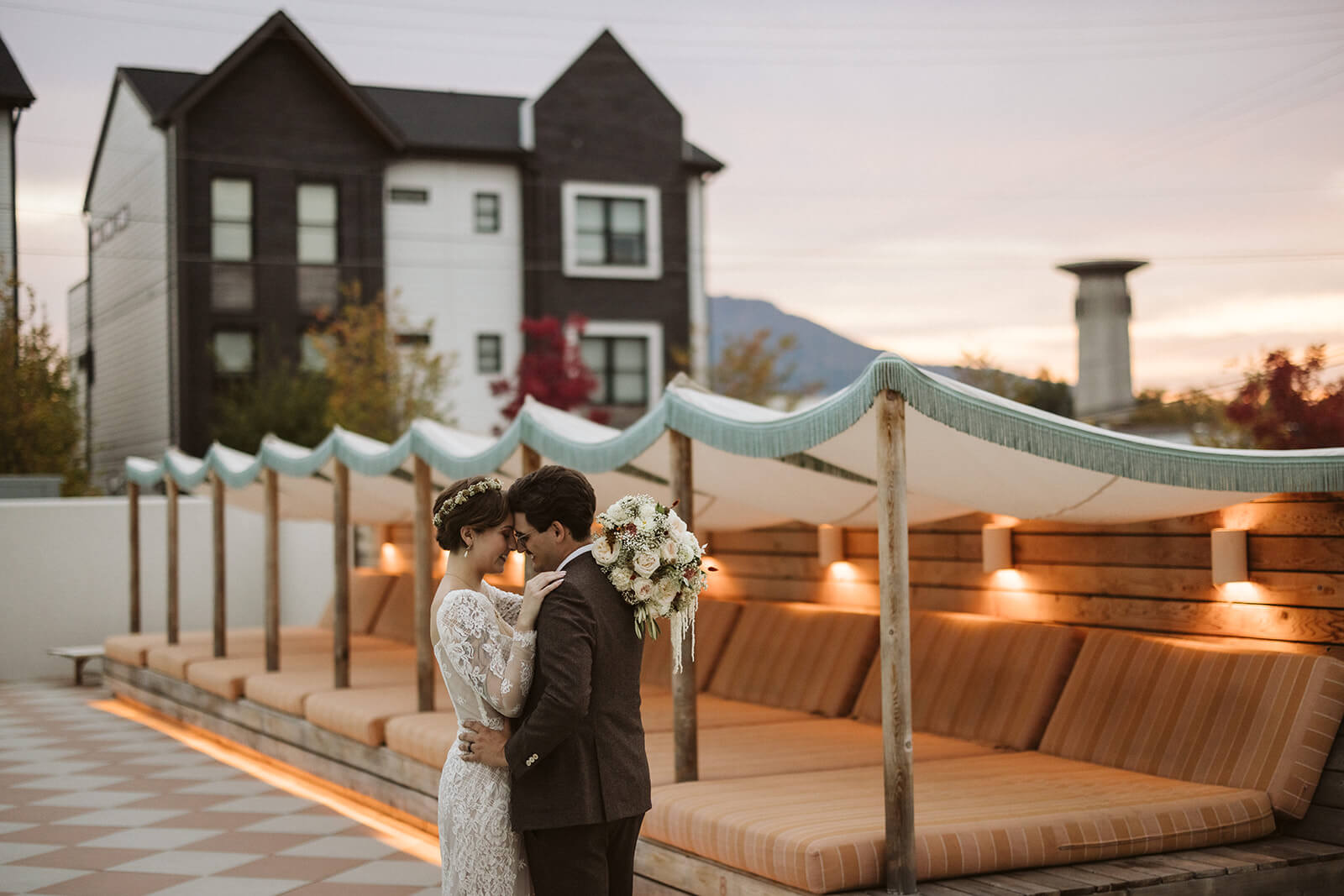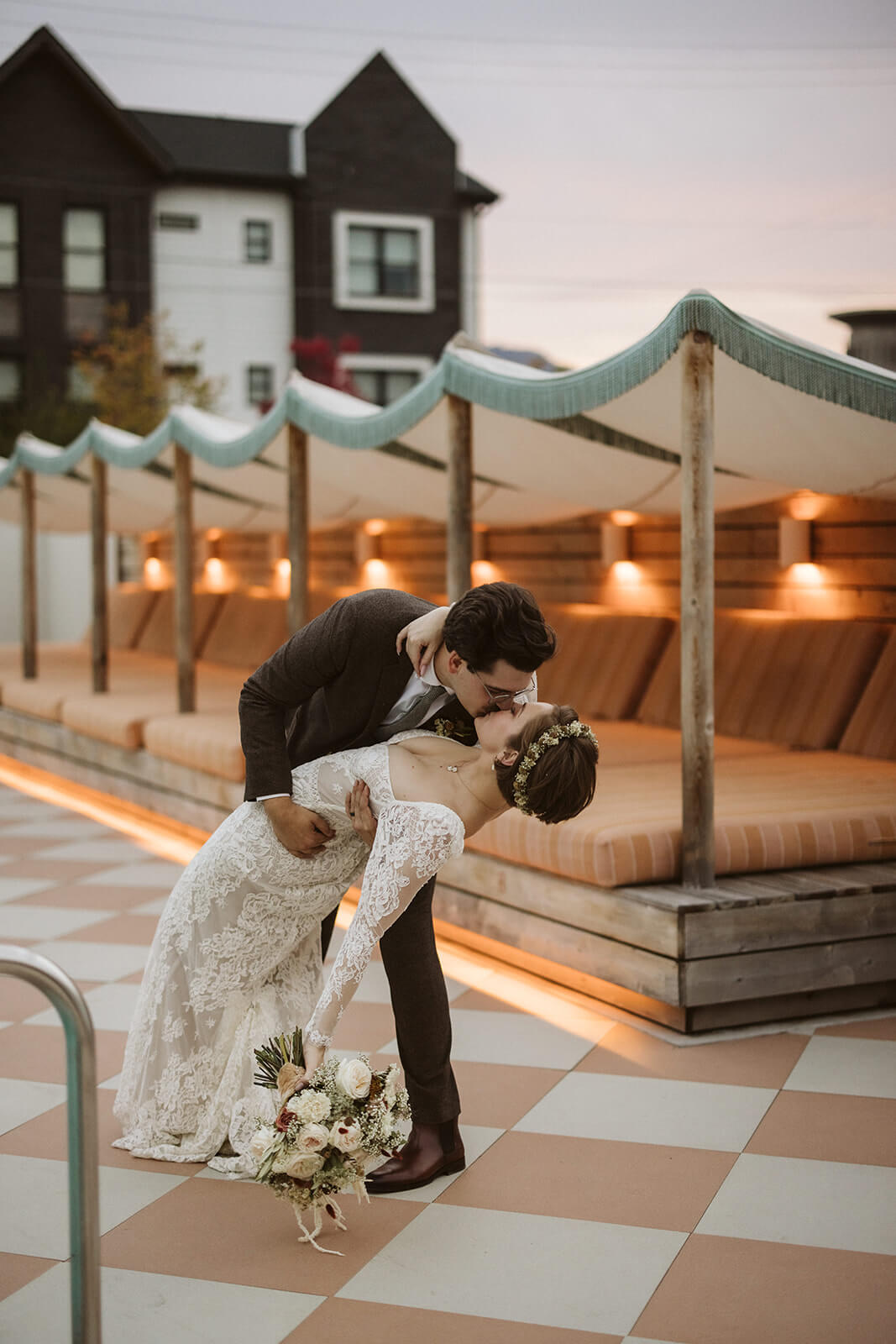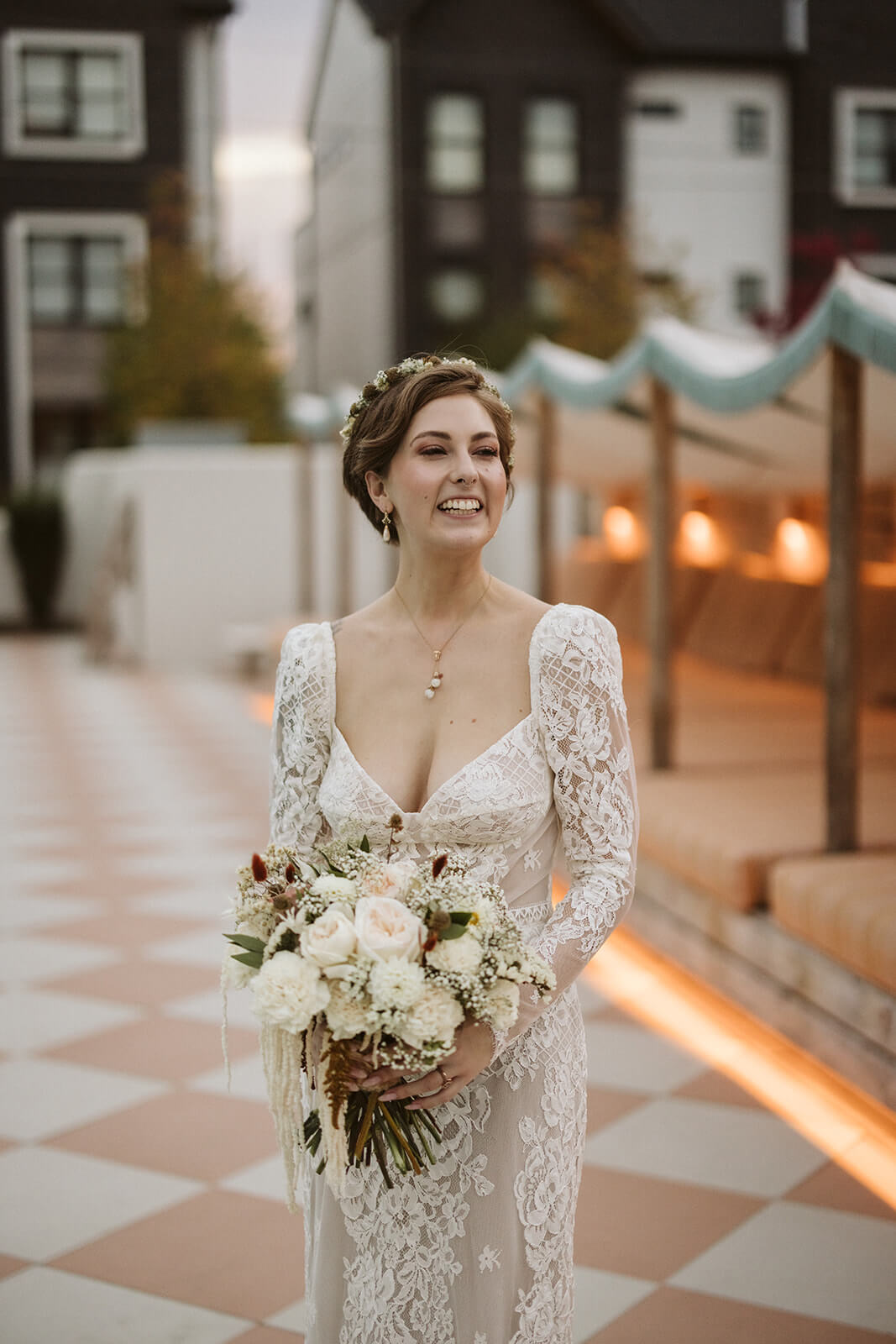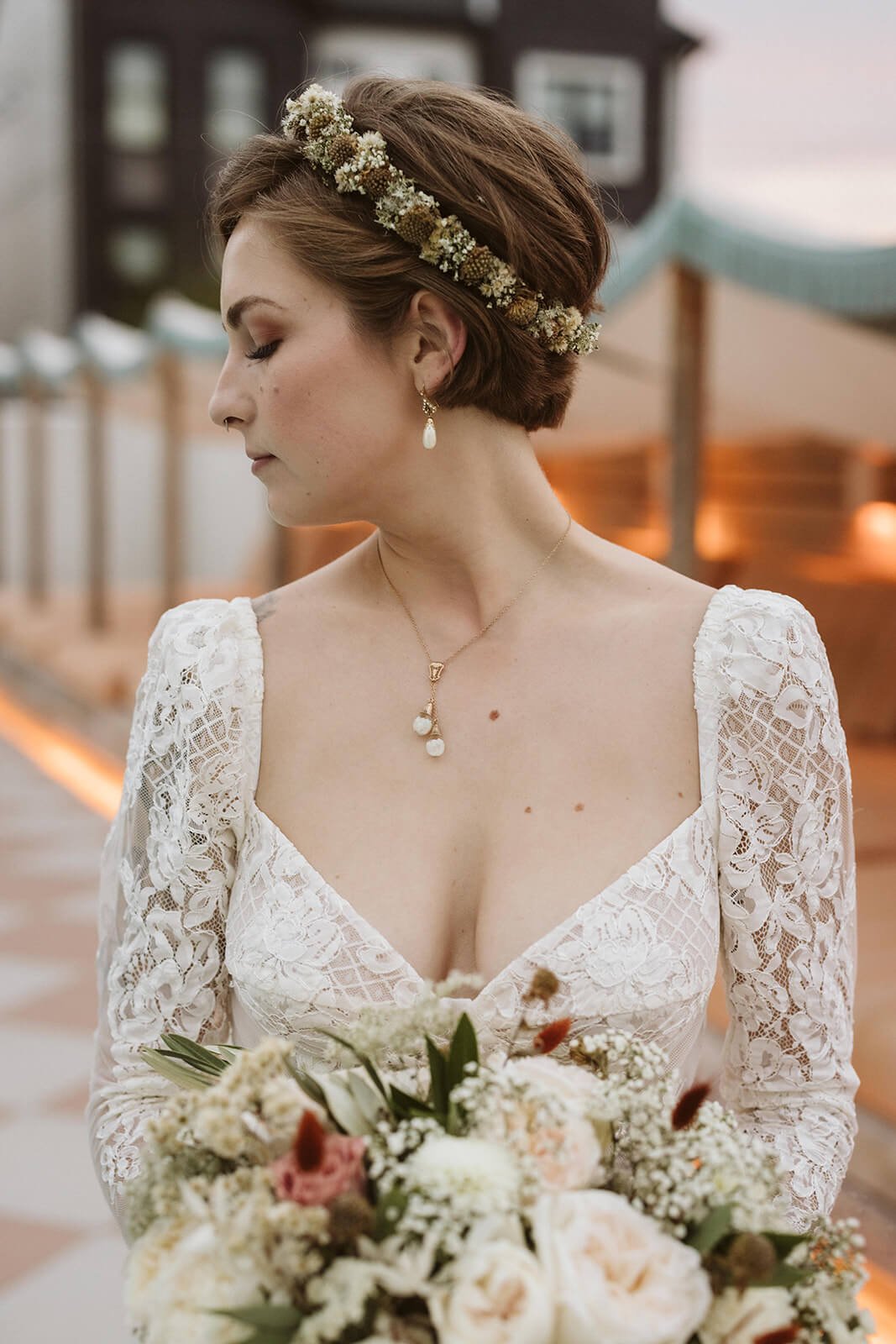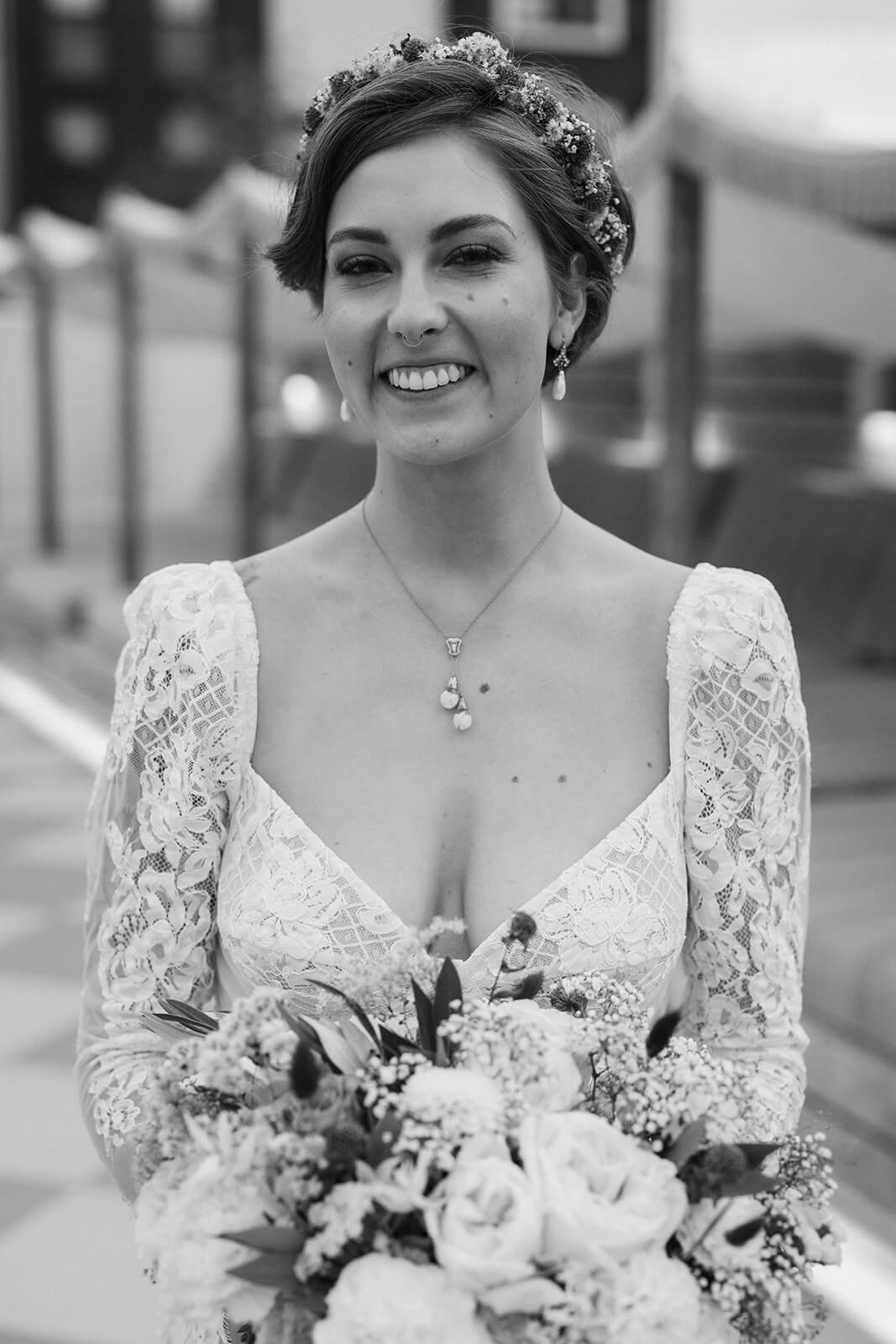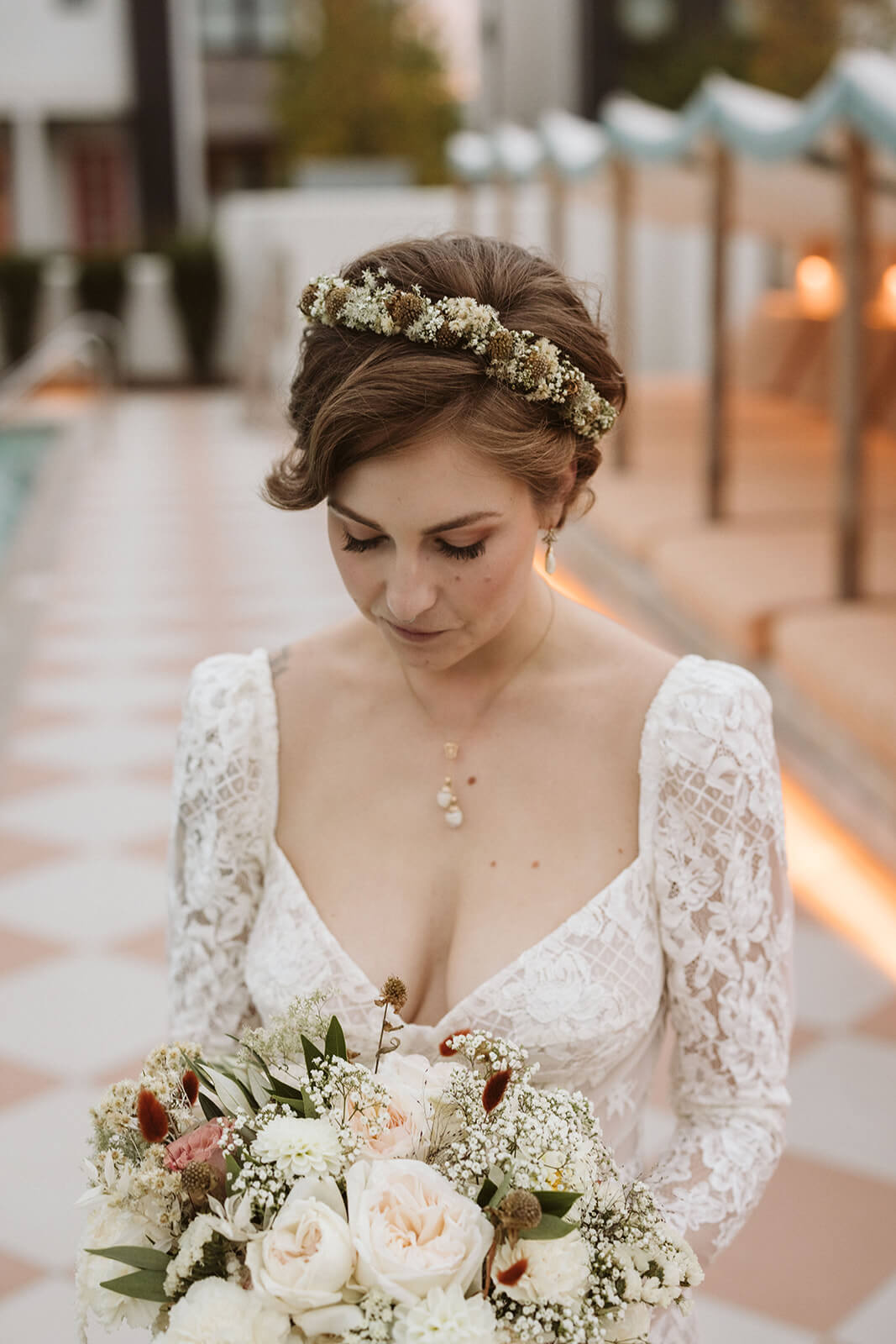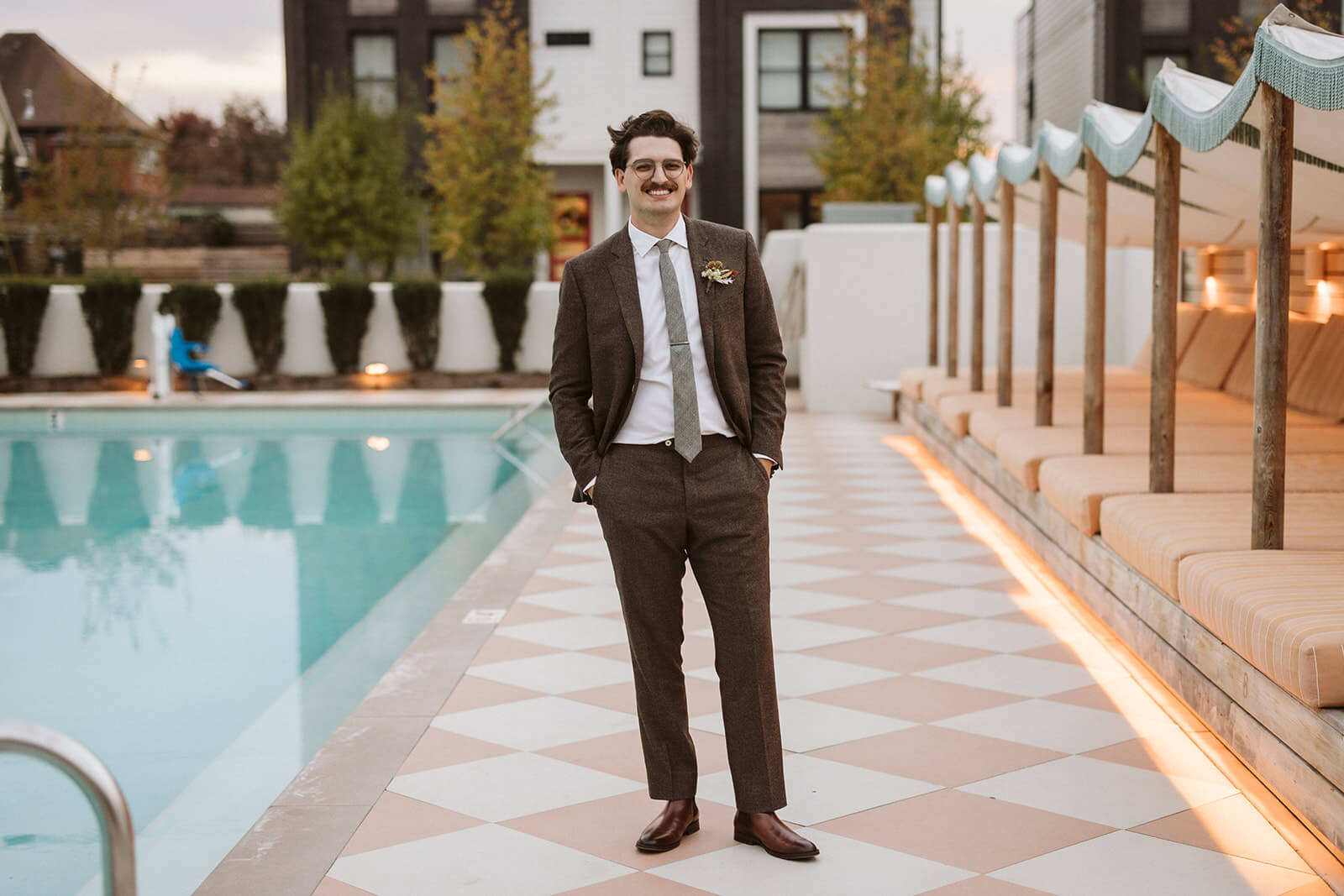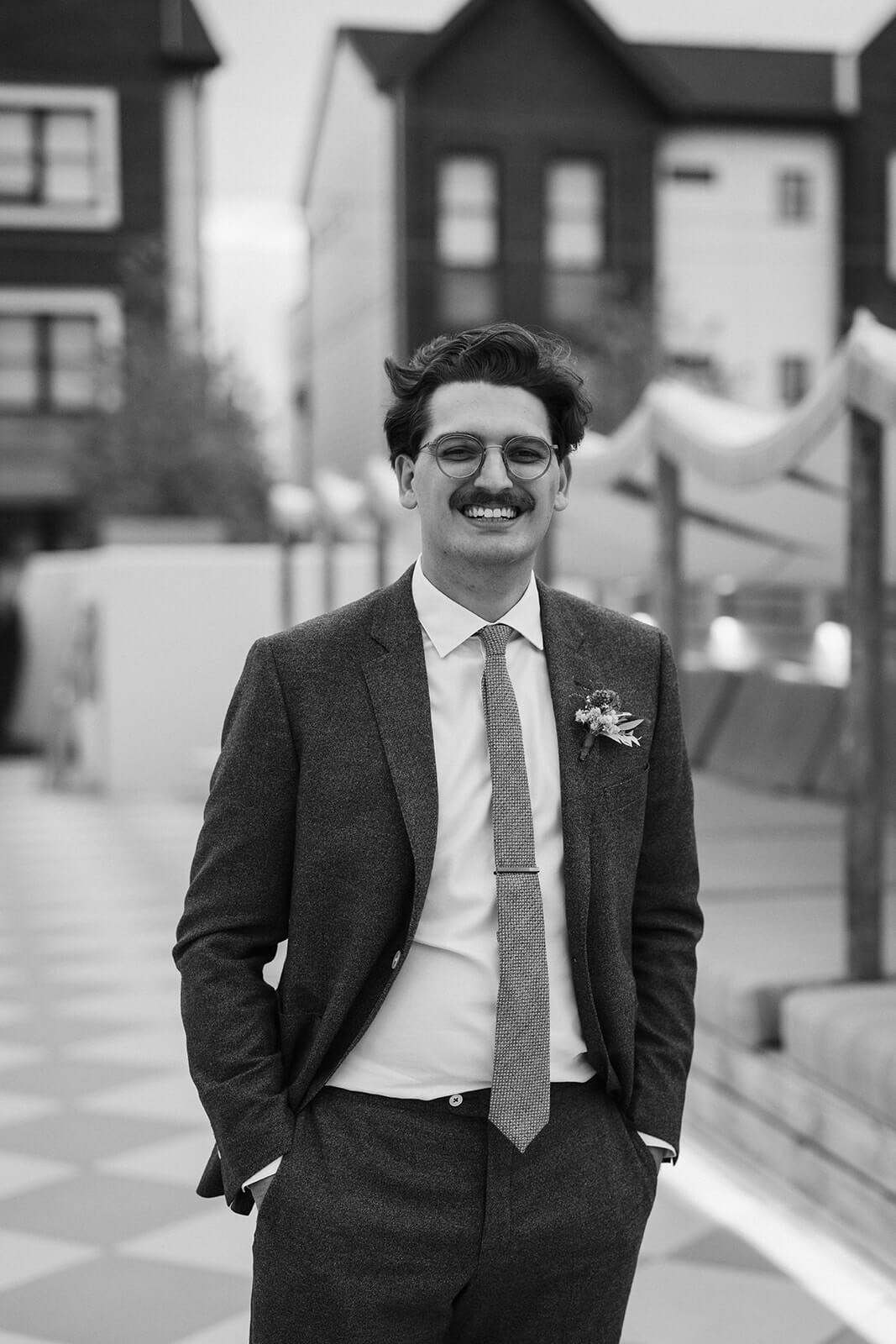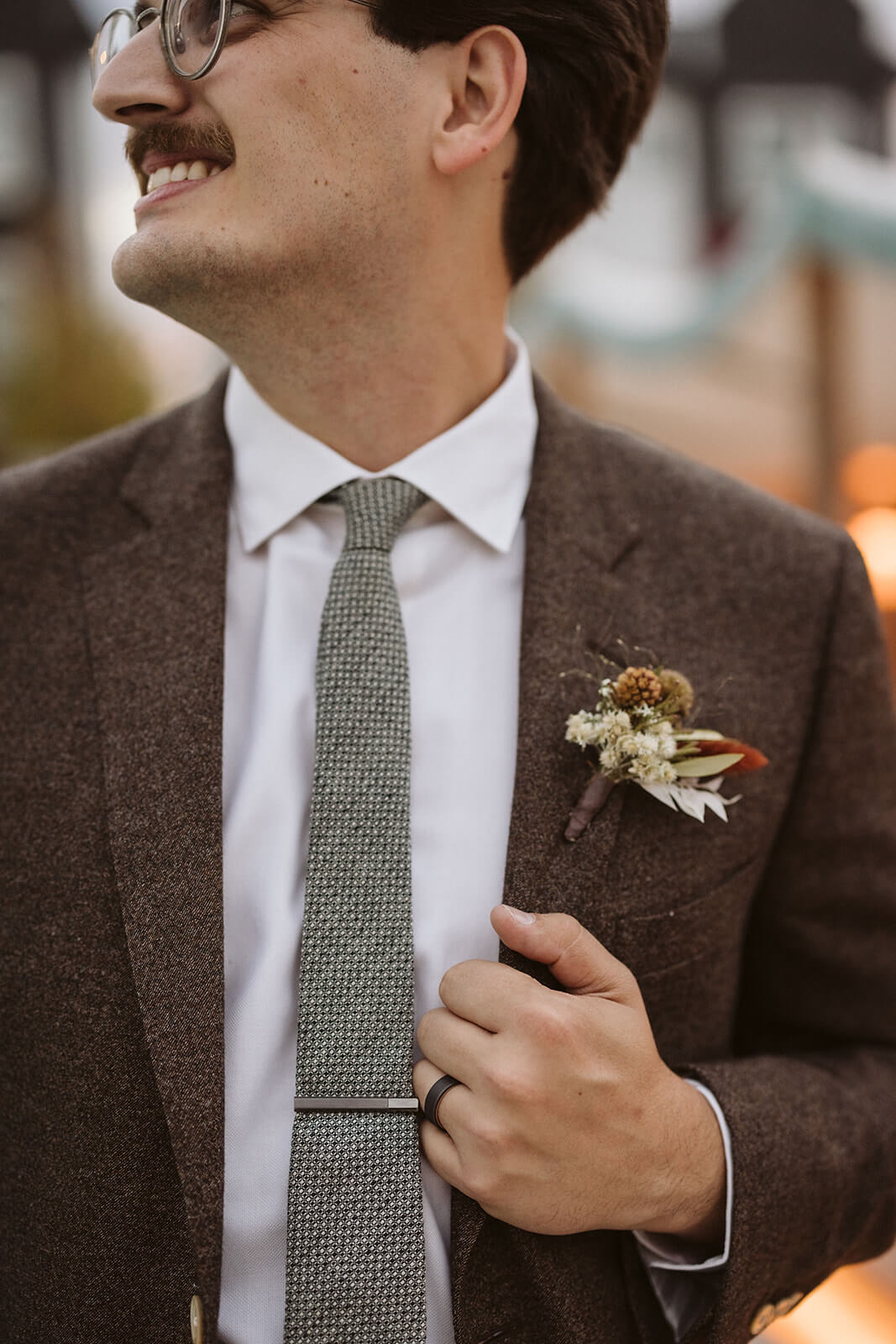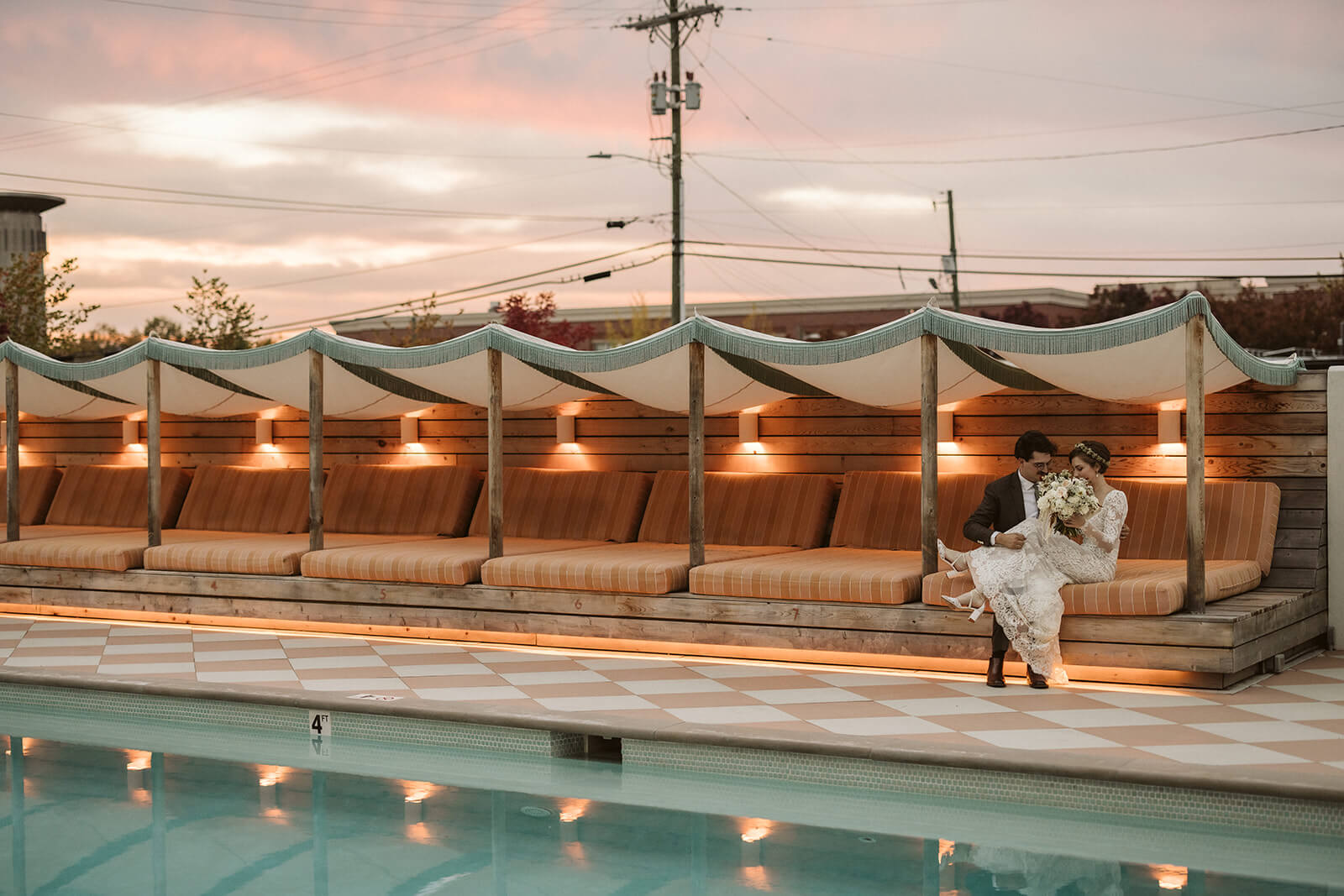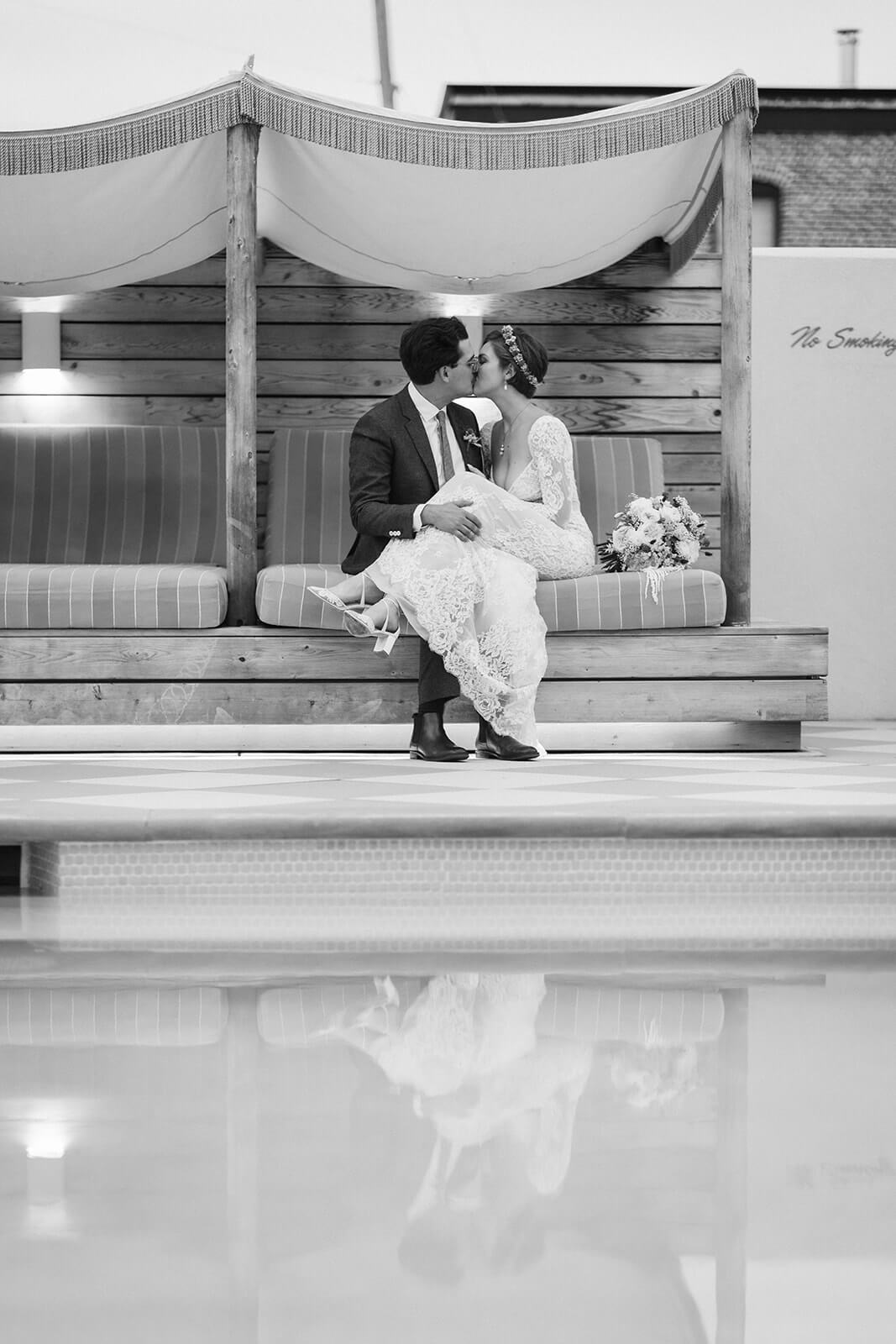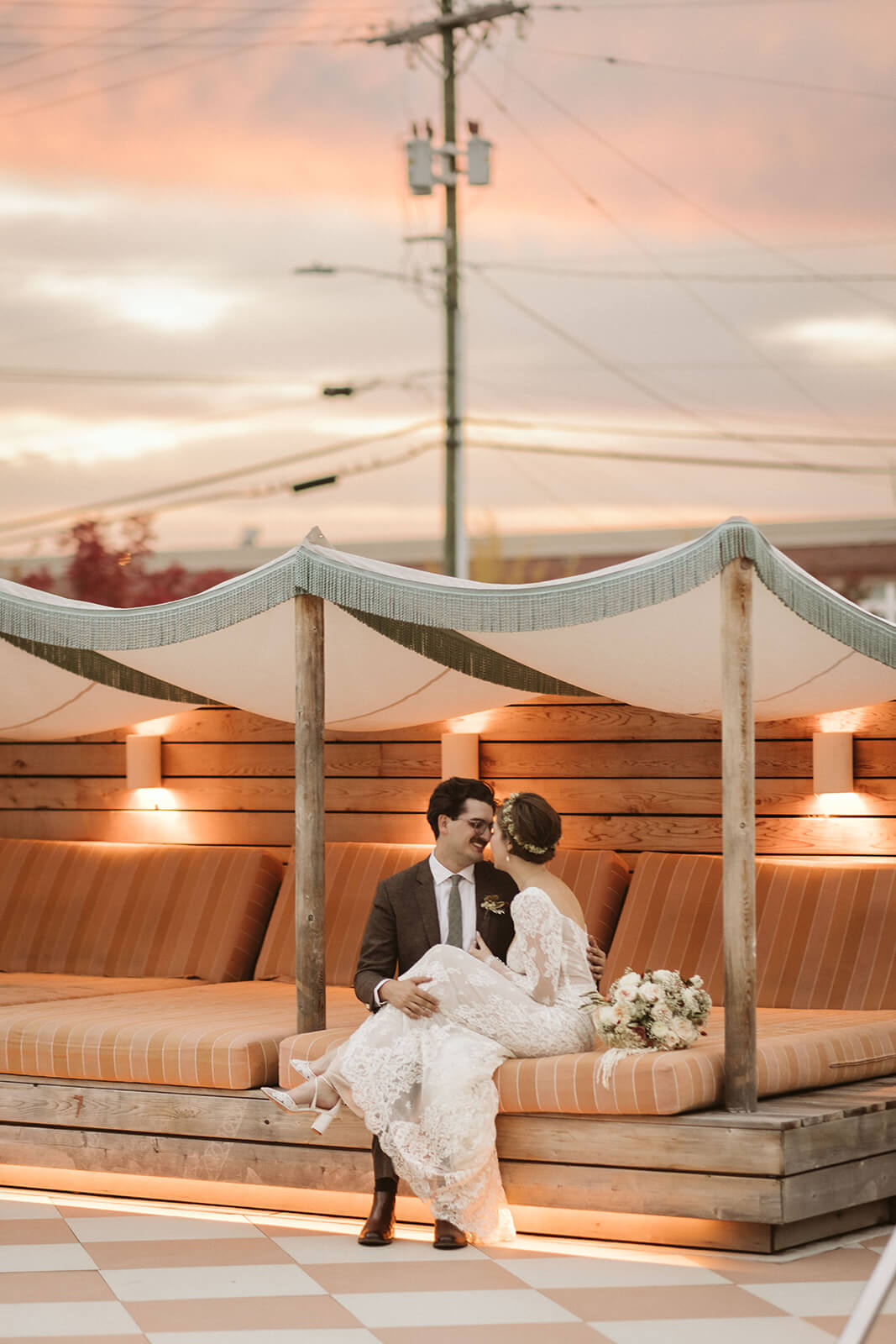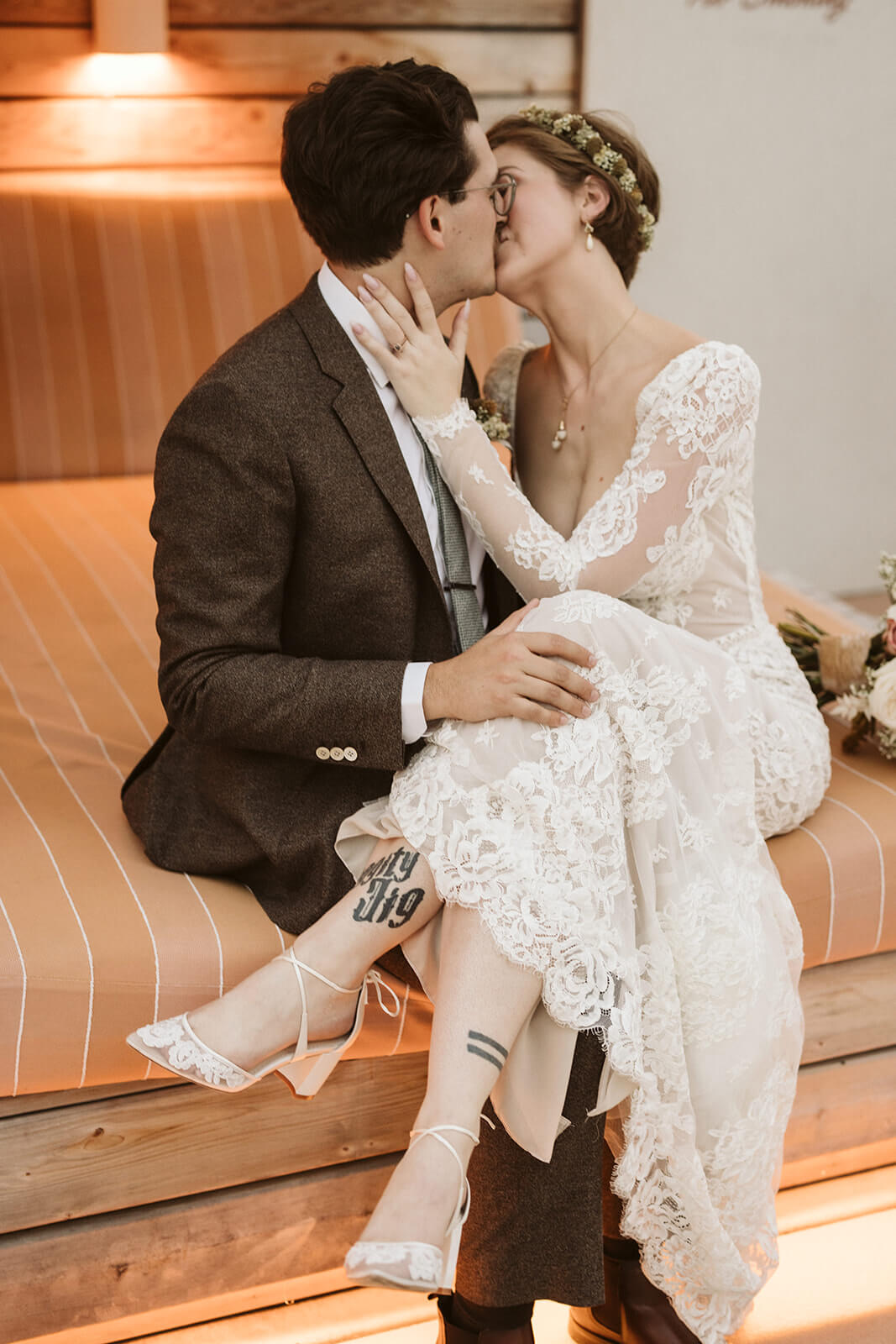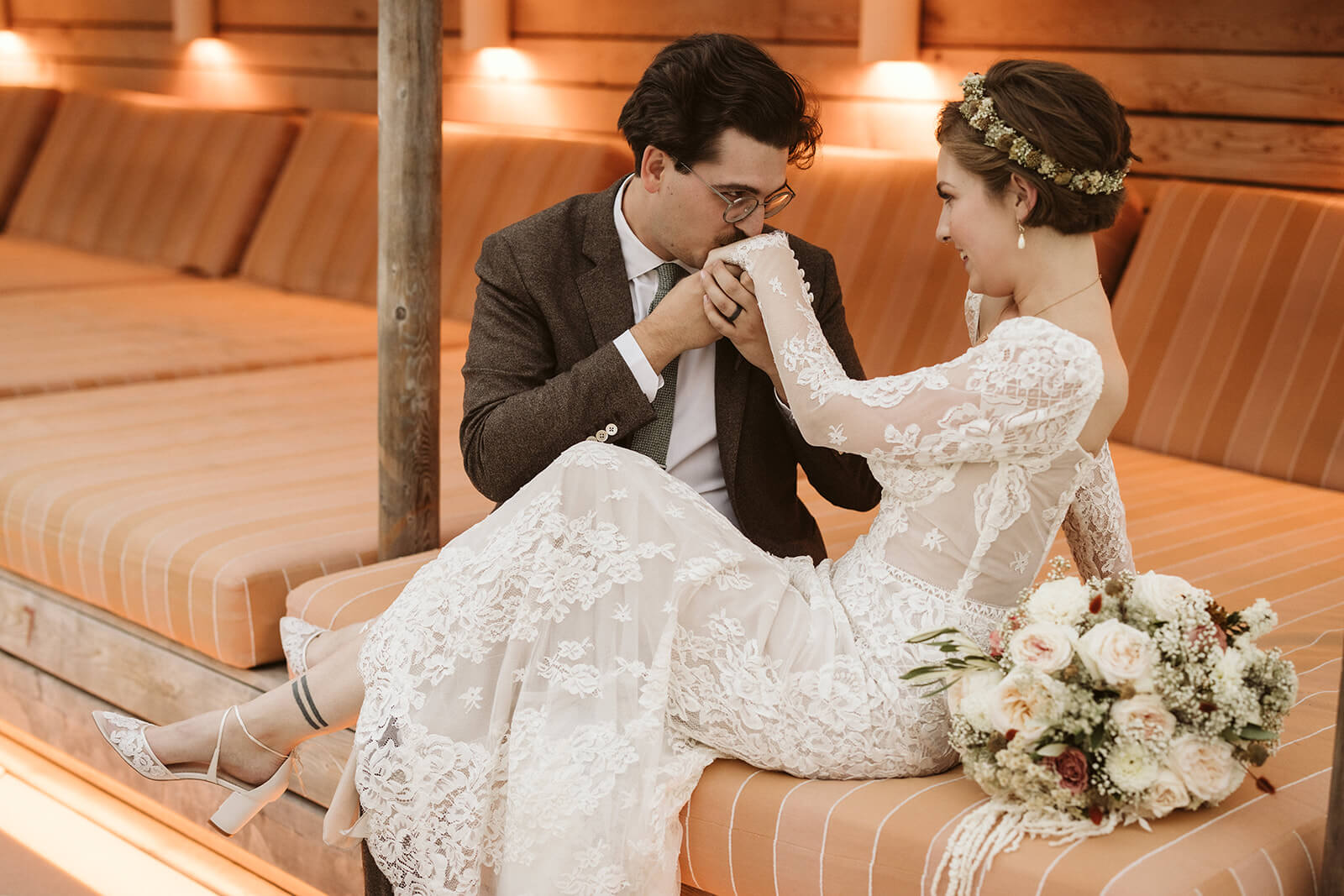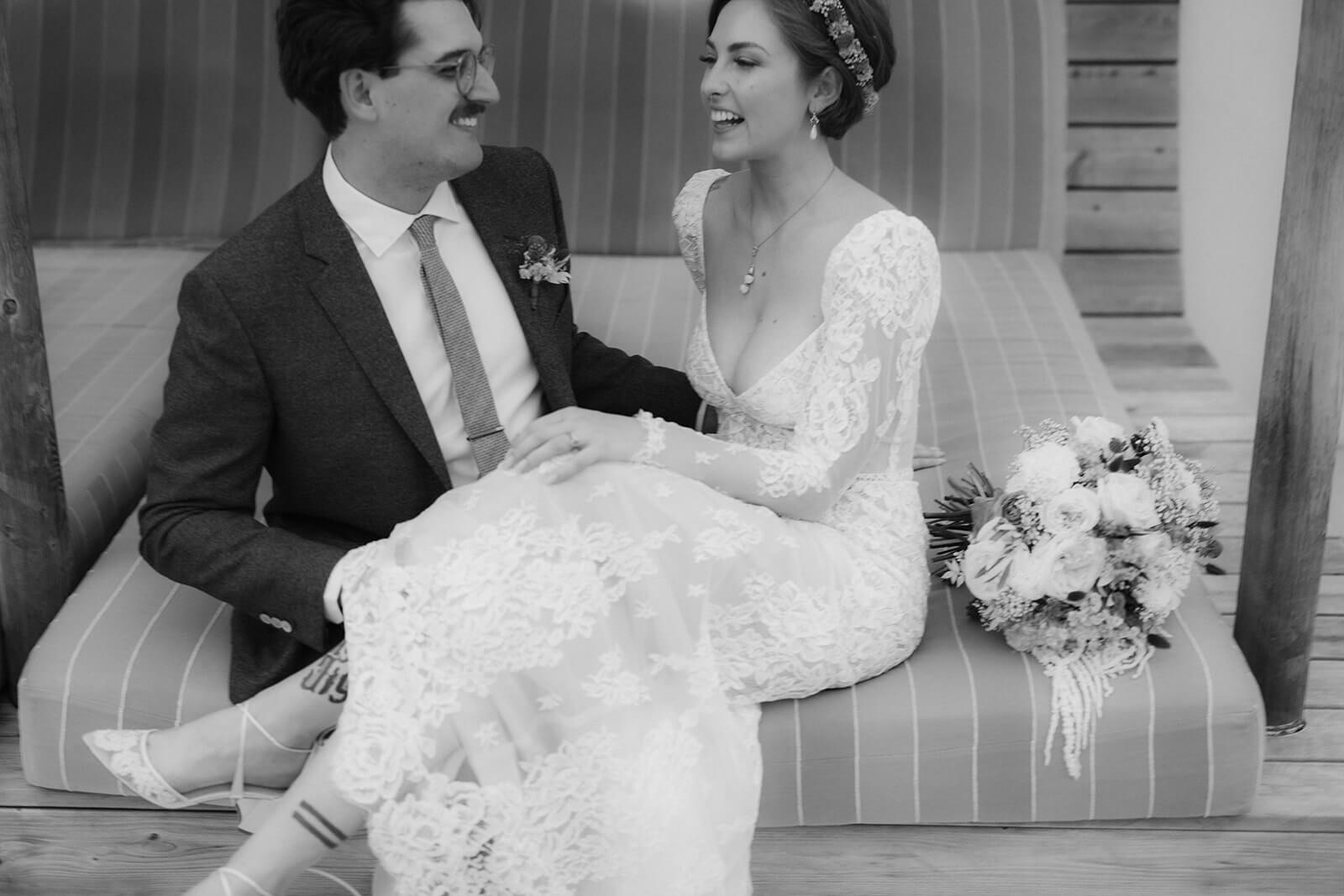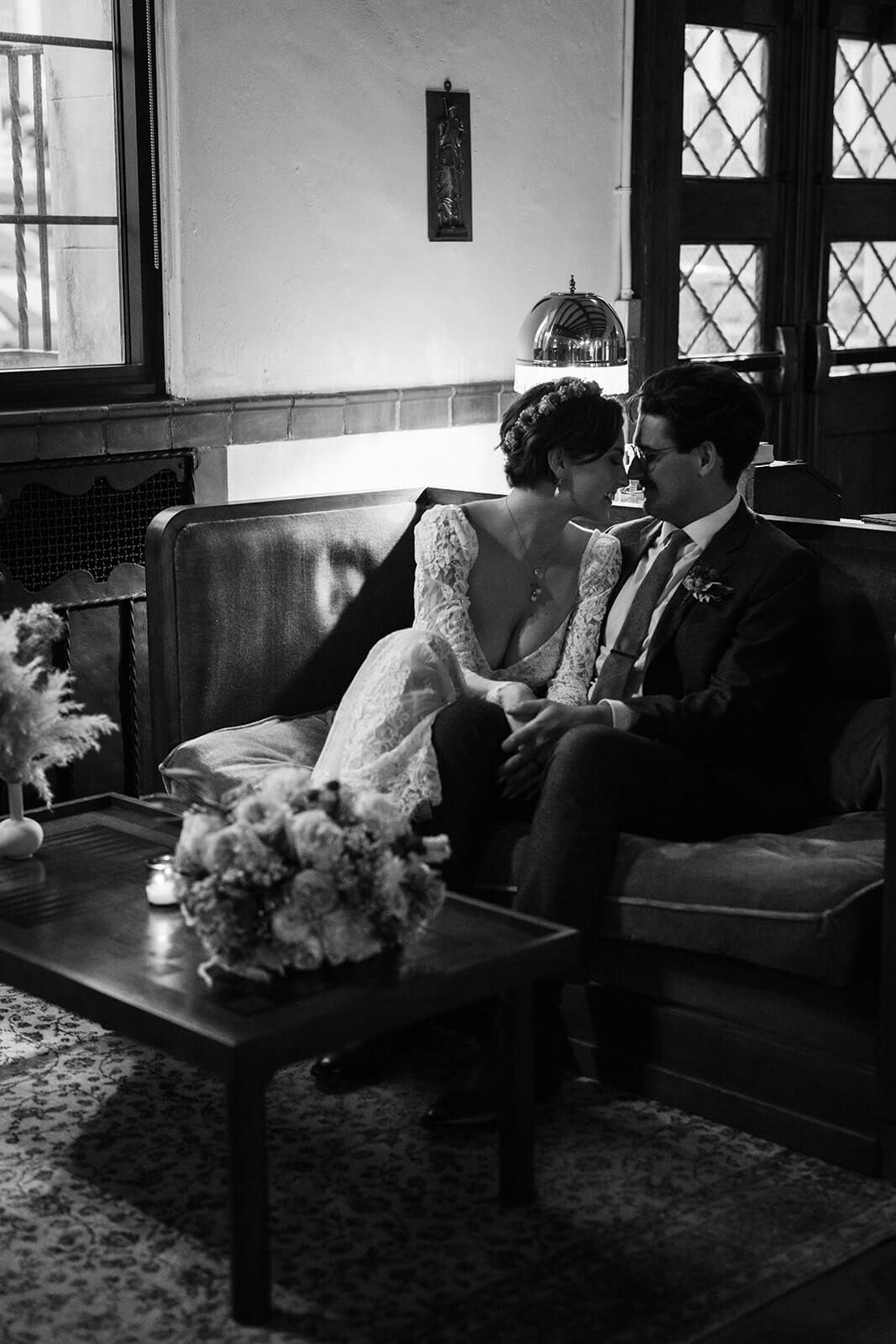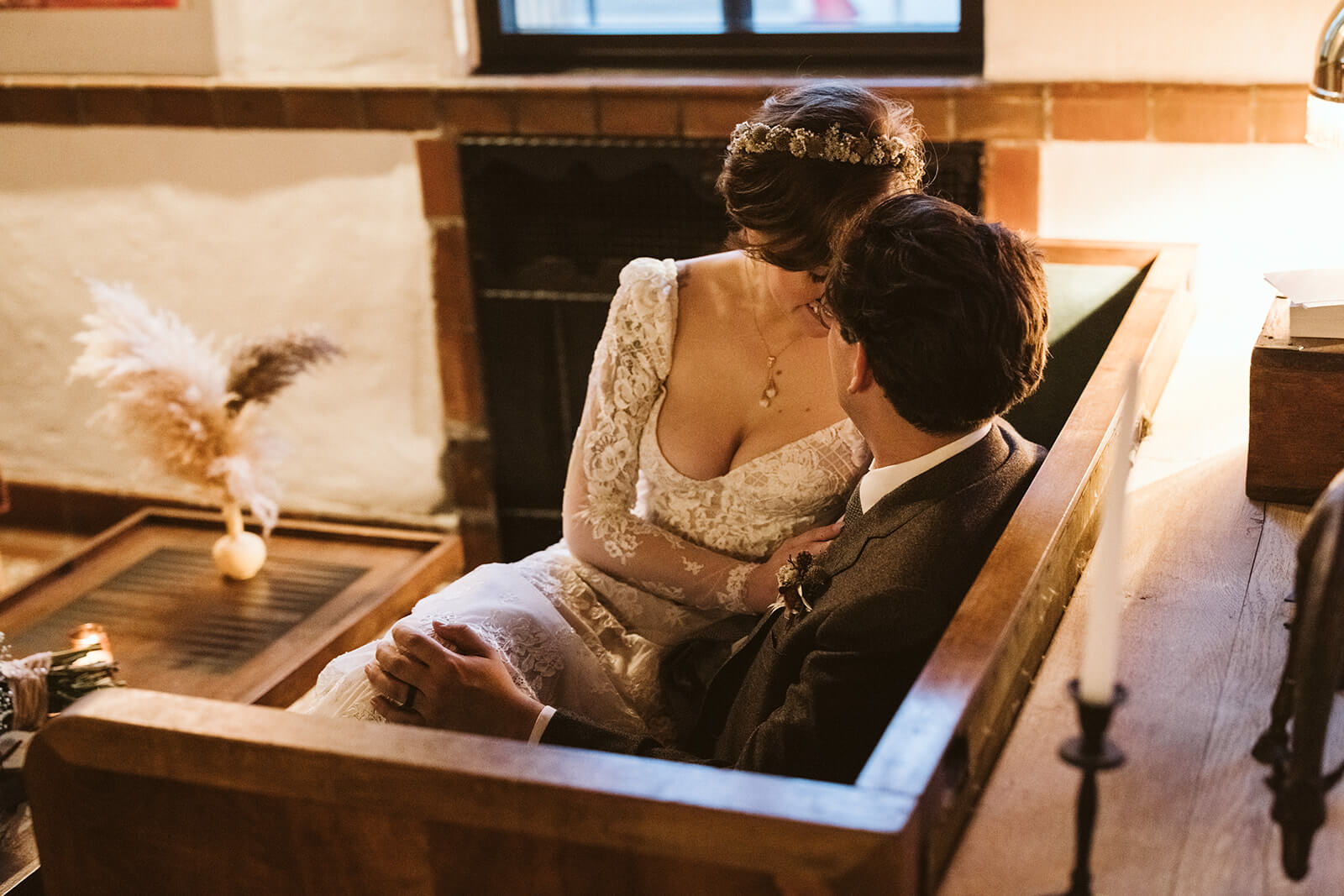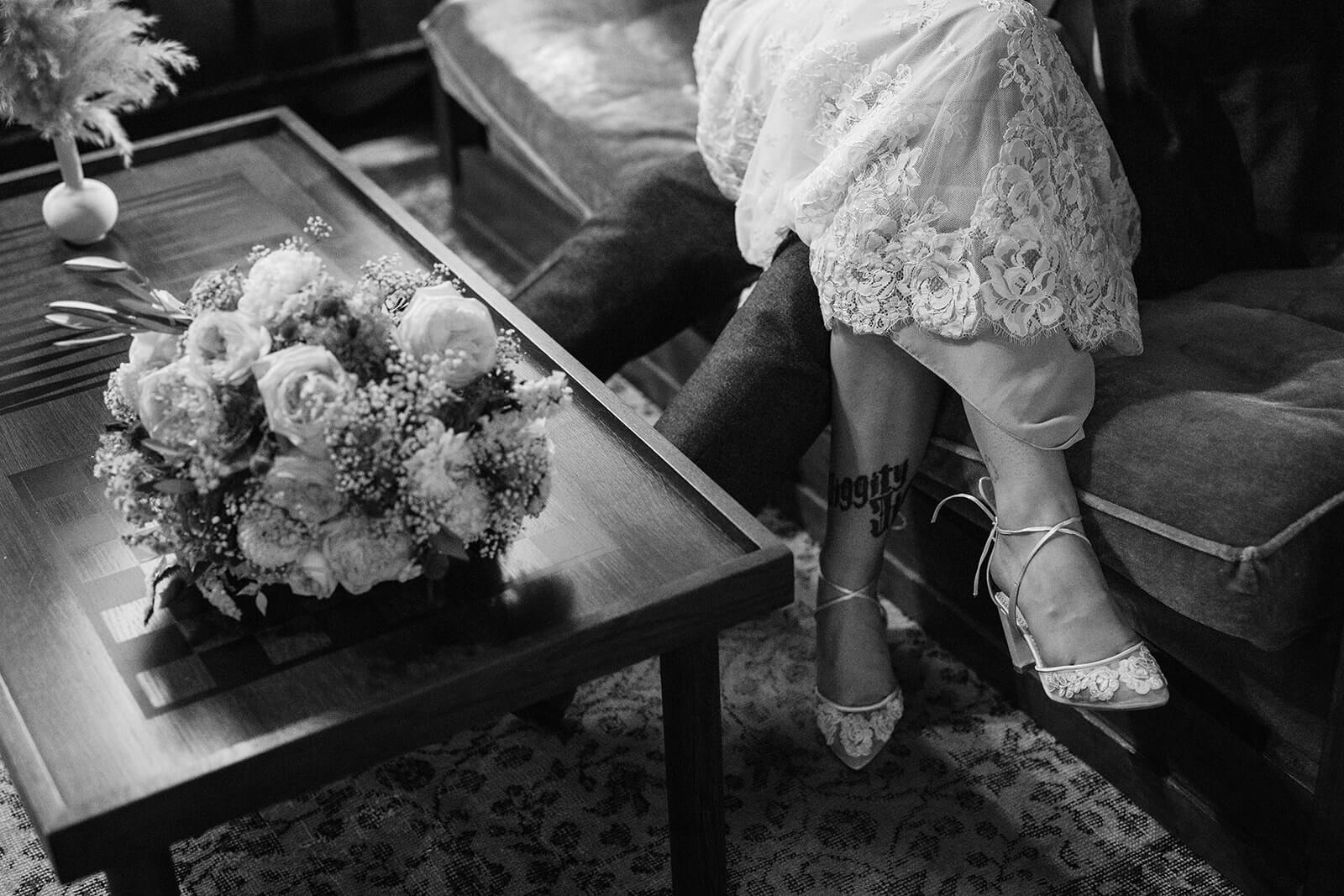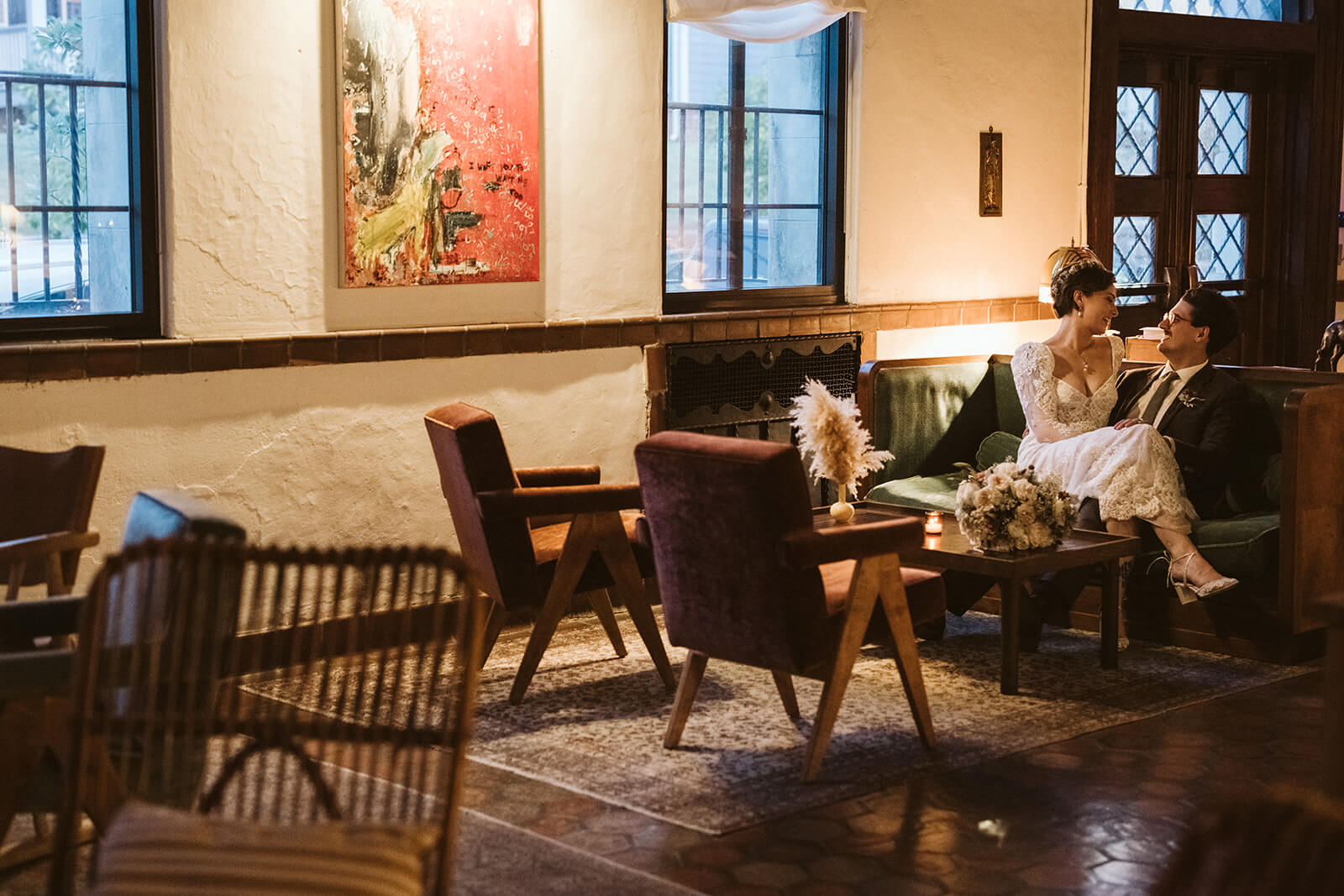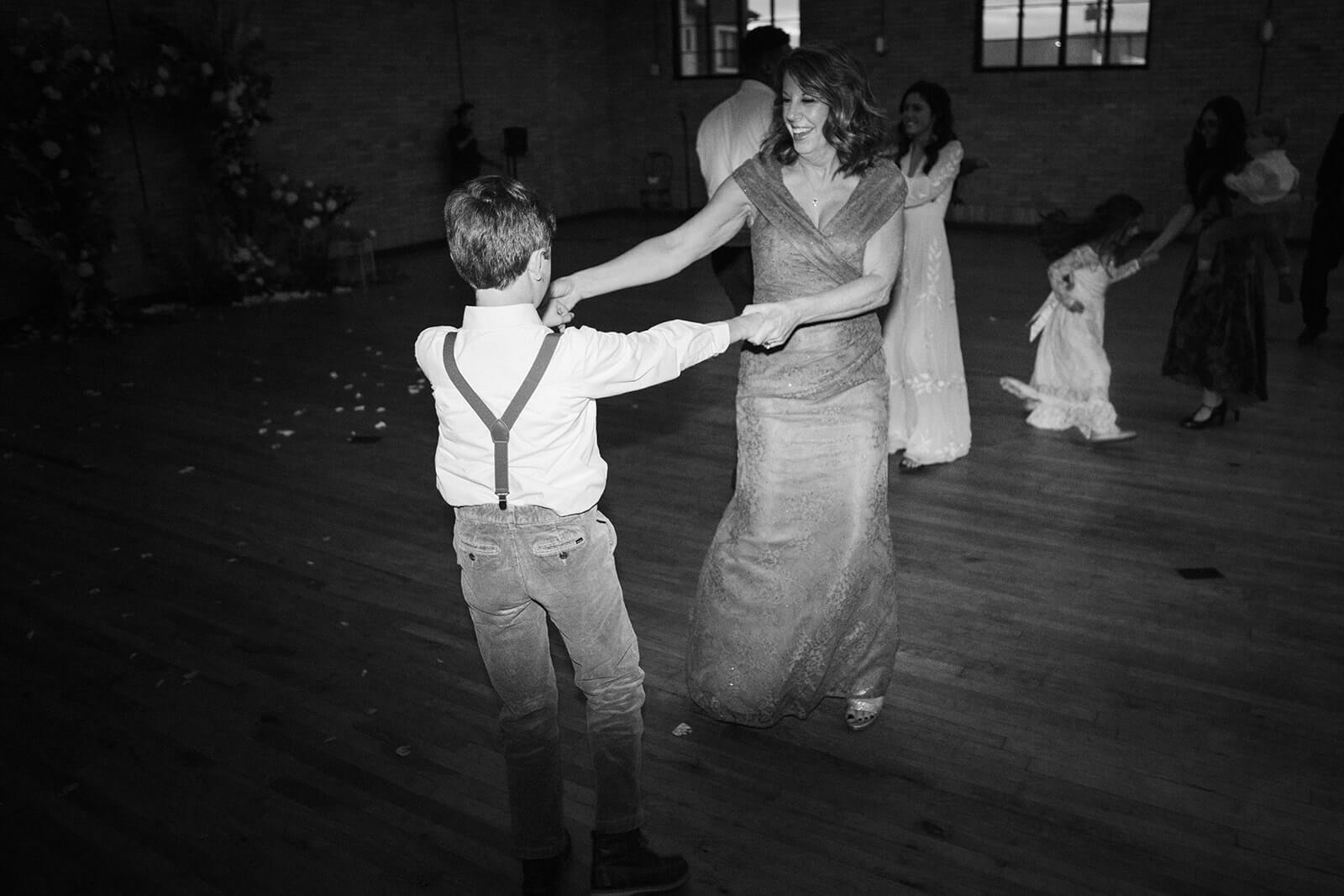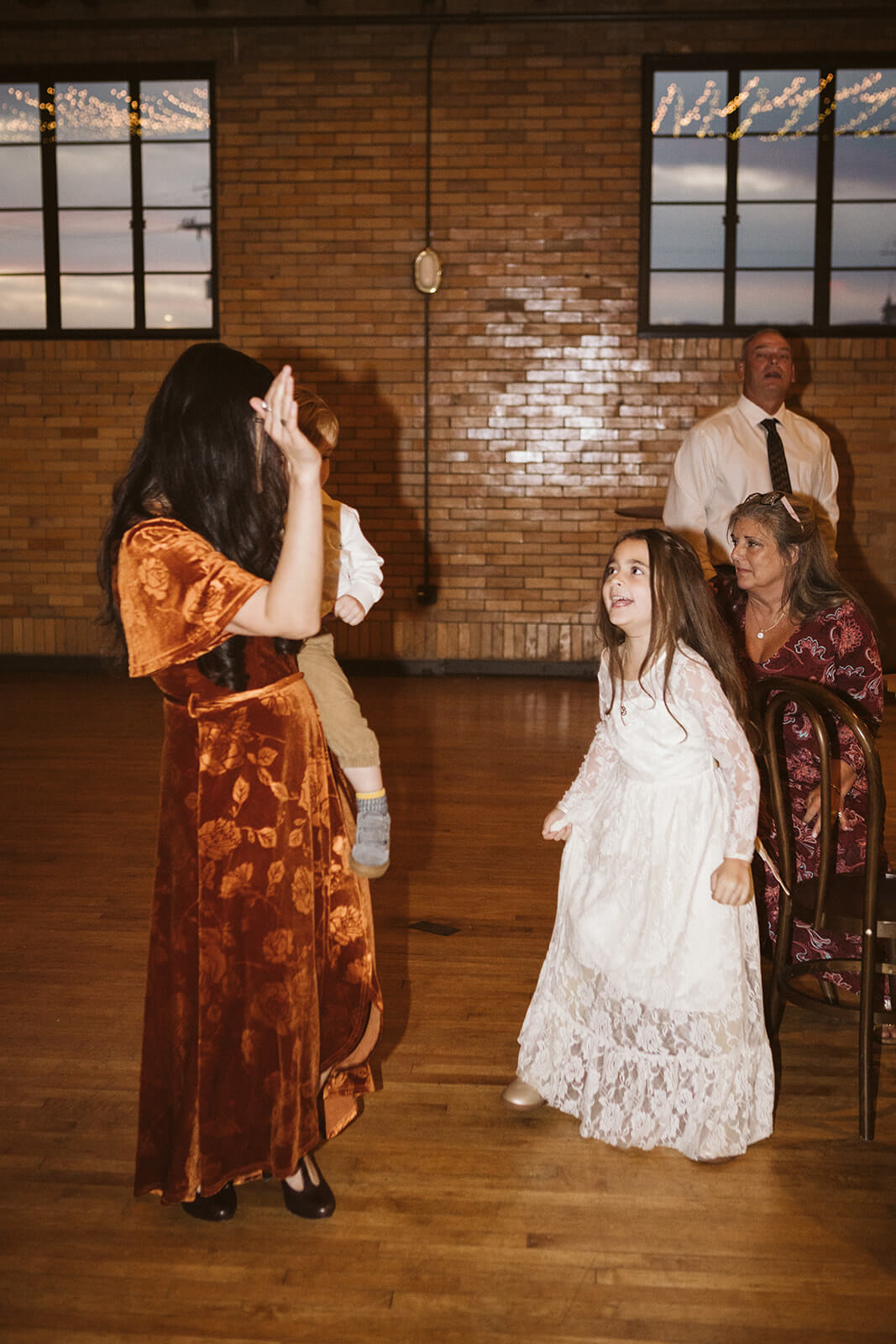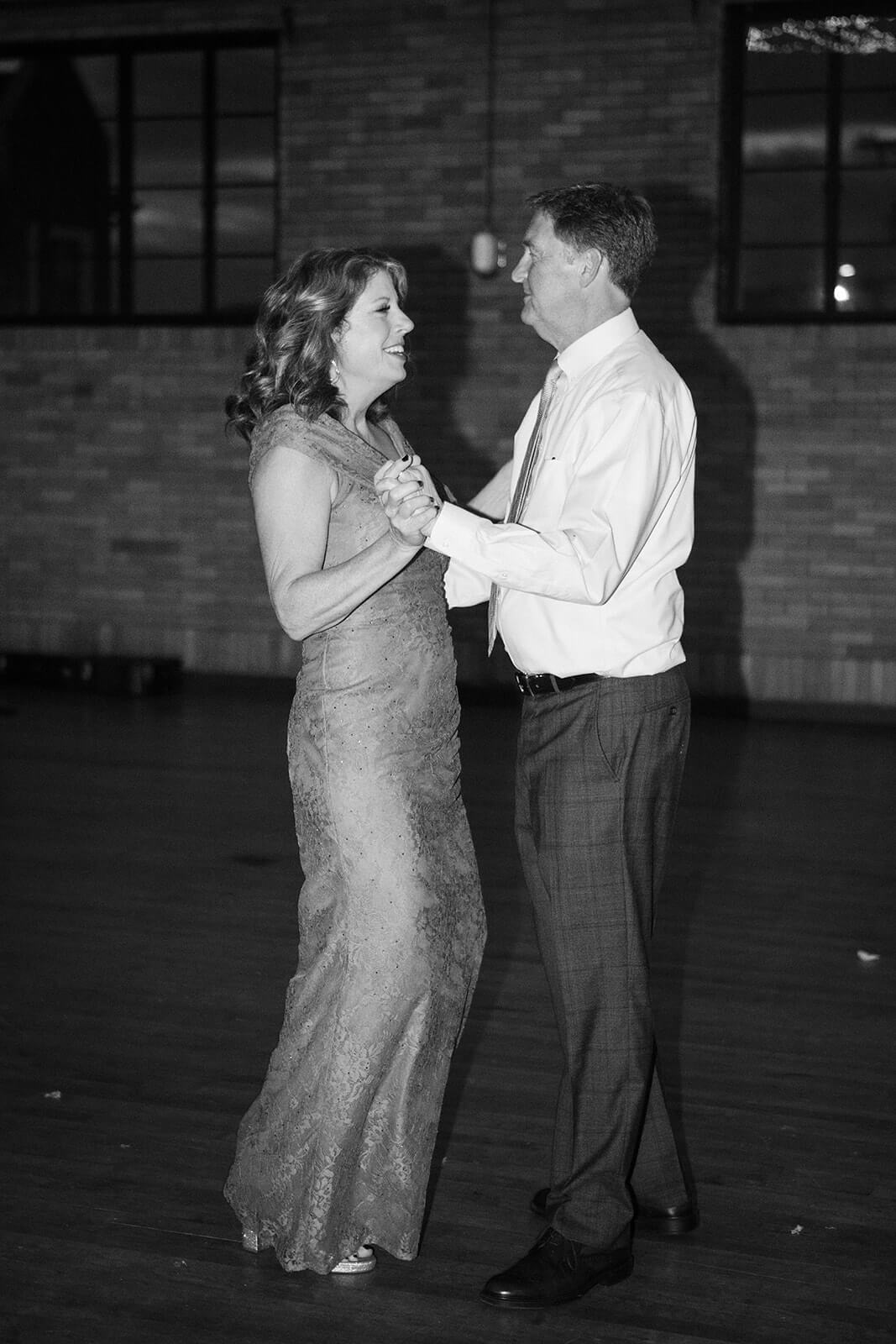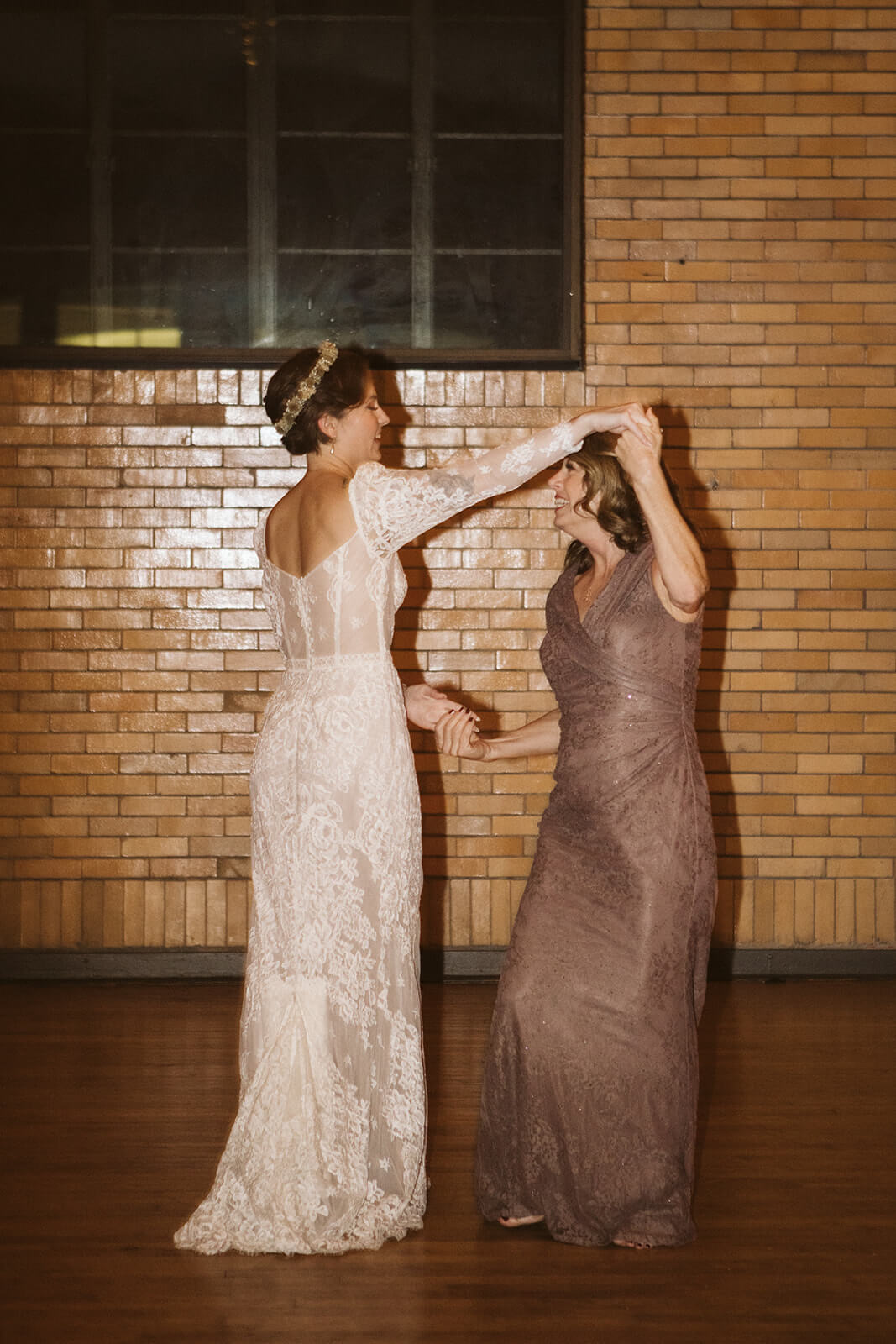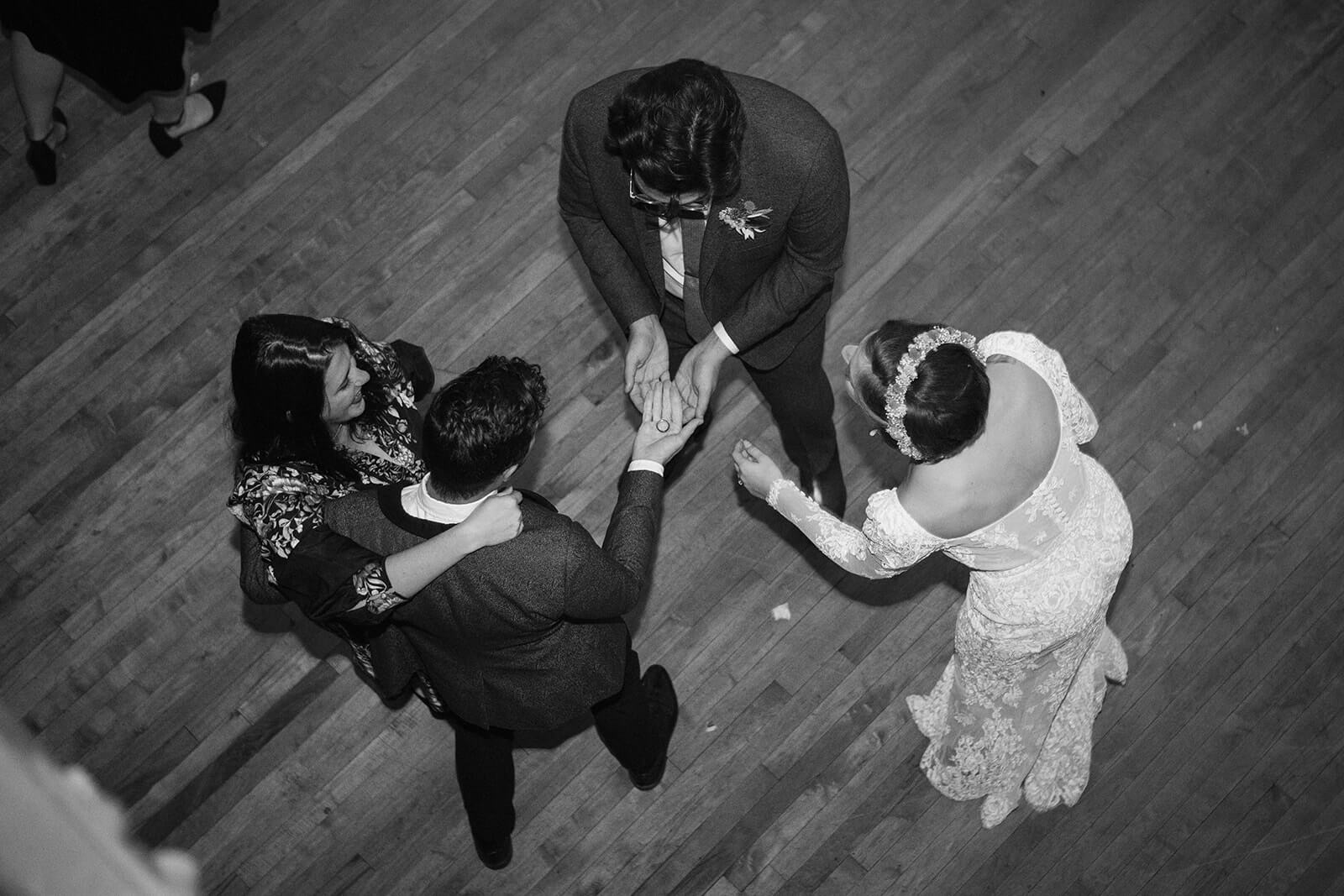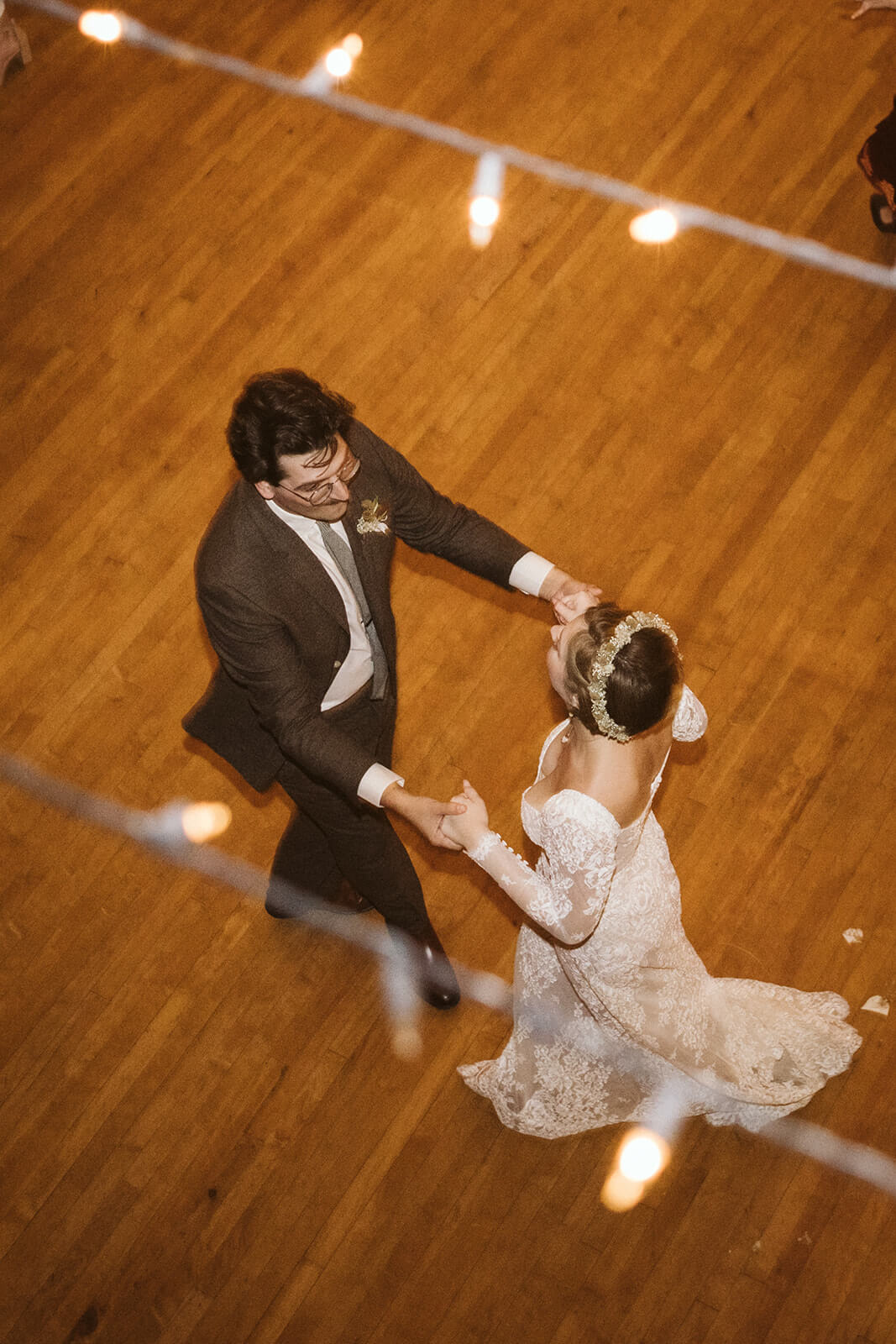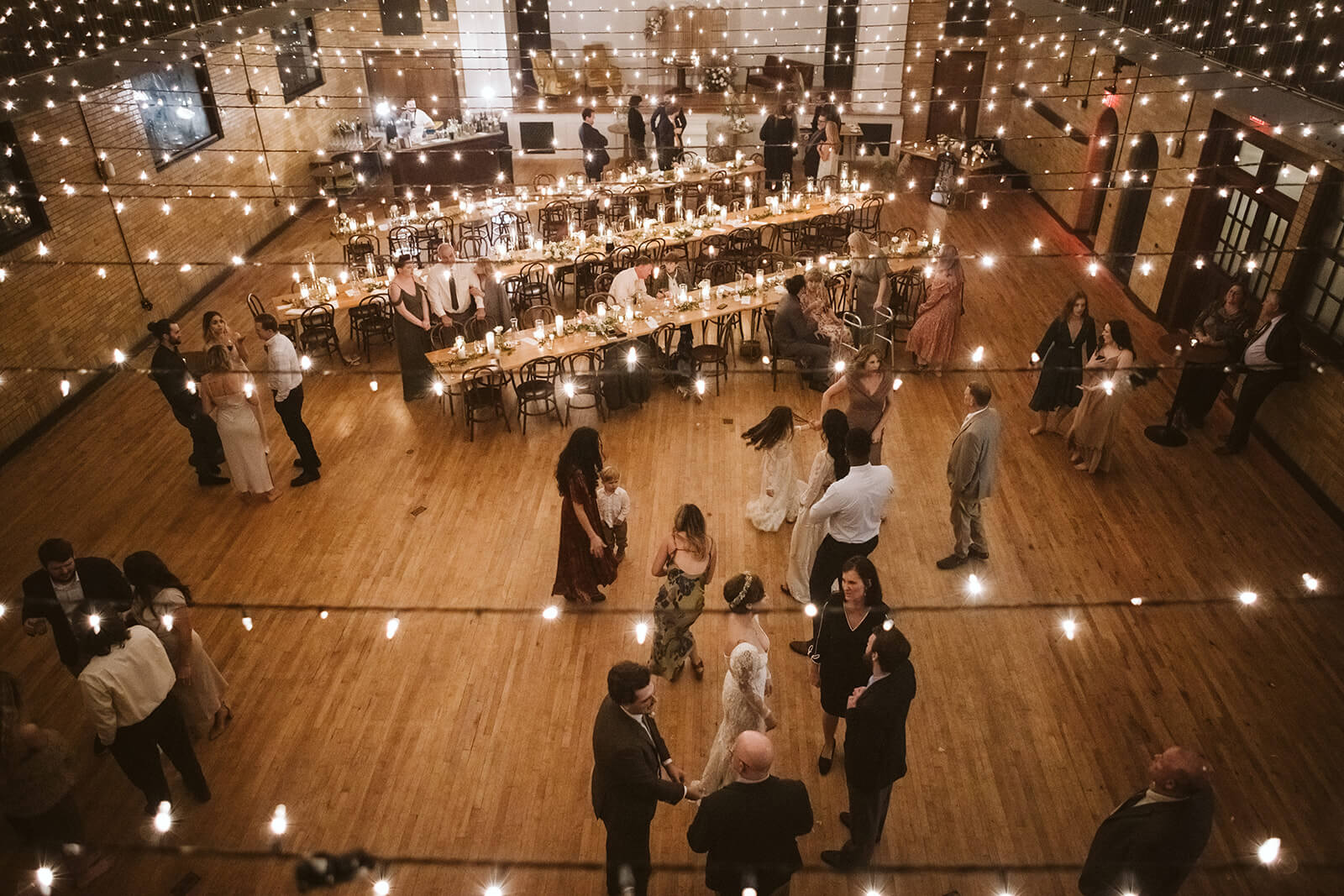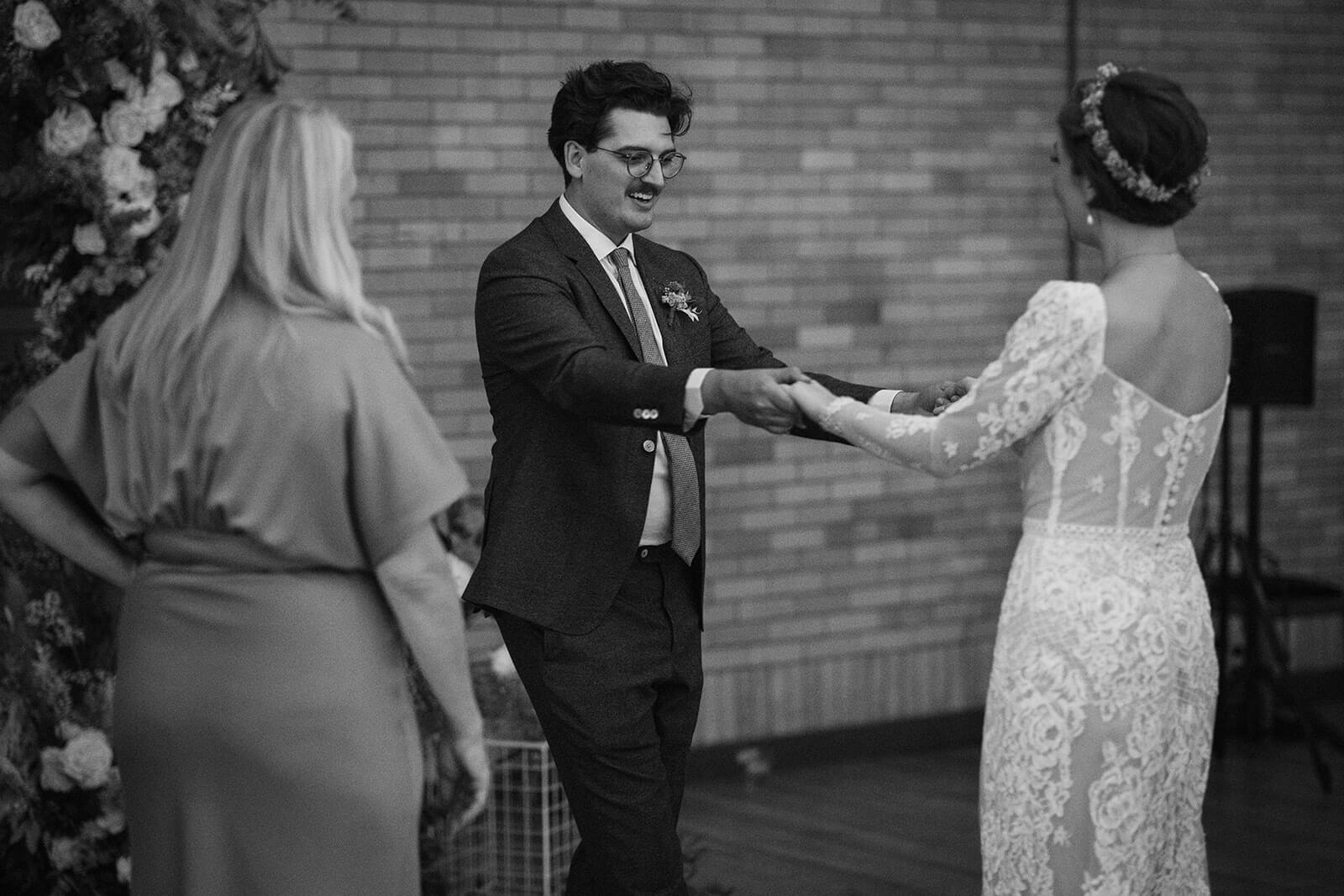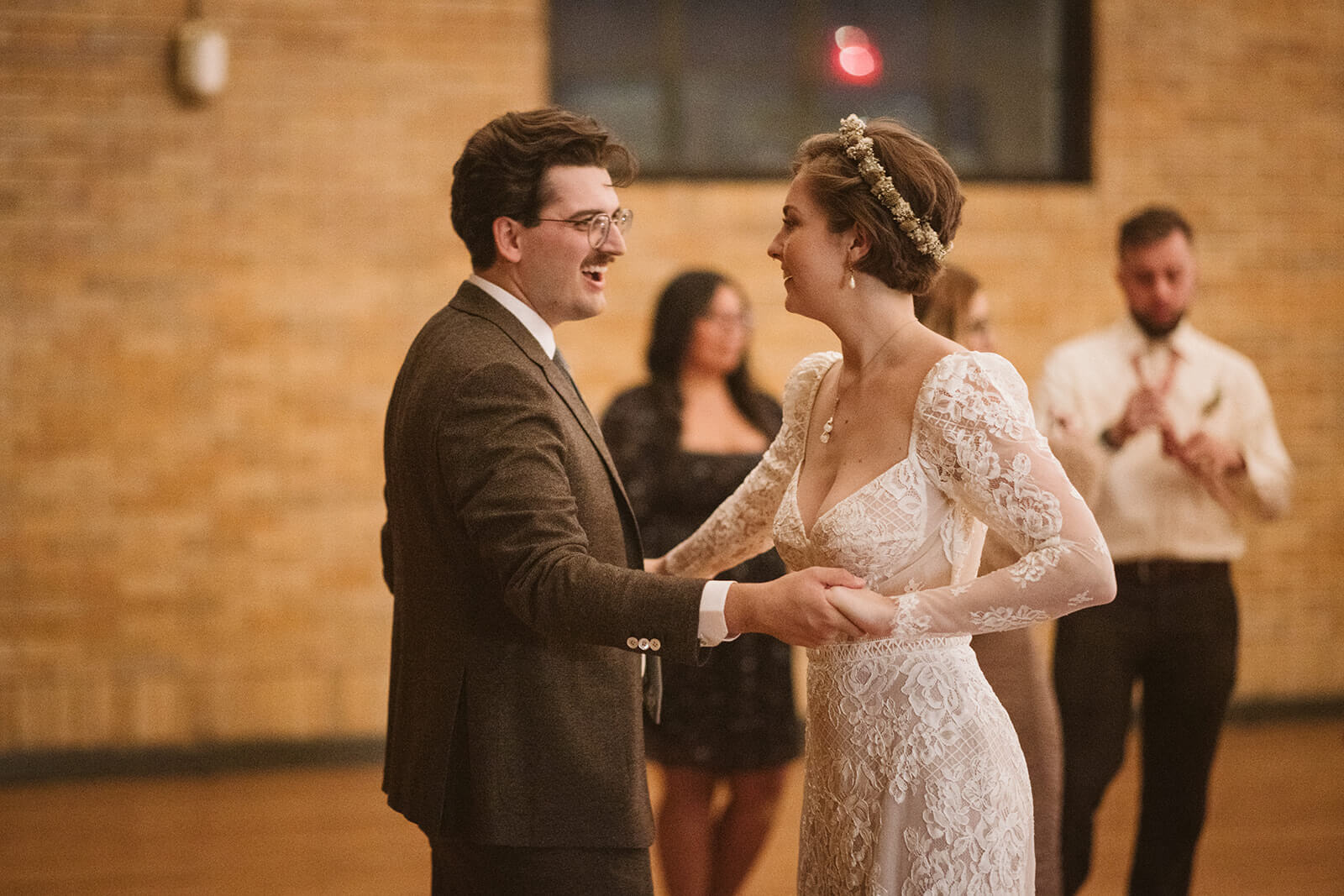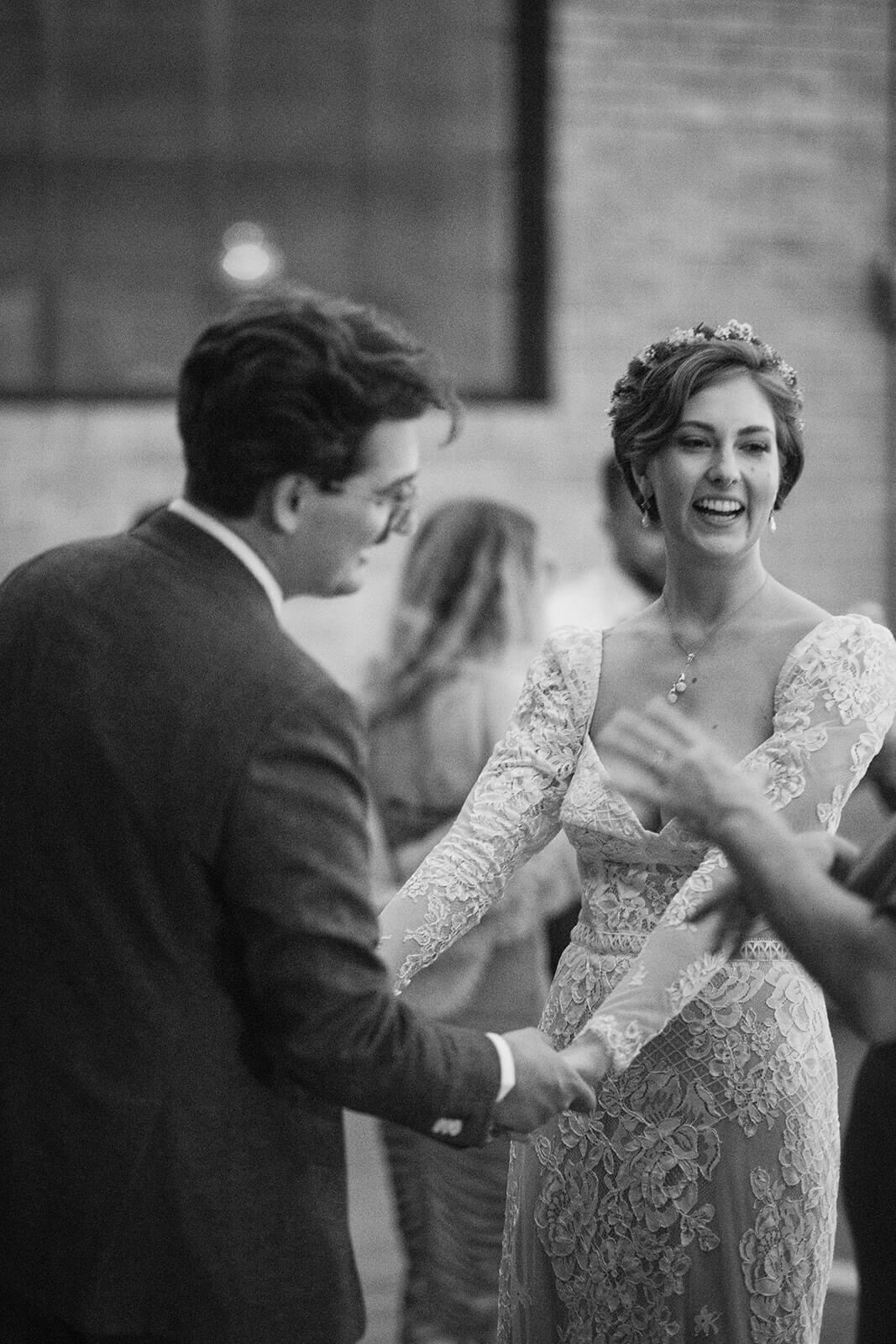 Elegant Family-Style Reception in Ruby Hall
In lieu of a full cocktail hour, following Emily + Pat's ceremony, the Common House's professional waitstaff handed out glasses of champagne as everyone exited the hall. Meanwhile, other staff members began to disassemble the ceremony chairs to leave space for a dance floor for later in the evening.
For their reception, Emily + Pat chose to emphasize the feelings of togetherness and family.
When guests sat at their seats, they found small notes designed by Emily + Pat themselves, along with the menu. The notes expressed the couple's deep gratitude for their presence, inviting them to share in their first meal as a family. In these messages, they wrote how the best memories and the deepest connections are made around the table and expressed their appreciation for the loving company surrounding them on this special occasion.
To truly make their reception even more connected, they chose three long, family-style tables instead of separate ones for their dinner seating. Each table was elegantly lined with glittering candles, casting a warm, soft glow that added to the cozy atmosphere. This choice of seating encouraged conversations to flow freely, allowing guests to feel like cherished participants rather than just attendees in the celebration.
The reception unfolded like a true family gathering. Bonds were strengthened, laughter echoed through the air, and just like the qualities that built the Common House, the spirit of connection and togetherness became the defining theme of Emily + Pat's stunning wedding.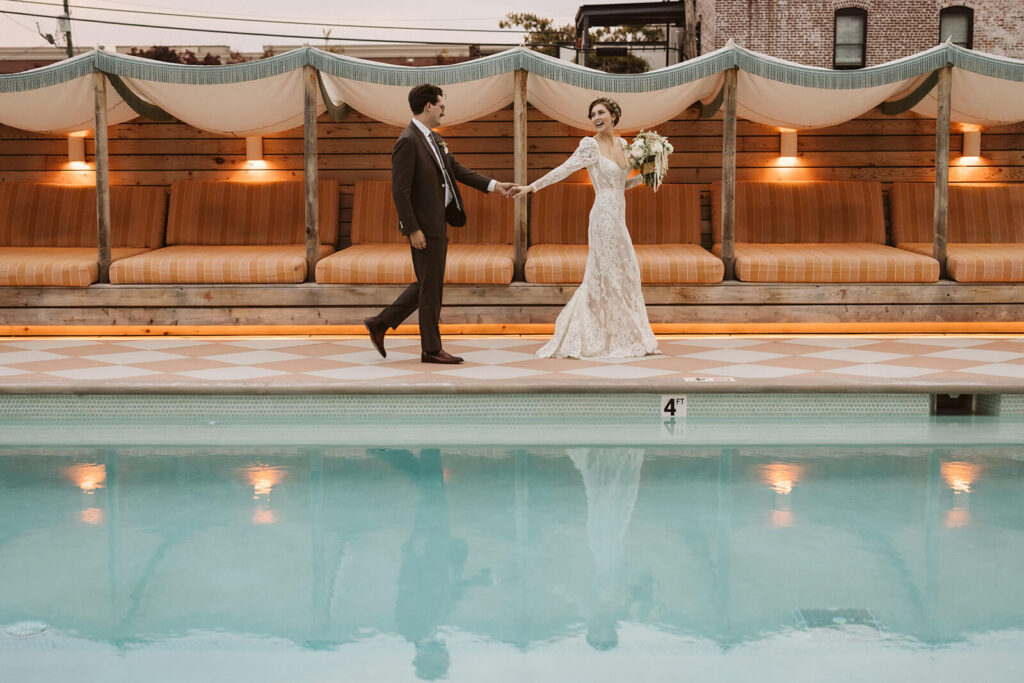 I hope you enjoyed this look into Emily + Pat's lovely wedding! If you're searching for a wedding photographer, I would love to be there for you to capture all the memories of your big day!
Hey there! I'm Rachael Crowe of OkCrowe Photography. I'm a Chattanooga-based (but soon-to-be New York City-based!) wedding photographer. I've shot hundreds of weddings all across the Chattanooga area and beyond. No matter where you are in the state, in the country, or even the world, just say the word, and I will be there to make sure your most cherished memories are captured with an eye of excellence, preserving your special moments forever. Just reach out through my contact form and let's do this thing!