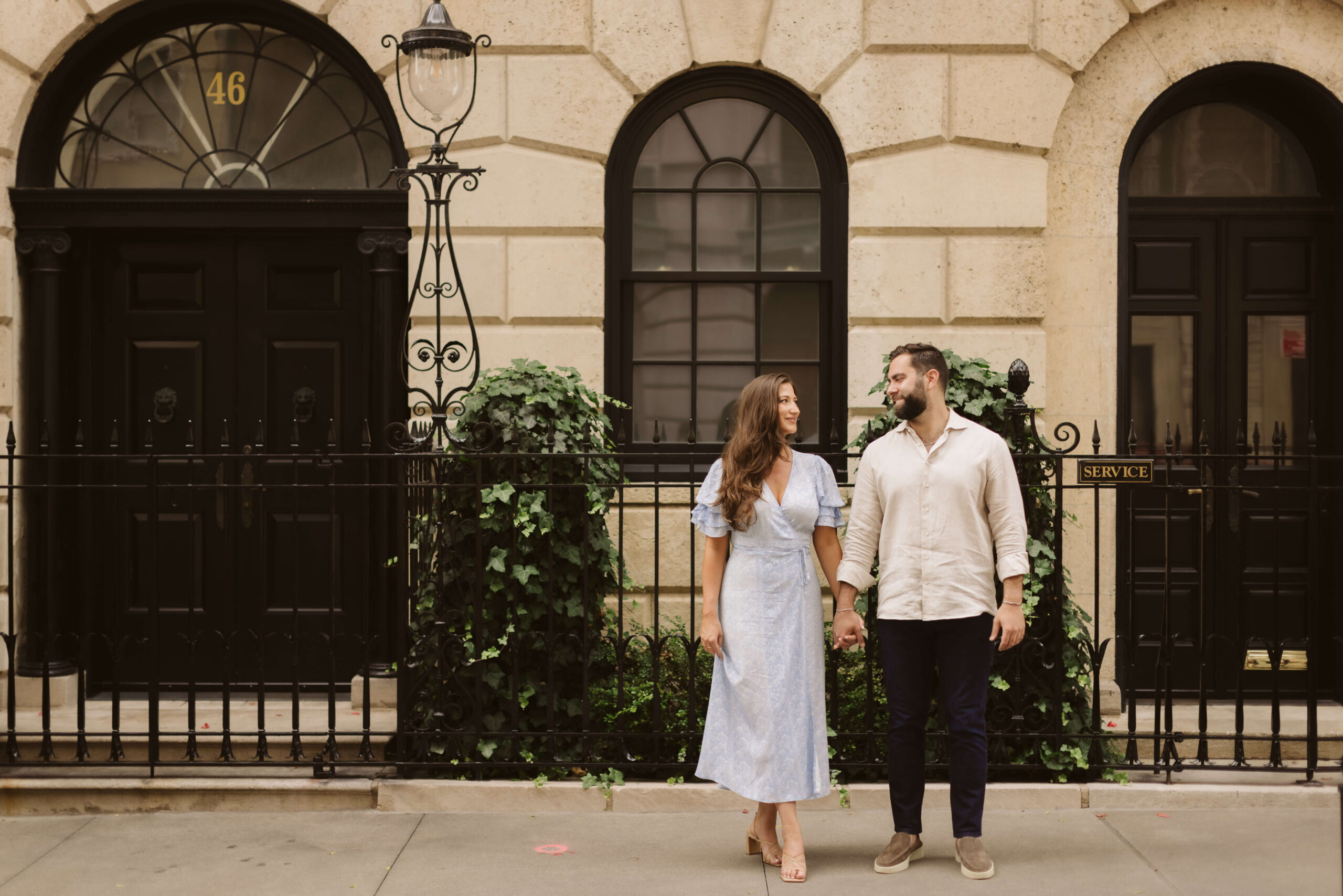 When it comes to your engagement session, you don't have to plan anything extravagant in order to receive the breathtaking, romantic photos of your dreams. To keep things simple and authentic to you, your partner, and your love story, your engagement session could be as easy as planning a casual date together on a bright and sunny day. As a couple living in New York City's Upper East Side, all Alli + Taylor wanted for their engagement session was brunch and a simple and relaxing stroll around the neighborhood where they built their life together.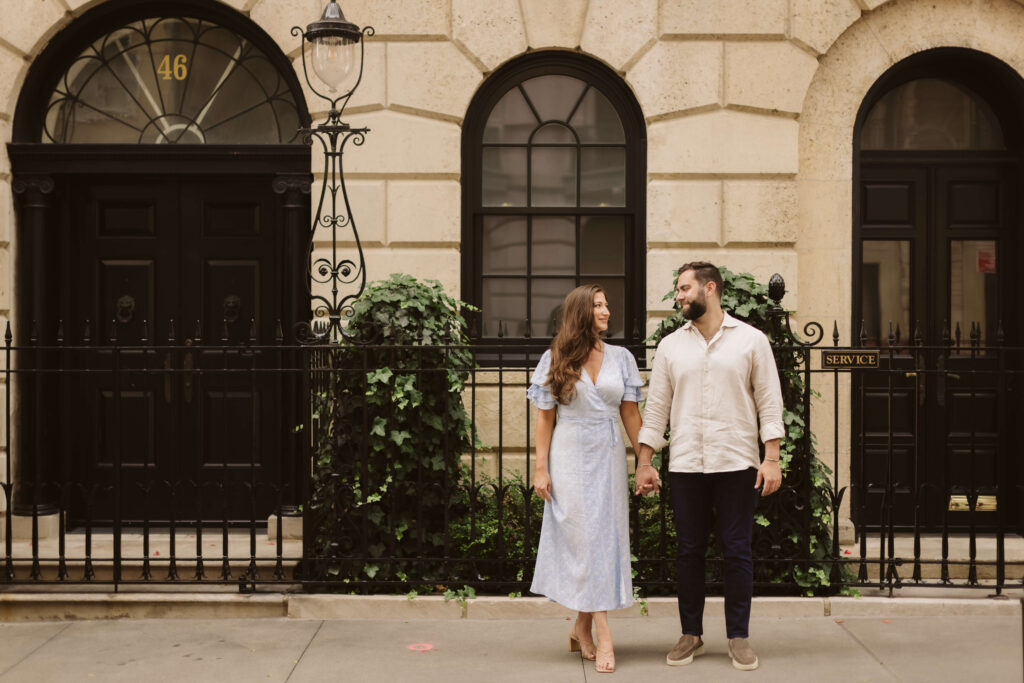 Planning an Engagement Session in the Upper East Side
For the quintessential New York City engagement session, taking a walk through the Upper East Side offers the perfect blend of timeless elegance and modern charm. The Upper East Side has long been known for its affluence and prestige. With tree-lined streets filled with stately architecture, charming boutiques, and significant landmarks, your engagement session will be set against a picturesque backdrop that exudes refinement and class.
Not only is the Upper East Side a beautiful location to simply walk through and enjoy but there is plenty to do as well. Bounded by E 96th Street to the north and E 59th Street to the south, the Upper East Side contains some of New York City's most well-known locations. Museum Mile consists of a long line of world-renowned museums along 5th Avenue, including the MET, the Guggenheim, and the Whitney Museum of American Art. With Central Park close by to the west, you can easily take a stroll through the park and visit iconic places like the Bethesda Terrace and Fountain, the Loeb Boathouse, or, for the more whimsical at heart, the Alice in Wonderland or Hans Christian Andersen sculptures.
With a unique blend of culture, refinement, and upscale living, holding your engagement session in the Upper East Side is an easy and simple way to elevate your engagement photos to a whole new level.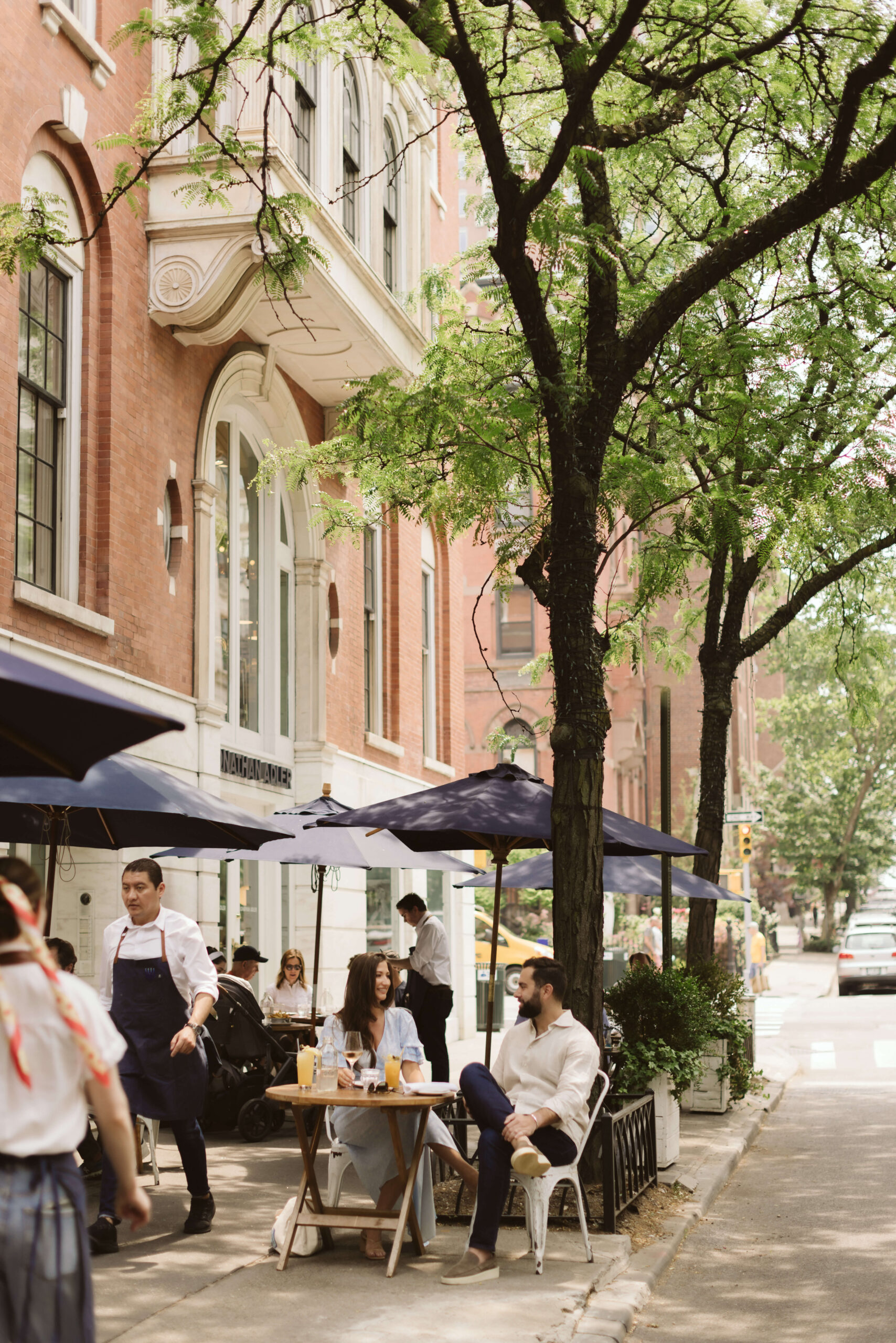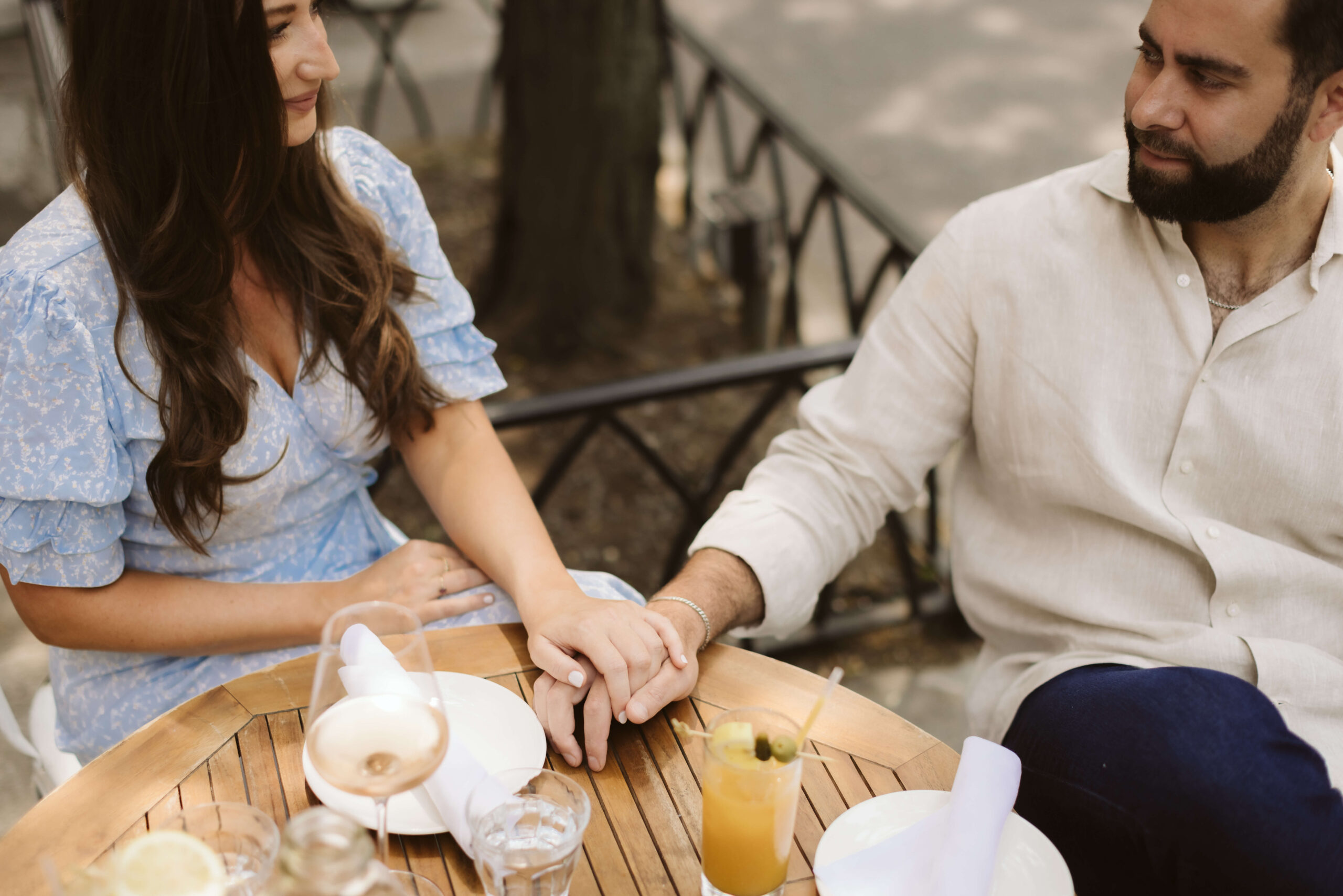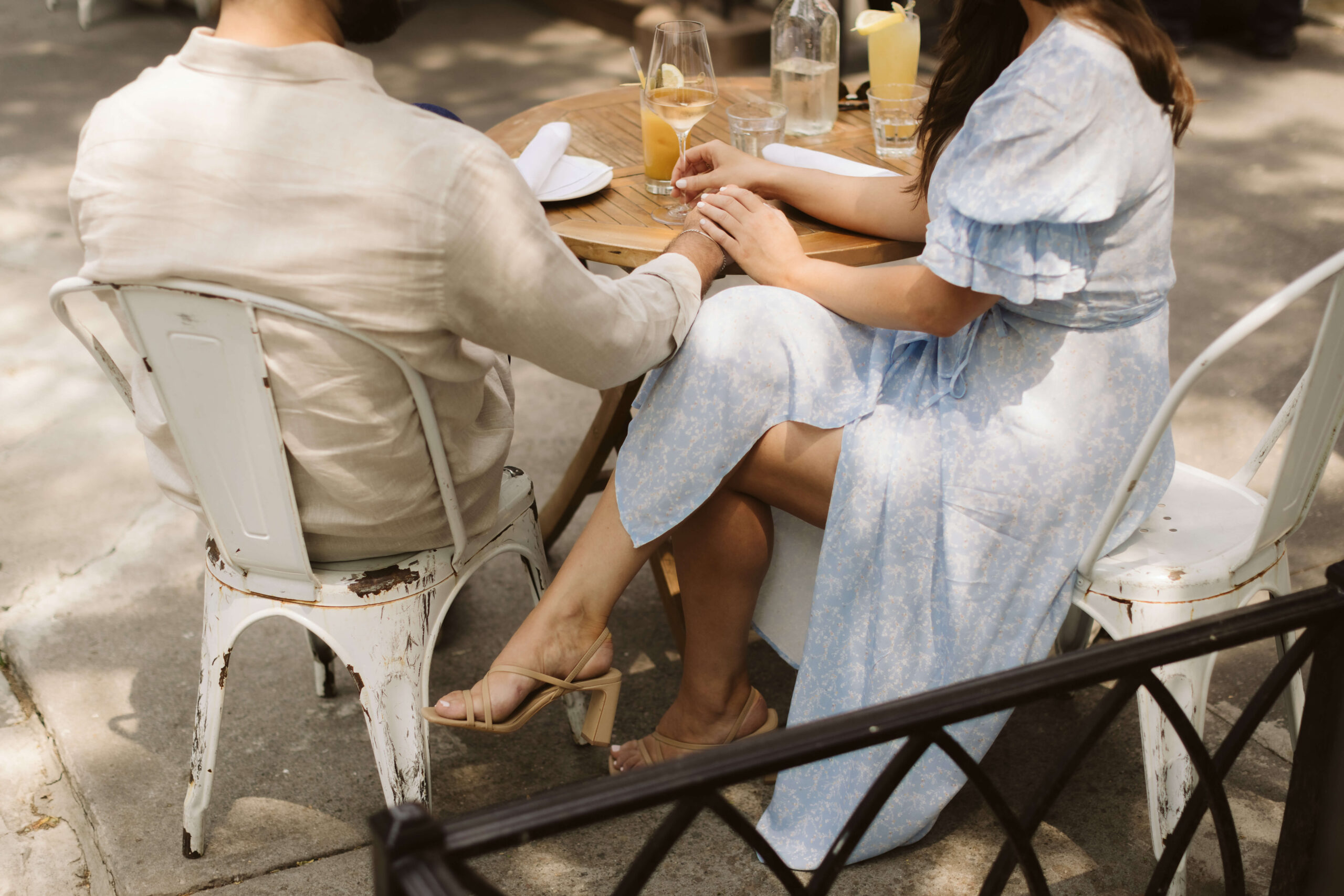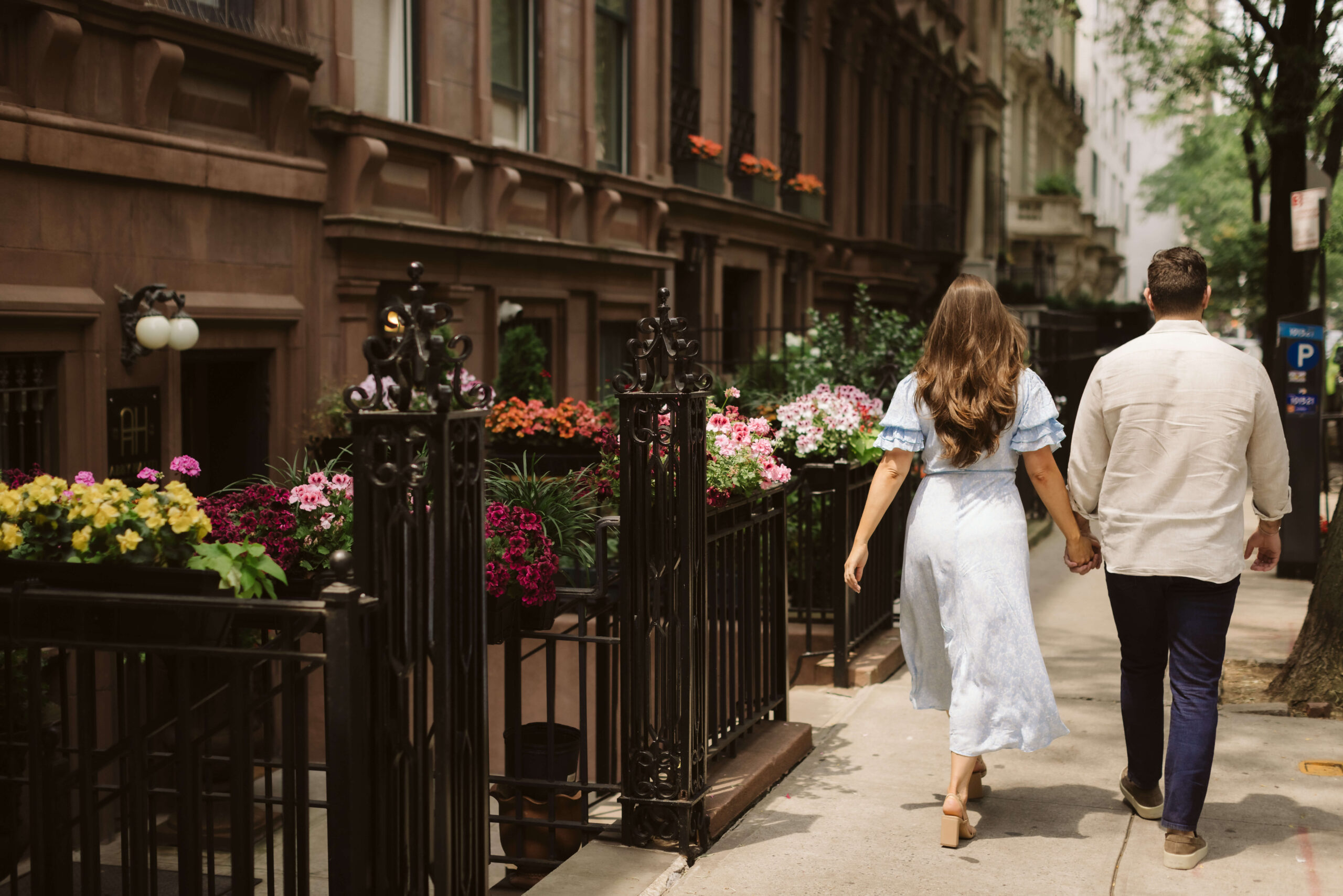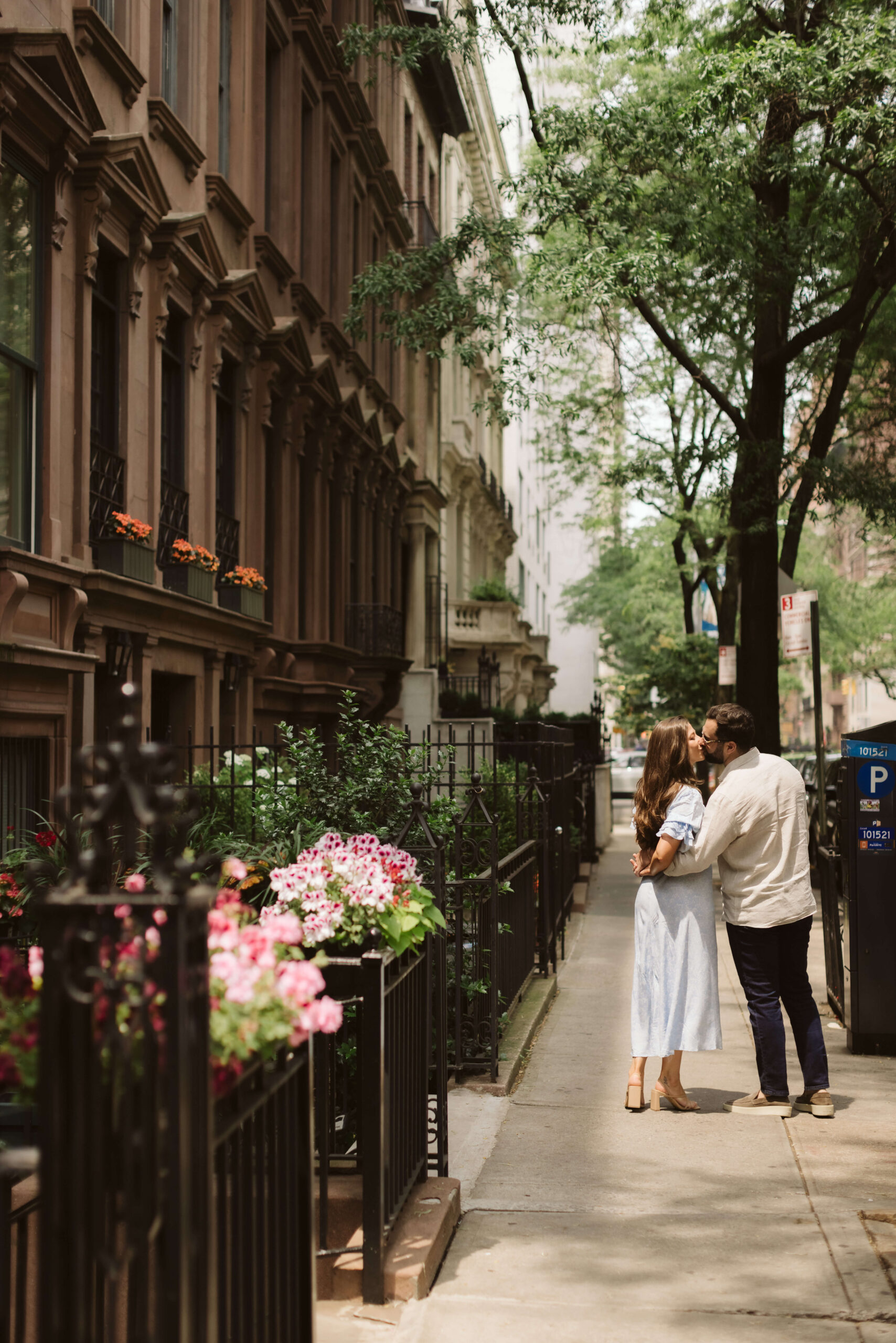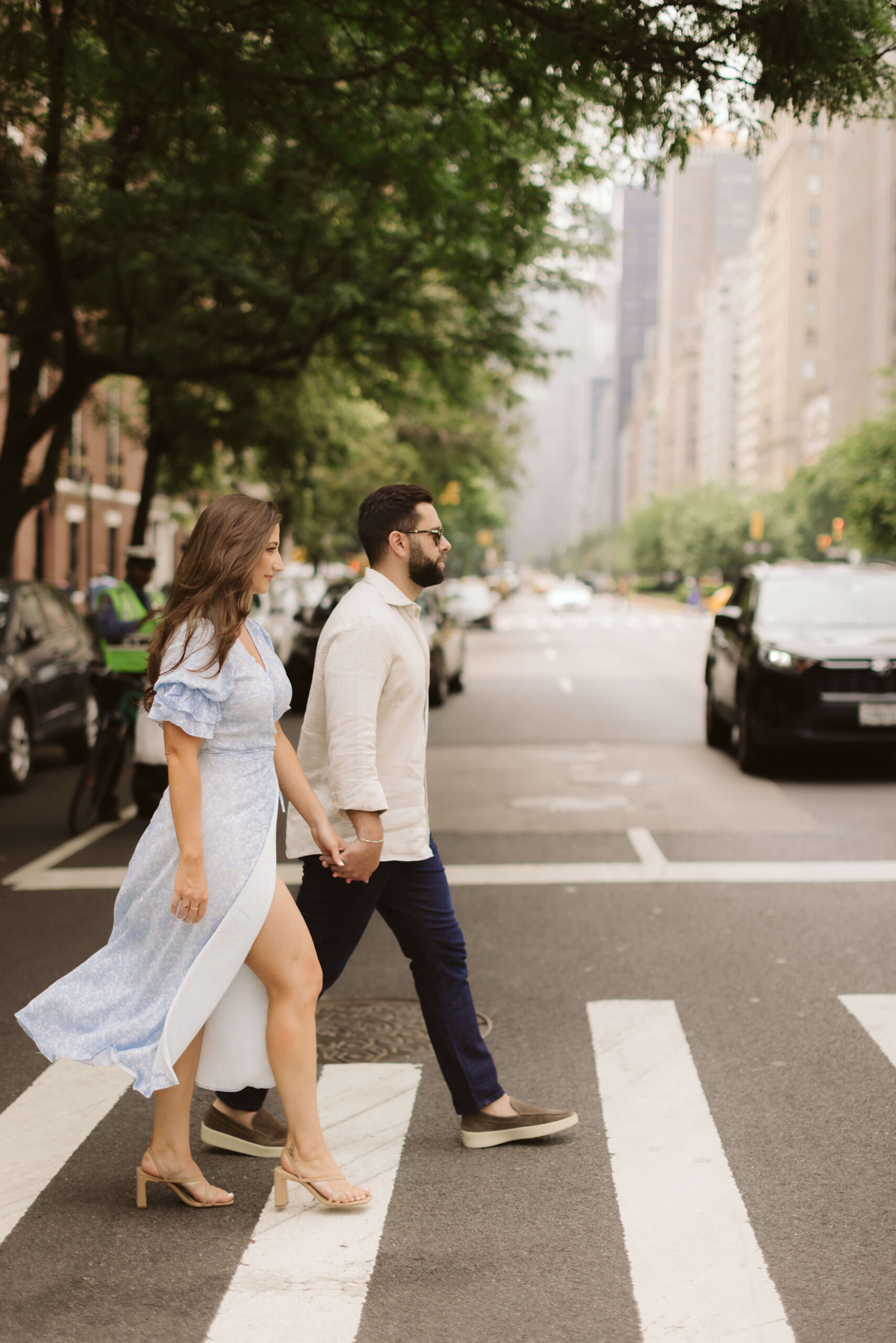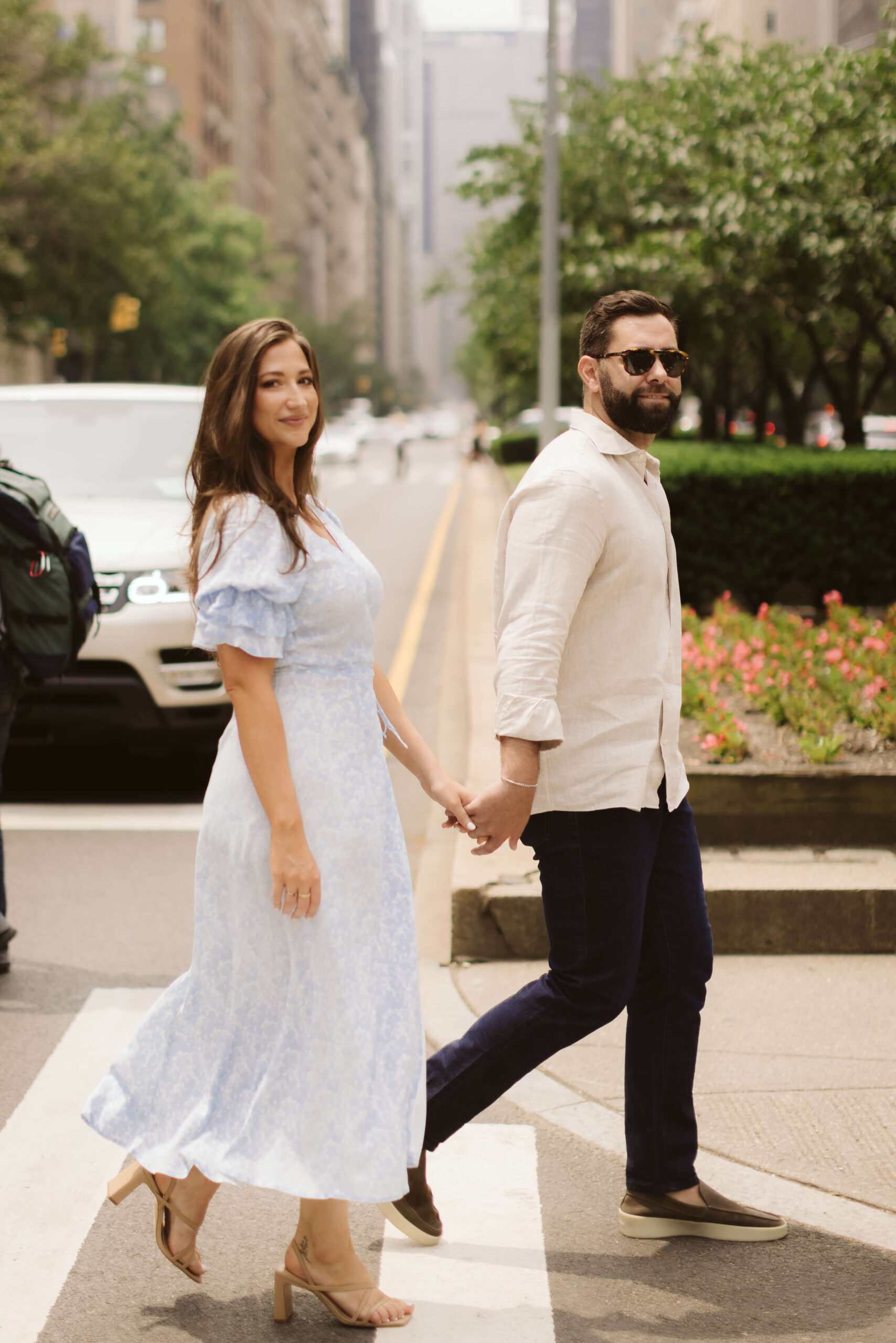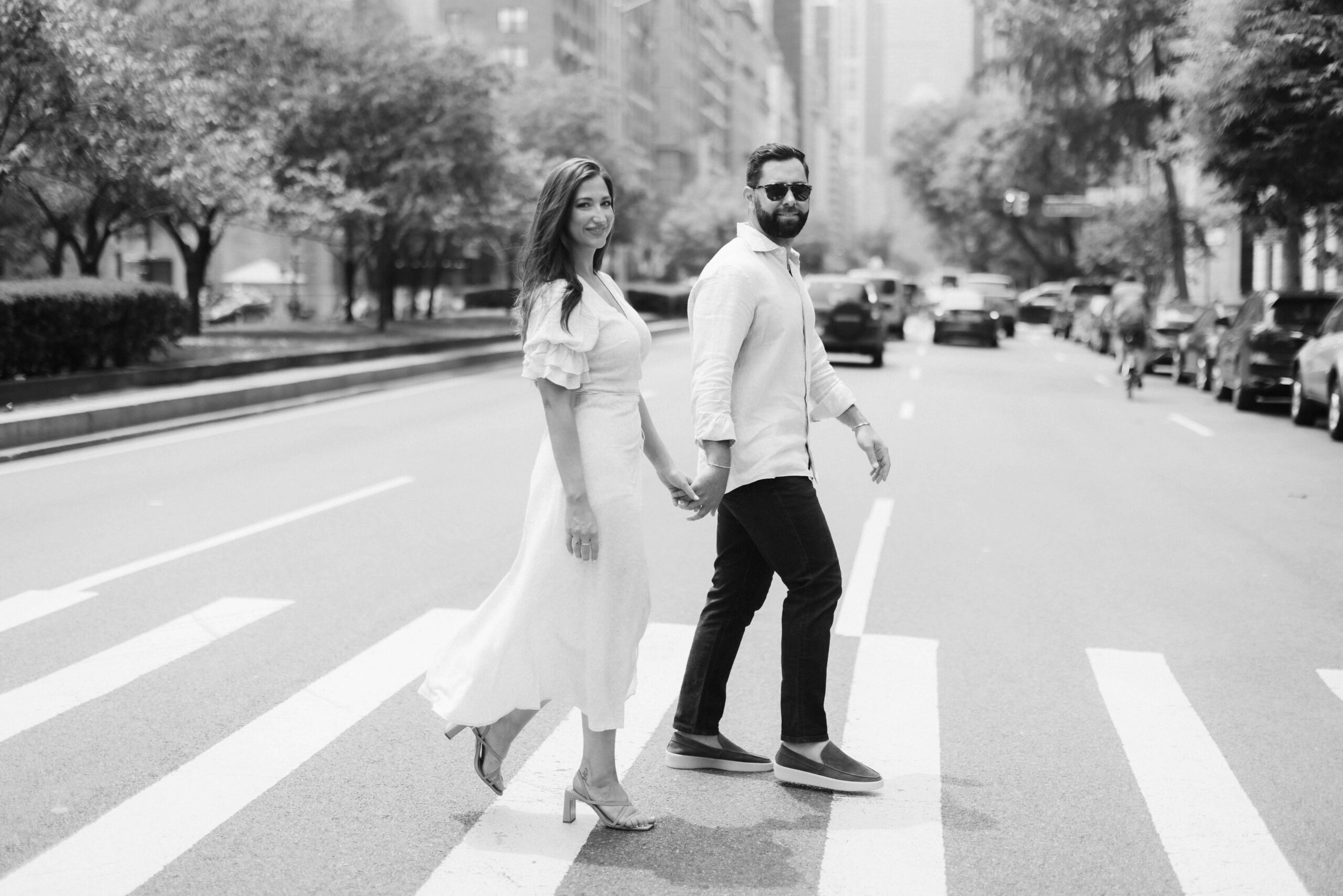 A Neighborhood Engagement Session around the Upper East Side
If you've been following along with me over the past few months, you might have heard that I'm planning to move from Chattanooga to New York City next year. There are a lot of little puzzle pieces to fit into place before things are finalized for this big step in both my career and my life, but my last trip to this gorgeous city just solidified my decision.
Not long before I left for my trip, Alli + Taylor found me on Instagram and asked if I was available to do their engagement shoot. The two lived on the Upper East Side and wanted a simple engagement shoot around their neighborhood as a tribute to the place where they built their life together. Of course, I had to say yes, and I'm so glad that I did. Alli + Taylor were so much fun to work with and getting to walk around this stunning neighborhood of New York City with a local couple was an absolute delight.
One fun fact about Alli + Taylor is that neither of them are New York natives. Both of them were born and raised in the South and later moved to the city together when Taylor was offered a career opportunity he couldn't refuse. It was amazing to see how they've woven their unique love story into the fabric of this bustling city and their local community.
Choosing to take your engagement photos around your neighborhood is a special and meaningful way to tell your love story. Just imagine adorable candids walking down the streets you pass every day or posing at a few of your favorite local cafes. Alli + Taylor's choice to use their Upper East Side neighborhood as the background of their photos was a beautiful testament to the adventures that brought them here while reaffirming my own excitement about my impending move. New York City is just the kind of place that draws people in and where stories like Alli + Taylor's are just waiting to be discovered.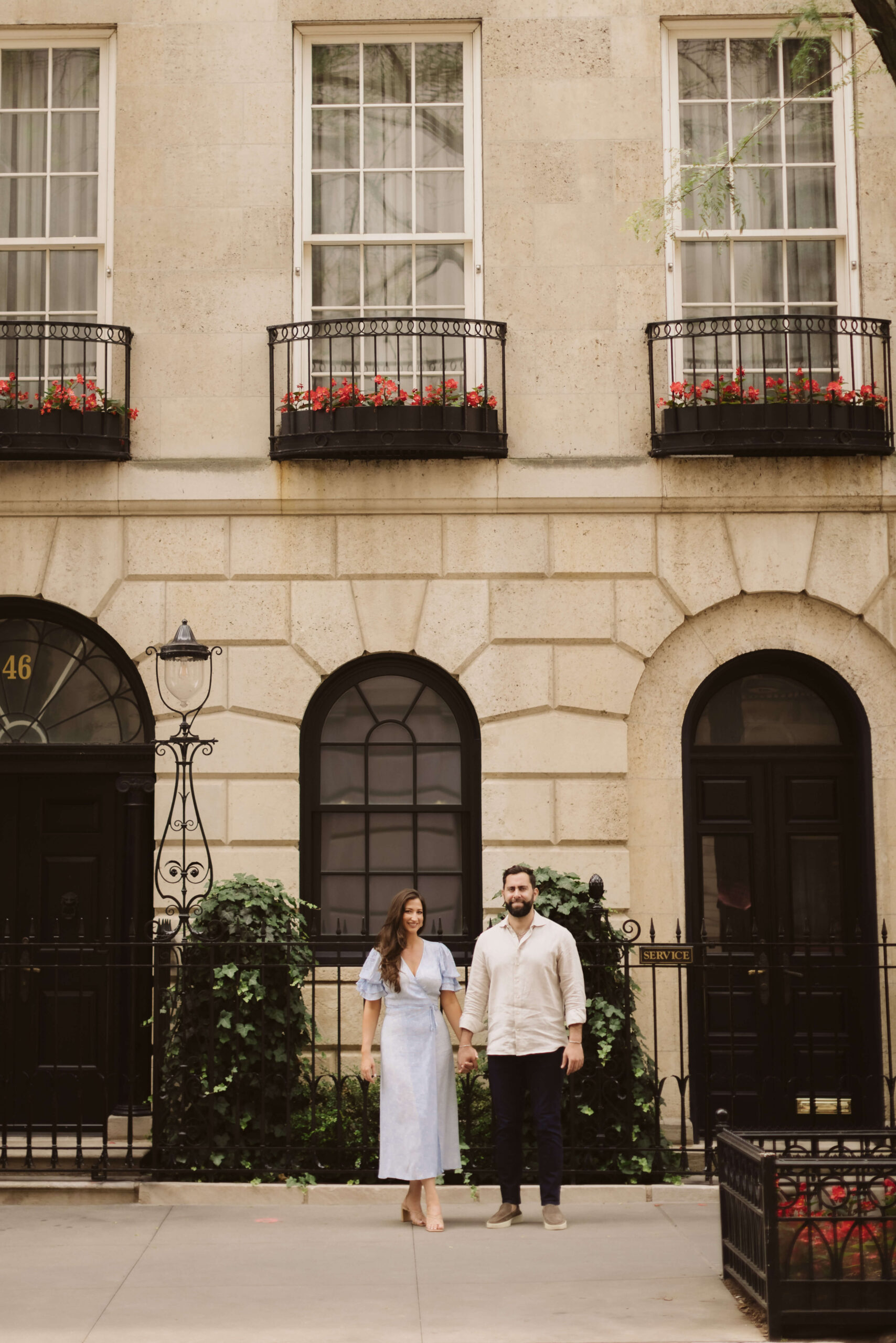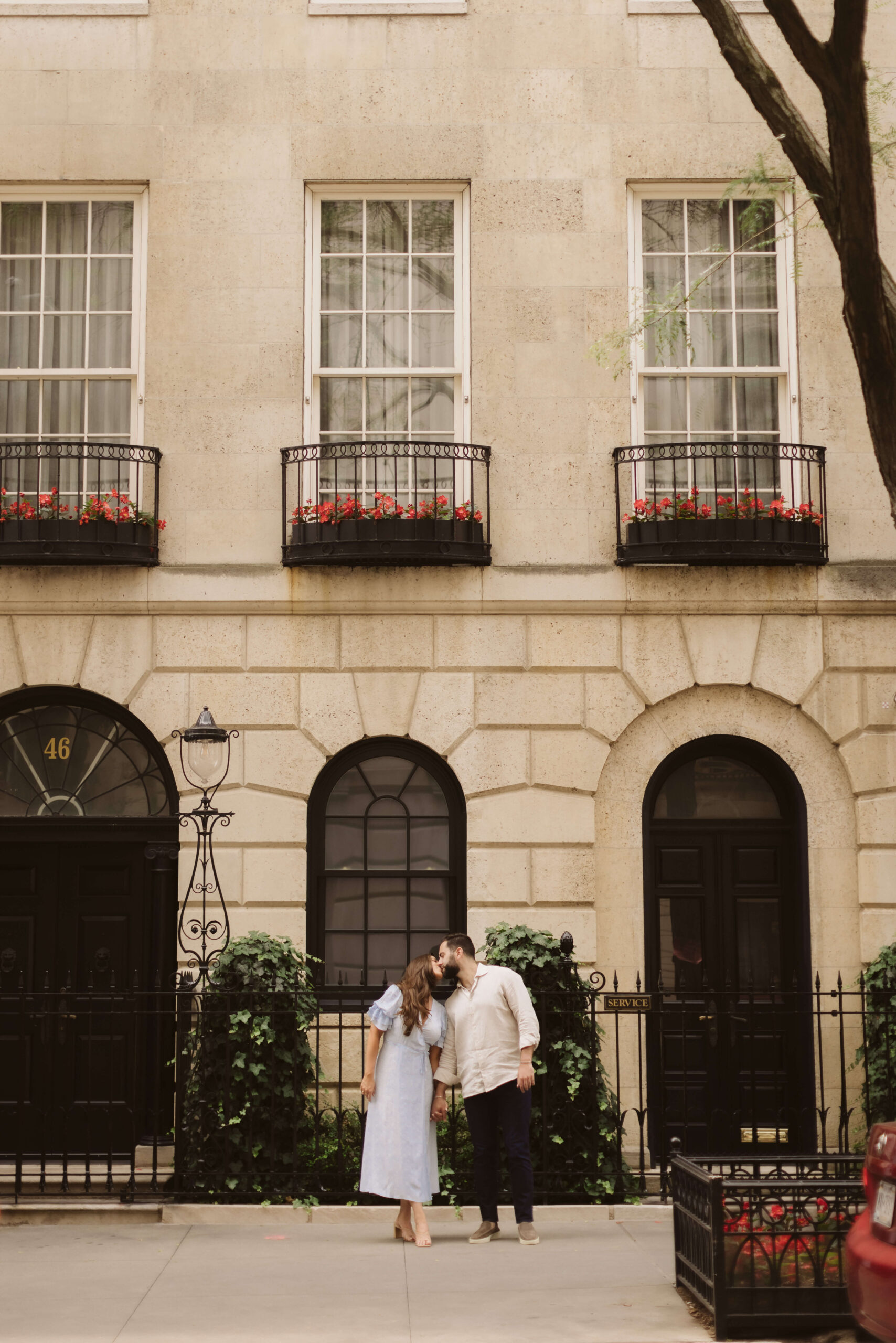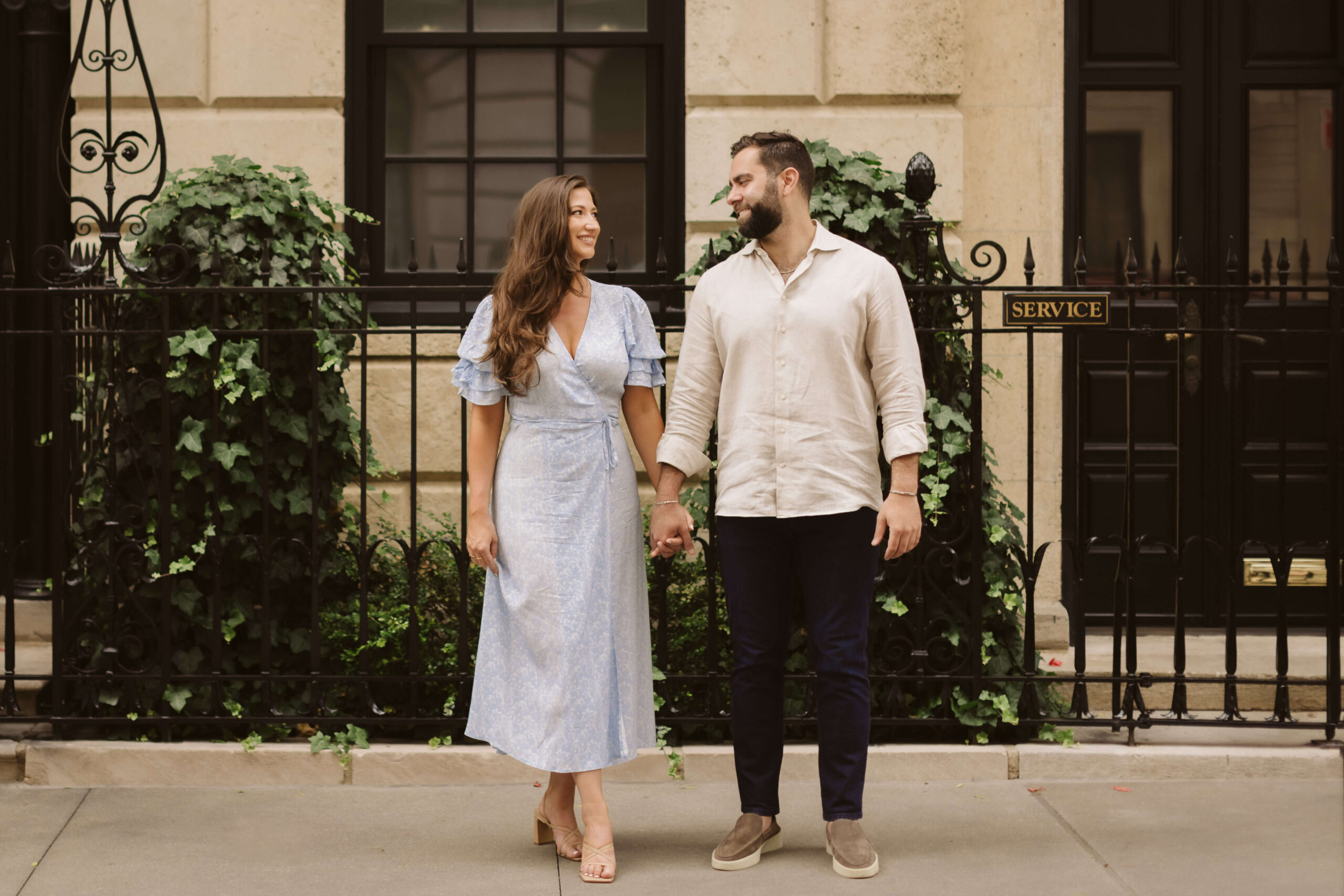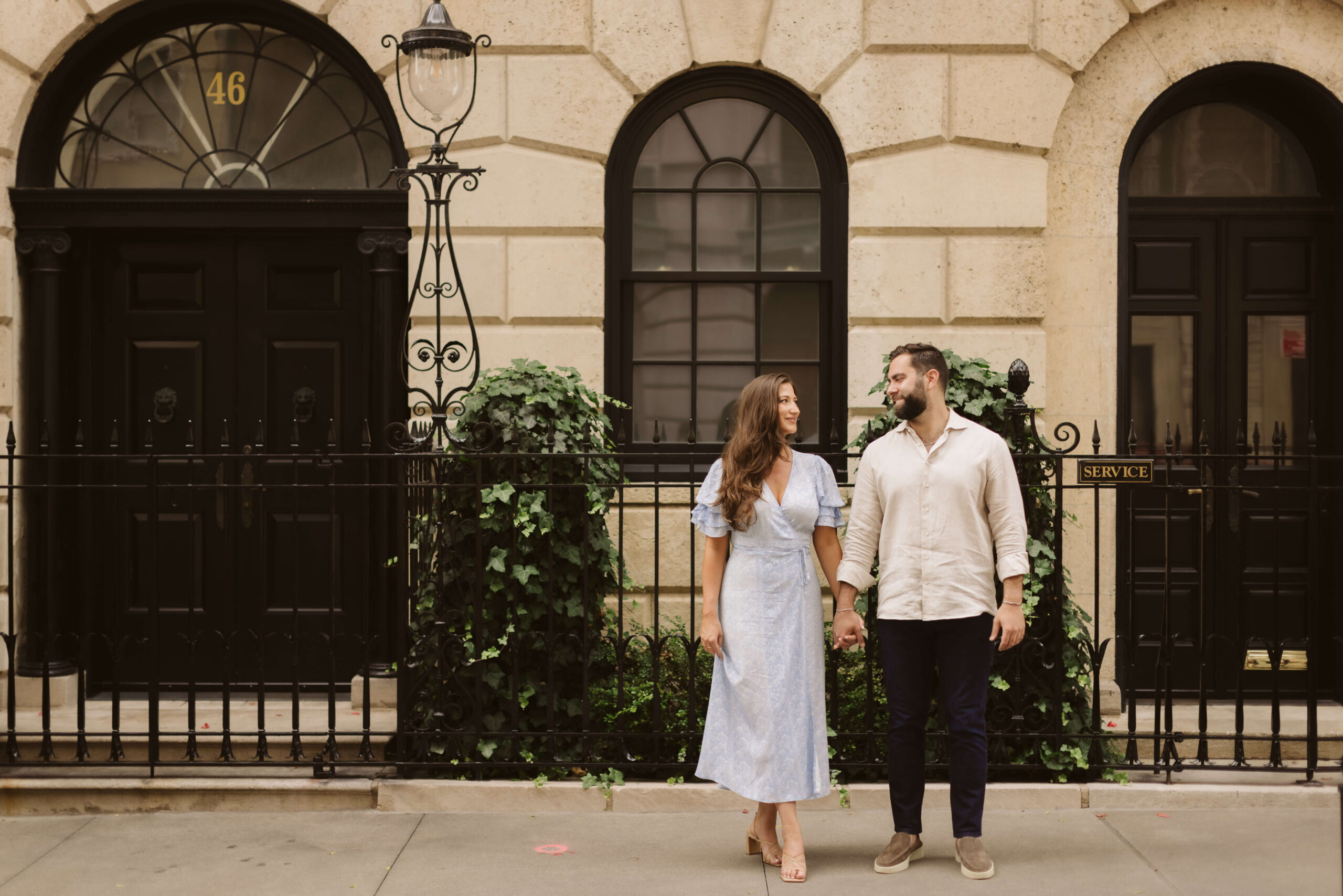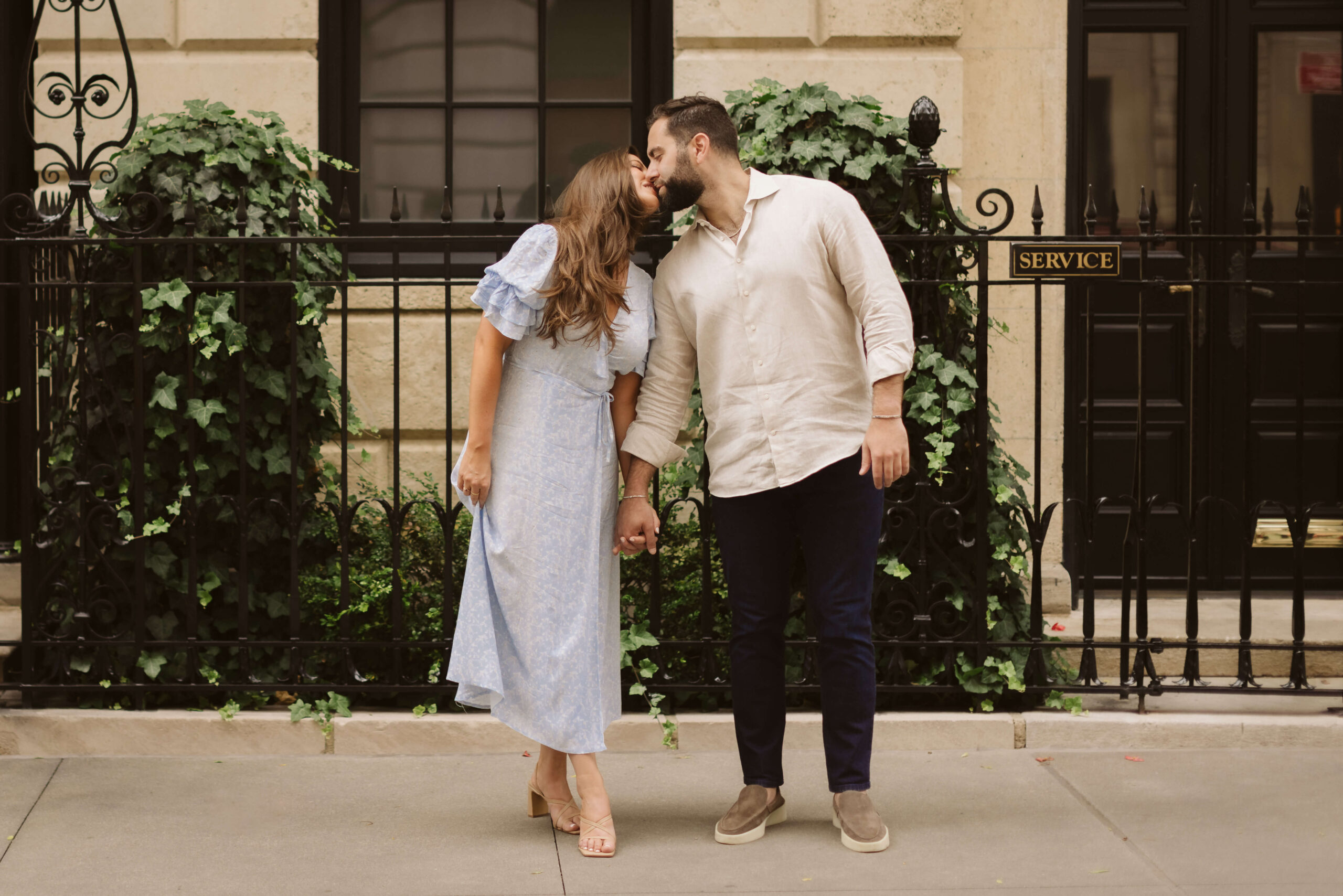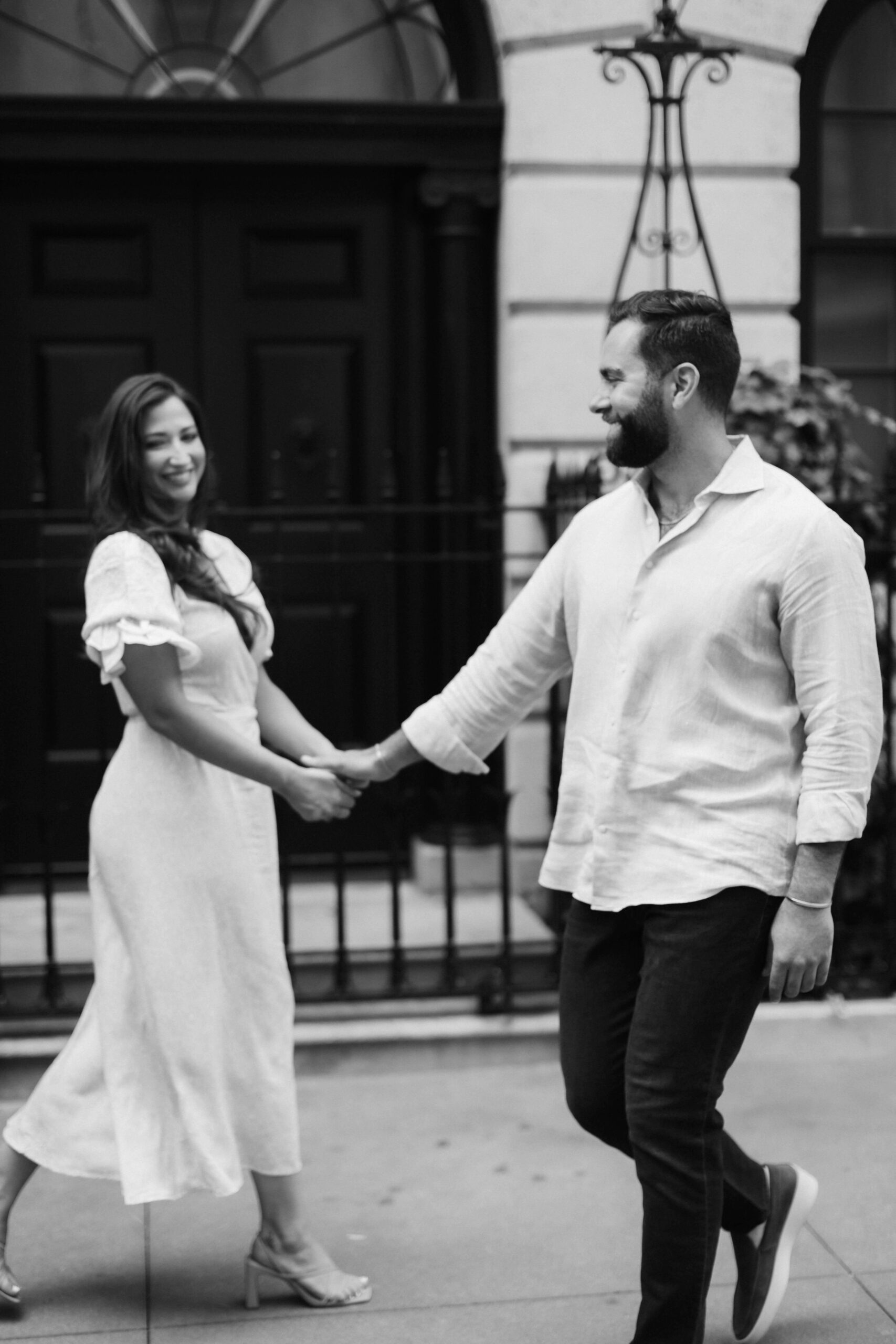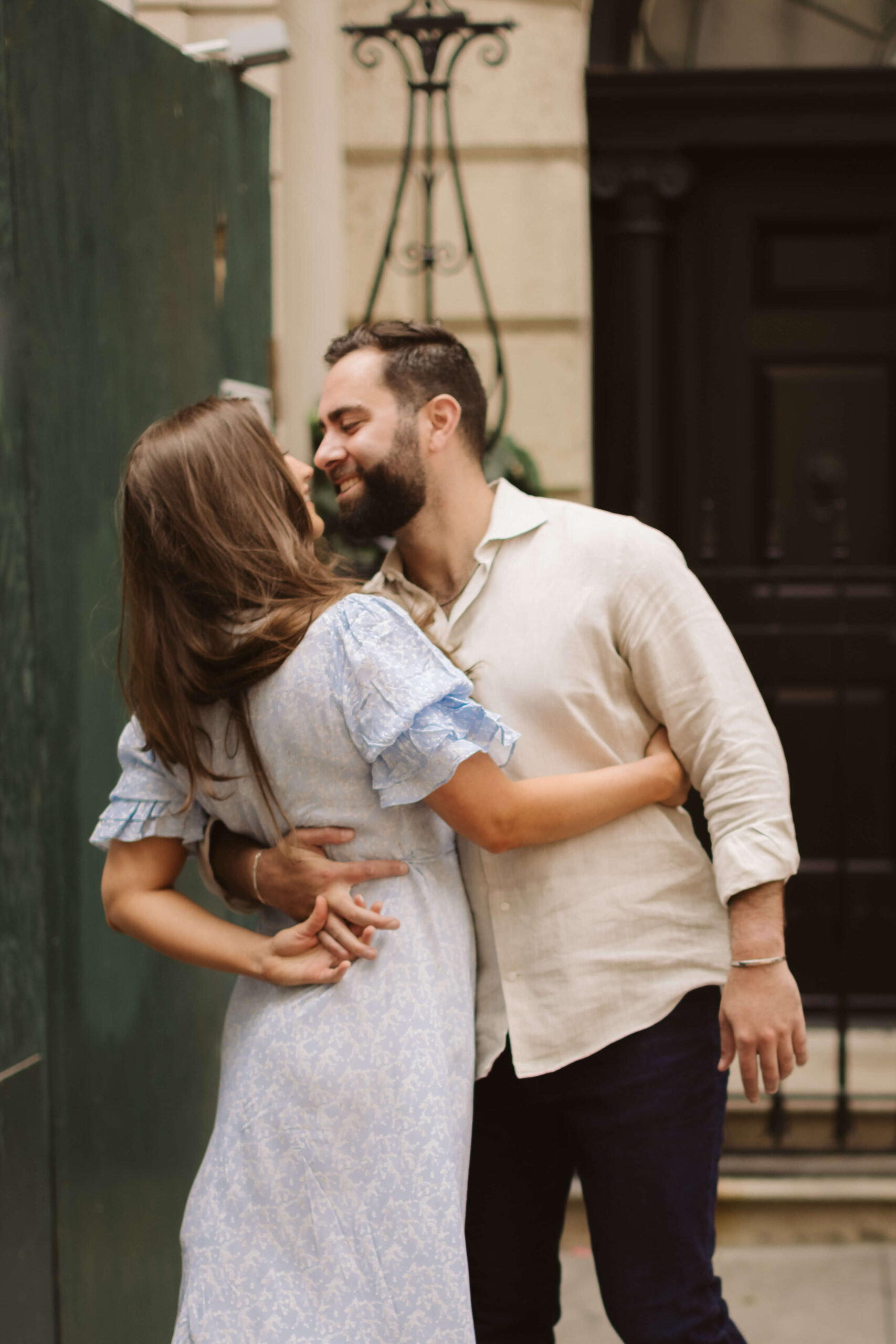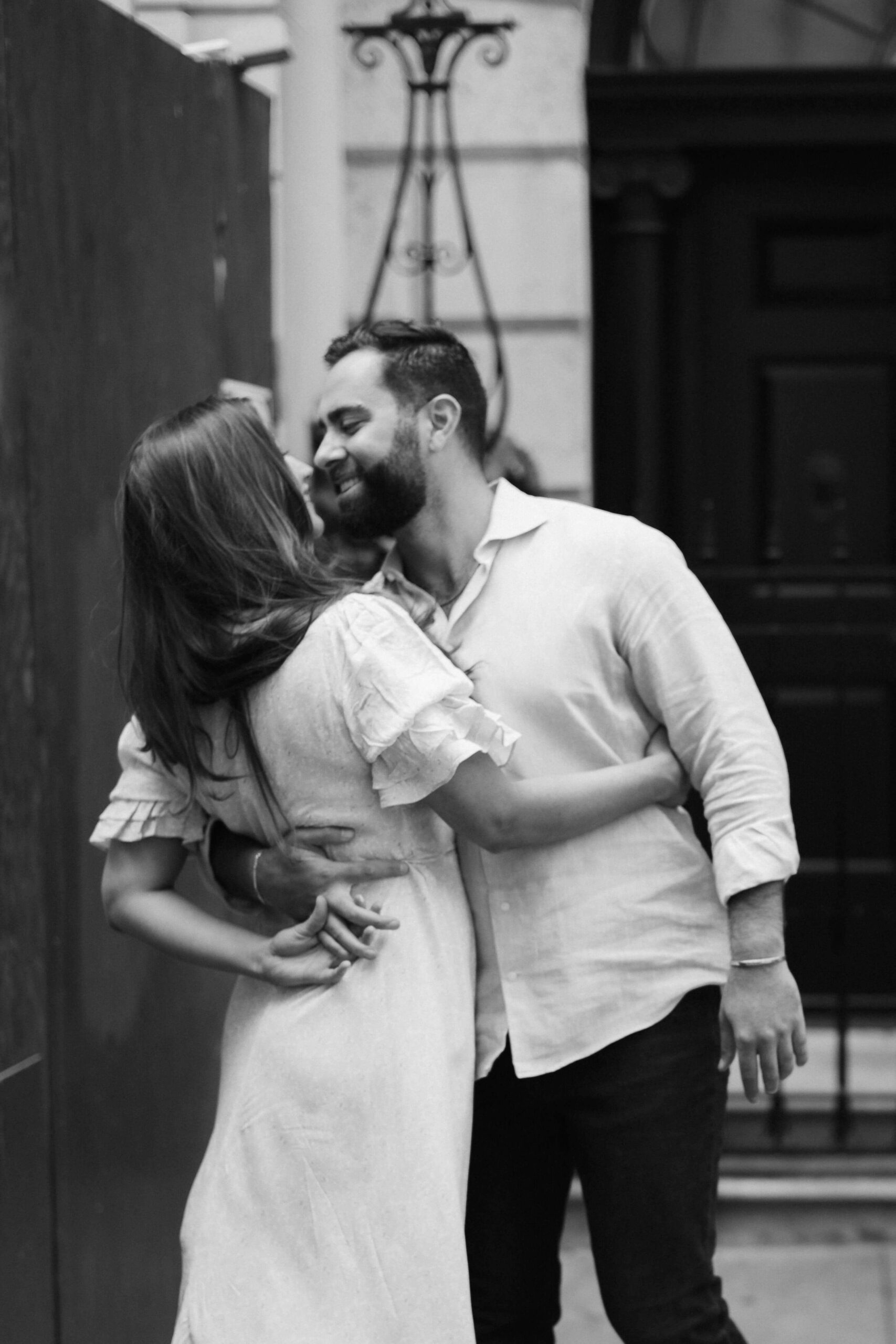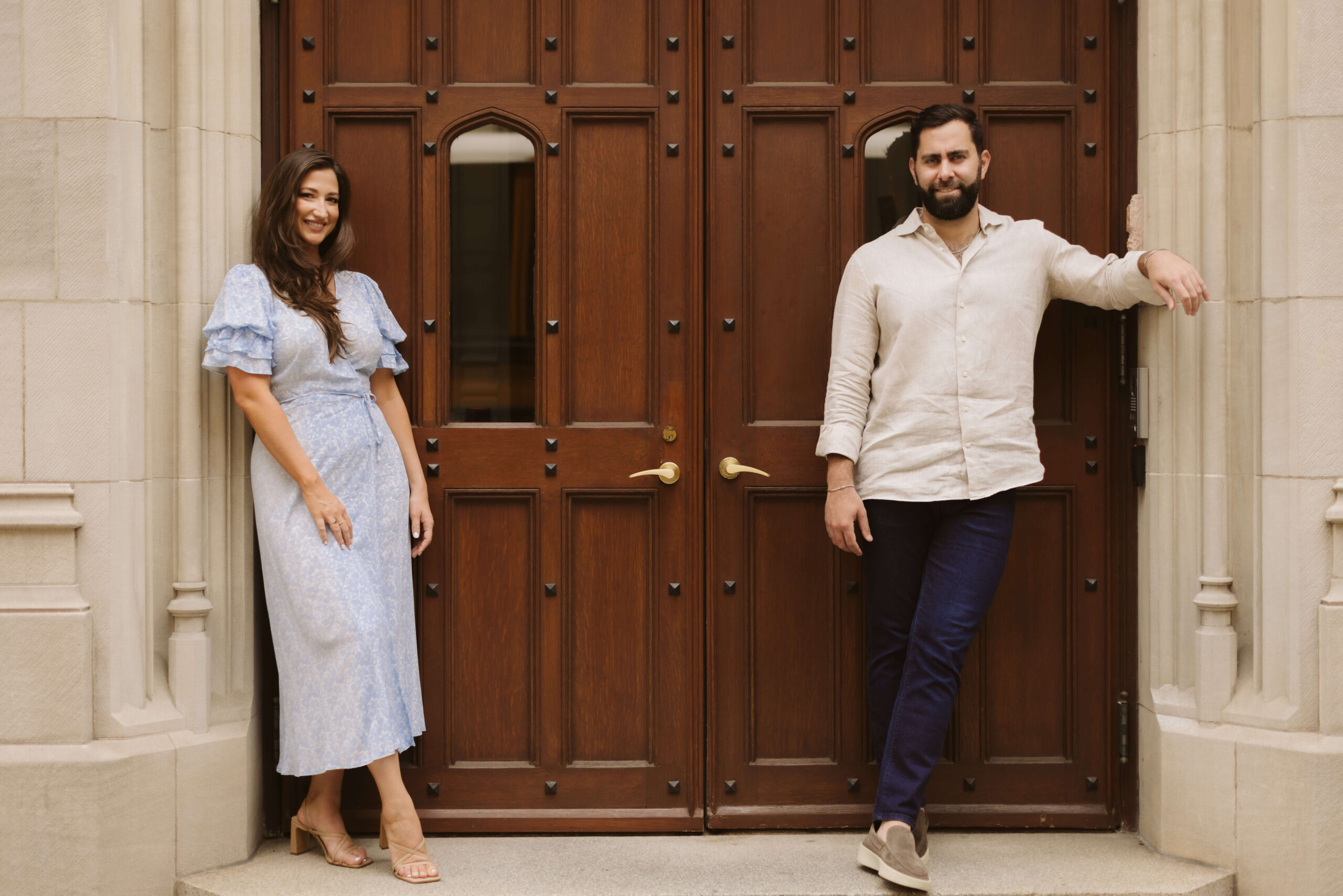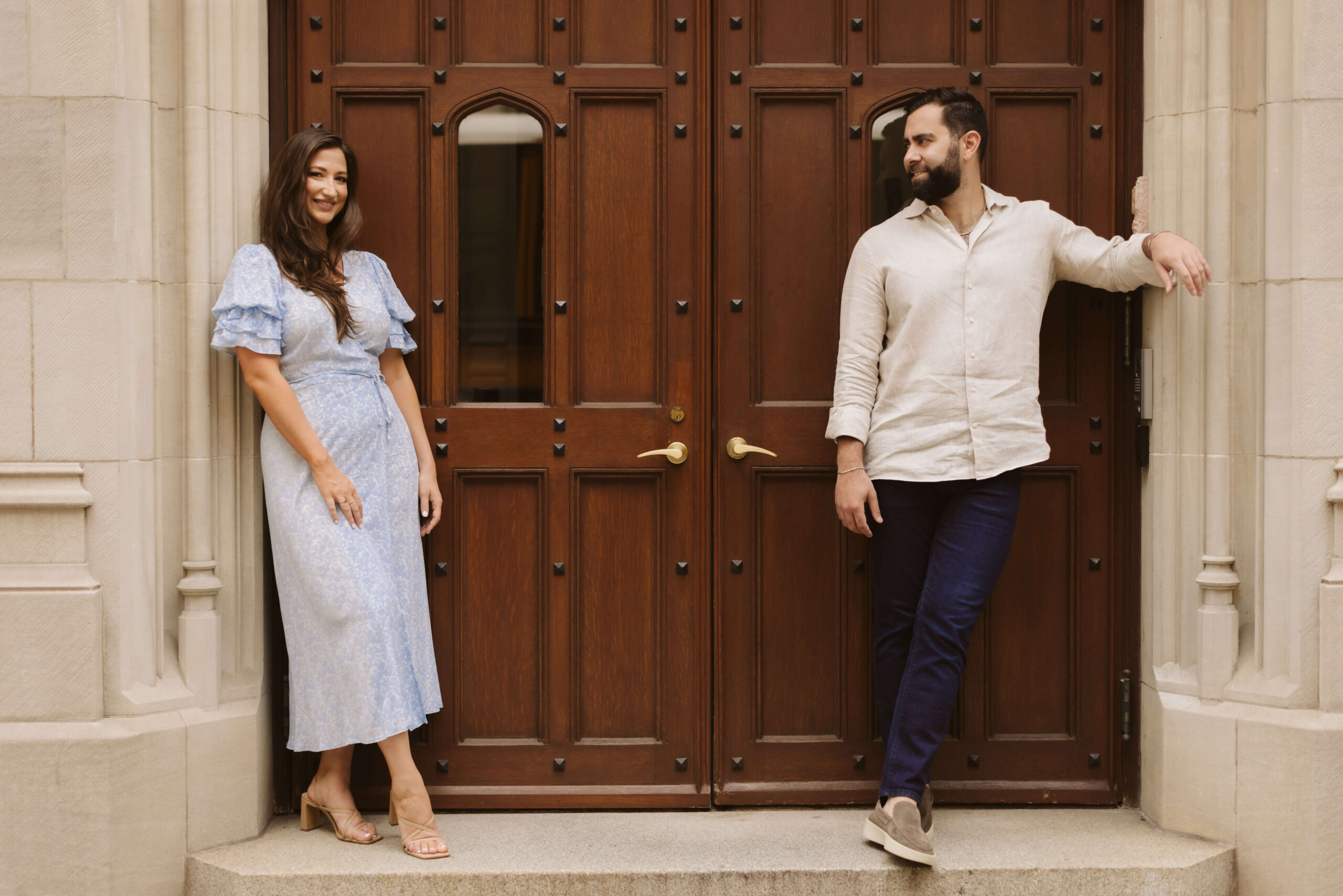 A Laidback Sunday Brunch Engagement Session
Alli + Taylor wanted a really relaxed, laidback vibe for their engagement session. When I suggested that they pick out a cute local café or restaurant and make a romantic date out of it, they were on board immediately.
When couples come to me asking for ideas for their engagement session, I always suggest that they choose an activity that they can enjoy while I'm taking their photos. I've had couples plan picnic lunches, go skateboarding, bring board games, and even hop on rides at an amusement park, all while I'm clicking away behind the camera. Planning an activity that you and your partner already love doing together is a great way to ease the tension and calm any nerves either of you may have about being in front of the camera. Then, once you have your little date planned, the two of you can just enjoy the moment together and leave the rest to me.

For their session, Alli + Taylor chose to start with brunch at one of their favorite restaurants in their neighborhood, East Pole Kitchen & Bar. The East Pole is an elegant little restaurant and bar located a few blocks from their apartment at the bottom of one of the Upper East Side's brownstones. Their fresh farm-to-table menu choices, plus stylish tables and umbrellas set up for breezy outdoor seating, made it the perfect choice for the casual but classic look Alli + Taylor wanted for their photos.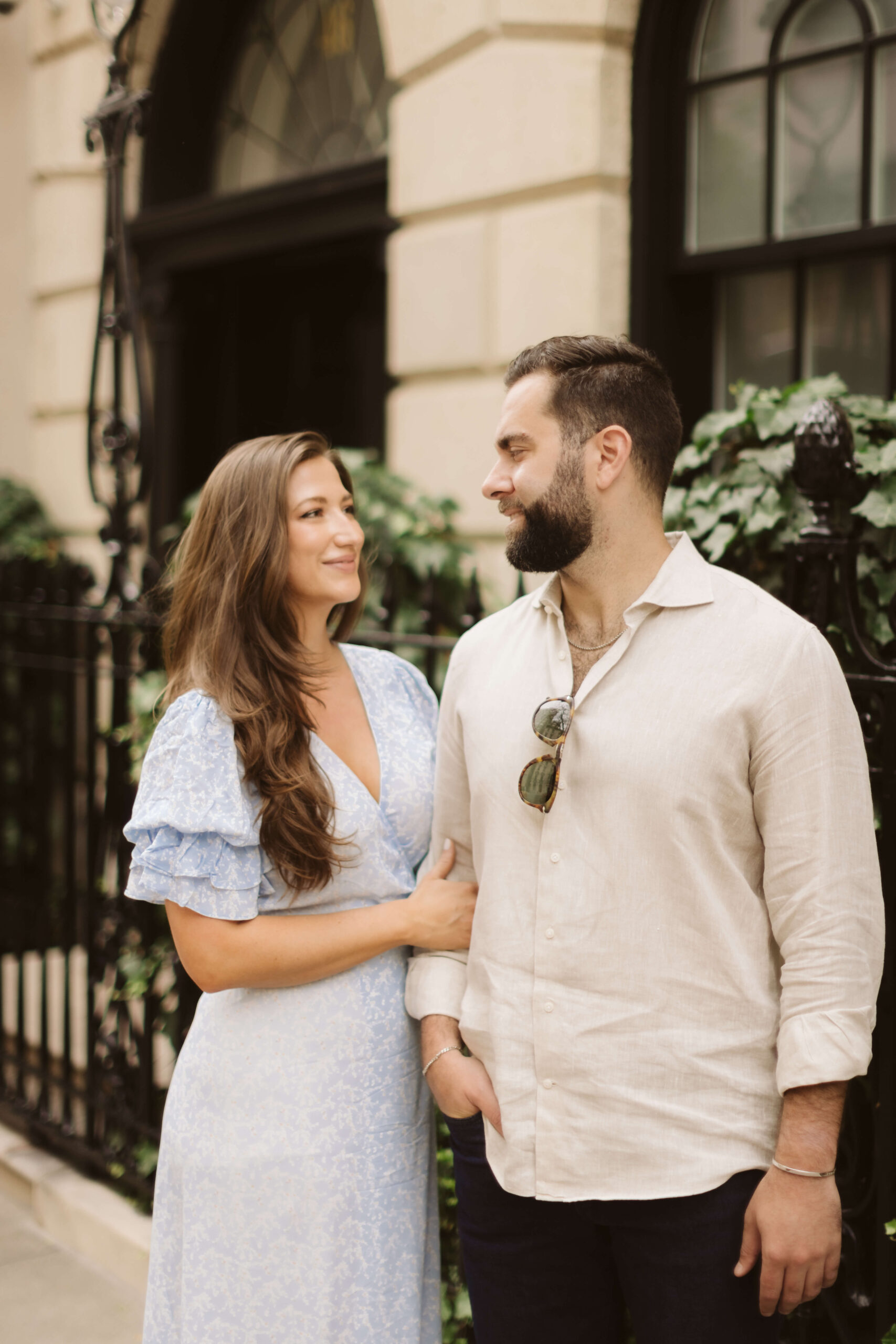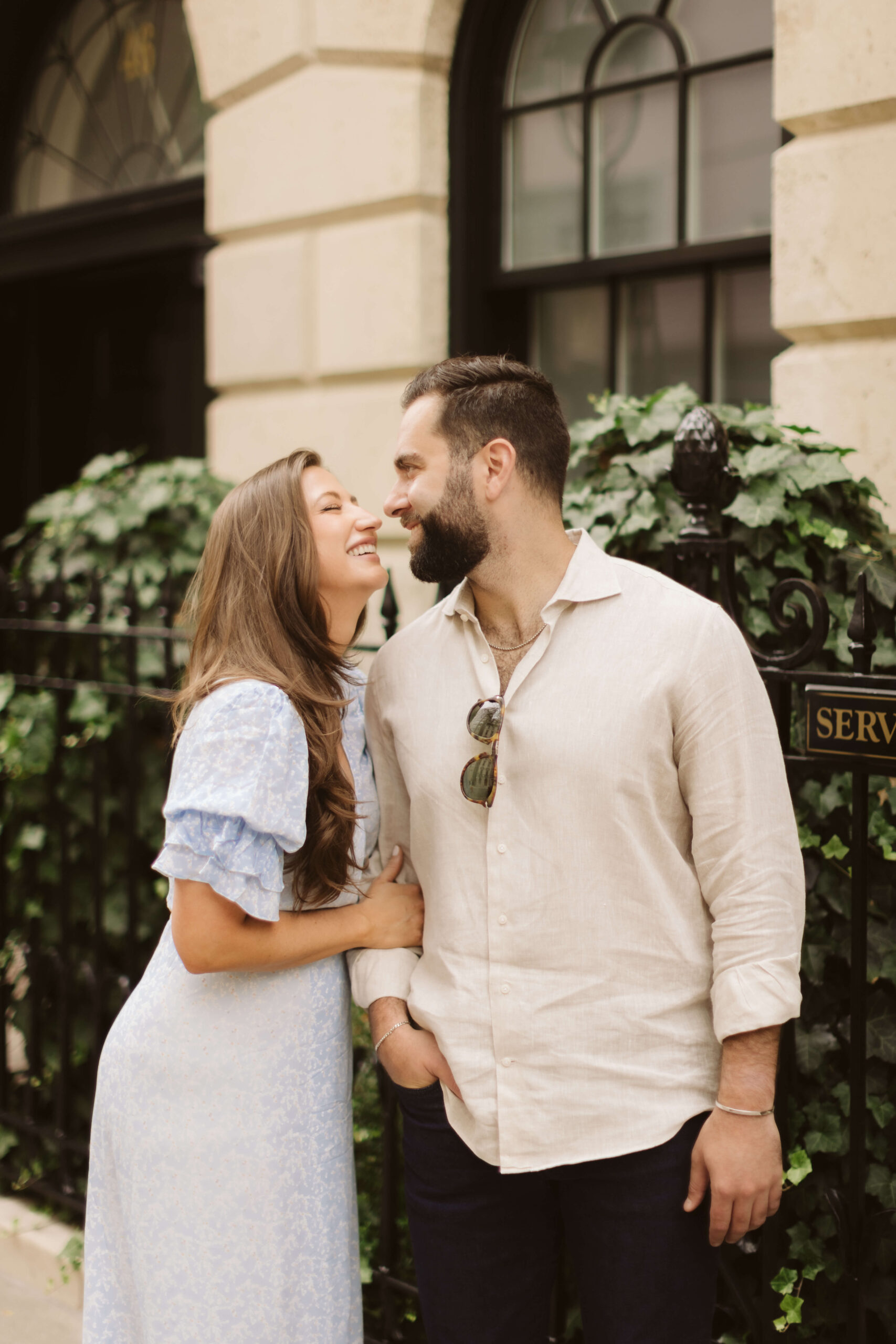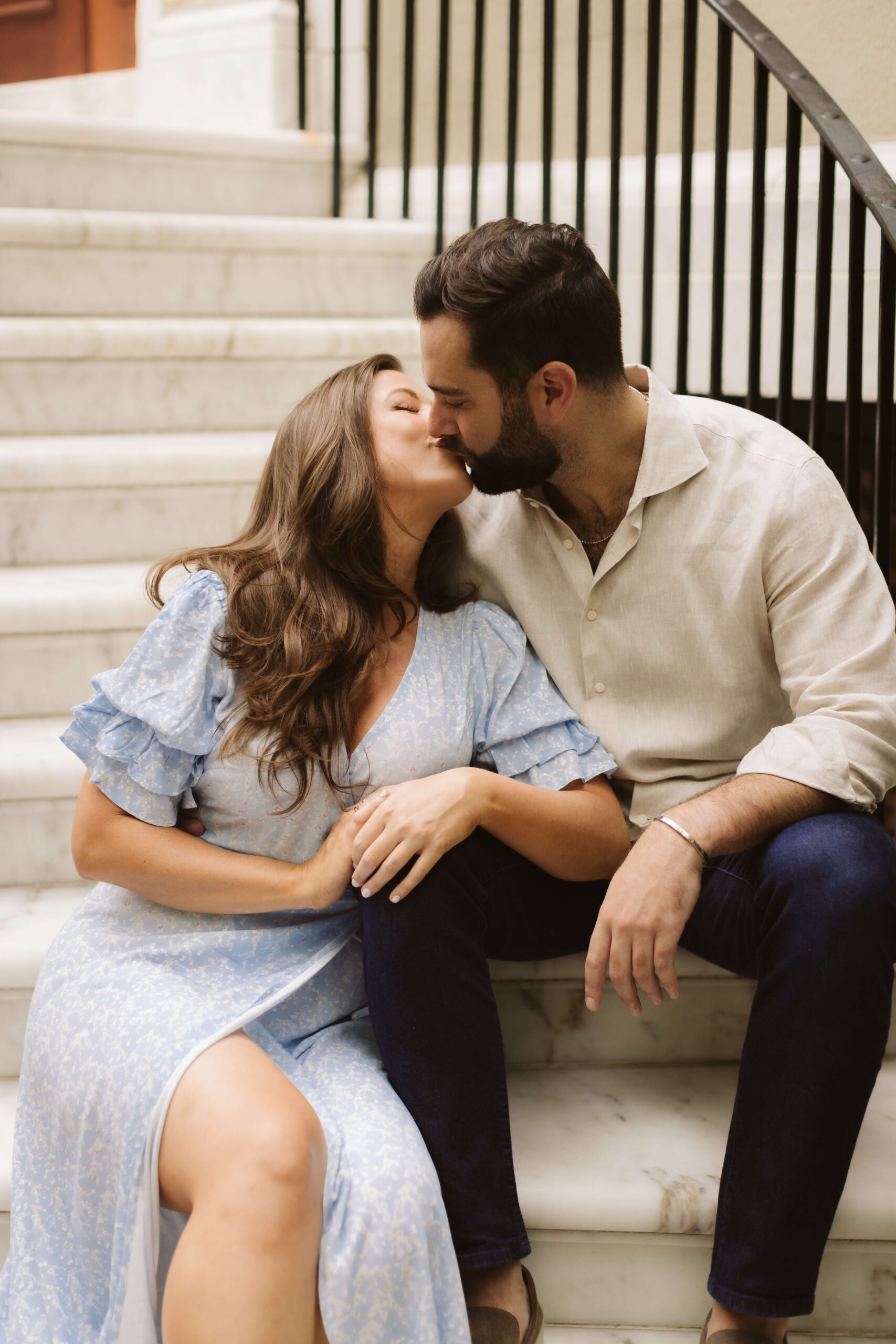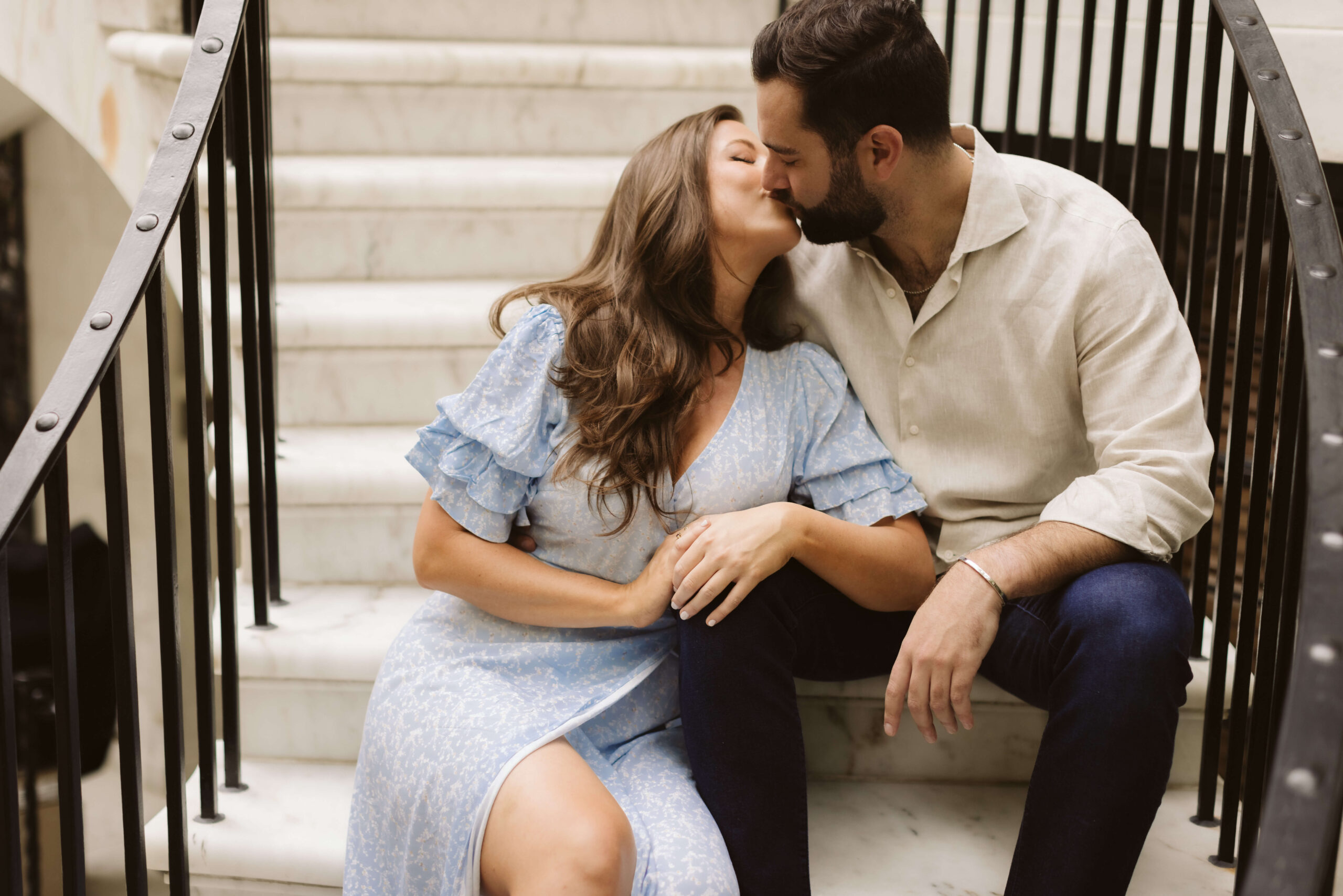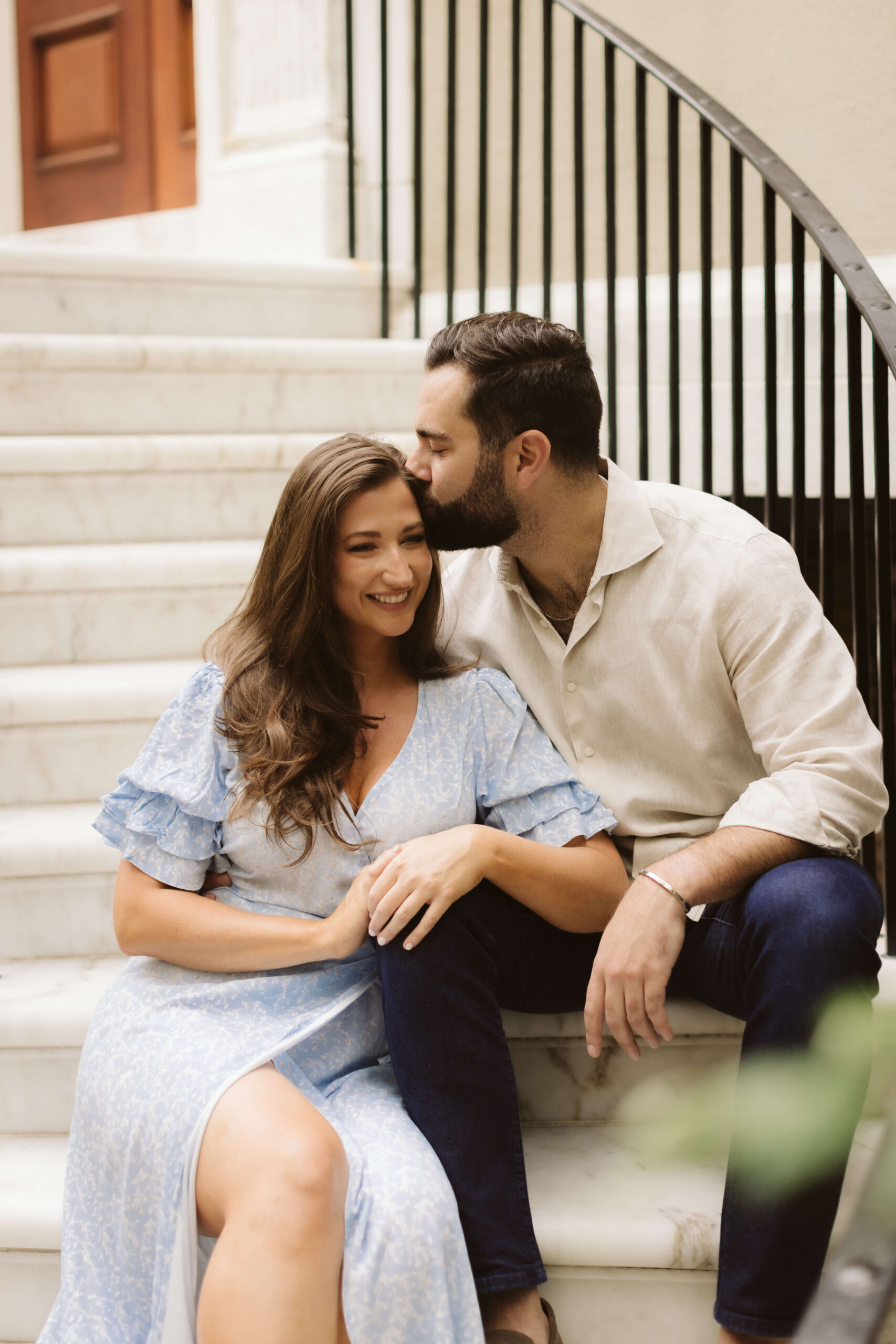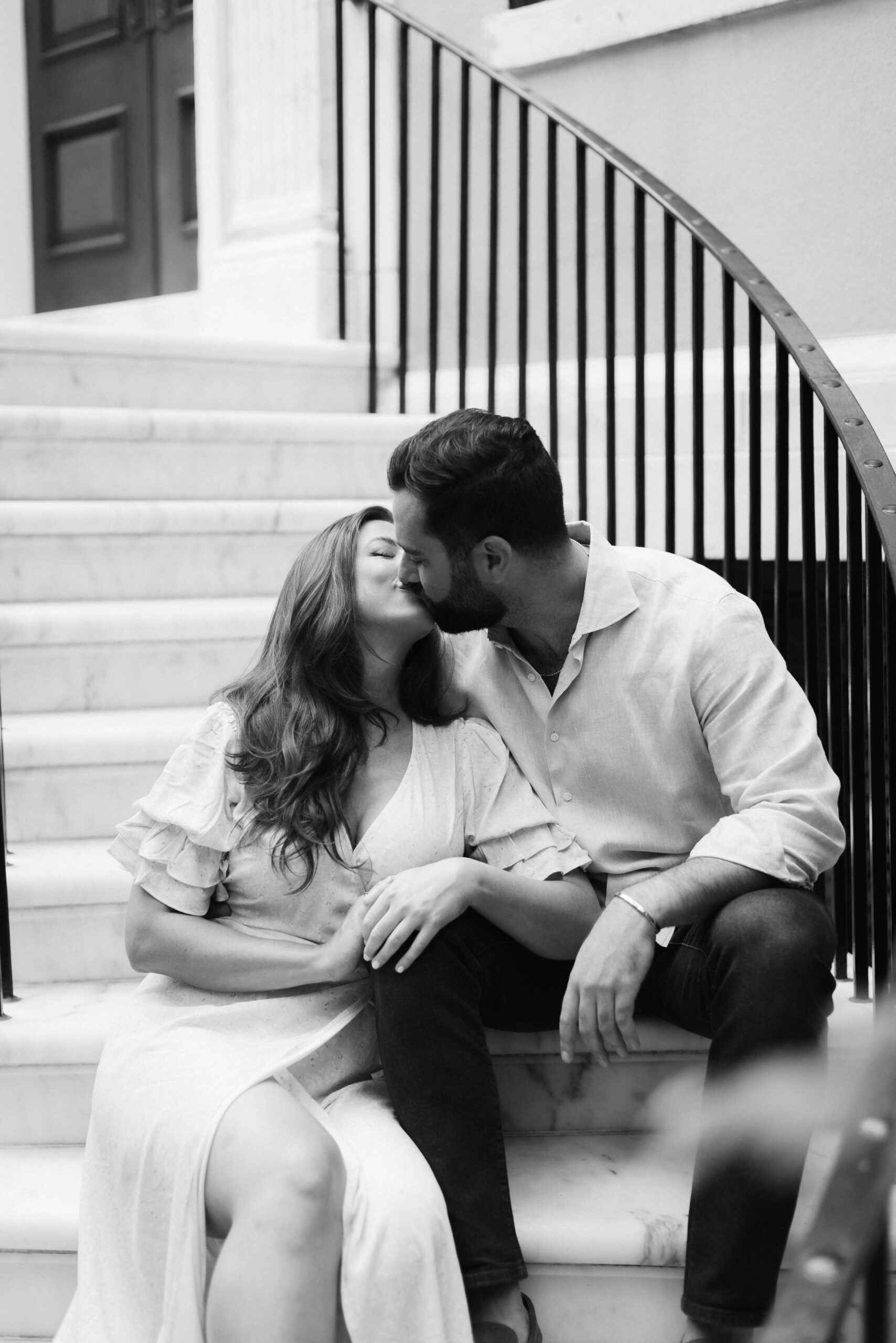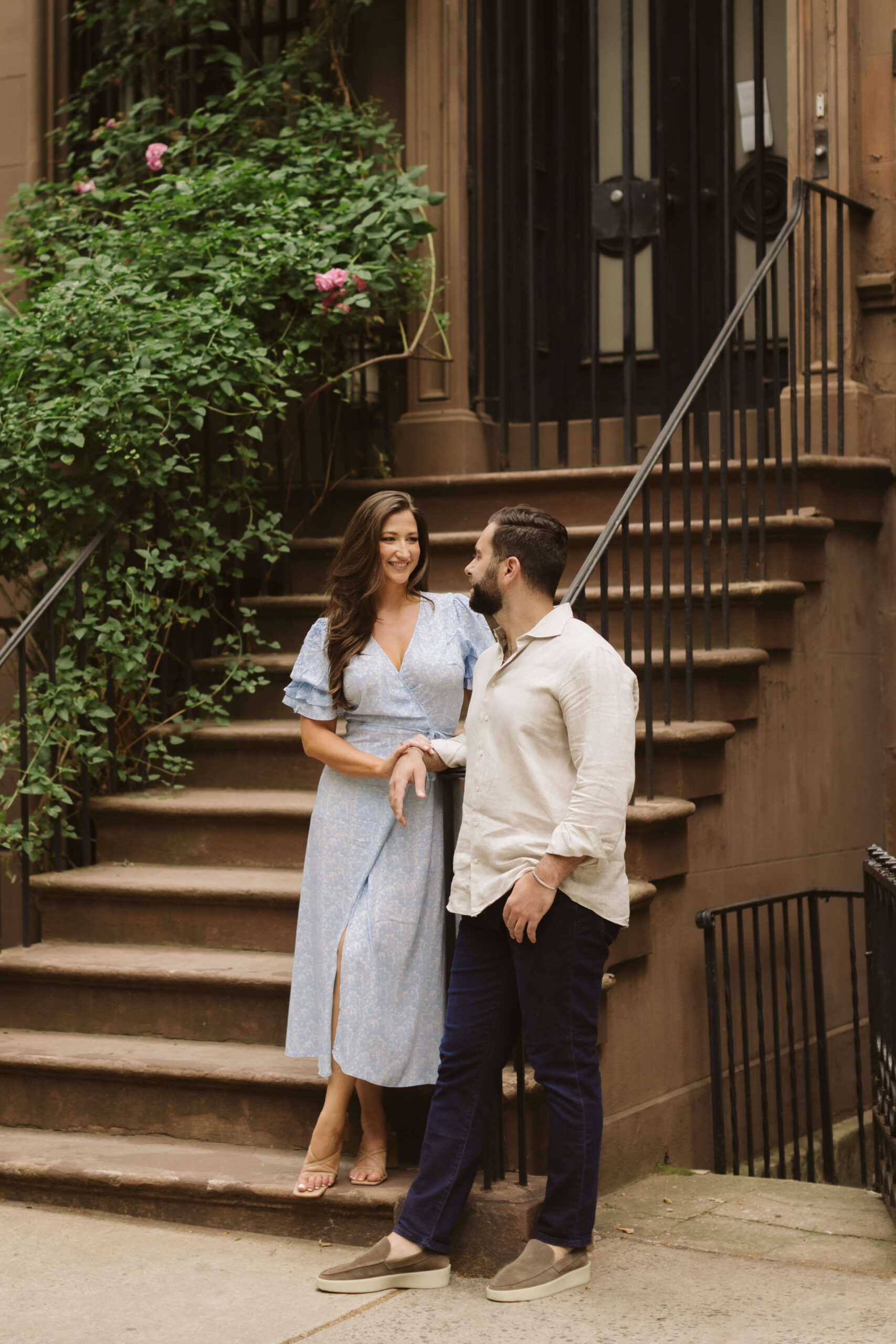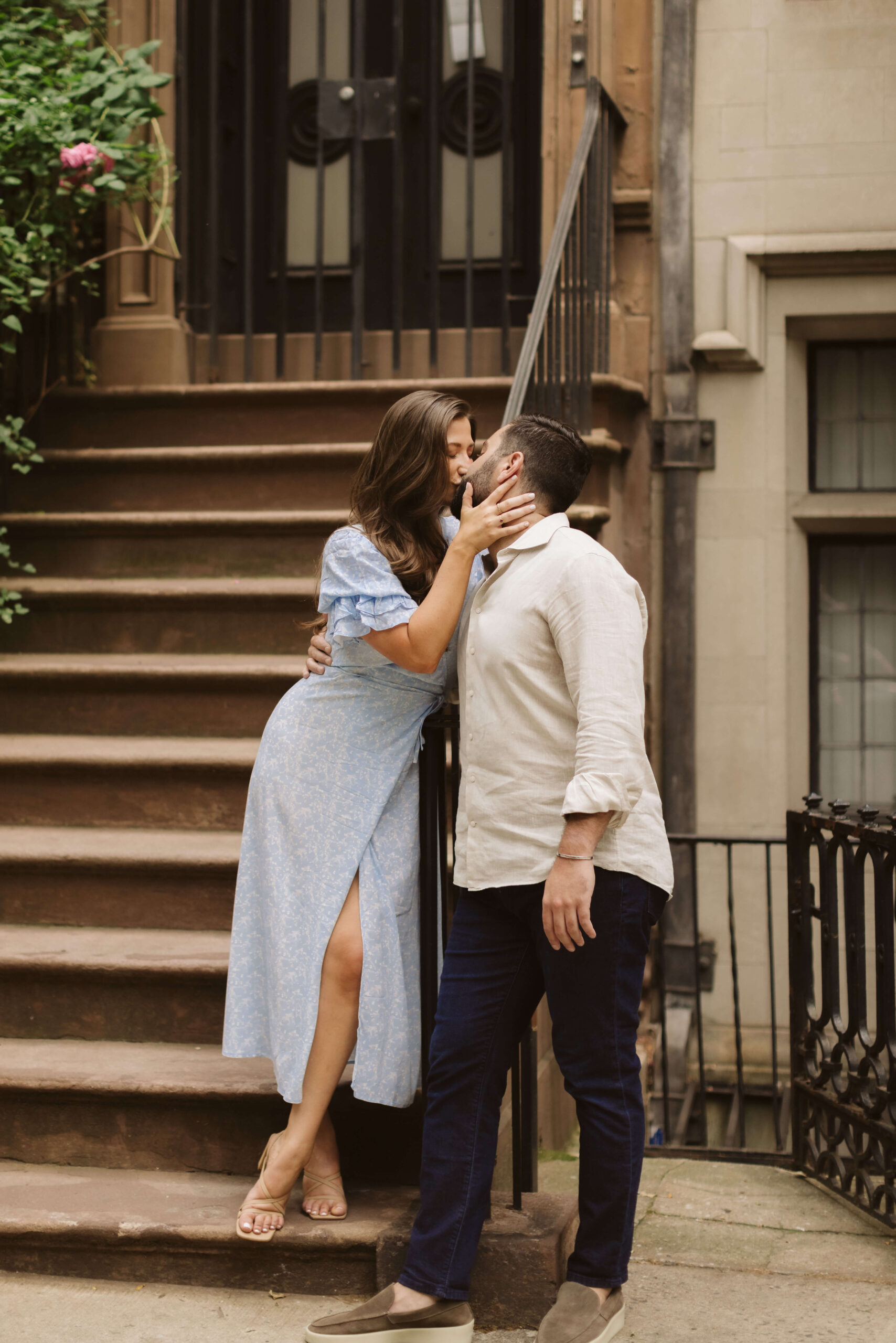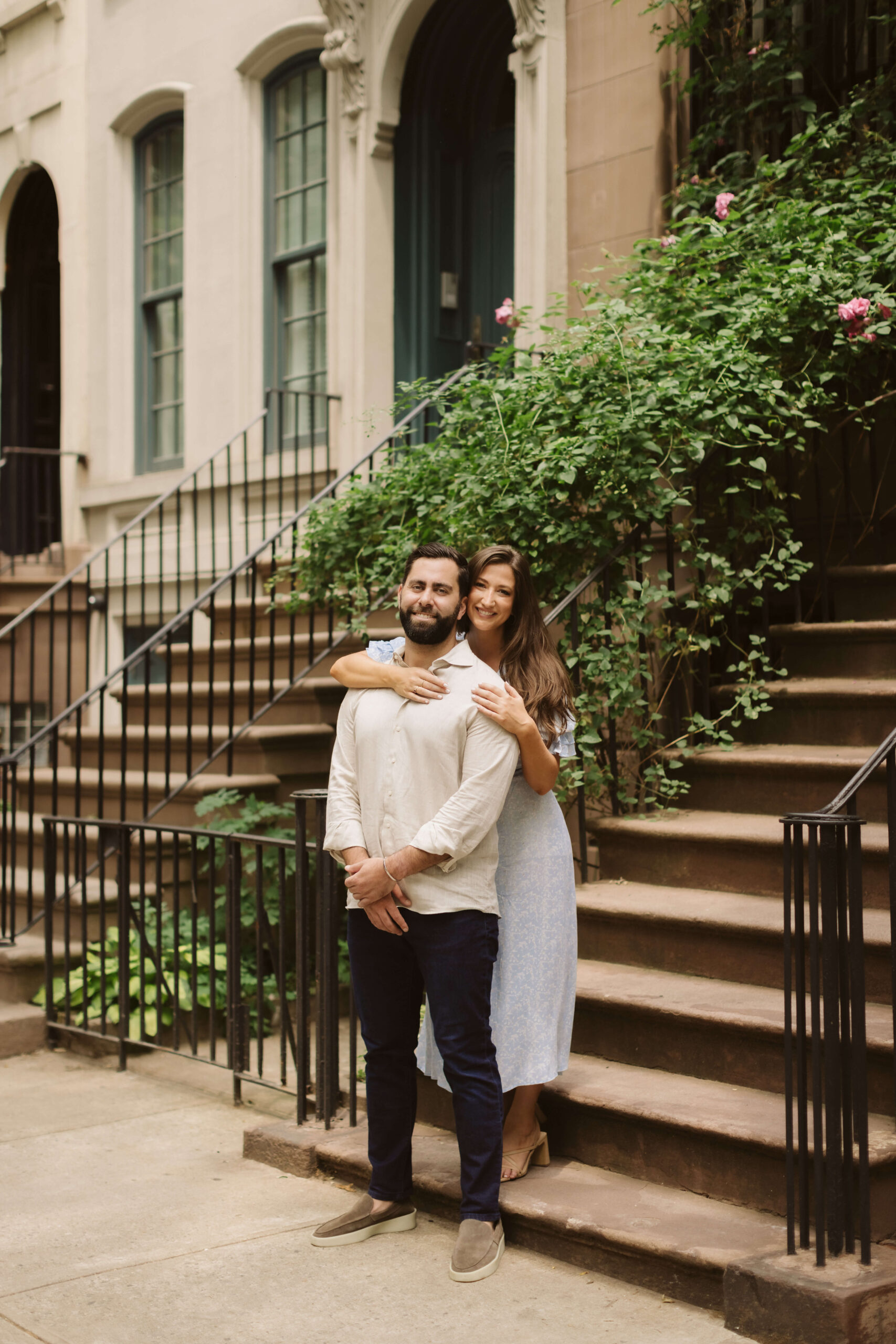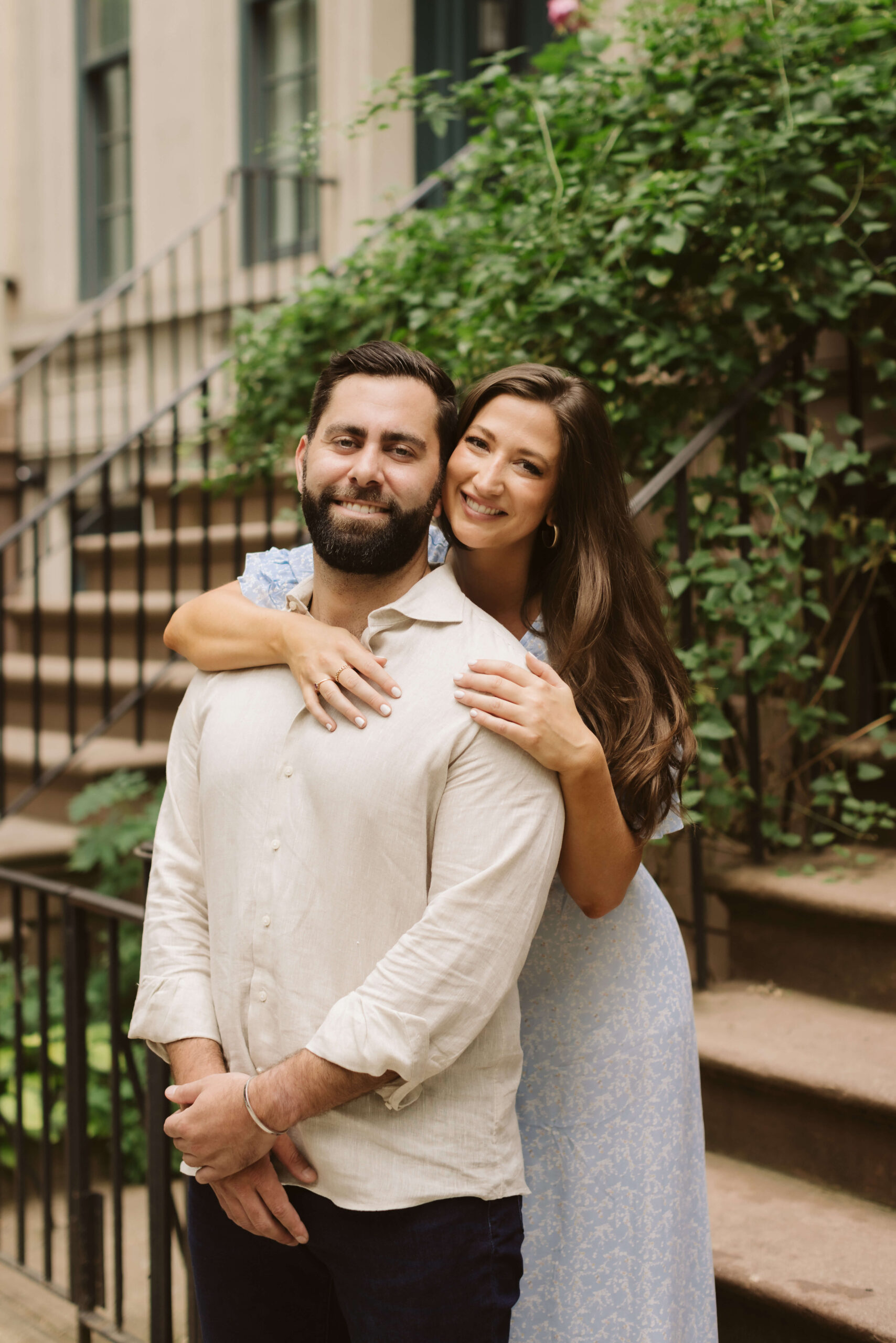 Strolling Through the Upper East Side
After a delicious brunch, we hit the streets for a stroll around Alli + Taylor's neighborhood. From our chats prior to their session, I knew how important it was to them to include places in their area that really told their love story and felt authentically them. Like I do for all of my engagement sessions, I like to scout out a few possible locations that would fit in nicely with each couple's chosen aesthetic. For Alli + Taylor, I looked for places in their neighborhood that encompassed the unique sophisticated elegance and modern charm that can only be found in the Upper East Side.
The day of Alli + Taylor's session could not have been more perfect. The radiant sunlight cast a warm glow across everything in its path, including Alli + Taylor. Meanwhile, the two were the epitome of love and happiness as they wandered down the streets holding hands and stealing adoring glances at each other. Whenever we passed a place where the lighting was just right, we stopped to really take in the architecture and scenery that this neighborhood has to offer.
After some impromptu twirls along the sidewalk and kisses while perched on a few of the brownstones' impressive staircases, we finally made our way back to Alli + Taylor's apartment. After all, for an engagement session set in the neighborhood where they plan to create a future together, it only seemed fitting that it would end in the place where their New York City love story began.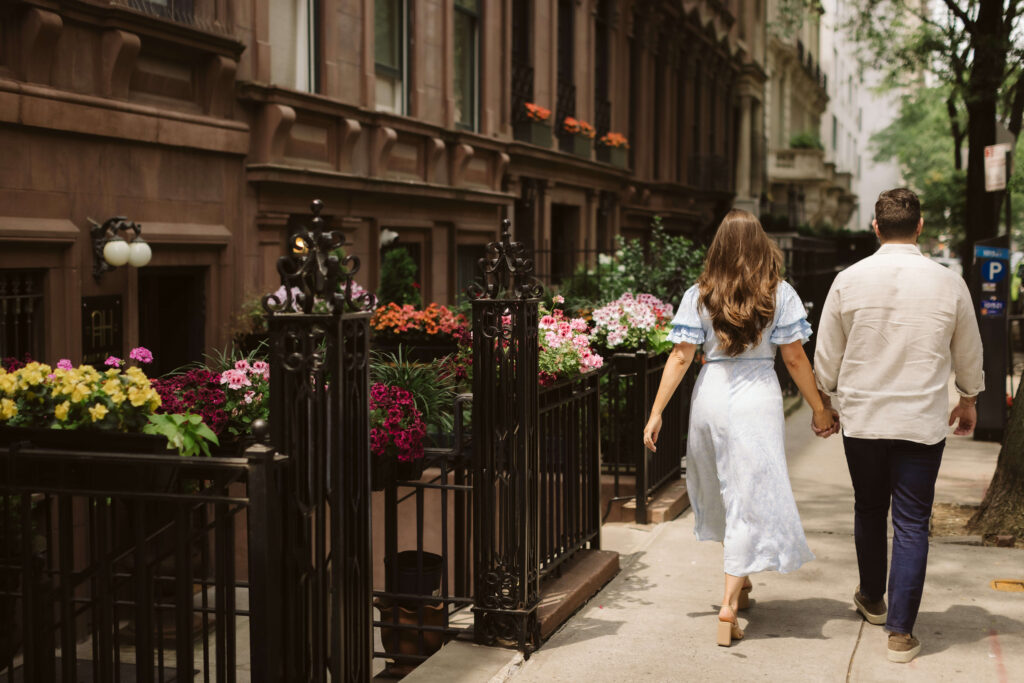 Are you a newly engaged couple in New York City? If so, be sure to reach out so I can be there to capture all of the moments that tell your love story.
Hi there! I'm Rachael Crowe of OkCrowe Photography. Although I'm currently a wedding photographer living in Chattanooga, Tennessee, by Summer 2024, I'll officially be joining the ranks of NYC's wedding photography community. I have shot hundreds of weddings, engagements, and elopements all around the country (and even a few internationally!). Wherever you are, whether it's Chattanooga, New York City, or across an ocean, I'd love to be there to capture your love story the way it was meant to be – romantic and authentically you. Just head over to my contact page and tell me where you need me to be so we can get started!