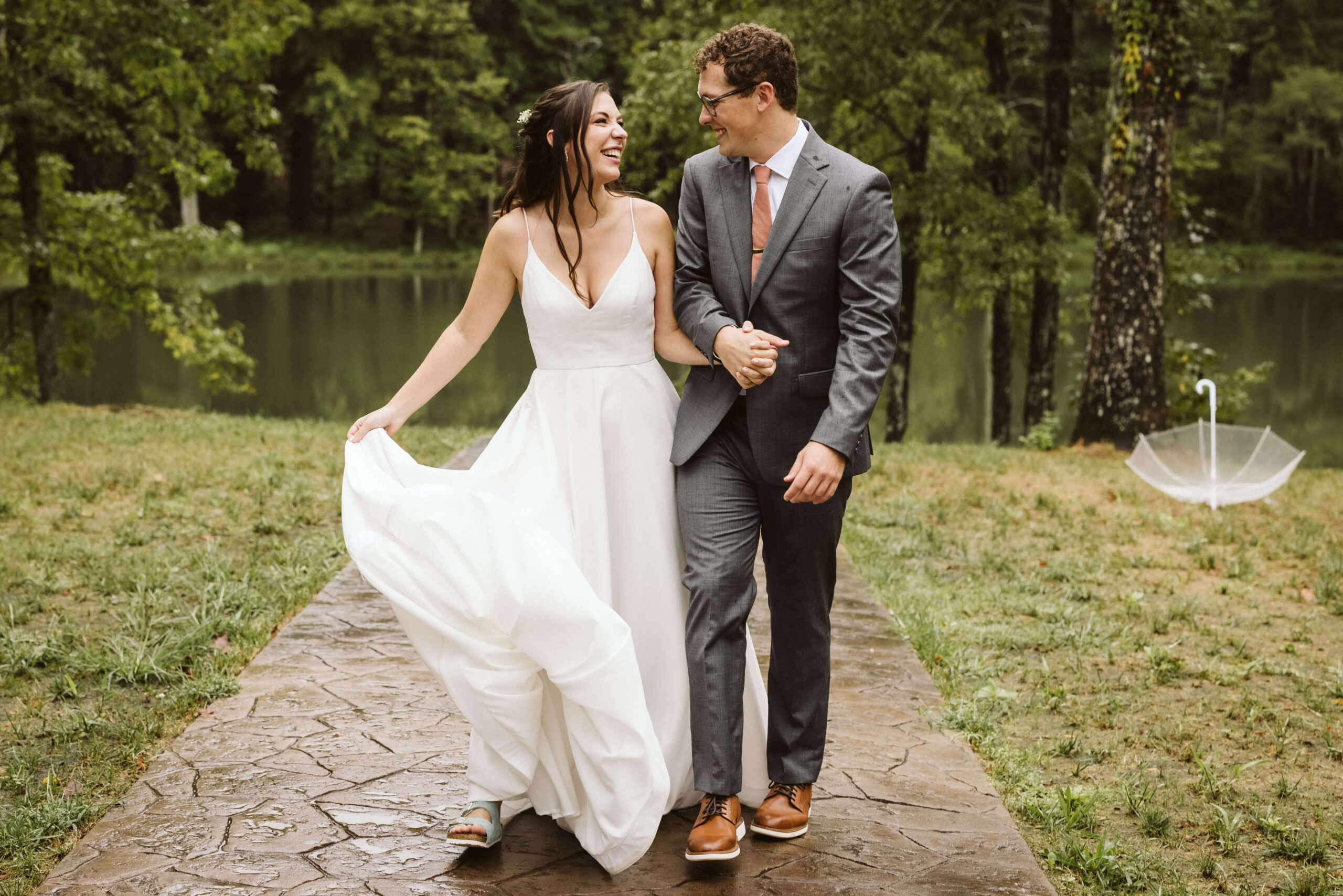 It seems like a given to hope for a bright sunny day for your wedding. However, the weather doesn't typically check in with you and your event schedule before deciding to rain all day. While some couples would be heartbroken to have to change their plans and put their back up plan into action, nothing – not even the rain - could stop Claudia and Bill from celebrating their wedding day to the fullest extent.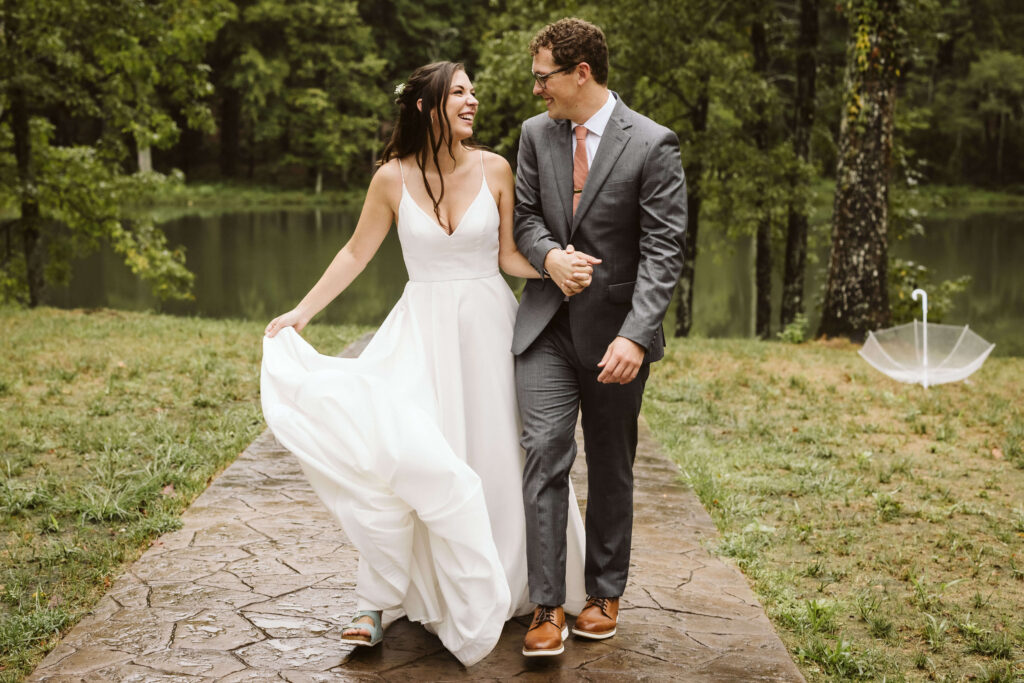 From Best Friends to Forever
It was practically love at first sight for Claudia and Bill when they met at their dorm in college. The couple were attending Tulane University when fate matched them on the same dorm floor as co-RA's and they were best friends almost instantly.
Over the course of the semester, Claudia and Bill quickly became inseparable. Before they knew it, best friends had become both best friends and partners. Since graduating, Claudia and Bill have been long-distance, with Claudia teaching middle school in Nashville and Bill working as a medical student in Lexington. Being apart was tough and sometimes the hundreds of miles felt like thousands. Yet, despite the distance separating the two, they got engaged and were more than excited to finally start their lives together. Now, they're even more excited to be able to celebrate their wedding day surrounded by all of their loved ones.
During the wedding planning process, the biggest priority for the couple was ensuring they planned a day as fun, unique, and memorable as possible. Not only for themselves but also for the guests too!
For future couples planning their dream wedding, take Claudia and Bill's advice: start planning as early as possible! With all of the important decisions that go into your wedding day, you don't want to leave things until the last minute. Instead, start early and be sure to make it a collaboration between you and your partner. And, above all else, make sure to have fun. There's nothing you have to do on your wedding day, so make sure the entire process is filled with things that bring you joy.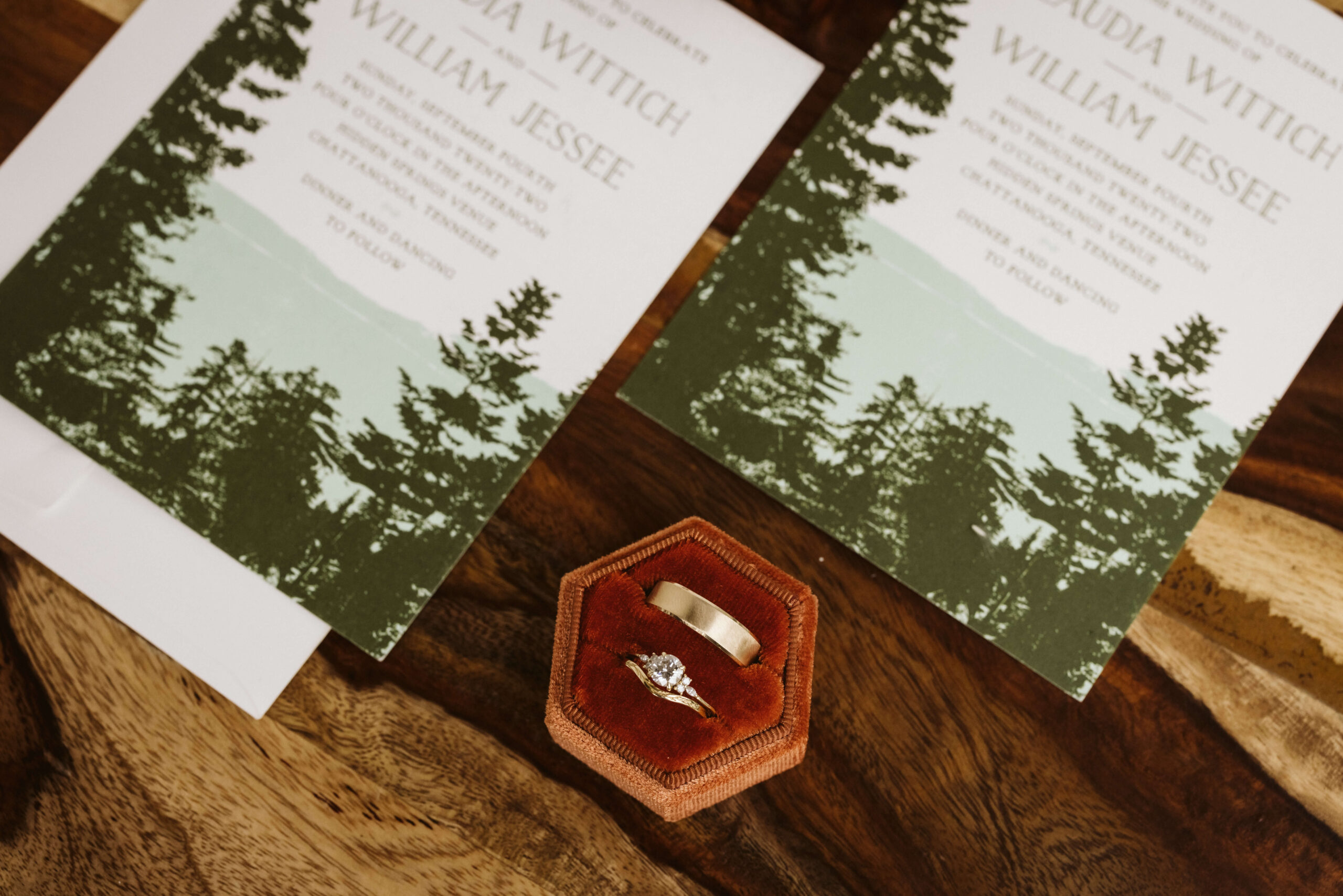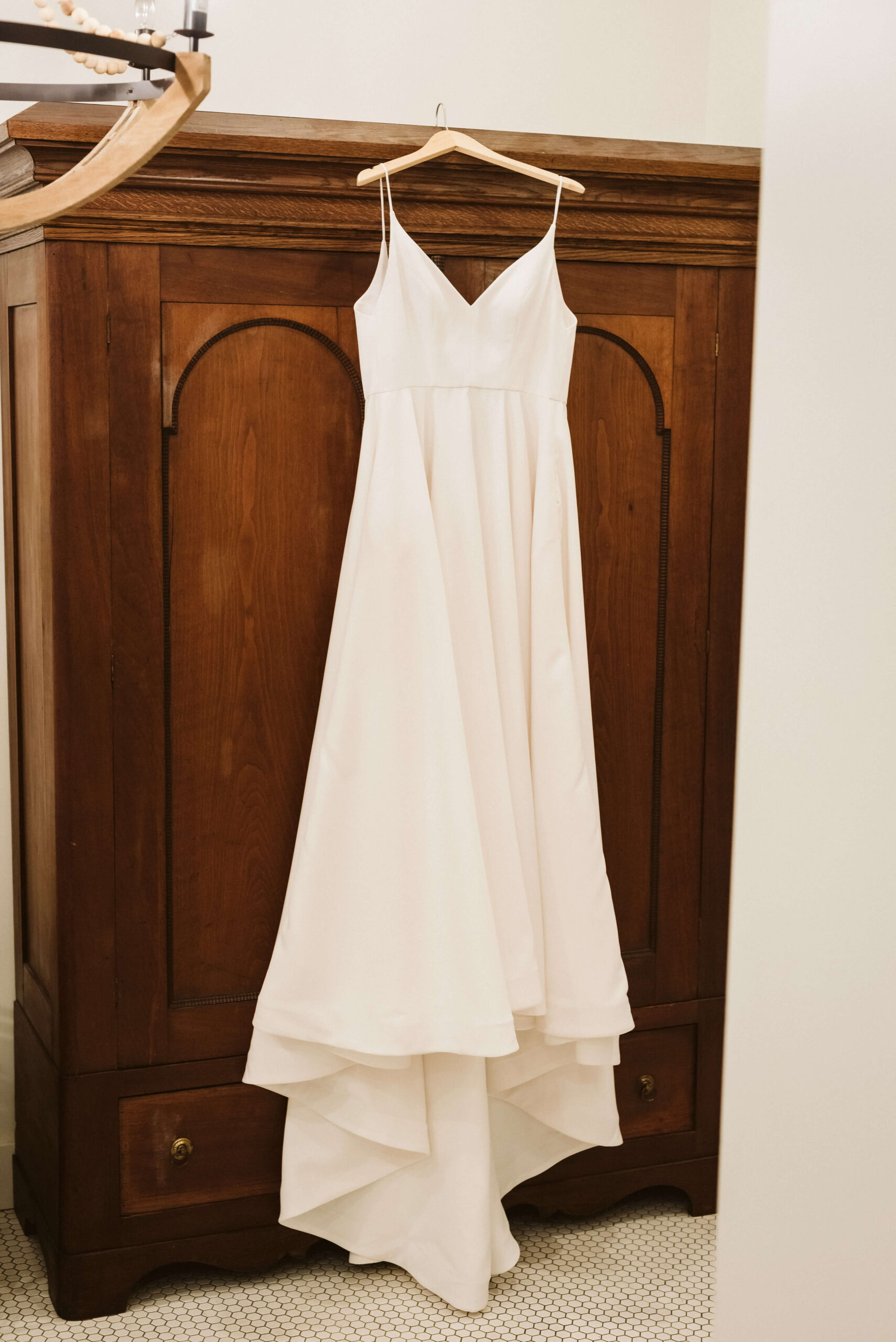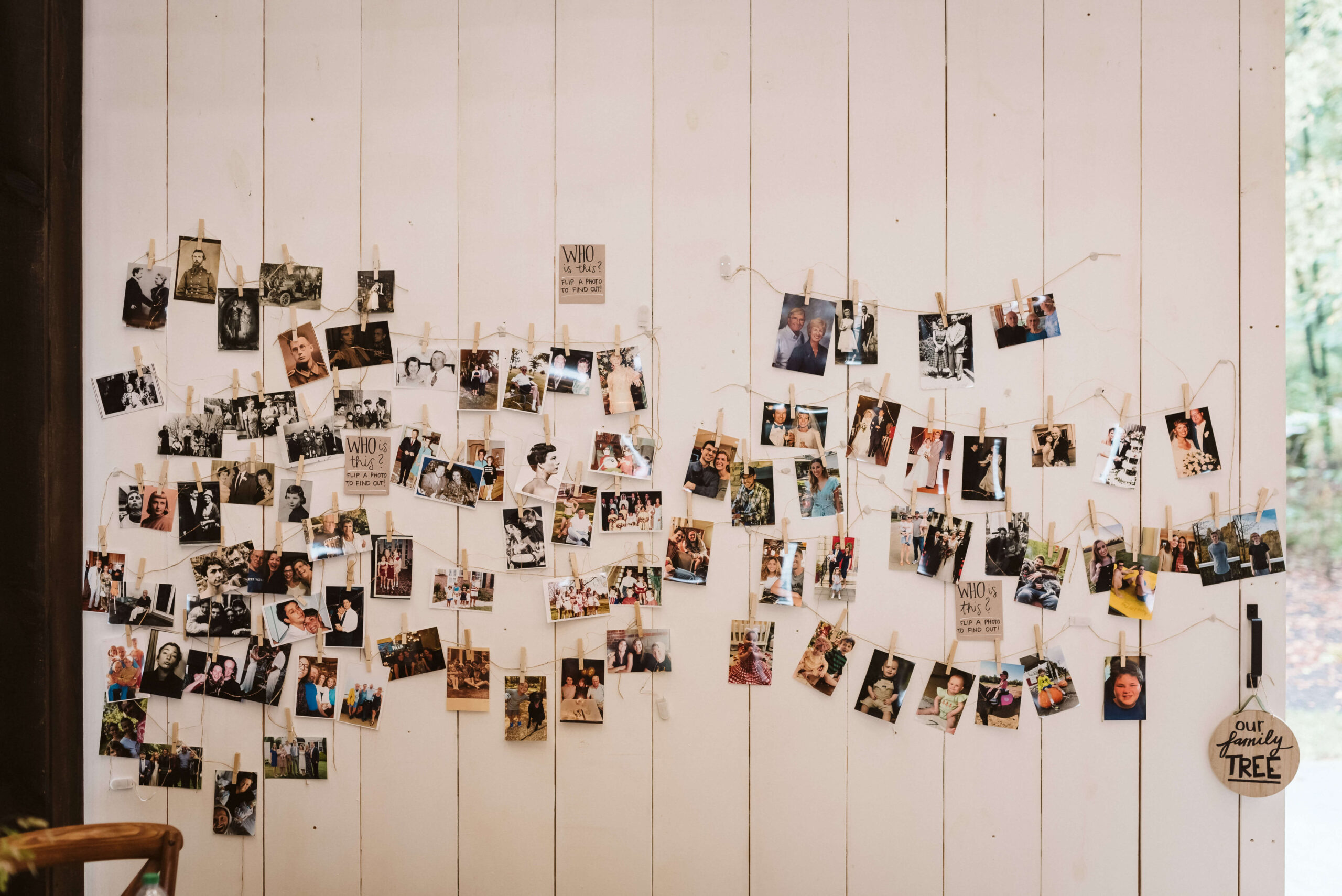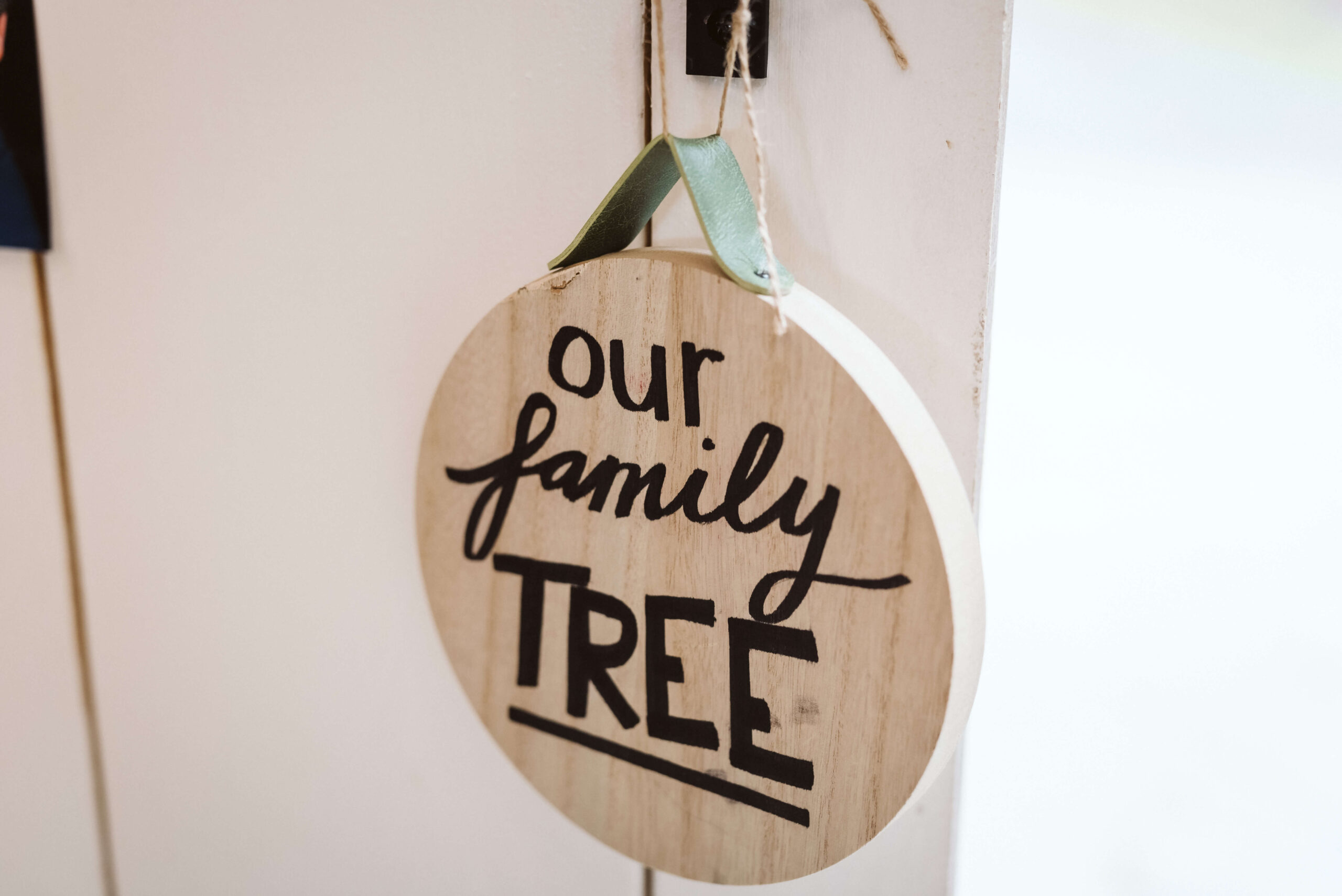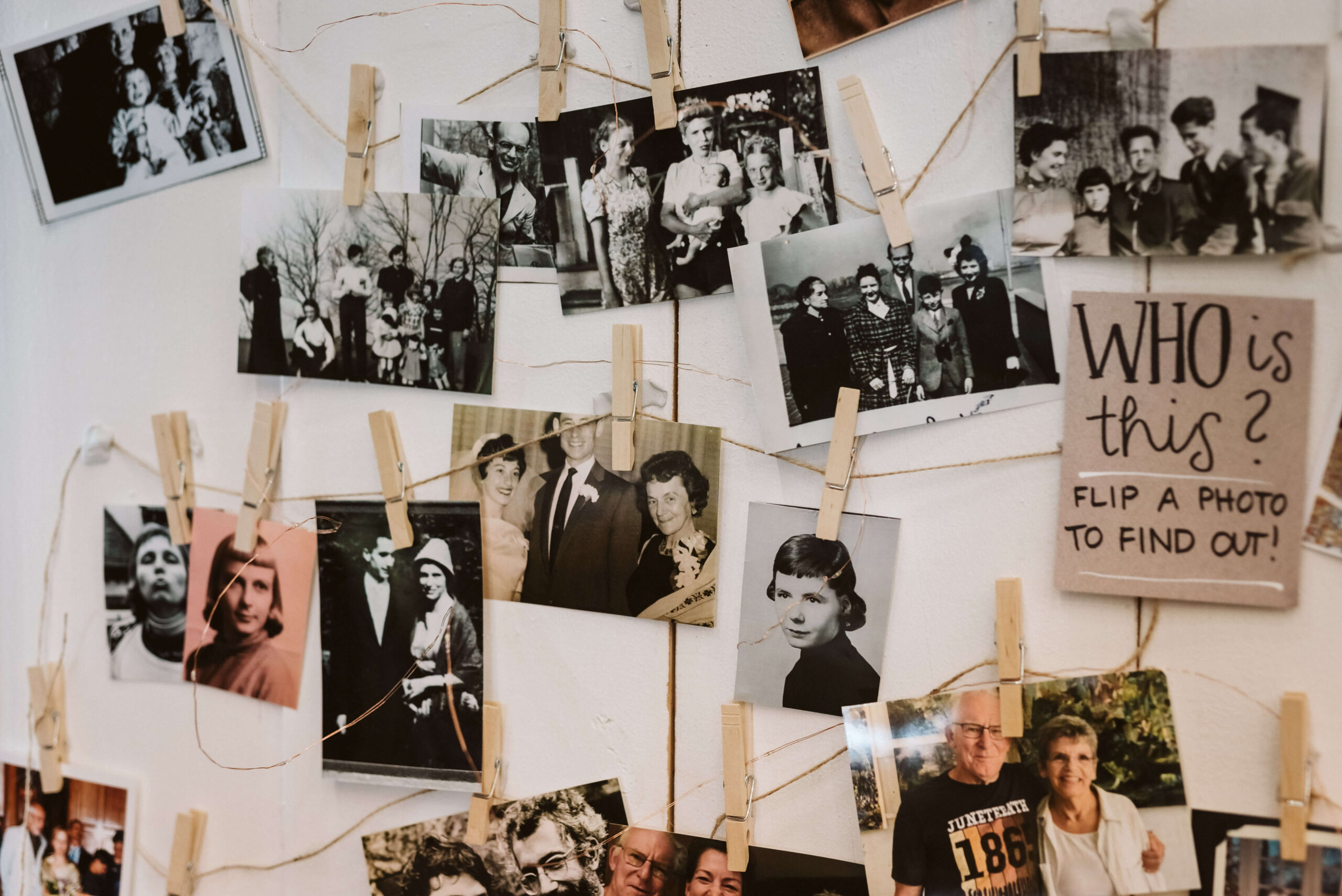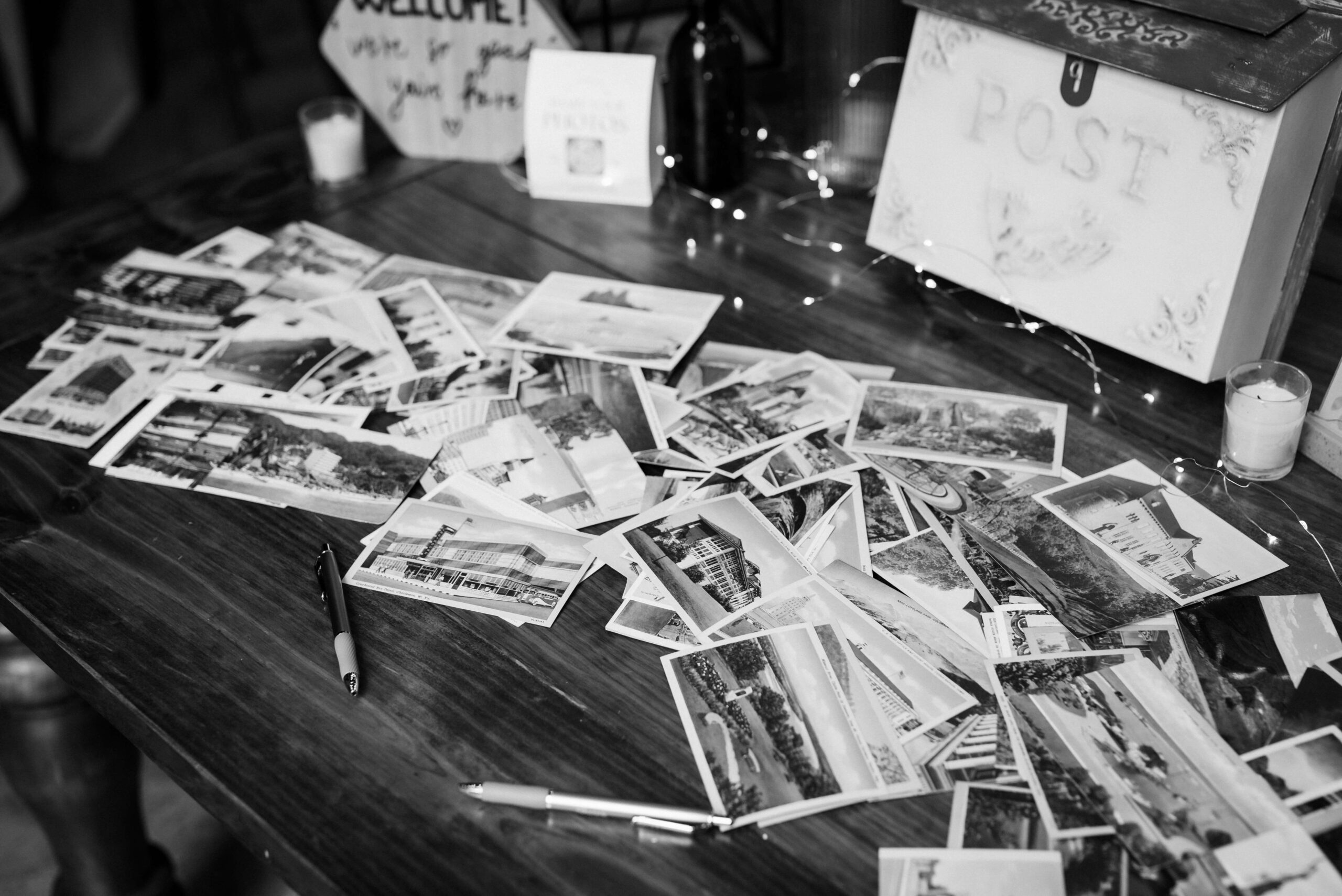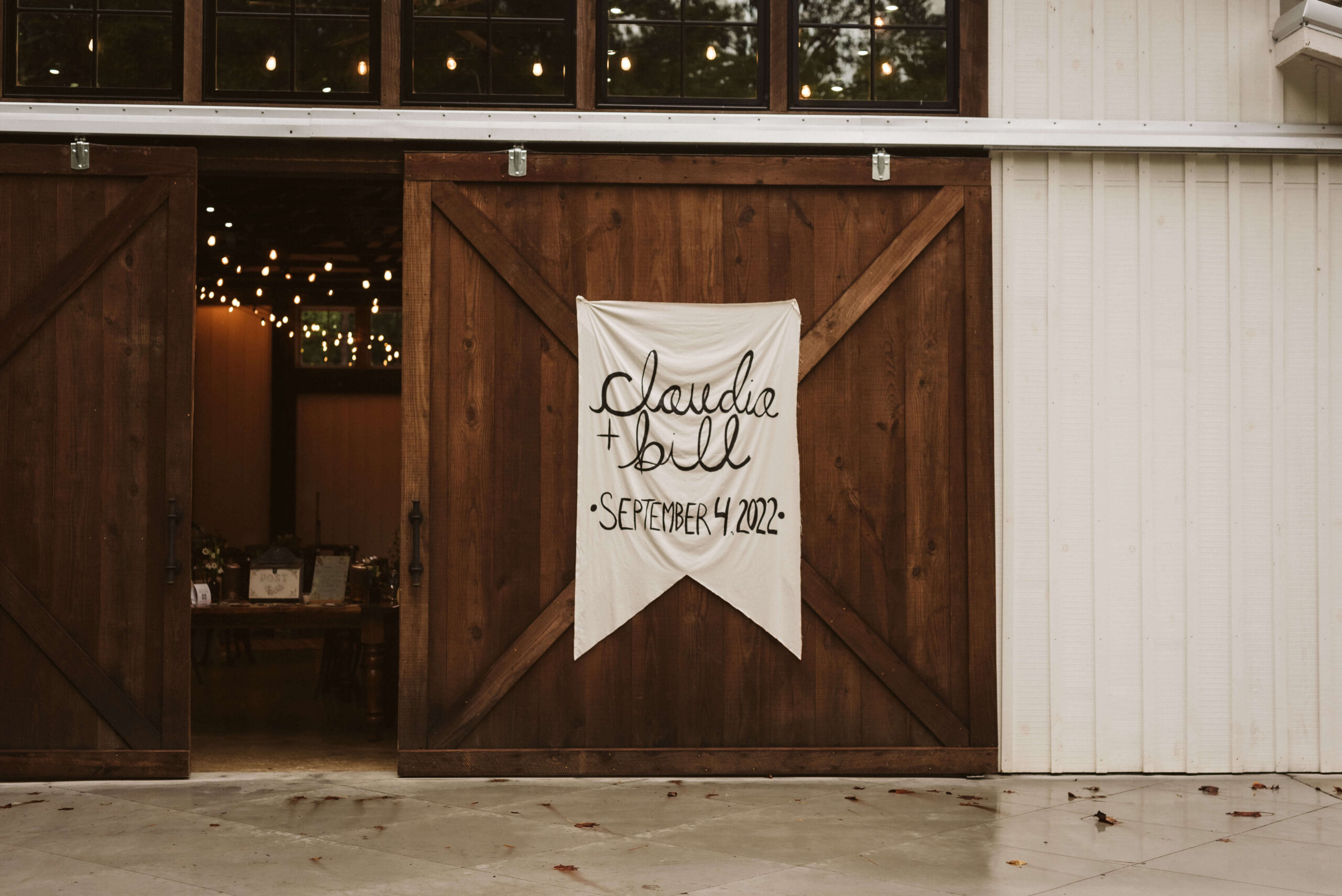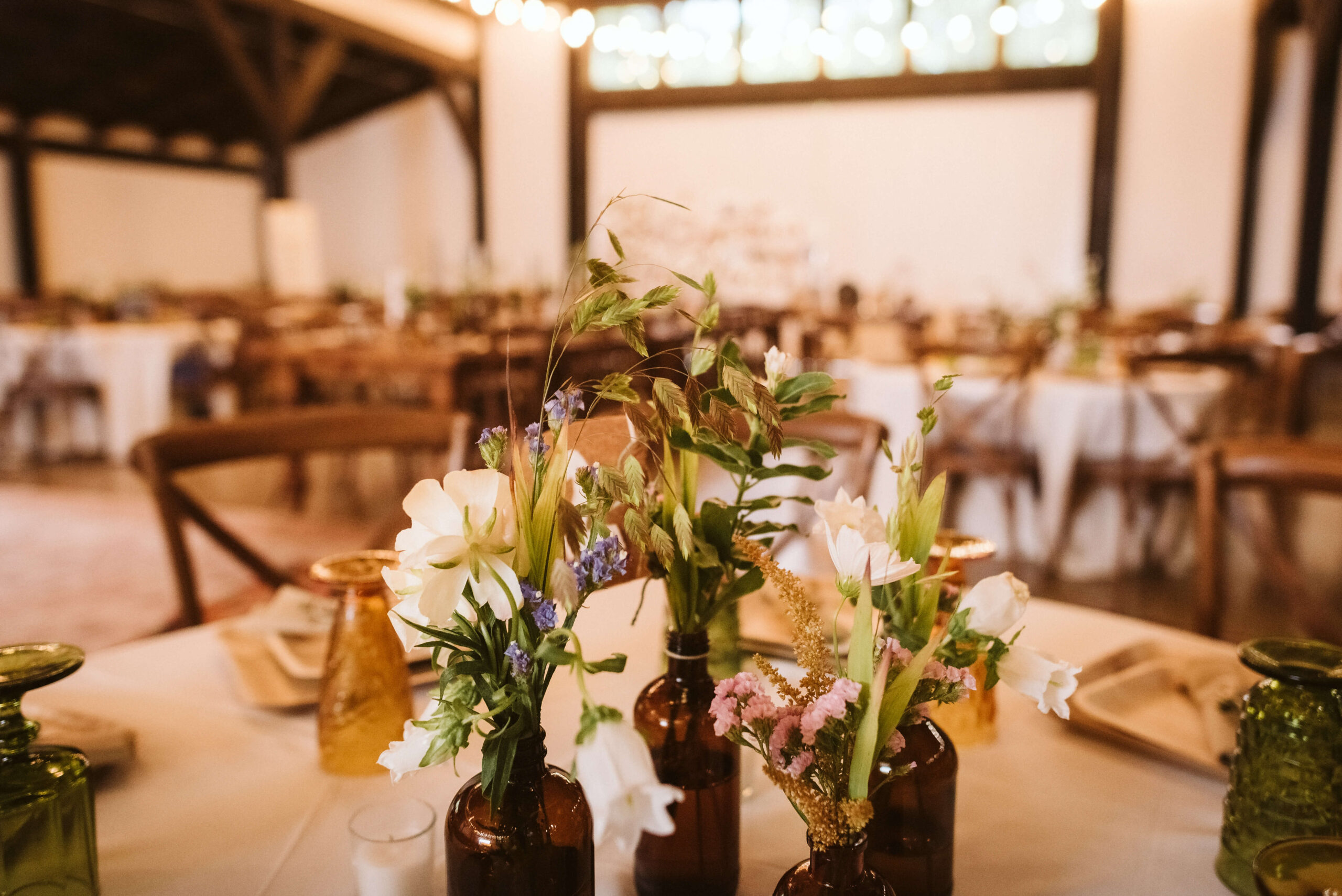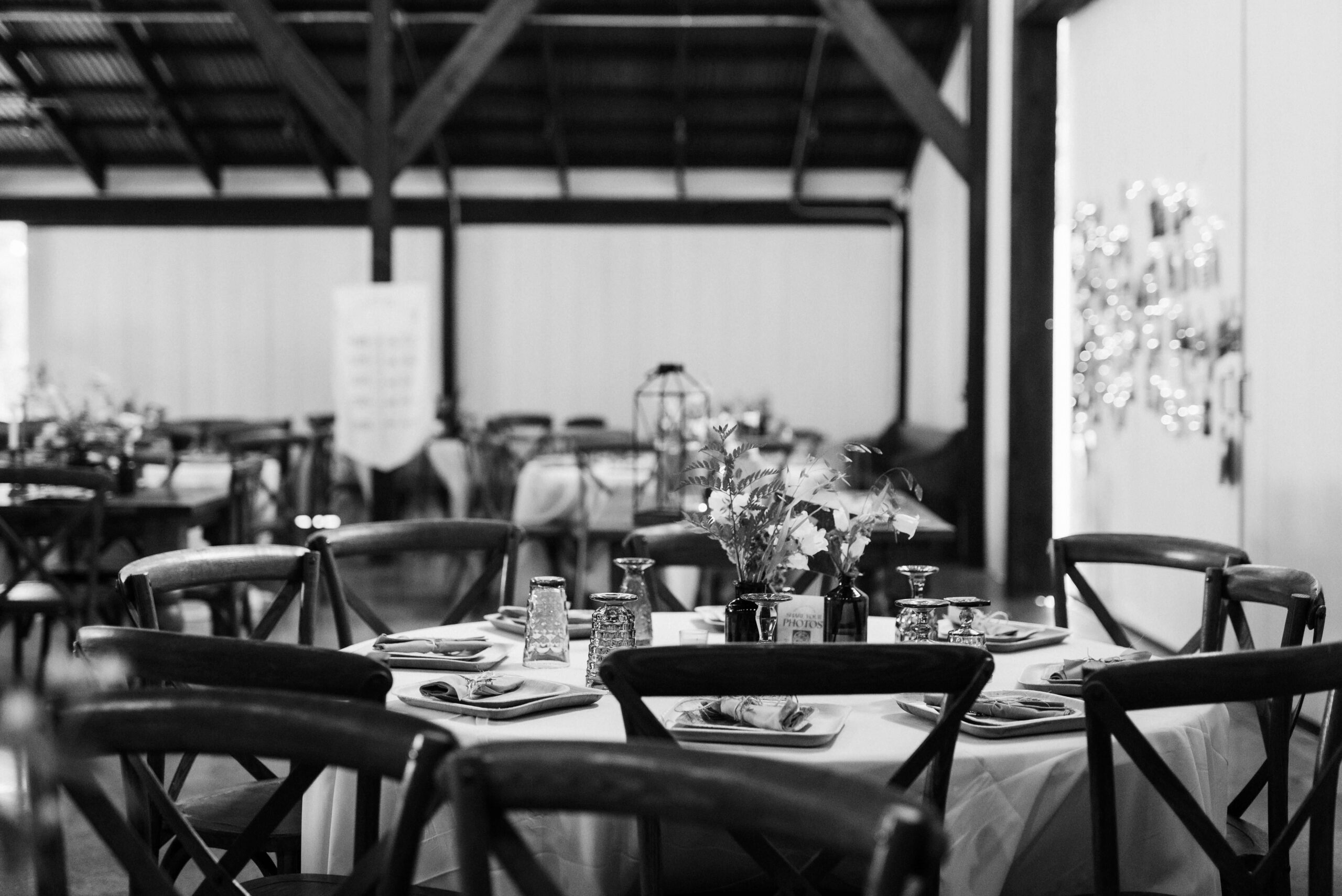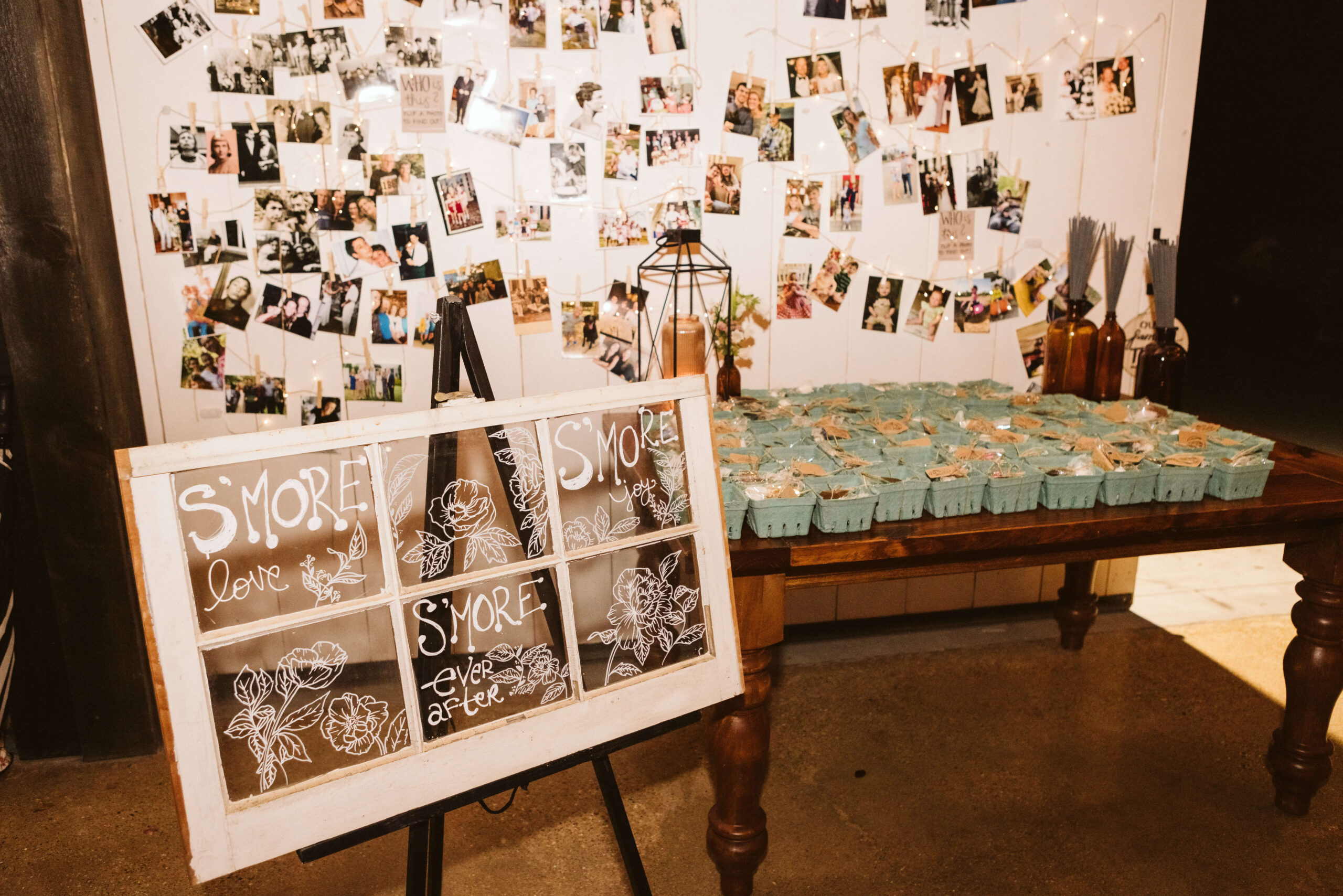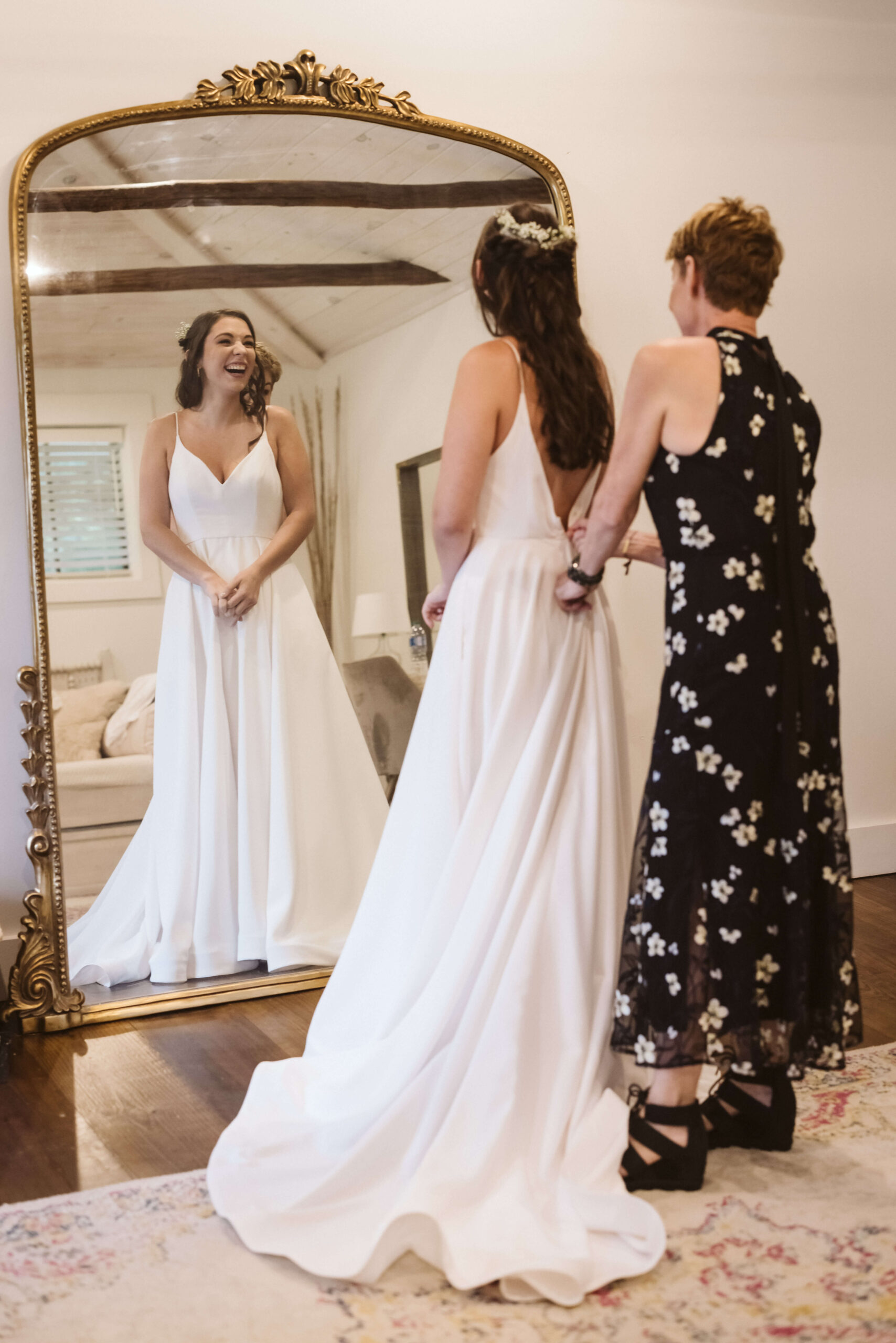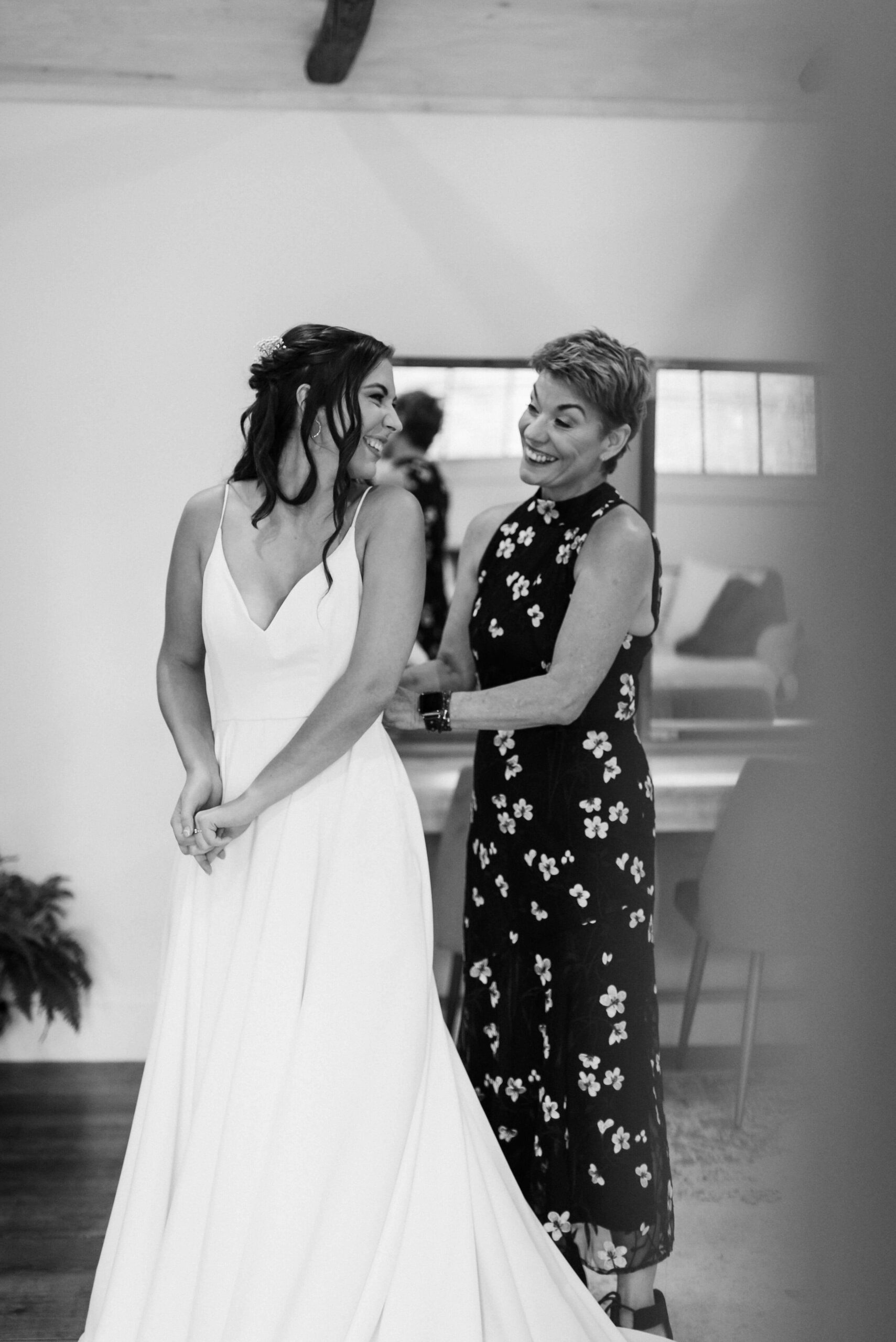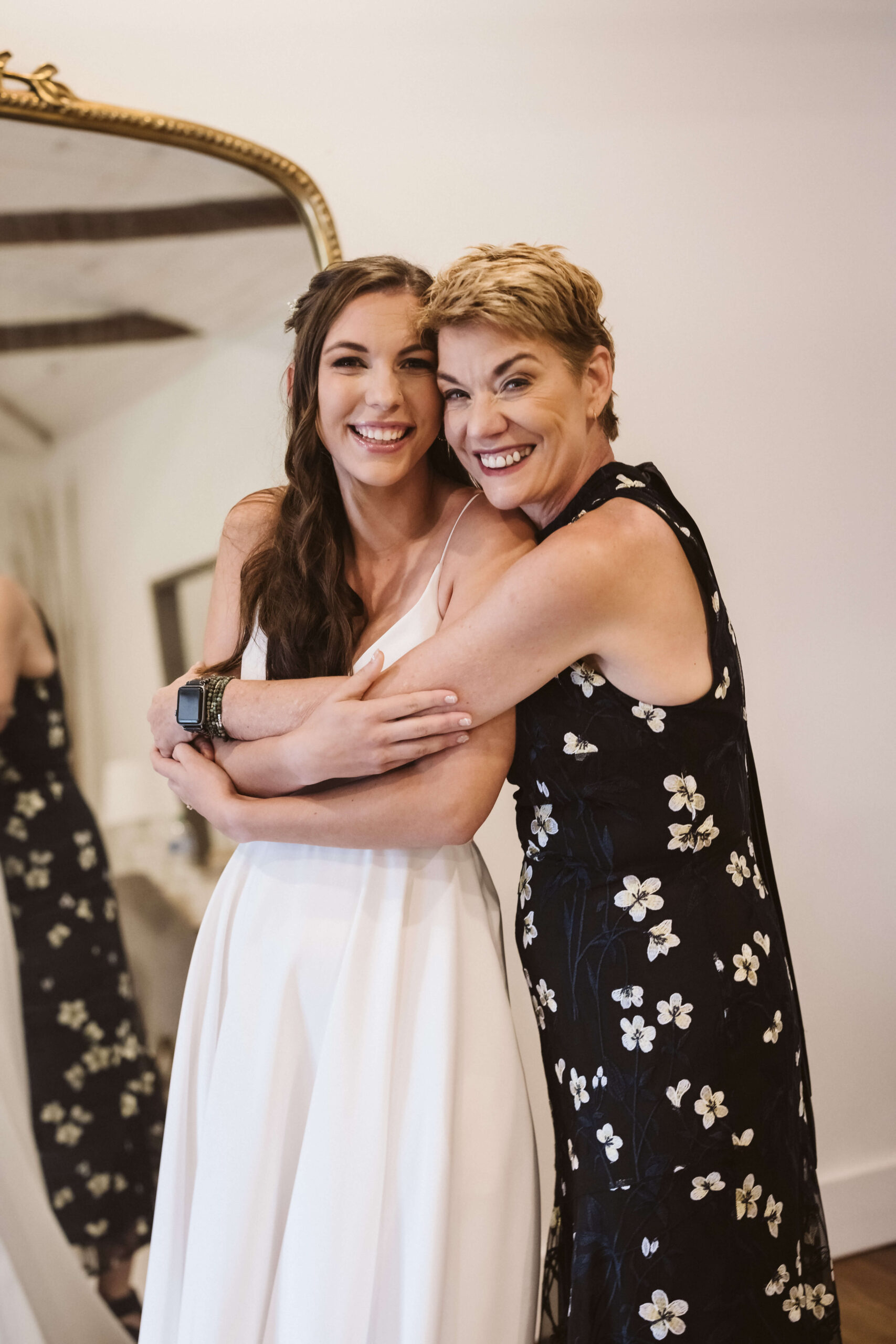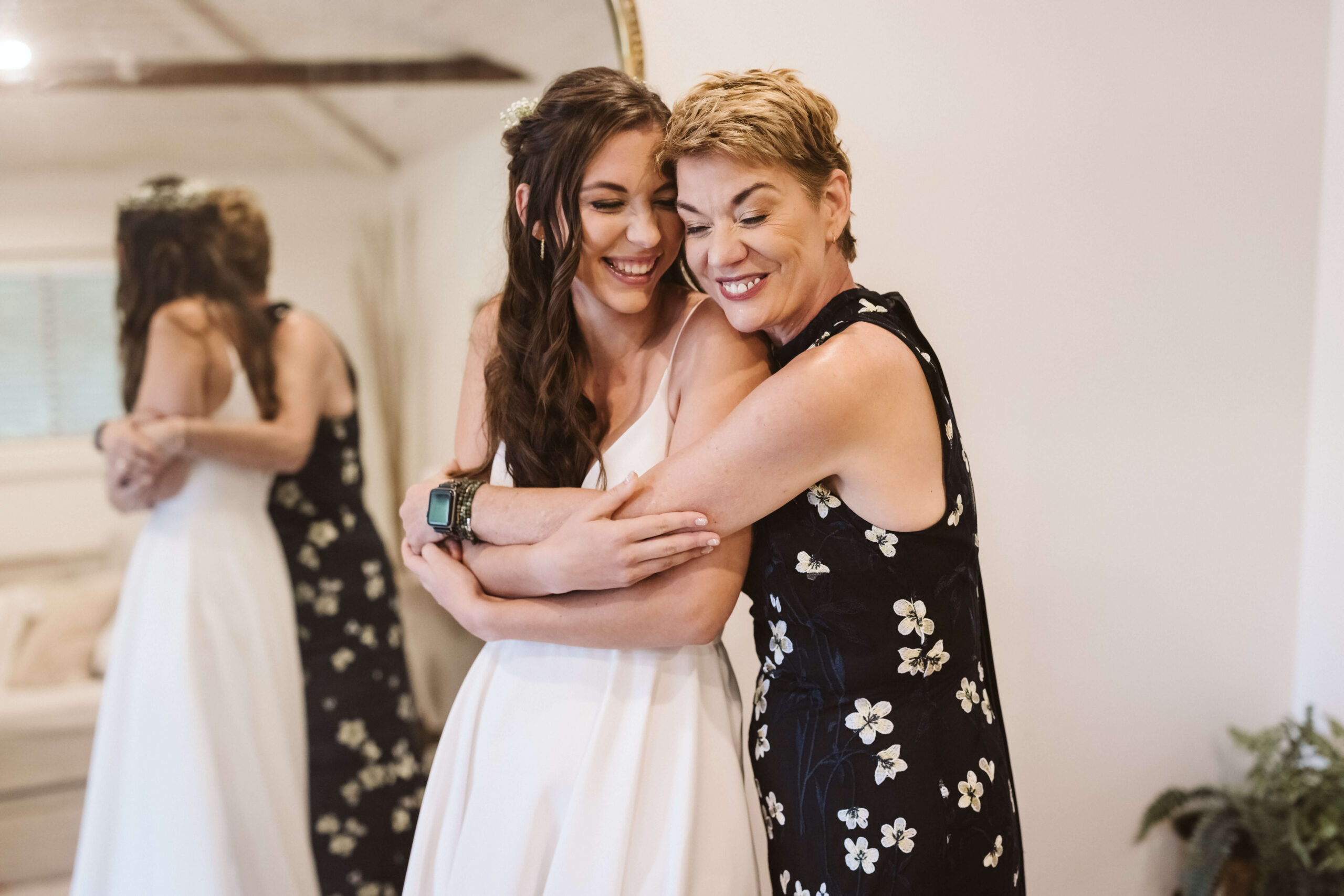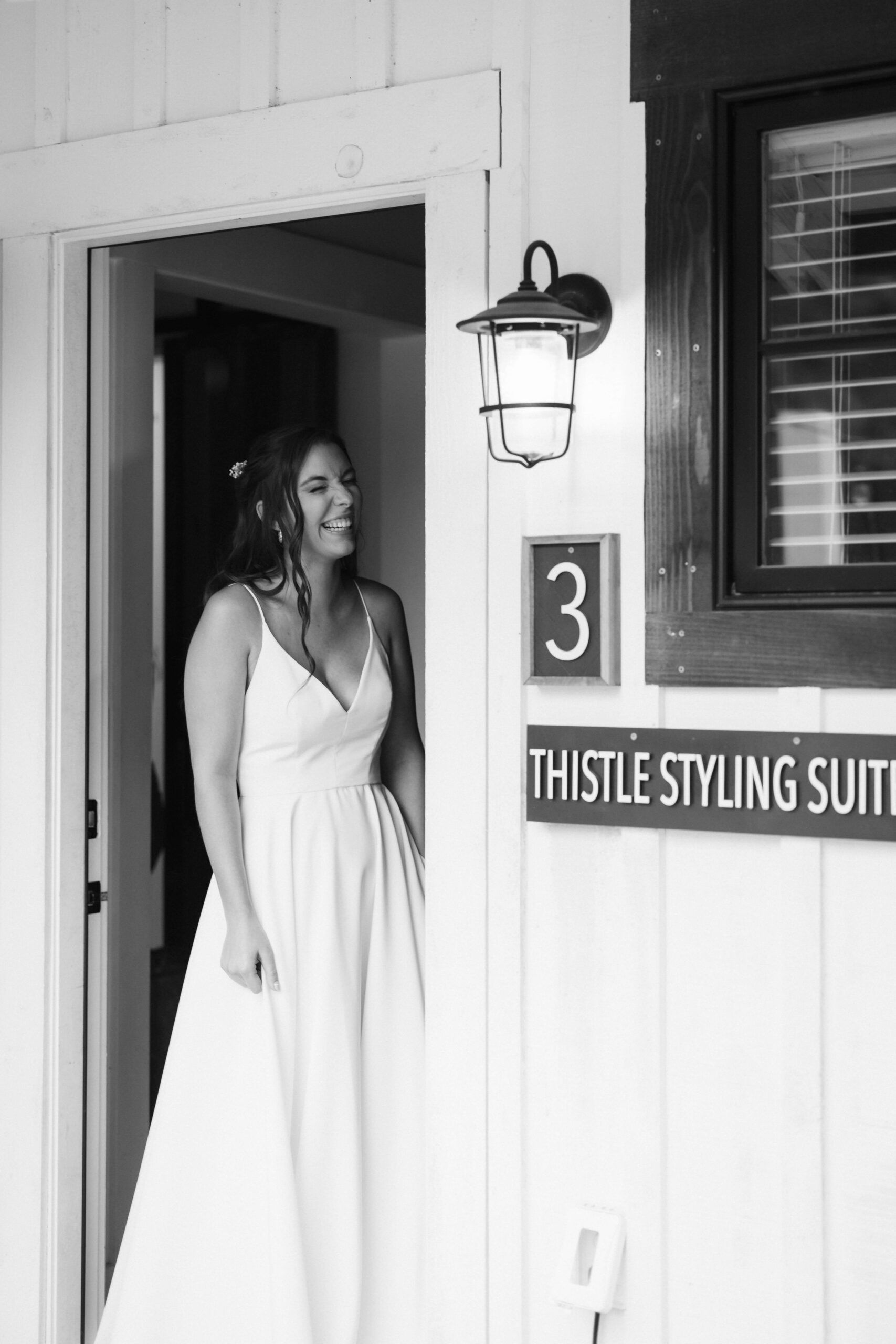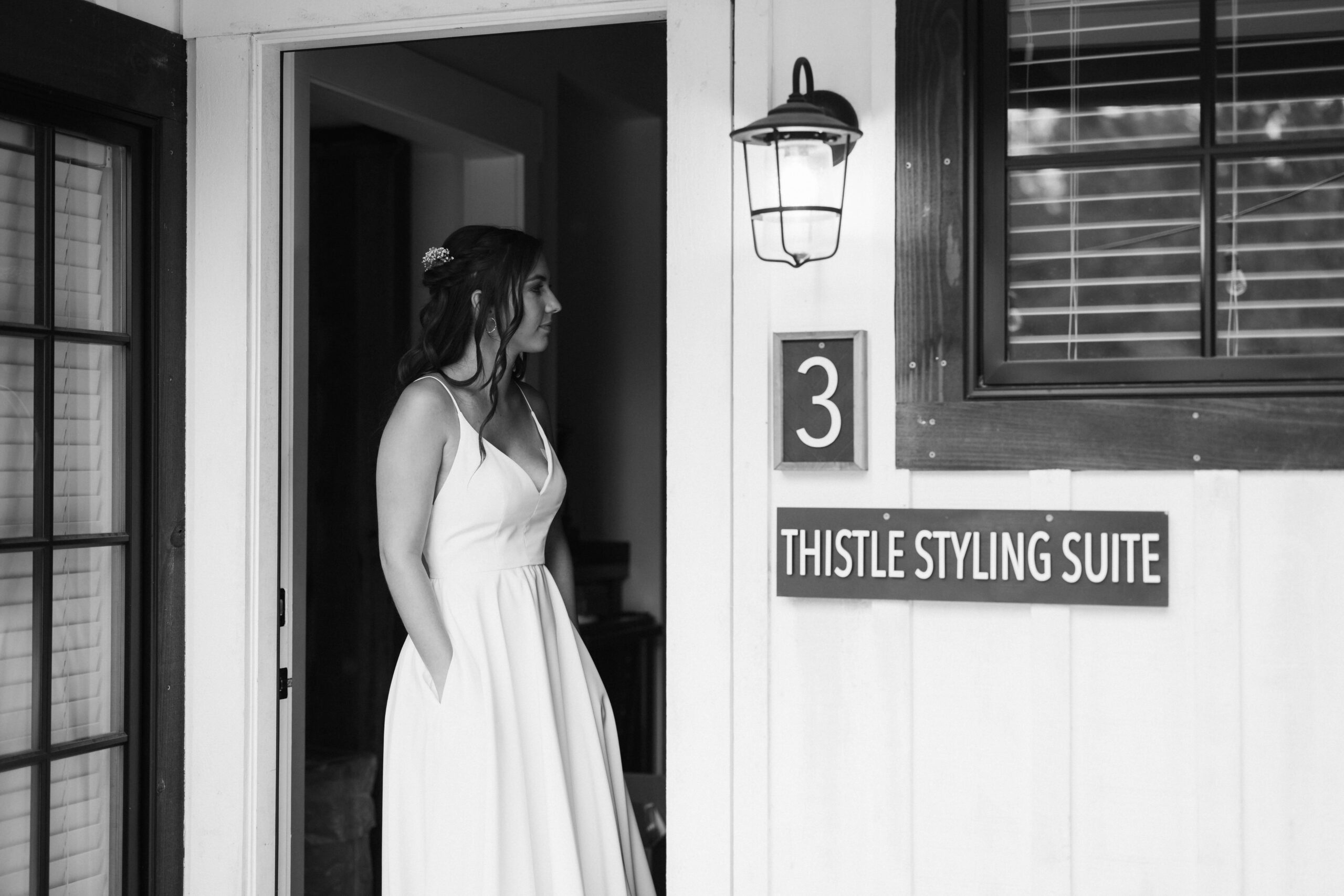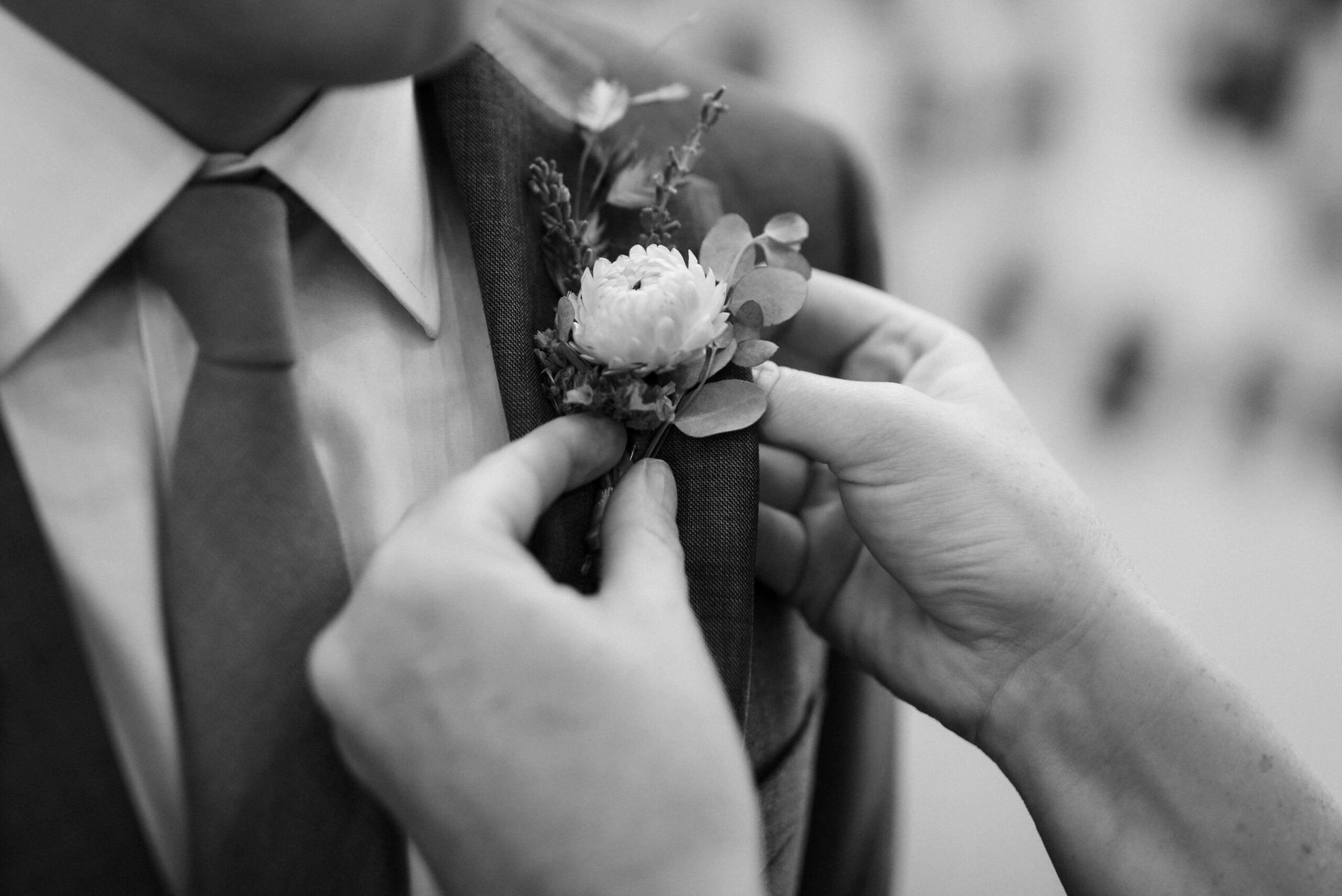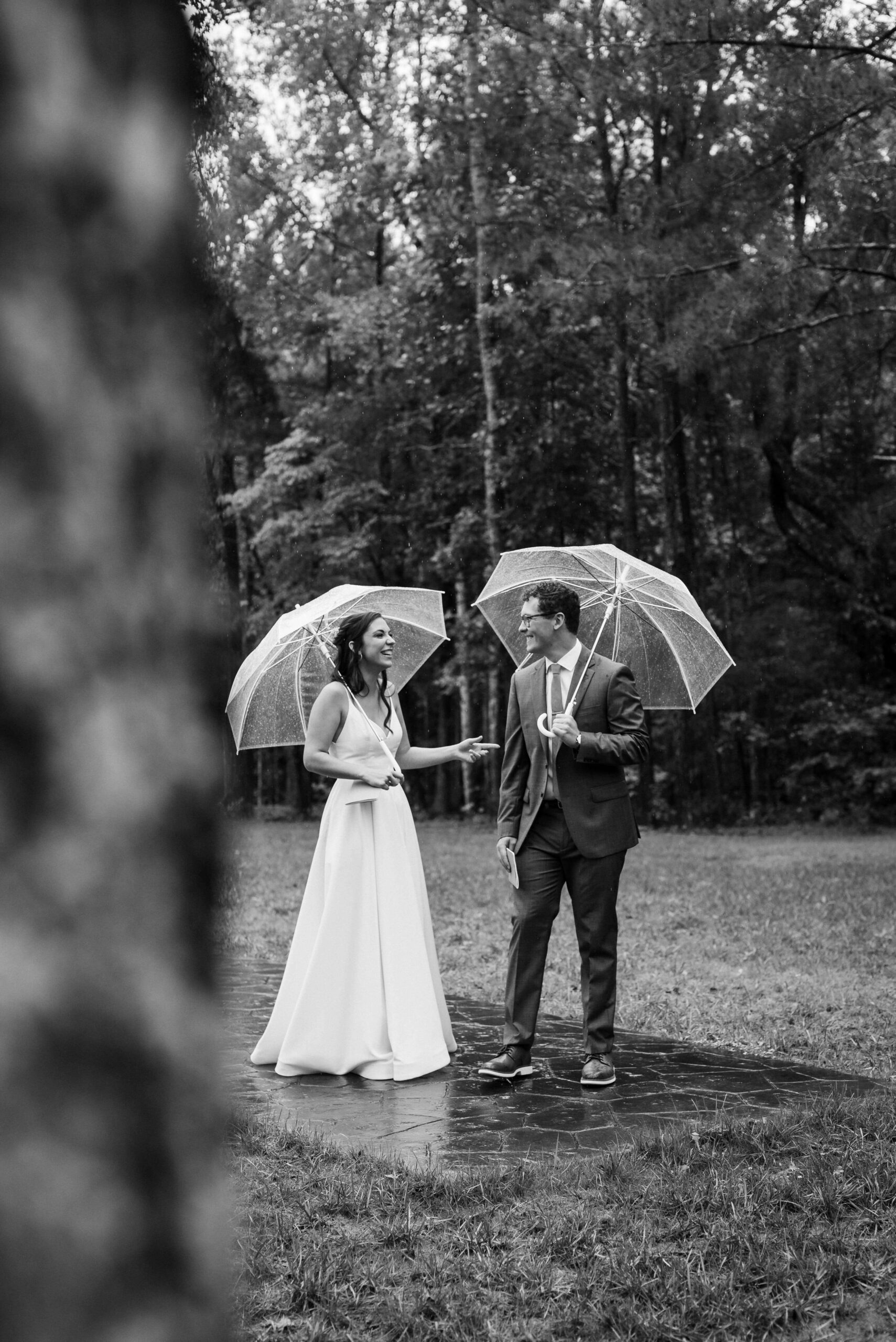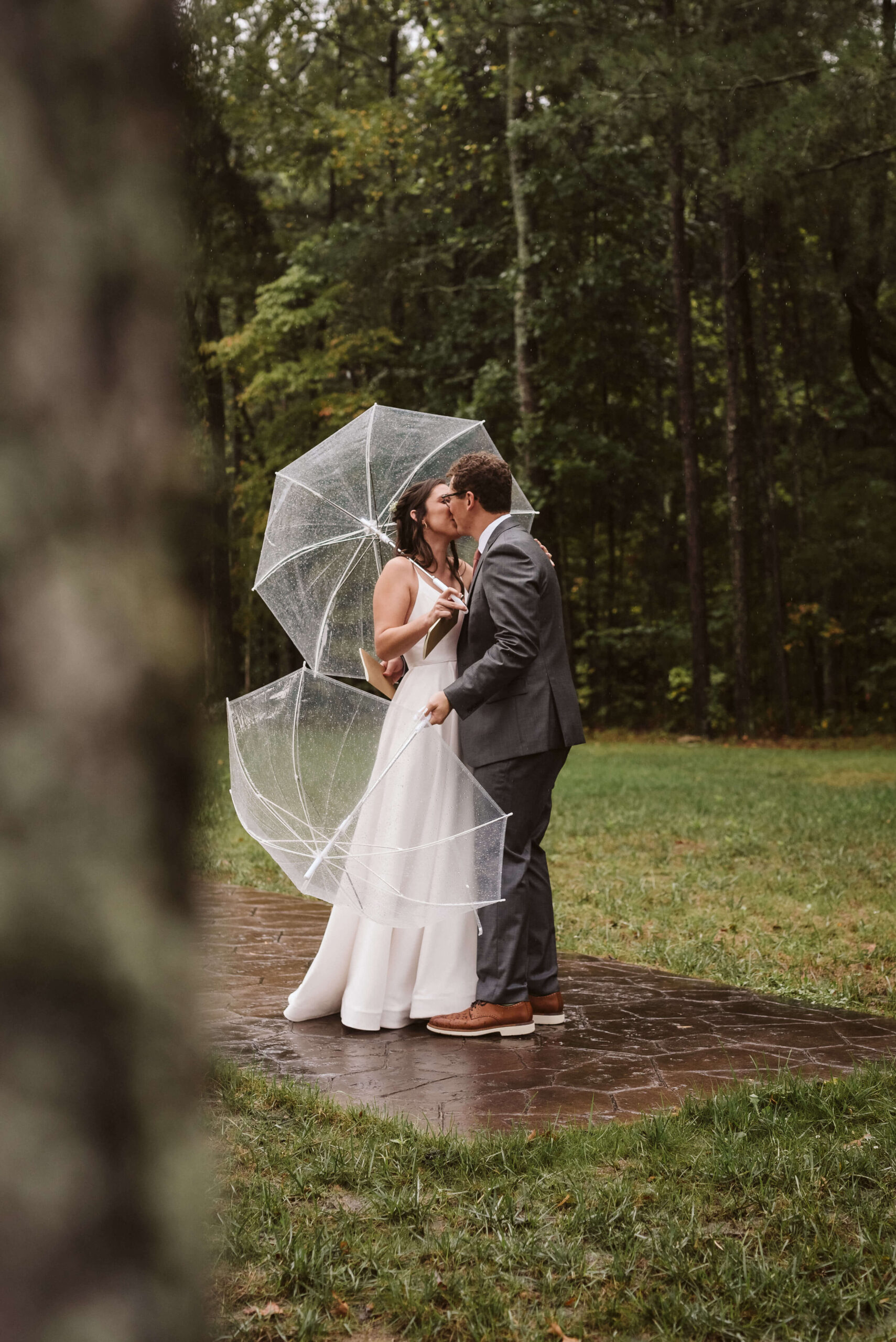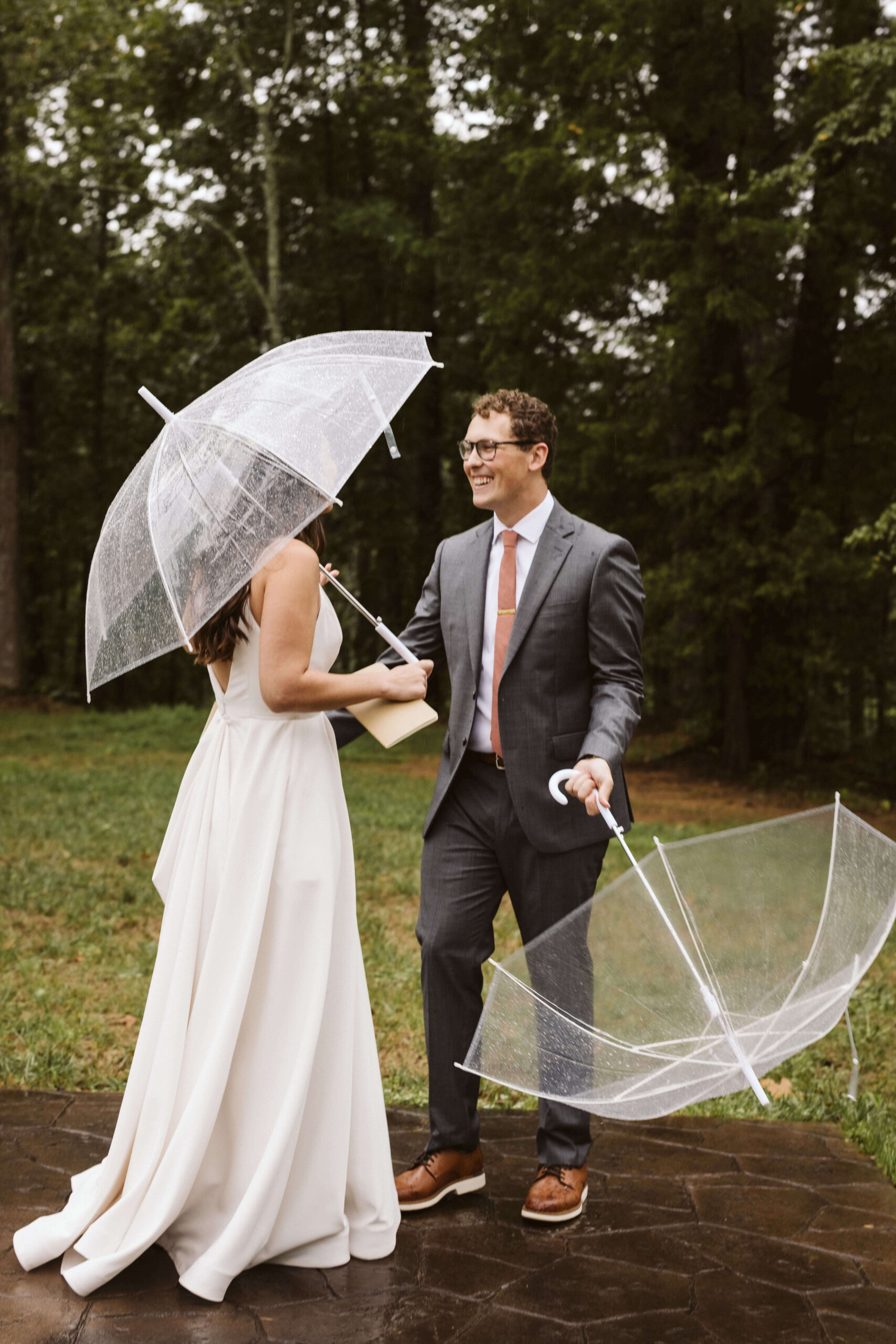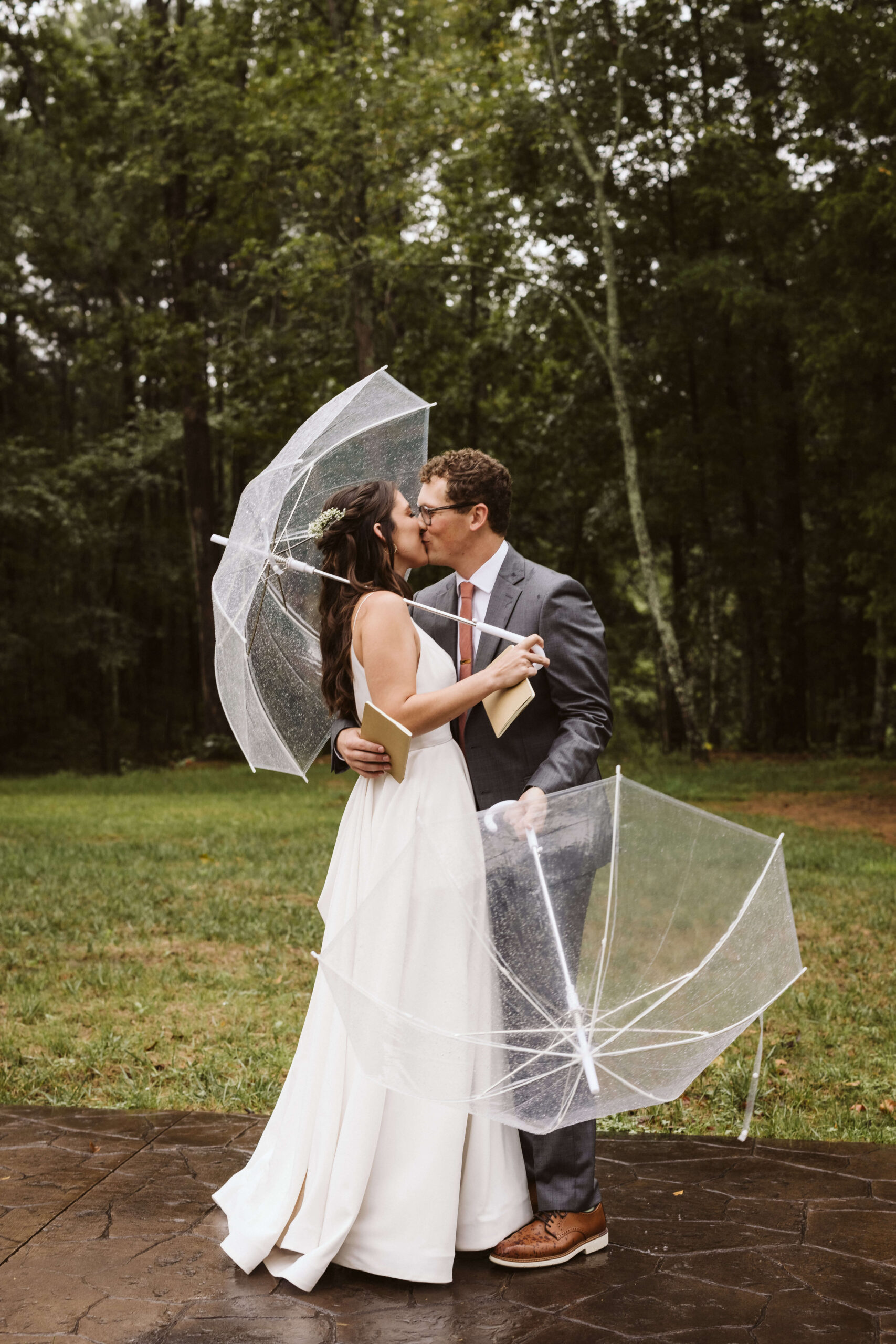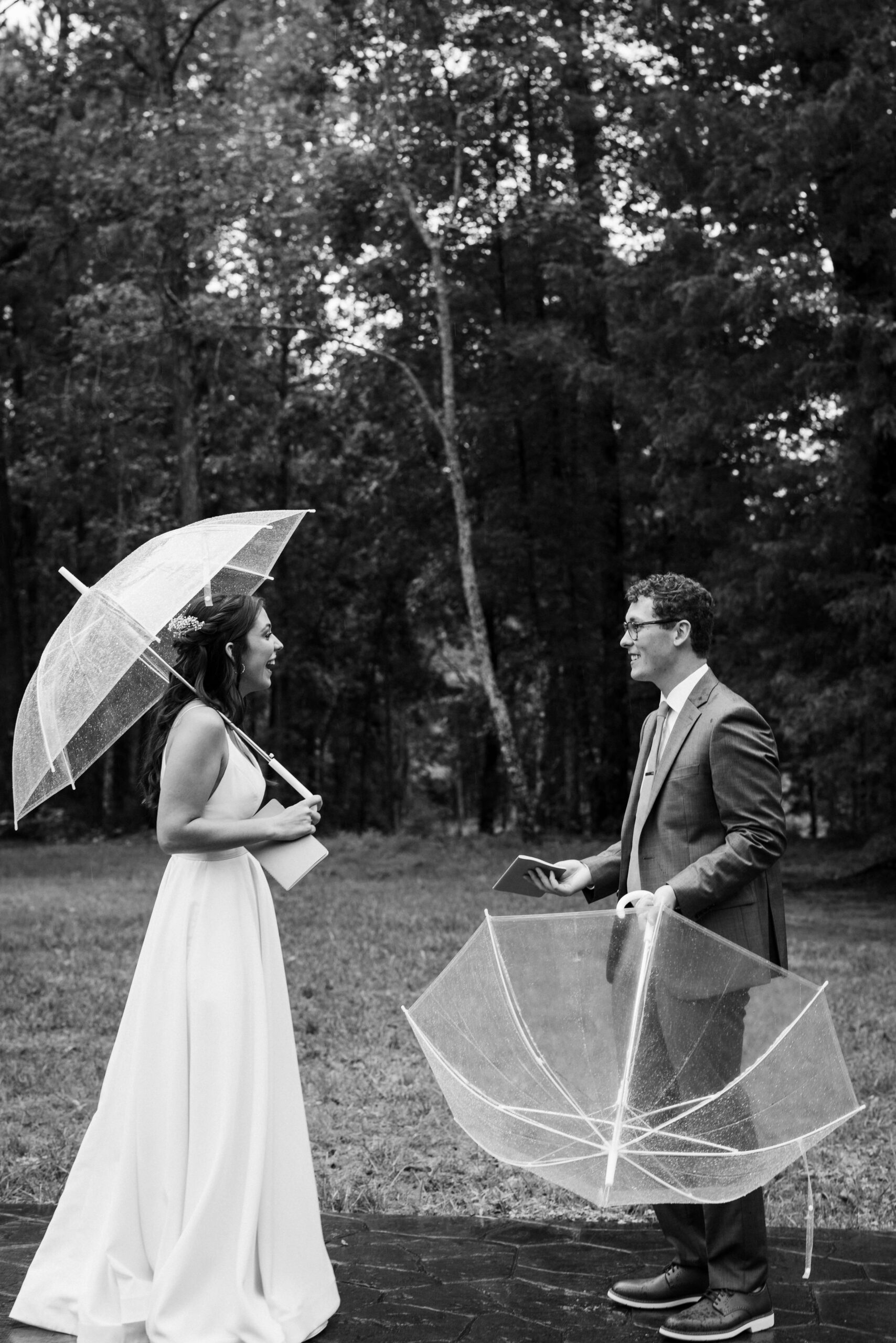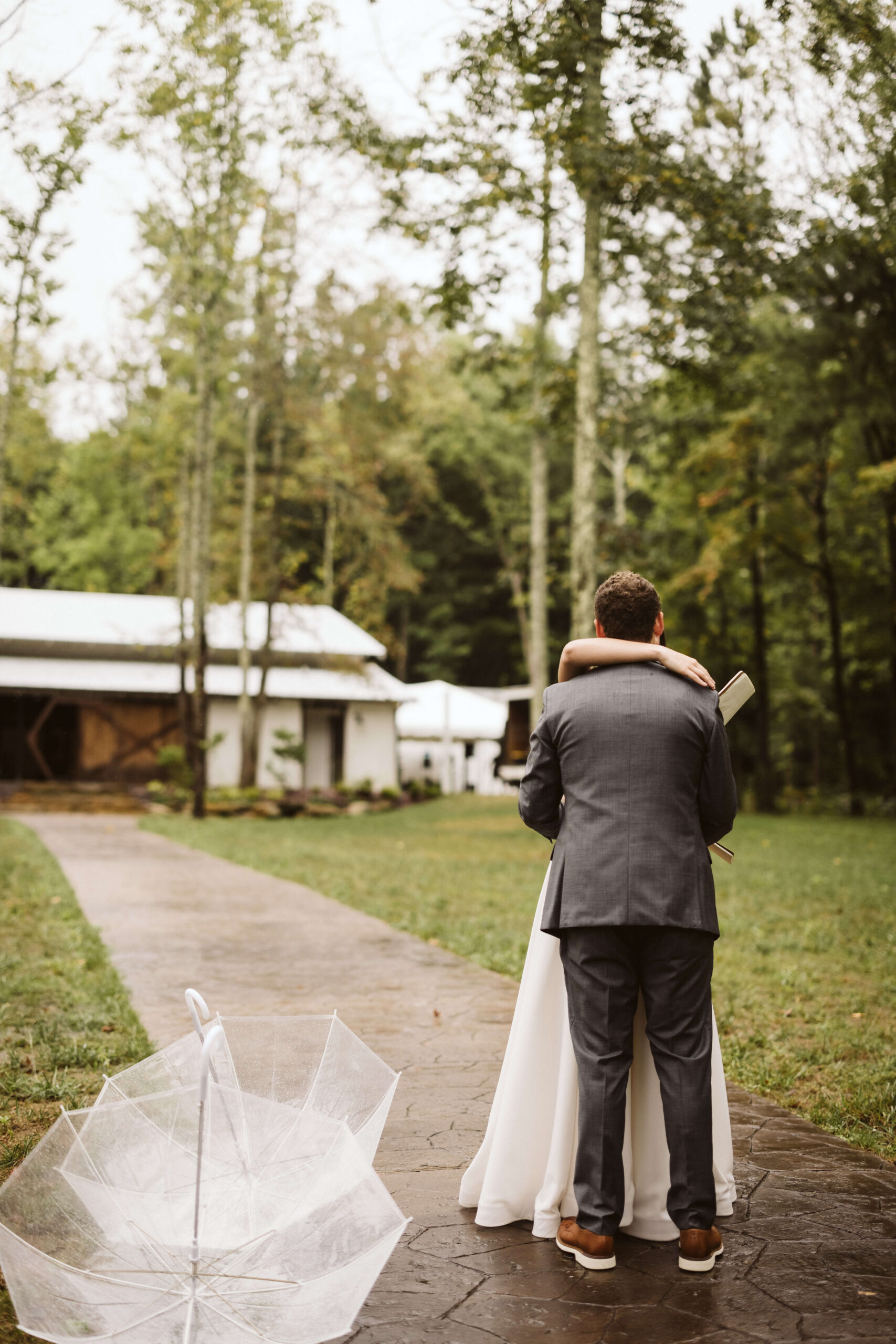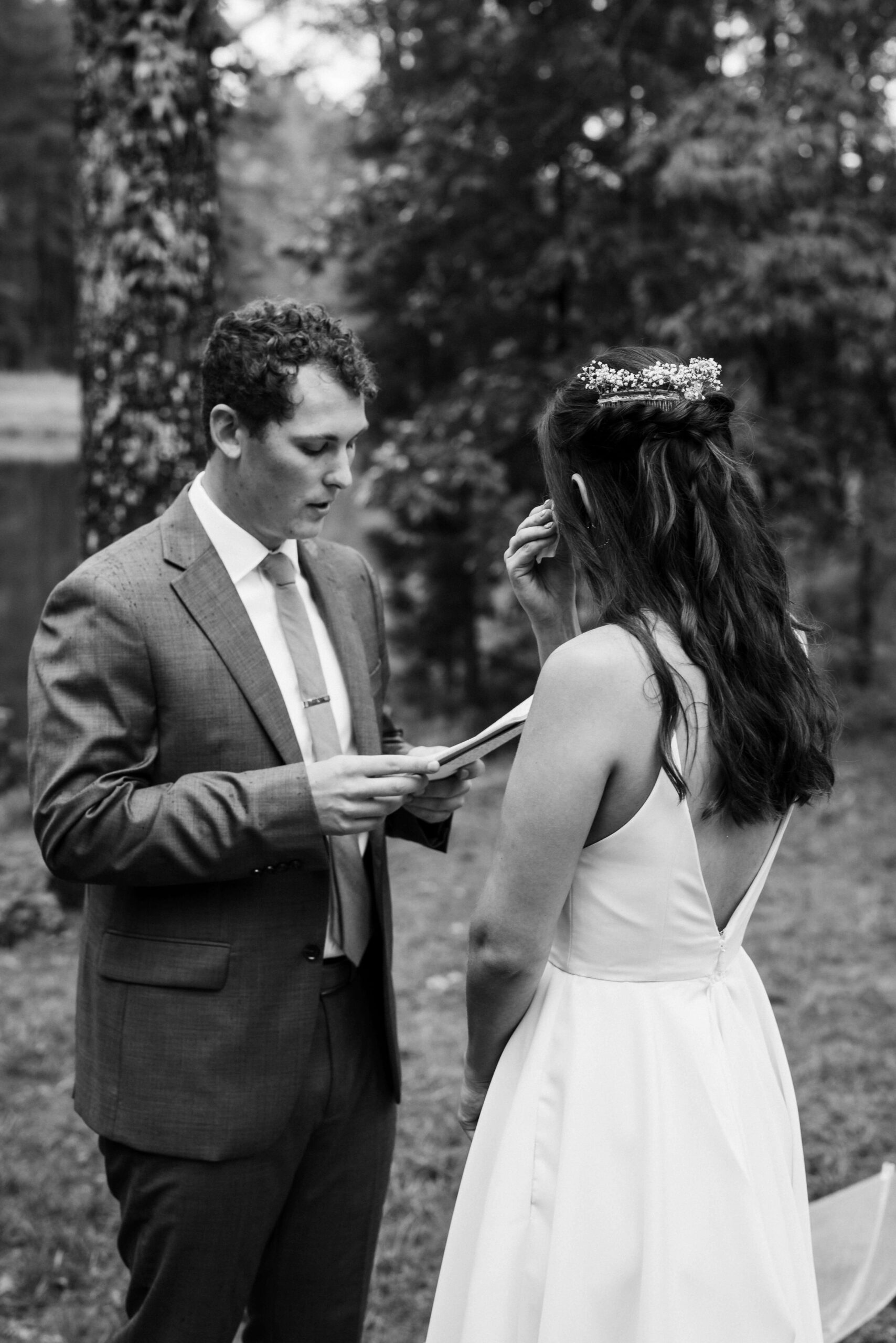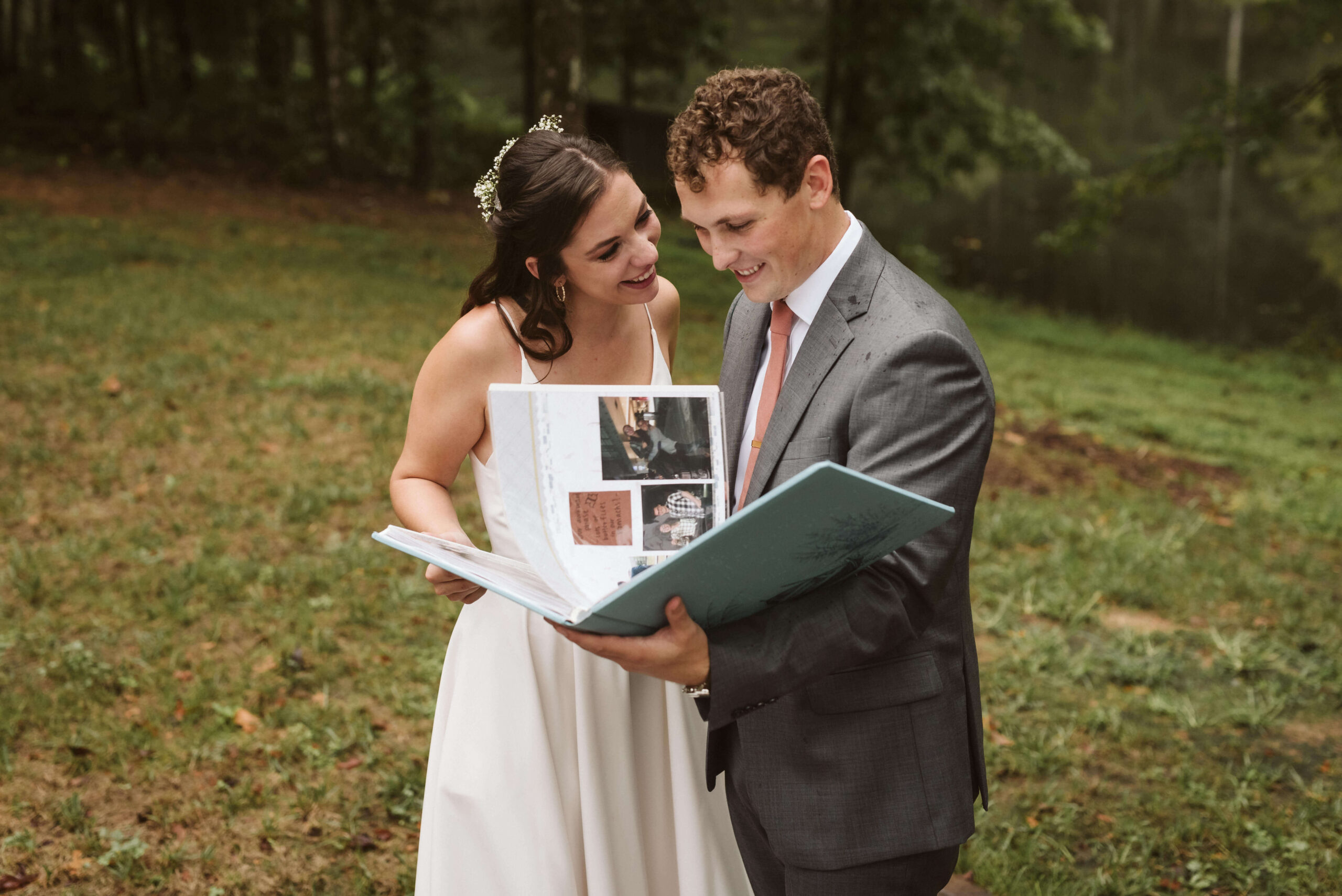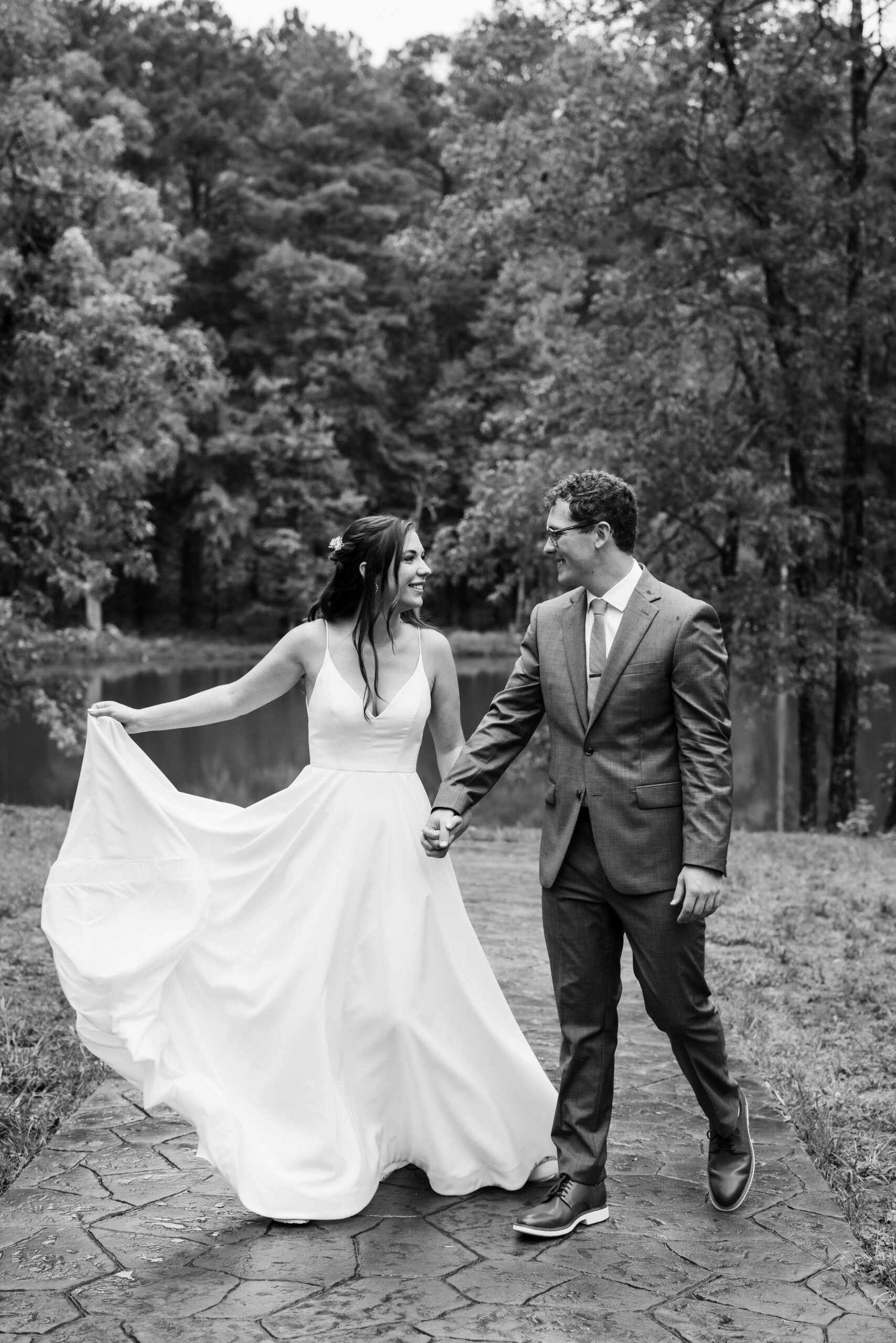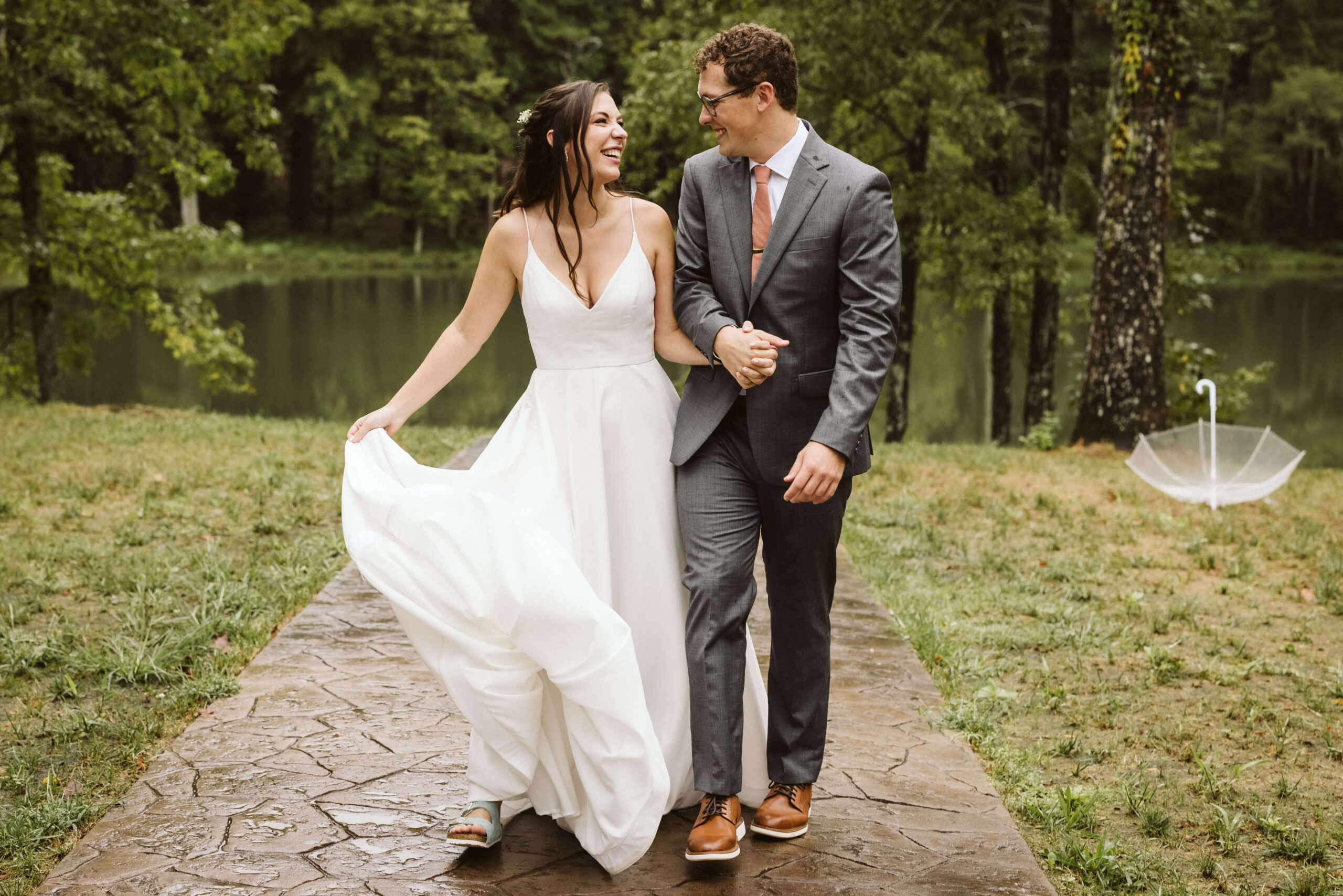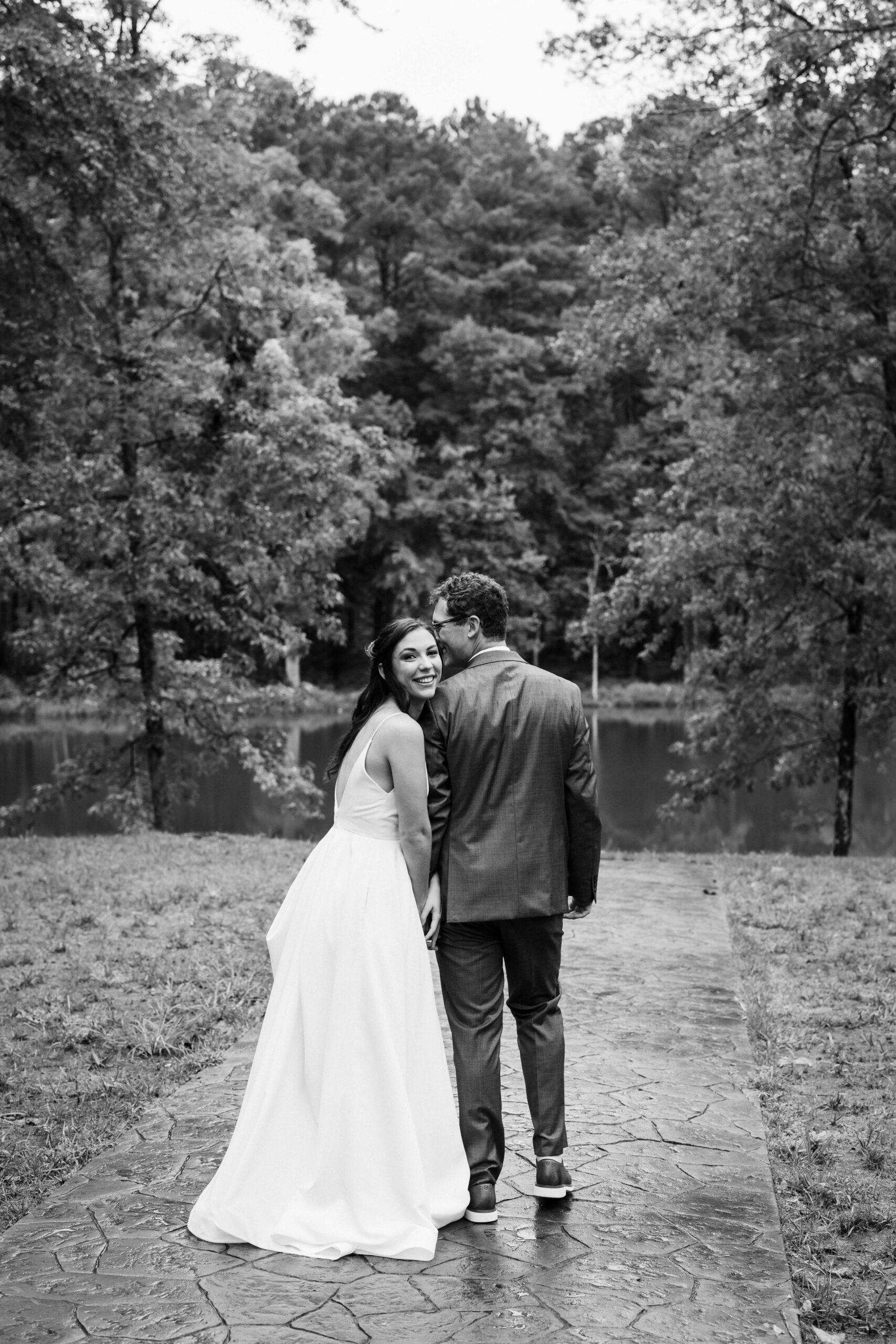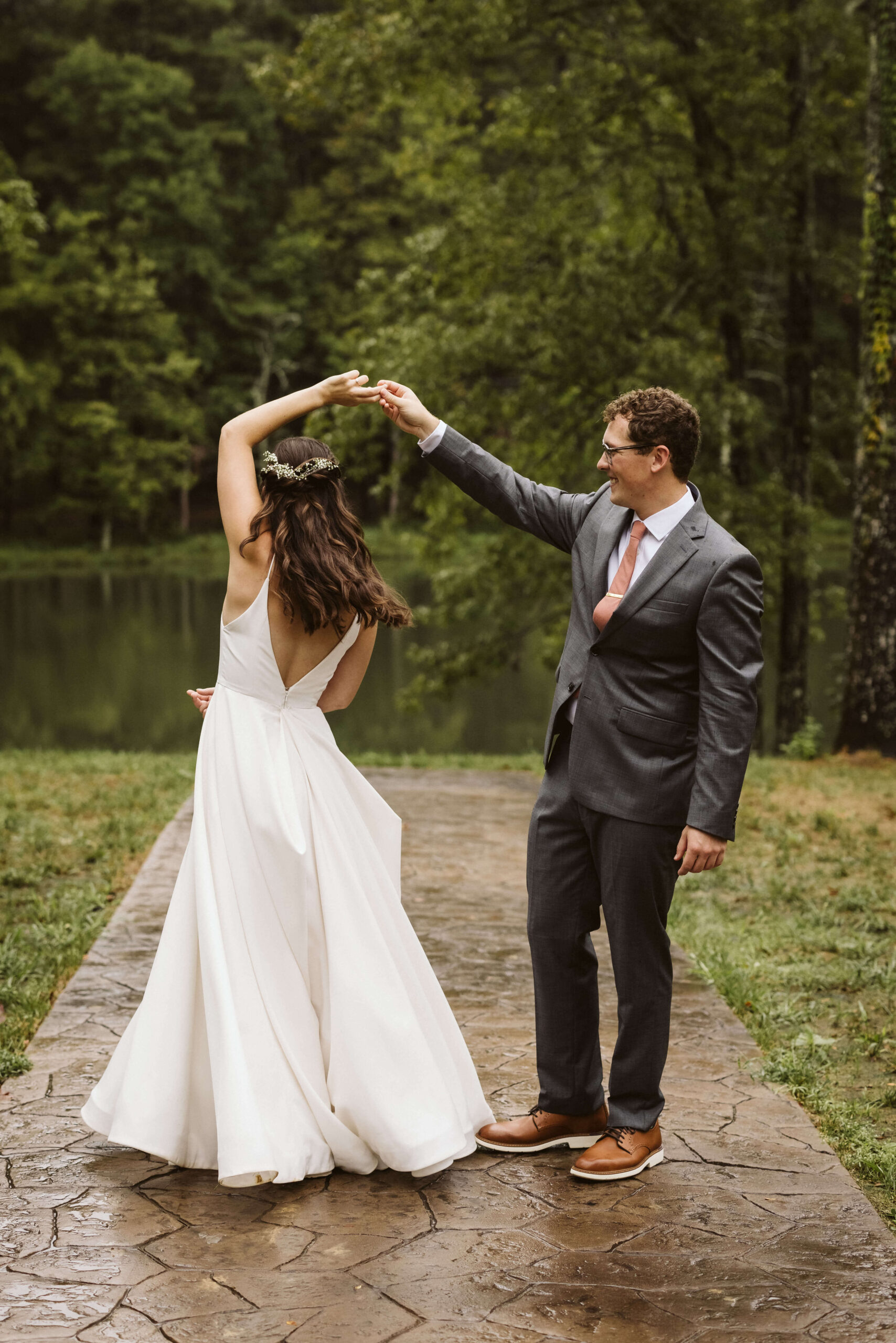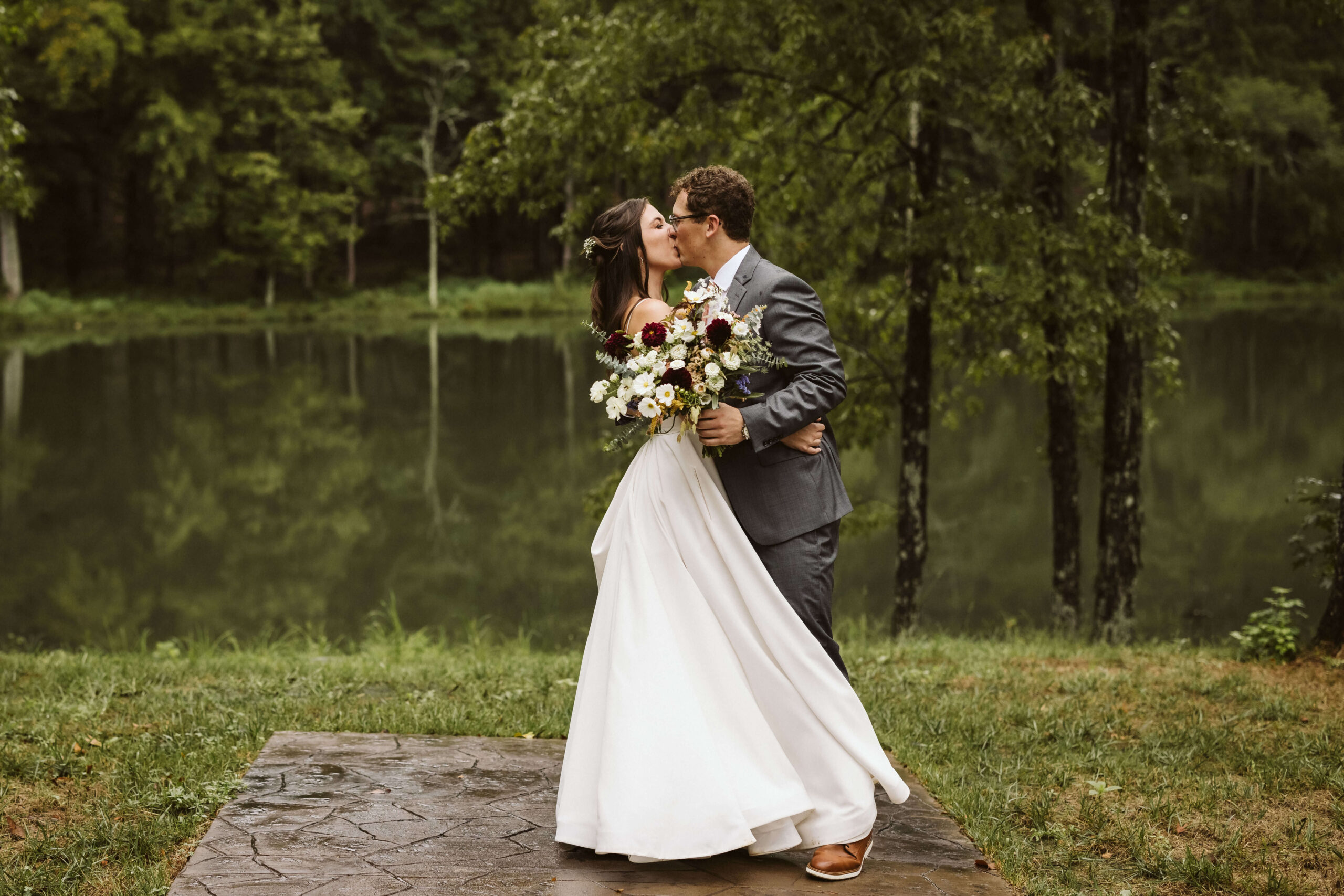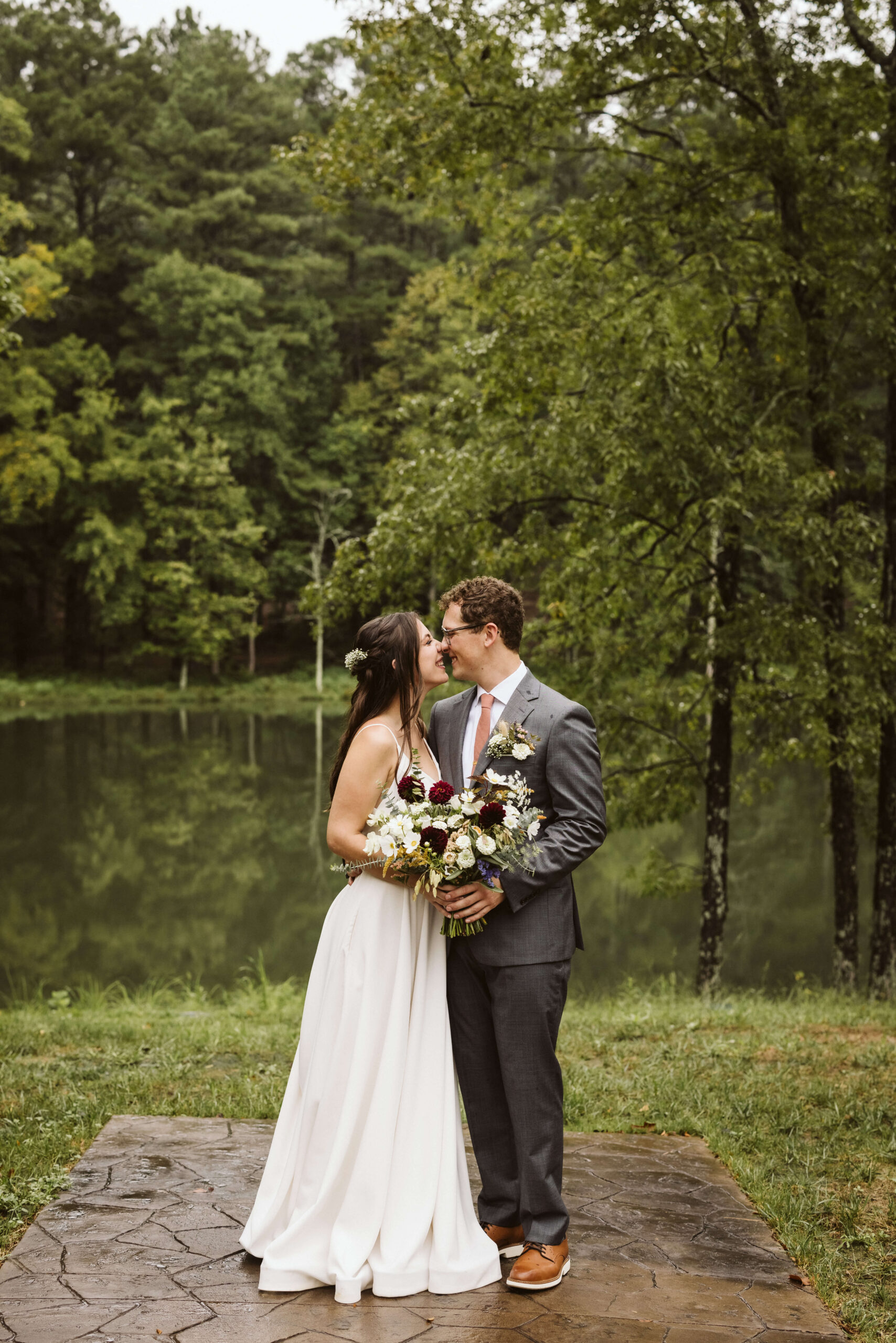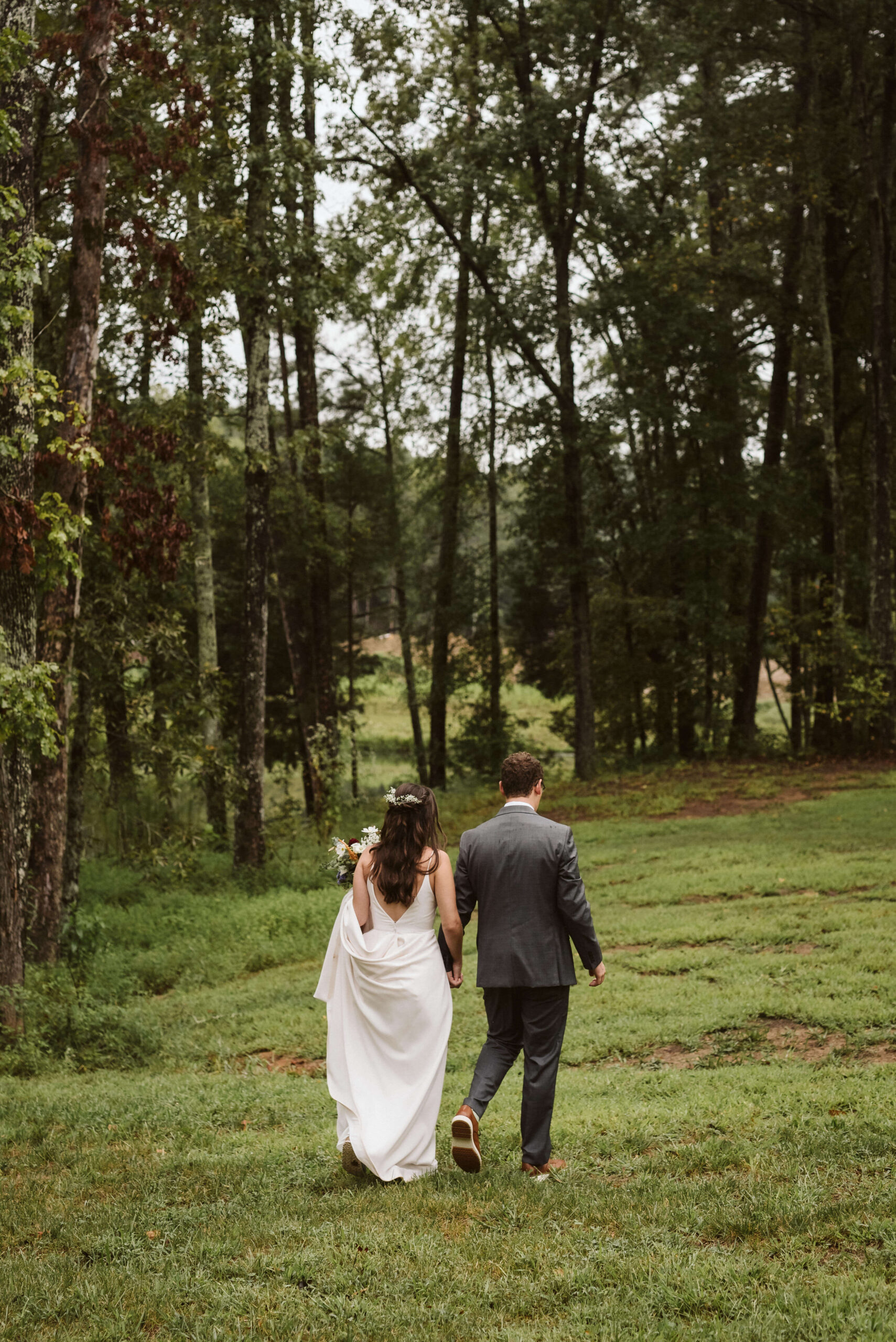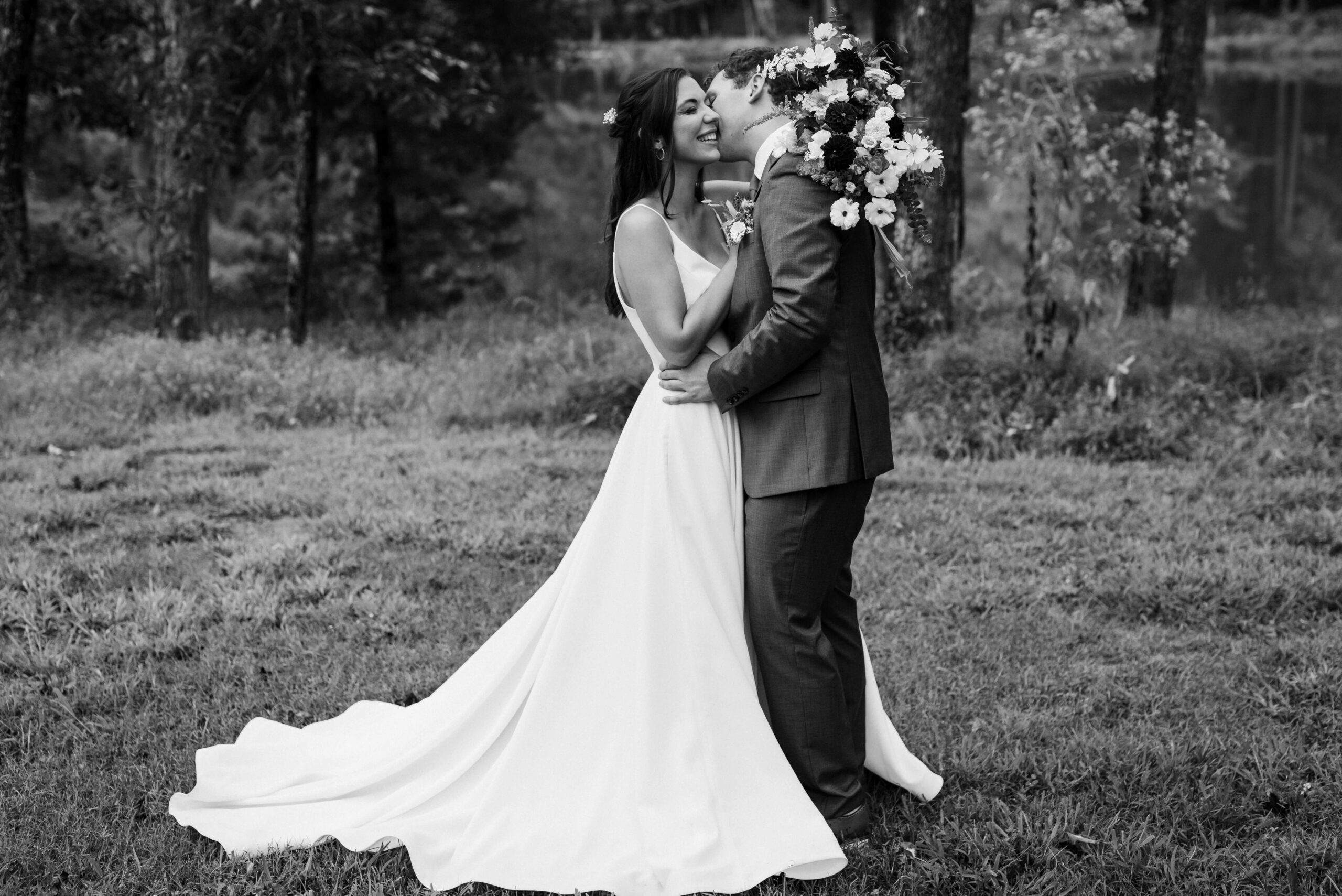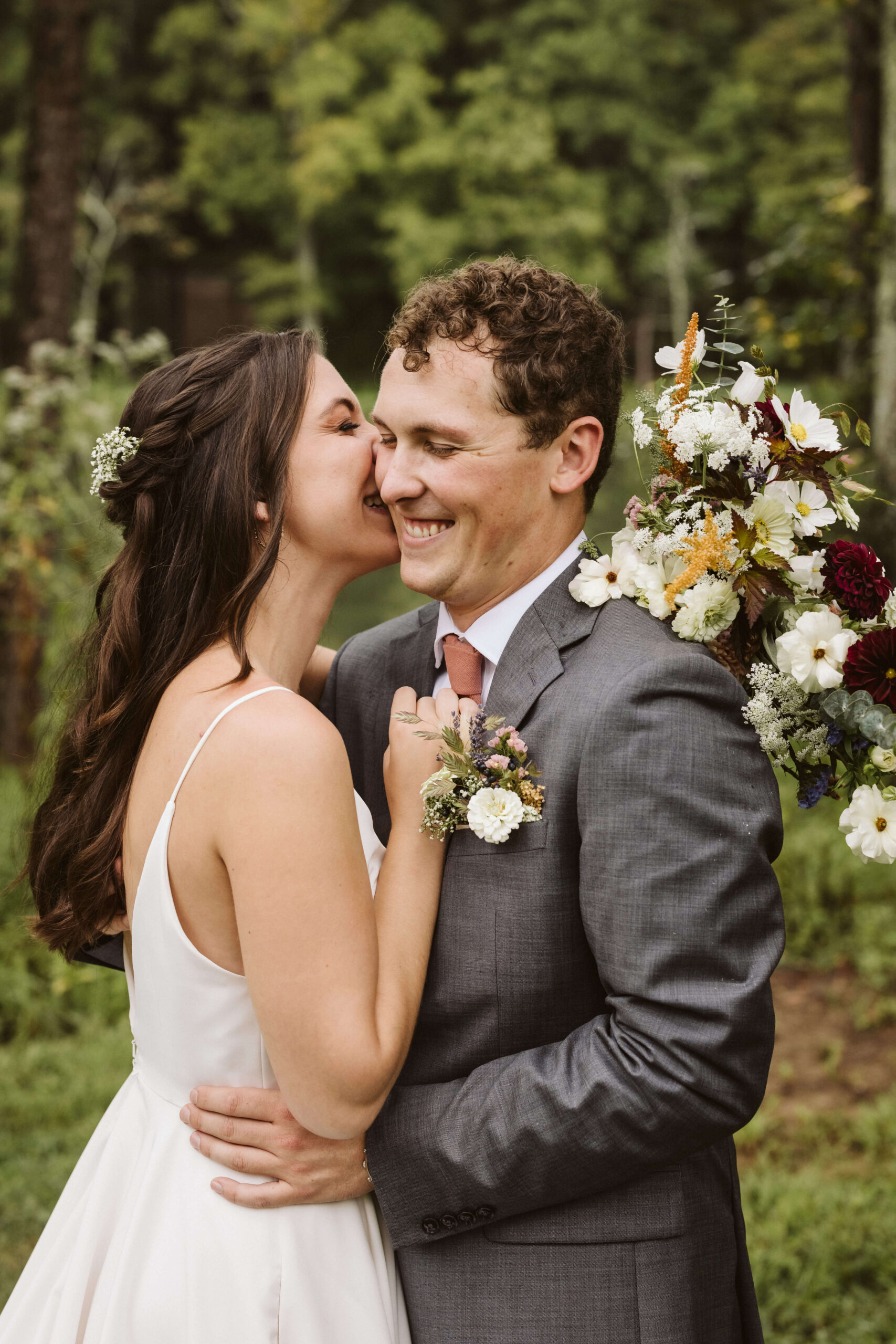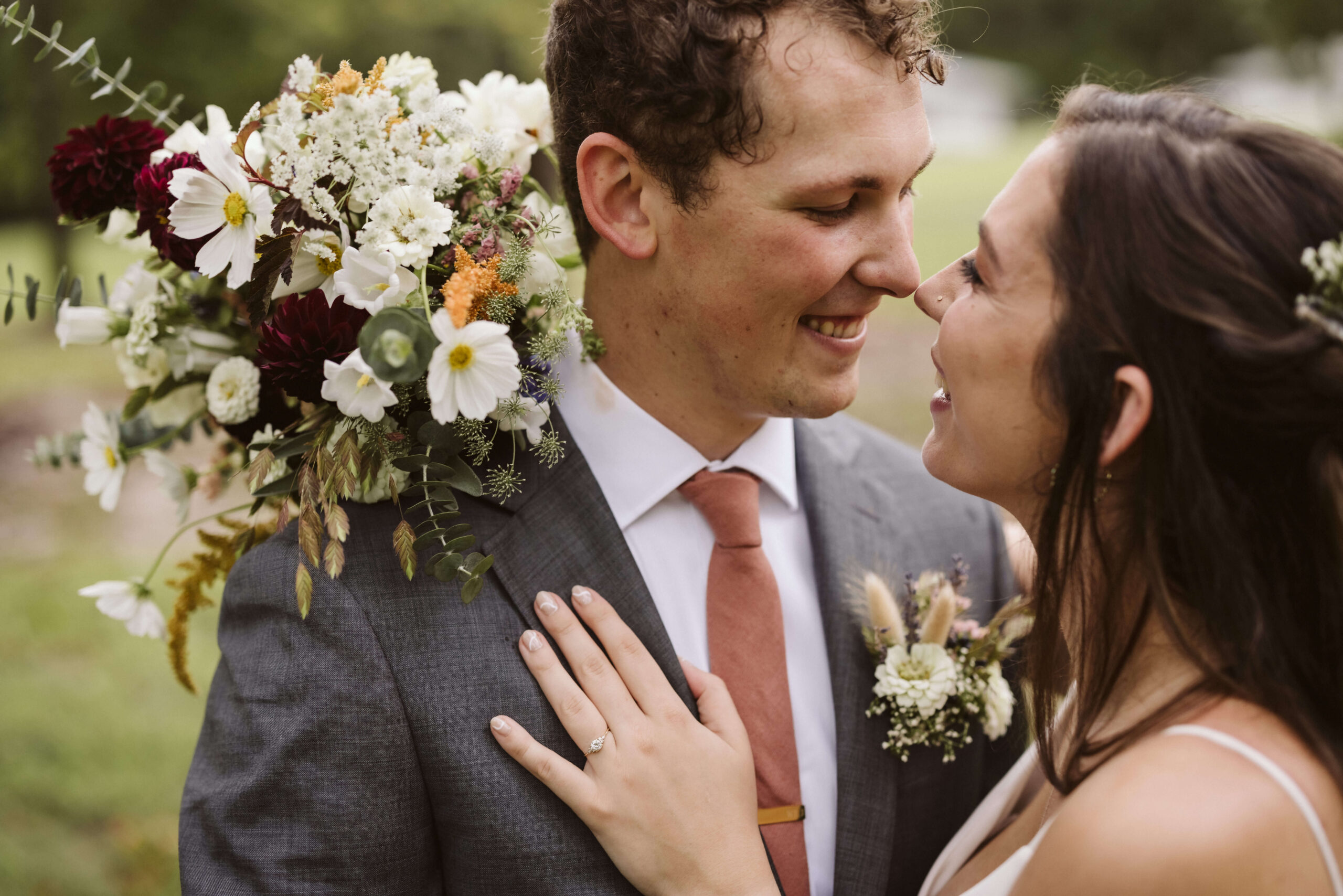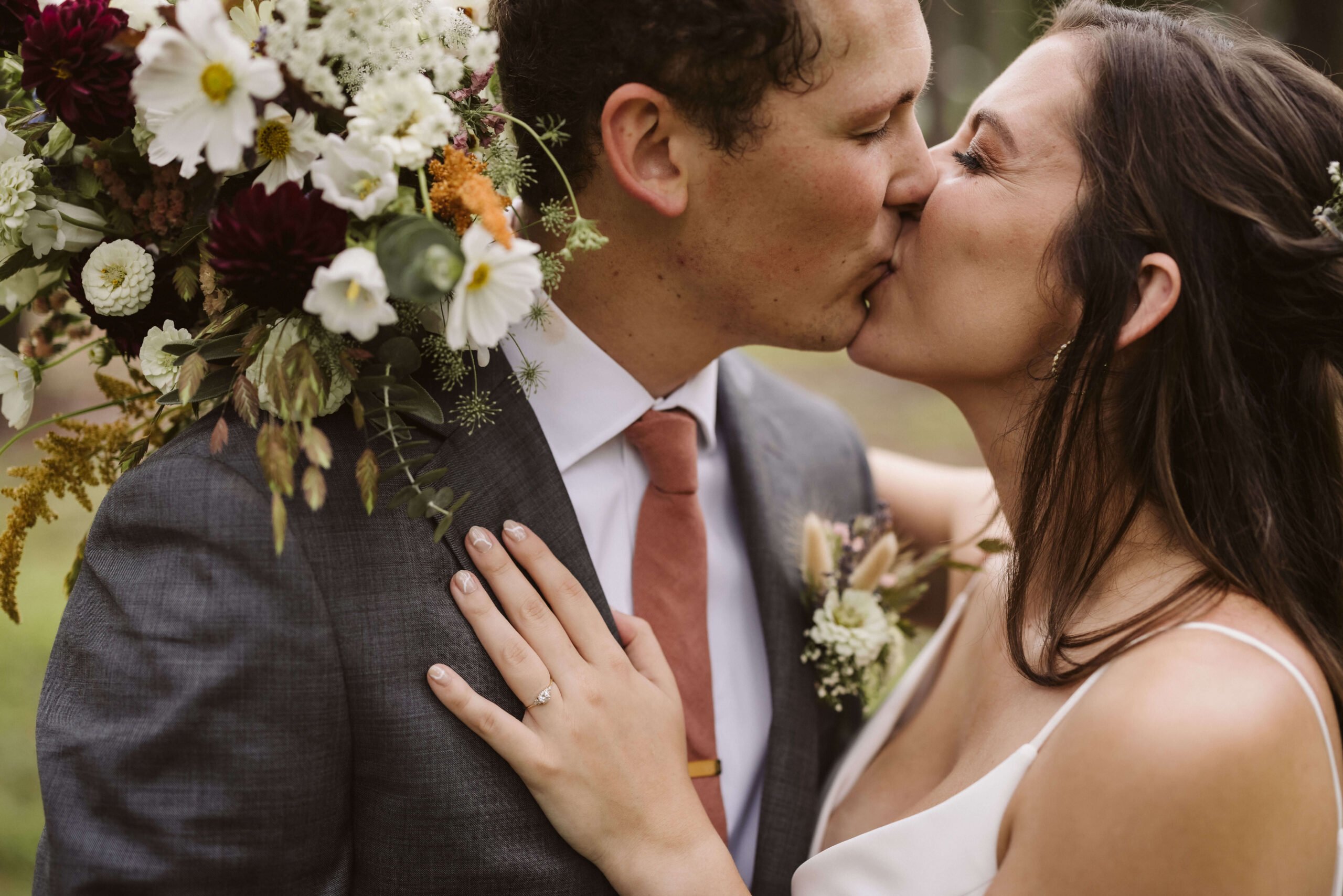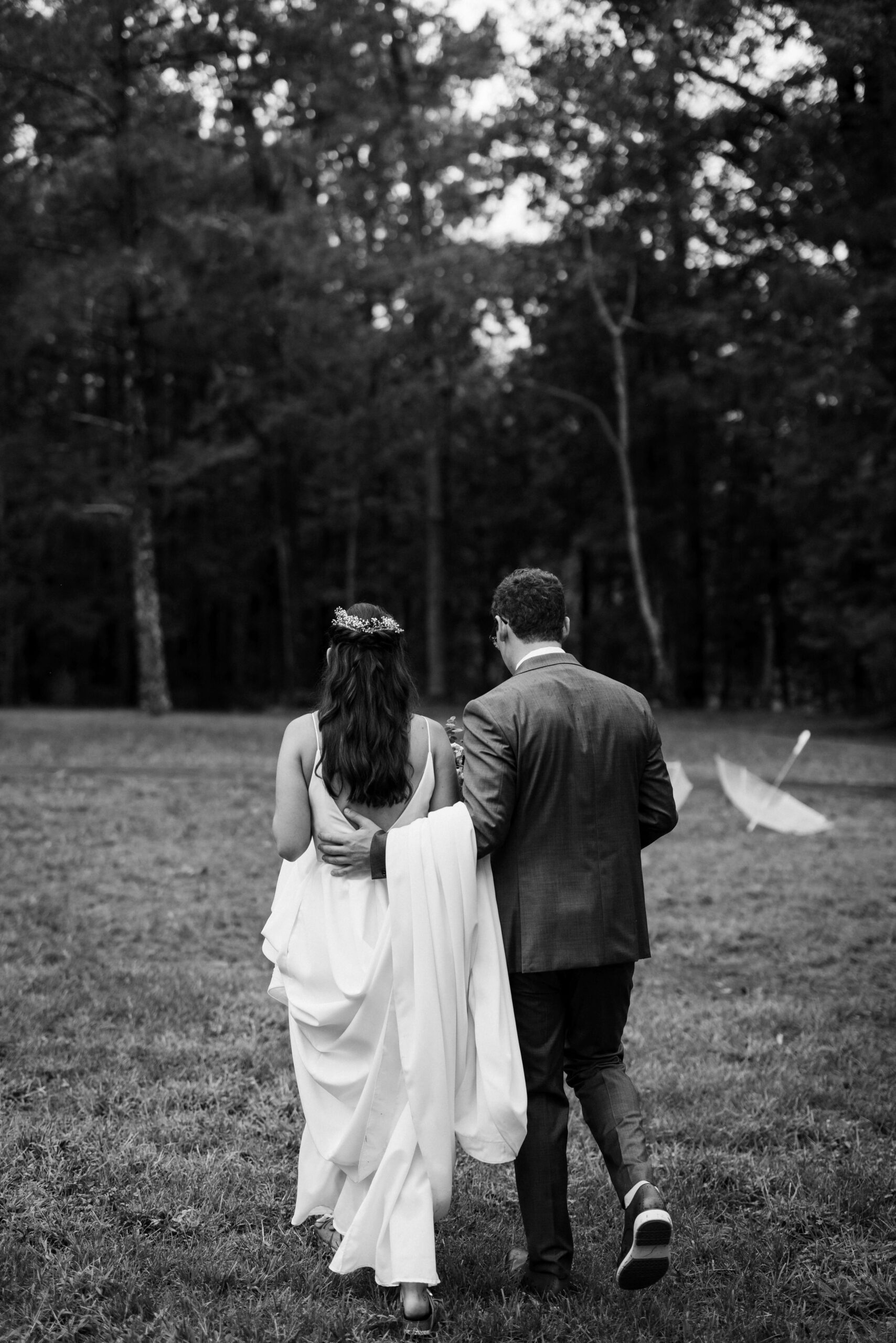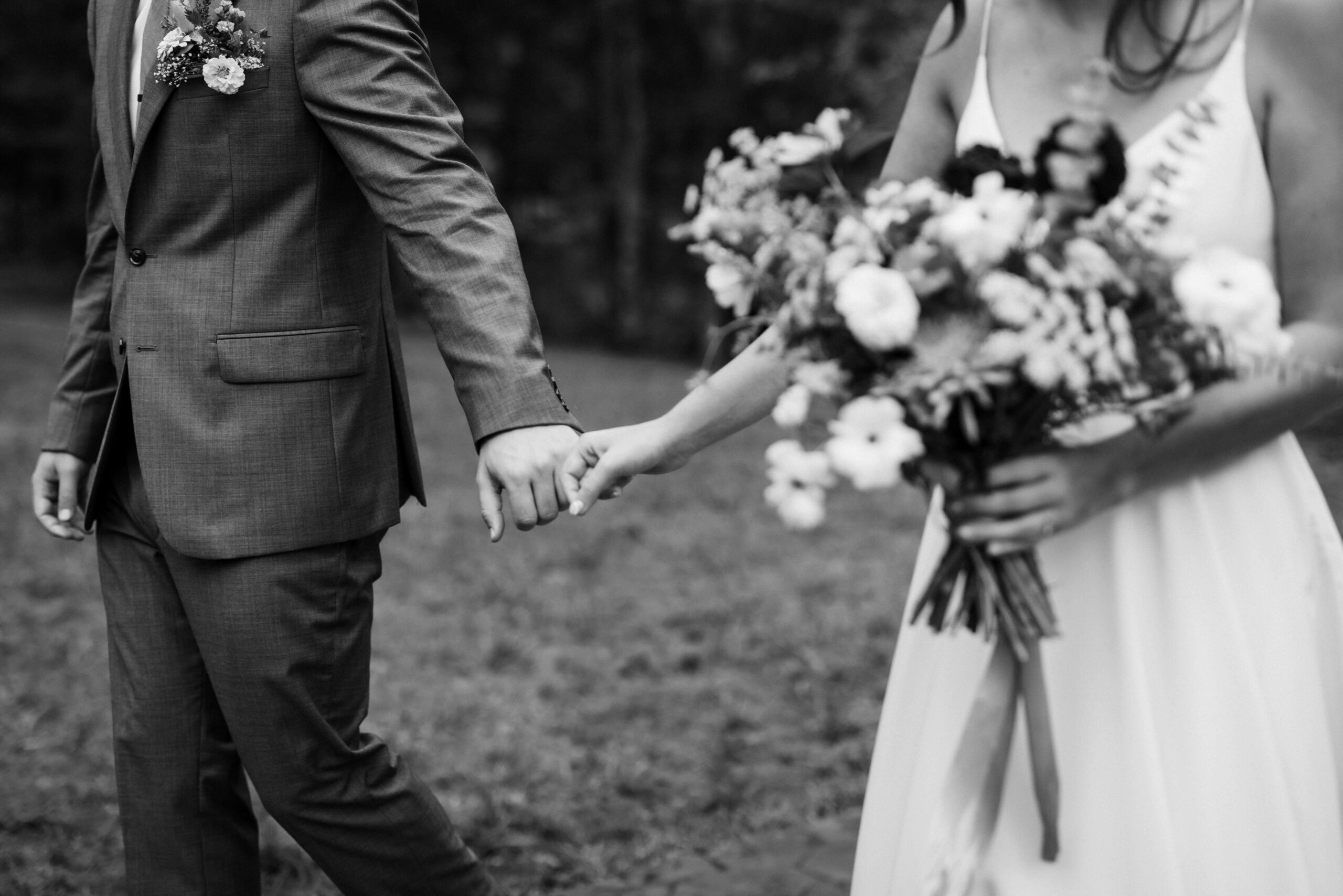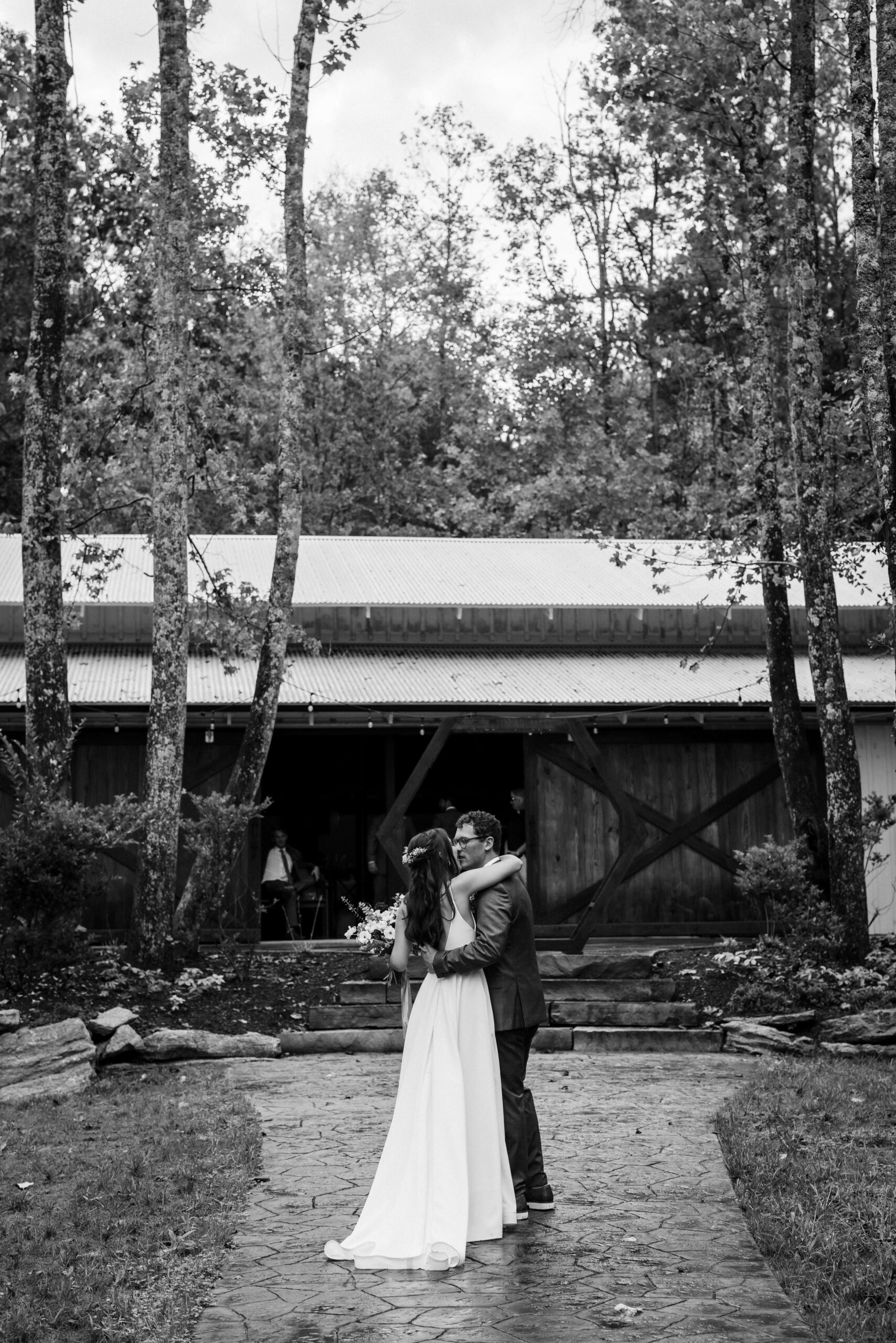 Weddings at Hidden Springs Venue
Hidden Springs Venue is located in Apison, Tennessee just 30 minutes outside of downtown Chattanooga. This charming, rural property is perfect for couples wanting a rustic, forest look for their special day. Not only does the Hidden Springs Venue feature indoor and outdoor event spaces, but it also comes with cozy cabins for out-of-town guests and a waterfront wedding ceremony location in front of the property's private lake. The serene setting makes for a gorgeous venue away from the bustle of the big city to really center the focus around celebrating your special day with the people you love most.
Couples looking to have a ceremony and reception at Hidden Springs Venue have several options to customize everything aspect of their wedding day to really make it their own. Although they are more than happy to host smaller, more intimate ceremonies, their ideal guest capacity is 100 to 150 guests, which leaves plenty of room for dancing, gift tables, and a music station. 
Something that's really amazing about Hidden Springs Venue is their transparent wedding packages. To make the process as seamless as possible, they offer a transparent pricing guide which includes the use of both their large bride and groom suites and a variety of rentals and add-on enhancements to build the wedding of your dreams. These enhancements include church pew seating for a unique ceremony look, folding farm-style tables, linens, and a unique selection of furniture rentals to help bring together any couple's specific style or theme. The only thing that they require is the use of one of their Hidden Springs coordinators which can be upgraded to a full day-of or even month-of coordinating to fully assist in the planning process and, of course, caterers which you can choose from their preferred vendor list or hire some of your own.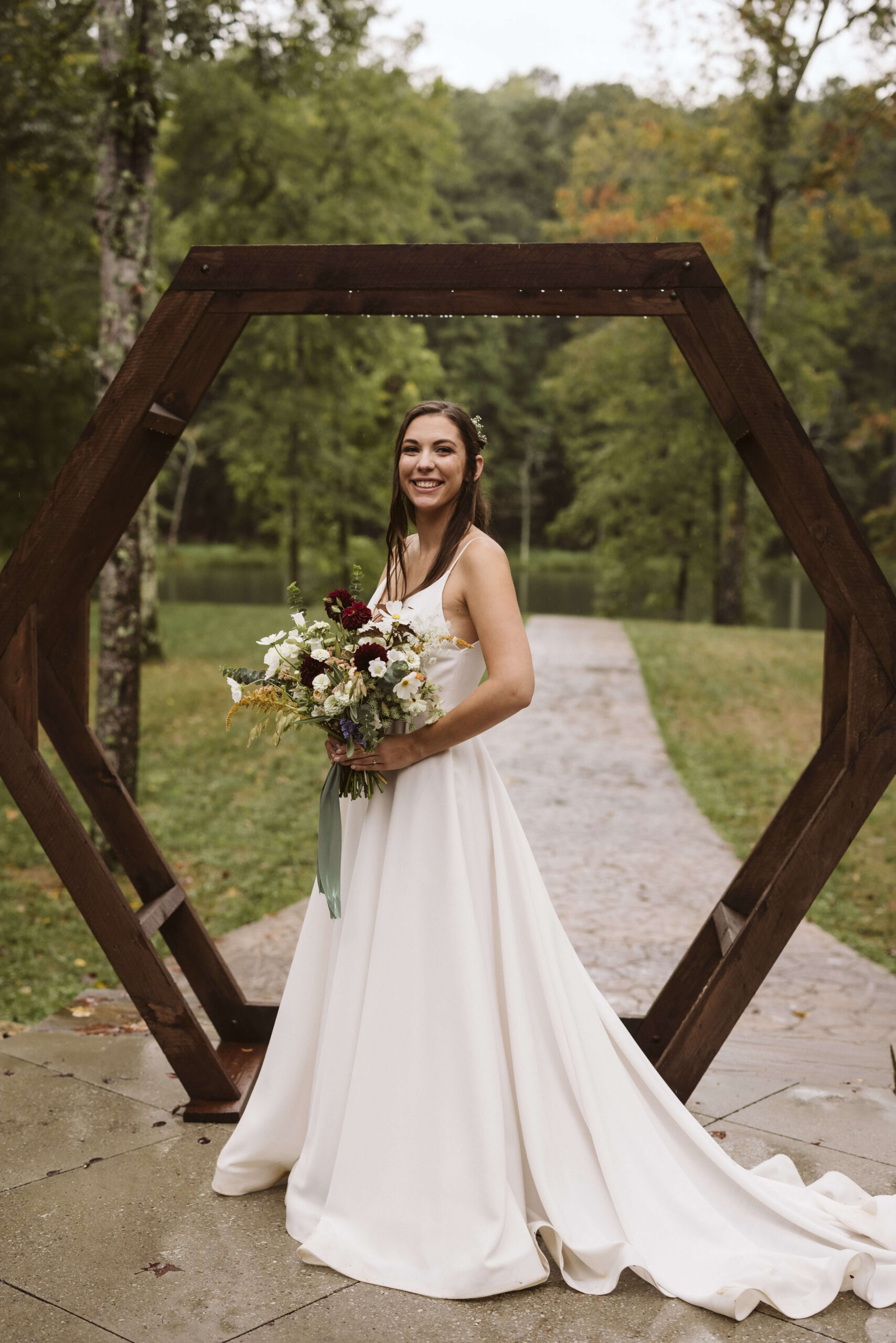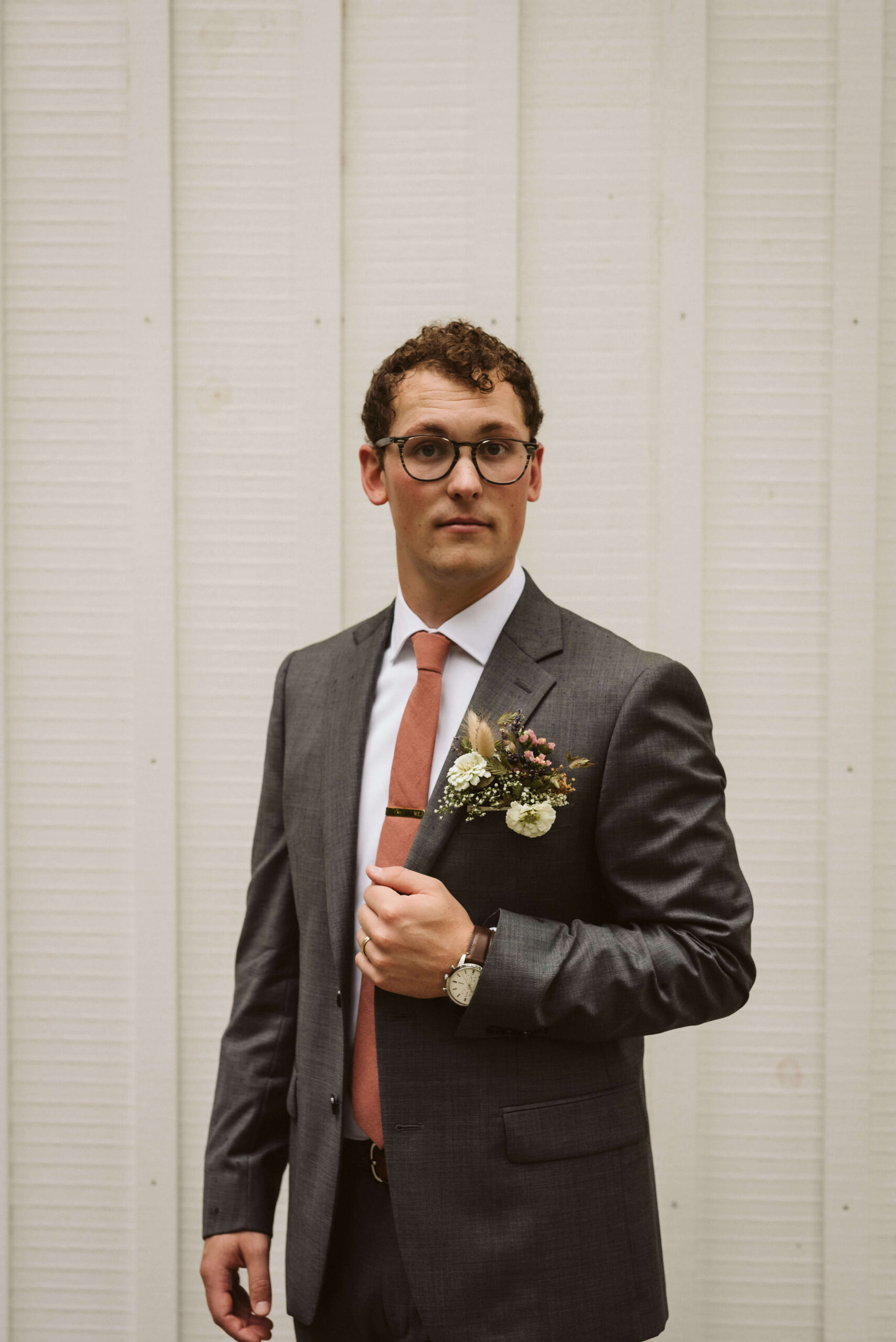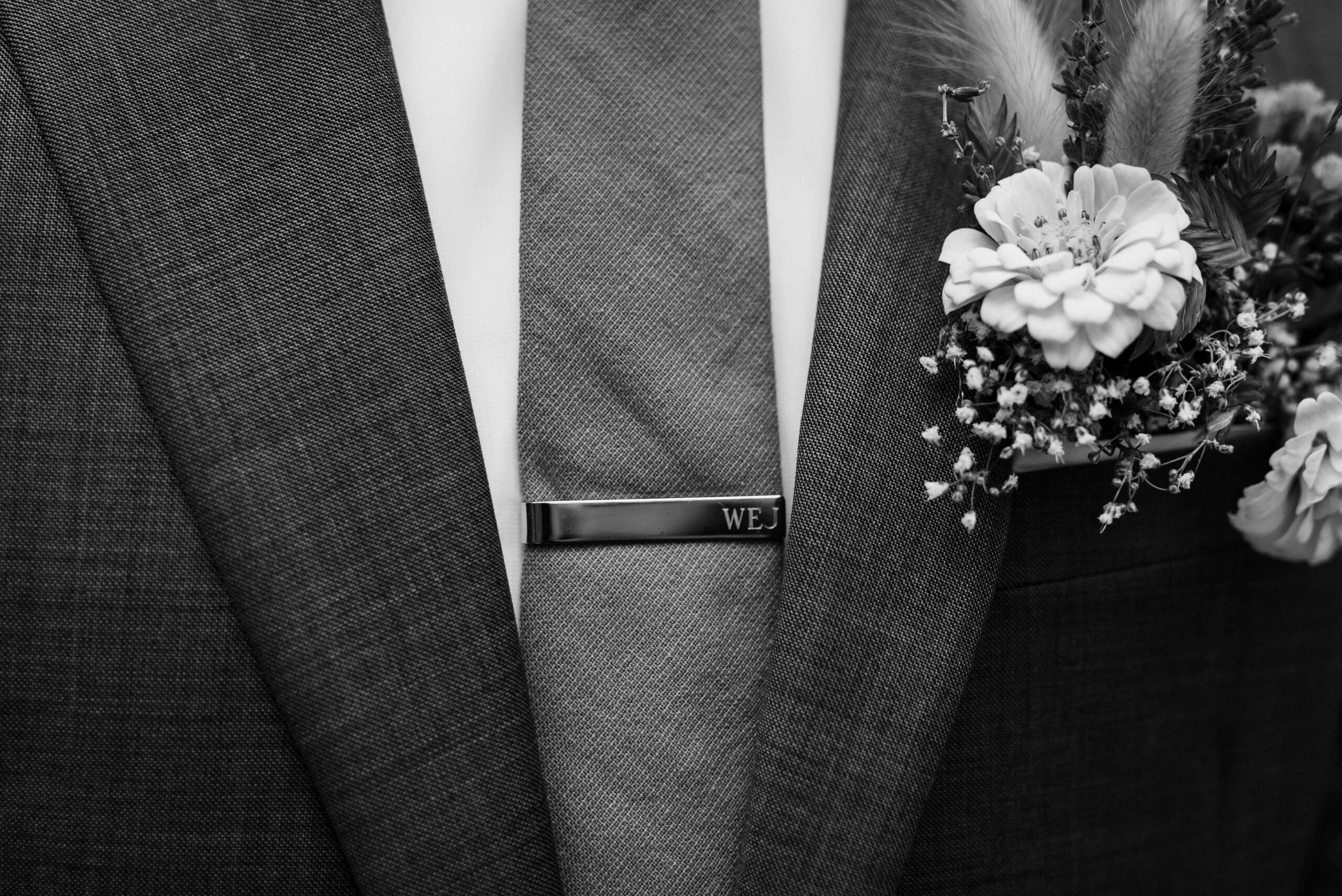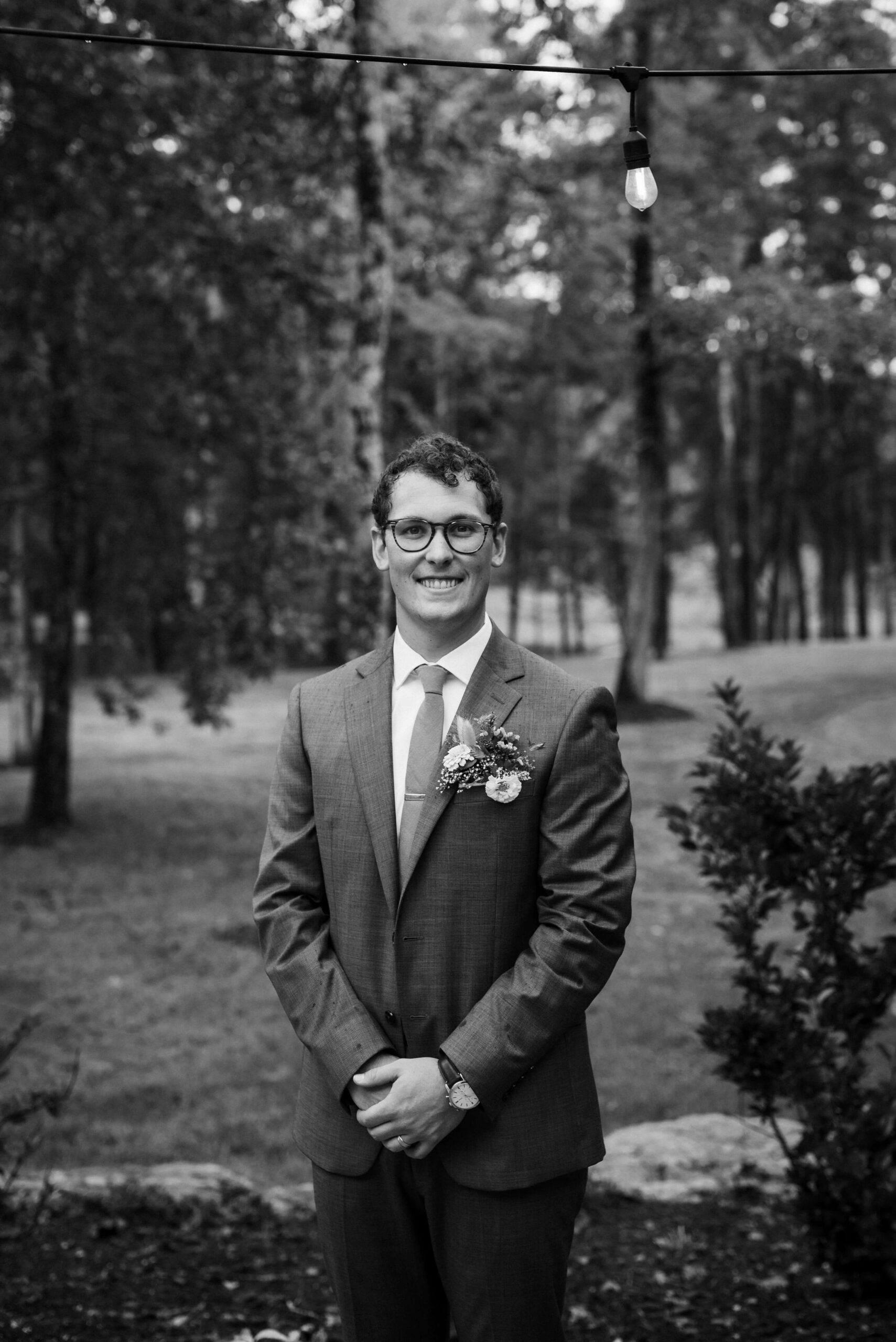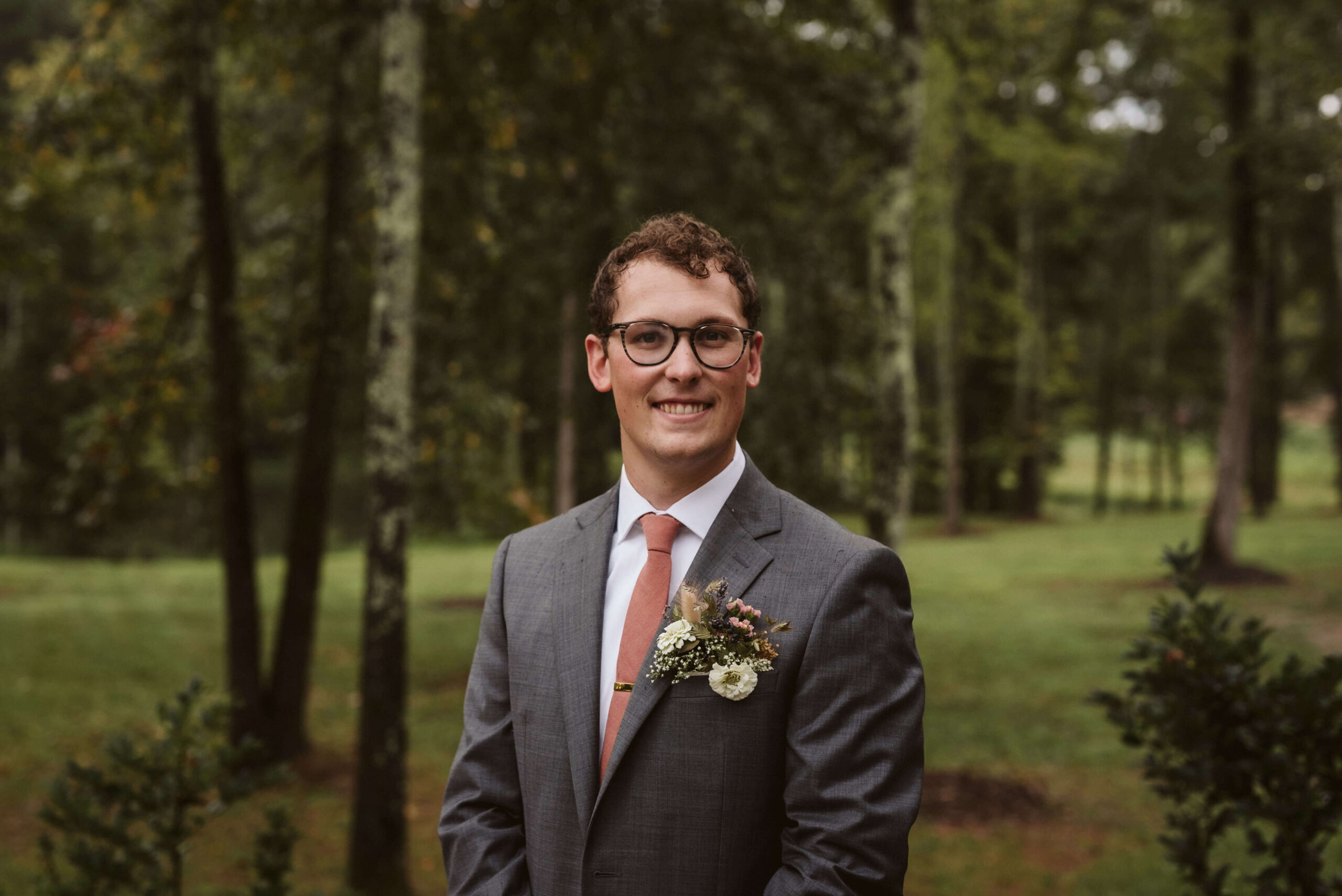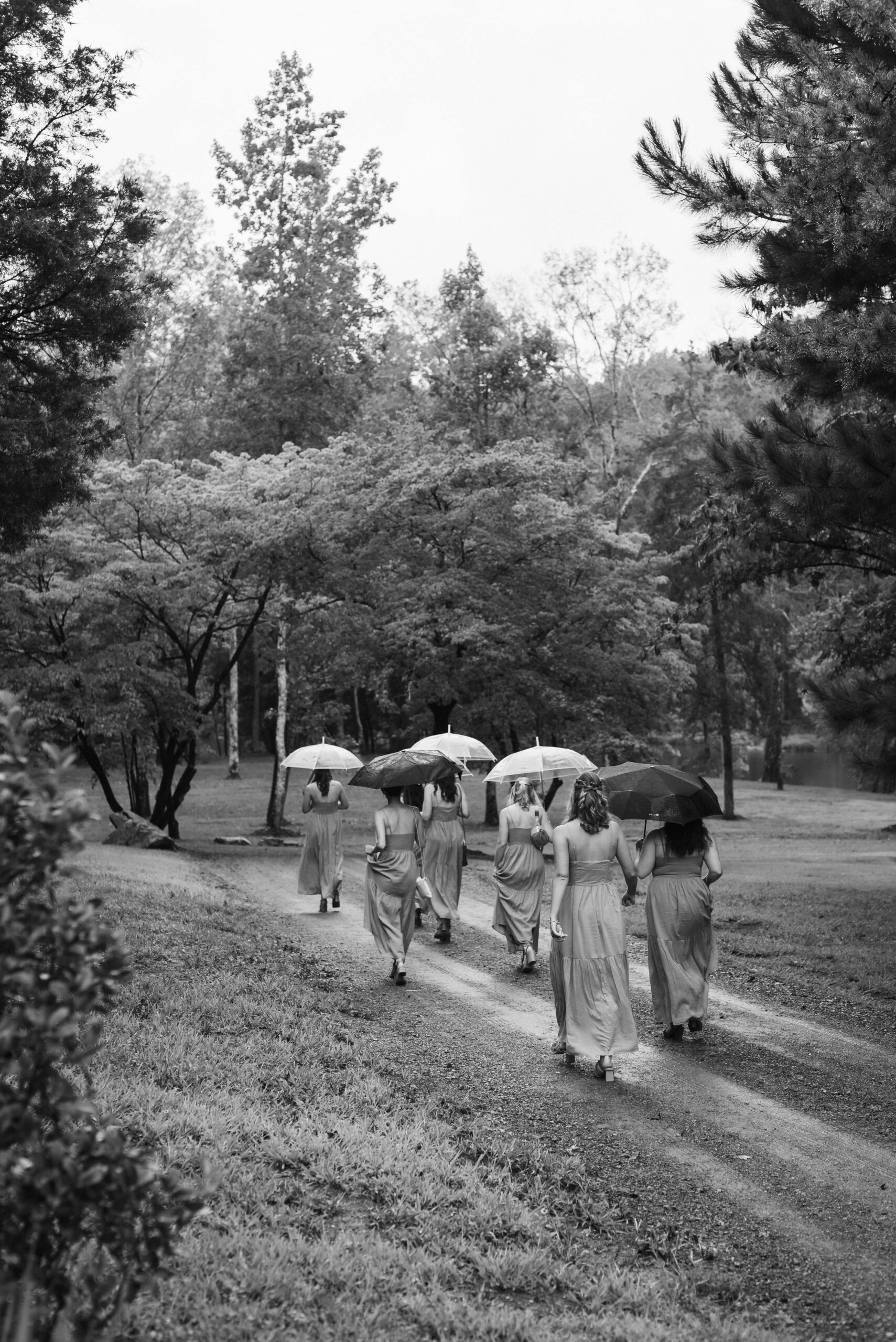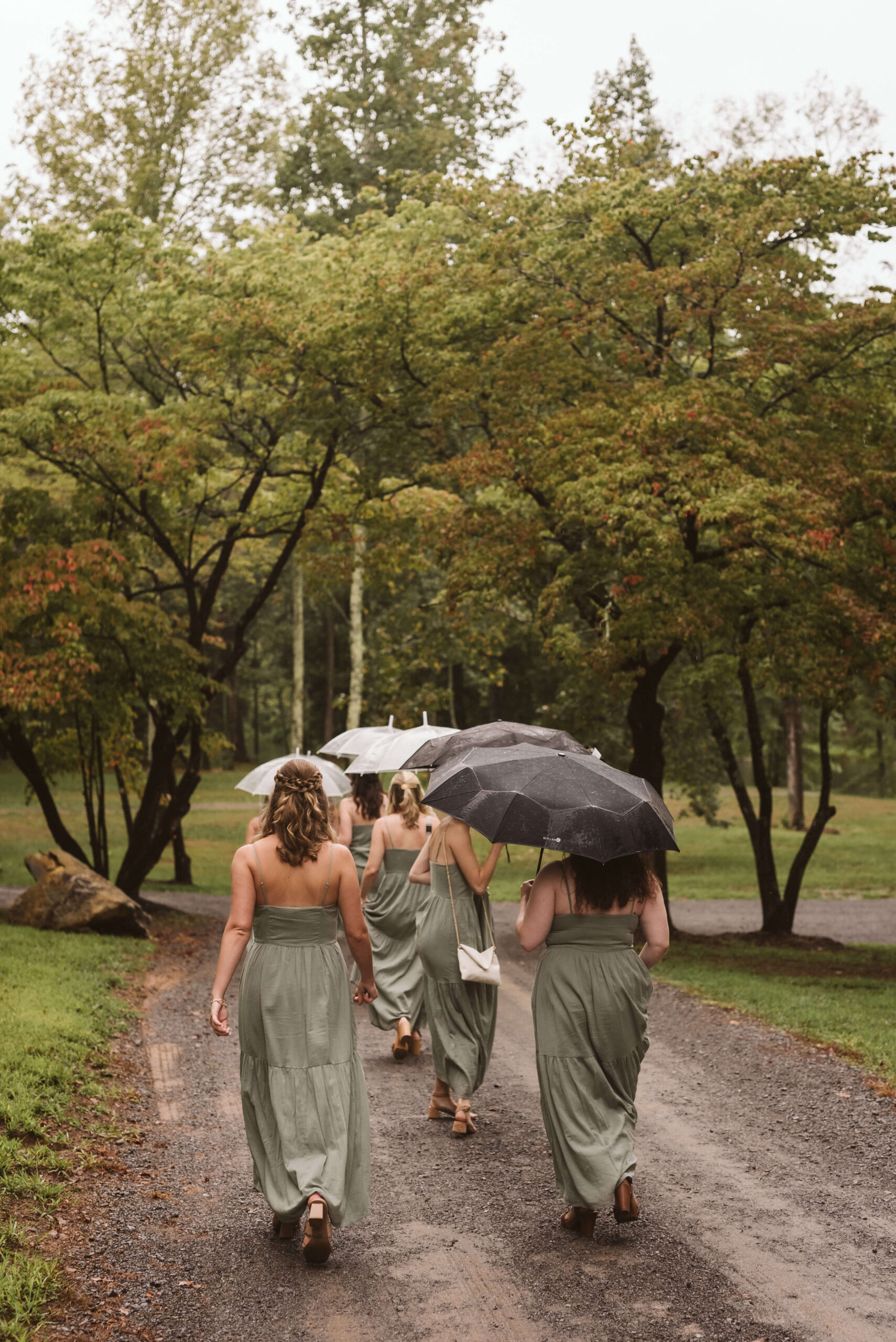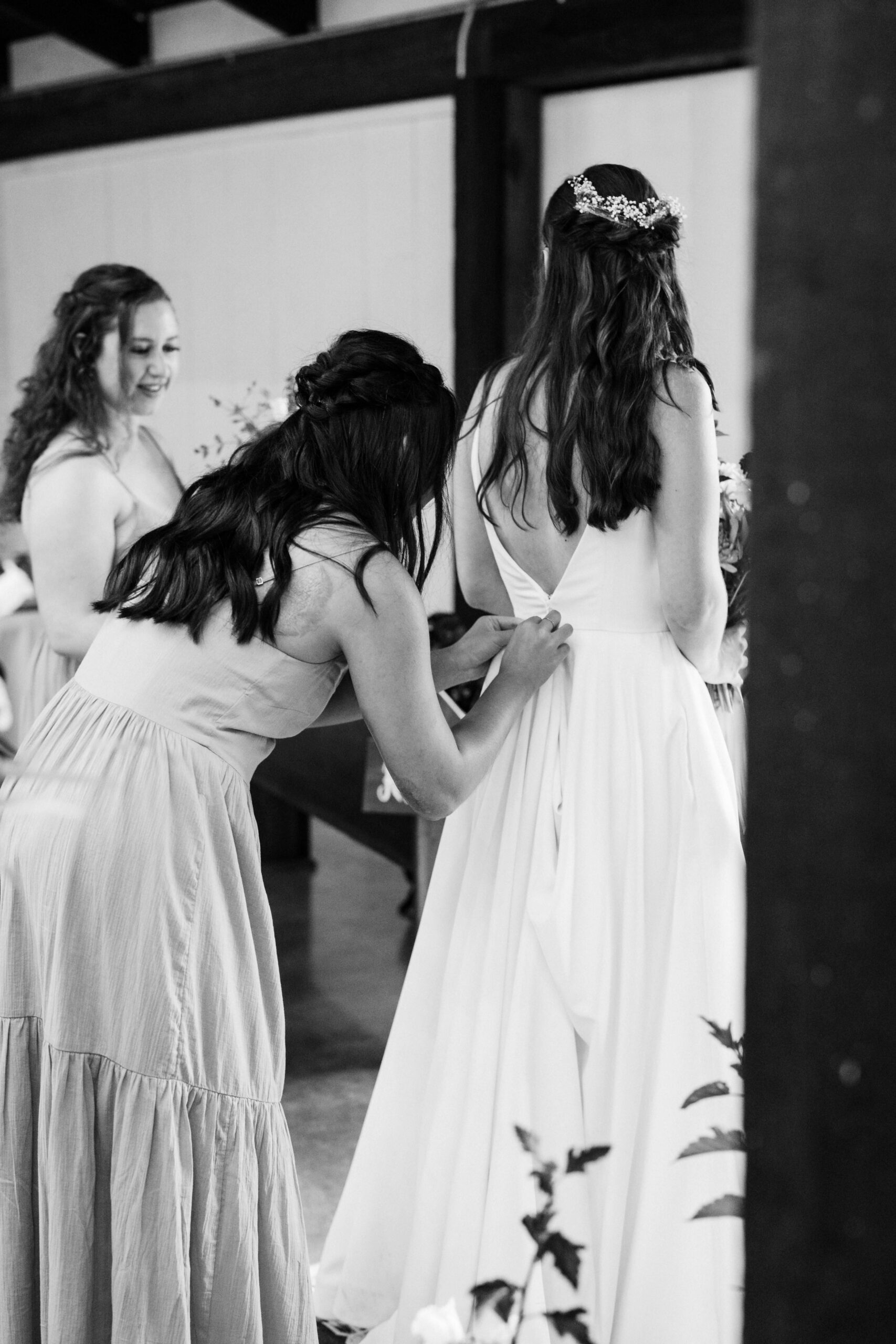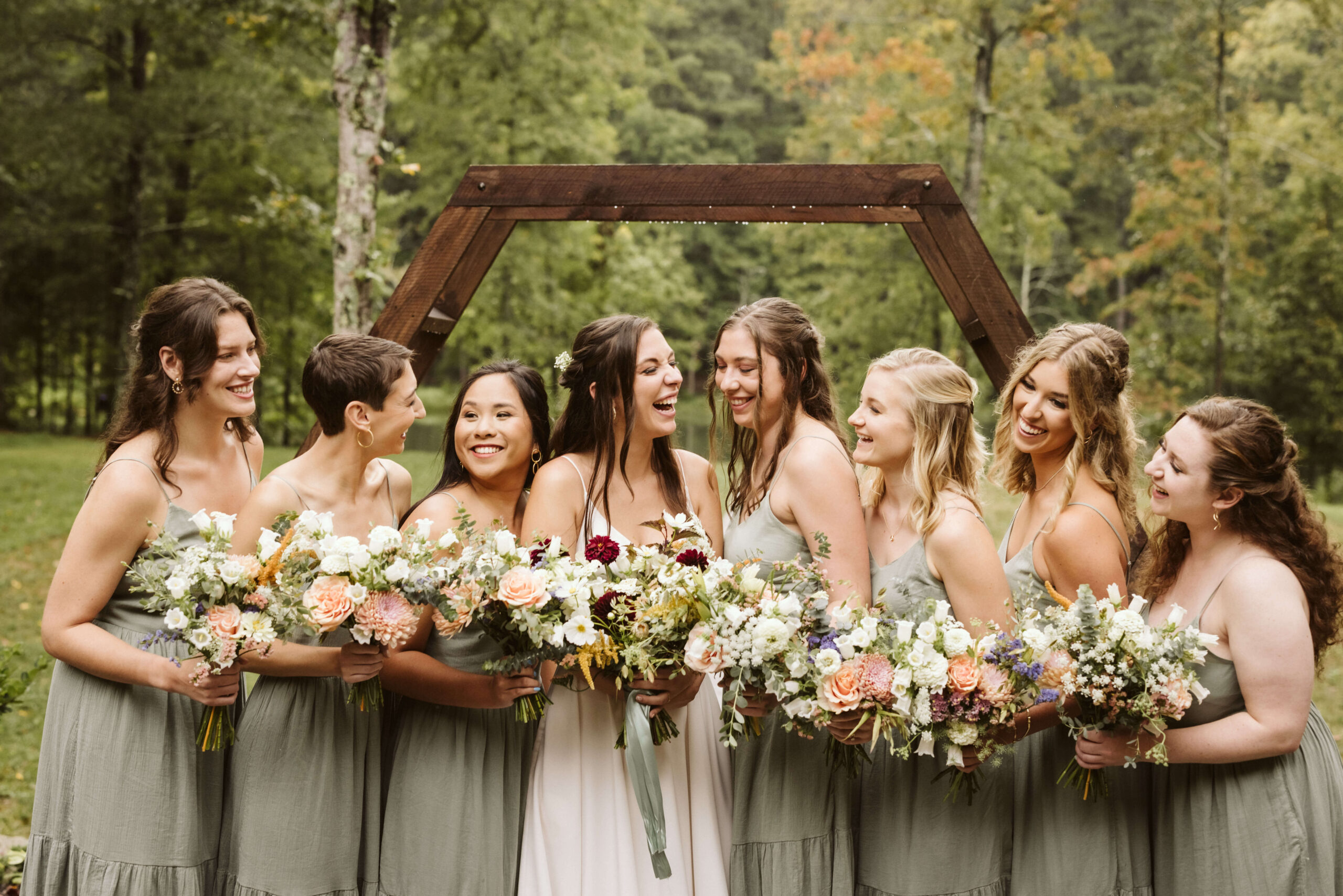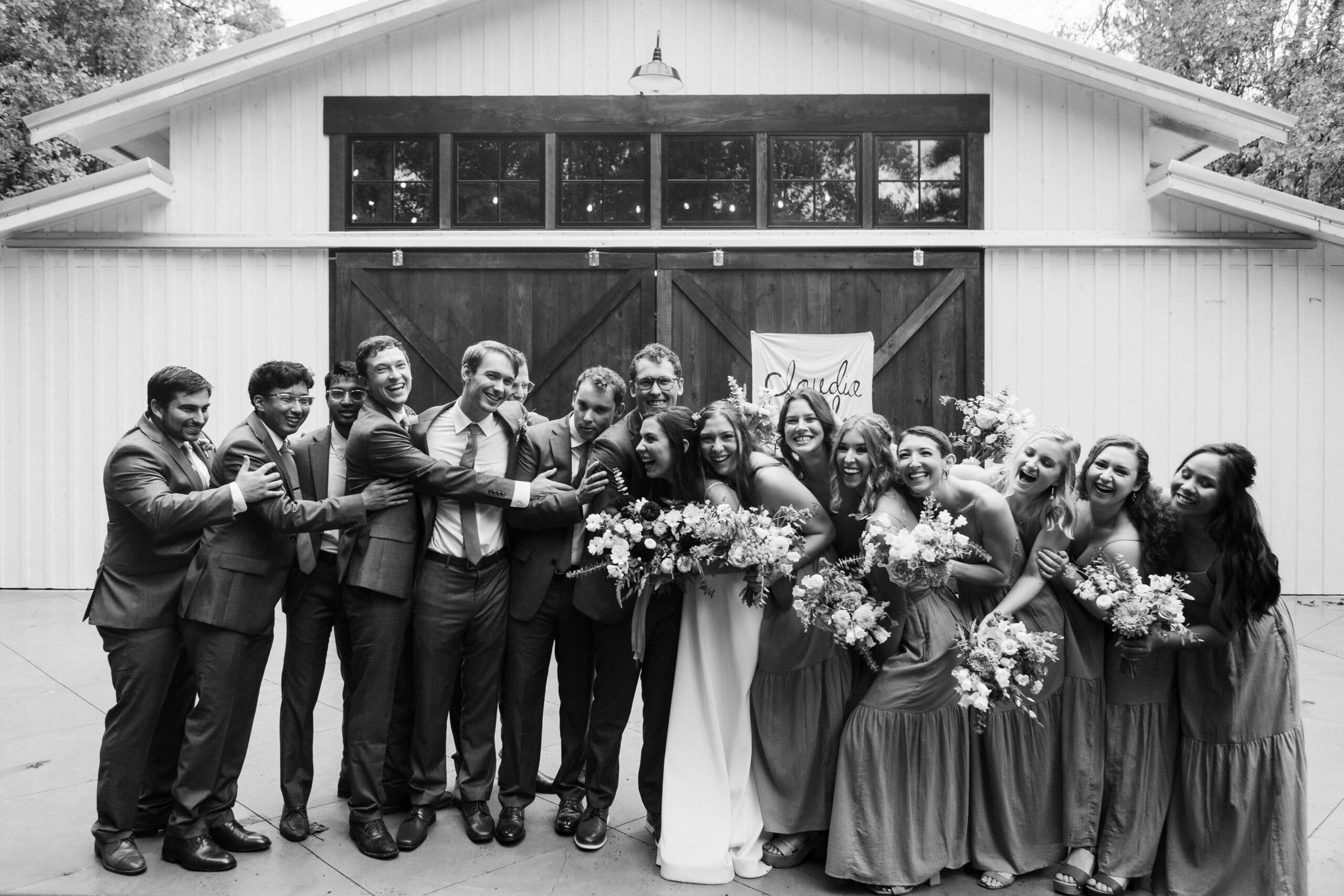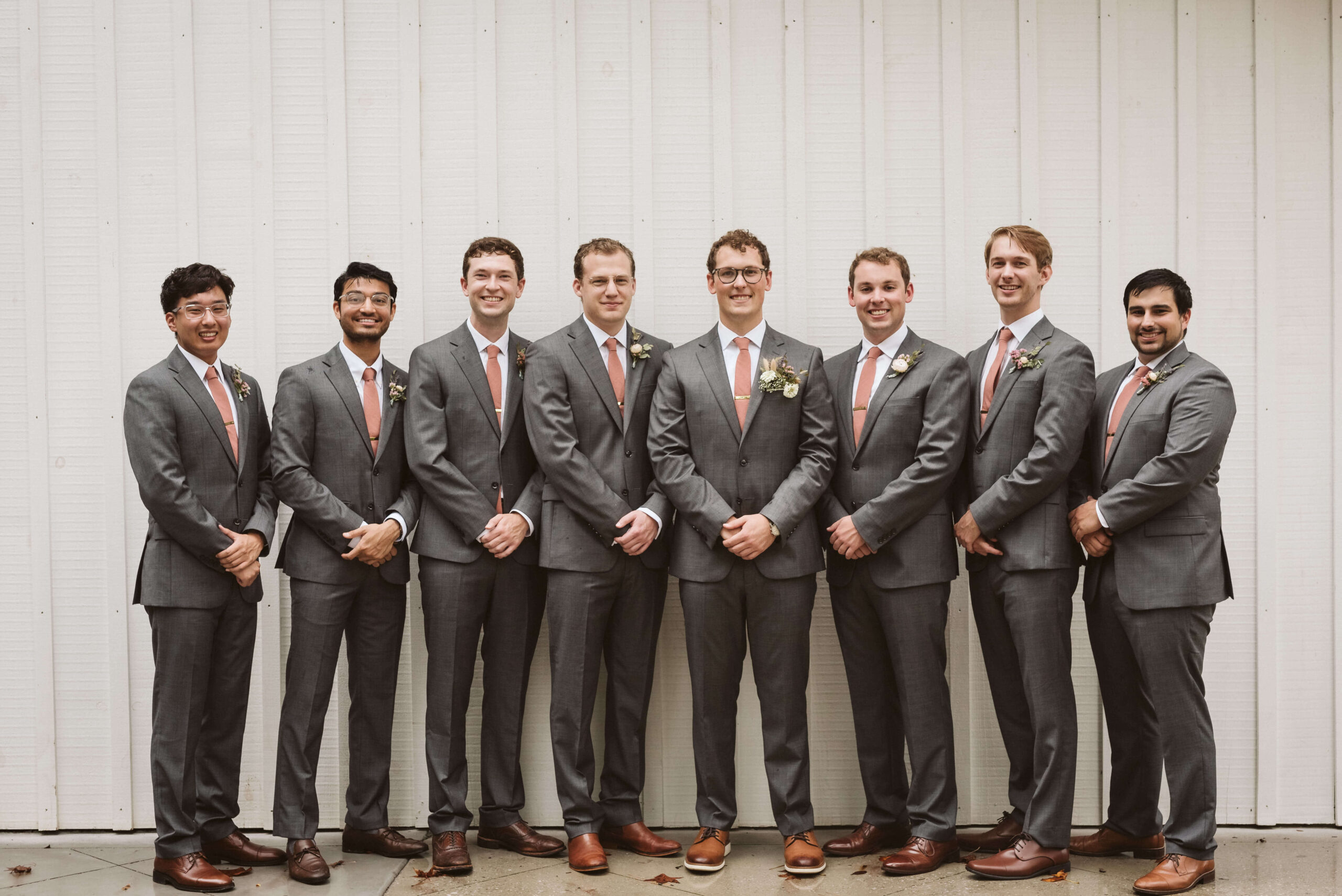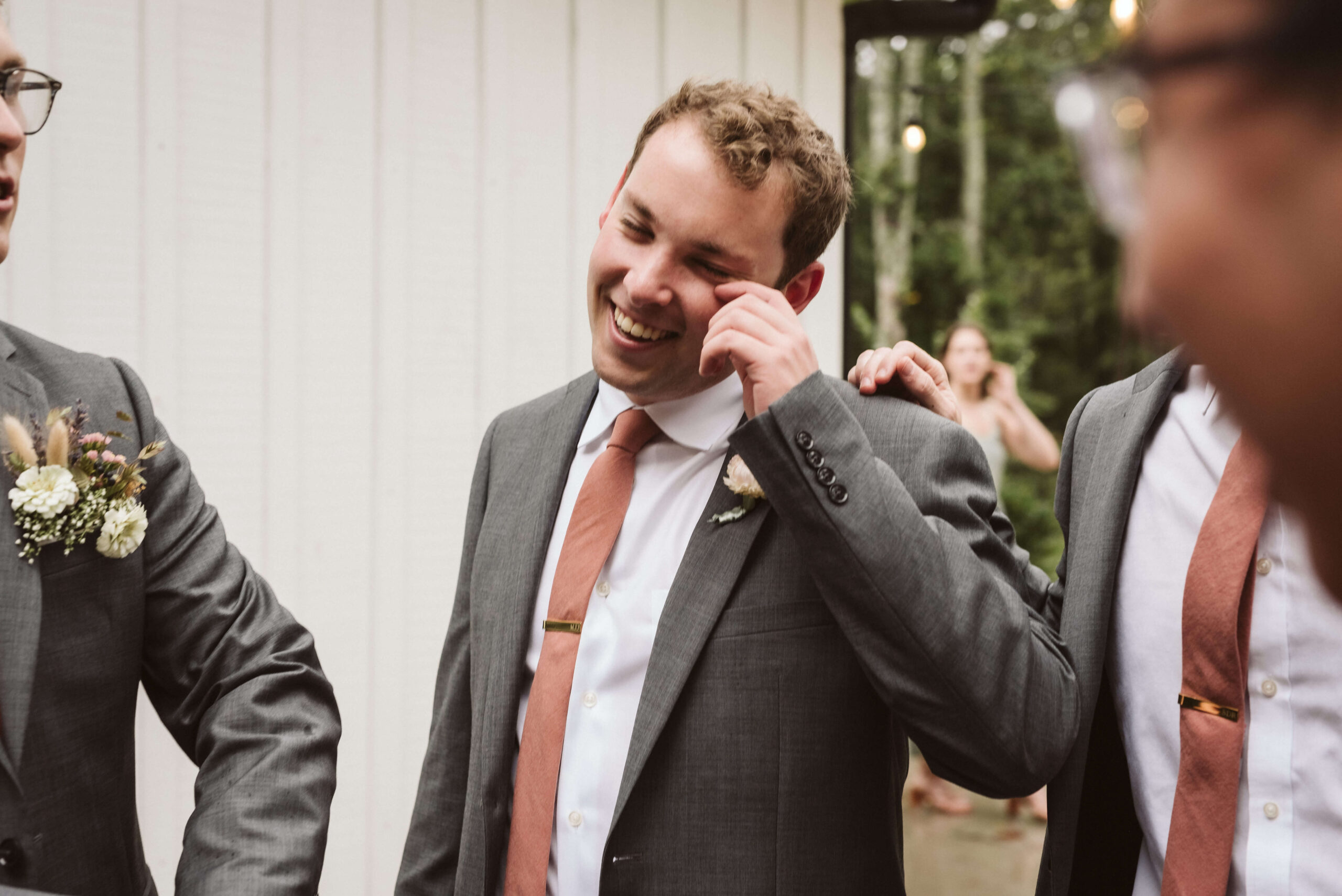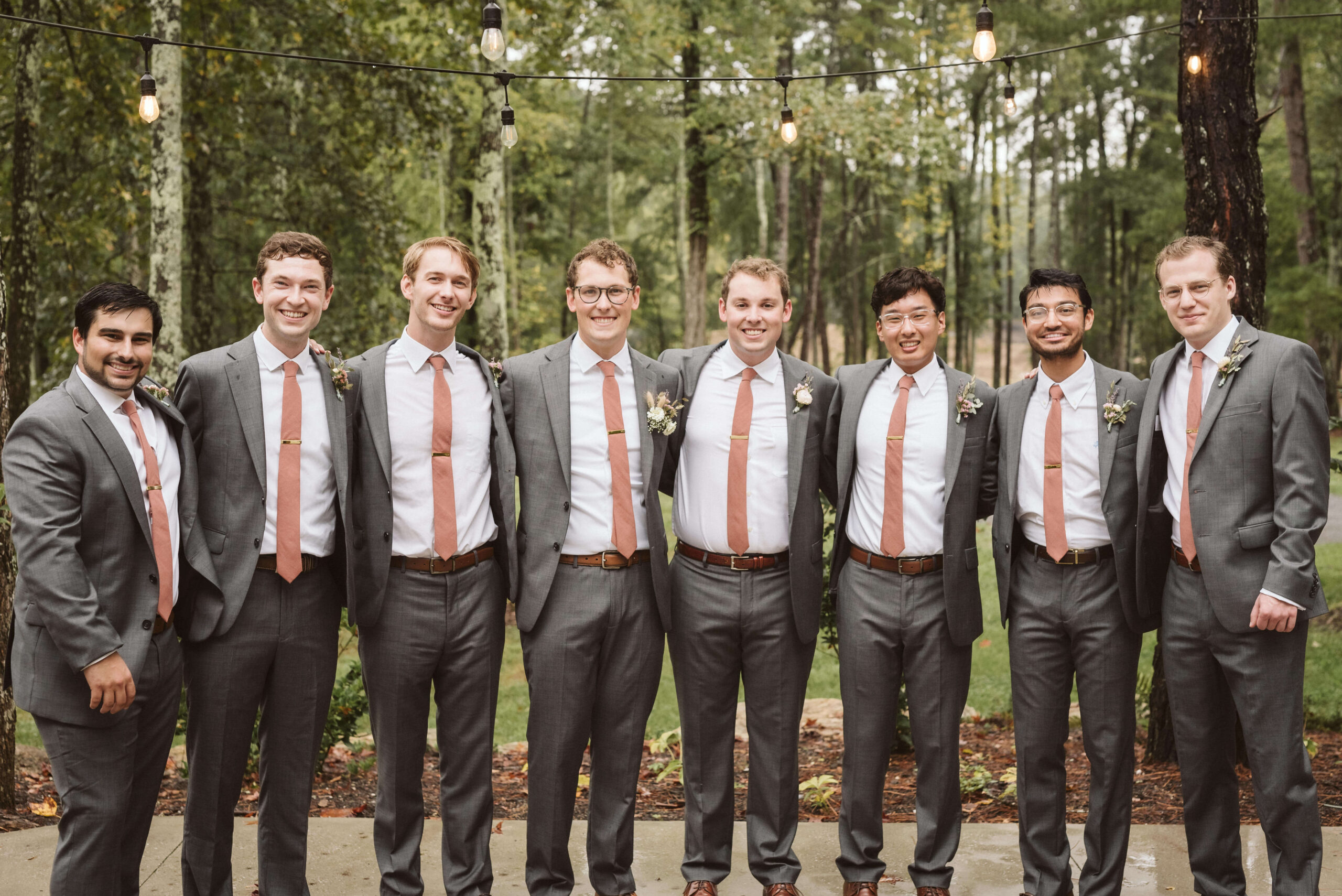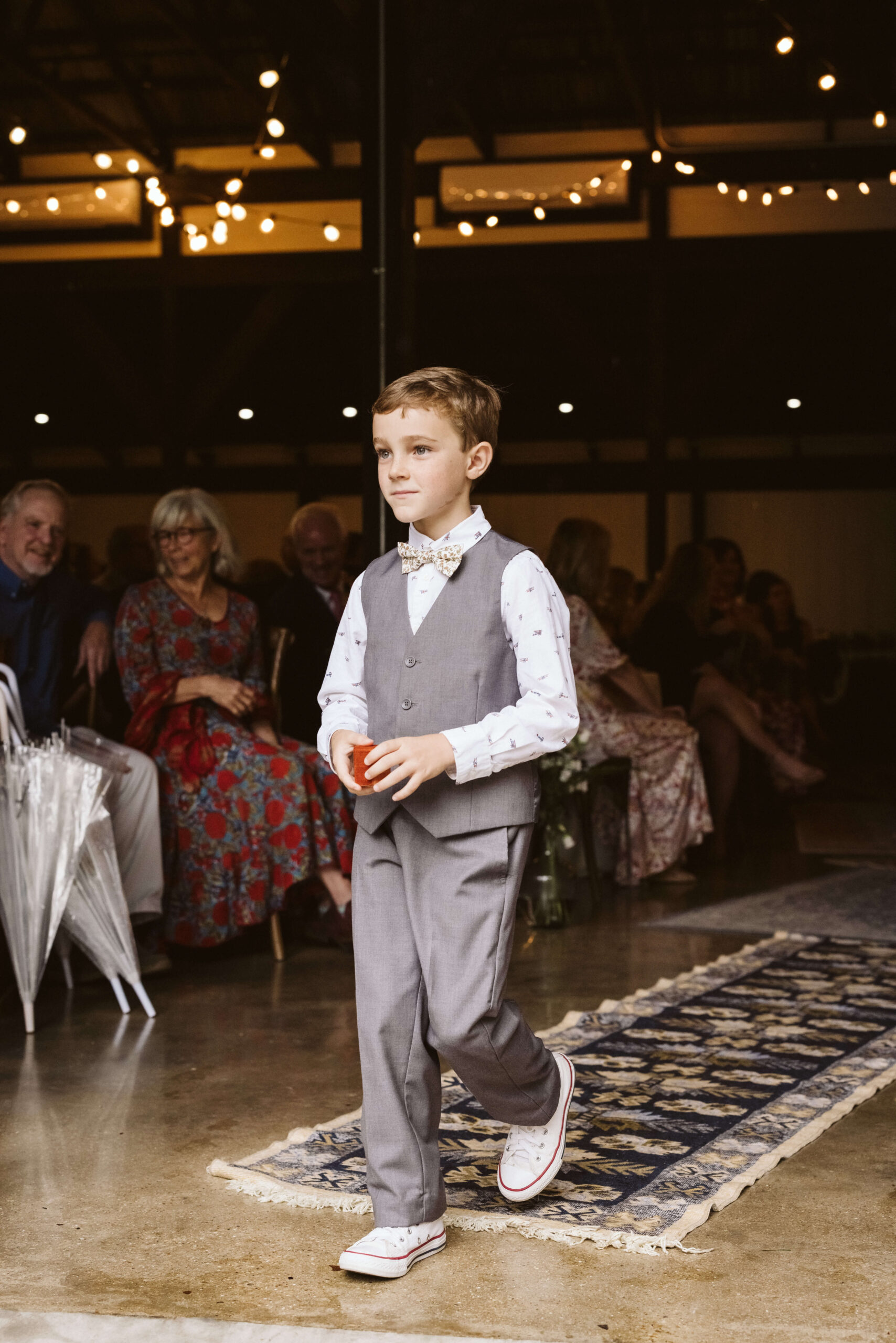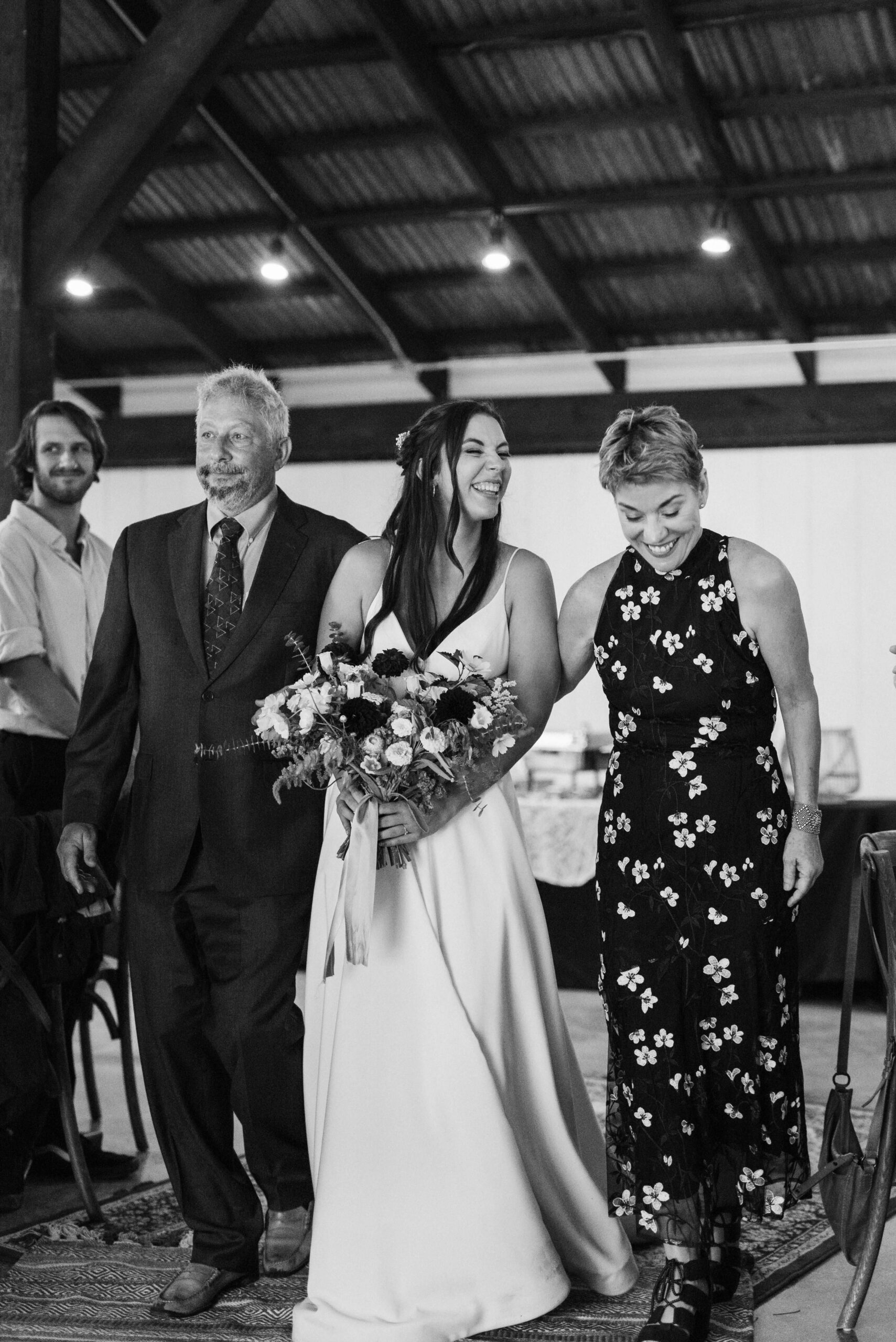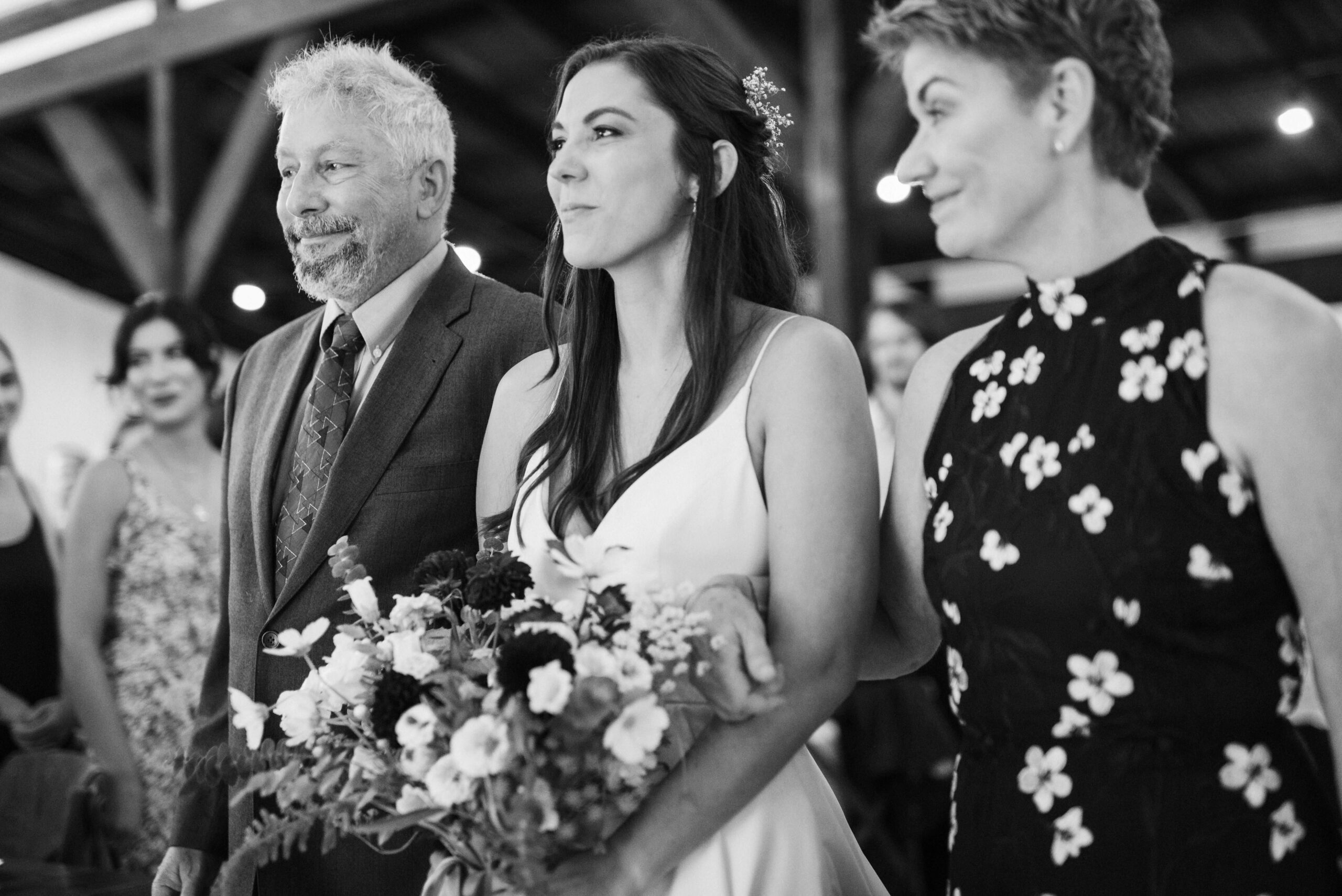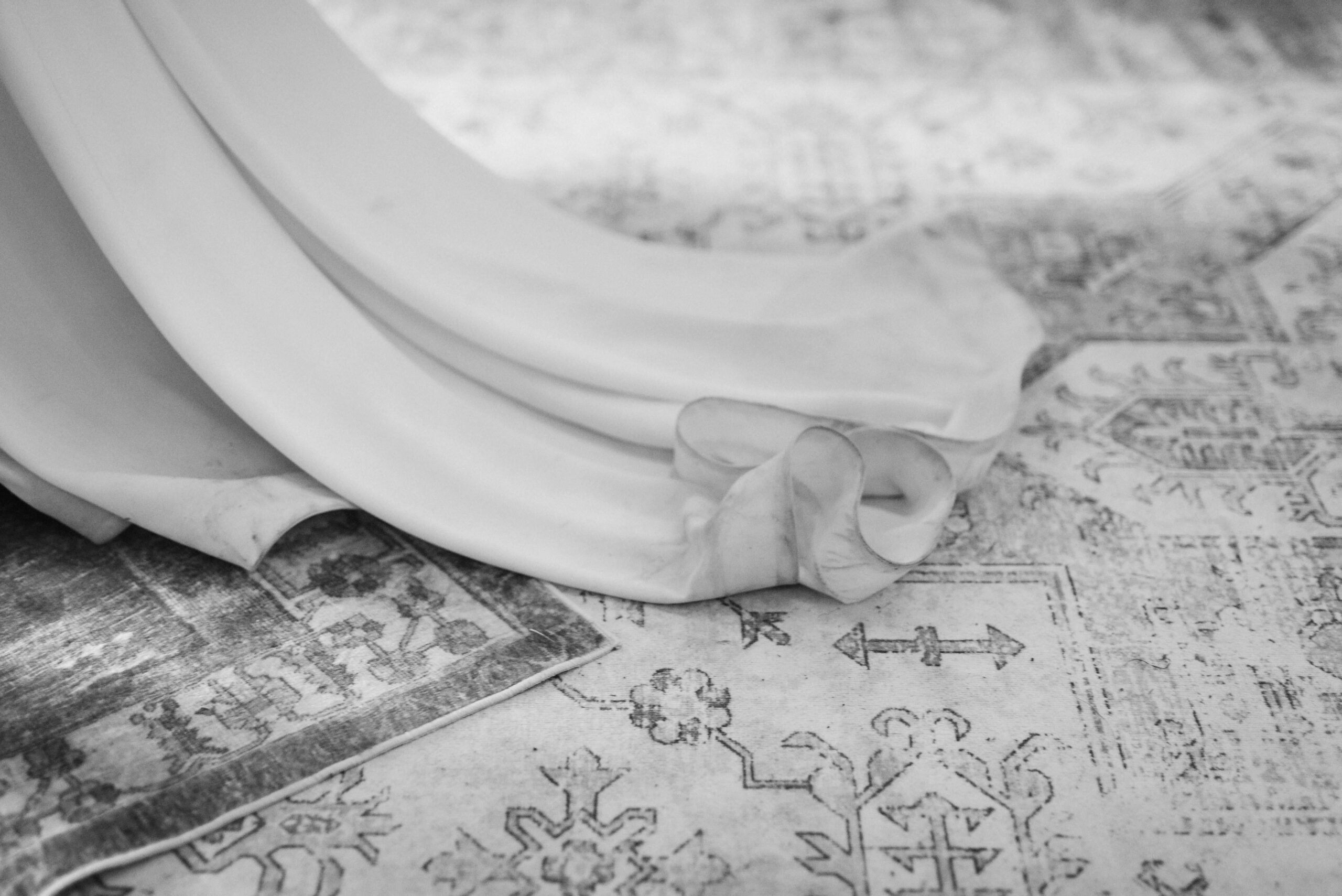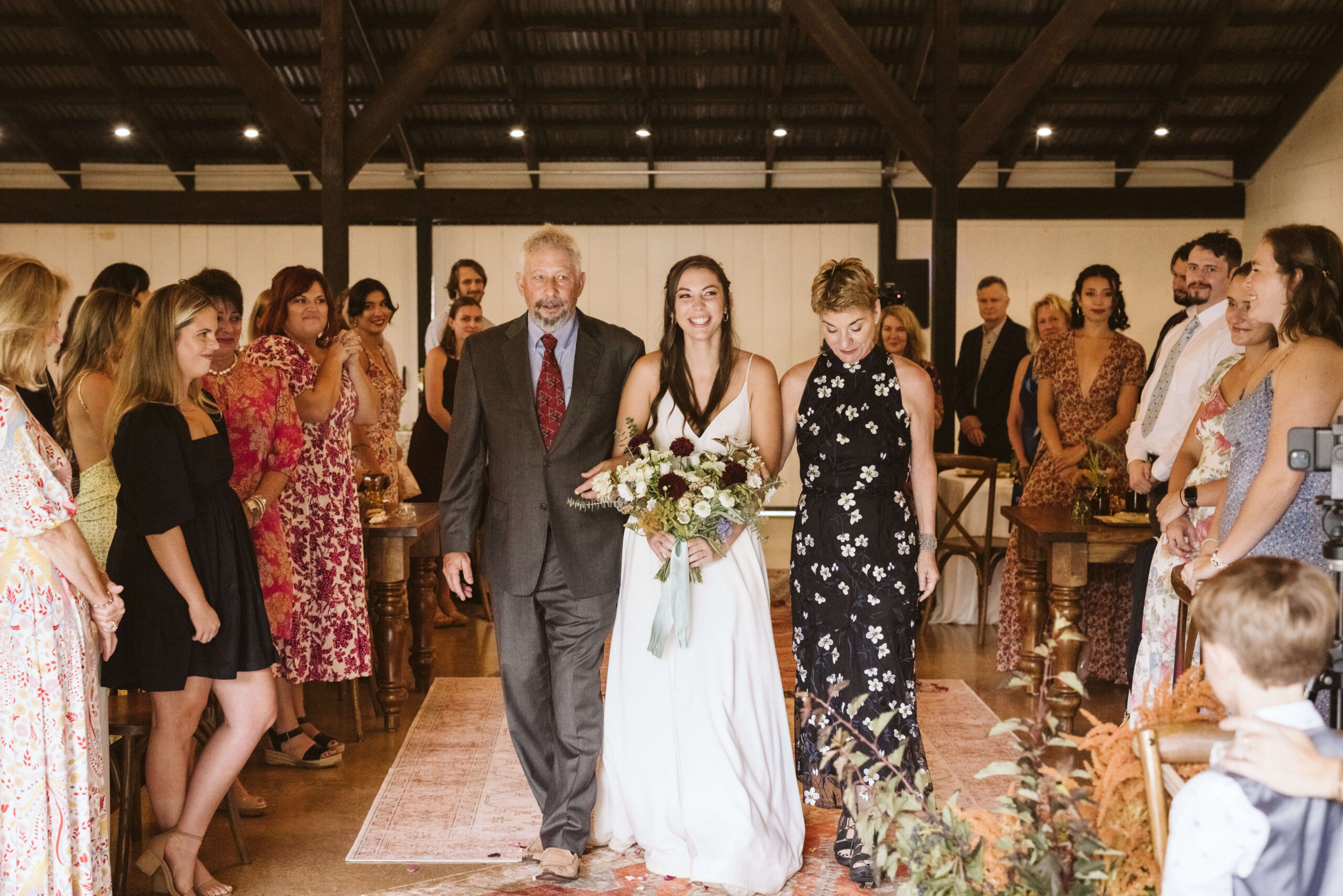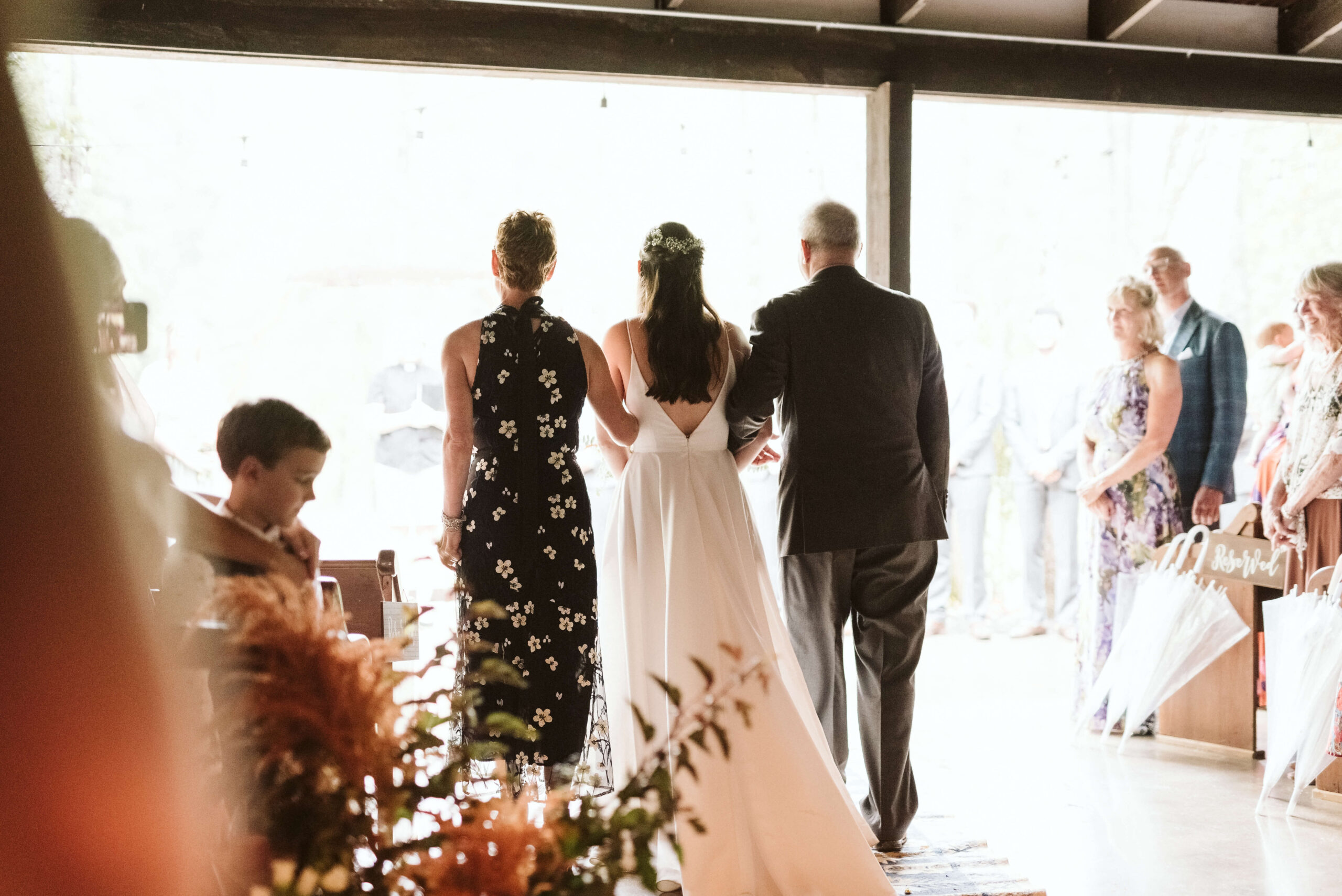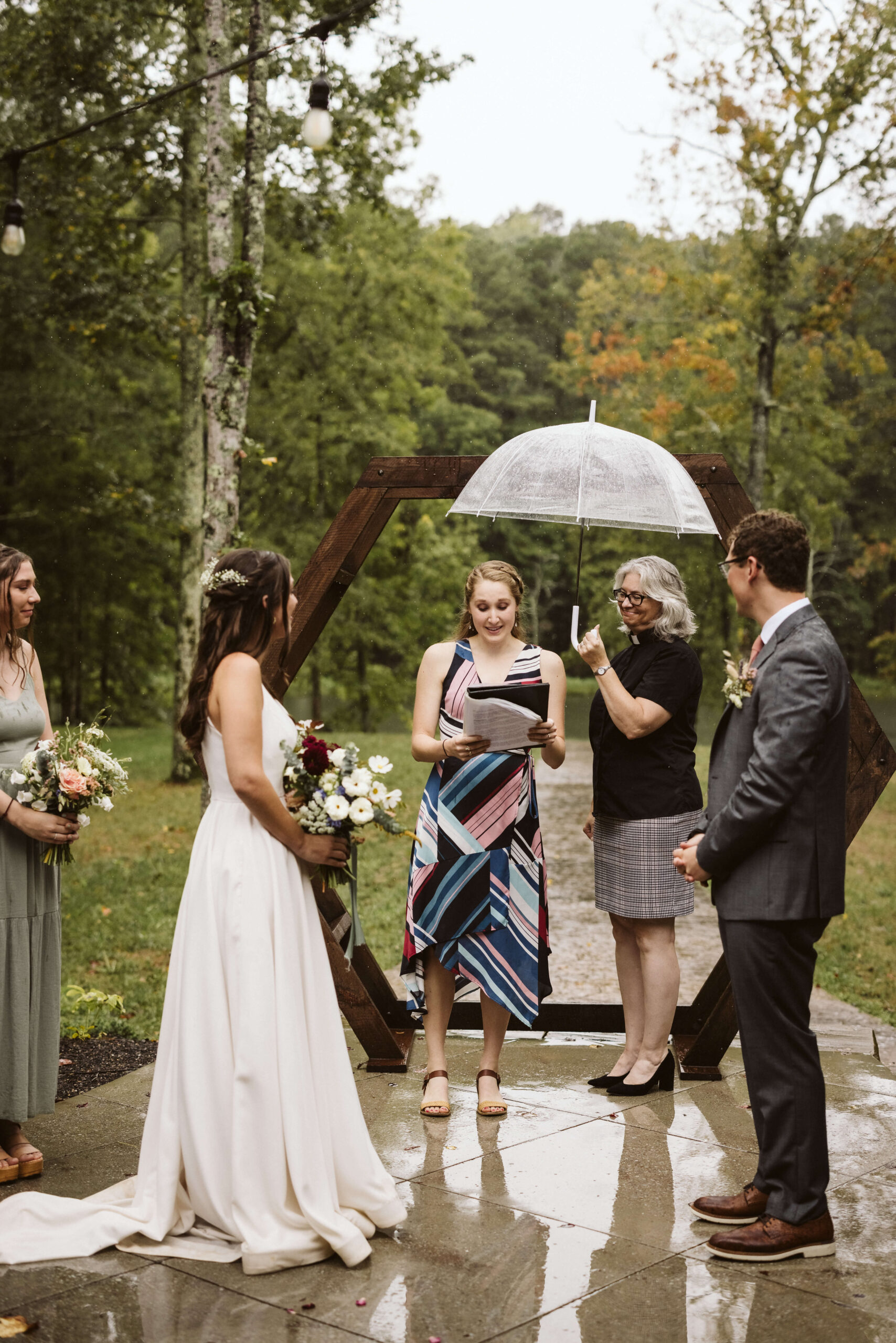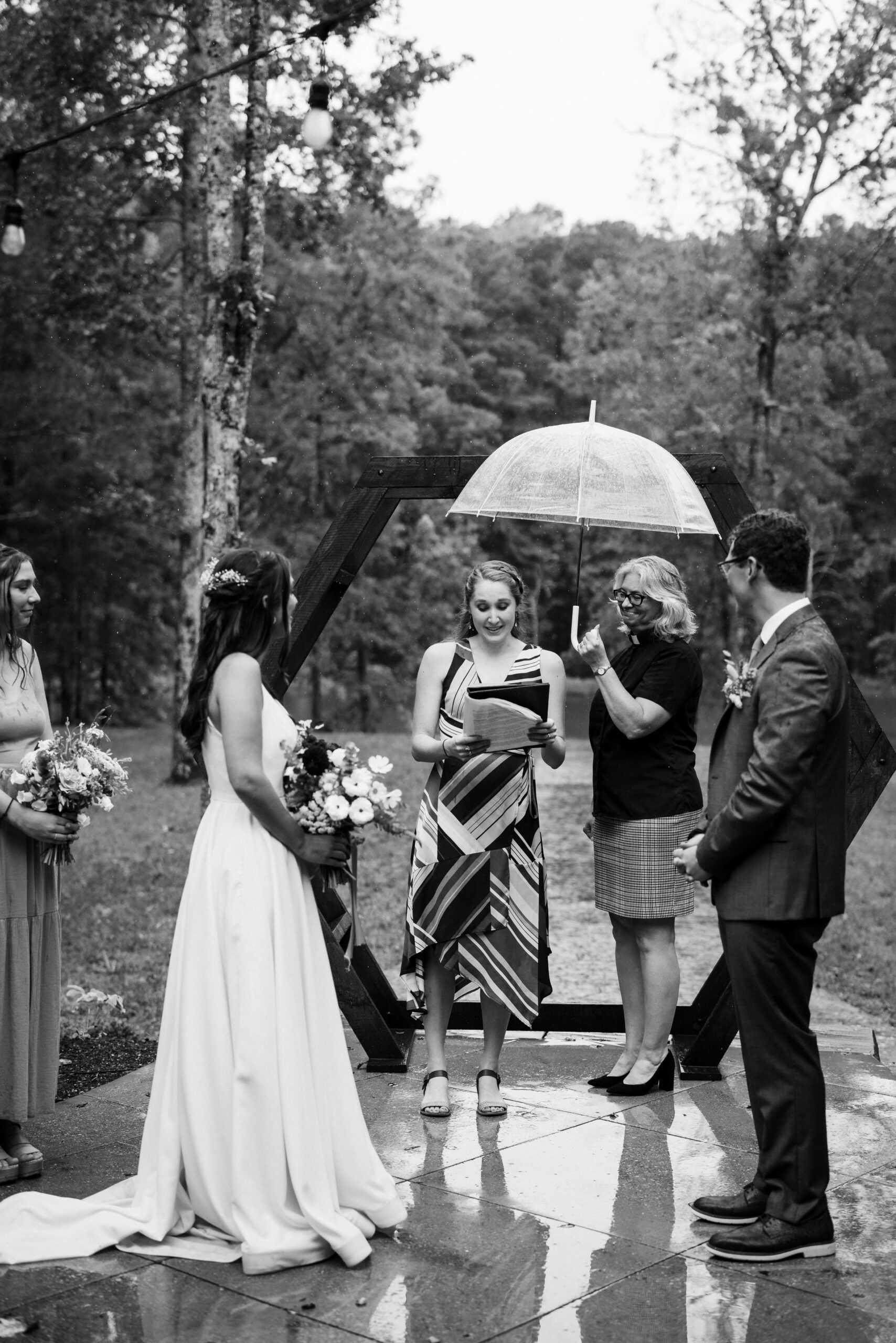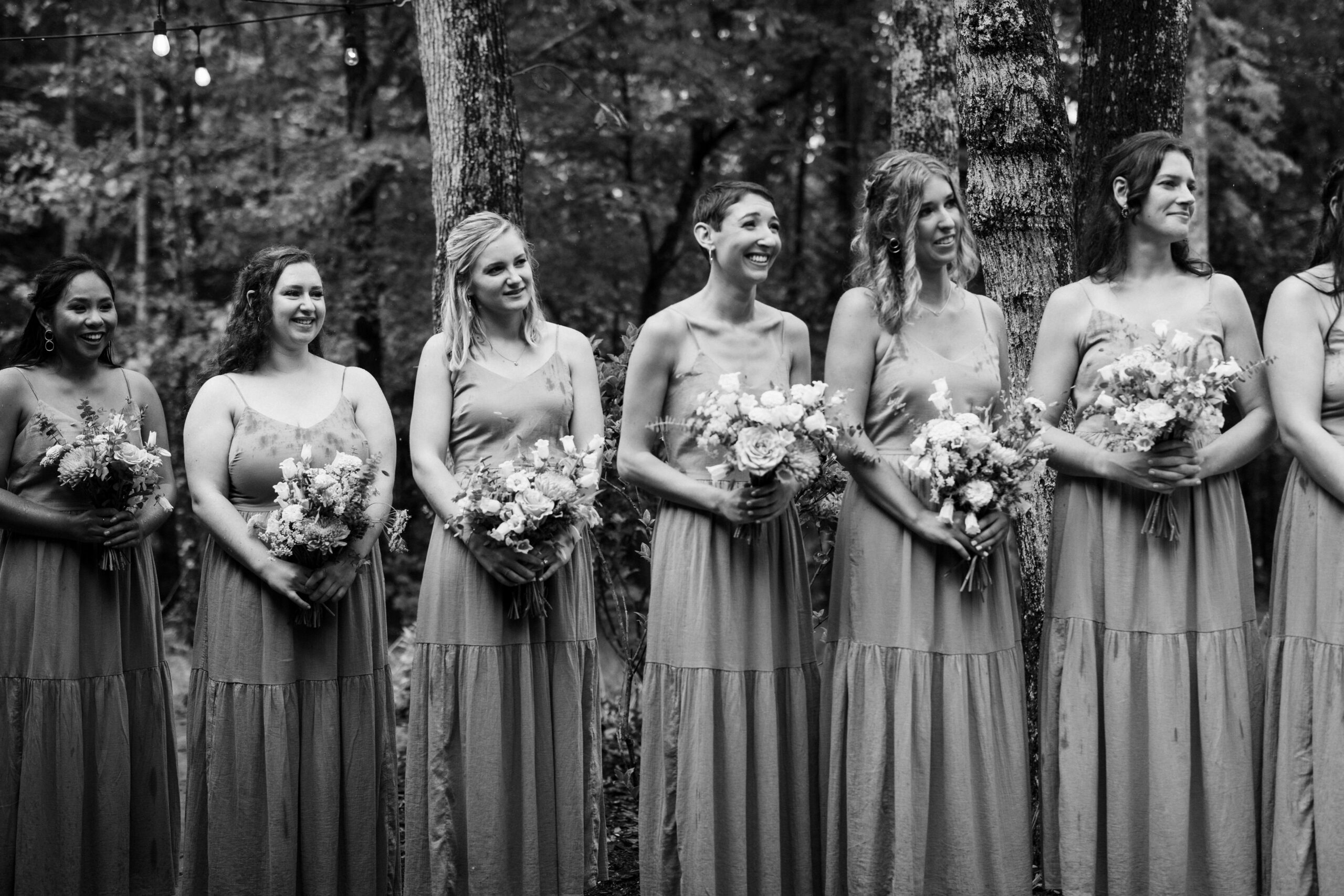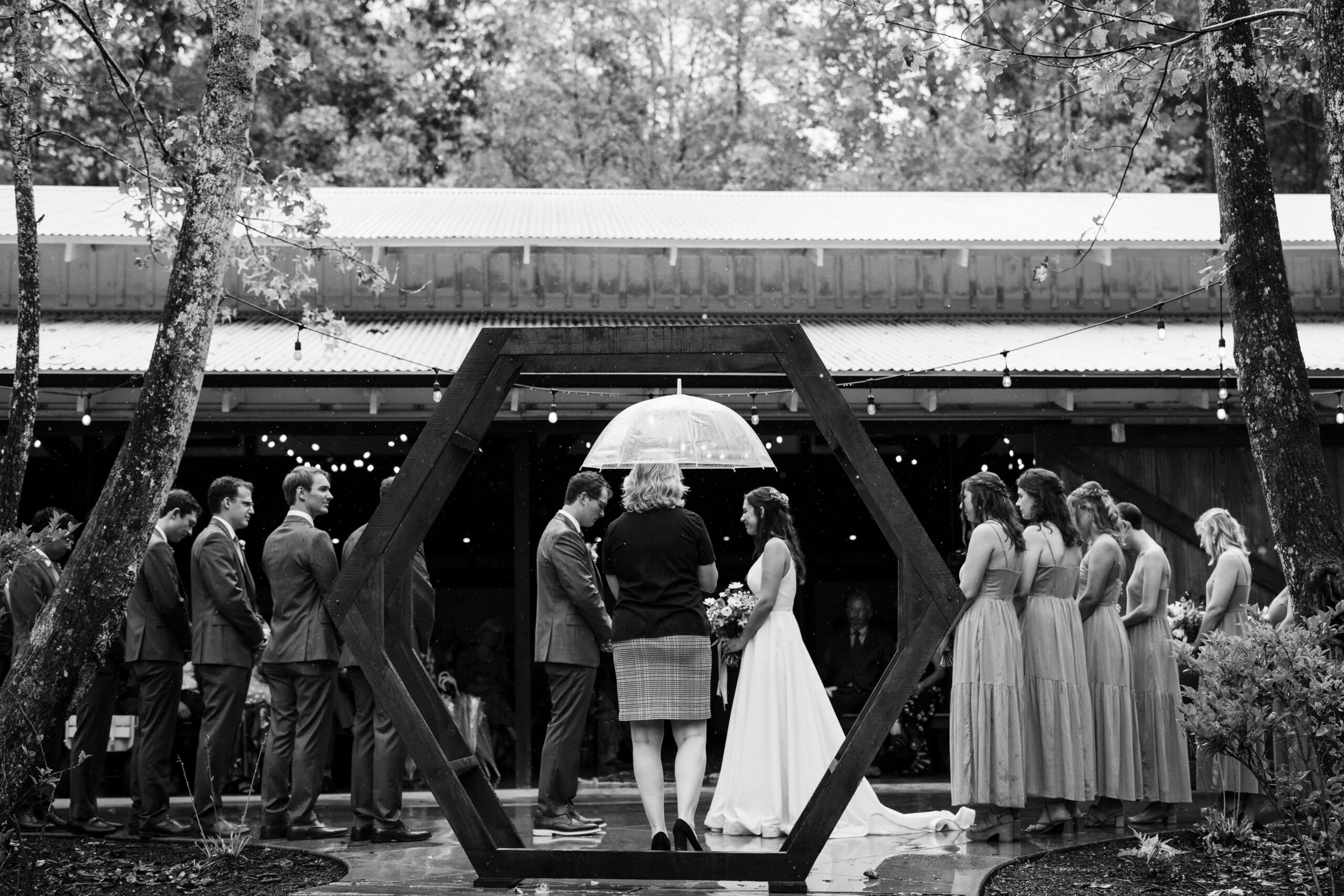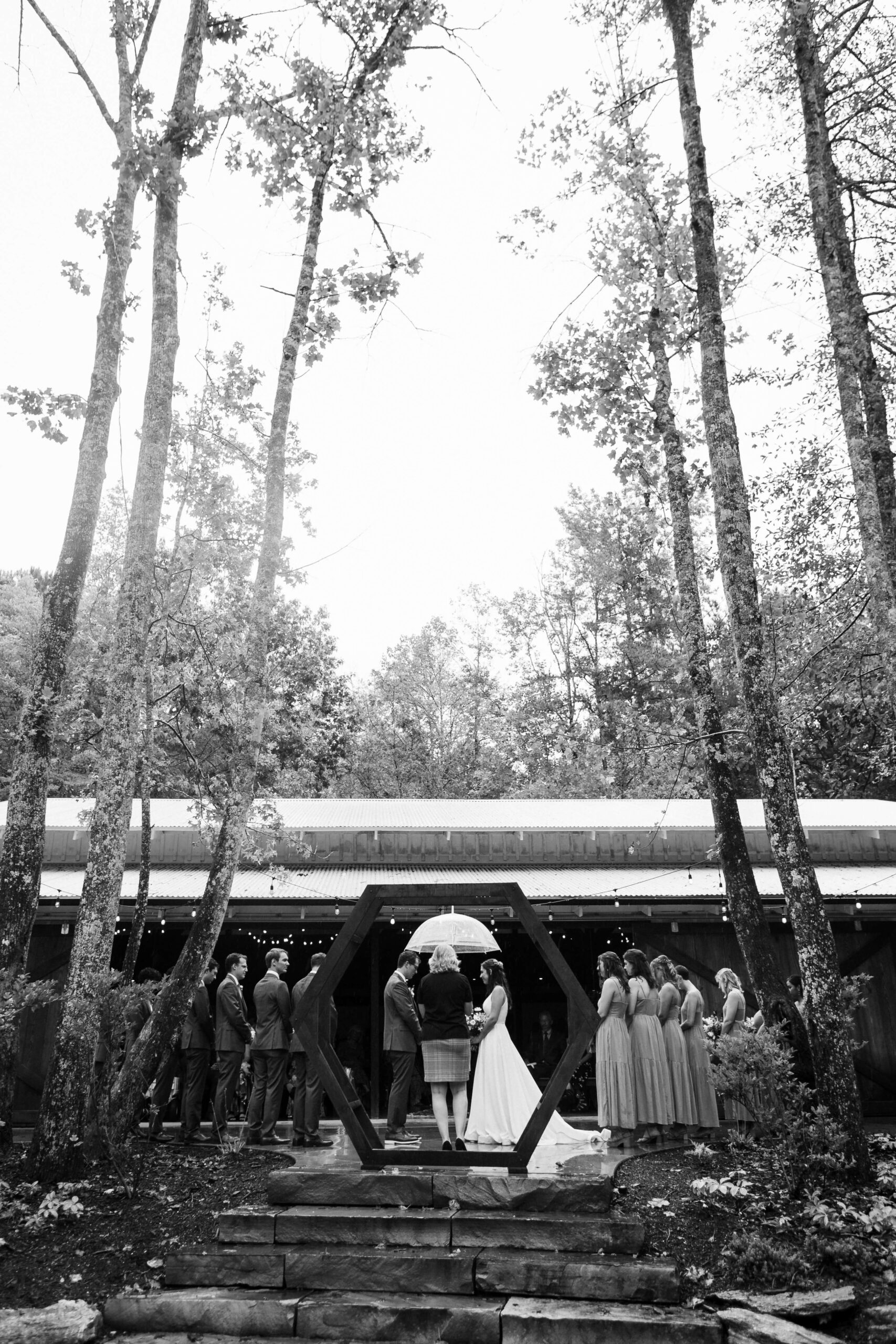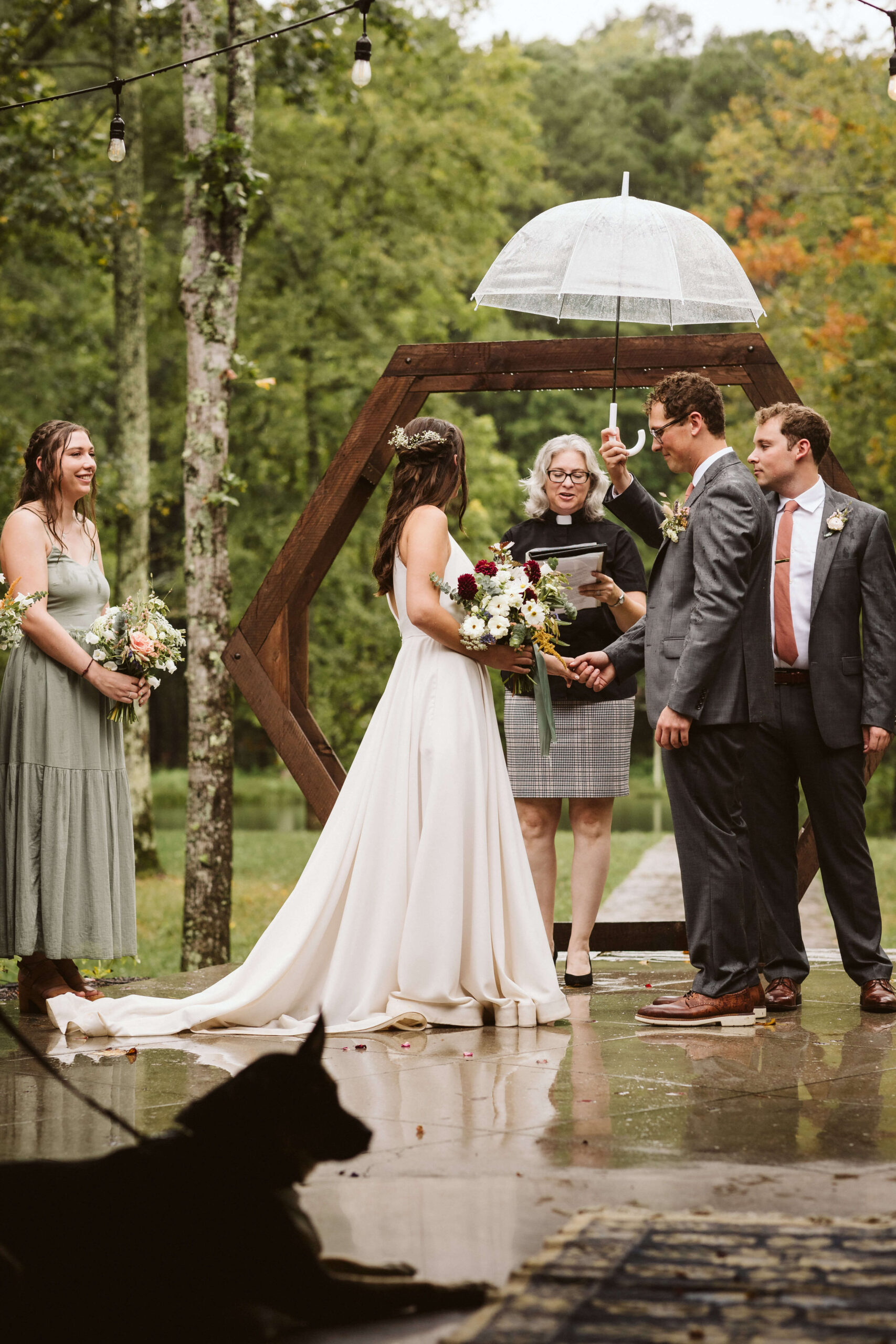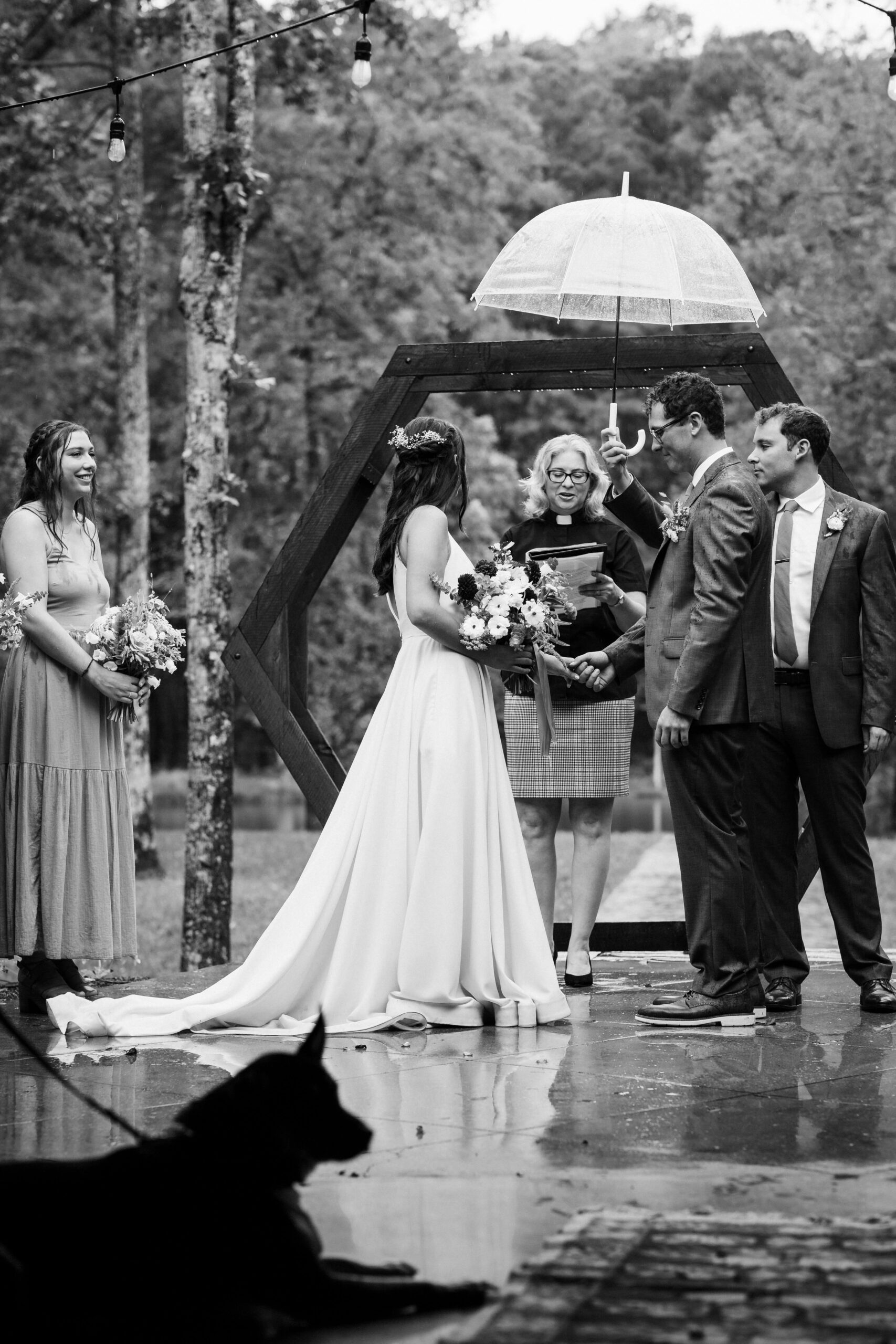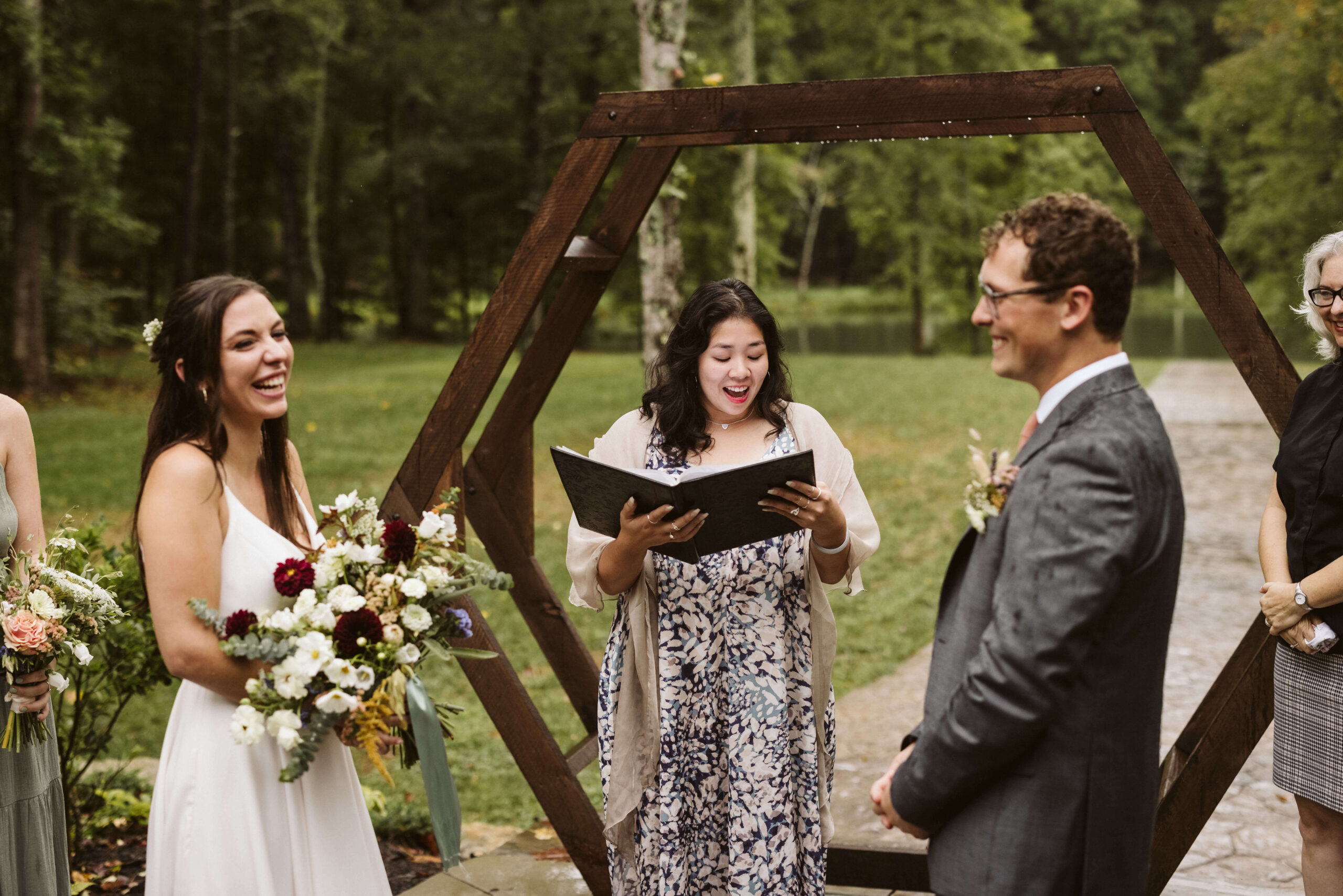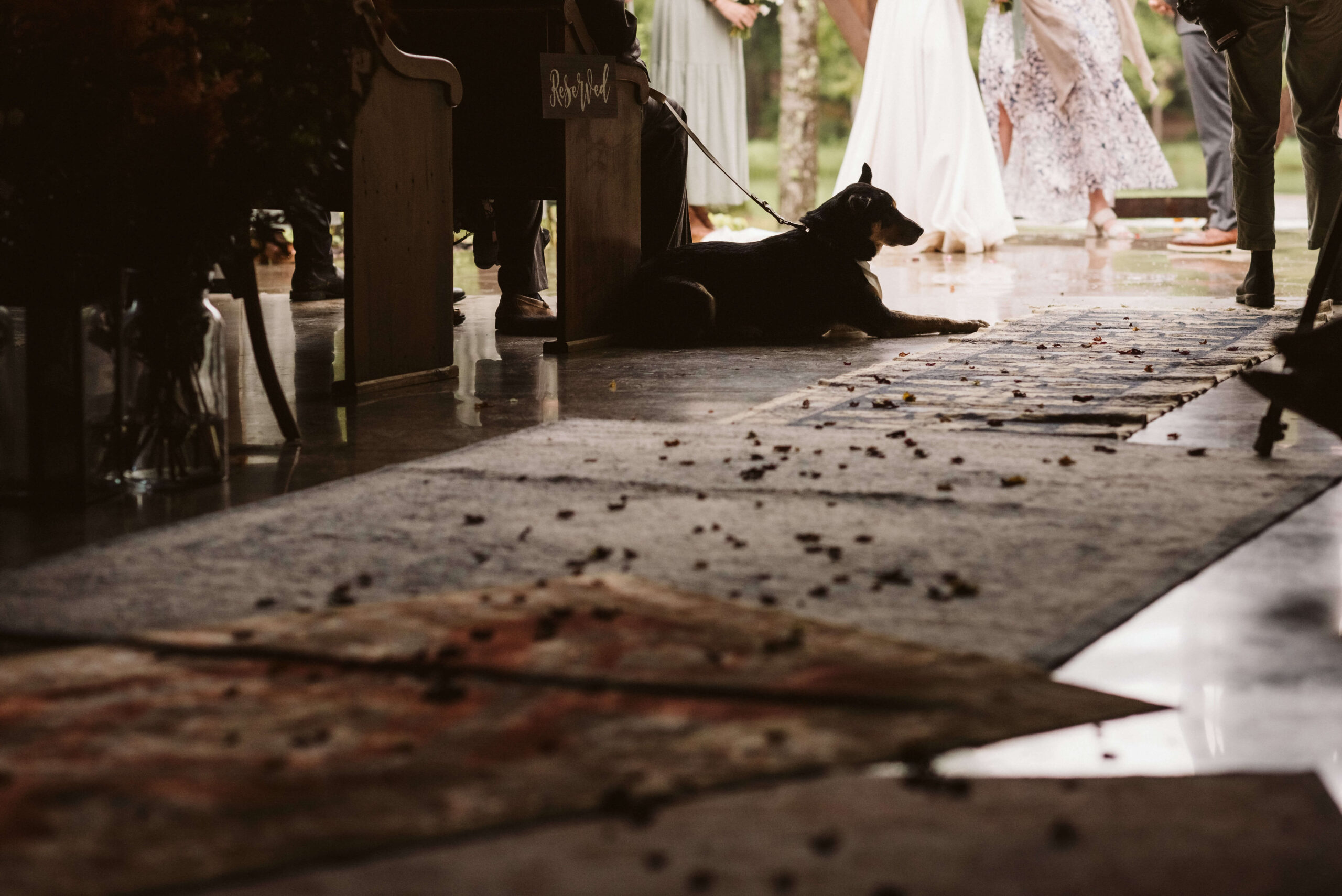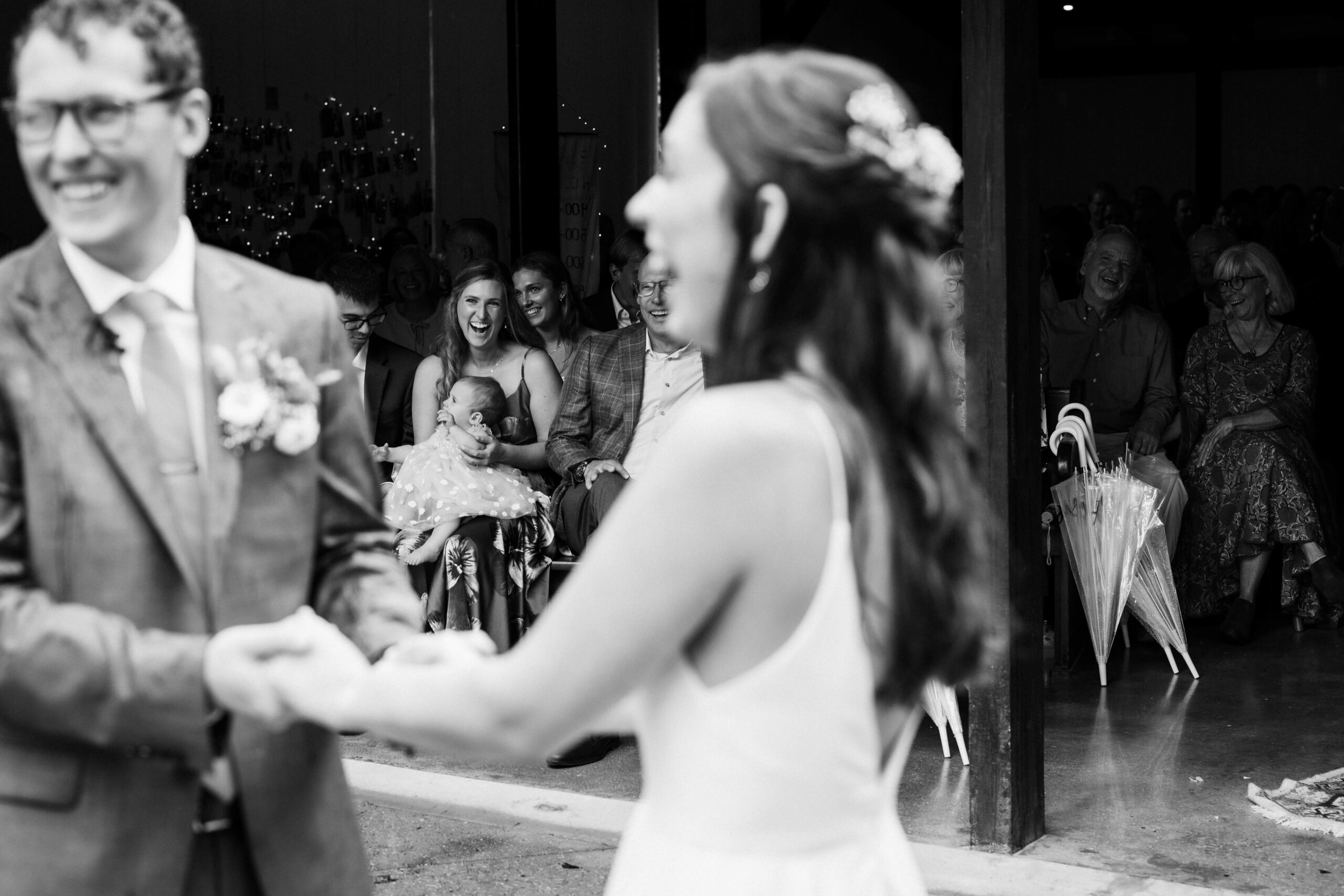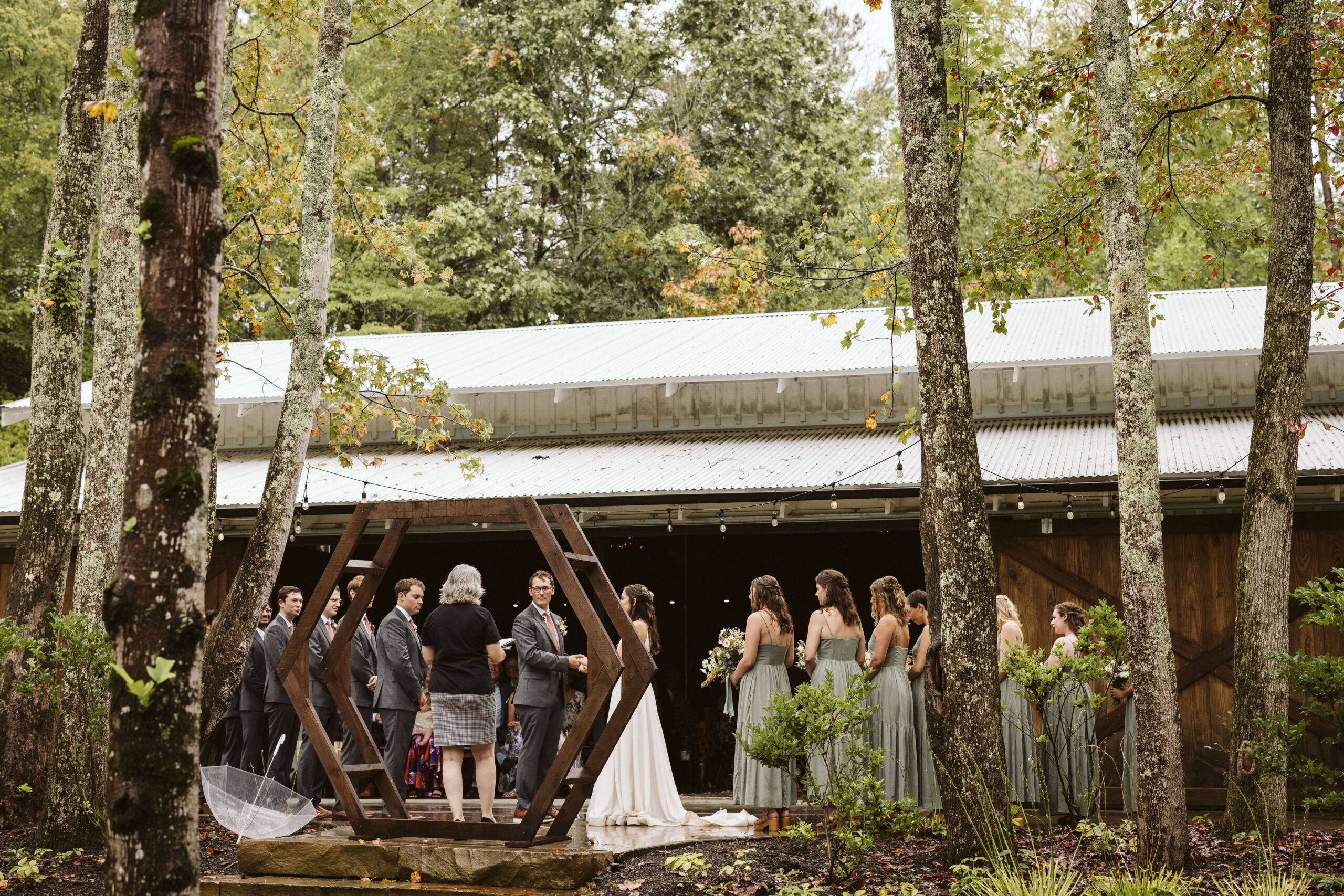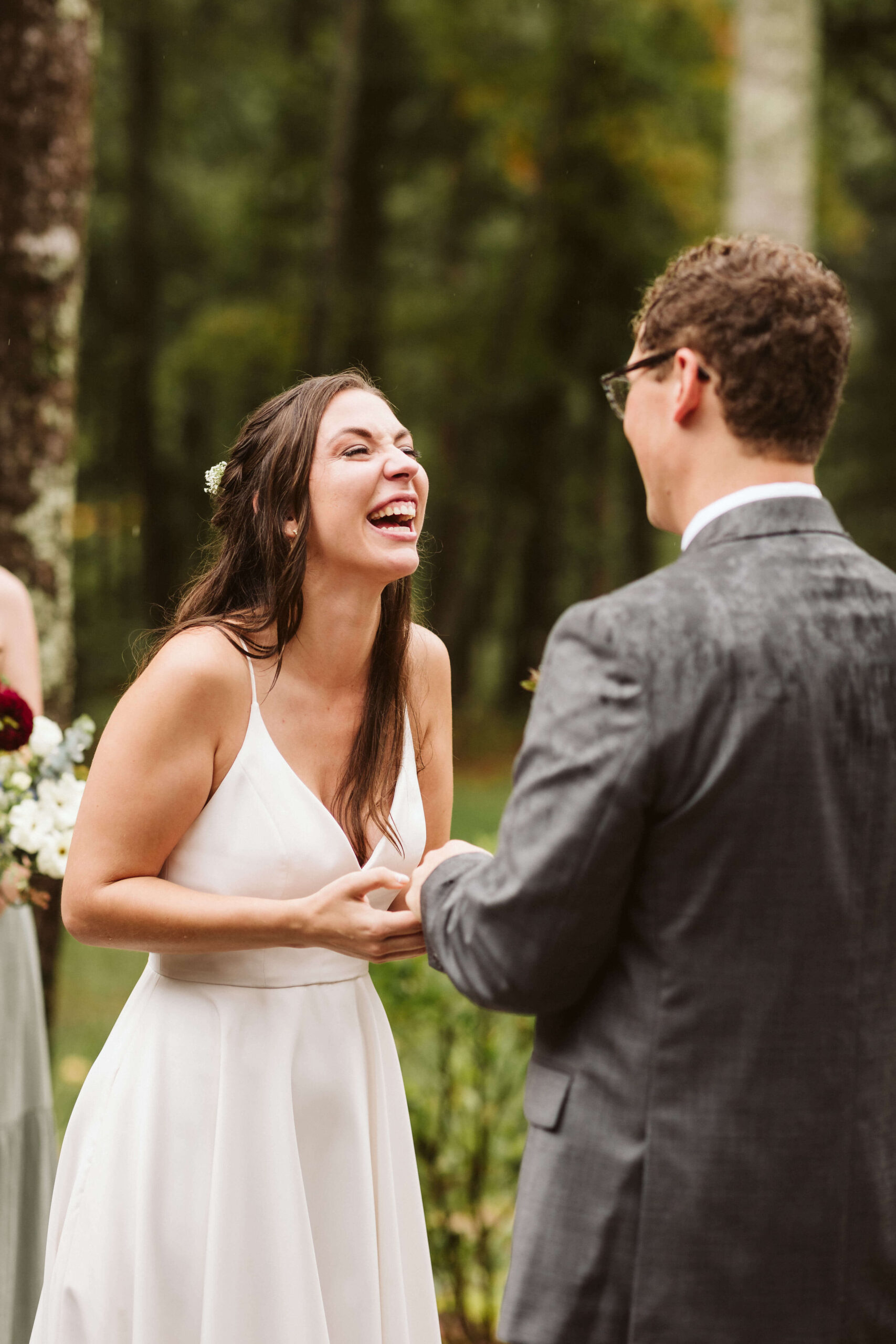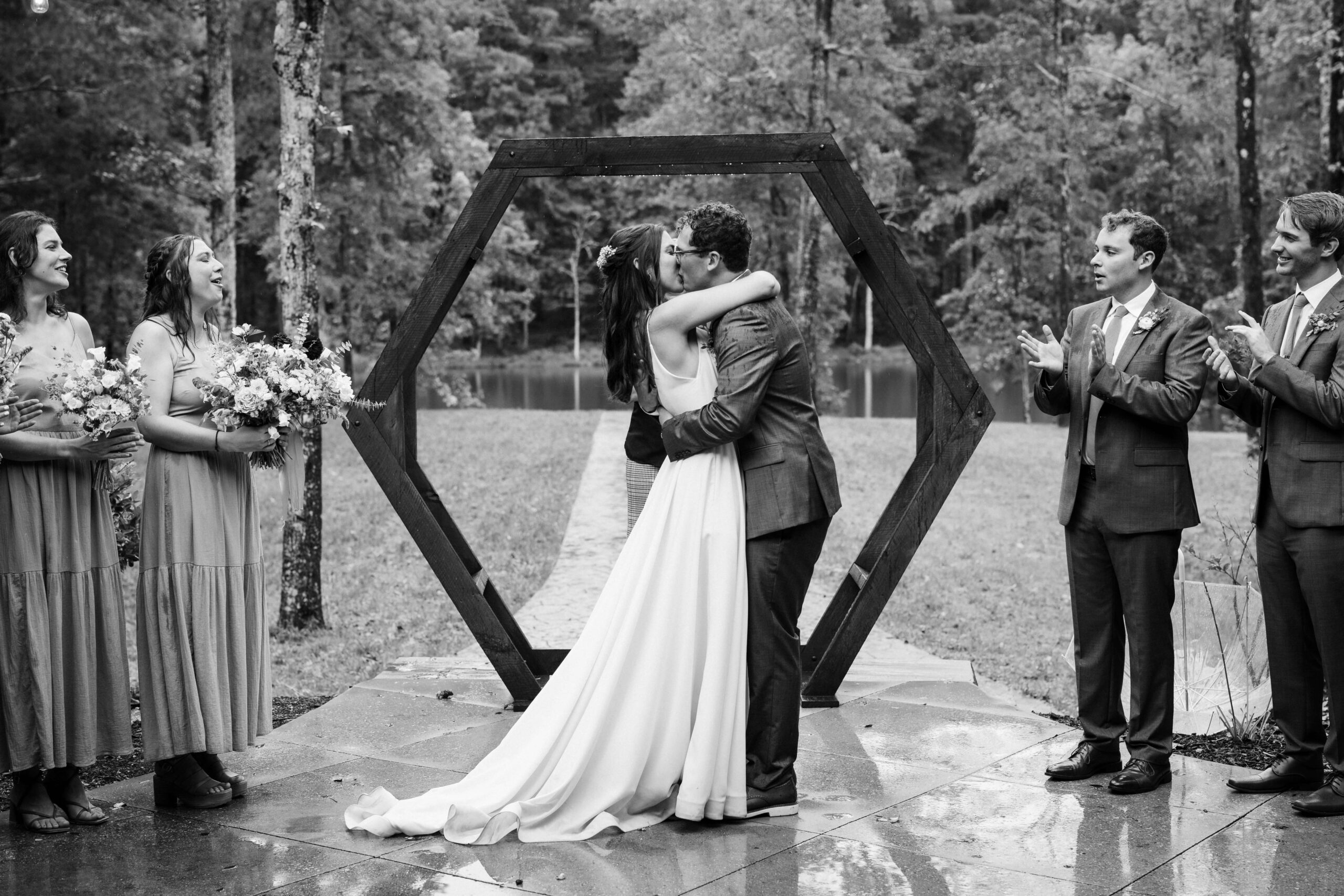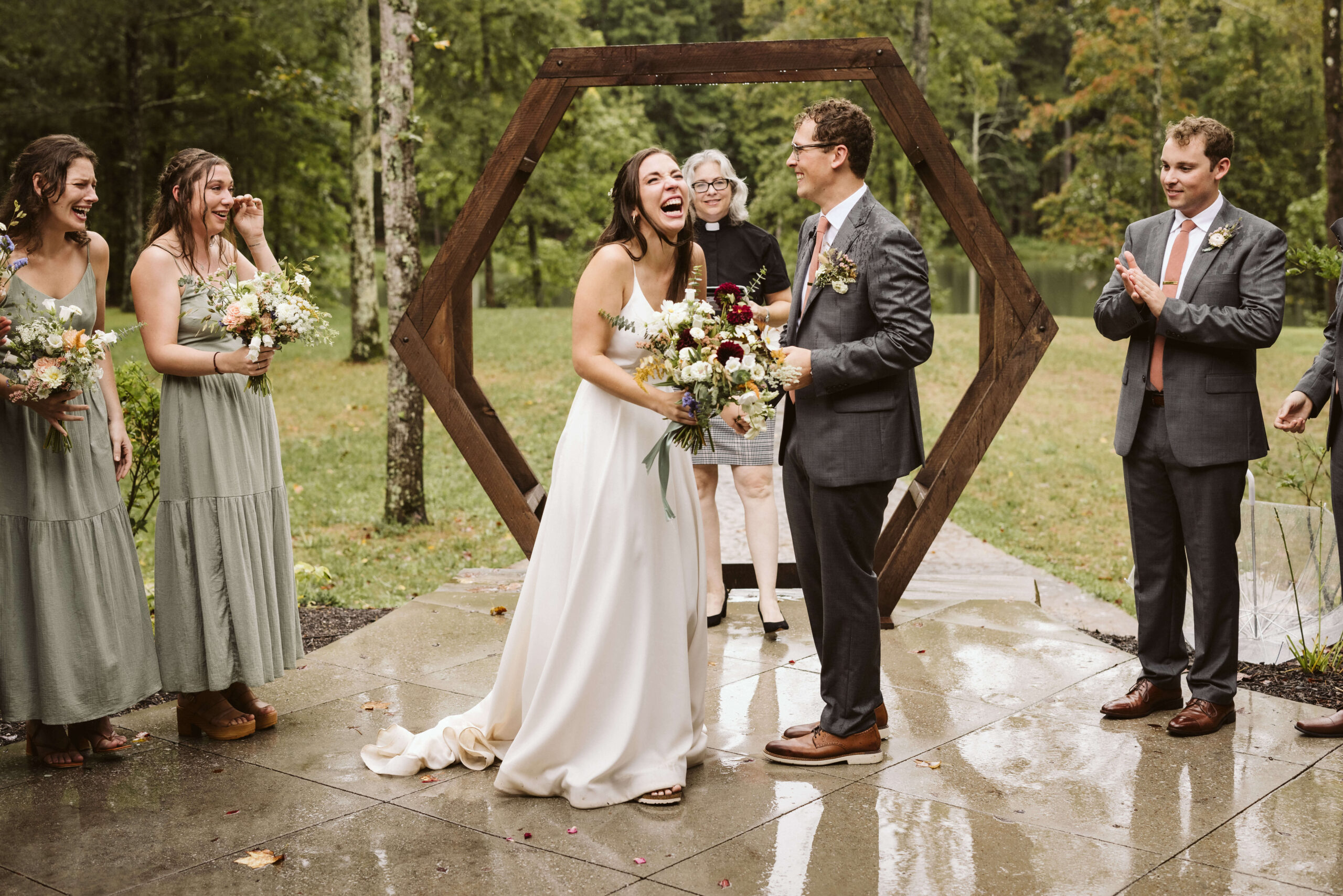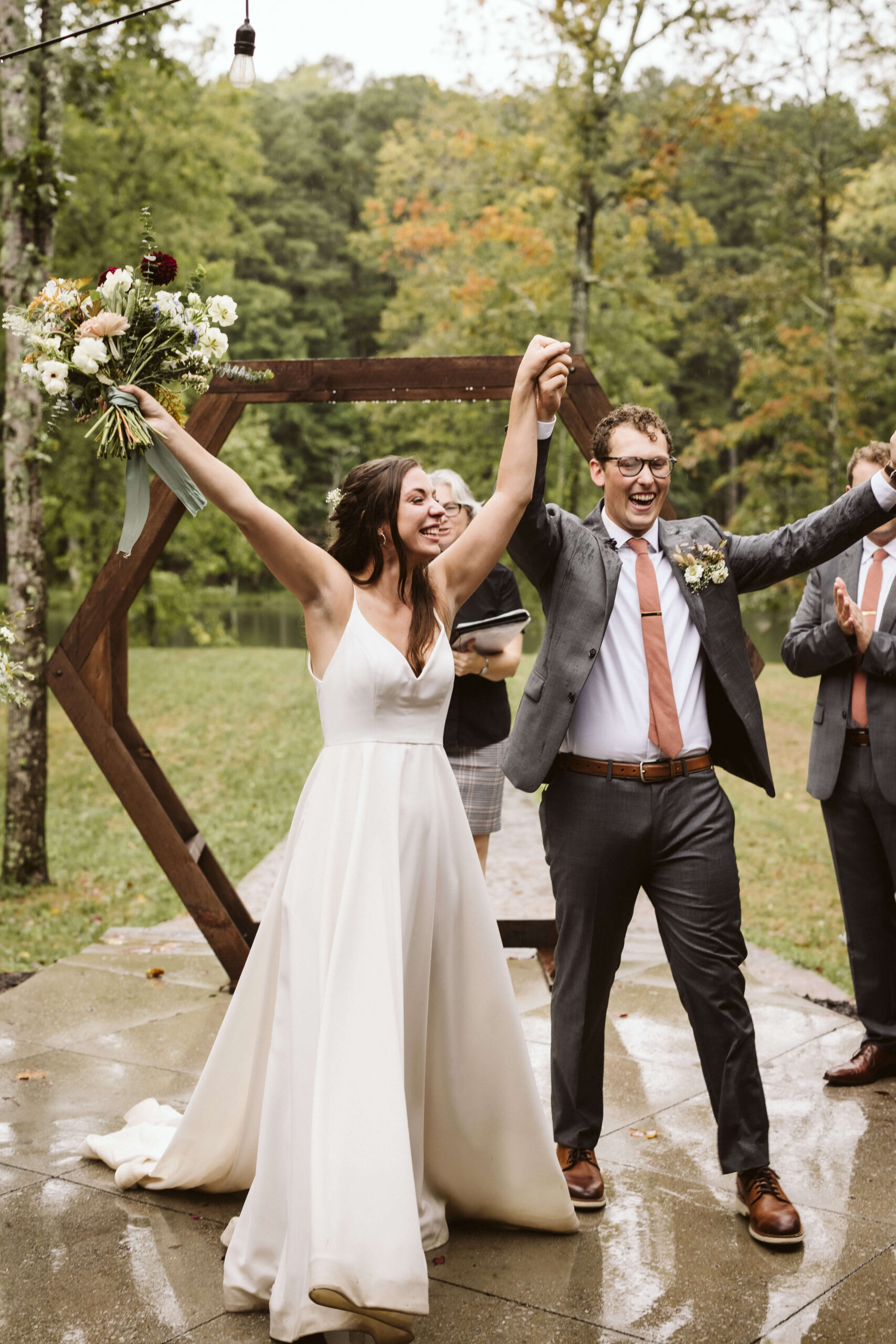 First Look Pictures in the Rain
Claudia and Bill opted for one of Hidden Spring's multi-day wedding packages which allowed them to stay overnight and get ready onsite on the day of. This meant that everyone was already there bright and early to get things started. Claudia and her bridesmaids gathered together in the Thistle Styling Suite to get their hair and makeup done by the amazing stylists Lizzie Googins and Brayleigh McBryar. Afterwards, Claudia's mom helped her into her dress and the two shared a heartfelt smile as they took in Claudia's complete wedding day look in the floor-length mirror.
Not ones to be deterred by the rain, the bride and groom ventured outside with umbrellas in hand to capture their first look photos. Bill waited with his back turned facing the lake as Claudia walked down the pathway towards him. After sharing a kiss, Claudia even got to show off her blue Birkenstocks aka her "something blue."
Something I love about first looks is they give you the opportunity to have a private moment just between you and your partner. Like Bill and Claudia, you can use your first look session to exchange private vows and even look over an album filled with cherished memories. It was definitely a special moment for just the two of them to share before the day's festivities began. The canopy of trees and lake set a striking scene in the background while umbrellas were cast aside to fully embrace the moment. Some say that rain on your wedding day is good luck, after all!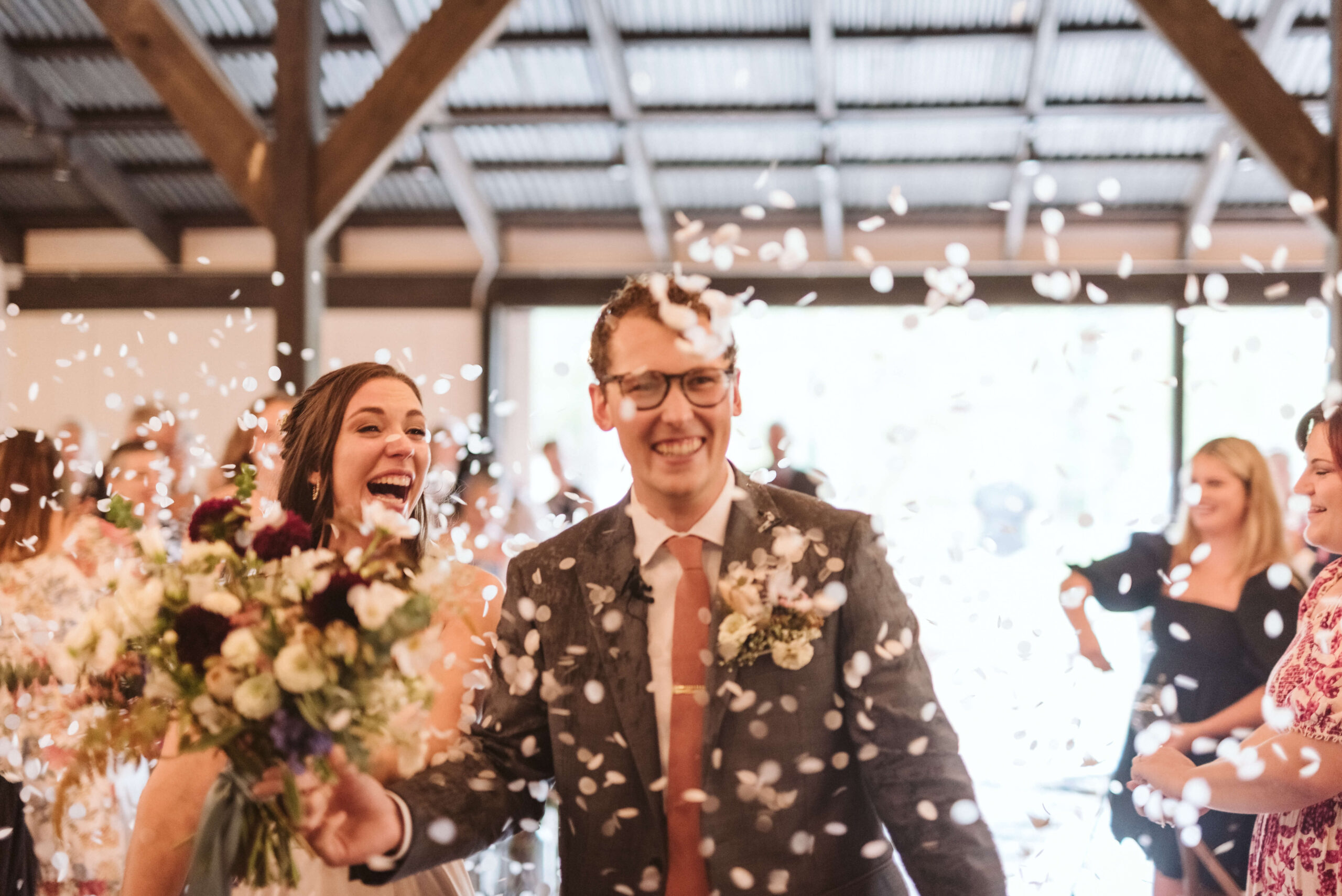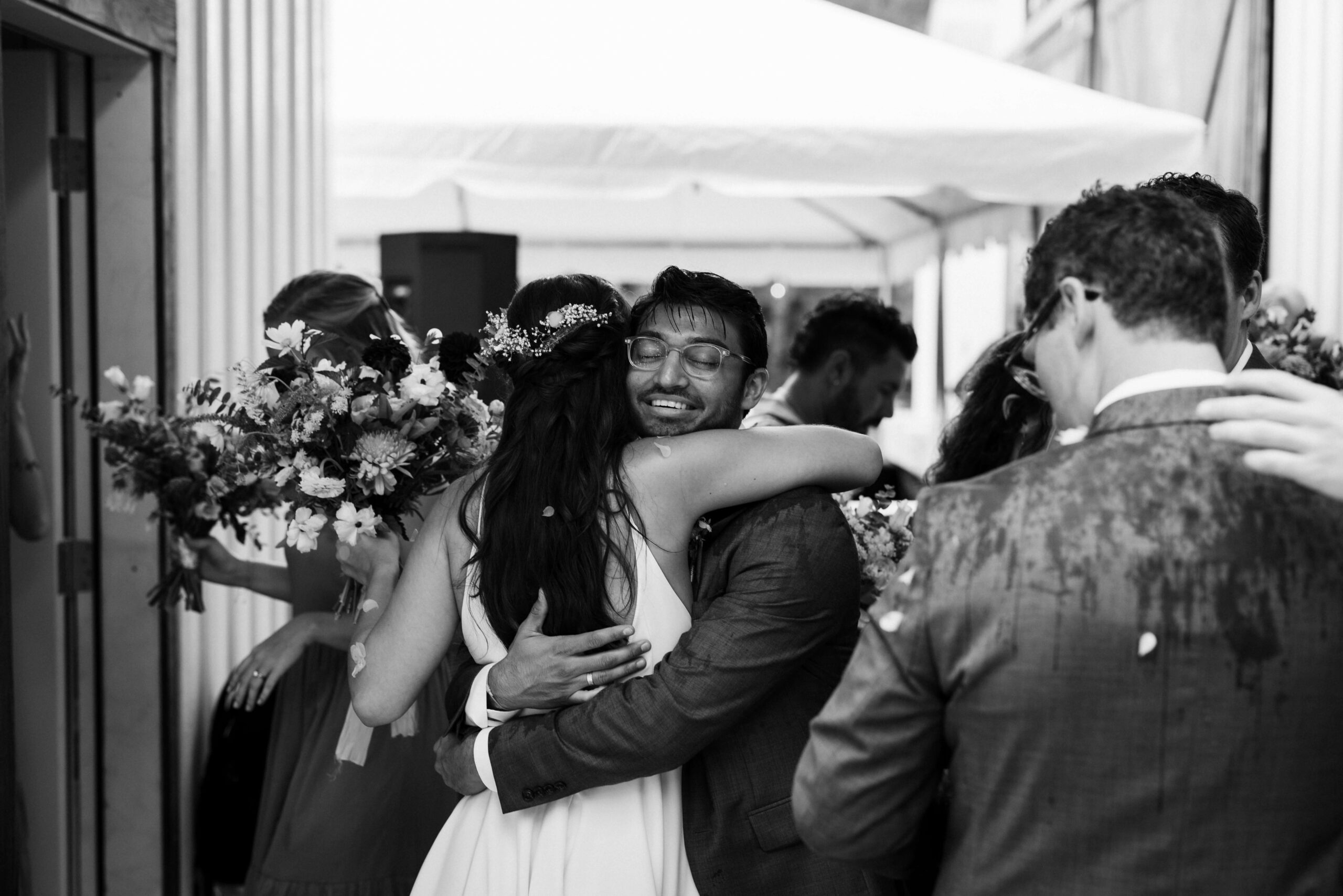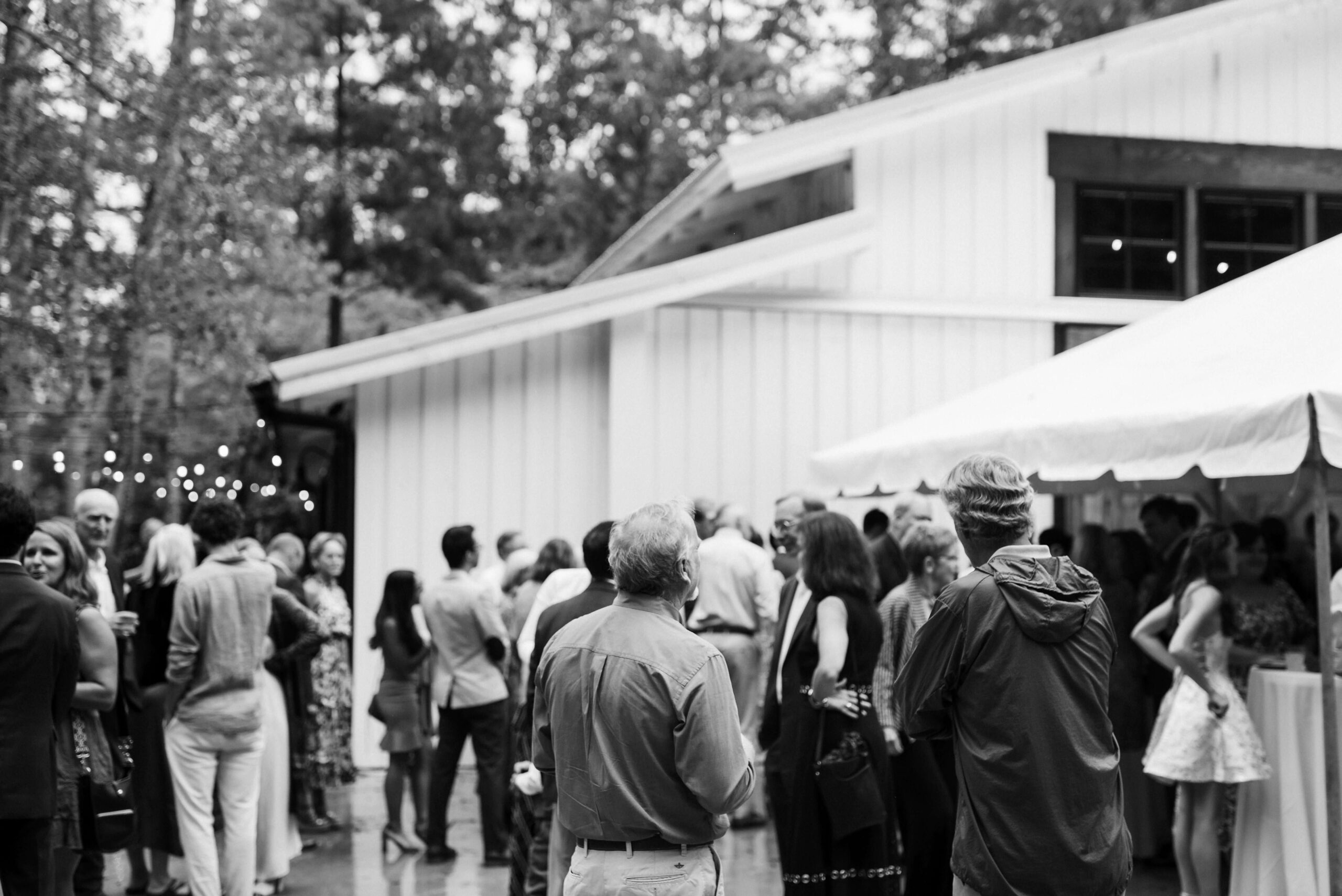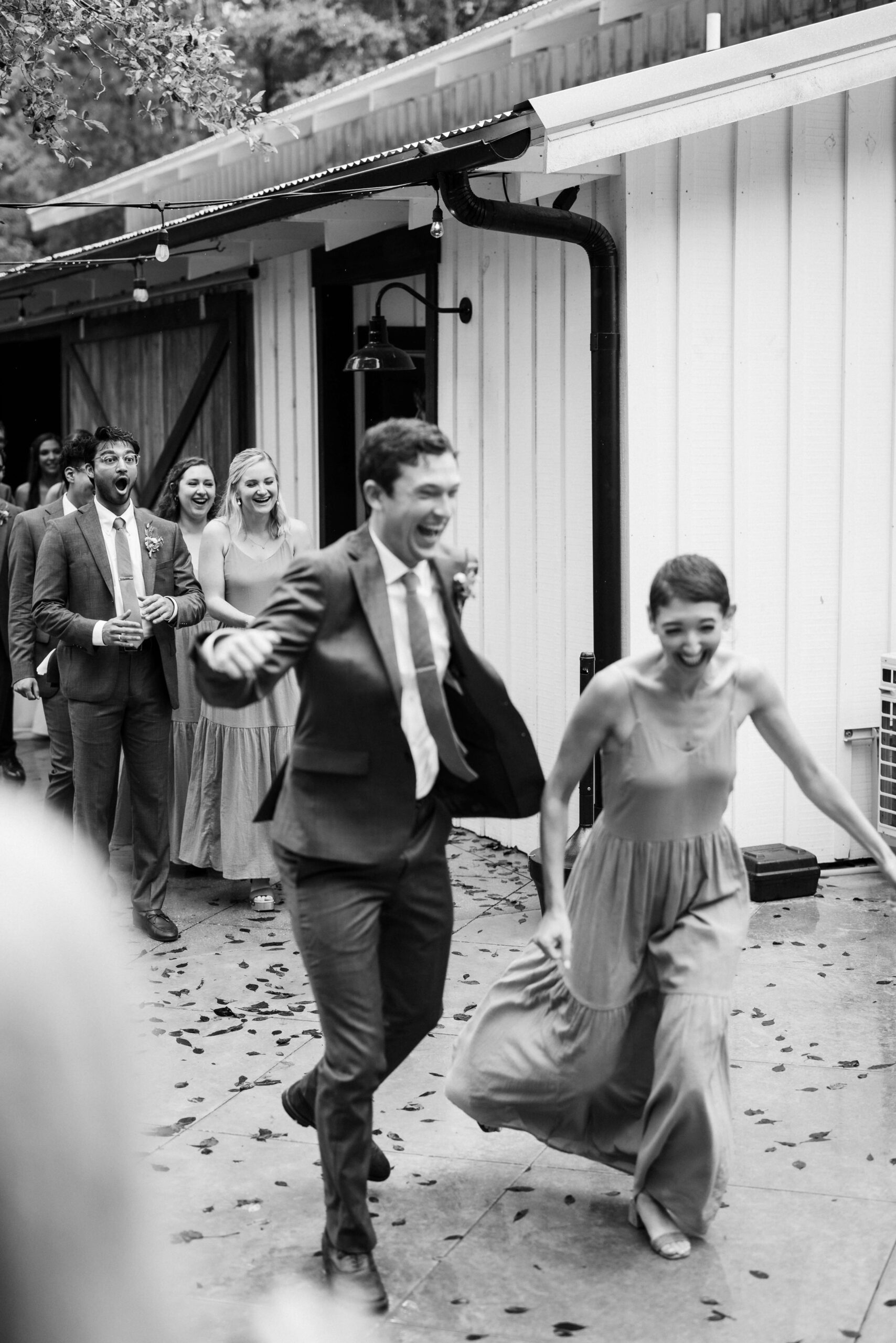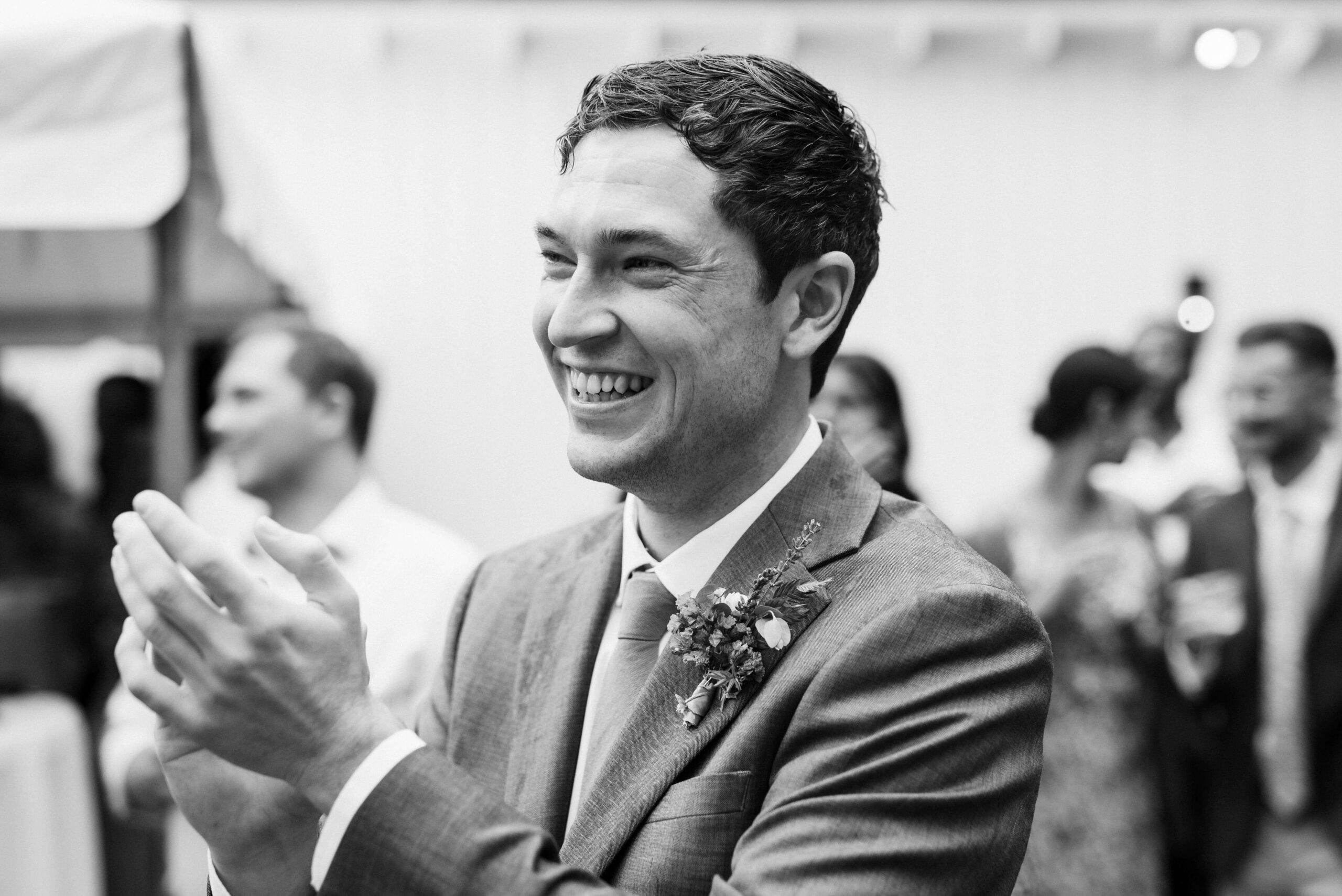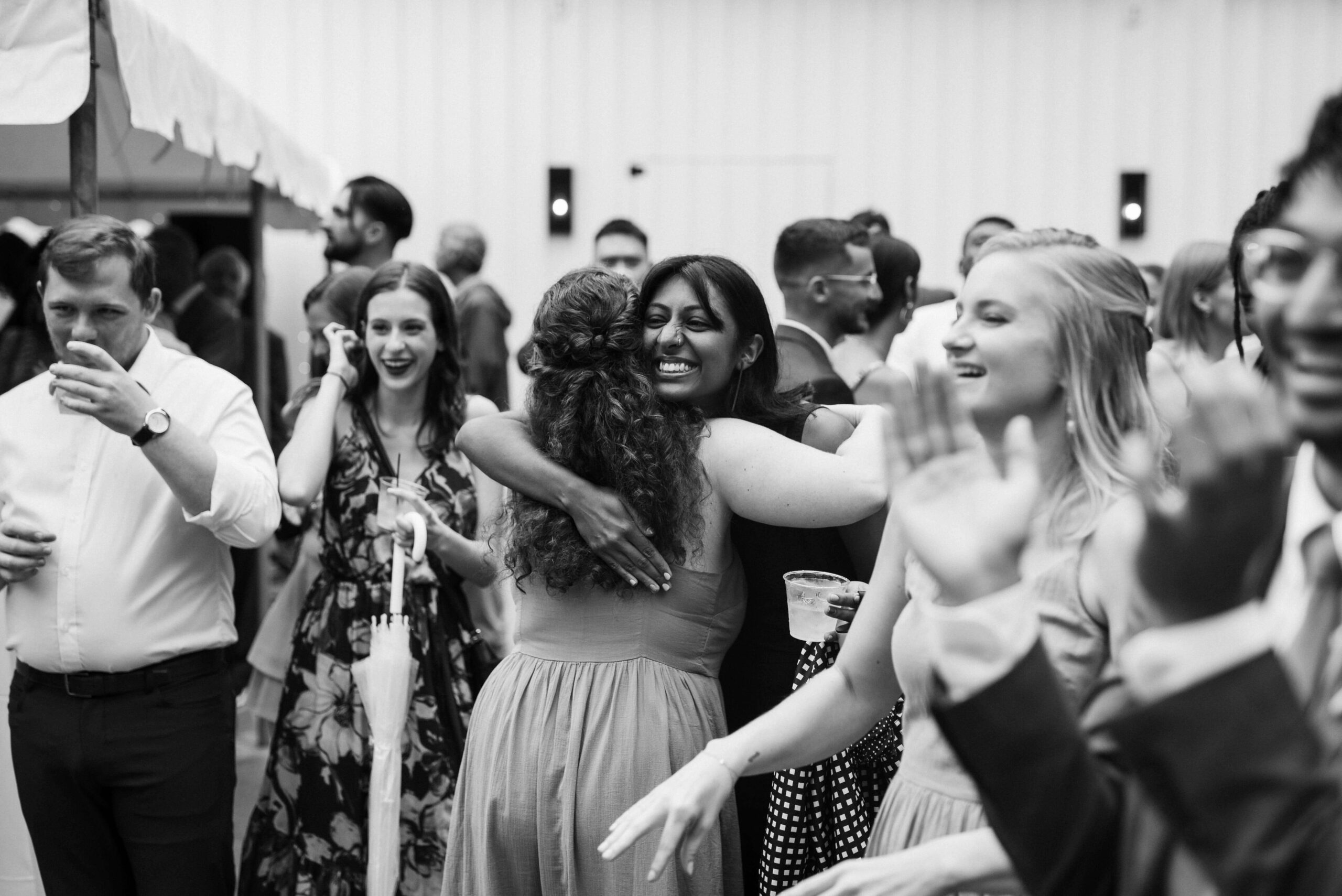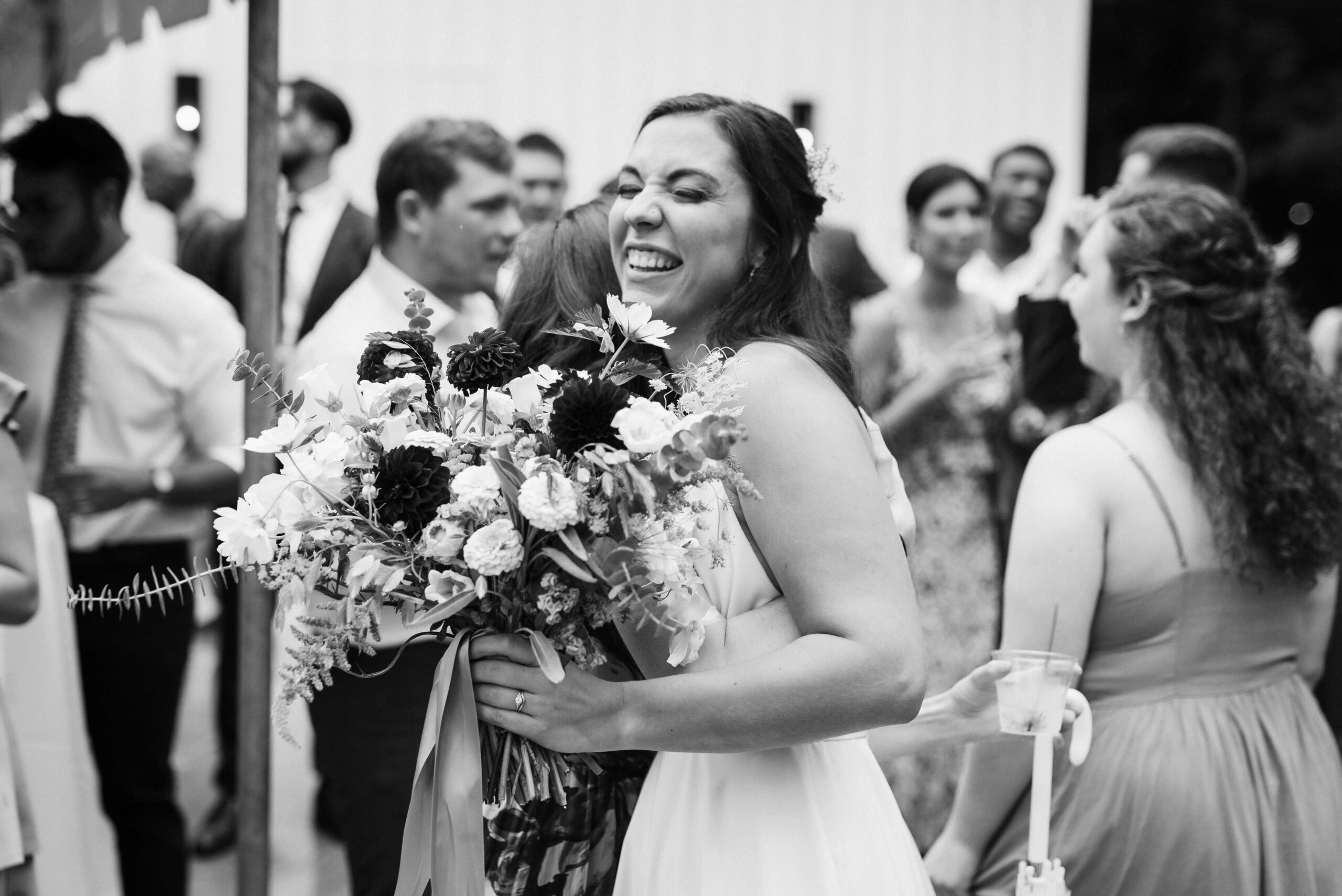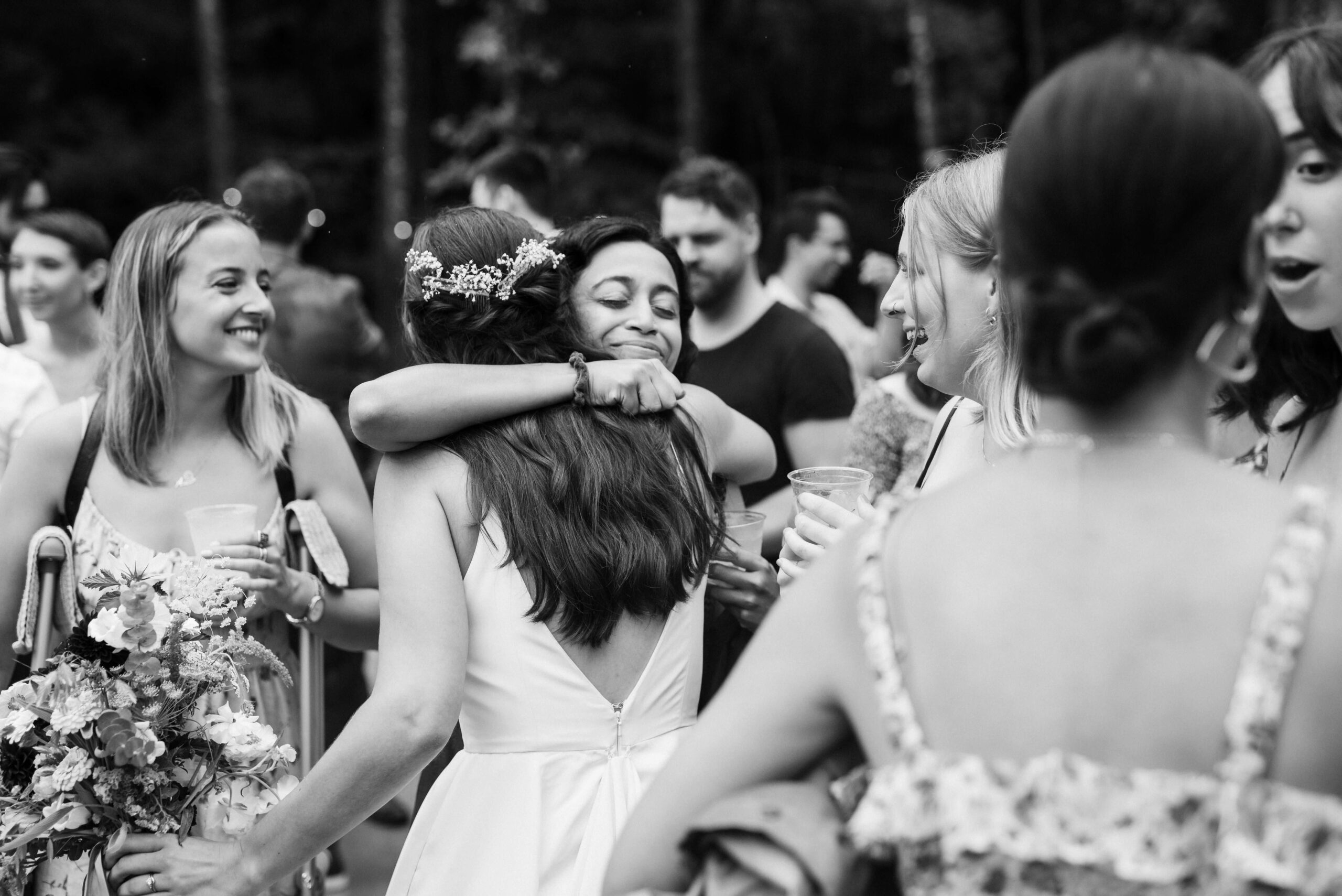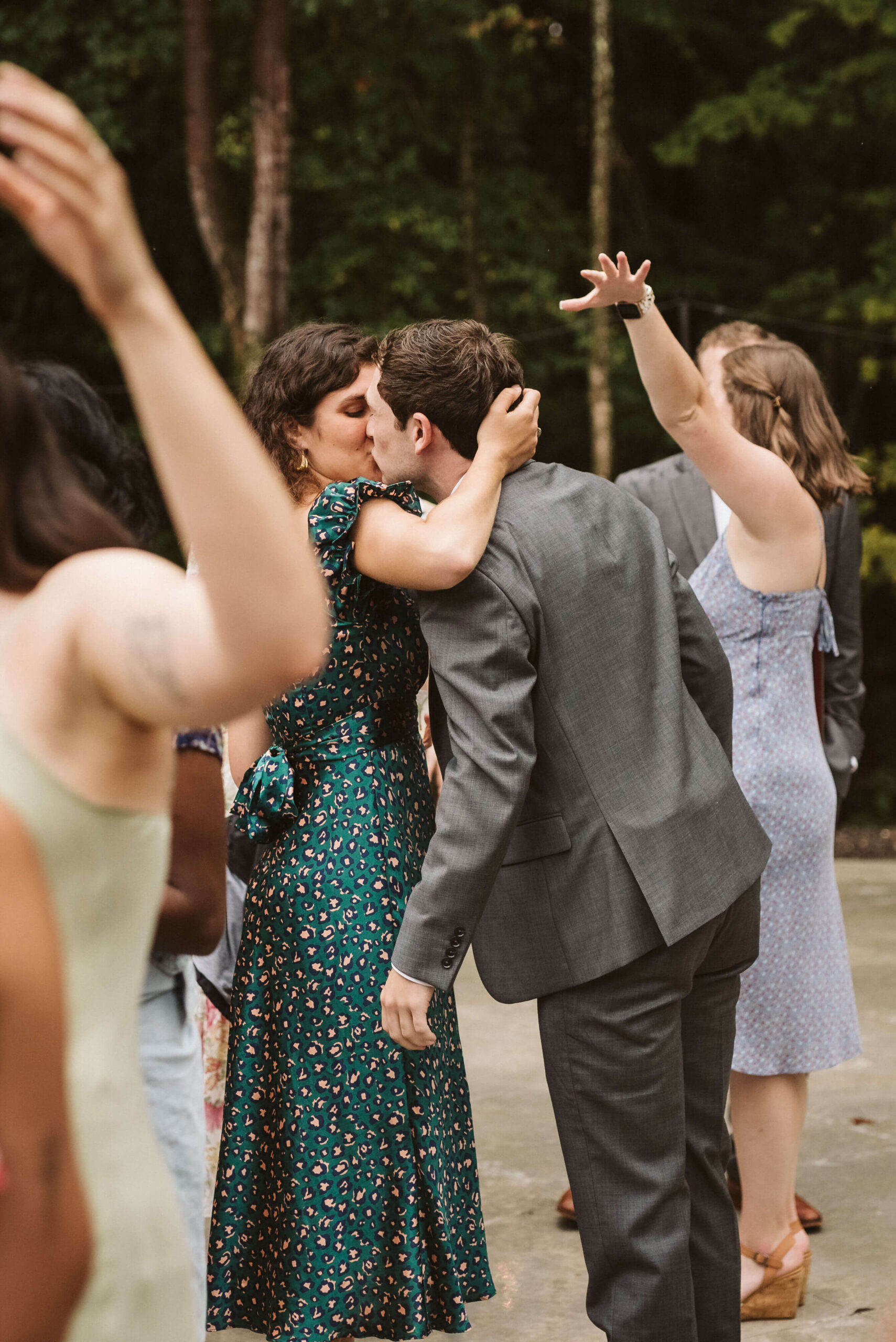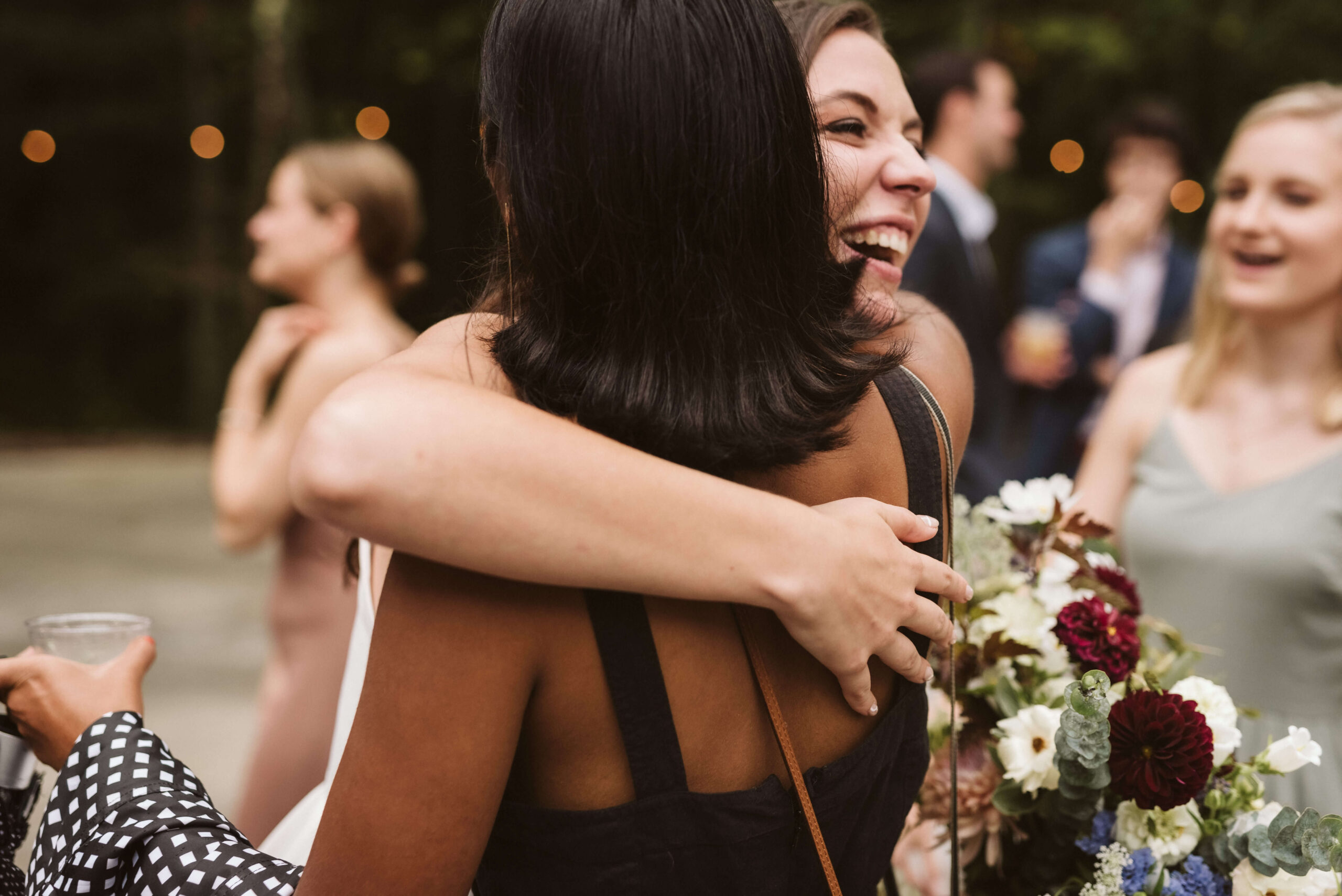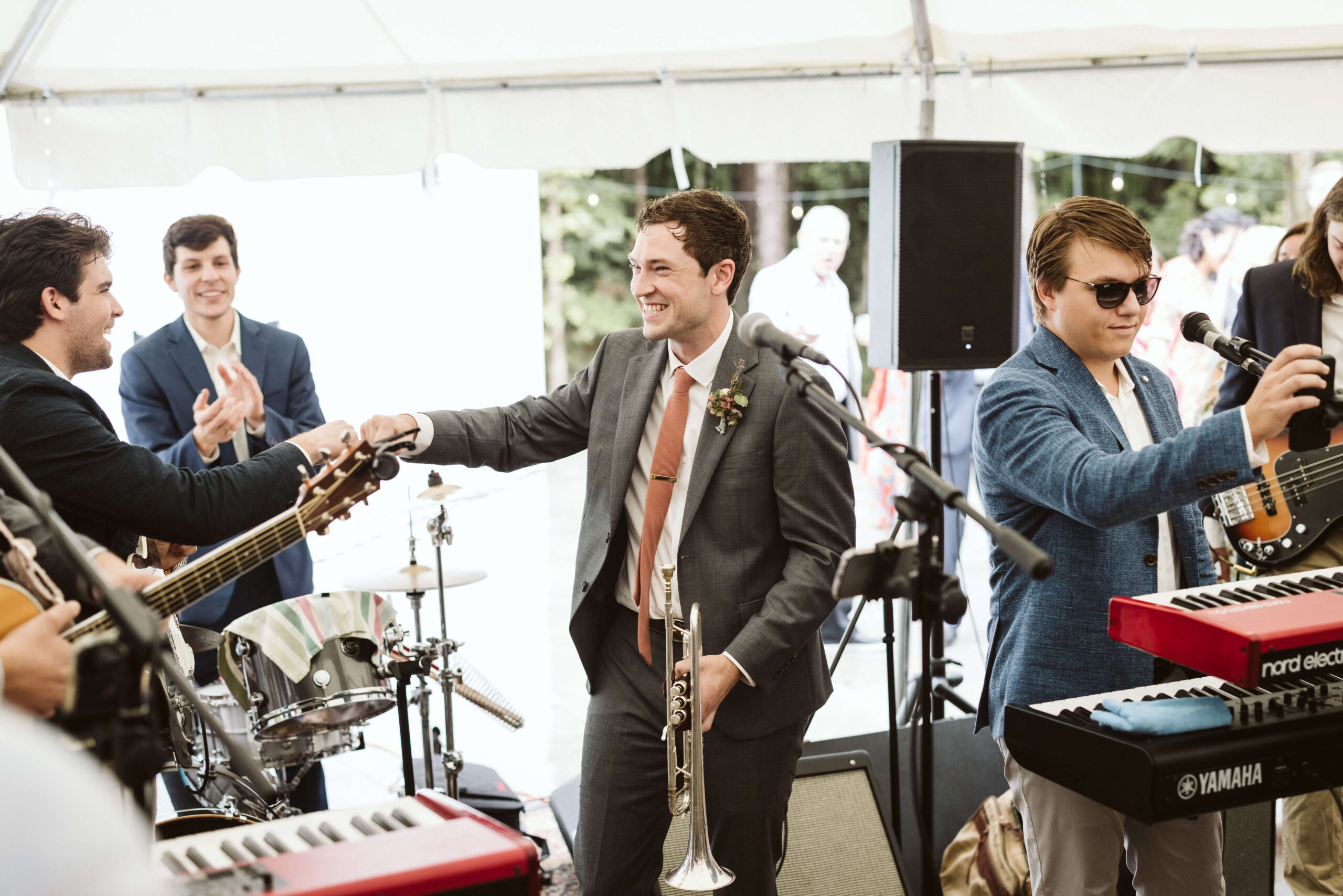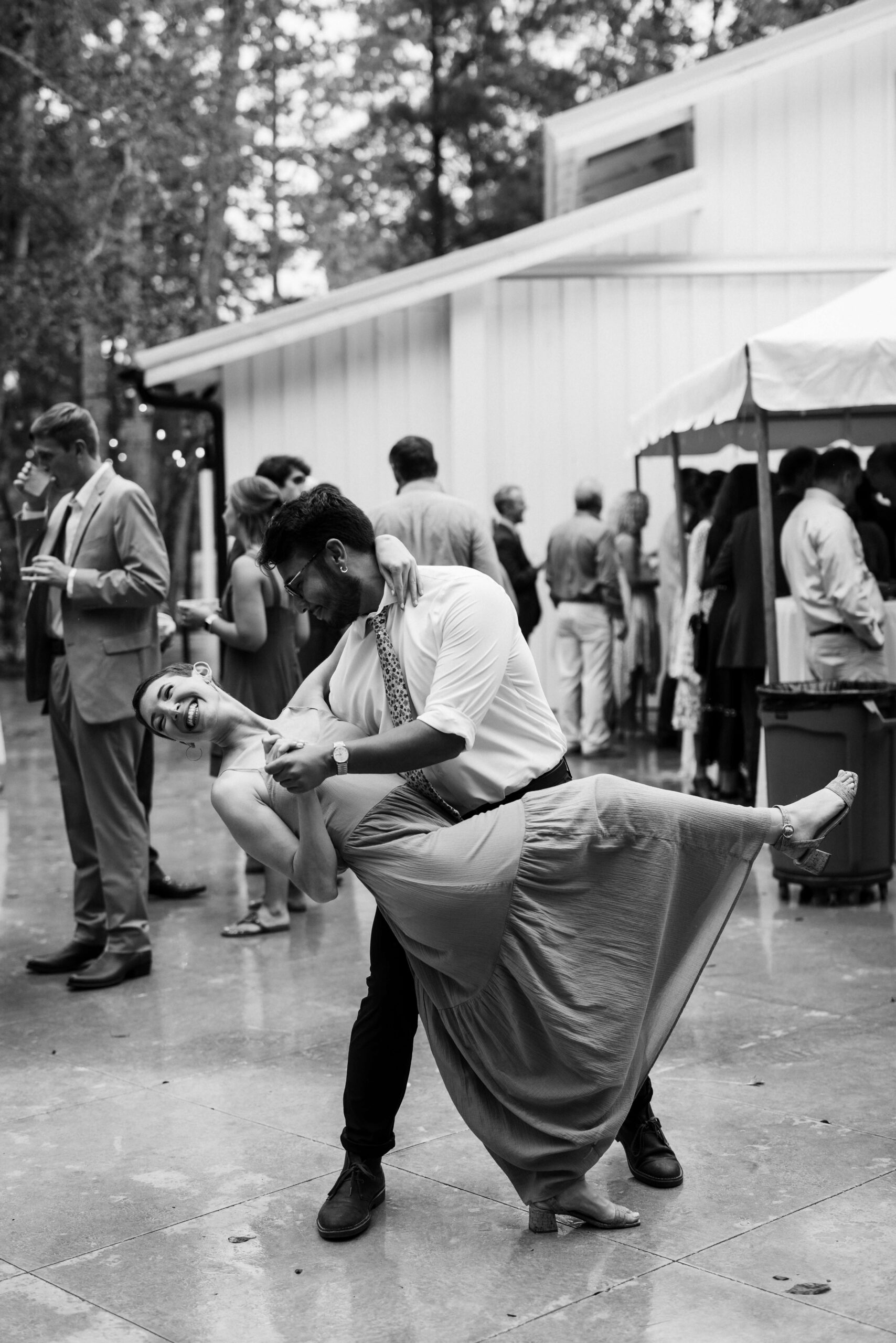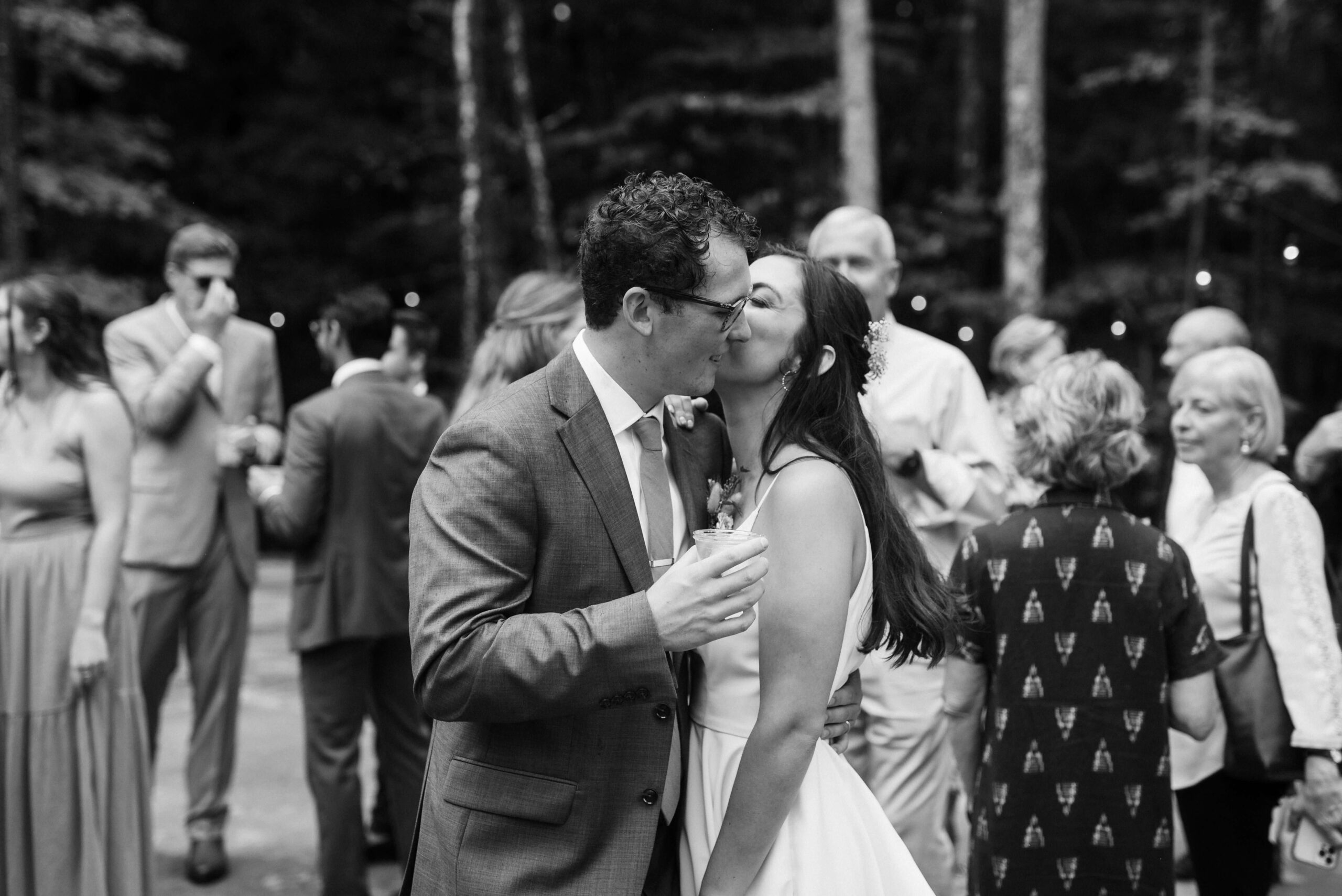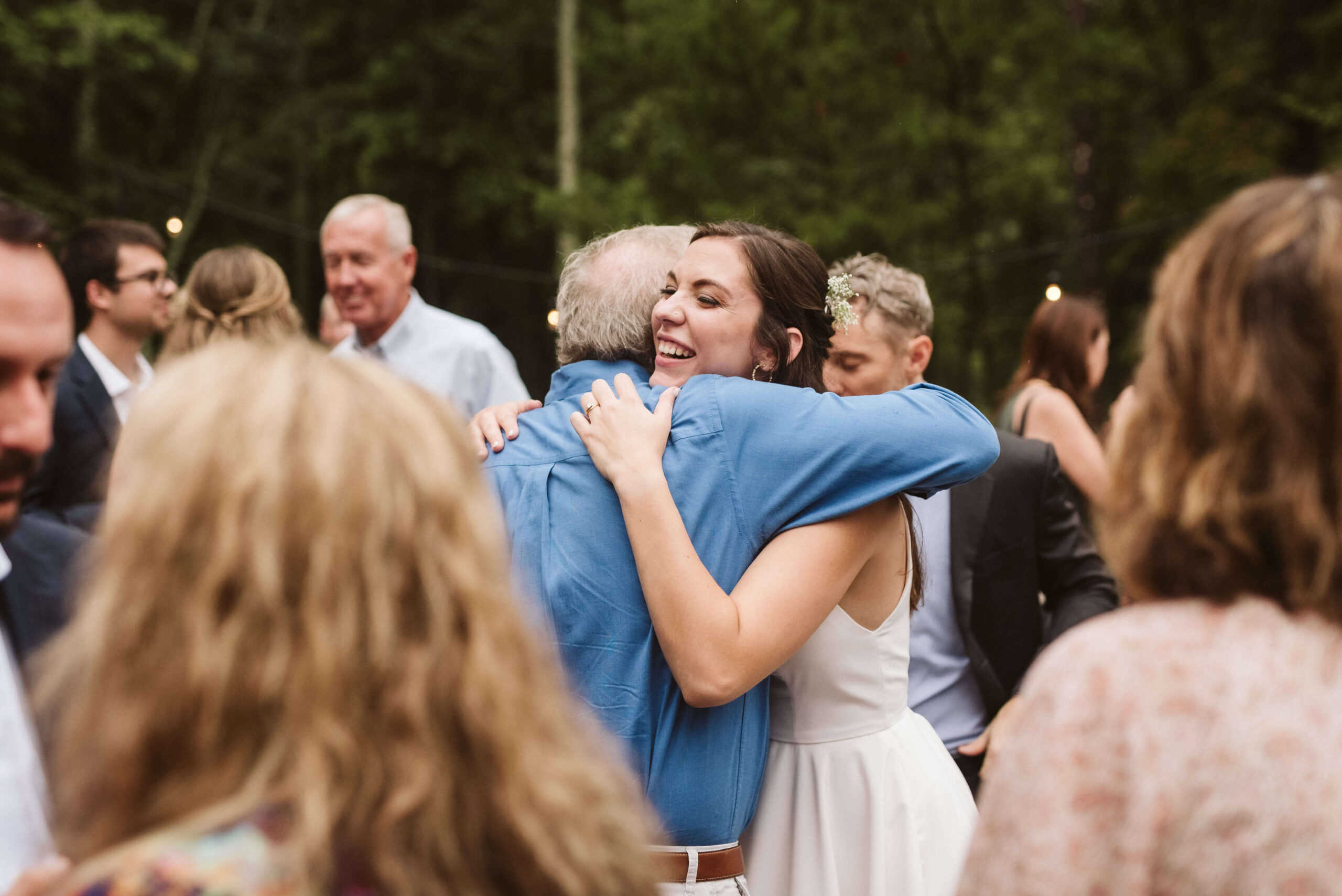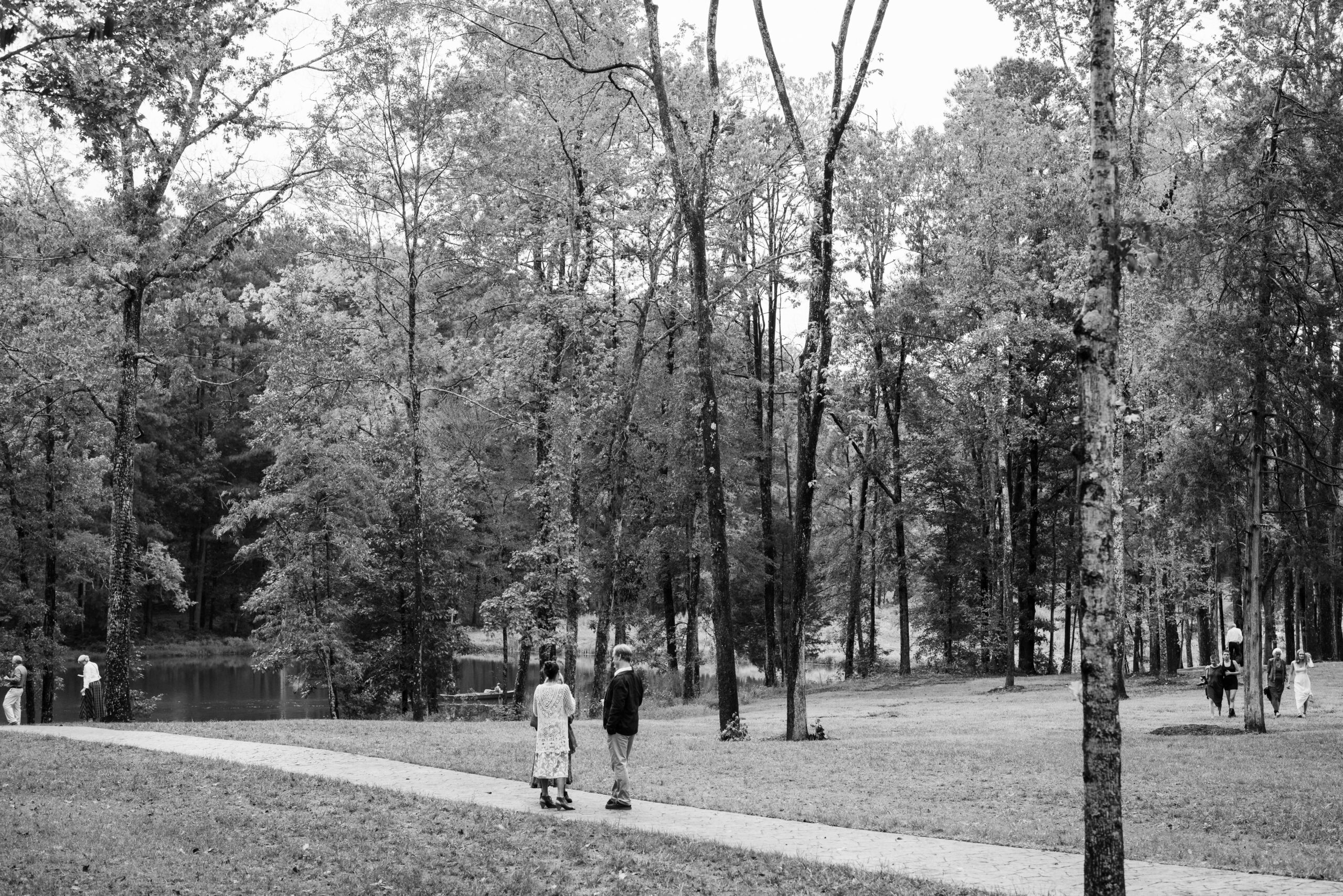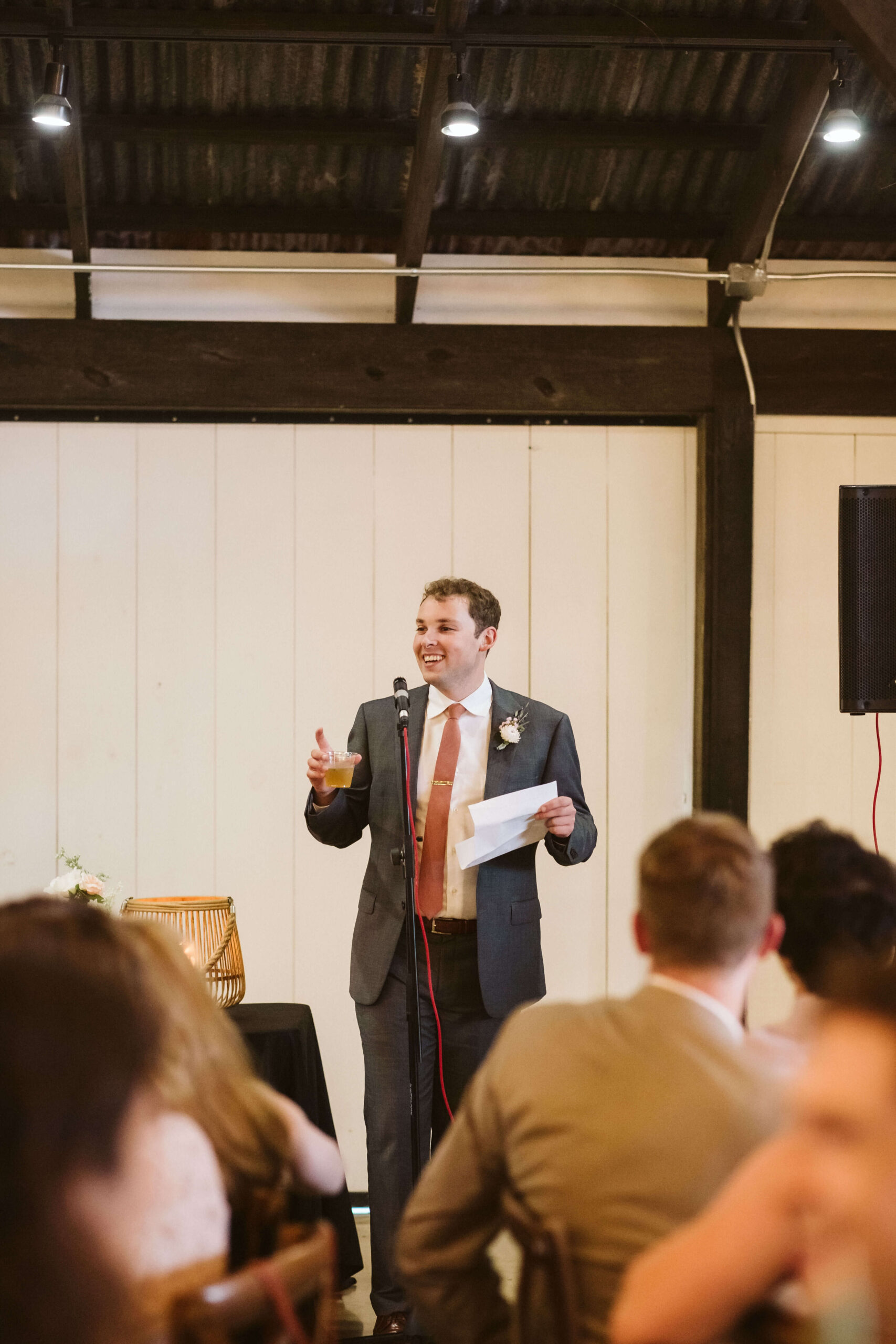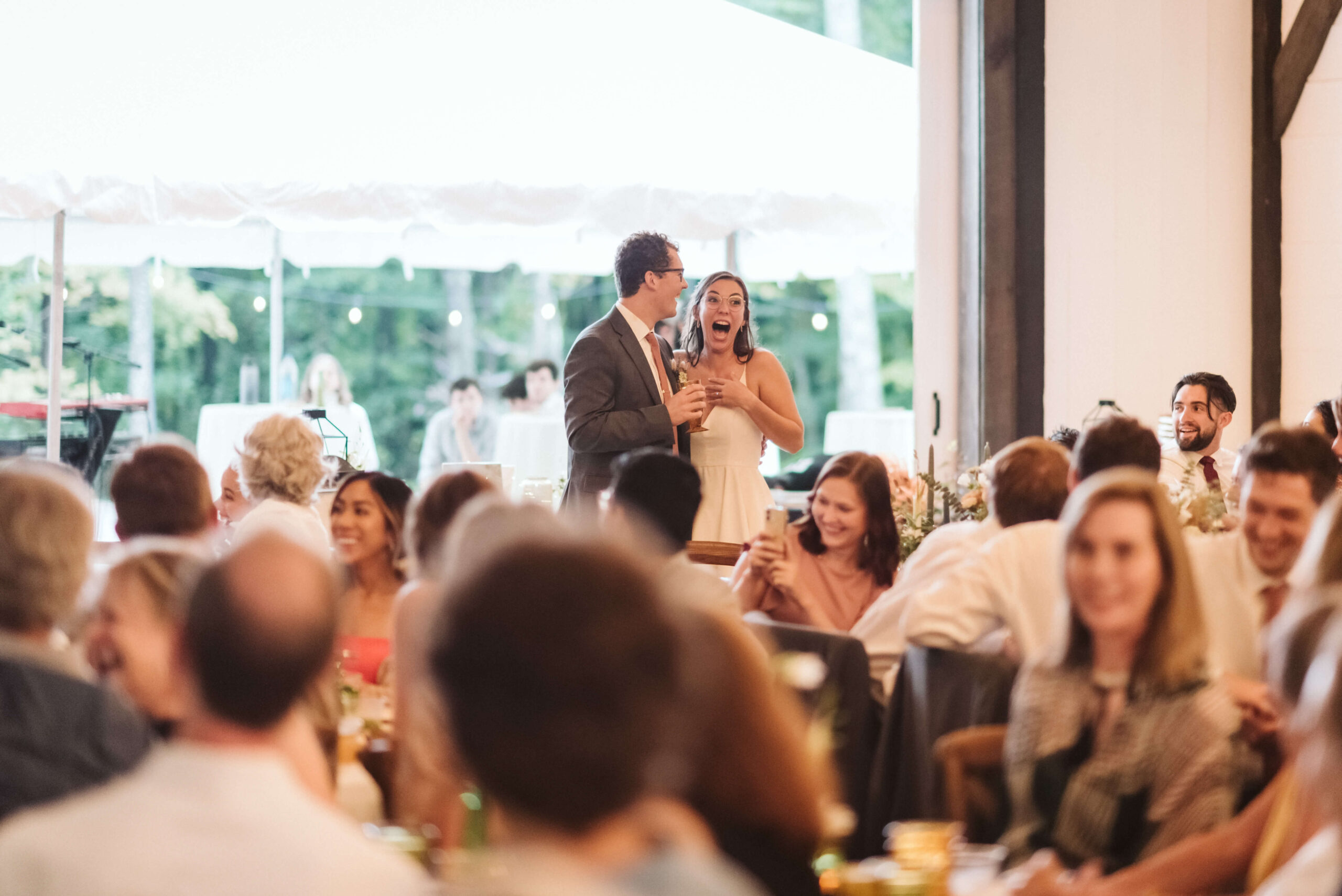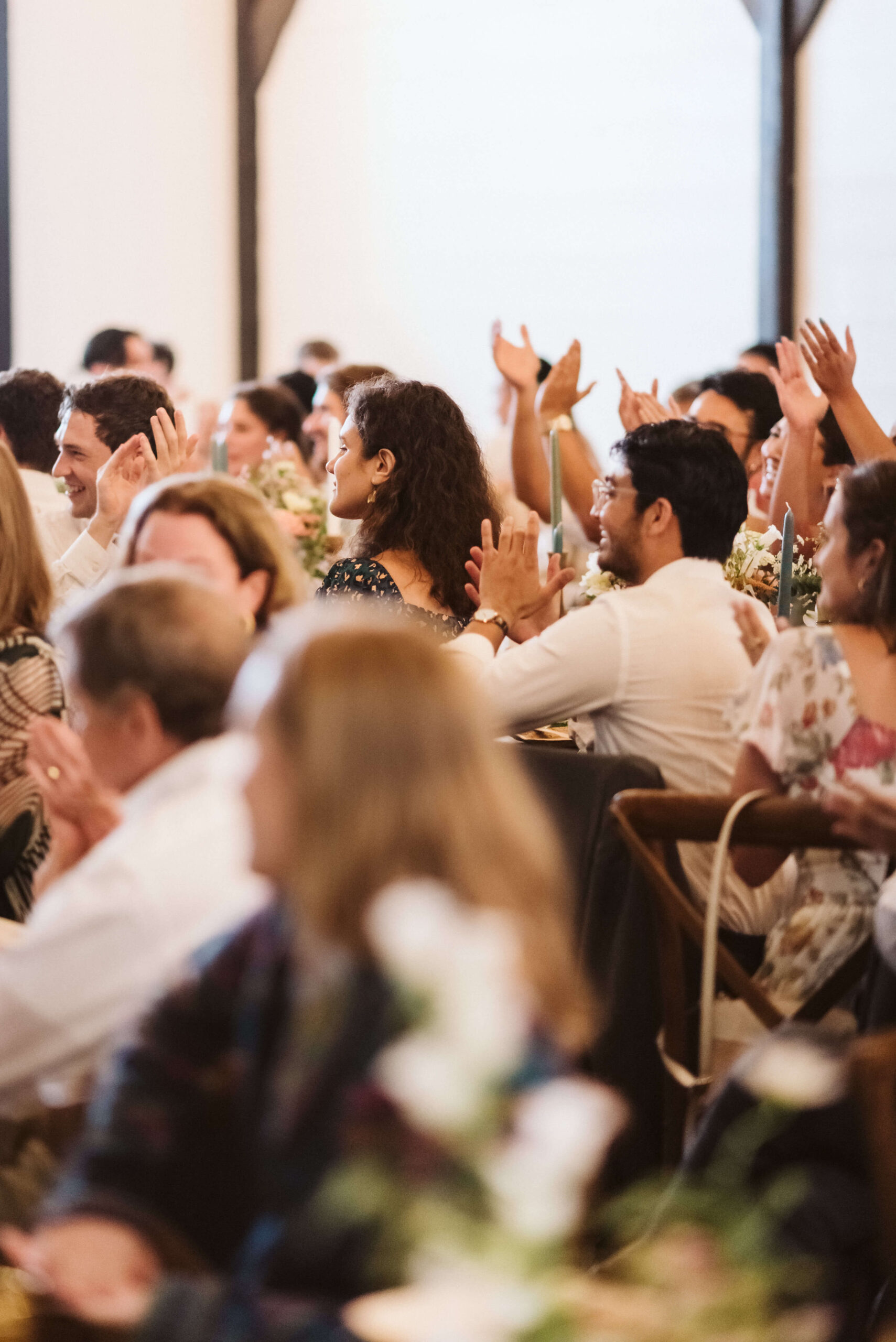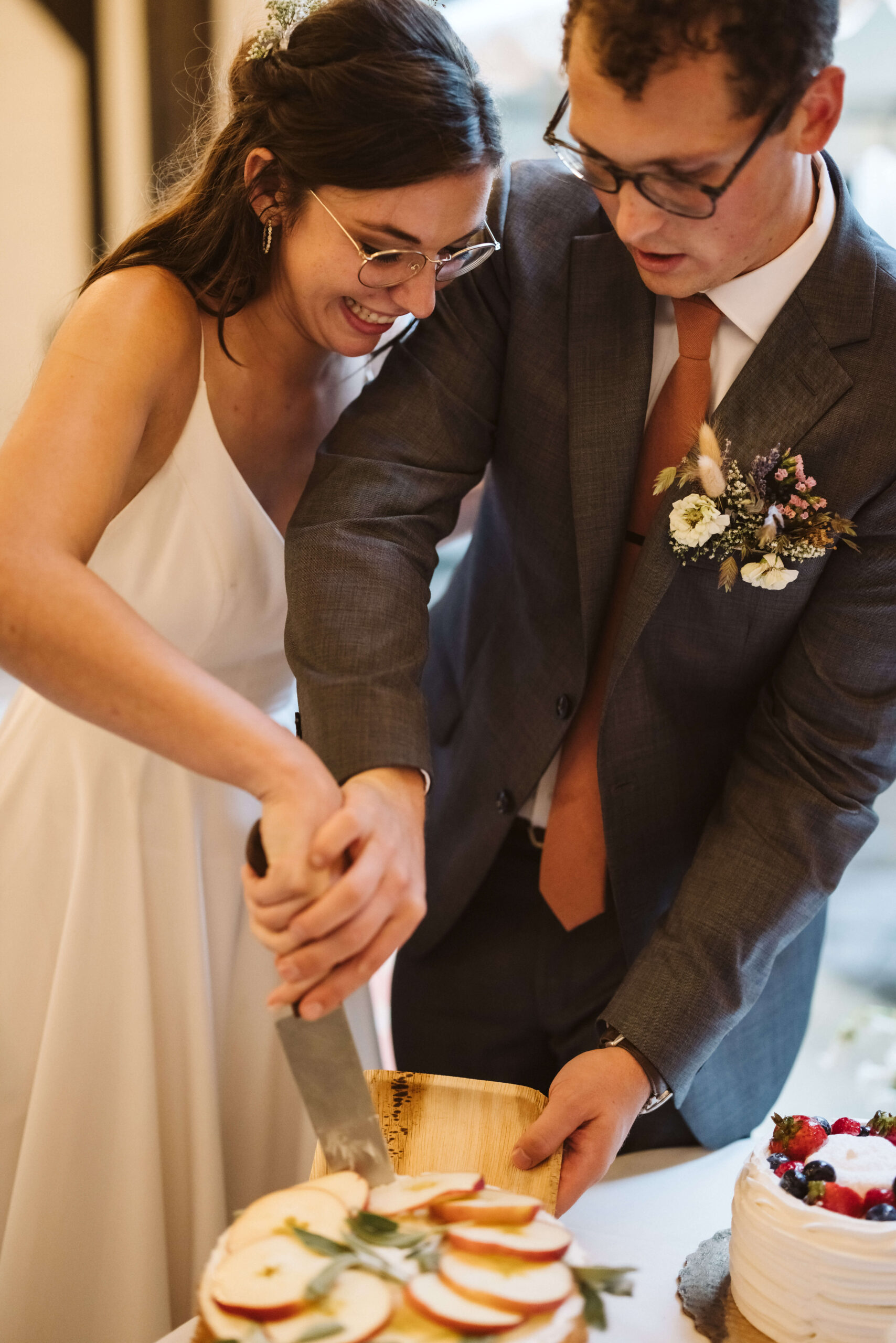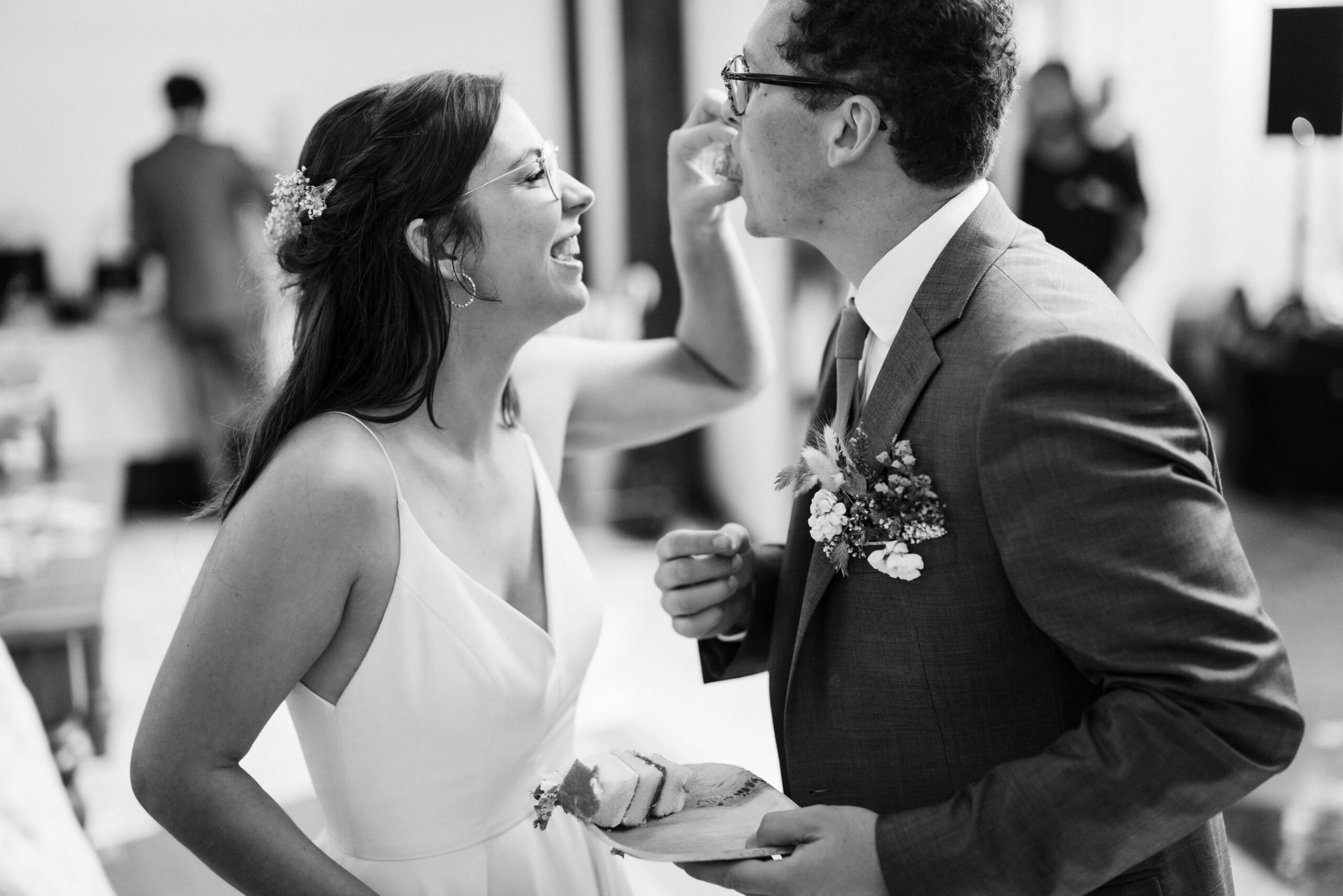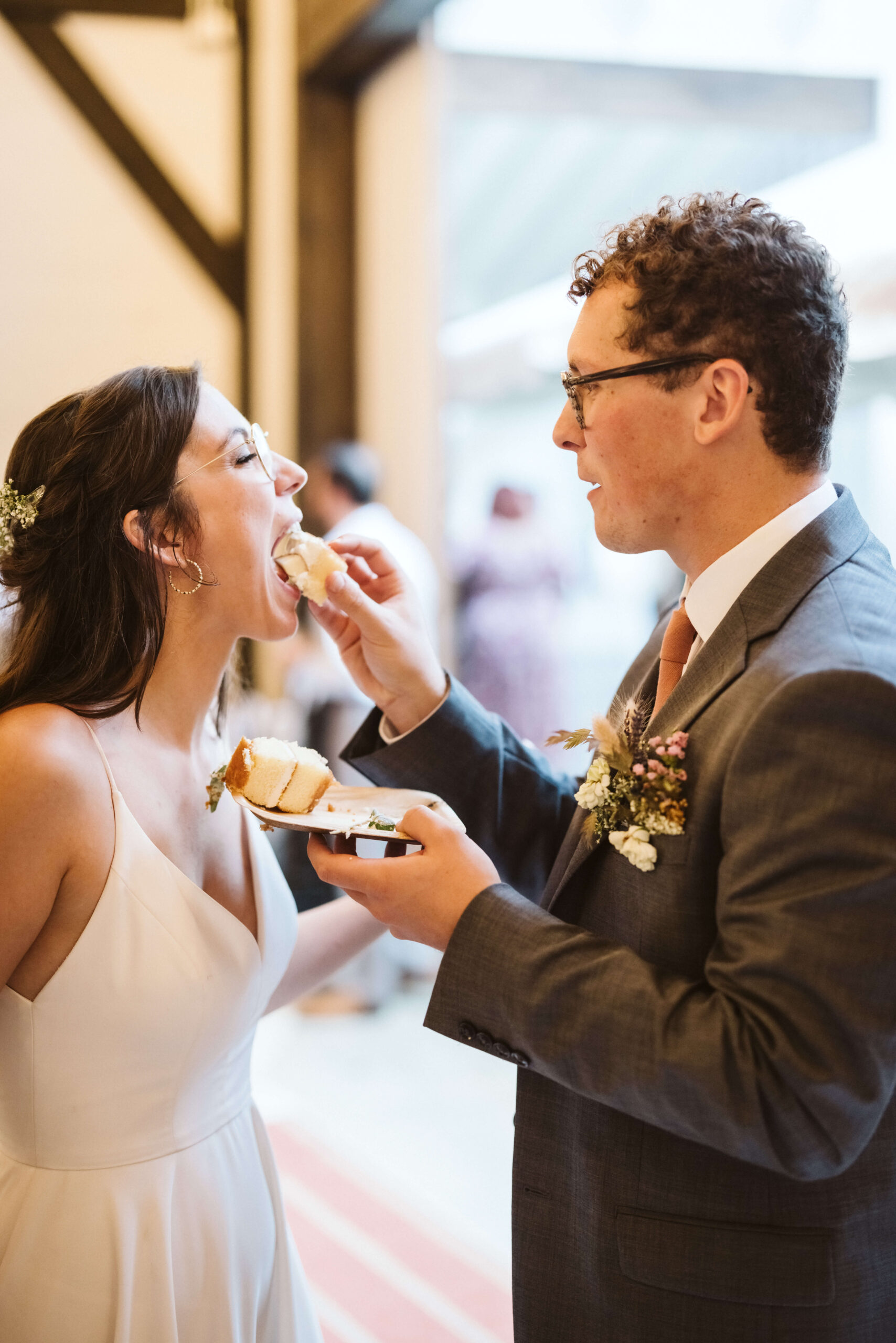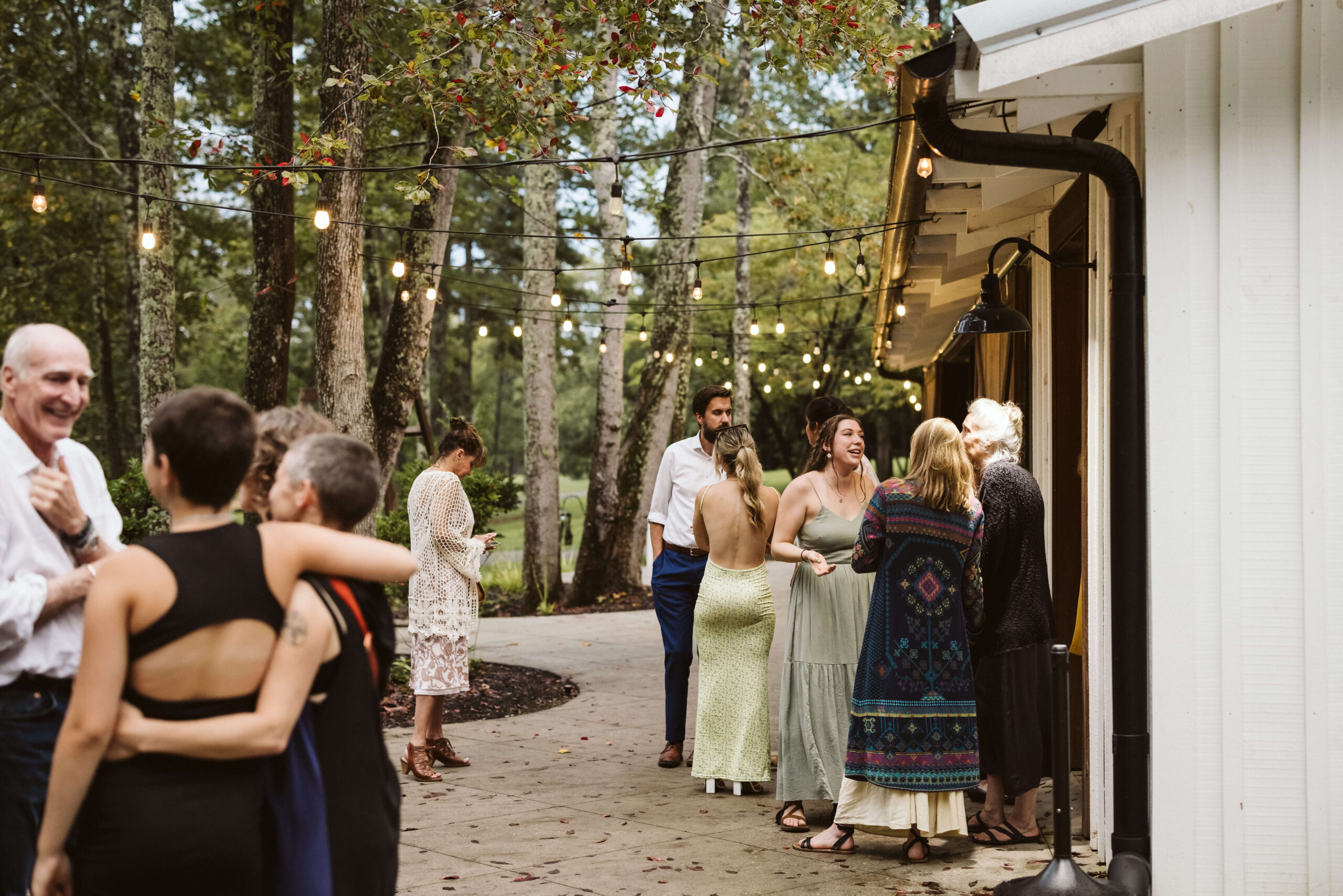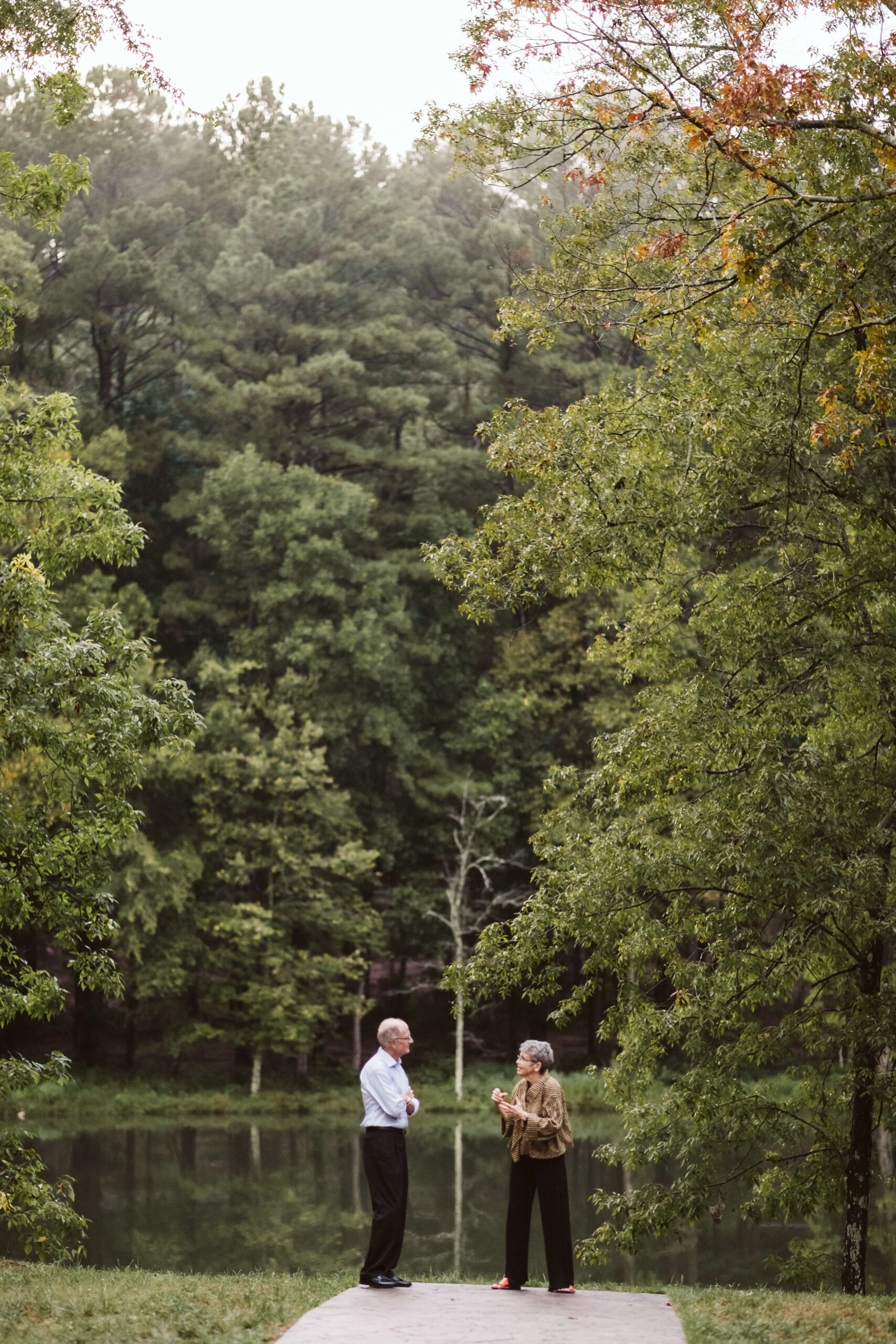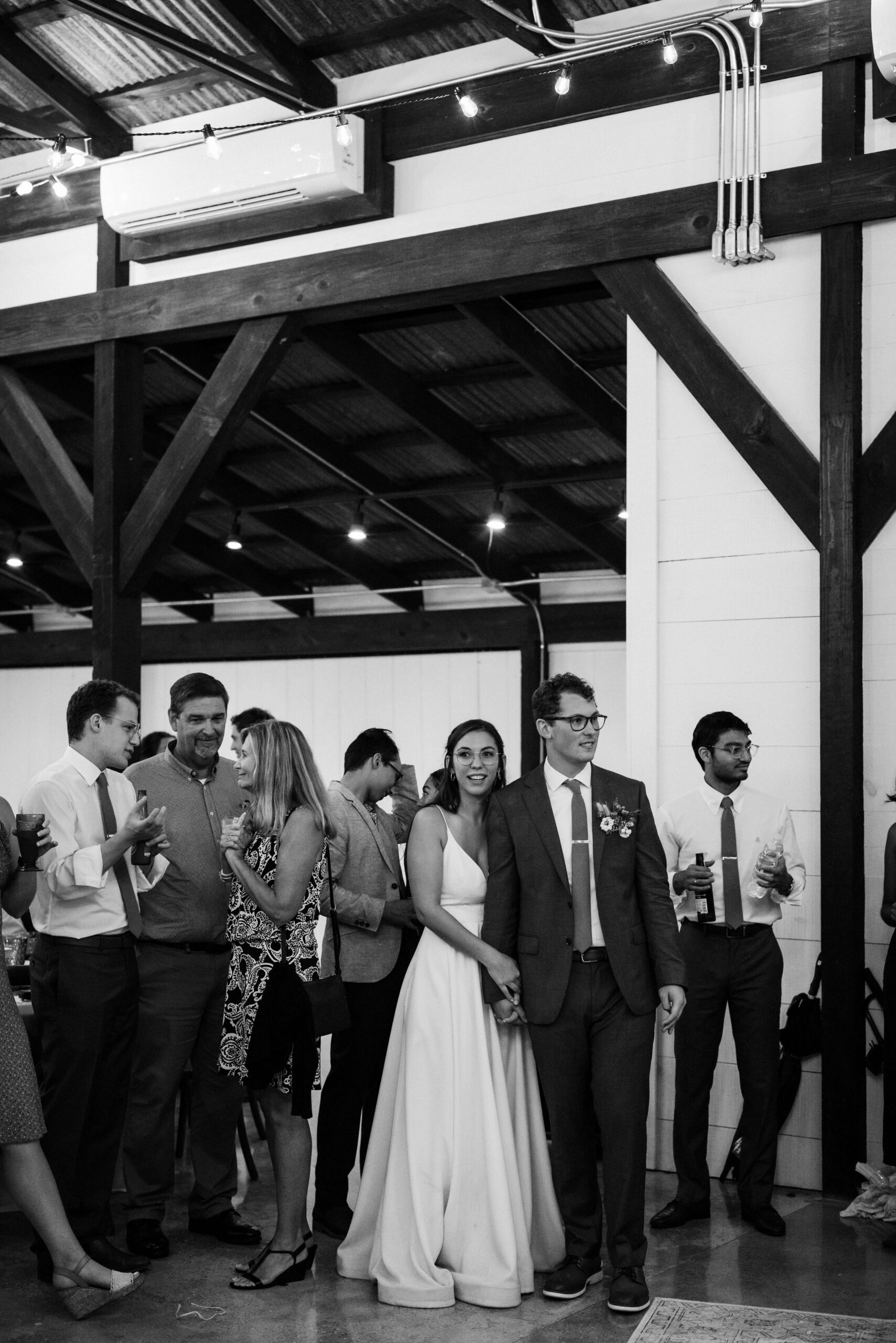 A Rainy Wedding Ceremony at Hidden Springs Venue
After the first-look pictures, we took bride and groom, wedding party, and family portraits before it was finally time for the wedding ceremony. Claudia and Bill's ceremony took place in the late afternoon on the Hidden Springs Venue grounds. As guests arrived, they shared hugs and gathered around a fun photo wall game with pictures to introduce all of Claudia and Bill's loved ones. The sign by the wall read "Our Family Tree" which was such a special and unique way to incorporate their family and friends into the day. To add a sense of whimsy to the decor, a table close by was filled with postcards for guests to fill with notes, ideas, and recommendations for Claudia and Bill's next adventure.
Because of the rain, the ceremony had to be slightly altered. Luckily, Hidden Springs Venue already had the perfect backup plan in place thanks to their venue's layout. So, while the wedding party still stood outside, guests stayed dry inside just a few feet away in the barn where the reception would be held. The guests sat in two rows of pews set up near the altar and around the reception tables, still with a perfect view of the wedding party as they began their walk down the aisle. Since the space had to be altered a bit, the aisle was marked through the reception hall with antique carpets from Hidden Spring's décor collection which added bright pops of color. The flower girl was rolled down the aisle in her wagon, and Claudia and Bill's dog attended as the dog of honor.
I love it when couples embrace unexpected weather during their wedding. Claudia and Bill knew ahead of time that as long as there wasn't a torrential downpour, they wanted their ceremony to be out in the open air. Their ceremony was short and sweet to keep the wedding party mostly dry but even so, the camera picked up on the glistening raindrops all around them glittering as they collected on the arbor and string lights above them.
Following the exchange of vows, the couple walked back up the aisle with bursts of confetti dancing in the air. The wedding party didn't let the rain stop the magic of the day either. After the ceremony, they all gathered to hug (and cry) with wet hair and rain-stained suit jackets. Despite the weather having different plans, nothing could put a damper on the pure joy to witness this beautiful couple's special moment.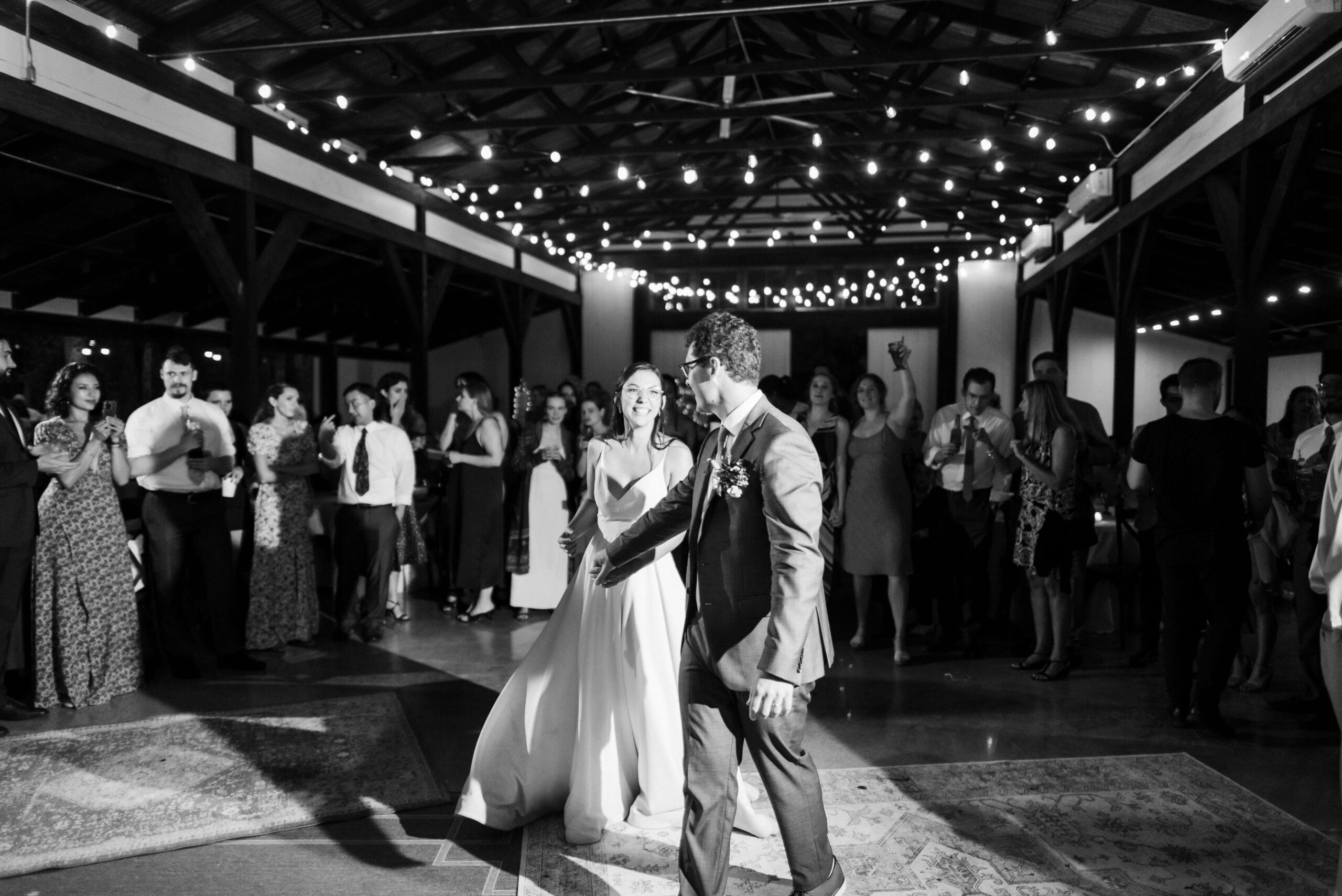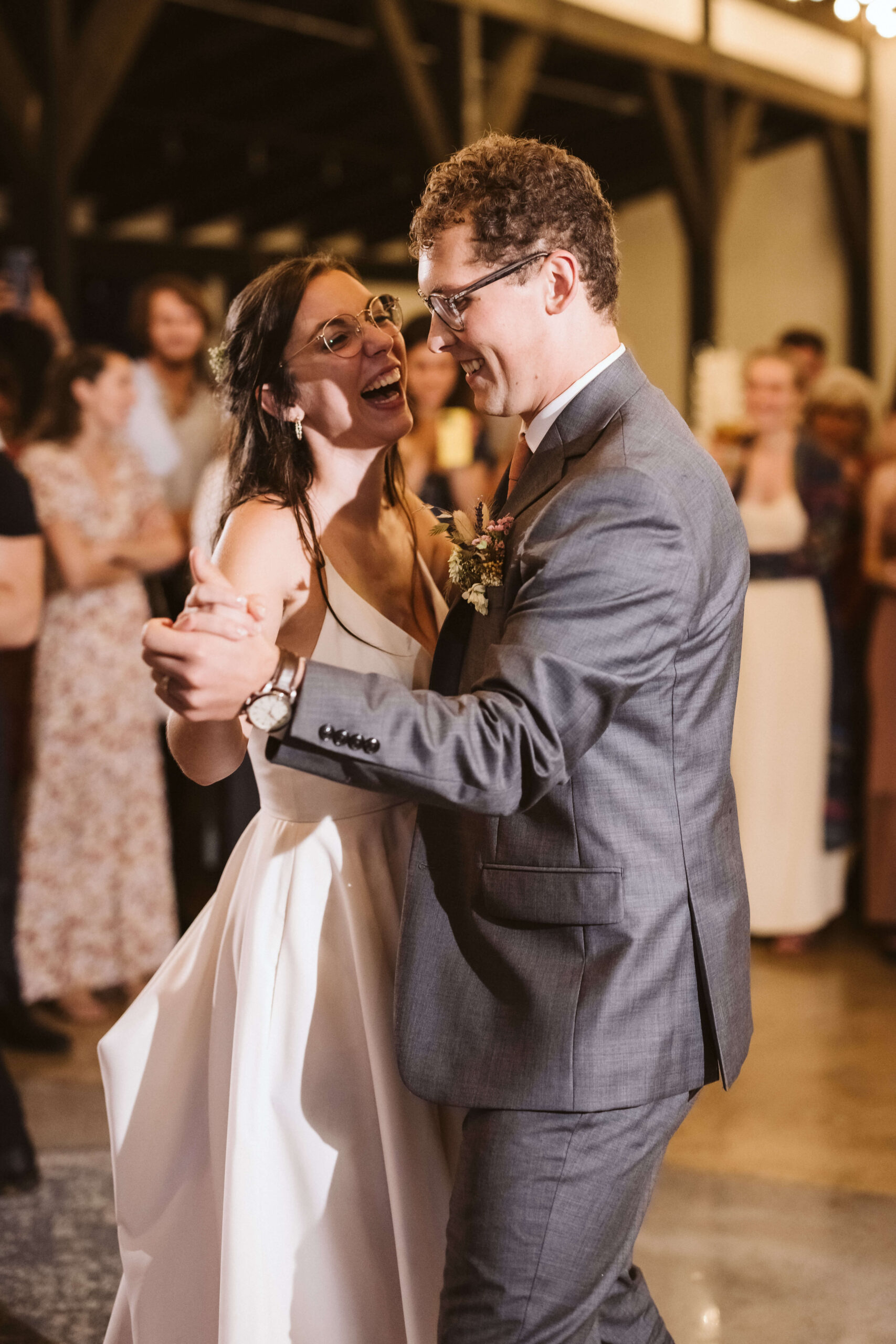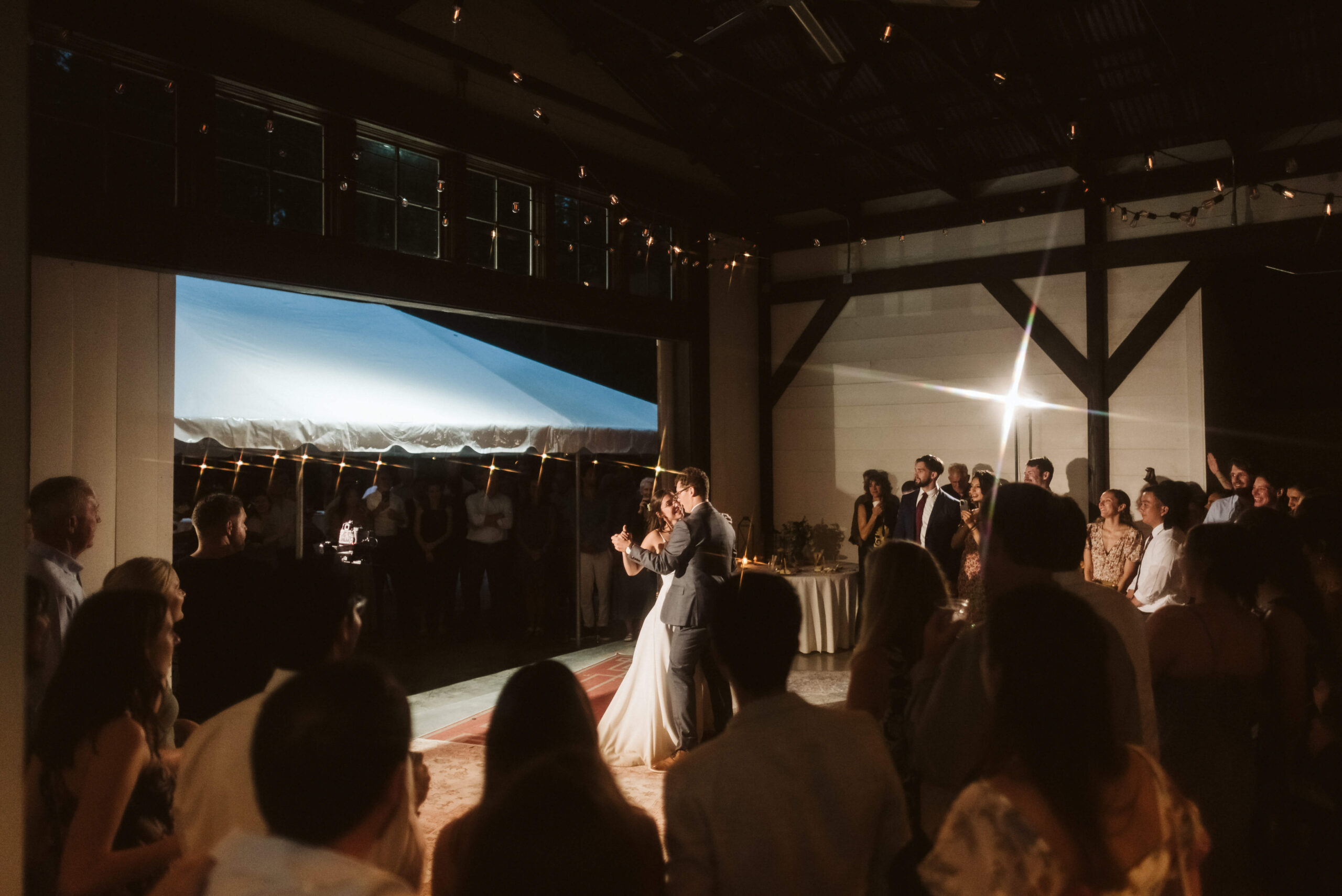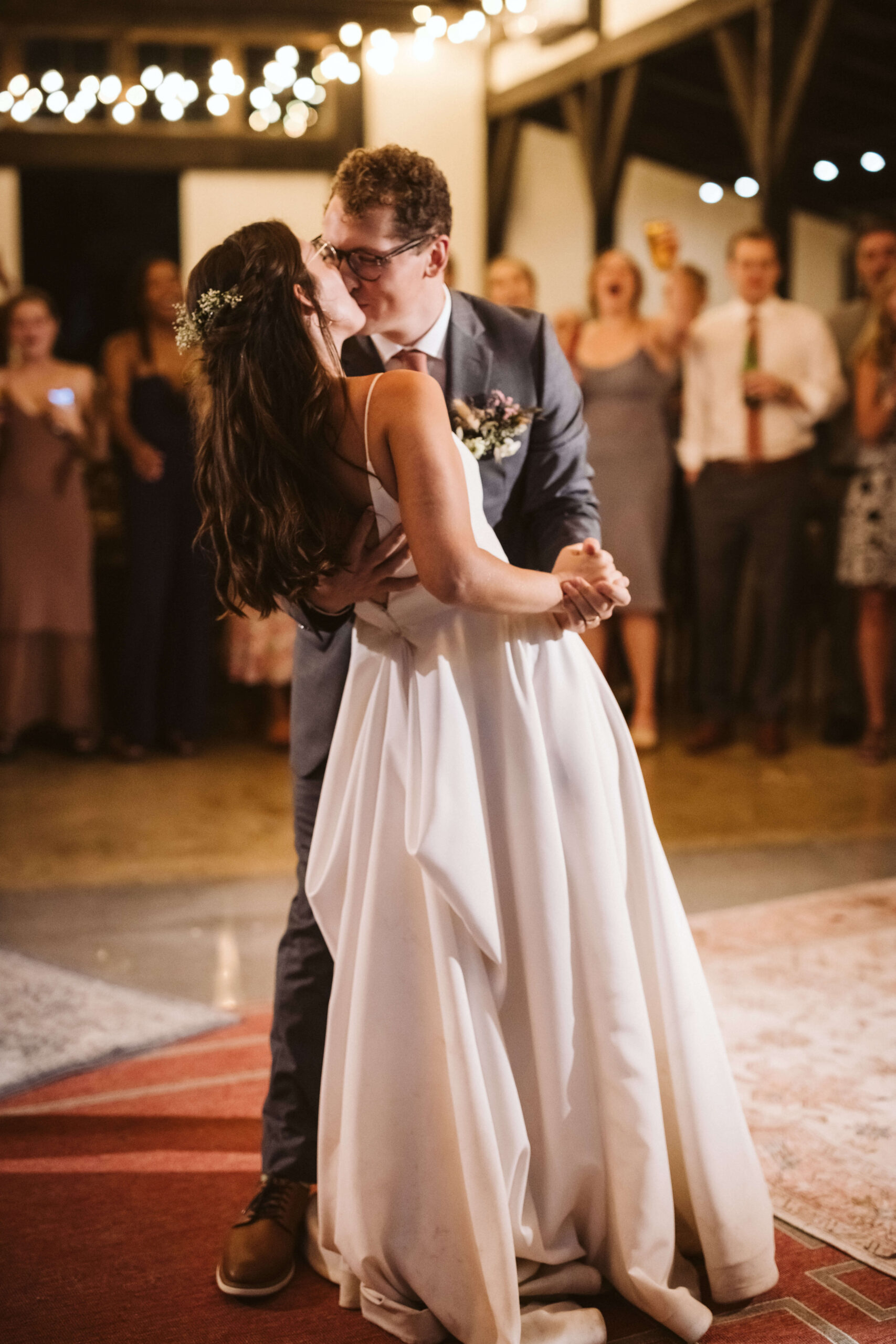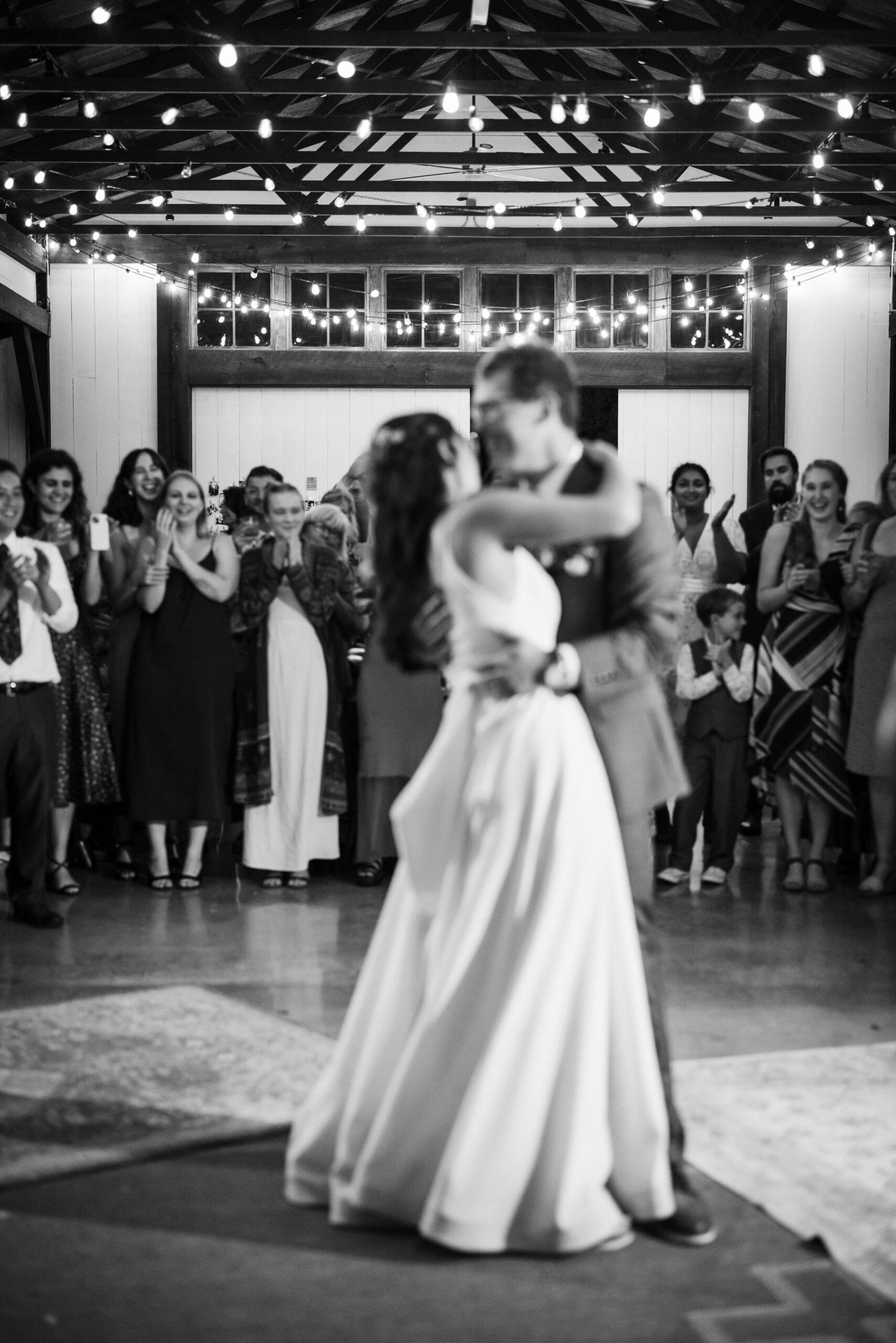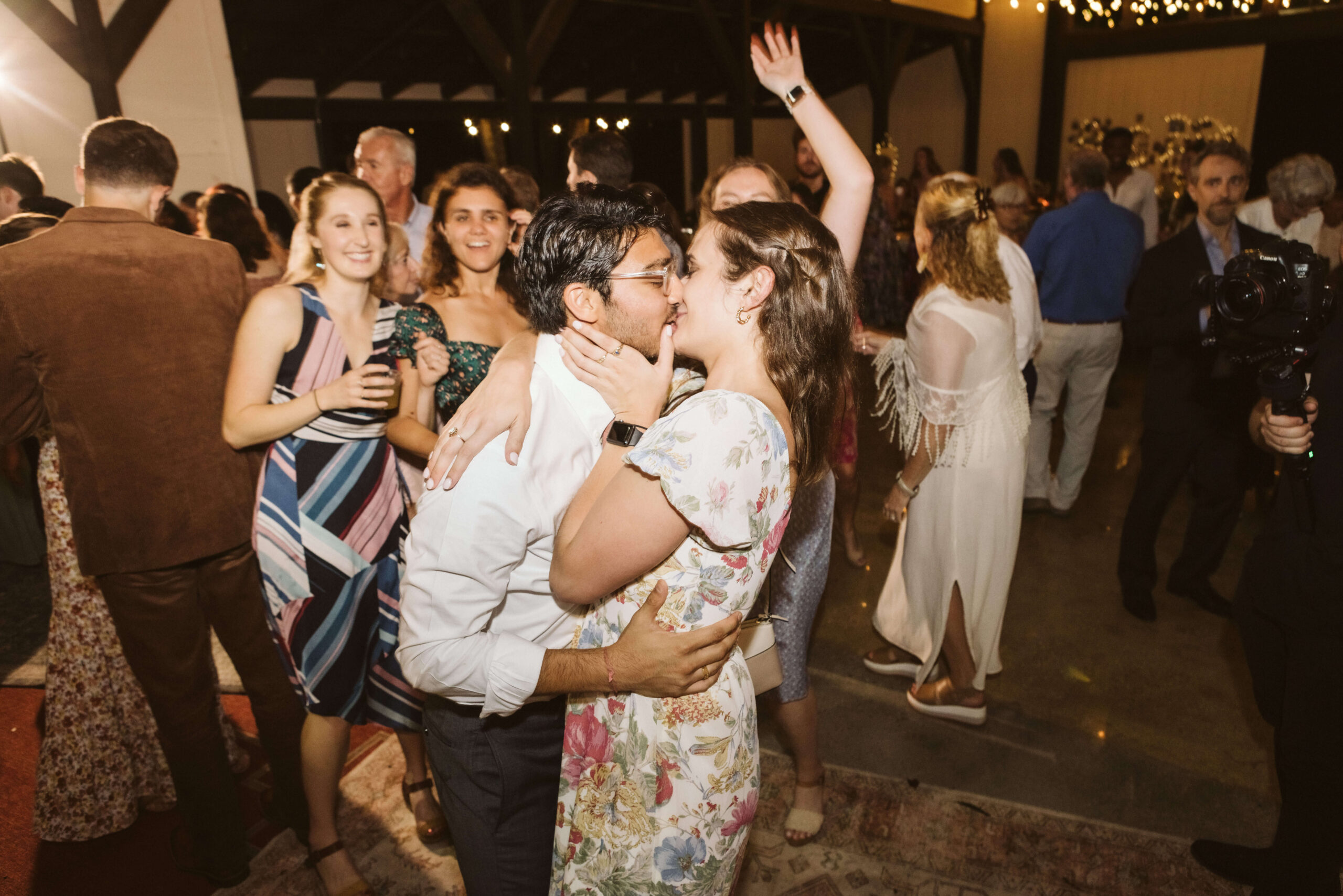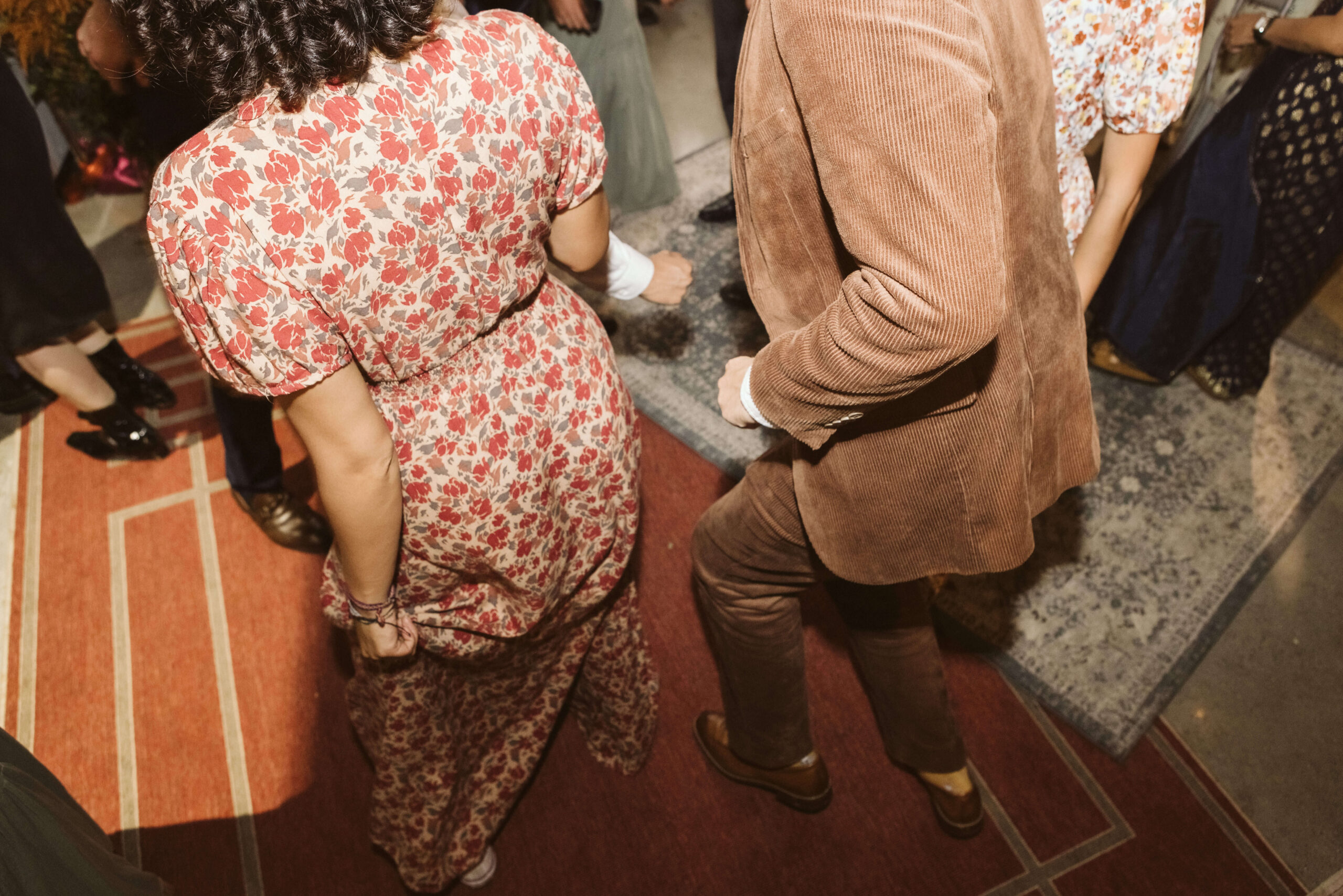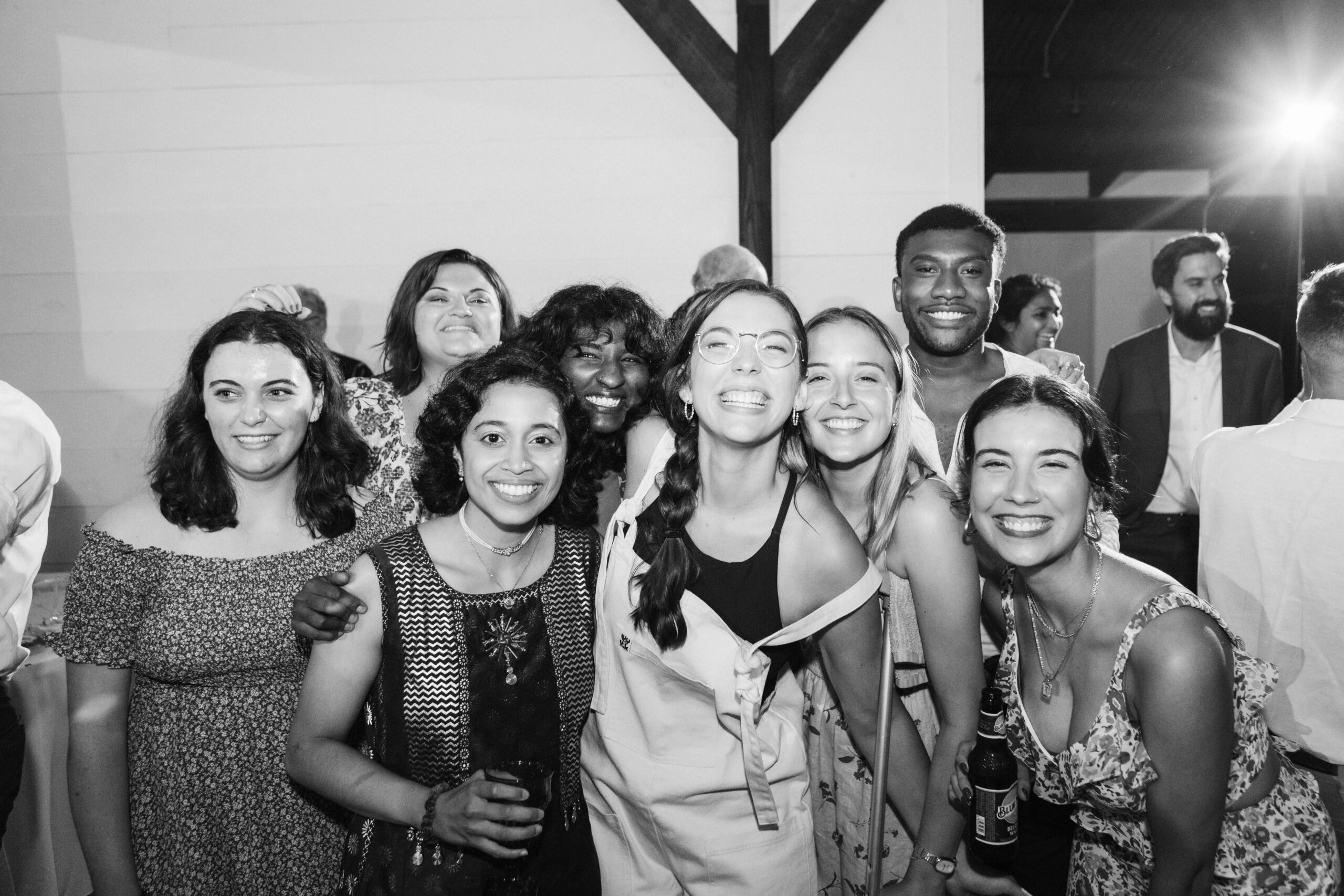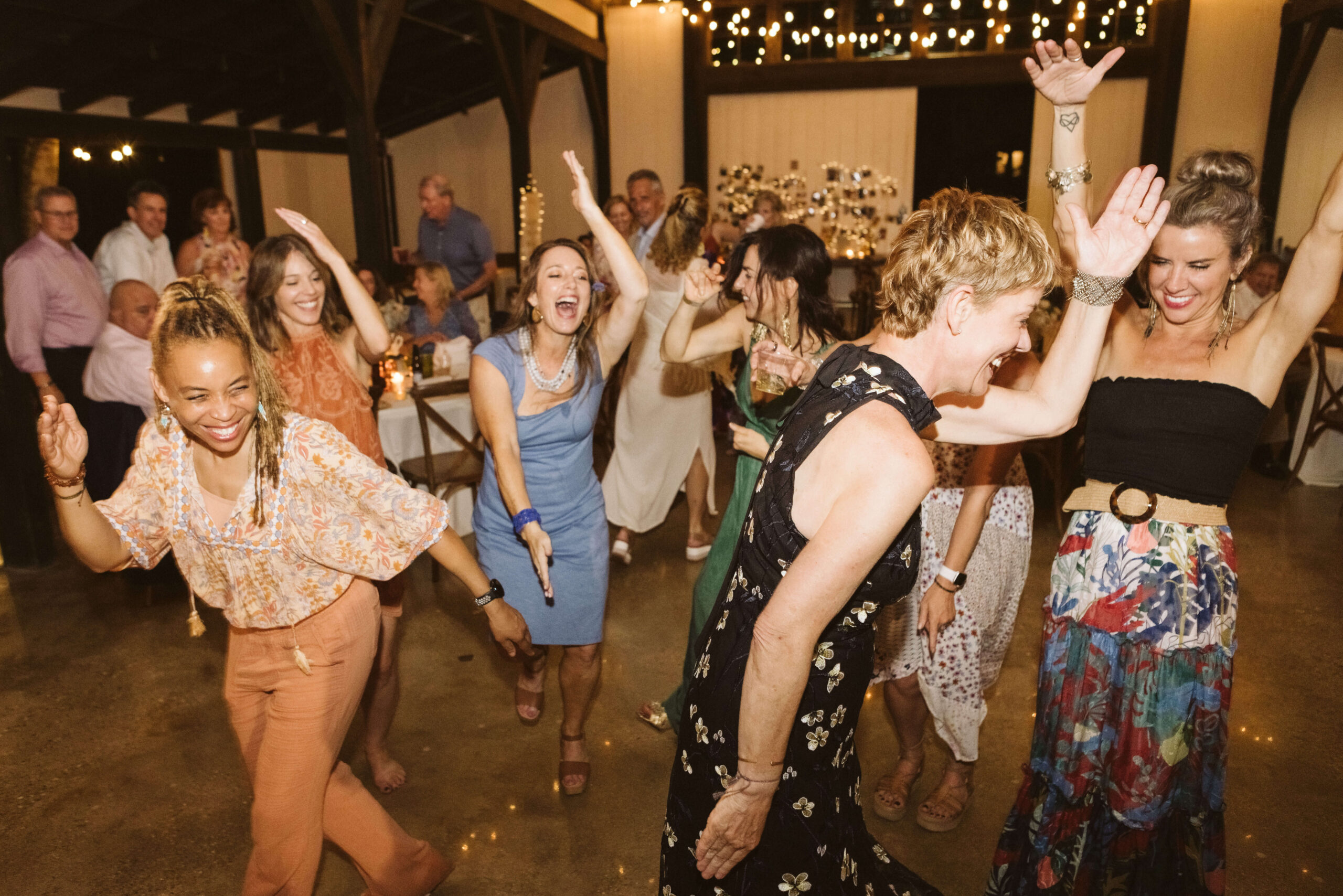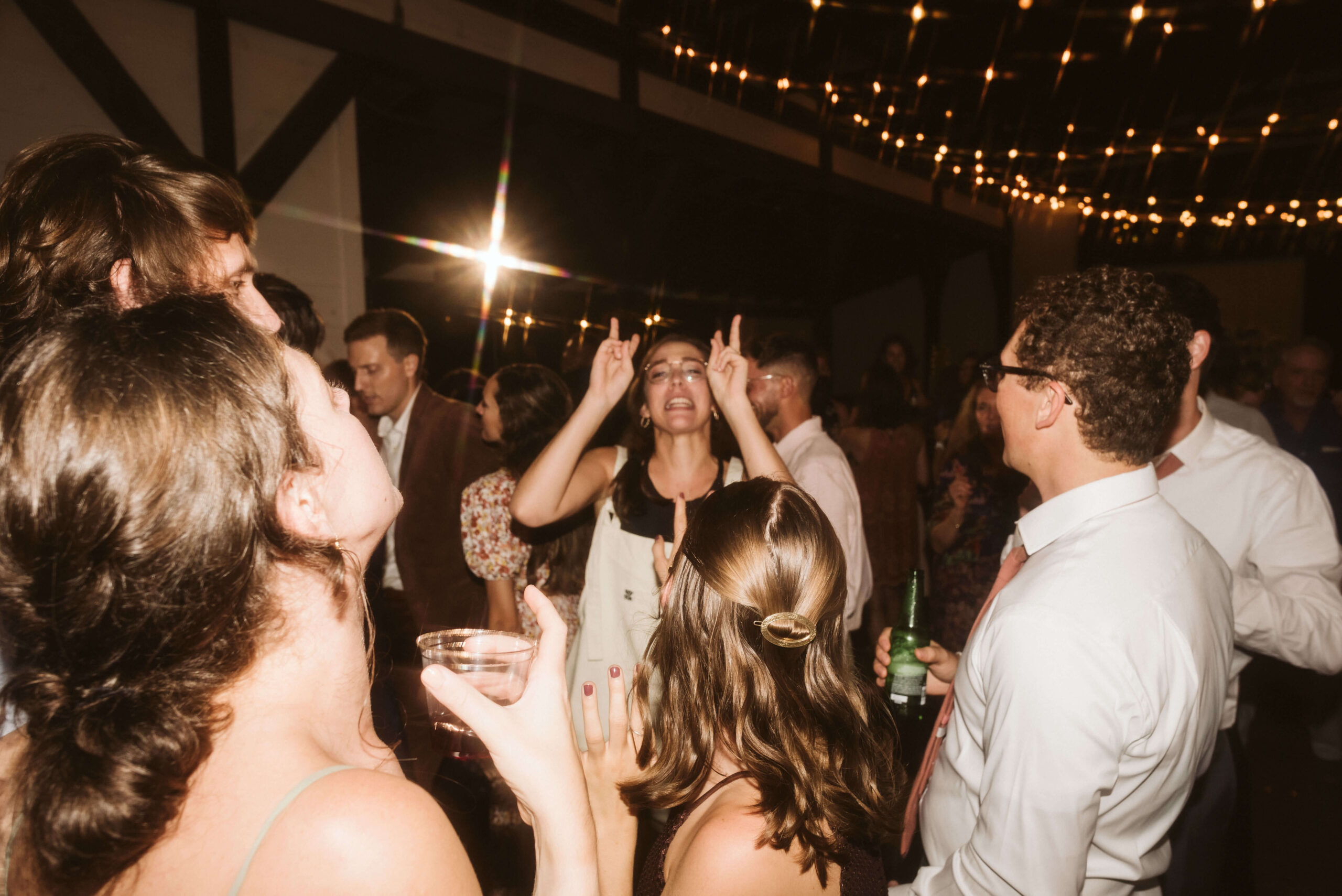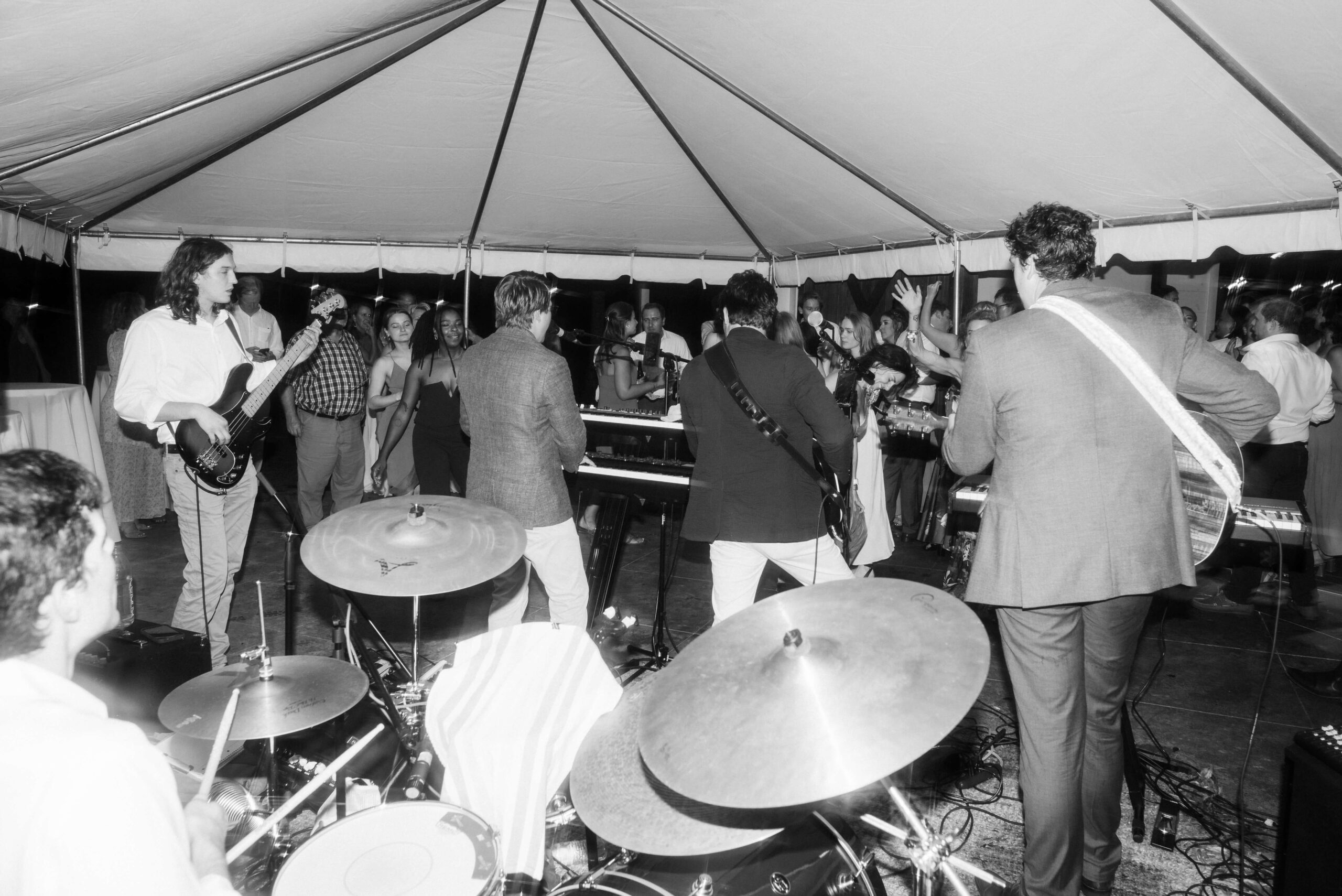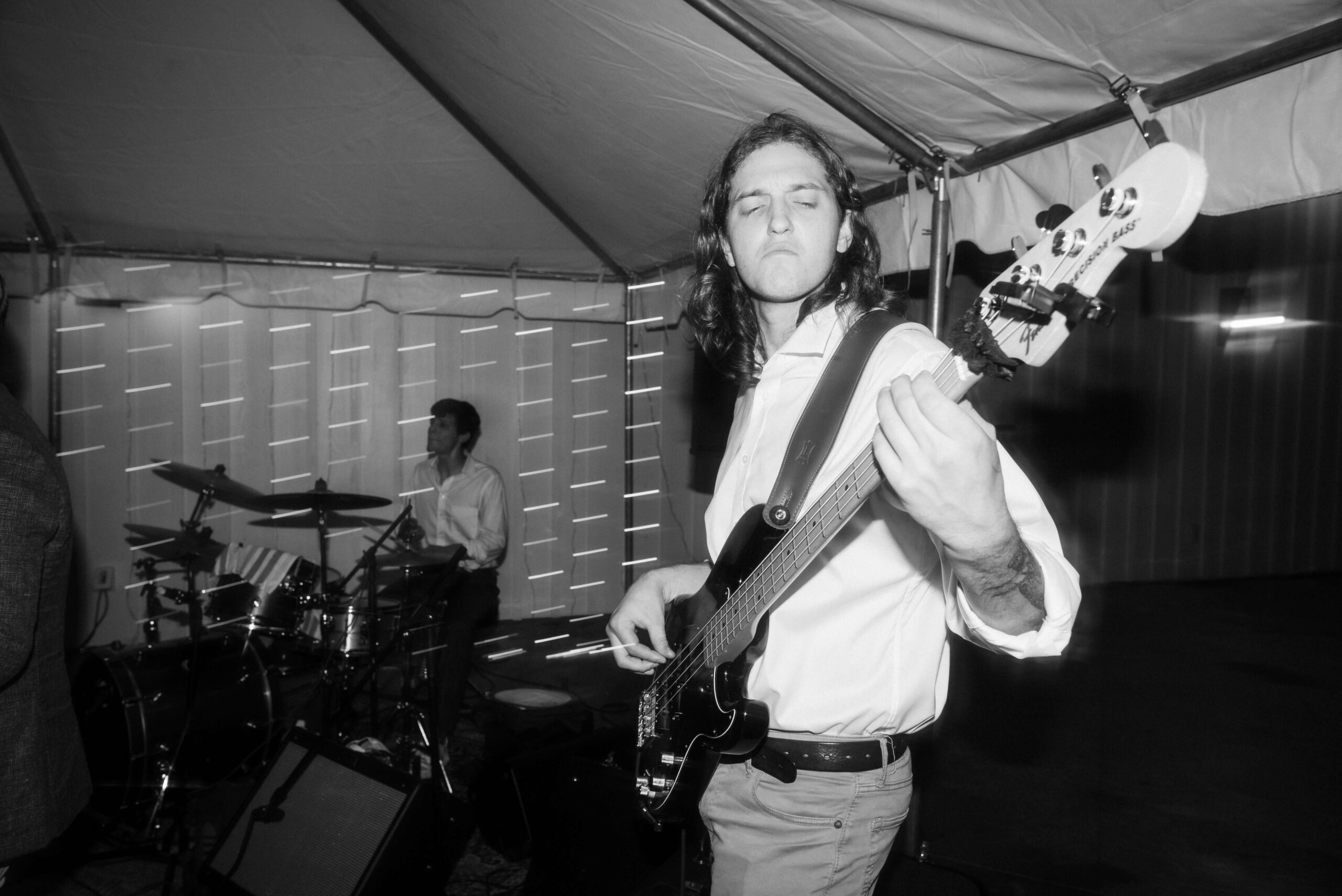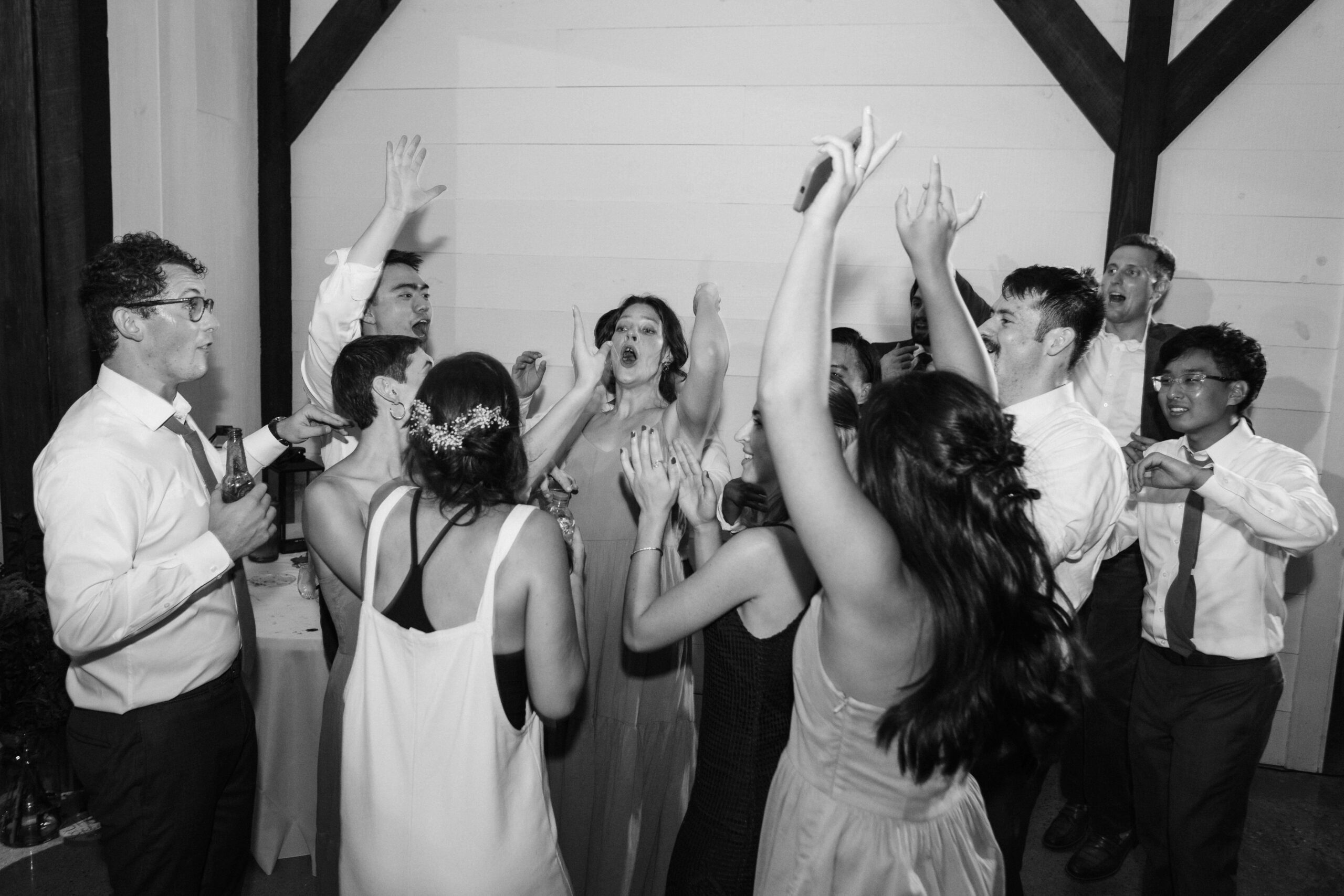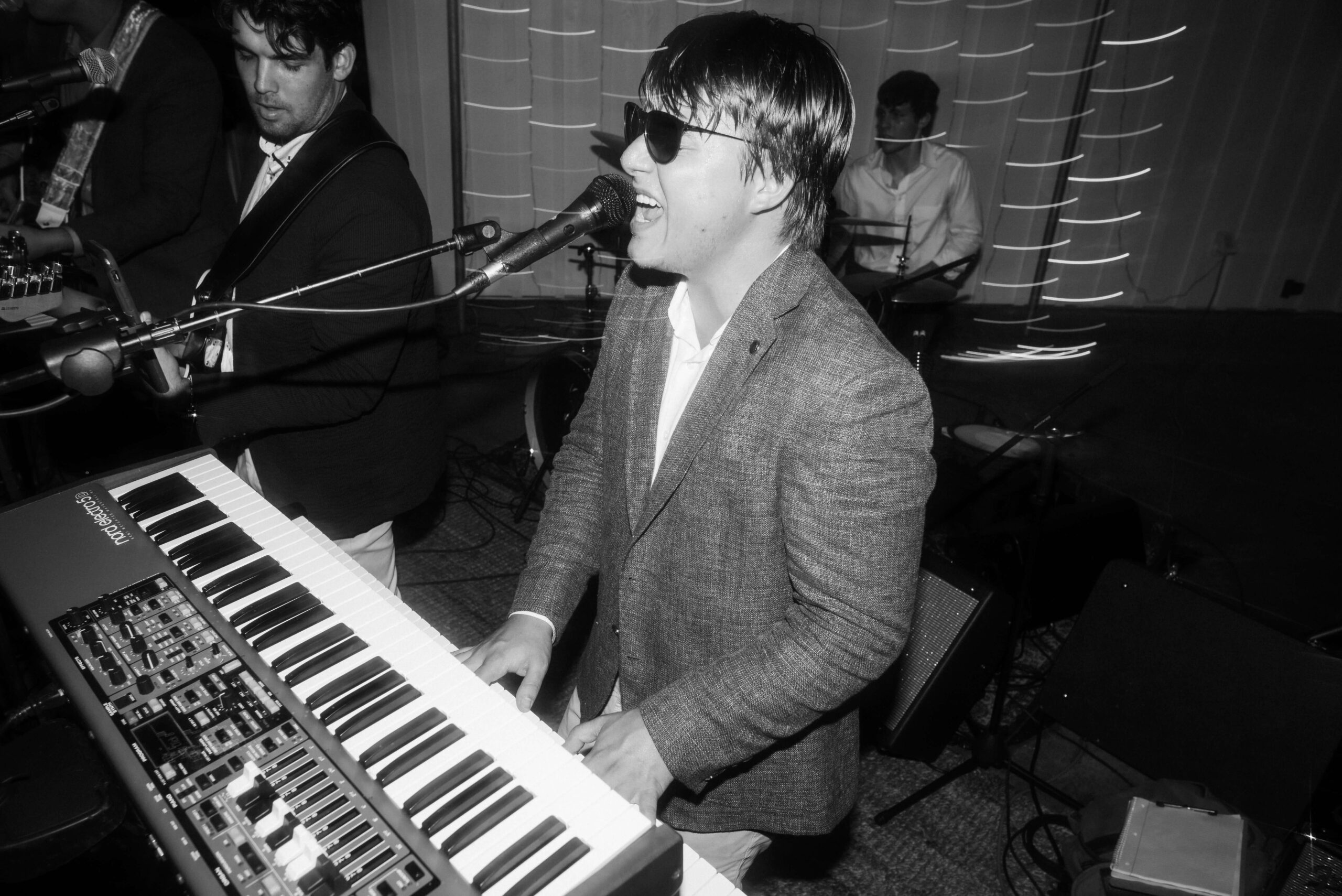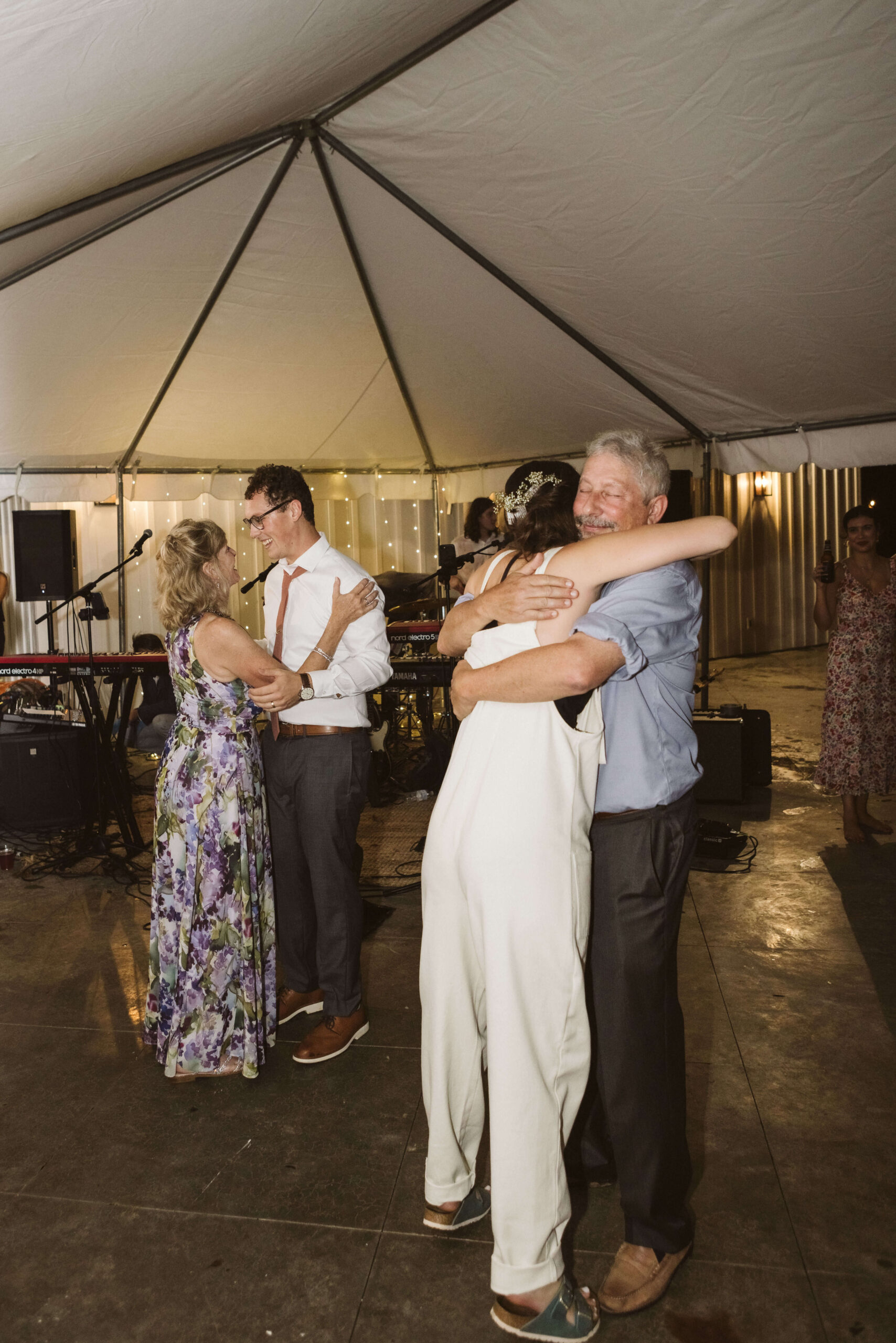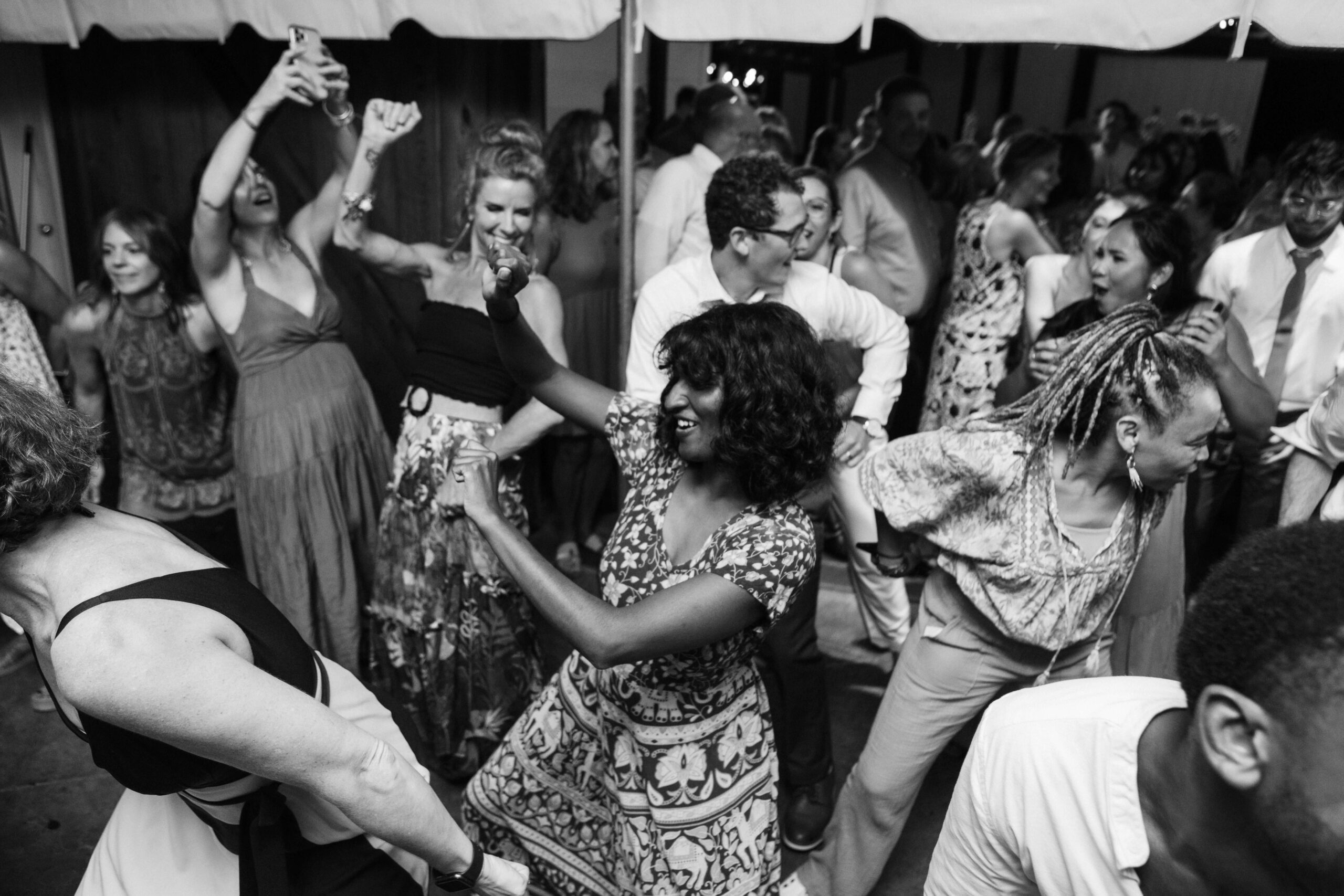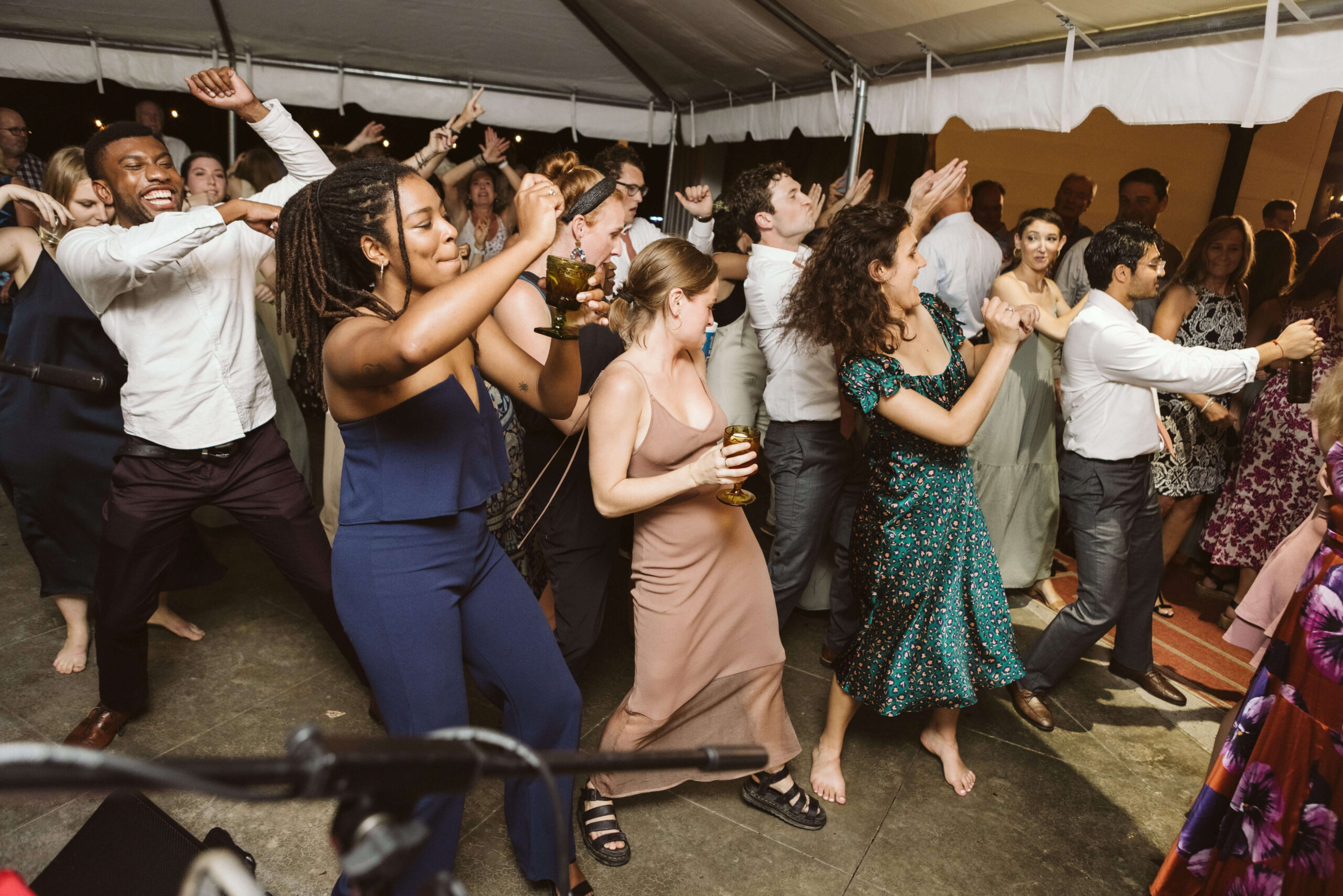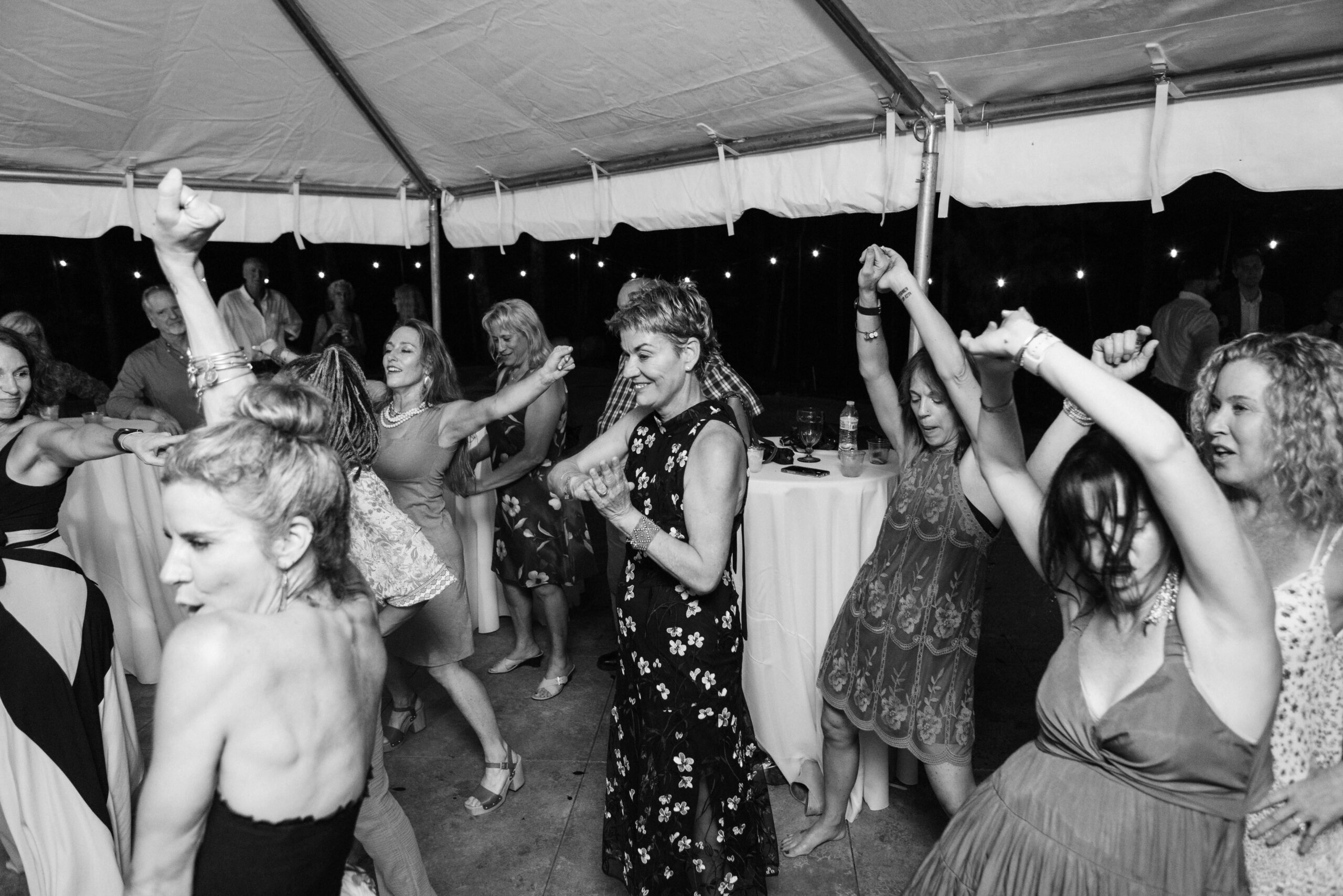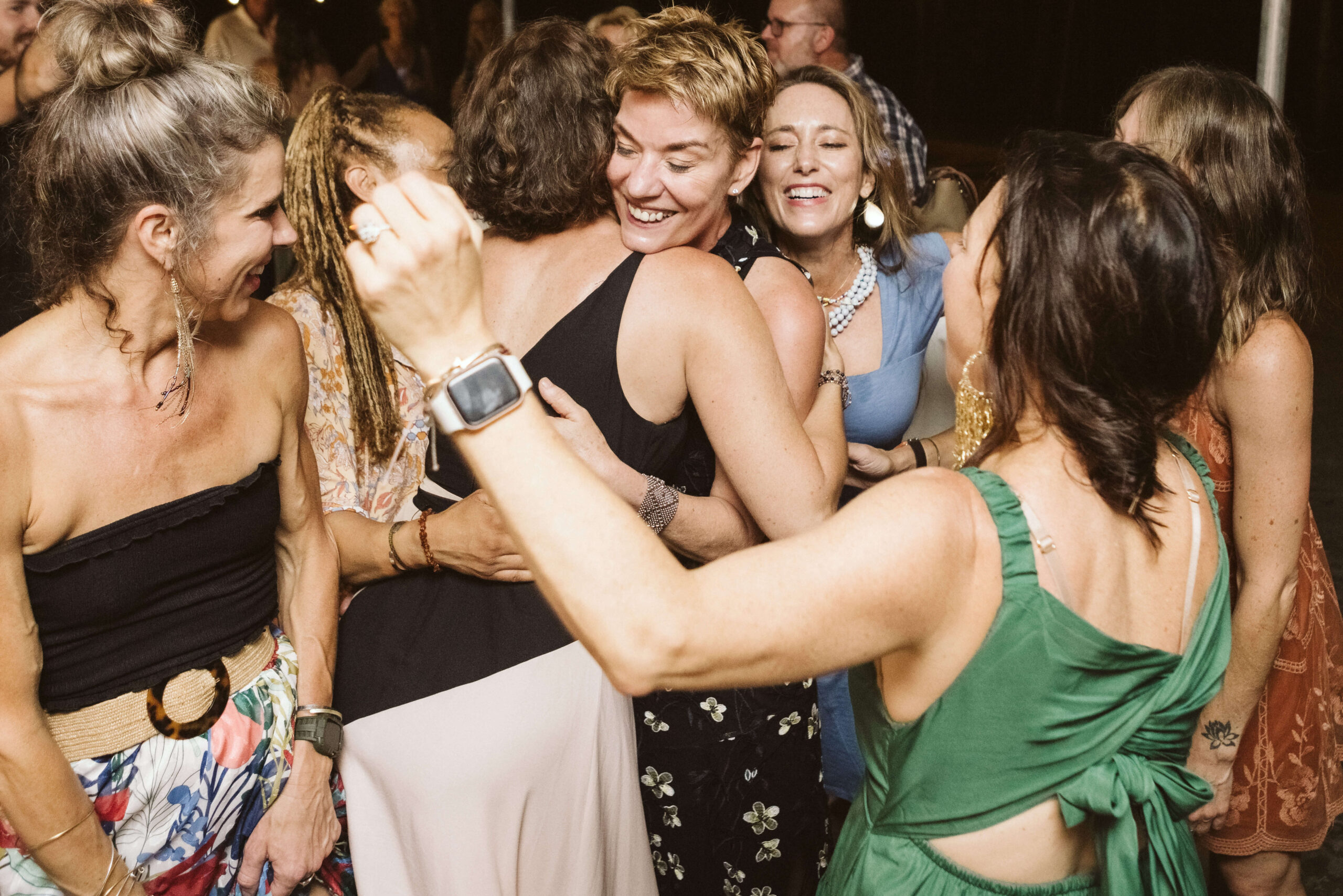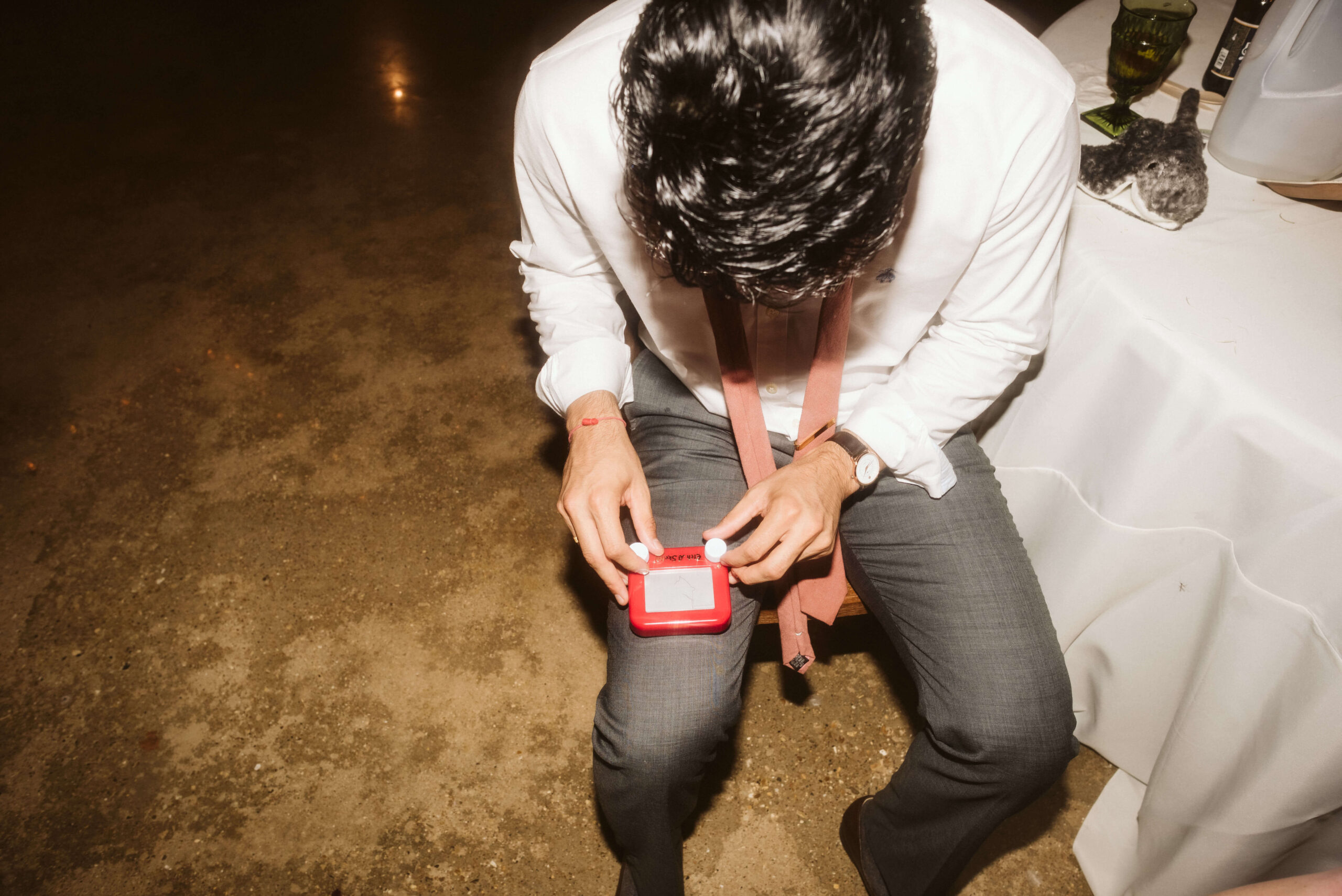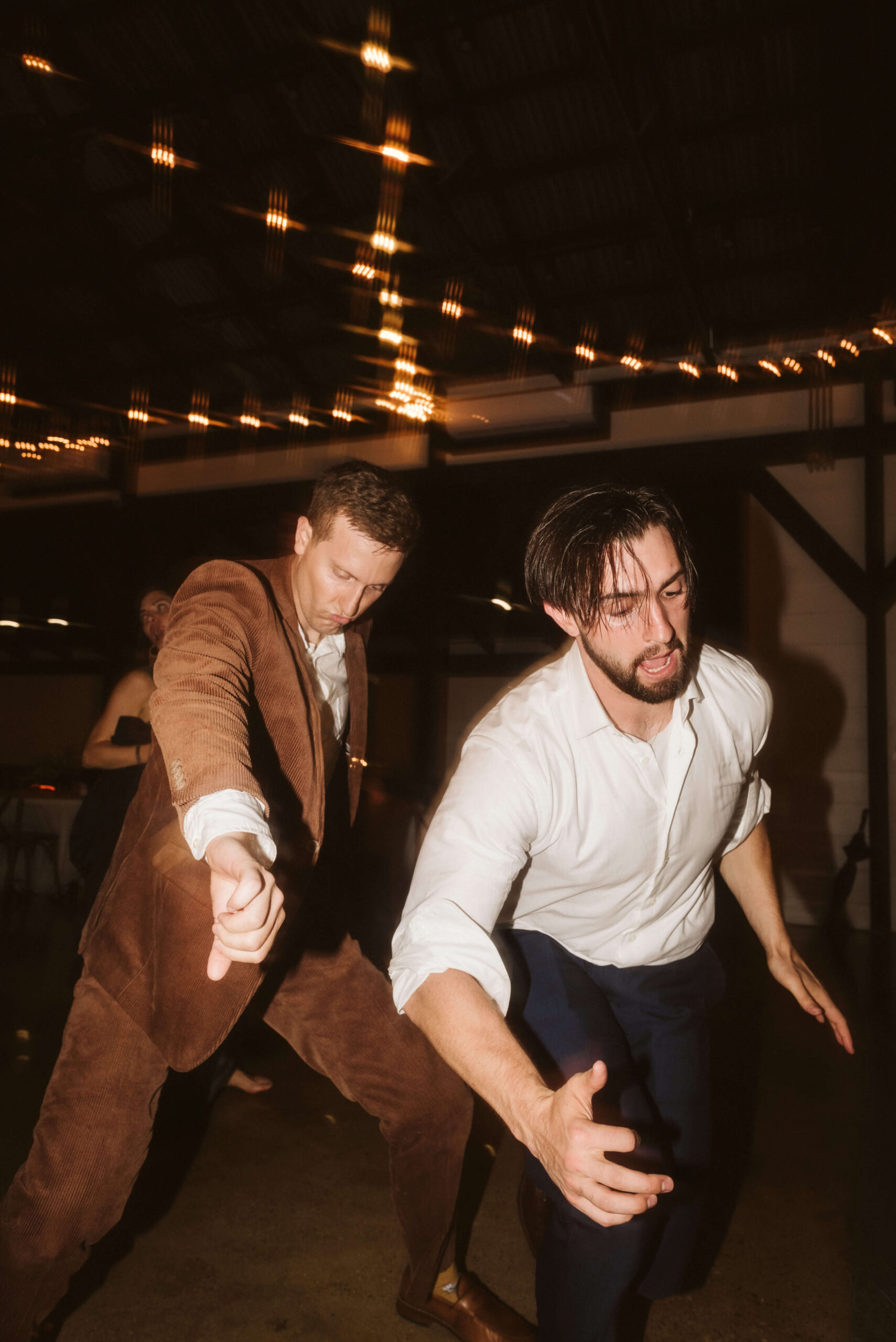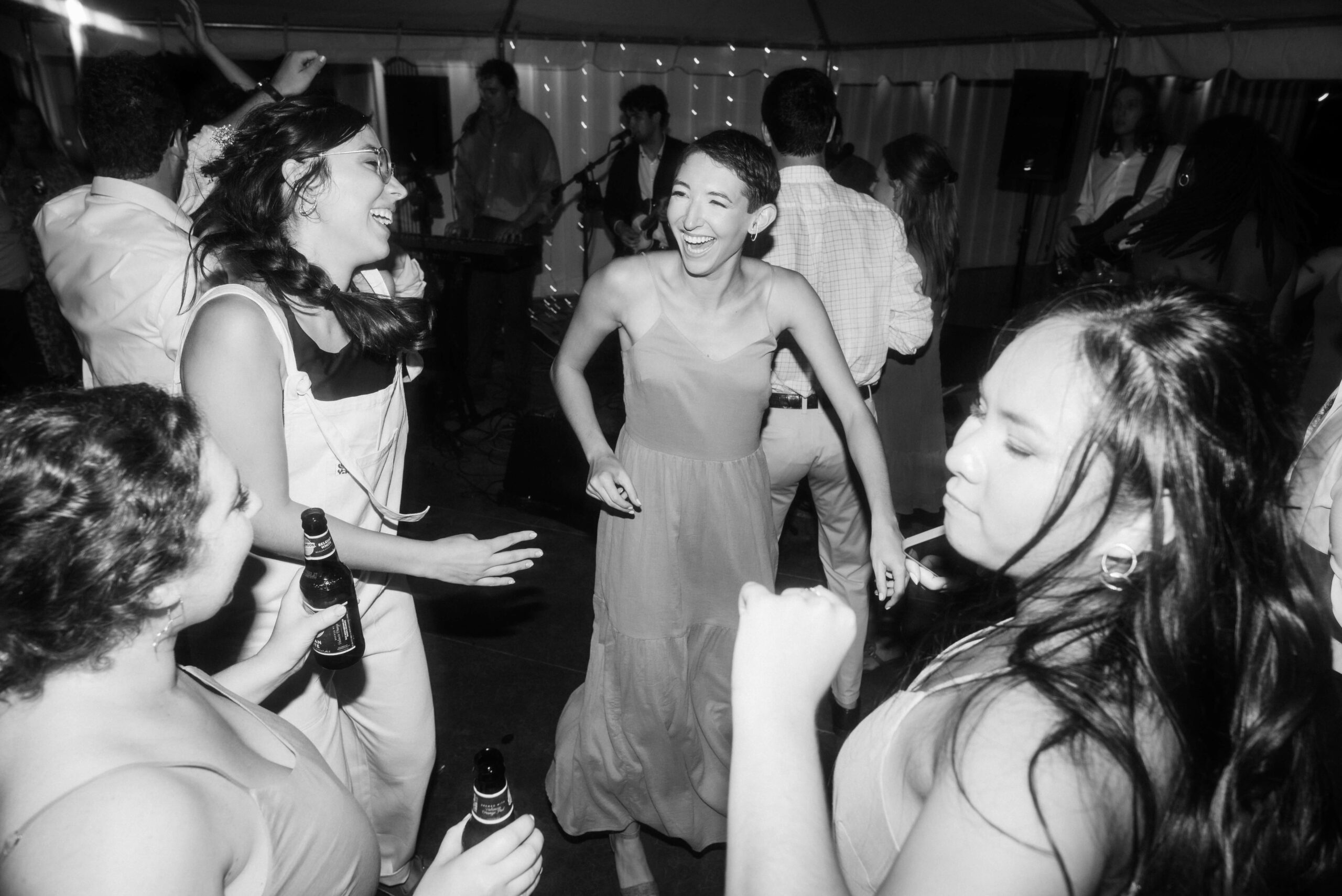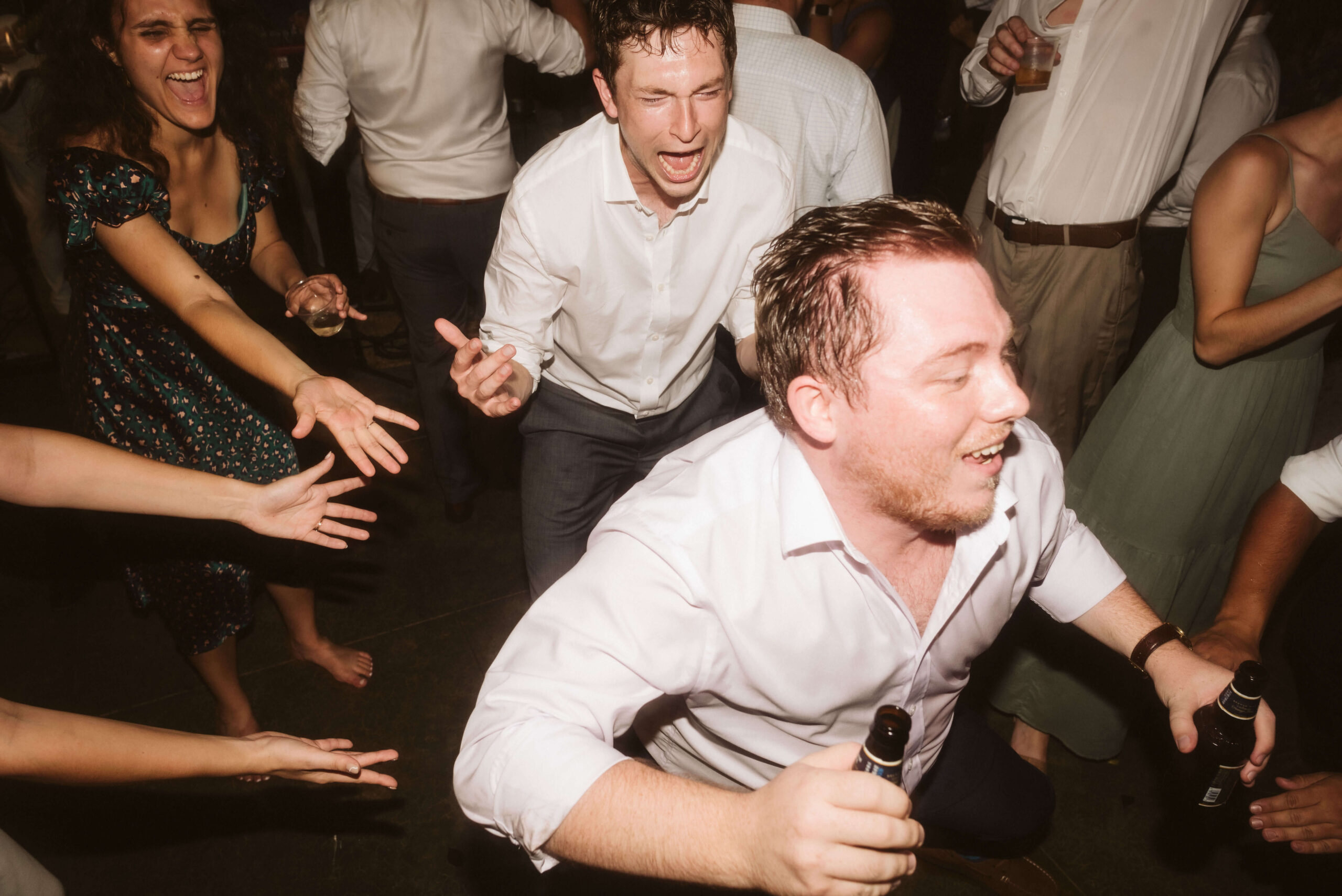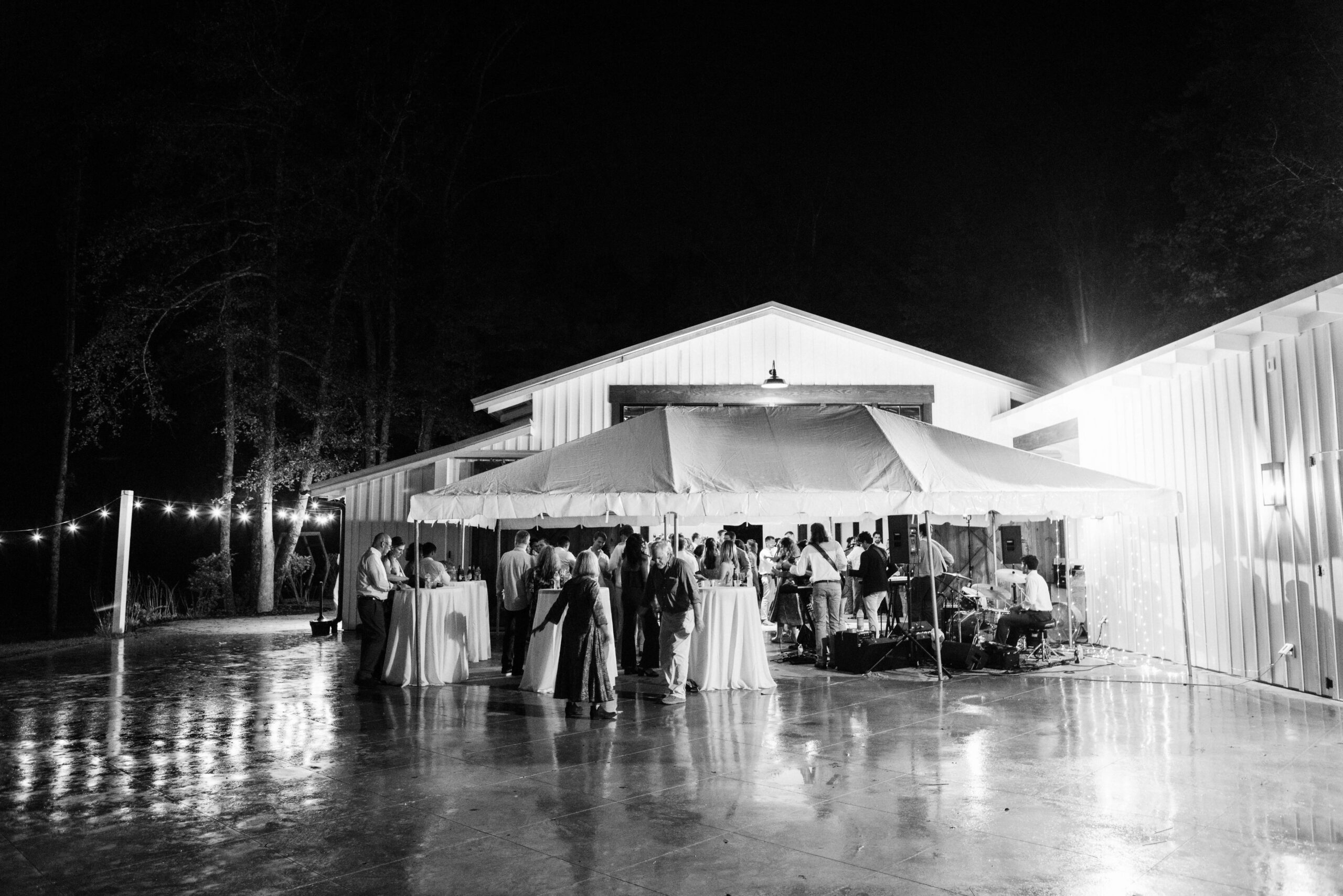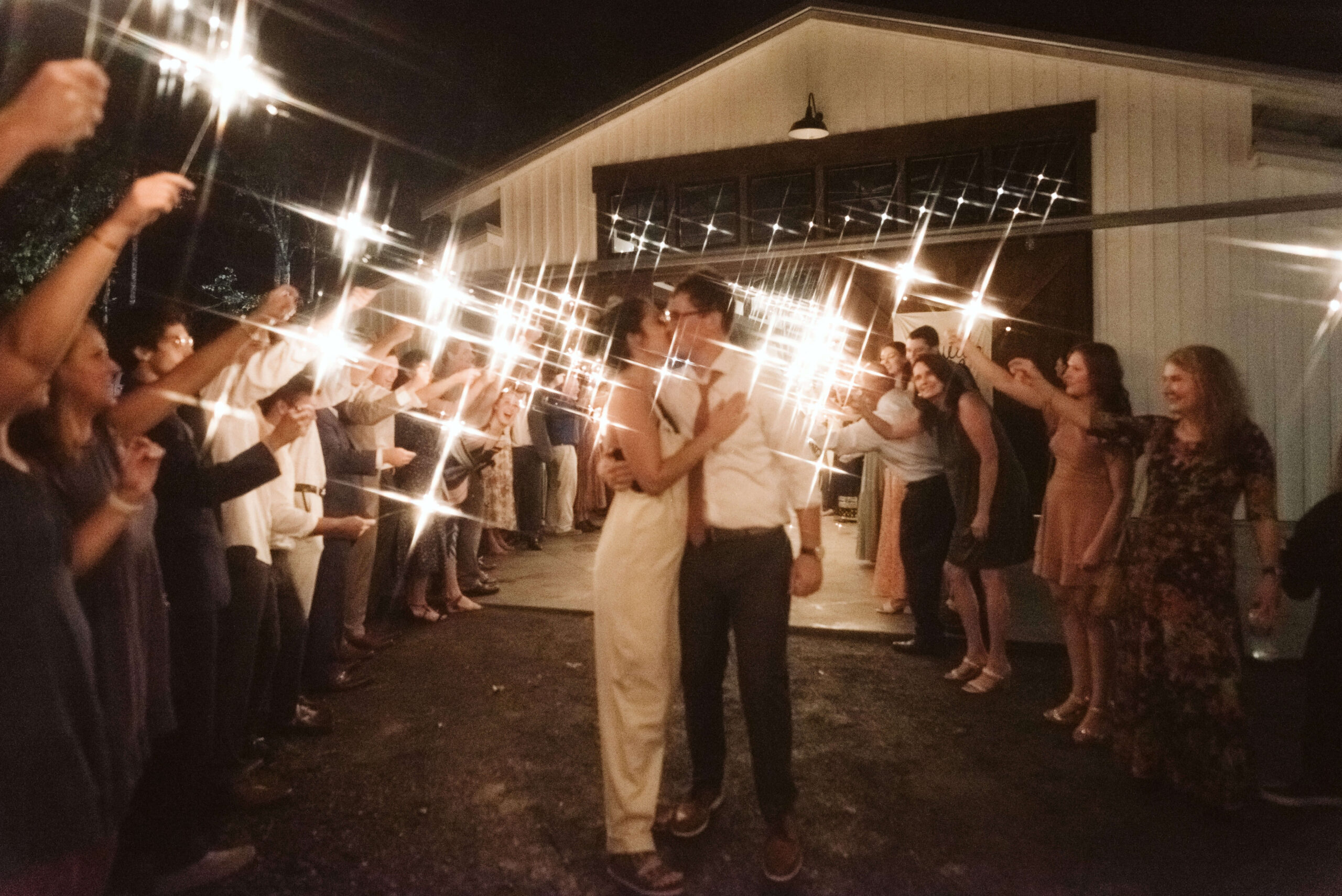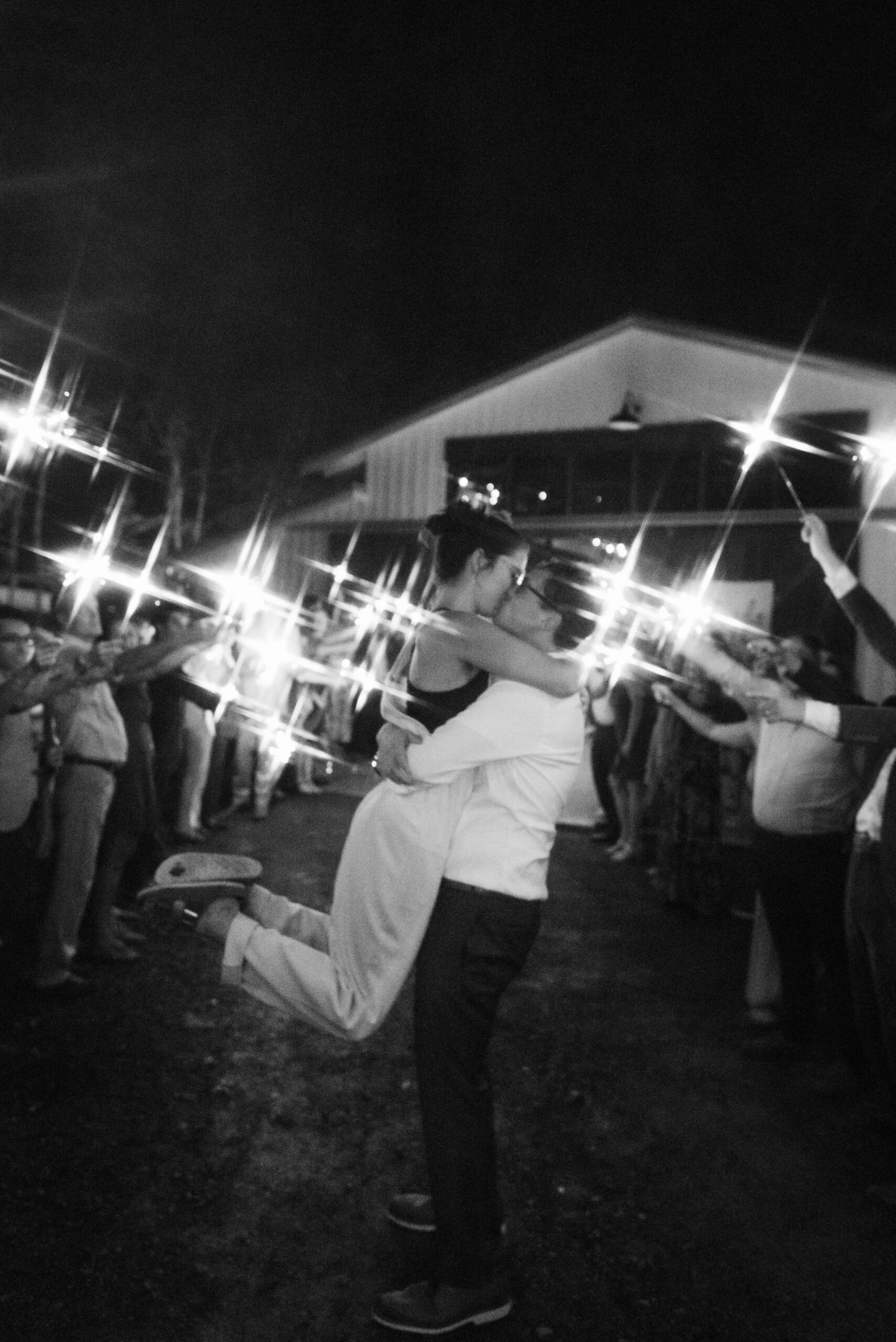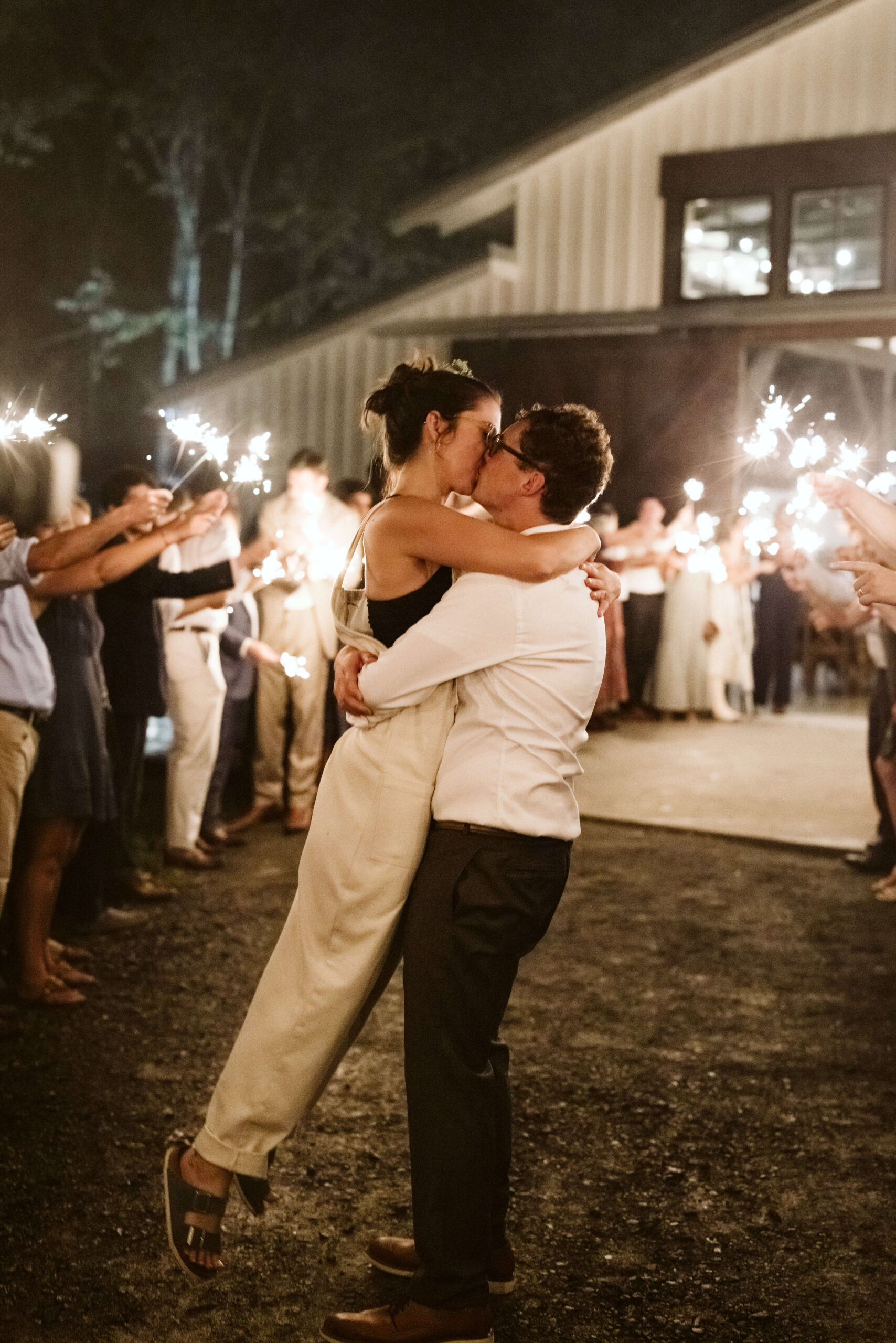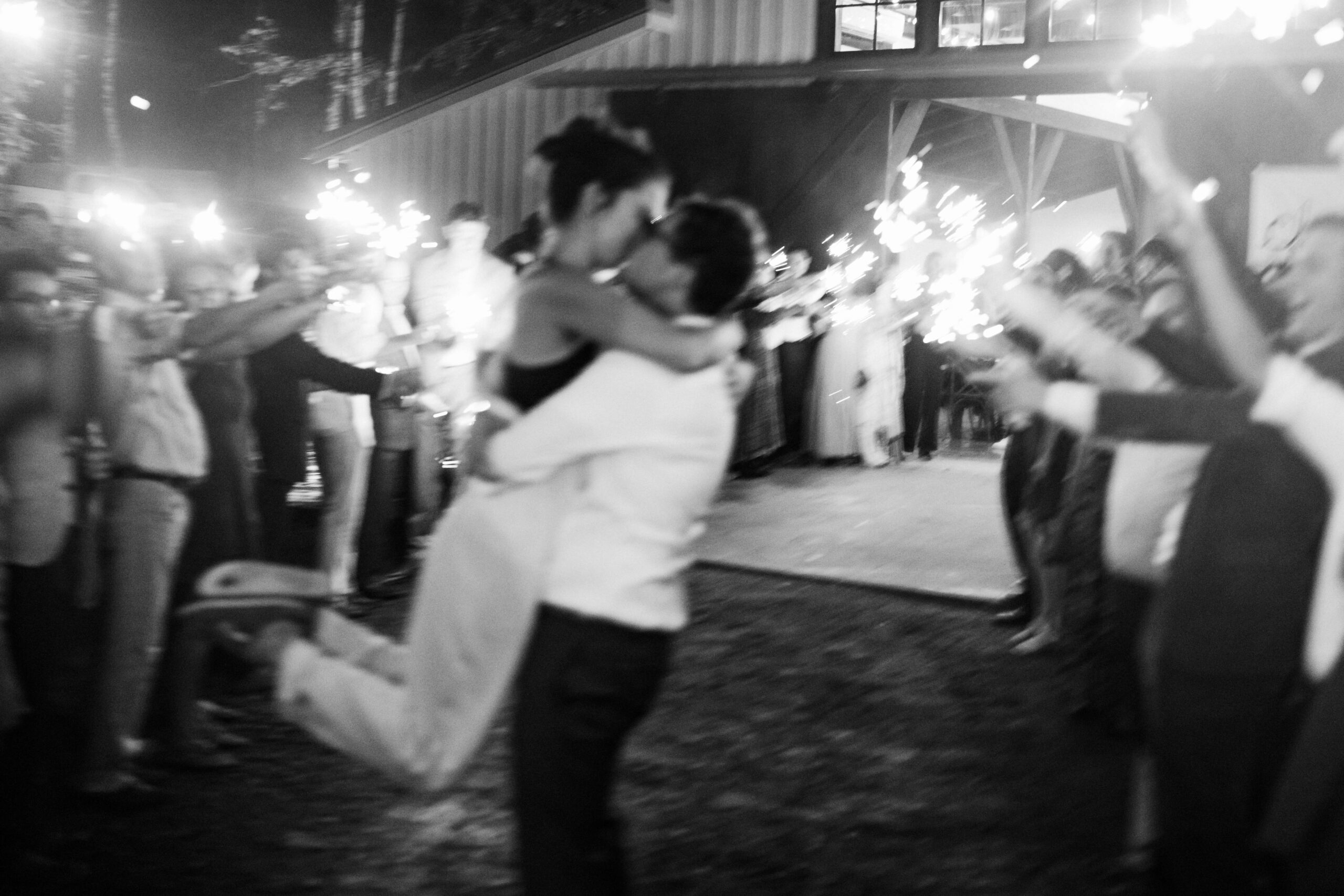 Ending the Night with a Sparkler Send Off
After the wedding ceremony came the cocktail hour just outside of the barn. Since the weather was still rather damp, the area was covered with a large tent to keep everything dry as the reception hall was reset after the ceremony. Cheese platters, fresh fruits, and nuts lined the table, while the bar menu offered specialty drinks to pair. Just as cocktail hour was ending, the wedding party and the bride and groom rejoined the guests parading in and dancing to the live music from the Willie Pearl Band.
For the reception, guests gathered around wooden farm-style tables decorated with fresh white flowers and glowing candles. Dinner was provided by Tasteful Gatherings and enjoyed while members of the wedding party made their toasts. When it came time to cut the cake, Claudia and Bill cut into a delicious-looking cake topped with slices of fresh apples and shared it together. The rest of the night was filled with dancing (both in the rain and out of it!) as well as Claudia and Bill's adorable first dance as the Willie Pearl Band continued to play.
As the night came to a close, Claudia opted for a change from her wedding dress before the couple made their exit. Wearing a pair of white overalls and her Birkenstocks, Claudia and Bill made their way down a makeshift aisle of family and friends. Everyone cheered as they held up their sparklers as a sign of good luck and well wishes to the newlyweds.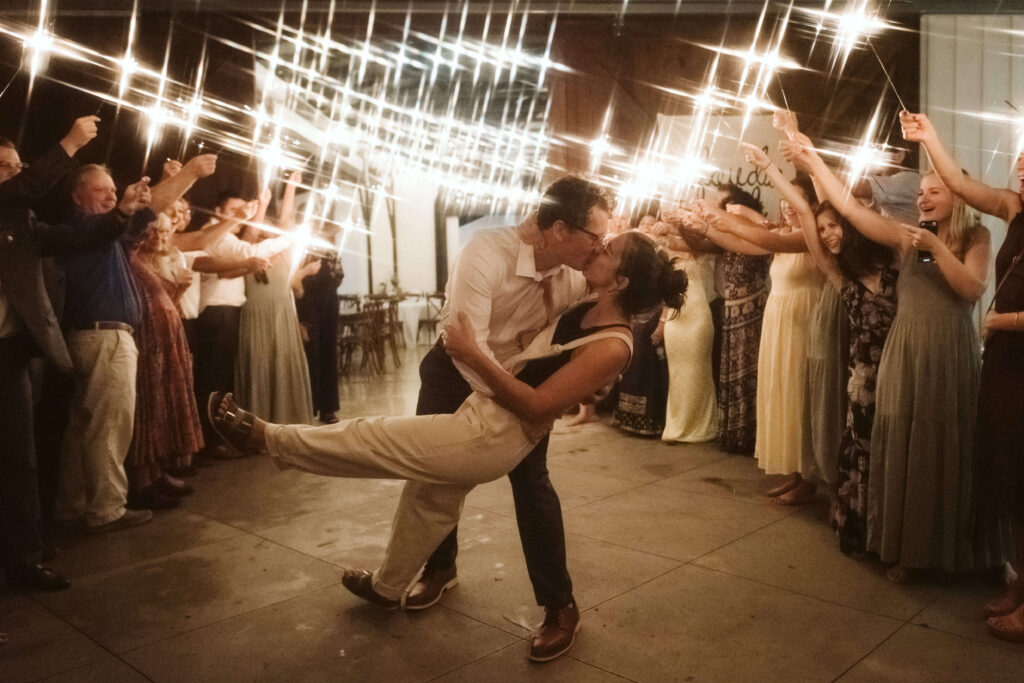 Still looking for a wedding photographer? I'd love to be there to help capture your most special moments and I promise, I don't mind the rain.
Hey there! I'm Rachael Crowe of OkCrowe Photography. Although I'm based in Chattanooga, I've shot tons of weddings in and around the Chattanooga area and beyond. No matter where you are, I'll be more than happy to travel to you to capture your love story through beautiful photos. If you want to chat, be sure to fill out my contact form so we can start planning a wedding!