When you're getting married, you want all of your loved ones, family, and friends right there at your side and celebrating with you. Why wouldn't you want your furry best friend there too? Your dog has been with you through thick and thin. Having them be a part of your wedding day seems only natural, right?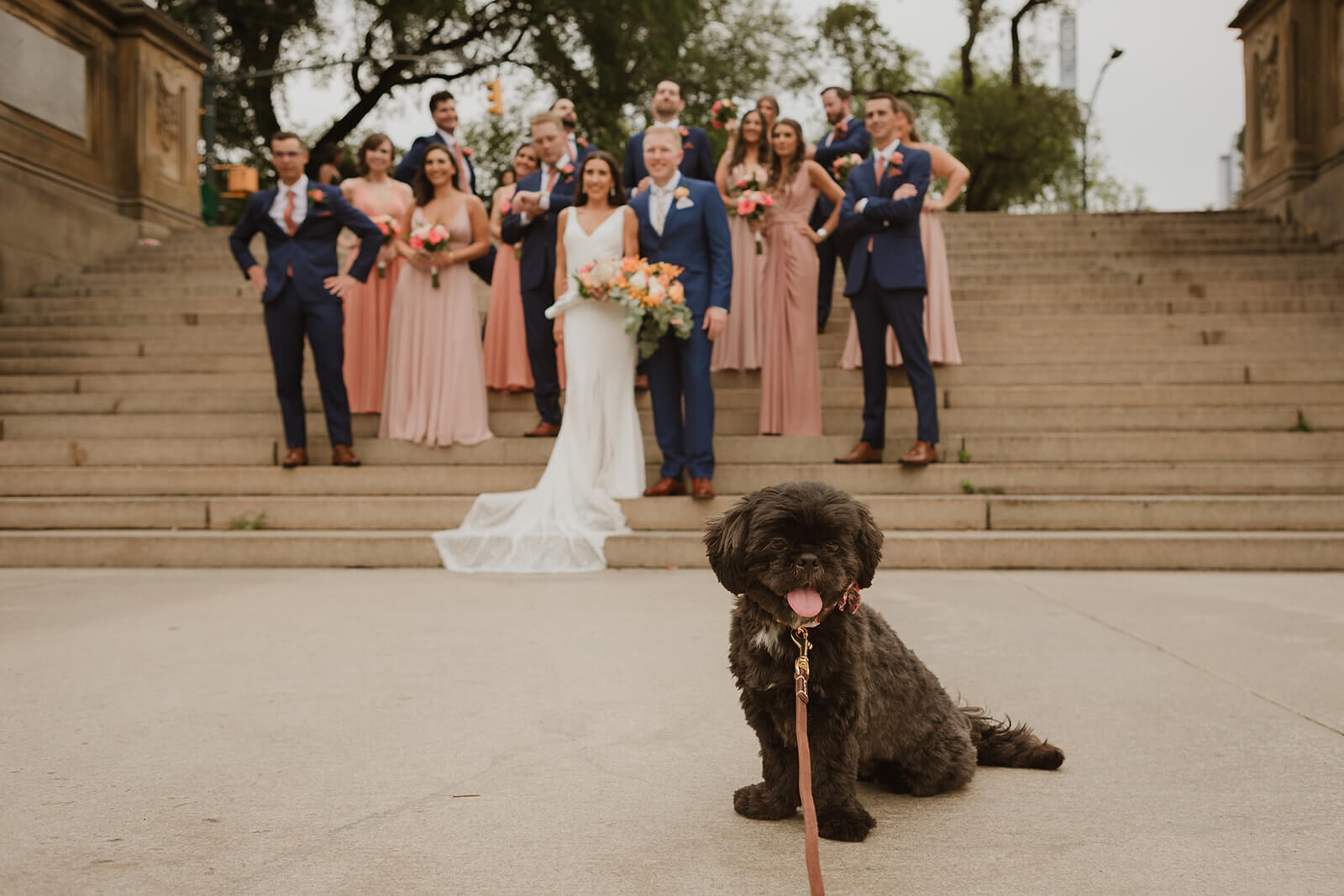 Things to Consider Before Including Your Dog on Your Wedding Day
If having your dog present on your wedding day is something that's truly important to you, there are some things to think about beforehand. First, you're going to want to consider your dog's personality and temperament. How are they around new people? Have they mastered basic commands like sit, stay, down, and drop it? It's important to put your dog's feelings first before your own. If your dog isn't comfortable around new people or crowds, it's probably better to leave them at home for their own well being no matter how much you want them there.
Next, make sure your ceremony and reception venues are dog friendly. If you're having your ceremony in a religious space, they might not be welcoming to furry friends in their building. However, if you're planning to have your wedding in an outdoor venue, you may find them to be more accommodating. It's also helpful to make your other vendors aware that your dog will be present. You wouldn't want your florist to unknowingly create beautiful flower displays that could be harmful to your dog.
Finally, plan for someone that your dog is comfortable with to be their handler for the day. You will be busy getting married and greeting guests. You won't have the time or be able to pay close attention to when your pup needs food, water, and potty breaks. It can also be helpful to let your dog tag along if you're planning to have a wedding rehearsal. Letting them sniff around comfortably without all of the wedding excitement may help your pup to feel more at ease on the day of.
So, whether you decide to plan to have your dog present on your big day or simply pay homage to them in some way, here are 5 ways to incorporate your dog into your wedding.
1. Get Ready with Your Pup at Your Side
If you can't have your dog at your actual wedding, having them there while you're getting ready is the next best thing. Whether you're planning to get ready at home or a dog friendly bride or groom suite, just think of all of the cute pictures you'll get of your pup trailing after your wedding dress or supervising as the guys get ready. Plus, if you're feeling any wedding day nerves, early morning snuggles with your pup are perfect for easing anxiety.
If your dog doesn't mind wearing clothes themselves, you can even have them get ready with you! There are tons of little tutus, bowties, and tuxes made for dogs that would be perfect for wedding attire. You might even find someone who can customize and outfit to match your own! If you don't think your dog would wear an outfit for the day (or even just for pictures or the ceremony), you can always DIY a decorated leash for them instead or decorate their collar with ribbons and flowers.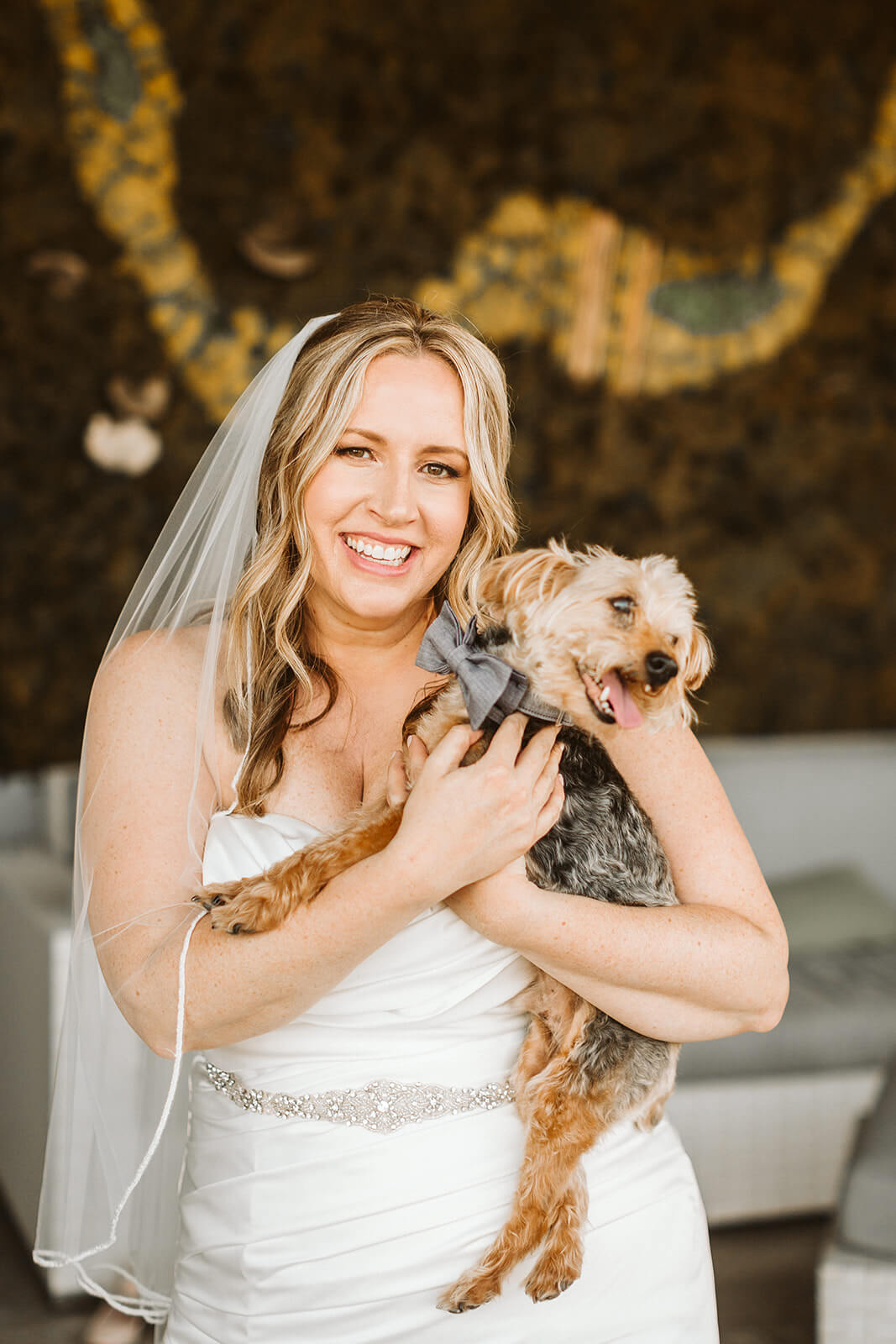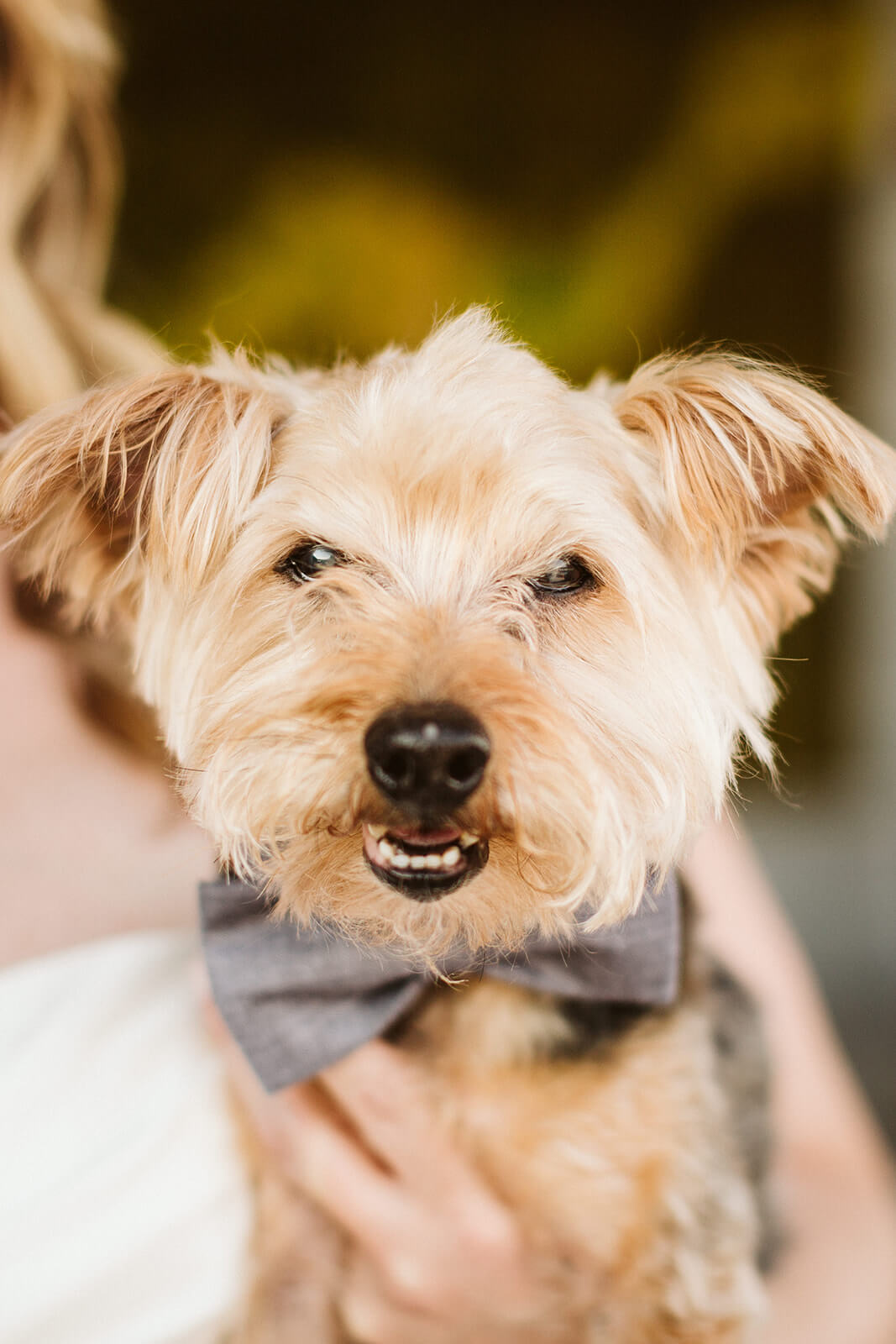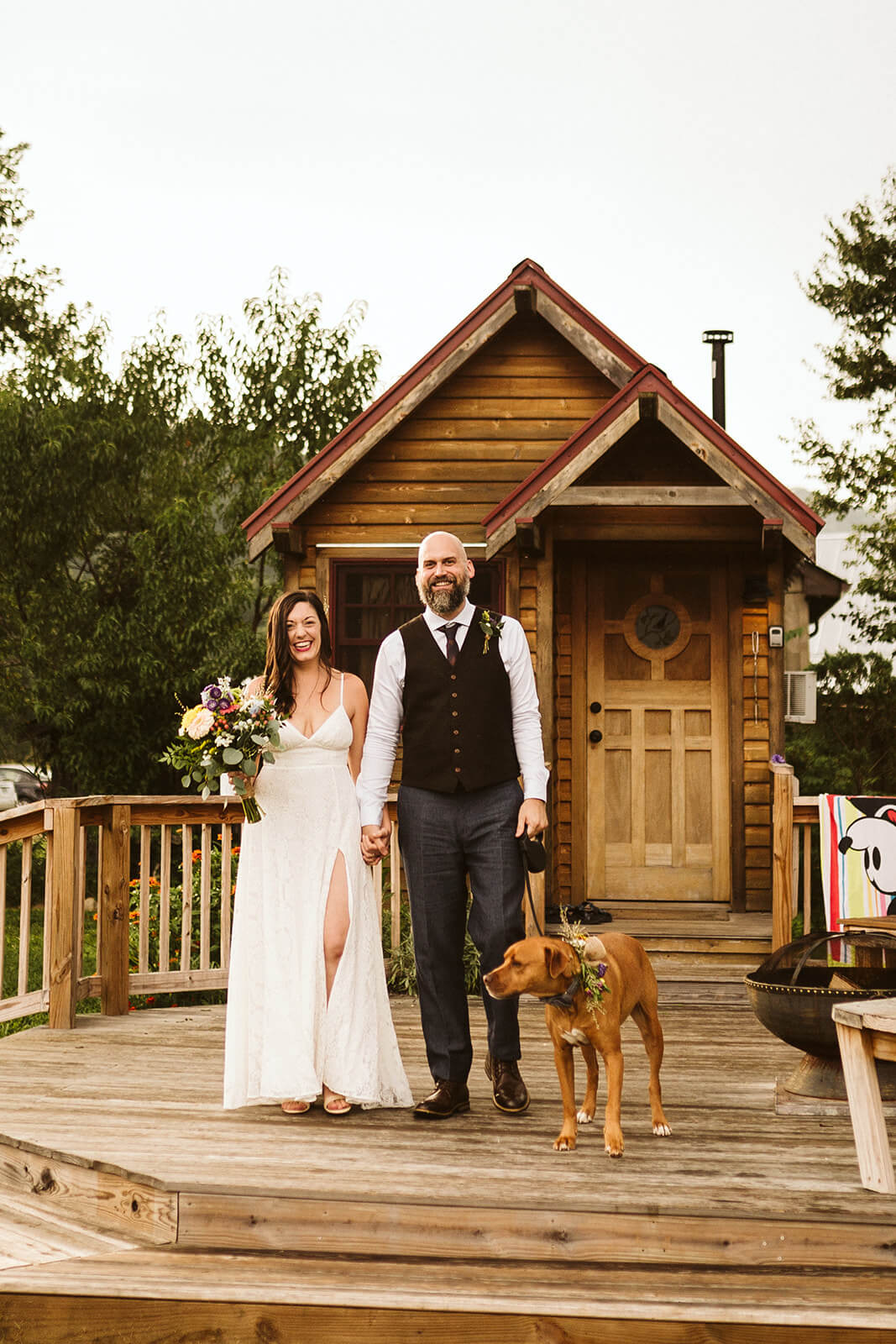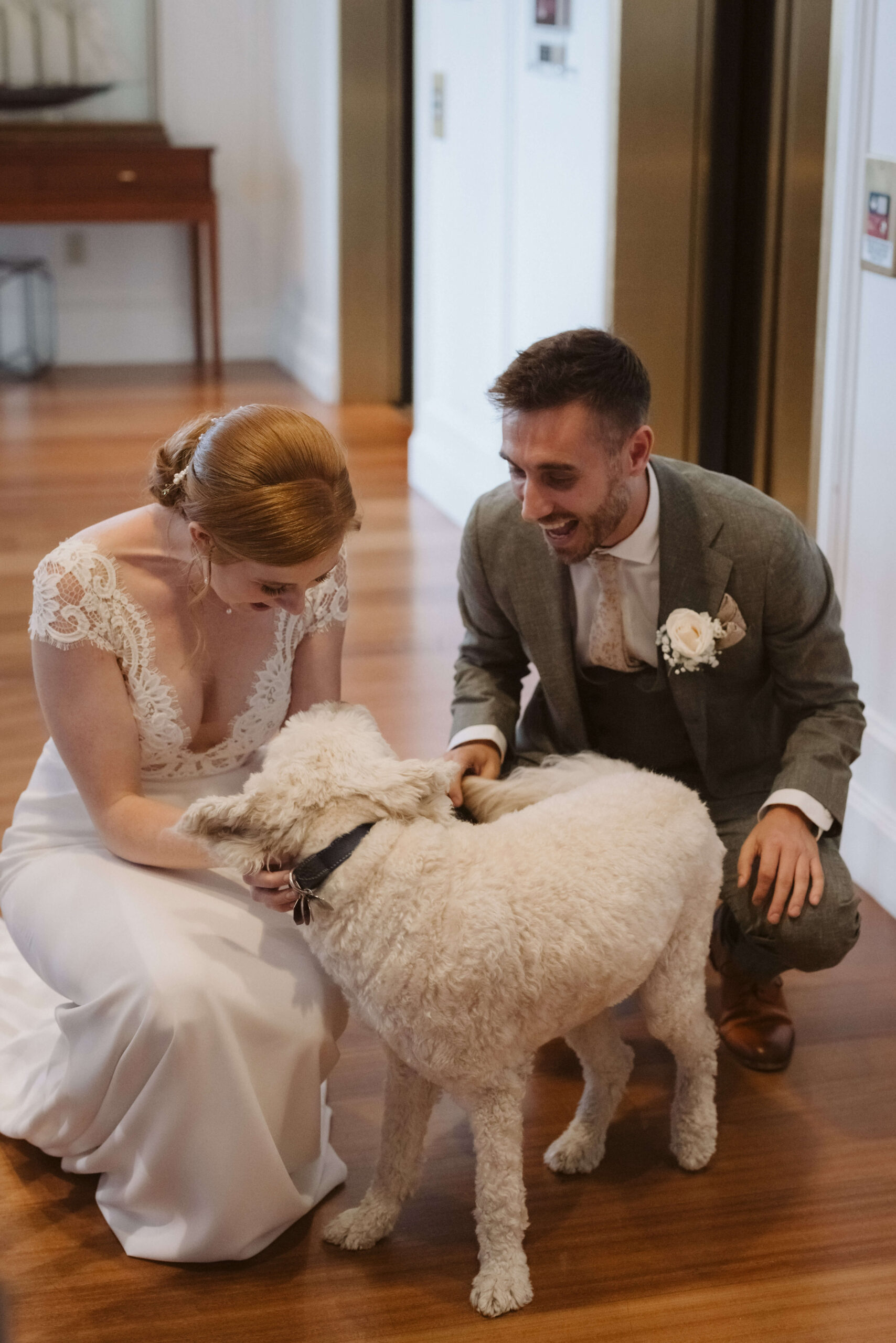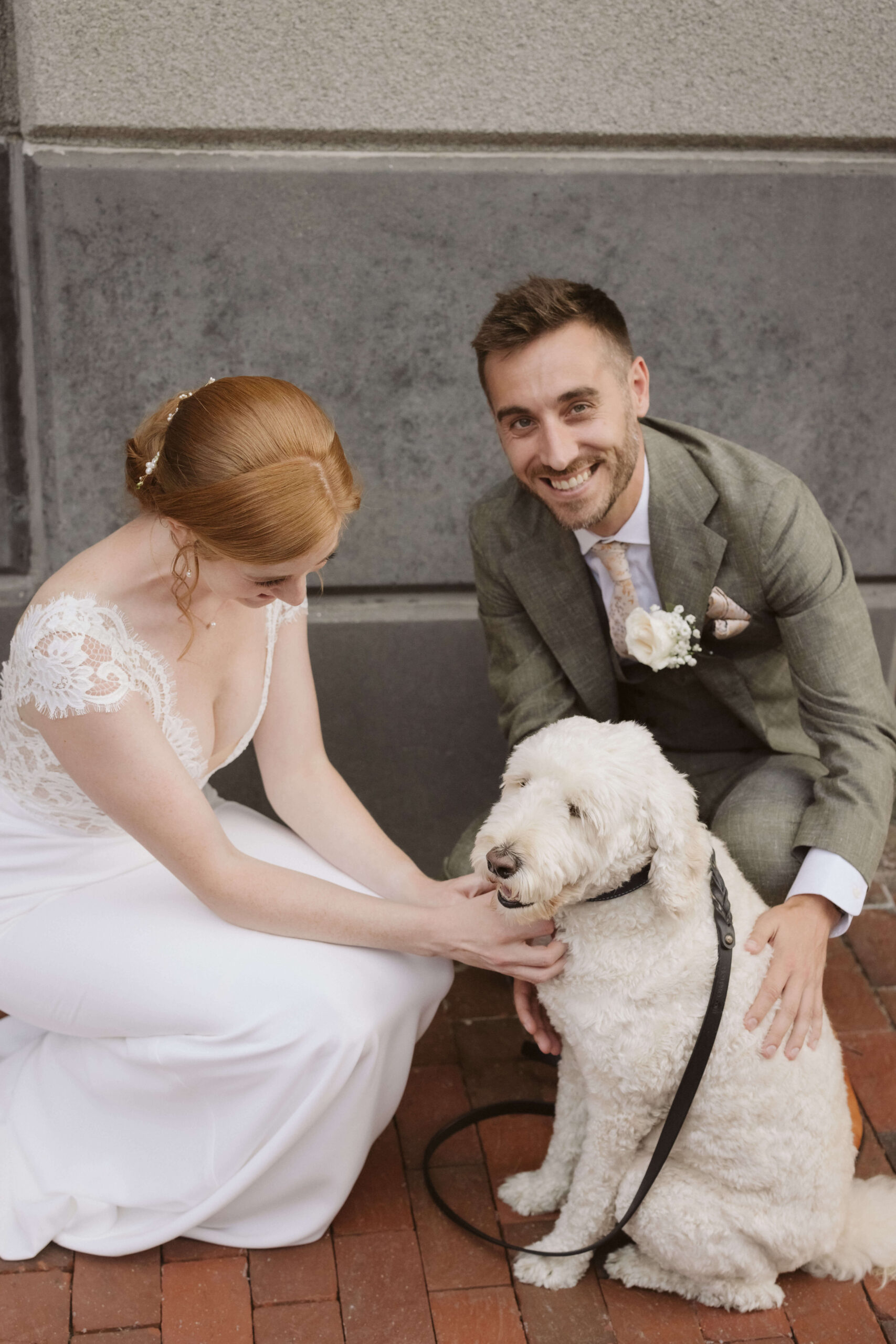 2. Include Them in Your Wedding Ceremony
Assuming your ceremony is dog friendly, there are several ways to include your dog during your ceremony. You can give them a title like Dog of Honor or Best Pup and have them walk down the aisle either with you or as a part of your wedding party. Of course, your actual maid of honor and best man will be there as well, perhaps even to lead your pup down the aisle. Then, you can have your dog sit or stand at the altar with you or have them off to sit with your guests.
I've shot several weddings where the couple's dog acted in the place of a flower girl or ring bearer. They might not be able to scatter petals across the aisle but just seeing your four-legged friend run down to you is enough to put a smile on everyone's faces. Just a tip though, if you plan to make your dog your ring bearer, don't actually give them the rings. I've been a part of more than one wedding where the dog lost the rings because they fell off the collar or the ring pillow.
For something even more unique, I've even been a part of a wedding where the bridesmaids held puppies instead of bouquets! All the puppies were up for adoption and found homes not long after the wedding!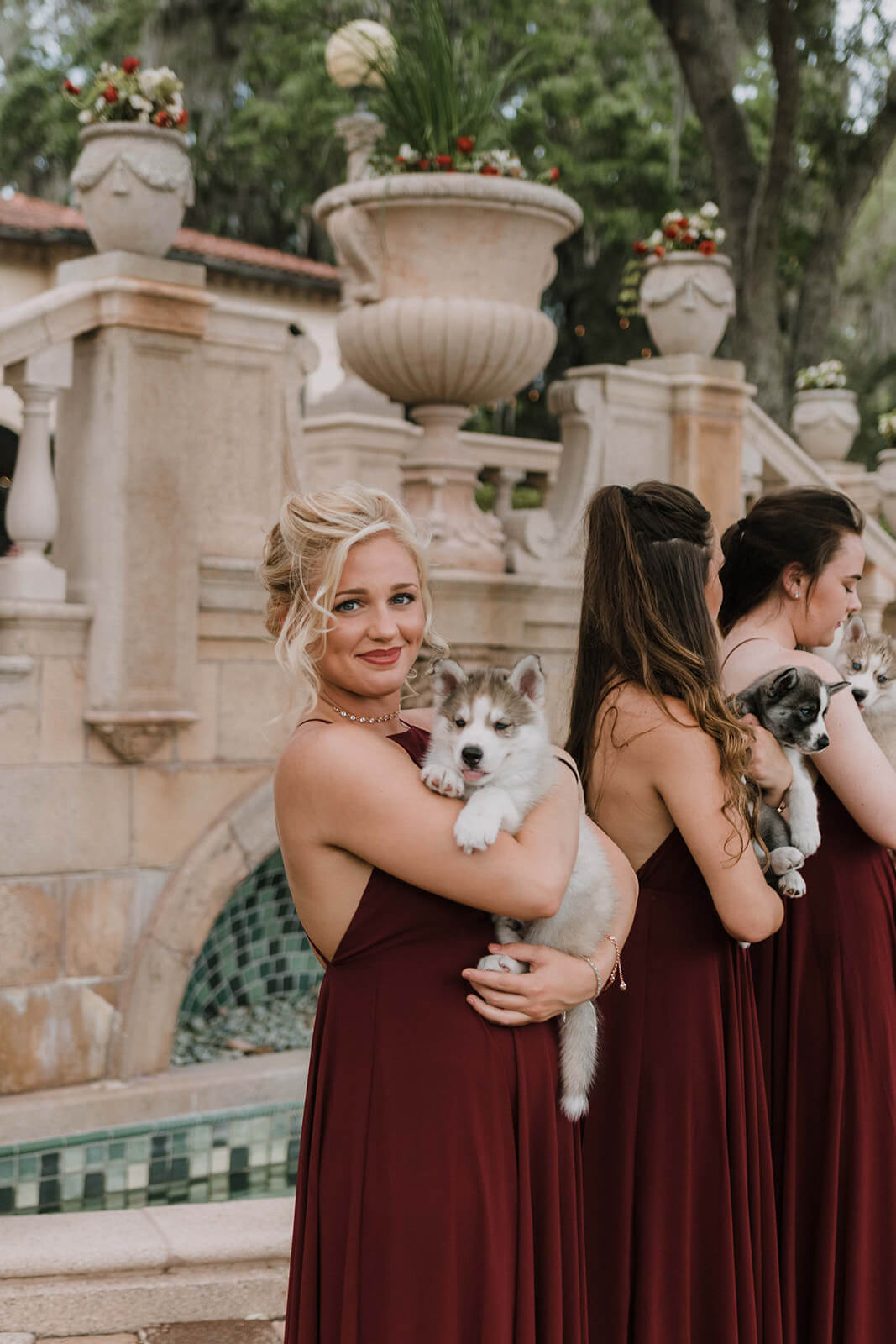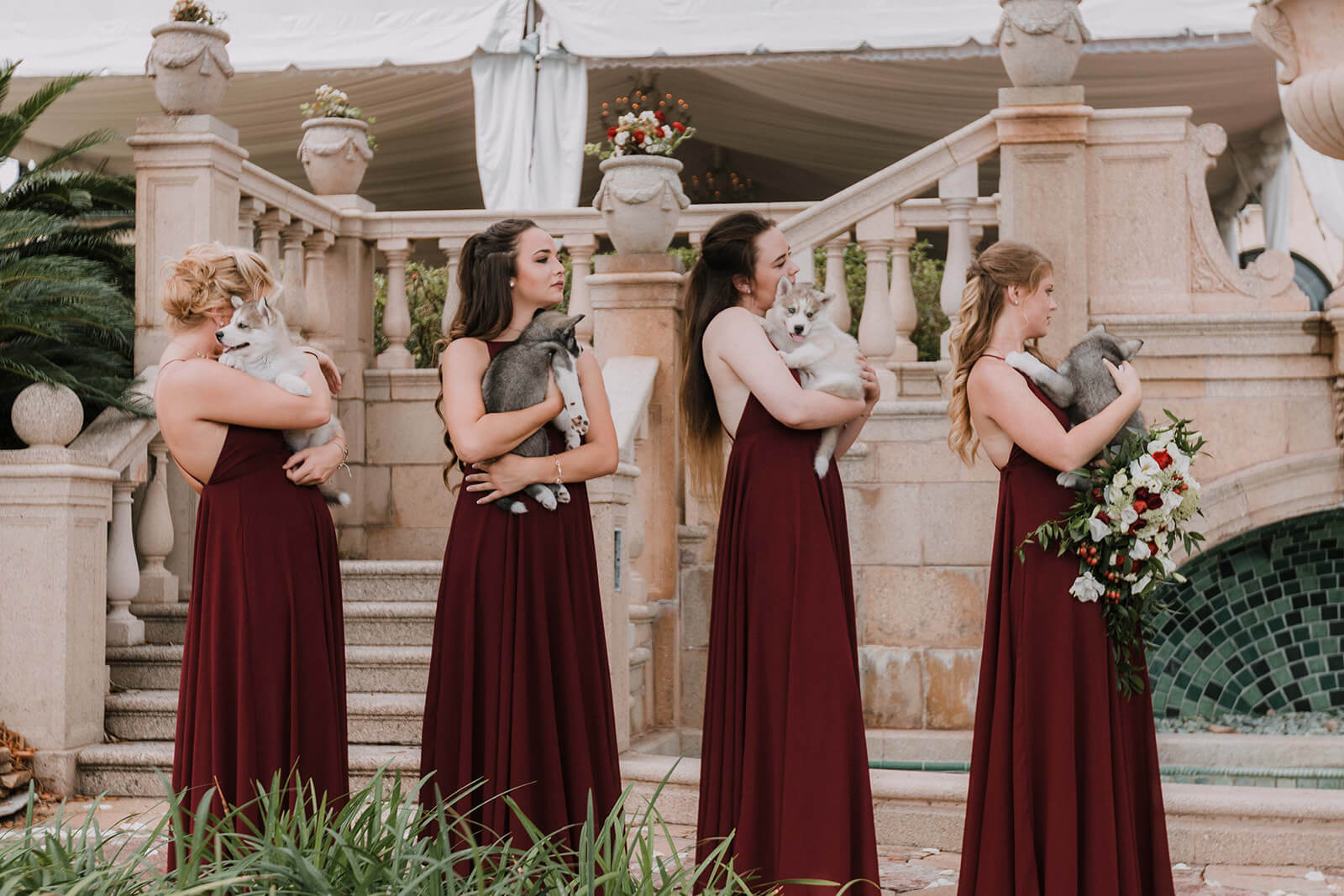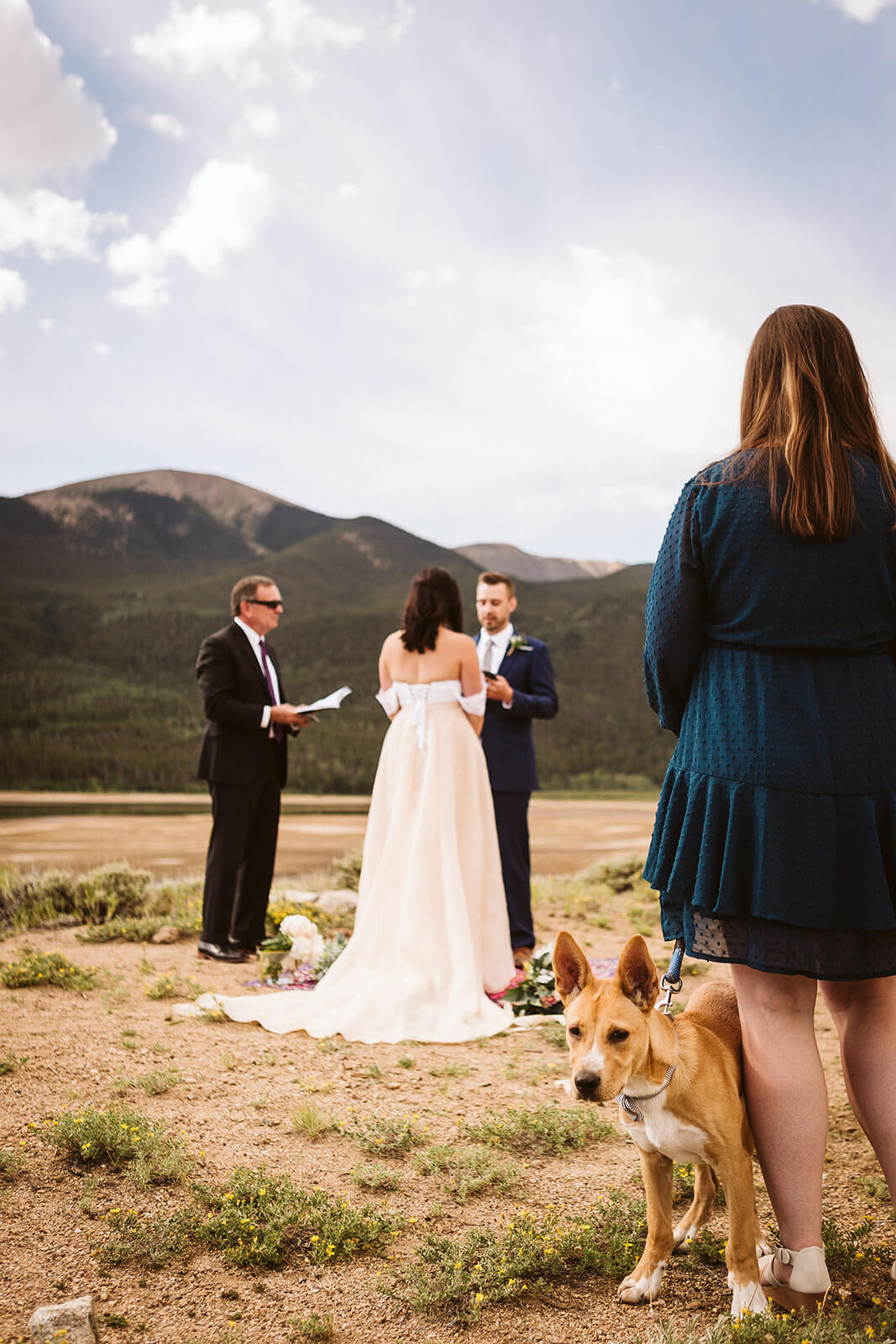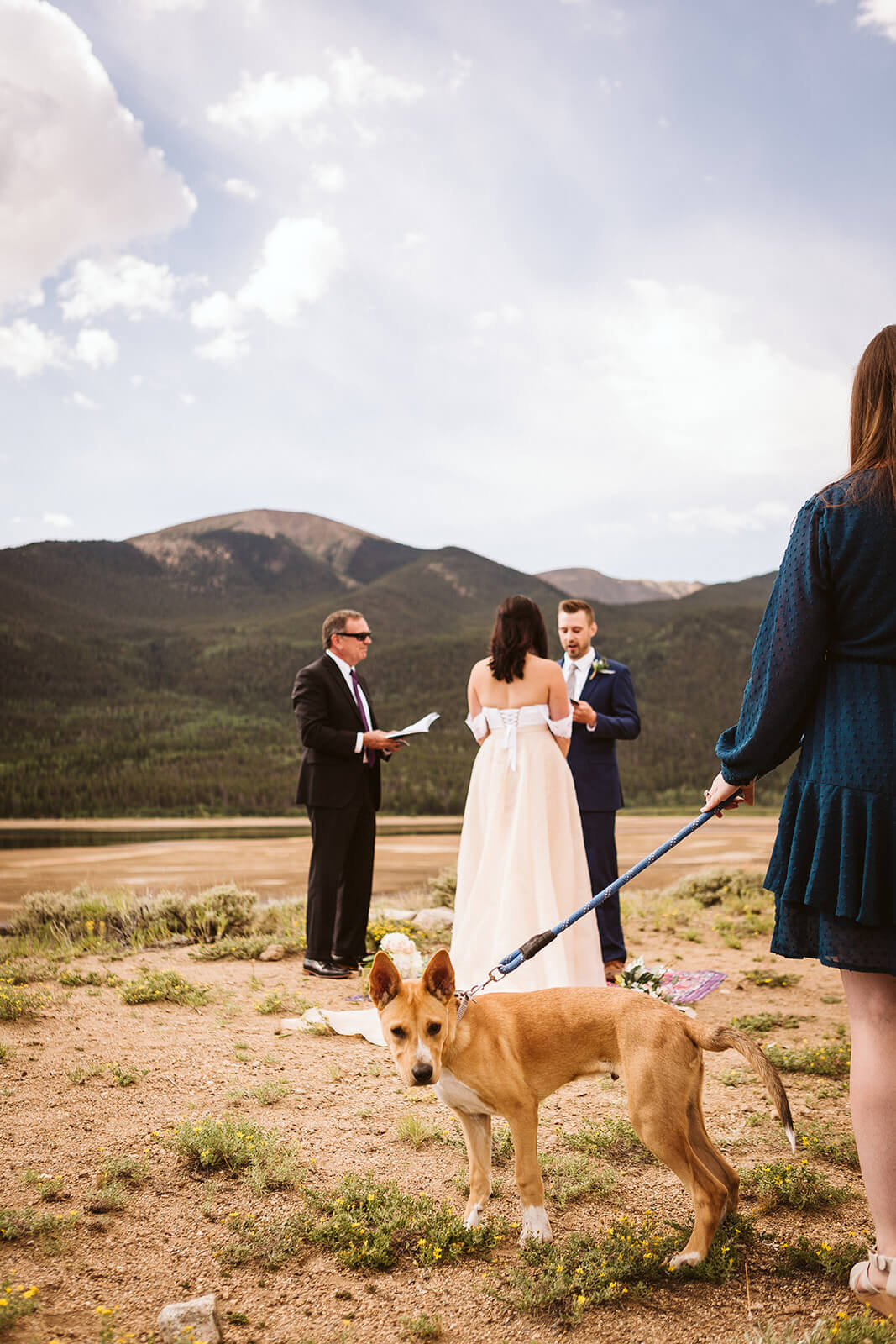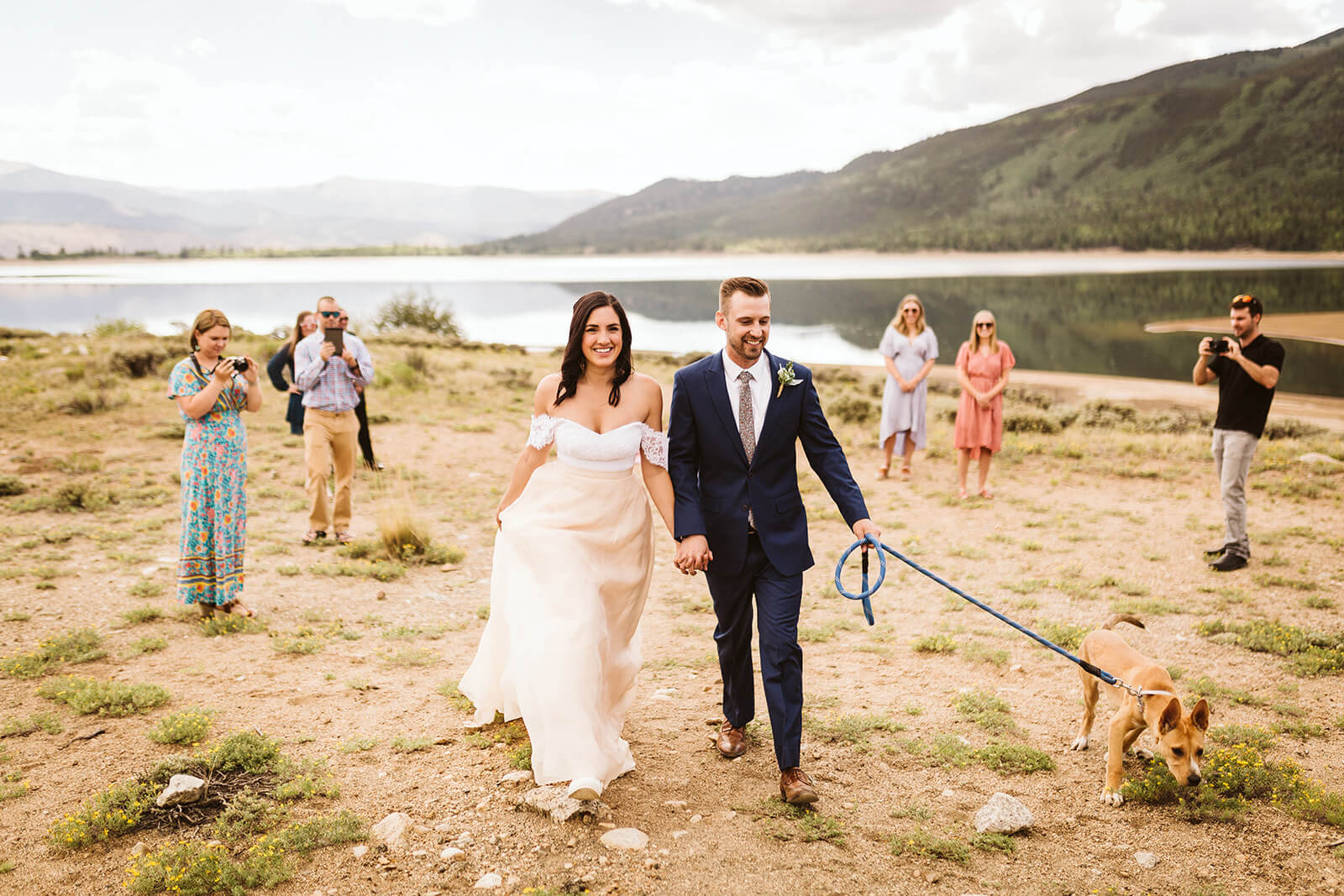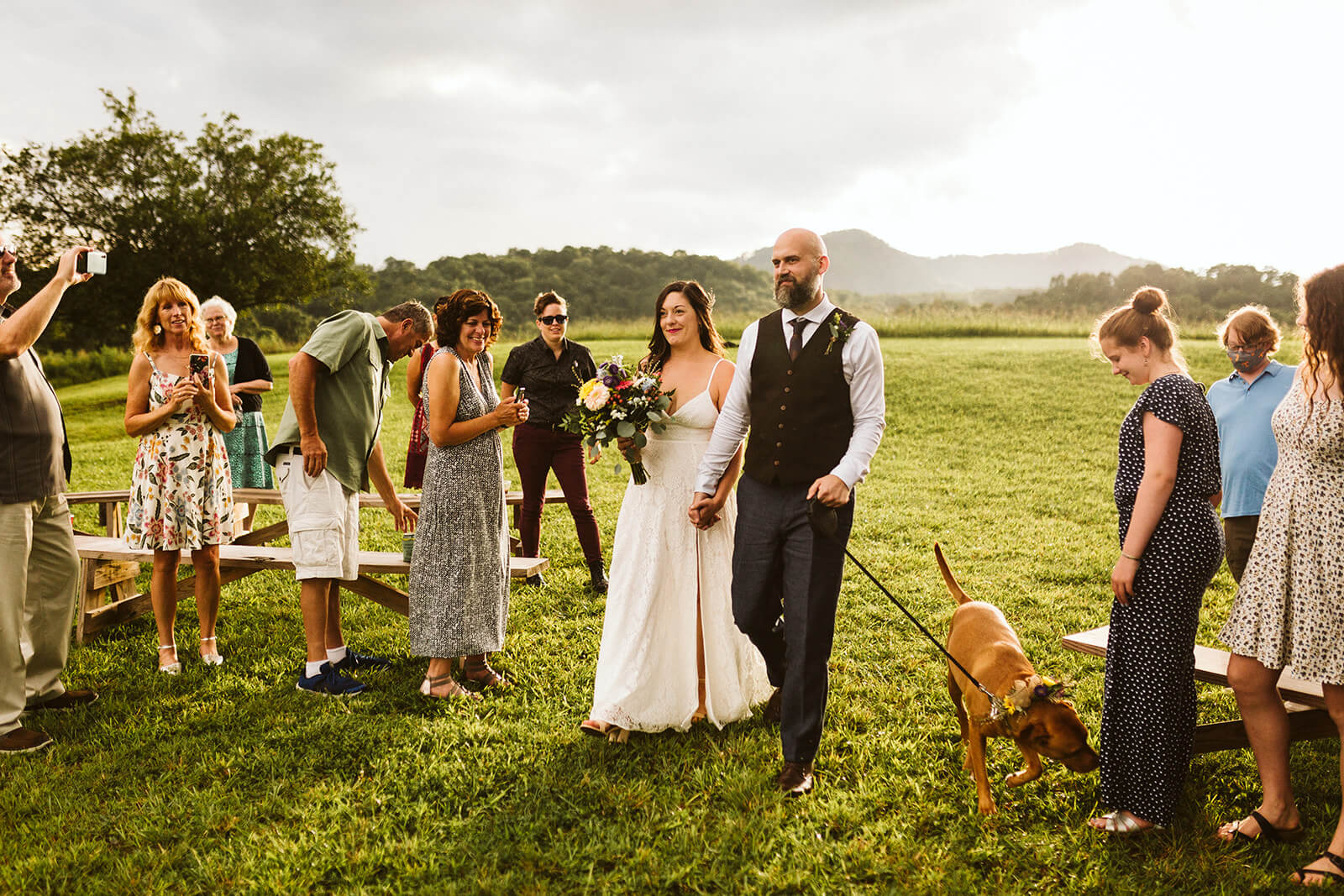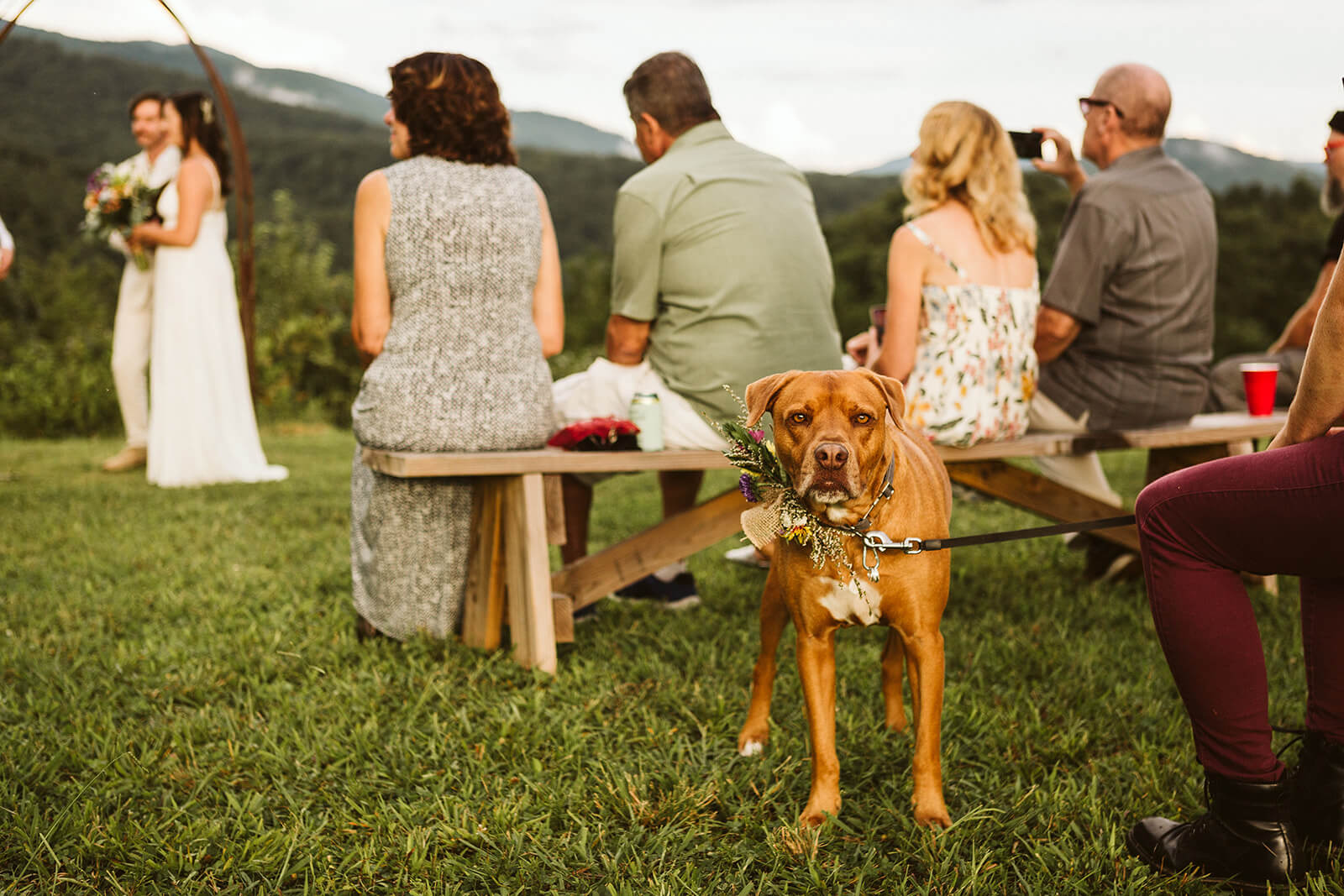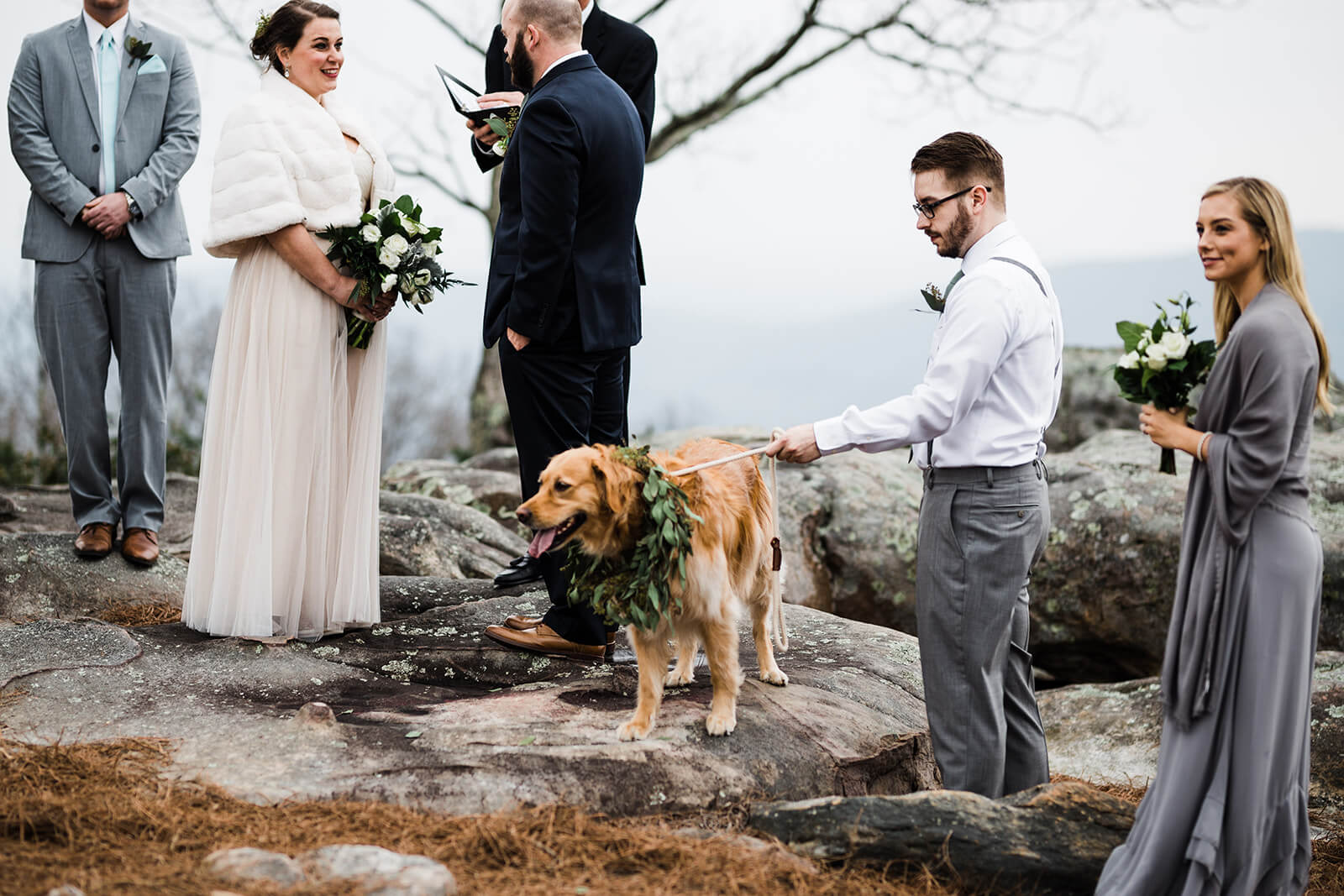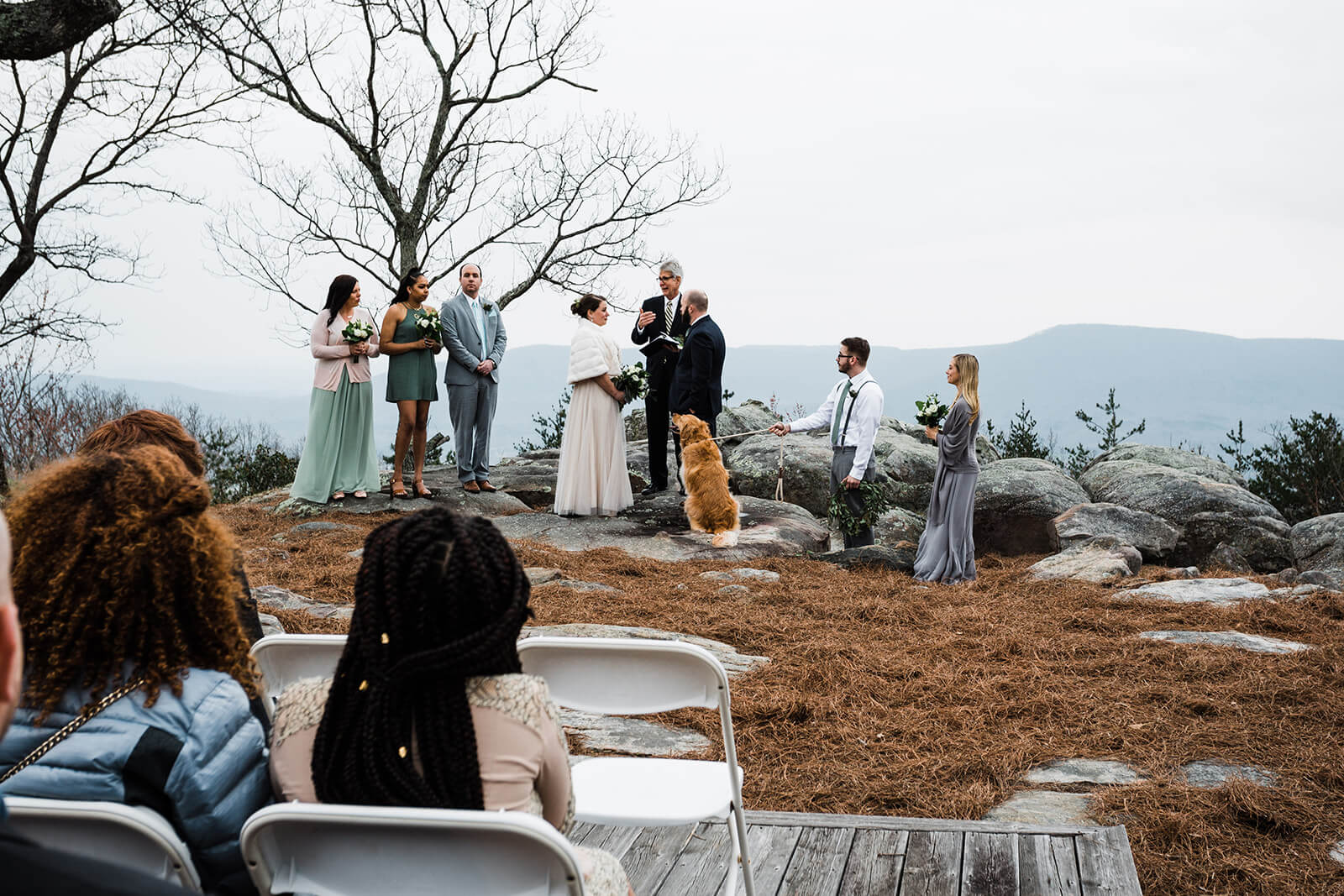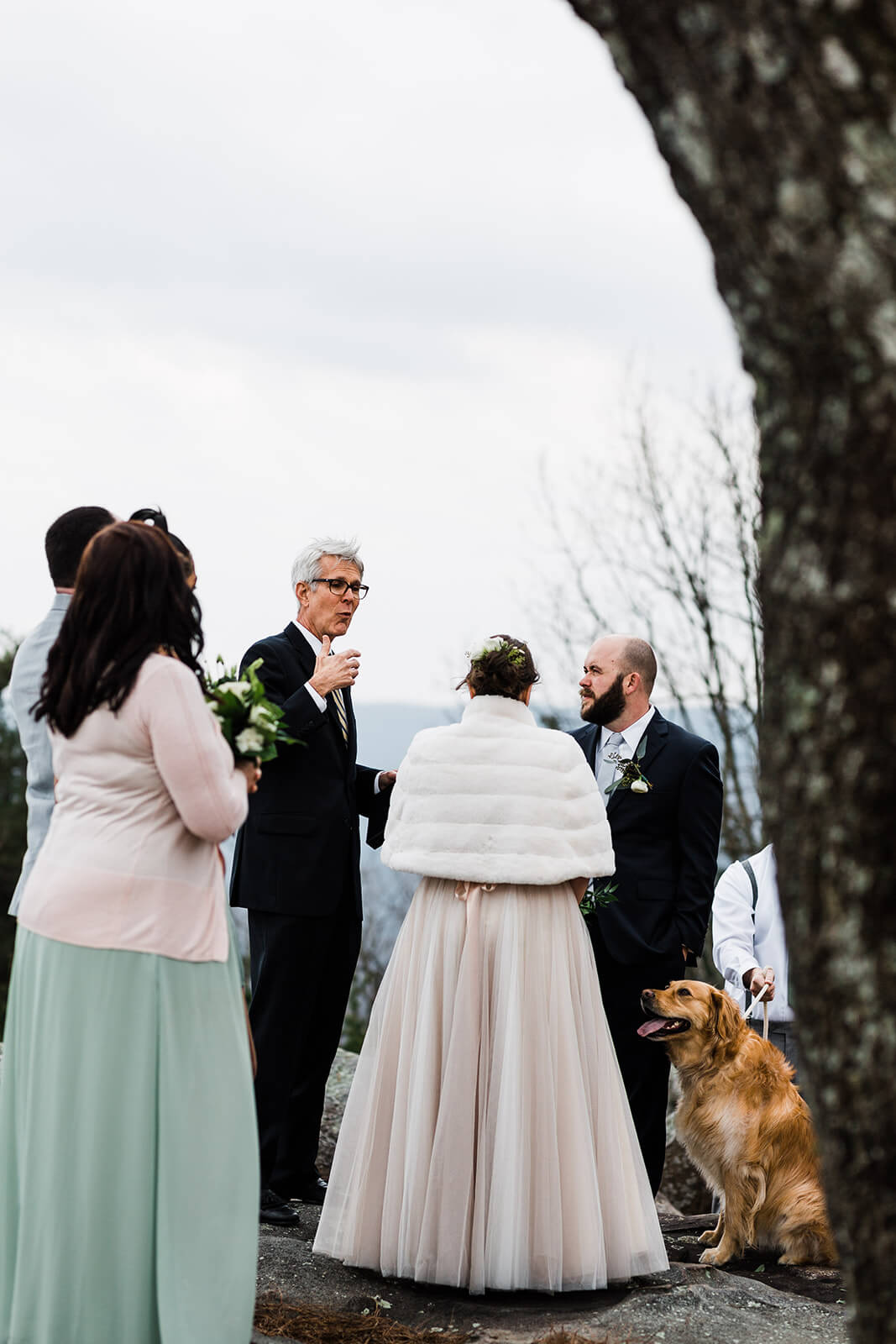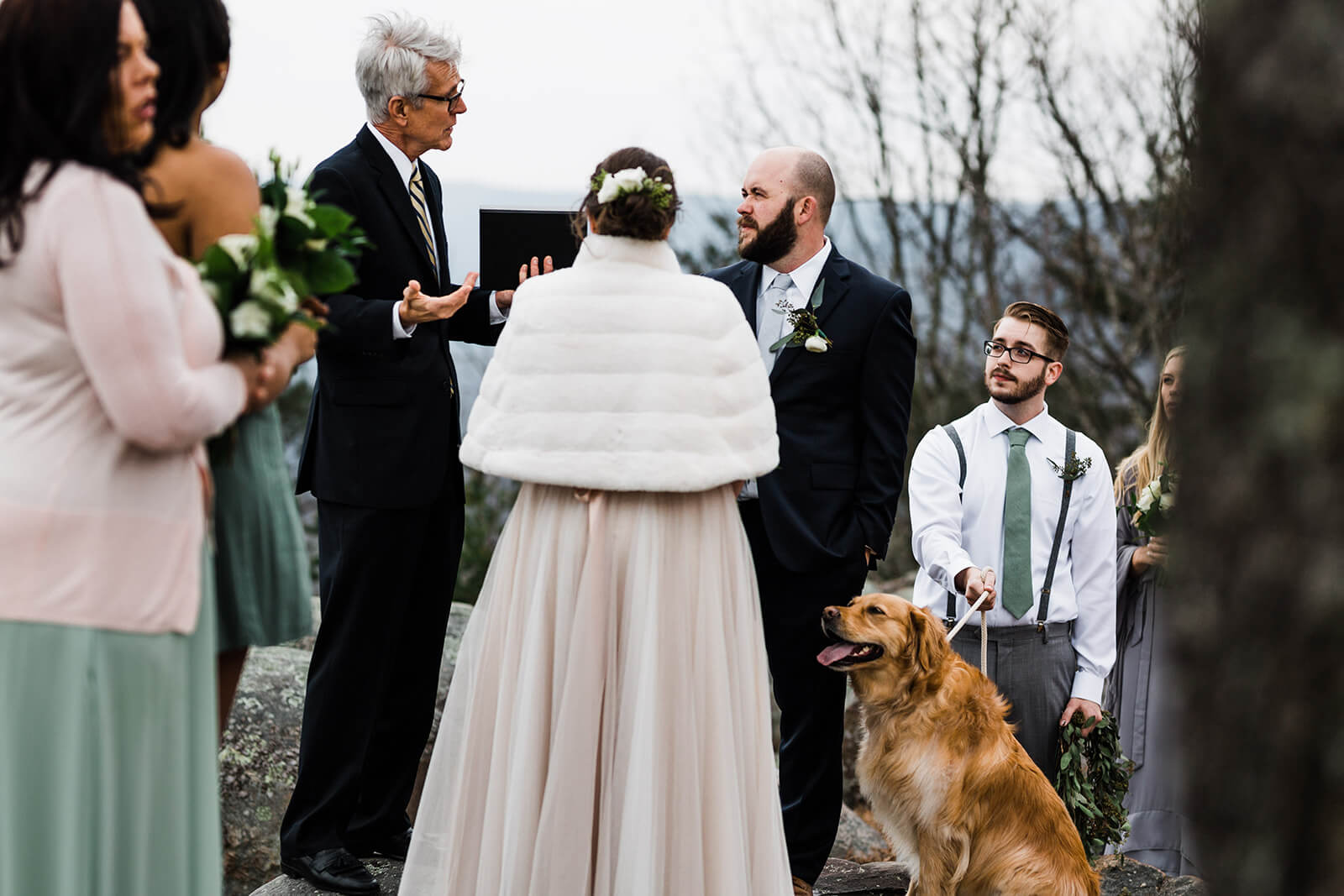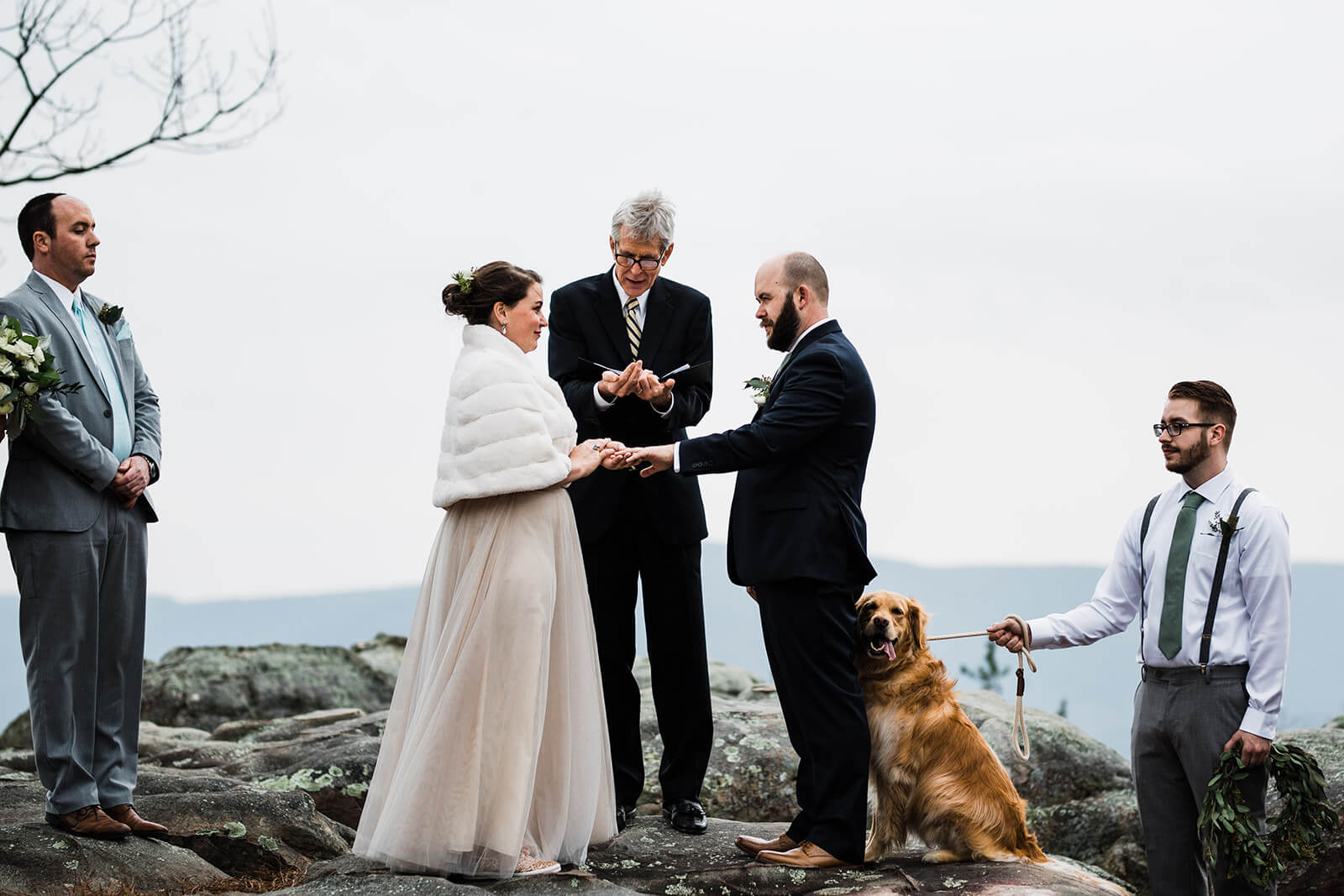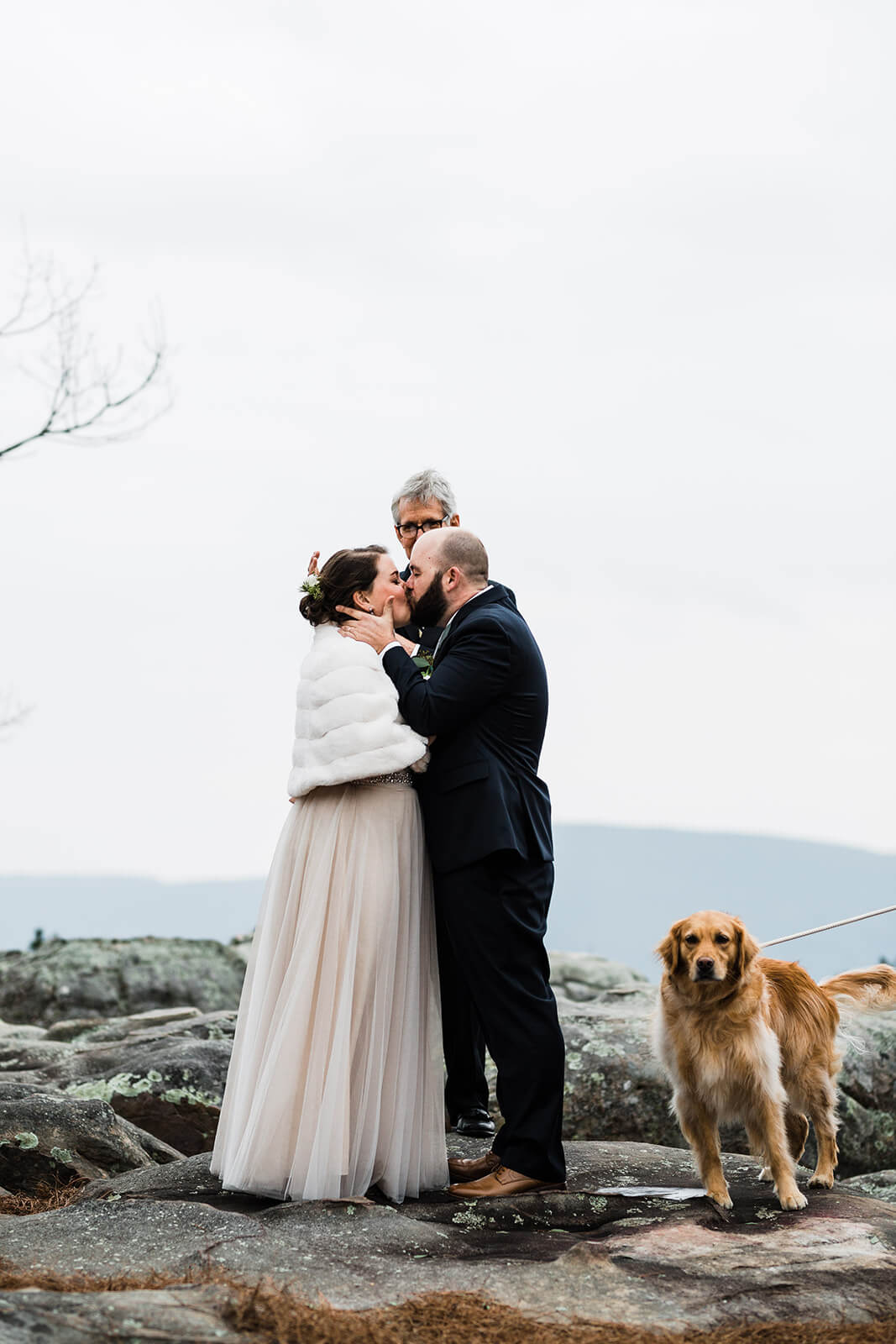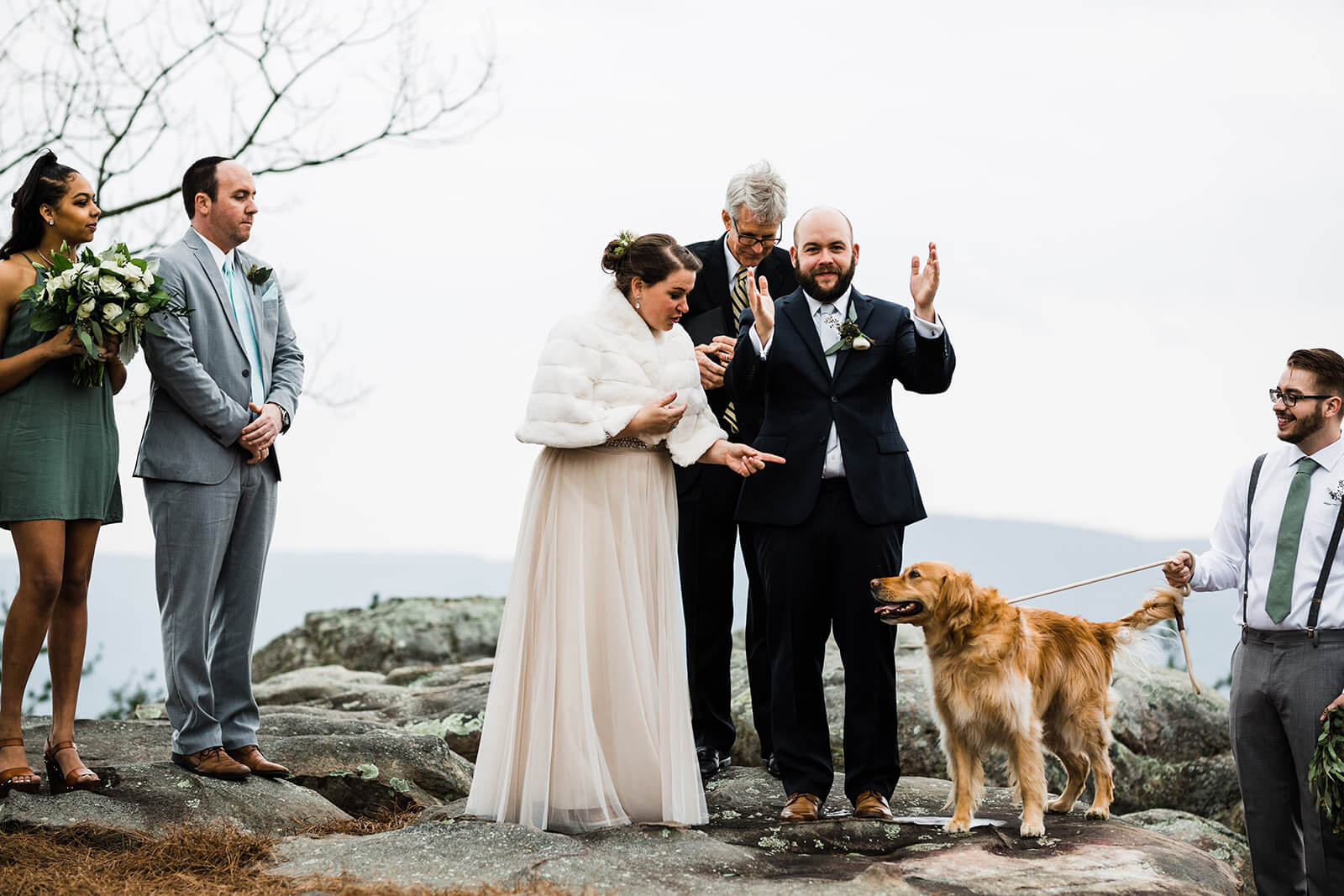 3. Bring Them in for Wedding Portraits
Your newlywed portrait session is the perfect time to have someone bring in your dog to make a cameo appearance. It's said that two become one during marriage but if you have a dog in your life, it's really more like three. Having your dog be a part of your newlywed portraits is your first opportunity to have an official family picture.
If your venues aren't dog-friendly, you can even plan to take newlywed pictures a few days after your wedding. Not only would this give you the chance to wear your beautiful wedding dress again, but it's a memorable way to get your dog included in your wedding when they couldn't actually be there.
It's no secret that there are a lot of different photography sessions that go on over the course of a wedding day. If you're planning to have a first look, have your dog be there to join in on the reveal or include your dog in other portrait sessions like your family and friends sessions or even the wedding party portraits. Just about any picture can be made better just with the presence of a dog.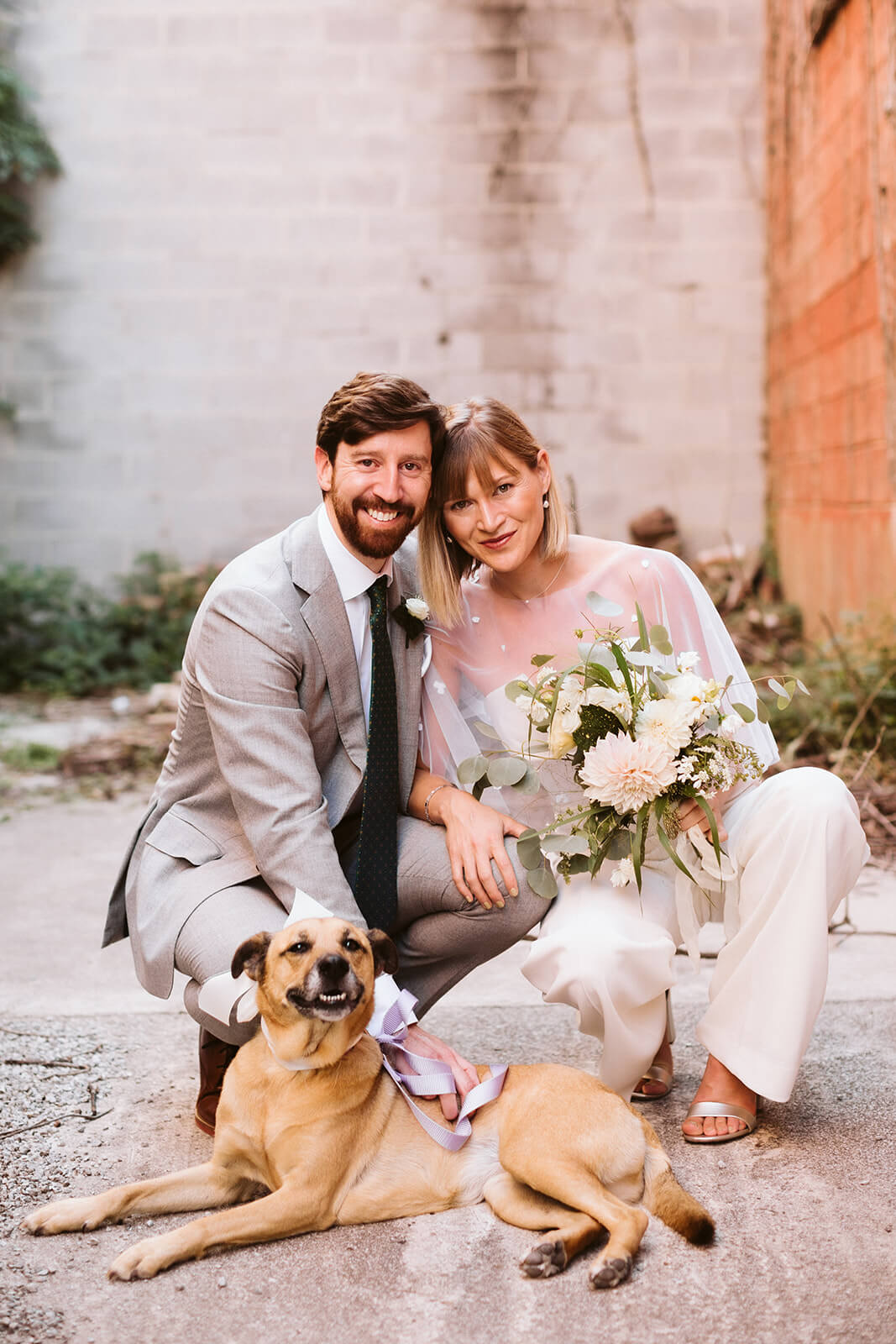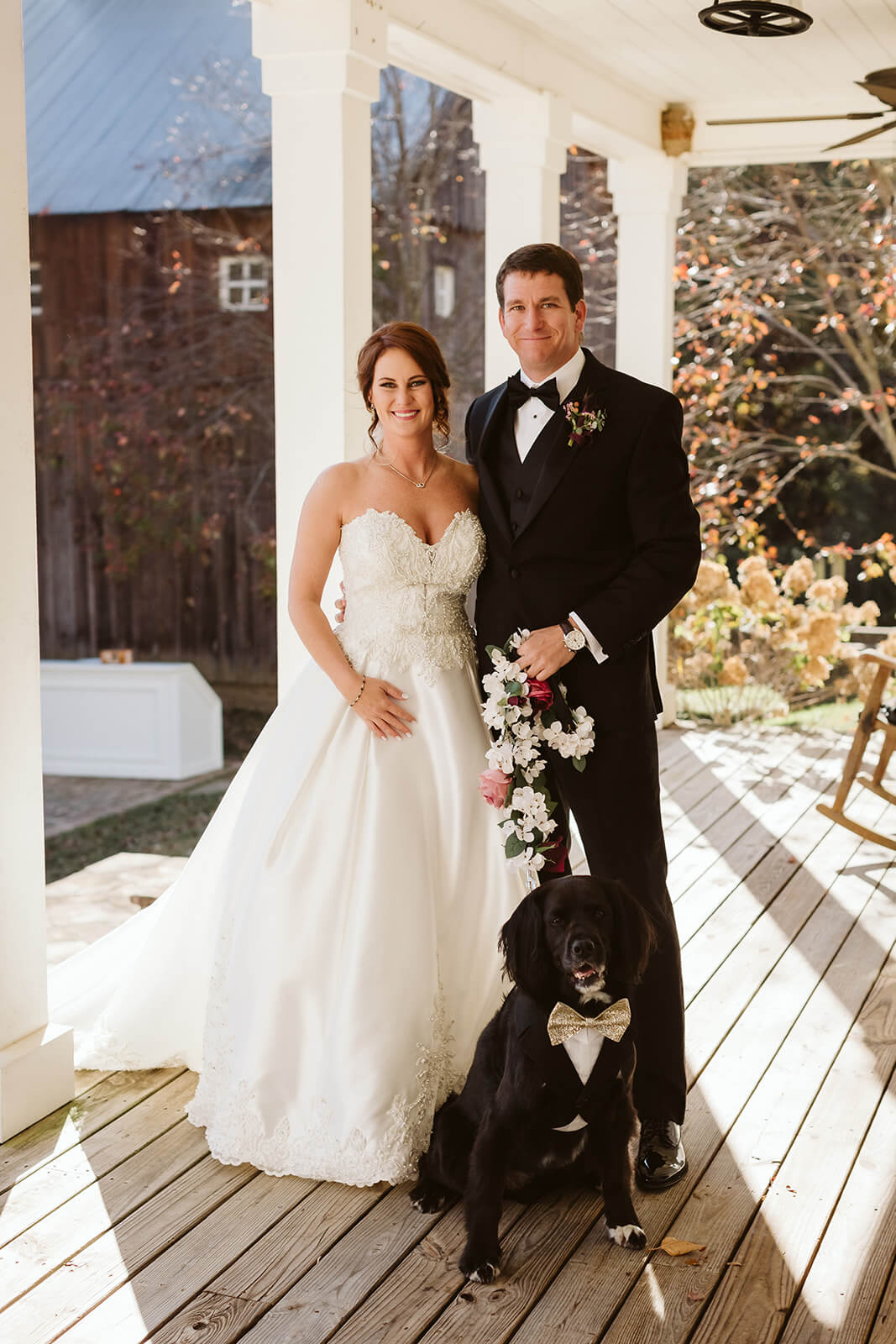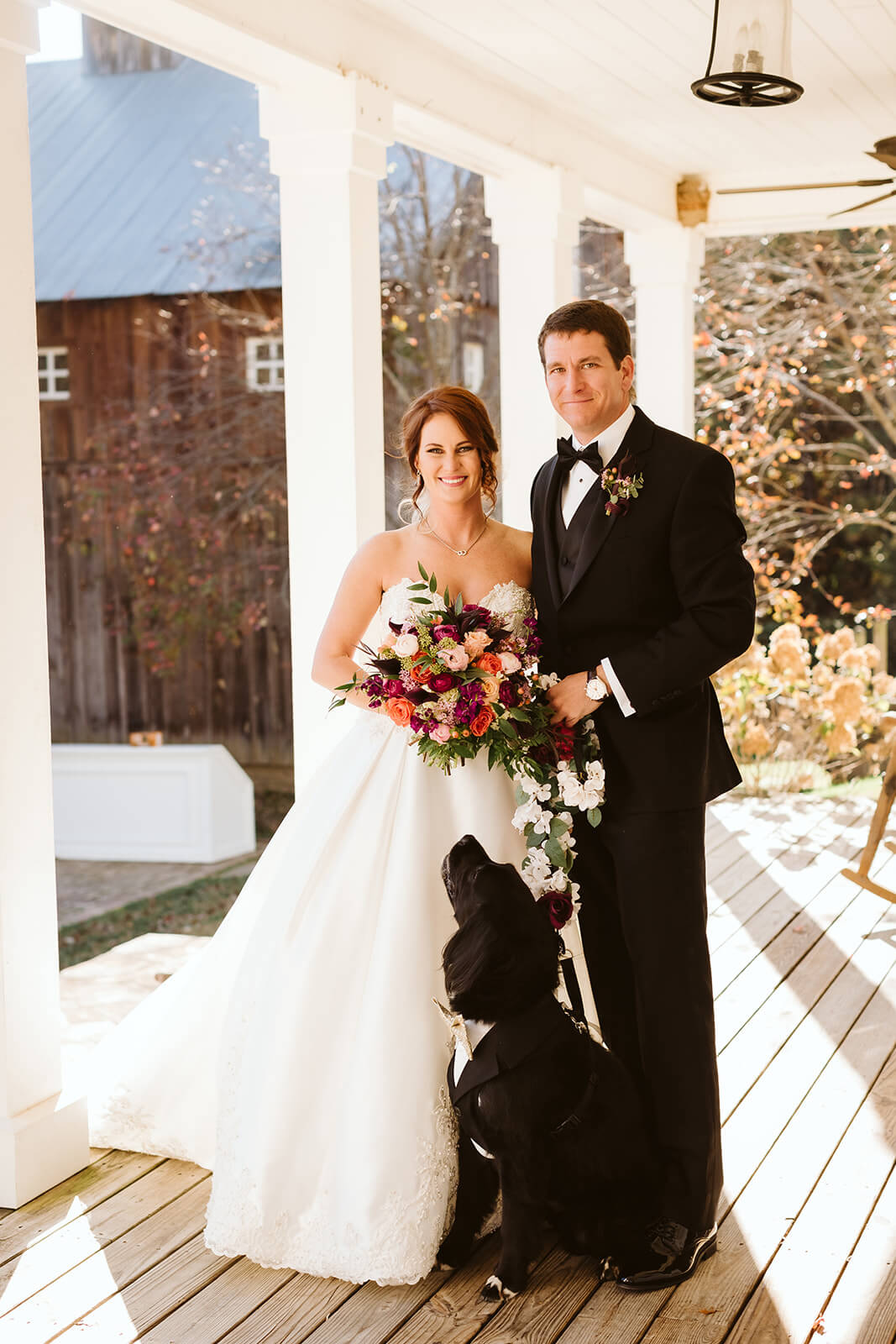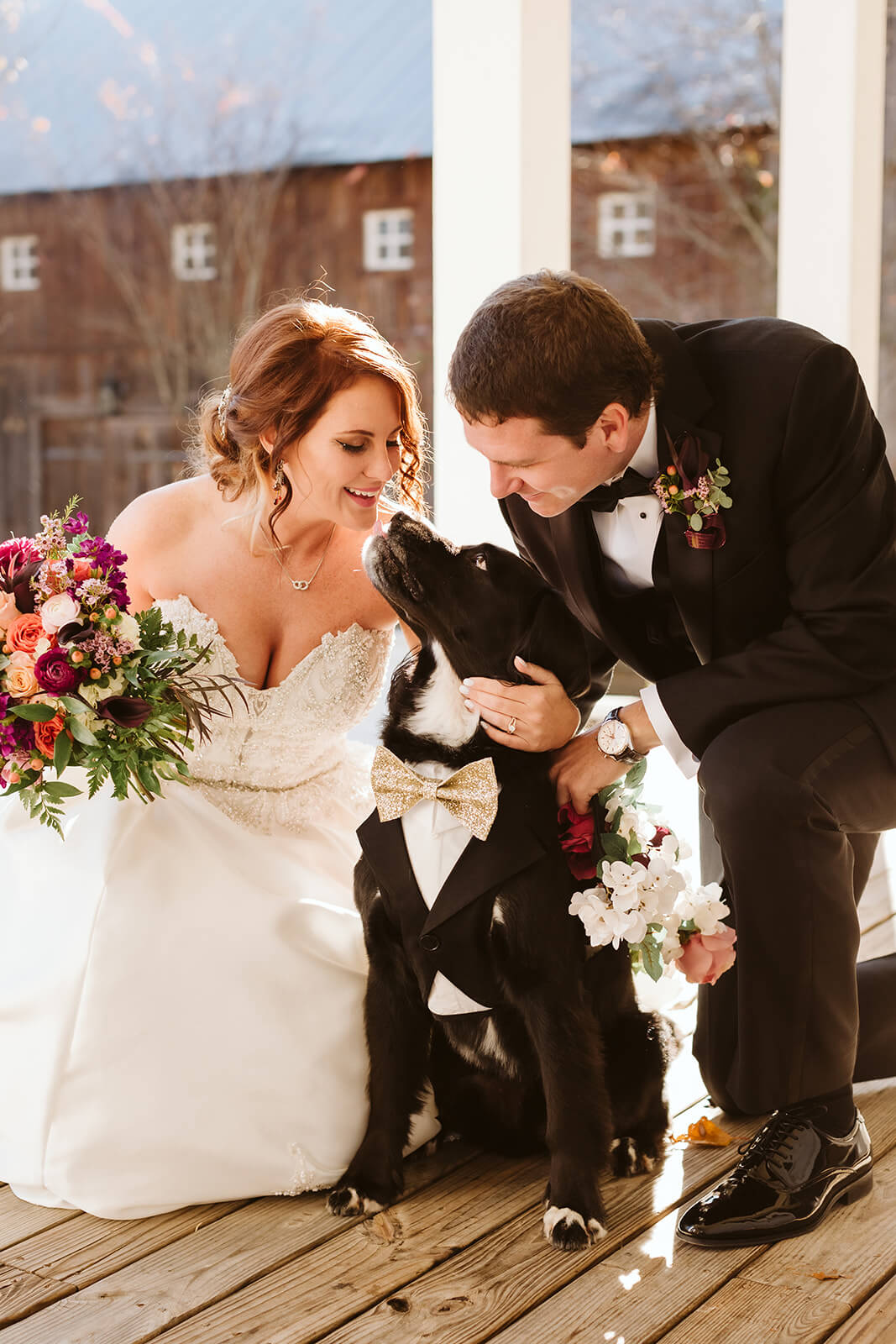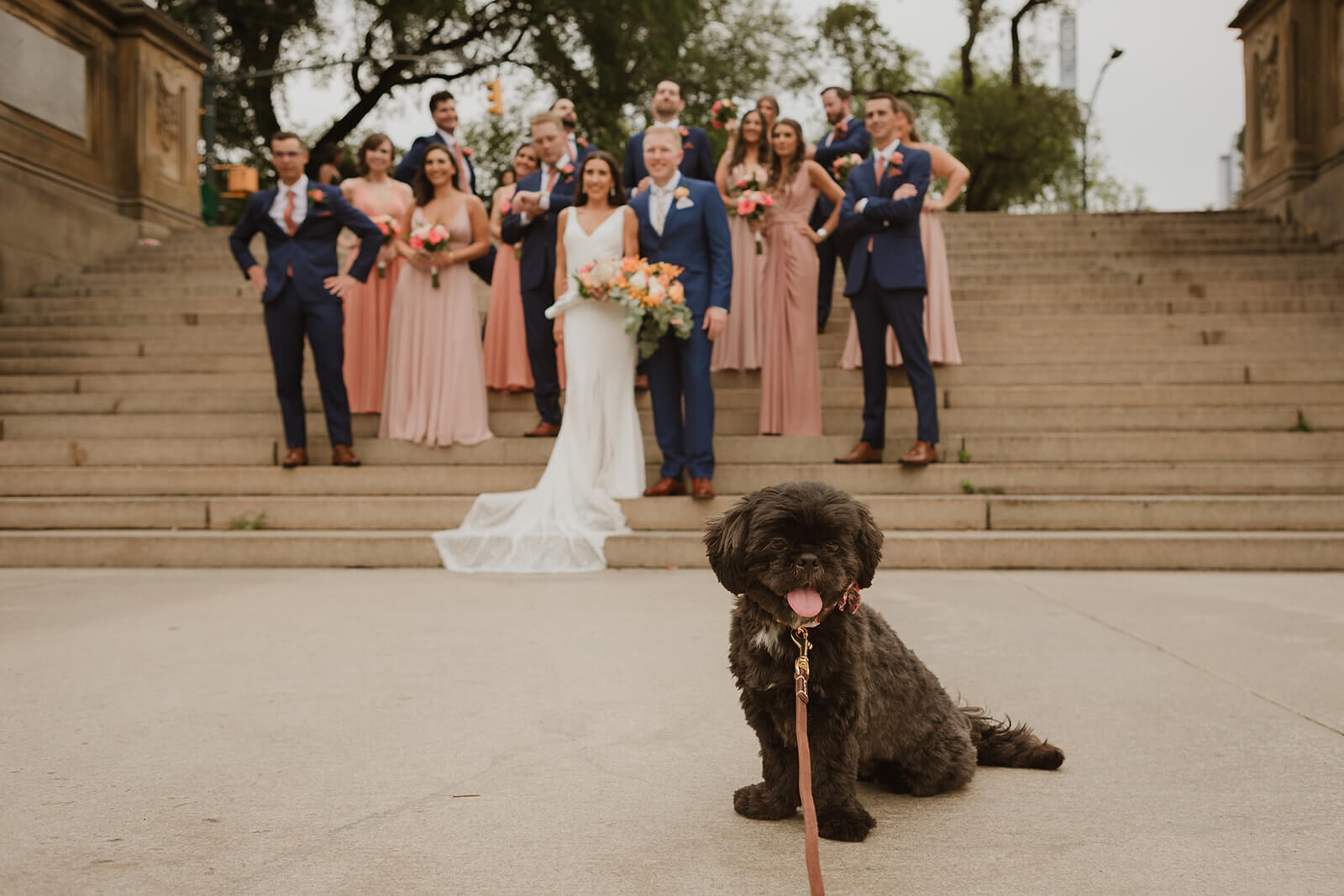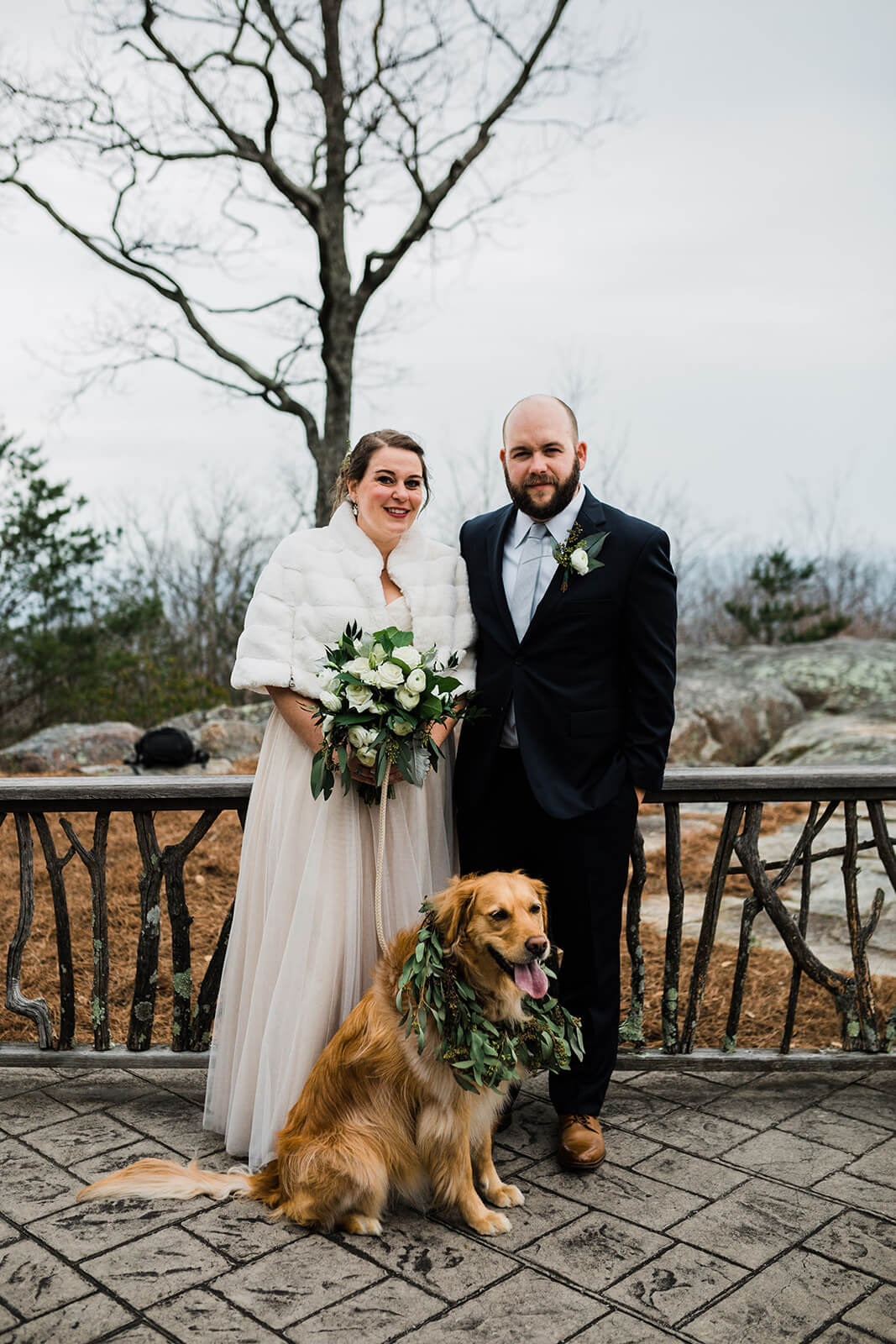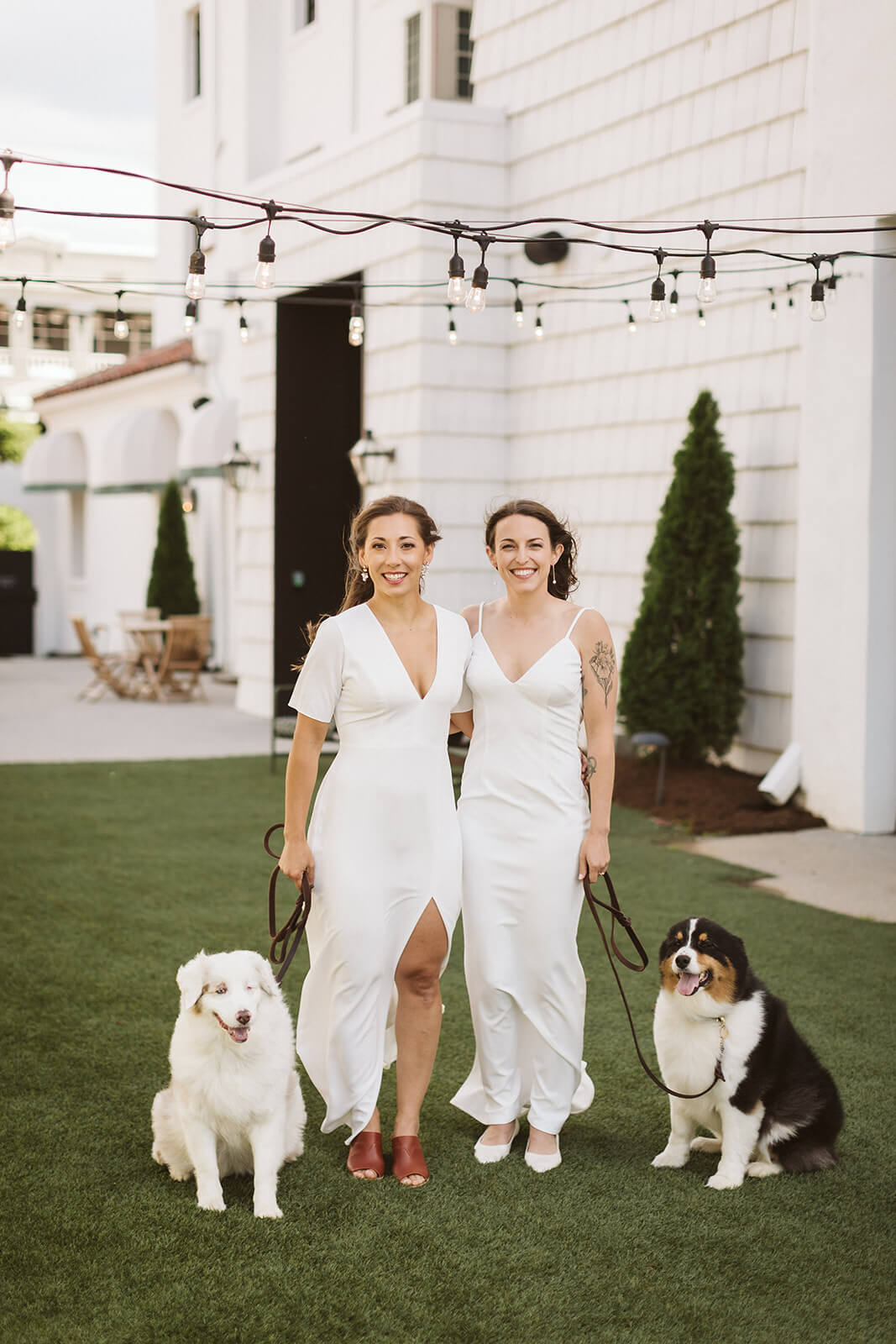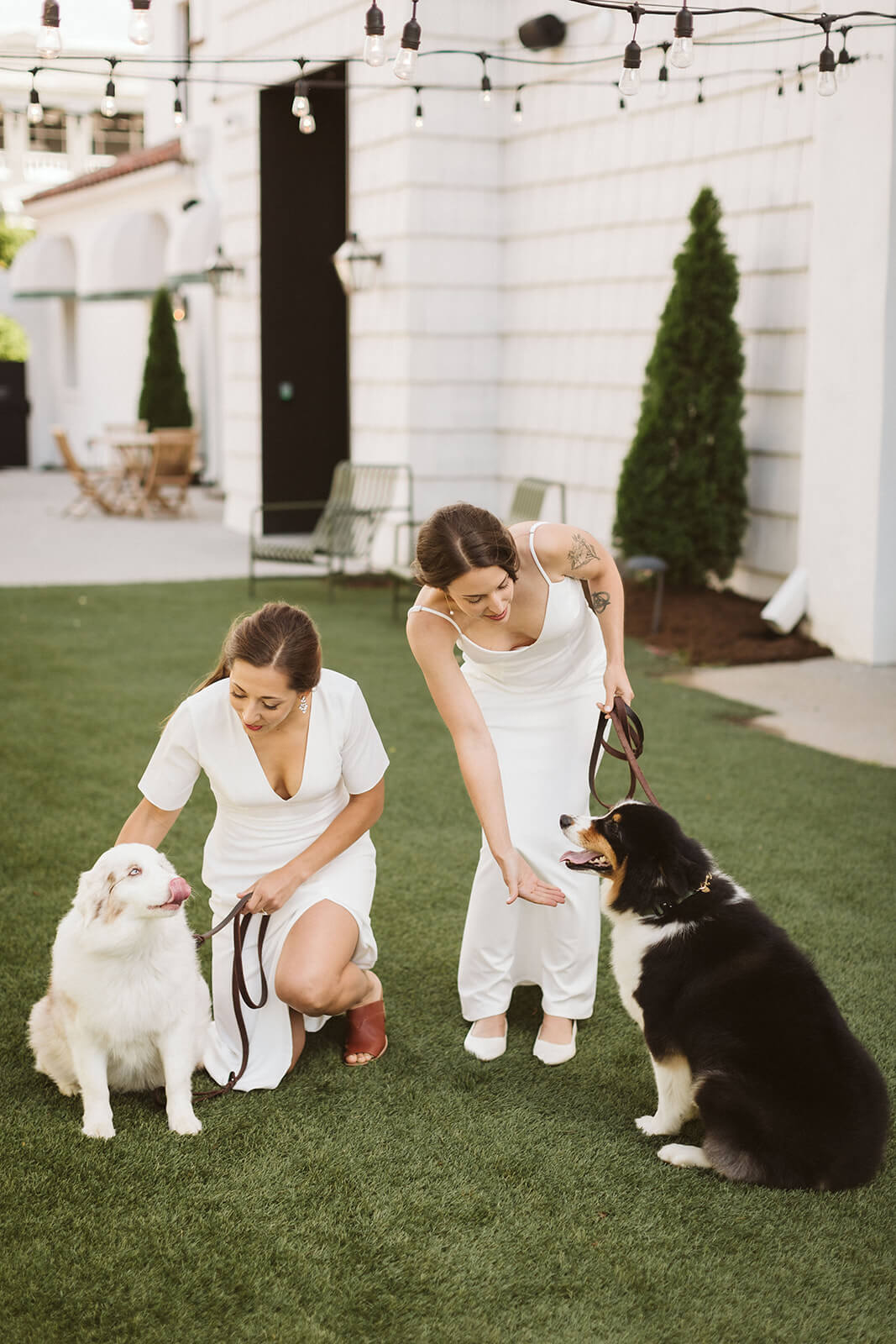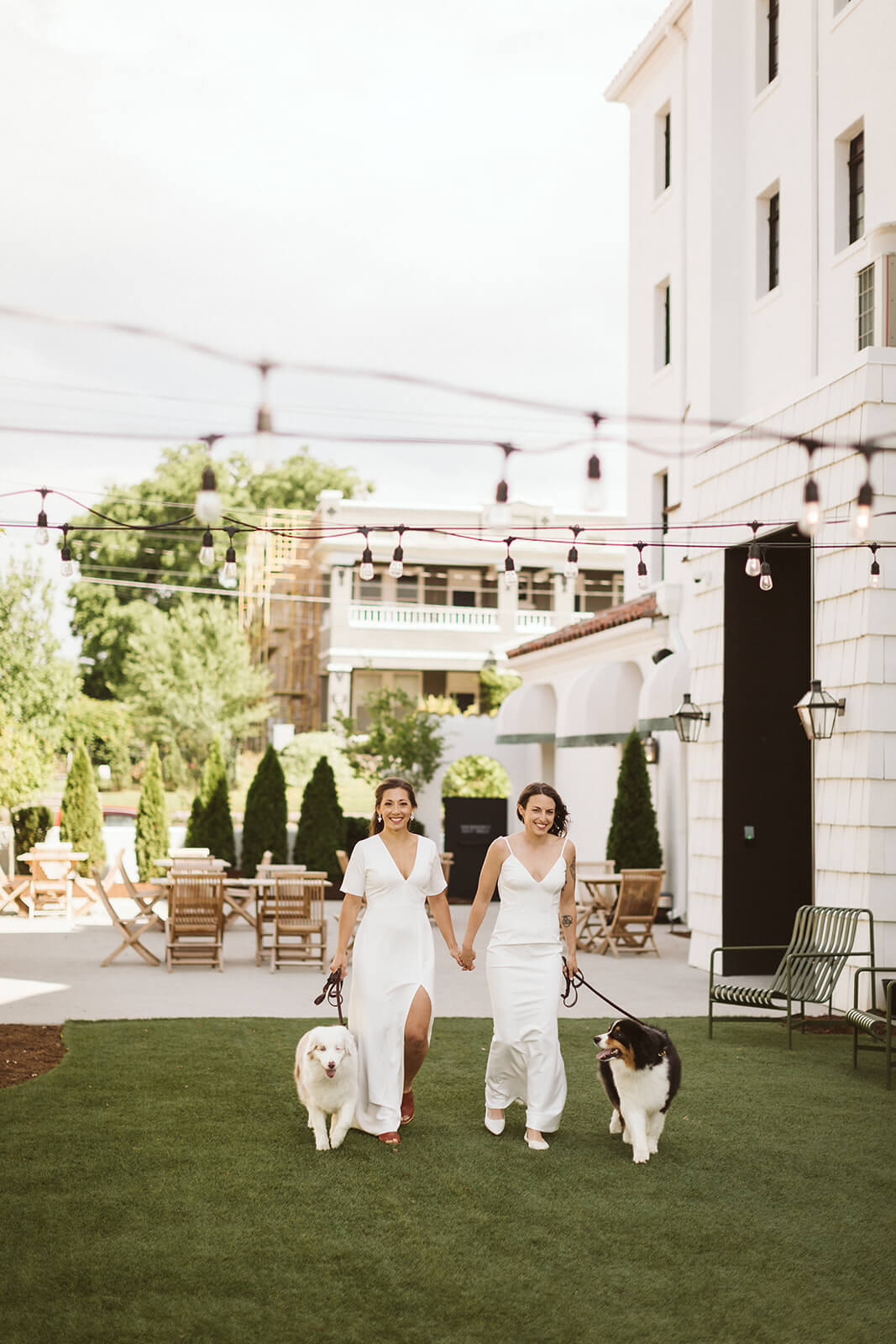 4. Let Your Dog Party During Your Reception
Since you've already made your dog a part of your ceremony, you now have to think about whether or not you want them to stay for the reception. Receptions can be more overwhelming for dogs since everyone is there and there will be tons of food and noise – especially once the dancefloor opens up. This is really when you'll want a safe person for your pup to be an extra pair of hands to make sure your dog is kept safe, and their needs are taken care of in case you're unavailable. If you think your dog will be okay to hang out for the rest of the night, you can do so in style.
Now, I know the first dance is supposed to be all about the newlyweds but if you don't mind sharing the spotlight a bit (and possibly a few pawprints on your fancy clothes), have your pup join in! Afterwards, make sure your furry friend has a comfortable place to hang out. You can create a mini doggy "table" with their food and water bowl so they can dine in style just like everyone else.
Finally, as long as you aren't planning an elaborate send off with fireworks or sparklers that might spook them, include your dog in your end of the night send off. I don't know about you, but I've met many dogs who love hopping after bubbles. A bubble send off with a dog around would be the perfect way to end the night only to then hop into your getaway car with a smiling face and a lolling tongue hanging out of your back window.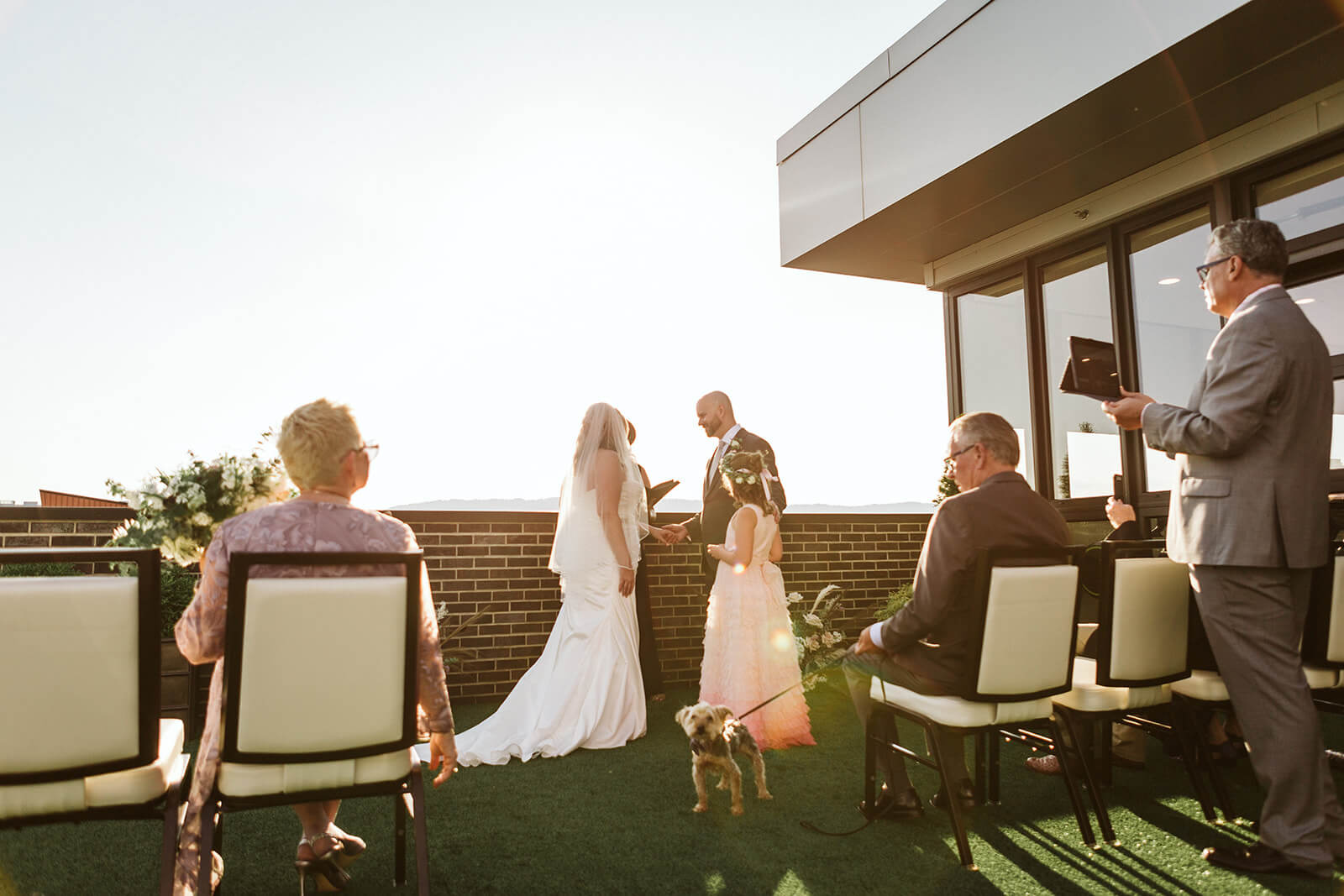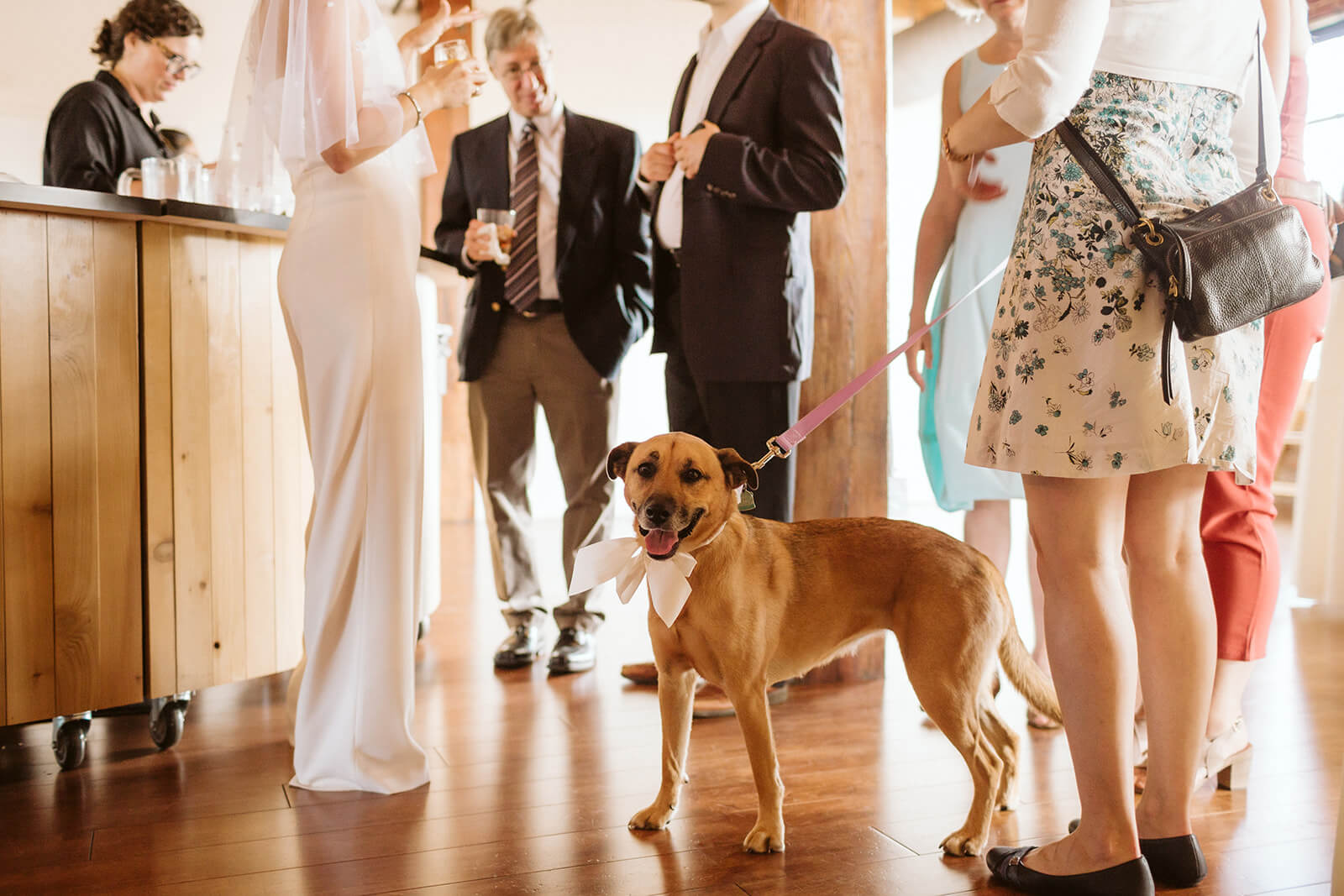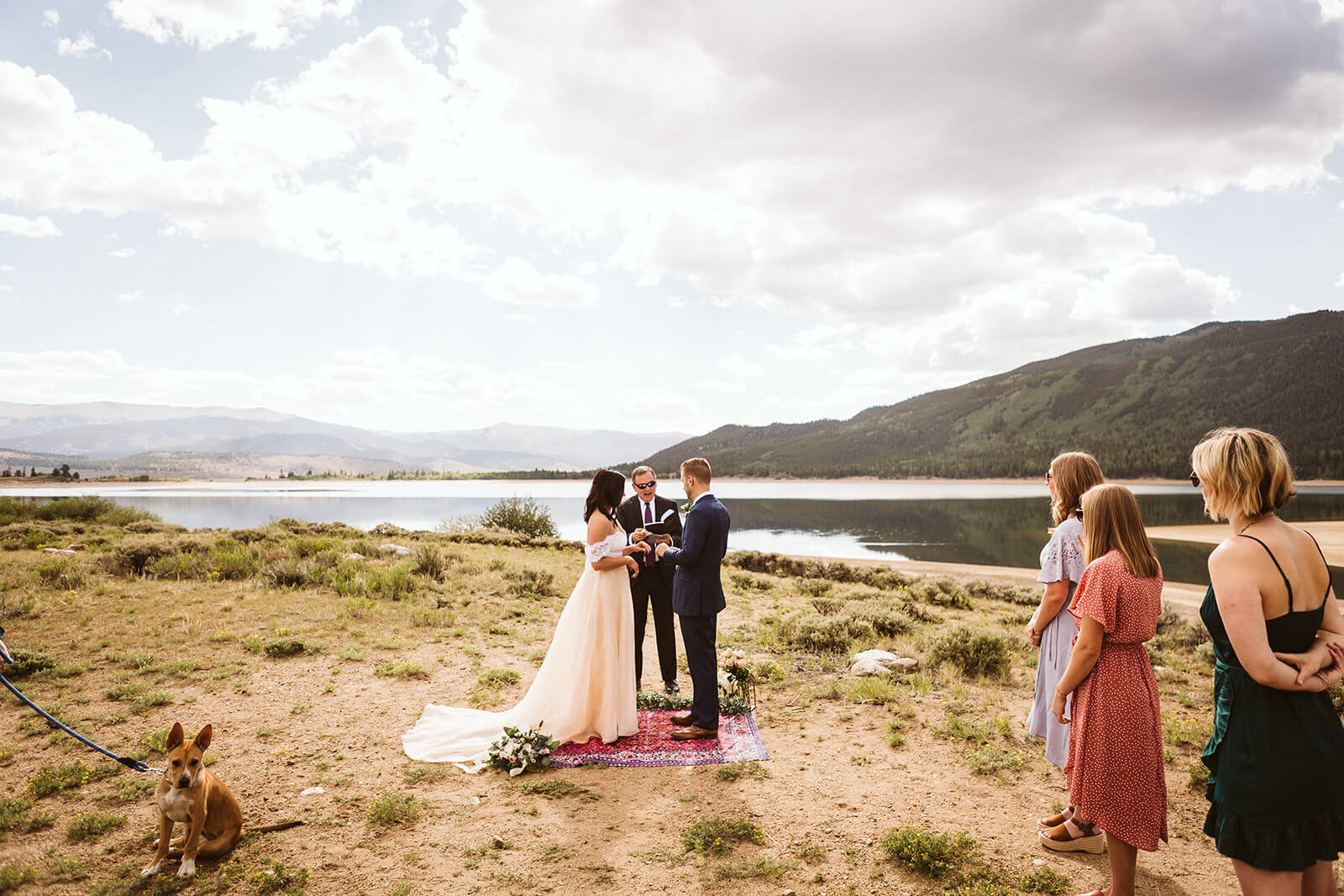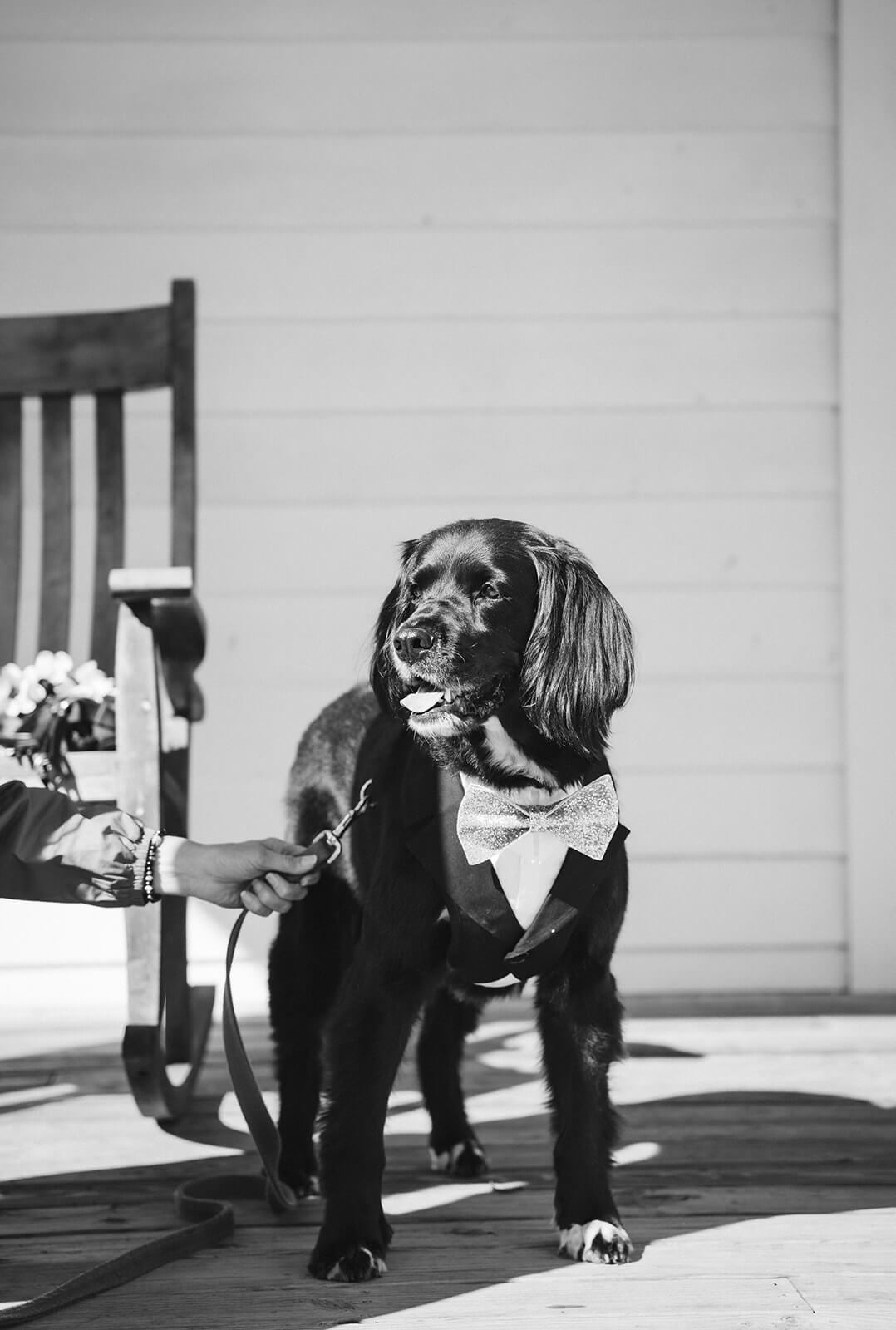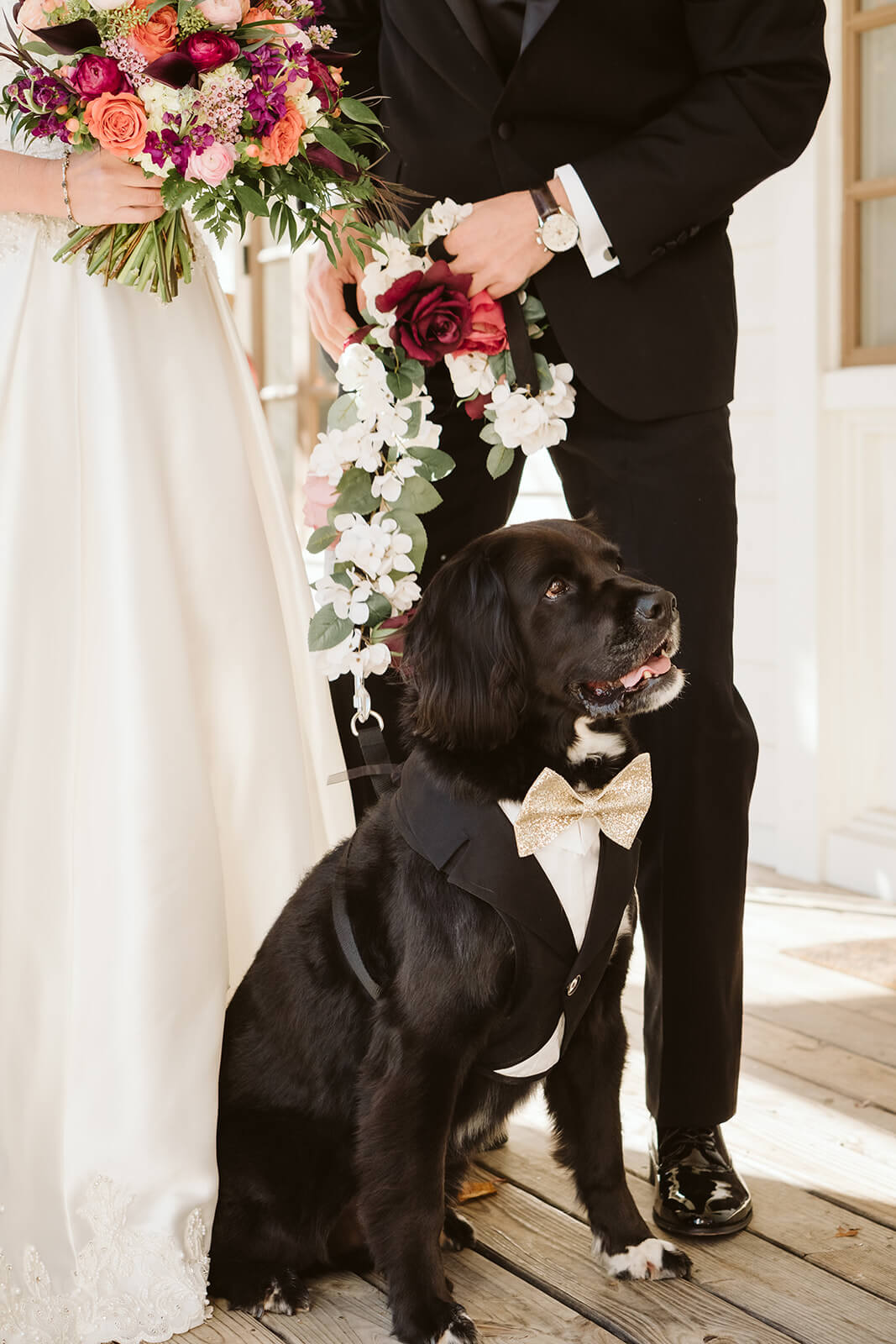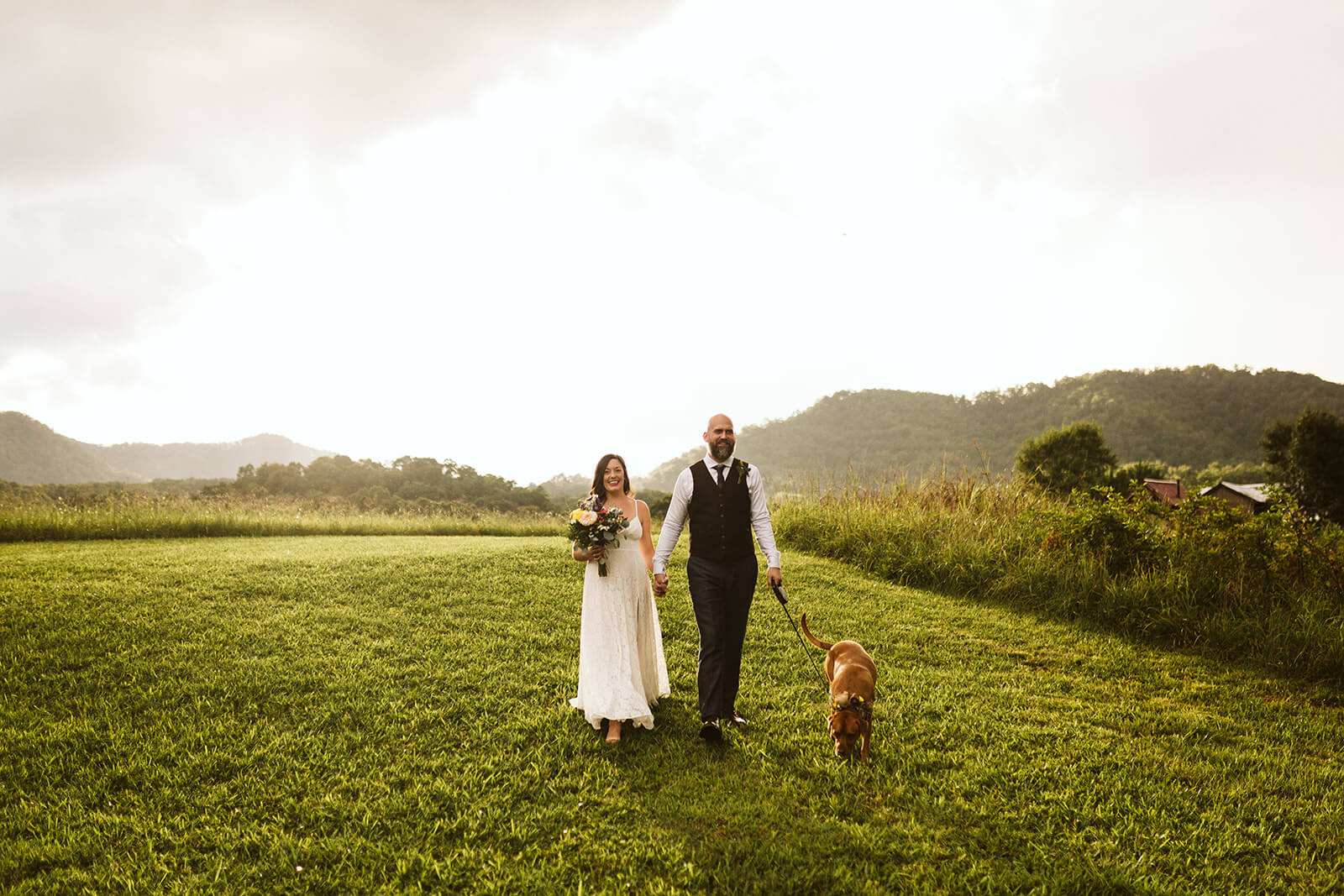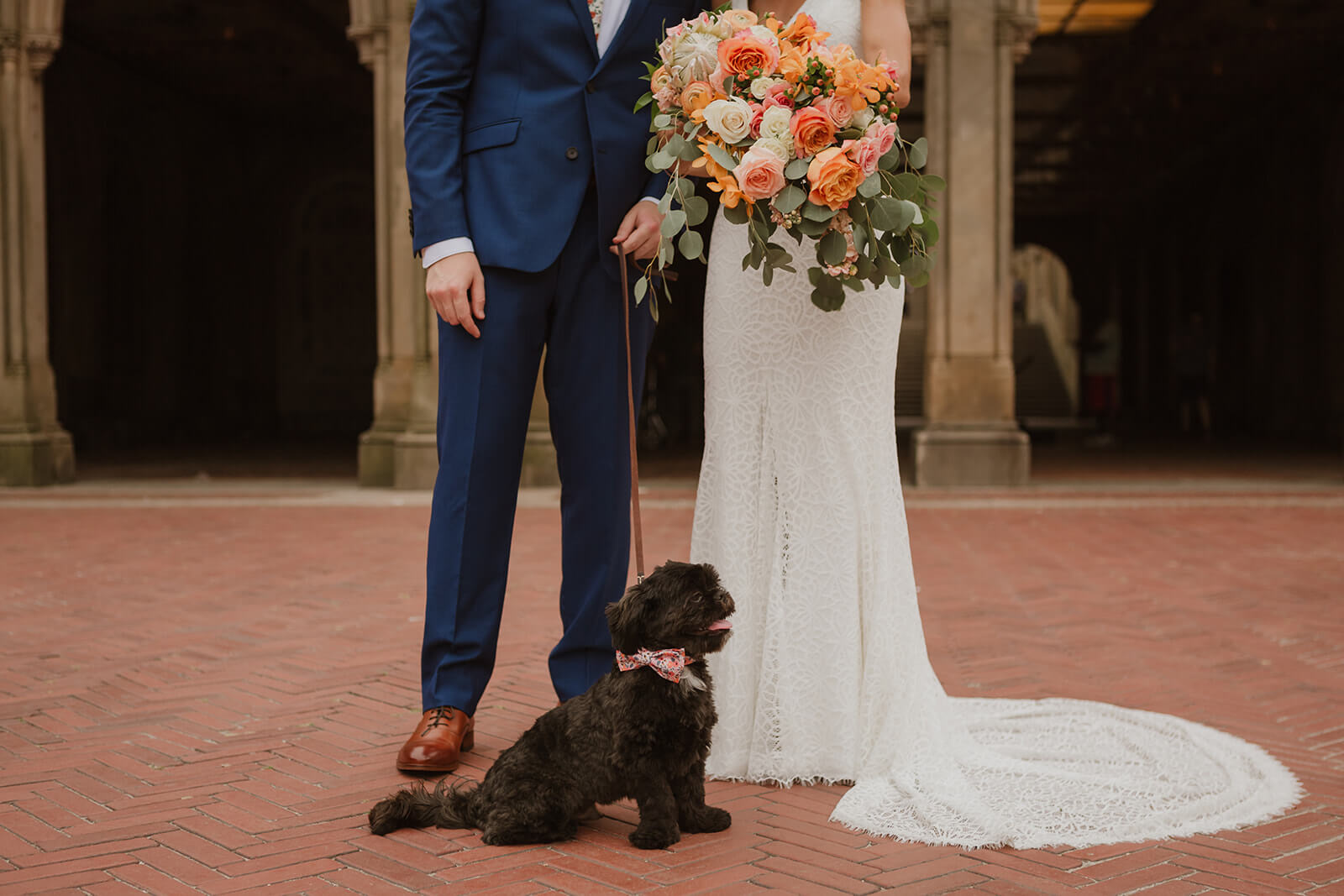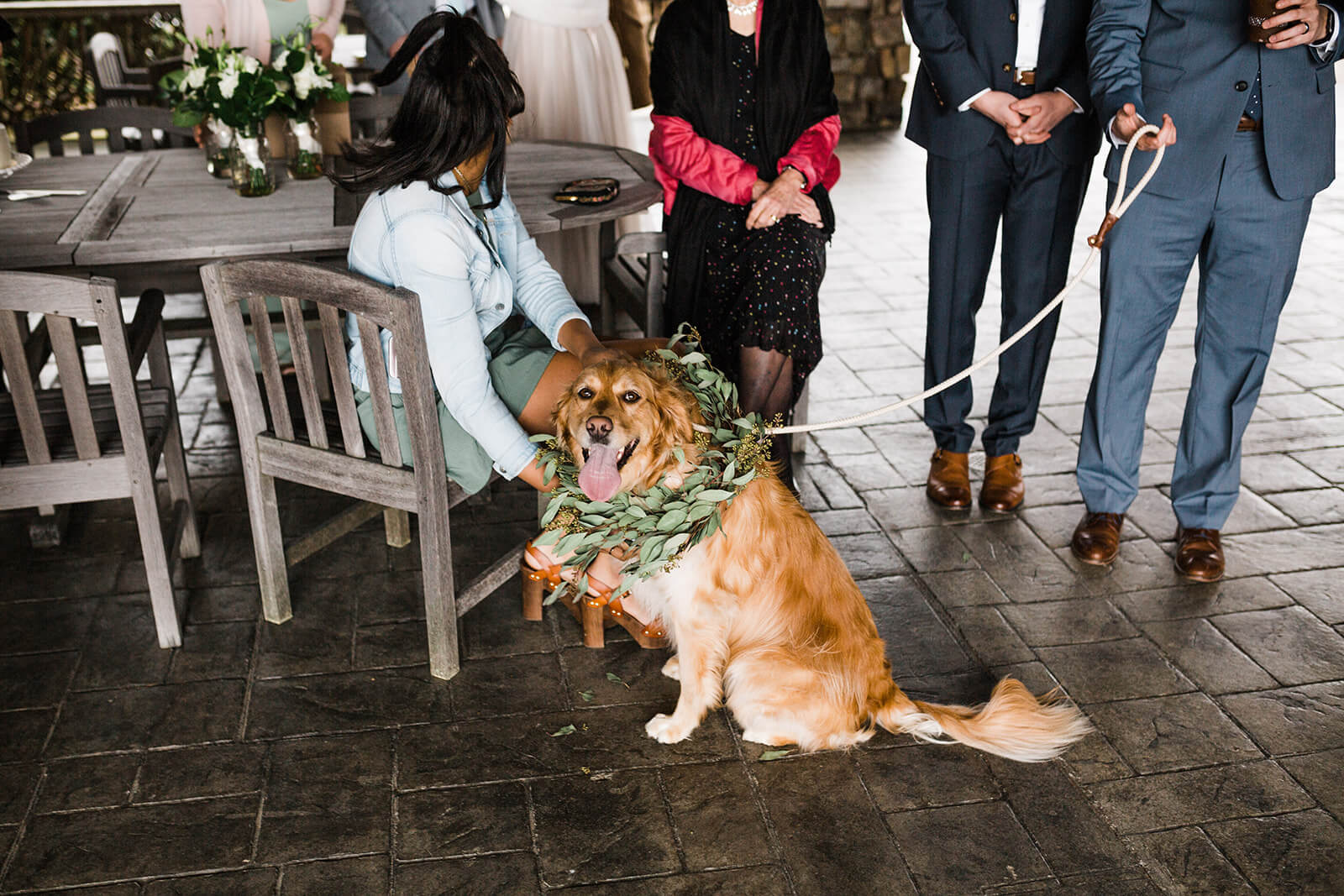 5. Incorporate Them into Your Décor and Details
Even though not all wedding venues are dog friendly, there are still tons of ways you can incorporate your dog in your wedding without them actually being there. As a wedding photographer, I have seen couples' dogs incorporated into just about every type of wedding décor and detail you can imagine. From portraits of their dogs on cocktail napkins, signs, and table numbers to even signature cocktails and snack tables inspired by their pups, I have seen just about everything. My favorites are always when a couple gets custom cookie favors made to look like their dogs. The cookies always end up looking super cute and almost too good to eat!
If you plan to have a photo booth at your reception, try including a few props that give a little nod to your pup. Maybe they're just funny wedding-themed dog puns held up on little signs or maybe even full blown images of your dog to hold up in the photo booth pictures.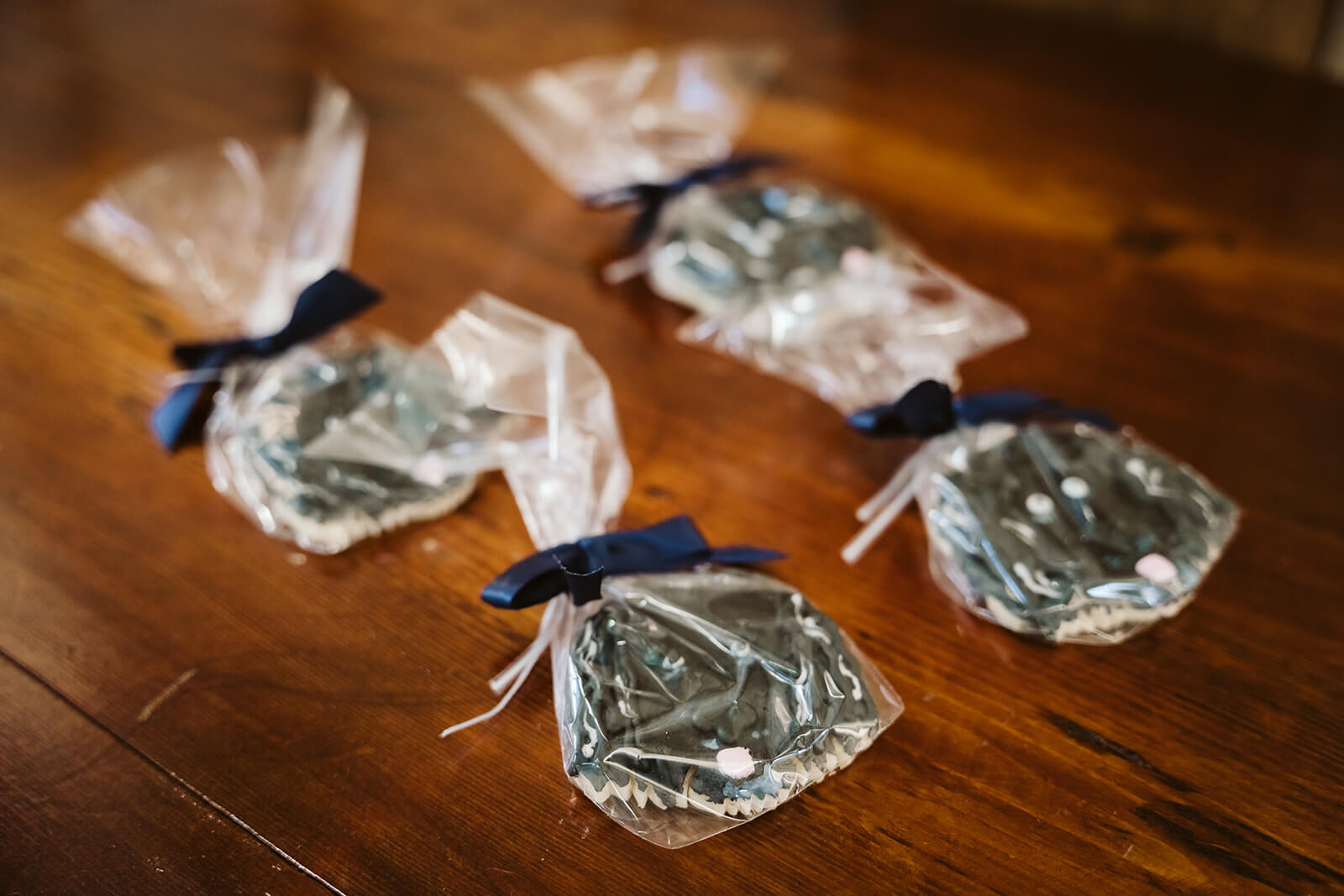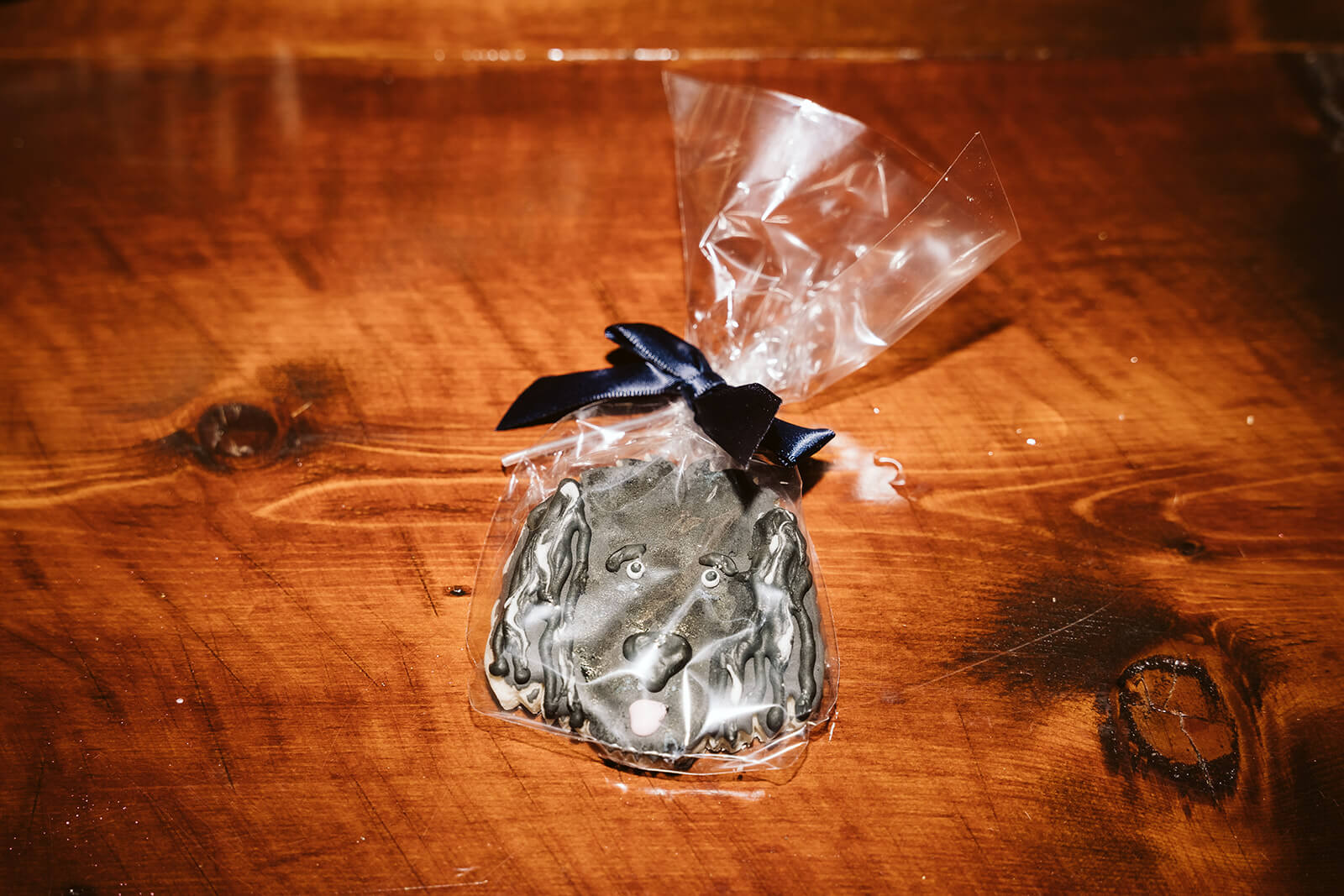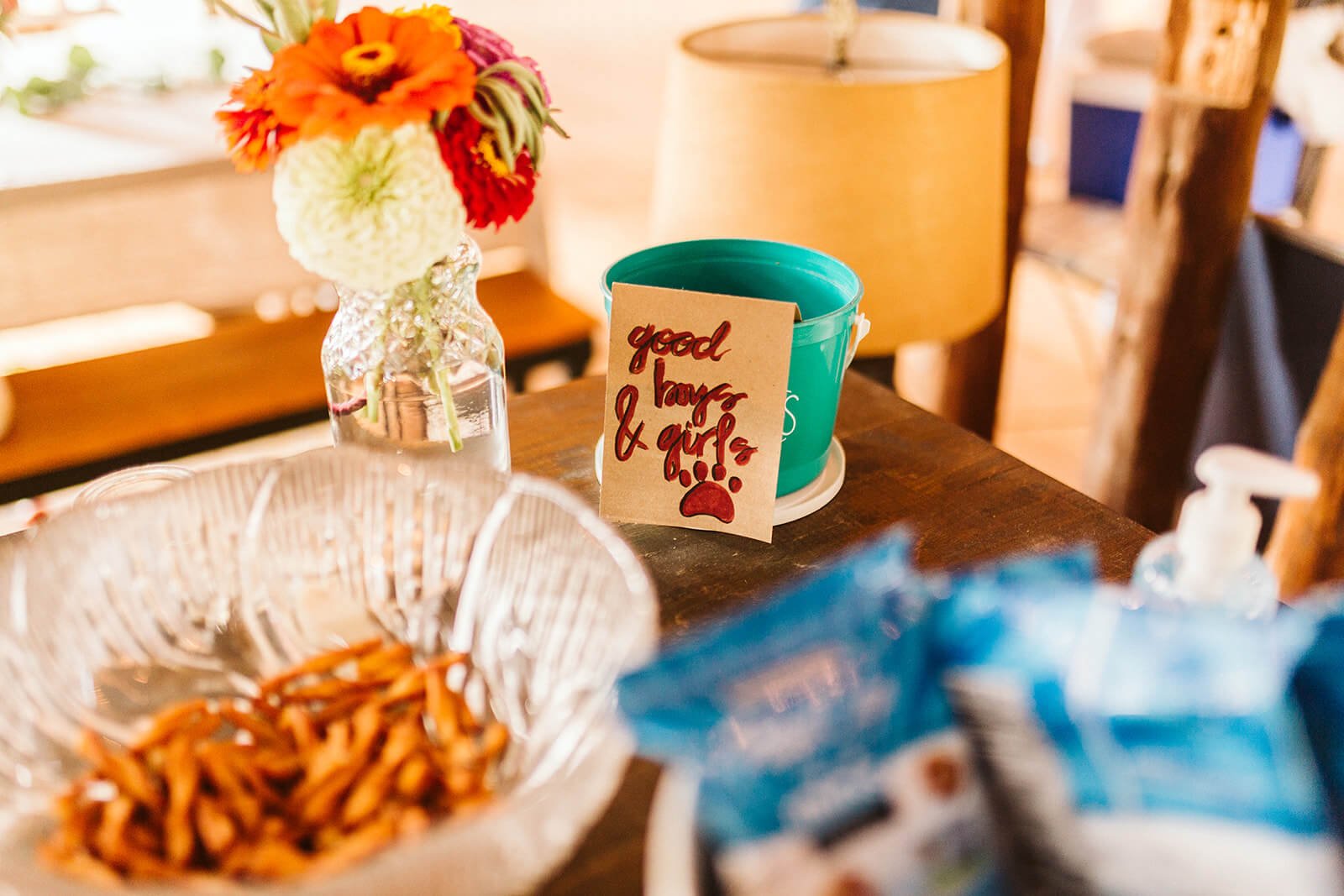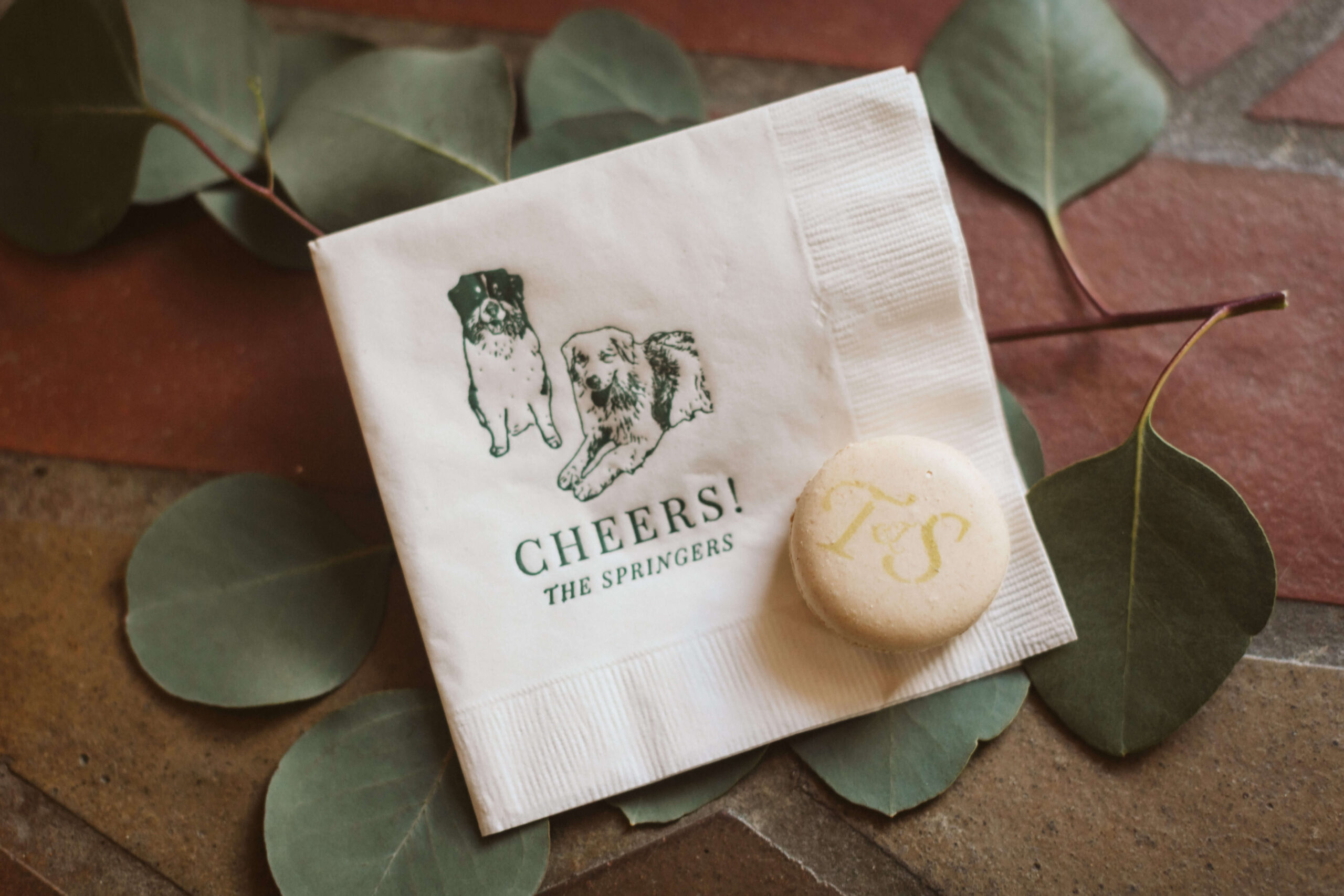 Bonus: Consider Giving Back
Wedding party favors often get wasted or go unused after guests leave for the night. So instead of handing out favors, why not put the money you would have spent on favors to good use? Hang a sign somewhere where your guests will see which explains that in lieu of favors, you have made a donation to a local animal rescue or shelter on your guests' behalf in honor of your beloved pet. Something this simple can take a tiny bit of stress off your wedding planning plate while subtly educating guests on the importance of animal rescue and 'adopt, don't shop'.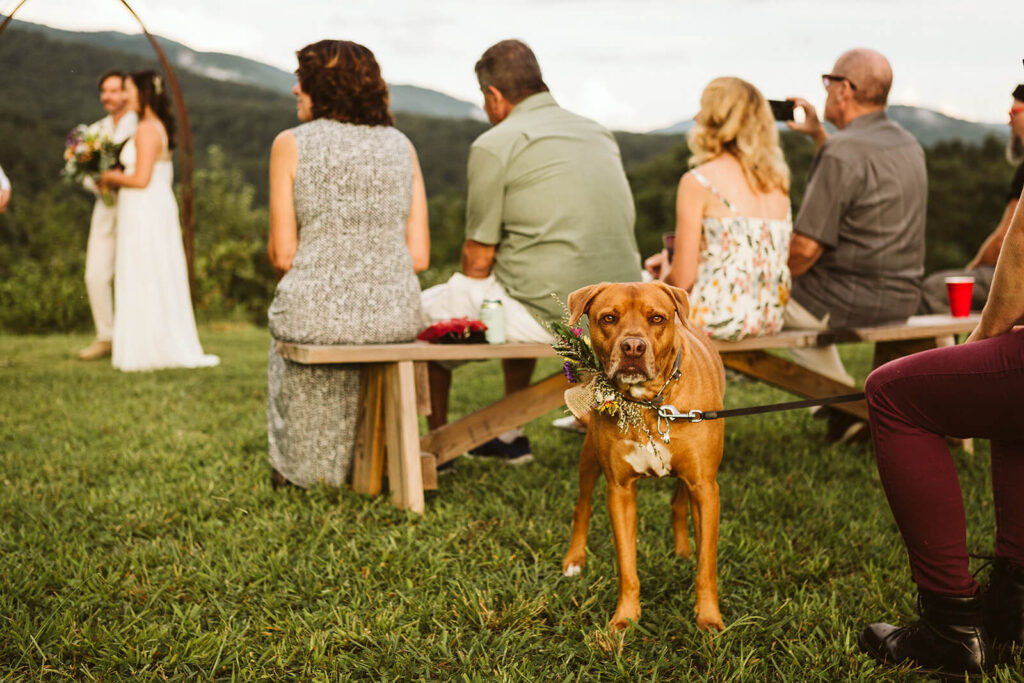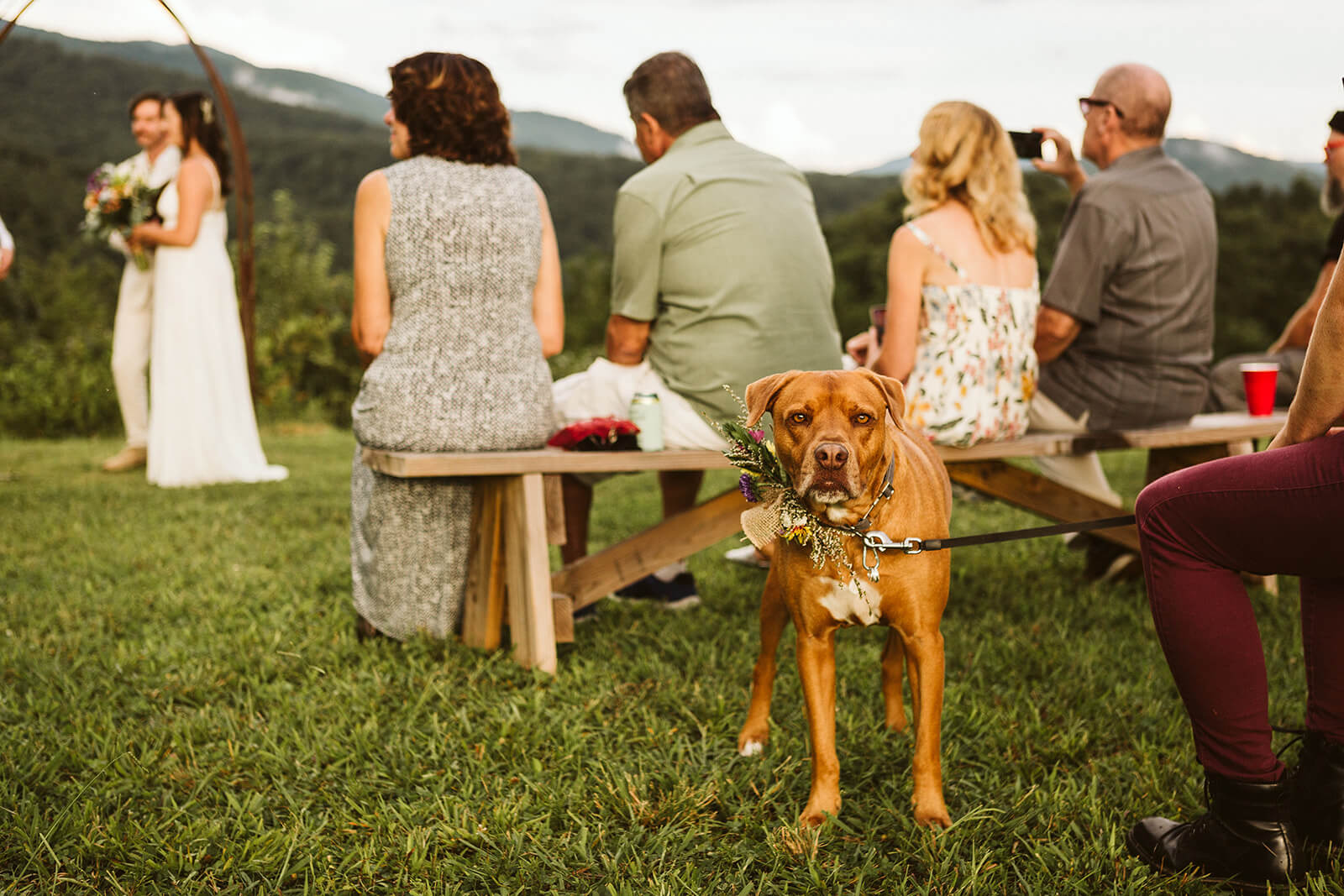 Are you planning to include your dog on your wedding day? As a dog and animal lover, I would be overjoyed to be there to photograph every adorable moment.
Hey y'all! I'm Rachael Crowe of OkCrowe Photography. I'm a wedding photographer located in Chattanooga, Tennessee but I would be happy to travel out to wherever you are if need be. As a pet-lover and both a dog and cat mom, I absolutely love it when our furry friends get included in special occasions like weddings, engagements, and elopements. If you're planning to have a dog friendly wedding, let's chat! I am more than willing to hand out snuggles (and maybe even a treat or two) in between taking pictures.
Pin this blog for later! ↓