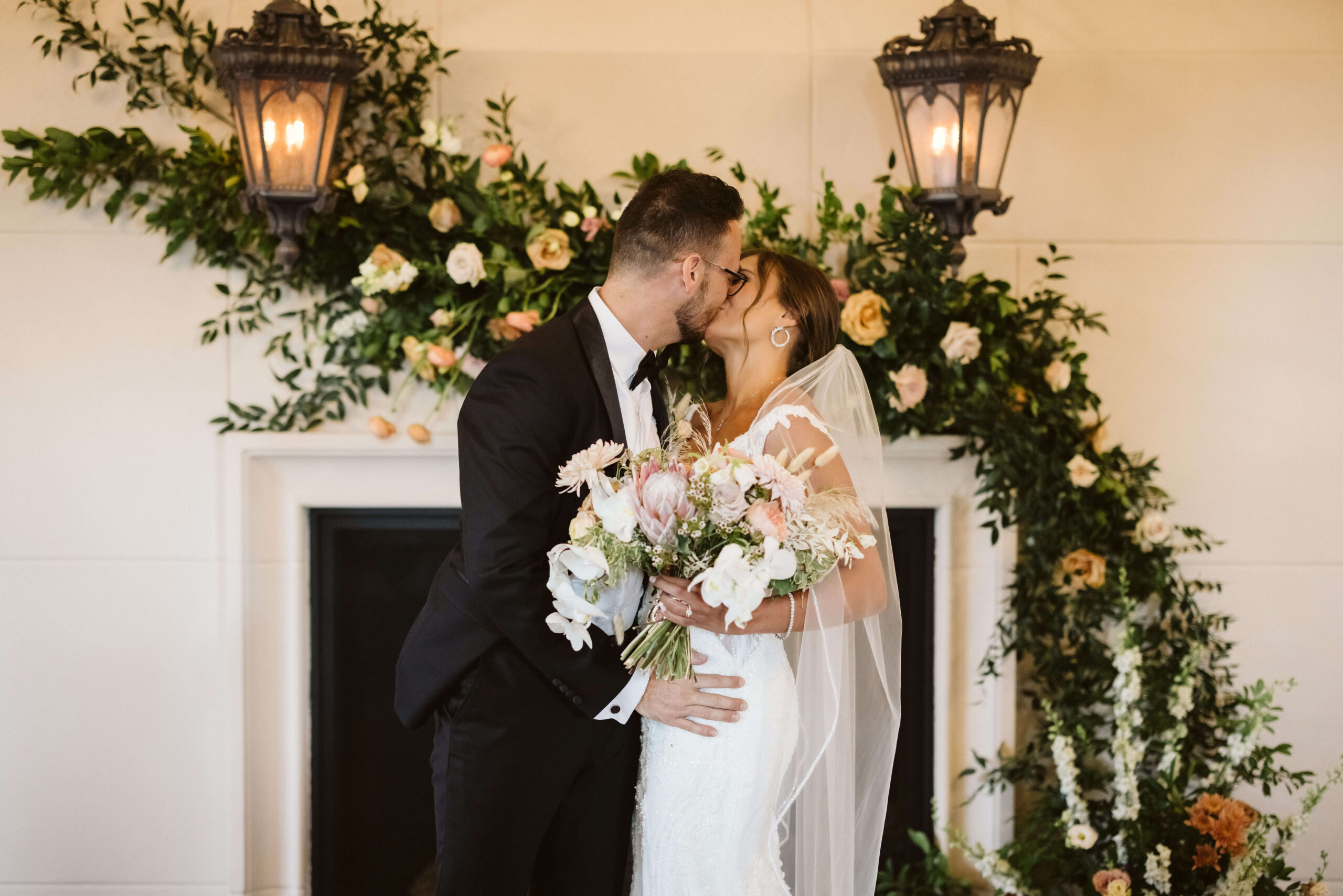 As a Chattanooga-based wedding photographer, I have photographed weddings, engagements, and elopements all over this amazing city. From forest weddings to mountaintop engagements to elopements in the heart of Chattanooga itself, there are times when I feel like I've done it all. So, it's always exciting to me when a new wedding venue opens that I get the opportunity to shoot a wedding in. That is exactly how I felt when Jessie and Nathan contacted me to photograph their wedding in the brand new Gilman Event Hall in Chattanooga's West Village.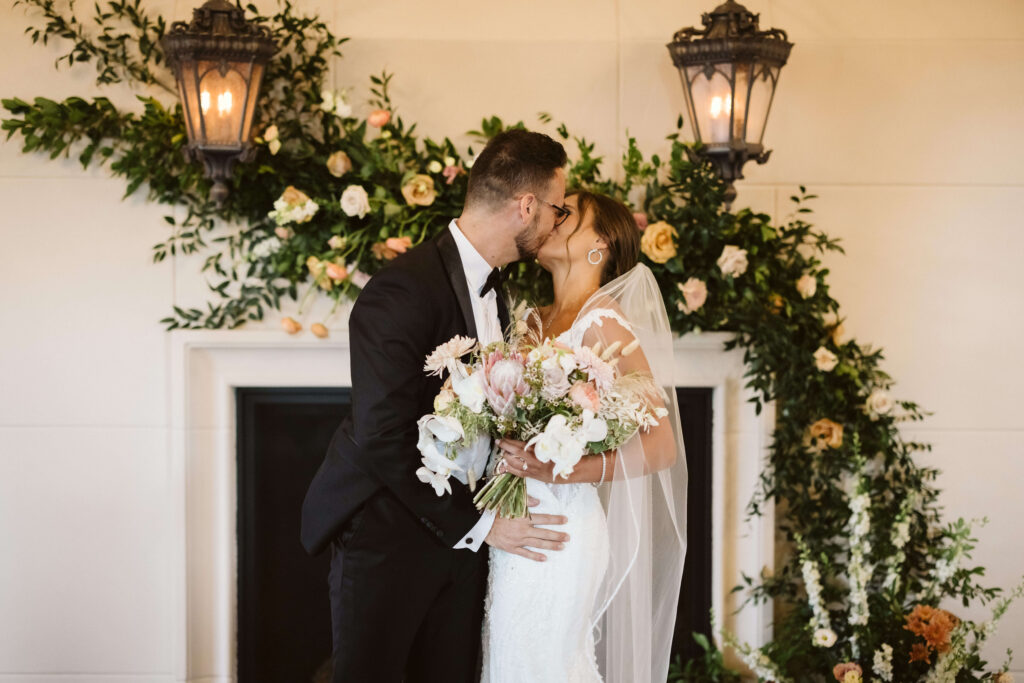 From Bridesmaid to Bride
Jessie and Nathan met when they traveled to Springfield, Missouri for a wedding. The bride was one of Jessie's long-time best friends and she was there to be a bridesmaid in the wedding party. Little did she know when she flew in that the groom was actually Nathan's cousin and she would soon be meeting her future husband!
Both Jessie and Nathan were in the wedding party but what they didn't know was the bride and groom already had a feeling the two of them would hit it off. Although they were there to celebrate the wedding of their best friend and cousin, Jessie and Nathan got to talking over the course of the weekend and it turns out the bride and groom were right! After they flew back to their home cities – Jessie to Chicago and Nathan to Chattanooga – they spent the next month talking over the phone nonstop until finally, Nathan flew to Chicago for their first official date.
Even though they were in different states, Jessie and Nathan made it work. The distance didn't mean much when they were always traveling to see each other. Over the course of the next few months, they made their relationship official and traveled to different states across the country to meet each other's family and friends. Finally, that November during one of Jessie's trips to Chattanooga to see Nathan, Nathan took her to Renaissance Park where he planned to propose. He had a small overlook decorated with beautiful fall flowers and dropped down on one knee in front of the Chattanooga skyline. Of course, Jessie said 'Yes!' and a few of their close friends popped out of where they were hiding ready to celebrate with a bottle of champagne.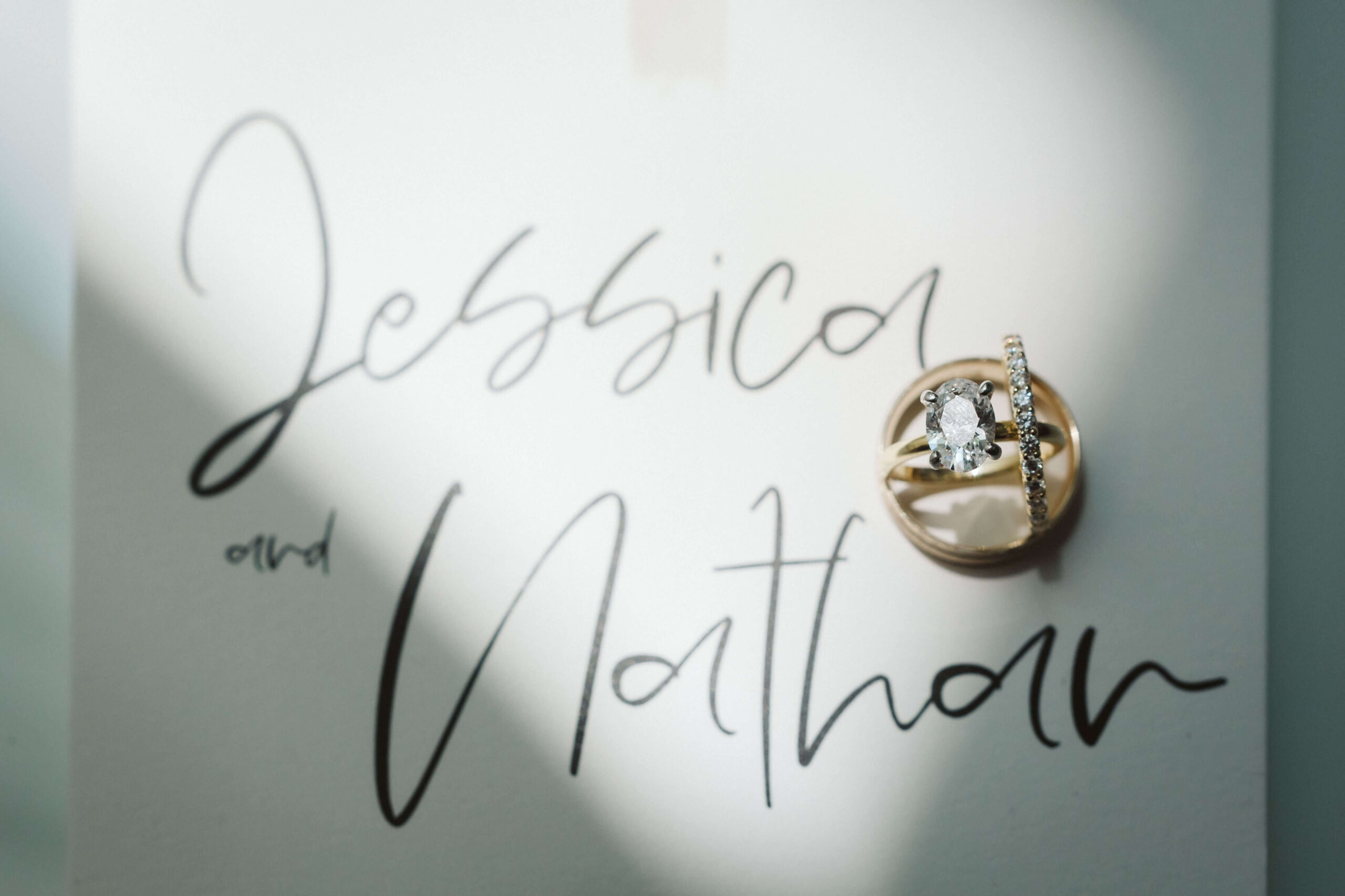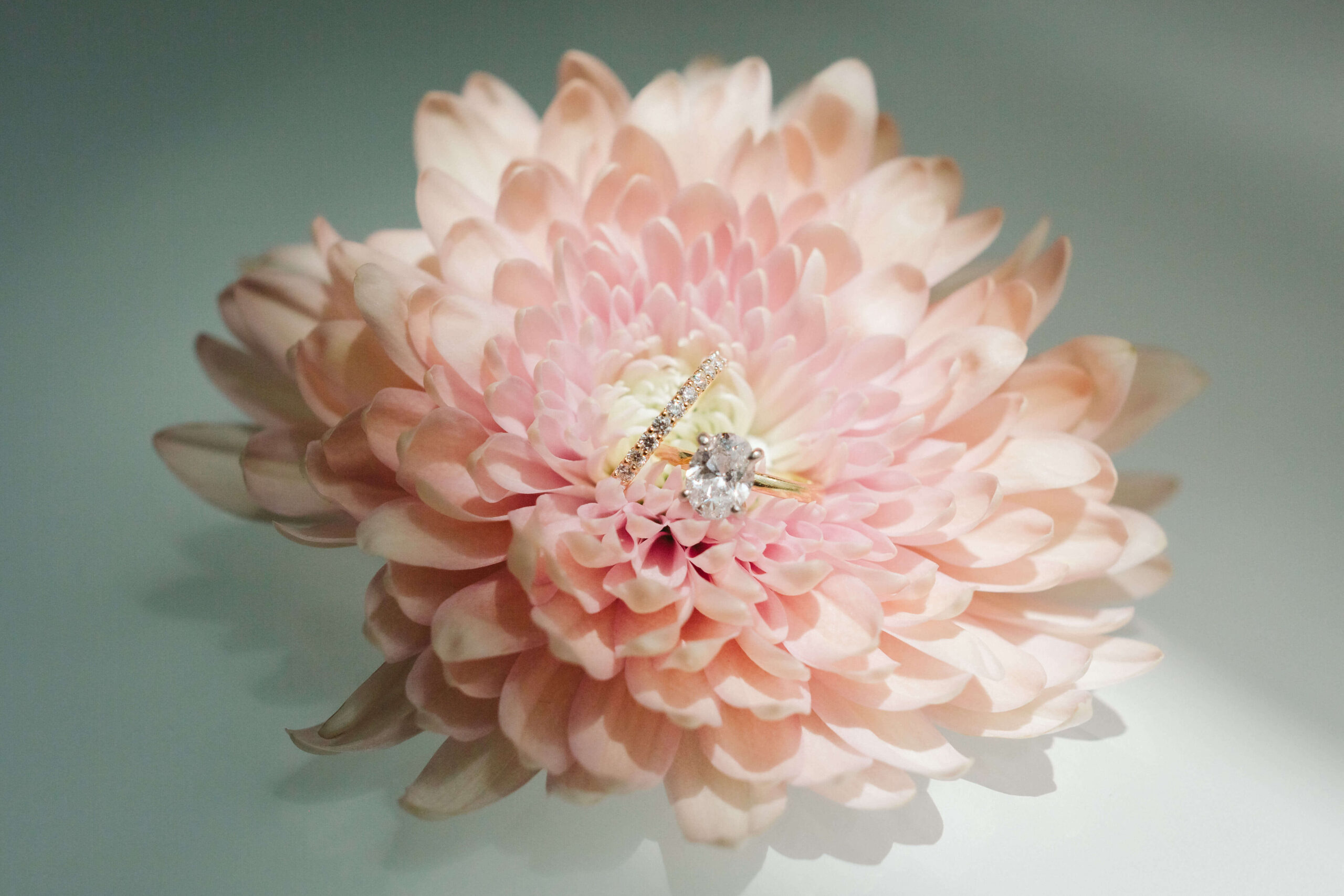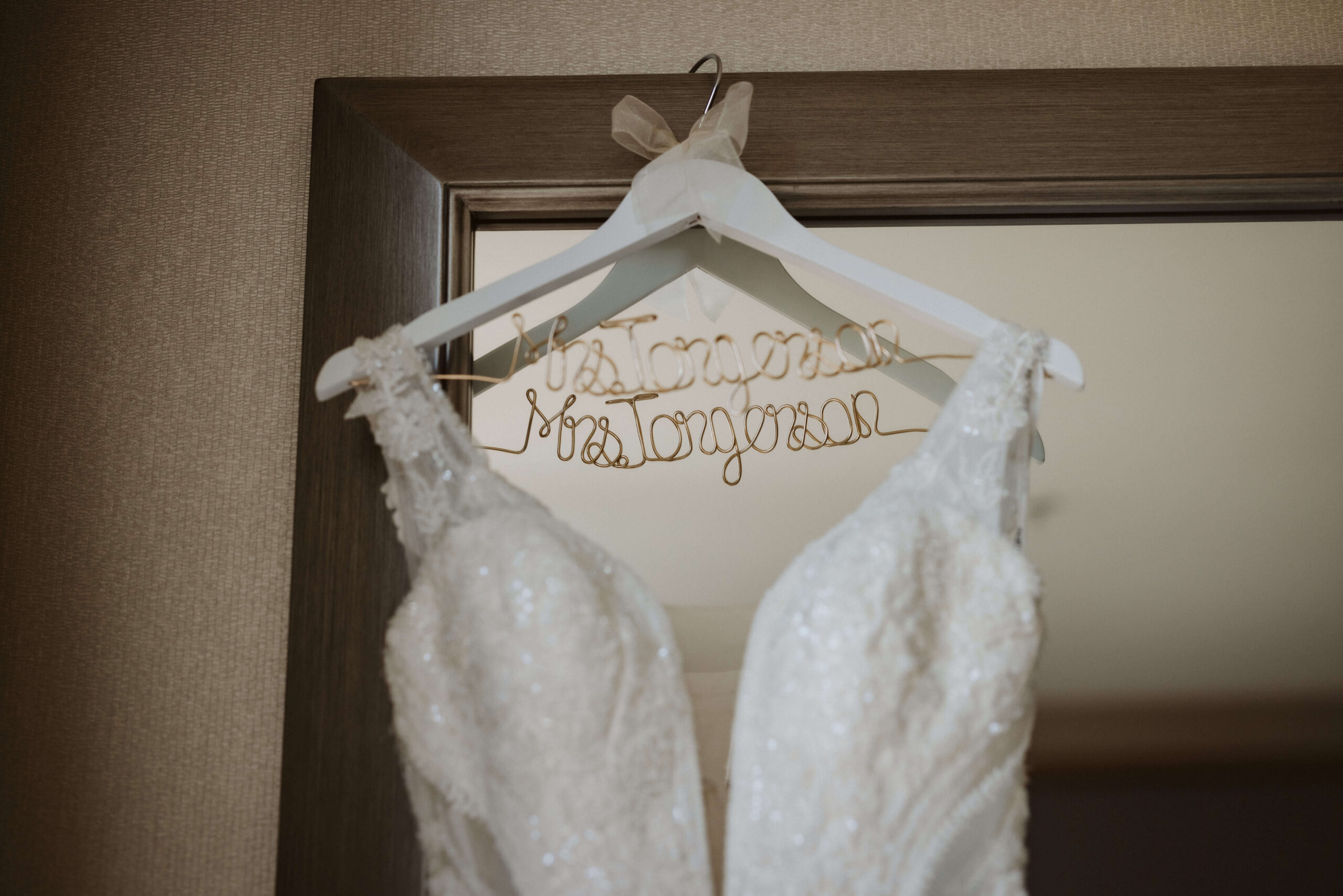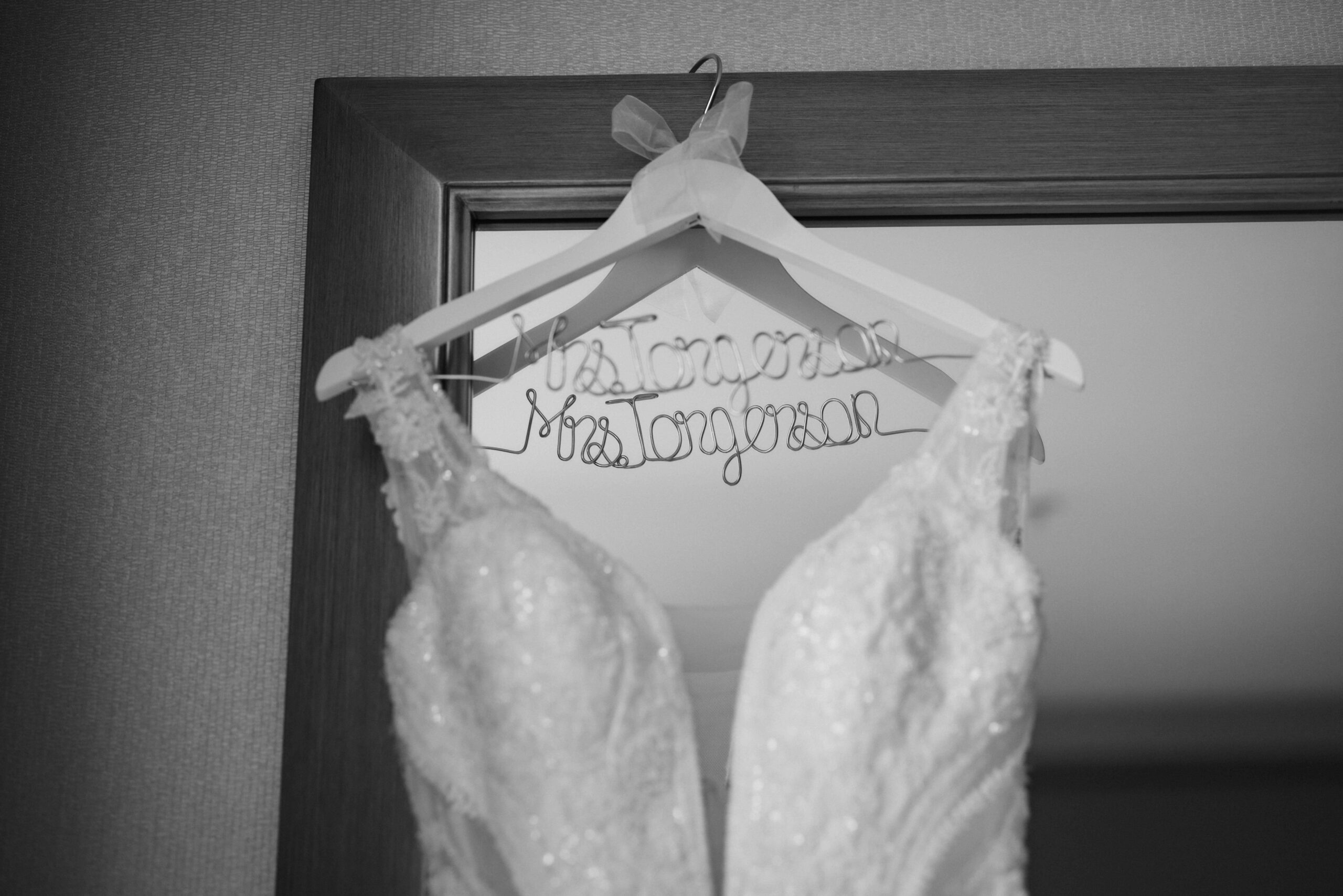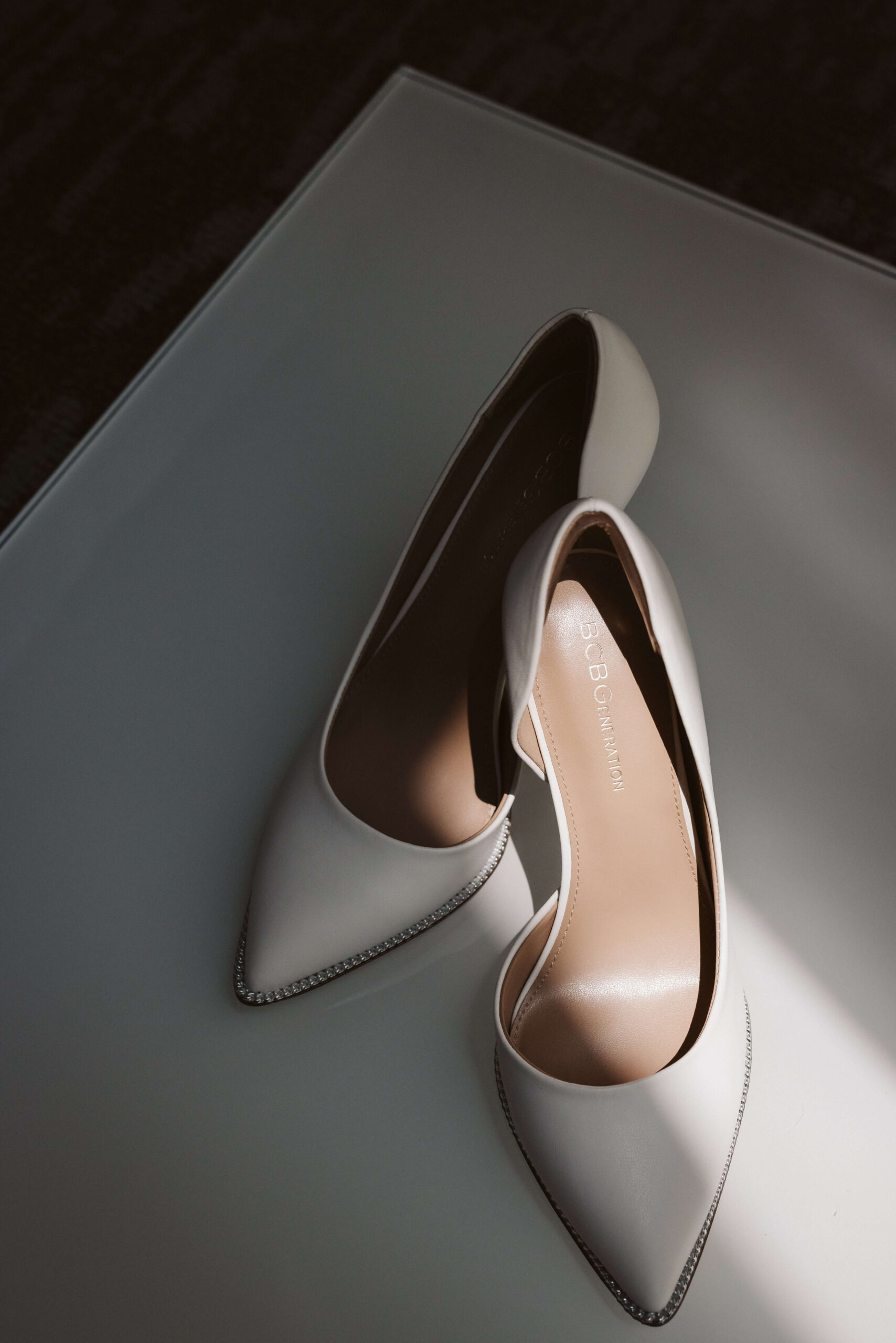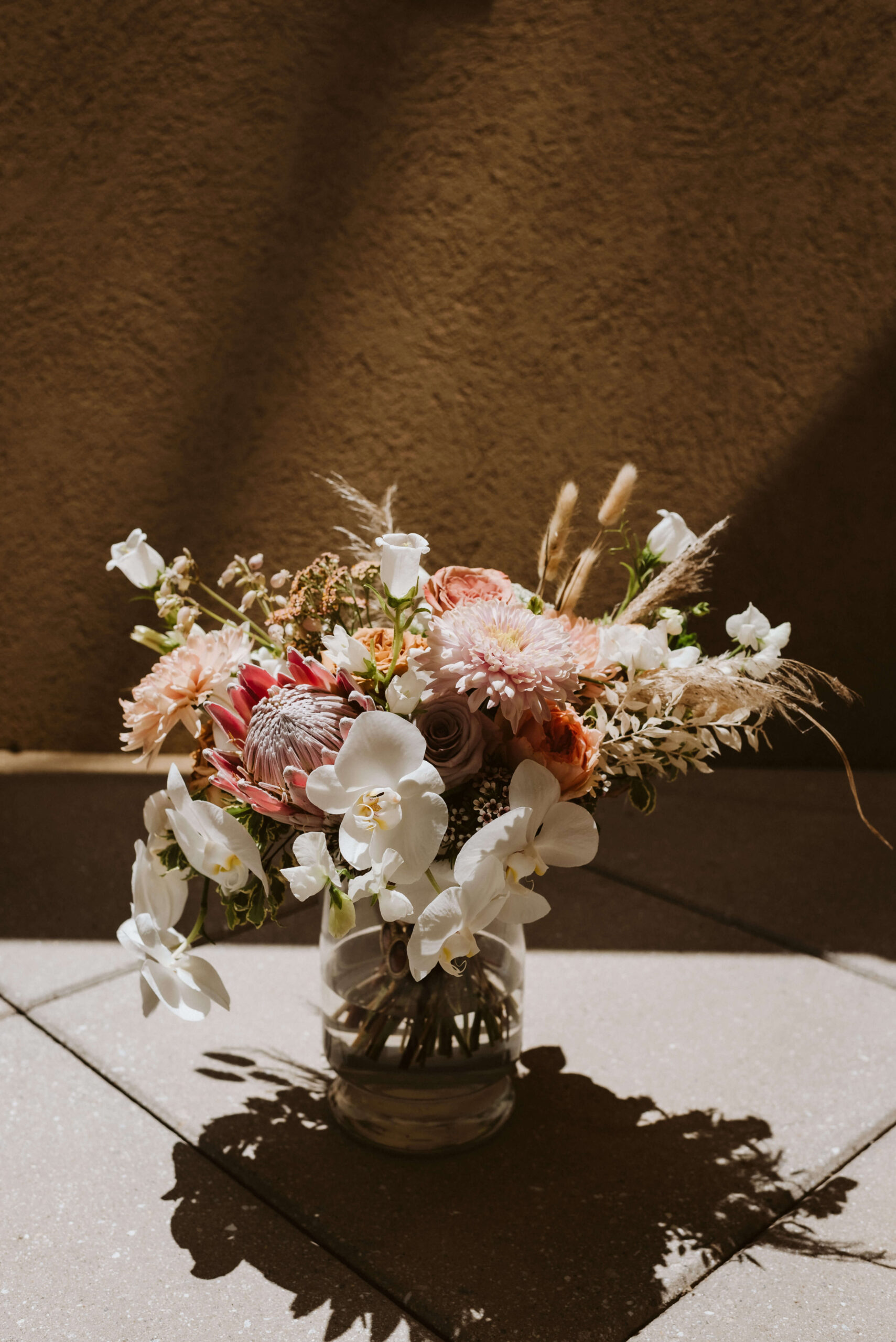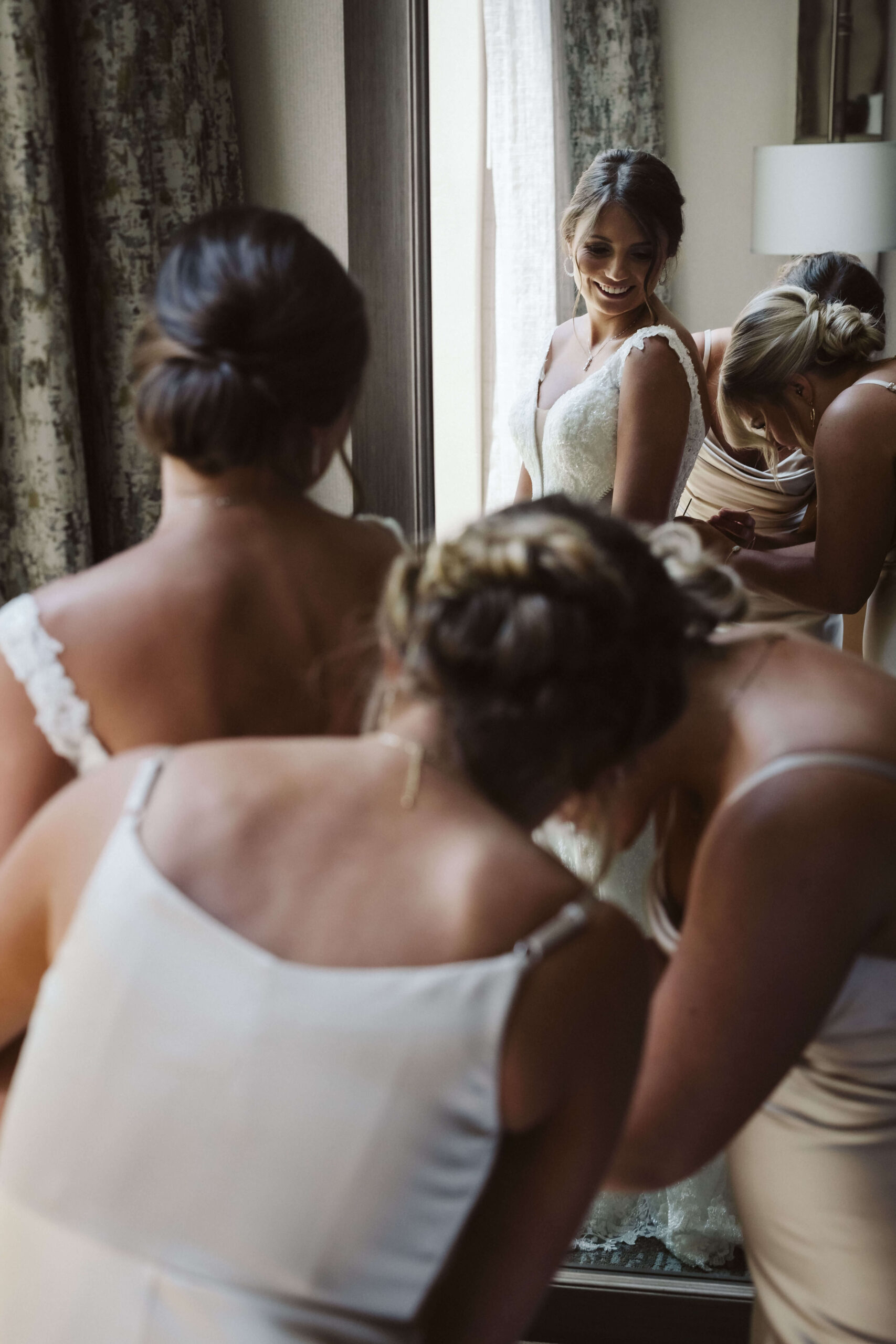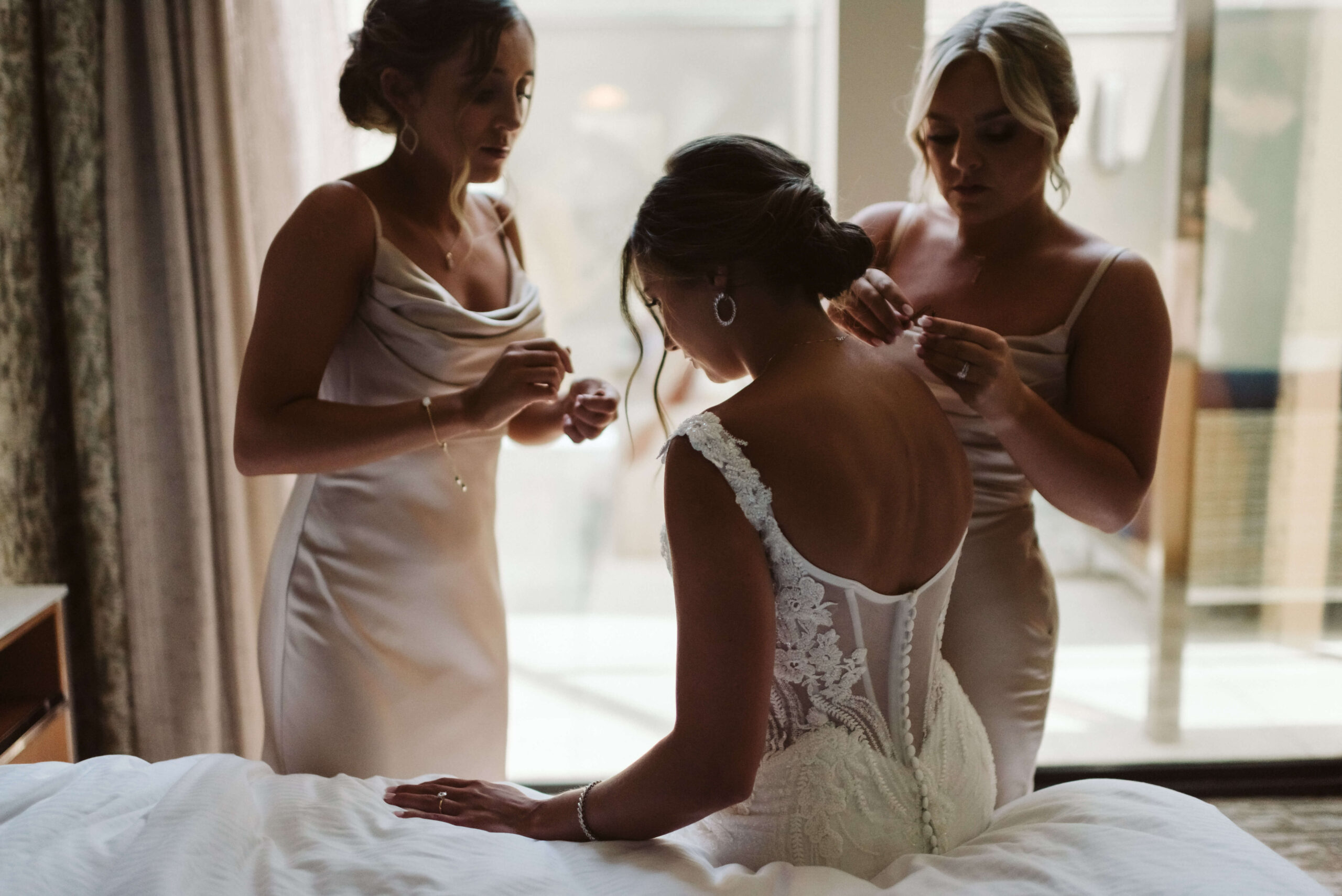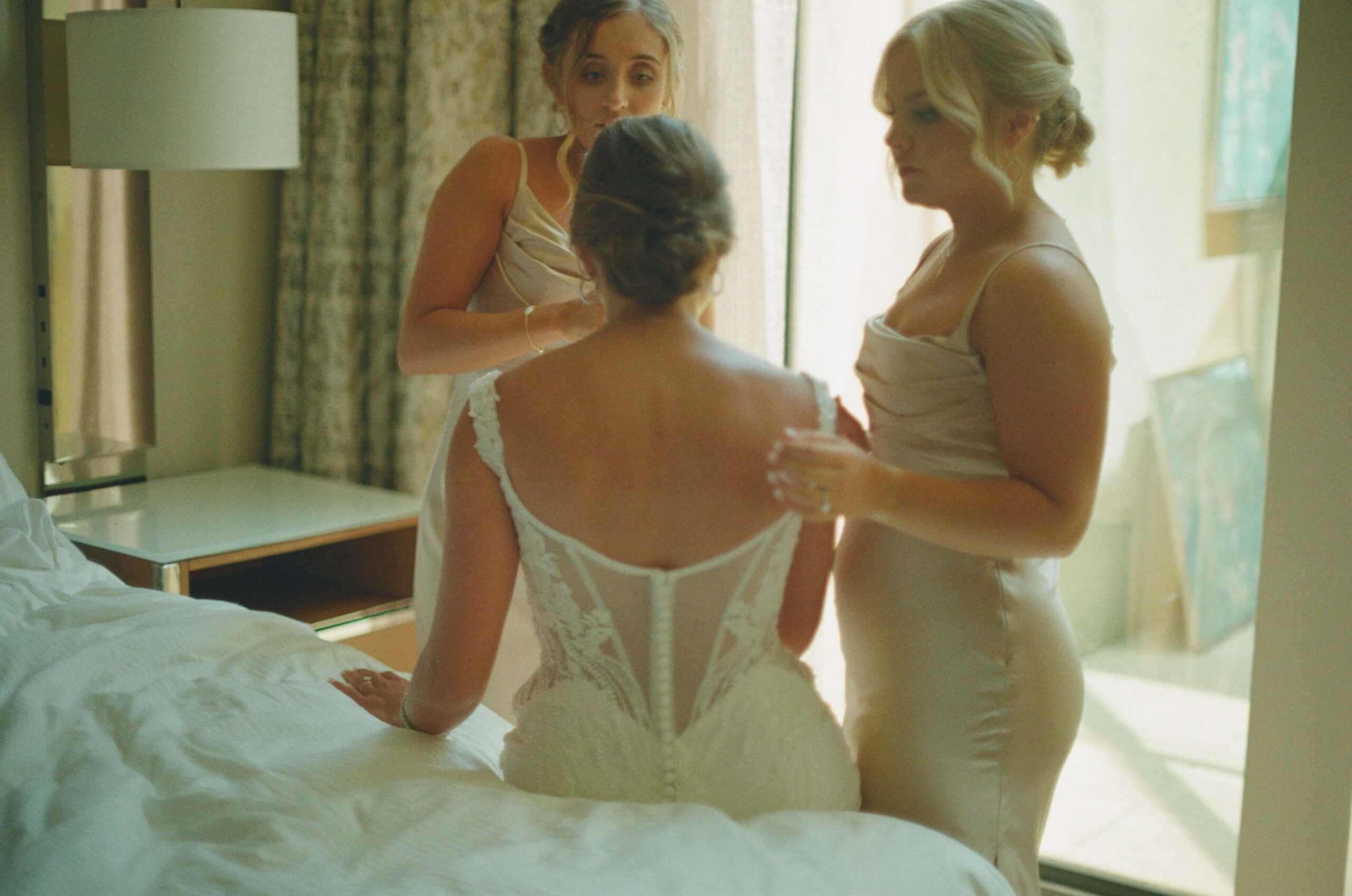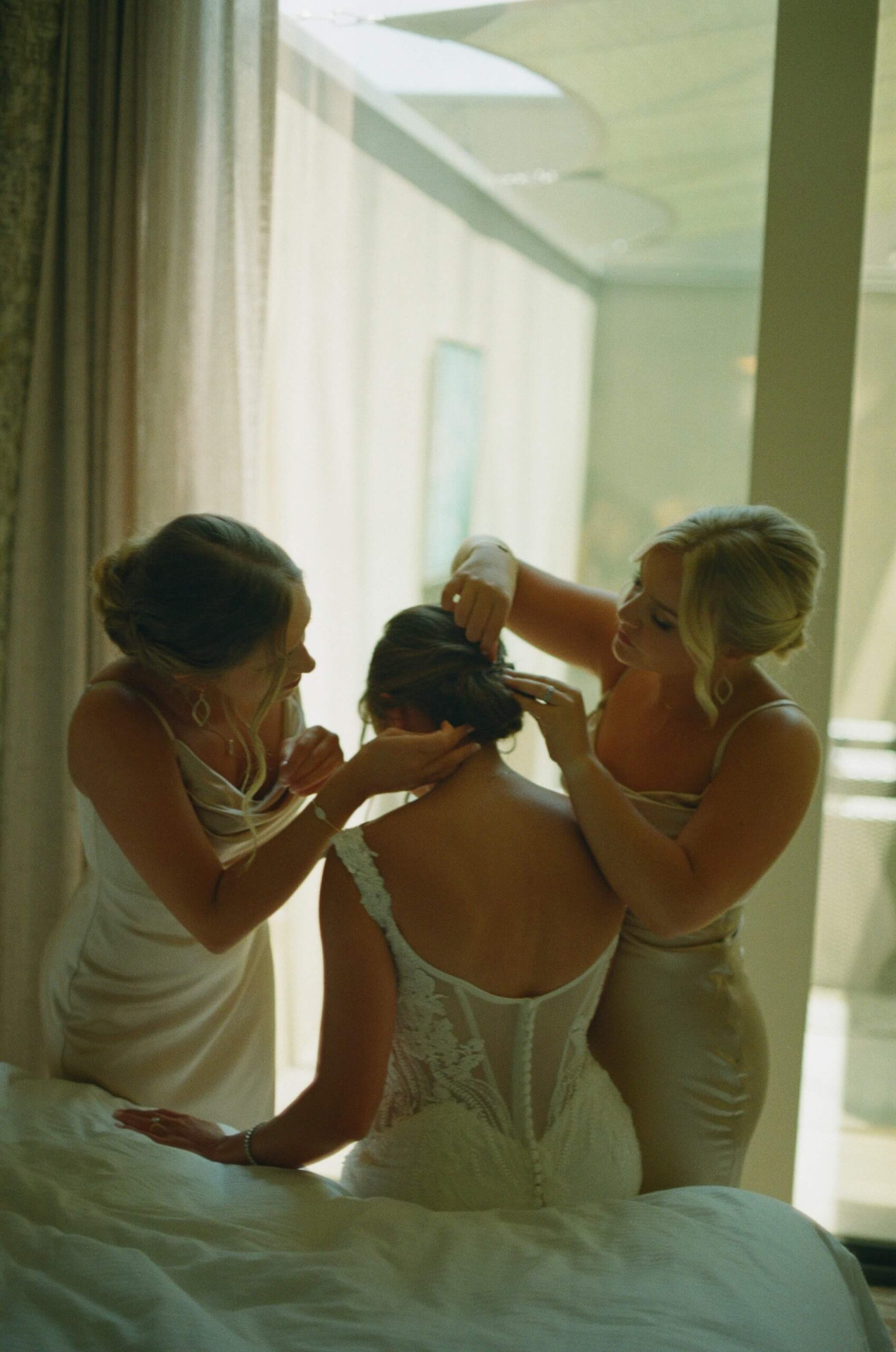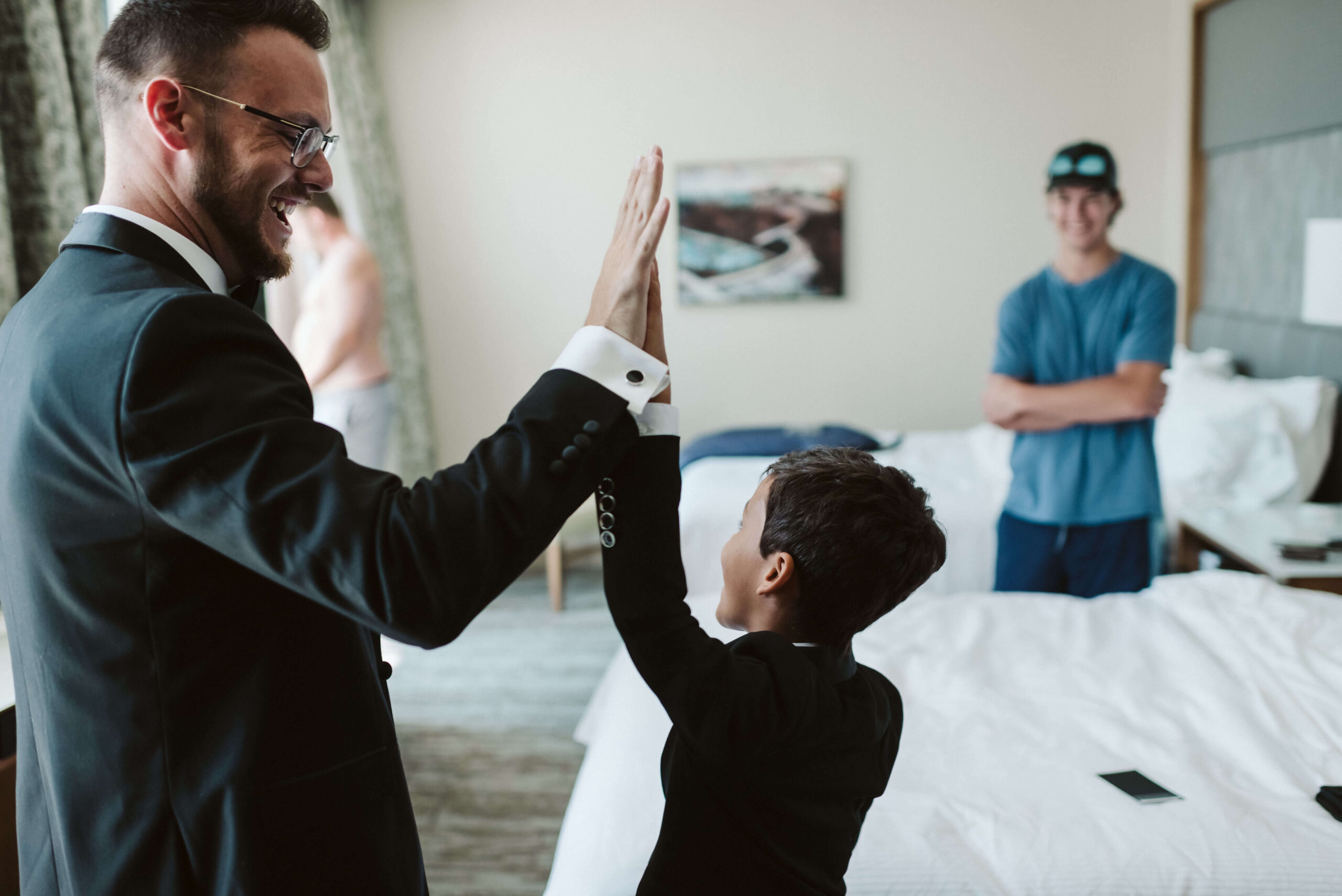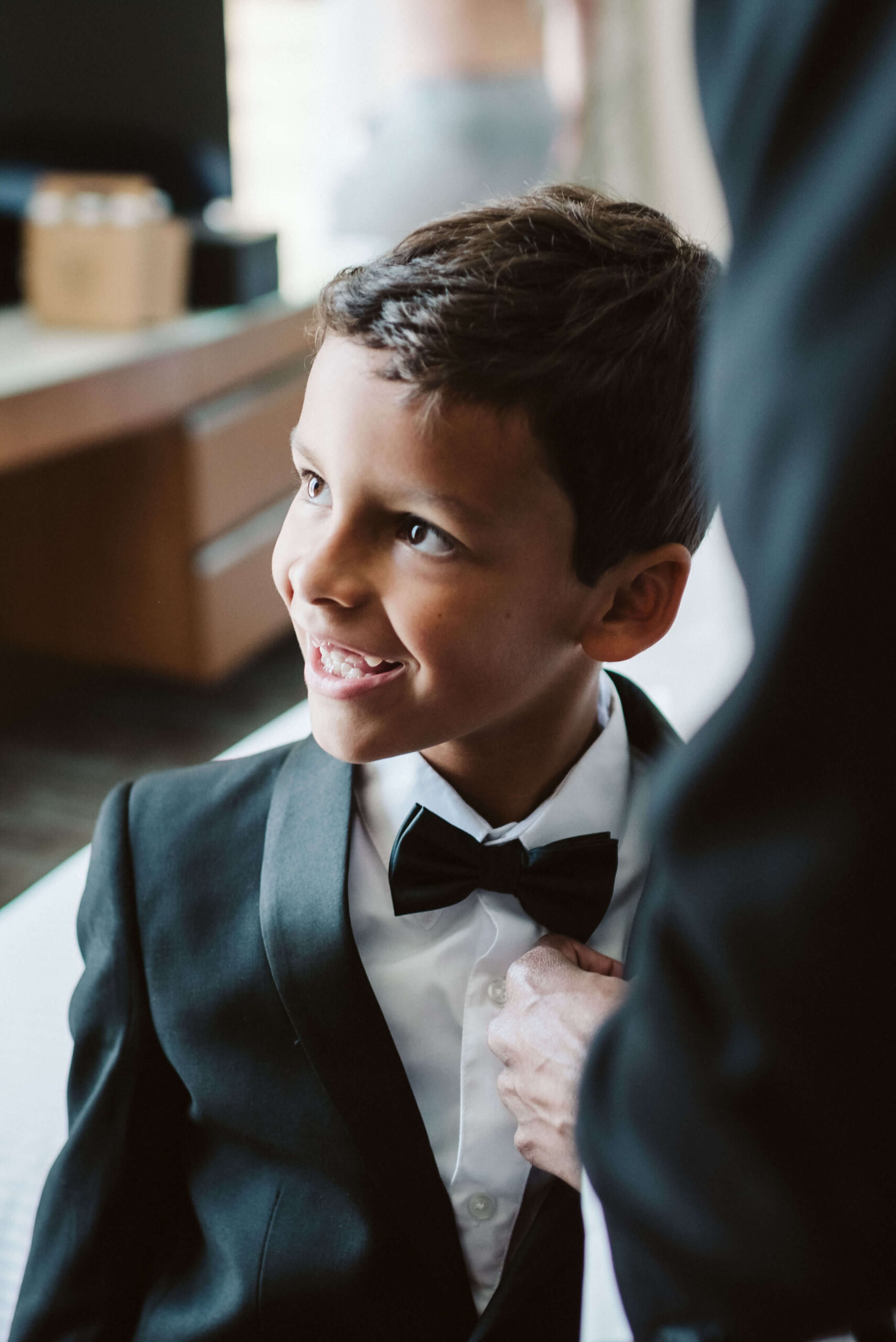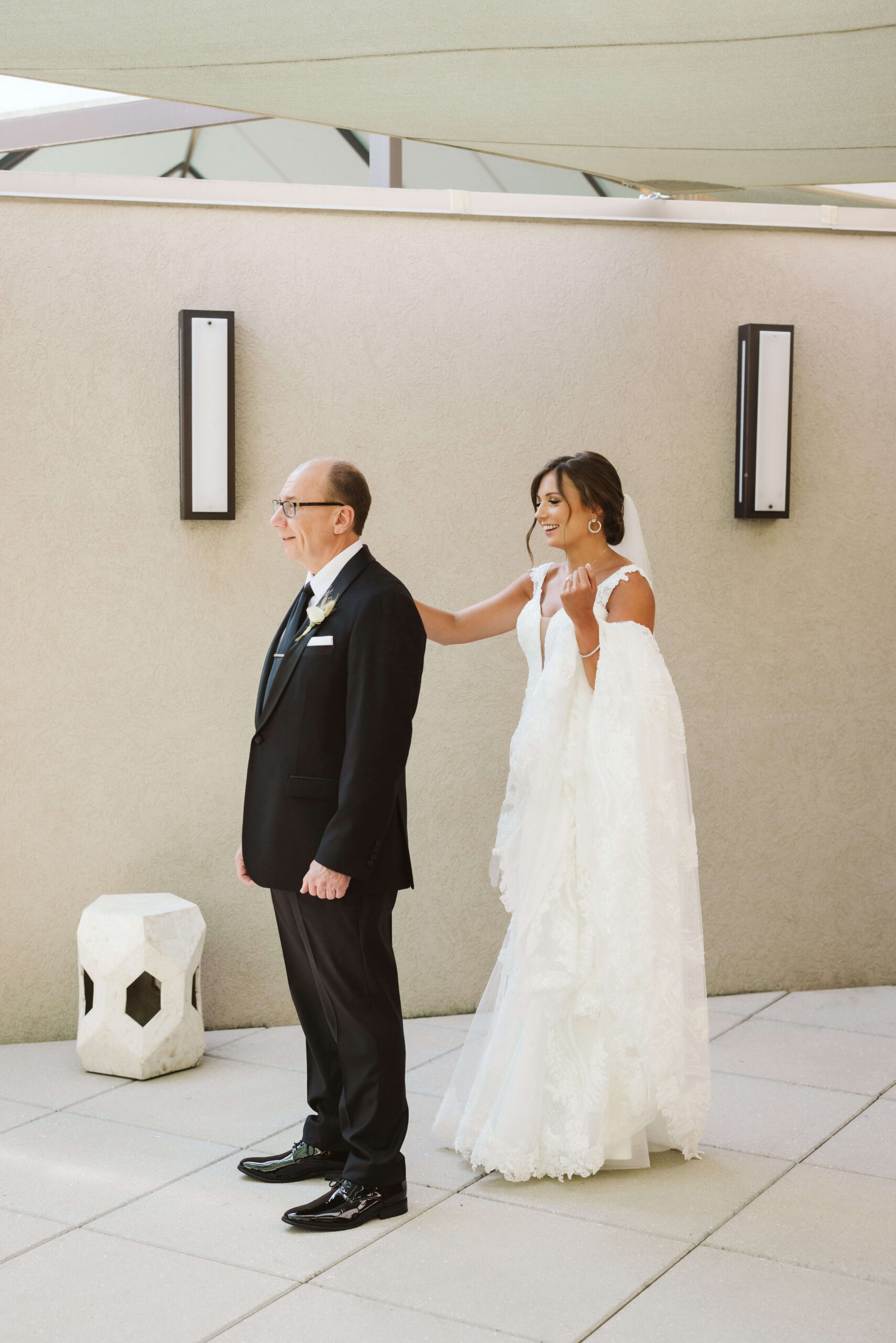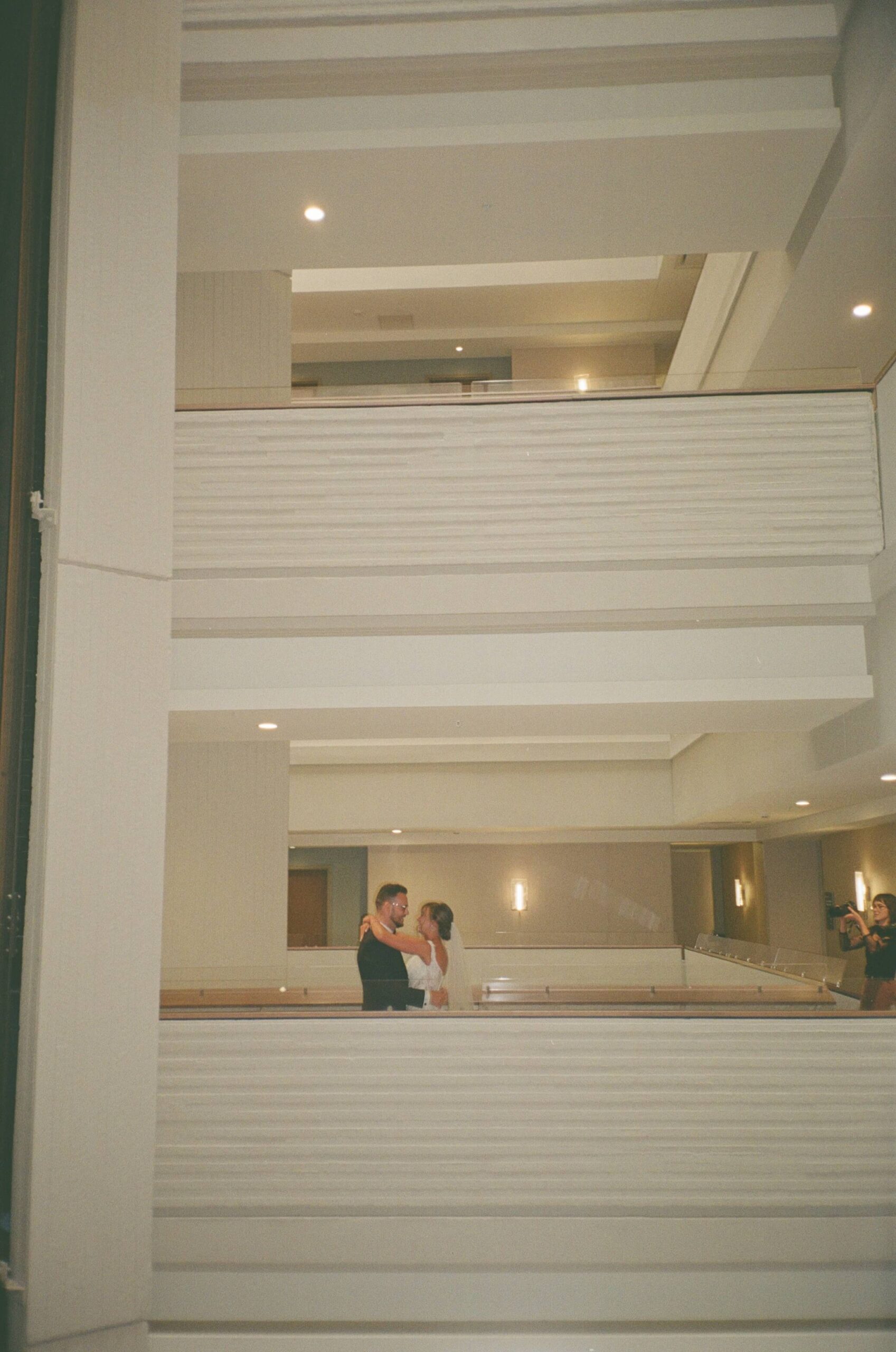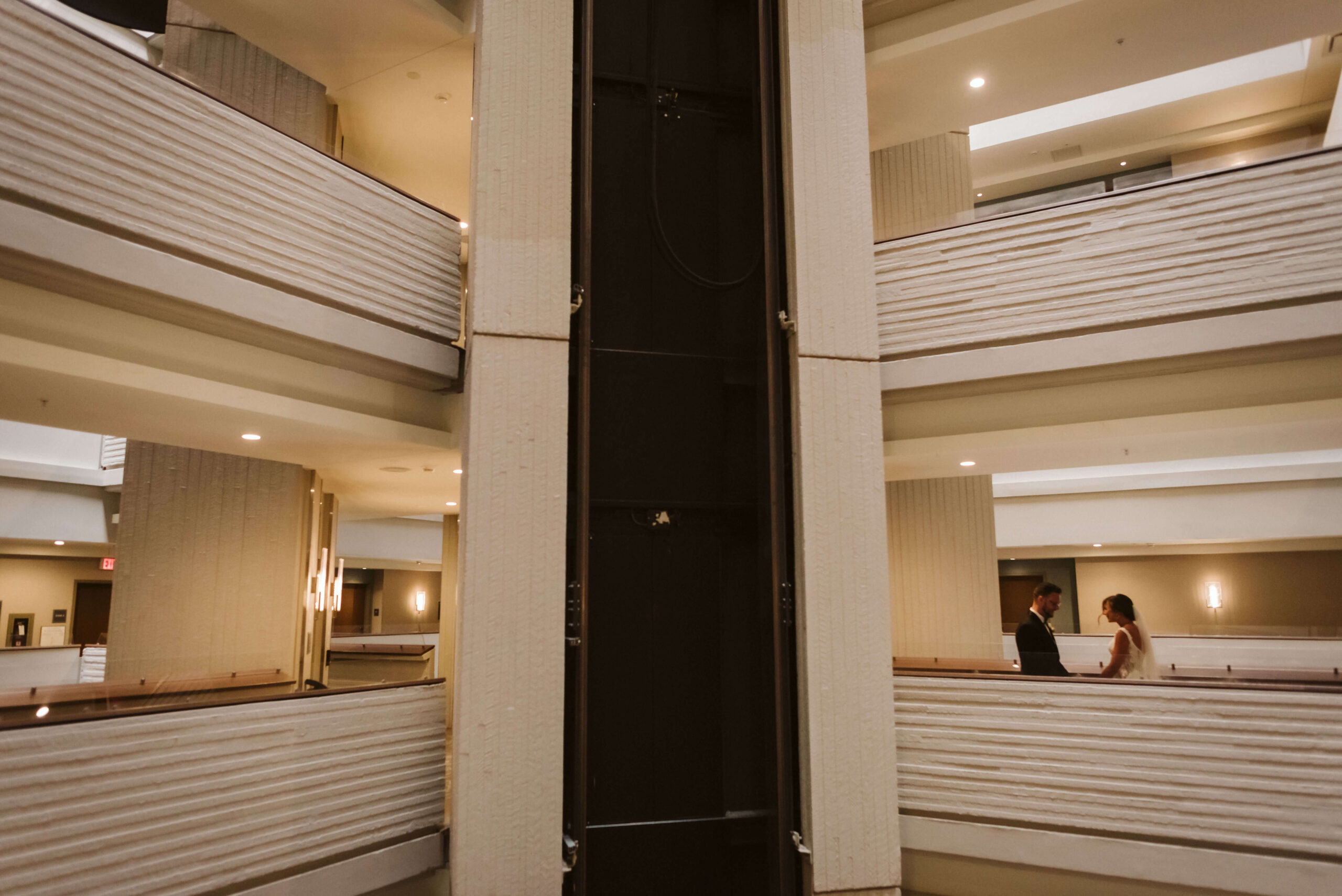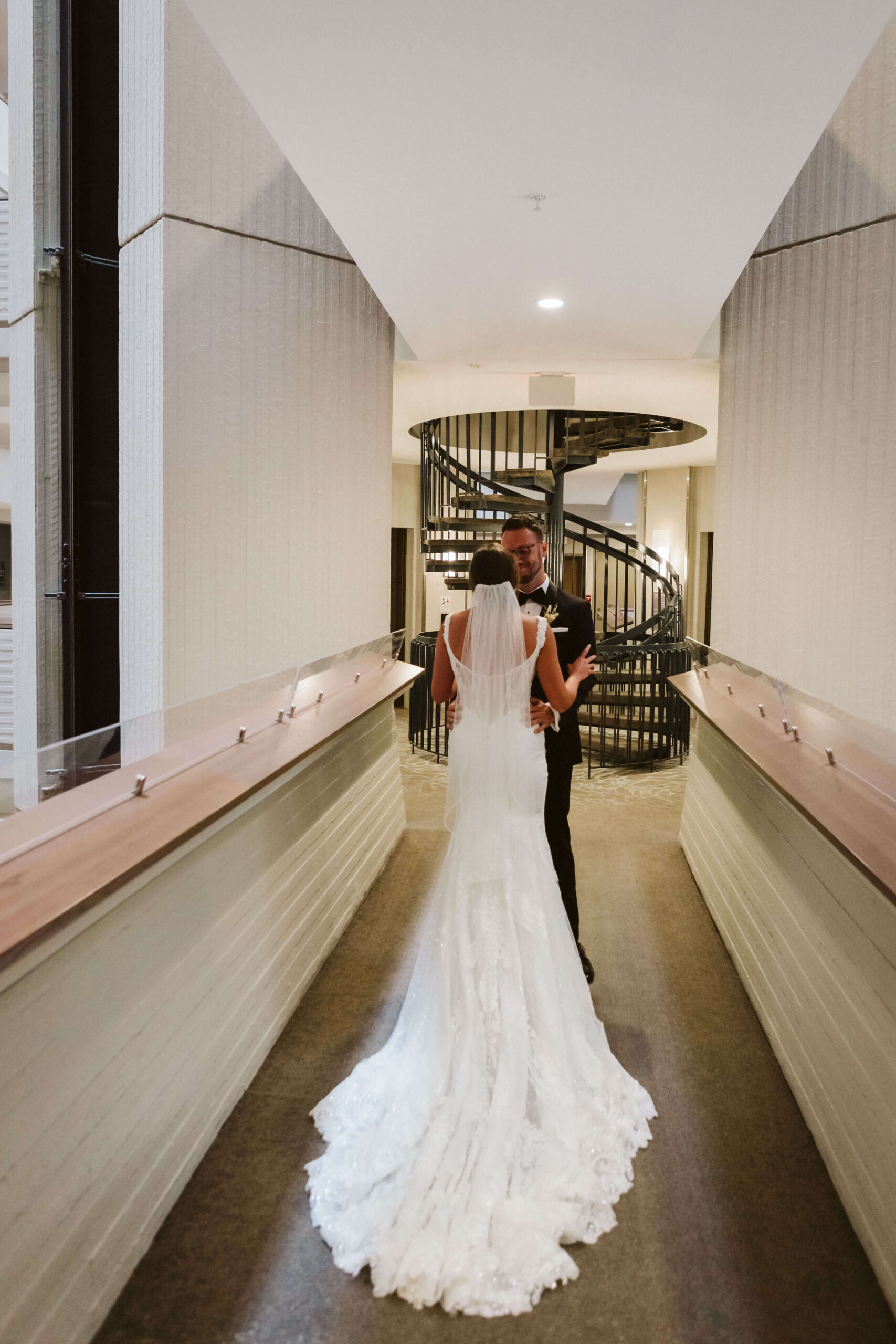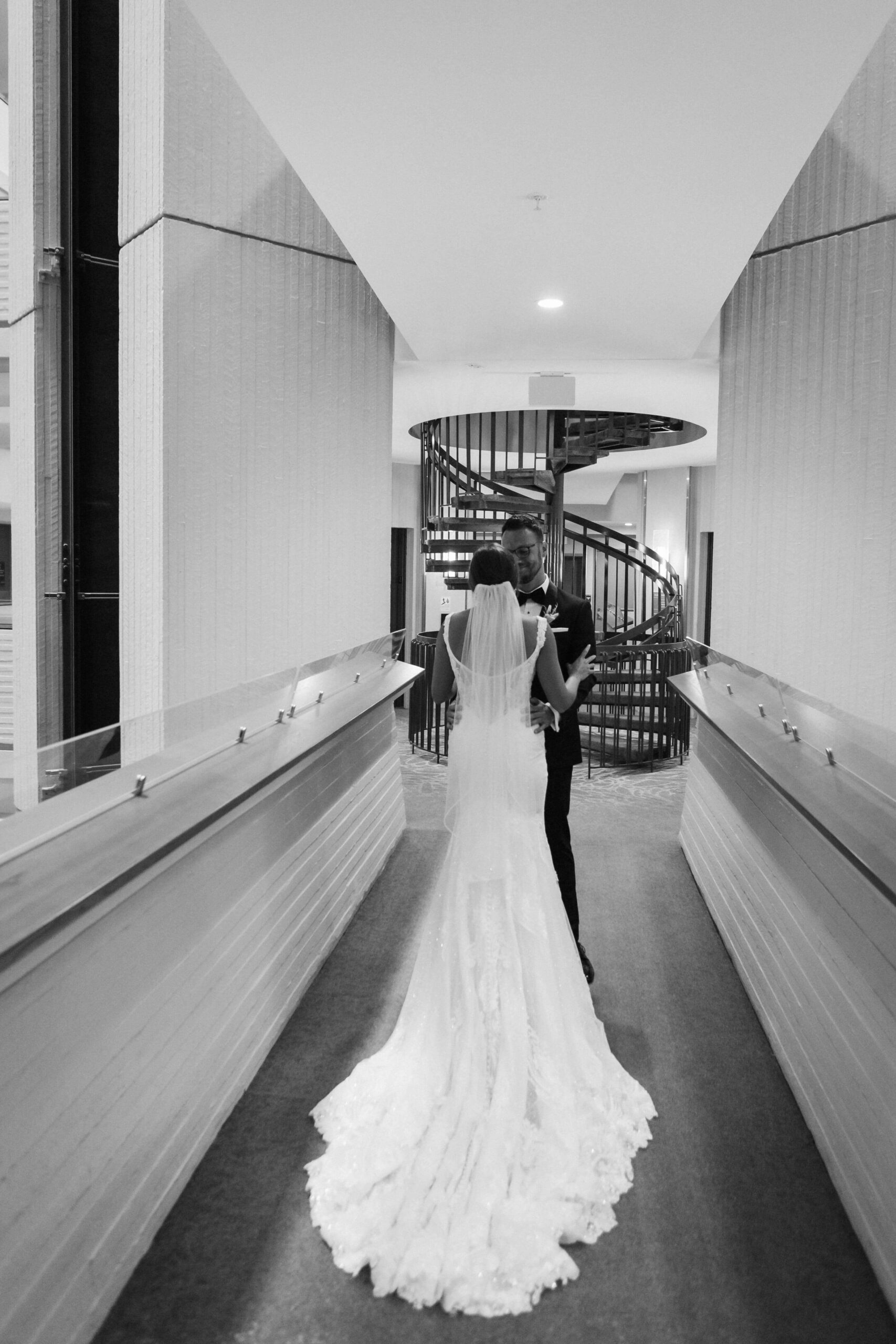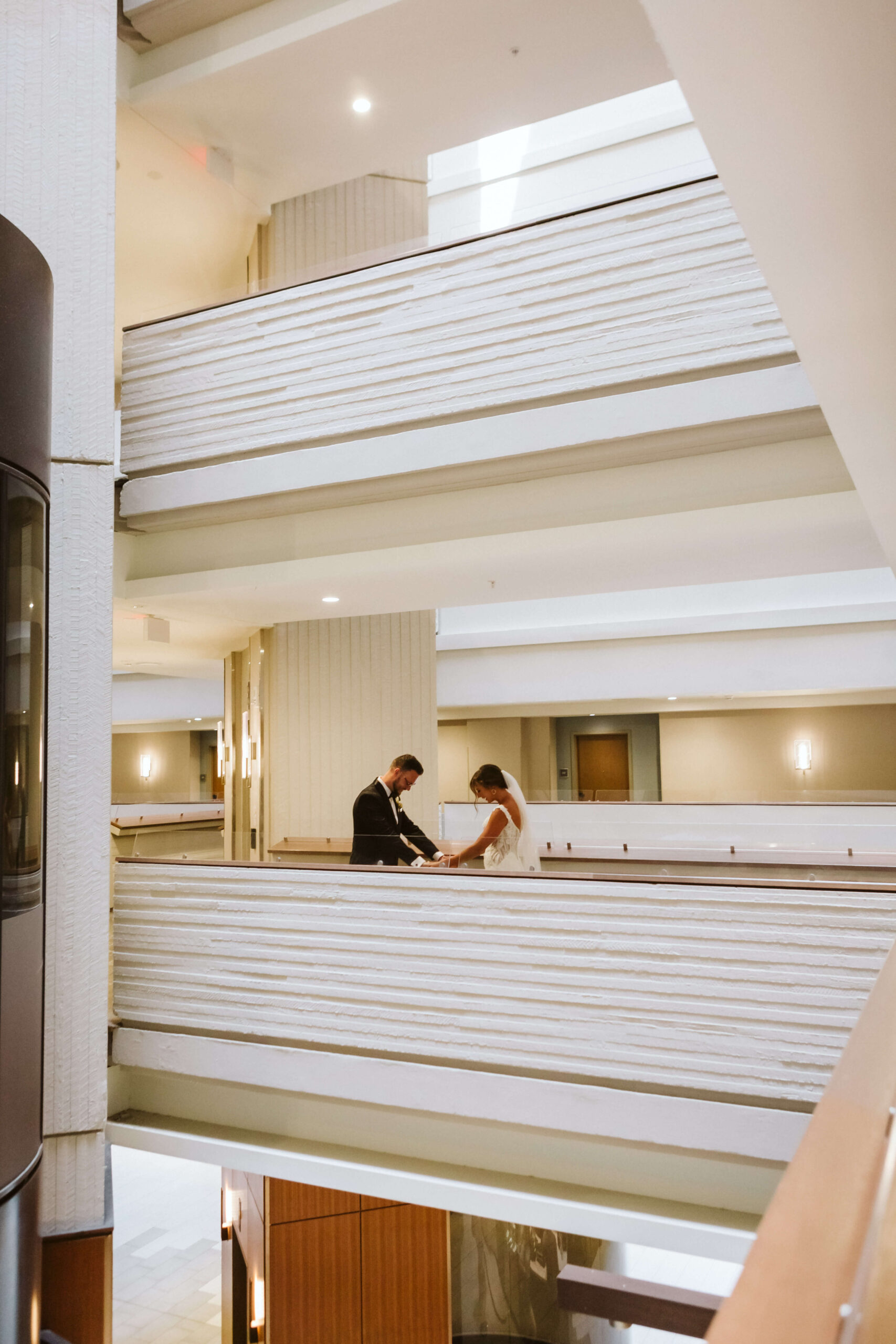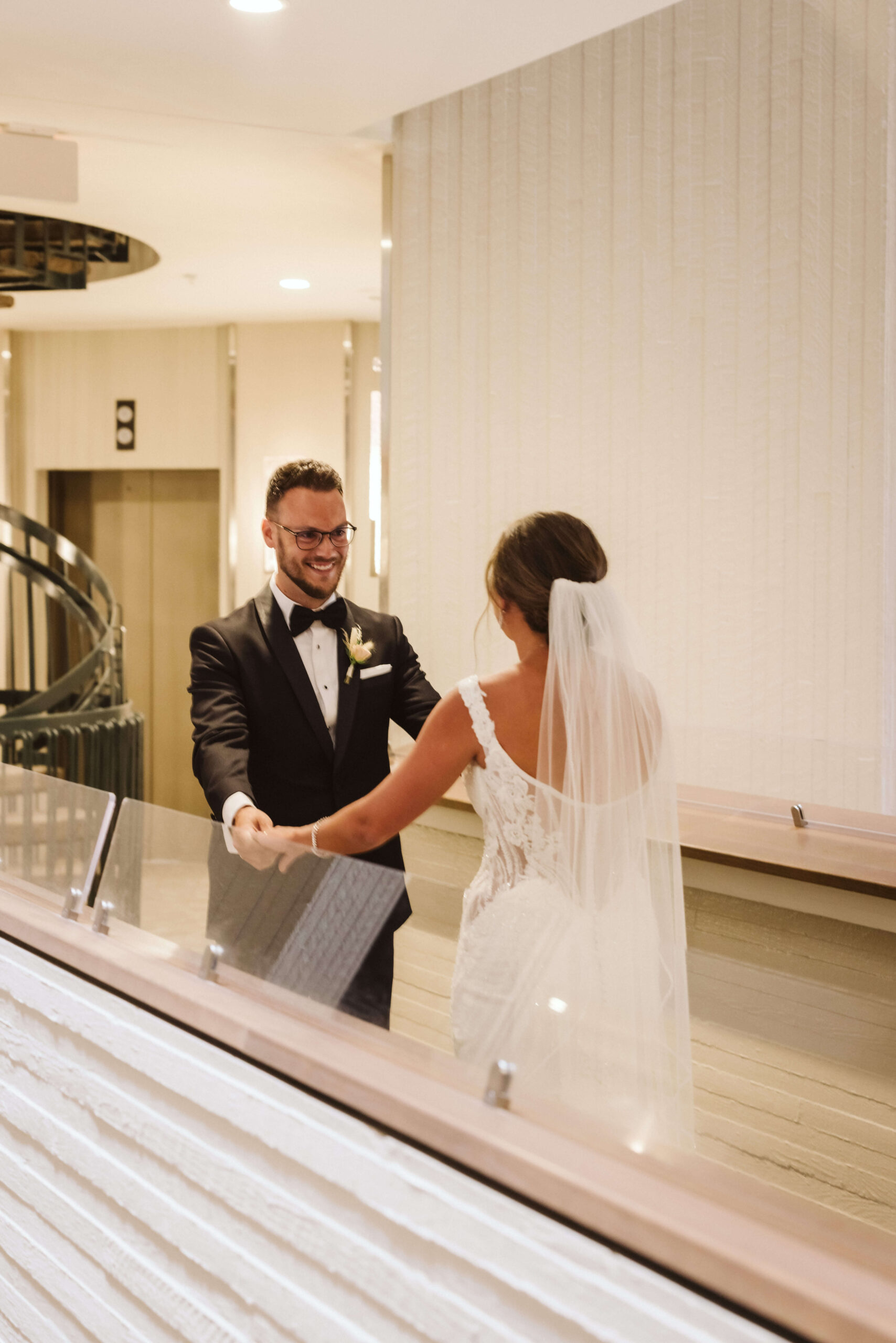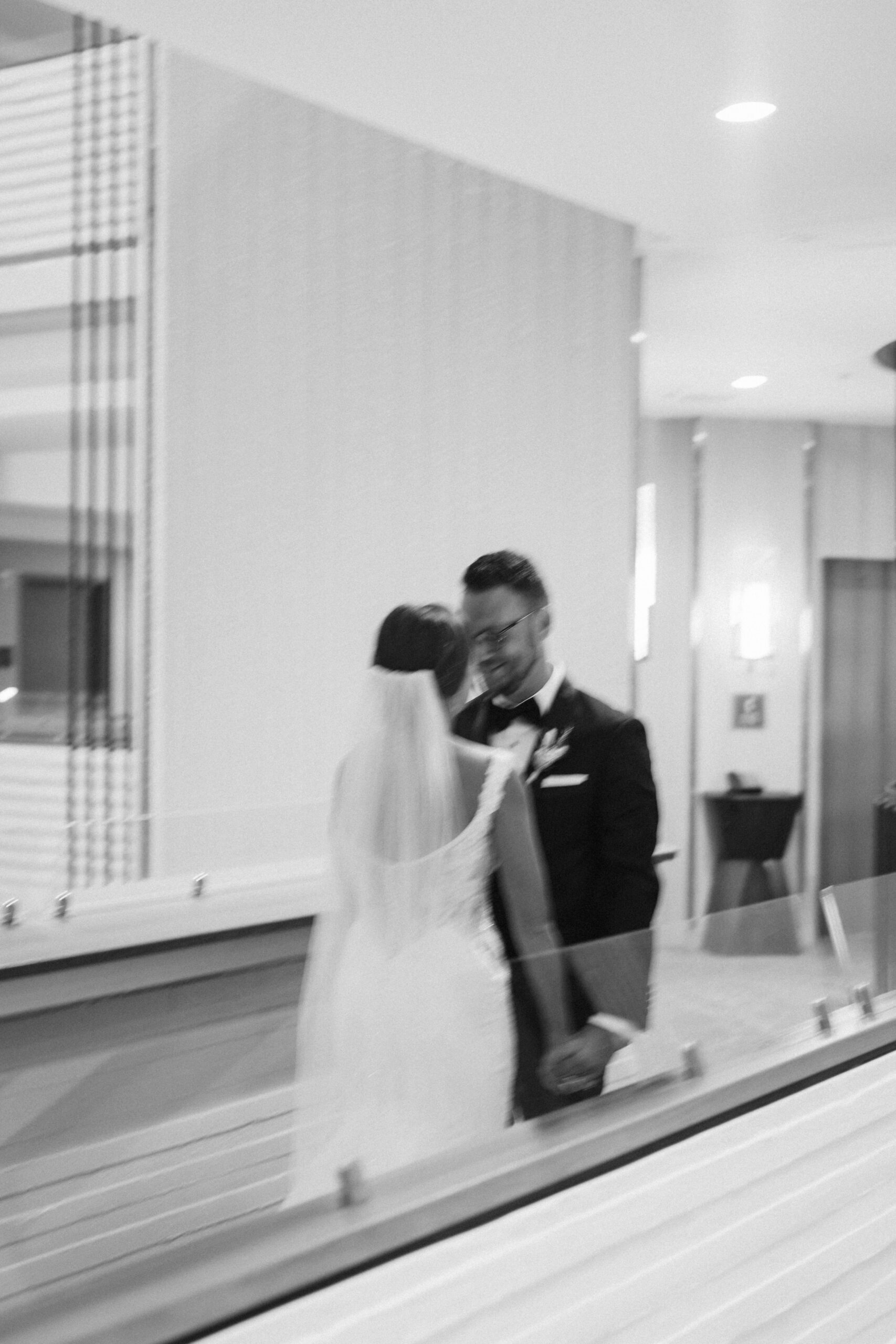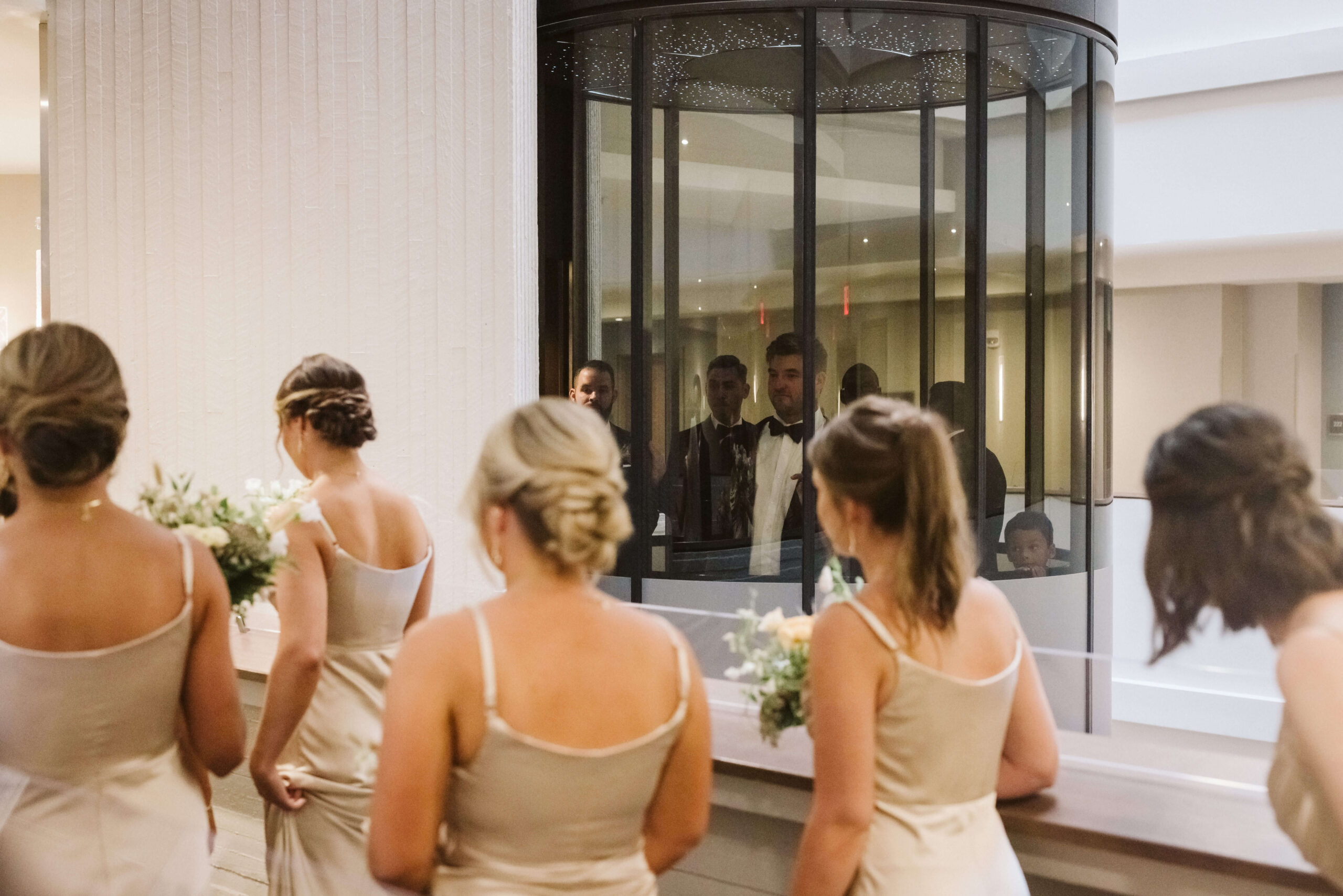 An Elegant Wedding with an Industrial Past at Gilman Event Hall
In the center of Chattanooga's West Village, Gilman Event Hall opened up as a brand new space to hold large events and weddings. The building was once the factory and sales offices of the Gilman Paint and Varnish Company. Although the building is no longer a paint factory, the space has been reimagined to be an elegant venue for events and weddings. Exposed brick walls and wide open concept event spaces with floor-to-ceiling windows and wrought iron accents give a subtle nod to its industrial past.
Gilman Event Hall prides itself in upholding the Gilman Company's standards of quality, affordability, and customer satisfaction. The venue's wedding experts are on staff and ready to go to help you plan your perfect wedding. Once you book the hall, one of their event planning managers work with you to pull together all aspects of your wedding from planning the little details to booking discounted rooms for yourself and your guests at the Westin Hotel just across the street.
The event hall itself is 9,000 square feet and can be divided into three smaller spaces. This allows you to host everything from your ceremony all the way up to your reception in one place, making it easier on both you and your guests. The venue also provides couples with a full menu of epicurean dishes from their in-house catering for anything from an intimate brunch wedding to an evening, four course, plated dinner. And not only are food and beverages already taken care of, but Gilman Event Hall also provides couples with access to their collection of farmhouse tables, chairs, china, silverware, and glassware to be able to craft their perfect wedding without the extra cost of a third party rental.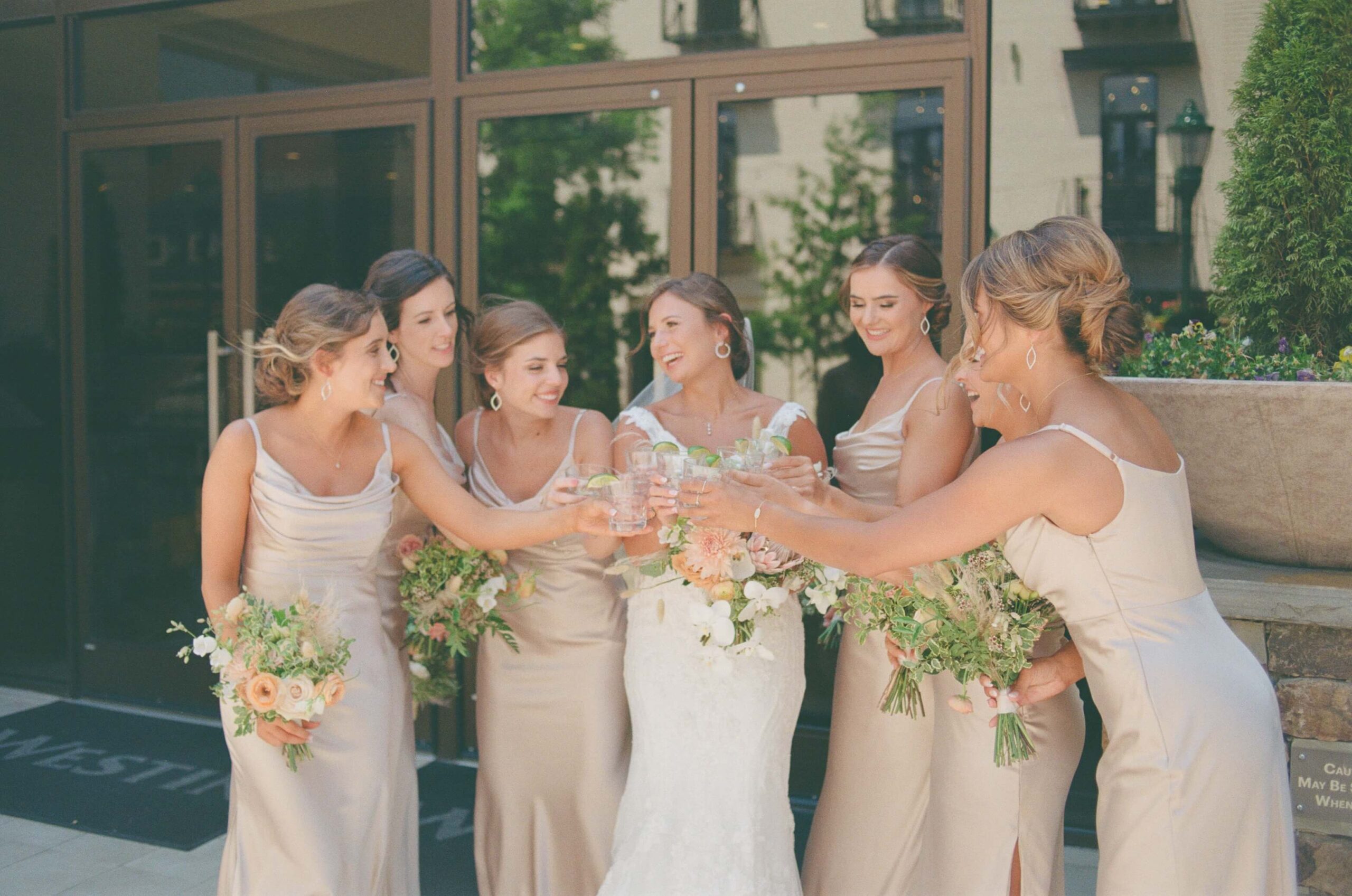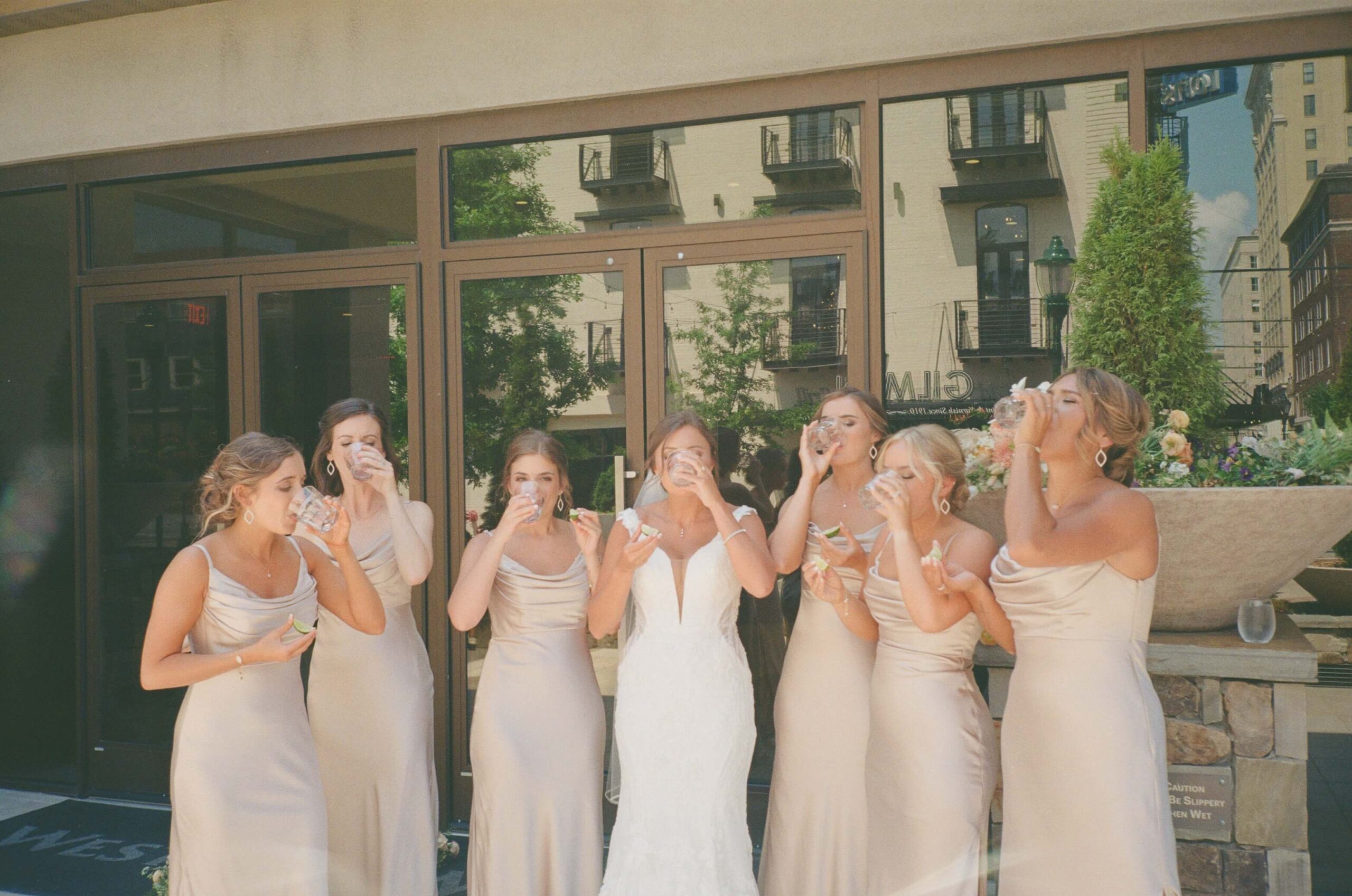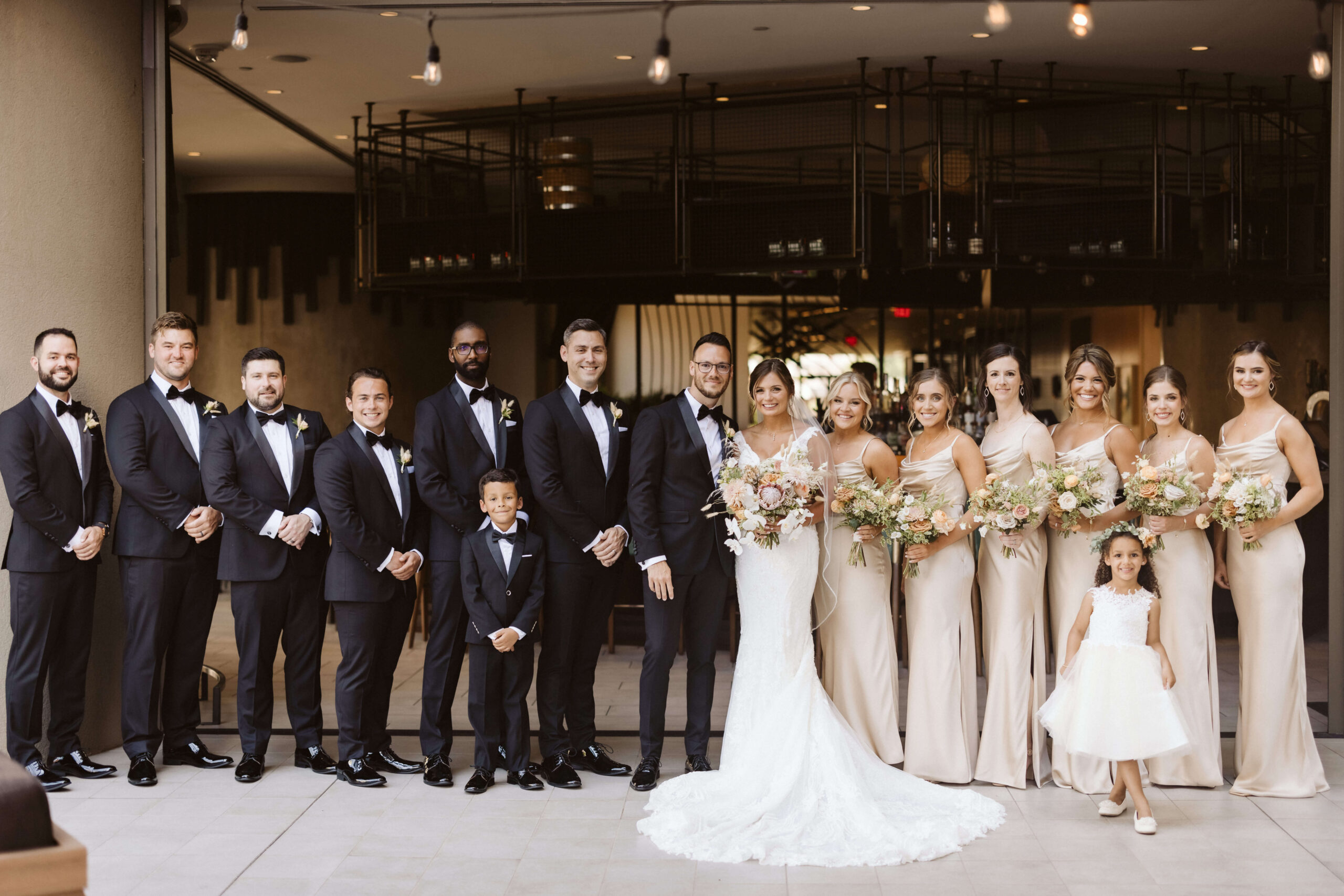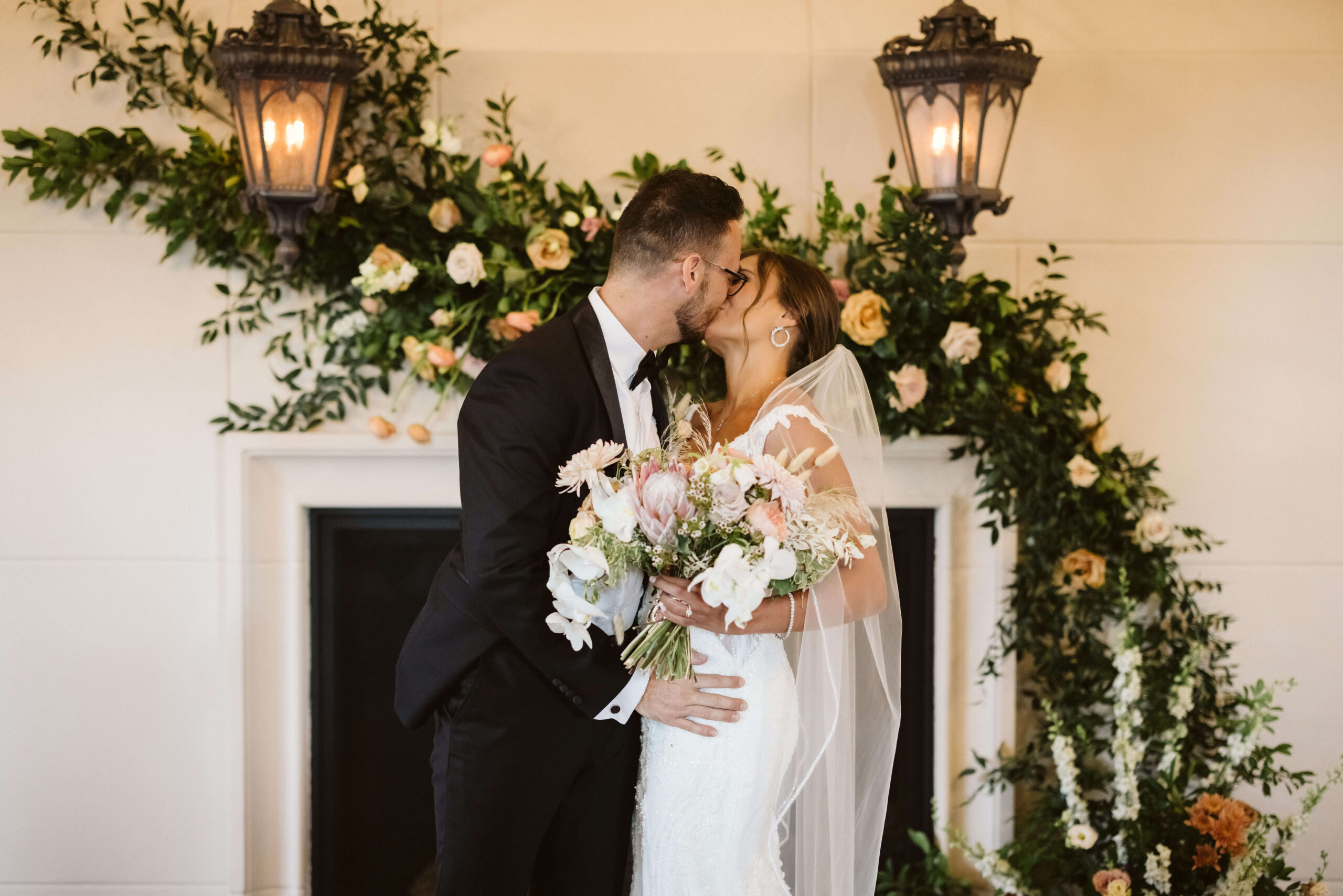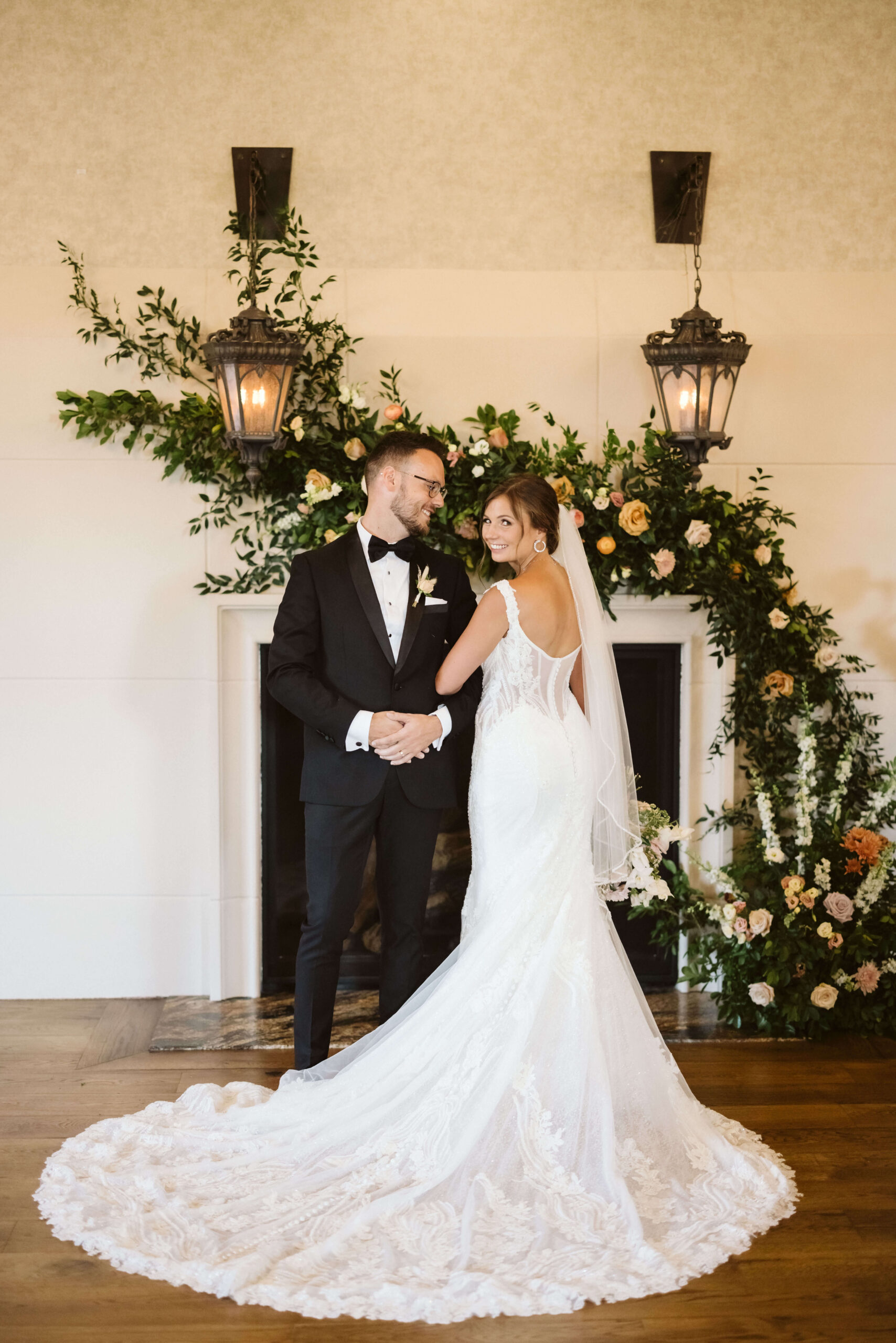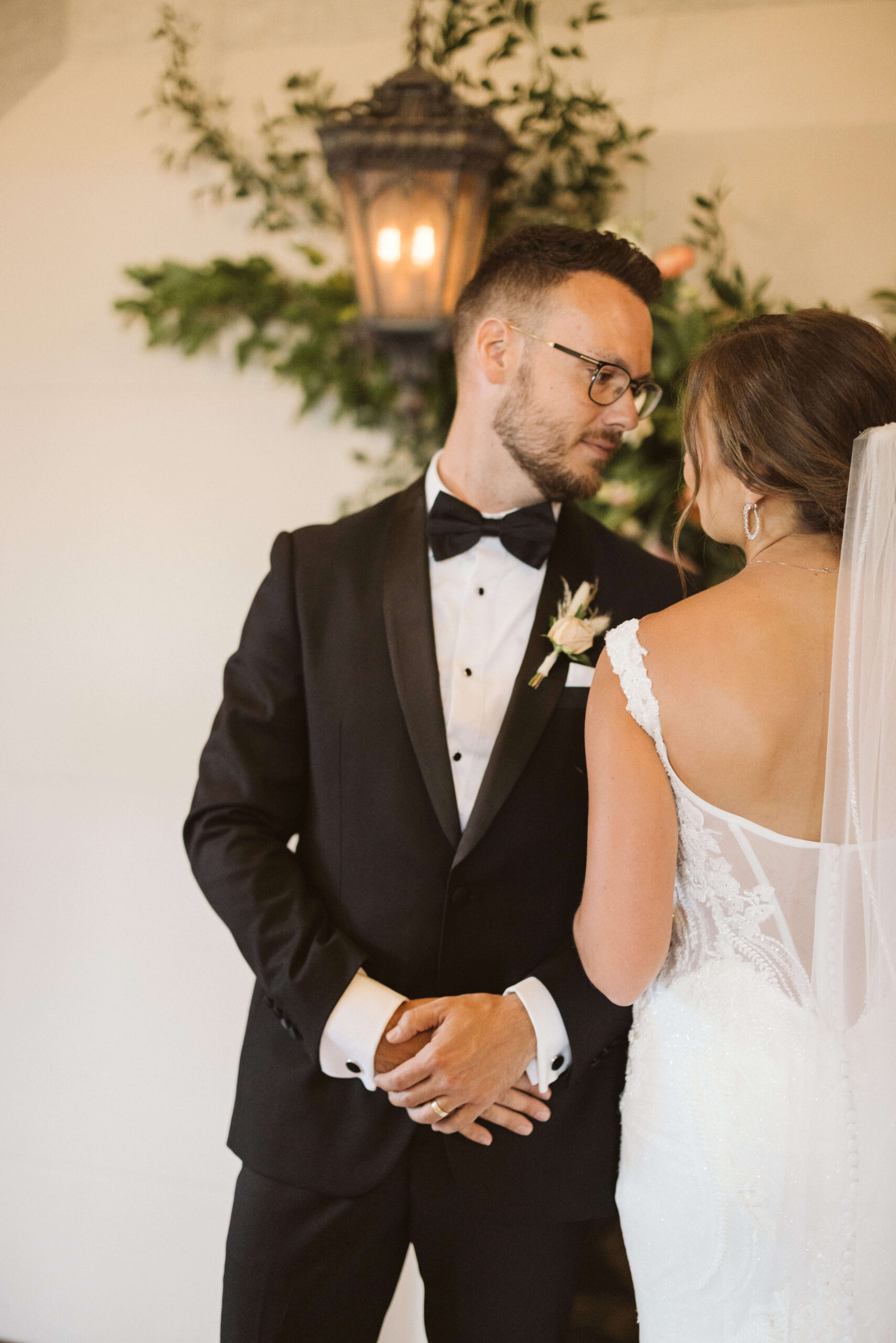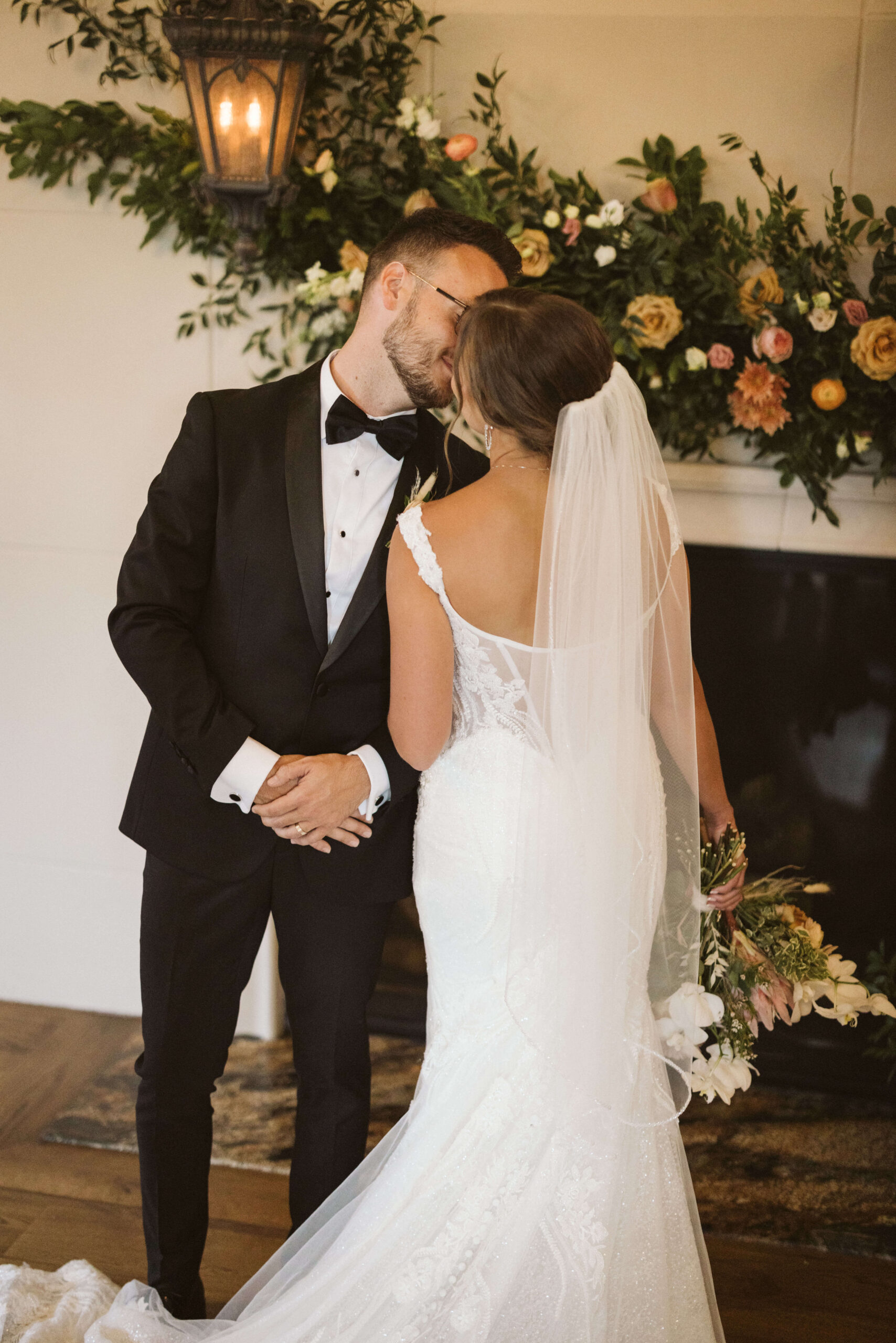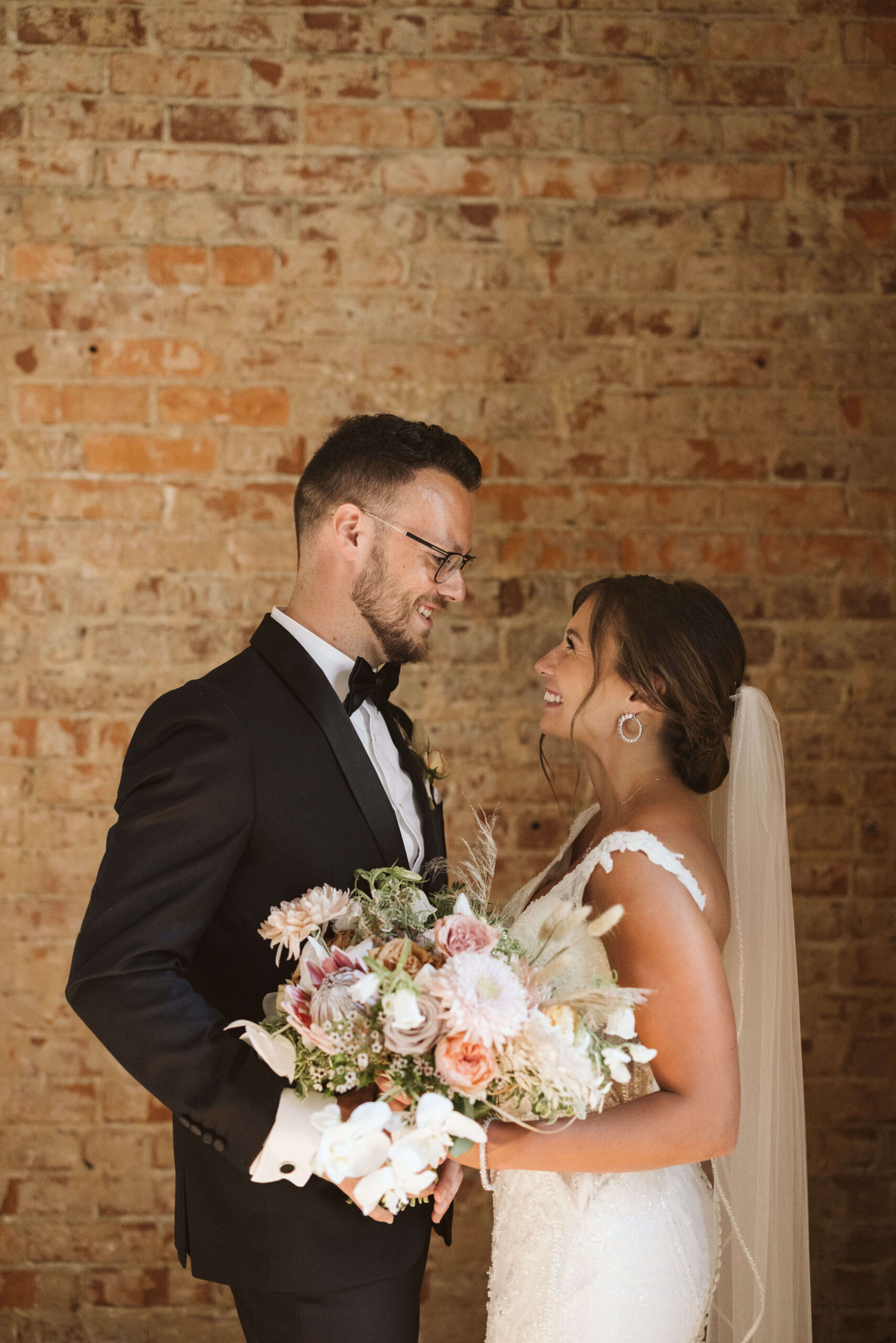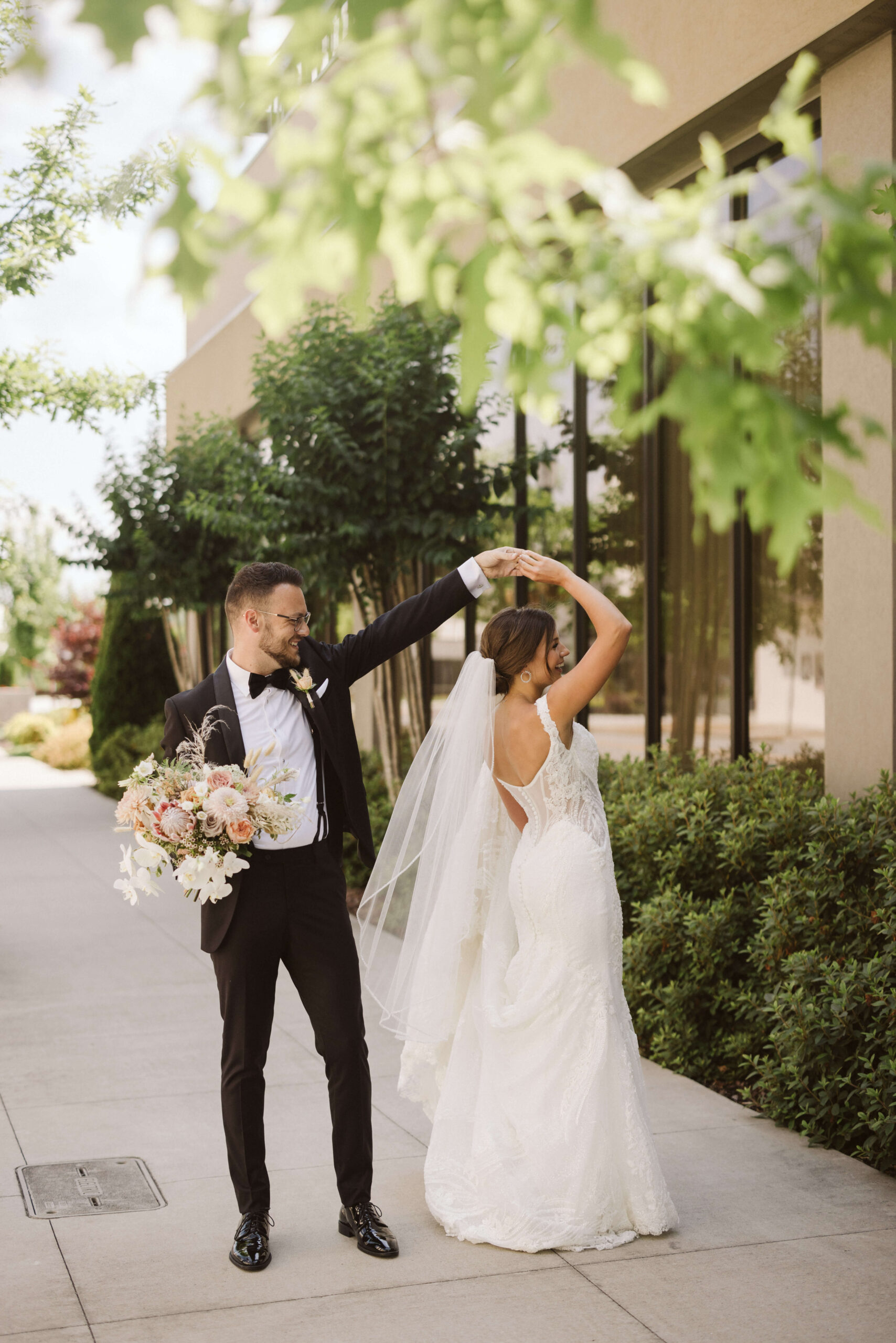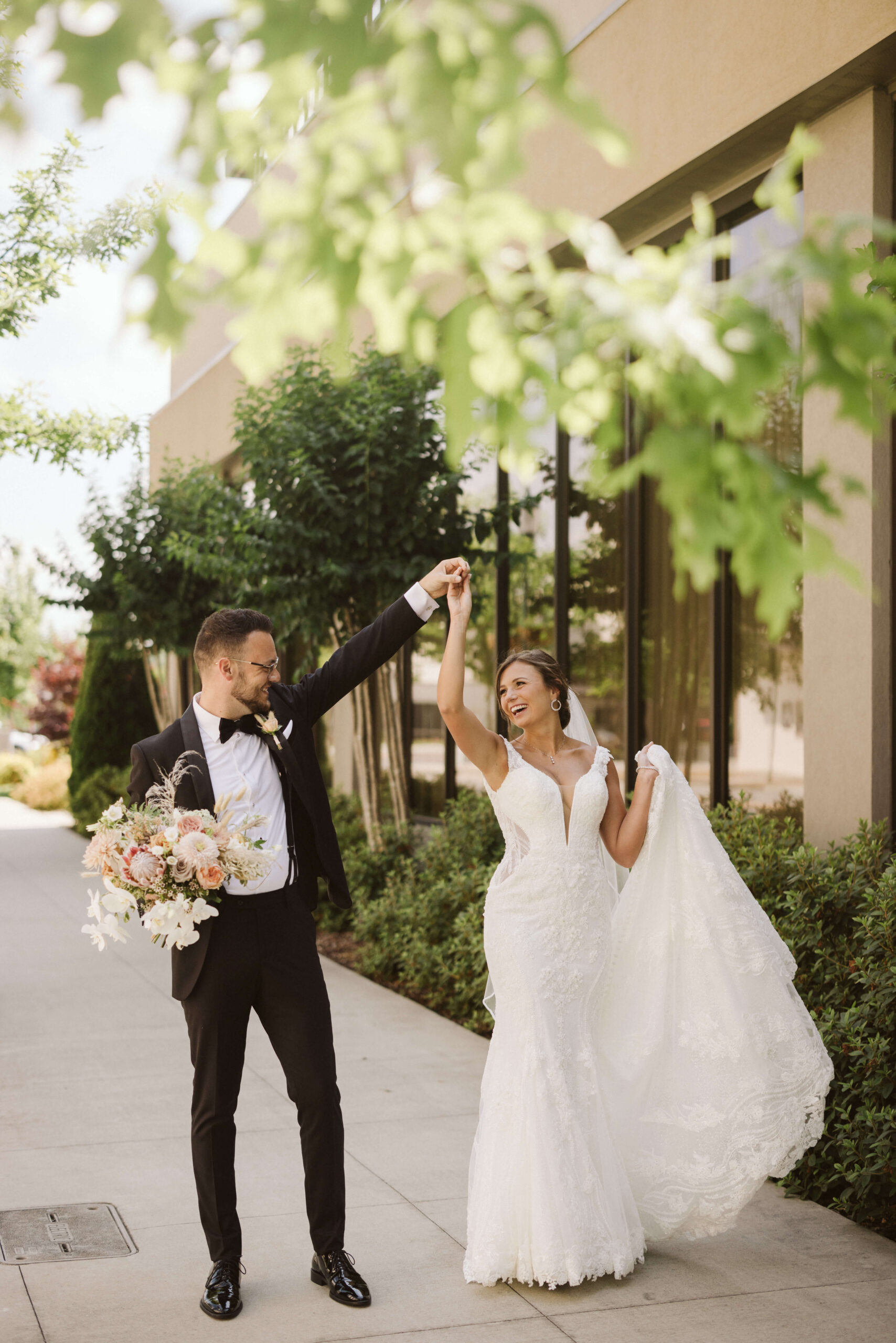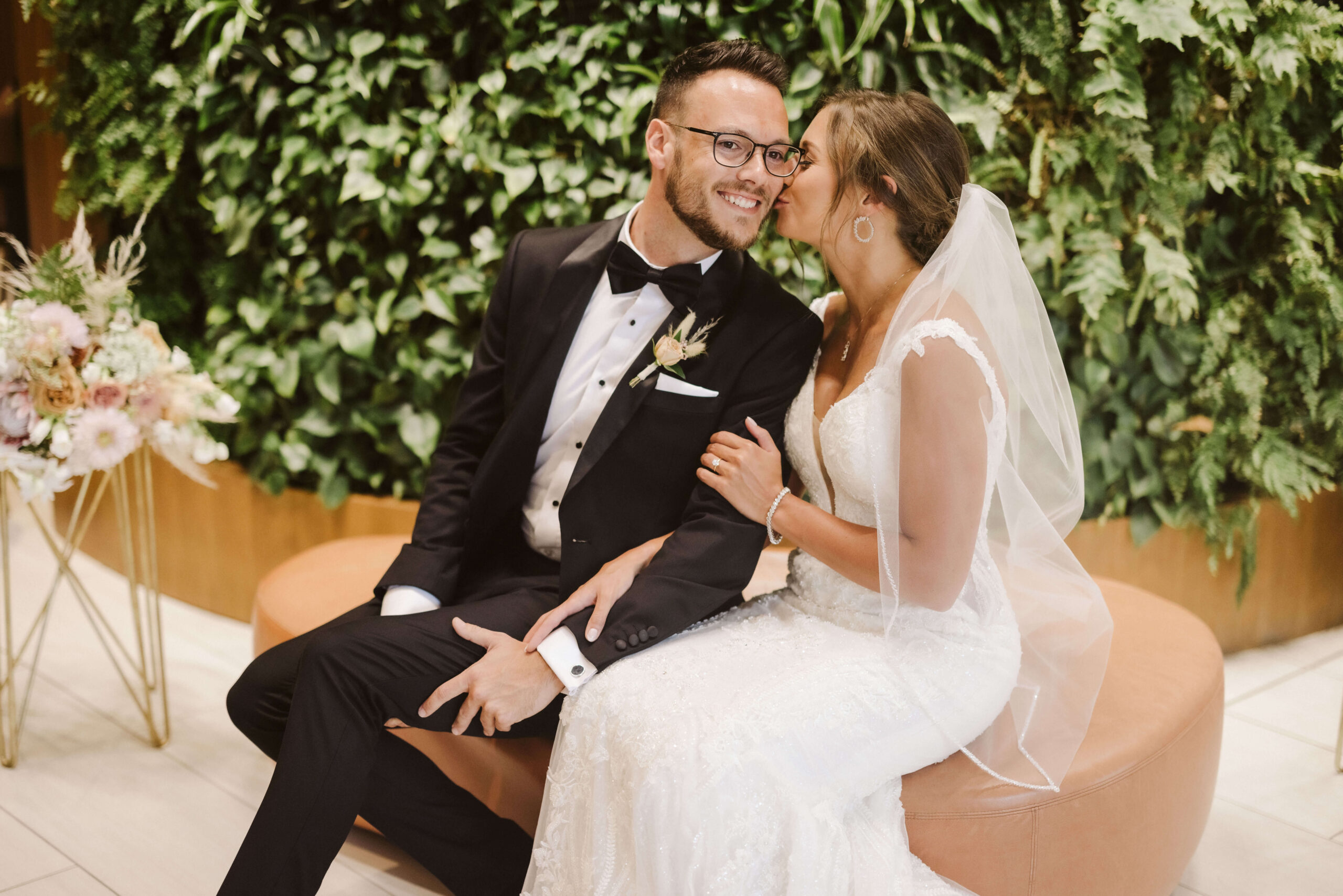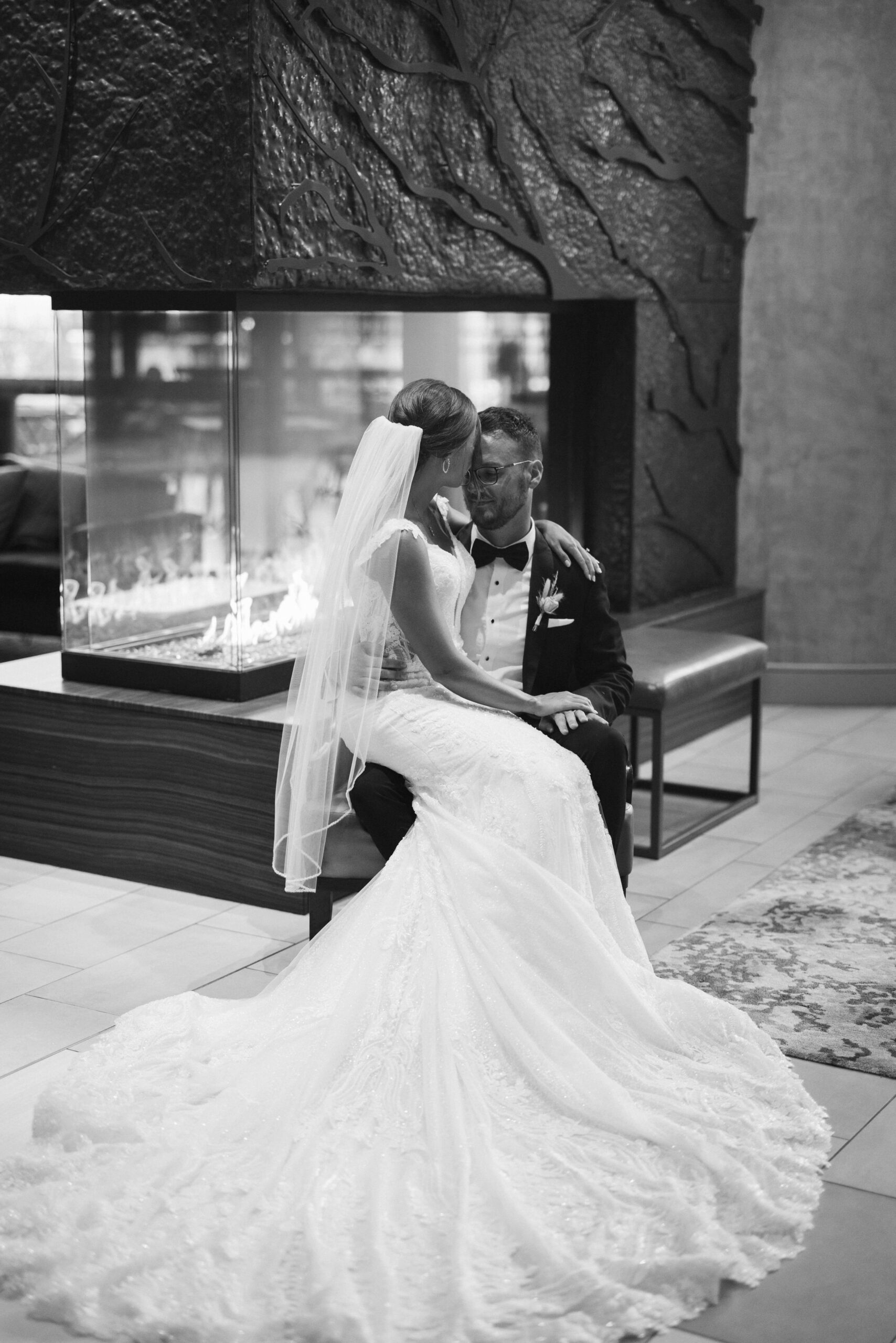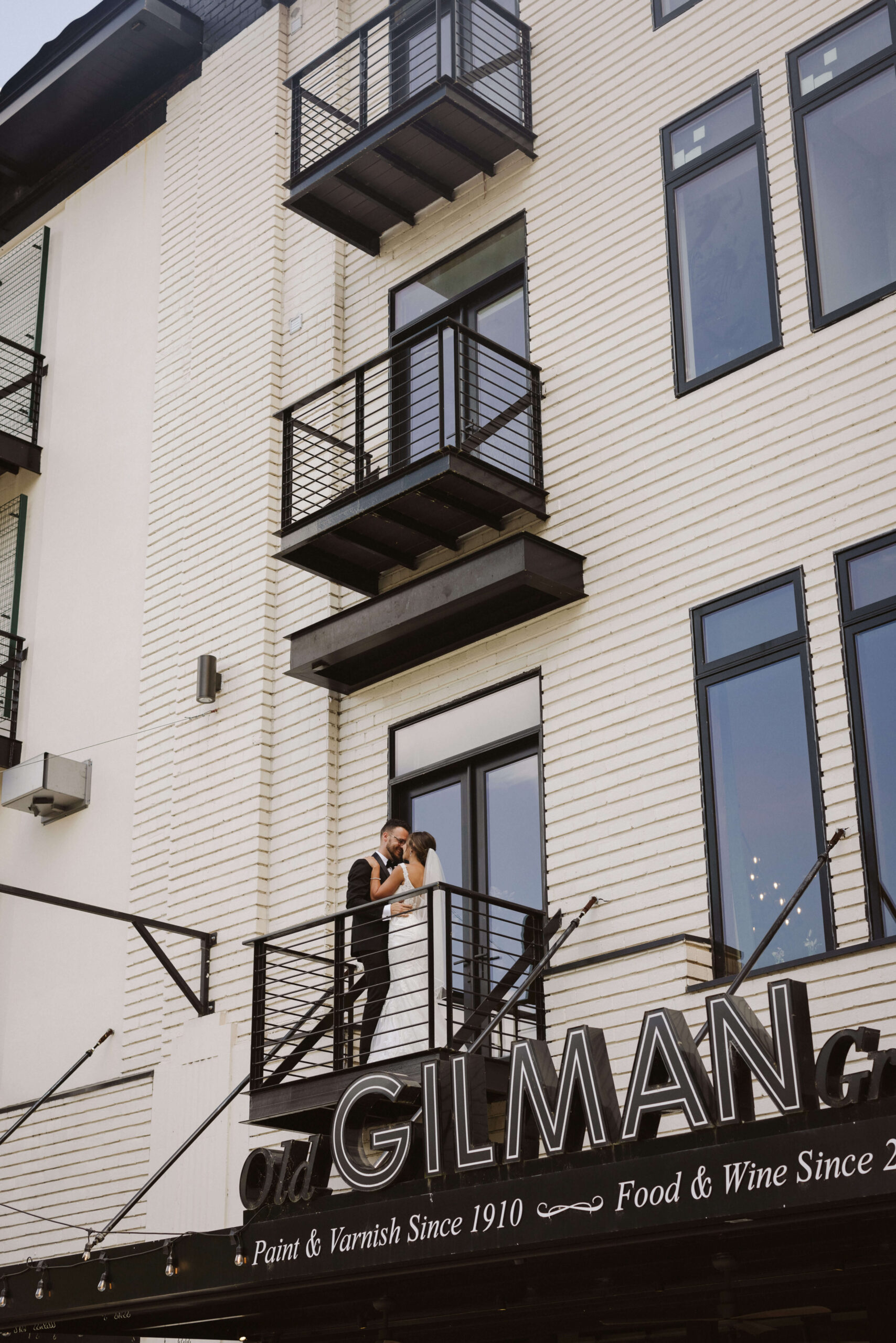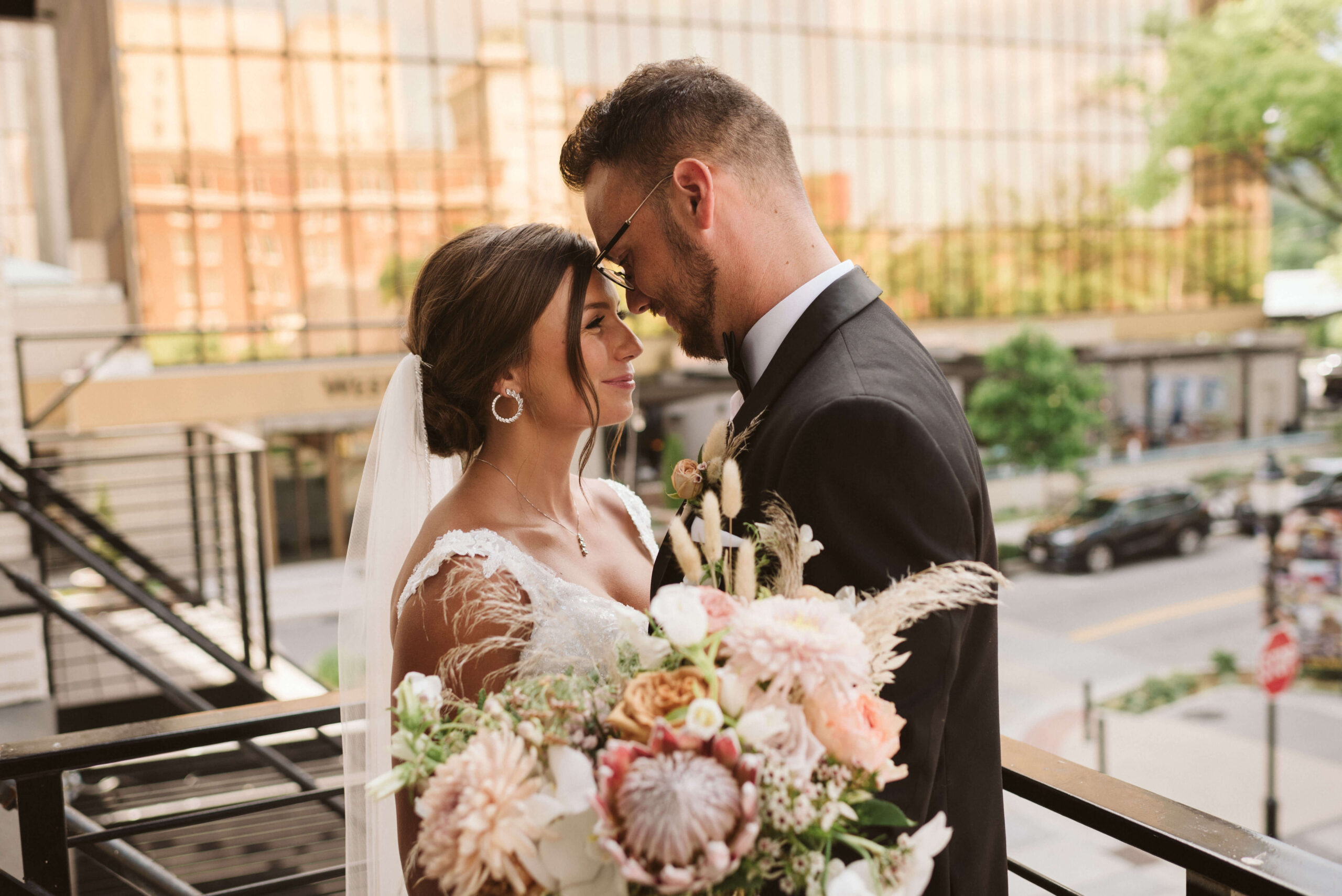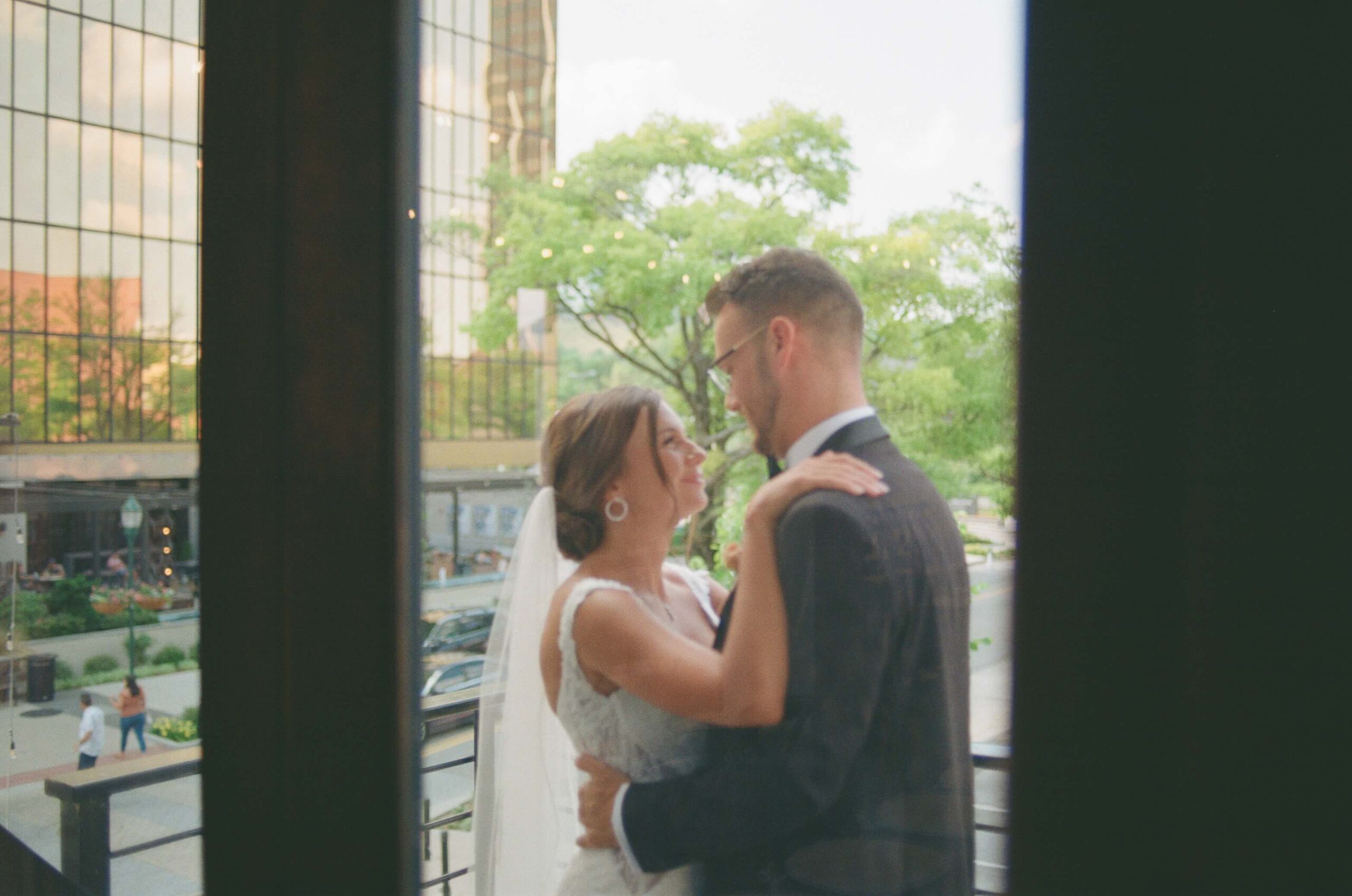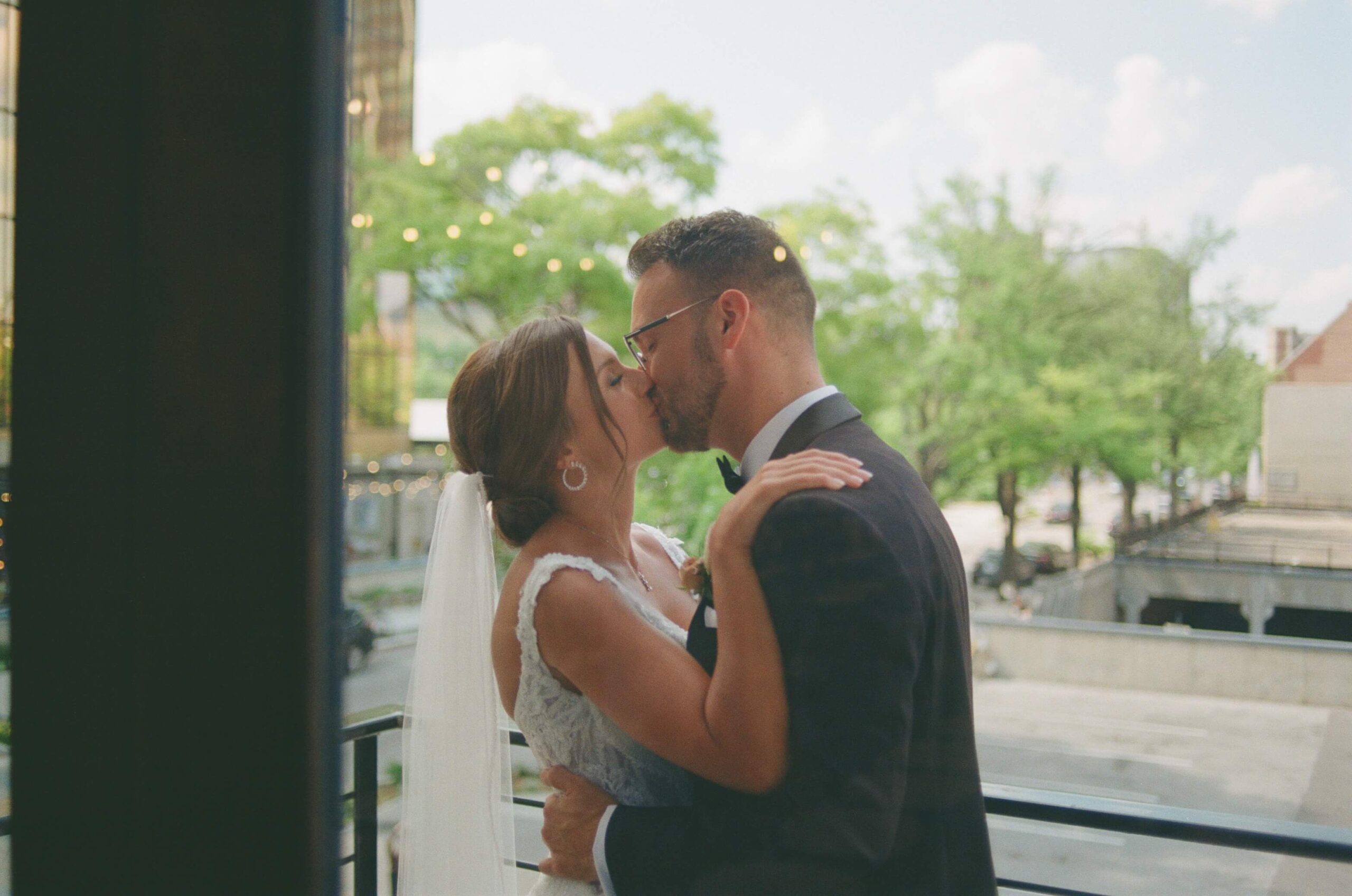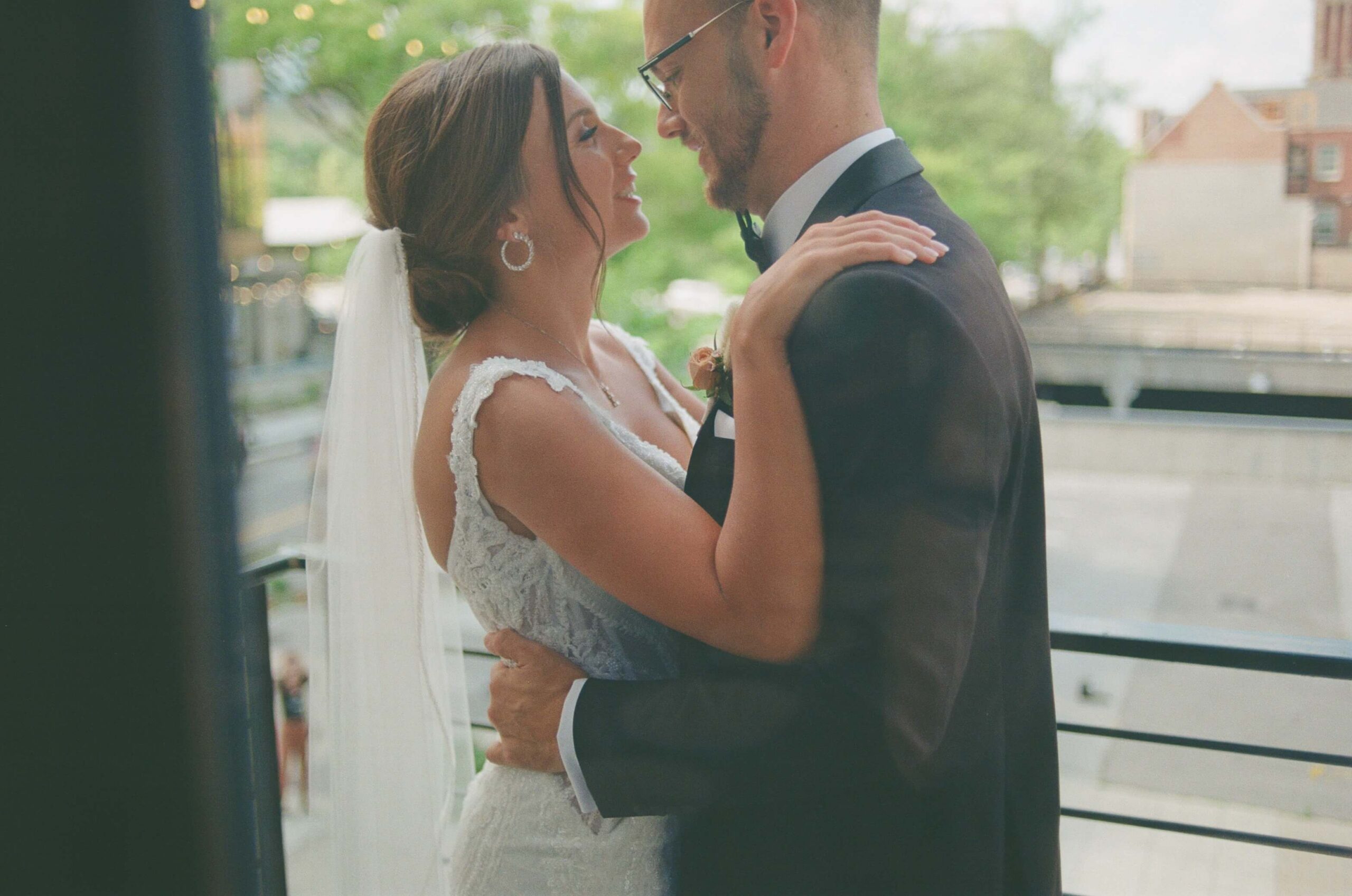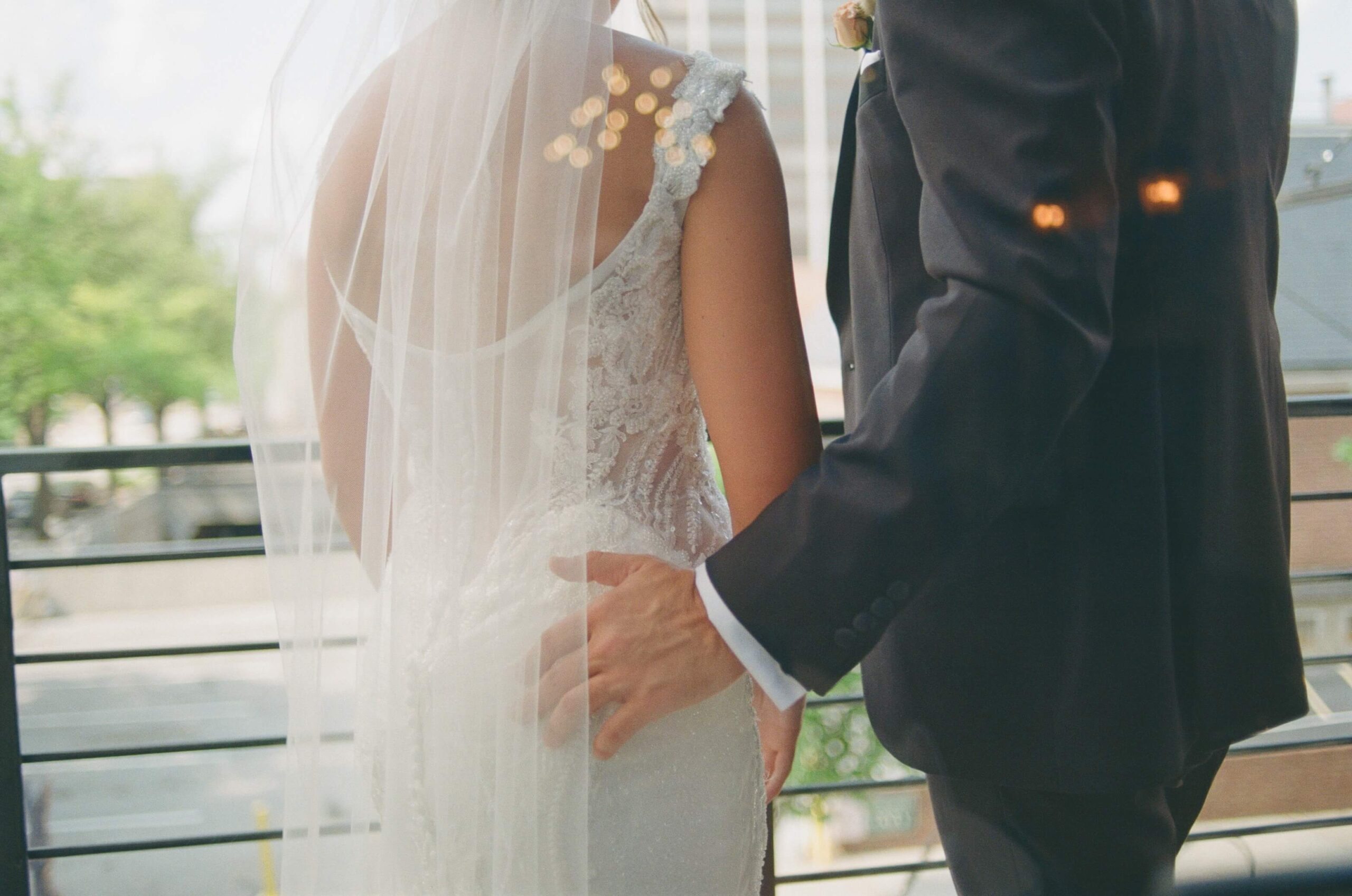 Getting Ready at the Westin Hotel in the West Village
Jessie and Nathan began their wedding day by getting ready in their separate suites in the Westin Hotel. By the time I arrived at the hotel to begin their wedding shoot, the ladies were already done with their hair and makeup. We caught some cute photos of them wearing their matching pajama sets before they put on their dresses for the big day. Meanwhile, in another suite my associate photographer was with Nathan and his groomsmen as they were suiting up as well. From helping each other with their cufflinks to adjusting their bowties, we were able to get all of the pictures of the guys as they prepped for the day ahead.
Once everyone was dressed and ready, Jessie stepped out to have a first look with her father, Bill, on the outdoor patio of their suite. I positioned Bill so he would be facing away from the door where Jessie was going to walk through. You could see from the big smile on his face how proud he was of his daughter and how happy he was to be able to share such a special moment with her on her wedding day.
Right after Bill and Jessie's first look together, we moved on to the bride and groom's first look. To ensure that neither them nor the bridesmaids and groomsmen would run into each other while they were preparing for the wedding, Nathan and Jessie's getting ready suites were on opposite sides of the hotel and for their first look, we had them meet in the middle.
Even though his back was turned, Nathan knew the moment Jessie was about to tap his shoulder. A huge smile lit up his face as he asked, "Are you back there?" right as Jessie tapped him to turn around. The joy and love were obvious on both of their faces as they saw each other for the first time on their wedding day.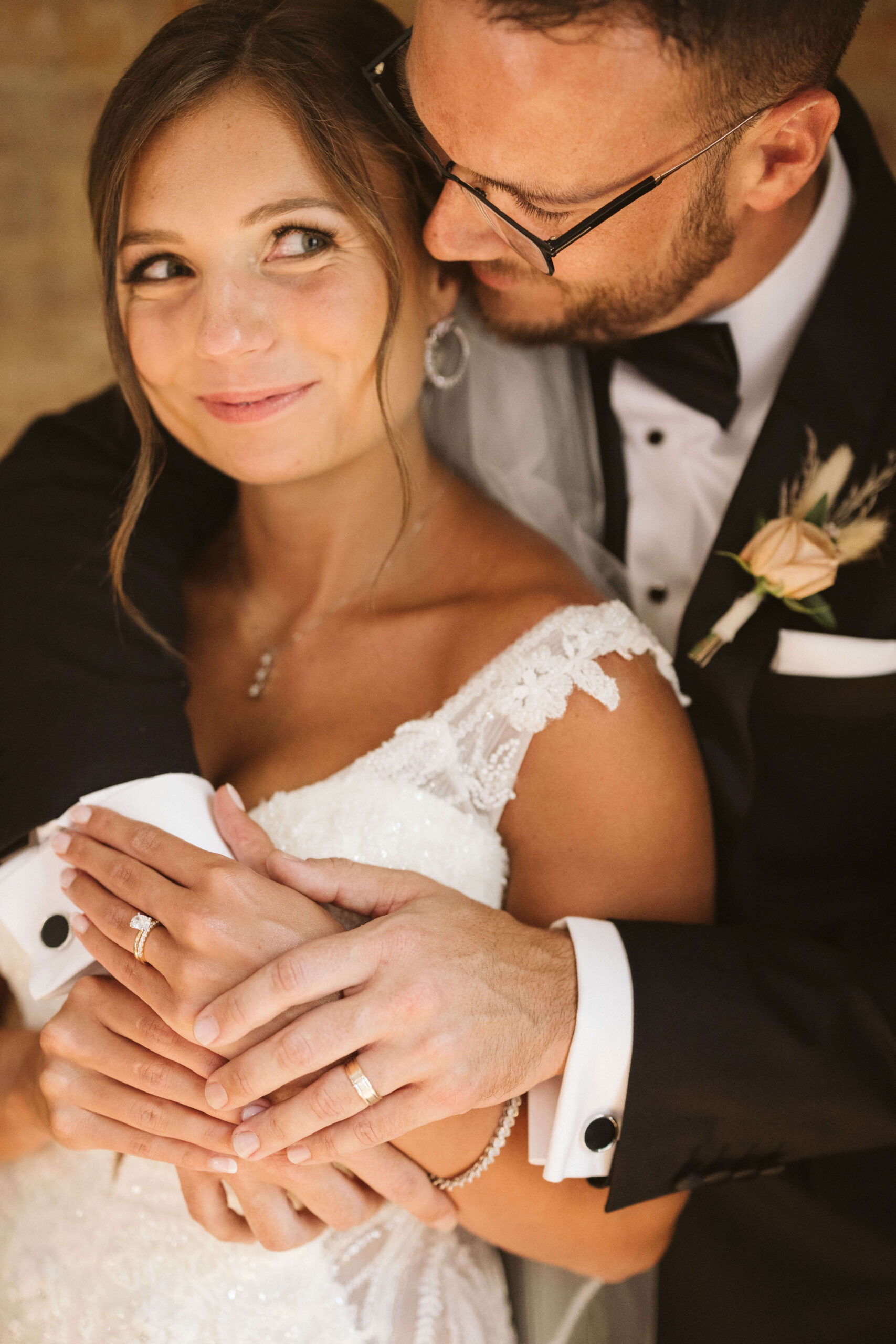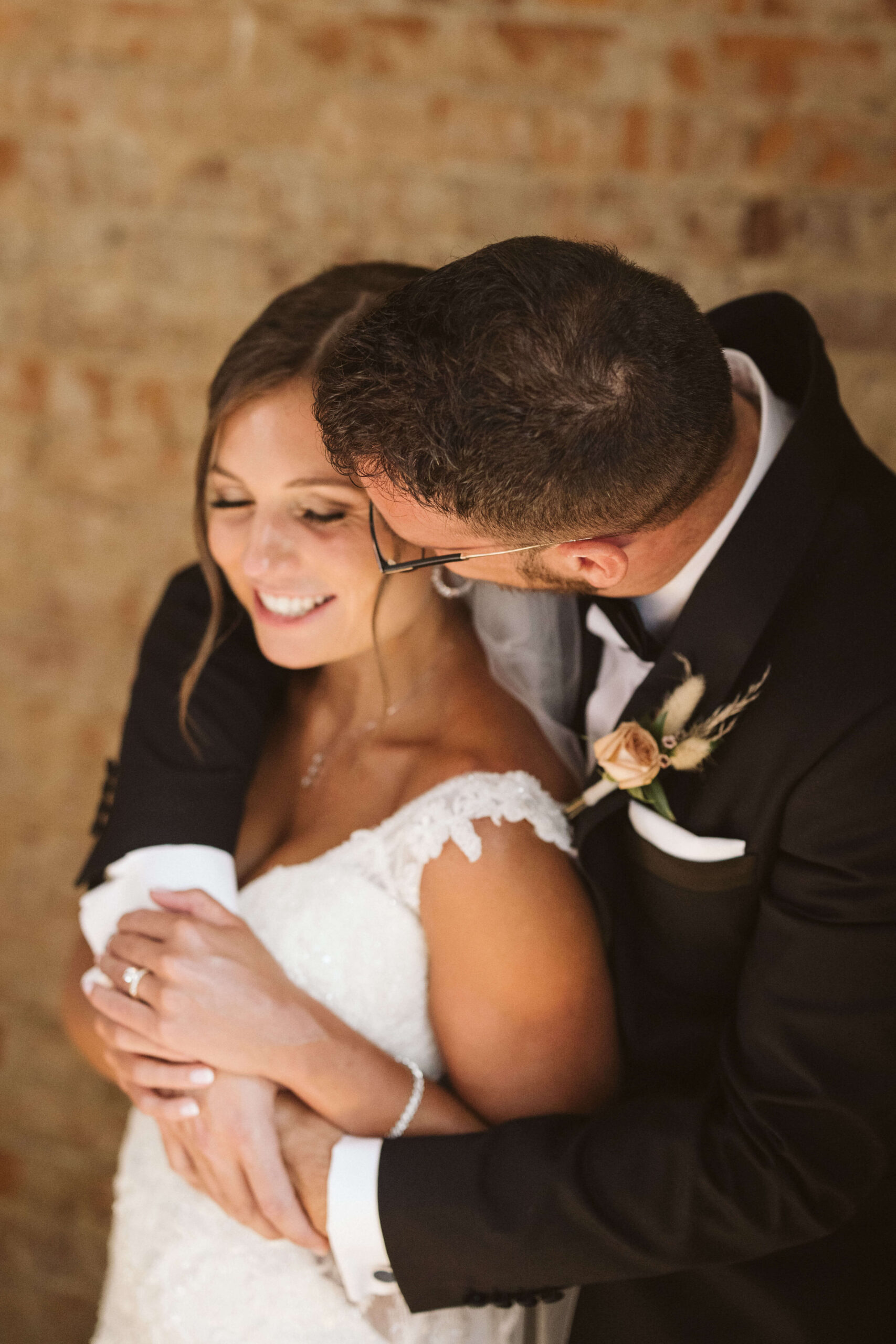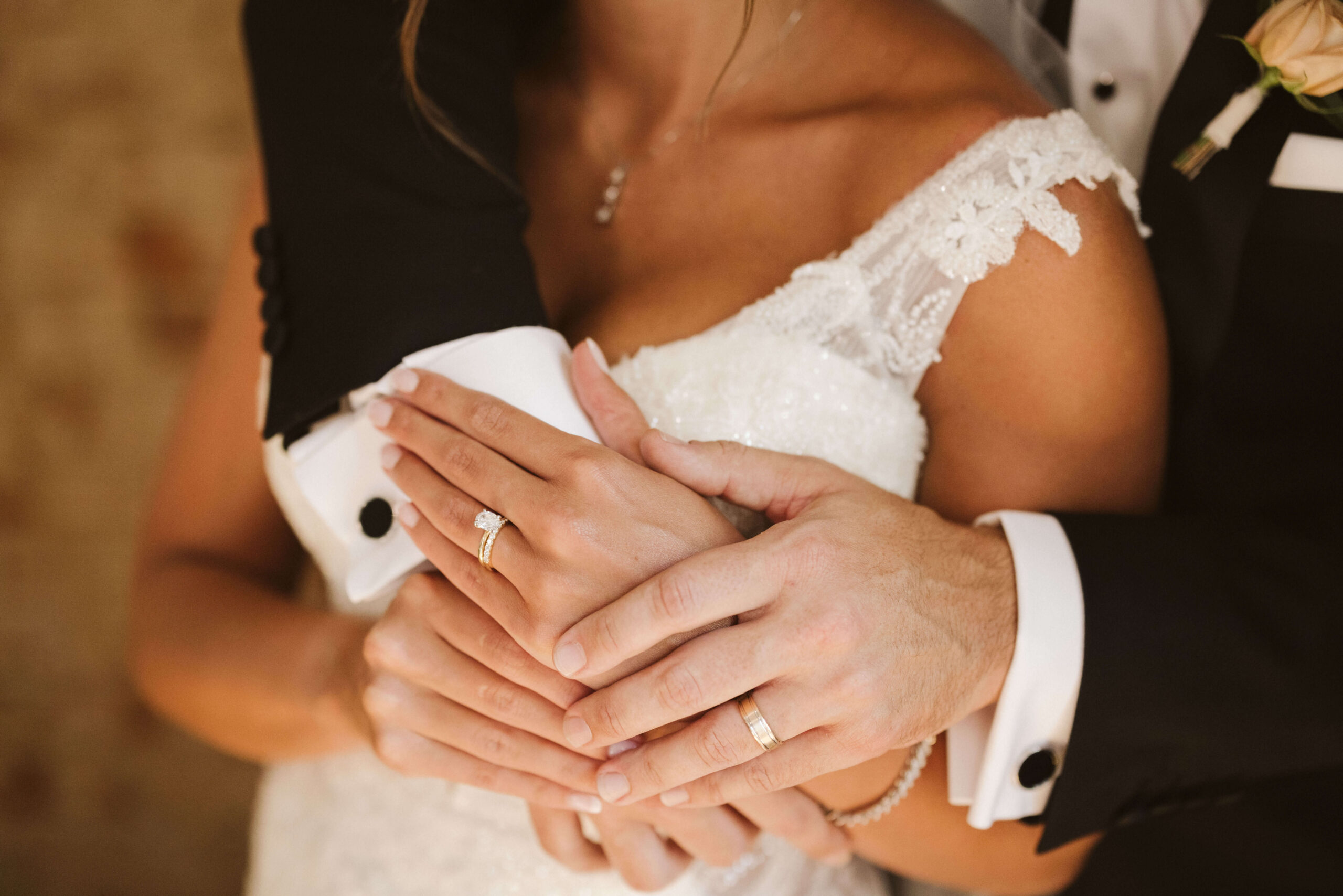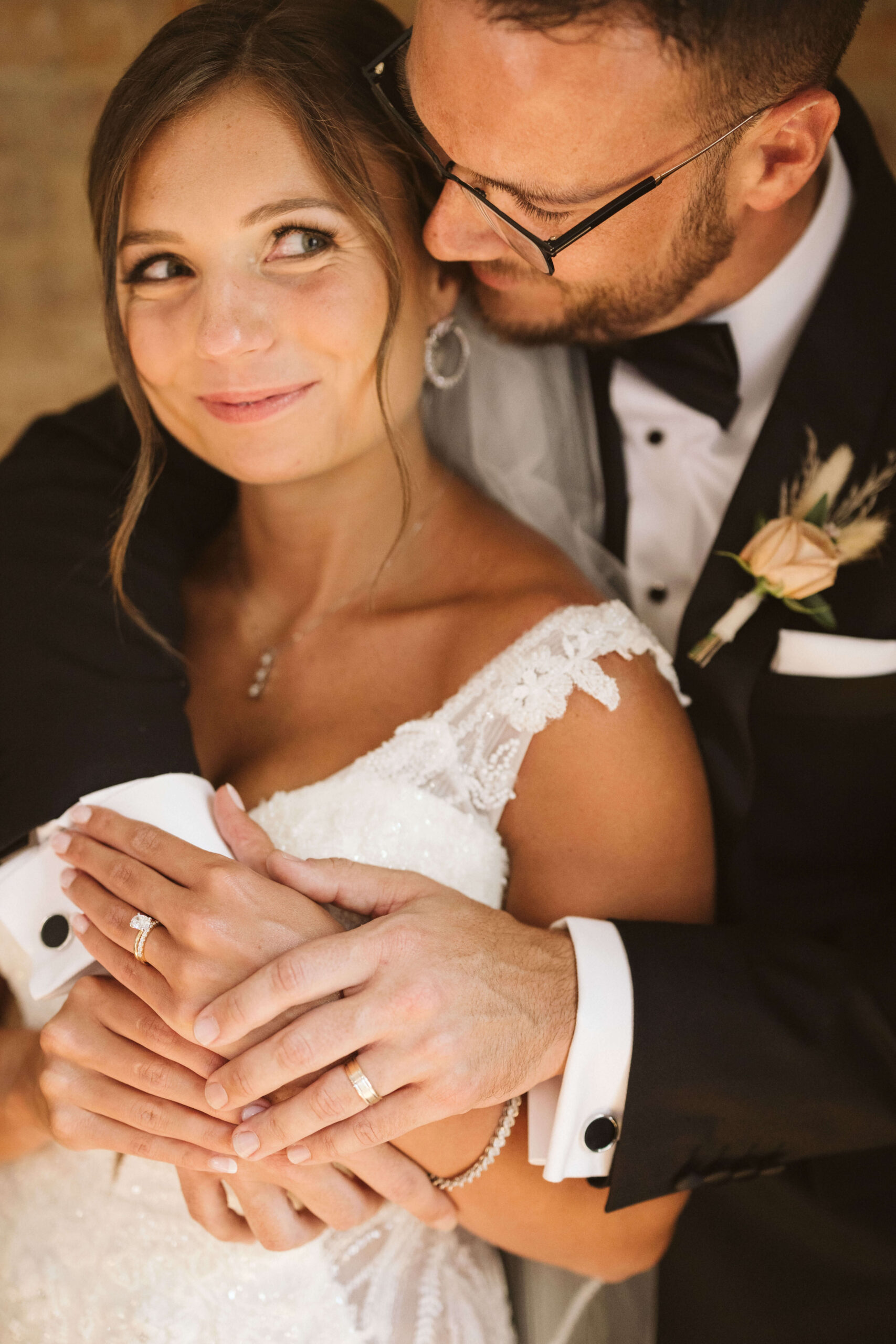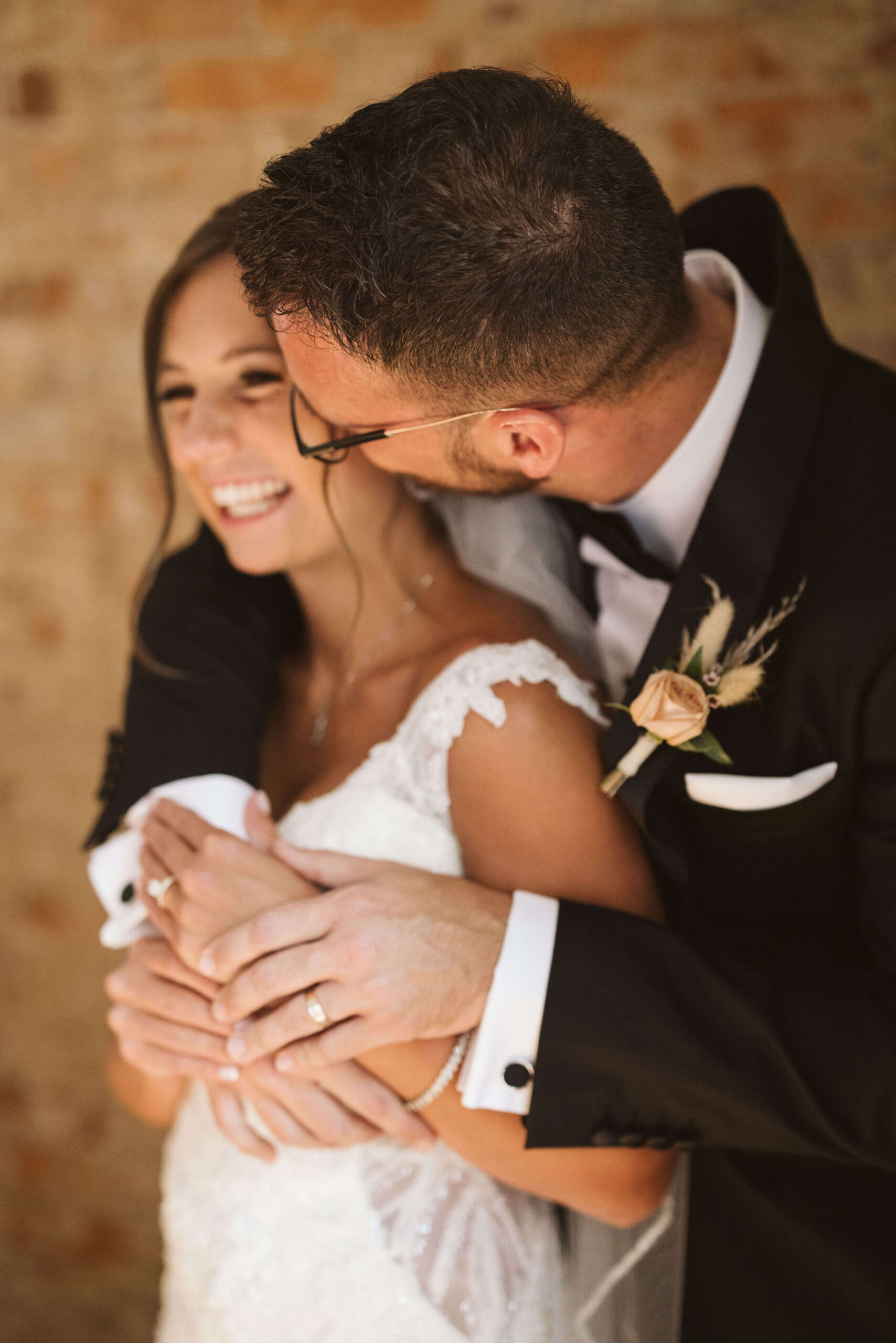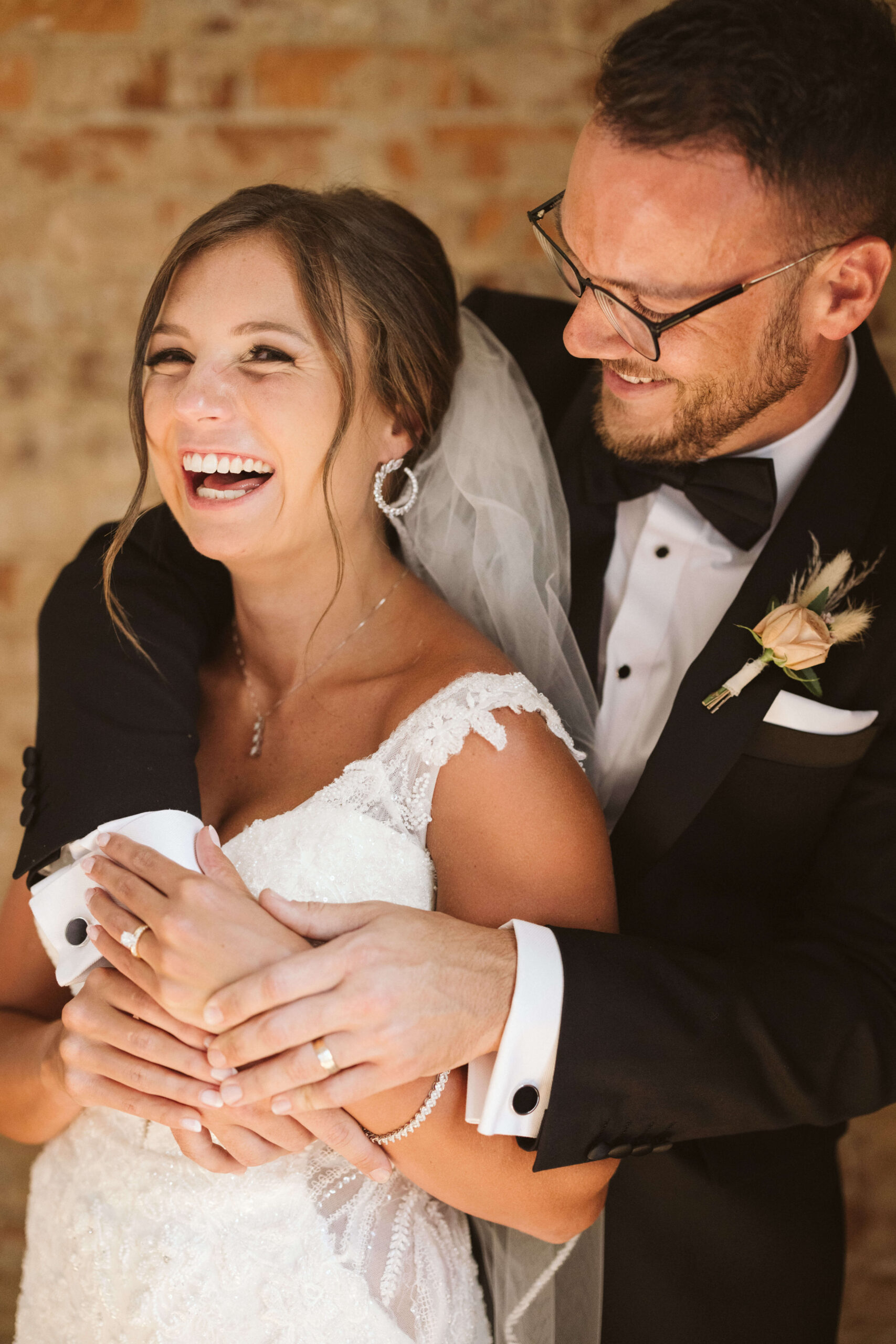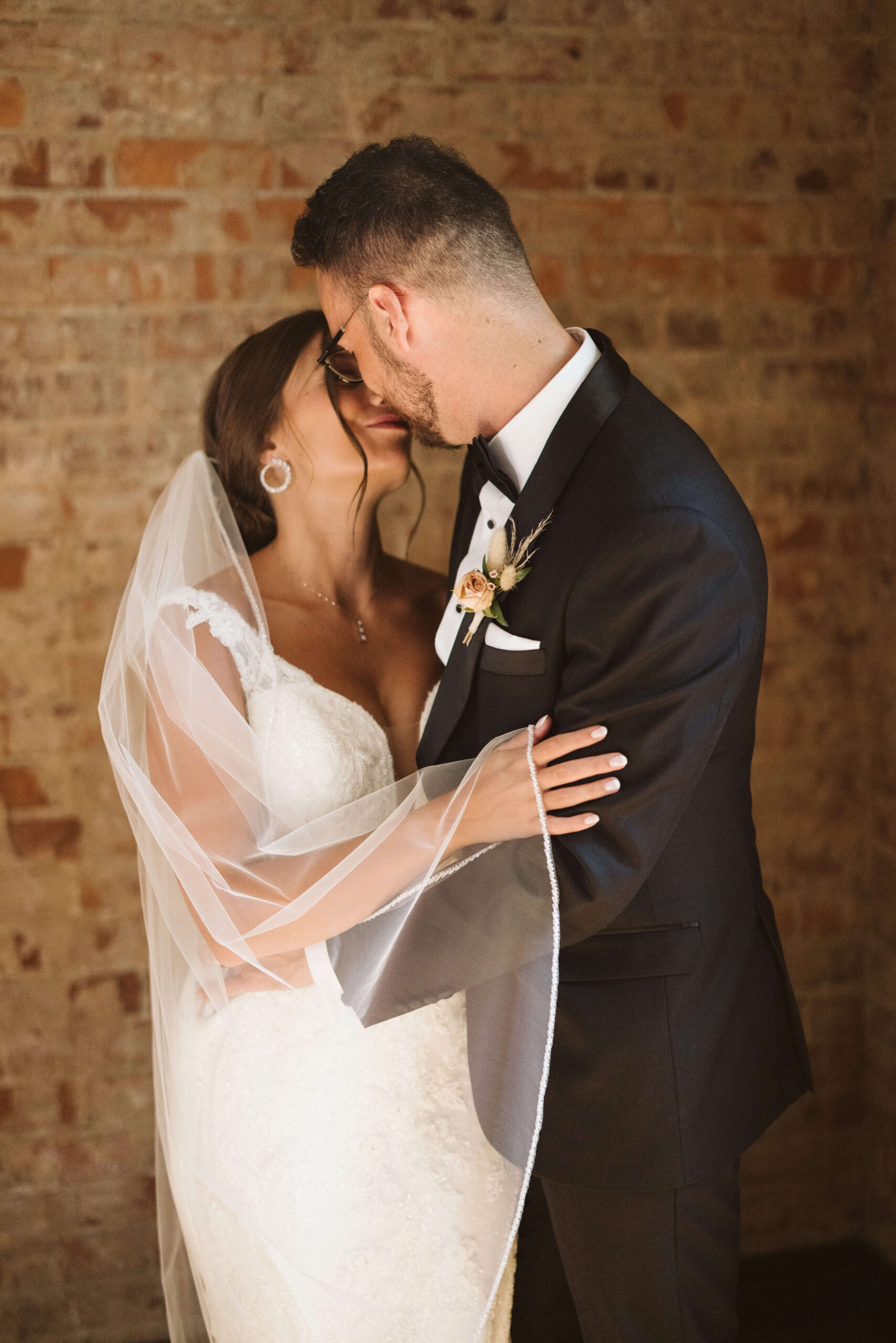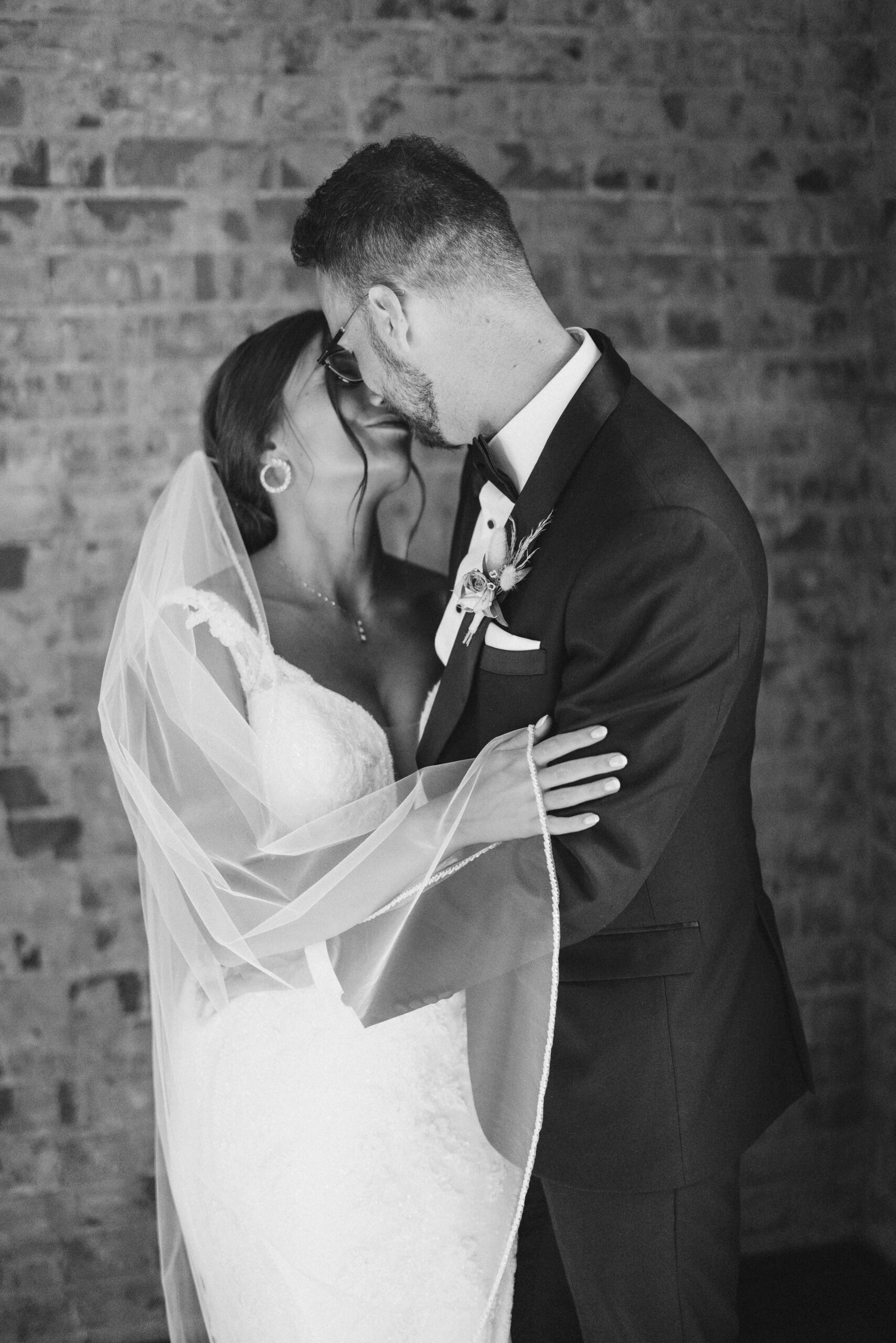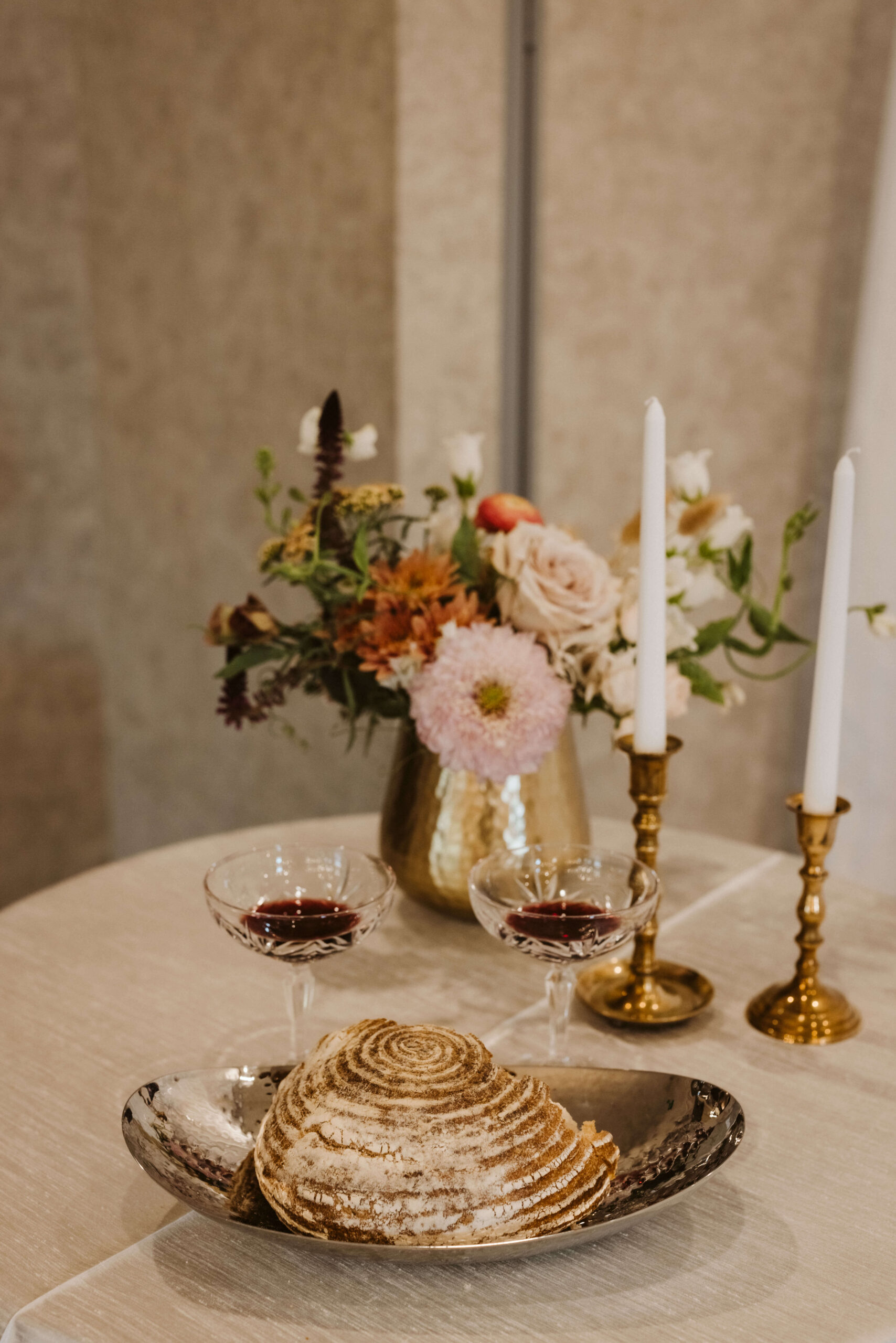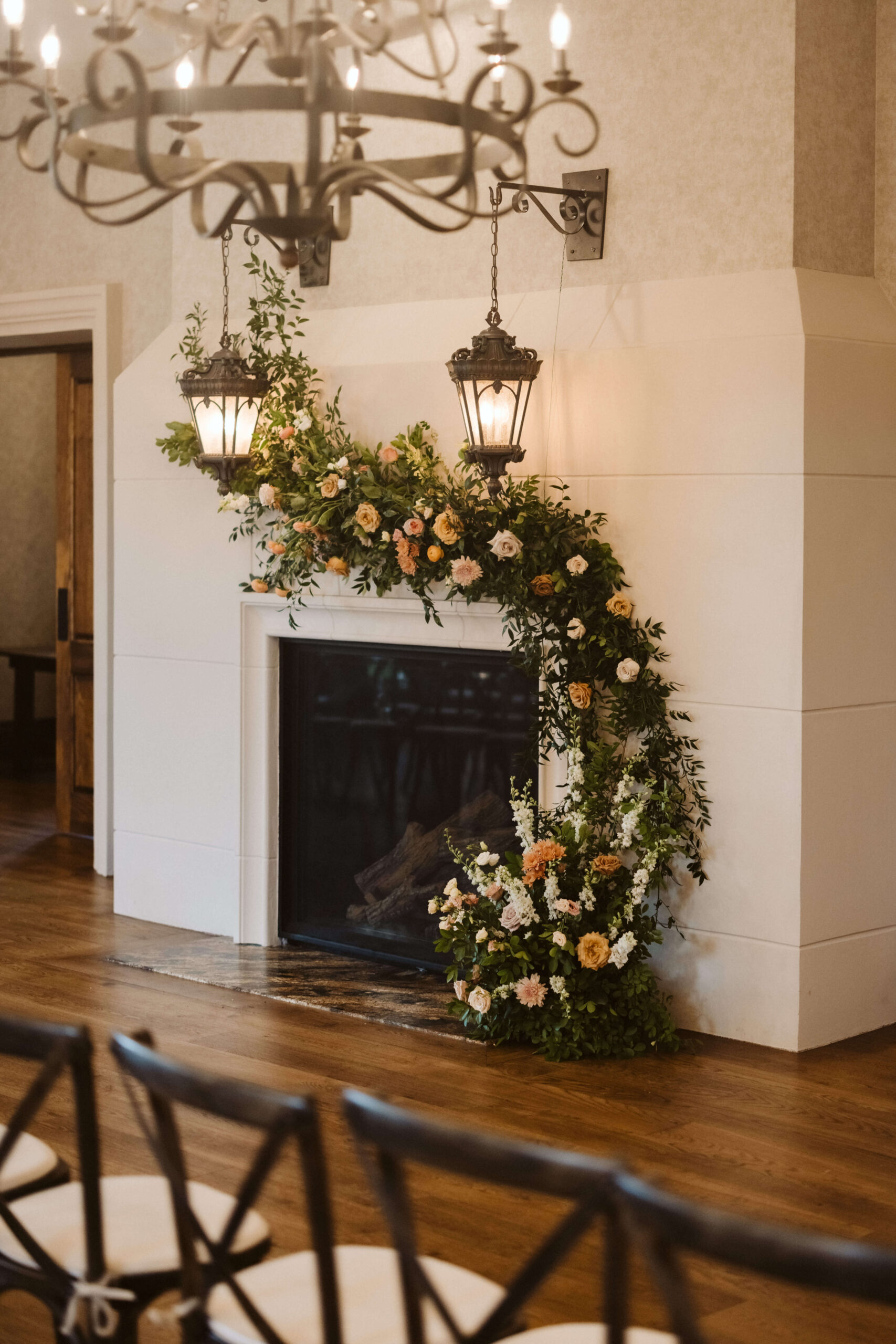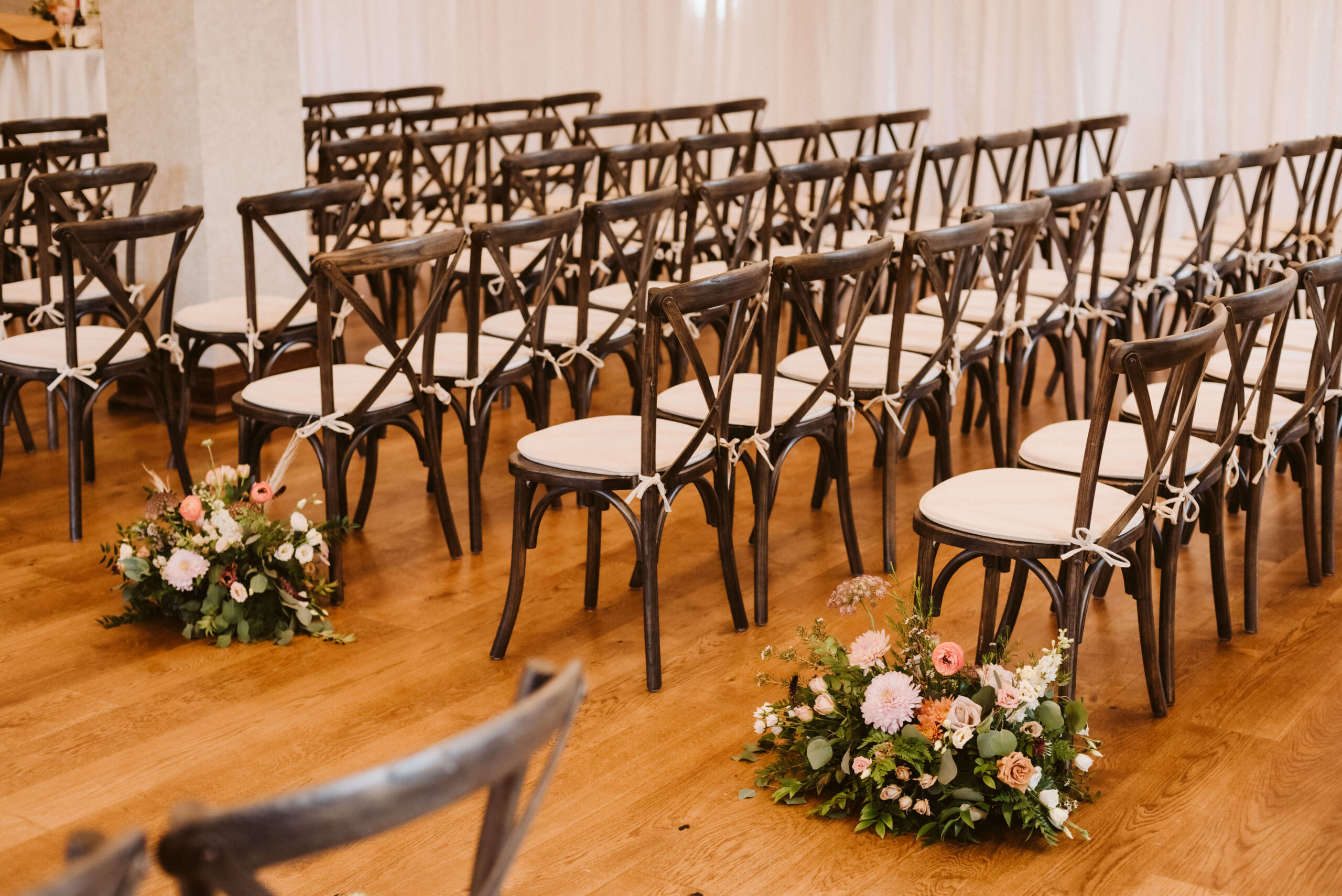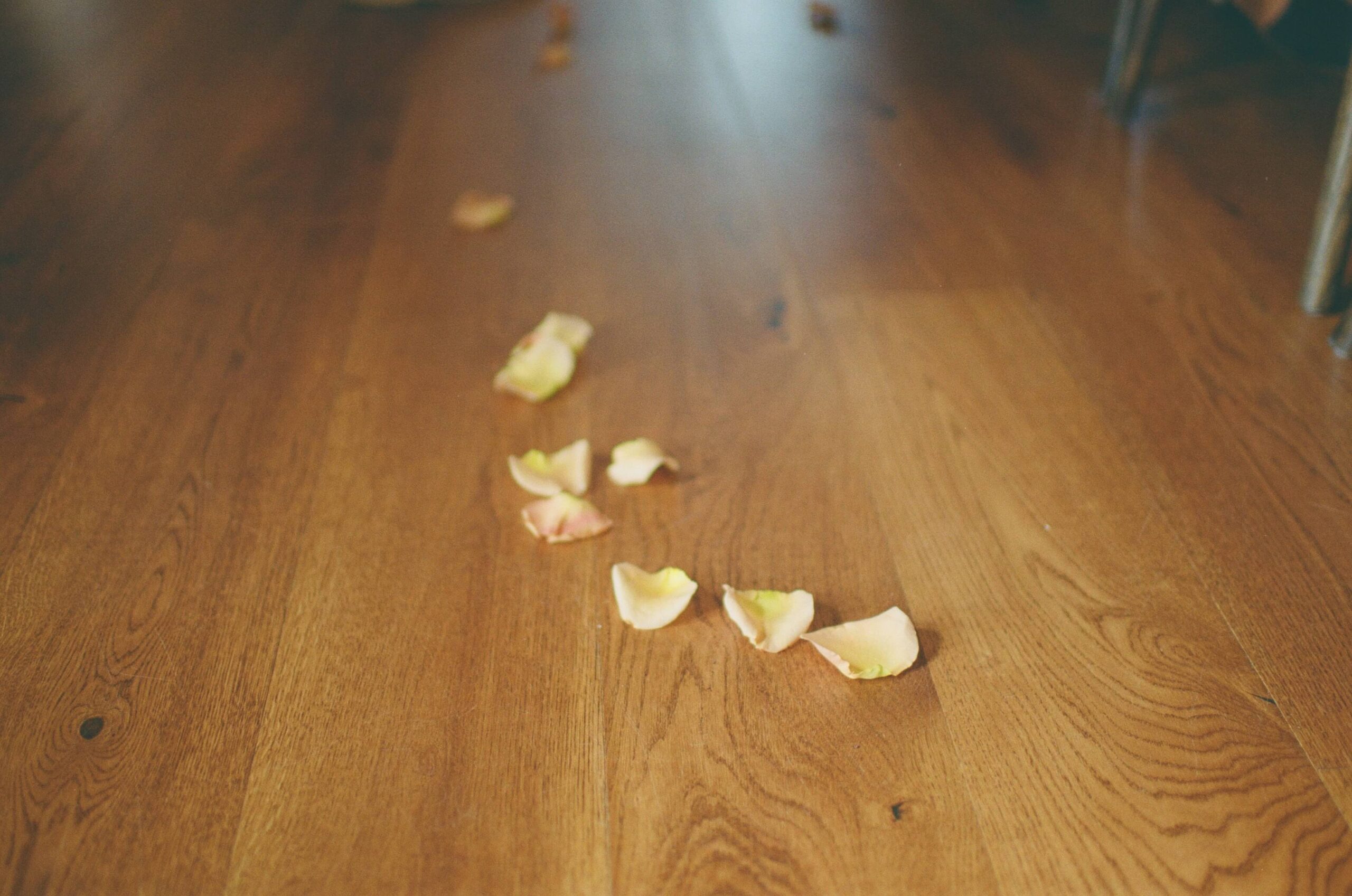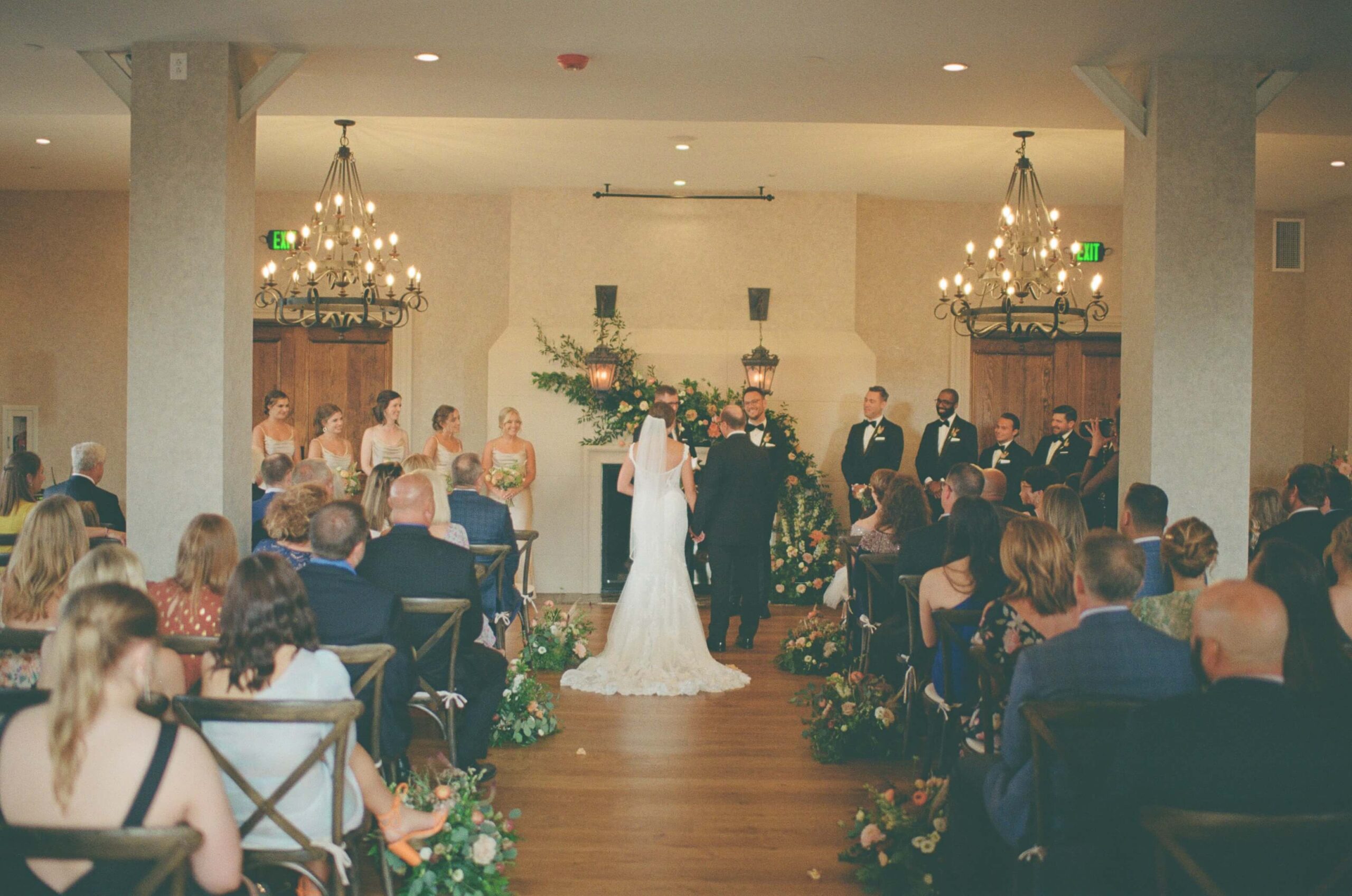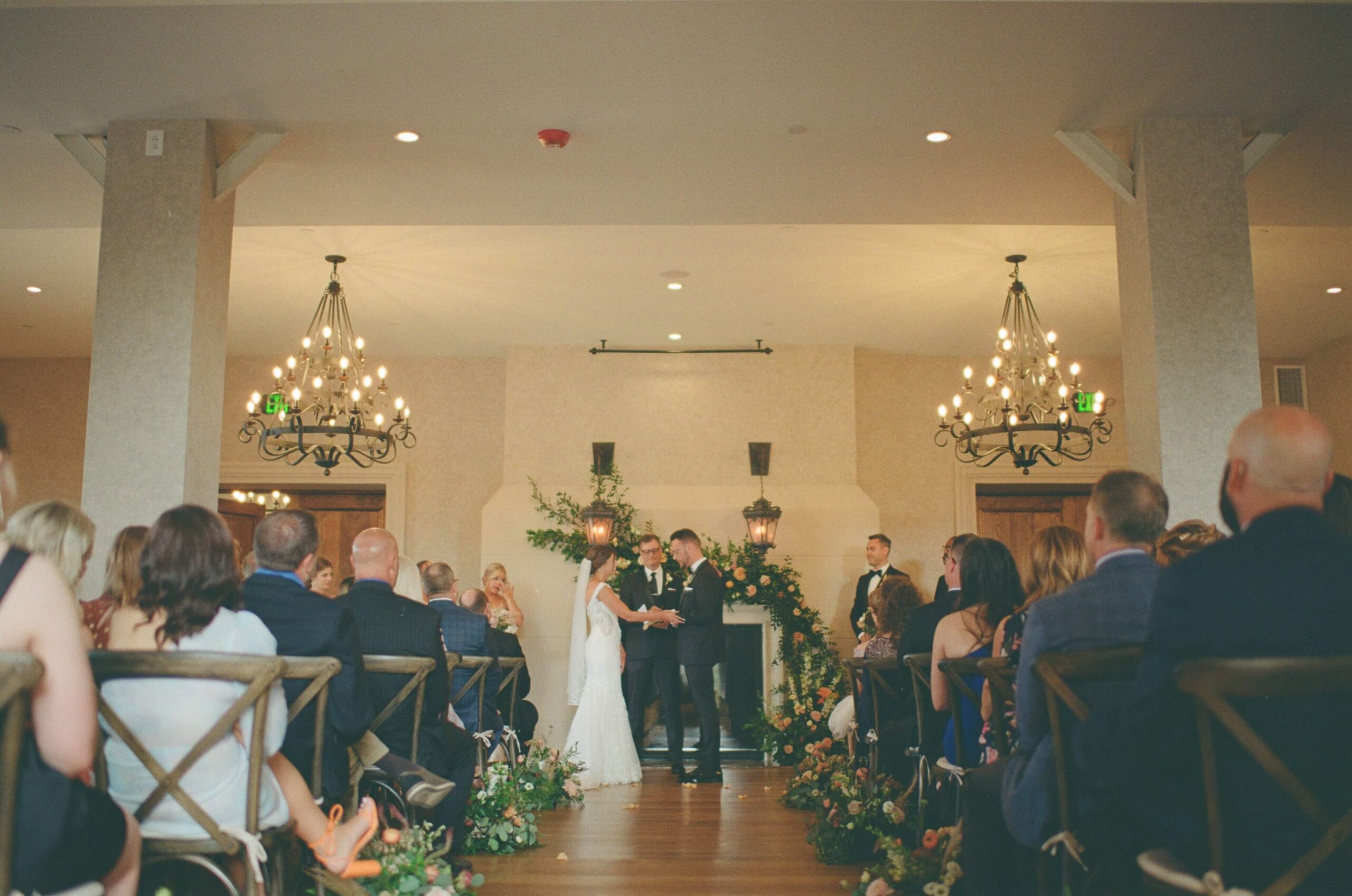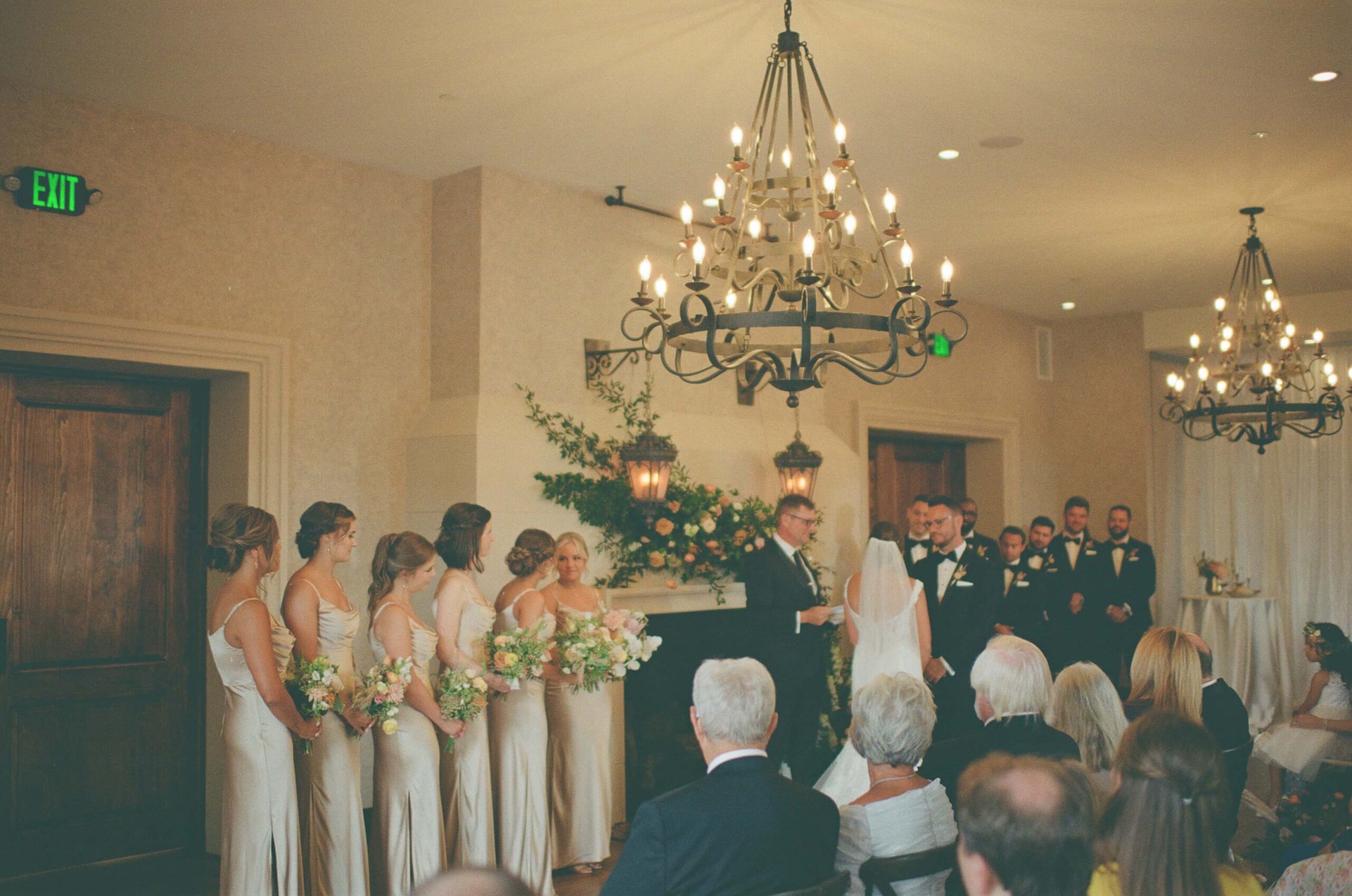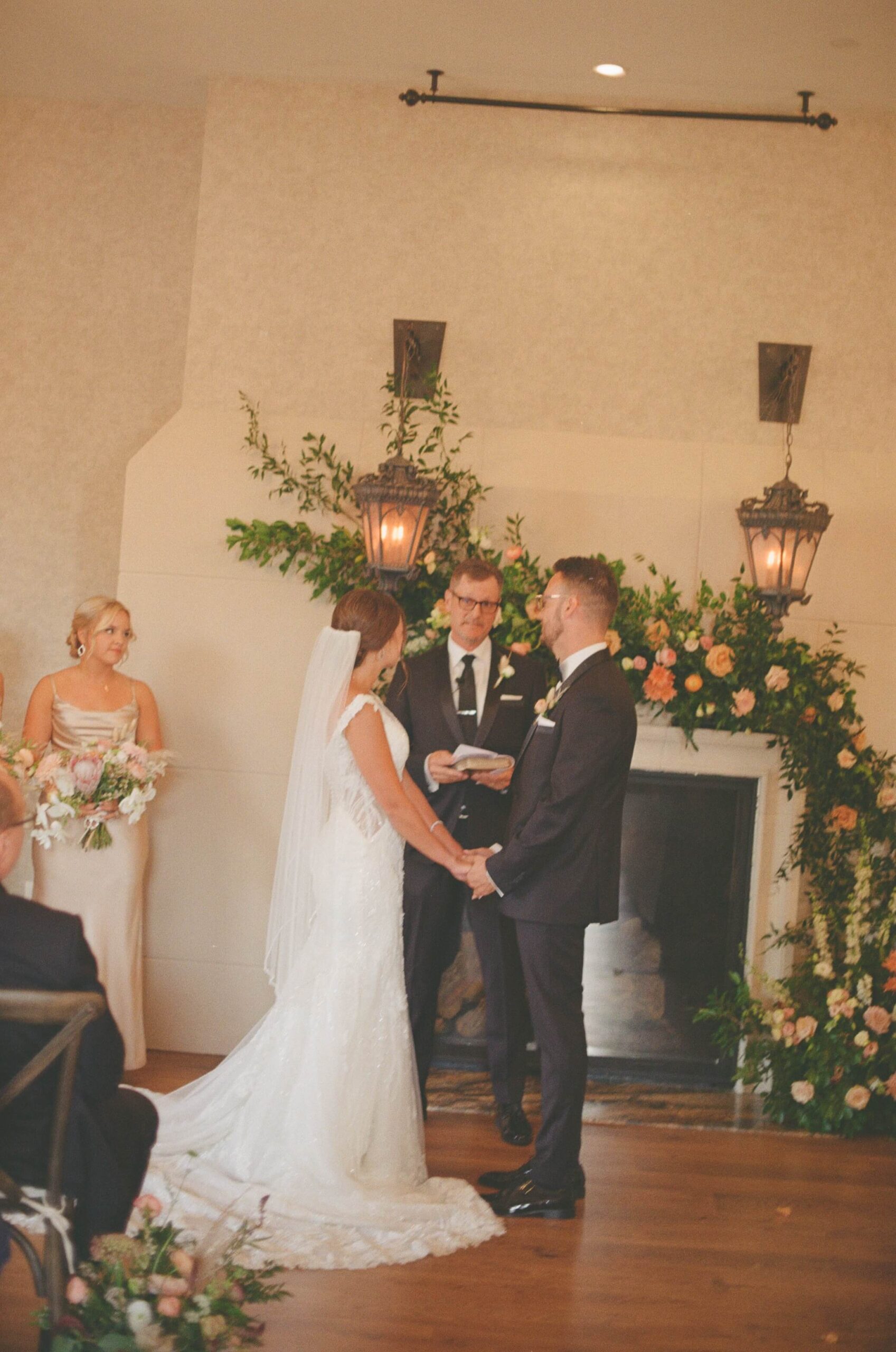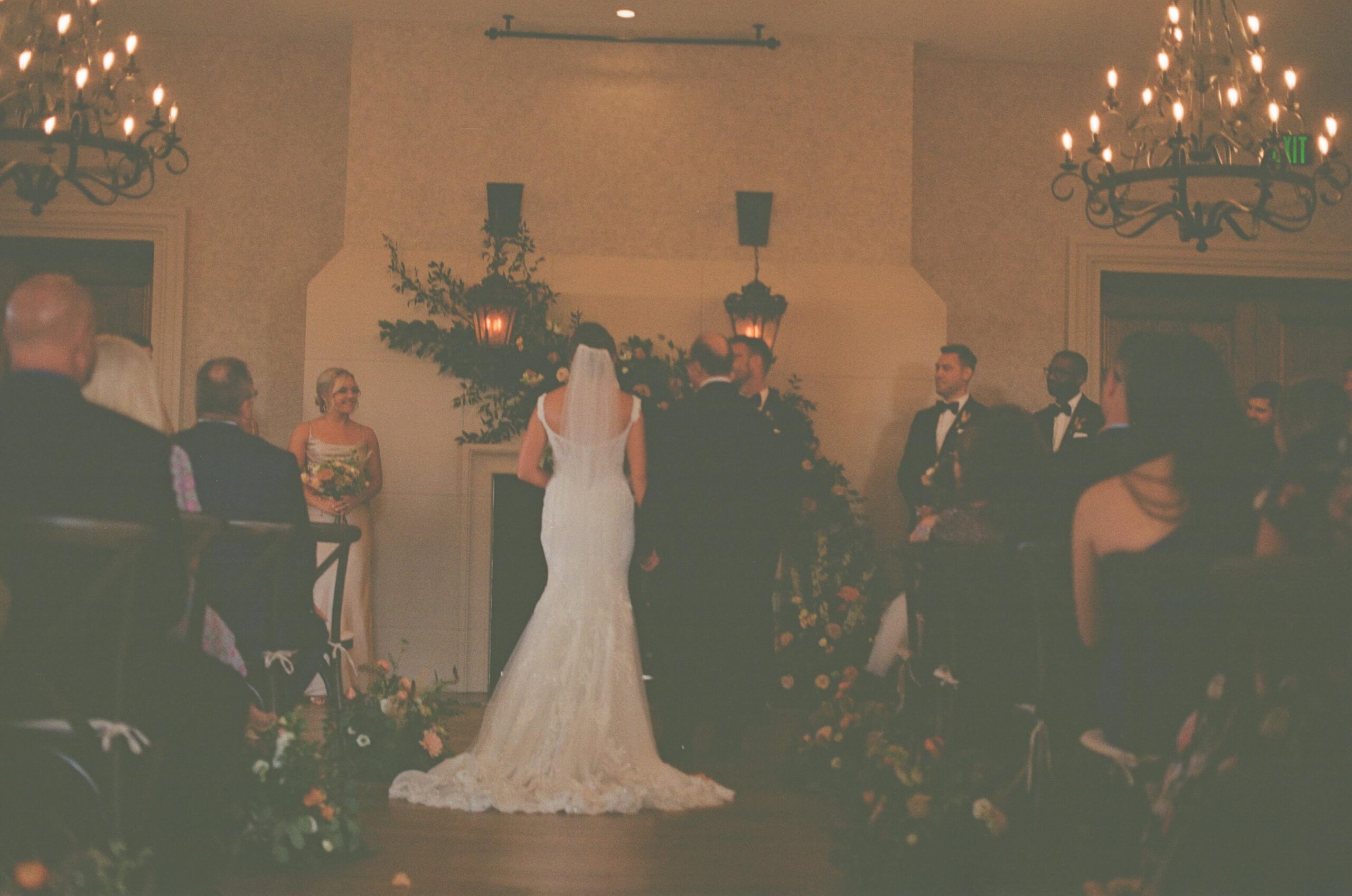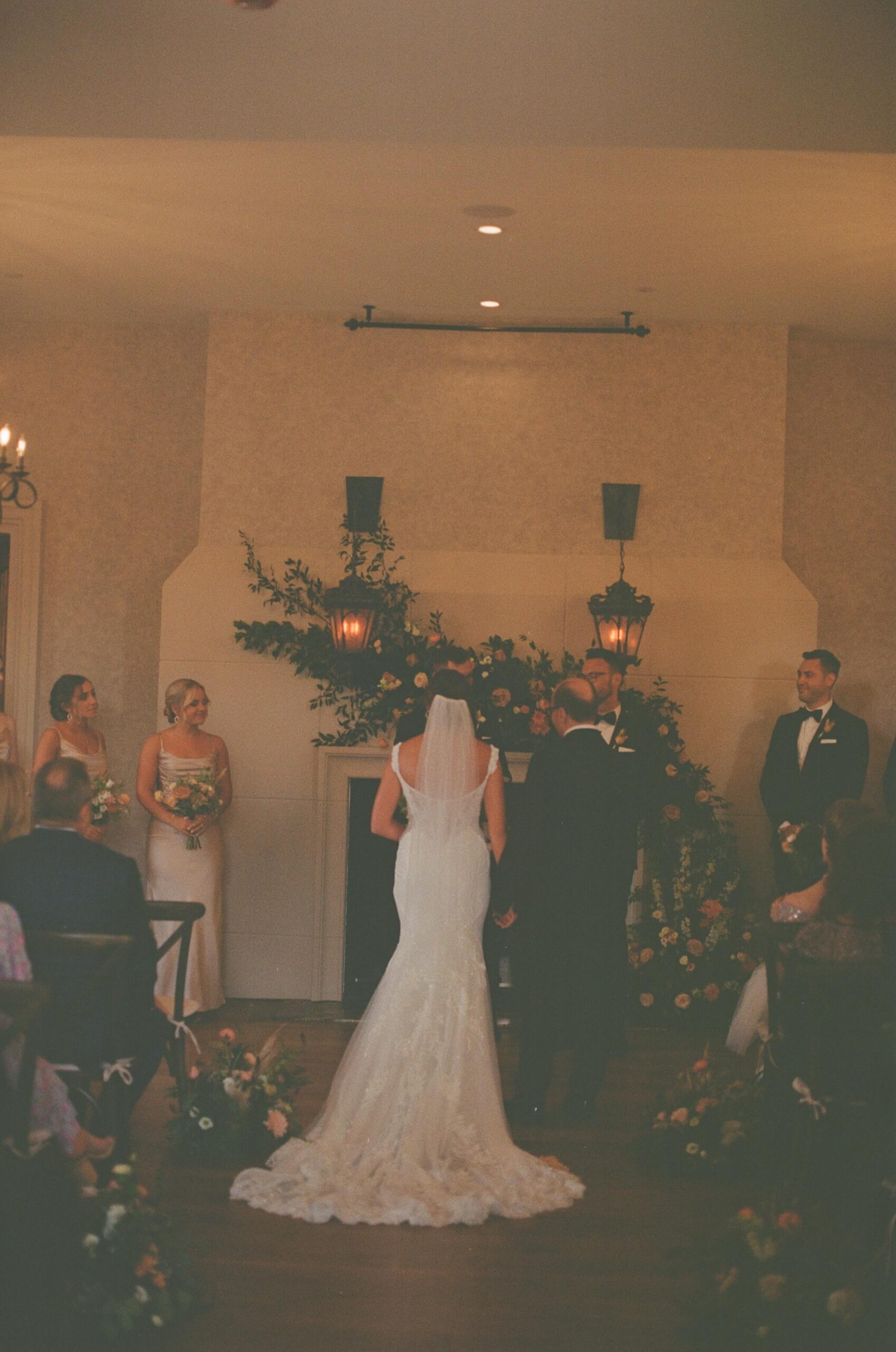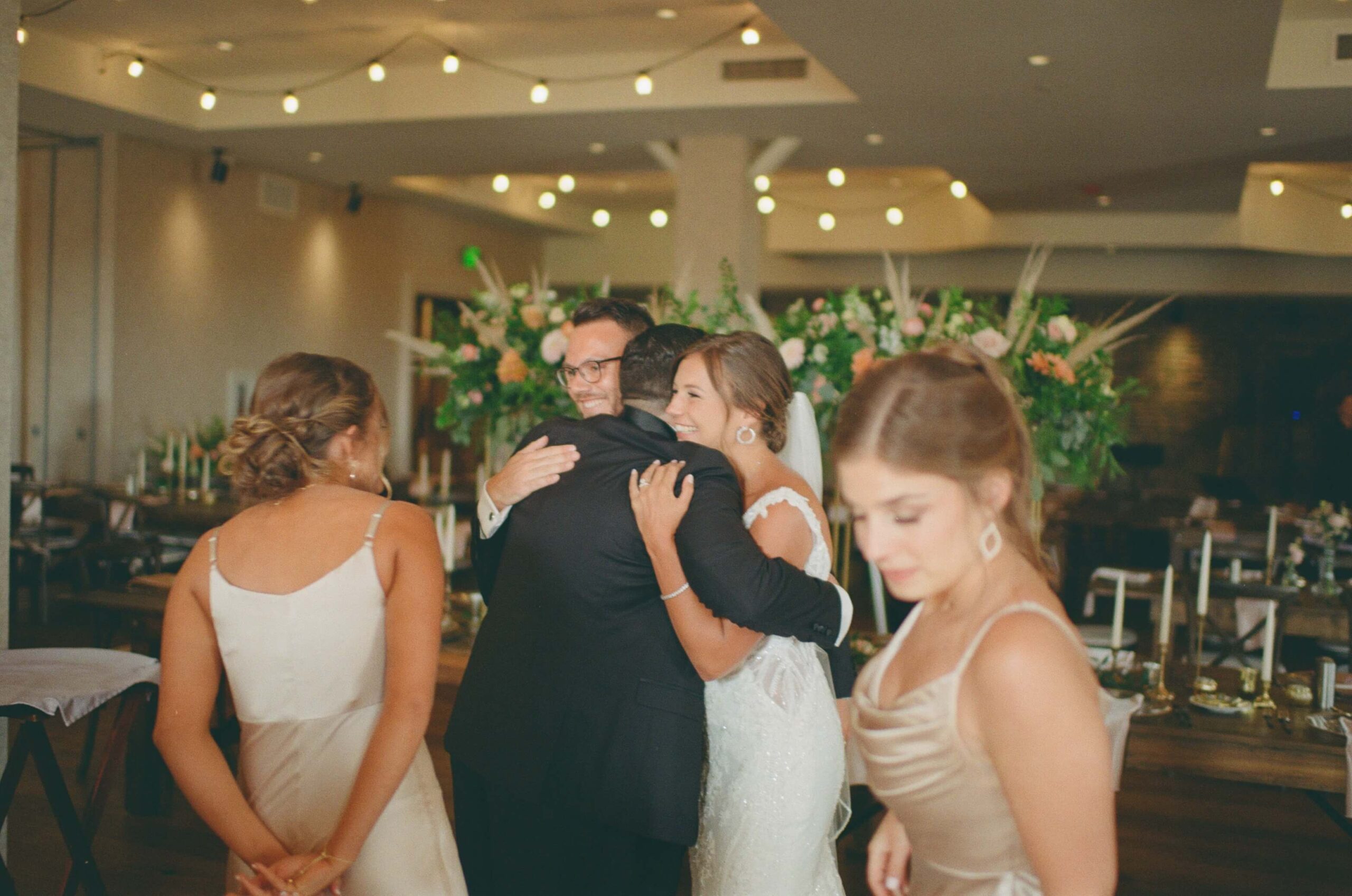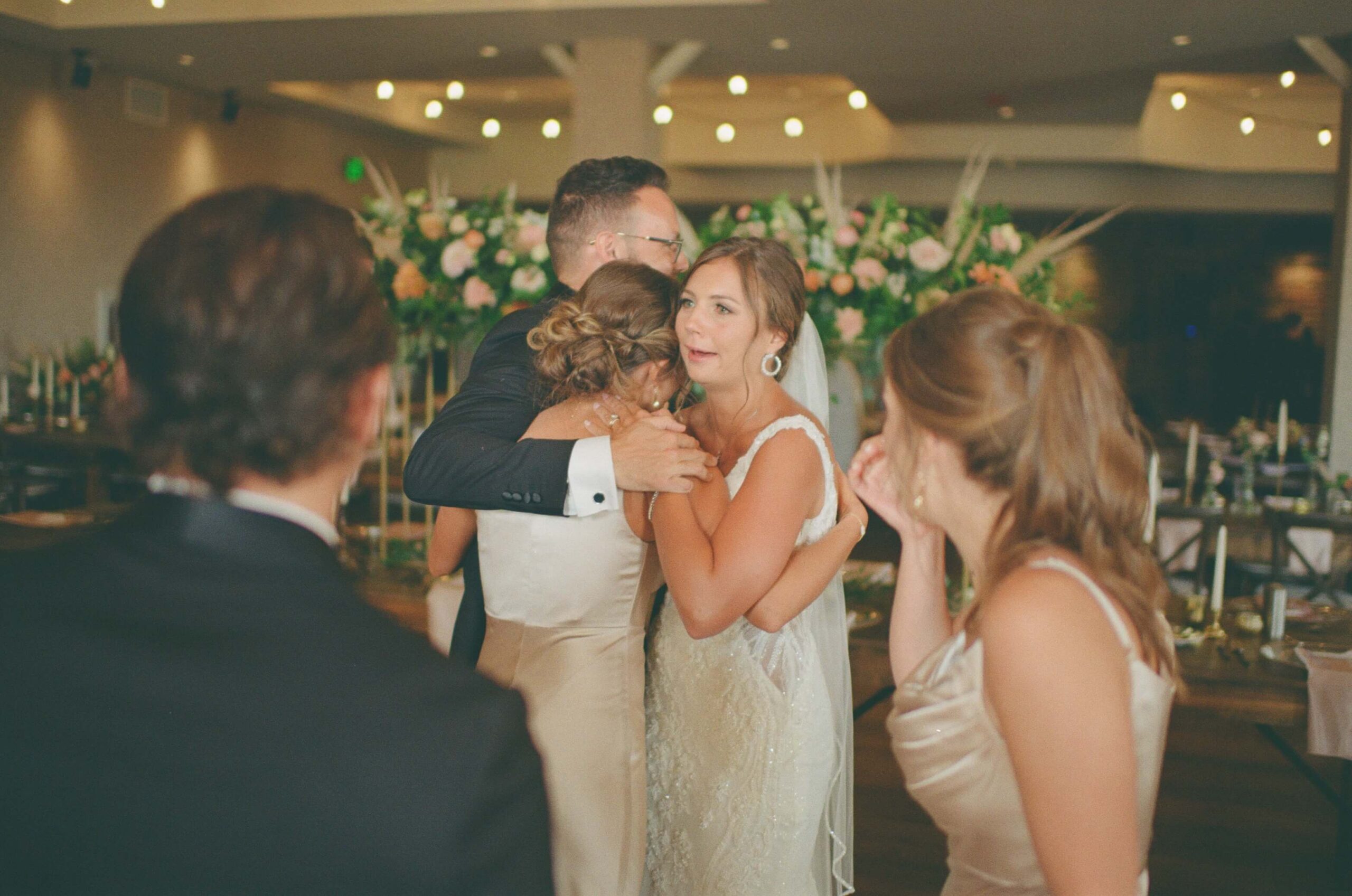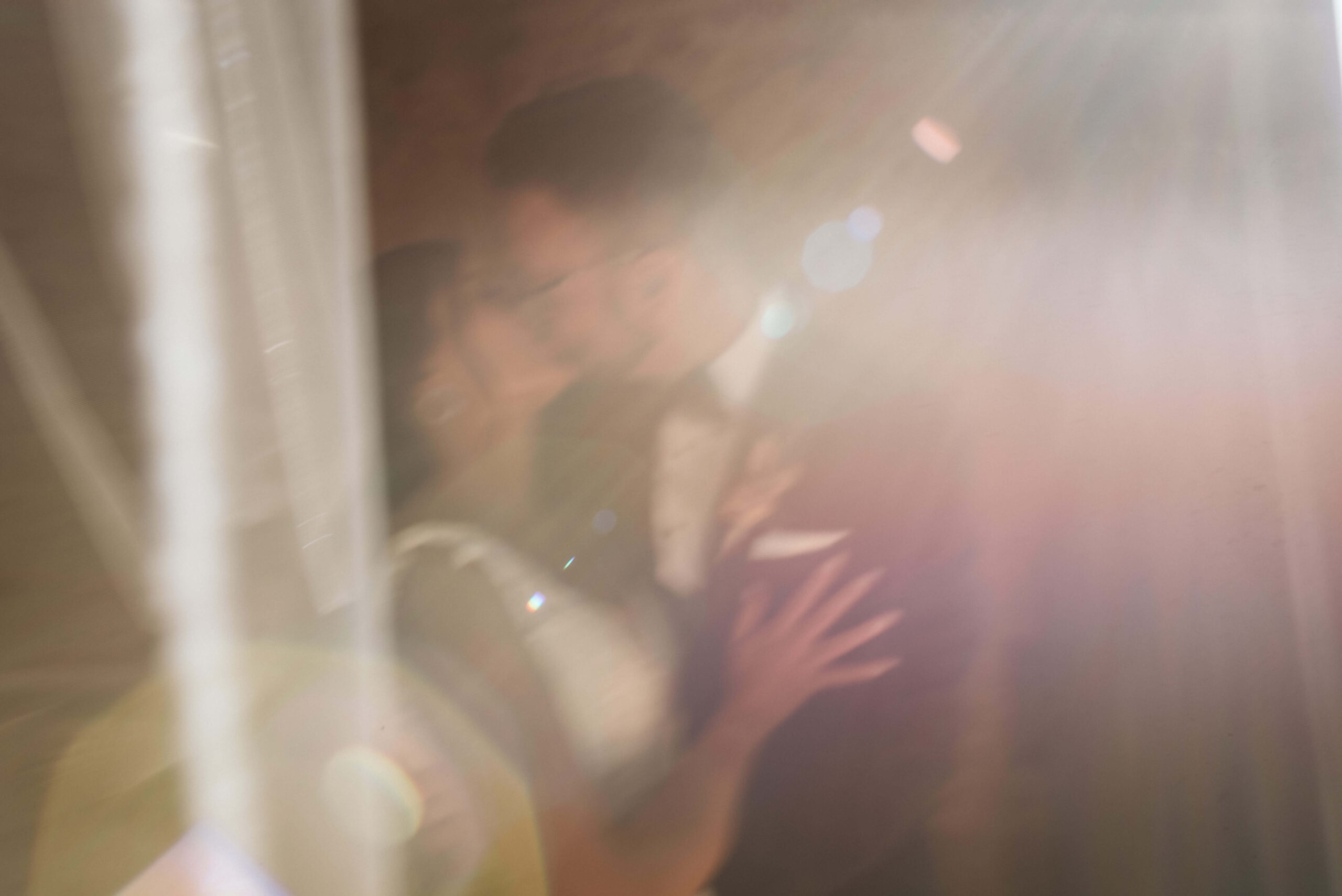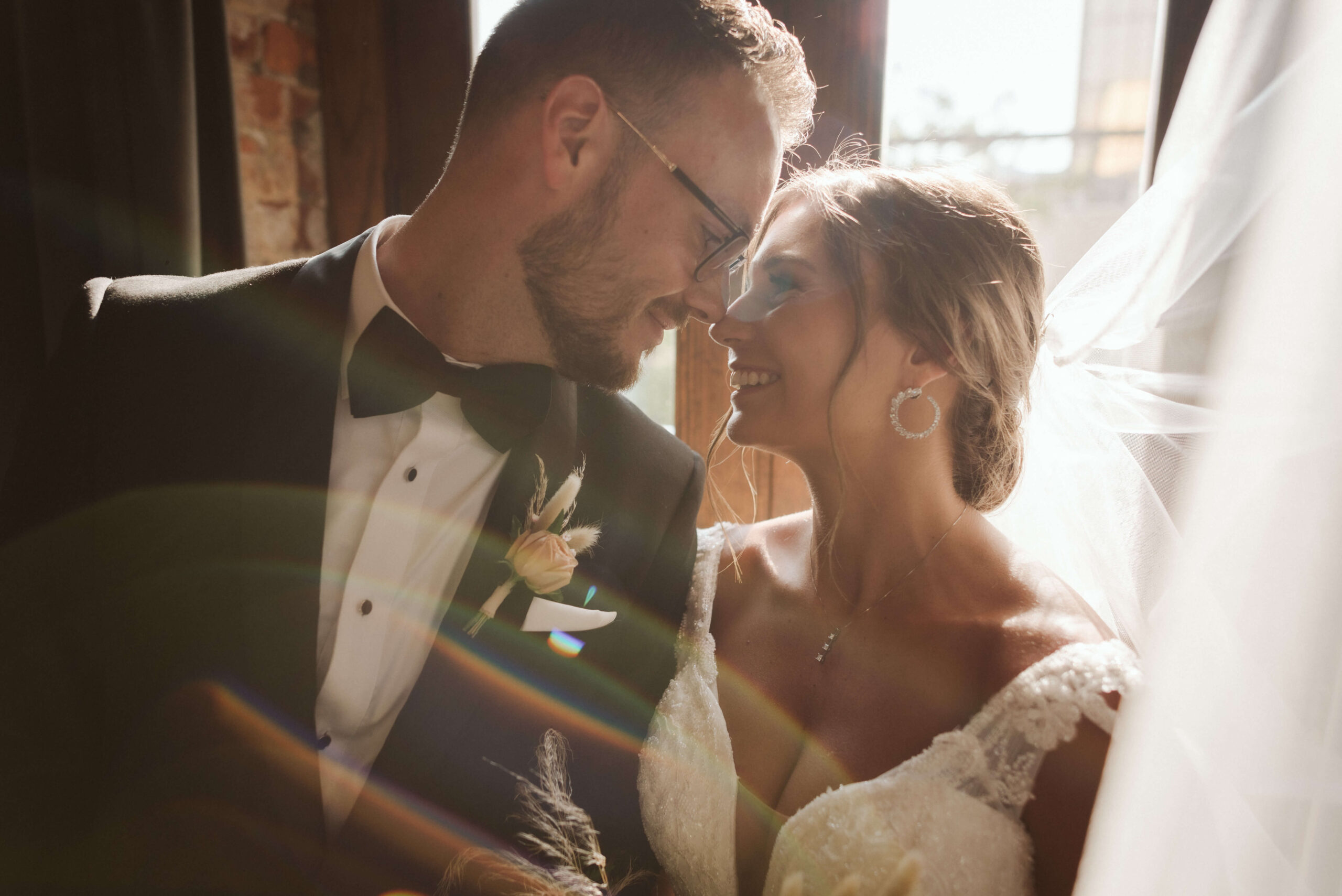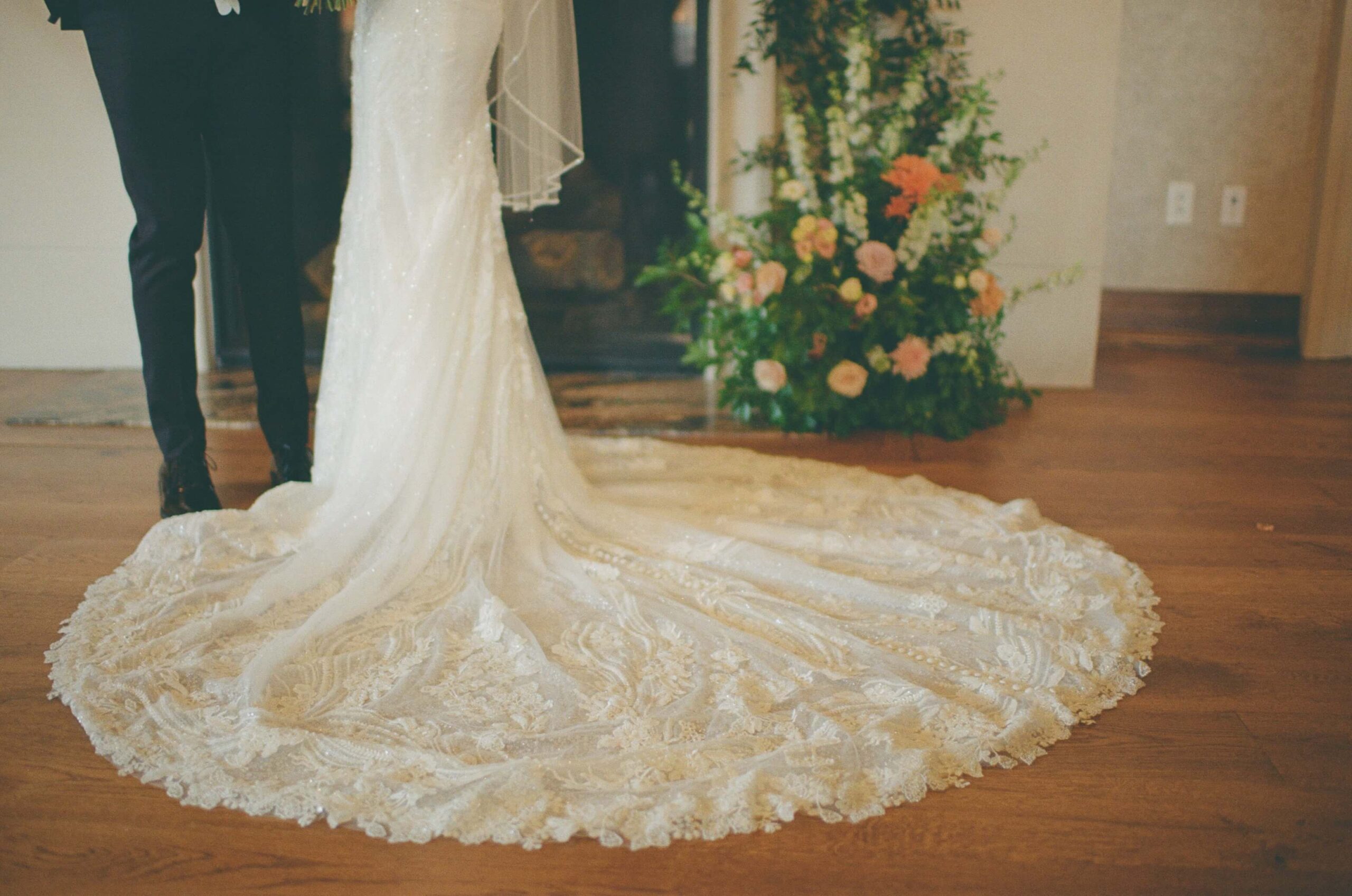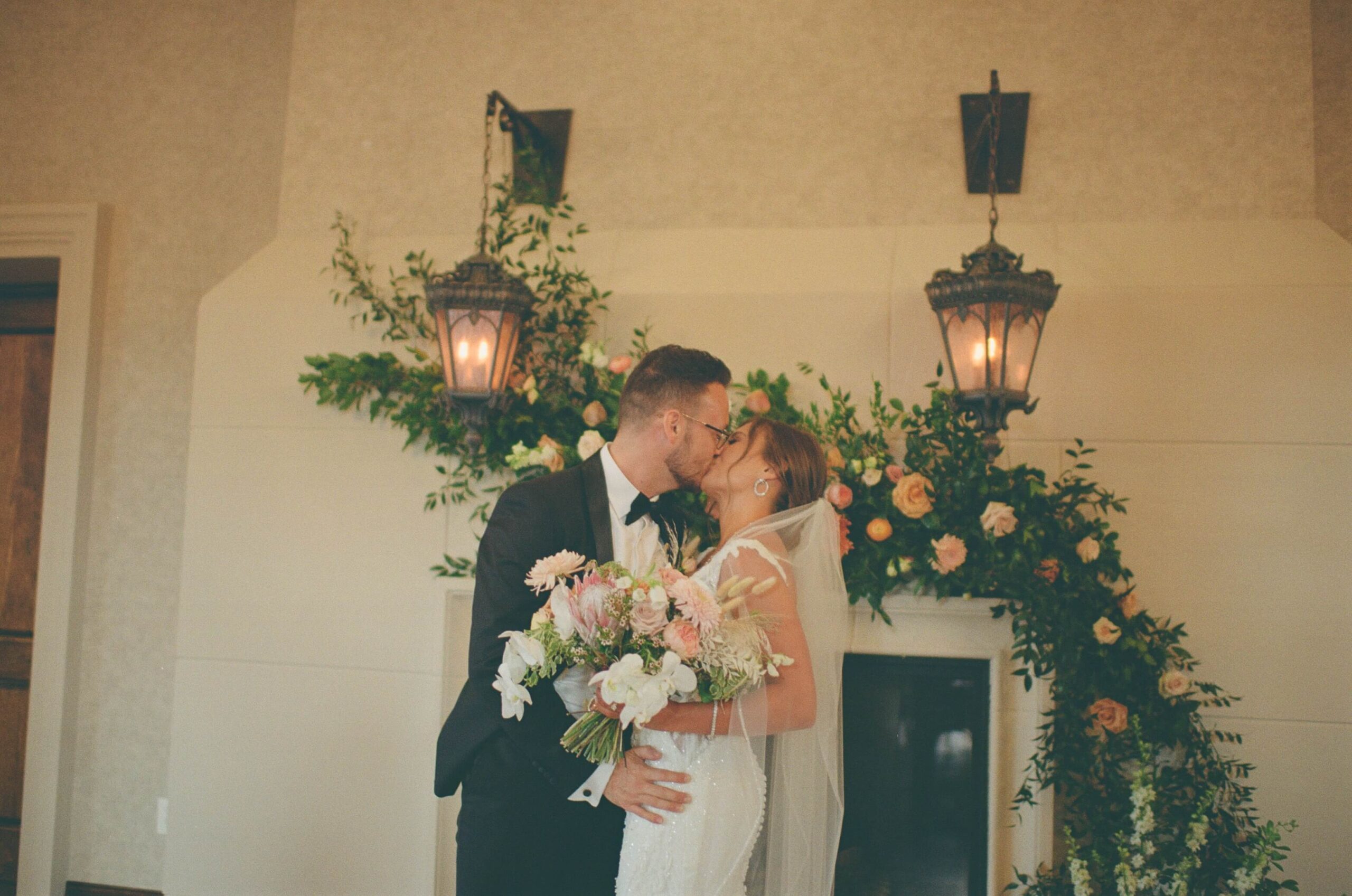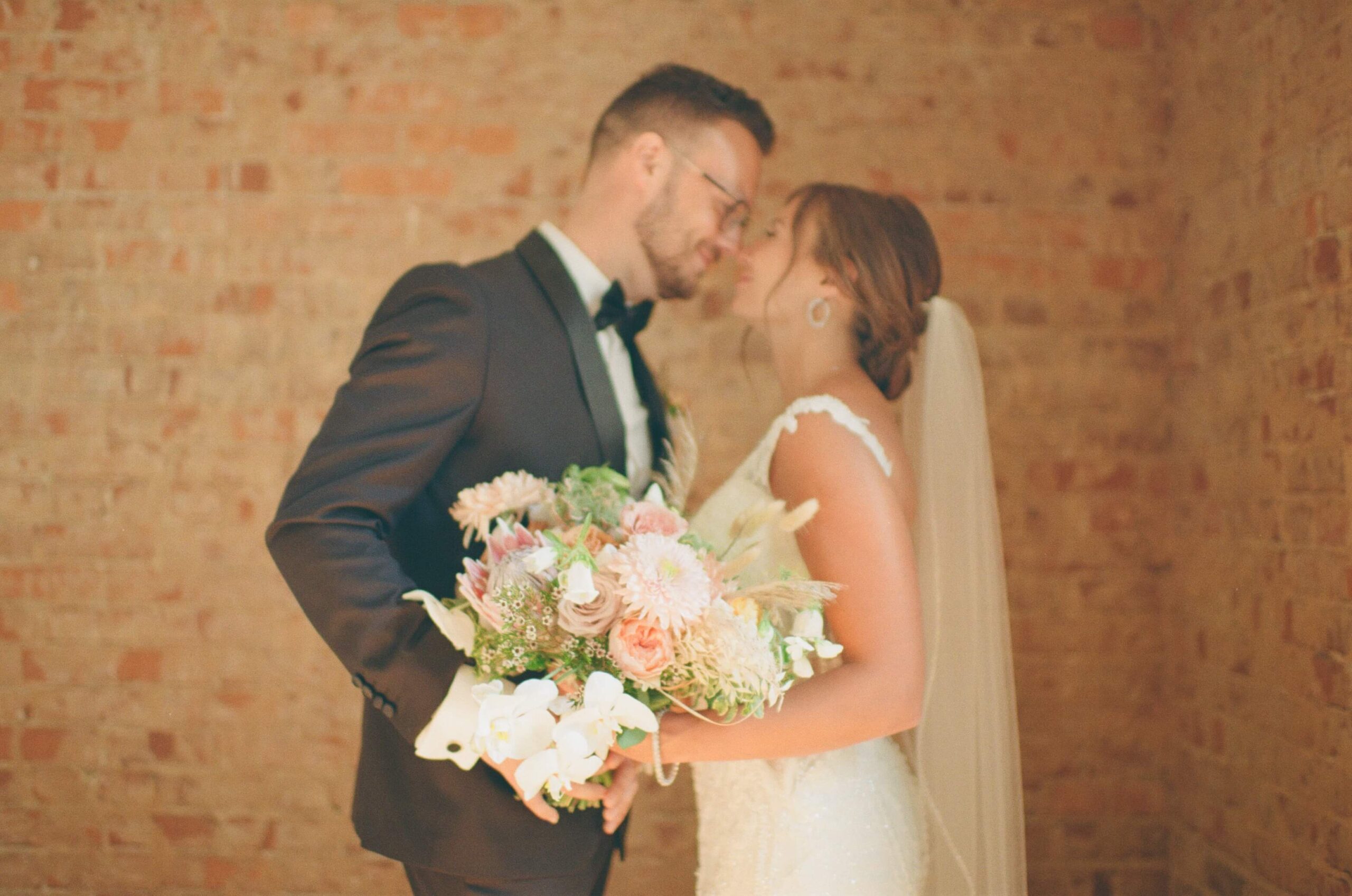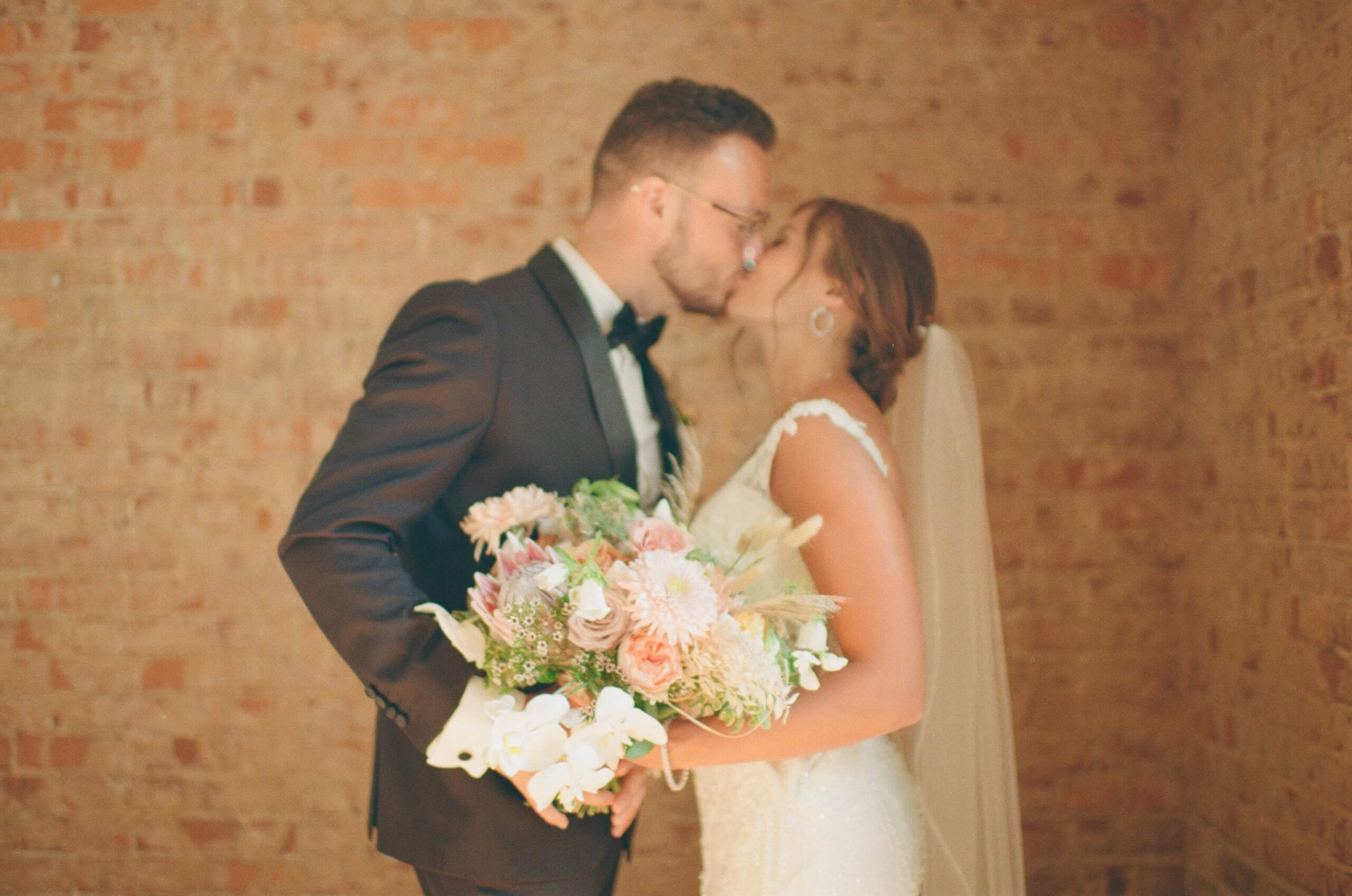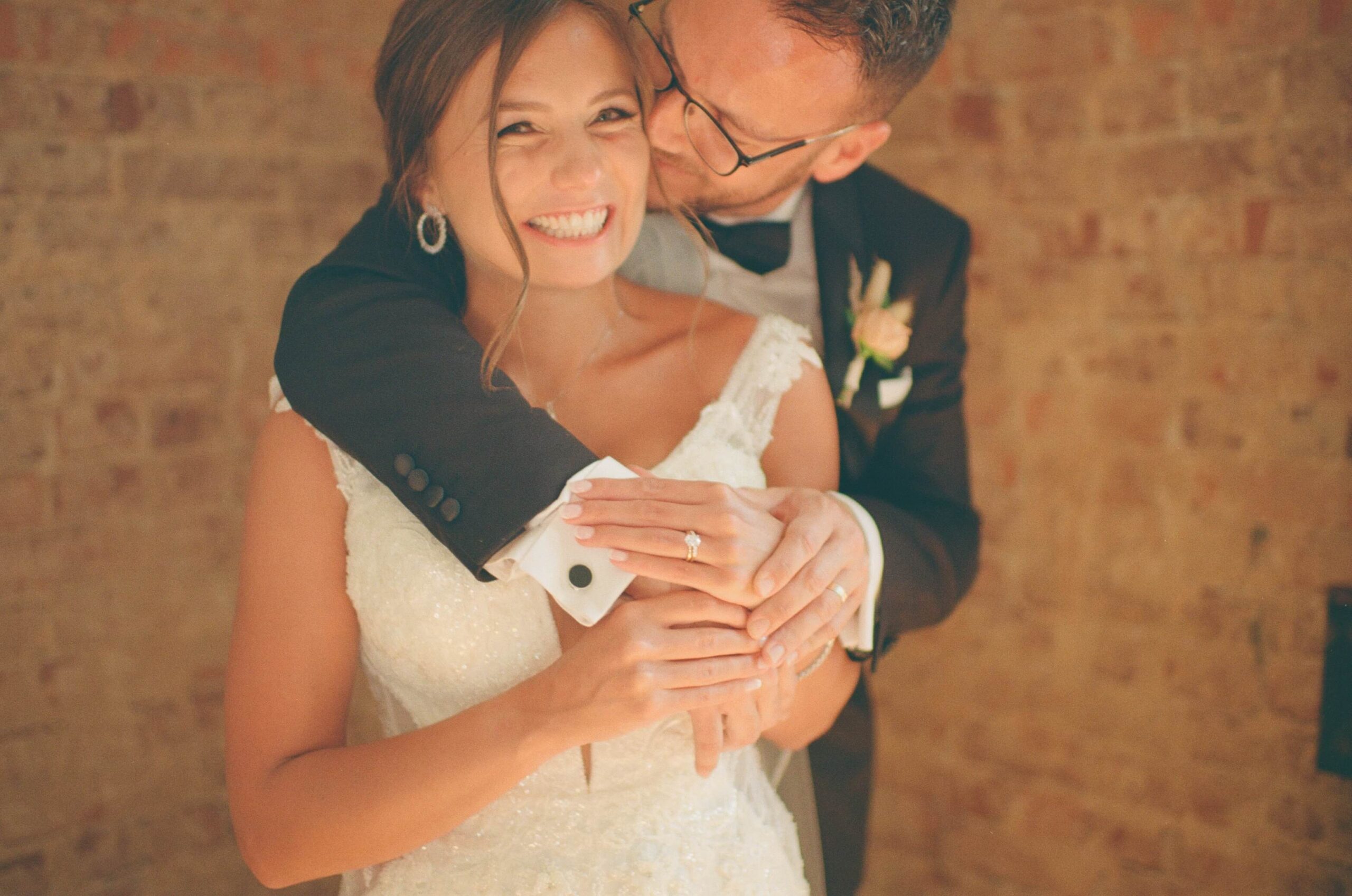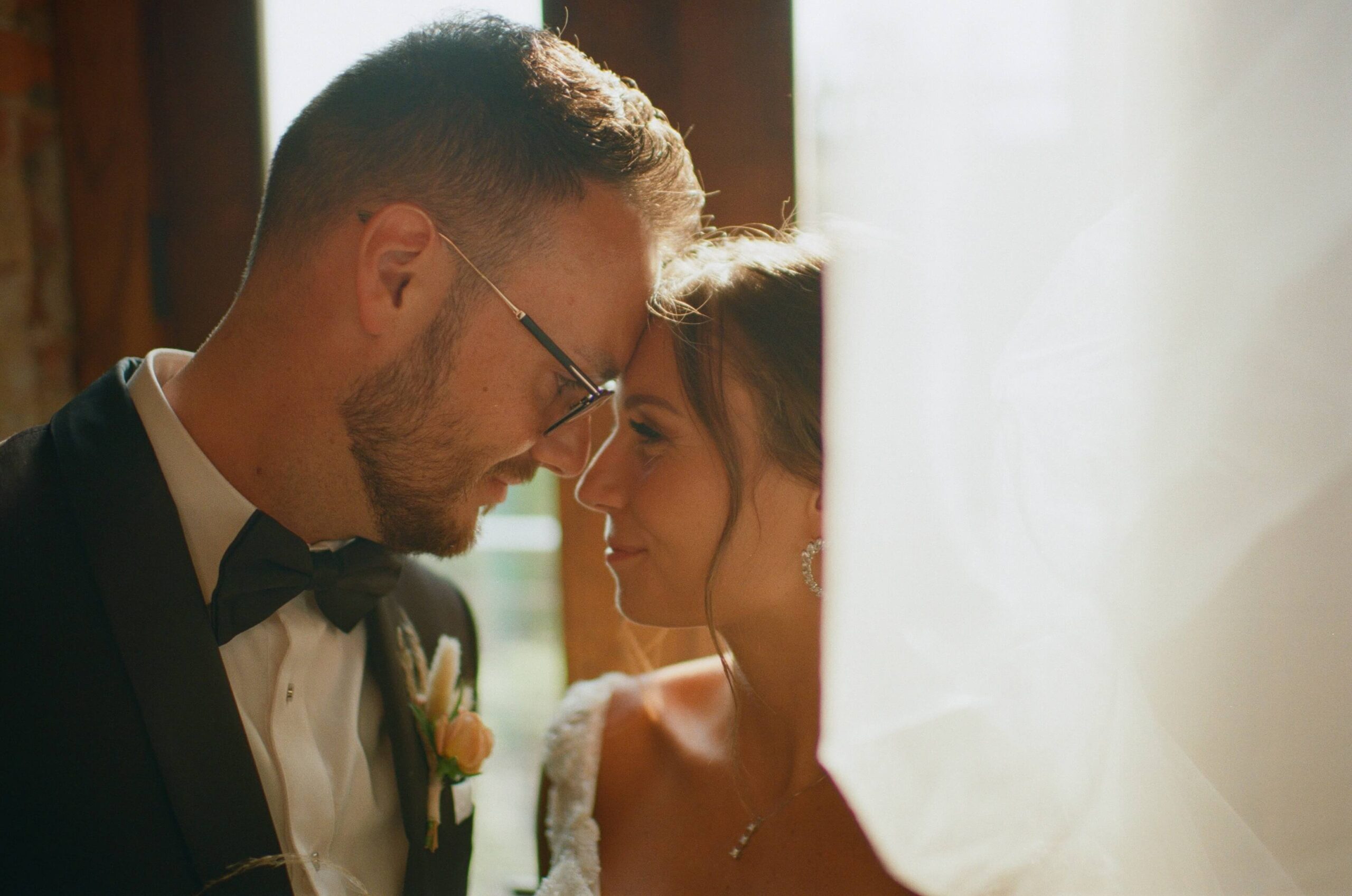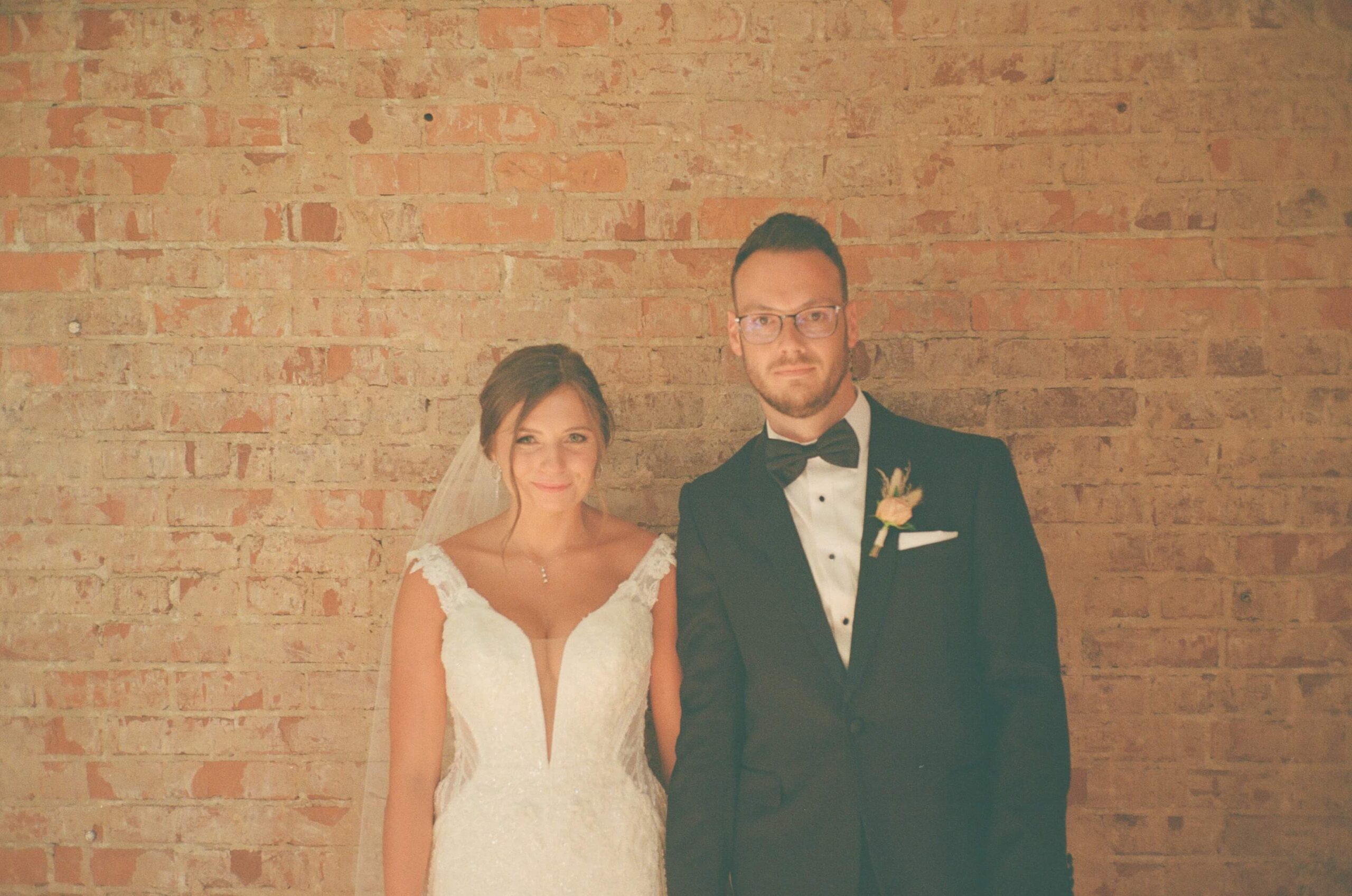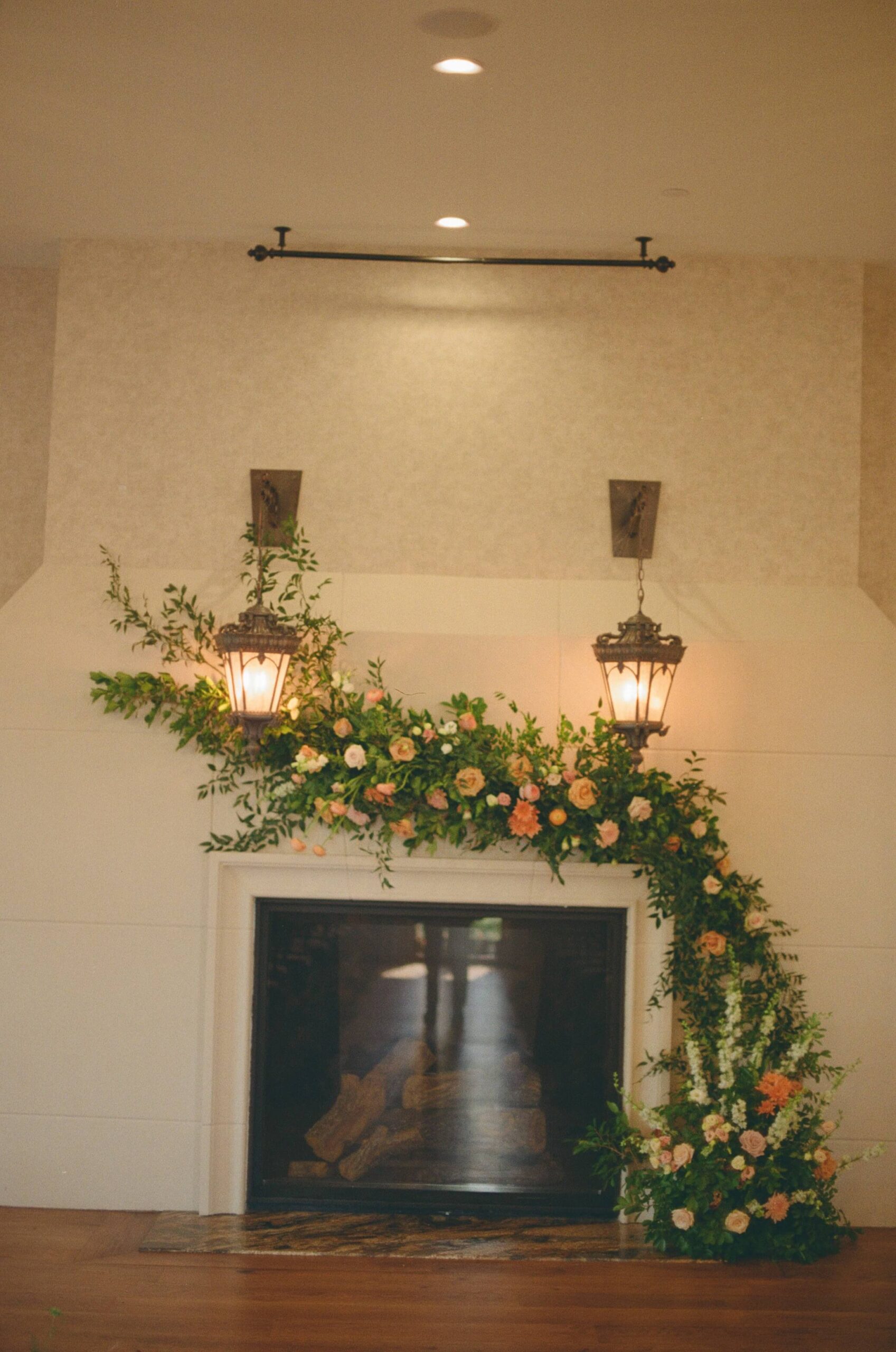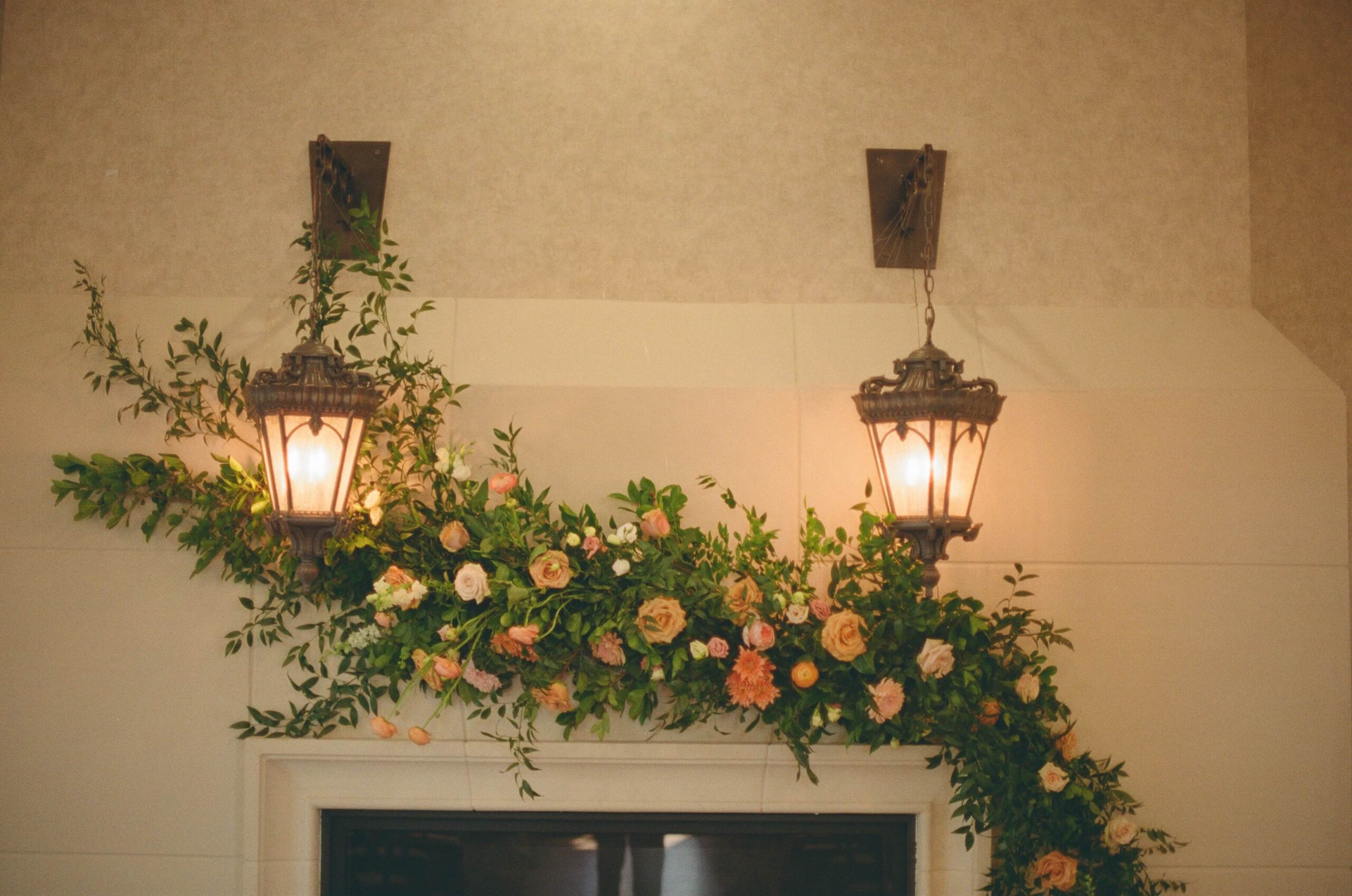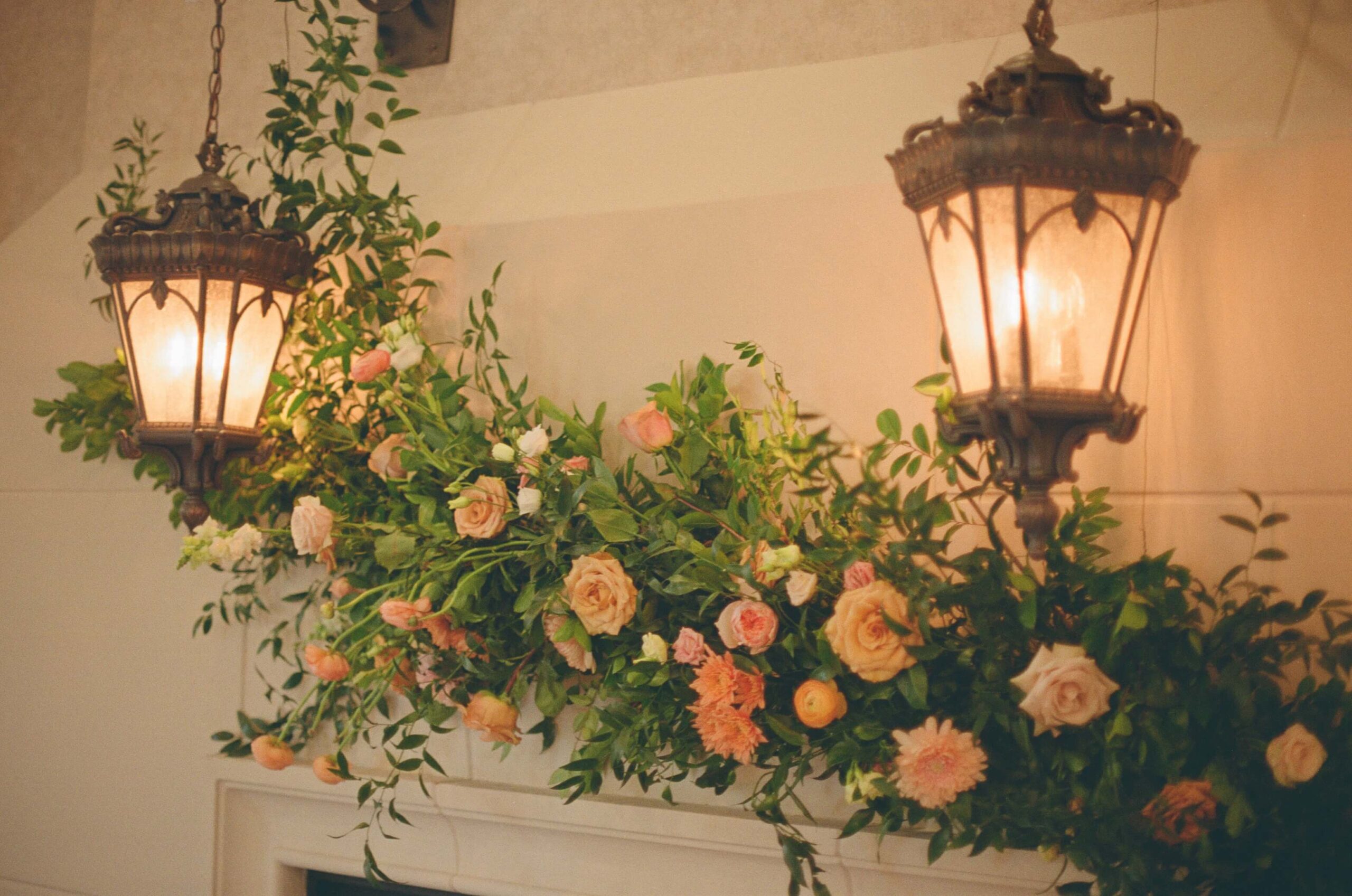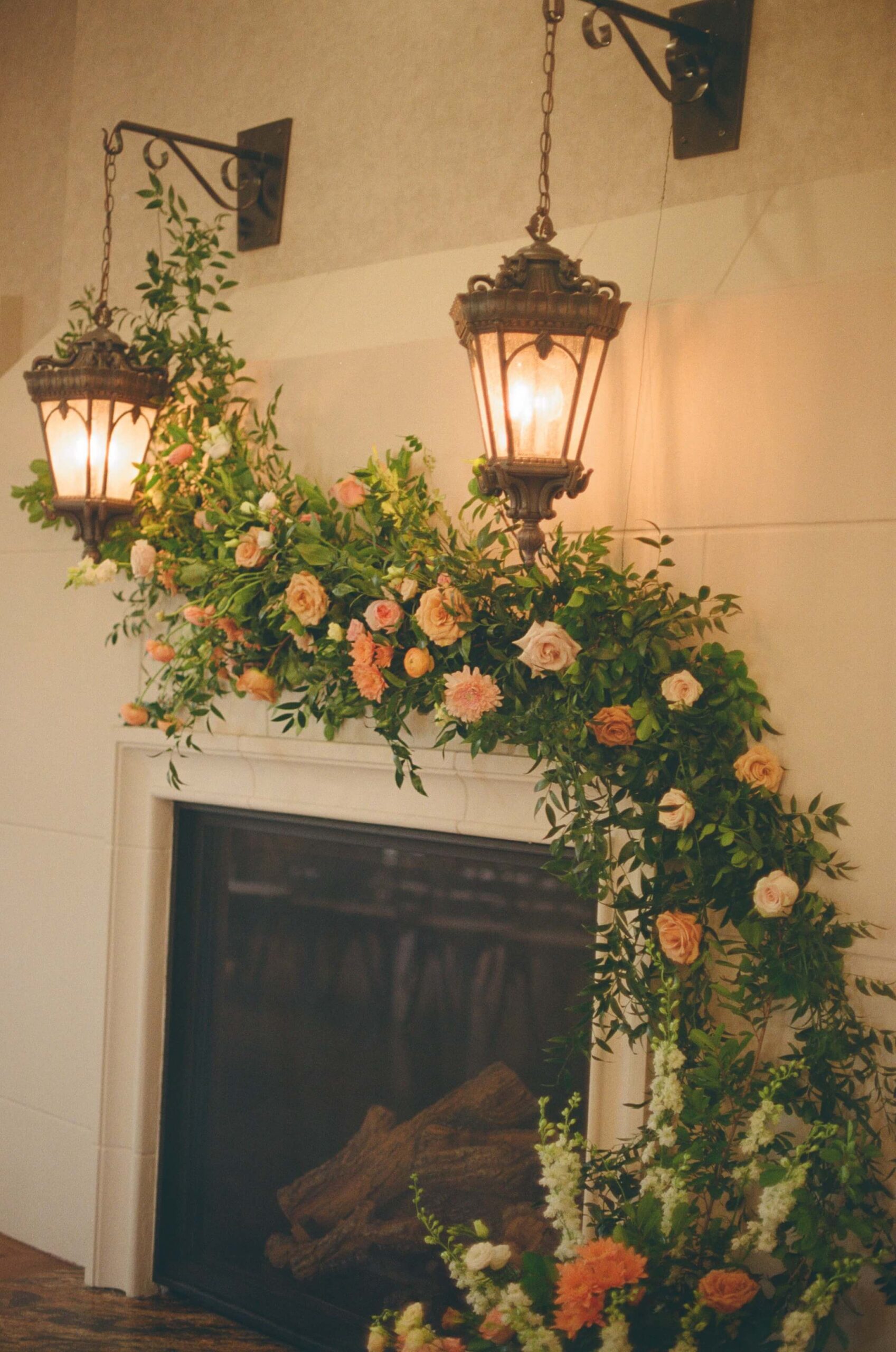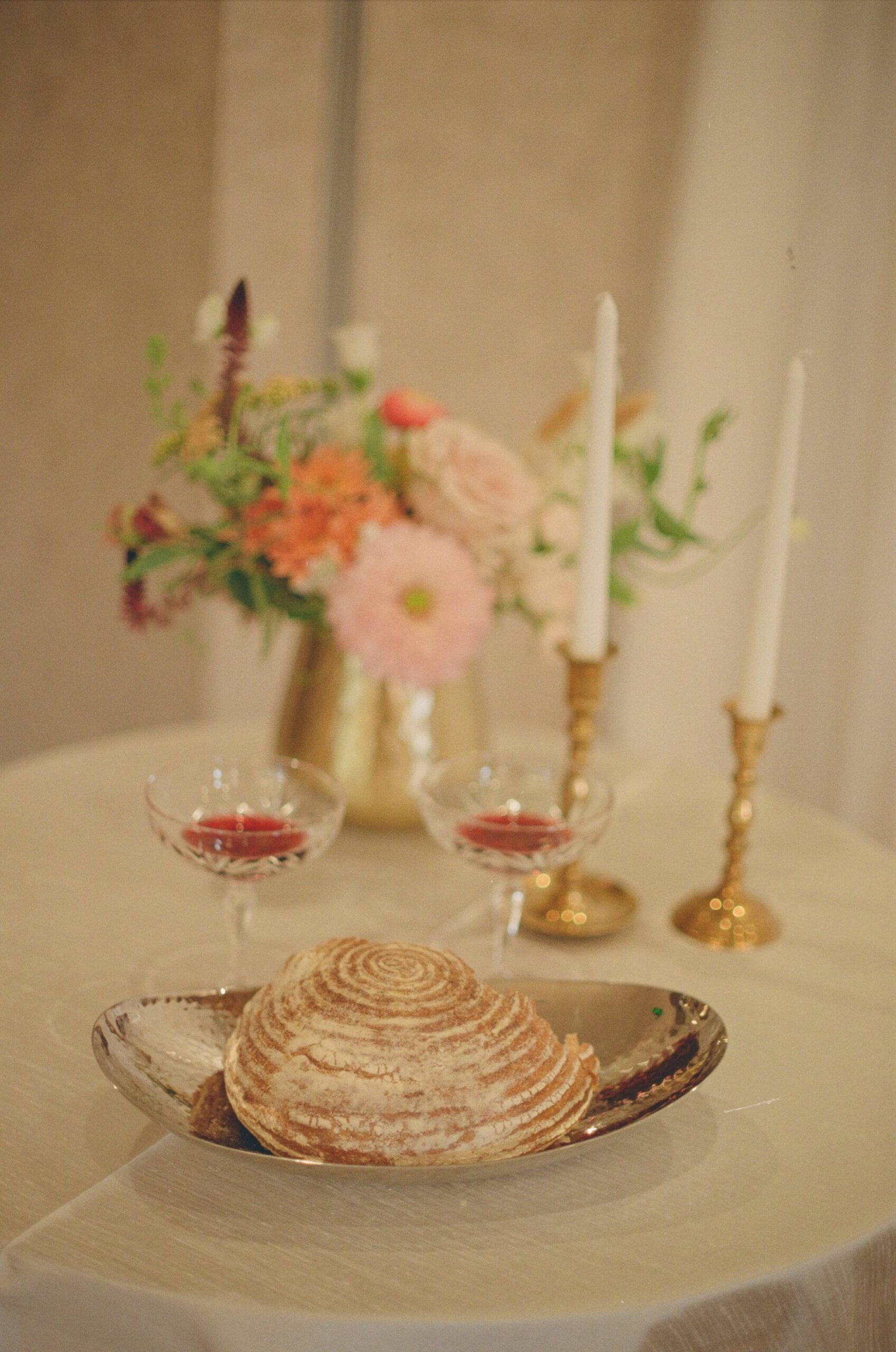 A Sweet Ceremony in Gilman Event Hall
After the first looks were taken care of, we moved onto the other portrait sessions that Jessie and Nathan requested. We got tons of wedding party portraits both inside the lobby of the Westin and outside. Then as close friends and family began to arrive, the wedding party began to make their way across the street to the Gilman Event Hall while we took portrait pictures of Jessie and Nathan. We captured photos of the two of them in the Westin and while holding hands while walking to the venue. Once at the venue, they slipped up the stairs to the second floor where we got beautiful shots of them on the balcony with downtown Chattanooga in the background.
For their ceremony, a curtain was drawn in the event space to separate the ceremony area from where the reception was going to be held. The ceremony space was beautifully decorated with blush flowers and bright greenery lining the aisle and winding its way up and around a stately fireplace. Bright sunlight poured in from the tall windows casting the room in a warm glow while Nathan and Jessie recited their vows and finally said their I do's.
Following their ceremony, while the guests were enjoying drinks and hors d'oeuvres, we took newlywed portraits in the now empty ceremony space. The amount of natural sunlight coming through the windows made for the perfect lighting to give their newlywed photos a stunning romantic tone.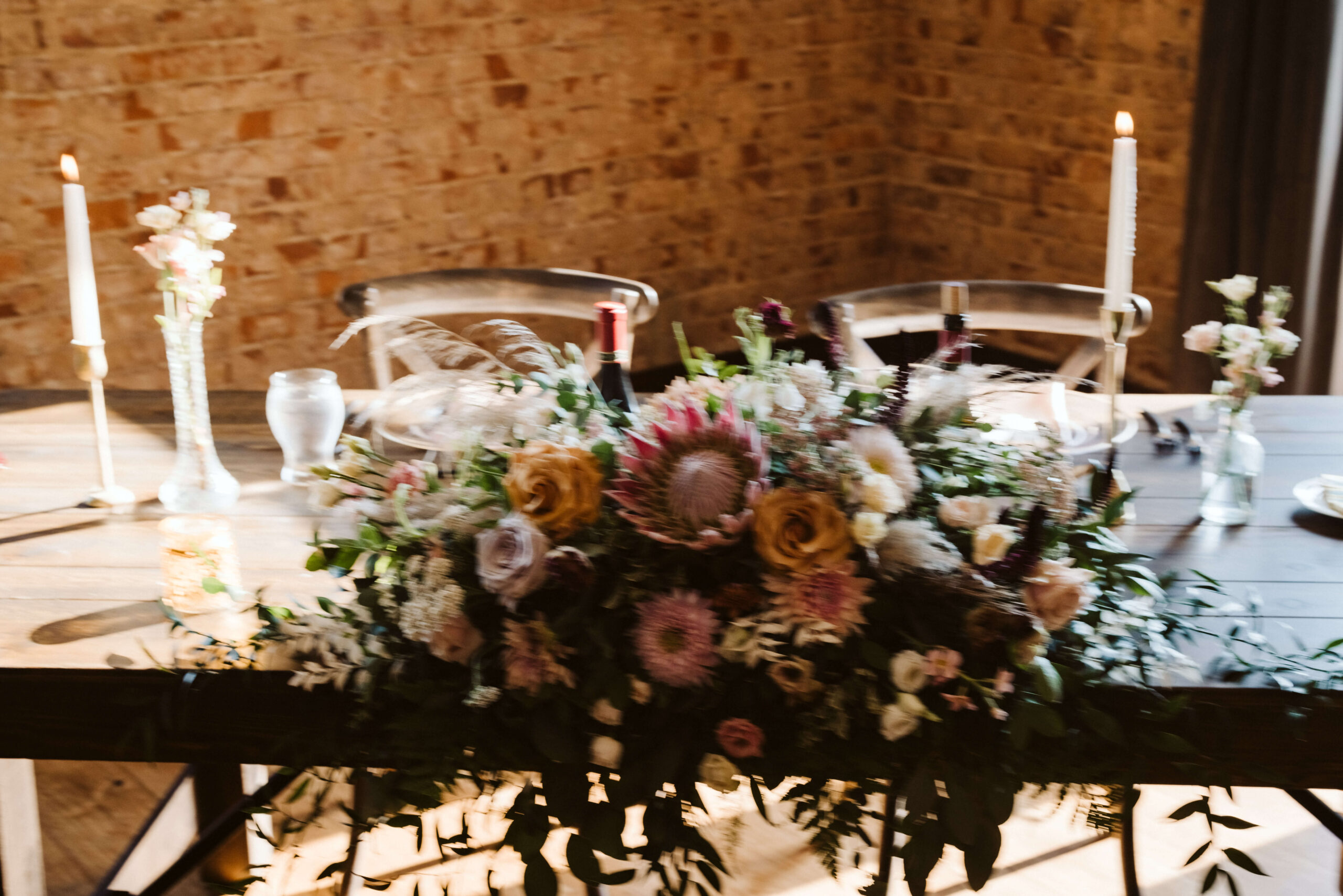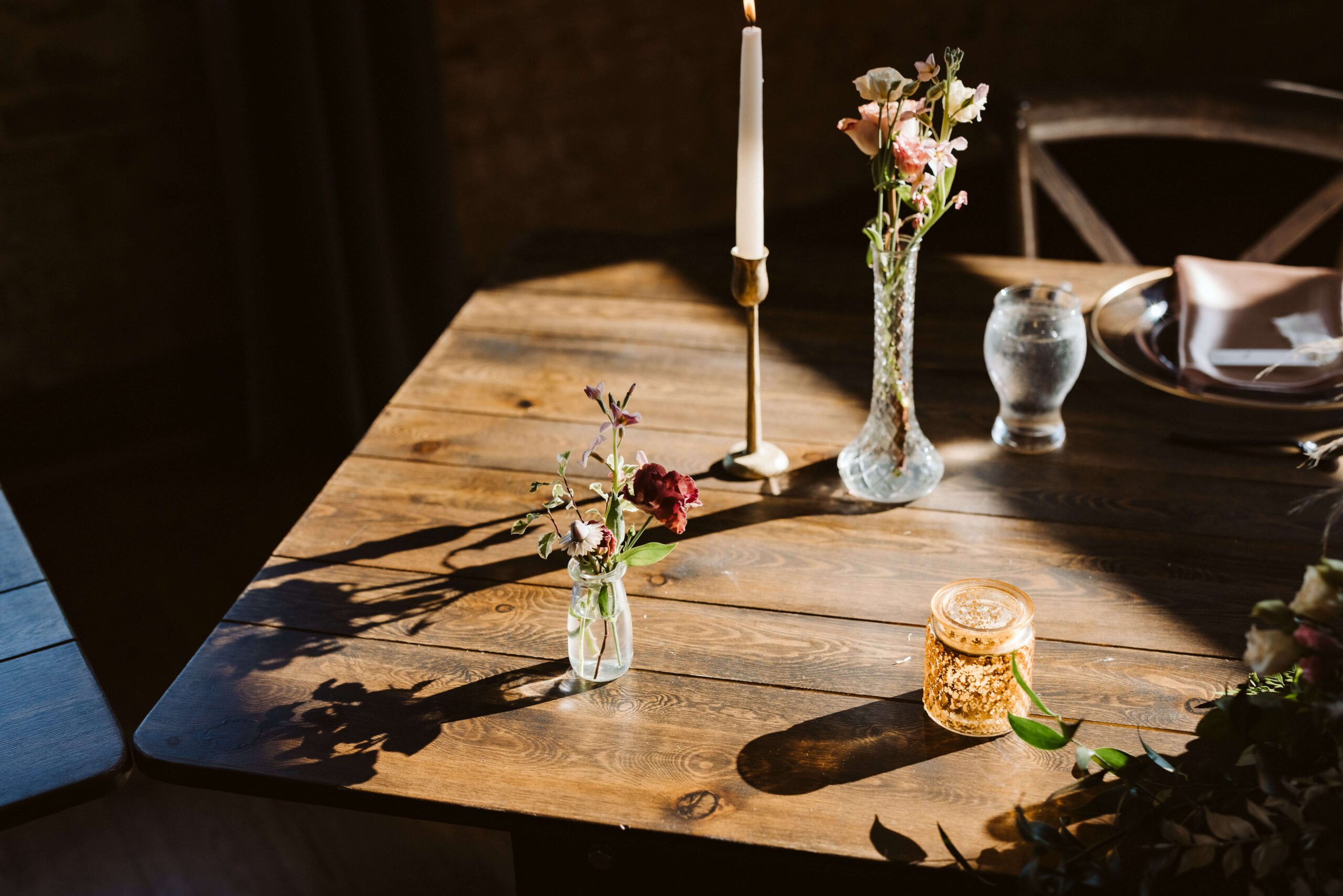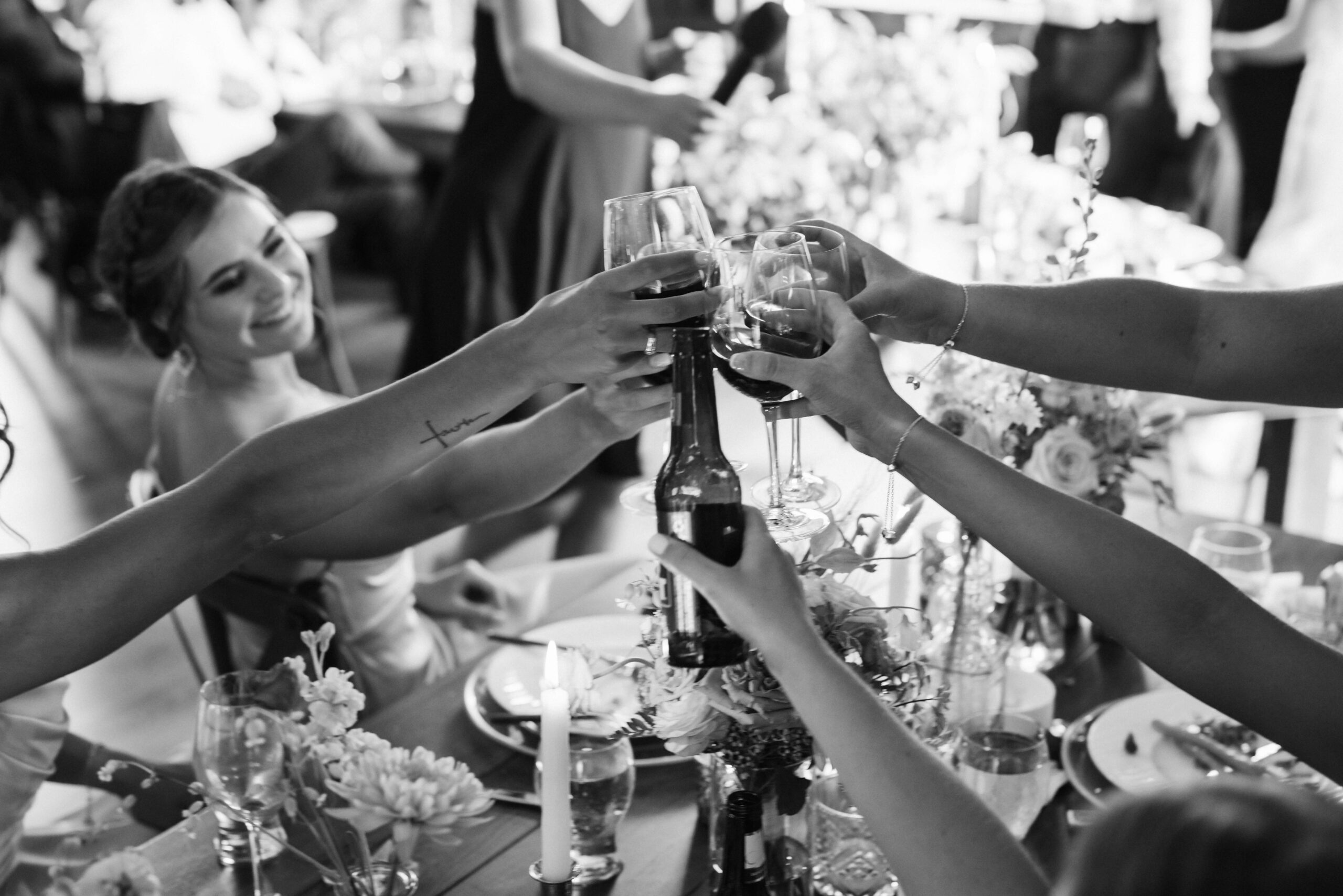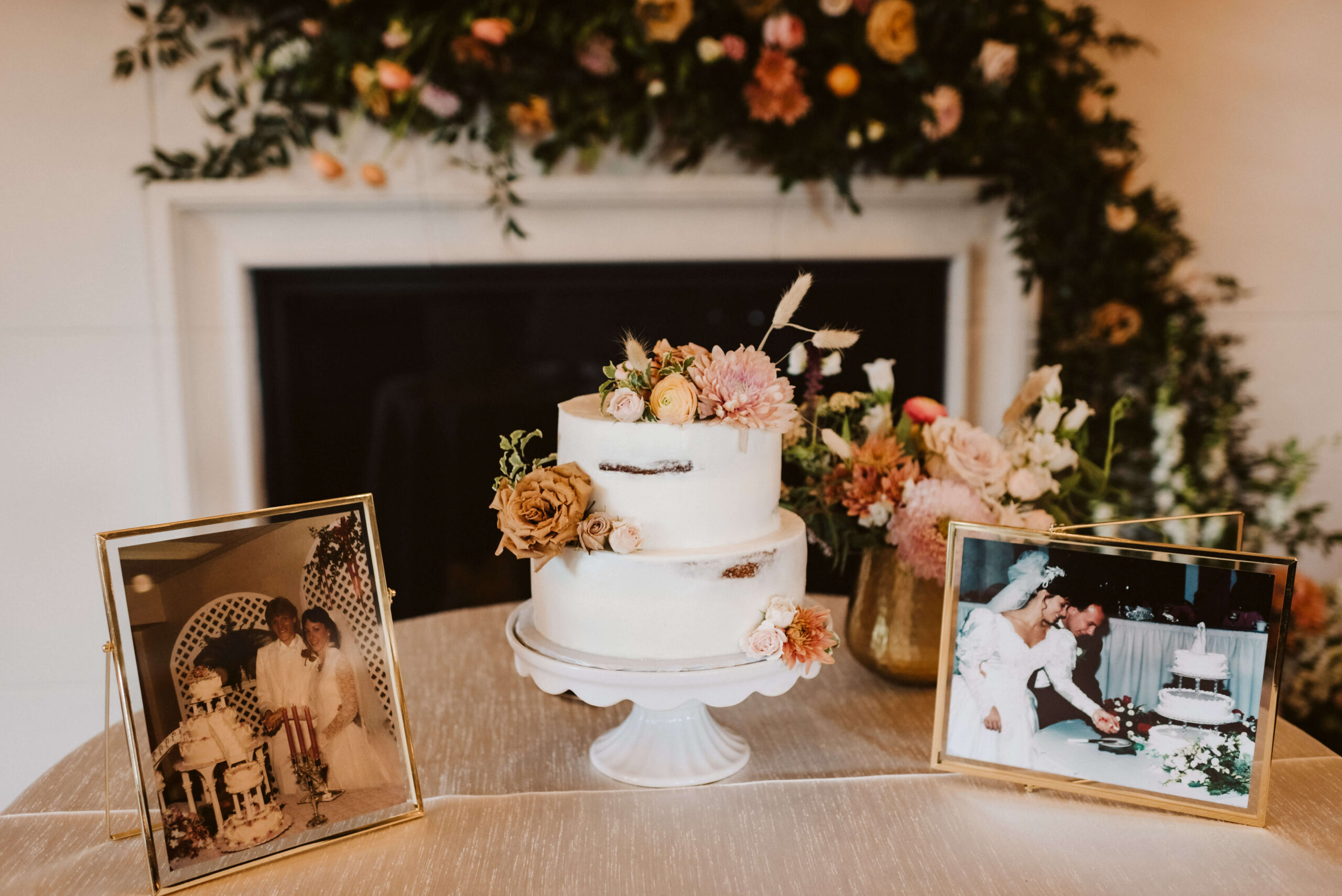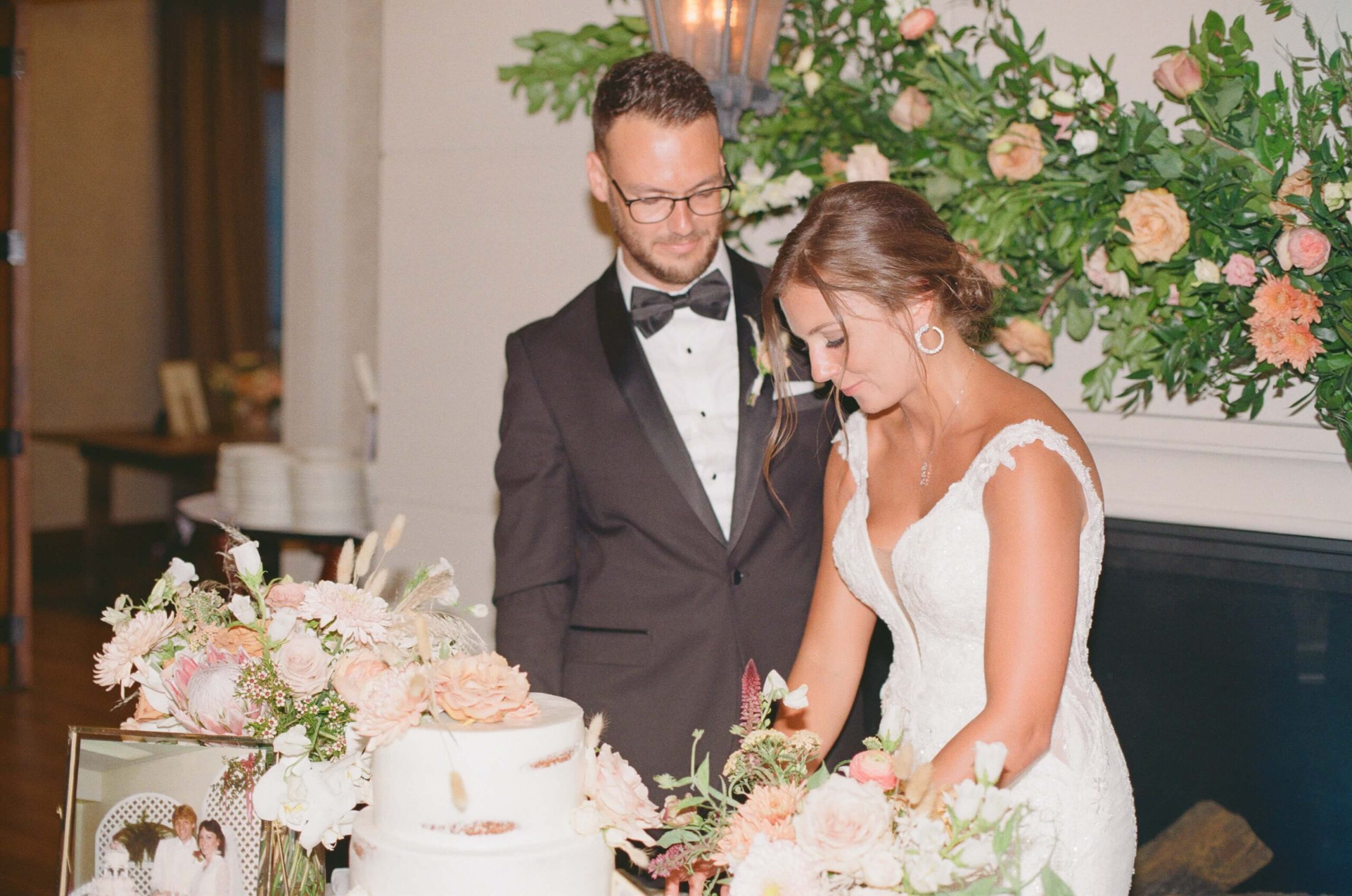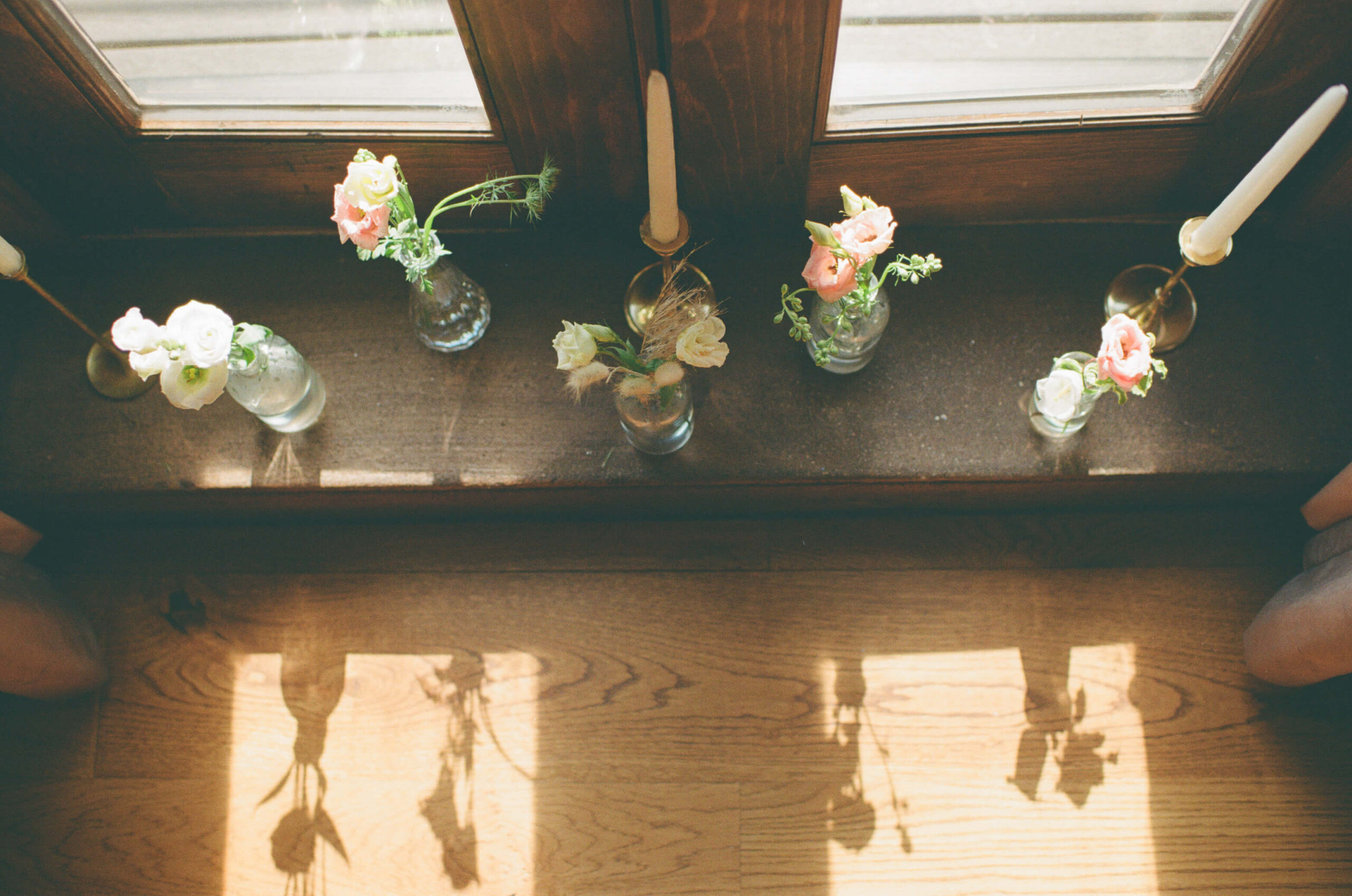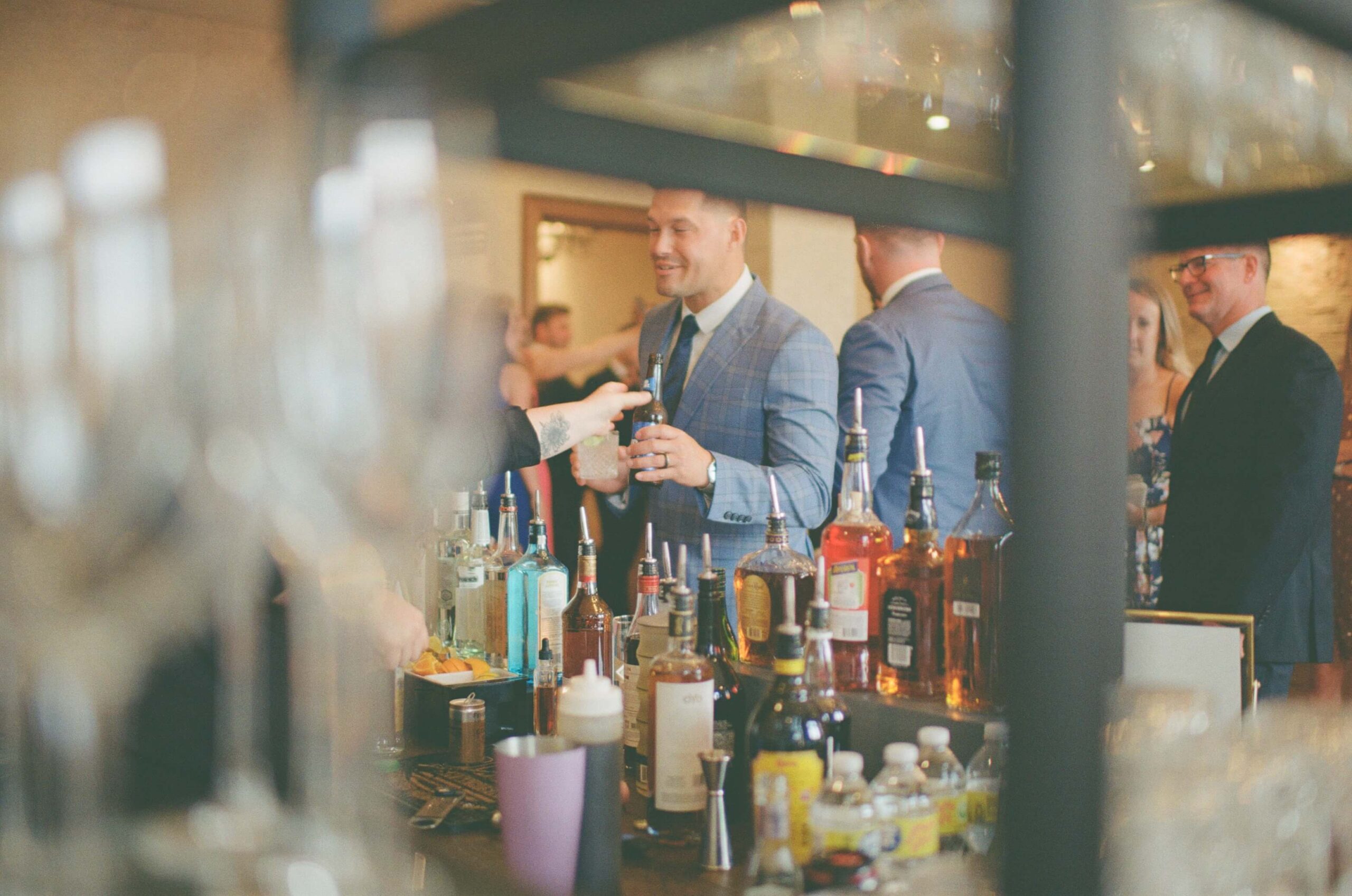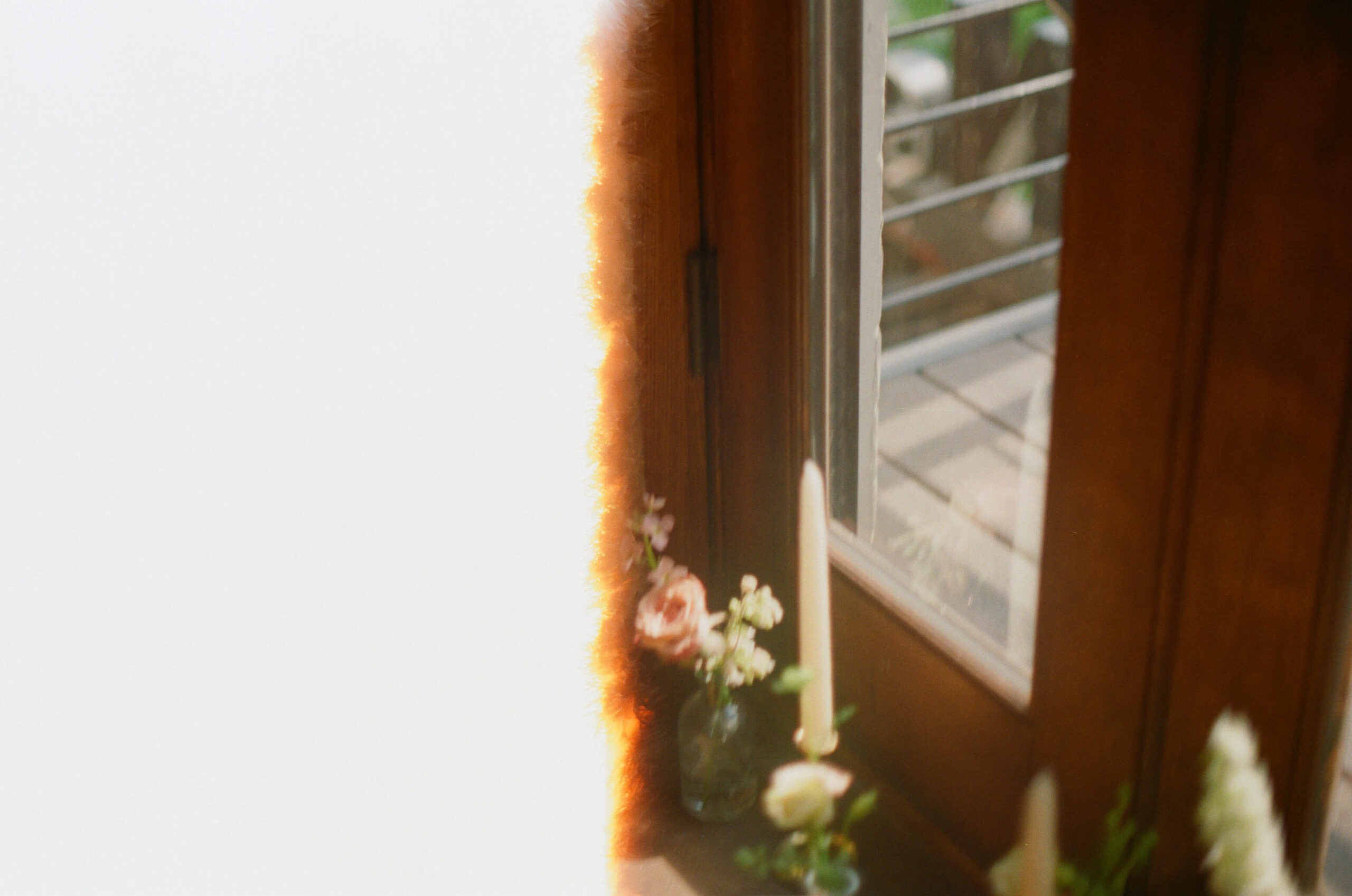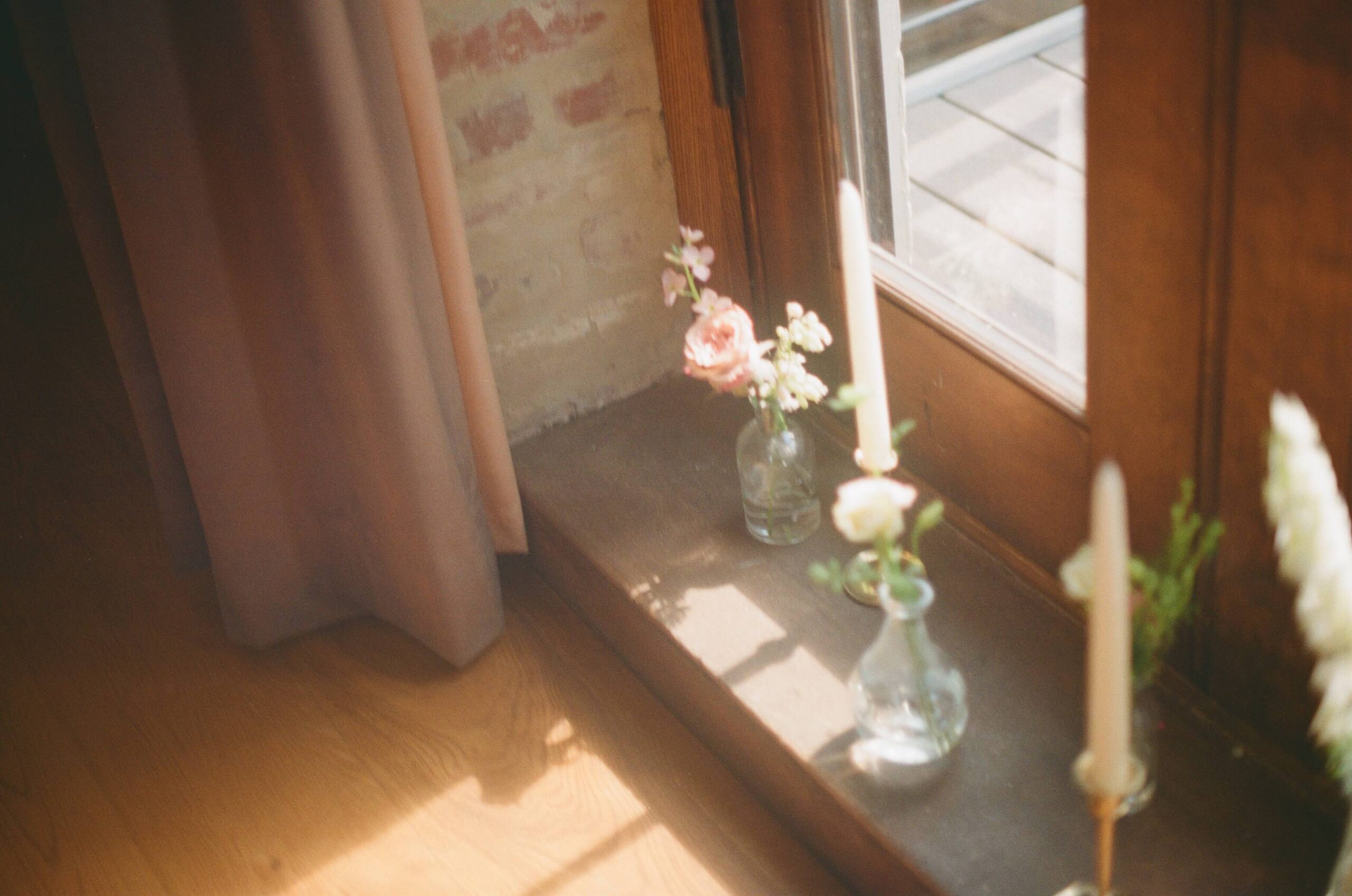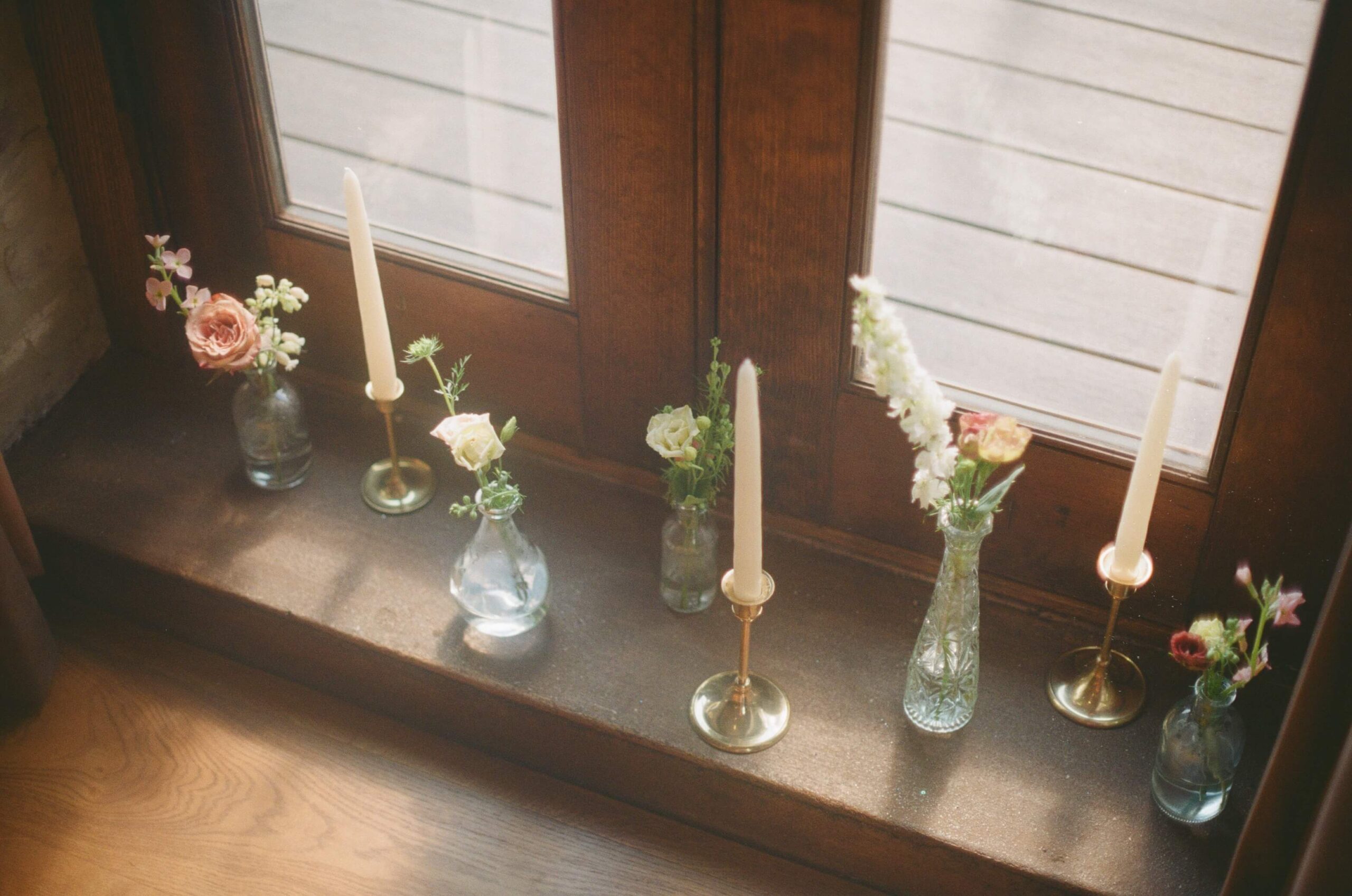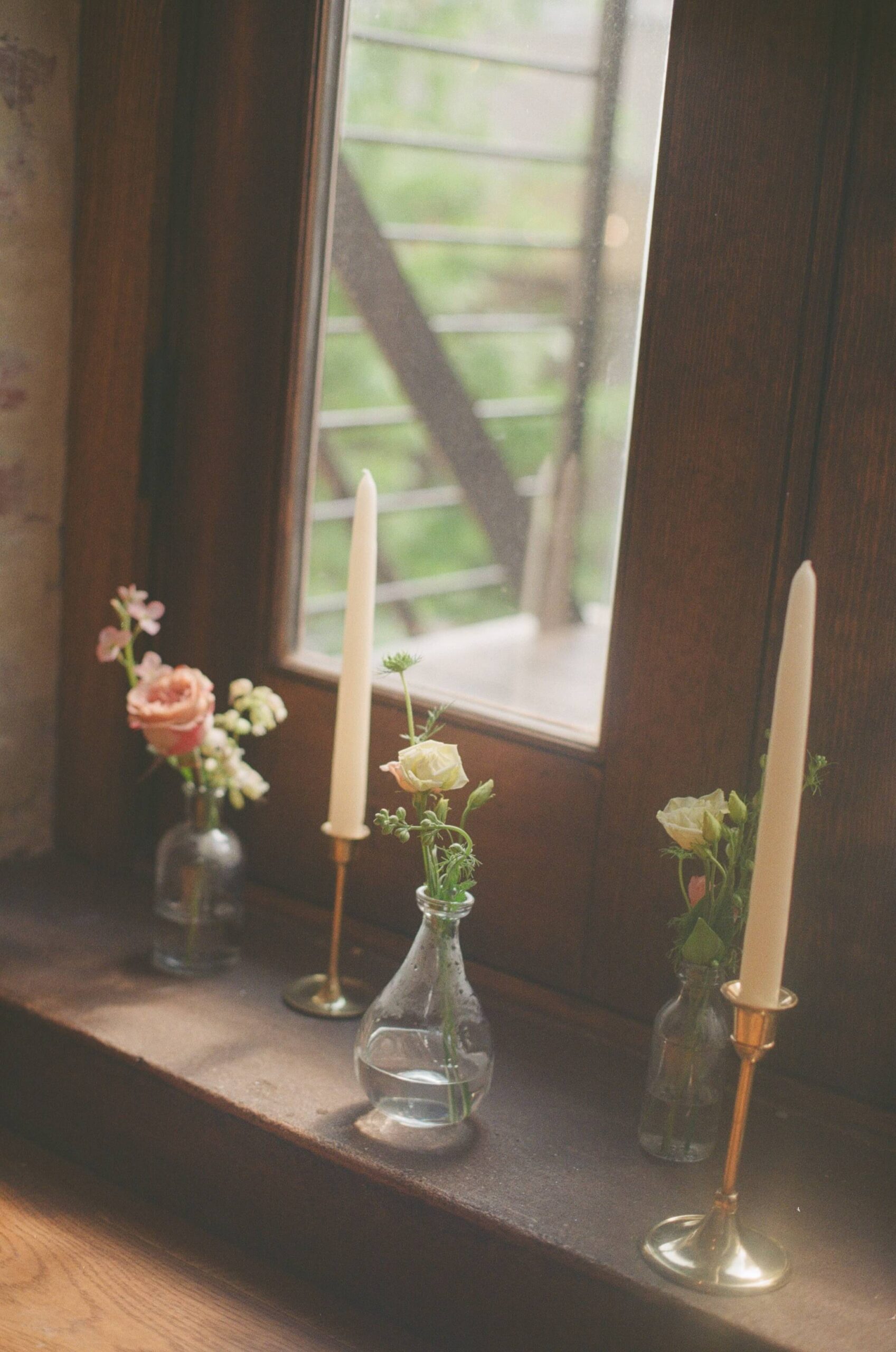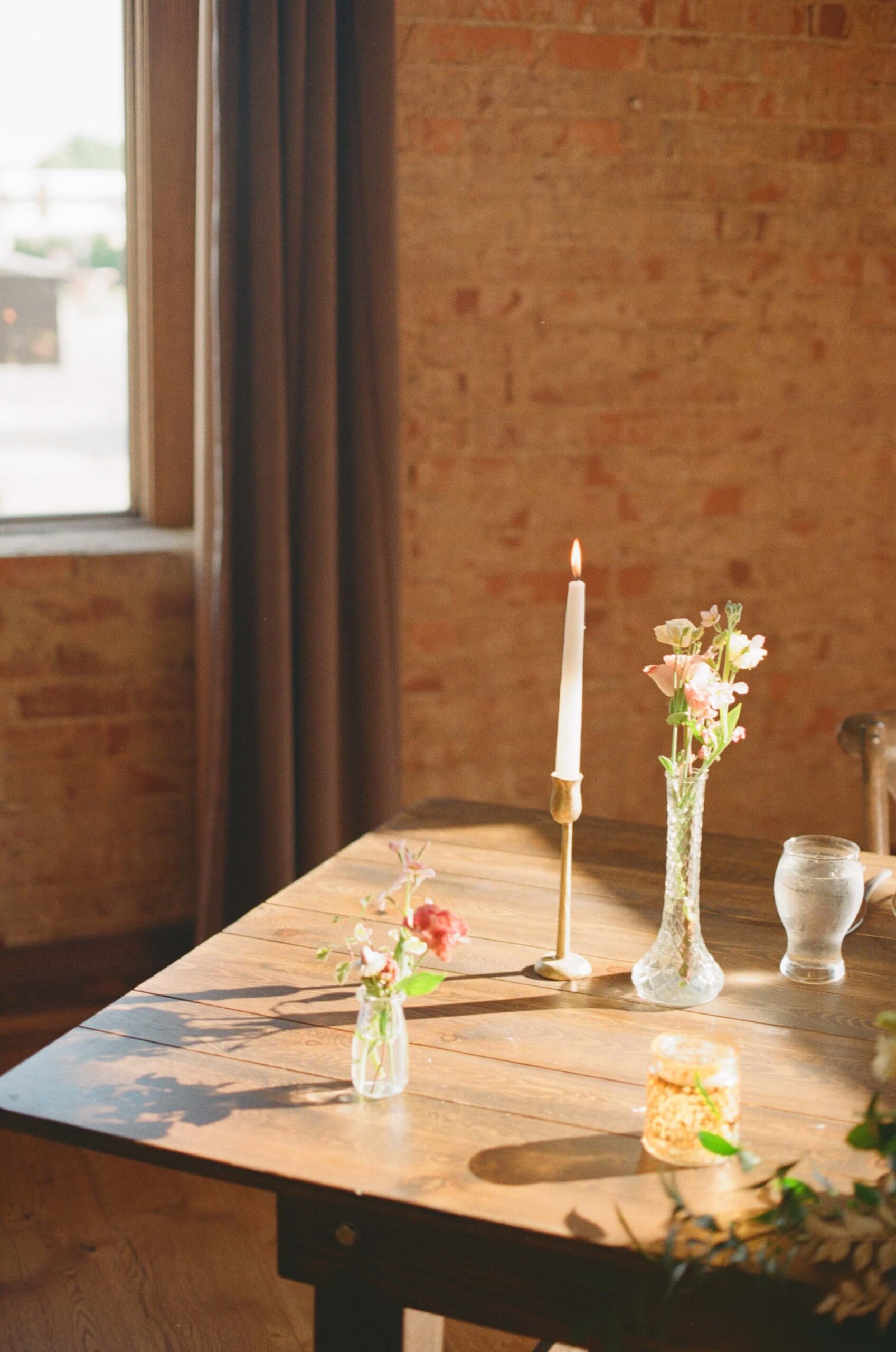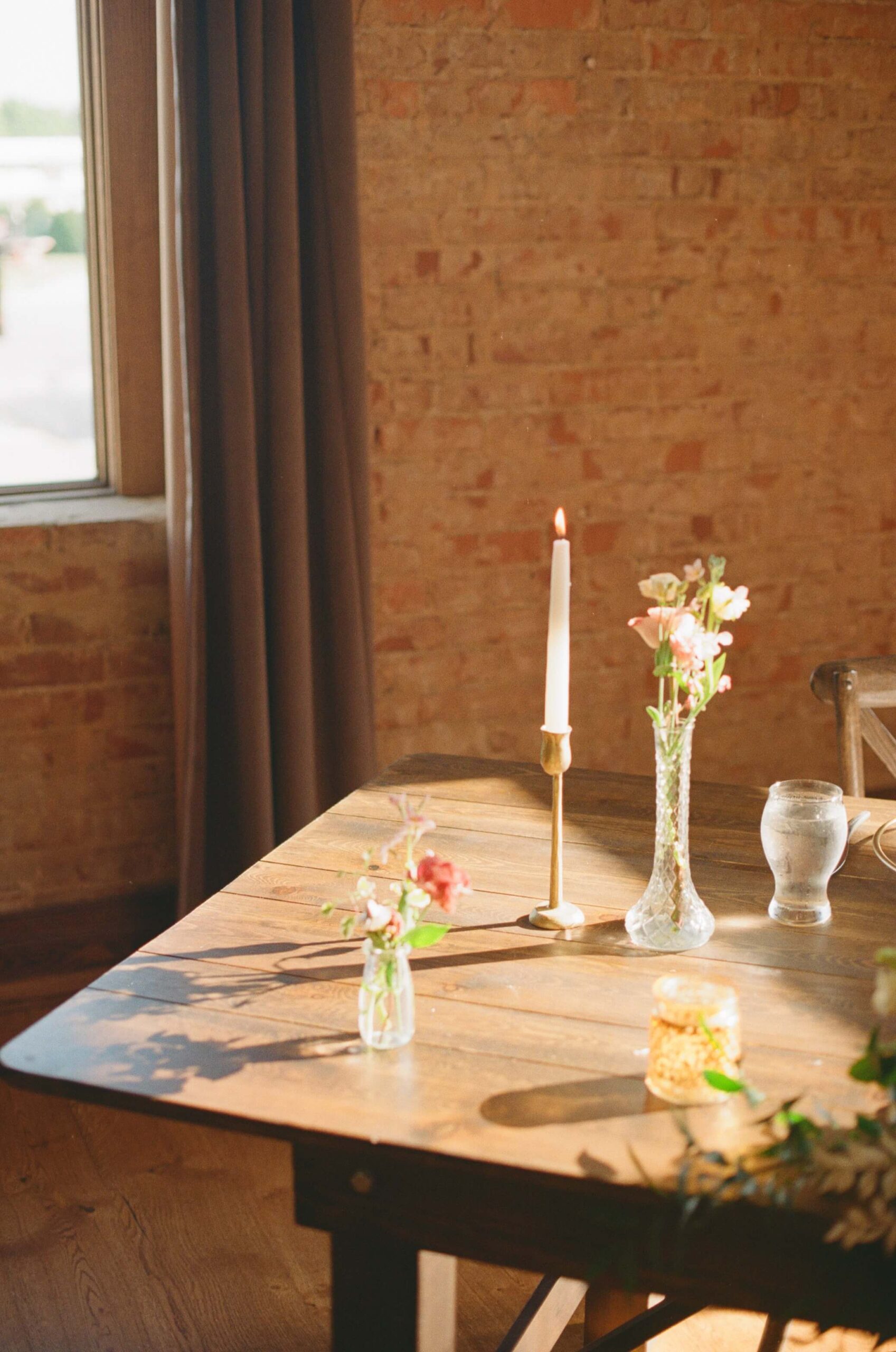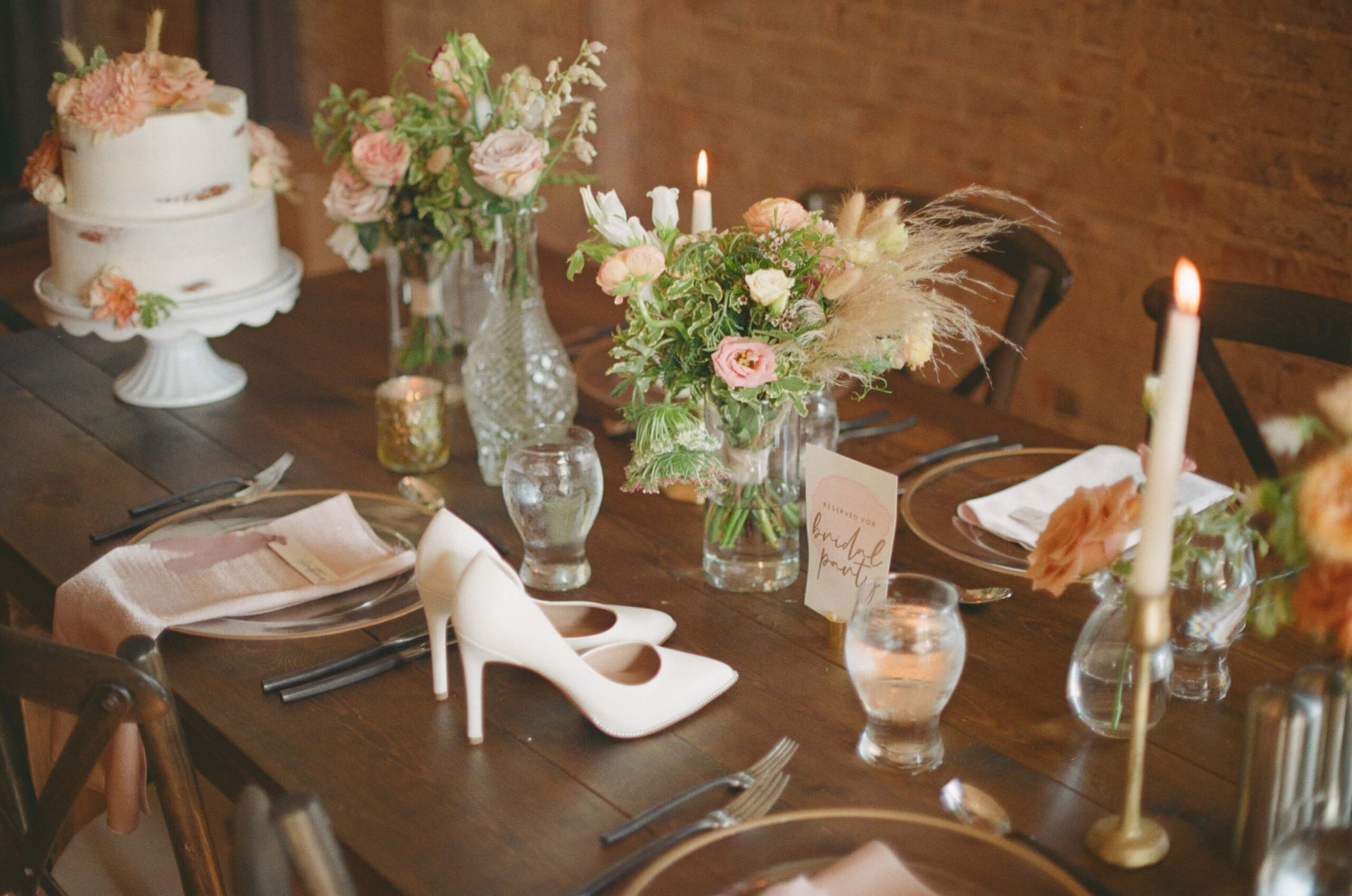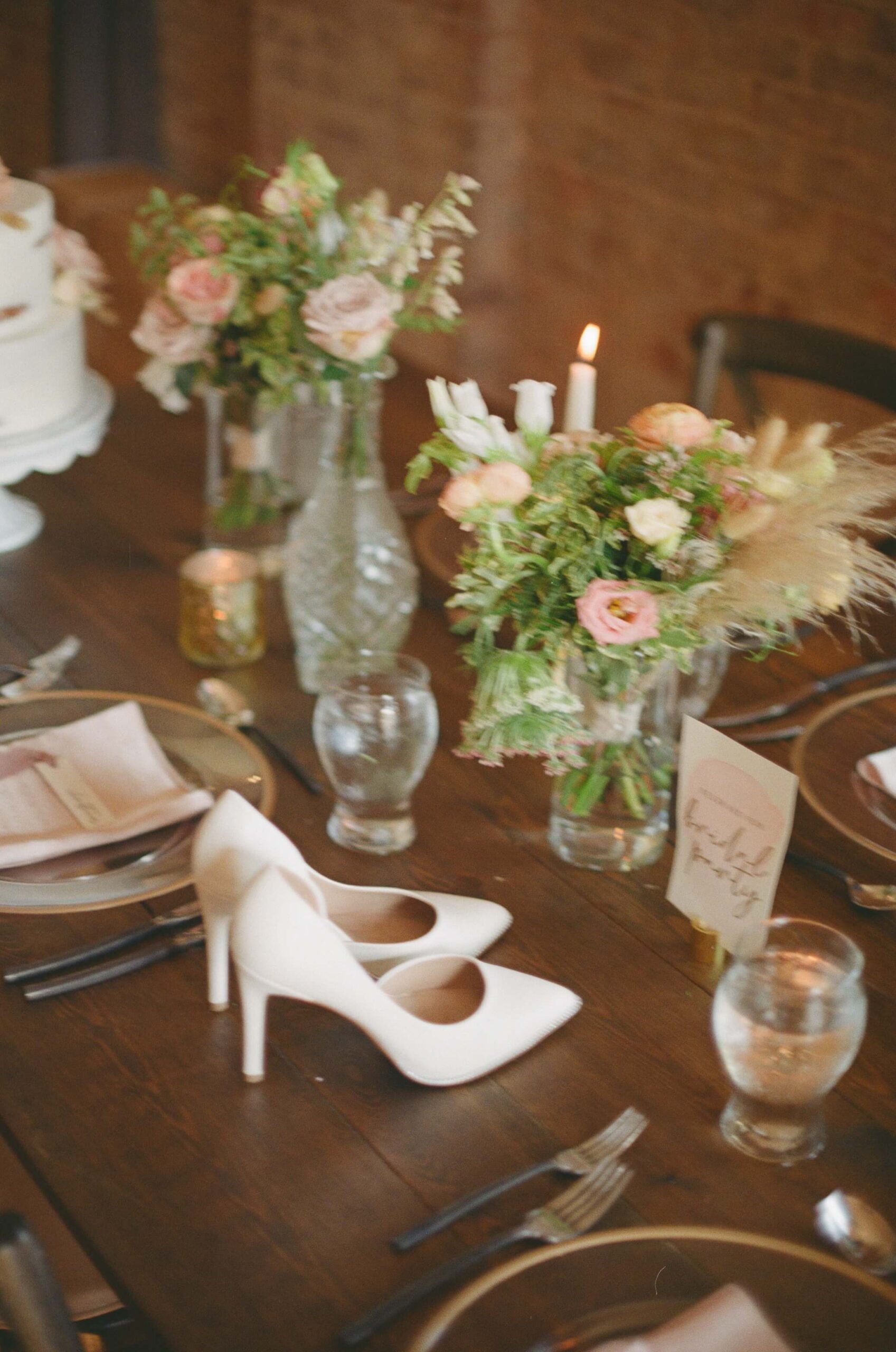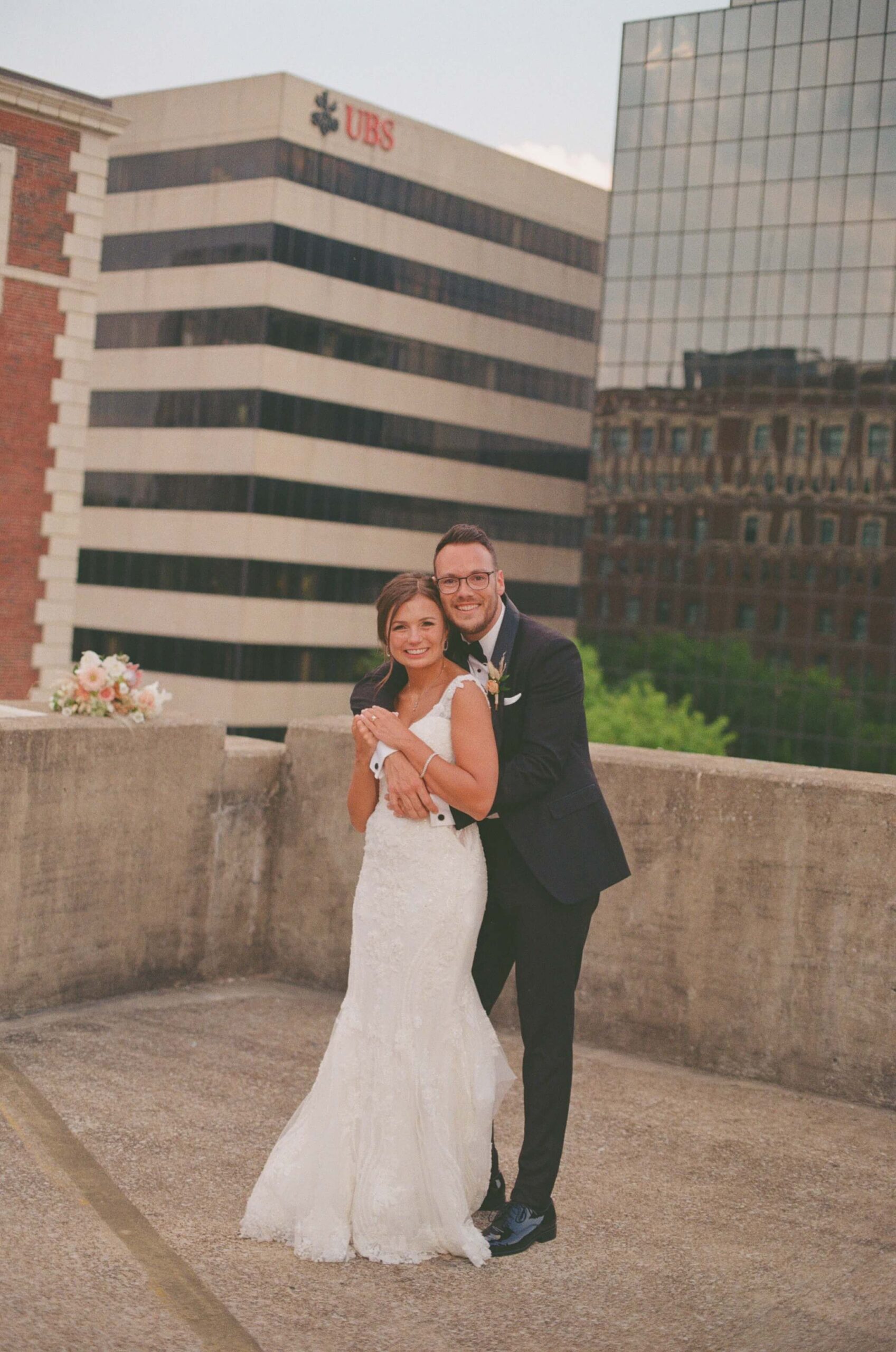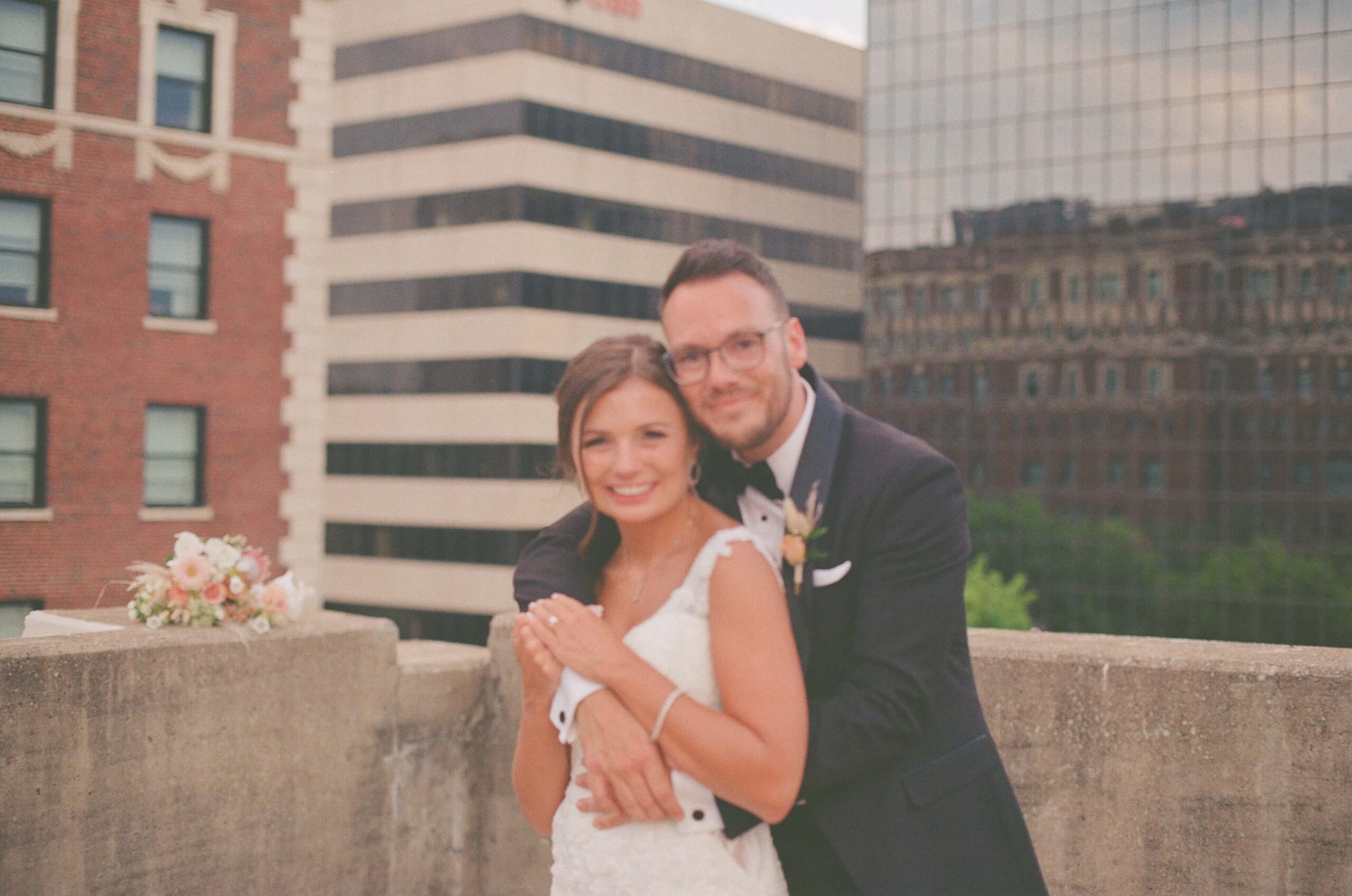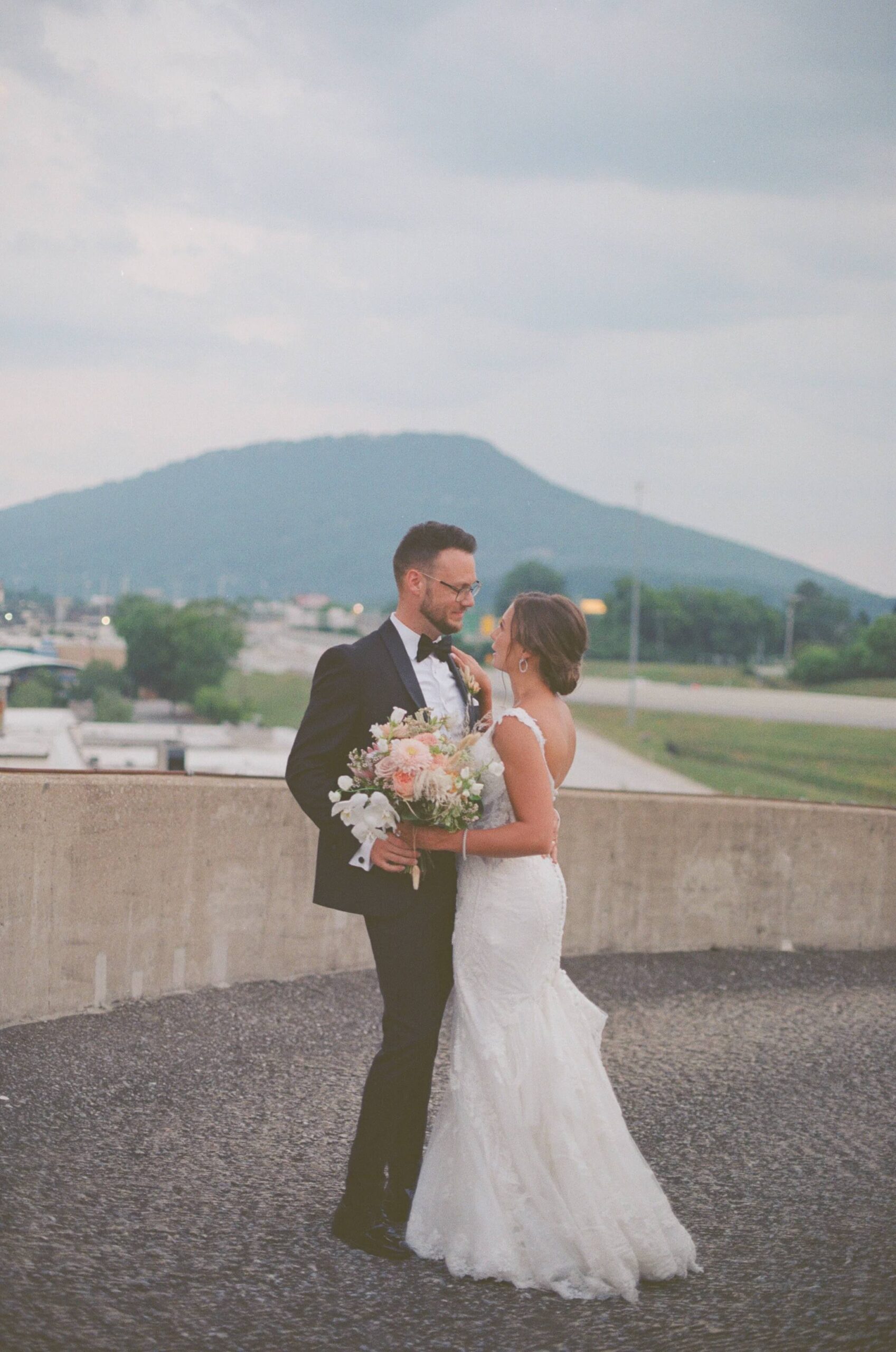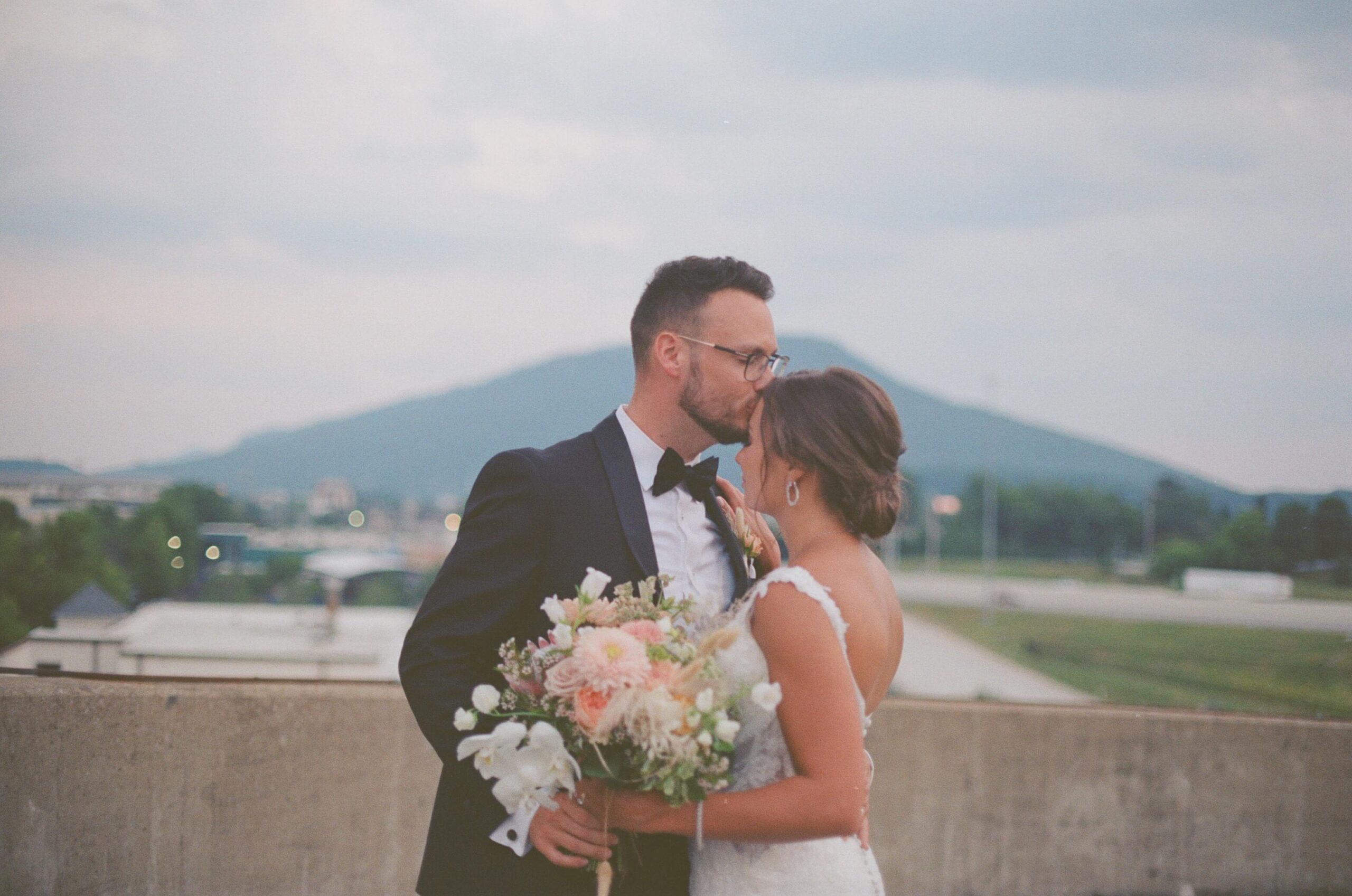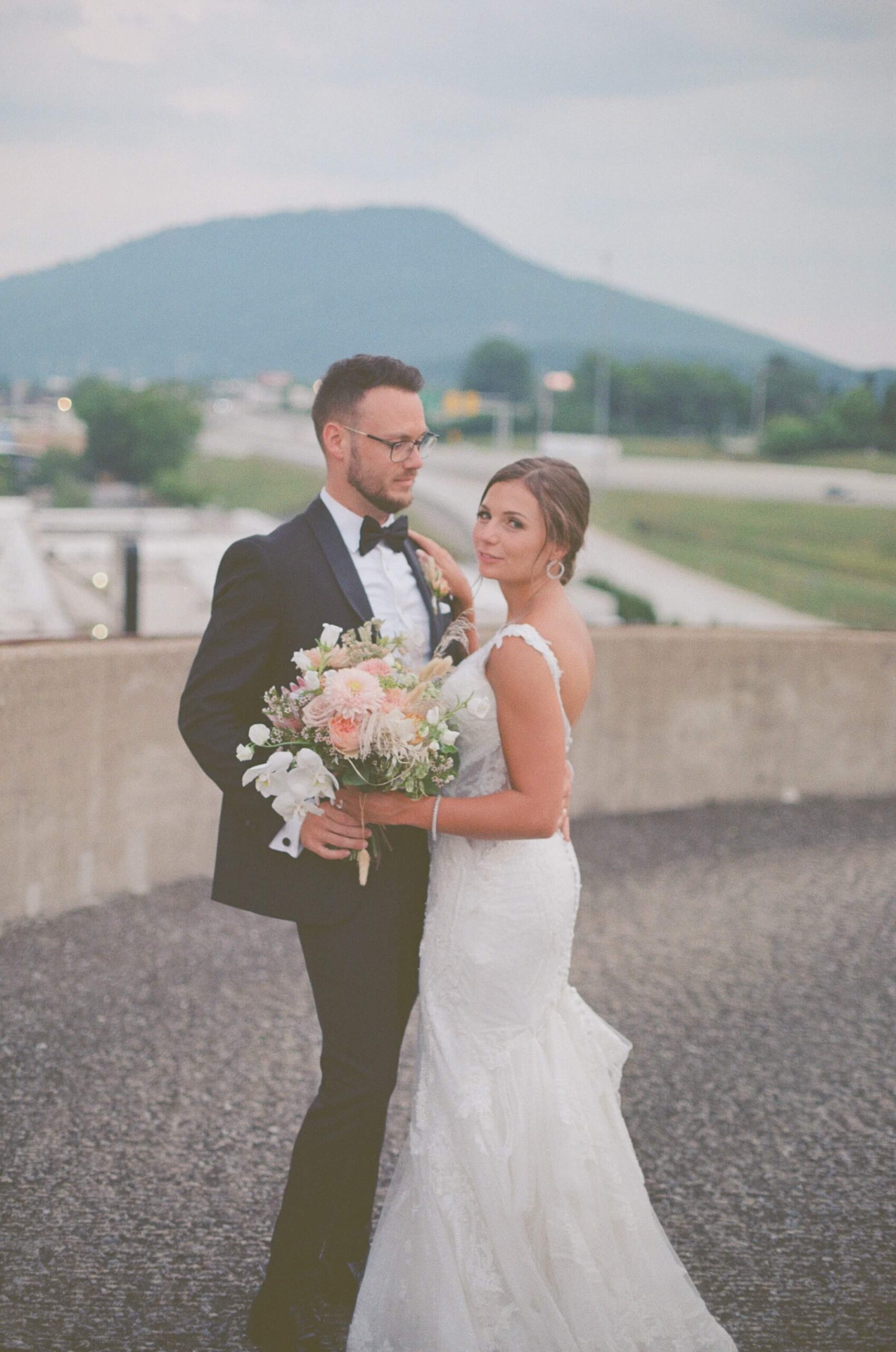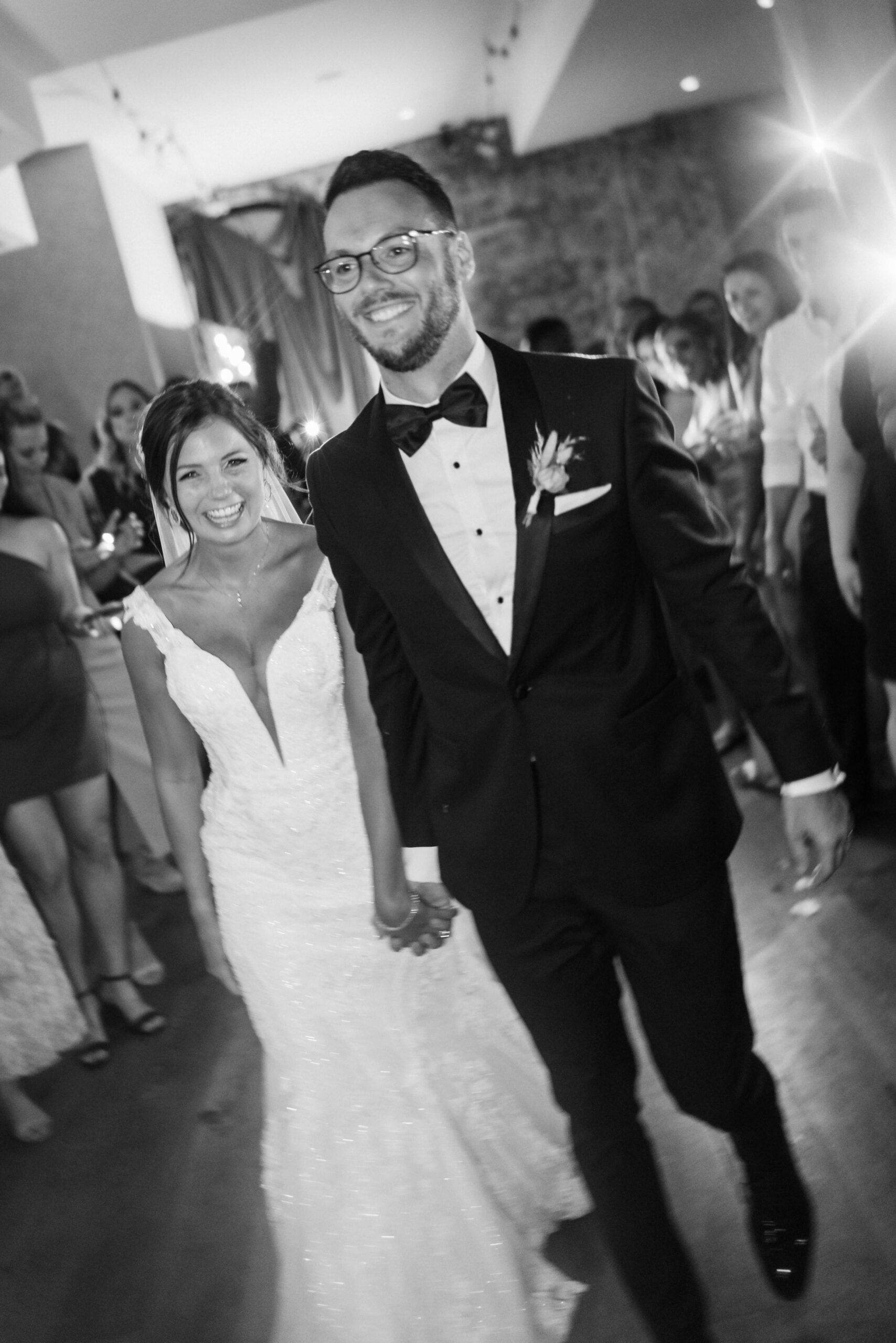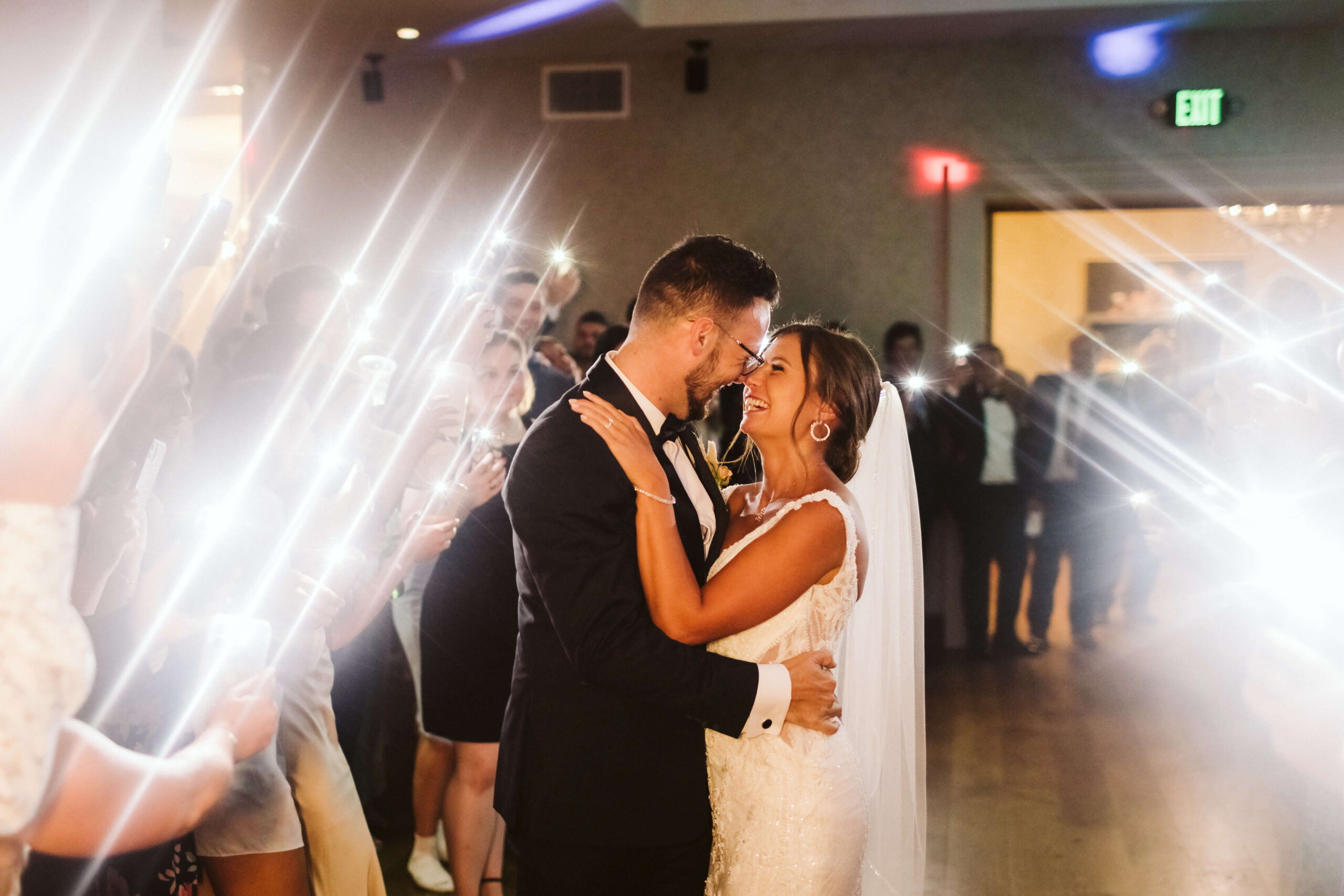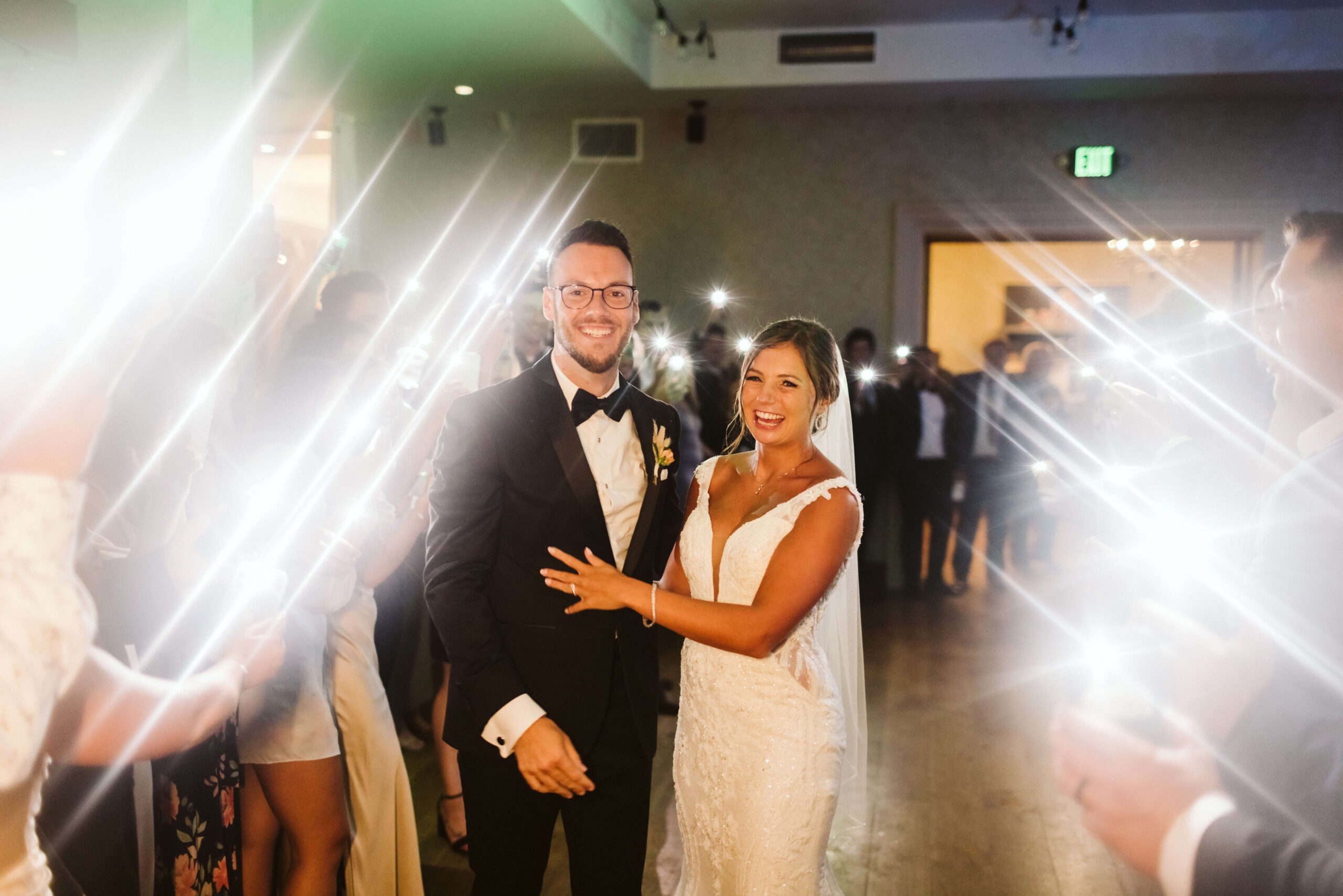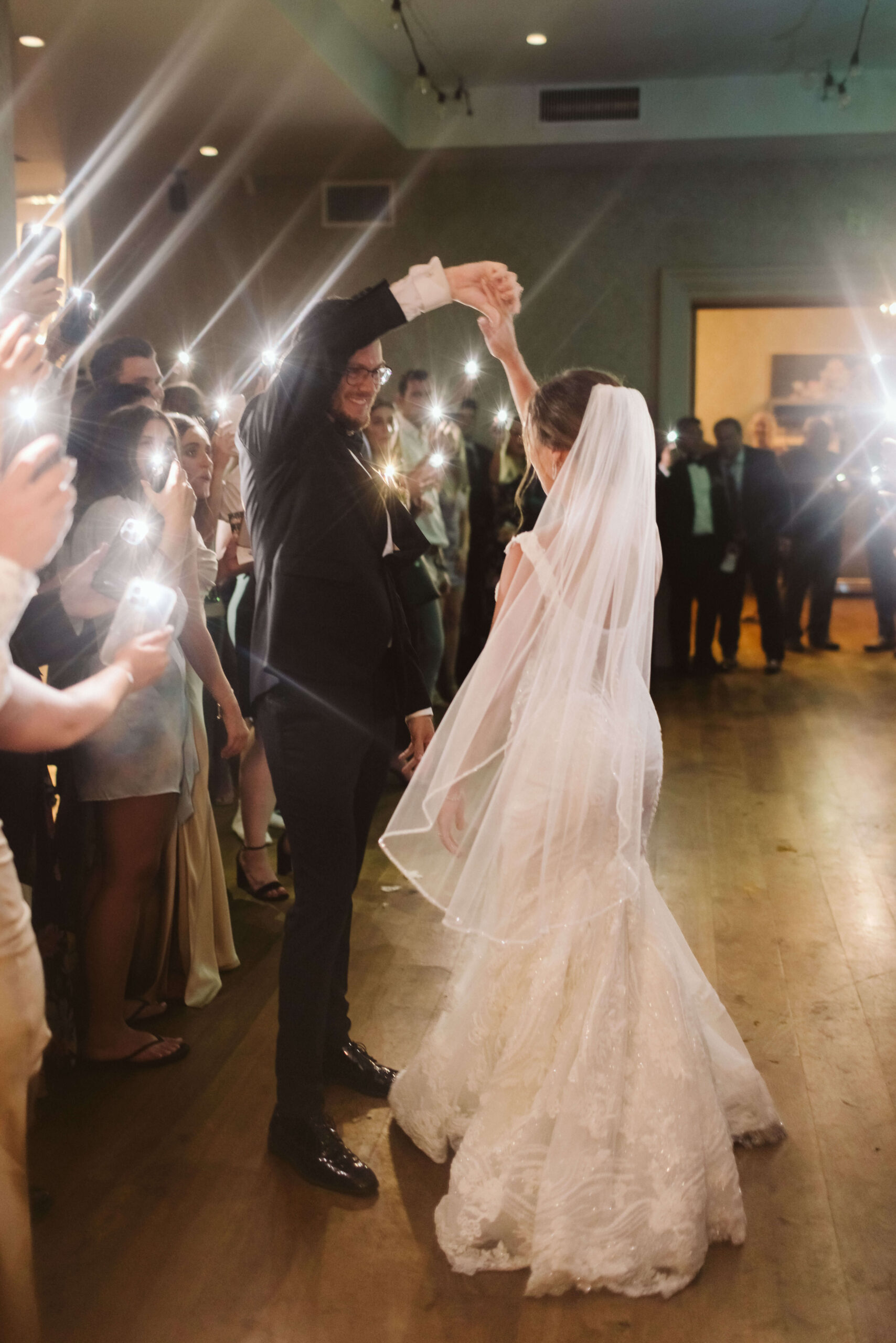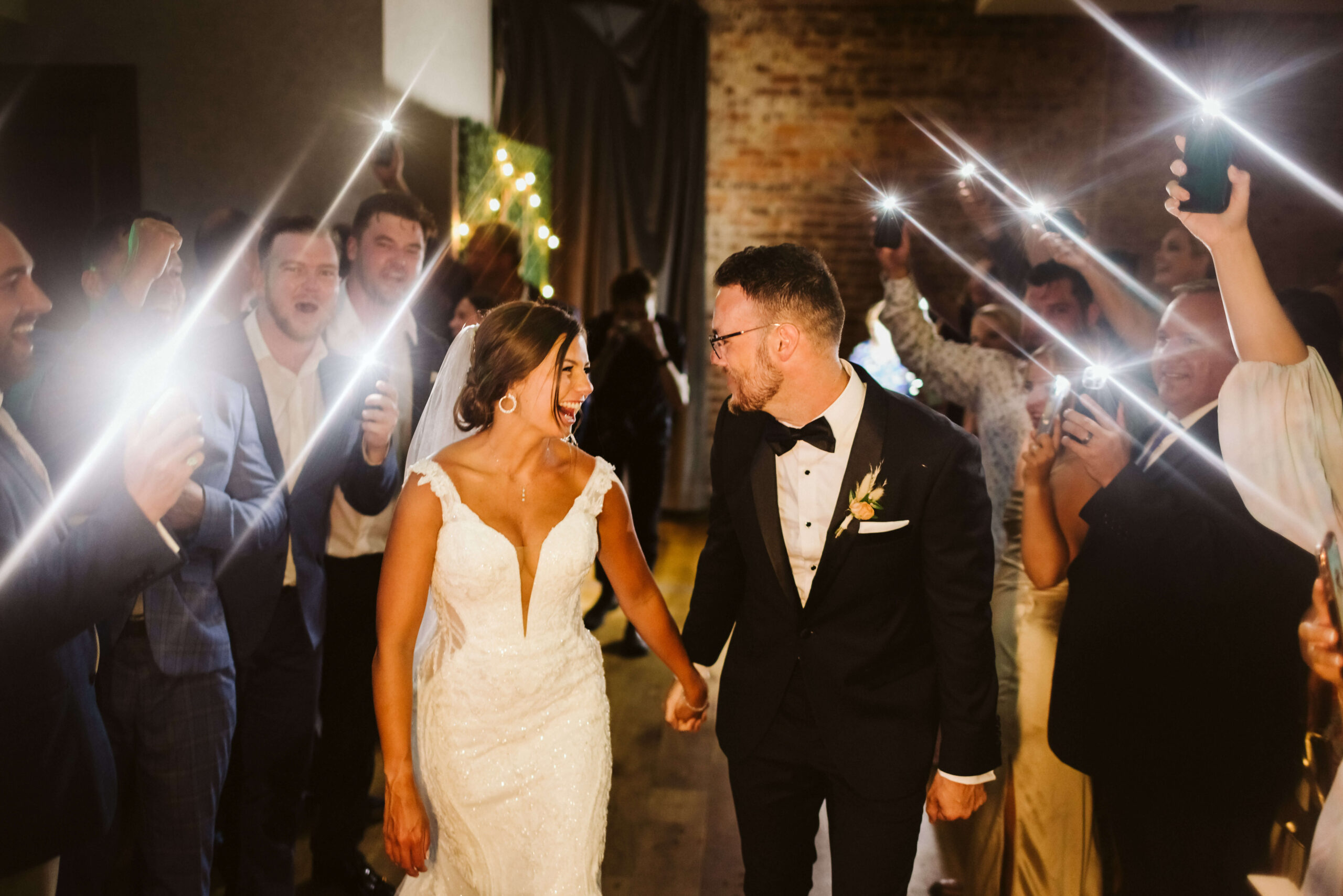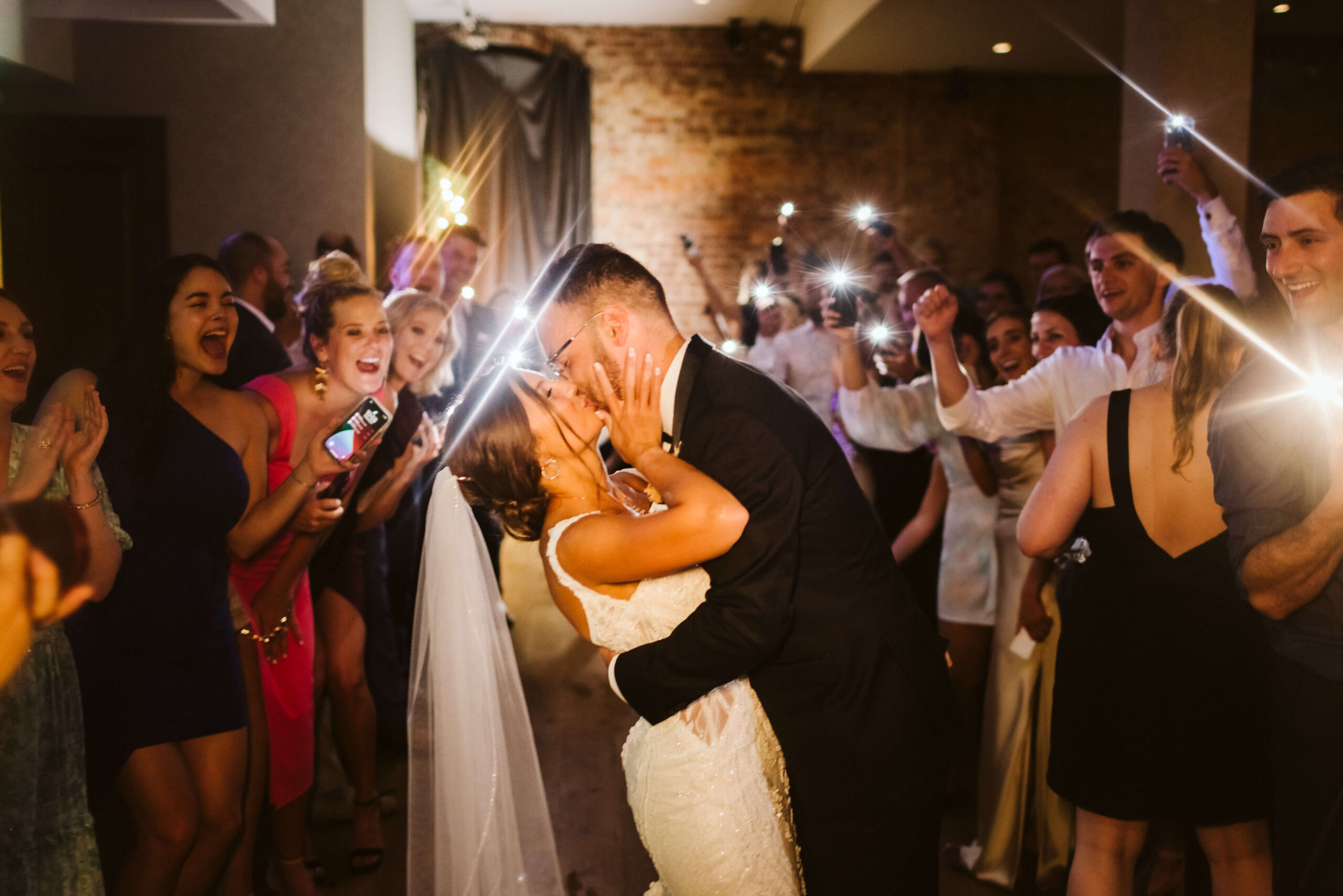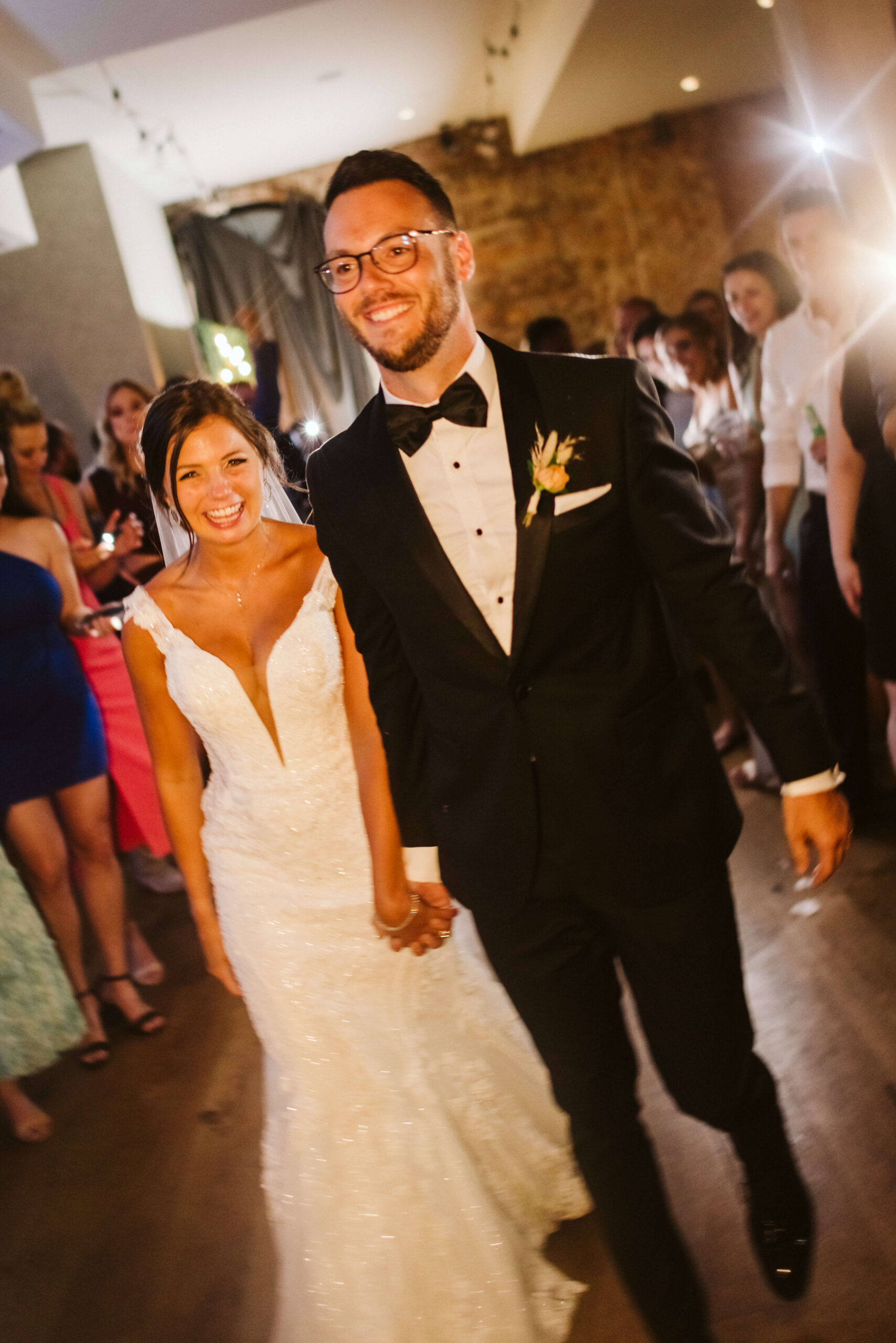 Sunset Photos in the West Village and a Night of Dancing at the Gilman Event Hall
Without skipping a beat, as soon as their newlywed portraits were taken, Nathan and Jessie rejoined their wedding party for their grand entrance into their reception. Live music played from a band set up on one side of the hall as the wedding party joyously danced their way in before everybody stood and cheered as Jessie and Nathan appeared. After all of the first dances and speeches were taken care of, everyone sat down to enjoy a four course dinner.
While their guests were enjoying their first couple of courses, I snuck Jessie and Nathan away to take a few more photos before the sun set completely. We headed up to the rooftop of the Gilman Event Hall. From that vantage point, one side of the roof overlooked the West Village and downtown Chattanooga while the other side had the perfect view of Lookout Mountain in the distance. We made sure to capture shots with both backgrounds before heading back down to take a short walk through the West Village.
As Chattanooga is one of the cities that Jessie and Nathan fell in love in, they wanted to make sure that they got pictures in the city itself. We took a stroll through Umbrella Alley – an art display tucked away between buildings in the West Village with colorful umbrellas and twinkling lights to simulate rain hanging overhead – as well as up and down a few of the streets. Luckily, there weren't too many people walking around, so it was just Jessie, Nathan, and their city in all of their shots.
When they rejoined their reception, they finished their meal and cut their wedding cake. It was especially sweet of them to have included photos from their parents' weddings as a part of their wedding cake display. Once the cake was cut, the rest of the night was spent dancing and having fun on the dance floor surrounded by their family and friends. When the night finally came to an end, all of the guests lined up from the reception space all the way to Gilman Event Hall's main entrance for a cell phone send off. Surrounded by shining lights, Jessie and Nathan ended their night by dancing their way down an aisle made by all of the people they love most.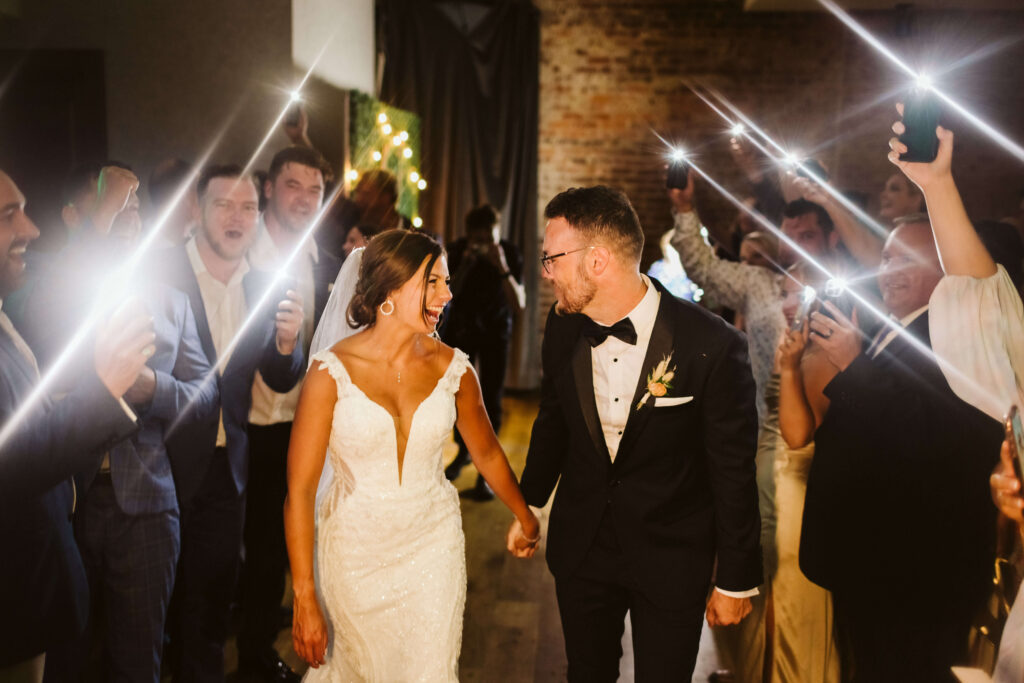 Has Chattanooga played a big part in your love story as well? If so, I would be honored to document your wedding and be a part of your celebration!
Hey y'all! I'm Rachael Crowe of OkCrowe Photography. I'm based here in Chattanooga and I've shot hundreds of weddings all over this wonderful city. Whether you're a Chattanooga native or are located anywhere else across the country, I would love to be there to capture every detail of your big day. If you enjoyed Jessie and Nathan's wedding and want to chat, be sure to fill out my contact form and let's start planning a wedding!