Something I always tell my couples when they're preparing for their engagement shoot is to try to bring something that's special to them and their love story. Sometimes couples will bring their pet, a deck of cards, or even their favorite craft brew, or sometimes they'll have a particular location in mind for its sentimental value. For Rachel and Ty, their engagement session was a little bit of both.
Love is One Big Adventure
One of the great things about Chattanooga is the feeling of community and welcome that's palpable throughout the city. Of course, you might be able to chalk it up to southern hospitality, but I think it's more than that. You'll be hard pressed to find a city as open and welcoming as Chattanooga. It was within this feeling of community that Rachel and Ty first met.
Neither Rachel nor Ty are Chattanooga natives, but they've been living in the city for over a decade. There are various different communities in Chattanooga such as the music community, the craft brew community, even the wedding industry community. And of course, there's the outdoor recreation community which is where Rachel and Ty met.
Rachel and Ty bonded over their love for hiking, snowboarding, rock climbing, and more. Between late night stargazing to early morning hikes in the snowy mountains, the two of them have been on so many adventures together that it's impossible to count them all. When it came time to choose a location for their engagement pictures, they wanted a place that alluded to the many adventures they had been on while still showing off the beauty of the city they fell in love in. The TVA Raccoon Mountain Park was the first place that came to mind.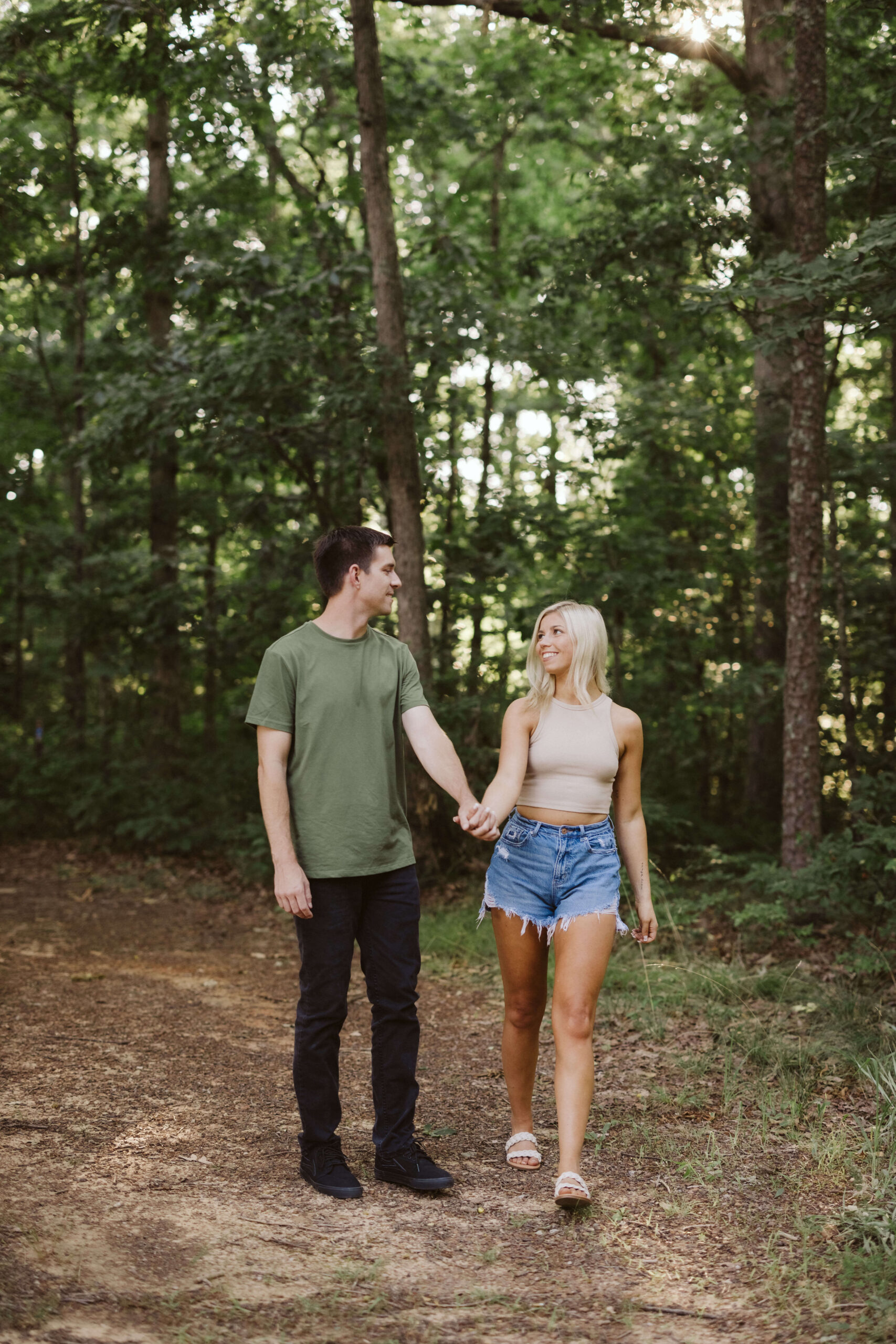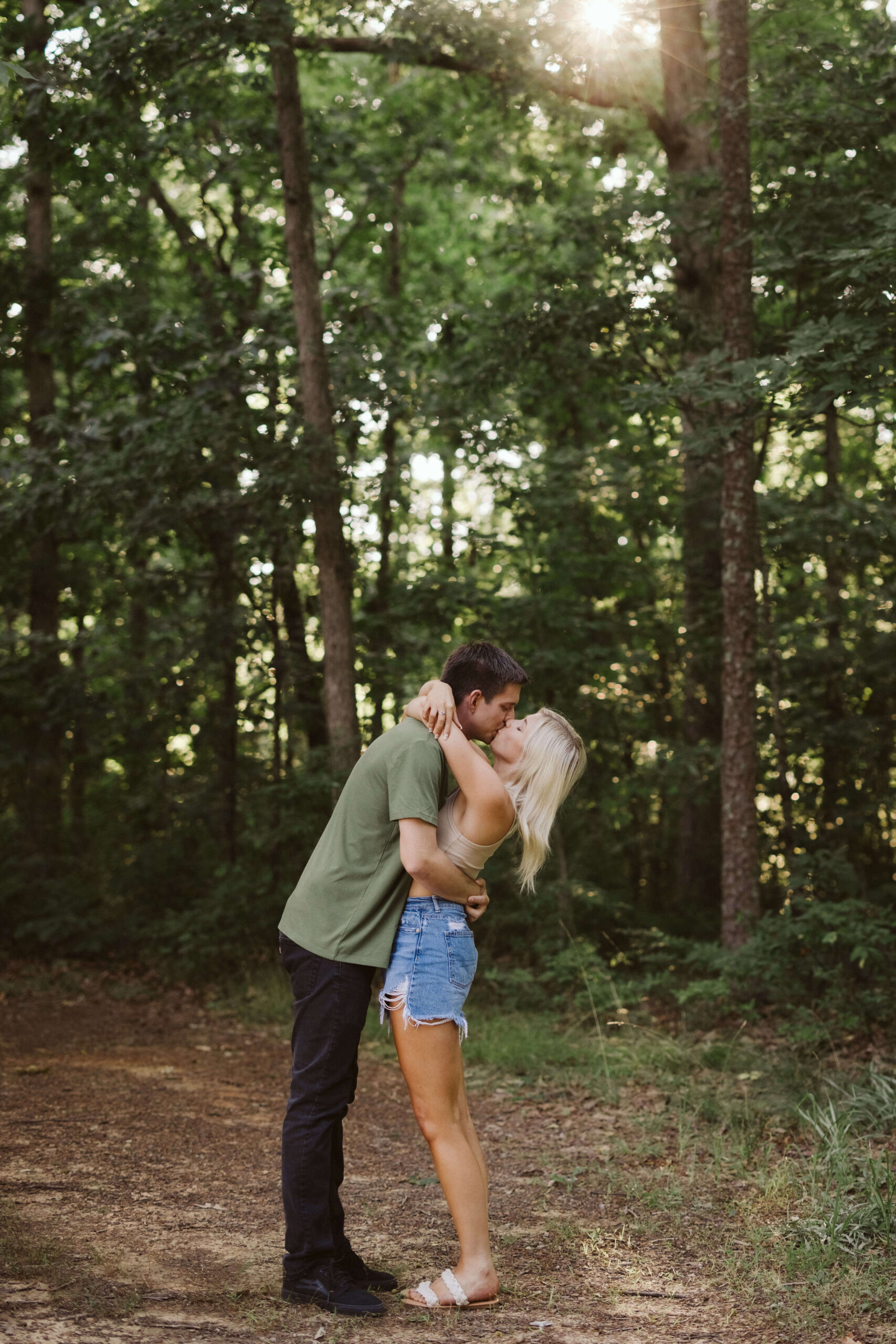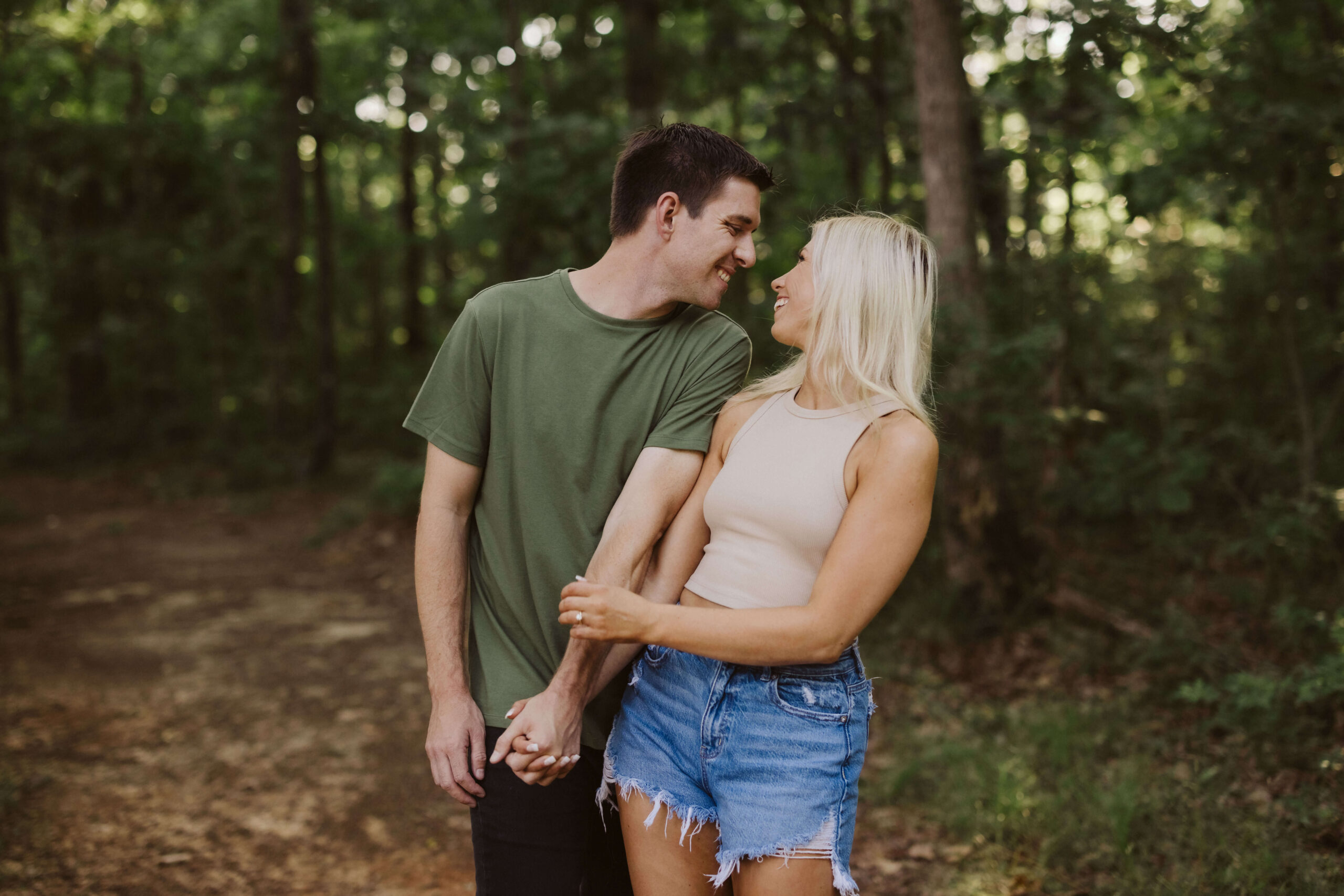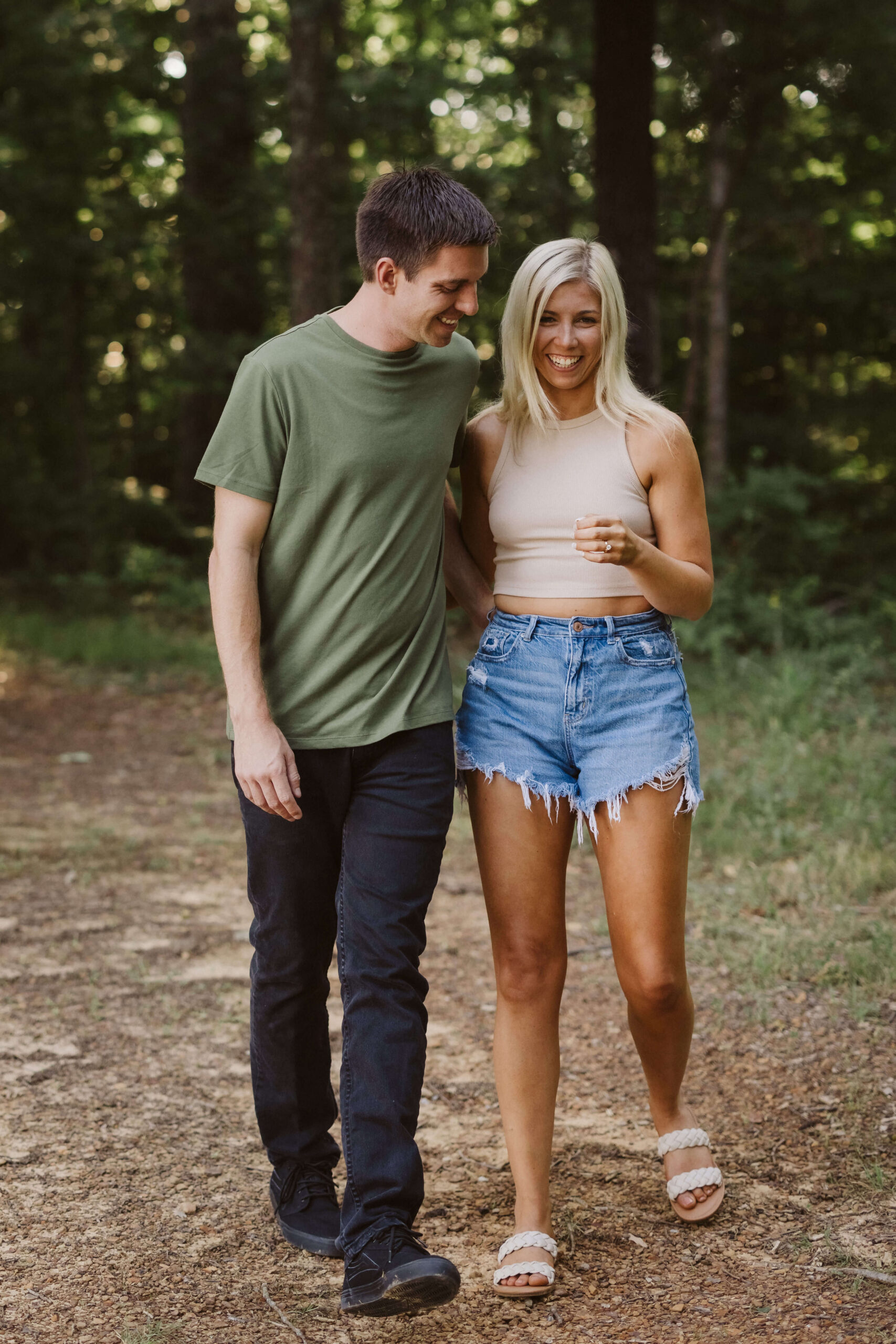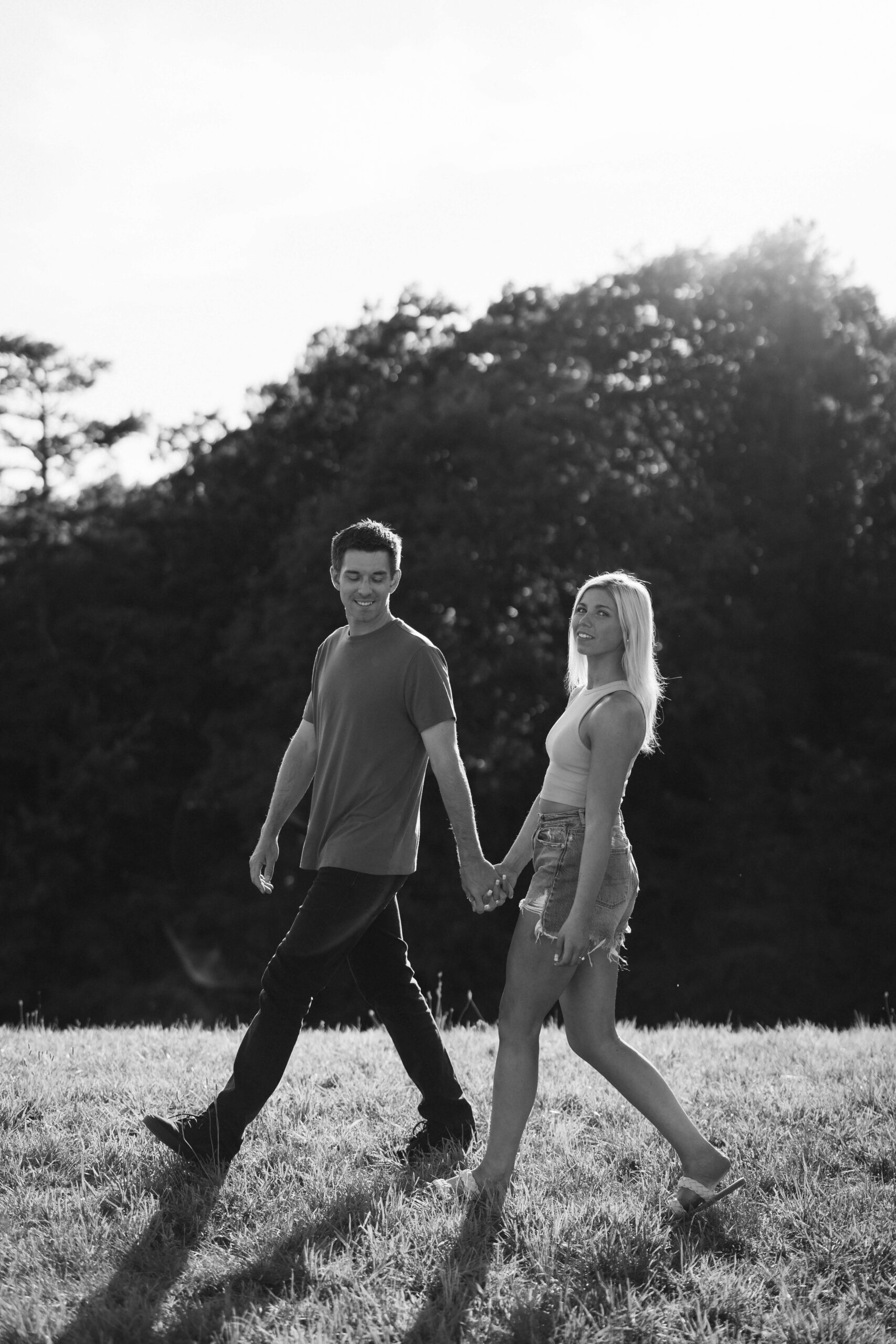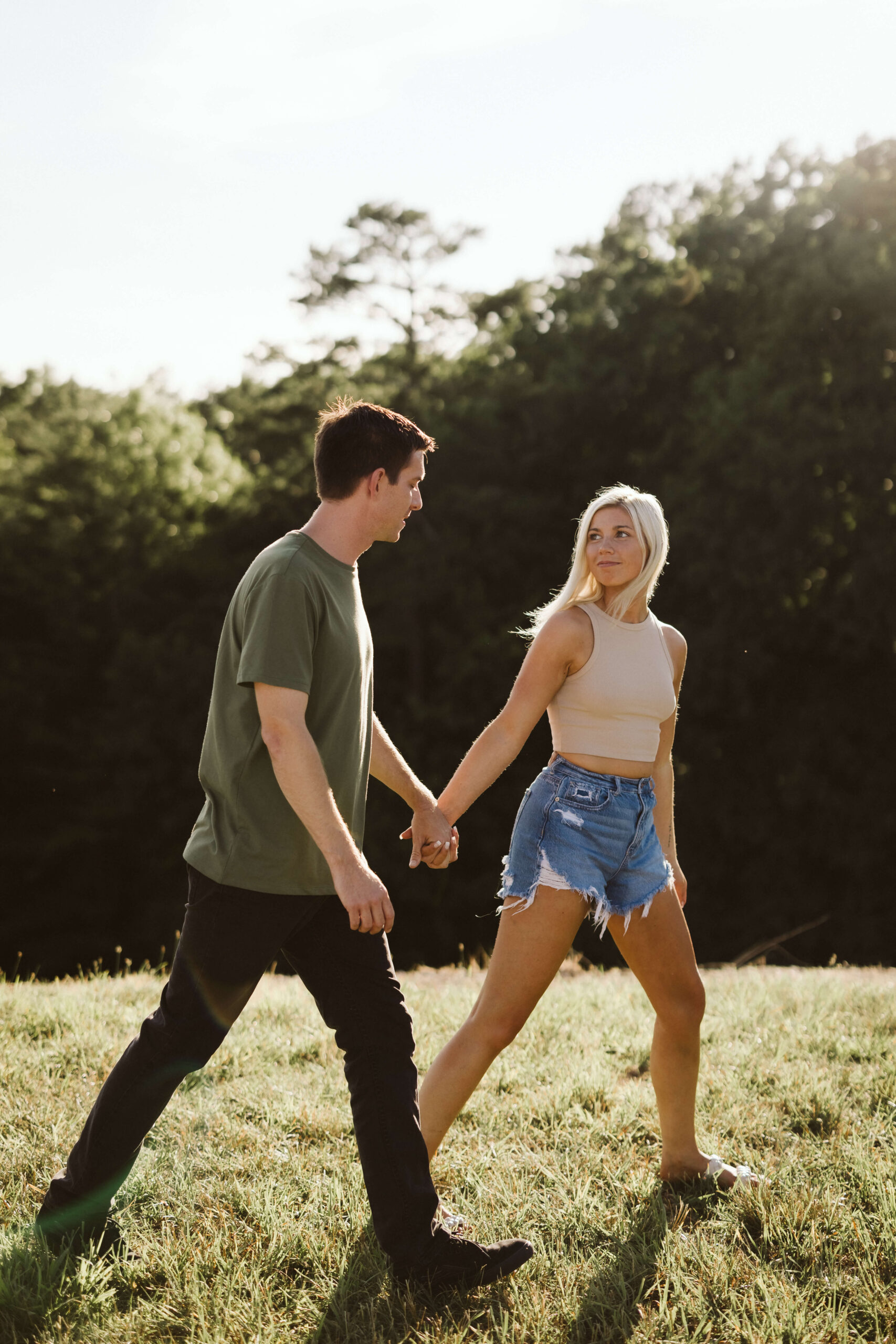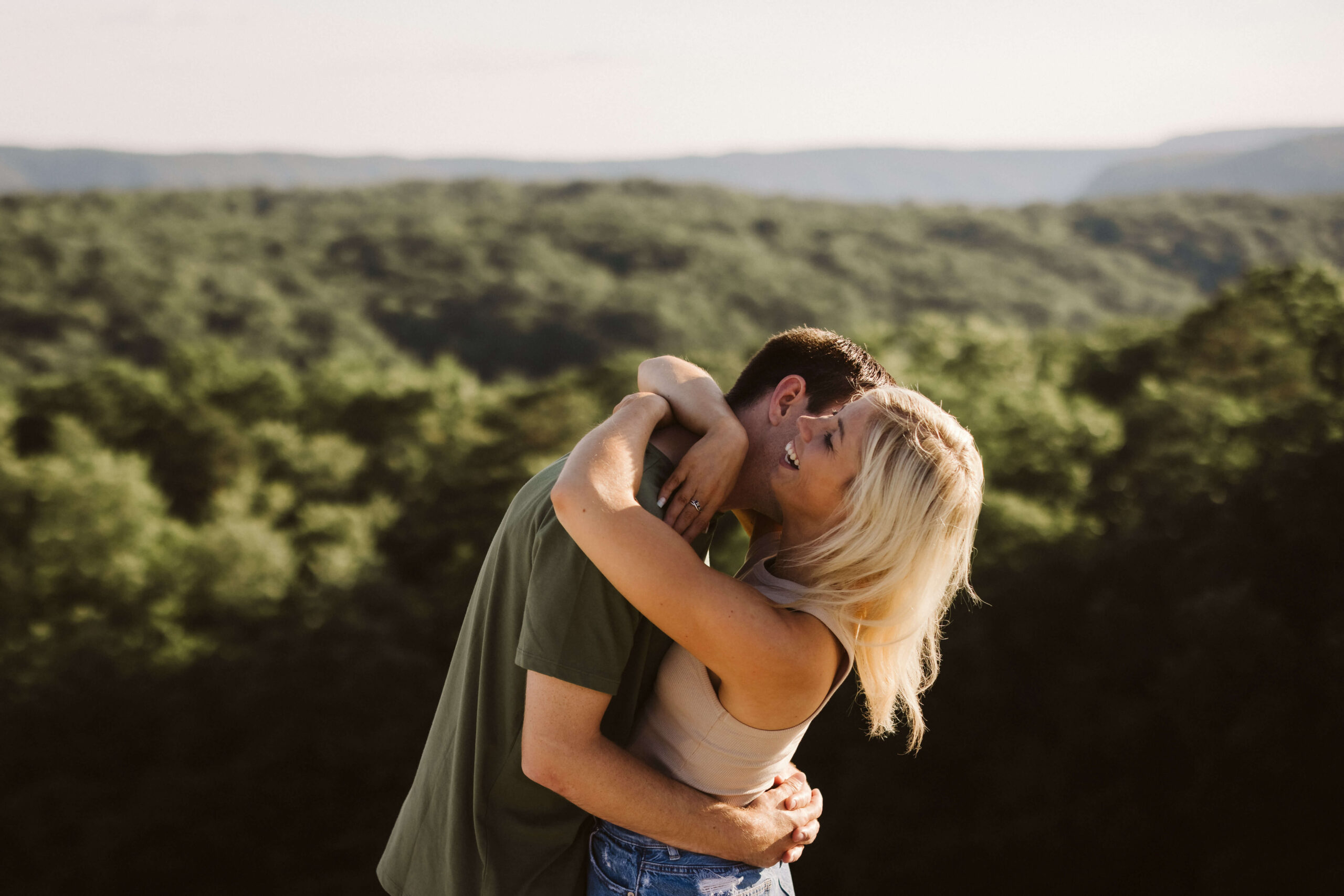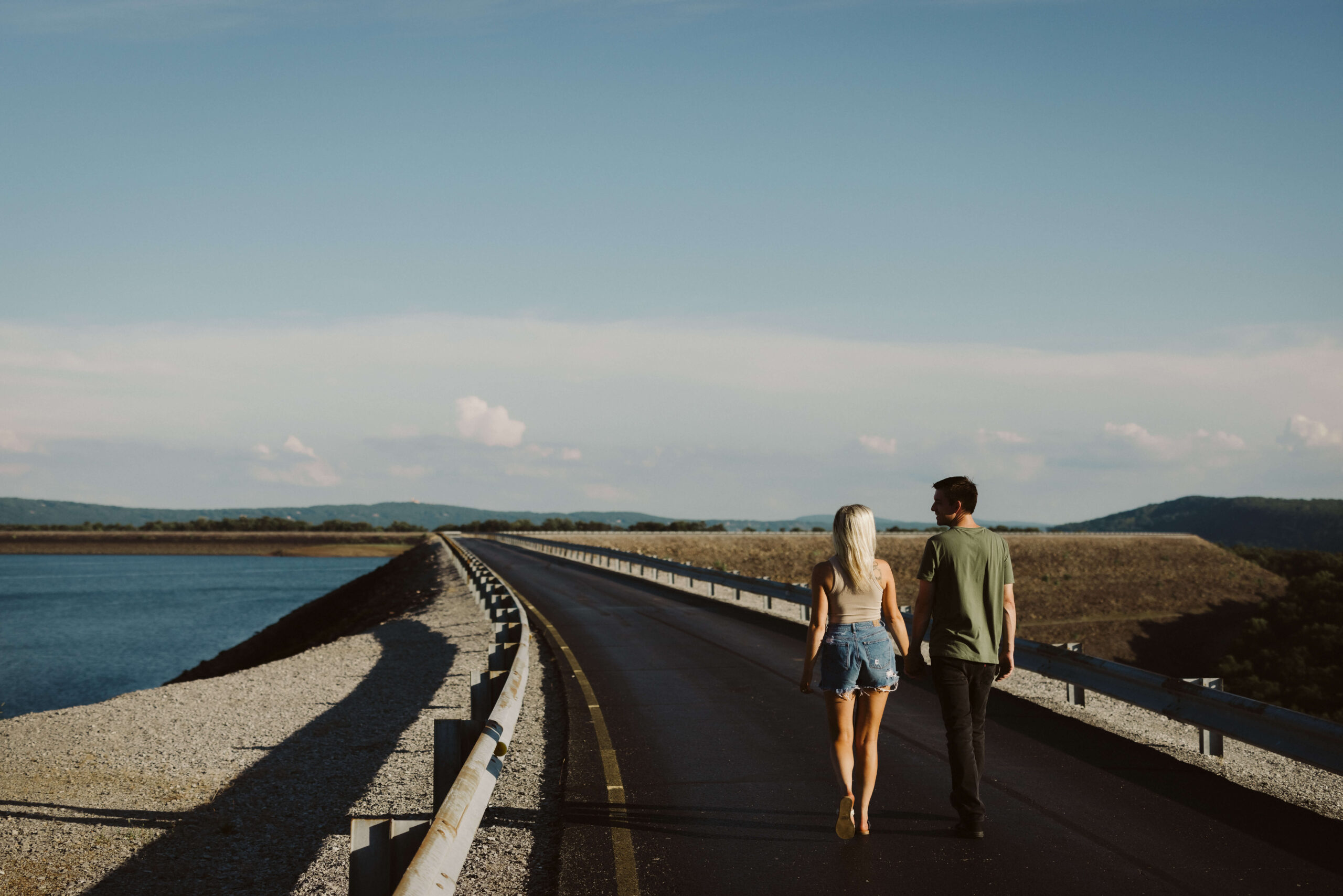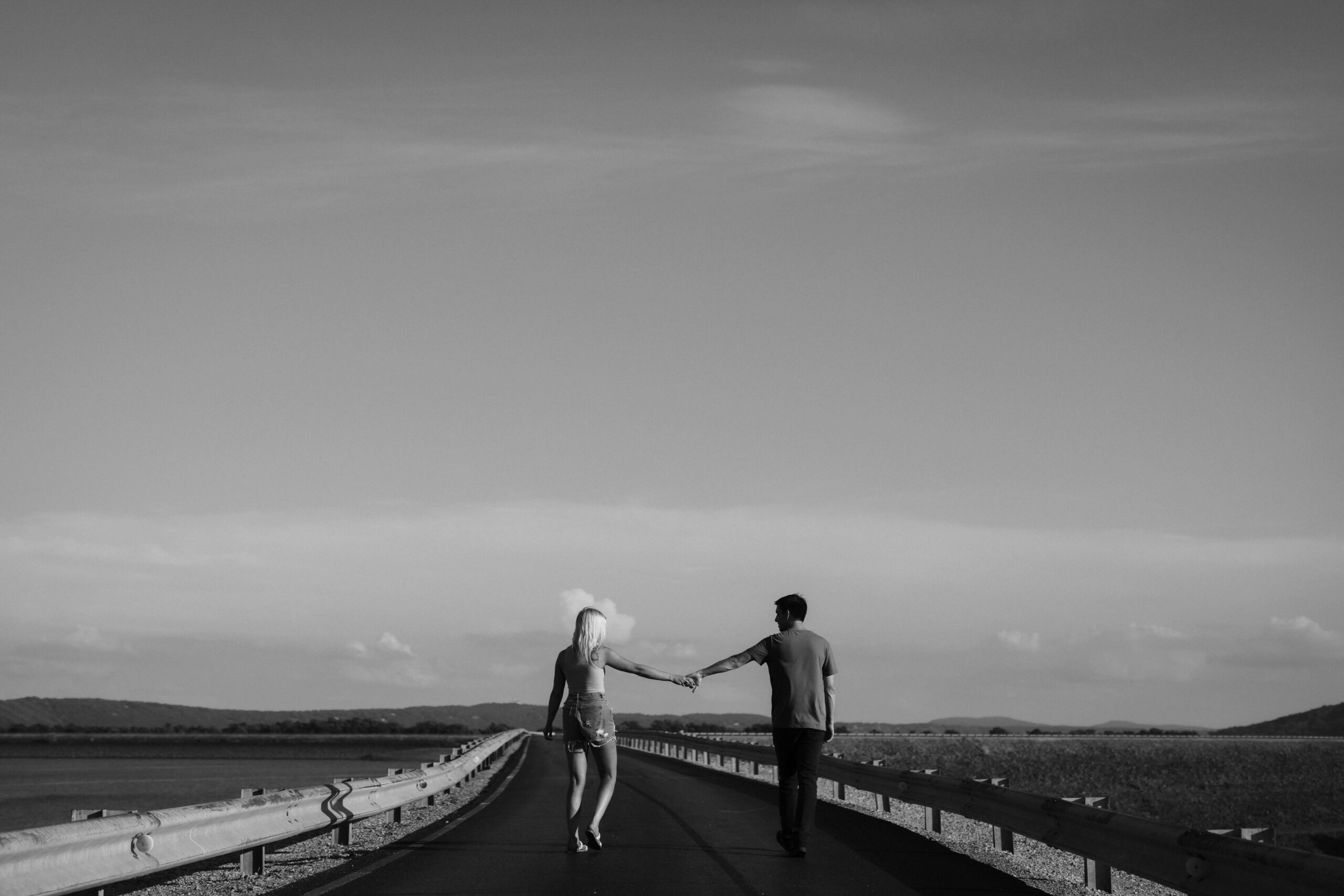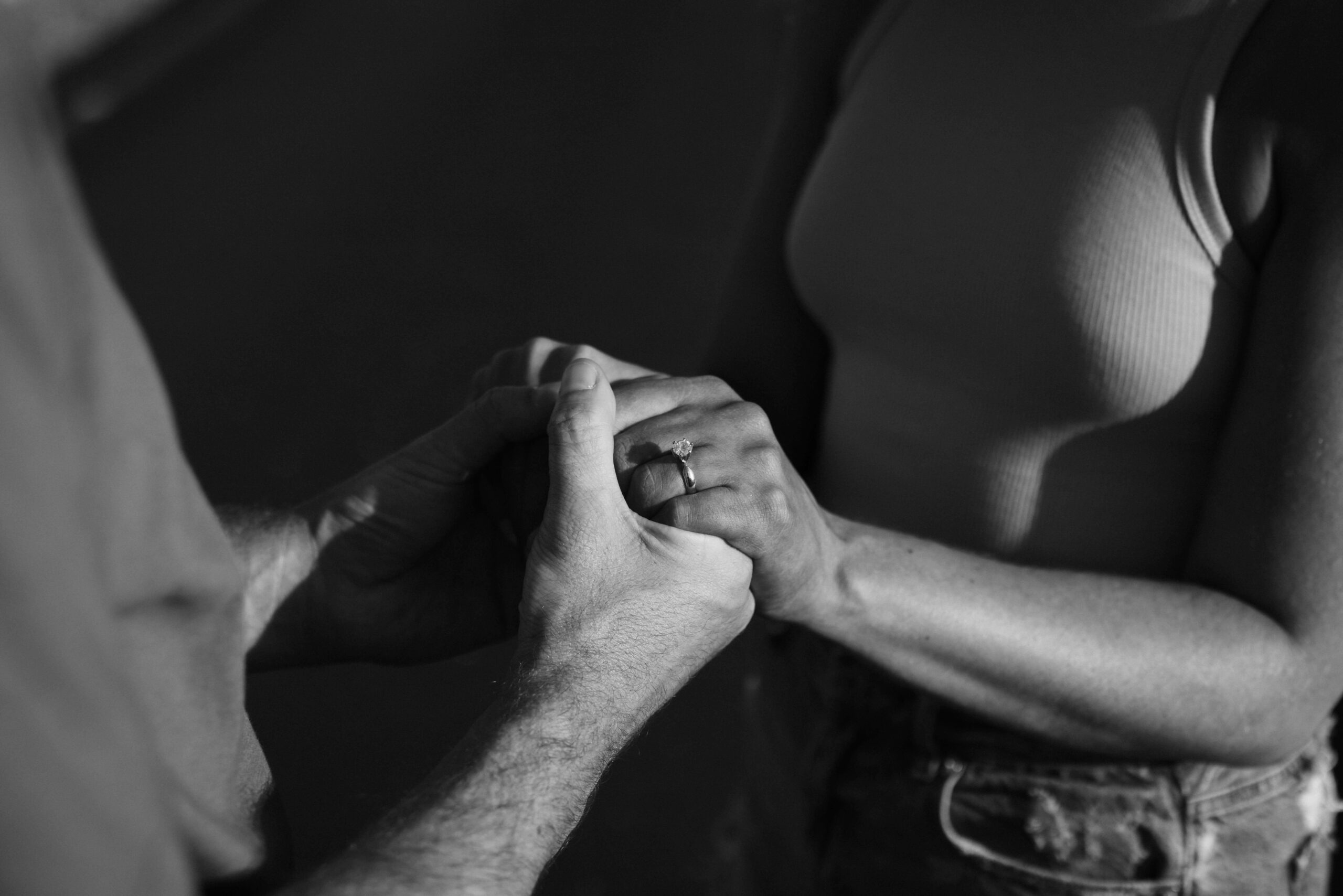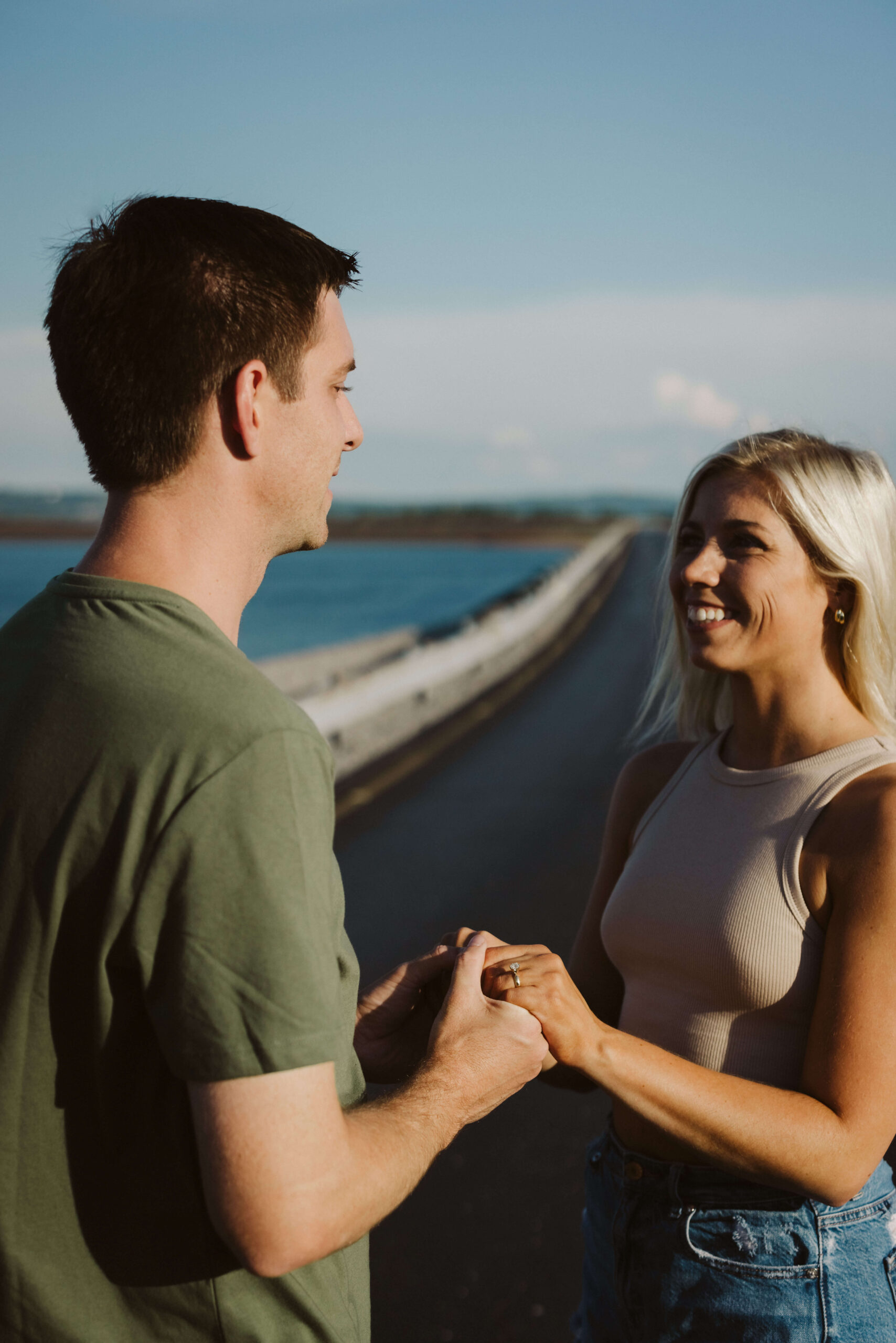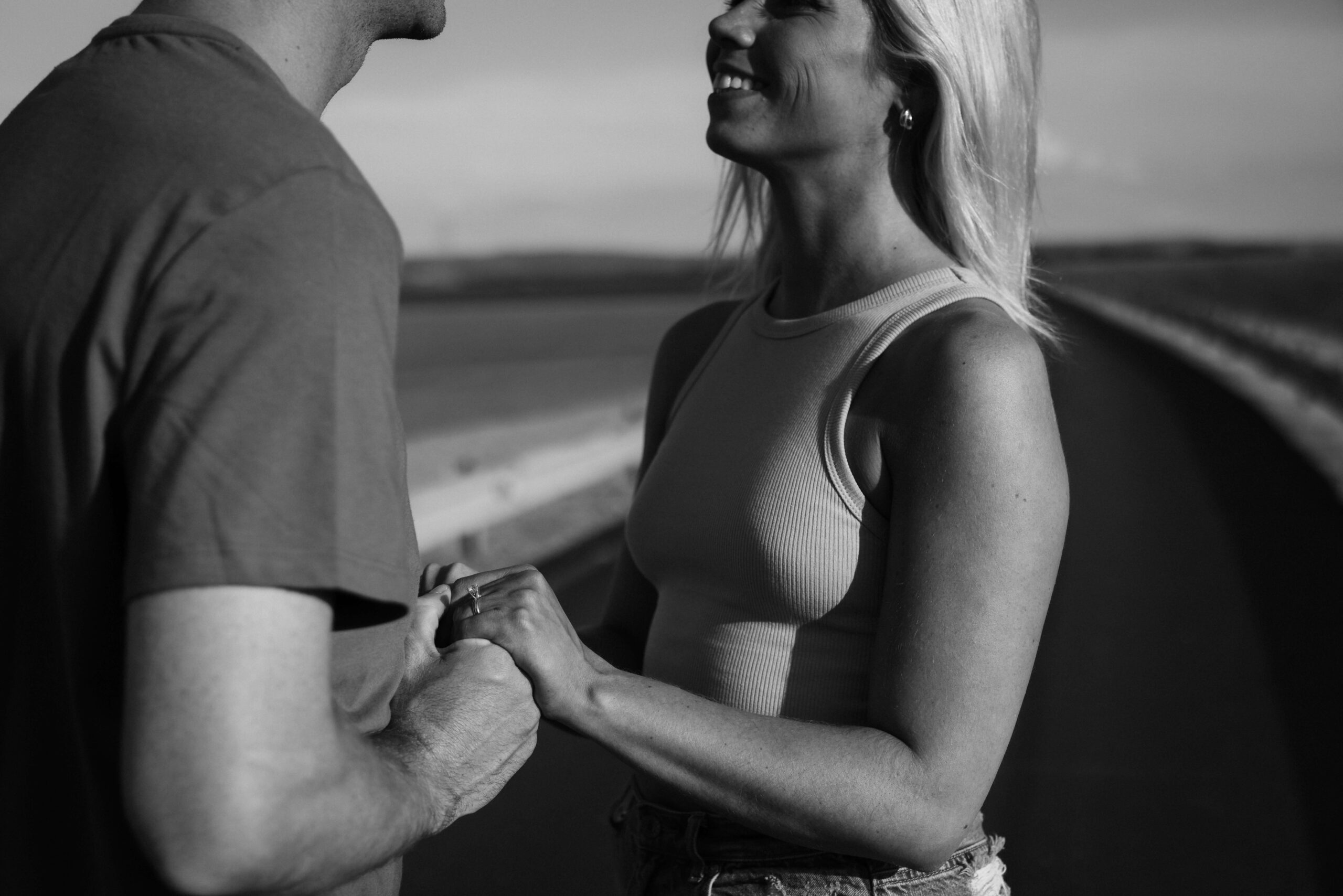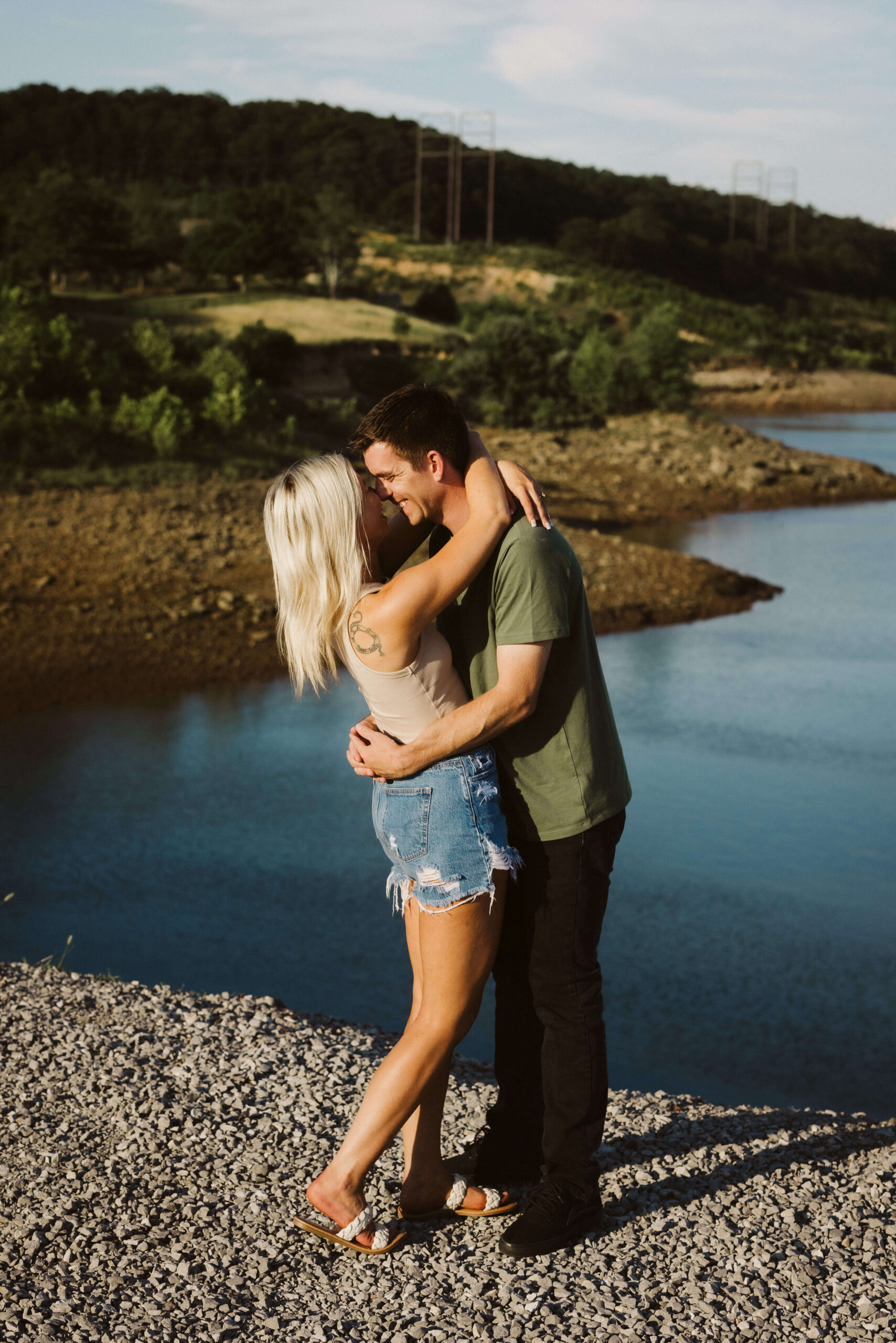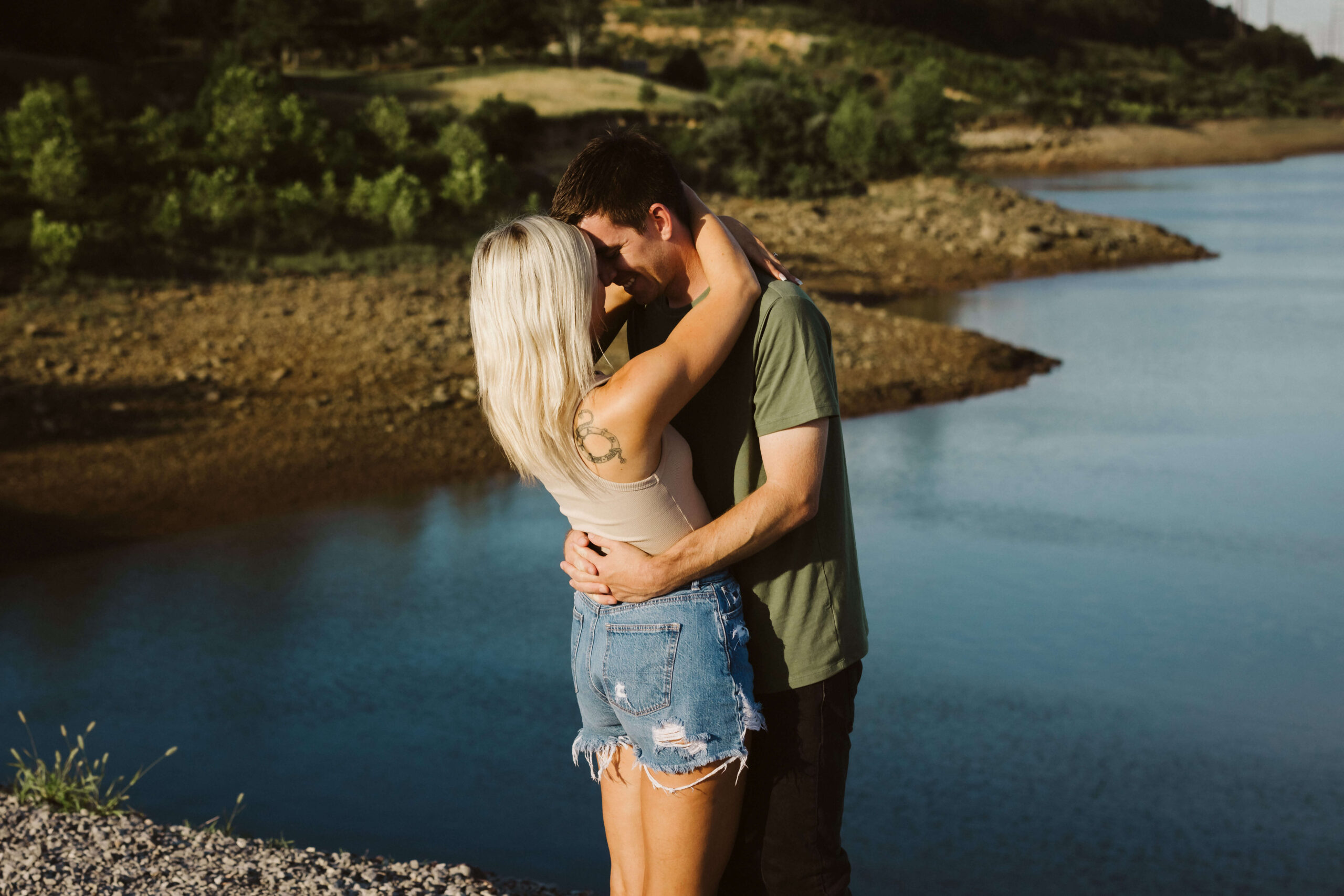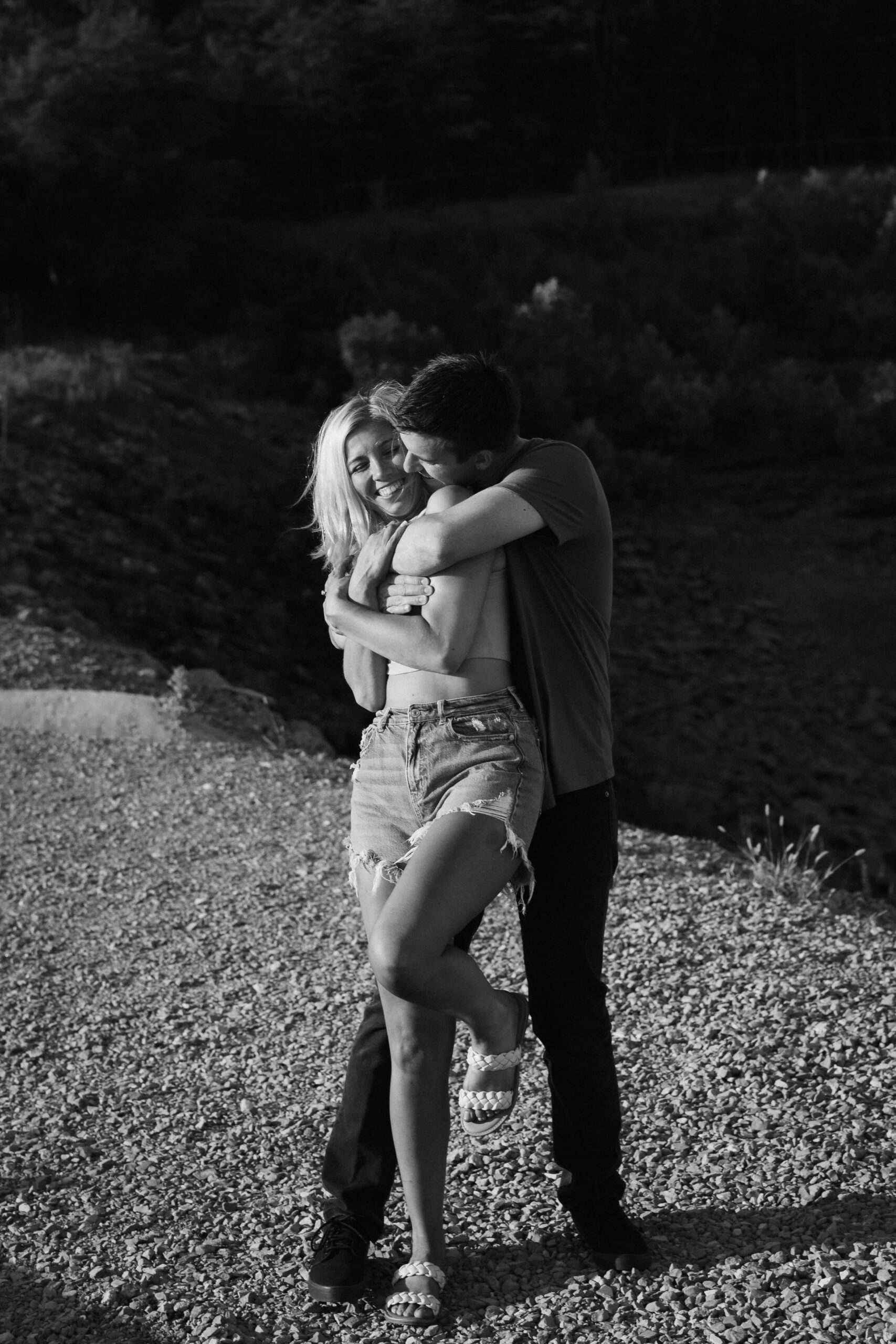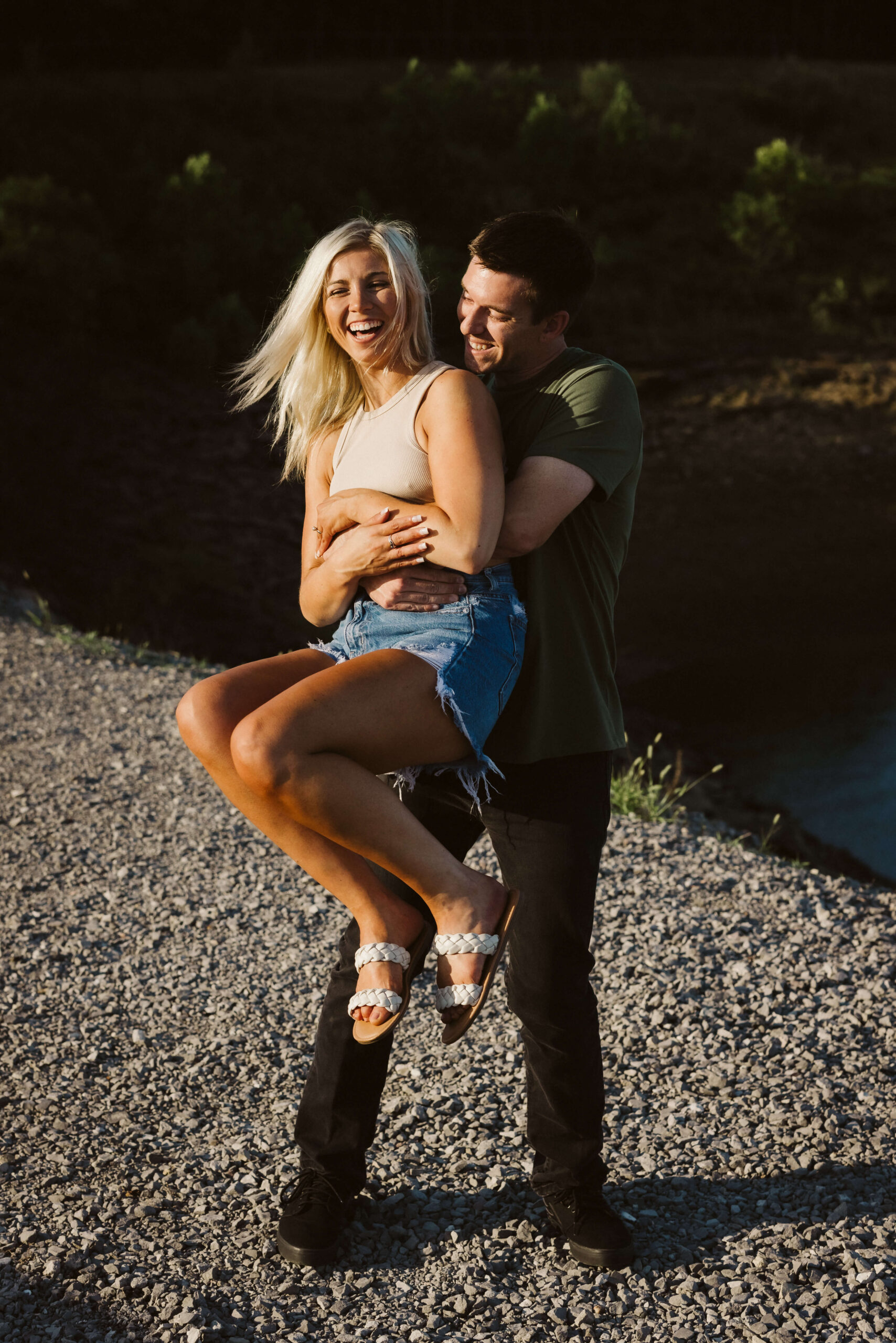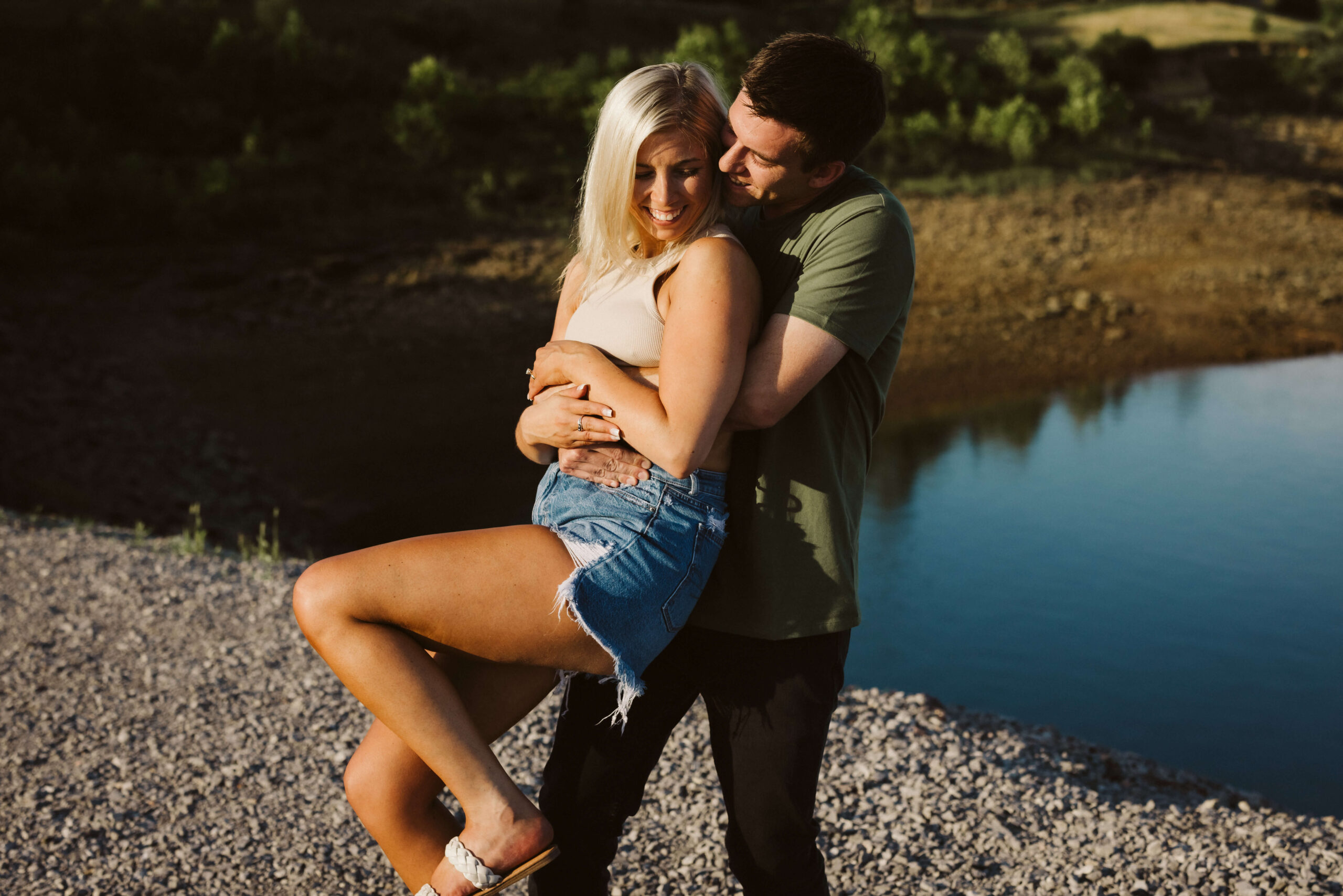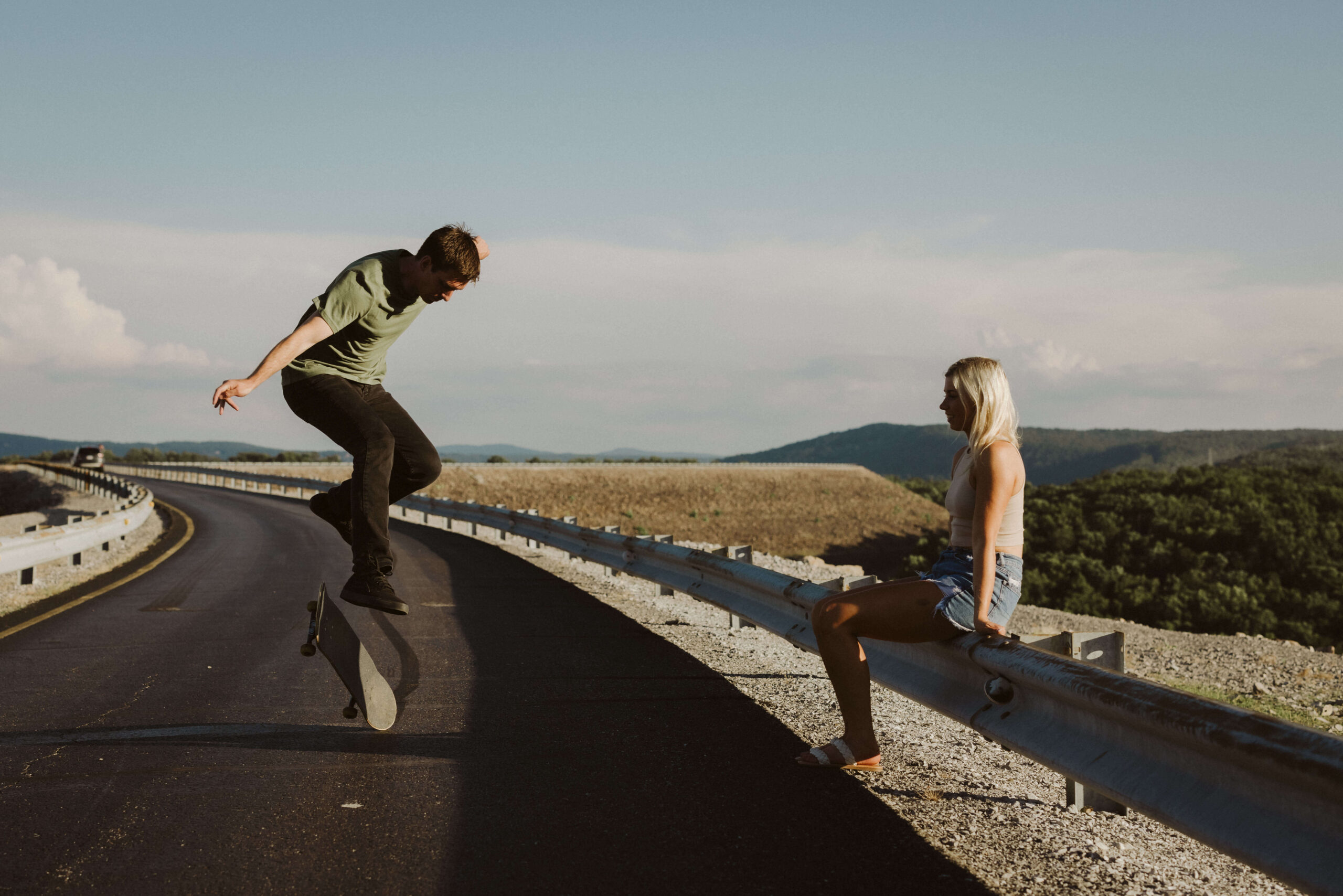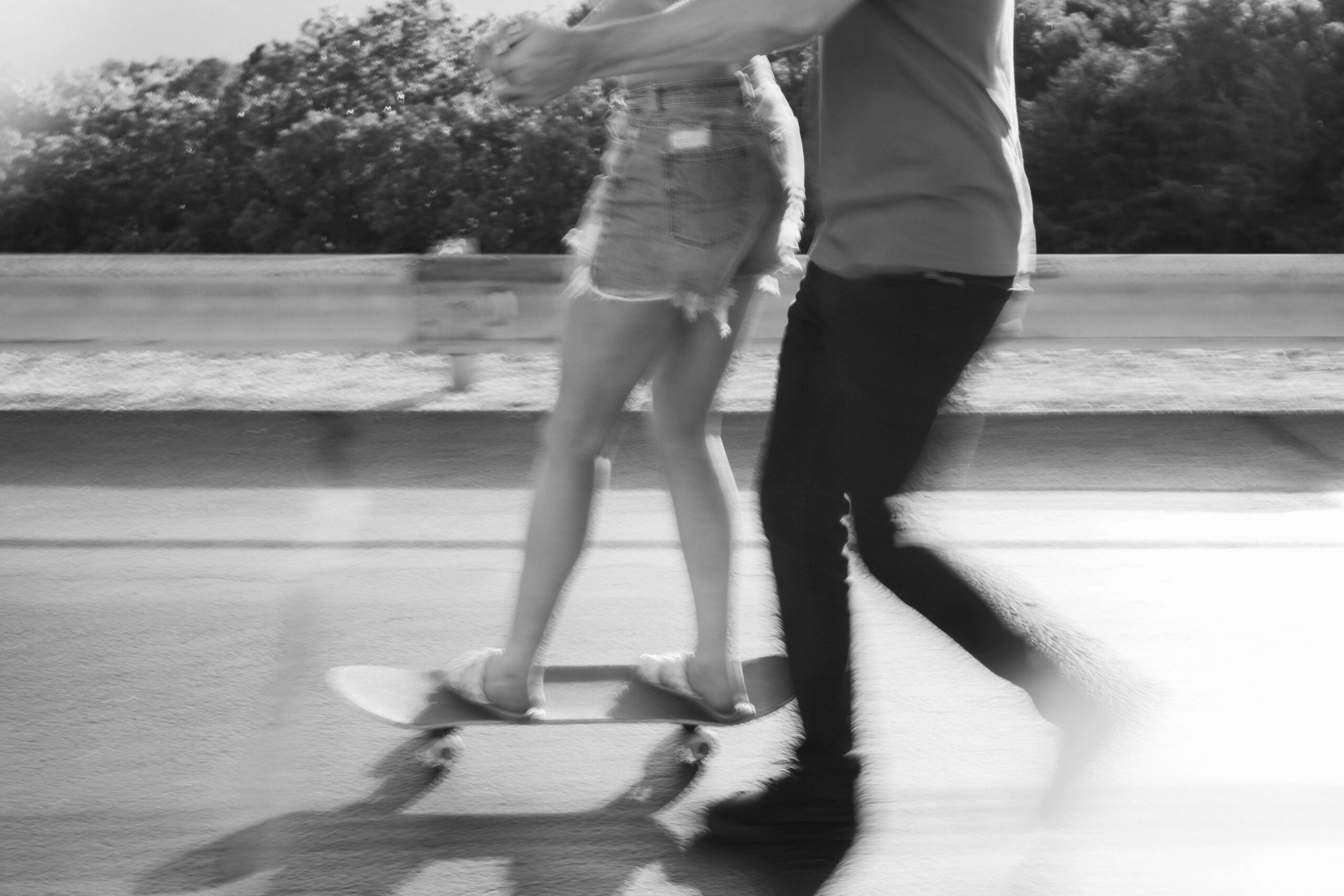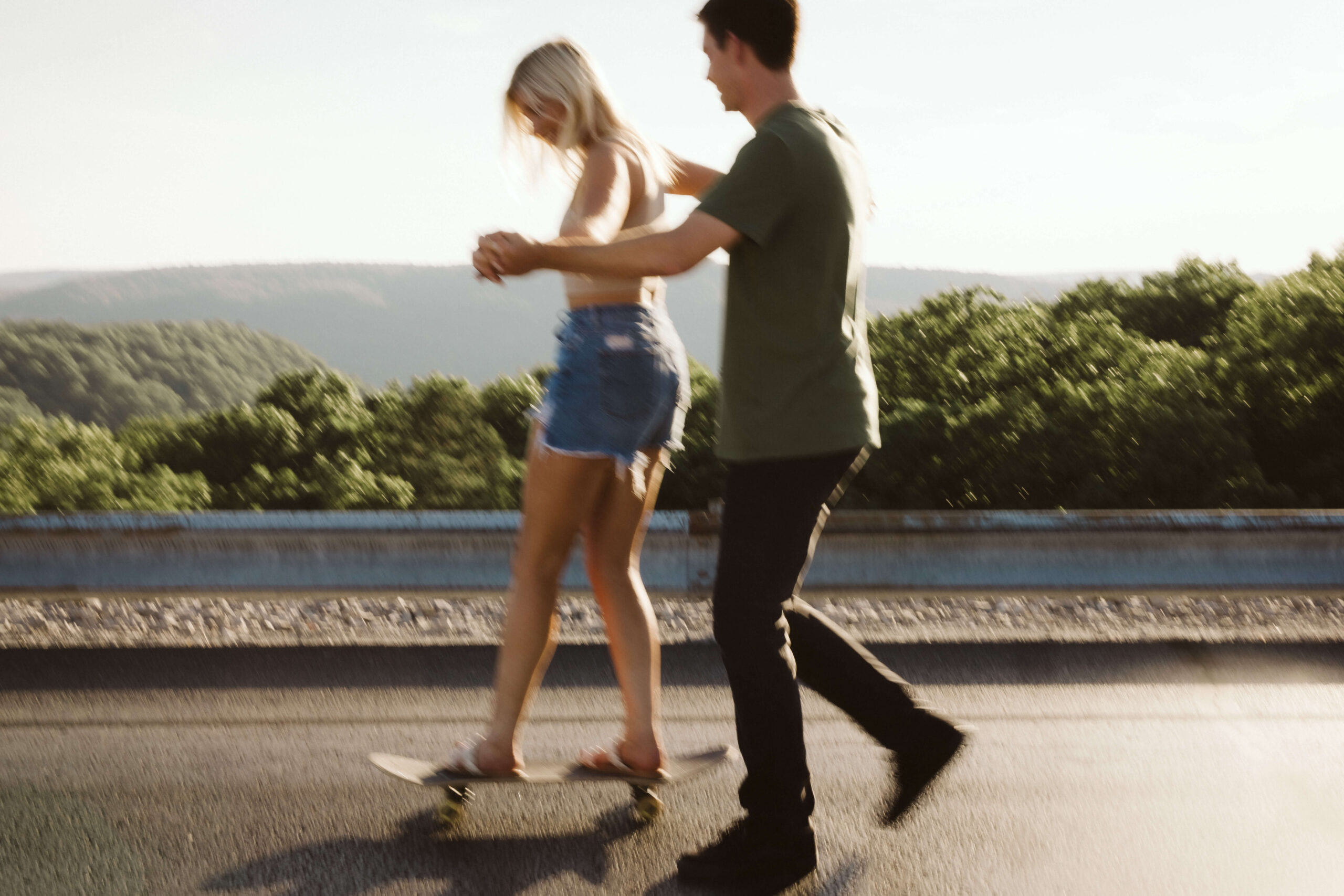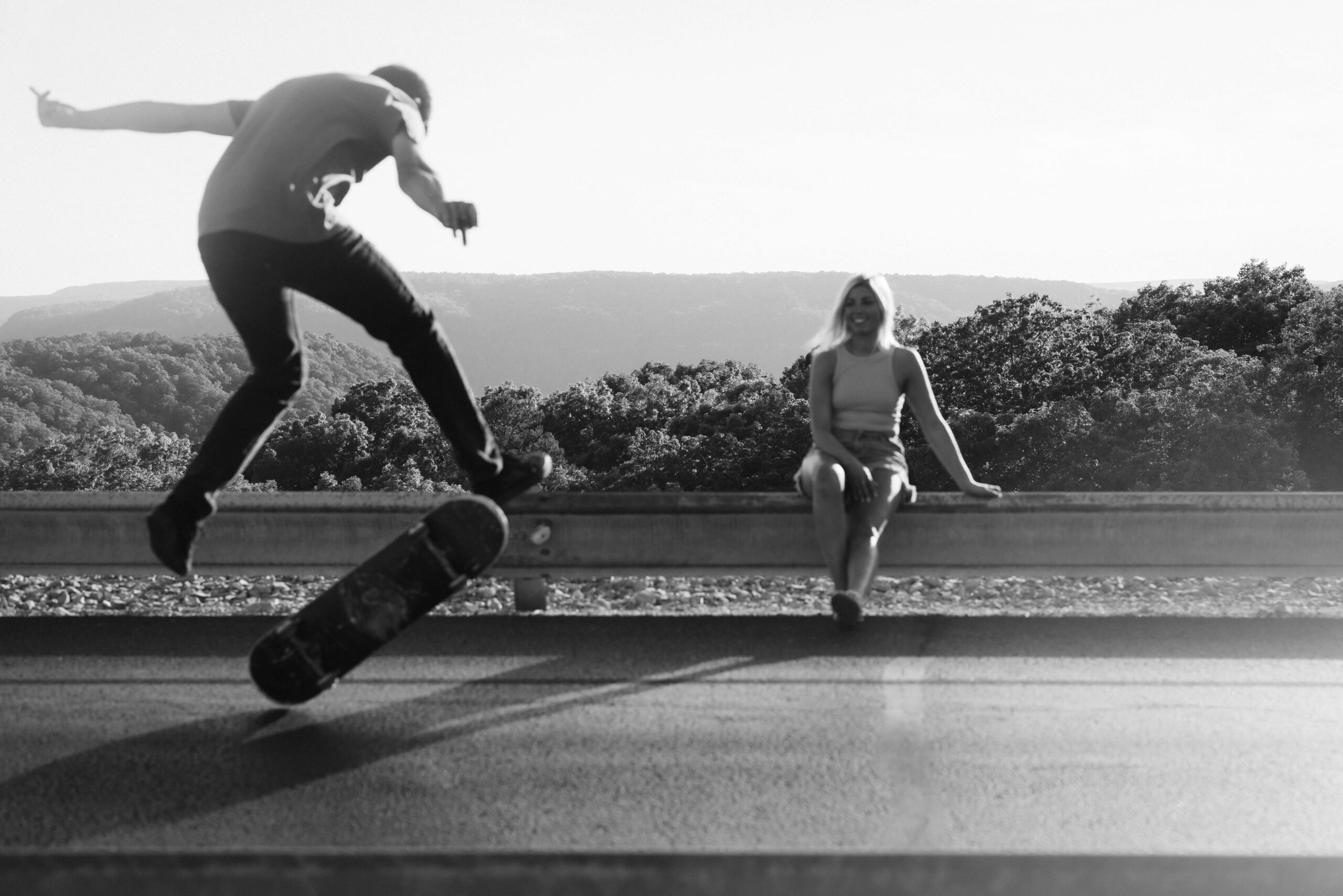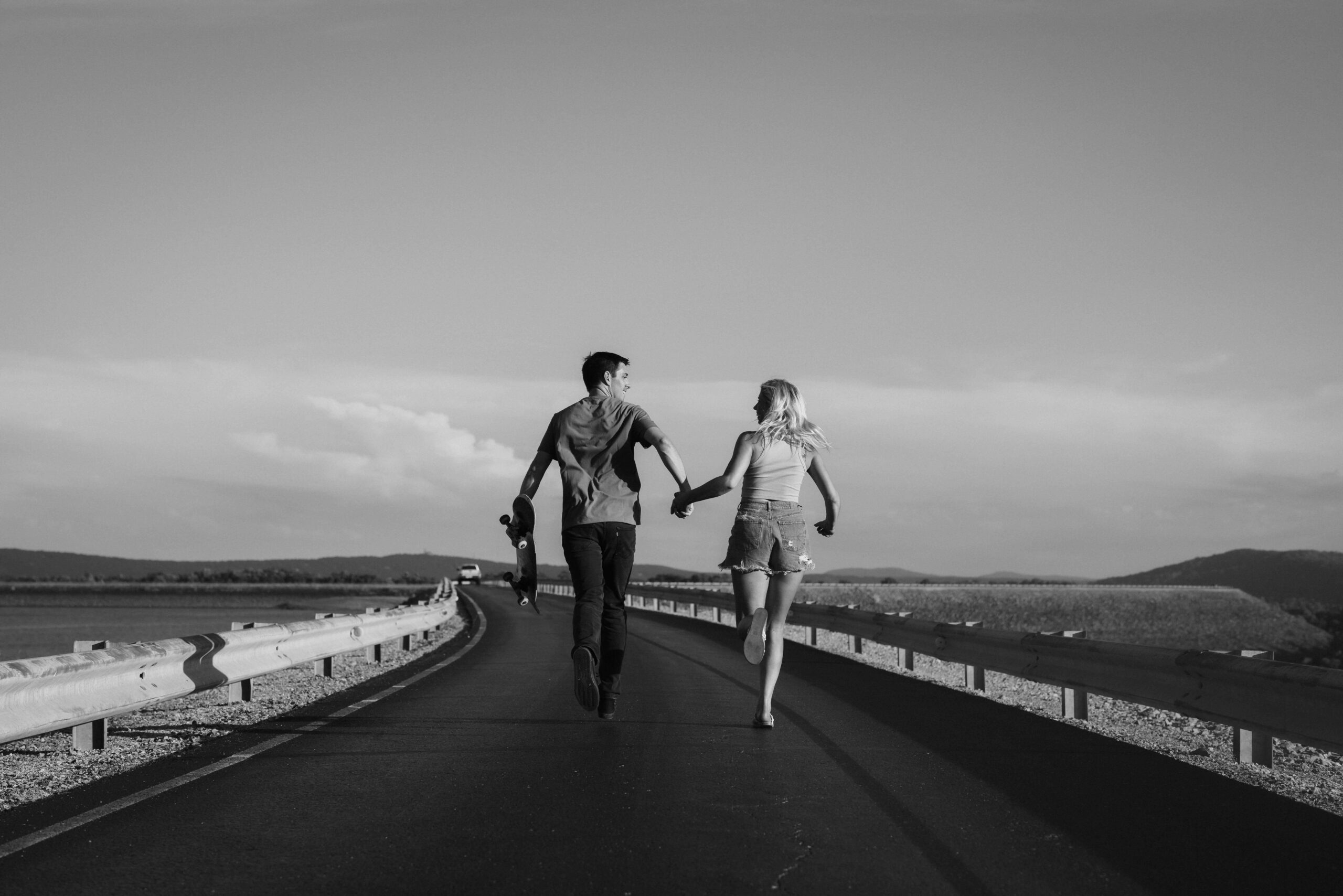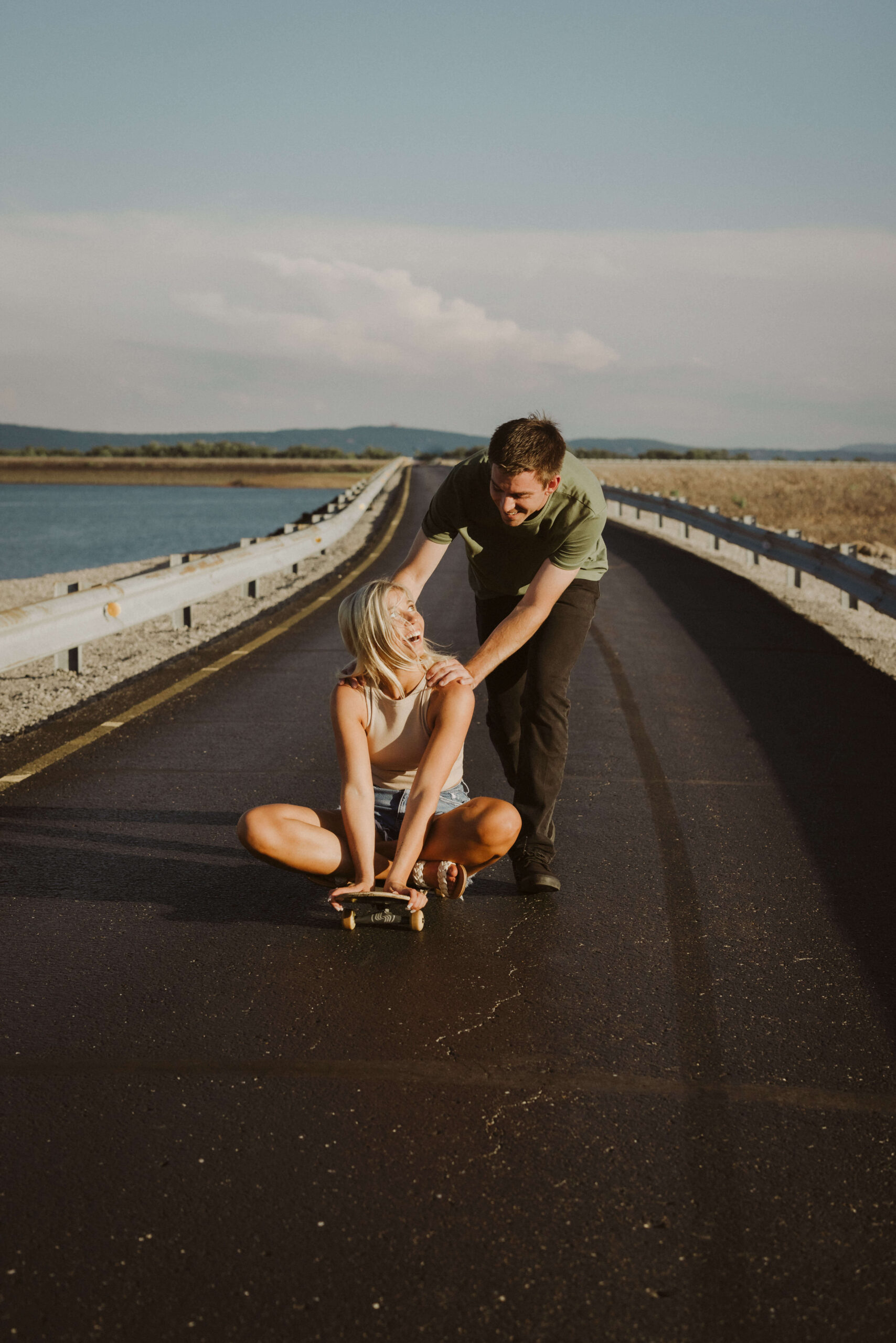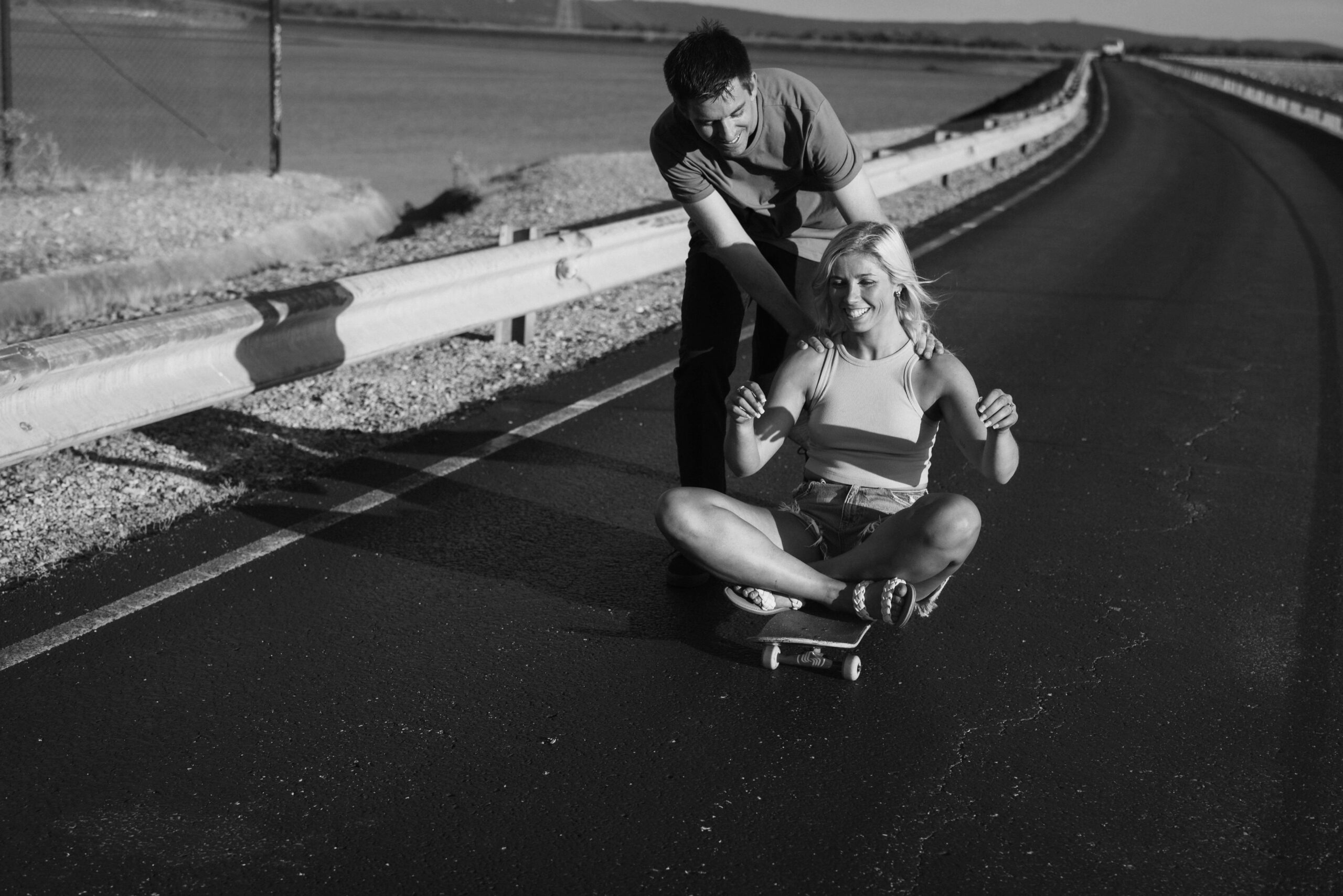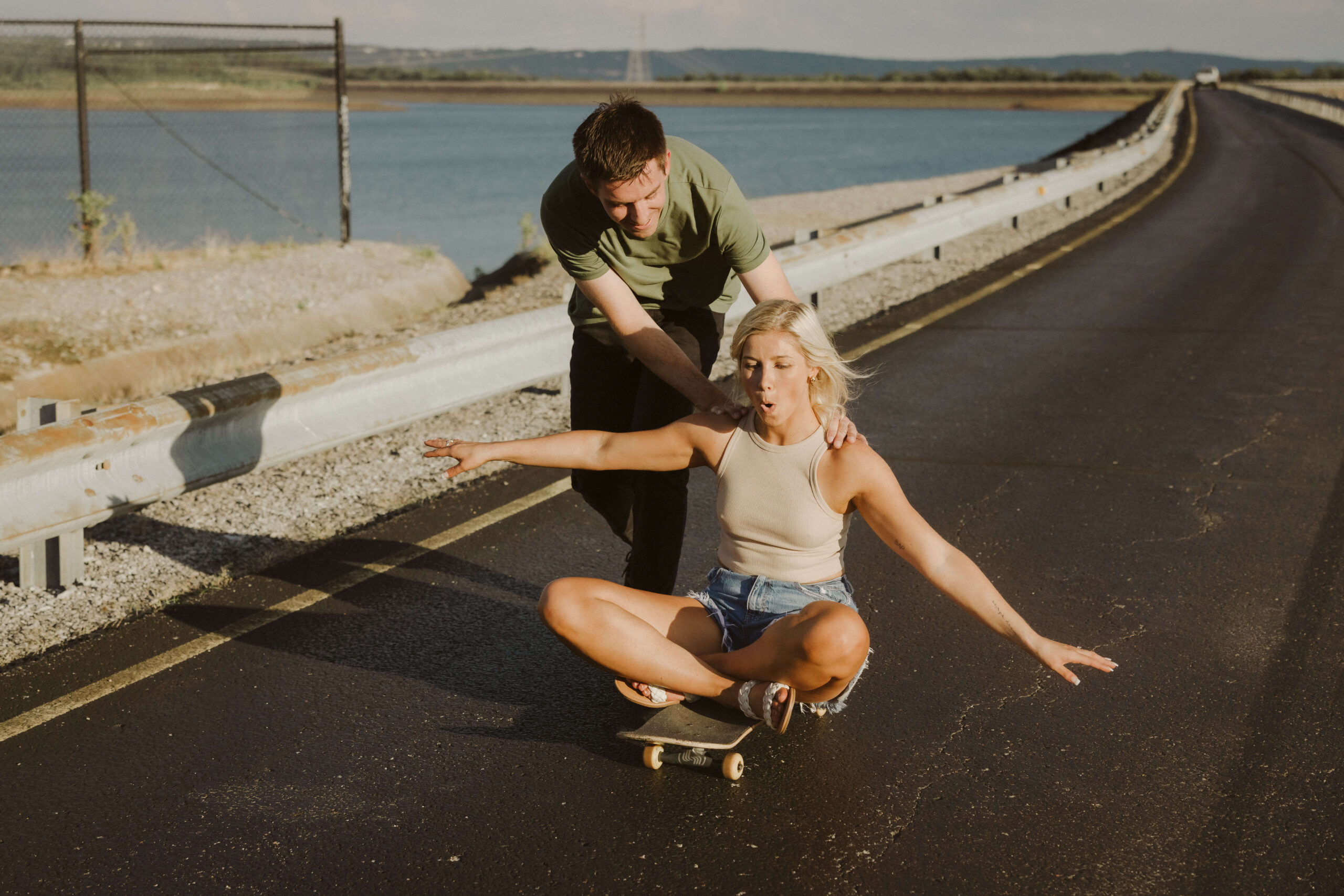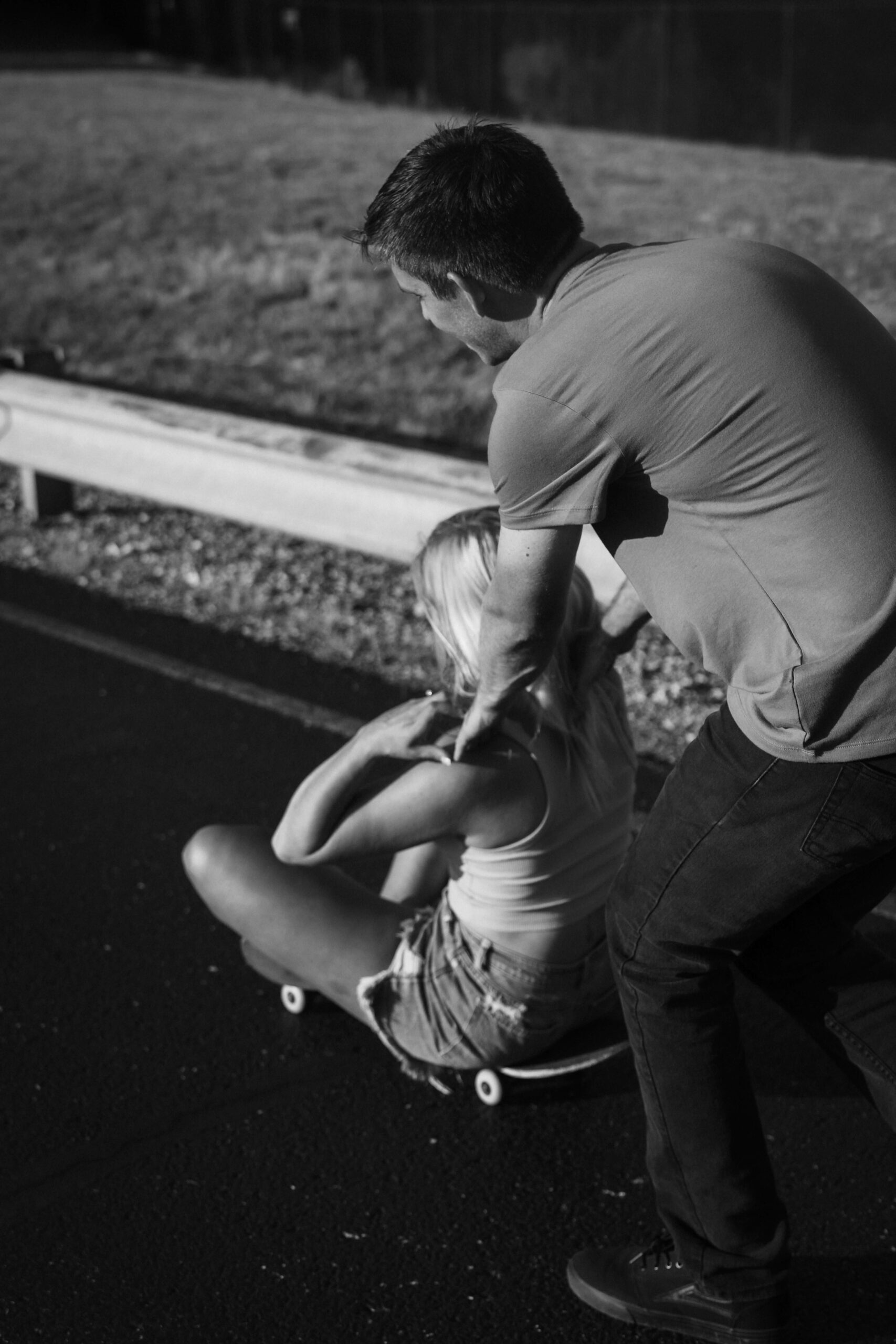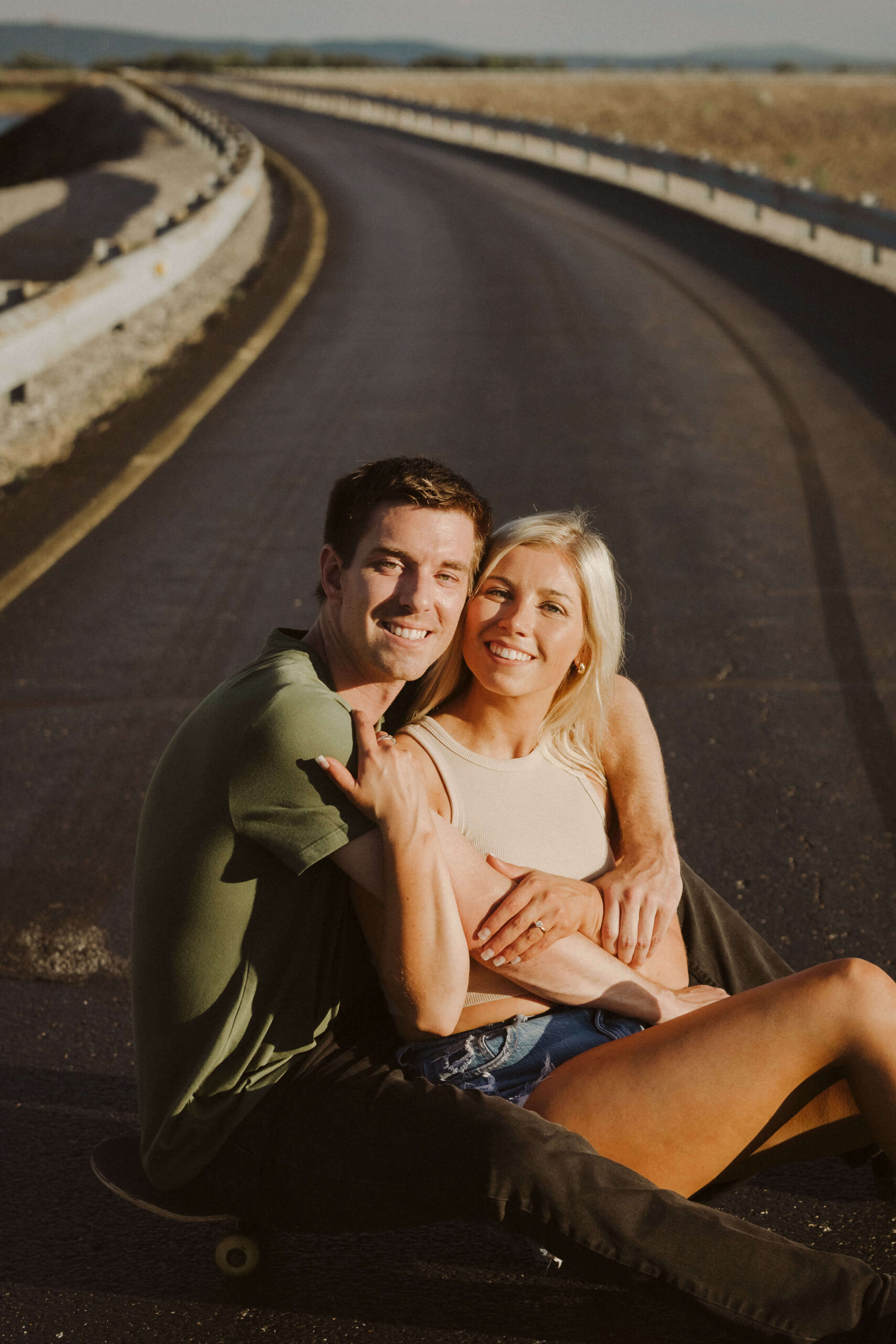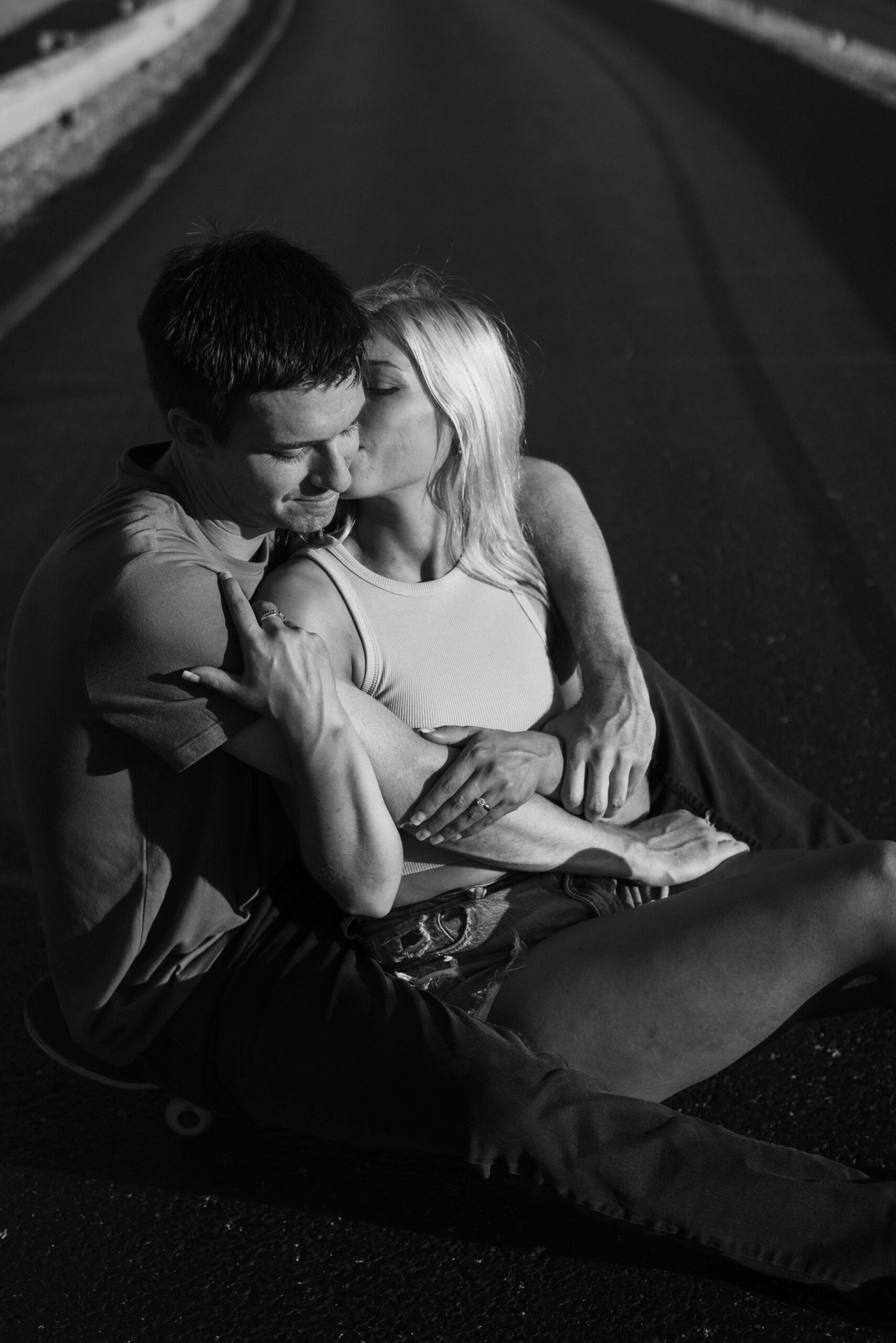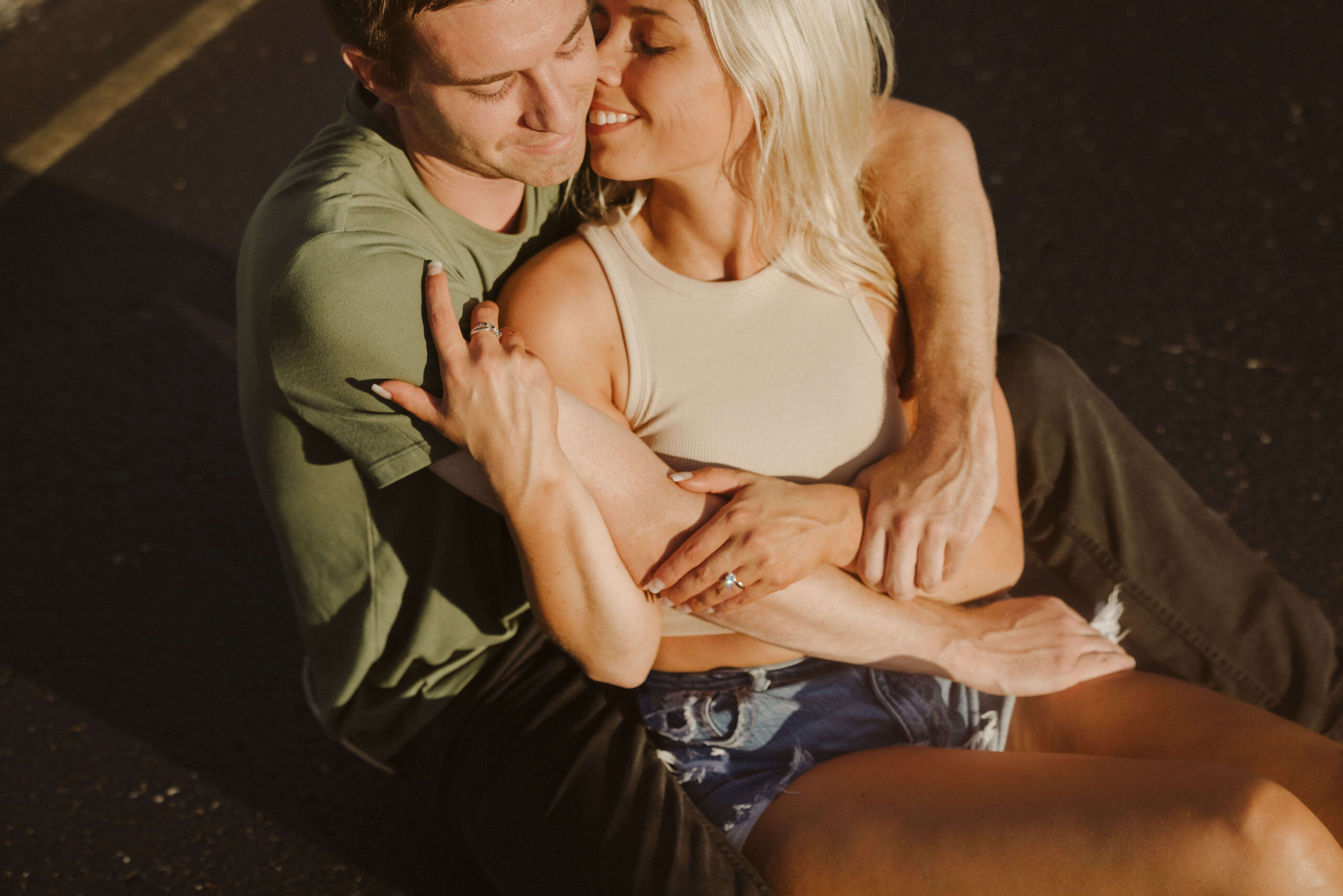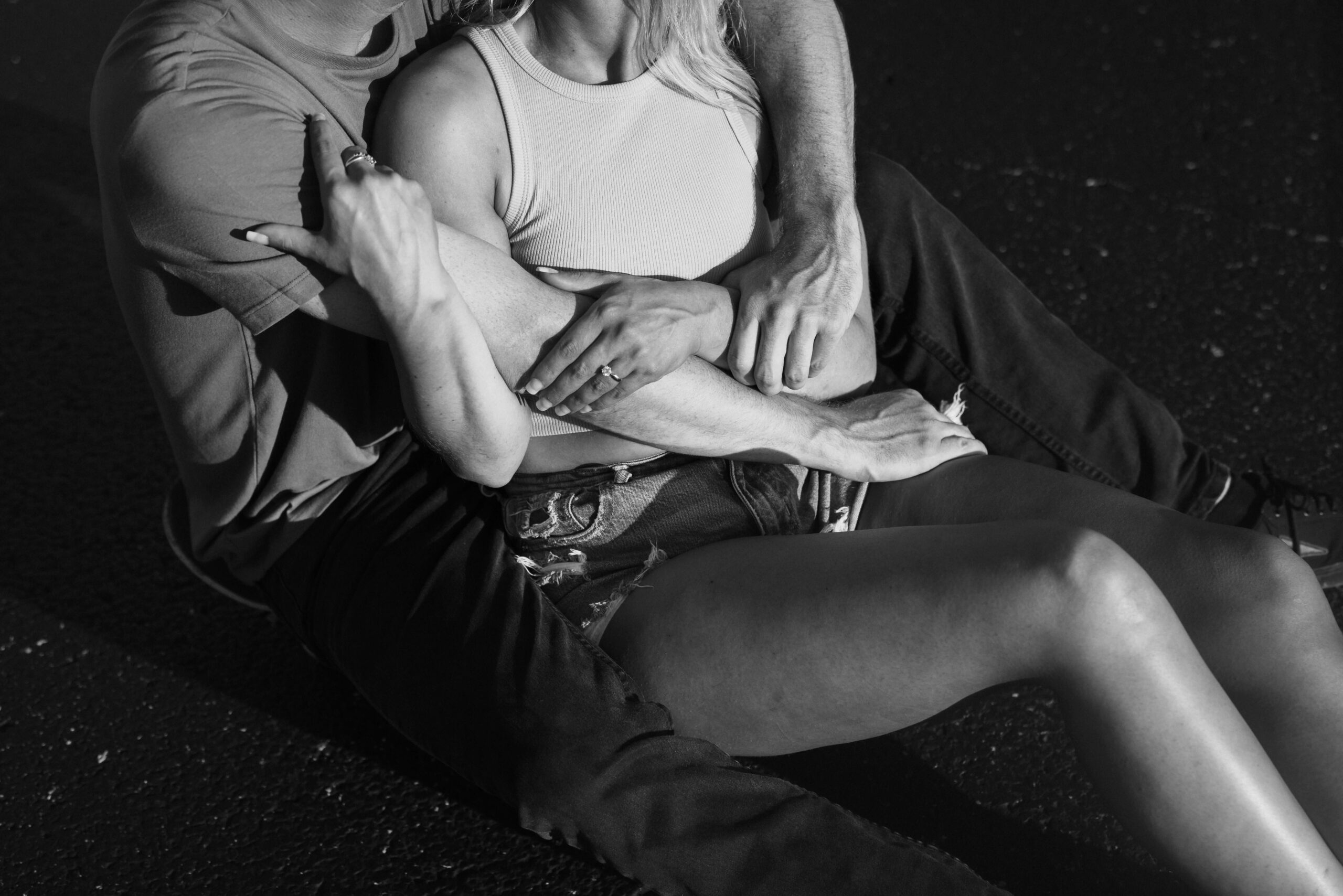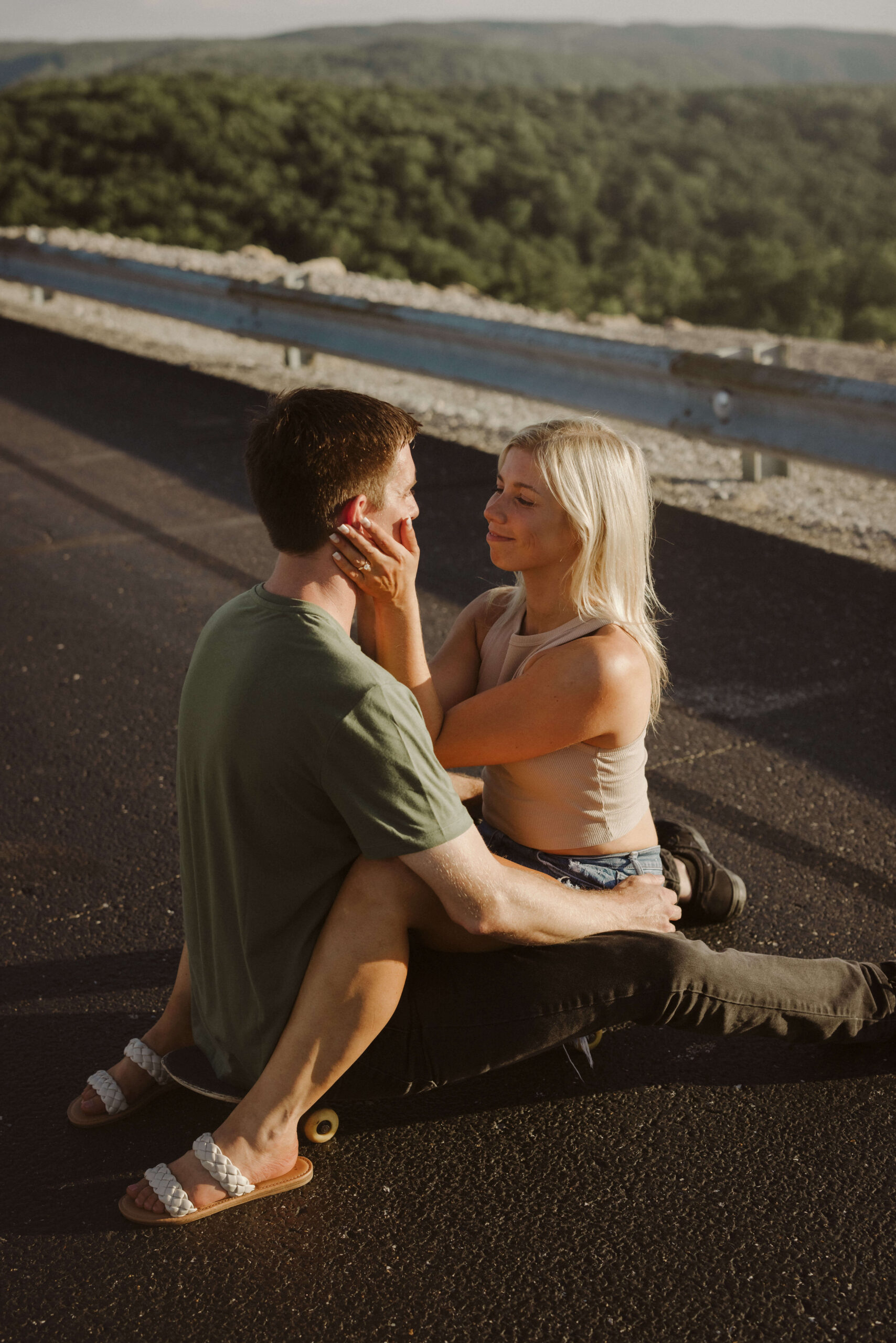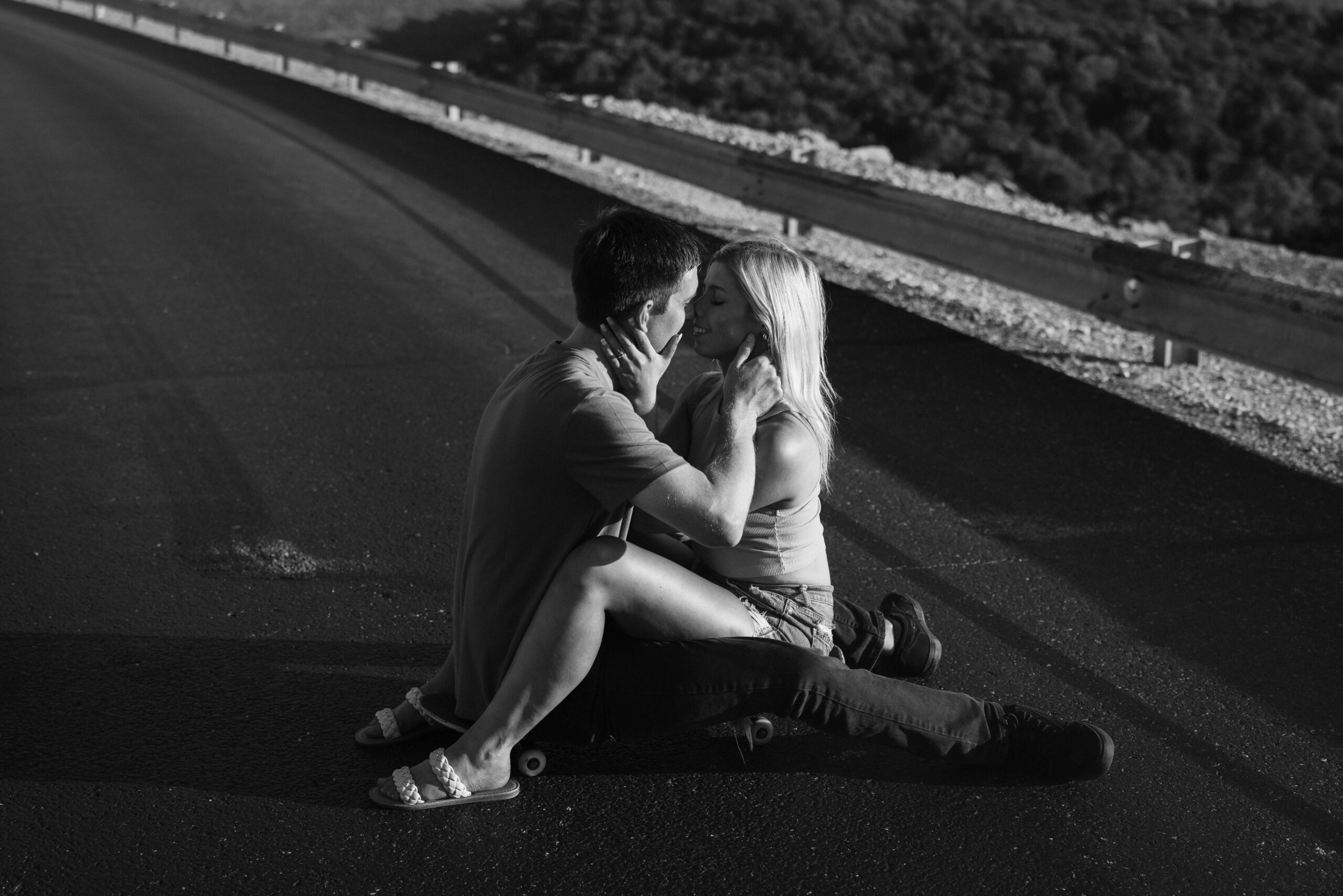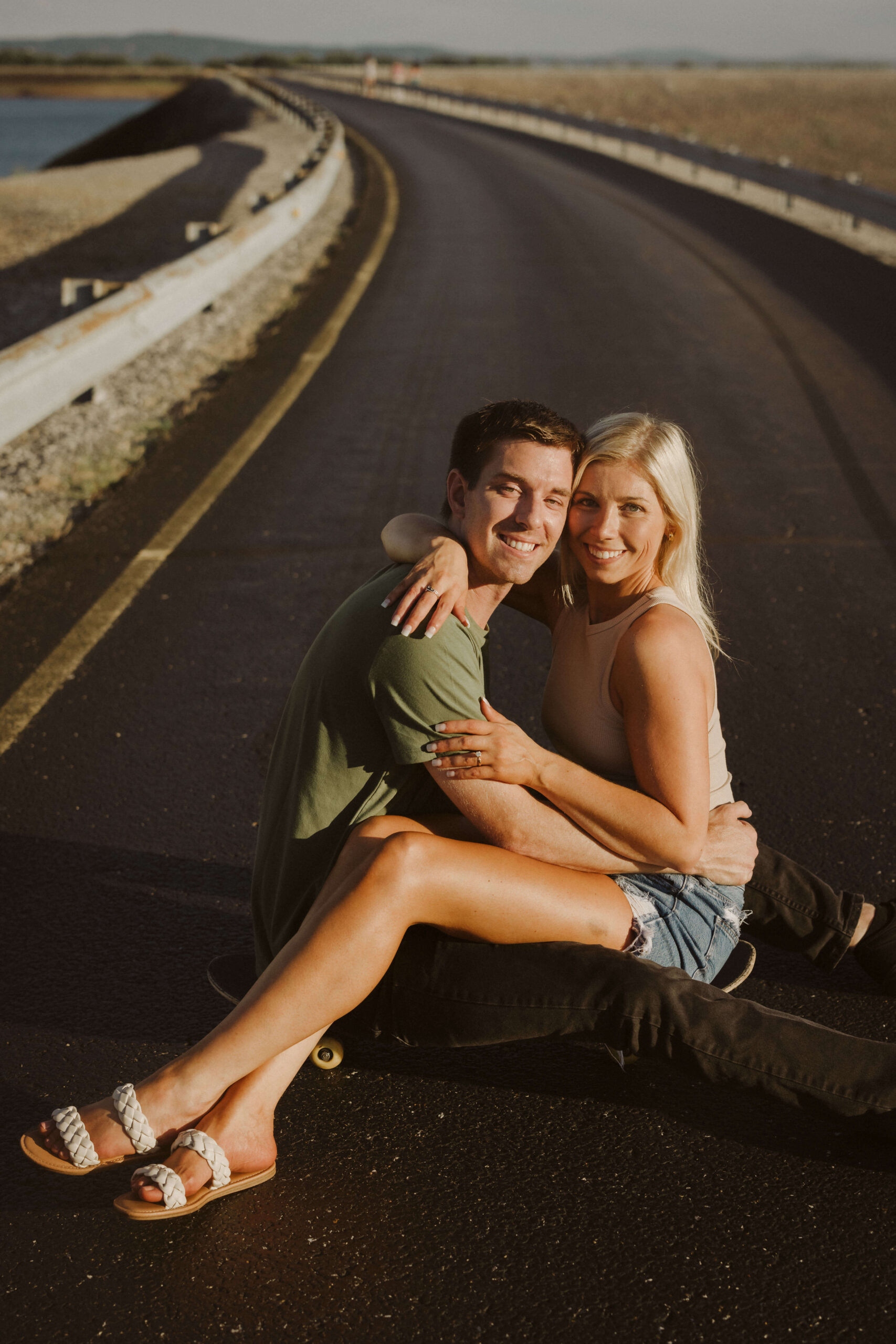 An Engagement Shoot in Raccoon Mountain Park
Raccoon Mountain Park is only about a twenty minute drive a way from Chattanooga. It's technically part of the Tennessee Valley Authority's hydroelectric facility where water gets pumped into the reservoir at the top of the mountain to be used to generate electricity when needed.
Outside of being a site for hydroelectricity, the park is also a state-designated wildlife observation area. The forested mountaintop is home to a wide variety of animals including a large population of bald eagles that can be seen hunting from the views from the overlooks and, of course, raccoons.
Raccoon Mountain is also a popular area for mountain bikers. The mountain has over 28 miles of trails in various difficulties that were constructed by one of the TVA's partners, the Southern Off-Road Bicycle Association, who still maintains the trails to this day. Along with mountain biking, the trails are also open to foot traffic and you'll sometimes catch the occasional hiker or trail runner making their way through the dirt paths.
Because of its popularity among the outdoorsy crowd, Raccoon Park was one of the first places Rachel and Ty considered for their engagement session. That plus the truly fantastic mountain and river views that the park and its surrounding area has to offer sealed the deal as their choice photography spot.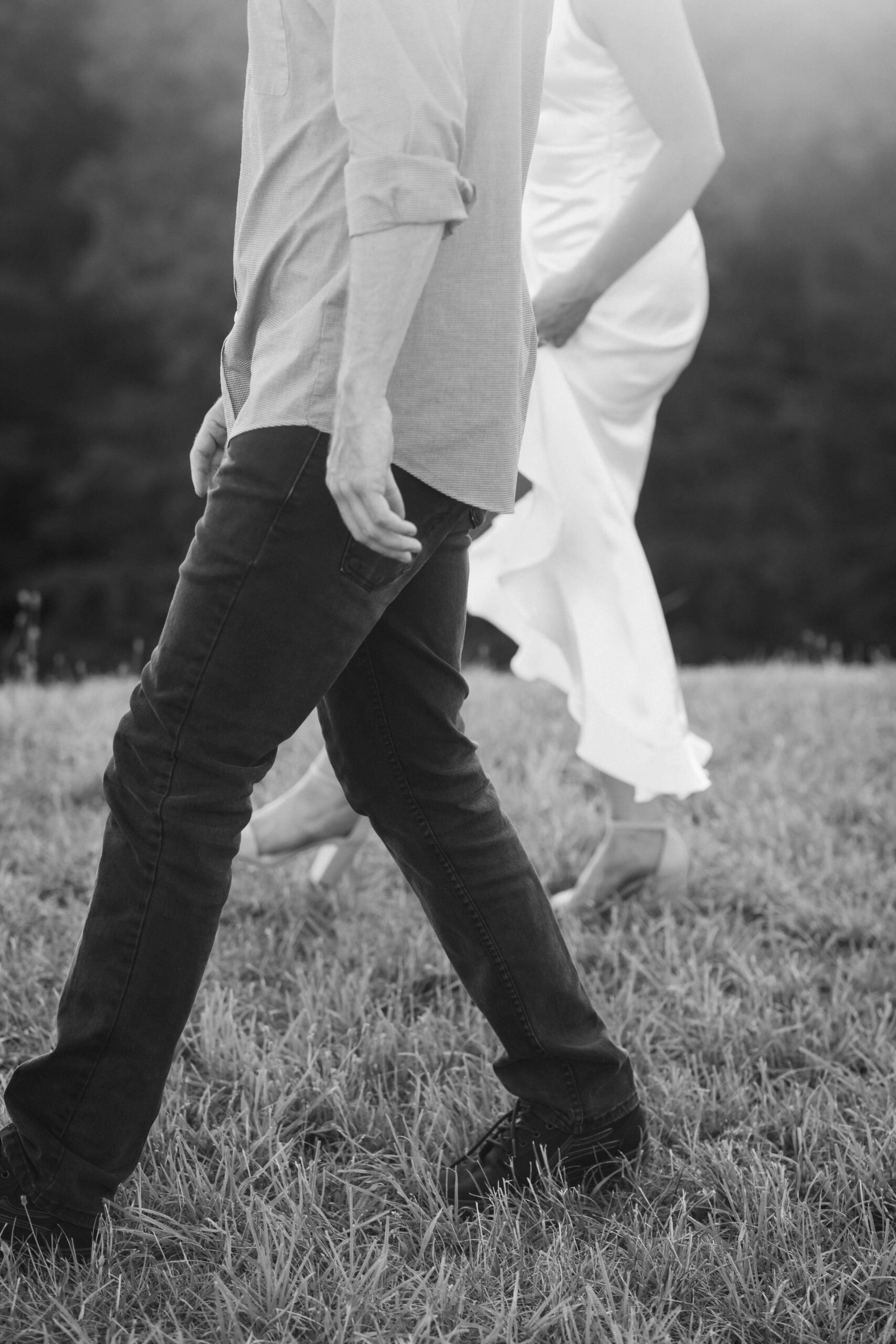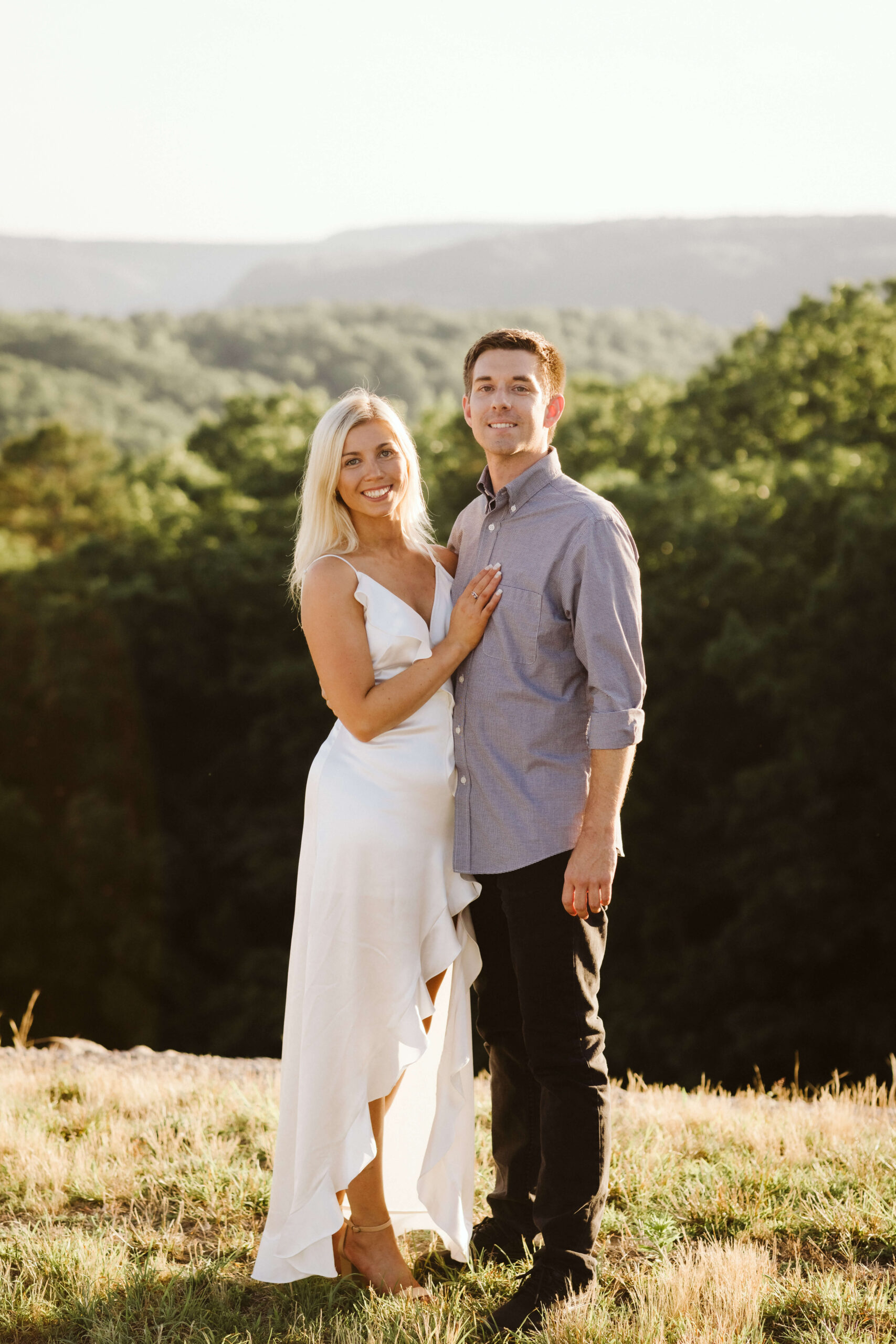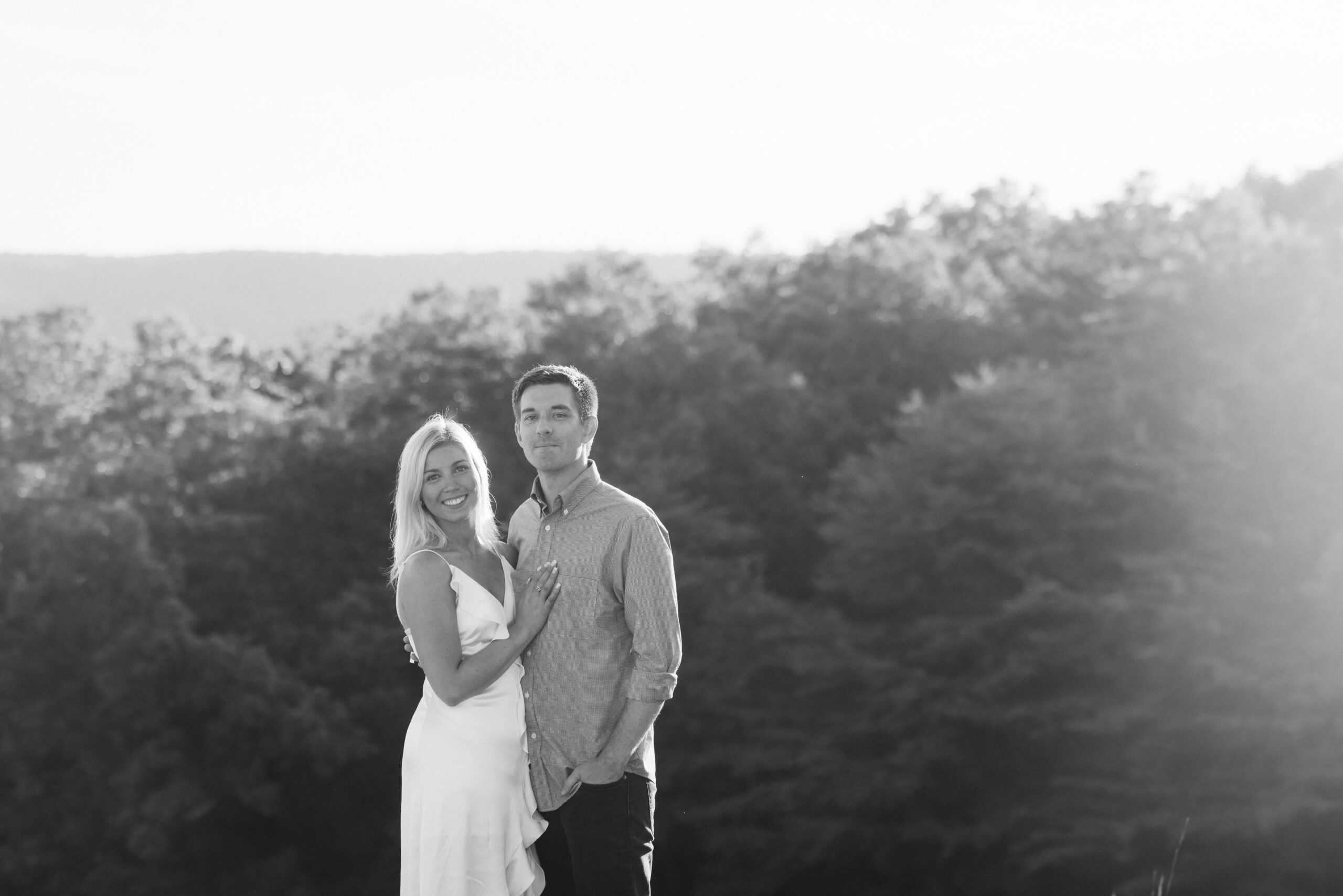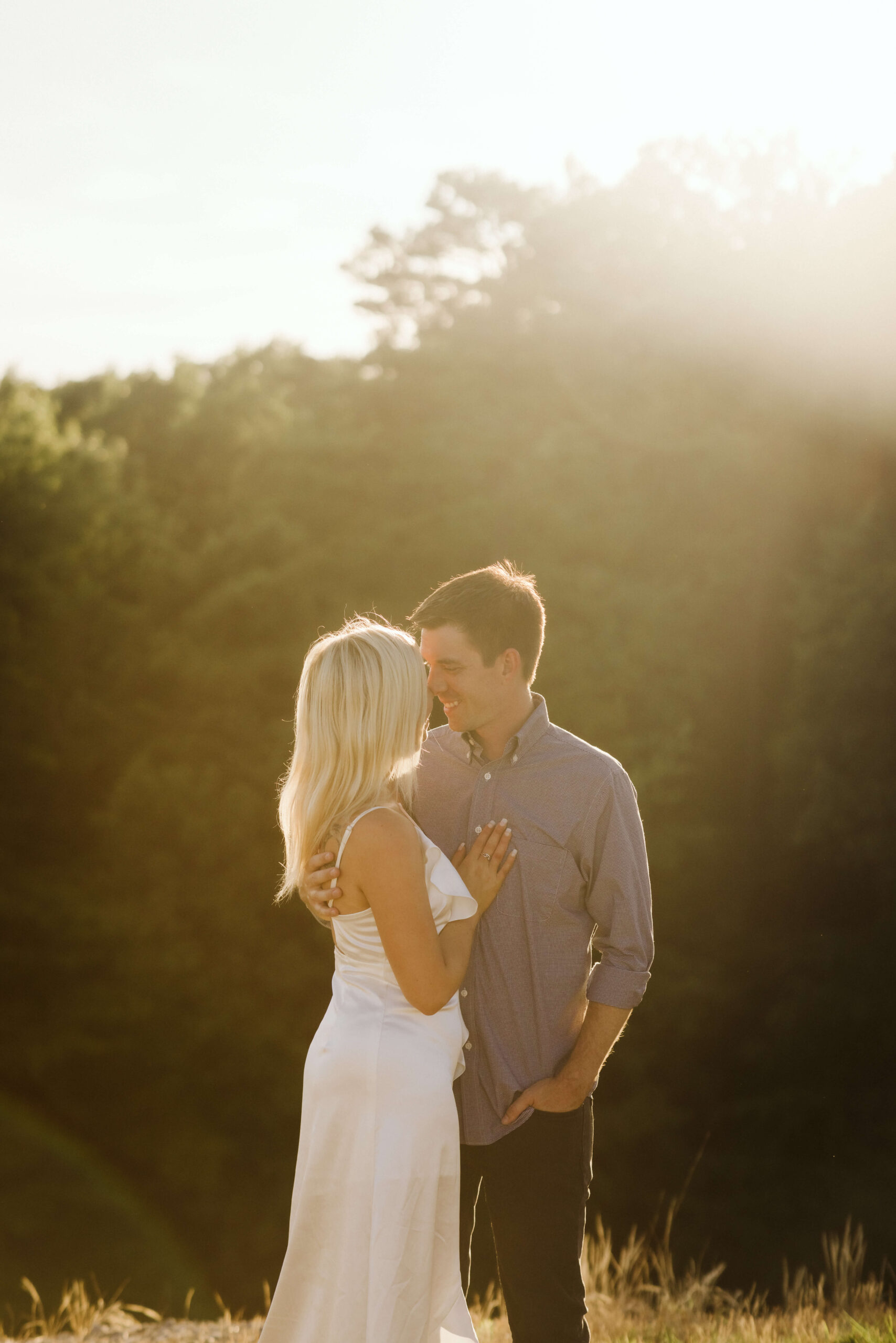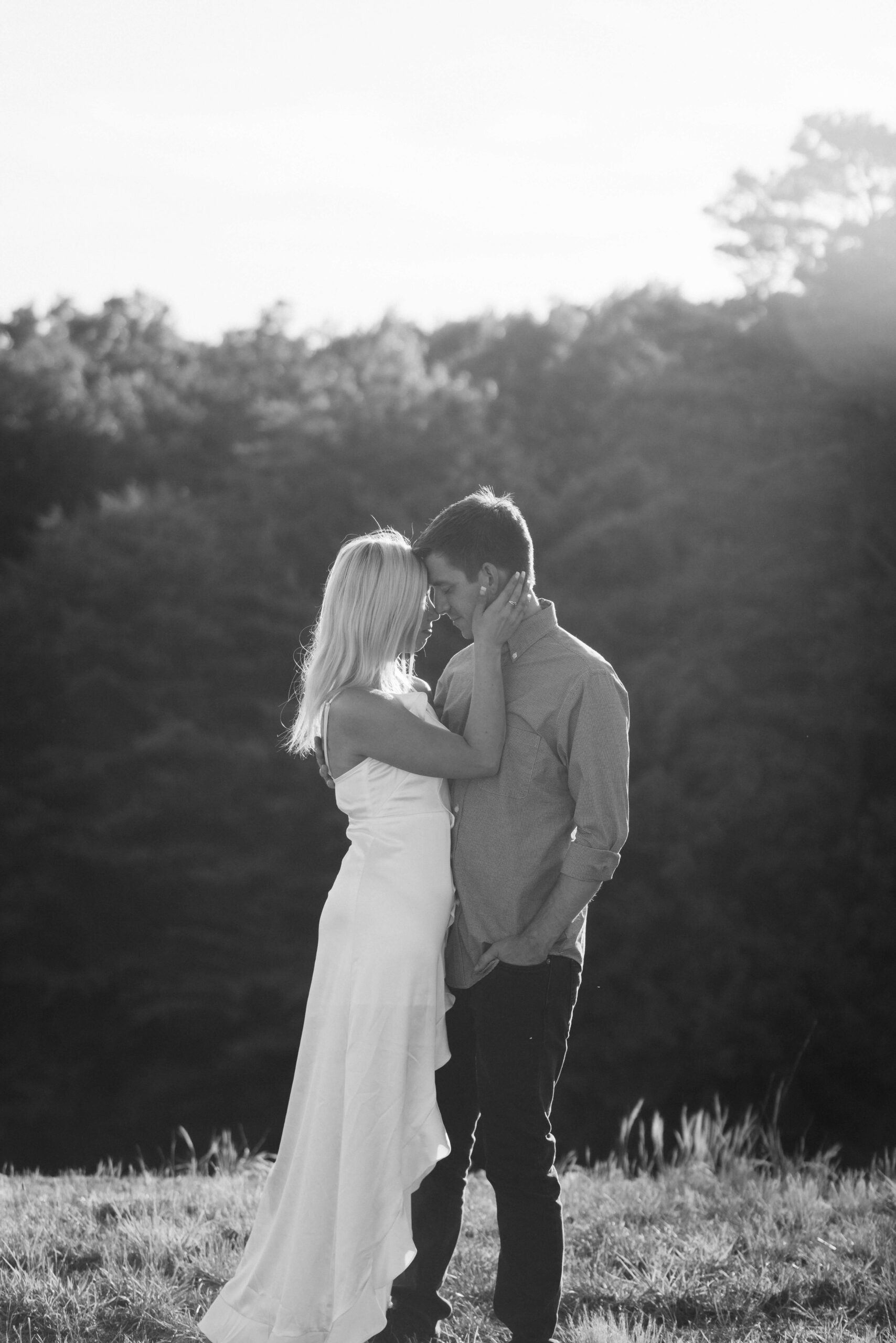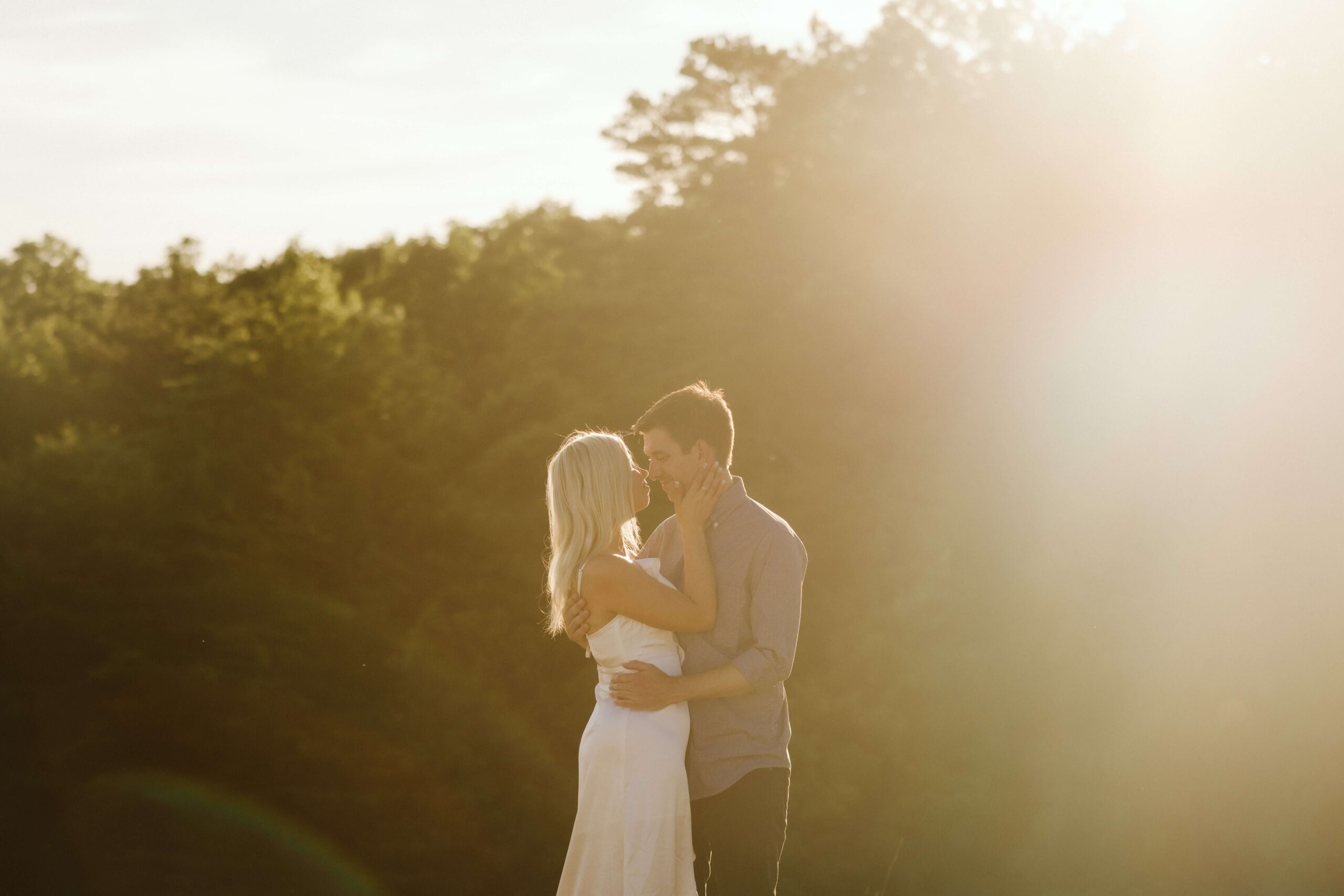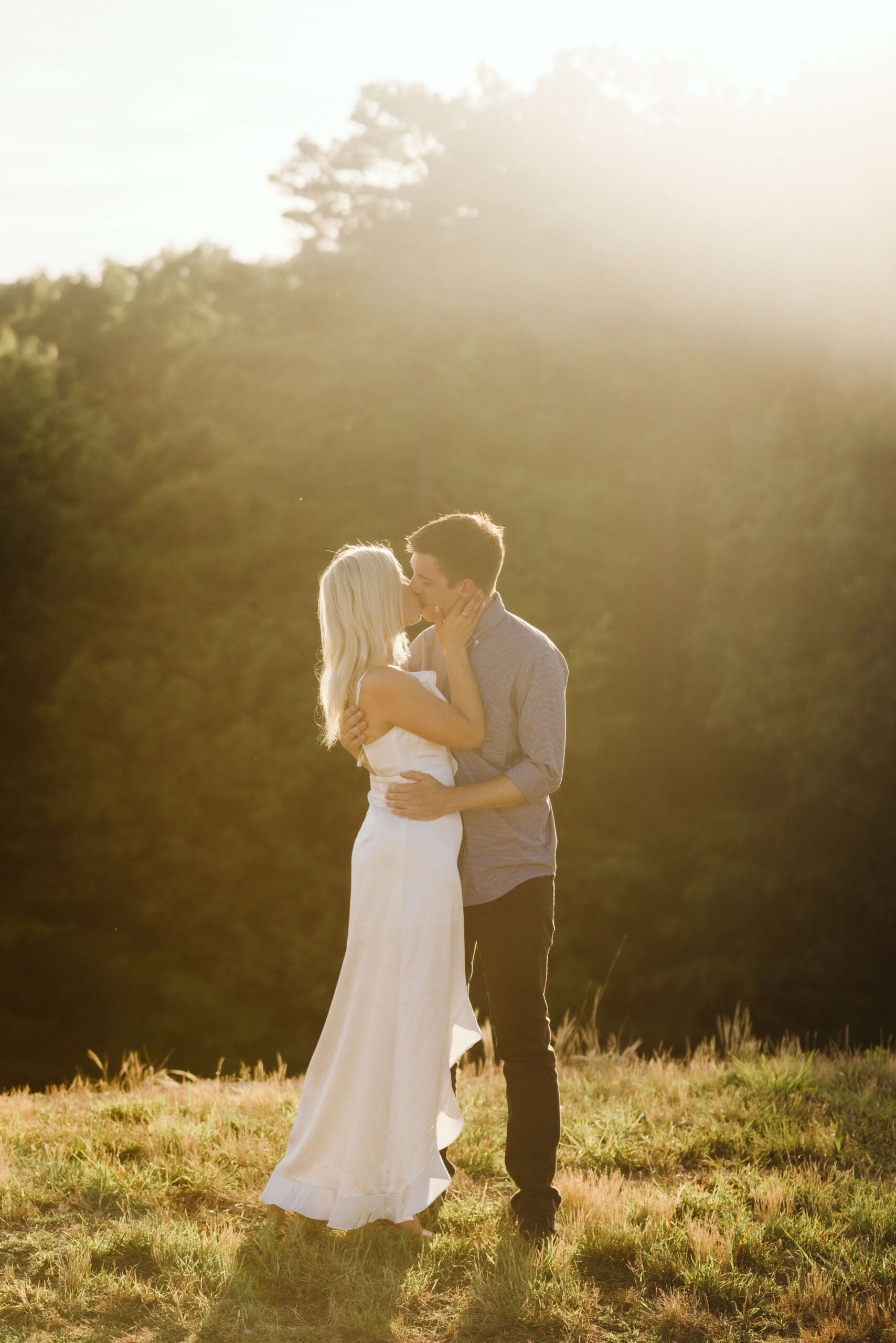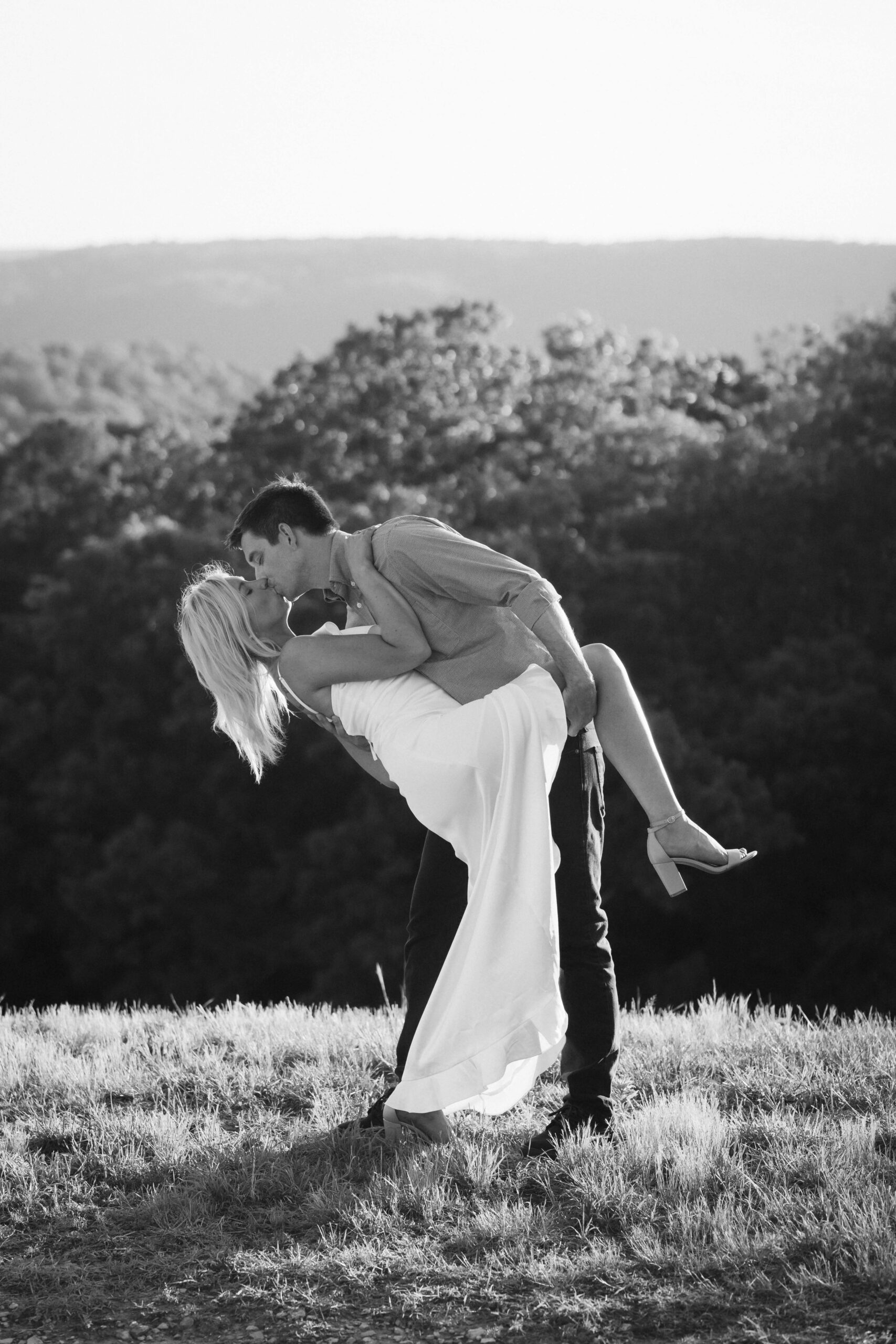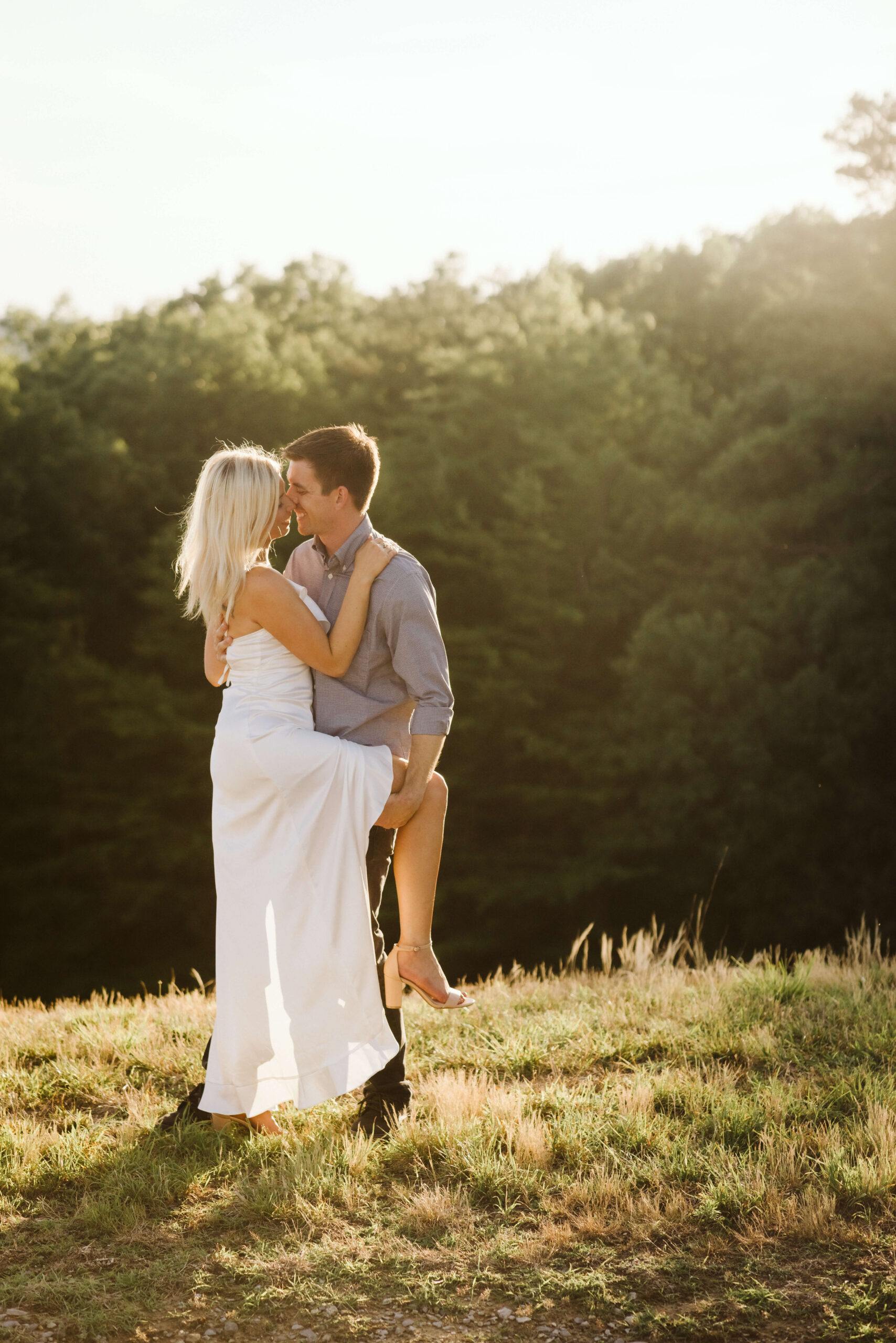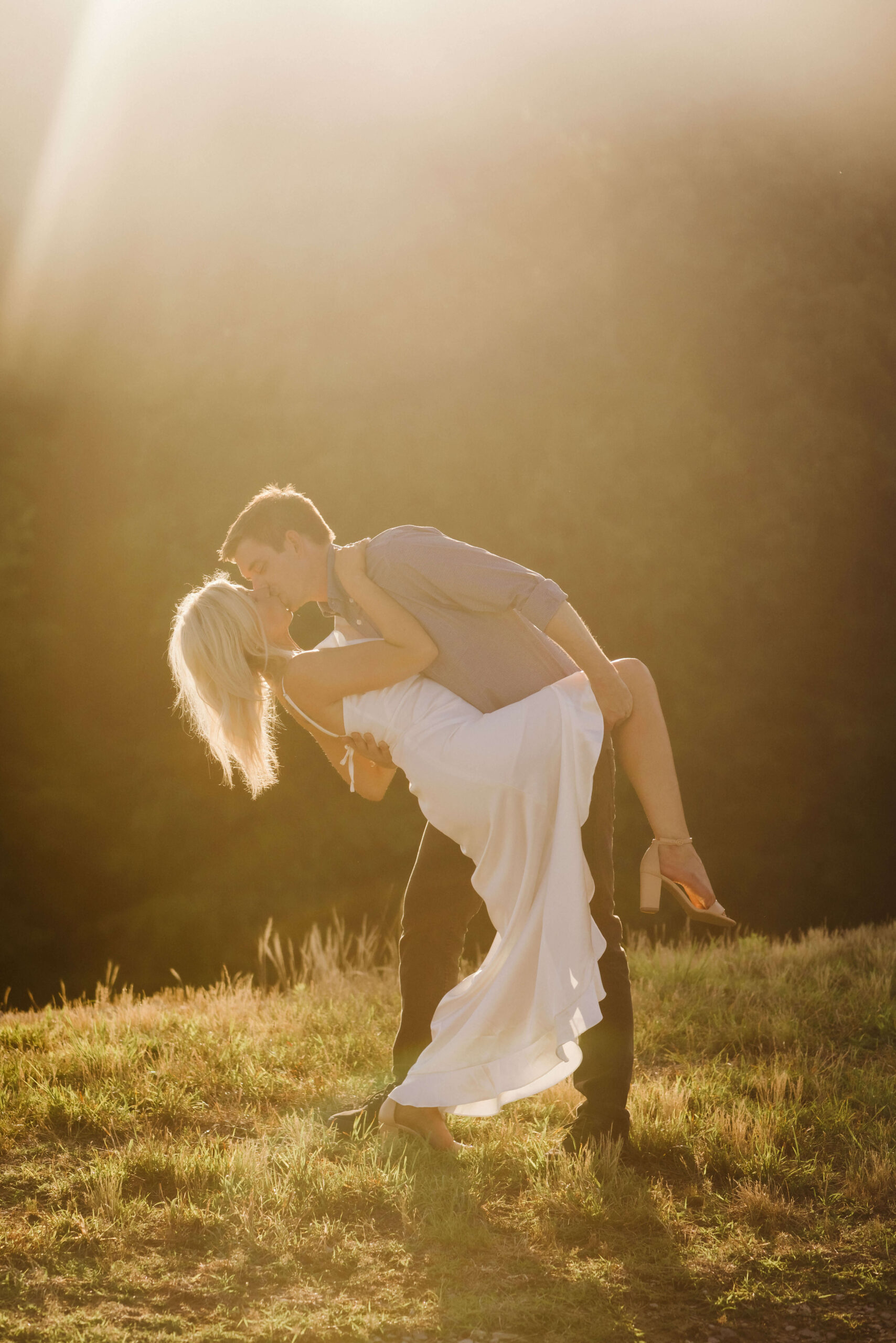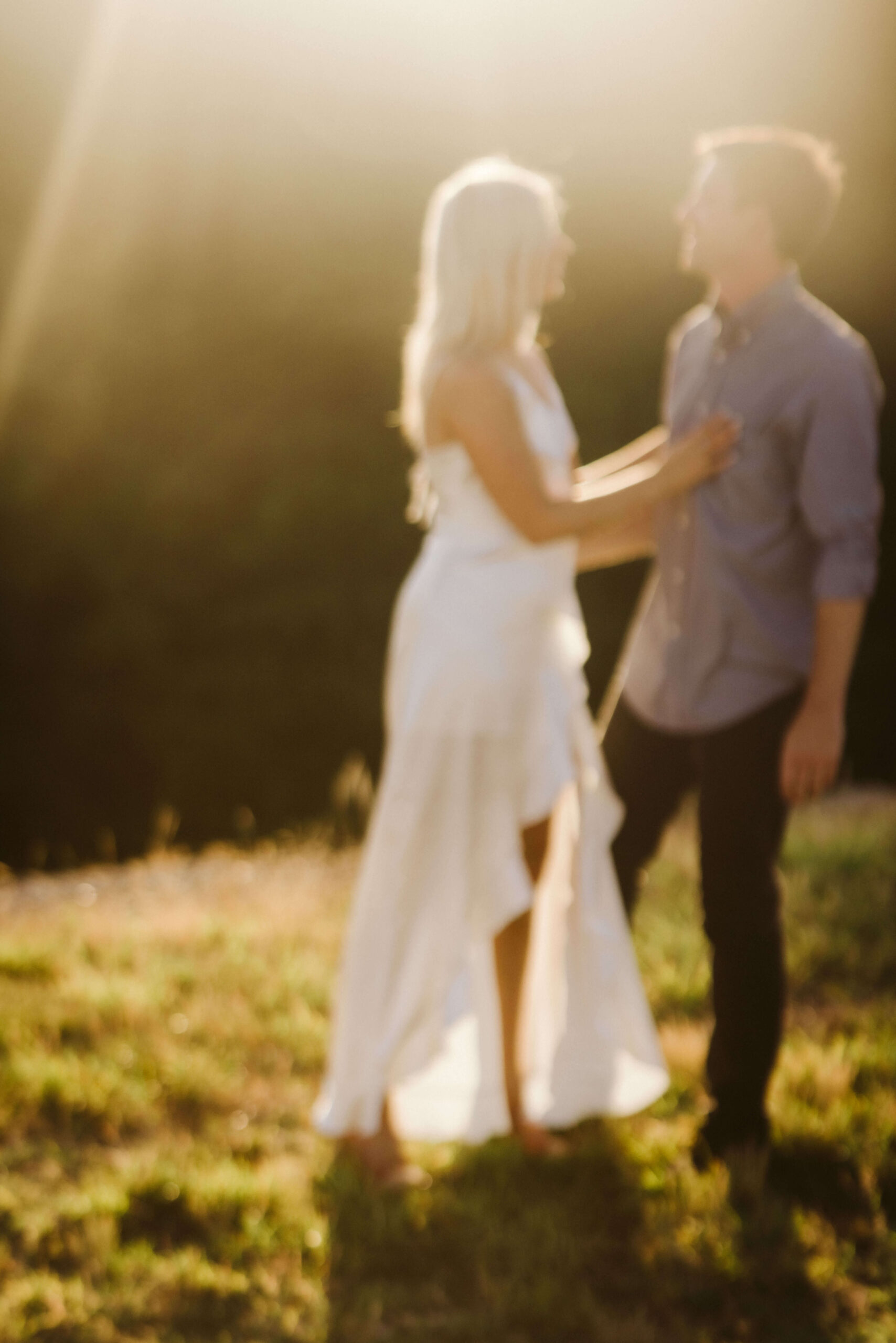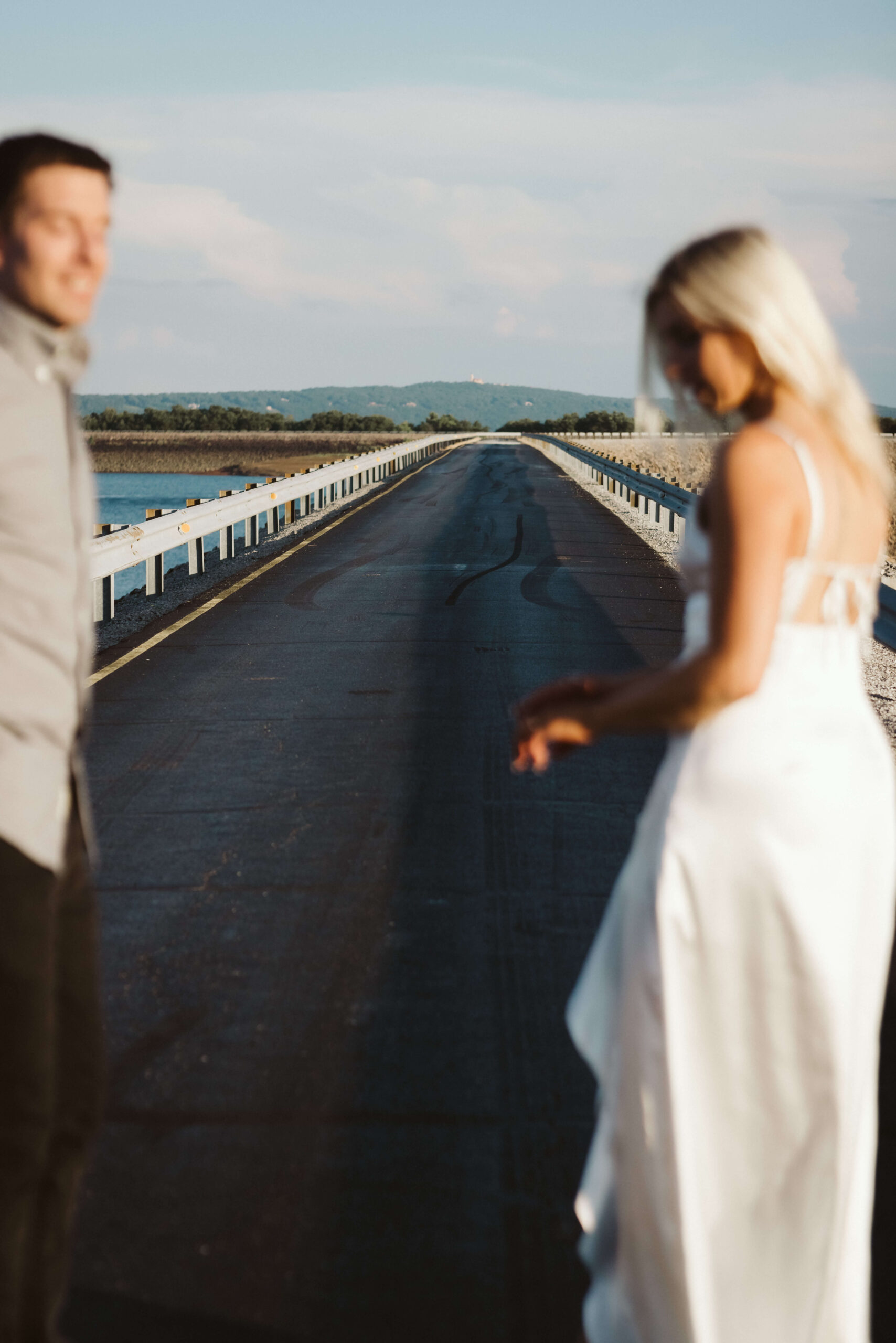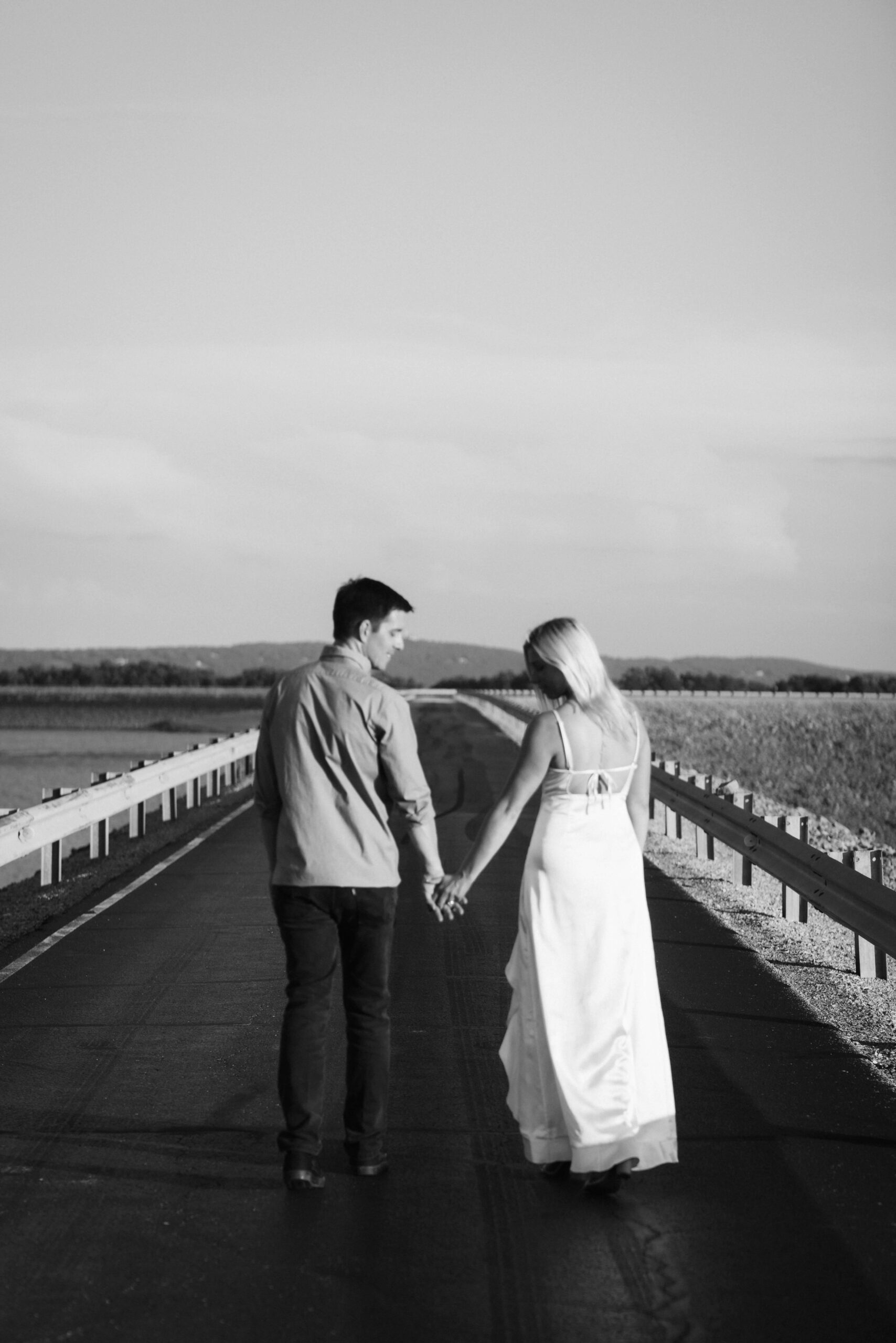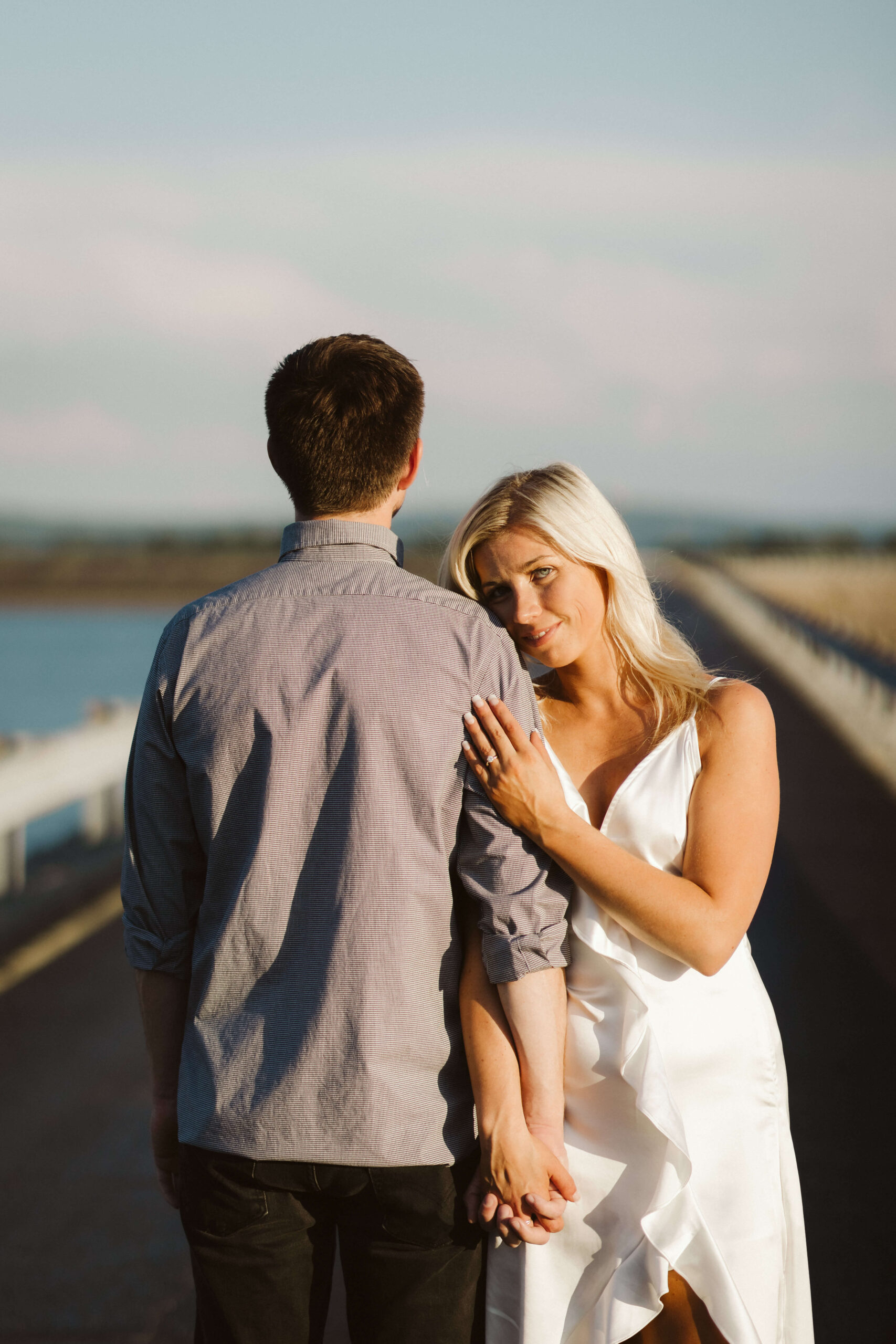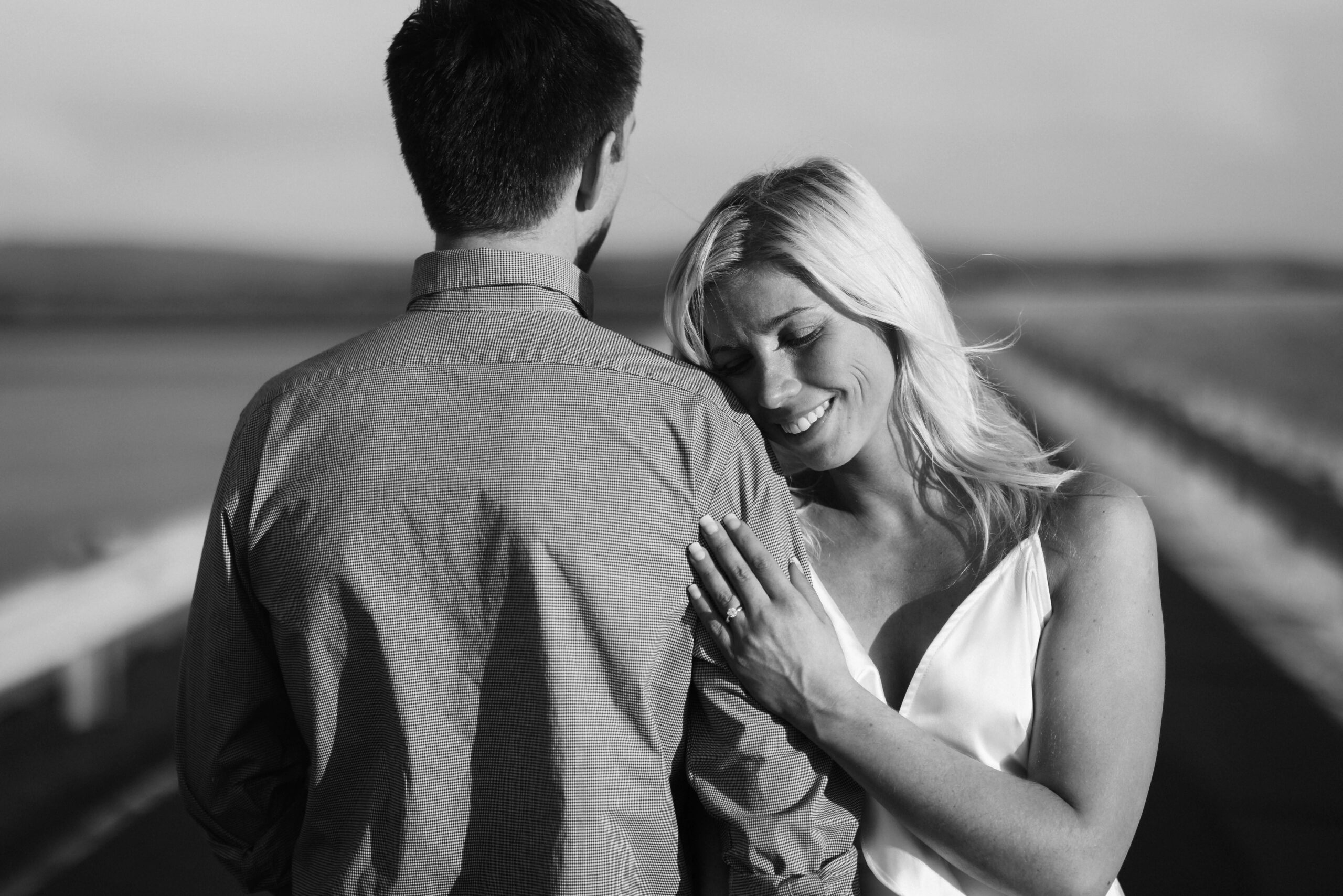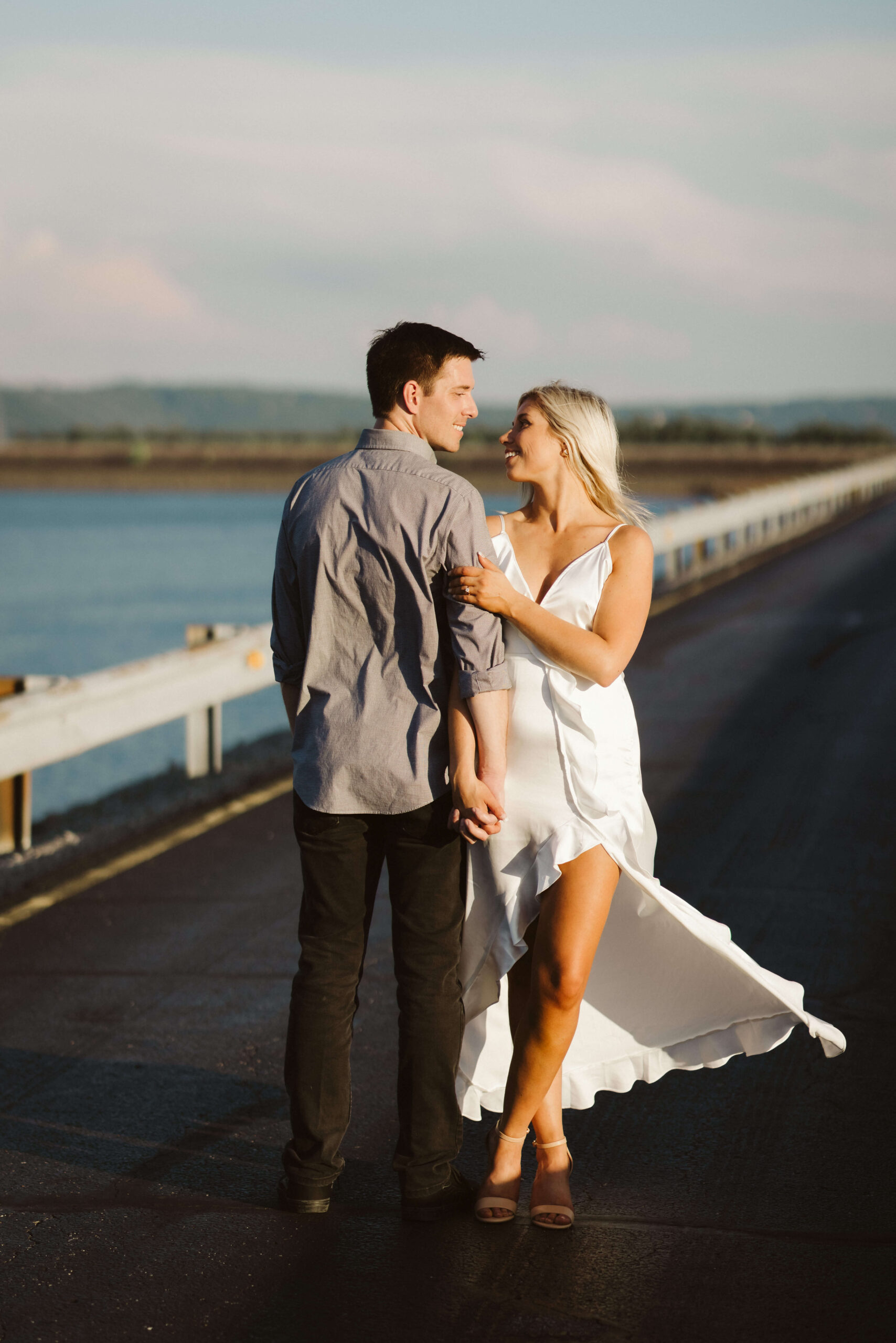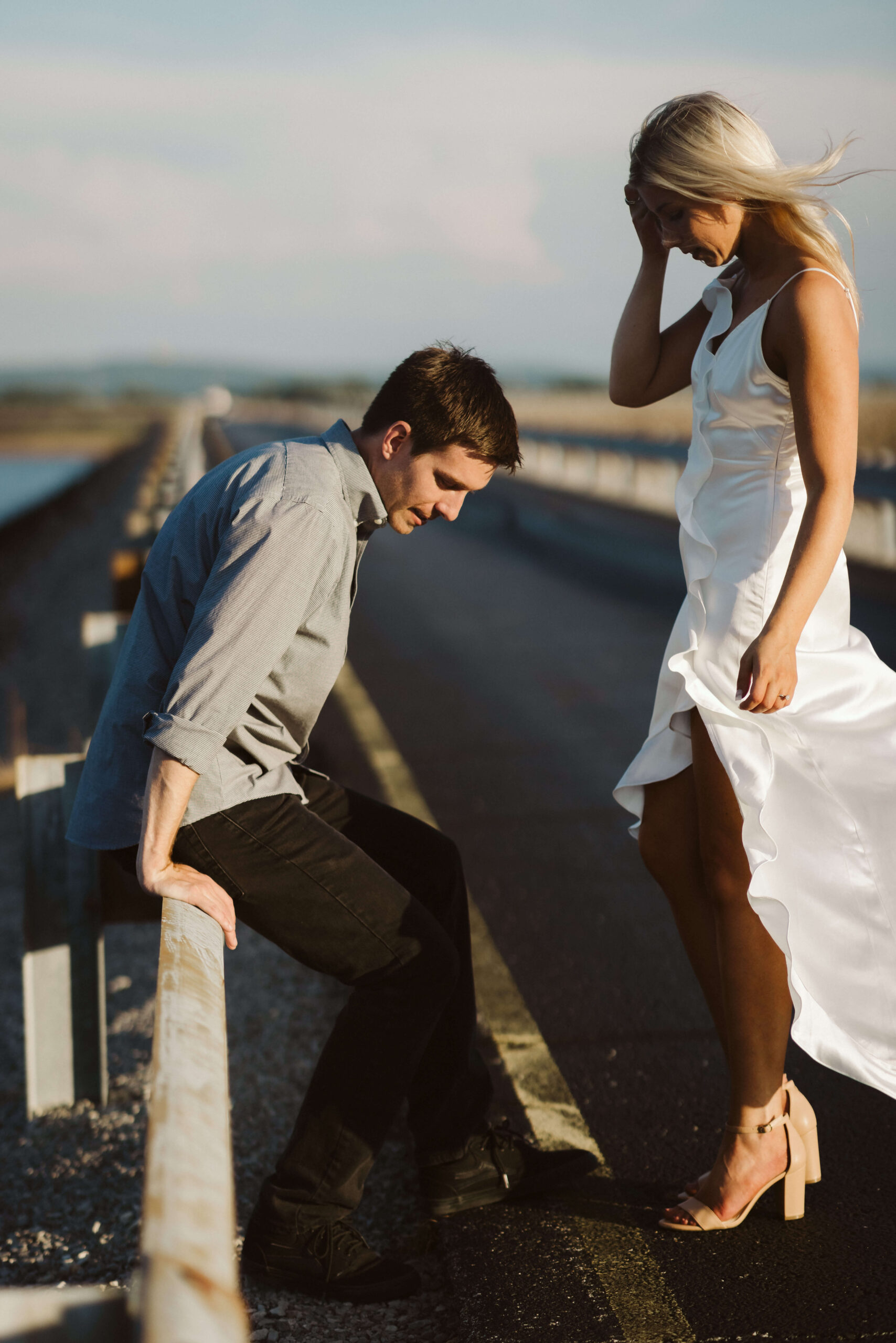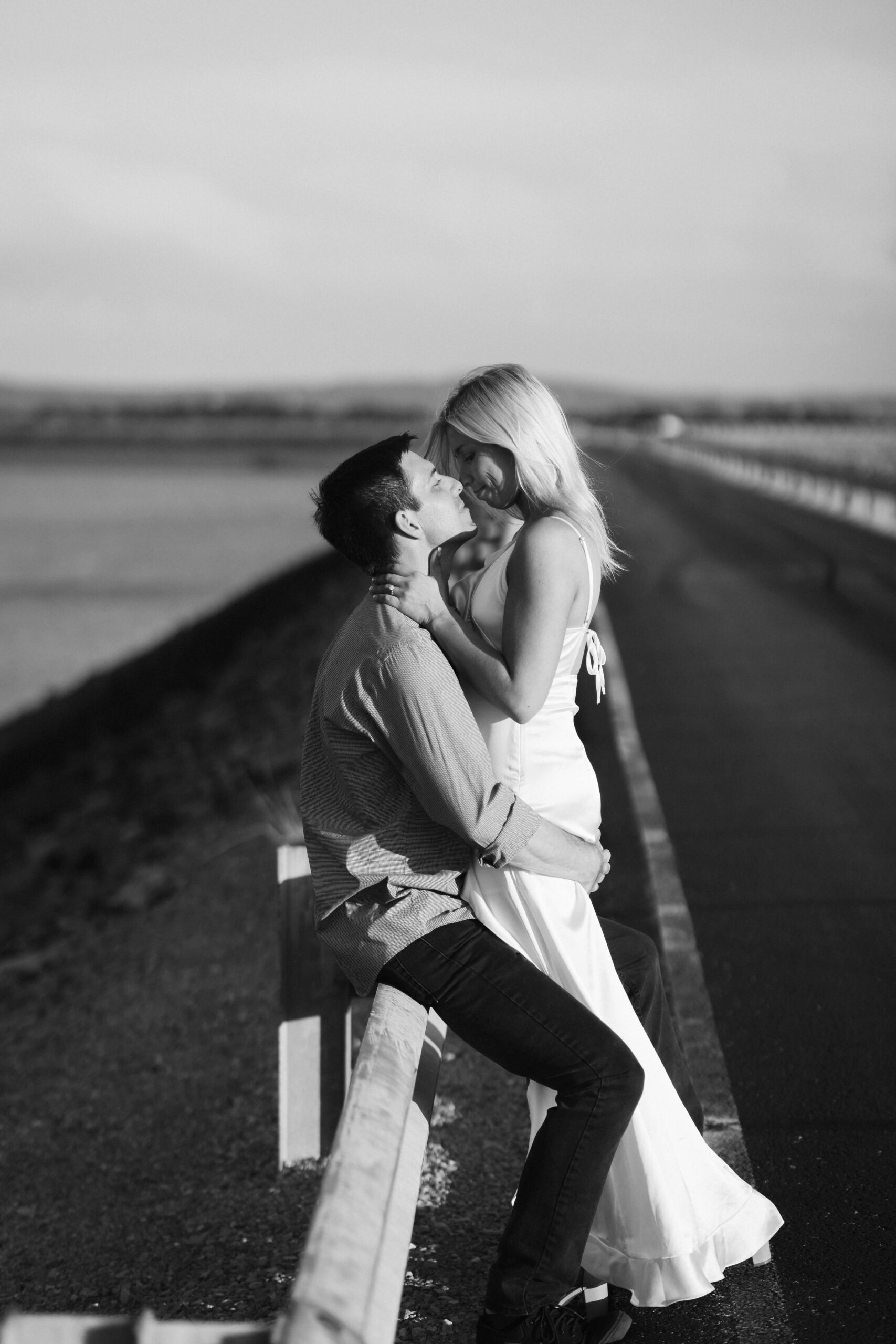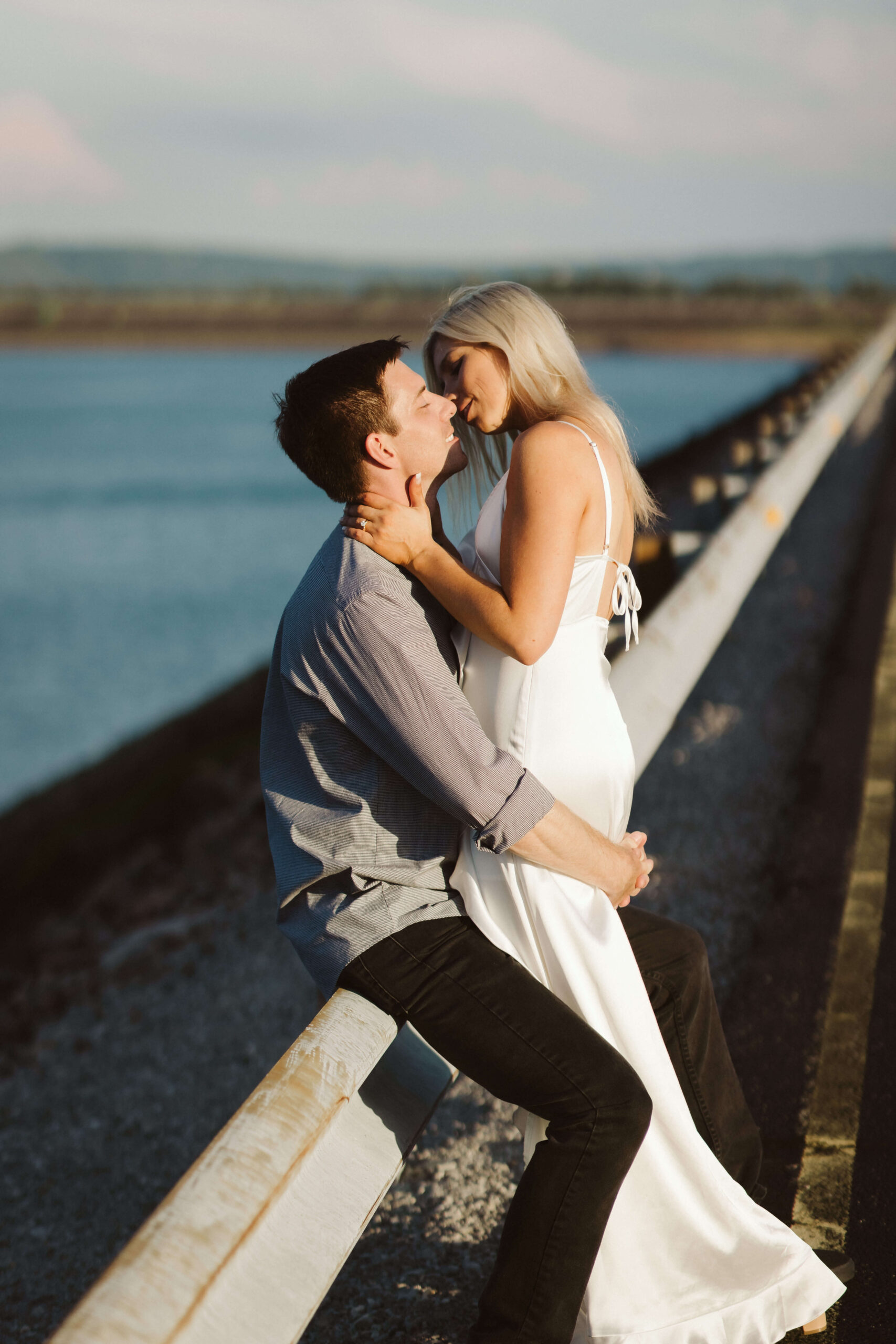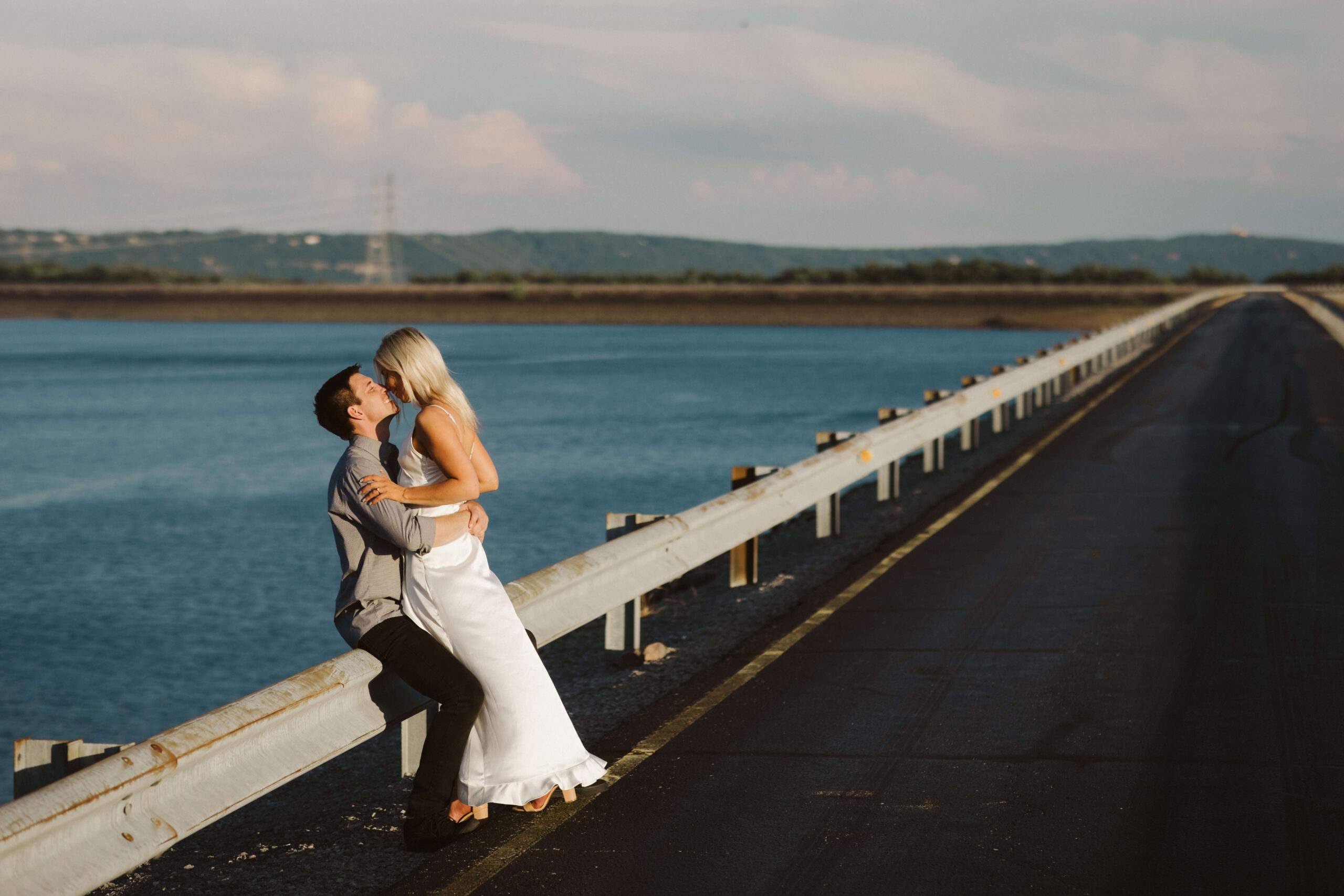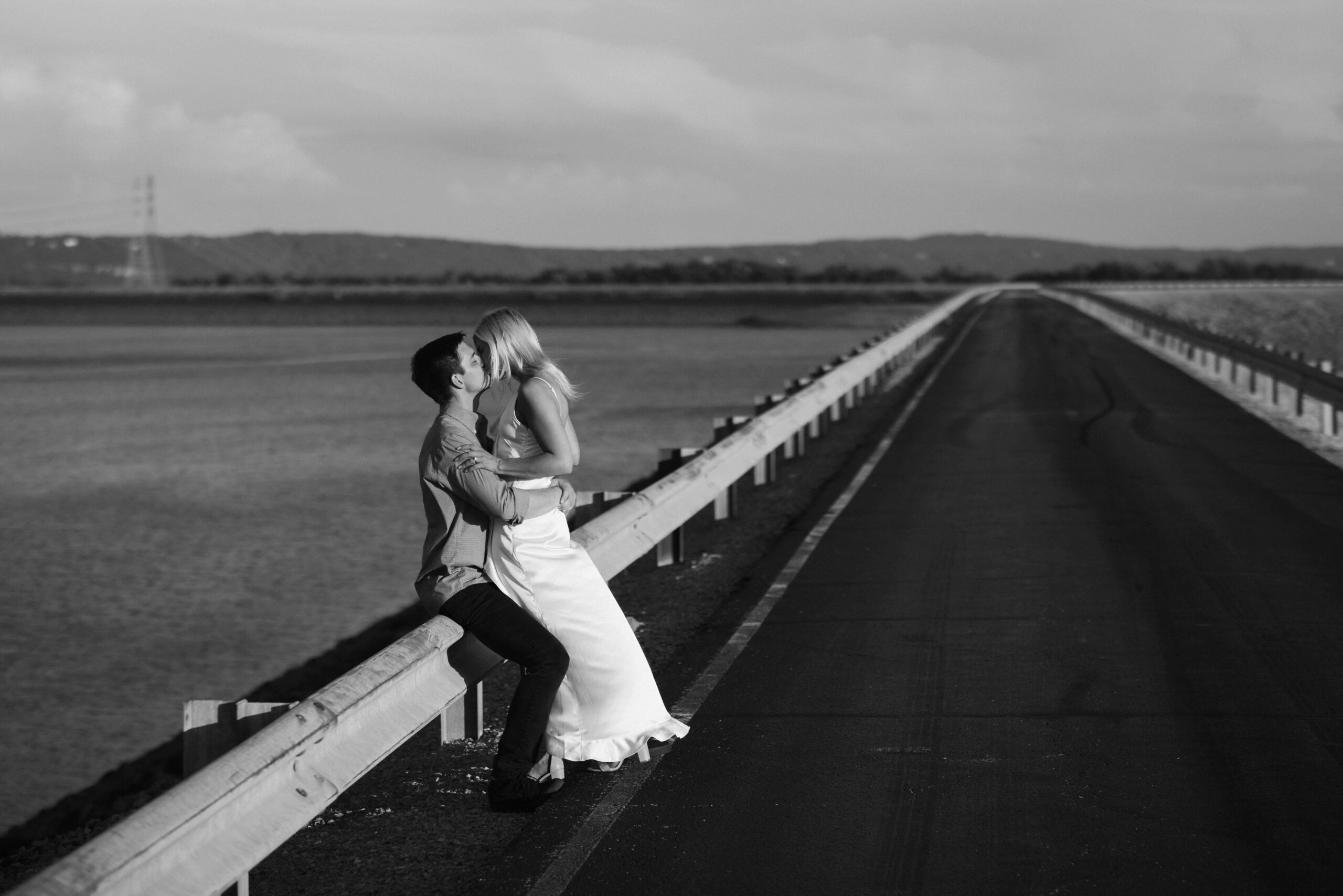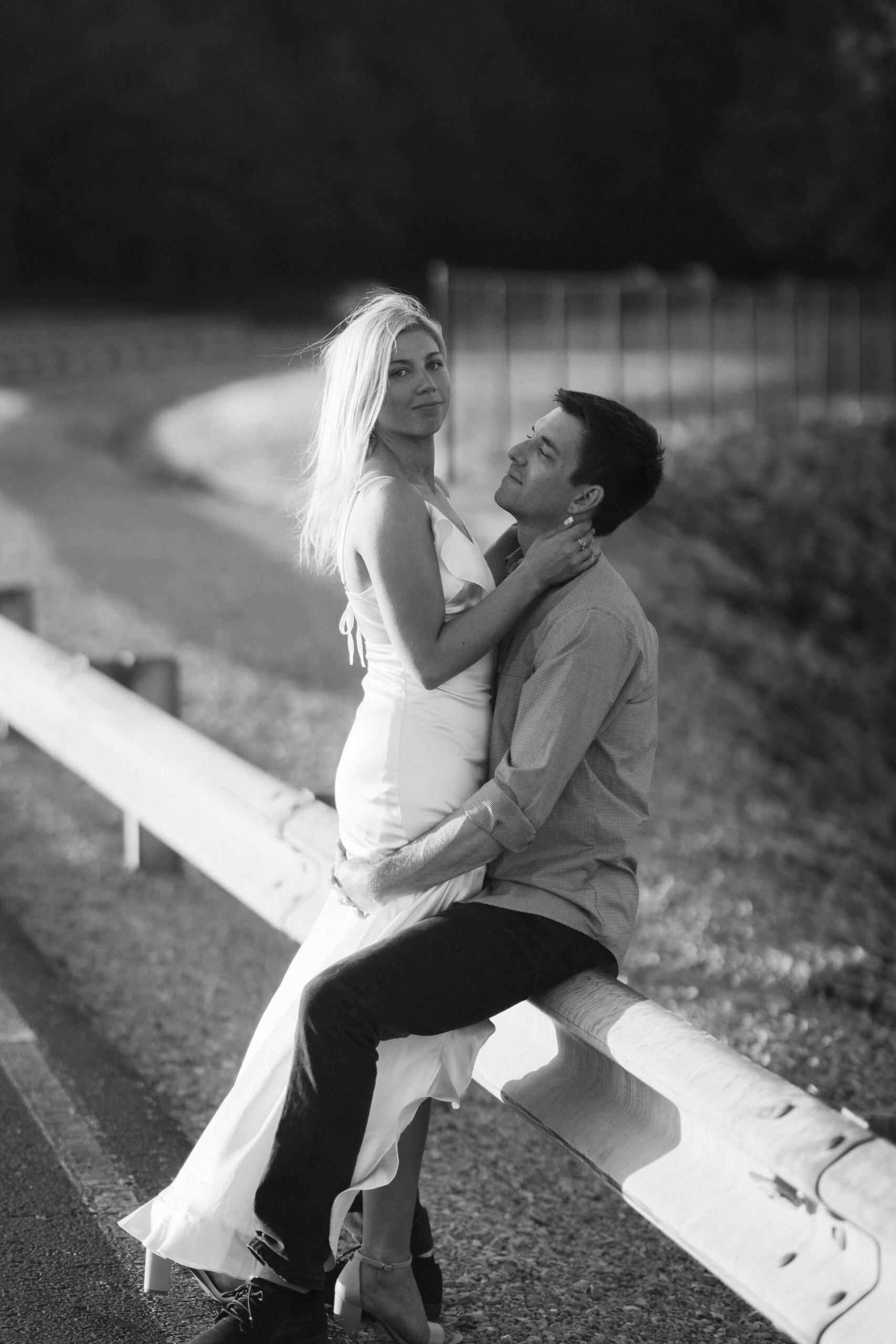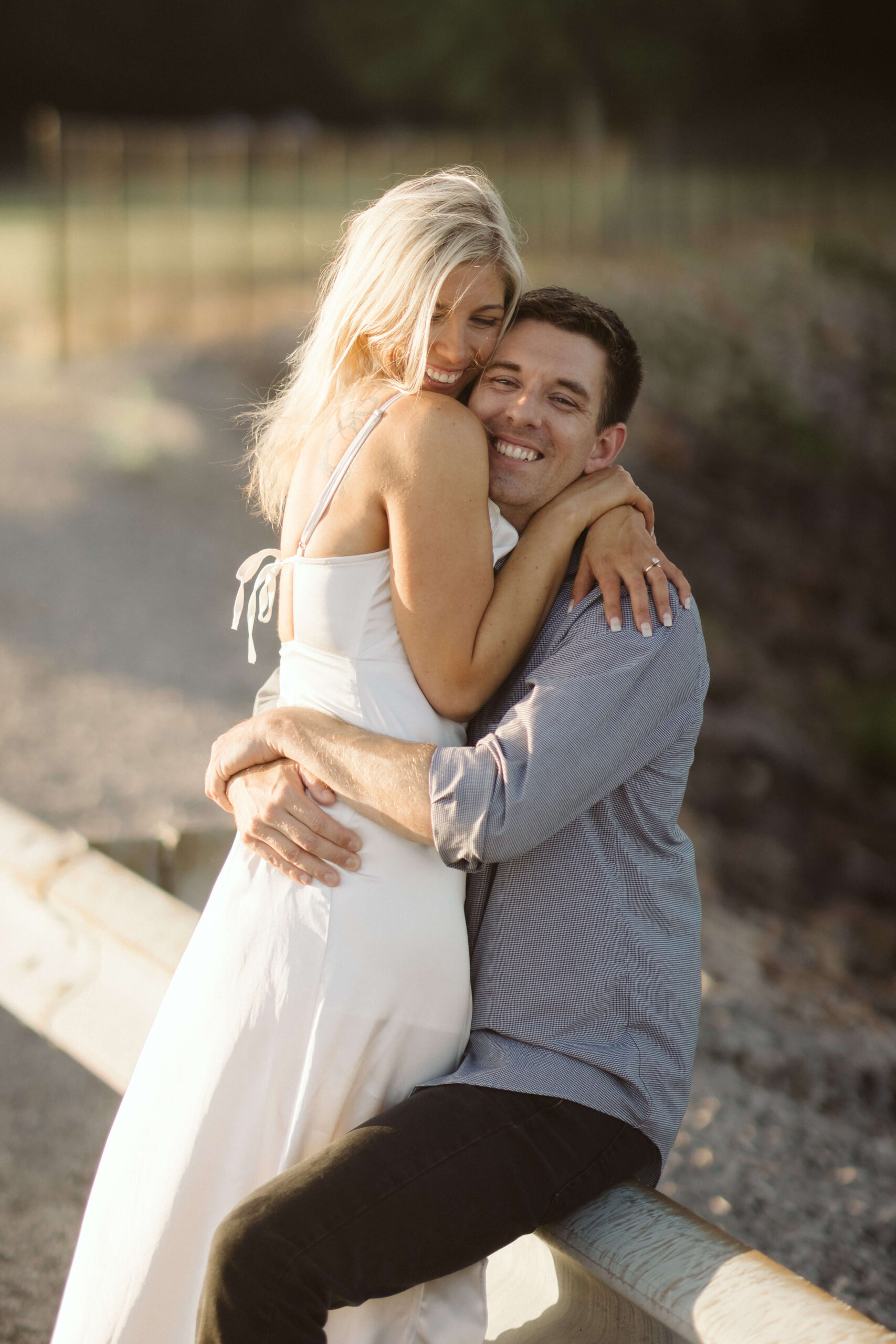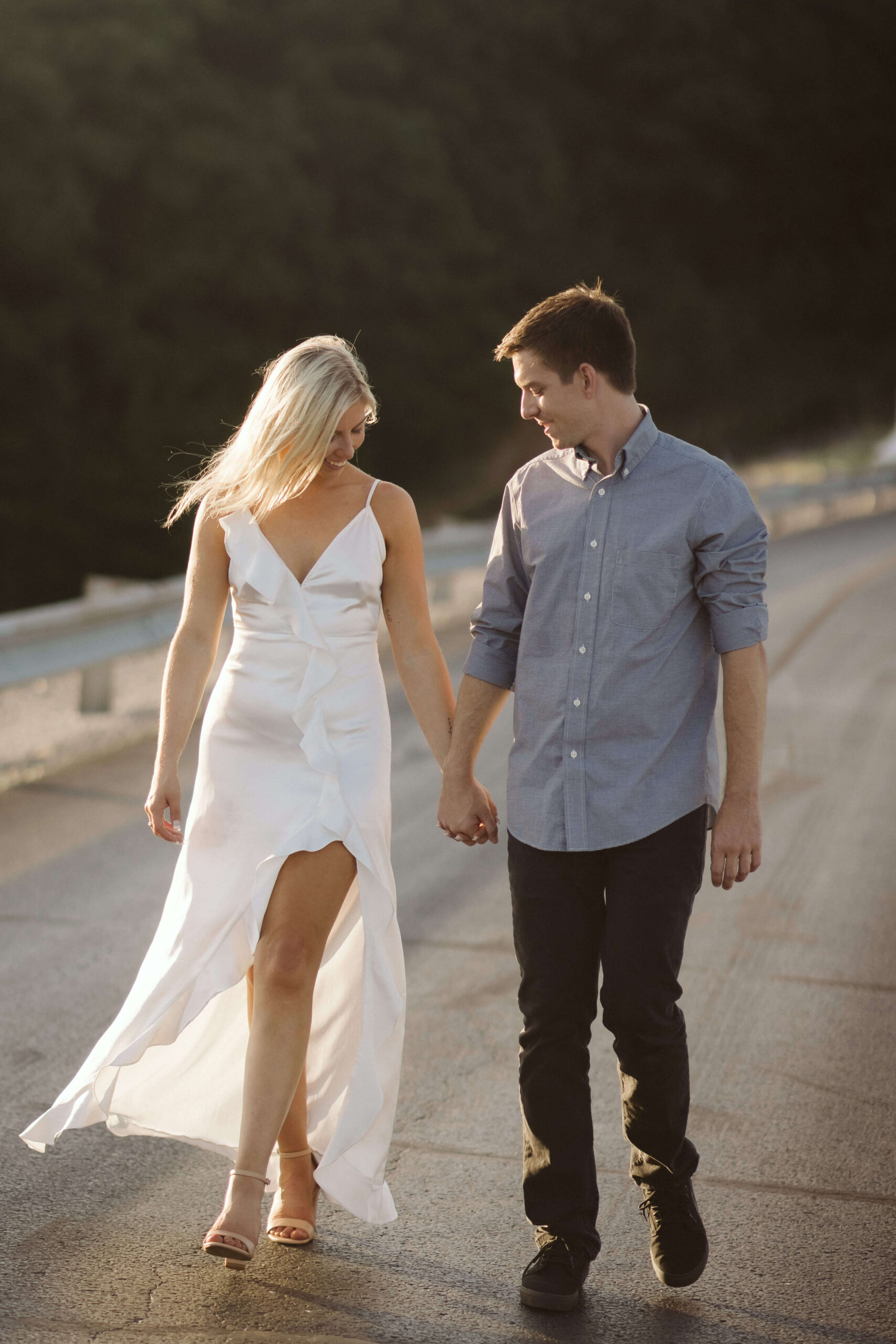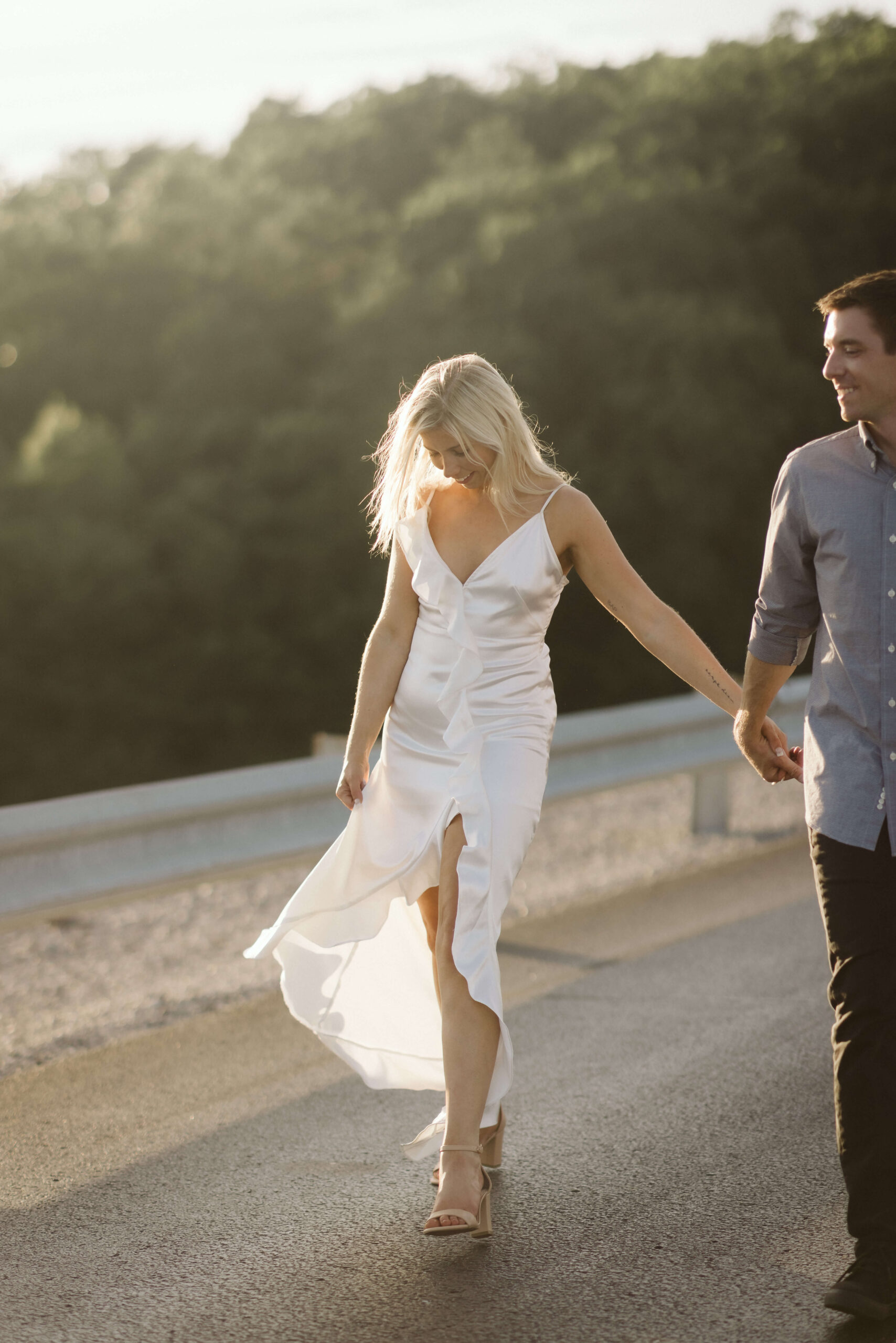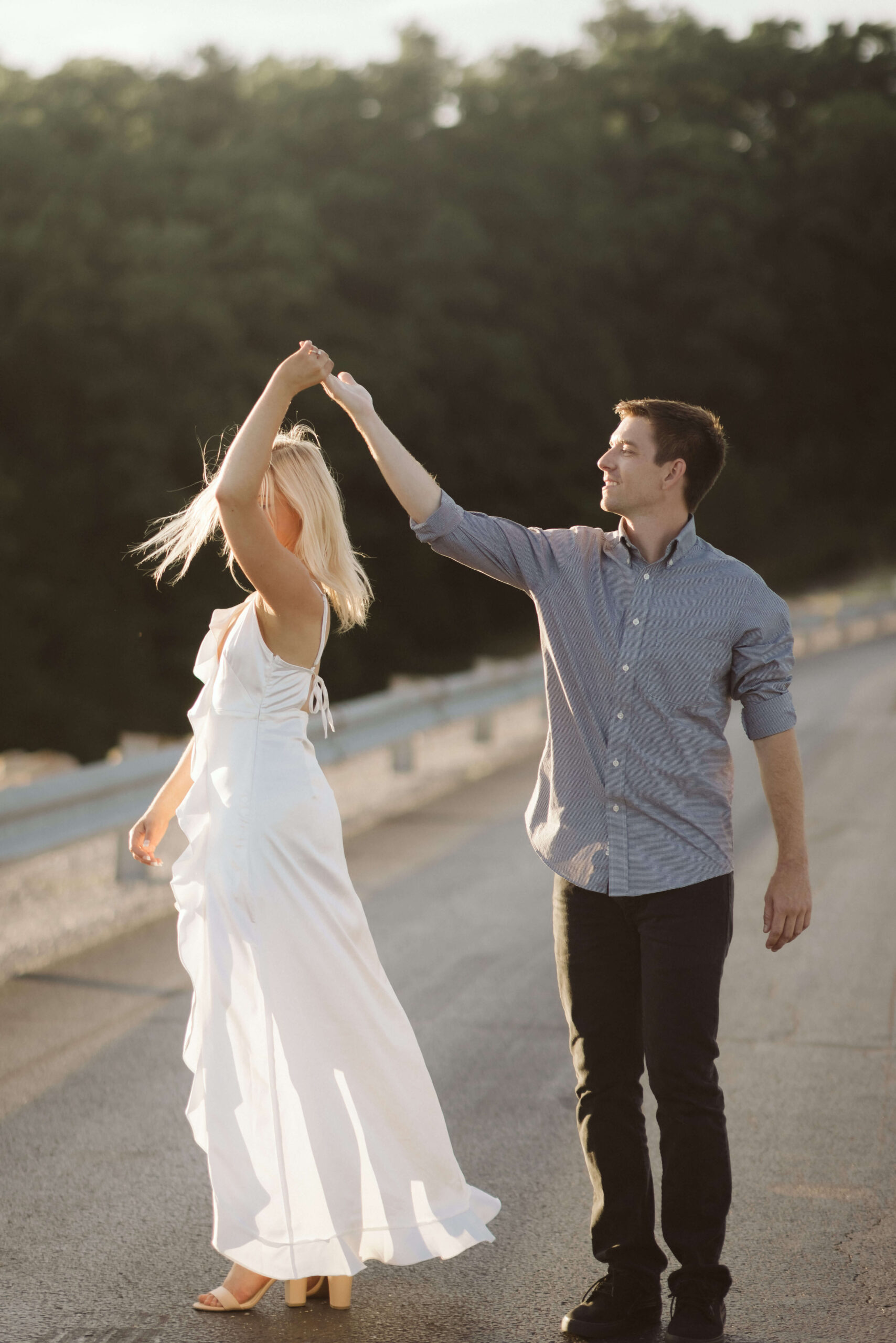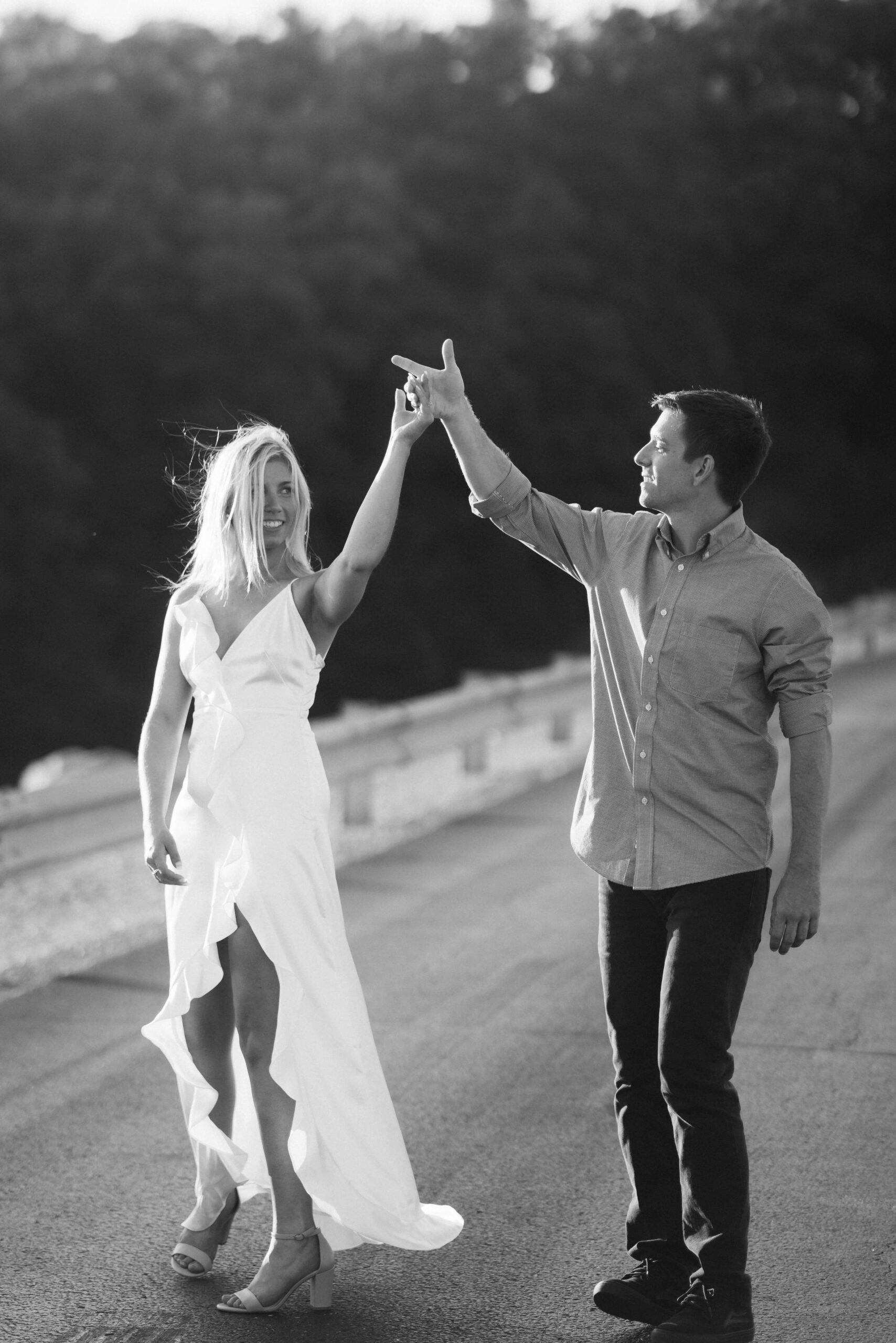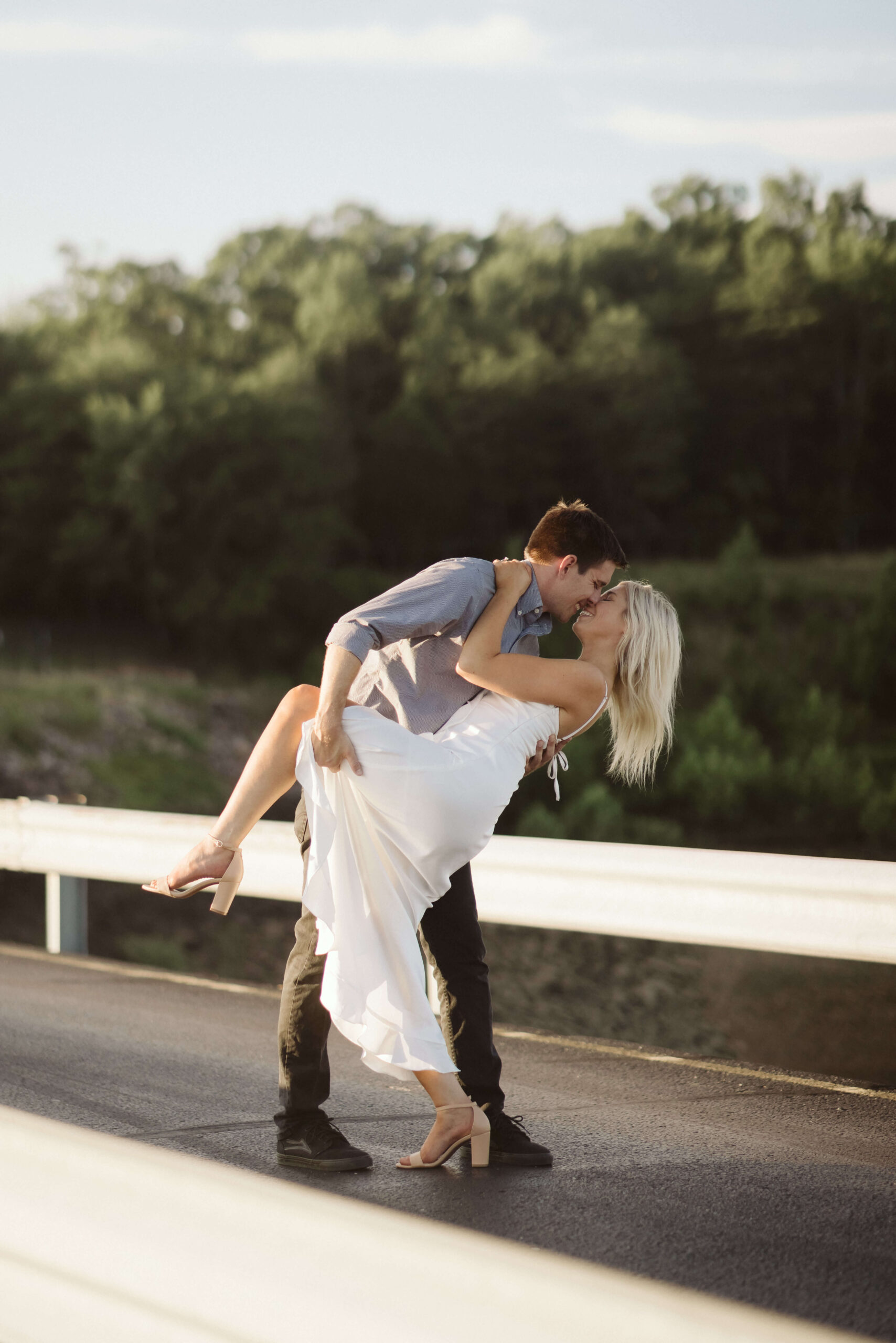 Casual Engagement Photos in TVA Raccoon Mountain Park
We began the shoot in the forested area of Raccoon Mountain Park. Rachel and Ty love being surrounded by nature whenever possible. While Rachel sees nature as grounding and inspirational, Ty, who owns his own photography business for lifestyle brands and real estate, can frequently be found capturing the beauty in nature through a camera lens when he's not doing photo shoots of his own. Taking their engagement portraits while wandering through the park's many bike and hiking paths was just the perfect setting for them.
While some couples get overwhelmed with trying to plan for and figure out what to wear for their engagement shoot, Rachel and Ty chose to keep the first half of their shoot super laid back. They kept it really simple in their everyday clothing that you could probably catch them in as they ran to grab a coffee and showed off their playful side for the camera.
After taking a few cozy shots in the park, we took the short drive to the long driving path that surrounds the TVA dam. Here Ty brought out his skateboard as a little nod to their sporty and adventurous side. This cute couple didn't need a lot of guidance in terms of how to pose or what to do with their hands. Tyler showed off his skills on his skateboard then scooted Rachel around and just had a lot of fun together. They simply played around with each other while I snapped wonderful, natural pictures of them with huge, joyous smiles on their faces.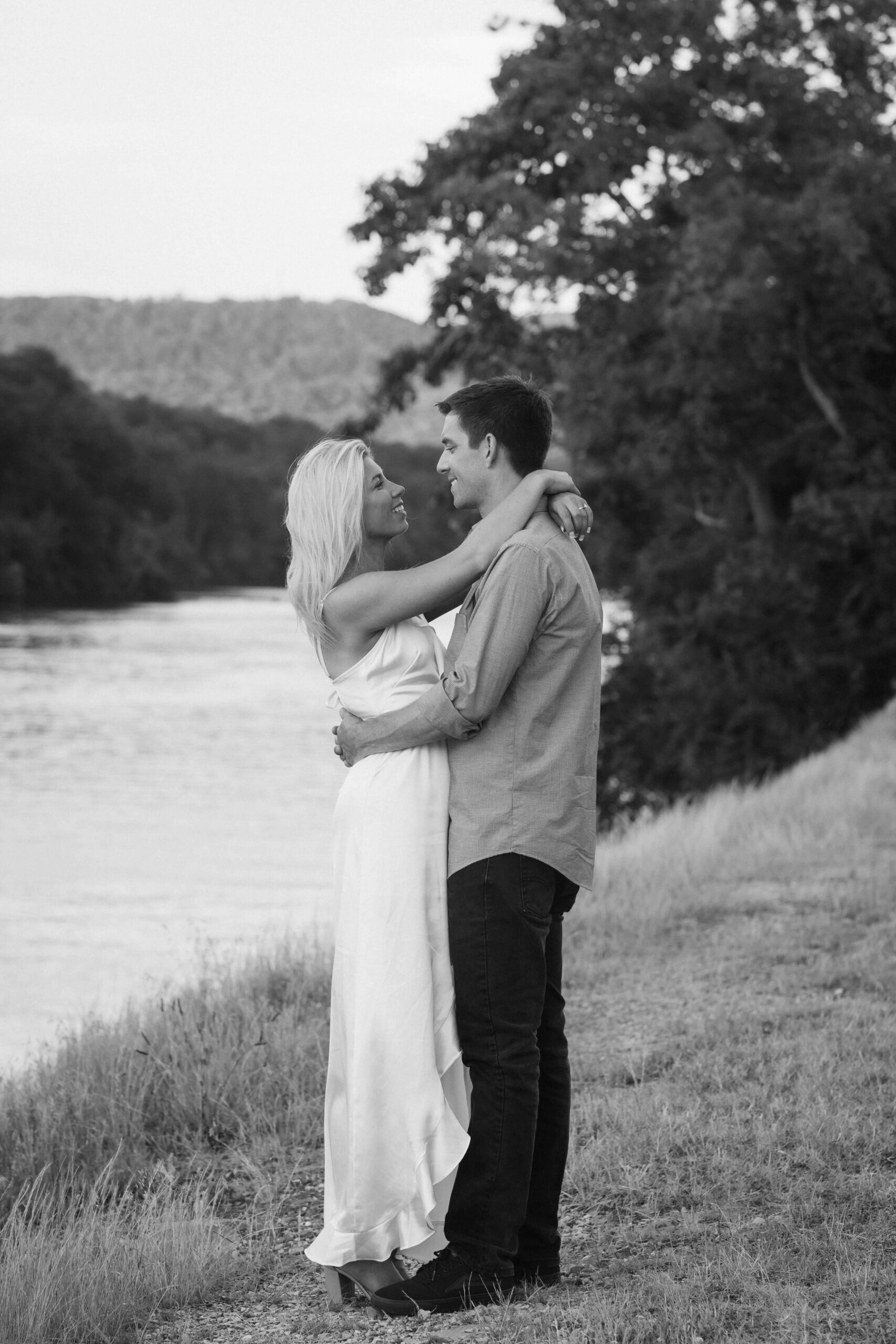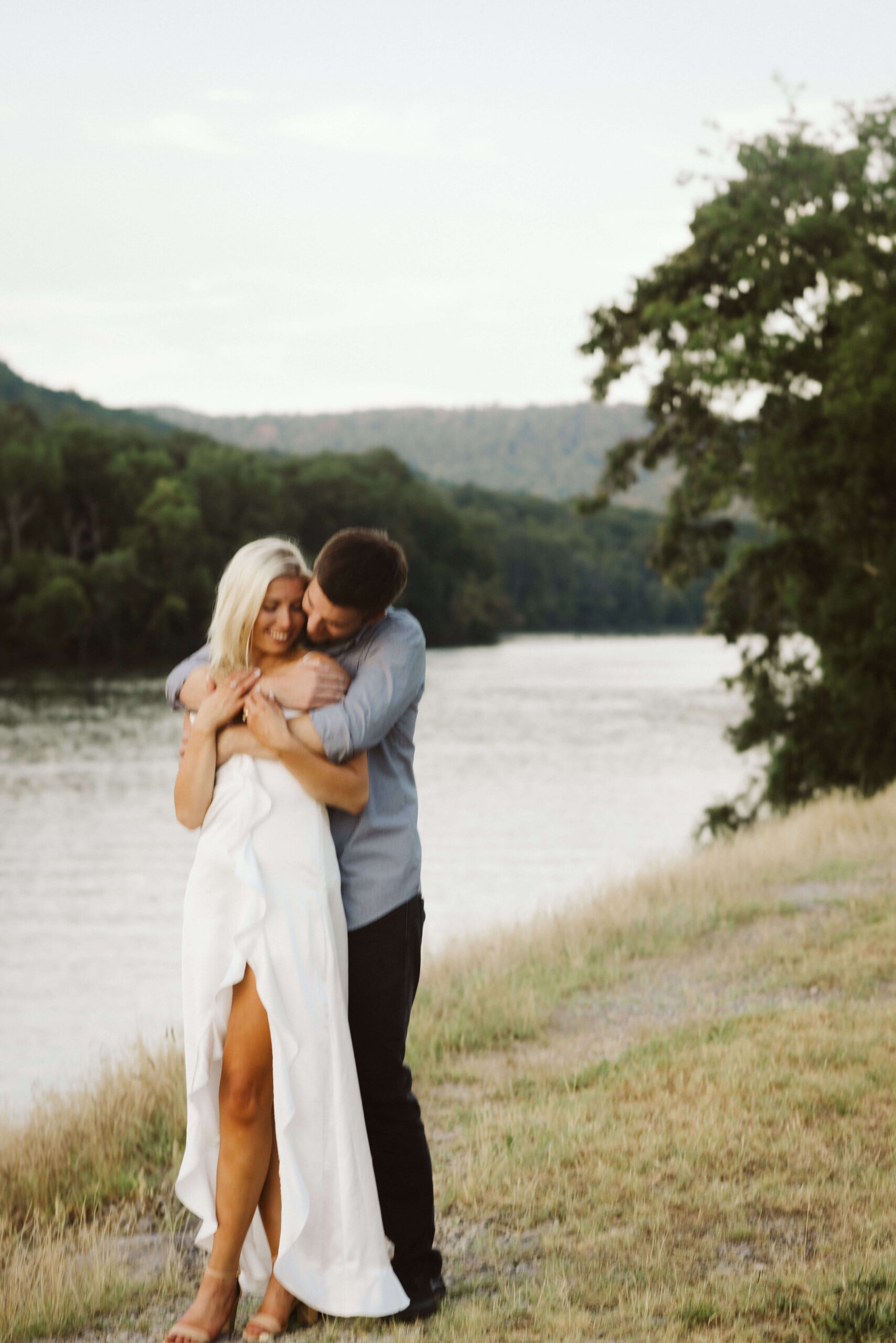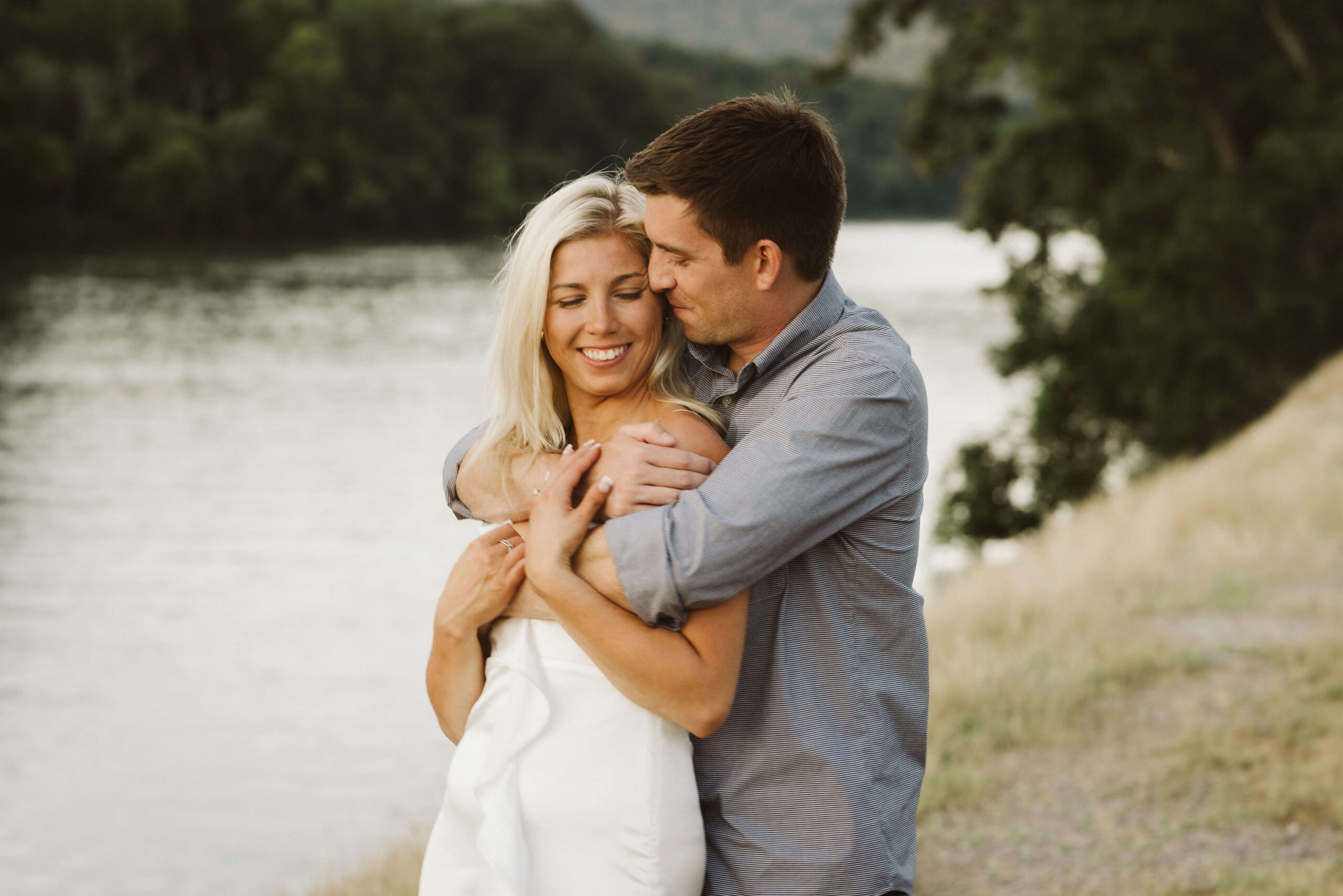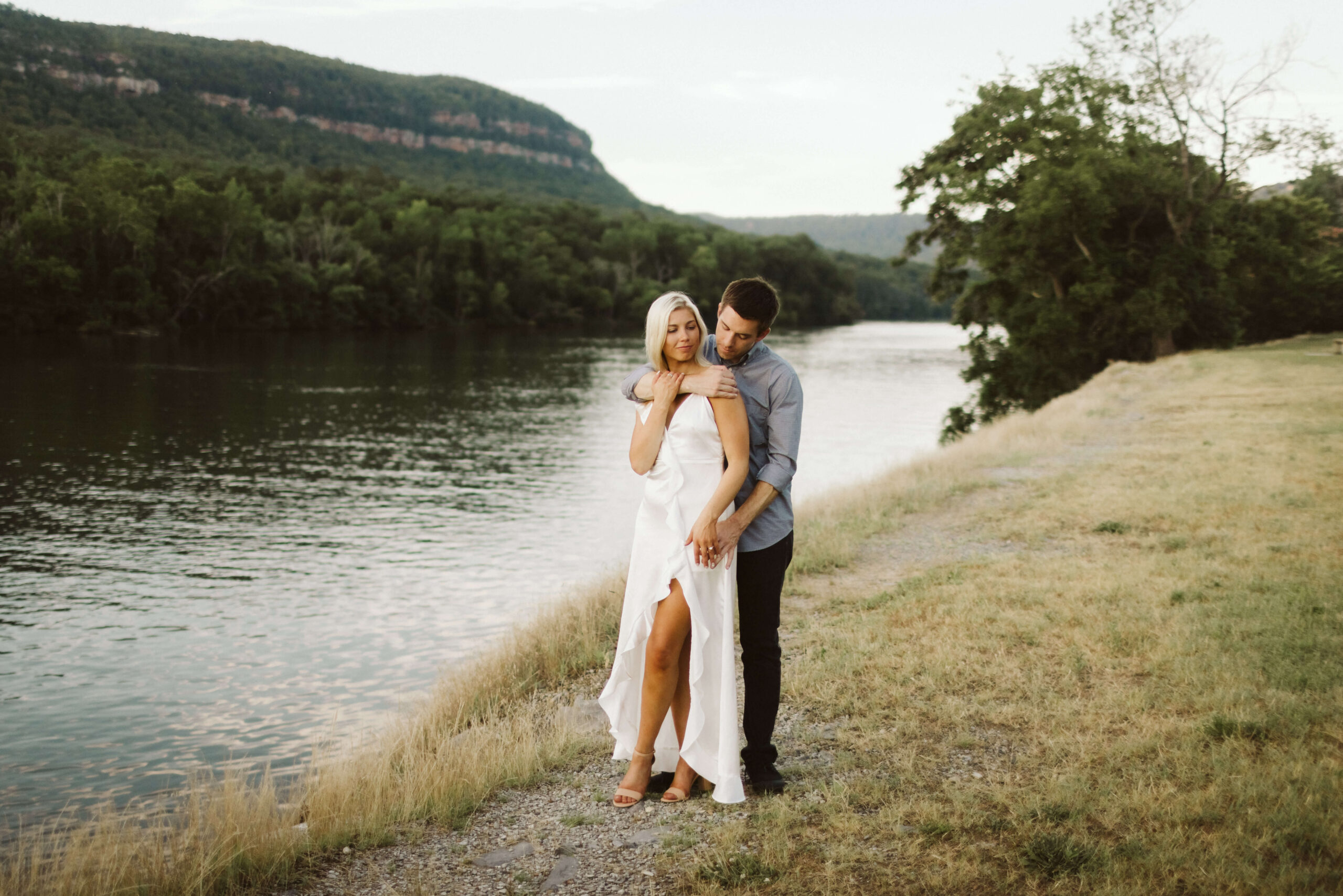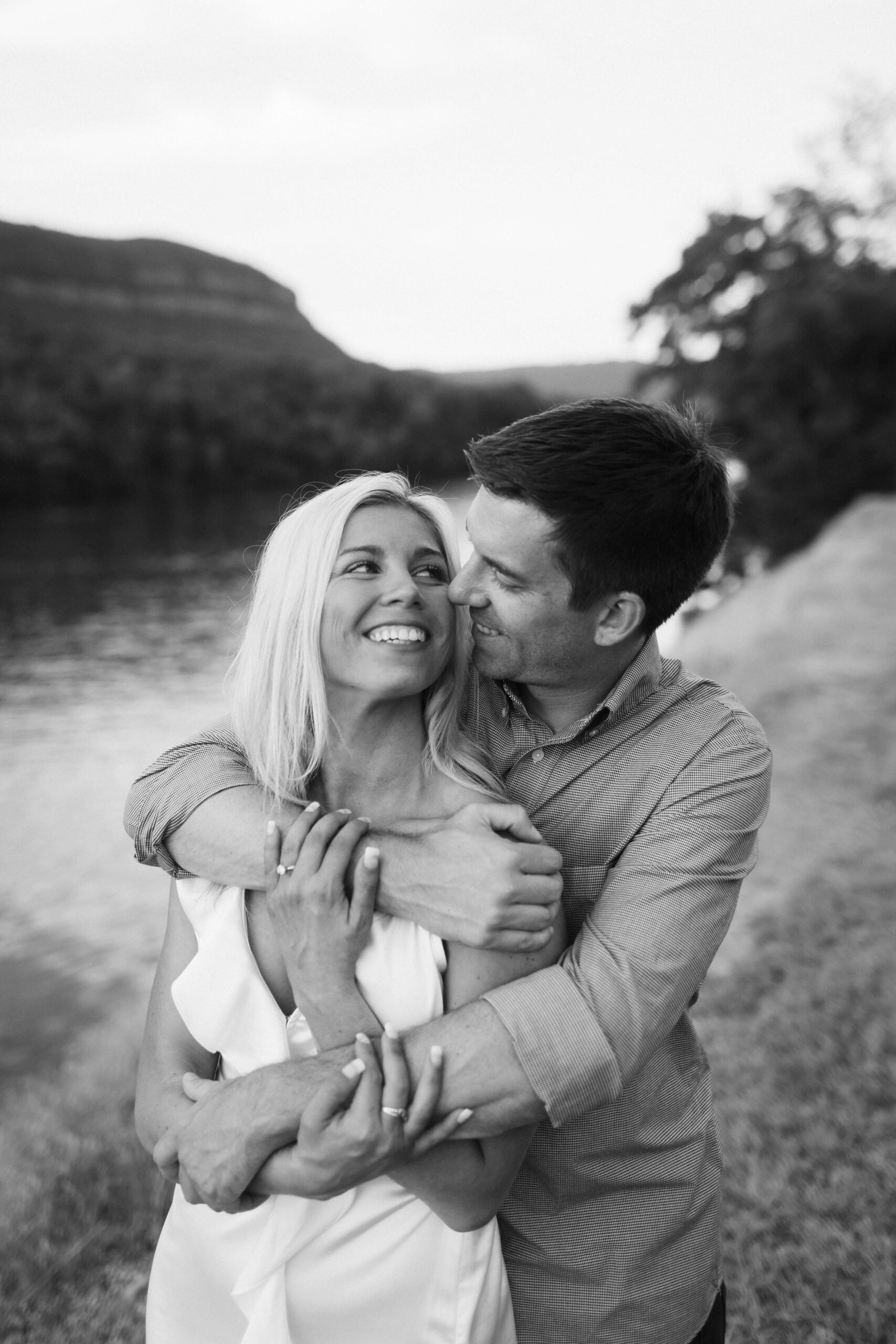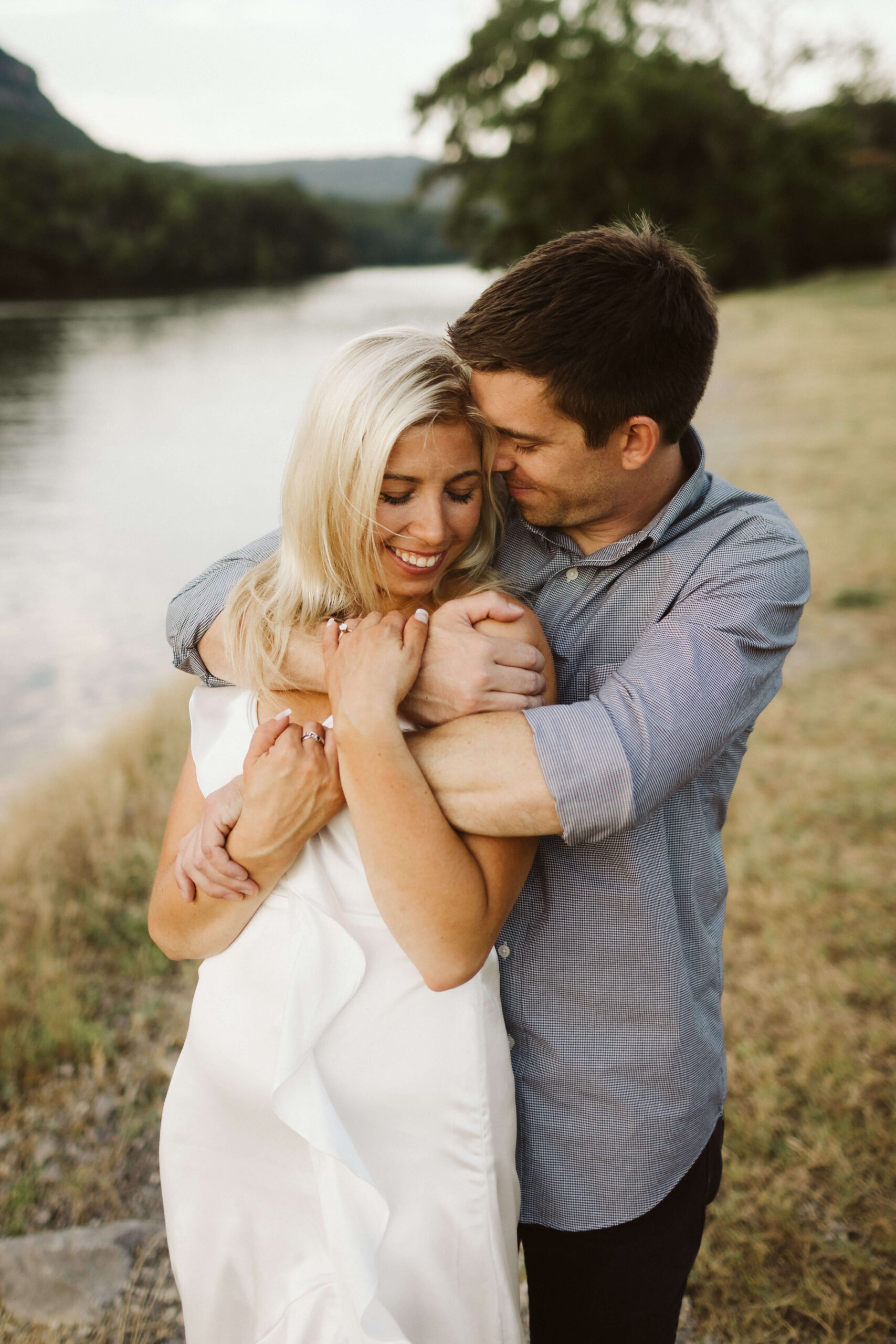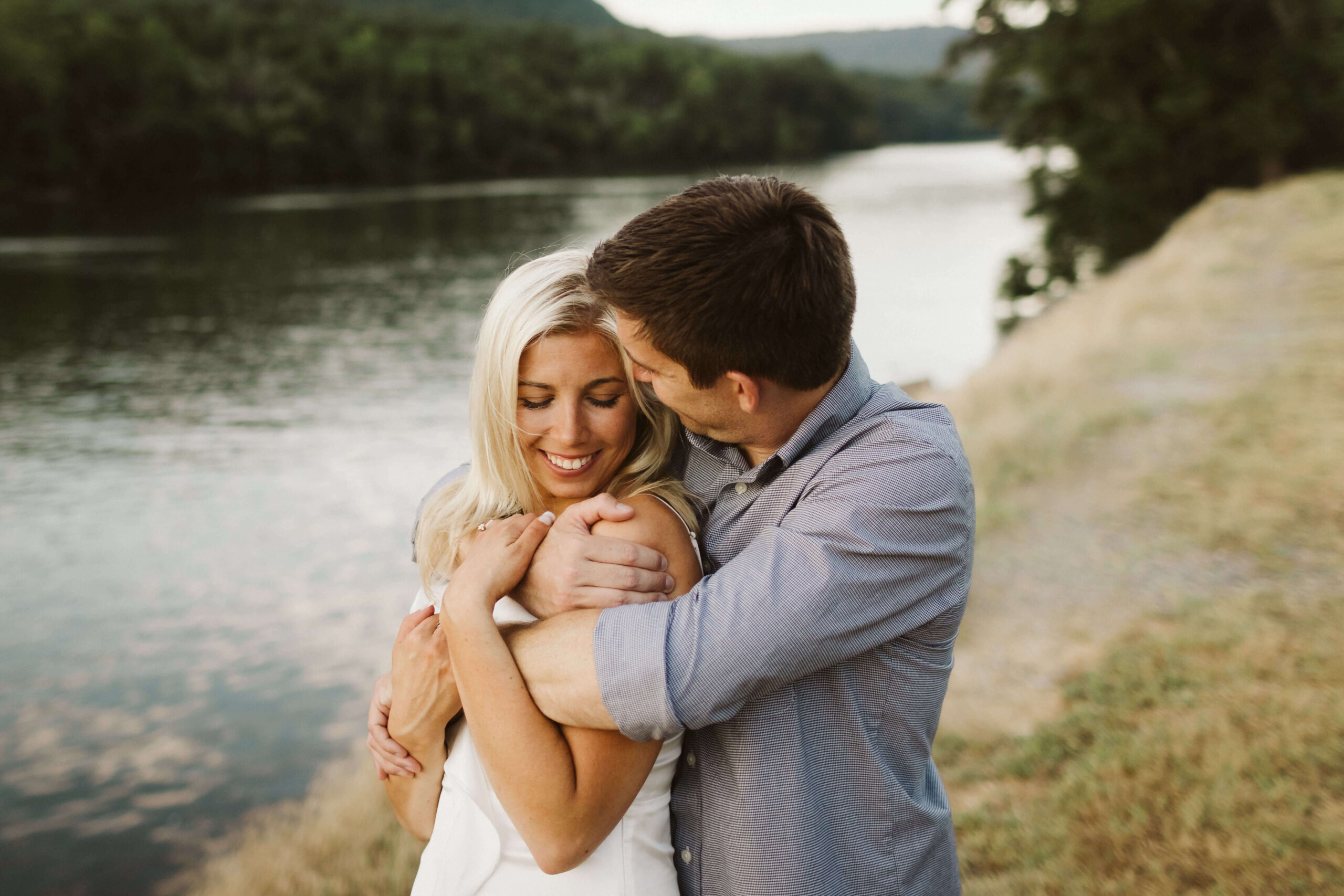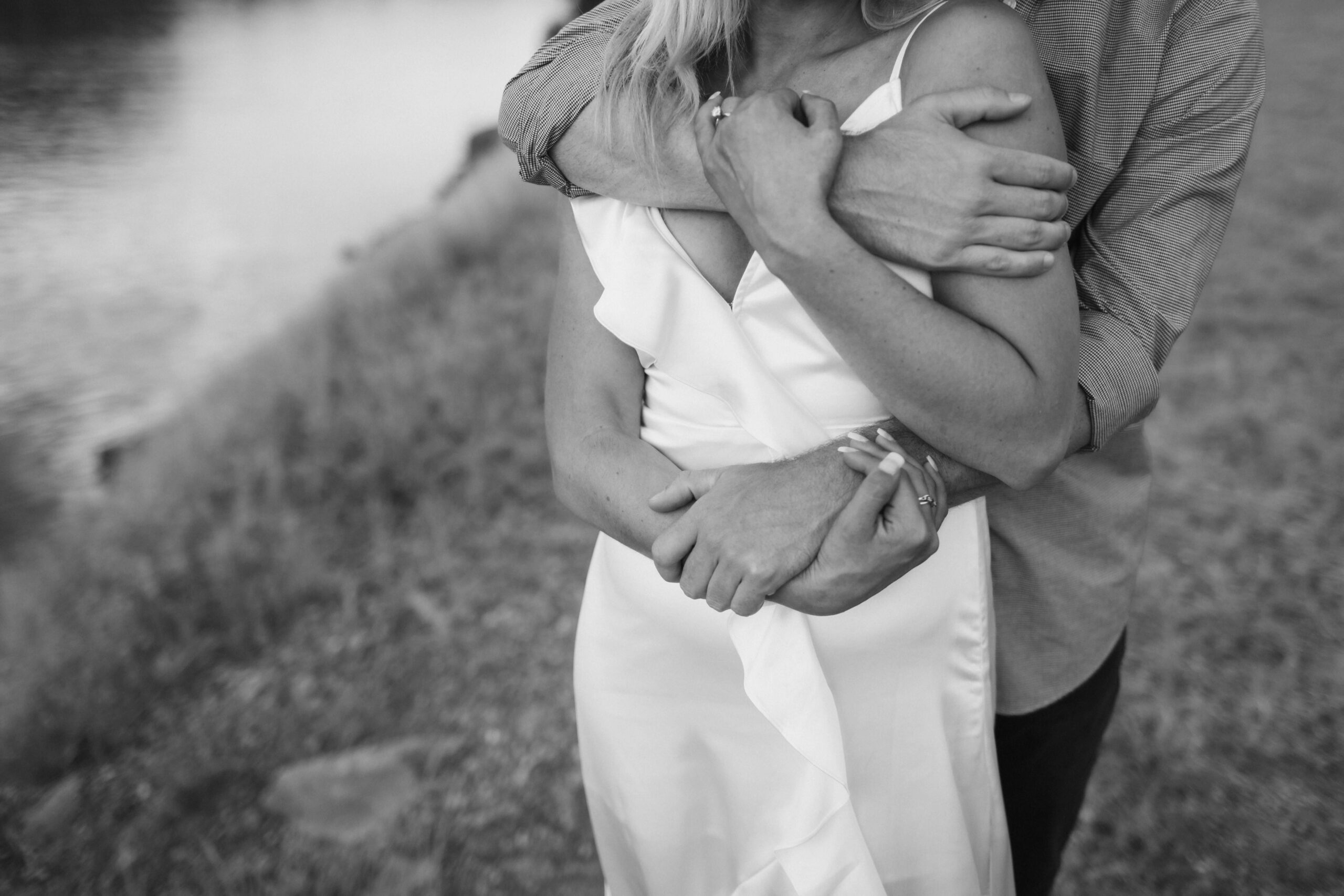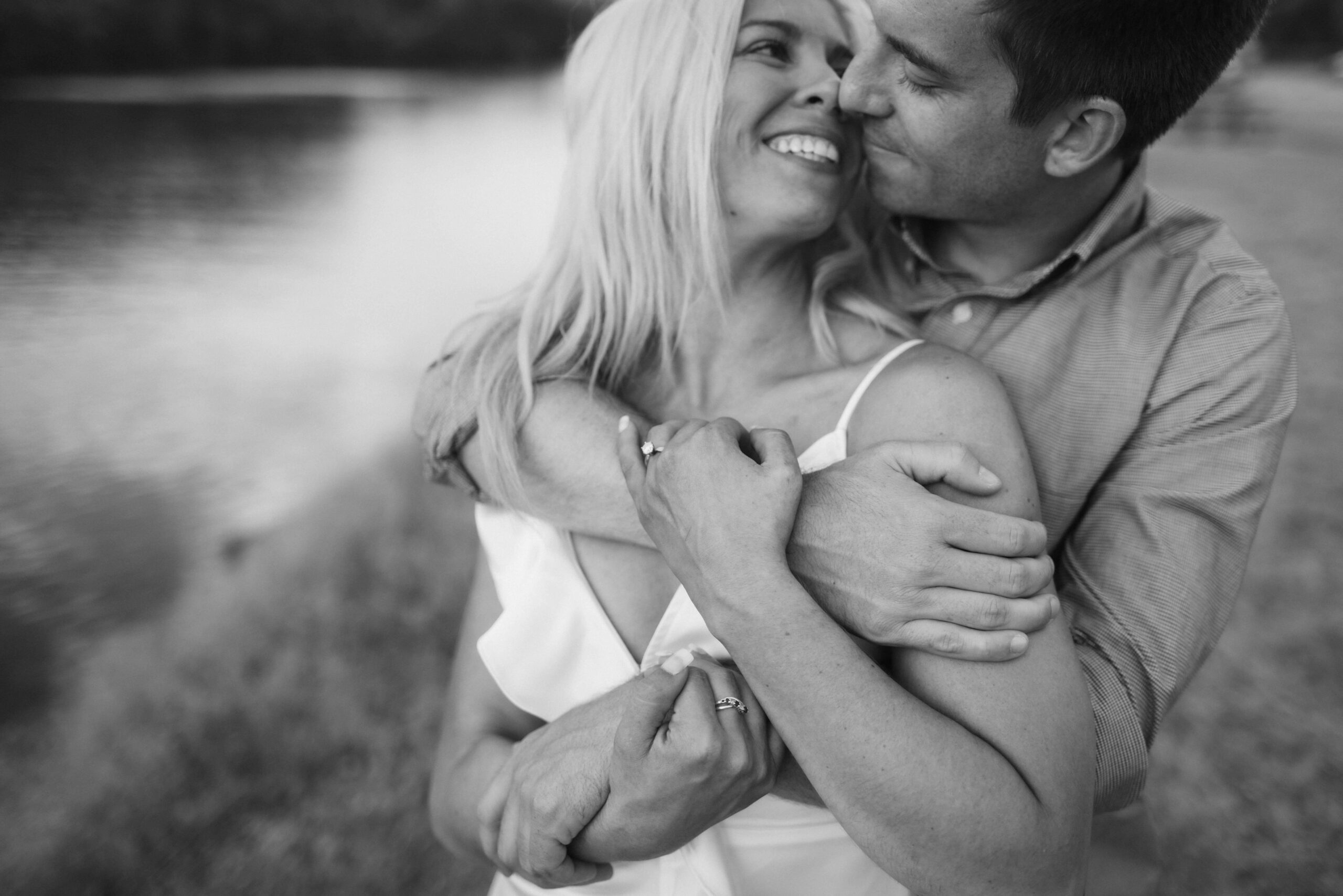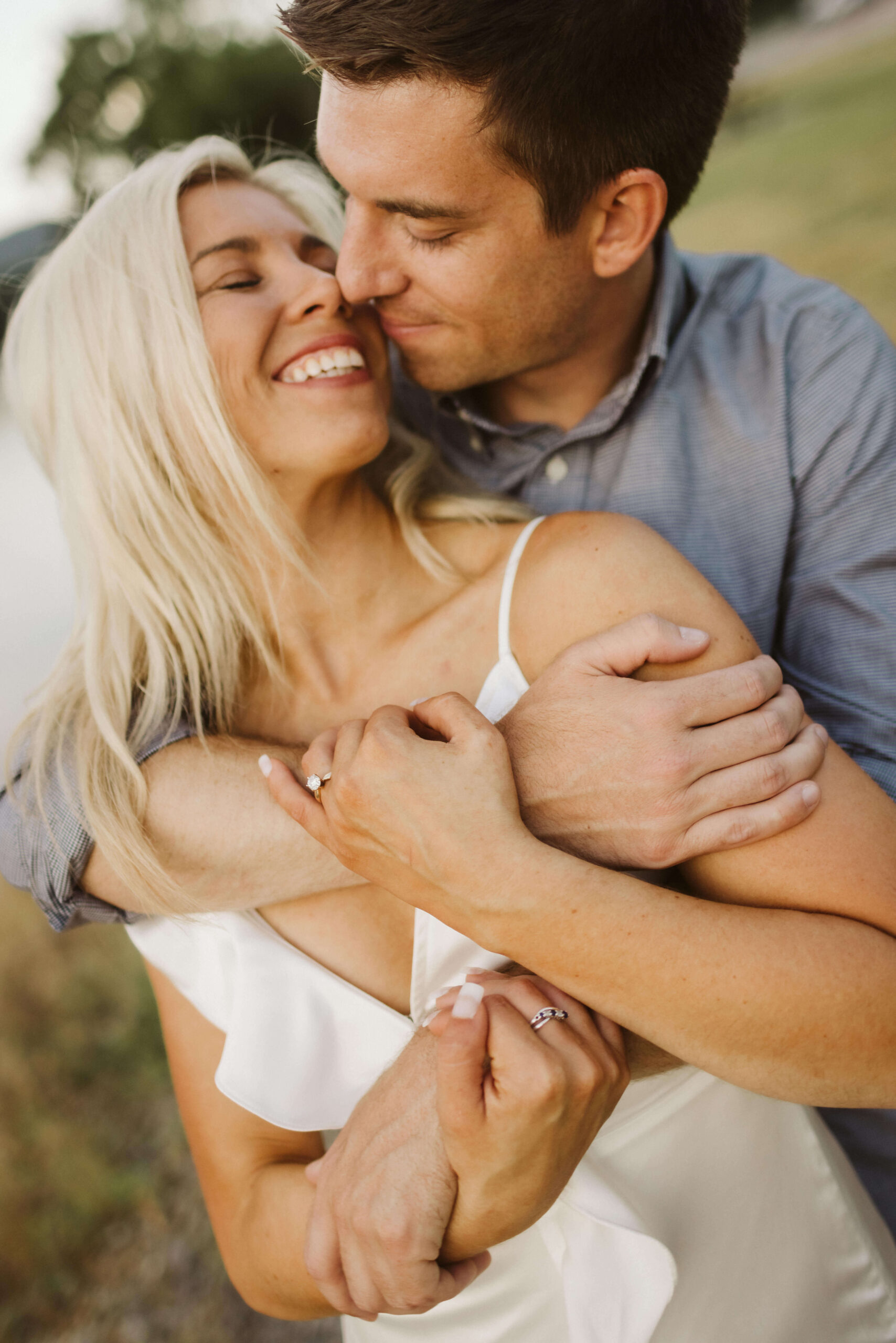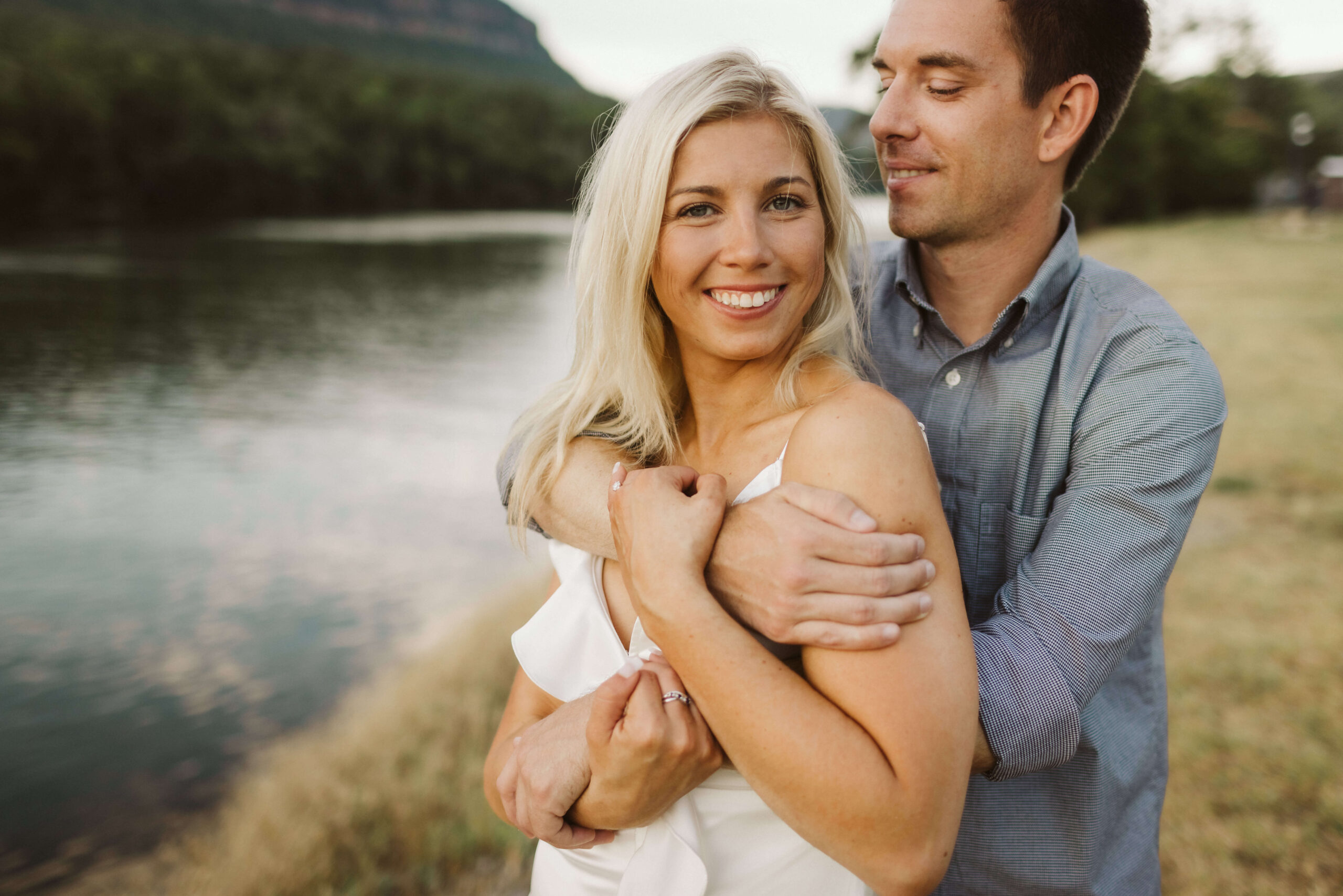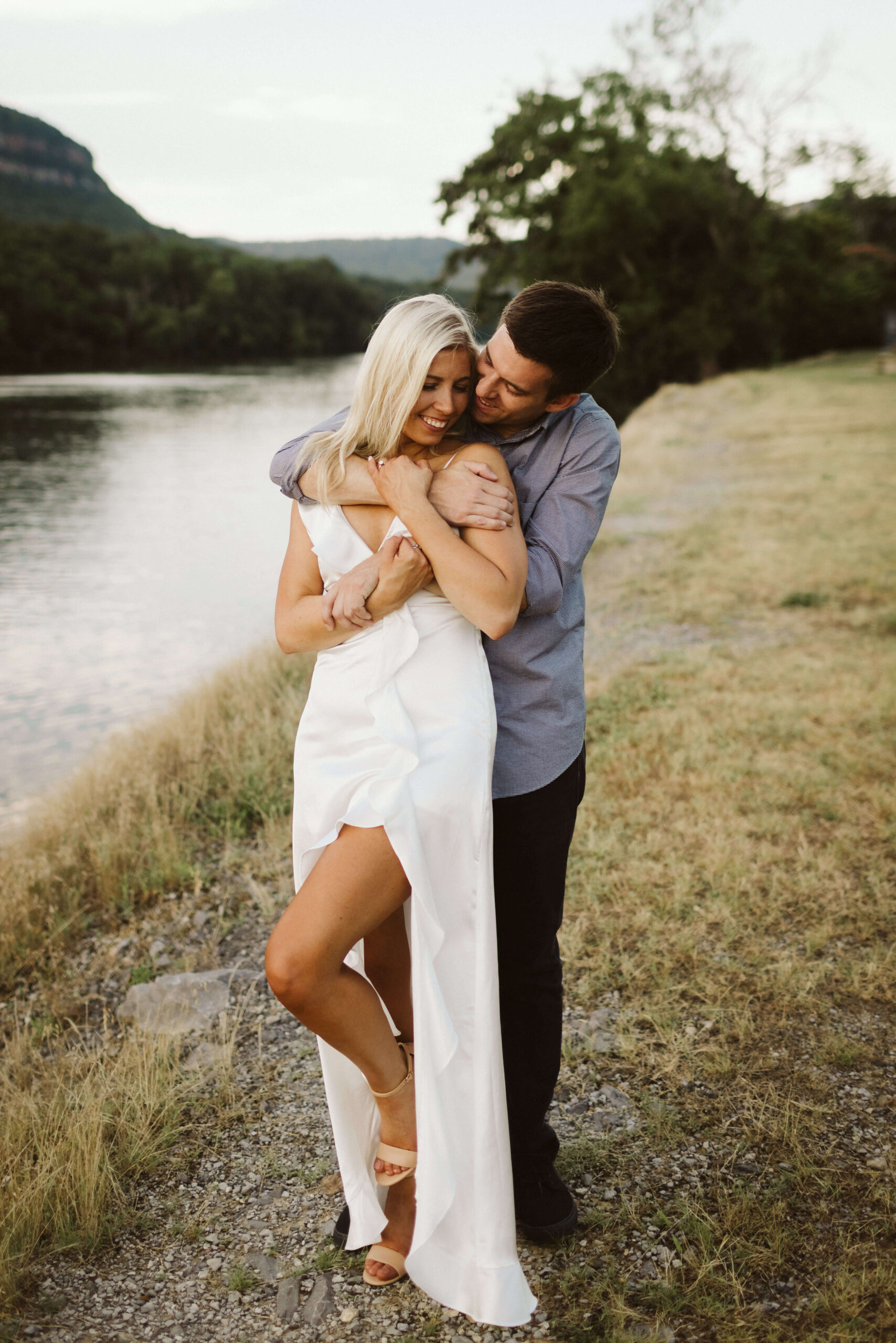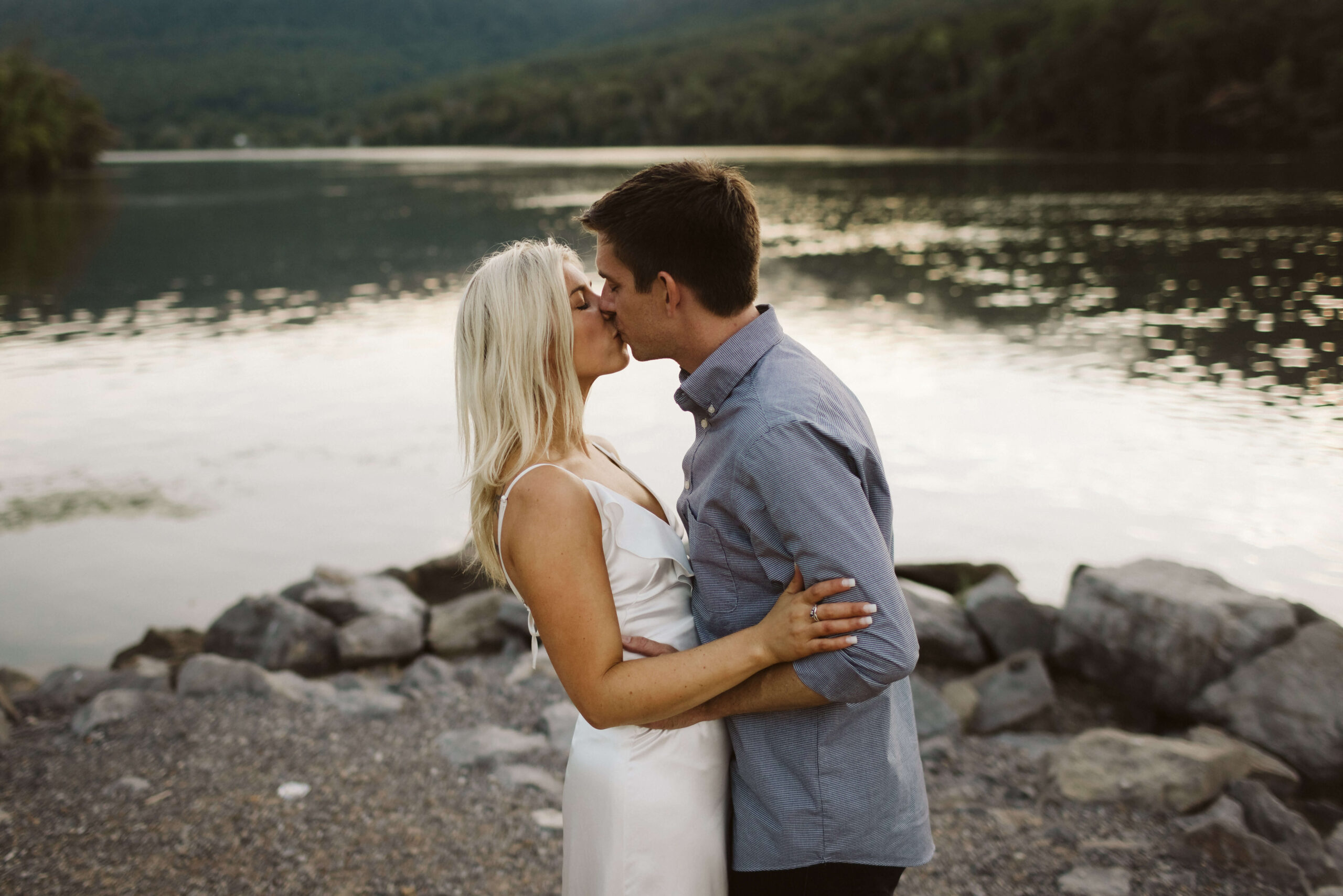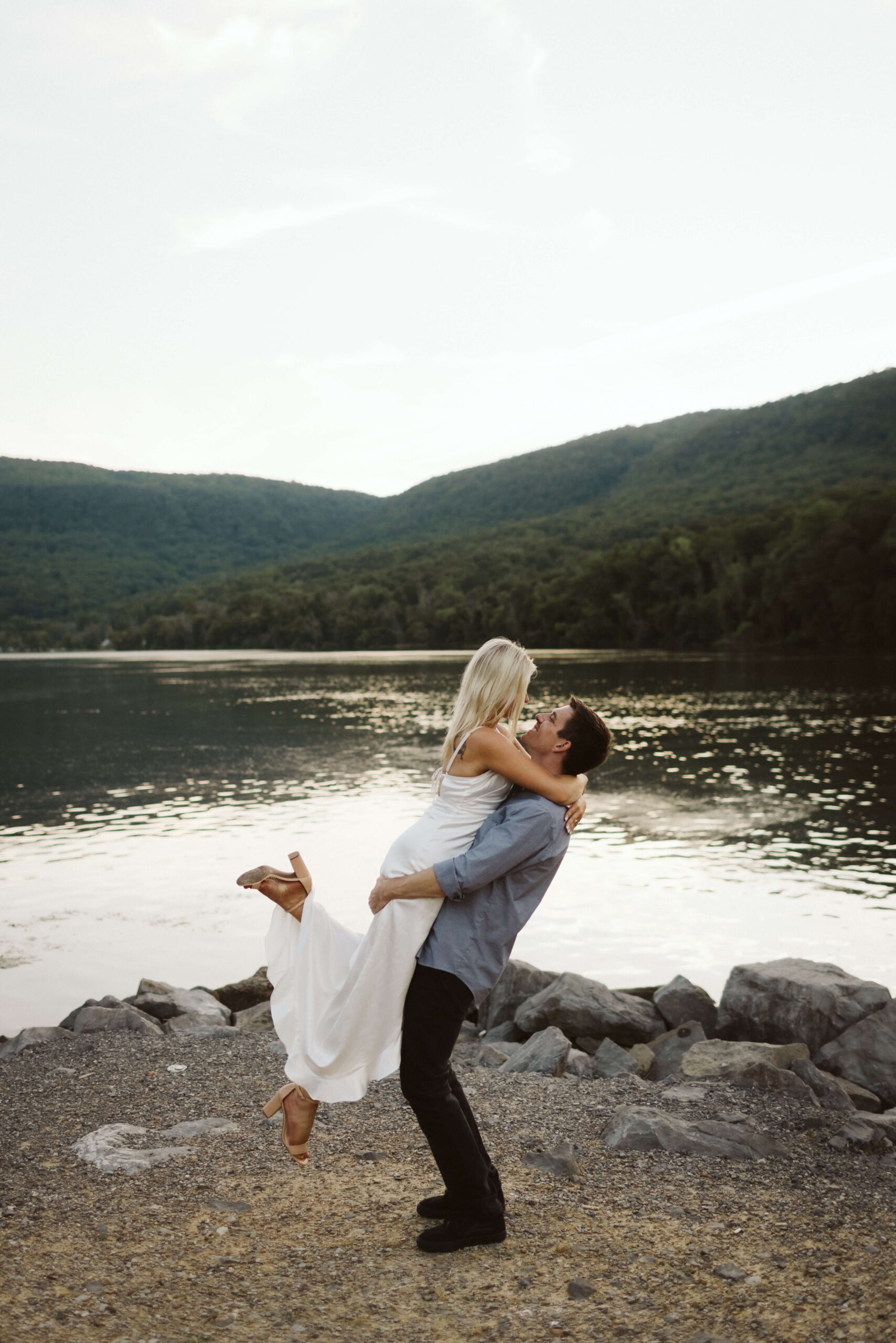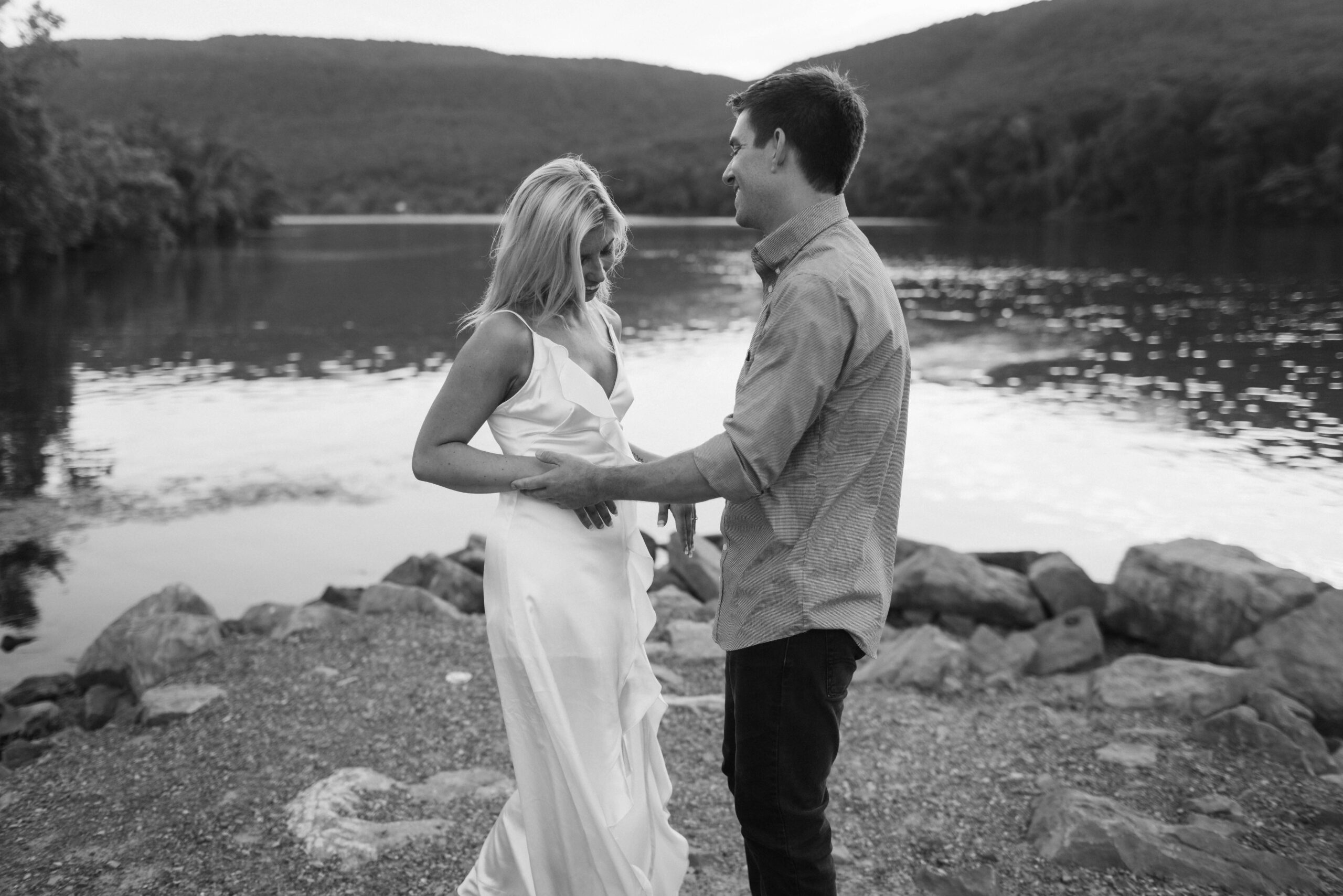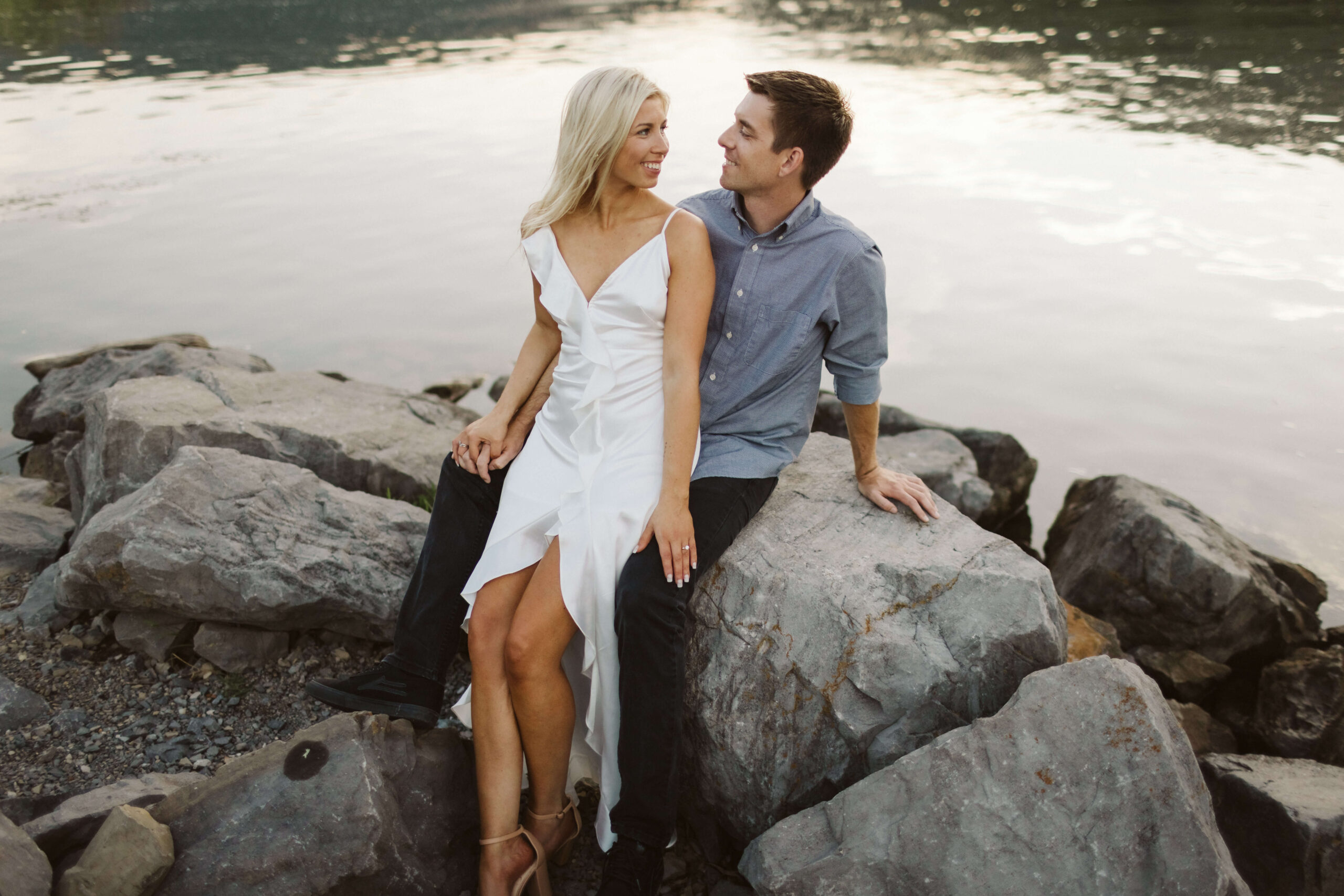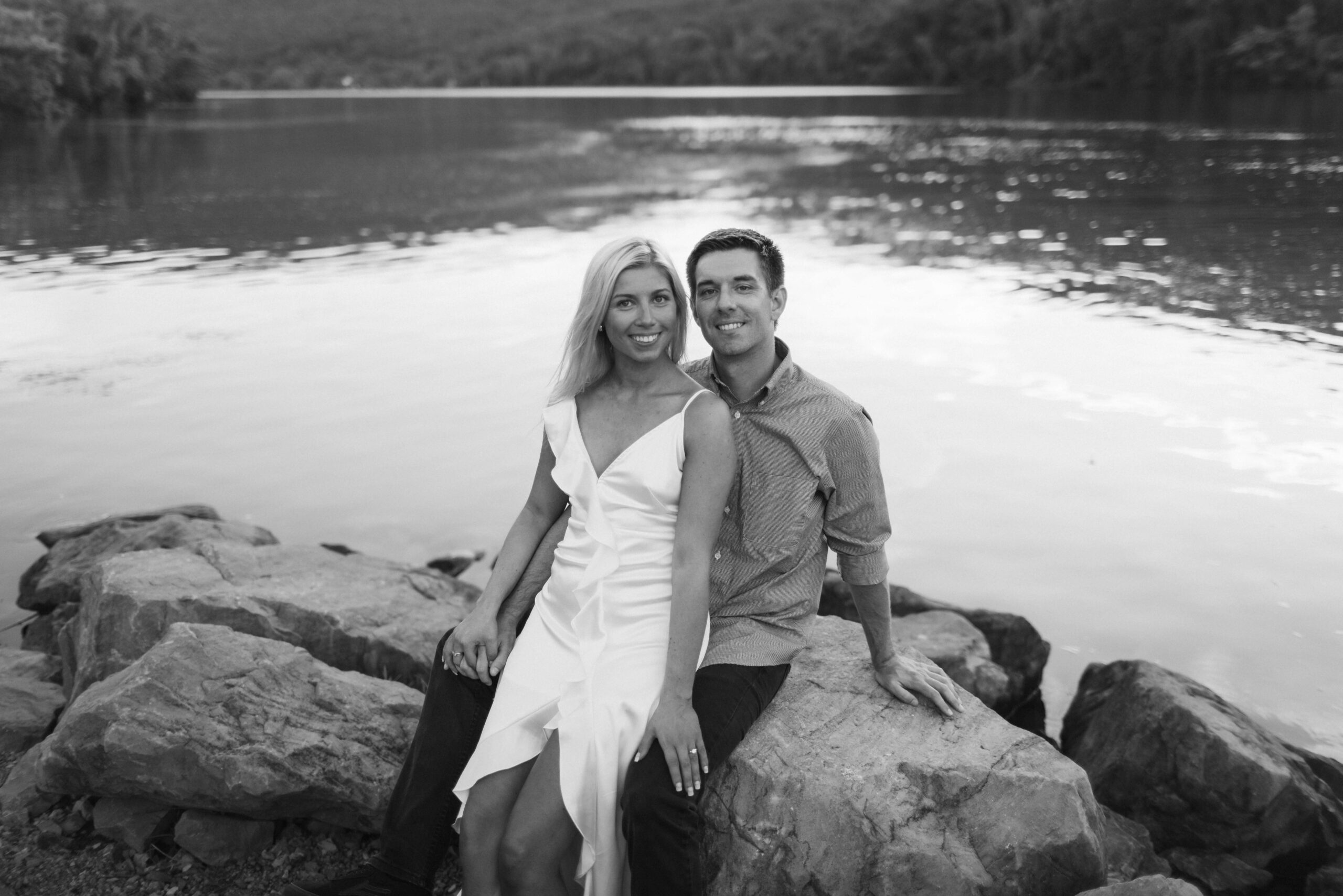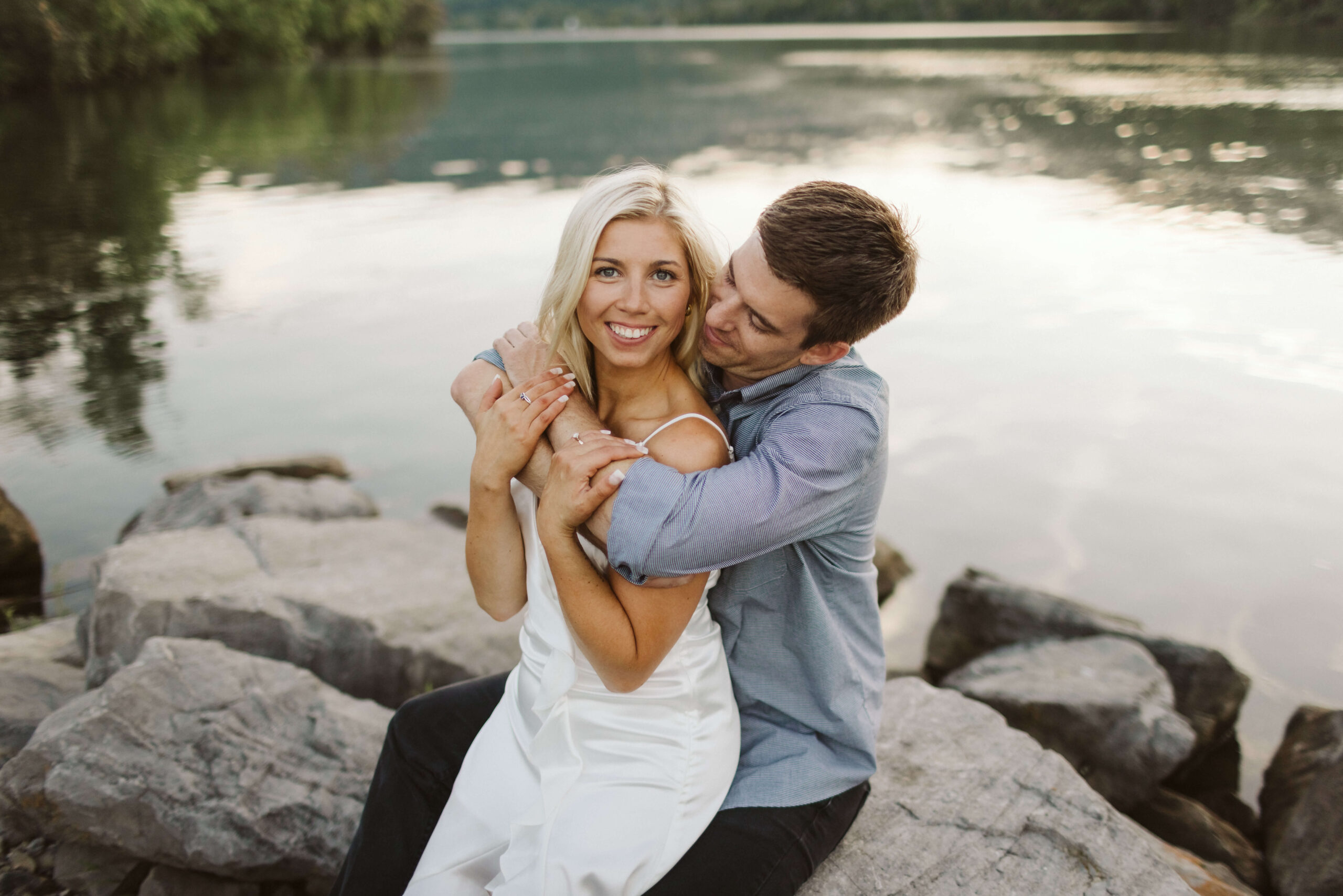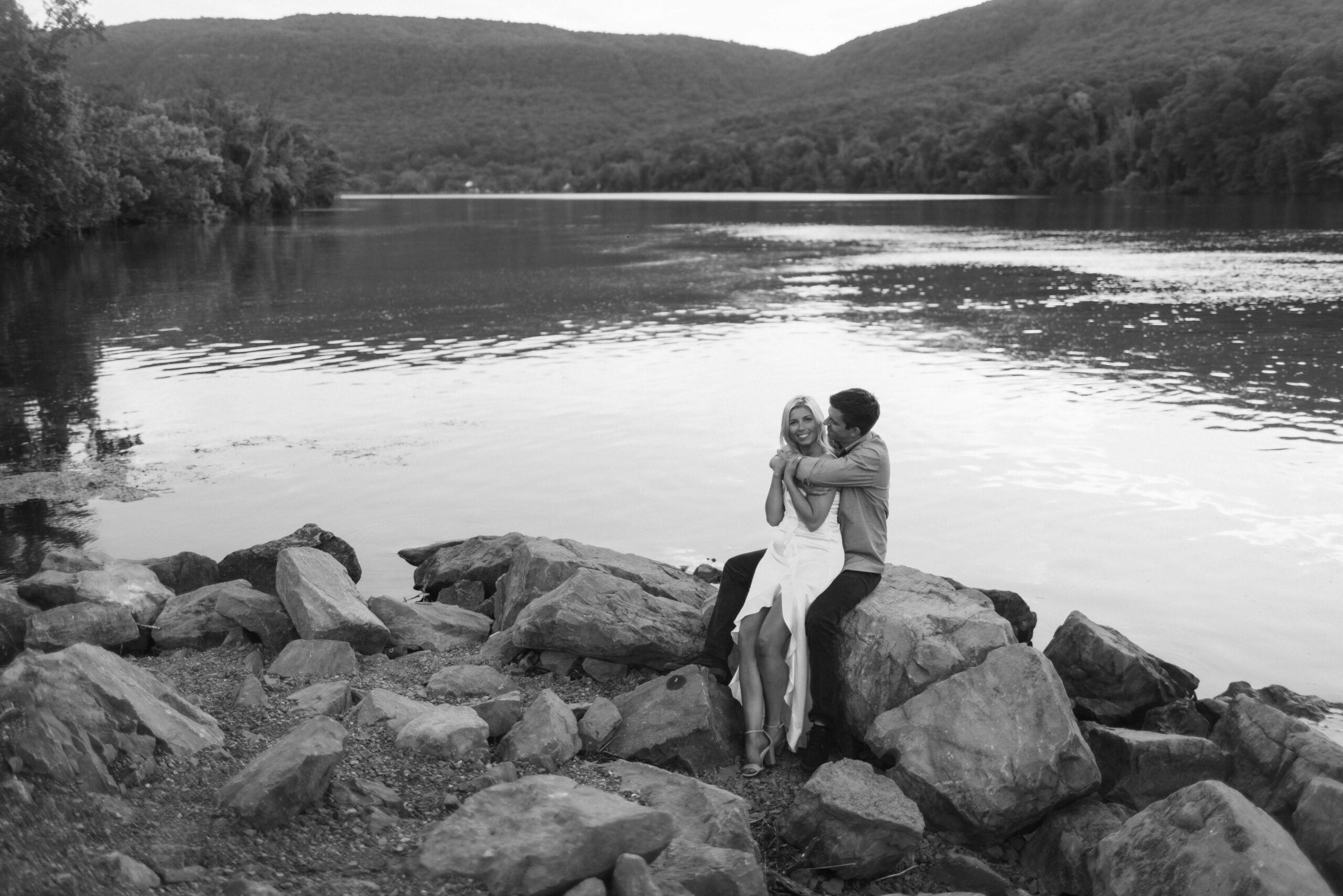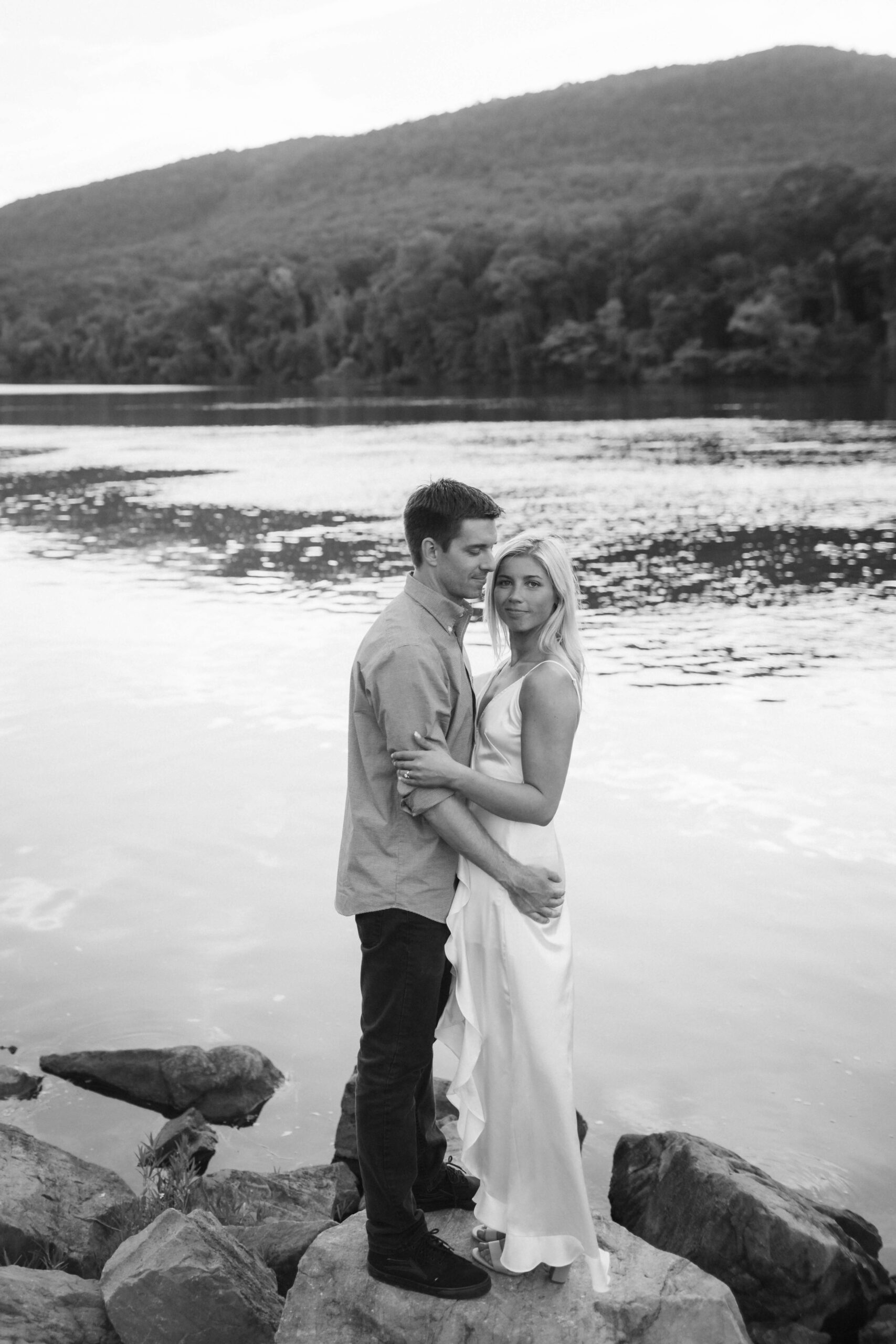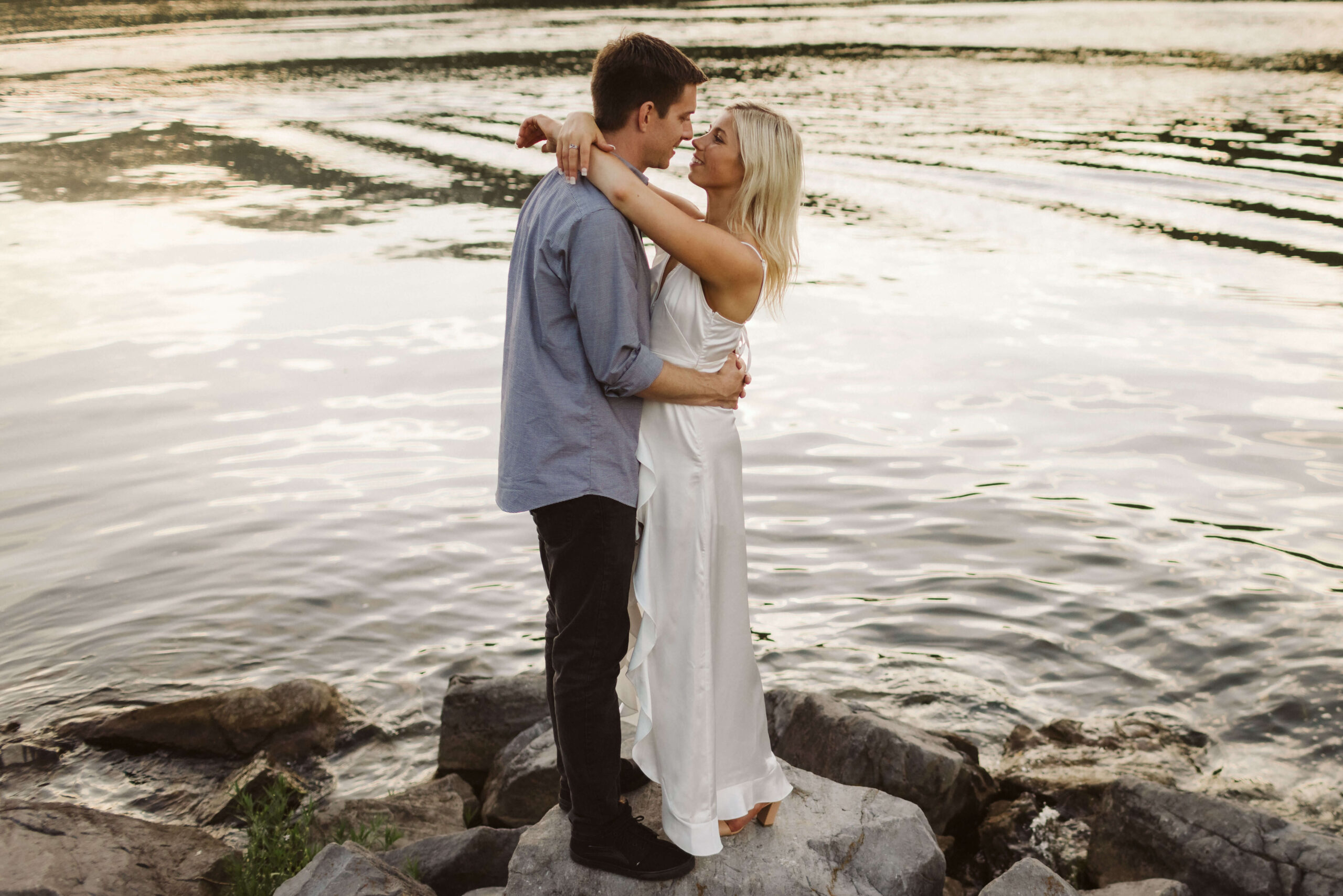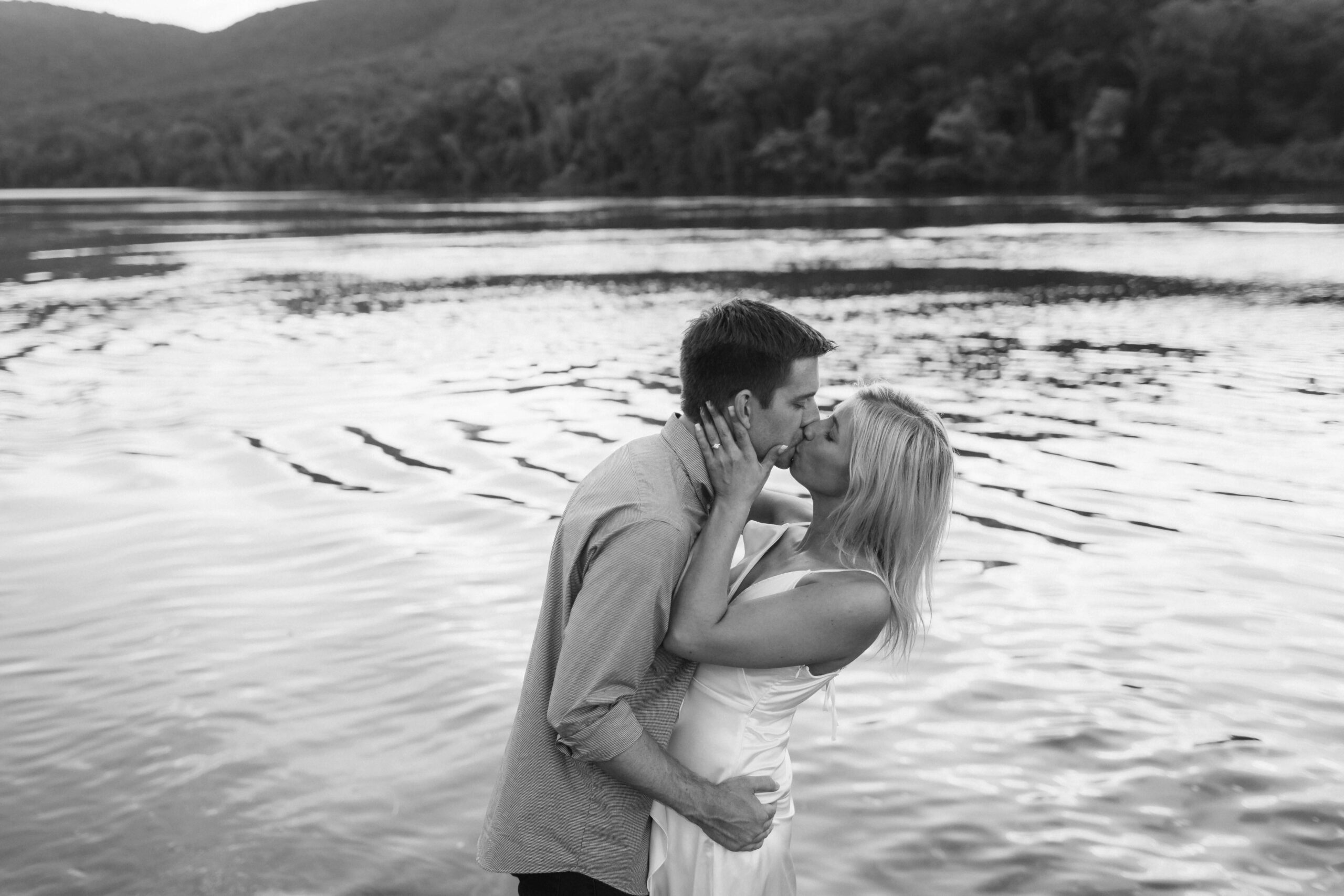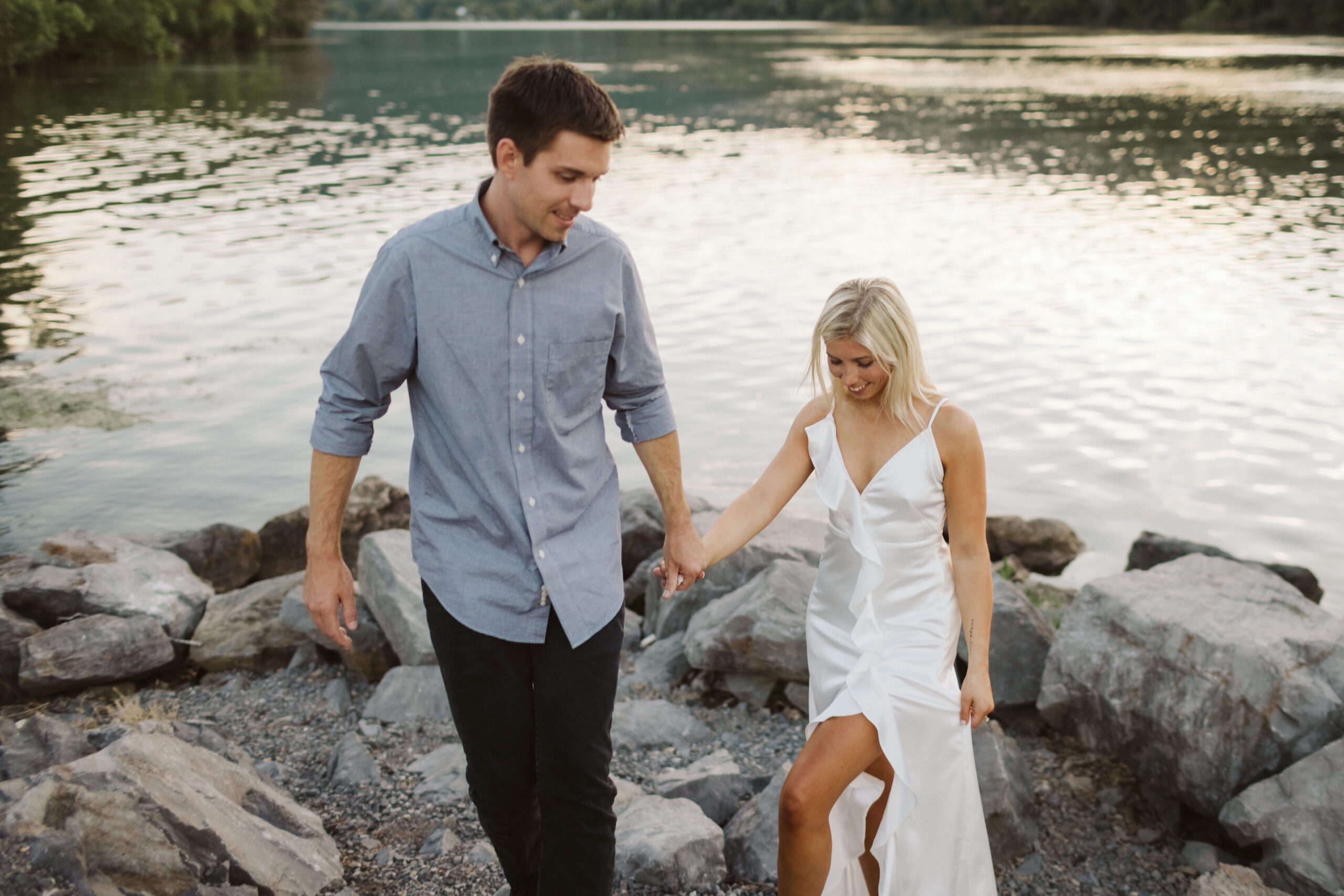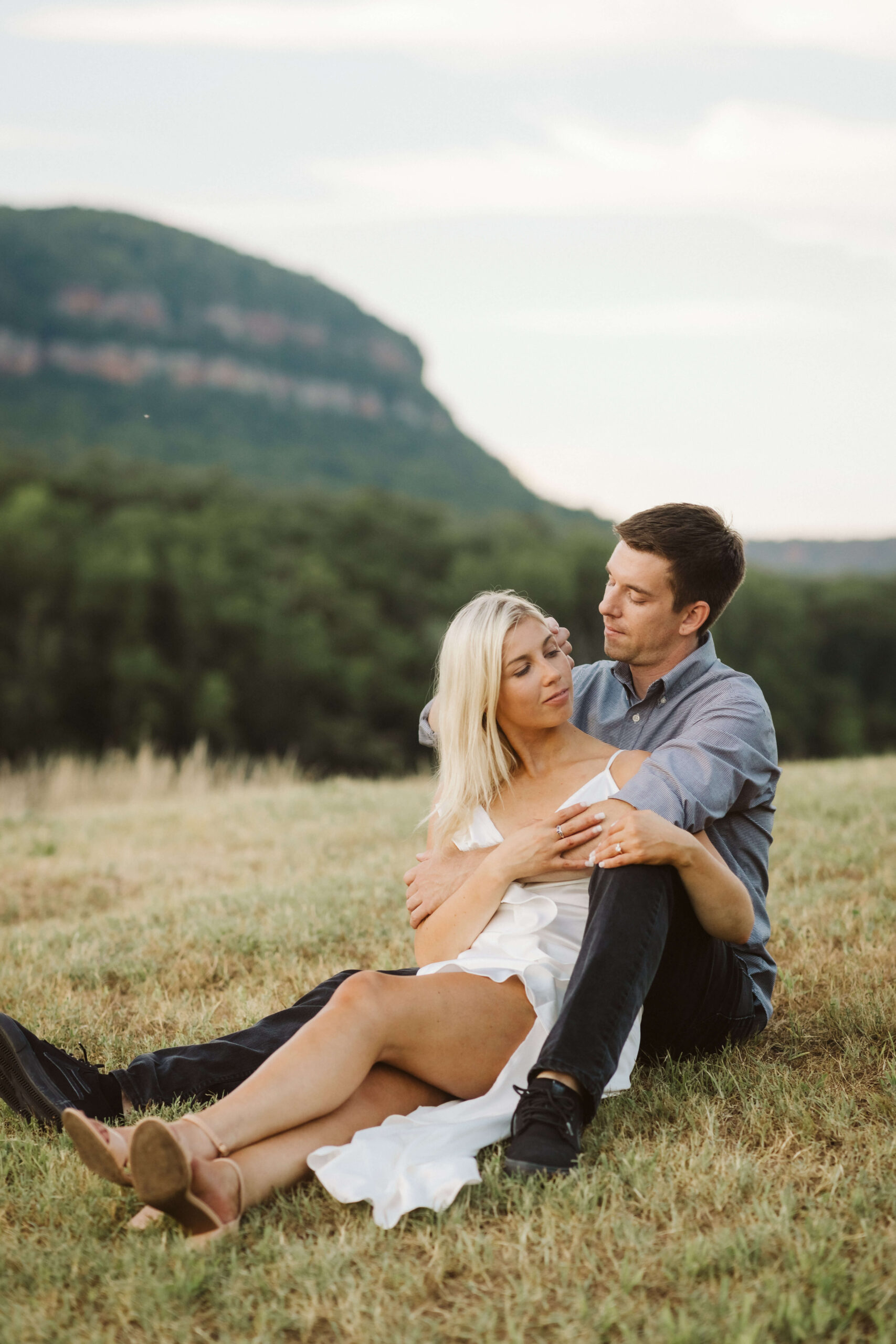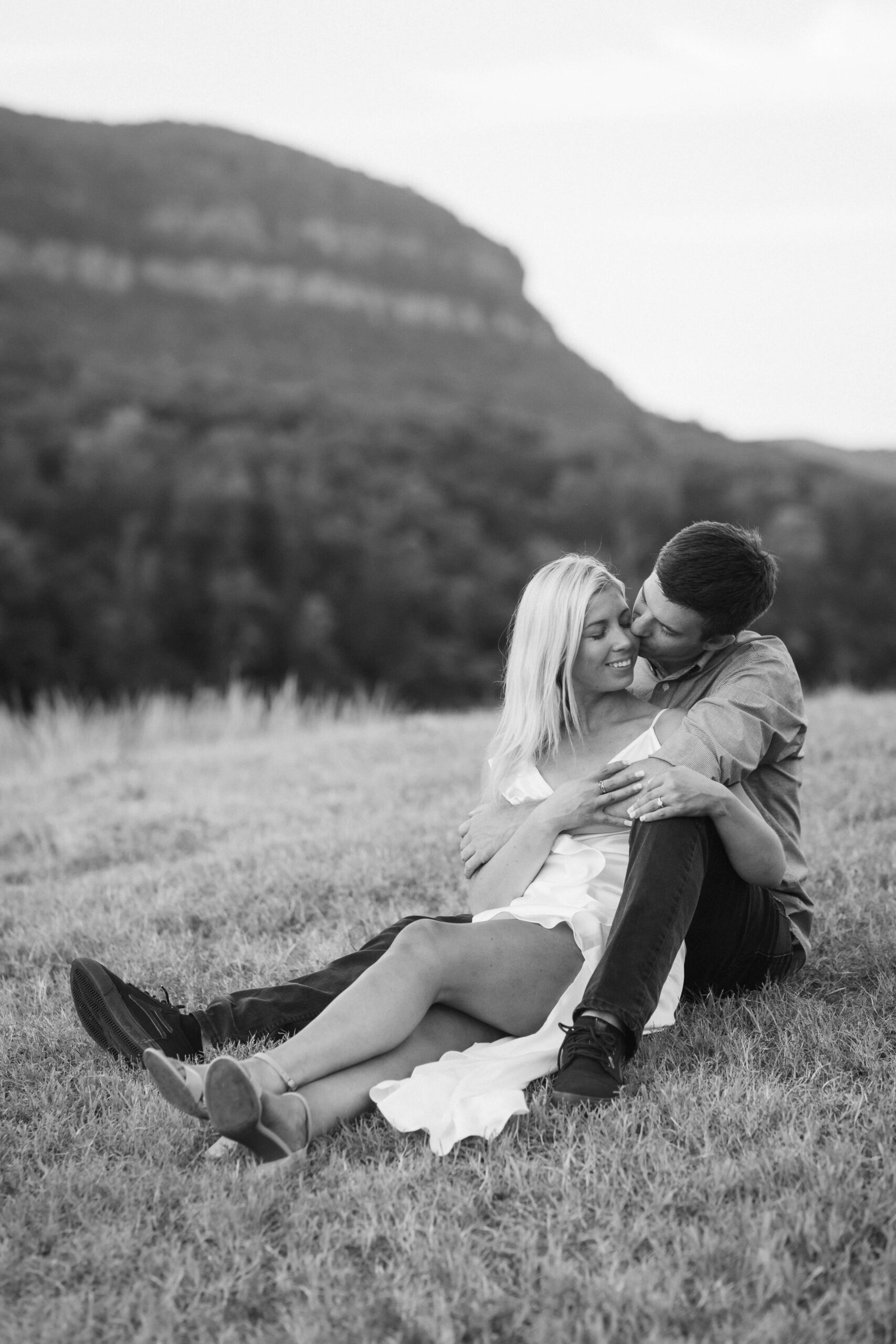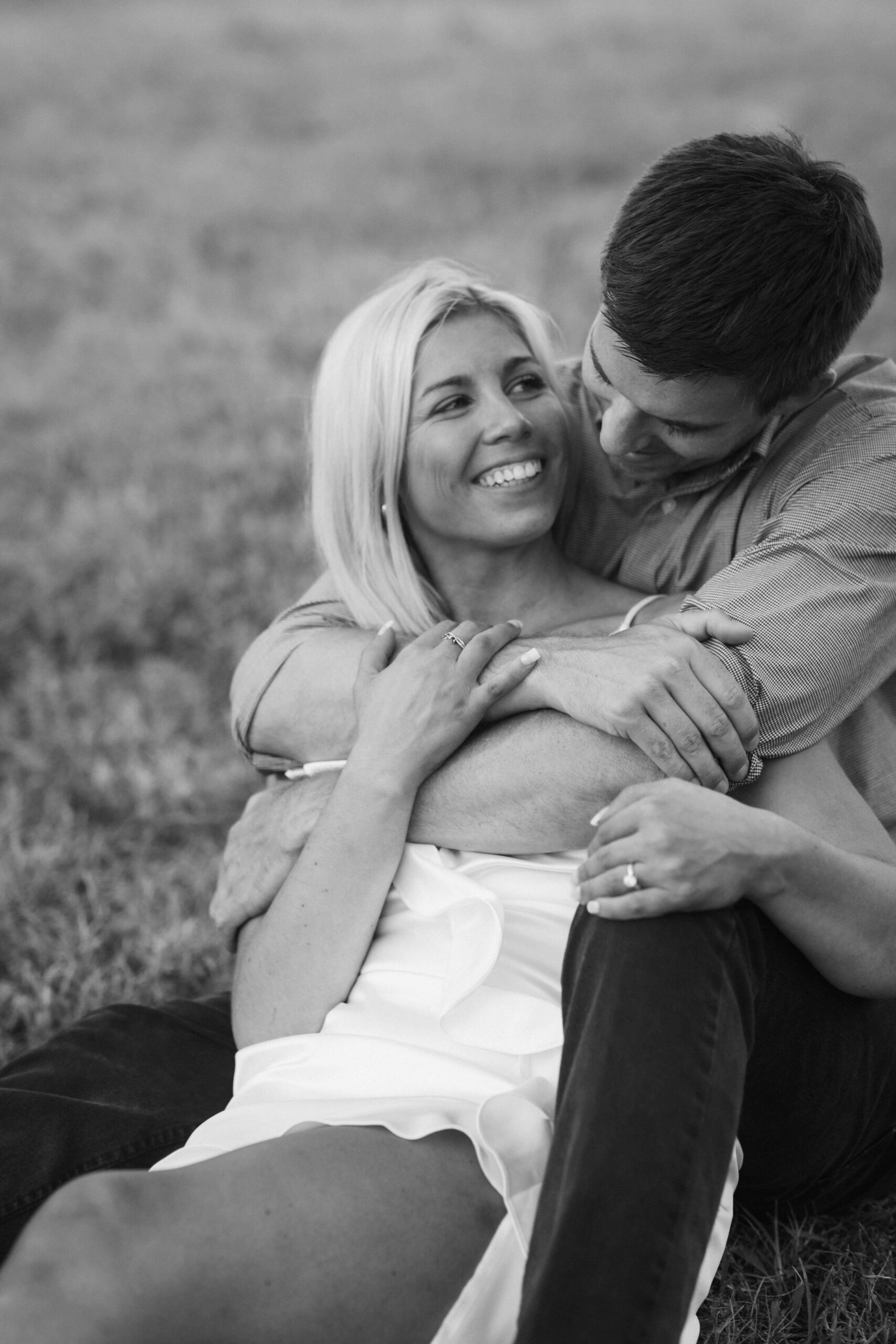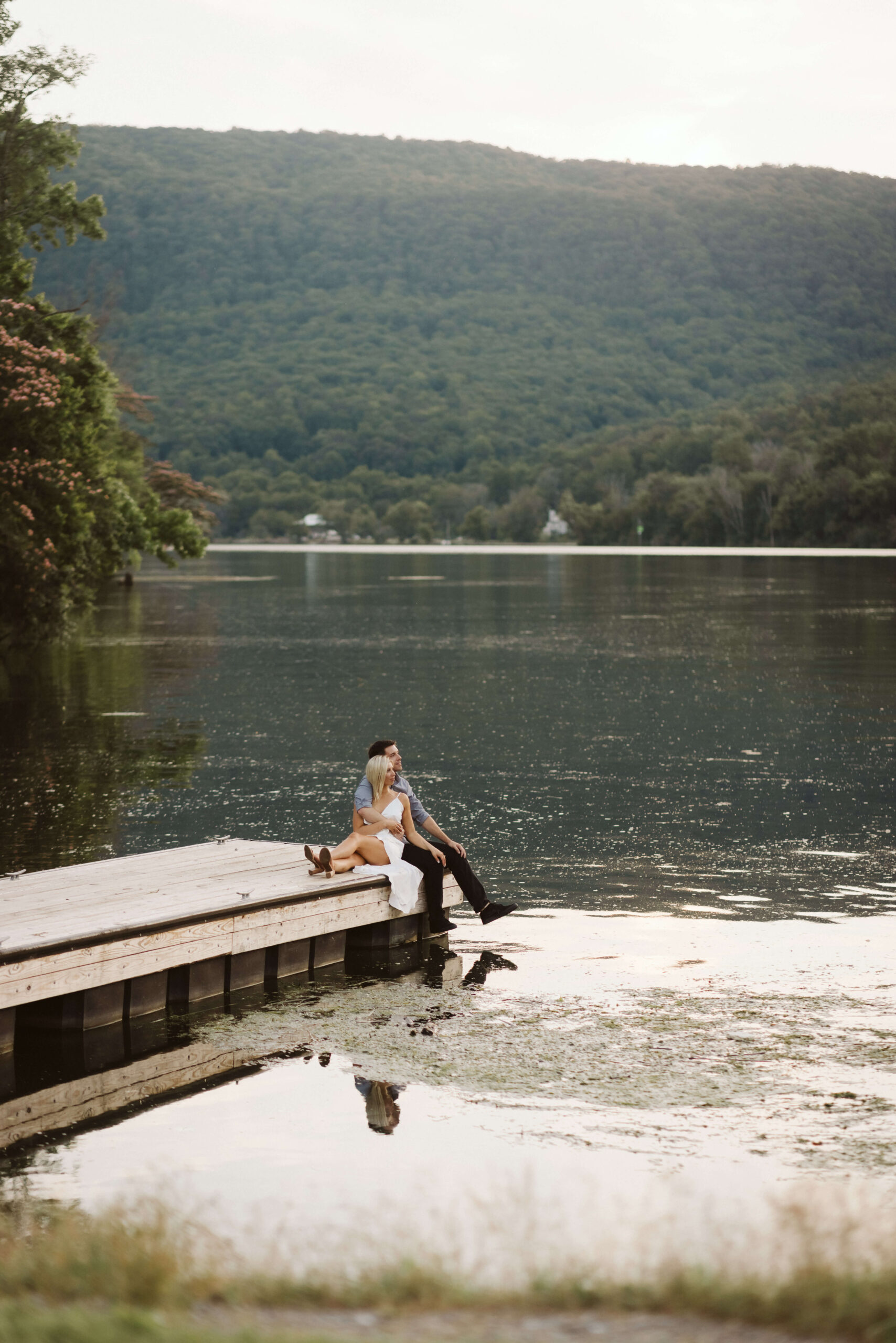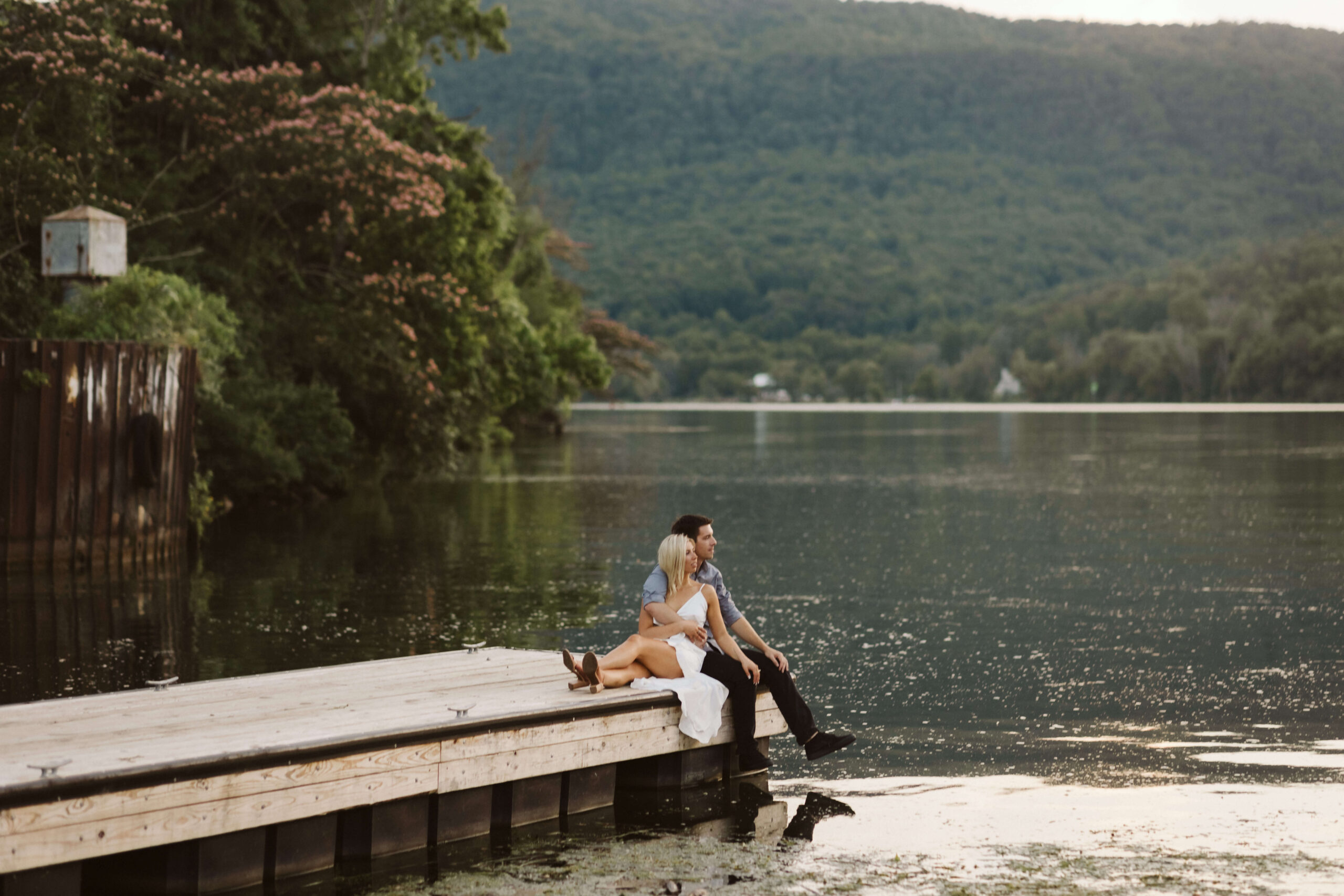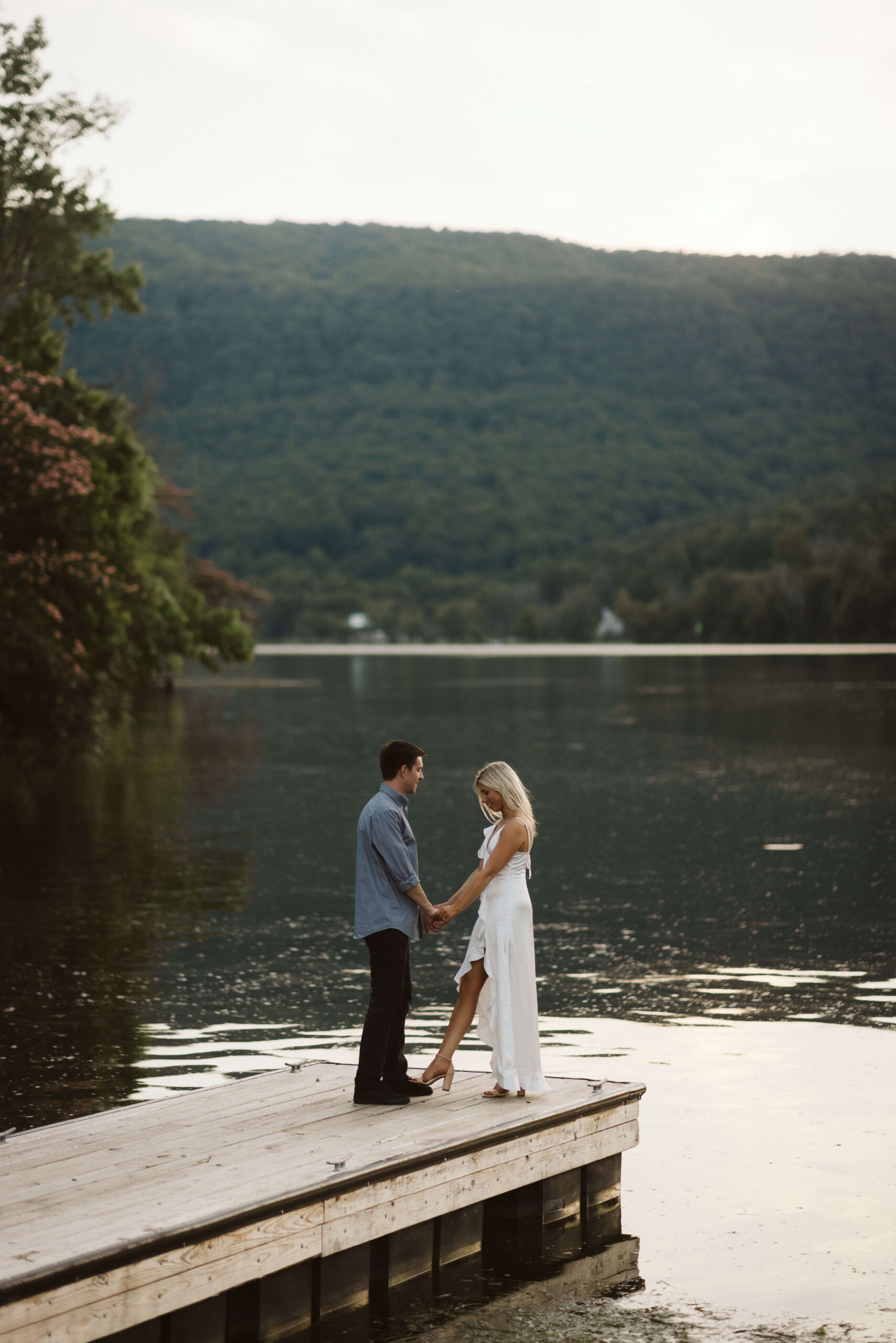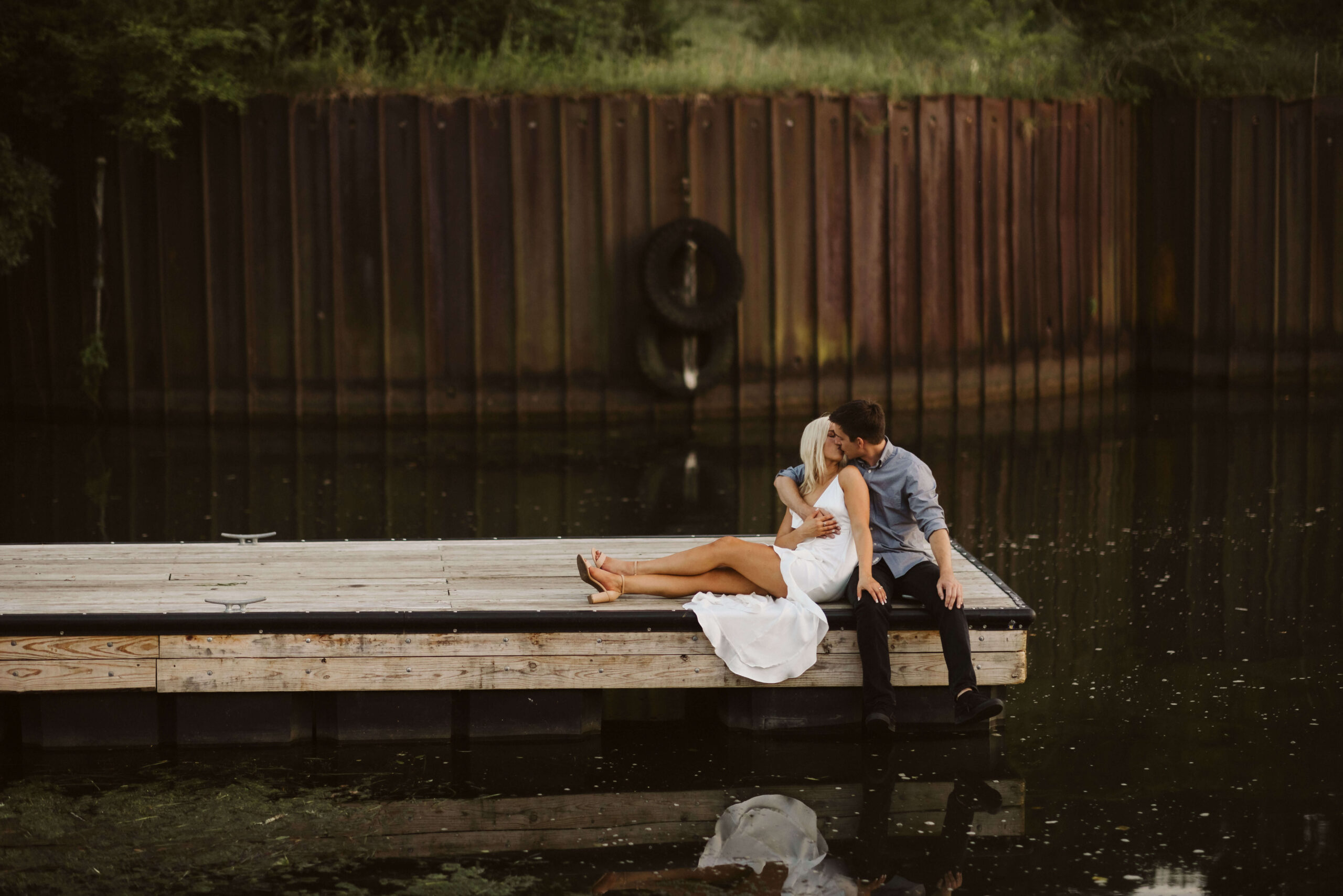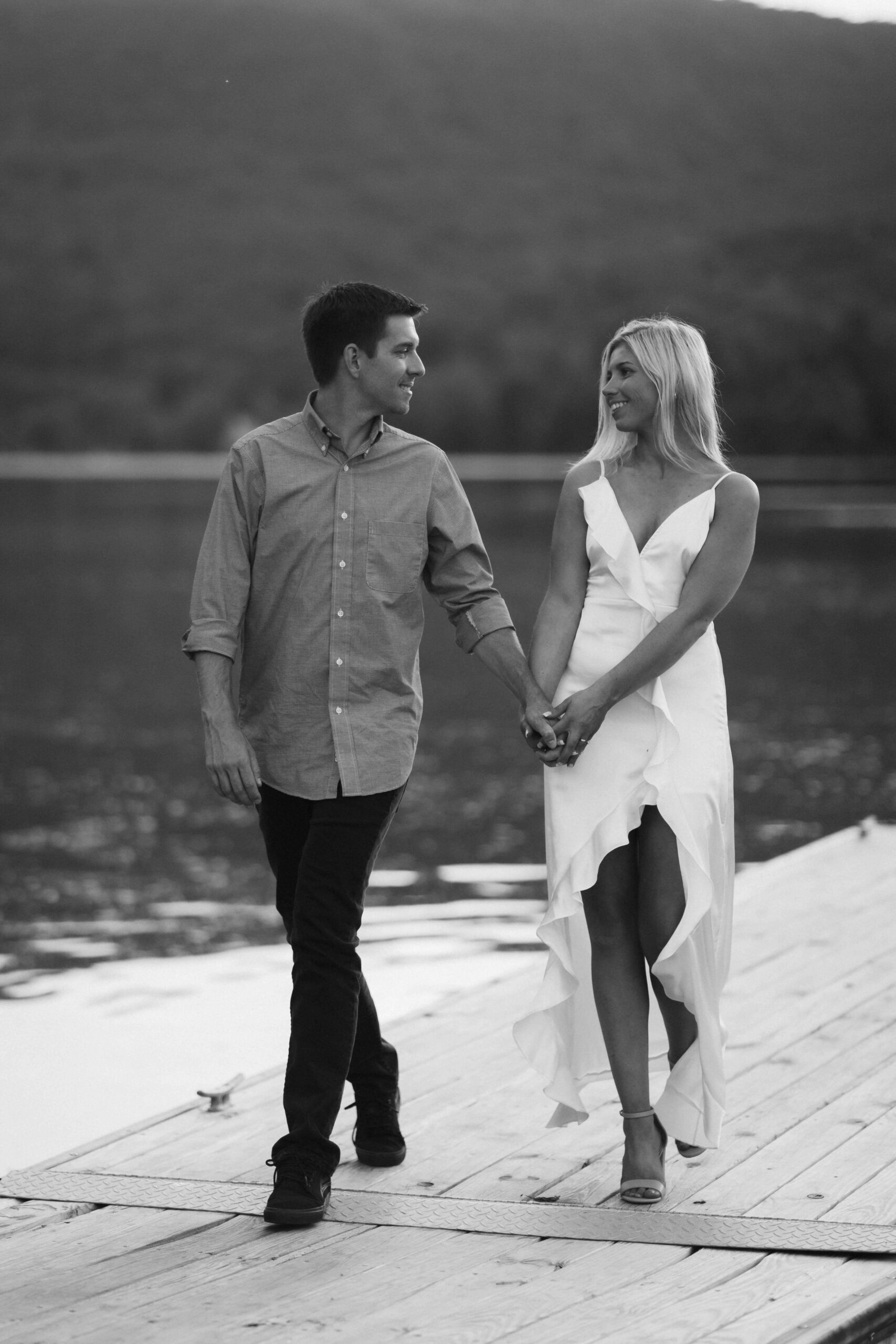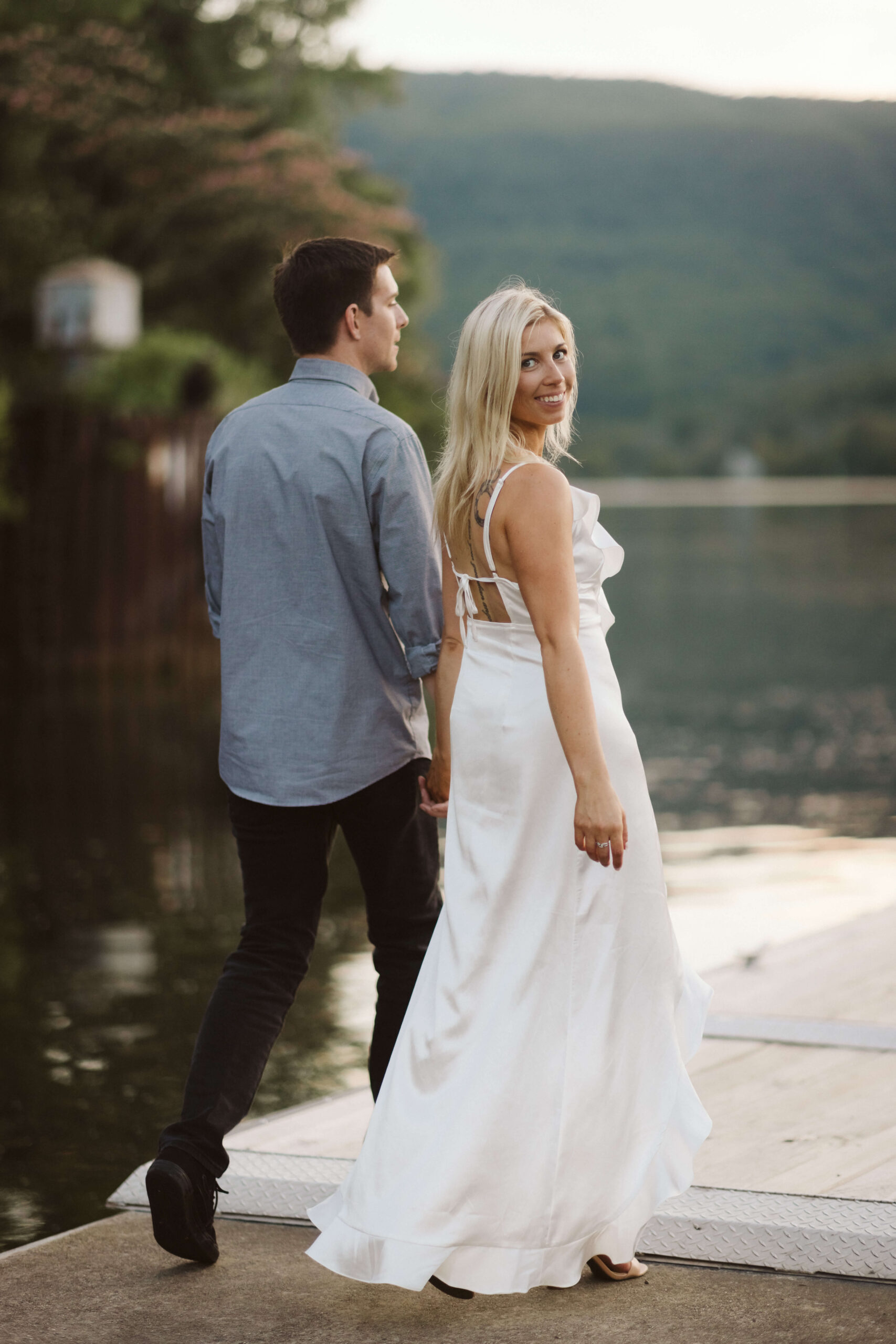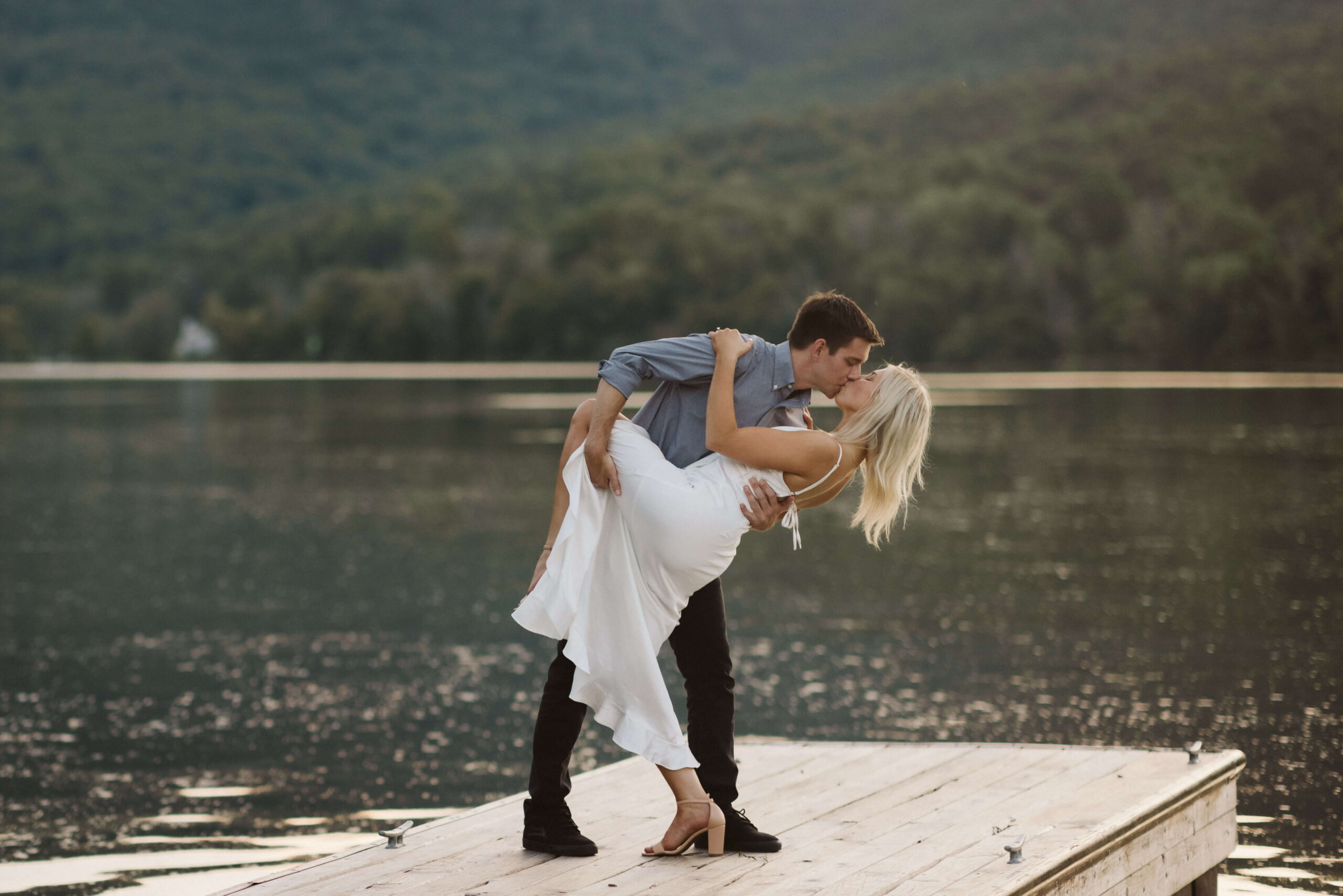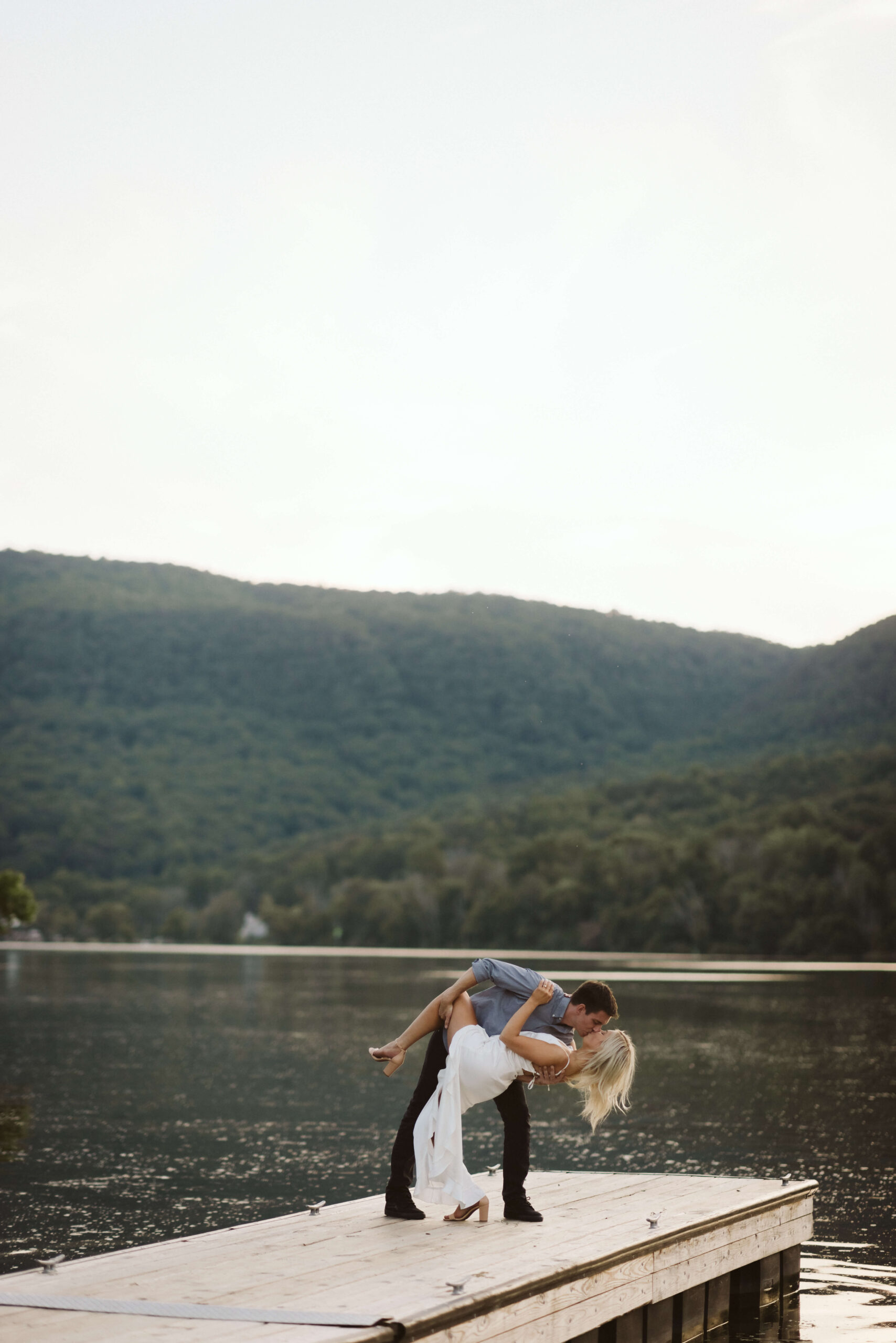 Taking Advantage of Golden Hour in Raccoon Mountain Park
While I always suggest couples bring something personal to their shoot that represents them as a couple, all of my engagement shoots allow for at least one outfit change. So, while Rachel and Ty kept the first half of their shoot really casual, in the second half, they changed into something a little more formal – perfect to use for their save the dates or wedding website. Rachel changed into a beautiful flowy, white dress and Ty added a button up shirt over his t-shirt just in time to take advantage of golden hour at the park.
Golden hour is sometimes known as the "magic hour" in the photography world. It happens in the hour directly before sunset and the hour after sunrise. During this time, the natural light is perfect for photography. The soft, diffused light in this magic hour adds a romantic effect to any kind of couples' photography without the need for editing or filters.
At first, we headed back up the hiking trails in Raccoon Mountain Park to take full advantage of the natural lighting on the park's overlook. The soft sunlight beamed over Rachel and Ty in spectacular streams. Then, we headed back down the road around the dam stopping to take a few more pictures along the road with the reservoir and mountain in the distance. Finally, we made it to our last stop, a boat dock by the Tennessee River which was only a 10 minute drive from where we began our shoot in the park. Here, Rachel and Ty posed on the side of the river and on the dock with the water sparkling behind them and the verdant trees in the background.
Are you looking to have an engagement shoot as unique as you are? Contact me to chat about all the ways we can bring your love story to life.
Hey y'all! I'm Rachael Crowe of OkCrowe Photography. If you enjoyed Rachel and Ty's engagement session, keep an eye out for photos of their wedding next year! Whether you're Chattanooga locals like Rachel and Ty or located anywhere else across the country, I would be honored to photograph your wedding, elopement, or engagement! All you have to do is fill out my contact form to get the conversation started!