Not far from Chattanooga sits Cleveland, Tennessee, a small town and jaw-dropping mountain views. For couples looking to get married in the Cleveland area, The Views at Sunset Ridge is a stunning venue that encompasses all of the beauty that Cleveland has to offer. With stunning views, 200 acres of natural beauty, and a staff ready to address your every need, it's the perfect venue for a dazzling mountain wedding.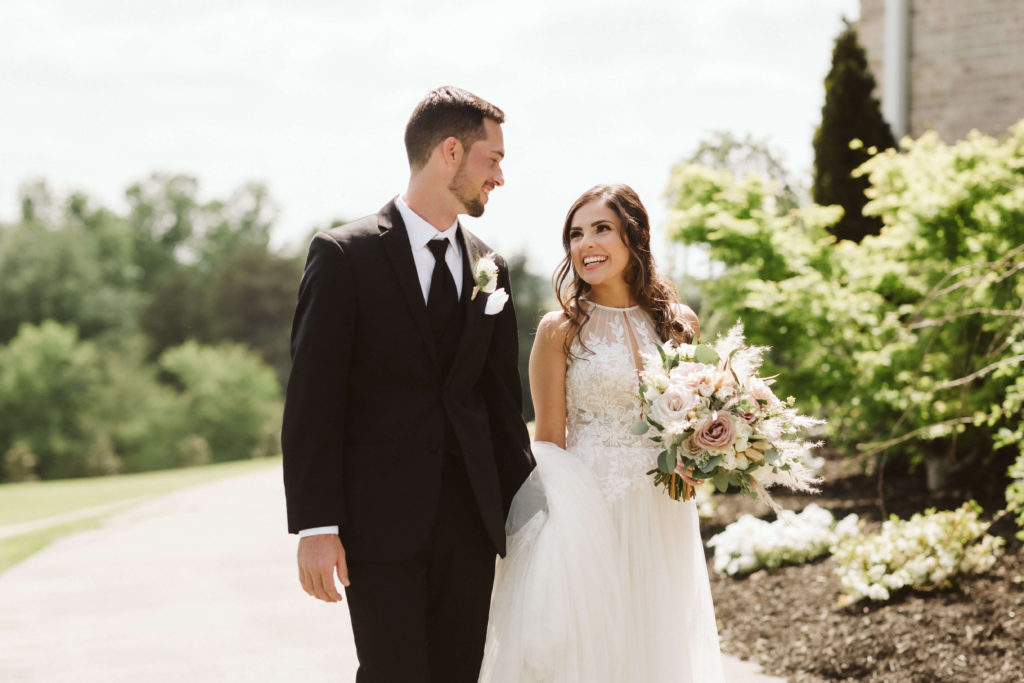 Choosing the Views at Sunset Ridge for Your Wedding
If you're looking for a picturesque wedding venue, look no further than the Views at Sunset Ridge. This 200-acre property sits nestled on Red Clay Ridge in Cleveland and is the perfect venue for you if you want to say your vows surrounded by absolutely breathtaking views. A glance around the property will show you panoramic views across five states, including the Blue Mountains, Signal and Lookout Mountains, the Cumberland Plateau, and the Great Smoky Mountains. It is a wedding setting truly unlike any other.
The Views at Sunset Ridge gives you the option to choose from three expertly-crafted levels for your wedding. But, no matter what option you choose to use for your wedding venue, you'll be sure to have a stunning view of the Blue Ridge and Appalachian Mountains below.
Not to be outdone, the architecture is as equally breathtaking as the views. The View's signature venue, ROW Hall, places emphasis on their cathedral ceilings and elegant chandeliers, creating a space that draws on both rustic and industrial styles. These accents tie in perfectly to form a grand room fit for a dazzling mountain wedding ceremony. However, the sweeping grand staircase is really the star of the show and is the perfect backdrop for wedding portraits. After hosting your ceremony in ROW Hall, on-site staff will transform the space into a room worthy of a lively reception.
The Dining Hall is another option for a reception. It's an award-worthy location for a decadent meal, with the on-site catering team capable of serving up to 300 guests. Through the windows, you'll see exquisite mountain views below. Inside, the farmhouse tables can be decorated with accents from the venue's Décor Closet or of your own choosing to bring your unique wedding aesthetic to life.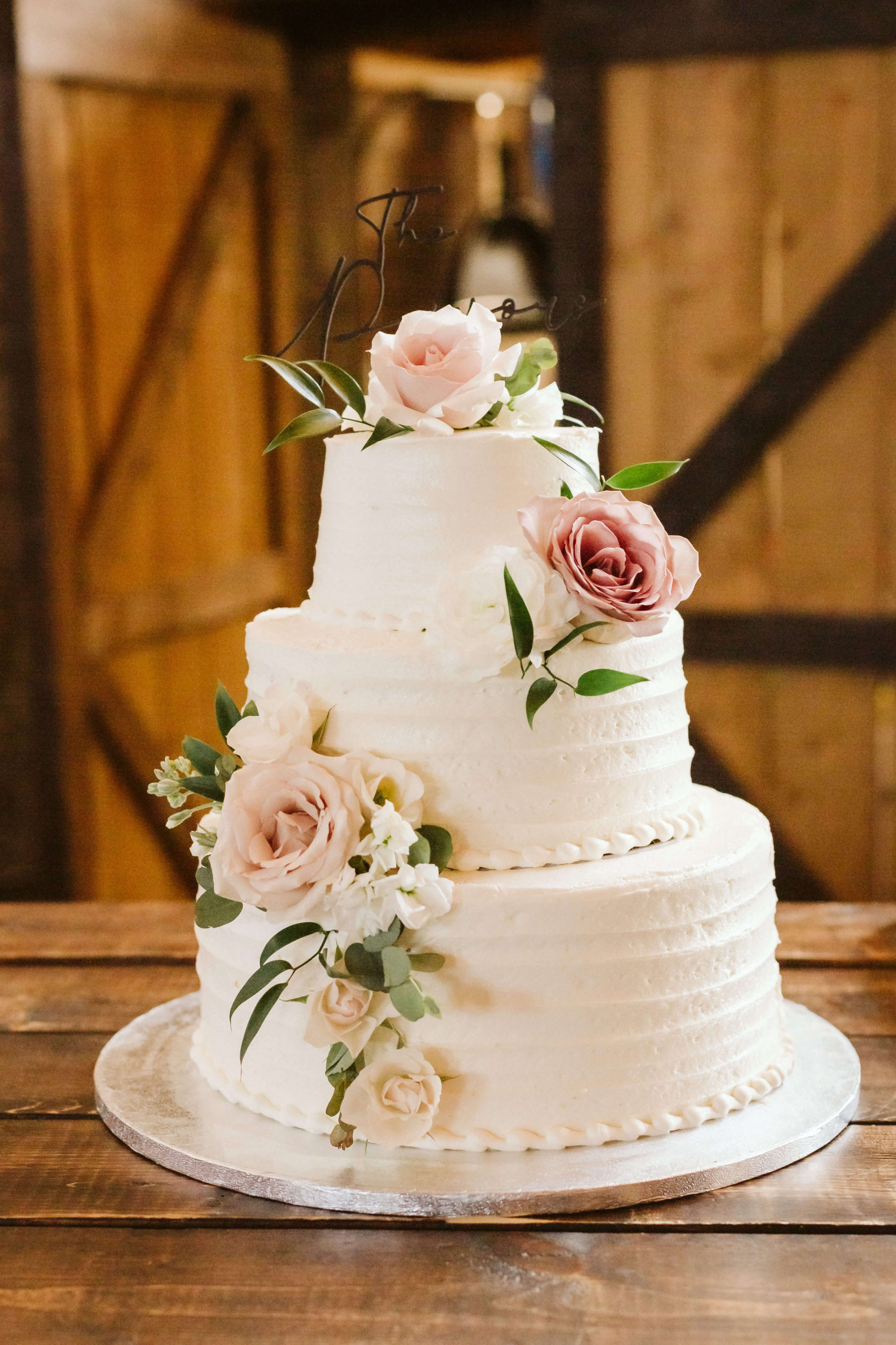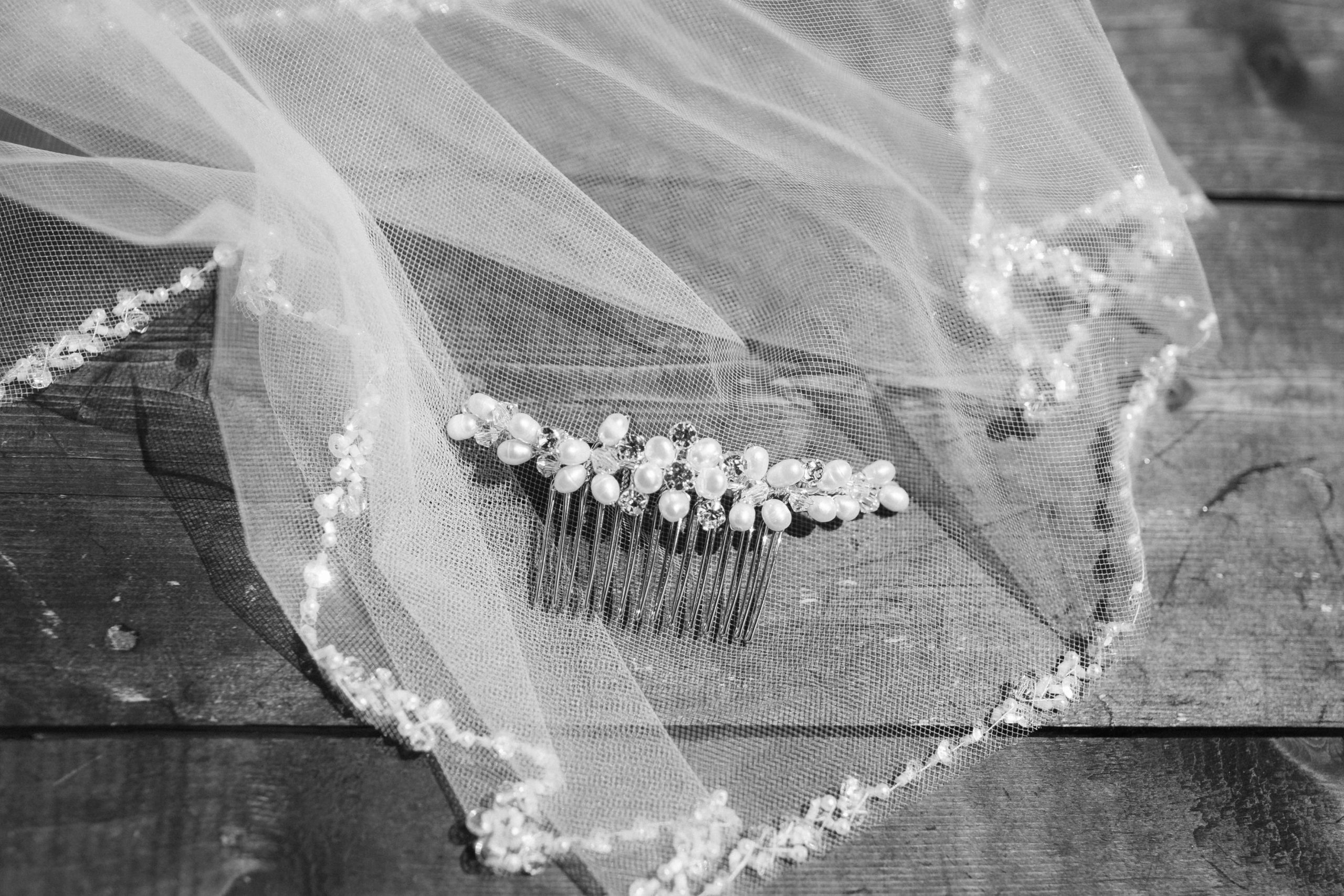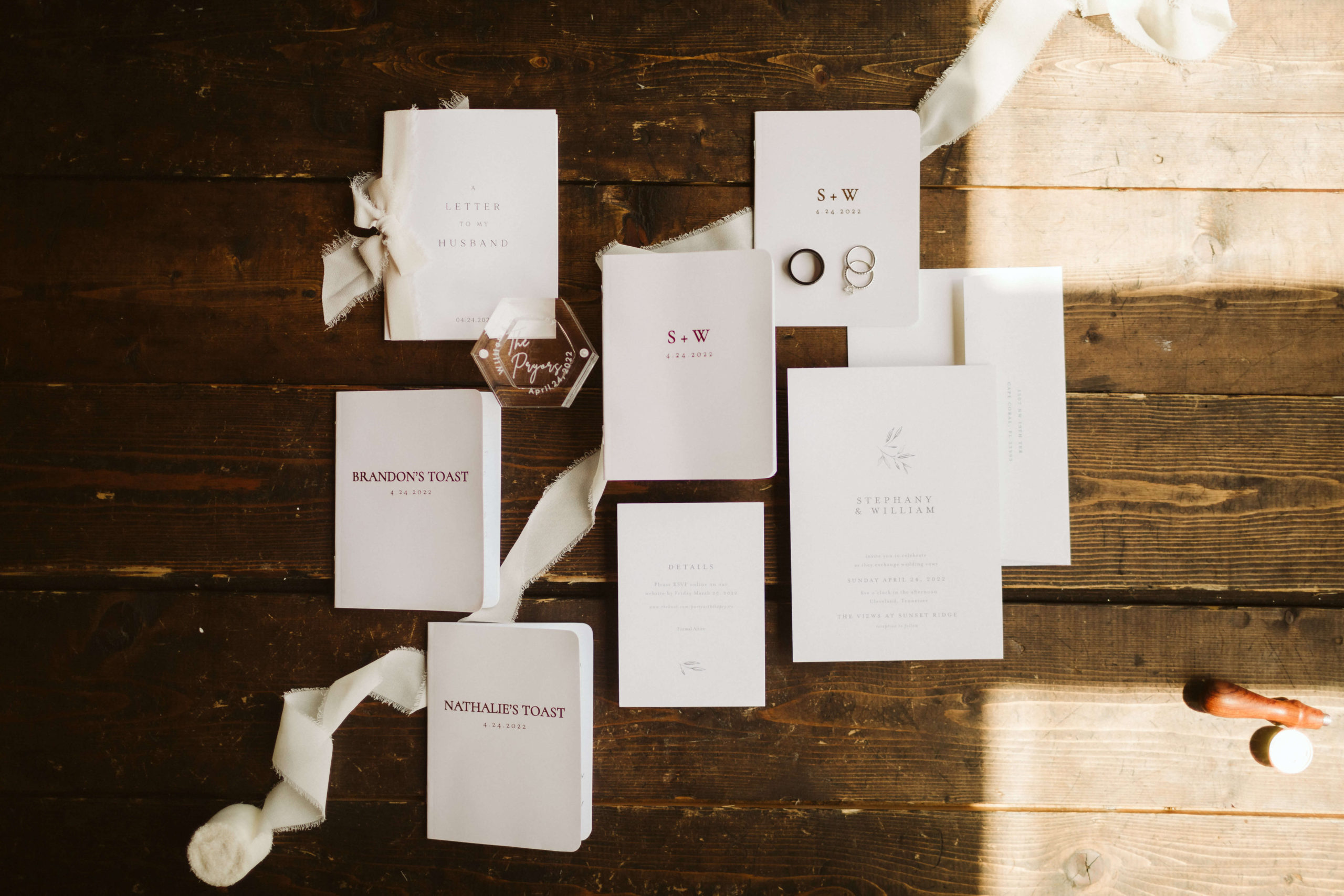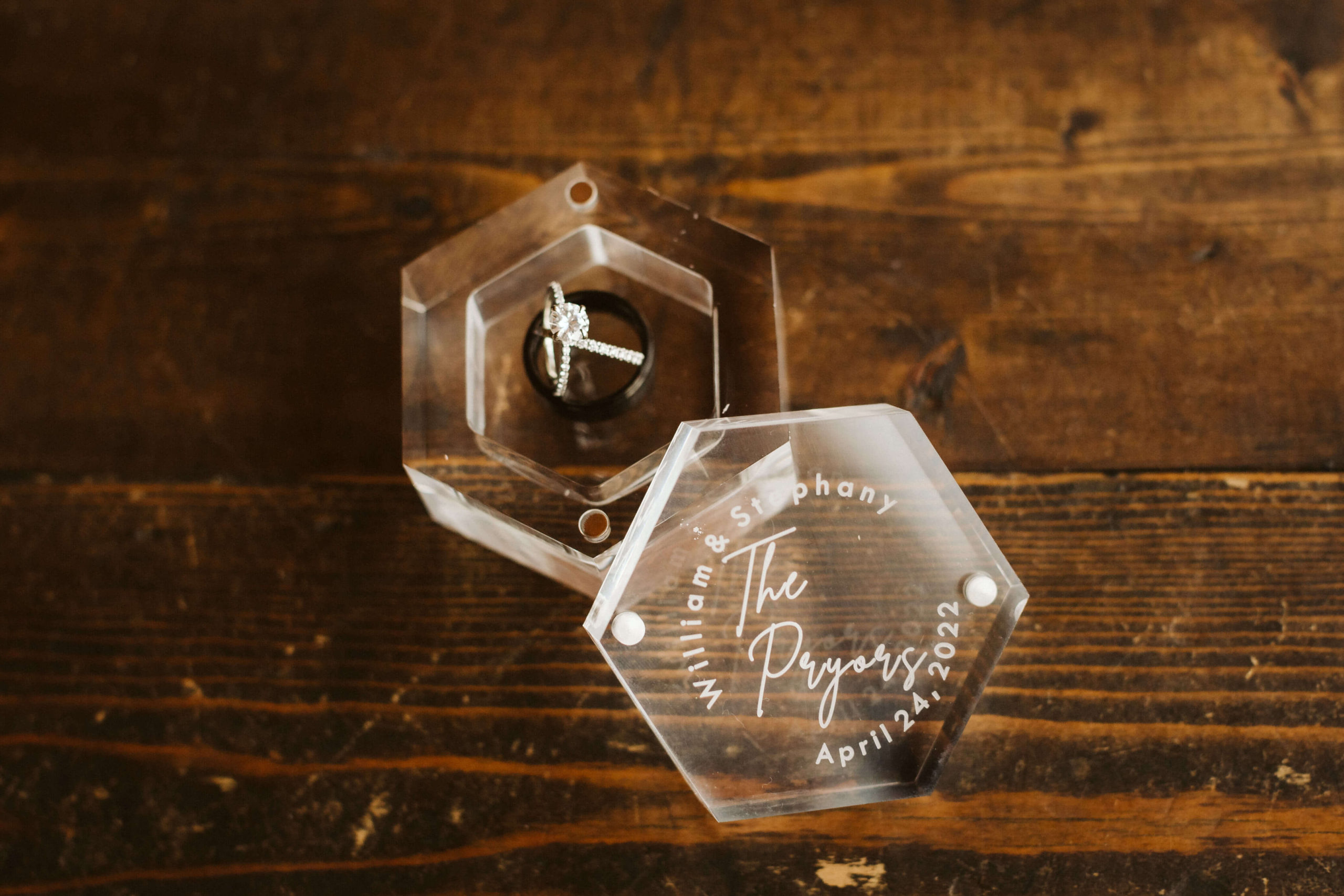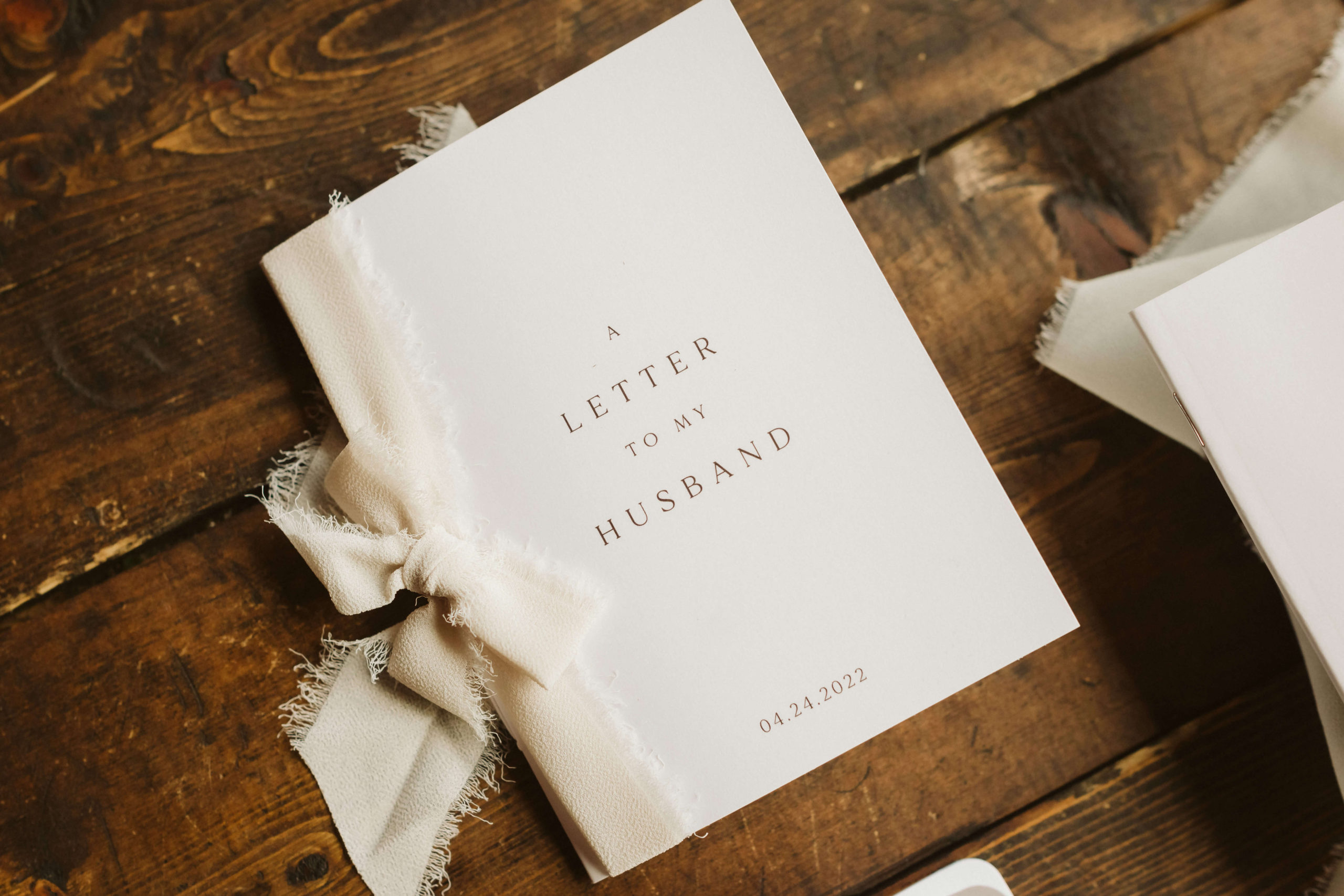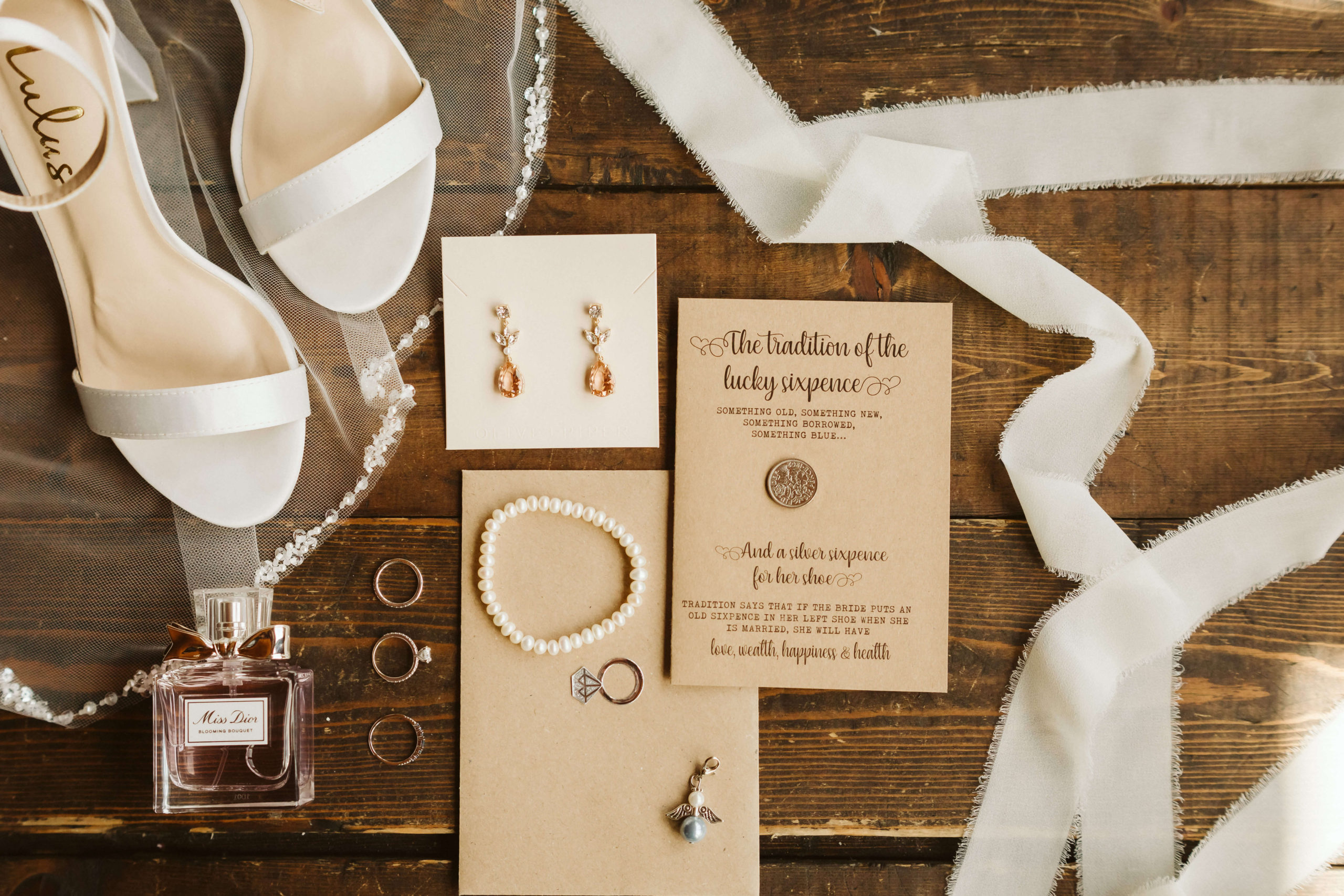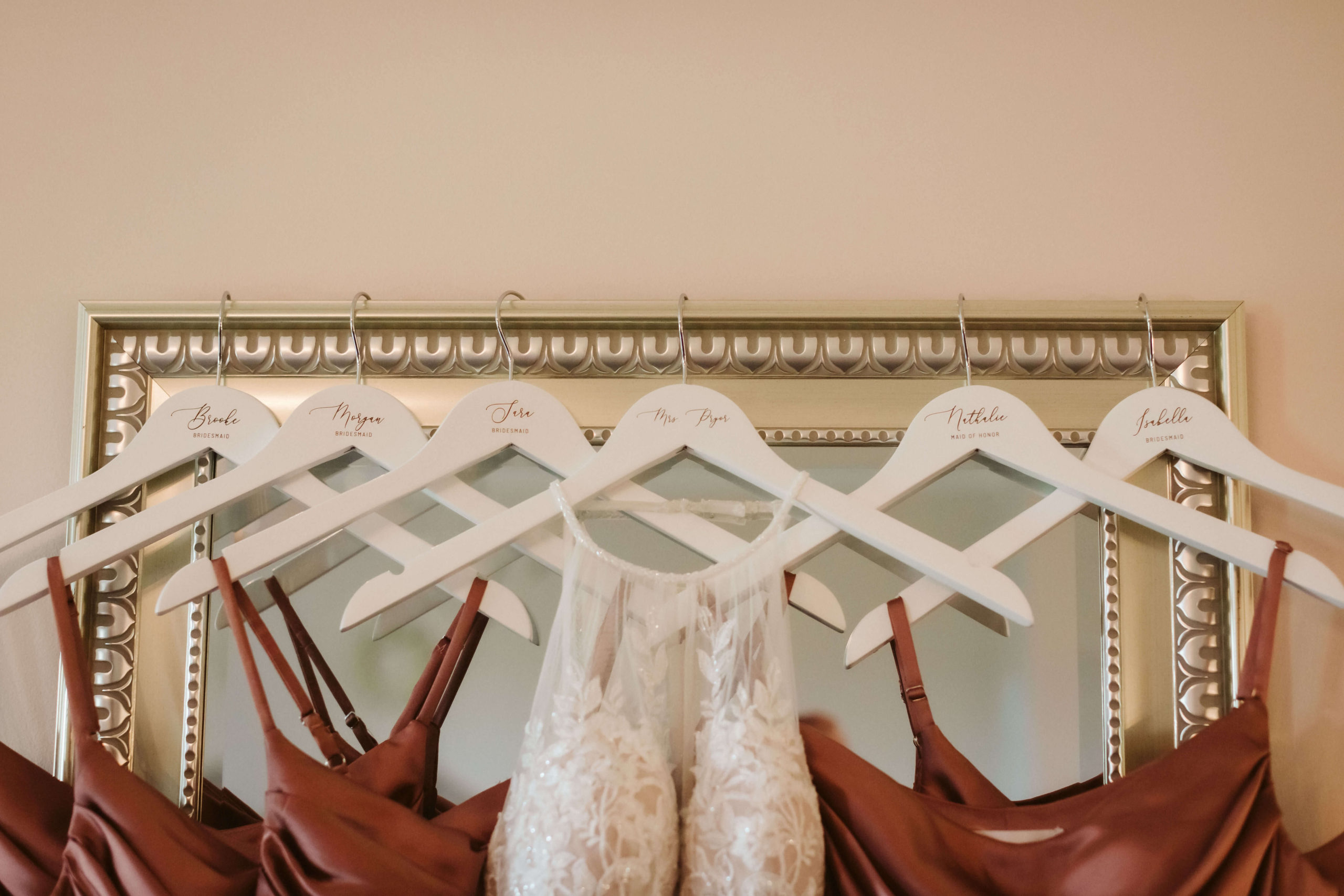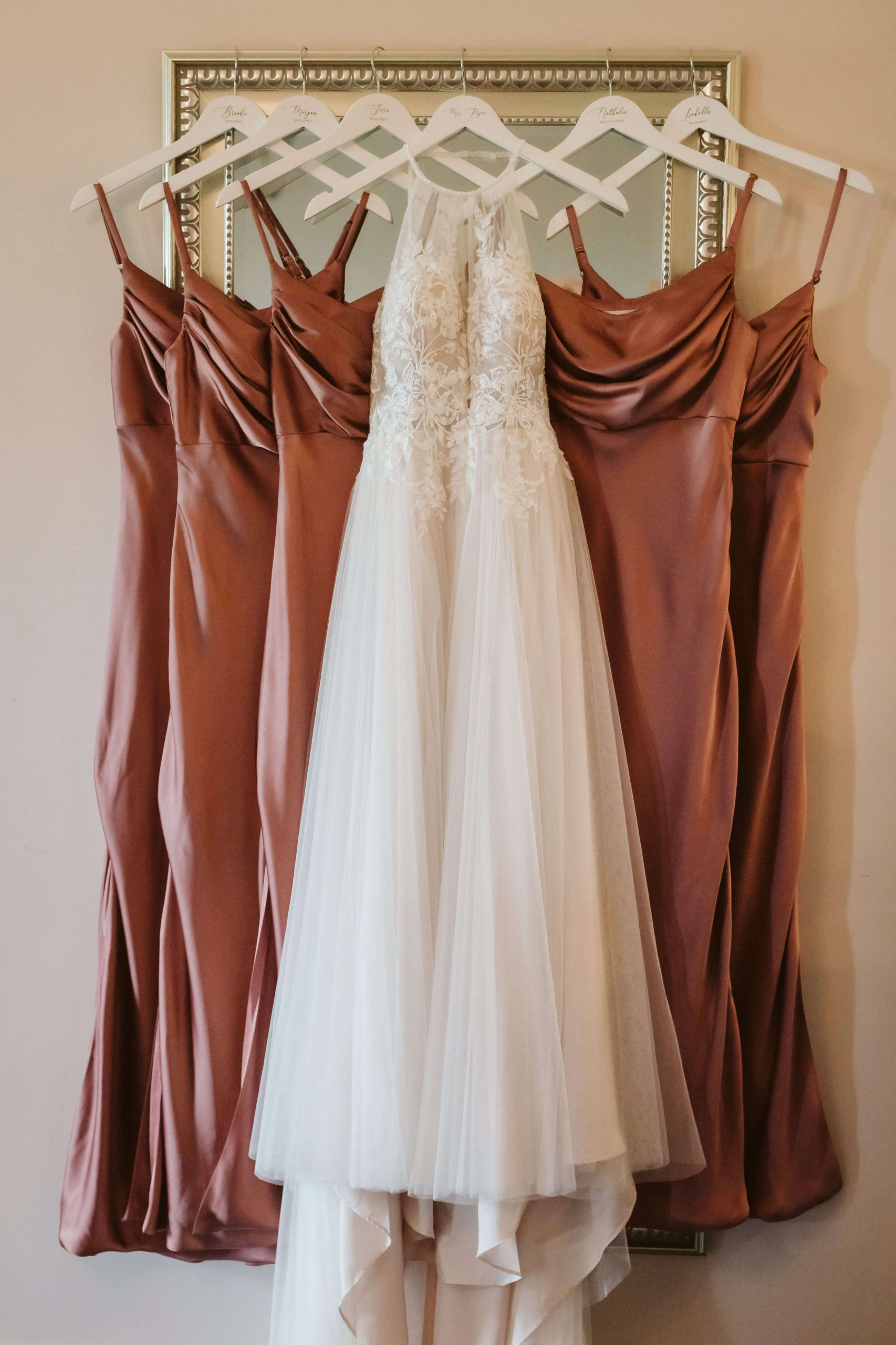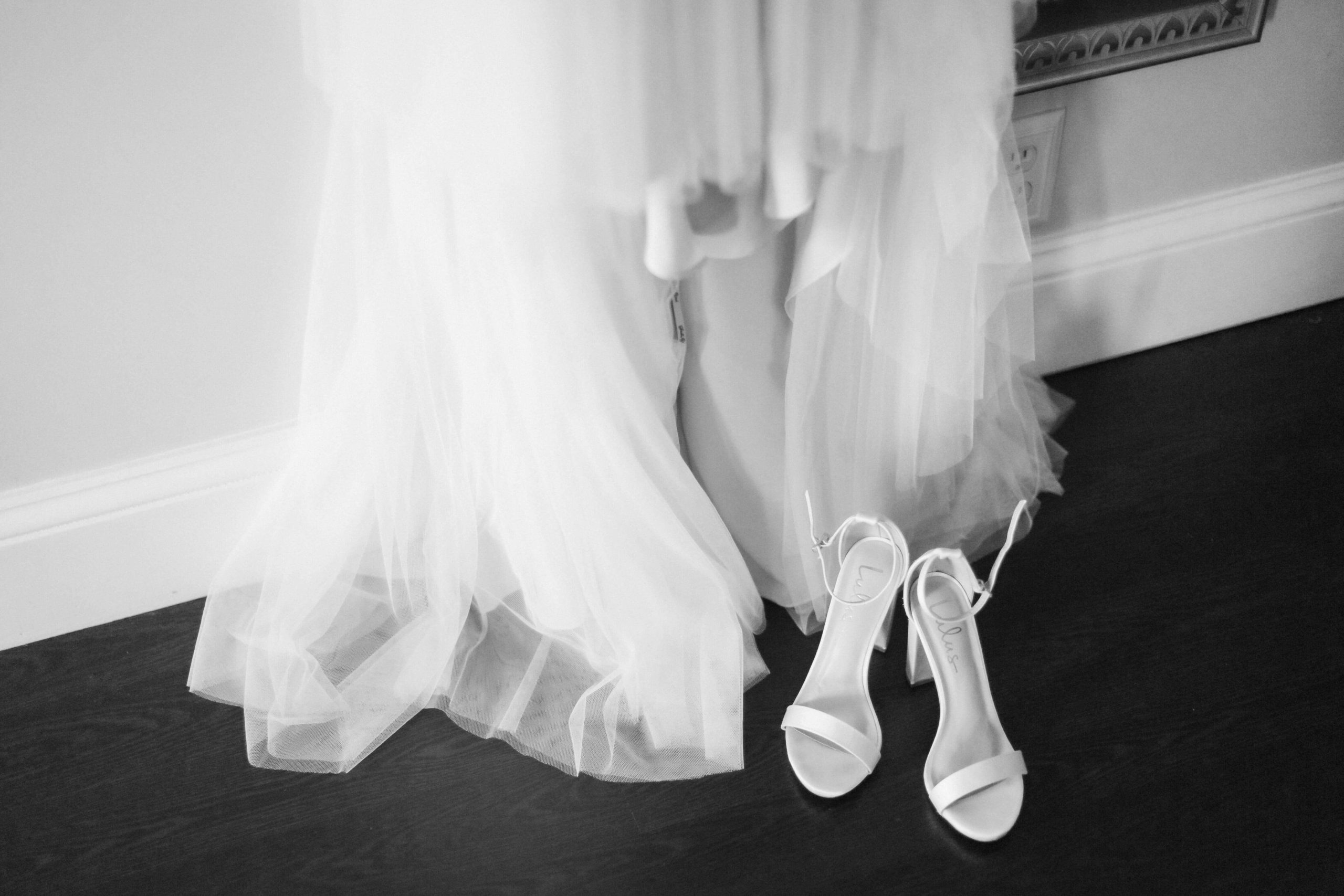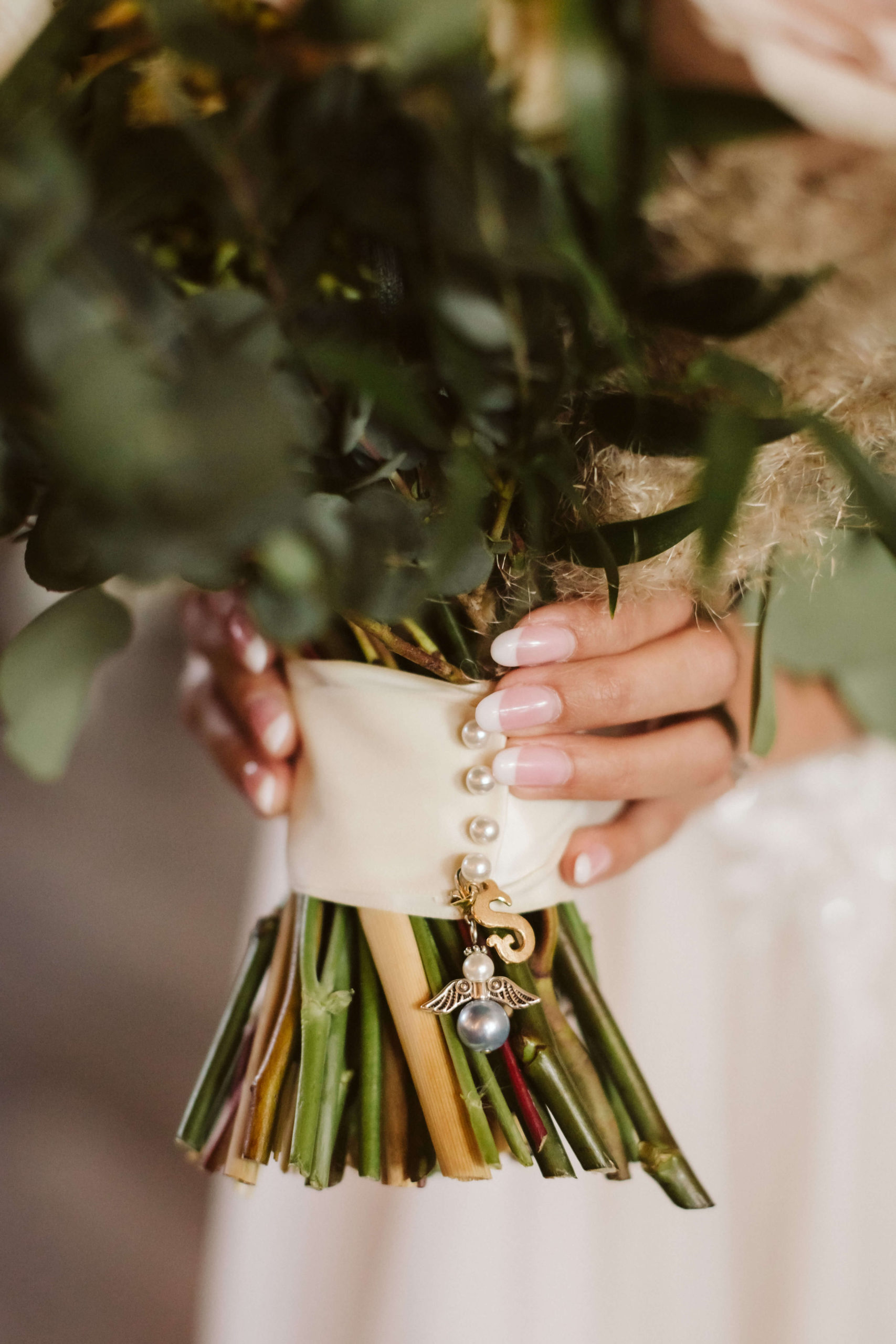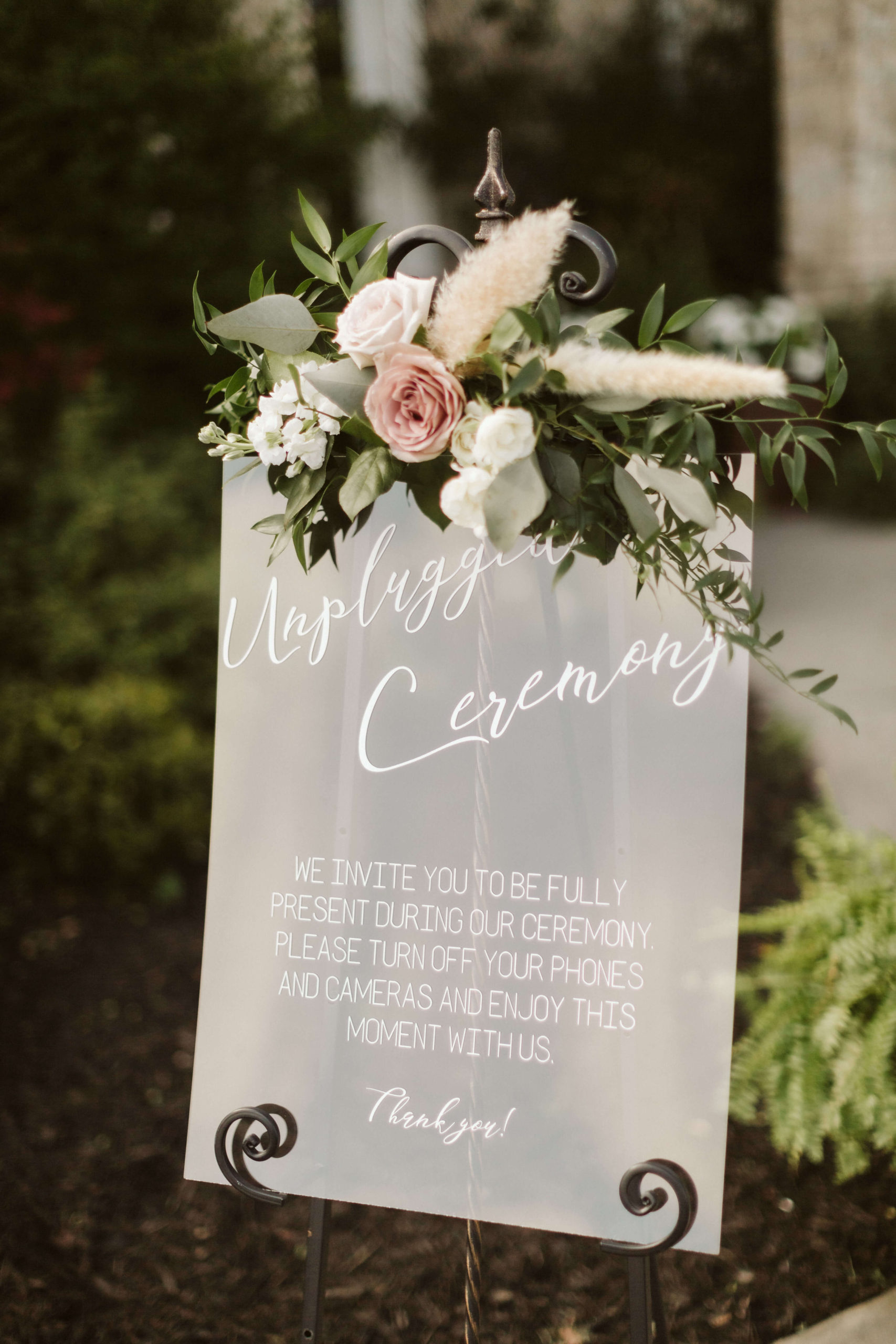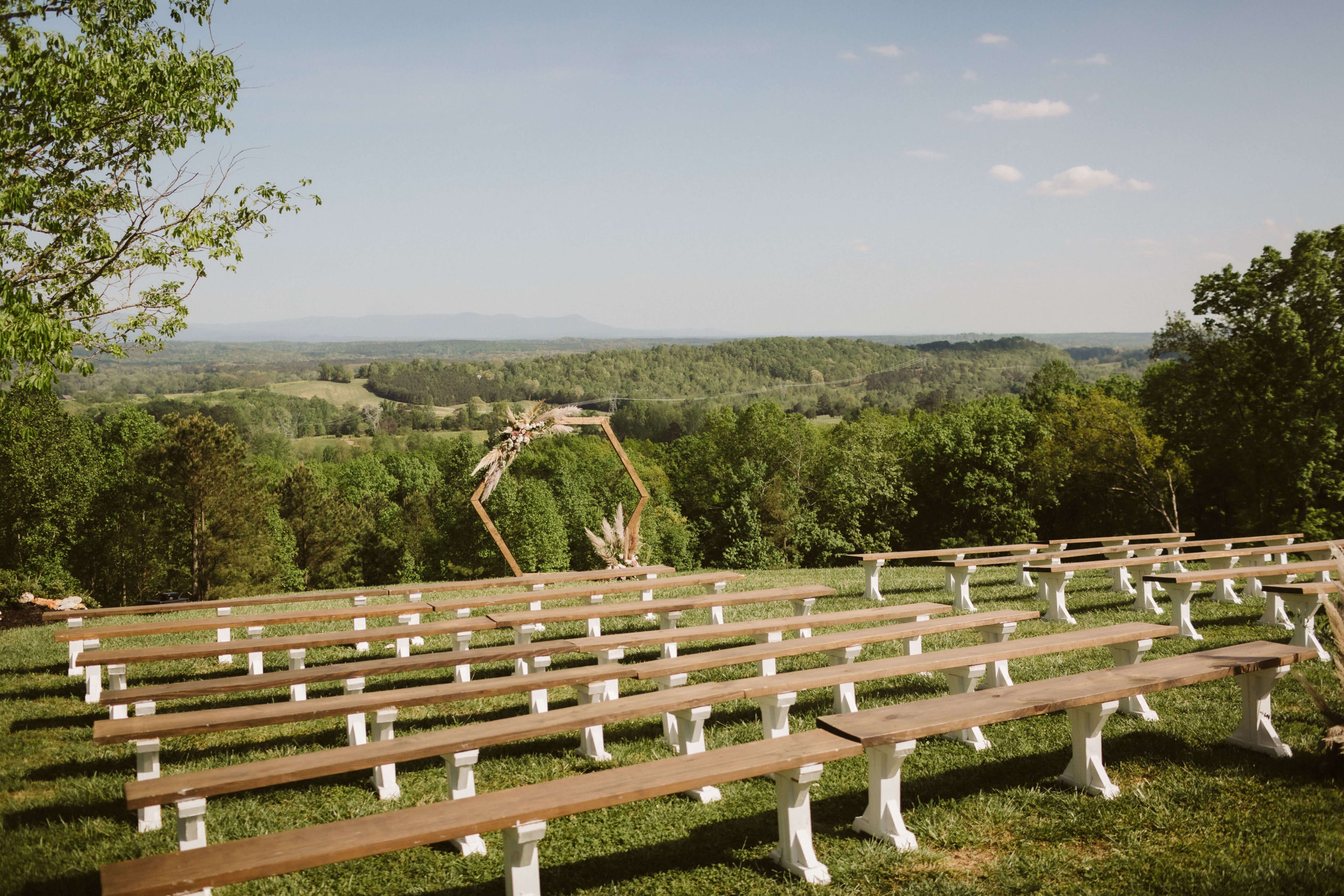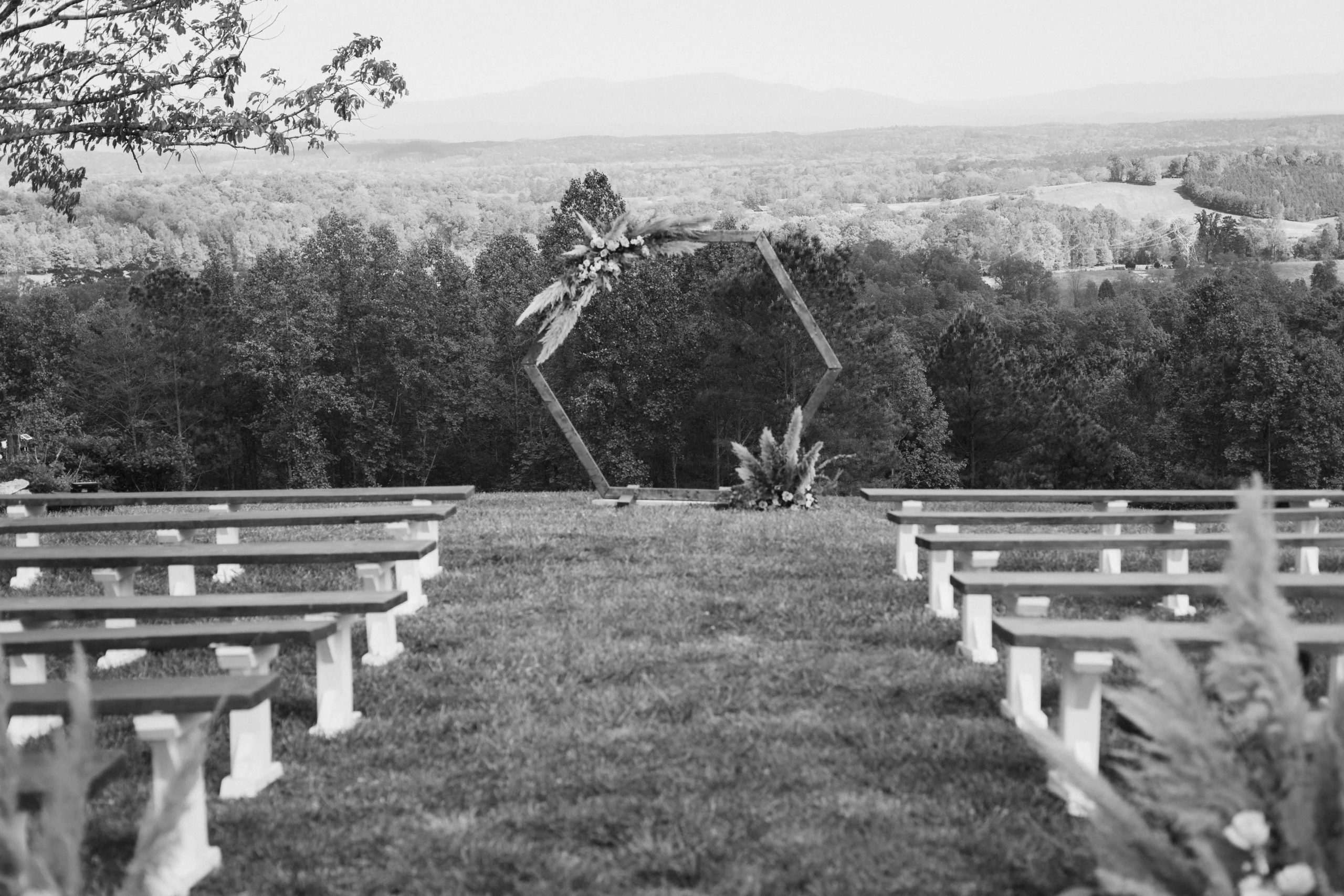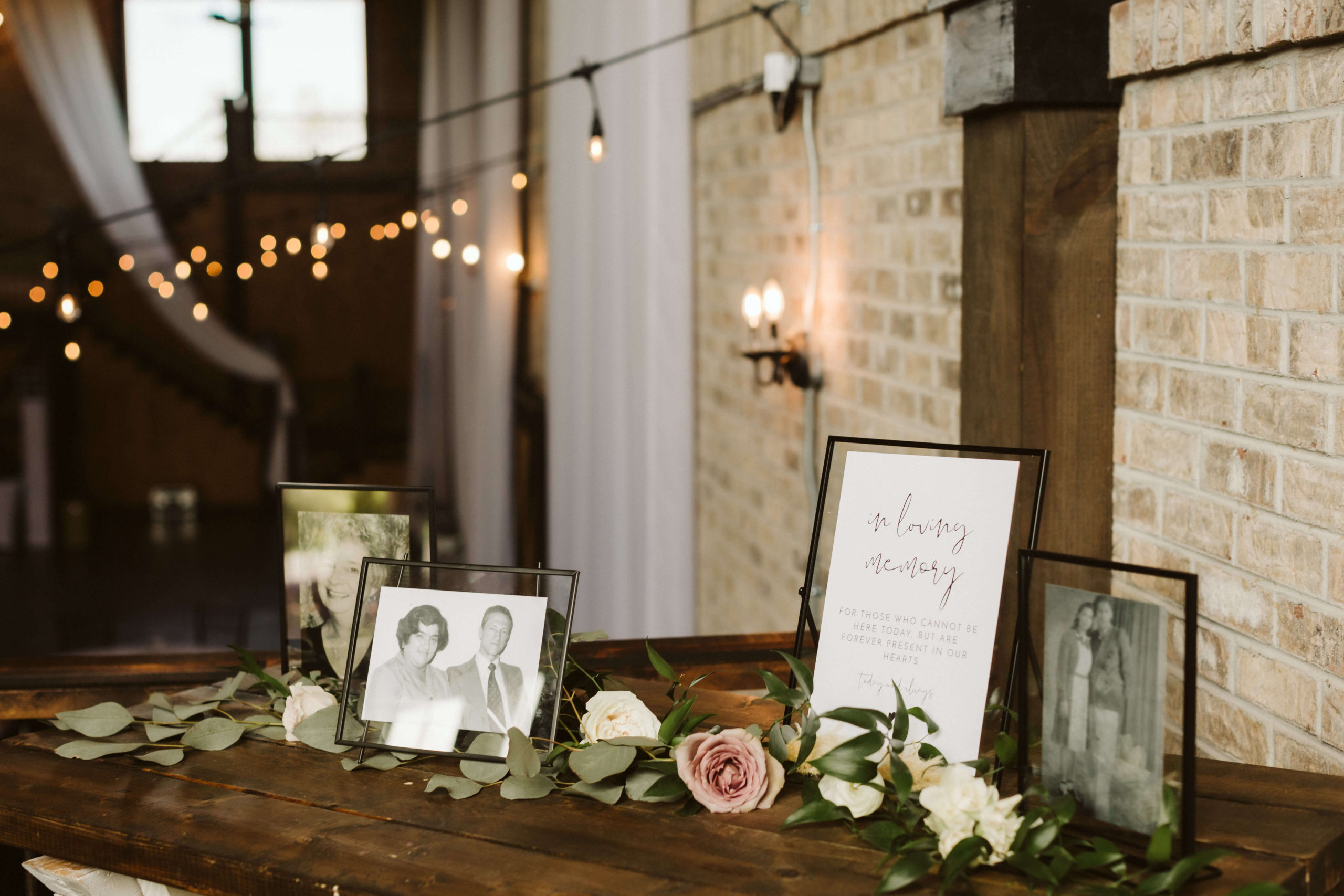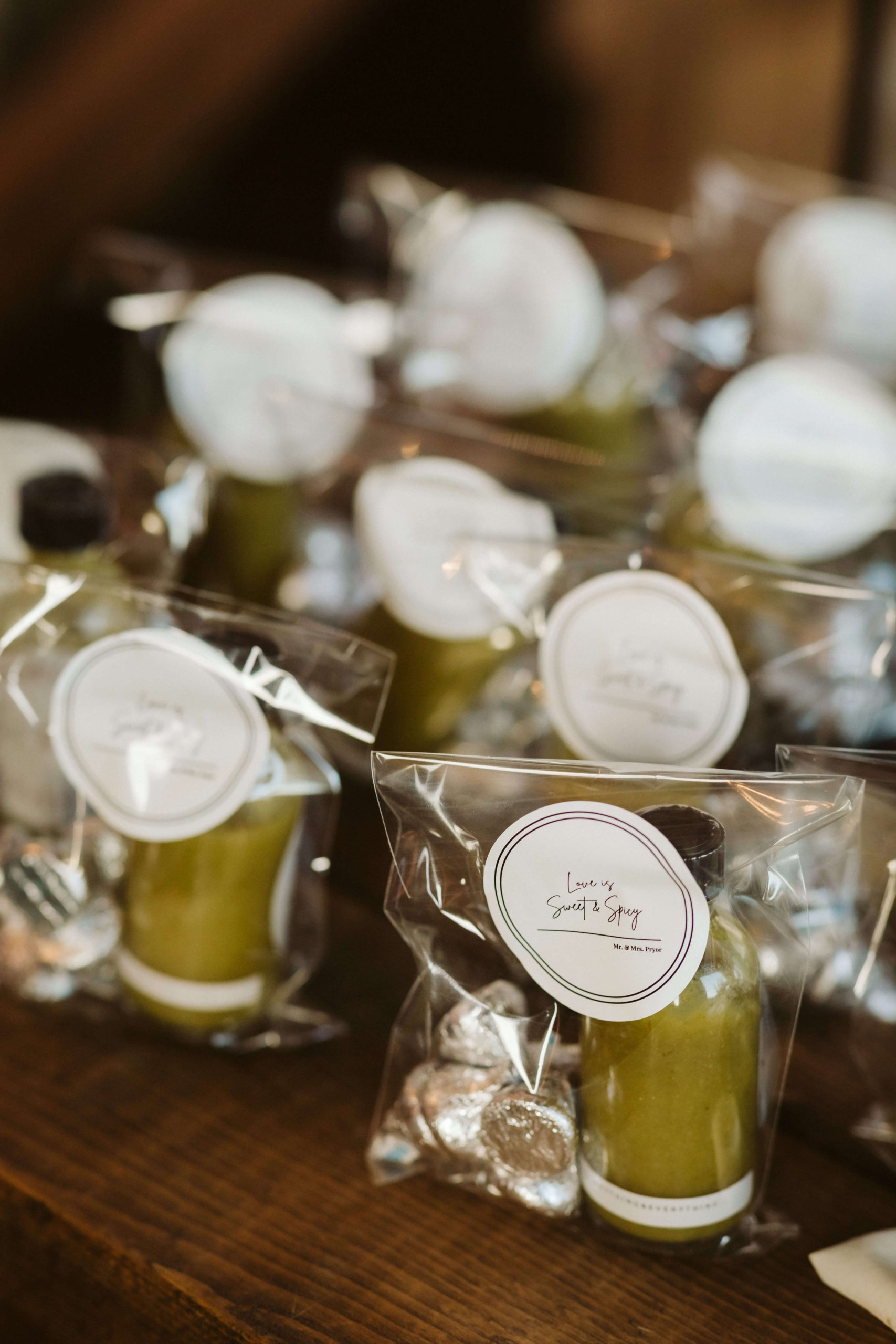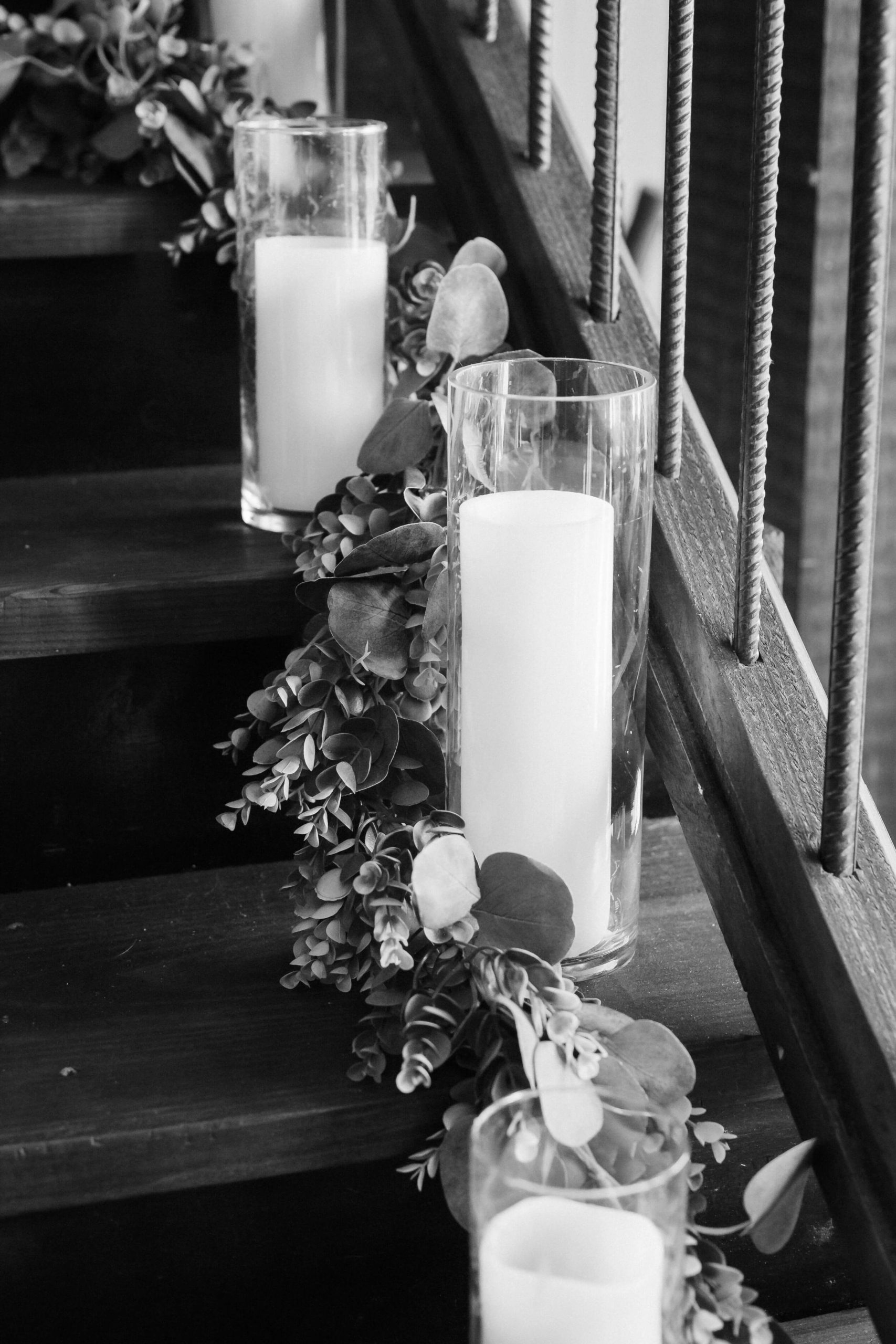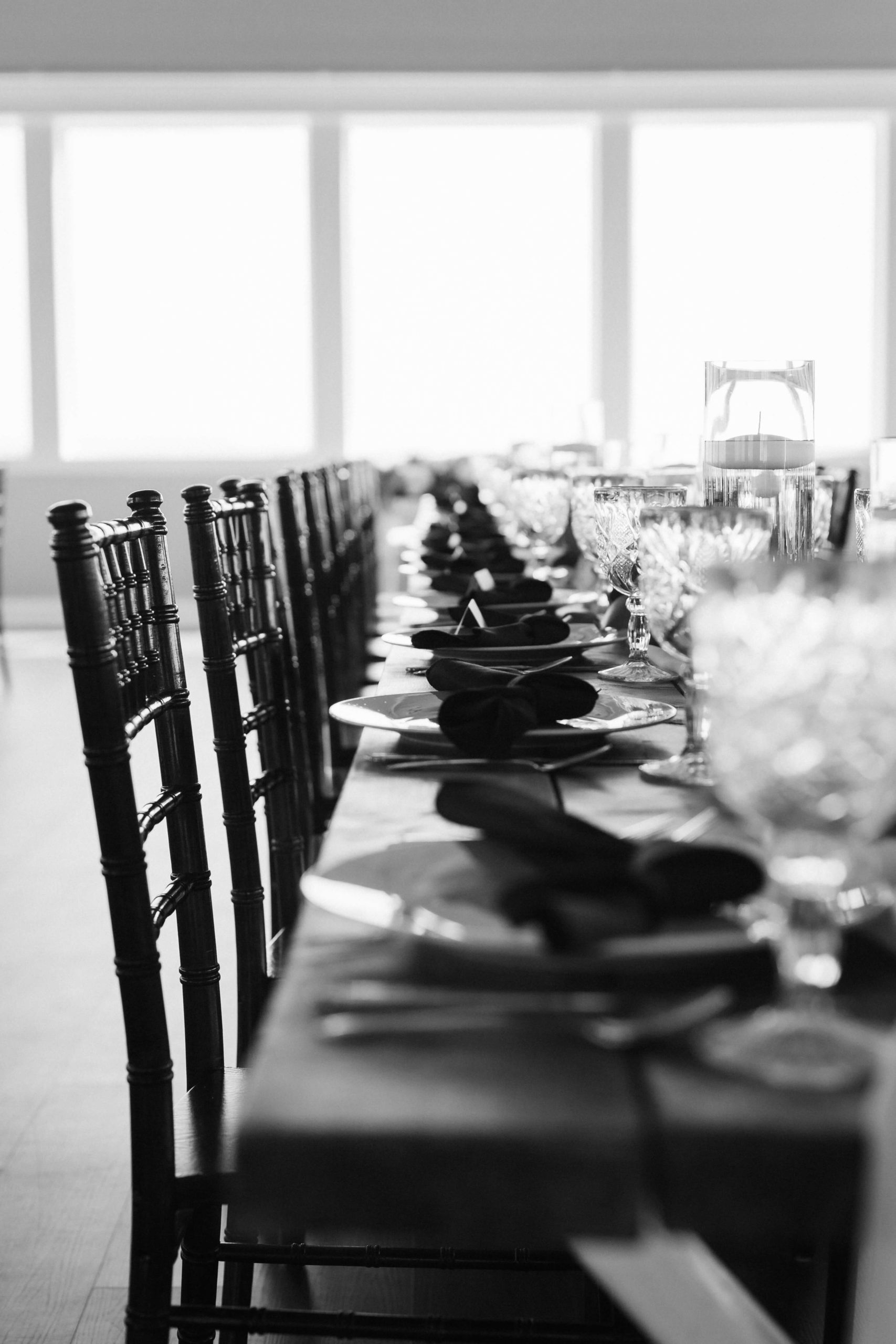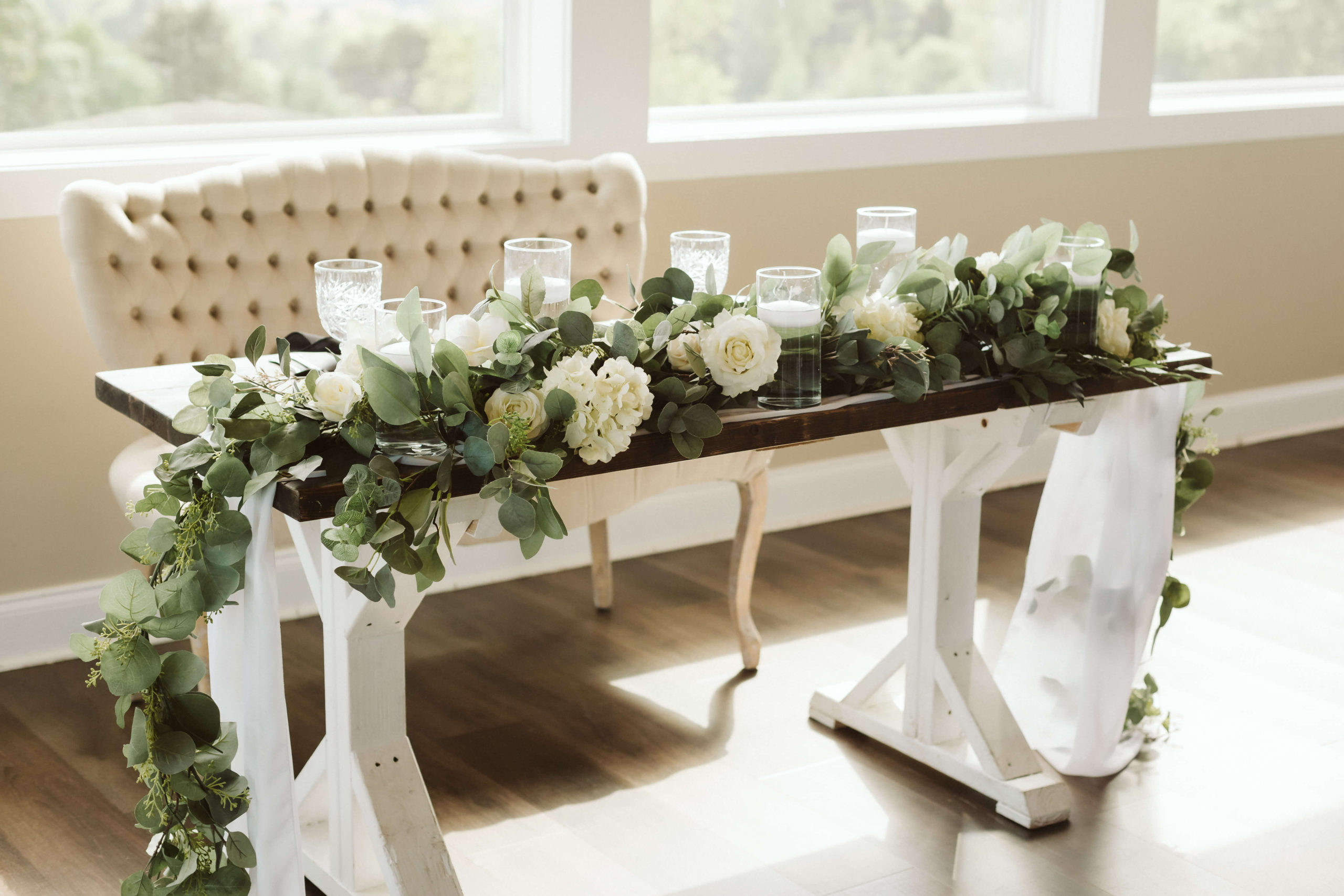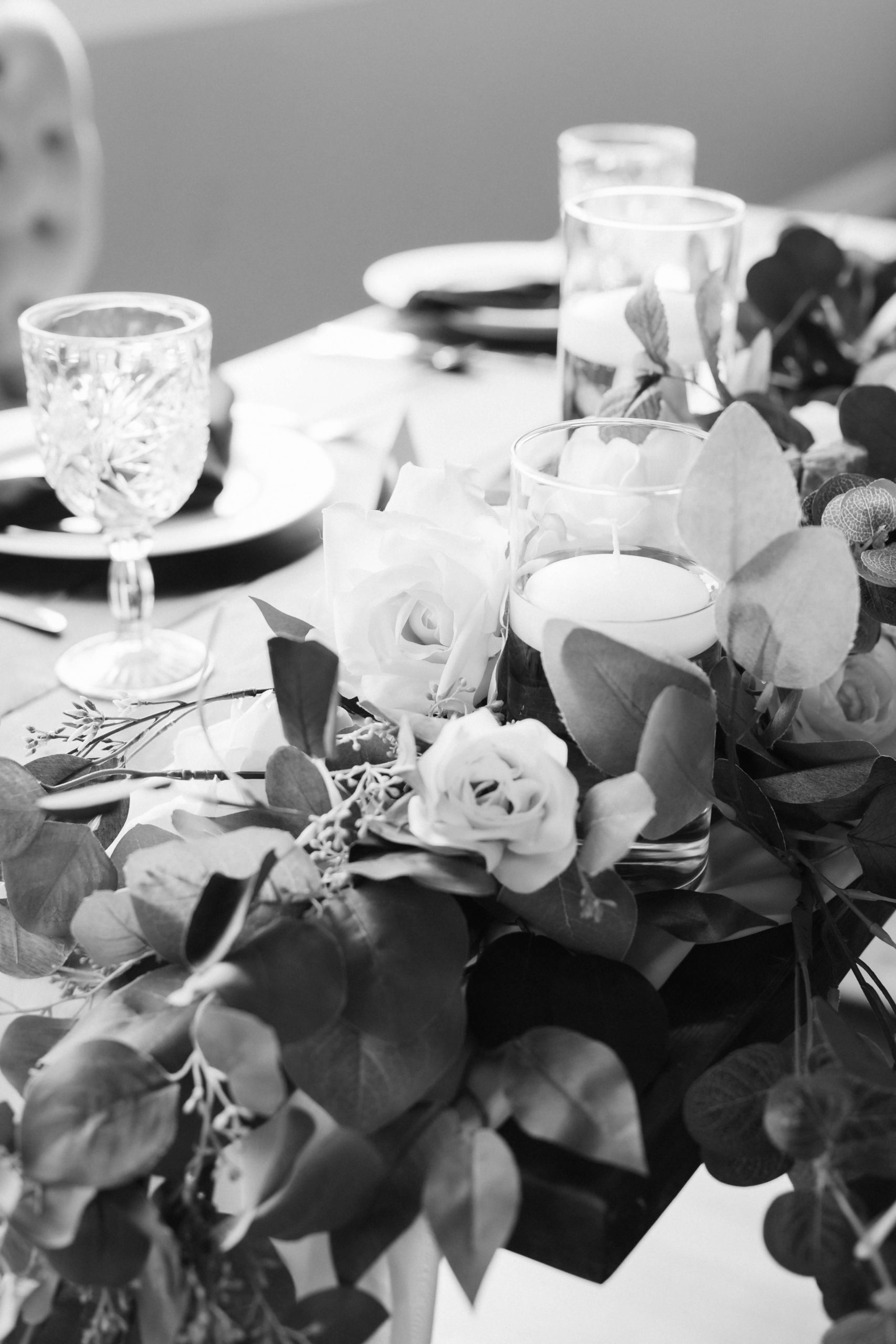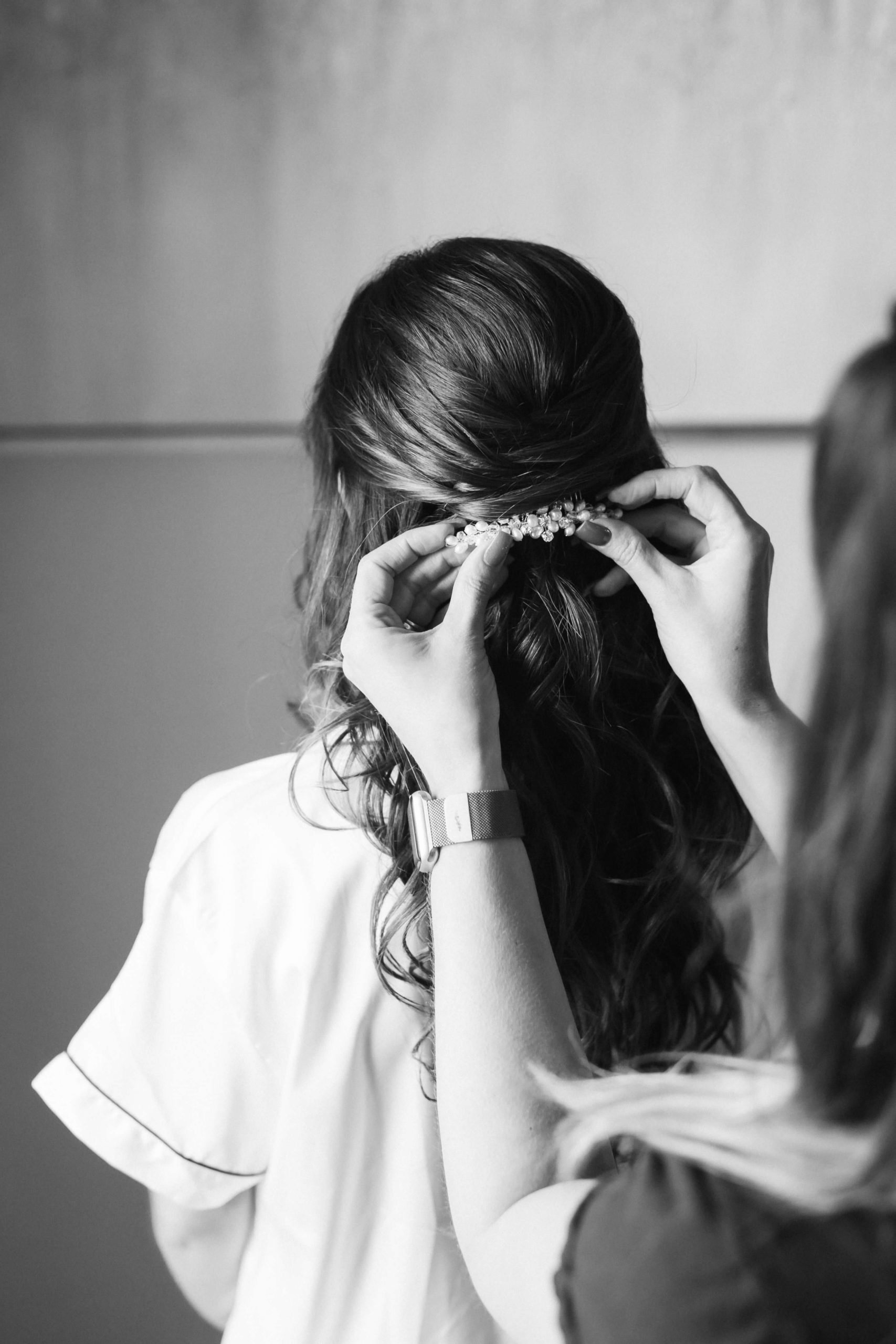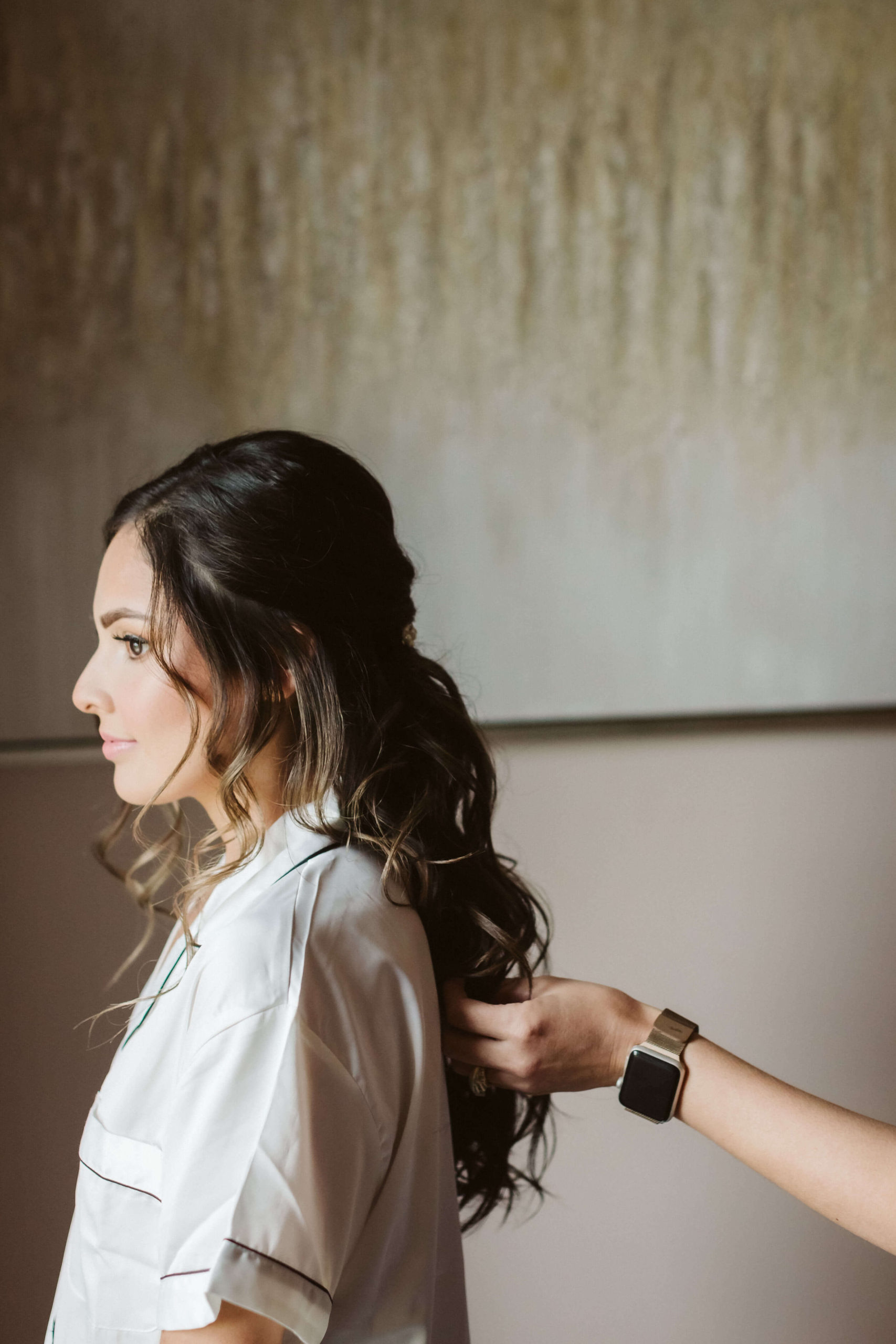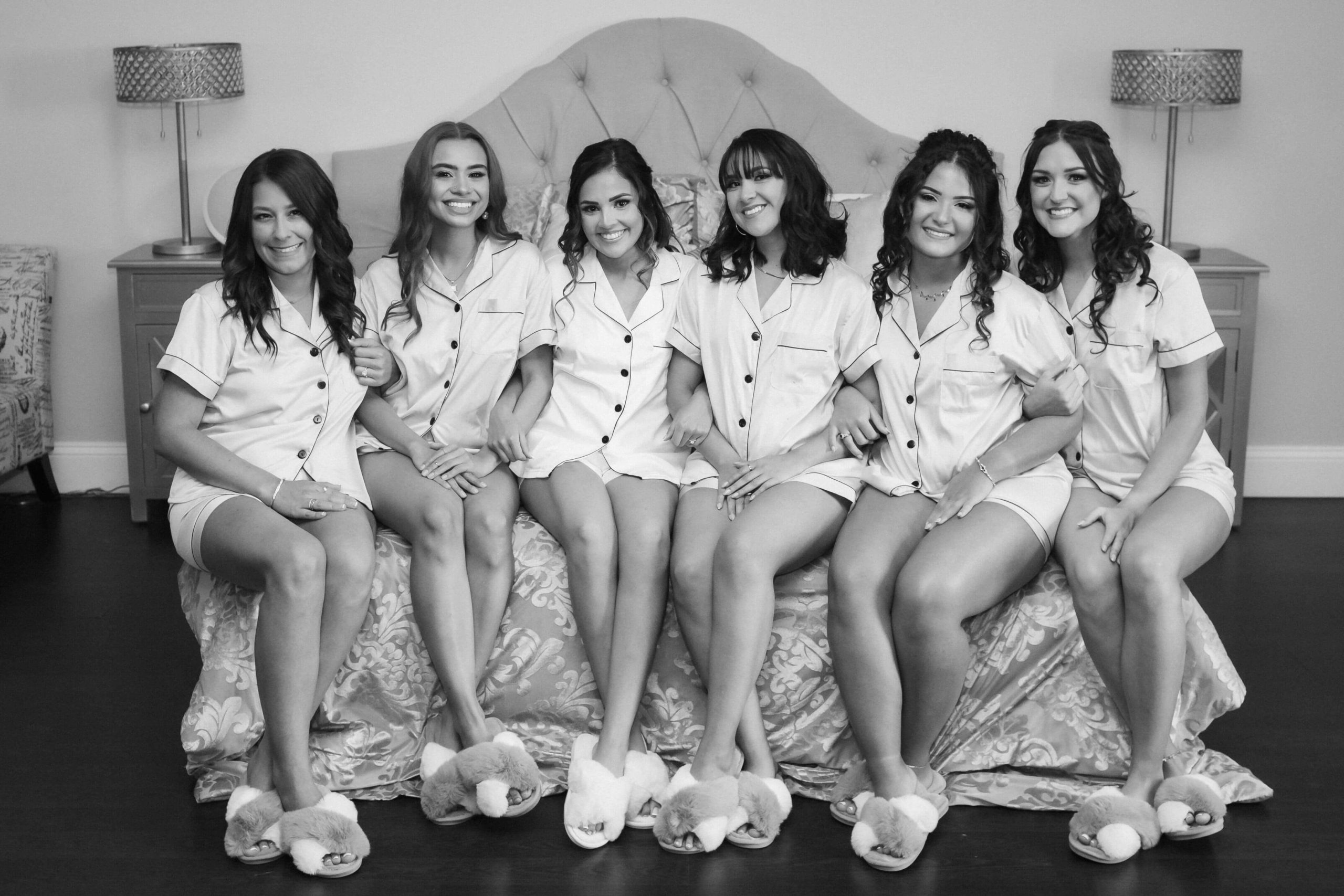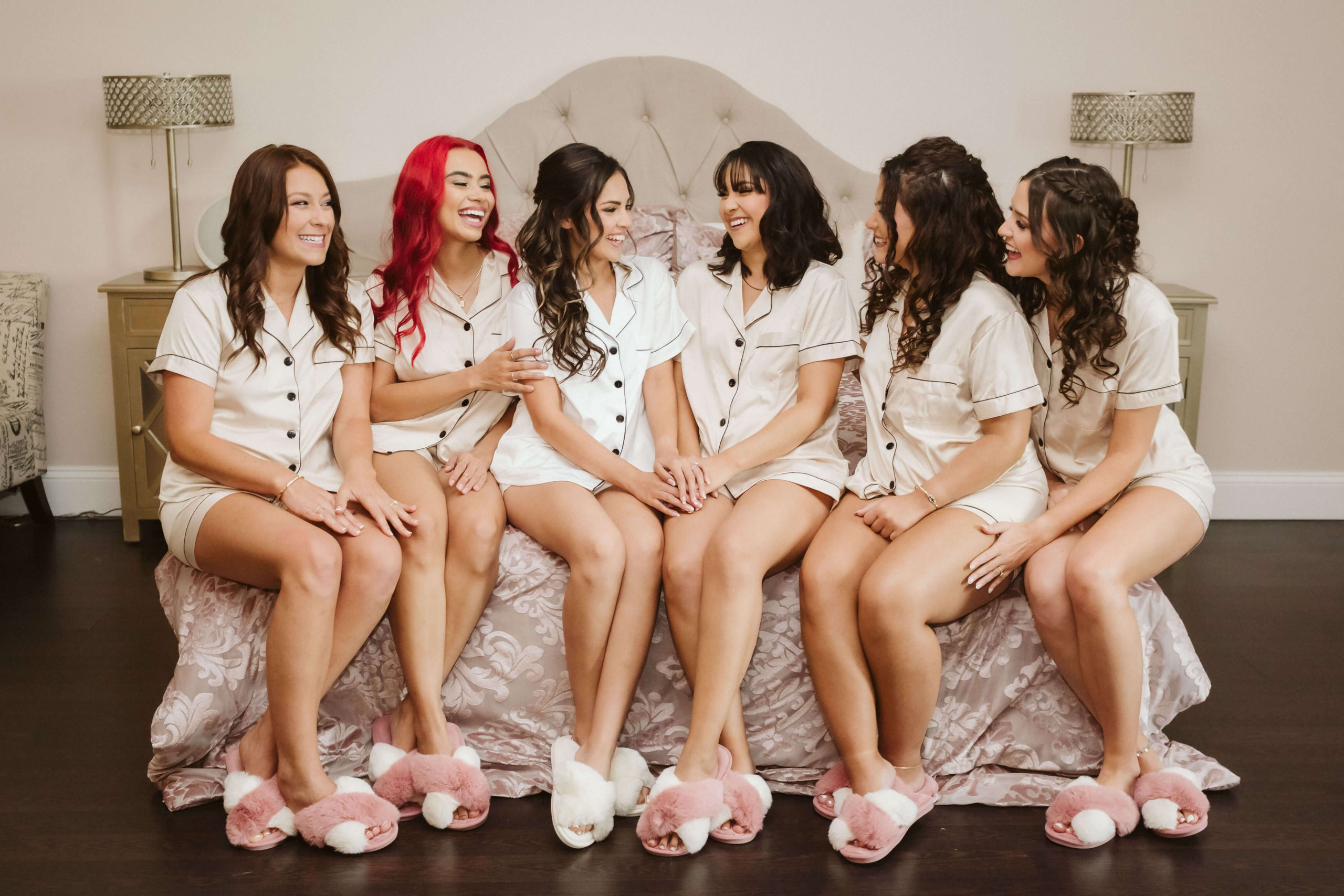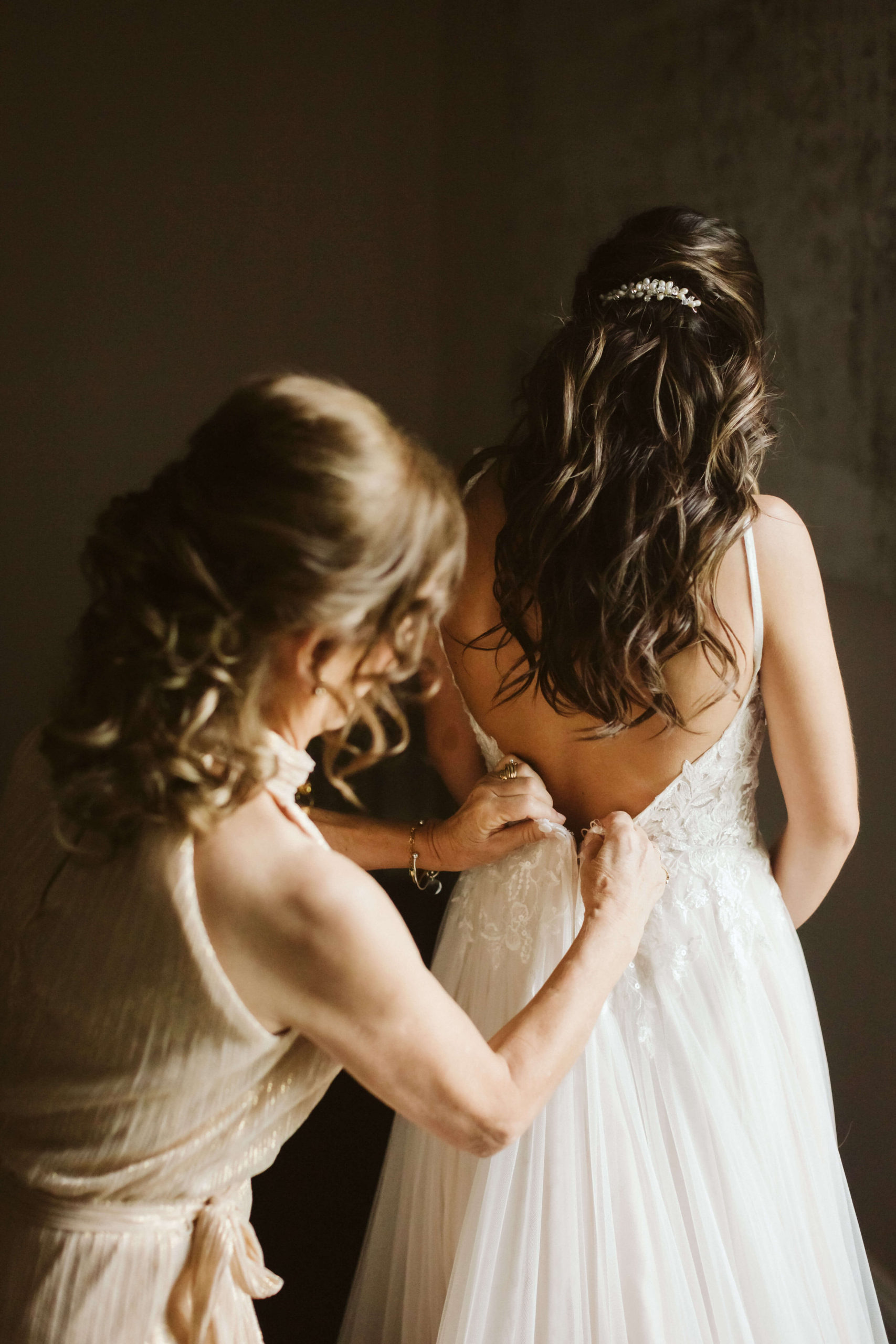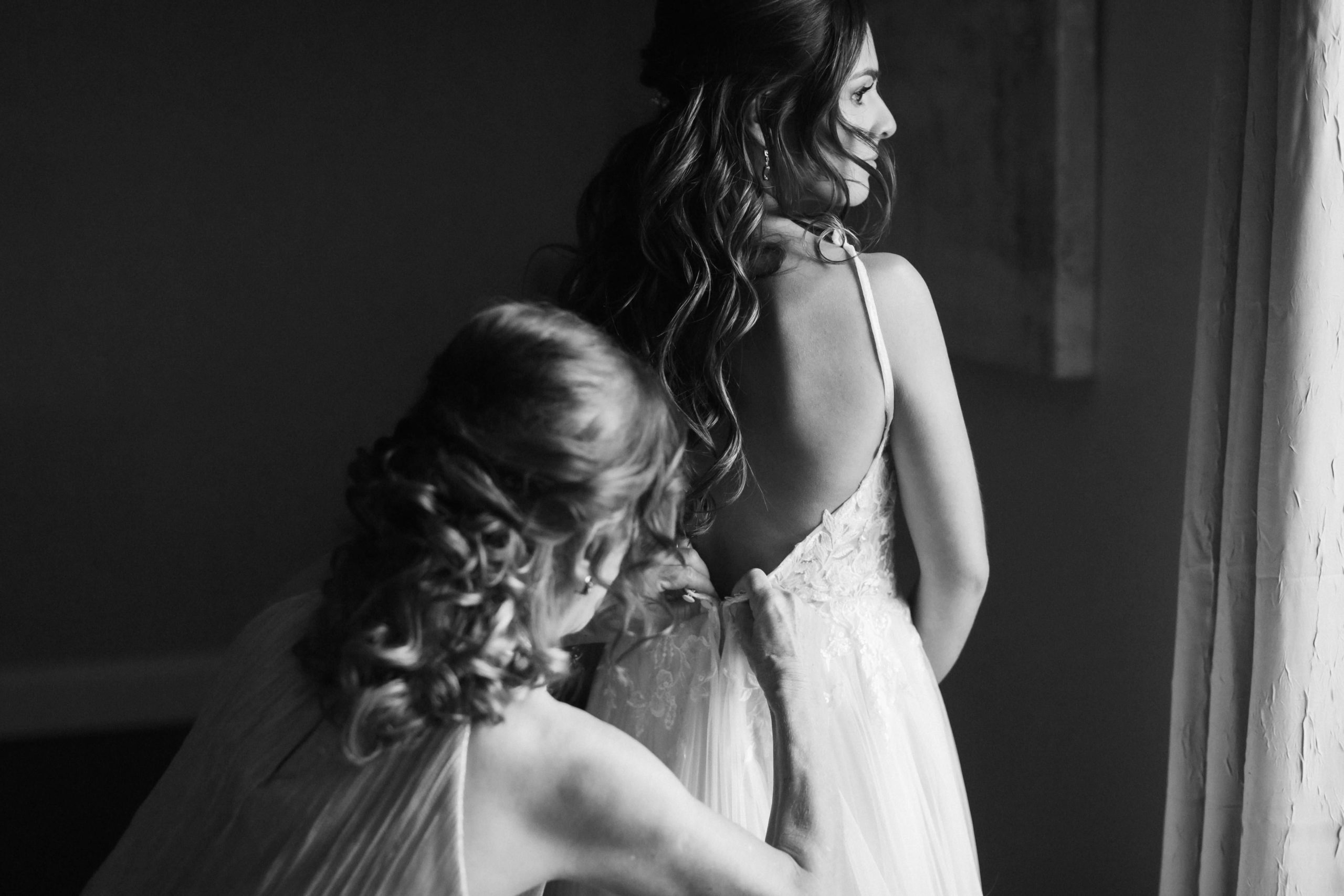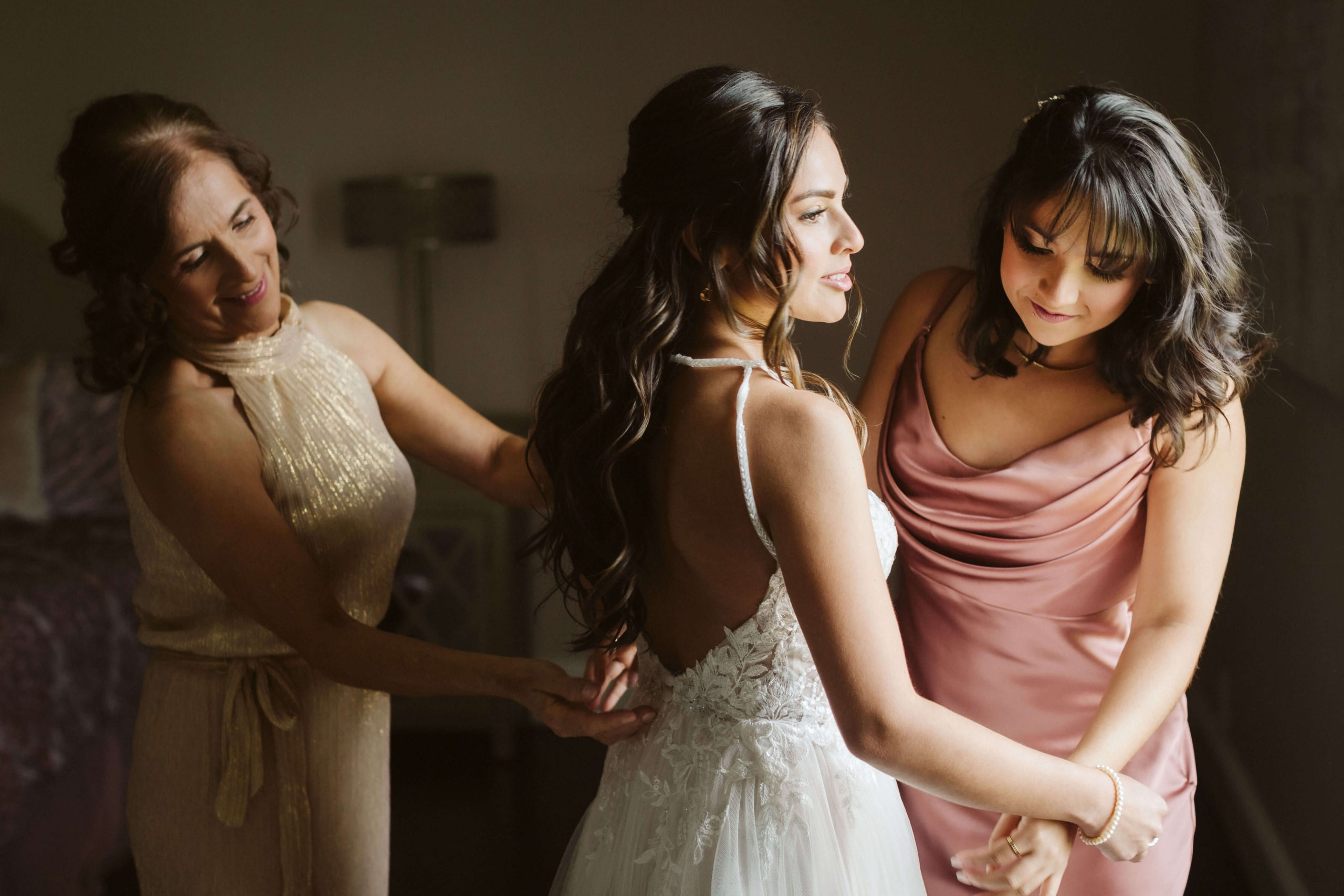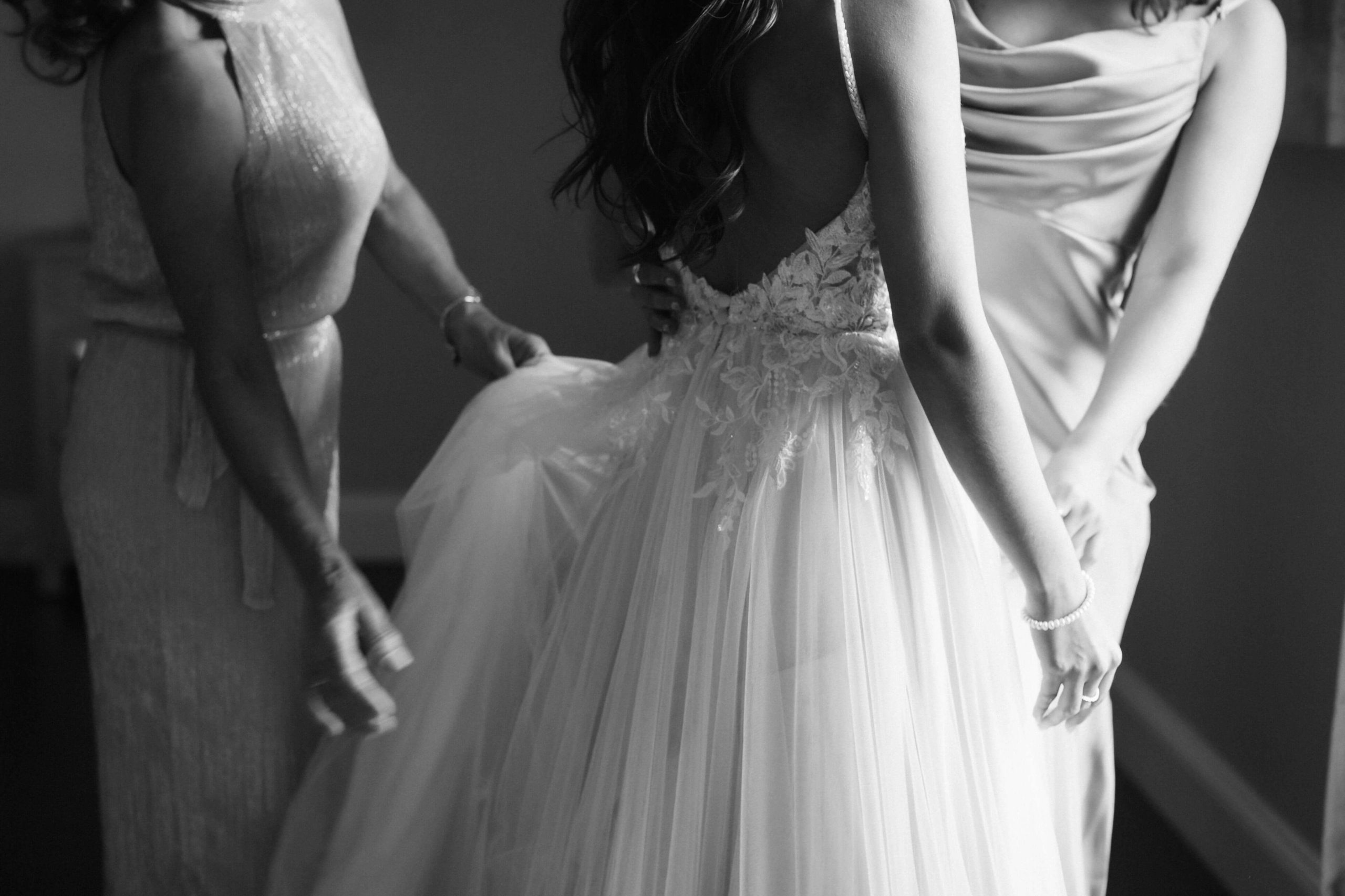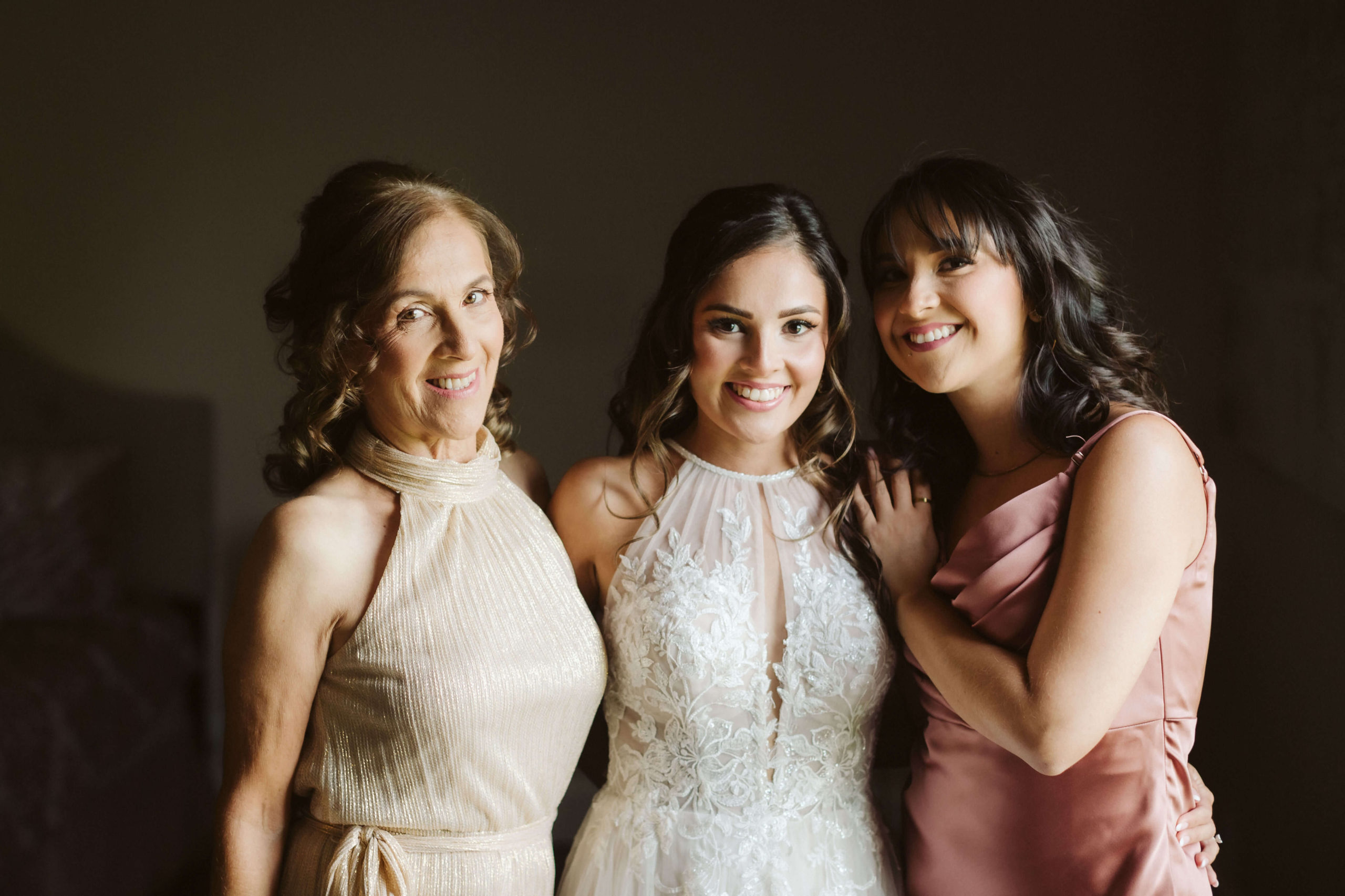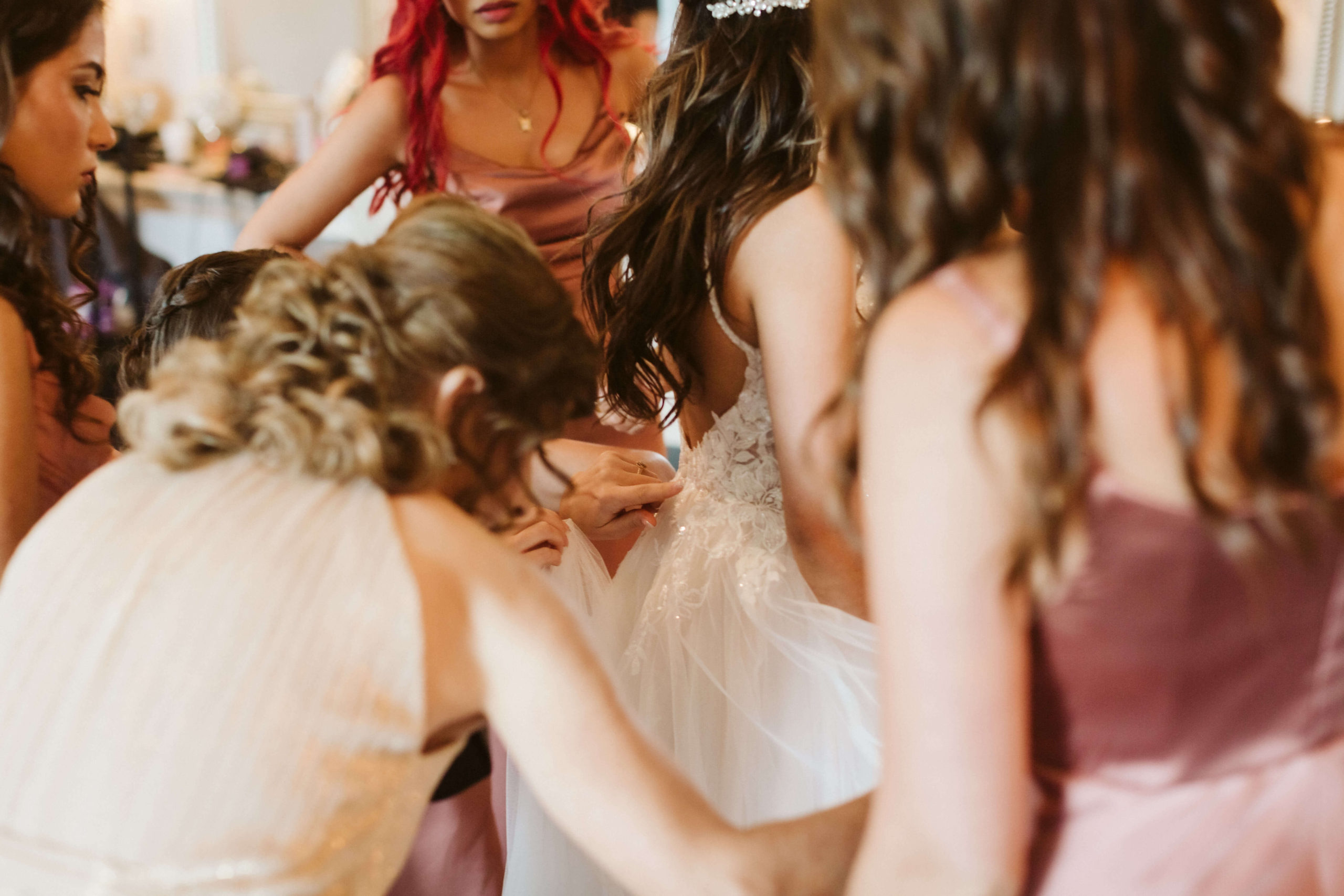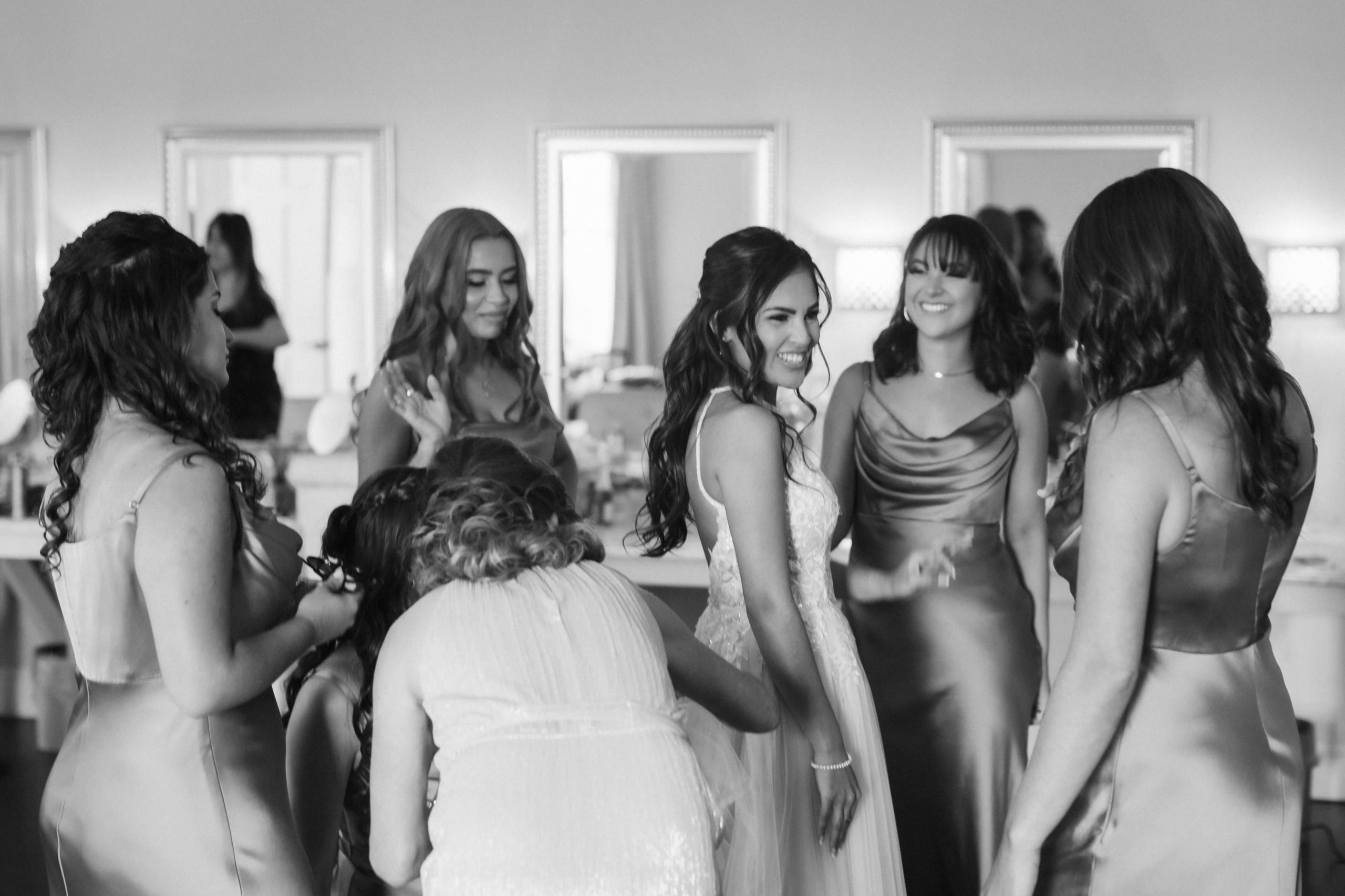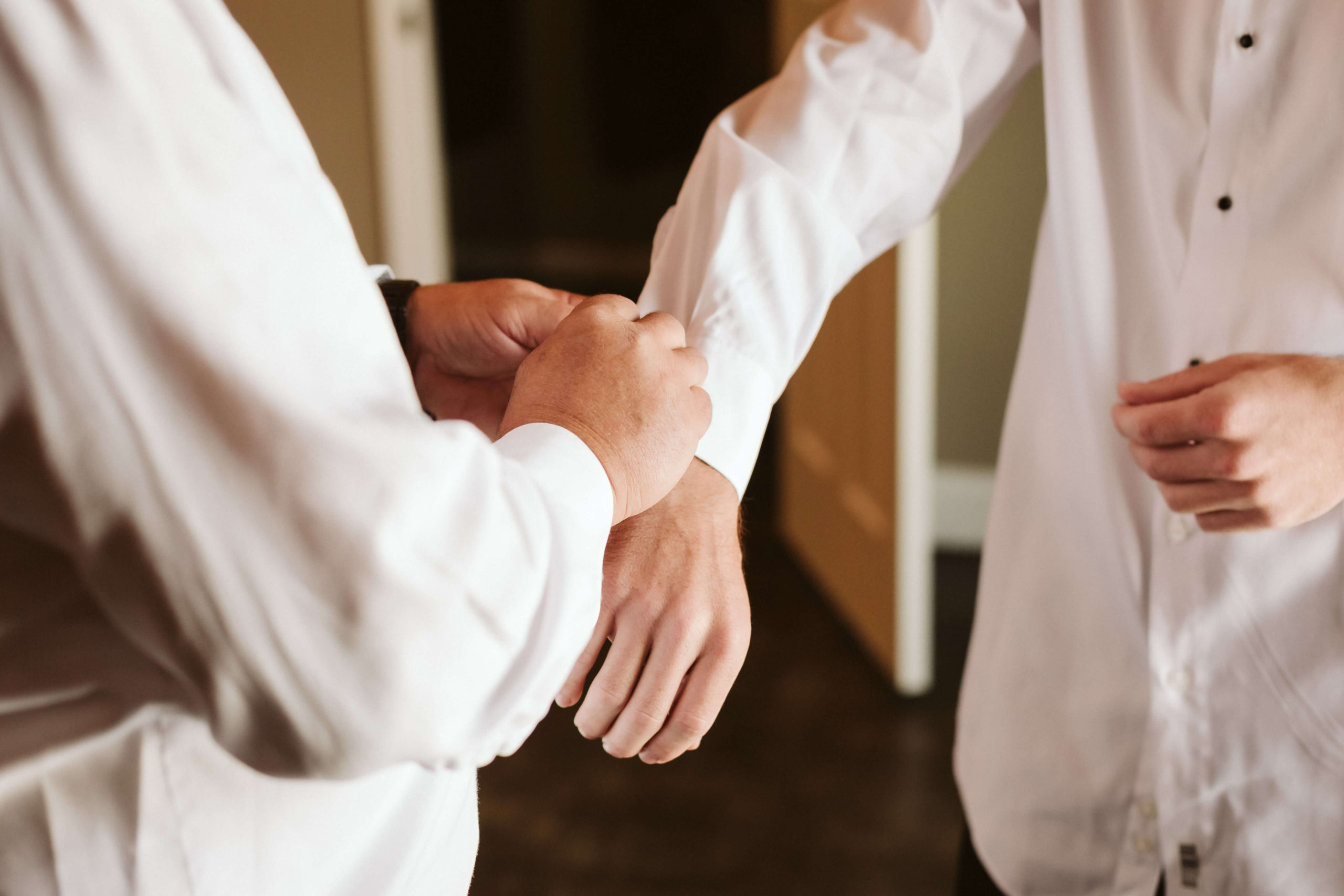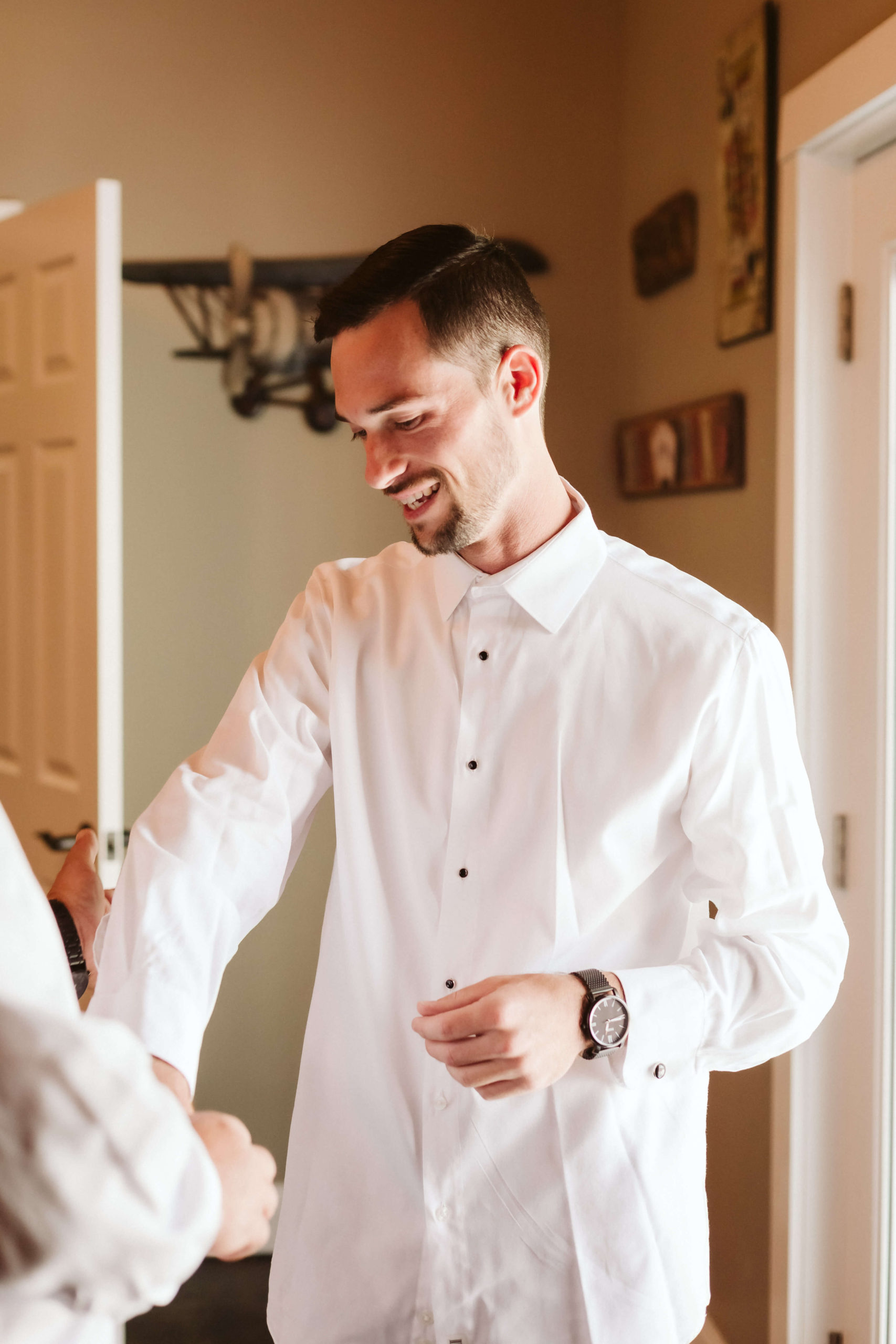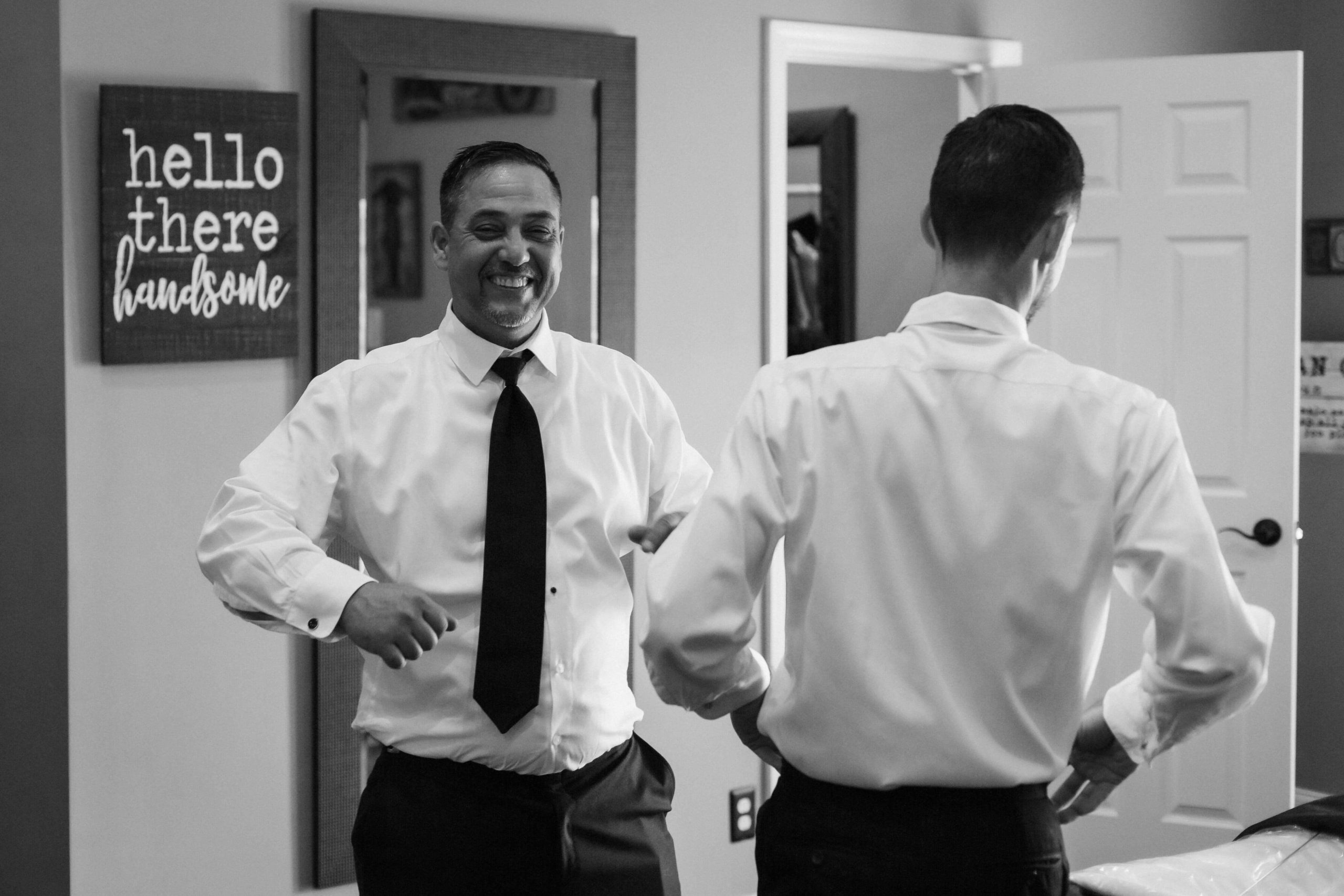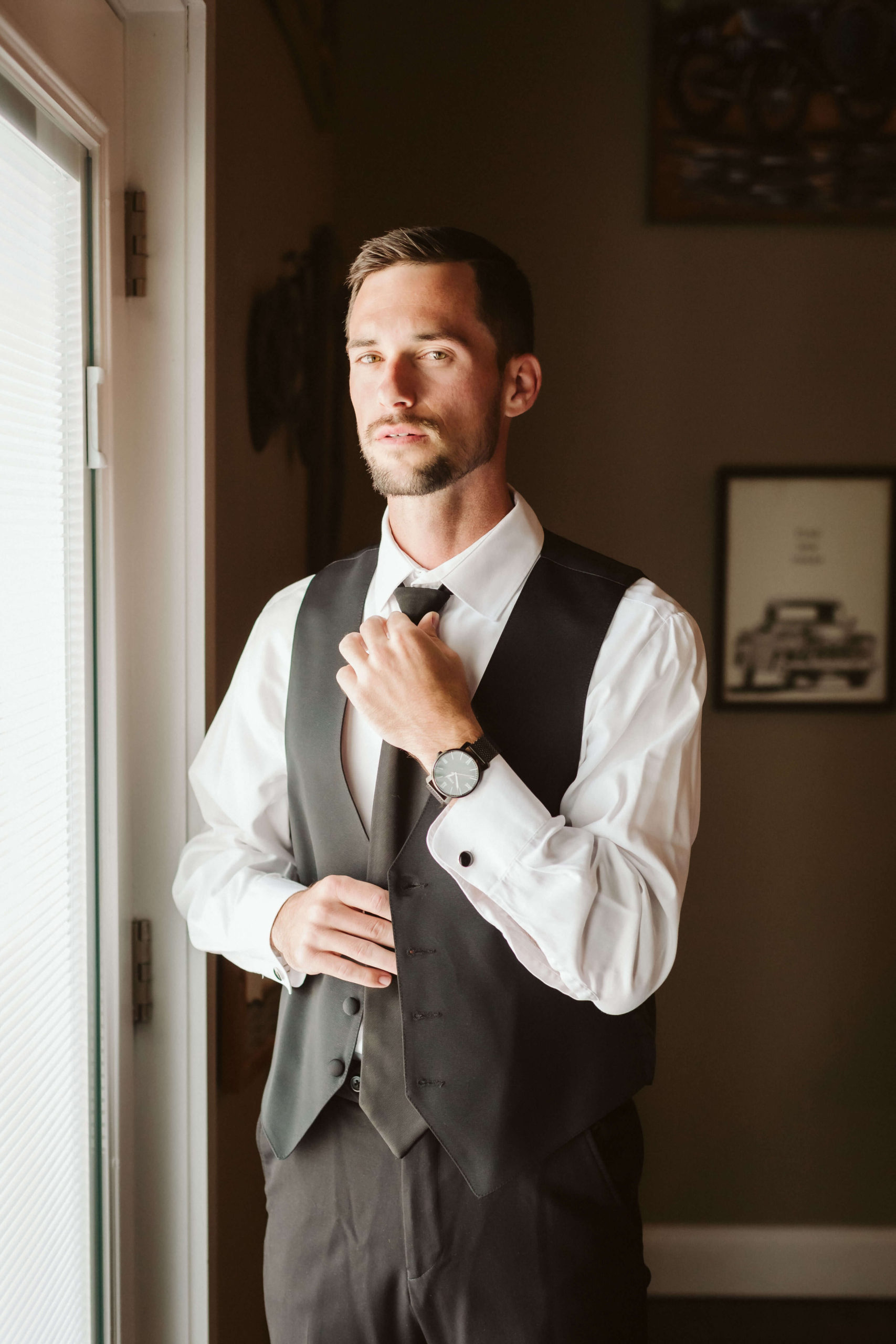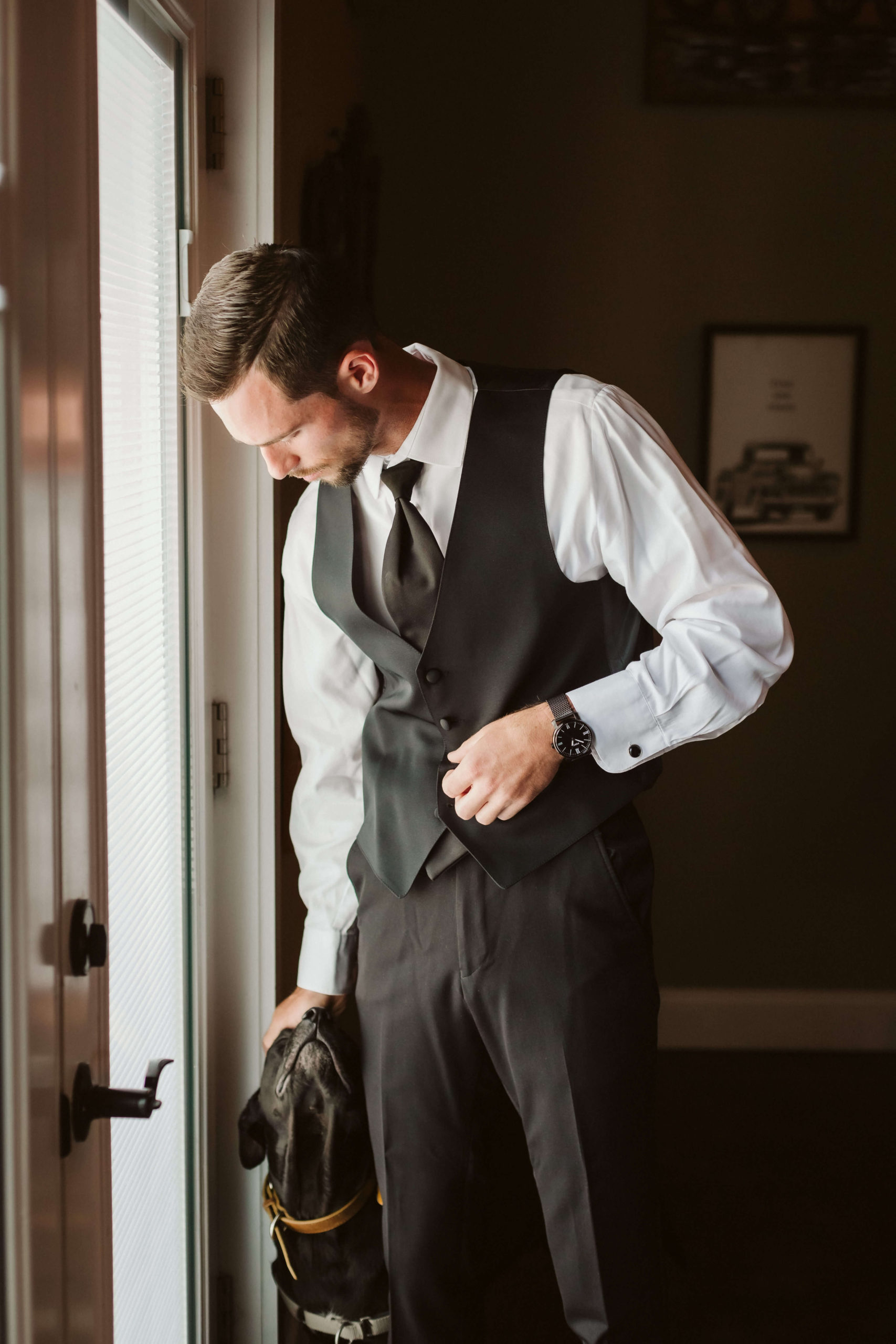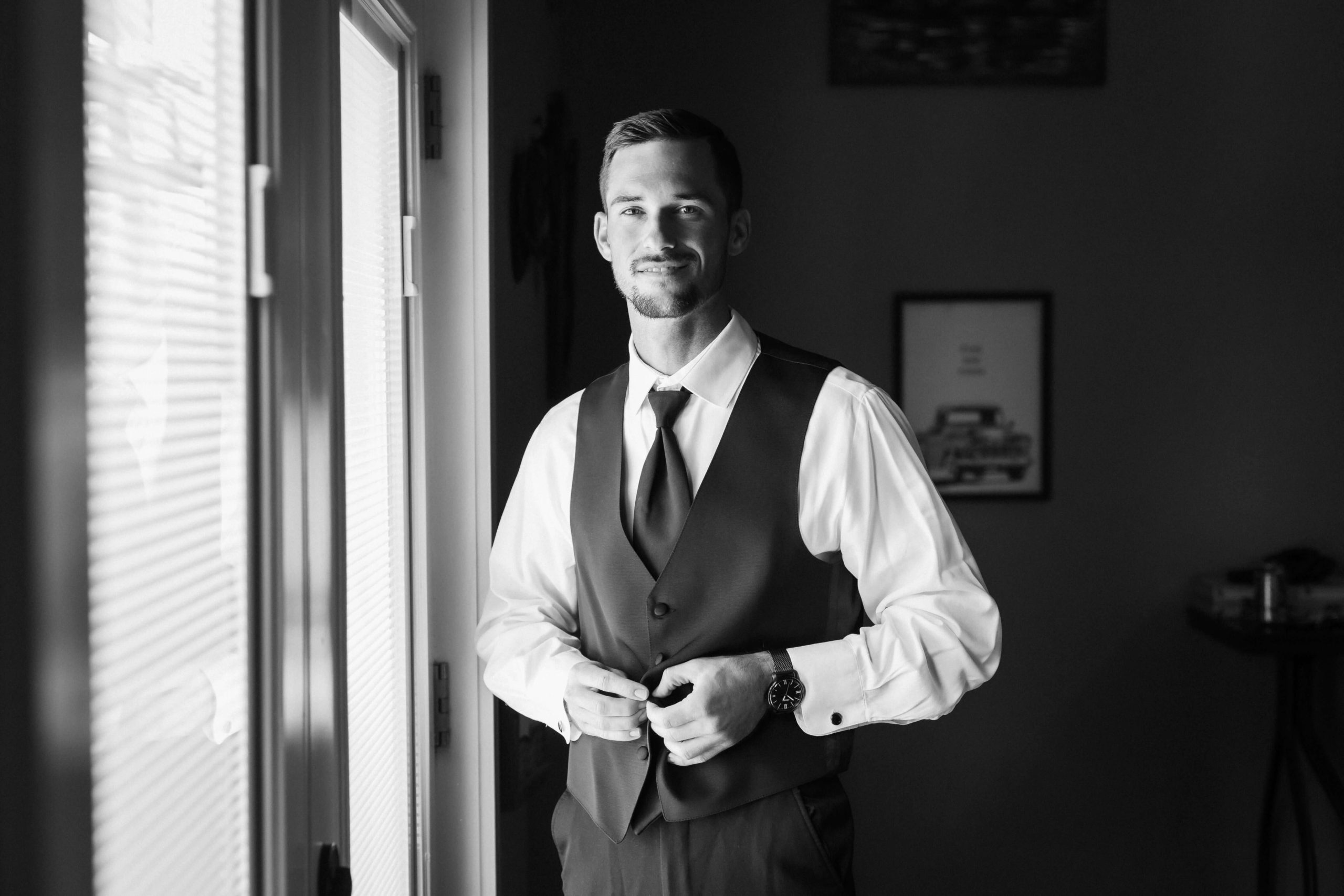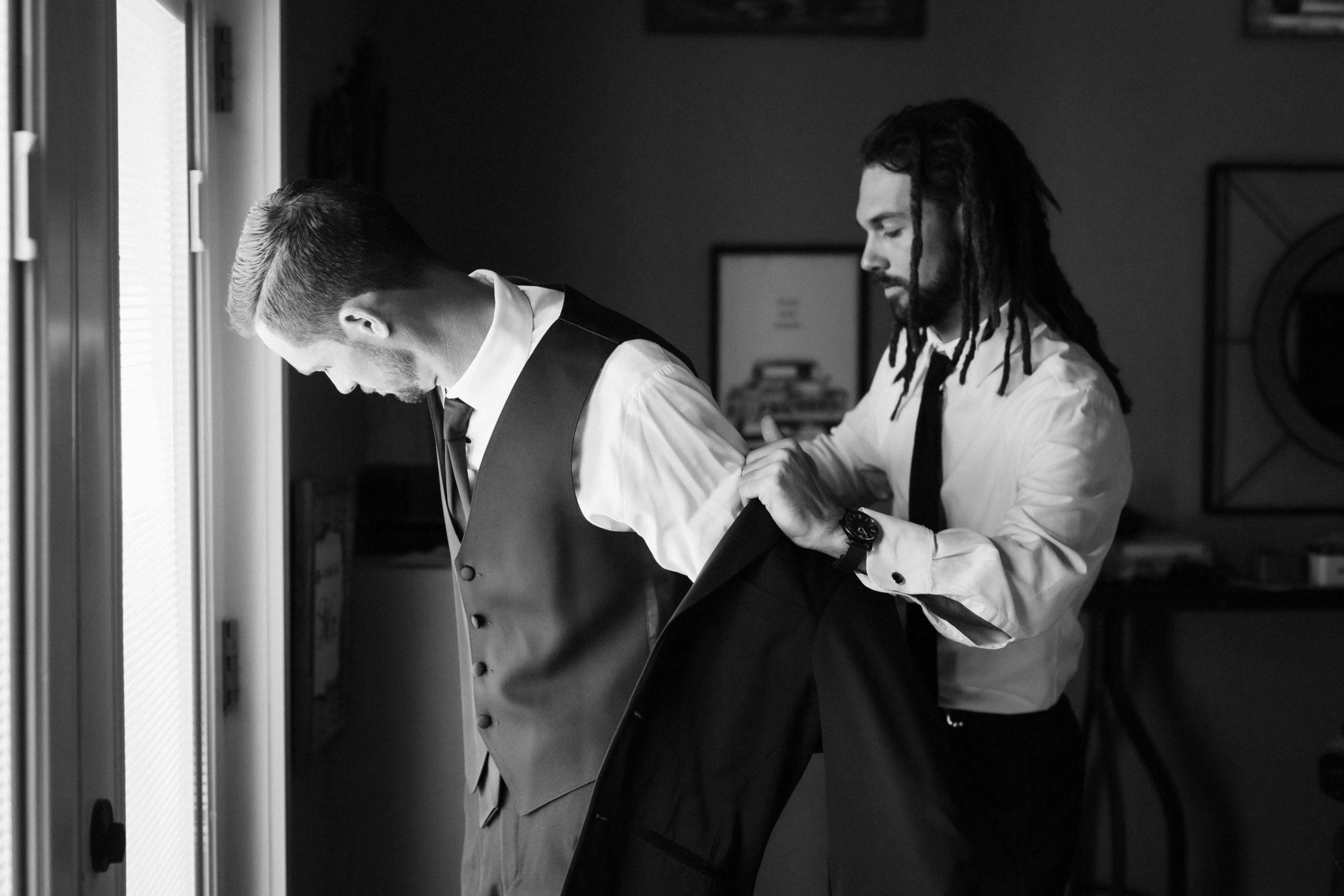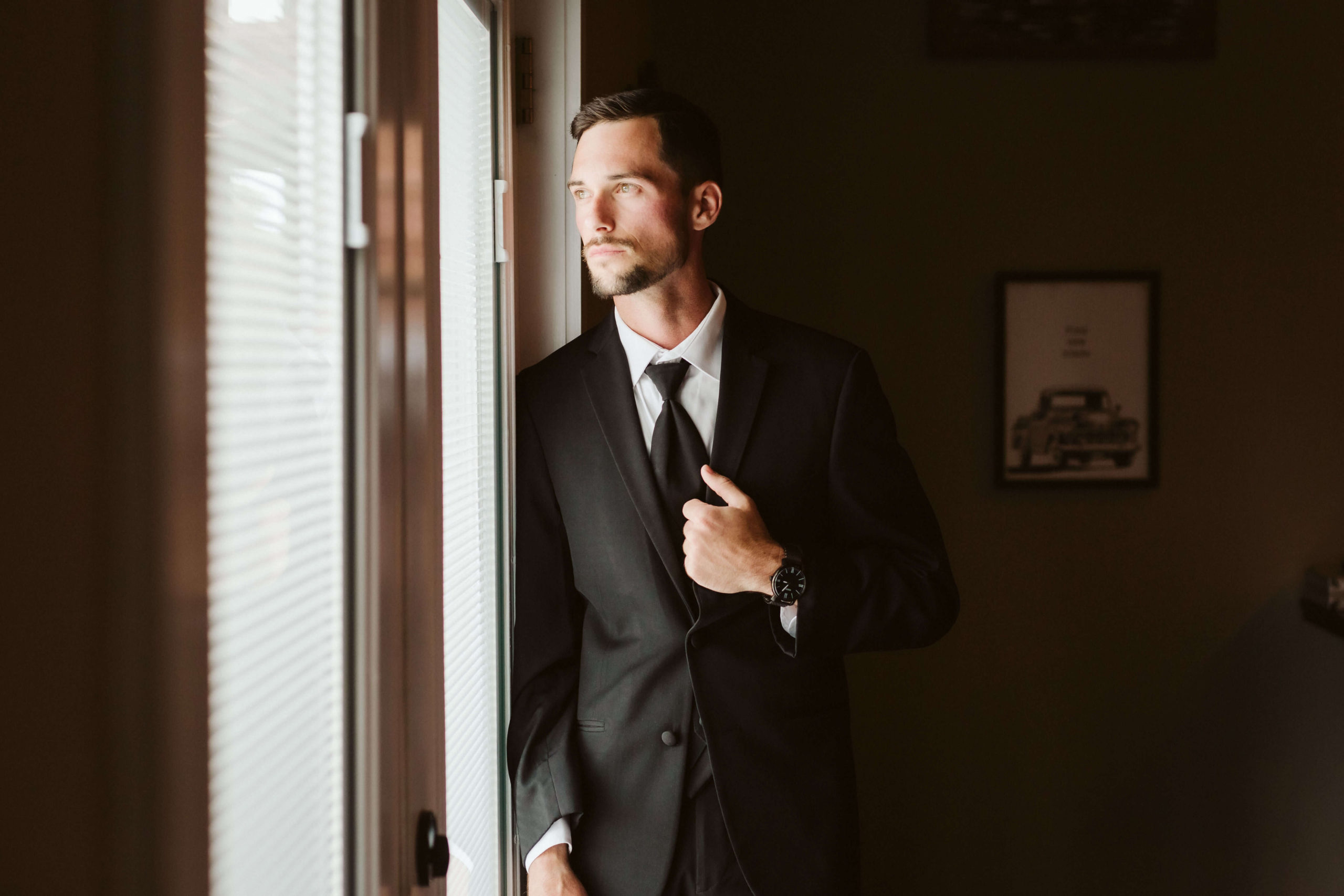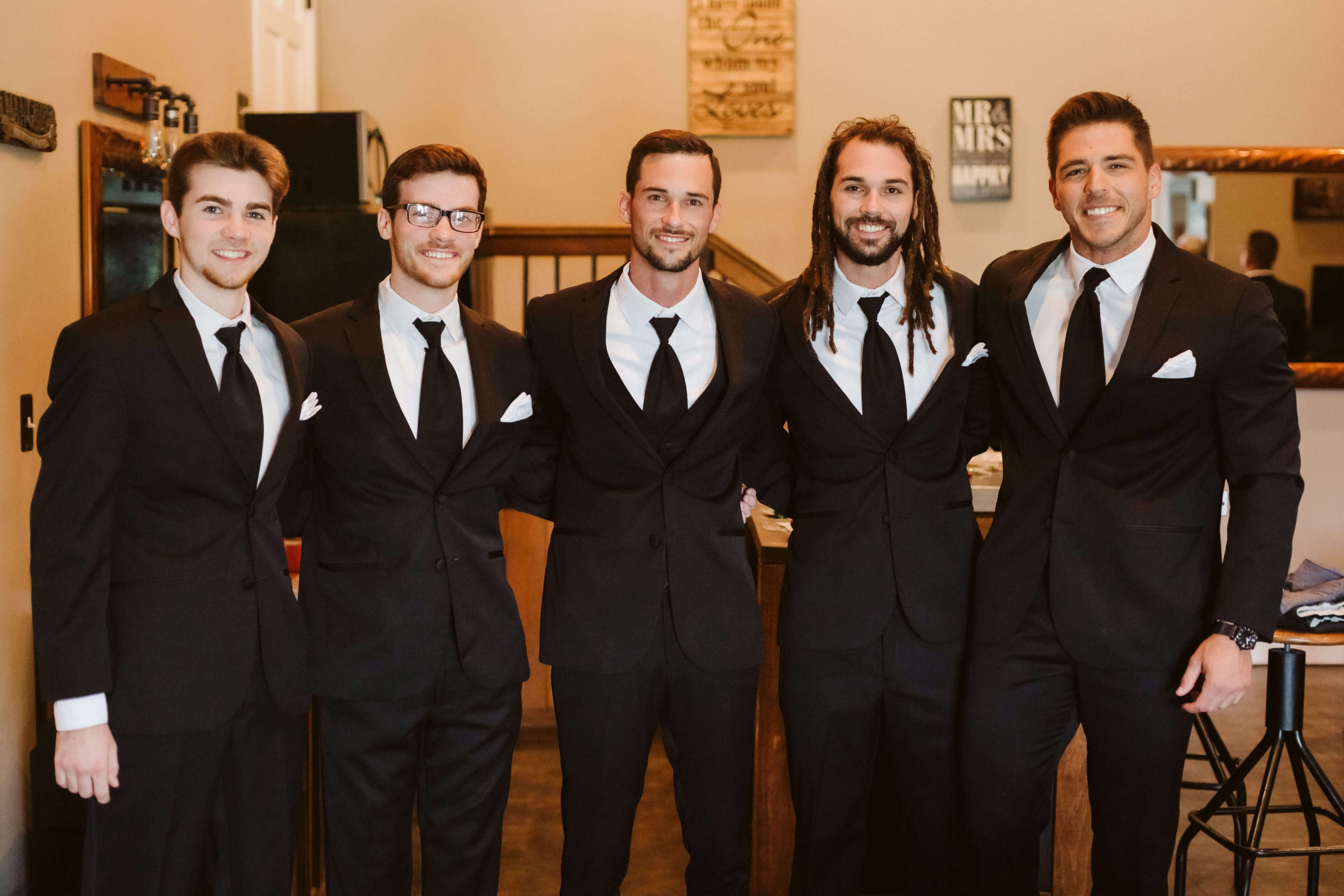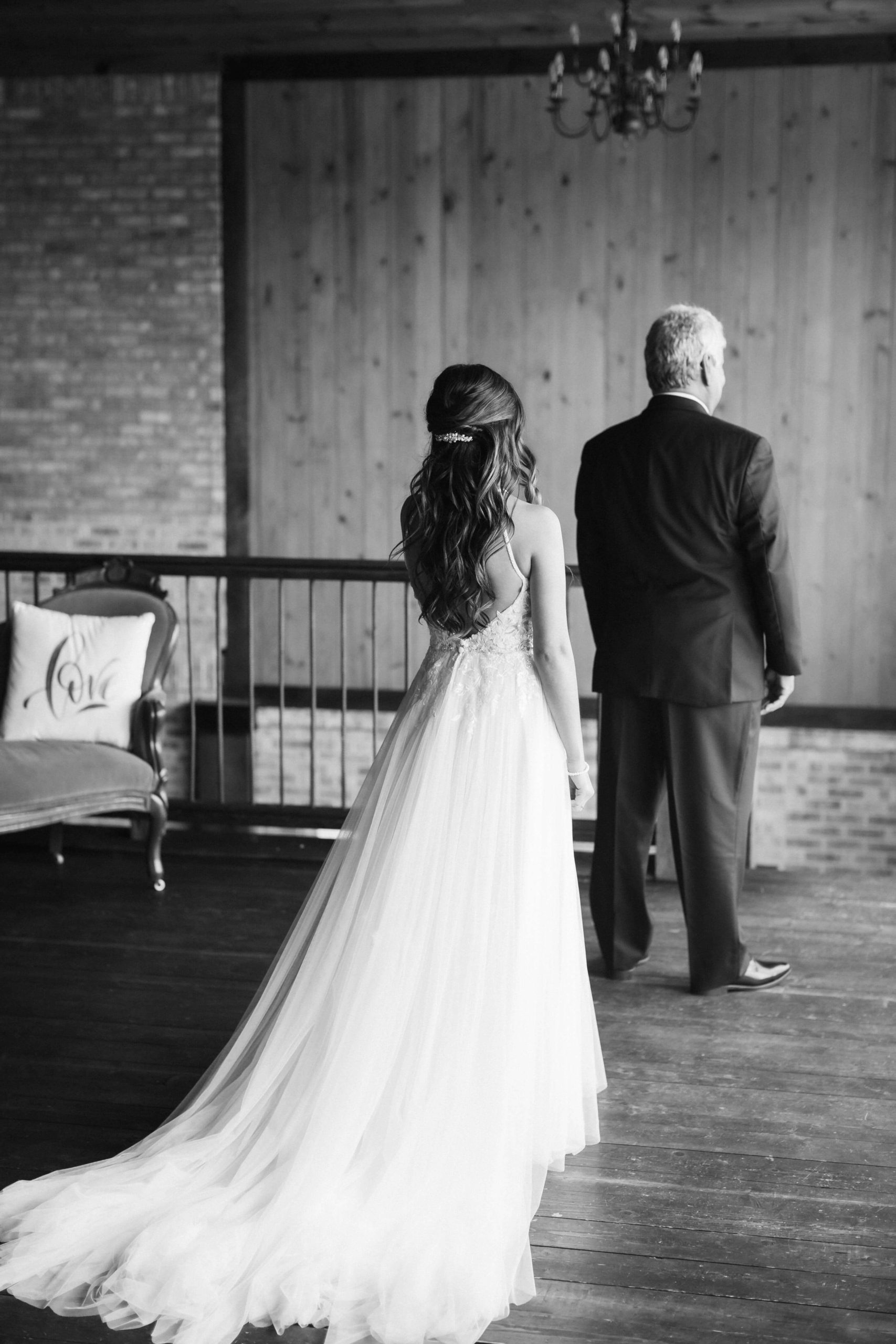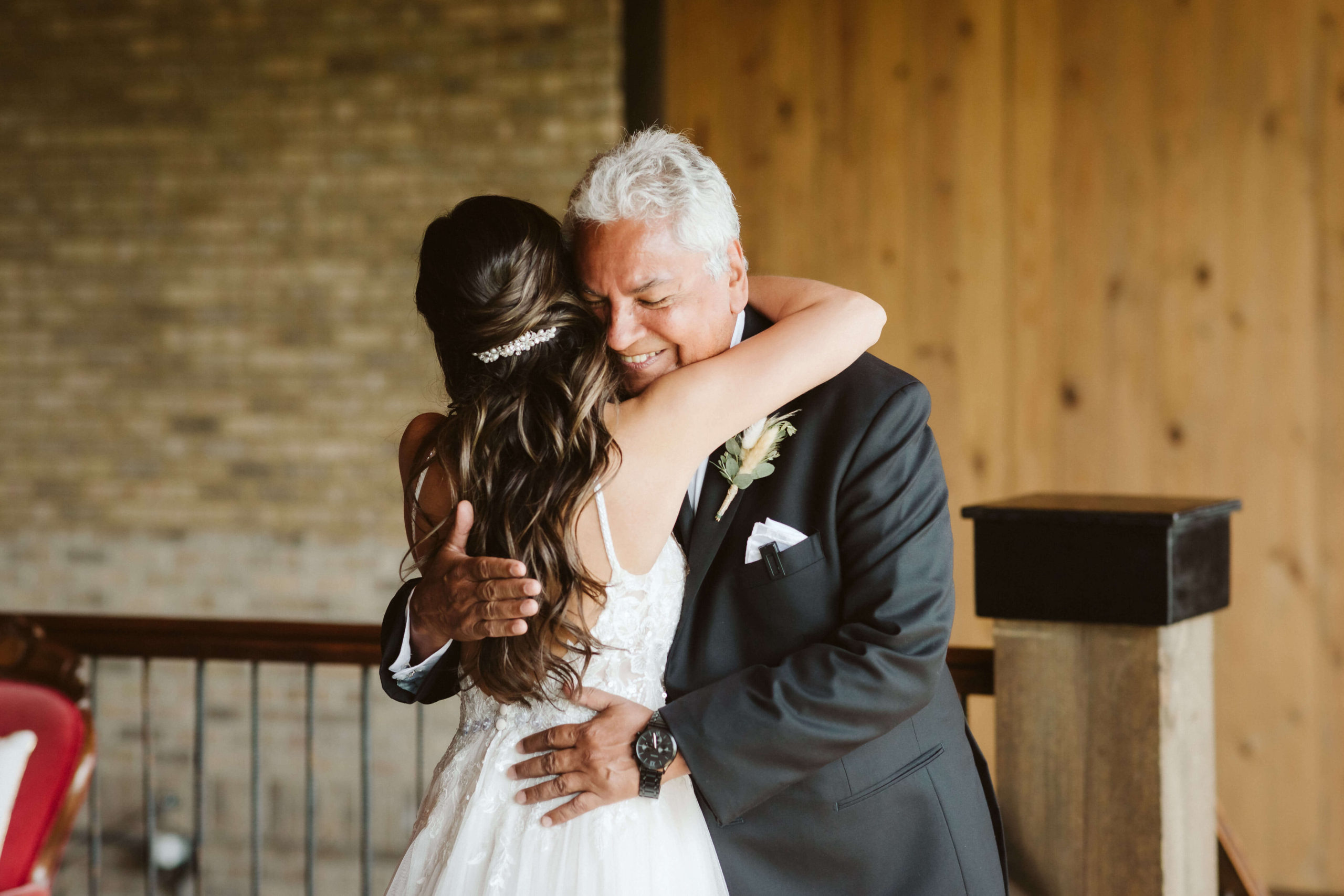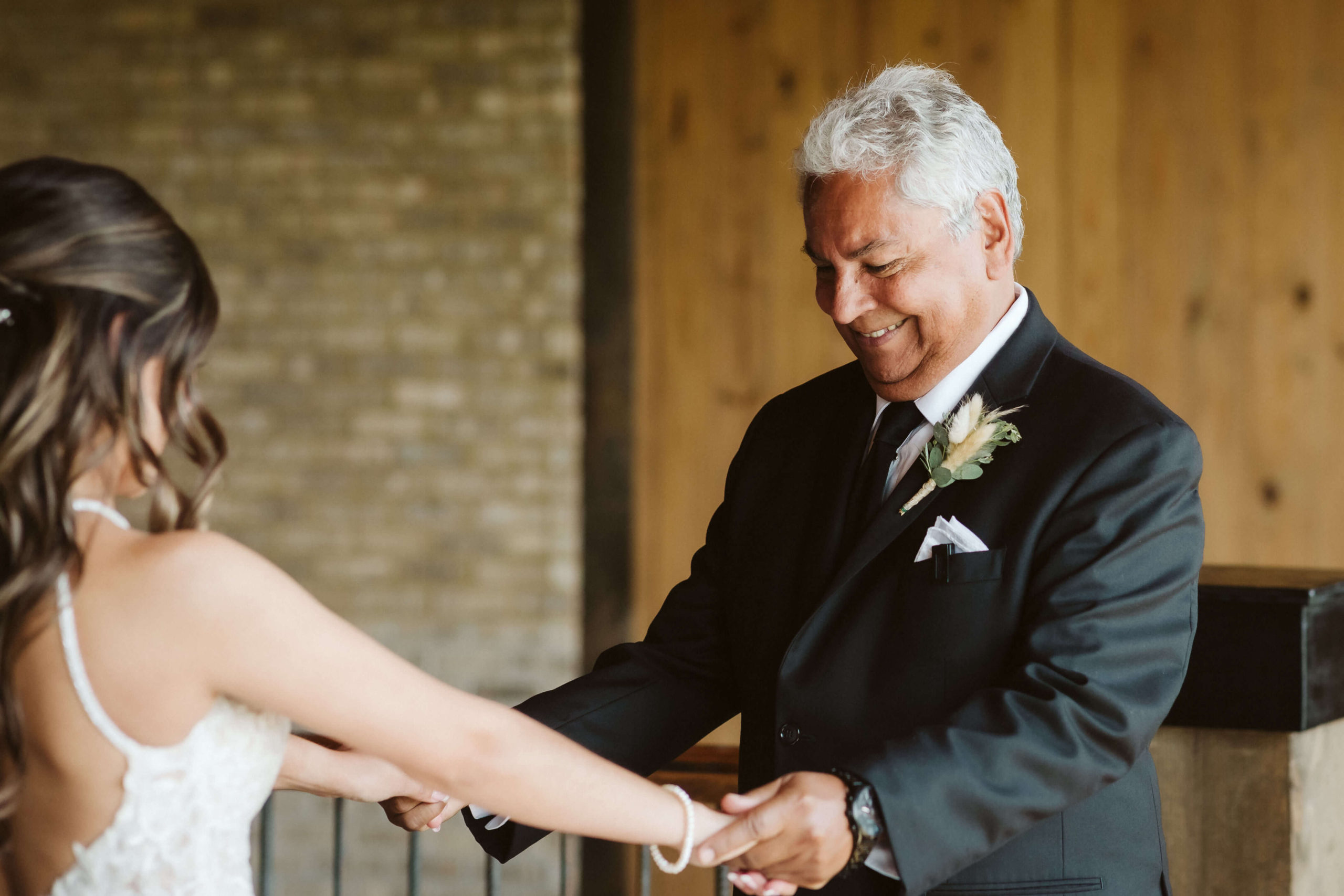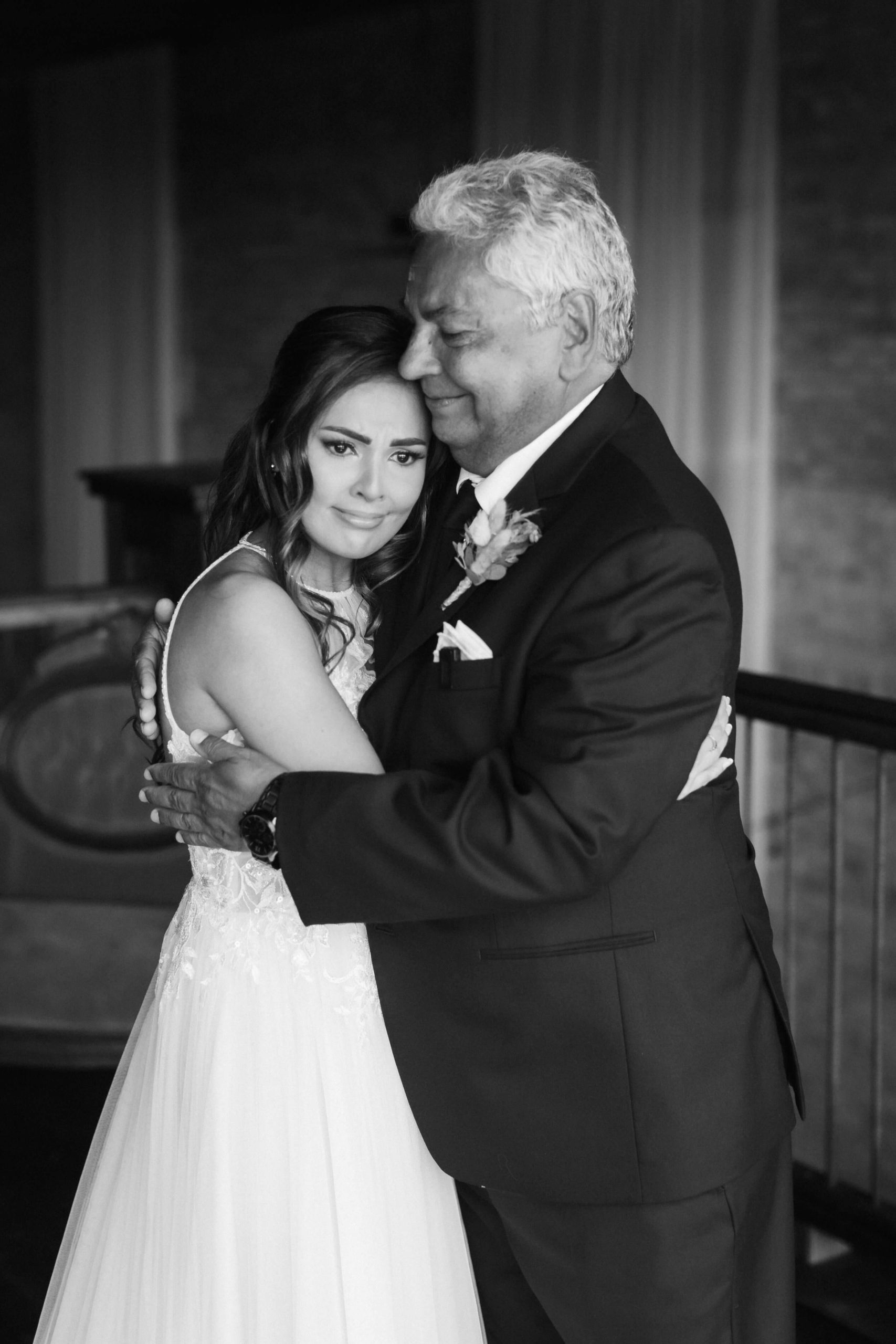 Bringing the Magic of Disney to Life
Stephany and William – or Billy as Stephany affectionately calls him - first met in high school through mutual friends and quickly became best friends. But as the school years went on their feelings for each other began to change and they soon began dating. While both Stephanie and William eventually went on to different colleges, they were determined to make their relationship work.
To keep their relationship strong, they decided to drive back and forth every month to see each other. When William would come to visit, they would go to theme parks together. Since Stephany lived in Orlando, Florida at the time, Walt Disney World quickly became their favorite place. In fact, they spent so much time in Disney that it became a bigger part of their love story and the start of their forever. Christmas is one of the most magical times to visit the Disney parks and over a Christmas holiday, William proposed to Stephany right in the middle of the Magic Kingdom.
Despite their excitement, unfortunately, the COVID pandemic hit in the following months after their engagement and any wedding plans they had begun to form were pushed back. Suddenly, it became a risk to plan a big wedding while keeping their loved ones safe during lockdown. One day, Stephany and William decided they could no longer wait. They looked up a date at the courthouse that was available and secretly got married that April in Florida.
Now, a year later, the happy couple were more than excited to have the opportunity to say their vows all over again, this time in Cleveland, one of their favorite cities to visit. However, this time, they get to do it in front of all of their family and friends.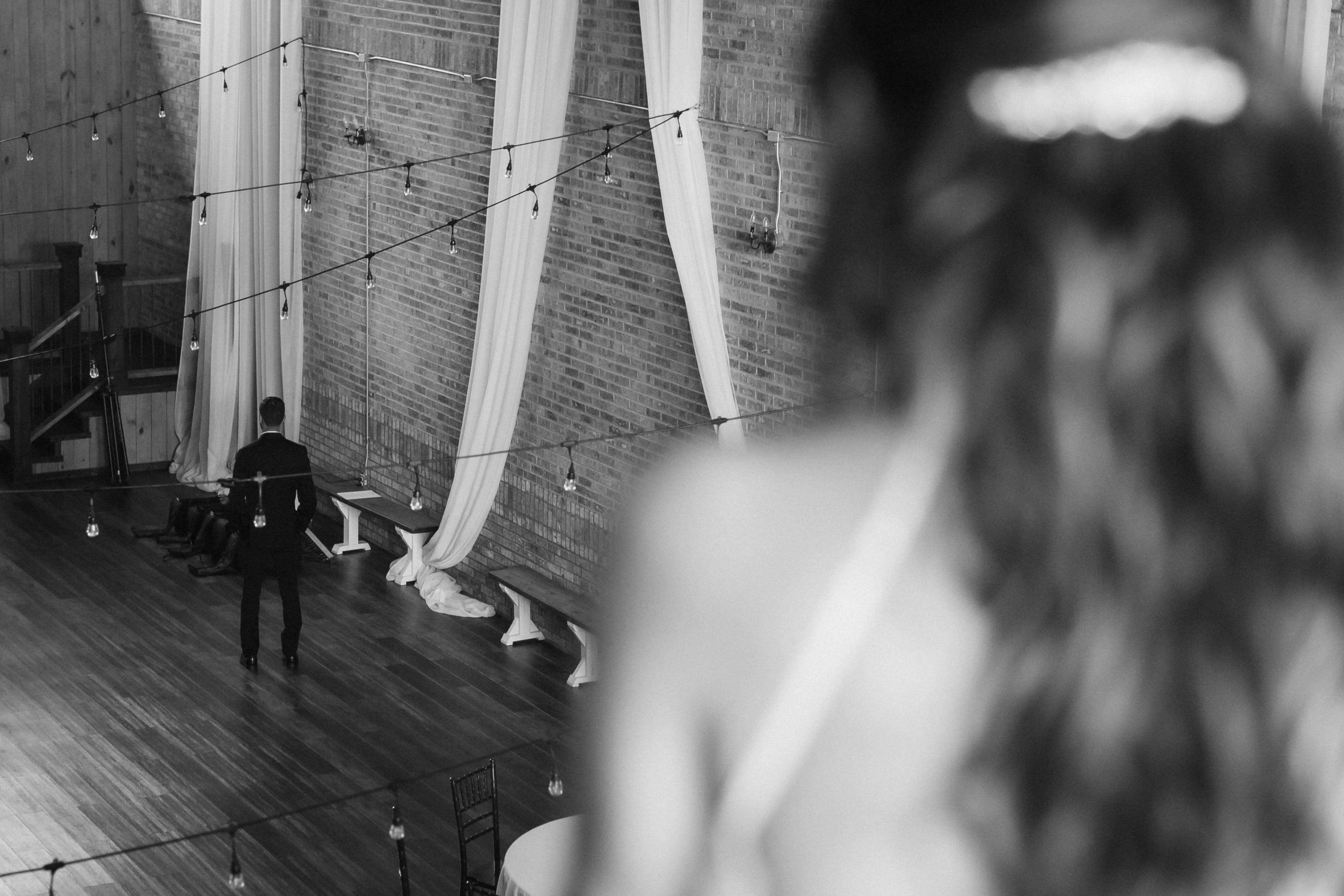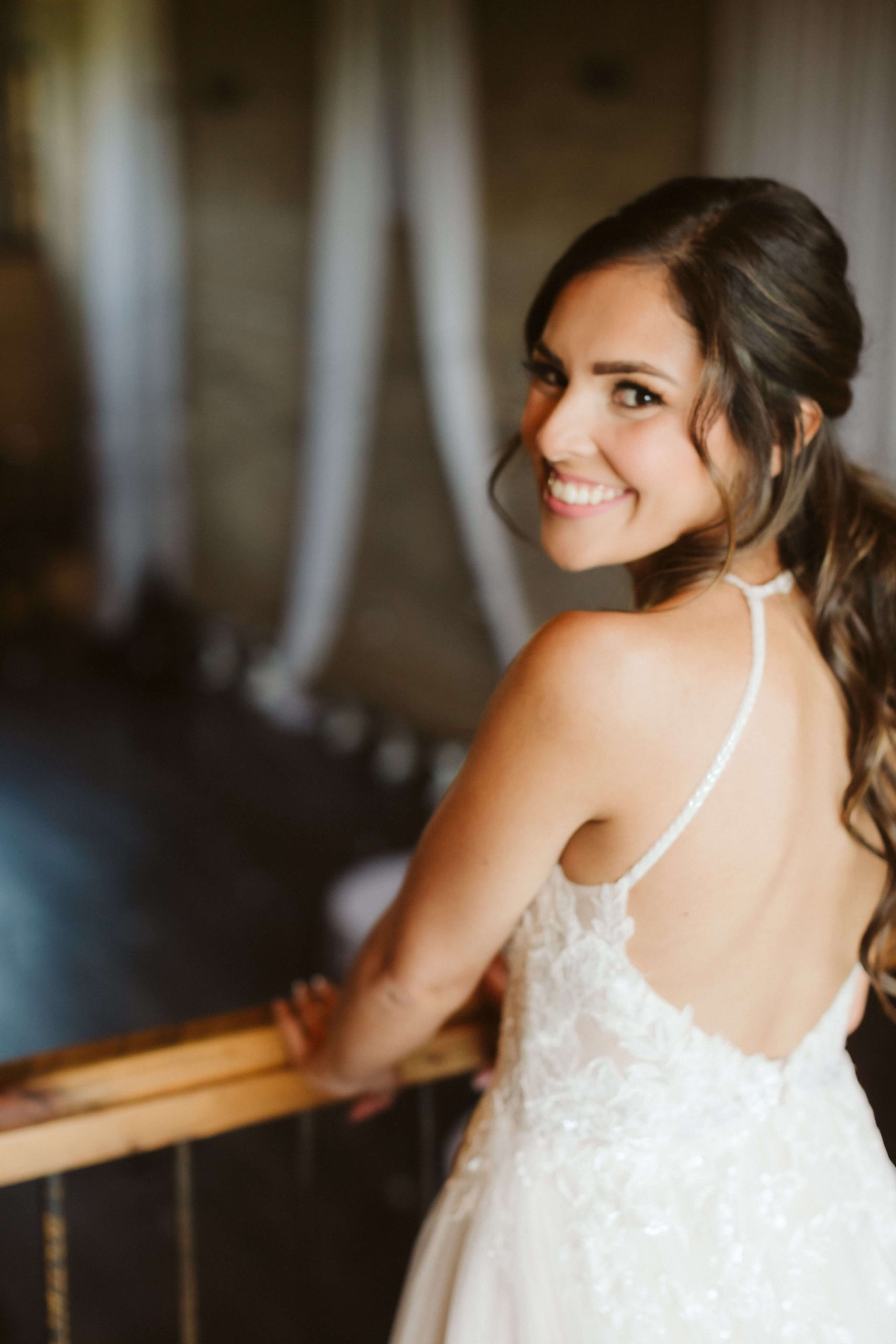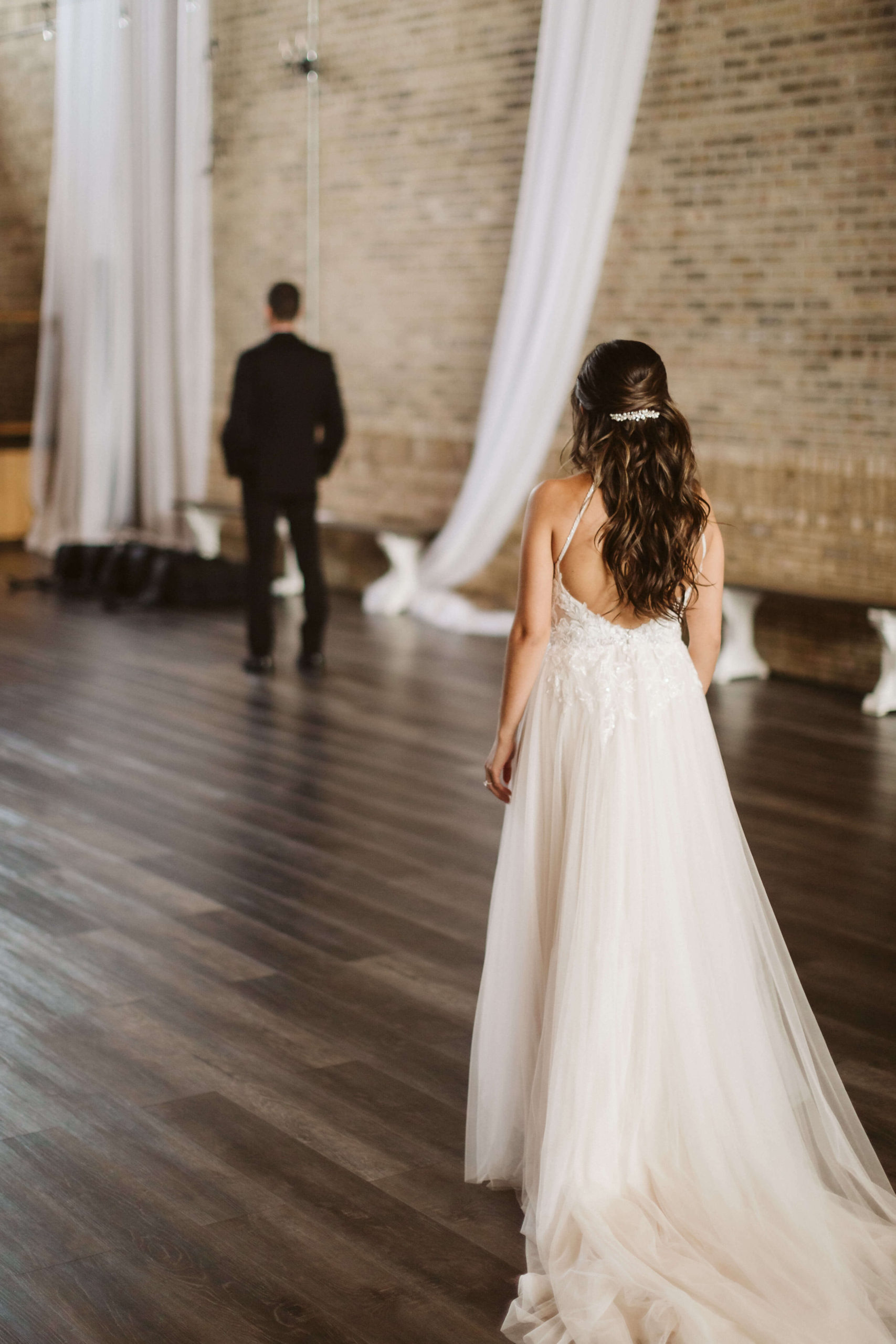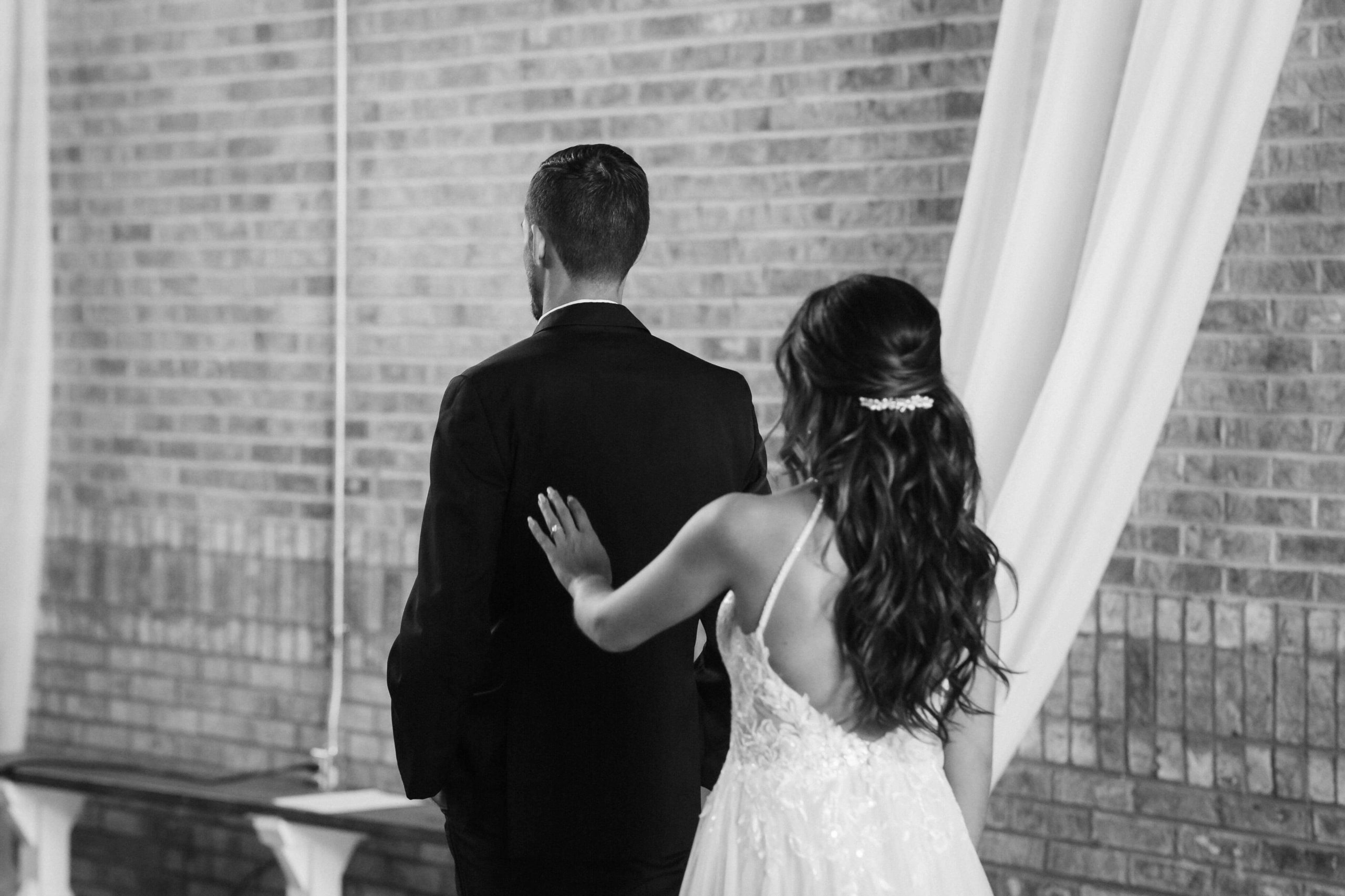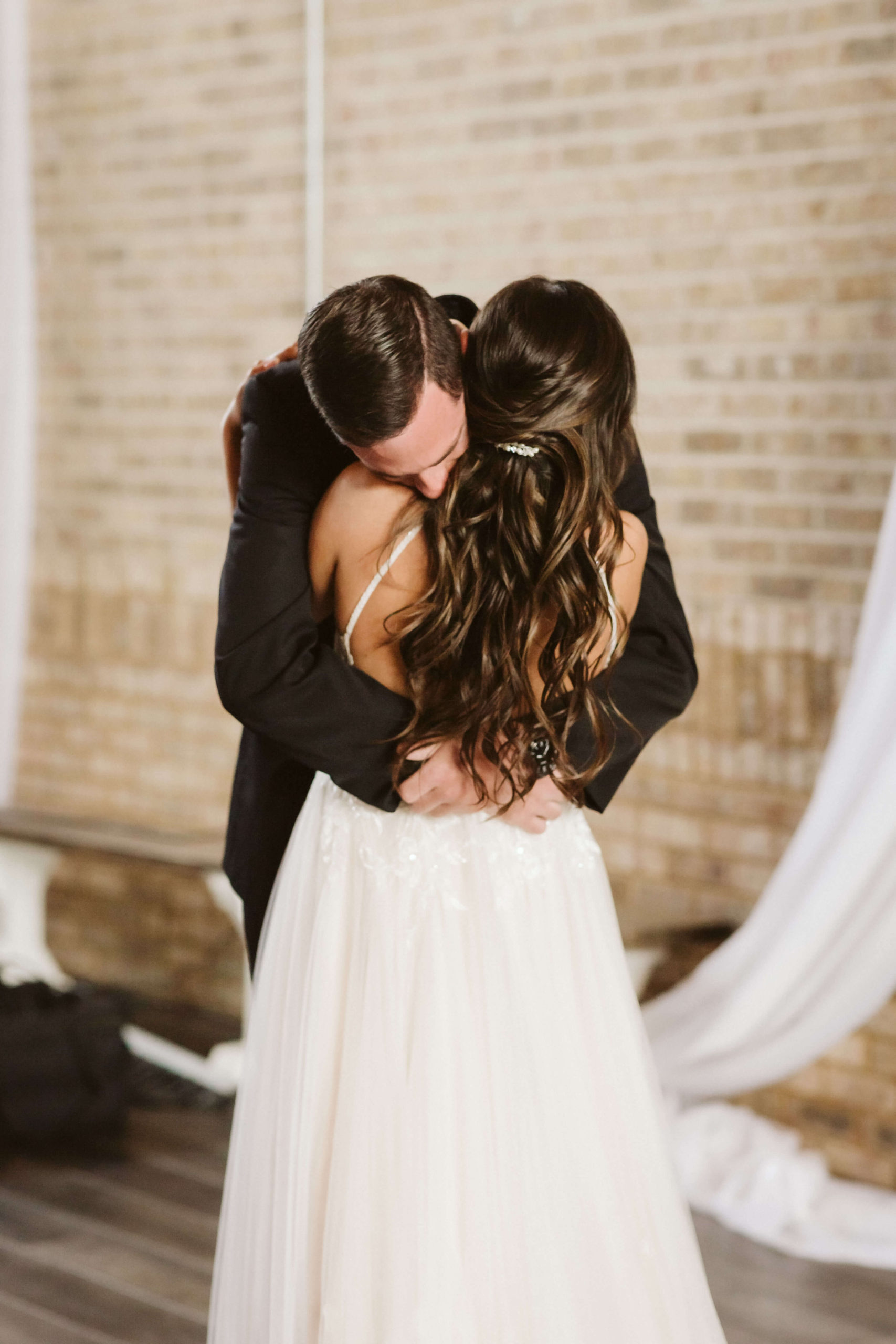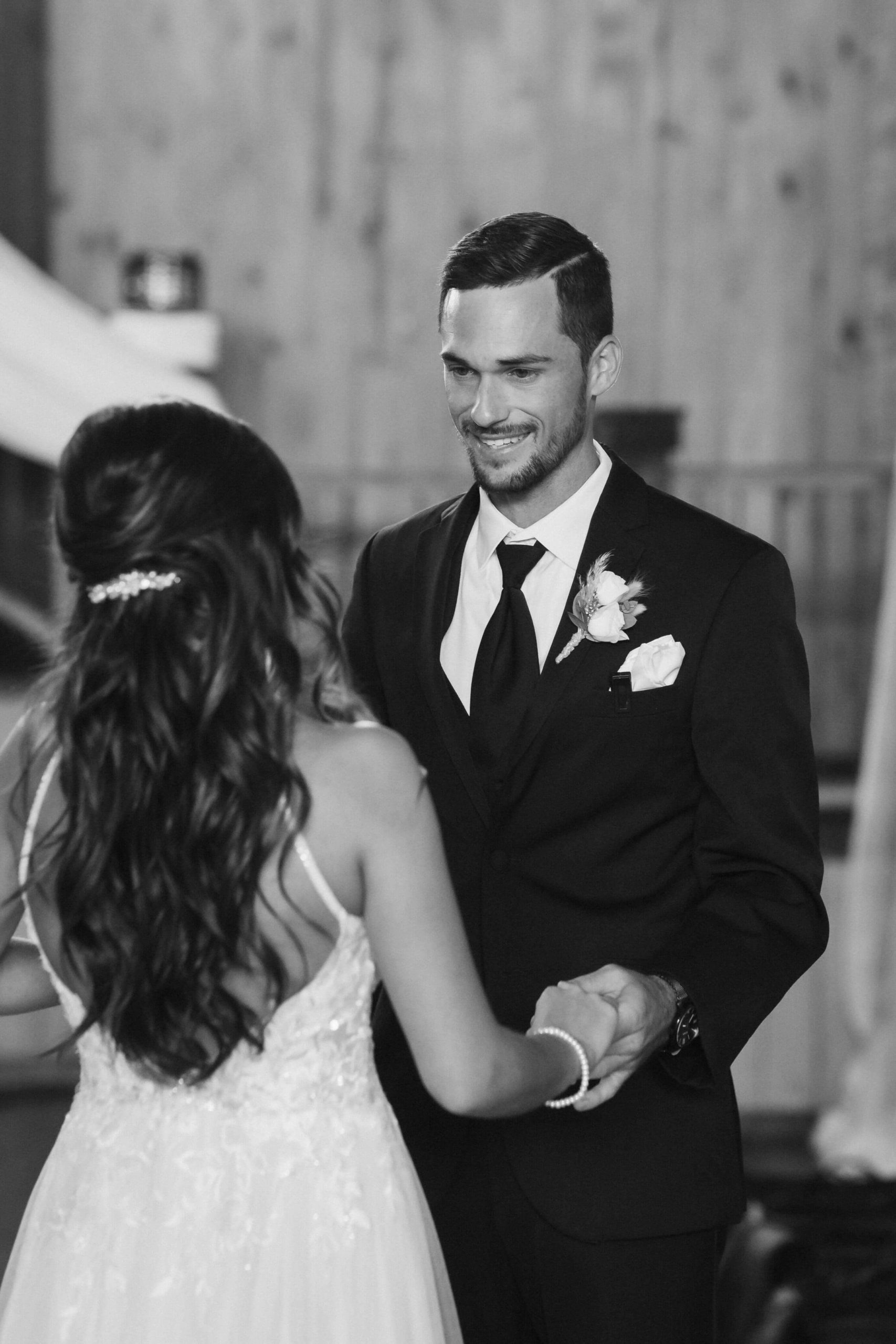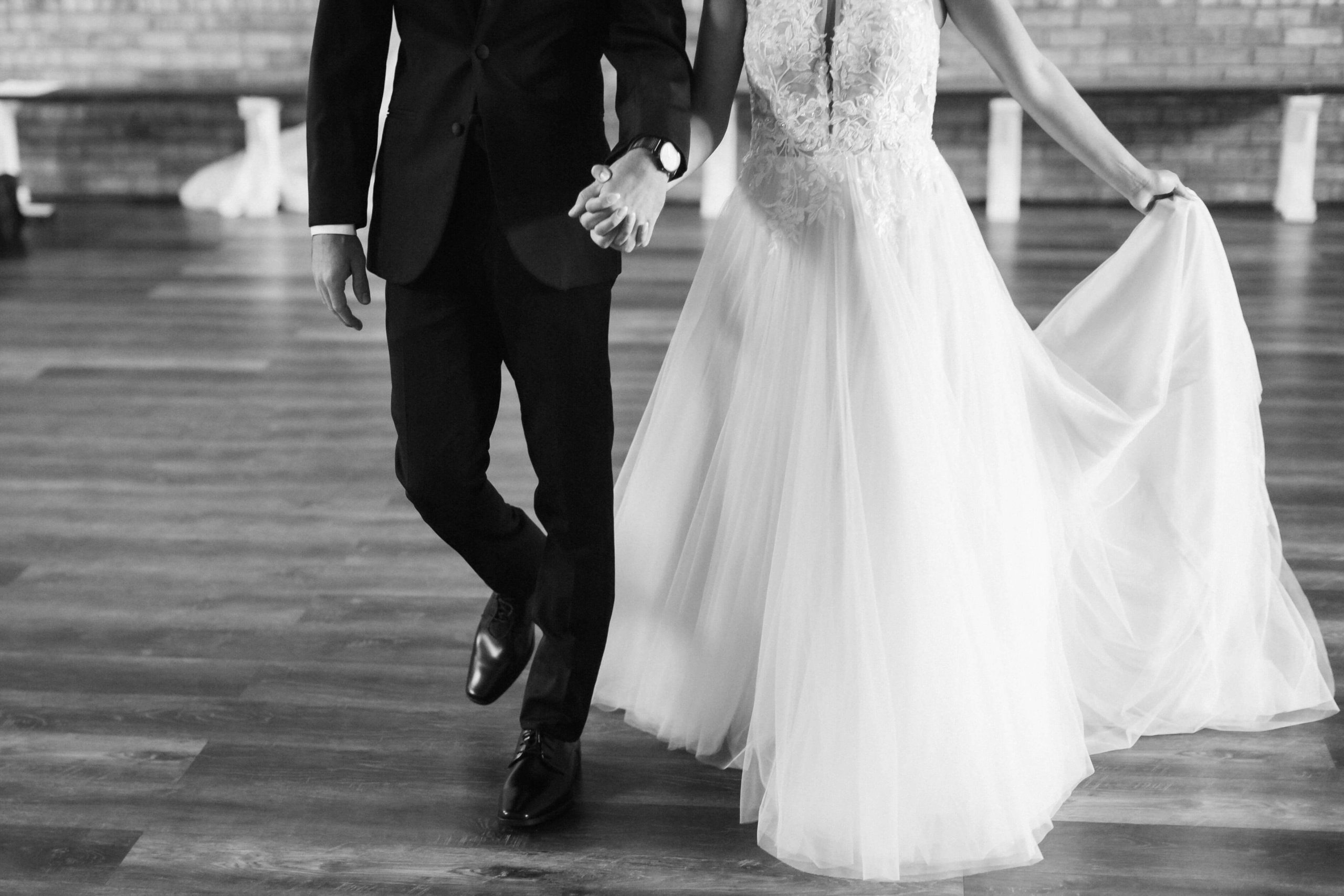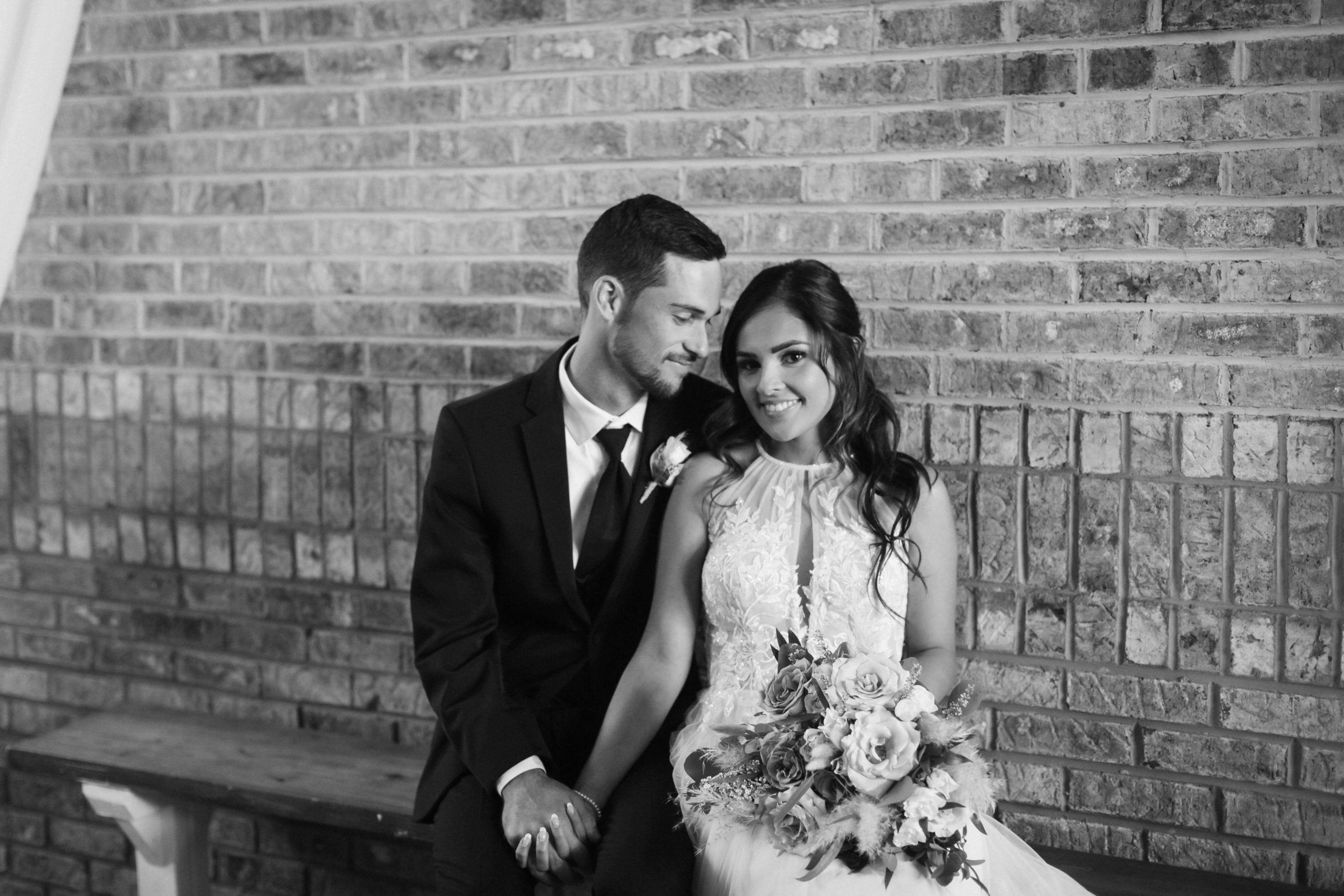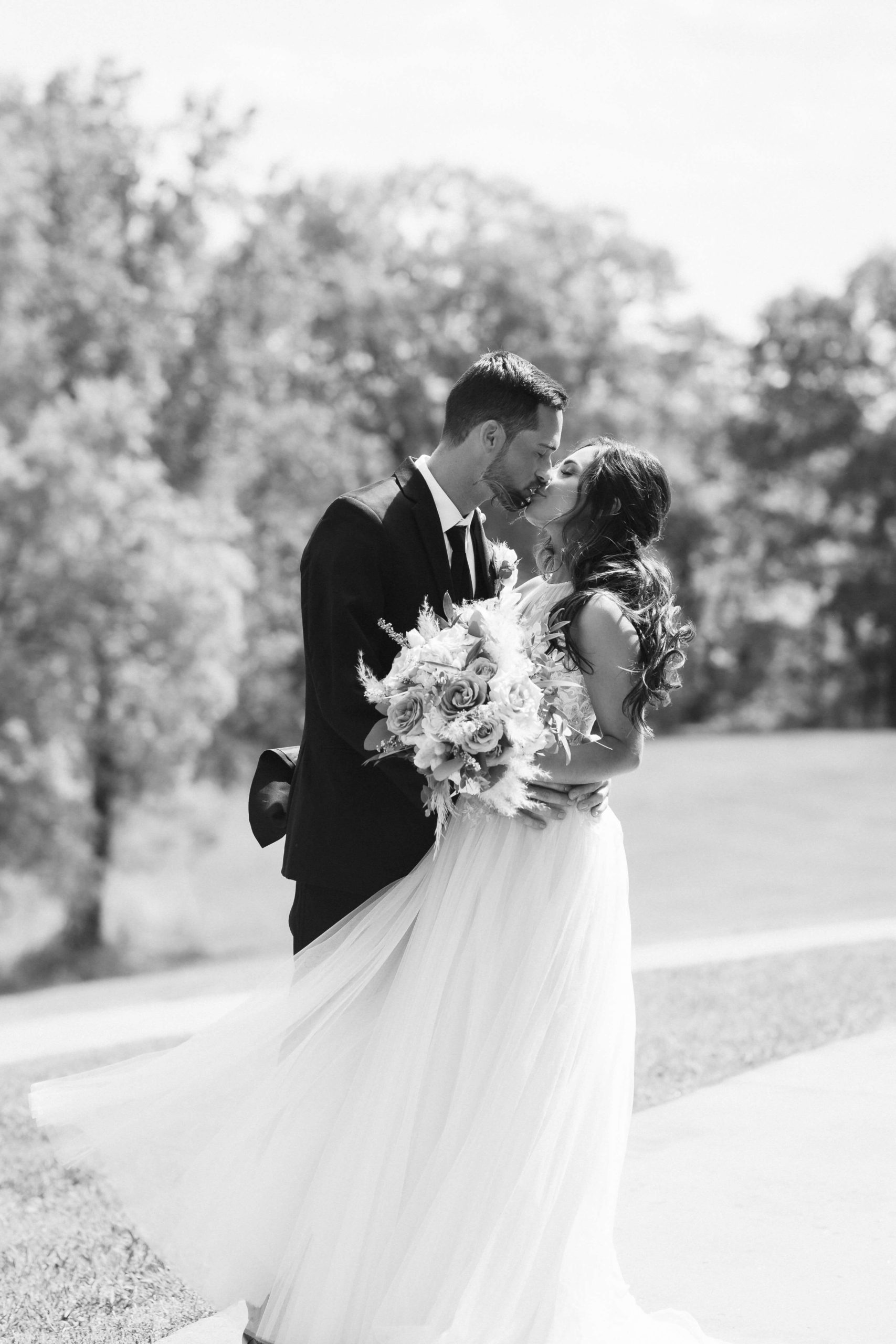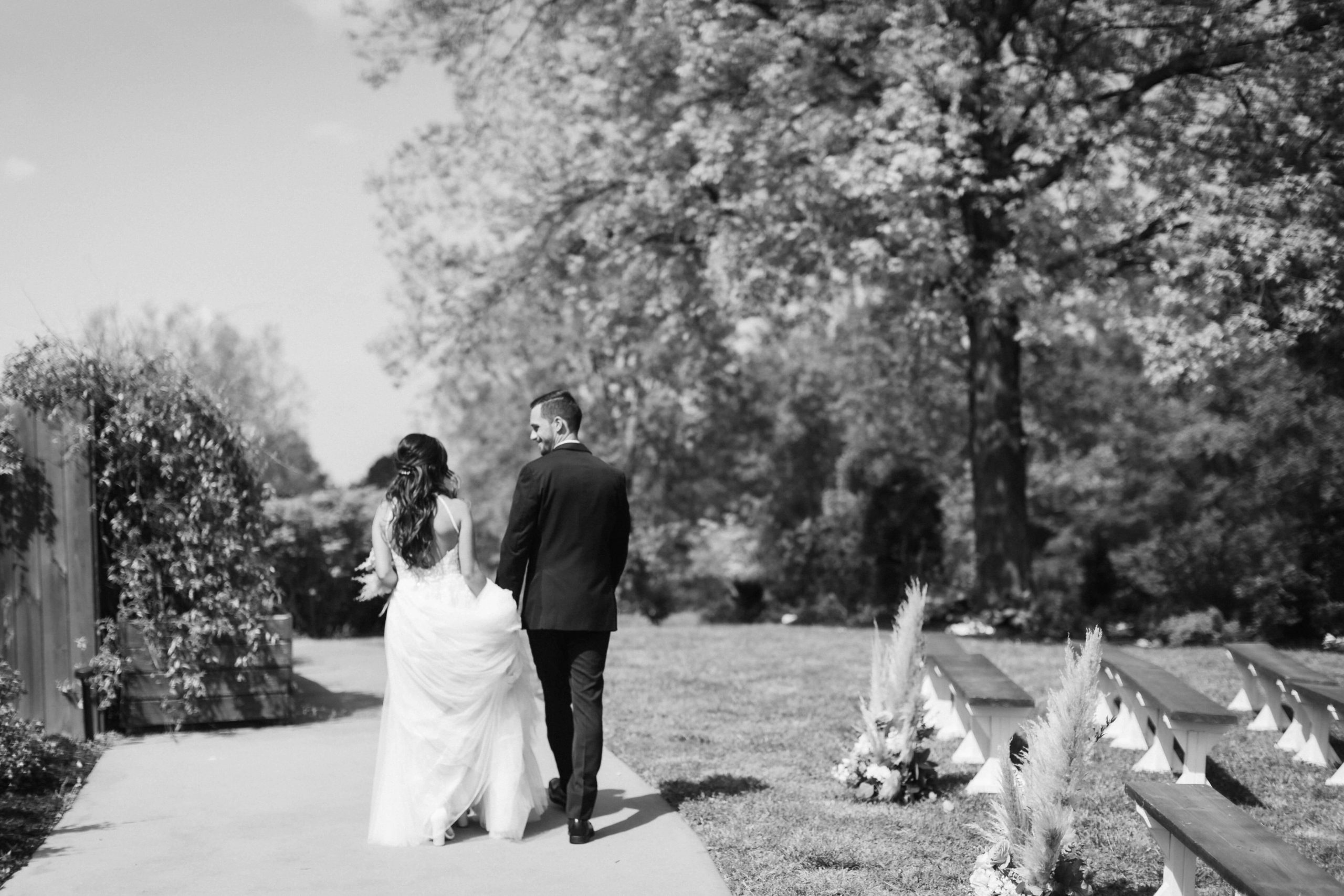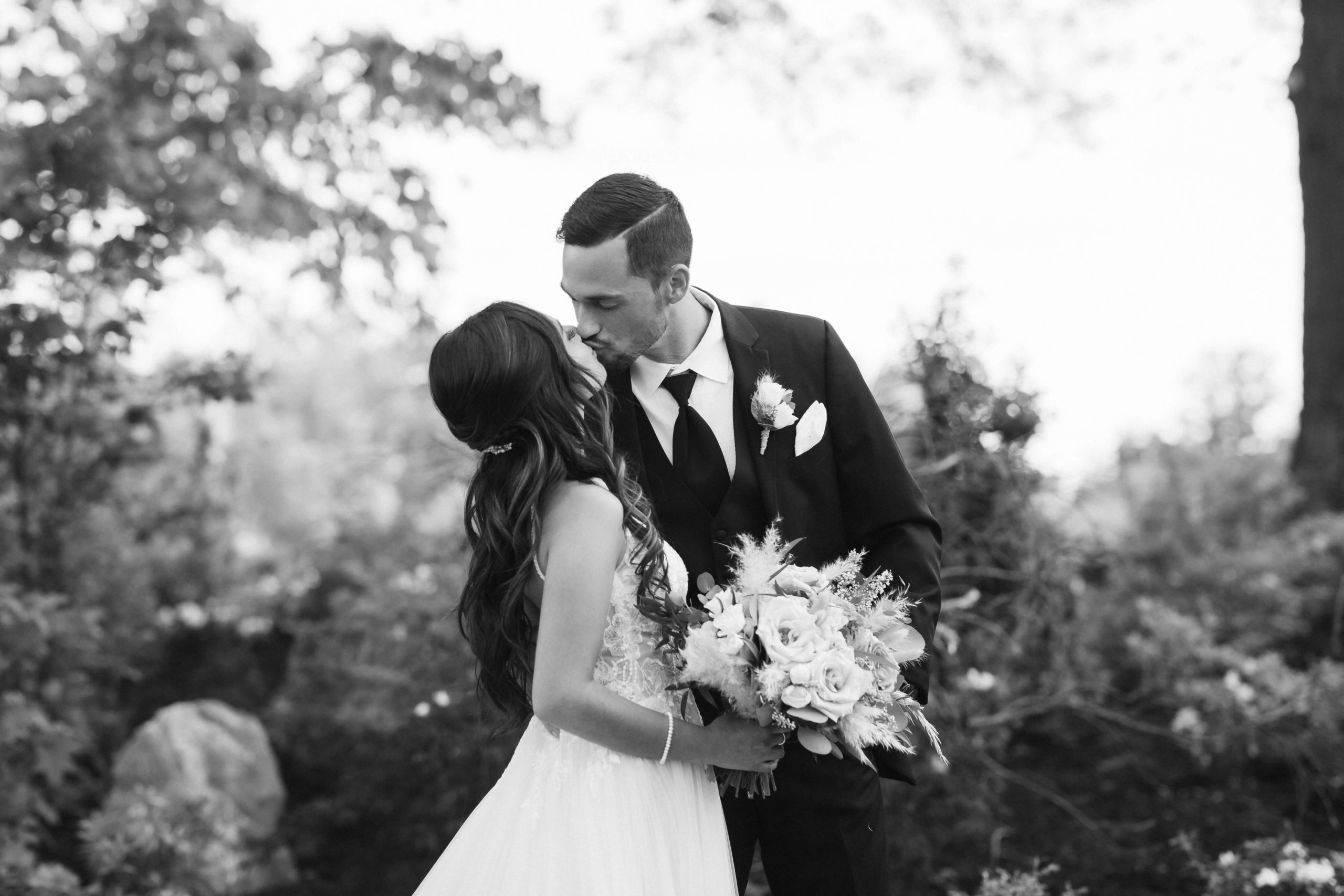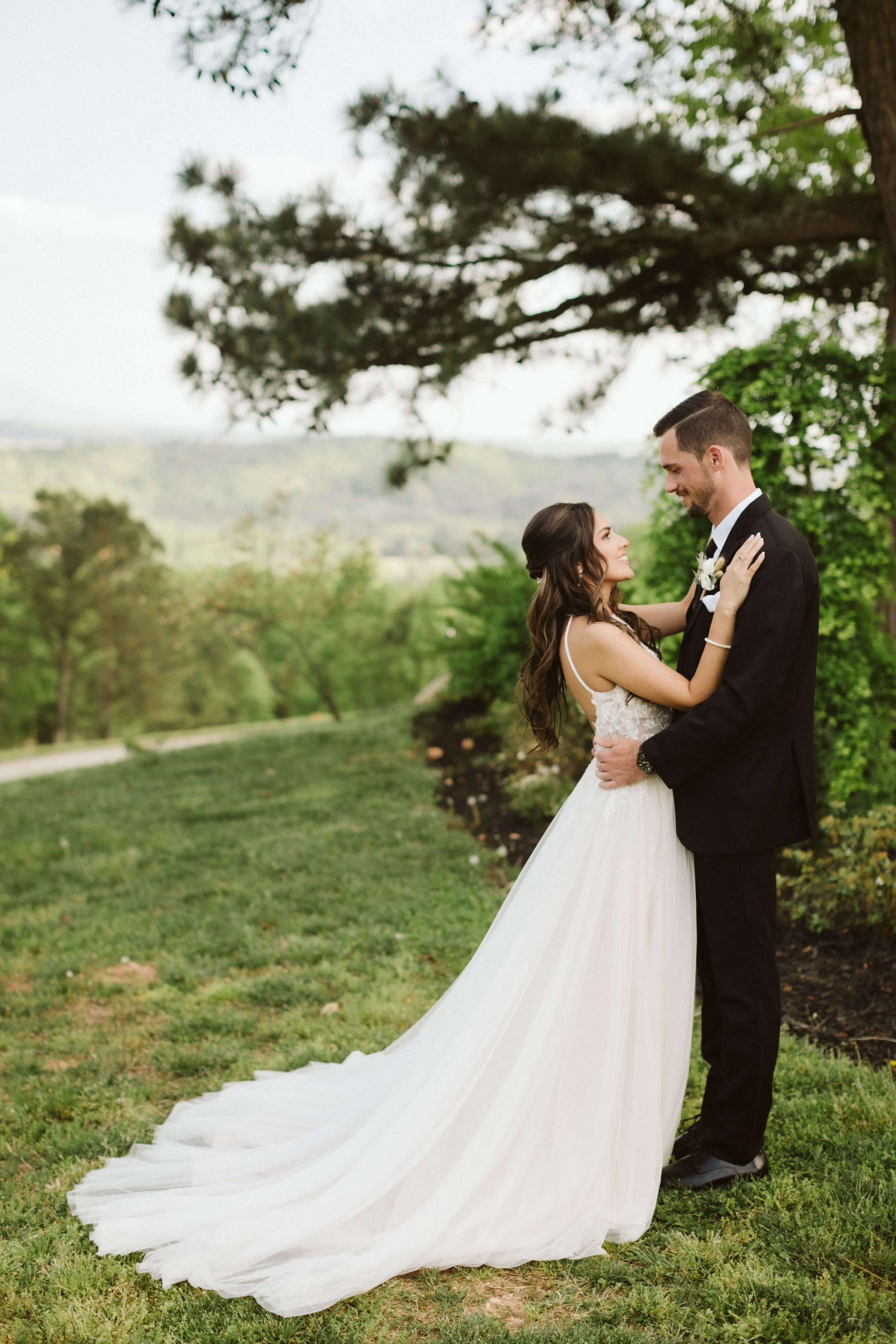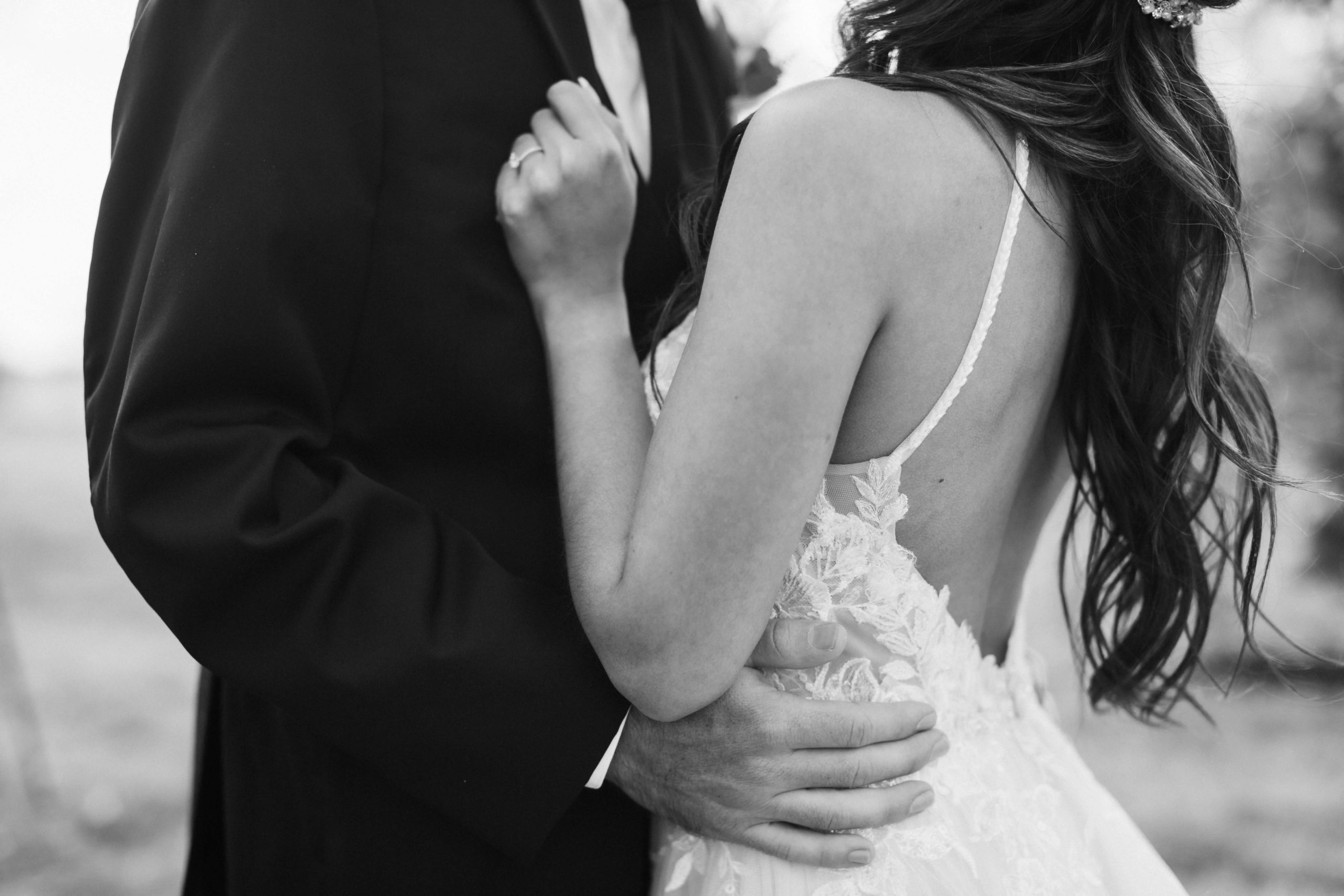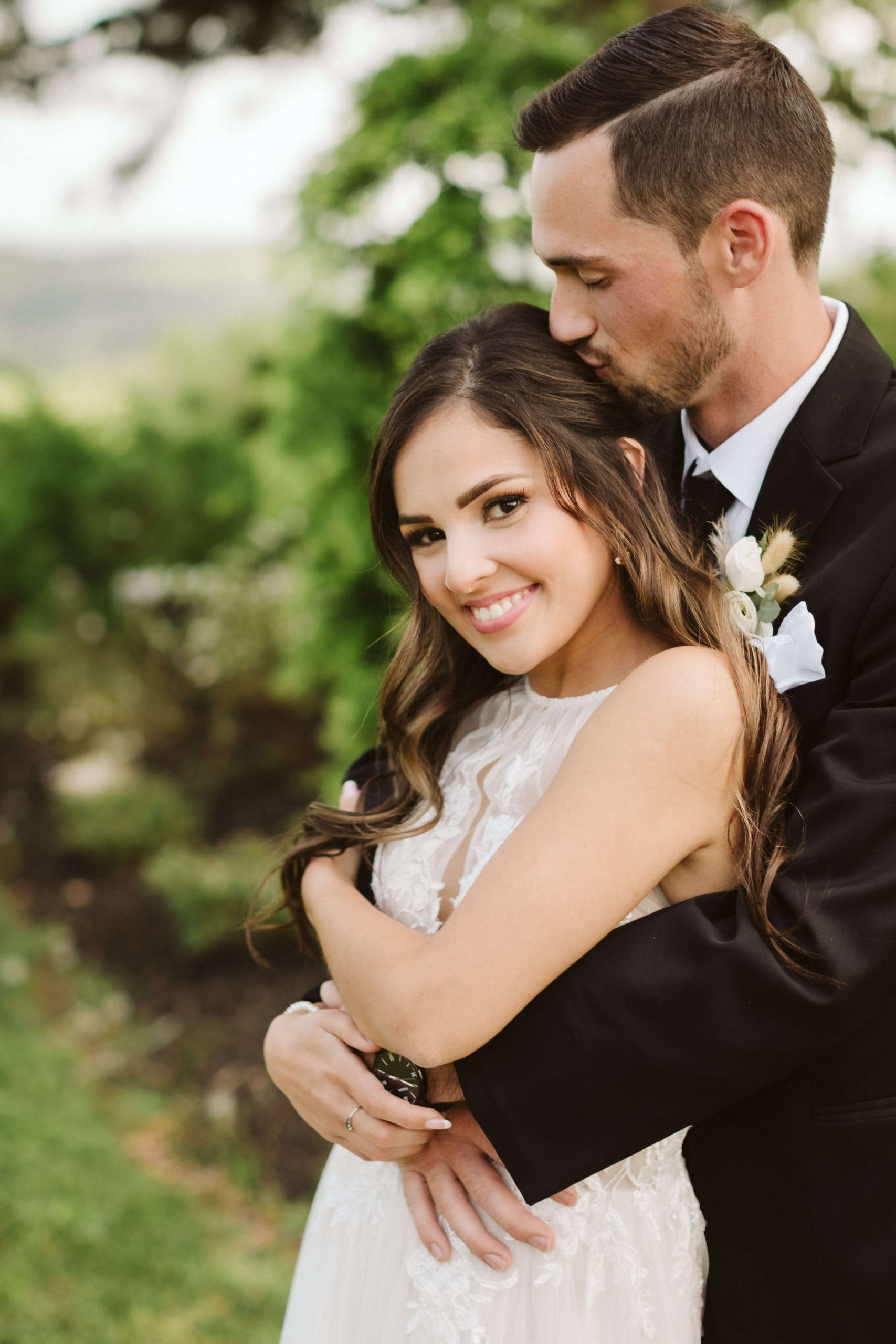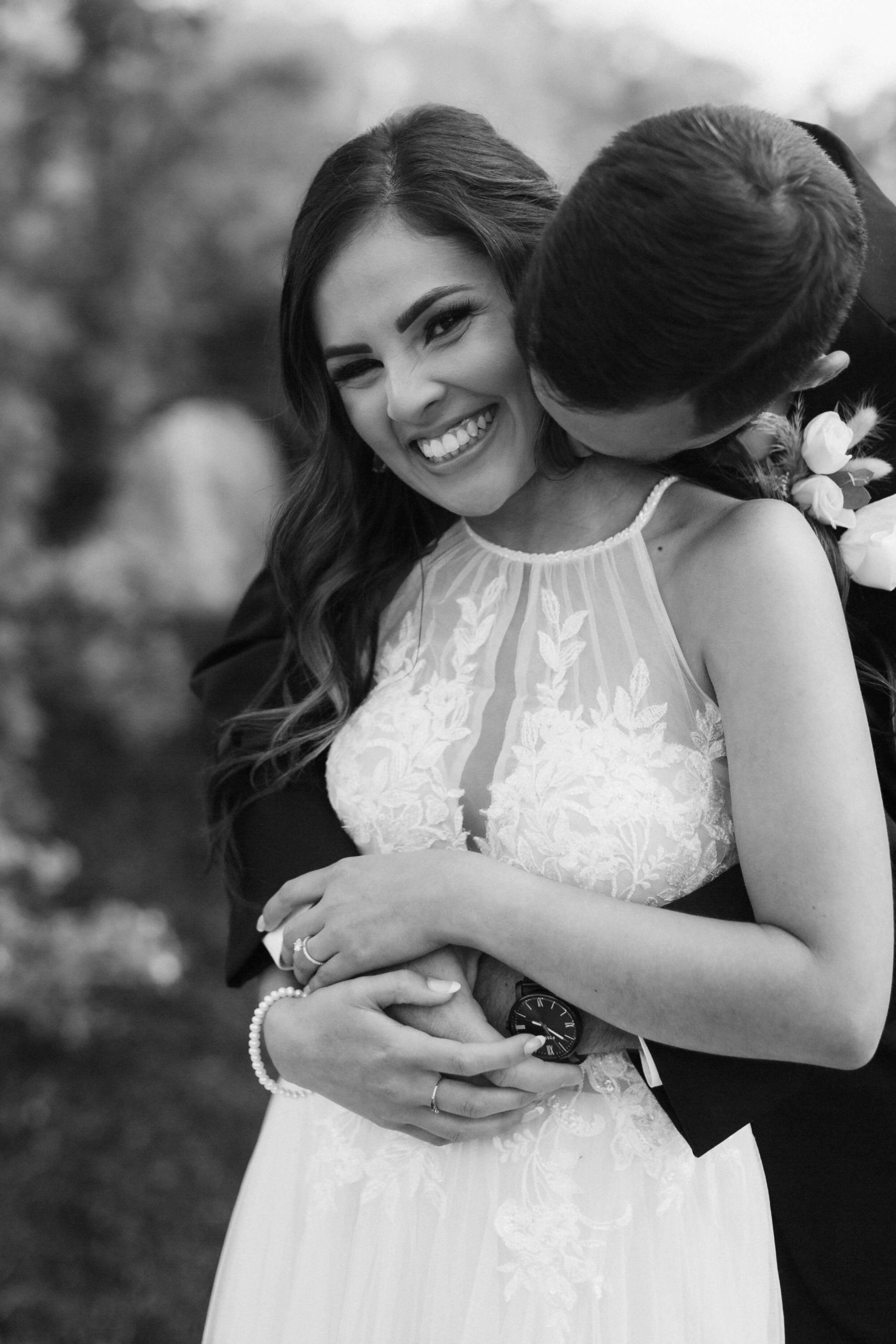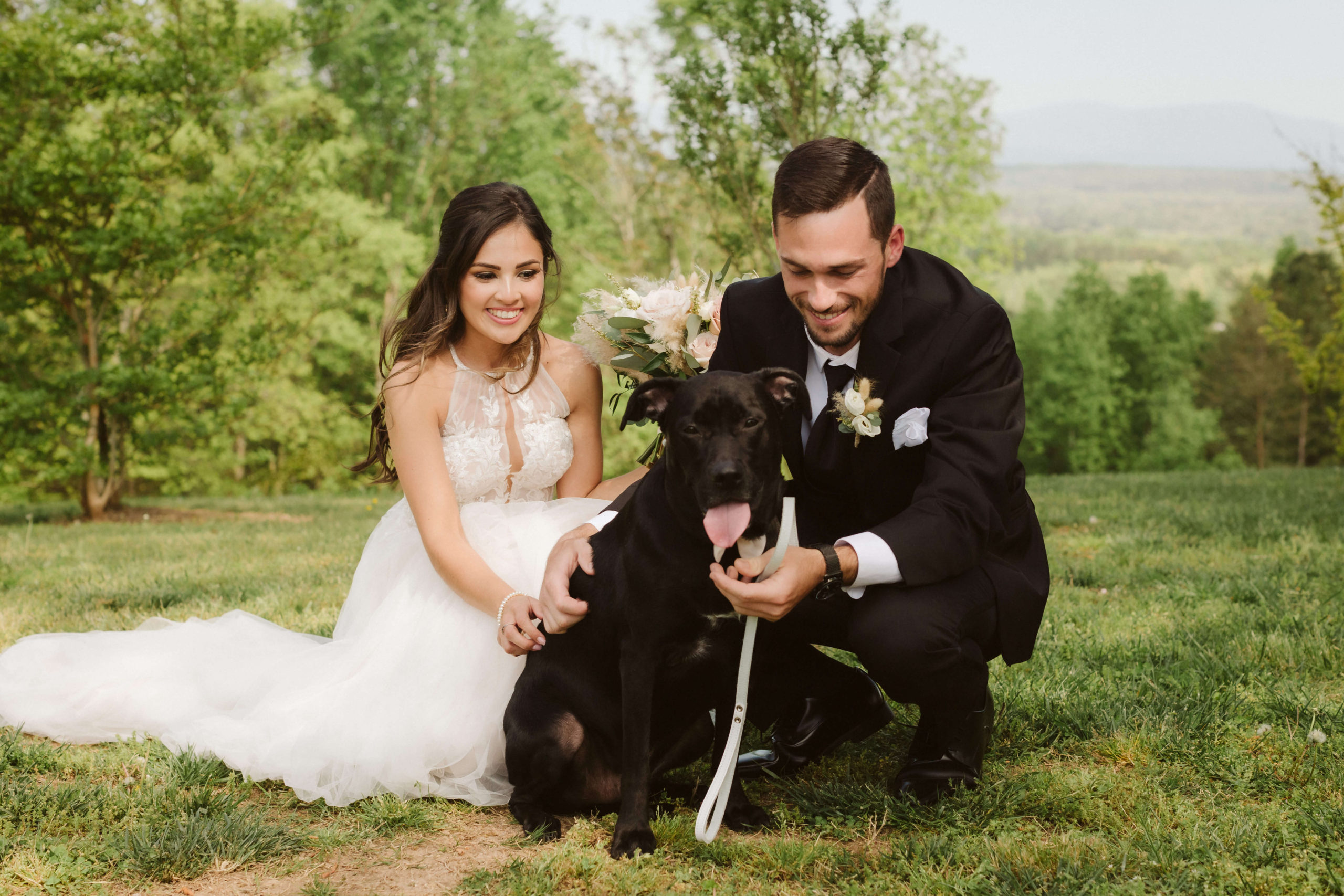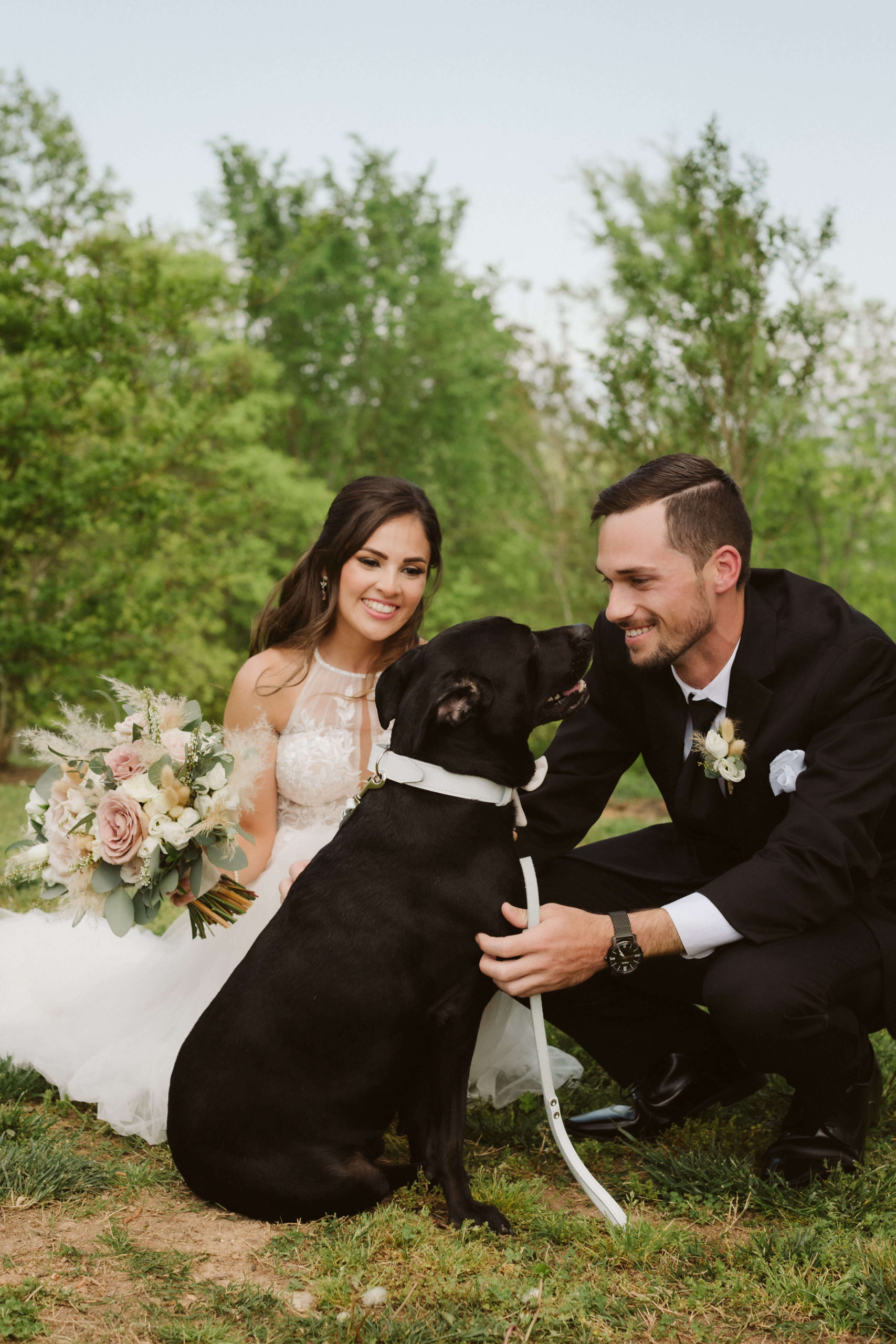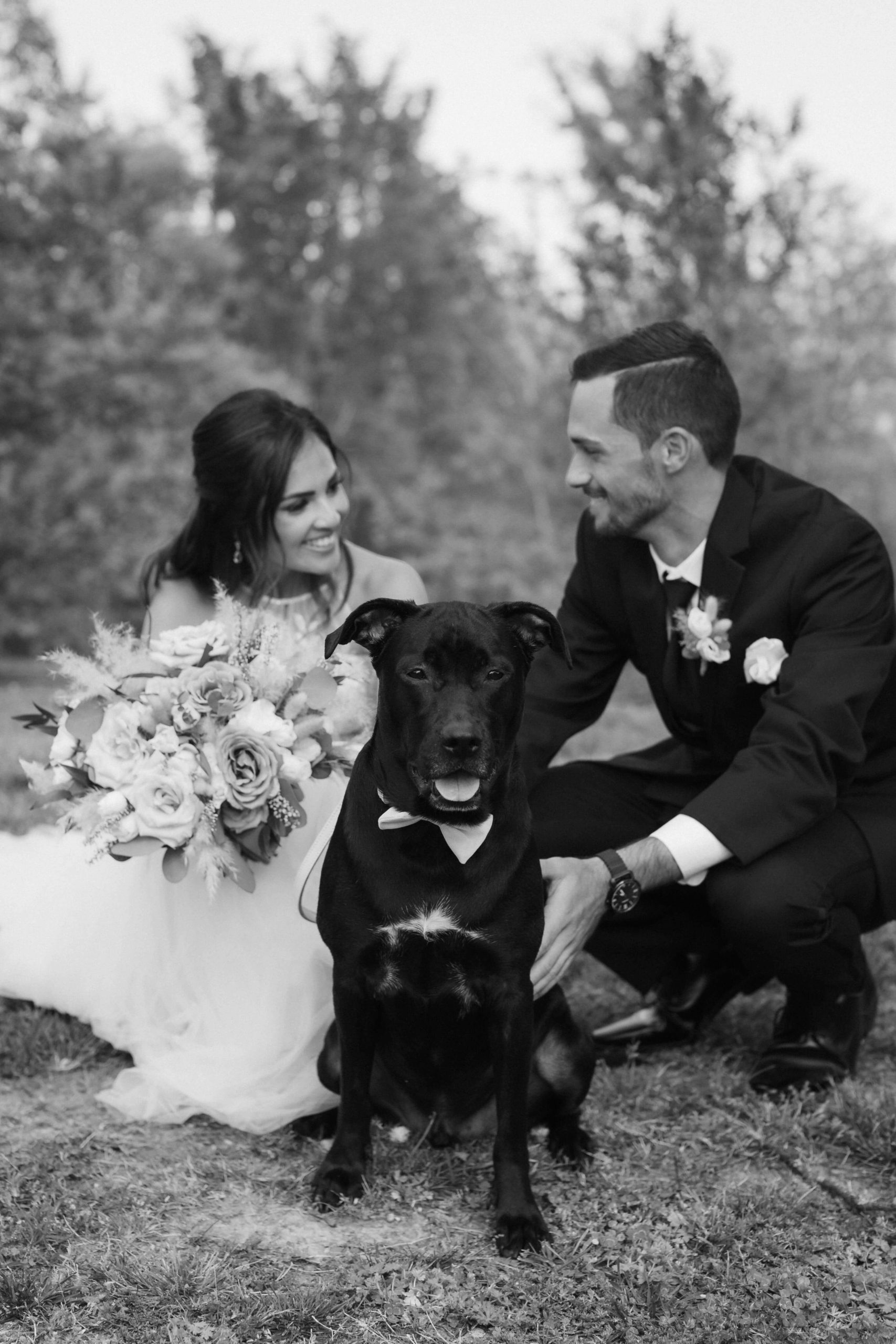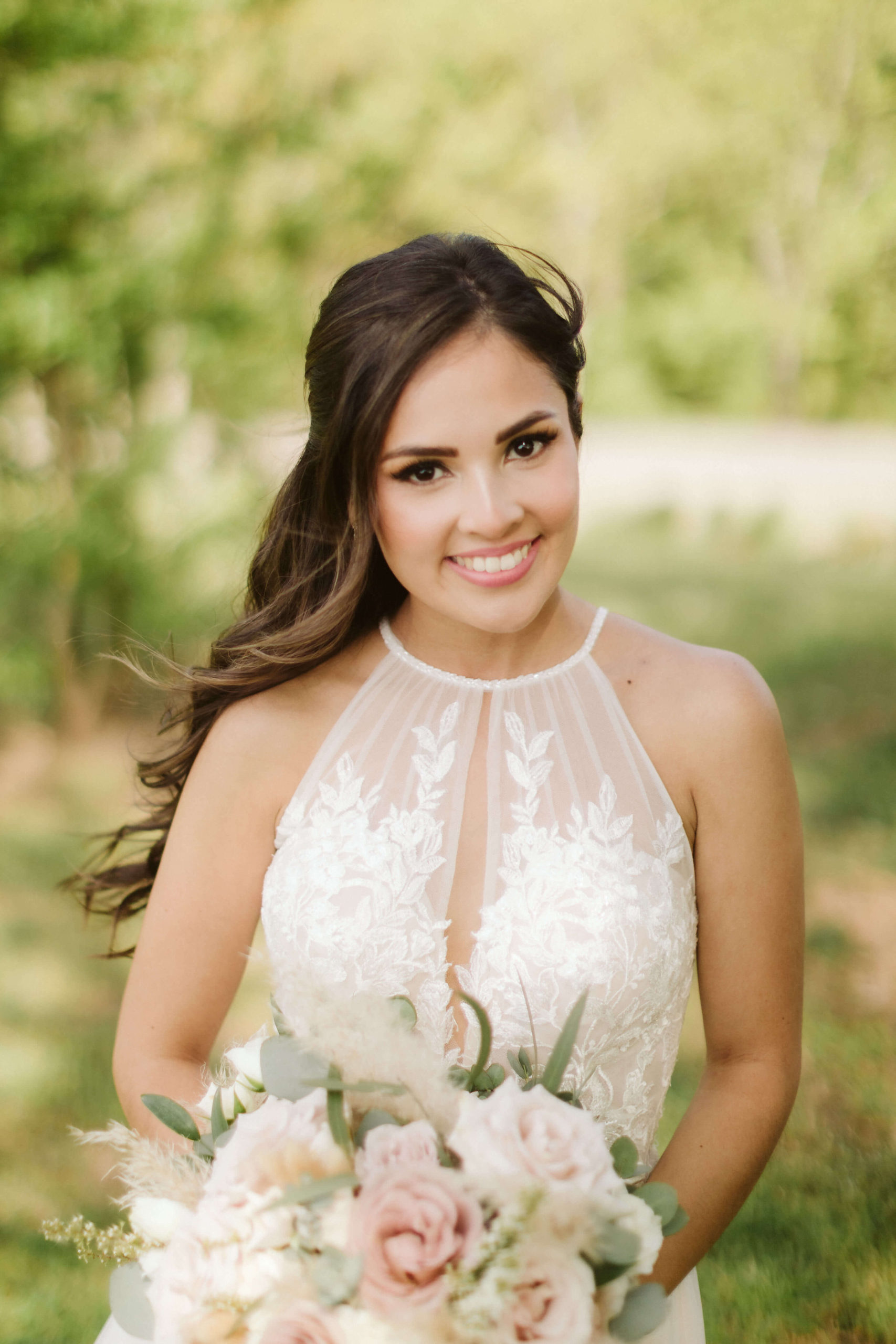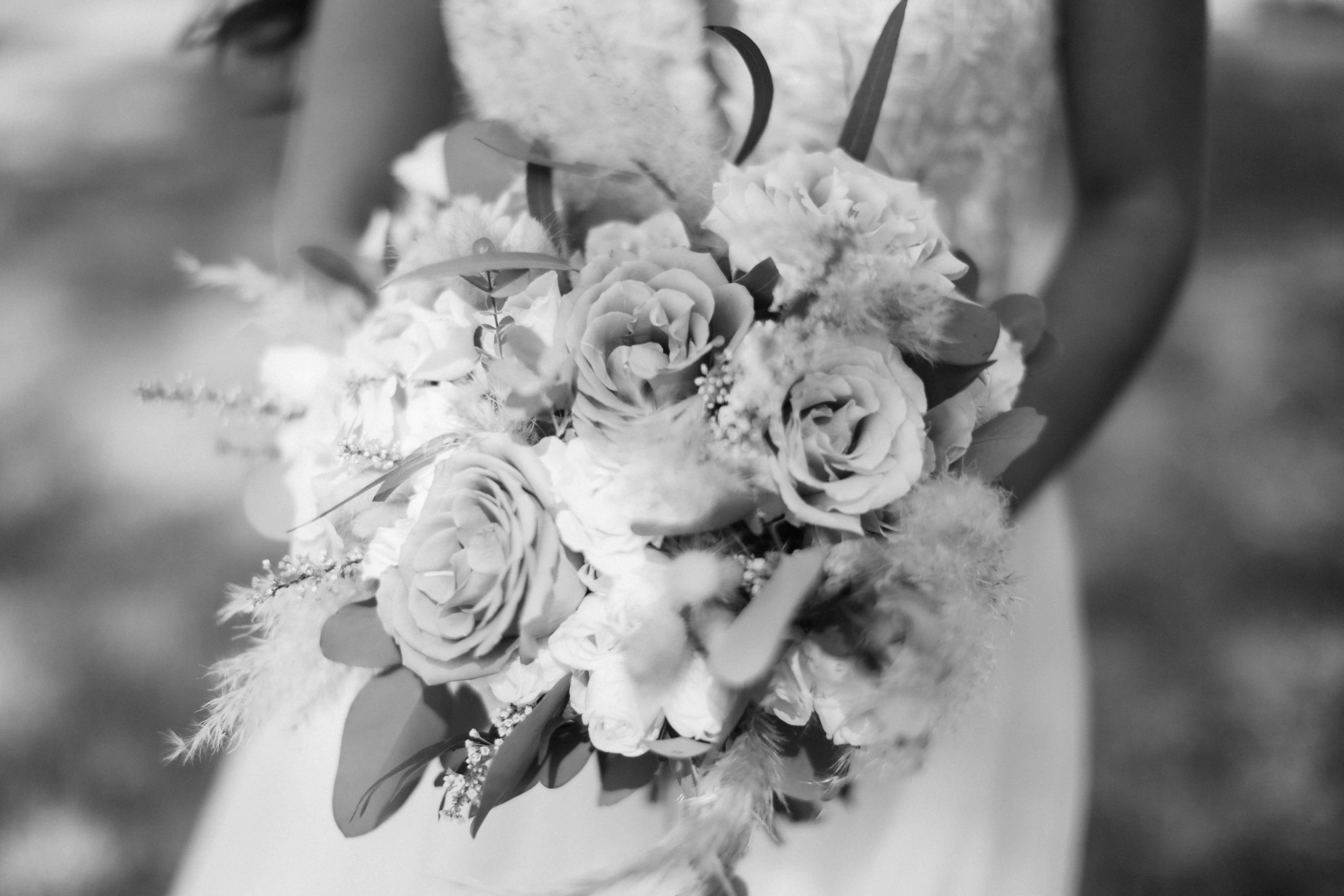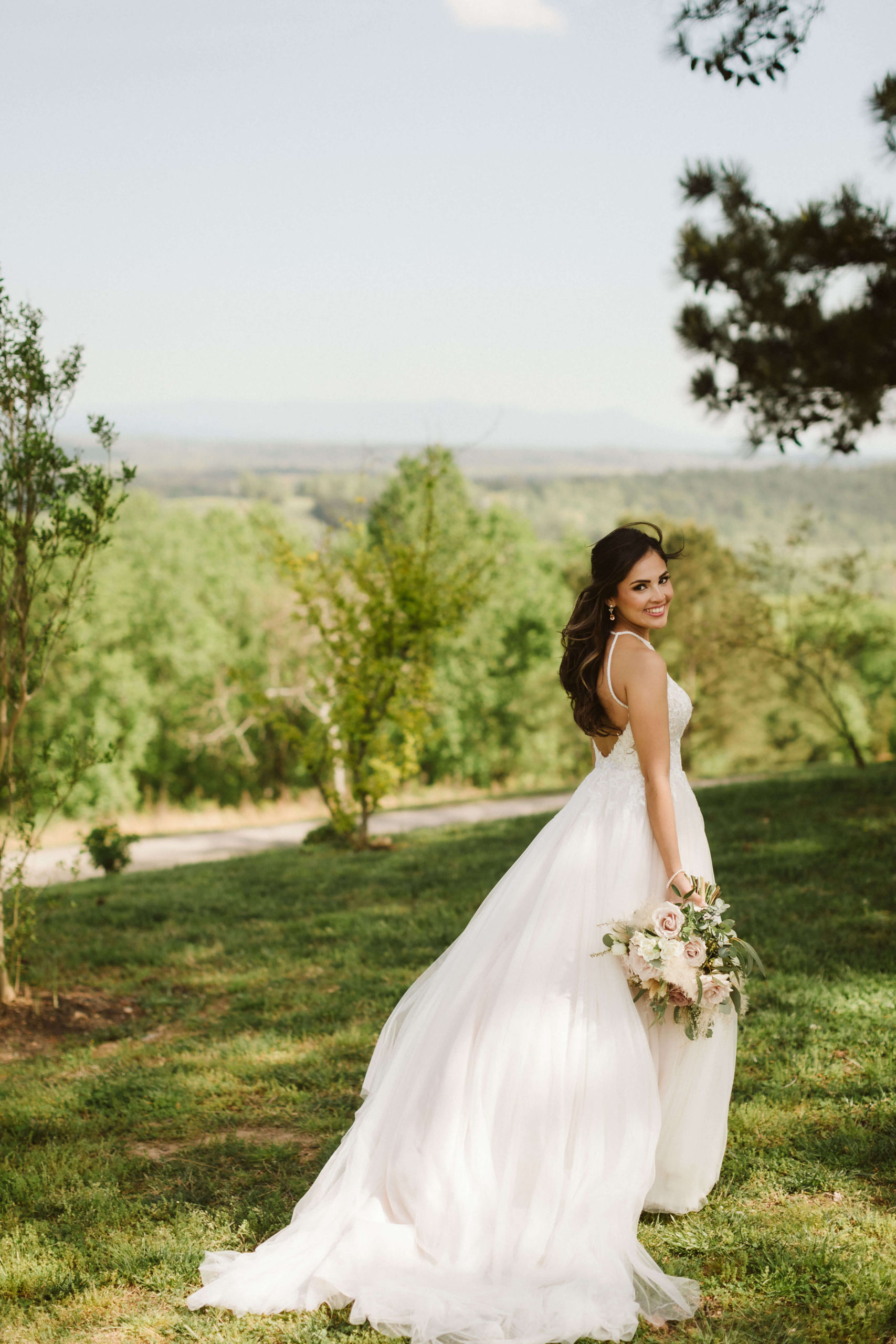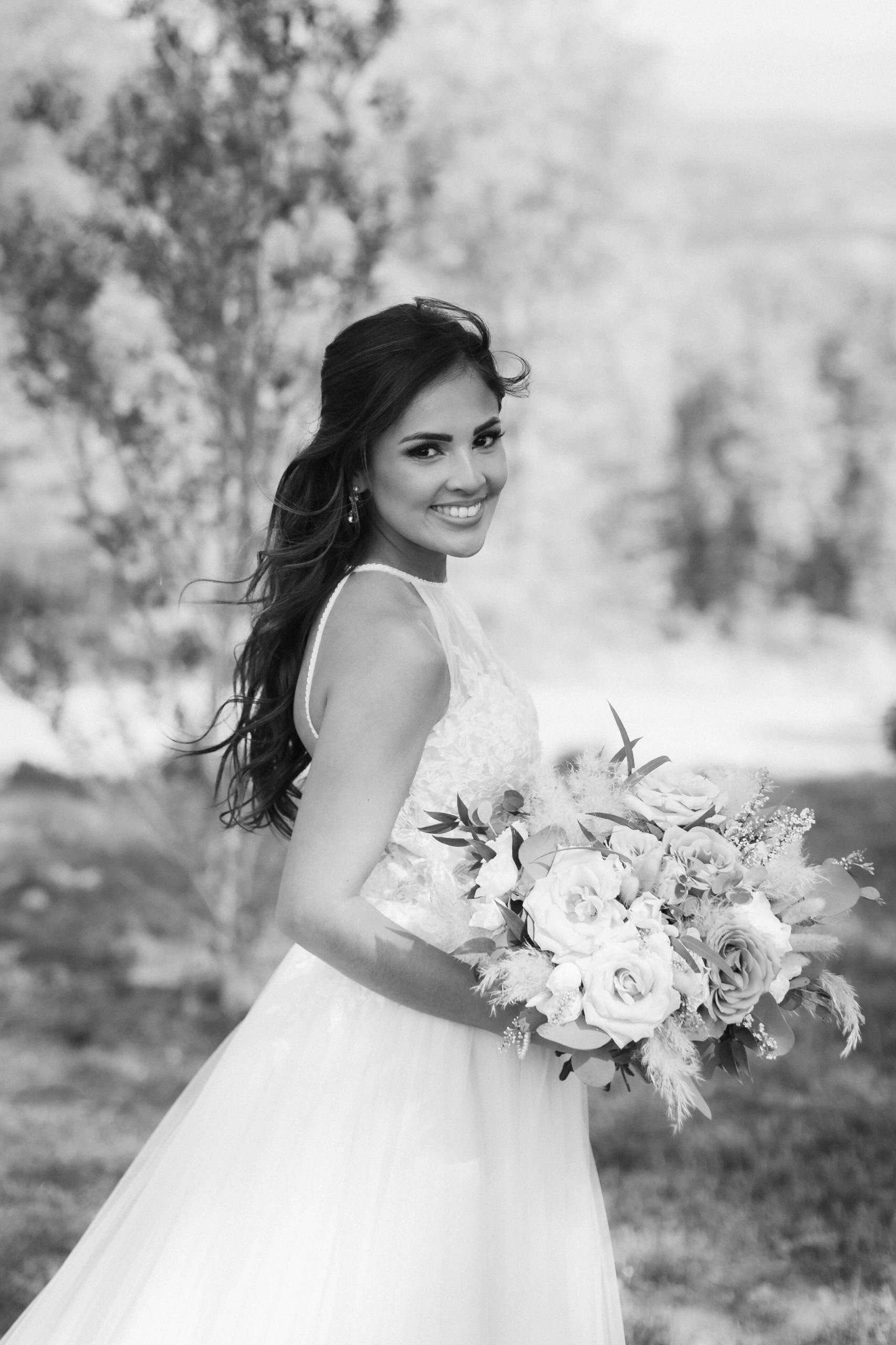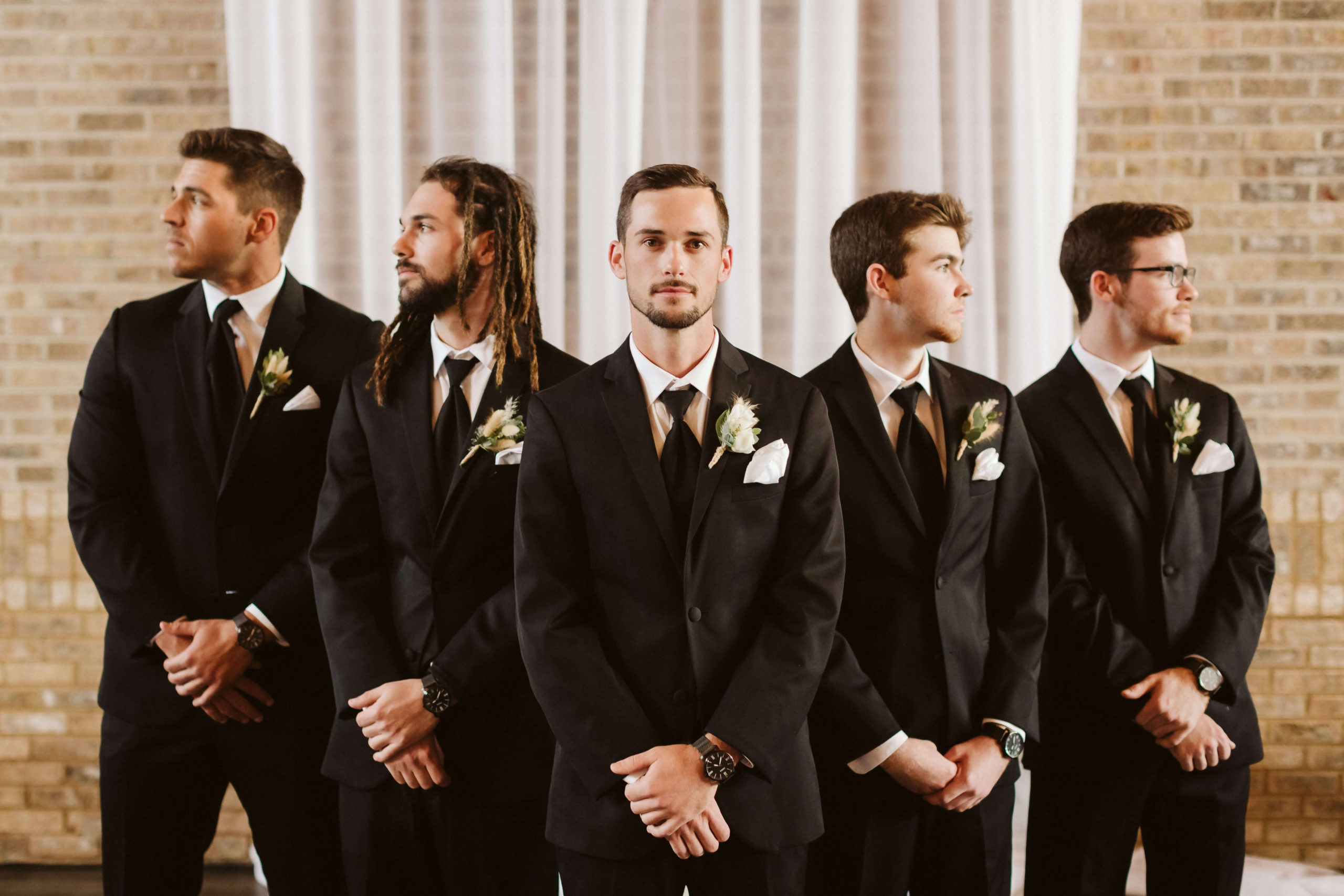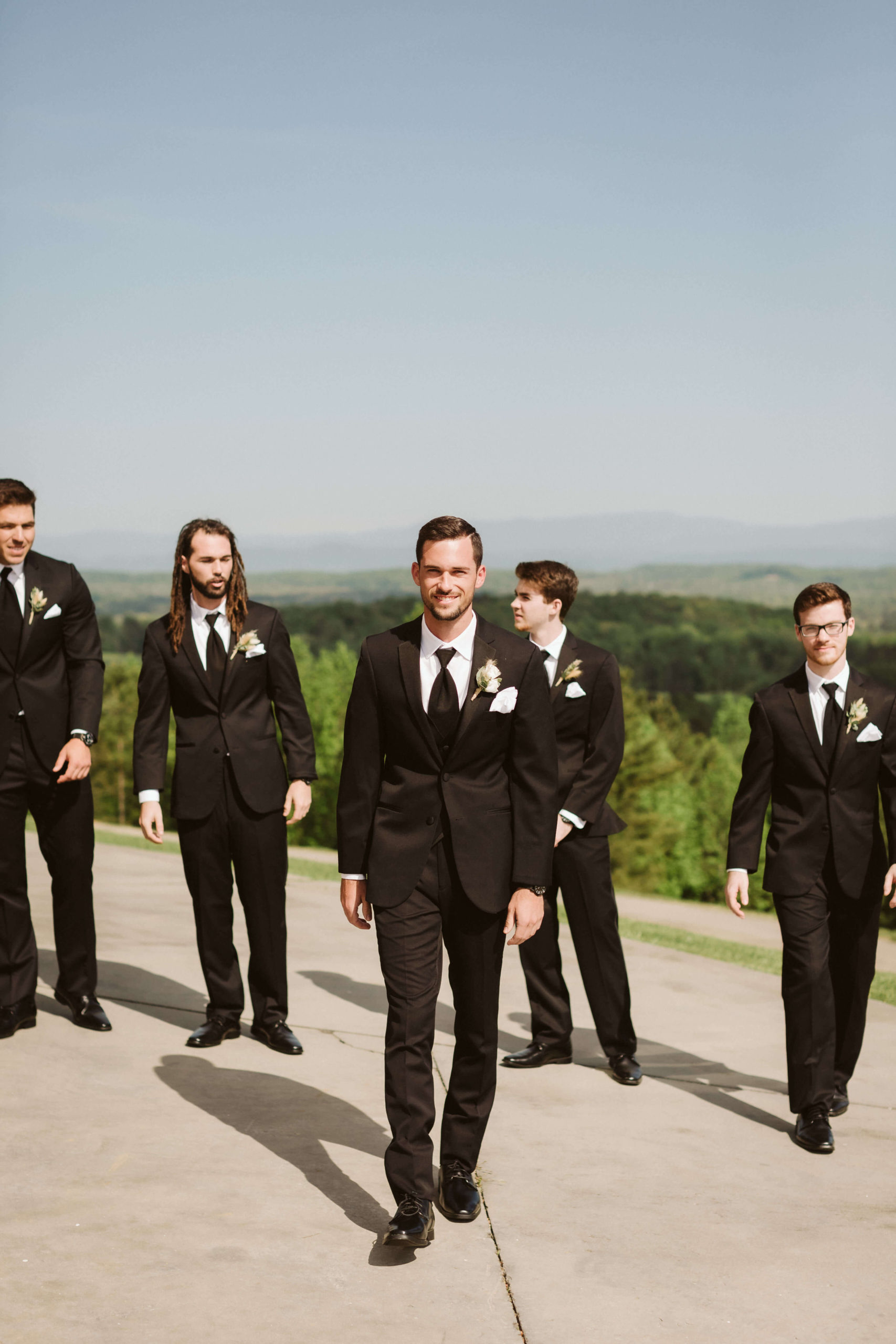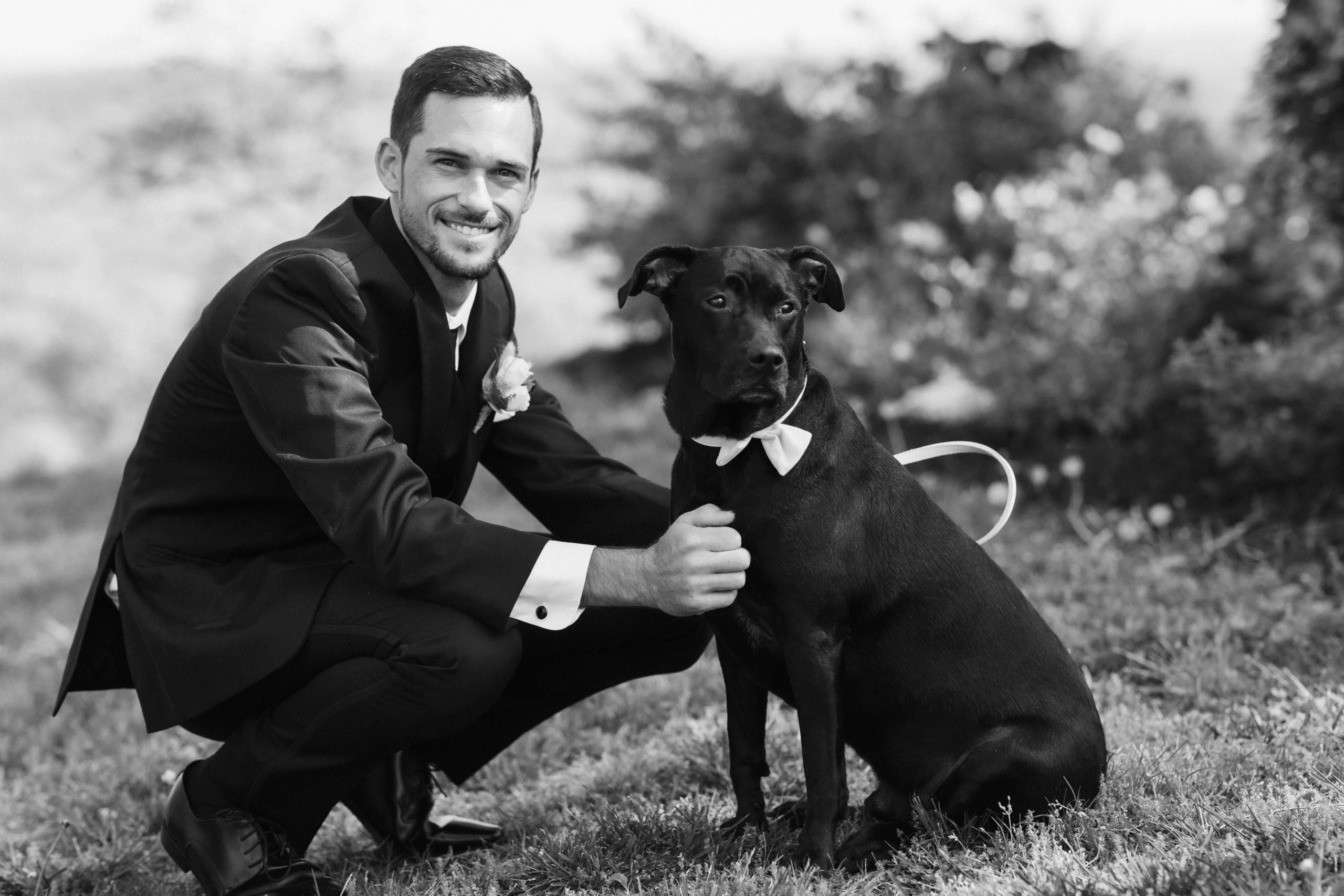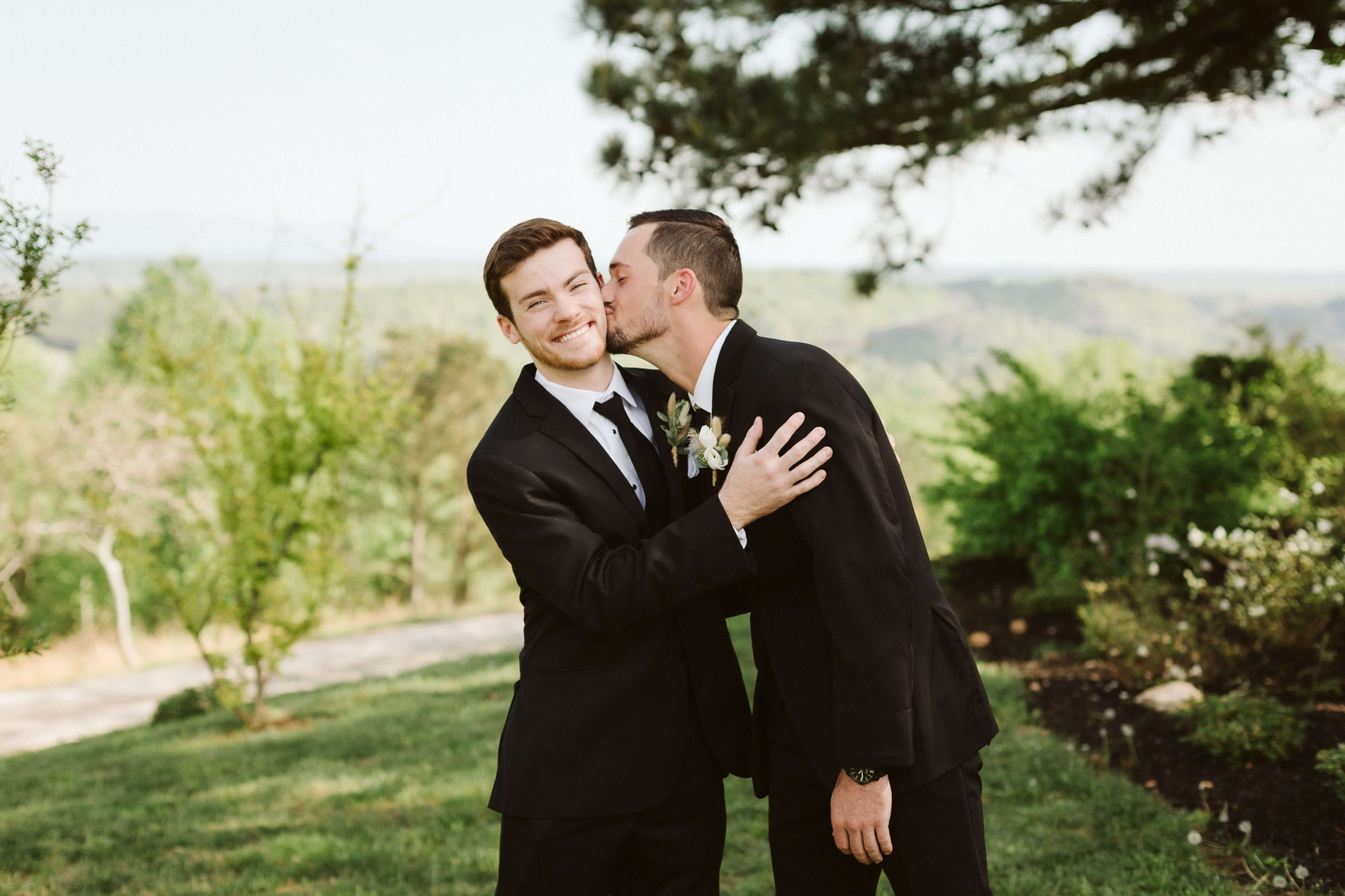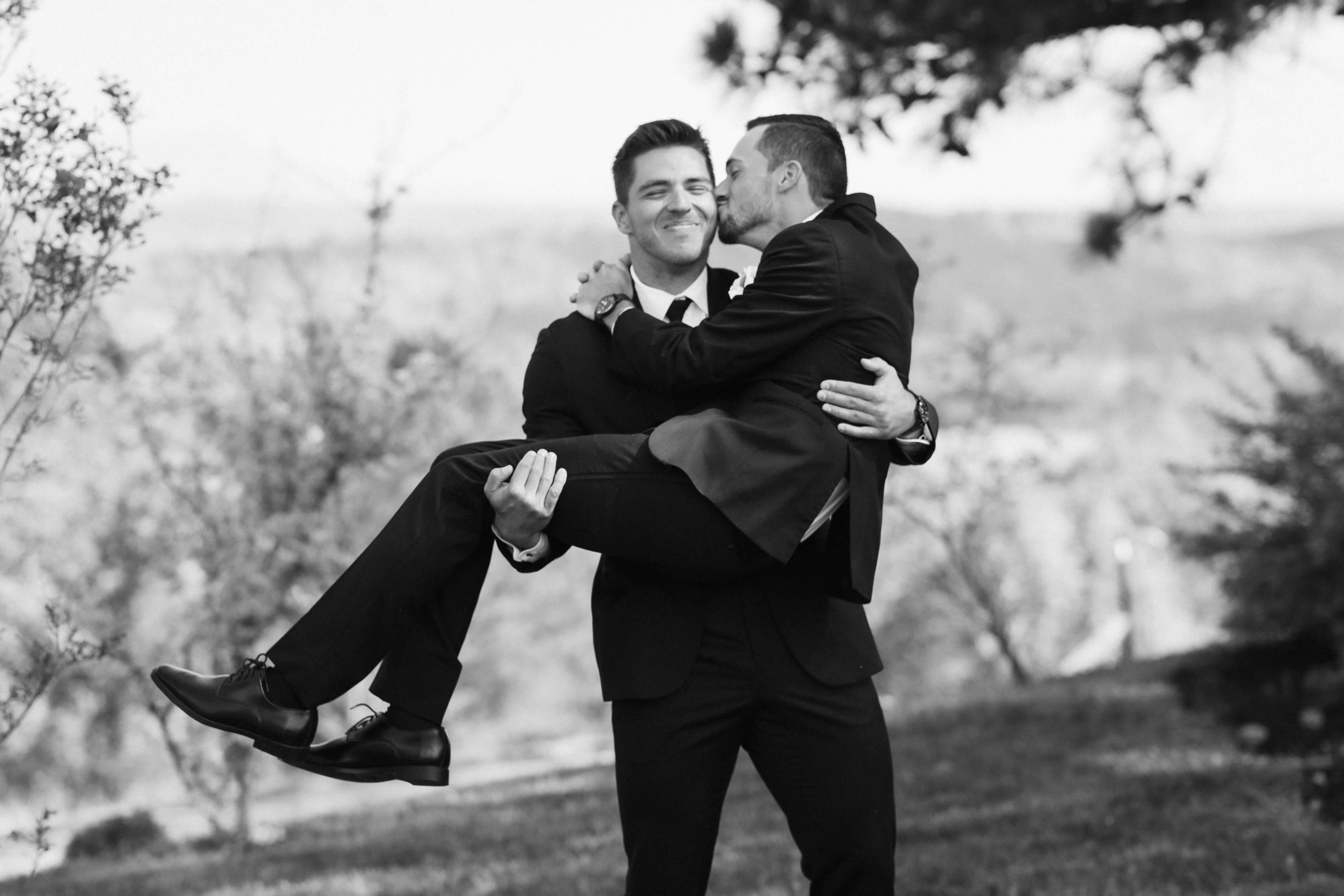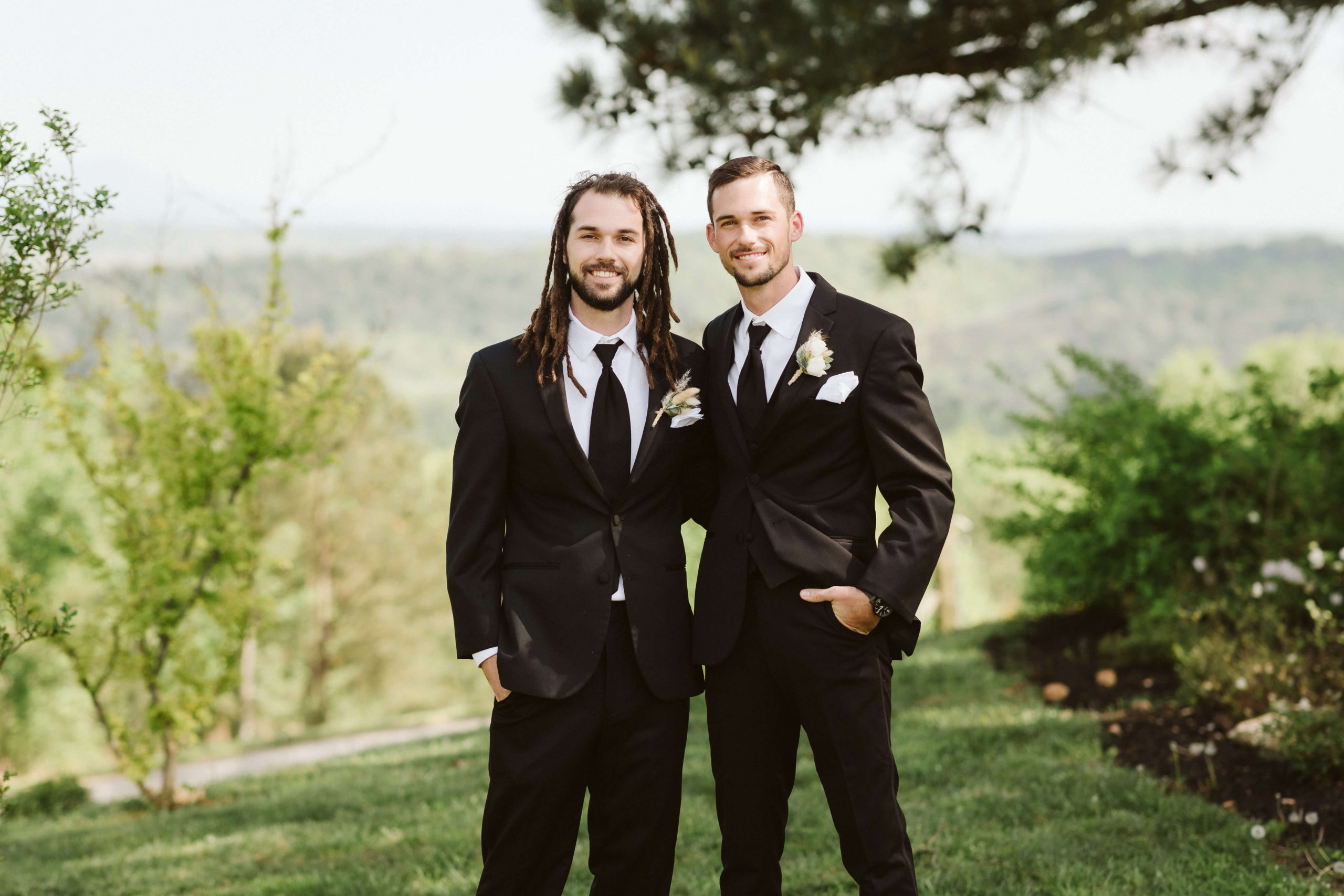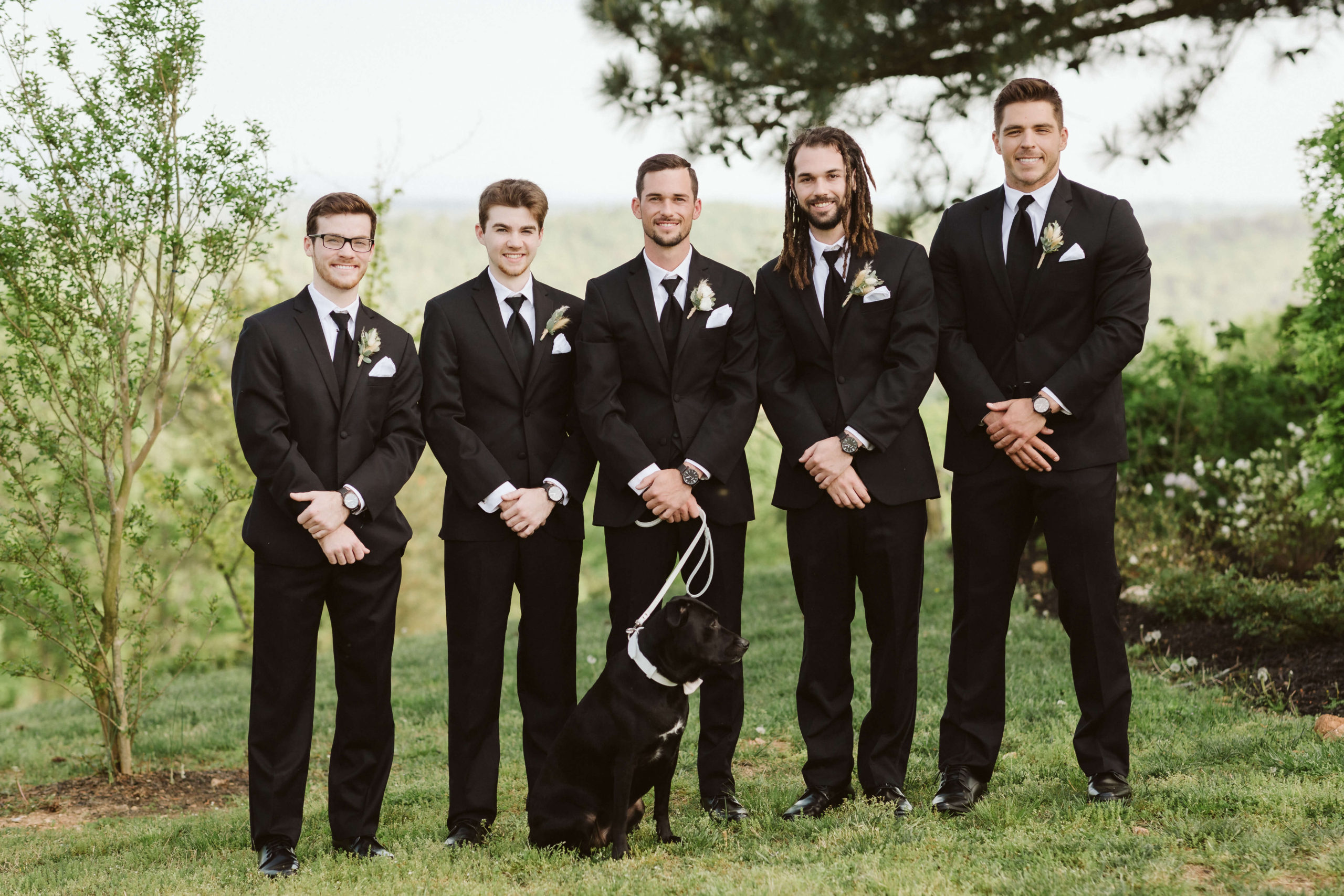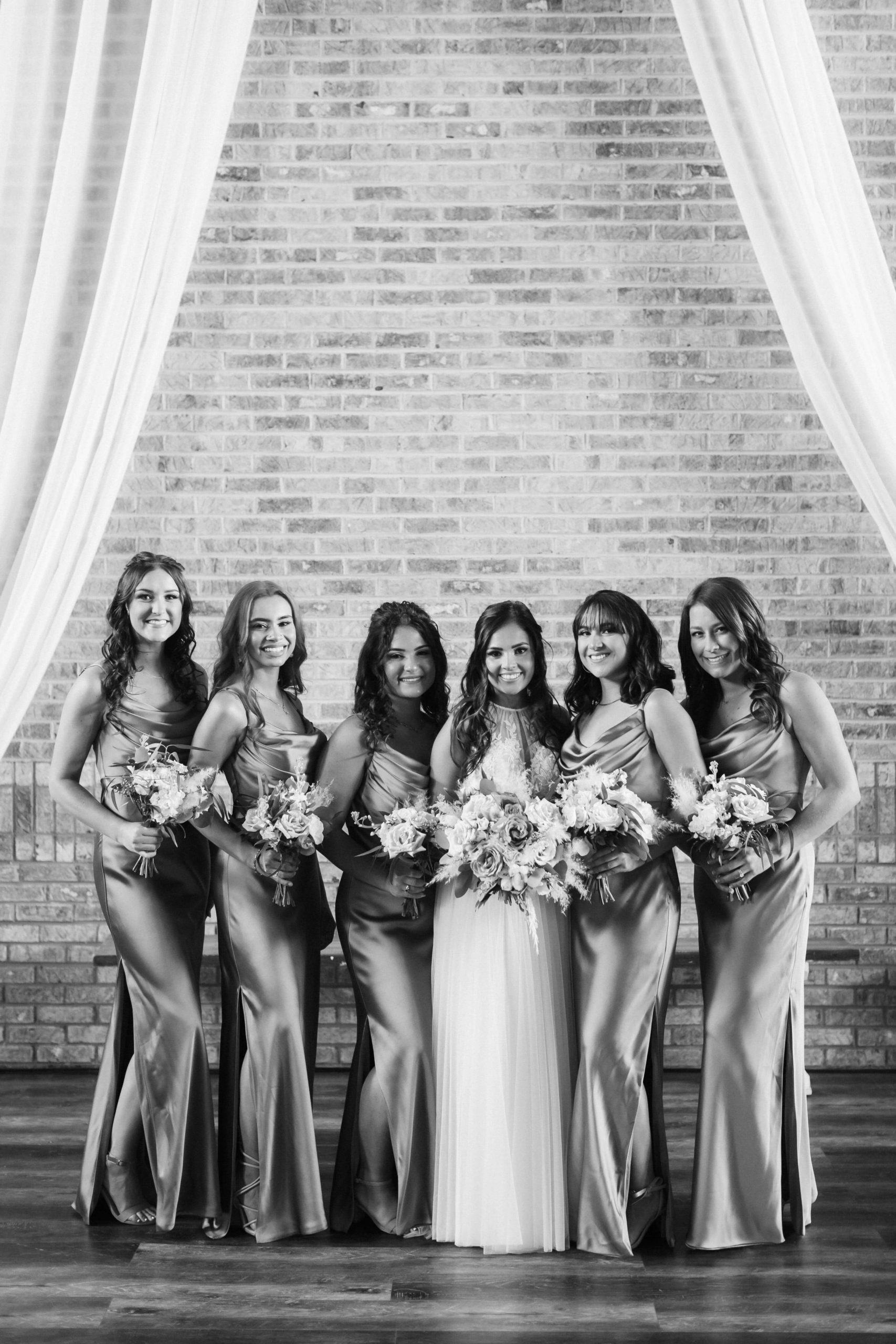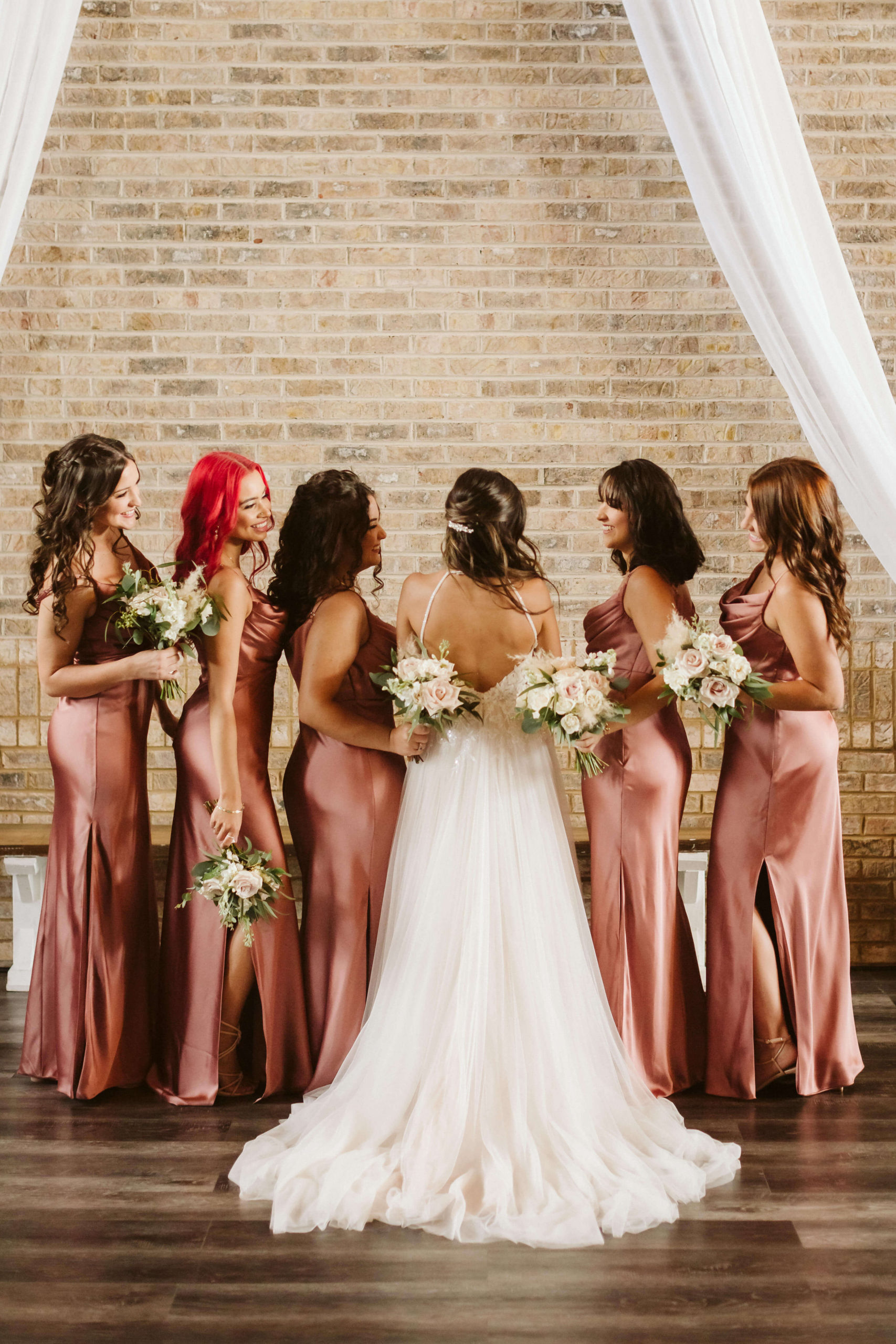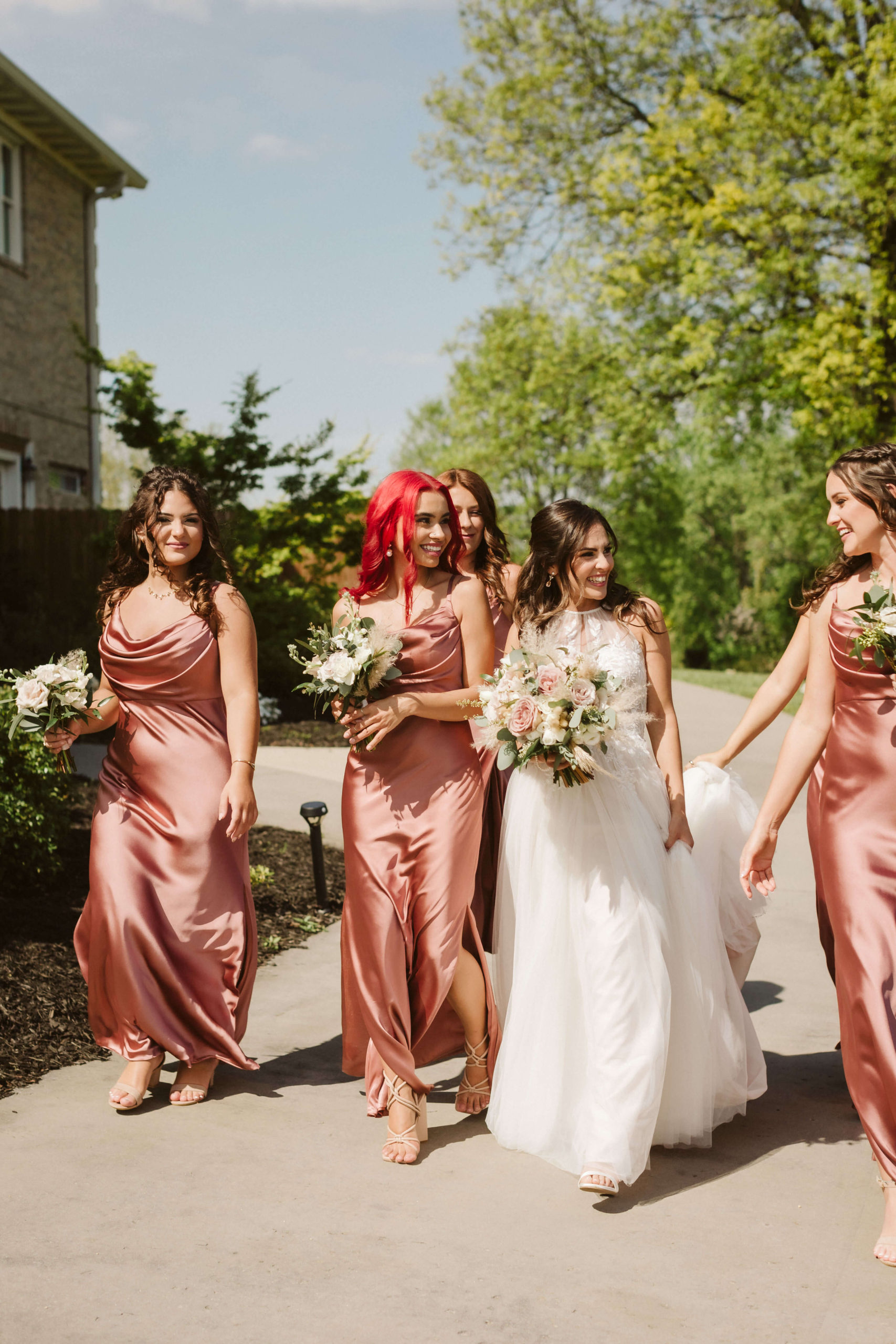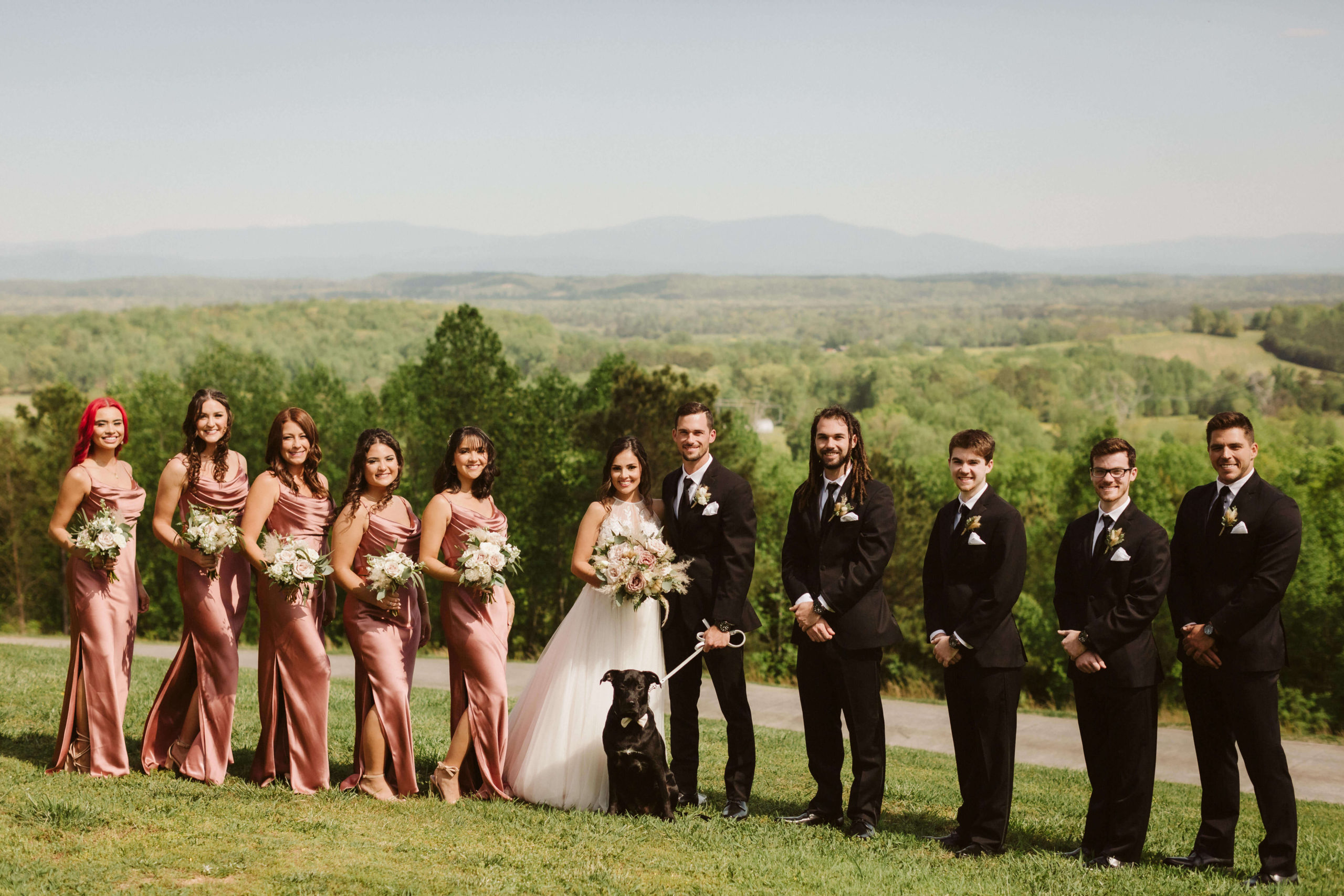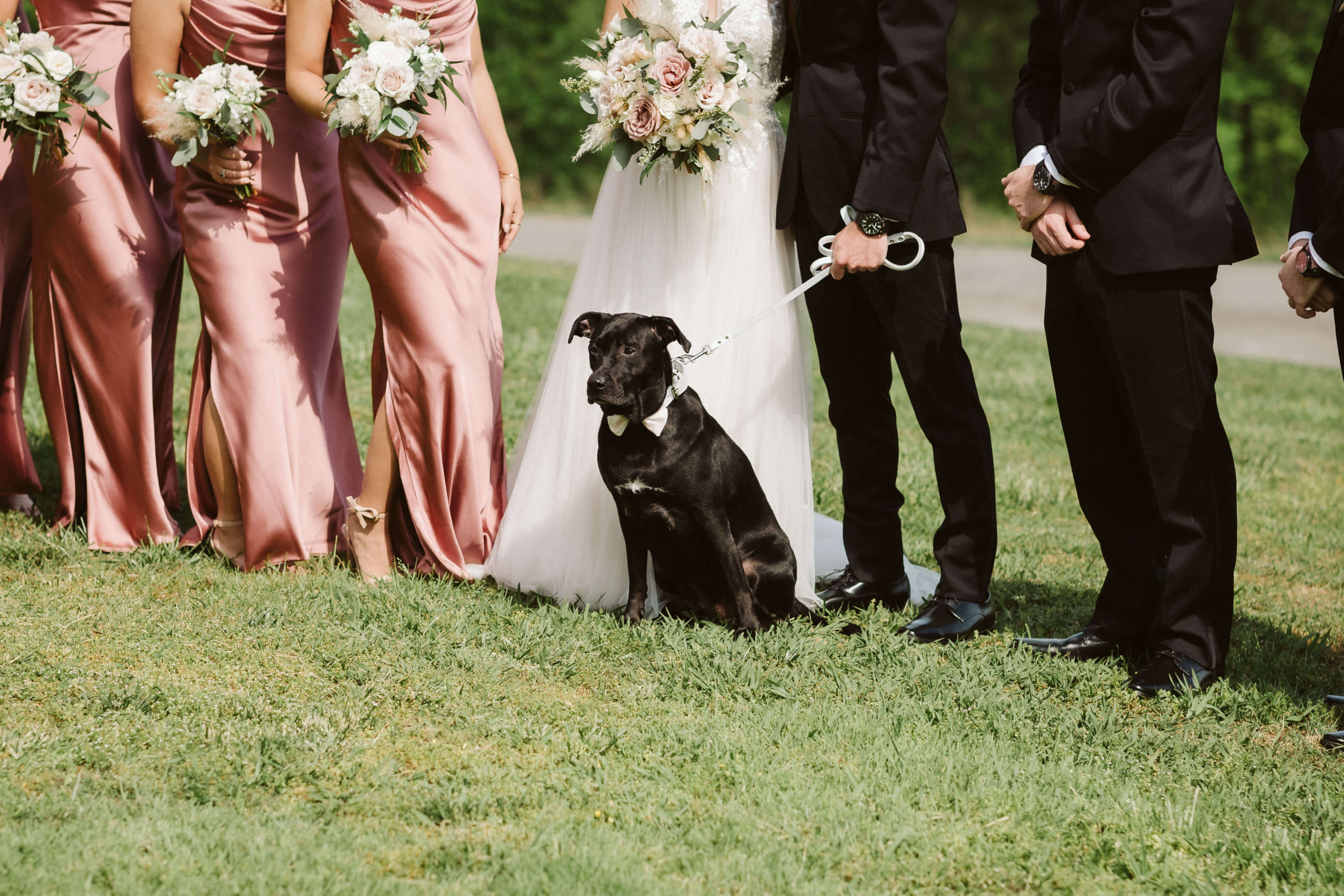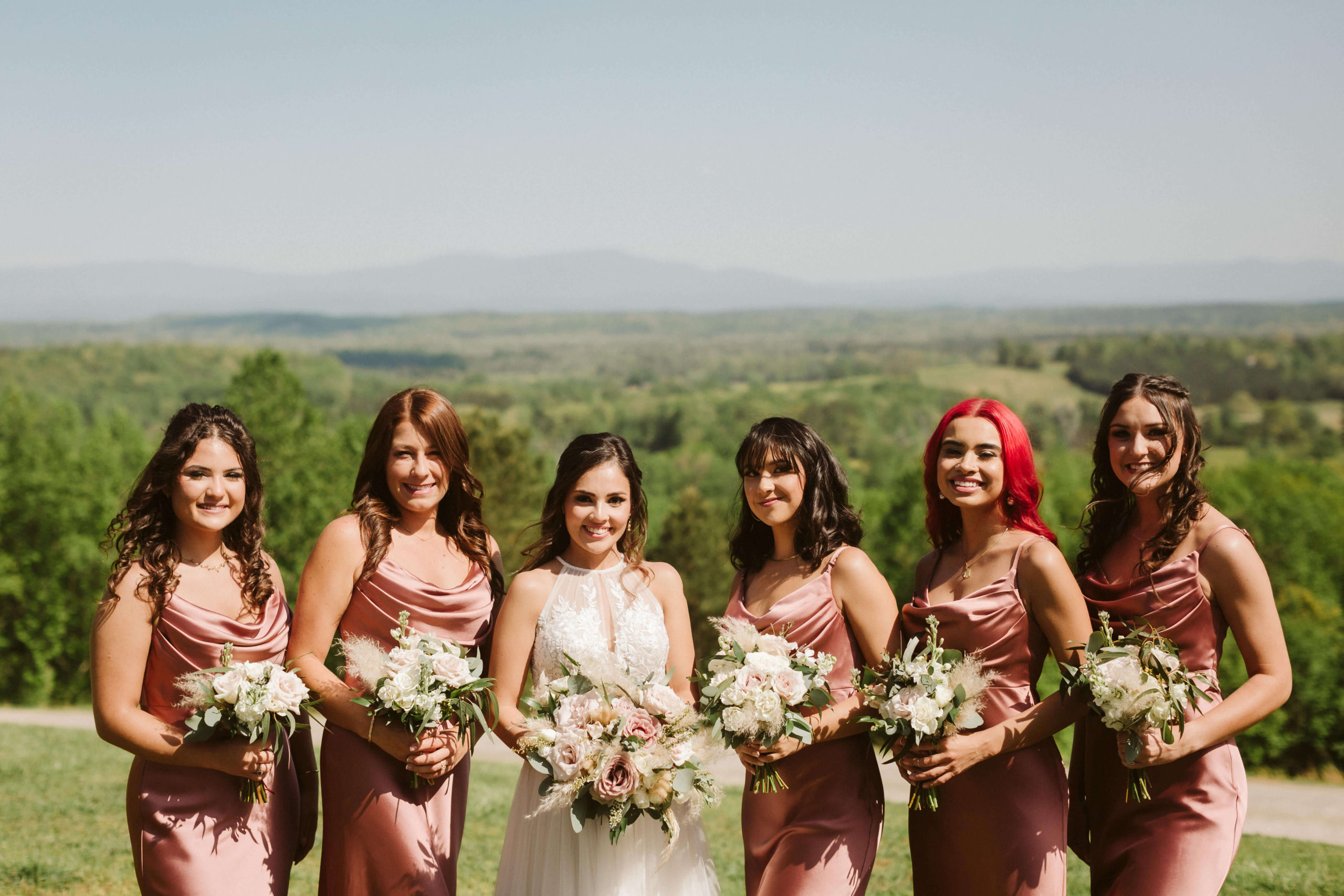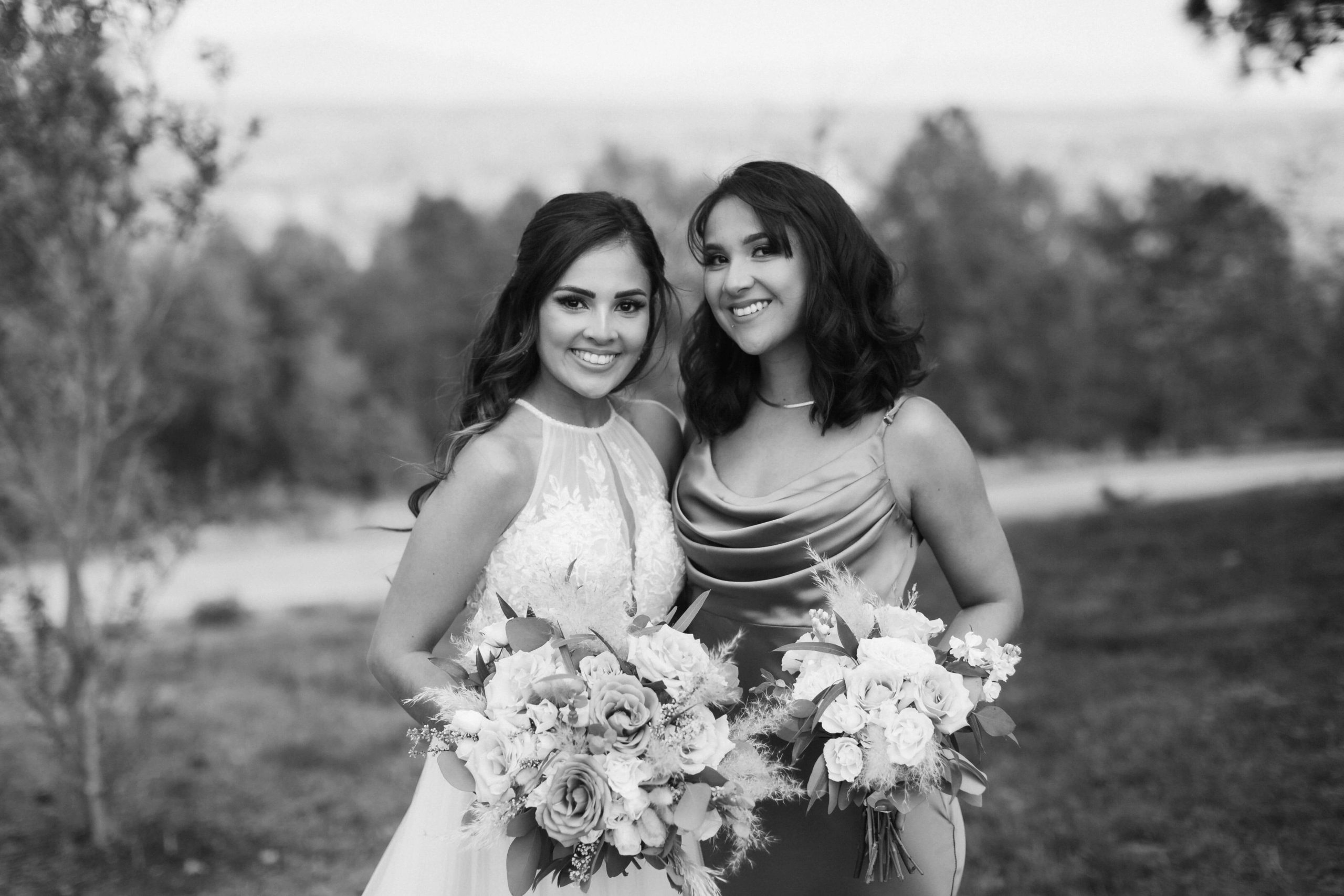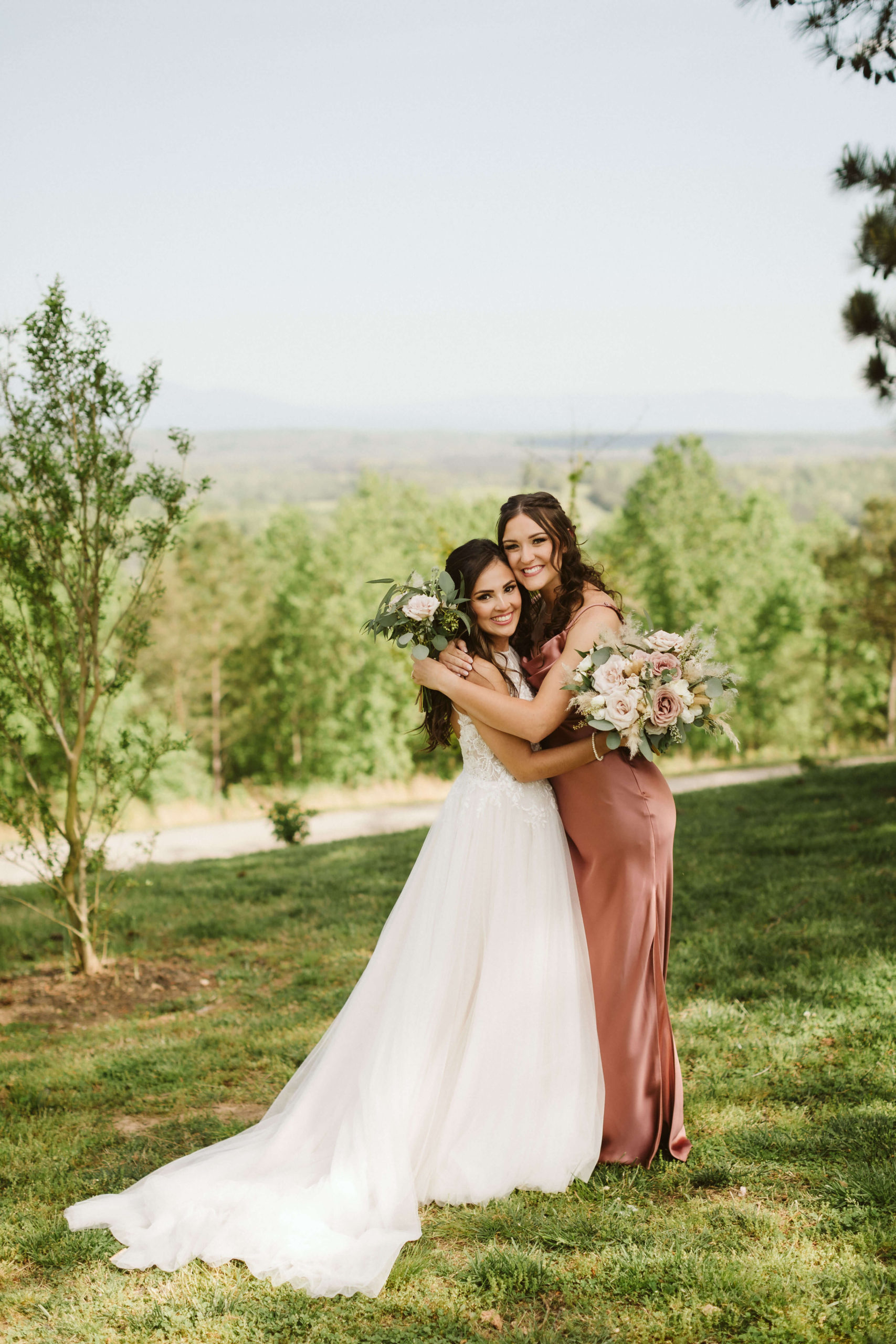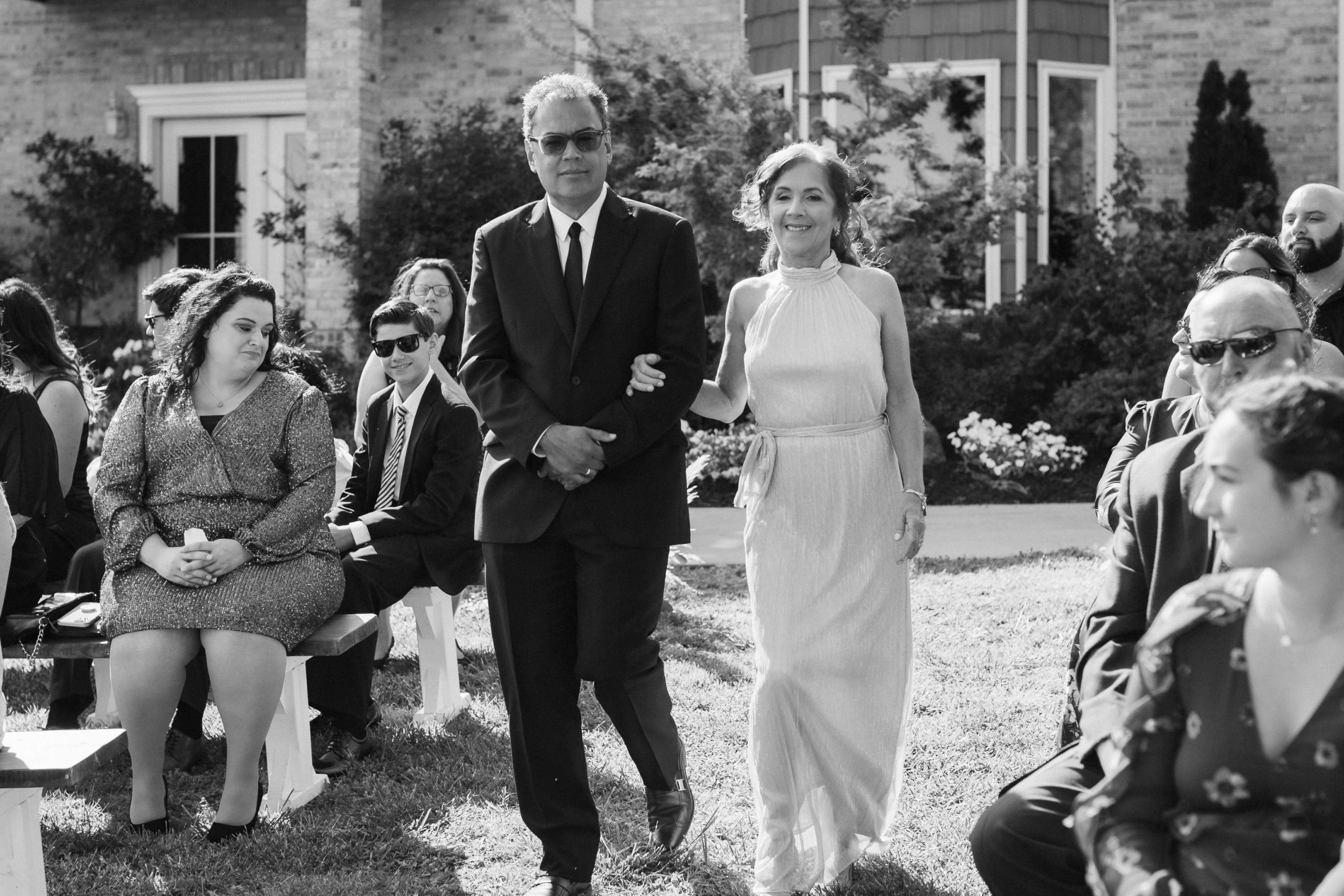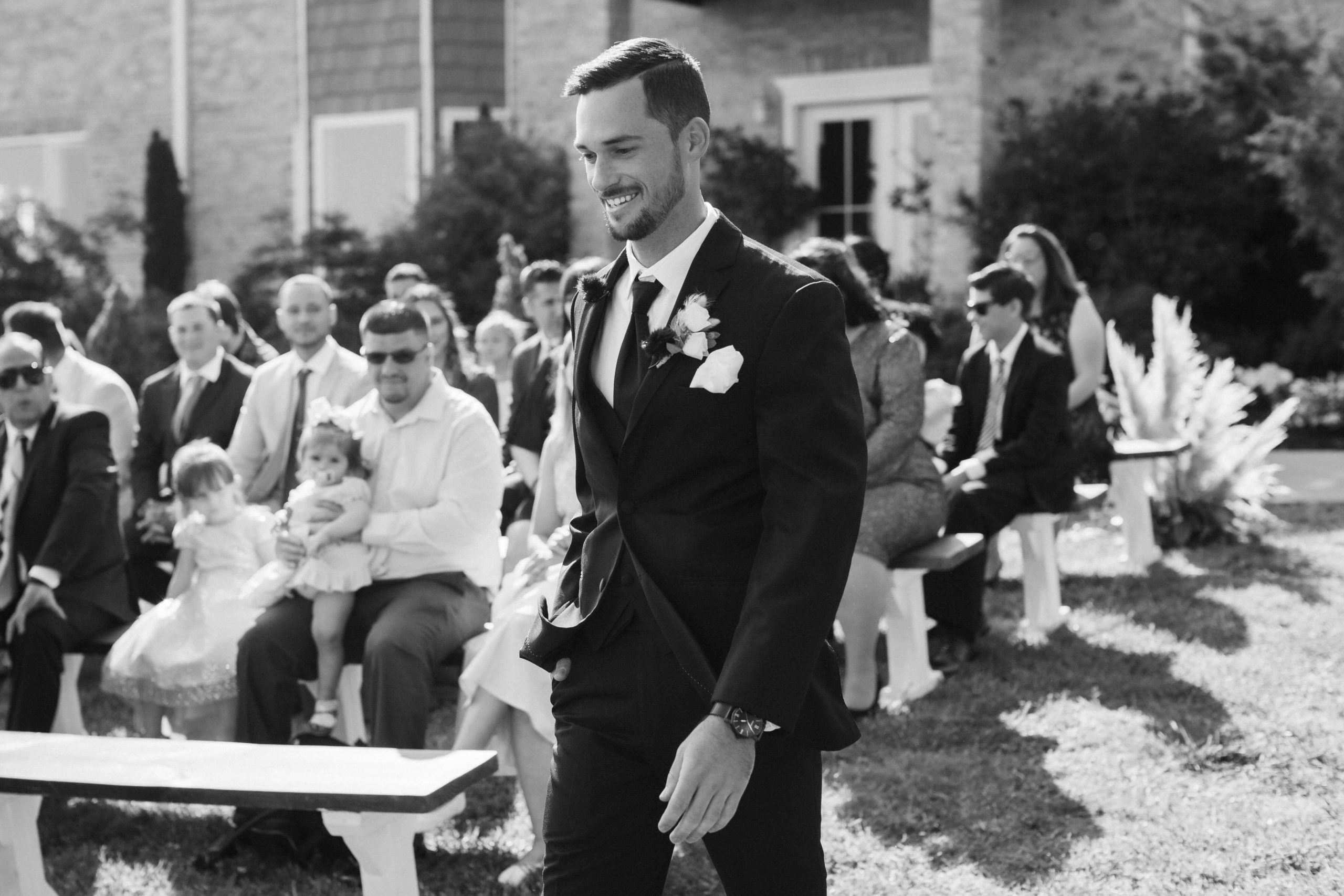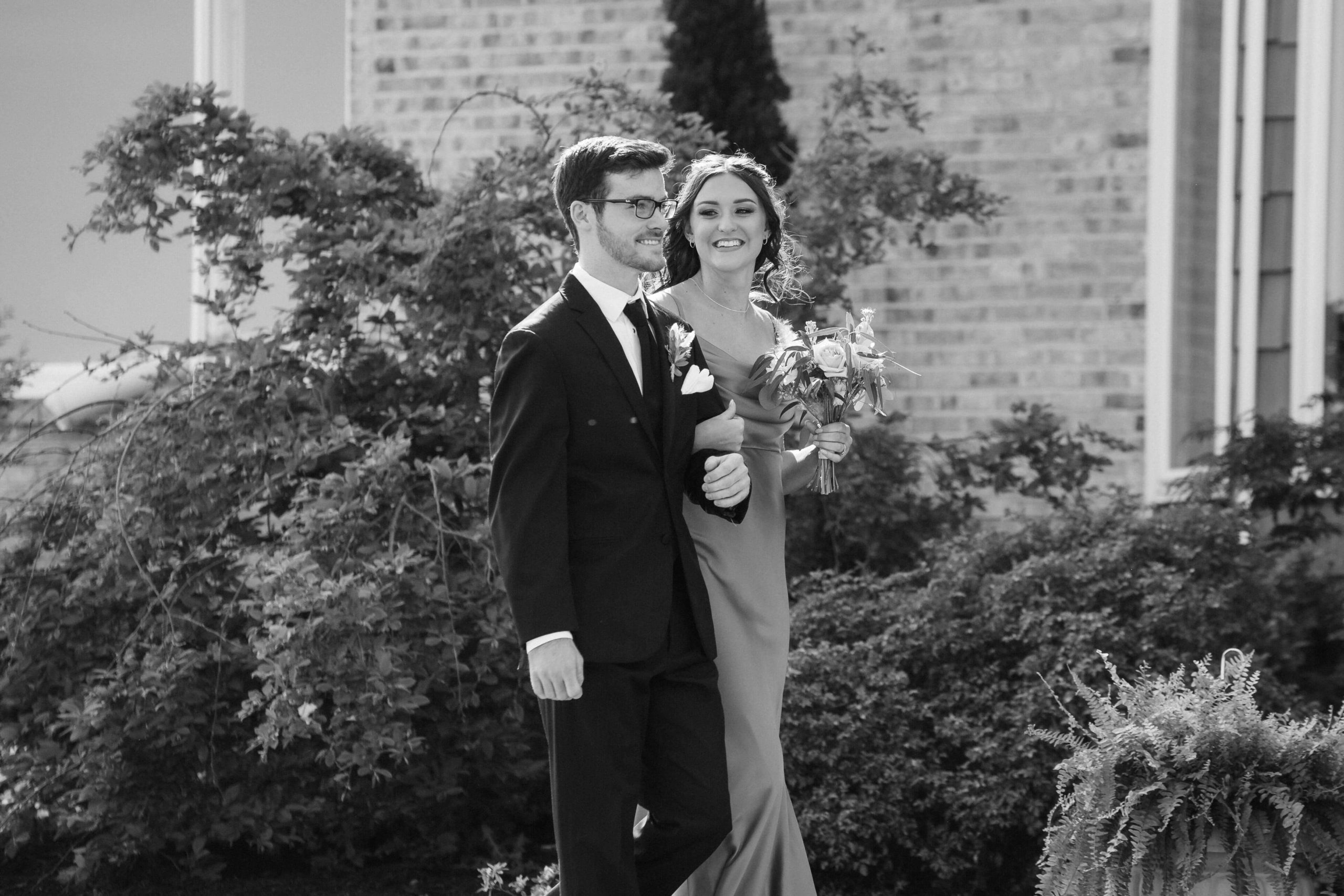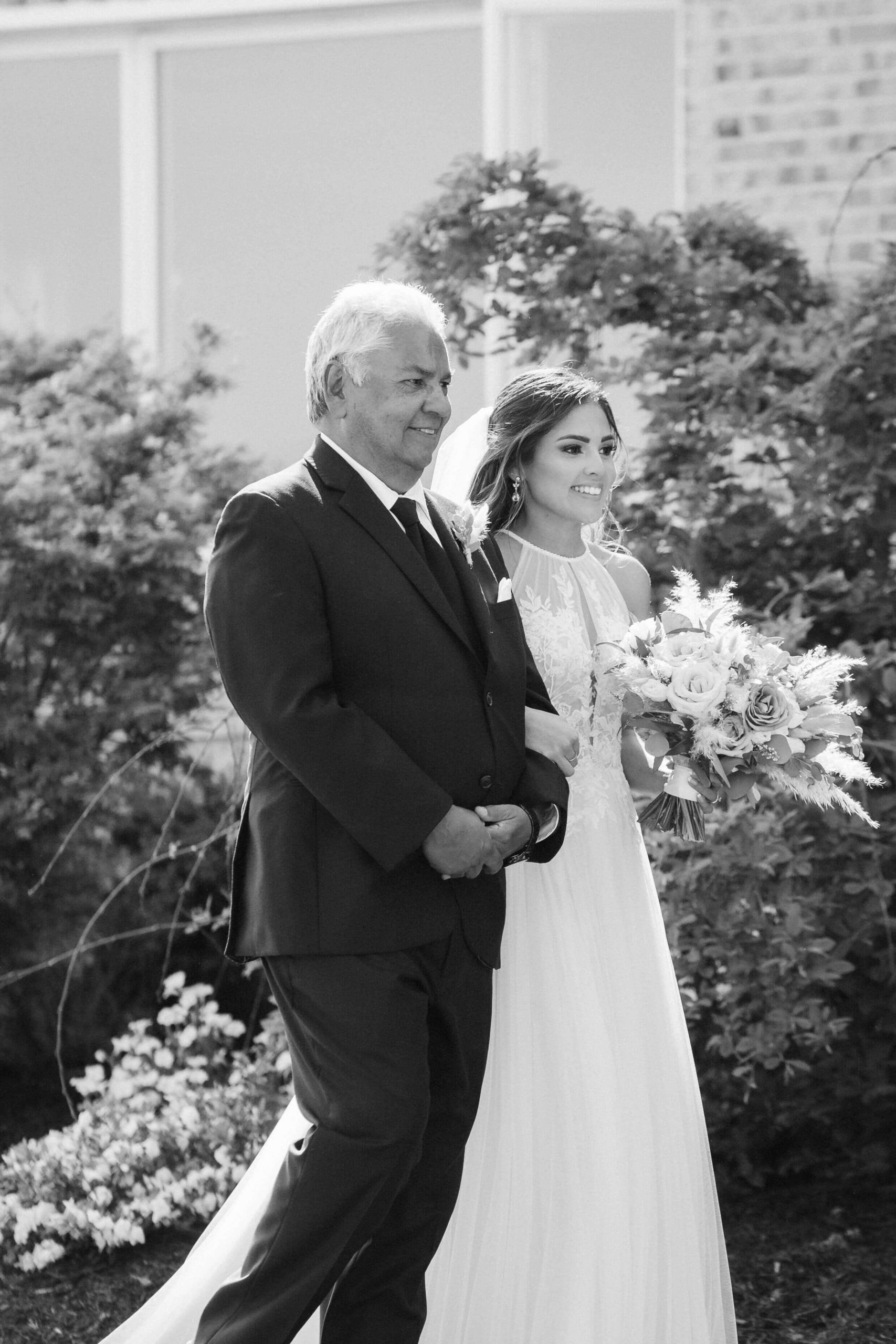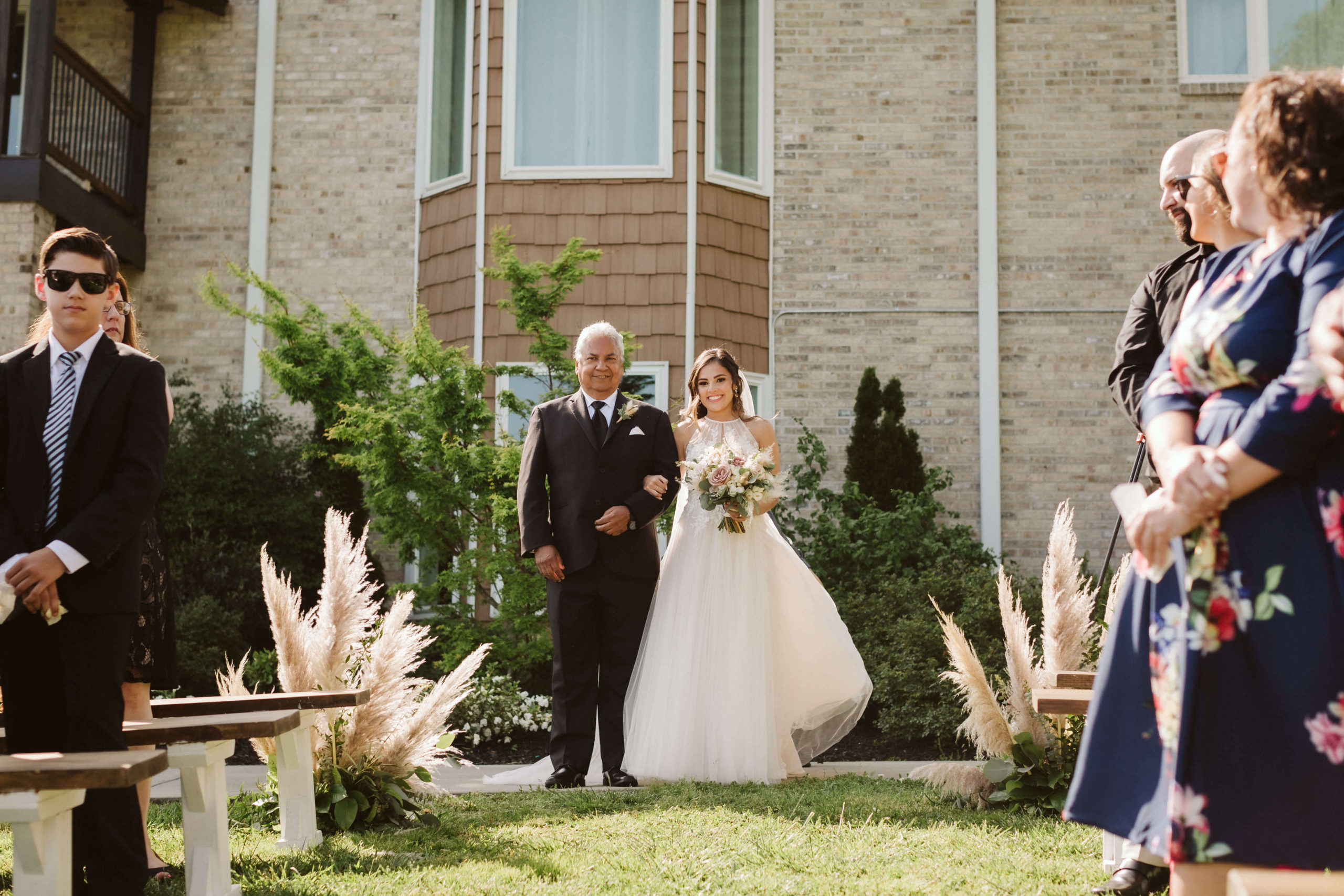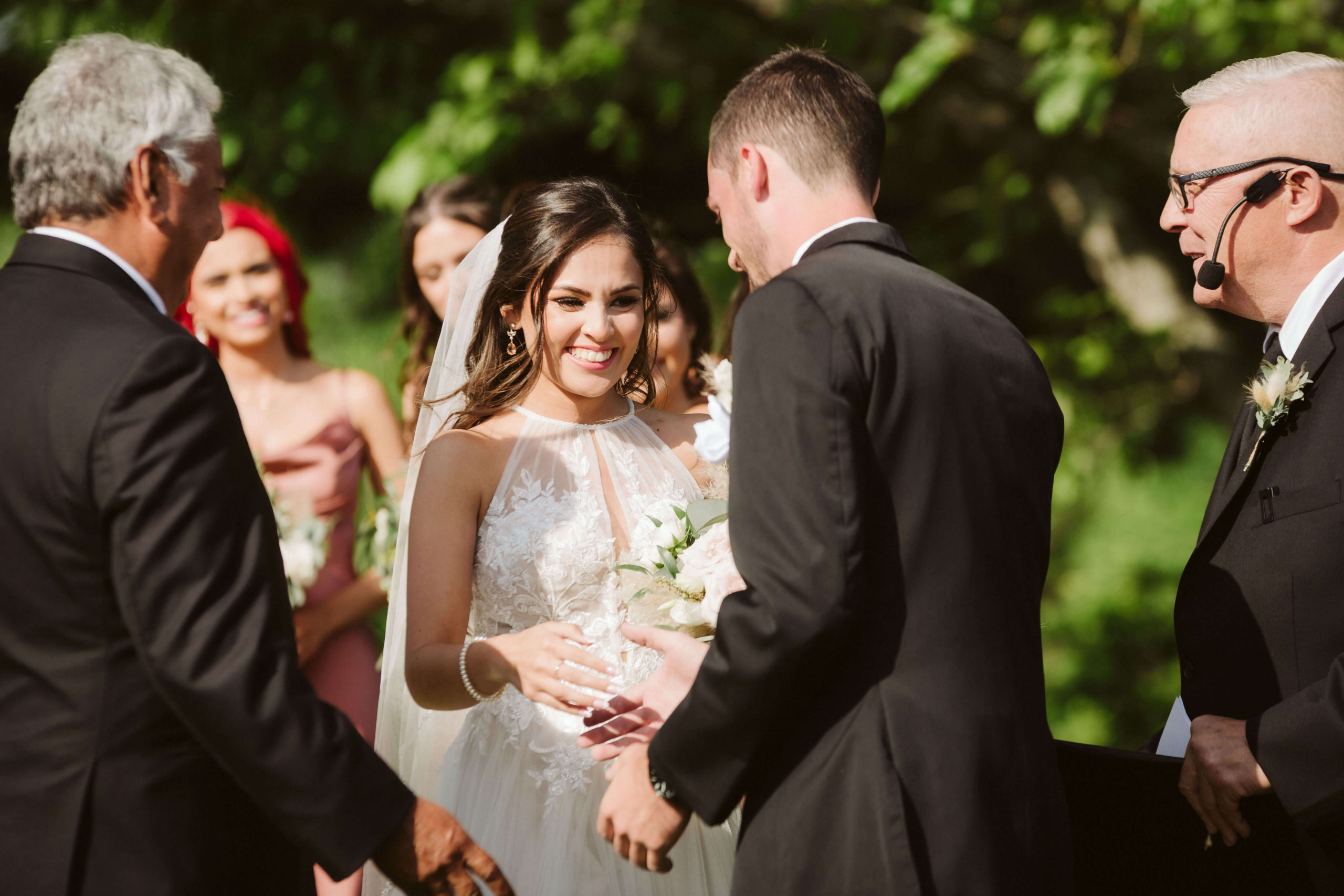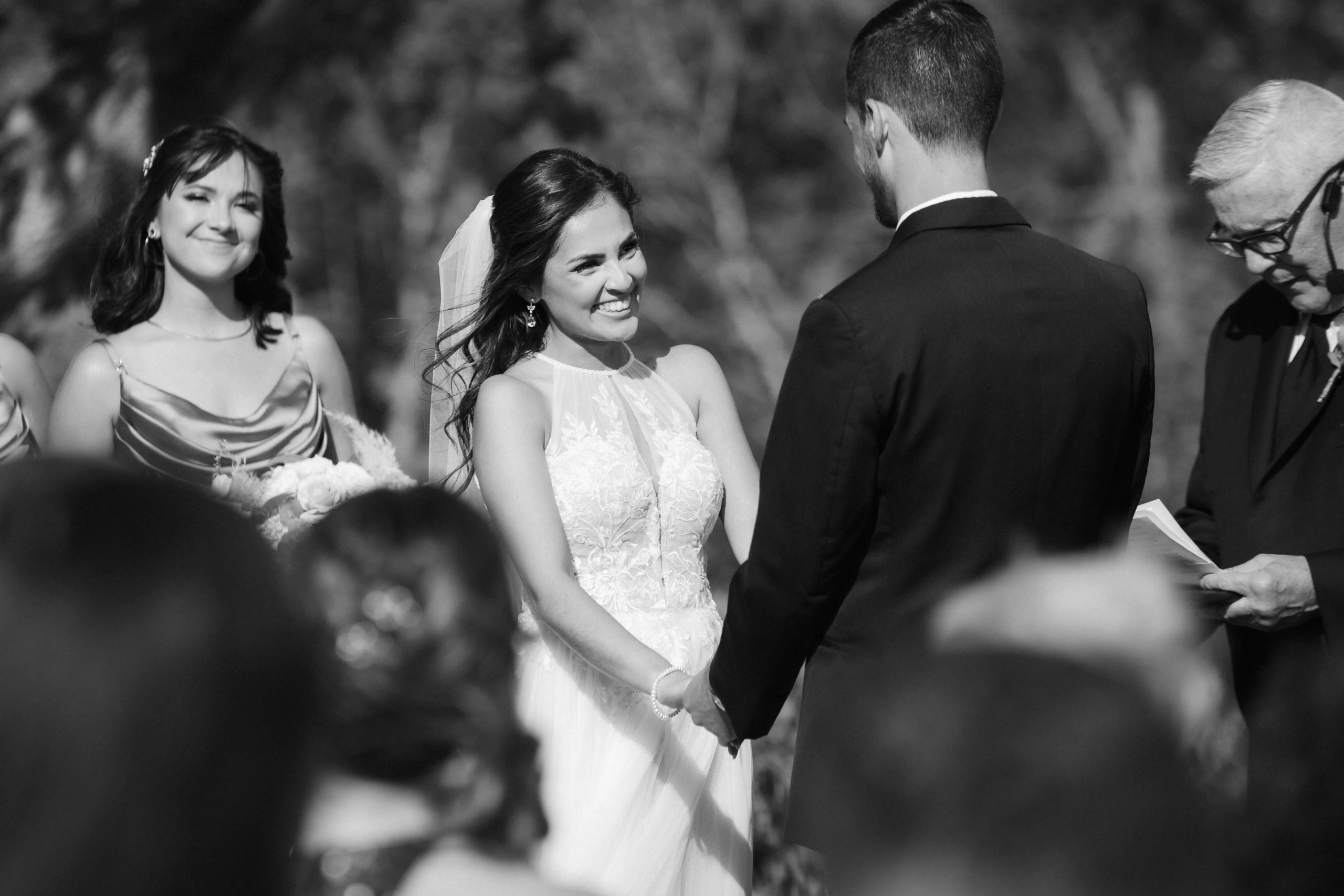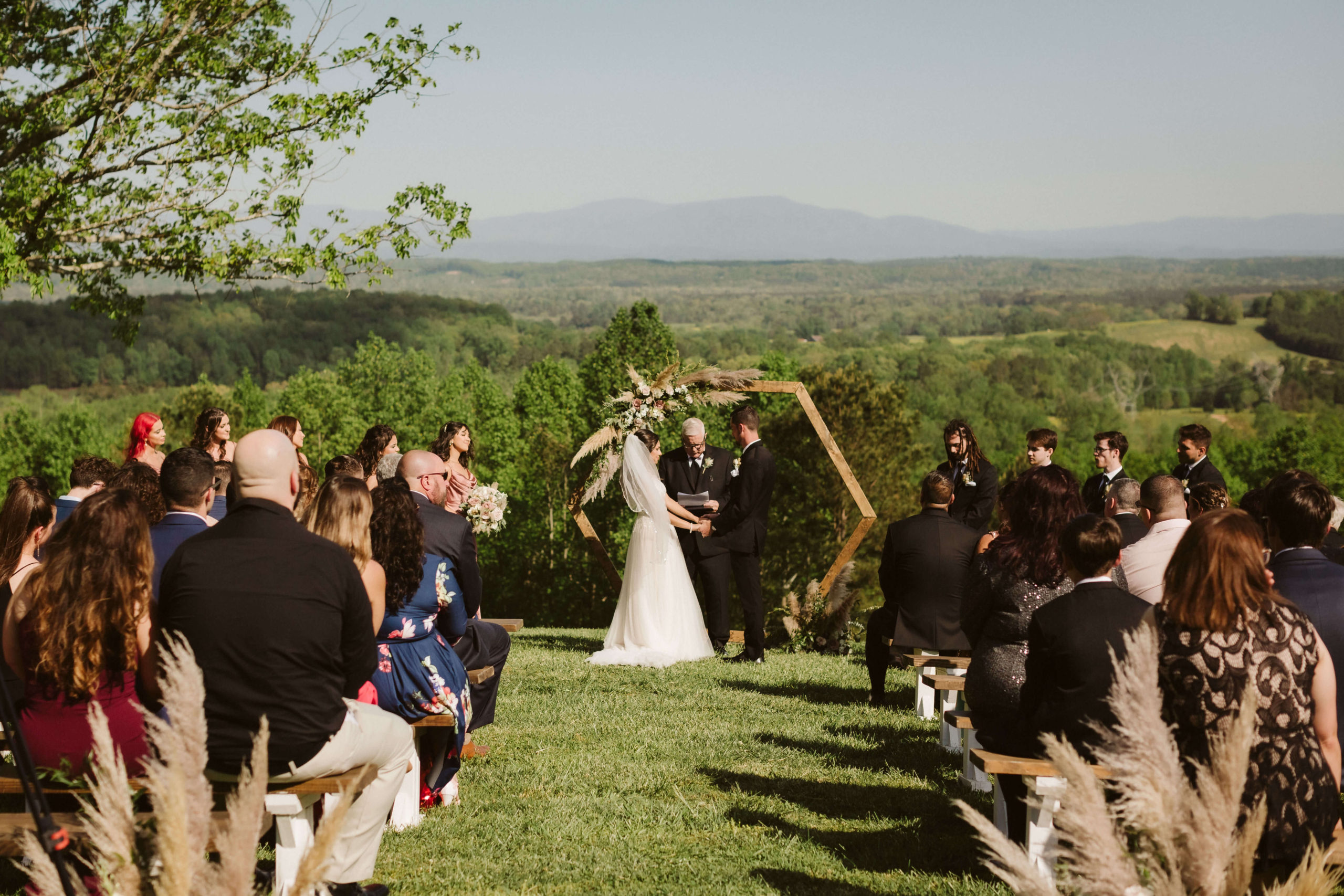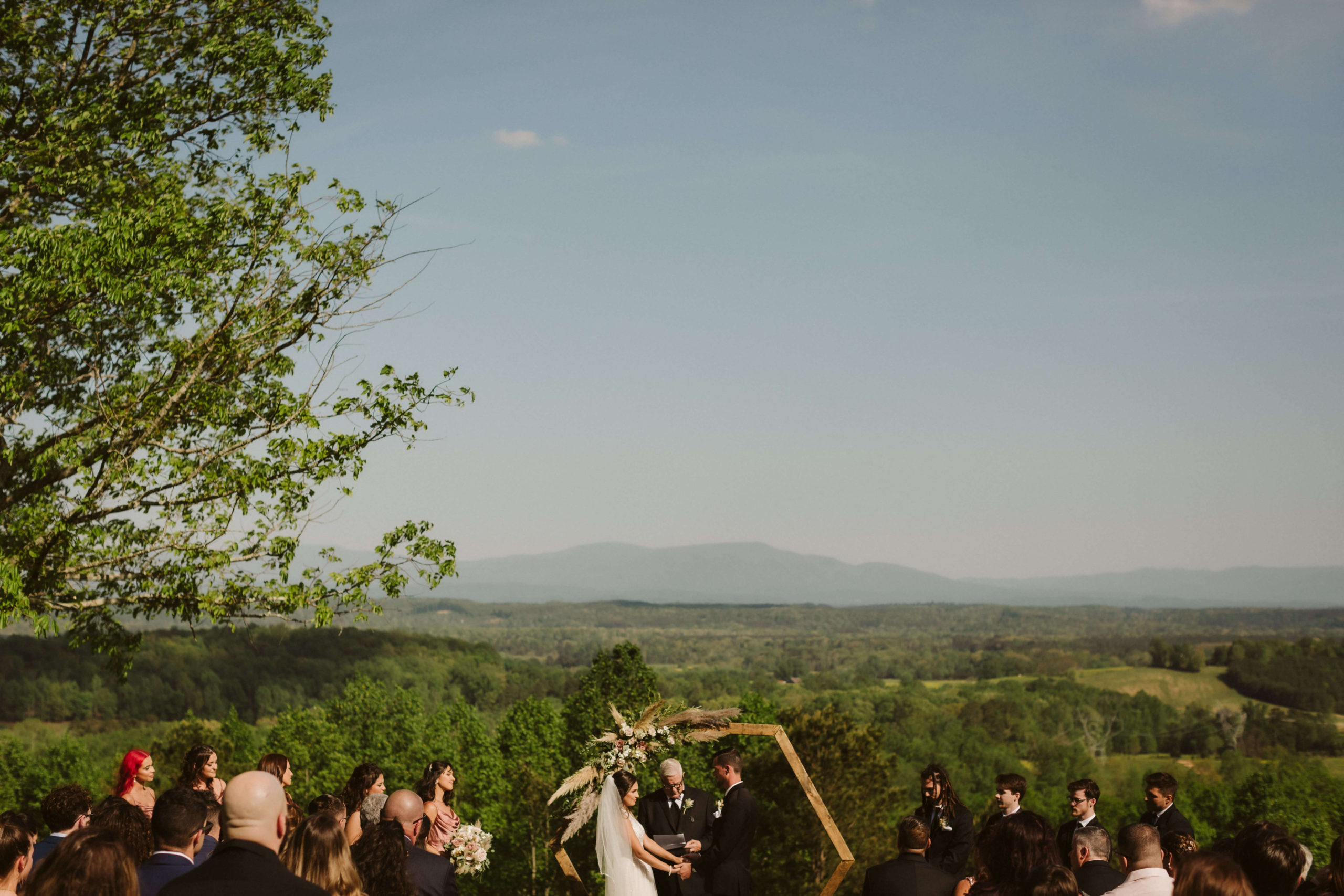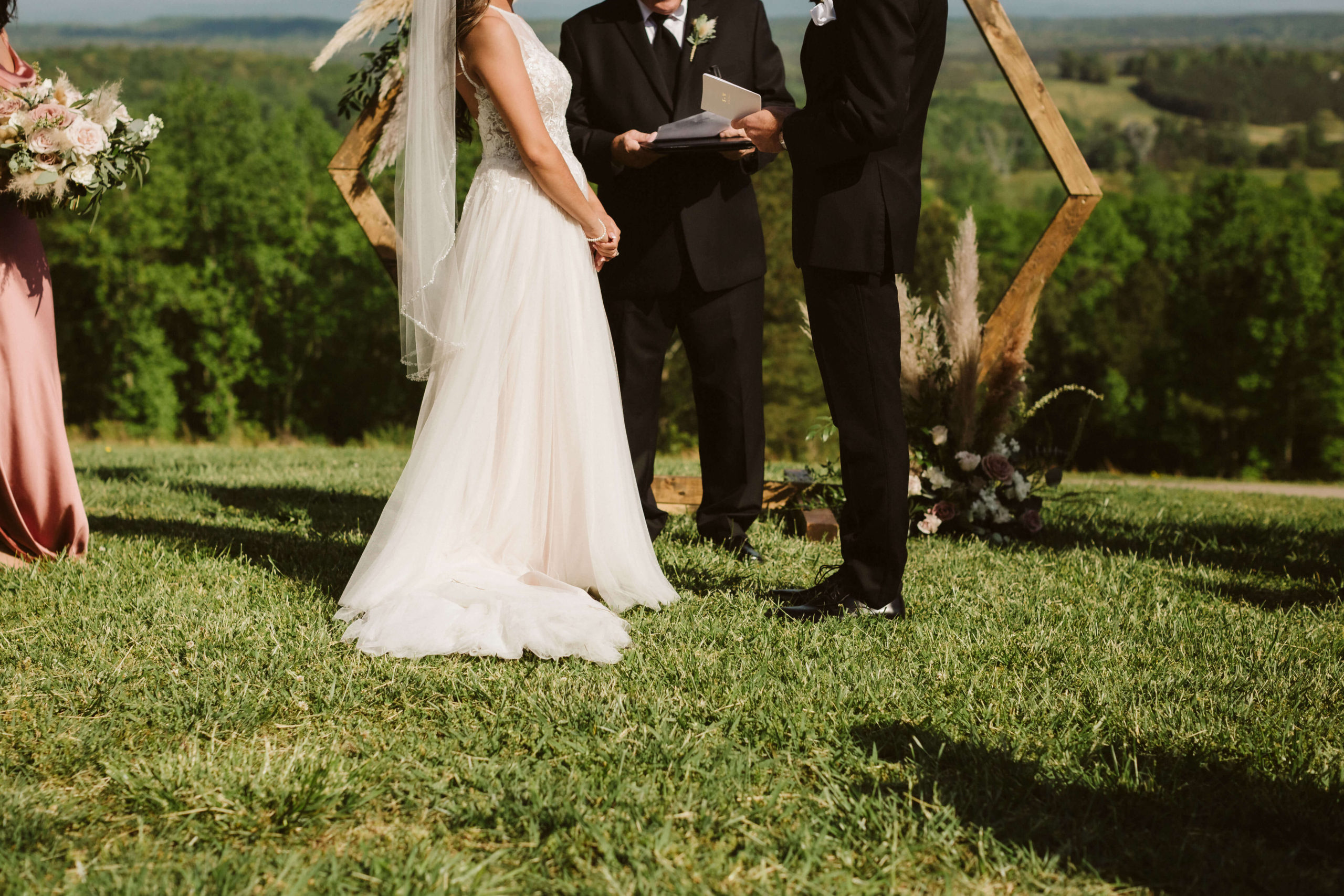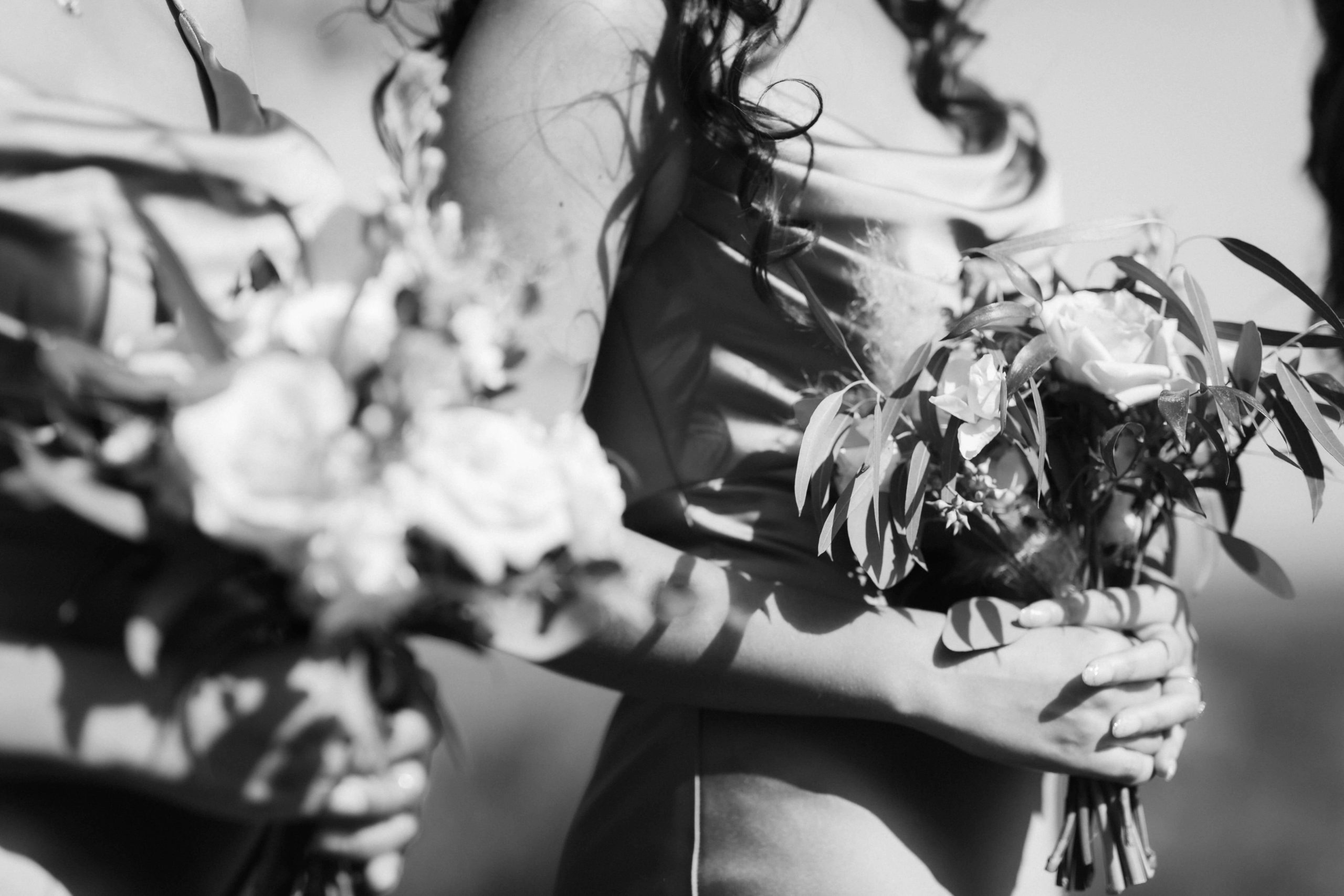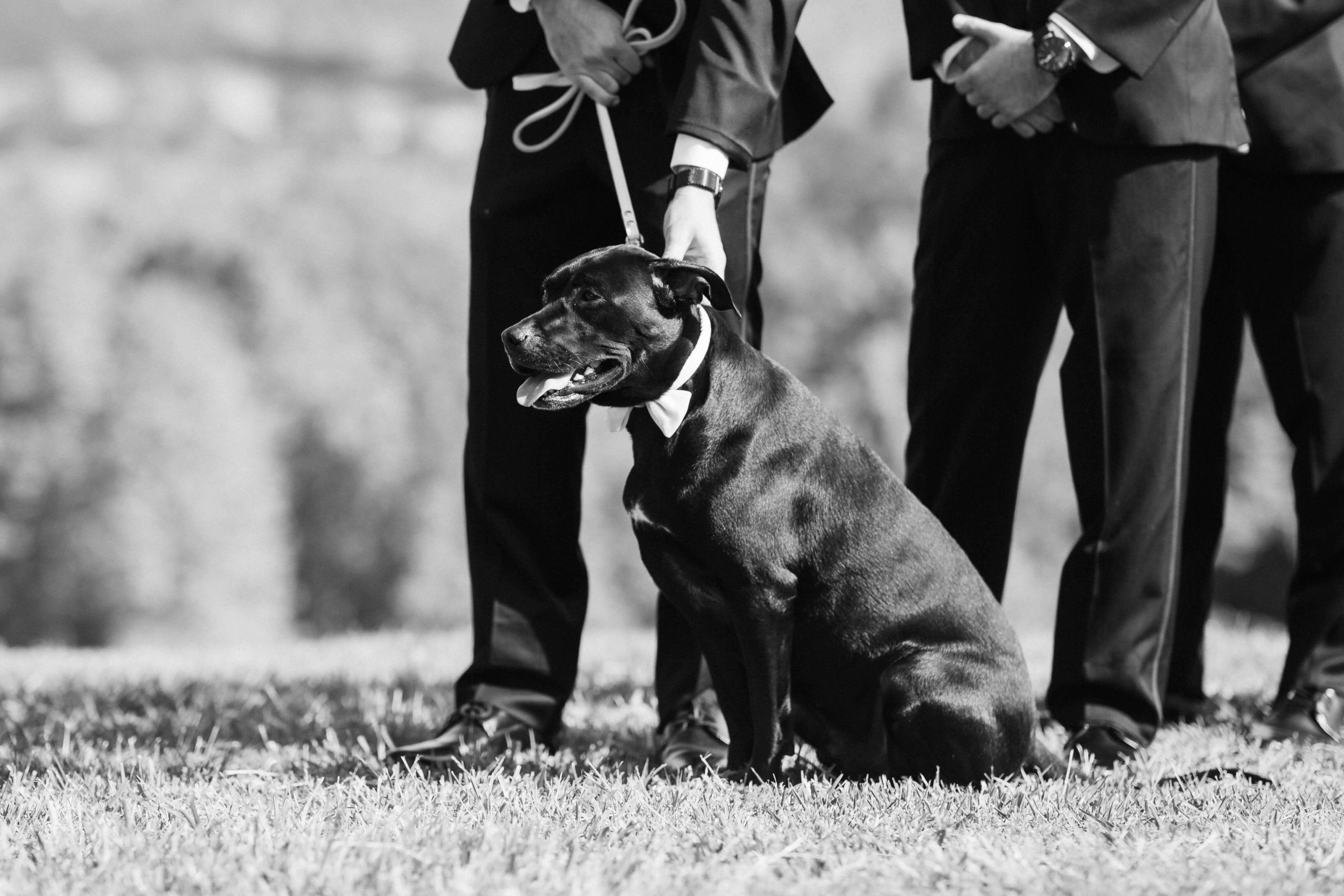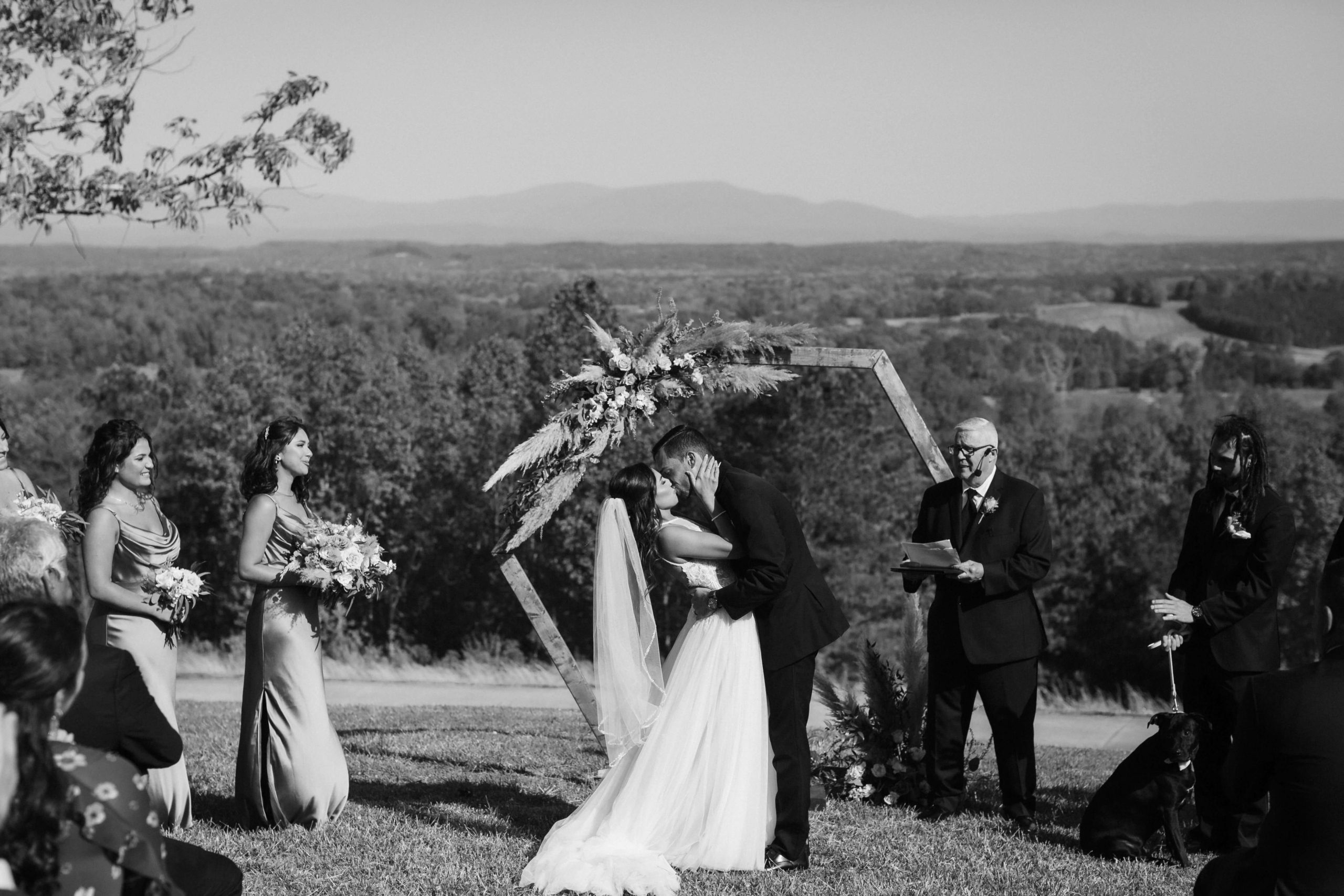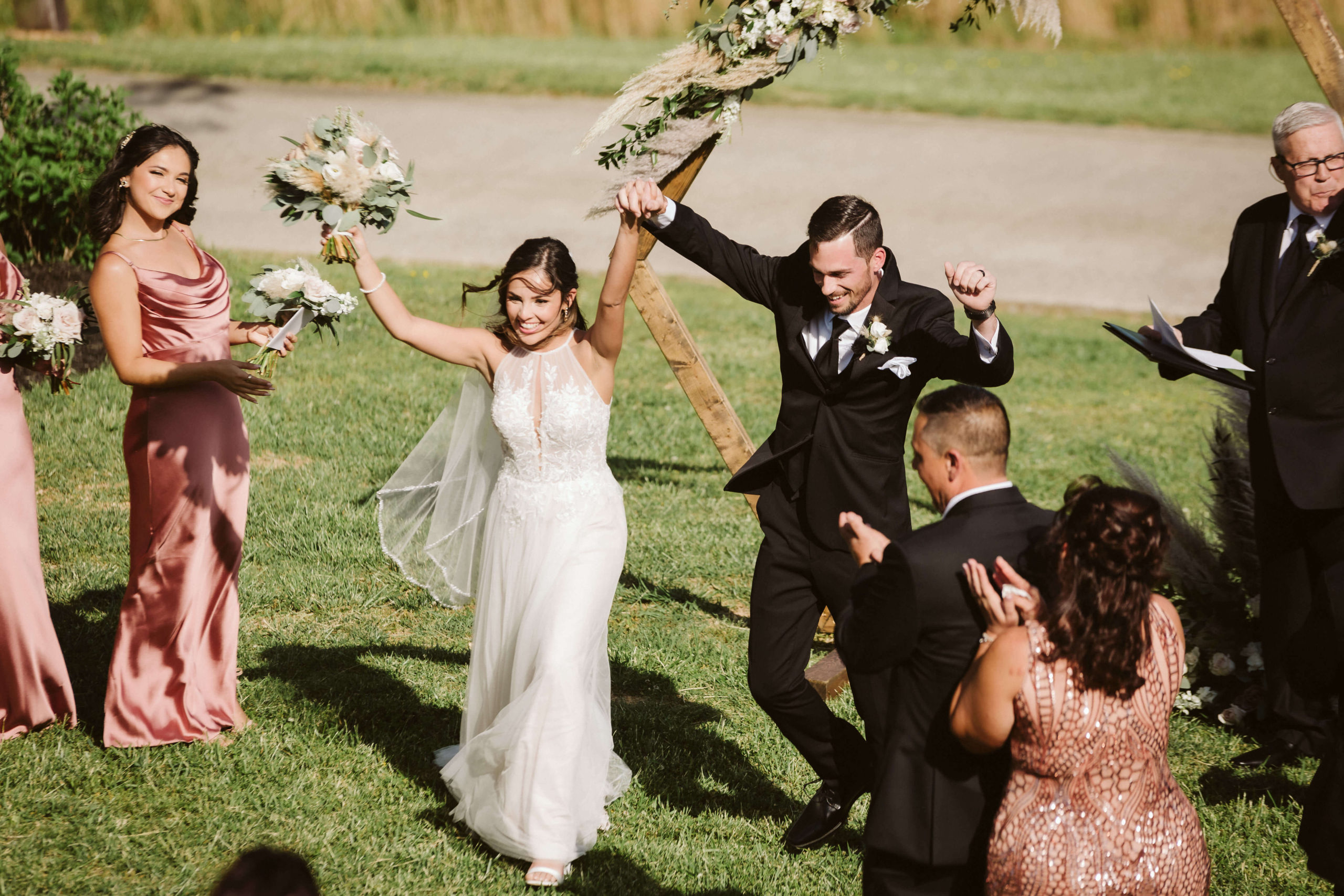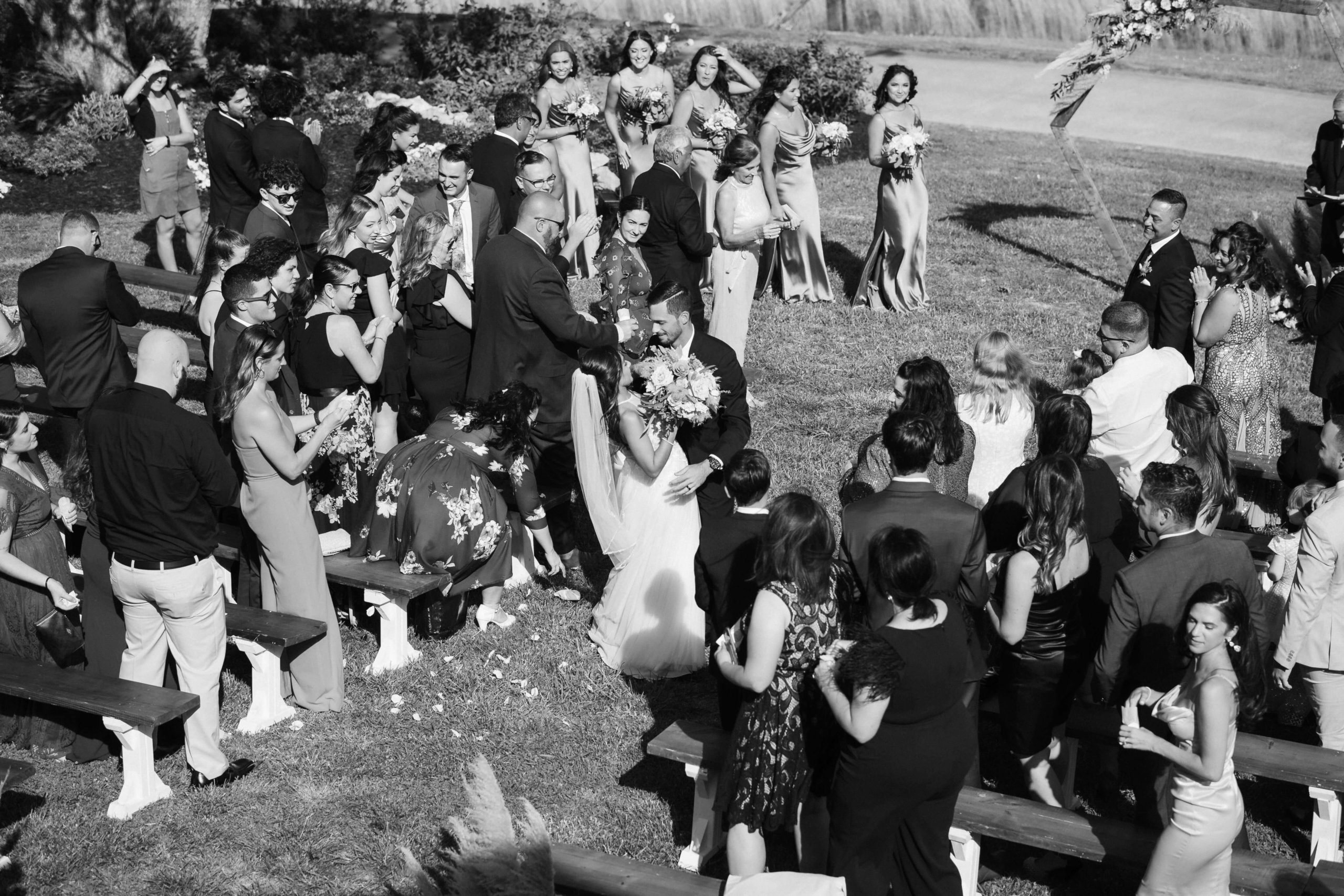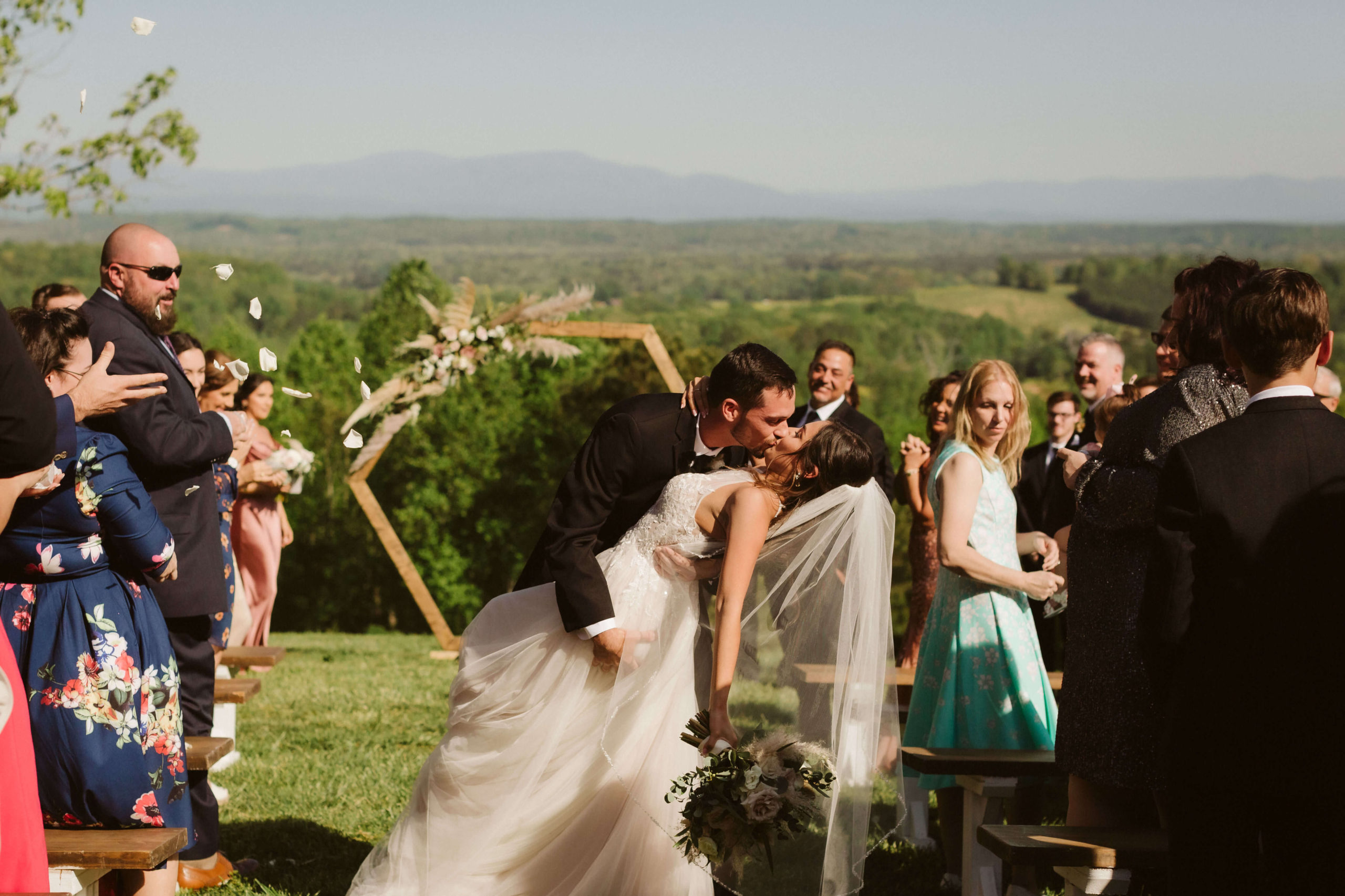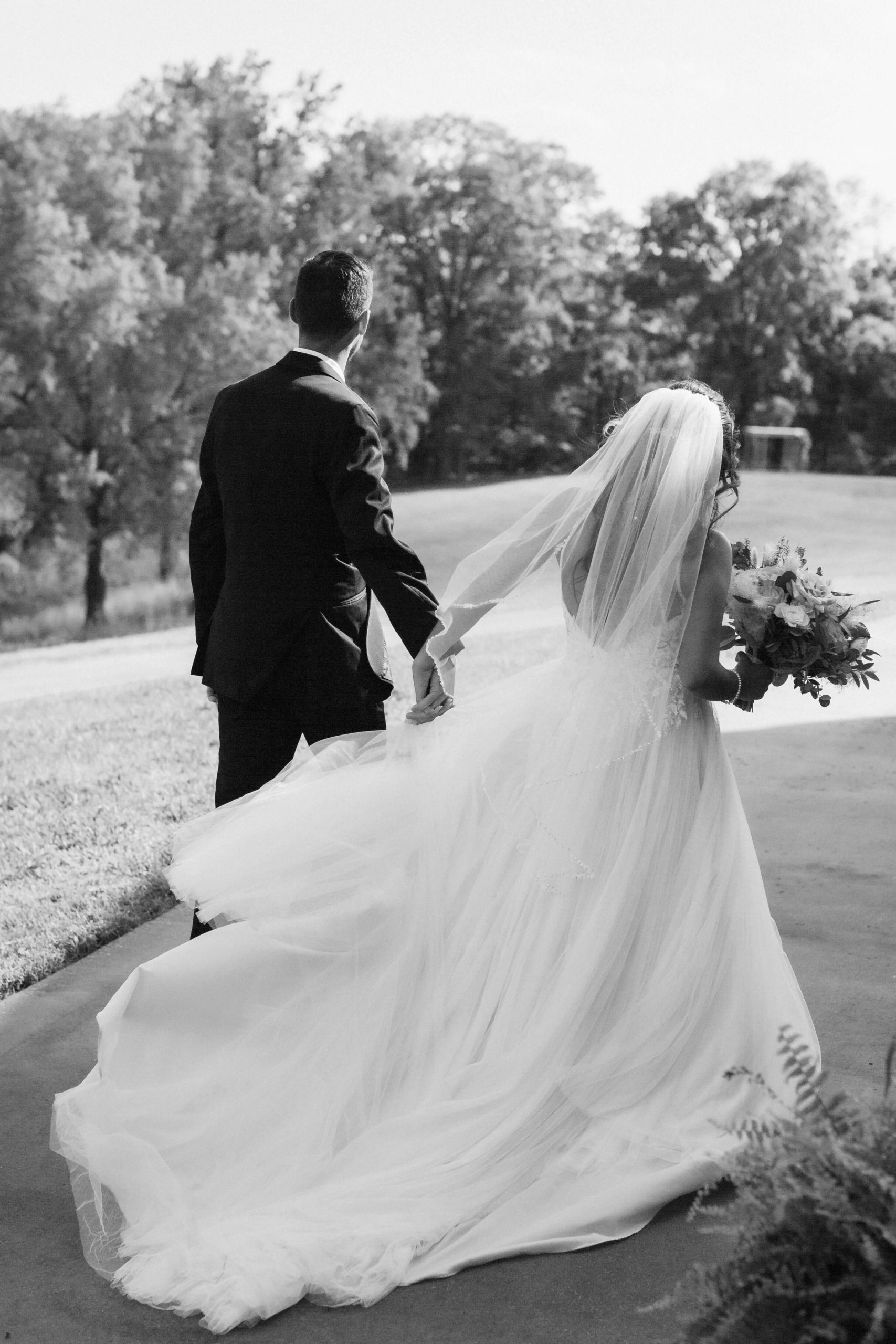 Getting Ready in Style at the Views at Sunset Ridge
Stephany and William's wedding fully took place at The Views at Sunset Ridge. From getting ready all the way to the final send off, all their special moments of the day were captured here.
The day started in The View's unparalleled bridal suite. In this luxury room, the bride and her bridal party can get ready in style. The suite features a 24-foot vanity, along with five beauty stations, a full bathroom, a dressing room, and even a sitting area. We had the lay of the land when it came time to take pictures and had a full on photoshoot with Stephany and her bridesmaids. The girls were decked out in matching PJ sets – slippers and all!
Unlike at many other wedding venues, the bride doesn't get all the fun at The Views at Sunset Ridge. William and his groomsmen suited up in the Groom's Quarters close by. The groom can relax and prepare for the big day with amenities such as a large screen TV, pool table, wet bar, and even an Xbox.
After getting ready, we had two more special moments to capture: Stephanie's first look with her dad and then with William. Stephanie's dad looked so proud of his daughter when he turned around. They hugged and we were able to capture some sweet sentimental photos. Then, it was on to the first look with William. The couple met in ROW Hall for a scene straight out of a fairytale. Like Juliet on her balcony looking down on Romeo, Stephany stood at the top of the grand staircase while William waited with his back turned below. Elegantly, she descended to tap him on the shoulder, where they shared a long hug and a kiss.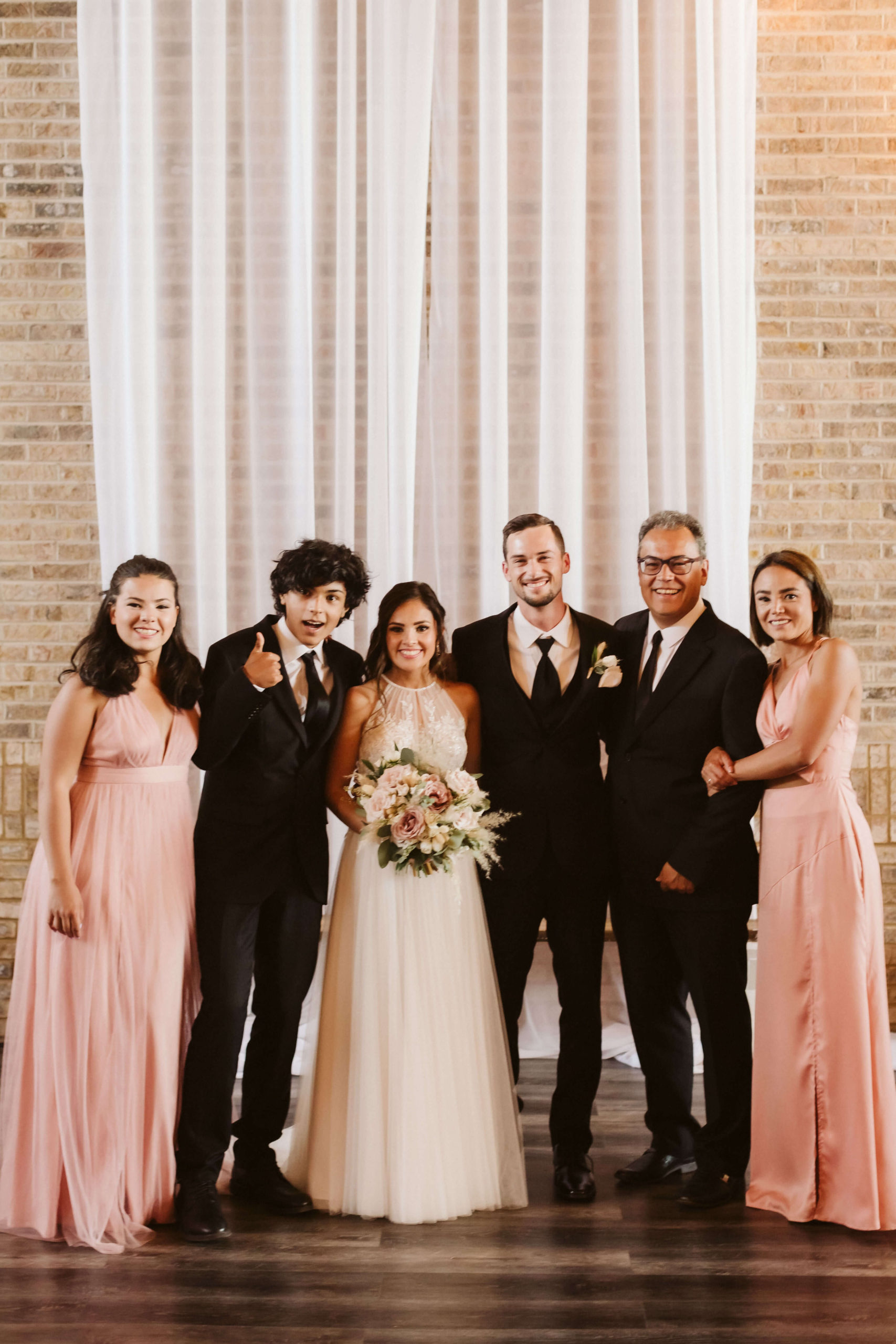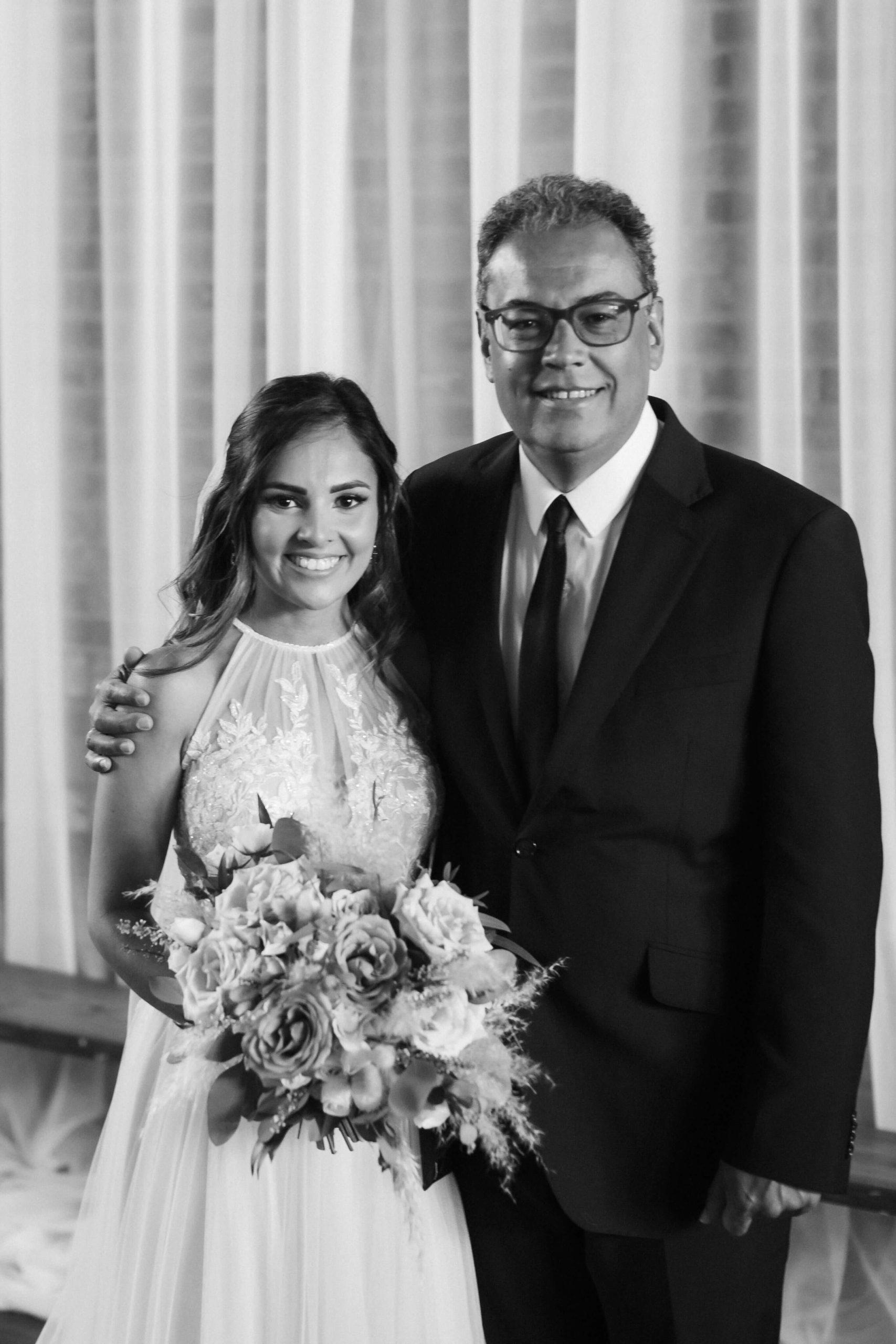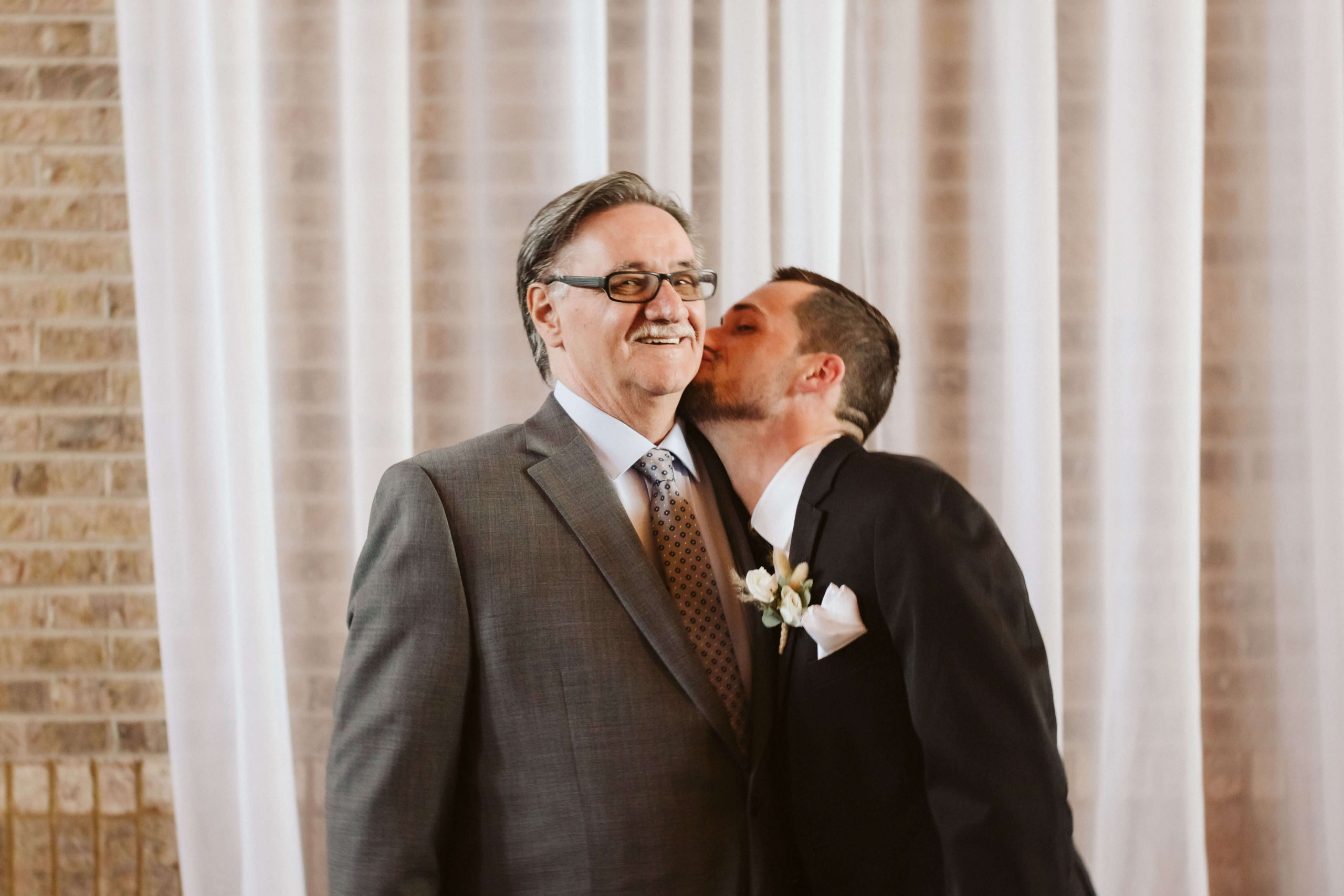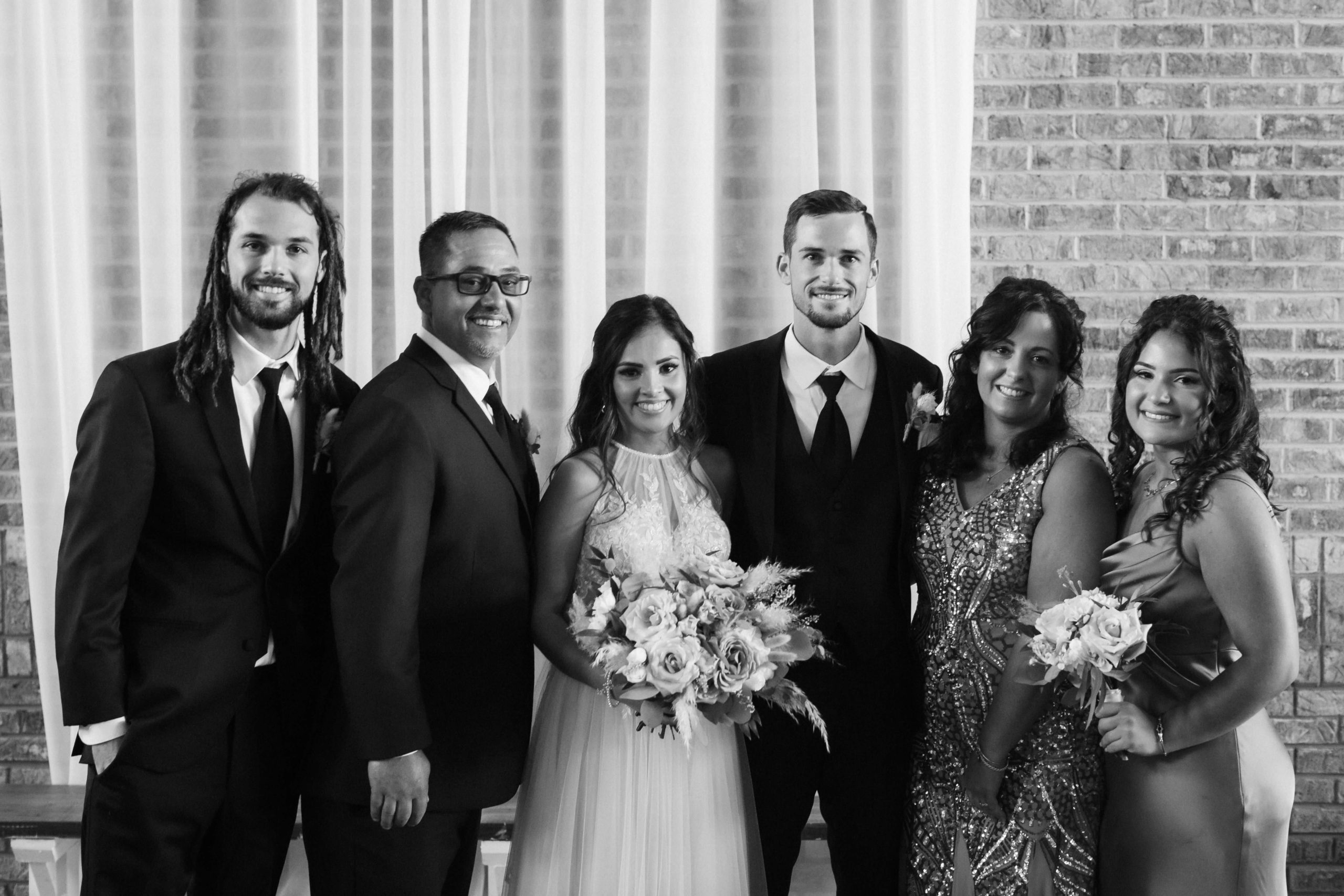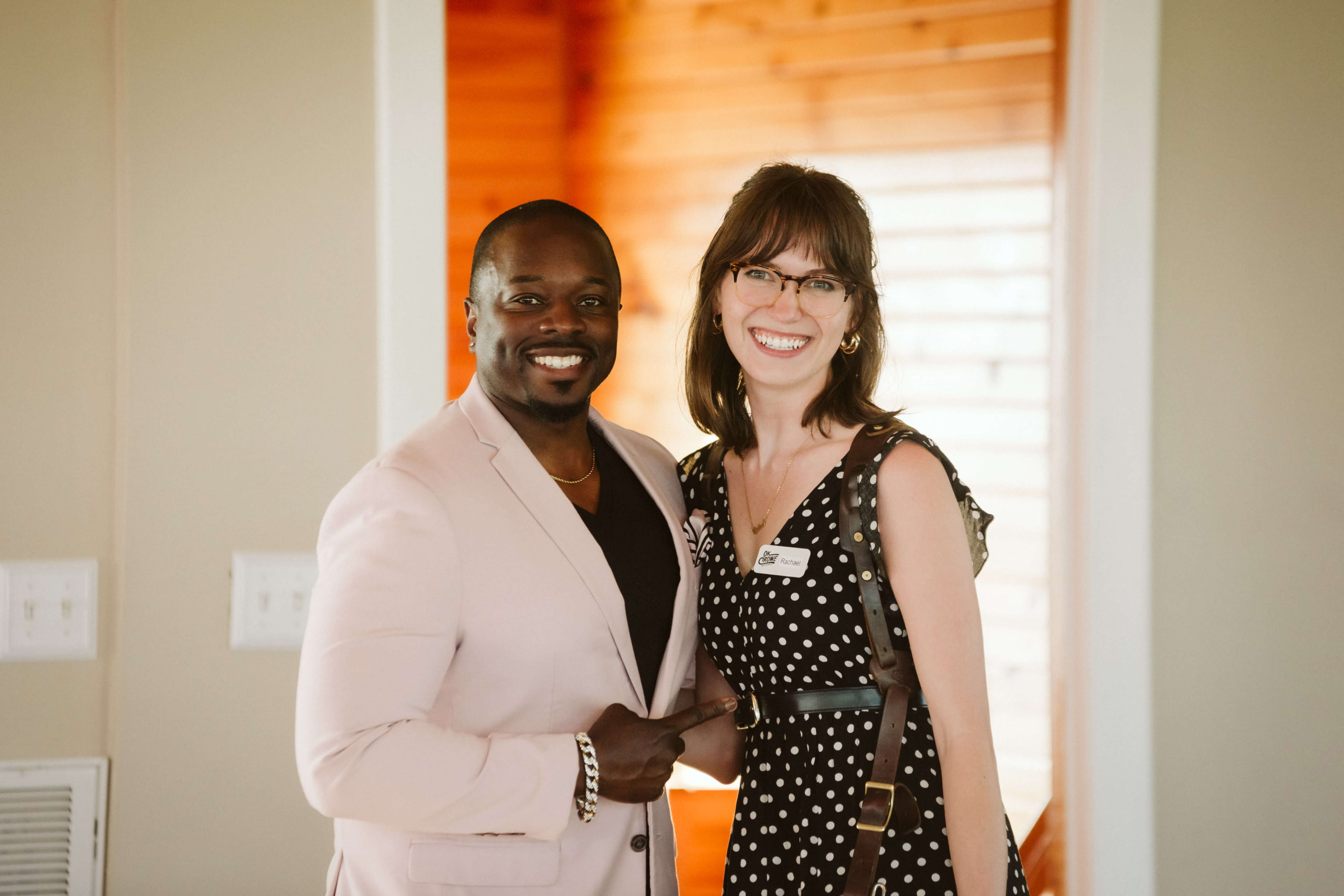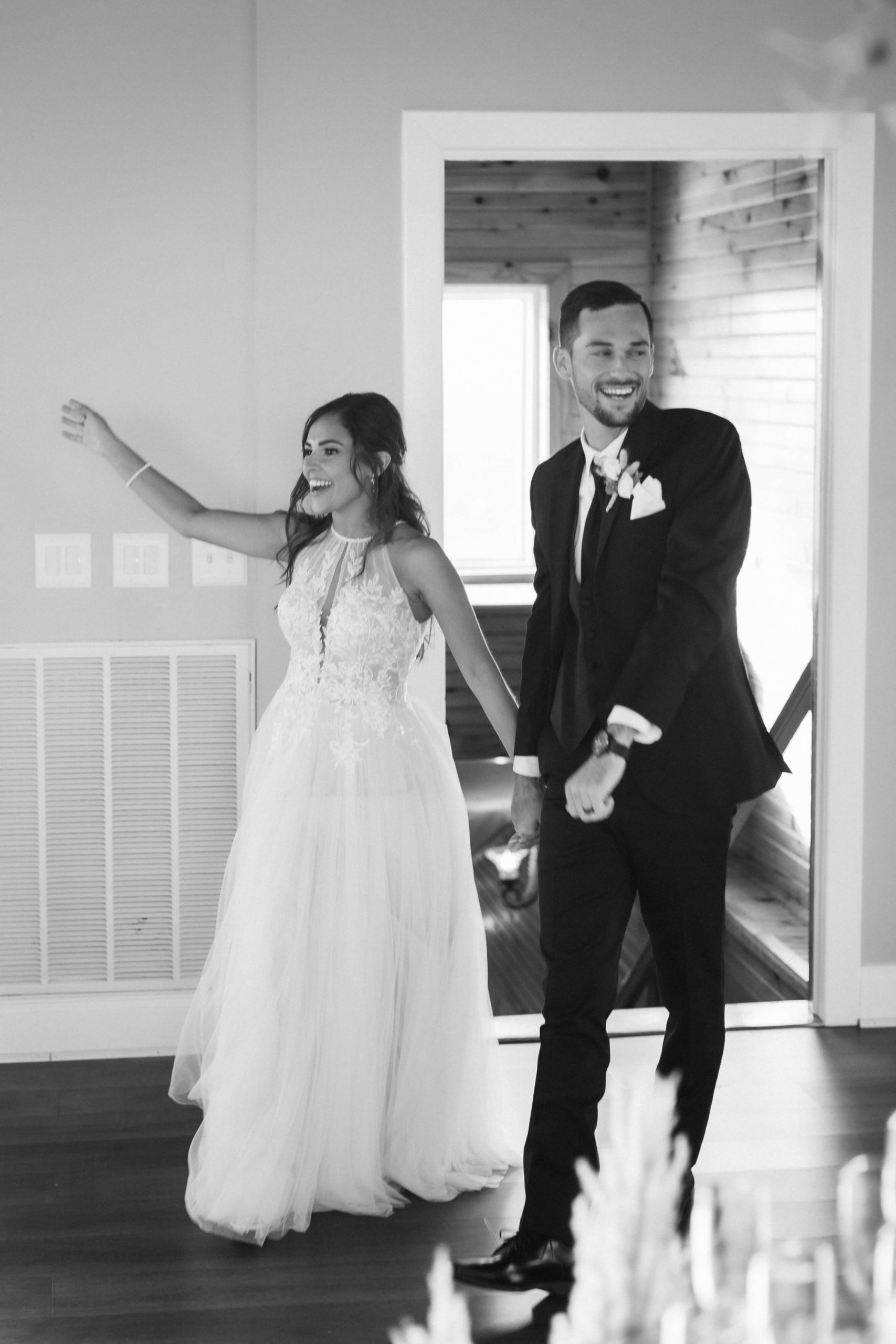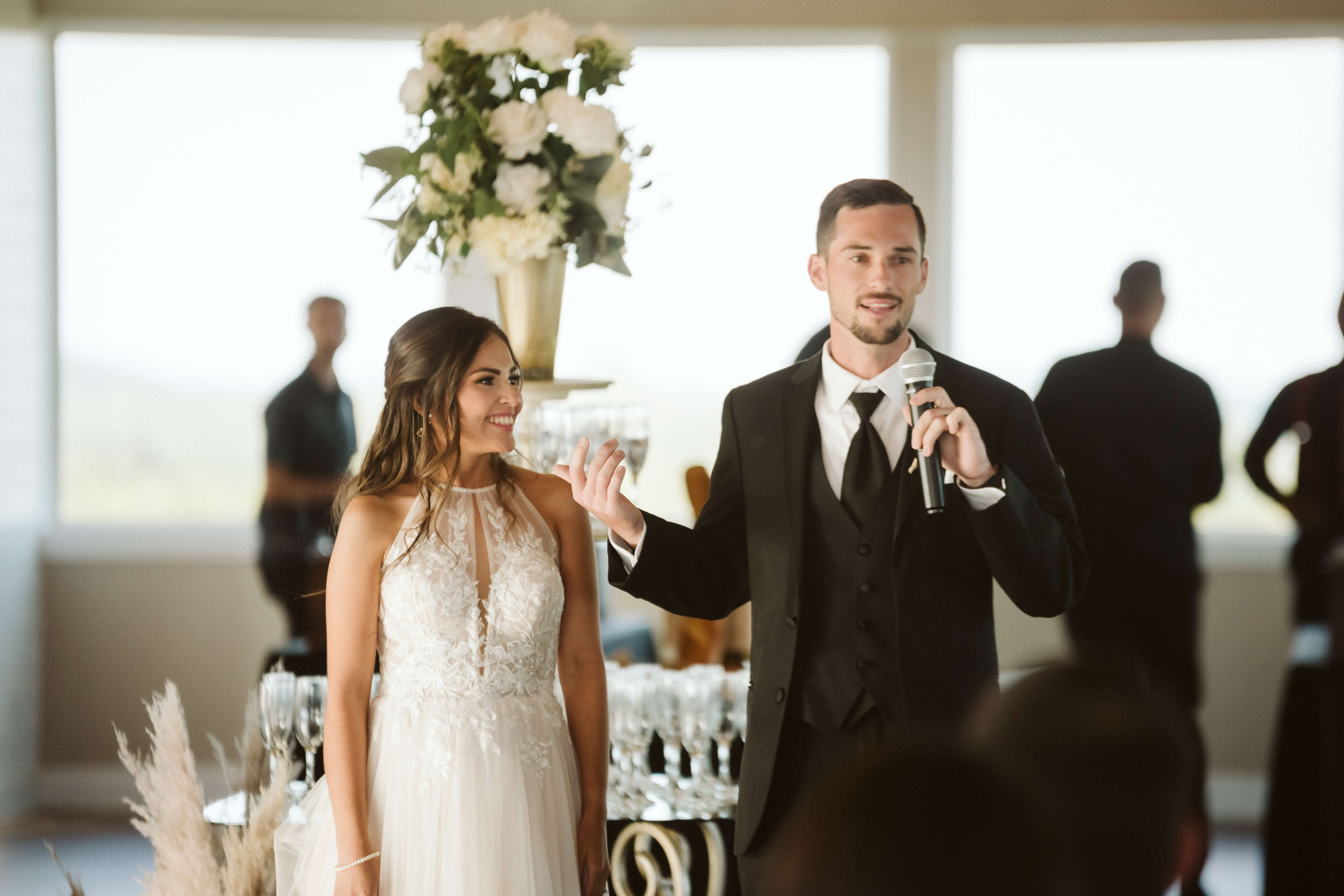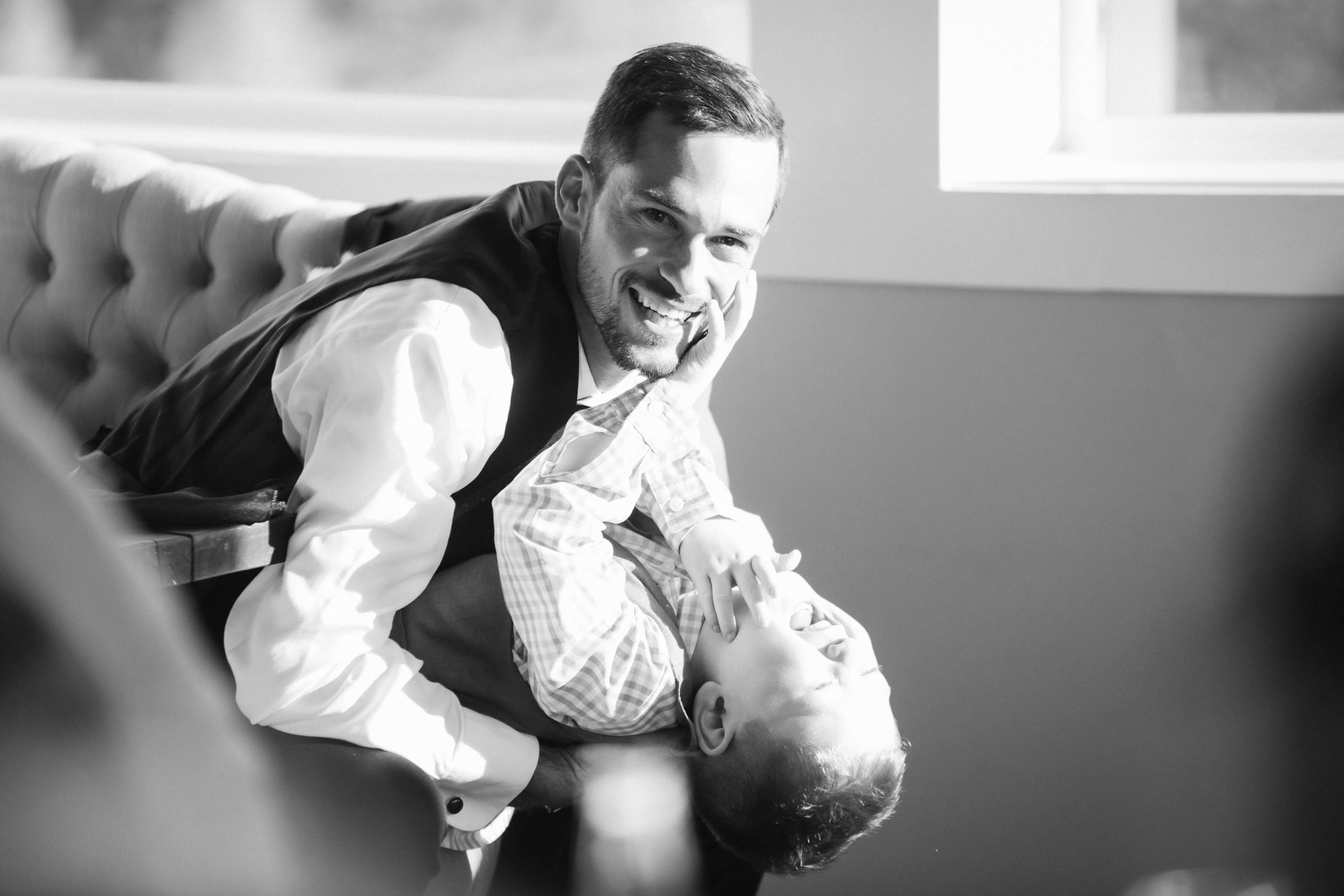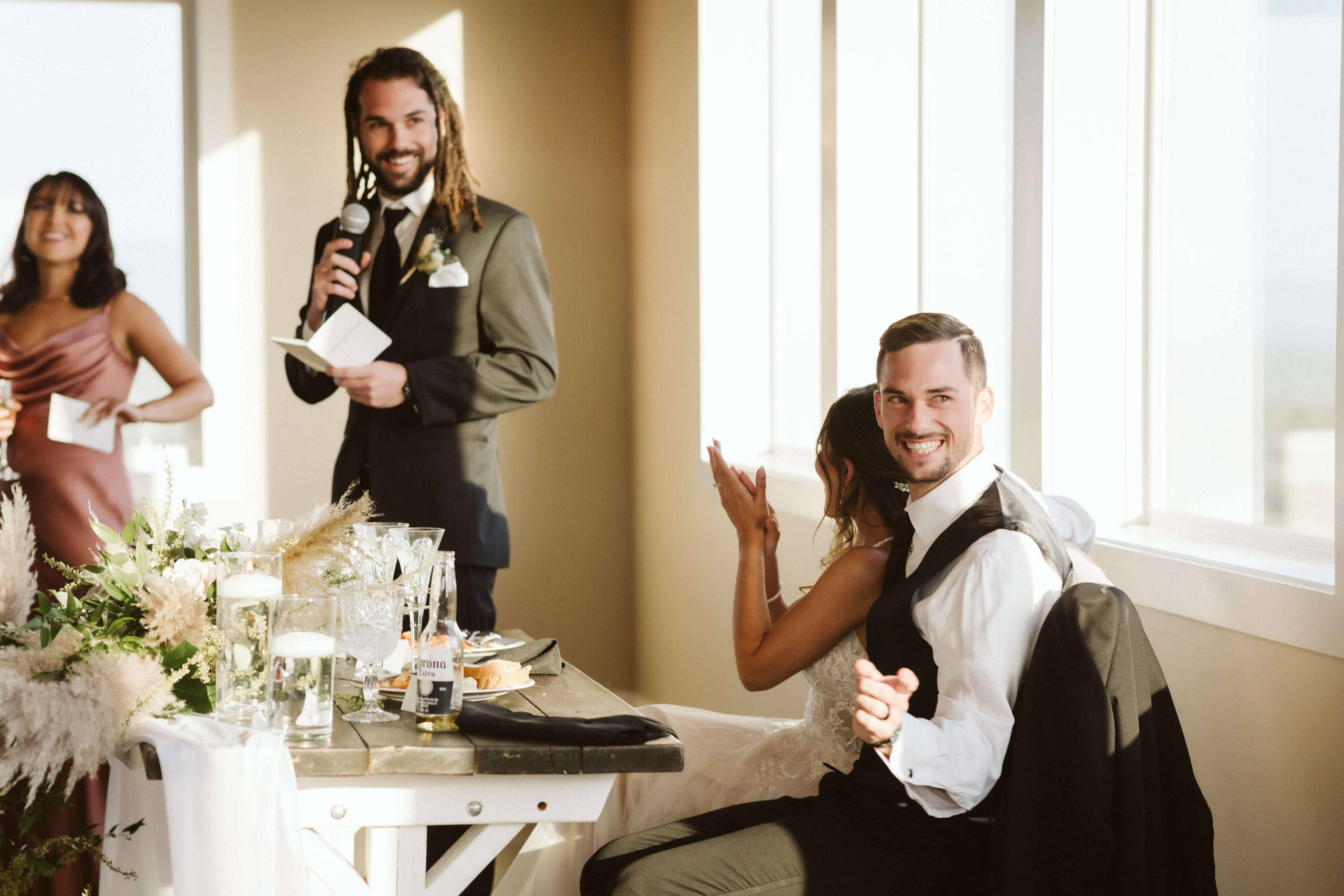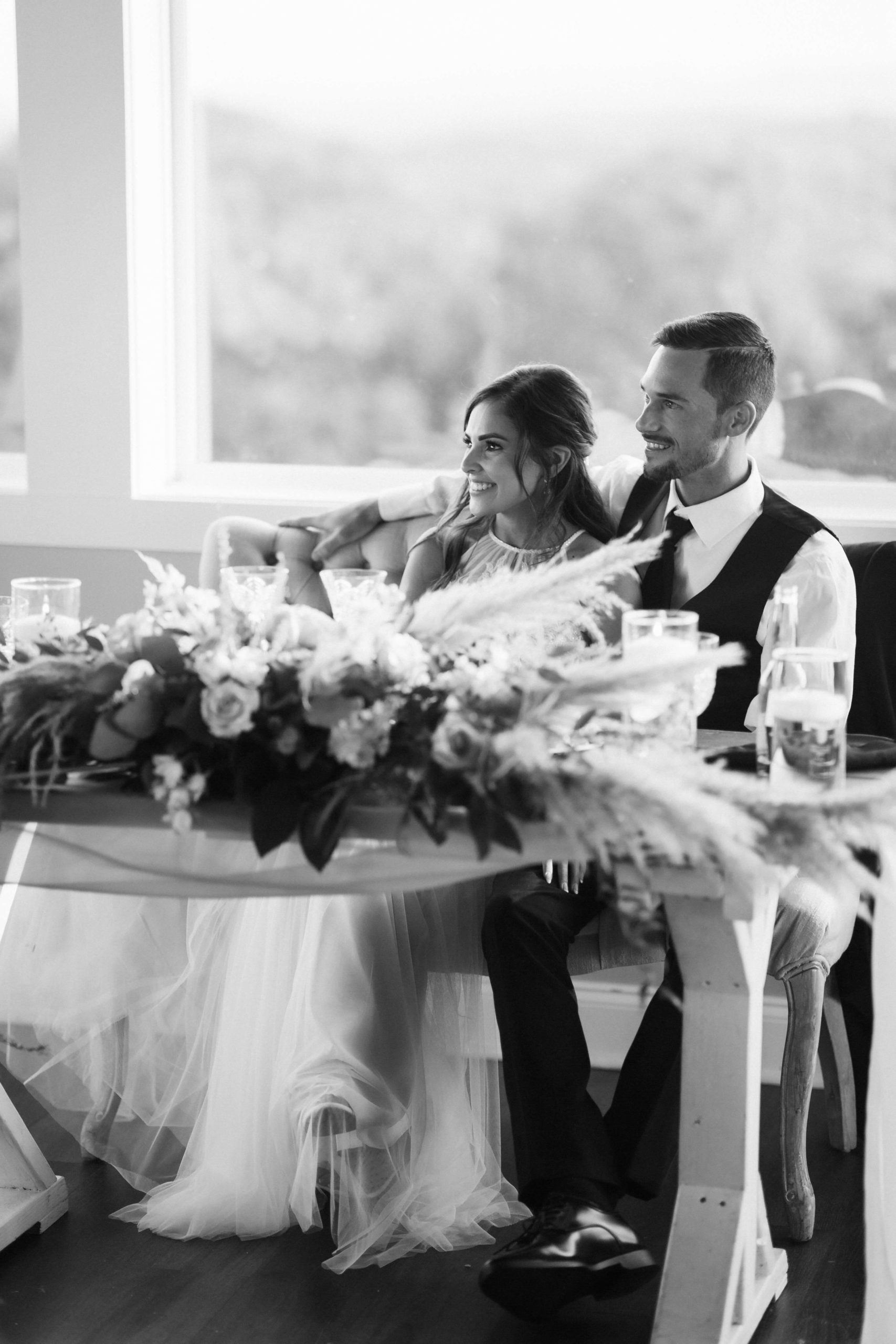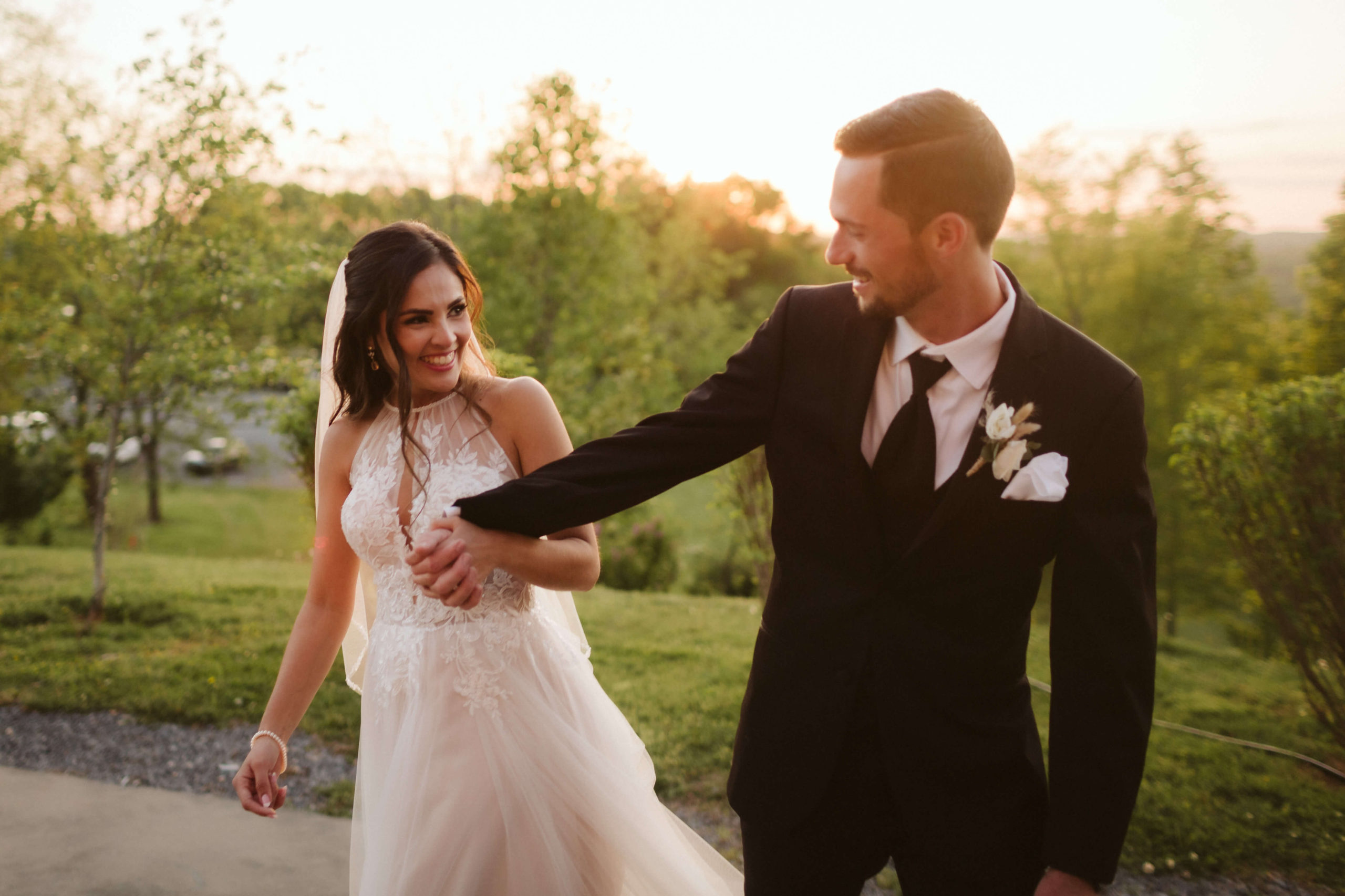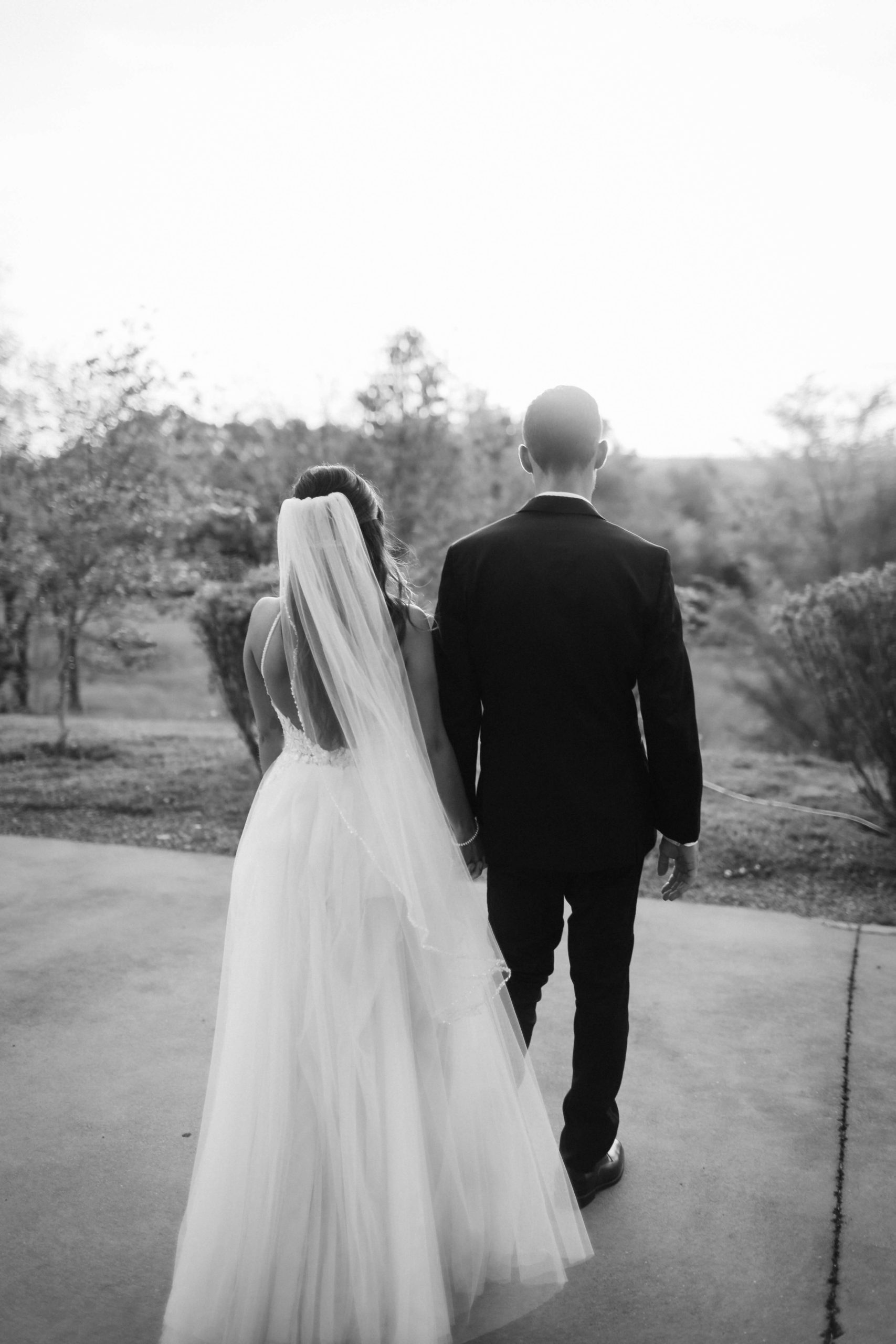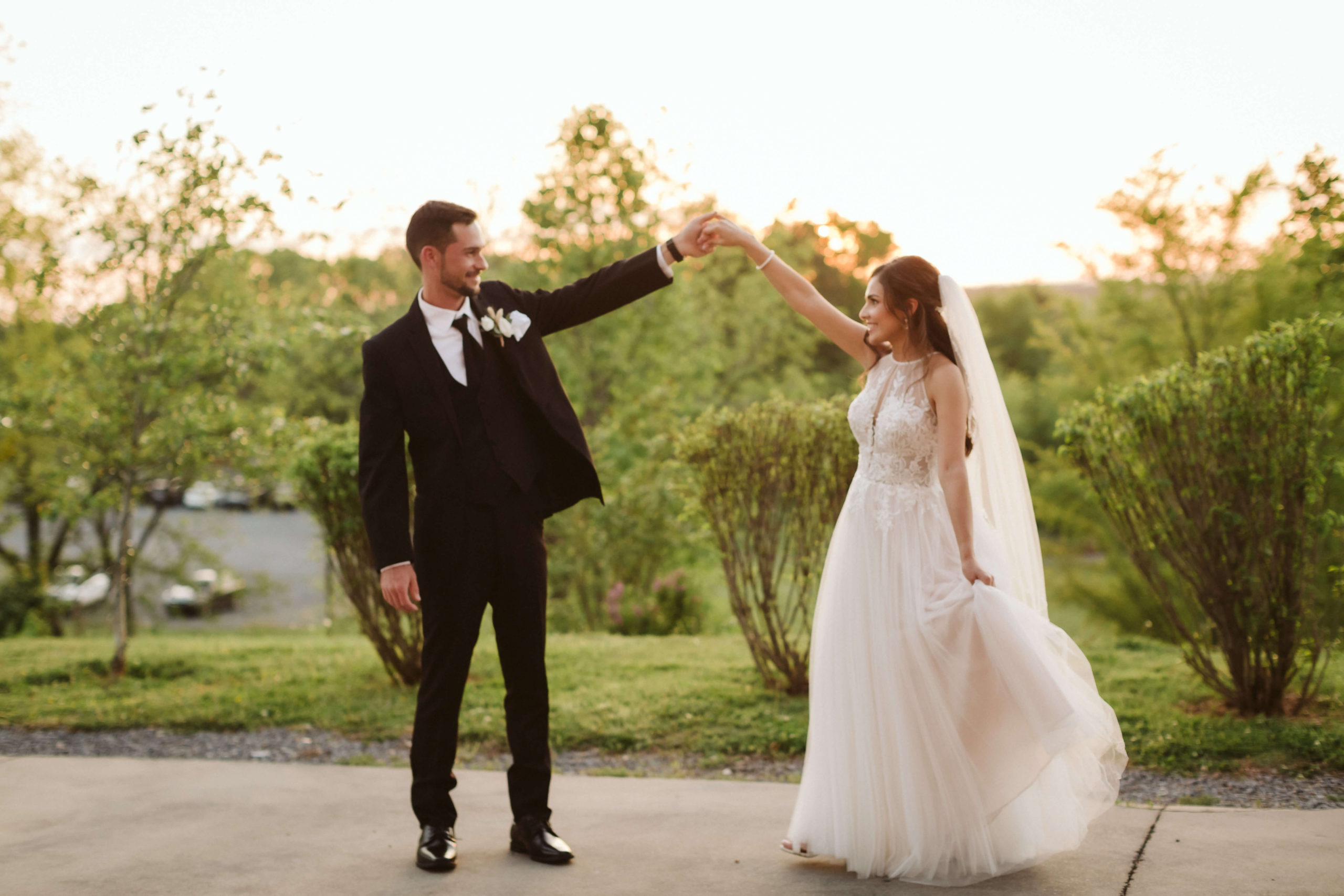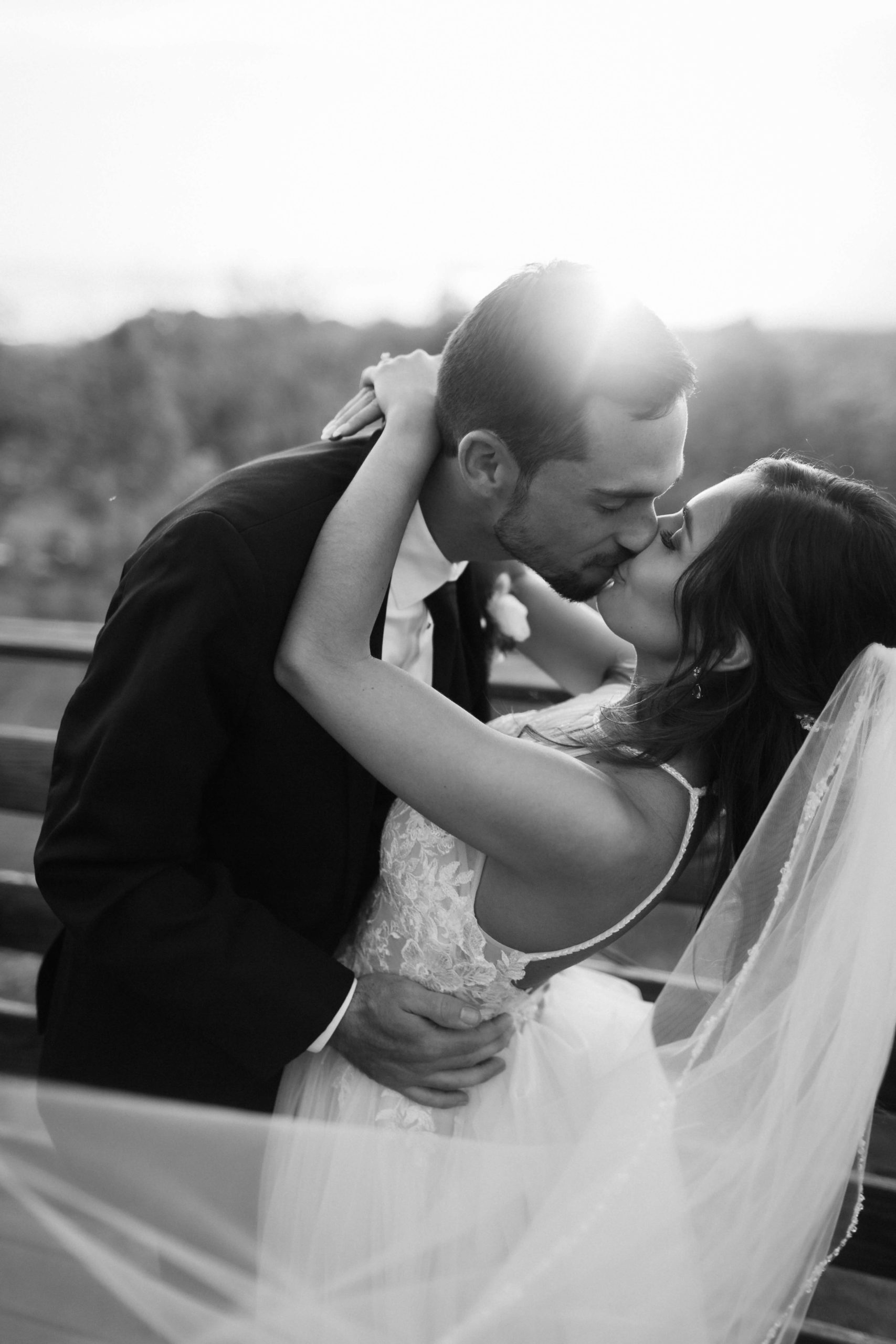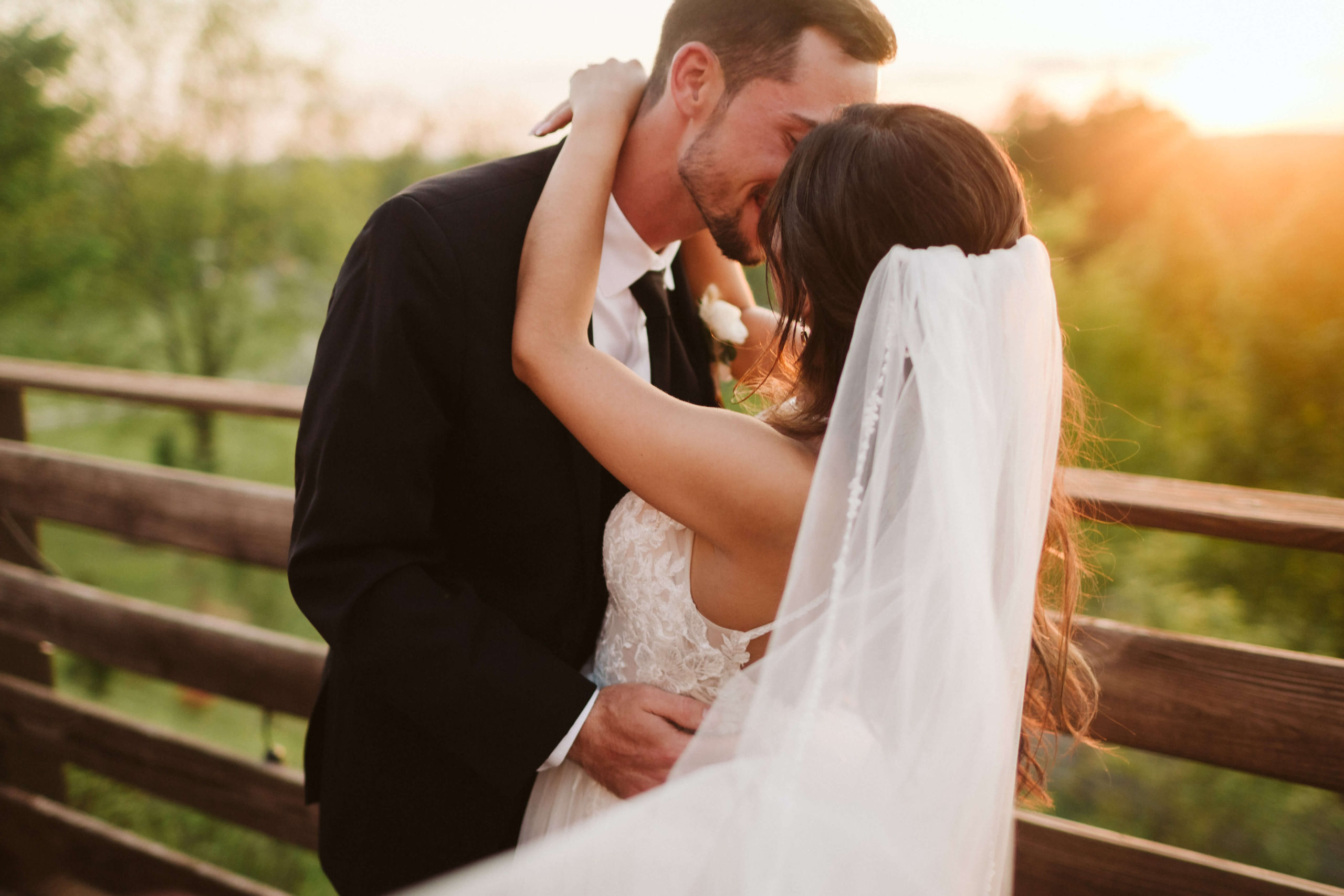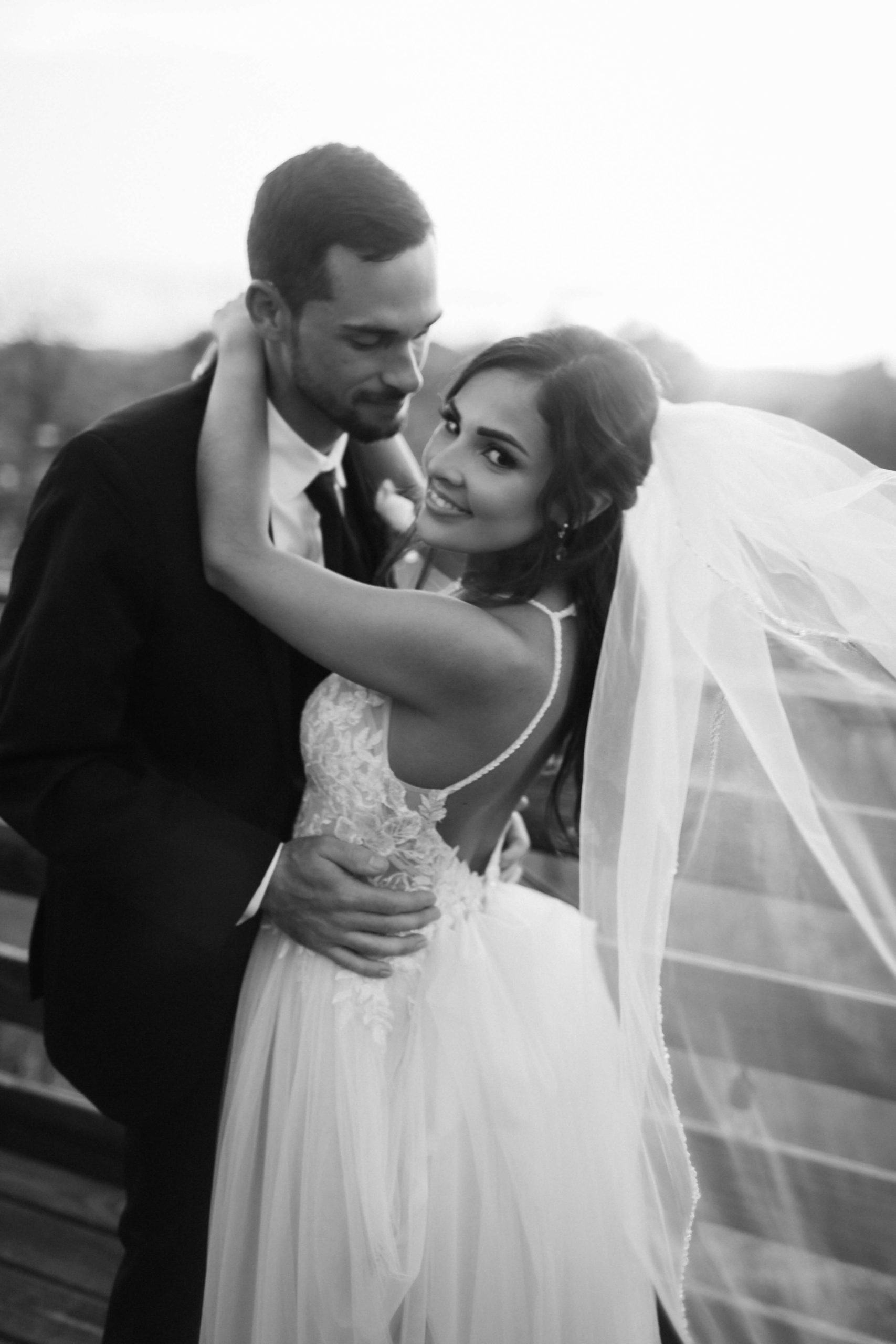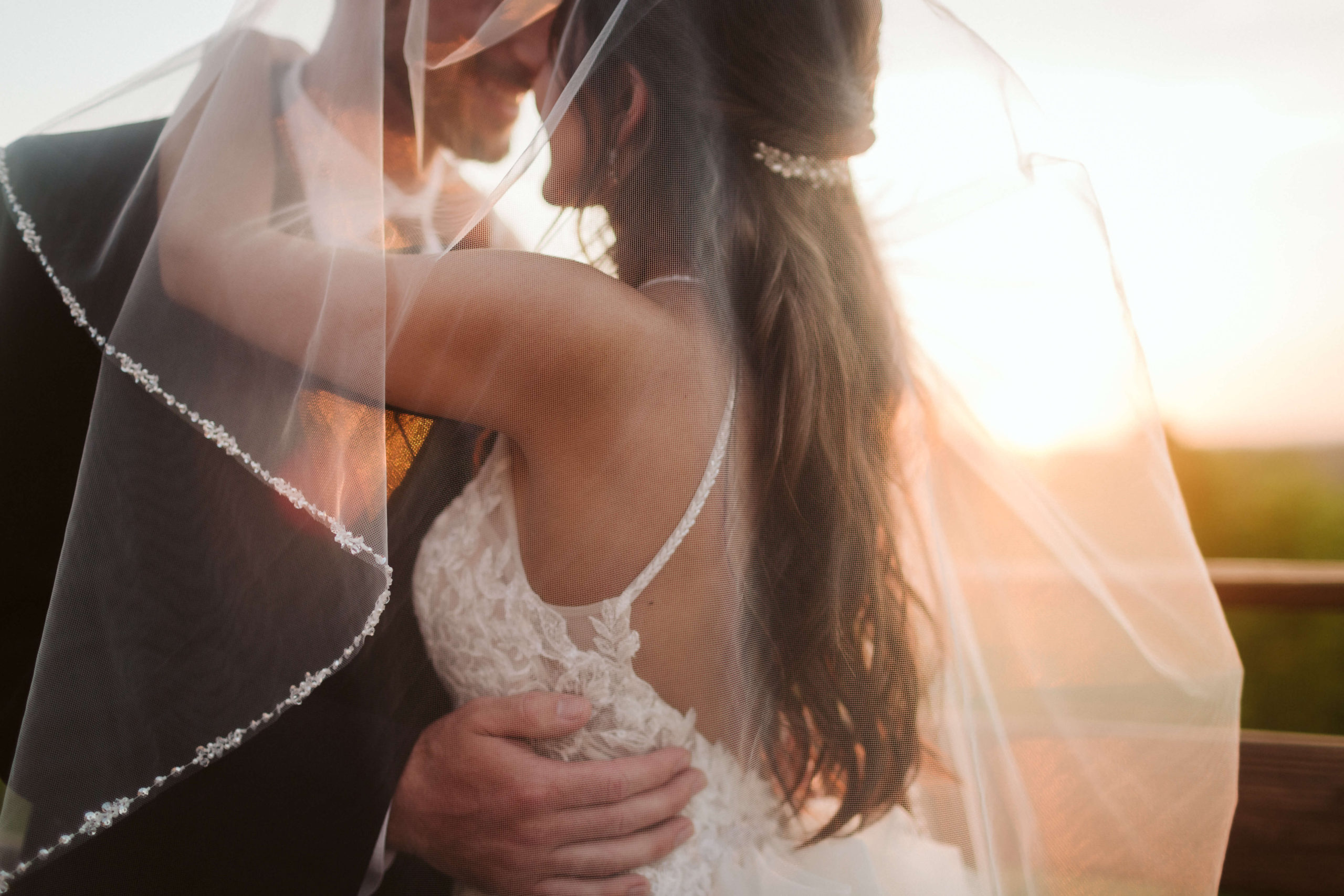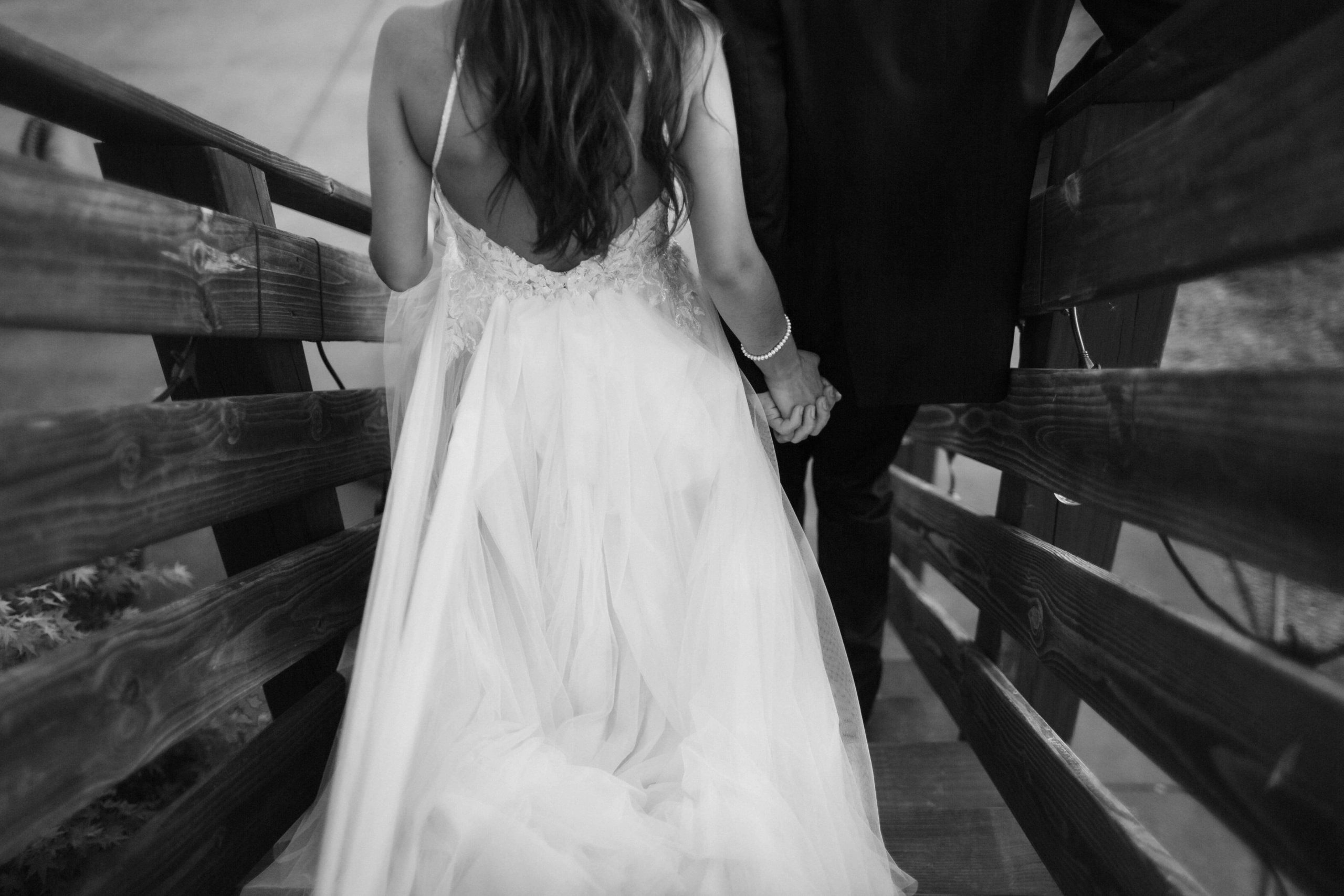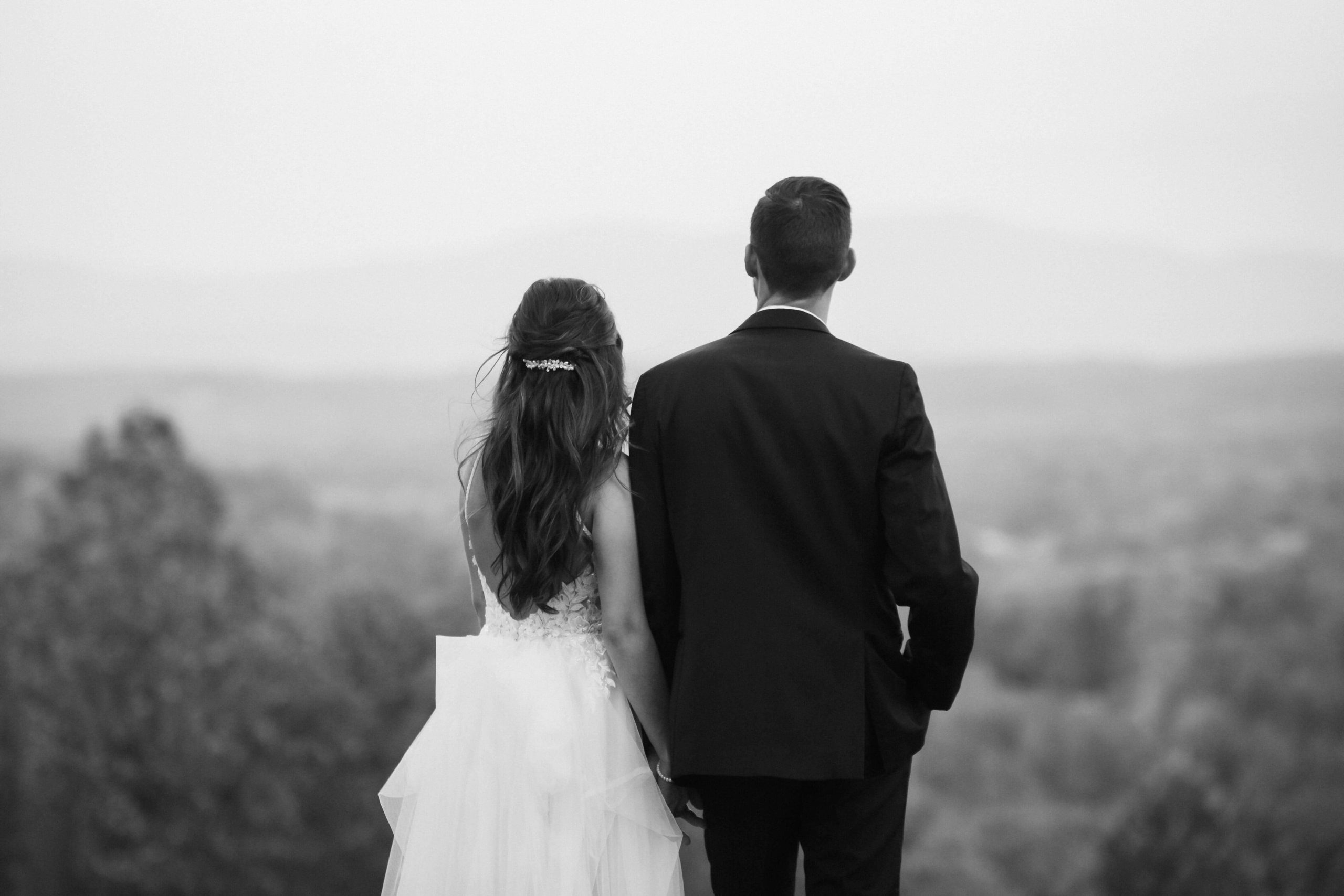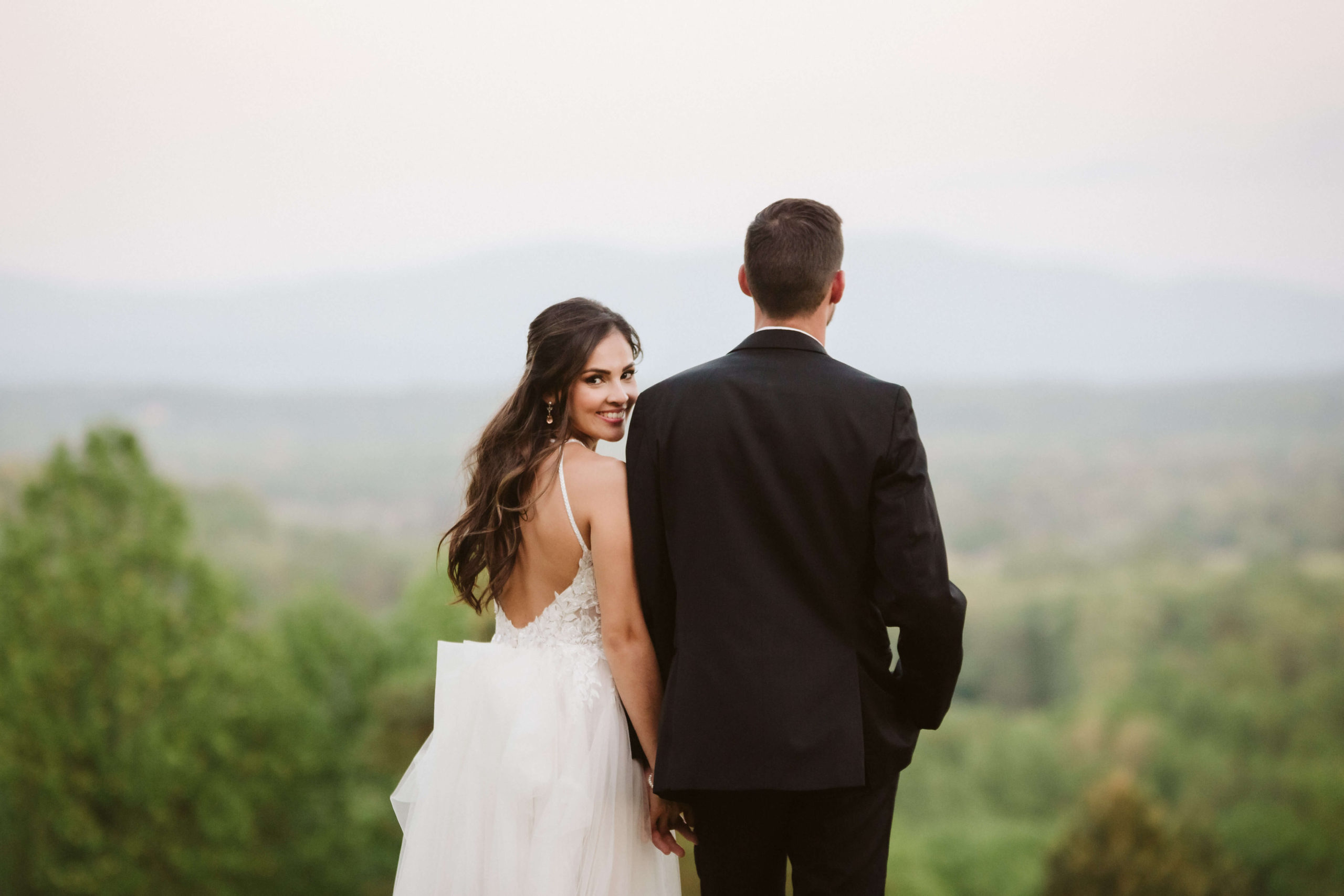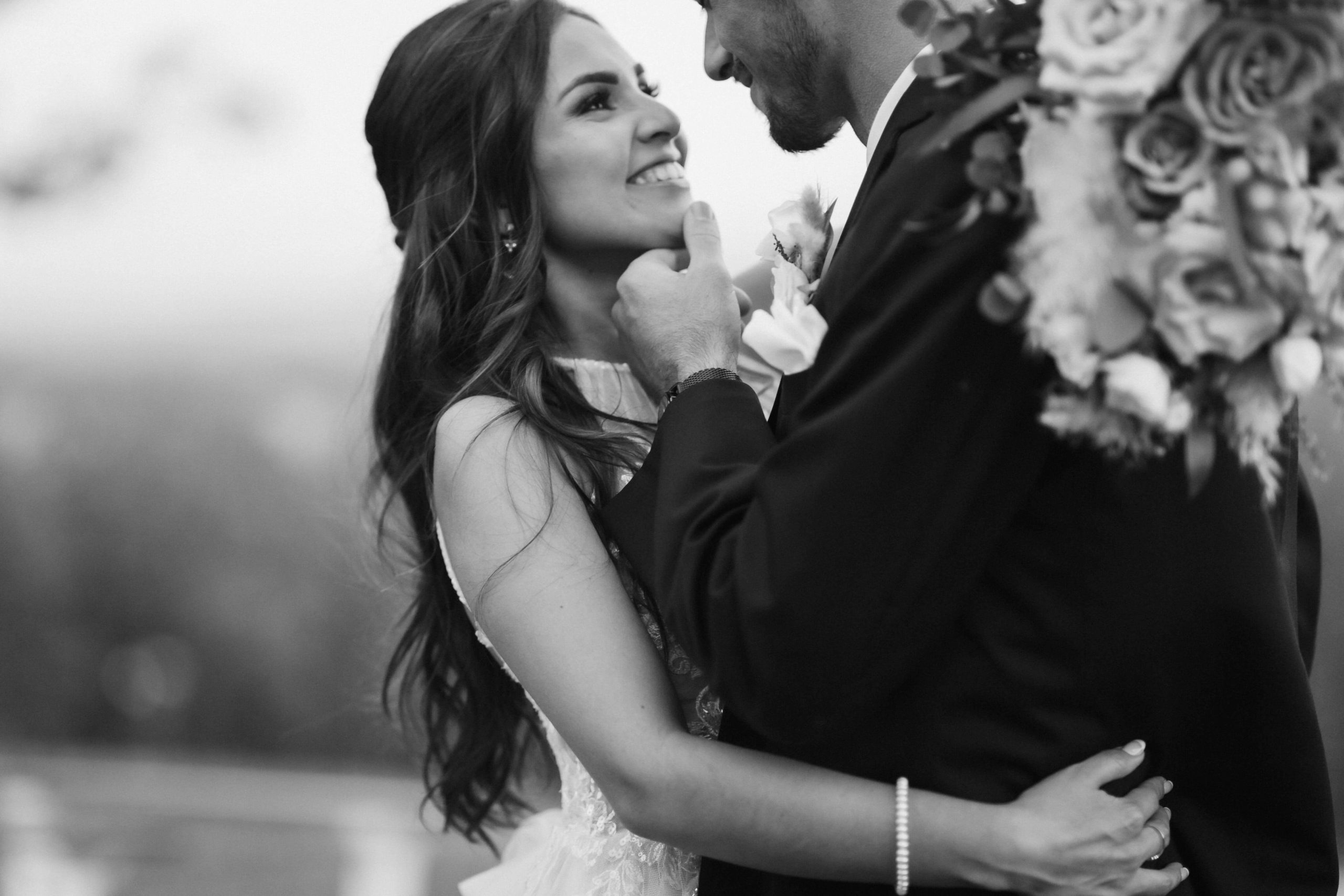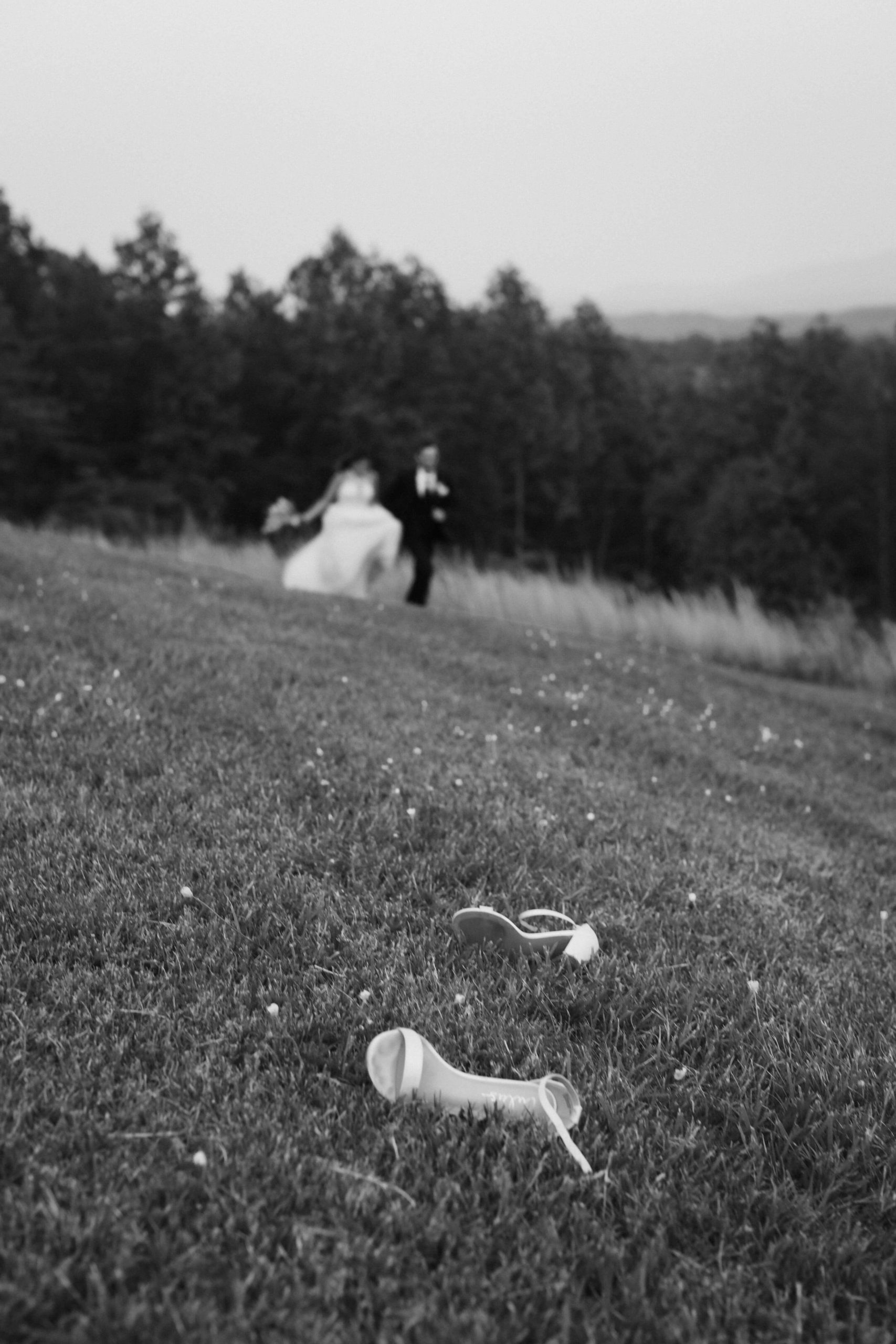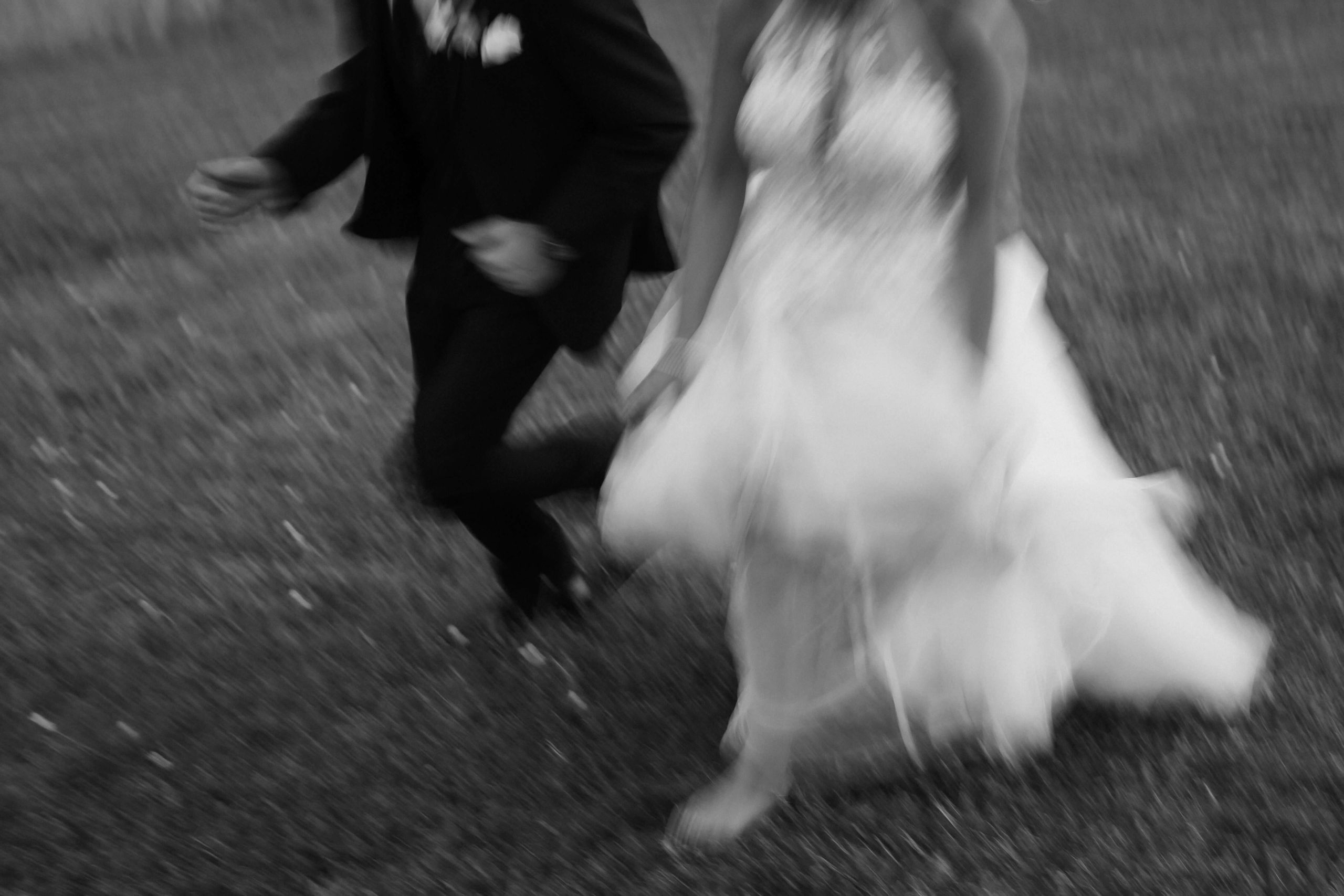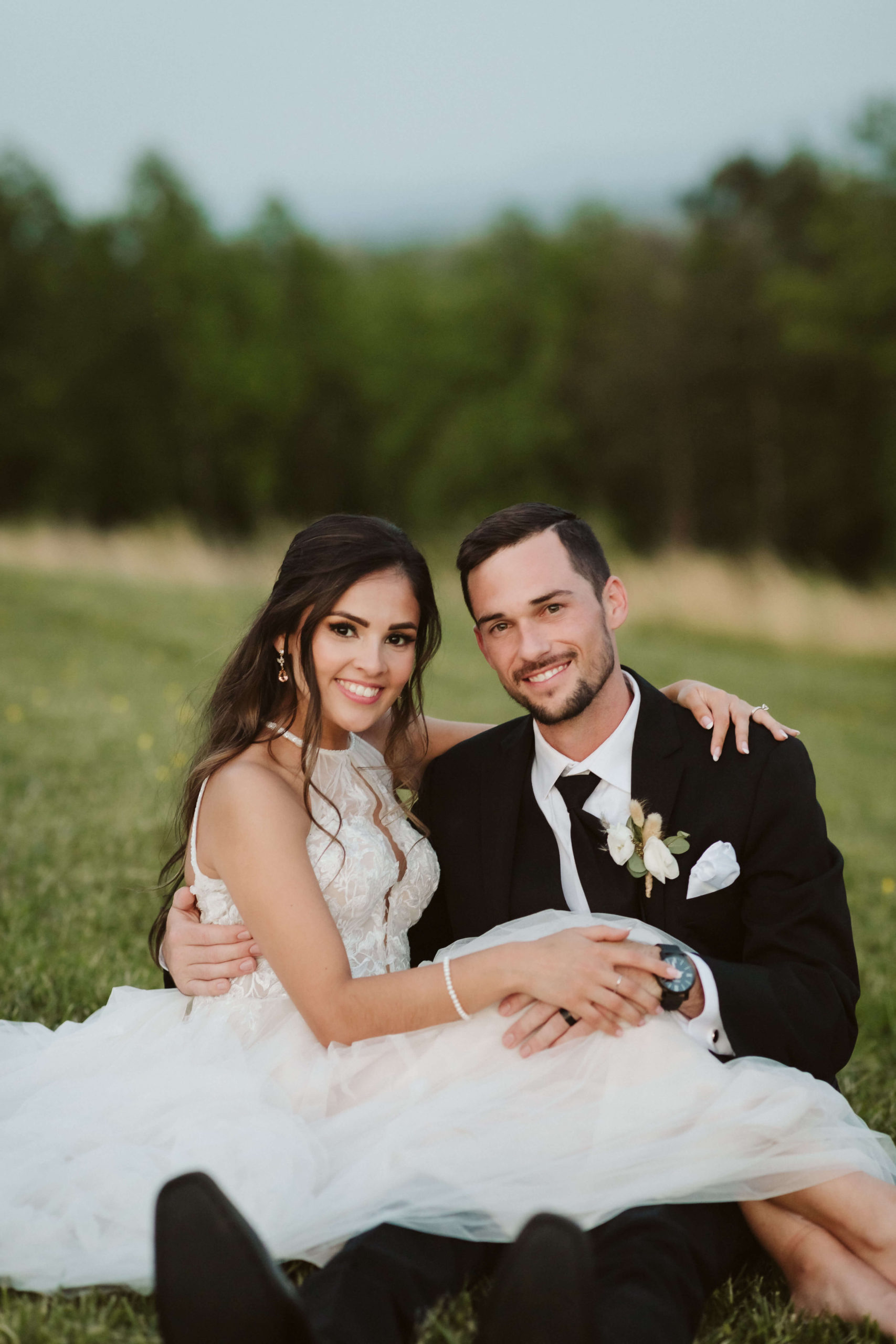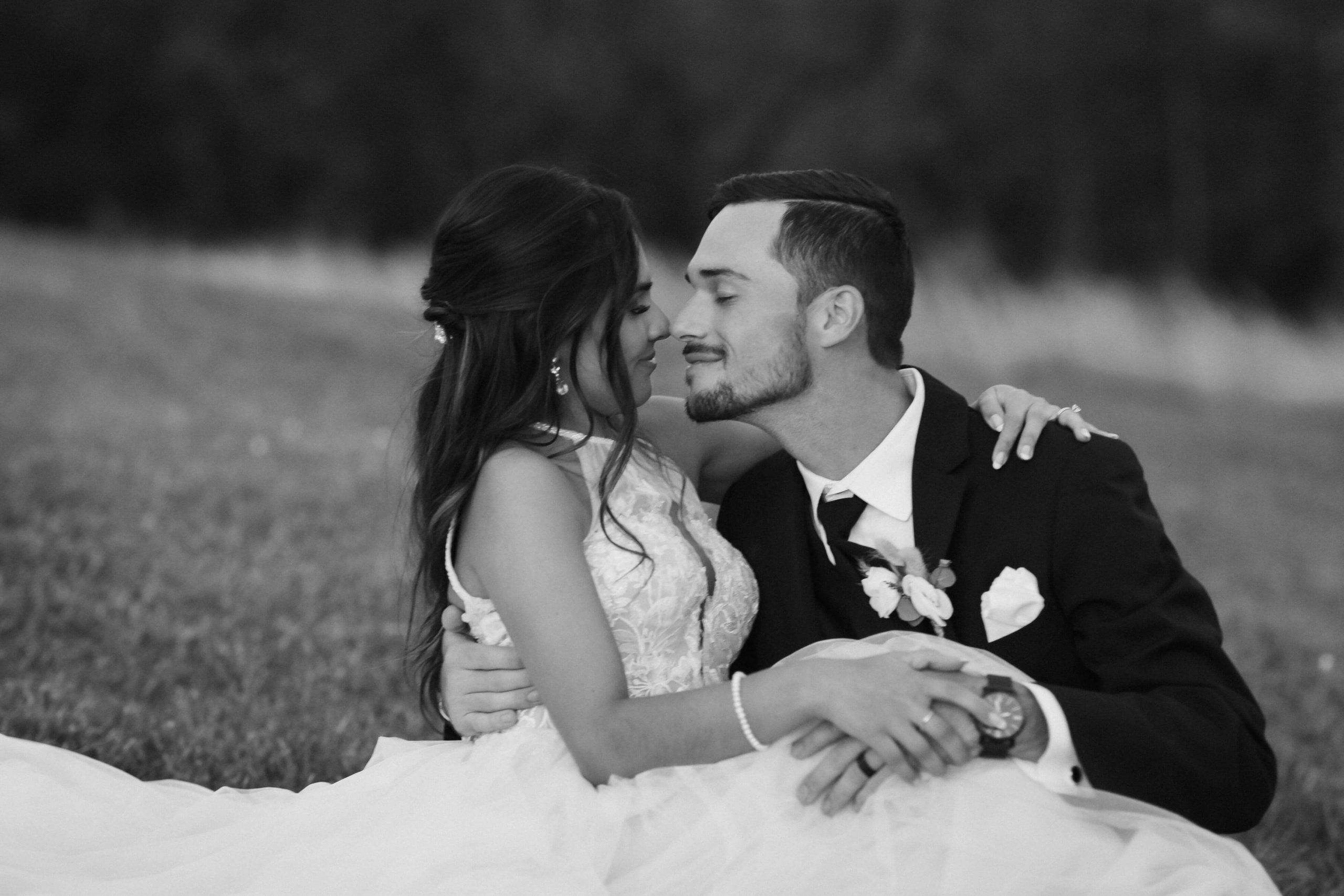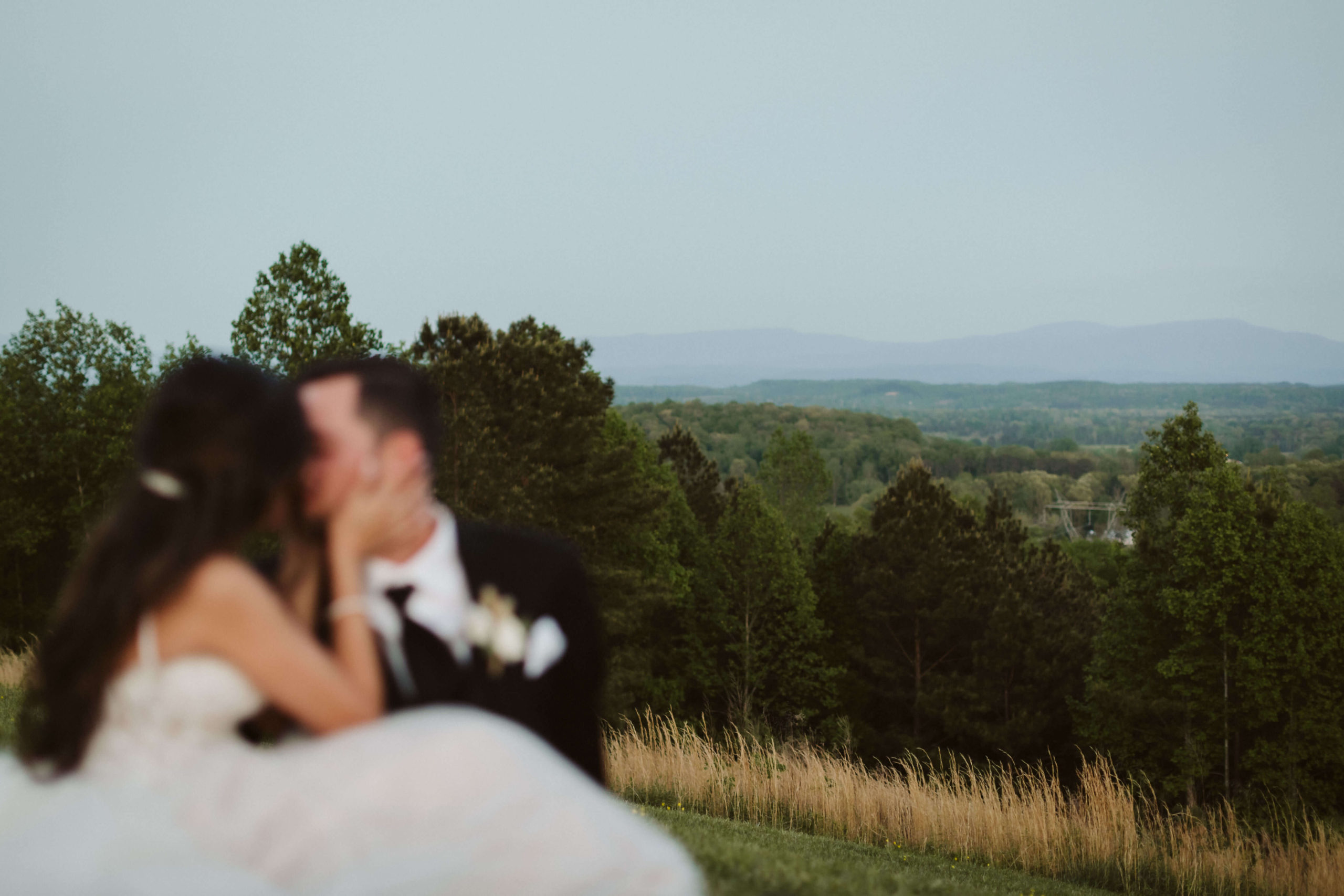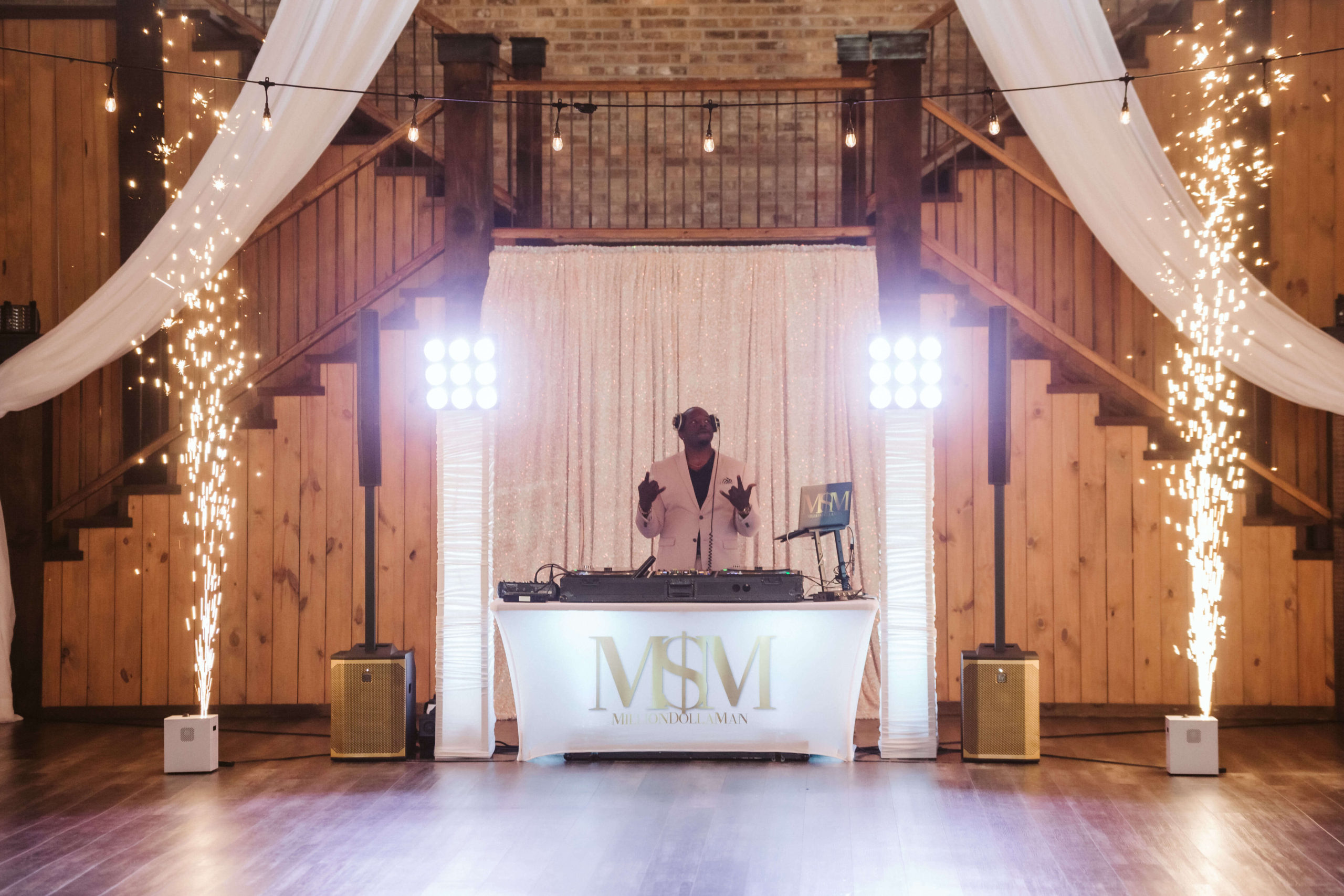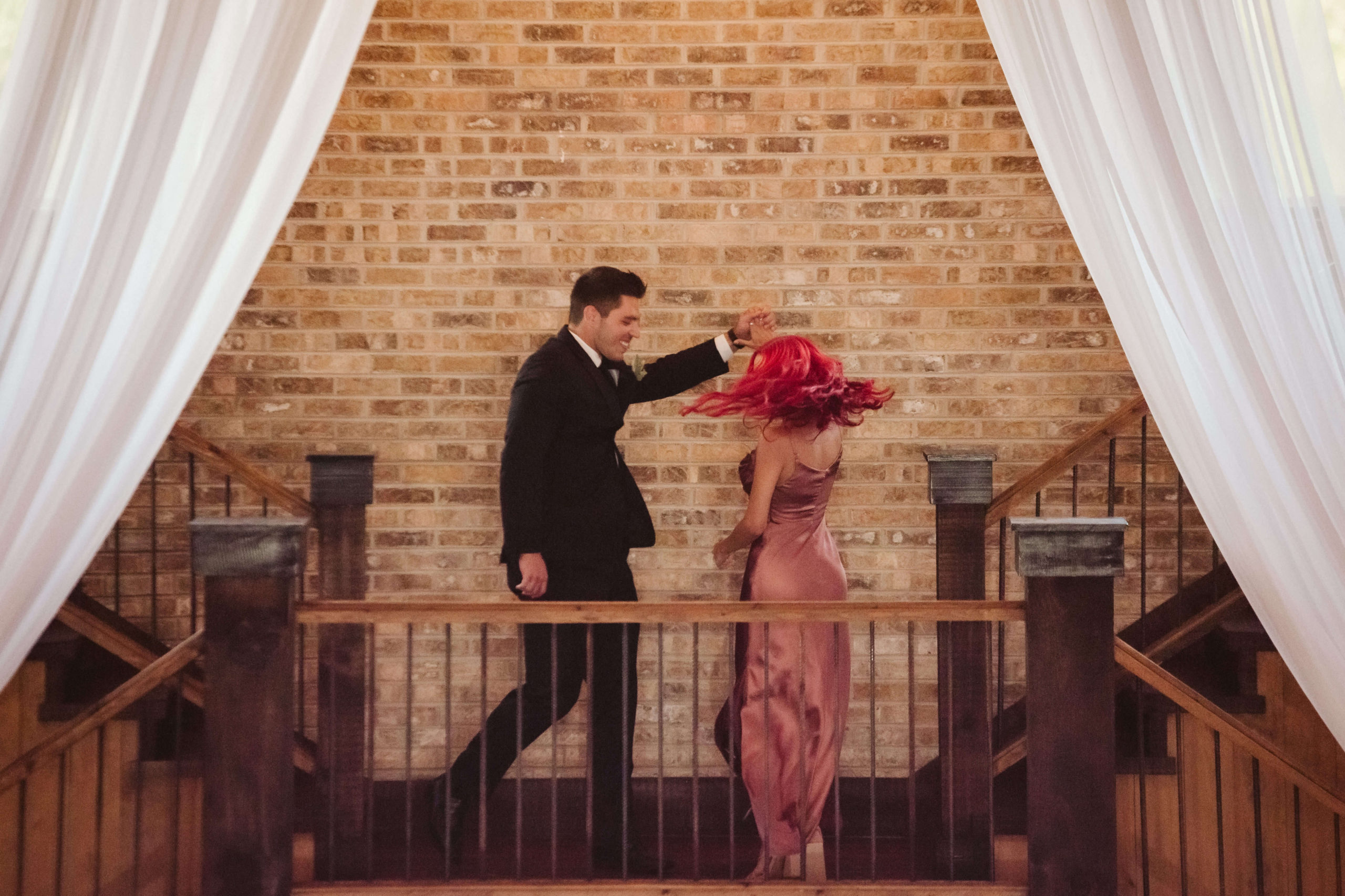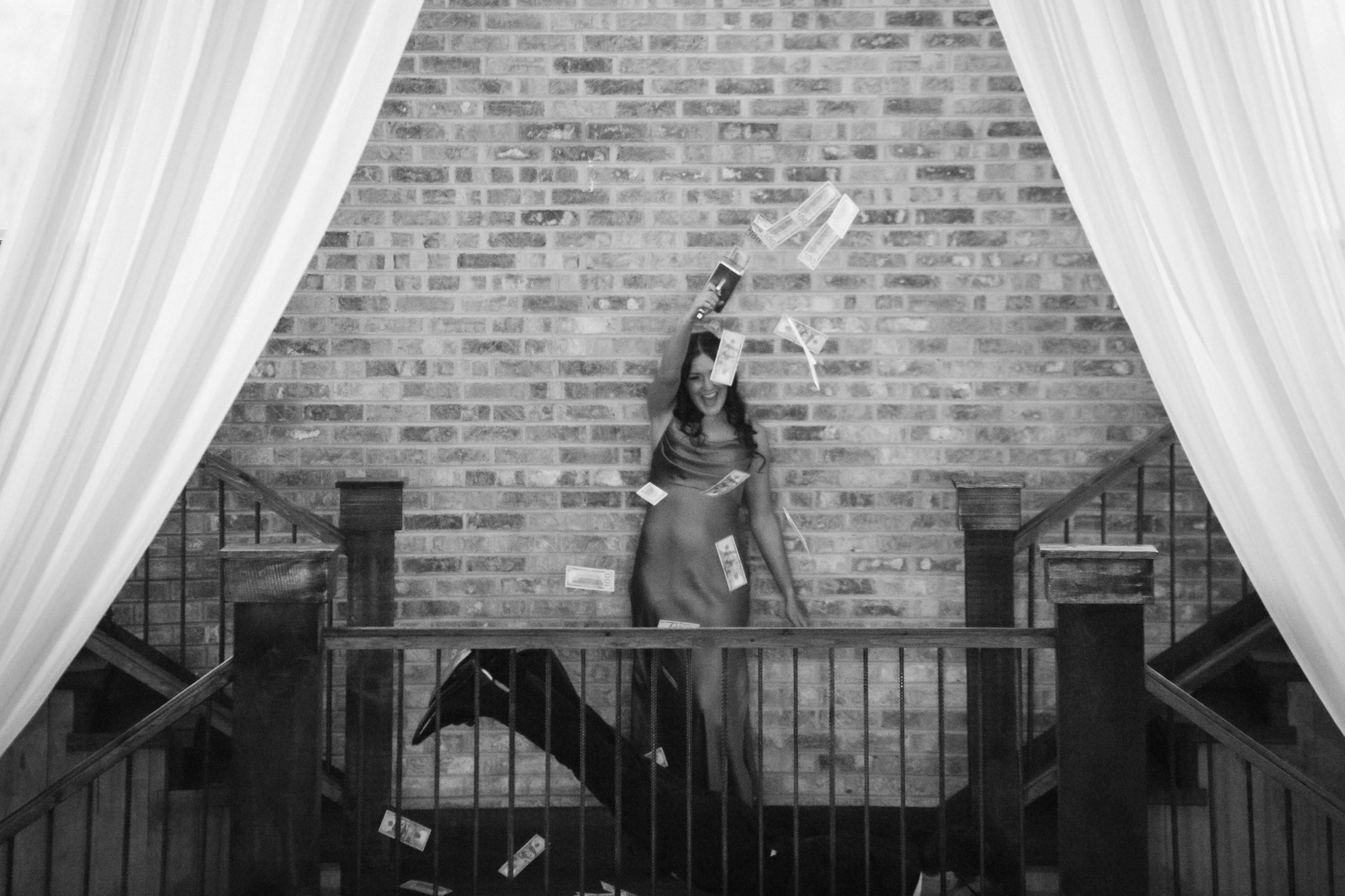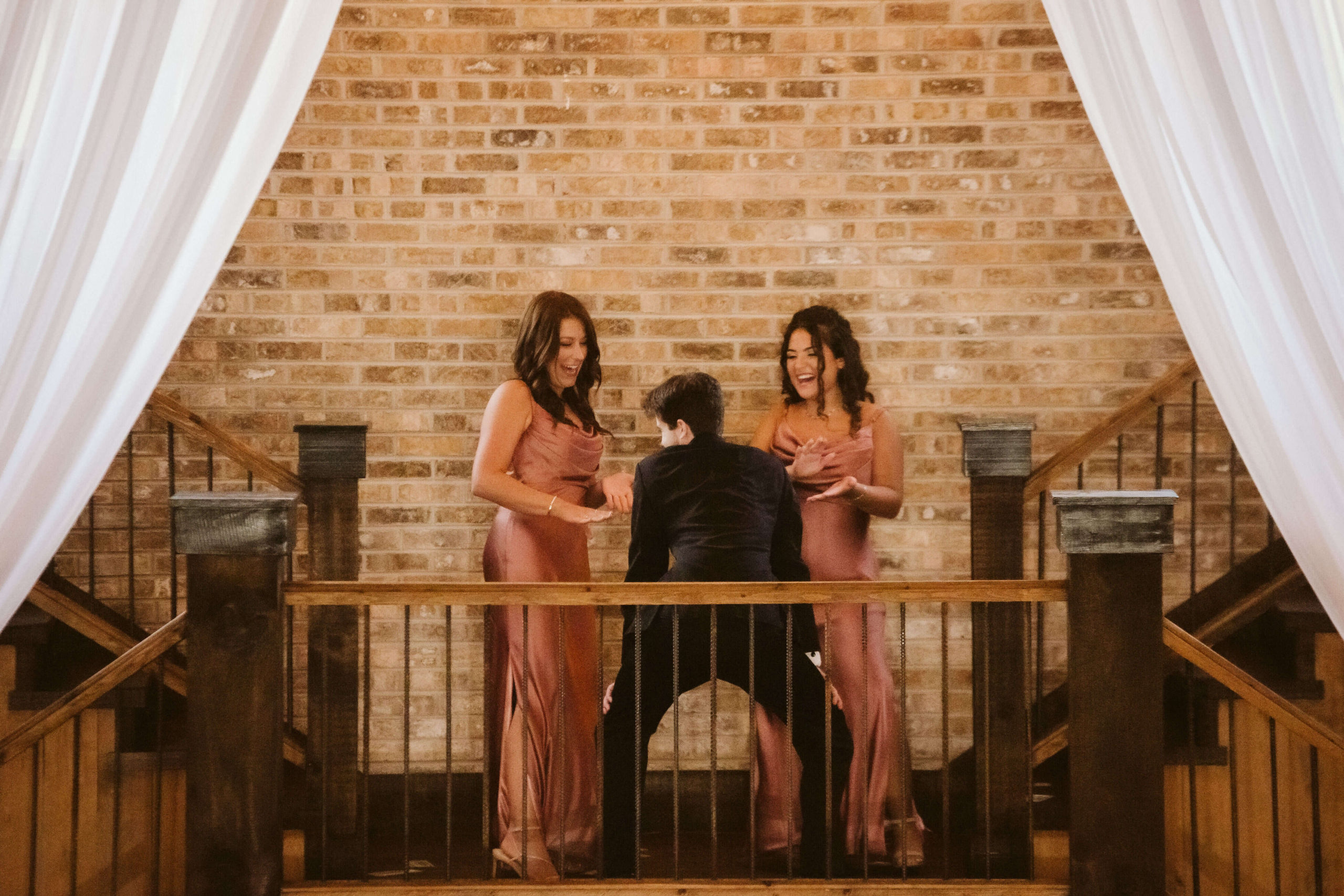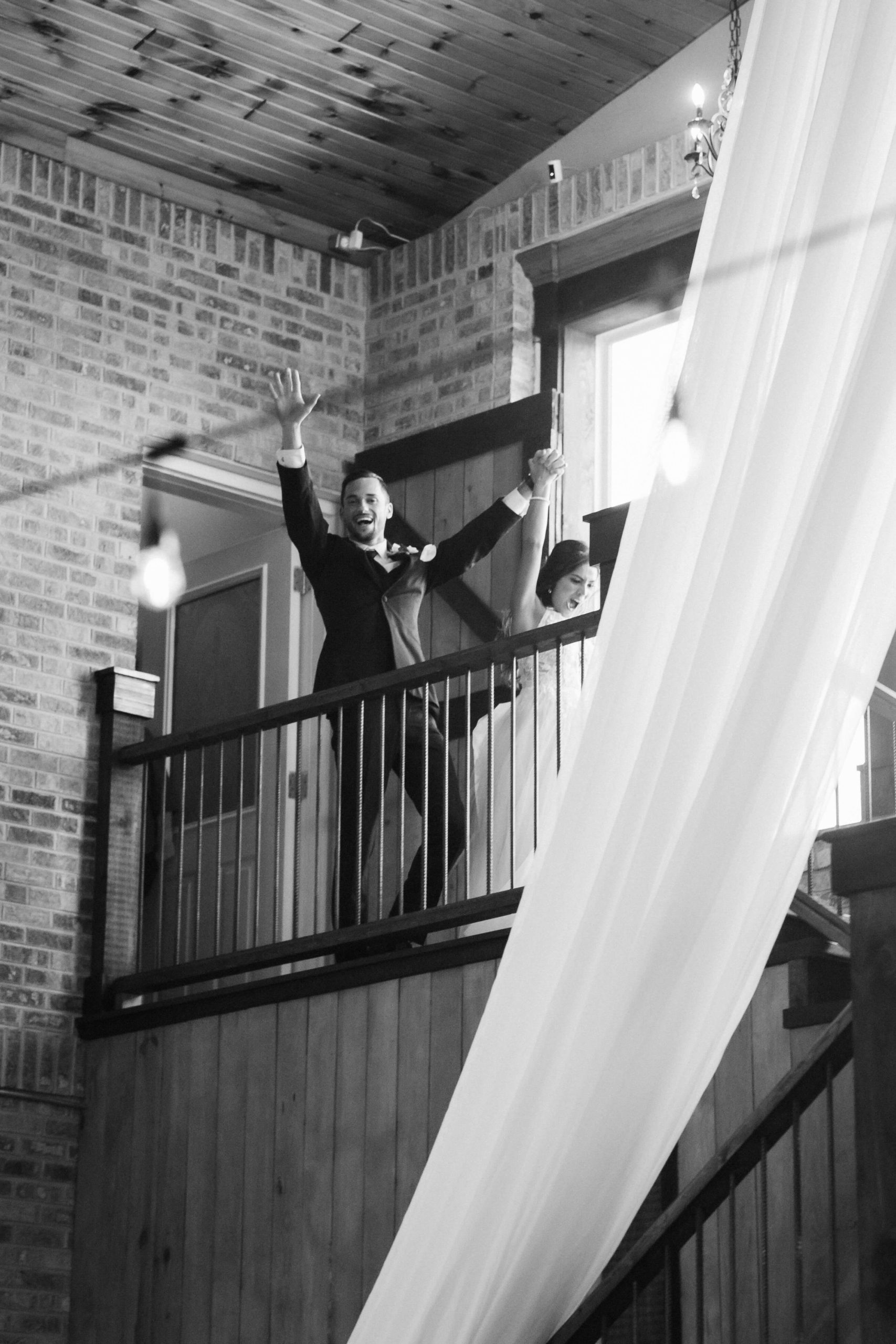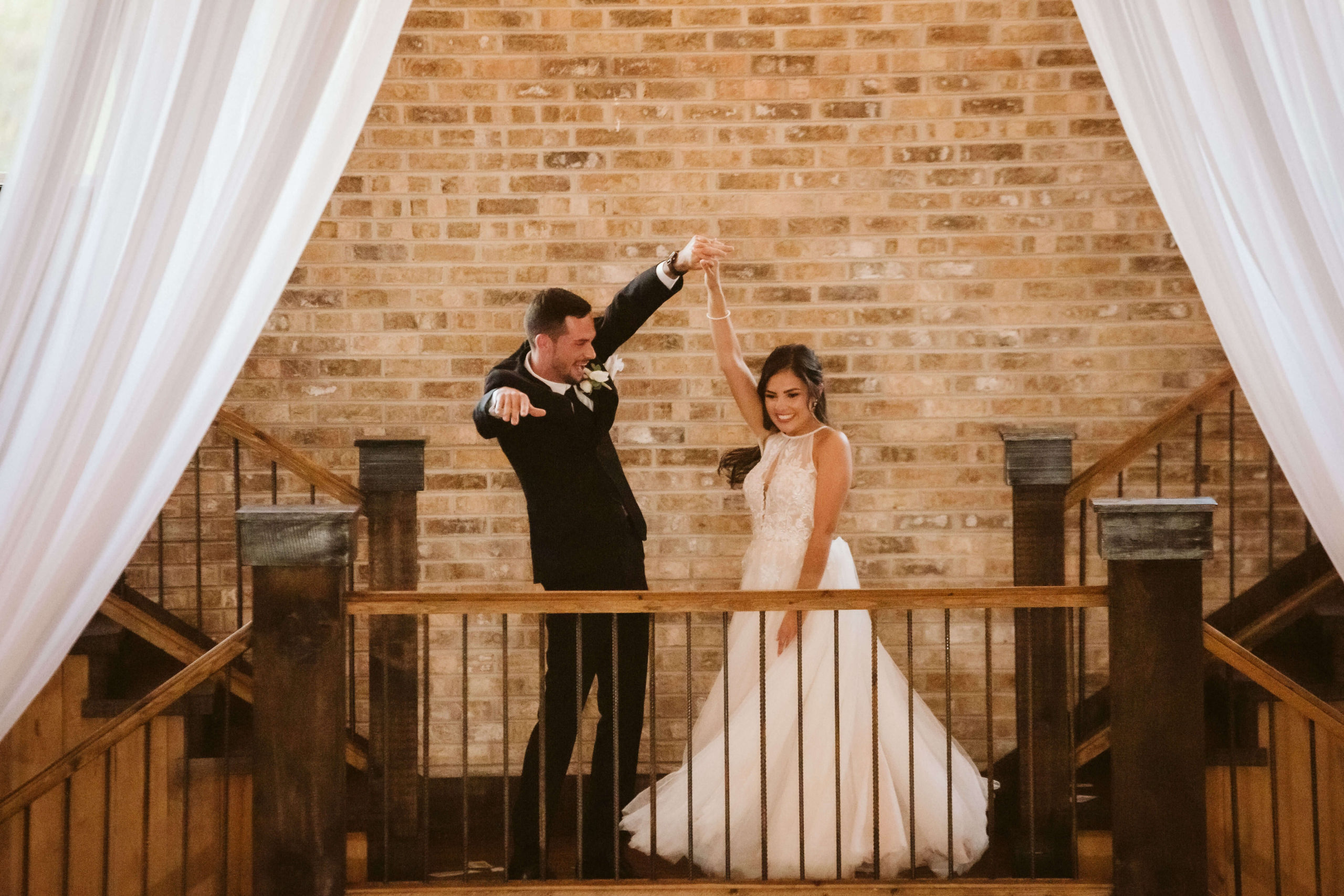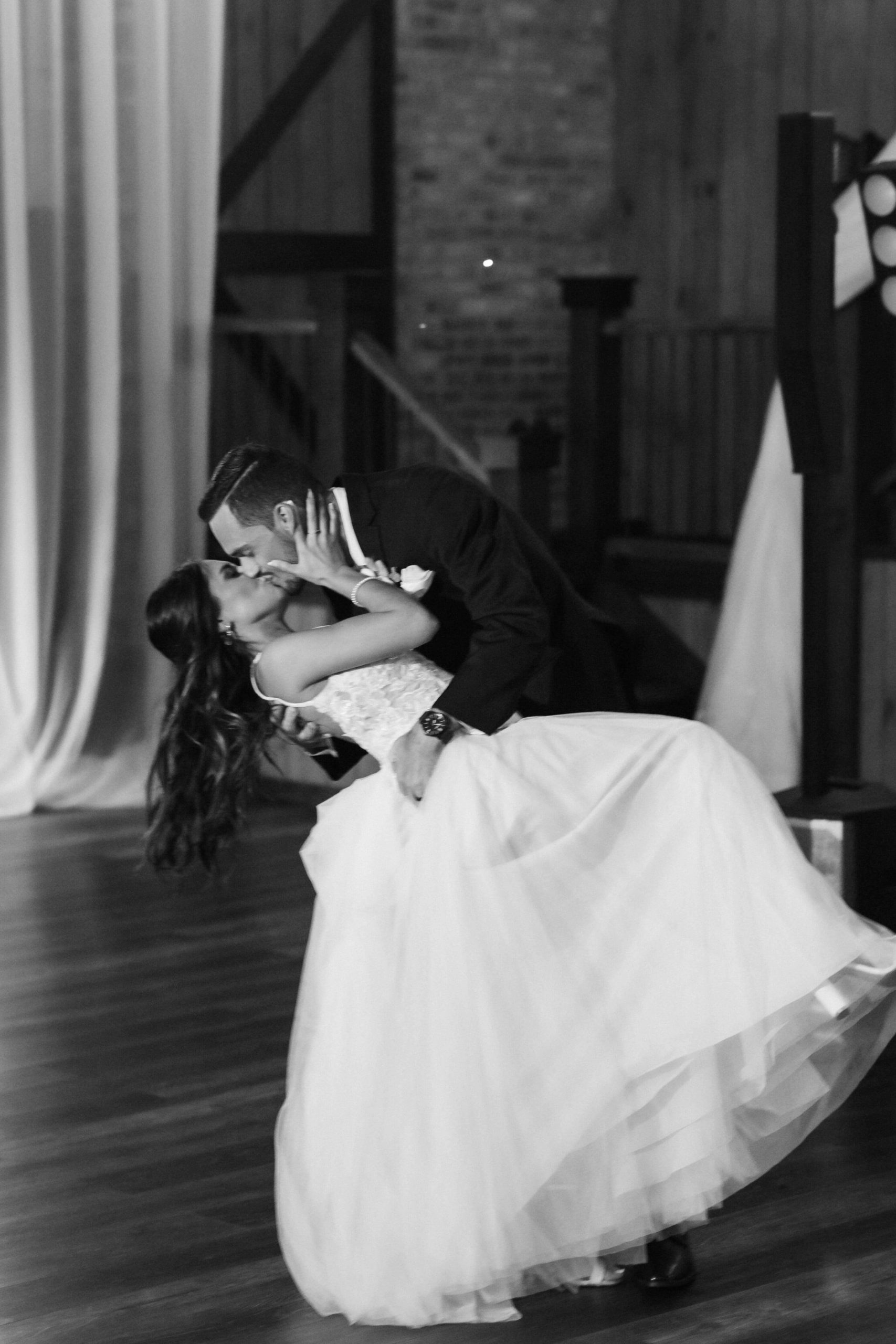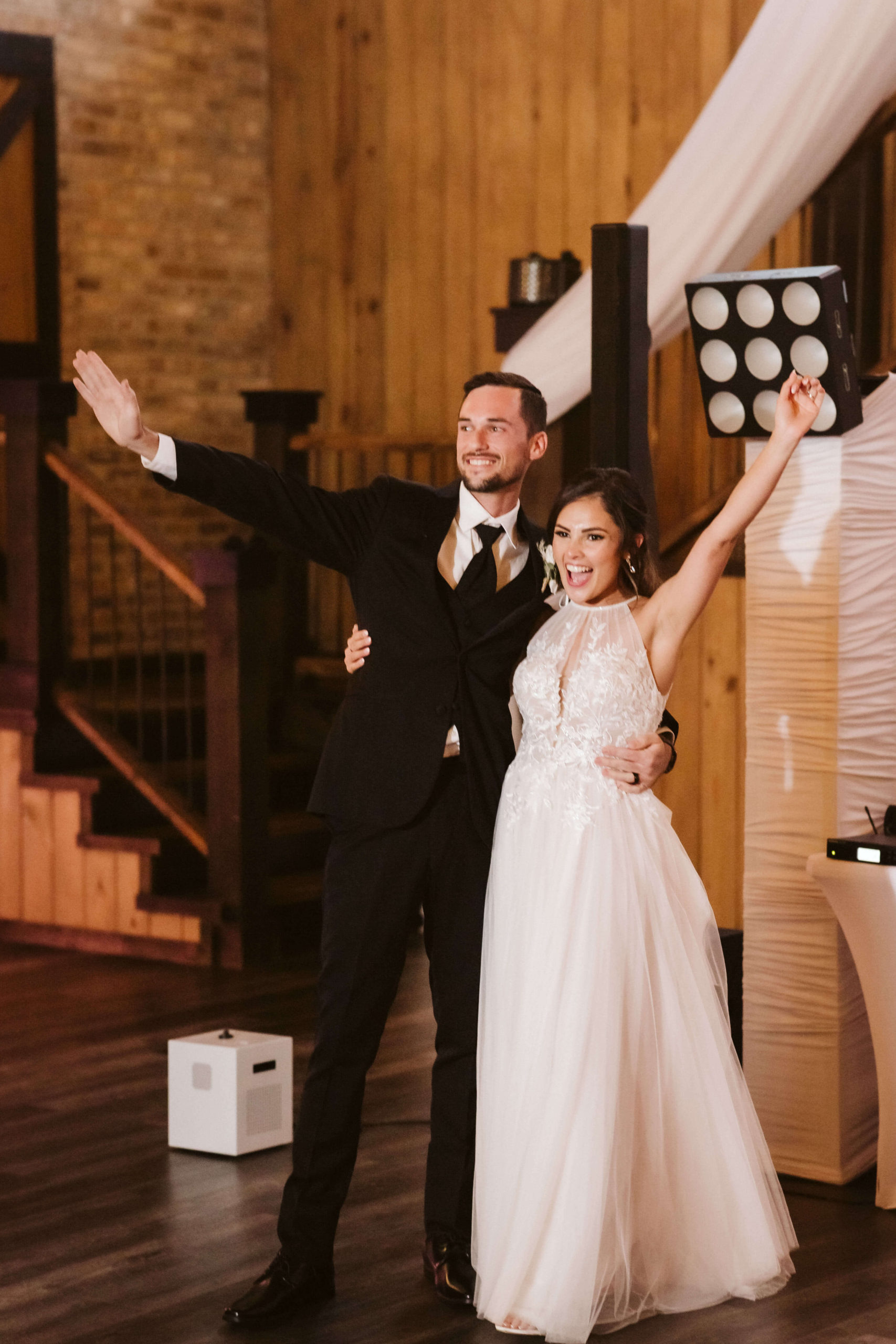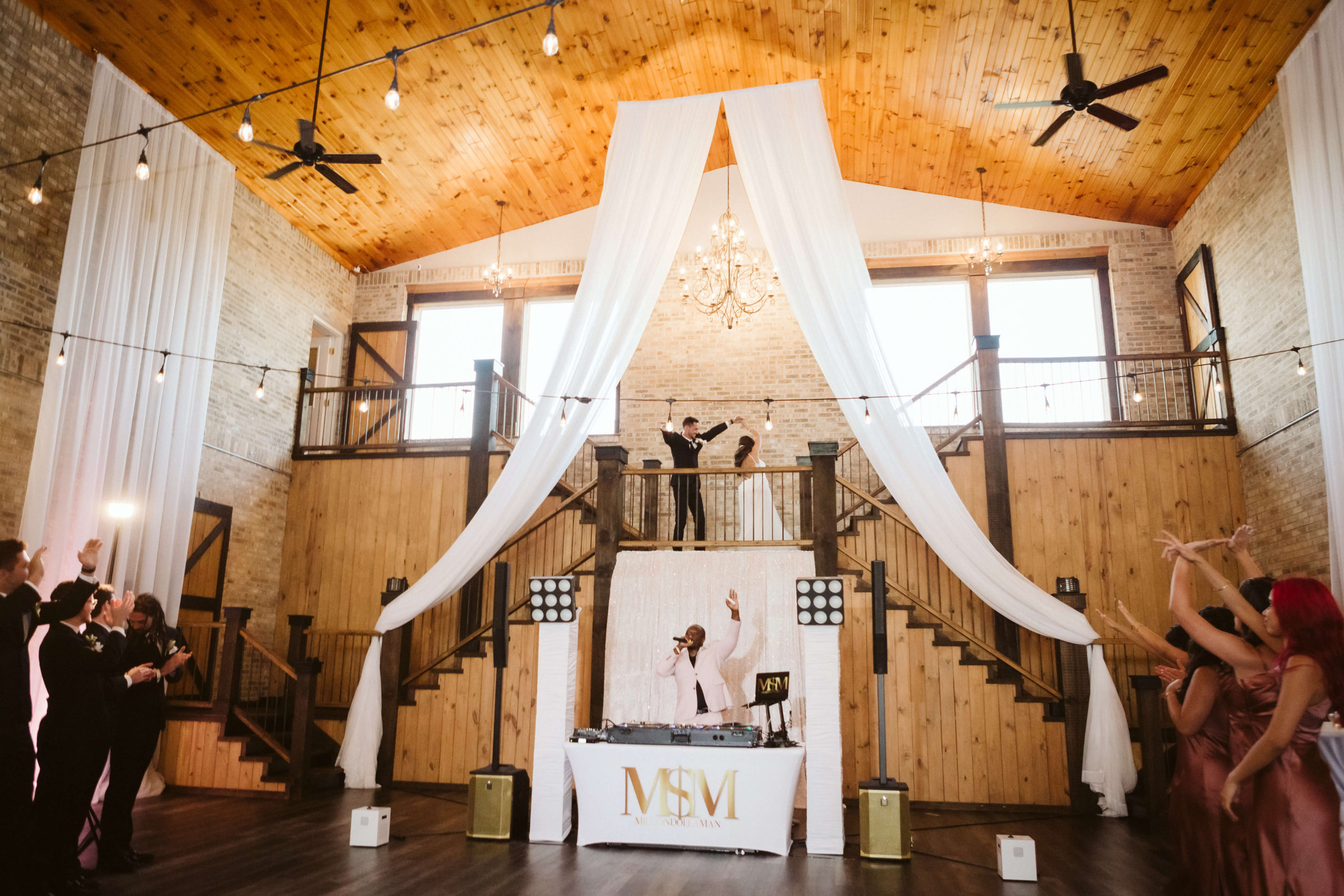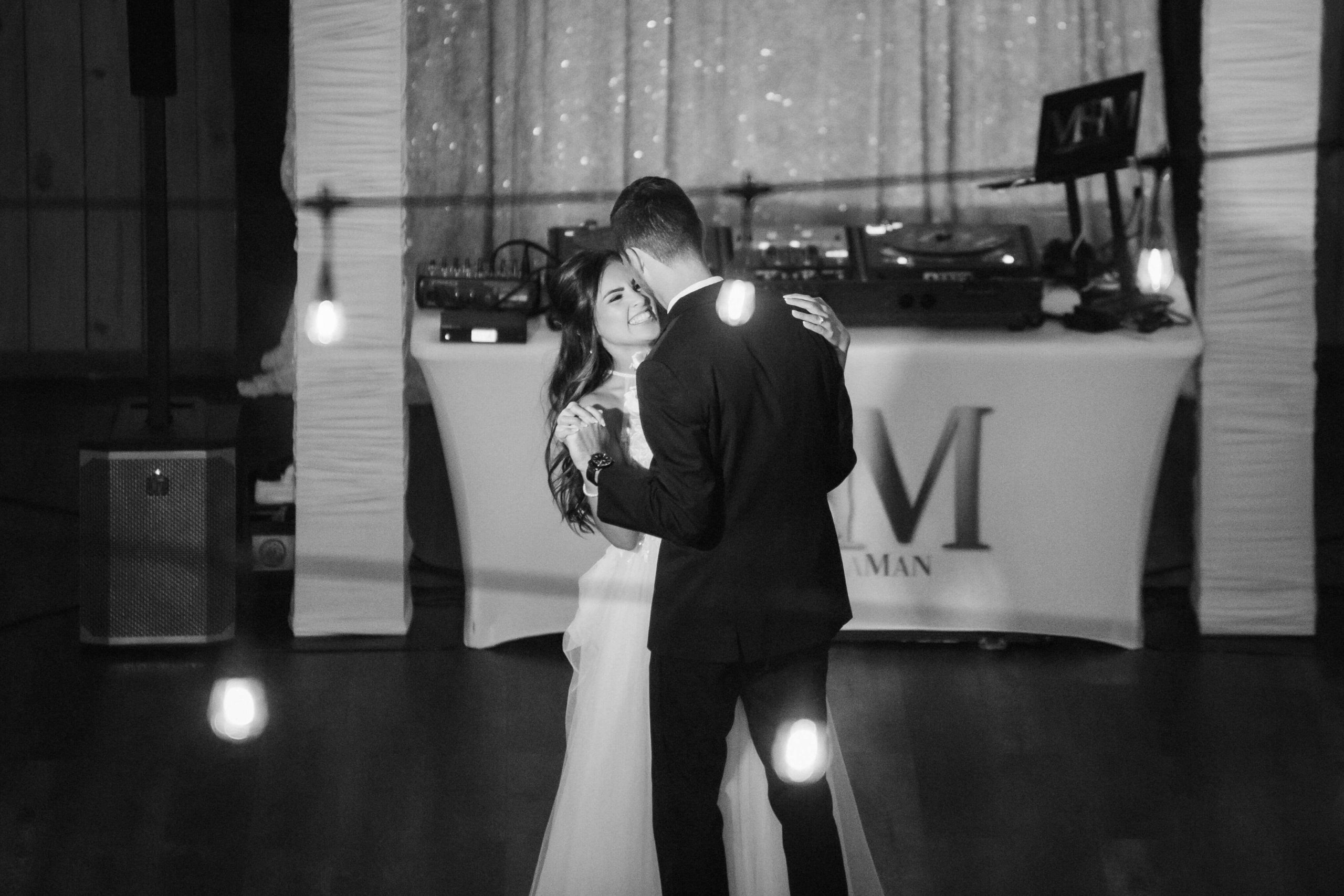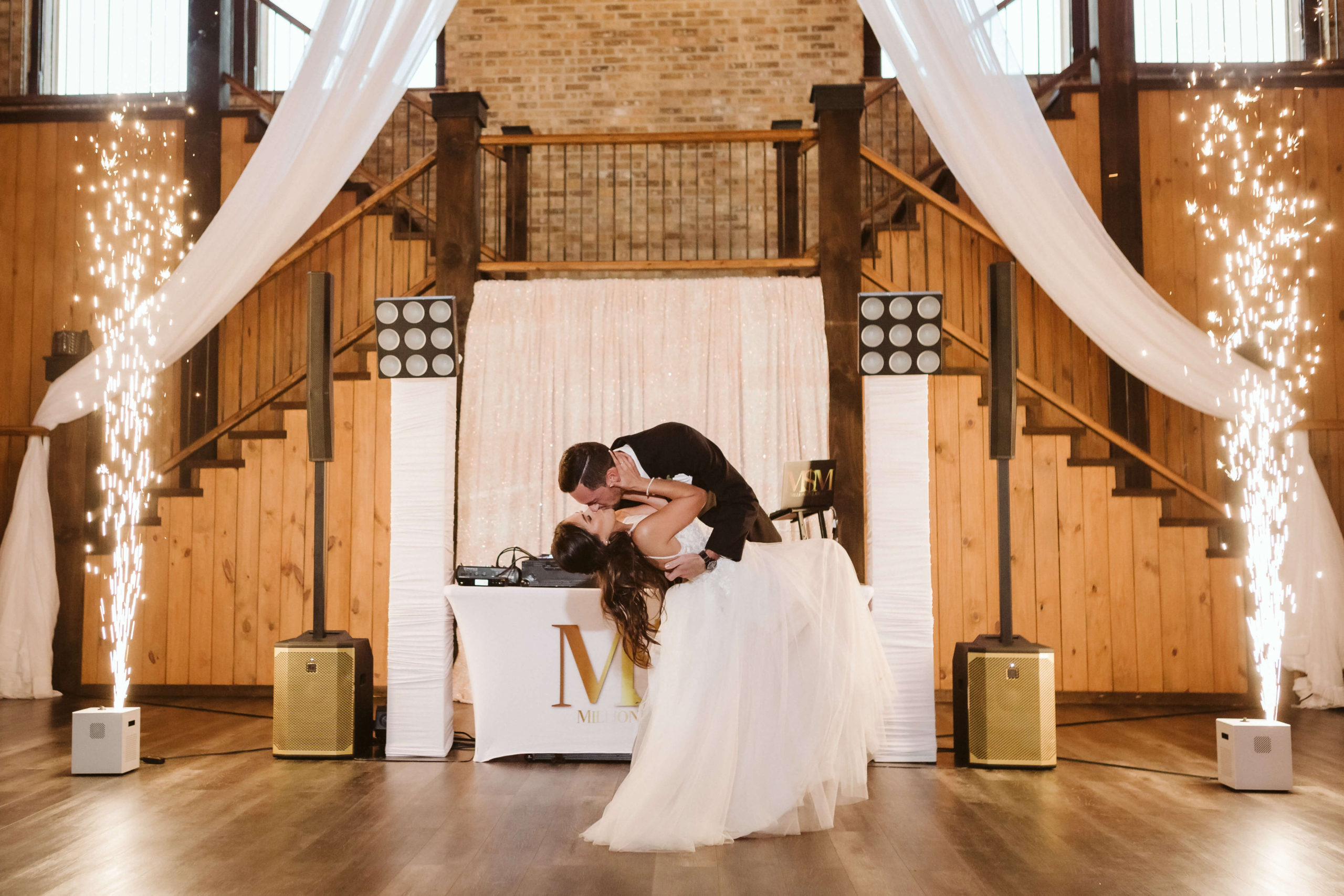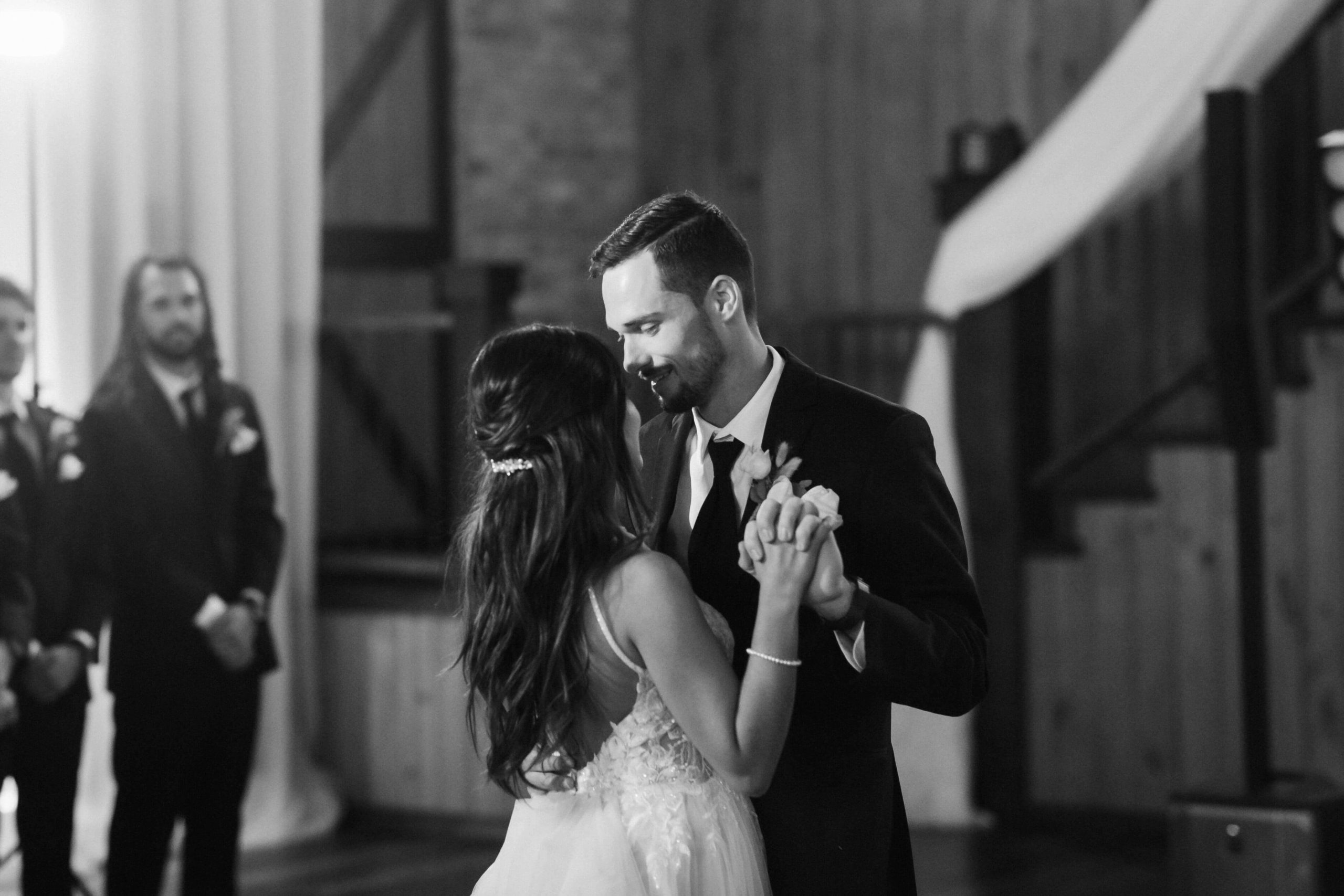 A Ceremony Surrounded by Mountain Views
The best part about hosting your wedding at The Views at Sunset Ridge is the venue offers two outdoor locations for your ceremony. Embrace the scenery and gather at either the Mountainside or Meadow ceremony locations. The Mountainside offers a view of the rolling hilltops beyond, providing an unforgettable backdrop. It can seat up to 200 guests on hand-crafted rustic pews and wooden chairs. Meanwhile, the Meadow is an idyllic location for those looking to embrace a magical garden wedding experience.
For their ceremony, Stephanie and William chose to say "I Do" on the Mountainside. Not only is this location aesthetically pleasing but its enchanting atmosphere is intoxicating. The delightful space fully embodies romance, with the combination of rustic decor and the majestic mountains in the distance. Once the wedding ceremony began, the wedding party was joined down the aisle by their adorable furbaby, Otis - a perfect addition to the wedding! I always love when the couple decides to include dogs in their big day. Just watch out for those loveable squirmy wiggles of excitement!
Stephany and William exchanged vows in front of their loved ones and the vast beauty of nature.
Then, when the ceremony ended, the newlyweds returned down the aisle holding hands. As a special little touch to close out their ceremony, Stephany and William's guests threw petals into the air as the couple walked down the aisle. Not only are ceremony send offs an exciting end to your ceremony, they also add some delightful details to your photos.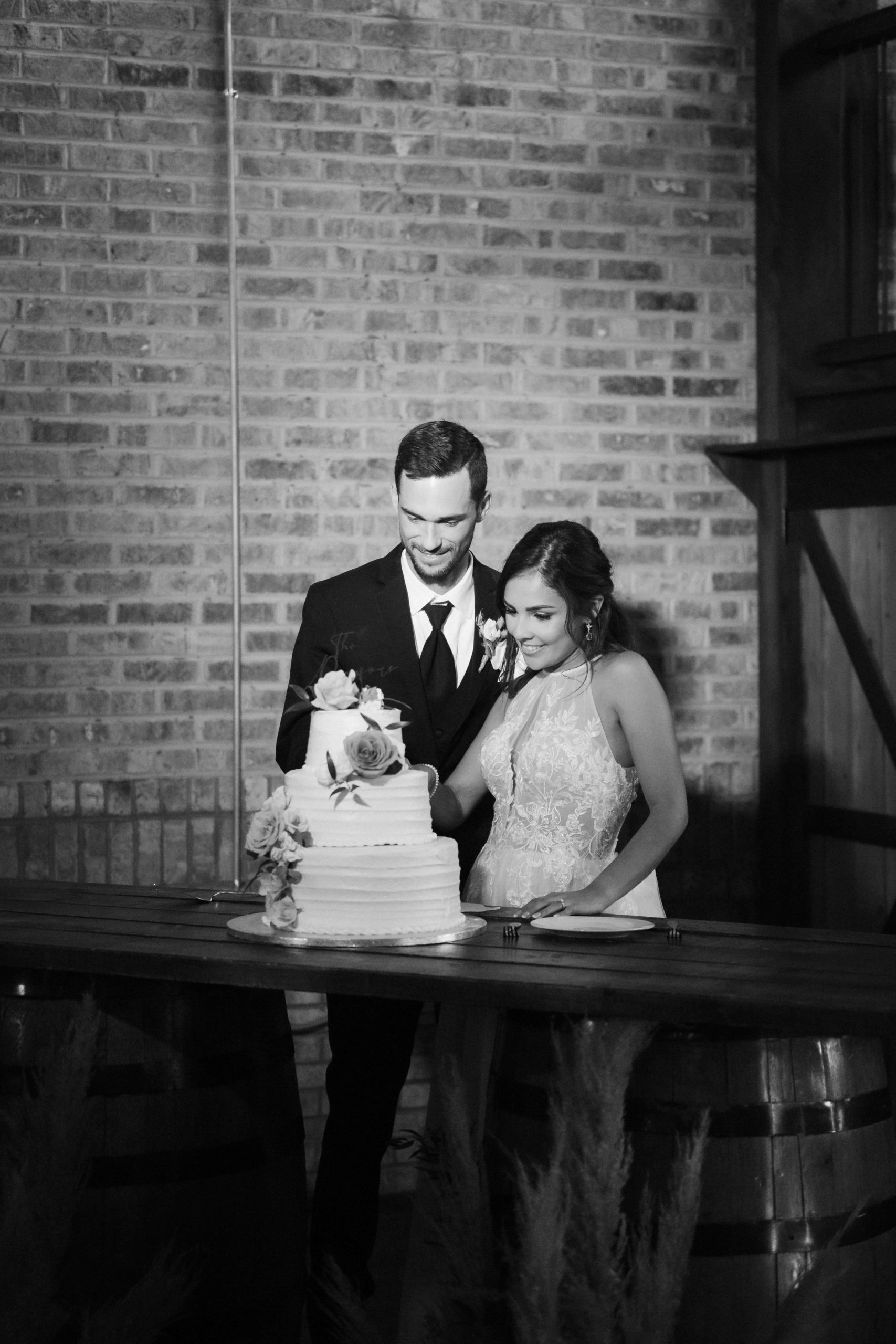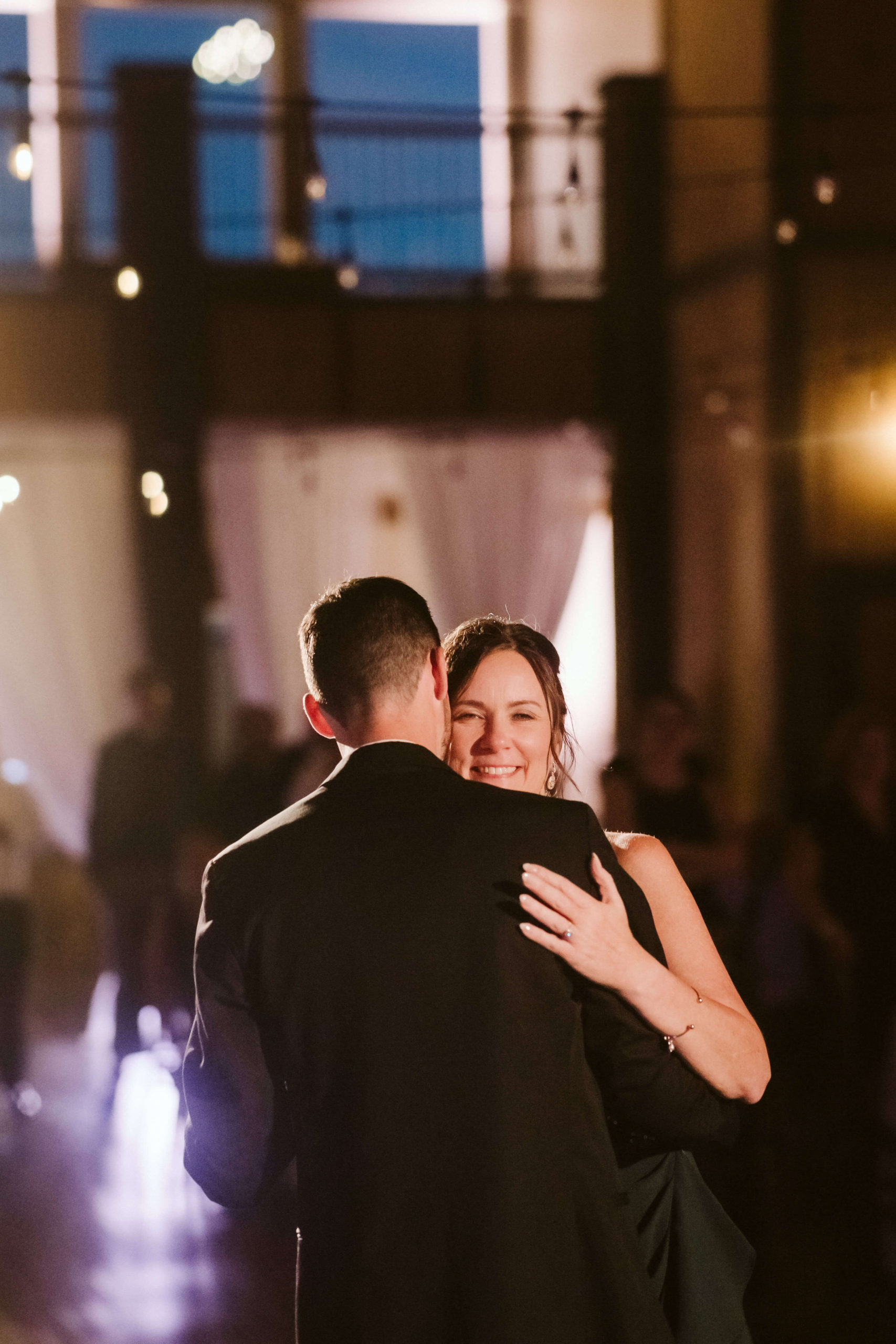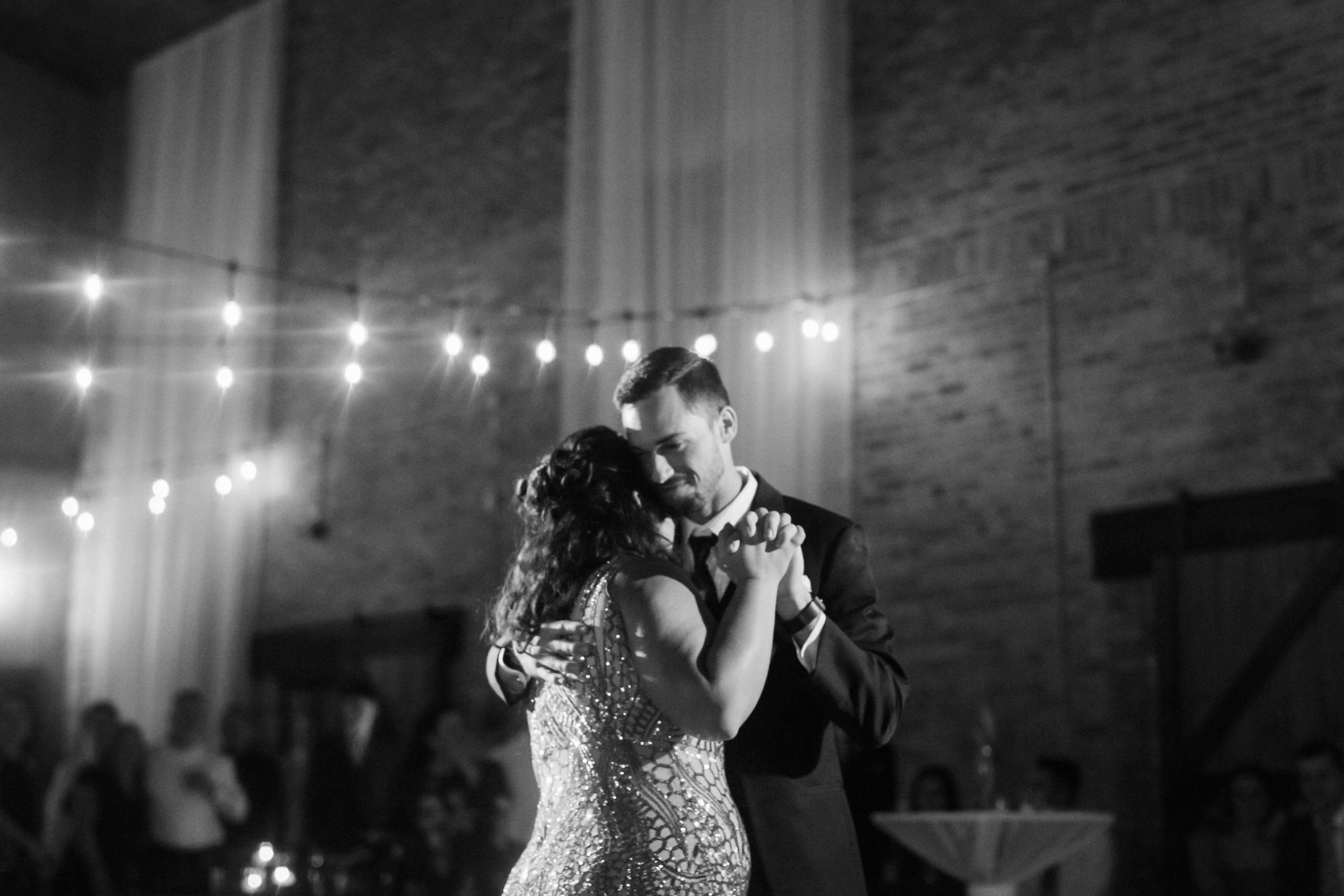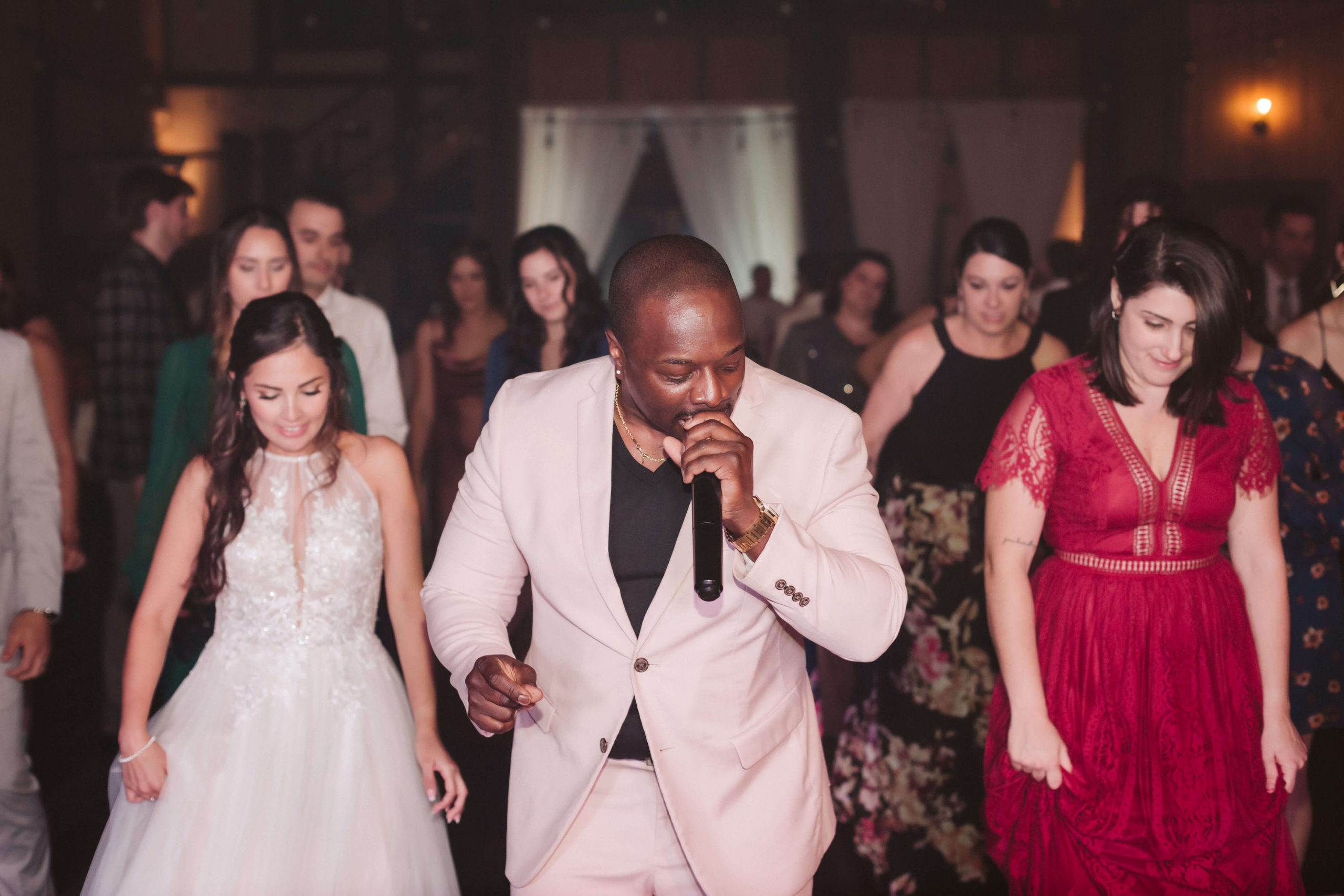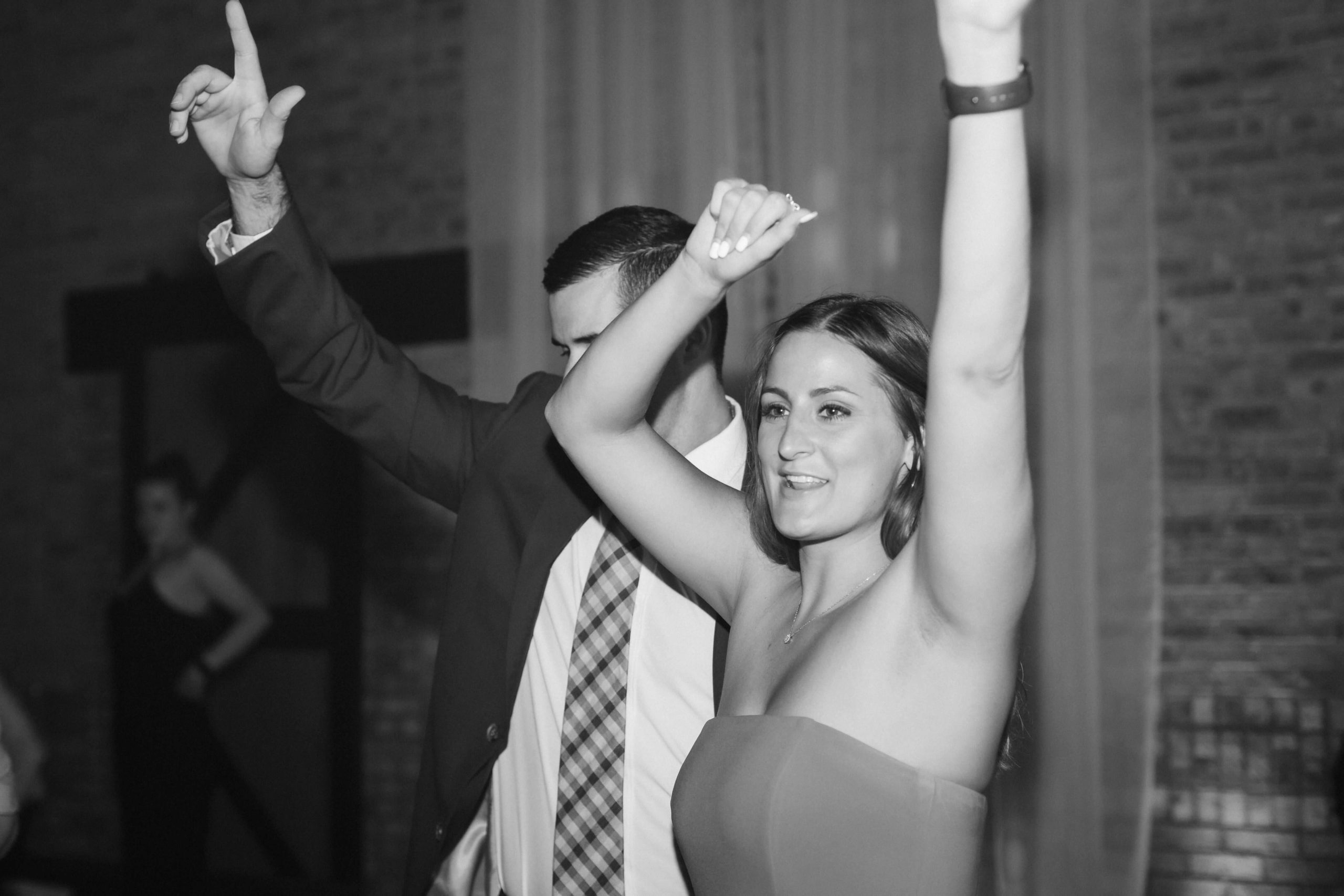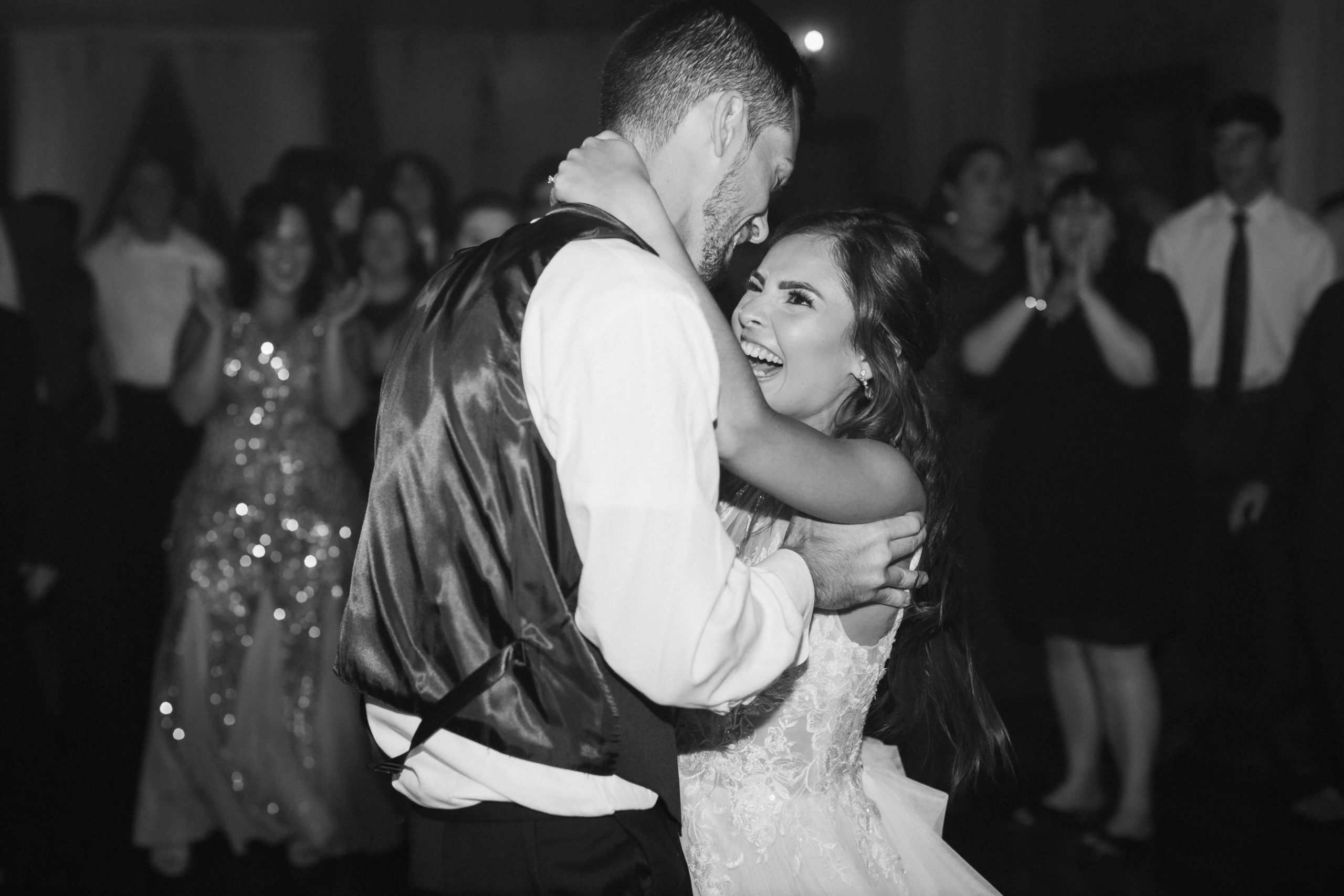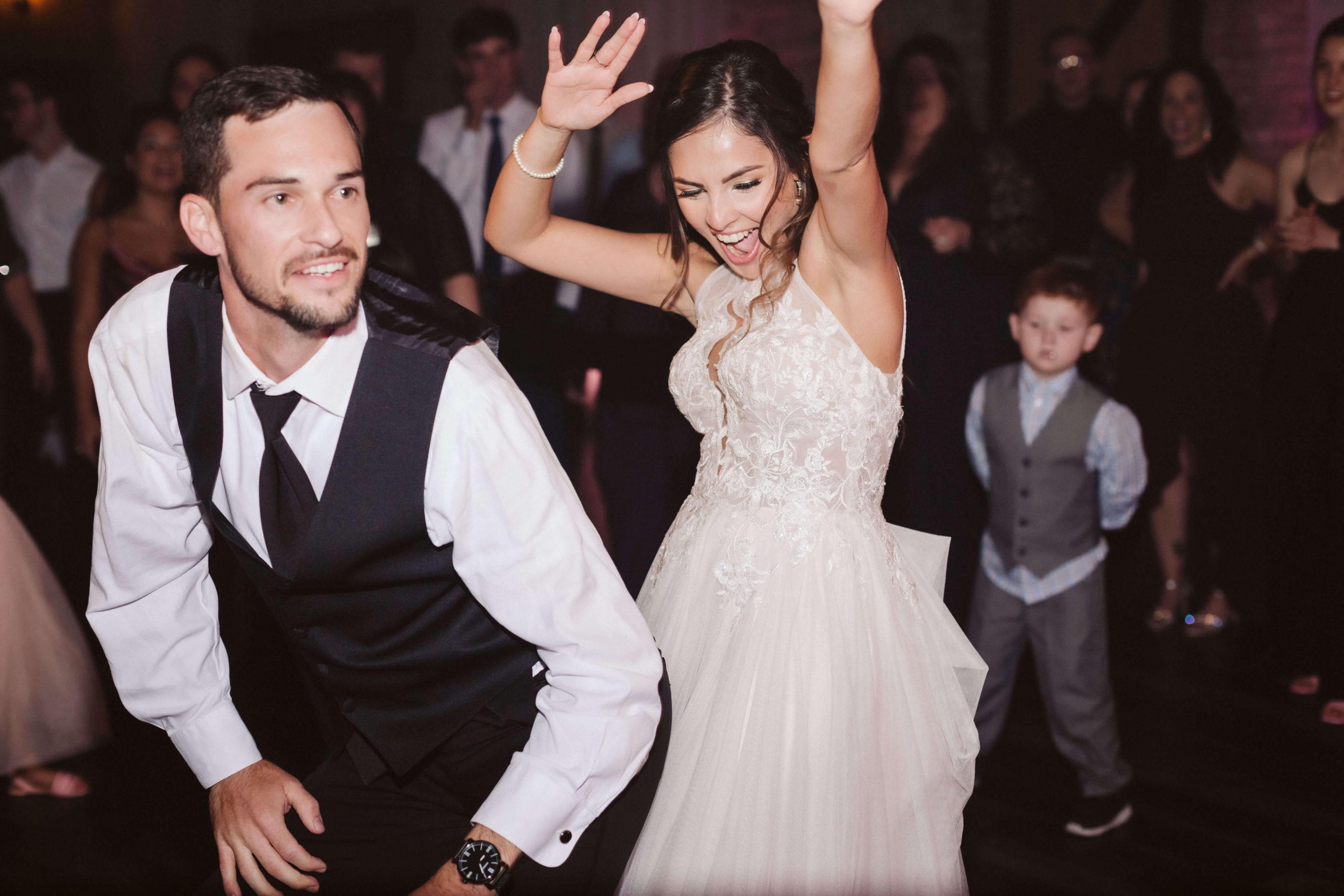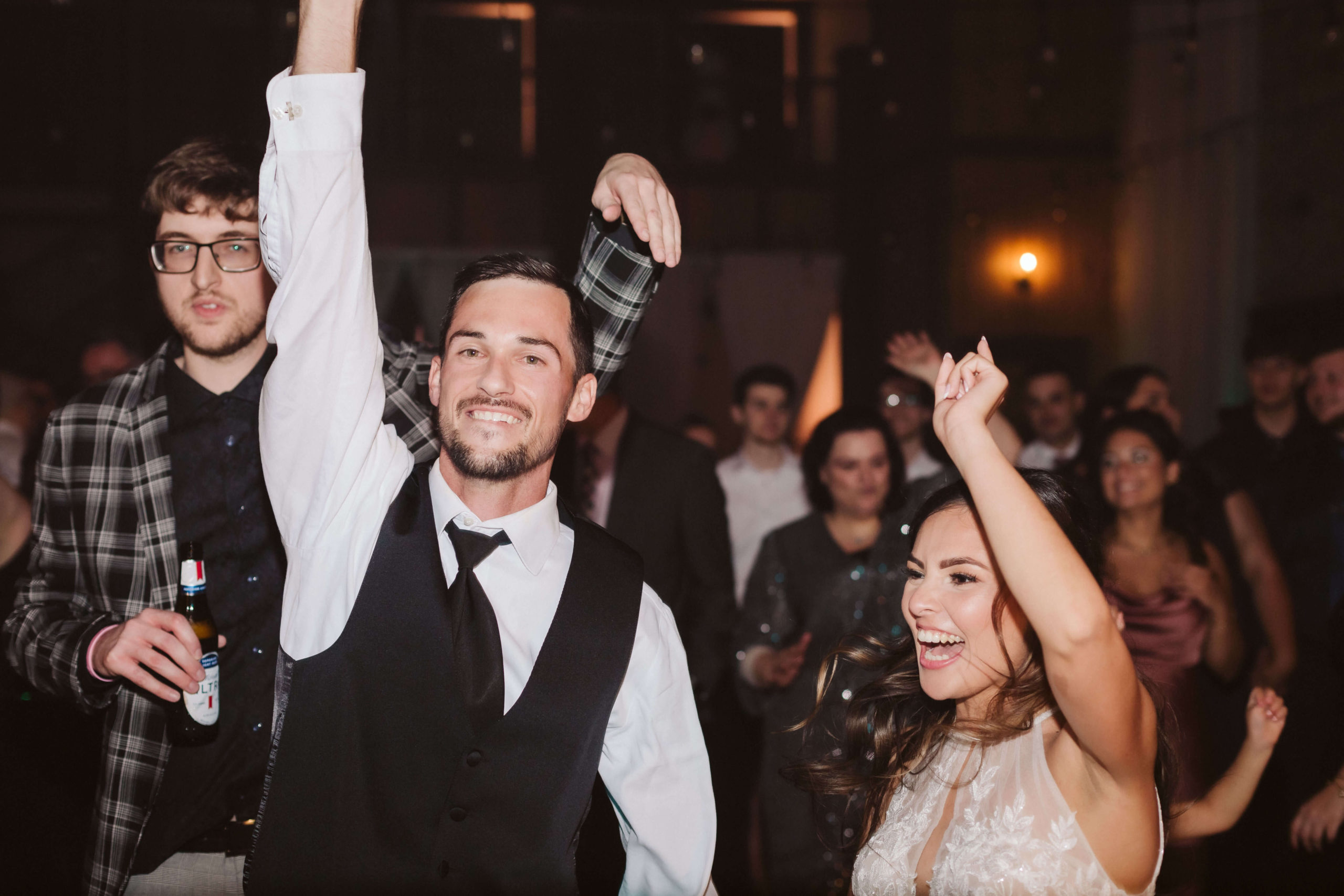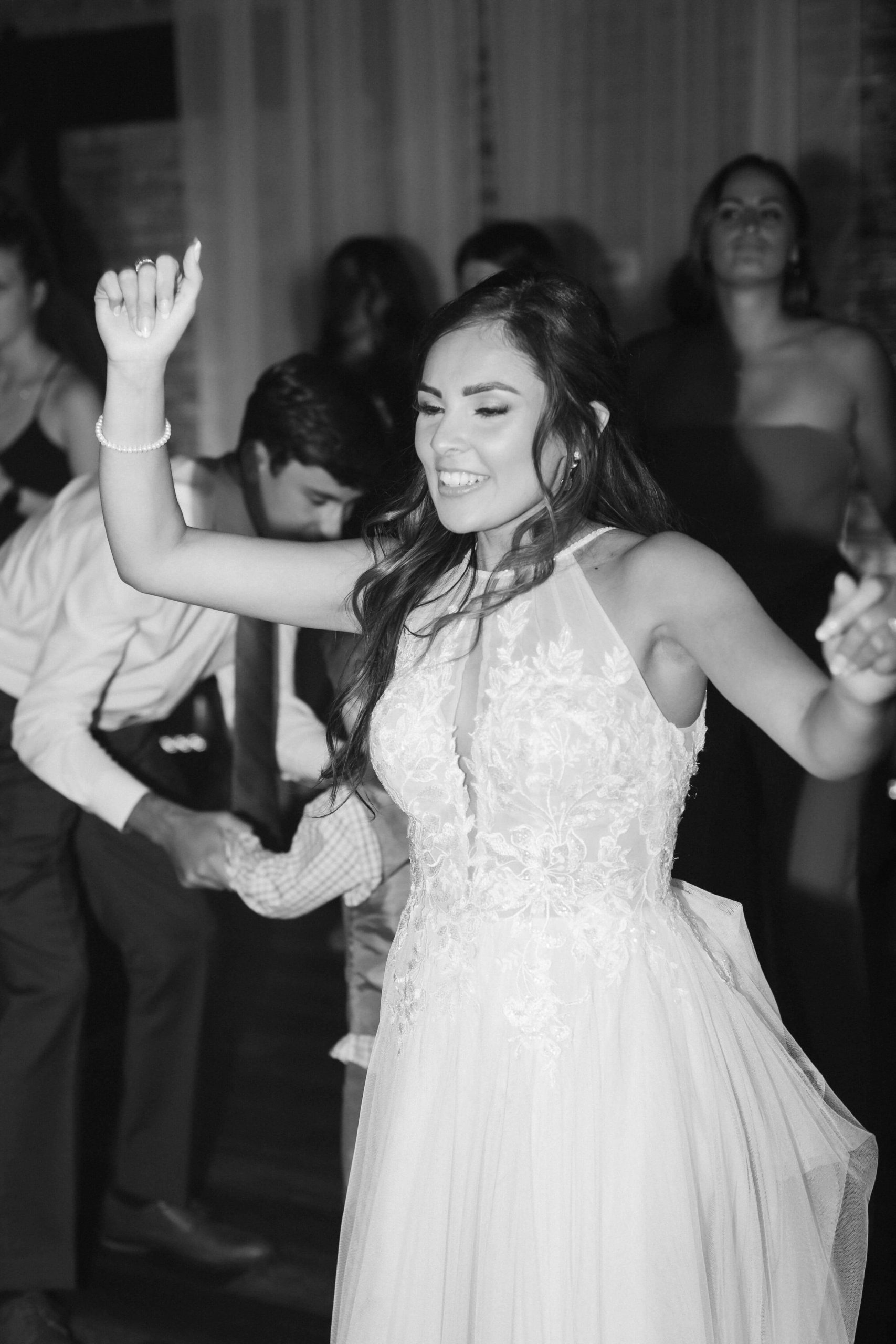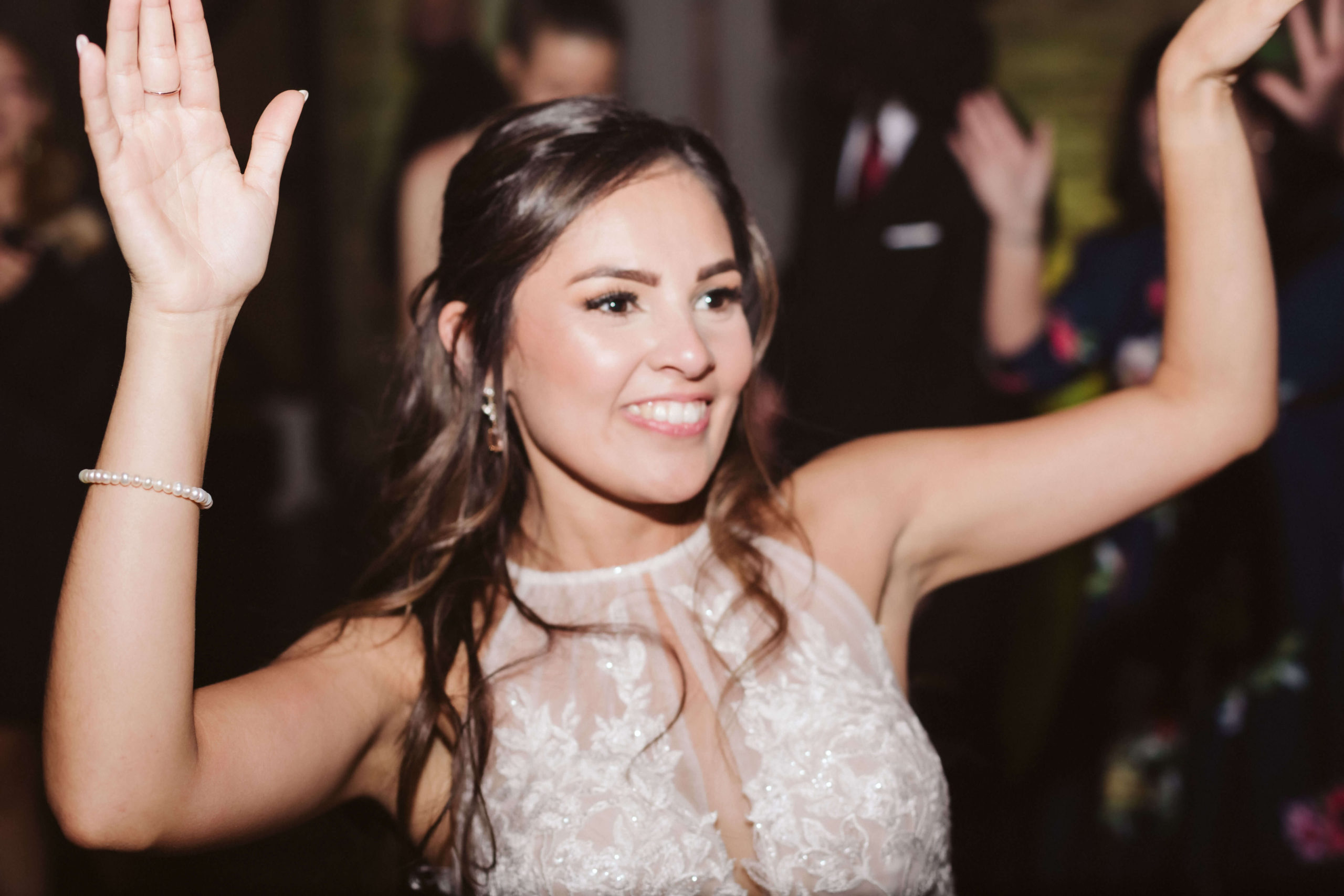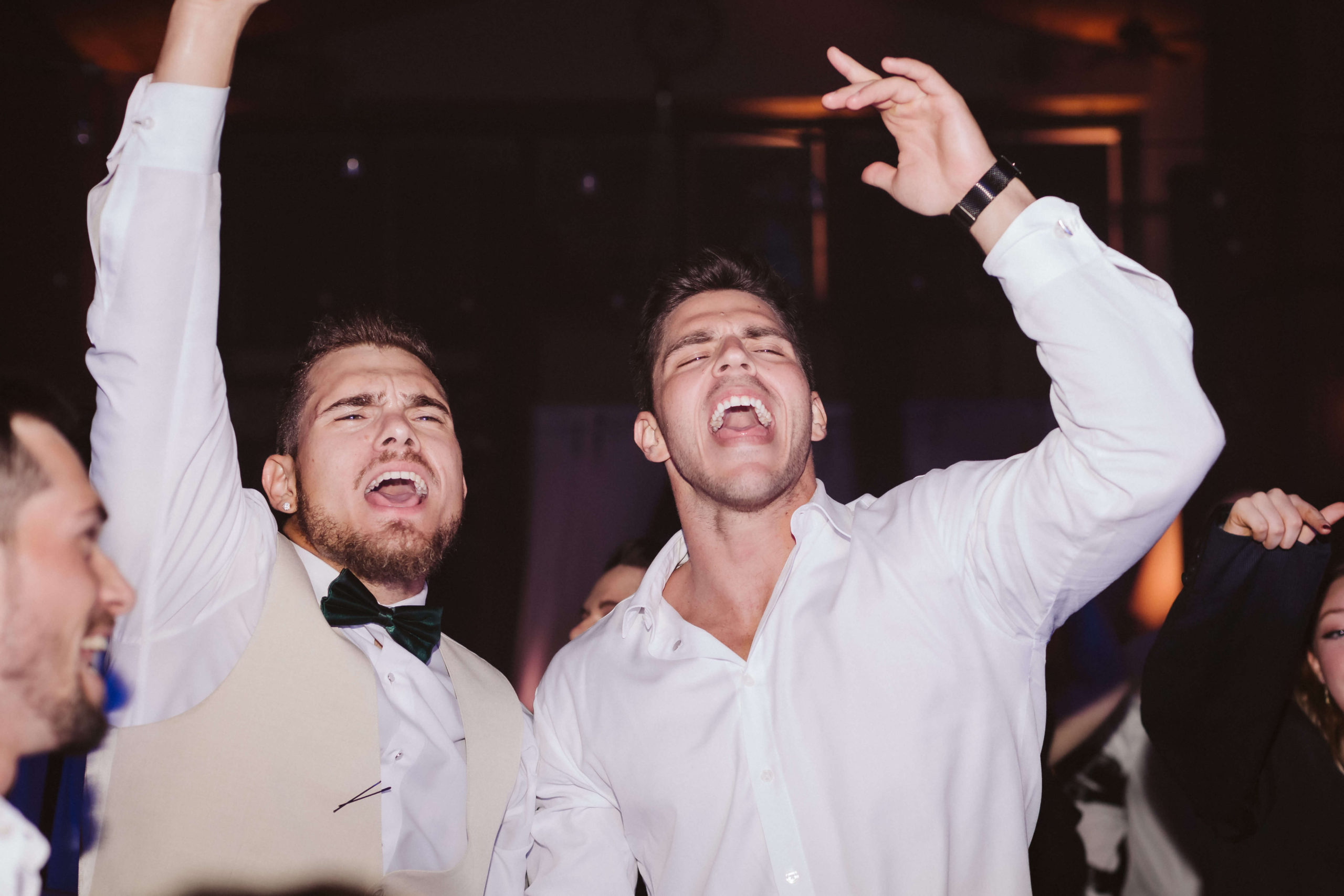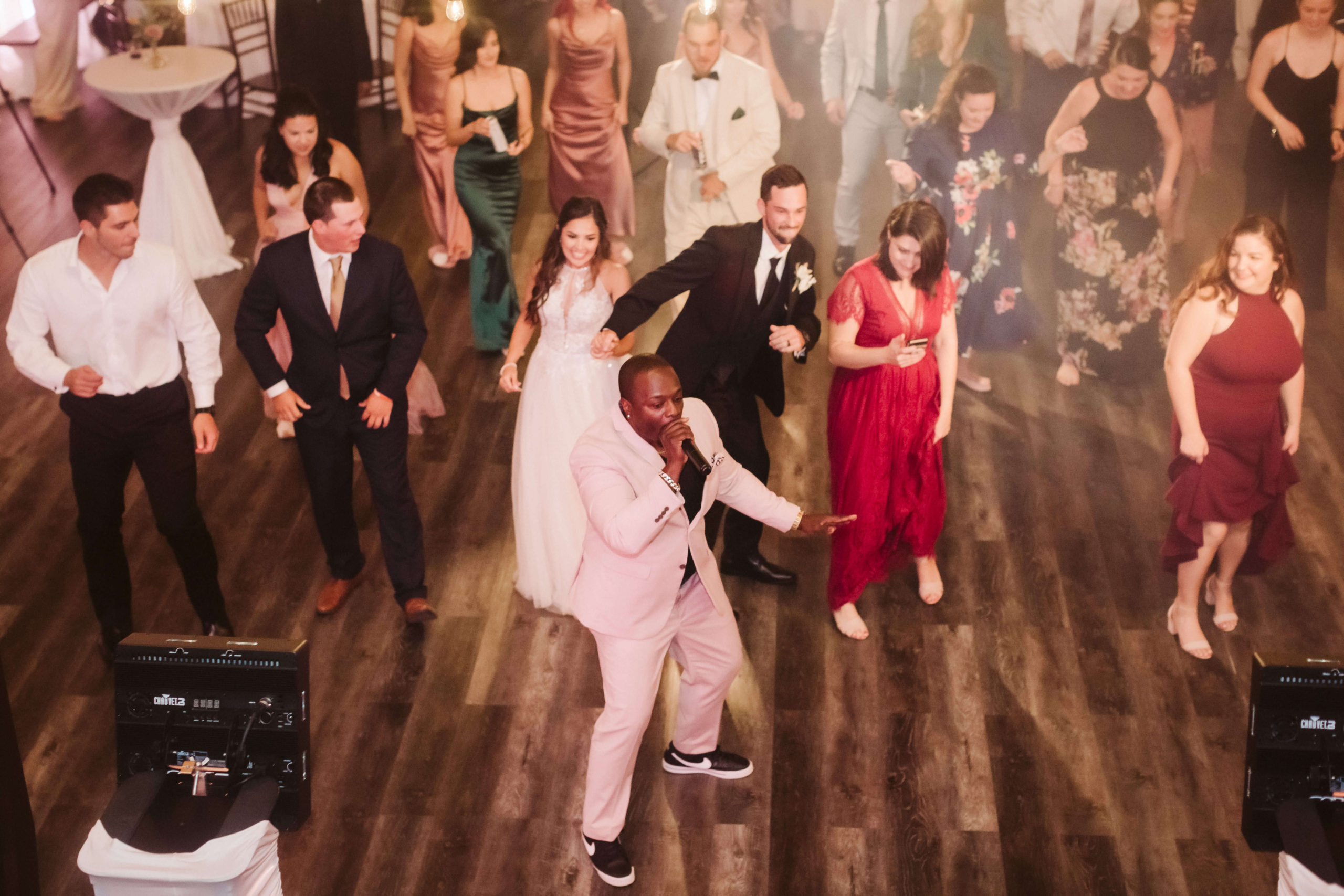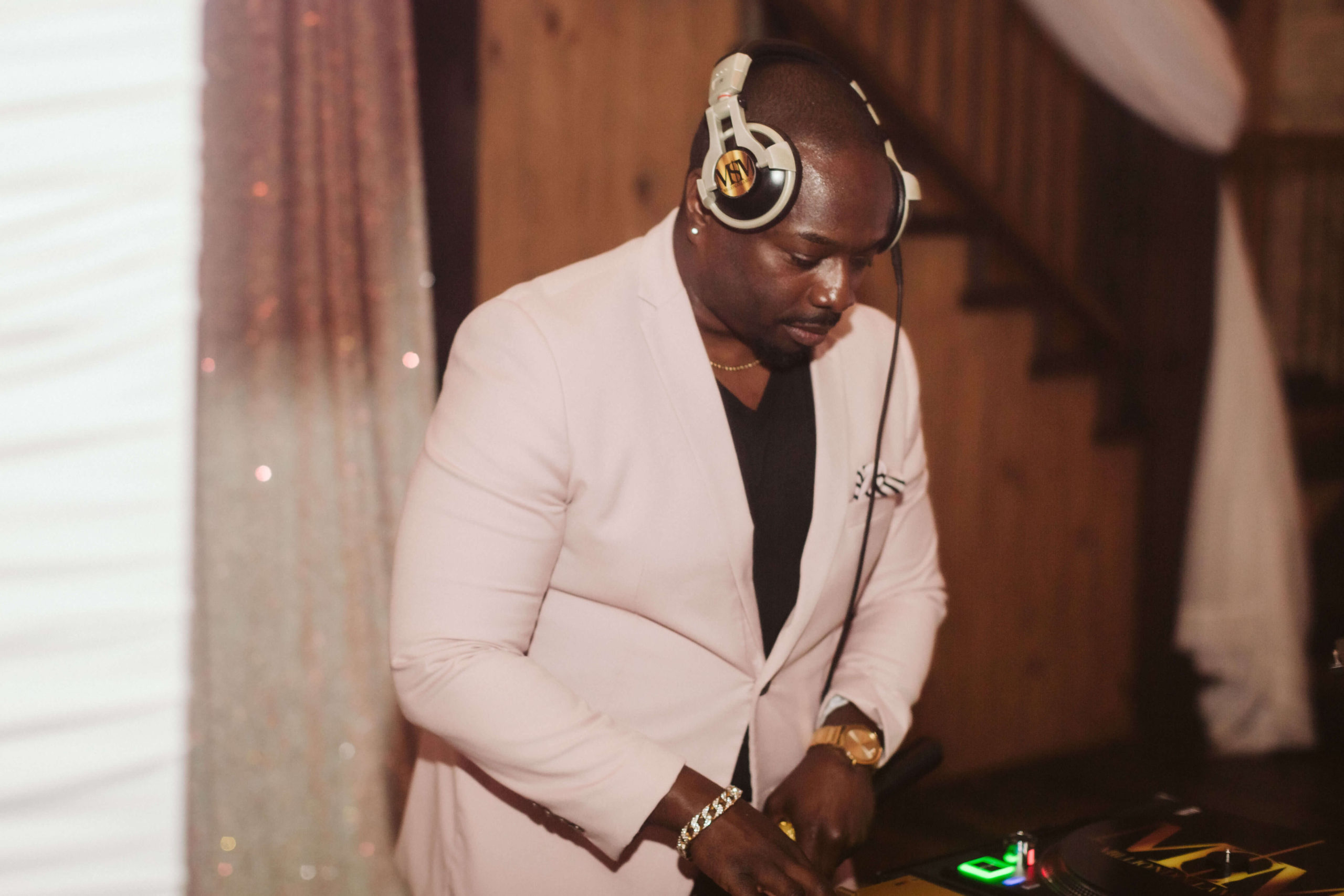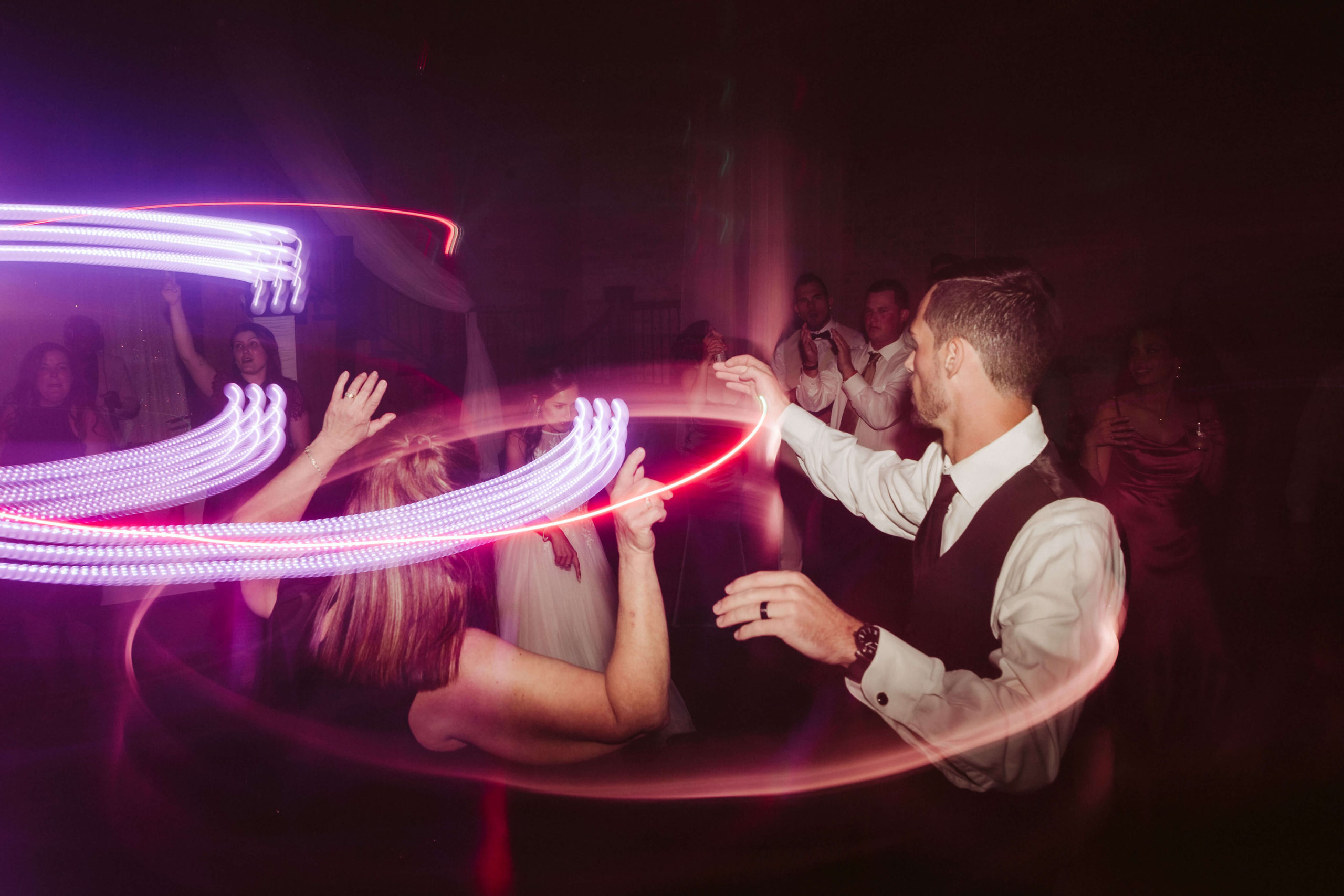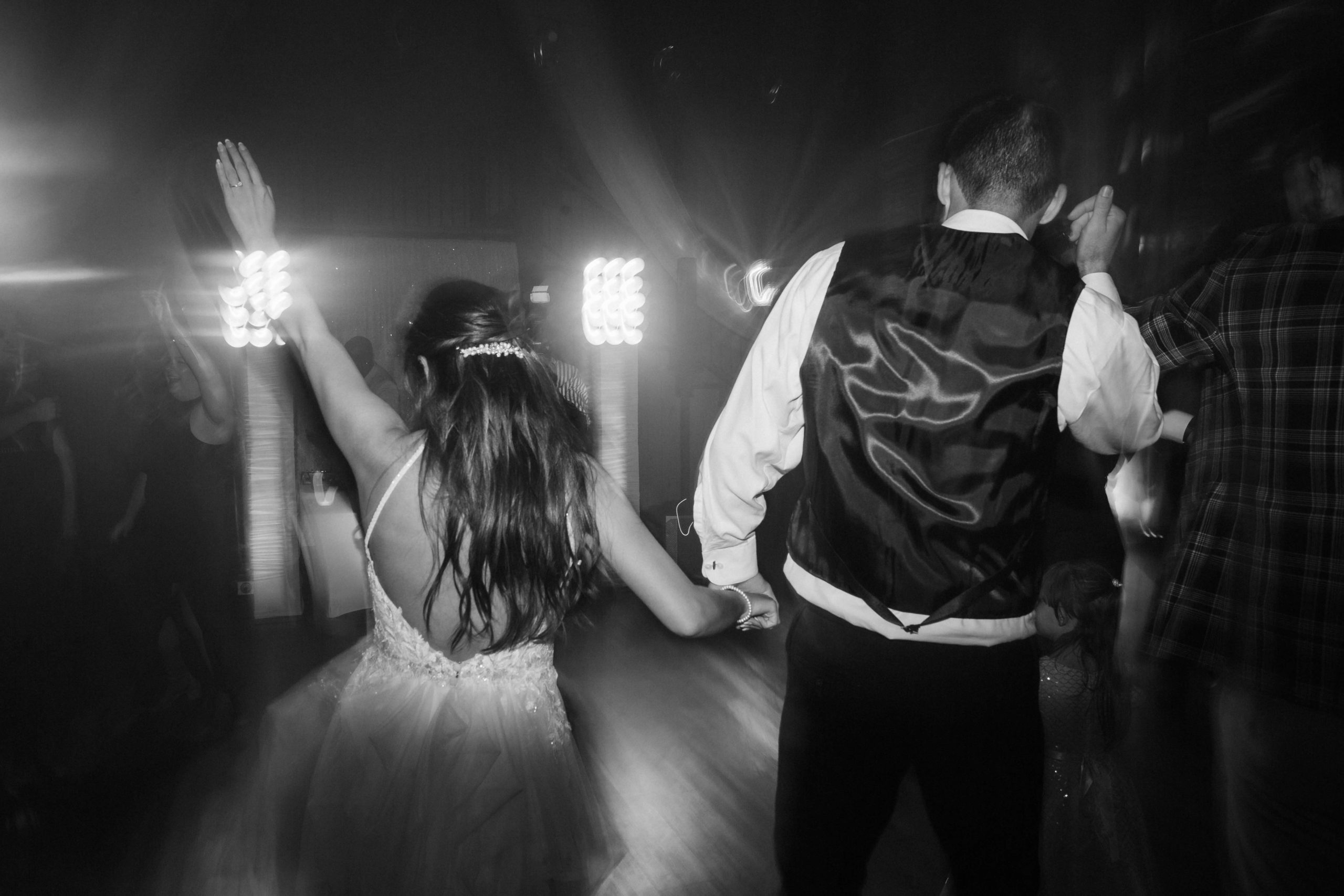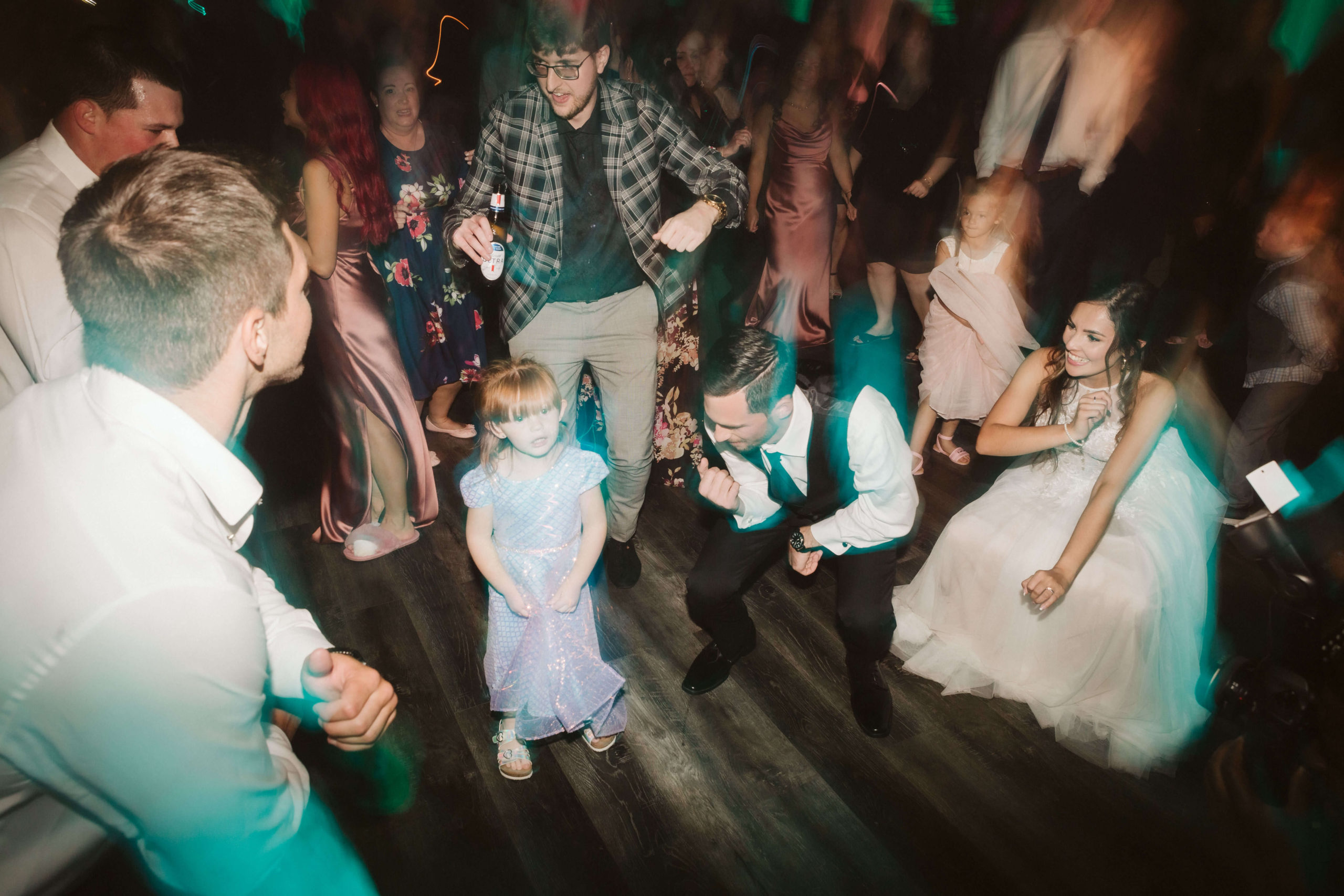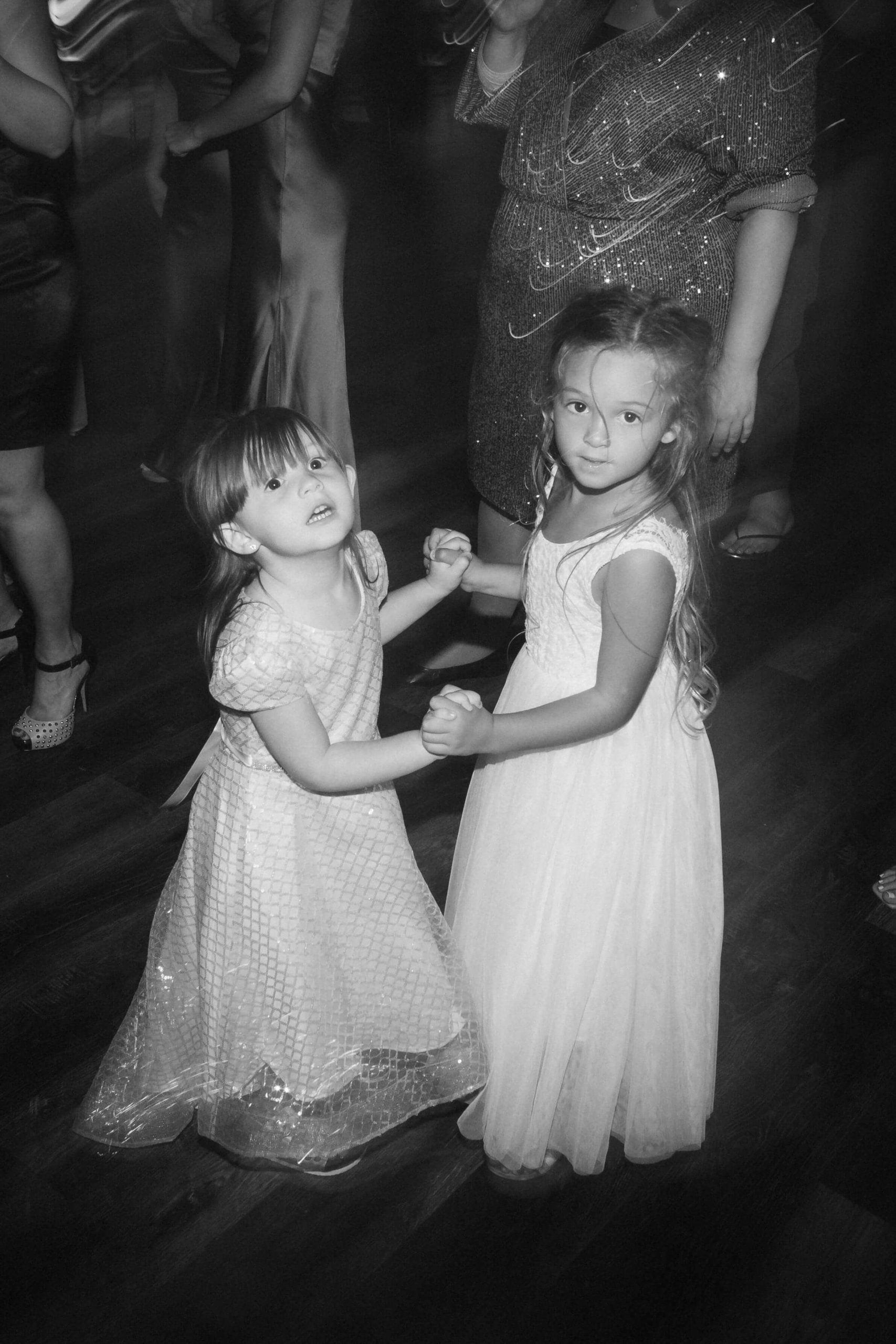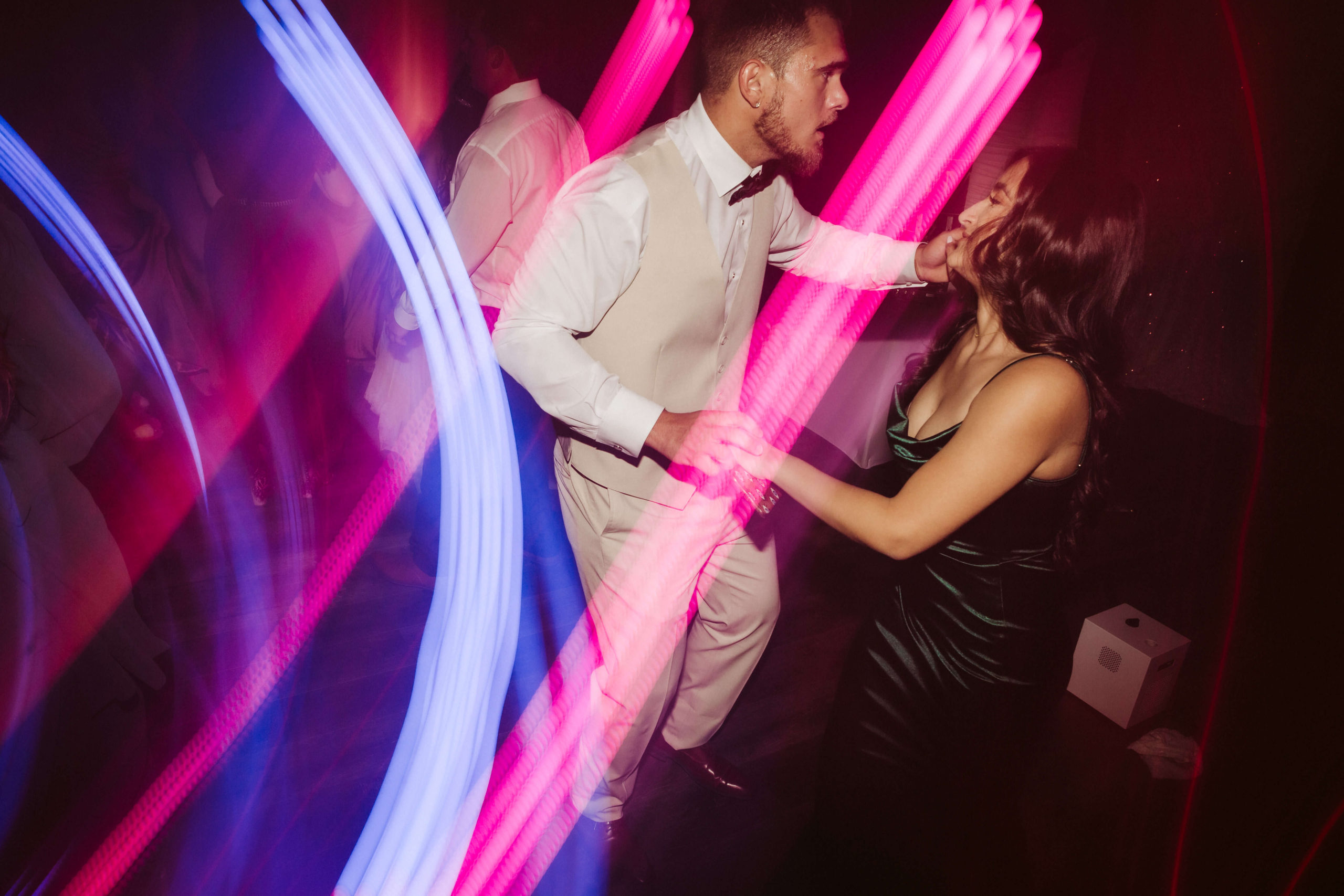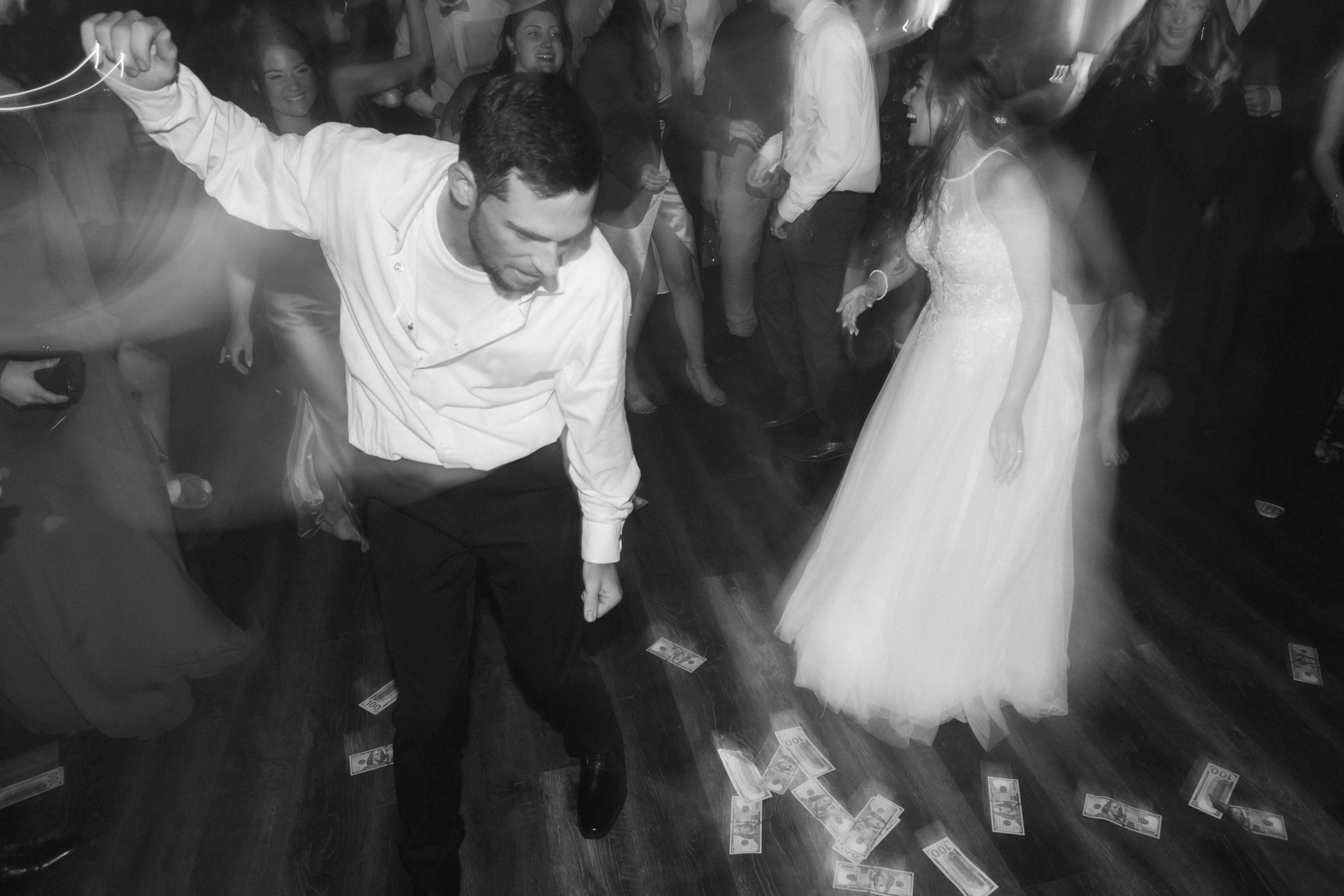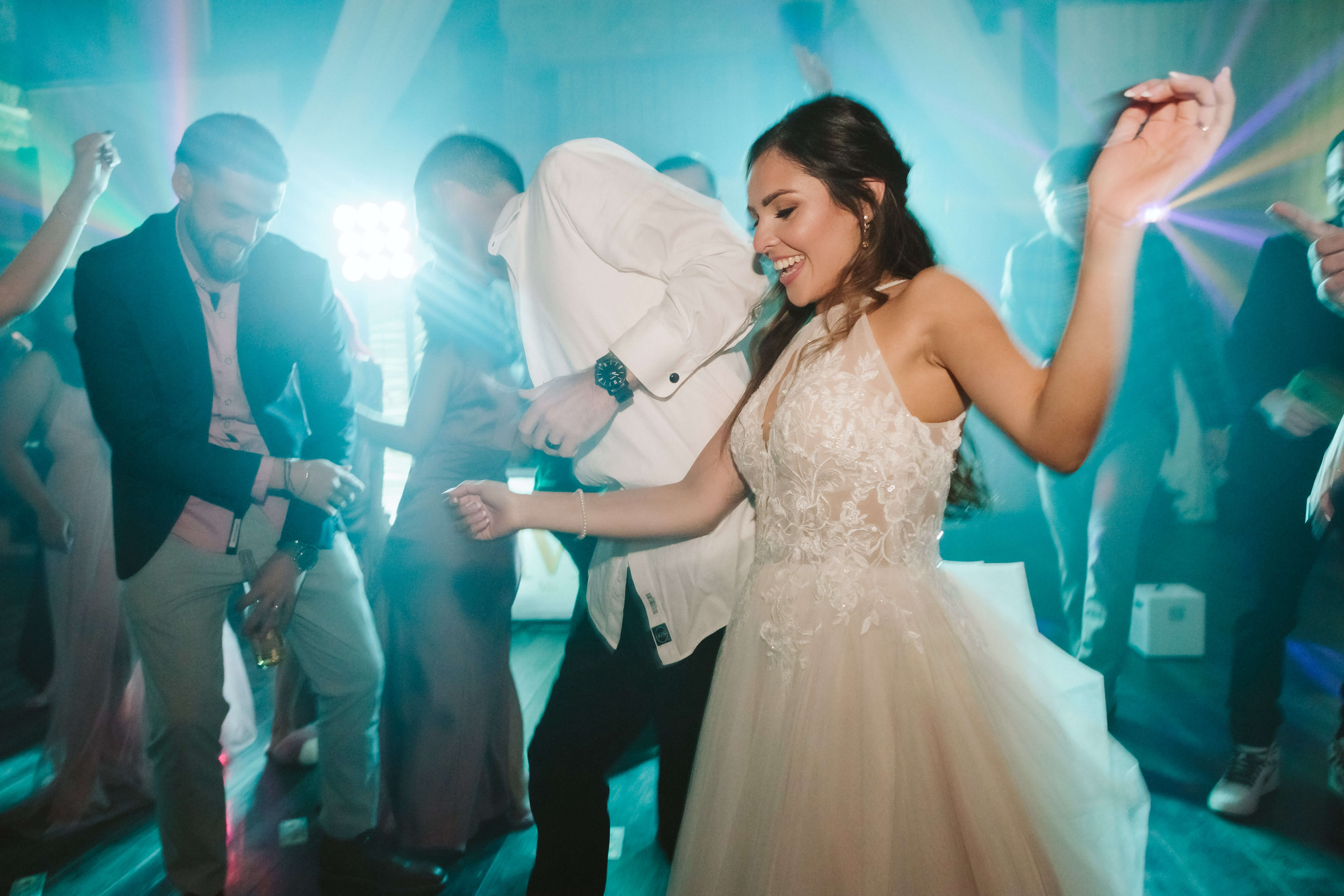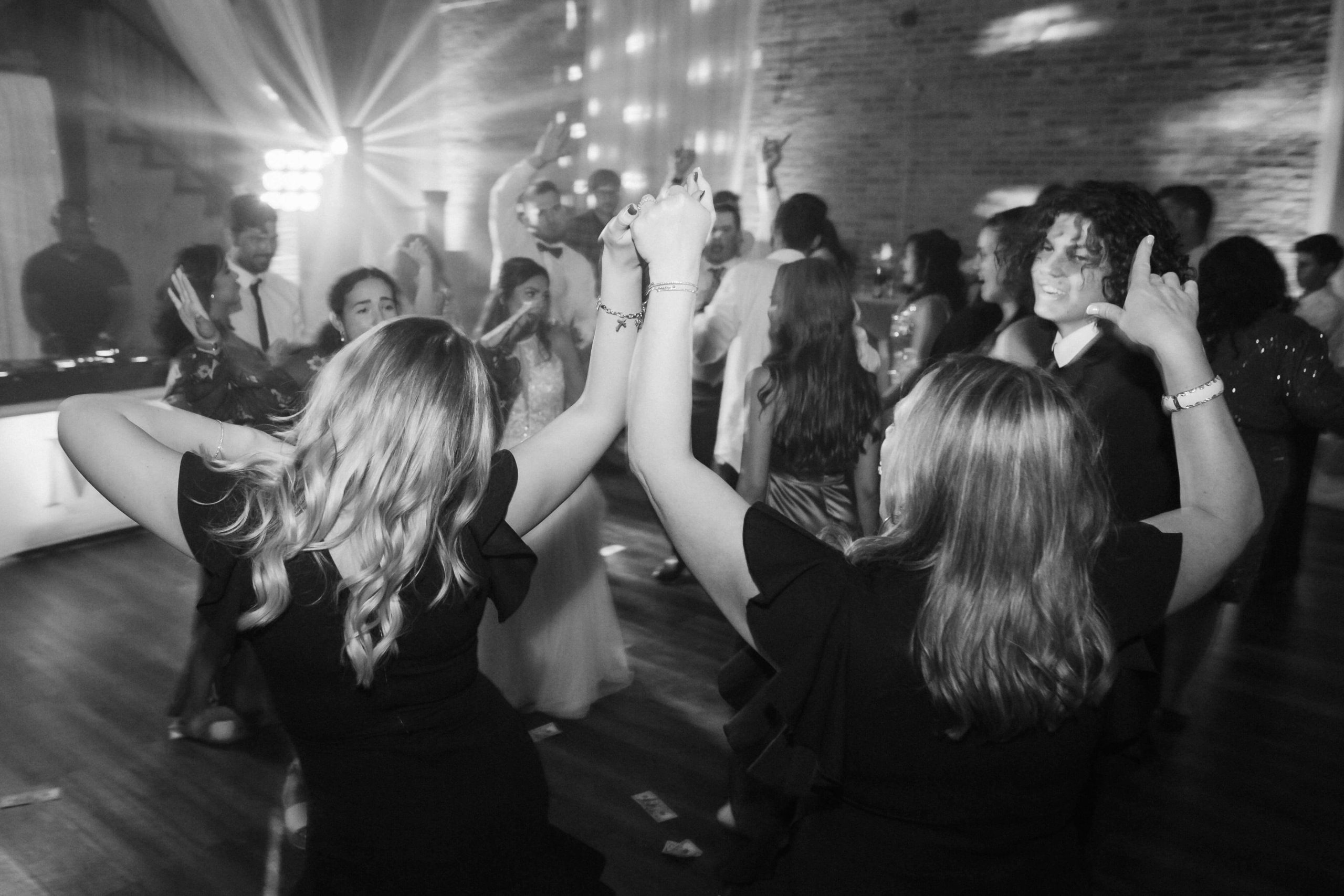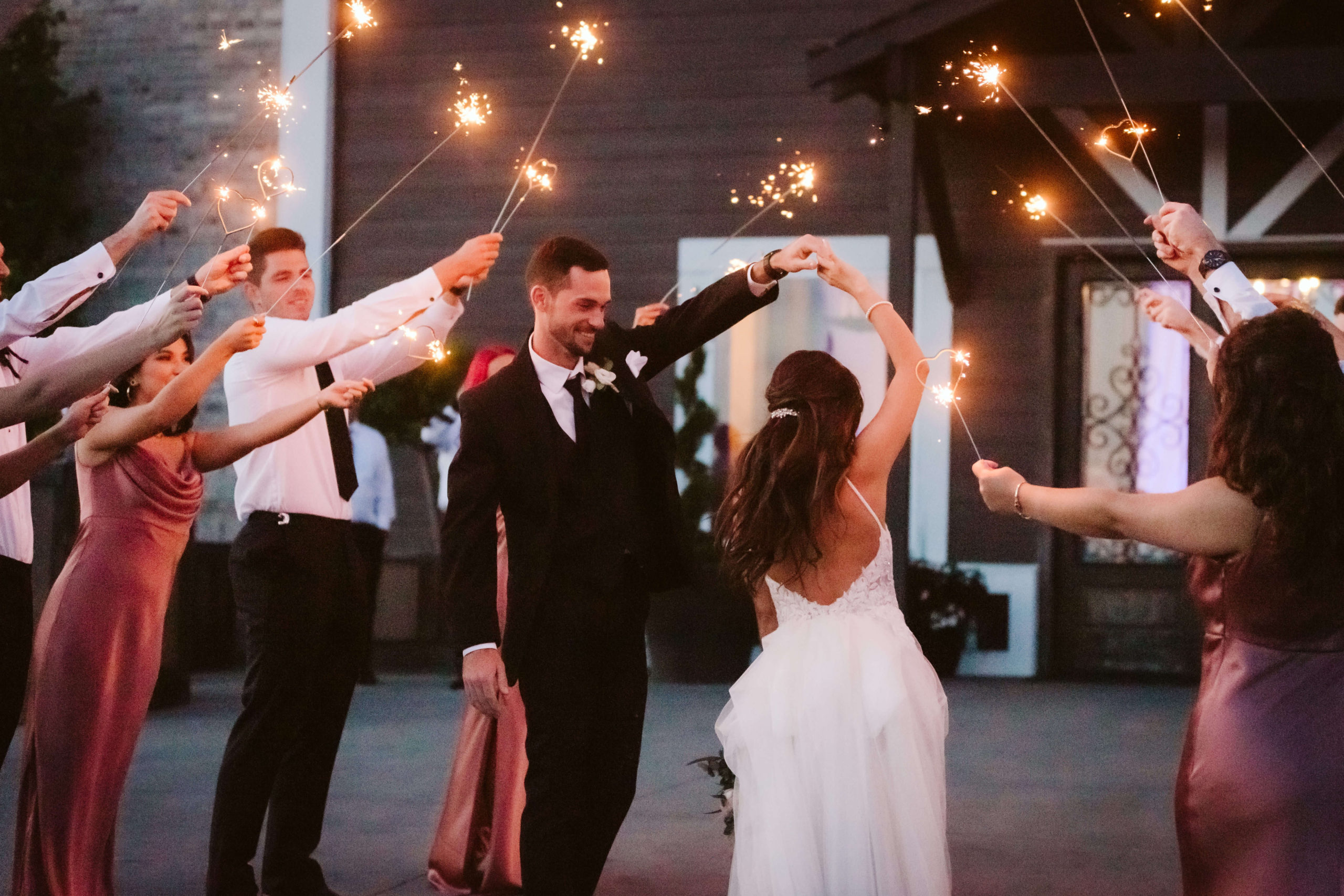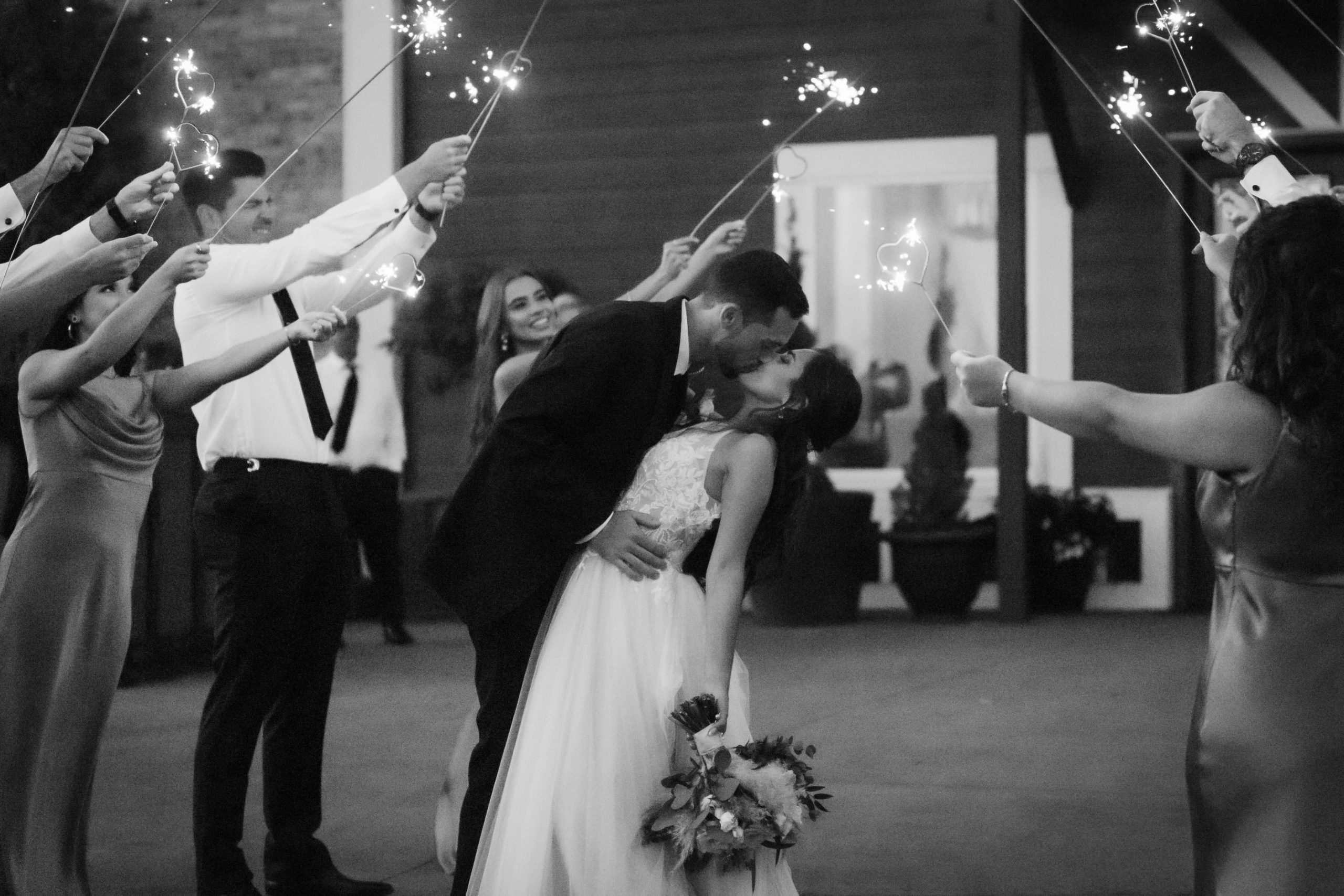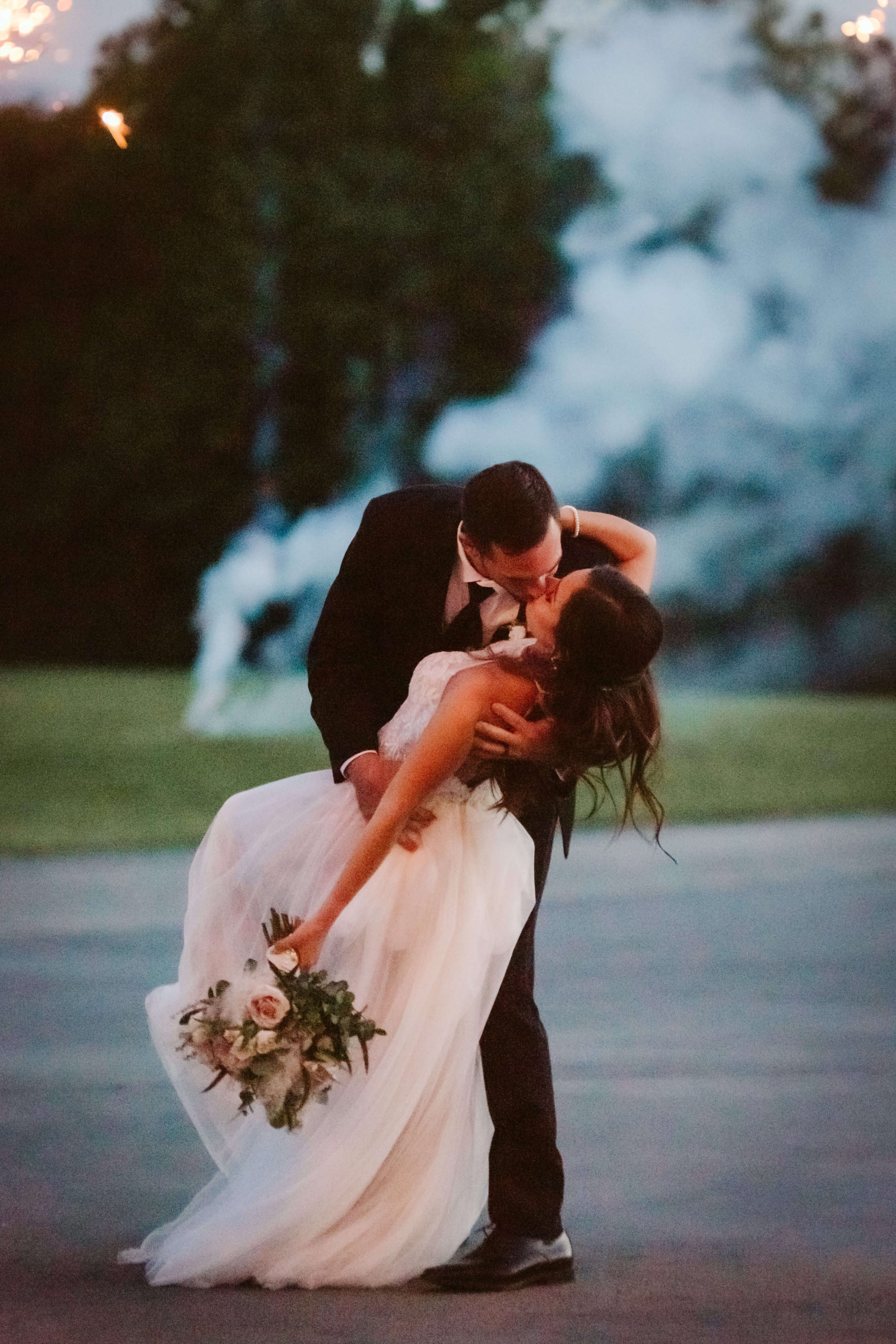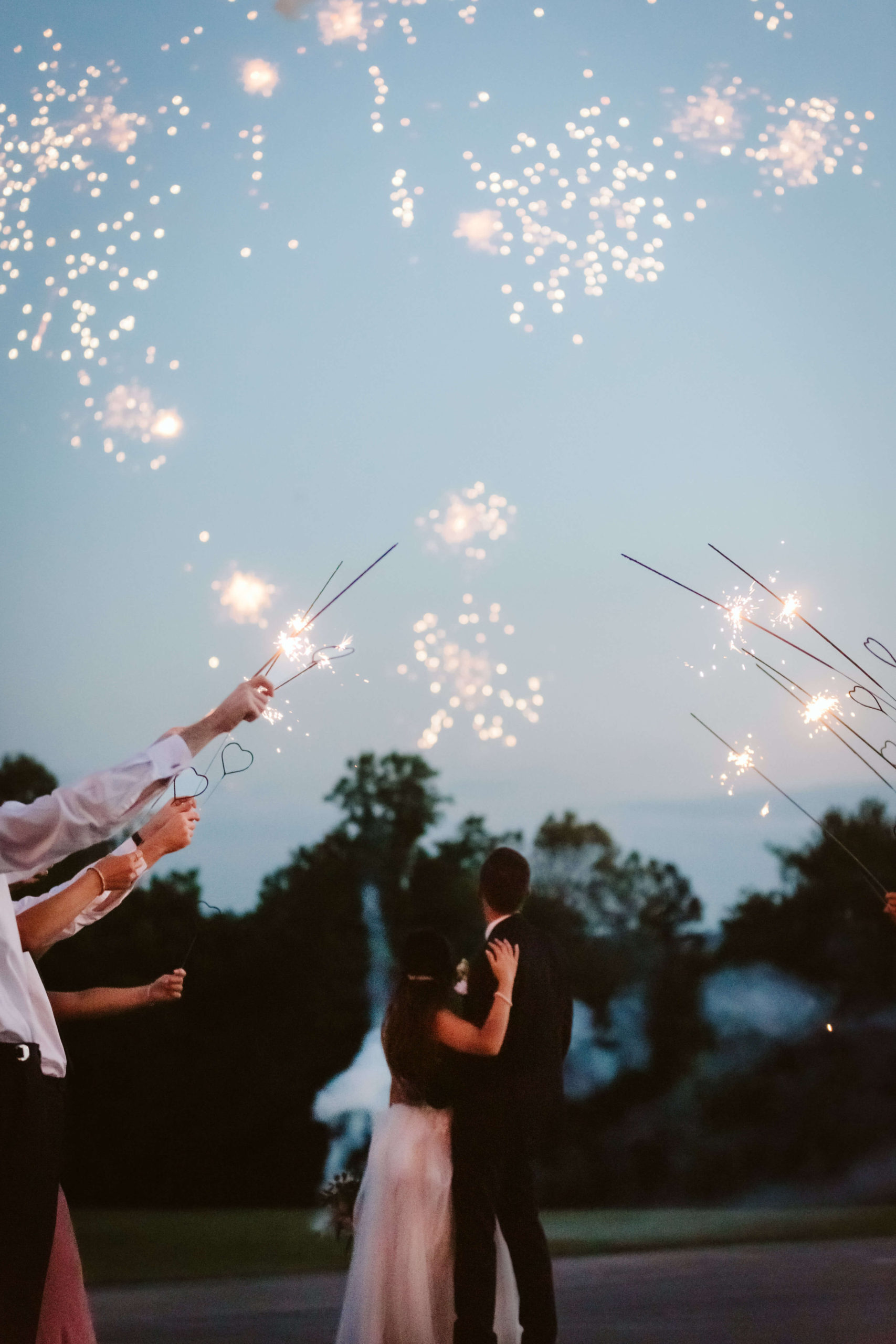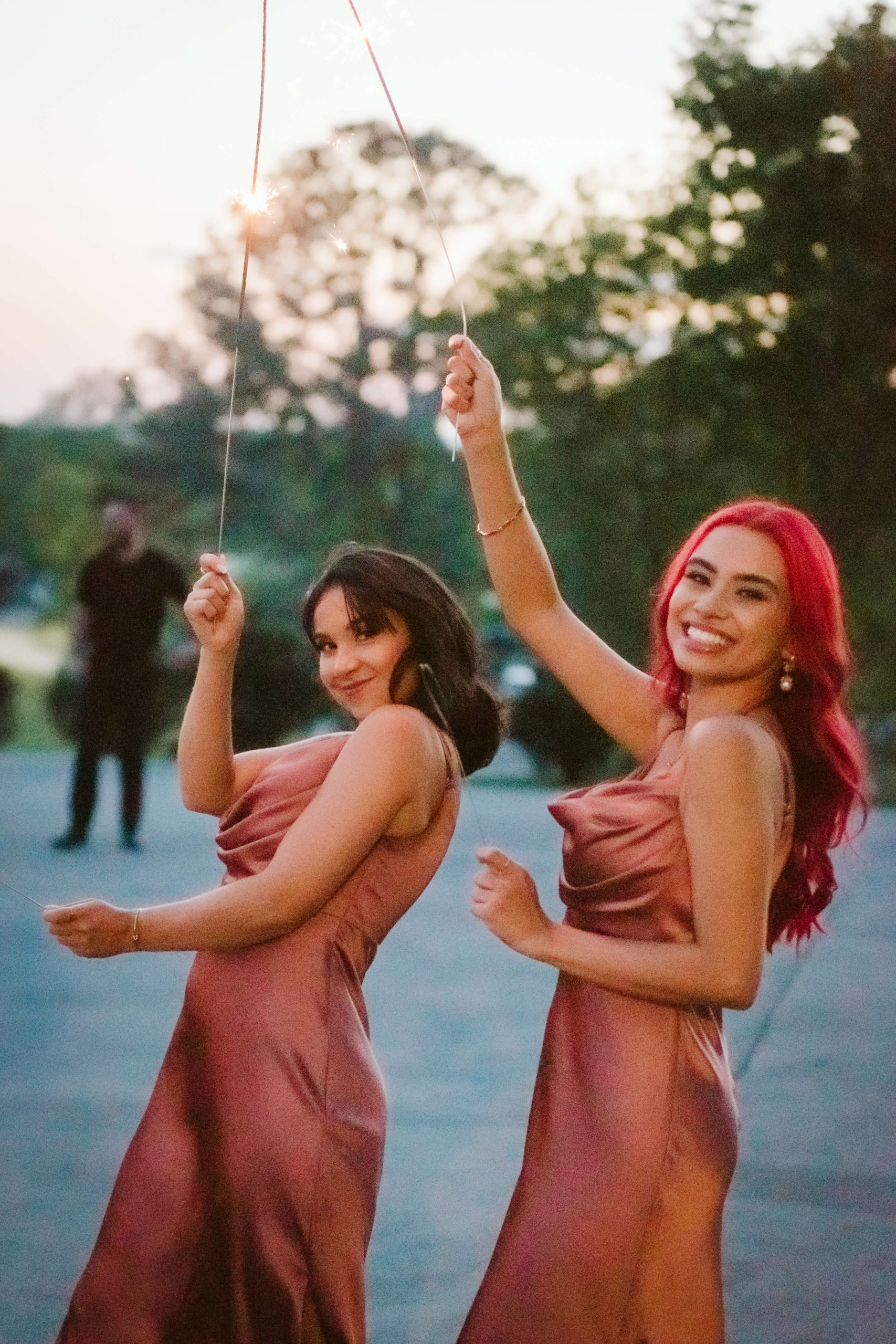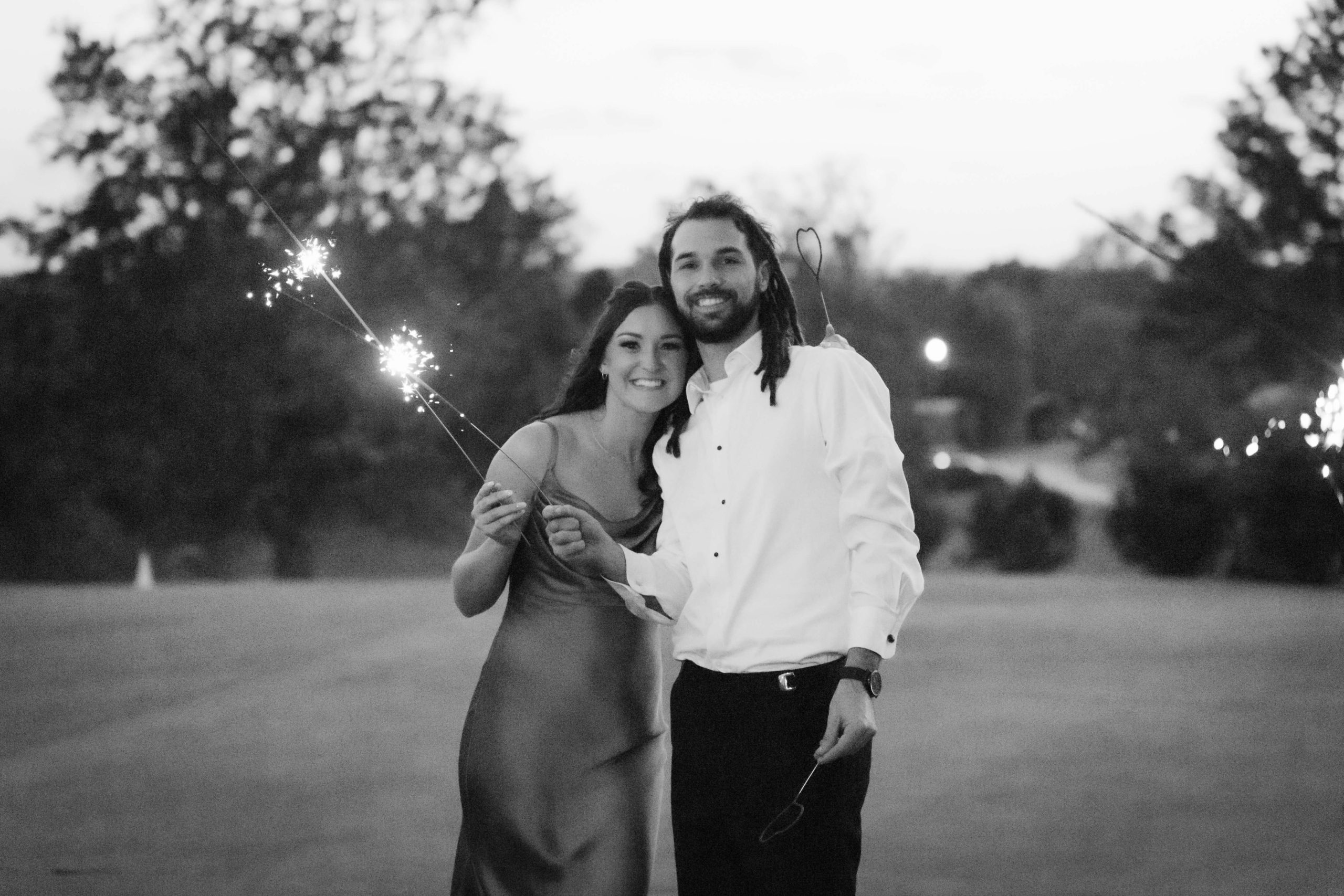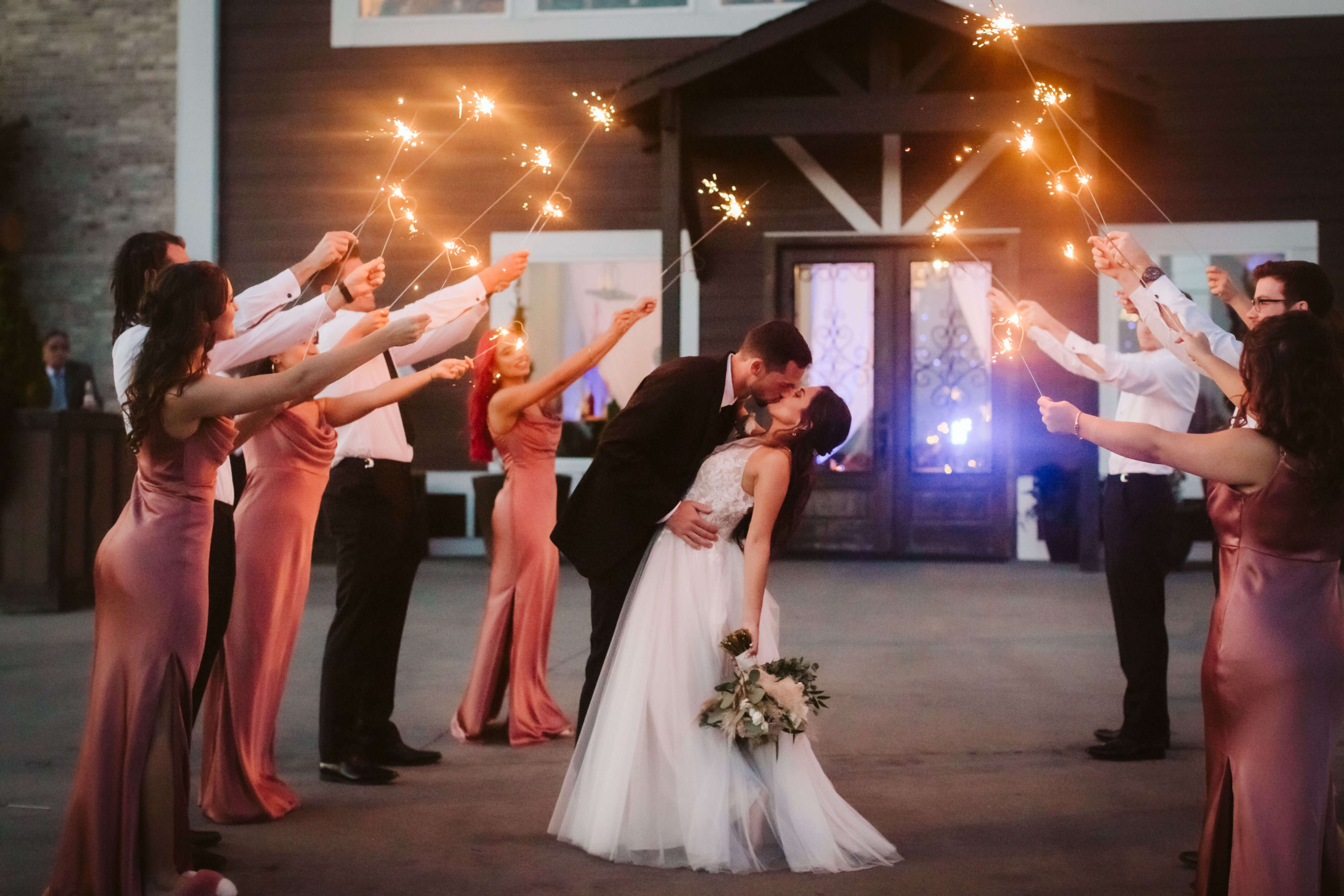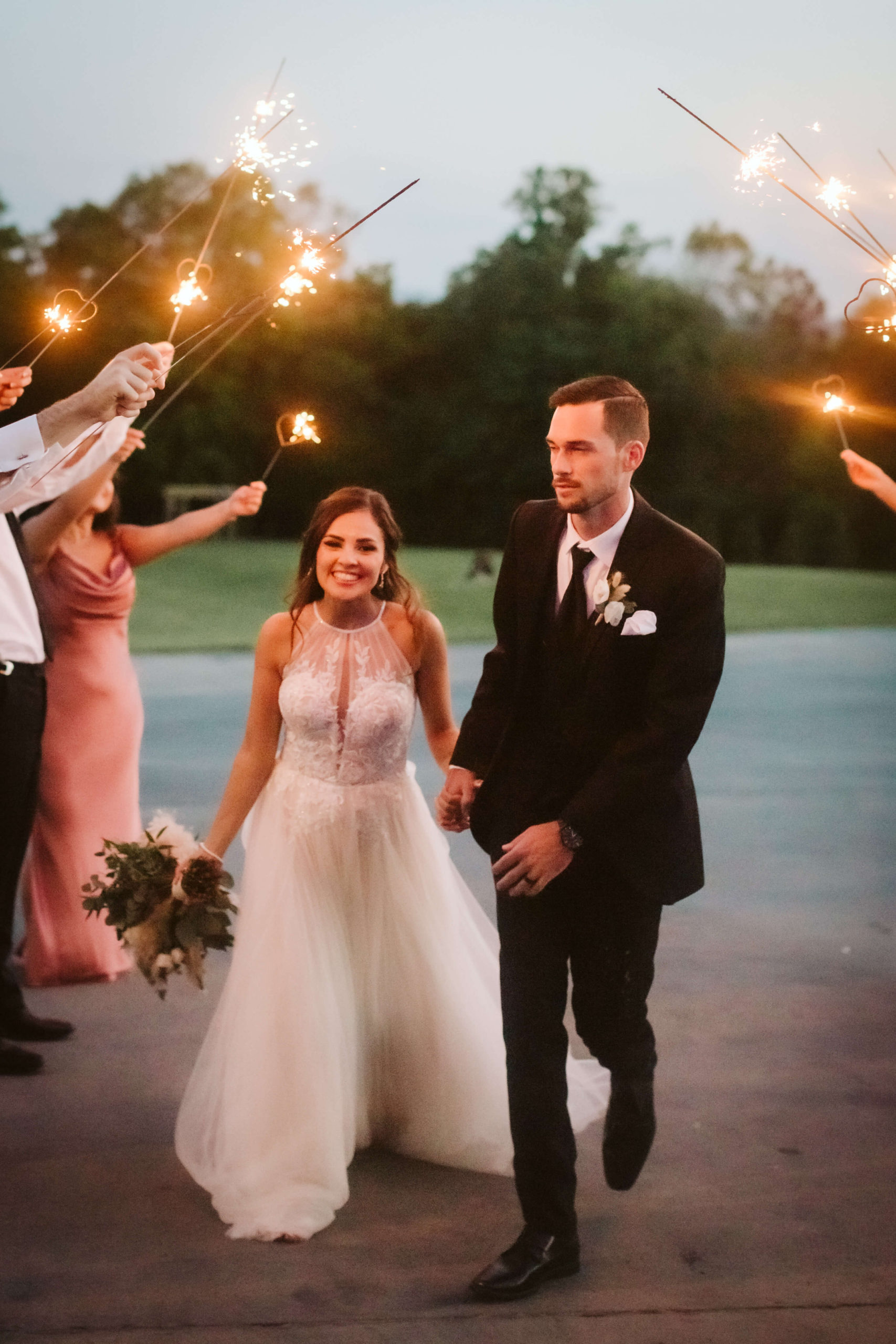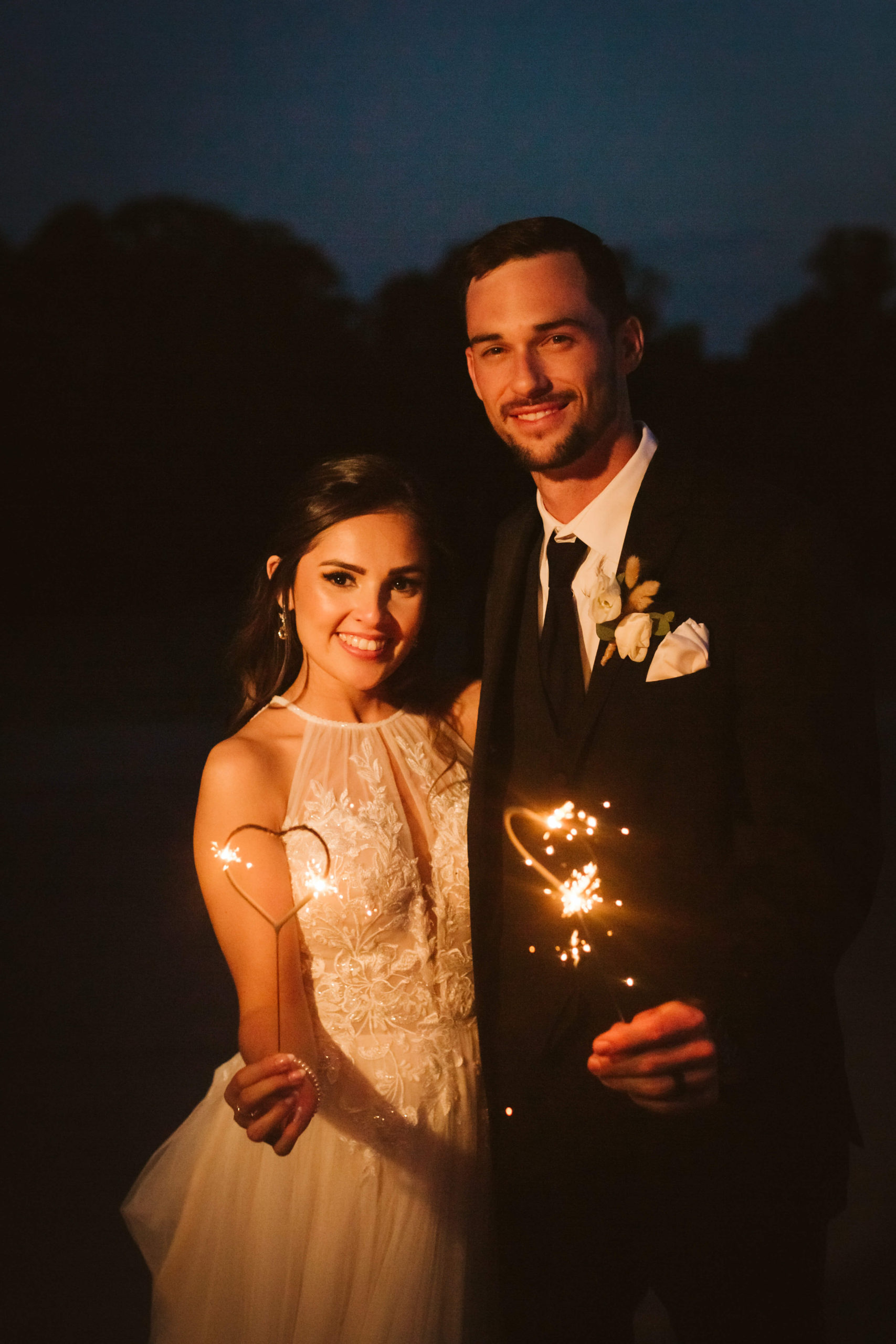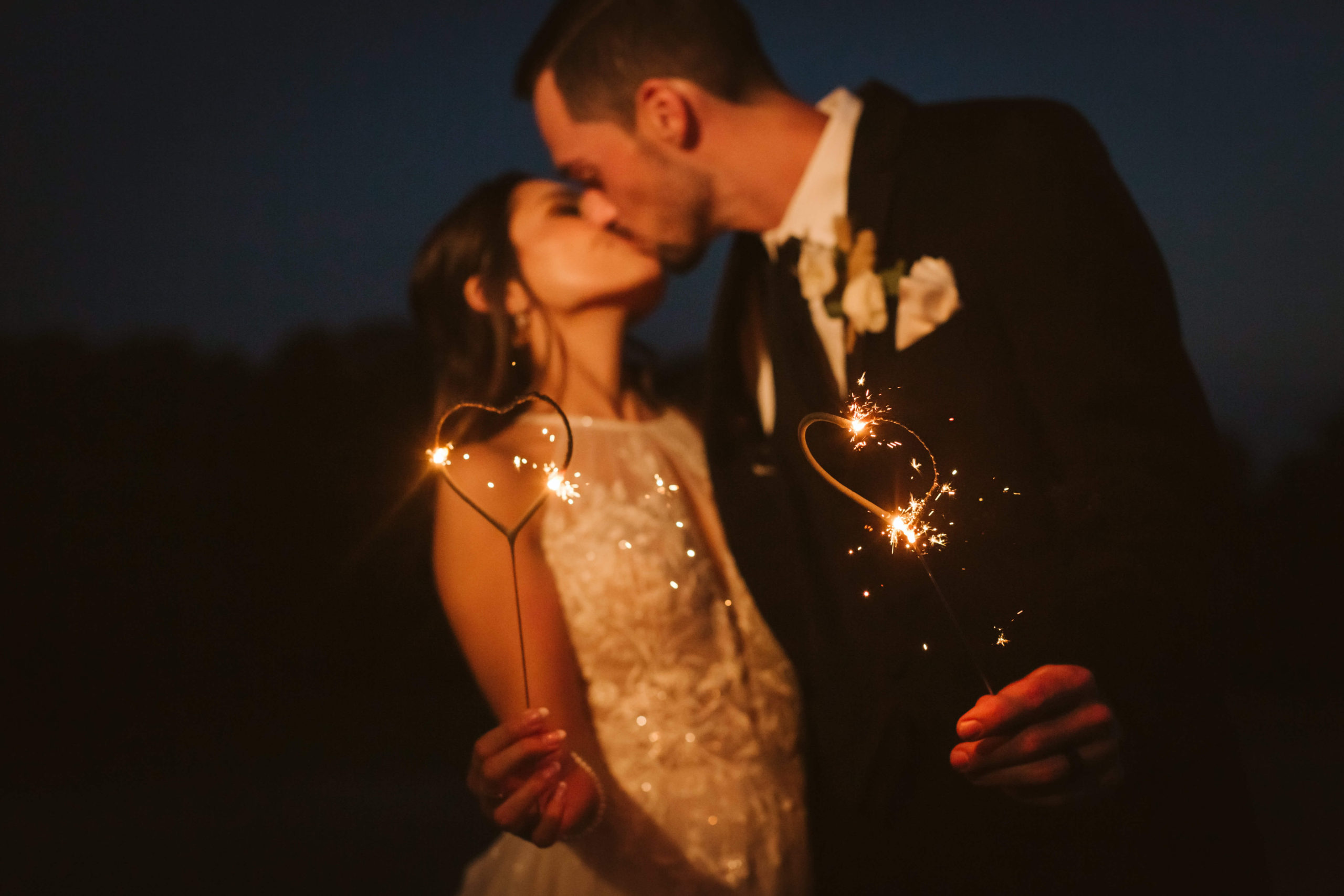 Reception and Sparkler Send Off at The Views at Sunset Ridge
After an elegant sit-down dinner in the Dining Hall, the party moved to ROW Hall where the rest of the reception and dance floor was set up. The DJ set up the music at the bottom of the grand staircase to start the party. The staircase is truly ROW Hall's best feature, lending way to an even grander entrance from your wedding party. Walking in, the bridal party took to the top of the staircase to put on a show for the guests. Then, entered Stephany and William - hands and arms held high in excitement as they were introduced as newlyweds.
The beauty of ROW Hall is that everything serves multiple purposes to help you craft the wedding of your vision. With the glowing ambience from the uplighting in the drapery, and strings of Edison light bulbs above, the added illumination provided a unique touch to the photographs we captured.
After dancing and cake, the night ended on a beautiful note. Guests gathered outside to wave goodbye to the happy couple. In a special twist, Stephany and William decided to include a sparkler and fireworks send off to end their wedding day in style. I always love sparkler send offs. Not only are they a unique way to include your guests in your photos, but the sparklers (and in Stephany and William's the fireworks as well) add a romantic, firefly-like touch to photos. Stephany and William's guests lined up with heart-shaped sparklers as the happy newlyweds shared a dip and a kiss, ready to start their happily ever after.
Are you planning a mountain wedding like Stephany and William? Whether you're planning a wedding in the mountains, a farm, or the city, I am more than ready to be there to document your big day.
Hey y'all! I'm Rachael Crowe of OkCrowe Photography. I'm a wedding photographer based in Chattanooga, Tennessee but I've shot weddings, engagements, and elopements all over the US. Wherever you need me to be, just say the word, and I'll be there to capture every moment and do whatever I can to help make your day memorable. If you're on the hunt for a wedding photographer, click on my contact form, and let's get this party started!