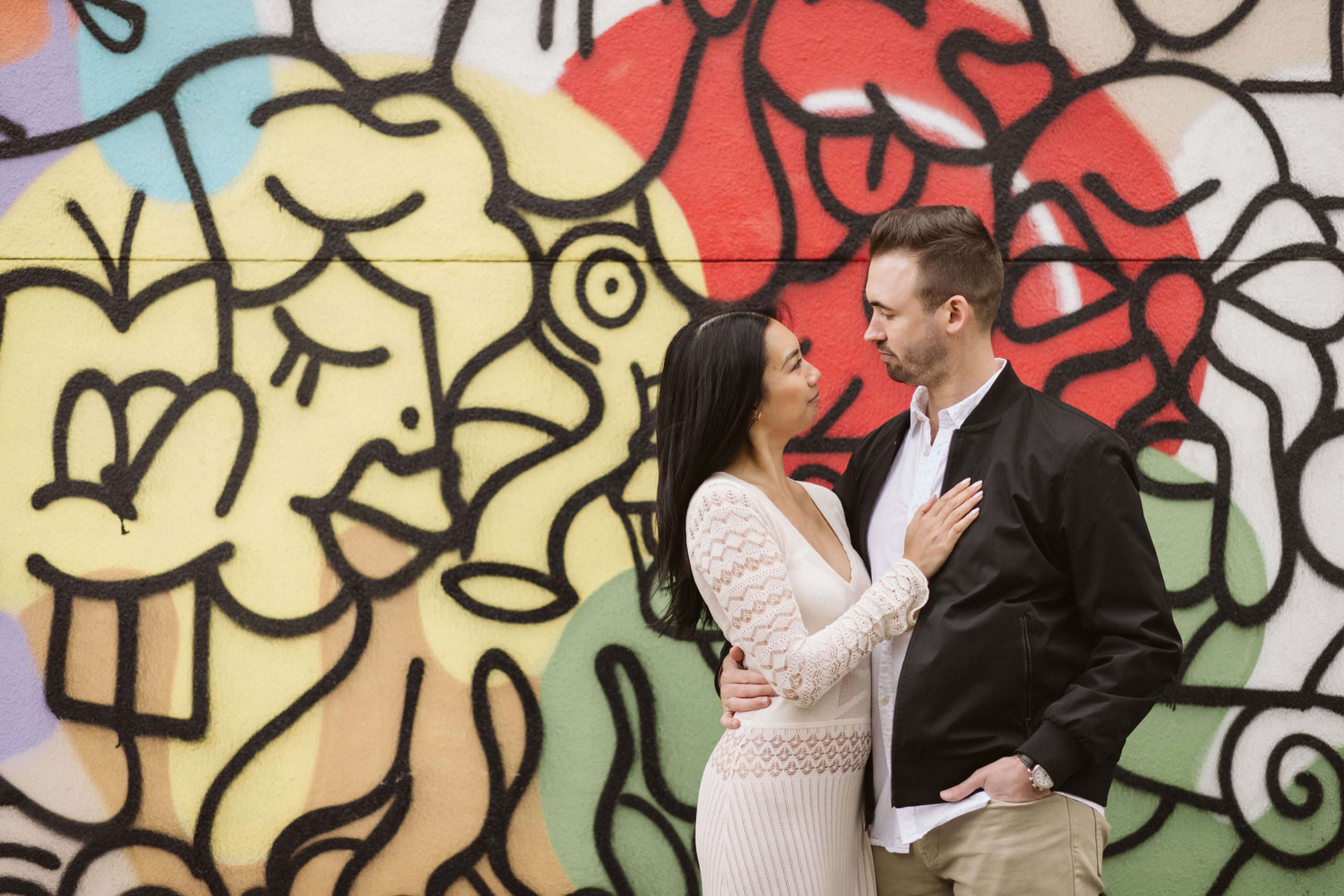 If you know anything about me at all it's that I LOVE to travel. Recently, my wanderlust brought me back to New York City, one of my favorite places ever. As much as I love Chattanooga, you just can't beat the thrumming energy of New York City. Of course, my camera tagged along on the trip with me, and I shot a few couple's sessions while I was in town. One of those couples was Maylee and Virgil who were newly engaged and looking for a photographer for their engagement session.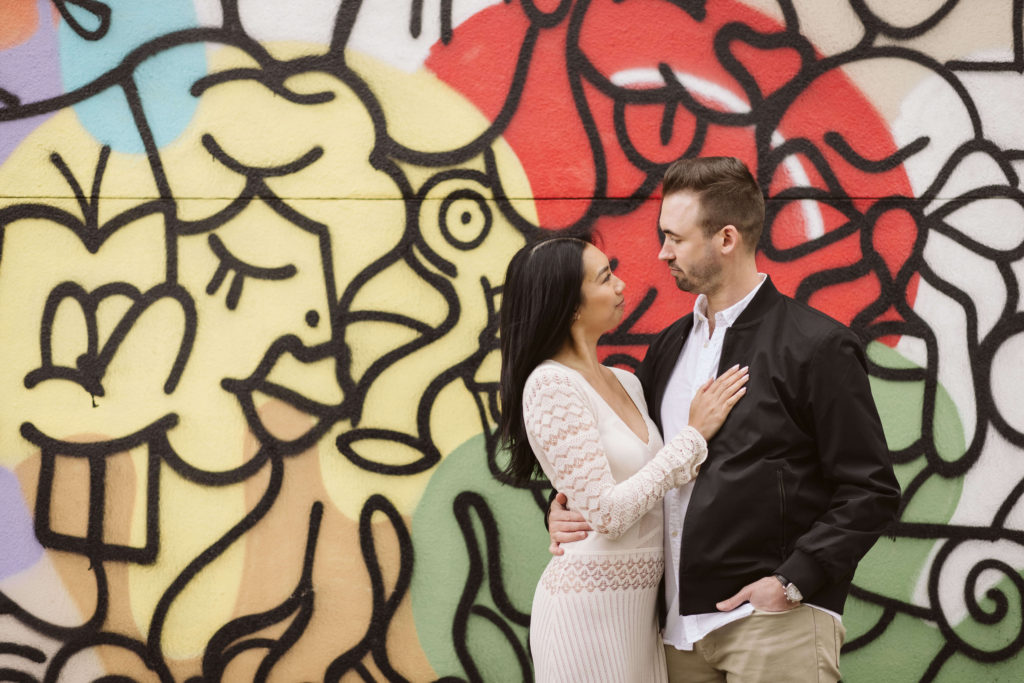 Heading to New York City
Before leaving for New York City, I asked on my Instagram if there were any NYC couples willing to model for portfolio shoots for me while I was there. Maylee and Virgil had just gotten engaged when one of their friends who already followed me saw my post. I was so happy to receive their email saying they would love to be my models for a day!
After emailing back and forth a bit, I learned that Maylee and Virgil lived in the Greenpoint neighborhood of Brooklyn. Since they had just gotten engaged, we used the opportunity to do an urban styled photoshoot with their hometown neighborhood as the background.
Greenpoint is a northern, secluded part of Brooklyn that is only accessible from Manhattan by the G-train or a ferry. Although there are a few residents who bemoan this fact, the seclusion from the more major areas of New York City gives Greenpoint a unique vibe of its own. Just like I do whenever I travel for photoshoots, I scouted out locations all throughout the neighborhood with good light and exciting details that would be perfect for Maylee and Virgil's photos.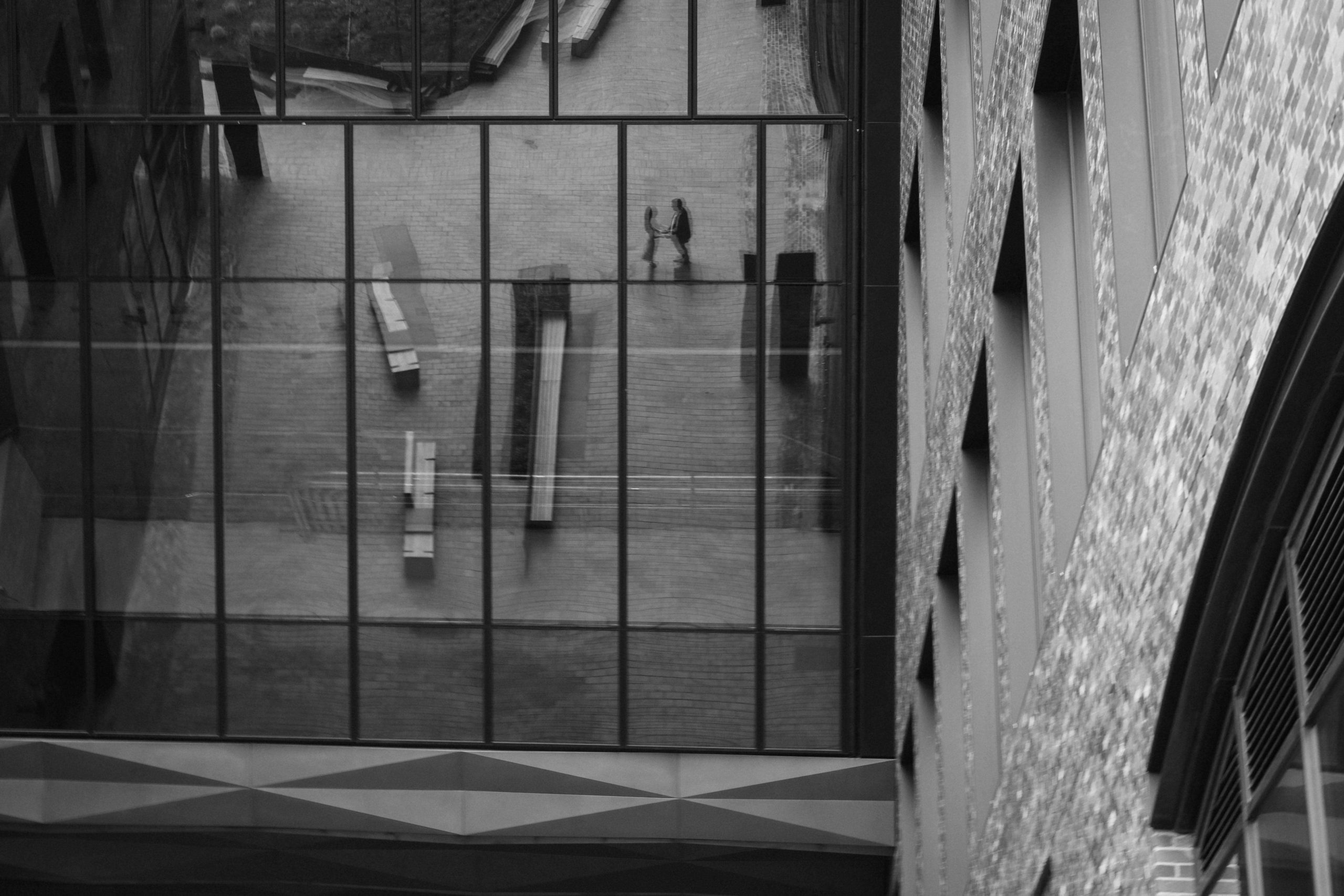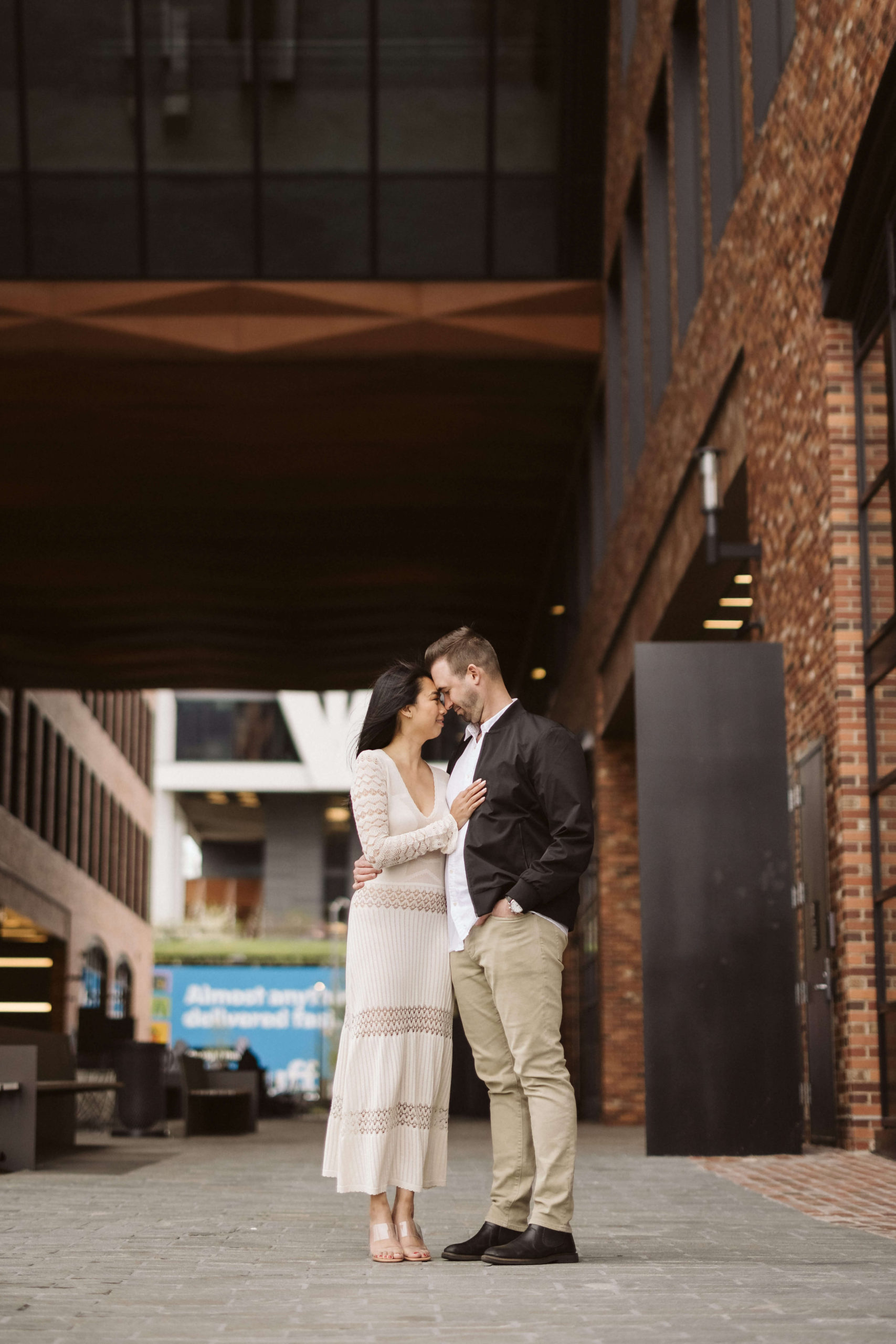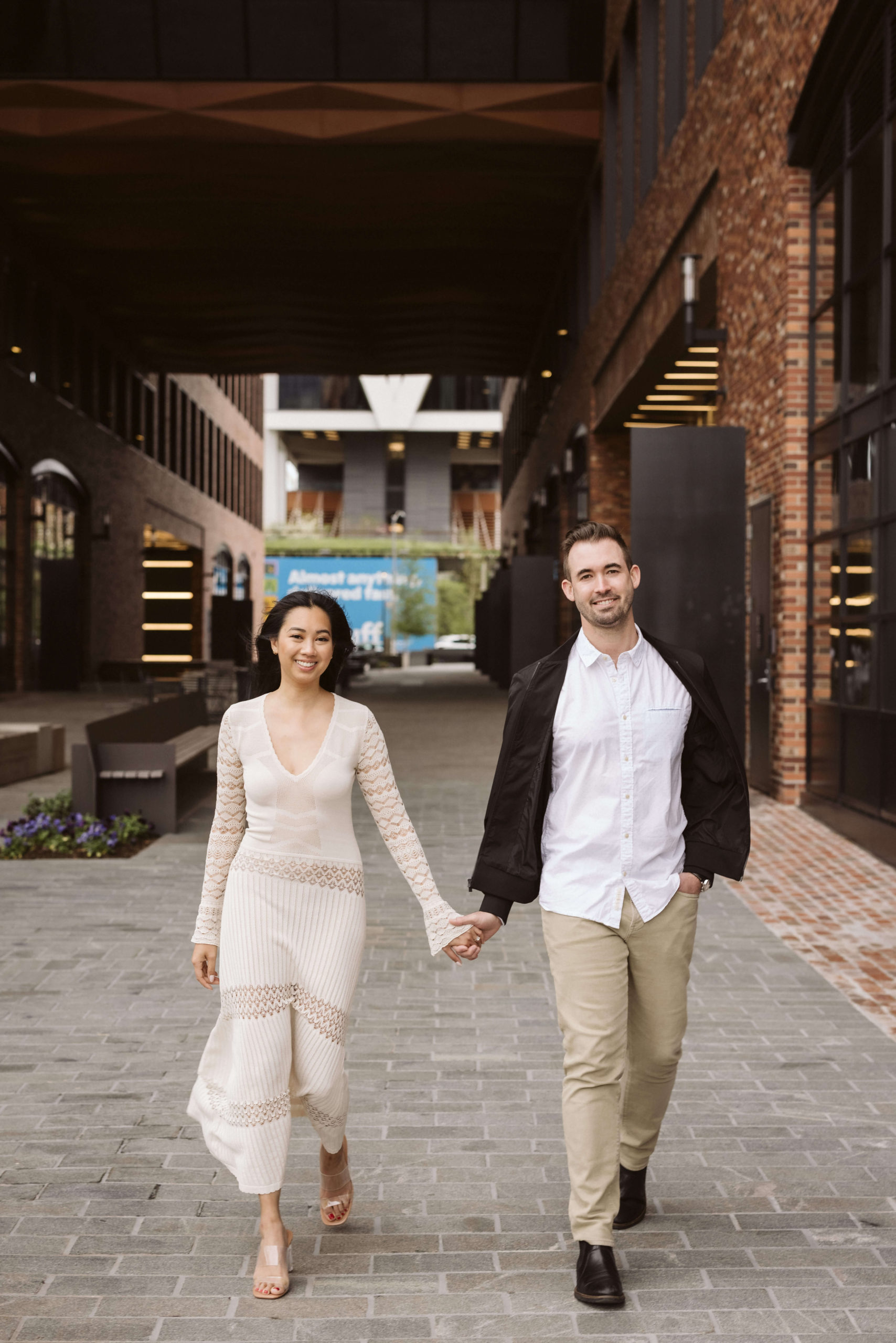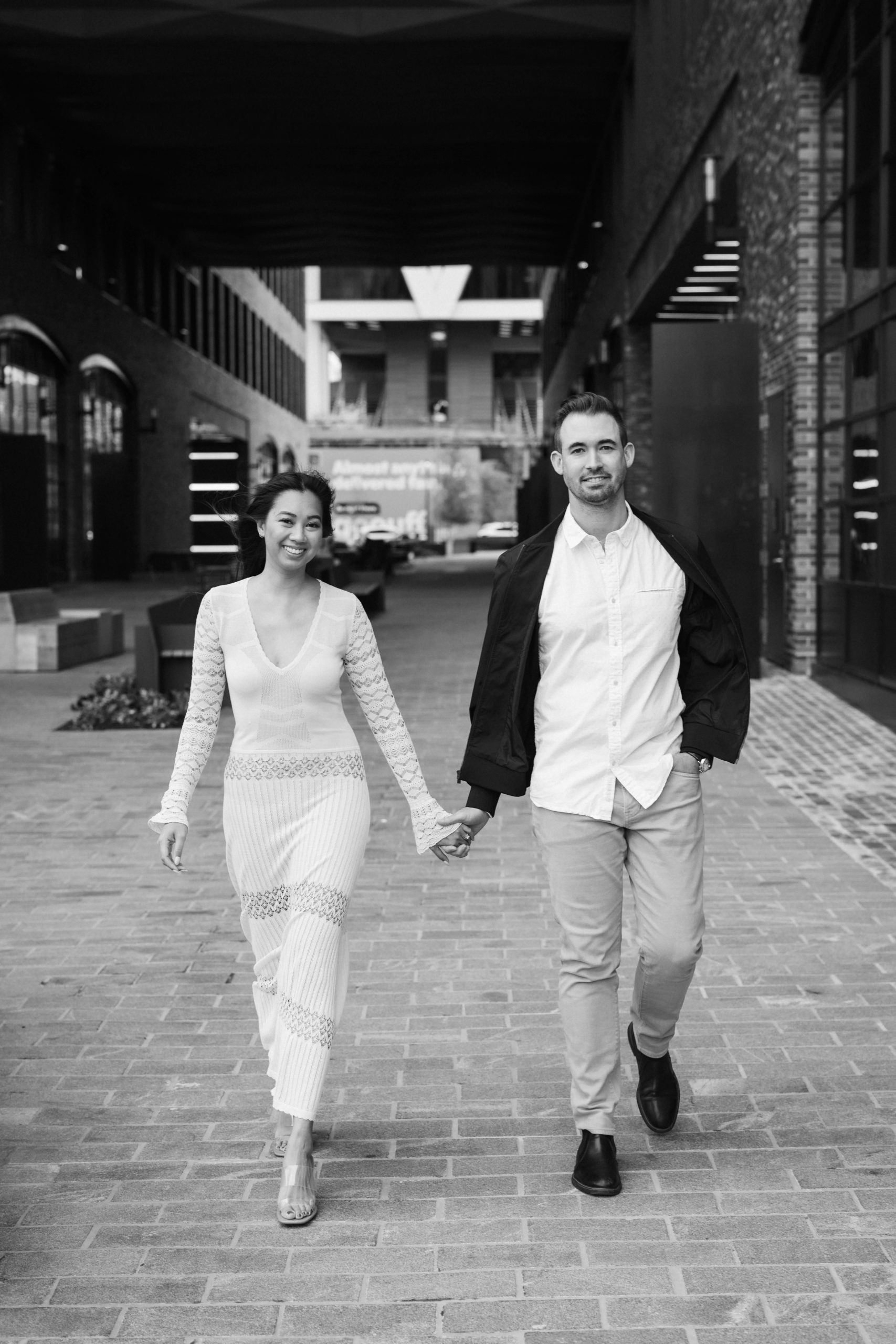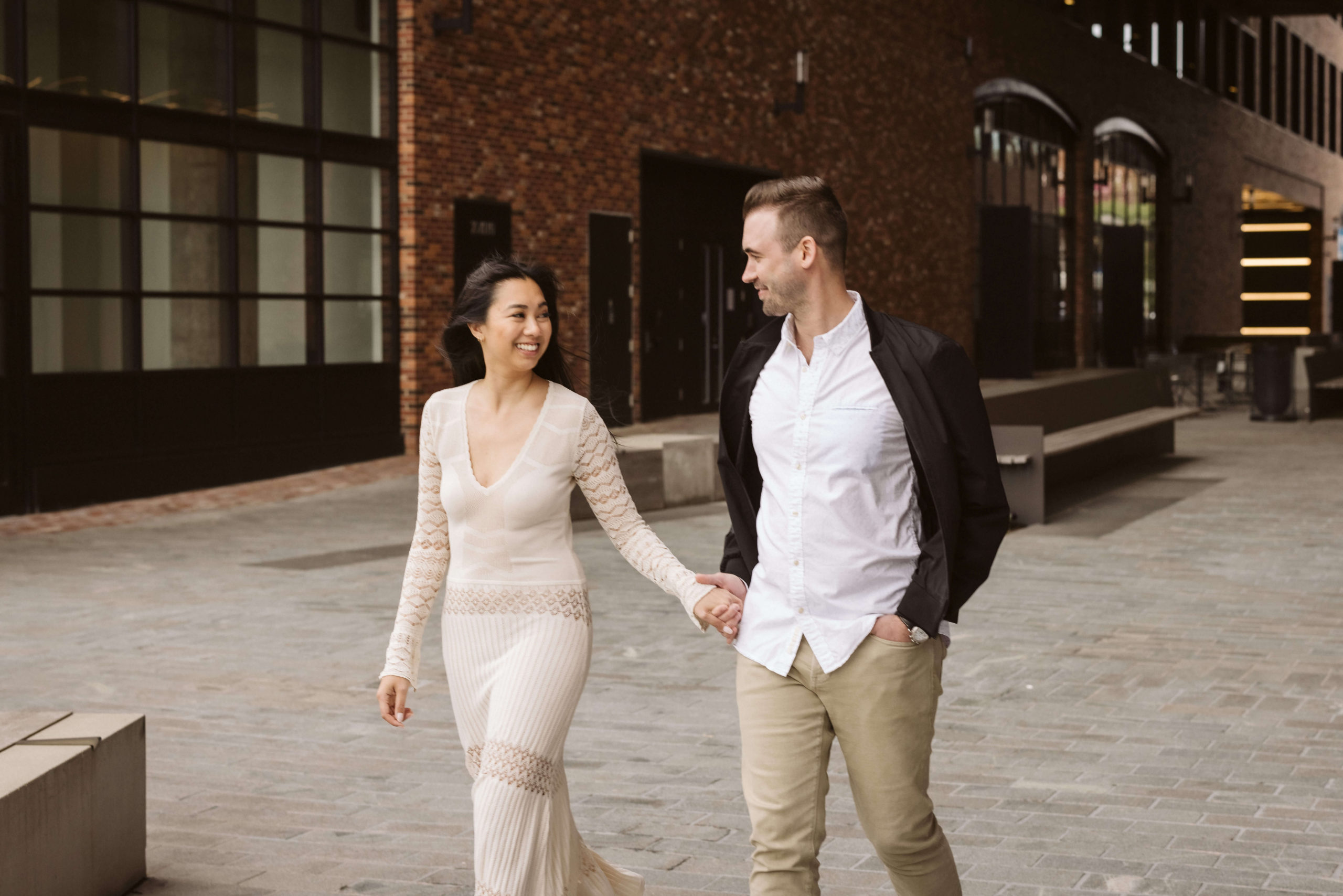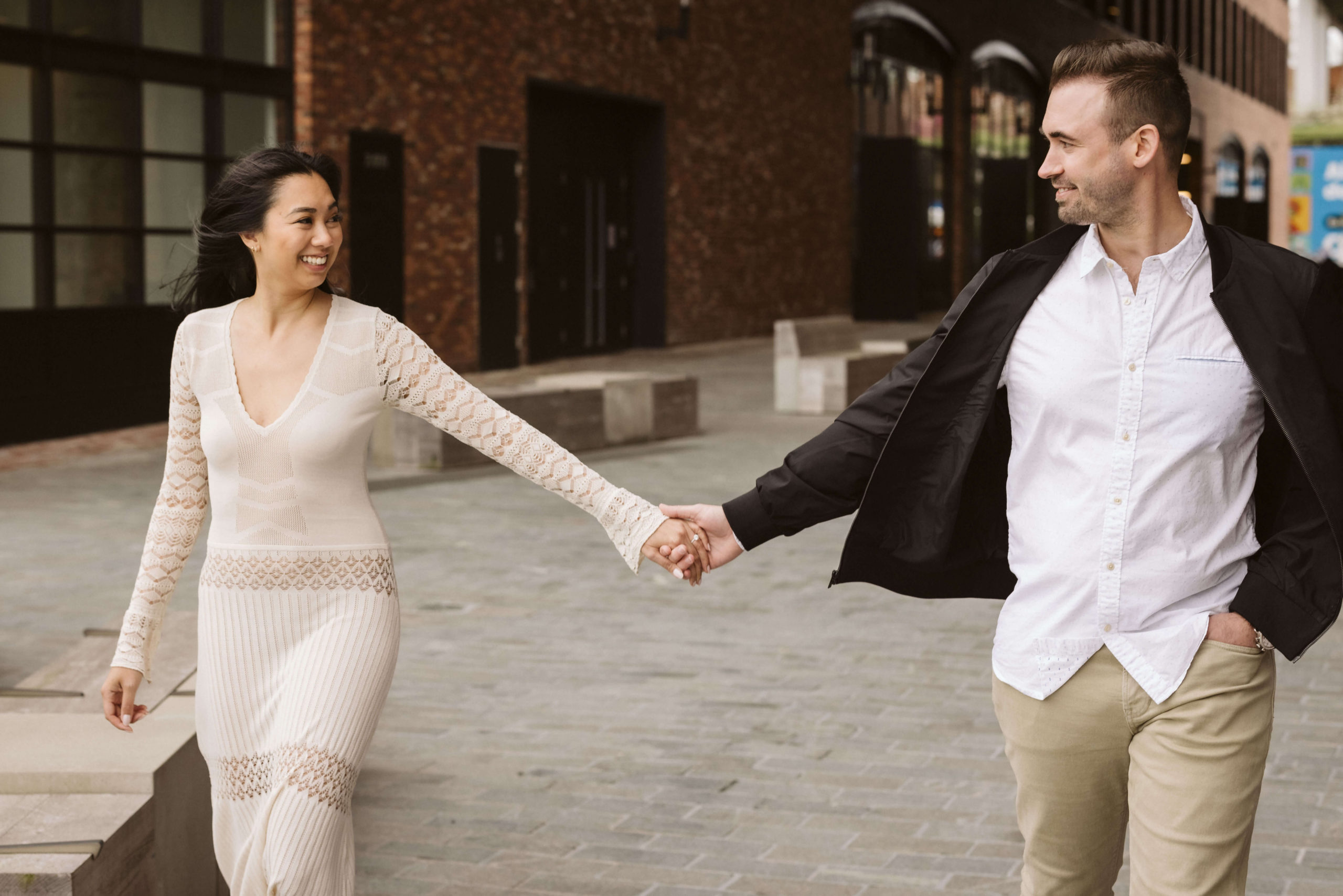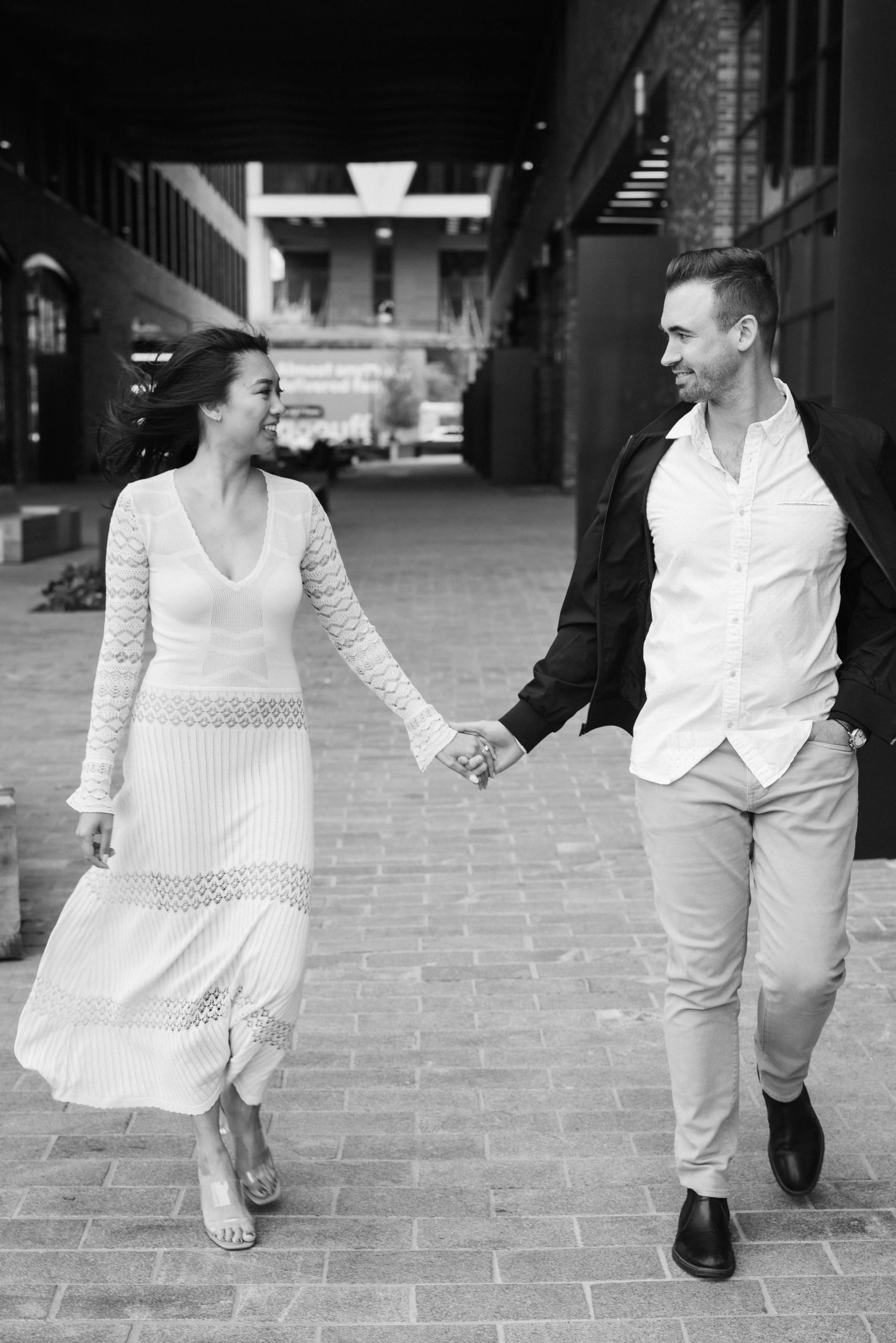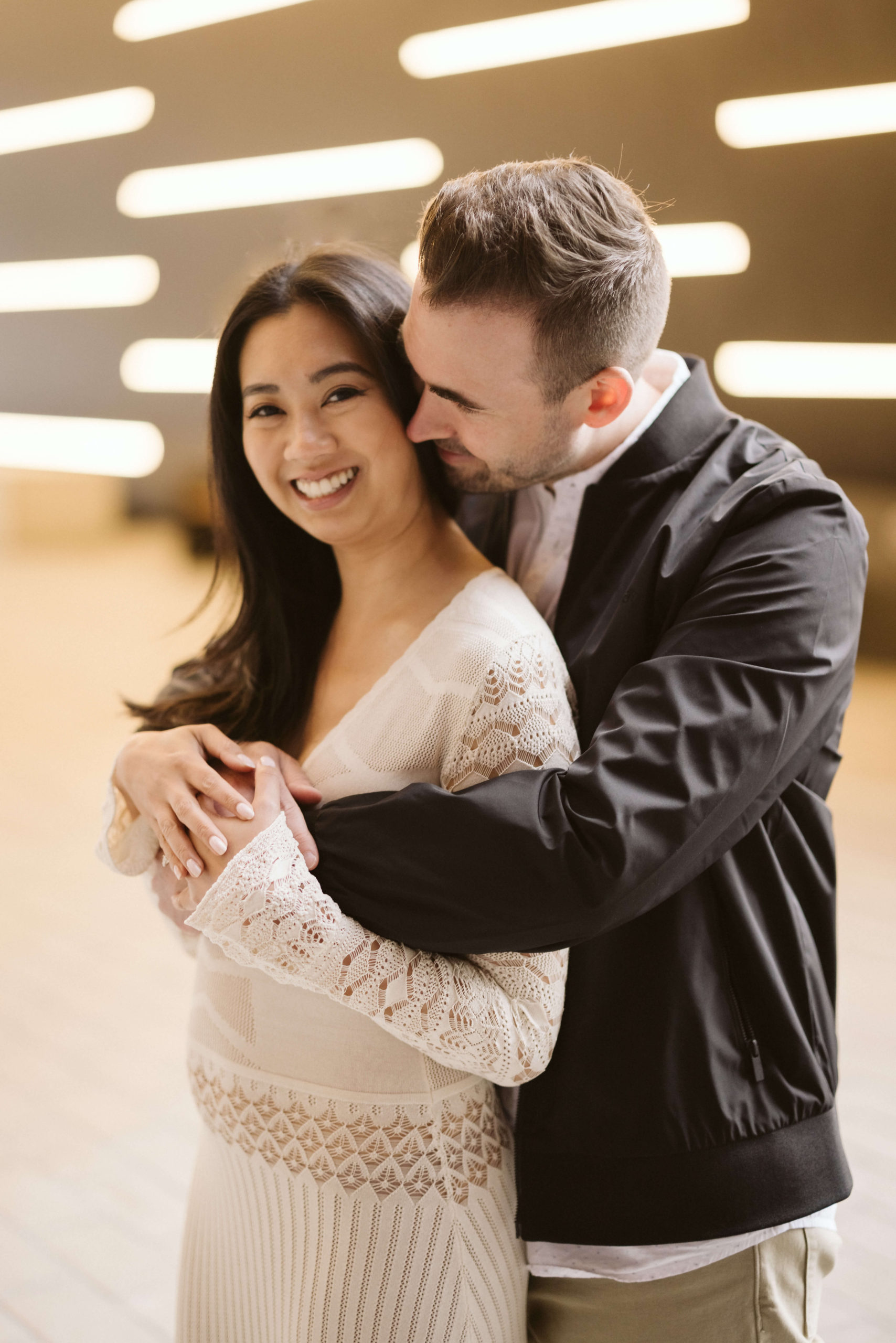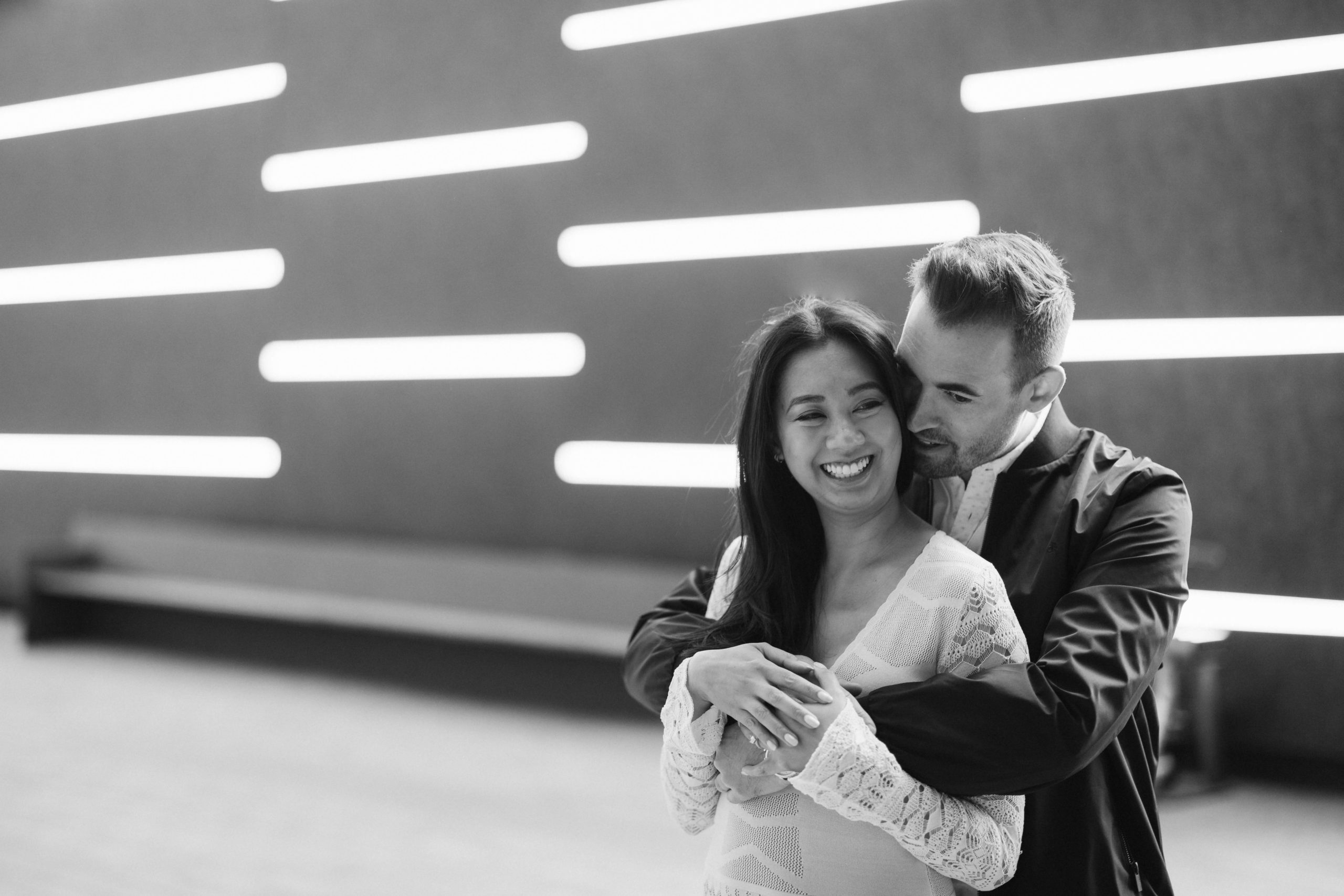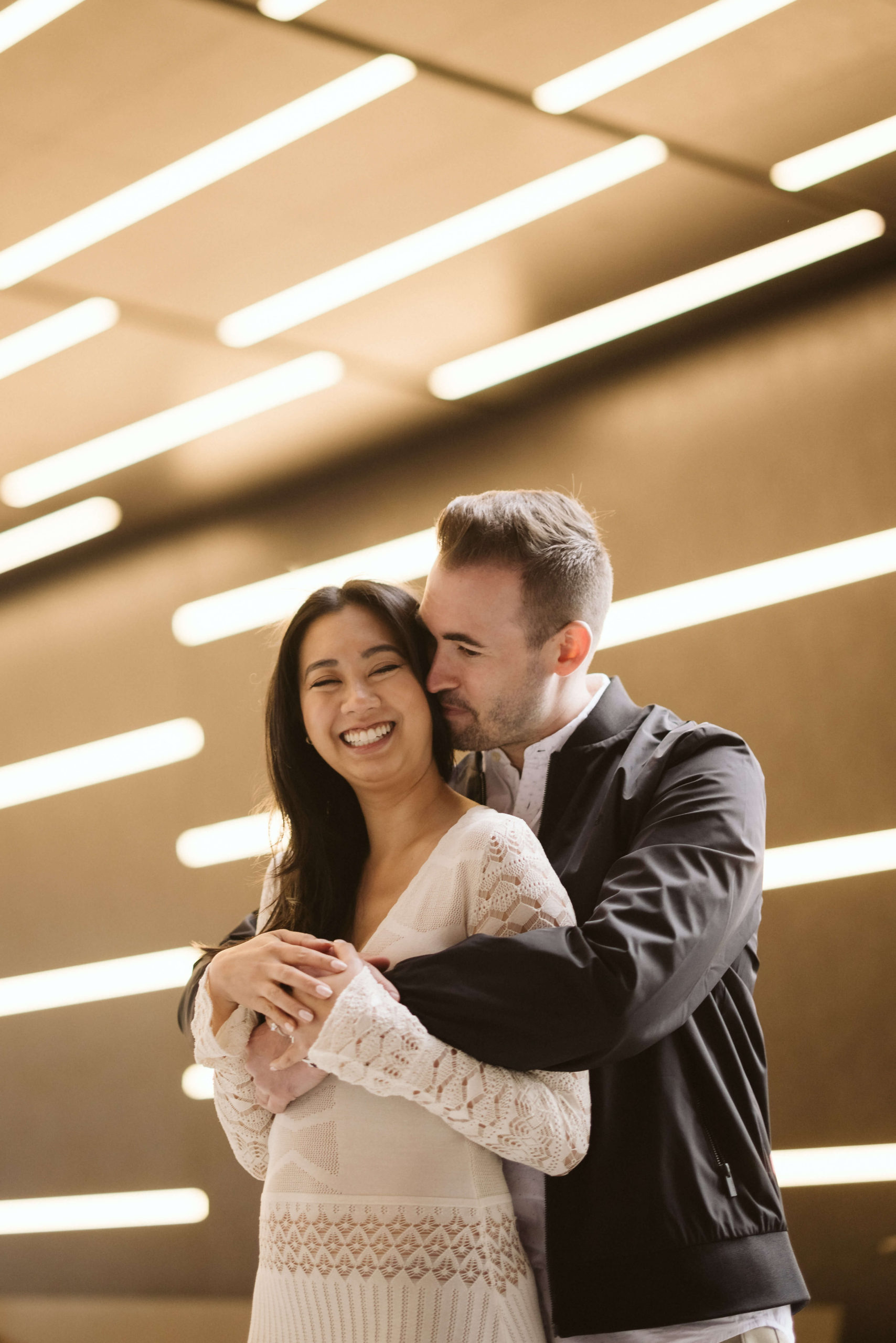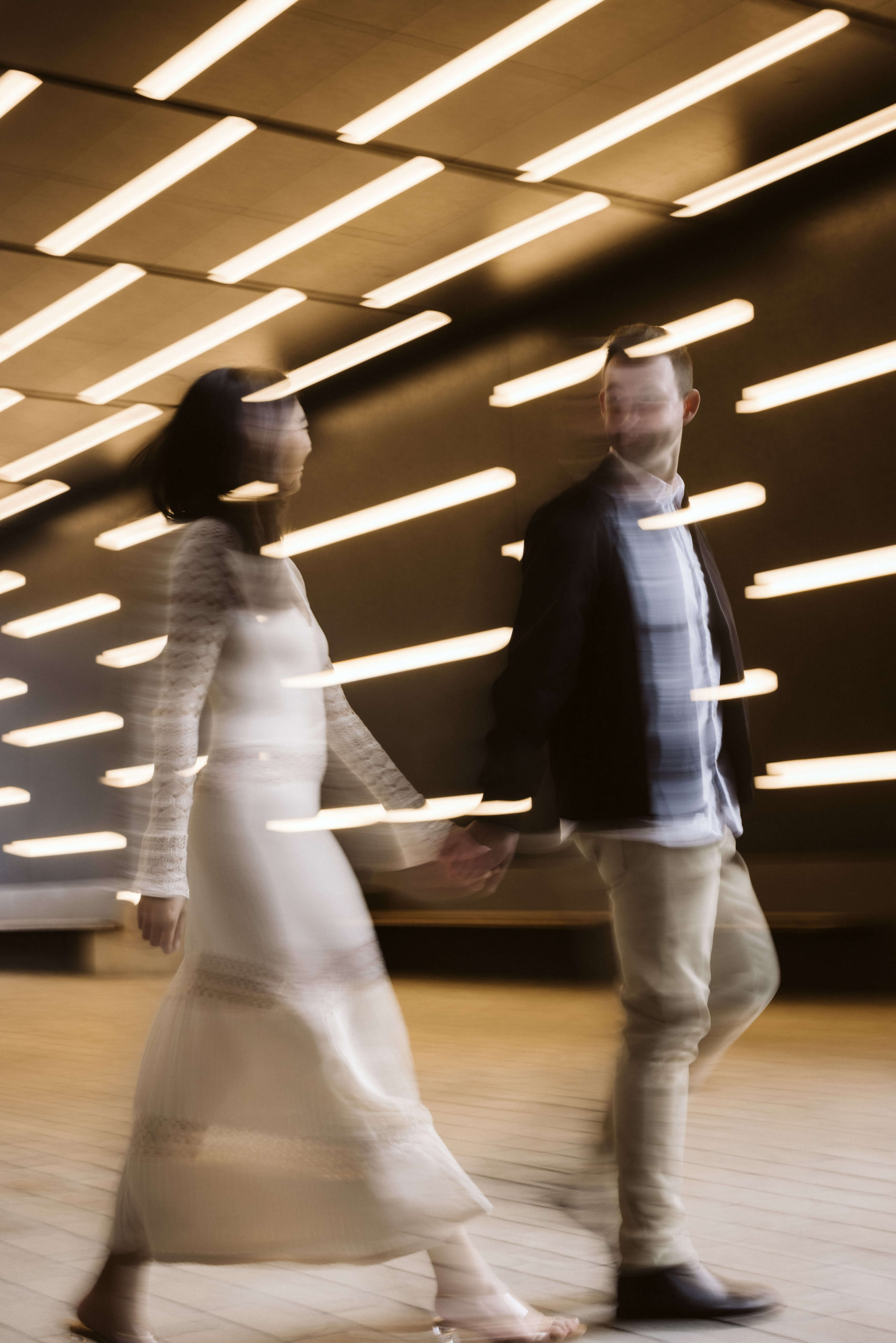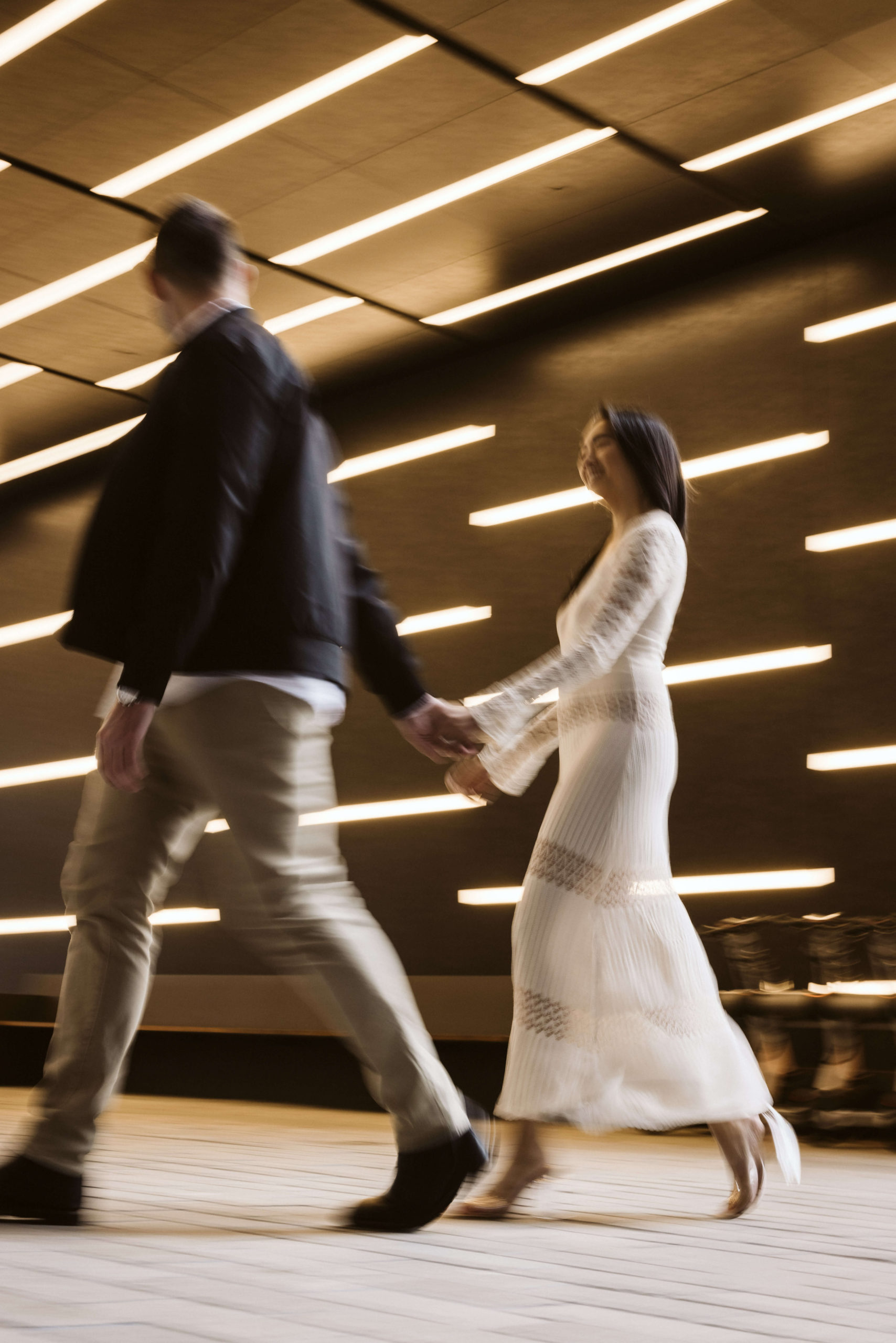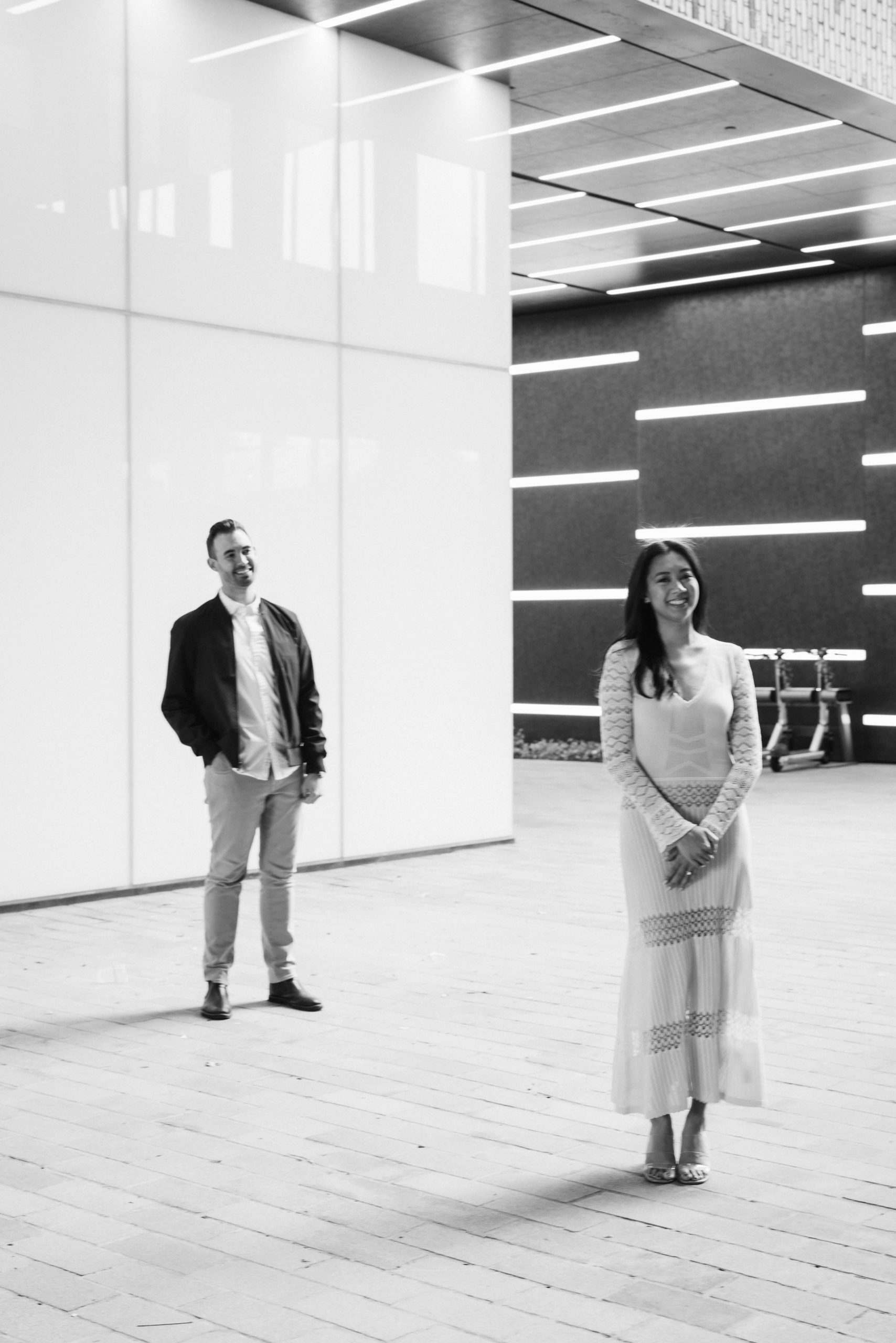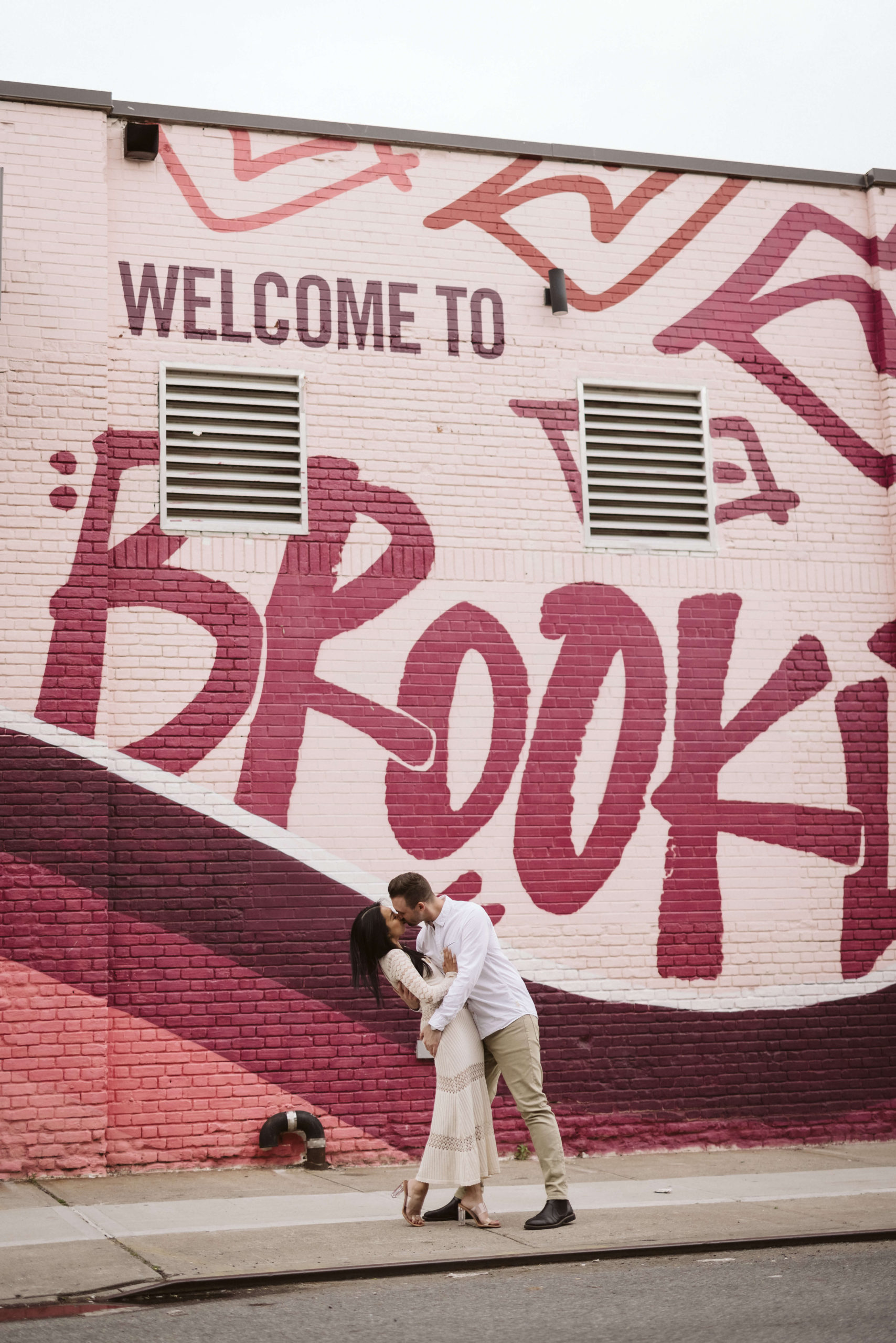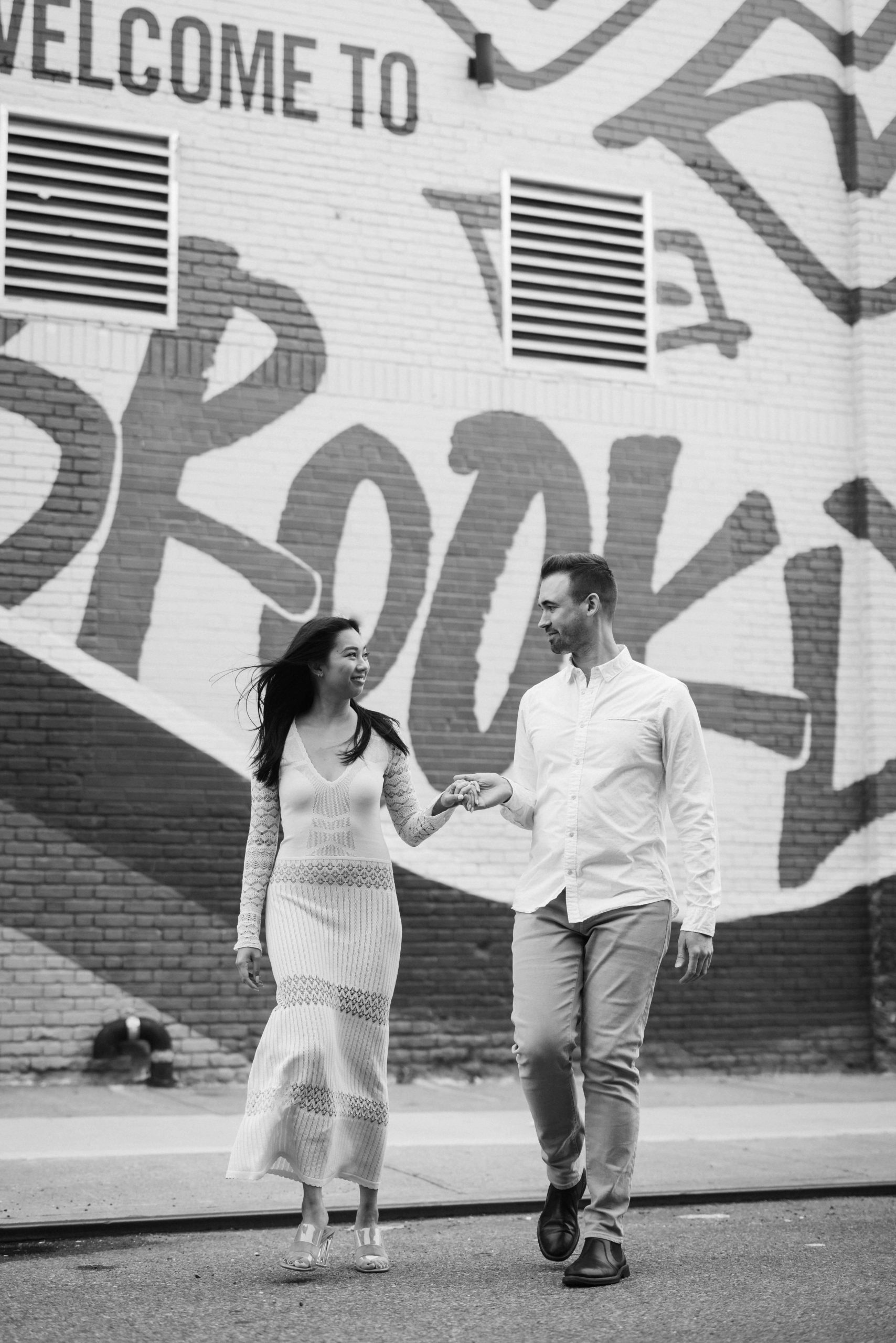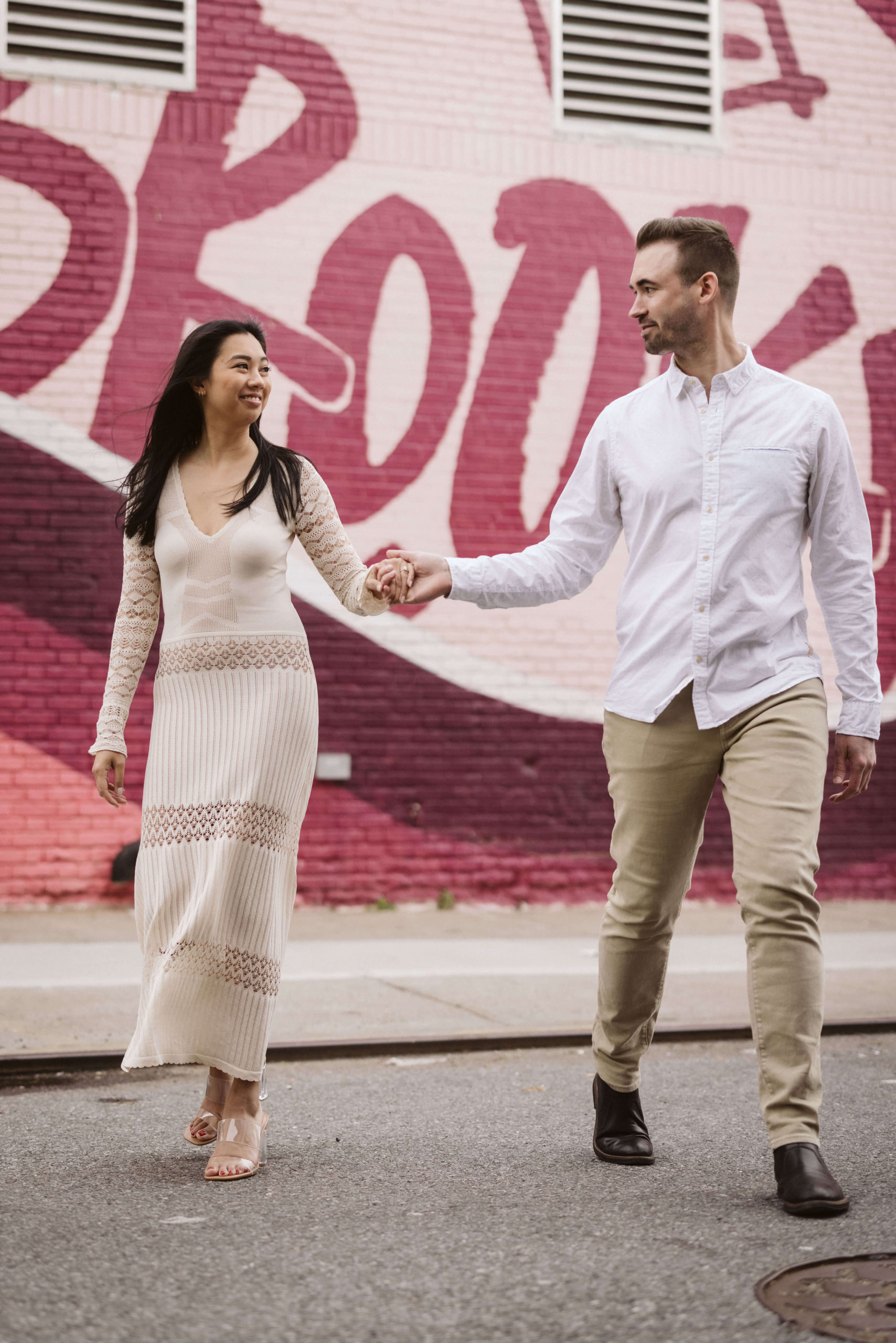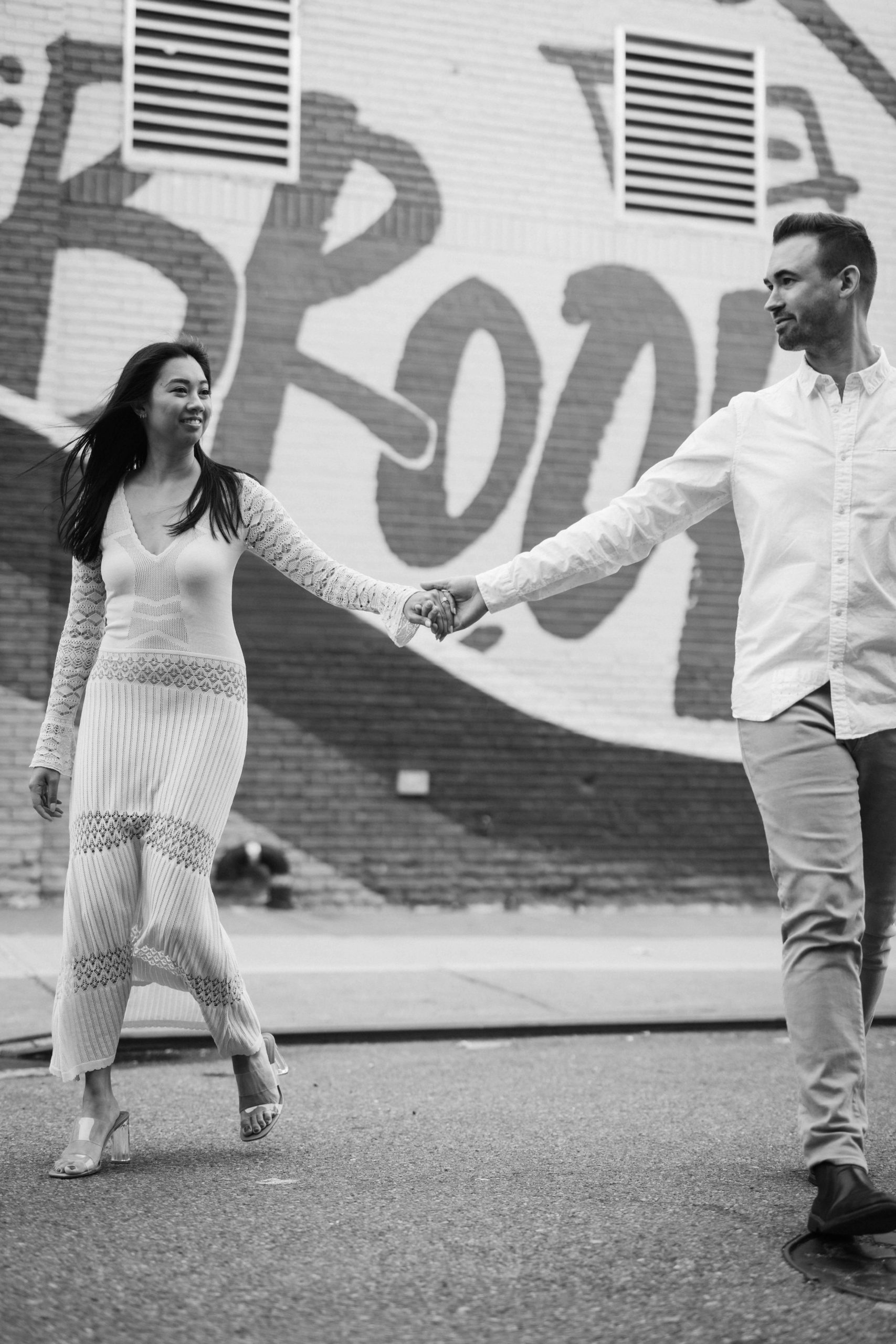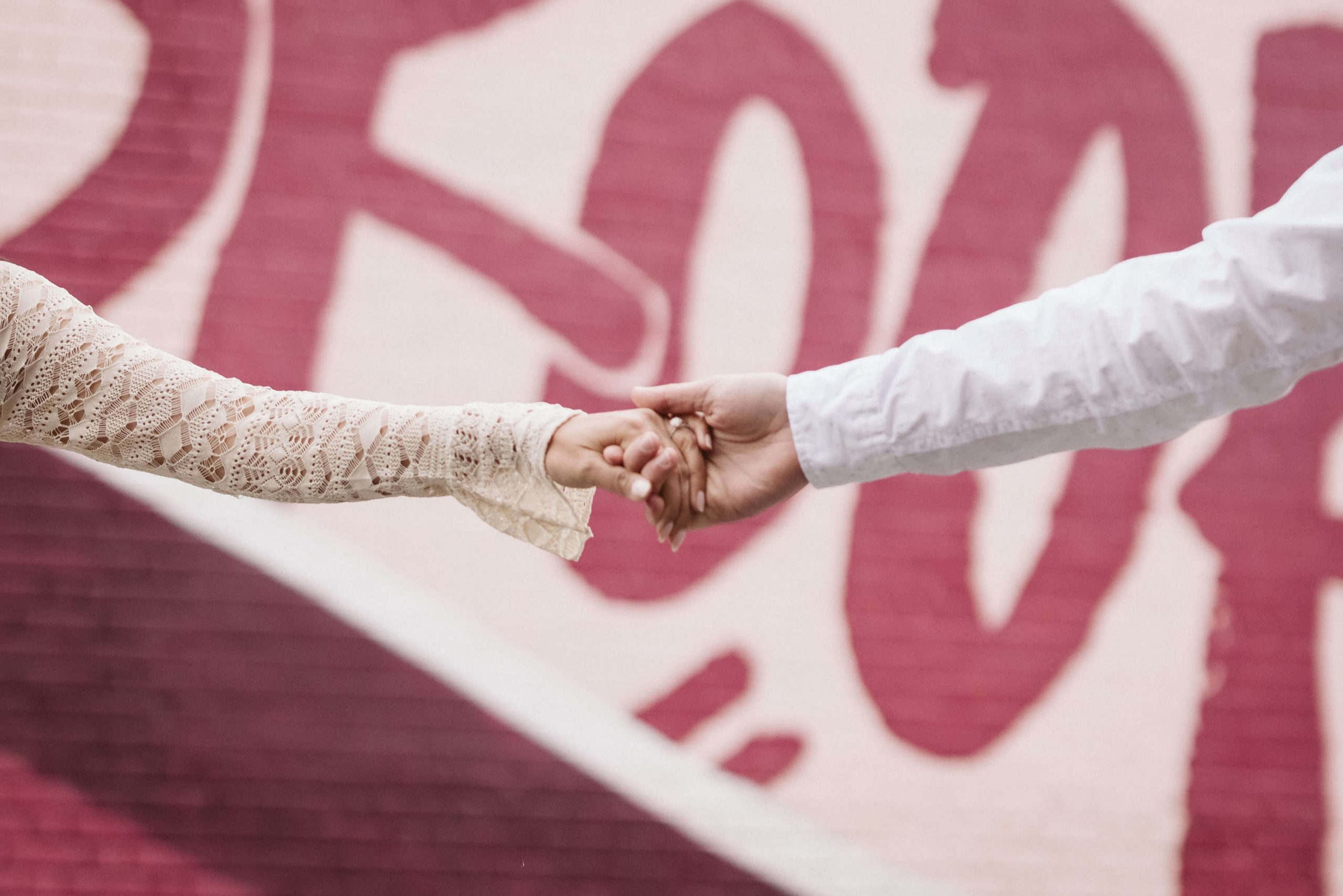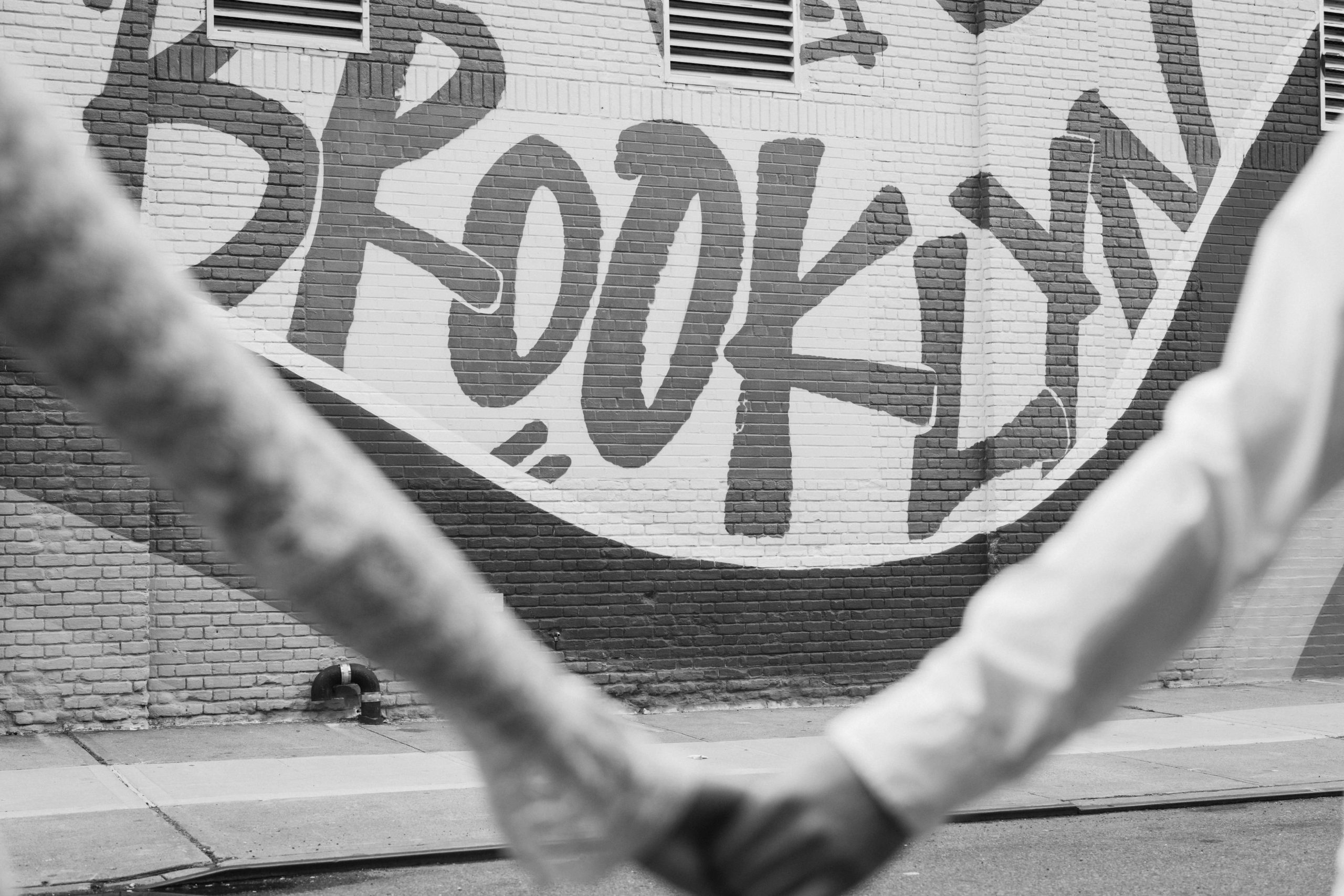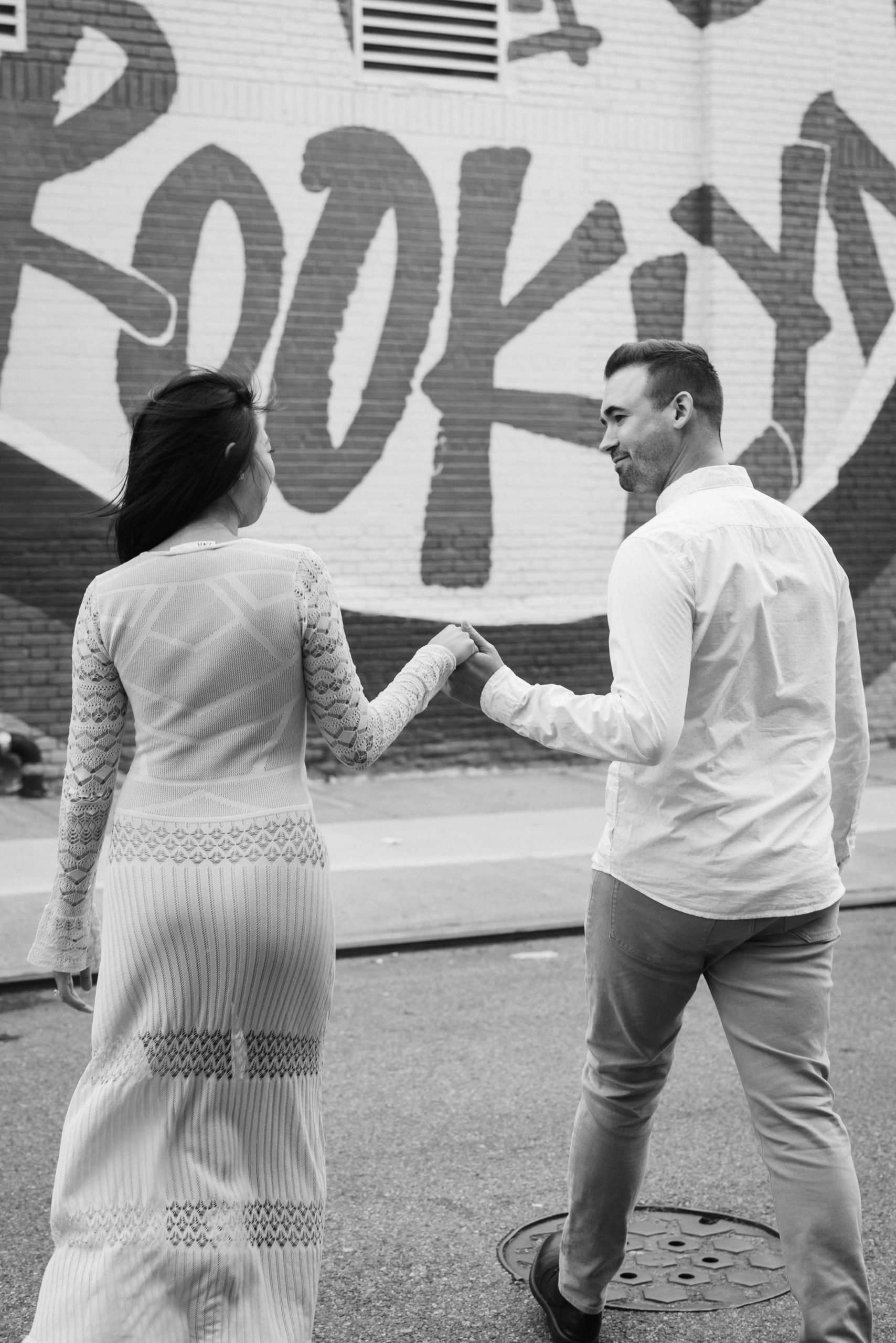 A Tour of Brooklyn's Greenpoint Neighborhood
Greenpoint wasn't always the chill, laidback neighborhood that it is today. At one point the area was dotted with lumber and rope factories that attracted the attention of working-class families, mainly of Polish decent. Though Greenpoint has gone through several overhauls since that time almost a century ago, one fun fact is many descendants of those original families still live in the area today and are part of what make Greenpoint such a unique part of Brooklyn.
Now, the neighborhood has melded its historical and industrial roots with new developments and a distinctly small town feel. With its alphabetically-ordered streets, local hangouts with amazing traditional Polish food, and a range of small businesses from vintage shops to tattoo parlors, Greenpoint truly has a charming atmosphere that is unlike any other in New York City.
For Maylee and Virgil's shoot, I really wanted to capture the essence of the neighborhood to its fullest extent. As this was a styled portfolio shoot, I chose the photography direction and decided to go with an urban, editorial styled shoot. I found a few locations that were reminiscent of Greenpoint's historic industrial past and some more modern areas with amazing graffiti murals that added captivating, eye-catching colors to the photos.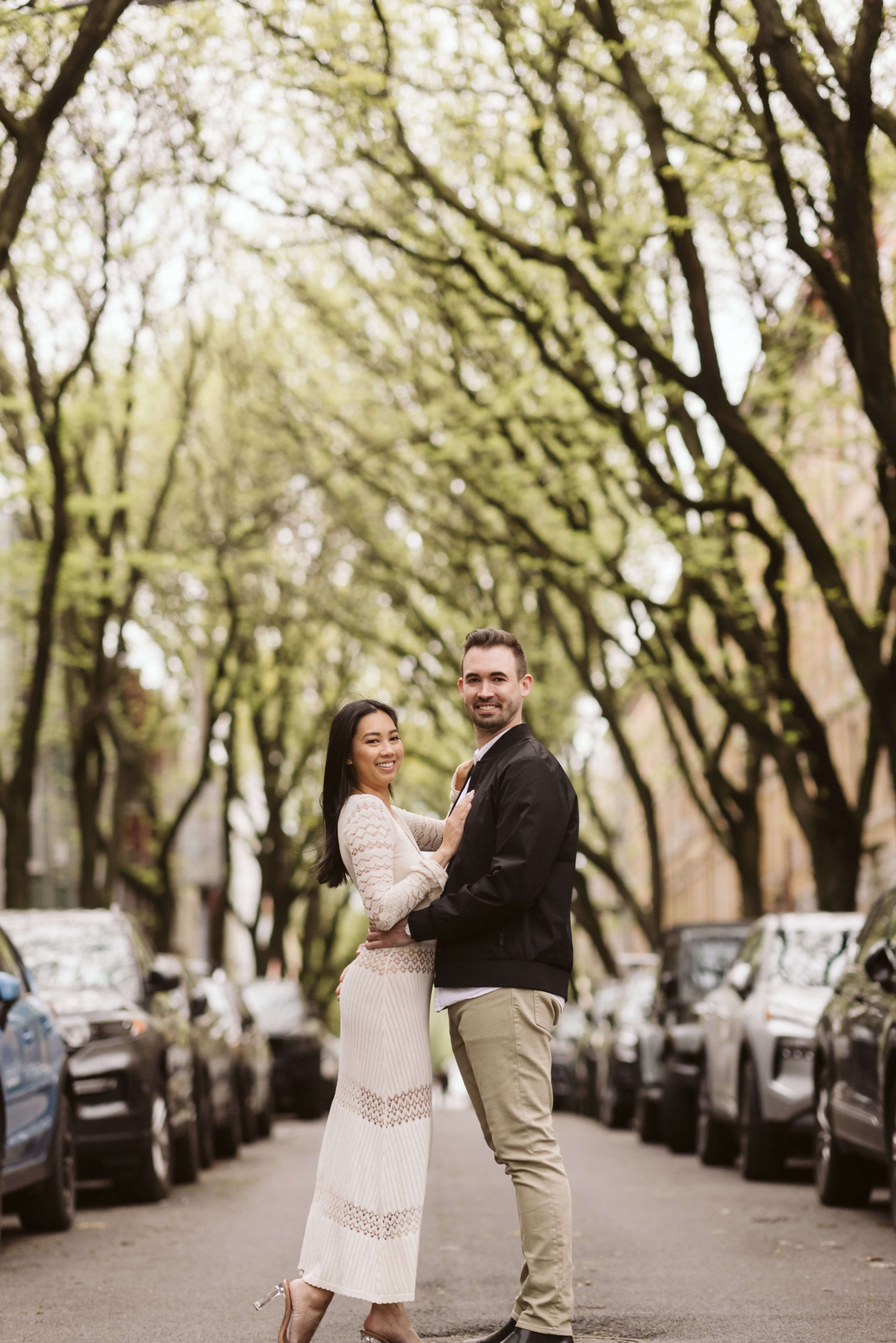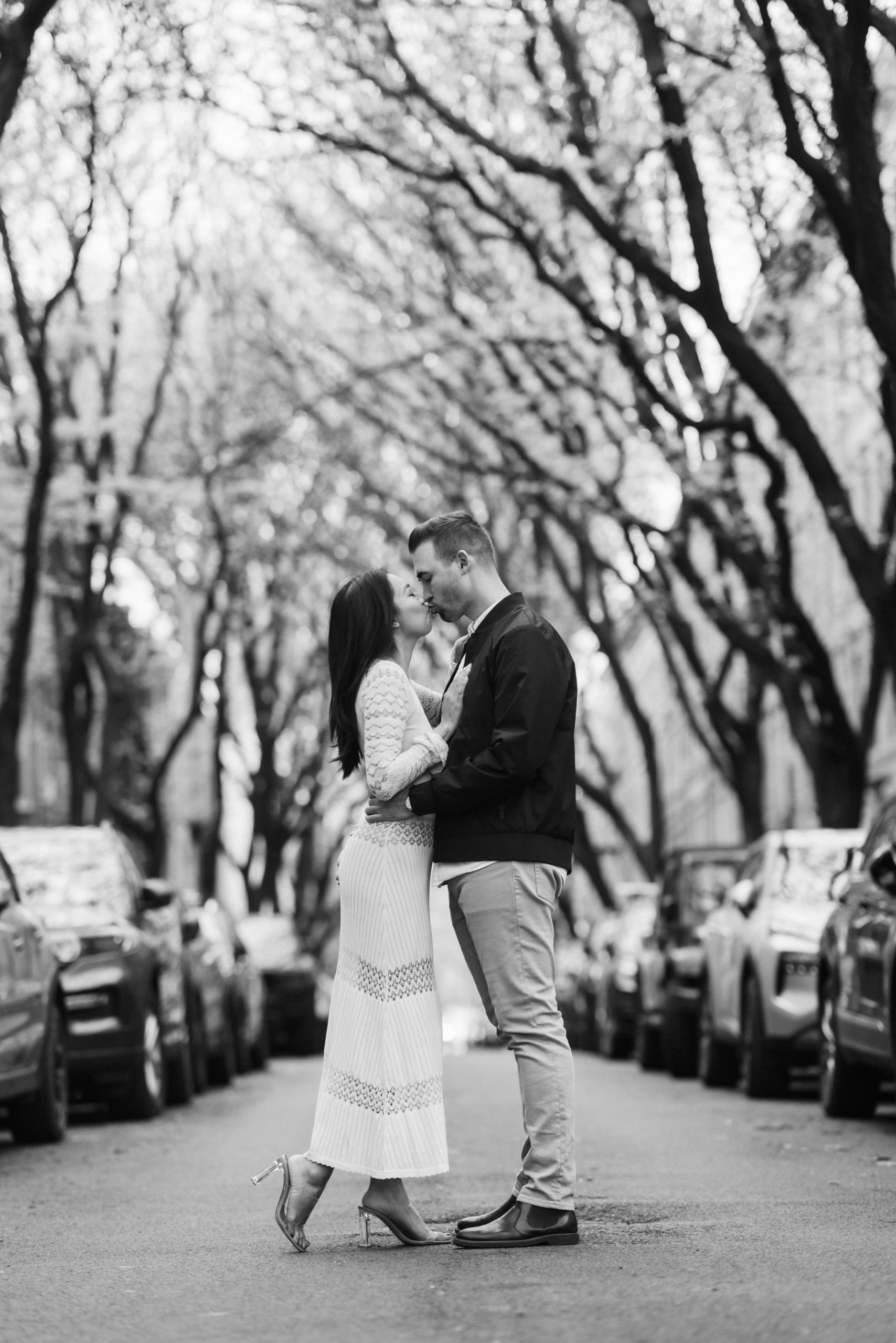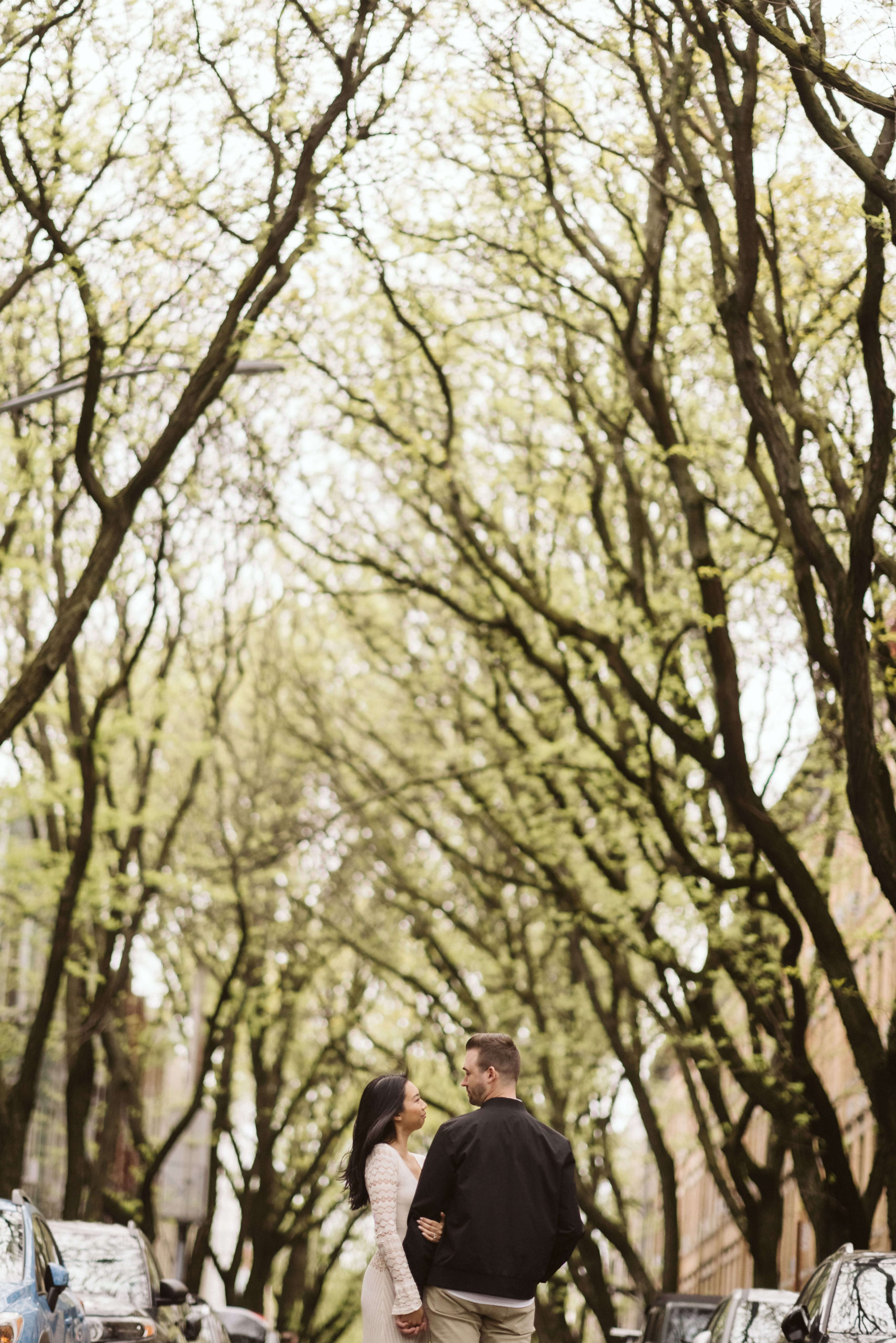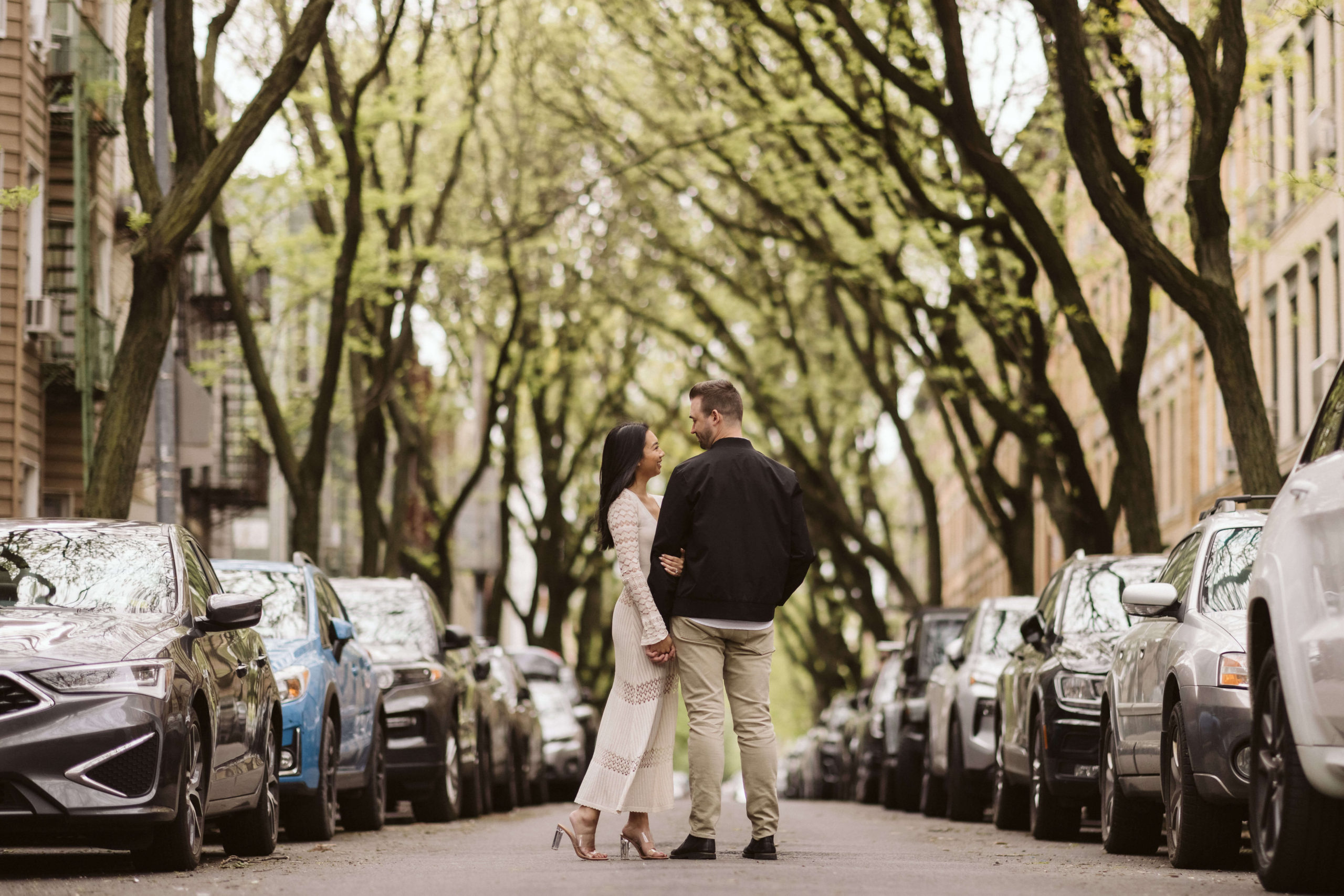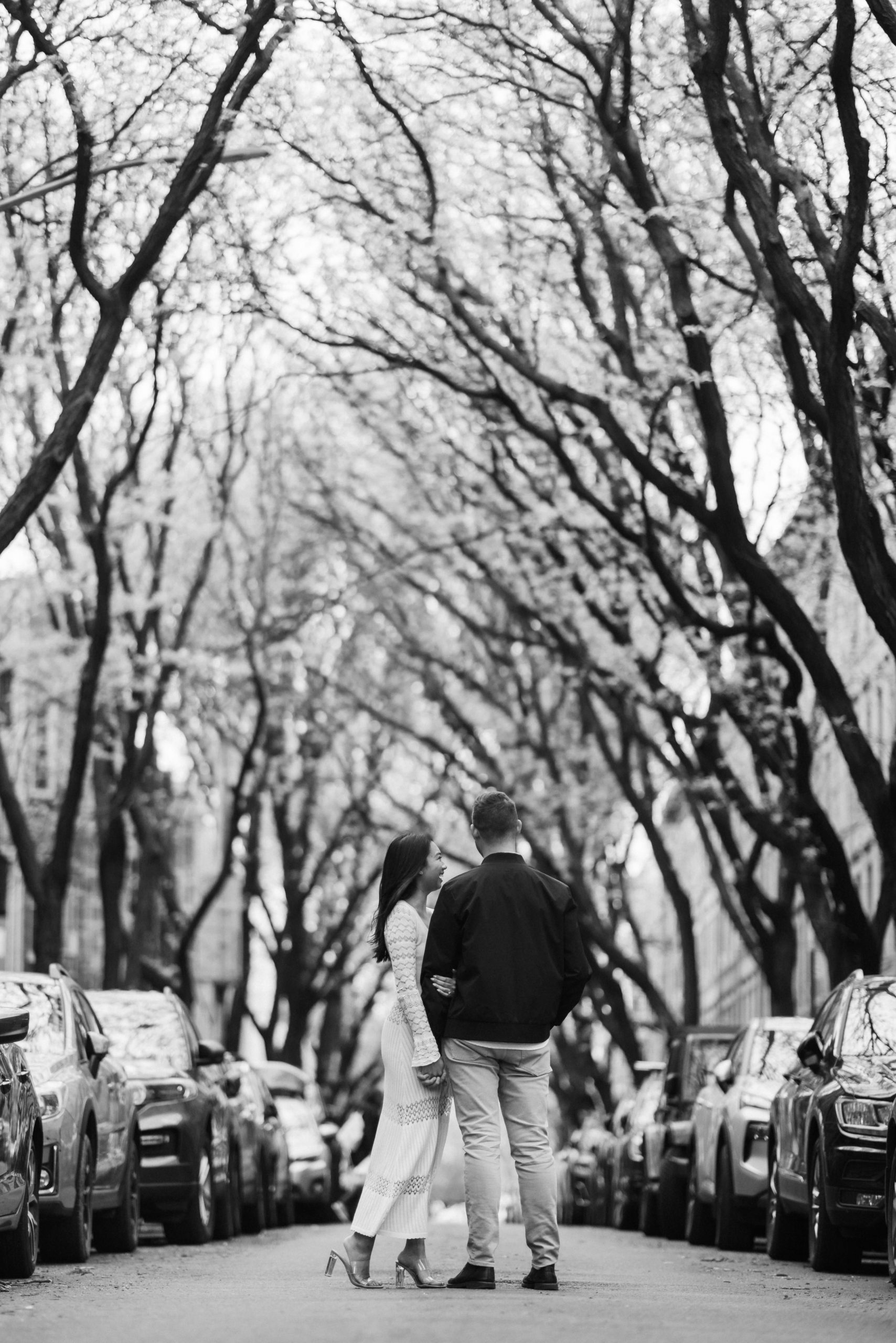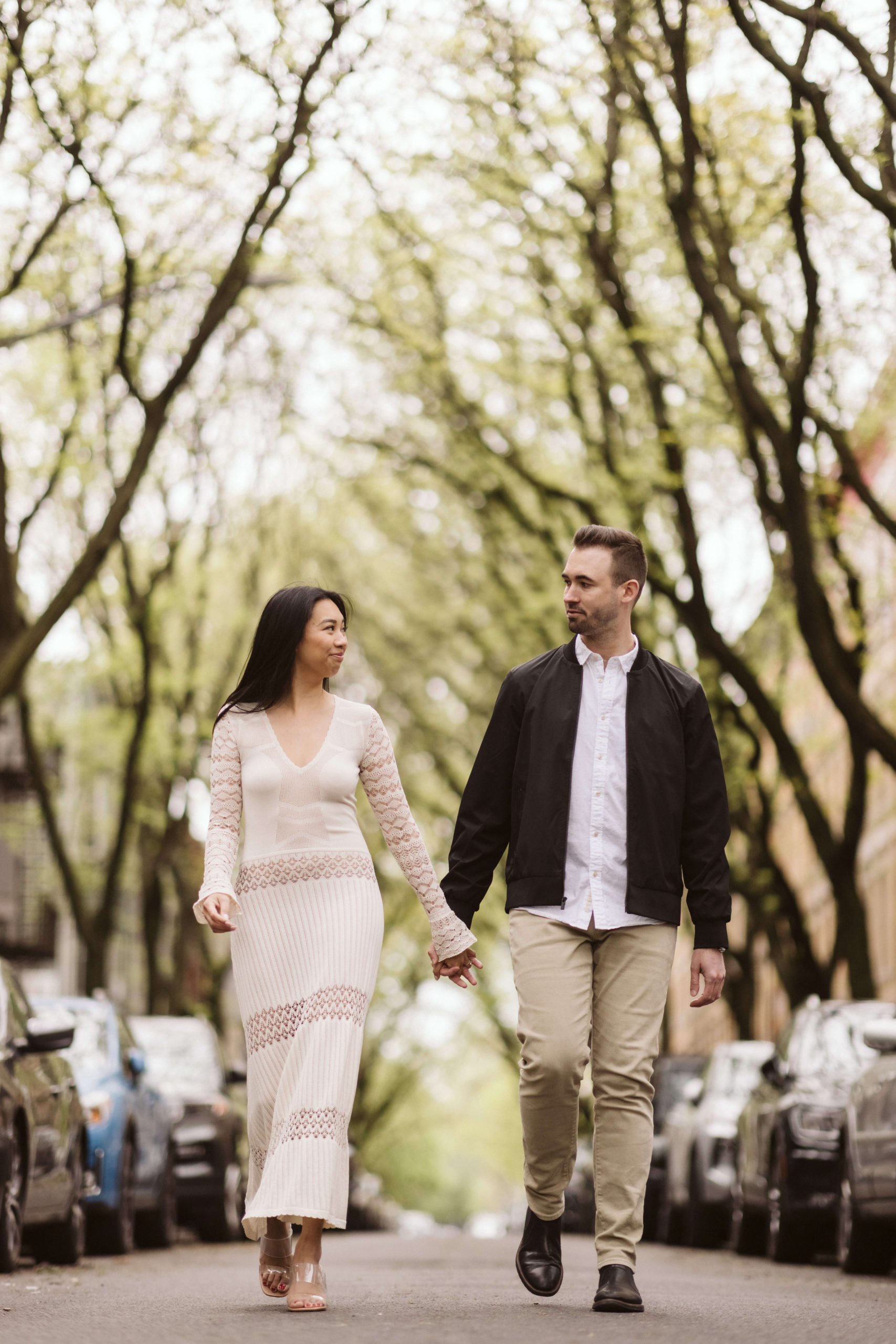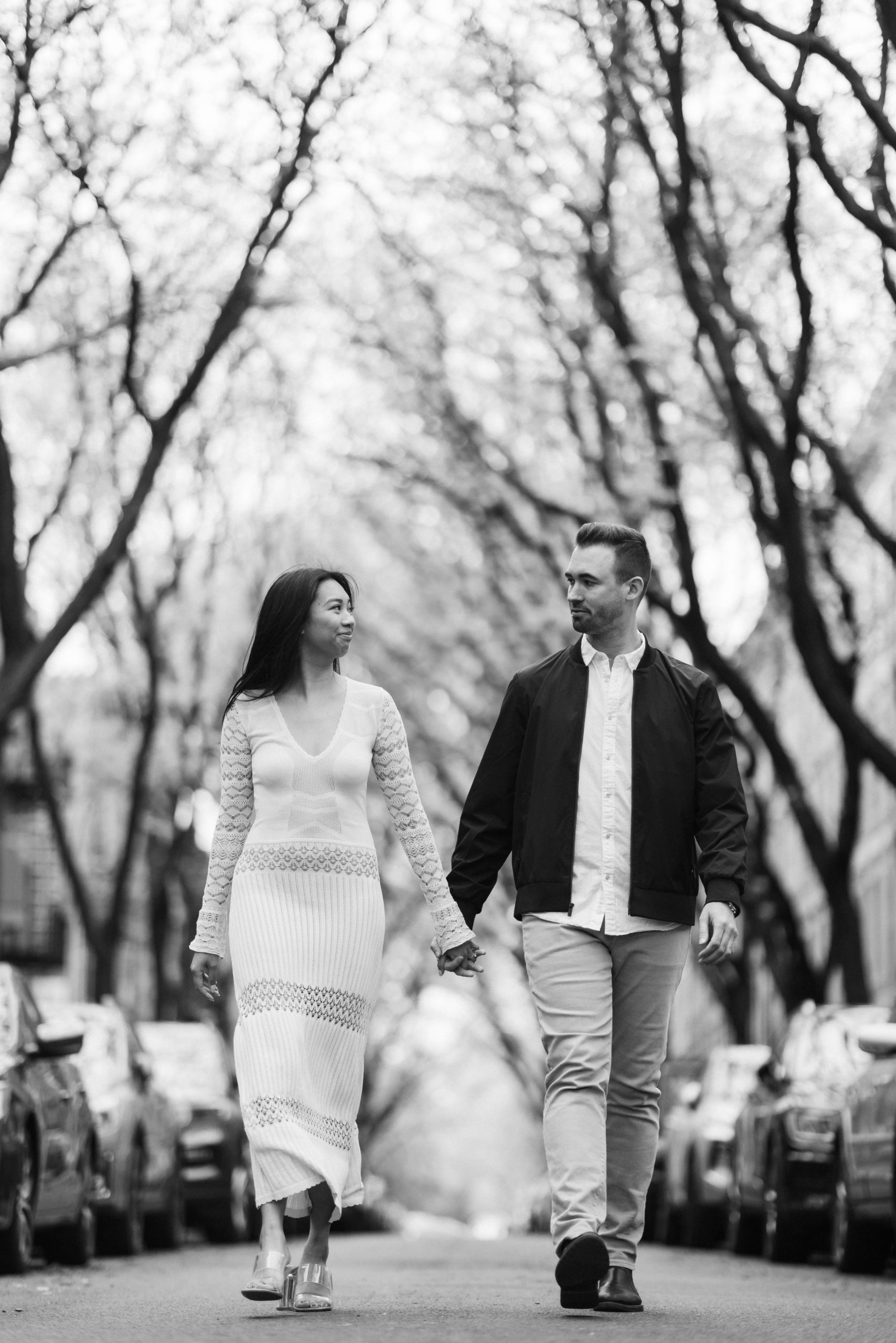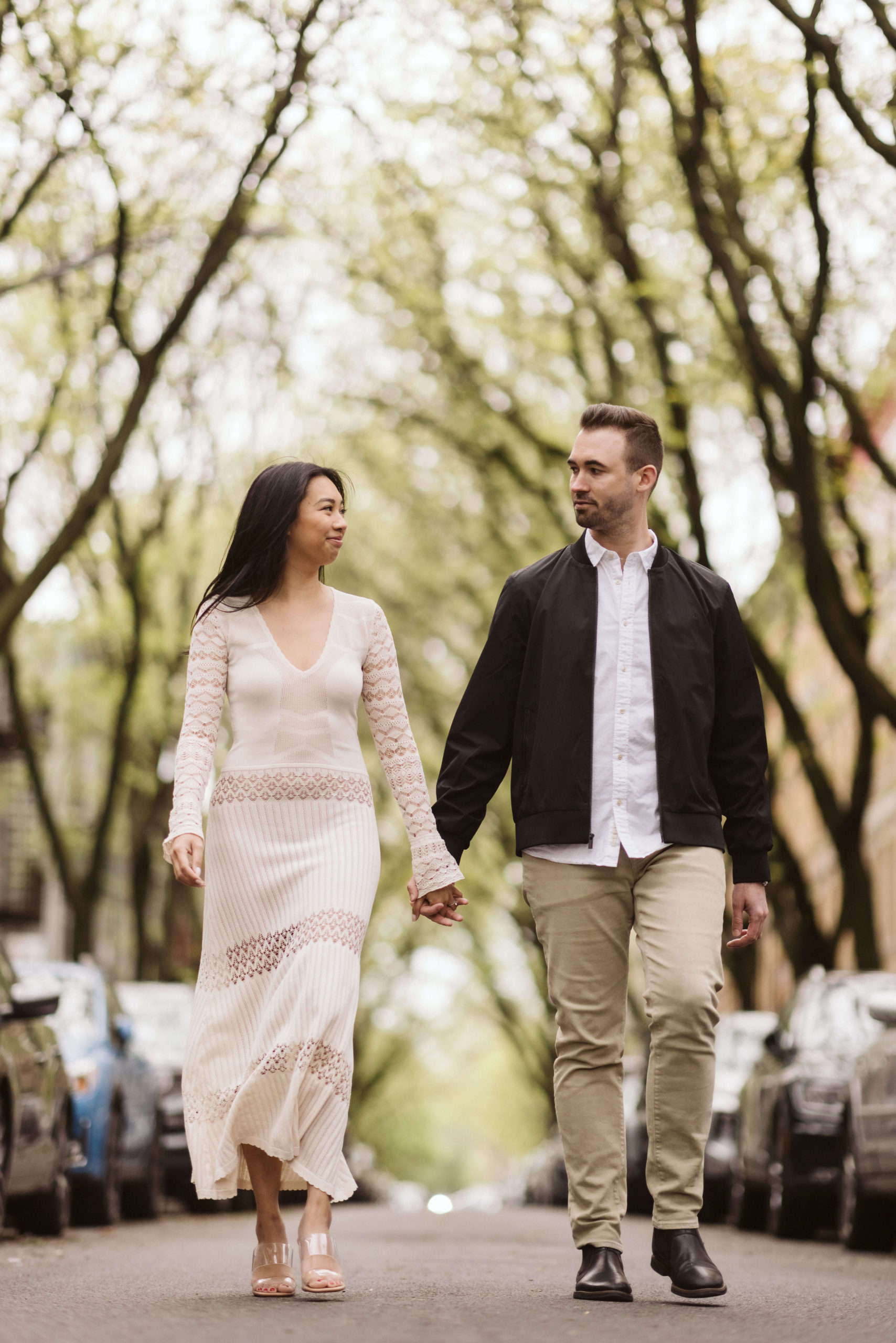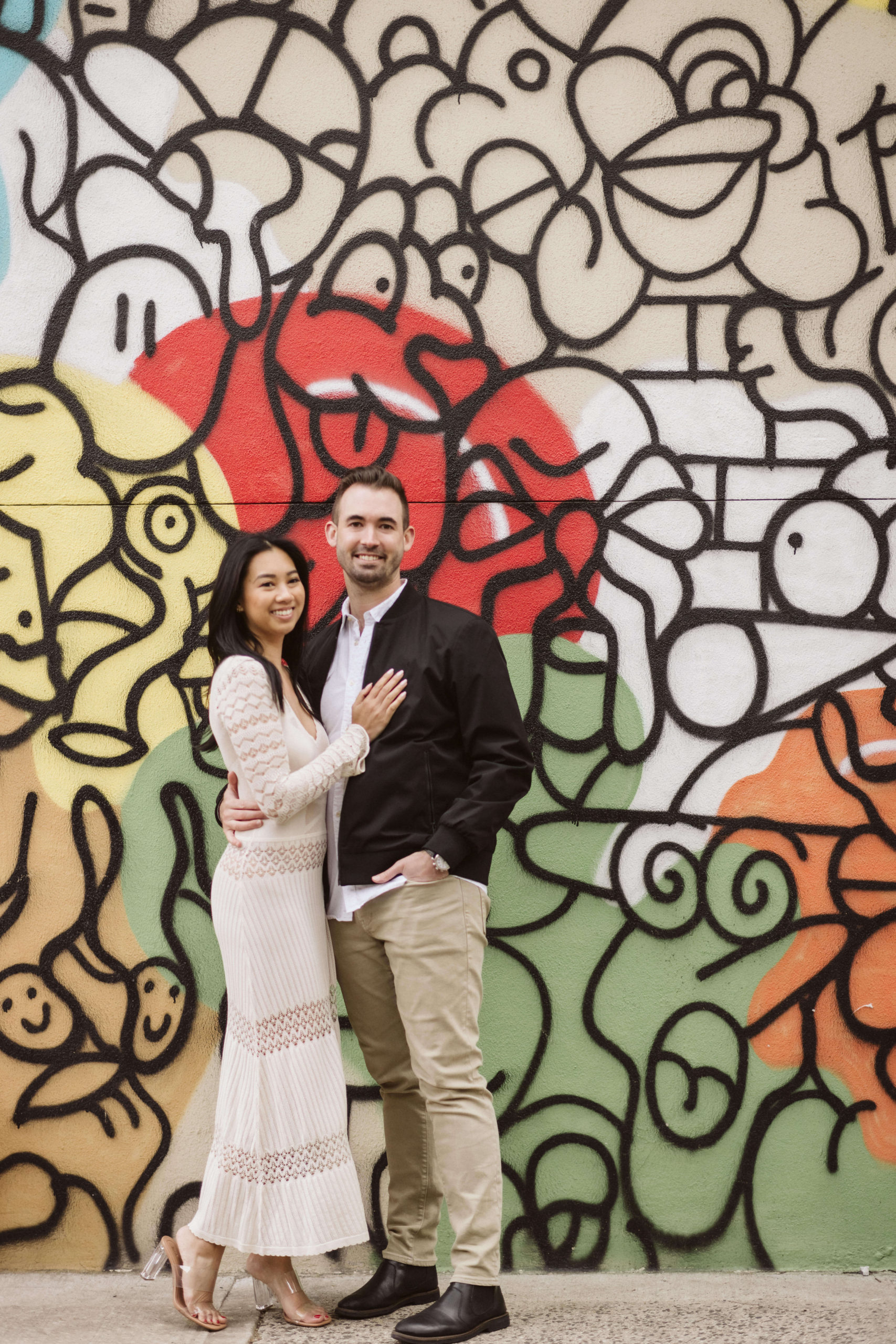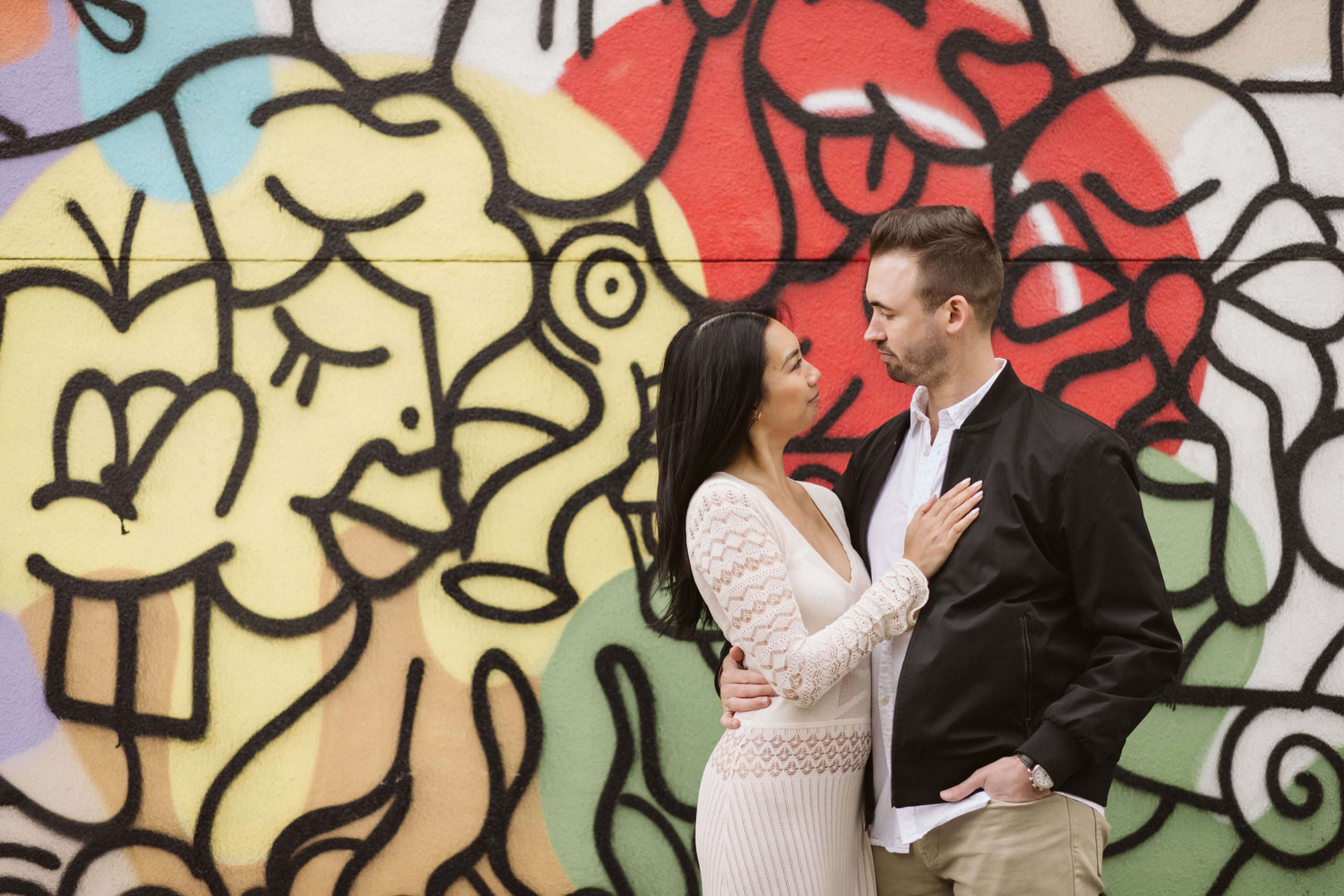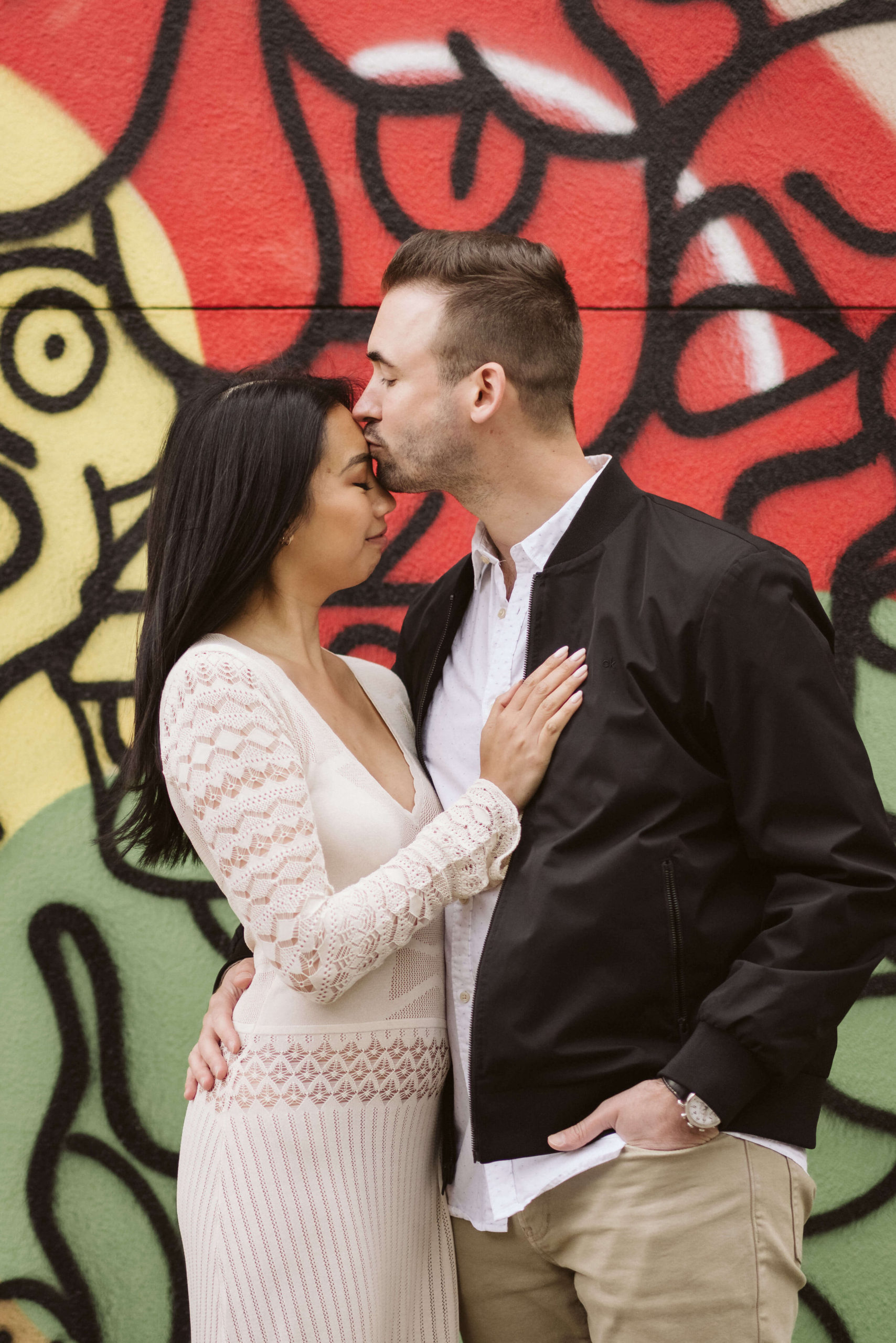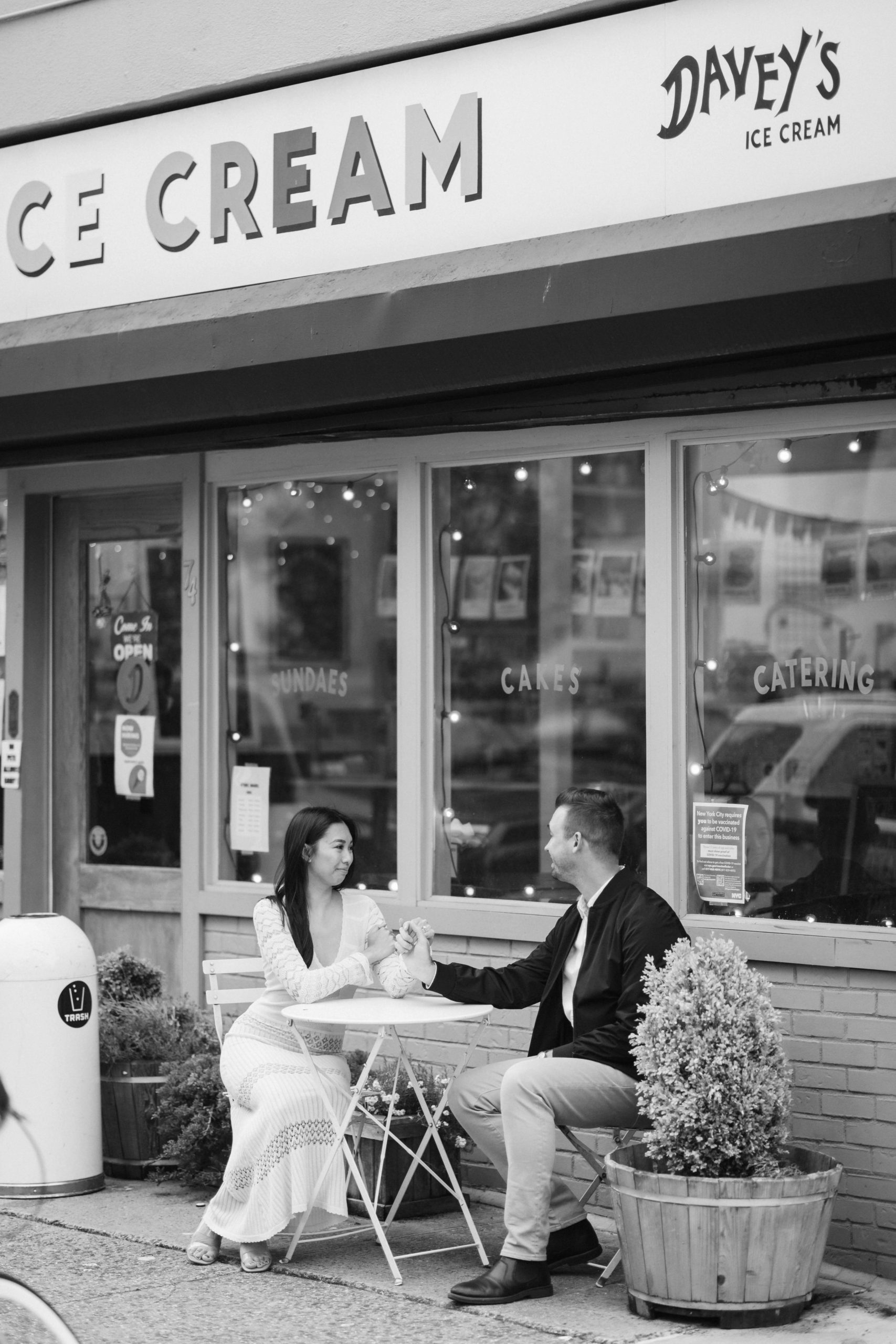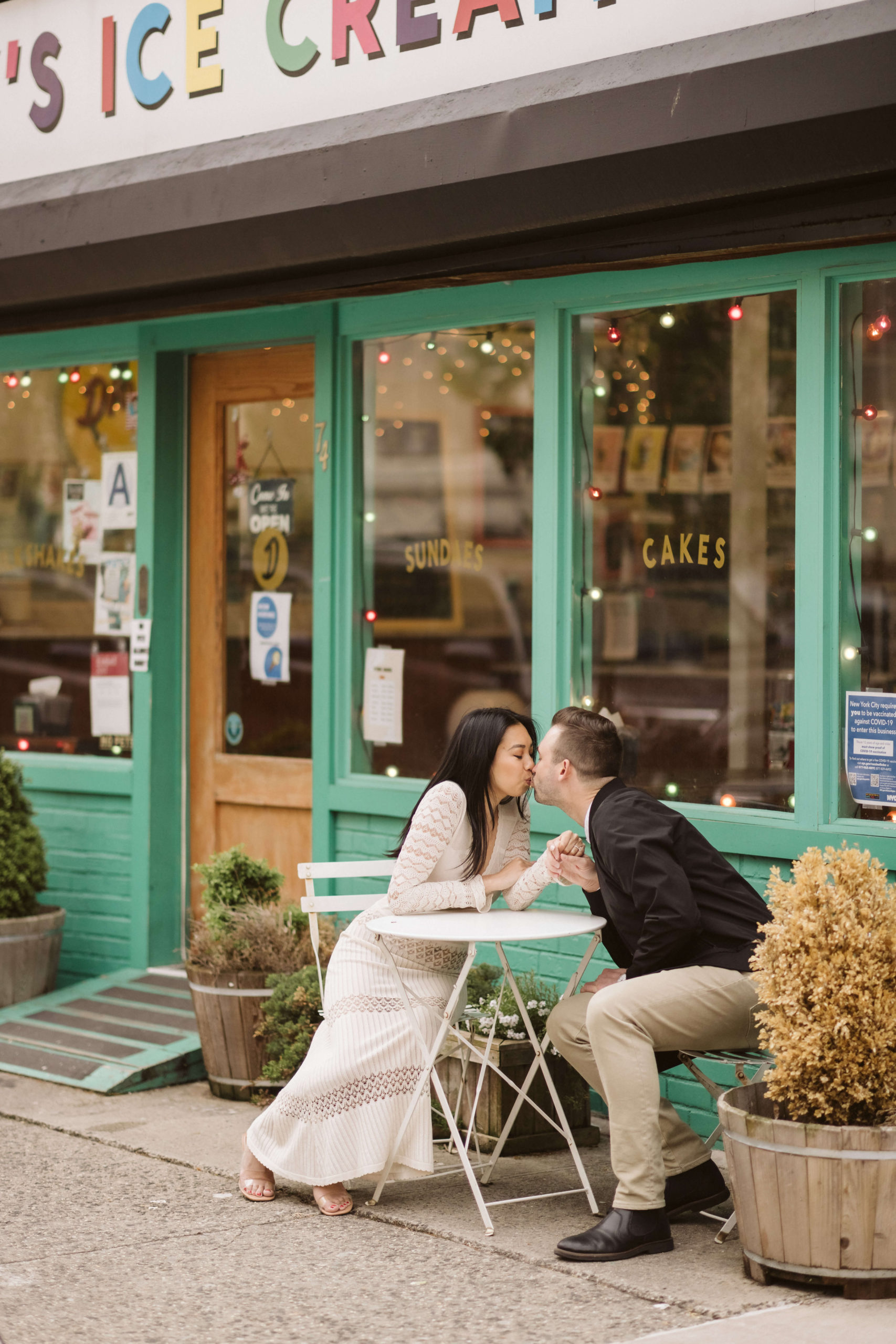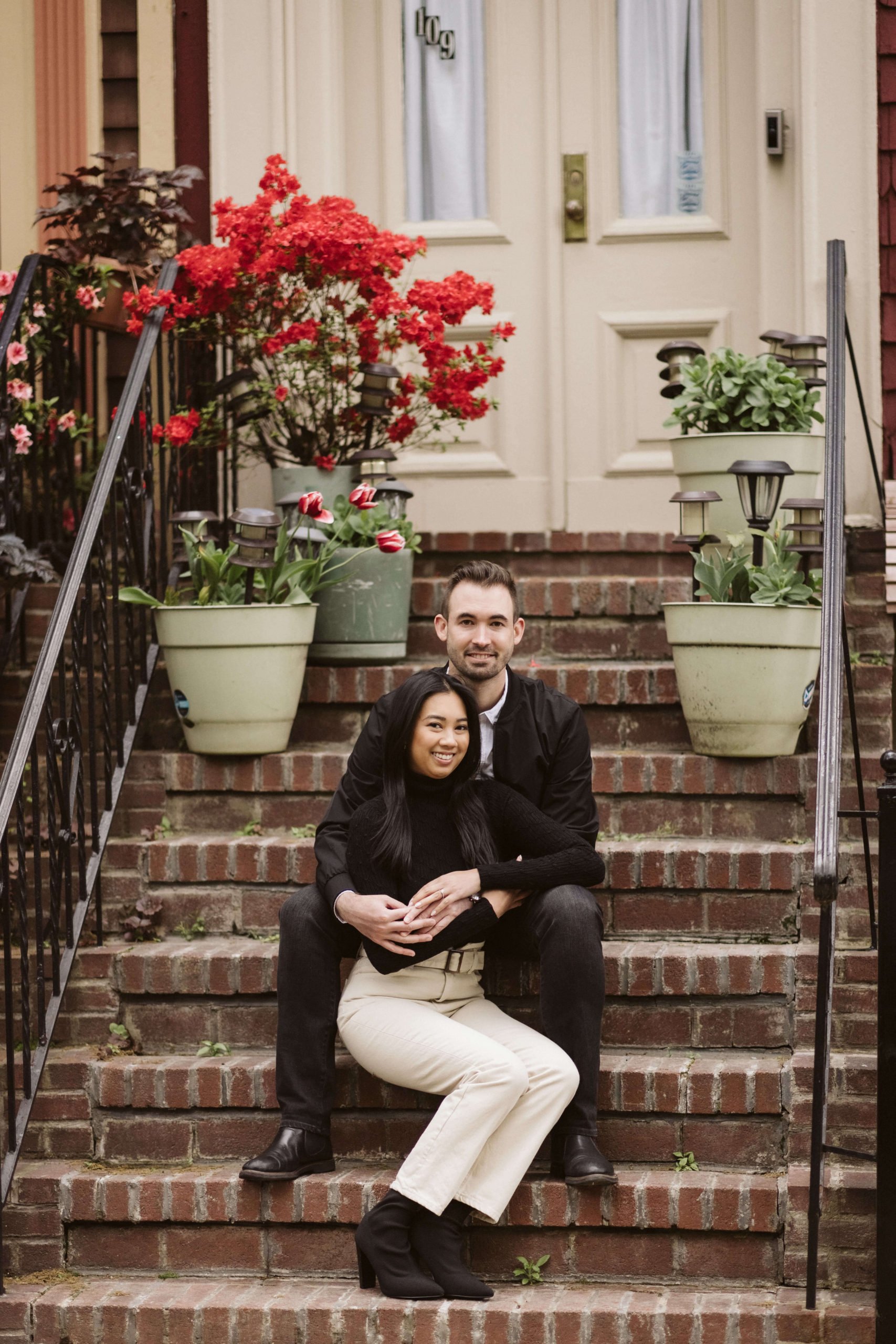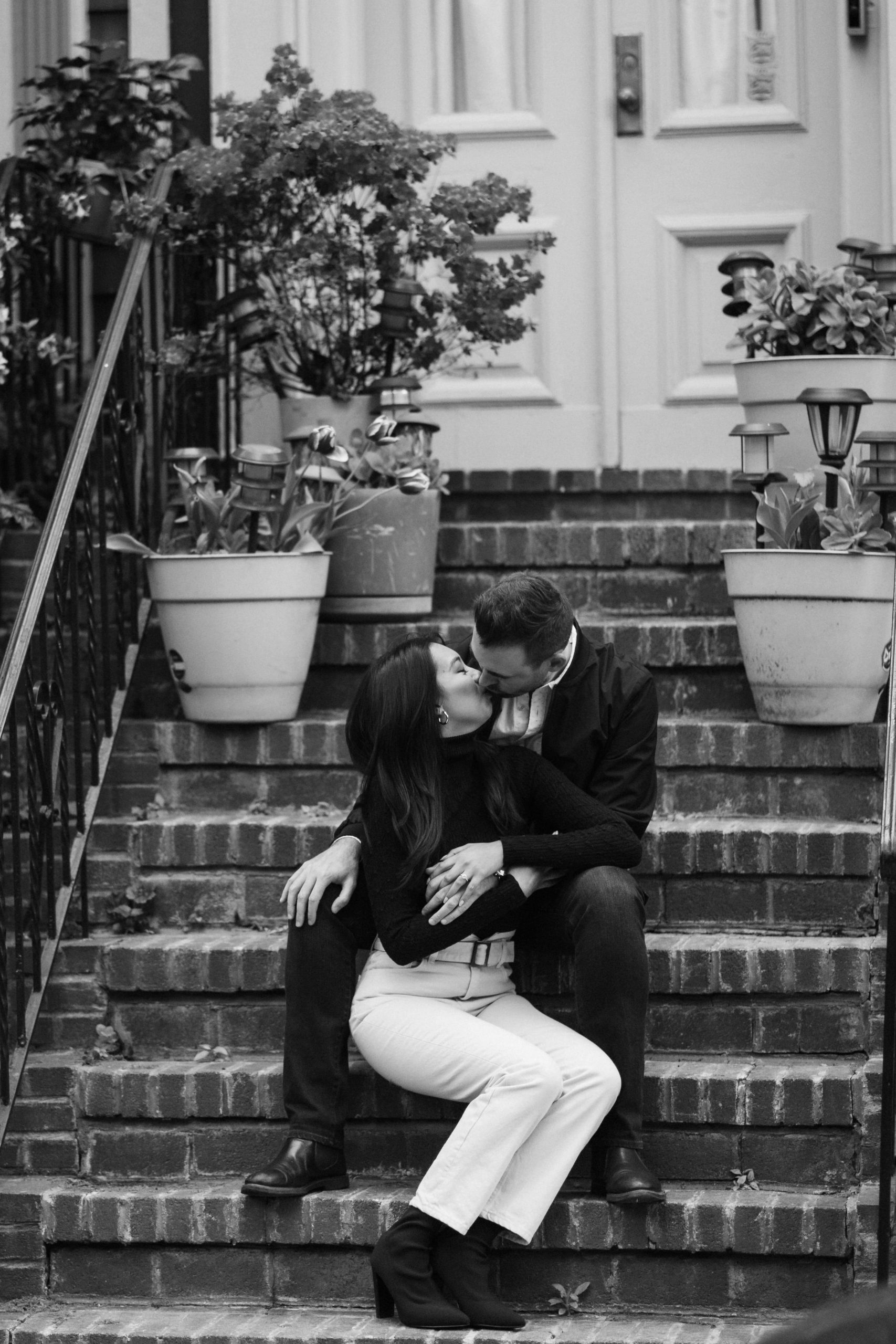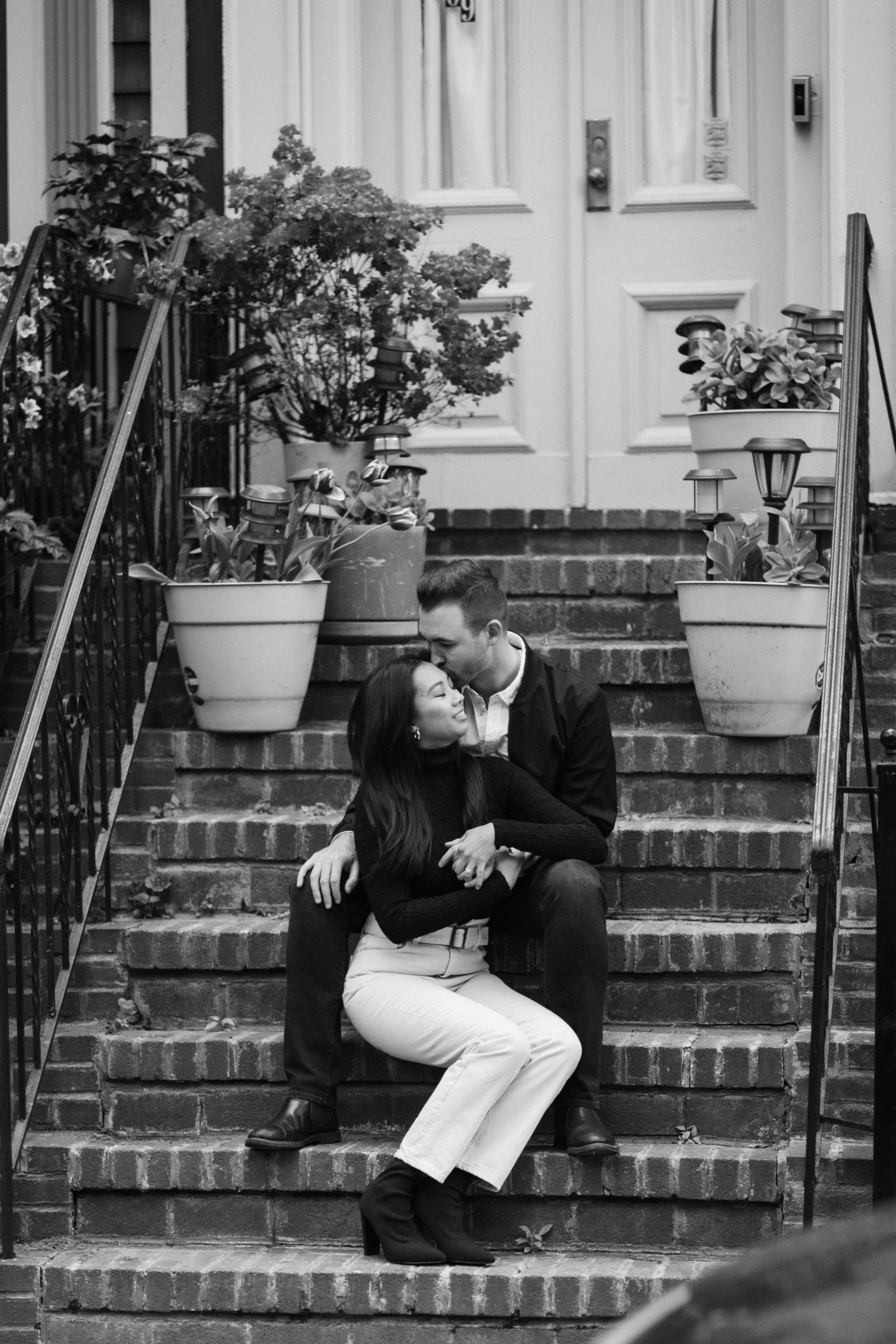 A Walk through Picturesque Guernsey Street
In addition to the edgy, modern photos that we took that day, I also wanted to capture Greenpoint's softer side and that's when I came across Guernsey Street. While other city blocks in Greenpoint standout because of their industrial architecture or magnificent churches, Guernsey Street is set apart because of its towering trees.
The numerous trees lining the sidewalks make Guernsey Street a popular photography spot and for good reason! The street was once the home to the beautiful Meserole Orchard. After the British occupation during the revolution, the Meserole family planted apple trees to replace the numerous trees British troops had cut down in the area. Over time, the orchard was replaced by housing for the bustling factory community. However, when it was in its prime, the Meserole orchard was considered to be one of the finest green points in the area – which is where the name Greenpoint actually comes from!
Because of the nutrient-dense soil from the many fruit trees, the locust trees that now tower over the street have grown to forest-level heights. This gives Guernsey Street the unique quality of having a green, leafy roof over its street like a foliage tunnel through an industrial neighborhood. The dappled sunlight peeking between the verdant leaves cast a perfect natural glow over Maylee and Virgil as they held hands and strolled down this stunning street.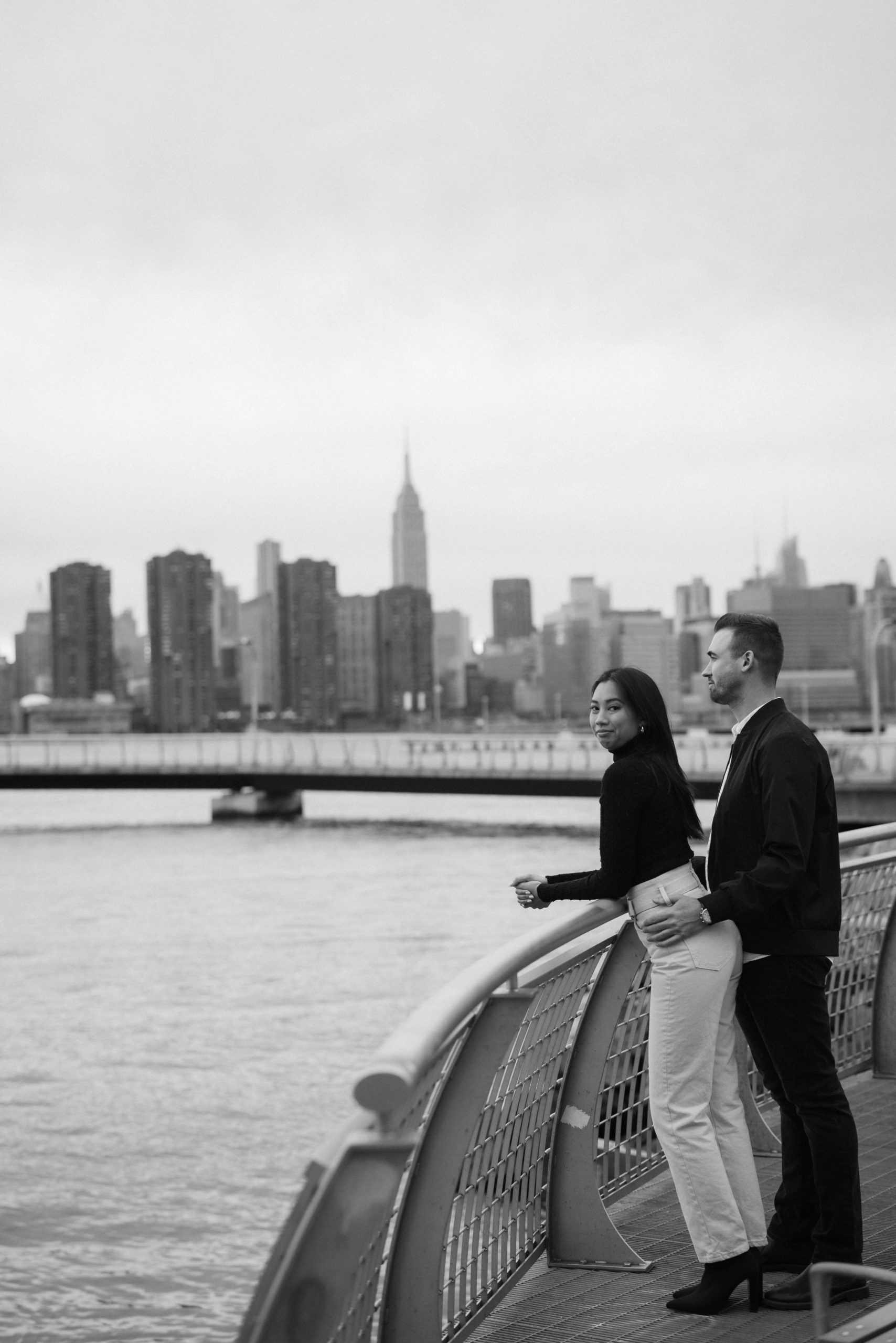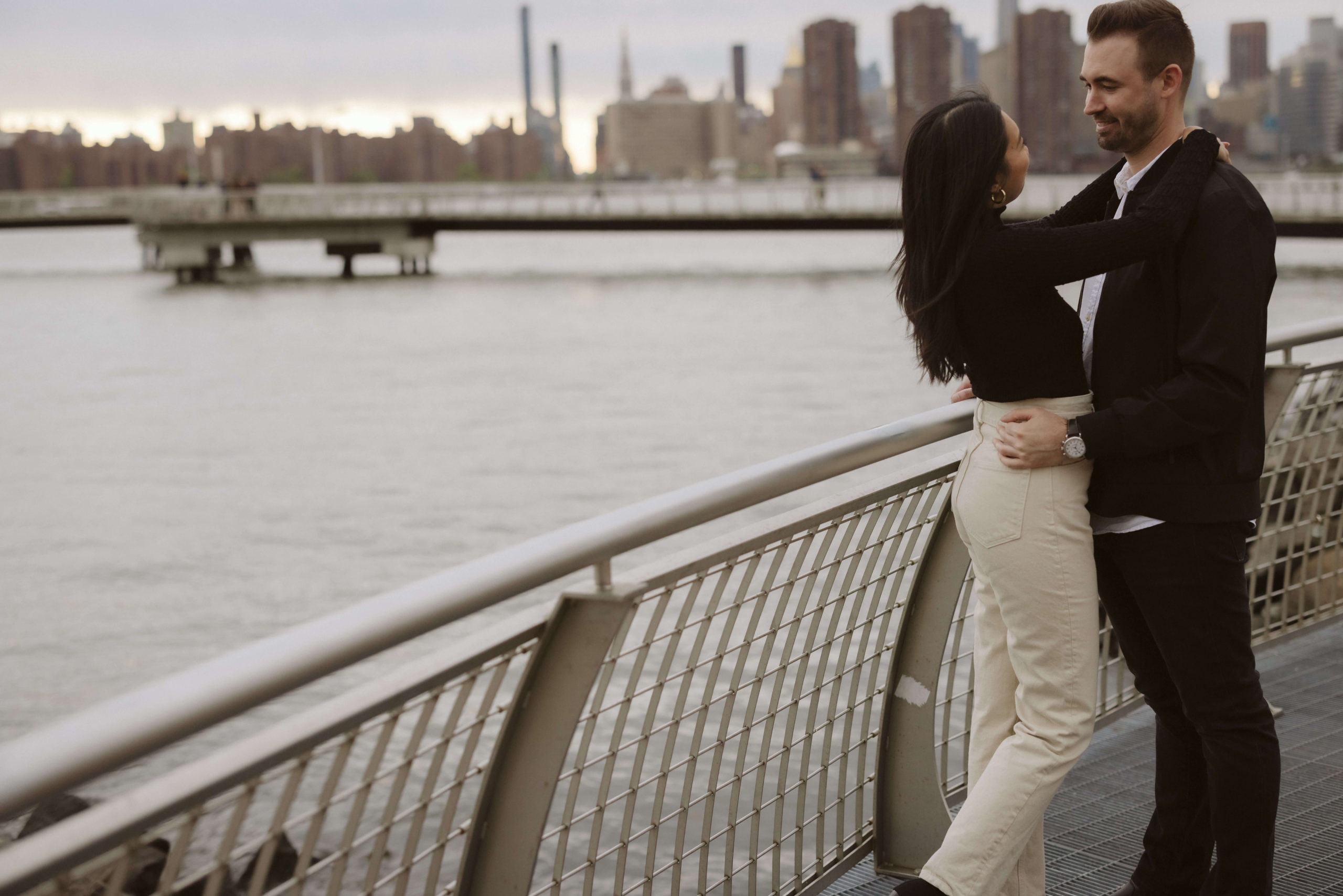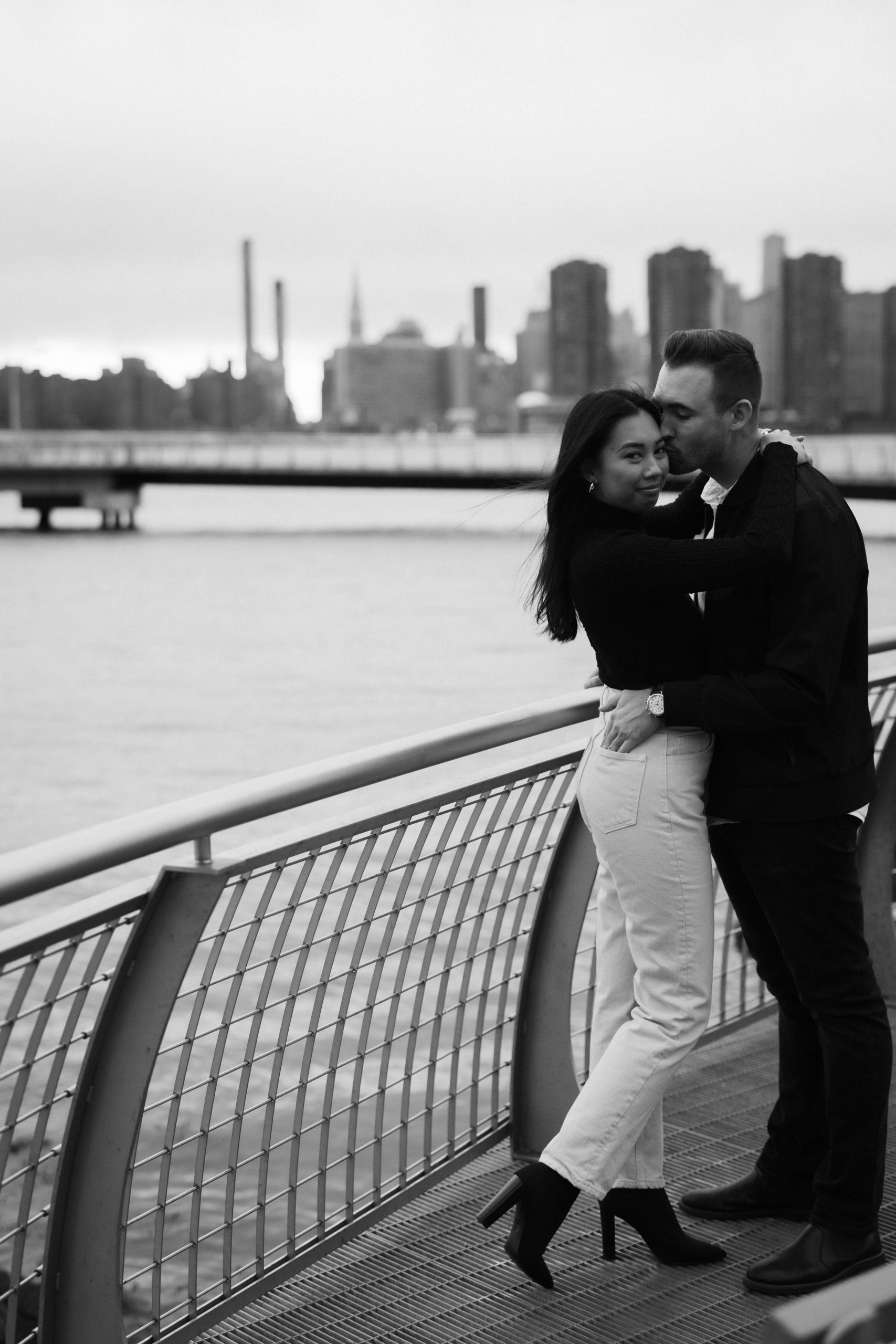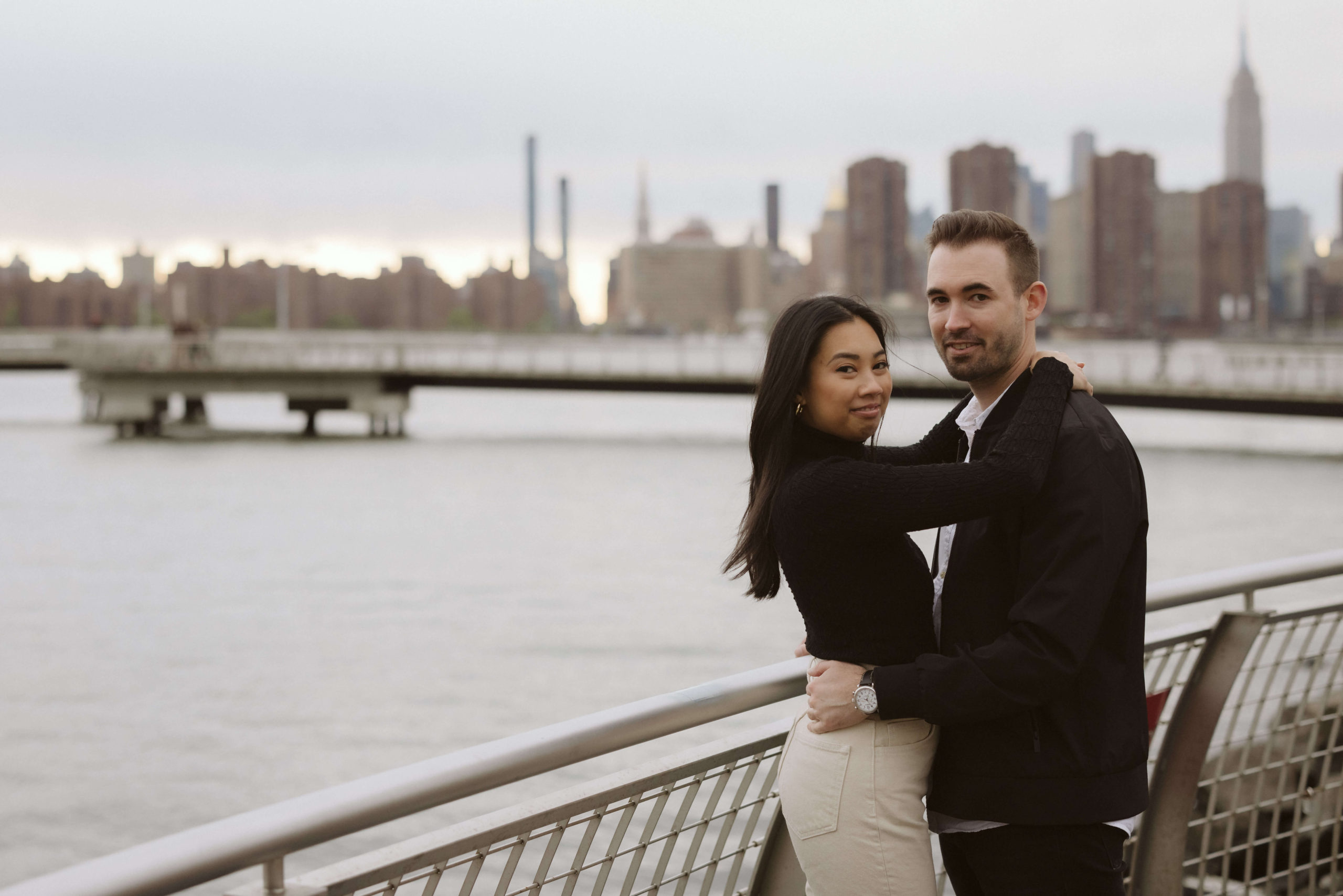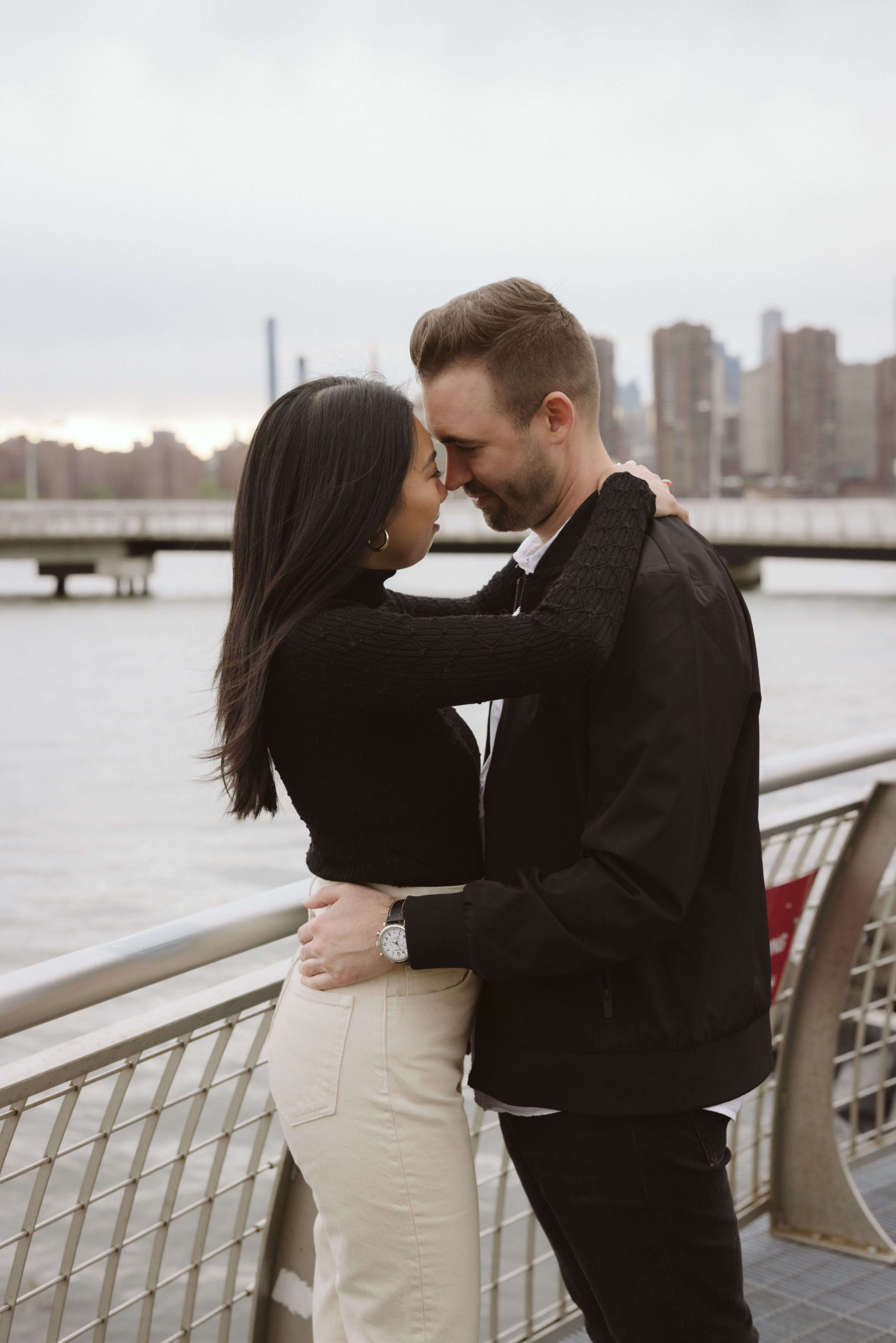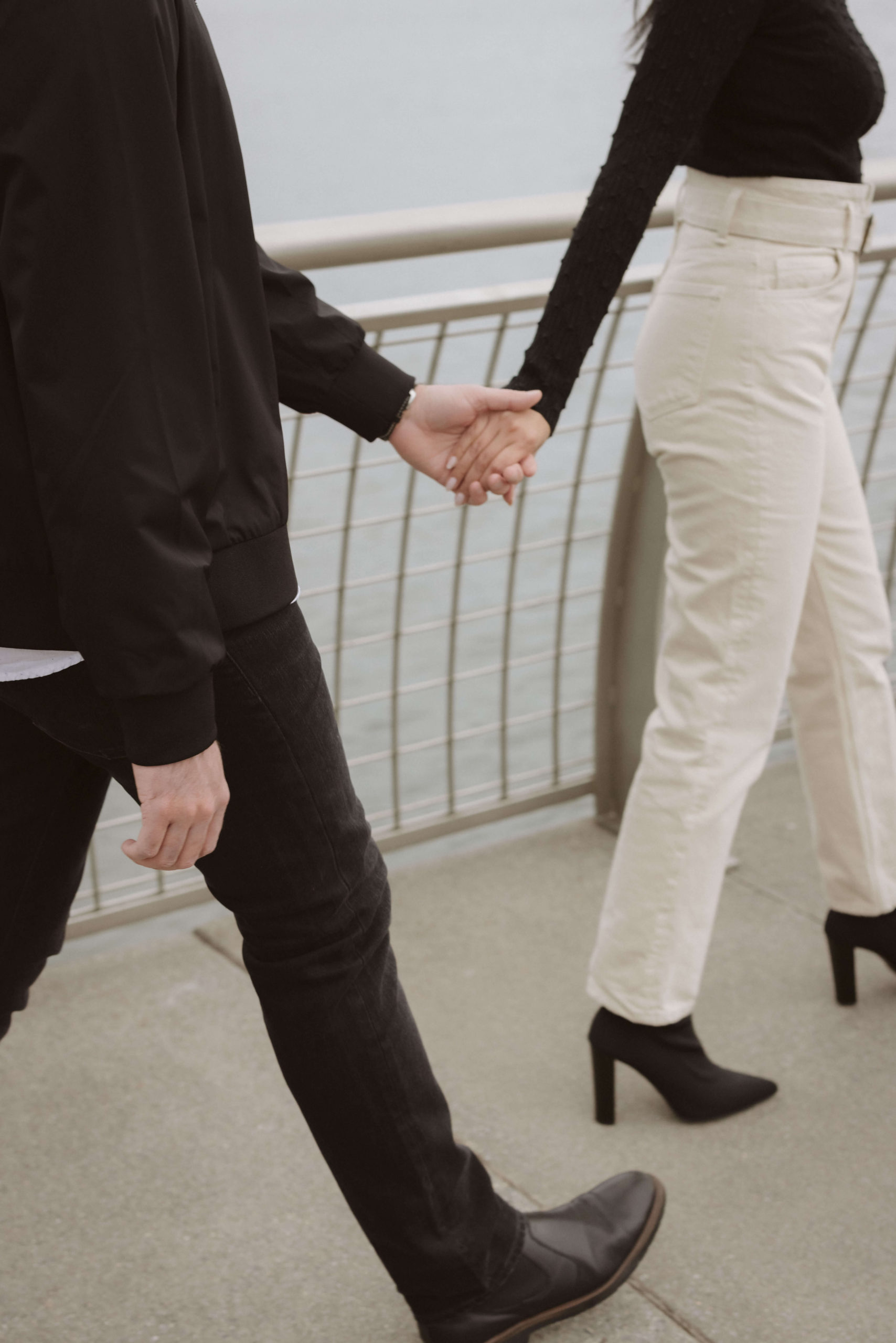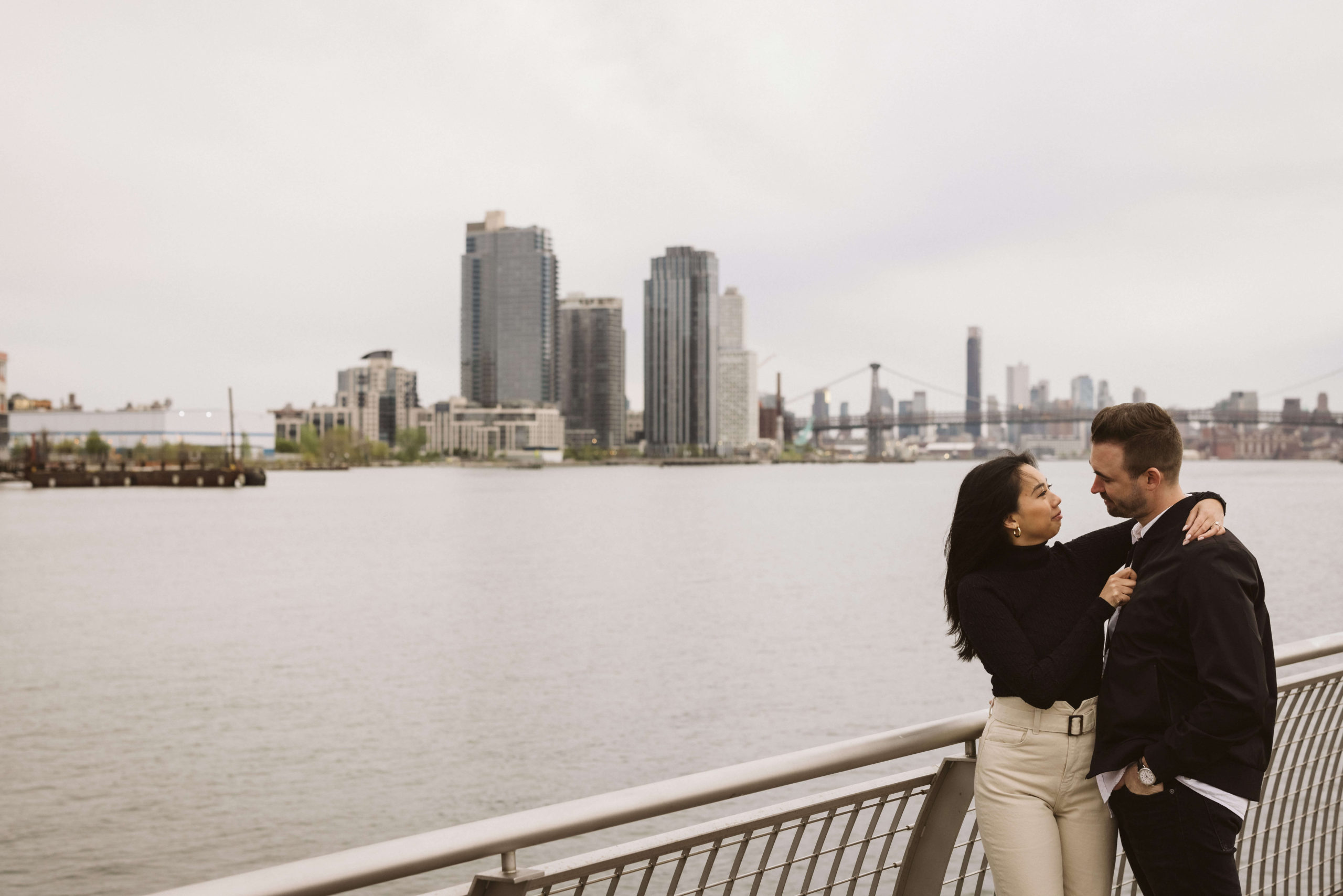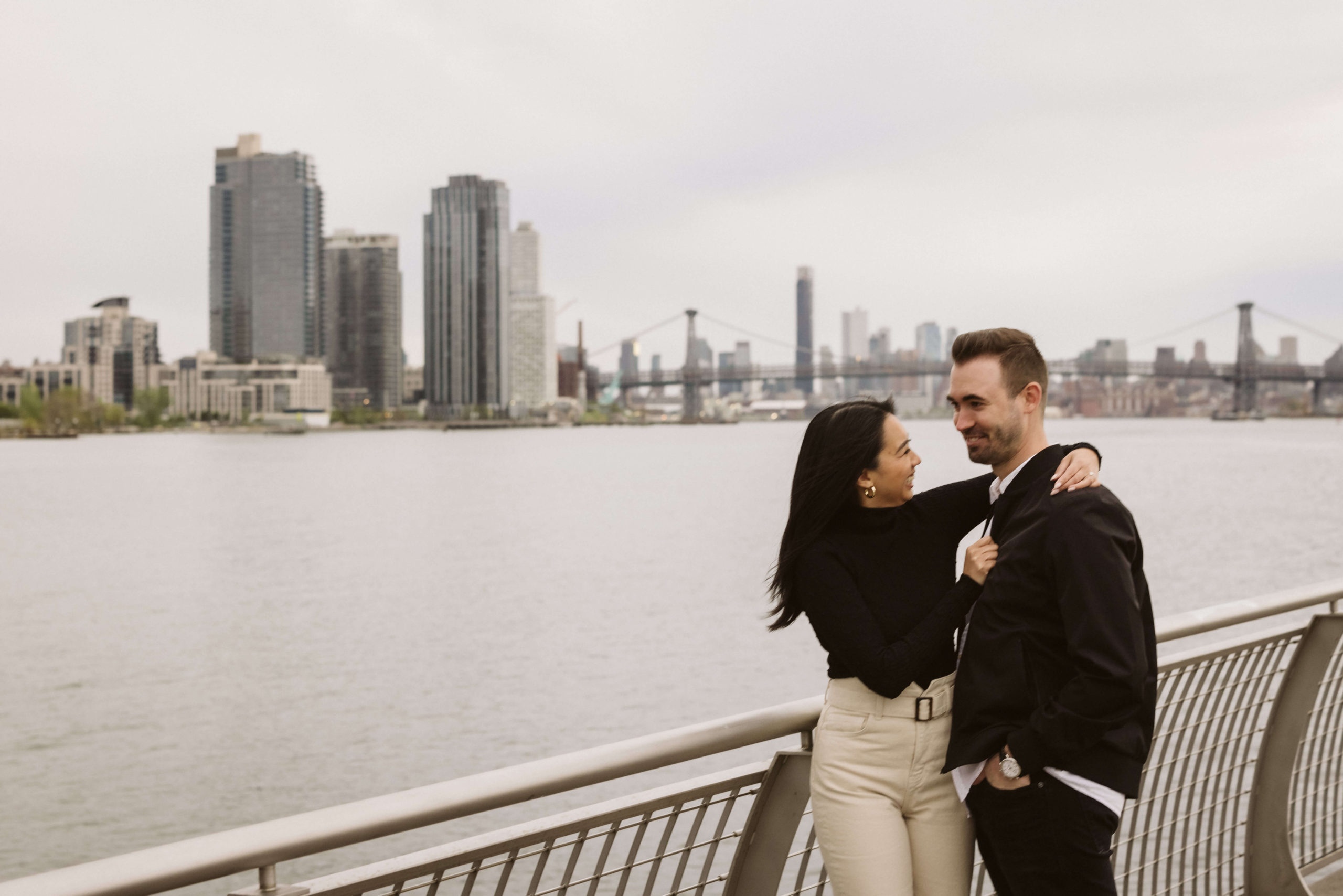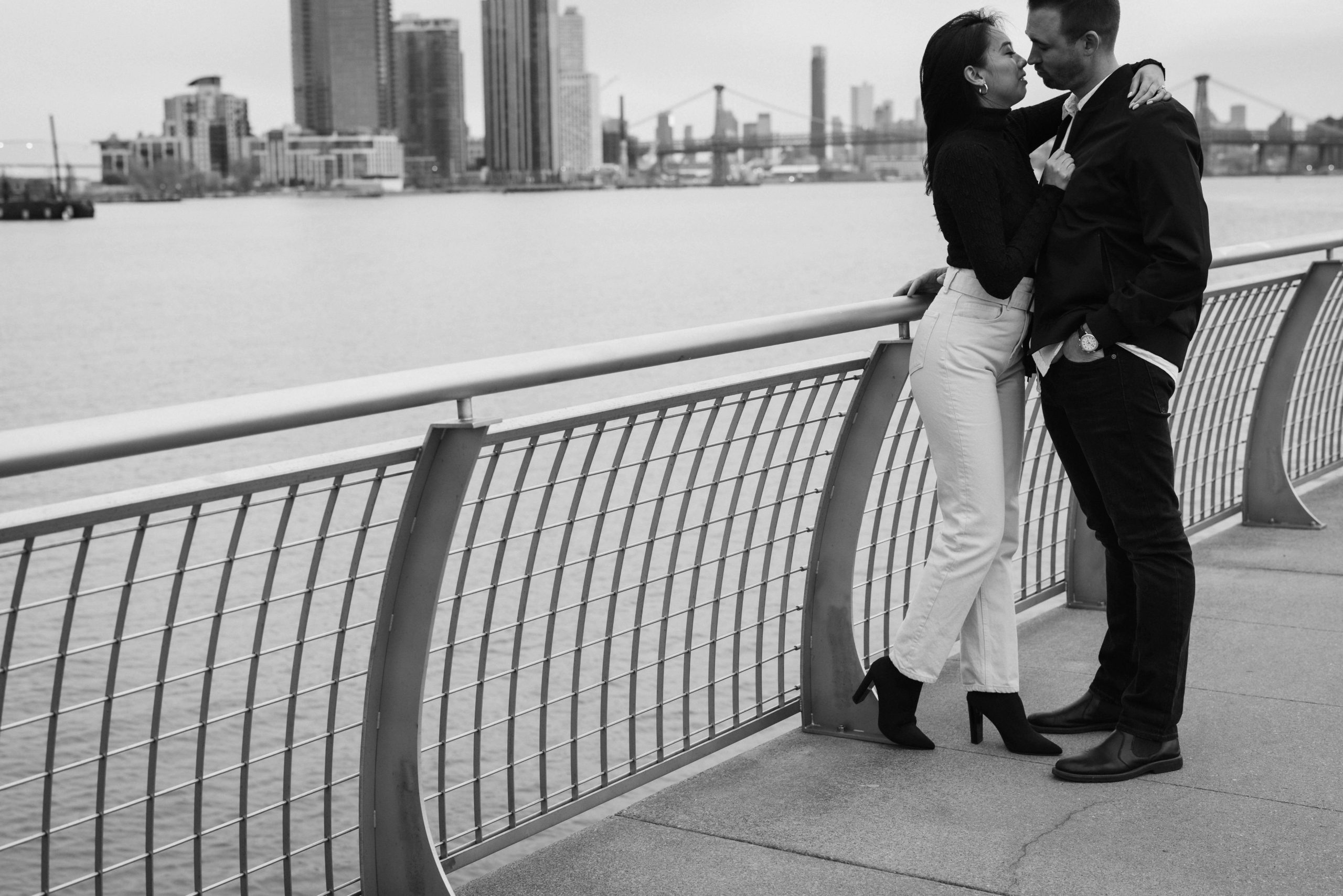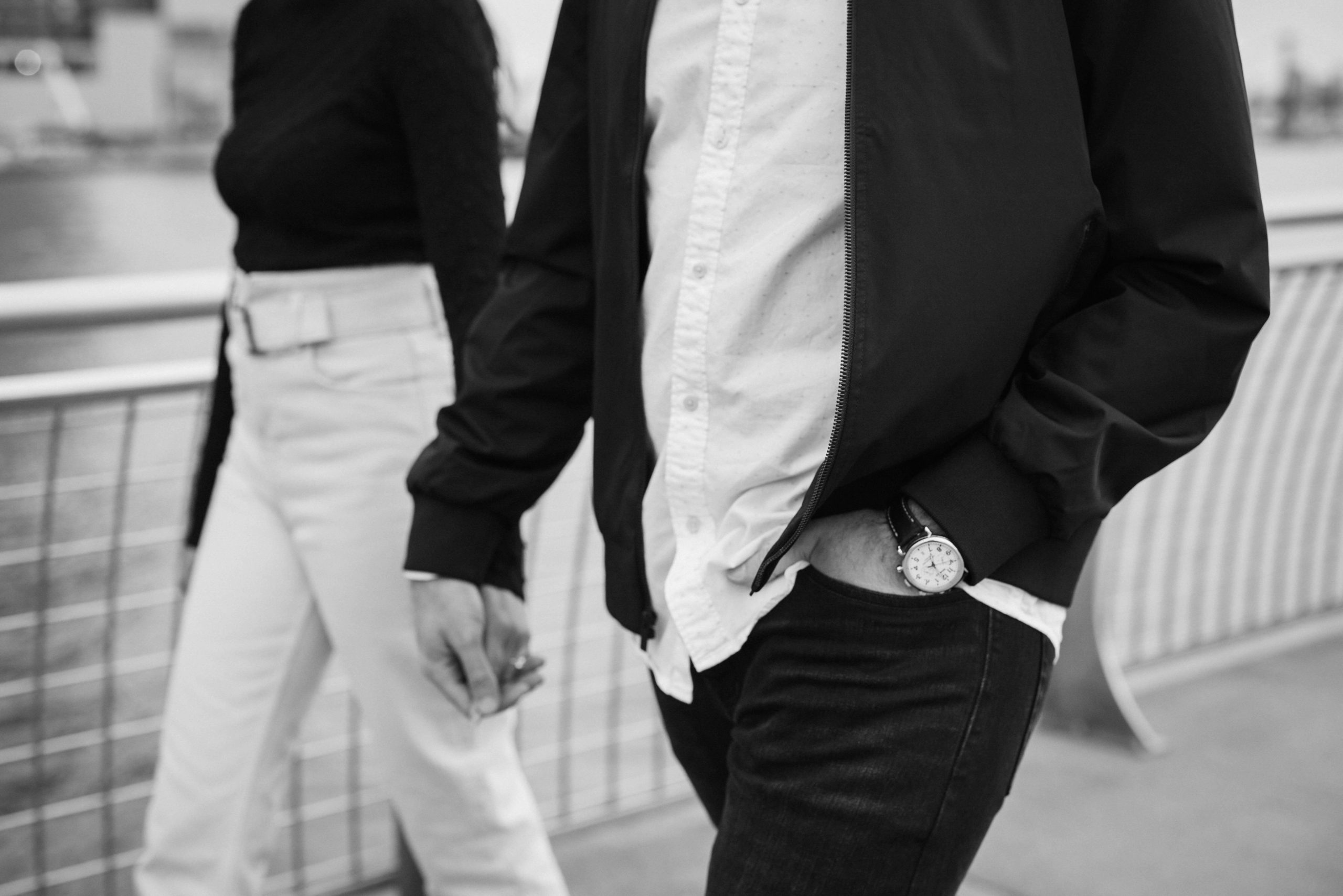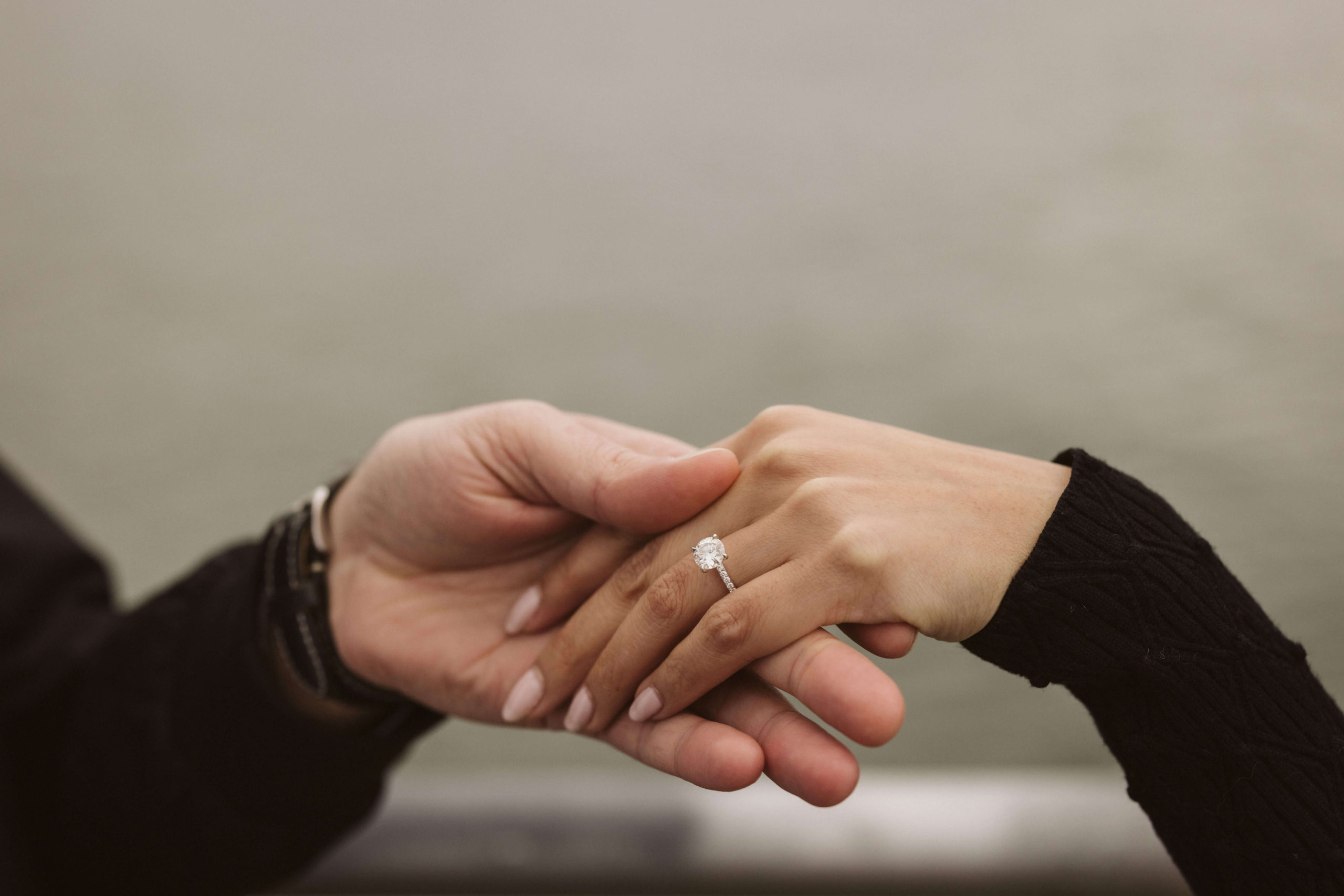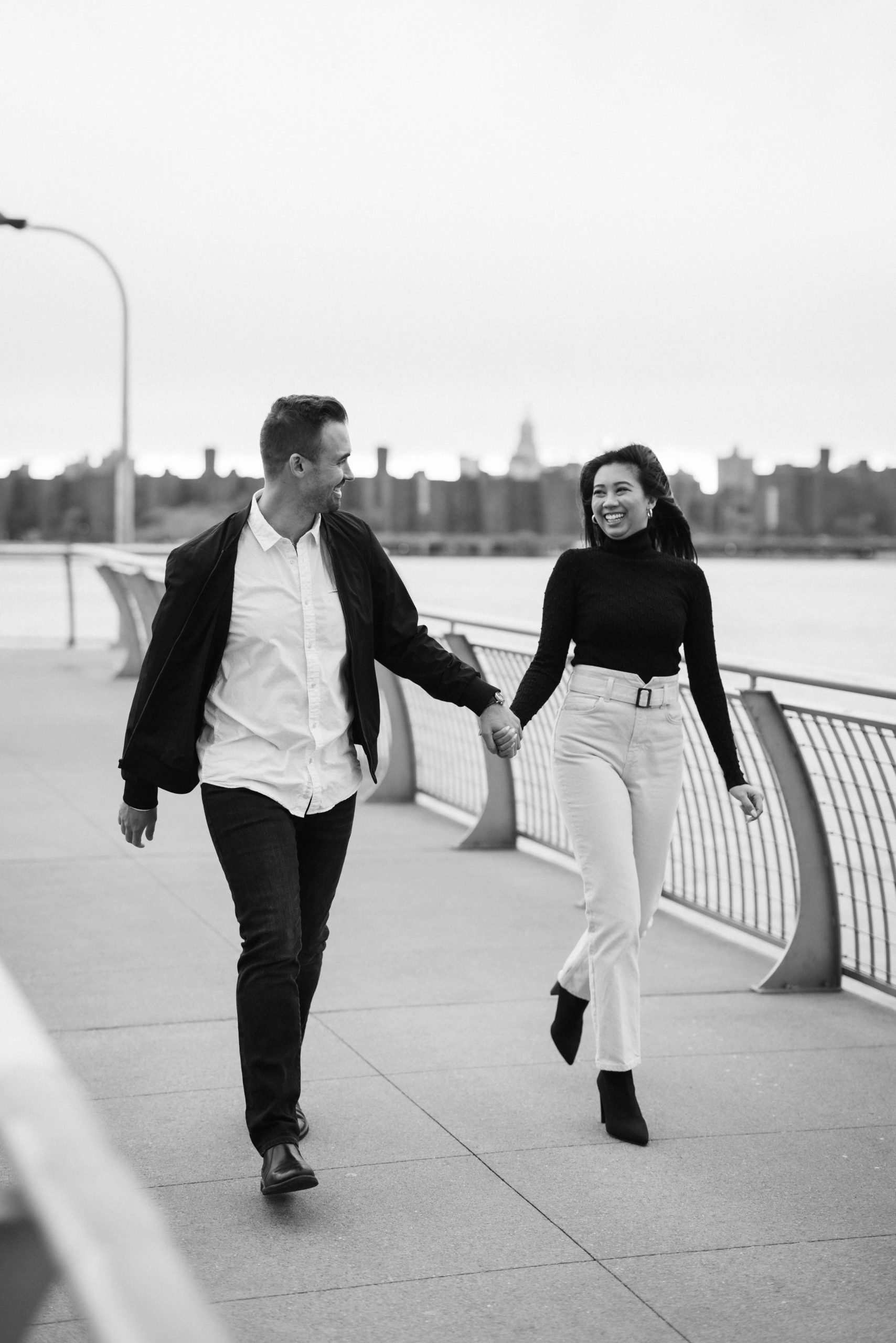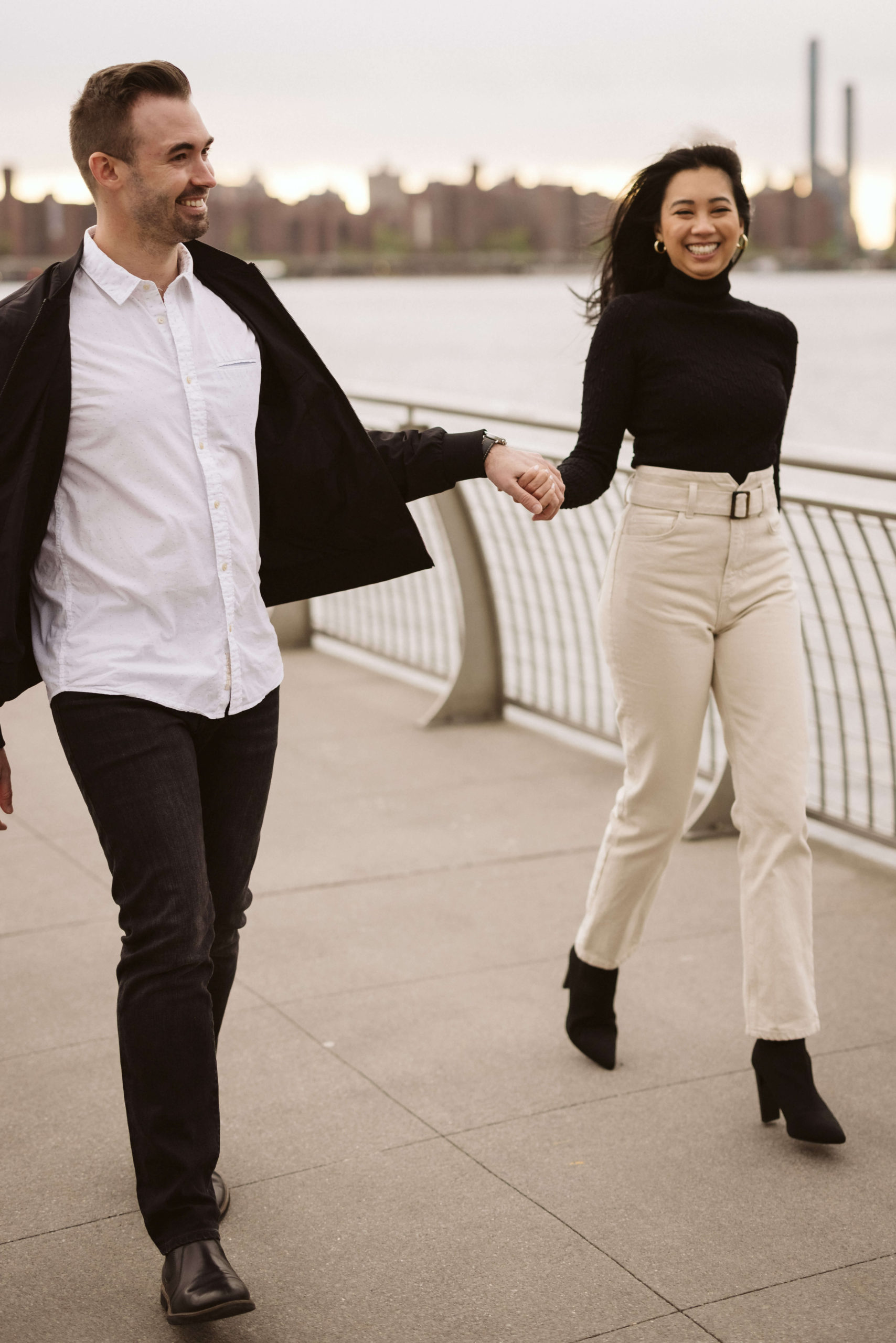 Ending the Night with the Iconic NYC Skyline from Transmitter Park
Guernsey Street was not far from the townhouse where Maylee and Virgil lived. After getting a few shots of them embracing under the beautiful trees, we casually made our way back to their home past even more colorful murals and even making a quick stop at Davey's Ice Cream for a delicious treat. Once we made it to their home, they had a quick outfit change, and we clicked a few pictures on their front steps before continuing our tour of Greenpoint.
You can't have a New York City photoshoot without getting at least a few pictures with the NYC skyline in the background. This led us to our final stop at Transmitter Park. This little park is now one of Greenpoint's few green areas. The park takes its name from its history as the former home to a radio transmitter when a popular radio station began experiencing signal problems due to clogged radio waves at its old location. The station relocated to what is now Transmitter Park solving all of their signal problems.
The park is now home to a large open lawn that's perfect for picnics, a nautical-themed children's playground, and nature gardens. This small green spot in the midst of an urban environment is also home to a restored wetlands area where local plants and beautiful wildlife can thrive. There's even a pedestrian bridge that juts directly into the wetlands where locals can fish while enjoying the views.
Because the pedestrian bridge goes directly into the middle of the East River, it gives panoramic views of the New York skyline from many different angles. With a stroll through the park and a walk down the bridge, we captured every angle of Maylee and Virgil's beloved city as the last few shots of the day.
I hope you enjoyed Maylee and Virgil's Greenpoint Brooklyn shoot! If you're looking for a photographer to capture your engagement, wedding, or elopement, just say the word and I'll be there!
Hey, y'all! I'm Rachael Crowe of OkCrowe Photography. Although I'm usually based in Chattanooga, Tennessee, I am more than willing to travel to wherever you need me to for your wedding or special event! If there's a location that special to you and your love story, I want to help you capture it. Take a look at my travel and availability schedule to see if I'll be coming to a place near you. Even if I'm not, reach out through my contact form and let's chat about how I can help you achieve gorgeous photos and the wedding you've always dreamed of!