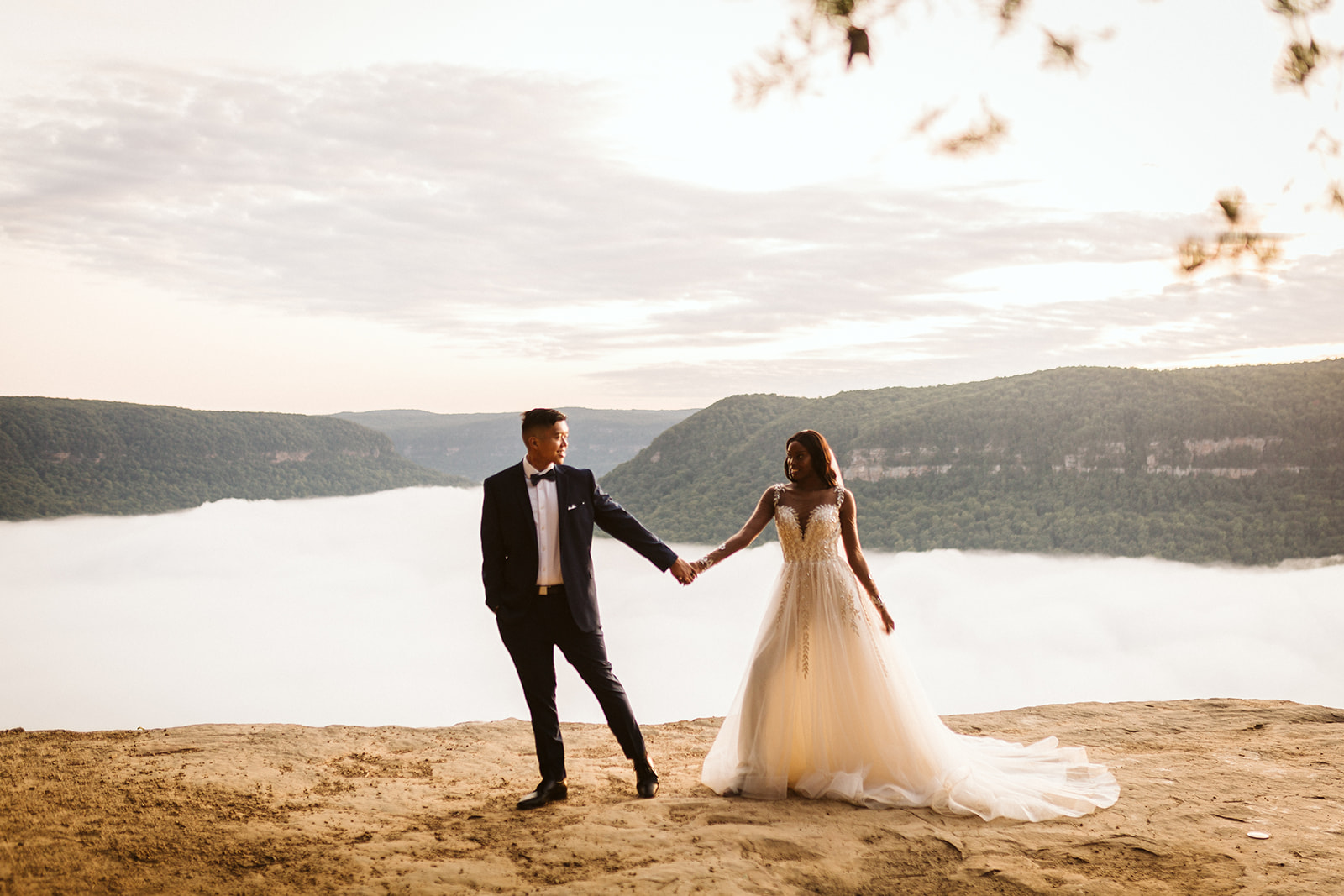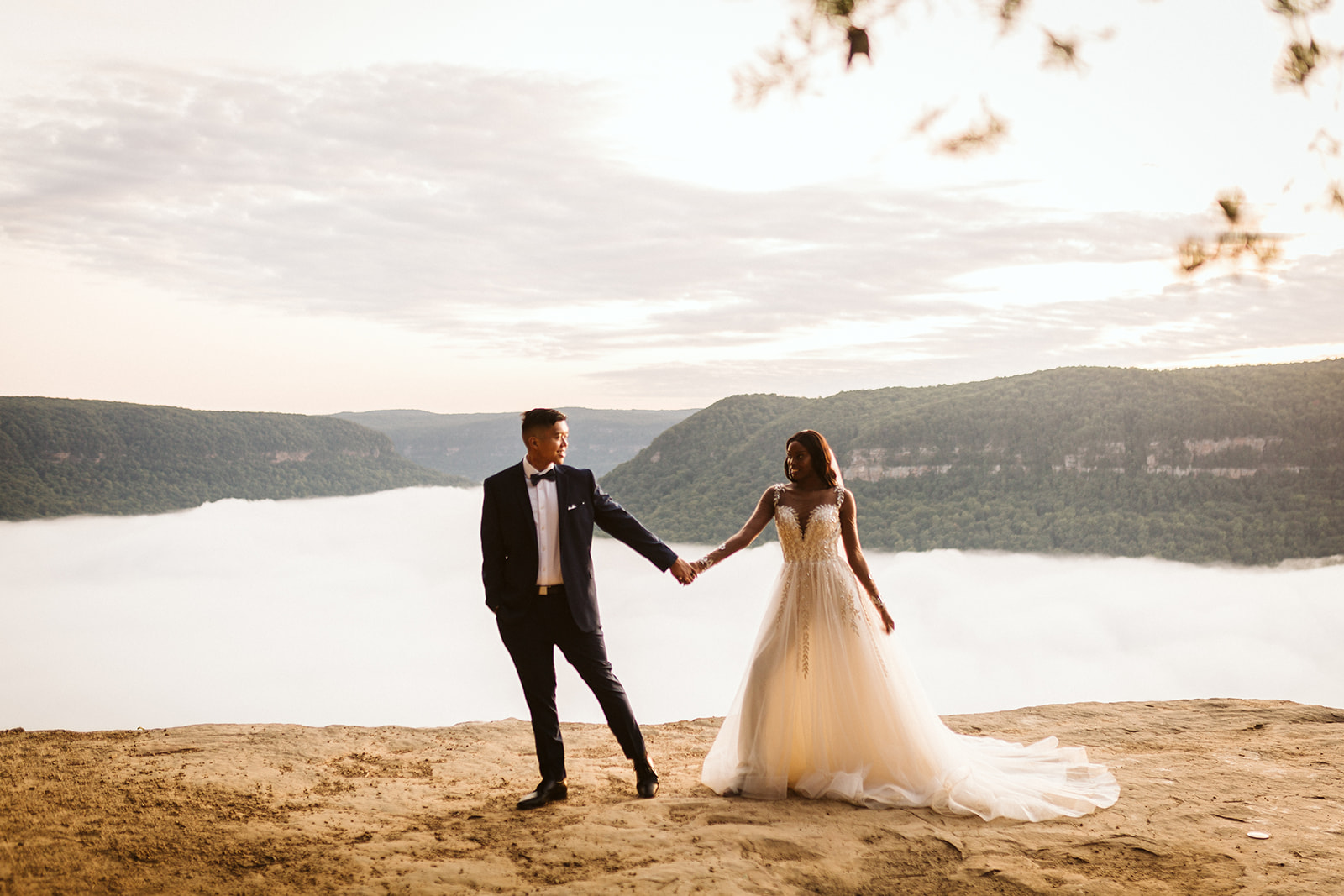 Elopements have grown in popularity (and honestly, in style) in the past few years, and COVID has only made them more common. I've spoken to so many couples chasing the mountaintop elopement feeling. I tell them all the same thing: elope to Chattanooga! Just a two-hour drive from both Atlanta and Nashville, Chattanooga is the perfect elopement destination for couples looking to run away without straying too far from home.
Enjoy this sunrise Chattanooga elopement session with Ana and Paolo. If you're planning your own elopement and looking for the right destination, let's chat! I've got a few secret spots in mind.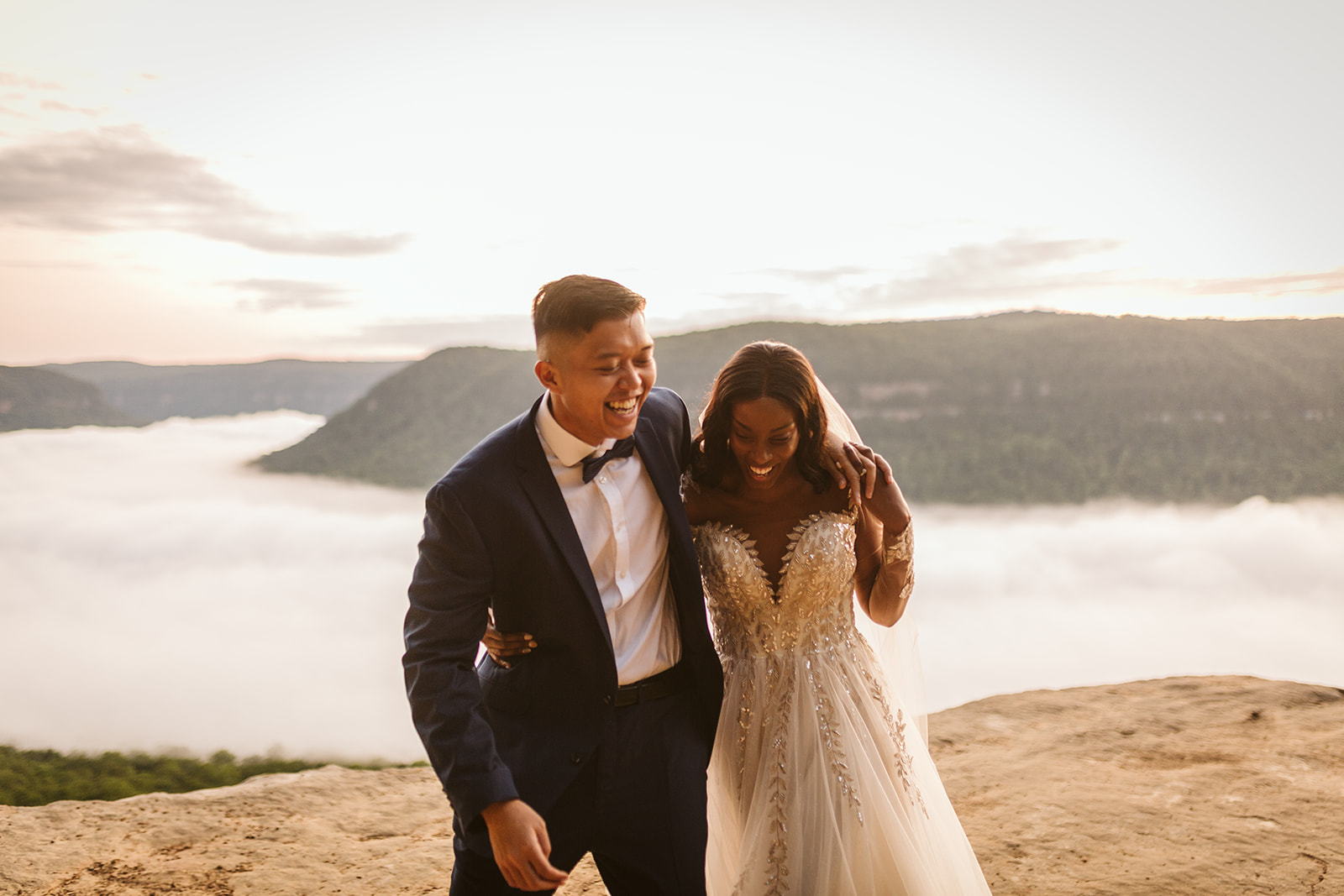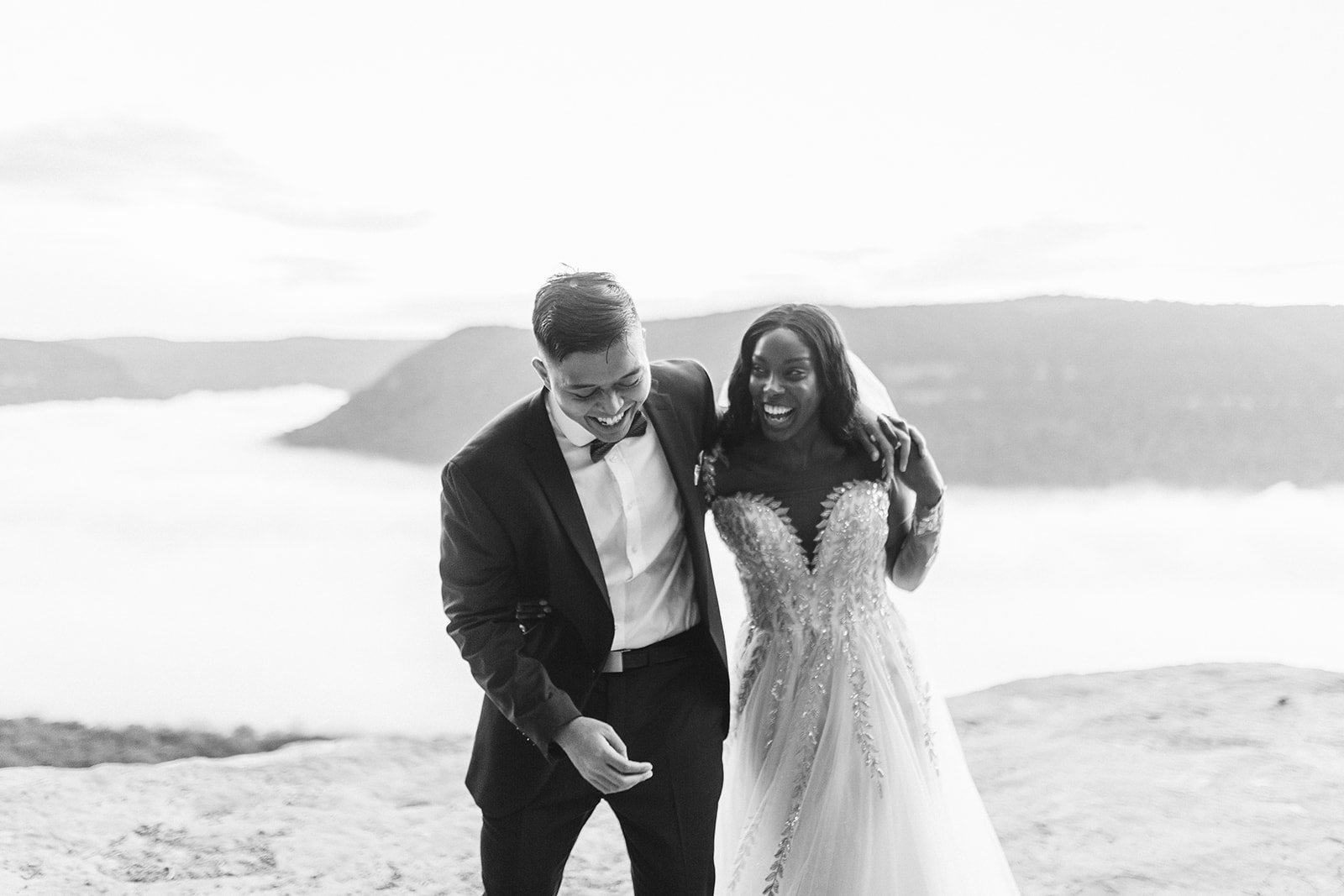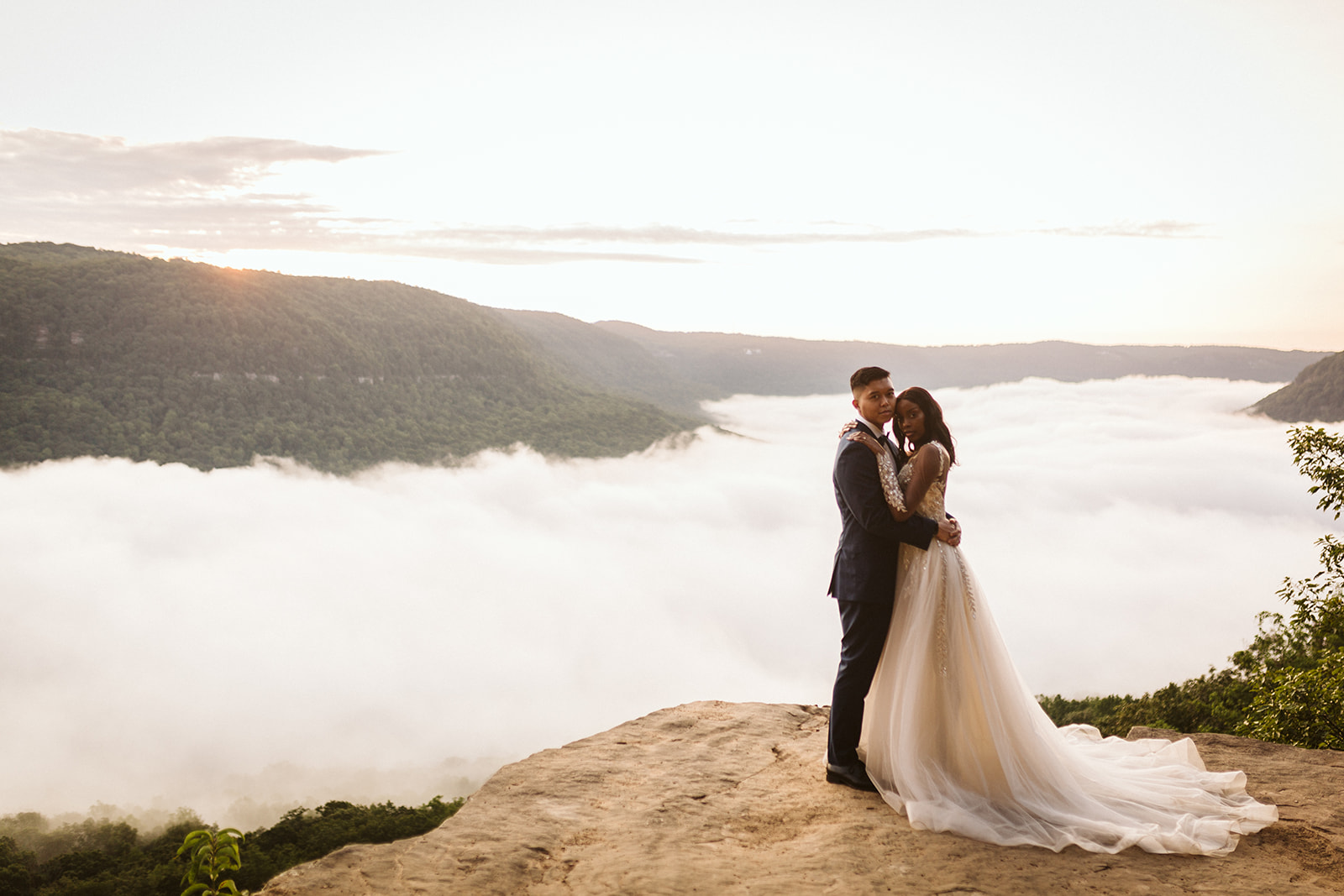 CHATTANOOGA ELOPEMENT DESTINATION
After cancelling their wedding due to COVID, Ana and Paolo got married in a courthouse in Atlanta. They had been legally married for a little while before their Chattanooga destination elopement, but they still wanted to elope! Plus, they wanted an excuse to wear their wedding attire and create beautiful photos to look back on. Ana found me on Instagram, and after a call and some coordinating, she and Paolo hopped in their car around 2 a.m. to reach Chattanooga before sunrise.
Couples often overlook Chattanooga as an elopement destination, but the views and photo opportunities can't be beat, especially in this part of the country. This spot on Signal Mountain is one of my favorite elopement locations. You get a stunning view of the Tennessee River winding through the mountains, and the entire mountainside is bathed in golden light at sunrise. You can't go wrong anywhere in Chattanooga when it comes to mountain views, but this state park location is such a gem.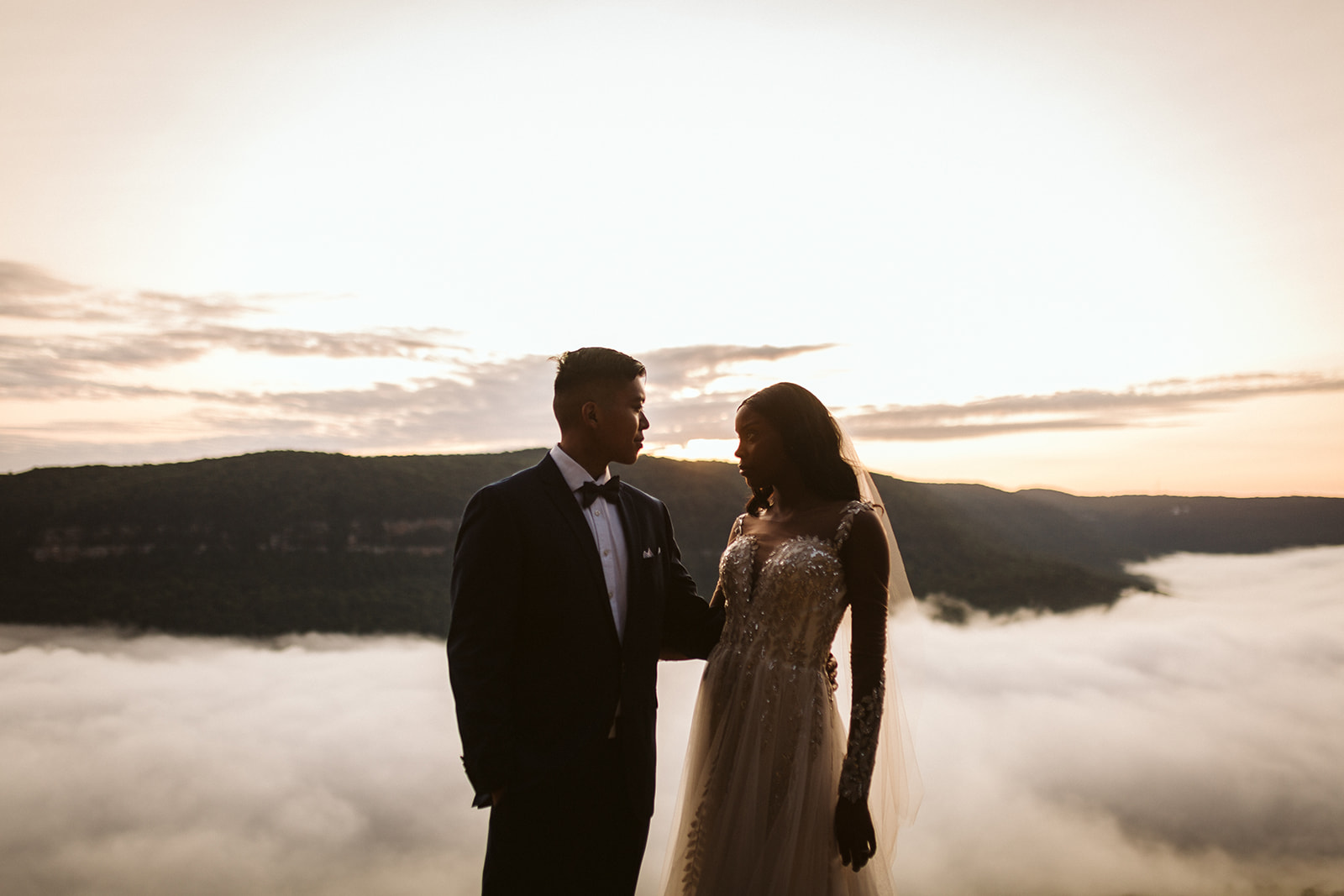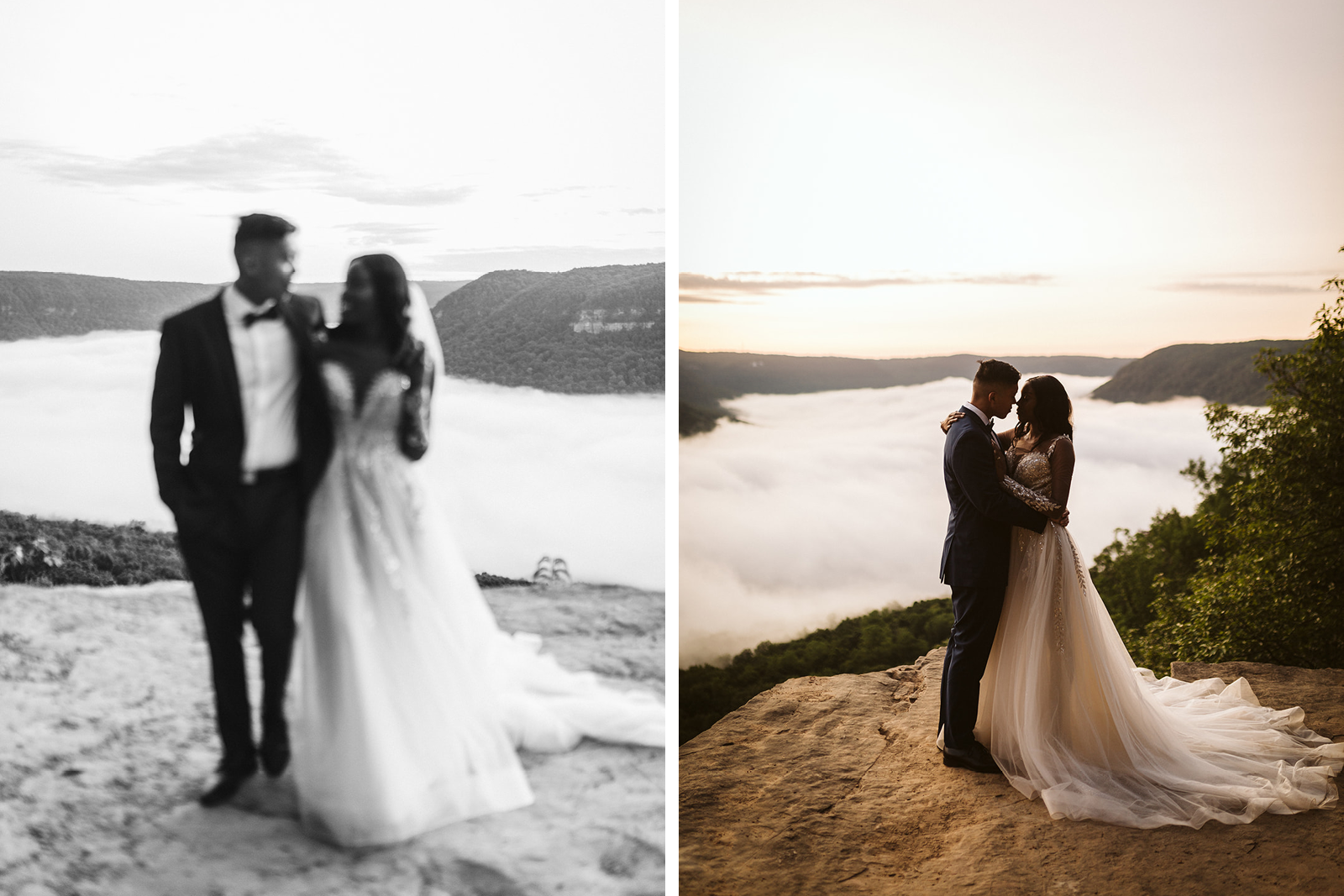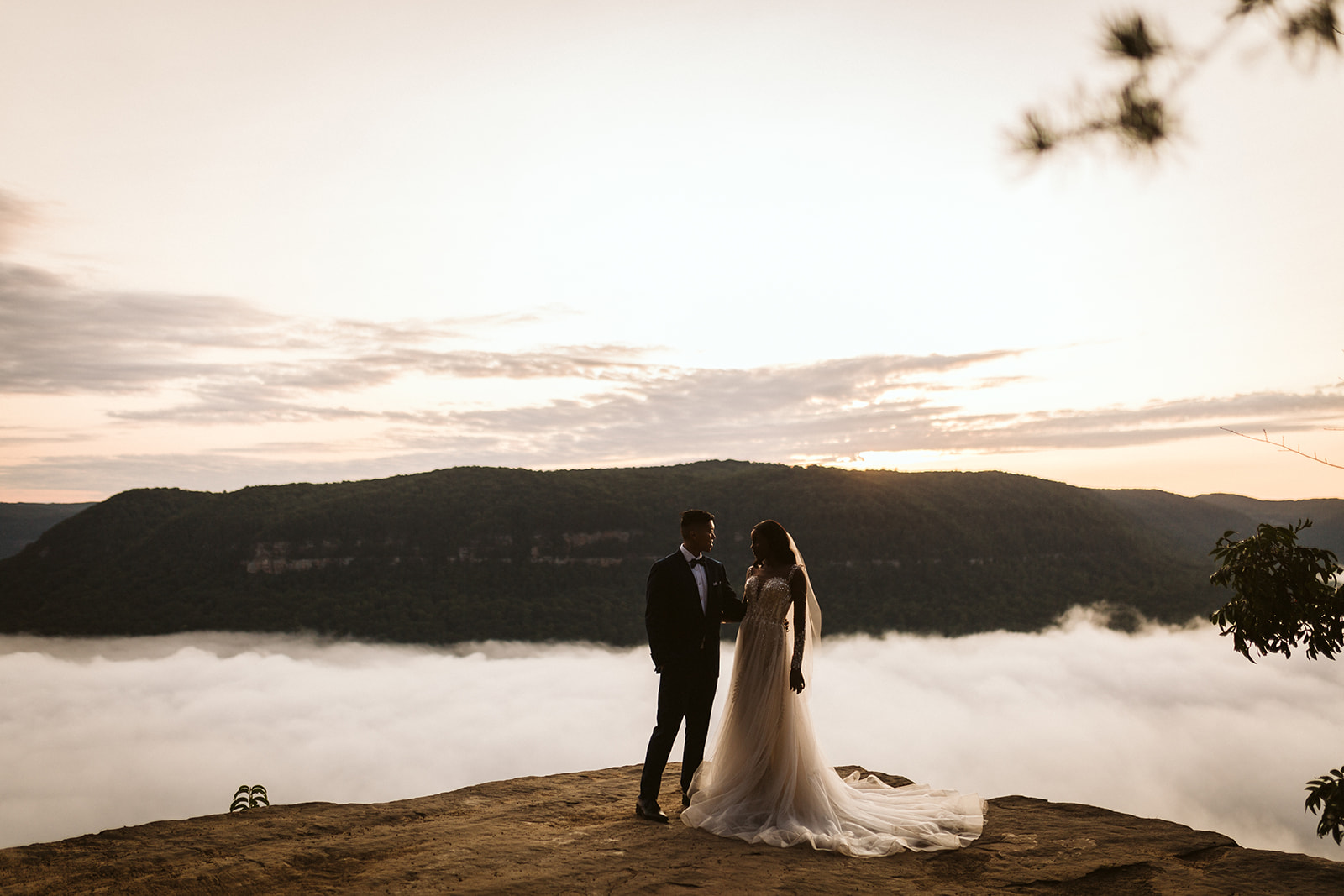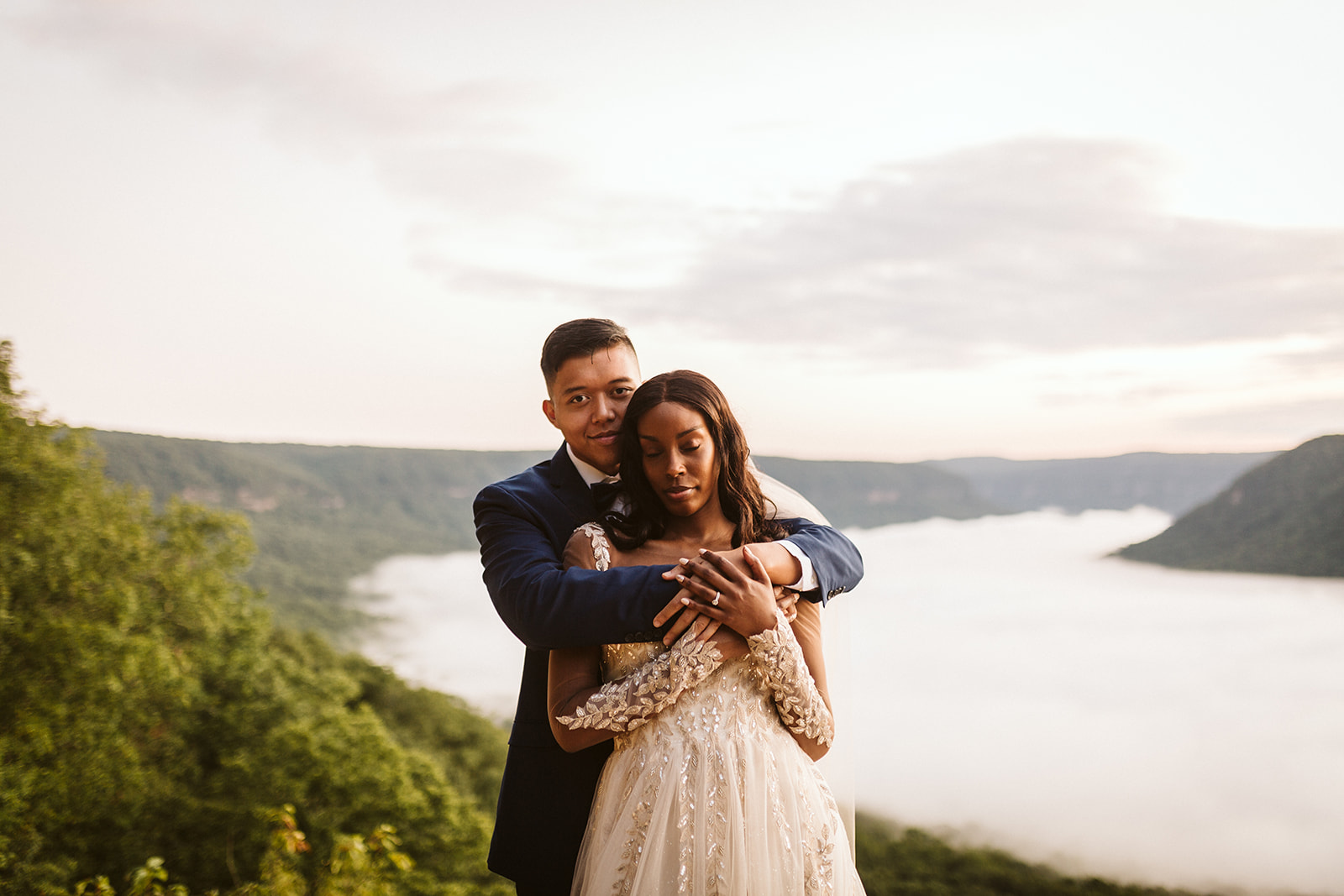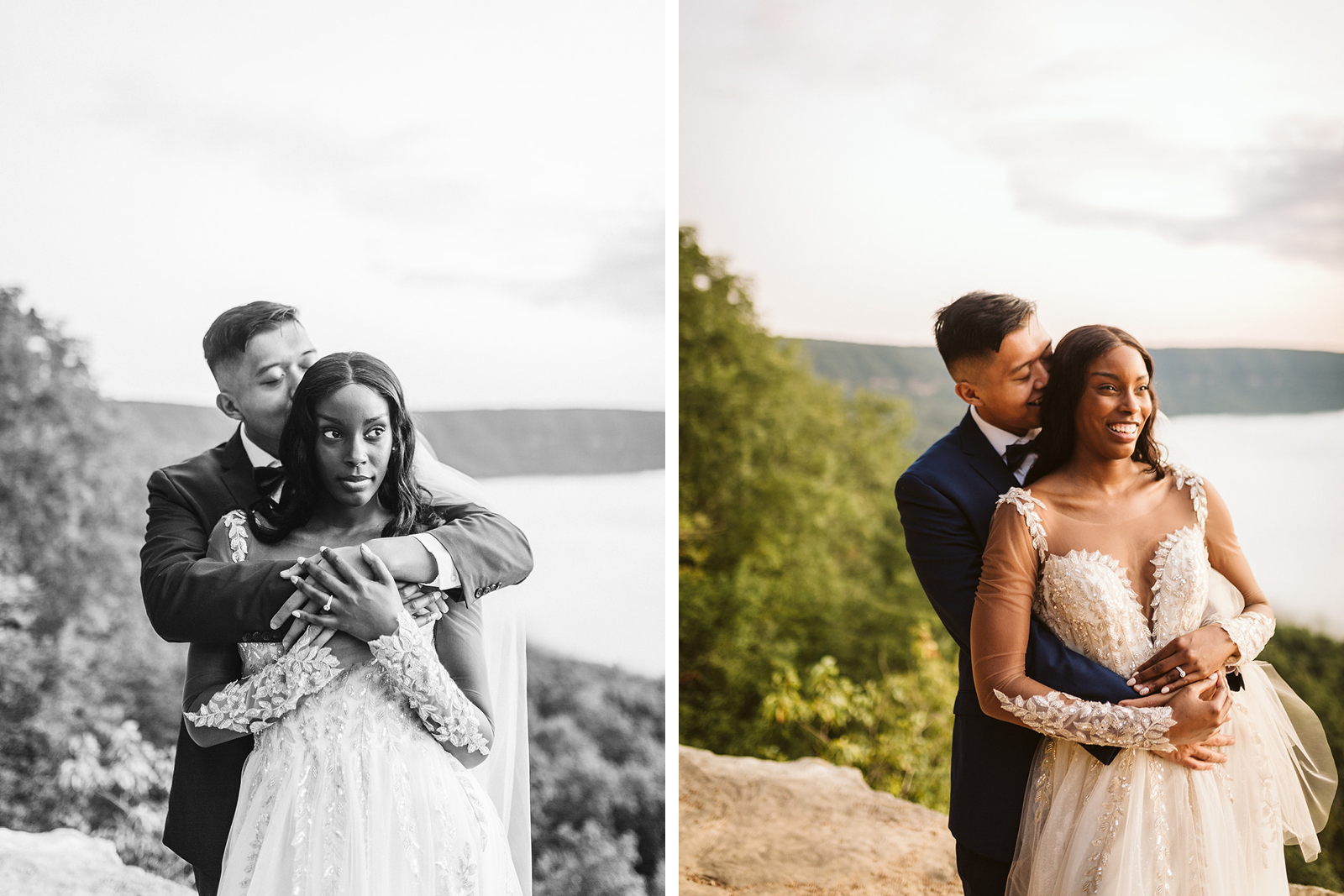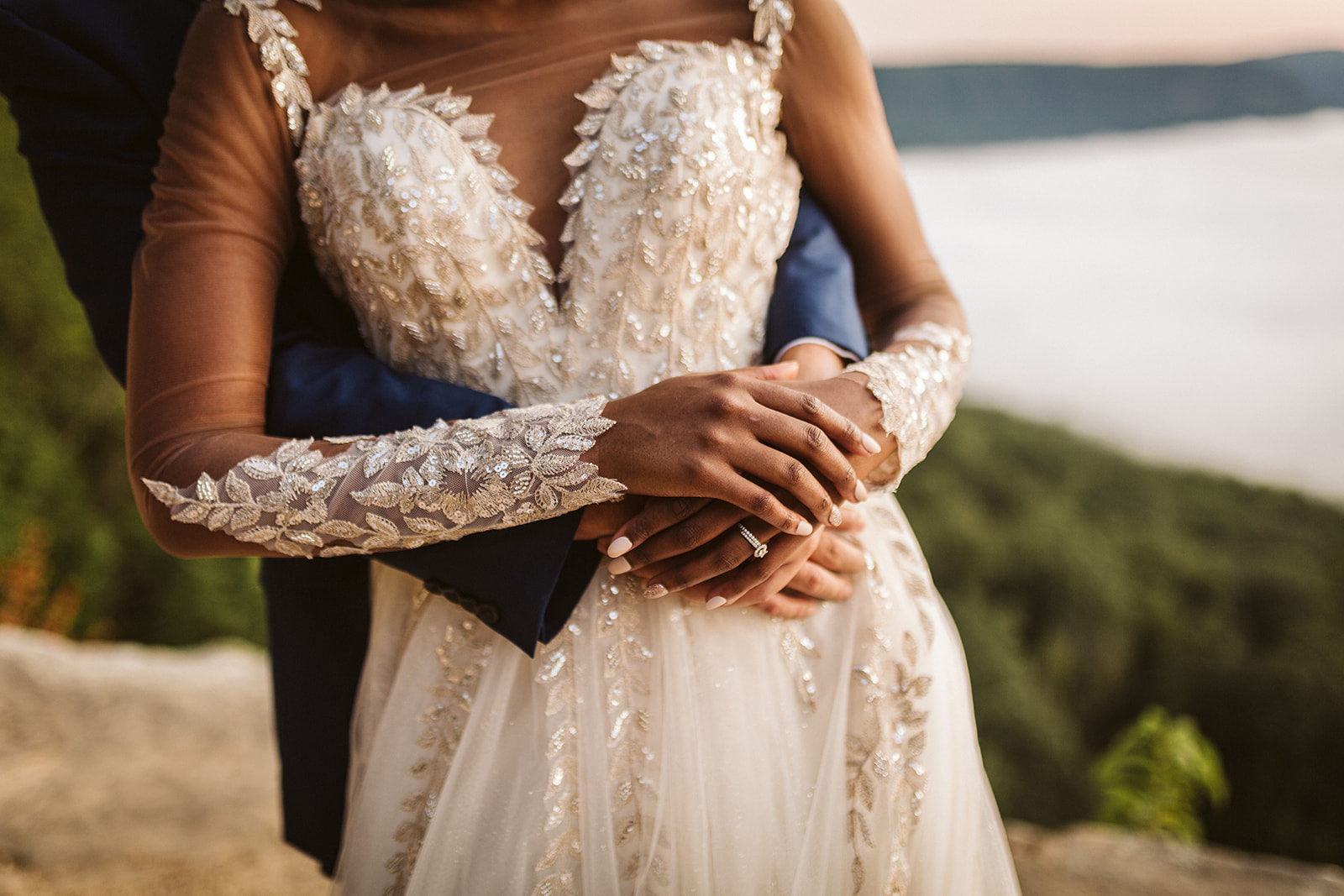 CHOOSING THE RIGHT PHOTOGRAPHER
Ana found me on Instagram, and she reached out with tons of questions. First, she specifically wanted to elope at this location near Chattanooga. She'd seen it featured on my Instagram, and she'd fallen in love with the mountains before we ever picked up the phone. Of course, I was down!
Ana wanted to make sure the photographer she entrusted with her Chattanooga elopement fit both her style and her expectations for skill level. Being a professional model, Ana works closely with photographers almost daily. (And I'm not just saying that because she's gorgeous. She's actually a professional model.) She knows just about as much about photography as any non-photographer could. Understandably, she had a specific vision for the shoot and very high expectations. Bring it on!
As an interracial couple, it was important to Ana and Paolo that their photographer know how to shoot their contrasting skin tones. If you're not familiar with photography, this might seem like a simple requirement. Actually, shooting and editing contrasting skin tones is actually pretty difficult, especially for beginners.
Ana and I discussed what she wanted, and I shared samples of my past shoots. After our call, we decided we'd make a great team. She and Paolo packed up their wedding clothes and made their way to Chattanooga.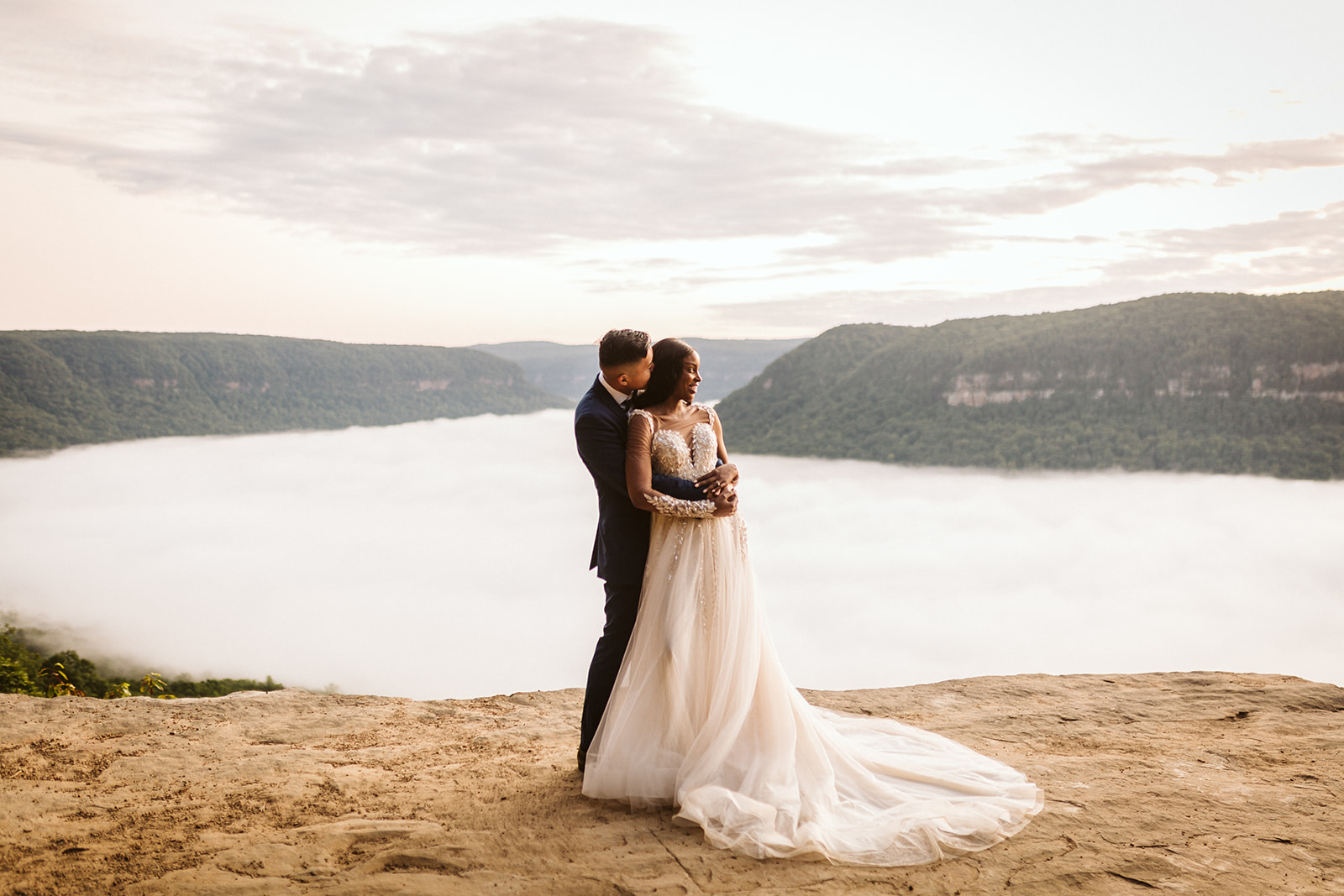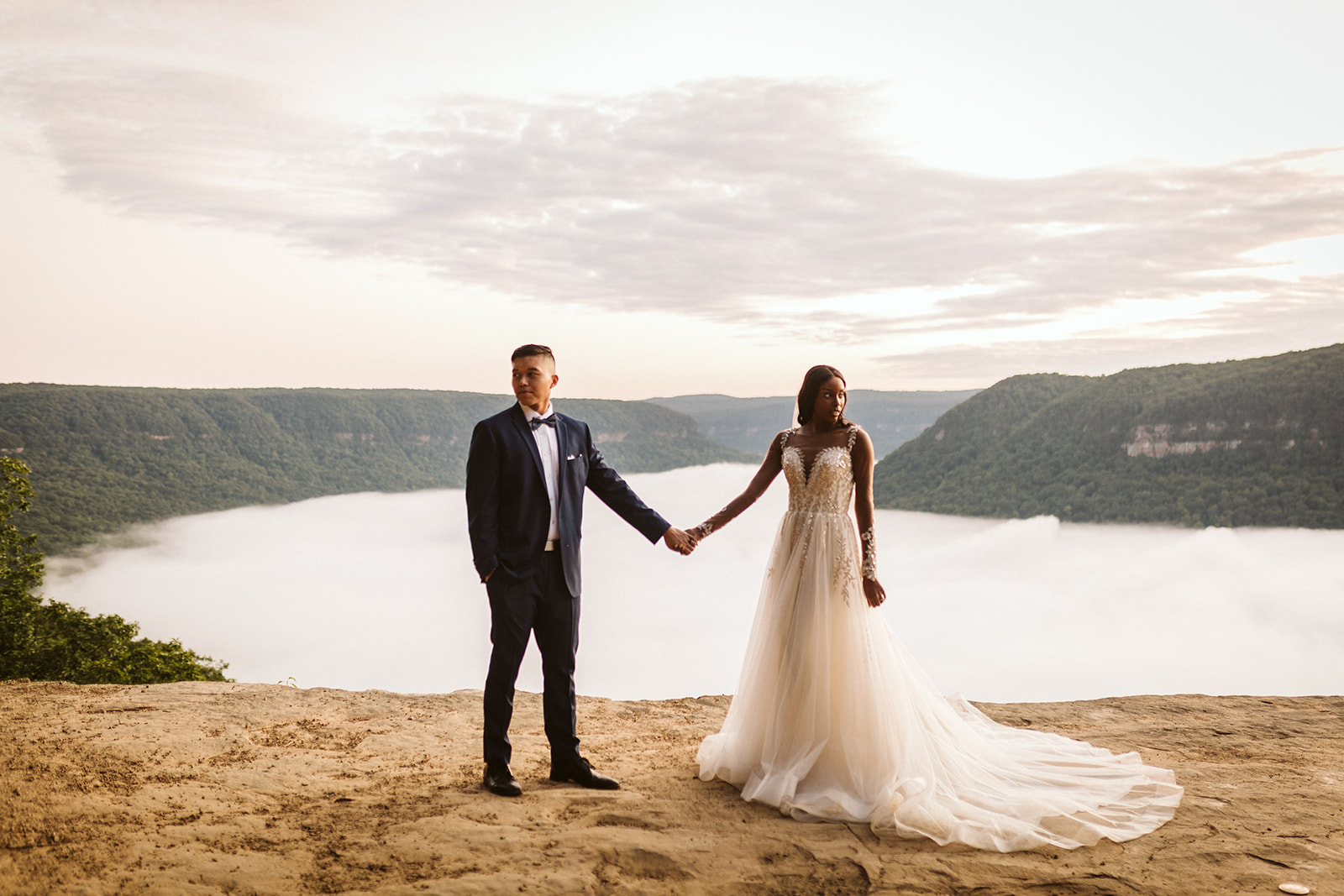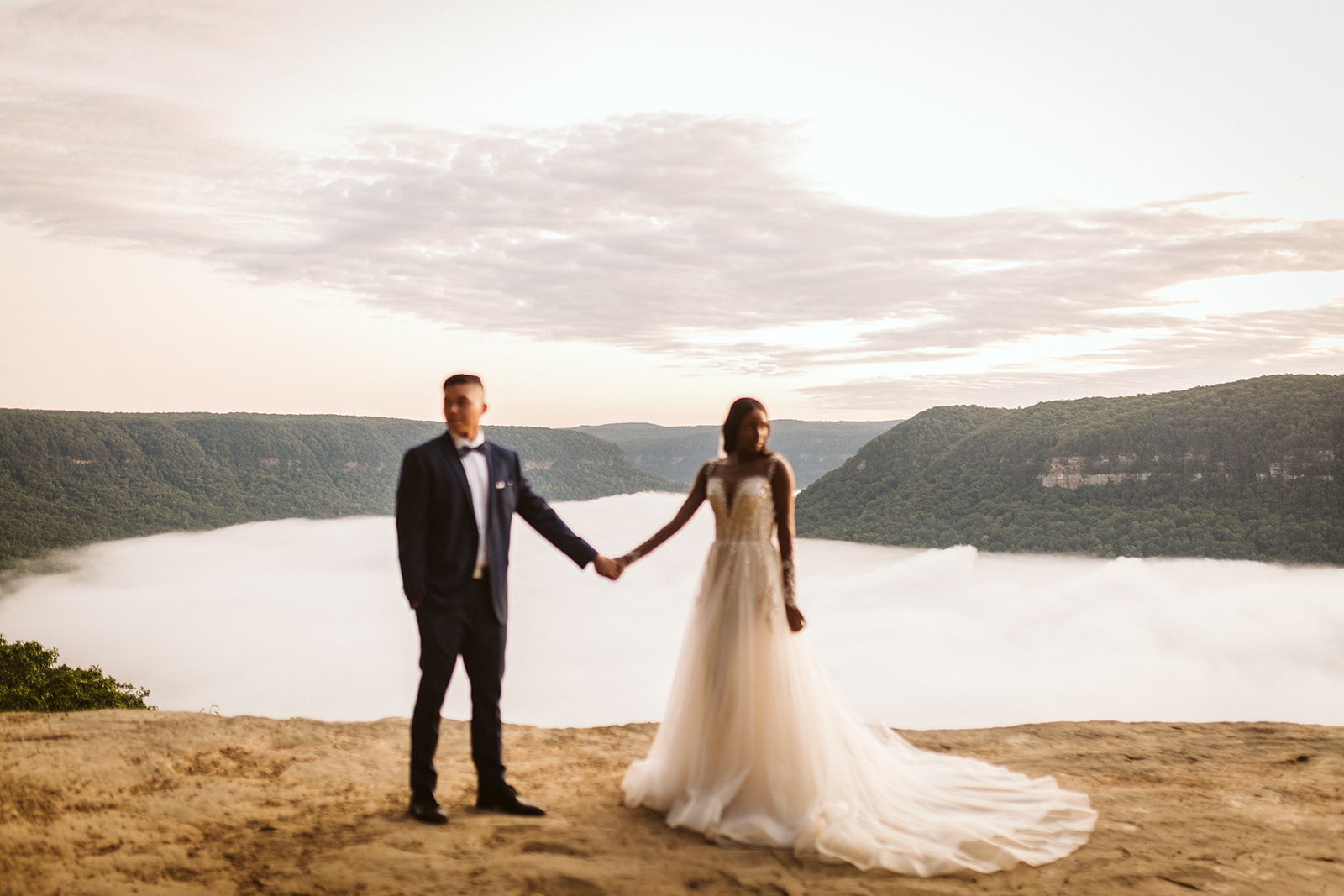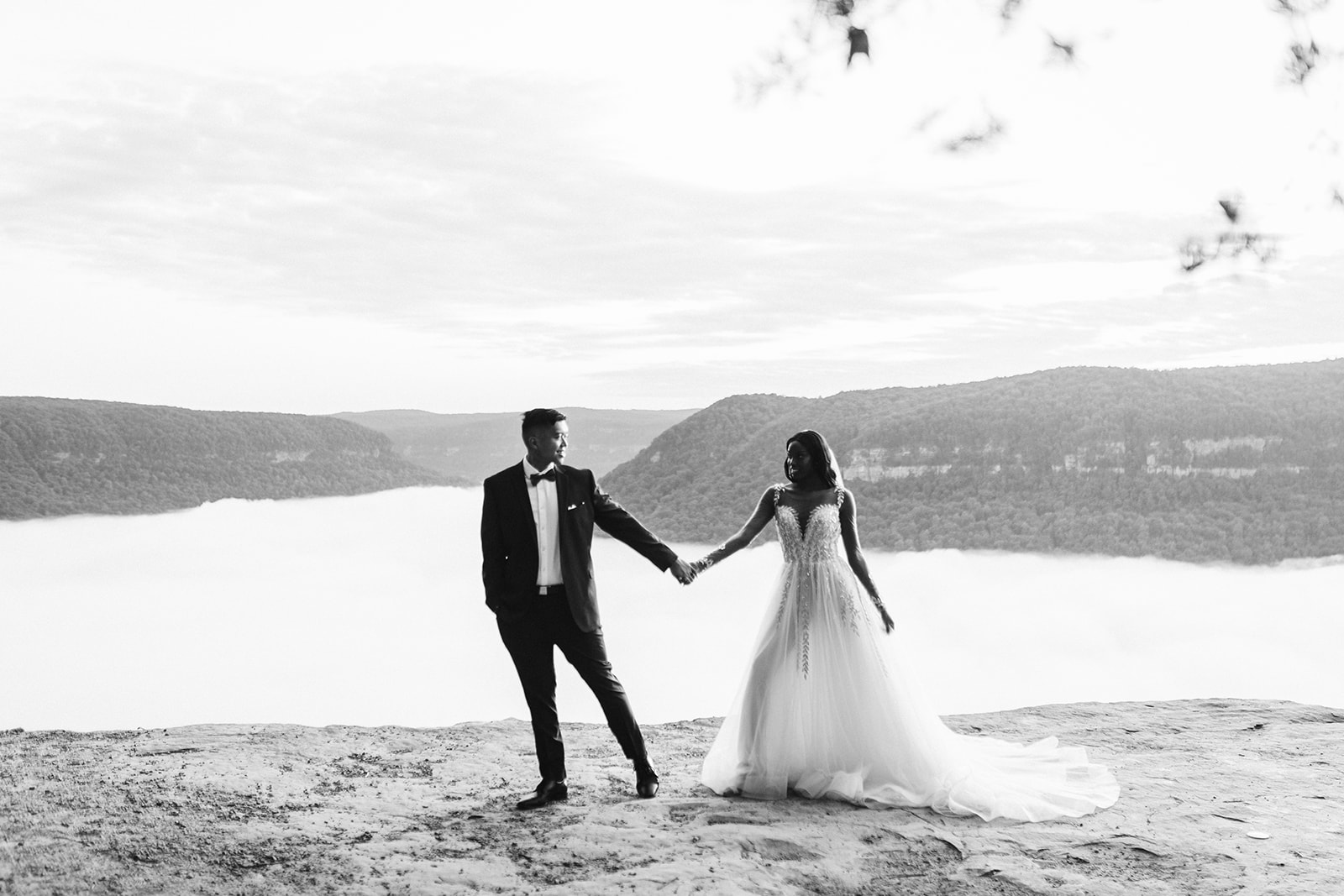 FIRST LOOK IN THE MOUNTAINS
Though they got legally married ahead of time, Ana and Paolo didn't wear their real wedding attire to the courthouse. The first look played a major role in this elopement session. They timed the drive from Atlanta perfectly, and they made it to the mountain just in time to get dressed and share their first look as the sun rose. It was magical.
Paolo wore a simple navy suit and bowtie, which perfectly contrasted Ana's long, beaded gown. The sun glinting off the beading really brought the gown to life, and it made Ana look even more radiant.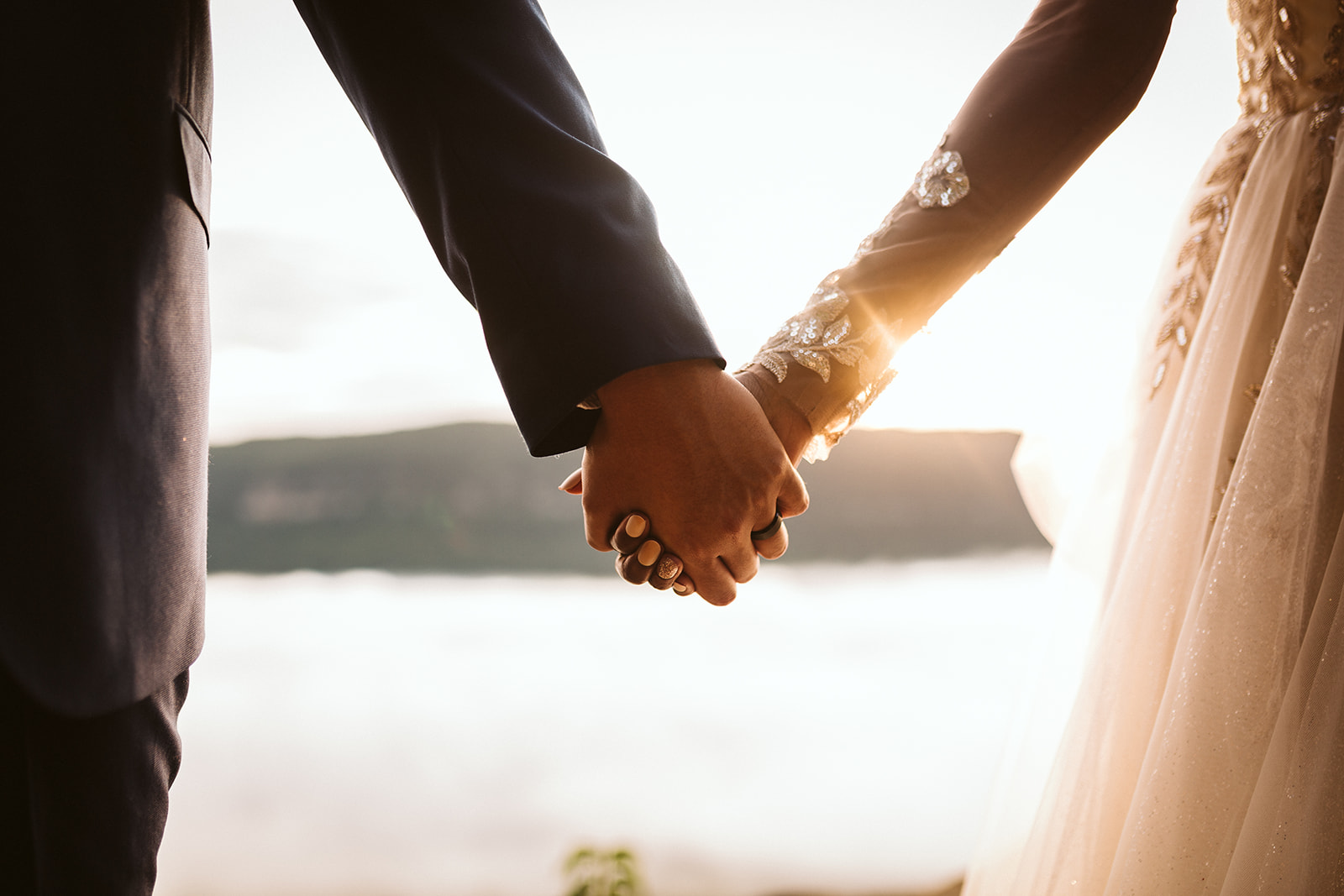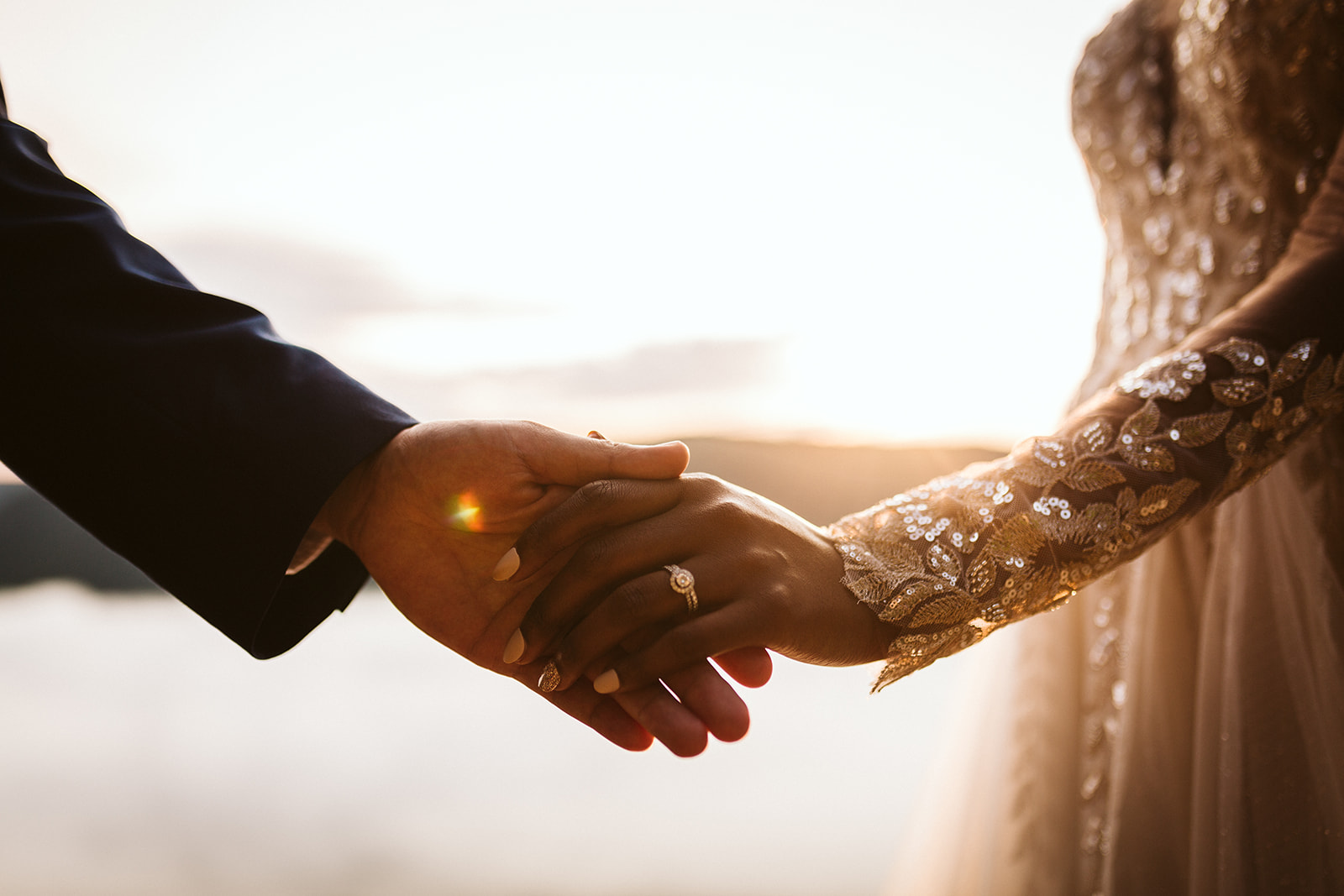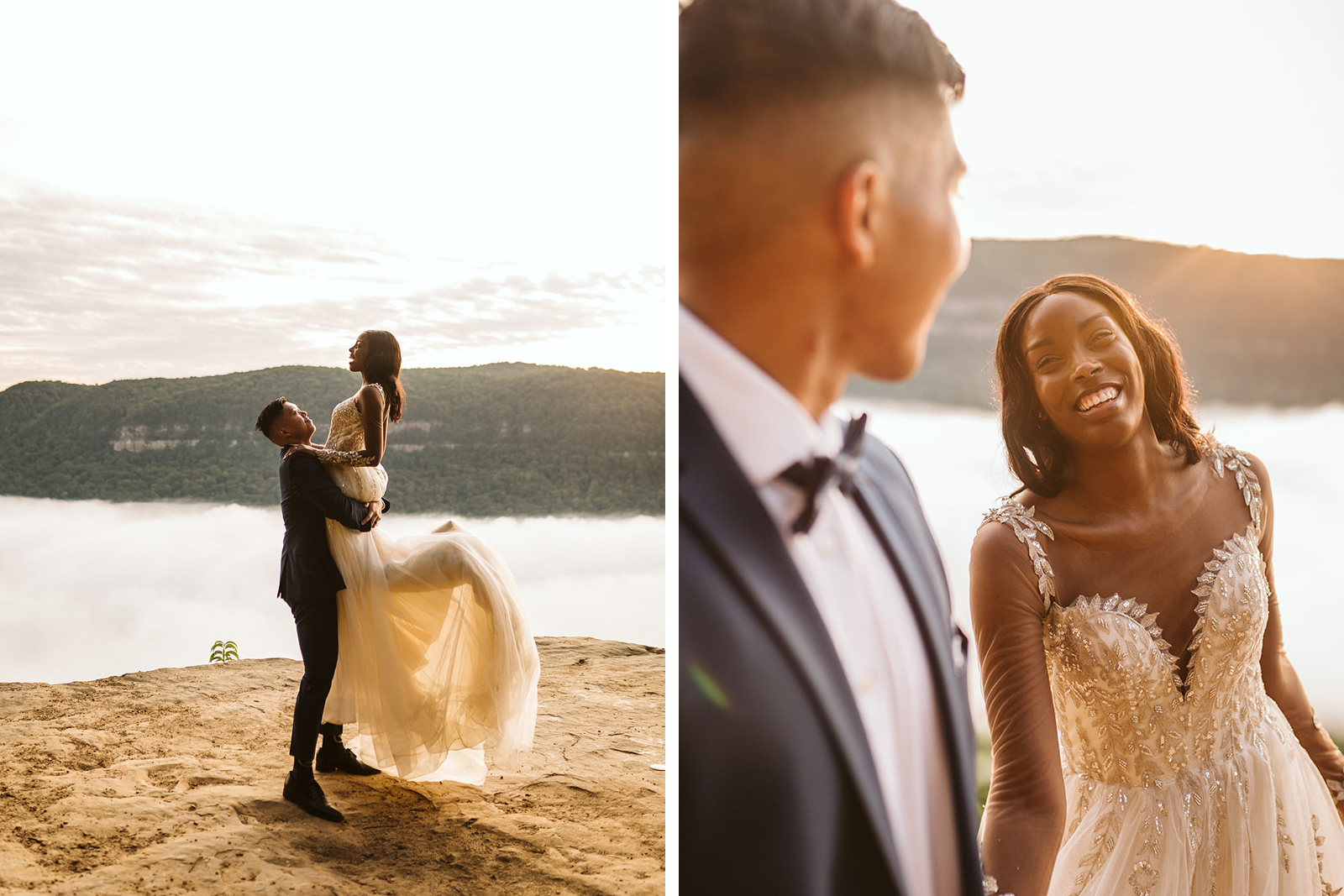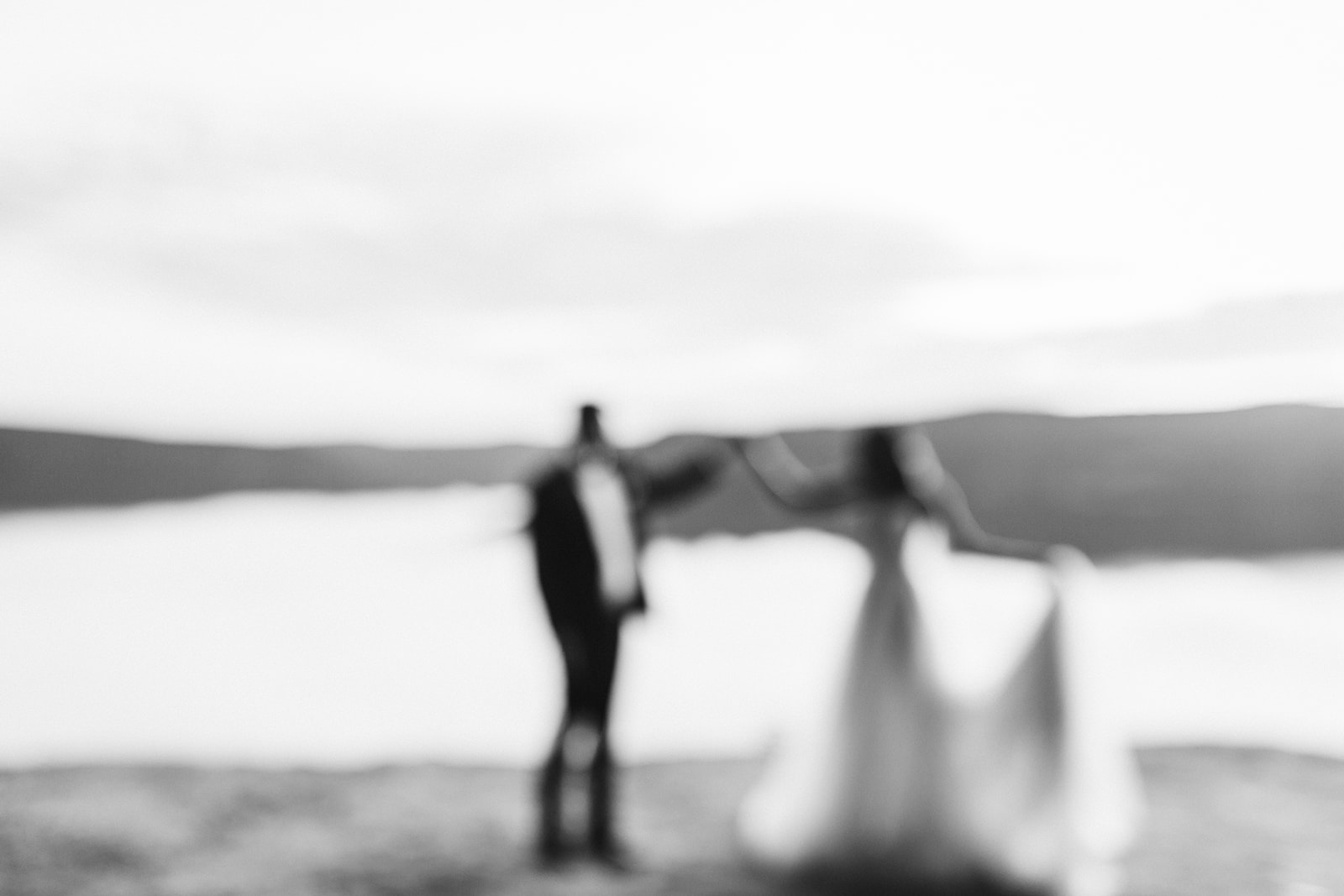 CHATTANOOGA ELOPEMENT ABOVE THE CLOUDS
Ana knew she wanted to elope to Chattanooga, but not just for the mountains. She fell in love with the view above the clouds!
During the summer in Chattanooga, we sometimes get to witness a very particular, kind of rare weather phenomenon called cloud inversion. During cloud inversion, a layer of clouds sinks down from the mountaintops and onto the Tennessee River, settling in the gorge like a blanket. The result is this otherworldly, ethereal view above the clouds.
This happens in the summer and only at sunrise, so Ana and Paolo trusted me to find the perfect vantage point and day for their photoshoot. Especially with elopements, being your photographer often means more than just showing up day-of, taking your photos, and leaving. I often act as a guide for my couples. I get to coach them through the wedding planning process and set them up for unforgettable moments like these. It's truly an honor to guide my couples into their dream wedding photos.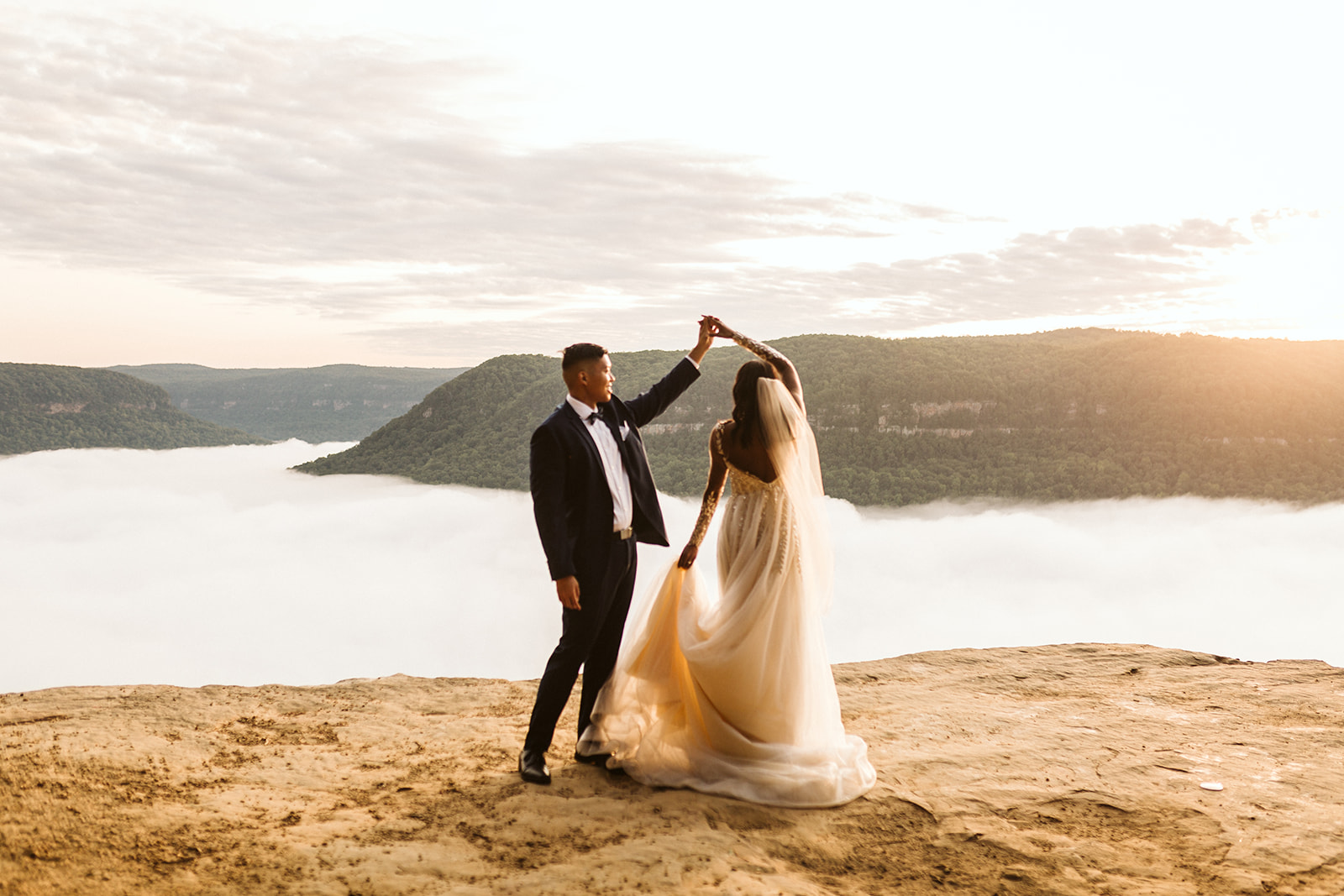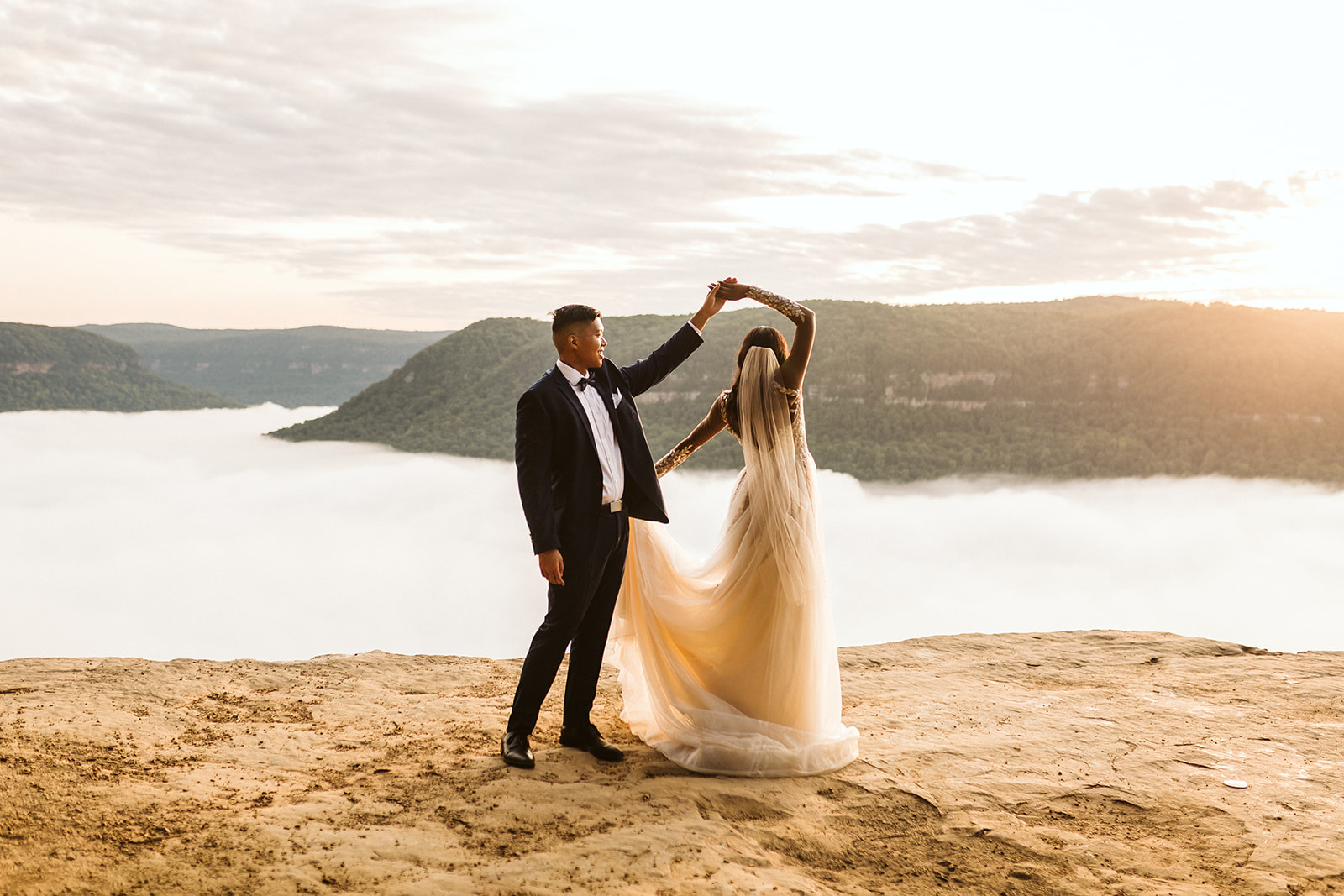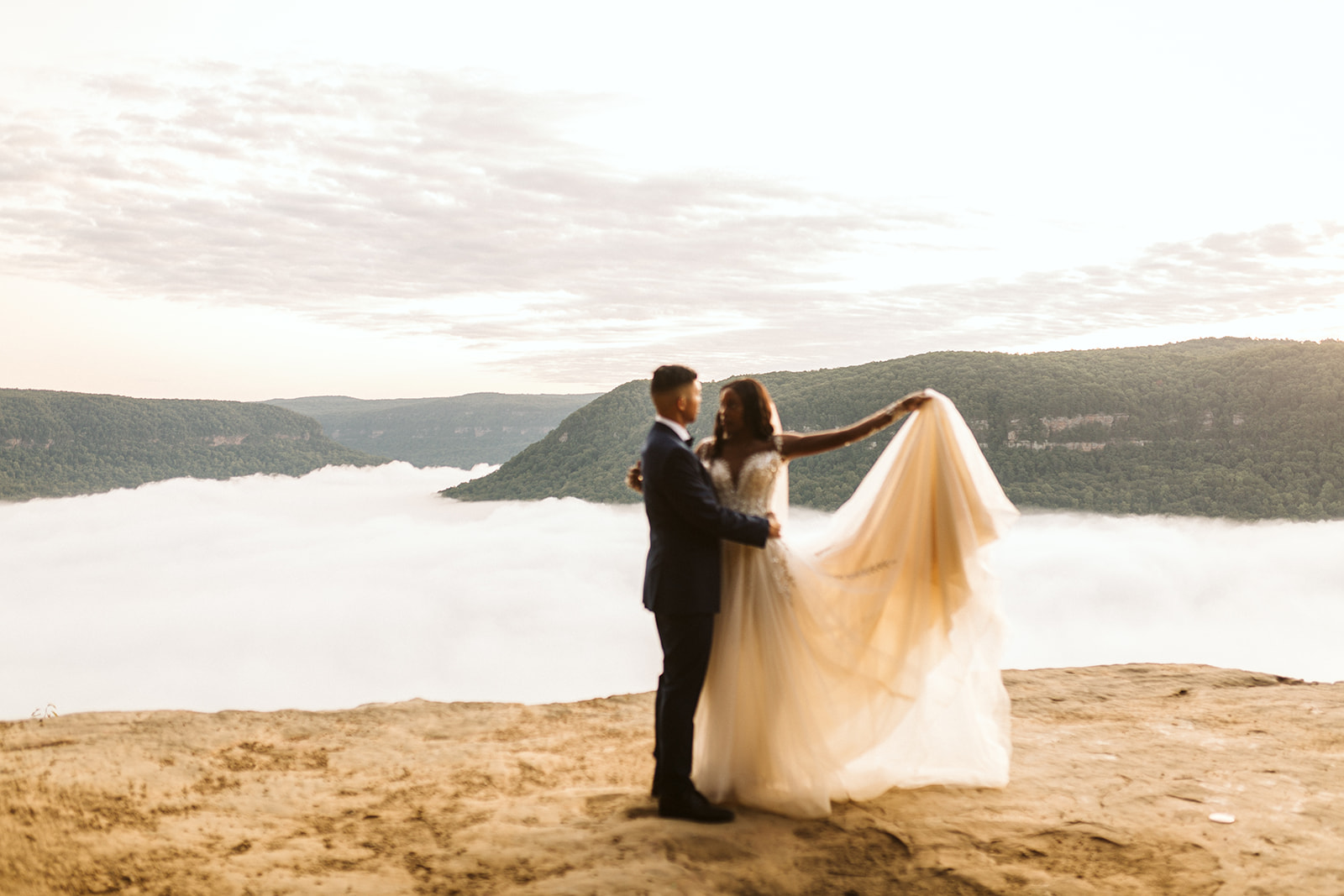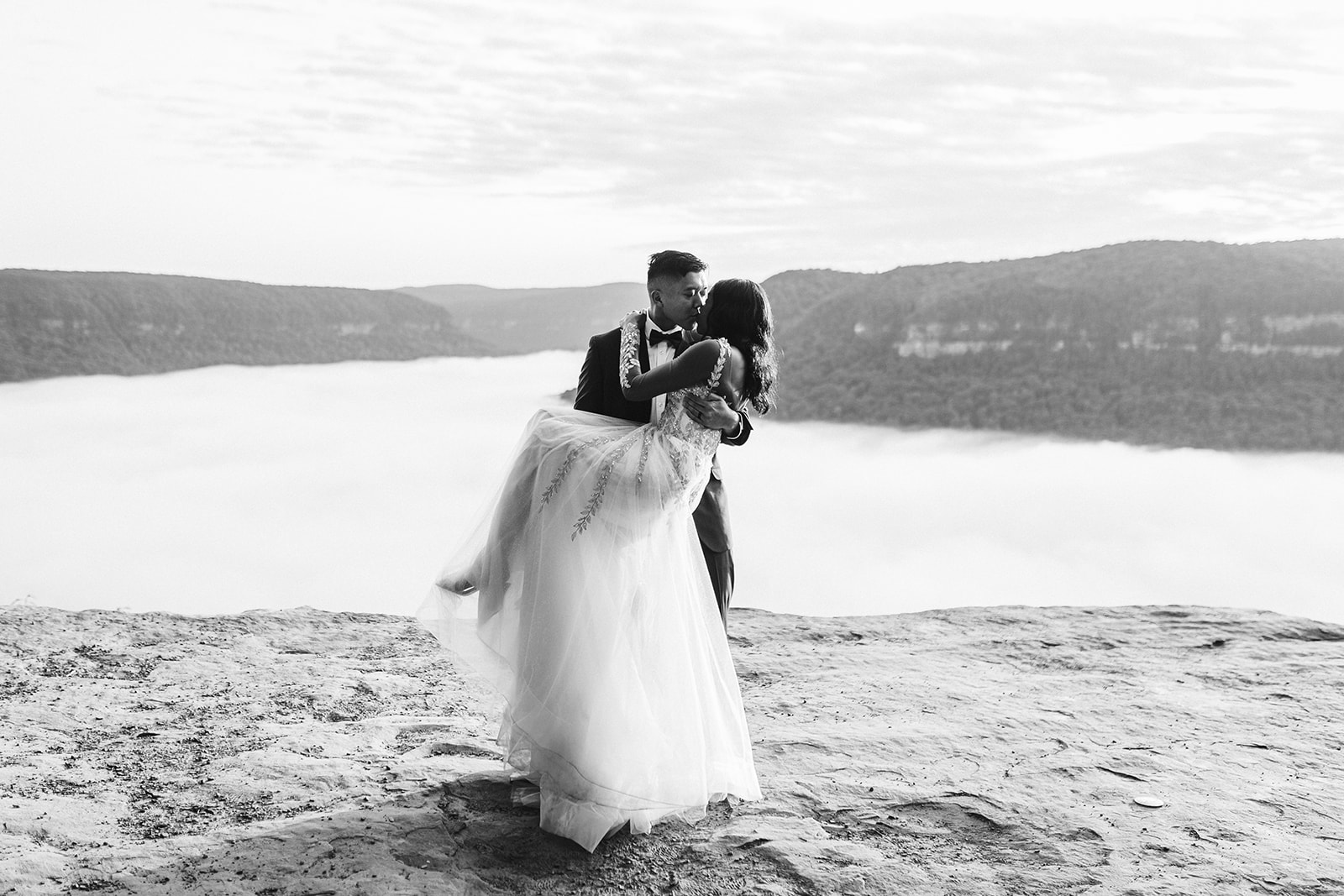 You deserve wedding photos that totally capture you and your partner (whether or not you're a model!). I'd love to work with you to plan and capture a day that feels like you.
If you've got your heart set on a dreamy elopement in Chattanooga, please reach out! I'm here to guide you in the right direction and help you pick the perfect, secluded spot to exchange your vows.
Want more elopement inspiration? Check out my blog. I've shot some stunning elopements over the years! (Just don't blame me if those photos give you the elopement bug.)