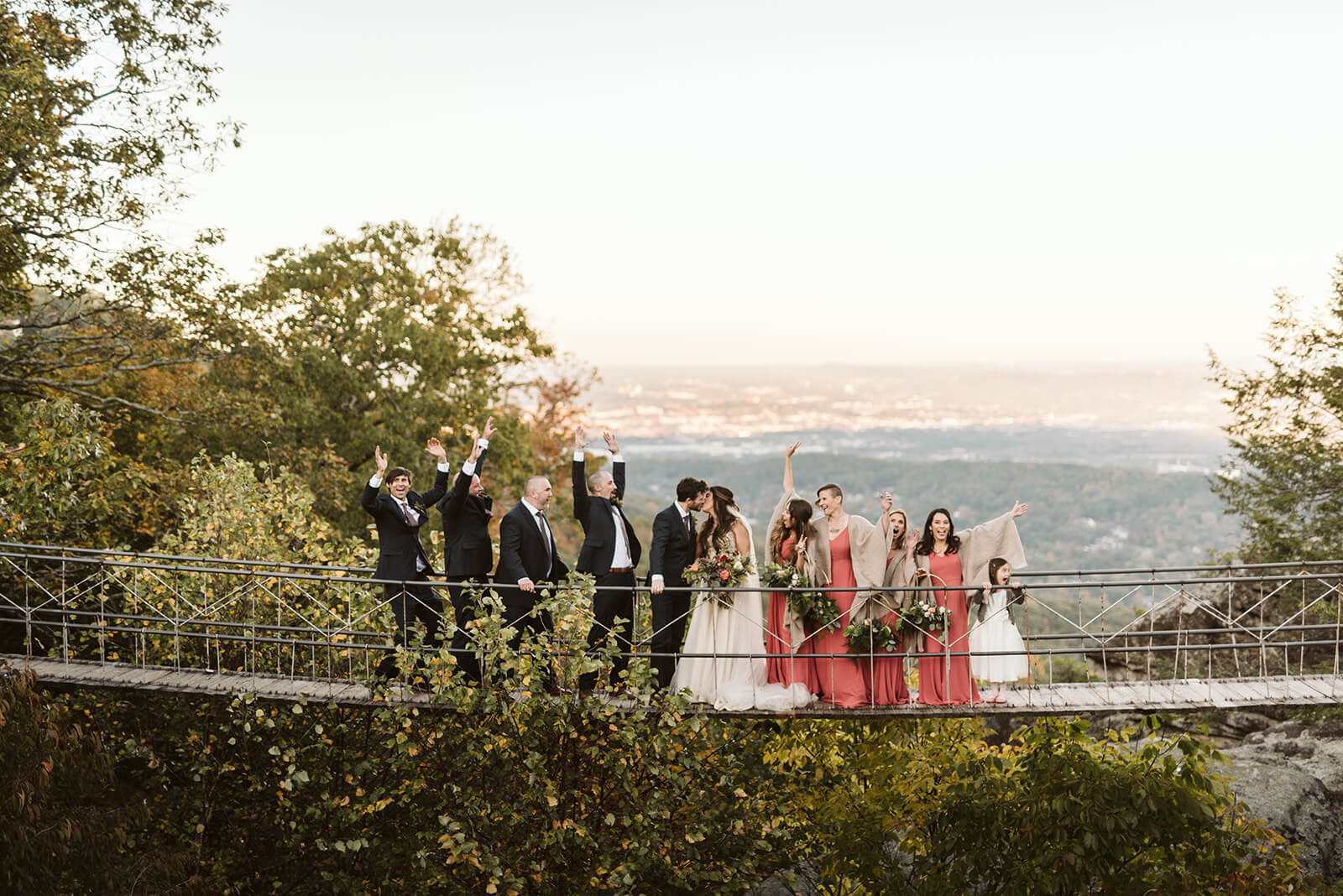 We all love the dreamy mountaintop elopement photos on Pinterest right now. The hazy light streaming through evergreens, the lush forests, the towering rock formations. But not every couple has the urge to hike the backcountry on their wedding day (or the budget to rent a ski resort out west), and many aren't willing to sacrifice their guest list to have their dream mountain wedding. Why not pick a gorgeous mountain wedding venue here in Chattanooga?
You don't have to elope in Colorado to get married in the mountains. You can host a wedding of any size and budget here in the Appalachian Mountains.
Why I Love Mountain Weddings
My local couples recognize the lure of the mountains, and many of them fell in love here. No matter the season, the foliage shows up. Go for the dense greens of summer, the copper colors of fall, or even the snowy hills in winter. You can't go wrong.
Many of these venues also feature river views, a staple here in Chattanooga. Out-of-town guests can really get a feel for the area by driving up into the hills for your wedding and then back into town for drinks at their hotel. Some of these spots even offer their own accommodations! What's more fun than a weekend in the hills with your closest friends and family, talking under the stars and cozying up in your cabin? (Or a private wedding weekend with your new spouse. Up to you!)
On top of that, there's something cozy and intimate about a mountain wedding, even one with a large guest list. You can keep things super traditional or play up the vibes with cabin-themed decor. Either way, the hills make the perfect backdrop.
My Favorite Mountain Wedding Venues in Chattanooga
1. Gardens in the Gorge
If you're looking for a mountain wedding venue that doesn't sacrifice modern style, check out Gardens in the Gorge. The outdoor ceremony site works well in spring and fall, especially with the thick forest that surrounds the venue. Their main indoor space, Windsor Hall, is great for large receptions, and it can double as a ceremony space if the weather goes south.
Gardens in the Gorge is close to town, and it features four cottages for guests or bridal party members to rent for the weekend. Each of the cottages can accommodate four guests, so you could easily plan for a weekend getaway with your nearest and dearest.
Want to elope? You can do that here, too. Gardens in the Gorge will let you rent their space for just a few hours so you can host a private, intimate wedding away from the city. And like I said, it's close enough to downtown for dinner or an afterparty.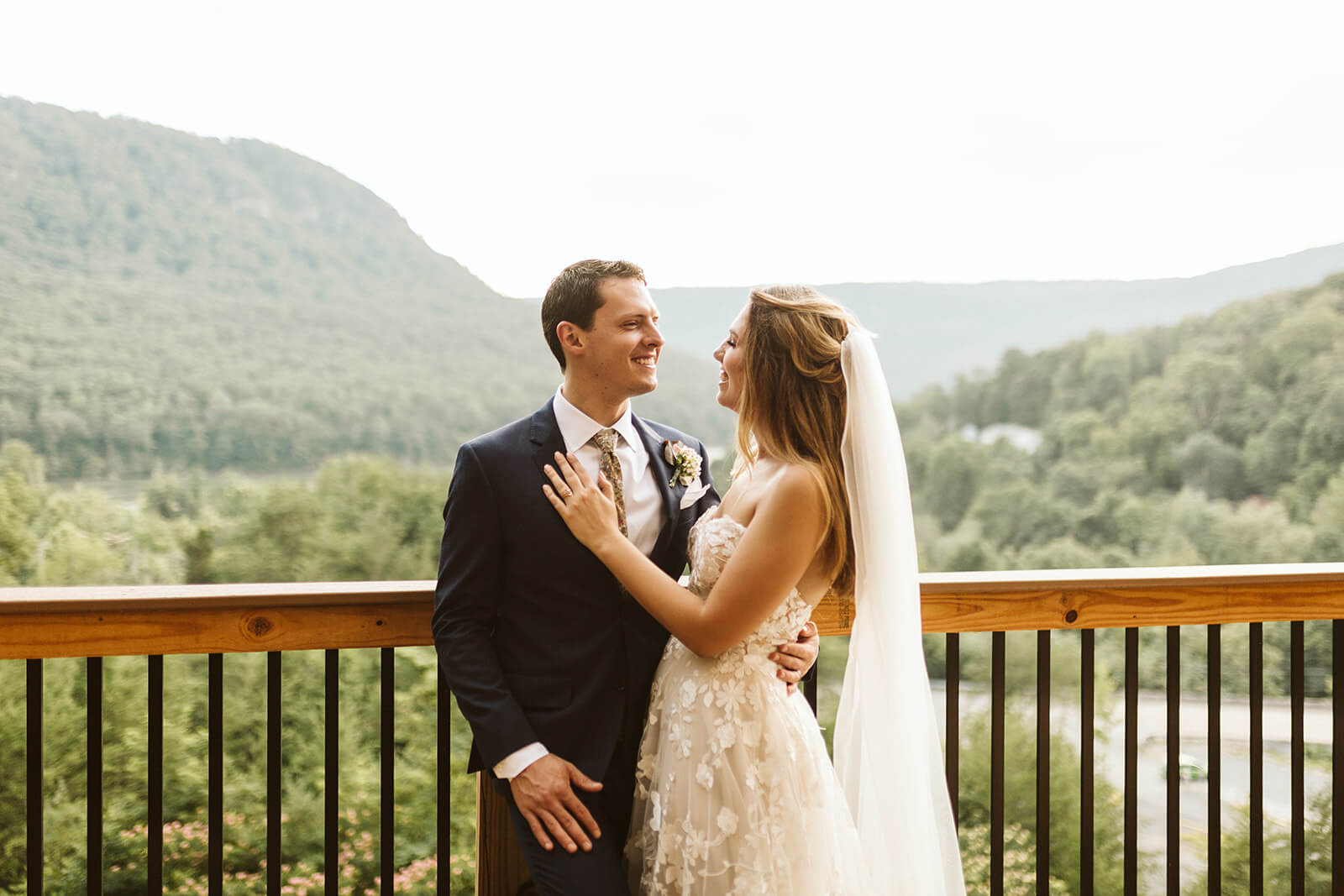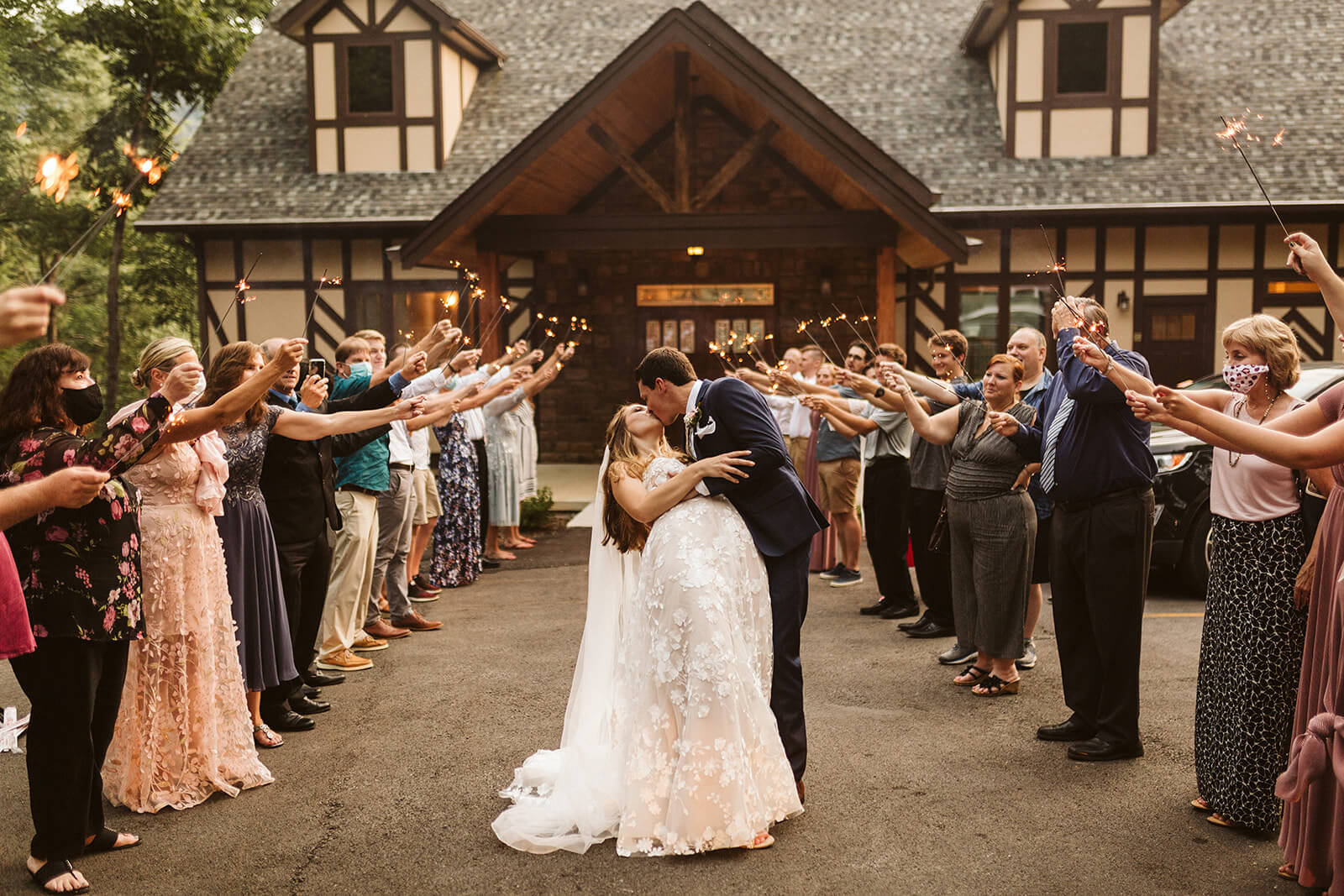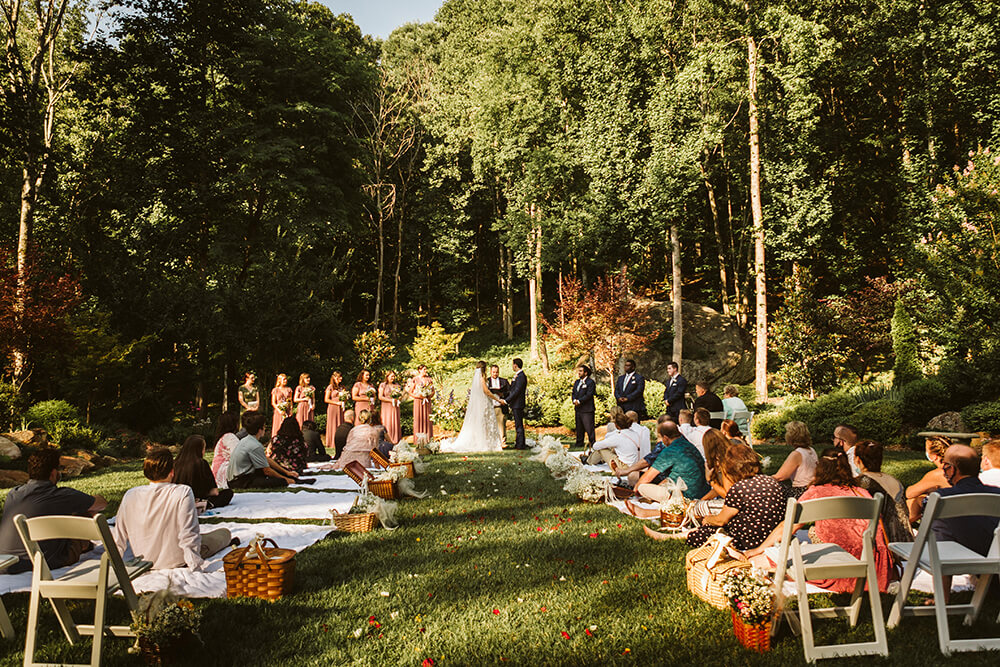 2. Tennessee RiverPlace
This venue has a different feel from some of the others on this list, but it still offers an impressive mountain view. Located deep in the valley, Tennessee RiverPlace is a Spanish style mansion overlooking the river.
If you're concerned about the weather, the mansion is plenty large enough to accommodate an indoor ceremony and reception. But if you're getting married in late spring or early fall, I say take advantage of the outdoor space. You can say your vows right in front of the river and dance all night on the outdoor patio surrounded by mountains. 
Again, this venue is just a few minutes from downtown Chattanooga, so your out-of-town guests can Uber there and back without issue (and your friends can party downtown after the reception ends).
The mansion on the river is definitely the show stopper at this venue, but you still get the dreamy mountain vibes.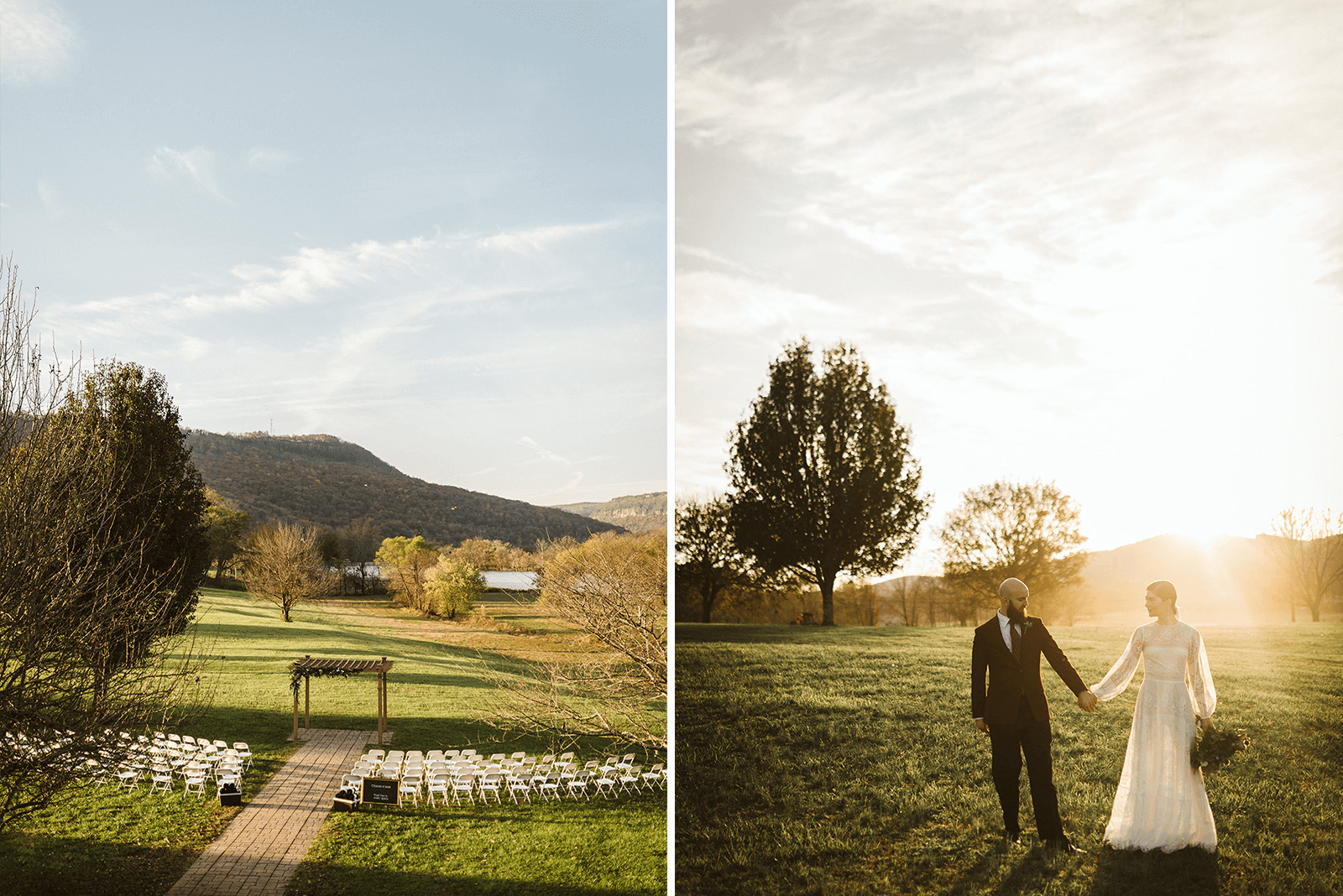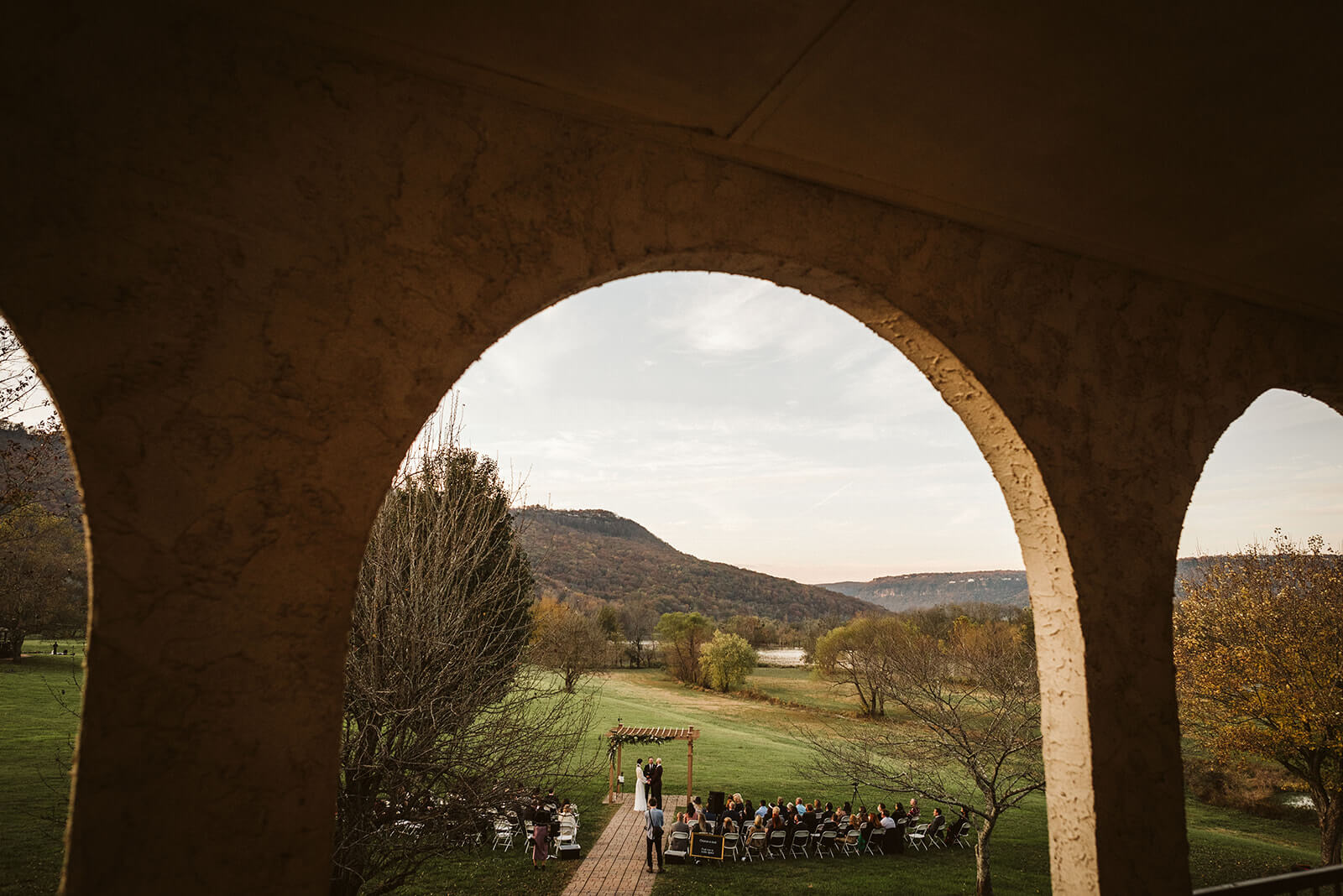 3. The Gray Dove
This venue is dripping with Tennessee charm. The Gray Dove is a true barn venue nestled on a farm in the valley. As if the farm itself wasn't beautiful enough, you also get a backdrop of rolling hills in the distance.
When you rent The Gray Dove, you get the farm for the weekend. In addition to the ceremony and reception spaces, your bridal party can stay the night in the 1920's farmhouse onsite. And did I mention the groom's suite has an arcade and pool table?
I always recommend this venue to couples who want a barn wedding and a fun weekend away with their friends. My tip: book for late spring or early fall. The barn itself isn't air conditioned, but it feels amazing on a mild, breezy night.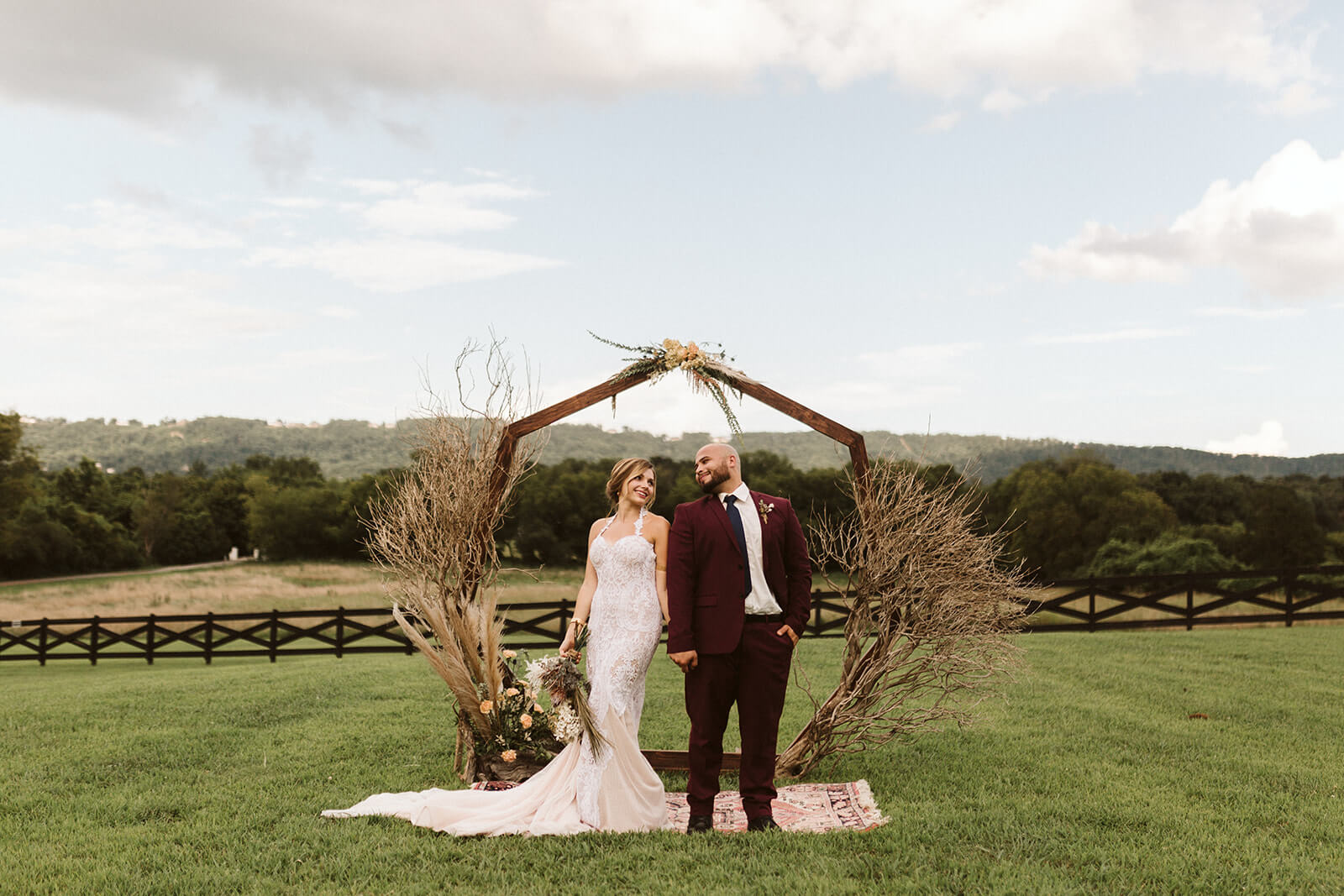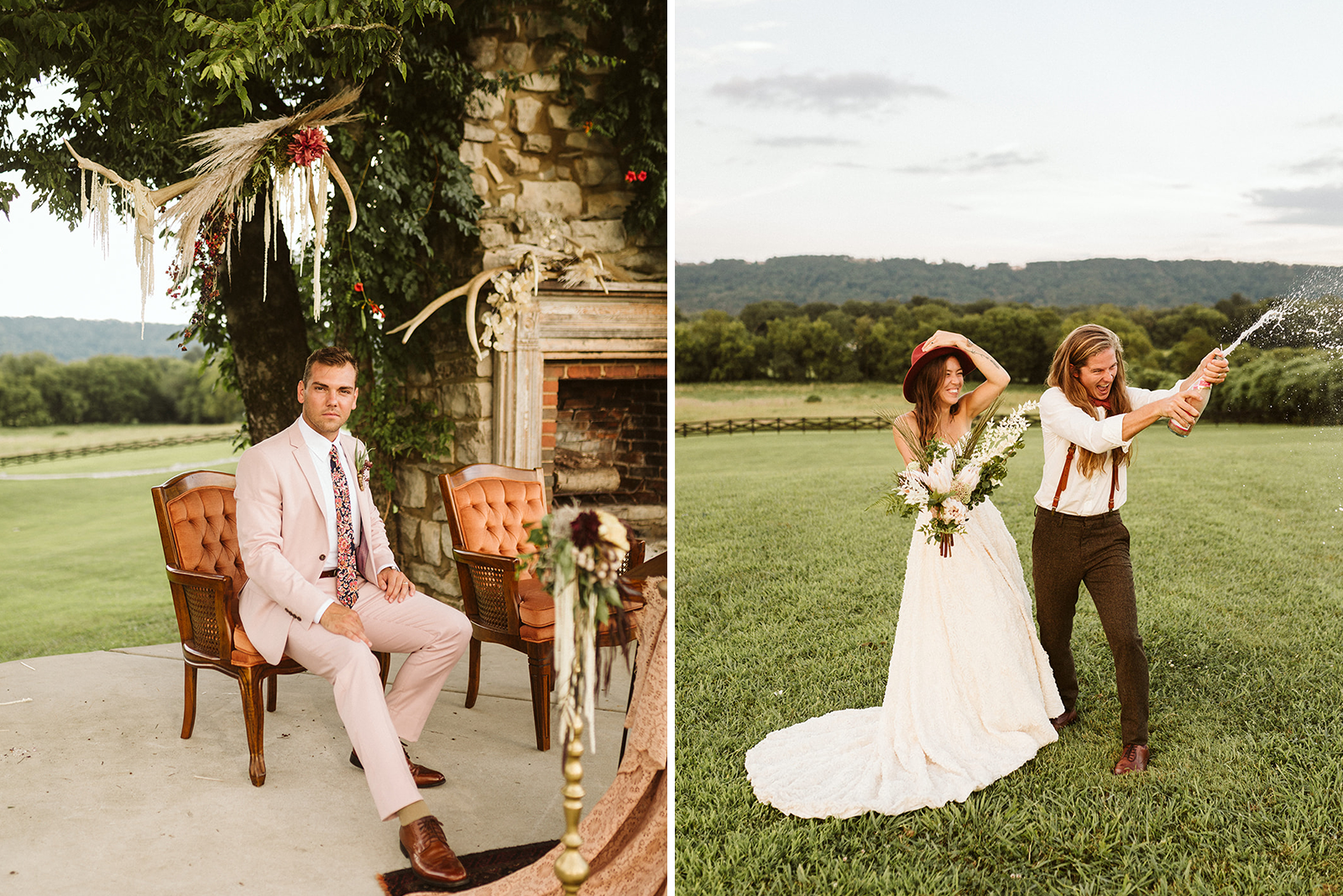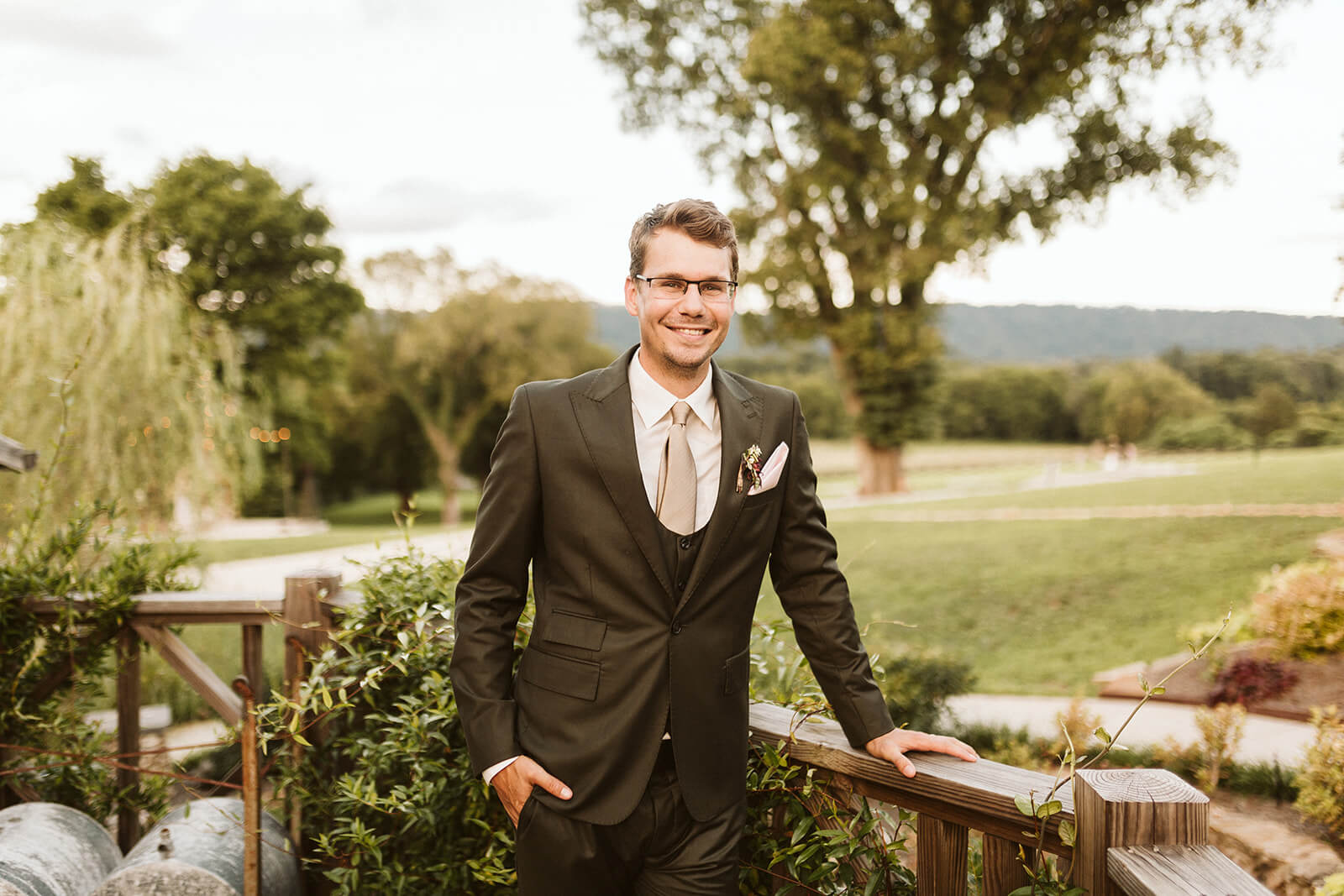 4. Hemlock Falls
While it may not offer all the amenities some of these other venues do, Hemlock Falls is one of my favorite places to shoot. It offers the same vibes as a secluded meadow elopement just a short ways from downtown Chattanooga.
There's one cabin onsite (which is perfect for your wedding night!), but other than that, Hemlock Falls is a clean slate. If you're a DIY-savvy bride who wants a mountain wedding on a budget, I highly recommend Hemlock Falls.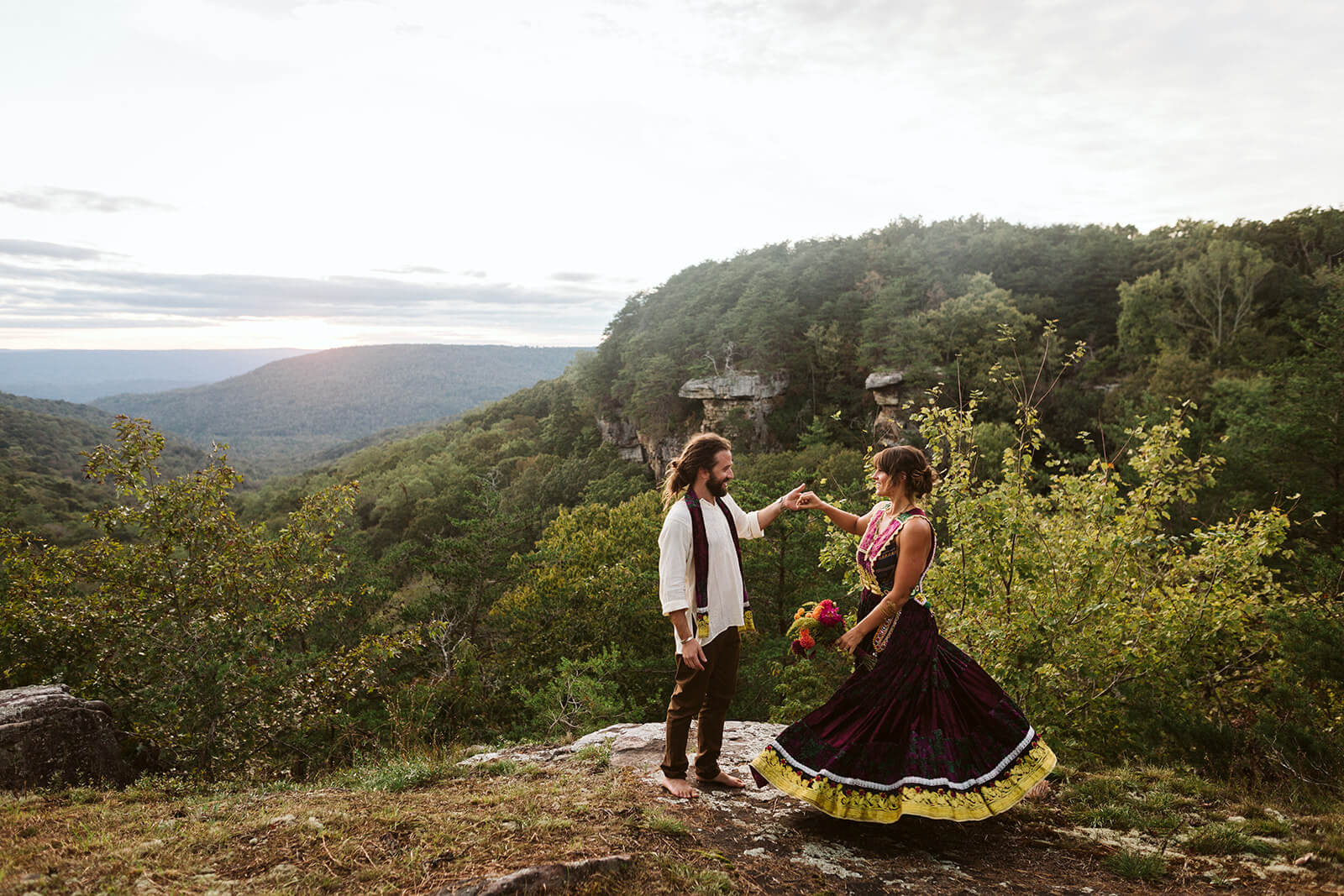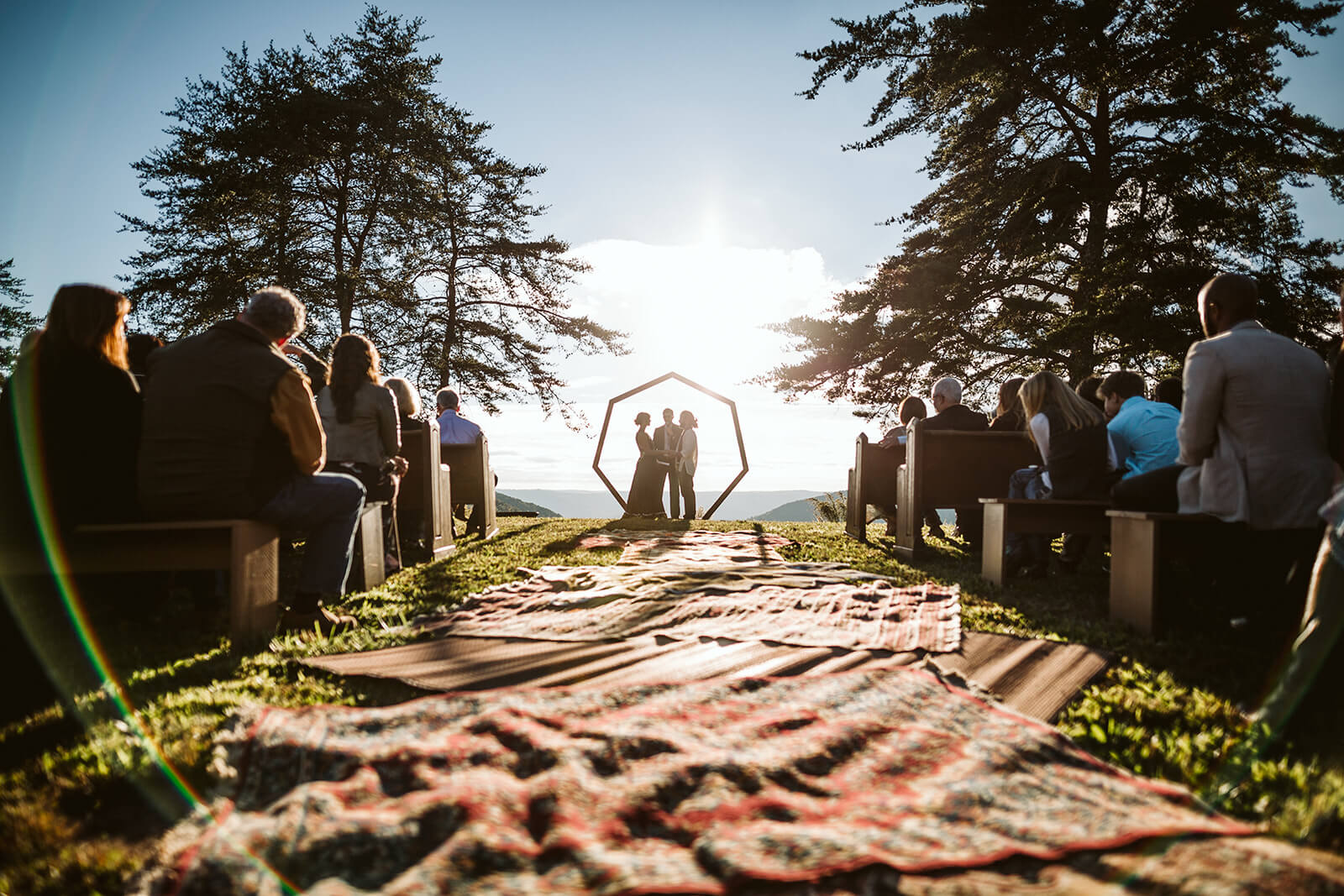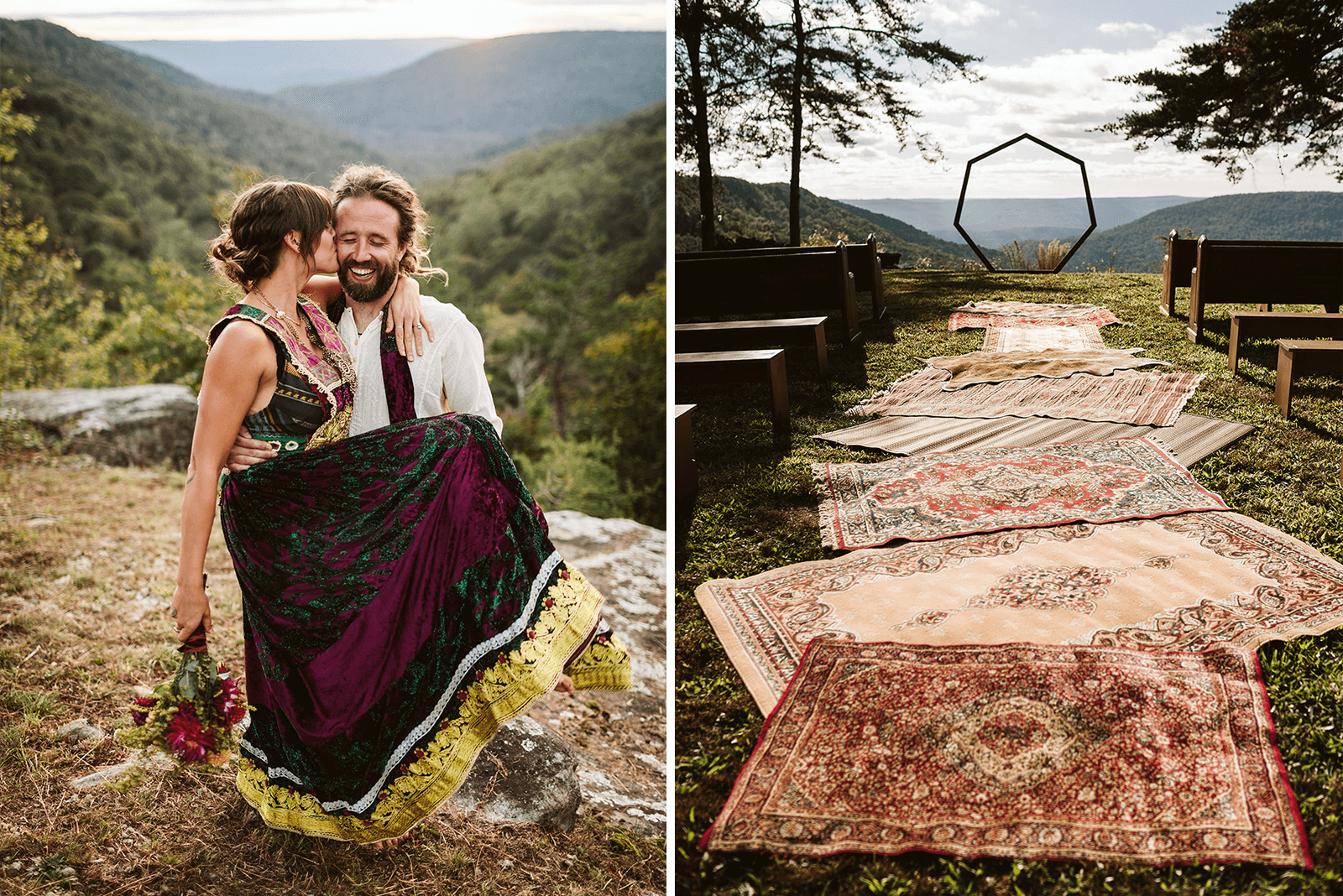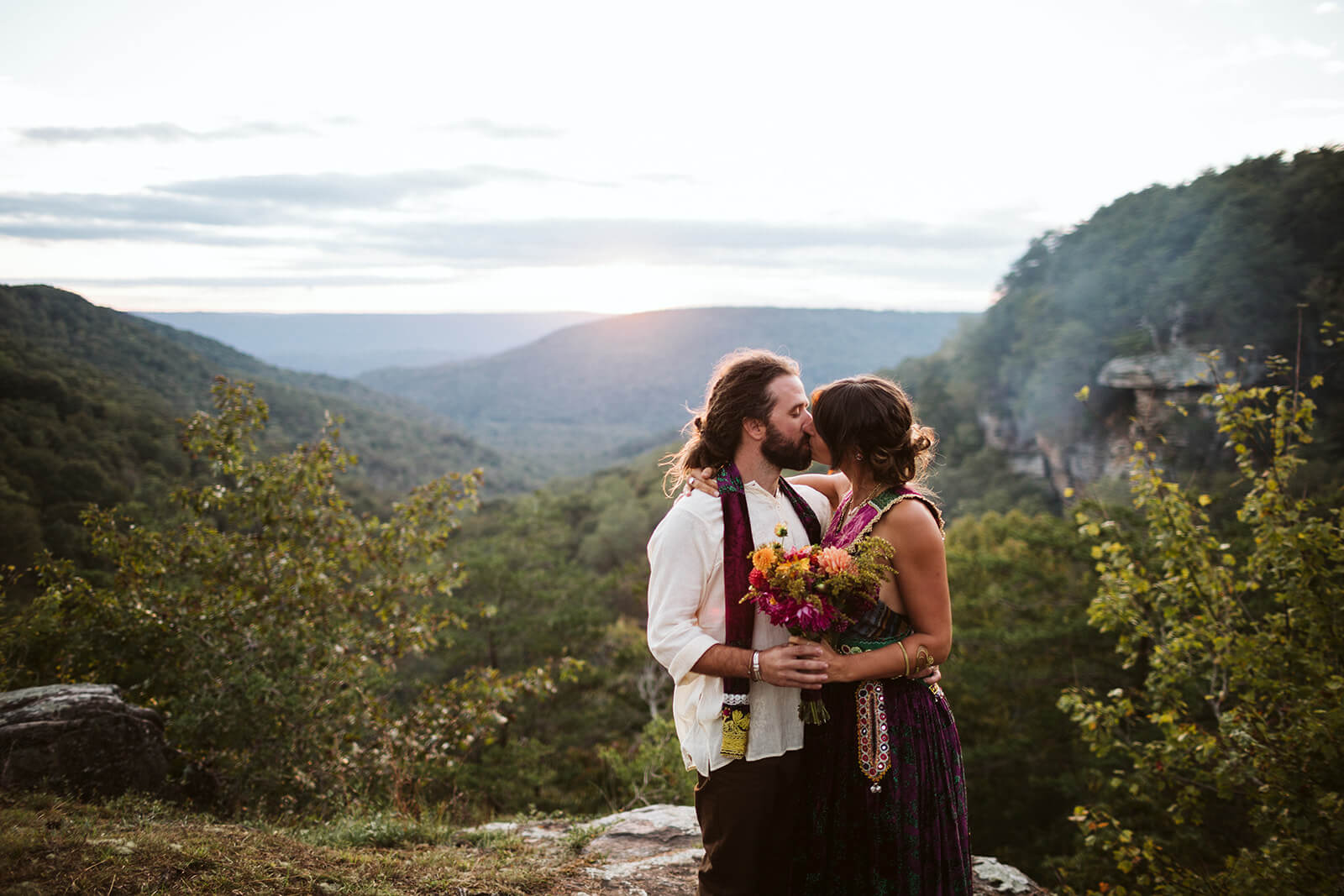 5. The Homestead
The Homestead at Cloudland Station is one of my all-time favorite mountain wedding venue in Chattanooga. It's nestled in the valley with a beautiful view of Lookout Mountain and perfect for couples looking for a boho venue with serious style.
This is technically a barn venue, but it's more modern than it is rustic. Plus, with both indoor and outdoor spaces, it's perfect for all seasons and weather. The barn itself is 150 years old and includes a tented reception space outside, so your guests can take a break from dancing to enjoy the night air. 
In addition to the ceremony and reception spaces, The Homestead also features onsite accommodations for your bridal party and guests (including a beautiful old house, a lodge, and two treehouses. Seriously.).
This is another venue that's near enough to Chattanooga for a downtown afterparty. But you might not need one! The grounds are gorgeous, and the different on-site options make it a perfect all-in-one venue. You get the charm of the barn, the grandeur of the mountain landscape, and the modern look all in one. What's not to love?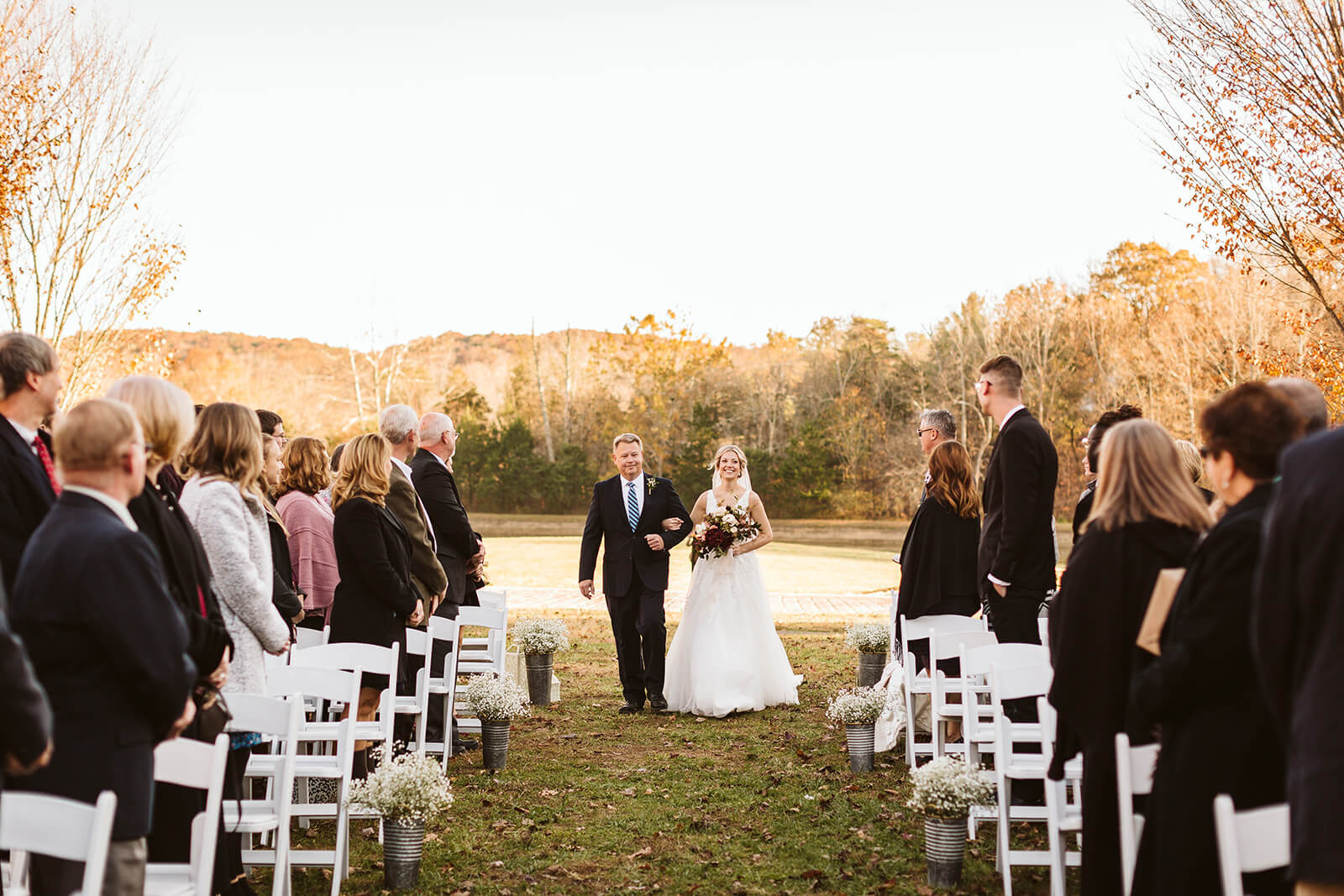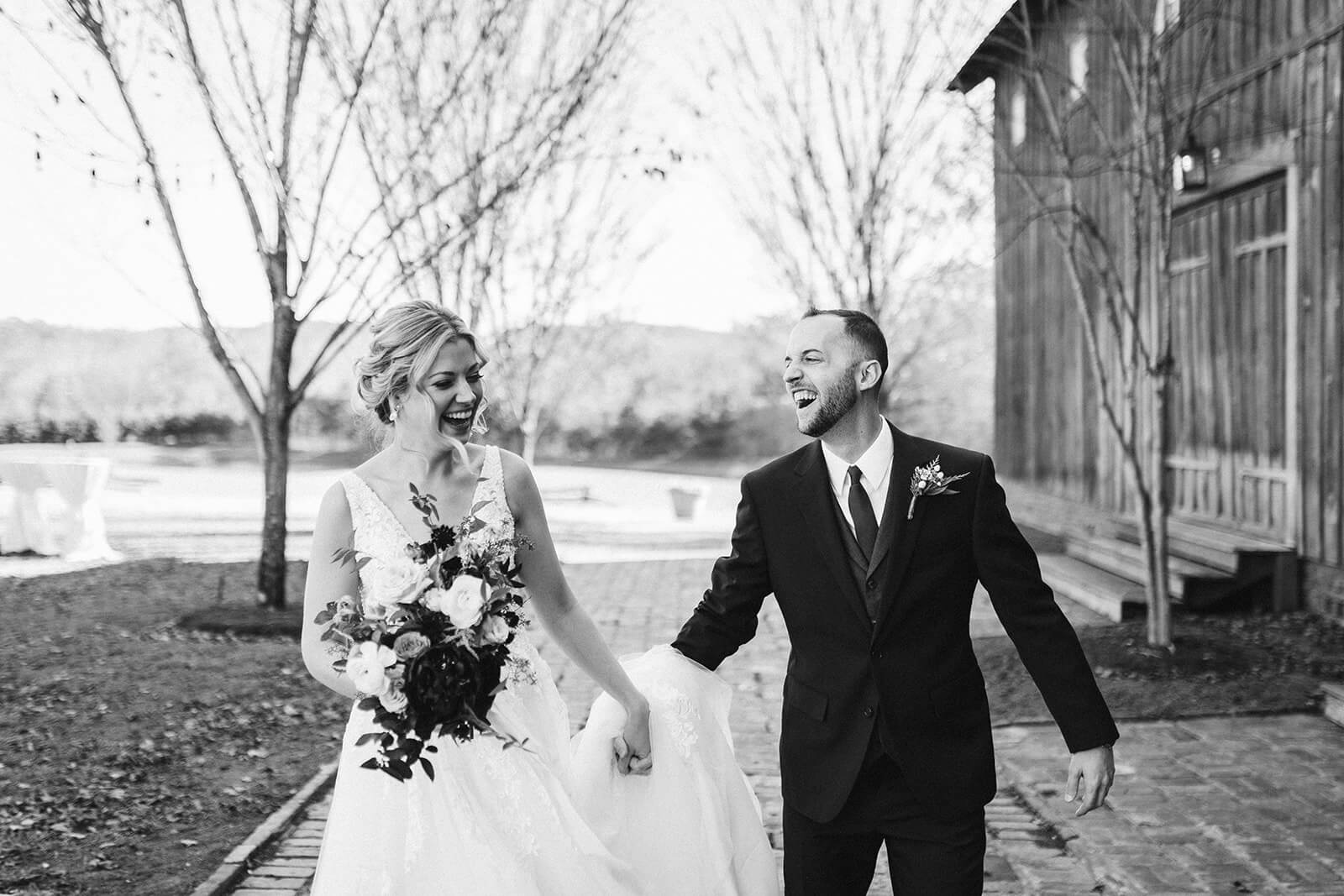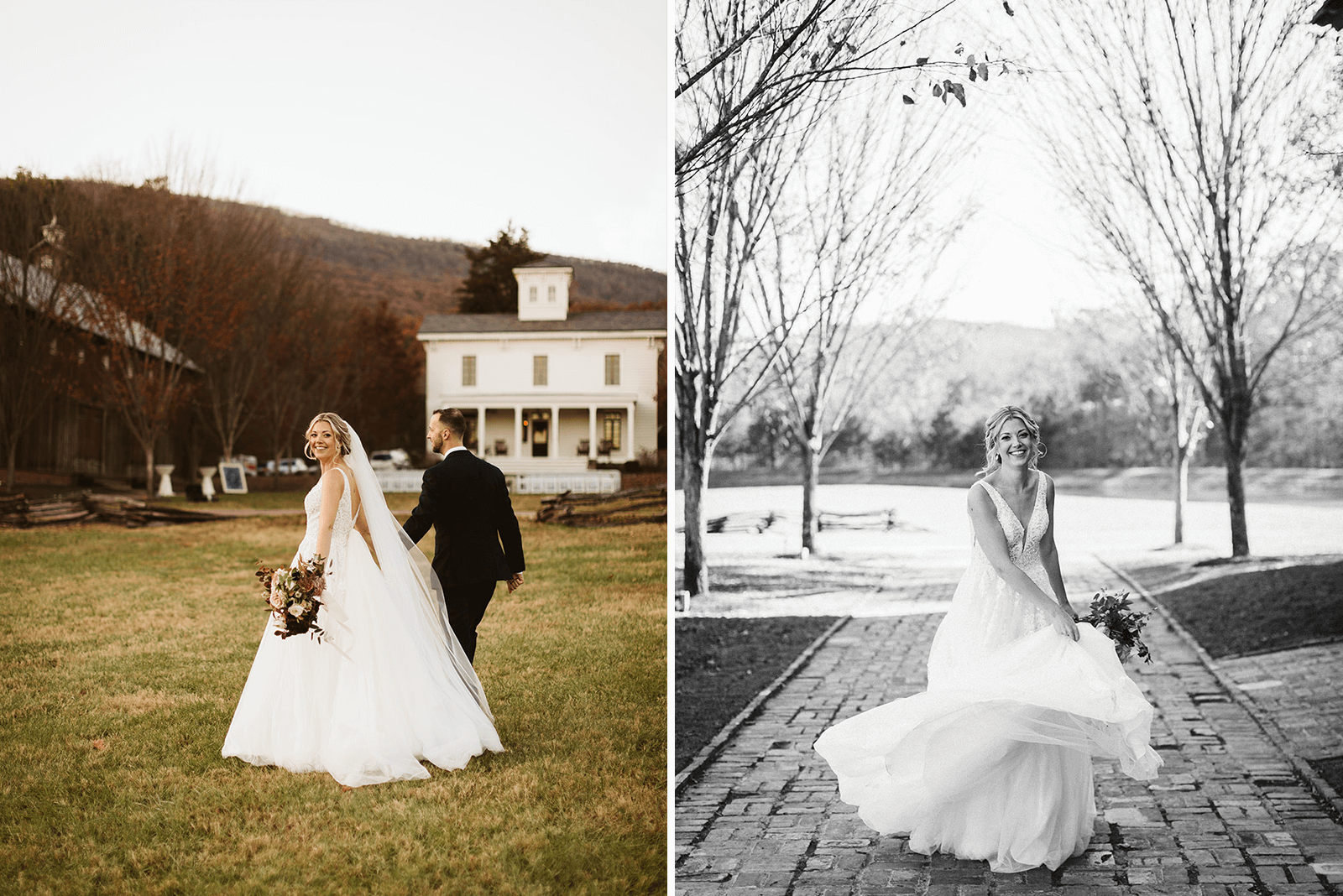 6. Grandview
You can't get any closer to a mountaintop wedding than you can at Grandview. The venue is literally on Lookout Mountain. The courtyard provides a lush, green backdrop for spring and summer weddings, and the patio is perfect for an open-air reception.
My favorite thing about this venue is that it includes access to Rock City, one of the most beautiful outdoor destinations in Chattanooga. I love taking couples and their bridal parties to the suspension bridge for photos. And the natural rock formations make for stunning photos, especially at sunset. Think "Utah backcountry elopement" just a few miles from downtown Chattanooga. If a mountaintop wedding is your goal, you really can't go wrong with Grandview.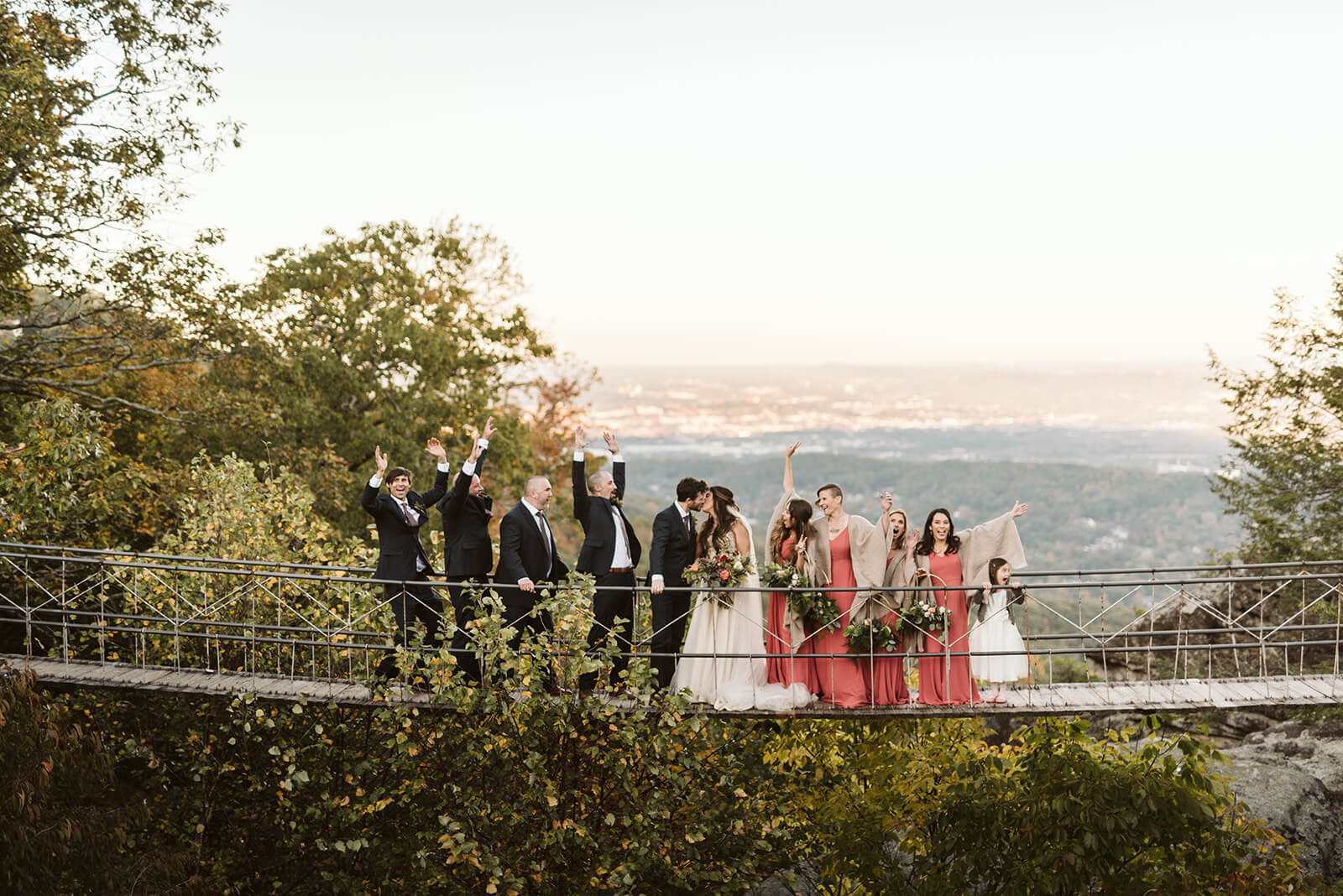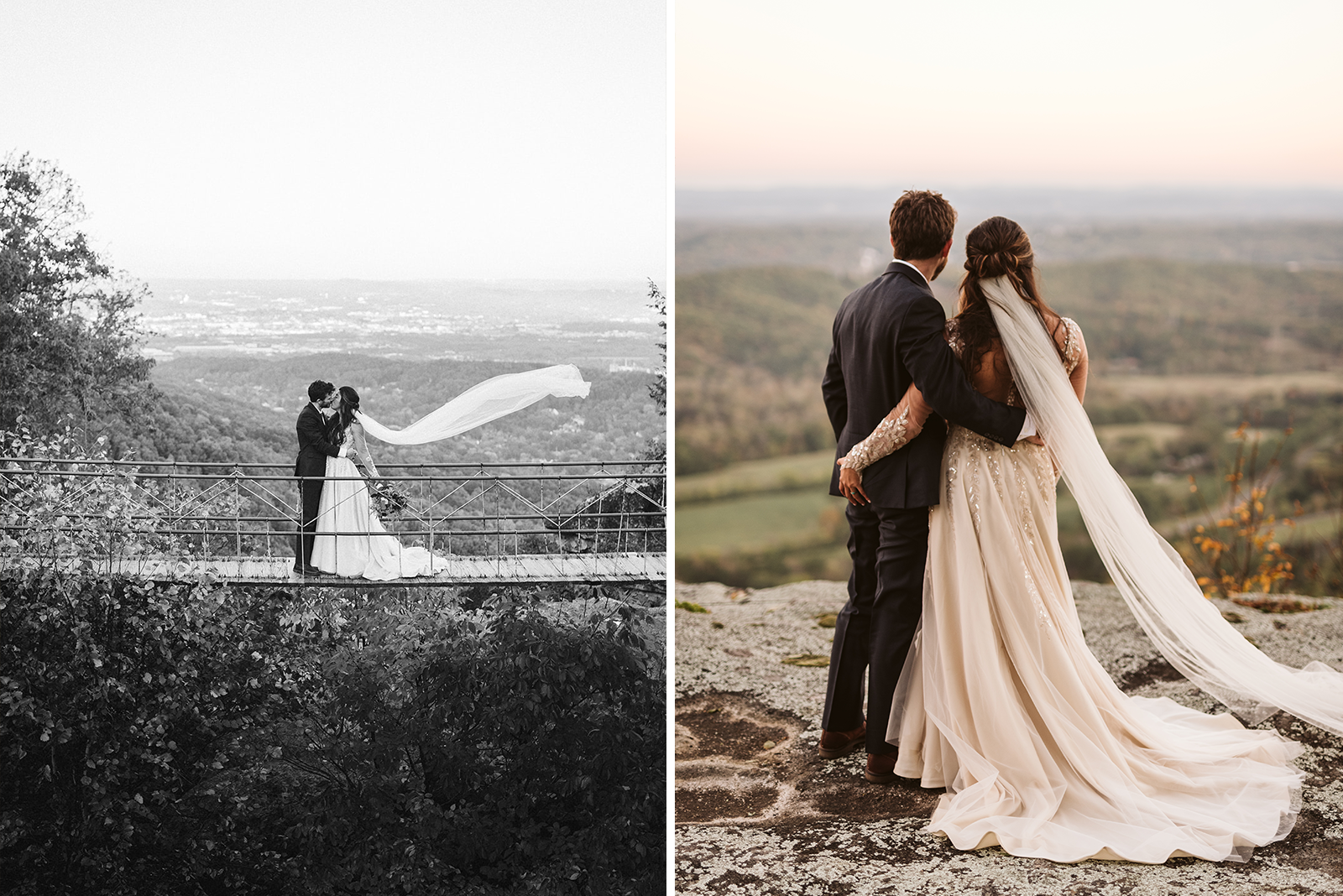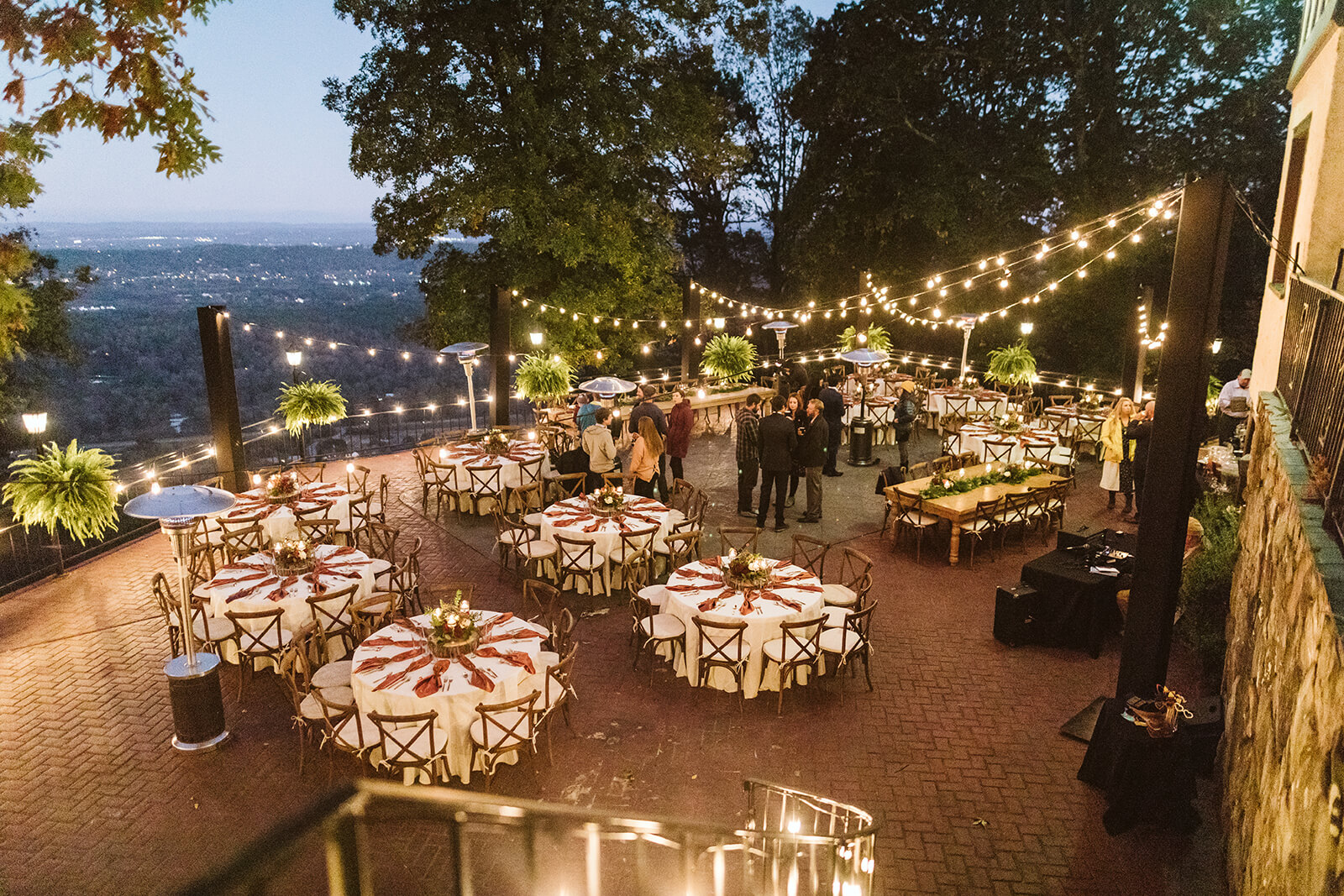 7. The Views at Sunset Ridge
While this venue isn't technically in Chattanooga, it's close enough that I had to include it. The Views at Sunset Ridge combines a modern, clean lodge look with unforgettable mountain views. Trust me, it's worth the 30-minute drive. 
The venue itself sits on a hill with 360 views of the surrounding mountains, which are highlighted by the dining hall's picture frame windows. In contrast, the ceremony space is super cozy with its modern lodge vibes. When you walk out after the ceremony, you're hit with the huge Tennessee sky.
I usually recommend The Views for winter weddings since the building is so beautiful, but it would really work well for any season. Whether you're escaping the heat of summer or want to keep your guests warm in winter, this is the place to do it.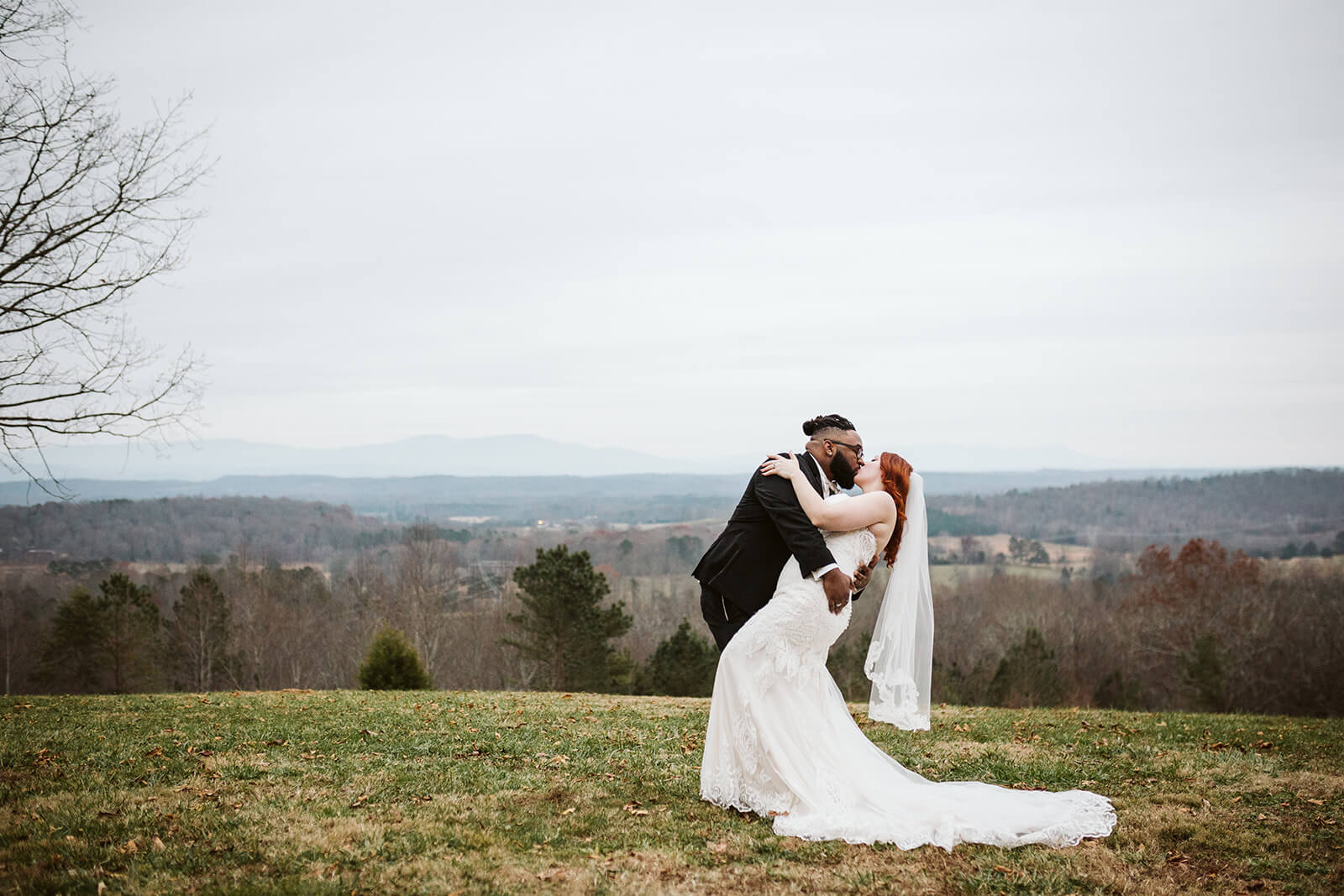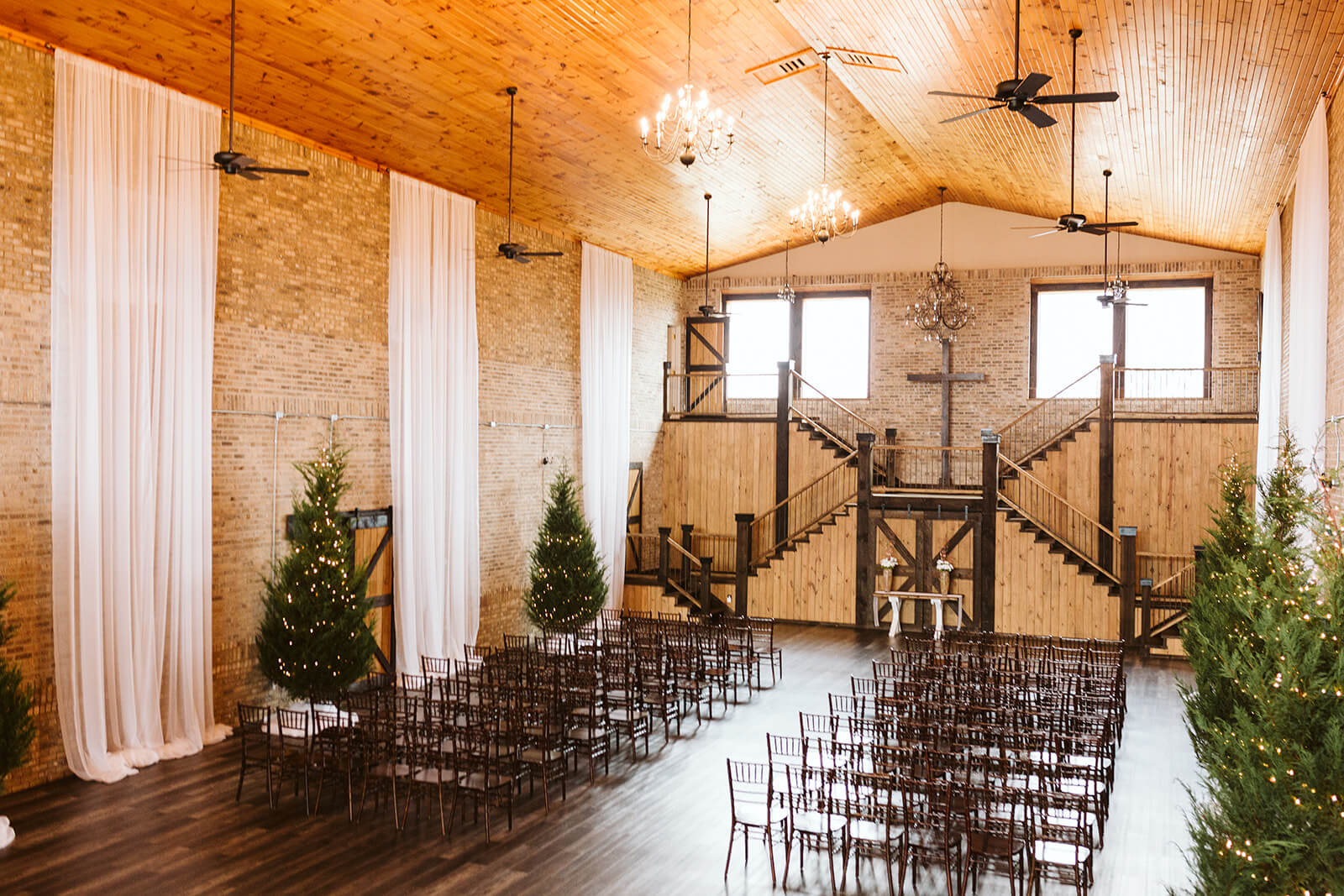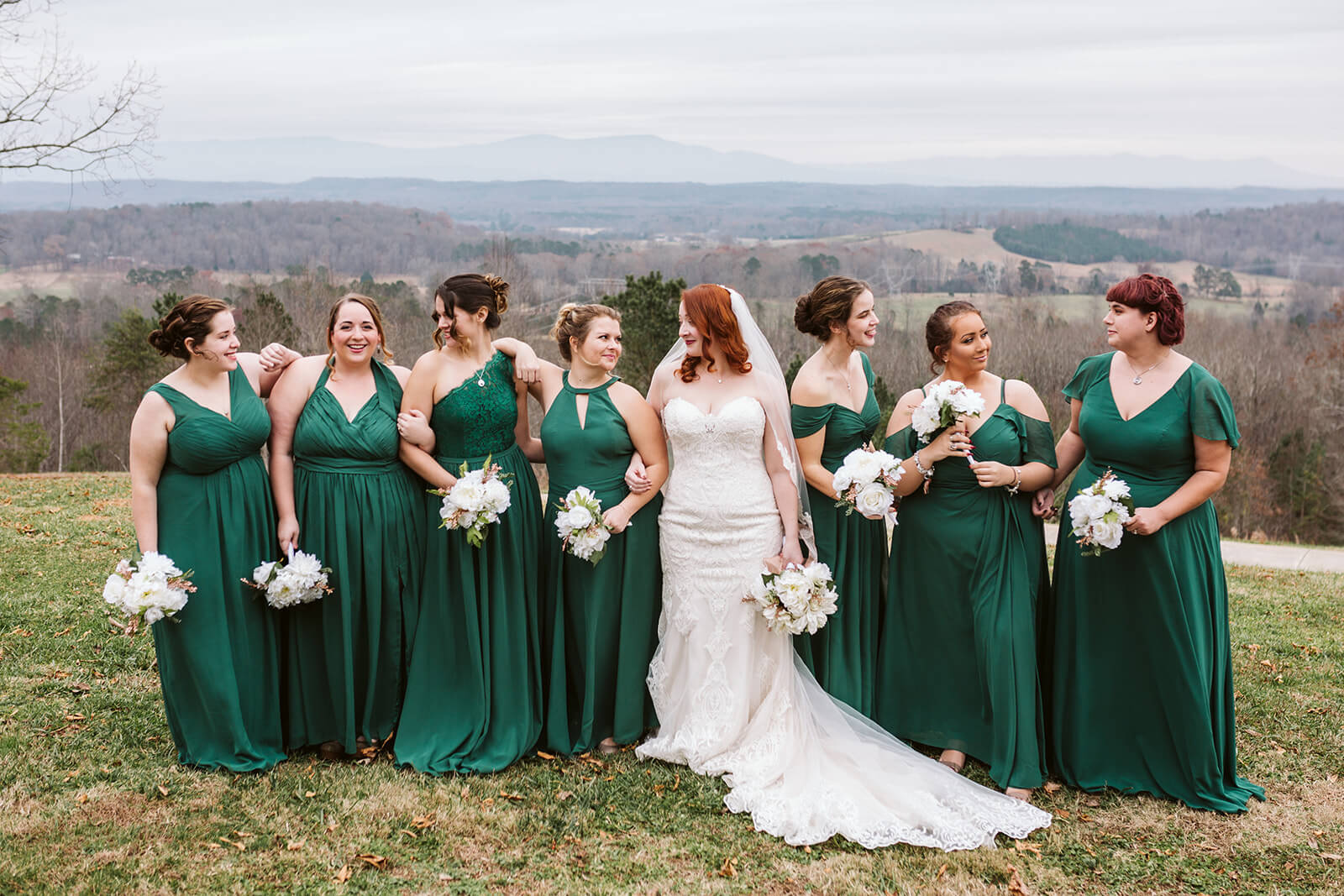 8. The Venue
This is one of the most popular mountain wedding venues in Chattanooga for good reason. It's near downtown, easy to get to, and has plenty of space indoors and out. 
The Venue is great for couples who want a beautiful space they can make their own. Yes, The Venue has plenty of its own charm, but it's also a bit of a blank canvas. You can really inject your own style into the place and get the mountain views you're looking for. Win-win.
And my favorite part: there are tons of nearby spots I can whisk the couple off to for more photos. So you can get your ceremony photos in front of the freestanding stone fireplace, your couples' portraits in the Tennessee hills, and then let loose on the dance floor under the stars.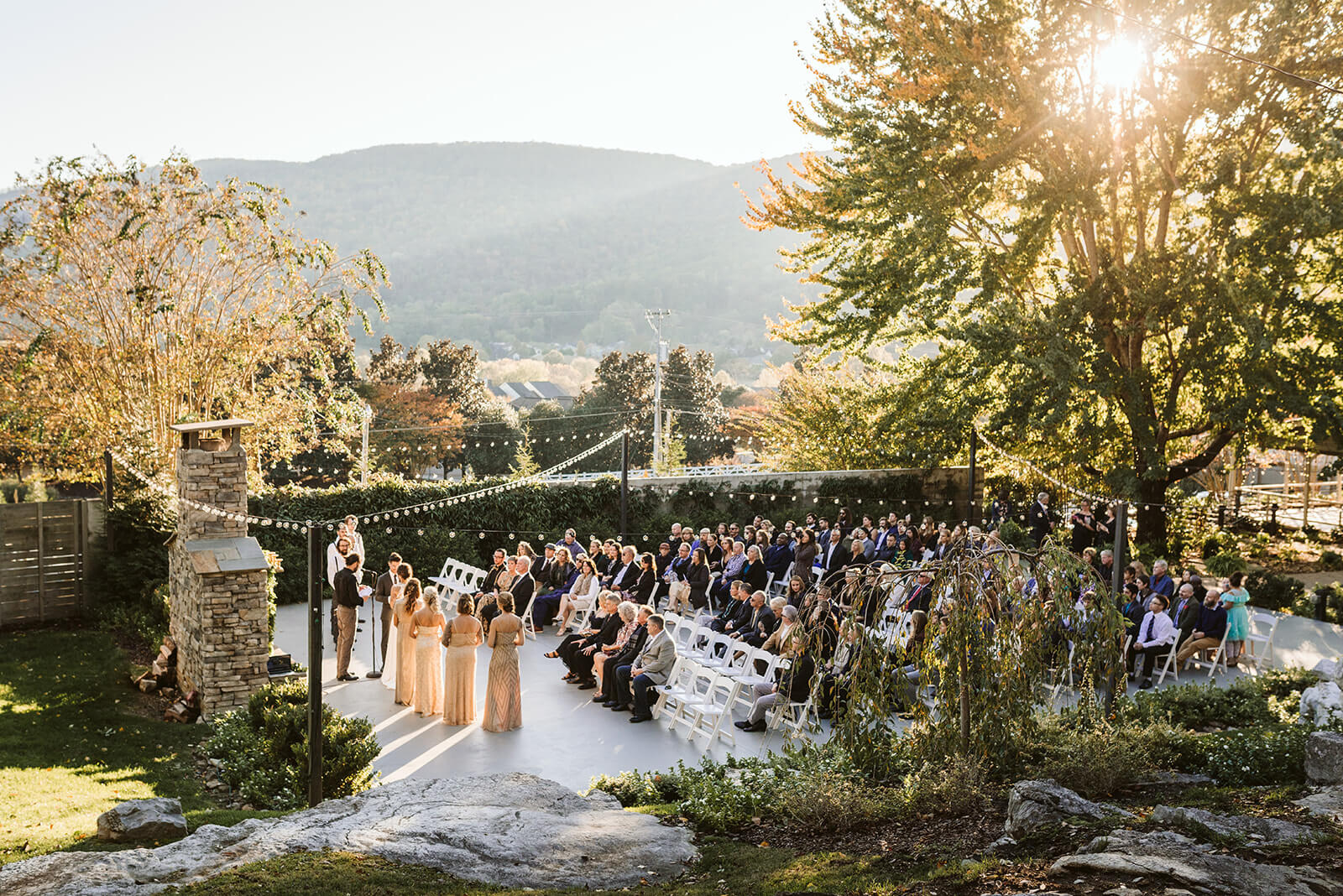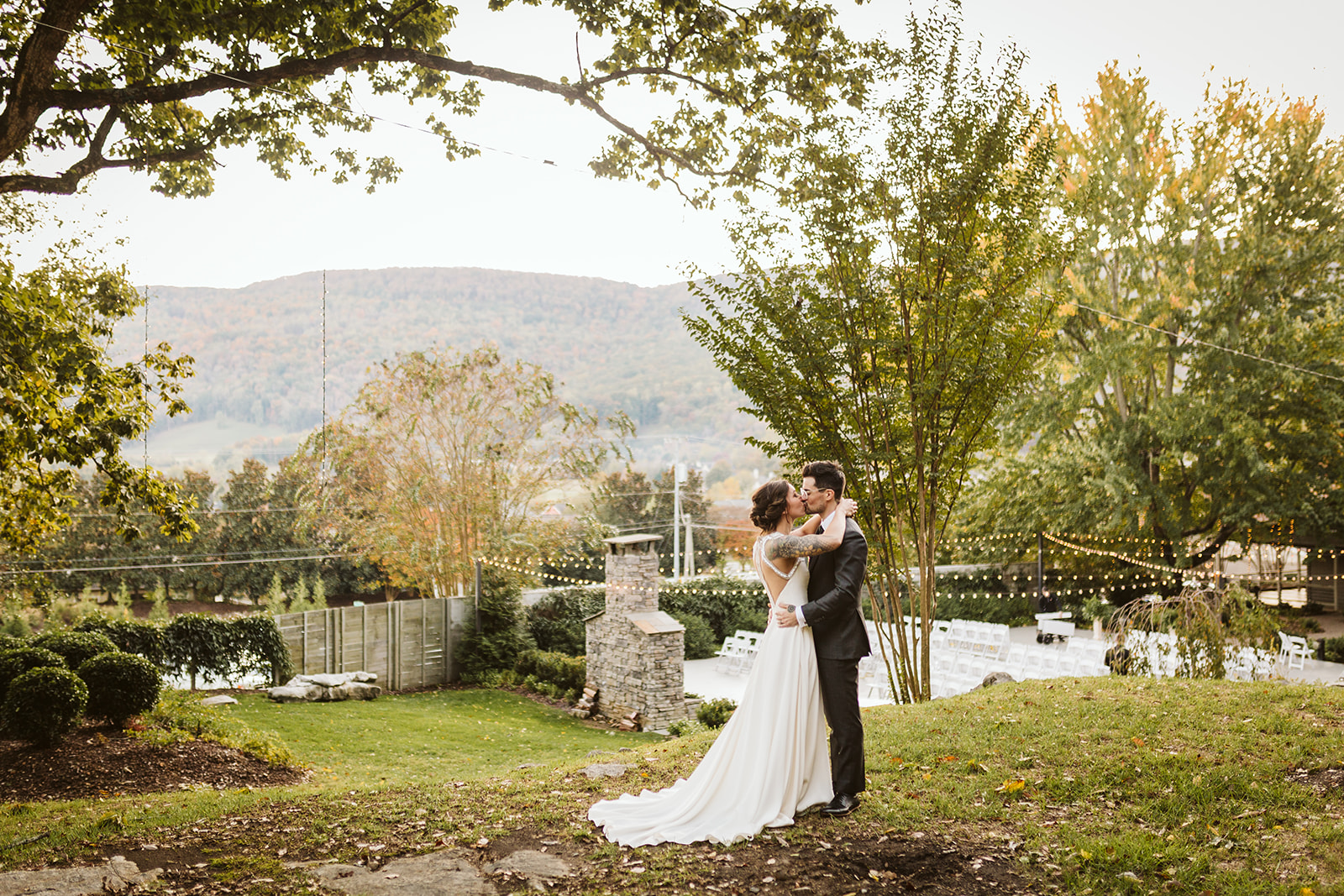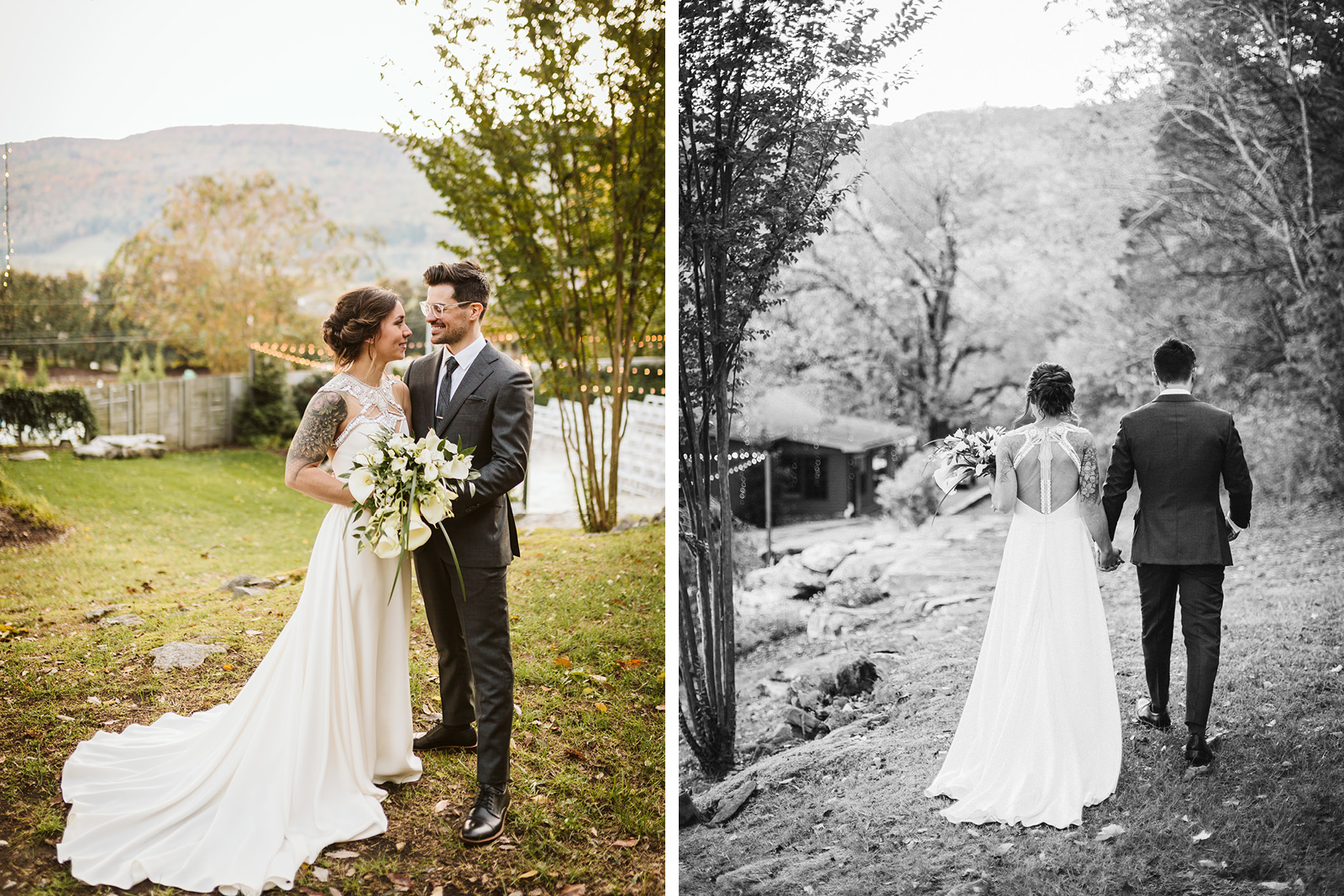 ---
Thank you so much for reading about my favorite mountain wedding venues in Chattanooga! I hope you found a spot that checks all the boxes for you.
I love all these venues, and they all have one thing in common: they highlight the natural beauty of the Tennessee mountains. I love shooting interesting venues, but I also love when a ceremony fits perfectly into the landscape. When you get married in a place like that, it feels so natural and real in a way that truly comes to life in your photos.
Getting married near Chattanooga? Let's chat! I'm Rachael Crowe of OKCrowe Photography. I'd love to capture your big day (and get down at your reception, too!).
And if you're still not sure about your venue, just reach out! I've shot all over Tennessee, and I'm more than happy to help you find the perfect backdrop for your wedding.
If you're on the hunt for your wedding or elopement photographer, my calendar is booking up quickly! Shoot me a note through my contact form so we can start planning.
Pin this blog for later! ↓