Sometimes, a bride comes to me with an idea and I say, "I'm all in!" Laine knew exactly what she wanted in her Chattanooga engagement photo session, and I was happy to bring her ideas to life in this edgy yet intimate shoot.
Originally, Laine and Brad just booked me for an engagement session. But after I delivered their engagement photos, they asked me to shoot their wedding! (Score!) I'm in love with these images and so excited to join them for their wedding at Tennessee RiverPlace.
Enjoy Laine and Brad's Chattanooga engagement photos, and reach out if you're looking for an engagement photographer in the area!

Chattanooga Engagement Photographer – Photos Close to Home
Laine and Brad met at a mutual friend's bonfire. Before the party, Laine's friend told her she had to meet a guy there named Brad. Poor Brad was out of the loop, but he was immediately drawn to Laine when he saw her at the bonfire. And I mean, can you blame him? He followed her around all night, and the two of them hit it off. They started dating right away, and the rest is history!
For their engagement session, Laine and Brad wanted to recreate their first date close to home. They picked a beautiful open field near their house for some hazy sunrise photos and planned a campfire in the backyard with their pups to wrap up the shoot. Laine had a vision, and she let me run with it. The result is this collection of moody, romantic sunrise engagement photos.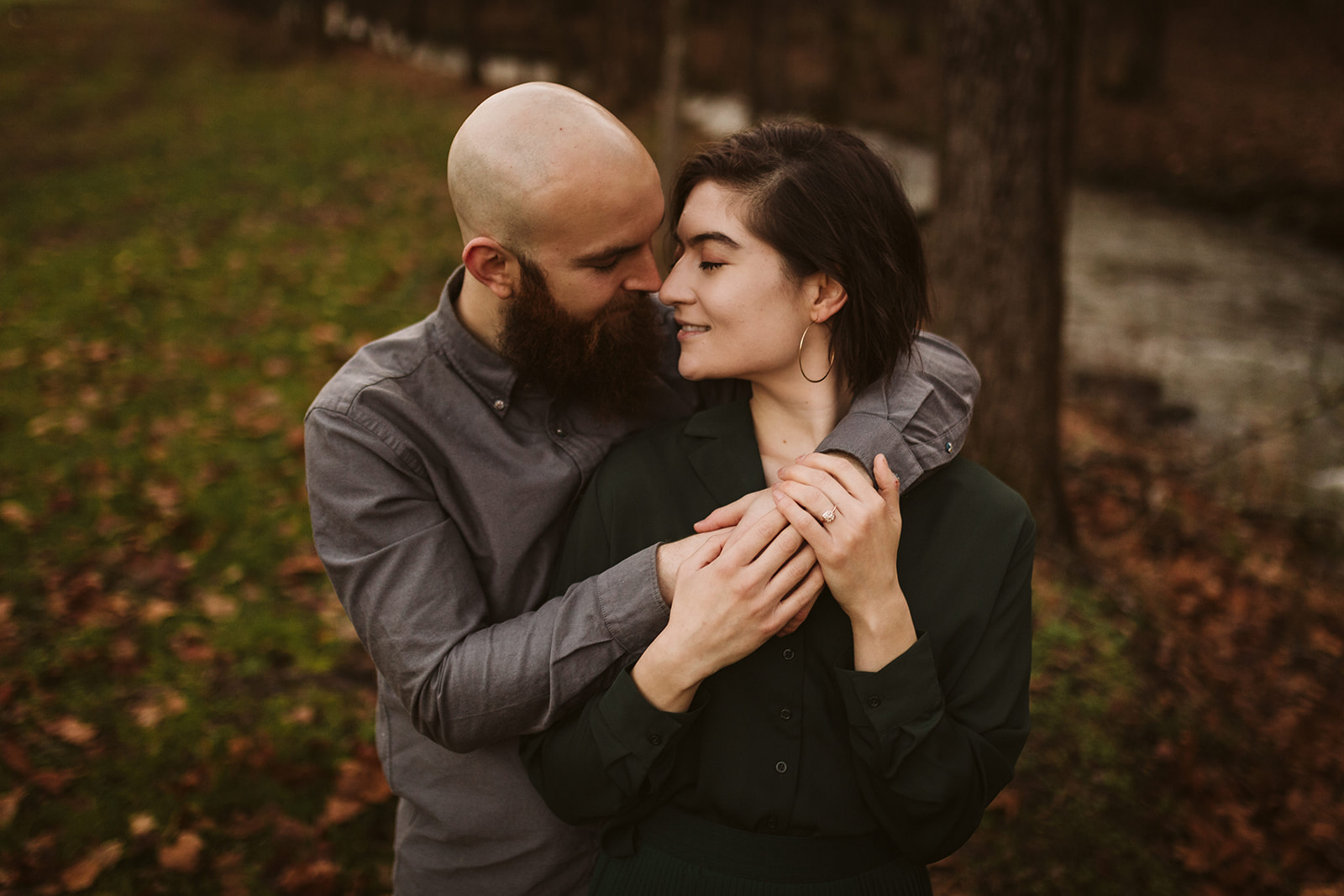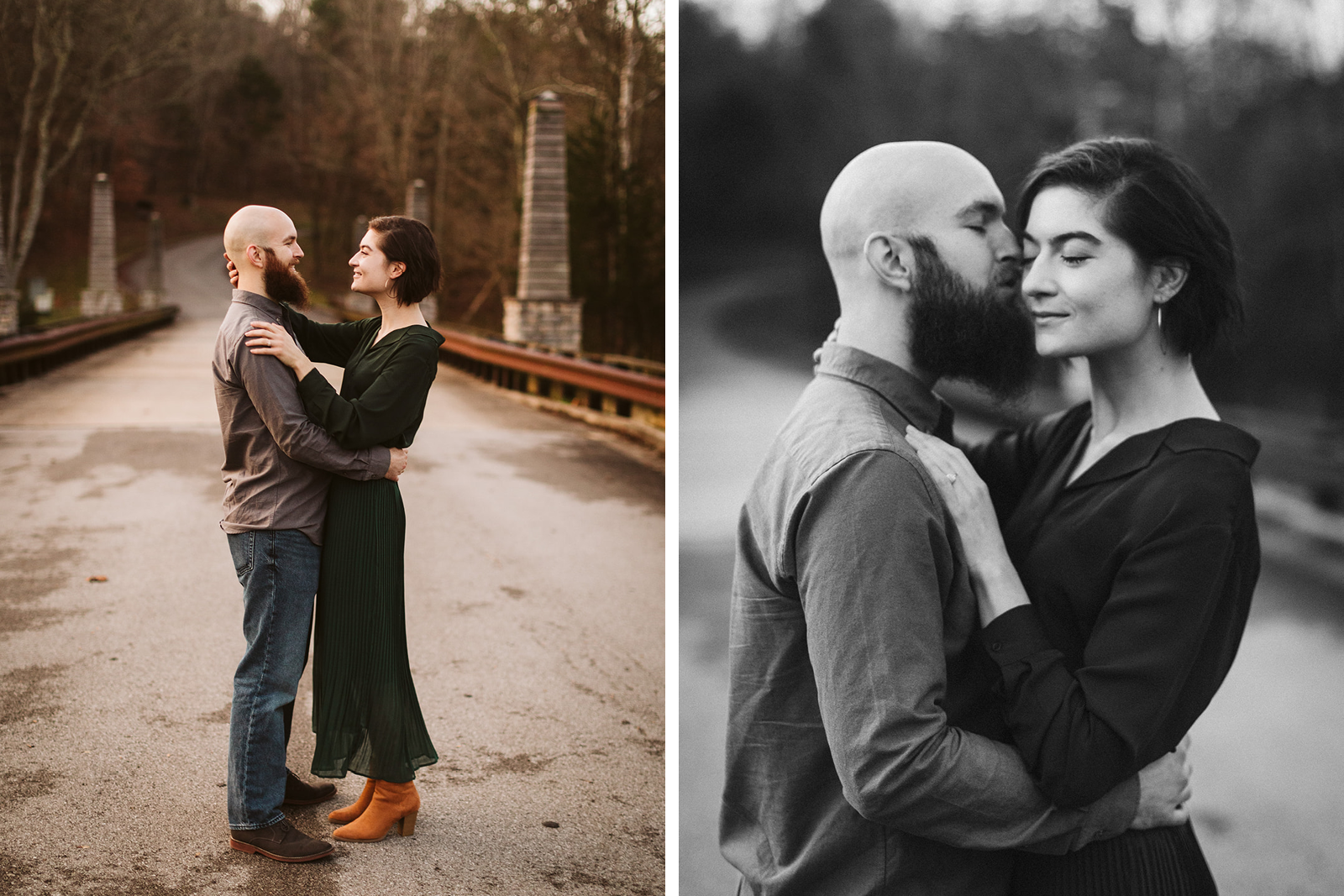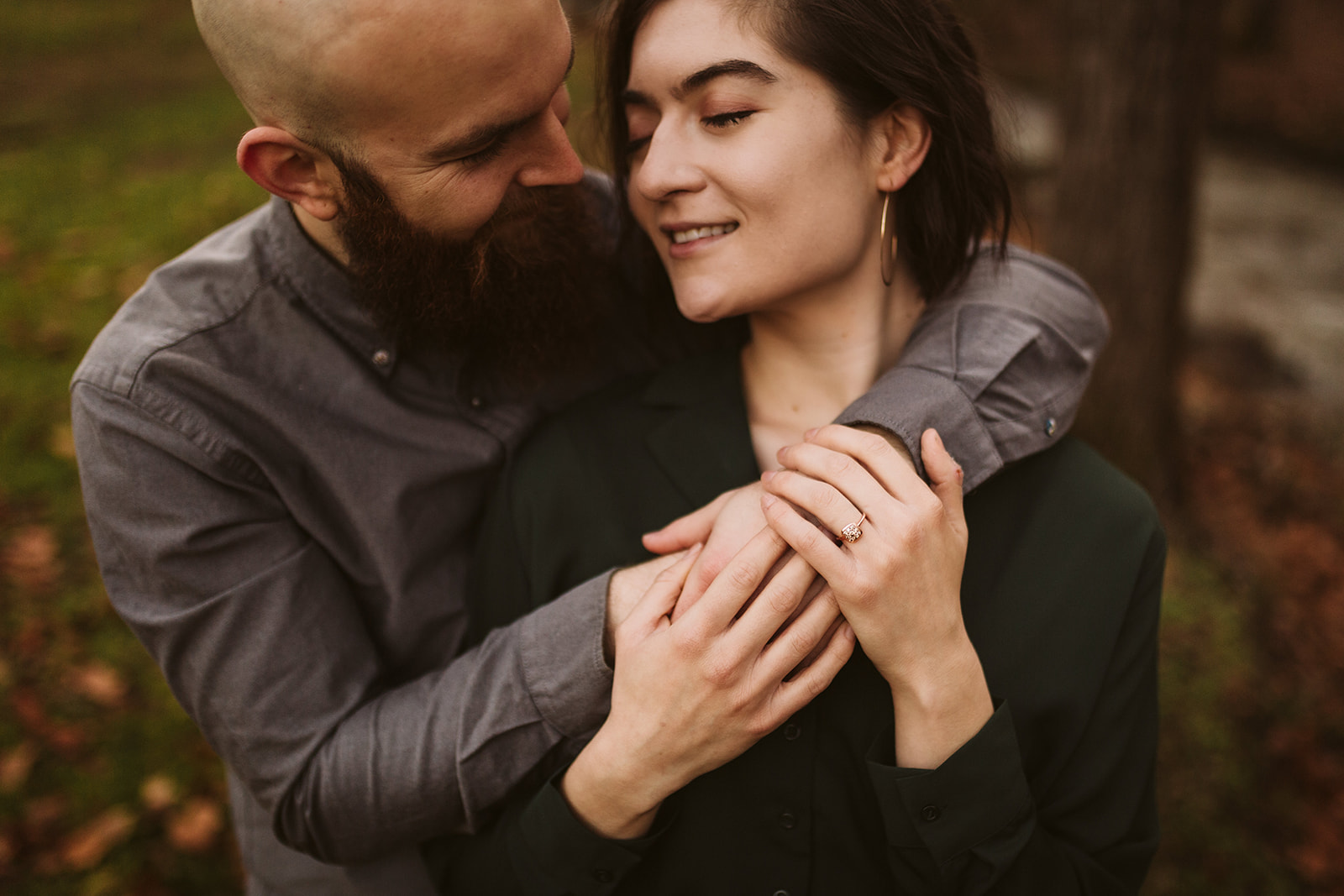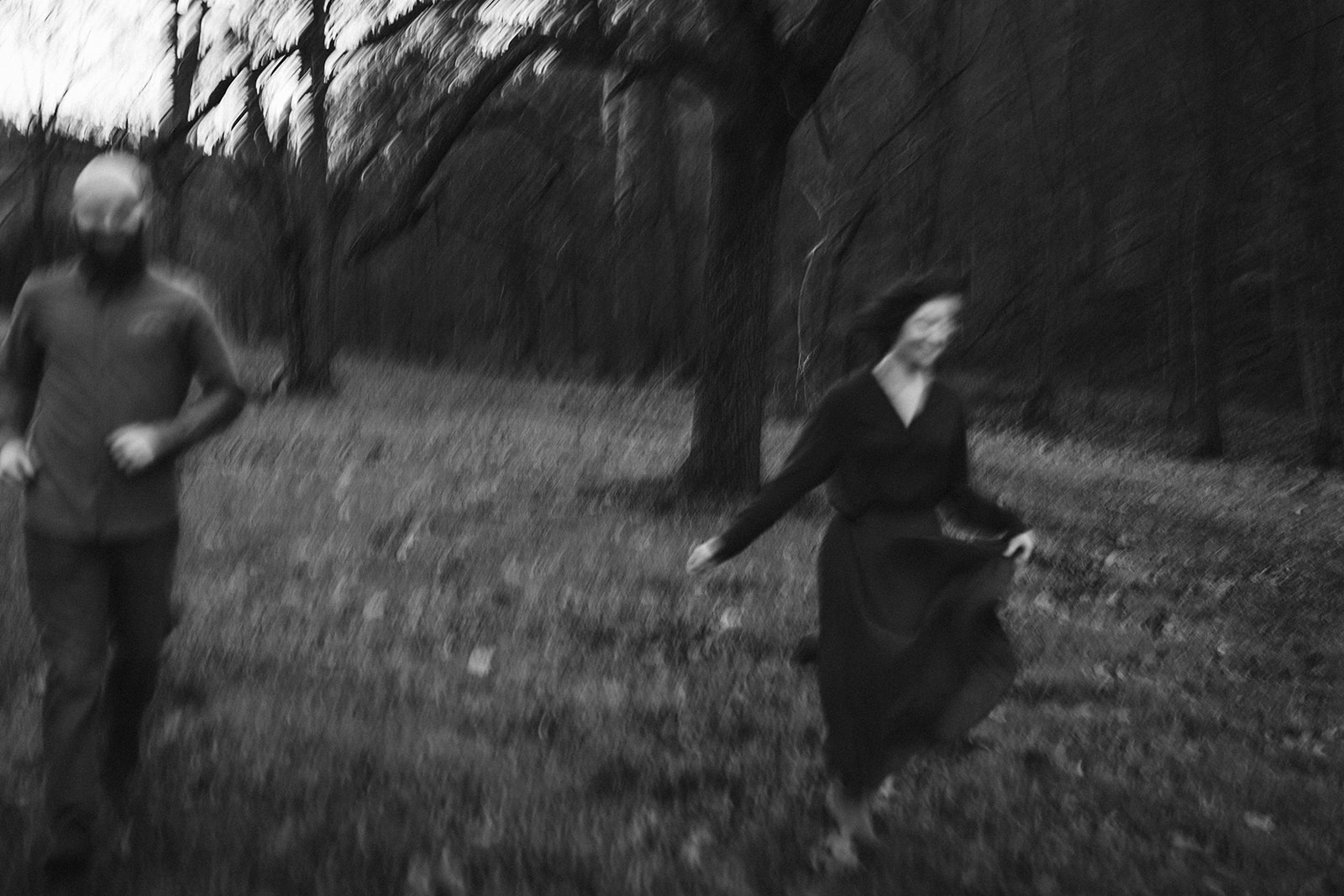 Sunrise Engagement Photos
I met Laine and Brad at sunrise in a field near their home. The light fog and early morning rays created a dark fairytale forest setting that was just perfect for these two. She wore a long emerald dress (which contrasted her gold engagement ring and hoop earrings beautifully), and he wore a charcoal button-down with a tiny pattern detail on the pocket. Not too formal, not too casual. (If you're unsure of what to wear for your own engagement photos, I've got you covered.)
If you follow me on social media, you might notice my work varies a lot depending on the time of day and lighting situations. I love to keep my editing as close to how the day actually looked as possible, so when Laine told me her vision, we worked together to decide on a time and location that would fit the vibe she was envisioning. She came to me with a clear idea of what she wanted in location, attire, and overall feel. She even took charge during the photoshoot! When a bride says, "I'm going to do this pose," I say, "Go for it!"
I'm always more than happy to take full creative control of a shoot, but it's also fun to work with a couple who knows exactly what they want. Laine and Brad worked for these shots, even going so far as to scout the locations themselves. They explained to me what they expected in the final images, but they also told me to get creative with it. I played around with long exposures and a few creative focus images, and they walked away with a wide variety of shots that Laine said perfectly fit what they had dreamed up for their shoot.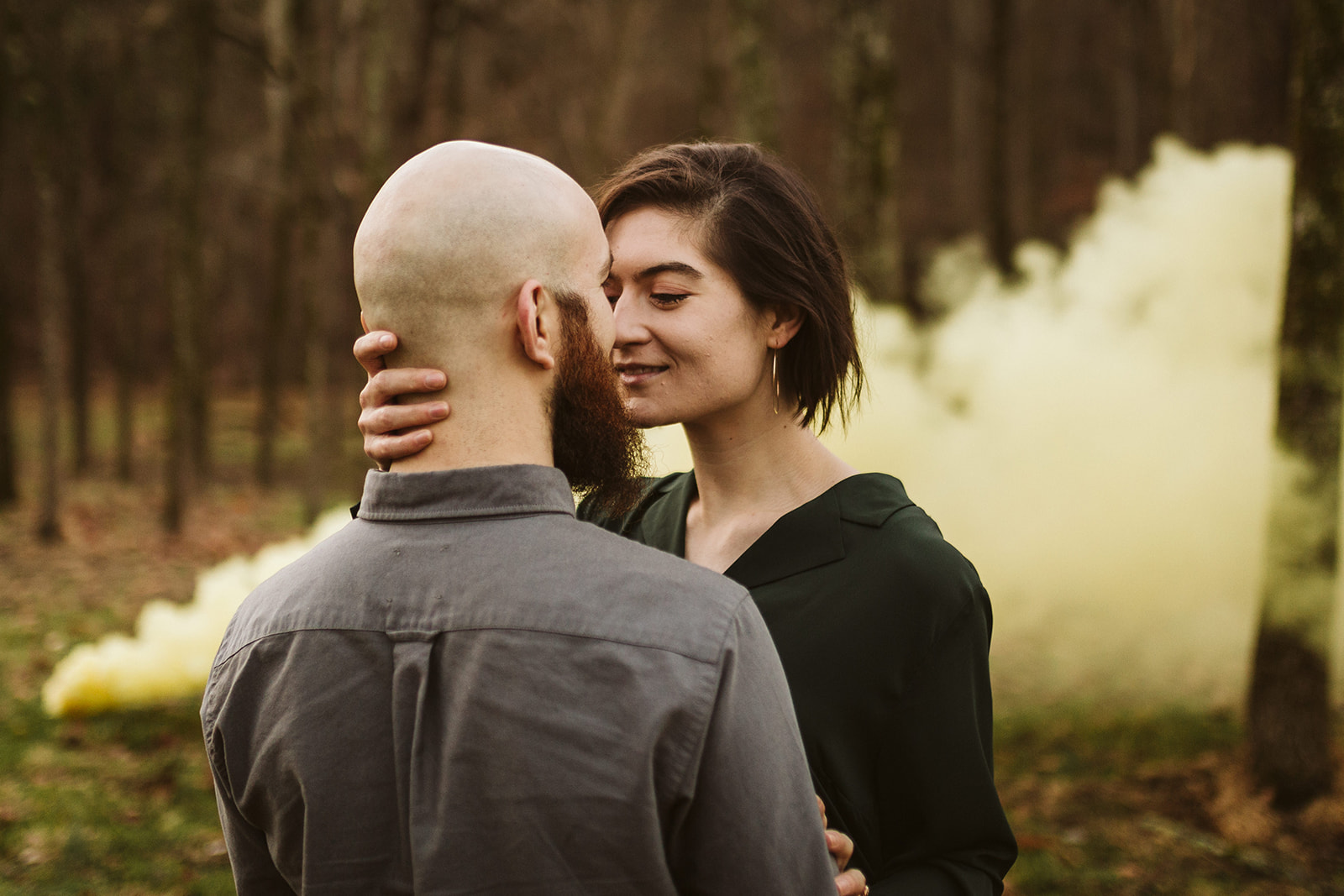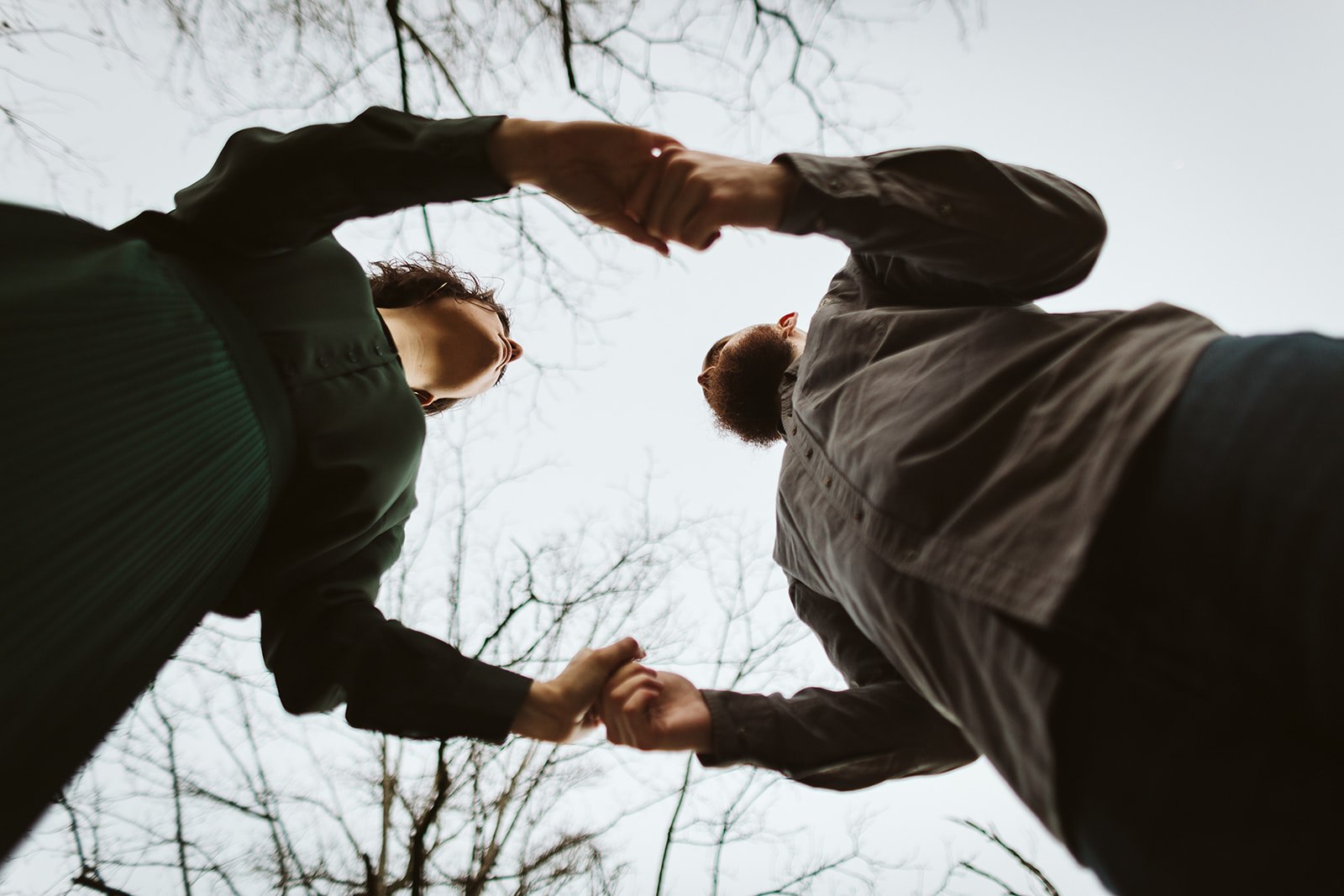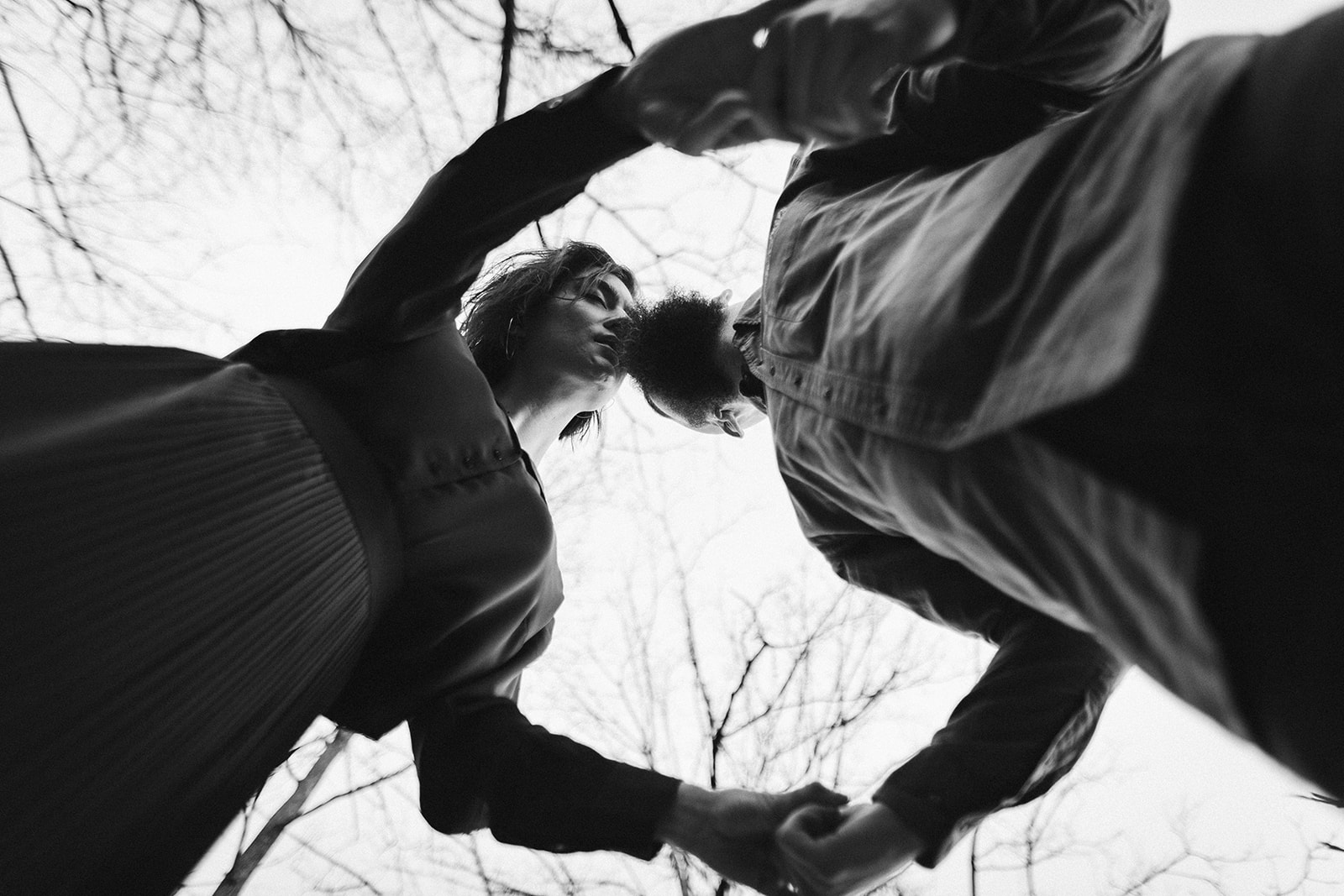 Getting Creative With Smoke Bombs
Though we had planned for a foggy sunrise shoot, the weather didn't exactly cooperate. Any fog we were hoping for cleared as soon as the sun rose. Luckily, I had a few smoke bombs in the back of my car, so we made our own fog!
The faux "fog" didn't look entirely natural, but the yellowish hue and billowing clouds of smoke added to the dark, otherworldly feeling we had going on. Plus, they added even more edginess to Laine and Brad's looks. I especially love how the smoke photographed in black and white, and so did they!
We can't always count on the weather to cooperate for an engagement shoot (or a wedding, for that matter), but I'll help you make gorgeous memories rain or shine or fog or… you get the idea. I'm all about rolling with the punches!
Backyard Bonfire
To wrap up this engagement session, we swapped the dark and moody vibes for some fireside snuggles in Laine and Brad's backyard. After spending the morning with this couple, I could just tell they were made for each other. They worked as a team, and their chemistry made every pose look natural.
Another gorgeous detail from the day is the array of blankets Laine and Brad styled for their shoot. Brad's mother made all of them by hand! Laine and Brad spread them like picnic blankets on the ground and cozied up with them by the fire. I loved the pop of color and the texture they added to these images. And what a sweet surprise for Brad's mom to see her artwork on display!
Every detail of Laine and Brad's engagement shoot was personal to them – from the locations all the way down to the props. The backyard bonfire was a nod to the day they met. I love the idea of paying homage to your first date (or your most memorable date) in your engagement photos. Did you go bowling? Let's shoot in a bowling alley! Did you meet at a dog park? Let's include your furry friends! These small details are a sneaky, fun way to pay tribute to your love story.
Speaking of furry friends, I'm so glad Laine and Brad's dogs got to join us for a few photos. After watching from the window for a little while, they rushed outside and snuggled up with mom and dad by the fire – a super sweet ending to a perfect engagement session.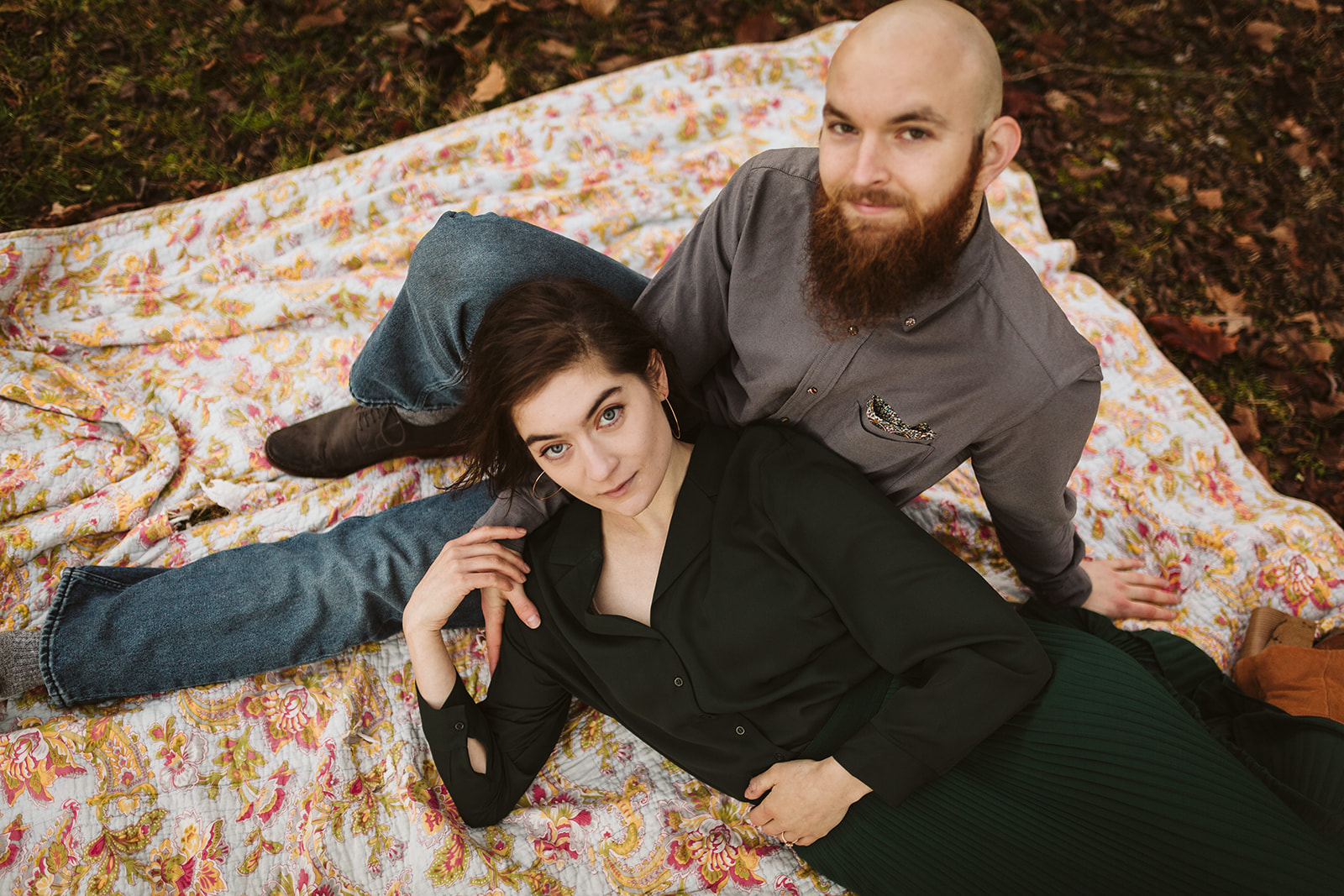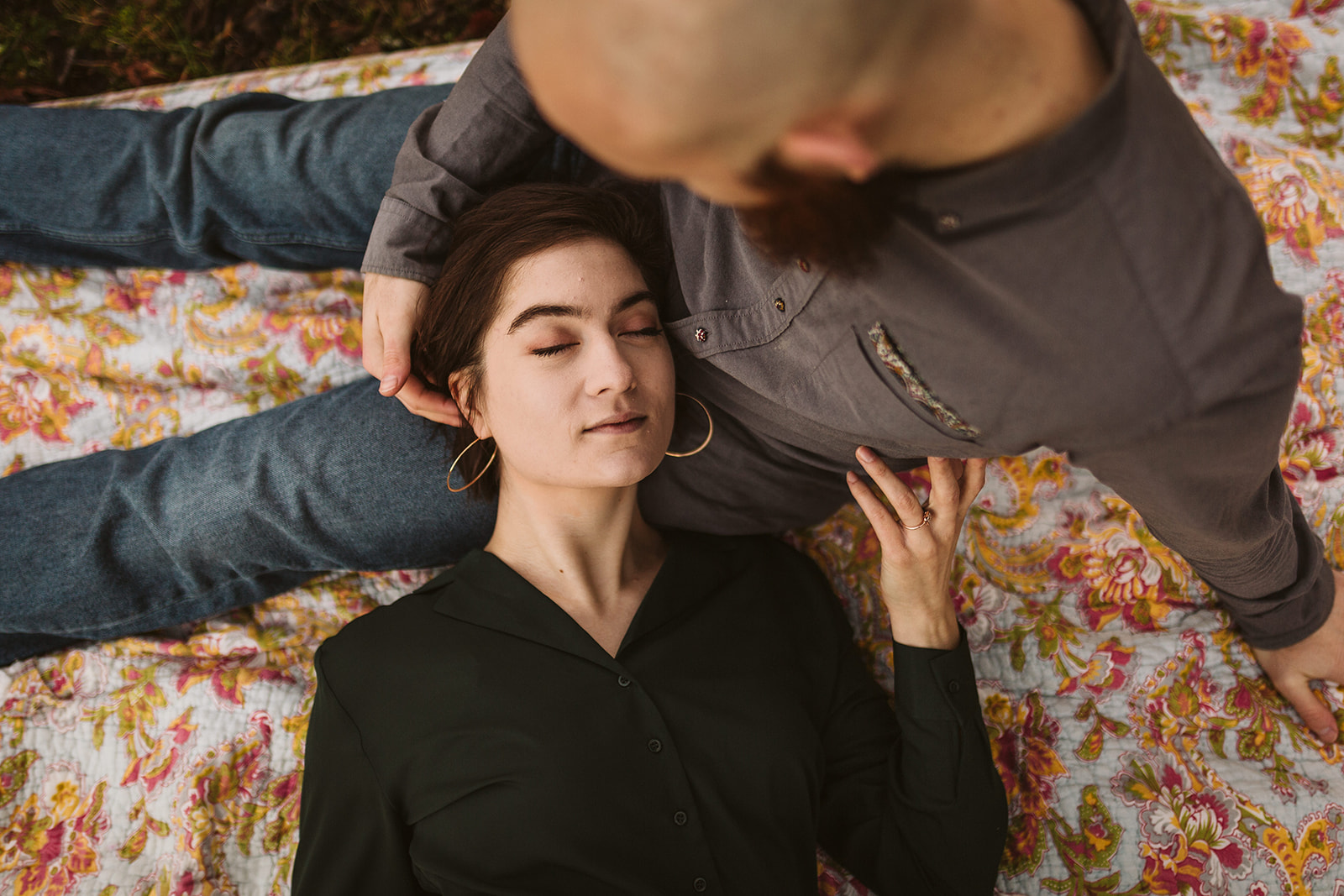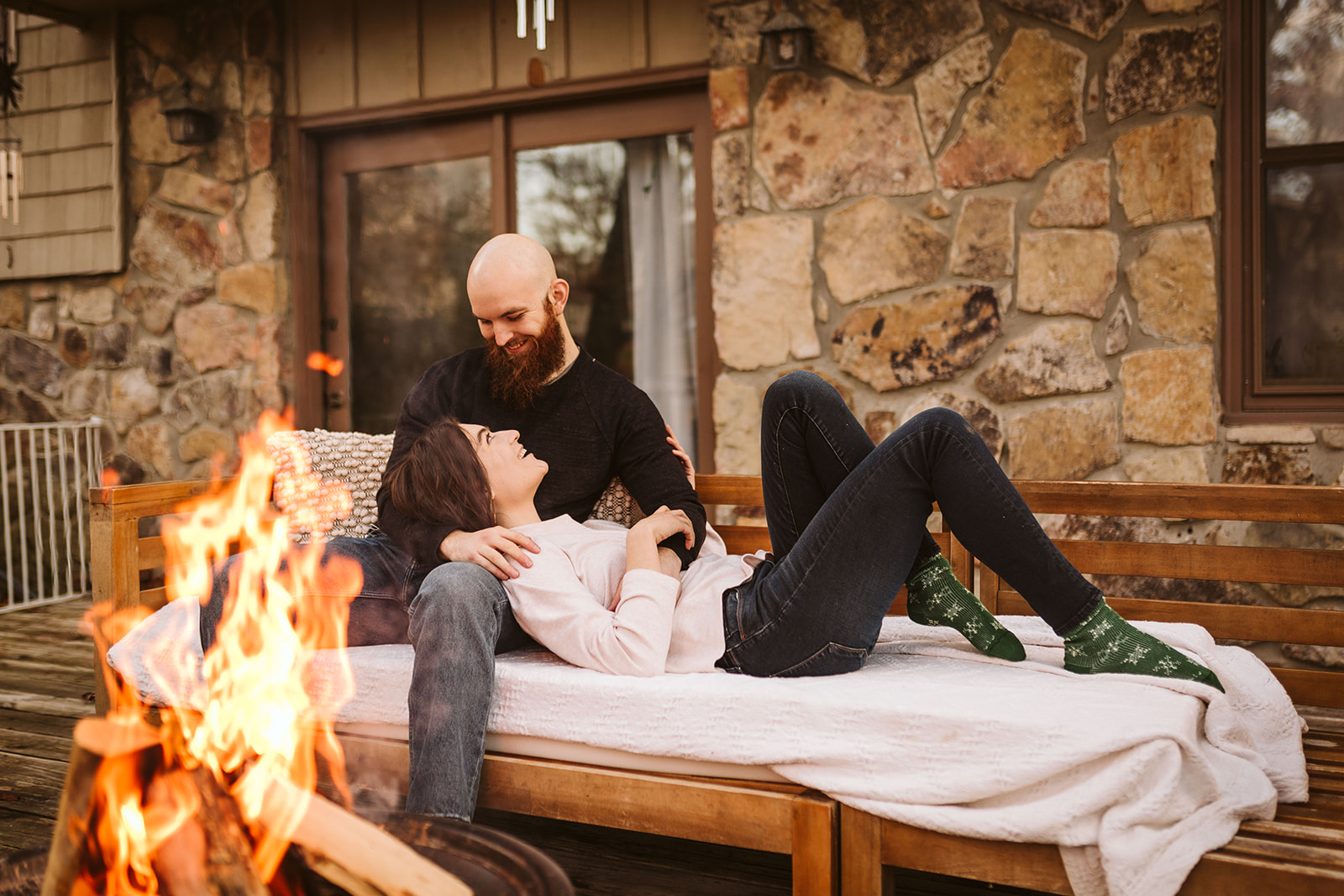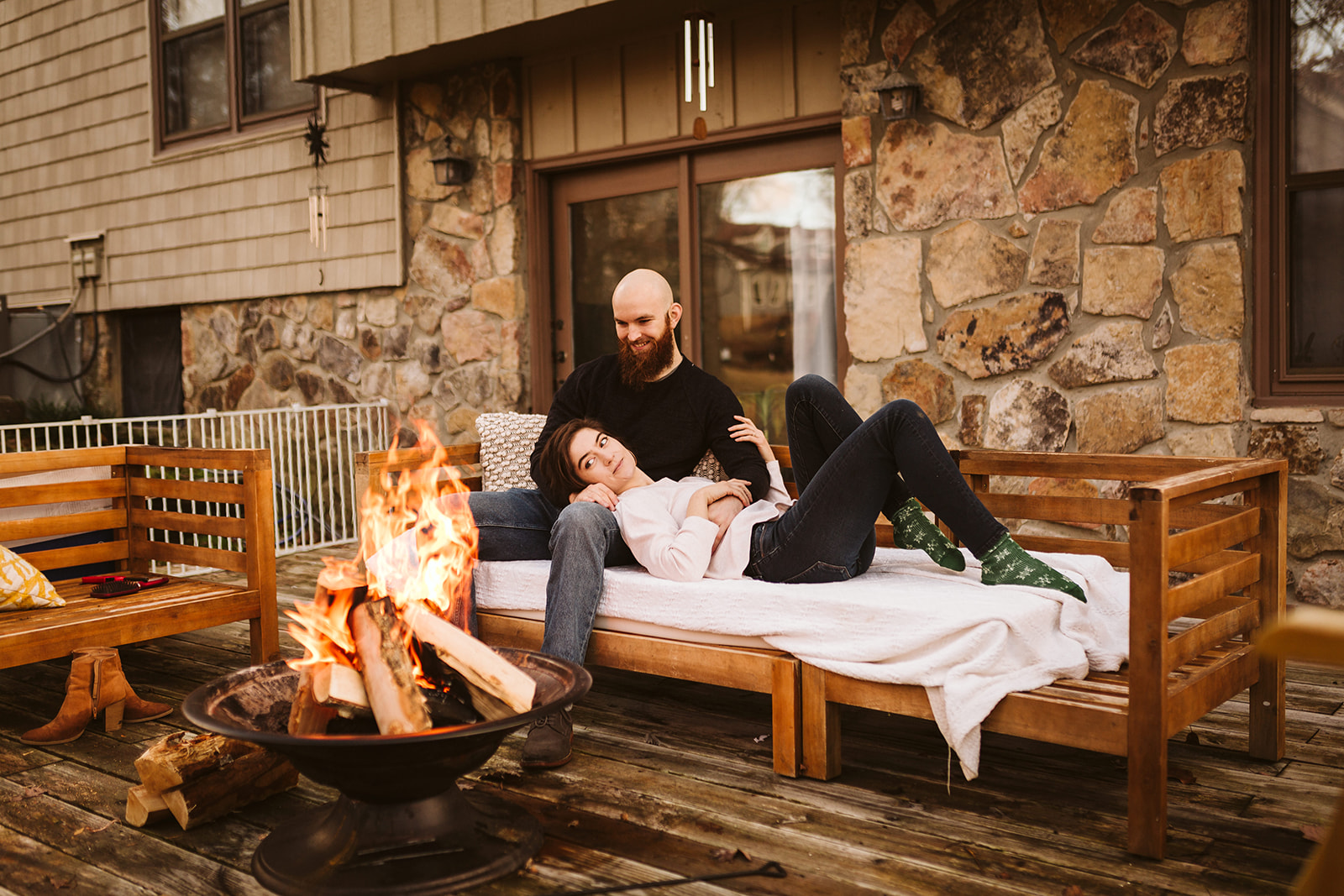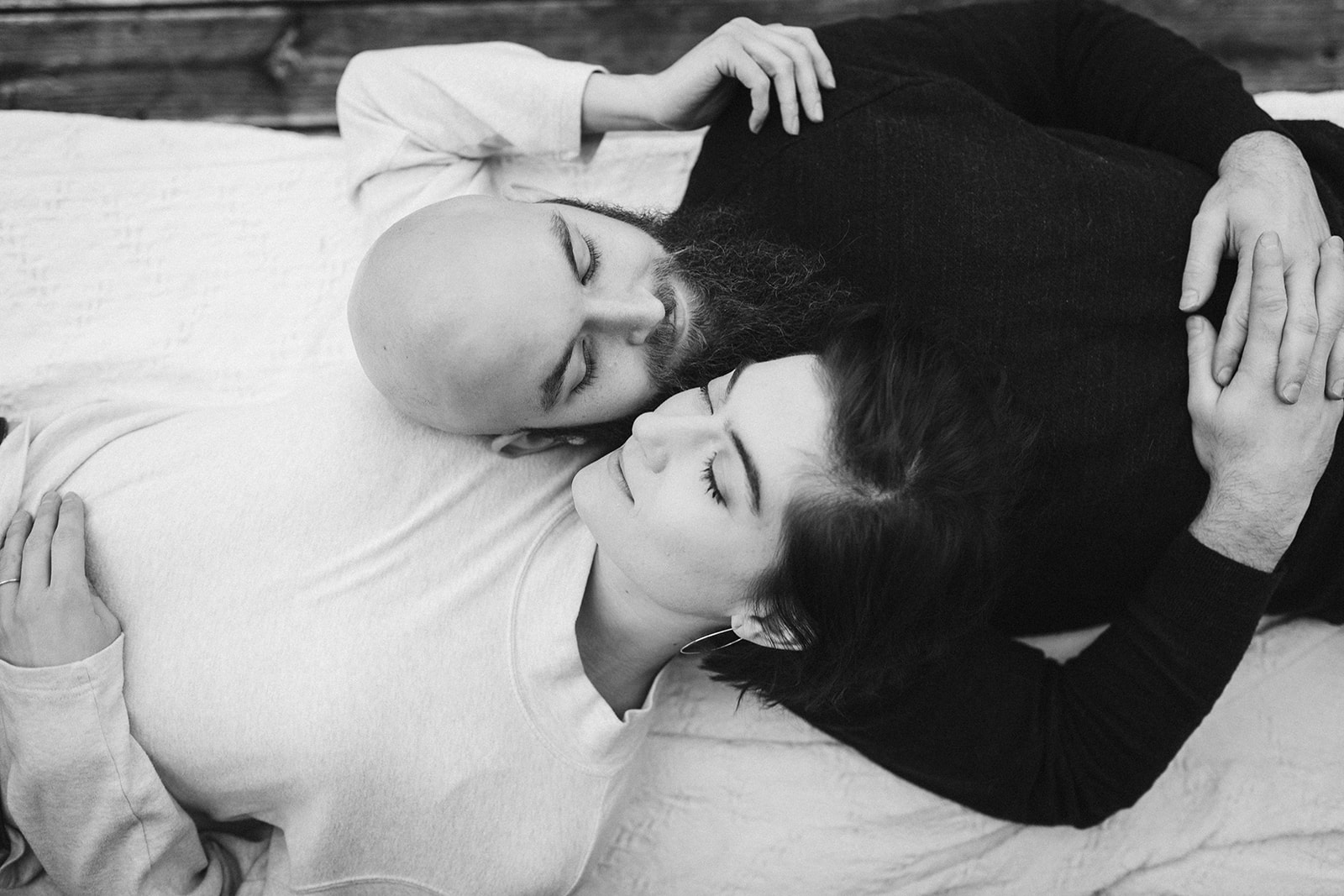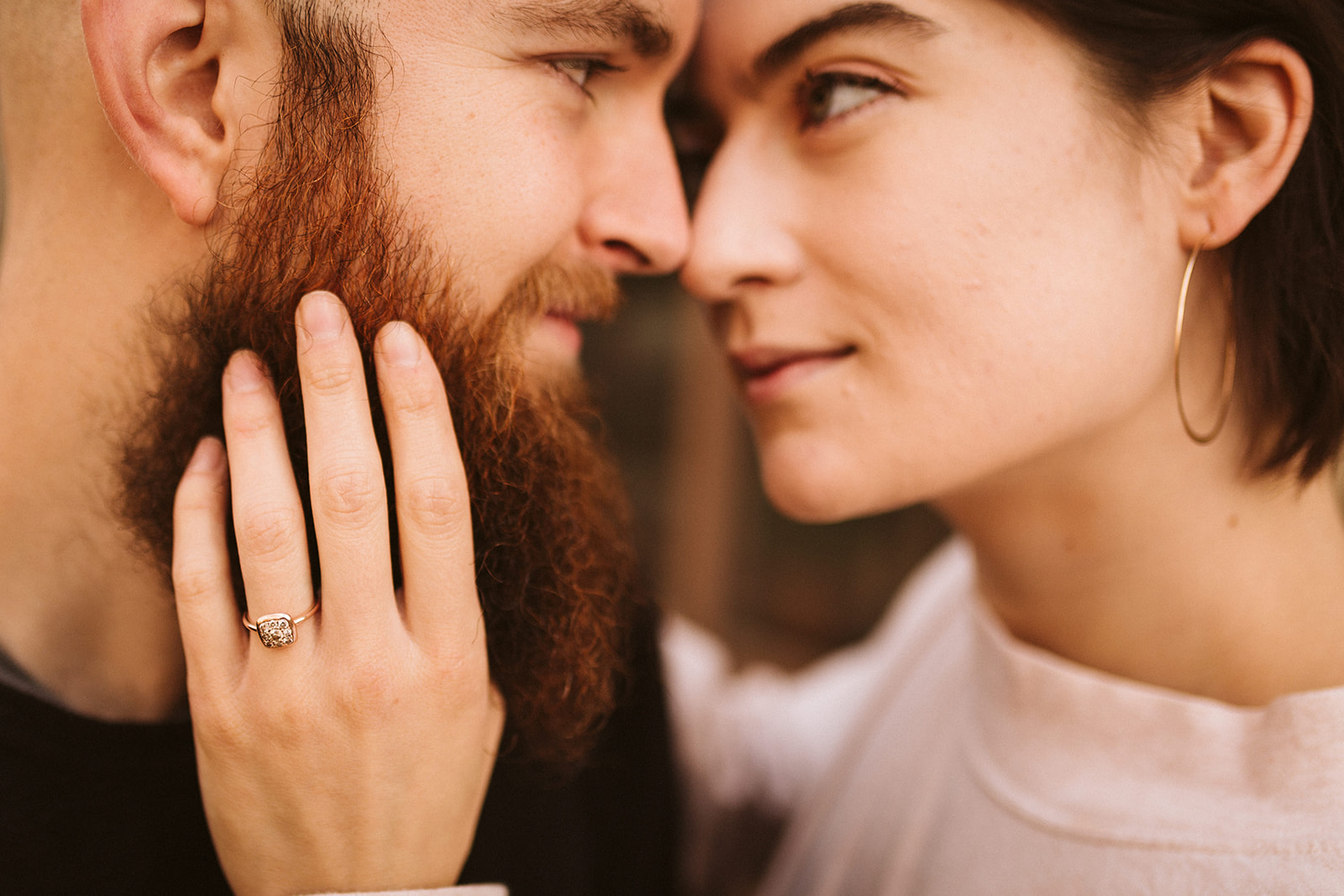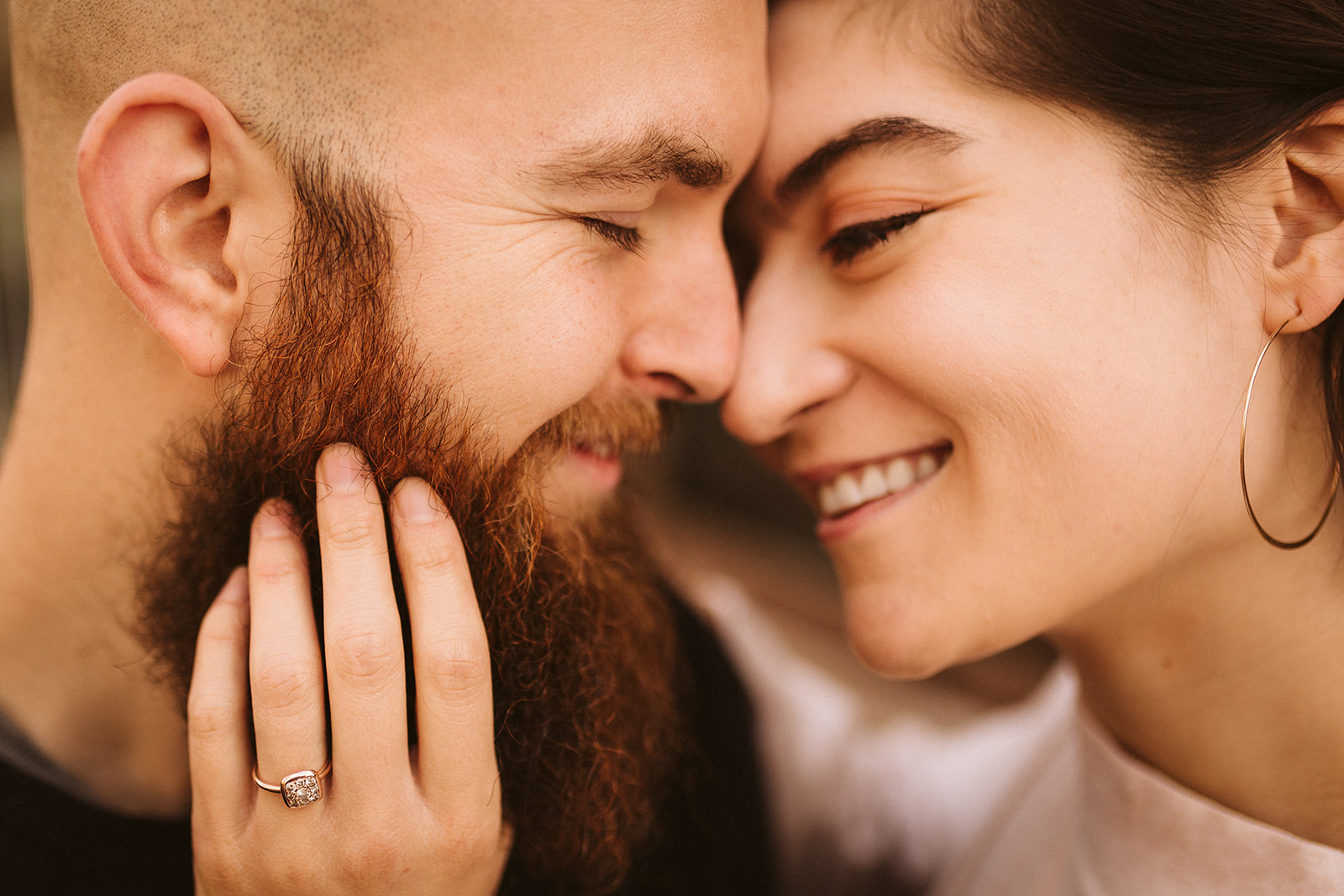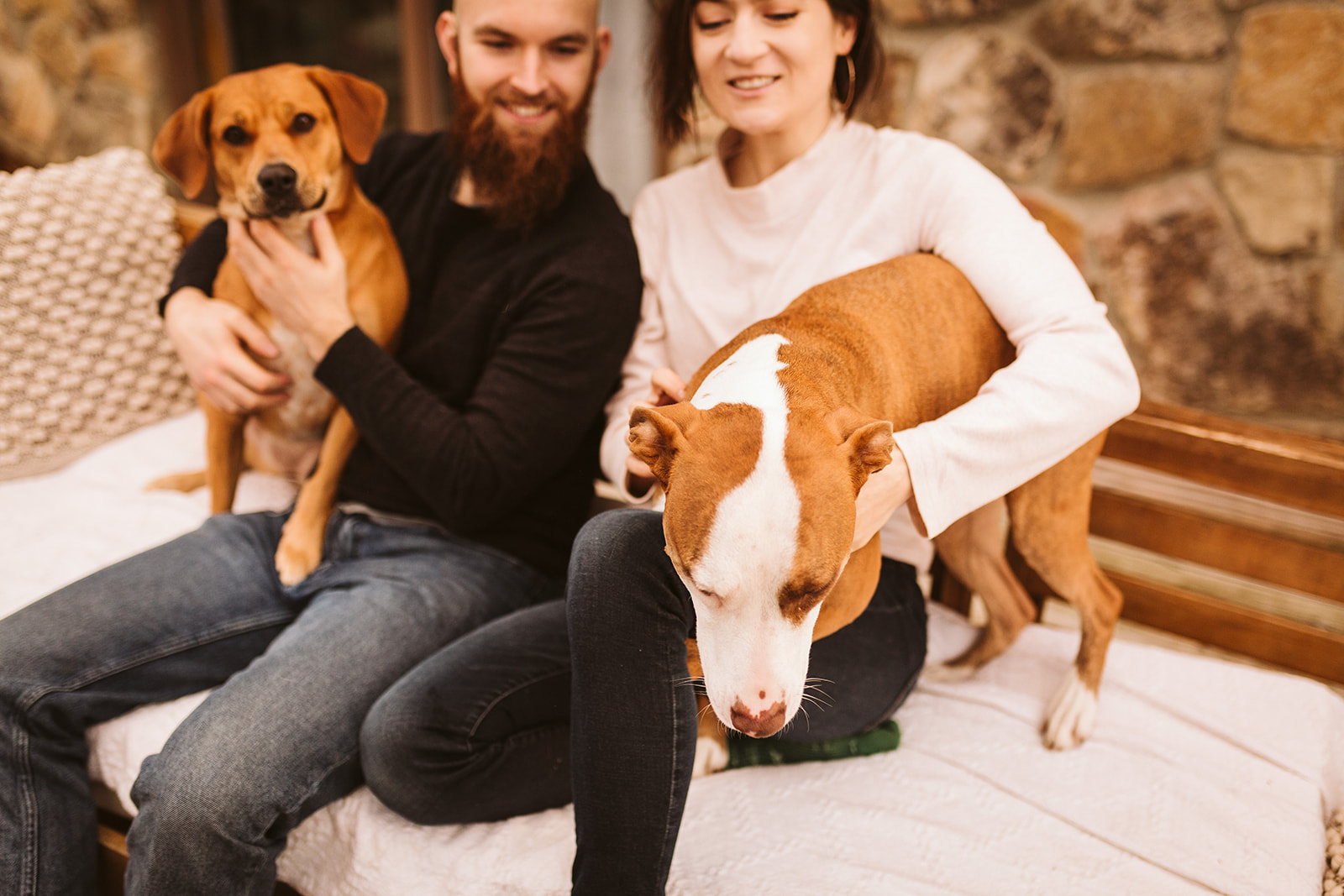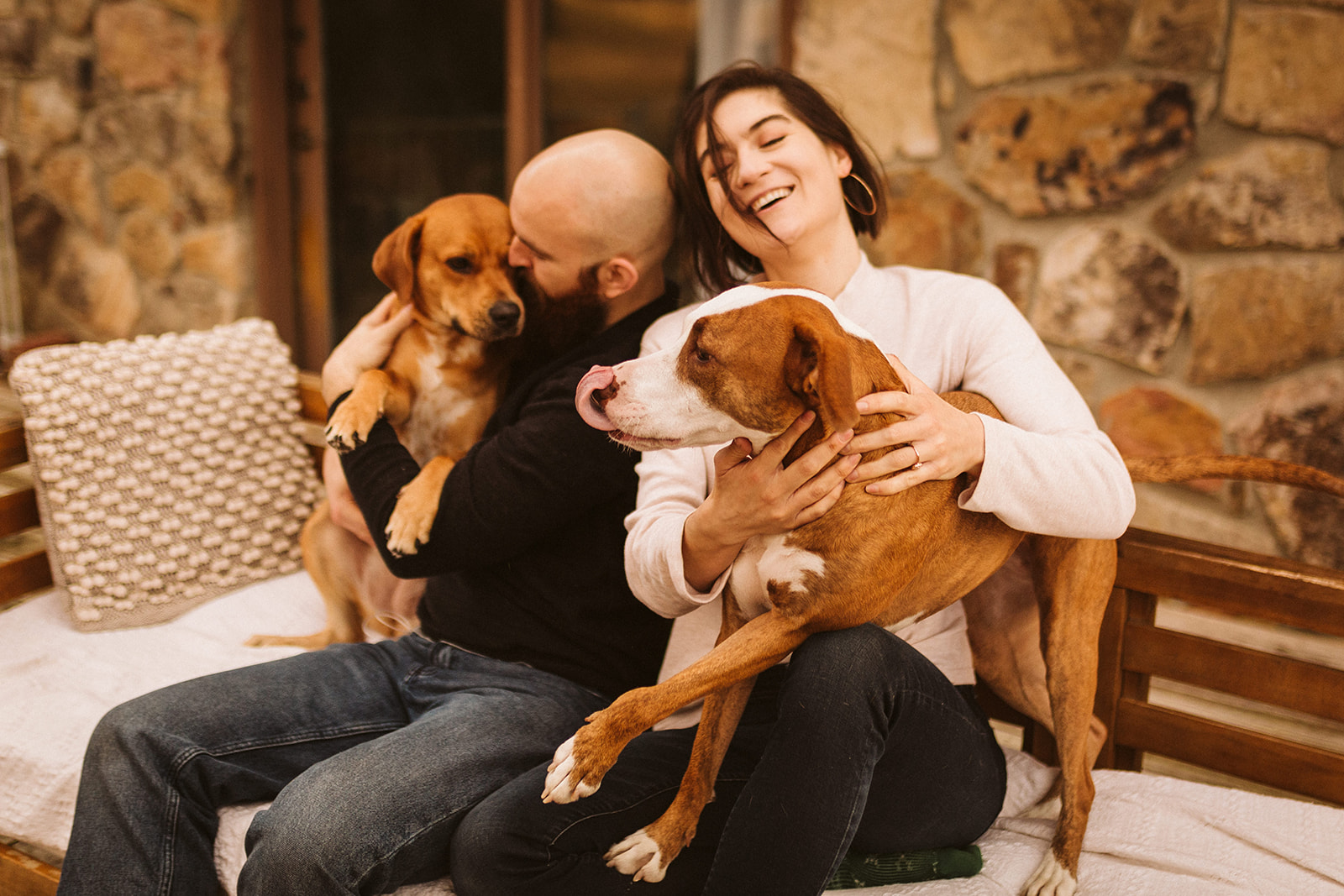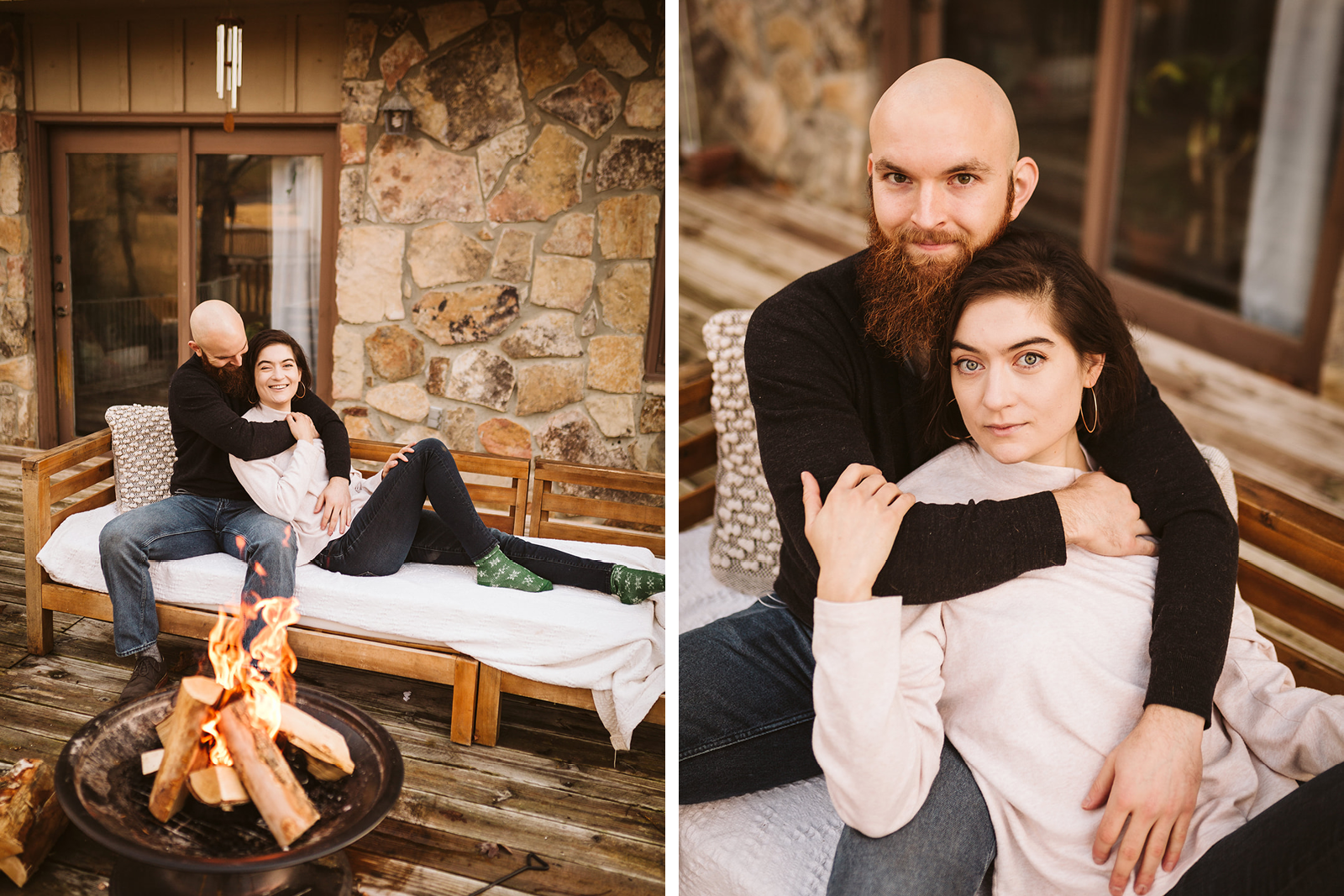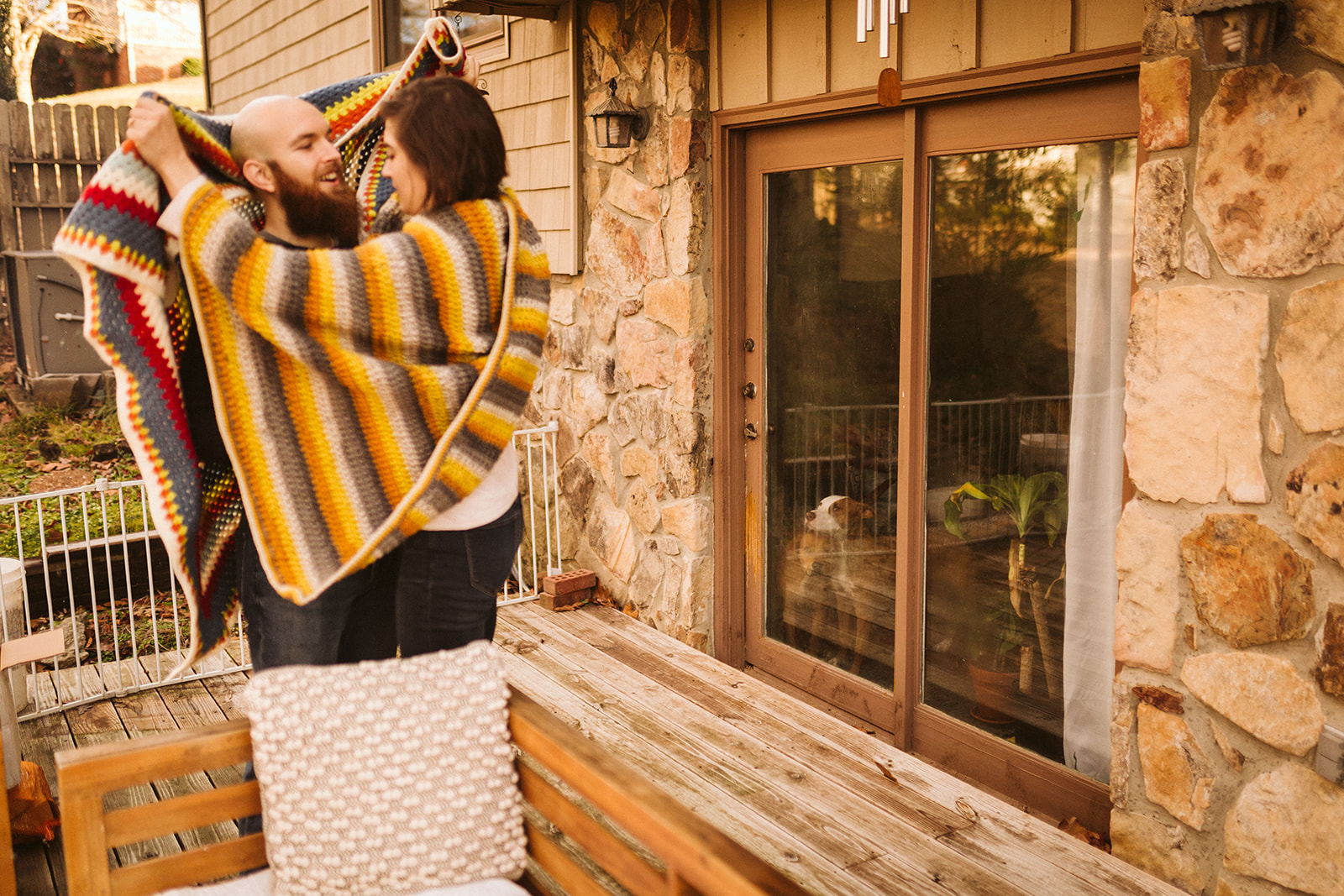 It's not every day I get to work with a couple who has such a clear artistic vision, but it's such a treat when I do! Whether you already have an idea for your engagement photos or you have no clue where to start, I'd love to hop in on the creative process.
Reach out so we can chat about your dream engagement session. I'd be honored to be your engagement photographer here in Chattanooga or wherever your story takes you.
For more engagement inspiration, check out my past sessions on my blog and on social media.