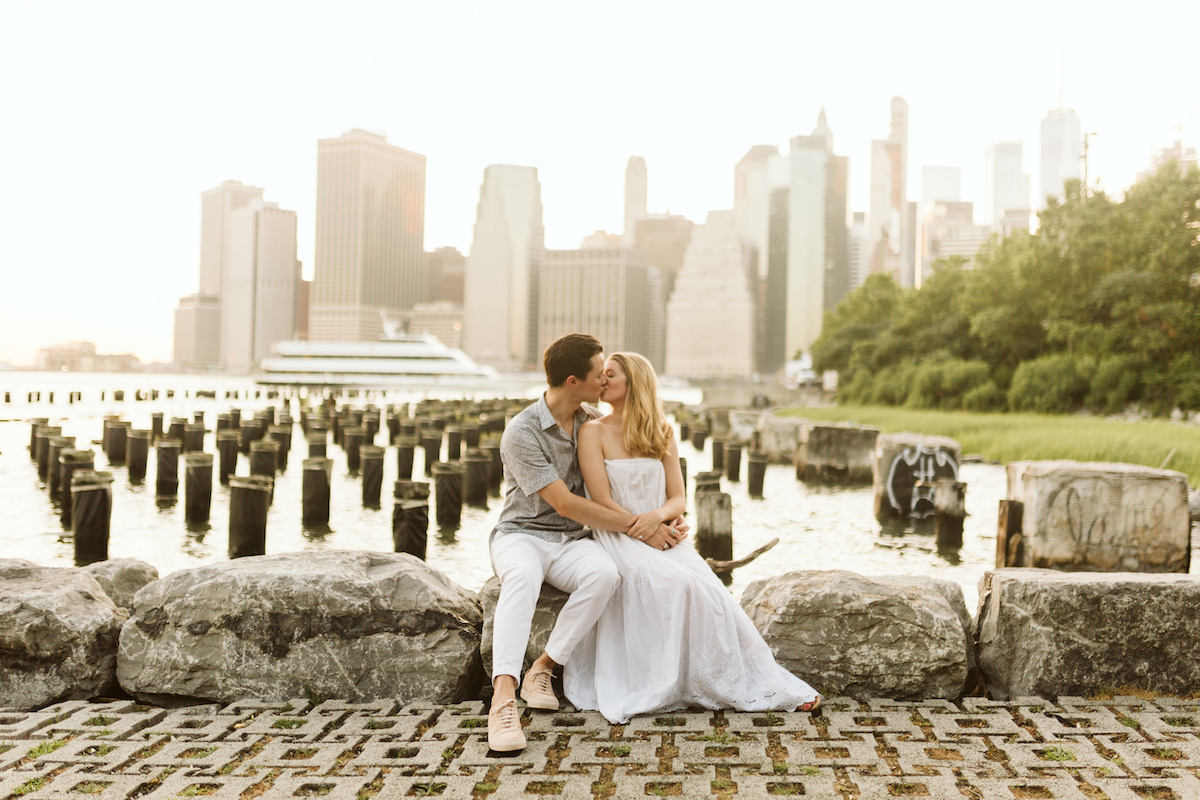 I was planning a summertime New York City vacation when Emily and Jim's request to book me for their Lookout Mountain Destination Wedding hit my inbox. The couple, originally from the Southeast, now lives in New York City, so I contacted them about doing a "portfolio-slash-engagement session" while I was on my trip. These two were totally on board with modeling for me! I hope you enjoy their DUMBO Brooklyn engagement session photos.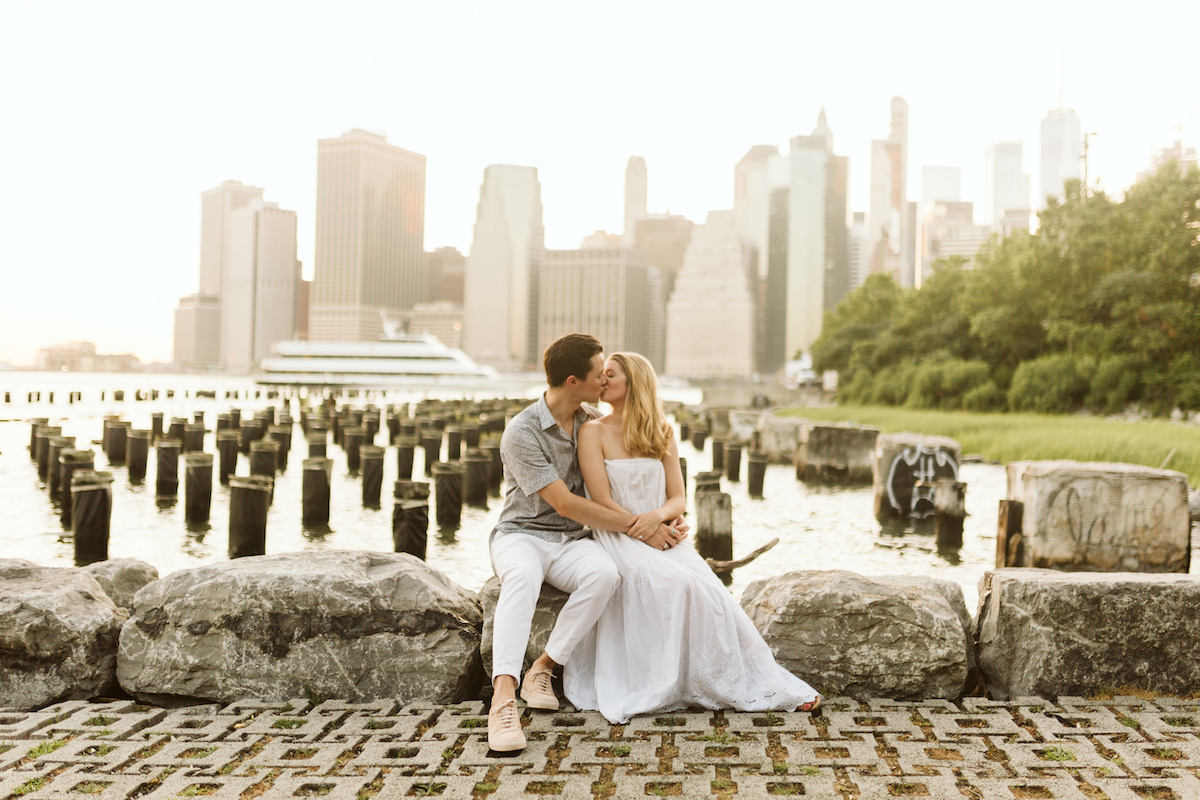 Southeast Meets Northeast
Emily and Jim met while attending Auburn University in Alabama about 7 years ago. They now live in New York City in a ridiculously stylish studio apartment. While planning their wedding, they decided to return to their roots in the Southeast and have a Lookout Mountain "destination wedding" in Chattanooga. You can see photos of their wedding on my blog.
So, back to New York City and this stylish couple. First, we met together at their apartment. I was excited to take some at-home photos of them before our walking portrait session in Dumbo. We chatted about their wedding plans and what they still needed to line up. Planning a destination wedding is tricky, and I was happy to help them with Chattanooga wedding vendor recommendations.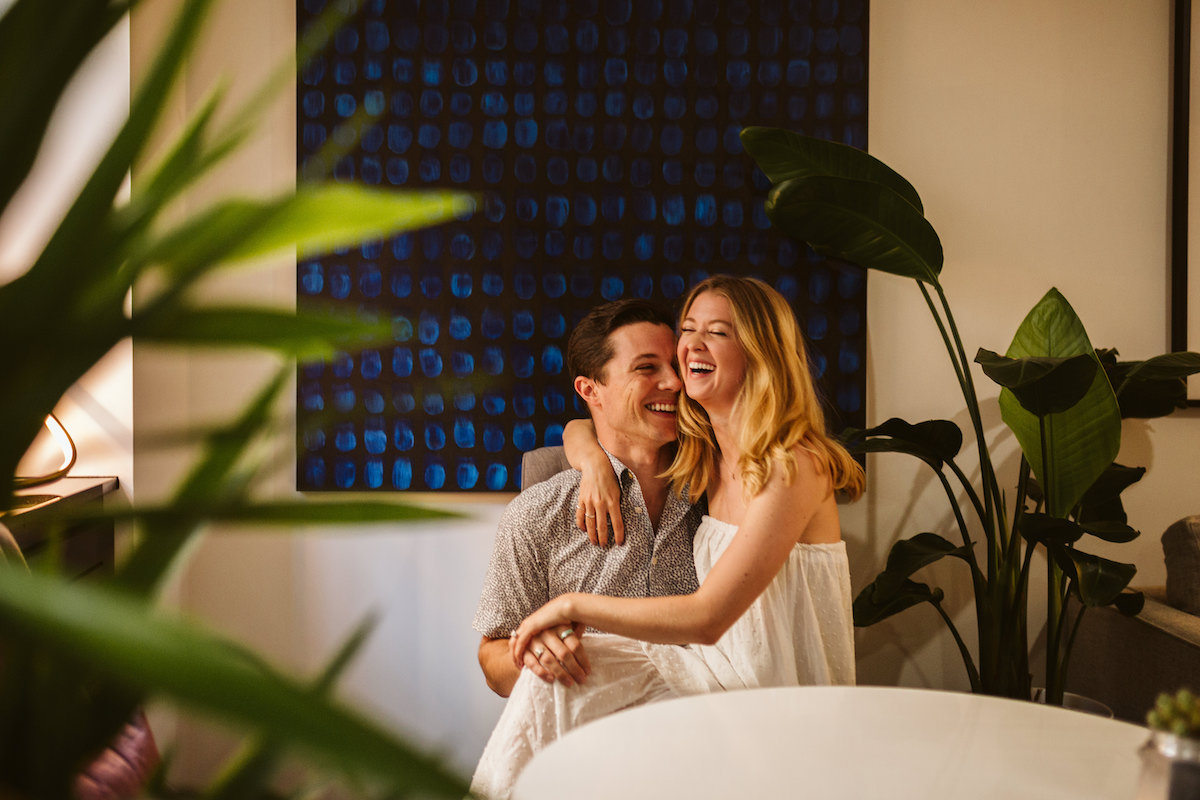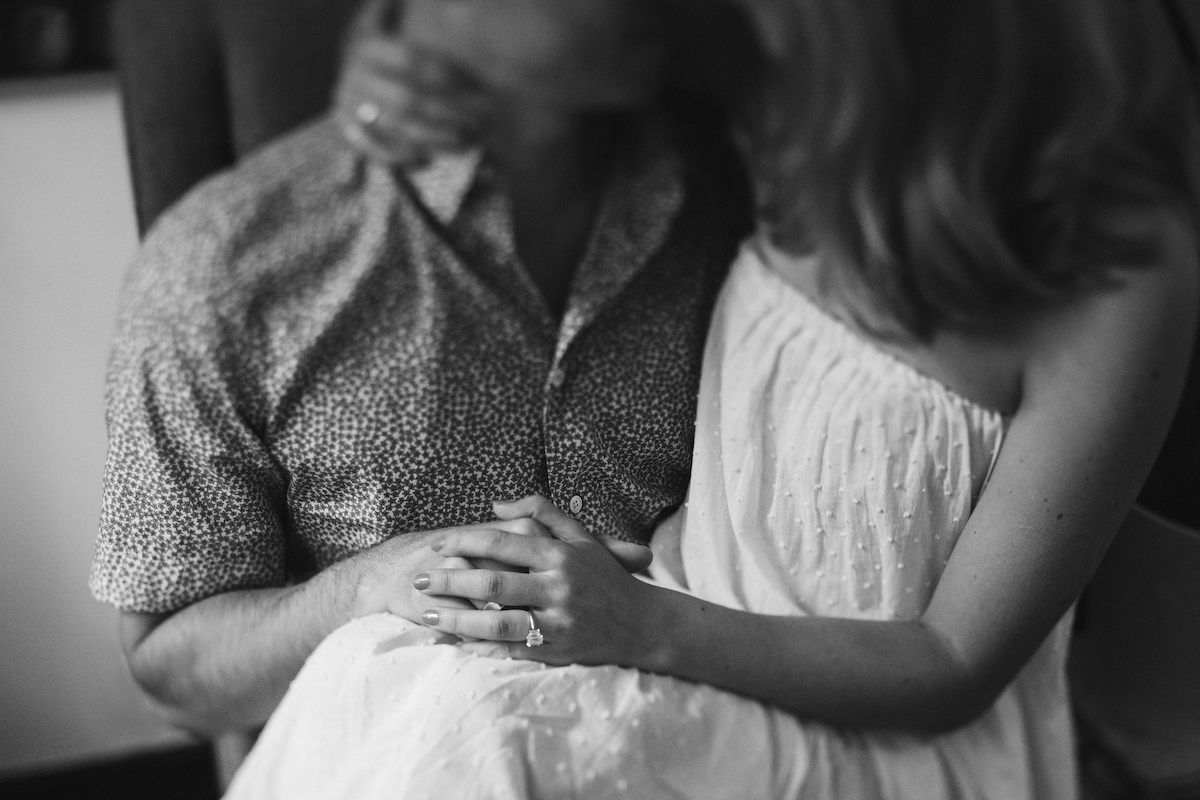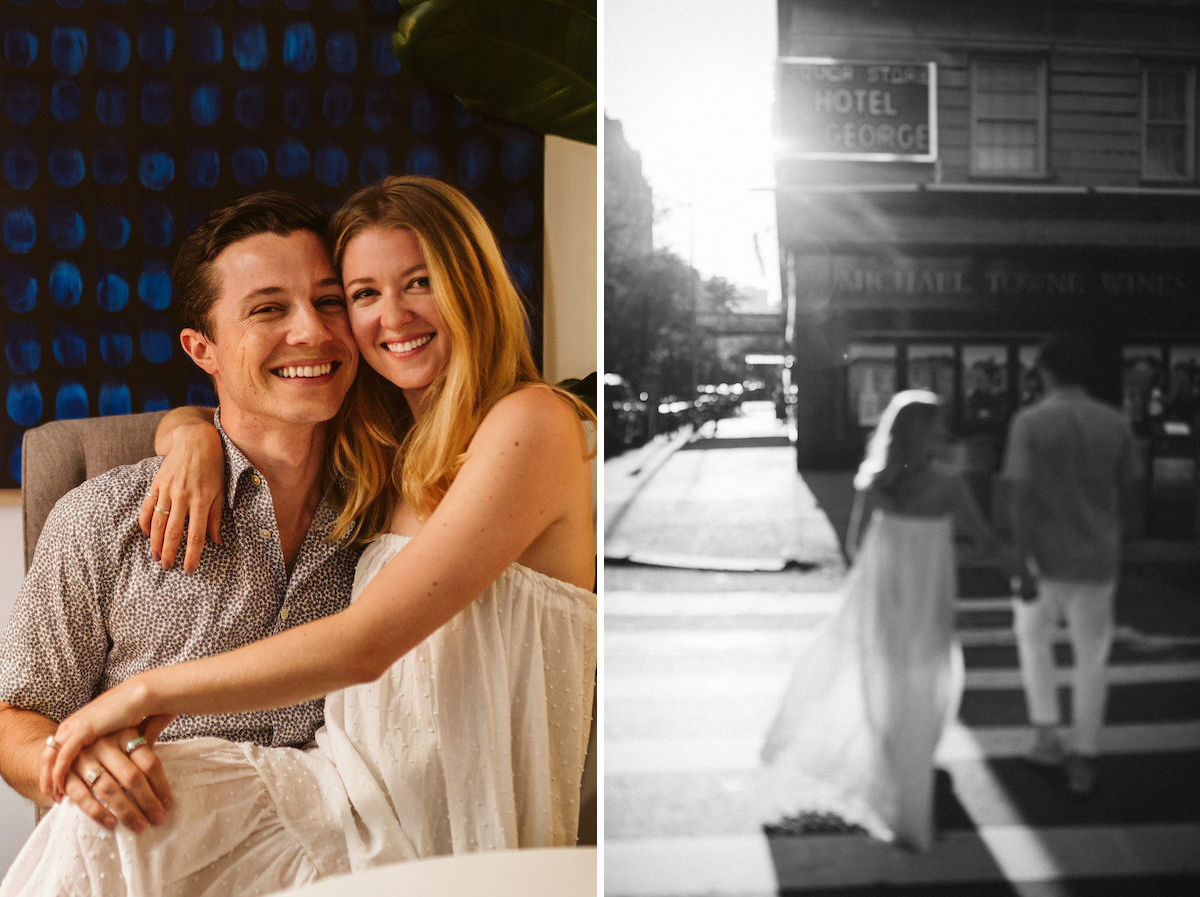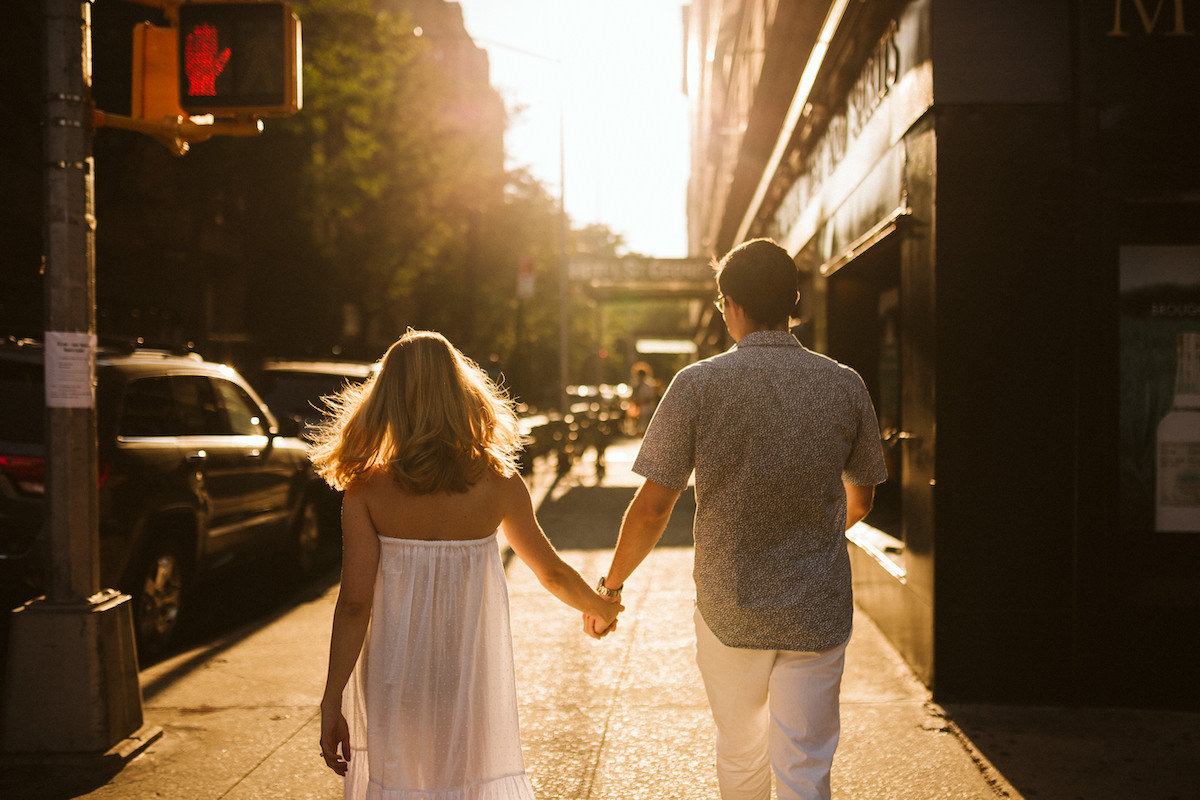 DUMBO Brooklyn Engagement Session
After getting some ideas nailed down, we left their apartment, picked up some champagne, and began our photo adventure in New York City's Dumbo area. Emily works in fashion, and I loved the dress she chose for this shoot! Side note: I've sort of always wanted to use the phrase "works in fashion" in a real life scenario.
Sooo, by the way, DUMBO stands for "Down Under the Manhattan Bridge Overpass," something I'm really glad I Googled. Ha! Got a little bit nerdy researching Dumbo Brooklyn, too. The bridge in these photos is actually the Brooklyn Bridge, not to make things more confusing. Also, Brooklyn Bridge engagement photos in Dumbo New York City…is this my real life?!! I'd love to shoot in New York more, so if you live there or you want to travel there for a session, I'm already on board. *WINK*
We popped the champagne at golden hour in the streets of Dumbo and walked along the edge of the water. New York City is absolutely huge. If you're looking for where to have an engagement session in New York's Dumbo neighborhood, just walk down the street! You'll find so many little nooks and crannies and sidewalks and side streets for amazing photos. It's unreal.
The weather was a dream, not too hot and not too cold, and look at that perfect perfect golden light. I heard that a gorgeous New York City sunset is rare, so I felt especially lucky to have one during Emily and Jim's session.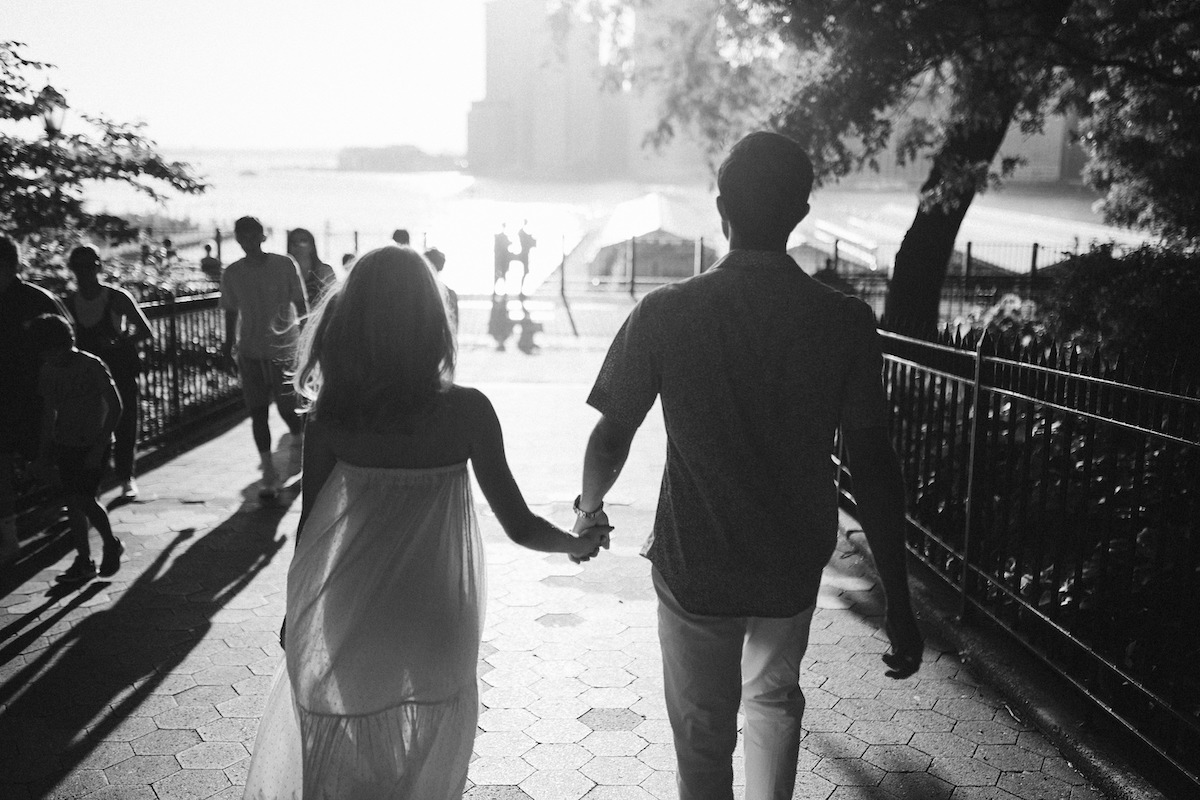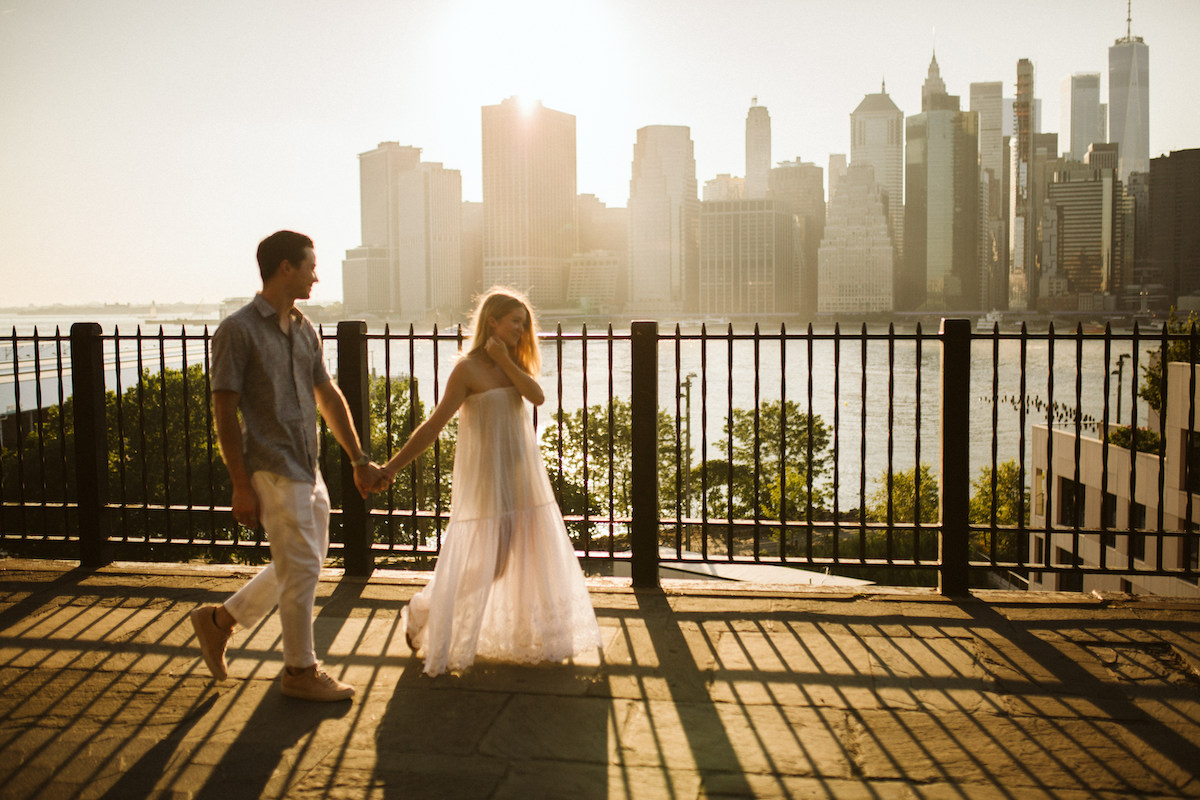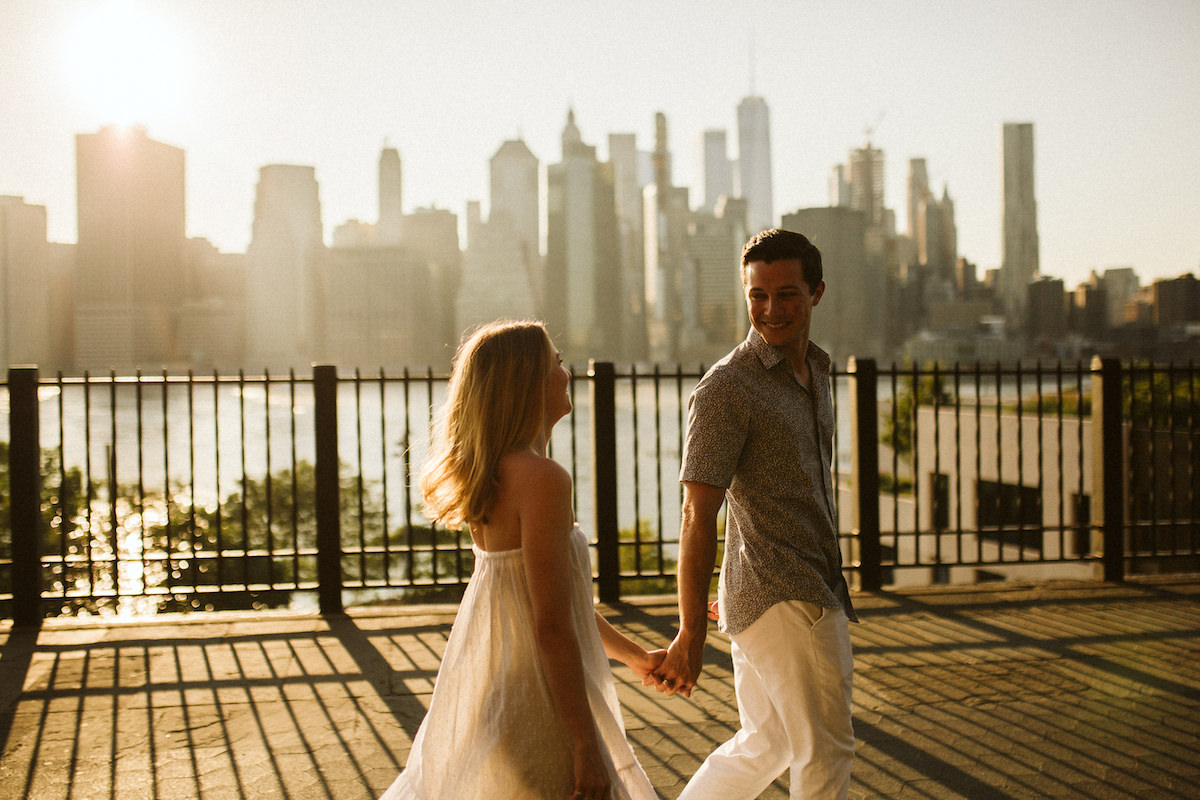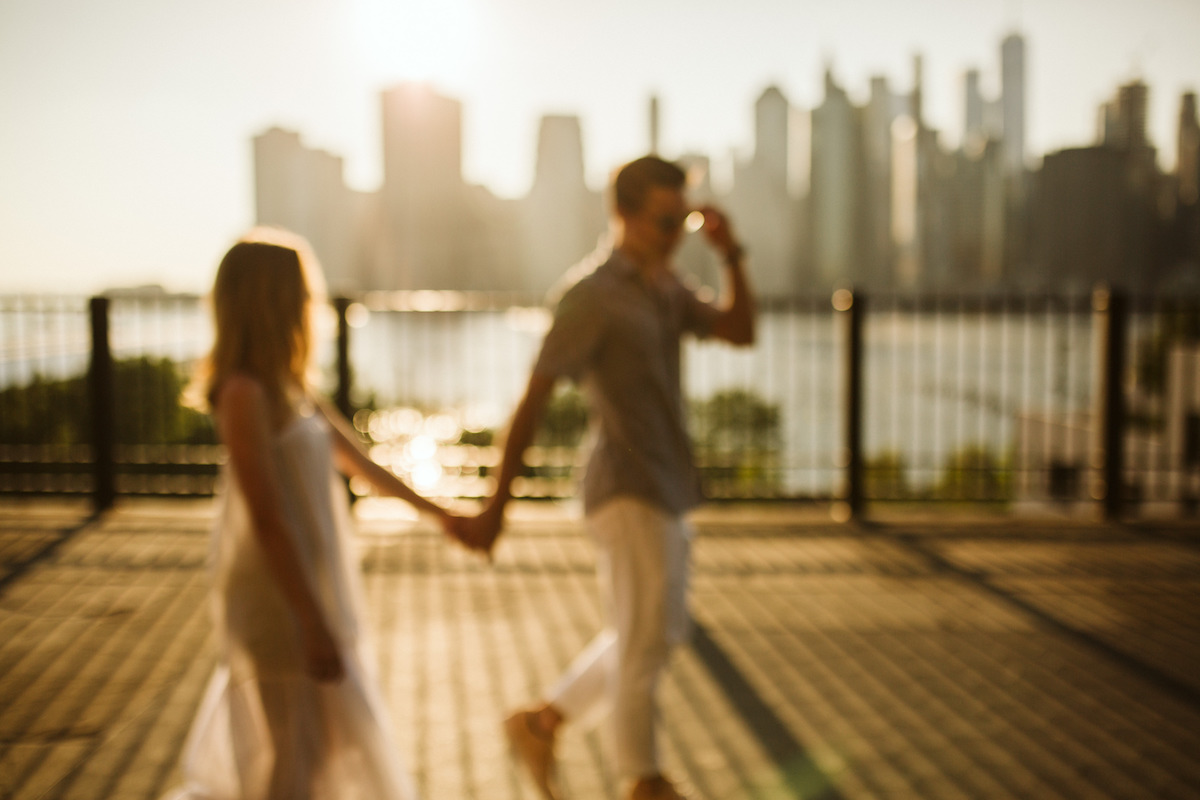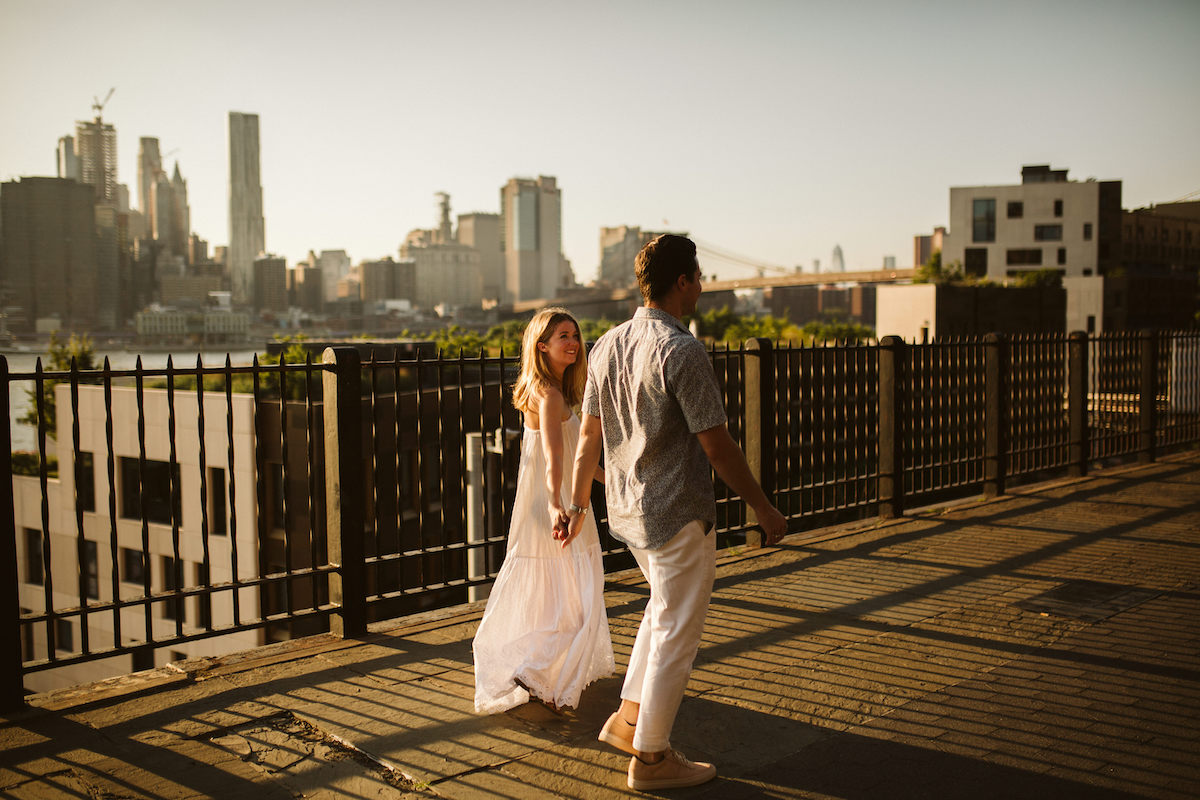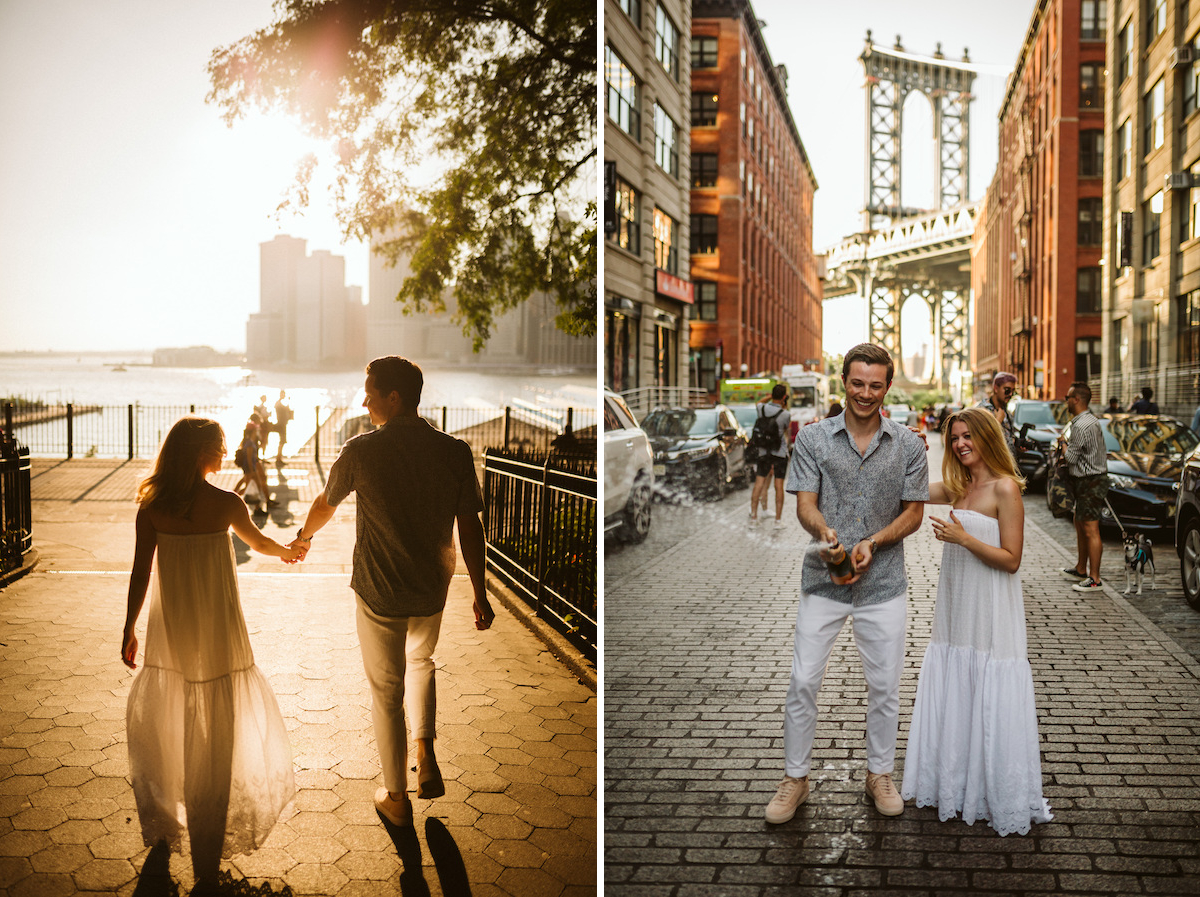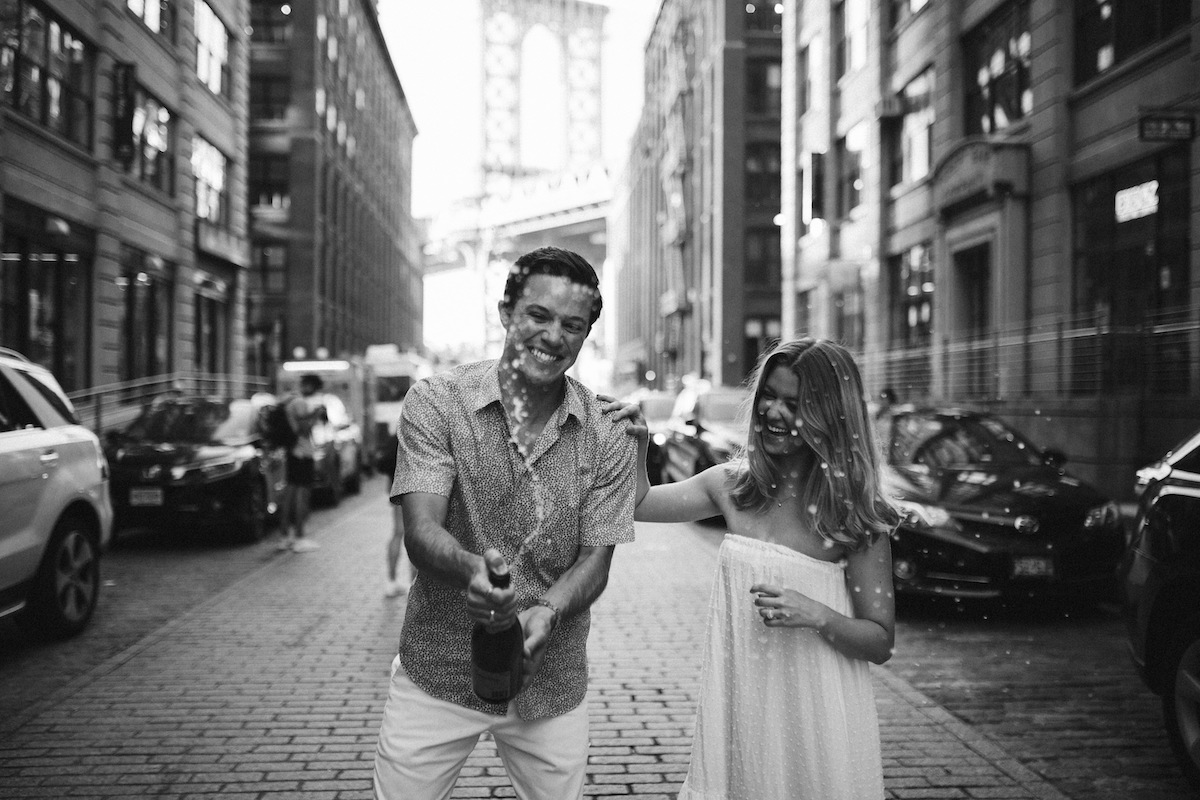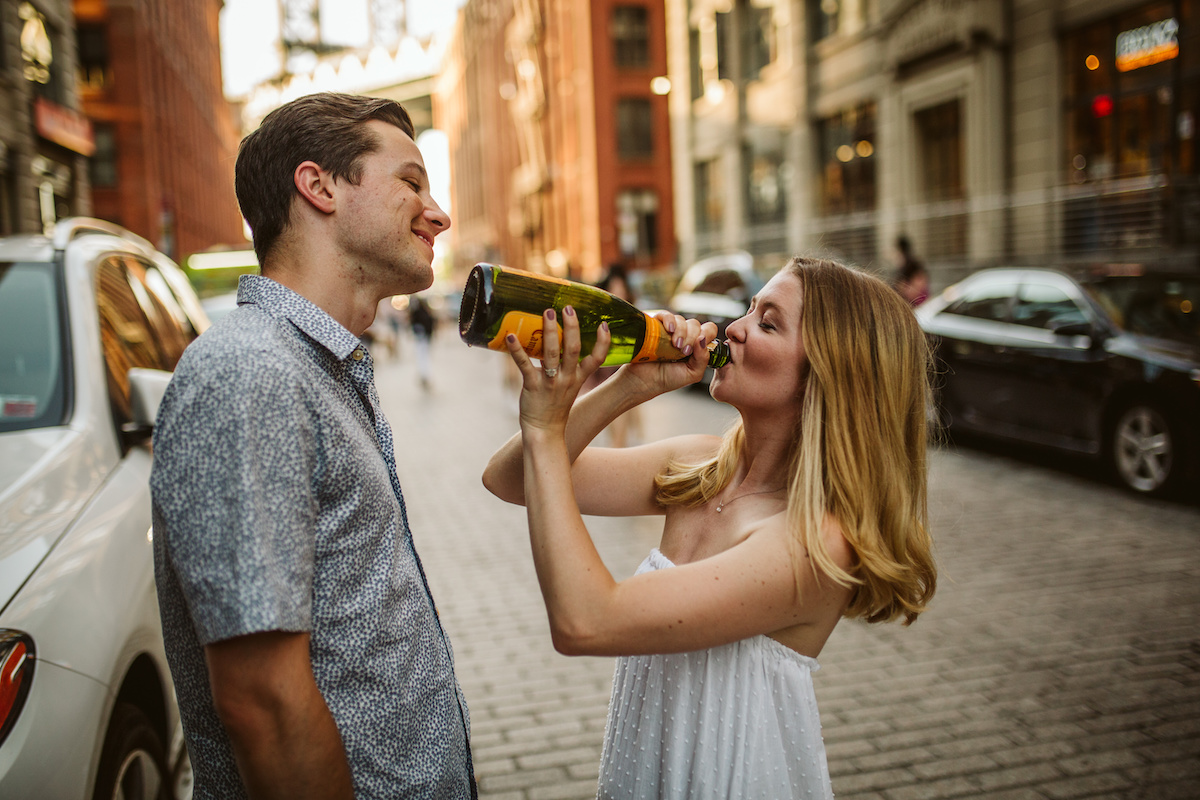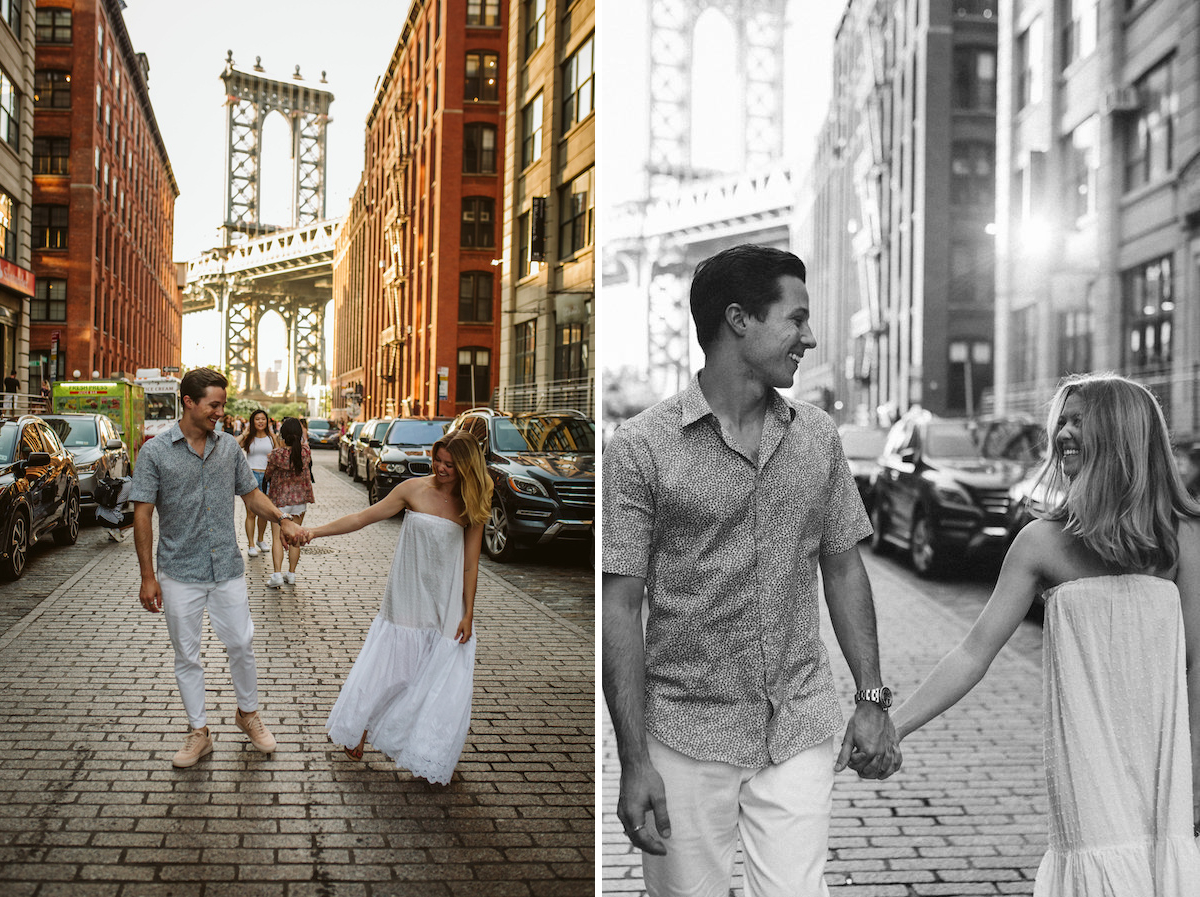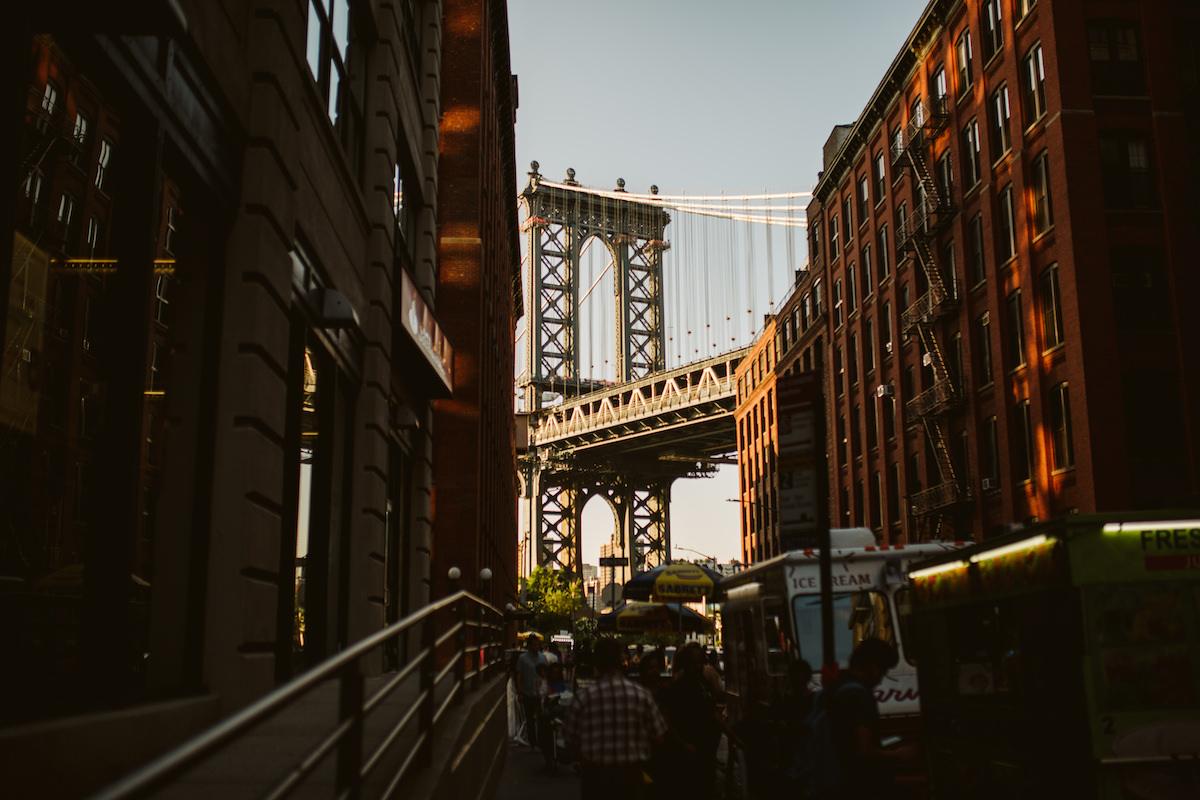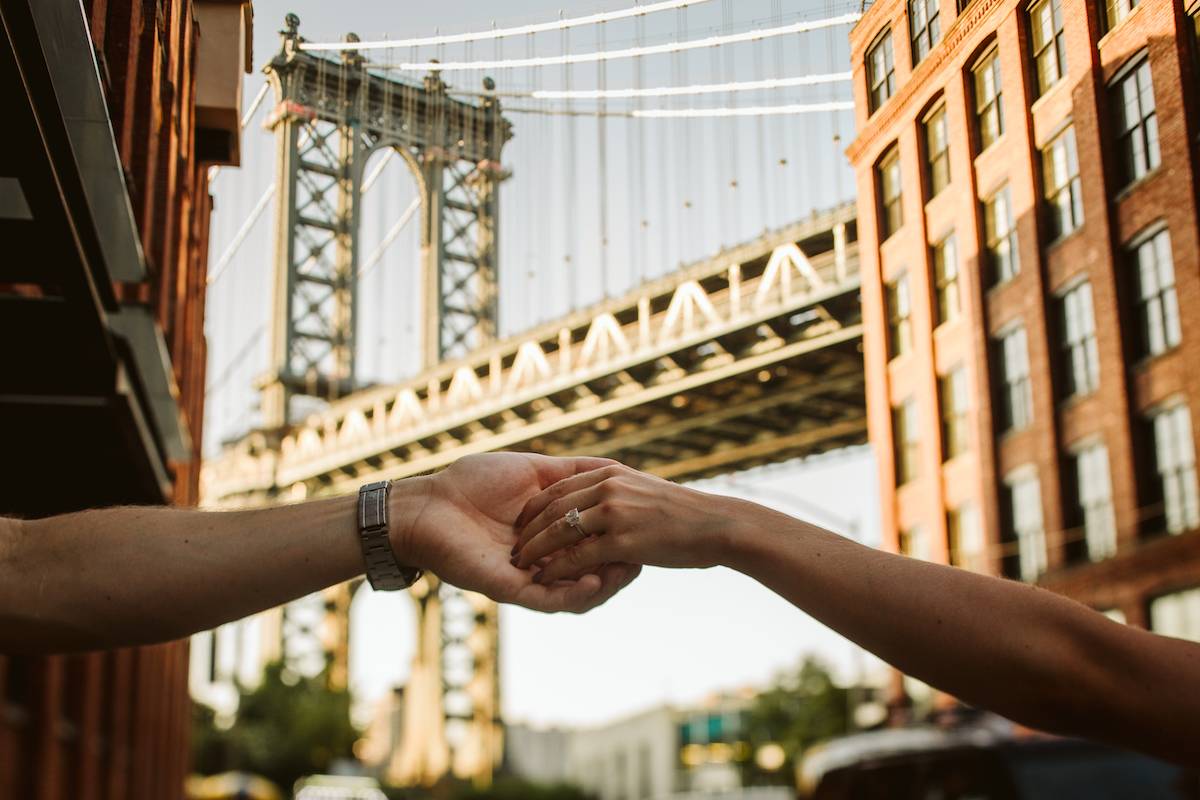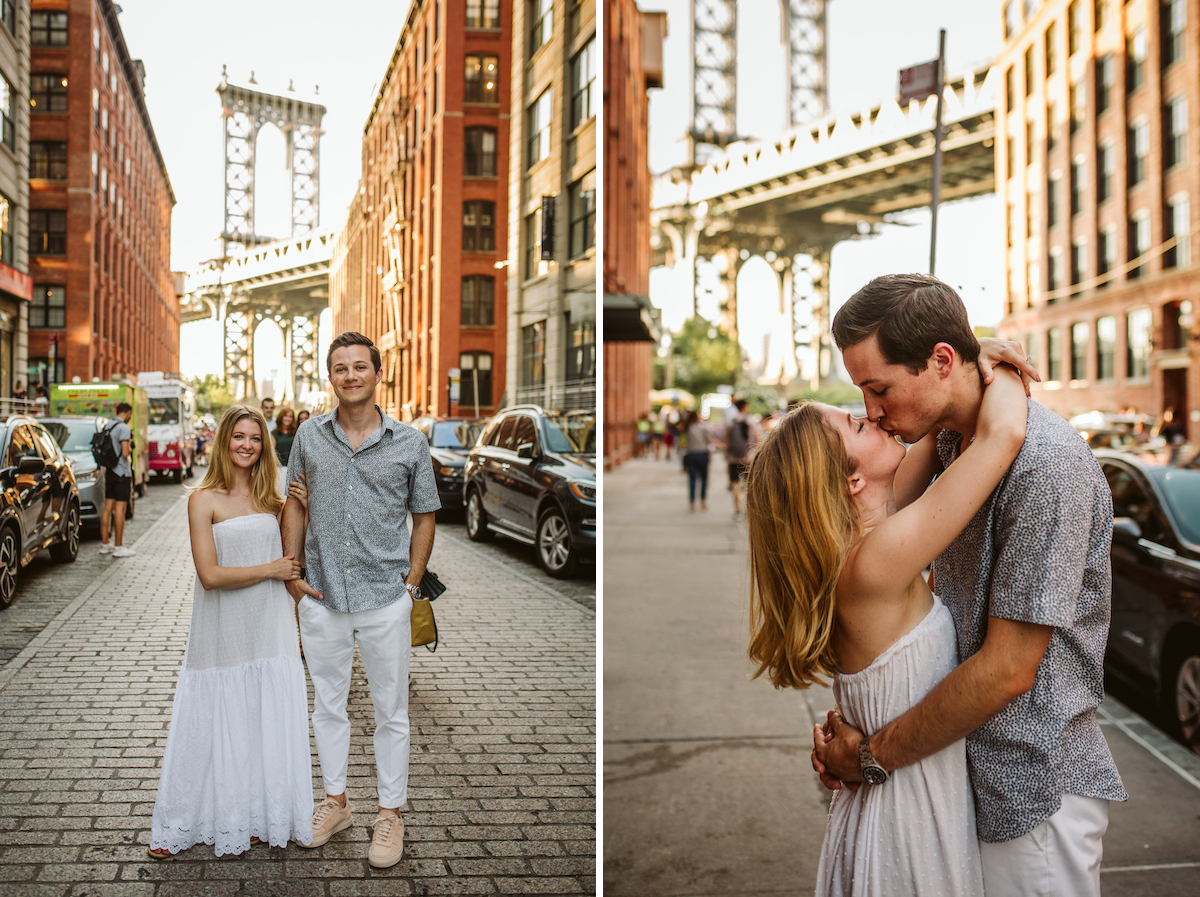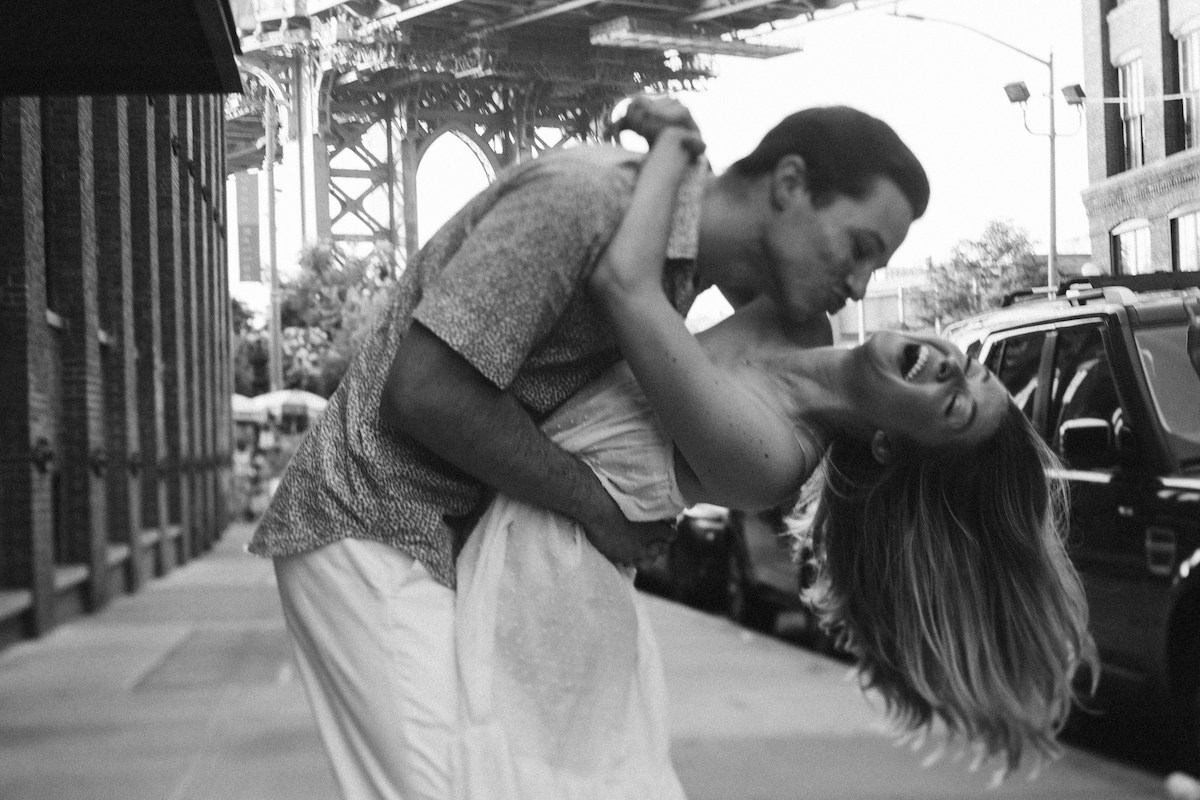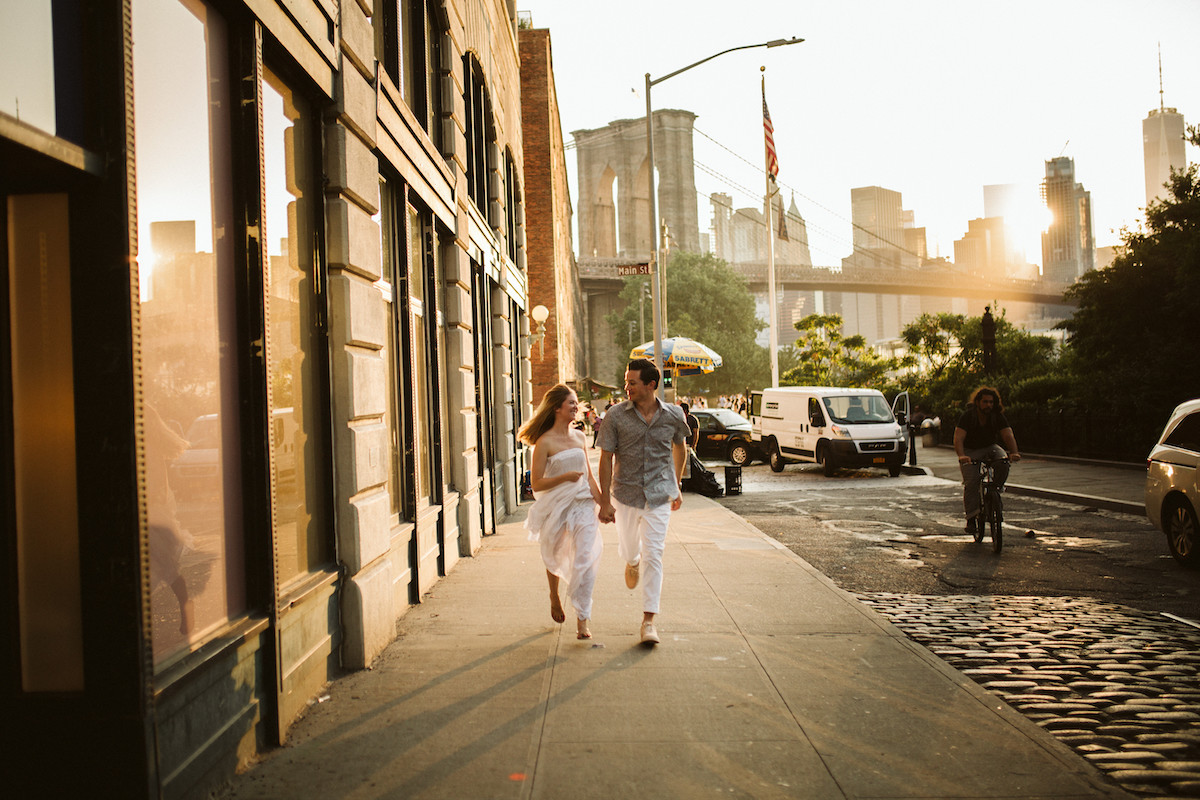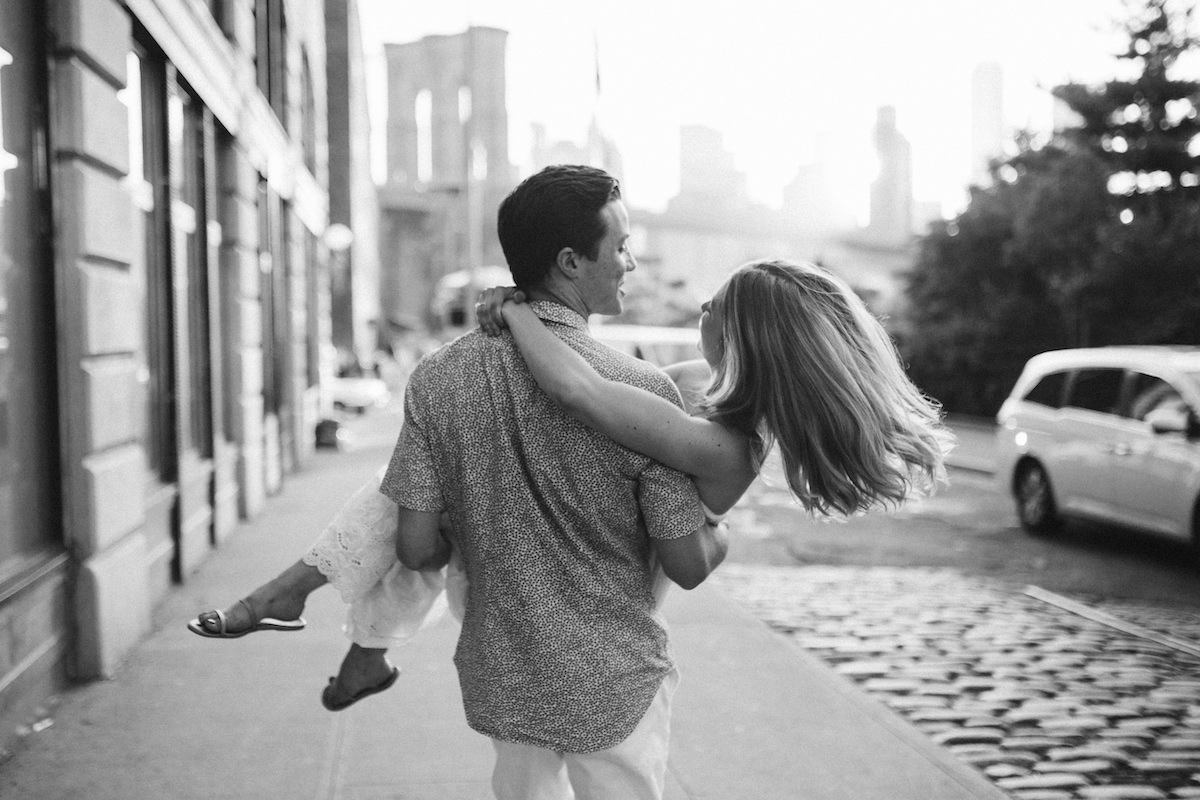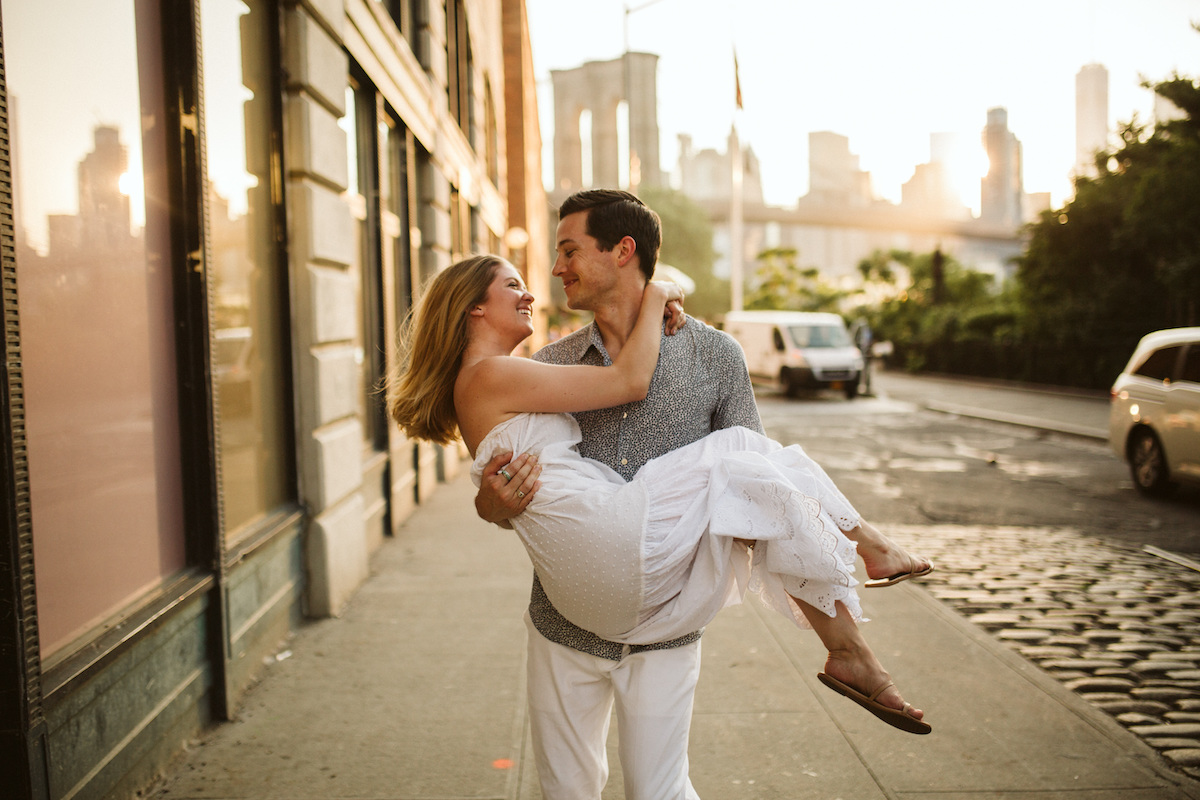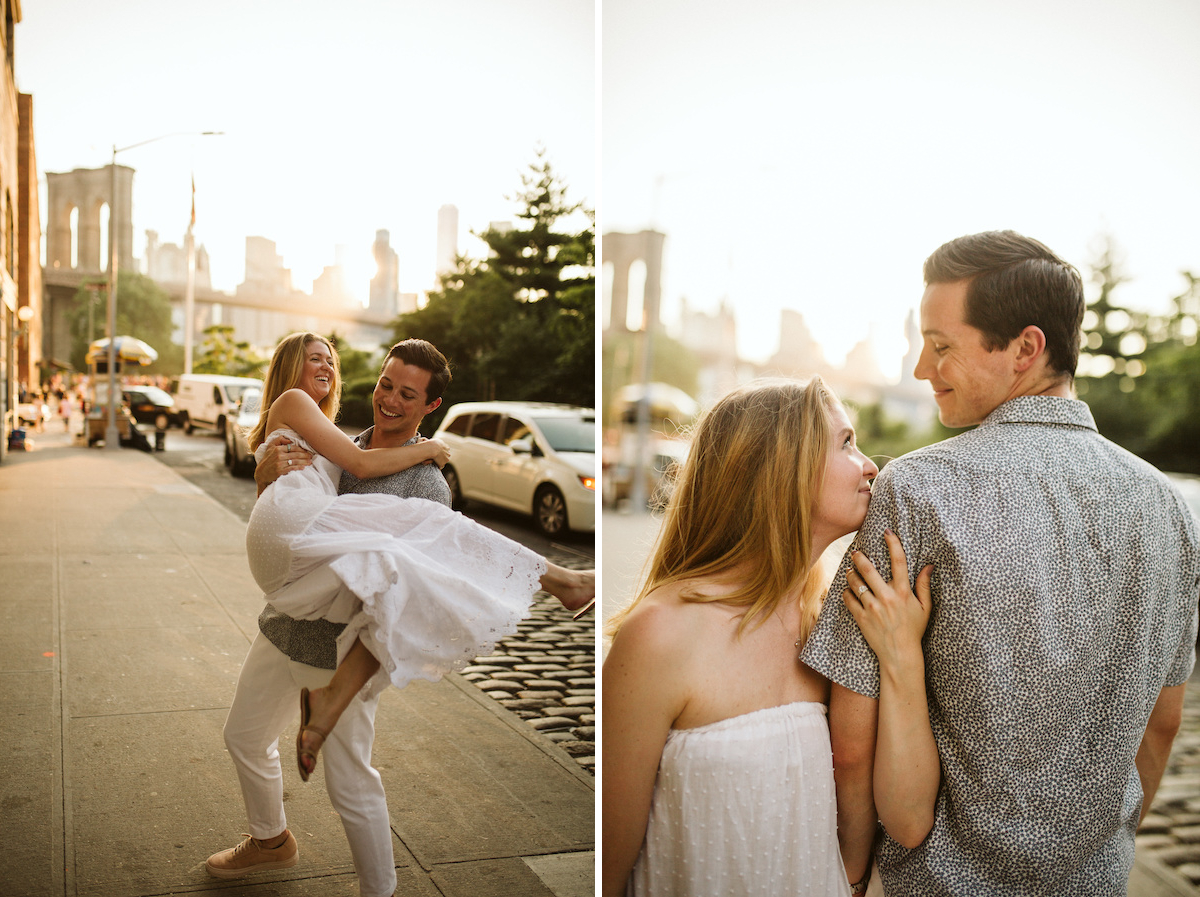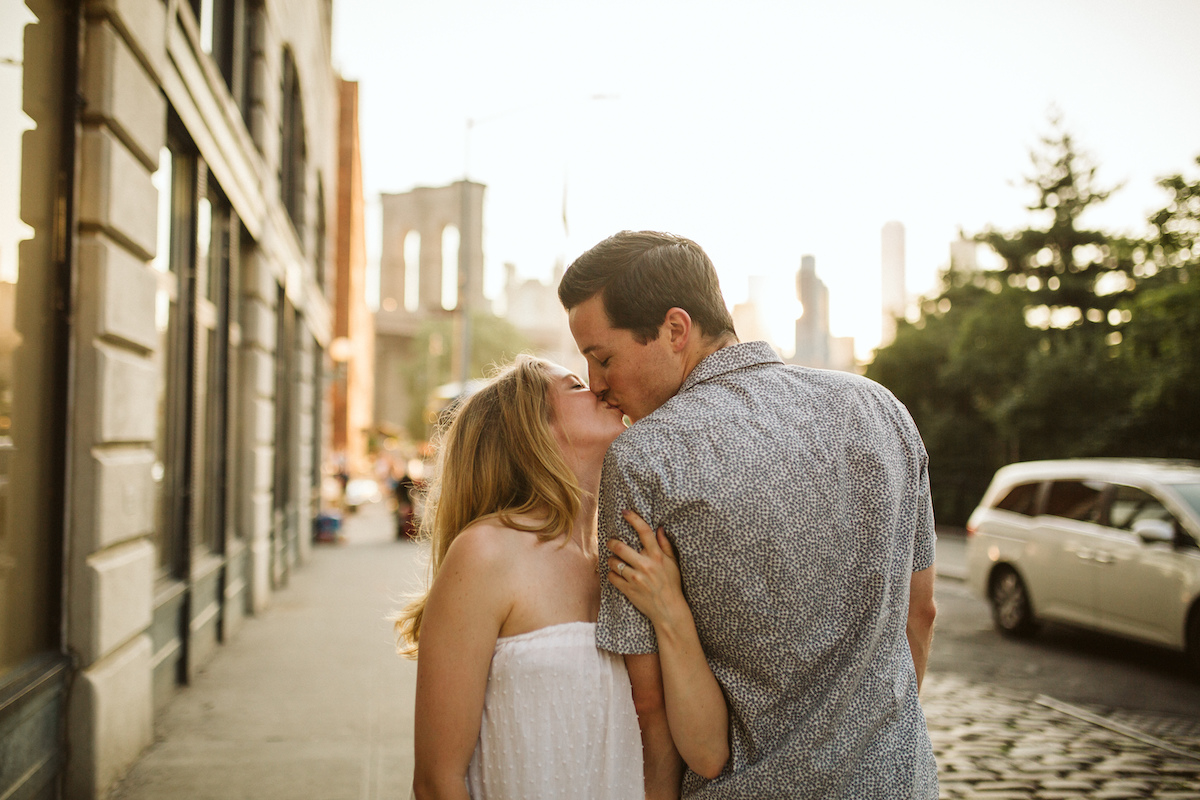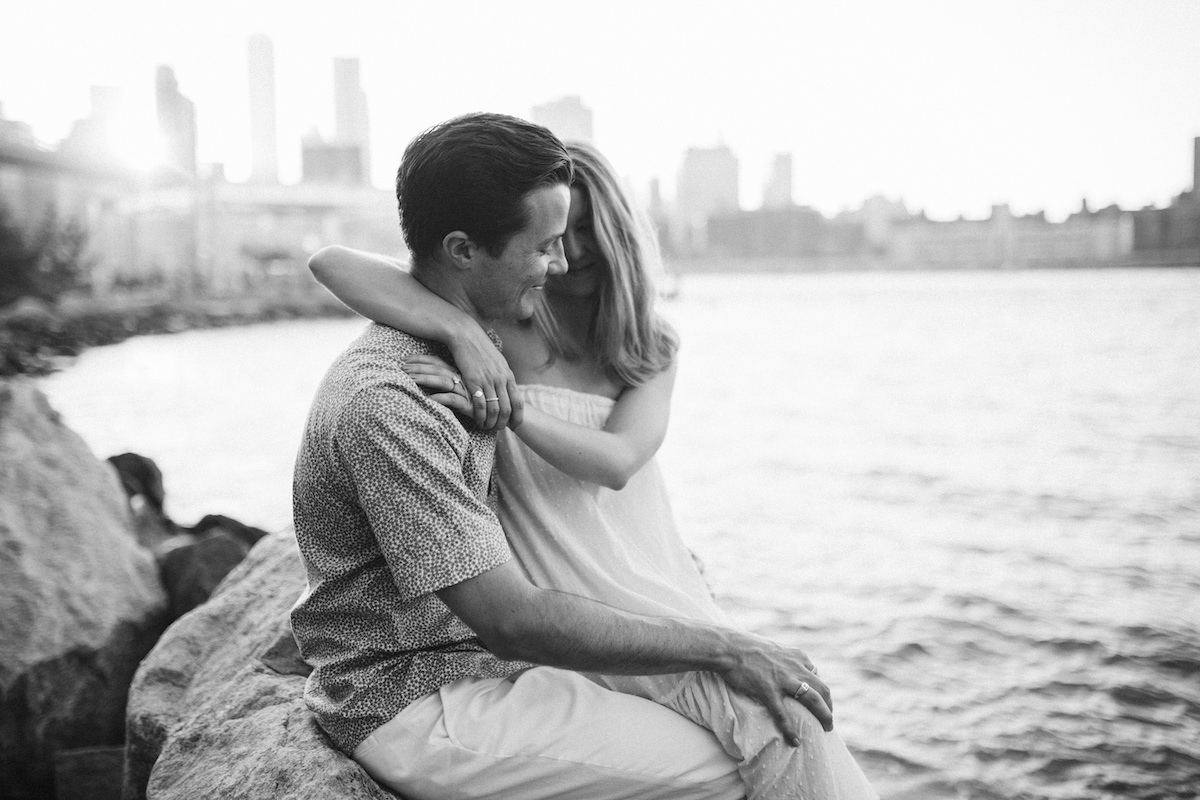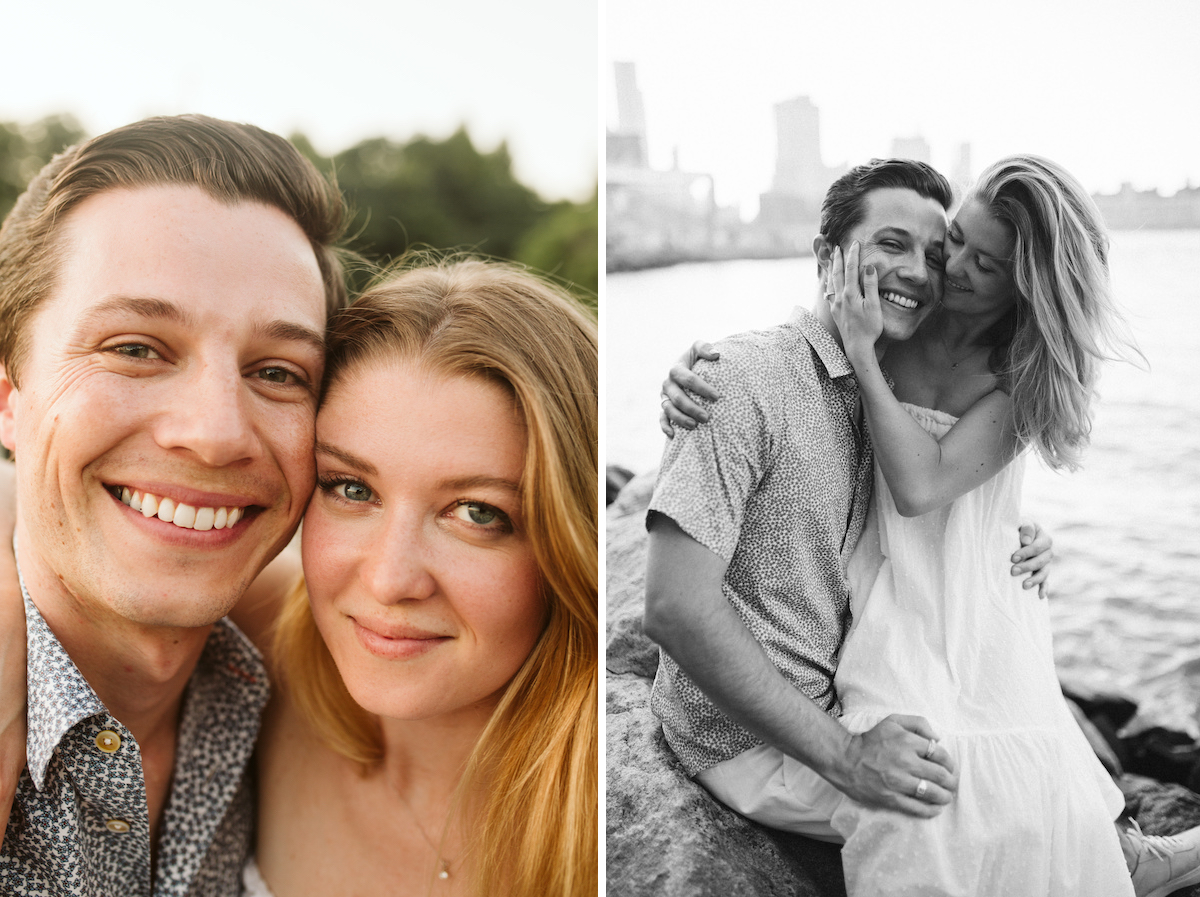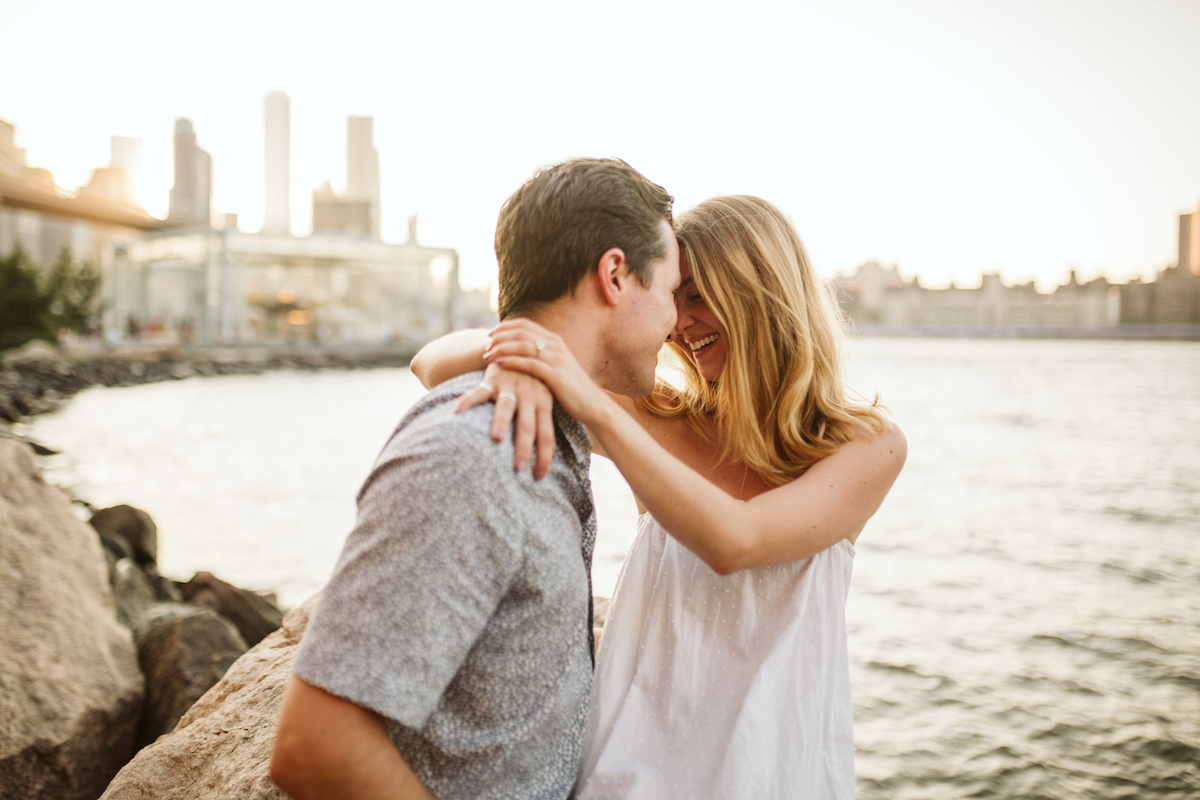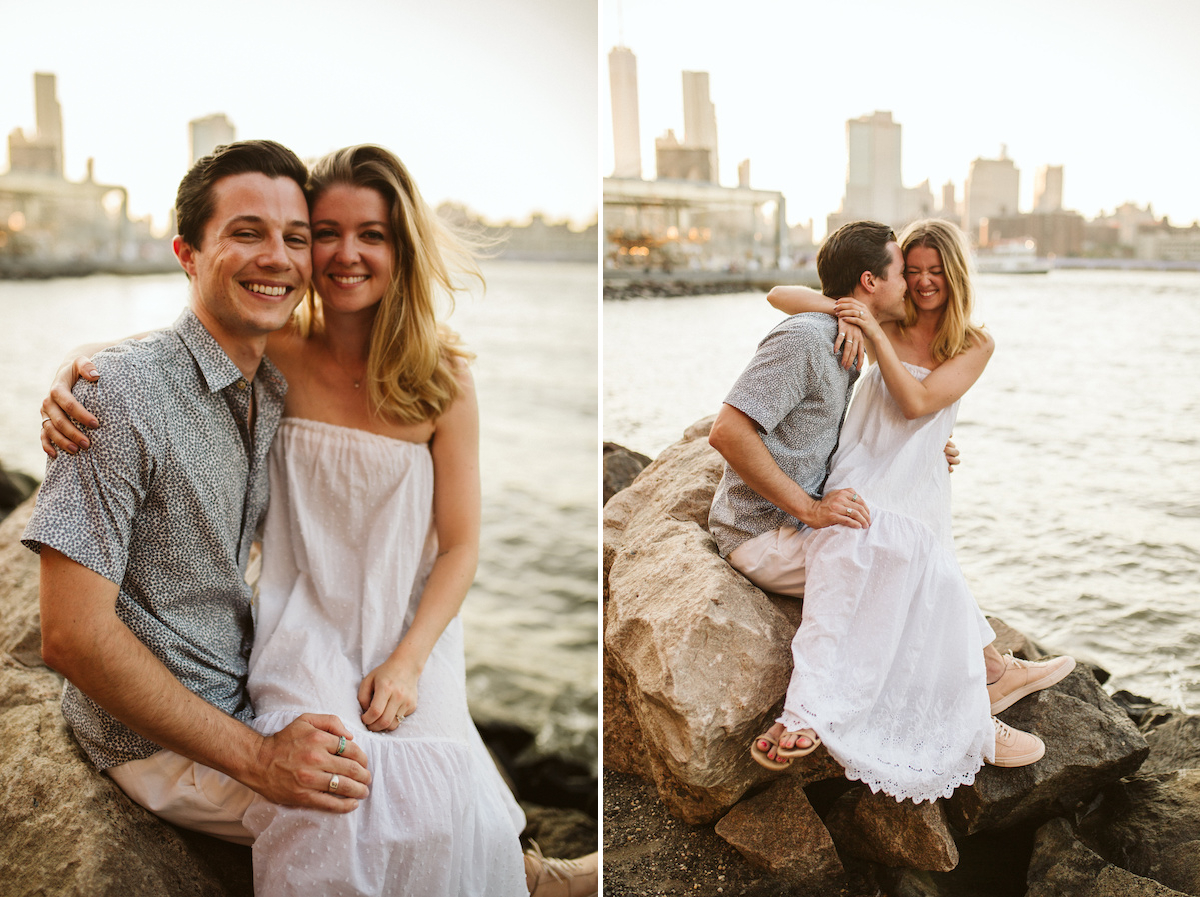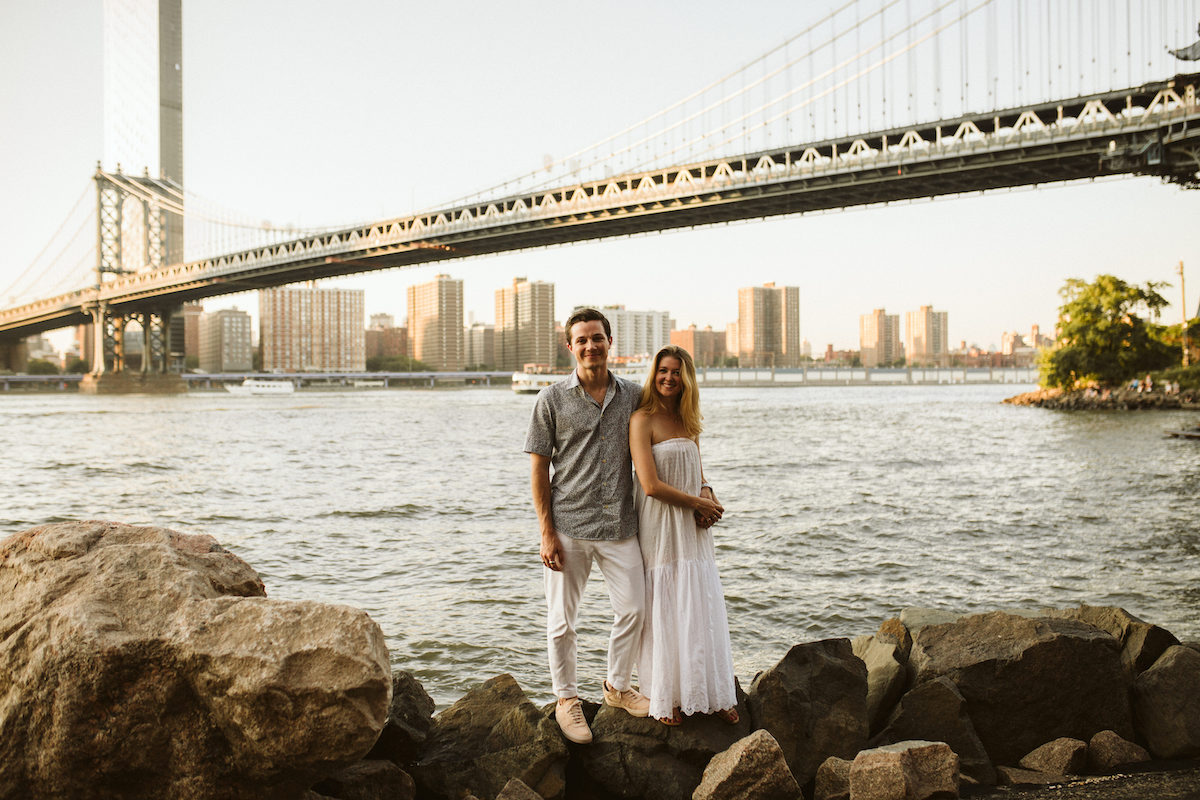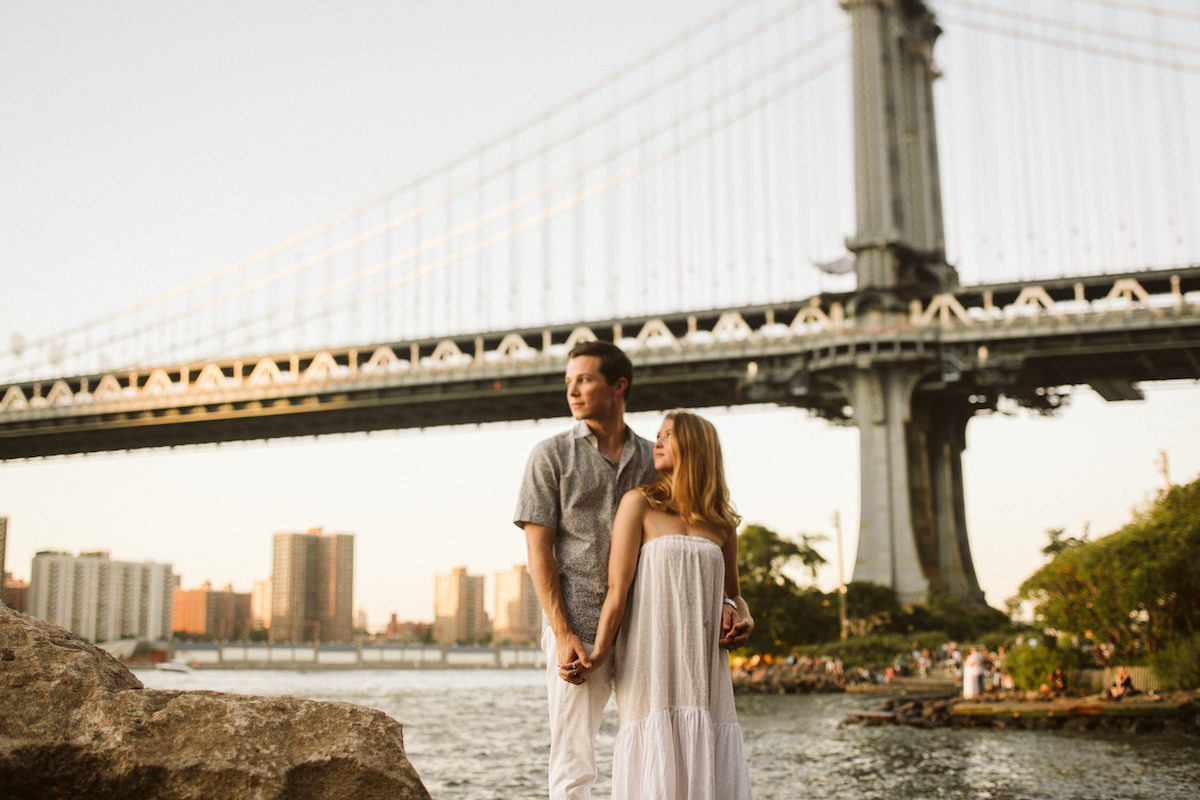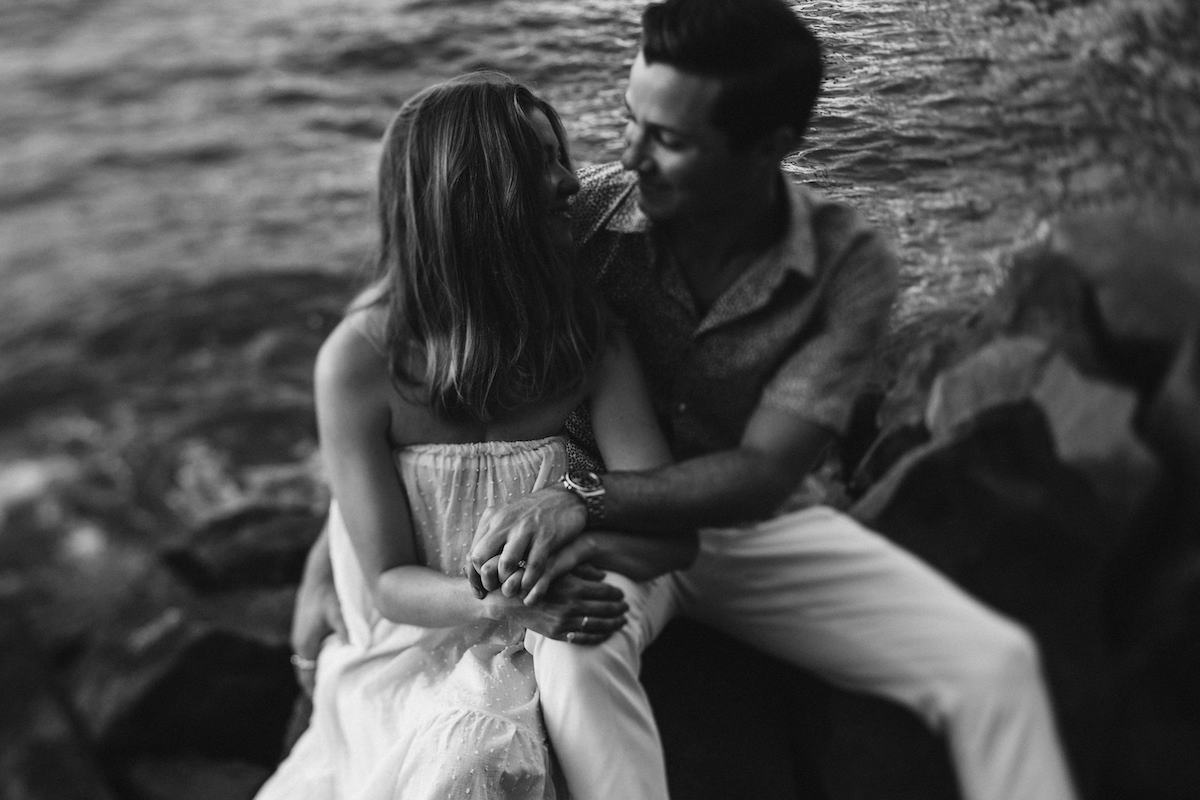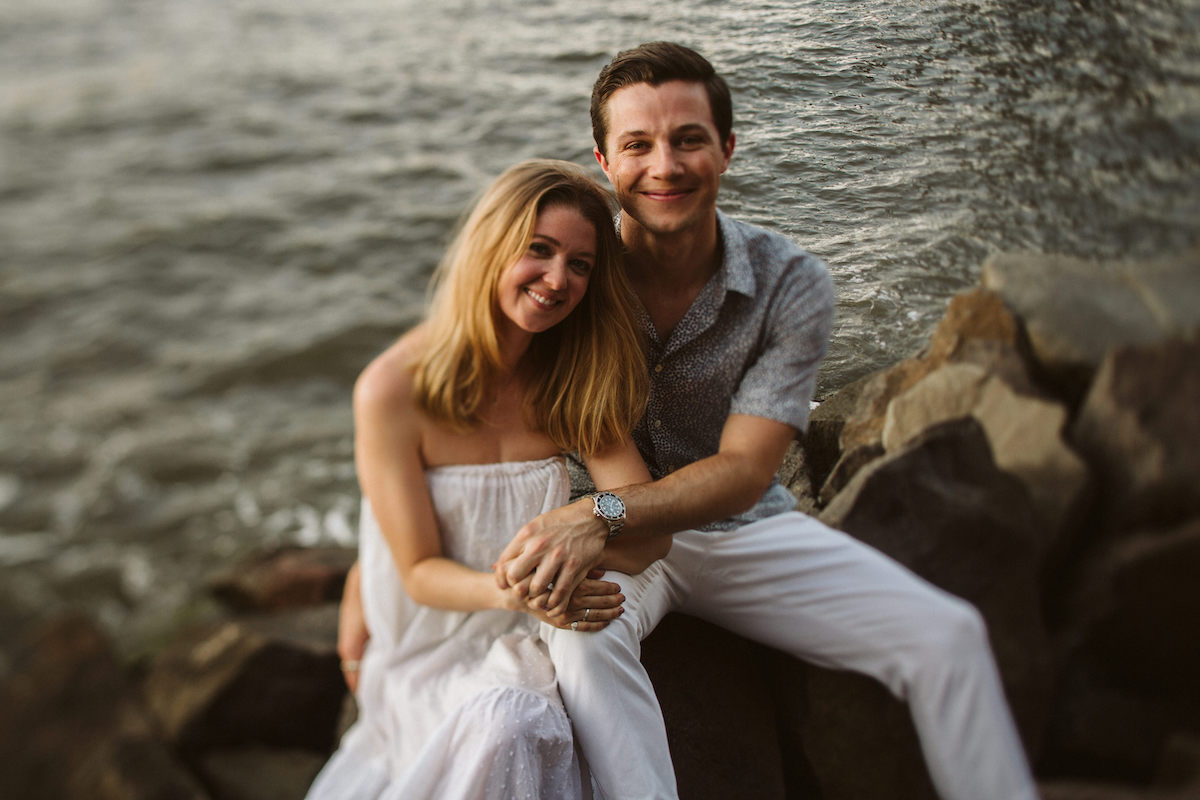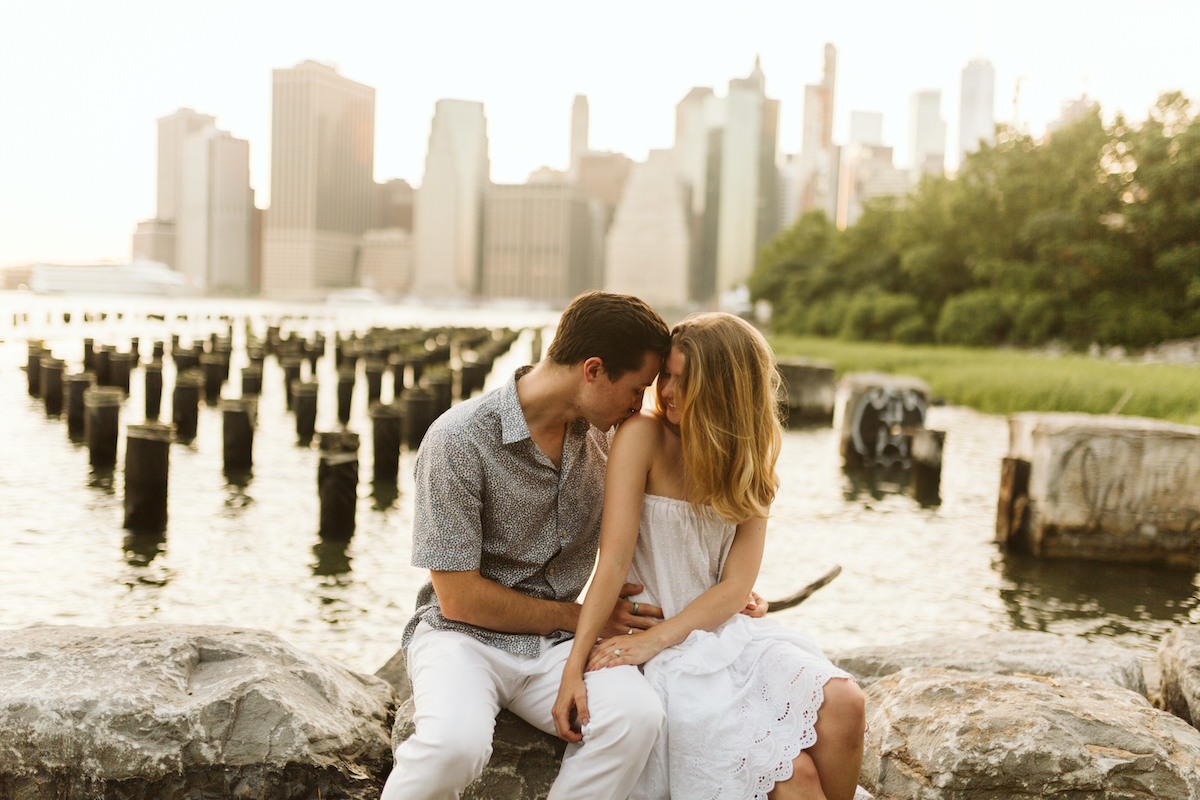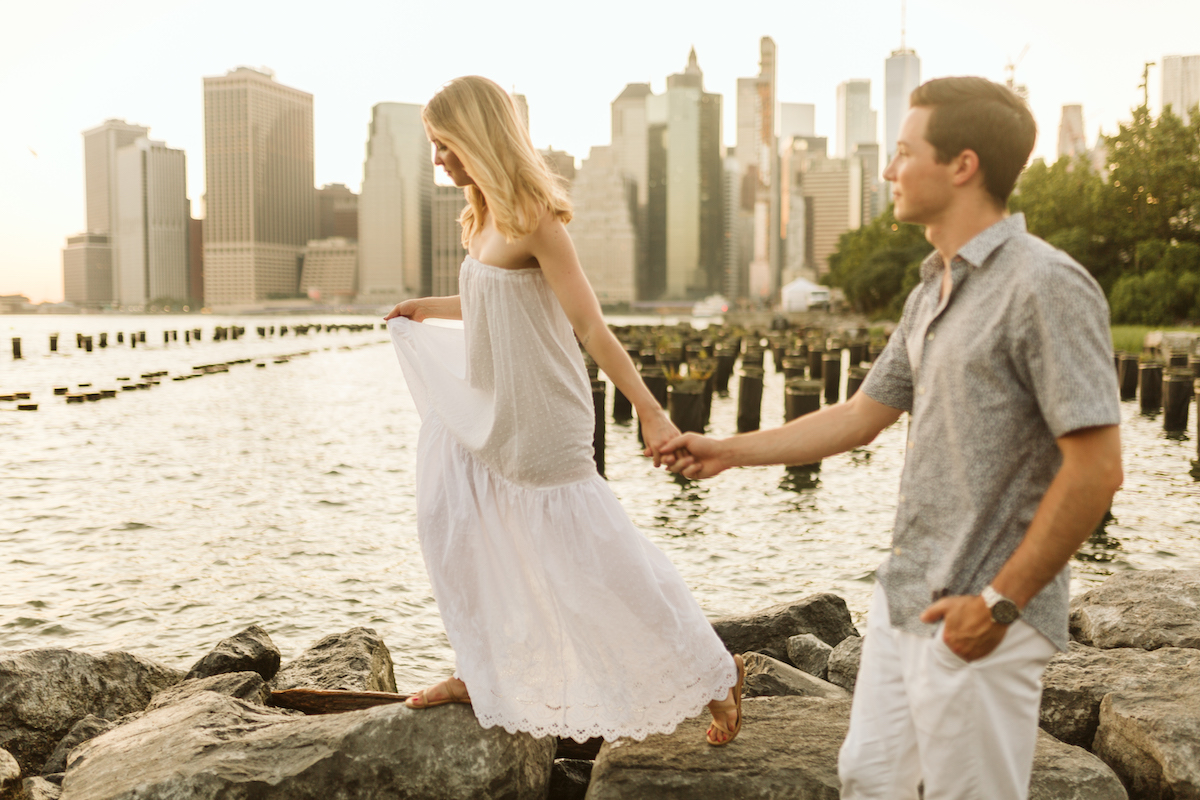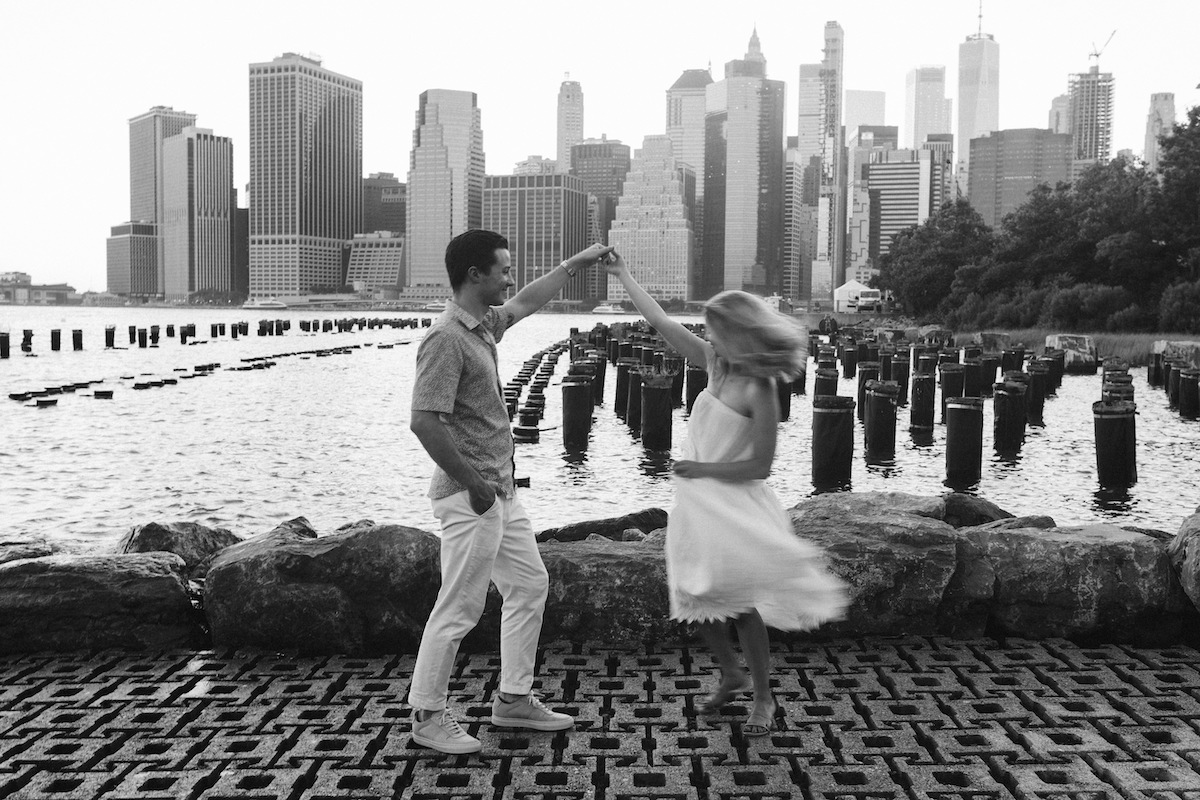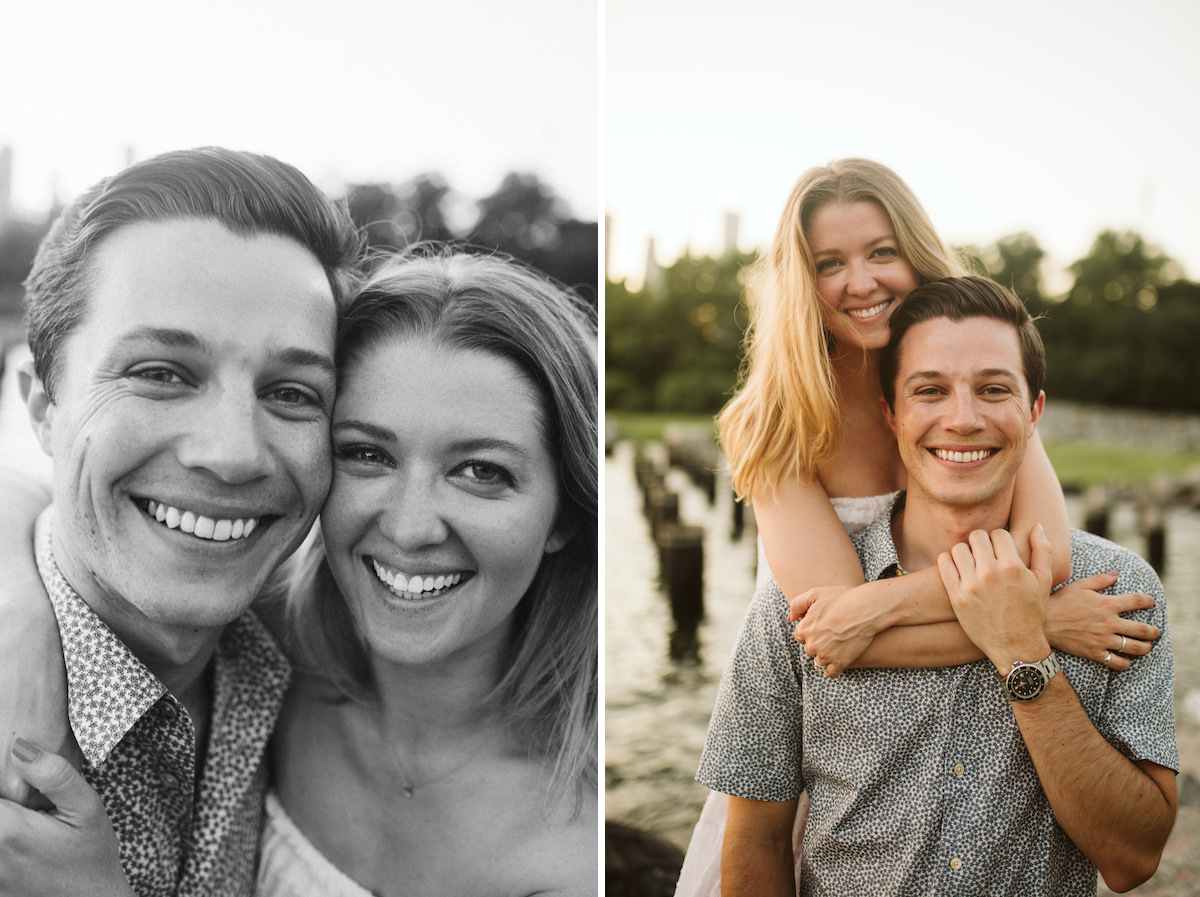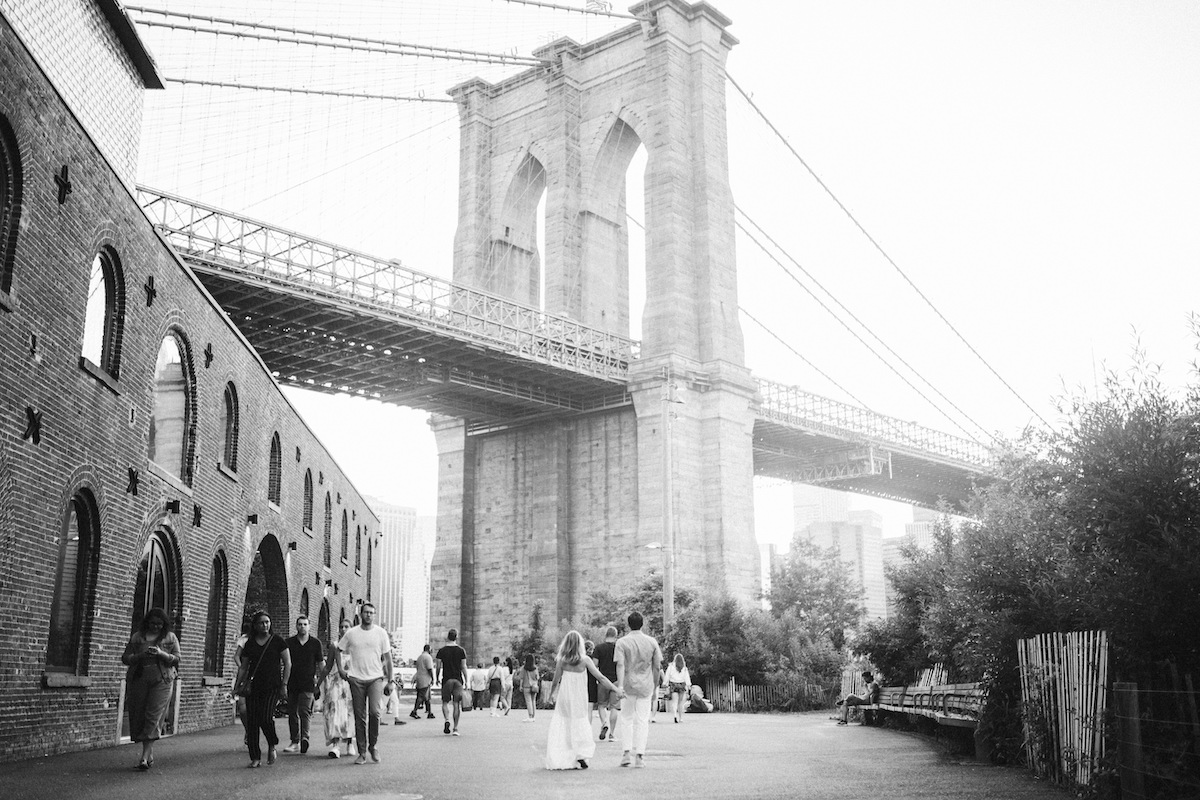 How to feel comfortable with your wedding photographer
I had so much fun giving these two cues during our shoot. As a photographer, it's awesome to work with a couple with an easy-going, fun-loving approach to the portrait session!
I know I've said it before, but the trust between a photographer and couple is such a big deal. Some of that comes naturally, just a relaxed chemistry between the three of us, but oftentimes the trust develops from sessions like this one before the actual wedding day. Especially if you're nervous in front of cameras, it's so important to become at ease with your wedding photographer!
I always like to invite couples to meet with me for coffee or dinner or a drink before the BIG WEDDING DAY because it helps us get comfortable with each other. It's nice to be human together for a little bit and establish a bond over common interests outside of the pressure of such an important day. So, yeah. Fill out the form and let's grab coffee. 😉
---
If you're thinking about a couple's session or engagement portraits–in Chattanooga or New York City or the other side of the world–I'd be thrilled to photograph you and your boo.

Contact me

, your friendly Chattanooga wedding photographer, so we can meet up and grab that drink.
If you loved looking through Emily and Jim's "portrait-slash-engagement" photos, you might also be inspired by Liz and Brock's Joshua Tree adventure shoot. Not sure what to wear to your engagement session, I've got you covered!