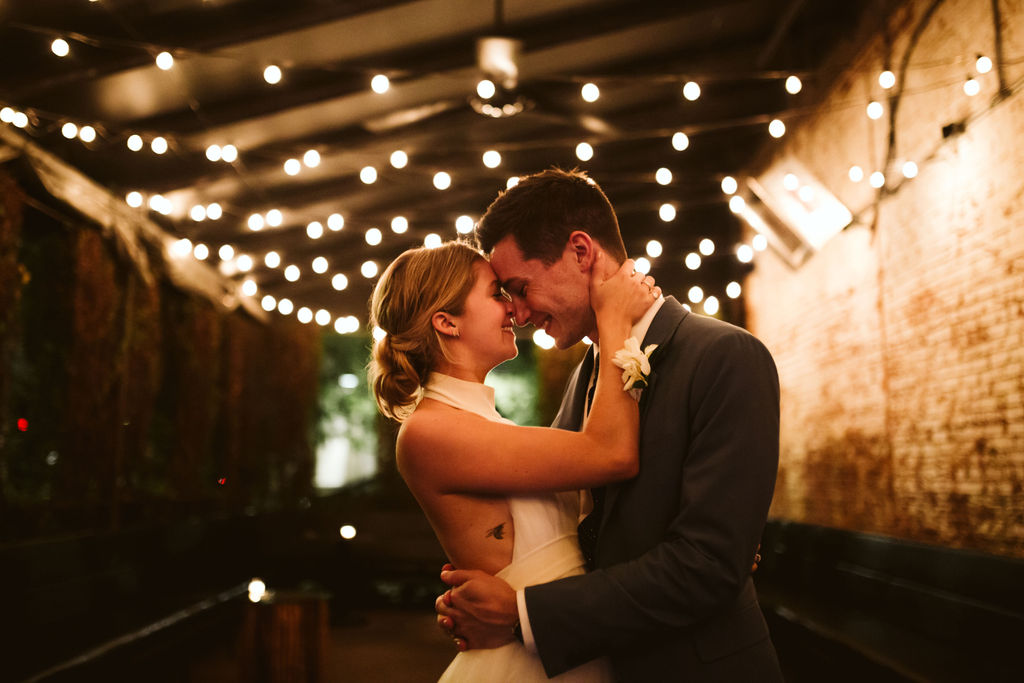 You know I love to travel to photograph a wedding, but, as a Chattanooga wedding photographer, there's something really special about a couple choosing my own city for their big day! That's exactly what Emily and Jim did. Although they're both from the Southeast, Emily and Jim live in New York City (Brooklyn) now. When they considered destinations, a Lookout Mountain wedding with downtown Chattanooga wedding reception took the cake. 😉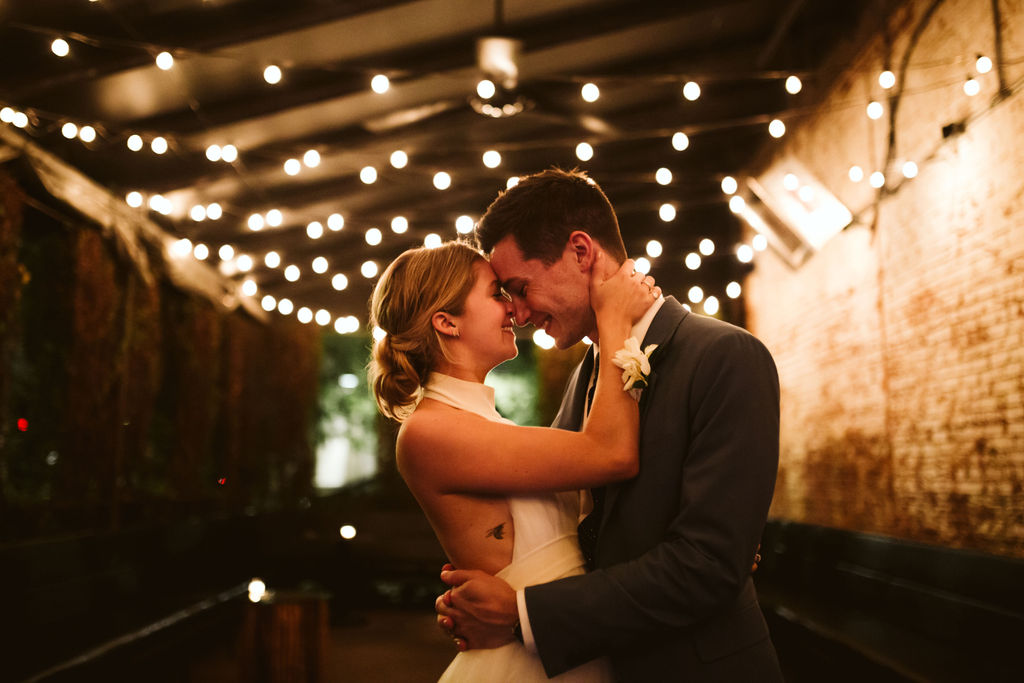 A destination wedding in Chattanooga, Tennessee?
Yes! Chattanooga proved to be a perfect location for their wedding and reception. It's close enough for Jim's Alabama family, practically down the street from where Emily grew up, and accessible by direct flights for all their New York friends. Talk about an all-around win!
This couple was a lot of fun from the beginning to the end of the day. They got ready at The Westin Chattanooga with downtown Chattanooga setting the scene in the background, and as the bride and groom dressed, some of the fine details of their day began to emerge.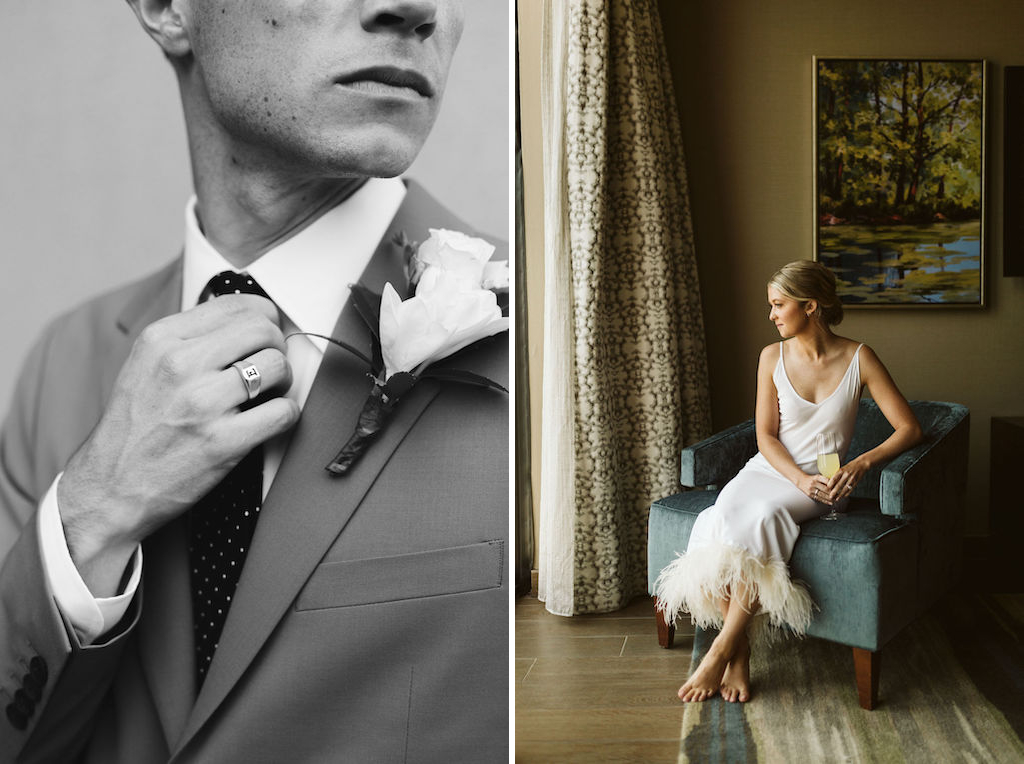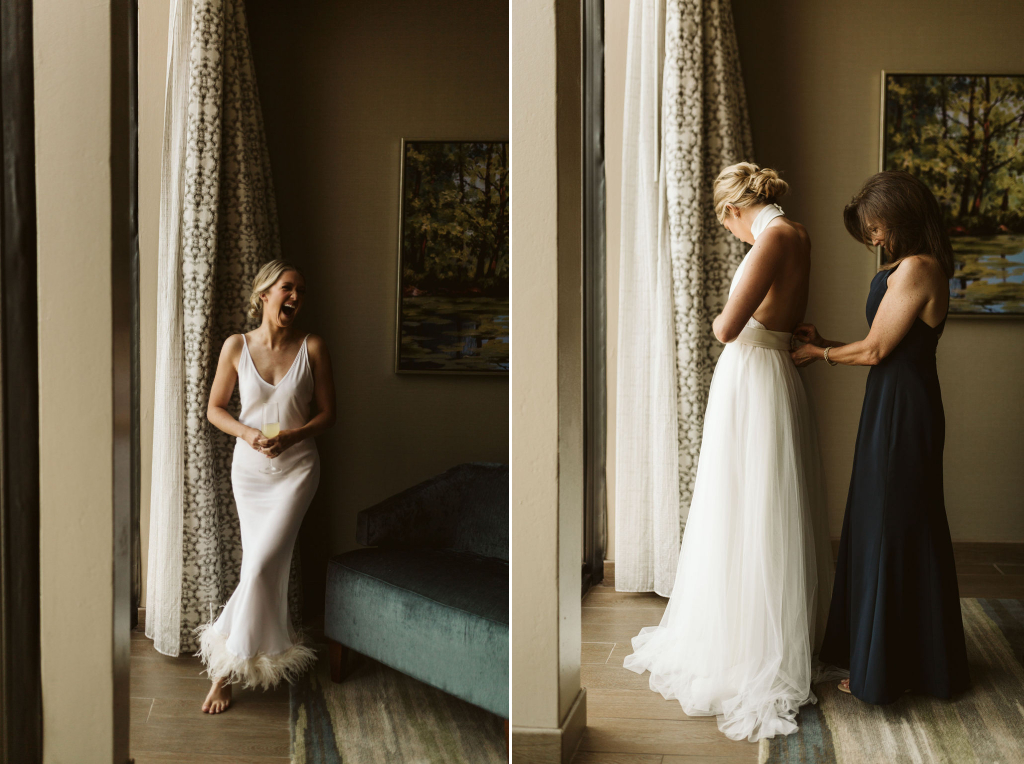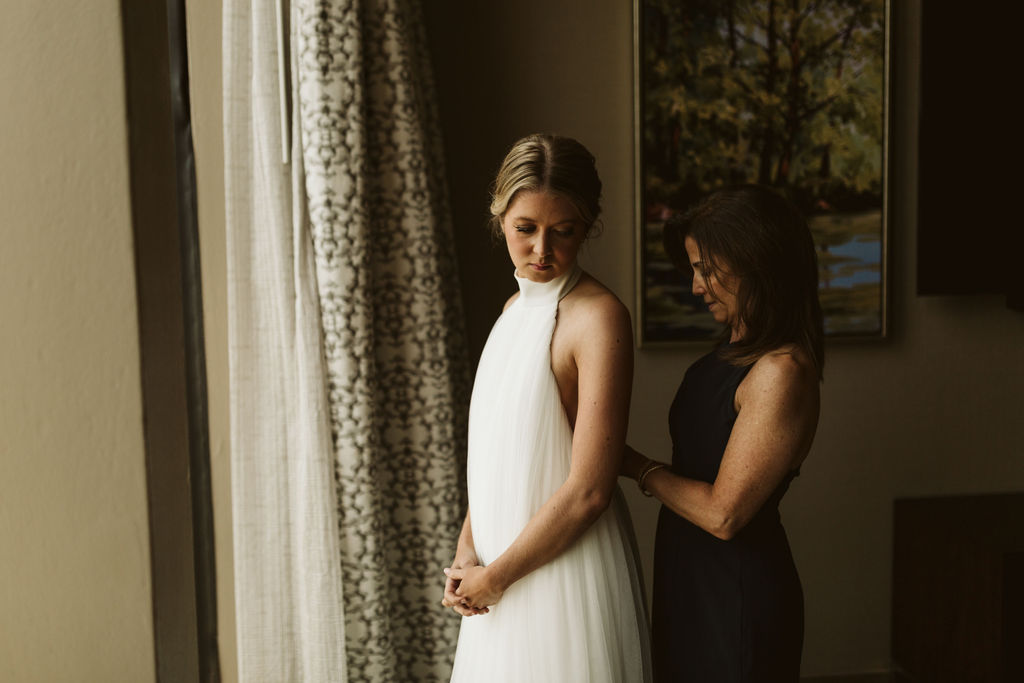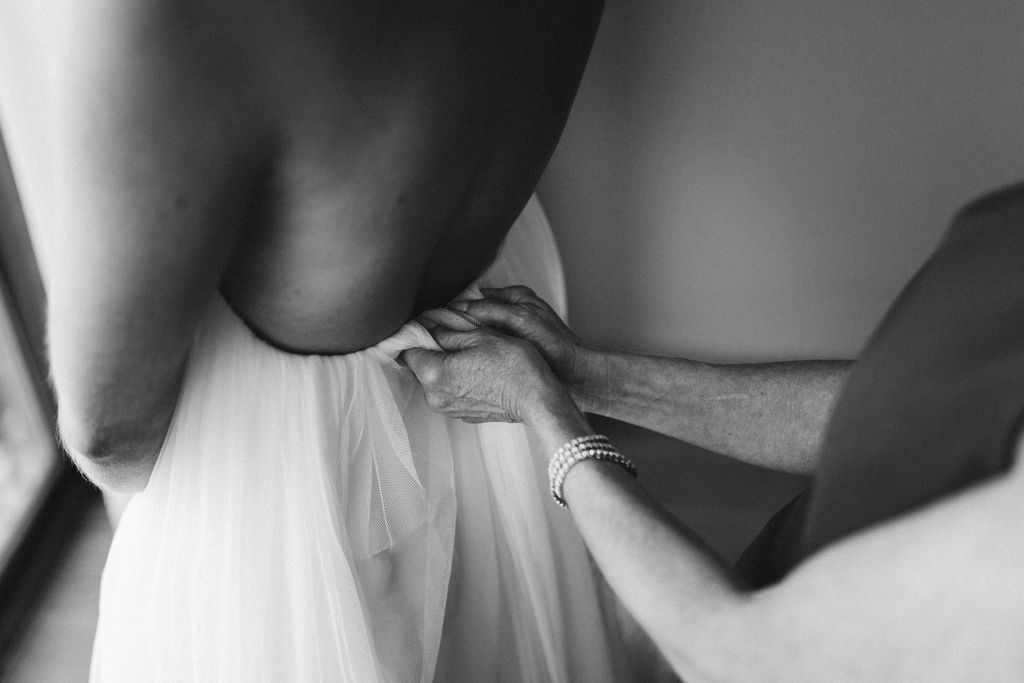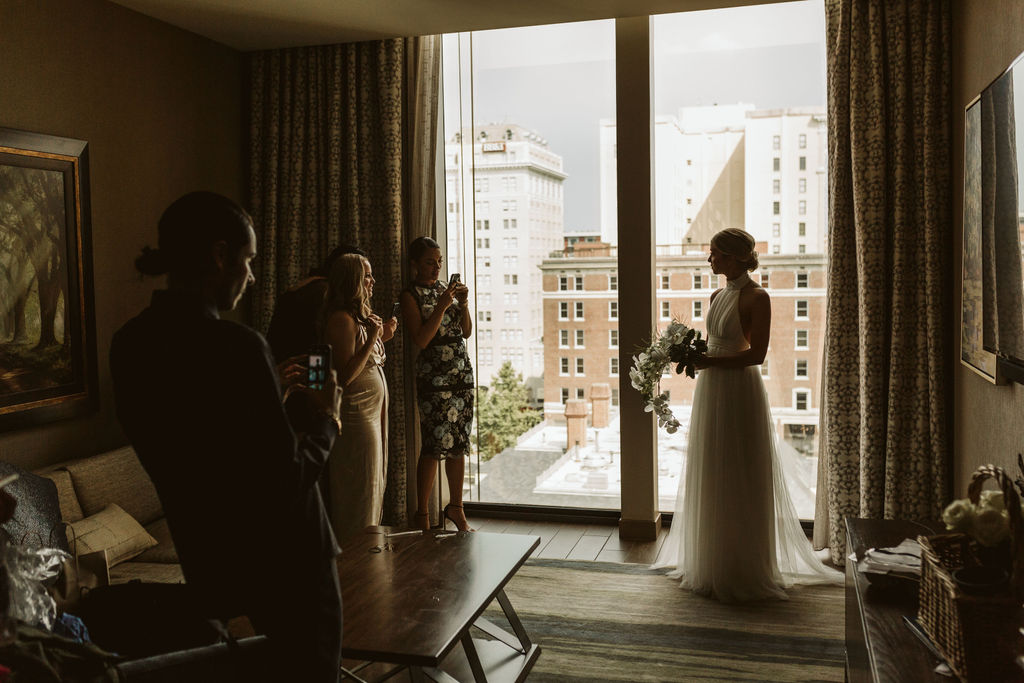 Emily's backless gown from Gabriella Bridal with layers of satin and tulle, and Jim's steel blue suit and polka dot tie. And THEIR SHOES! I can't wait for you to see their shoes! Emily's dress offered a peek of her bumblebee tattoo, which served as inspiration for their day with bumblebee details popping up throughout the wedding and reception.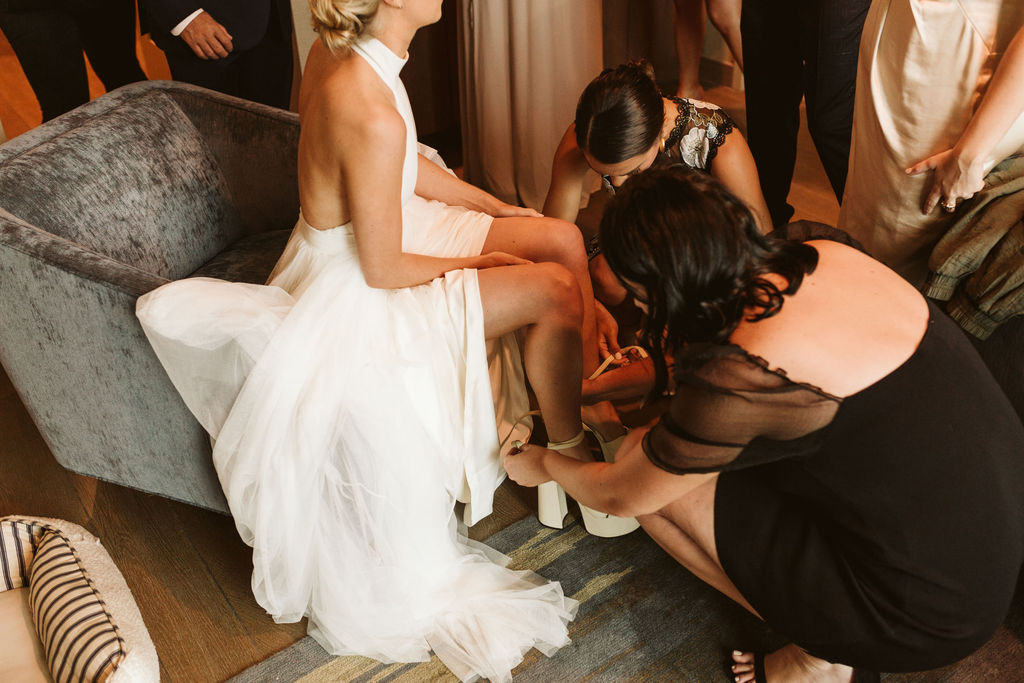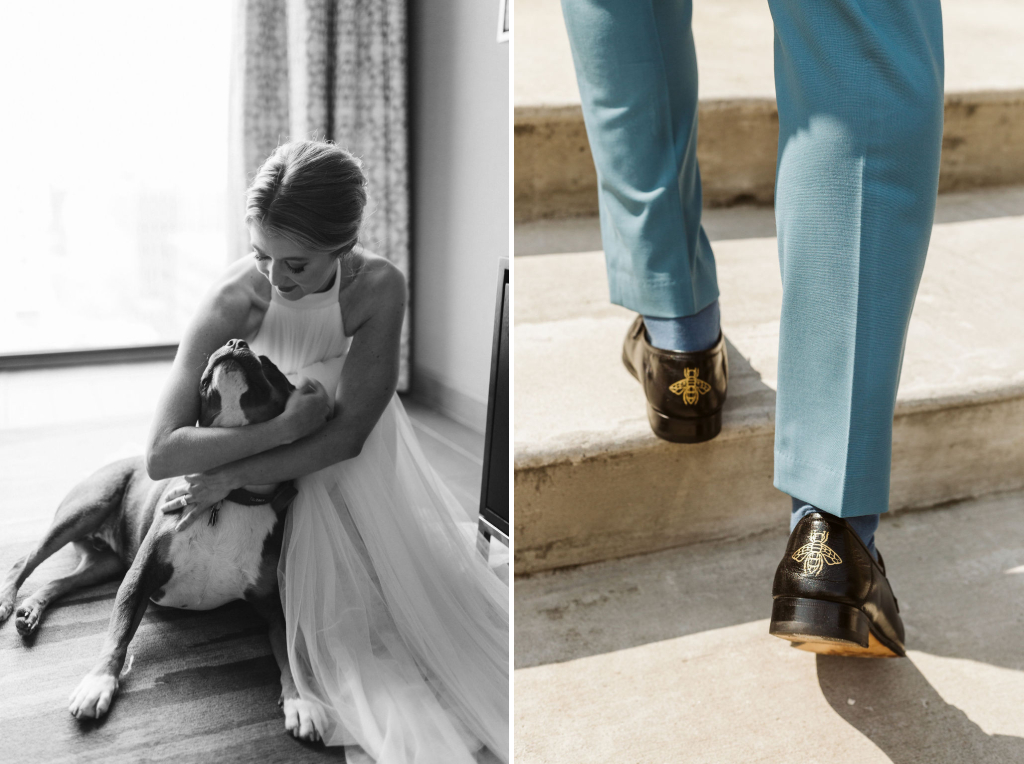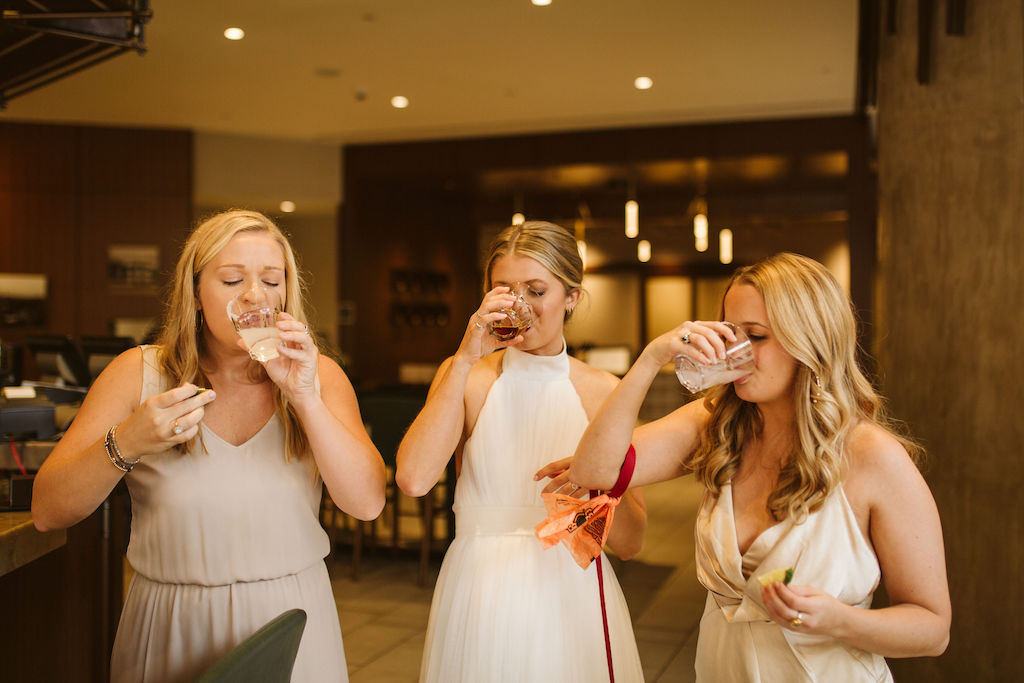 Lookout Mountain Wedding Ceremony
Emily and Jim's ceremony took place on Lookout Mountain at the Rock City group pavilion. The covered, open-air venue provided me with tons of natural light for shooting, and the park-like scenery was a gorgeous backdrop. Emily's grandmother designed all the floral arrangements for the wedding, as well as the floral garland over the wedding arch.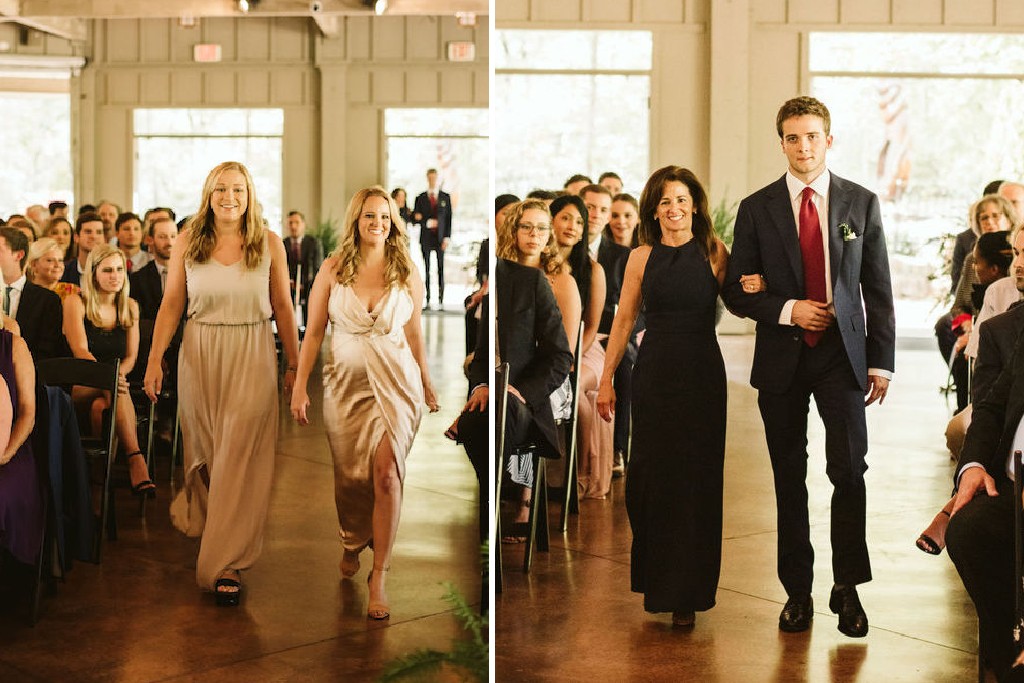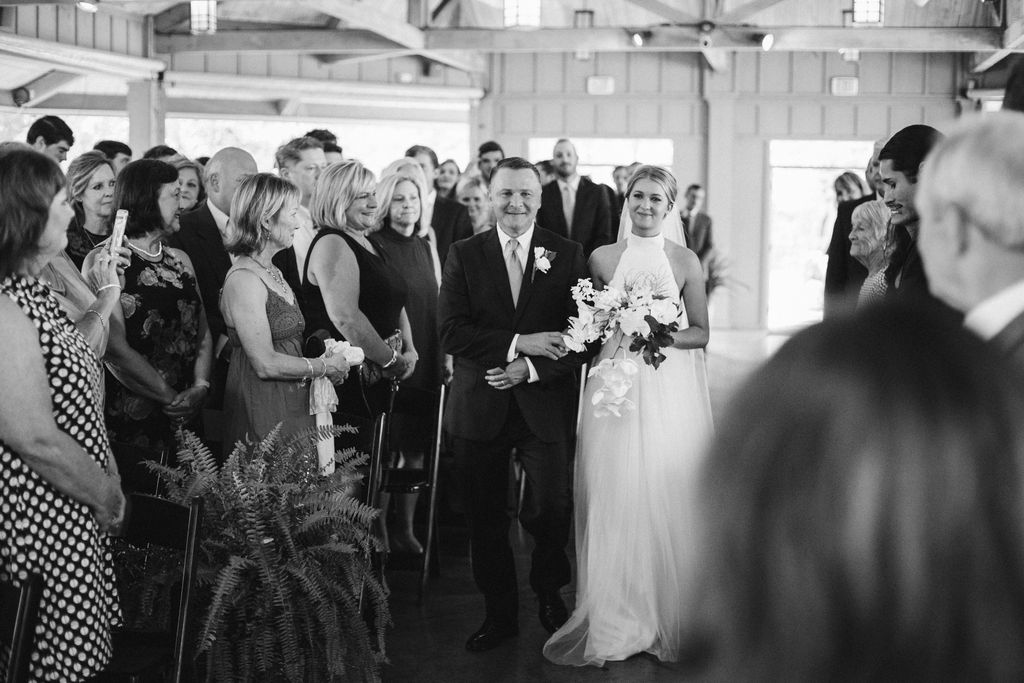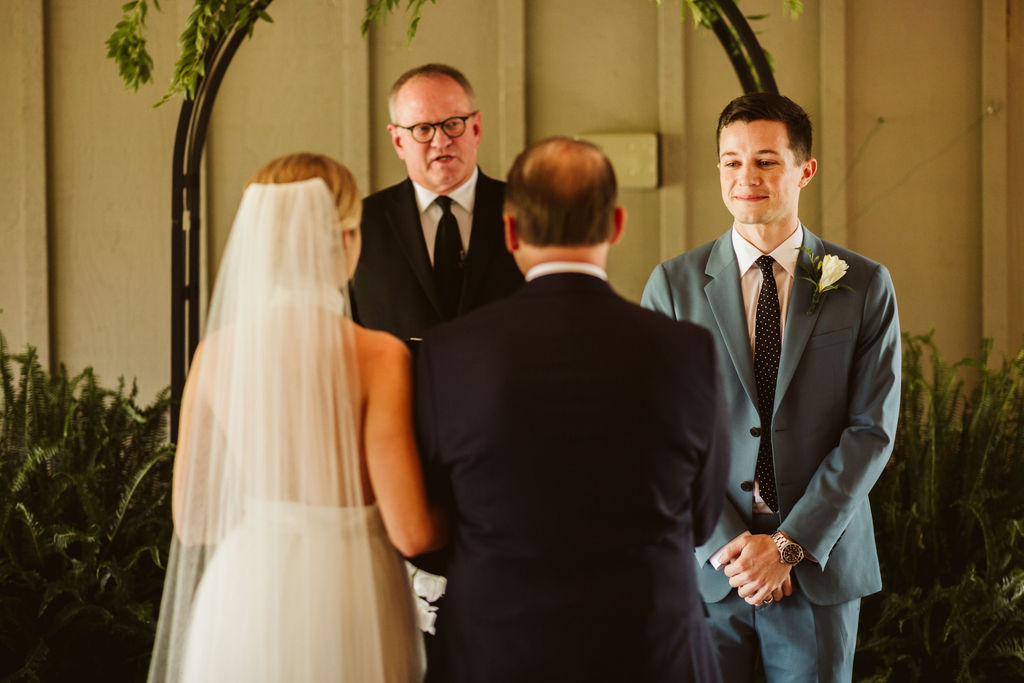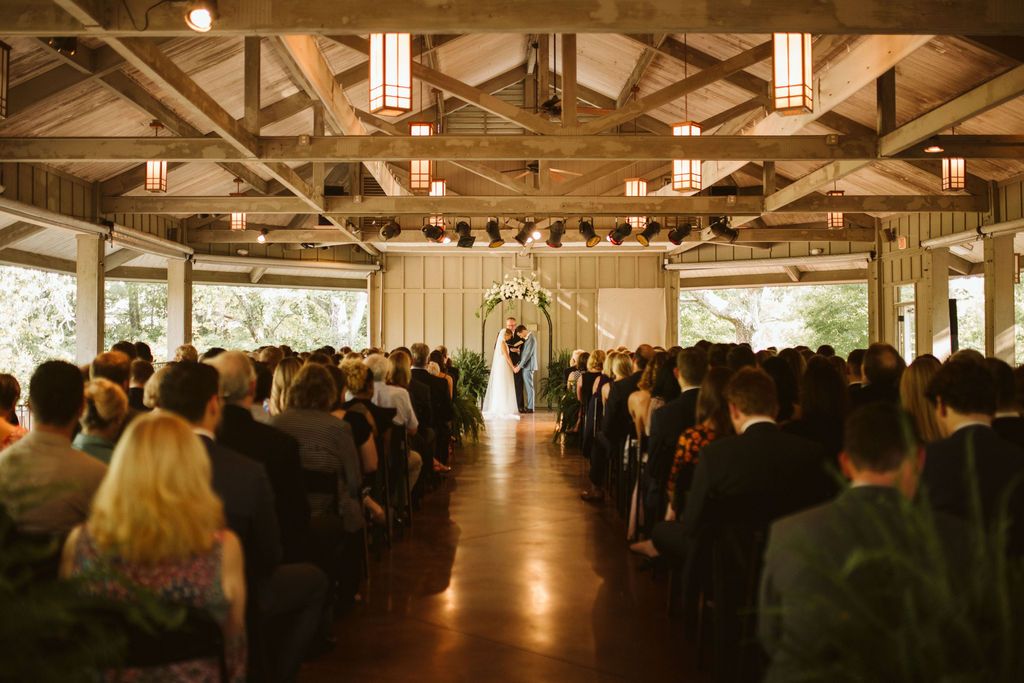 All ceremonies are individual and special, and this one was no different. During most ceremonies, the bridal party stands with the bride and groom; however, during this one, they sat with other friends and family. Without extra folks in the shot, the simple lines of the pavilion and wedding arch elegantly frame Jim and Emily. As a photographer, this is almost one of those things you don't fully notice or appreciate until you're in editing mode!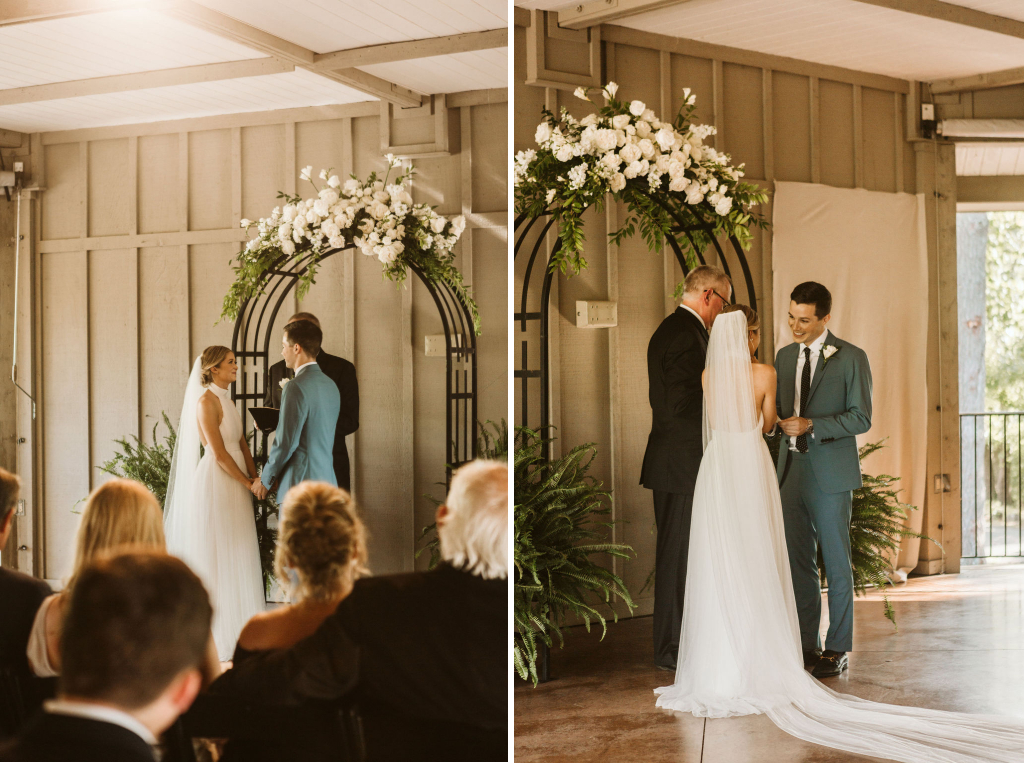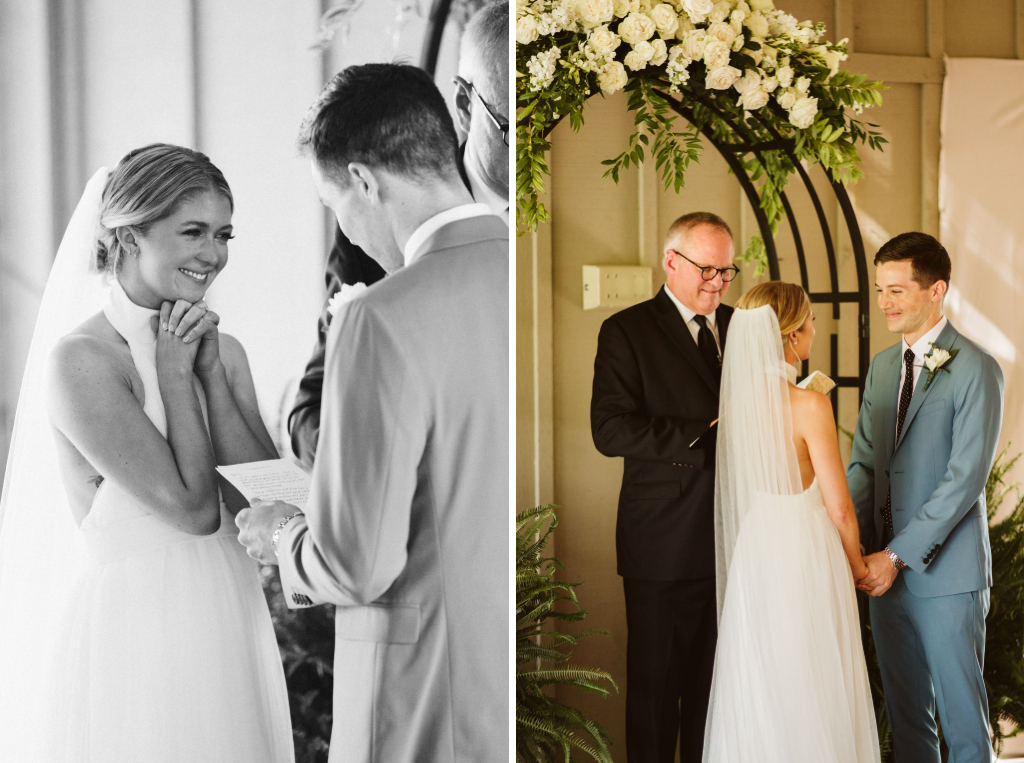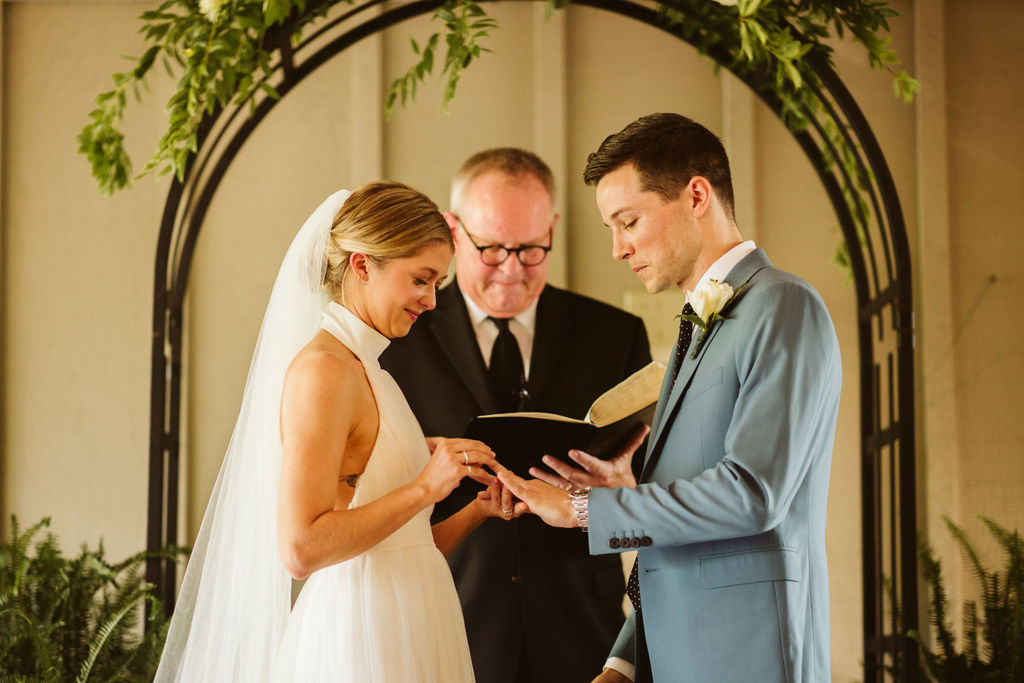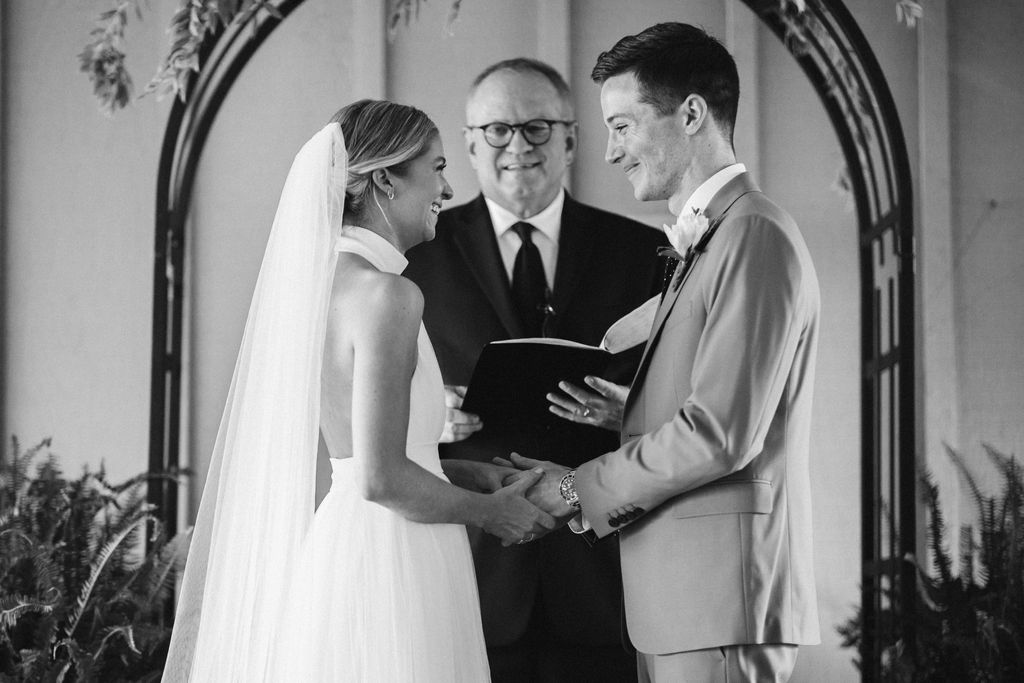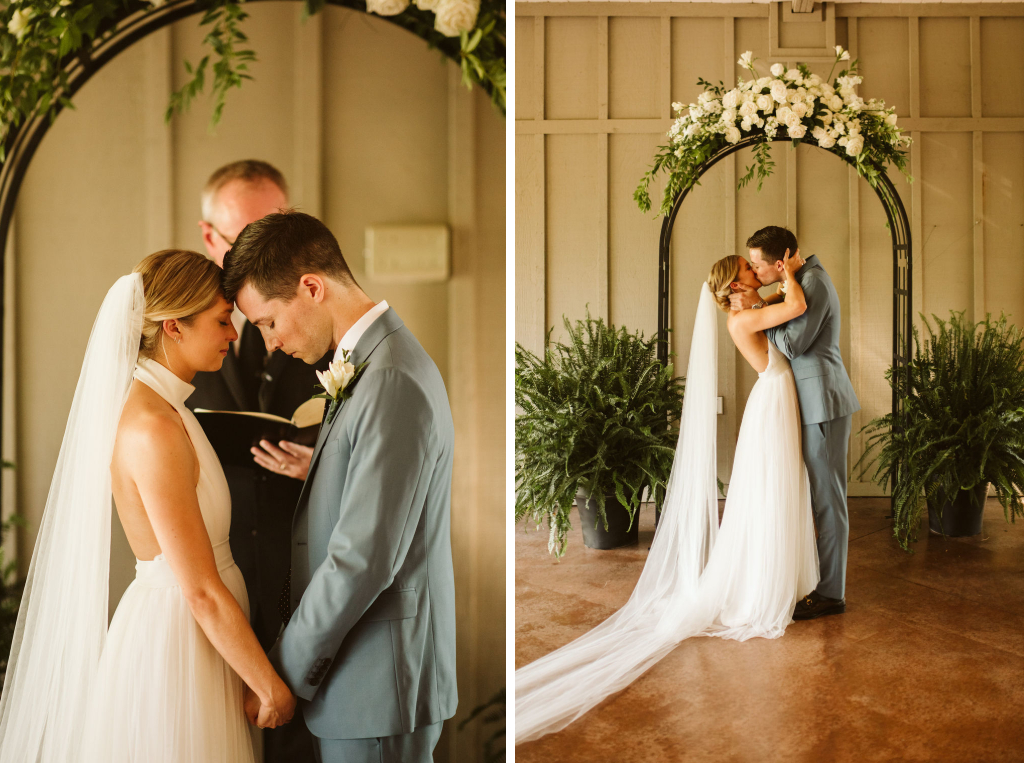 The couple exchanged tender looks and heartfelt promises in front of their family and loved ones, including their favorite pooch. And, at the moment of their kiss, the officiant stepped aside so you can see how comfortably Jim and Emily fit together.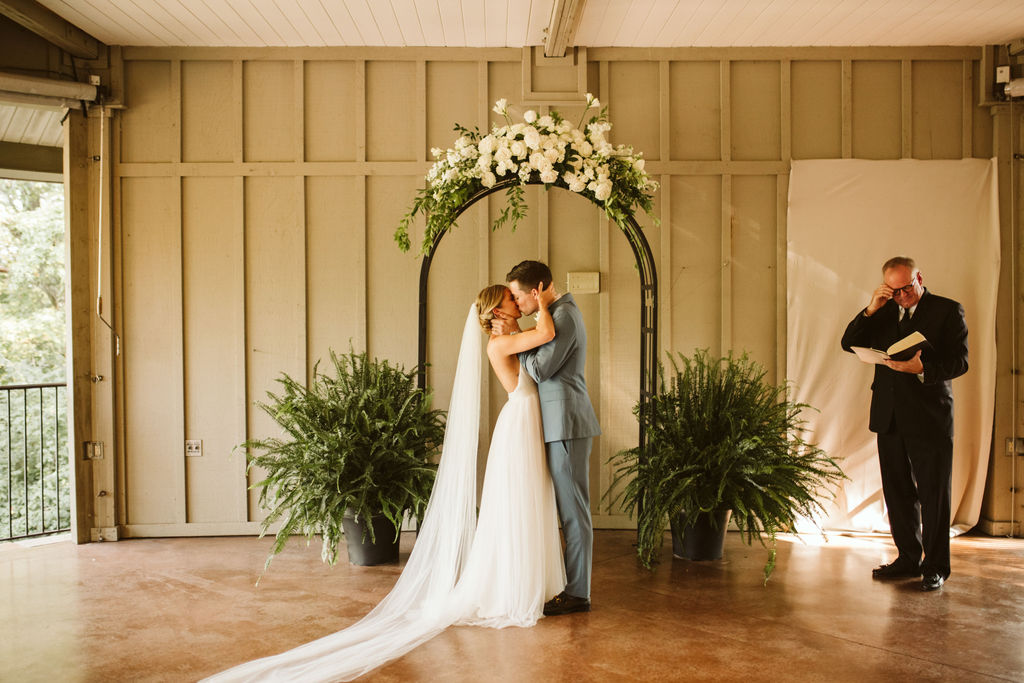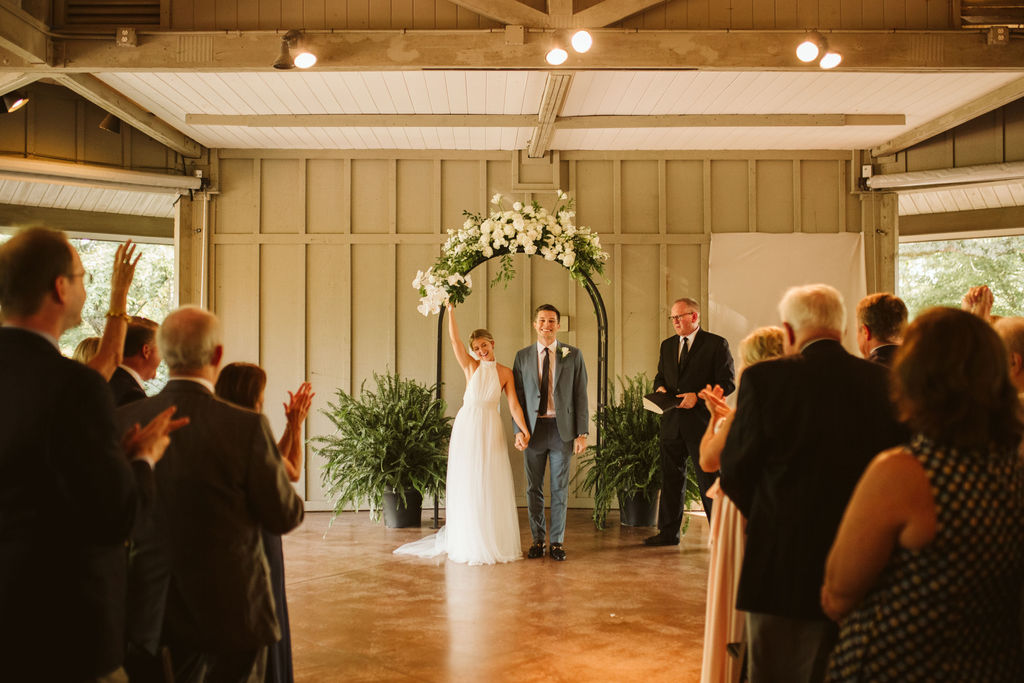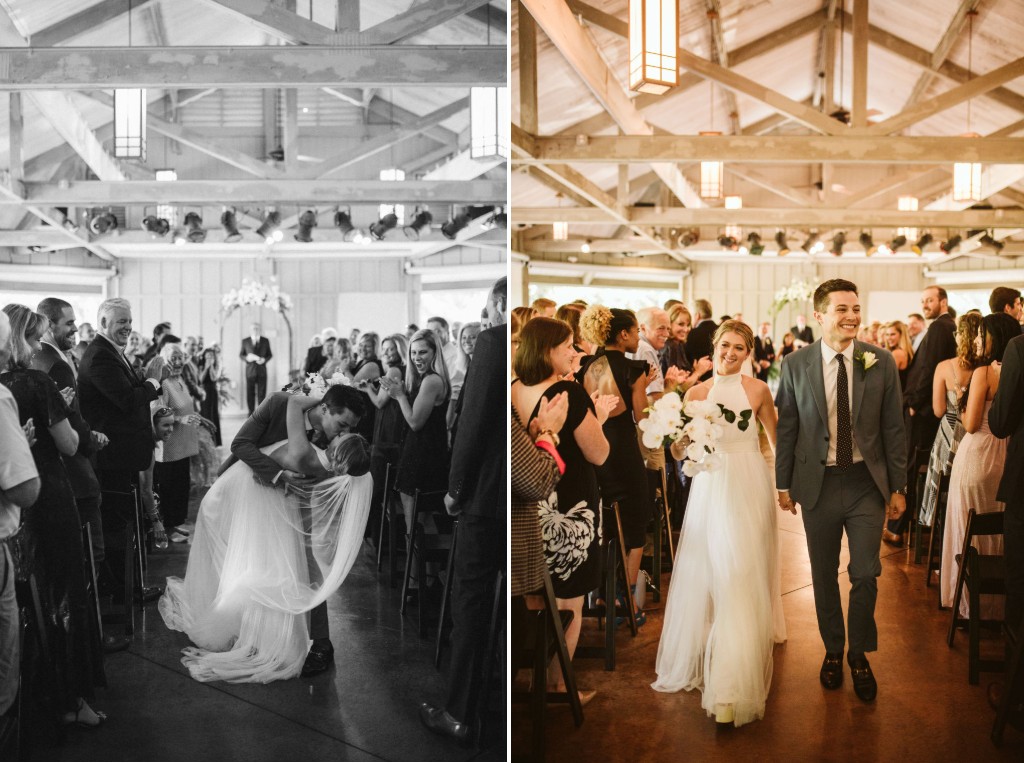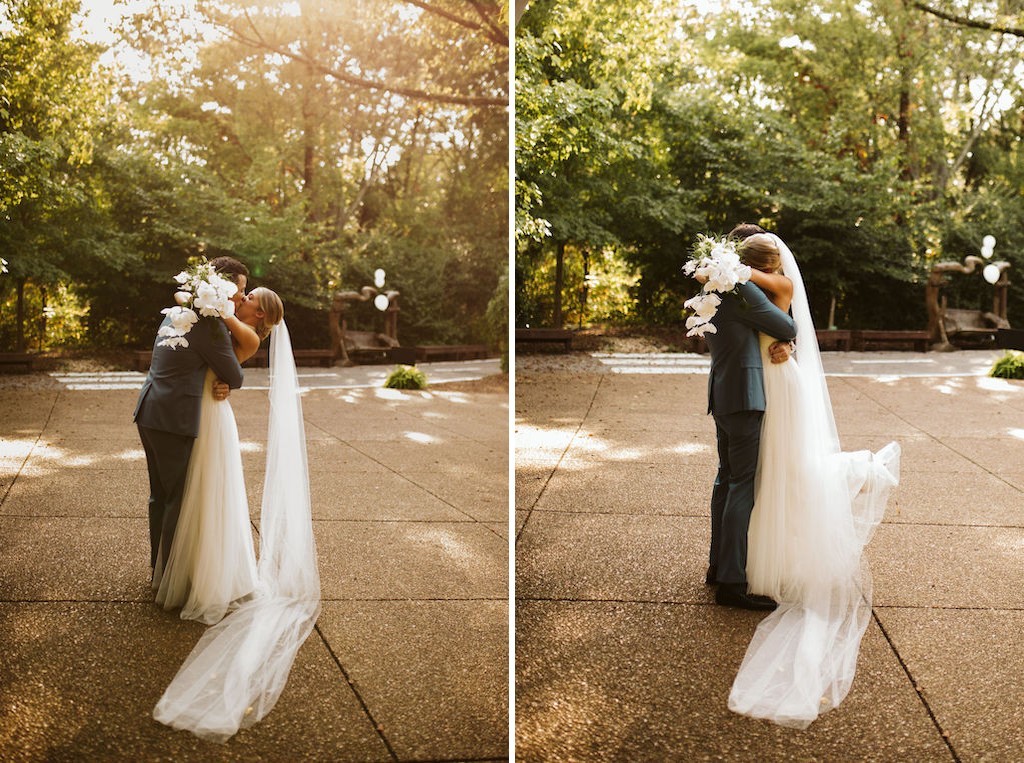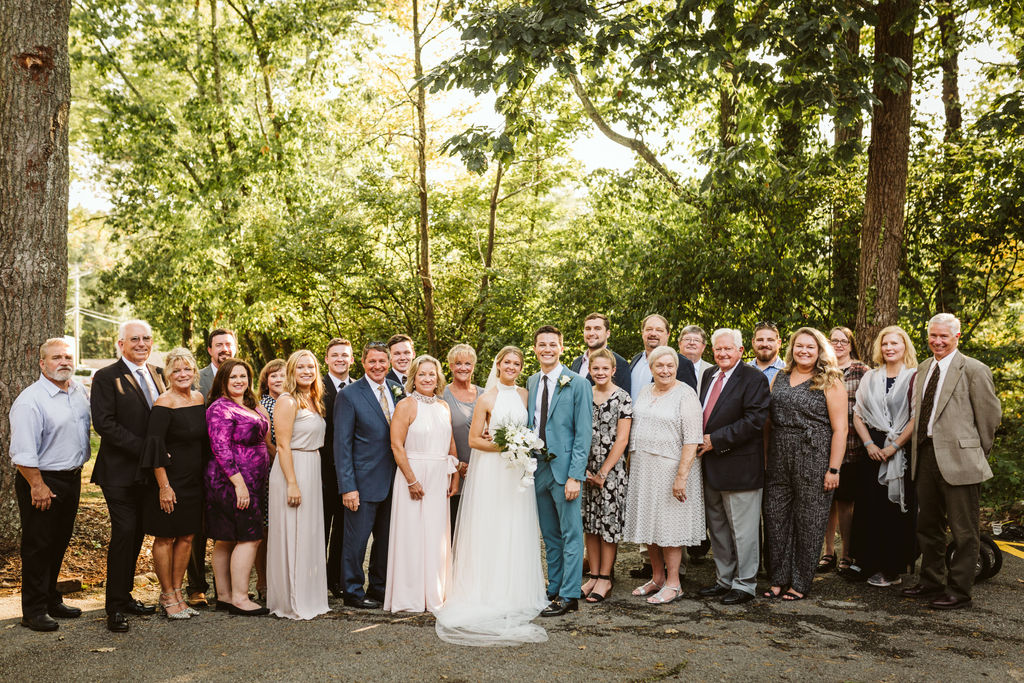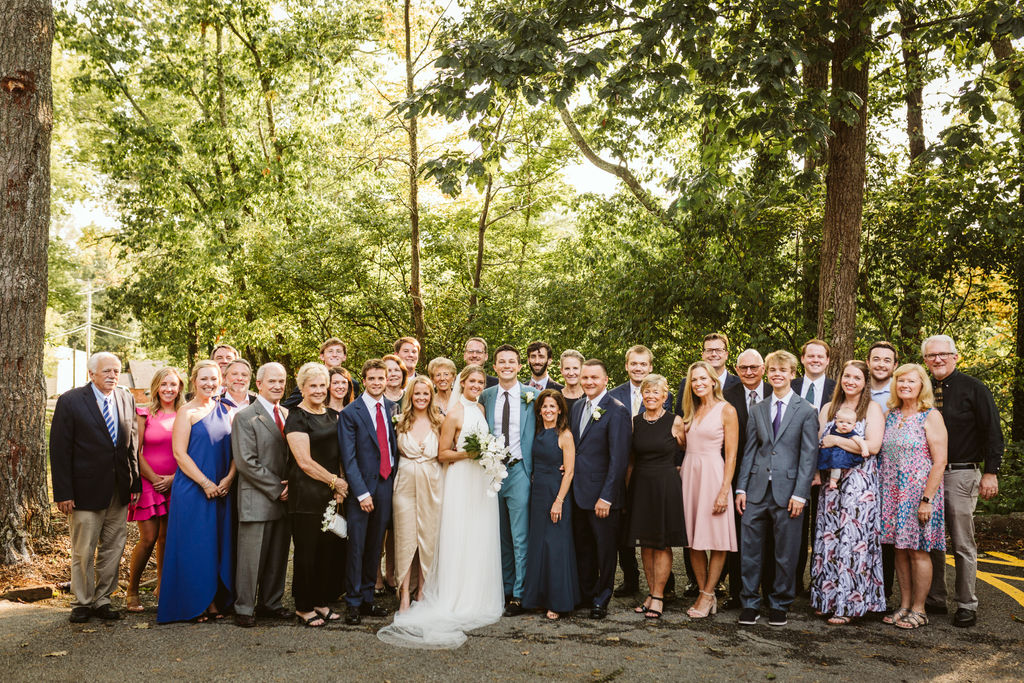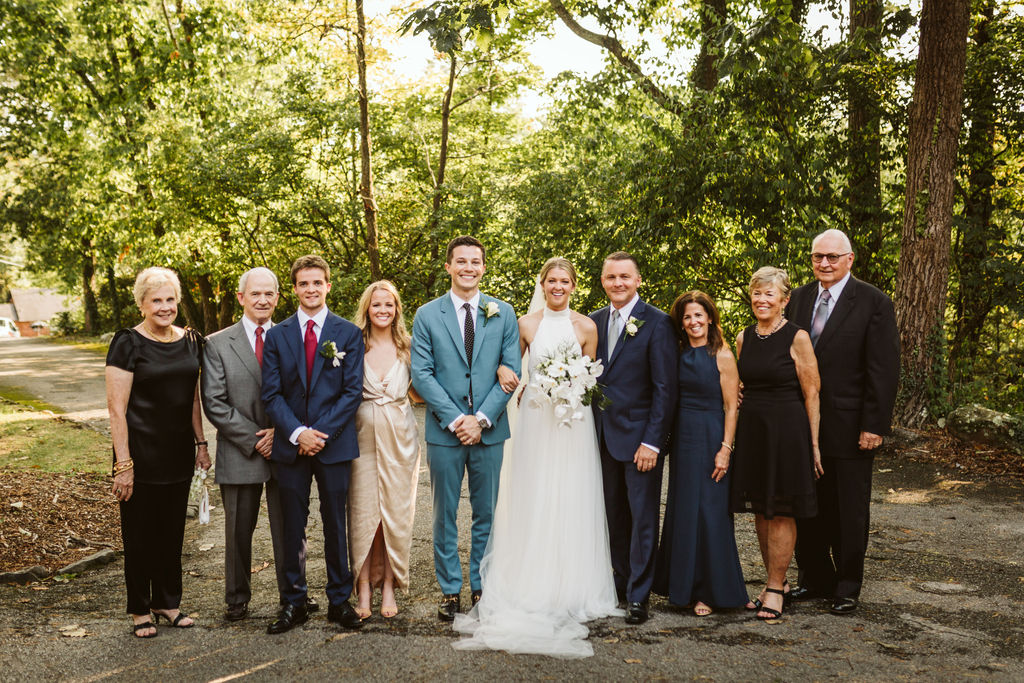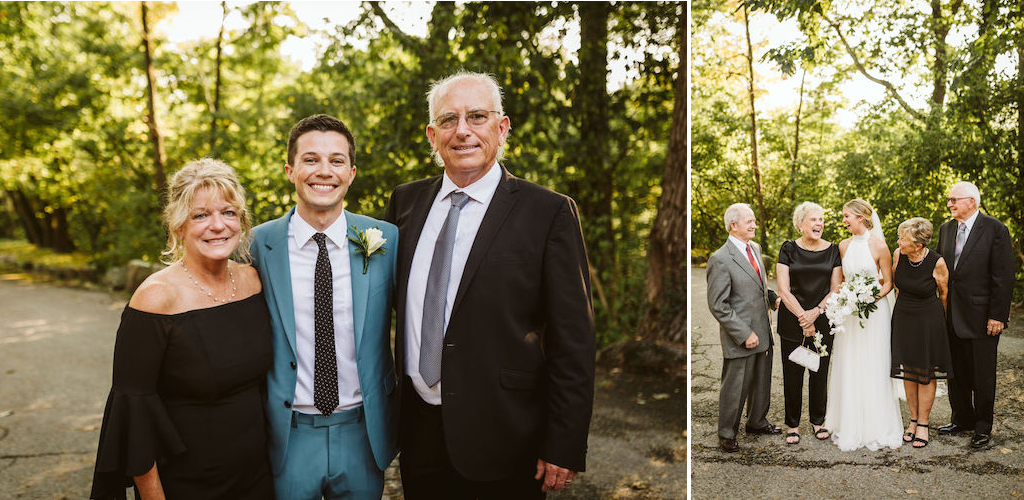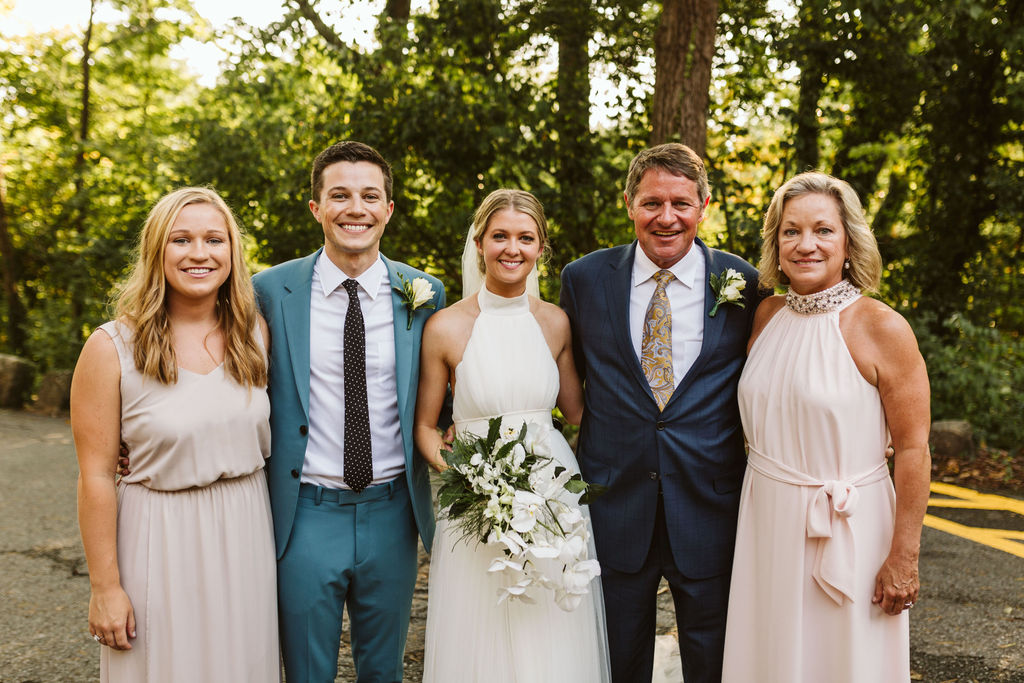 Bride and Groom Portraits at Sunset Rock, Lookout Mountain
Following the ceremony we'd planned some time for bride and groom portraits out at Sunset Rock, which you might remember as one of my Top 5 Chattanooga Engagement Photo Locations! Y'all. Remember what I said about the shoes?! Don't worry–Emily did not hike to Sunset Rock in those incredible heels! I know you were wondering.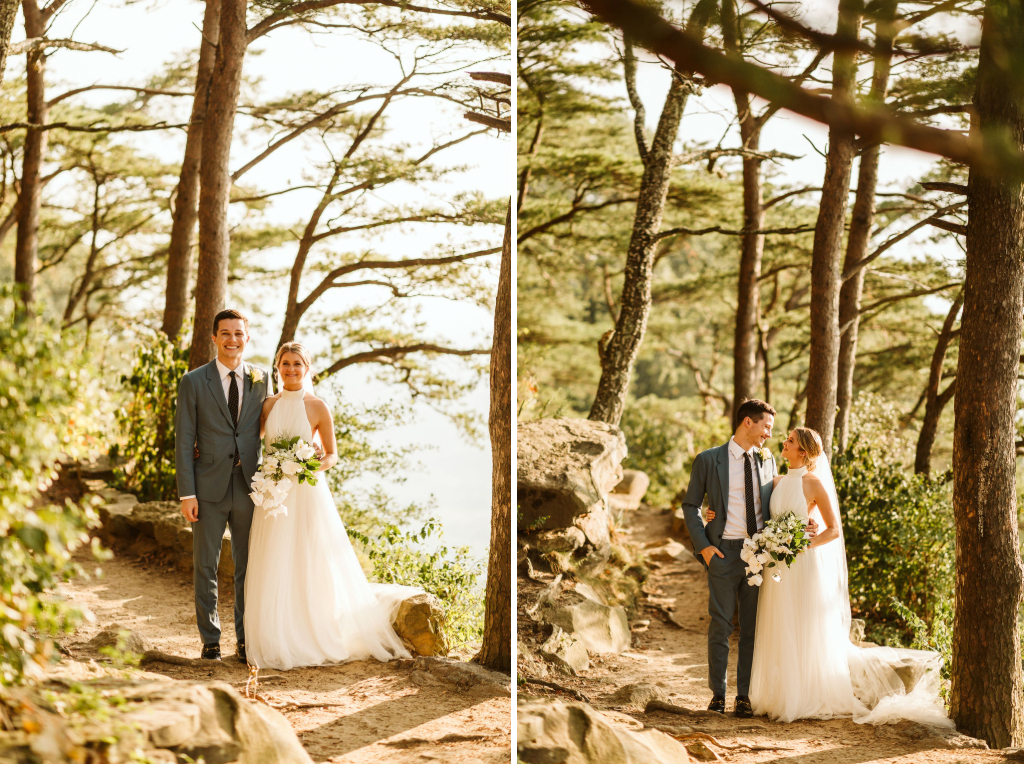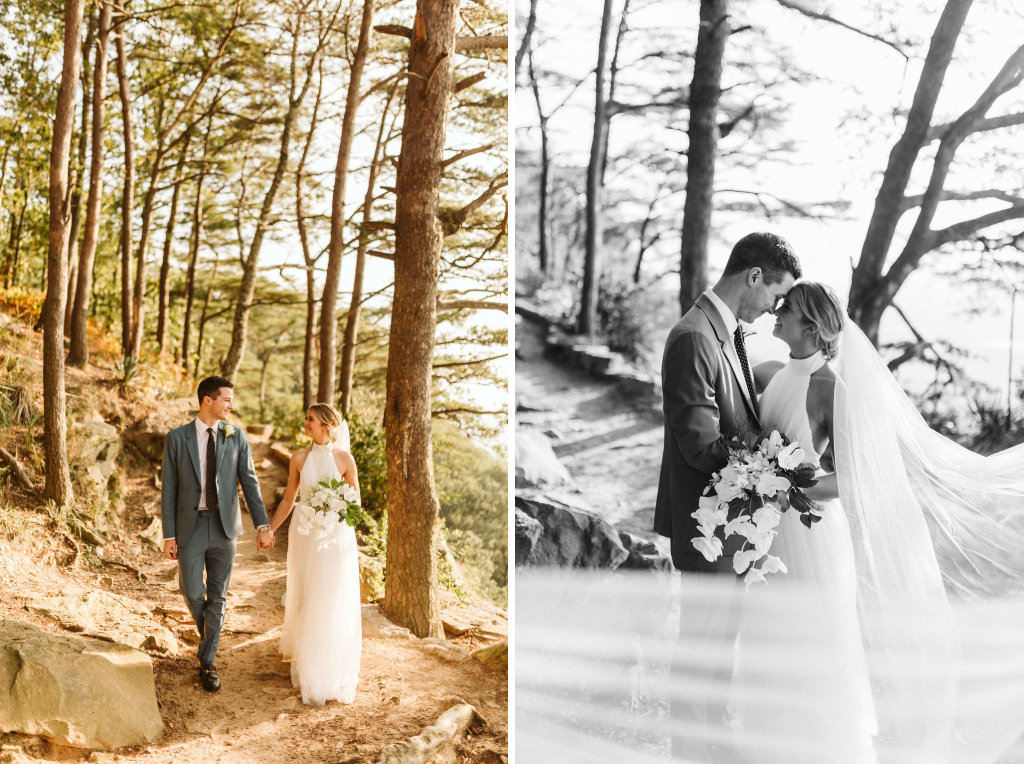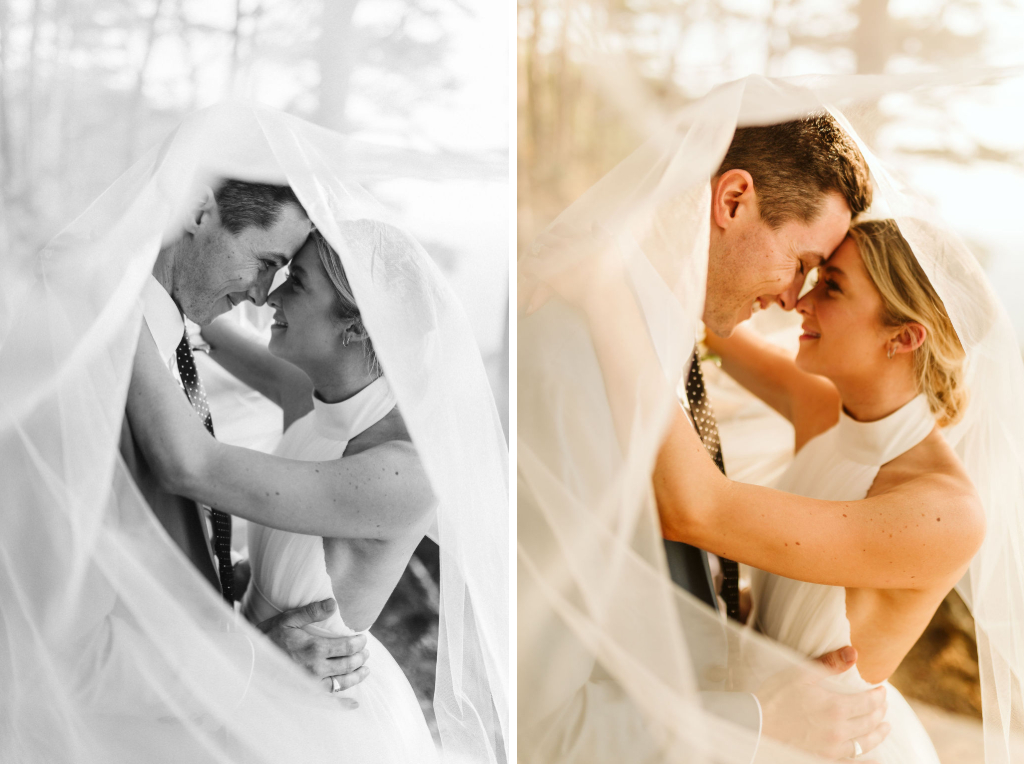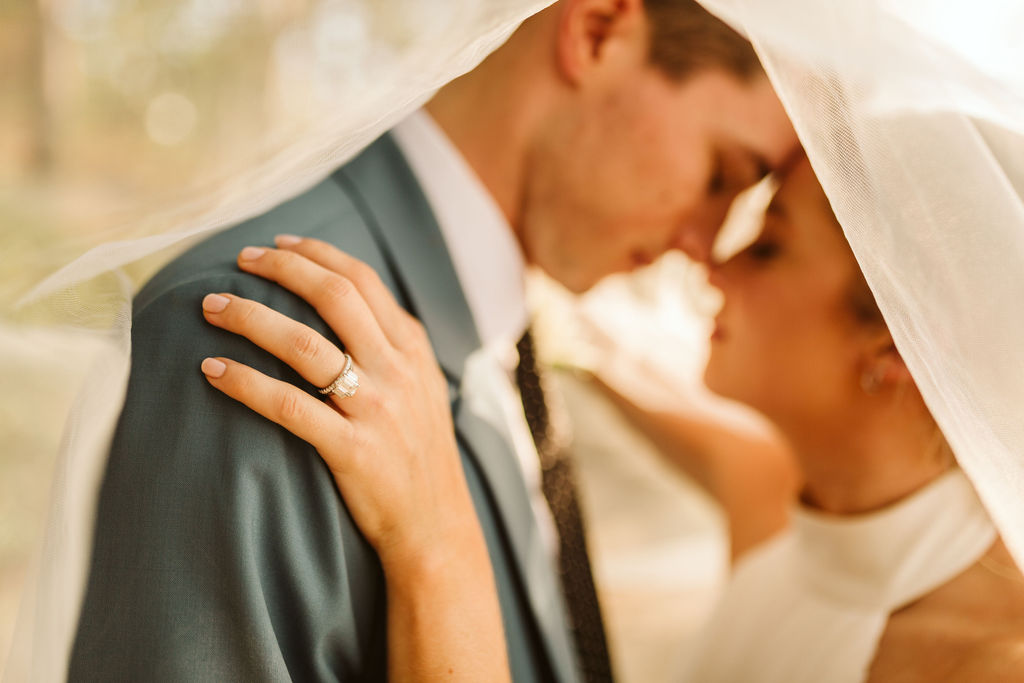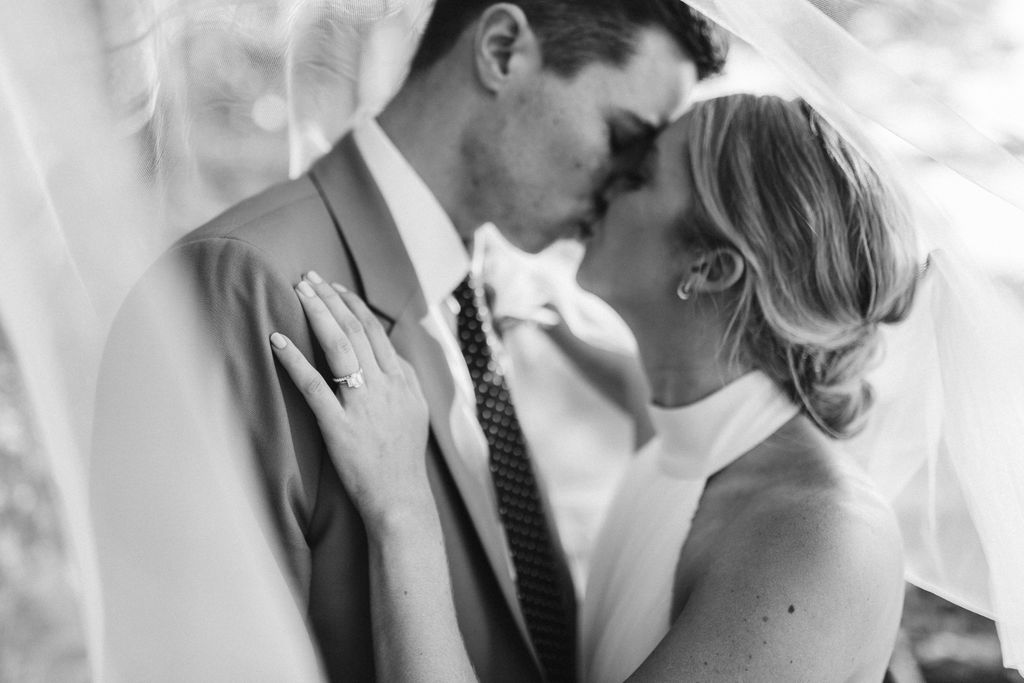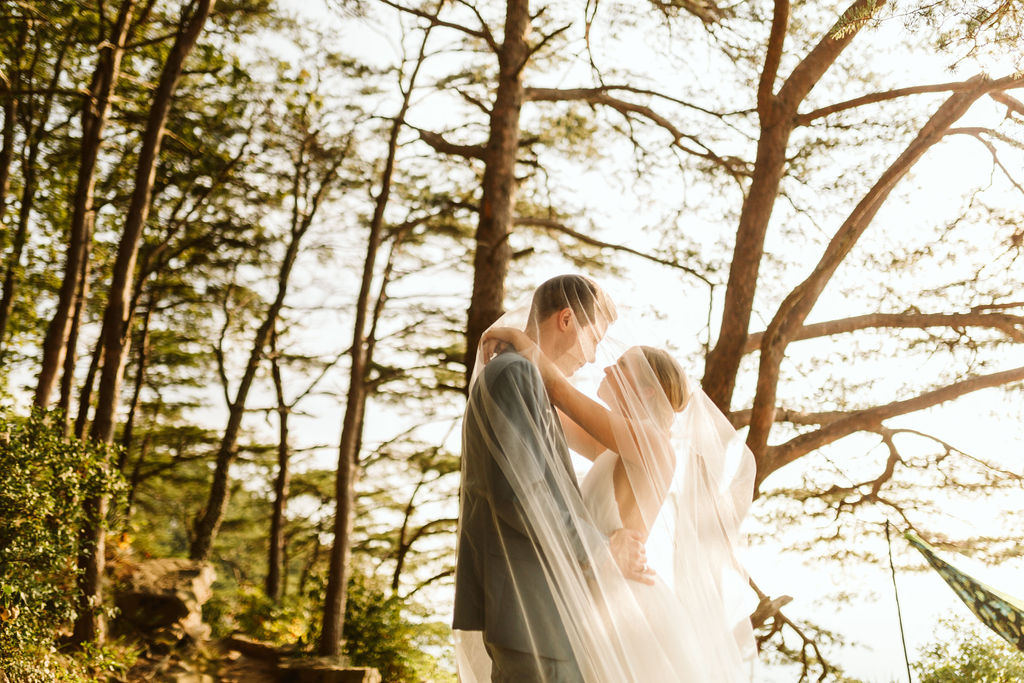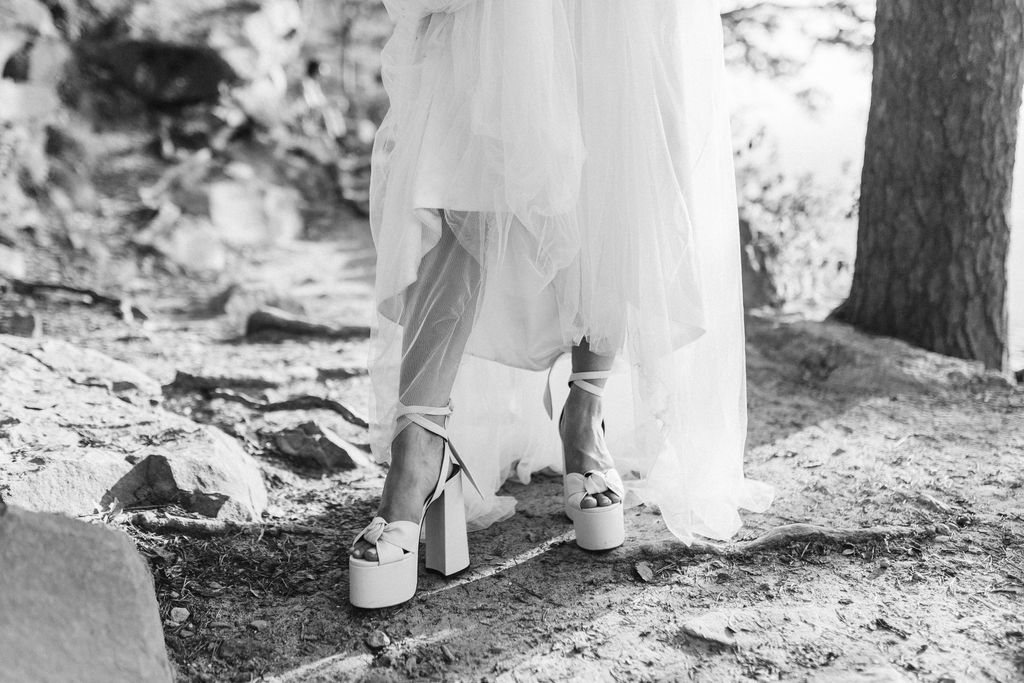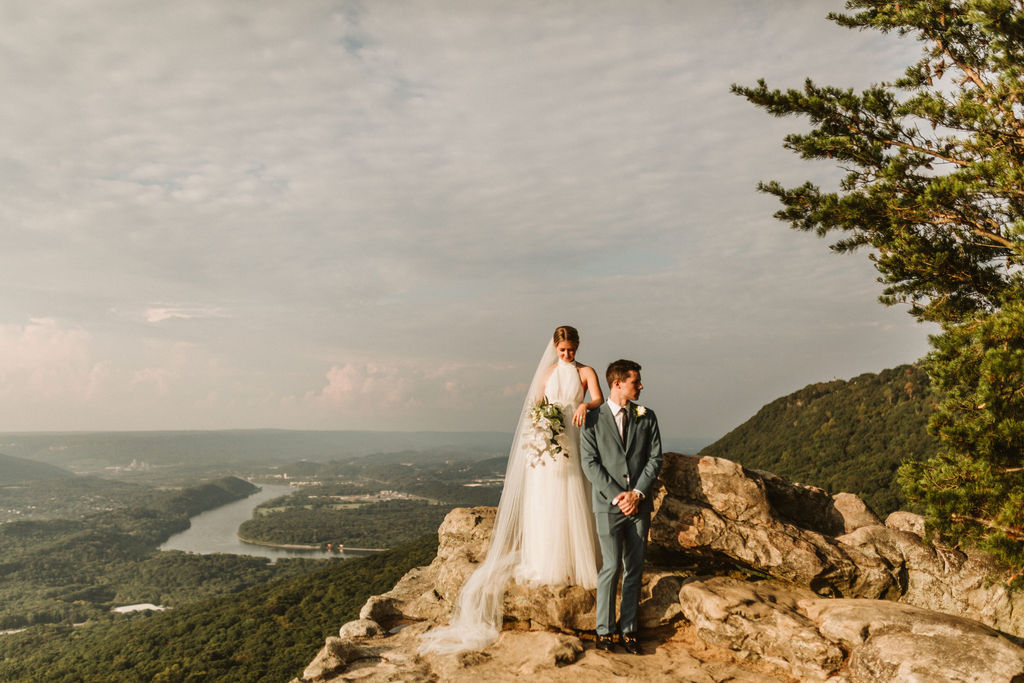 I love how Emily's bouquet cascades down Jim's back when they hug. SO DREAMY. Grandma for the win.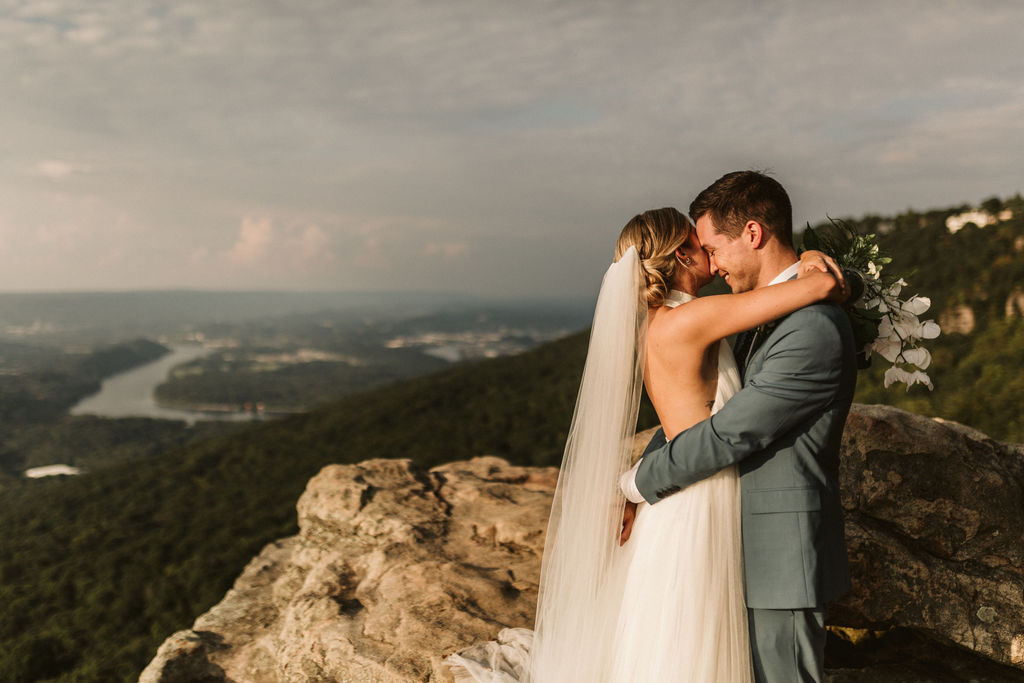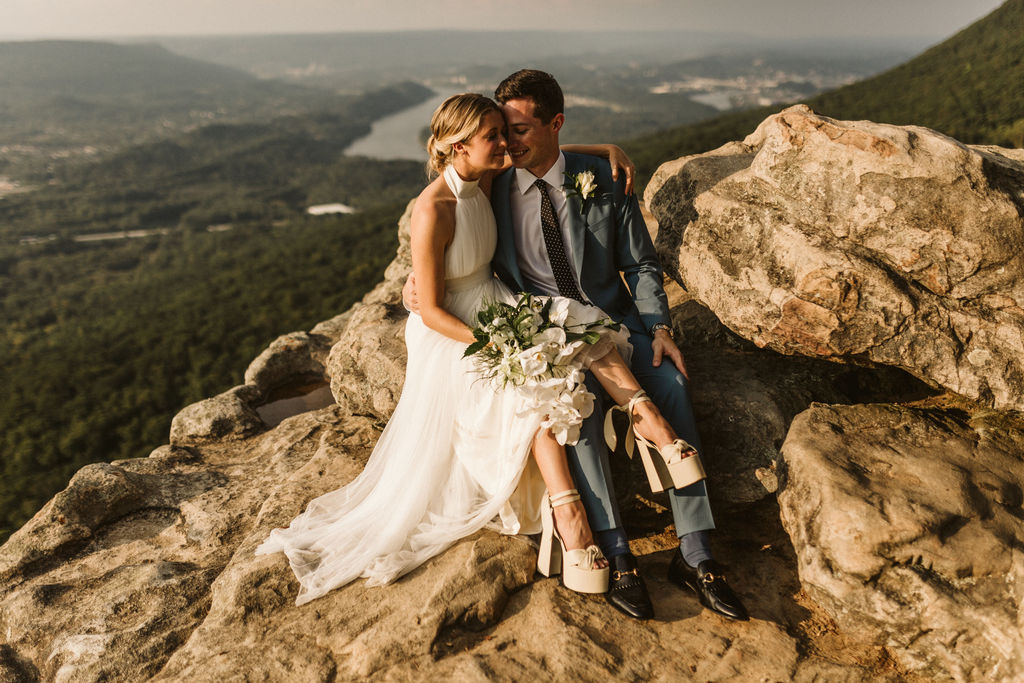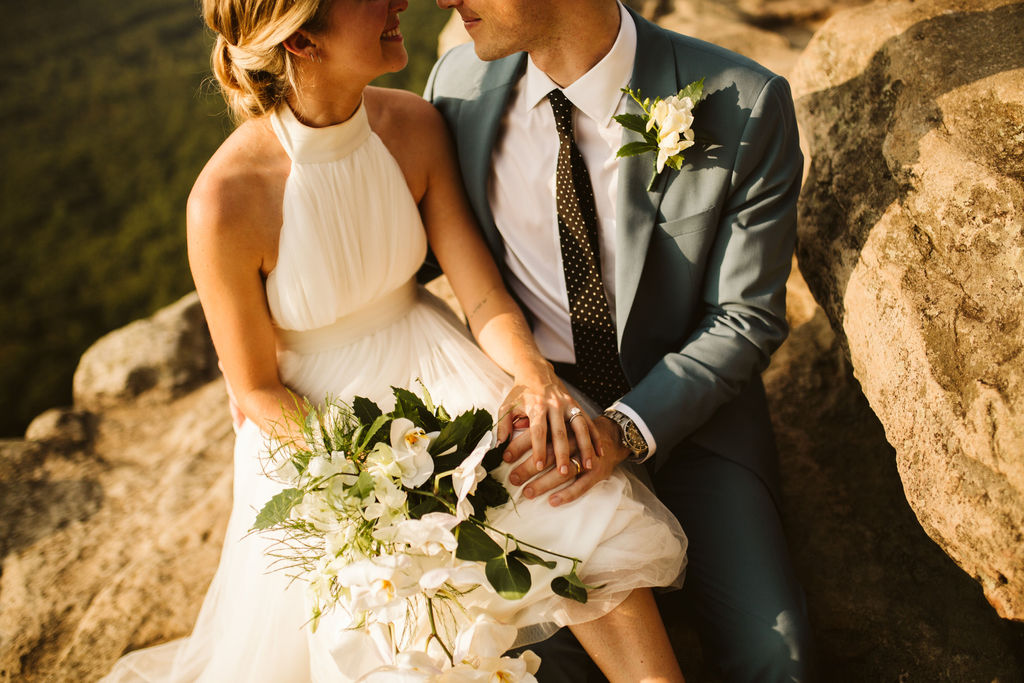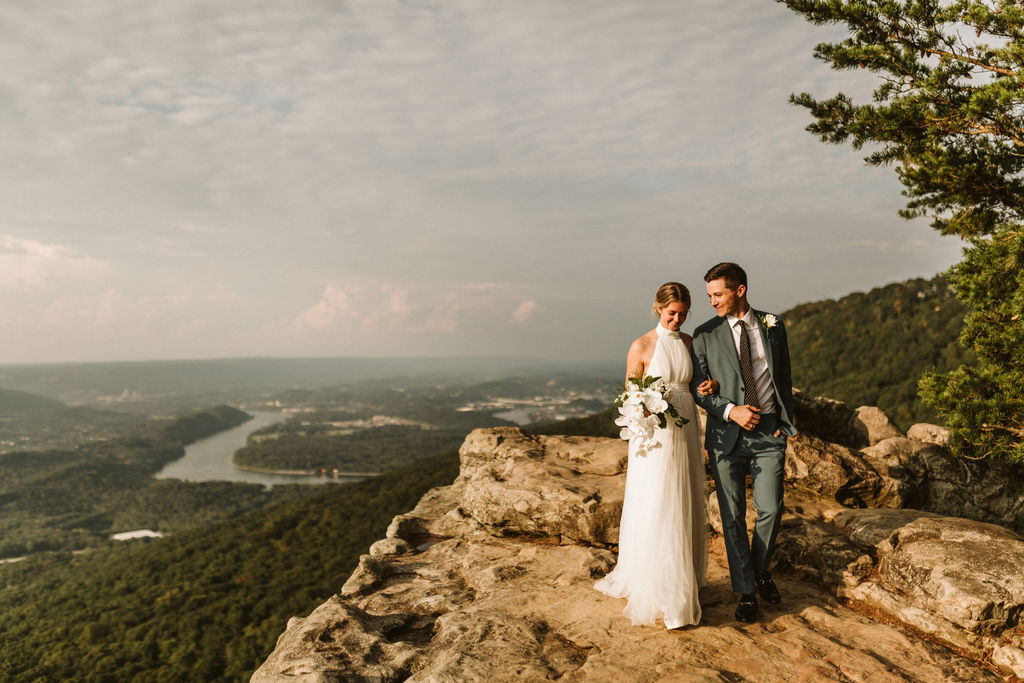 Downtown Chattanooga Wedding Reception
Once we finished the portraits at Sunset Rock, we joined up with the rest of the guests in downtown Chattanooga, where Jim and Emily hosted their candlelit reception at Alleia. The space was a terrific fit for Jim and Emily's classy and modern aesthetic. And can we talk just a sec about those cakes? Sweet Angel Cakes created both simple, elegant cakes, and they suited the couple's style perfectly.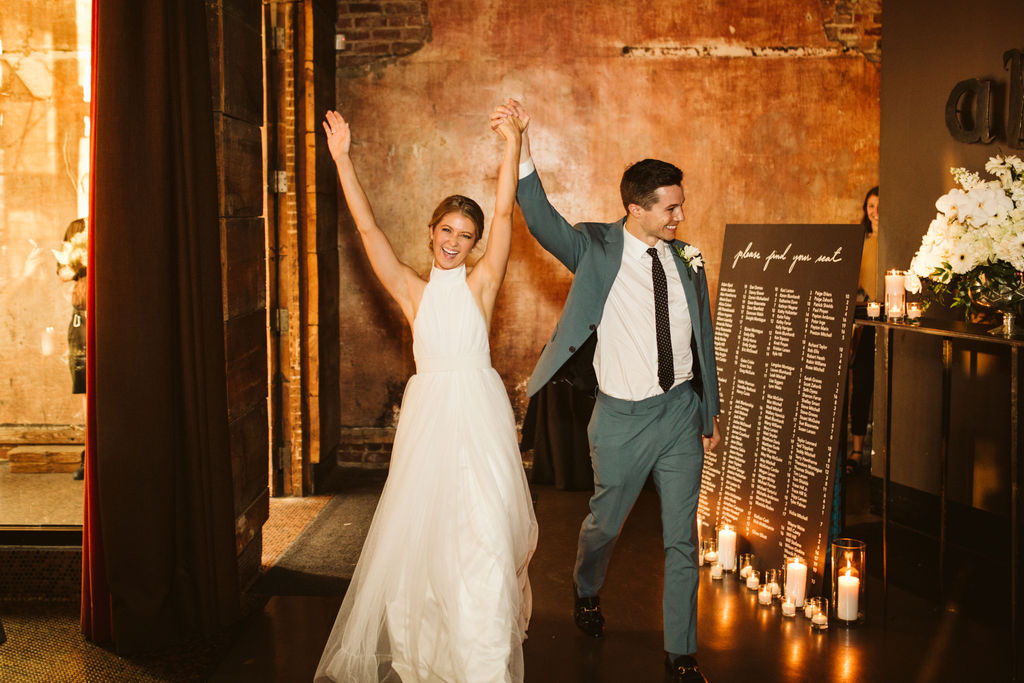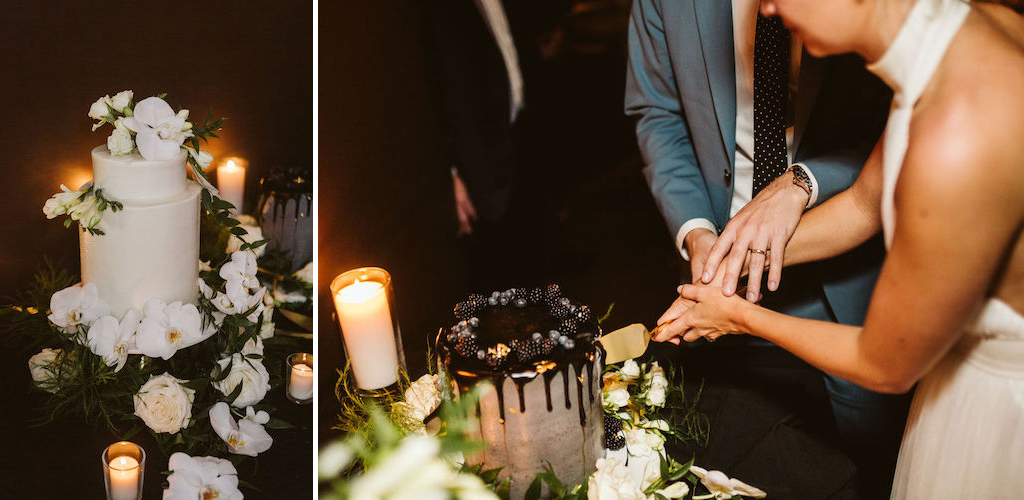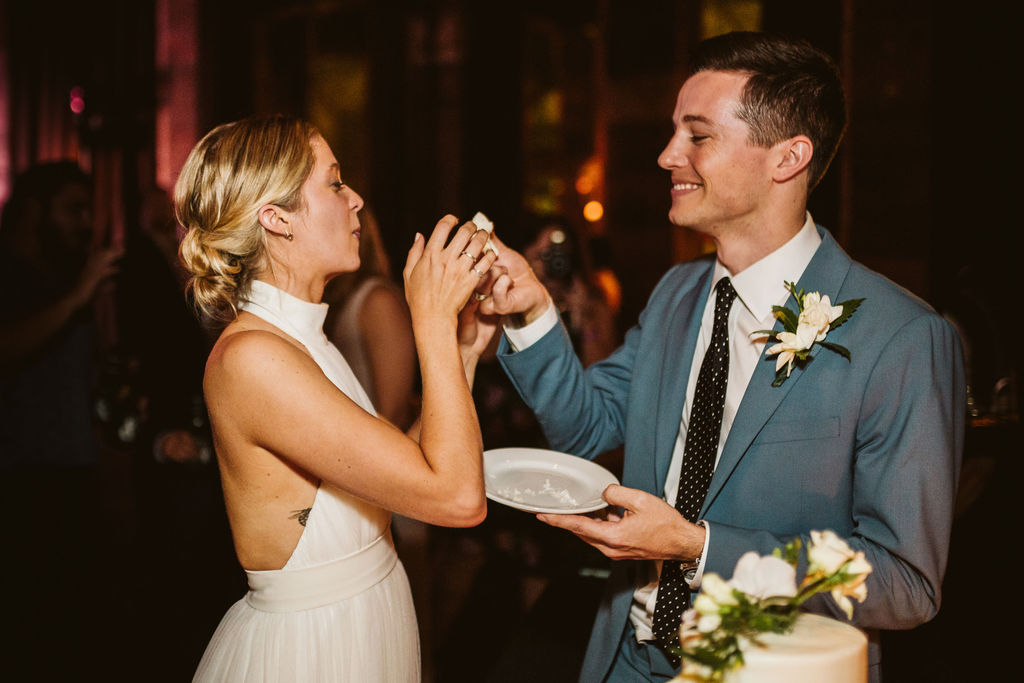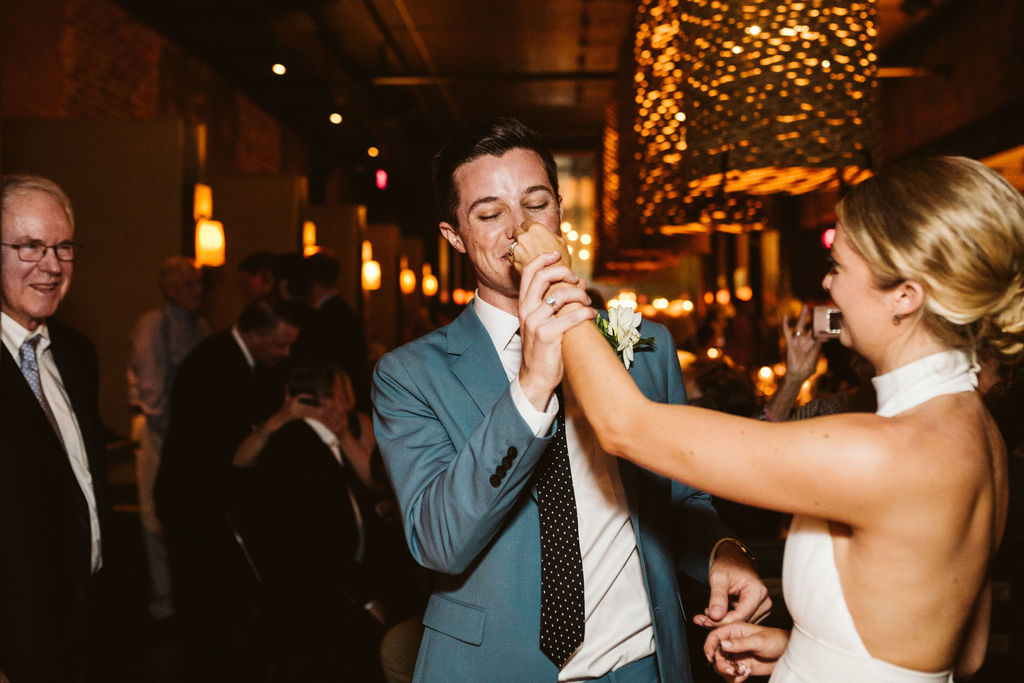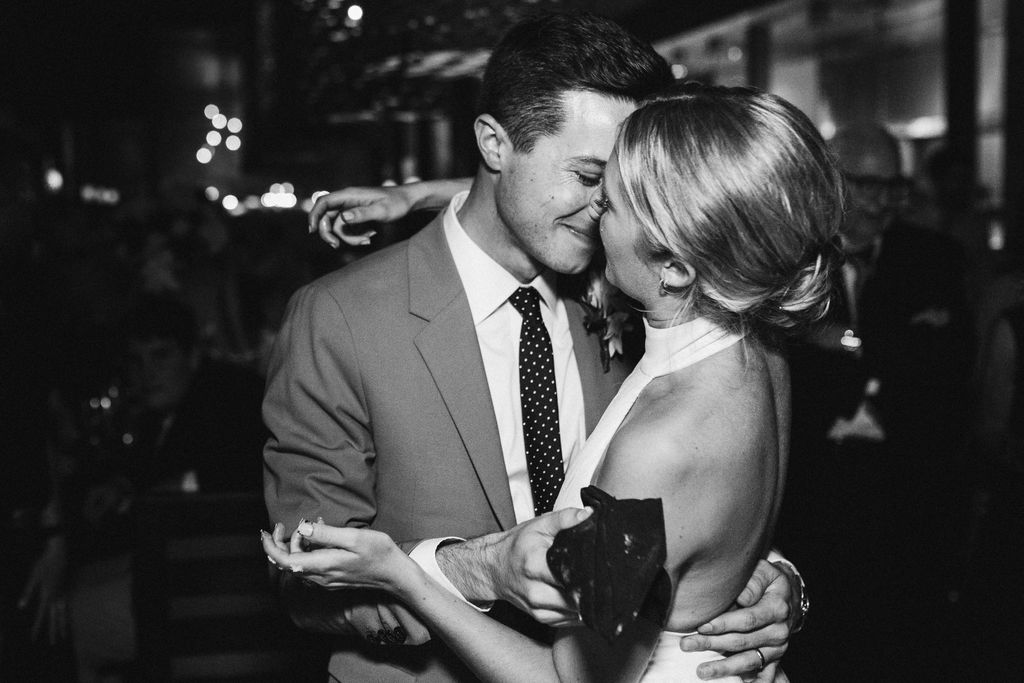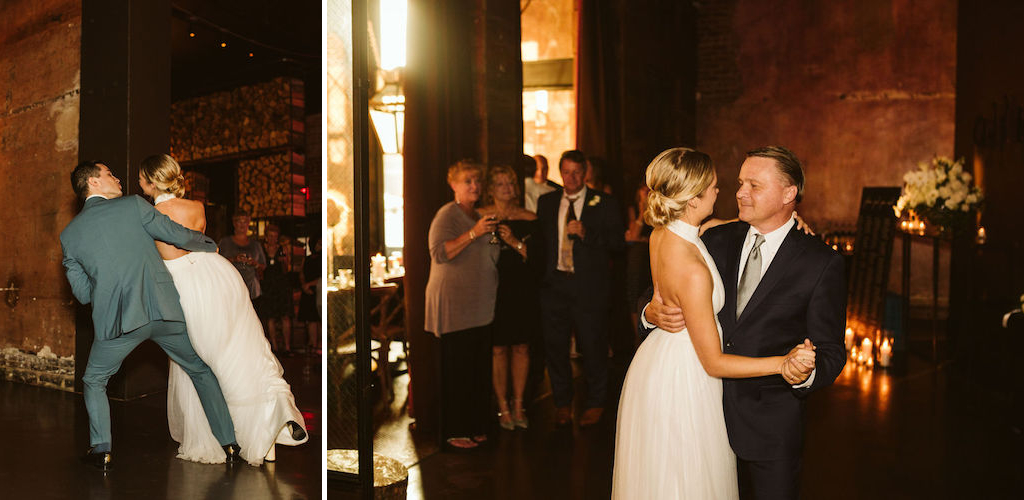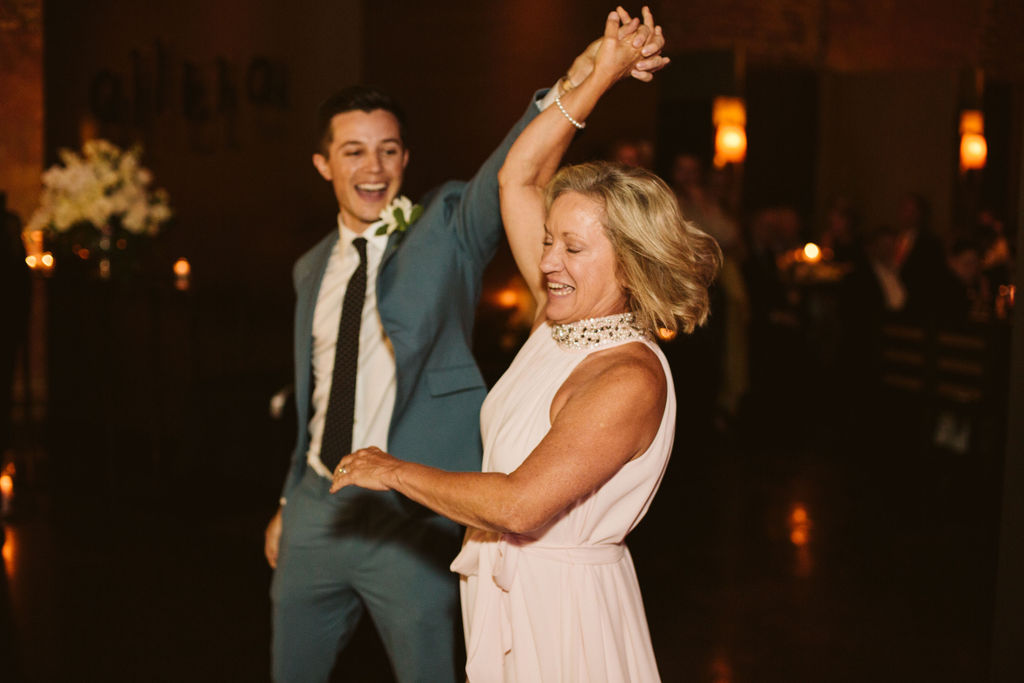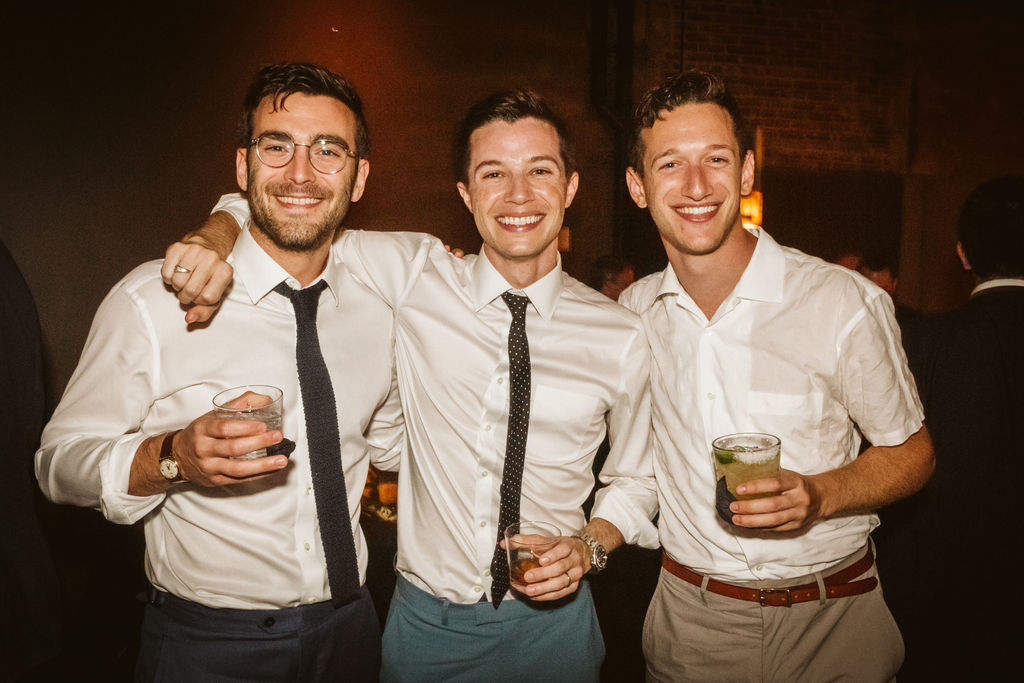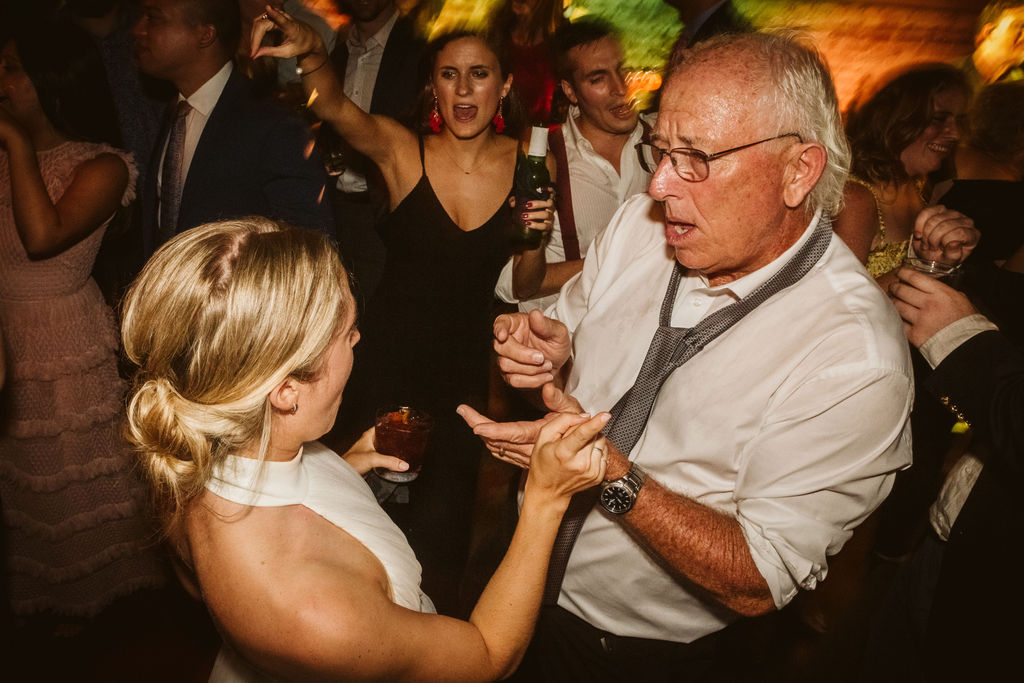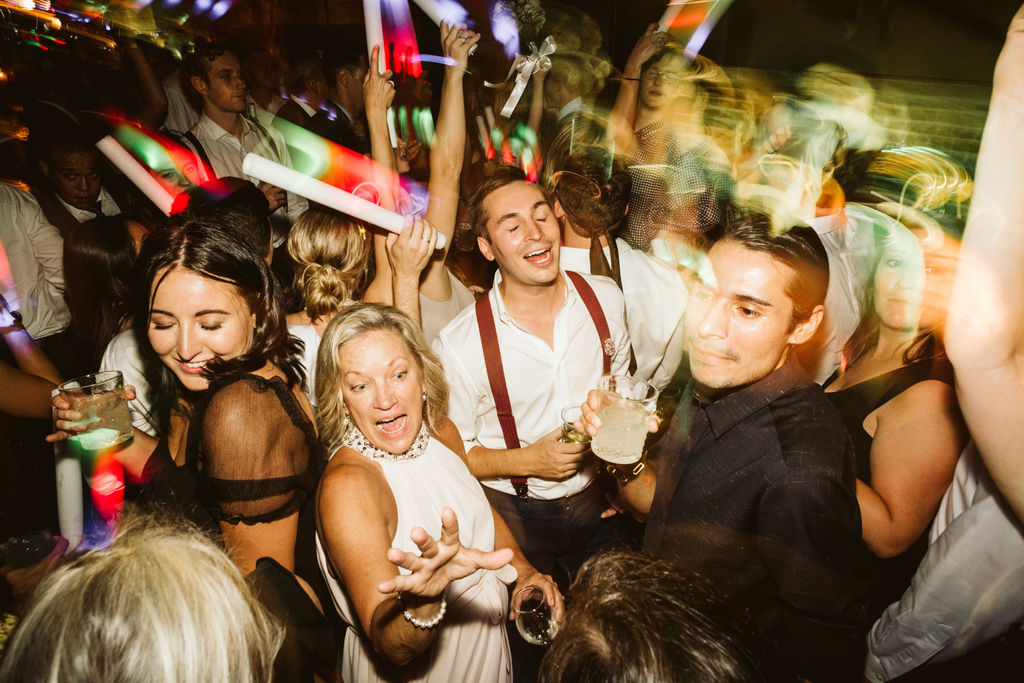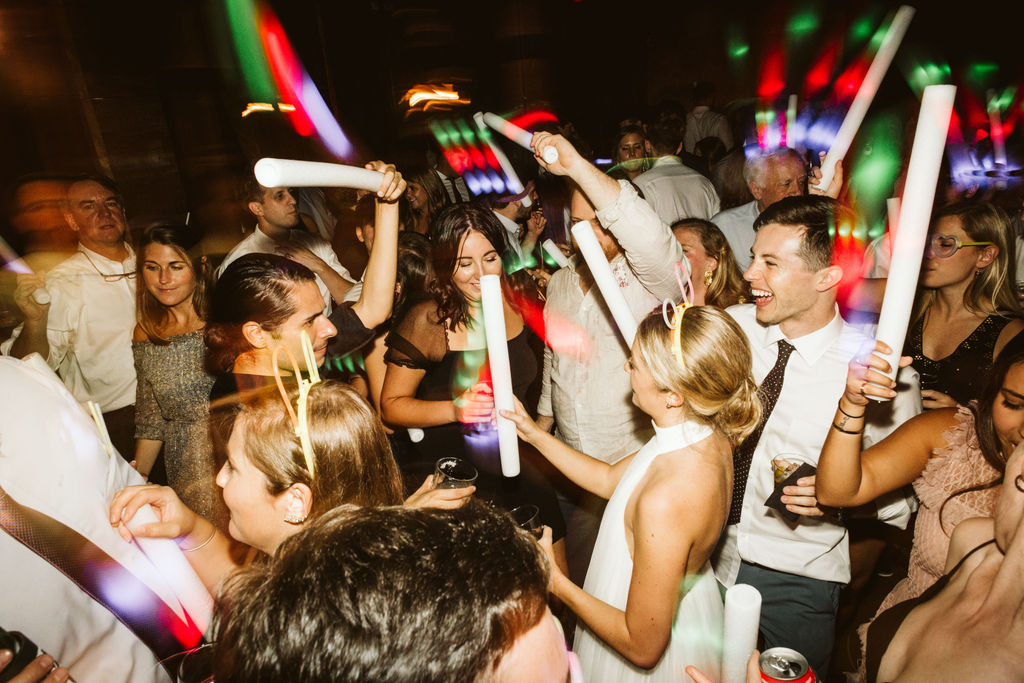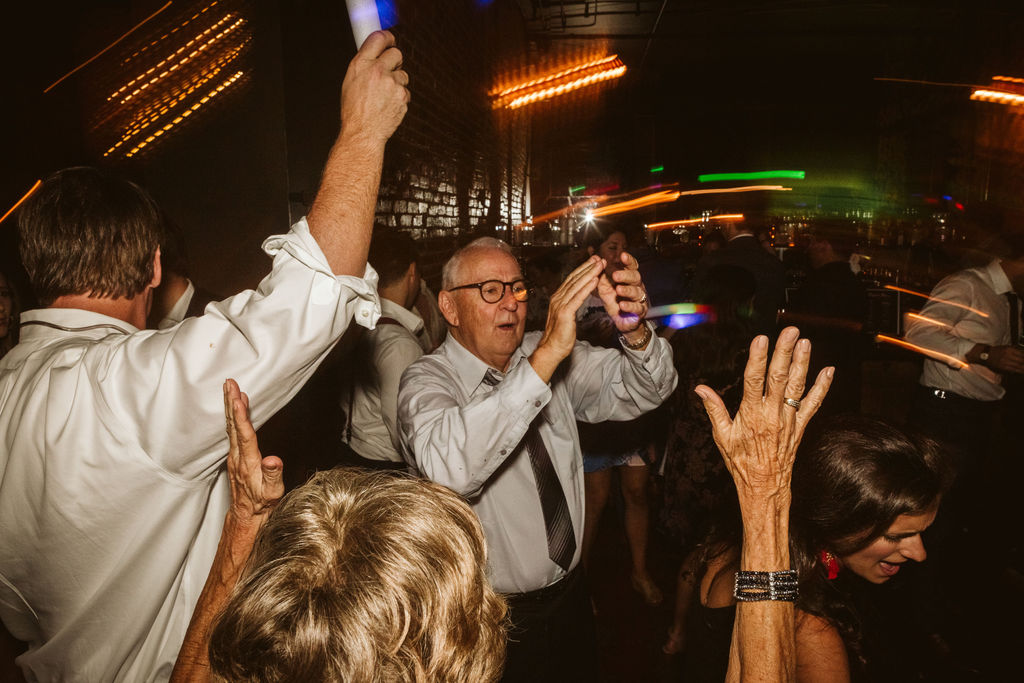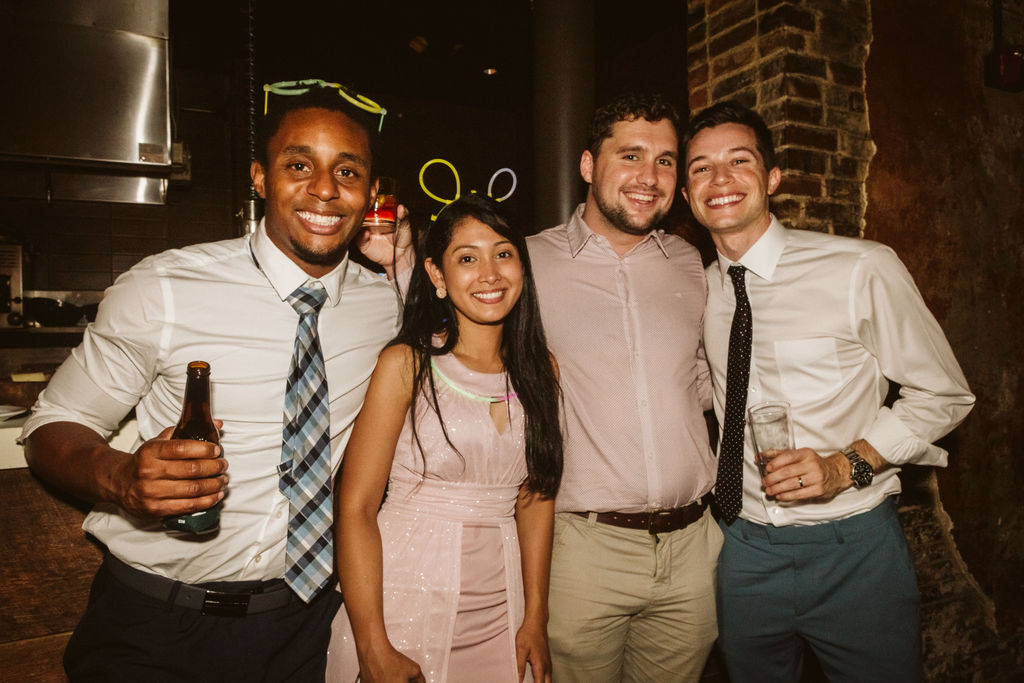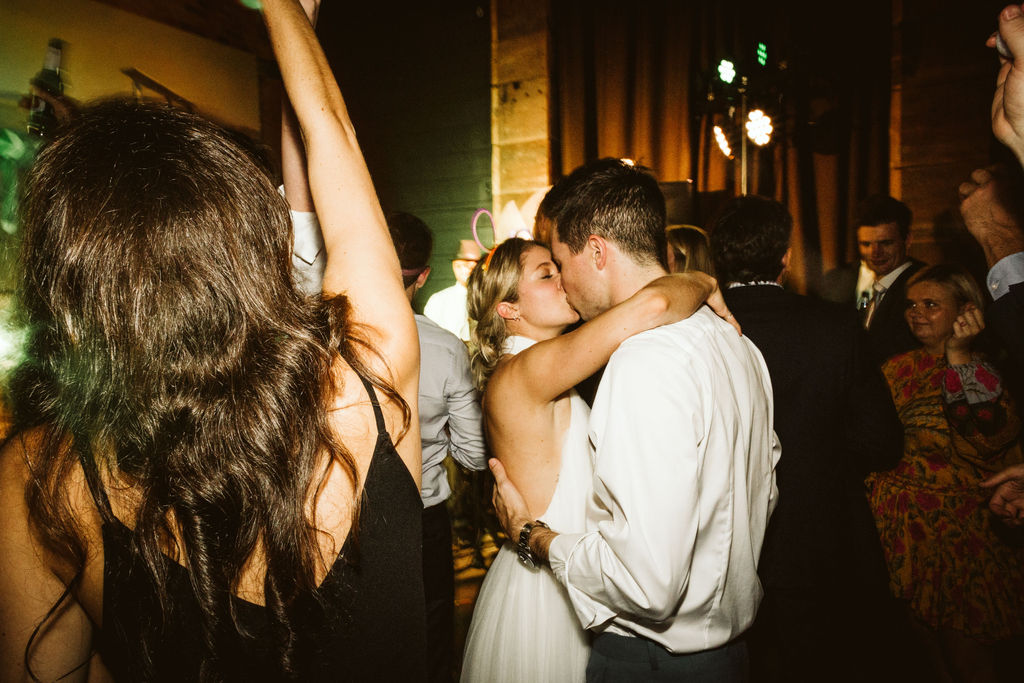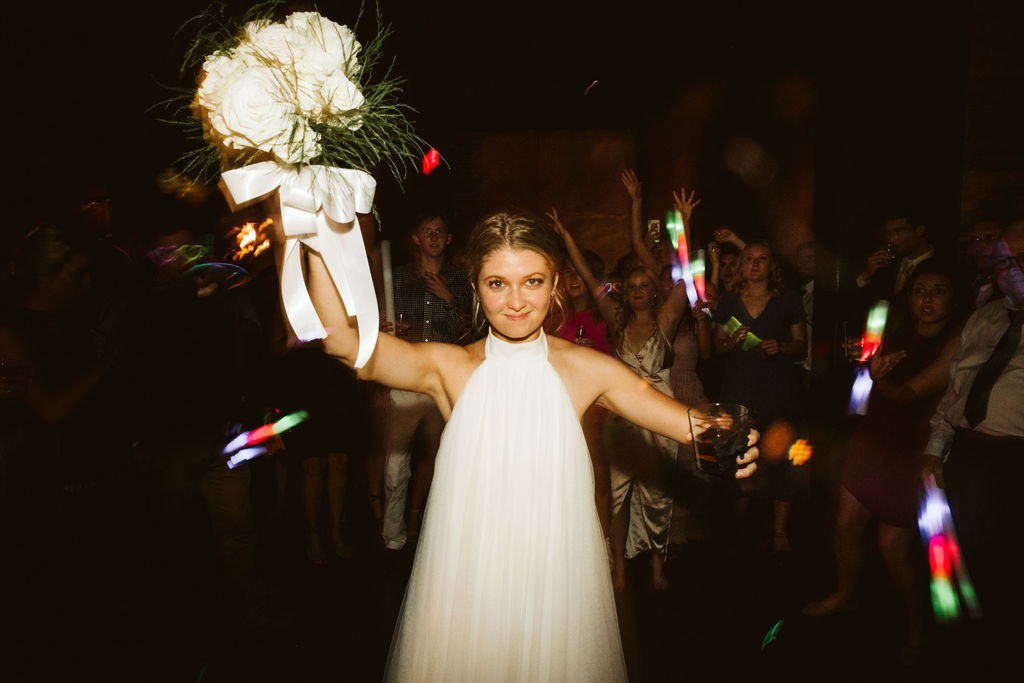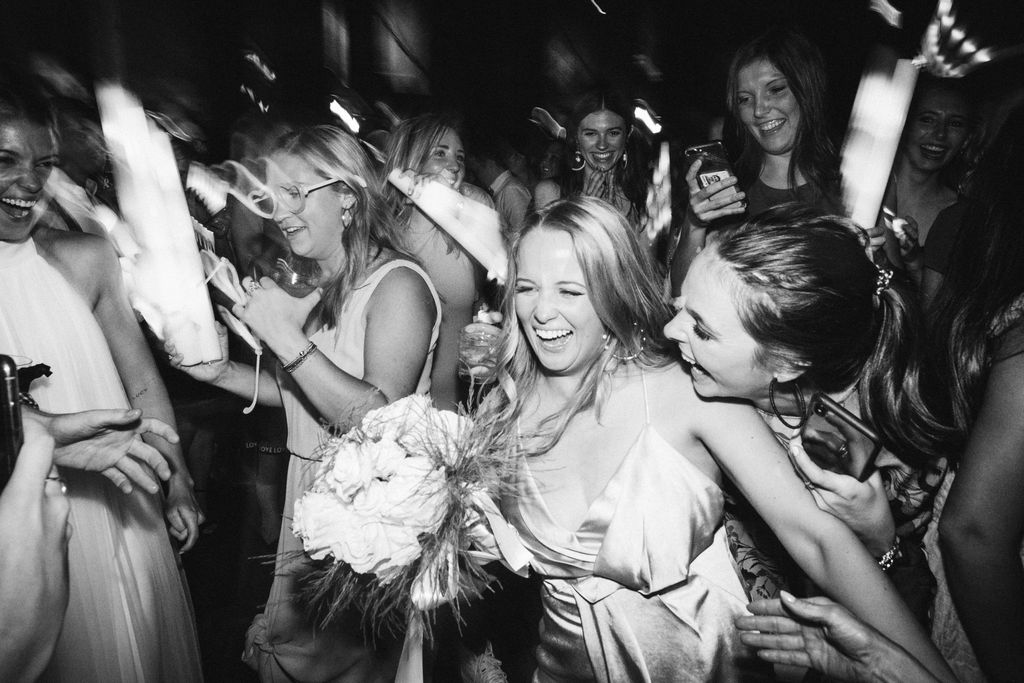 After a delicious dinner, the couple led the rest of the crowd onto the dance floor for live music from Oh No Stereo and hours of dancing! Between all the food and dancing, I was able to sneak the bride and groom away to Alleia's private patio for a quick photo session. I needed to see that tulle in action. Who doesn't love a good twirl?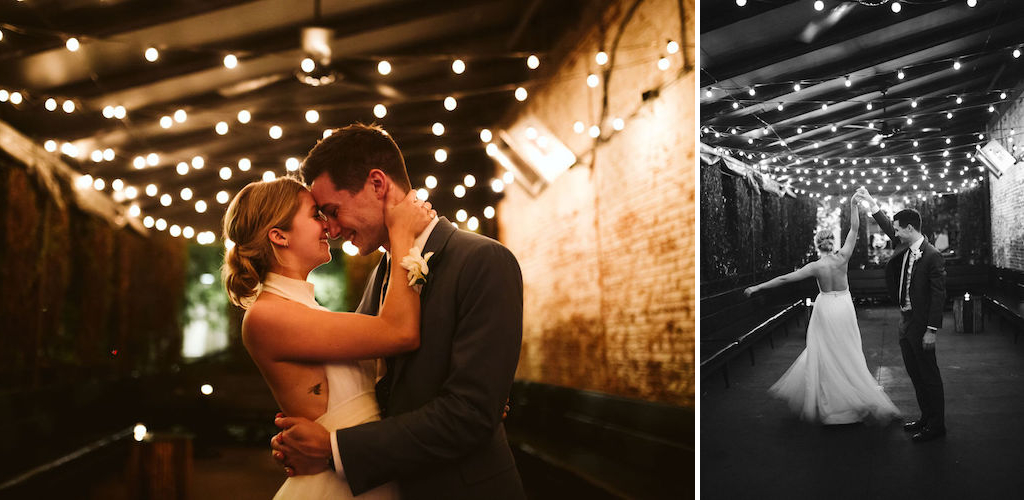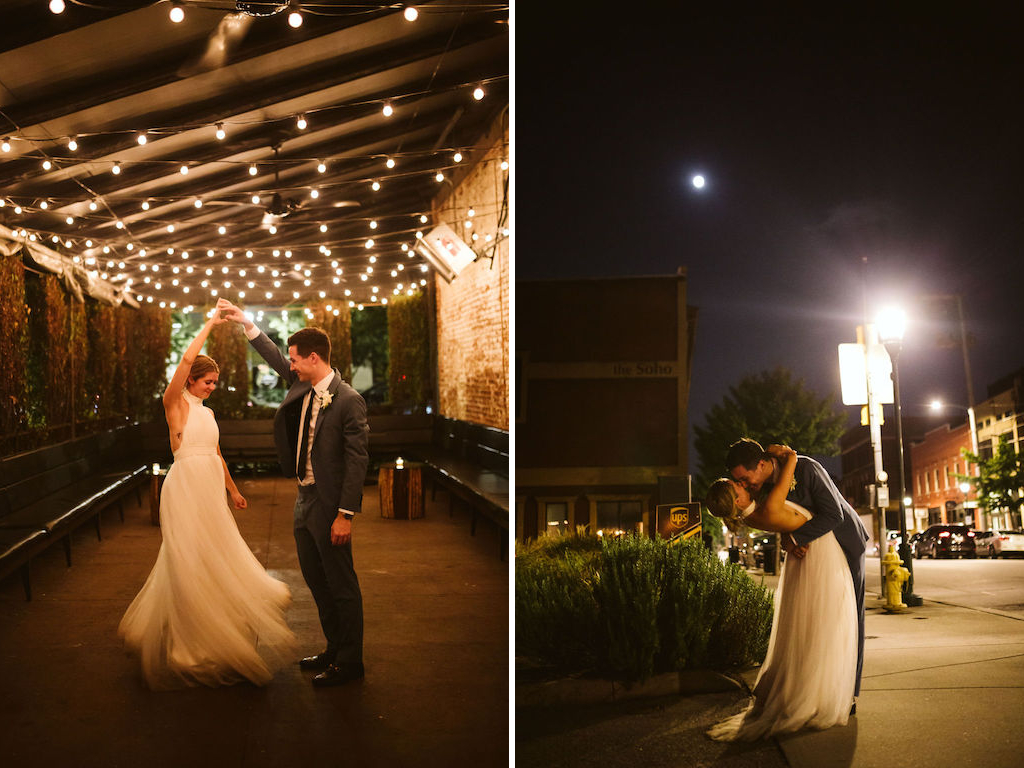 Sparkler Send-off in Downtown Chattanooga
At the end of the evening, Jim and Emily's family and friends gathered for a sparkler send-off, and OMG look at these smiles. A couple more kisses and twirls to make this wedding photographer's entire night.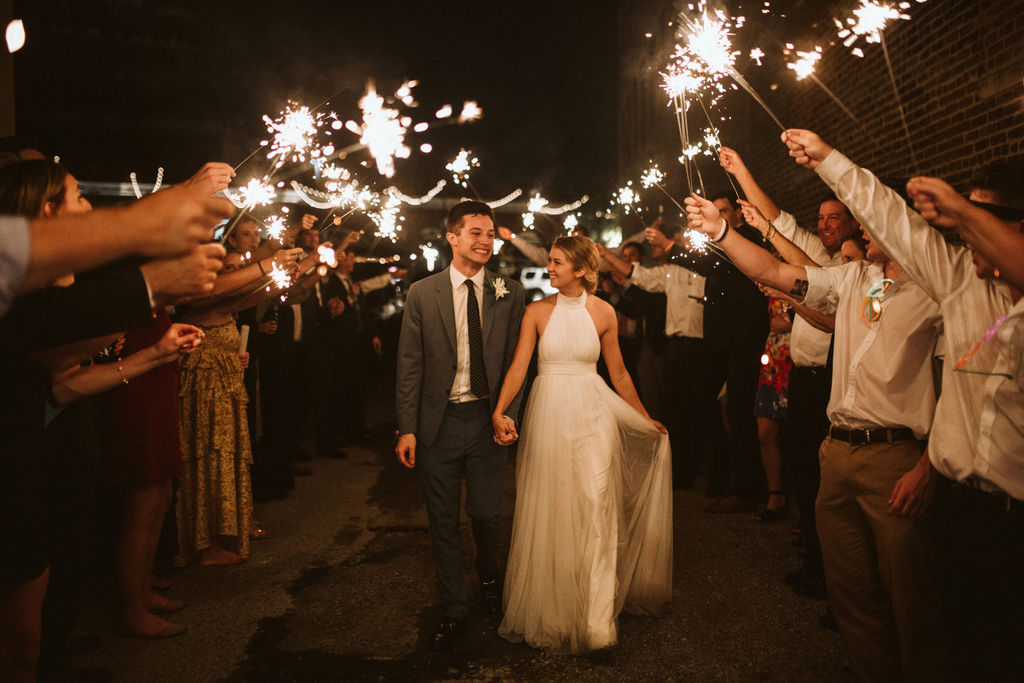 Jim and Em, thank you for letting me be part of your beautiful Chattanooga wedding day. Many congratulations!
Vendors for this Lookout Mountain Destination Wedding
Thank you to the following vendors:
Getting ready venue: The Westin Chattanooga
Ceremony venue: Rock City Group Pavillion
Bride and groom portrait venue: Sunset Rock, Lookout Mountain
Reception venue: Alleia
Band: Oh No Stereo
Cake: Sweet Angel Cakes, Toni Doster Repko
Gown: Gabriella Bridal
Wedding coordinator: Jessica Ann Wedding Co.
Florals: Emily's grandmother
---
Thinking of a destination wedding in Chattanooga or the greater Chattanooga area?


CONTACT ME

, your friendly Chattanooga wedding photographer, so we can start planning!
As a local Chattanoogan, I can tell you one thing for sure: the Chattanooga area is a wonderful place to get married. If you're looking for astonishing scenery (intimate wedding at Fall Creek Falls), or wonderful venues (Chattanooga Whiskey Event Hall wedding), or both (DeBarge Vineyard wedding), keep Chattanooga on your wedding bucket list.