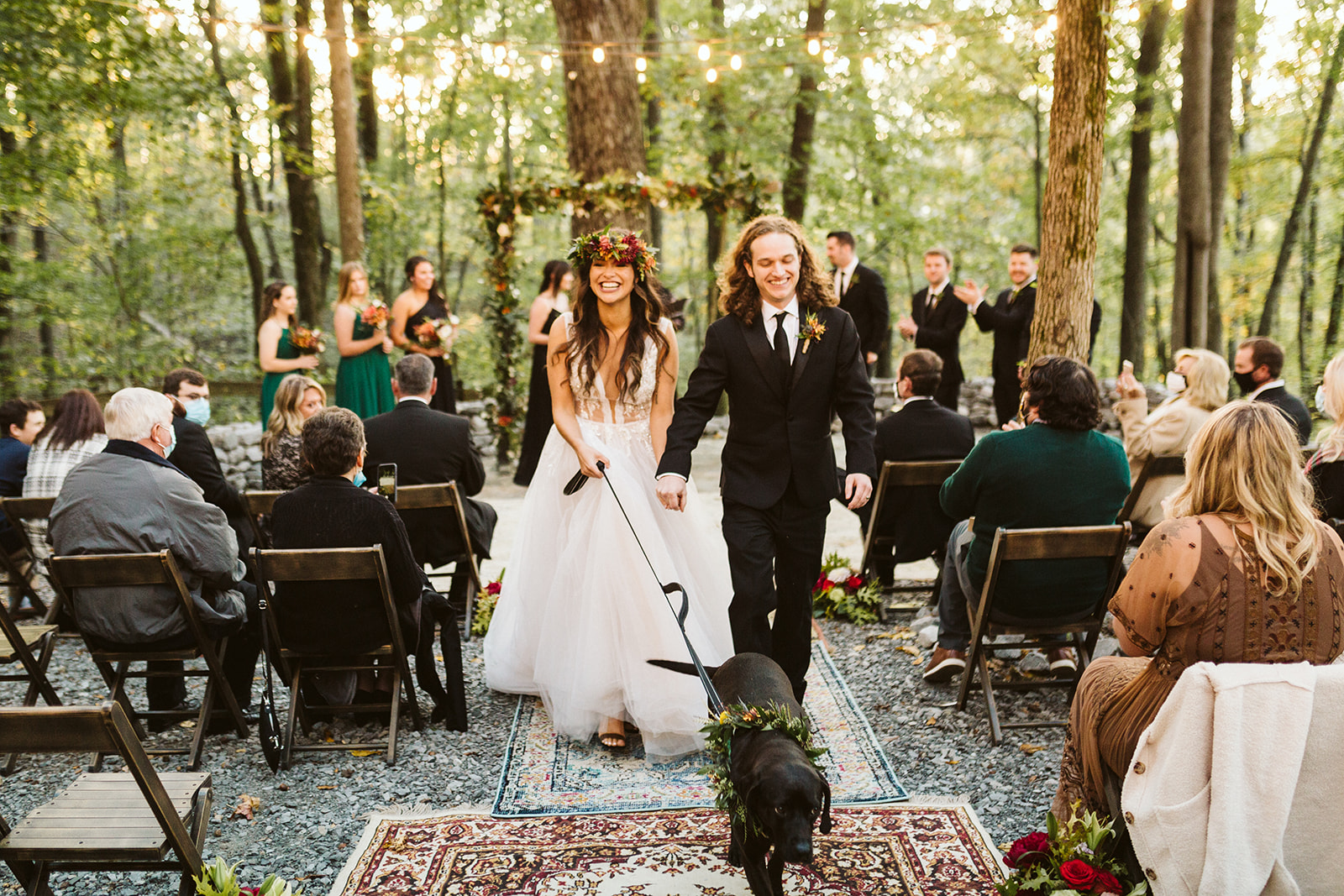 If you've ever been in a wedding before, you know how busy a wedding day can be! A well-designed wedding timeline ensure you have enough time for the activities and photos important to you and that everything runs smoothly. Read on to learn how to plan your own wedding day timeline!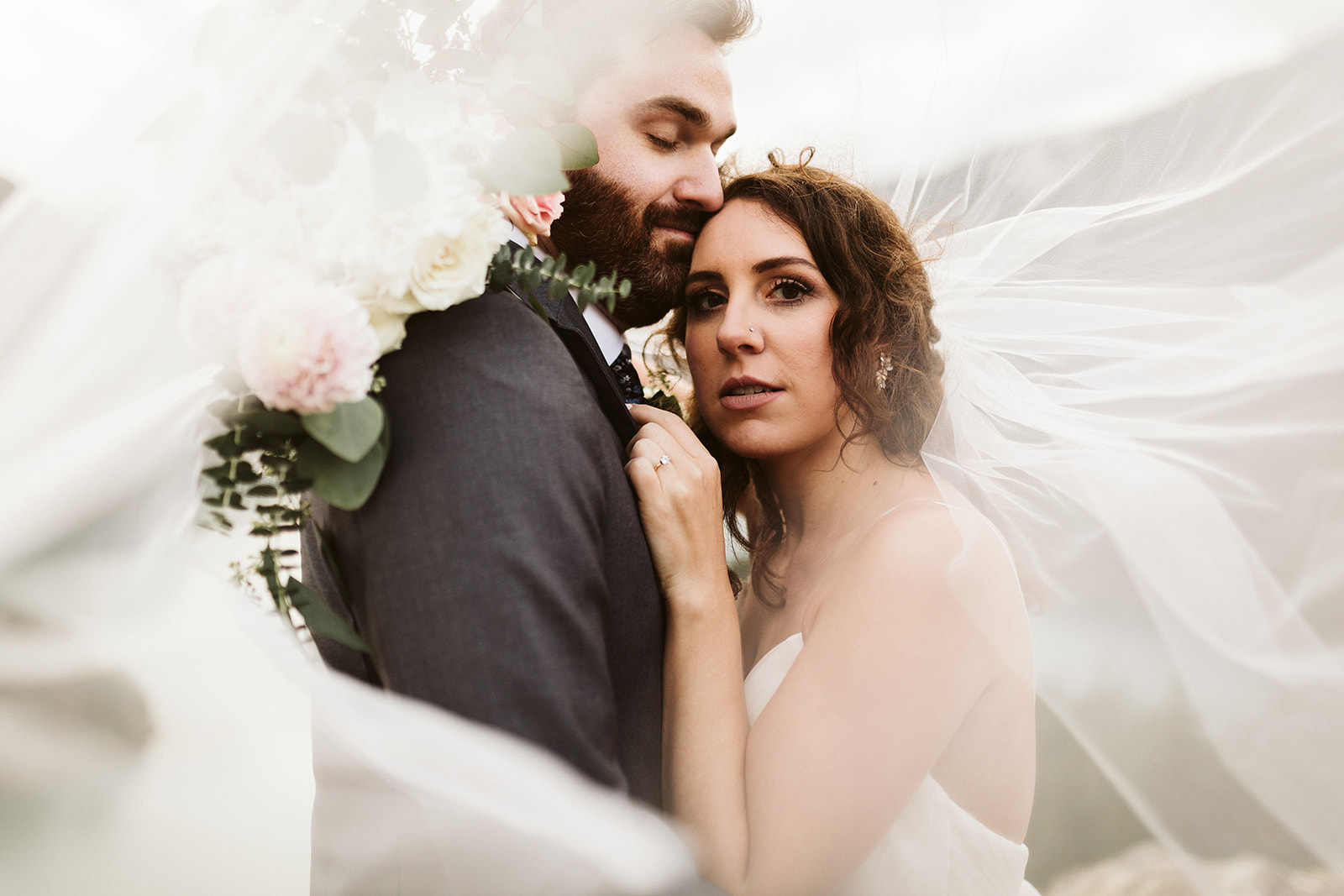 "Who's in charge of our wedding day timeline?"
This is entirely up to you! If you're hiring a coordinator or planner, your best bet is to leave it to the professional. They will be able to work all of your wants and needs into your day-of timeline, and they'll be the one making sure your wedding runs smoothly on the day of. Once they've completed your timeline, send that document to your photographer and videographer so they have an idea of how the day will flow (and an opportunity to suggest minor tweaks).
If you're not hiring a planner, ask your photographer! I'm more than willing to help my couples DIY their wedding day timeline. In fact, I want to. This way, I'll be able to make sure we get enough time for photos throughout the day and have the best lighting possible. On the day of your wedding, I'll do my best to keep everyone on time, but it's a great idea to put a trusted, no-nonsense friend or relative in charge of keeping everyone in line. (Got a super organized aunt or cousin who wants to be a part but isn't in the wedding party? This is the job for them!)
Keep reading for a wedding day timeline template you can fill in for yourself. Then, when we chat, I'll help you finalize it!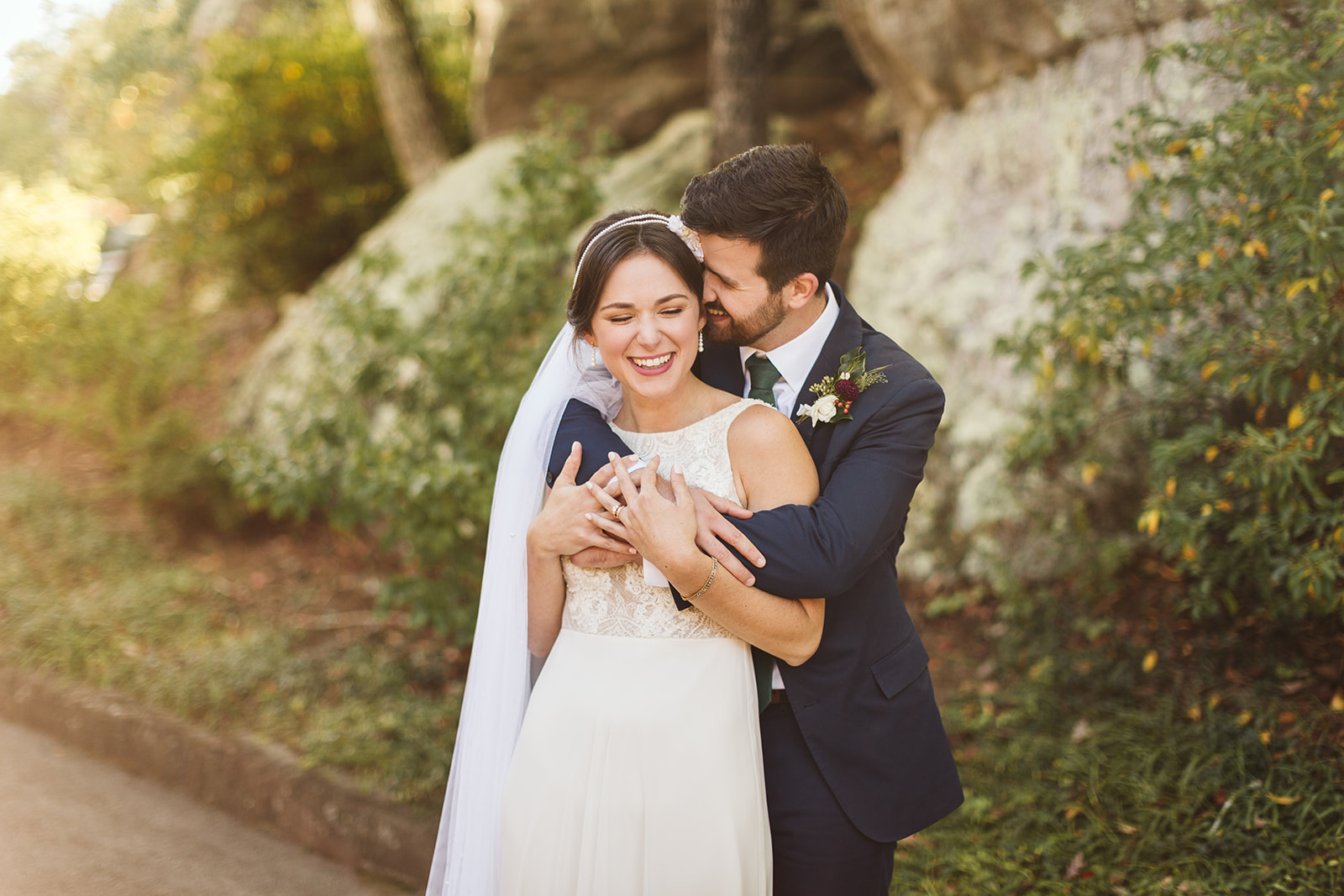 Your Wedding Day Timeline
Before the Ceremony
The first step in creating your timeline is deciding whether or not to have a first look. (If you're not sure yet, check out my recent blog post about the pros and cons of having a first look.)
This single decision really dictates the flow of your day. Keep reading to see how!
With A First Look
If you will be opting for a first look, plan to do that around two hours before your ceremony. (That might sound like overkill, but stick with me!) The first look itself takes only 5-10 minutes, which leaves you…
30-45 minutes for couples portraits
30 minutes for bridal party portraits
30 minutes for immediate family photos
a few moments to breathe before the ceremony!
You can finish any extended family photos after the ceremony and then head straight into your reception.
Without A First Look
If you're not doing a first look, you should both still be ready (wedding attire on, makeup done, ready to go) at least two hours in advance of the ceremony. This gives you enough time for bride/groom solo portraits, separate bridal party portraits, and immediate family photos.
Something to keep in mind: If you and your partner are getting ready at the same venue, we'll need time to move everyone around without anyone seeing each other. This can add a good chunk of time to your photos! If you're getting ready in two different locations, your photographer will need time to travel from one location to the other (or you could consider adding a second shooter to your wedding package). That's why it's important to give yourself plenty of time just in case.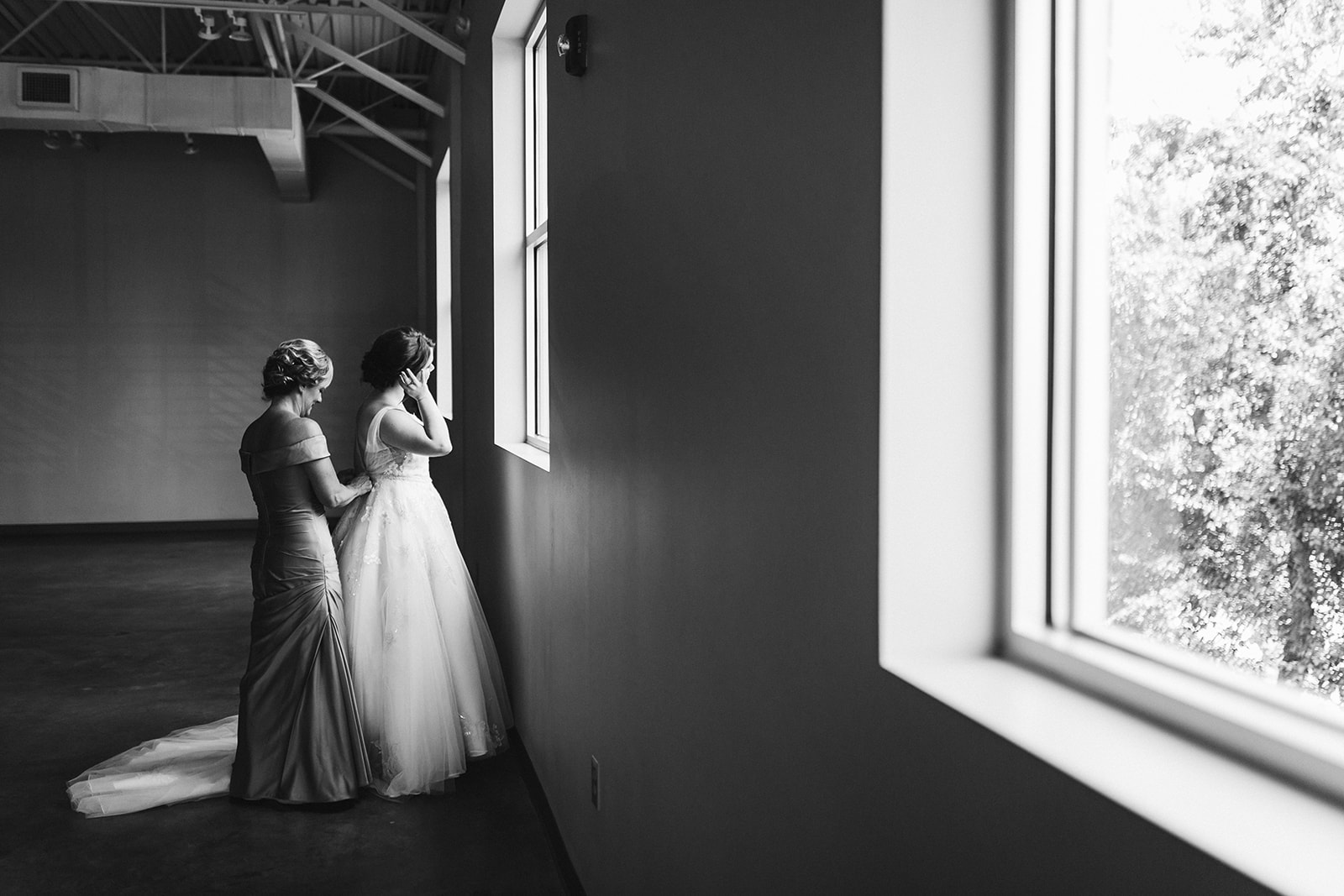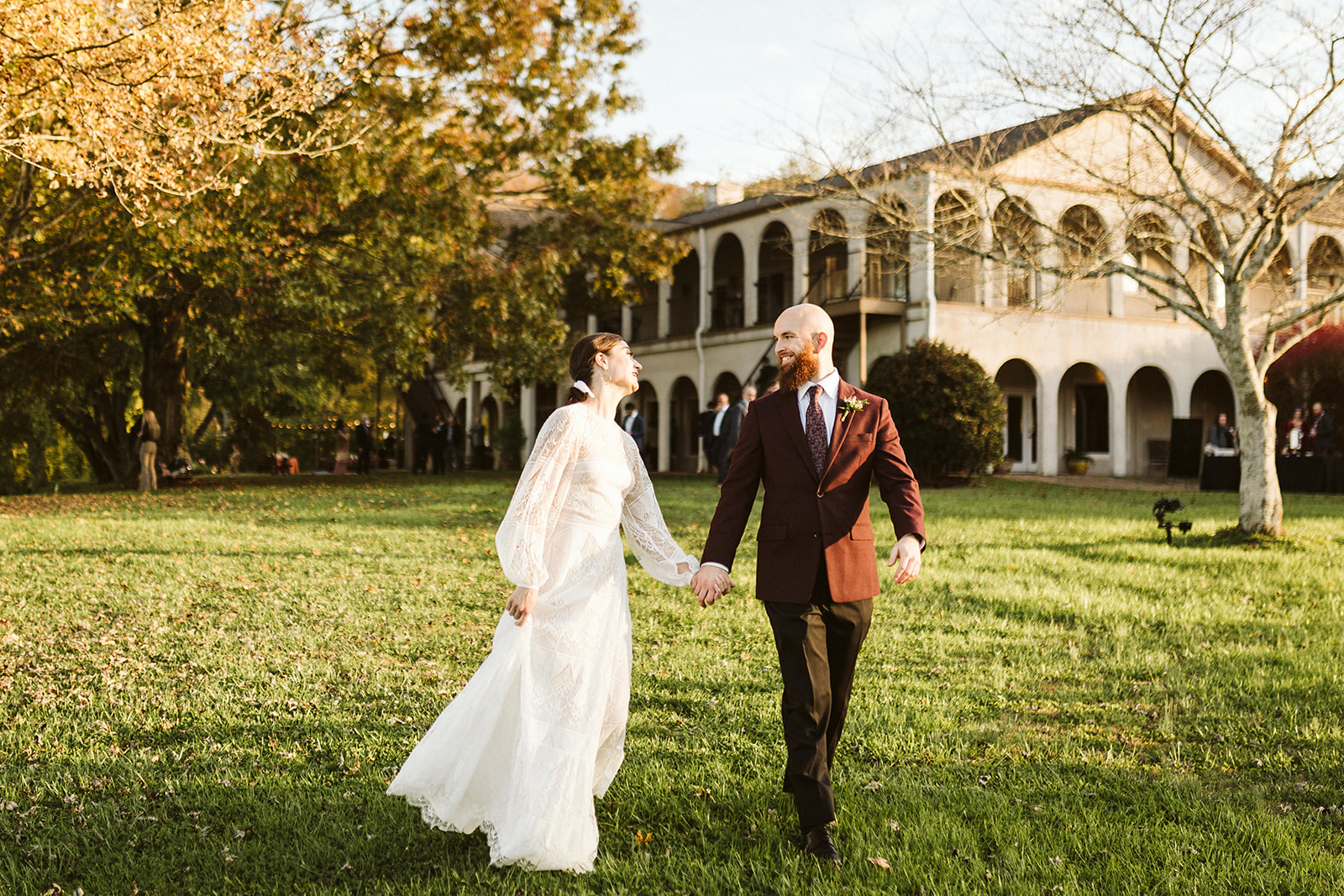 Ceremony
The ceremony itself will likely only last 10-15 minutes. (If you're thinking, Every wedding I've been to felt longer than that, you're right! It feels longer than it is for guests and shorter than it is for the couple.) That being said, I advise my couples to plan for 30 minutes to cover the processional, recessional, and dismissing your guests to the cocktail hour or reception.
Please note: A Catholic mass can last up to 90 minutes. If you're having a Catholic (or otherwise religious) ceremony, make sure to consult your priest before finalizing your wedding day timeline.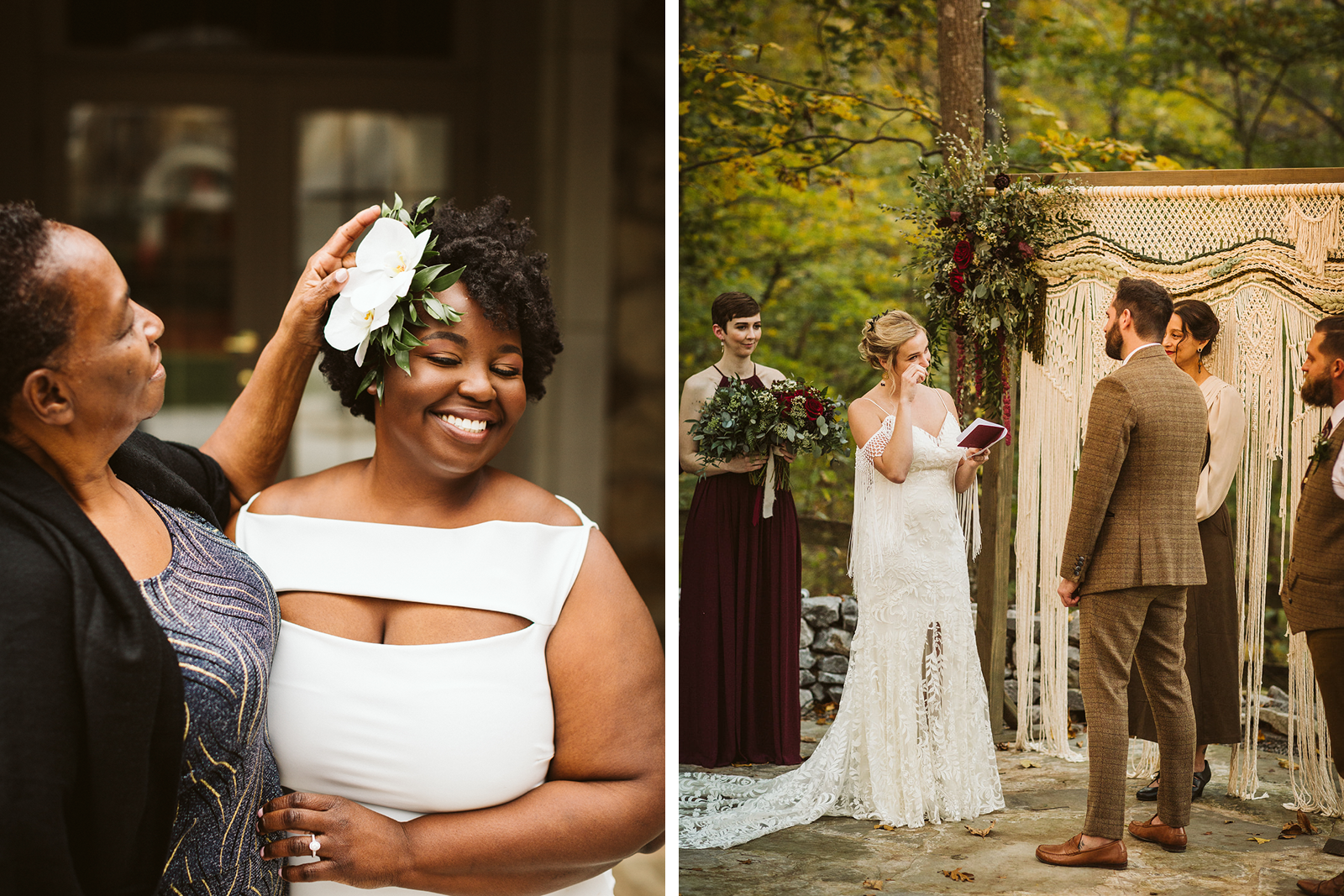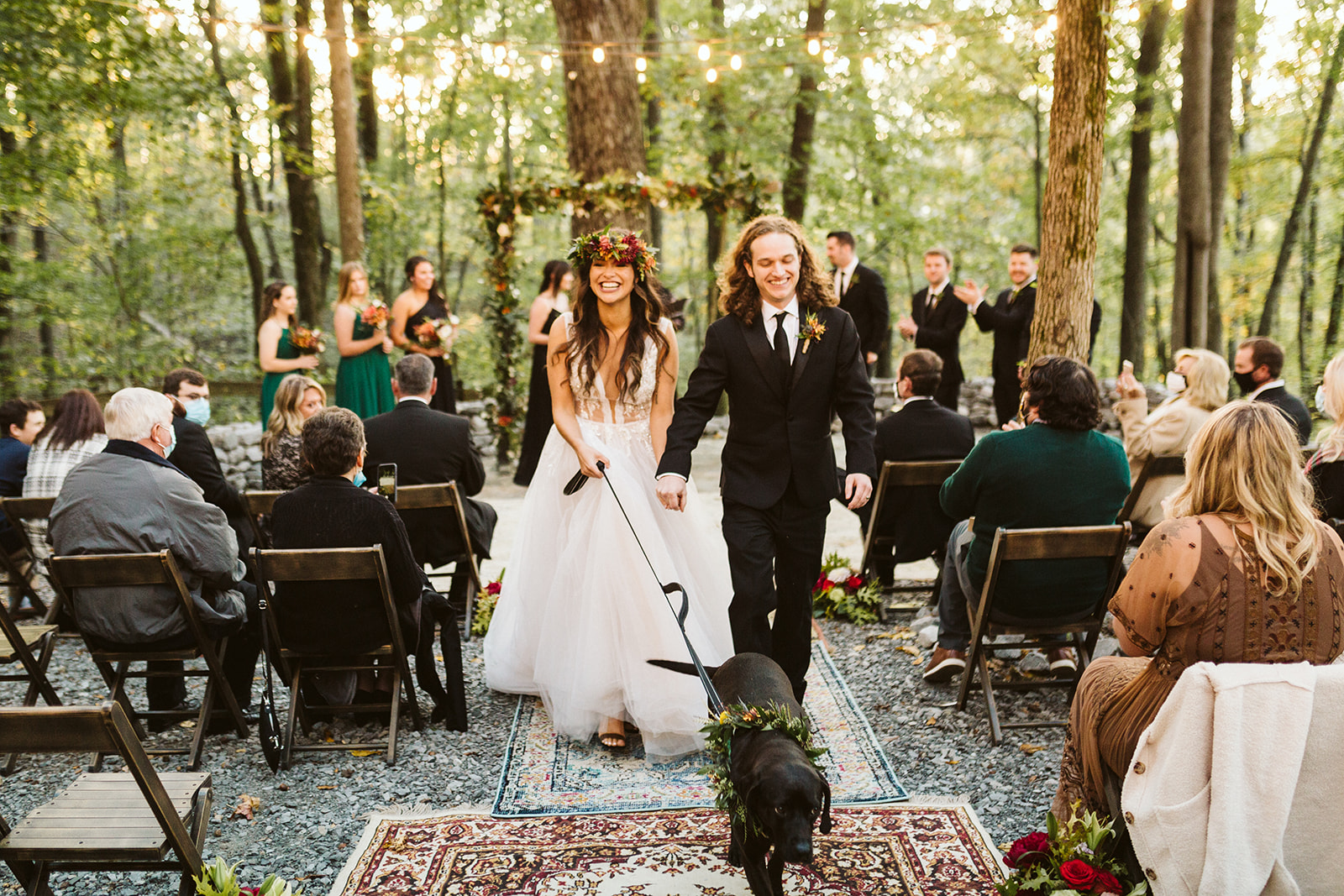 After the Ceremony
With A First Look
If you did a first look, congrats! You have very little to do between the ceremony and reception (meaning your guests won't have to wait very long). You may sneak away for a few minutes alone, take photos with your extended family, or grab a beer with the bridal party, but other than that you can go right to your reception.
Without A First Look
If you didn't do a first look, most of your wedding photos will need to occur between the ceremony and reception. Reserve around 90 minutes for family photos, full bridal party photos, and (the best part) couples portraits.
So what do your guests do while they wait? Most couples host a cocktail hour. Open the bar, serve appetizers, and consider cornhole or other games like these to keep your guests having fun. Other couples serve dinner during this time so their guests don't have to wait at all. It's up to you!
Pro tip: If you're serving dinner before photos are done, have your caterer set aside plates for you, your bridal party, and your photographer (pretty please!). It would be a shame to show up to your own reception and not get to eat. (Champagne on an empty stomach? No thanks.)
Even if you did do a first look, I still suggest couples set aside a few minutes at sunset for photos. Who doesn't want gorgeous, dramatic sunset shots on their wedding day?! Google the time the sun will set in your location on your exact wedding date for the most accurate time. Note – the time listed on Google is when the sun will be gone aka it will be dark. So make sure to schedule your sunset photos to start around 15-20 minutes before the time Google gives you.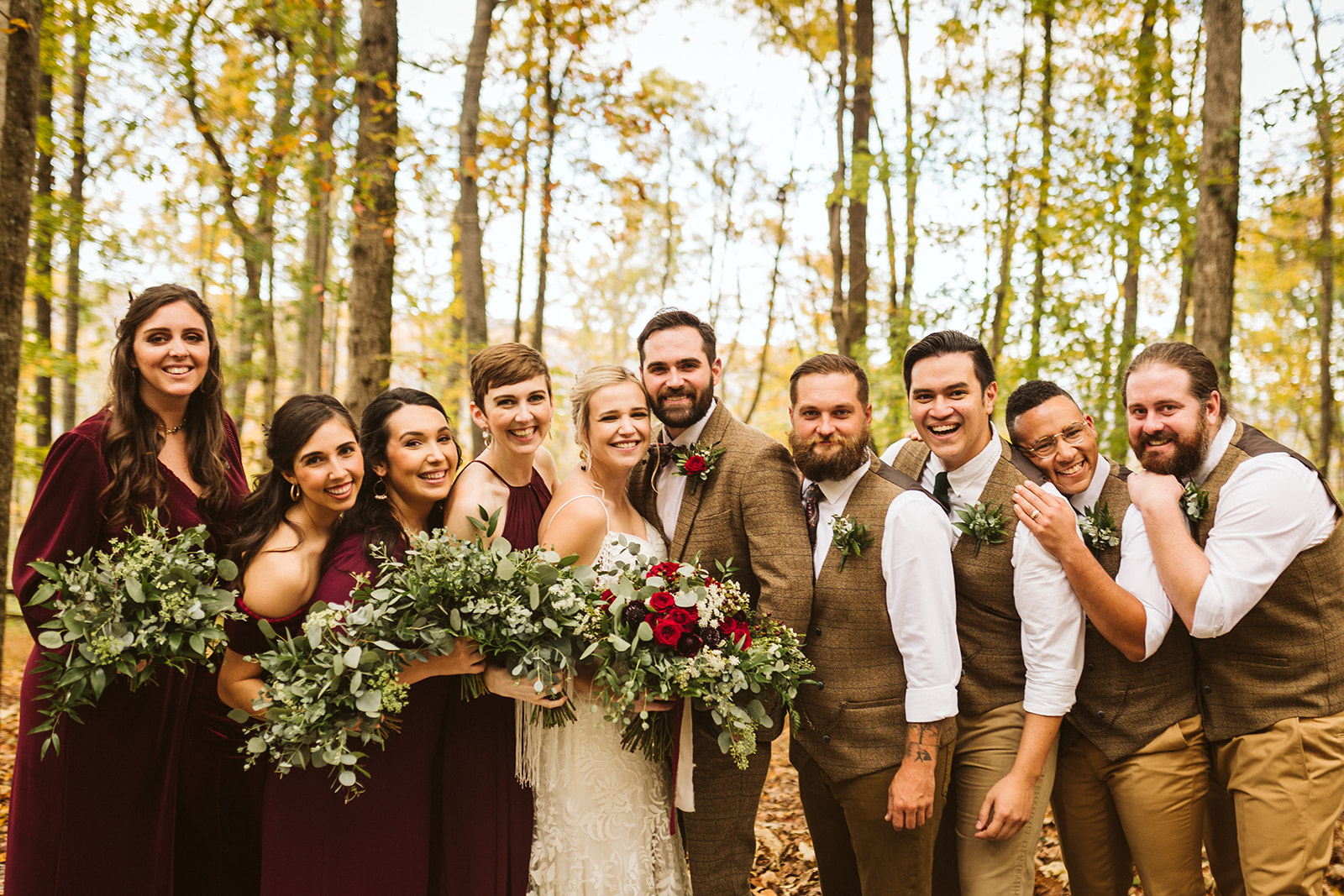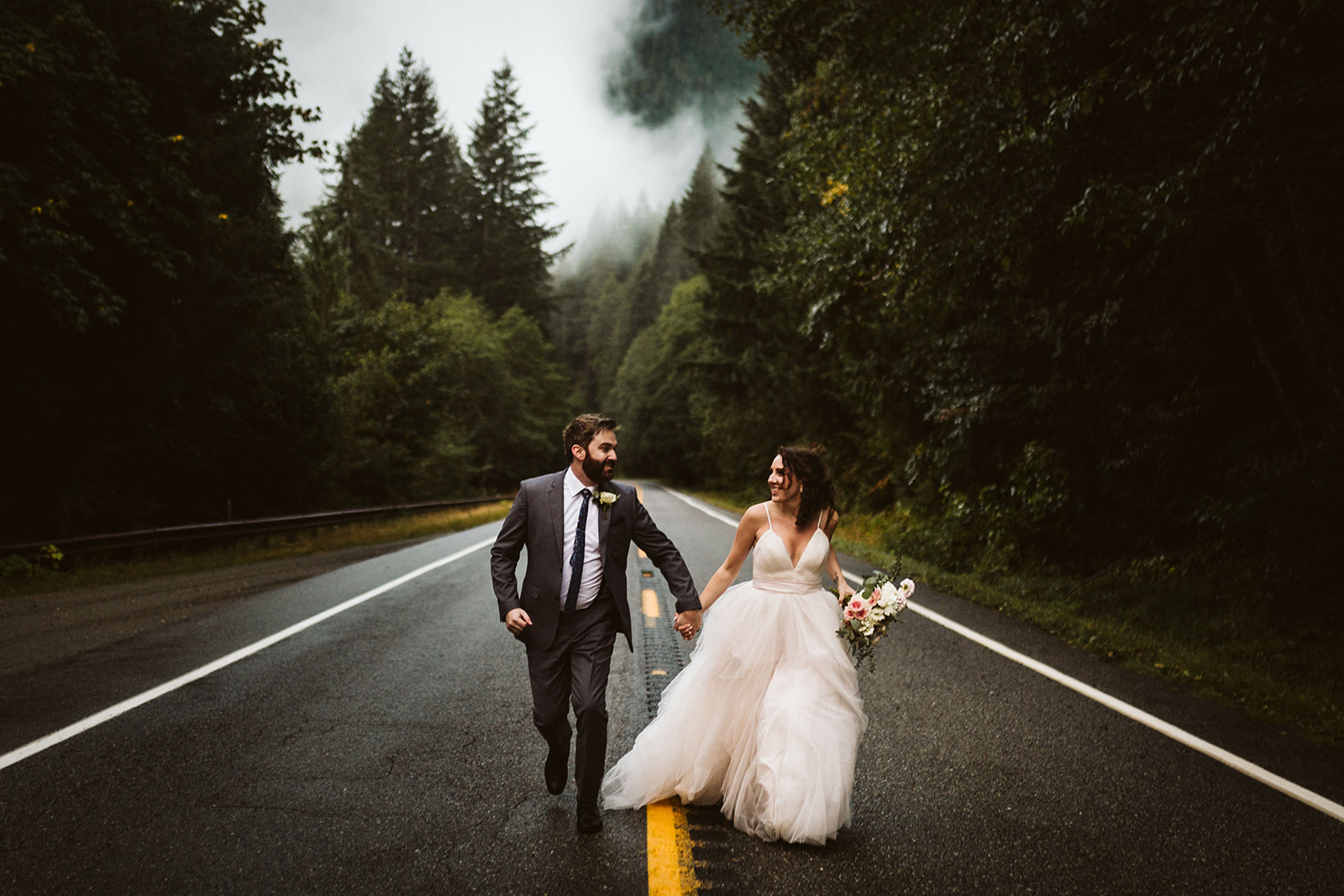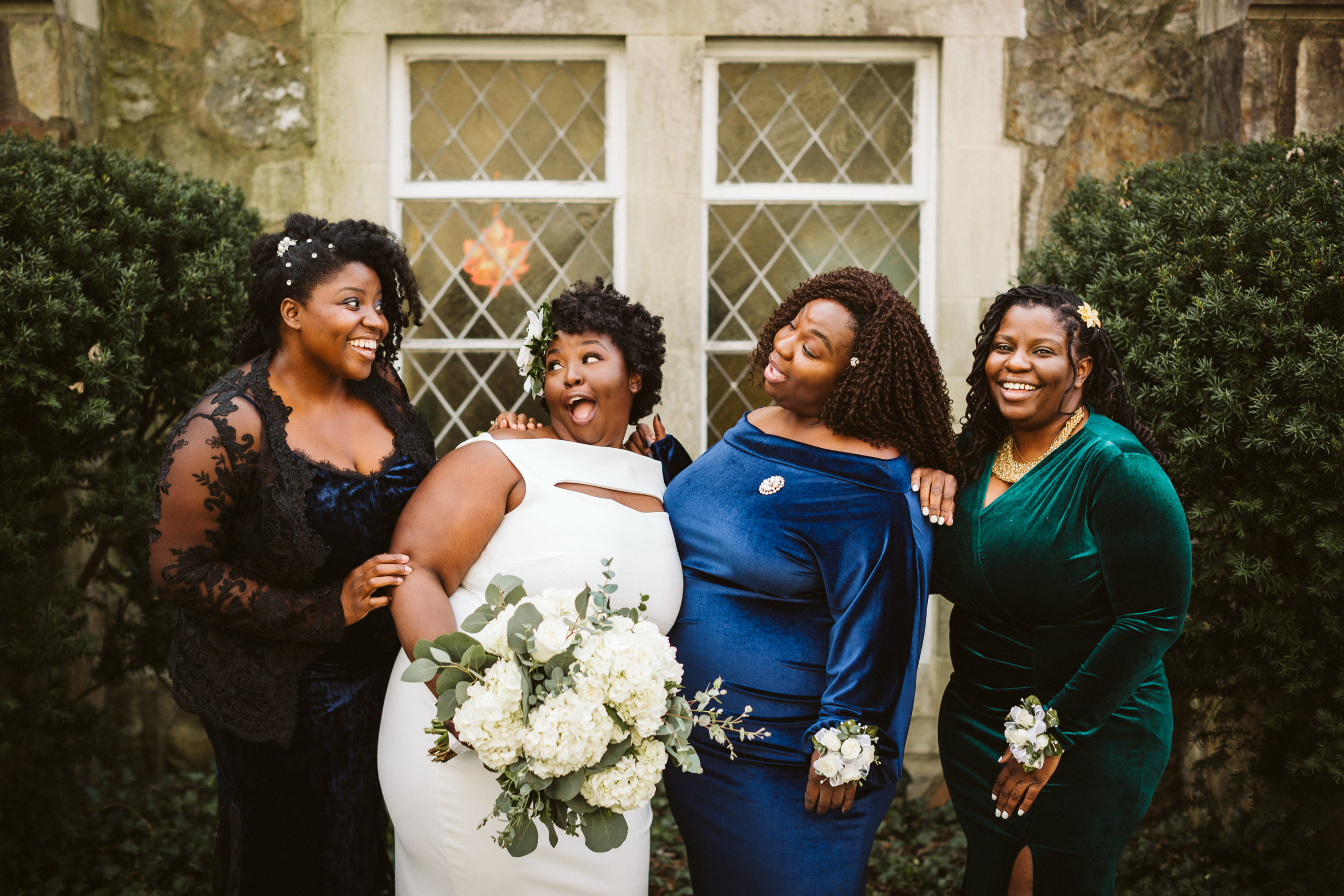 Reception
Once you get to your reception, it's smooth sailing! Make your grand entrance, then have your first dances, toasts, cake cutting, bouquet and garter toss, etc. Each of these activities should take 5-15 minutes. Feel free to spread them out throughout the night, but for your guests' sake, don't do speeches before the food is served. I promise your guests will pay more attention and enjoy the speeches more on a full stomach.
Another tip: If you'd rather not have too much time in the spotlight, ask the DJ to fade the music partway through your first dances for abbreviated dances.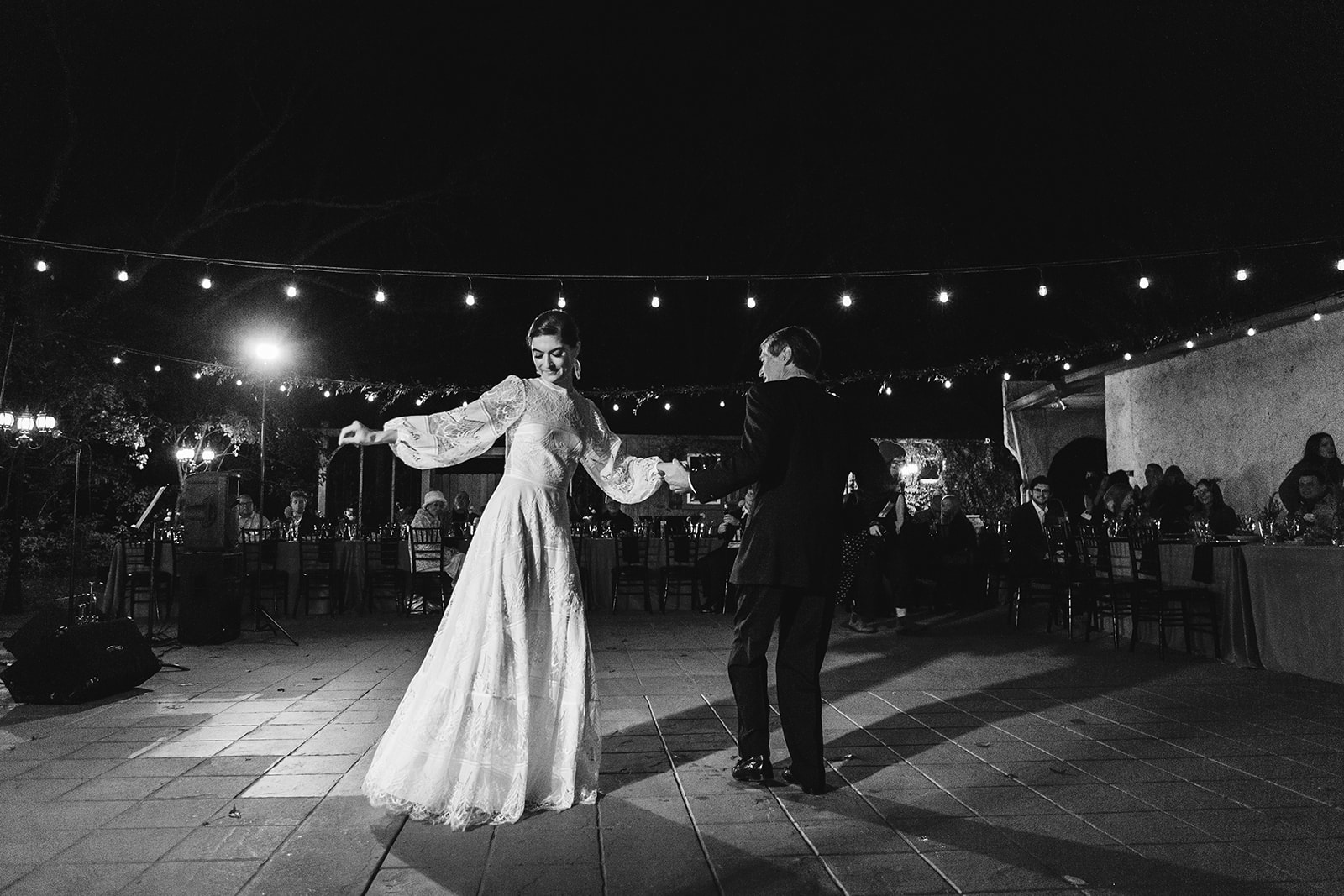 Send-Off
Even the rowdiest crowds tend to die down after 90 minutes to two hours of open dance floor time. Whether you're leaving for your after-party, calling it a night, or just doing it for the photos, this is a great time to plan for your send-off and reception exit.
Some of my fav ways to plan an evening reception exit are with sparklers, streamers (a new trend that I'm loving), glow sticks, and bubbles. You can also toss rose petals, lavender, or birdseed, but these options don't photograph as well after dark. Whatever you choose, be sure to check with your venue to make sure it's allowed.
Tip: If you're going with a sparkler exit, be sure to buy the foot-long ones. They burn longer and are less likely to burn your guests (or singe any of their clothes). Assign a few (responsible and sober) guests to help with lighting the sparklers, extinguishing them in a bucket of water, and collecting them for cleanup.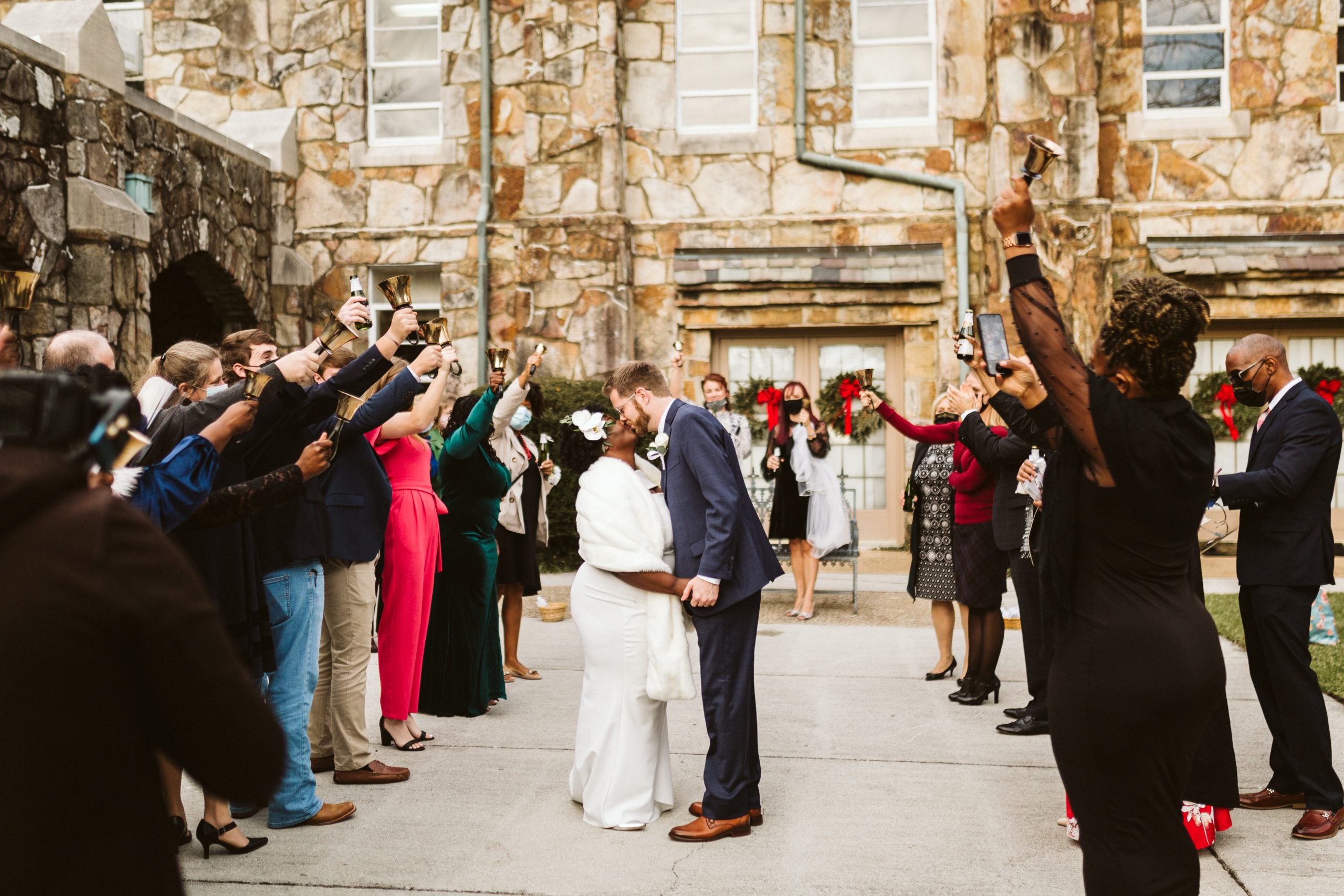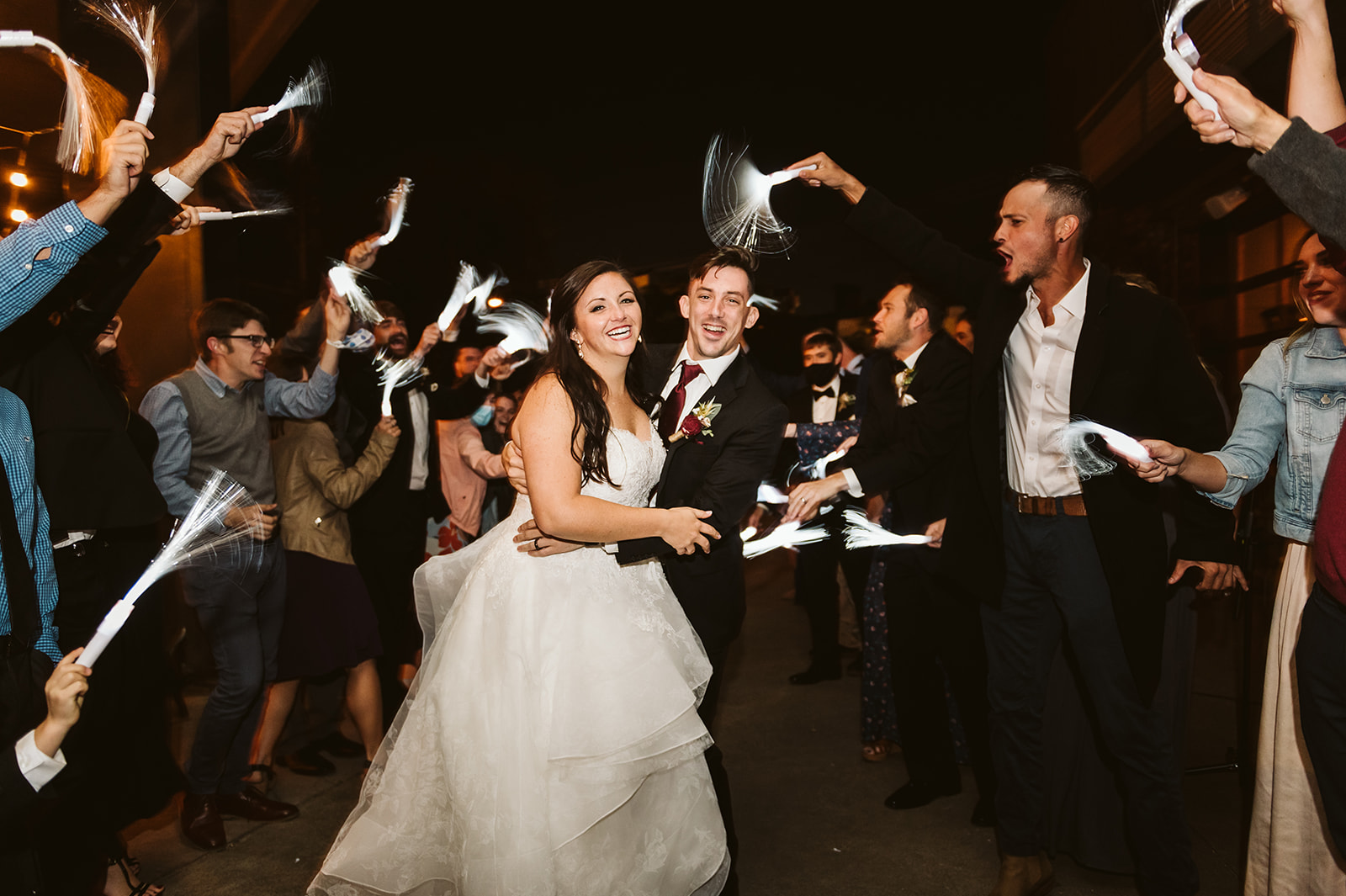 If you're still stressed about your wedding day timeline, let's chat! I'd love to help you plan your day.