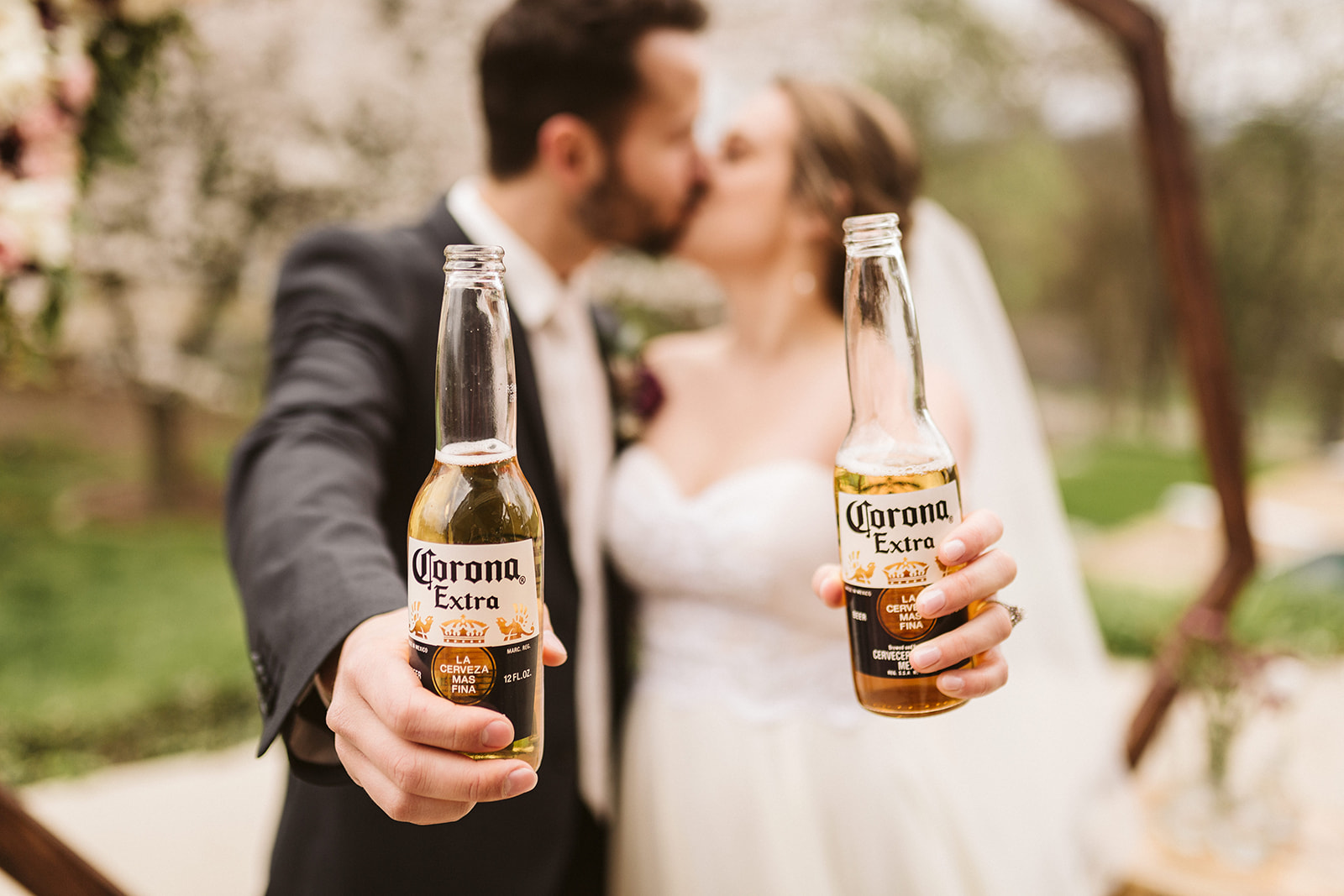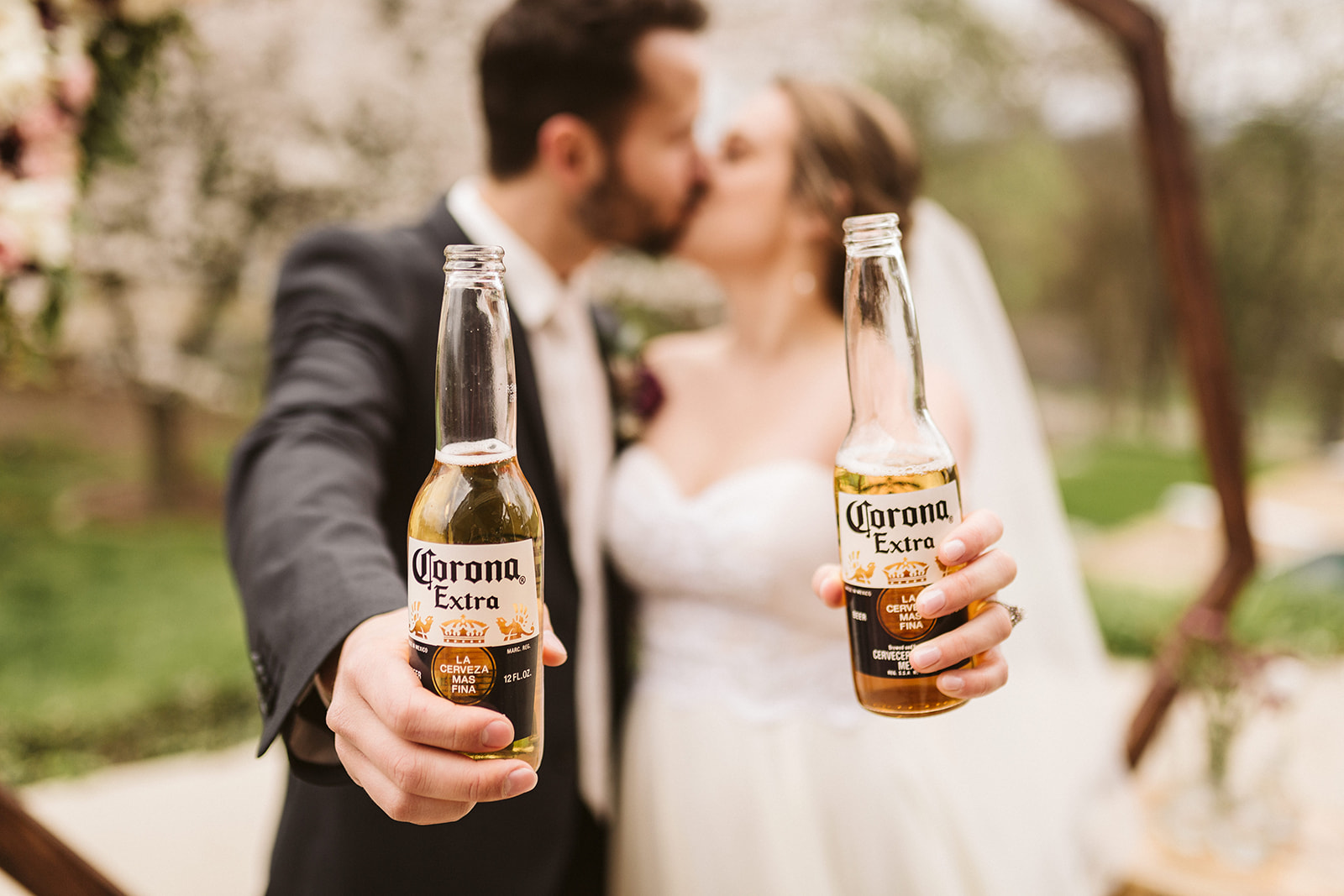 By now, we're familiar with COVID weddings. We all know someone who's been forced to scale down, elope, or reschedule due to the pandemic. While it's stressful (and definitely not ideal), there are tons of resources out there for eloping or hosting a safe COVID microwedding. Yes, it can be done!
But what about those couples who got married at the beginning of the pandemic? Morgan and Jacob's wedding date was set for just days before the shutdown hit Chattanooga, and without any resources or guidance, they were truly up a creek.
Cue their super resourceful, happy-to-help wedding photographer slash impromptu coordinator (*wink wink*). As I was one of the few vendors scheduled to be there for their wedding day, Morgan and Jacob called upon my industry expertise to help them make their wedding happen. And I'm so glad they did! I got to ease their worries, pull some strings, and help organize a pared-down – but perfect – day for them.
Read on to hear how I helped this couple throw a fun and totally stunning COVID microwedding in their friend's backyard!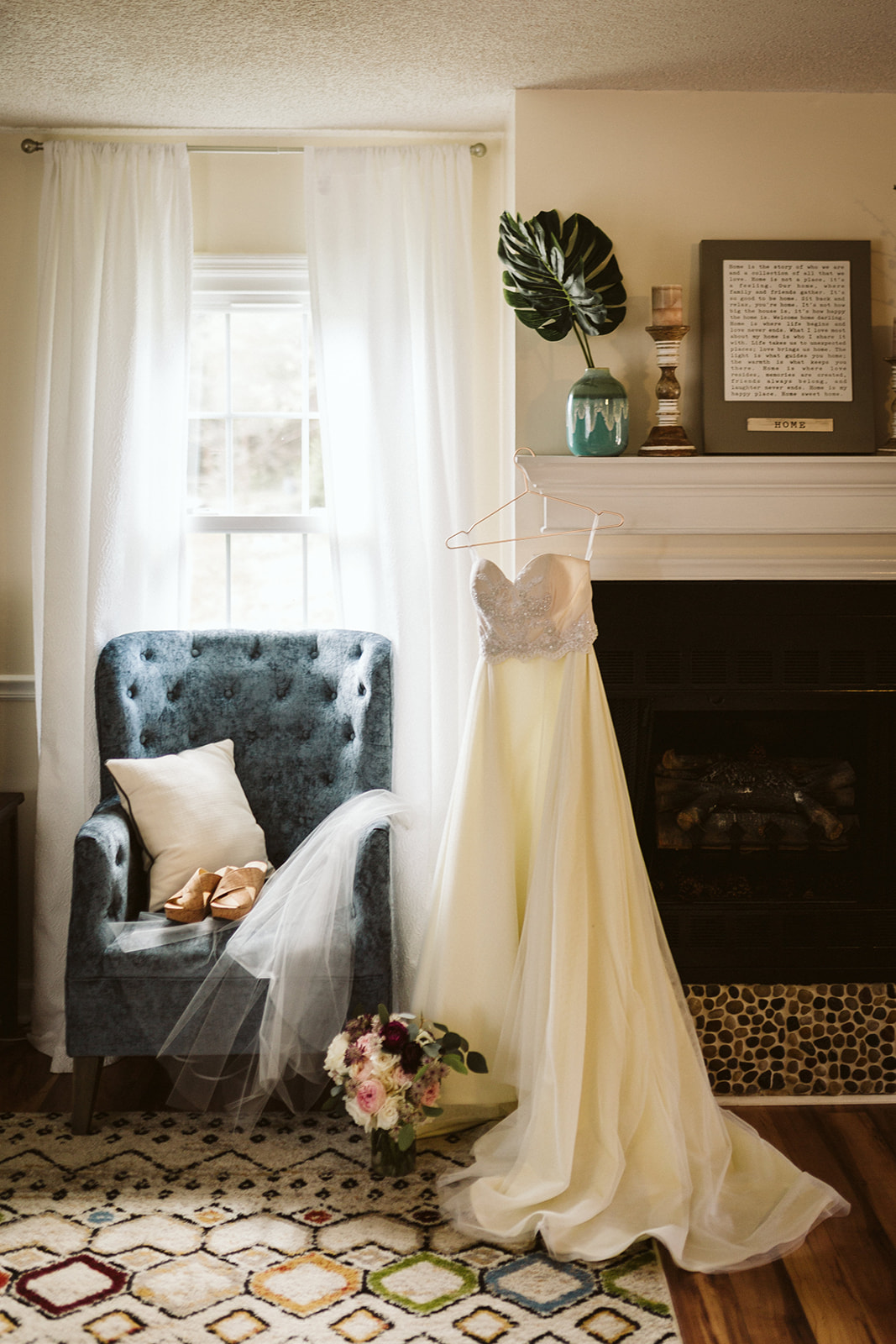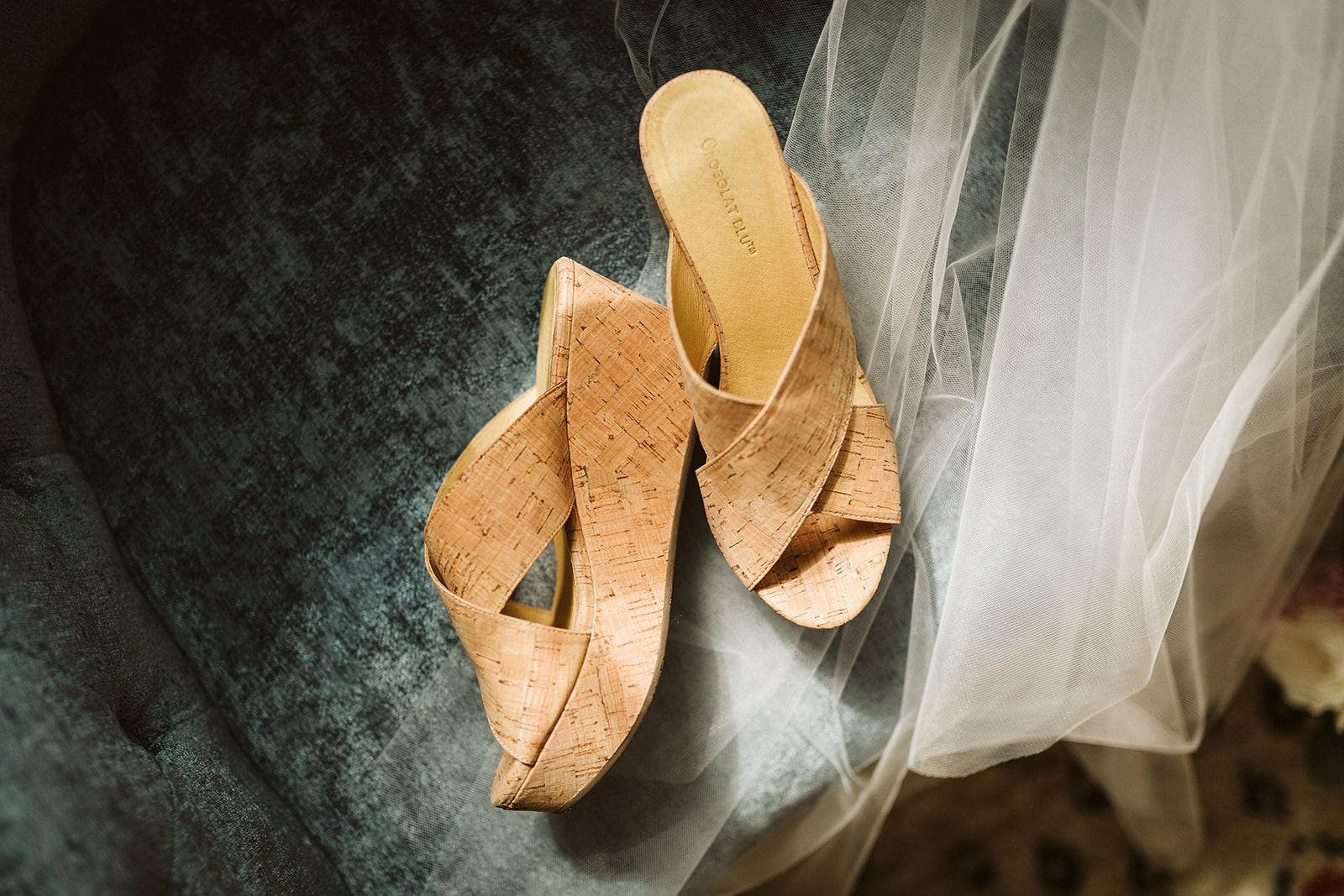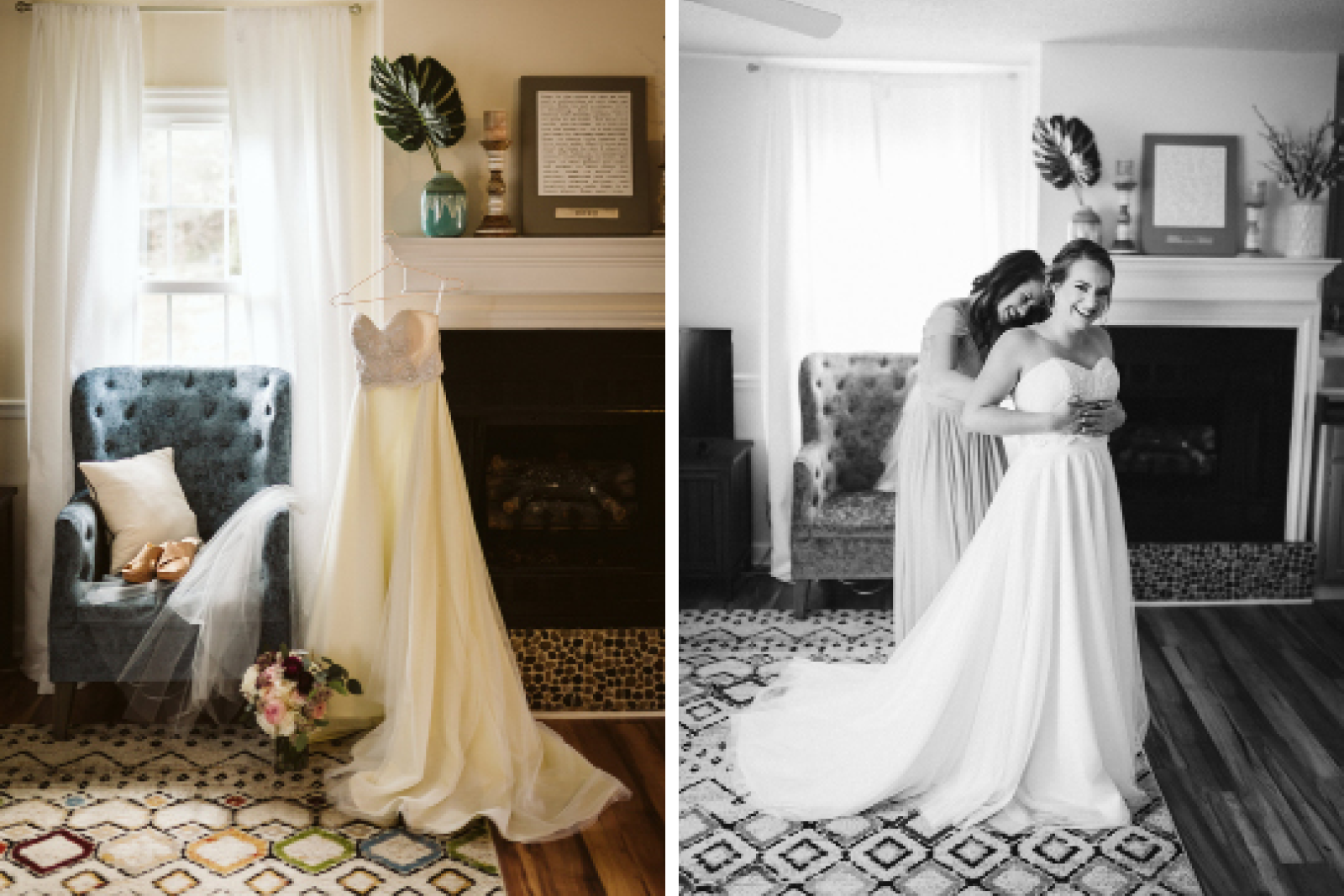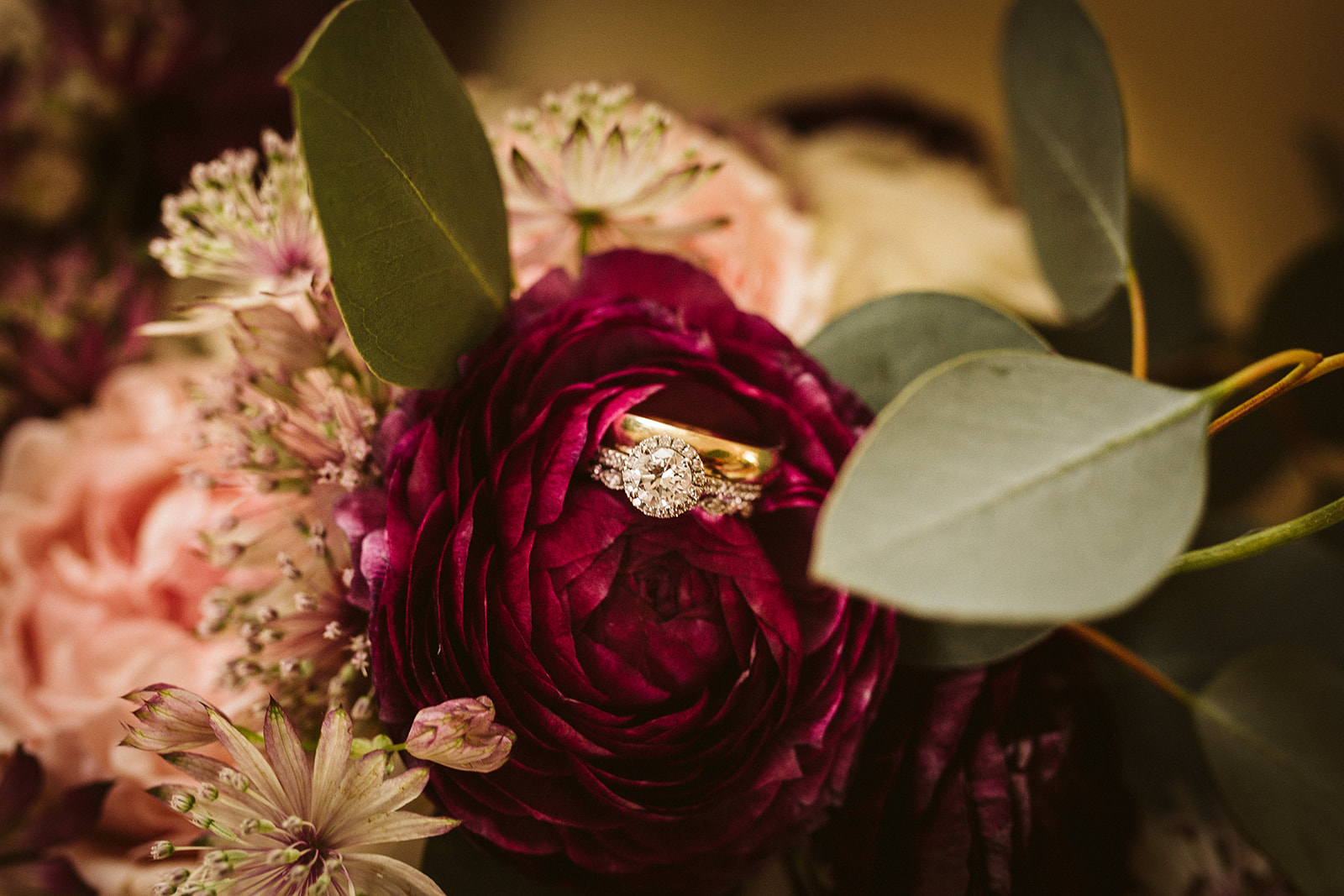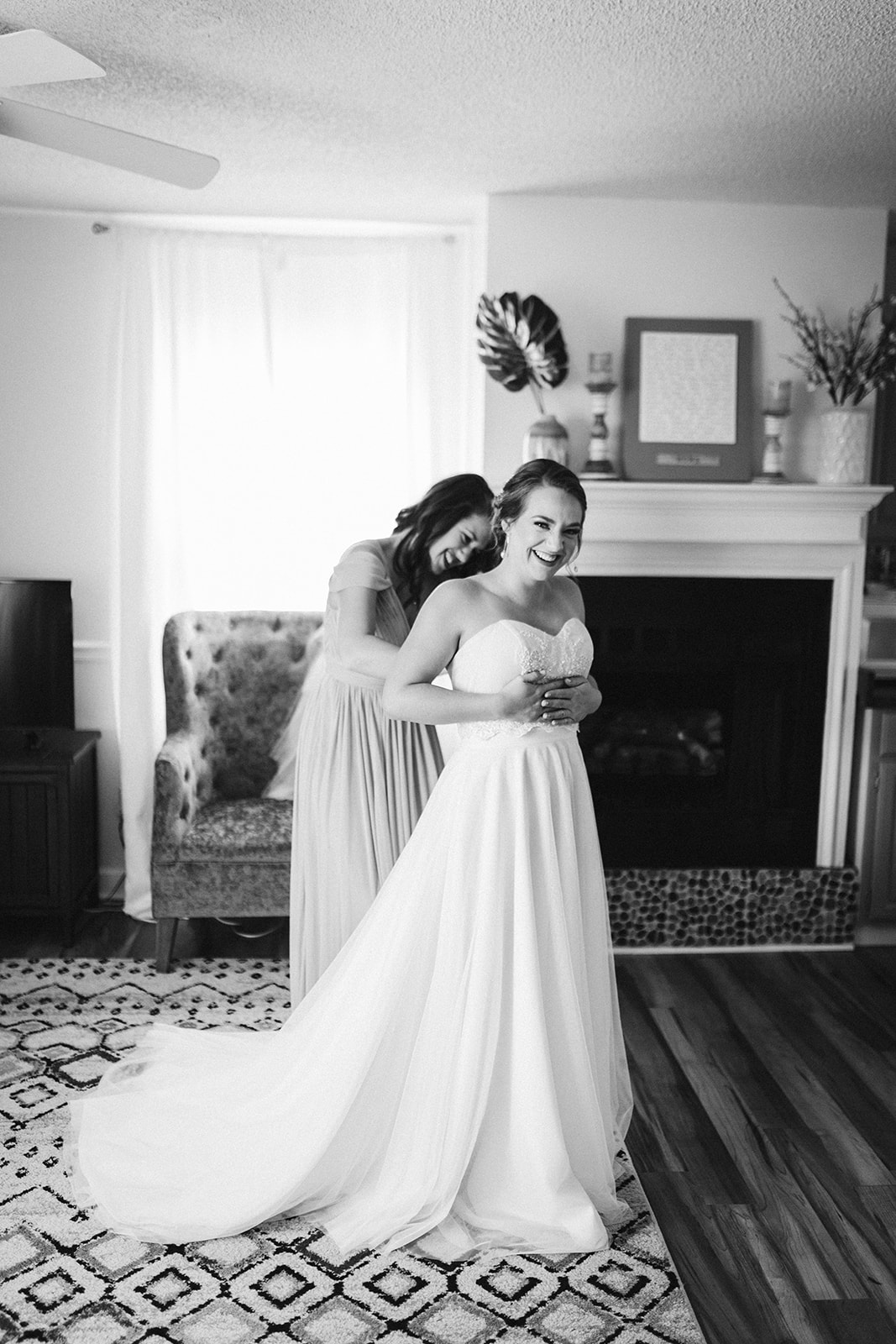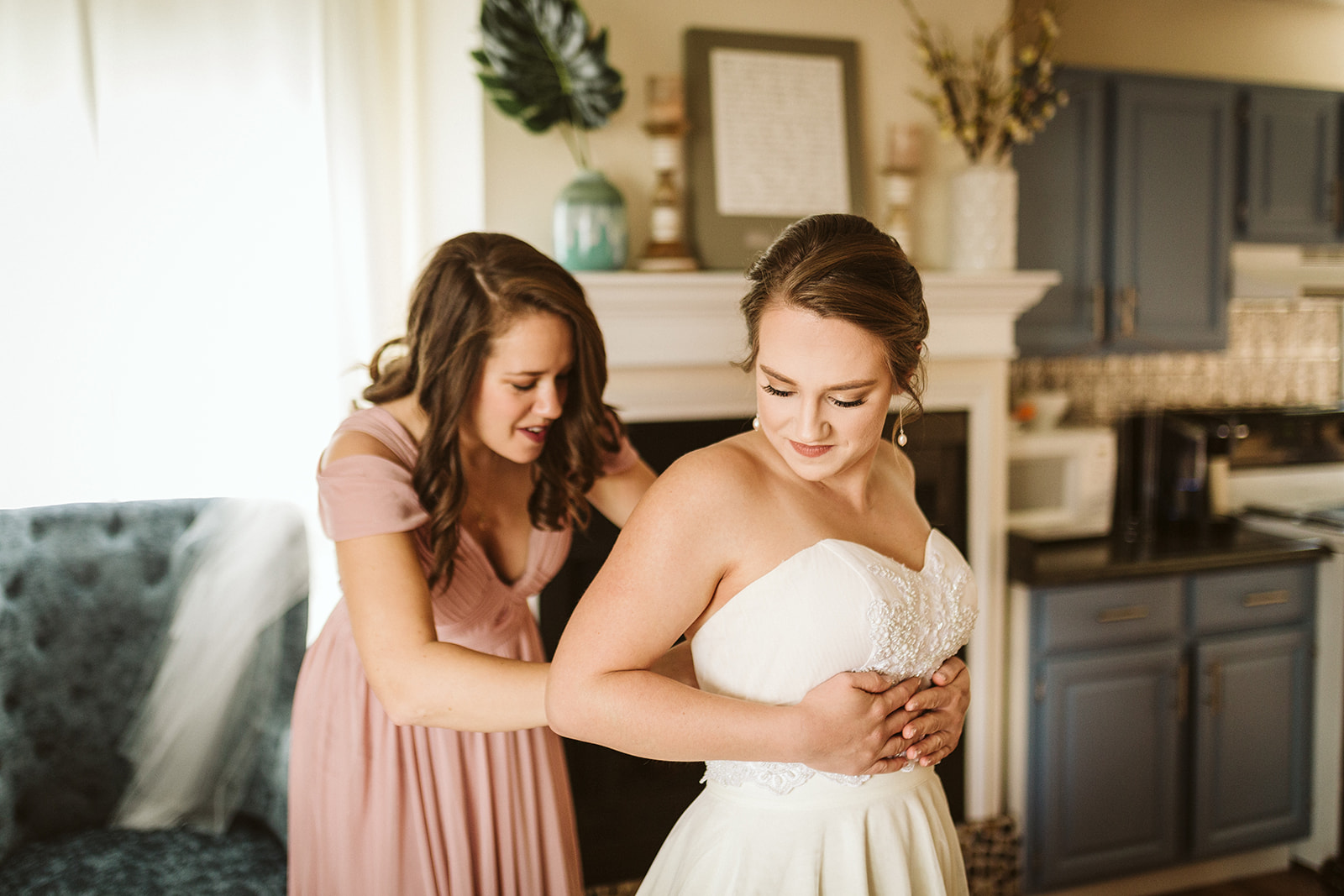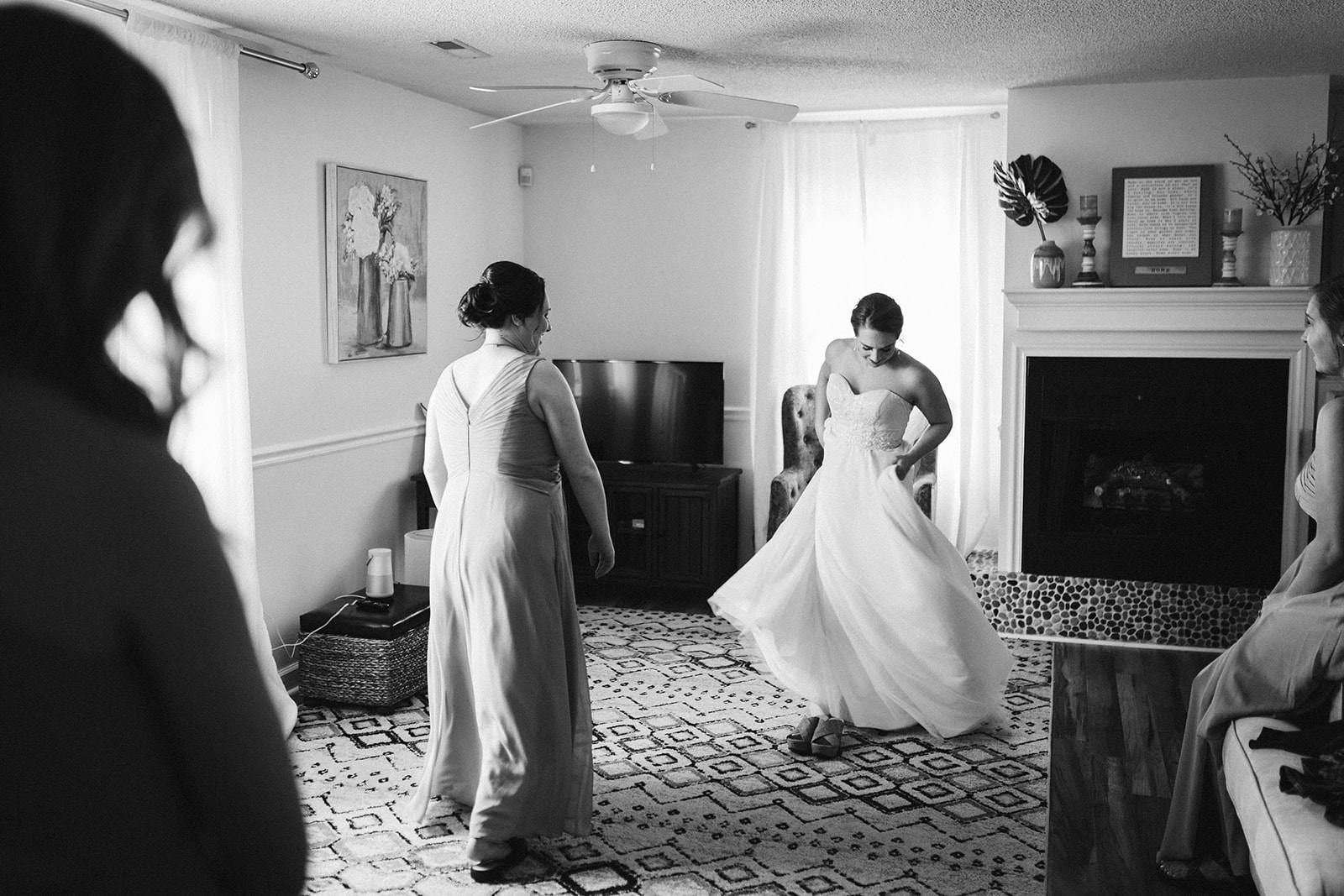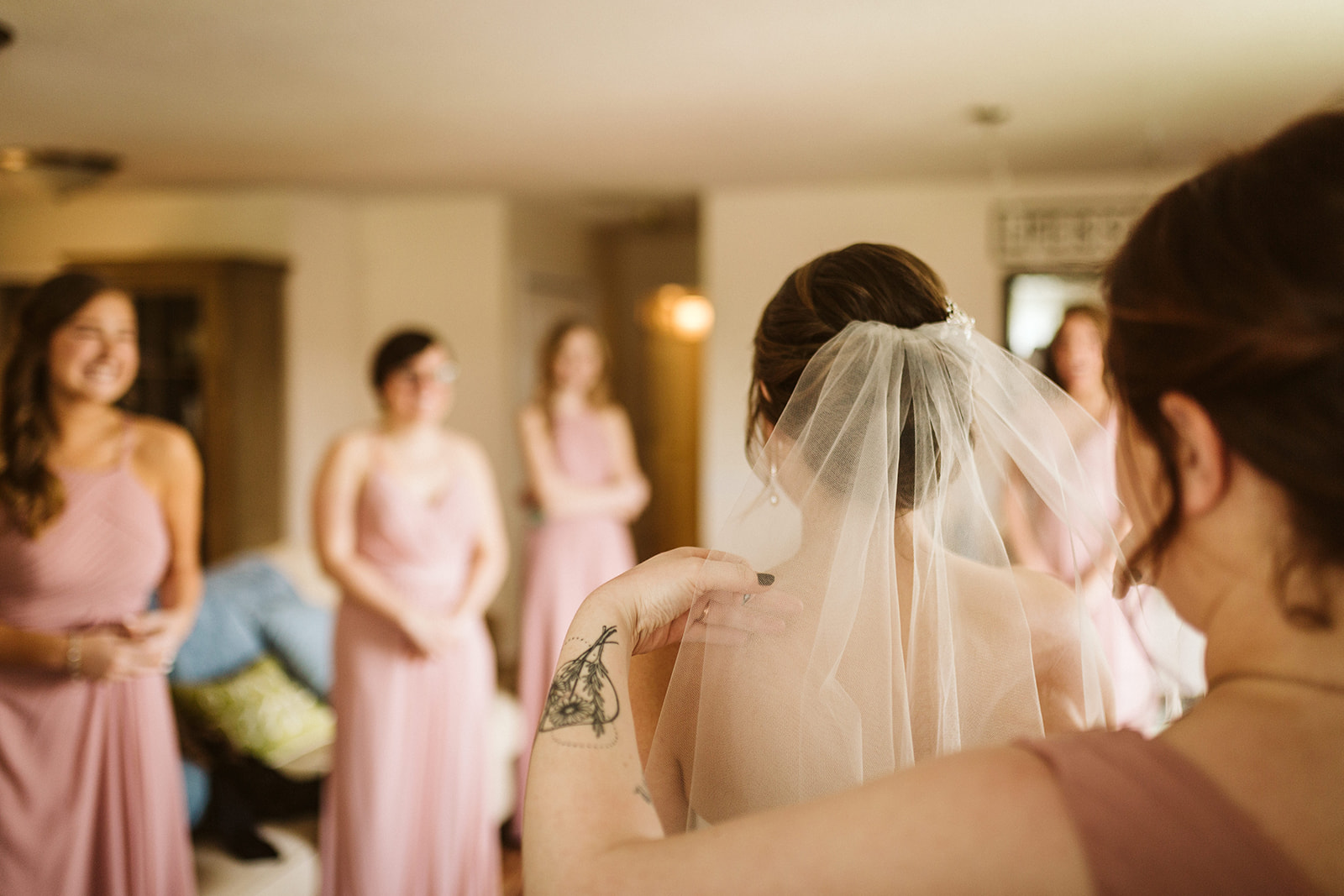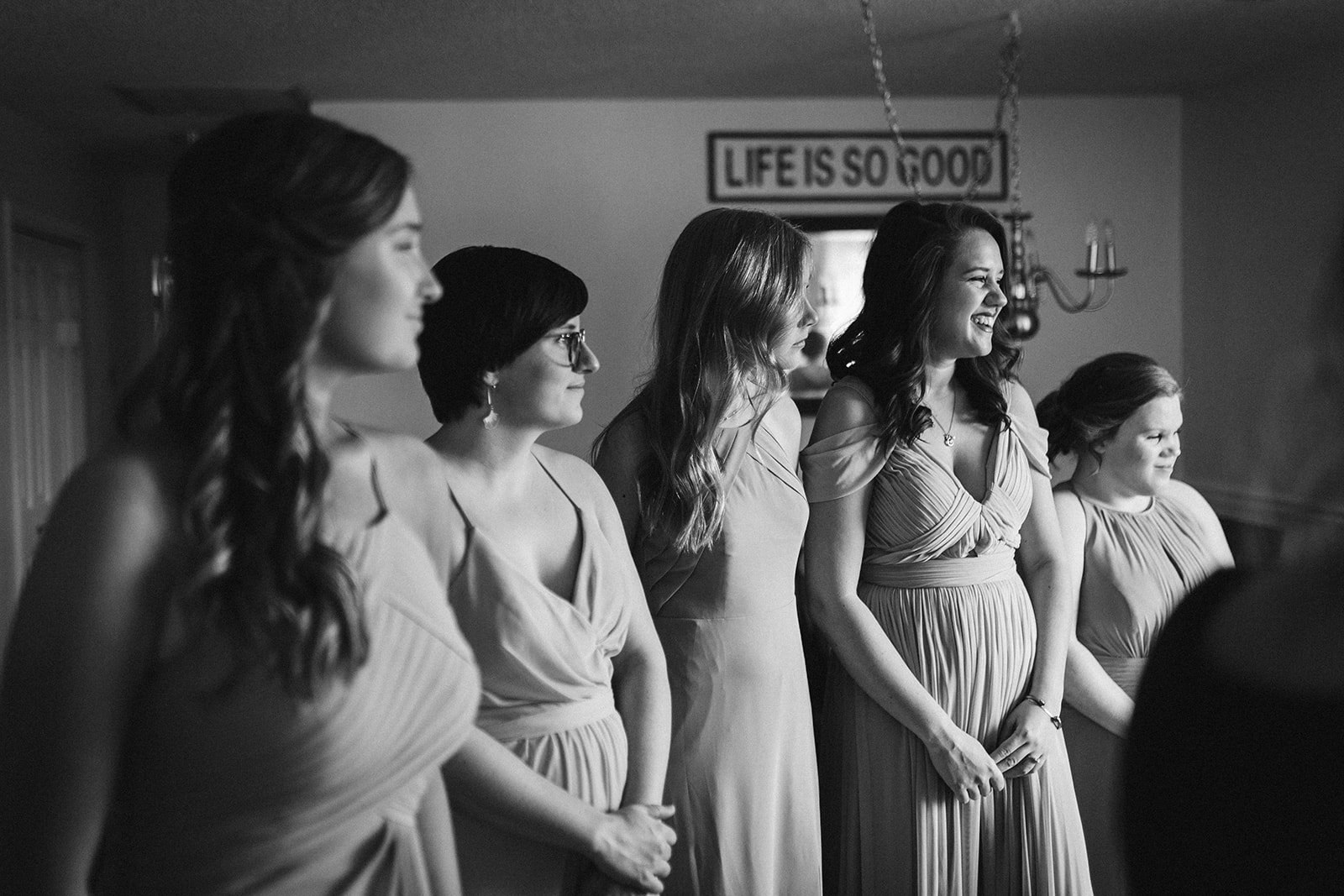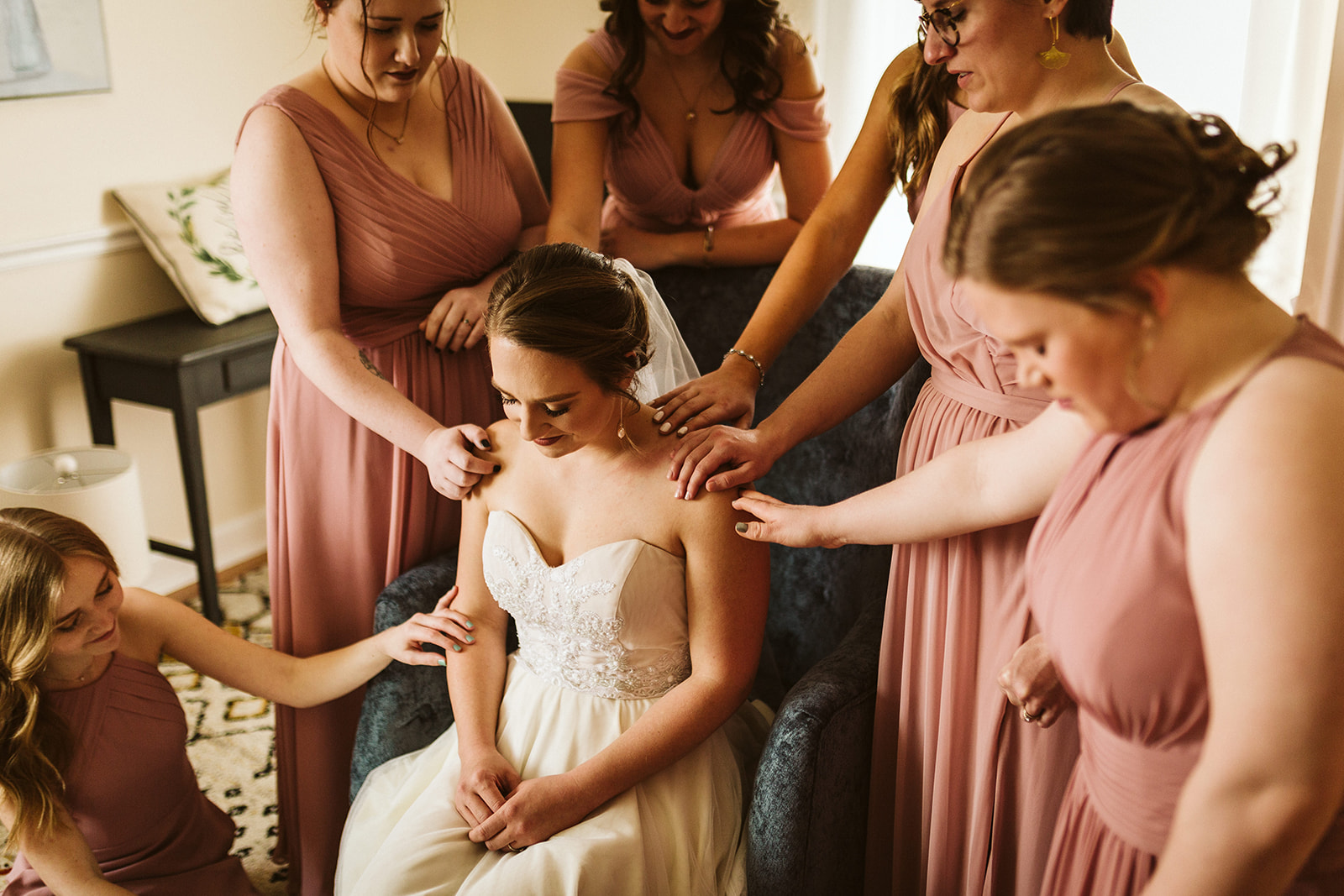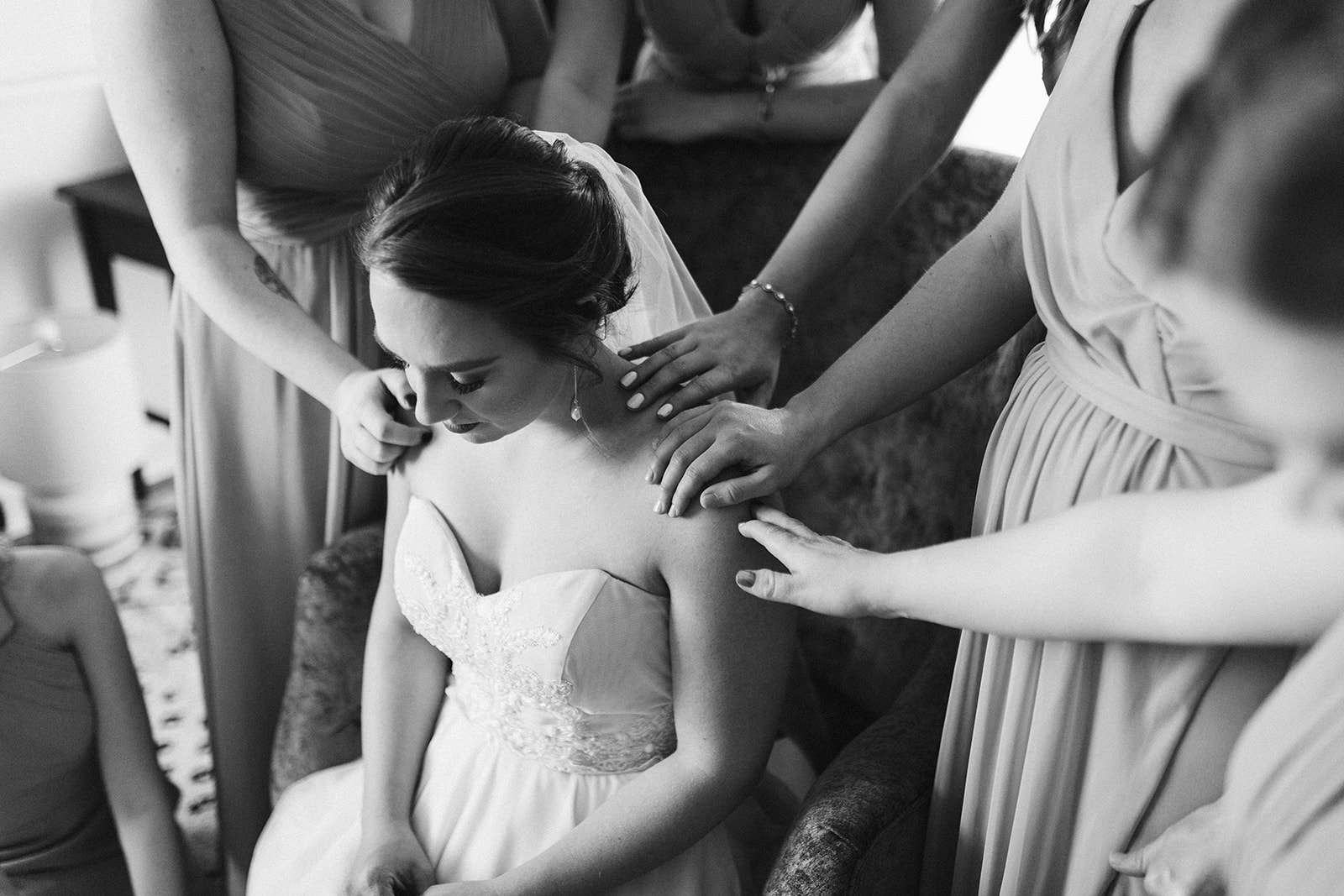 PLANNING A LAST-MINUTE MICROWEDDING
Morgan and Jacob's wedding was planned for a Saturday in March 2020. Chattanooga shut down the Tuesday before.
As you can imagine, pulling this wedding together in such short notice was a bit tricky.
To add a little more chaos to the planning process, I wasn't in Tennessee! I was in Los Angeles attending a photography conference at the time. So not only were my clients scrambling to pull off a last-minute, COVID-safe microwedding, but their photographer was also on the other side of the country wondering if I would make it home with LA shutting down. It was the perfect storm.
Luckily, Morgan and Jacob were incredibly realistic about their sudden limitations. They were determined to get married on their original date. Still, they accepted that they'd have to scale down their wedding to a safer, more manageable size.
After tons of phone calls, probably a few tears, and plenty of support from their family and friends, Morgan and Jacob were able to pull off this beautiful, intimate microwedding in their friend's backyard.
TURNING A BACKYARD INTO A WEDDING VENUE
Morgan and Jacob had originally planned a large ceremony at Patten Chapel at the University of Tennessee Chattanooga. But when Chattanooga rolled out their COVID regulations, they moved the ceremony to their own church. Just a day later, that church had to cancel all events too, so Morgan and Jacob enlisted the help of their suddenly small guest list – and me, their photographer turned elopement coordinator – to turn their friend's backyard into a wedding venue.
As soon as I arrived at the 'venue,' I got to work arranging the backyard with the help of the bridal party. Place the arbor here. Move those florals. The trampoline in the background? Gotta go! I love being part of my couples' wedding planning process, but this was a whole new level of involvement for me. Morgan and Jacob really trusted my expertise and industry experience, so I did what I had to do to make their day as perfect as possible.
All the while, I was also shooting Morgan's getting ready photos in the pool house. Morgan got ready with a few of her girls and her mother in the pool house. Then, the bridesmaids gathered around her to pray before she shared her first look with Jacob.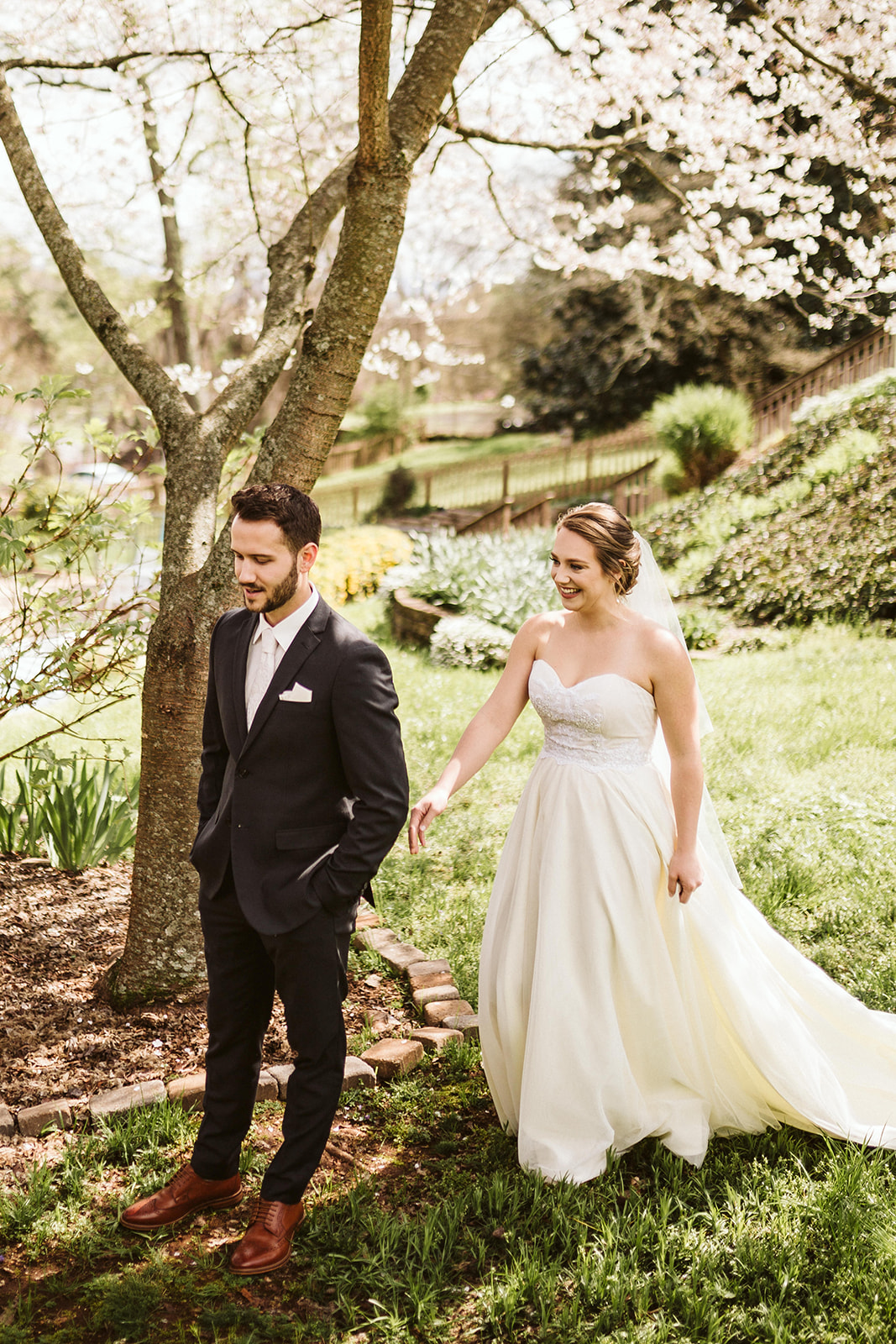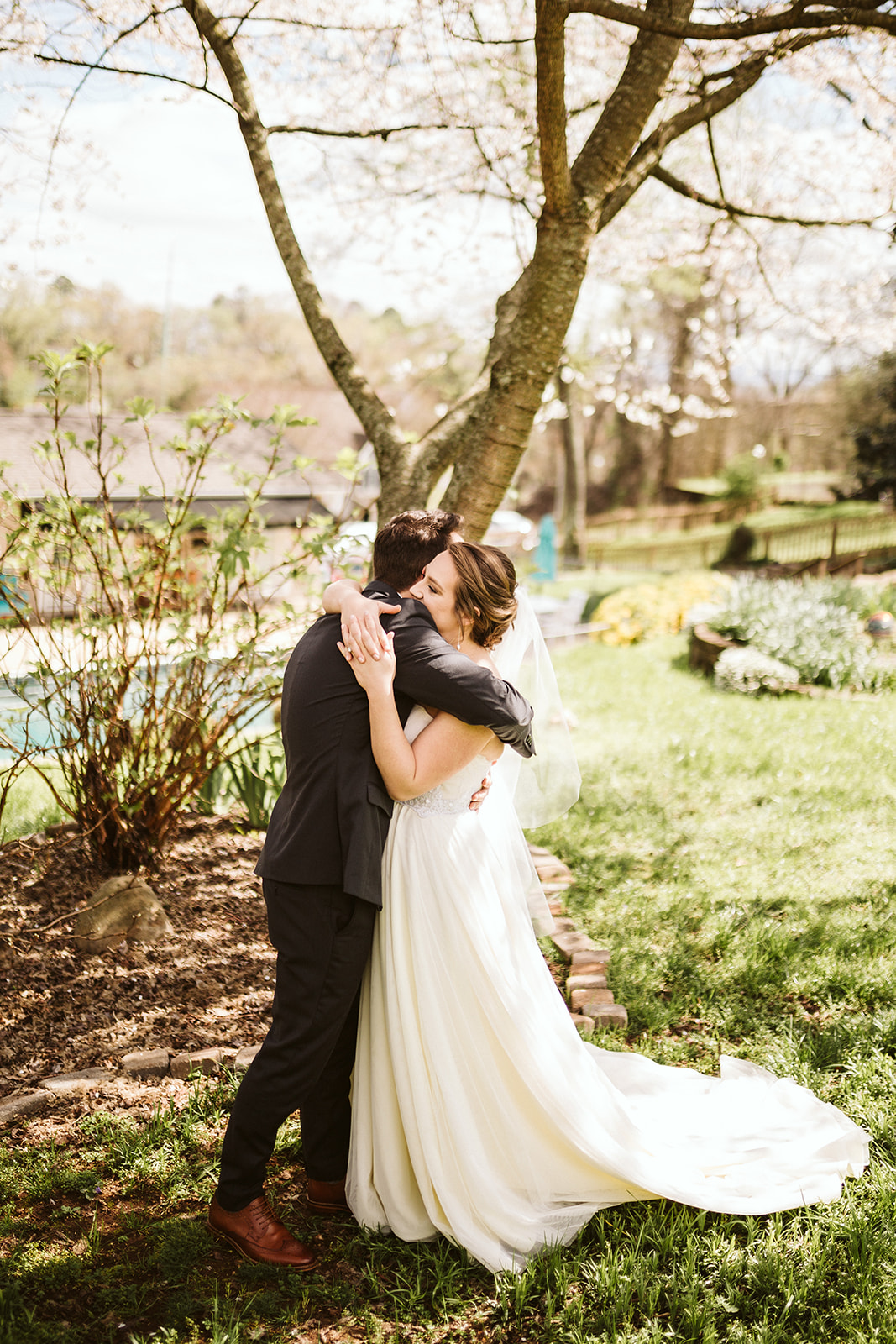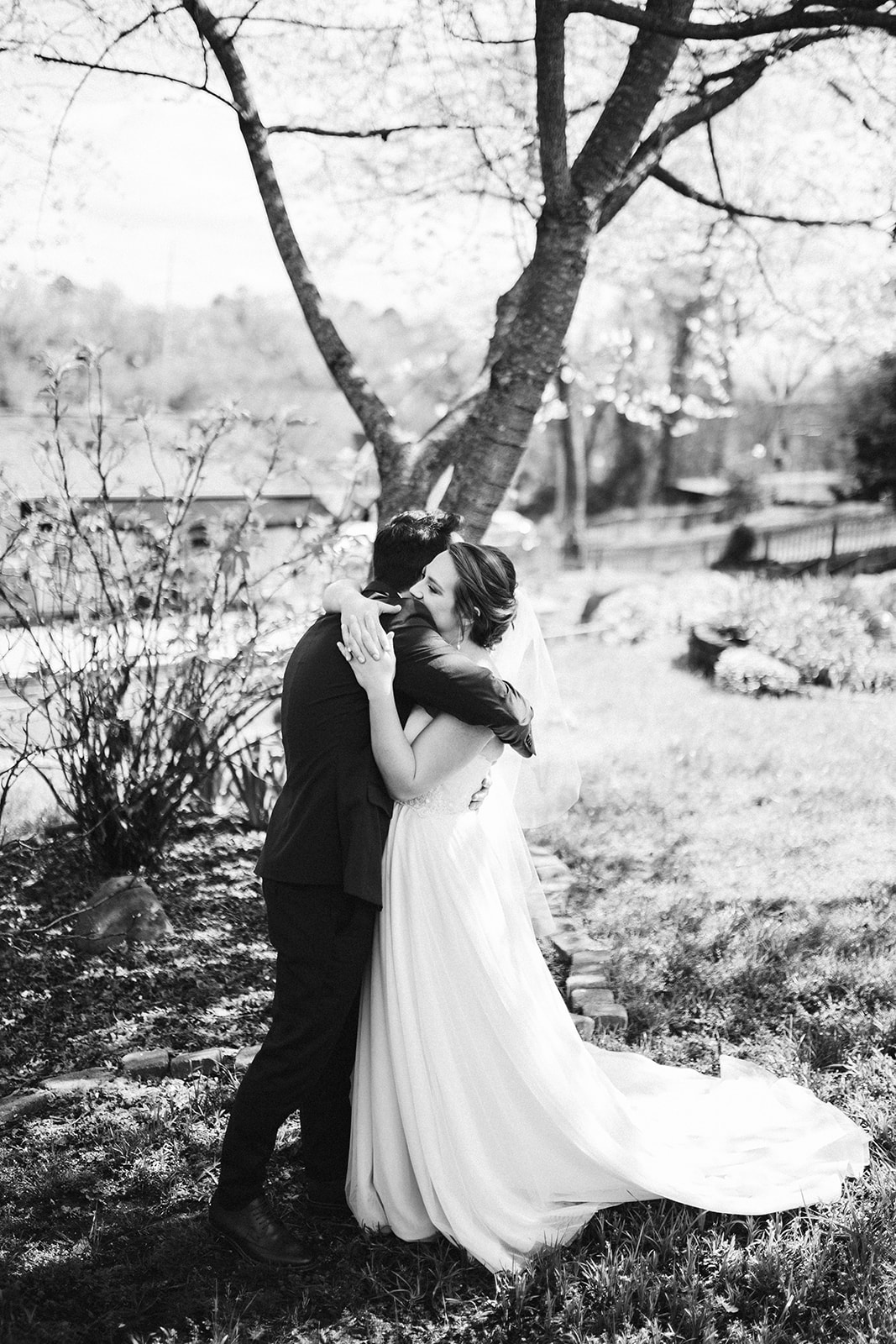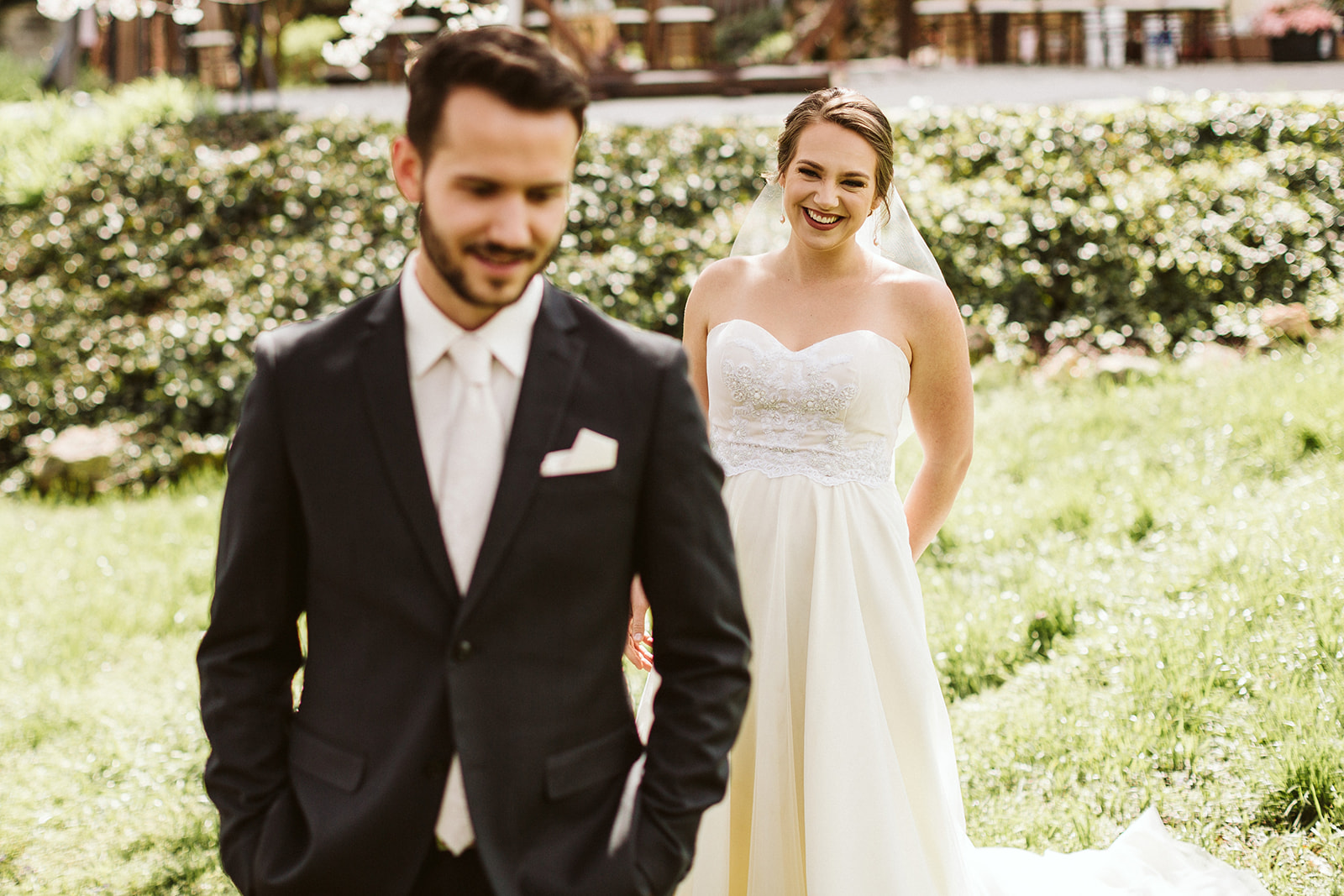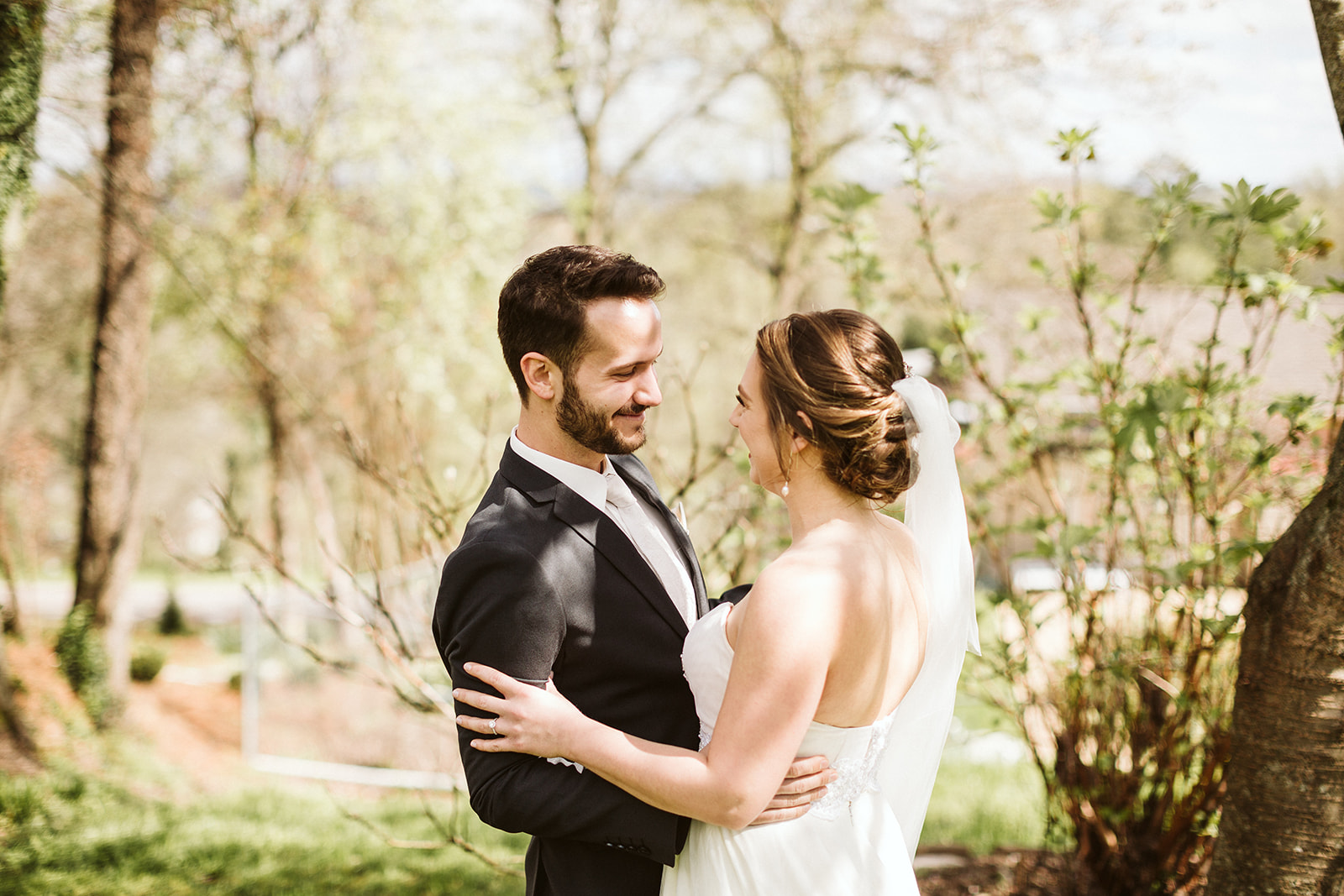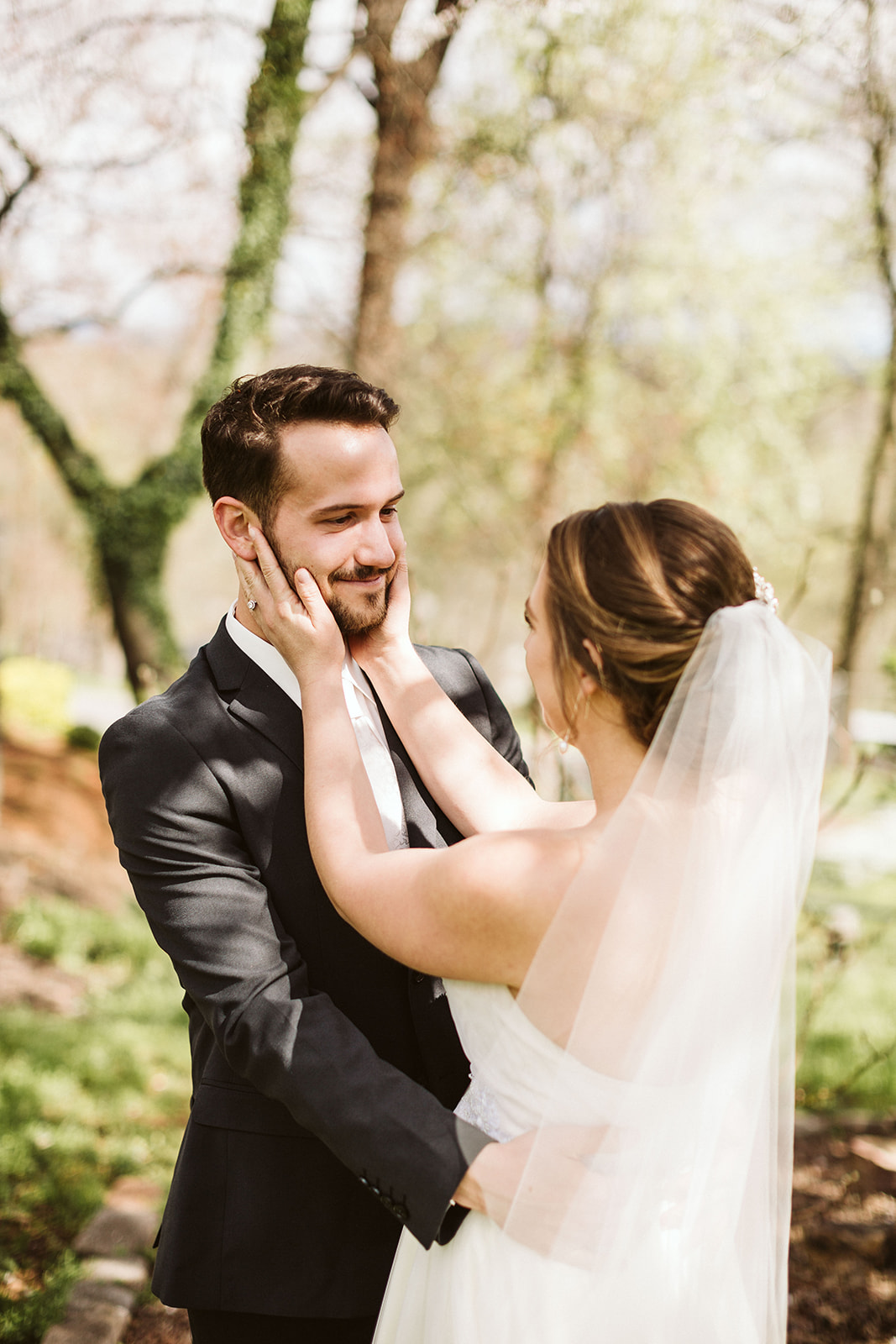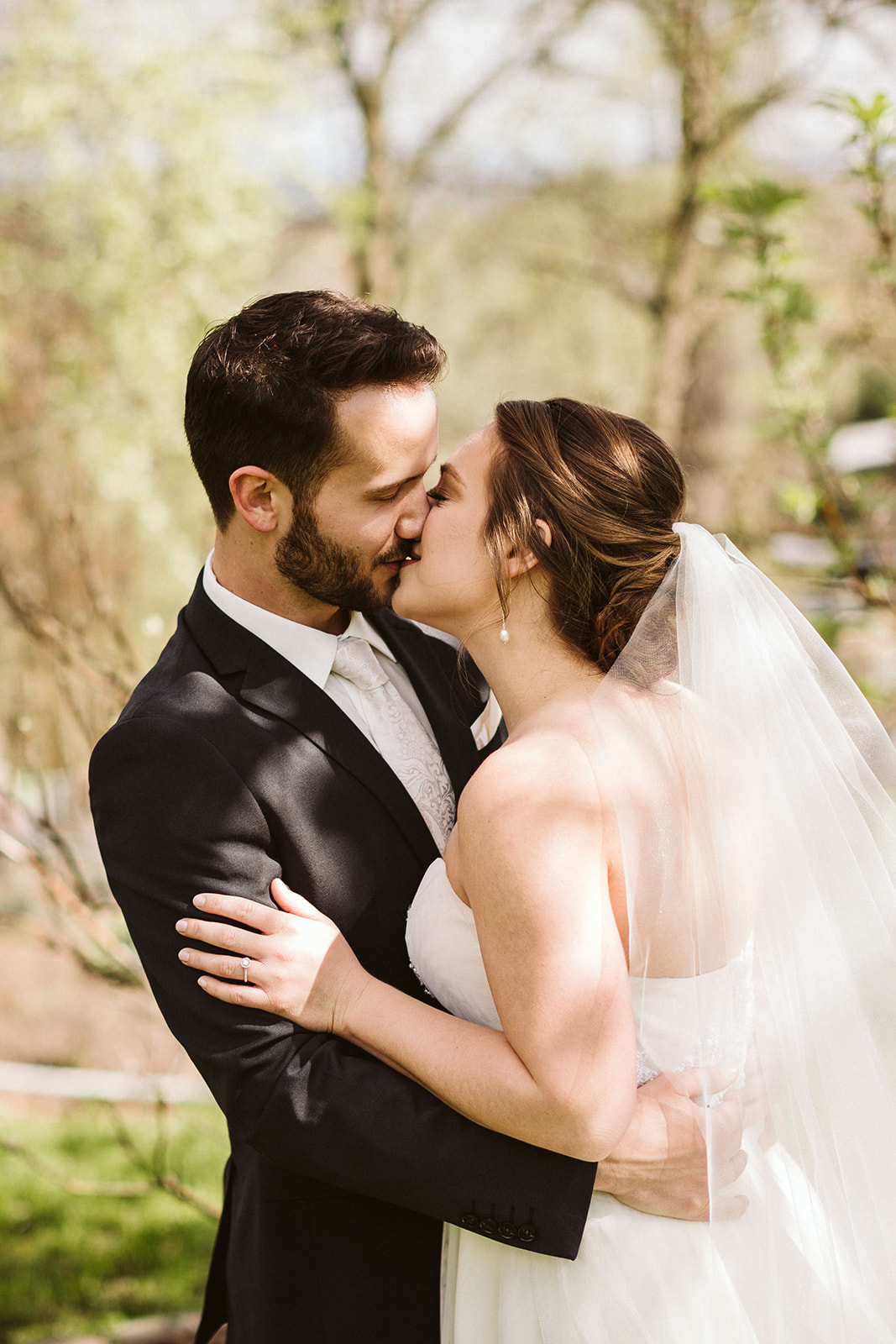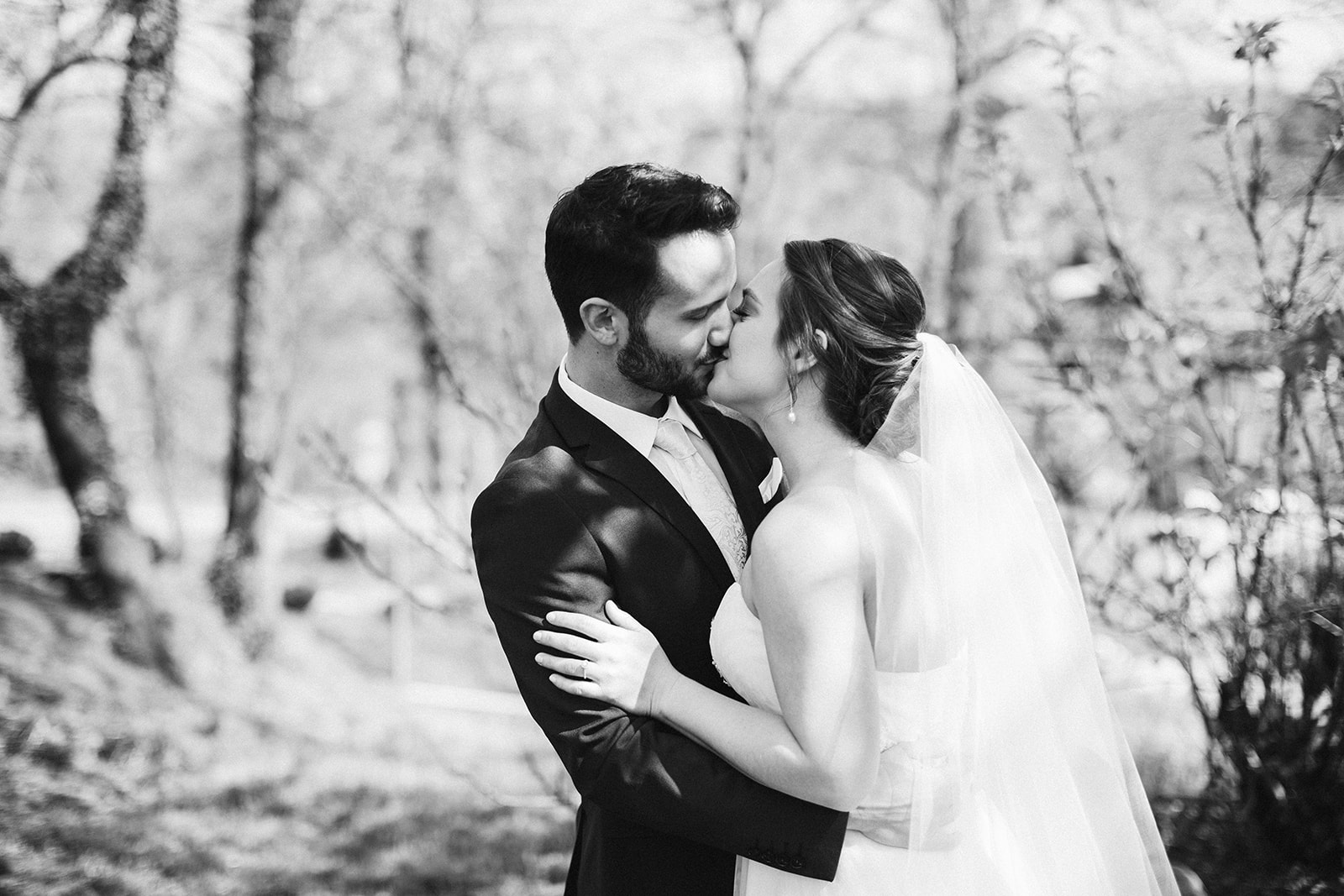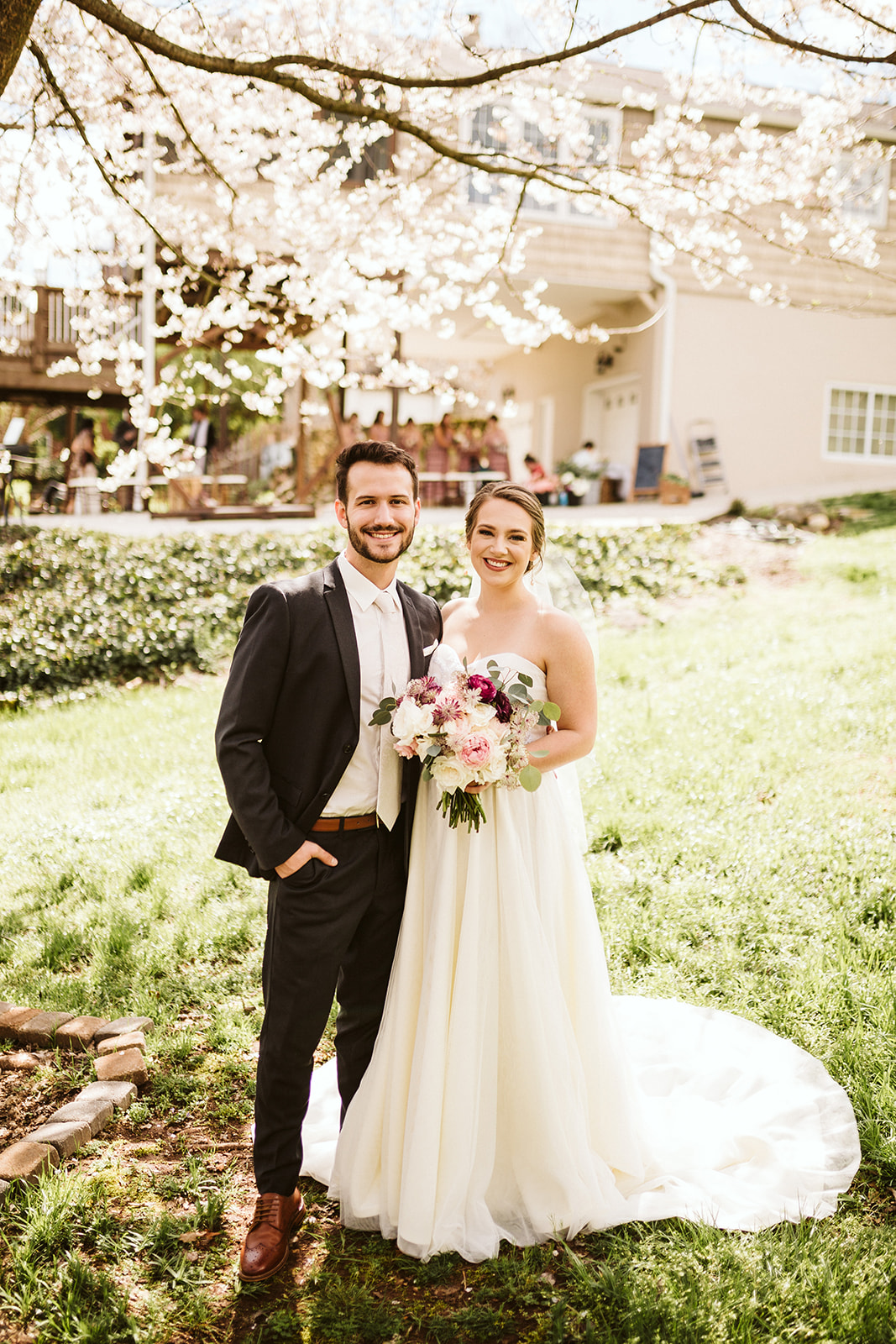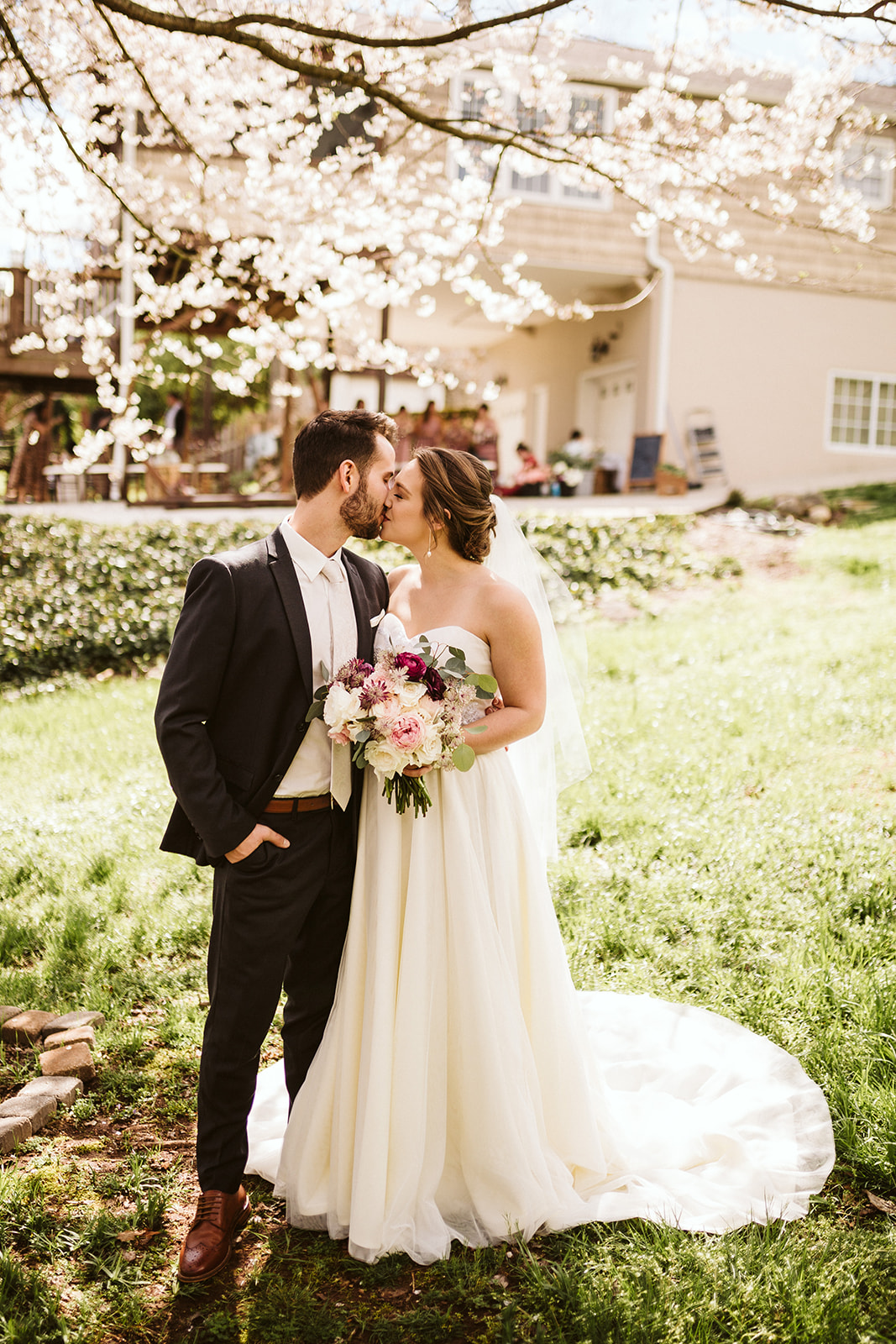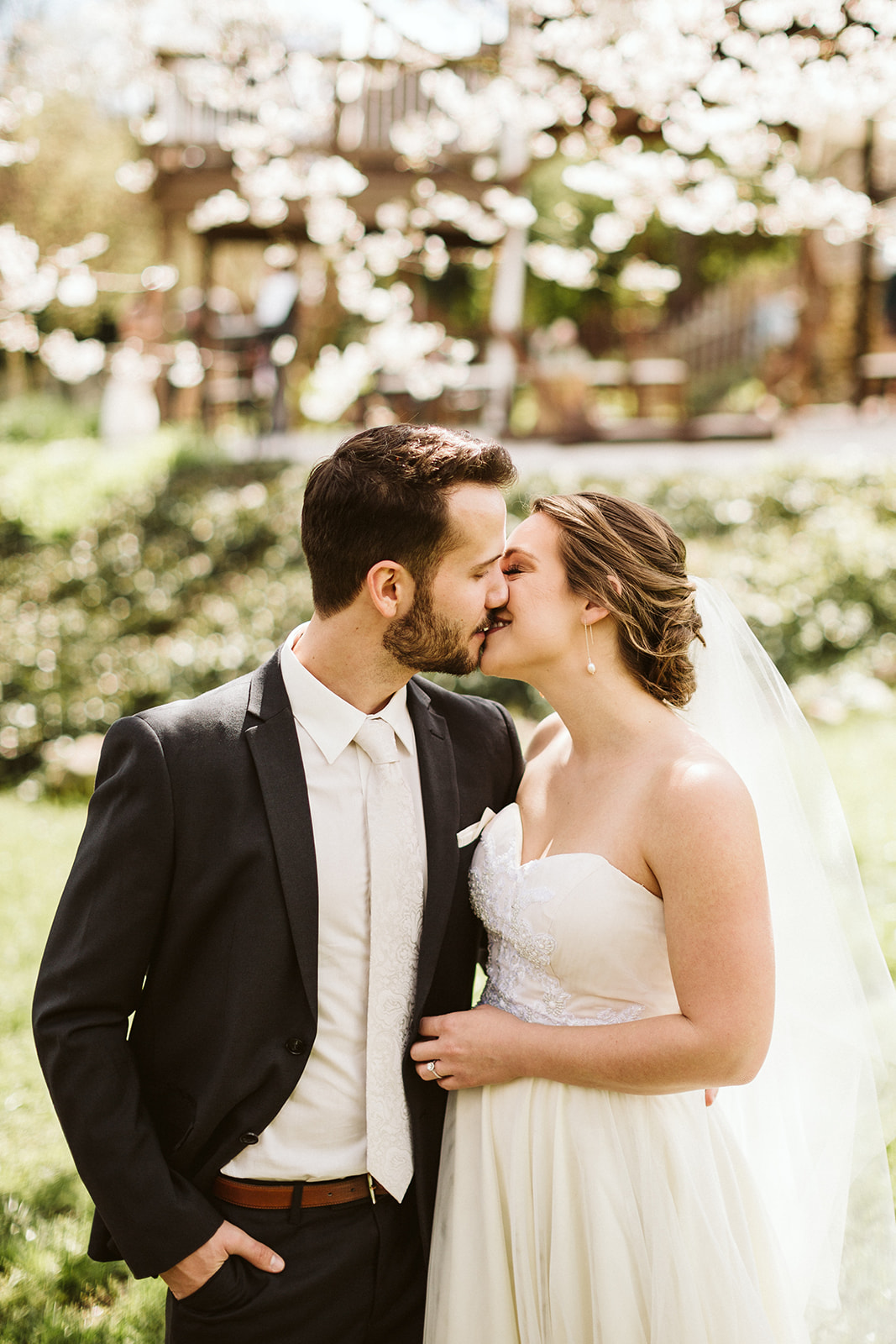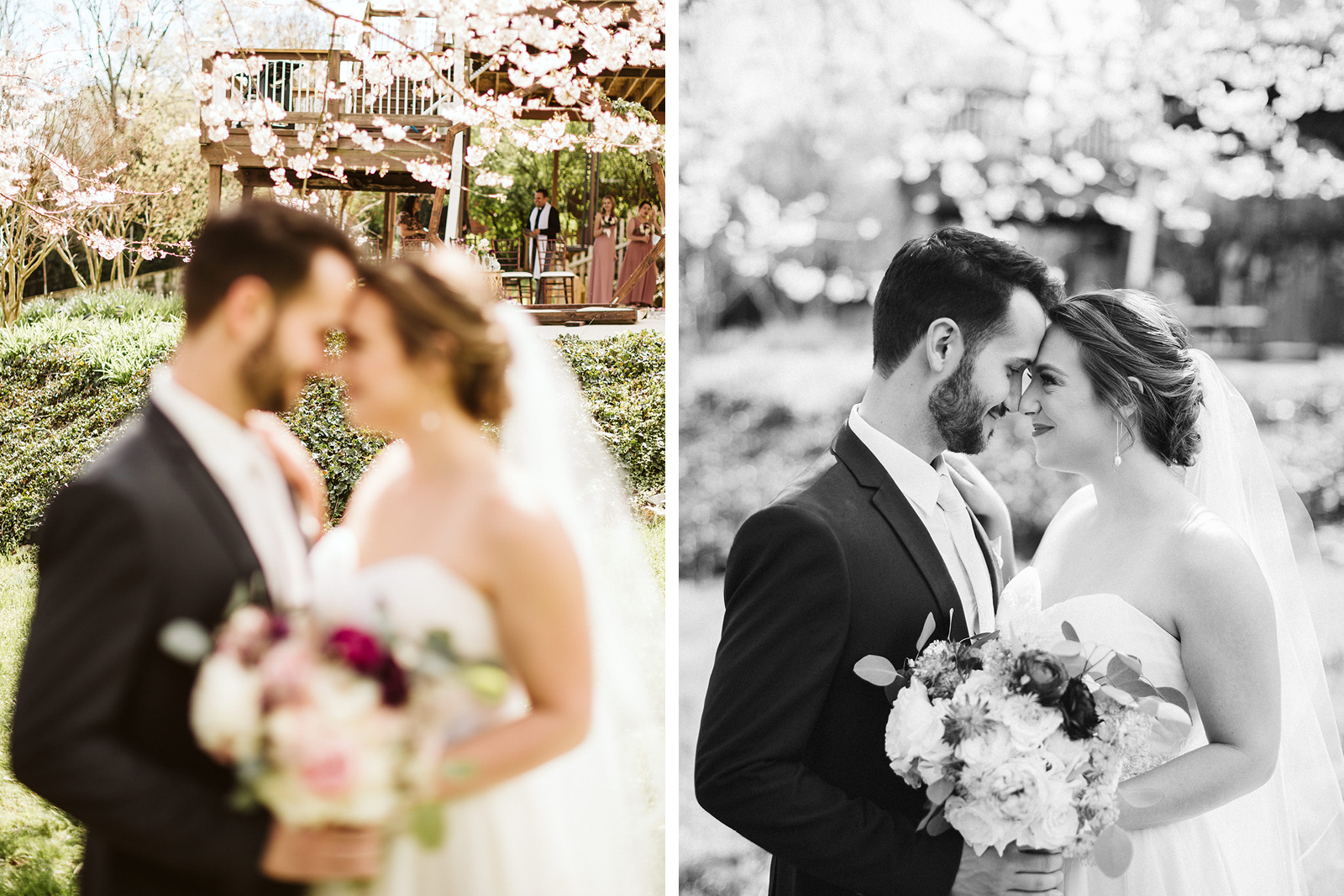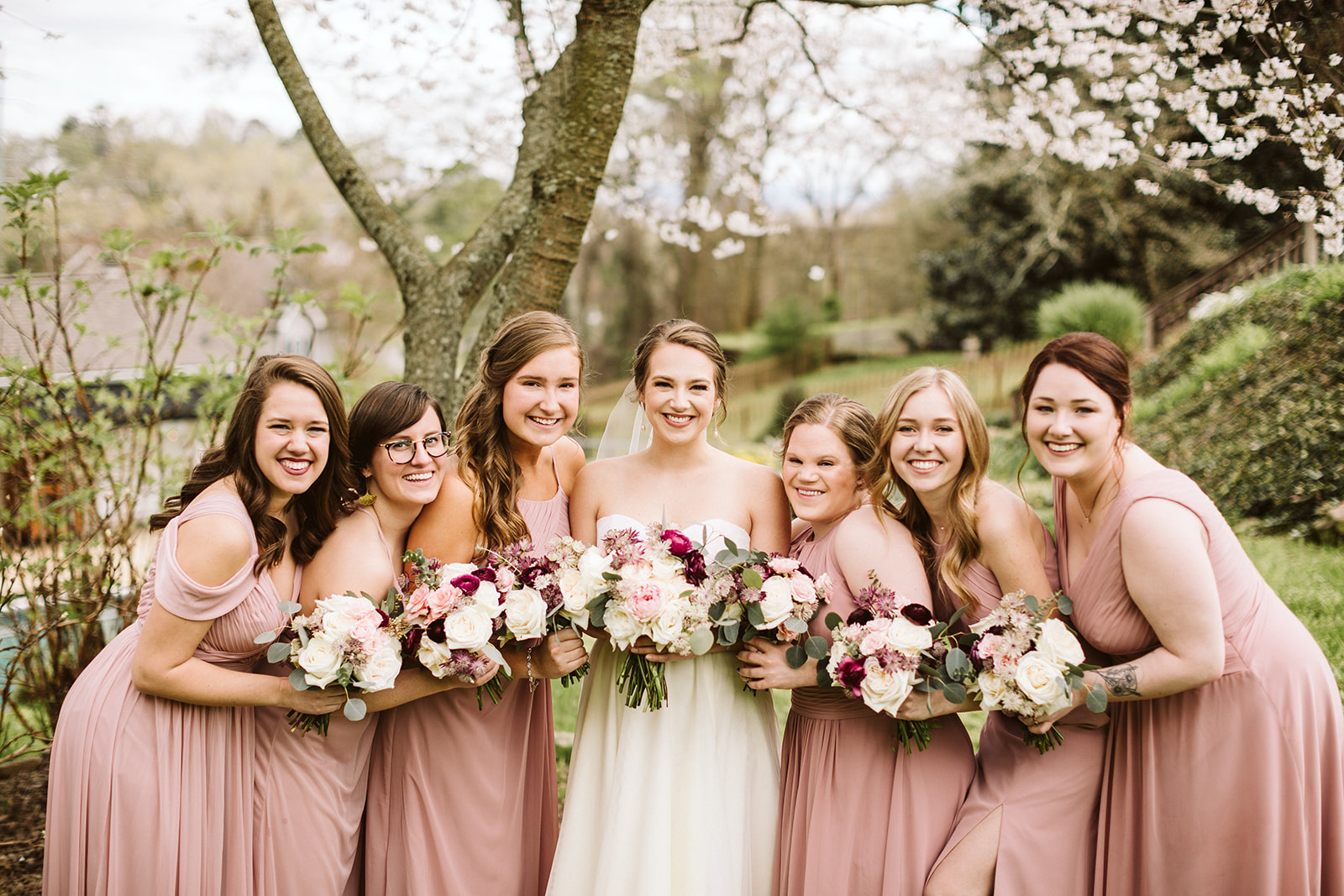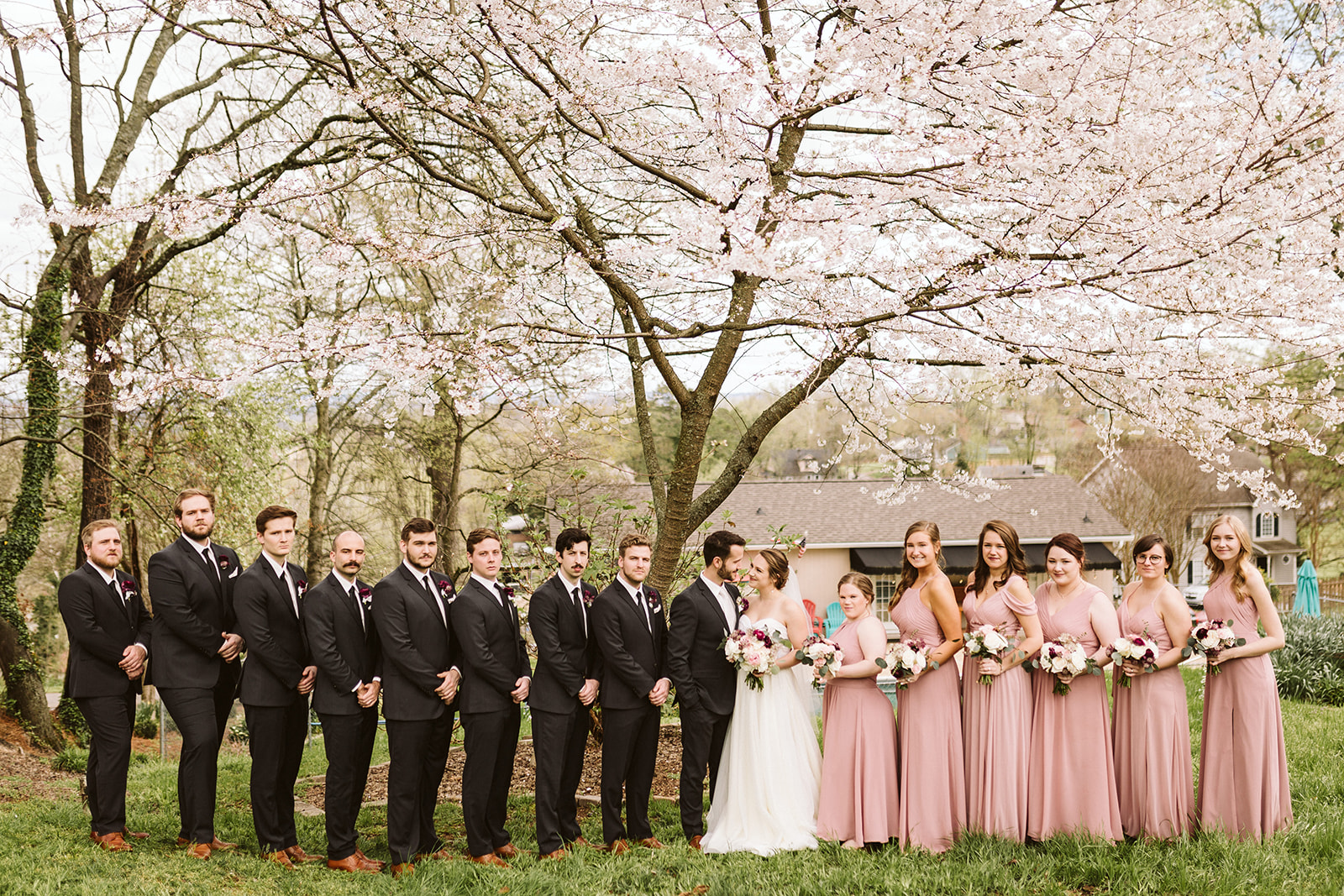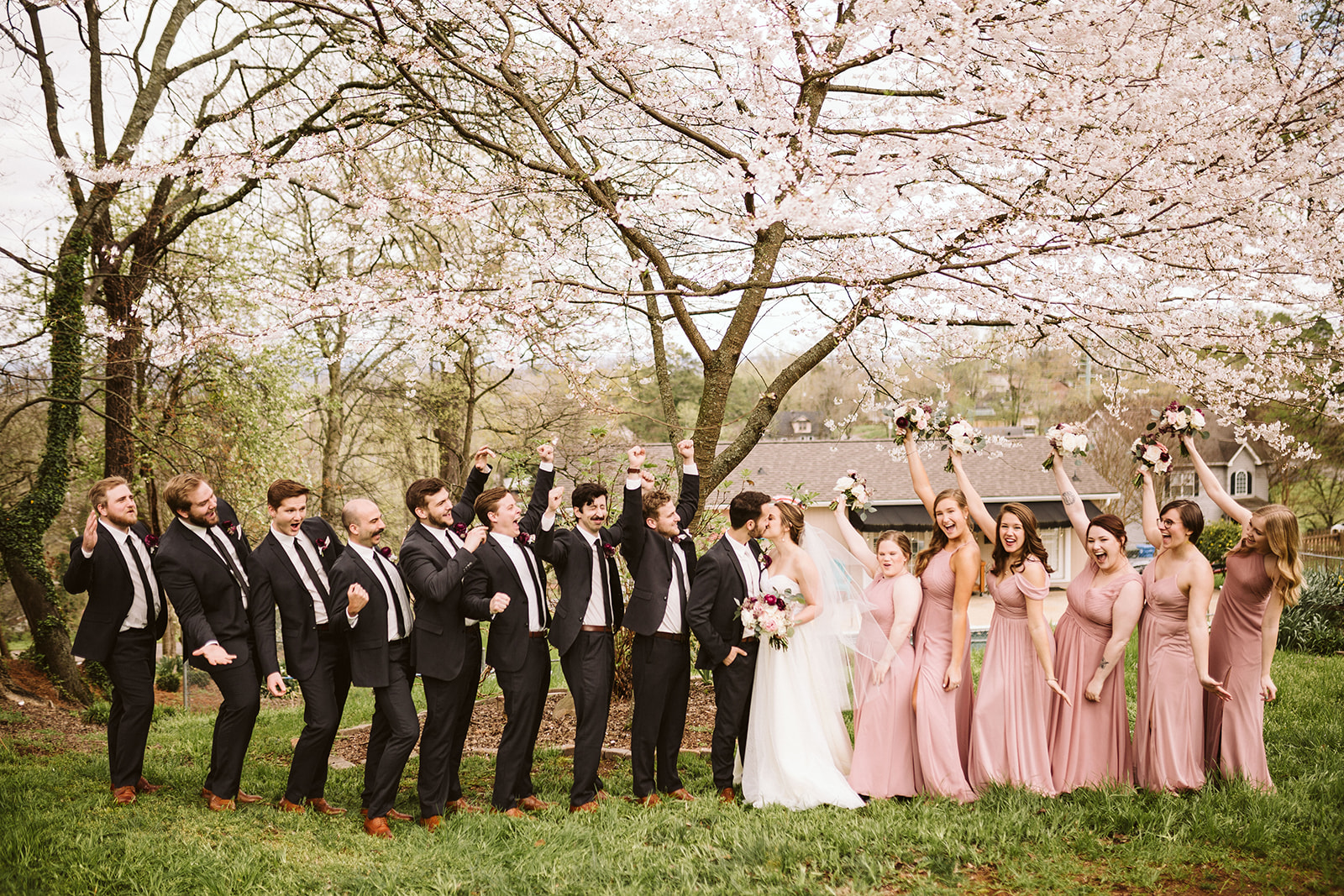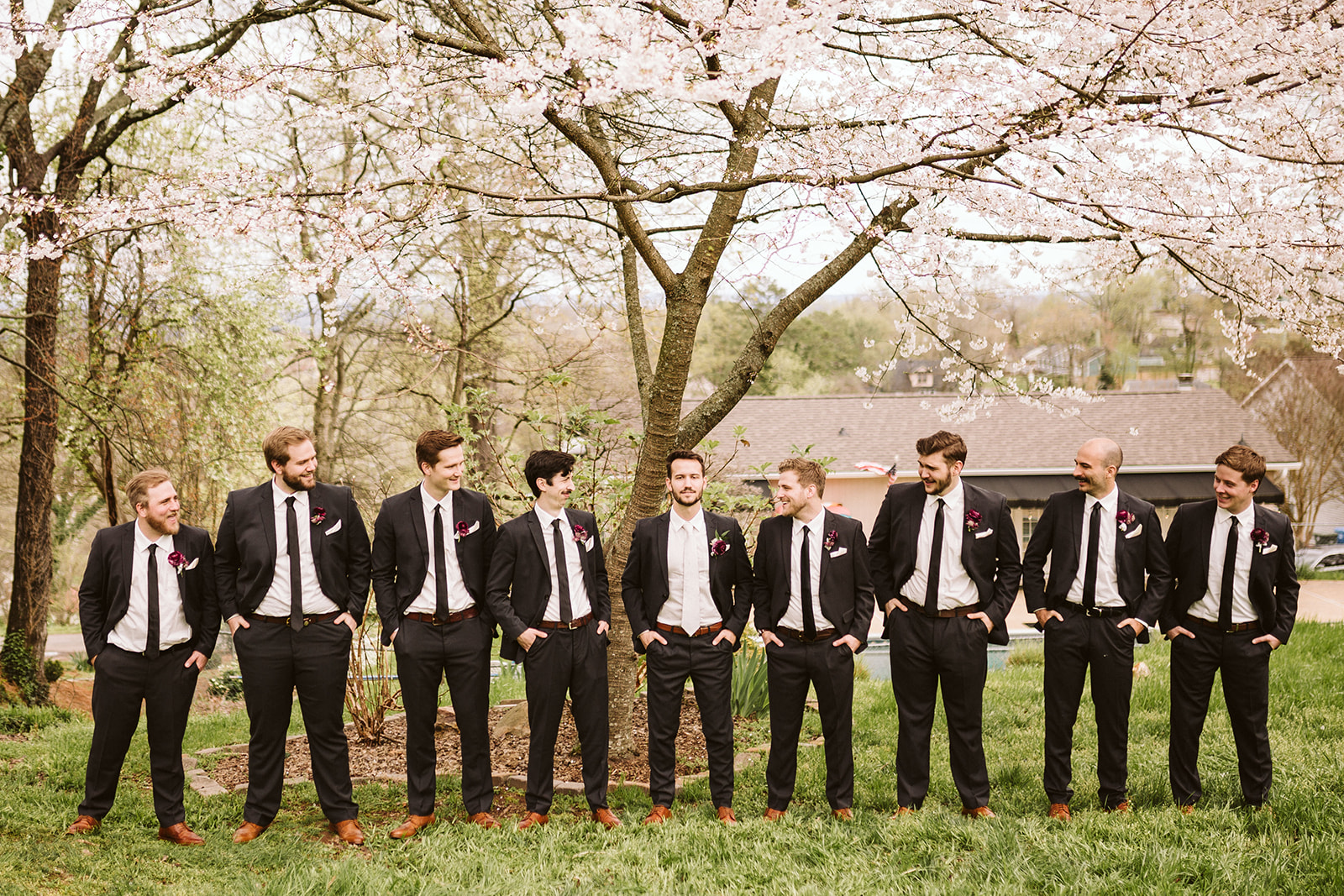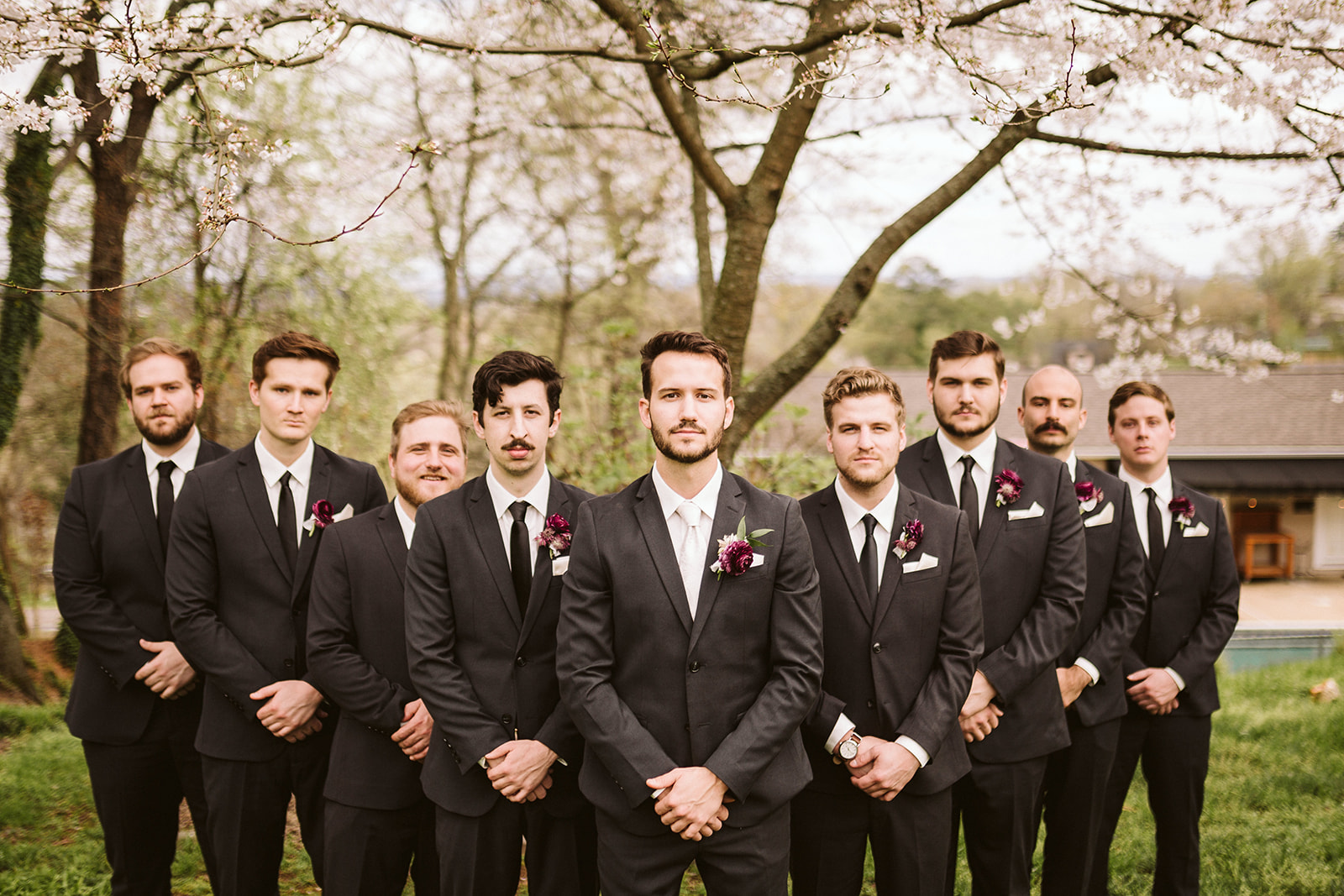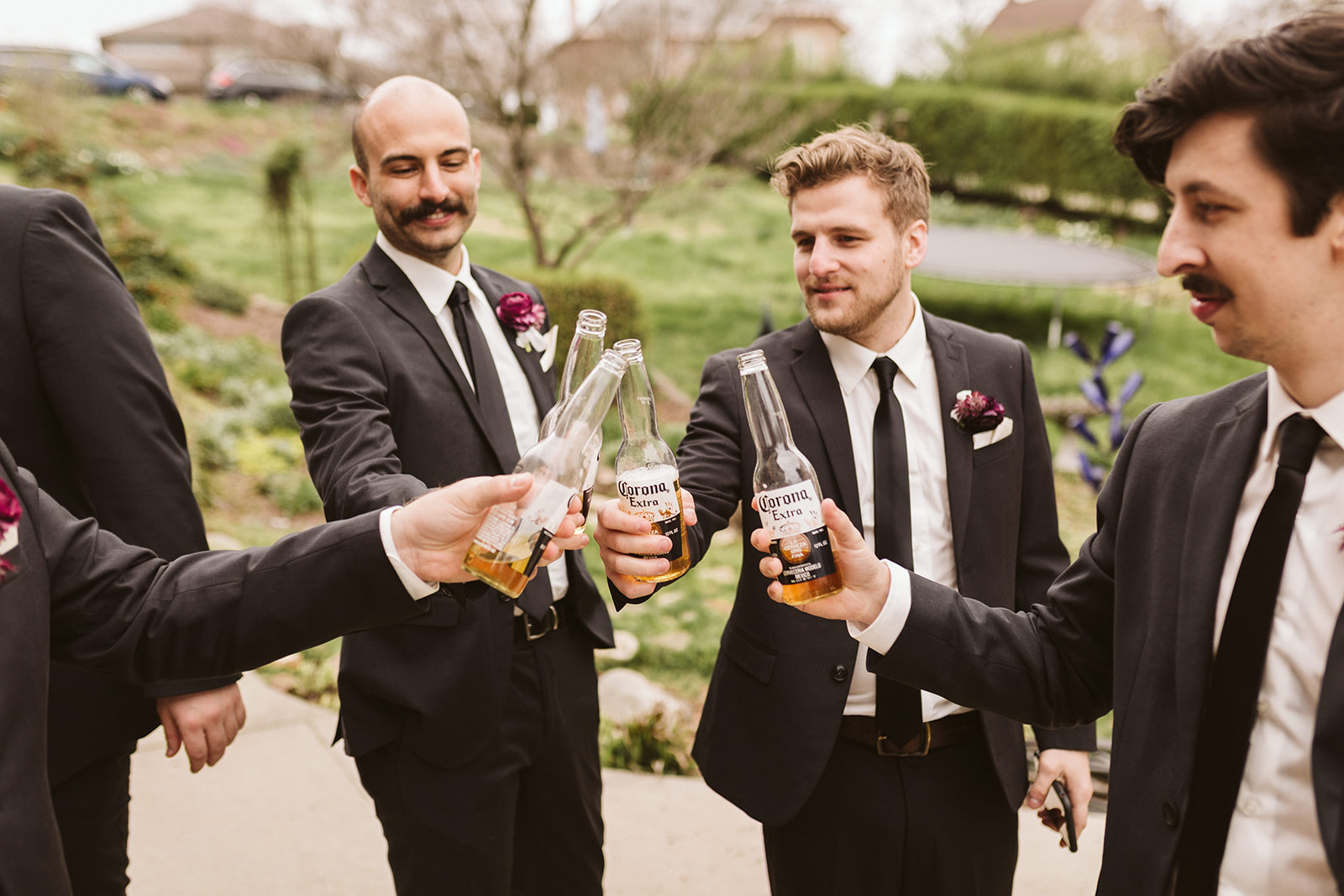 I picked out a spot under a gorgeous dogwood tree for Morgan and Jacob's first look. Jacob saw his bride for the first time beneath white blossoms with the sun streaming down onto them both. Their first look was SO tender and sweet. You could just tell that all the craziness and stress of the past week had washed away, leaving only love between them.
Morgan and Jacob shared their private moment, and then they joined the bridal party for some group photos.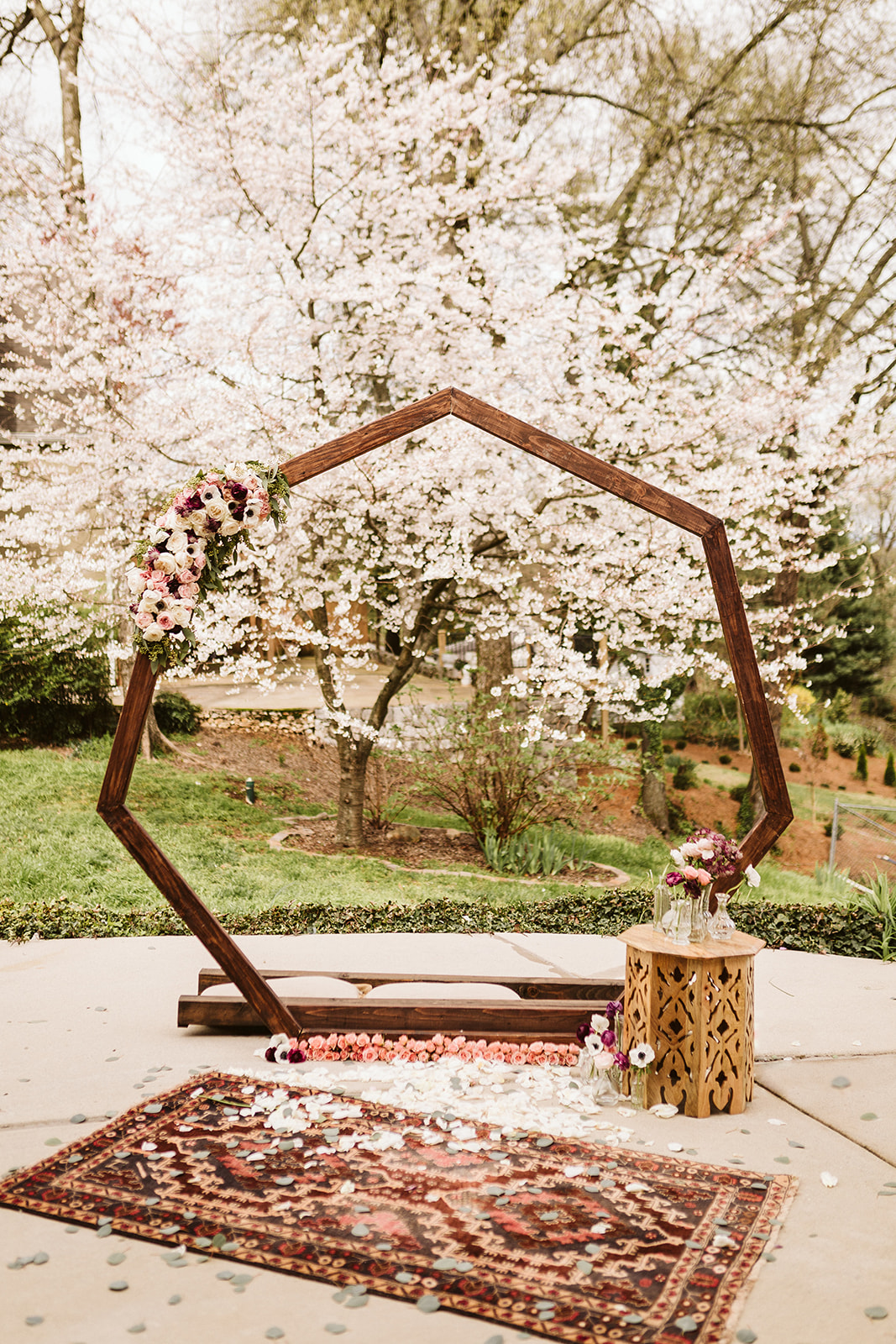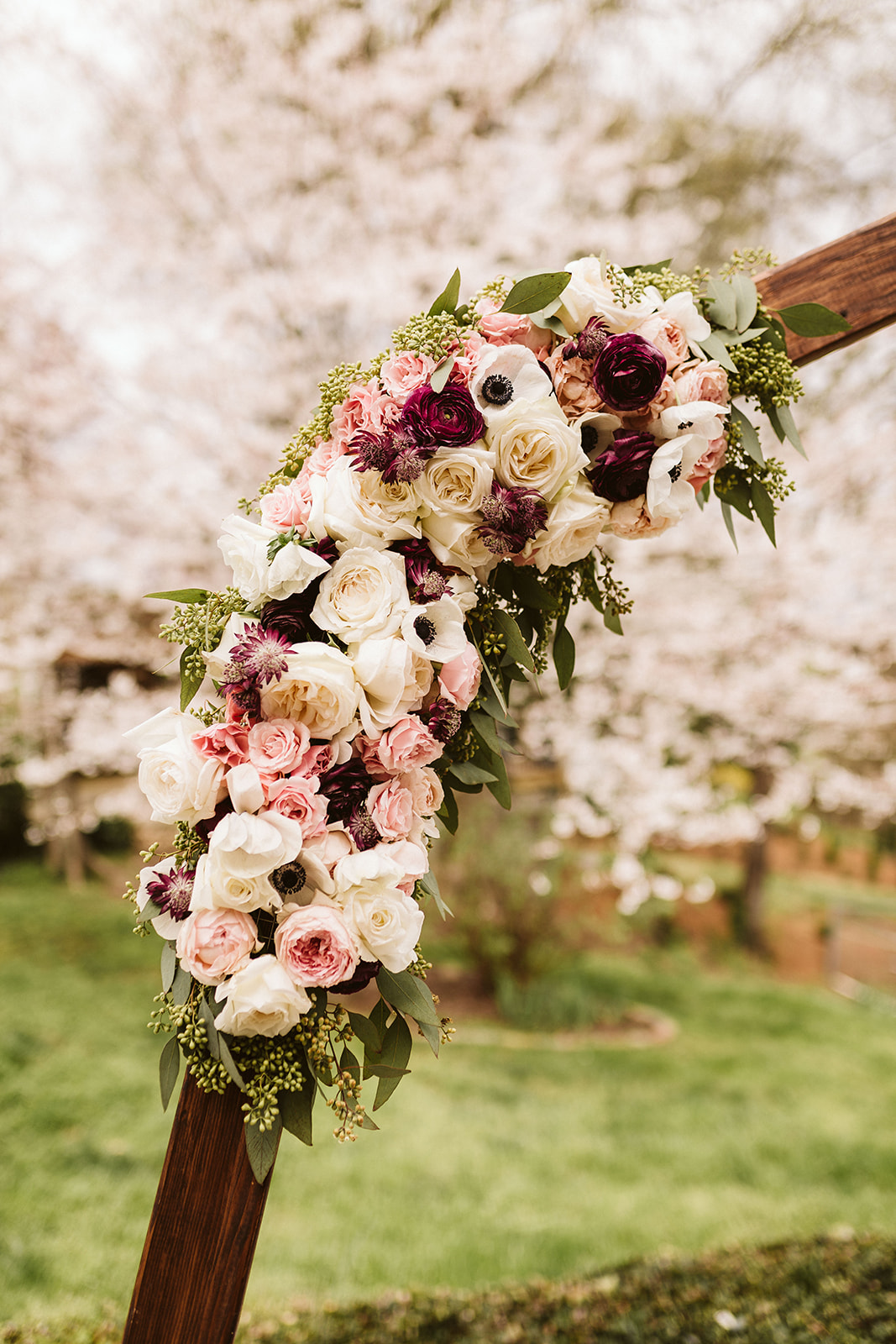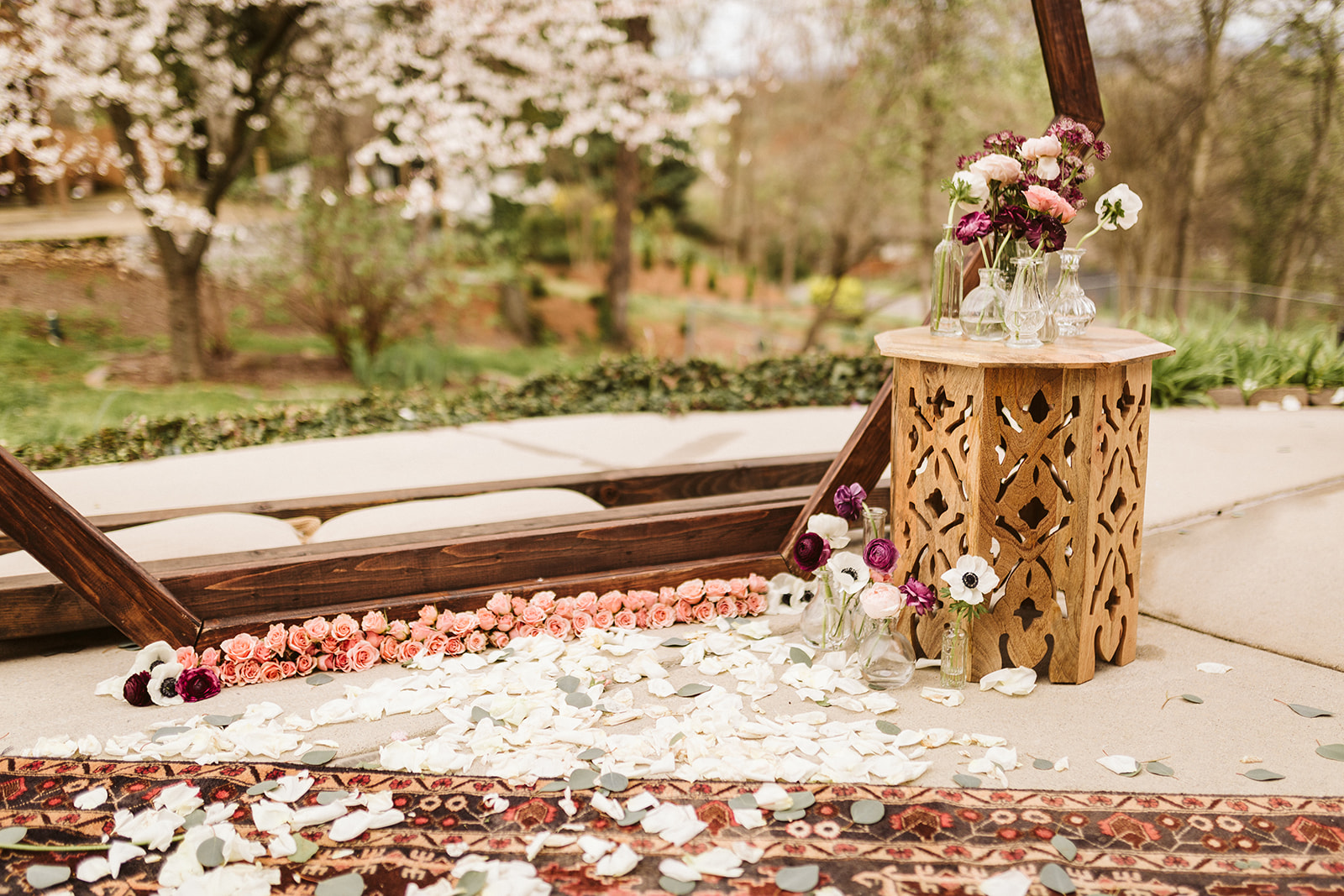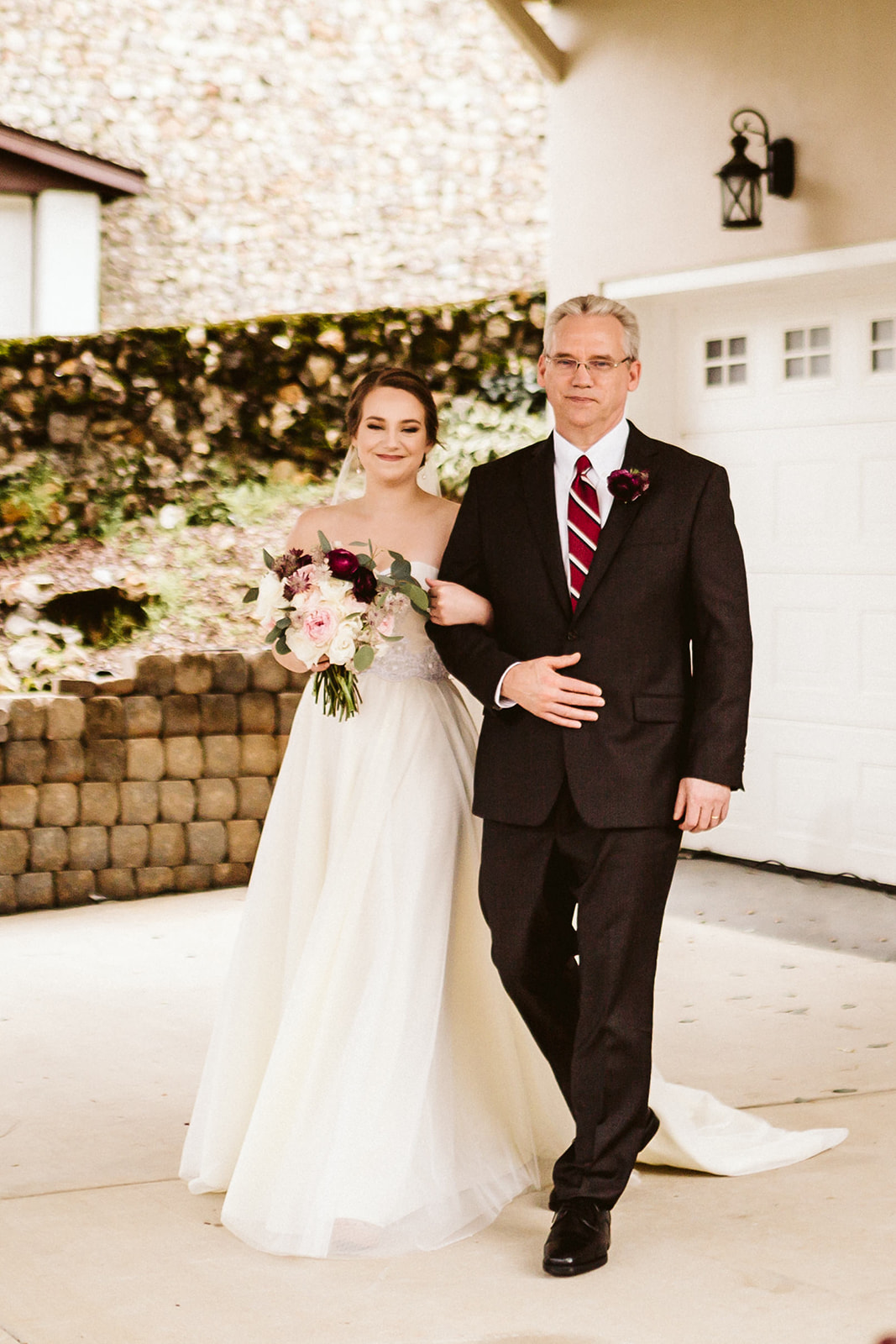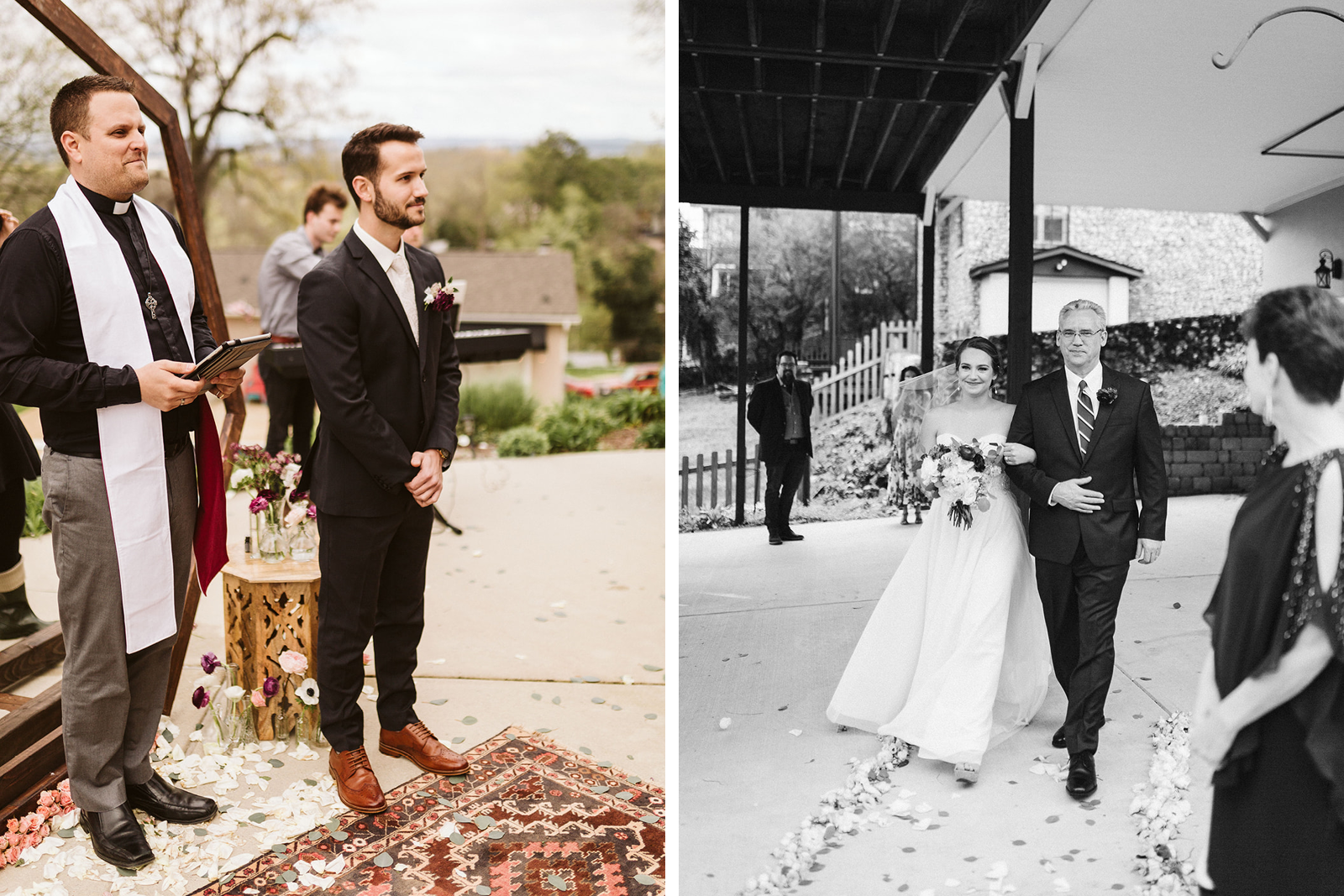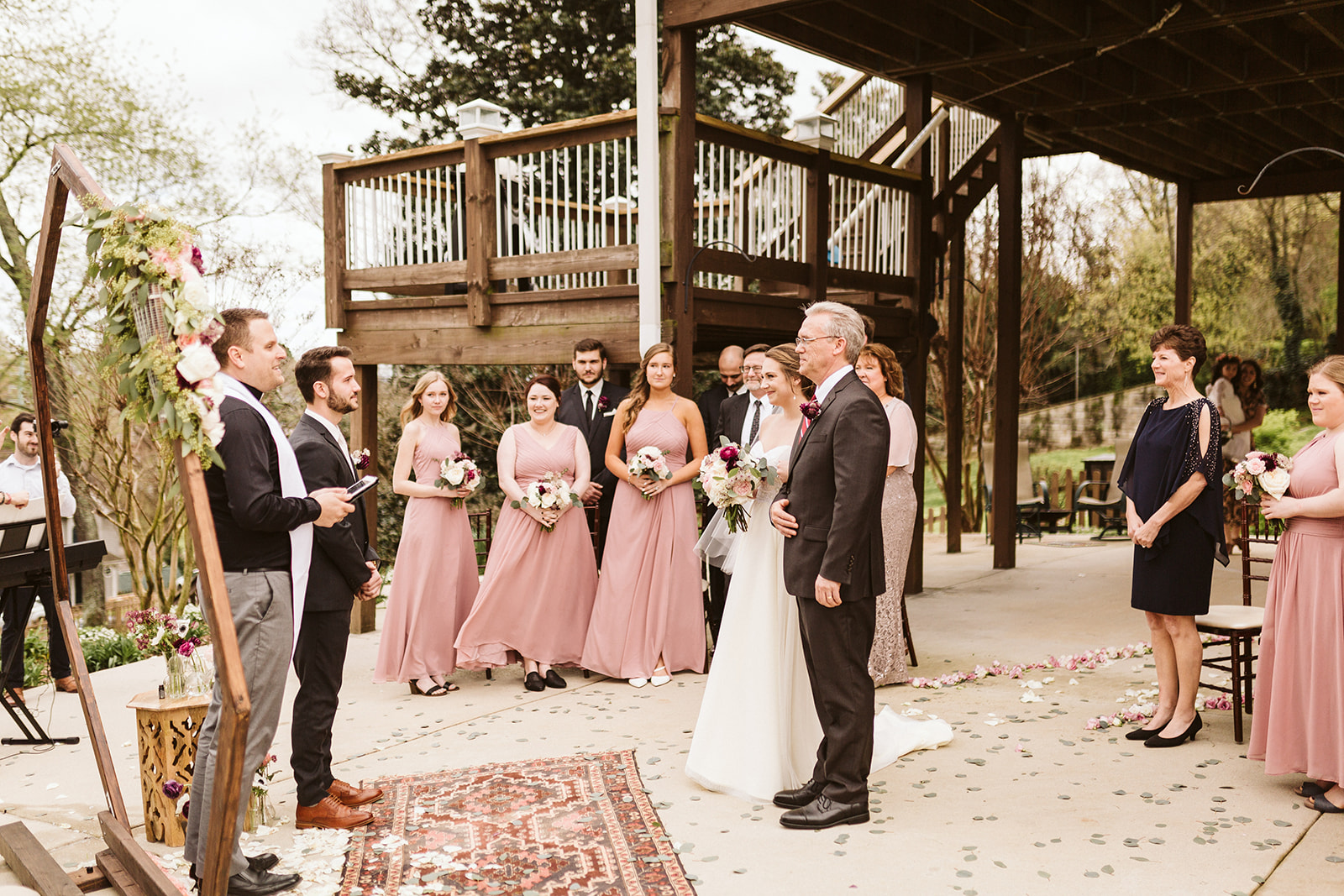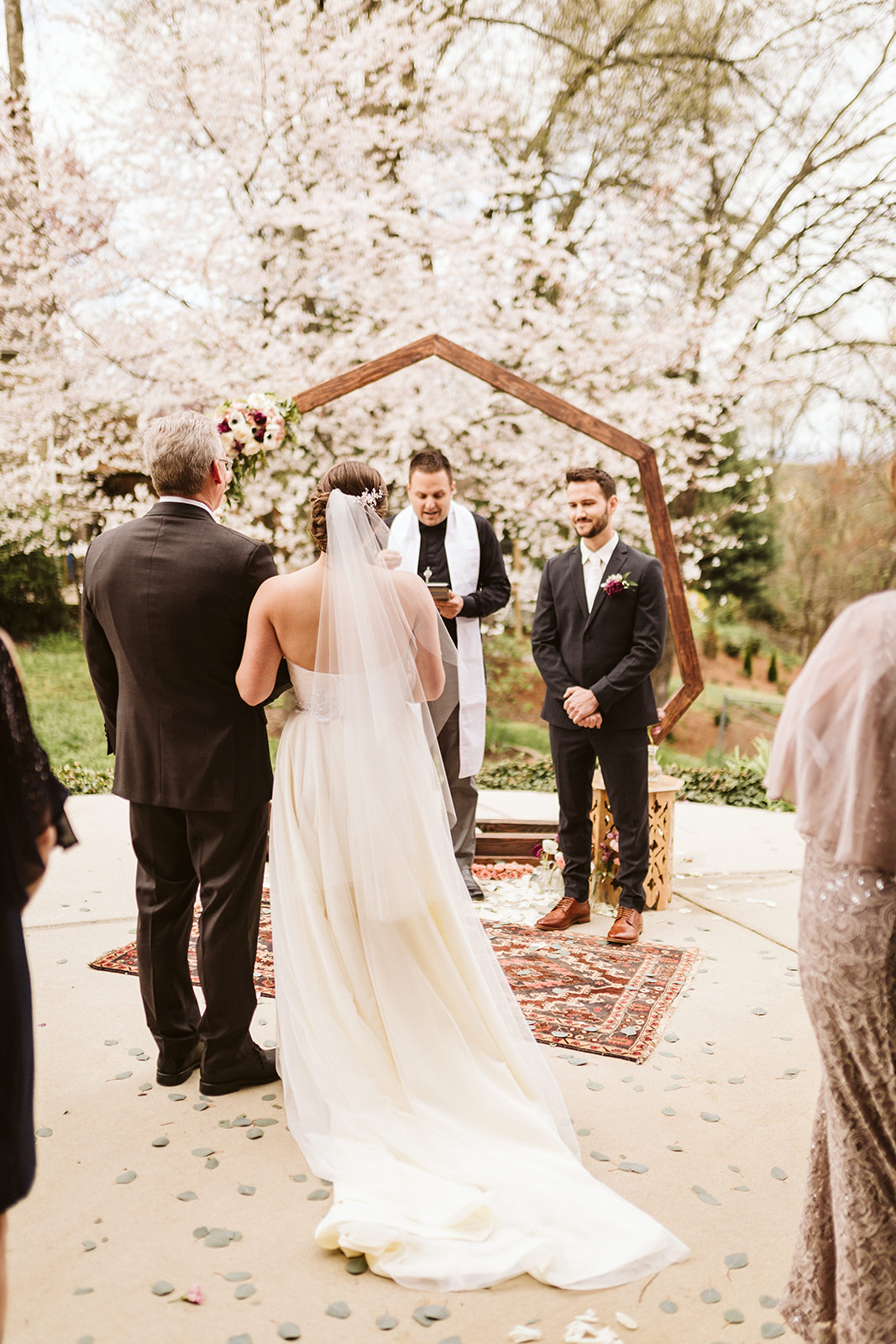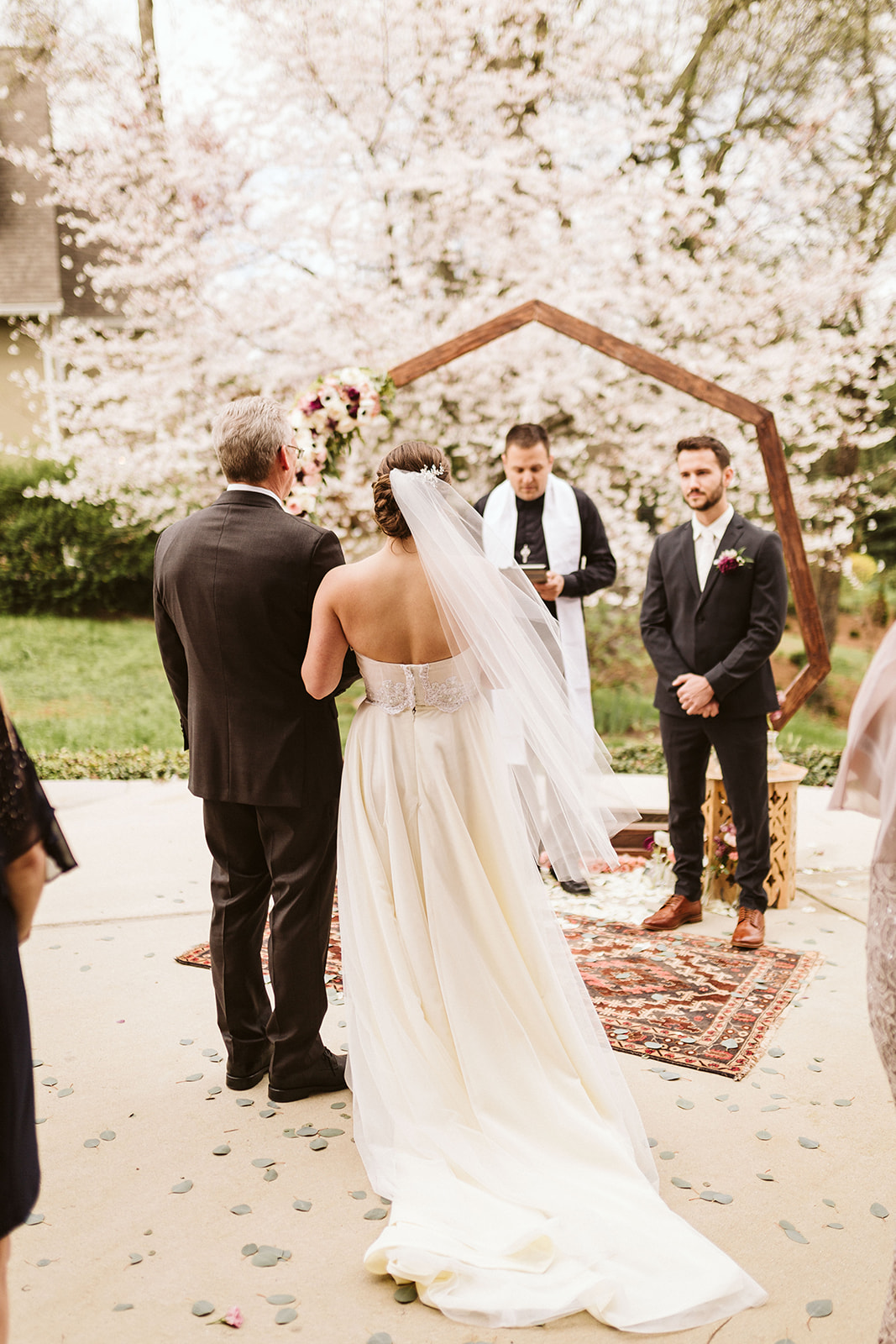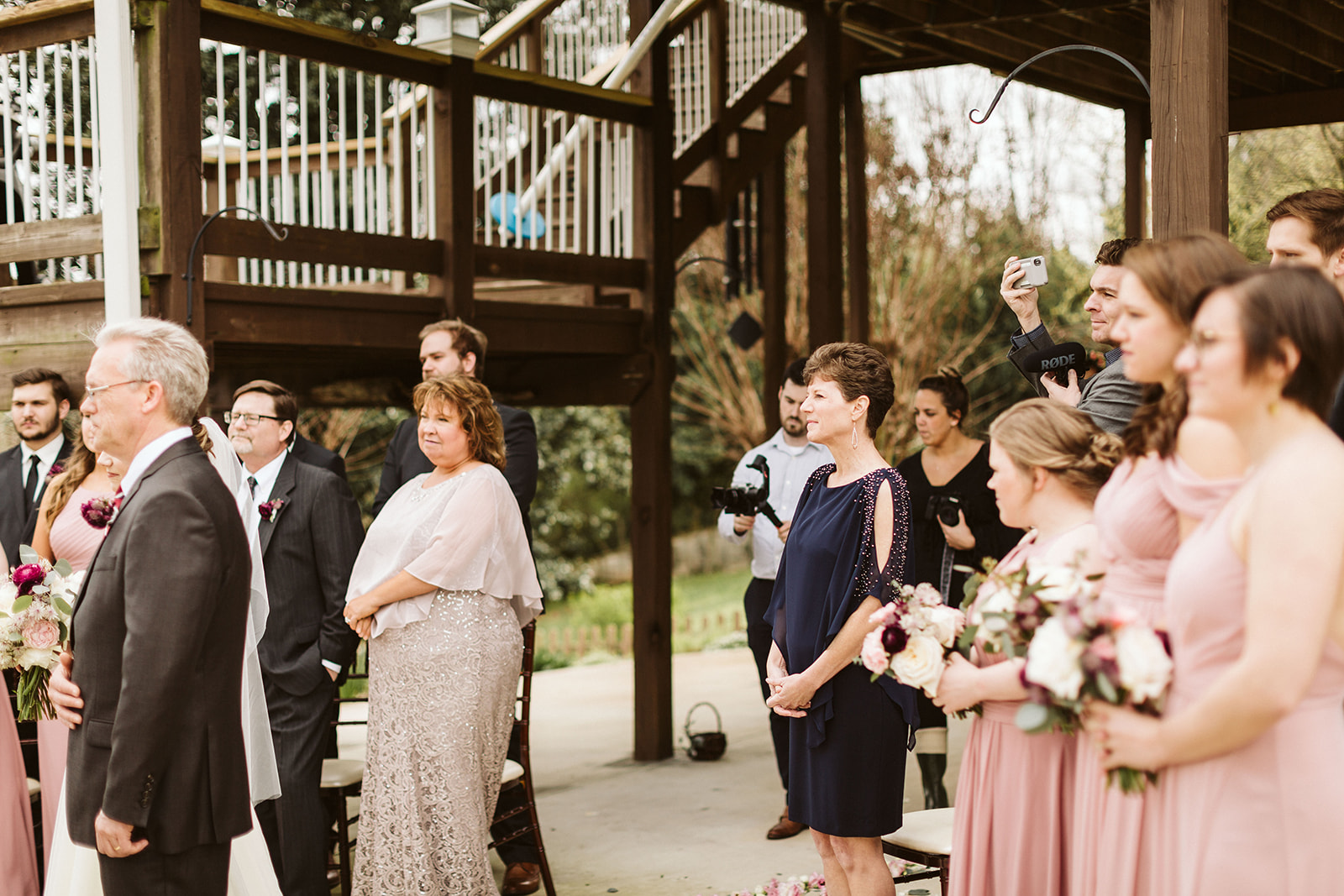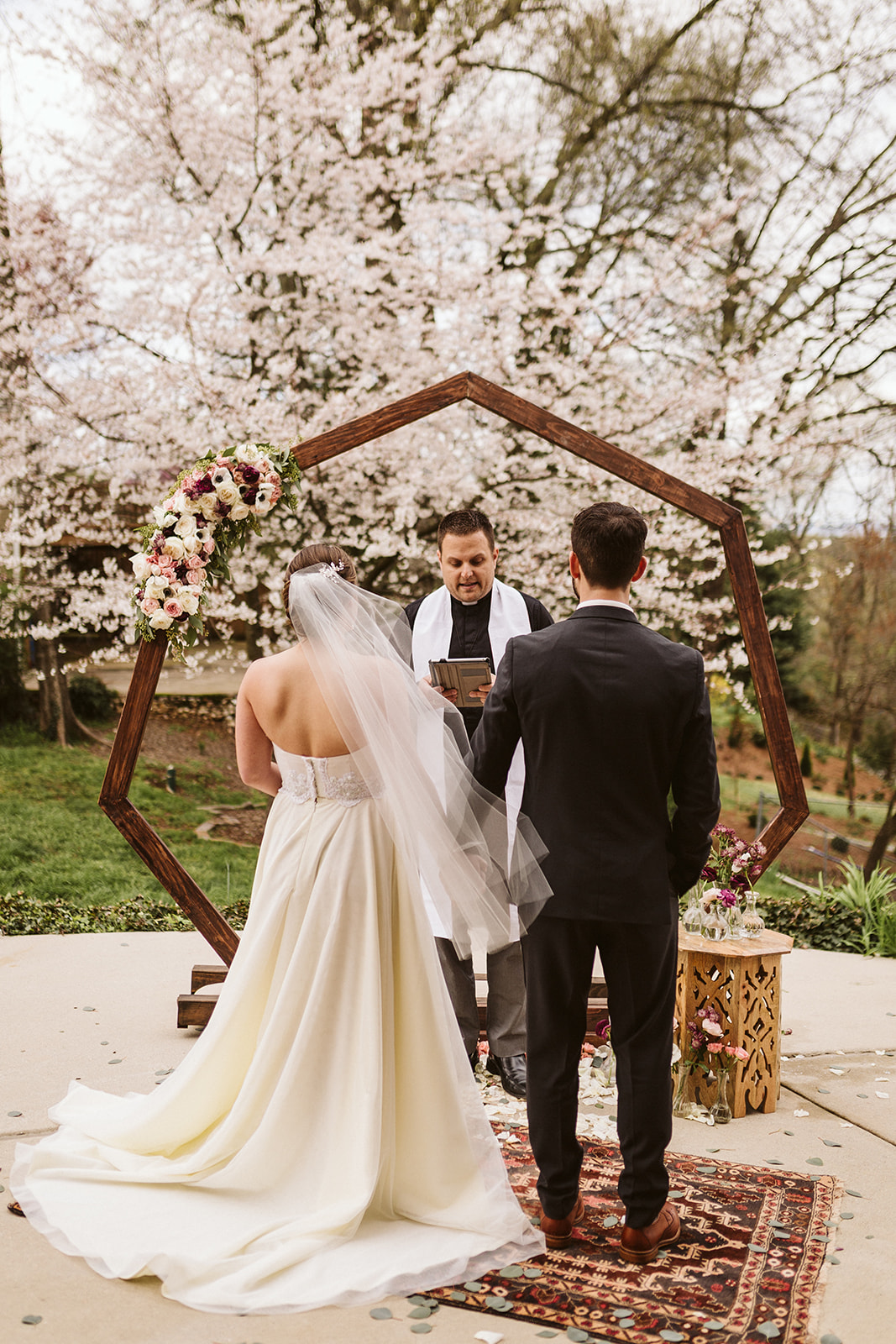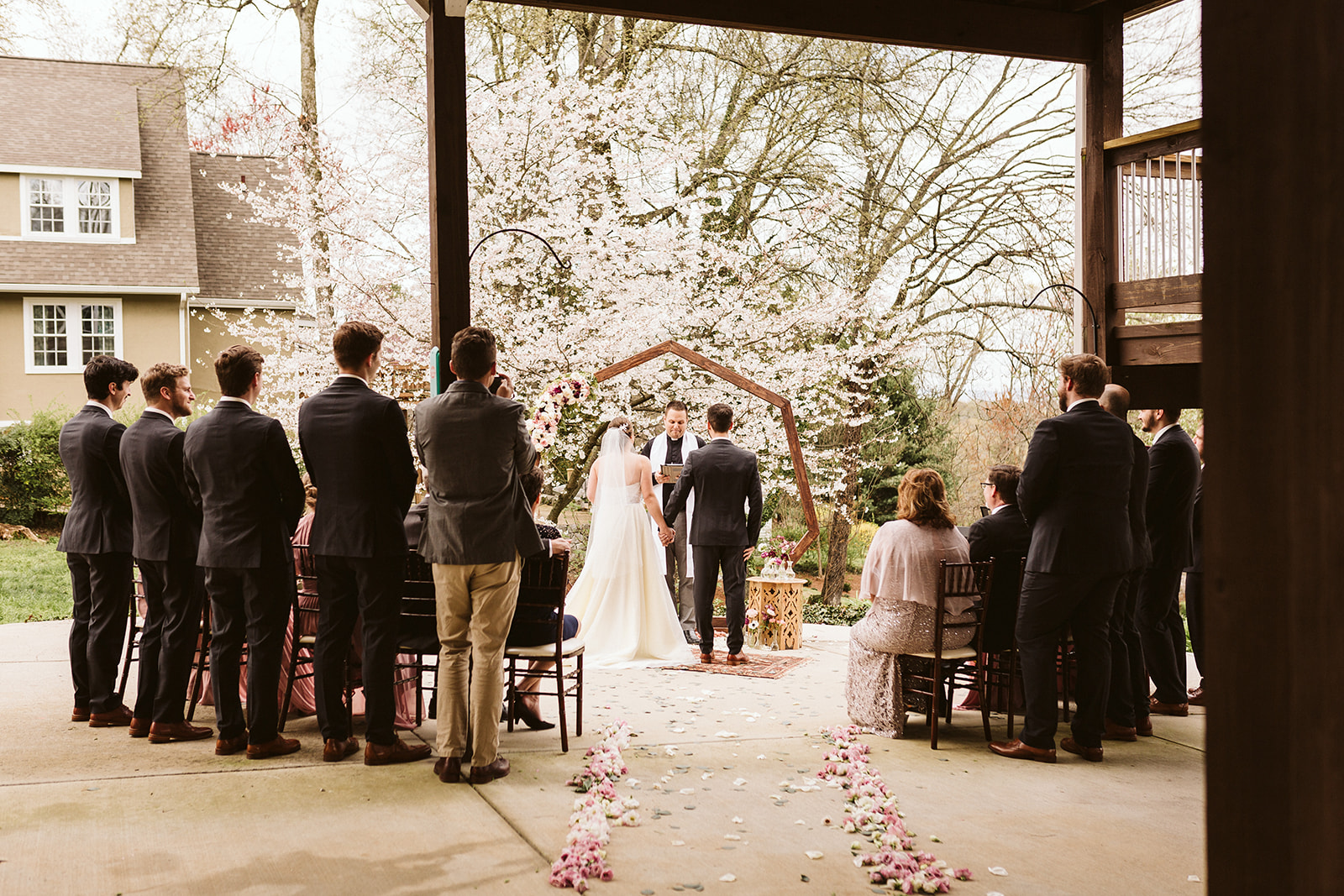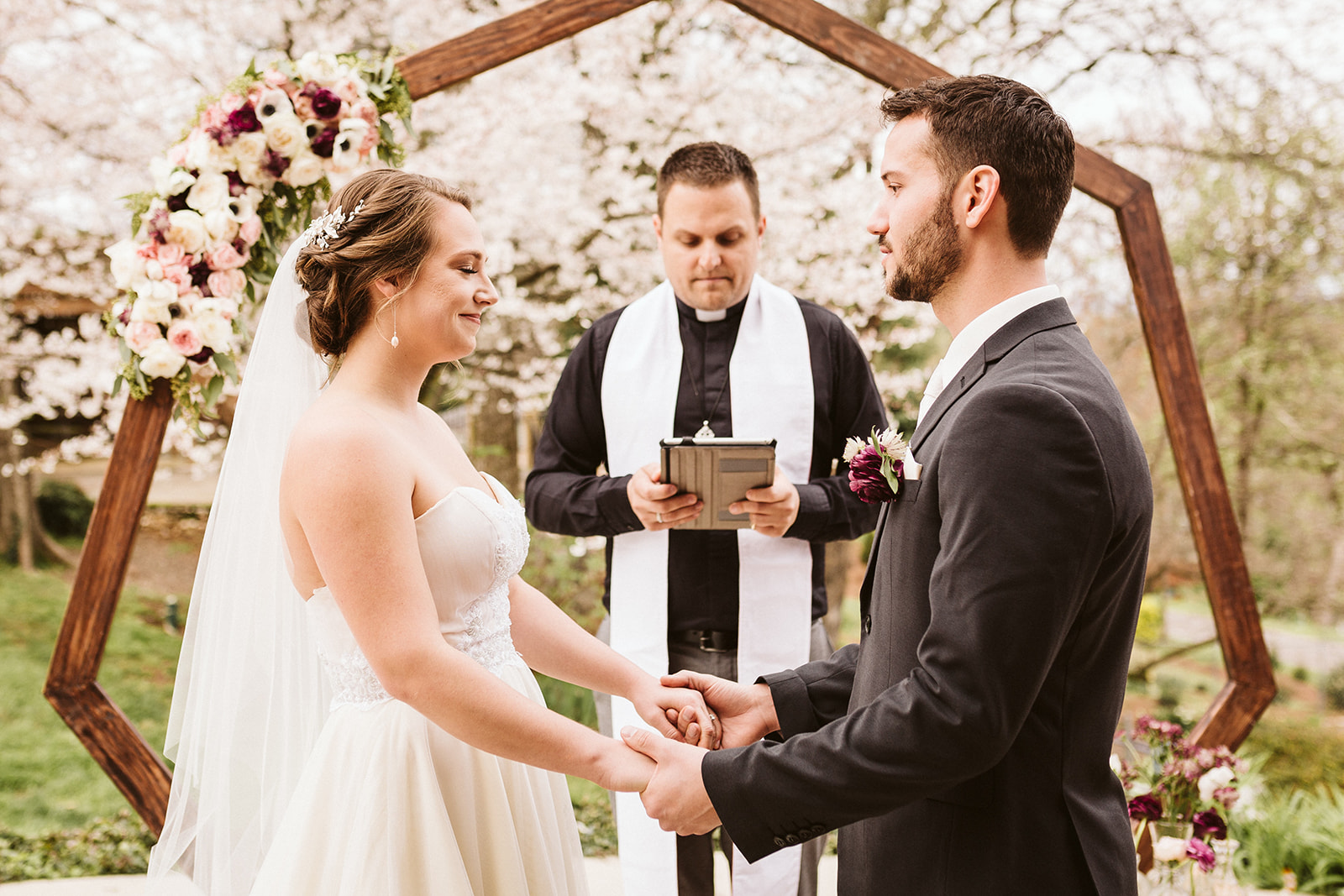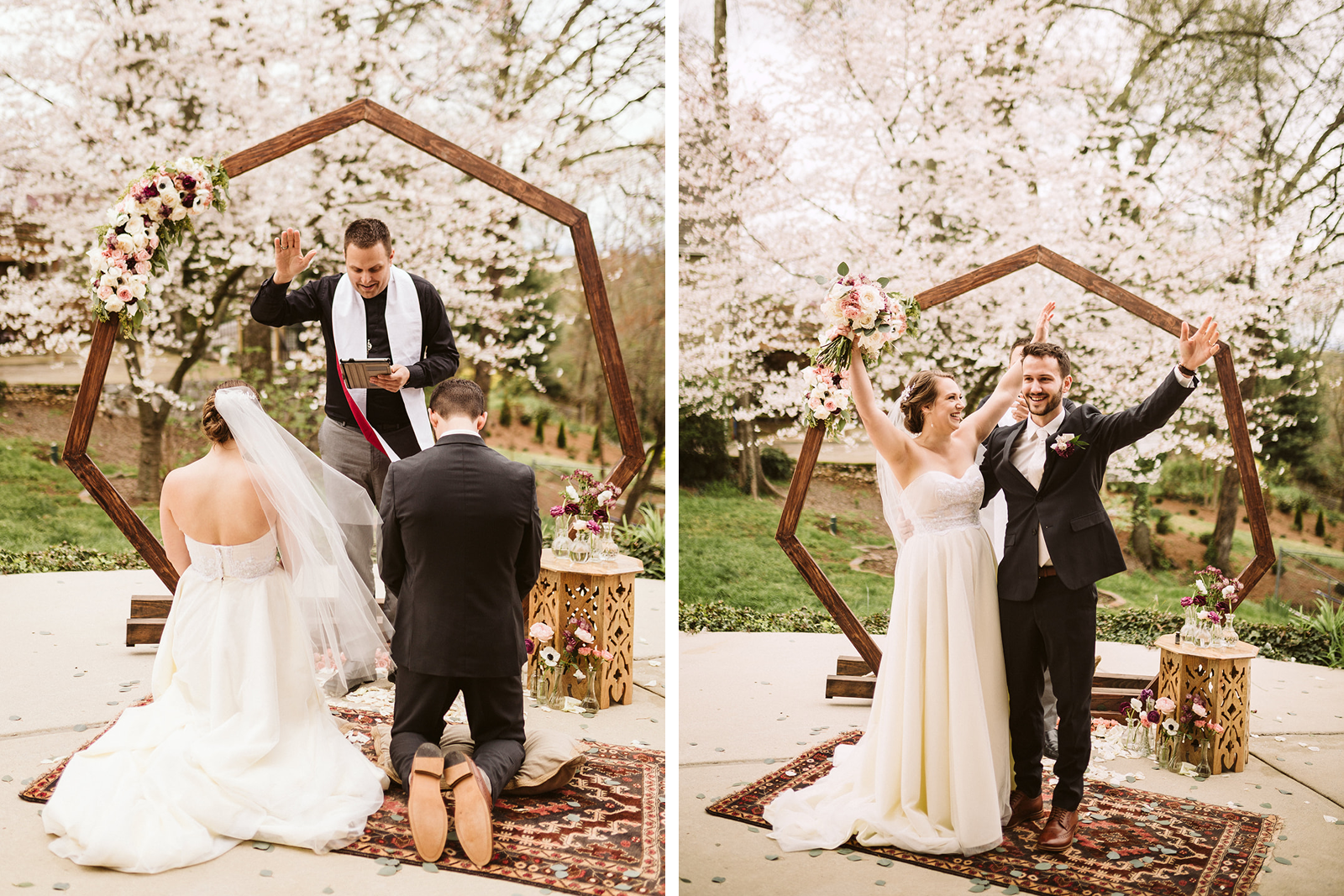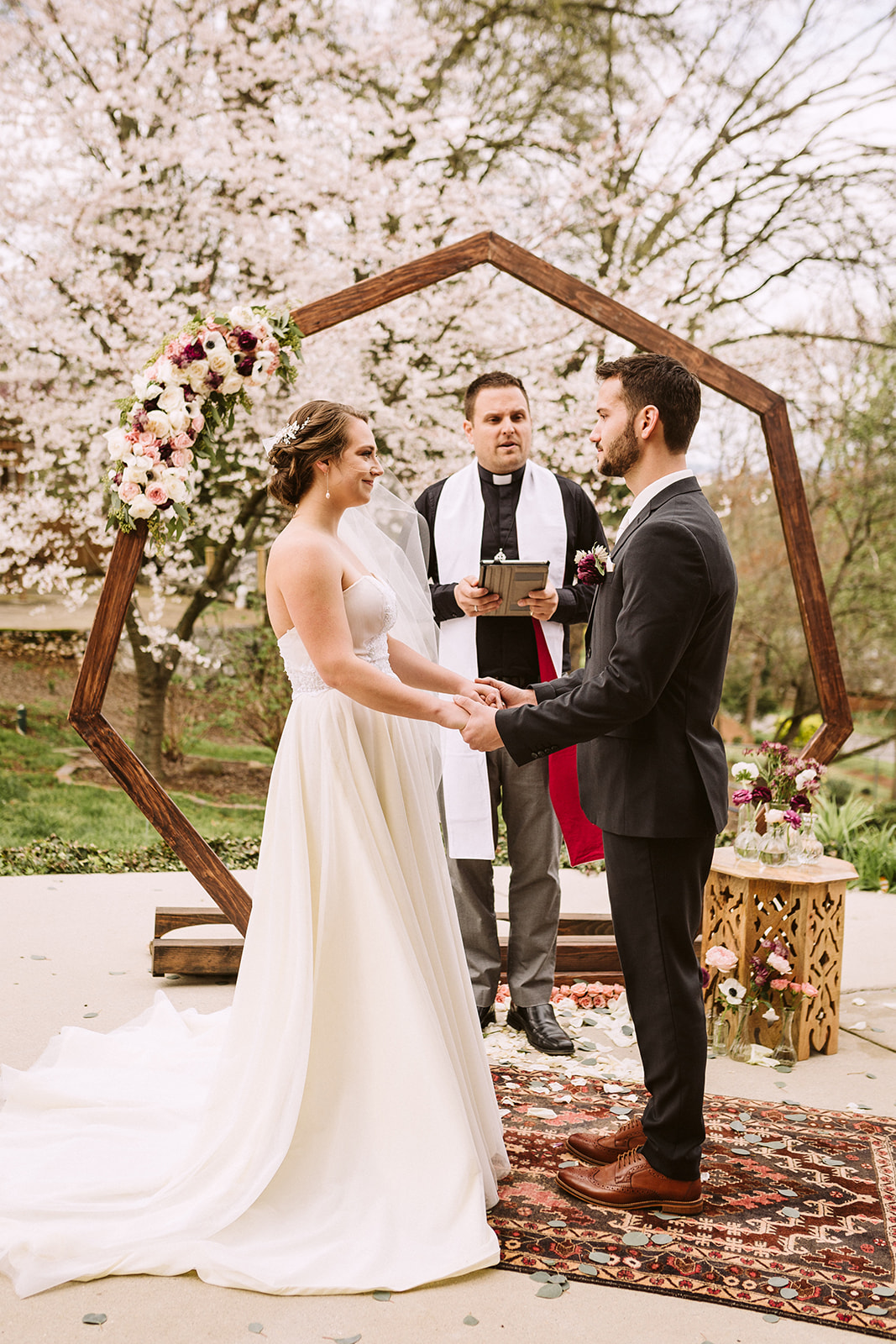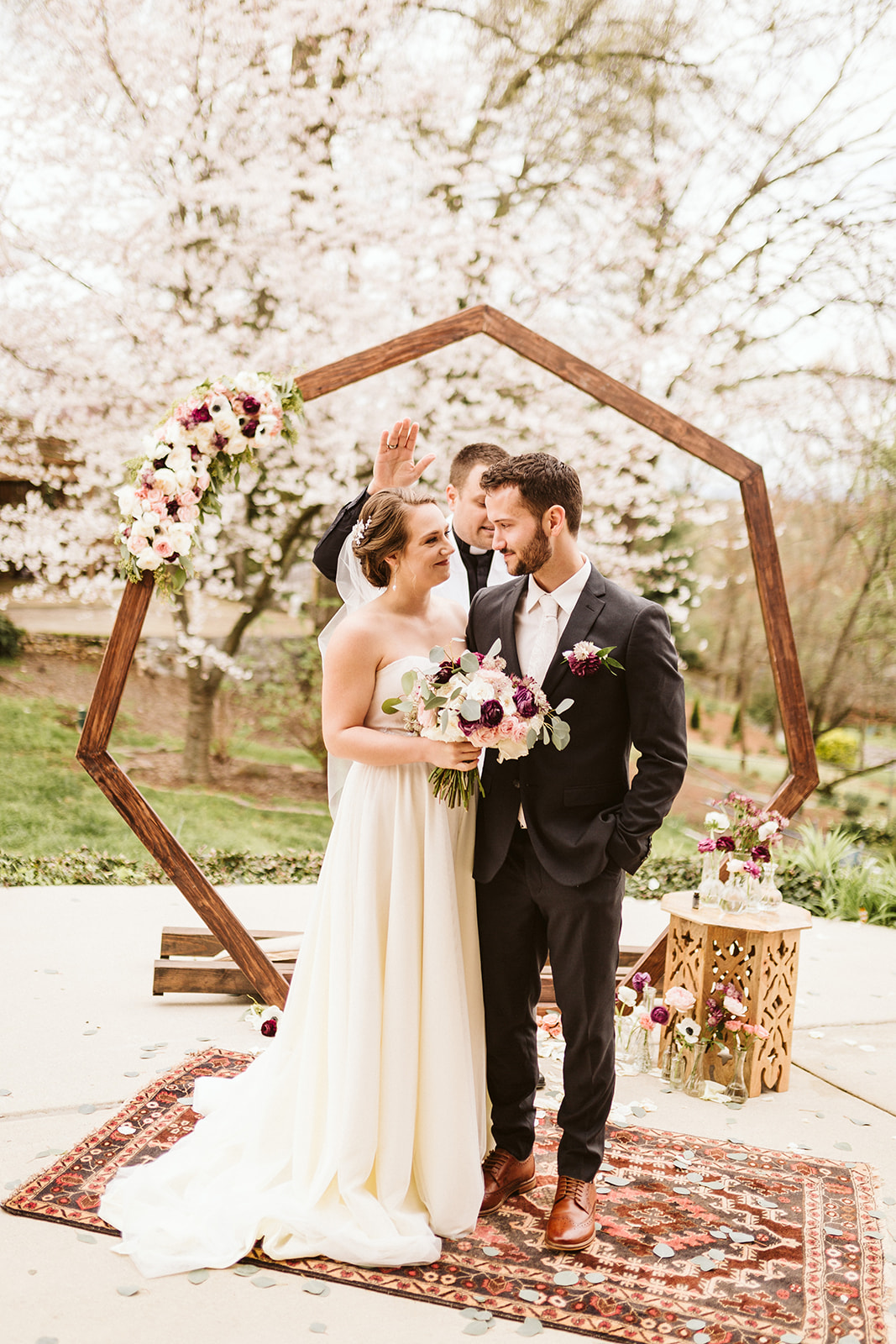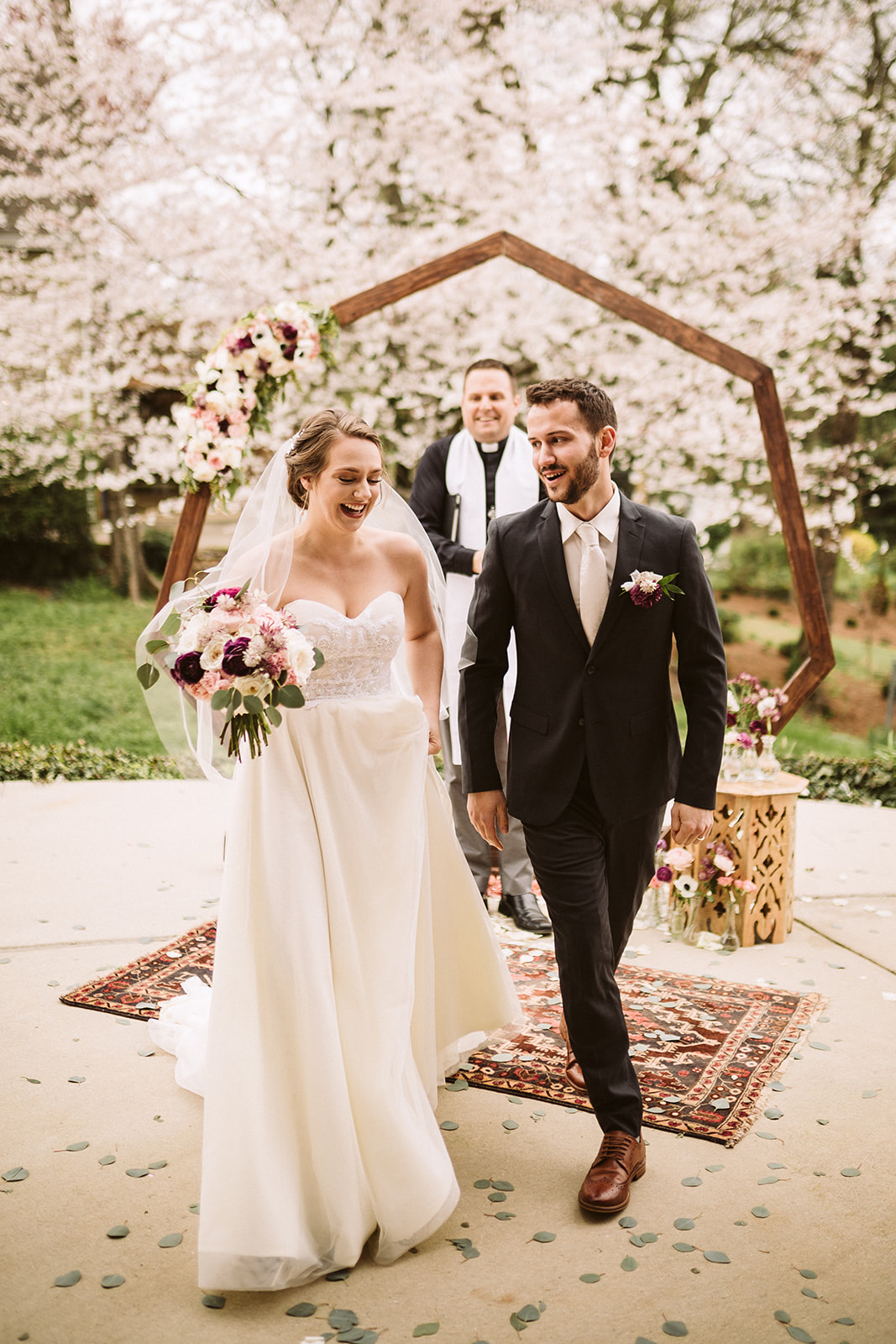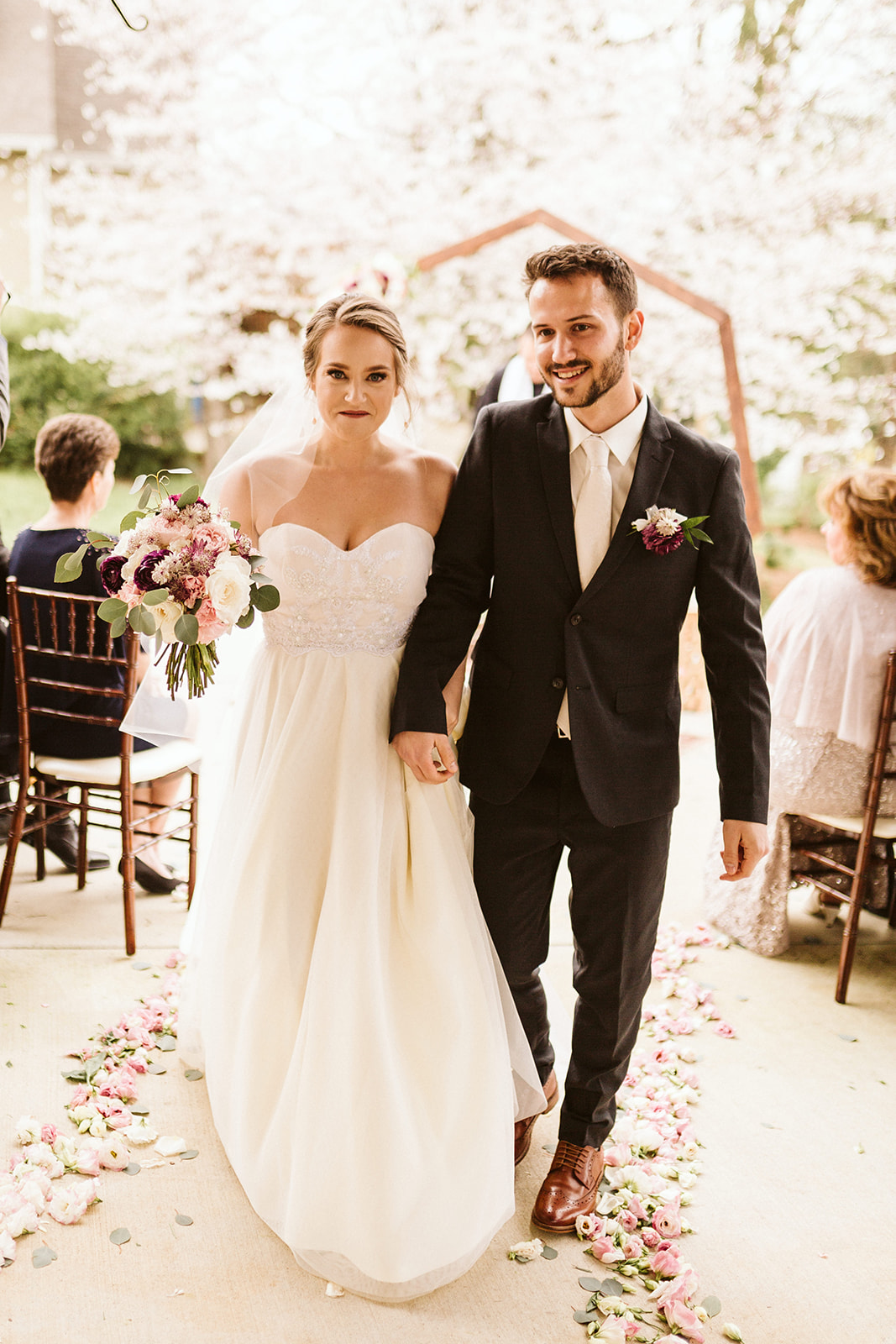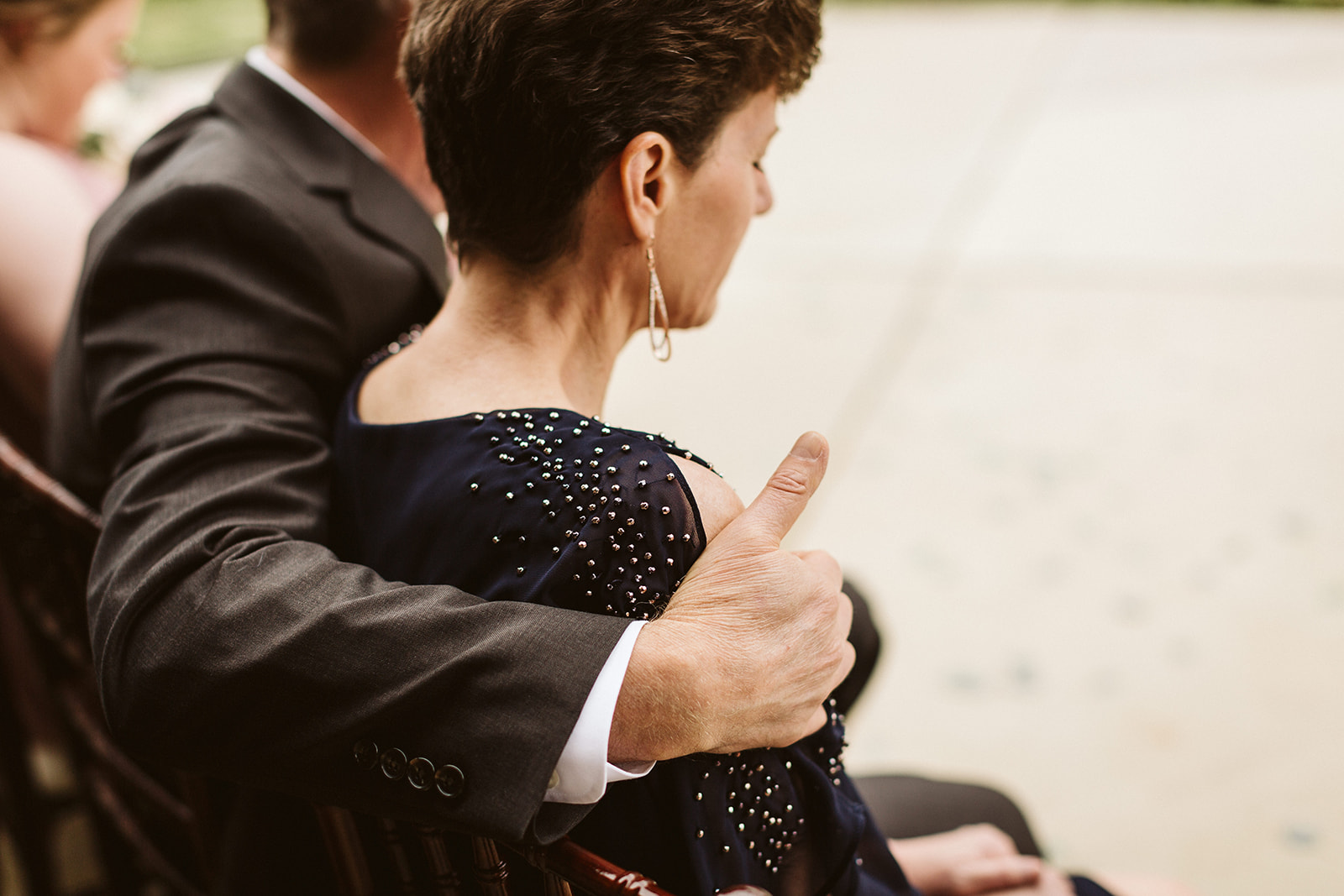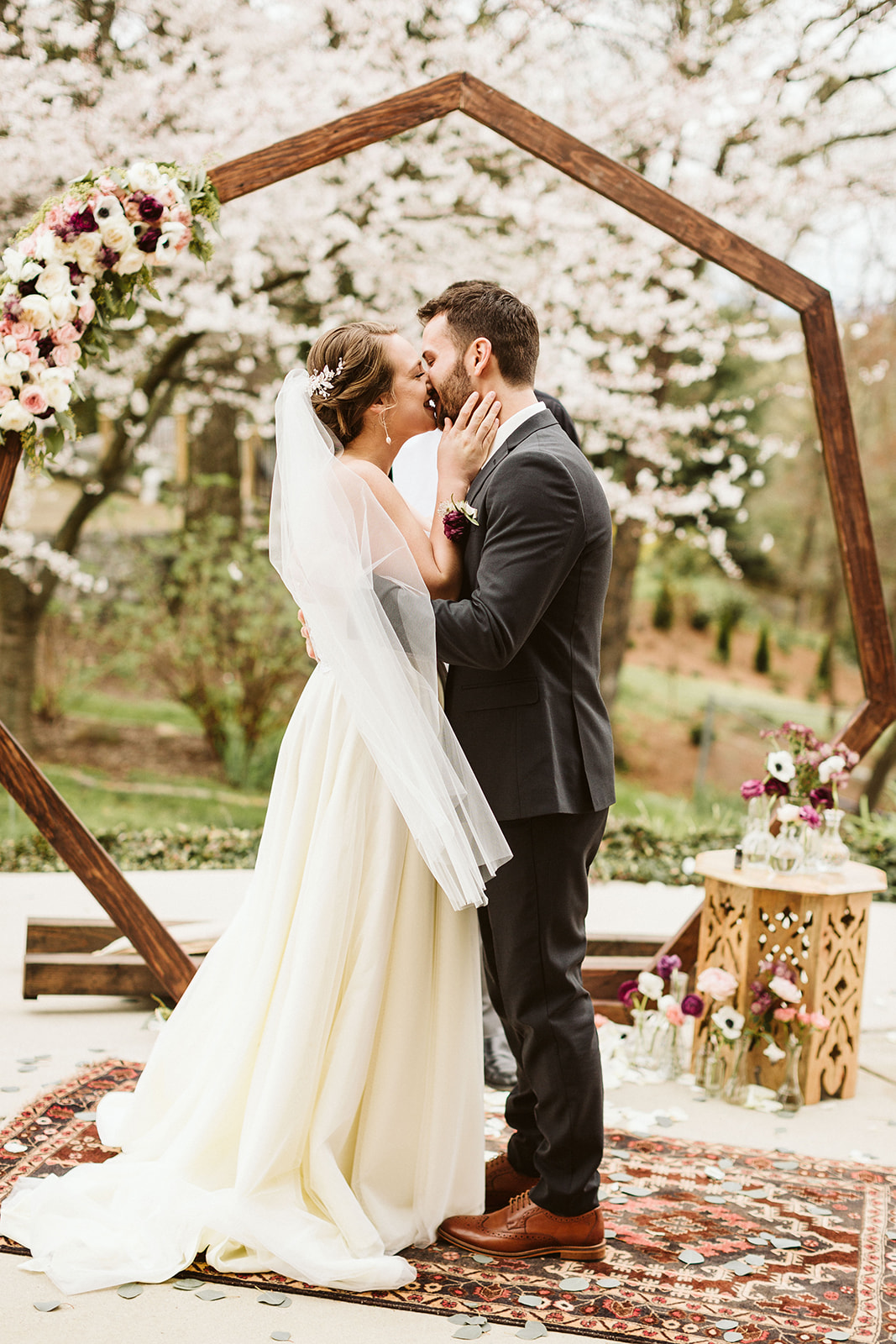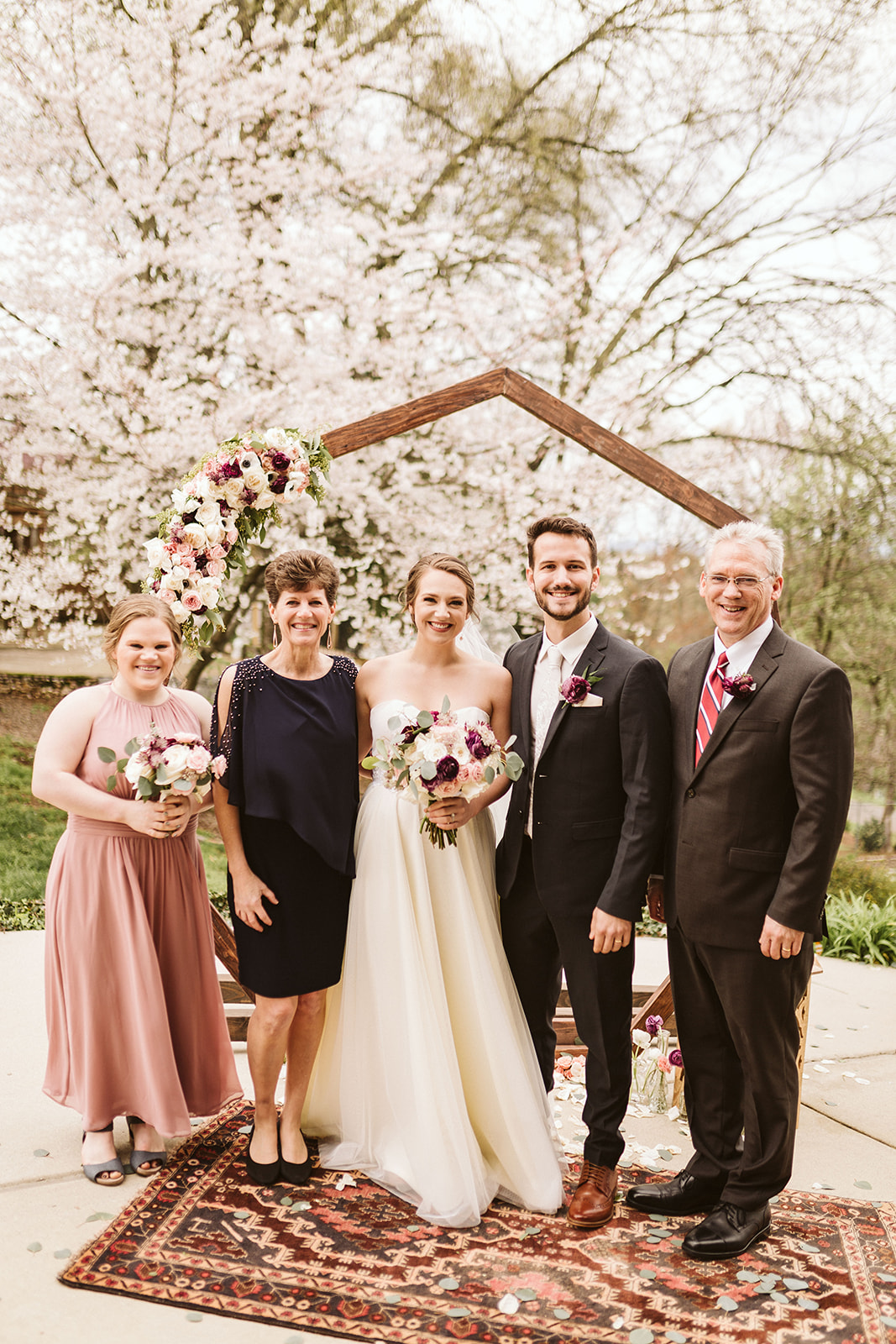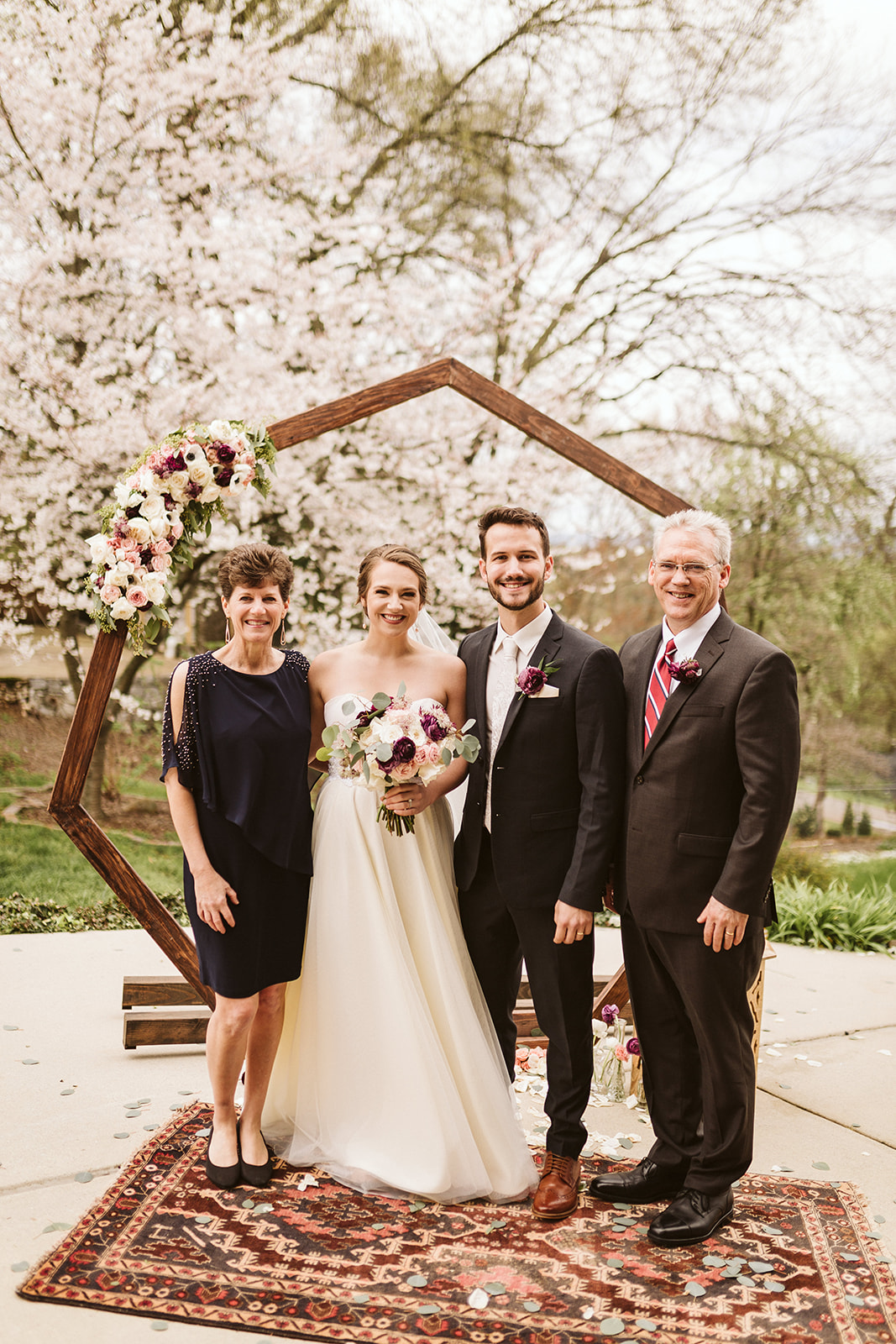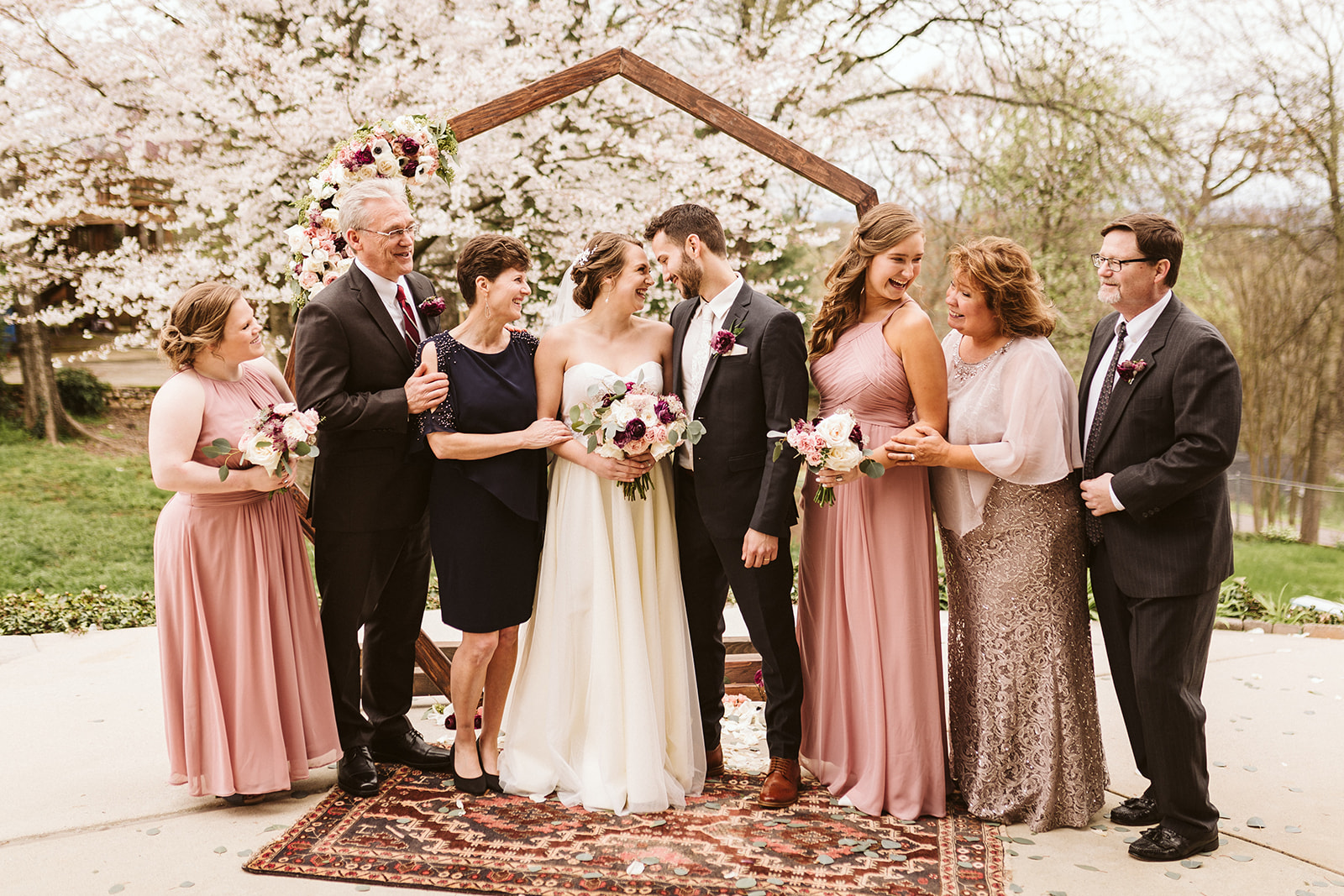 INTIMATE MICROWEDDING CEREMONY
In the cutest microwedding fashion, we placed a hexagon arch rented from Copper Quail on the back patio with a backyard full of flowers and greenery behind it. Morgan and her father walked down an aisle lined with roses and eucalyptus. They met Jacob under a hand-crafted, geometric arbor. Their priest married them while their nearest and dearest friends and family looked on.
Although their ceremony didn't look like they had originally intended, it was still such a loving affair and beautiful in every way. You just can't ask for more from a last-minute wedding.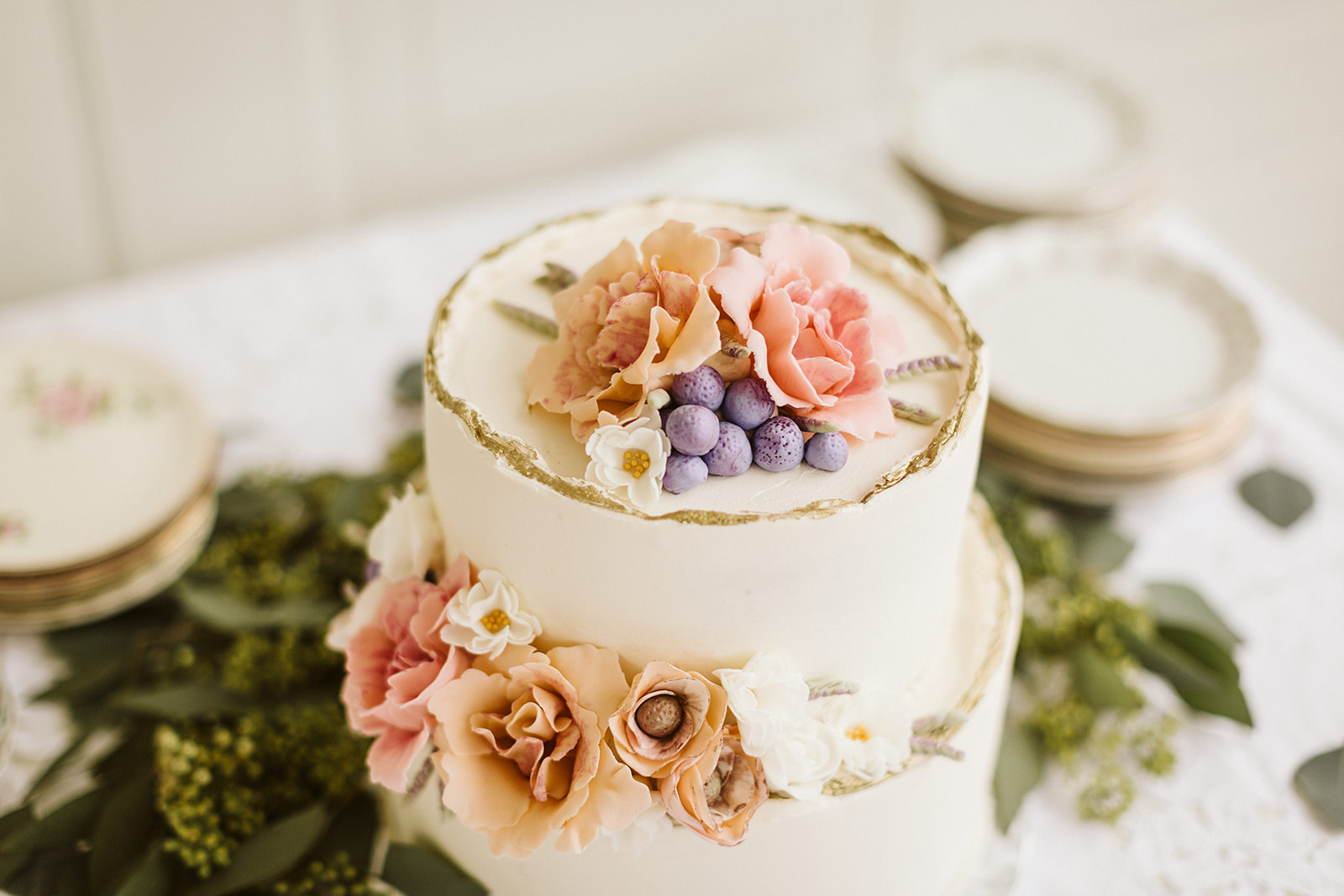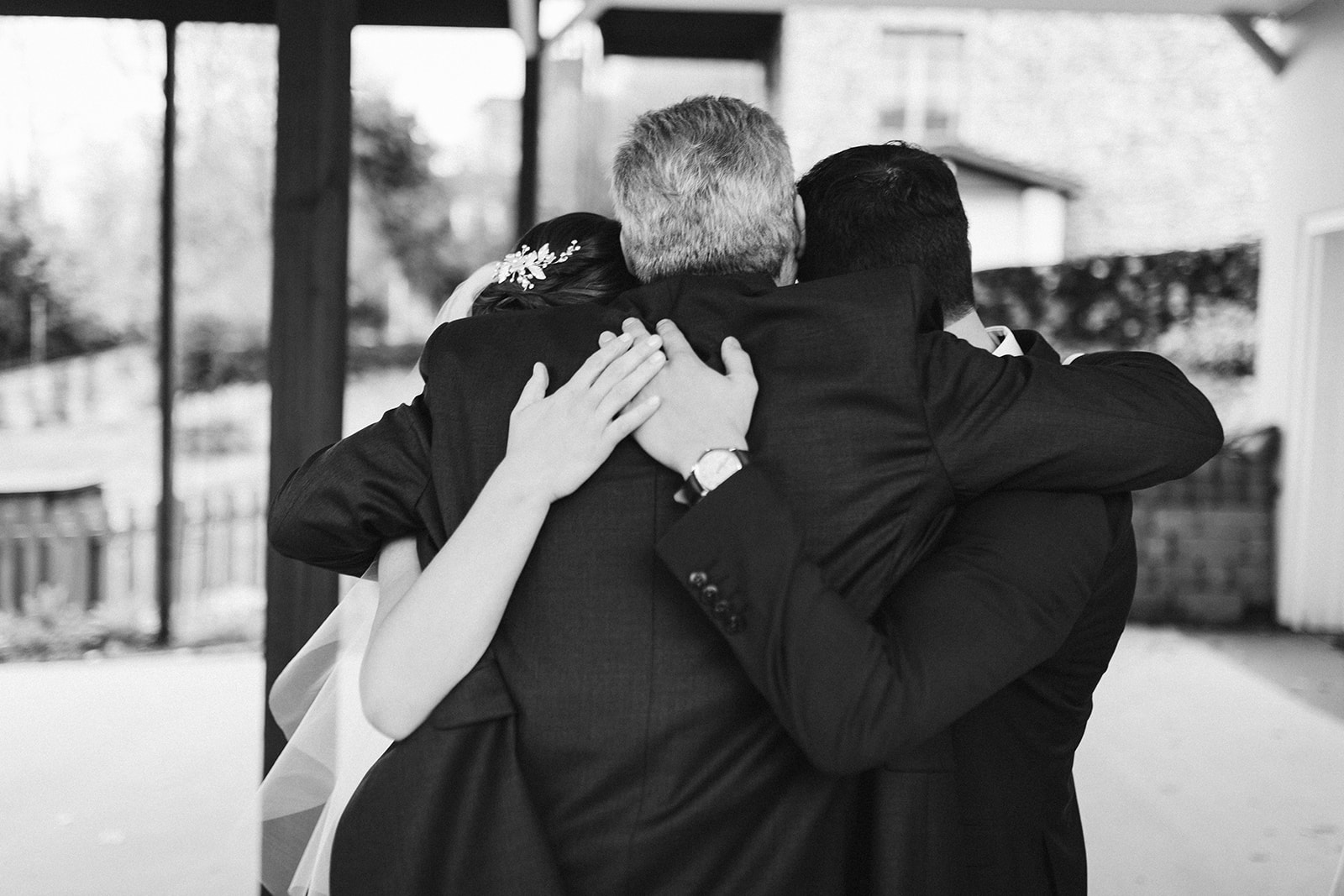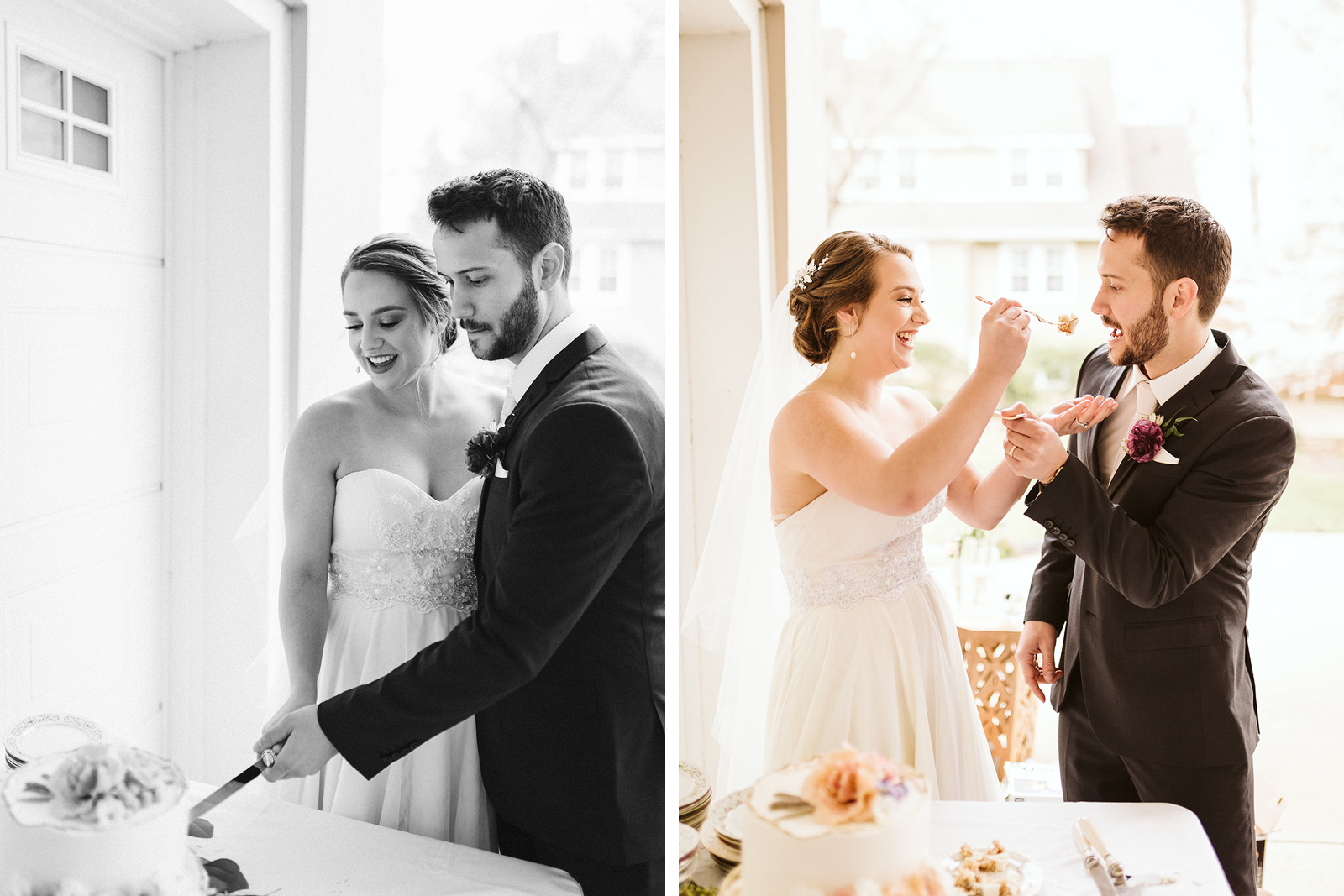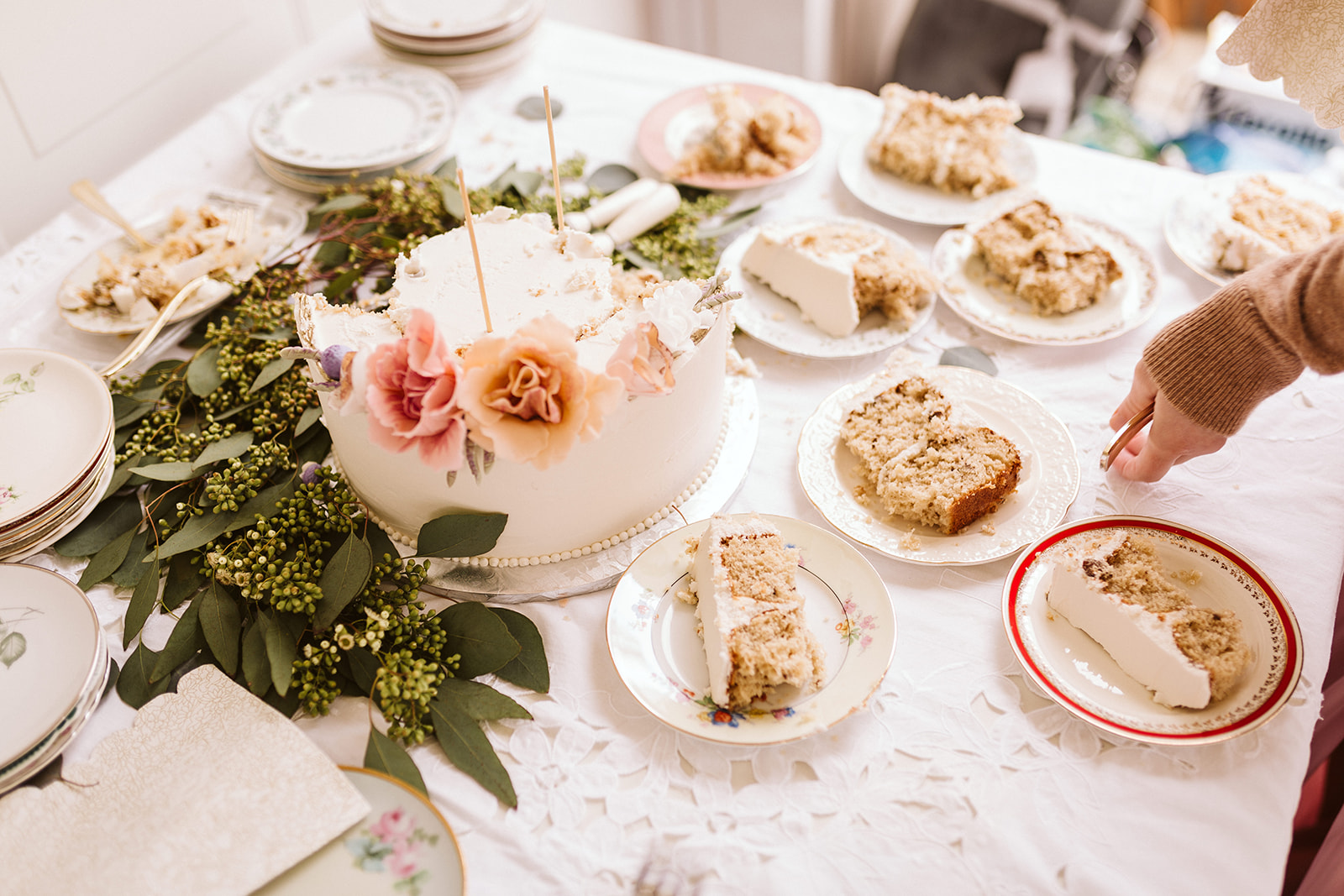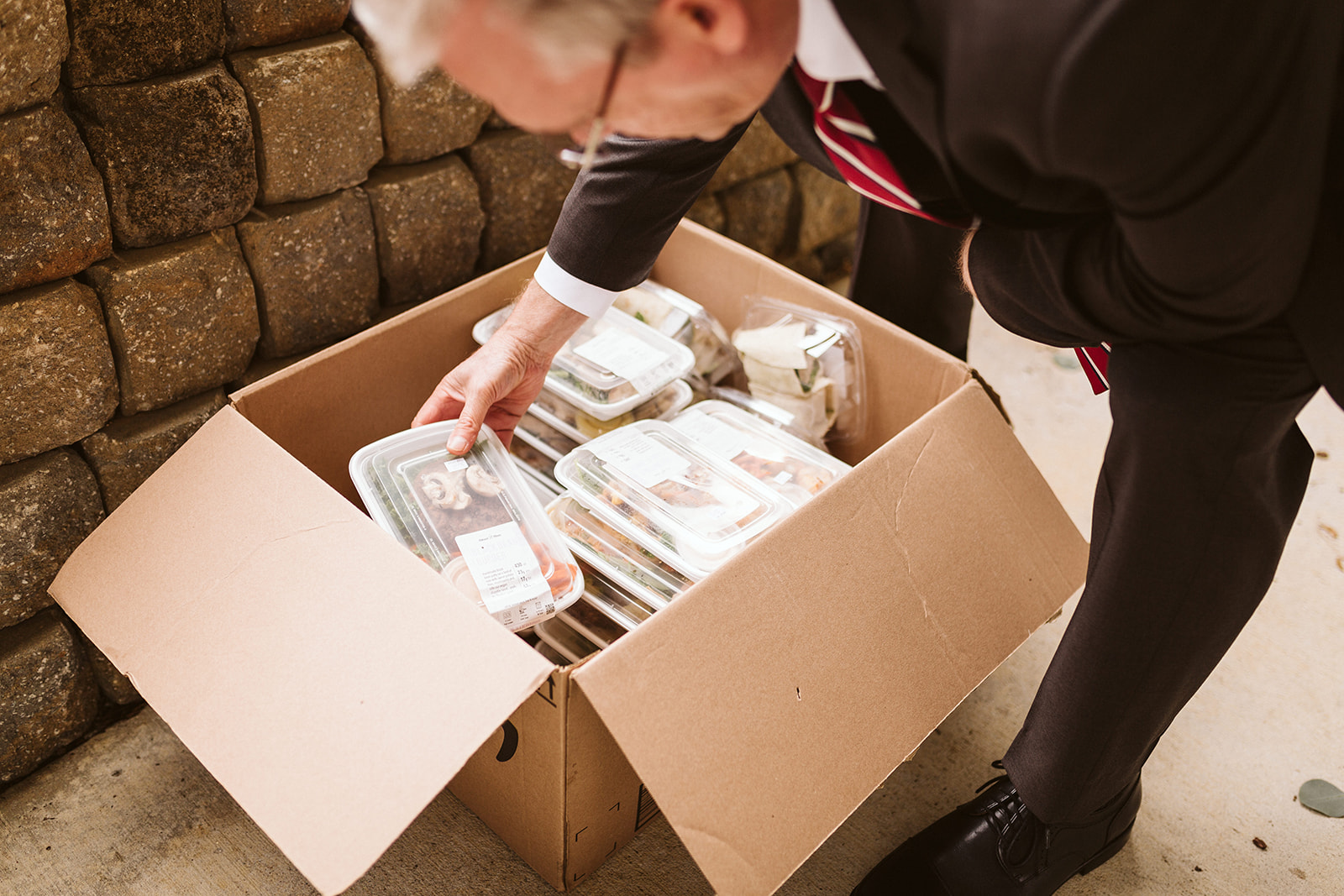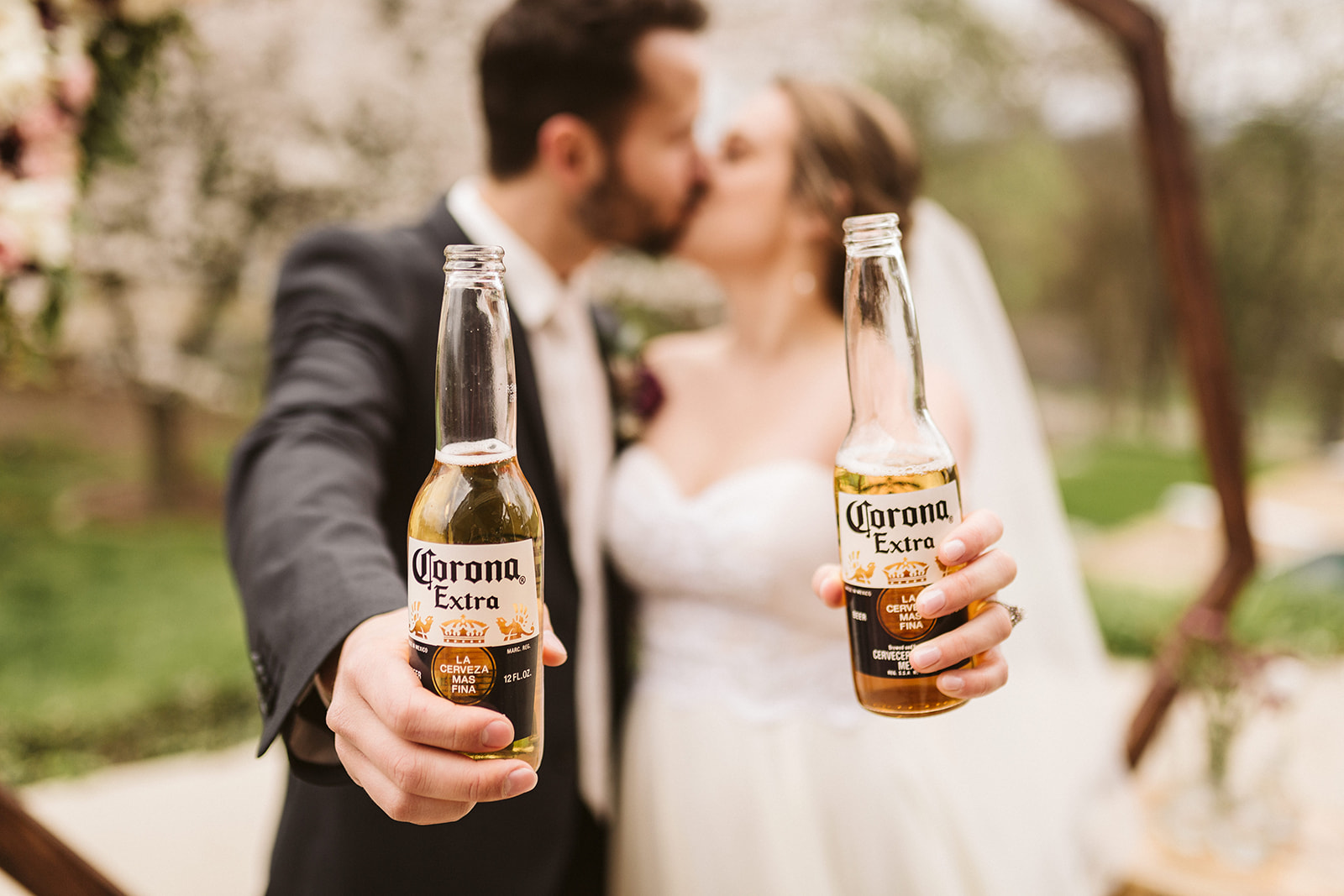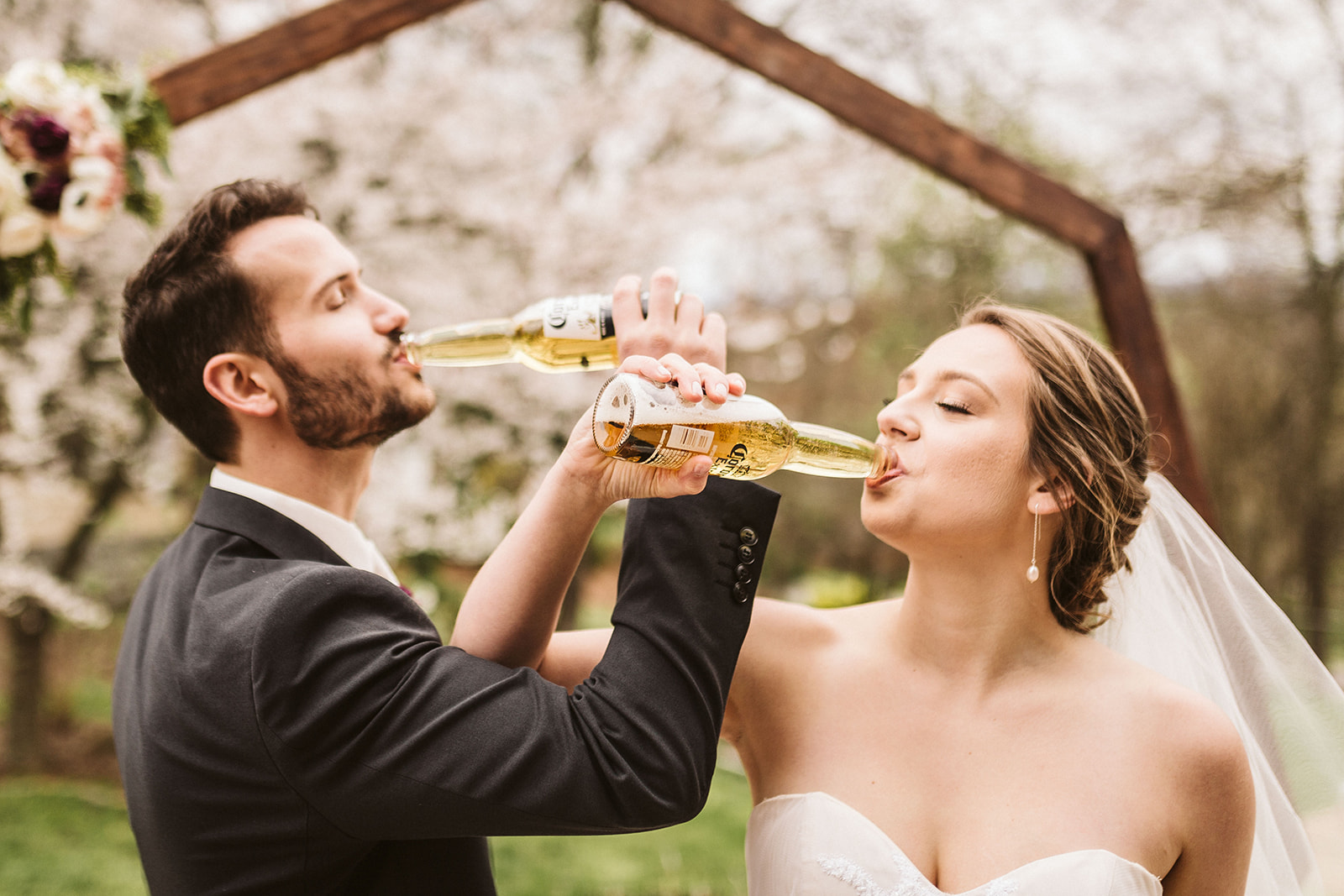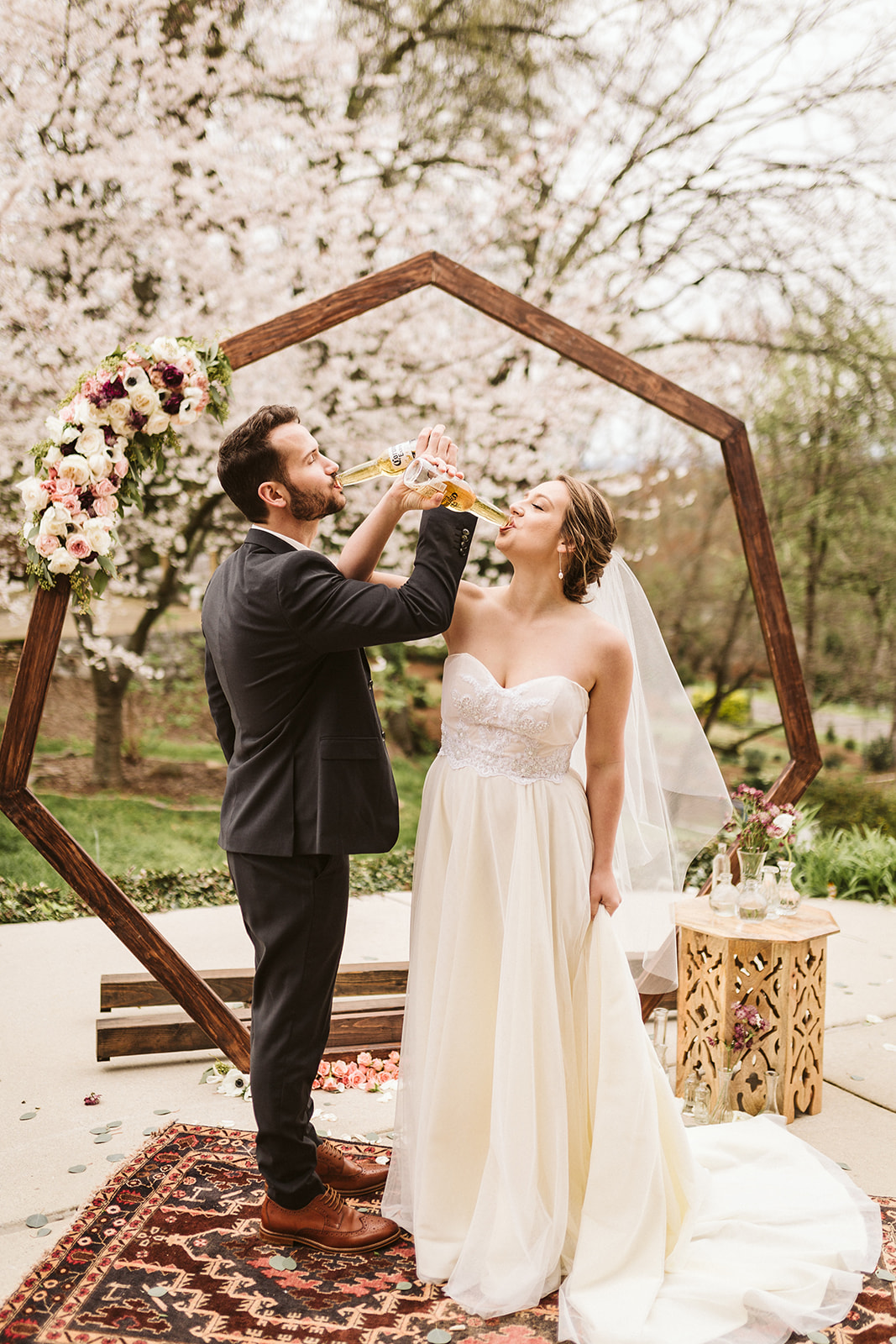 THEIR SCALED-DOWN RECEPTION
With such a small guest list, Morgan and Jacob opted for a toned-down outdoor reception. They ordered individually-wrapped meals and kept their guests as safe as possible. After the cake cutting, they divvied up slices onto pieces of dainty family china. While everyone was eating, I whisked the couple away for a few more private photos.
With the stress of the day behind them, Morgan and Jacob finally got to laugh, share a corona (pun intended), and relax knowing they'd officially tied the knot.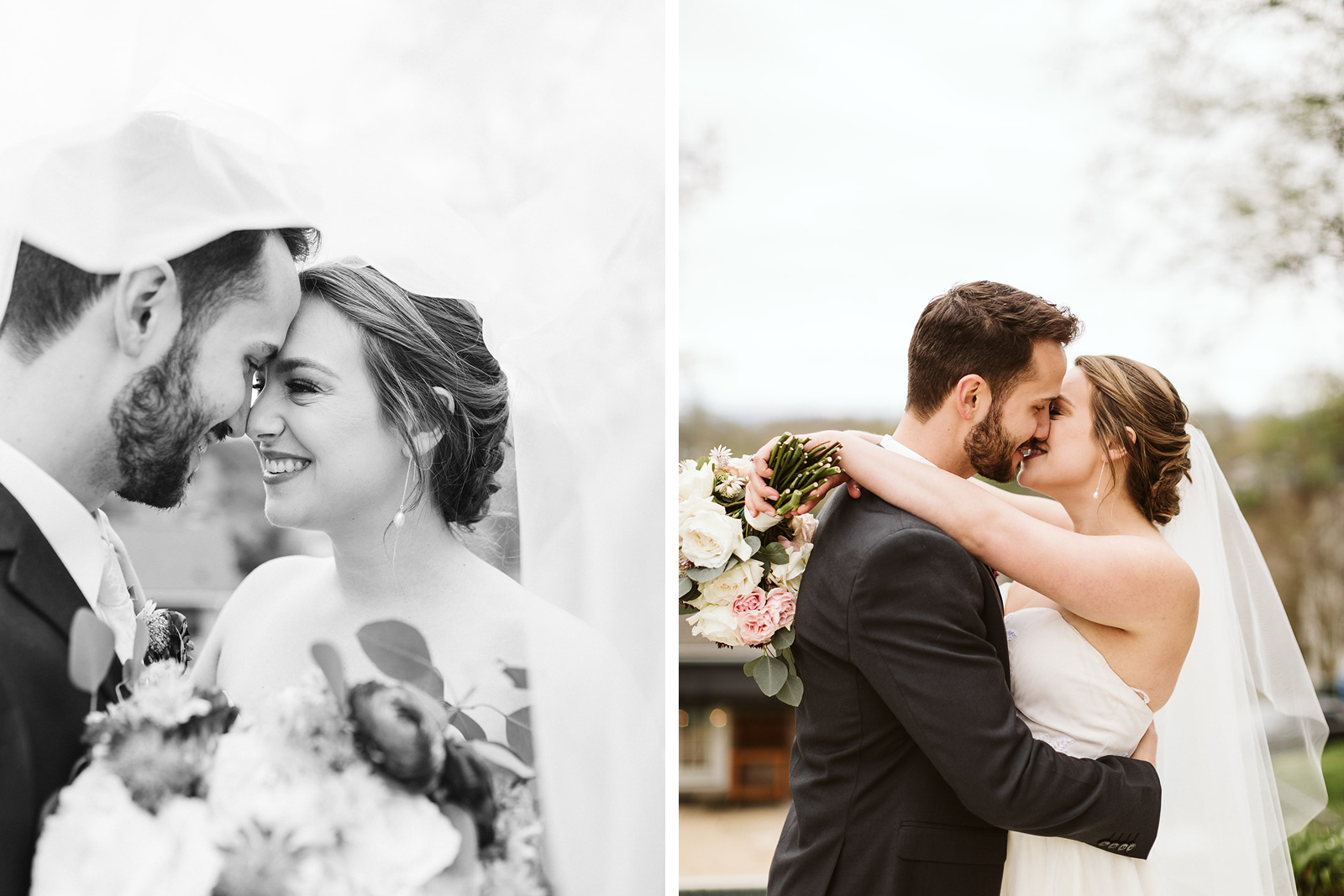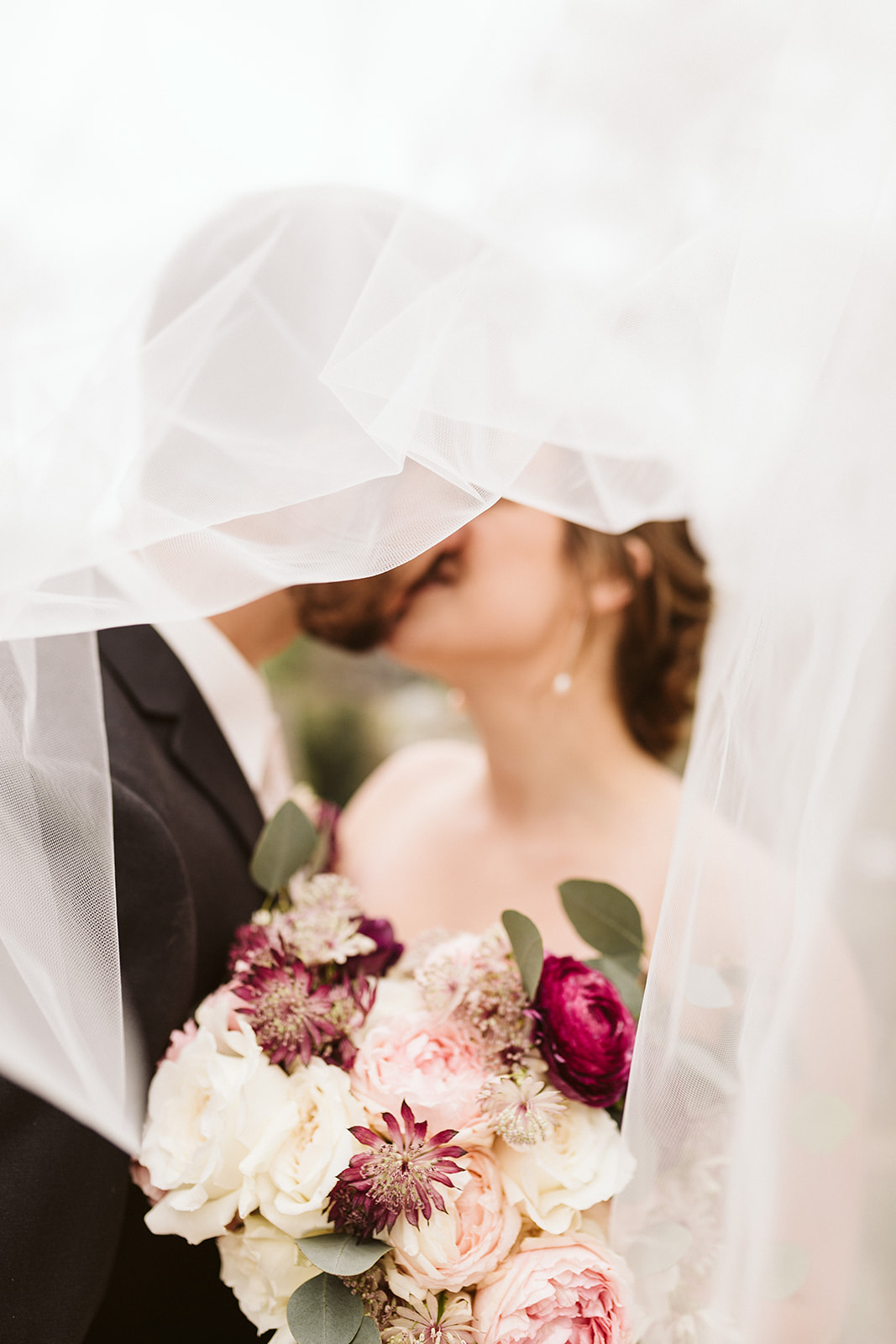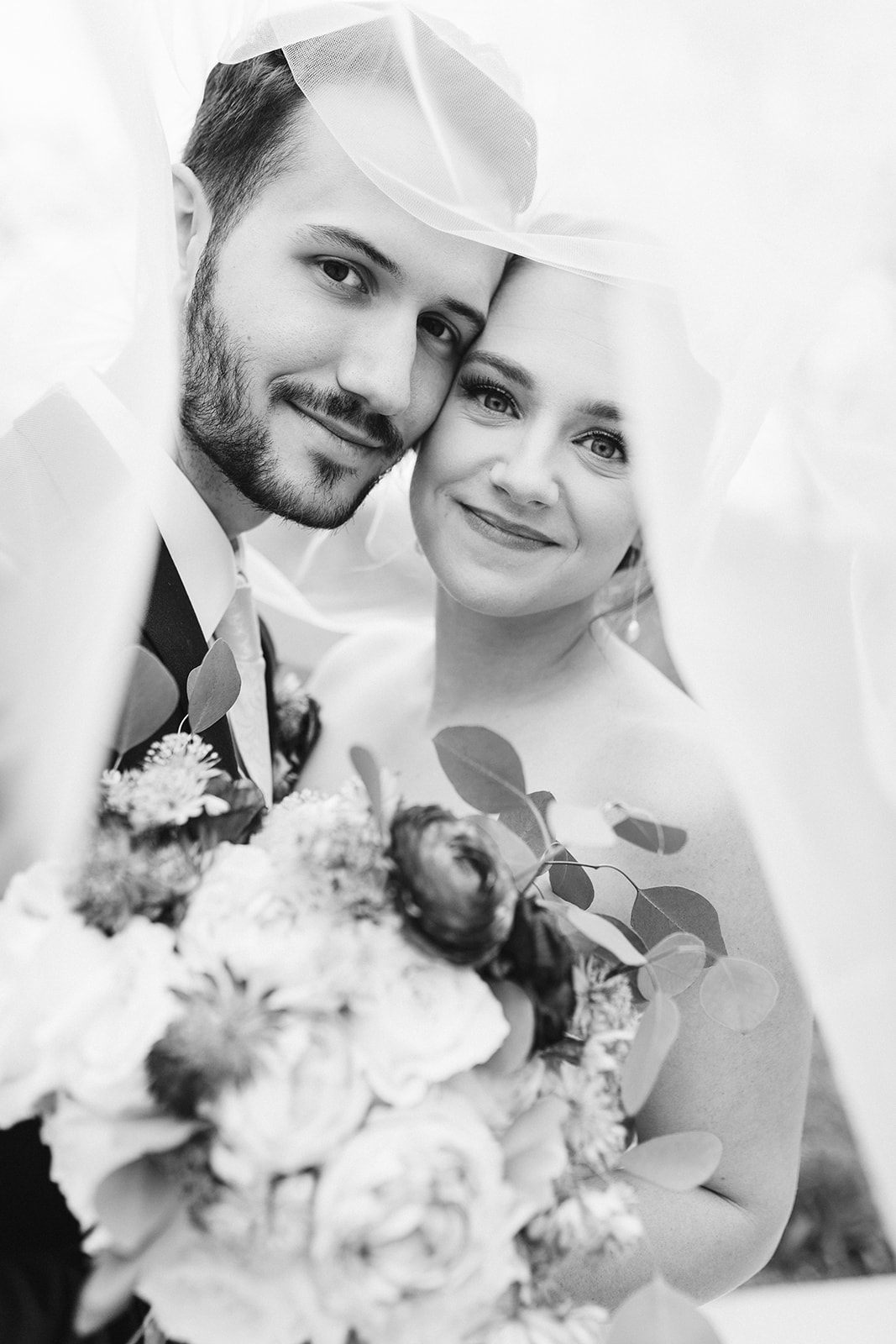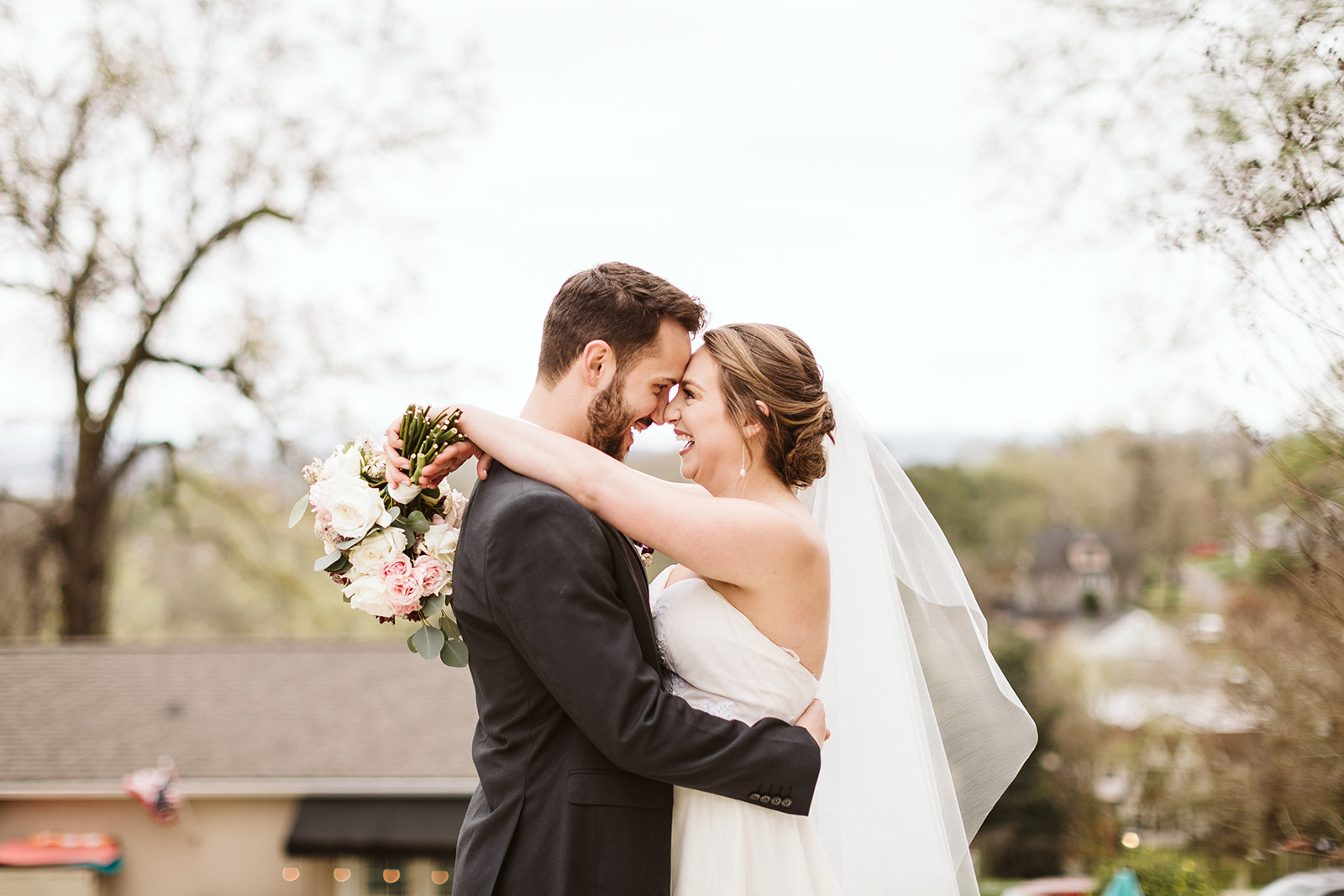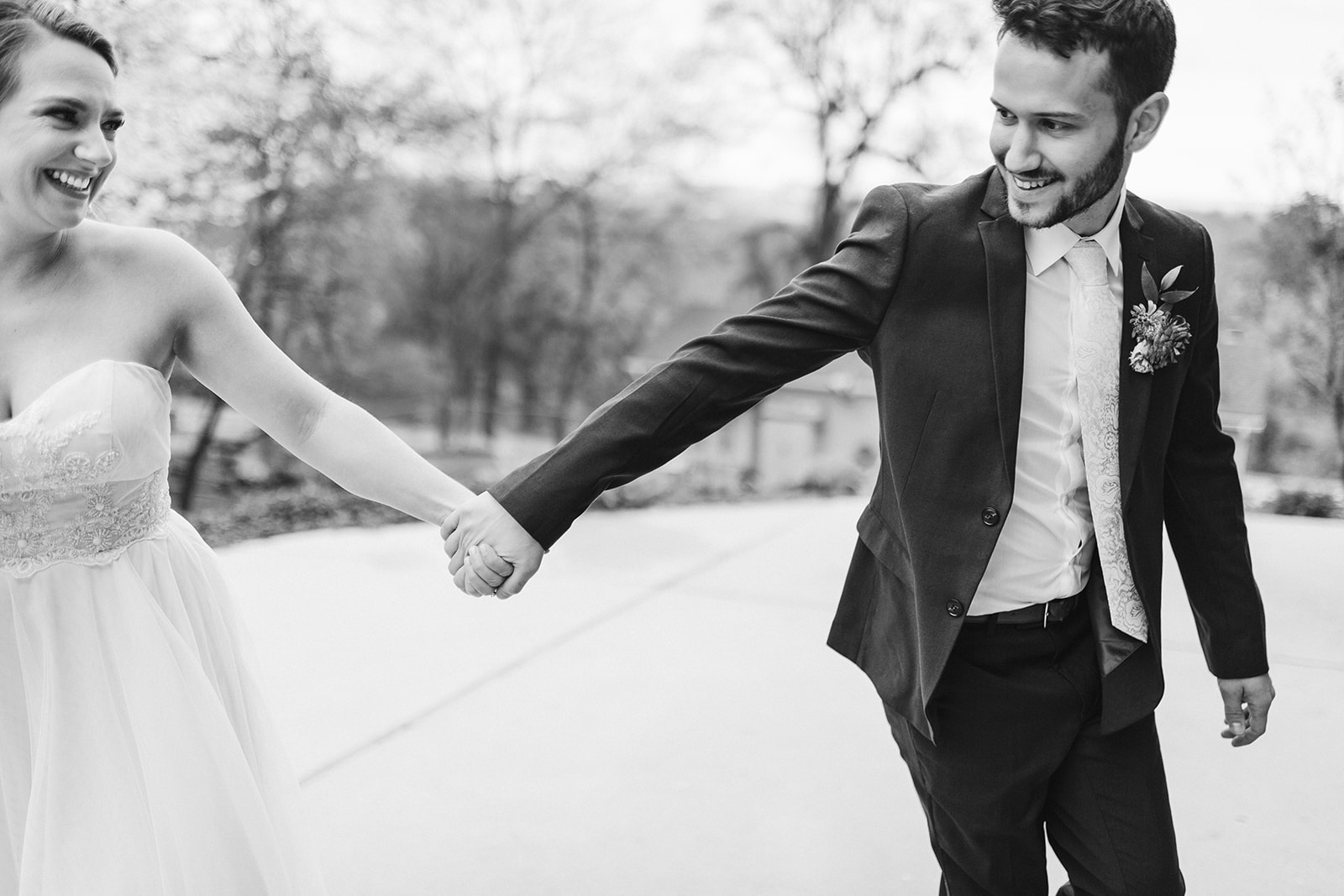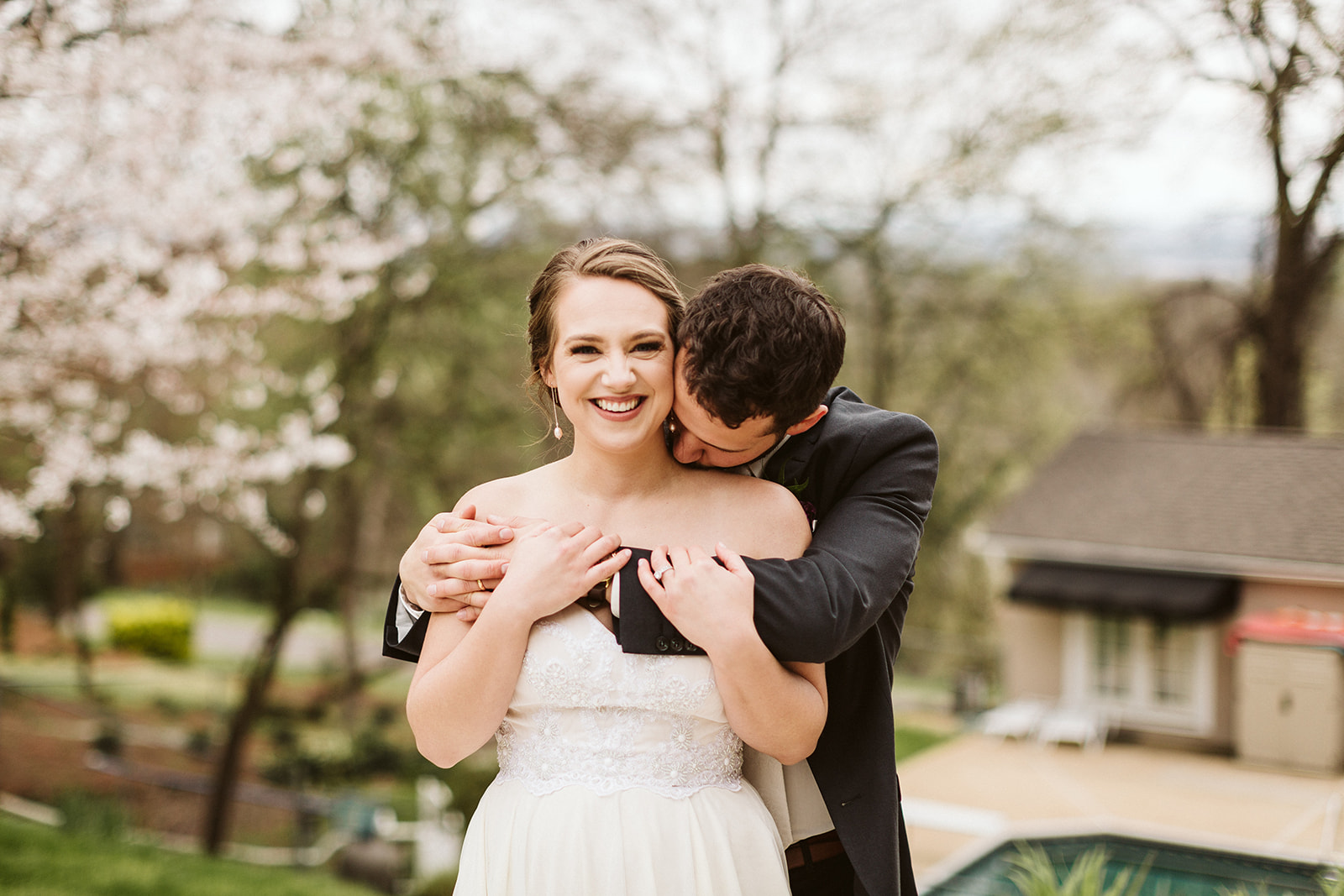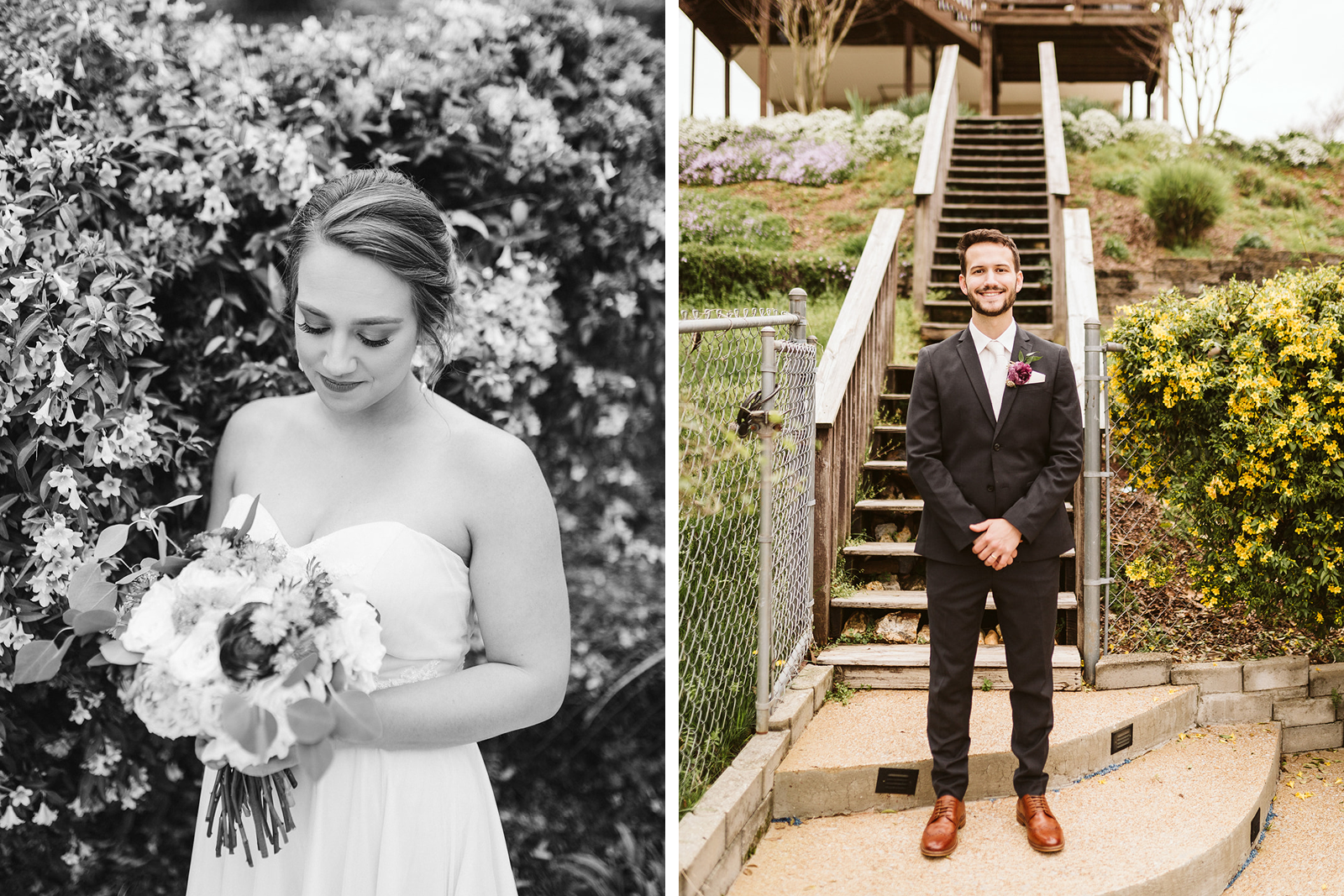 MICROWEDDING TODAY, FULL WEDDING LATER ON
I'm so impressed with how well Morgan and Jacob were able to pull off their wedding day. Being that their date was at the beginning of the COVID pandemic, they didn't have any of the resources couples have now. The term "microwedding" was still really new. Couples across the US were scrambling to throw their weddings together at the last minute. It was intense, but I'm glad I got to help Morgan and Jacob bring their wedding to life.
These two decided to have their legal ceremony on their original date, but they still want to throw a party, so they'll be hosting a second, larger wedding once the pandemic has died down. This is a great option for couples who just can't wait to get married but also don't want to risk a huge wedding right now. You can still have a perfectly romantic microwedding with a few family members and friends, and then you can throw your rager once it's safe to party again. Several of my couples have gone this route, and I totally support it!
Until things are safe again, I'll be looking forward to shooting Morgan and Jacob's second wedding and reminiscing on this sweet day.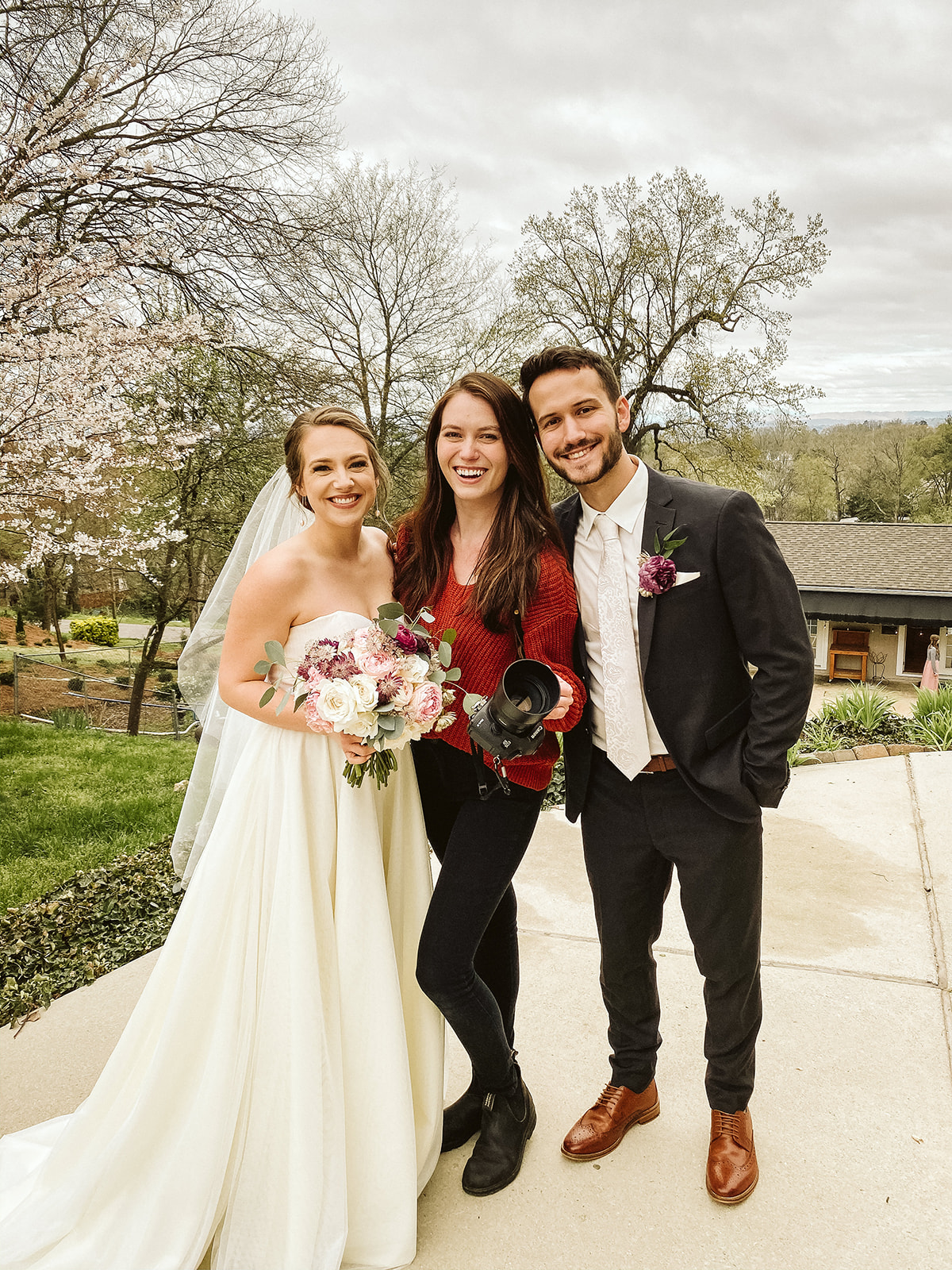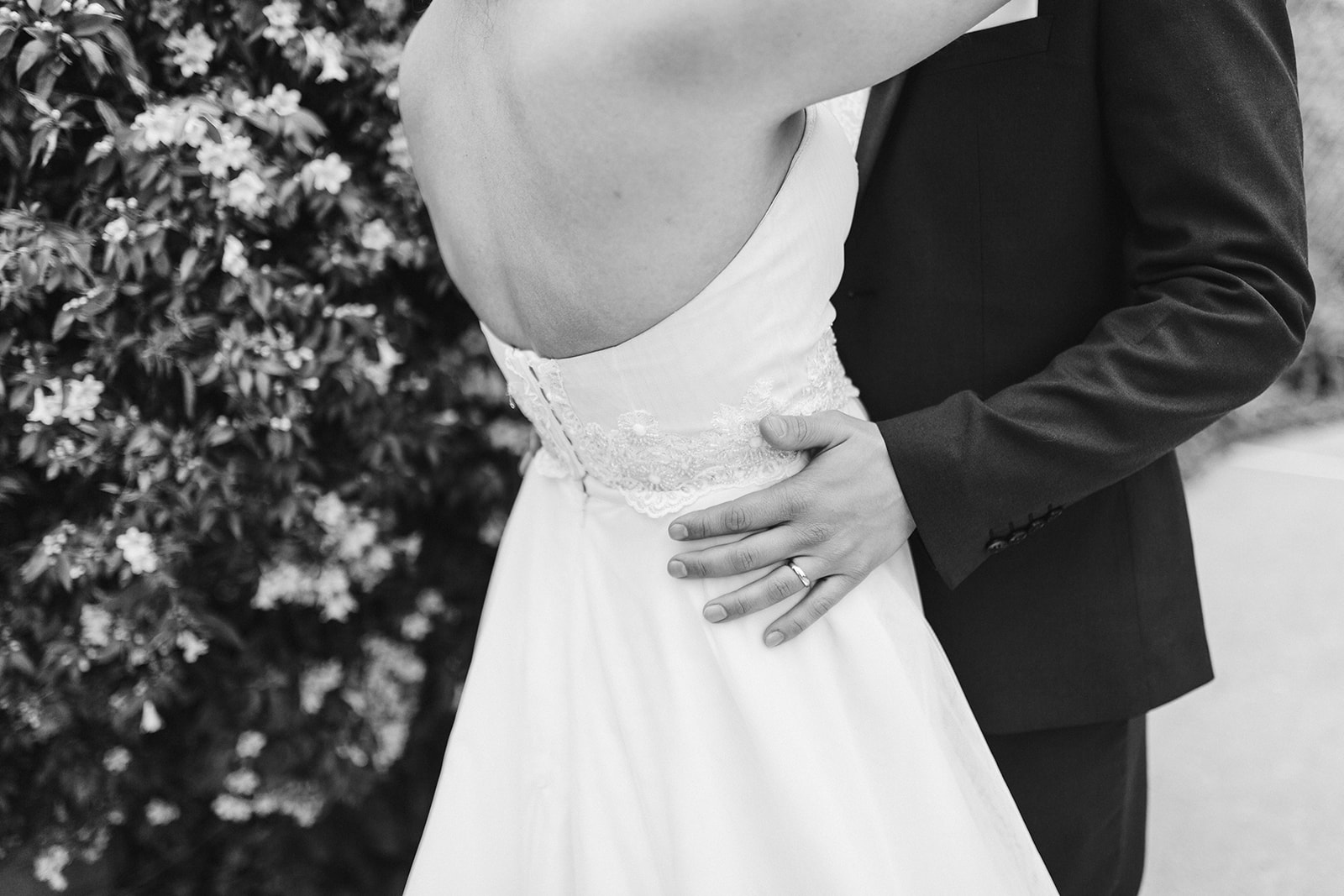 I'm always here for my couples, whether that means showing up day-of to take photos or guiding them through the wedding planning process. At the end of the day, we're a team. I want their wedding to be beautiful and completely them, even when things don't go according to plan.
Whether you're throwing together a last-minute microwedding or planning your big bash next year, I want to be part of the process! Get in touch, and let's make some unforgettable memories together.
For more microwedding inspiration, check out my past sessions on my blog and on social media.