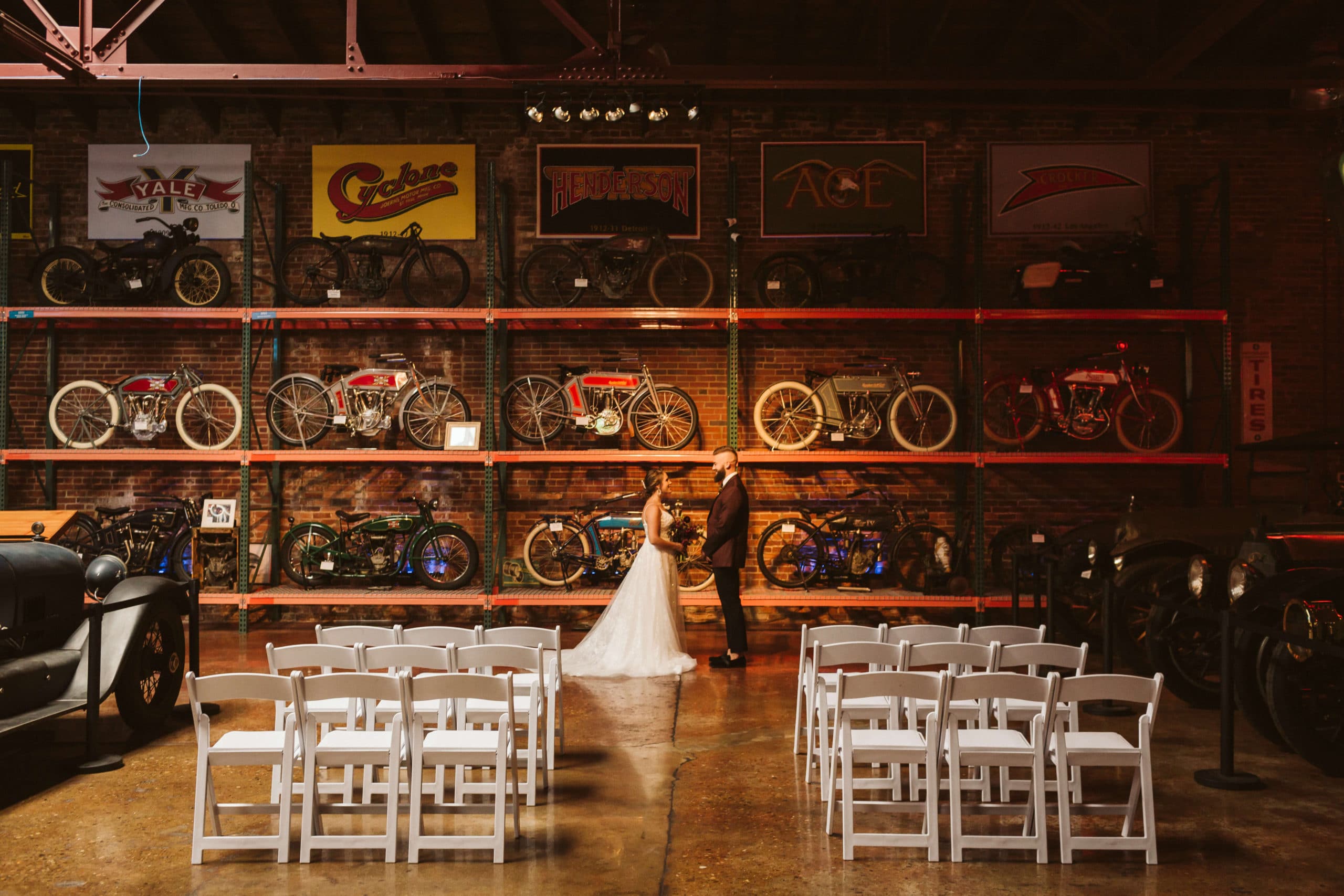 When asked to participate in a styled wedding shoot at the Coker Museum, I heard myself say 'yes' before the question was over. Styled shoots are always so much fun to work. They're basically just a whole crew of wedding vendors teaming together to share their services and expertise while stretching their creativity to the fullest, without the constraints of a real wedding. Since the Coker Museum is a huge part of Chattanooga history, I was so honored to have been asked to participate in a shoot at such a unique and time-honored venue.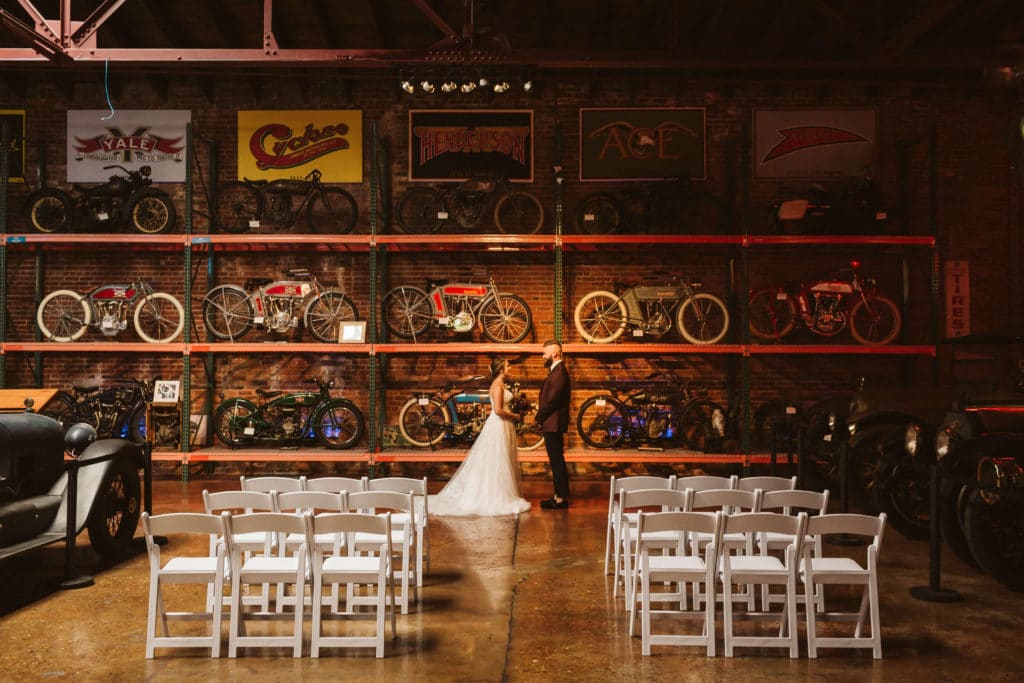 Hosting a Wedding at the Coker Museum
If you've been searching for a wedding venue that's a step away from the norm and absolutely unique, you can't go wrong with the Coker Museum in the heart of Chattanooga's Historic Southside. With tons of exposed brick, machinery, and a concrete floor, the museum offers an edgy, industrial vibe for an unforgettable wedding.
From the outside, the museum may look a little understated – just like a regular tire shop. But, since their opening at the turn of the century, the Coker Museum has been a diamond in the rough in Chattanooga. Once you step foot into the museum, you're immediately brought back in time to a nostalgic era of vintage cars, bikes, and planes. The space is remarkably breathtaking and perfect for a couple looking for a bit of an untraditional, offbeat atmosphere to host their event.
Choosing the Coker Museum for your wedding venue makes wedding planning easier than ever. You can go in and explore the museum for a regular visit every Tuesday through Saturday to get a feel for the space and begin to visualize your wedding. Once booked, the museum offers lists of trusted vendors for you to peruse (although you're more than welcome to choose your own!), and takes care of all of the setup and take-down so you can spend your day celebrating with family and friends instead of pining over details.
And if you ask, you may even be able to use one of their antique cars in the wedding!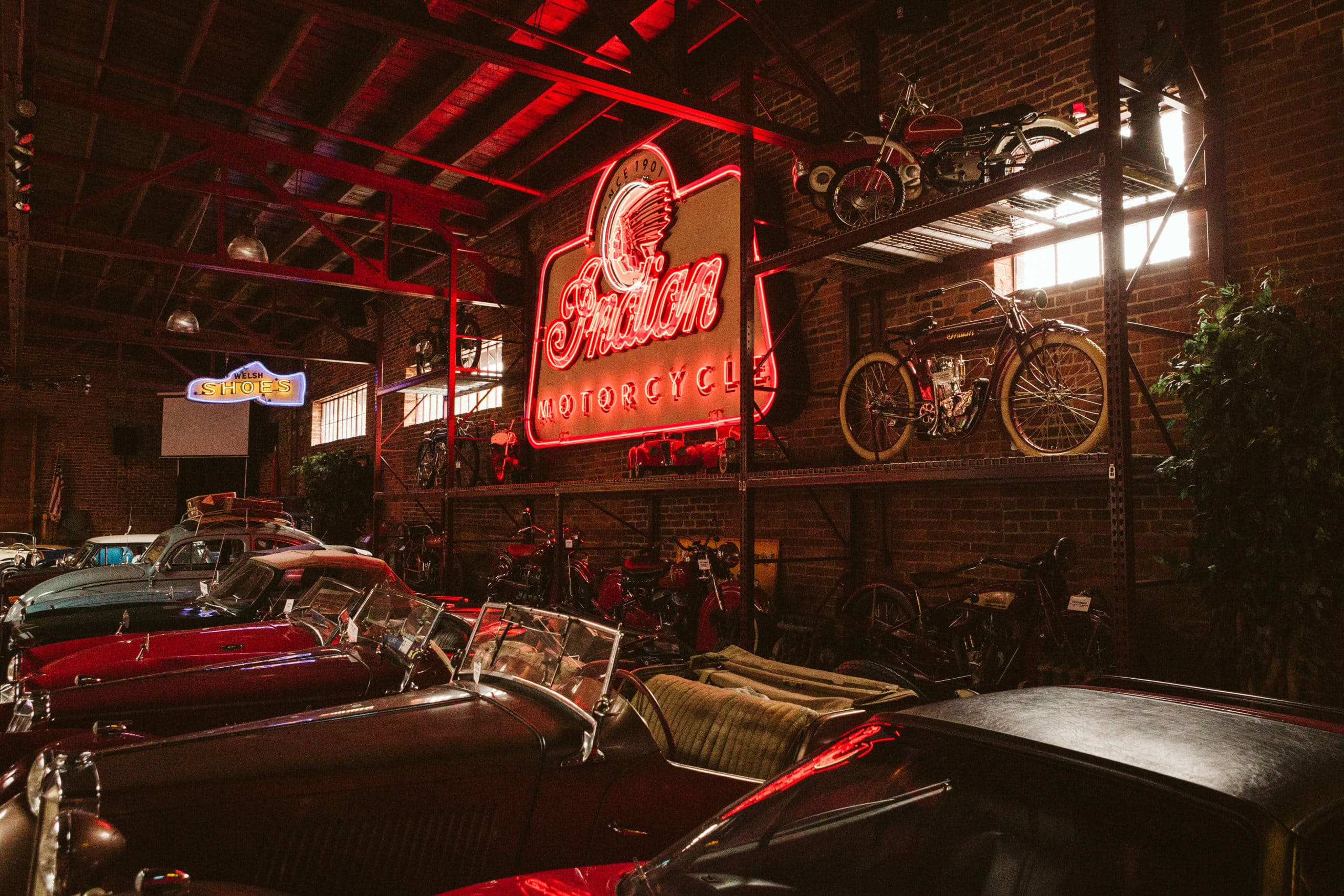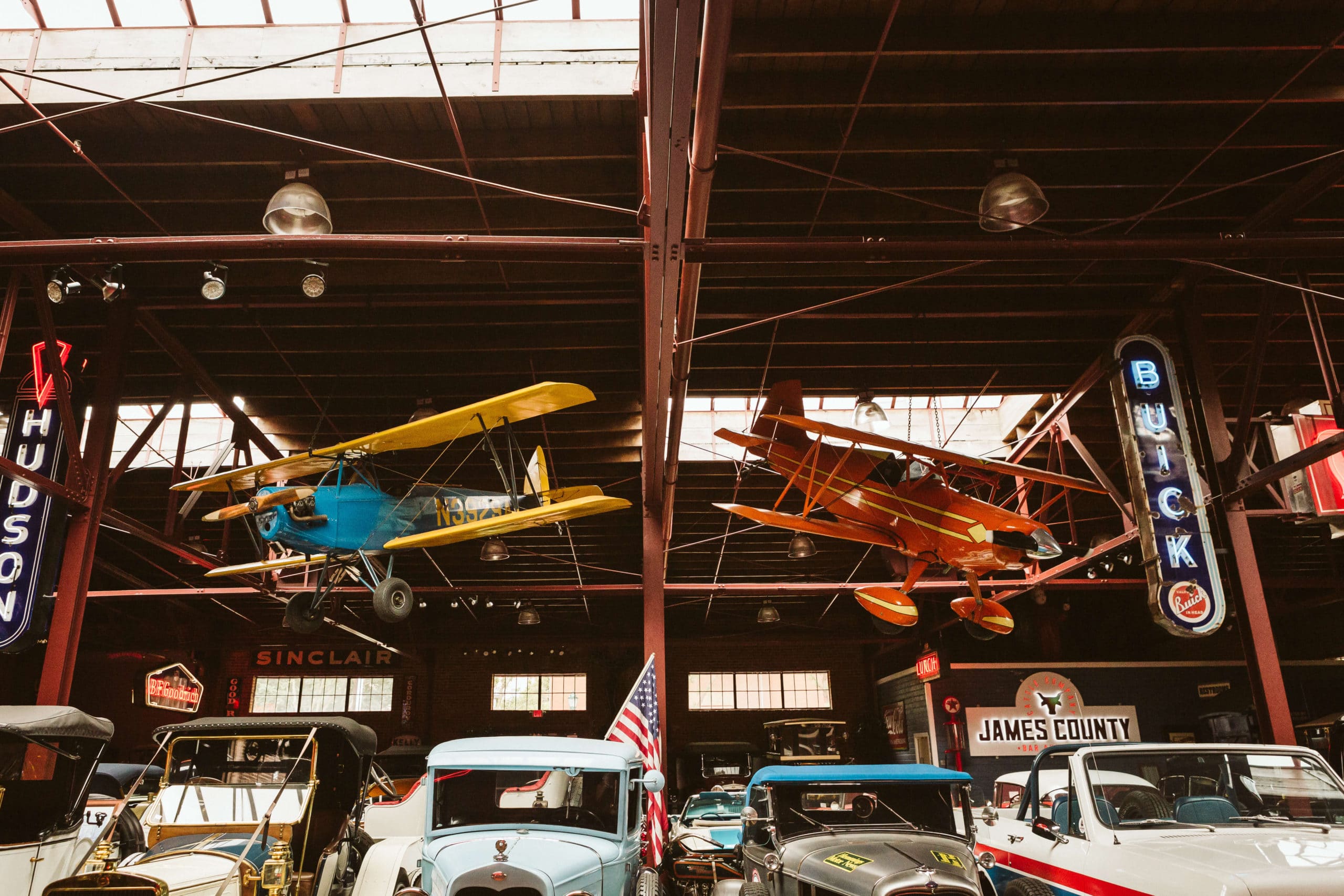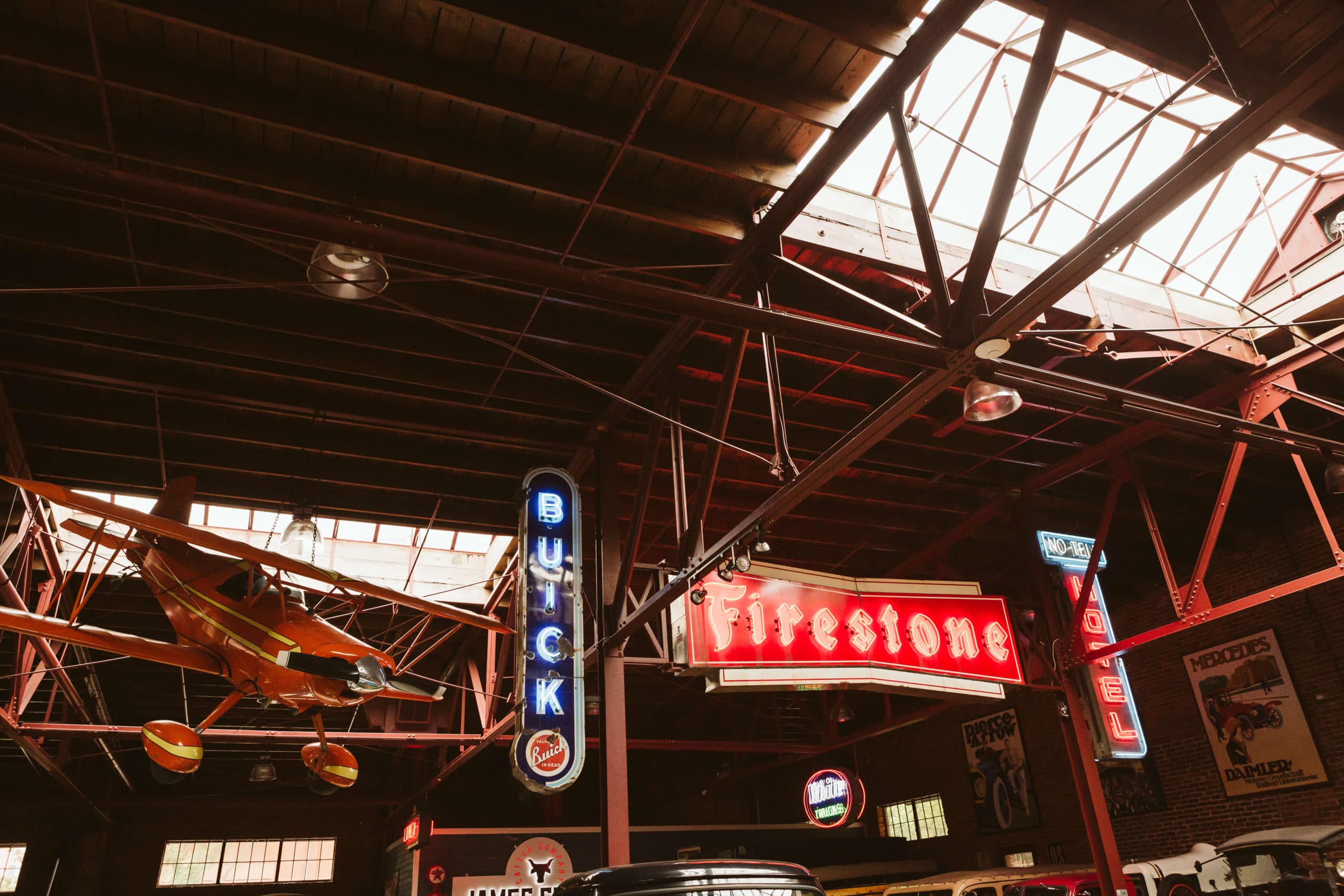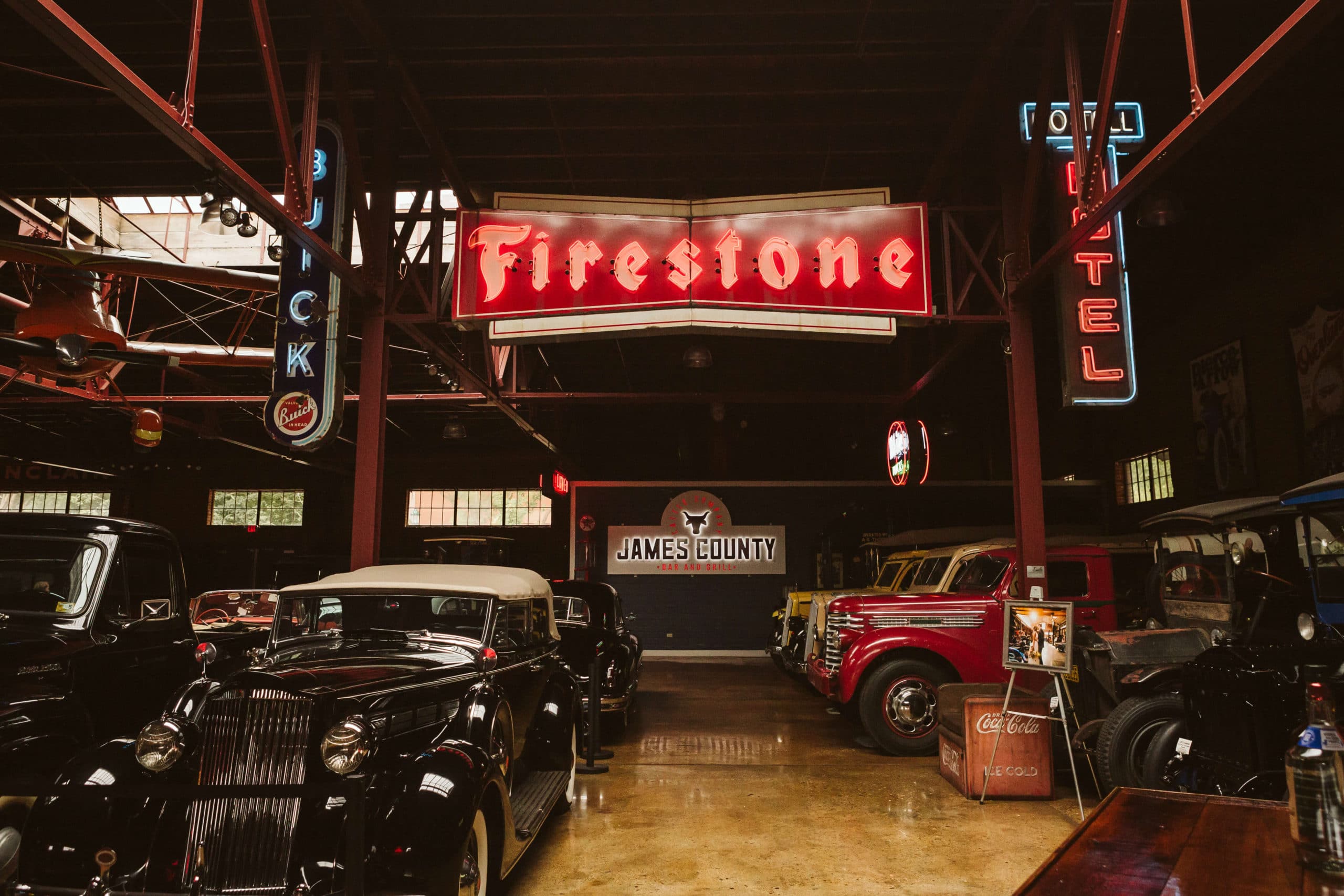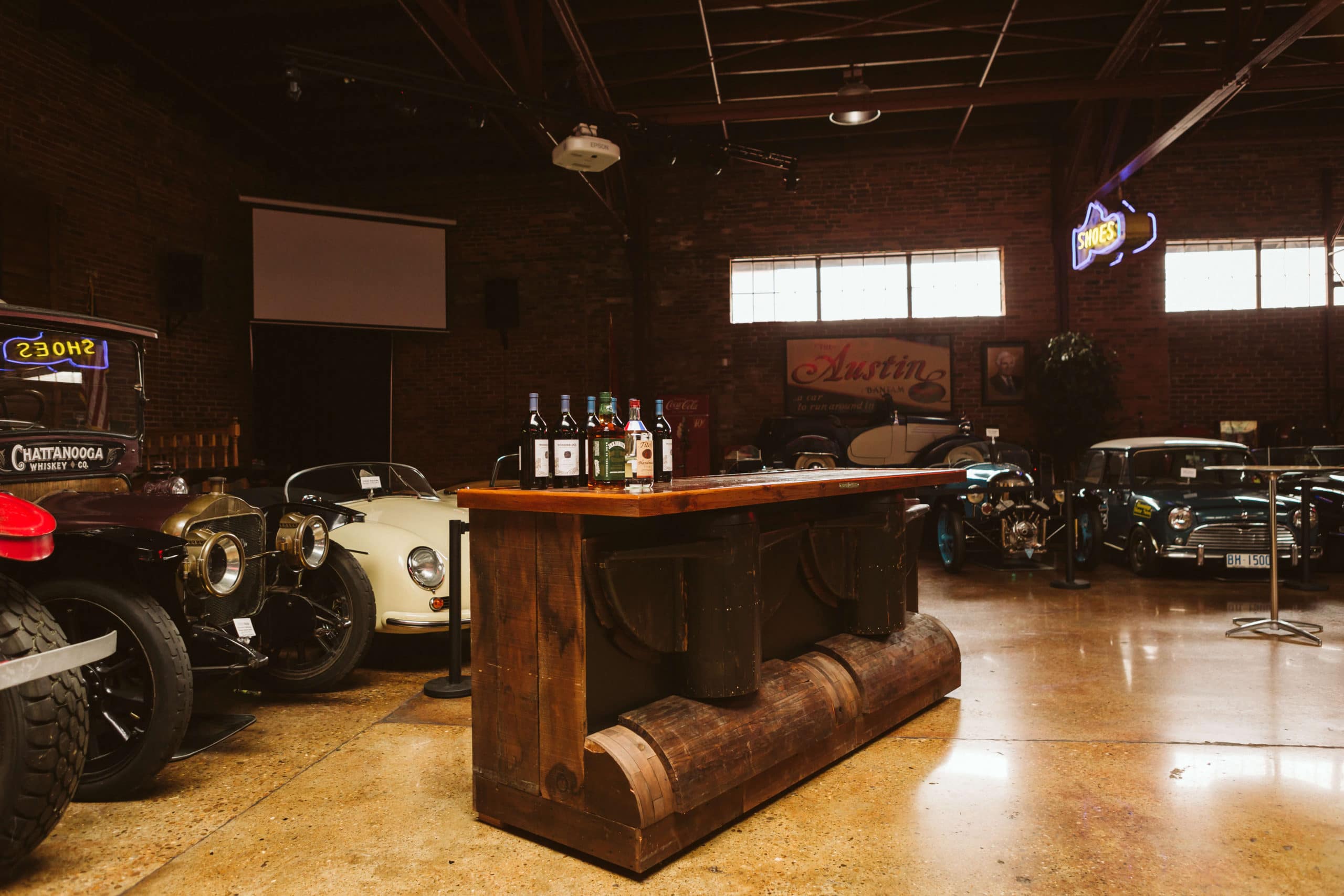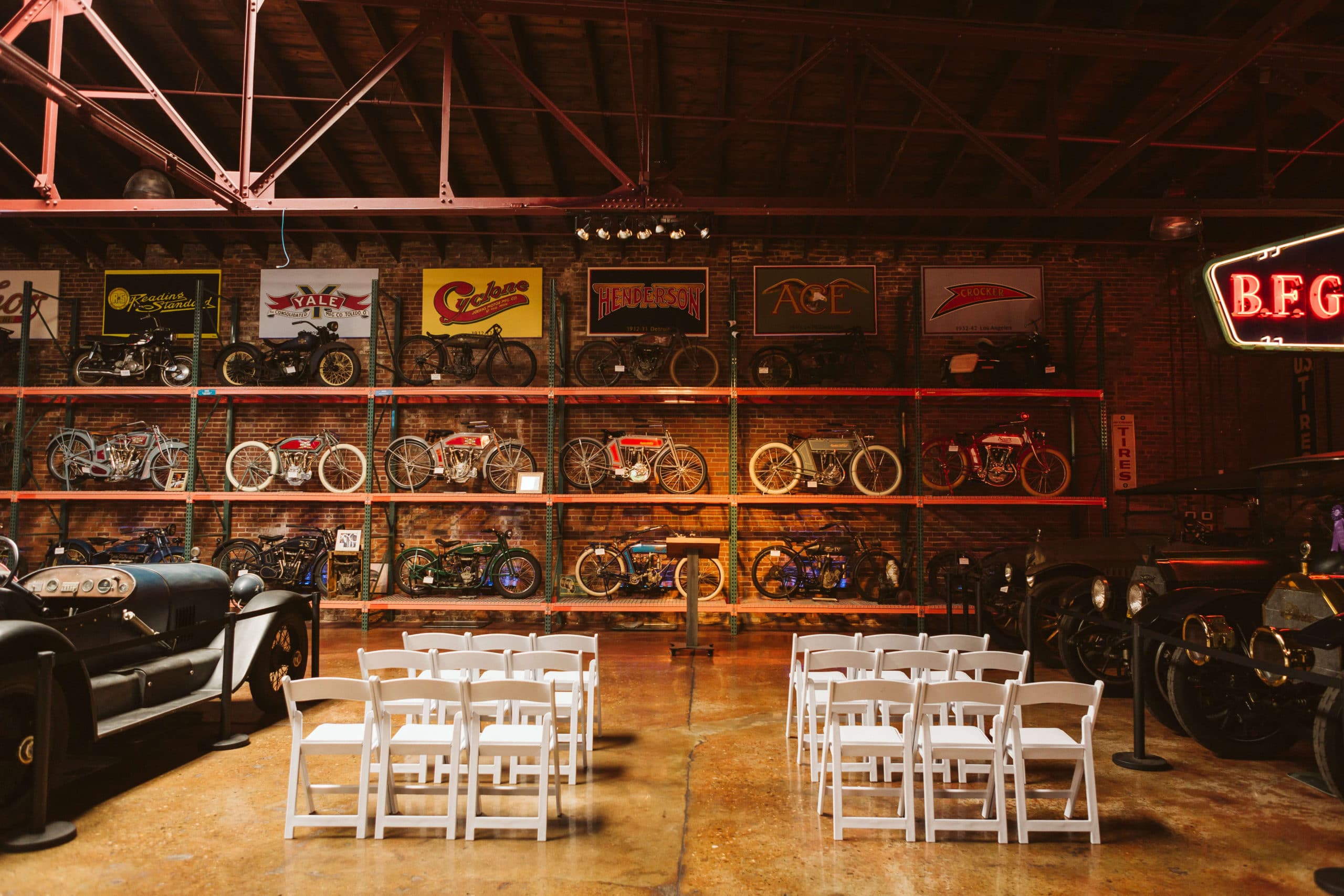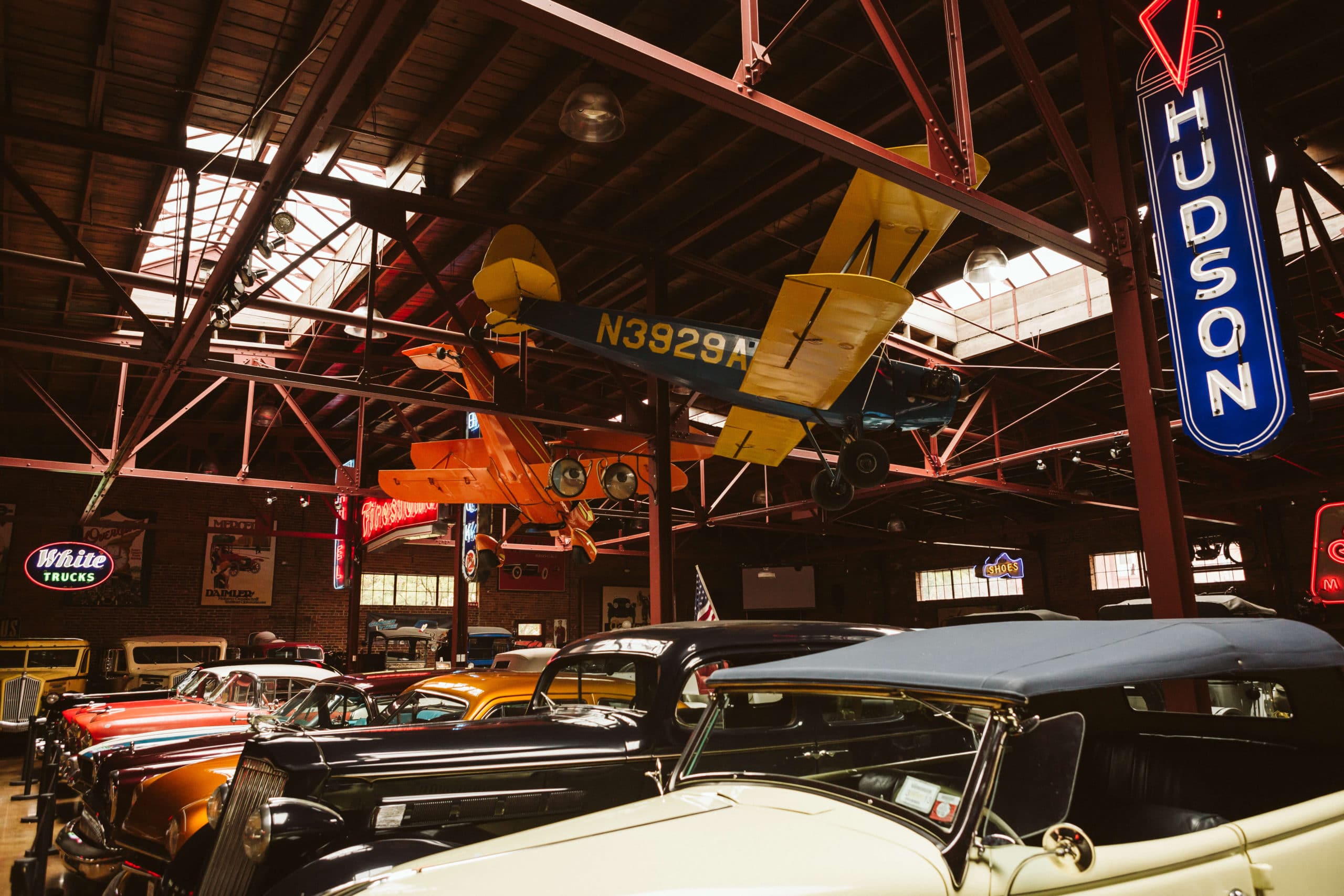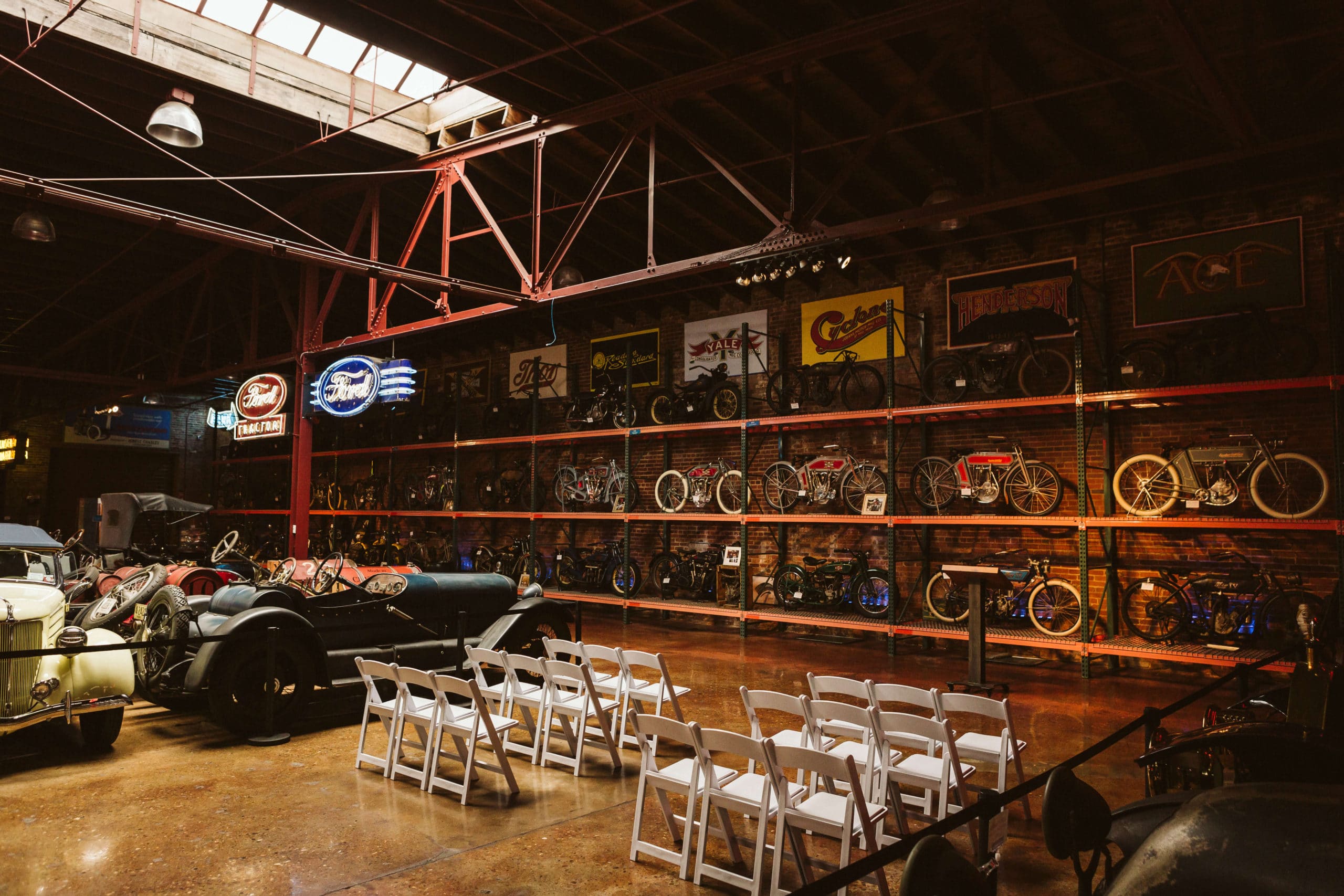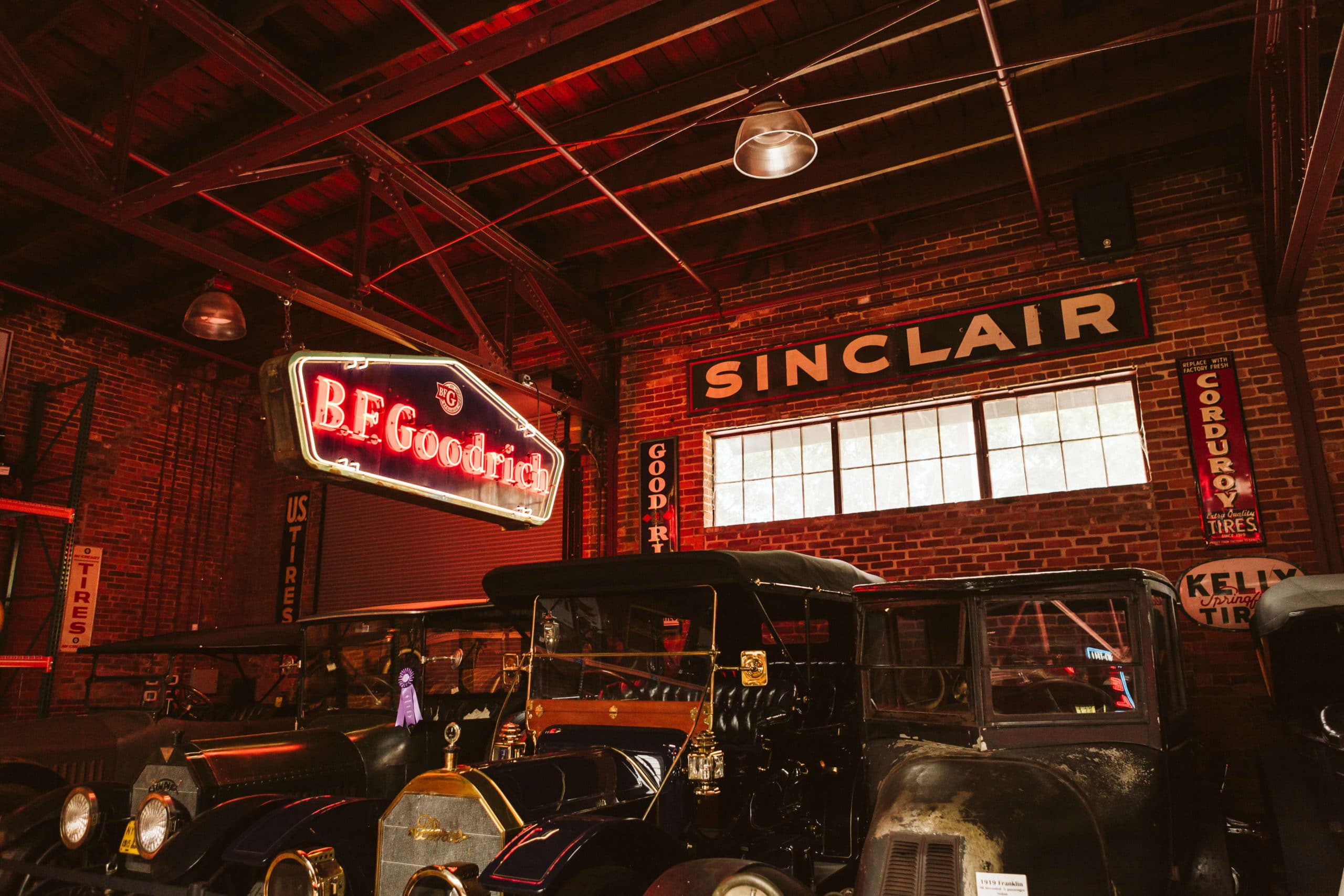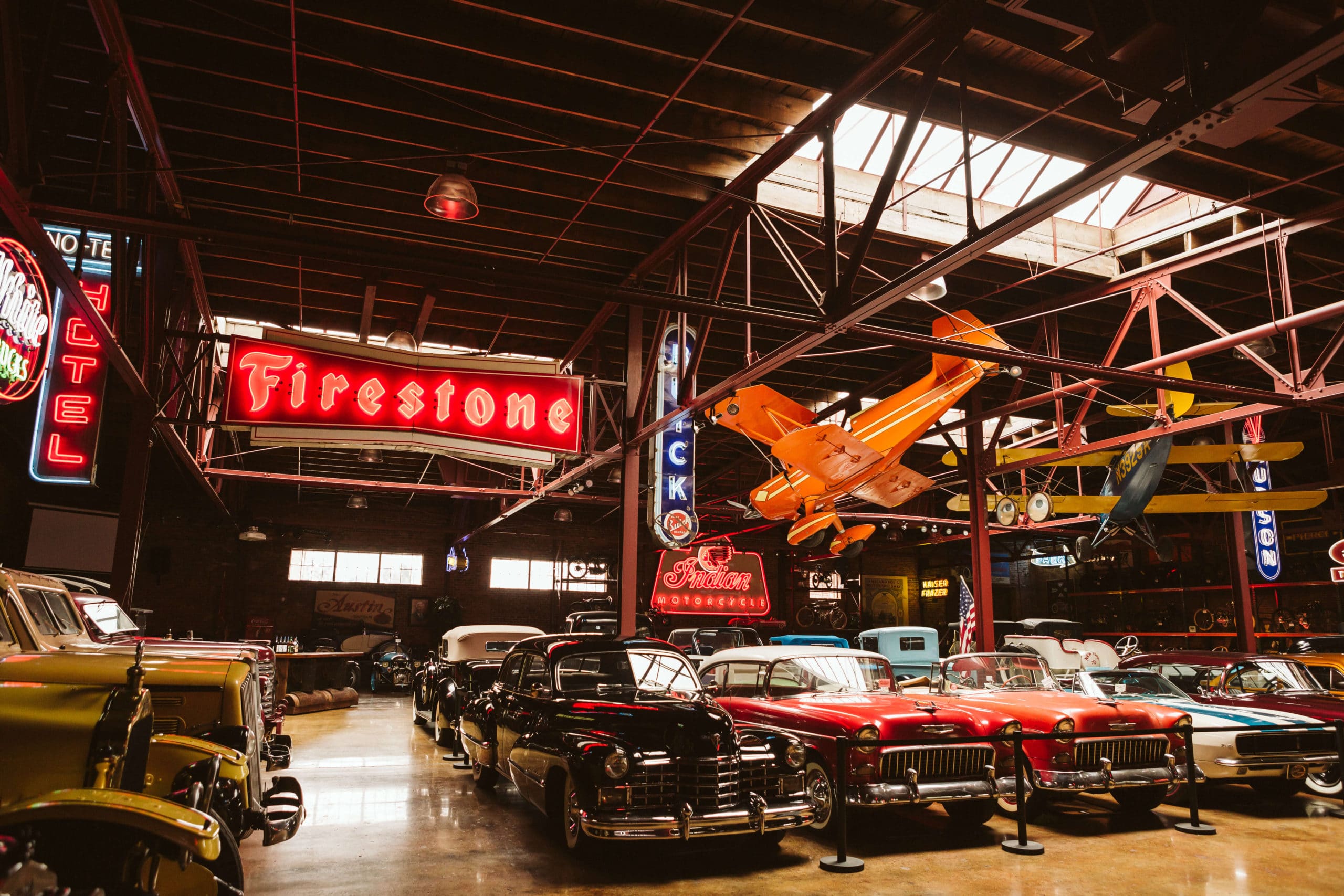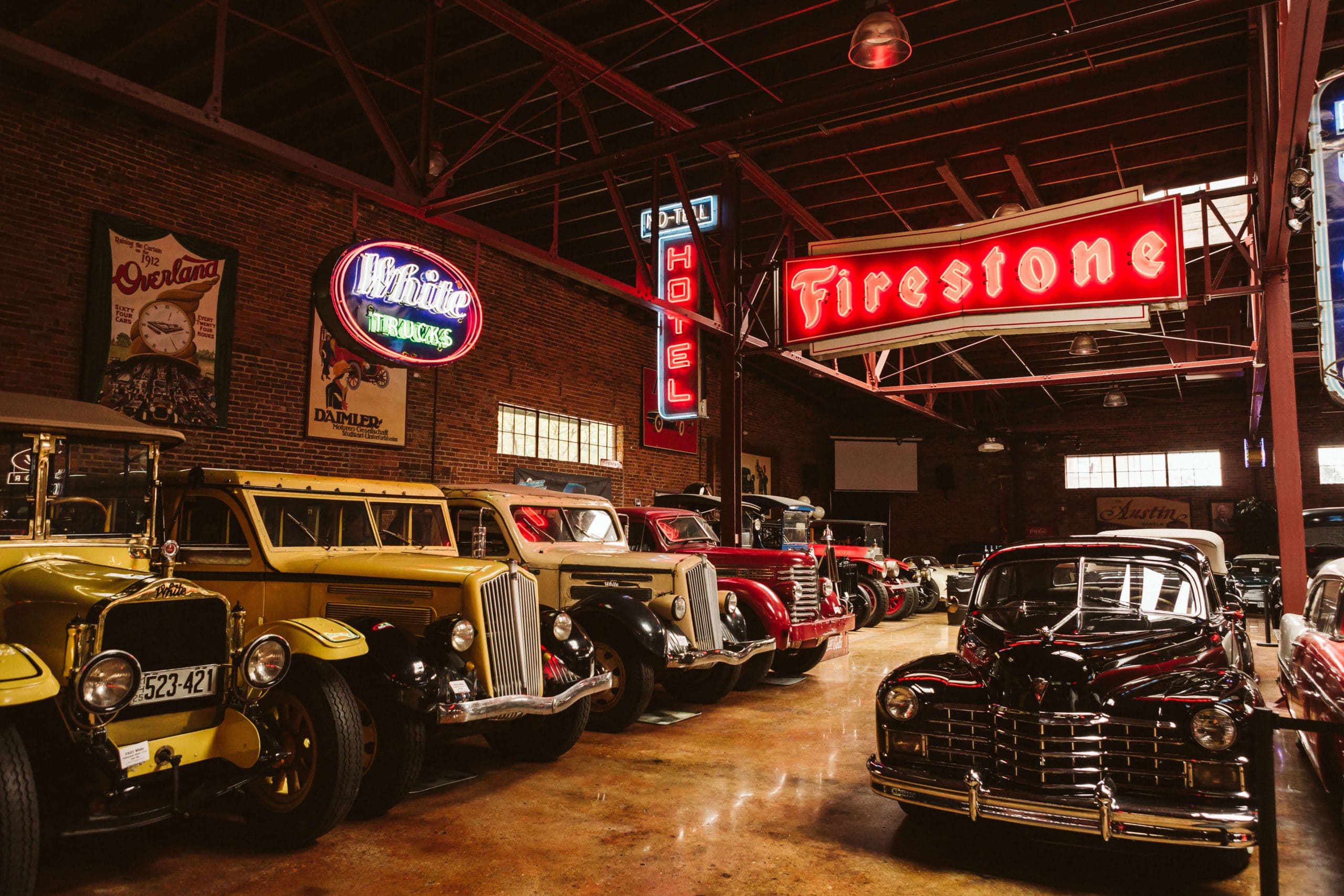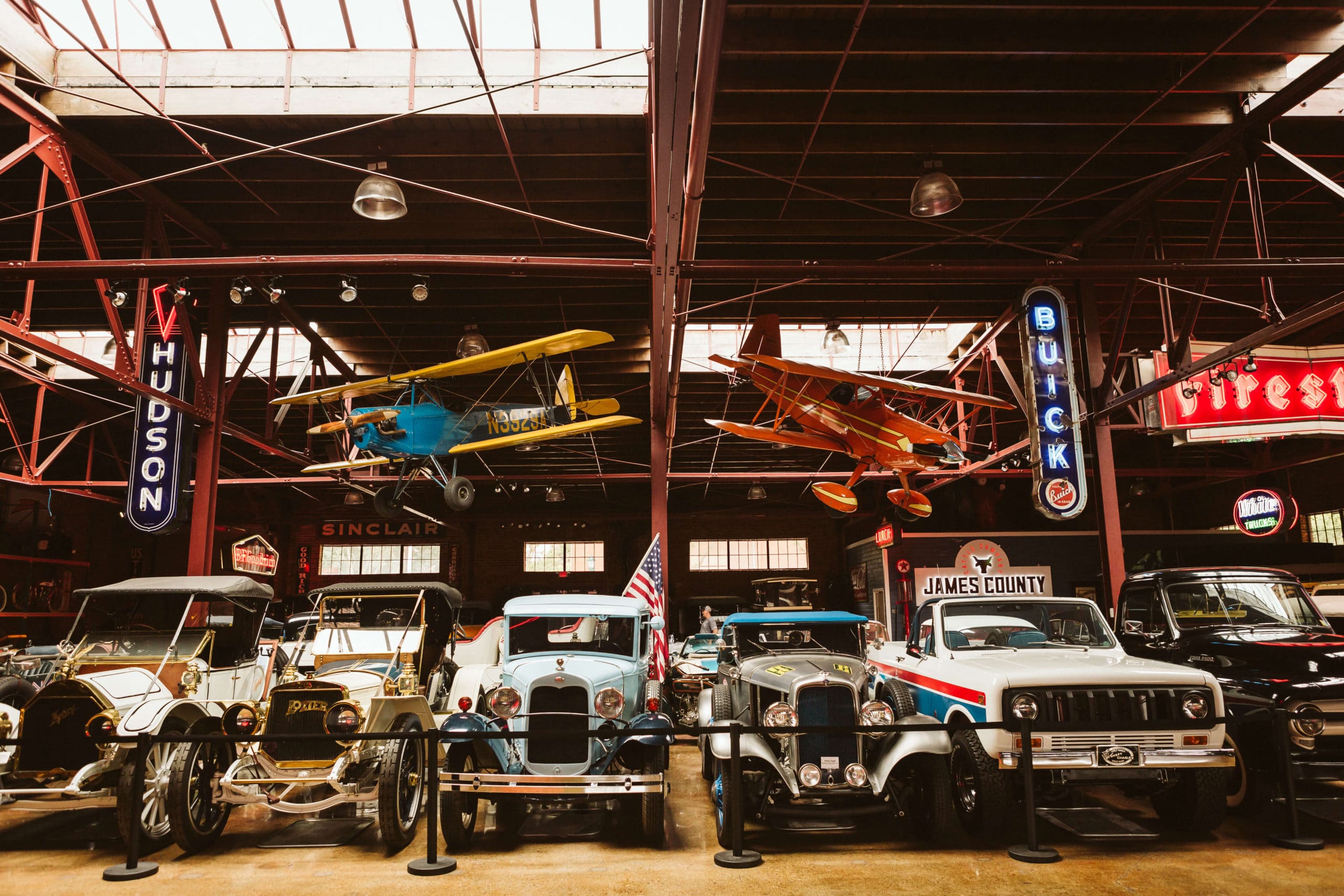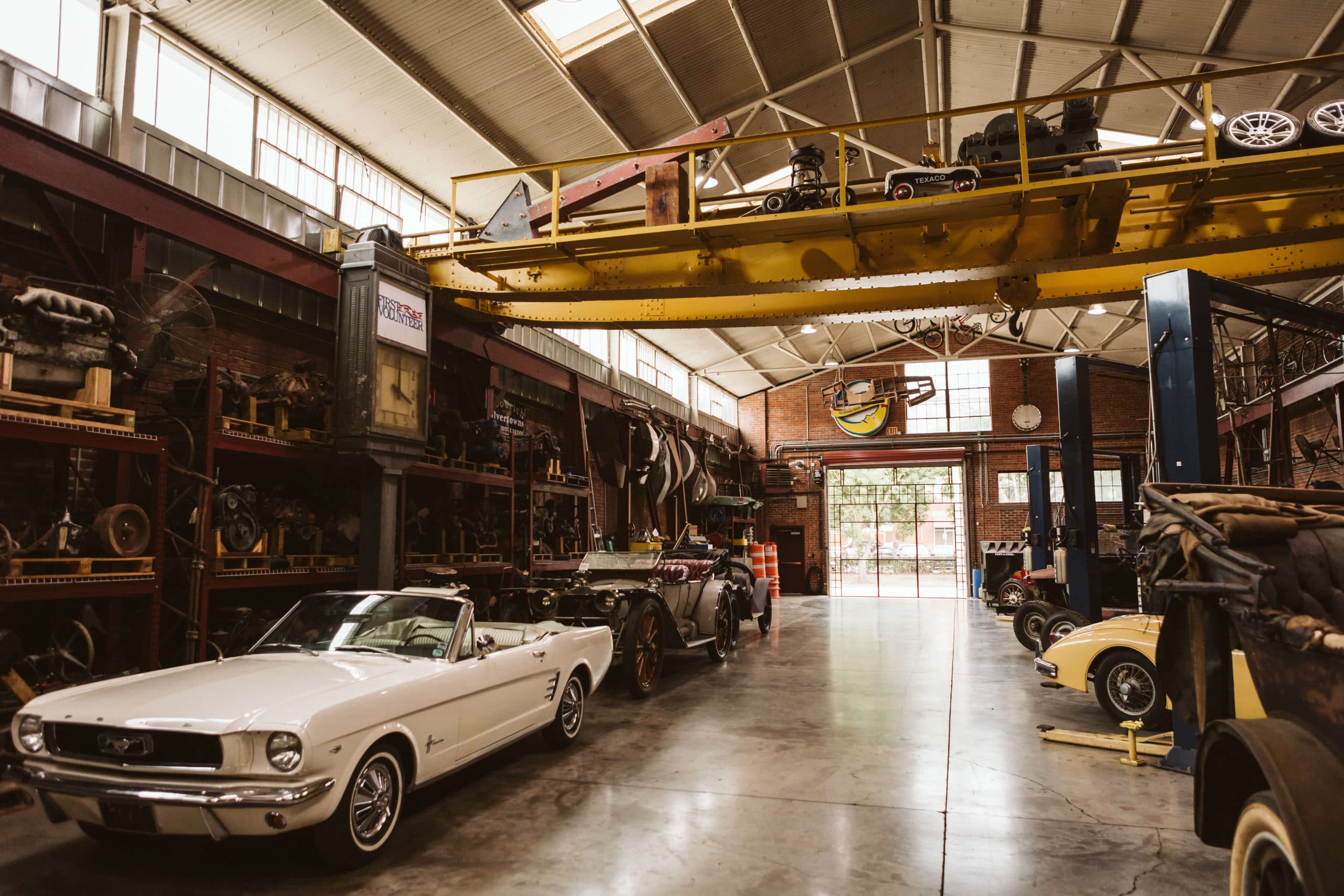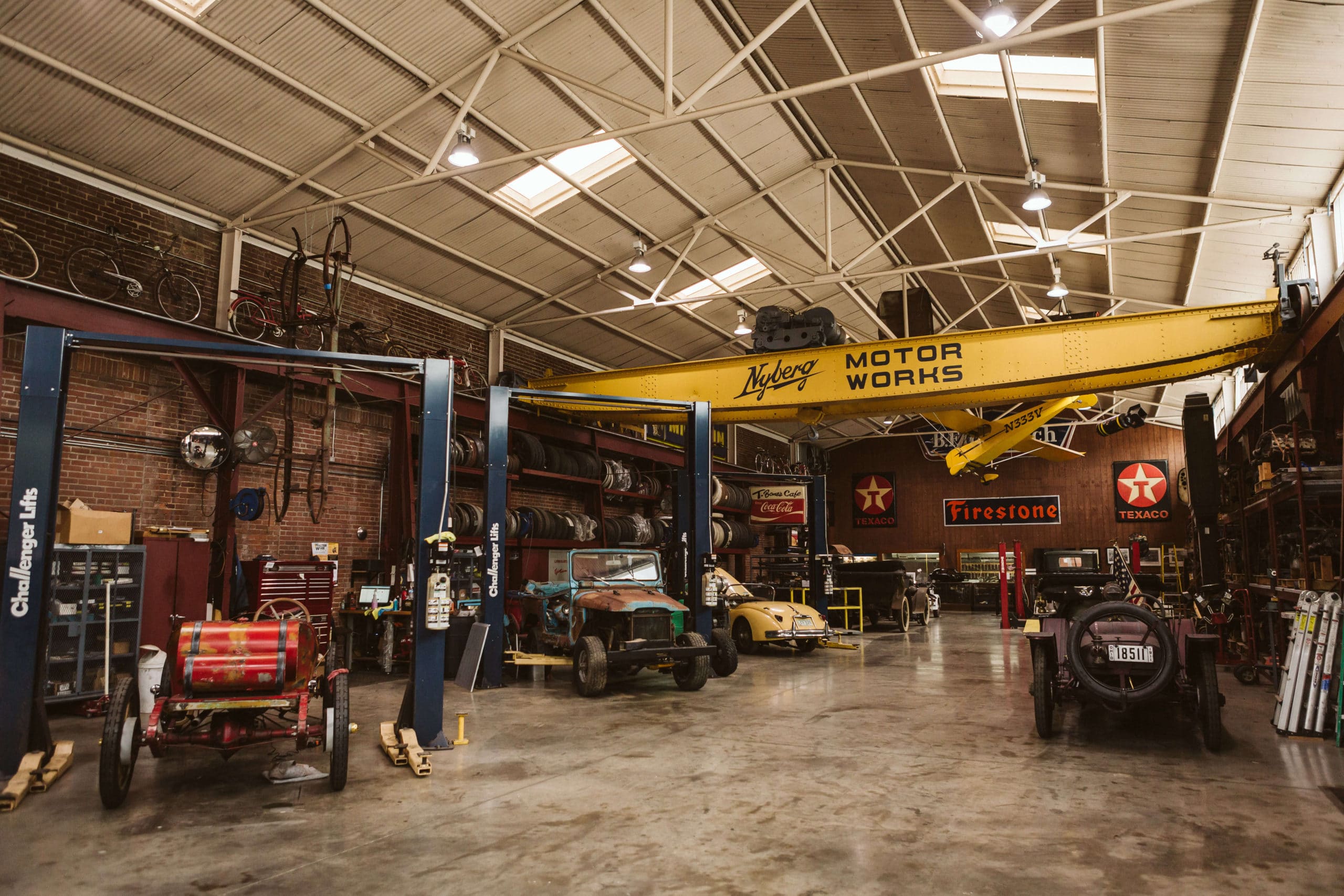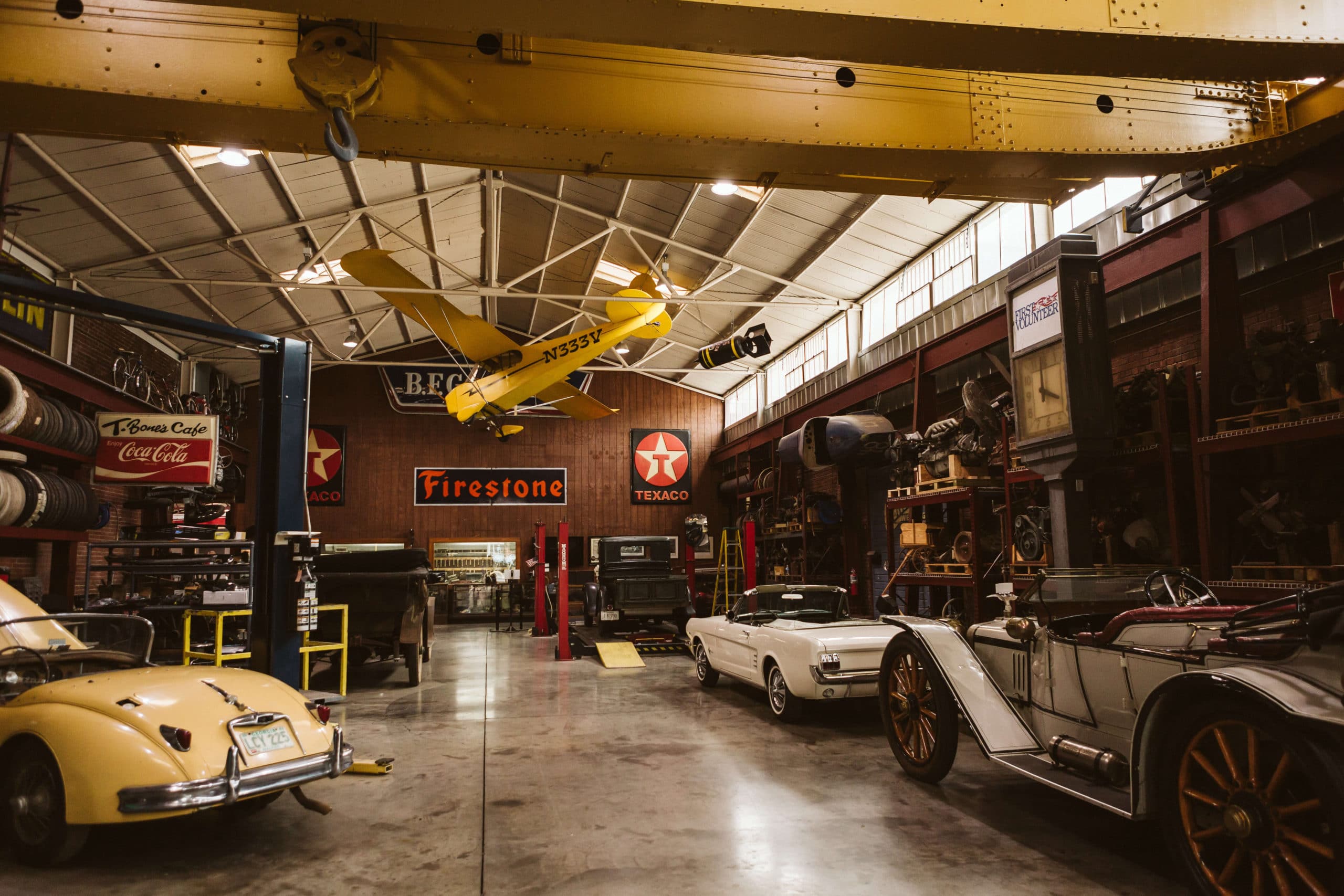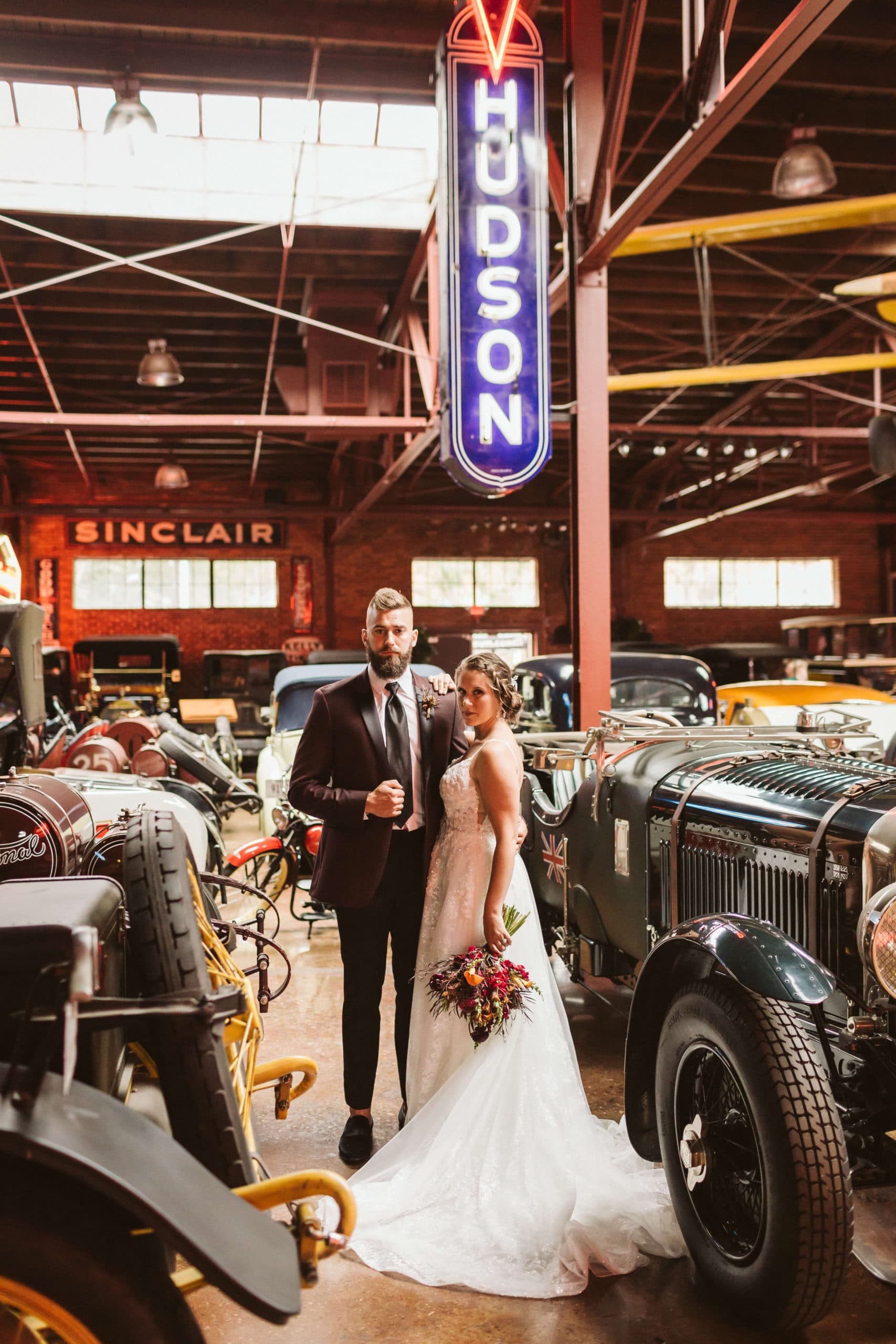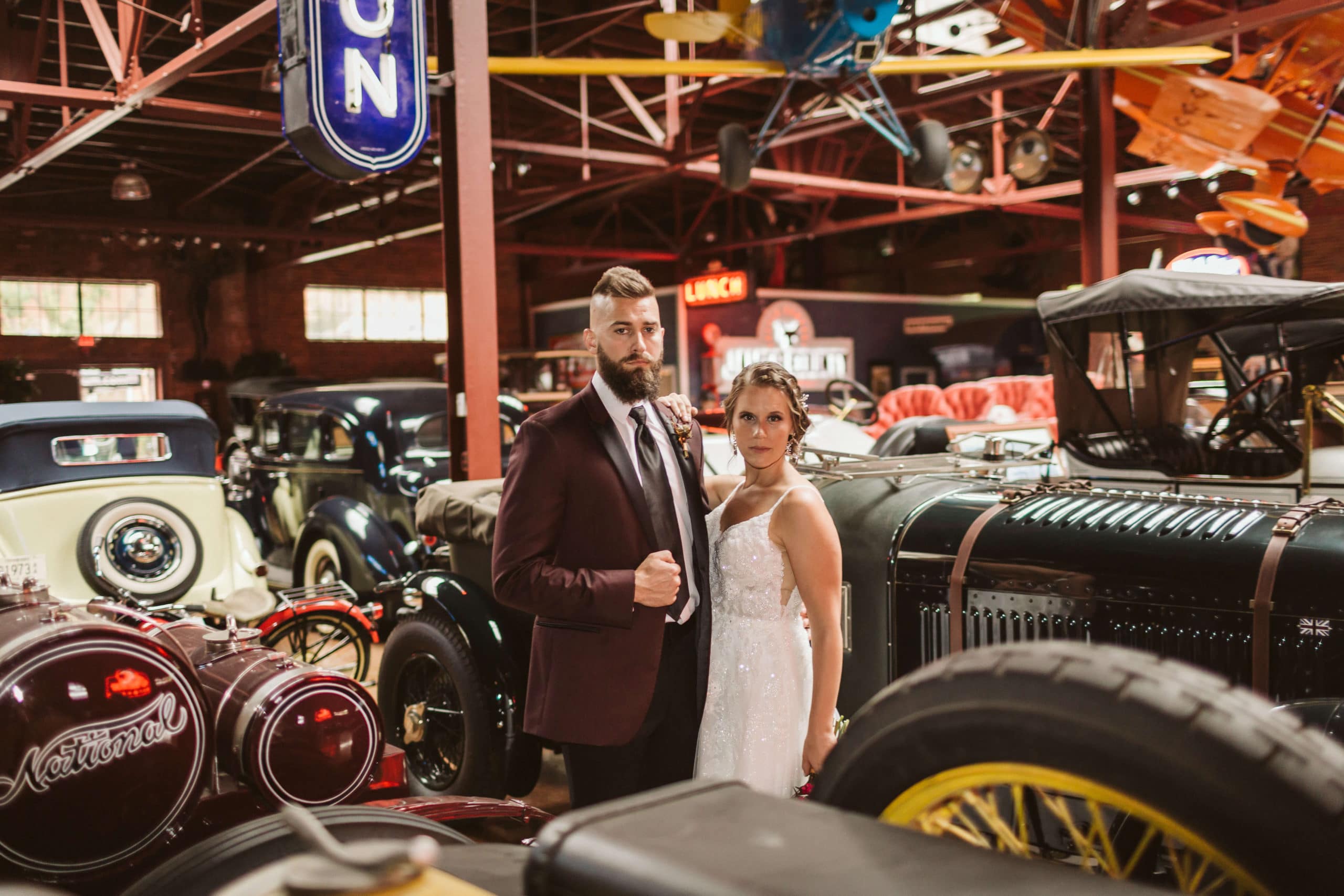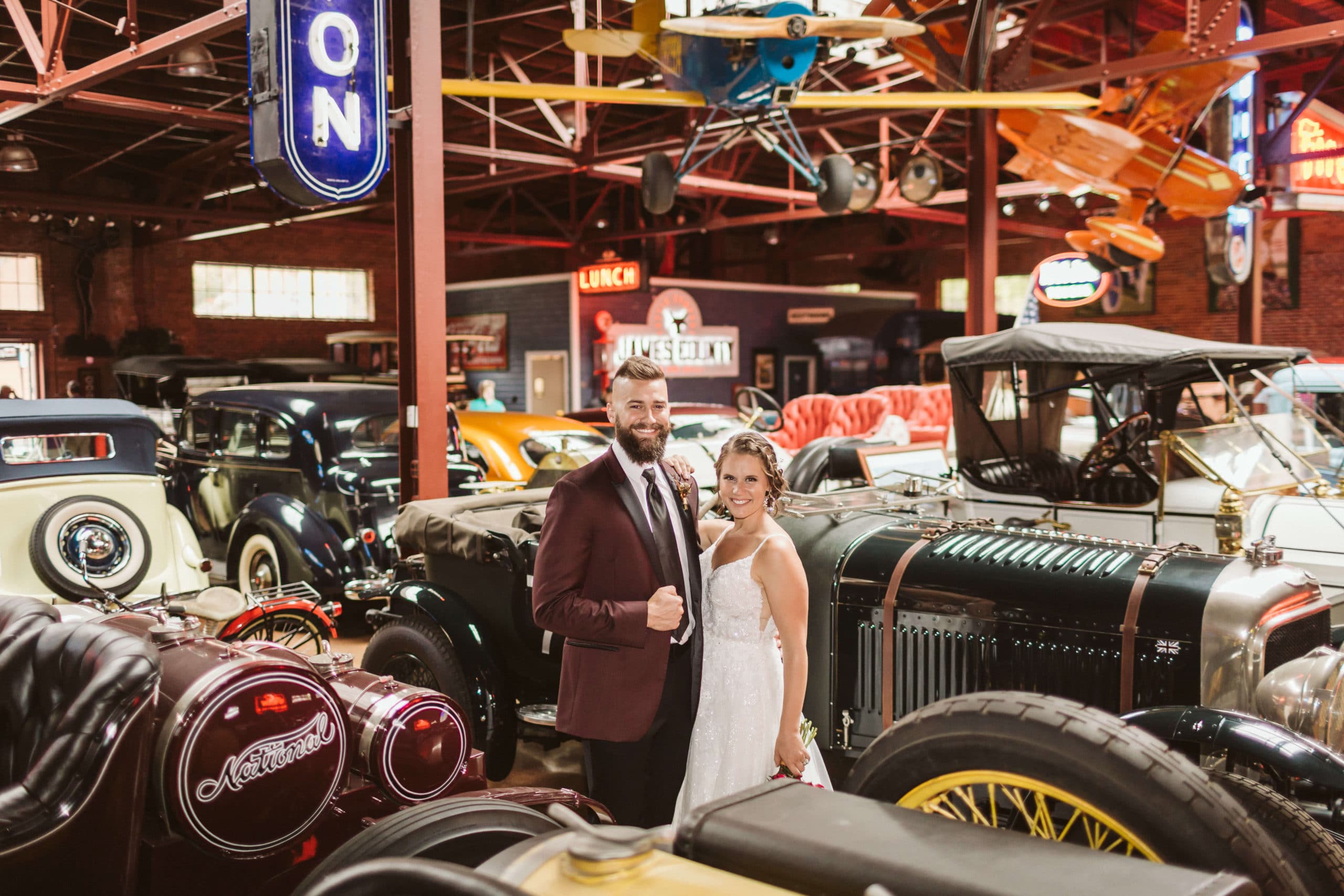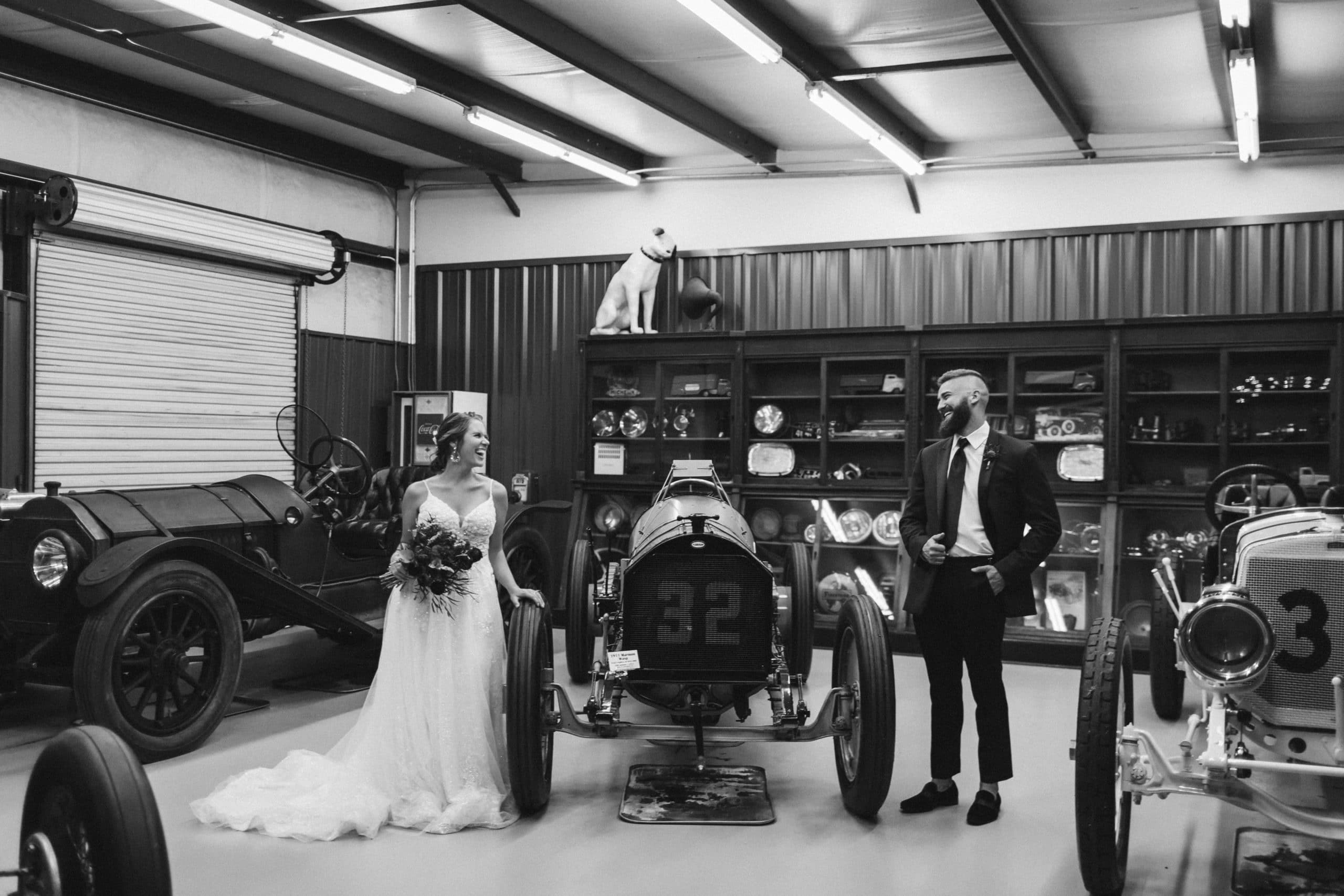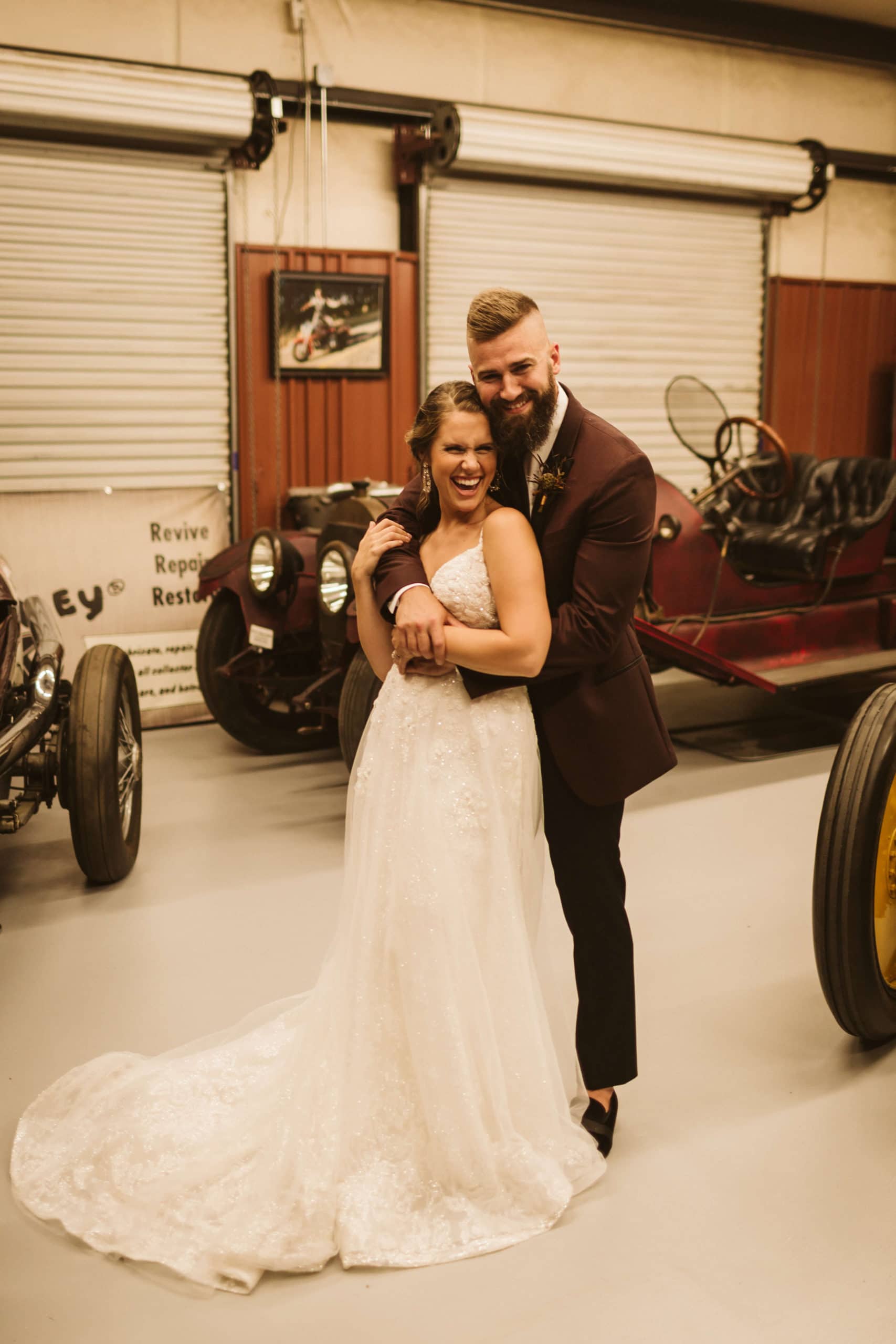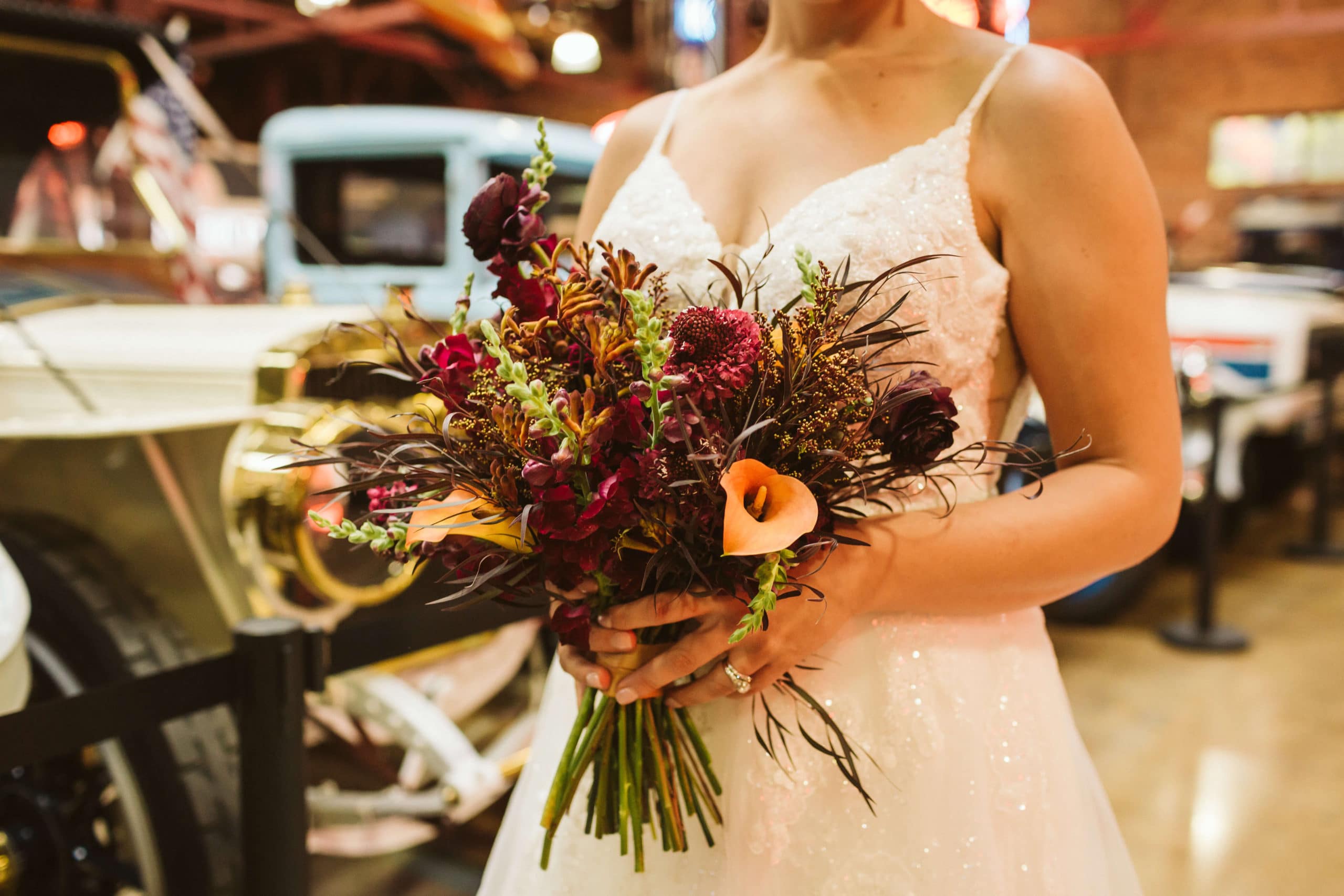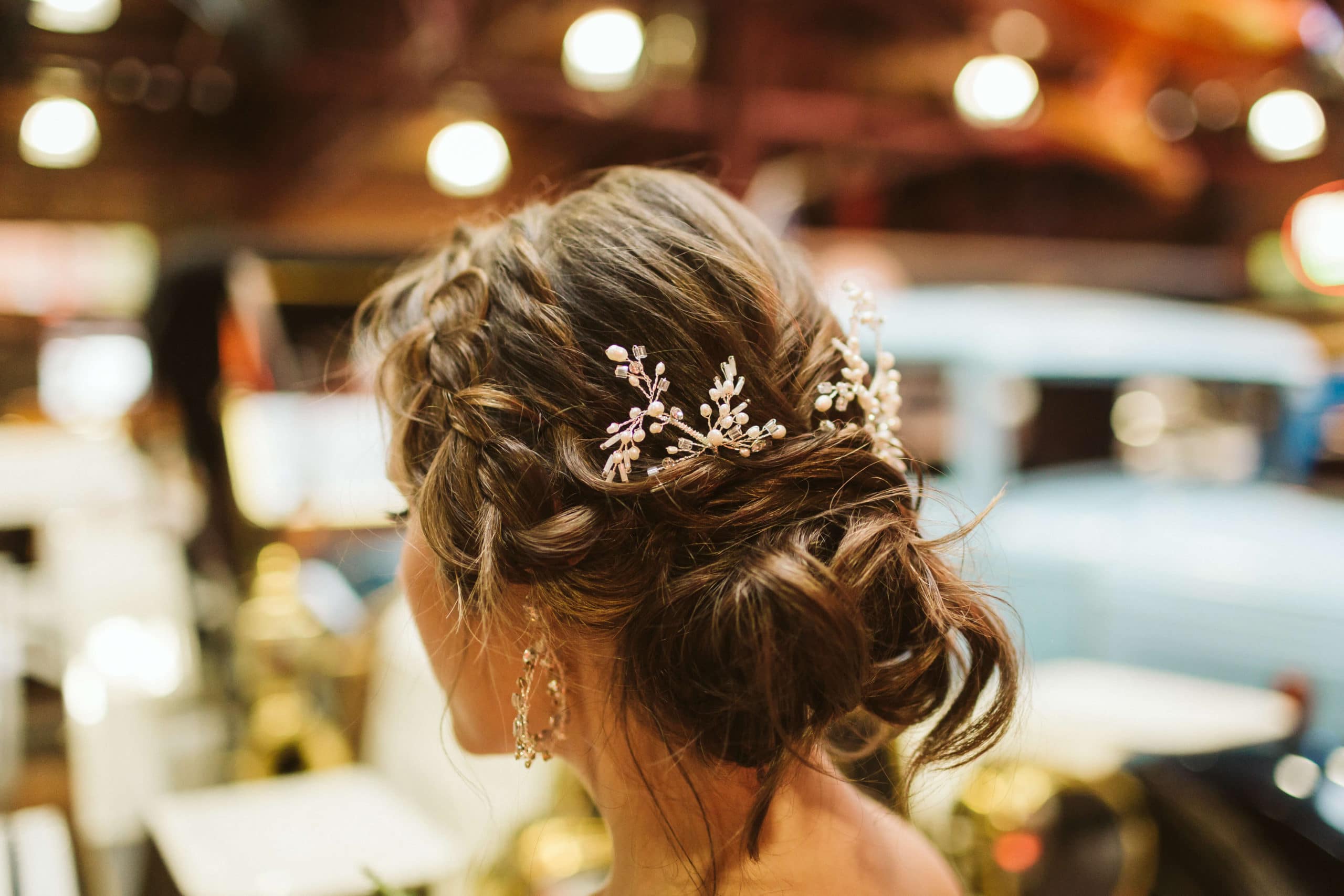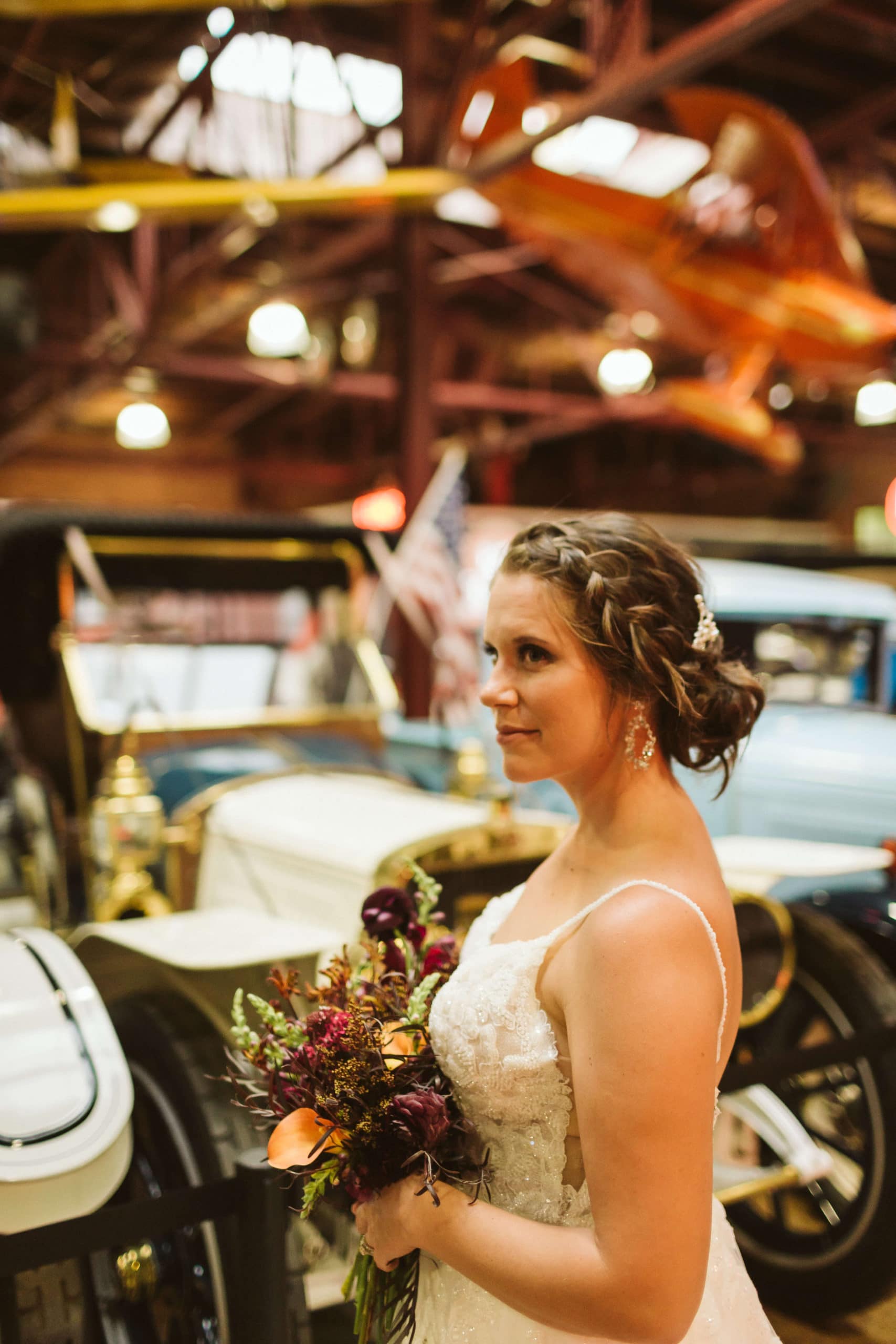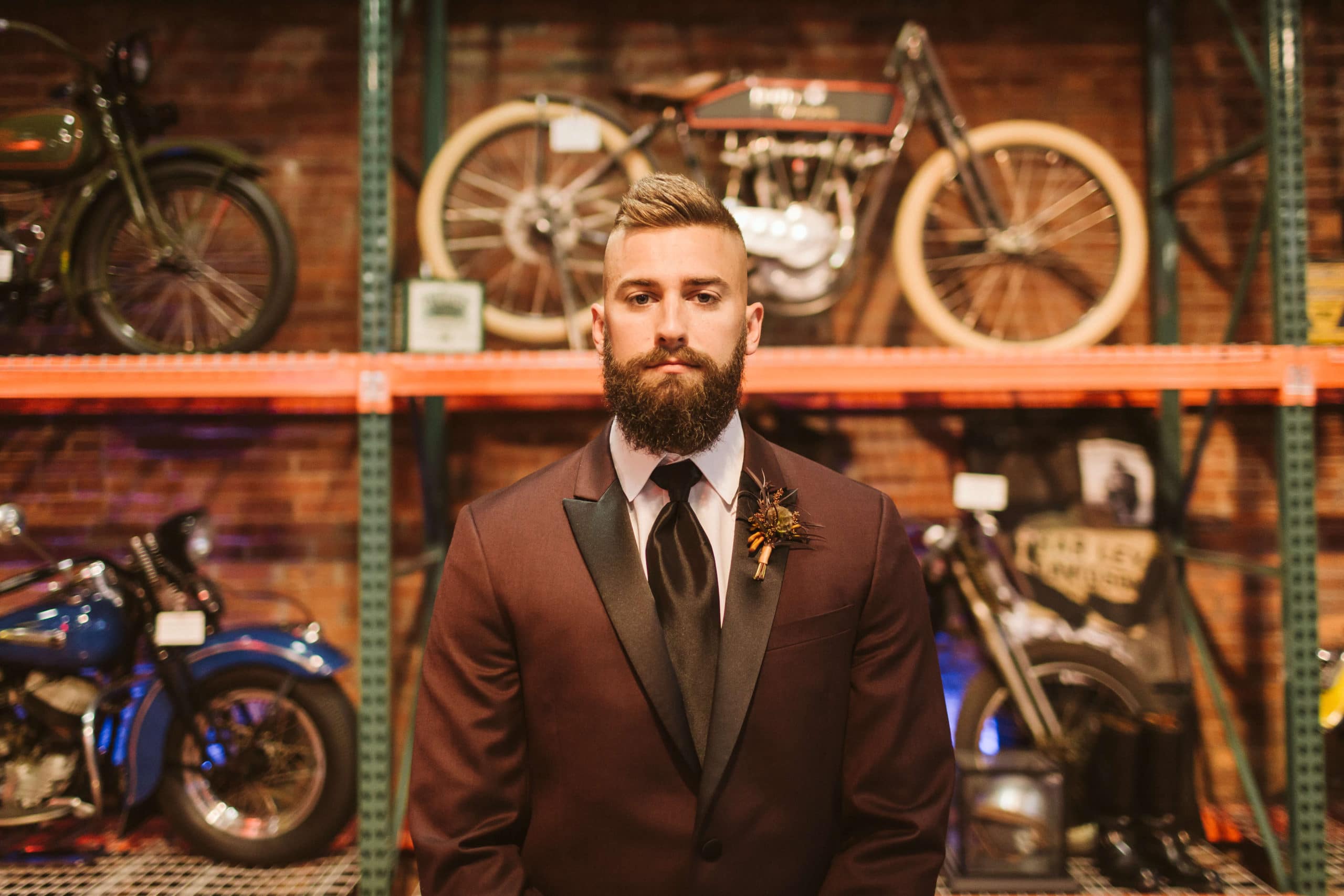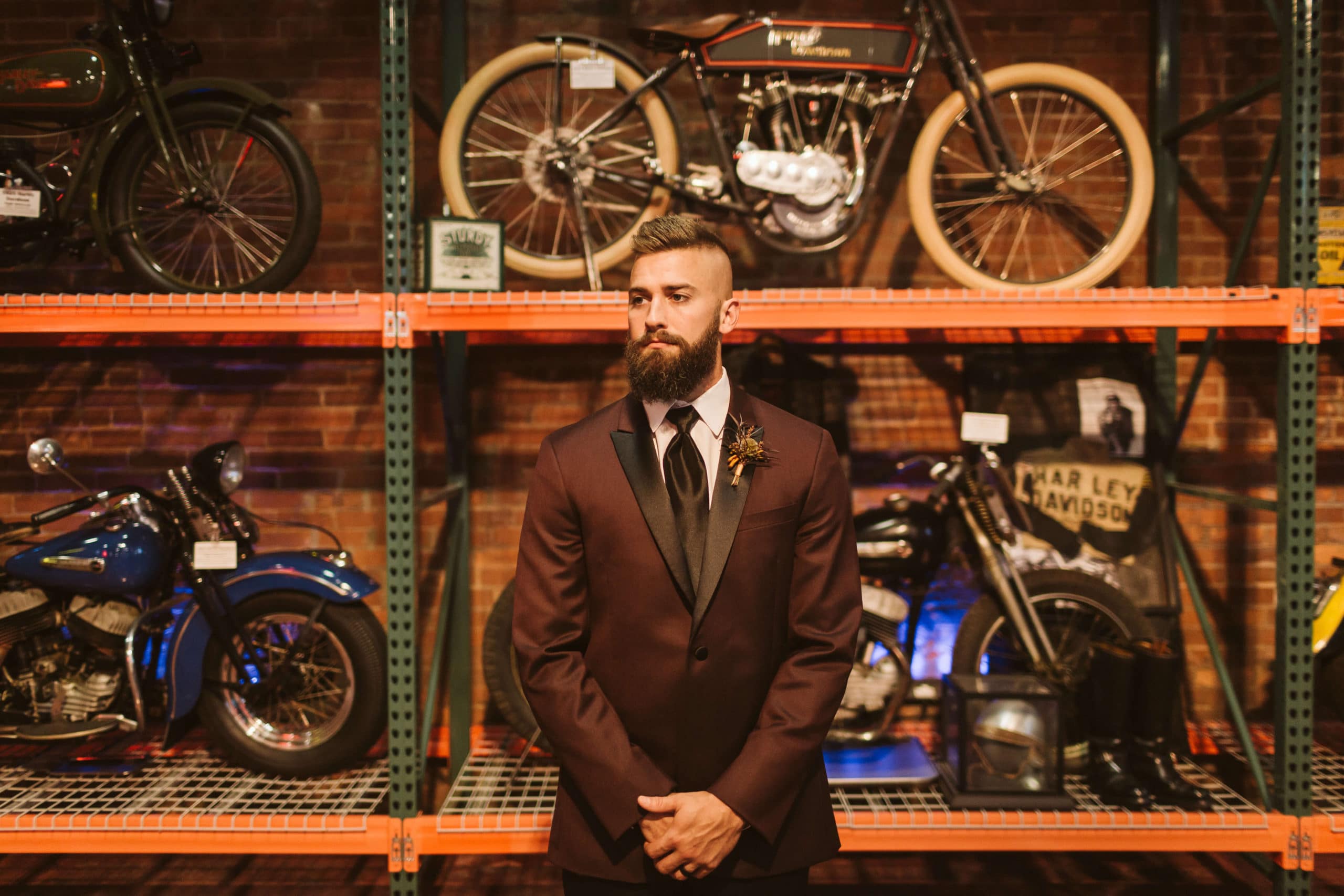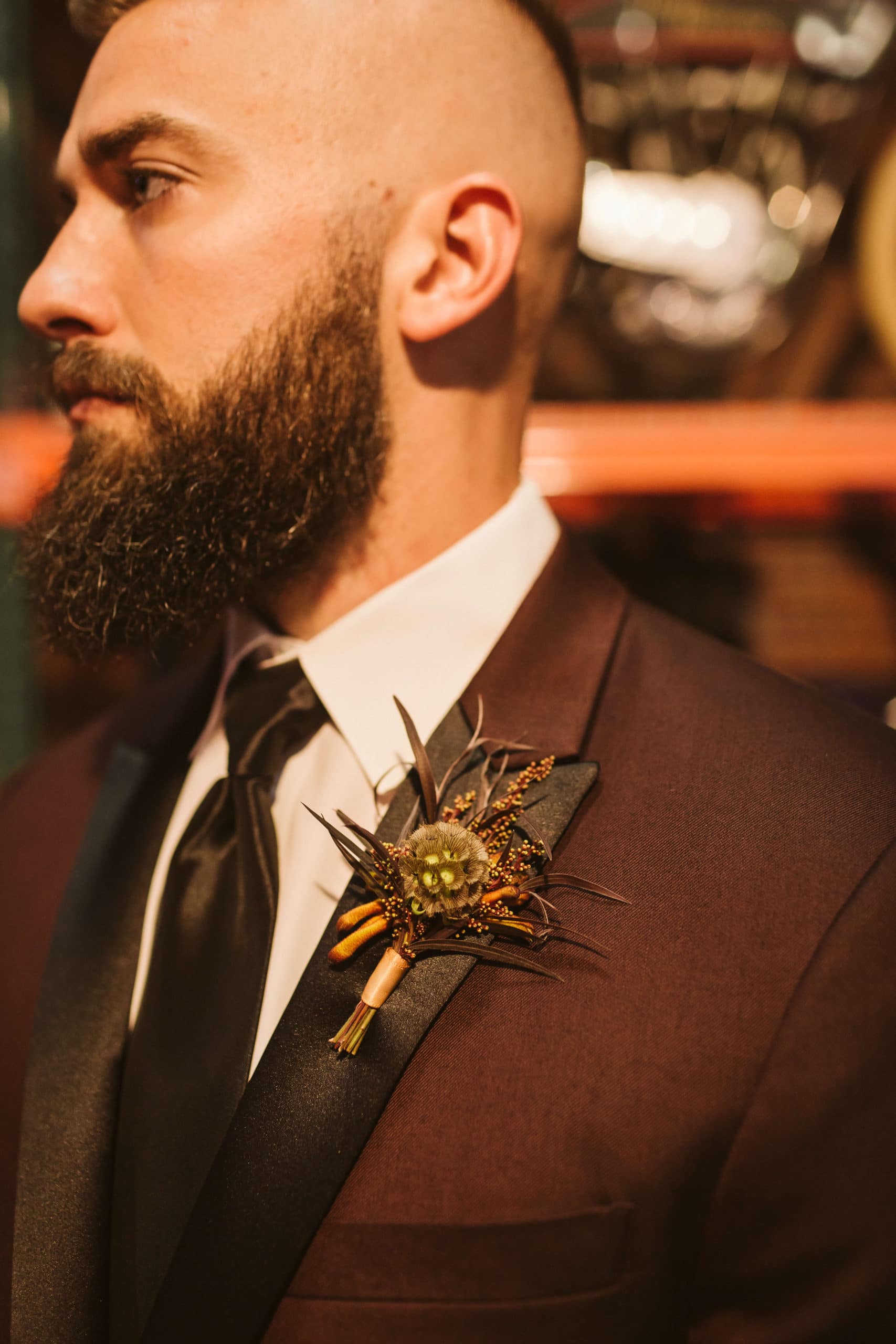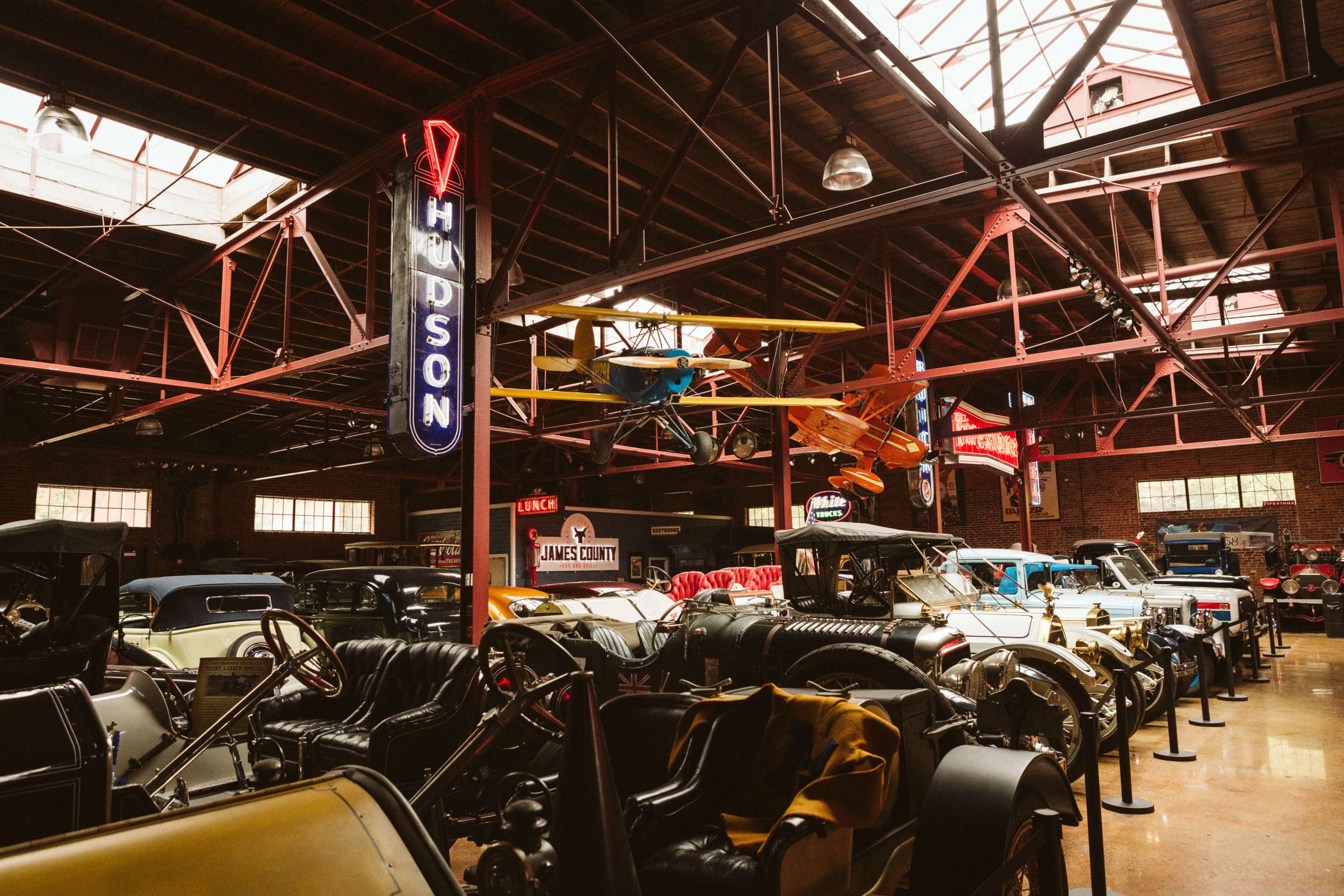 The Coker Museum: From Humble Beginnings to International Fame
The Coker Museum began as the Coker Tire Company in 1958 founded by Harold Coker. When it opened, it was a simple tire and service center. However, Harold expanded the business to include all of the major brands of tire dealers while a small portion of the company was devoted to vintage tires. It was that portion that Harold eventually passed on to his son, Corky, who still manages the business today.
Since taking over the business from his father, Corky Coker has made Coker a household name among the international vintage car and restoration community. As a car buff and enthusiast himself, Corky has amassed a collection of over 100 antique vehicles including cars, motorcycles, and even three planes. It's this collection that makes up what is now the Coker Museum.
The museum is open to the public four days a week for exploring and self-guided tours. If you're ever up for a slice of nostalgia to brighten your day, a trip to the Coker Museum could be exactly what you're looking for.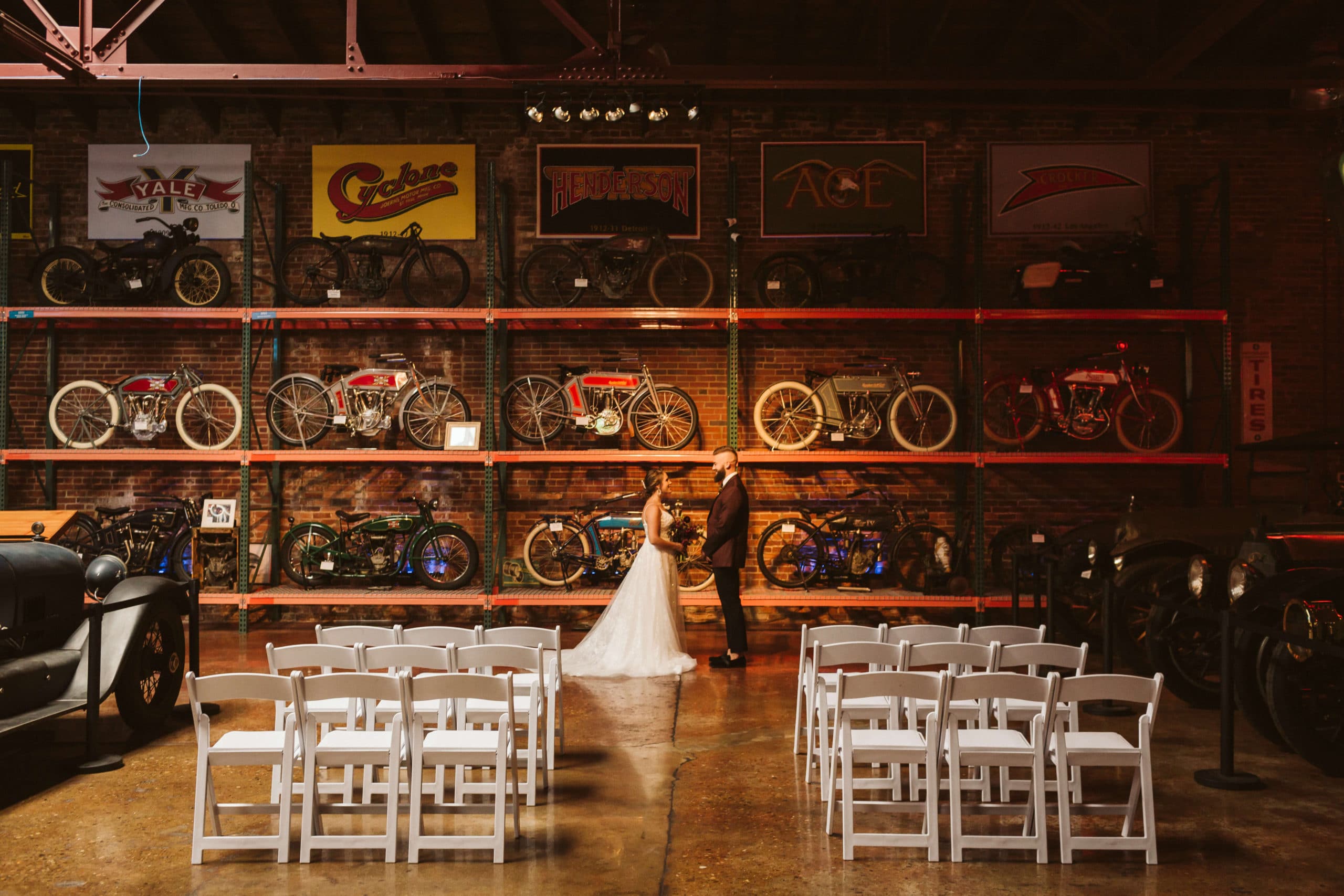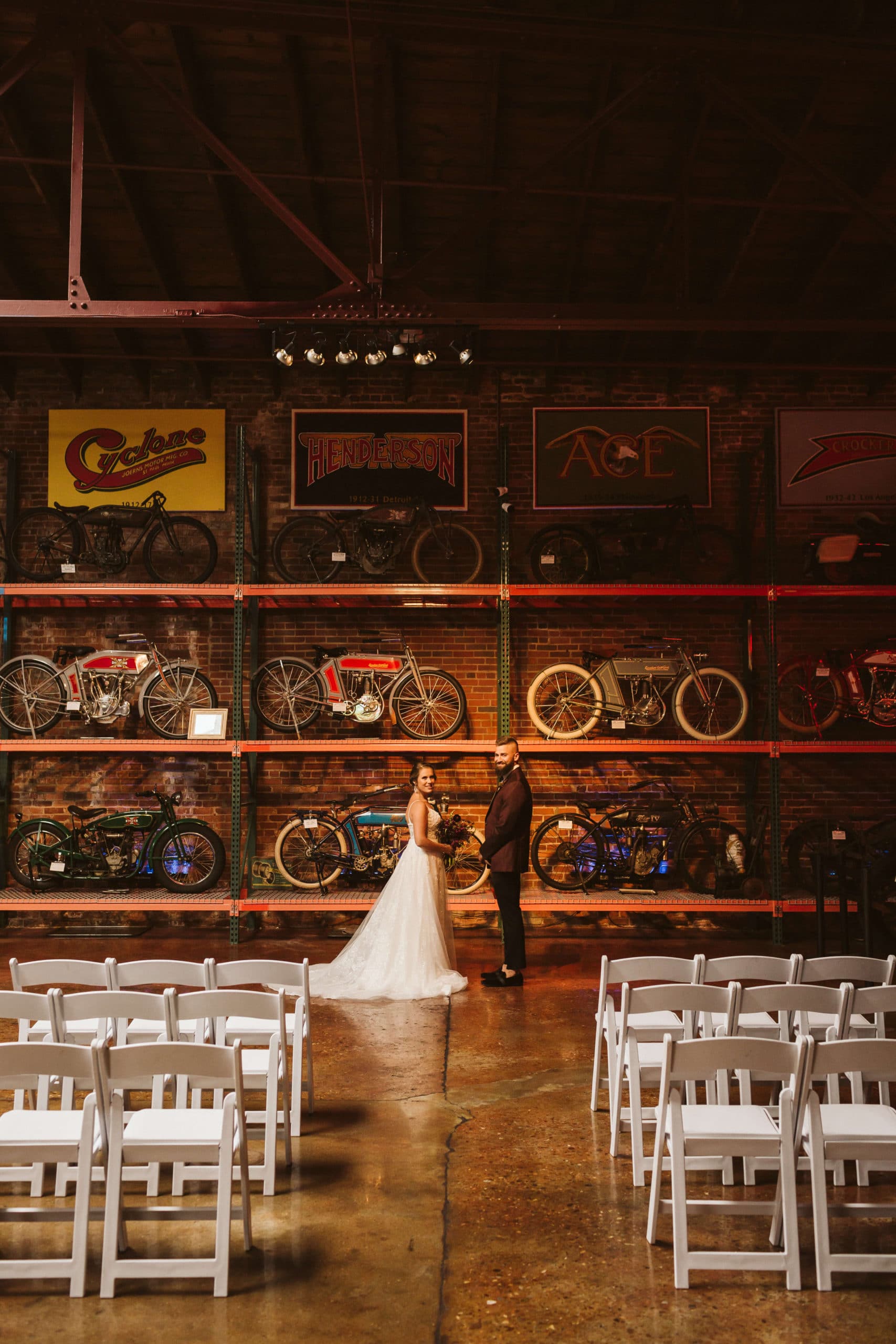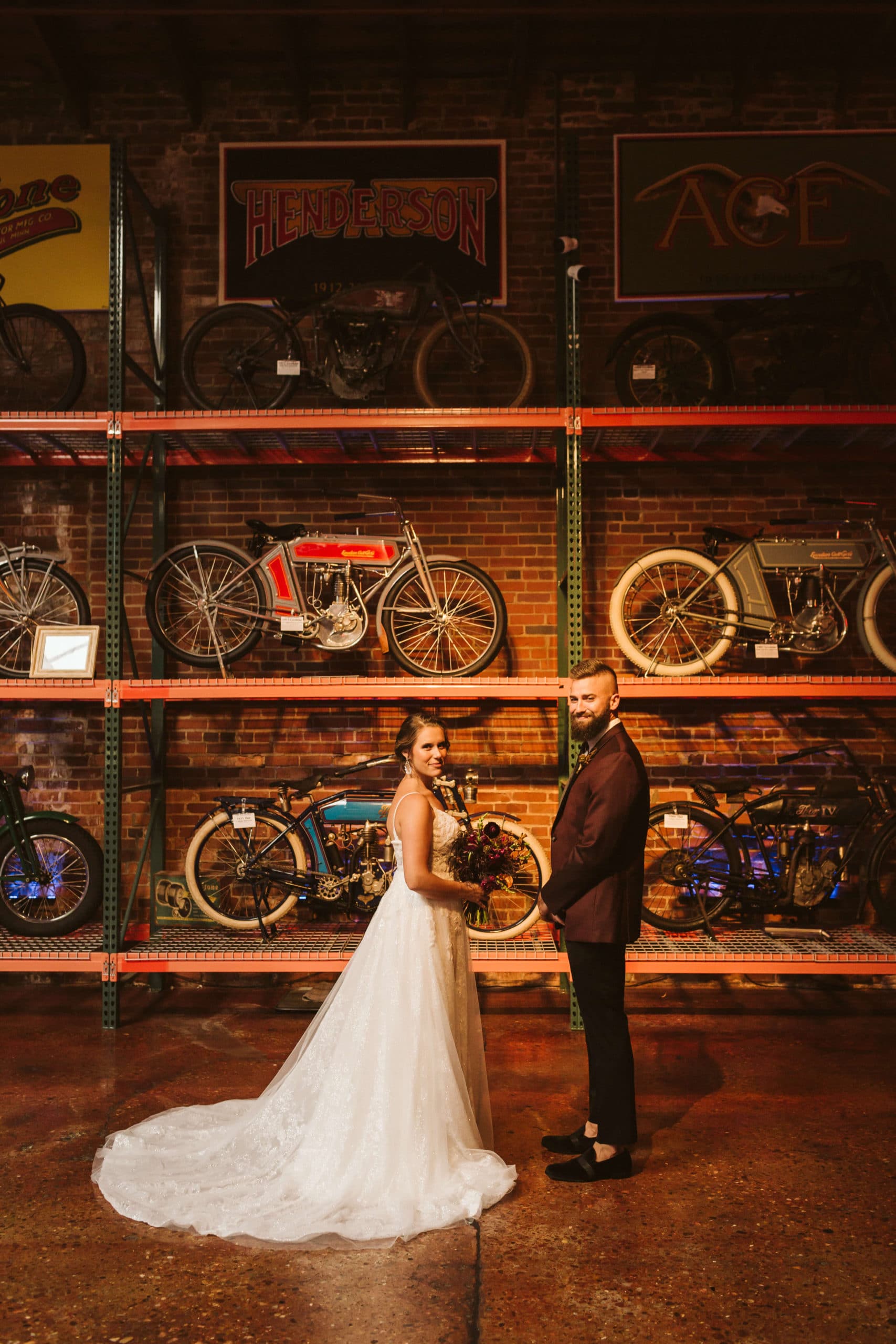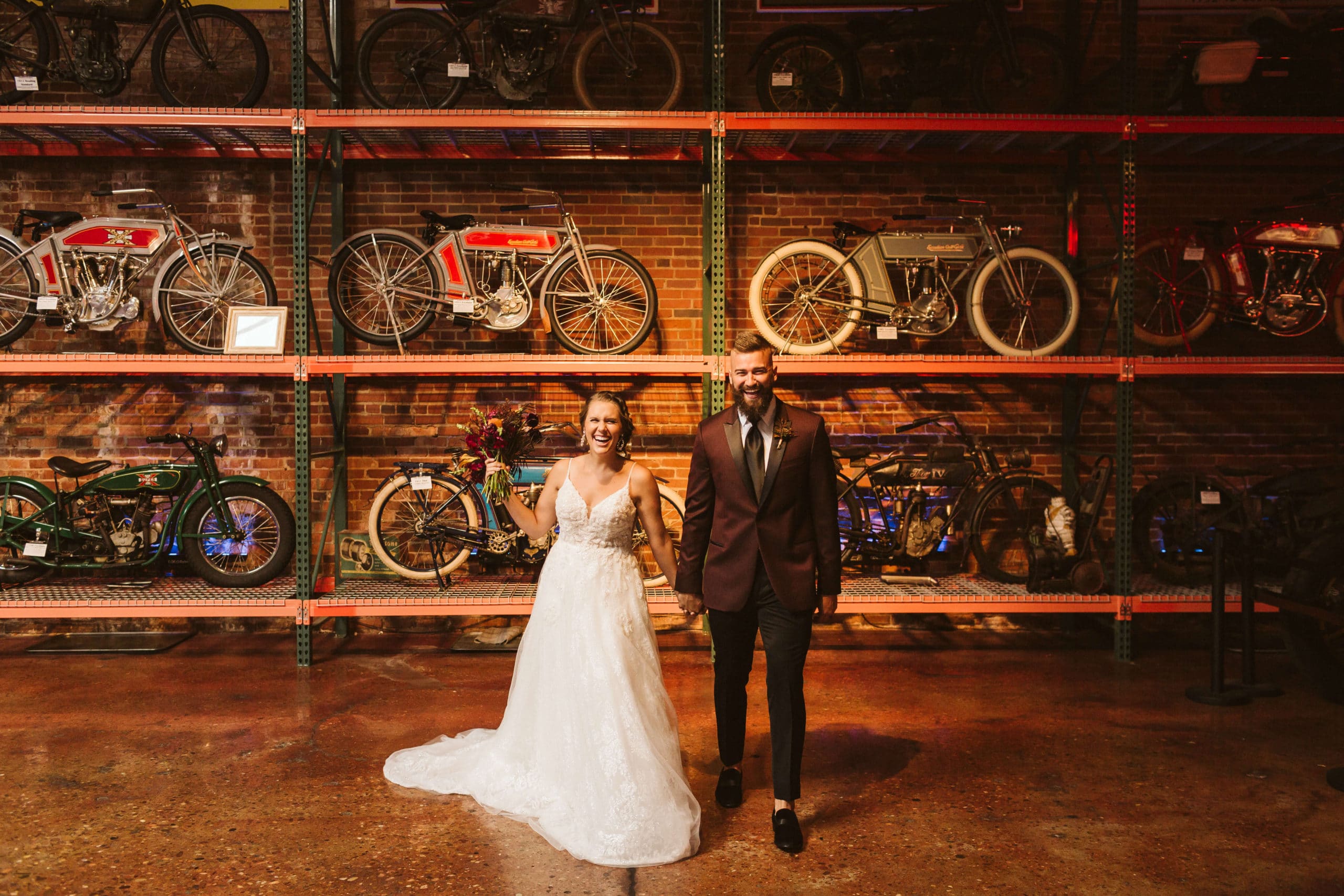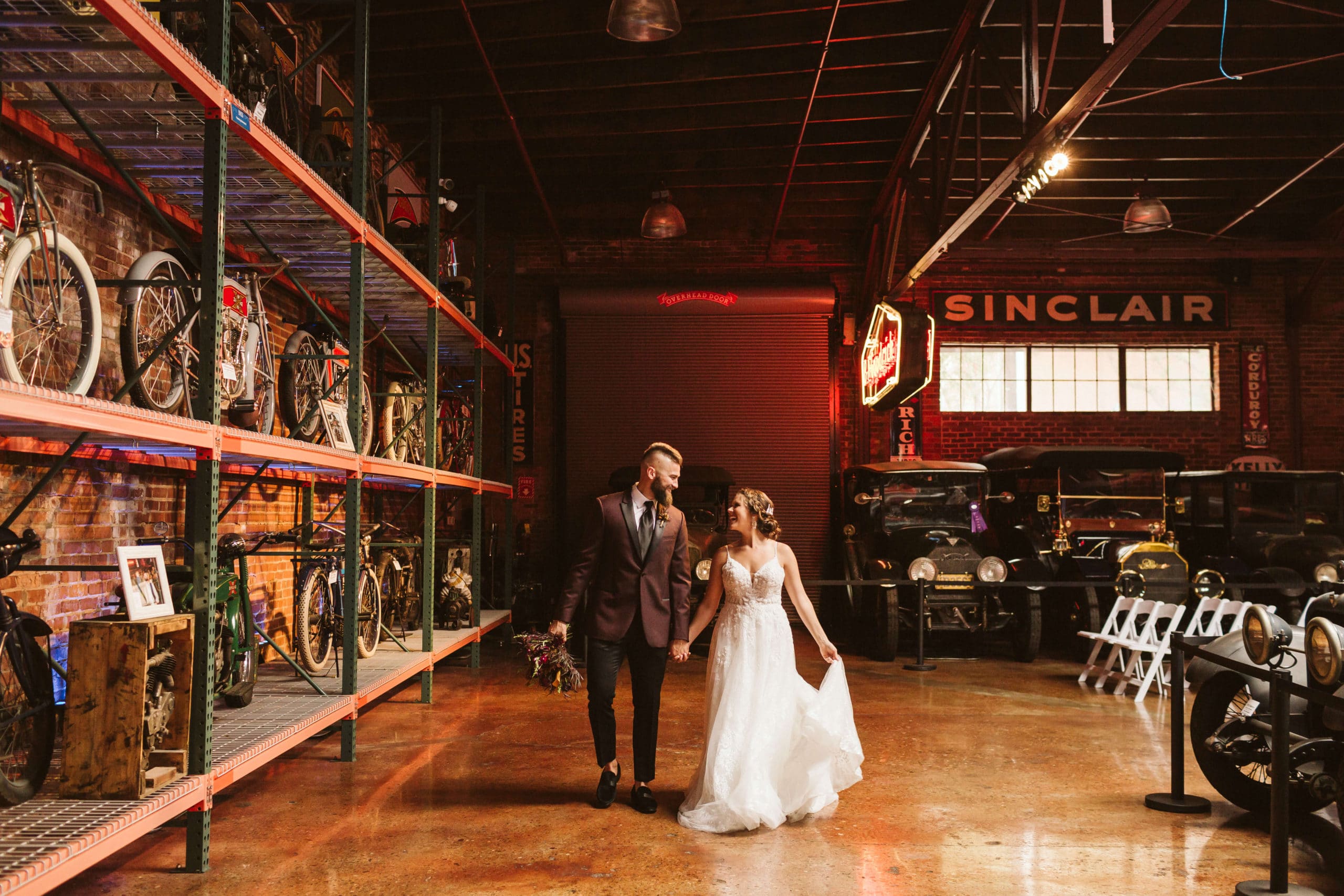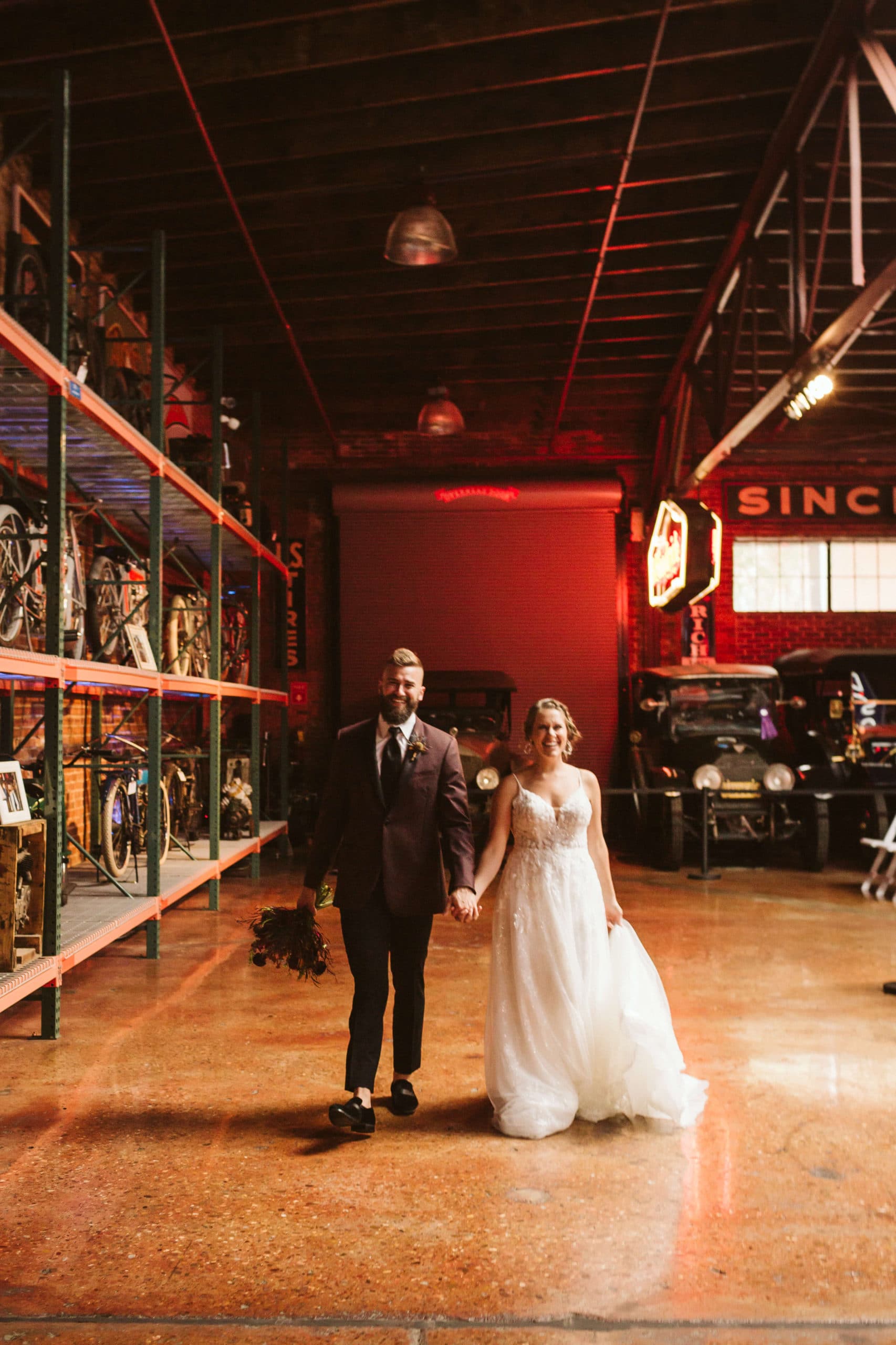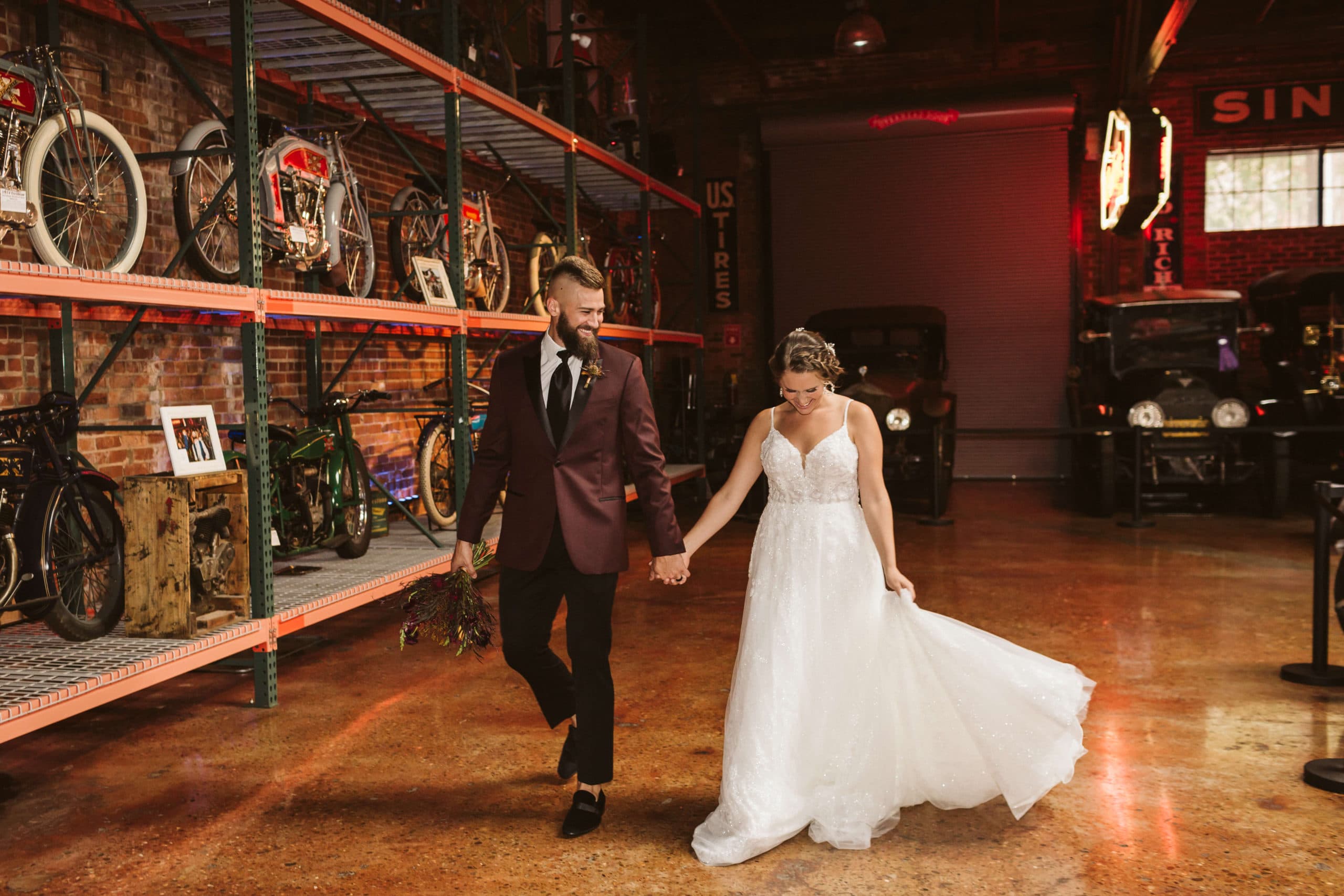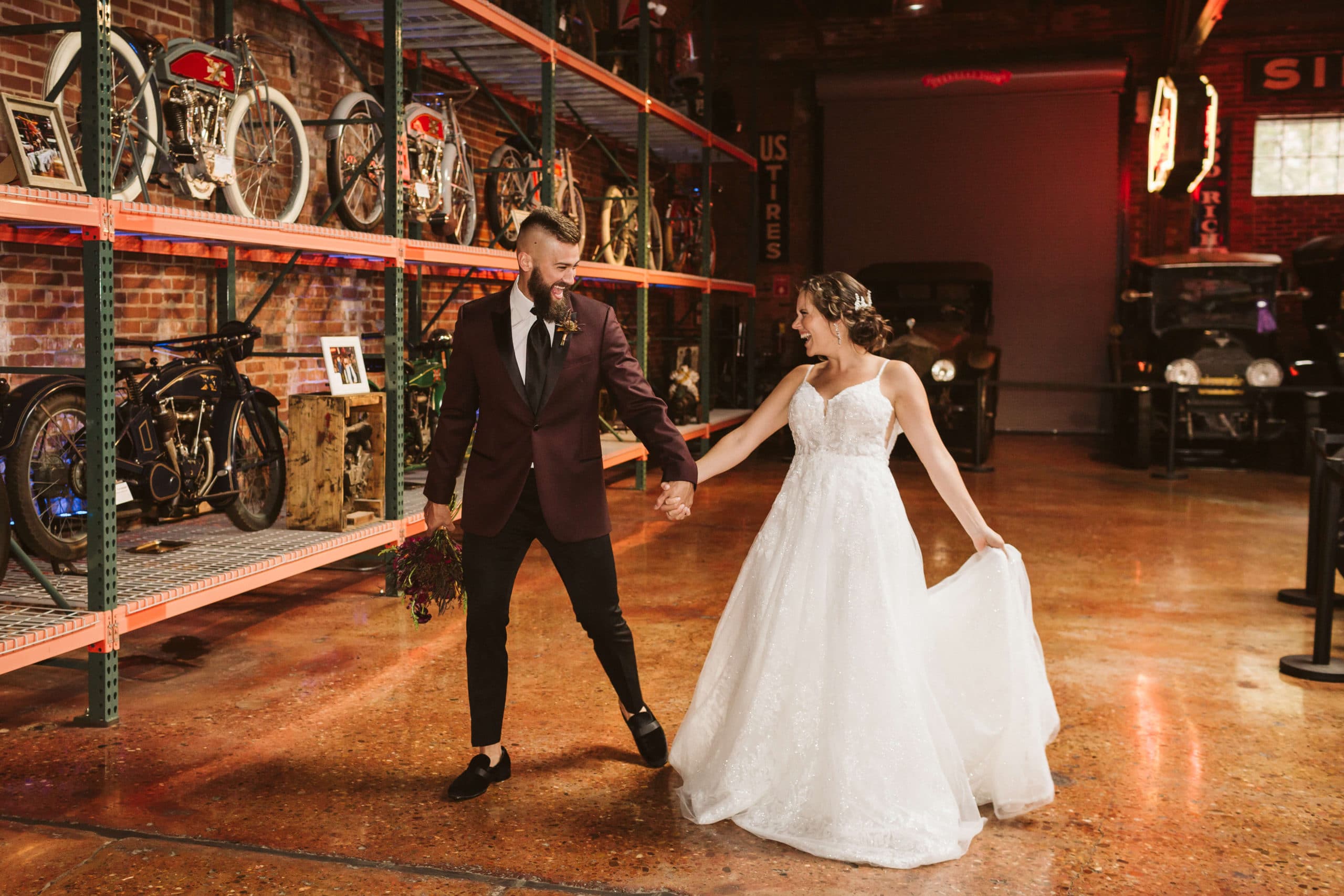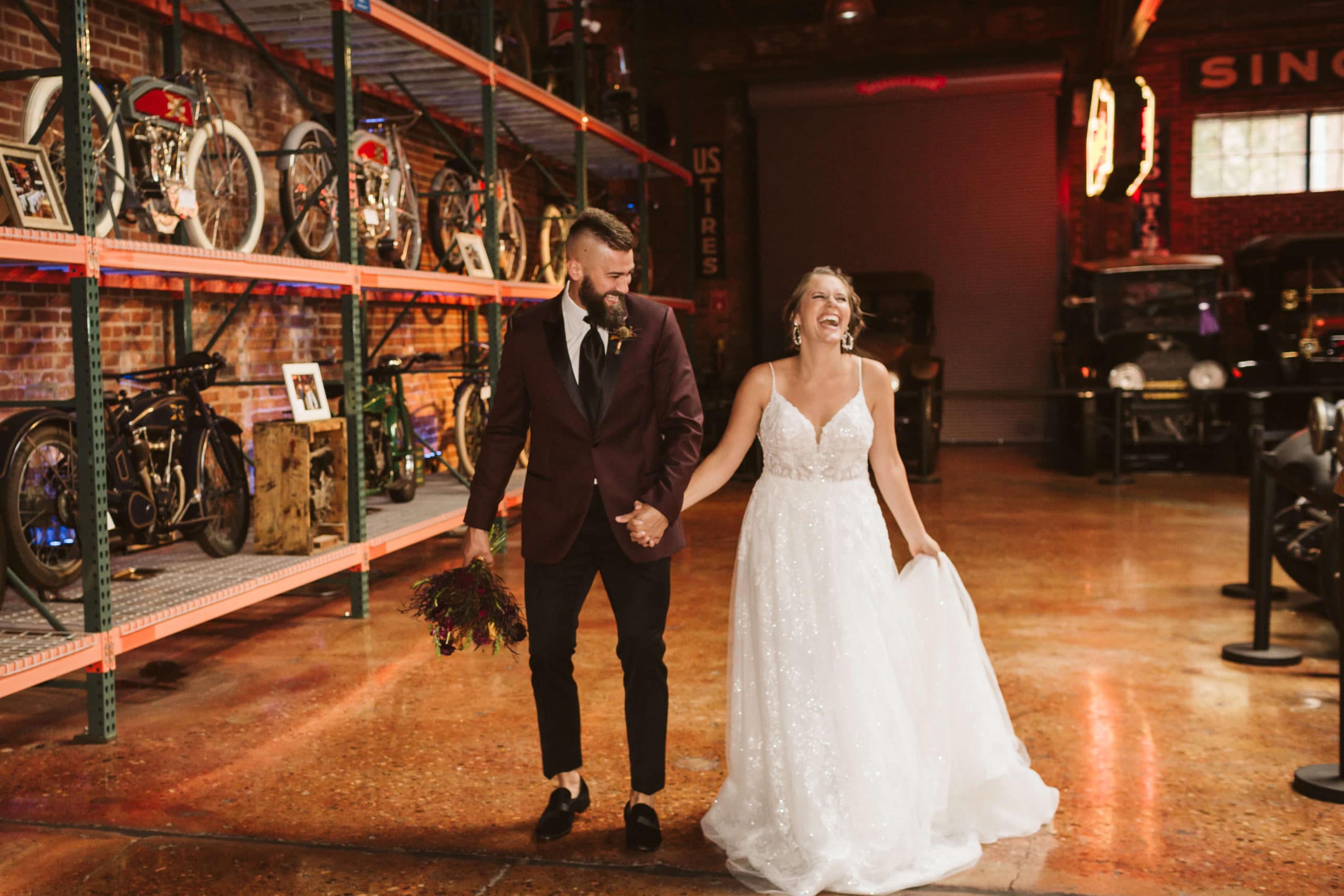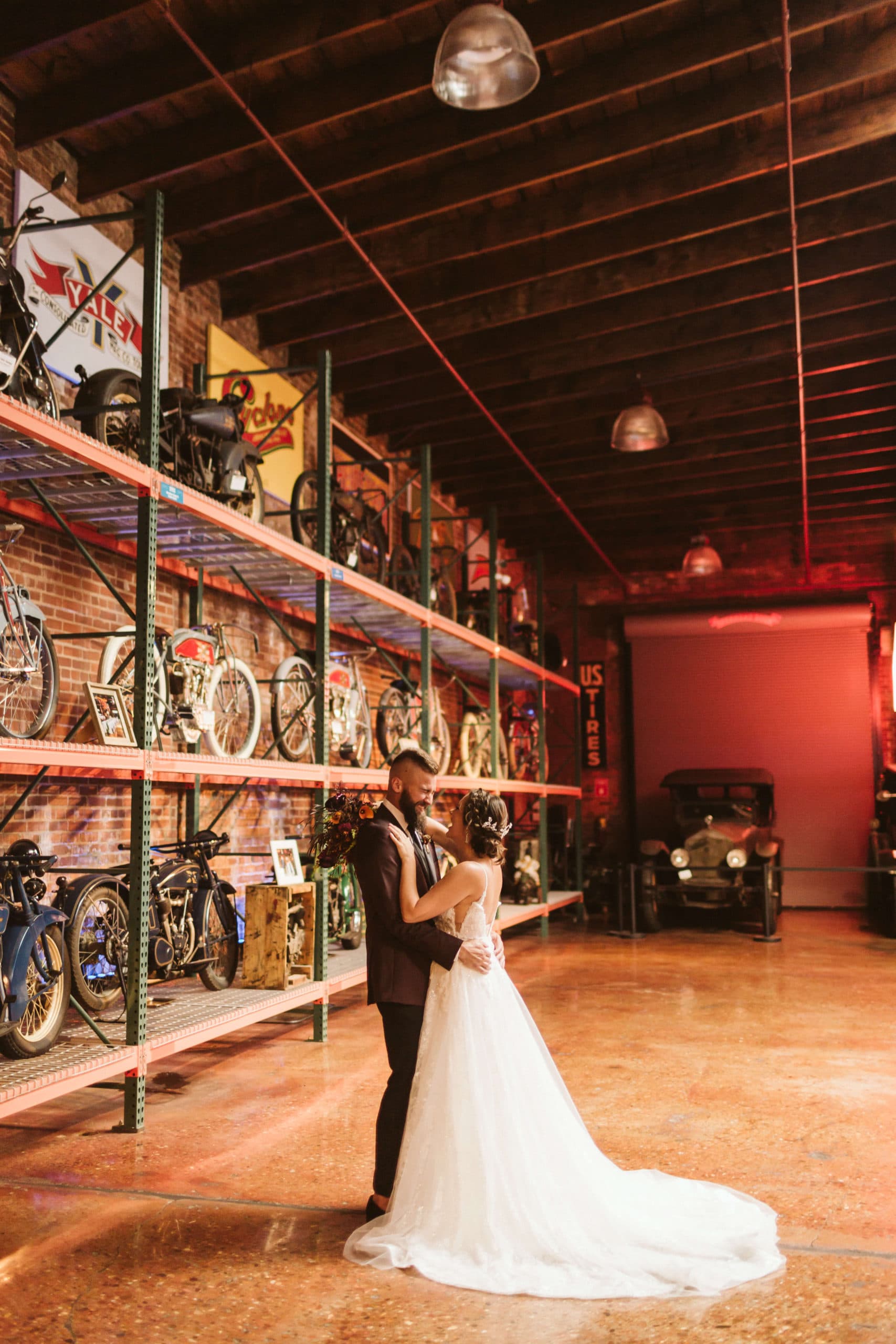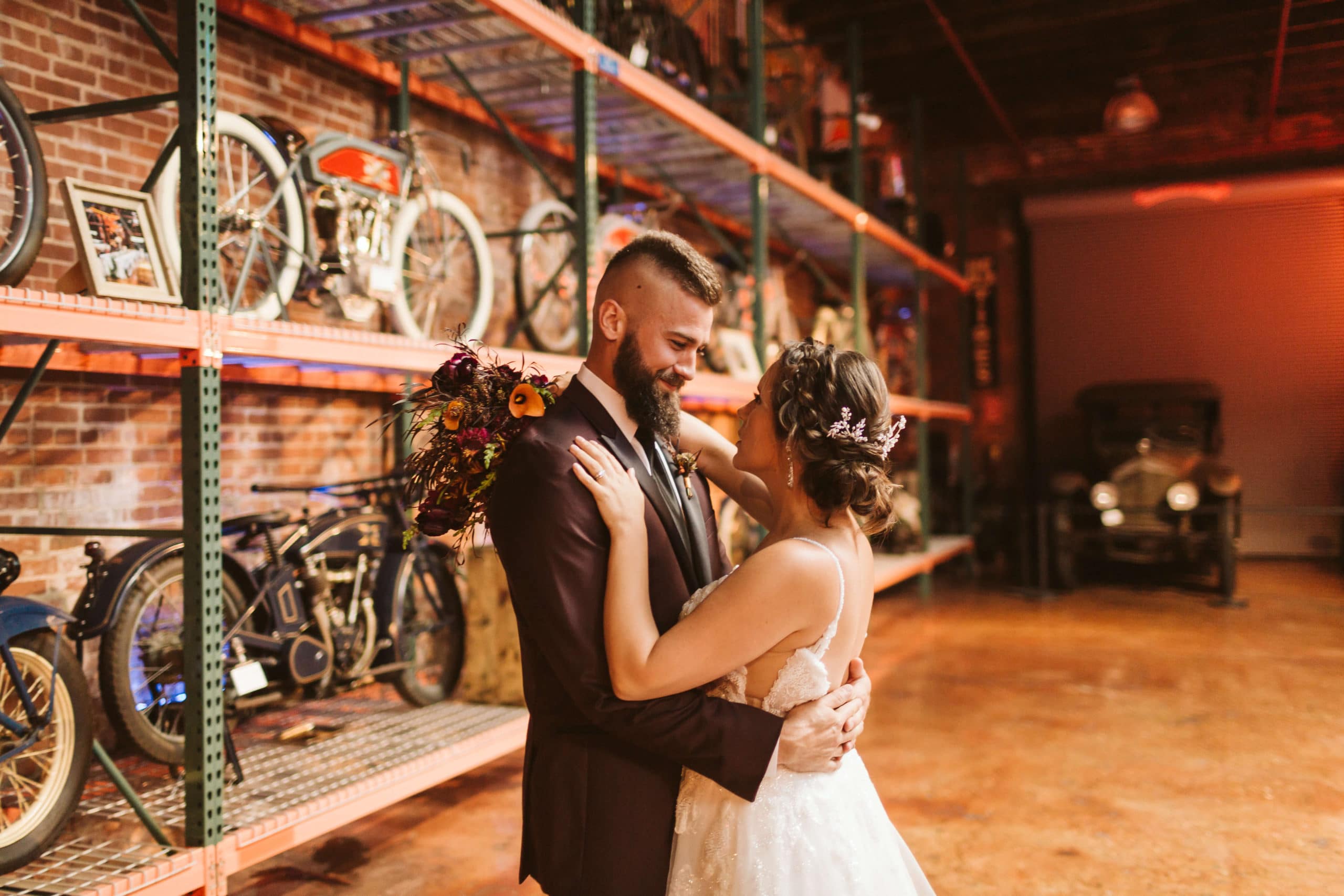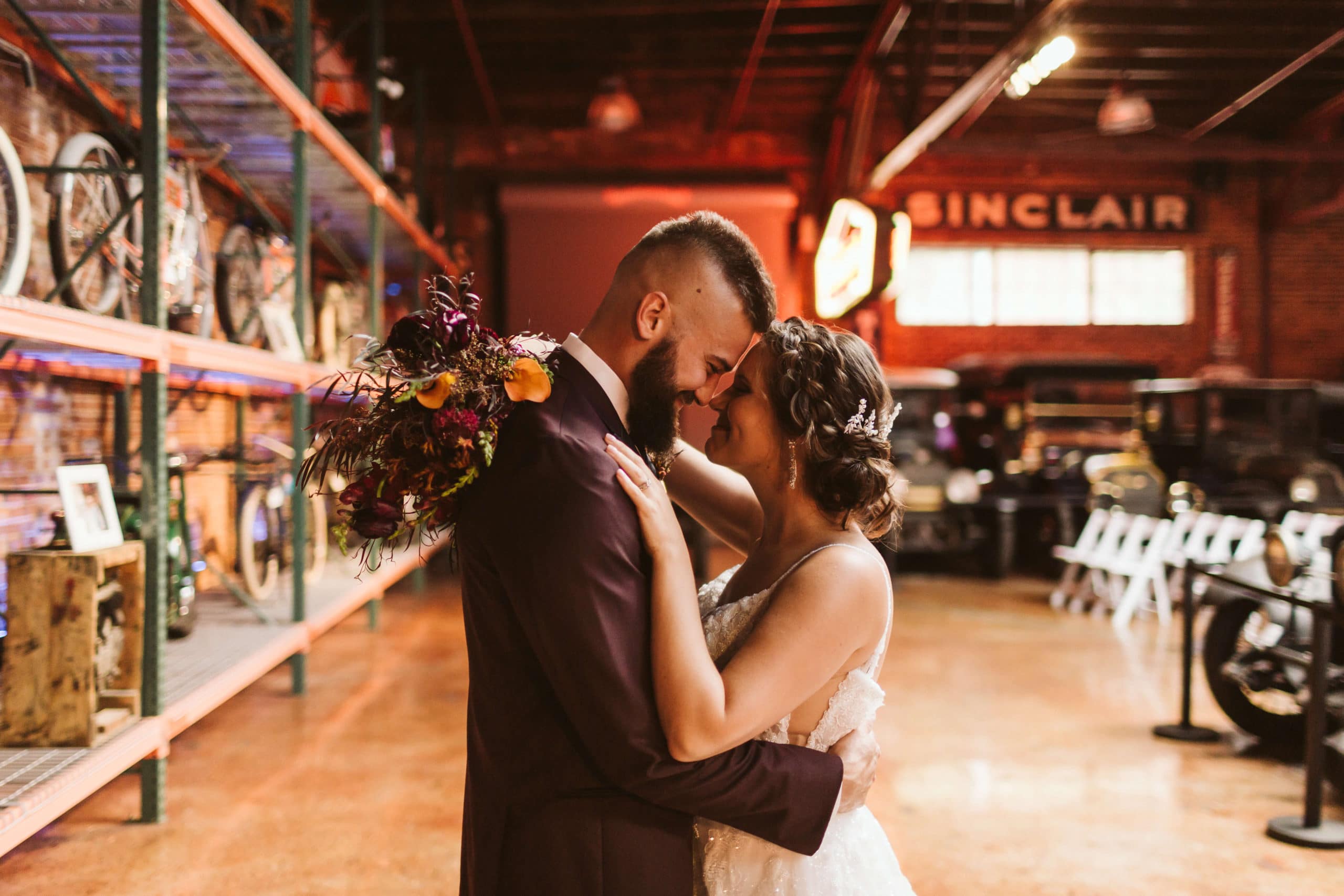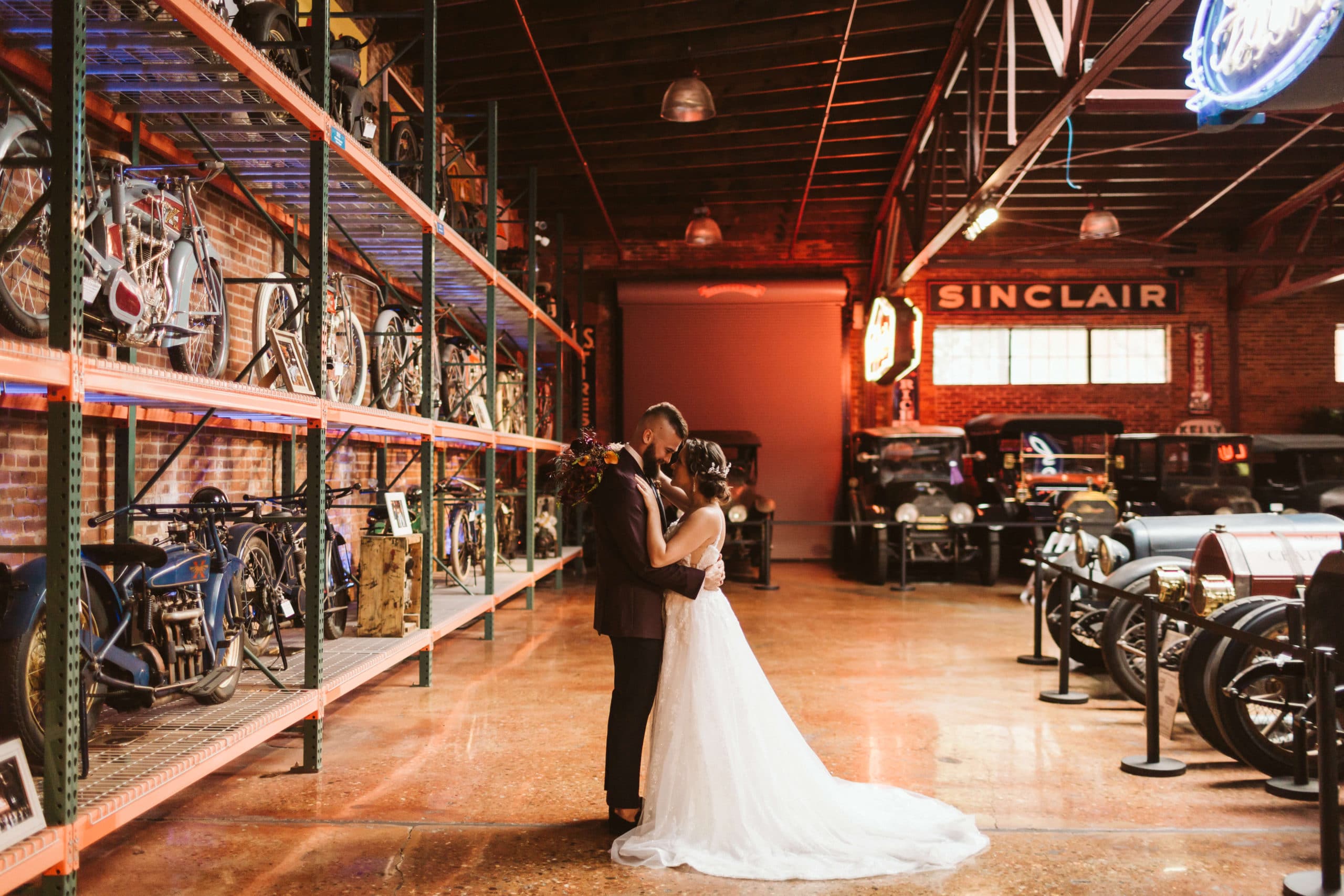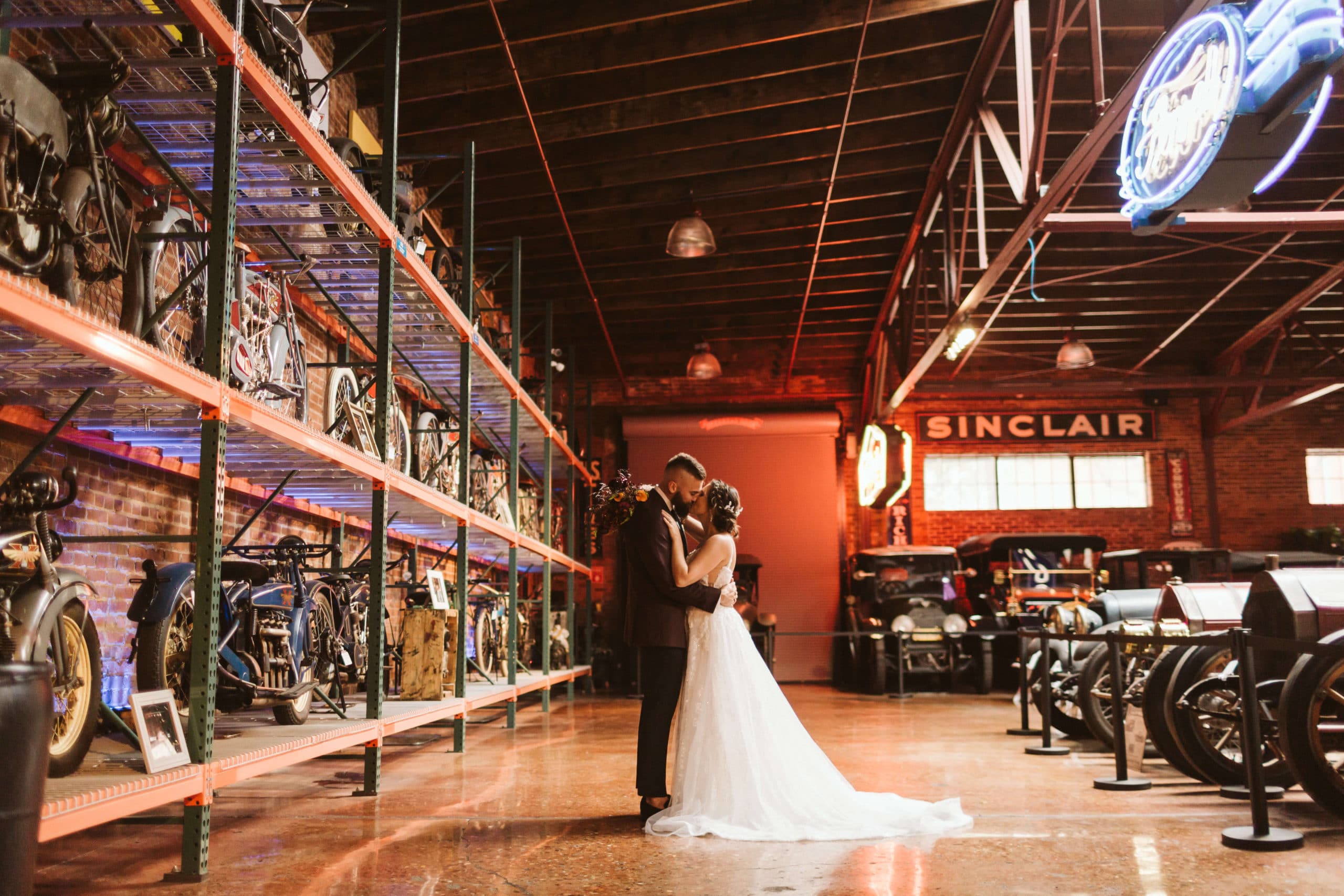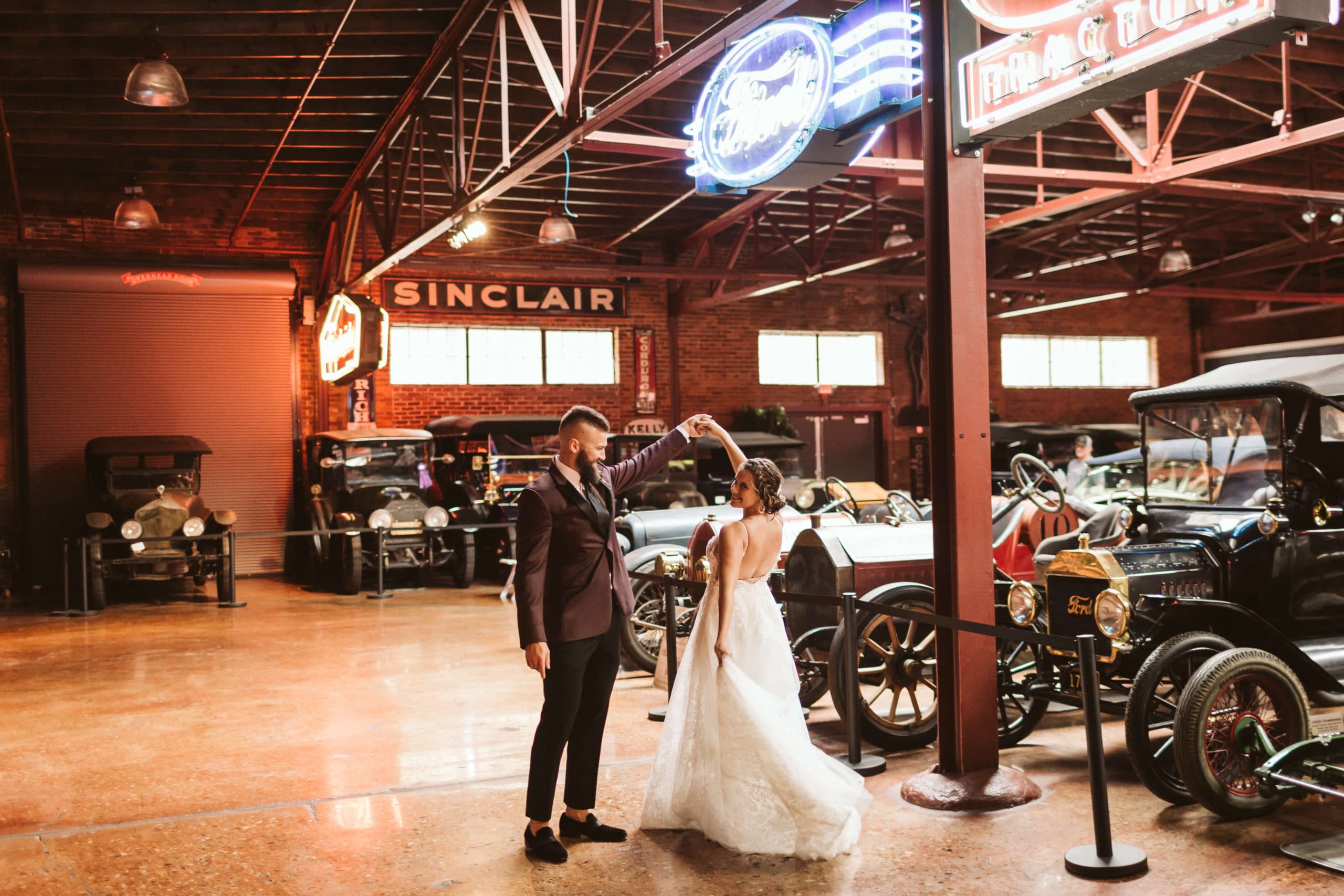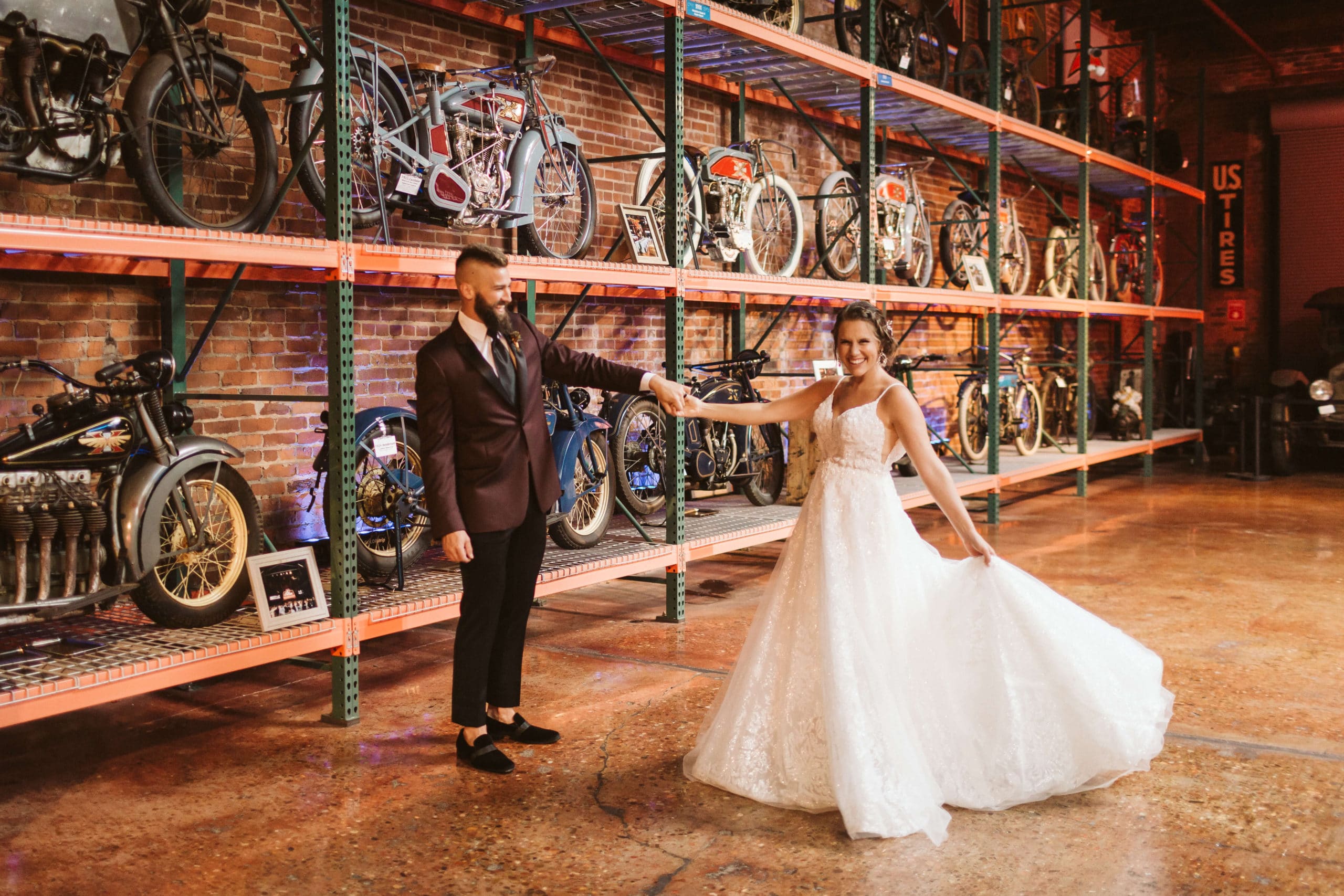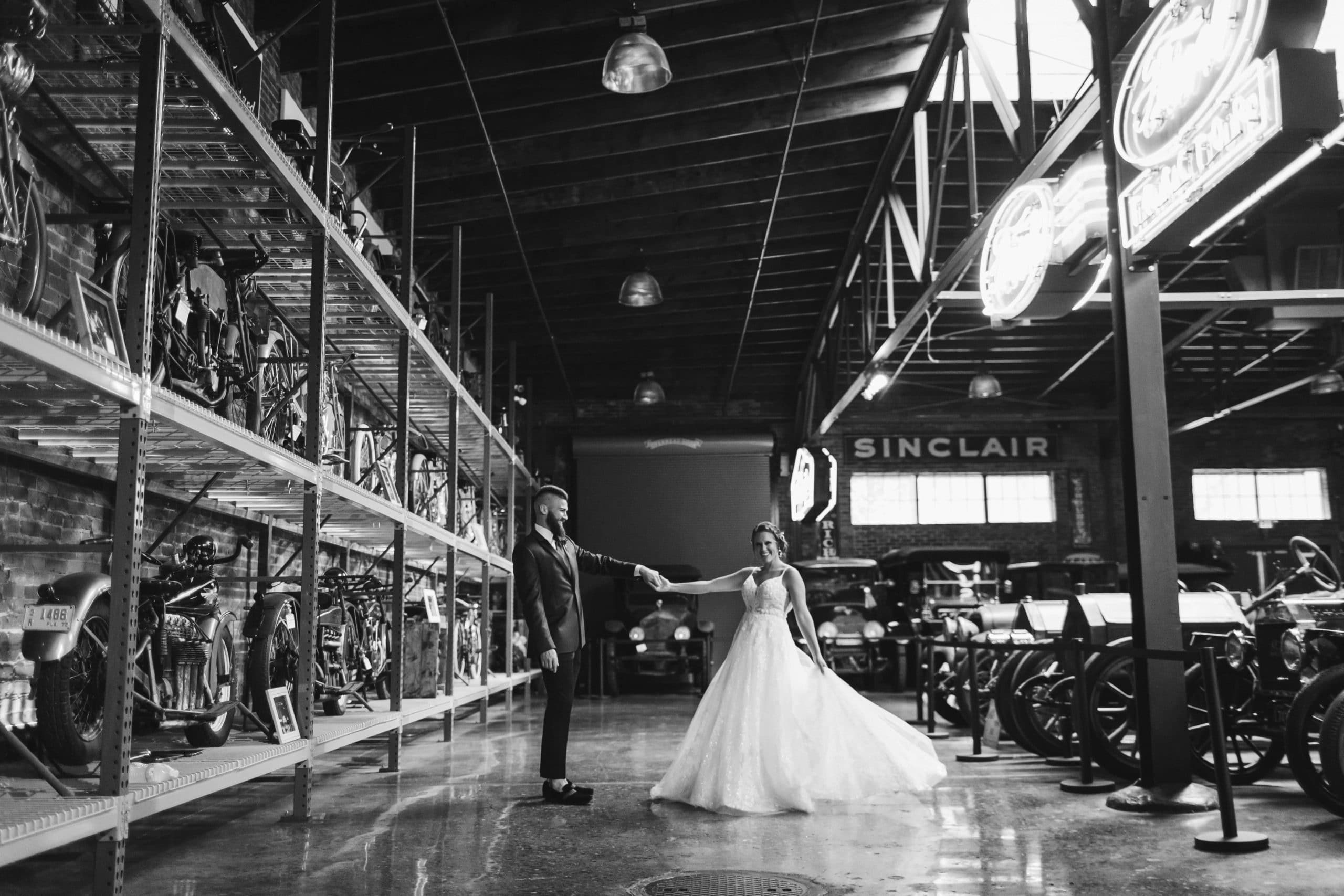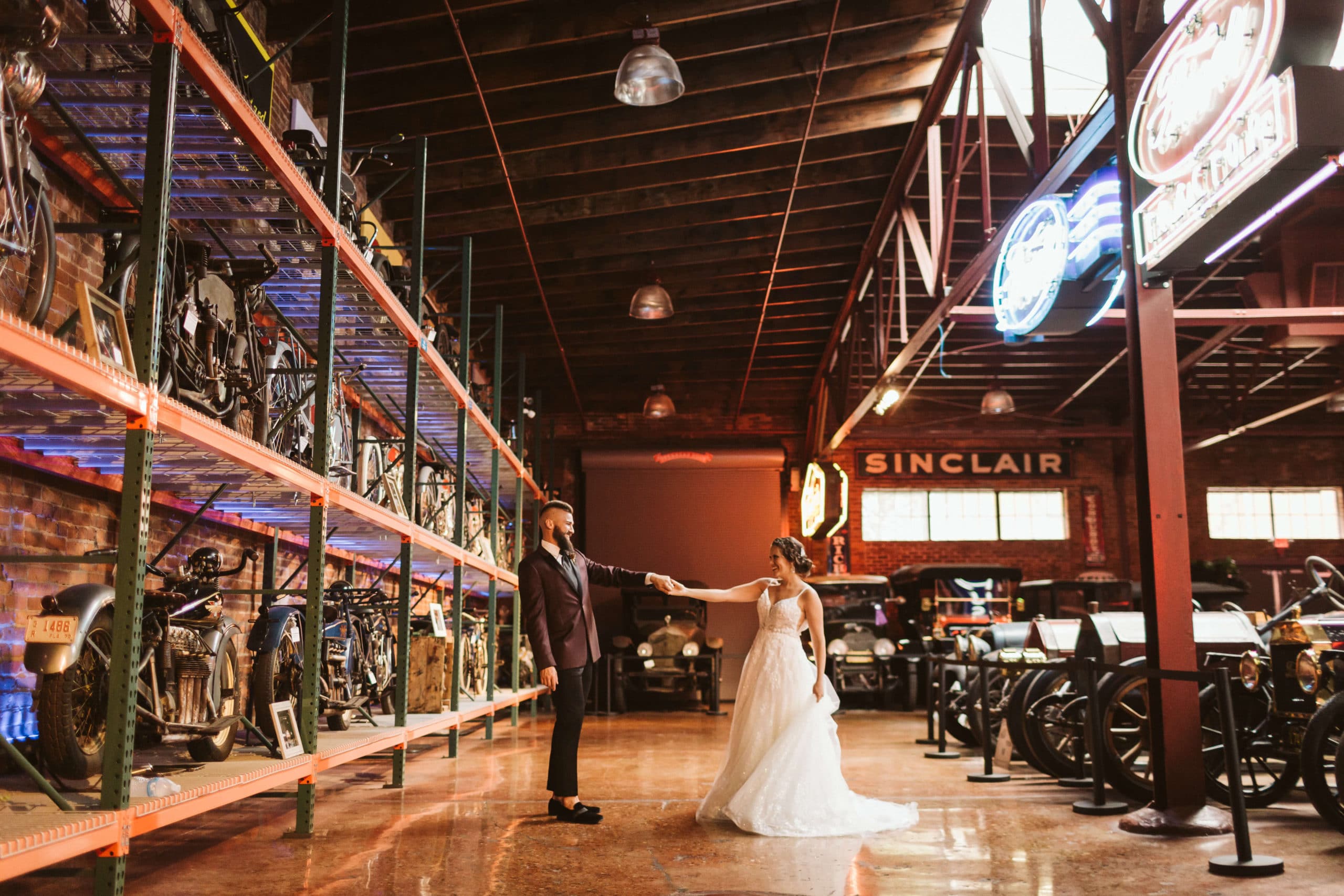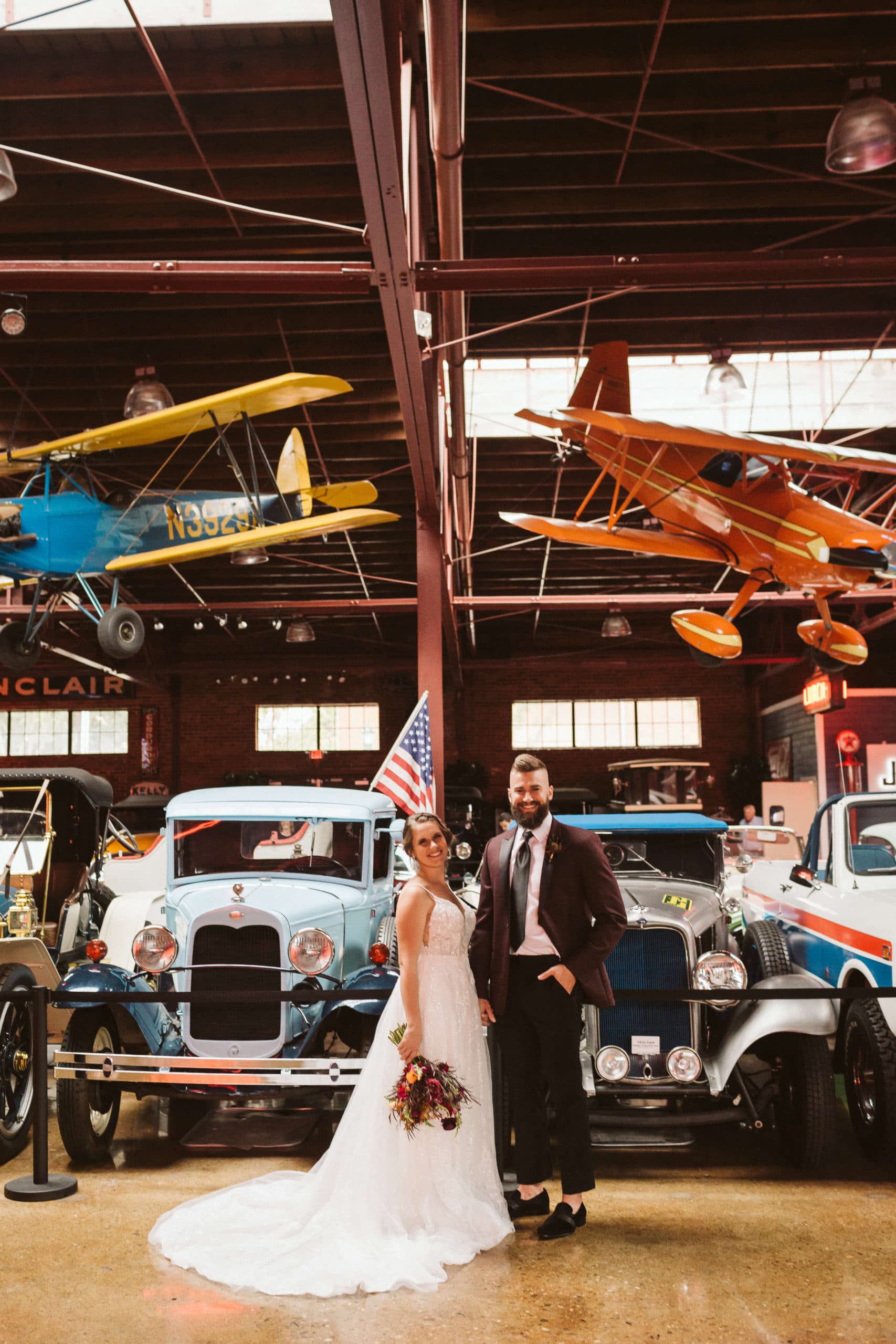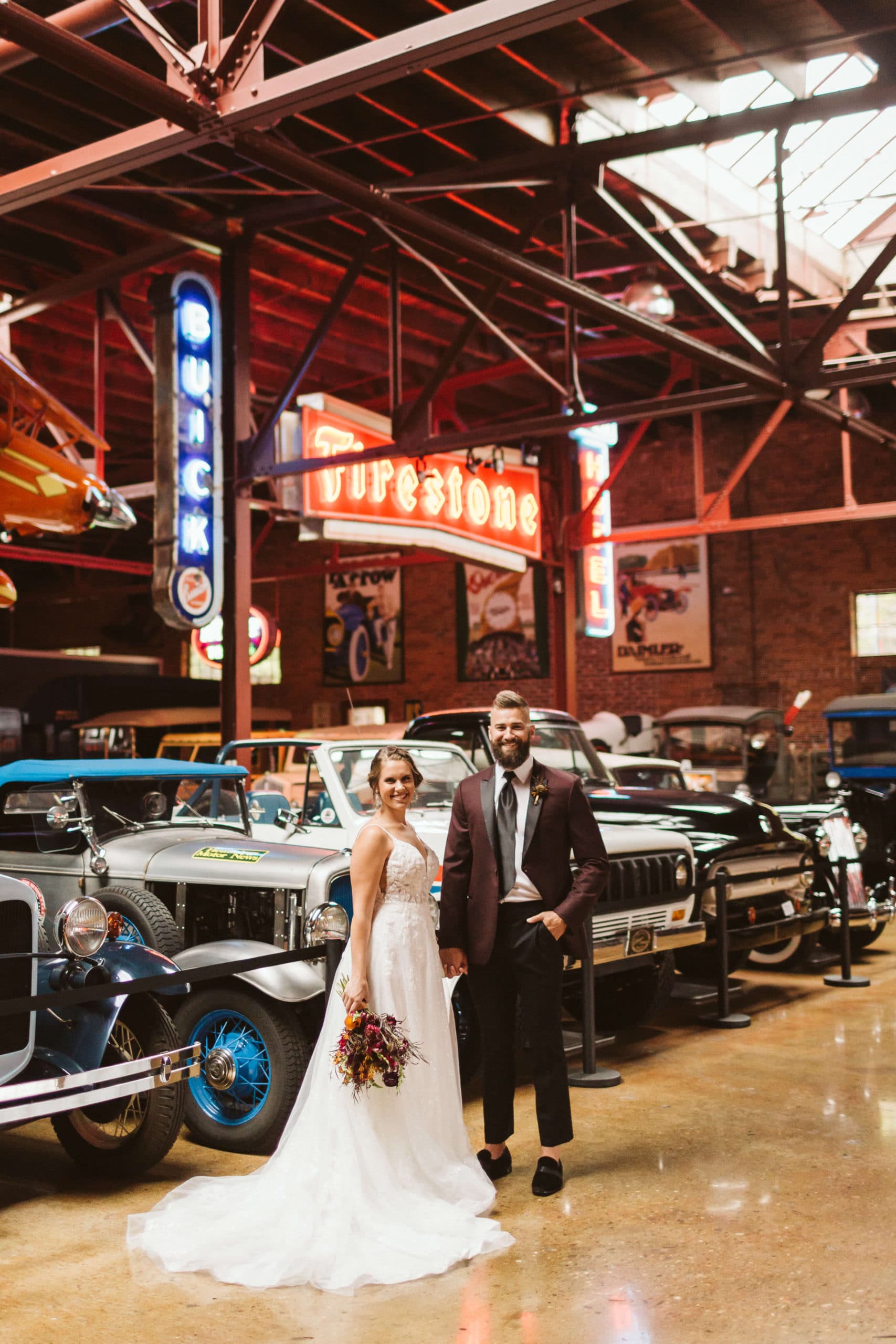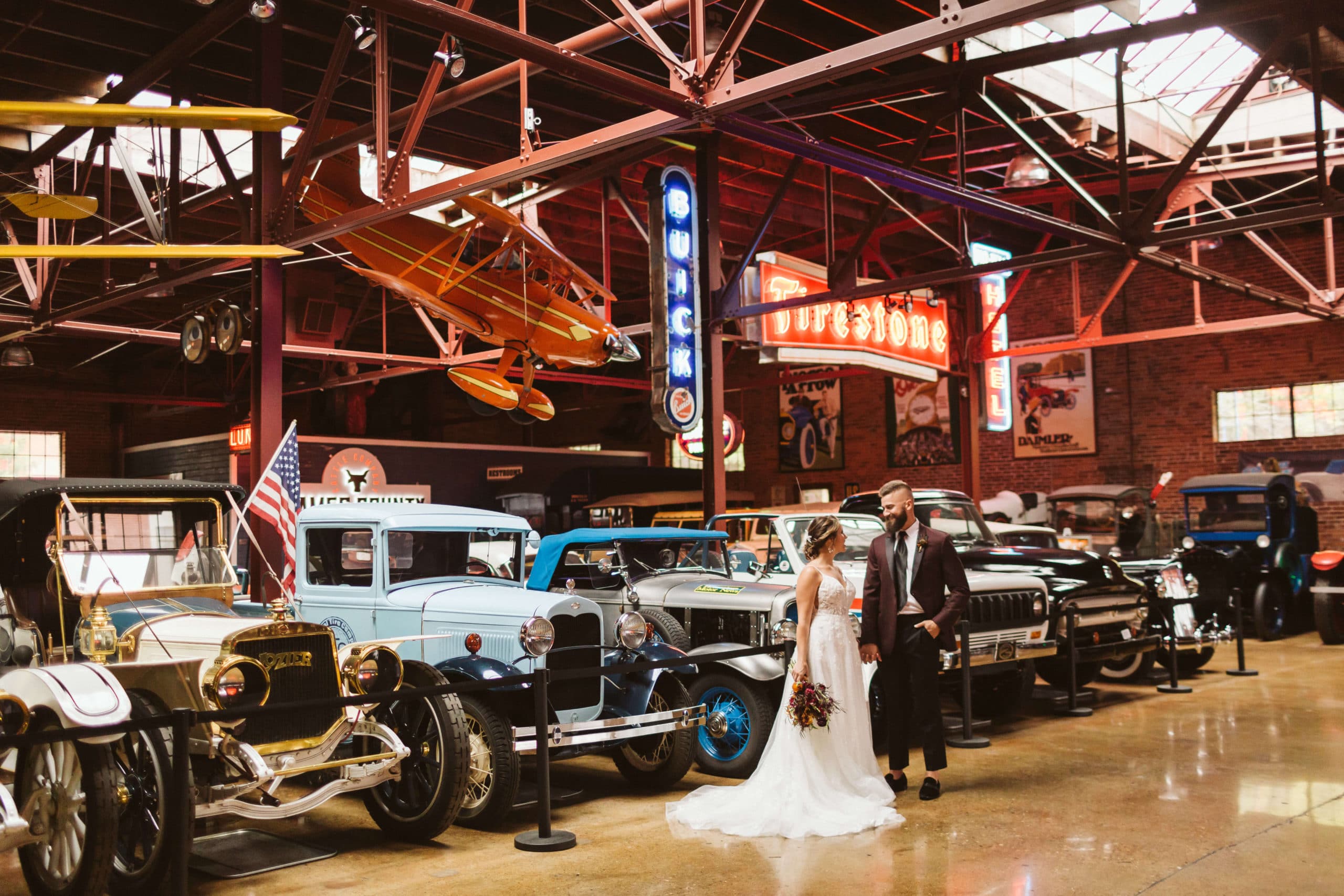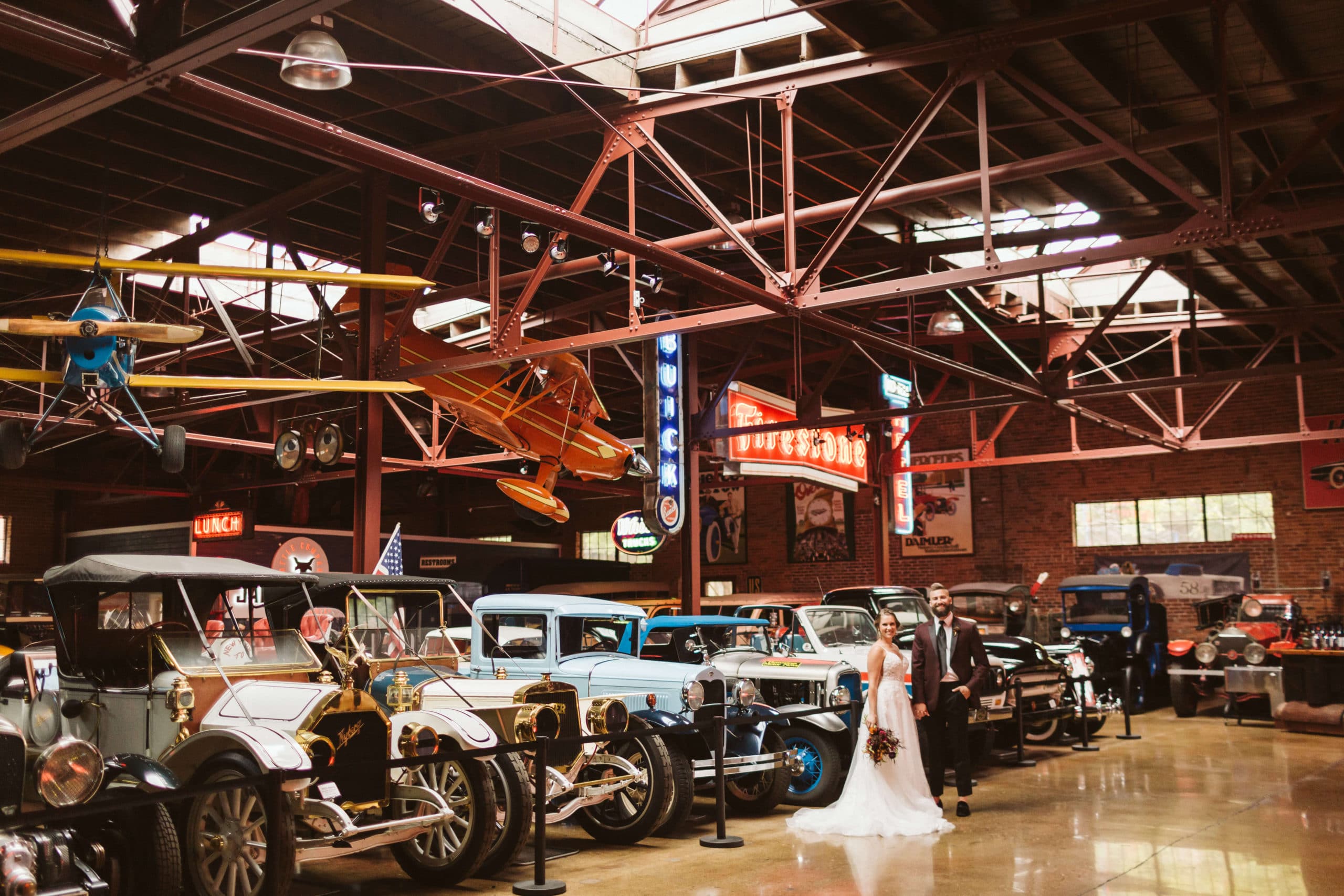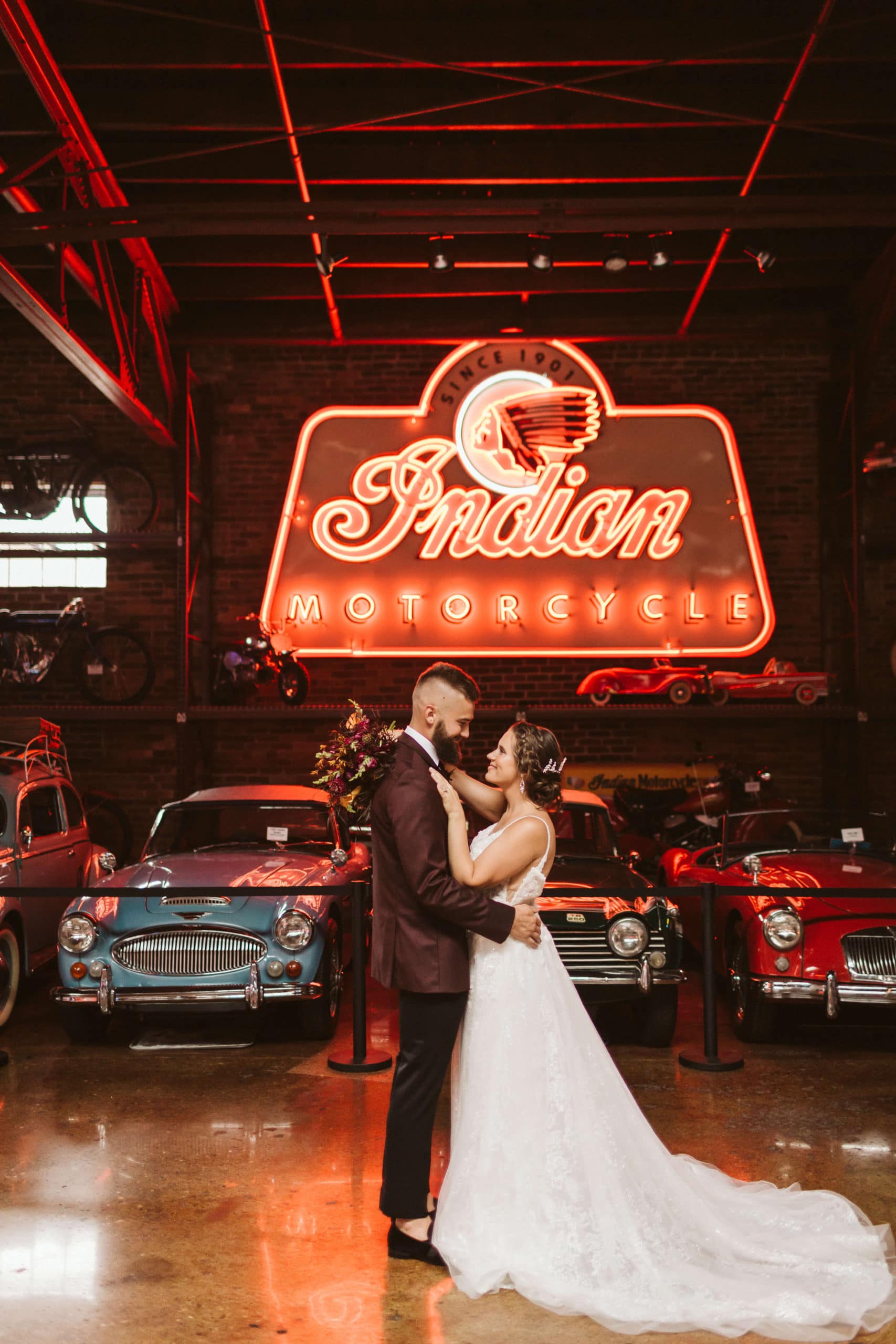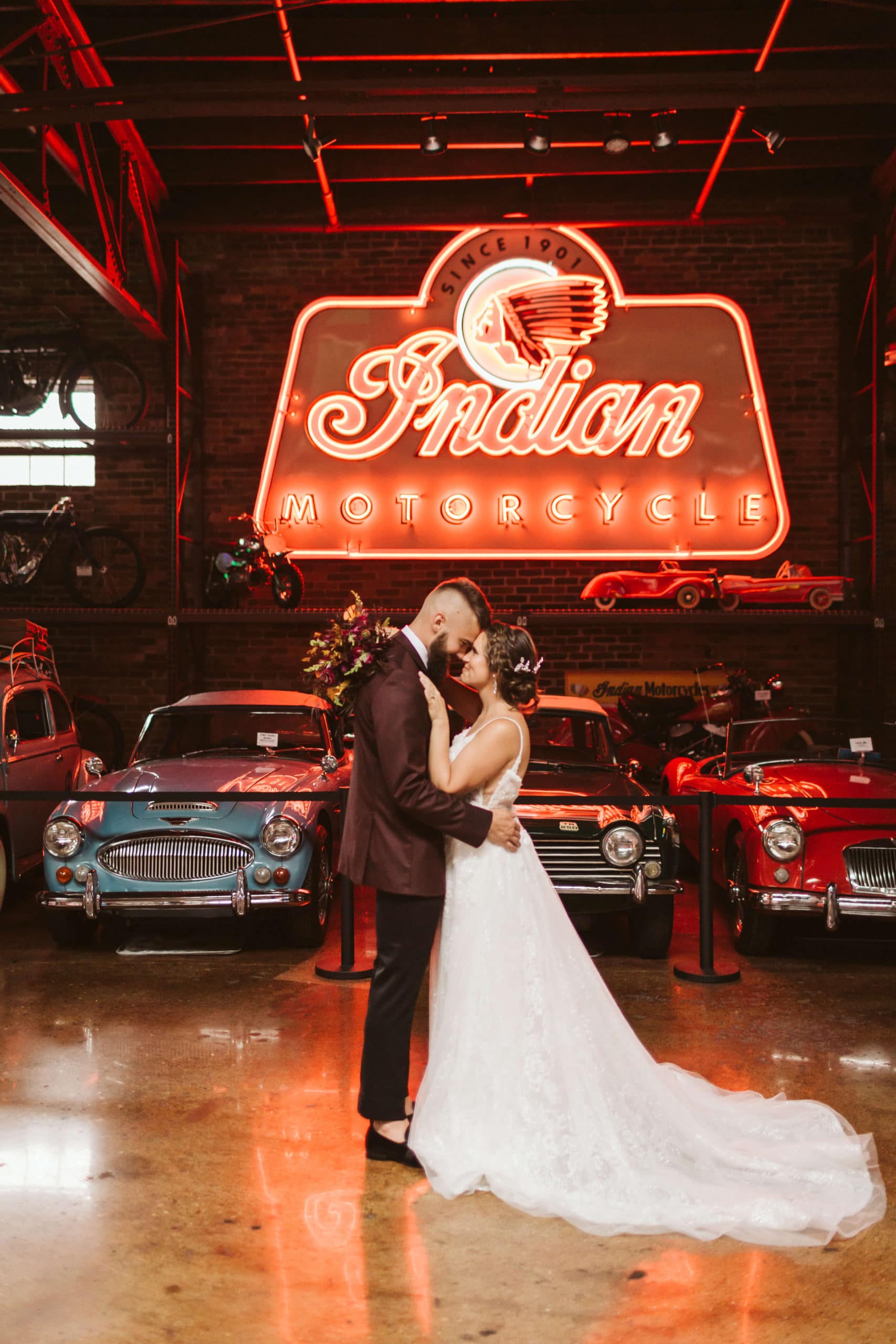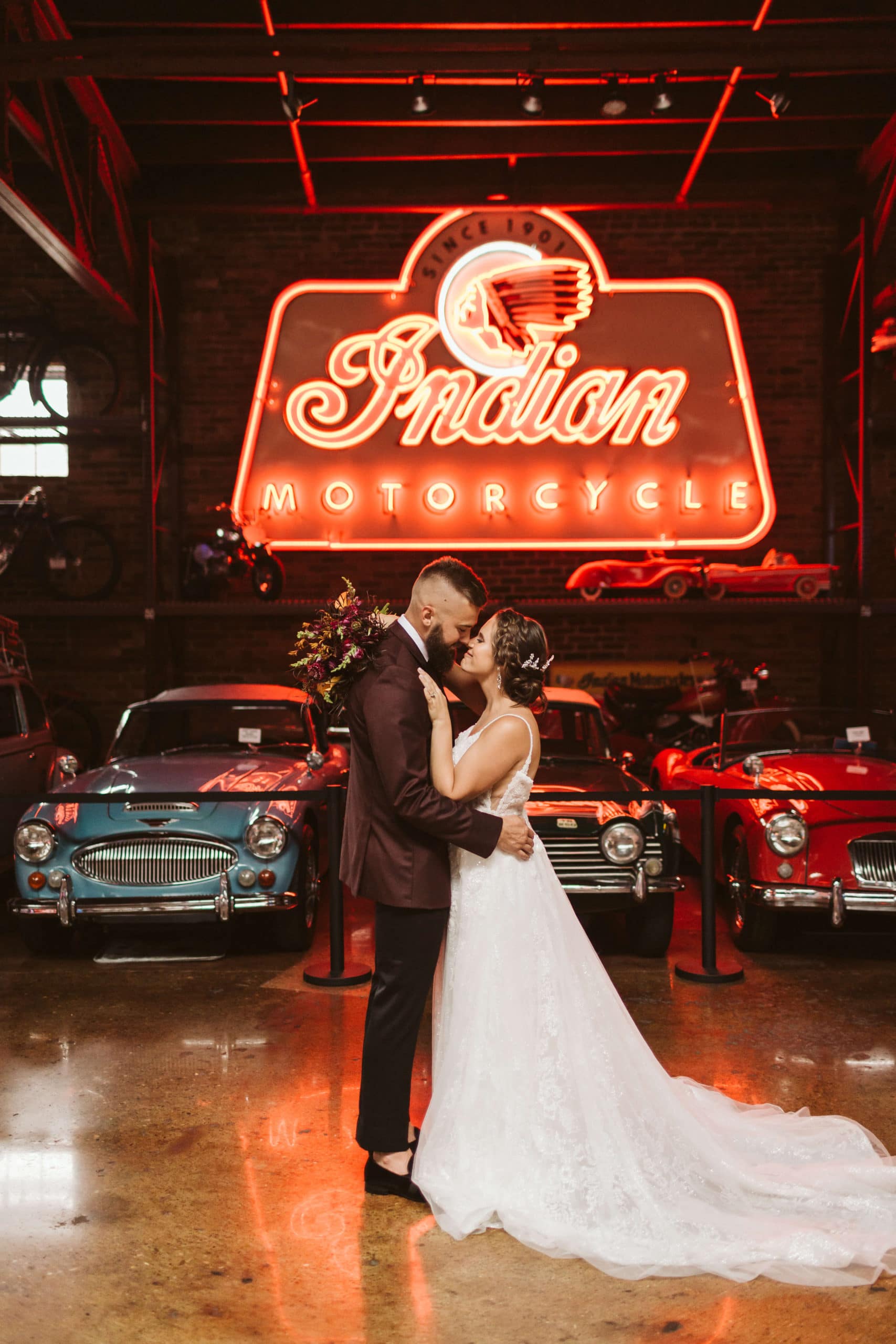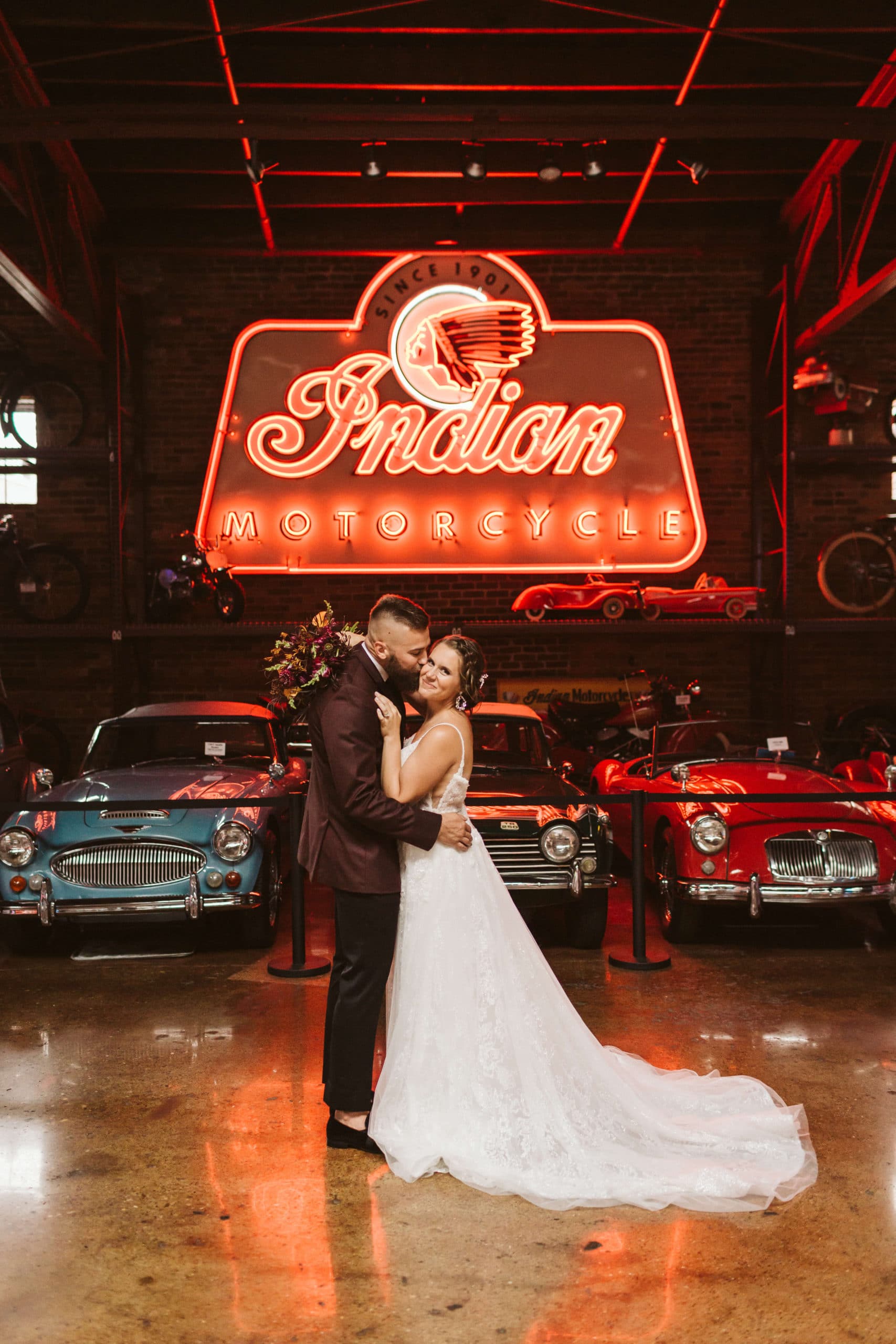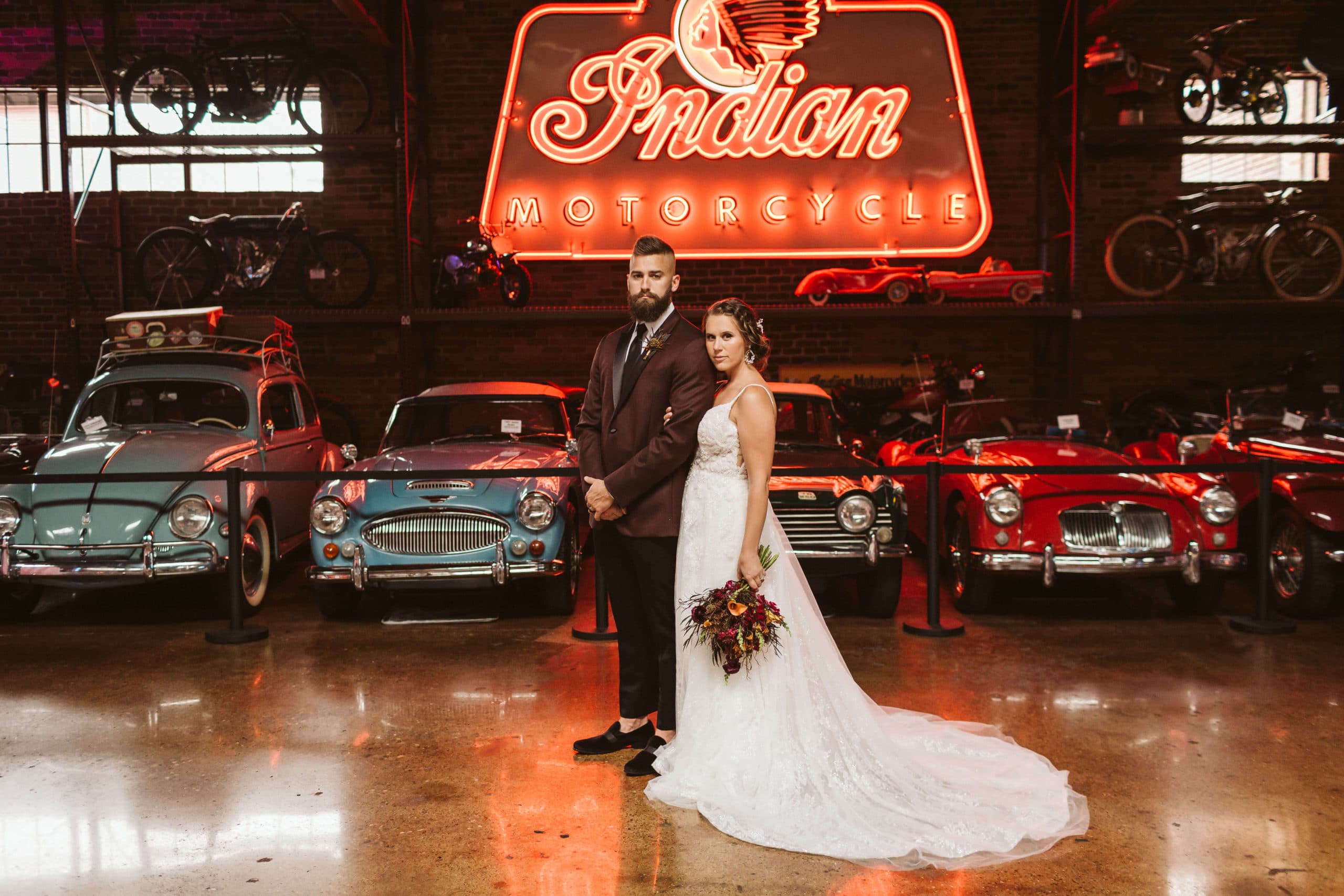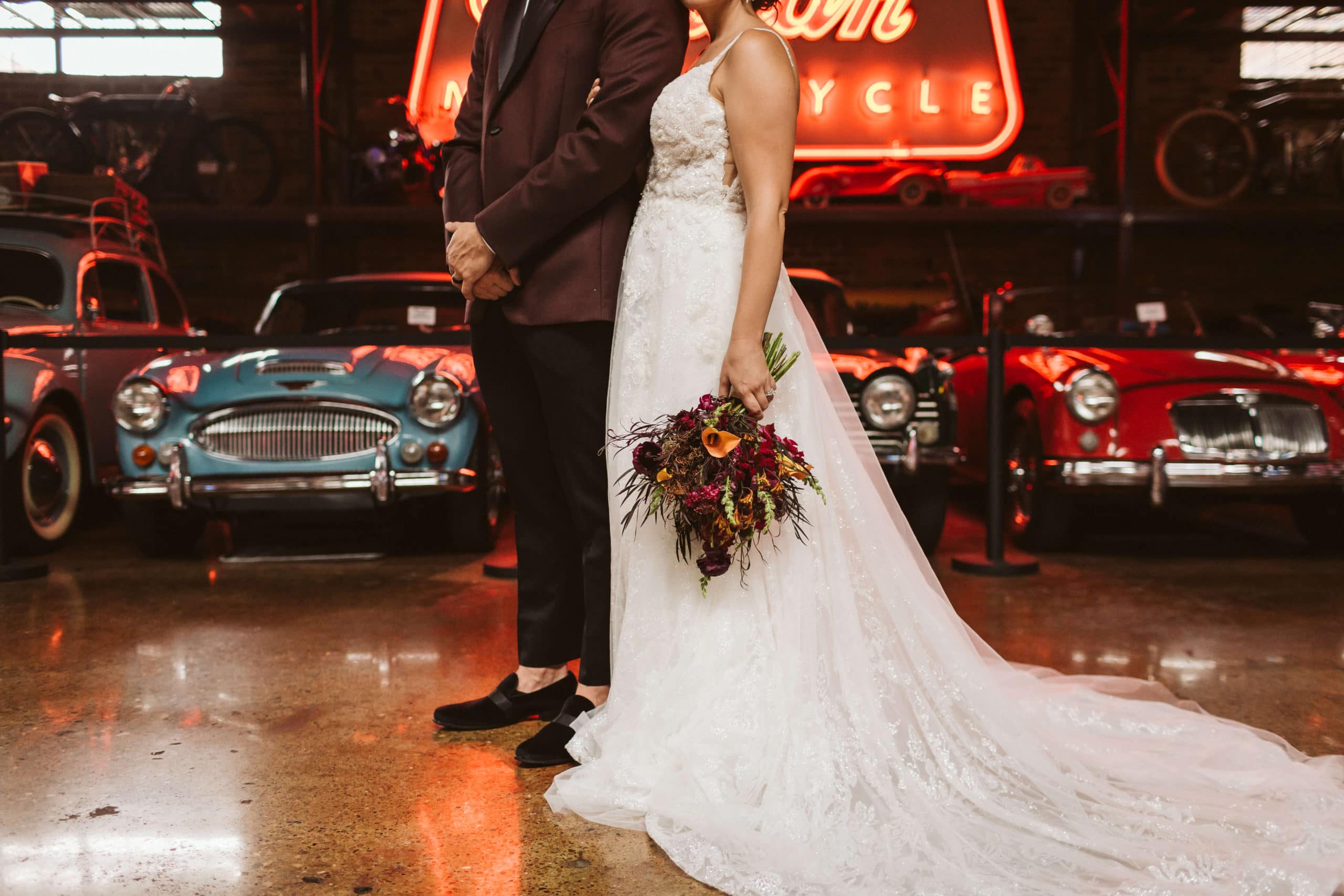 An Unforgettable Ceremony at the Coker Museum
The Coker Museum has been a host to a wide variety of events from weddings to business events at affordable costs. Volkswagen has even been known to regularly rent the space for their corporate gatherings. No matter what kind of event you're hosting, whether big or small, choosing the Coker Museum as your venue is sure to be a memorable occasion.
When it comes to weddings, the museum is versatile enough to hold everything from intimate elopements to full-scale weddings. They can provide a stage for you to hold your ceremony along with standard folding chairs for all of your guests. Depending how you choose to use the space, staff will move and relocate the cars to accommodate your event. However, it's up to you to decide how few or how many cars you would like showcased during your event.
For this styled shoot, space was cleared so we could hold a ceremony in front of the huge motorcycle wall. The wall was completely covered from floor to ceiling with vintage motorcycles dating back to the first motorcycles ever produced in the early 20th century. It's a sight that needs to be seen in person to truly appreciate its magnitude which, in turn, makes it a striking and unforgettable place to hold your ceremony.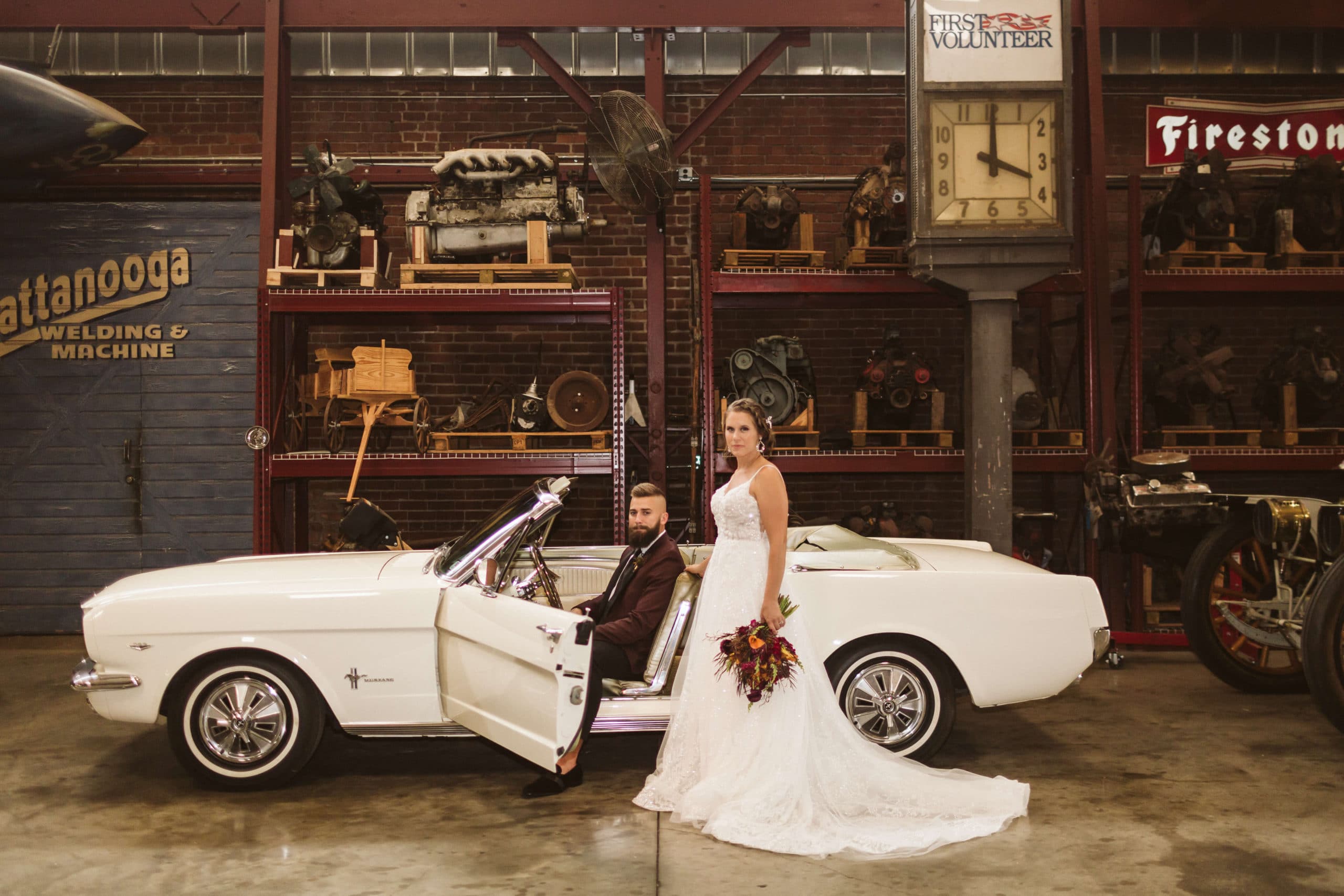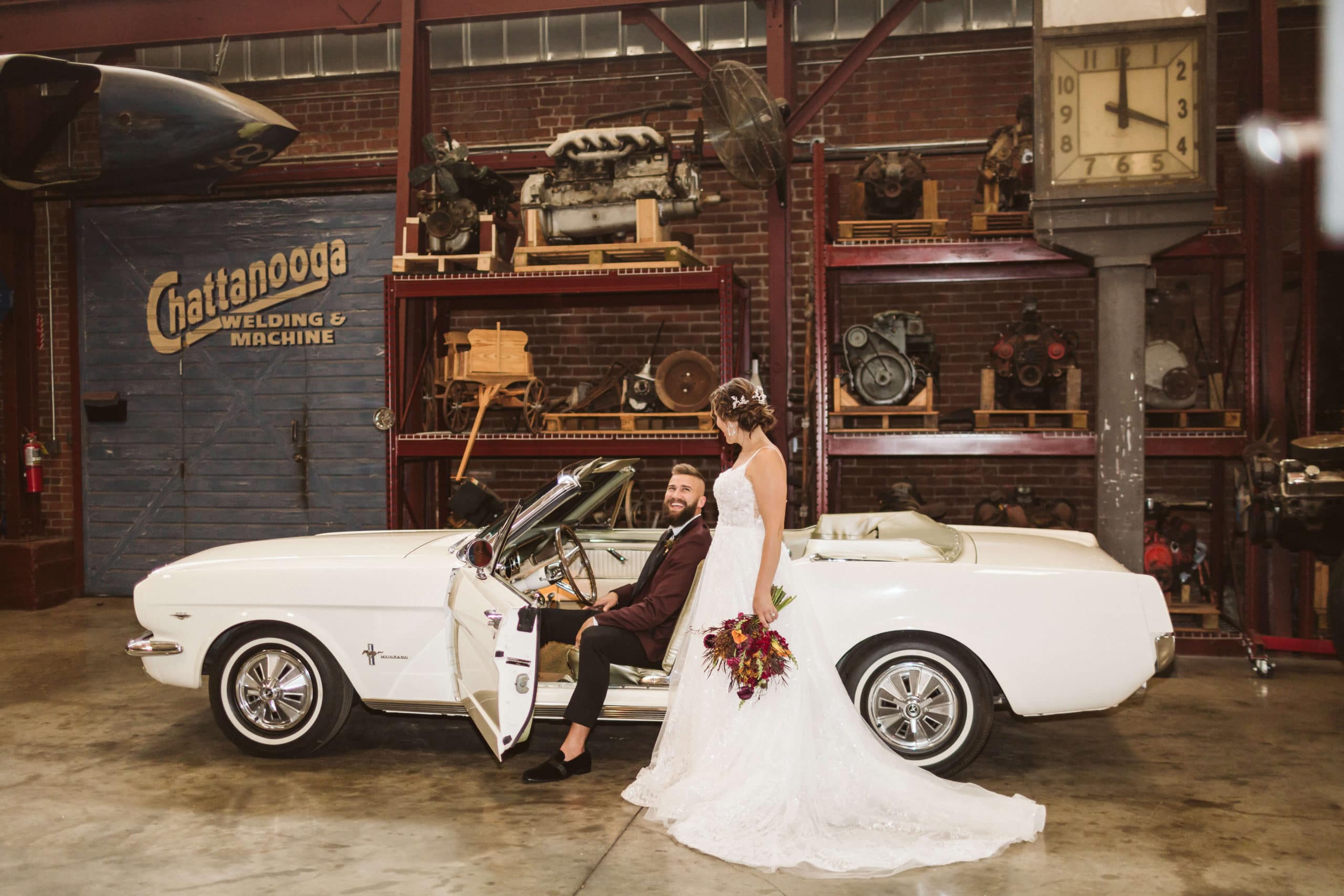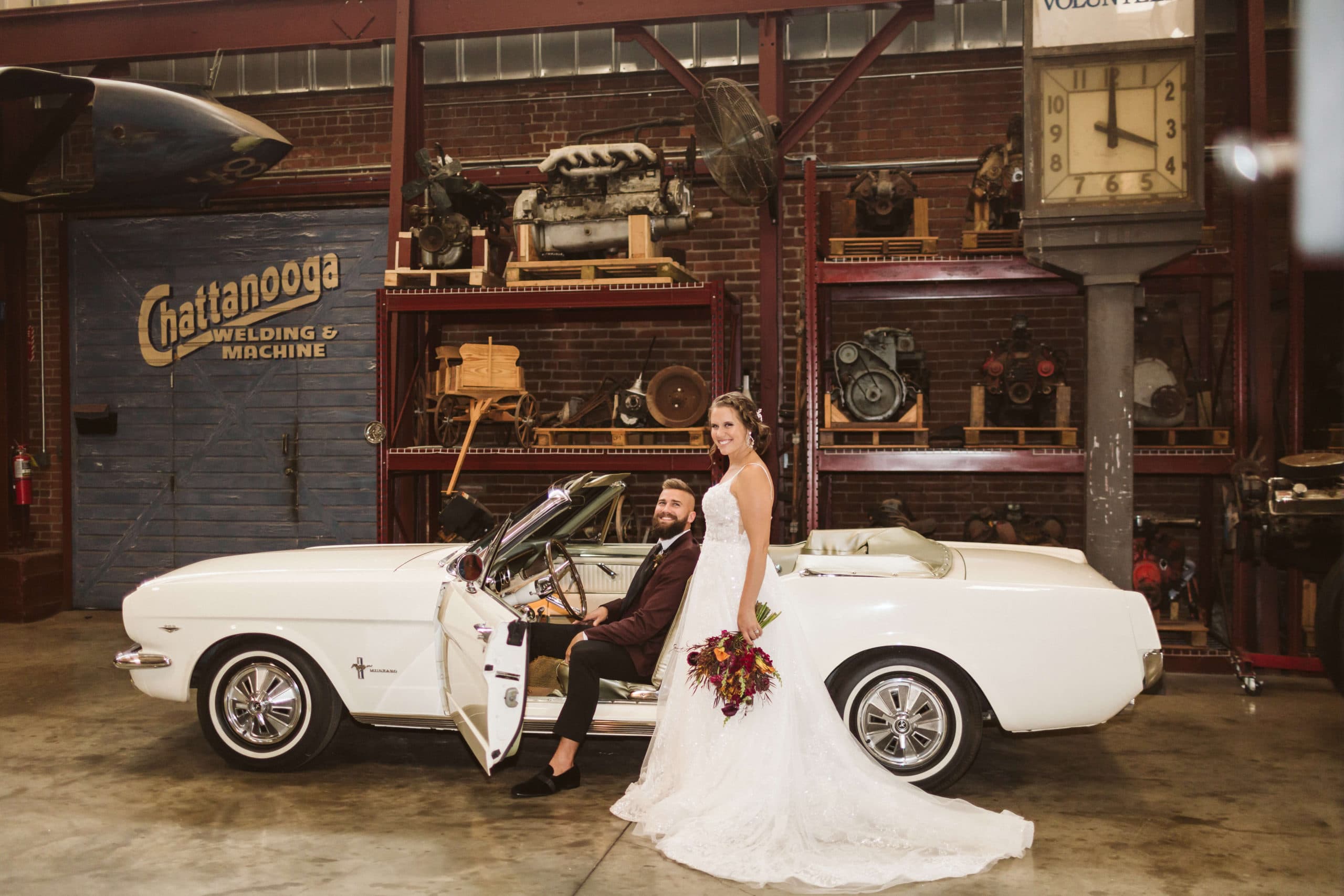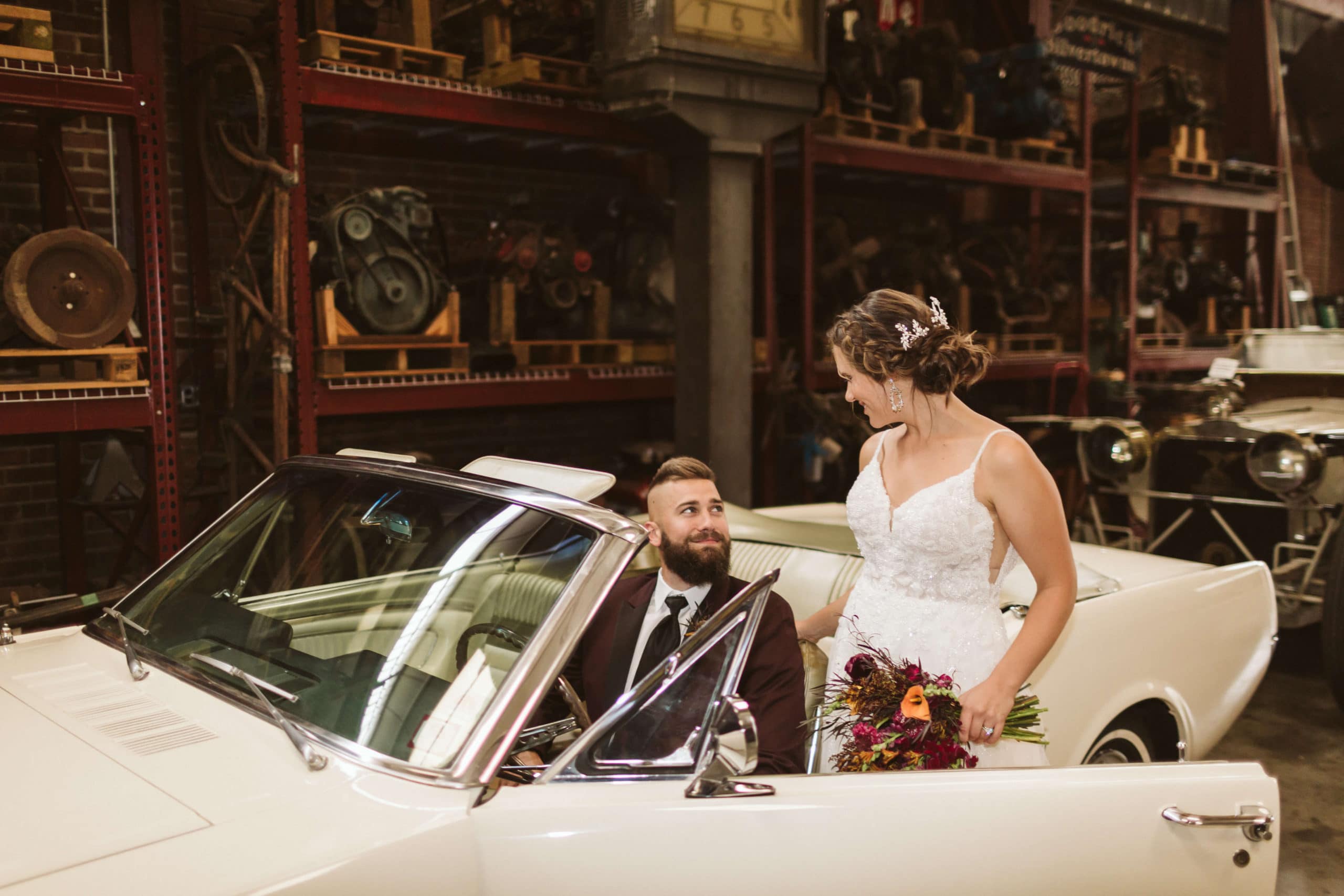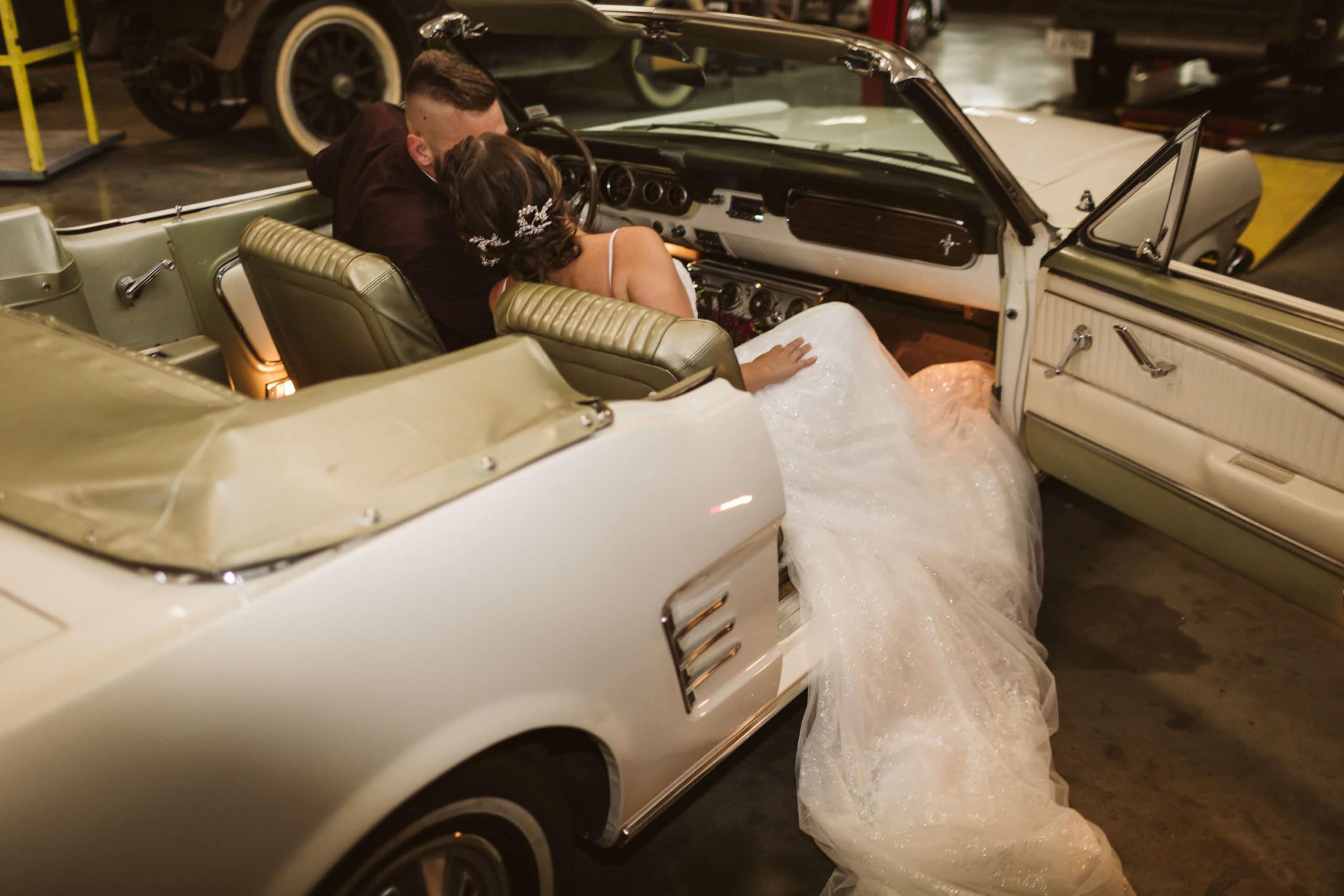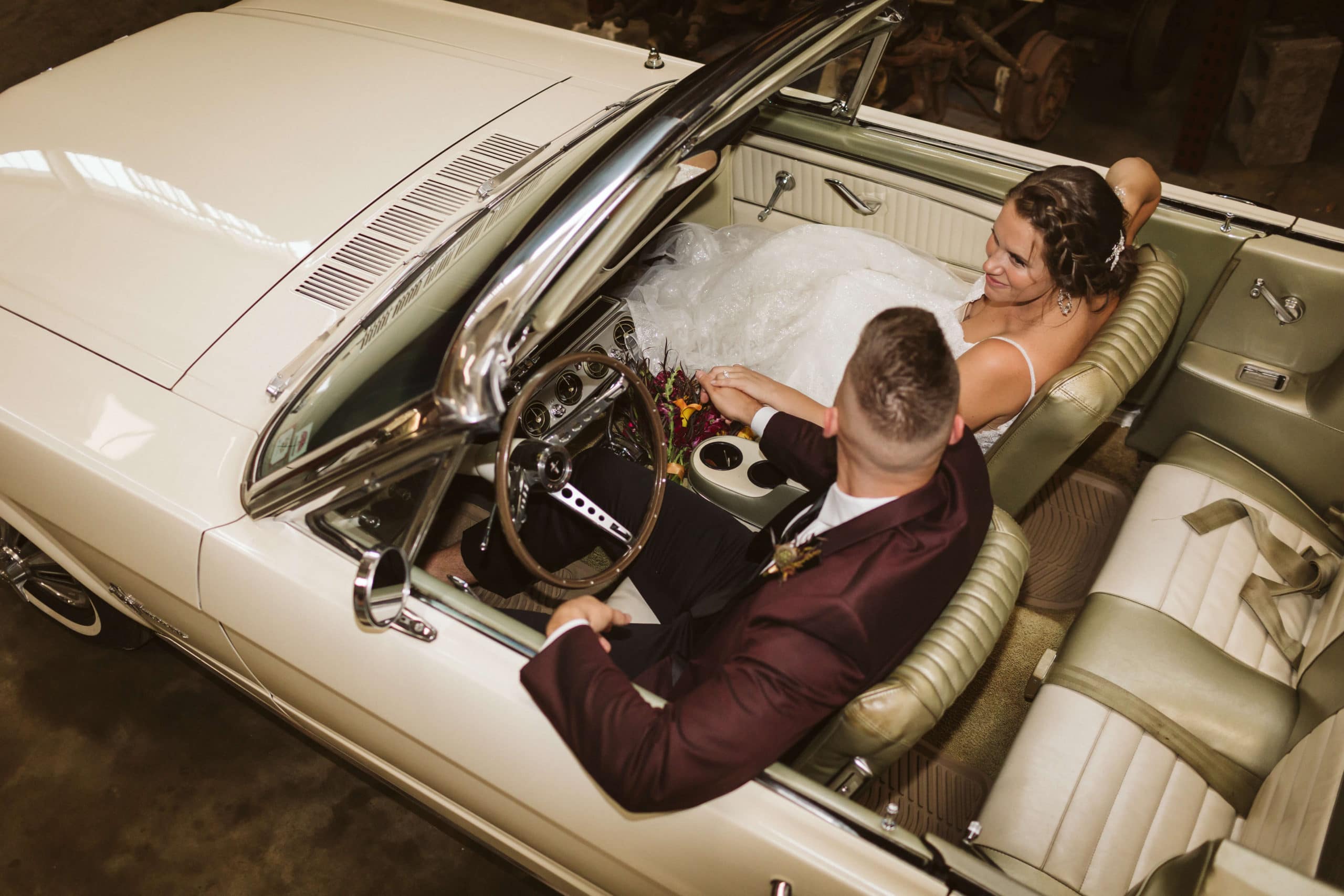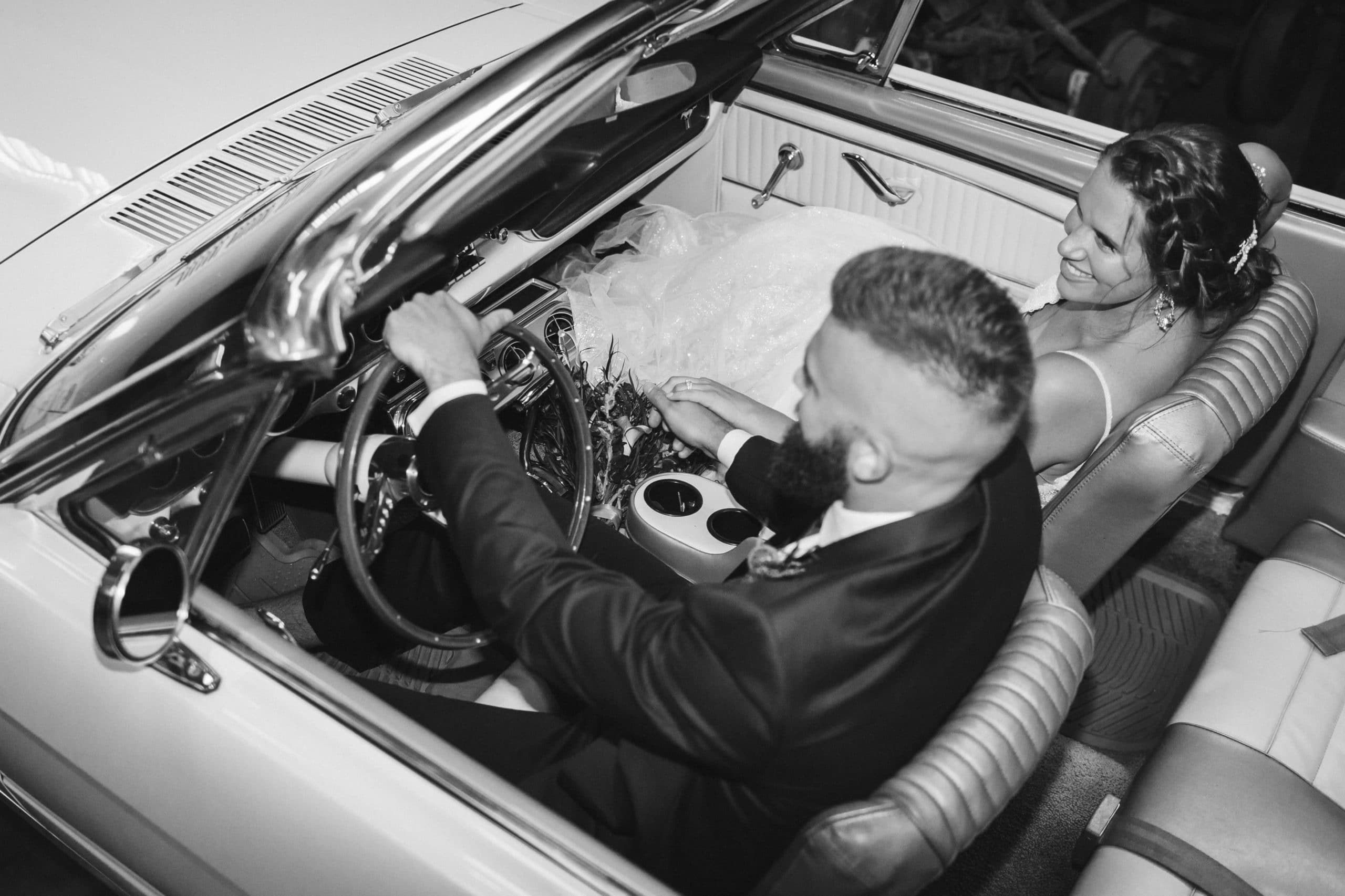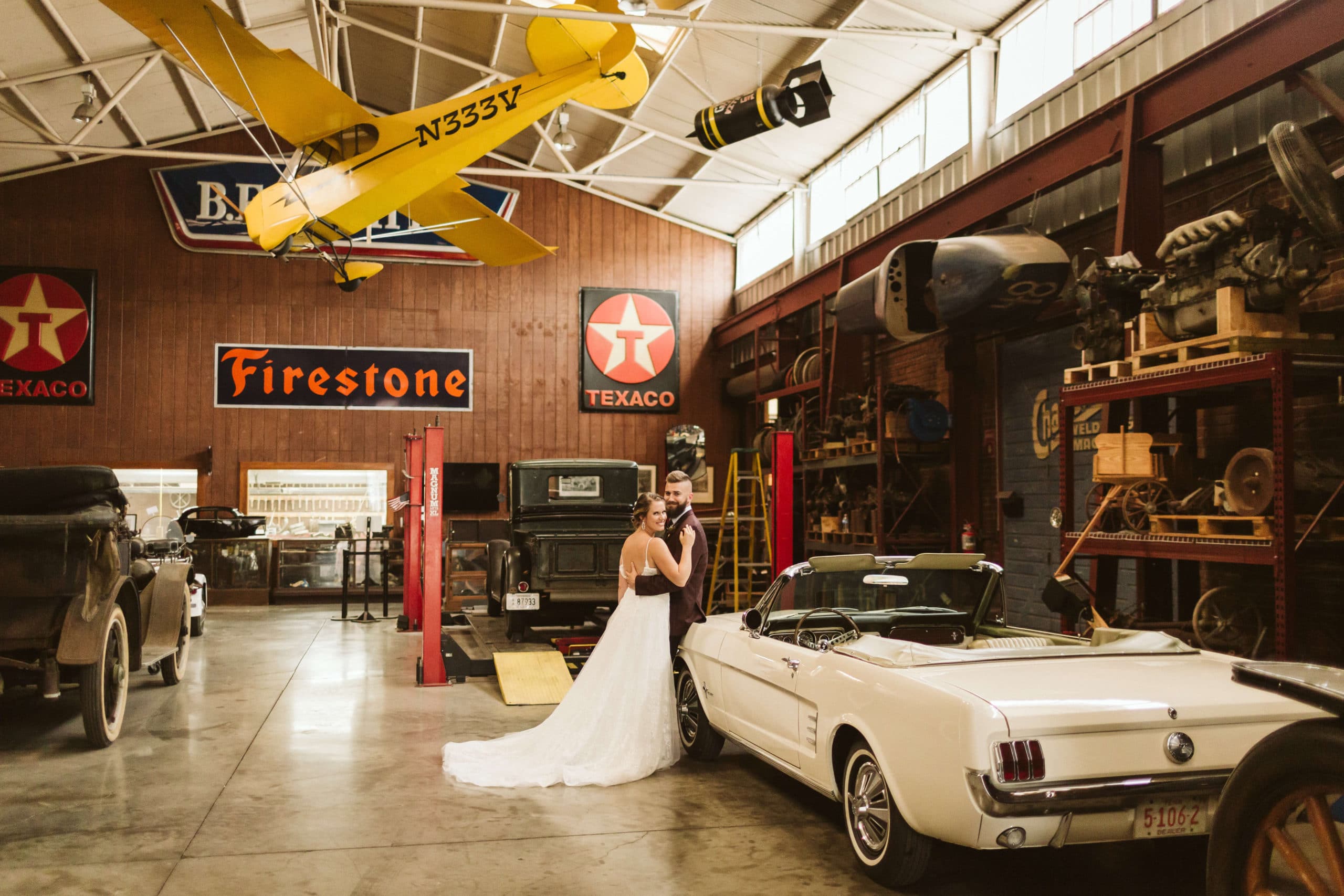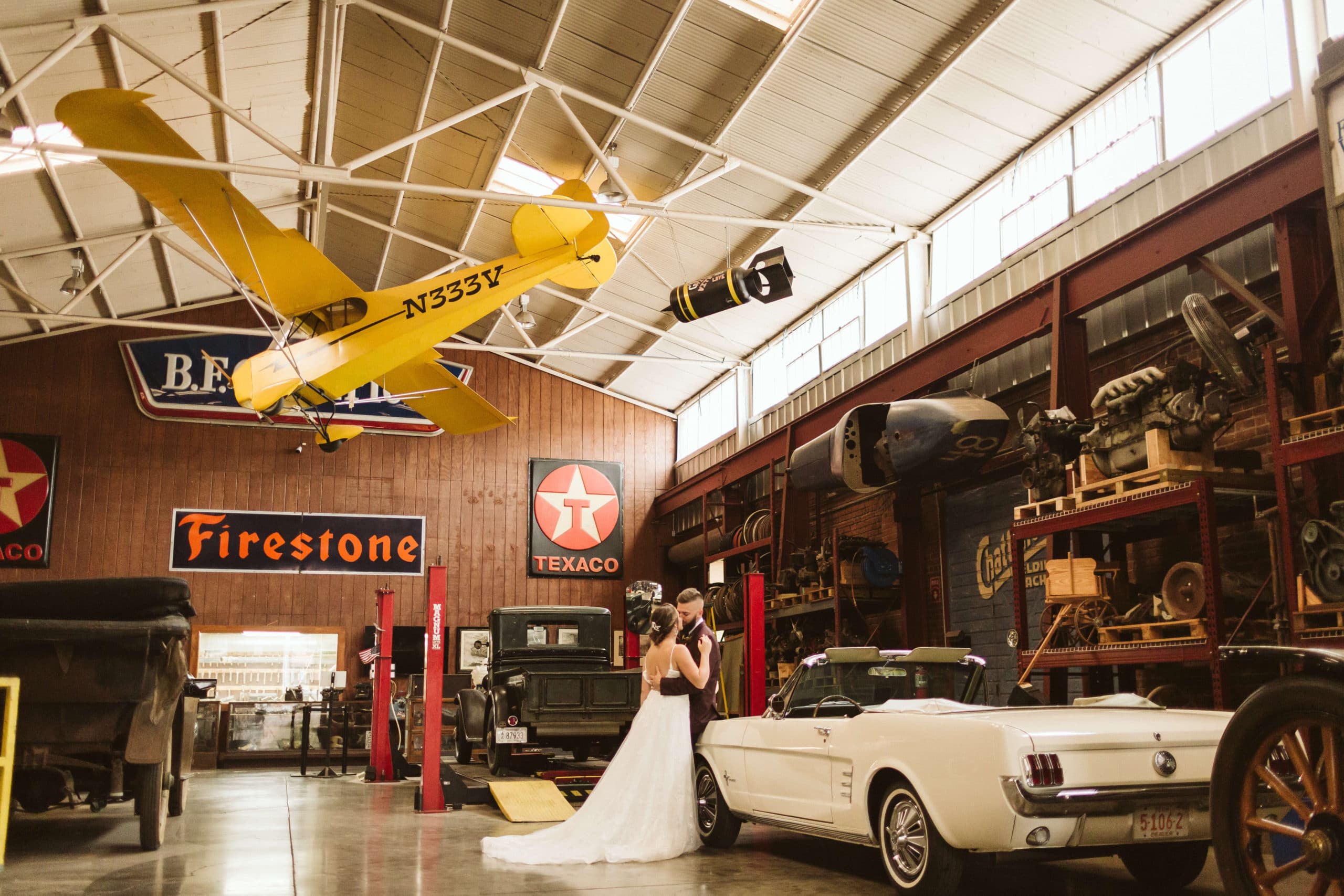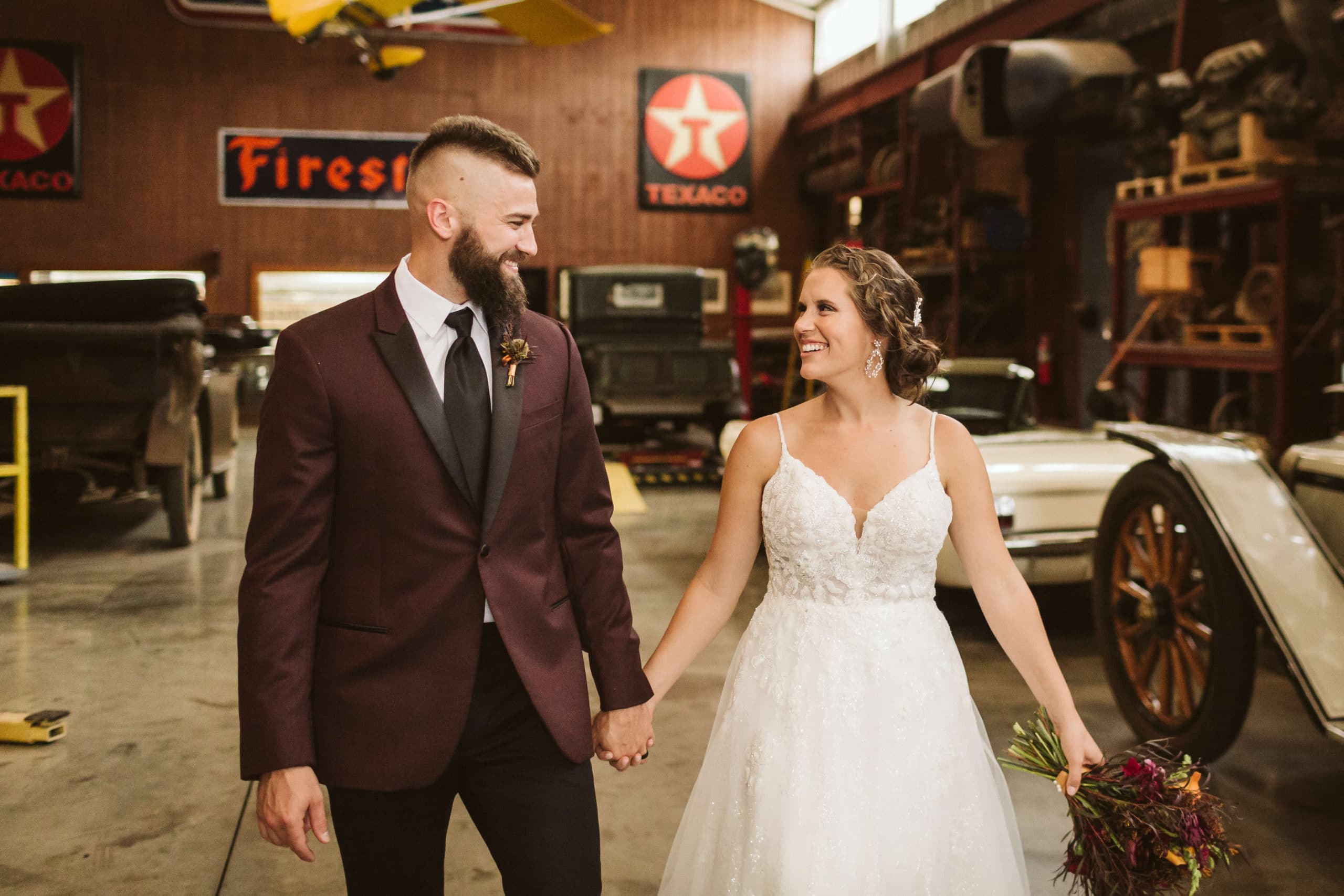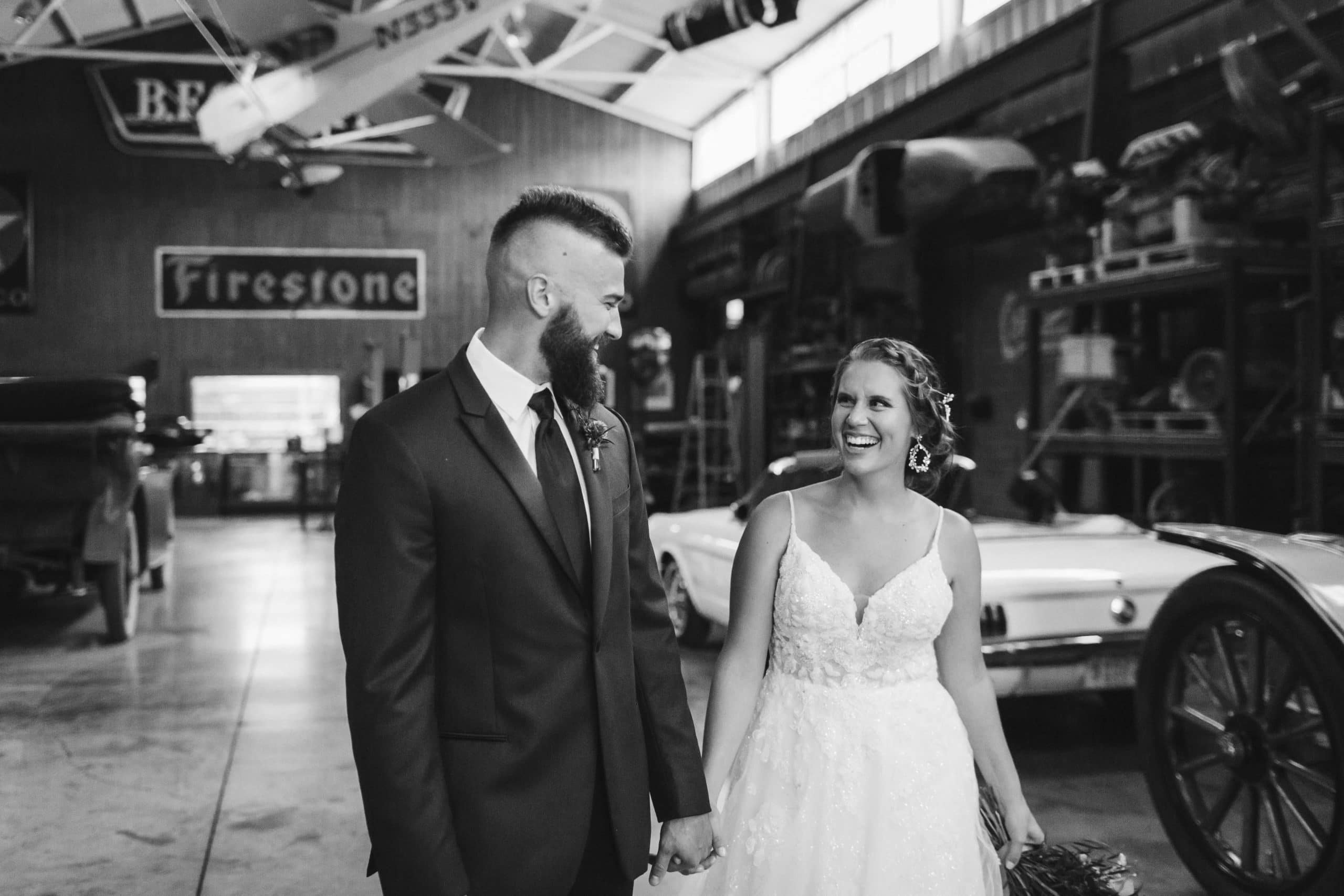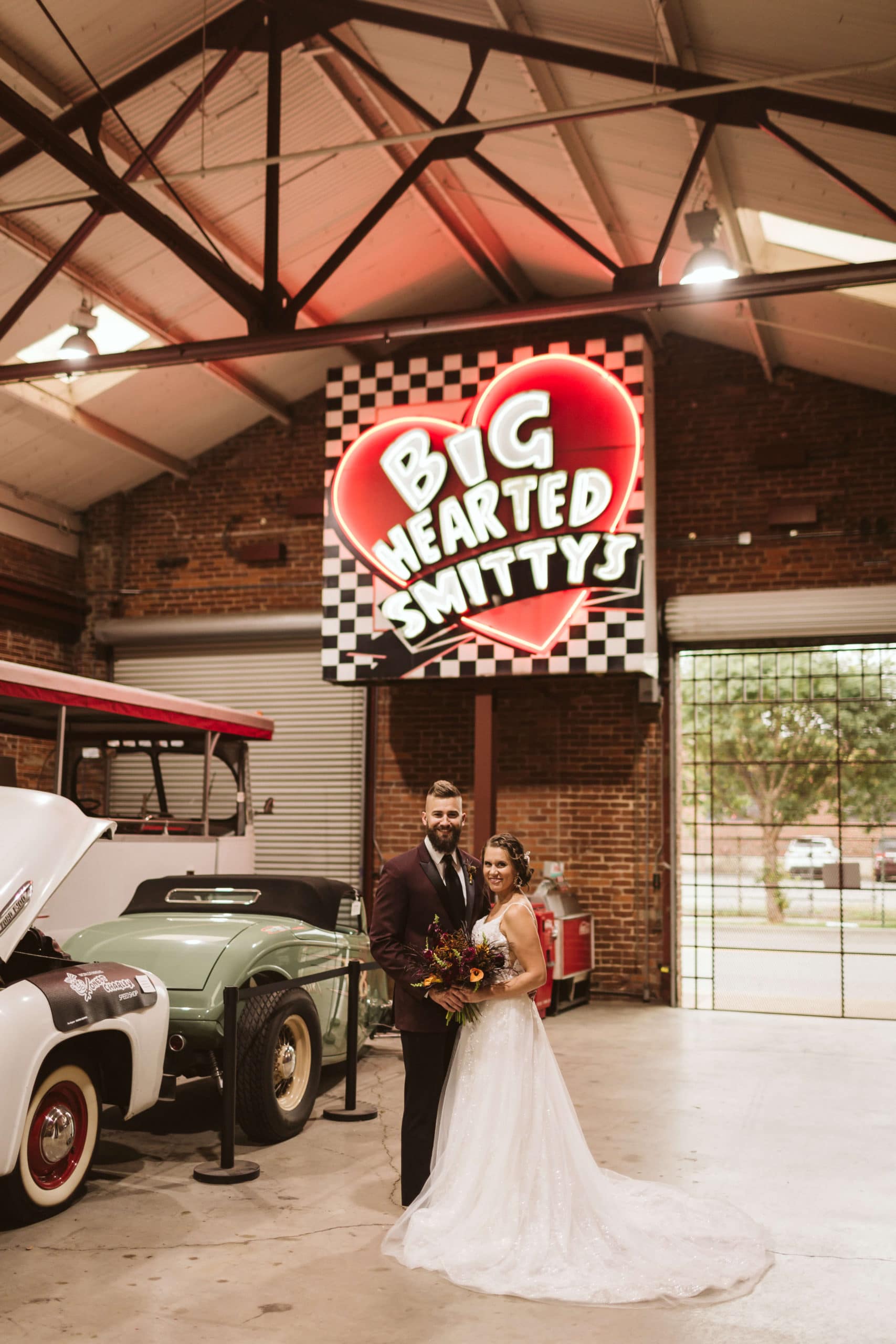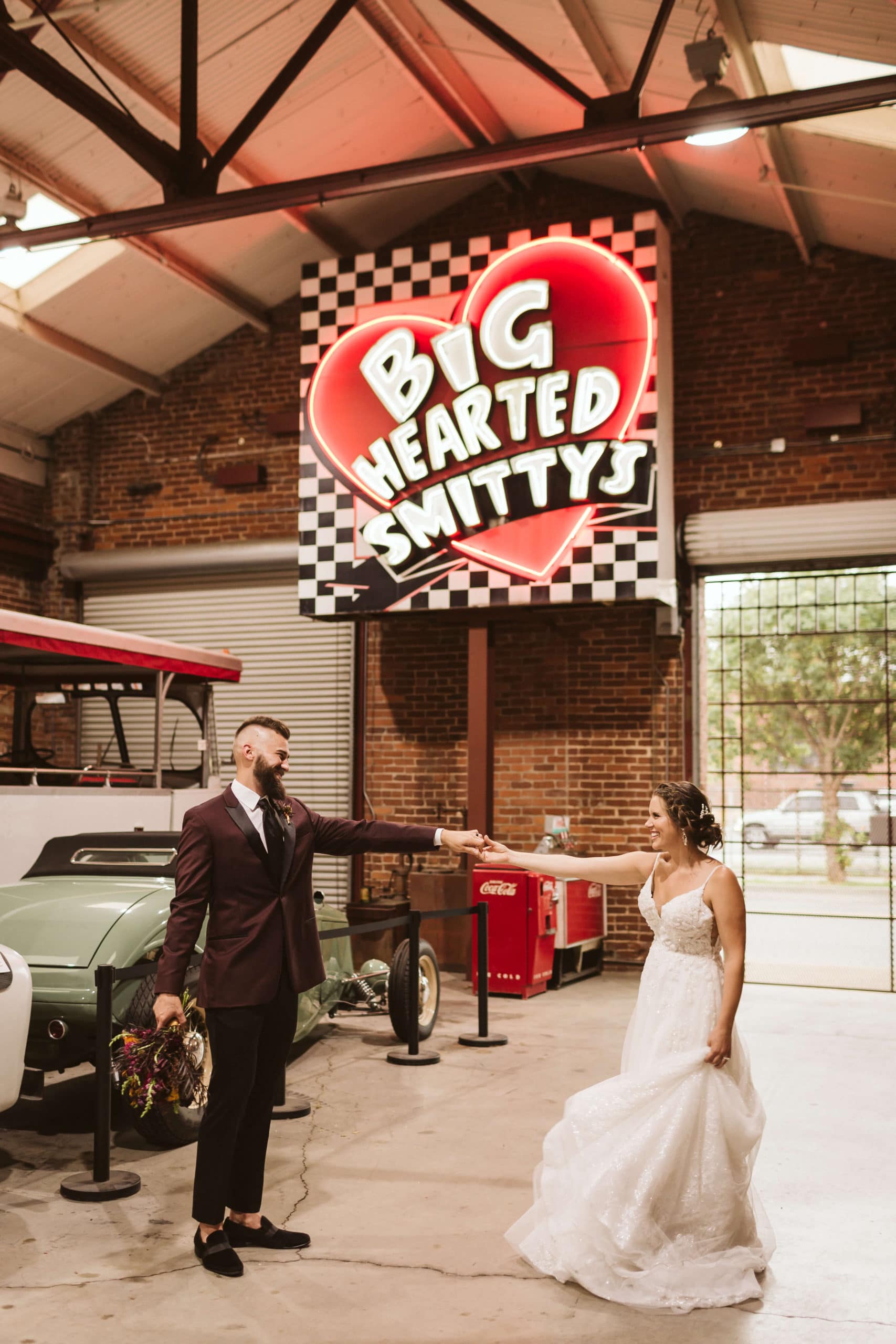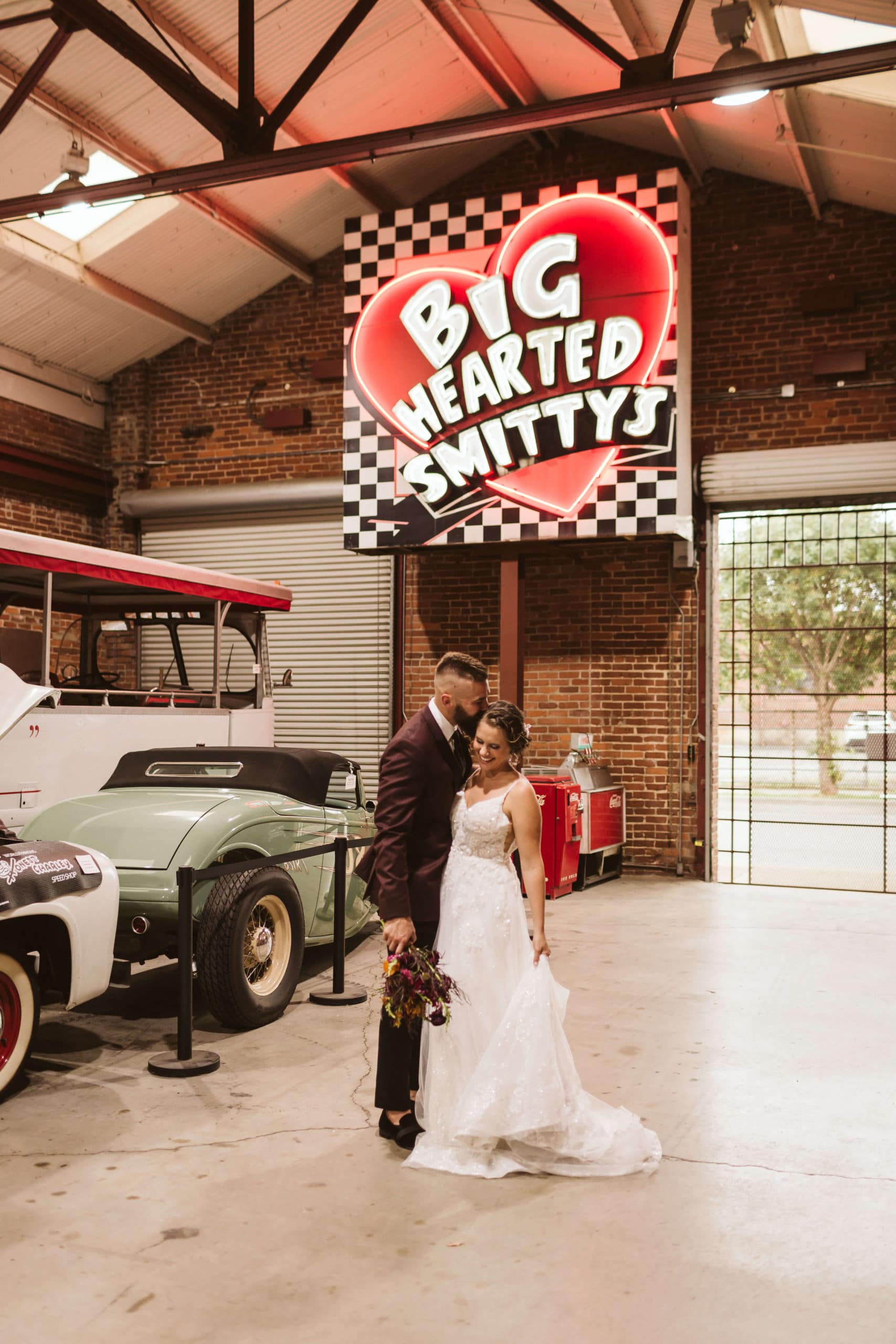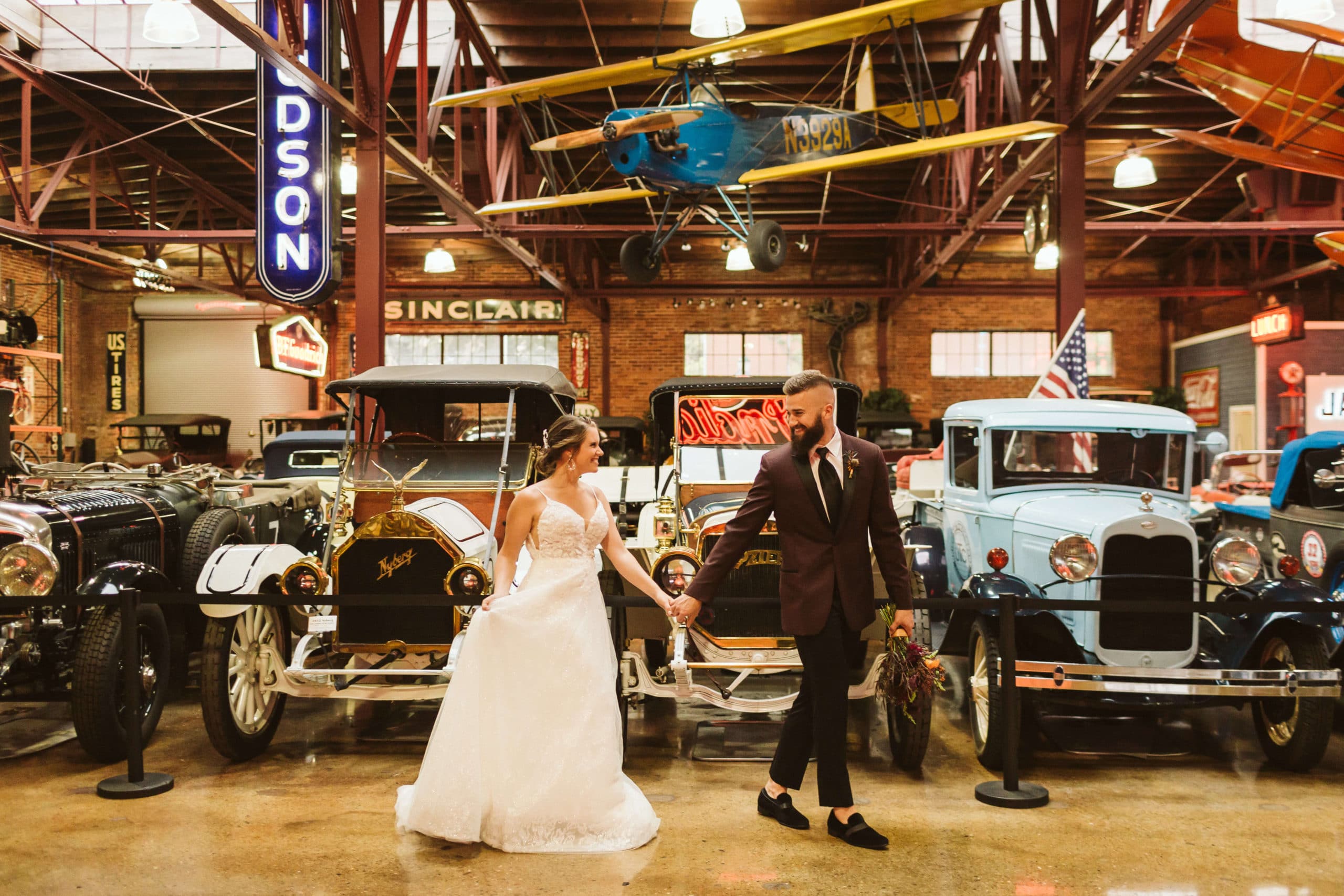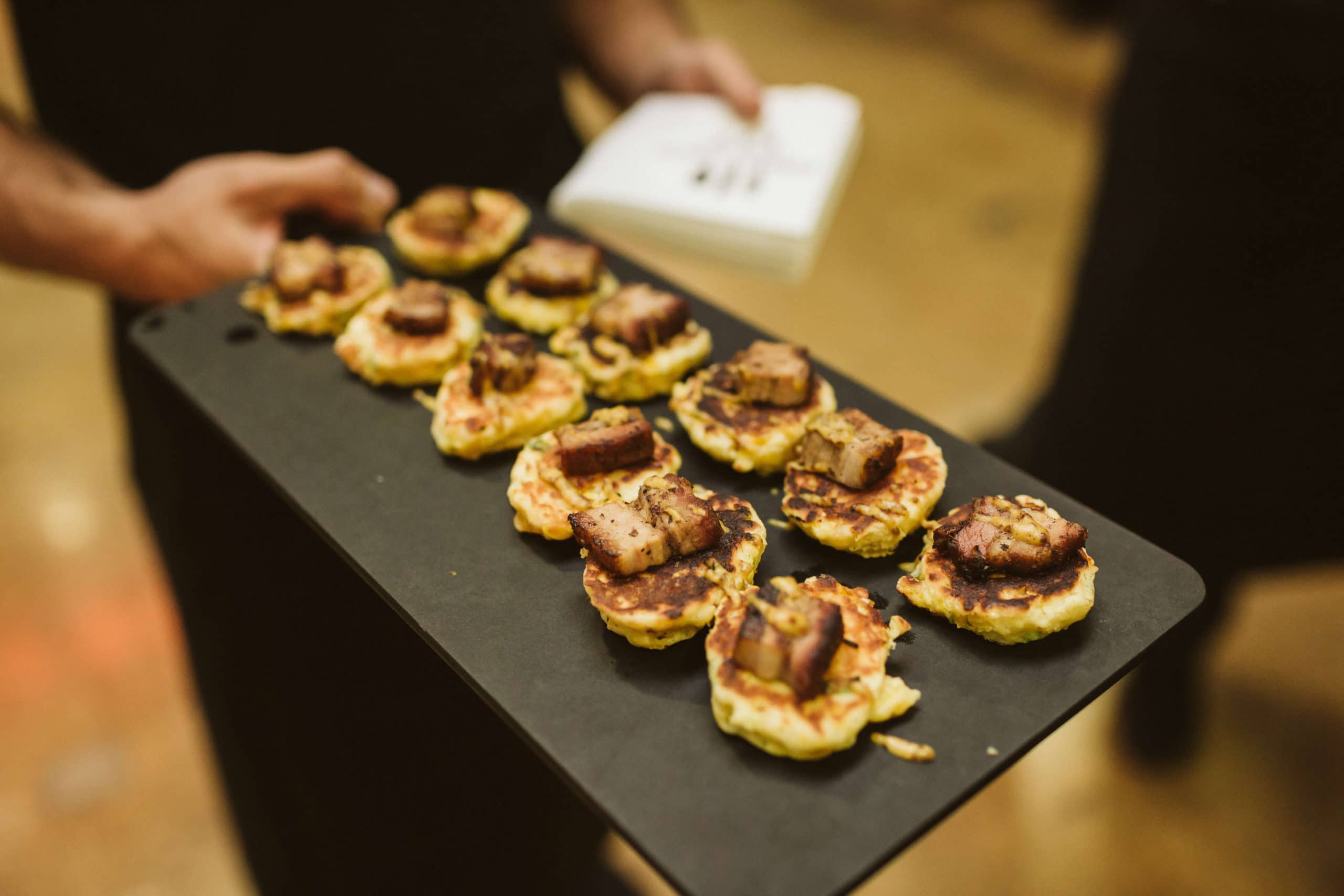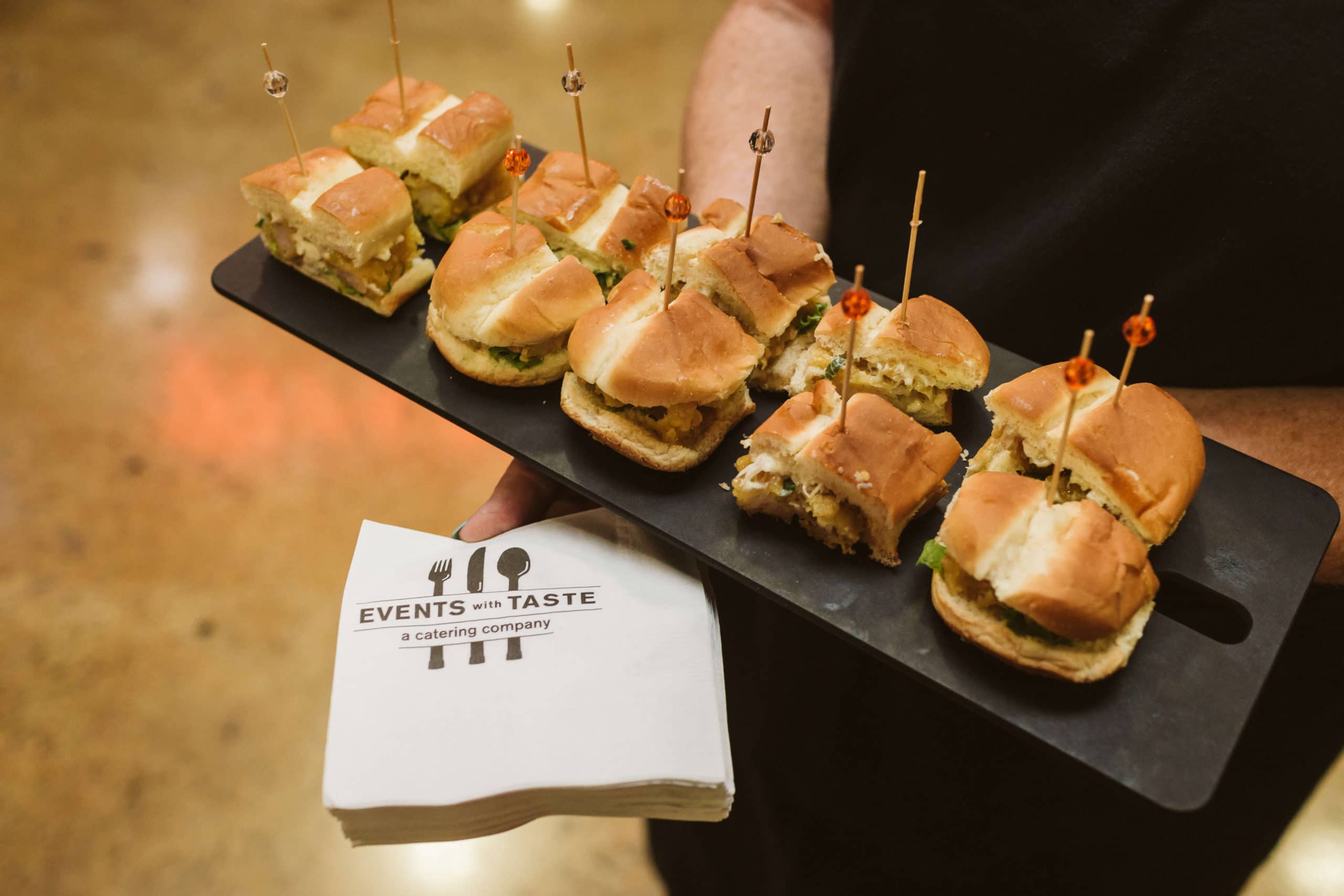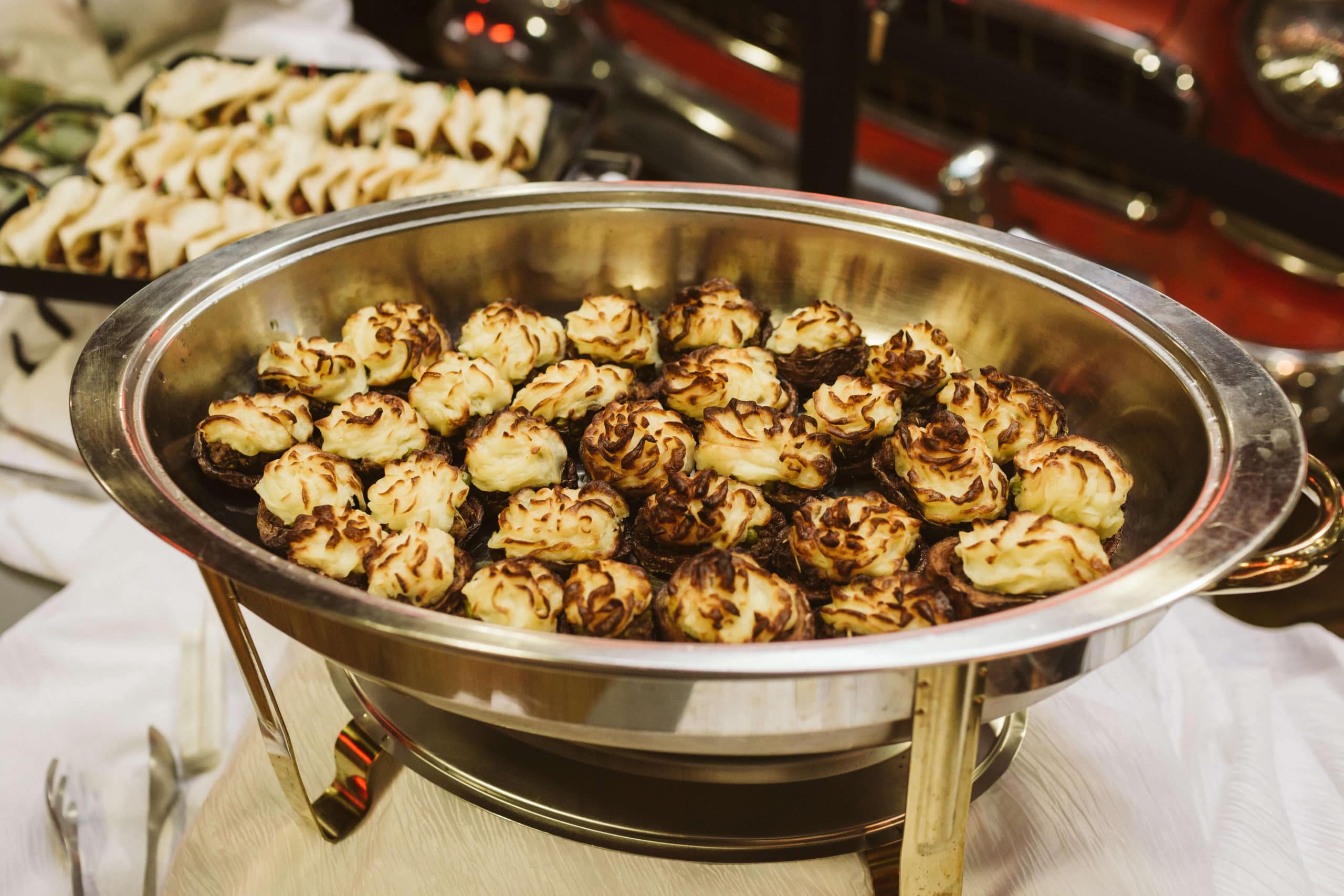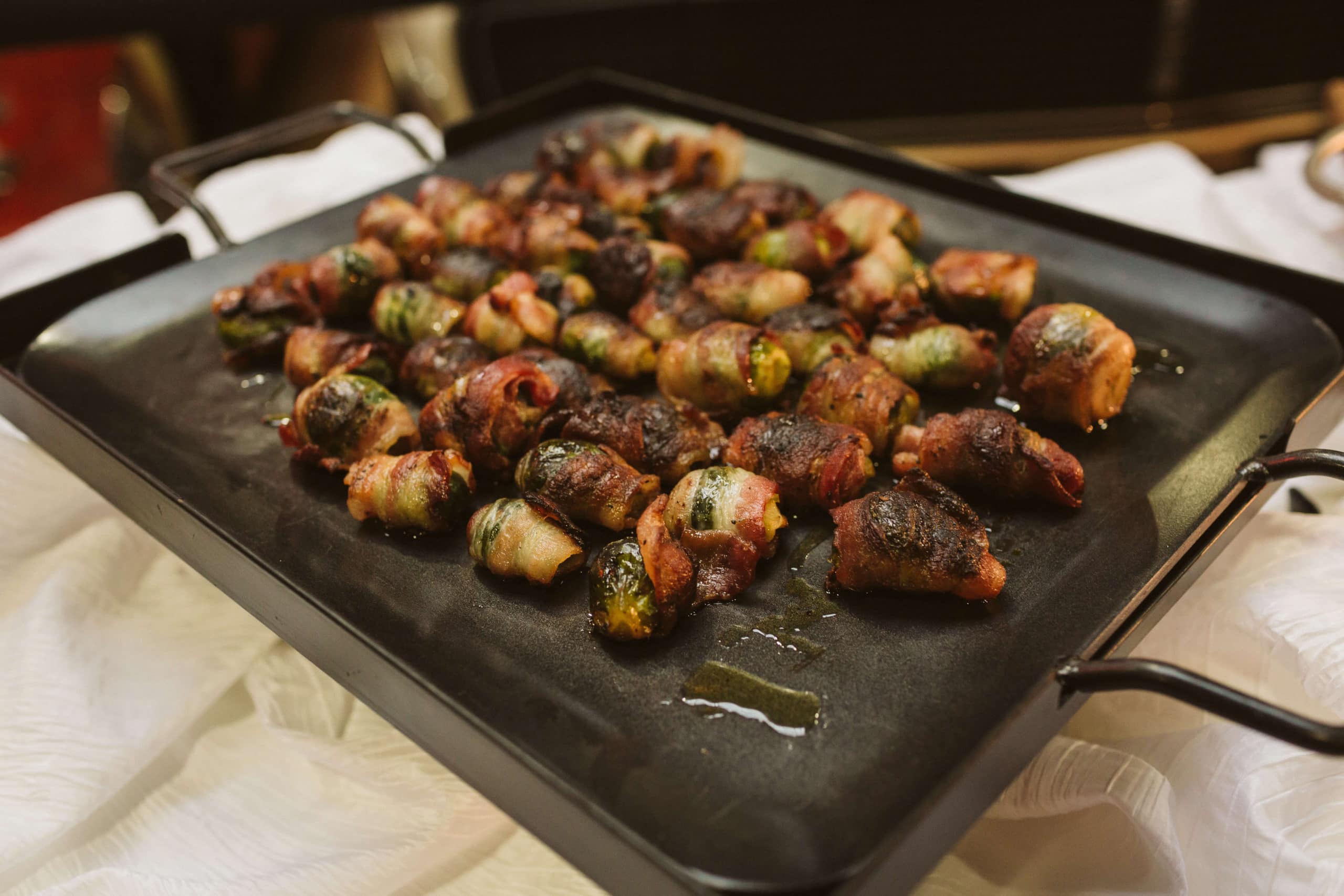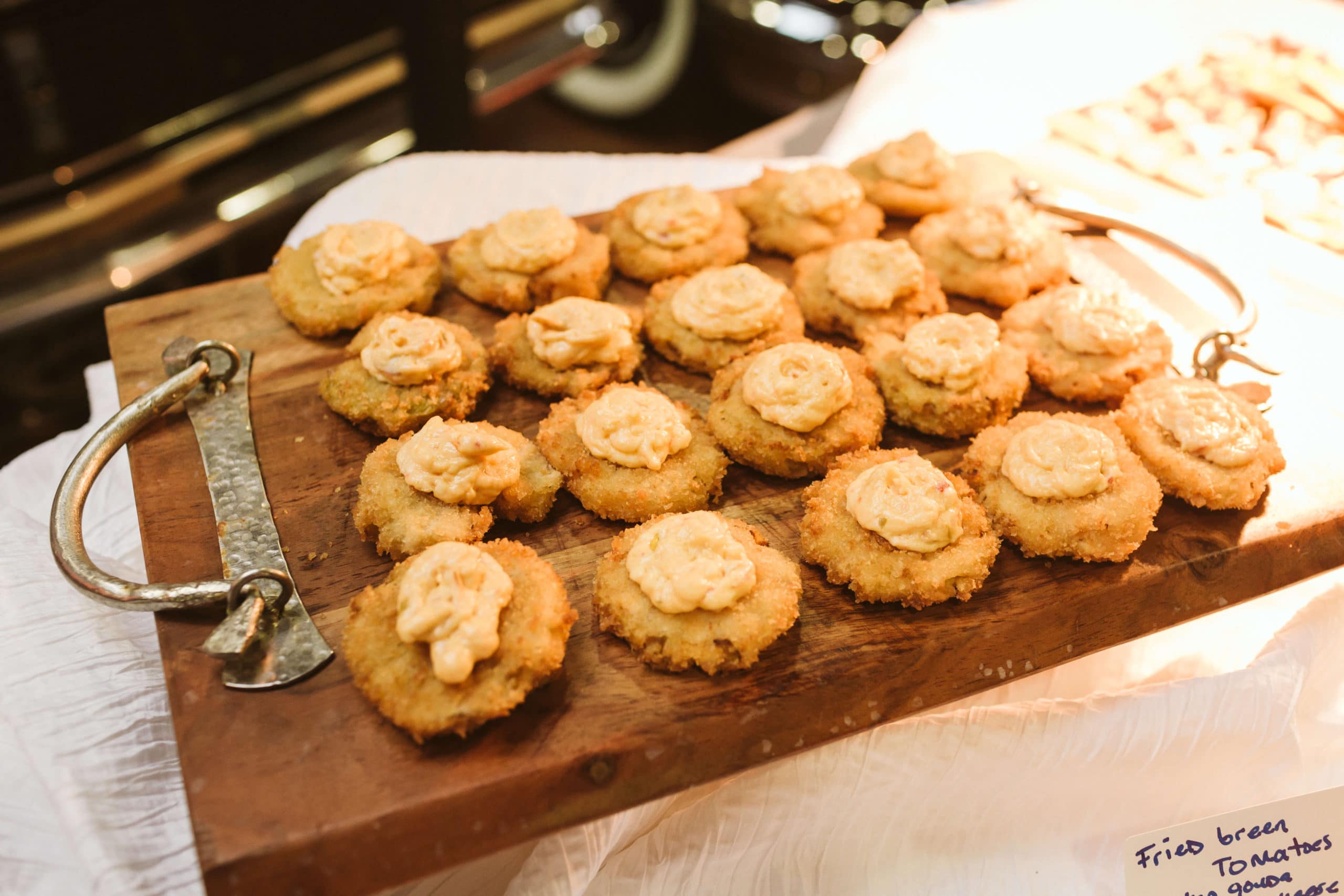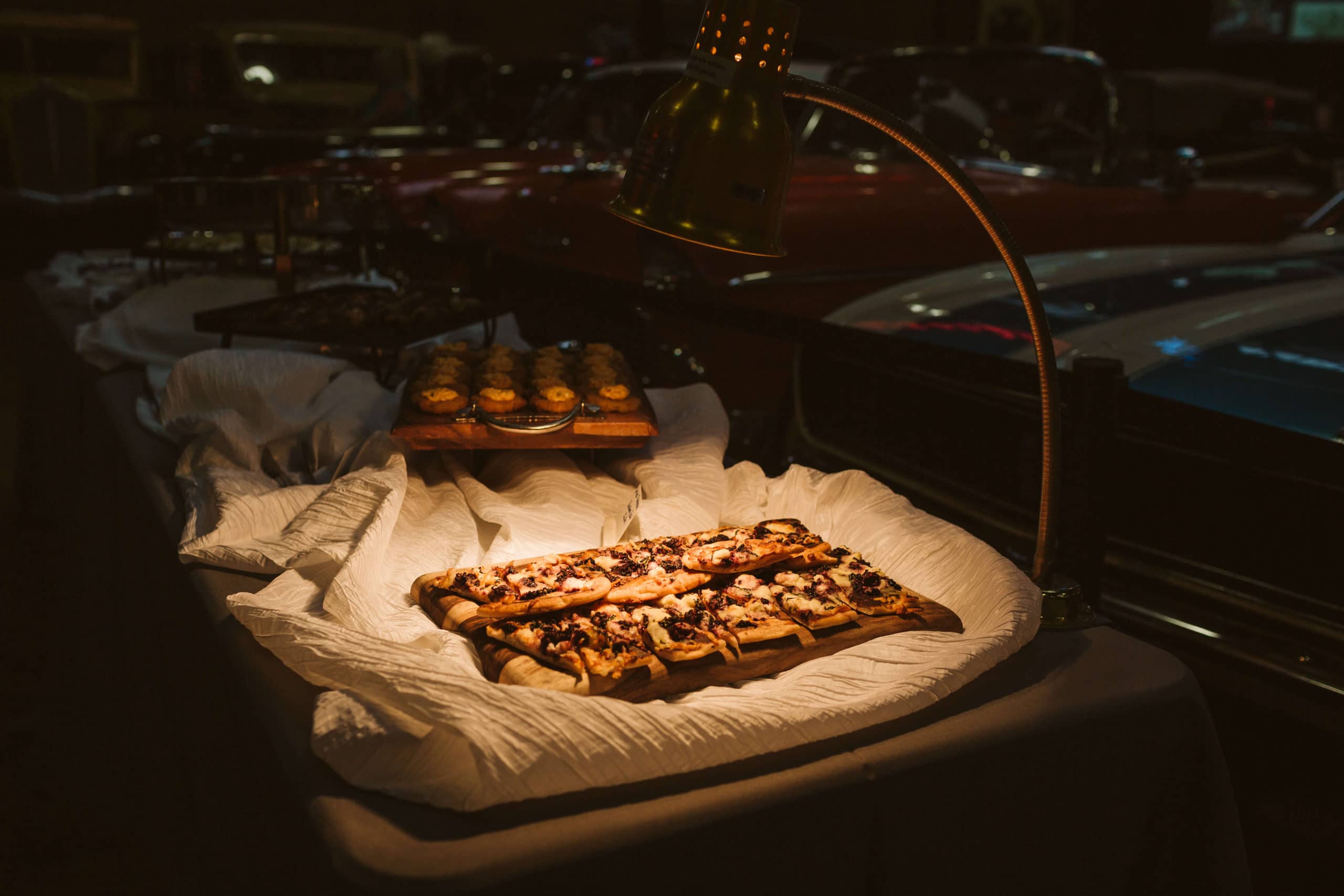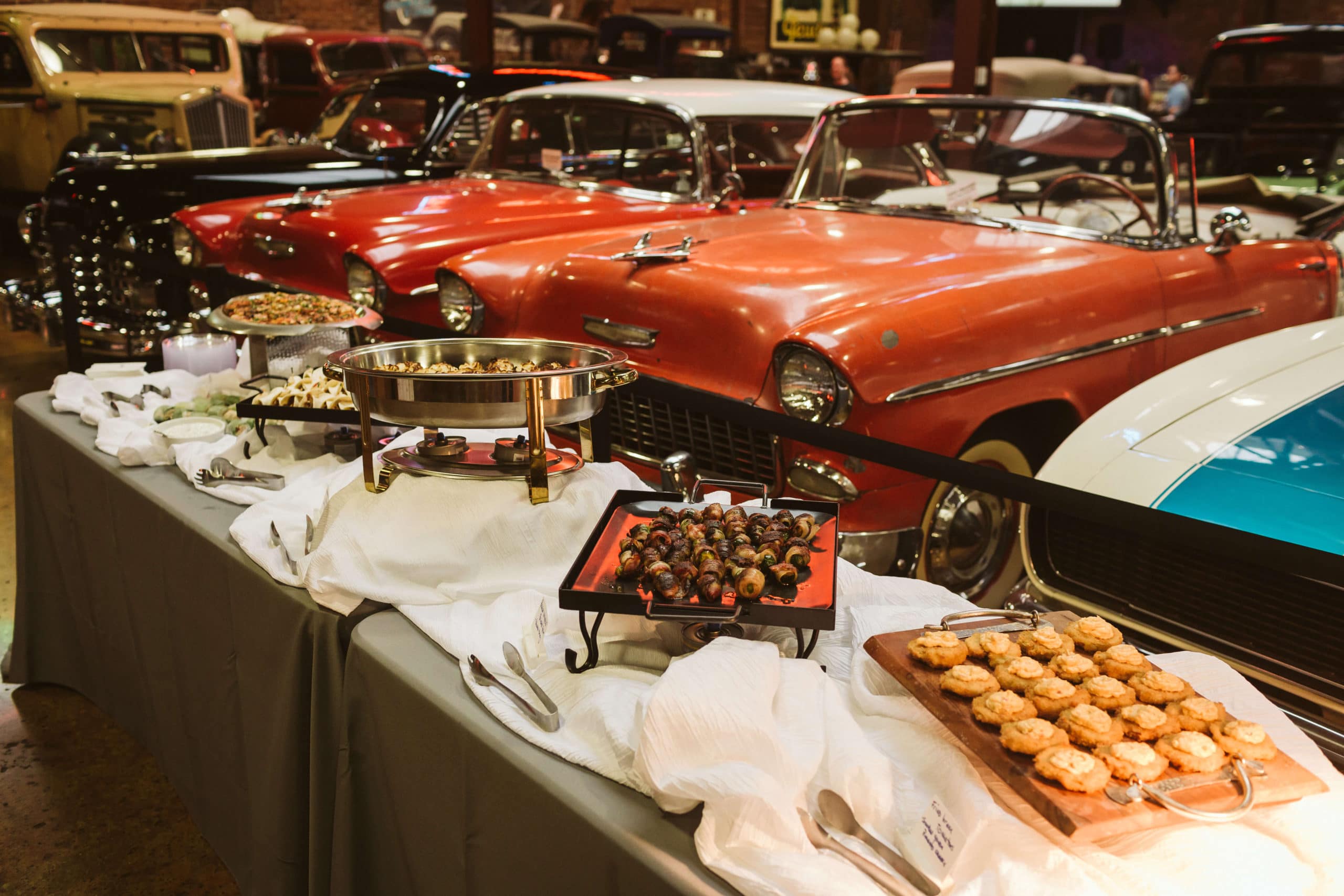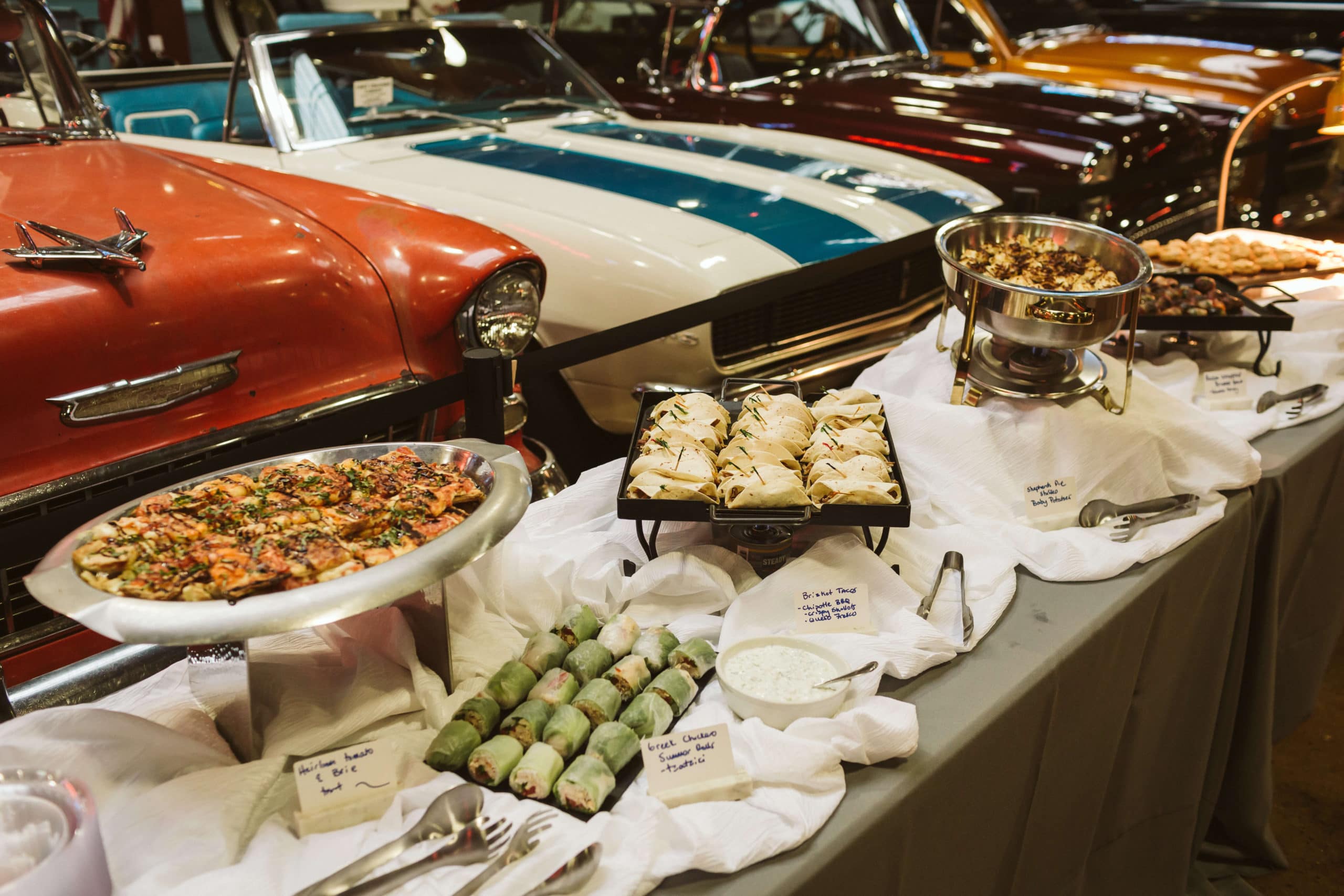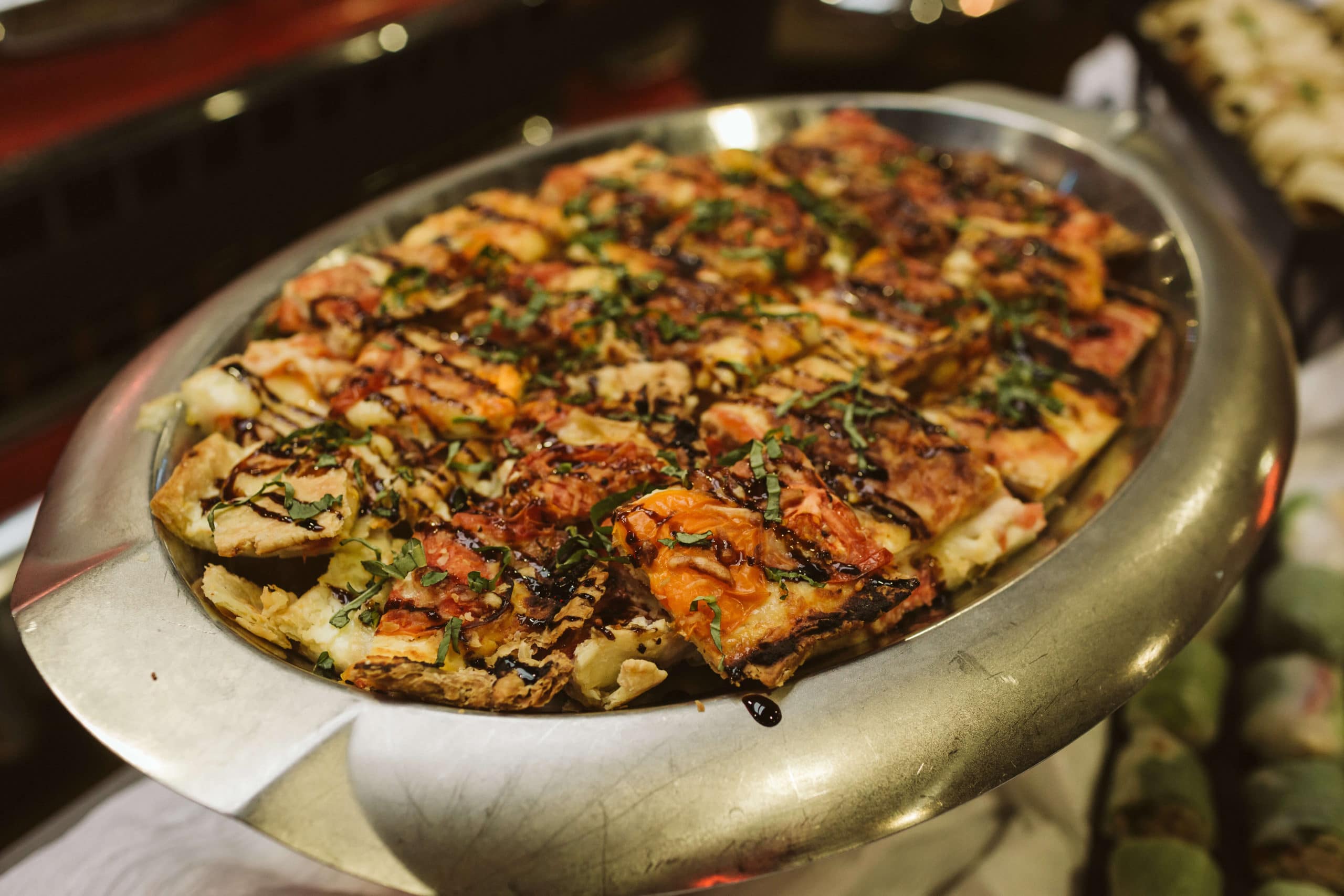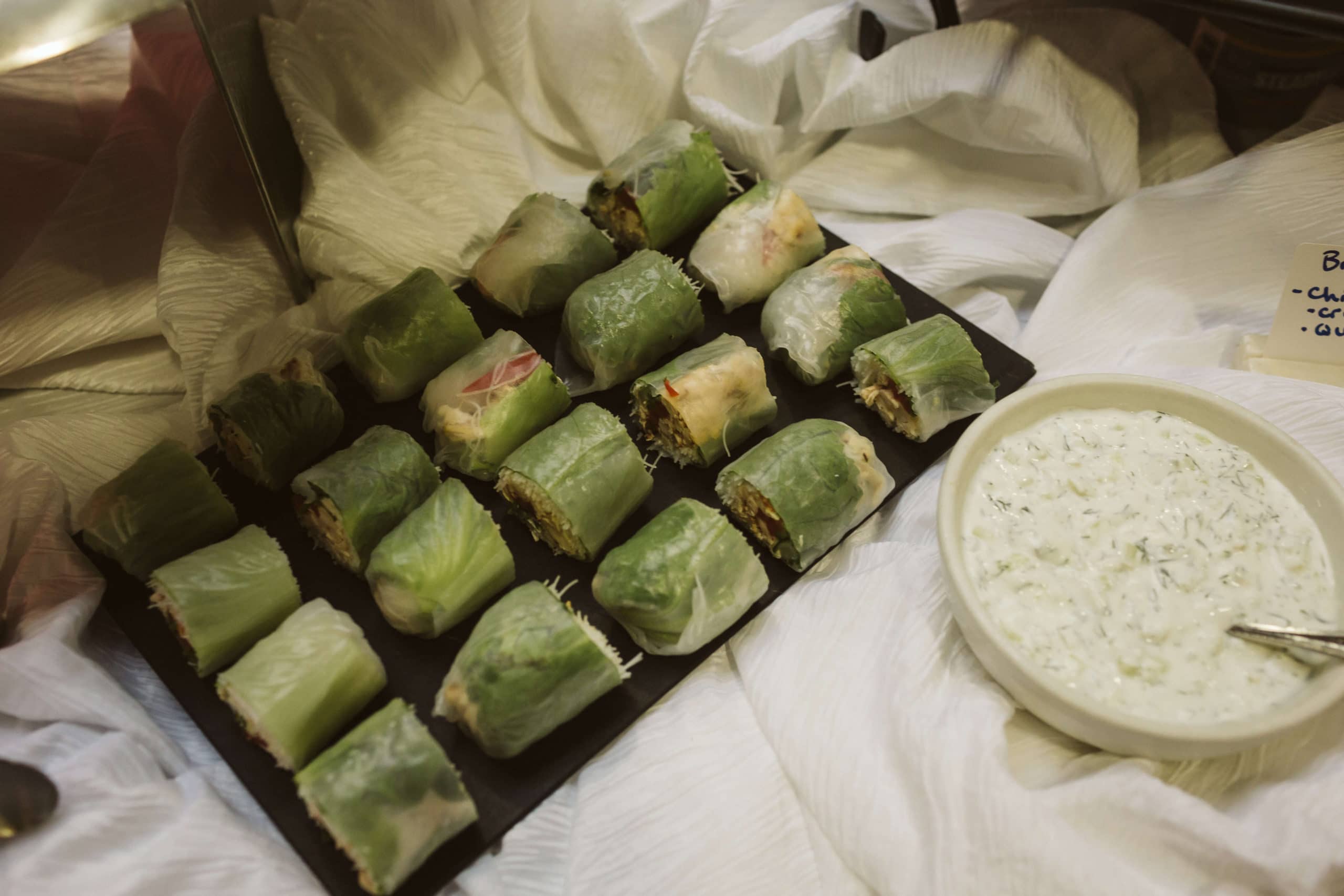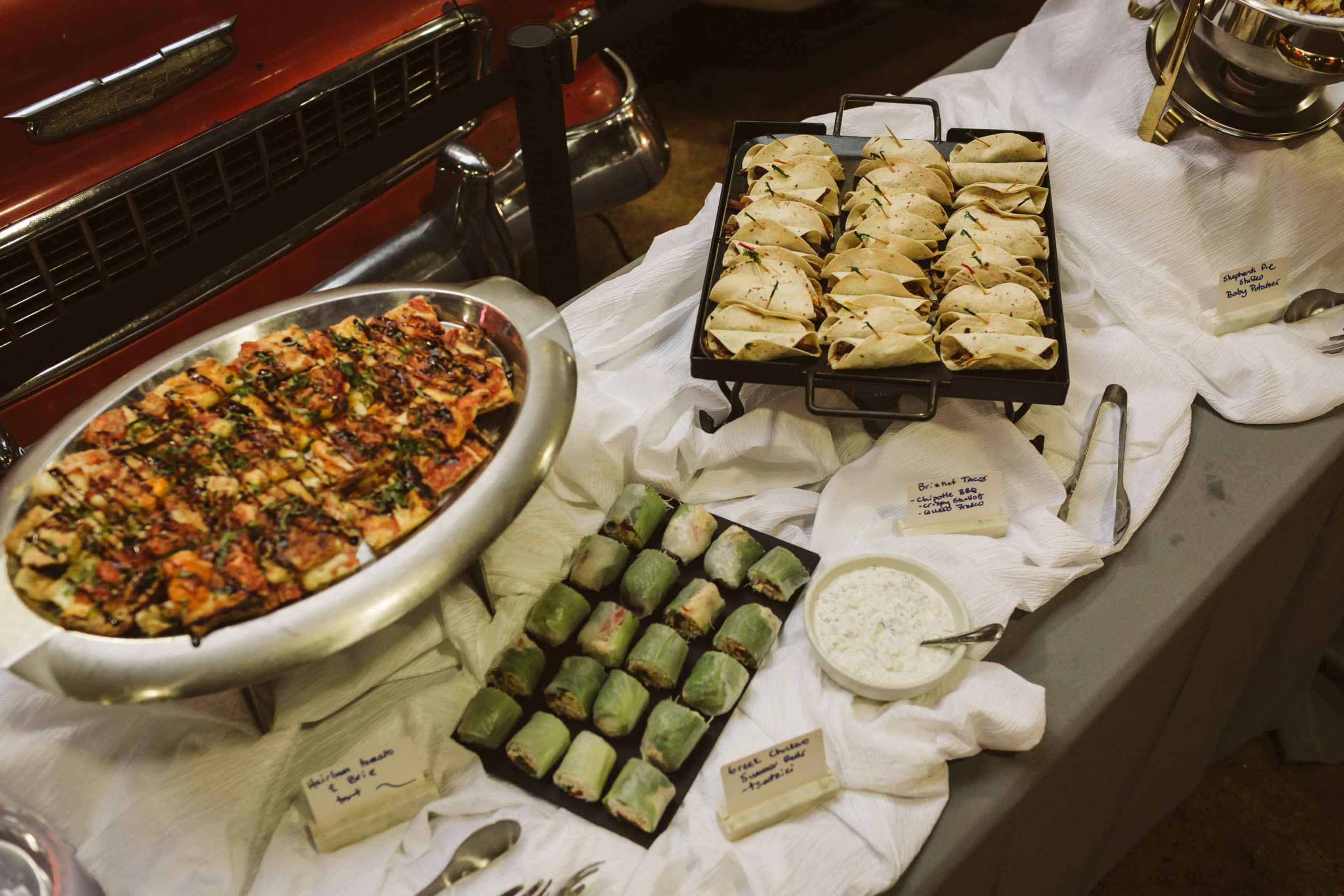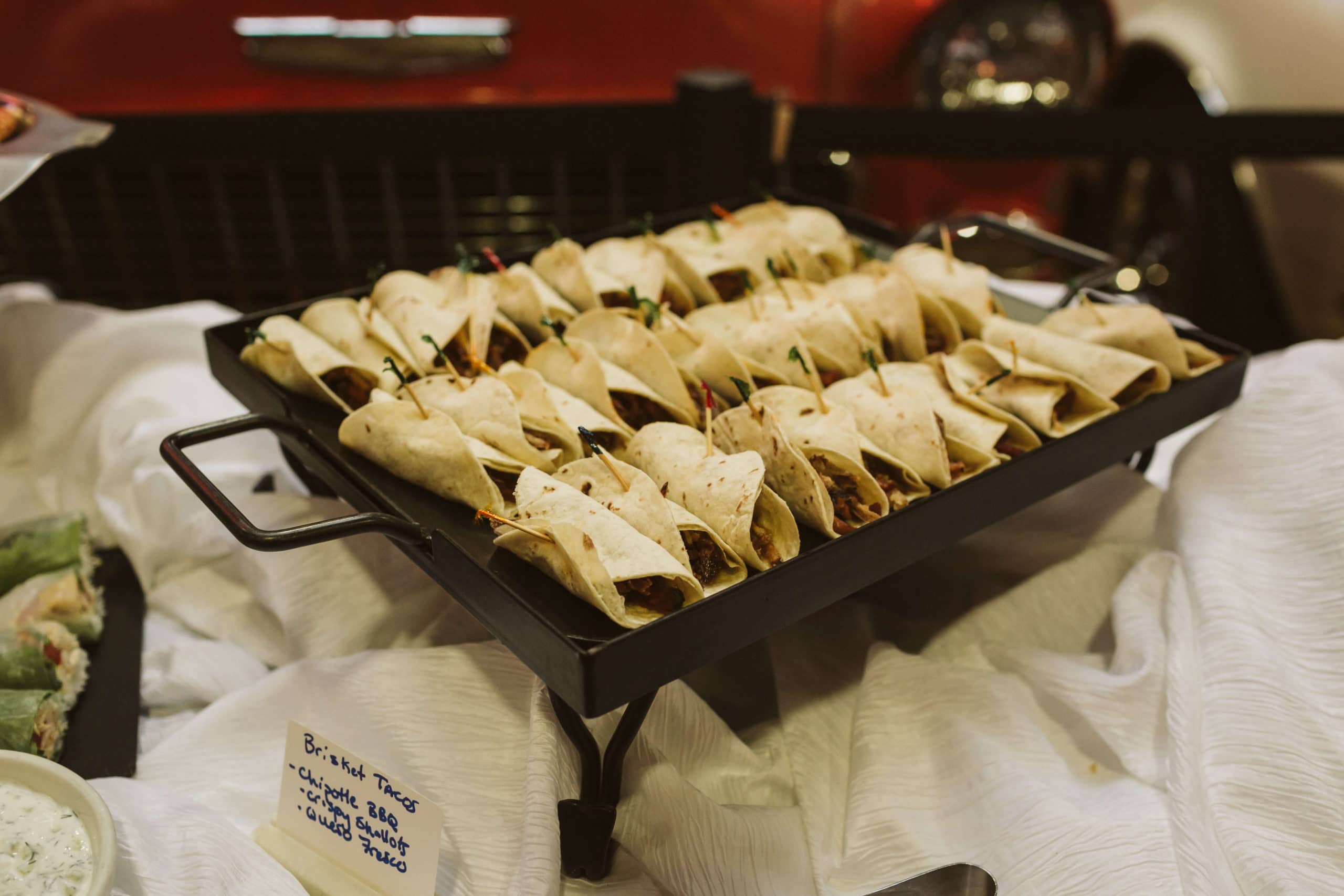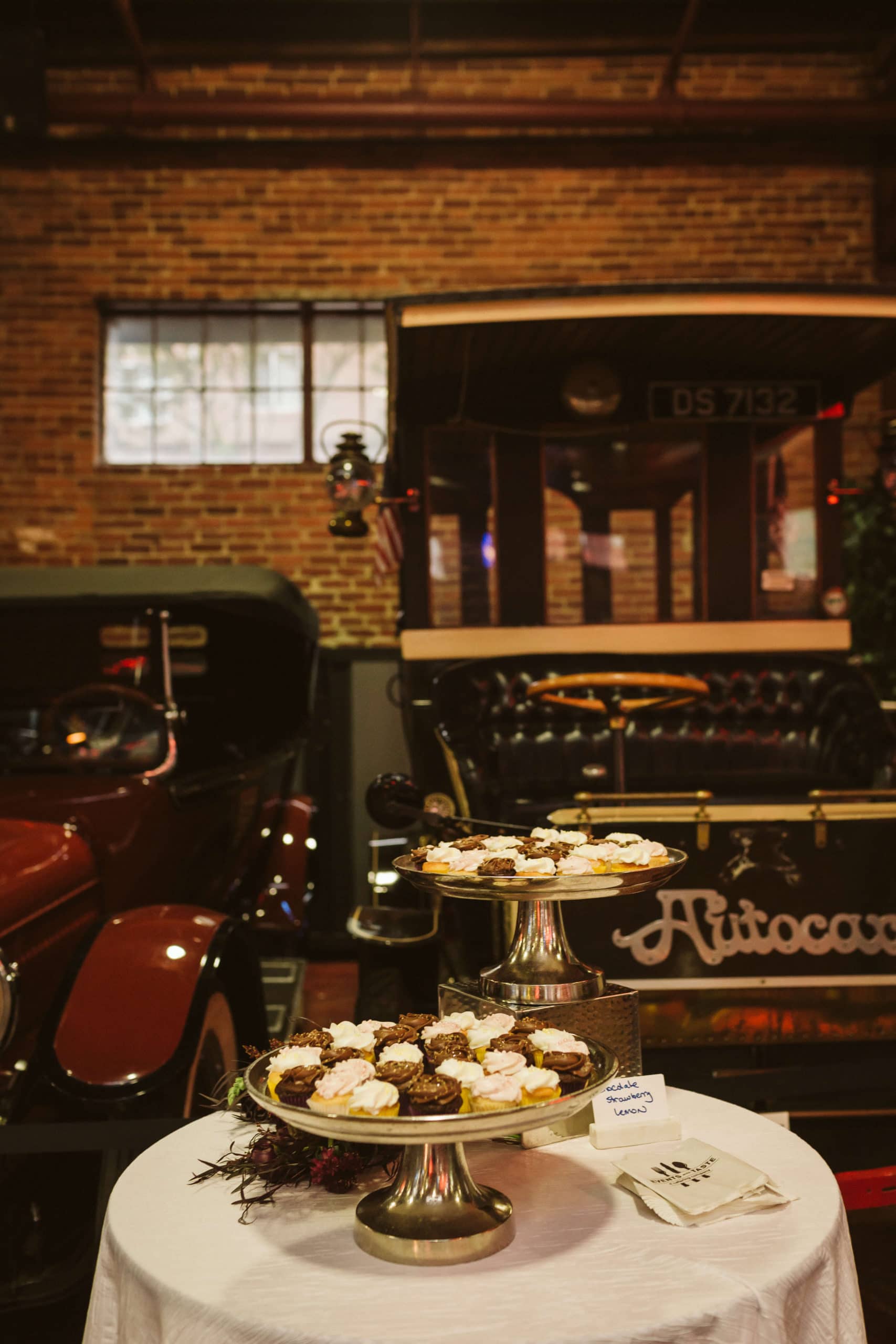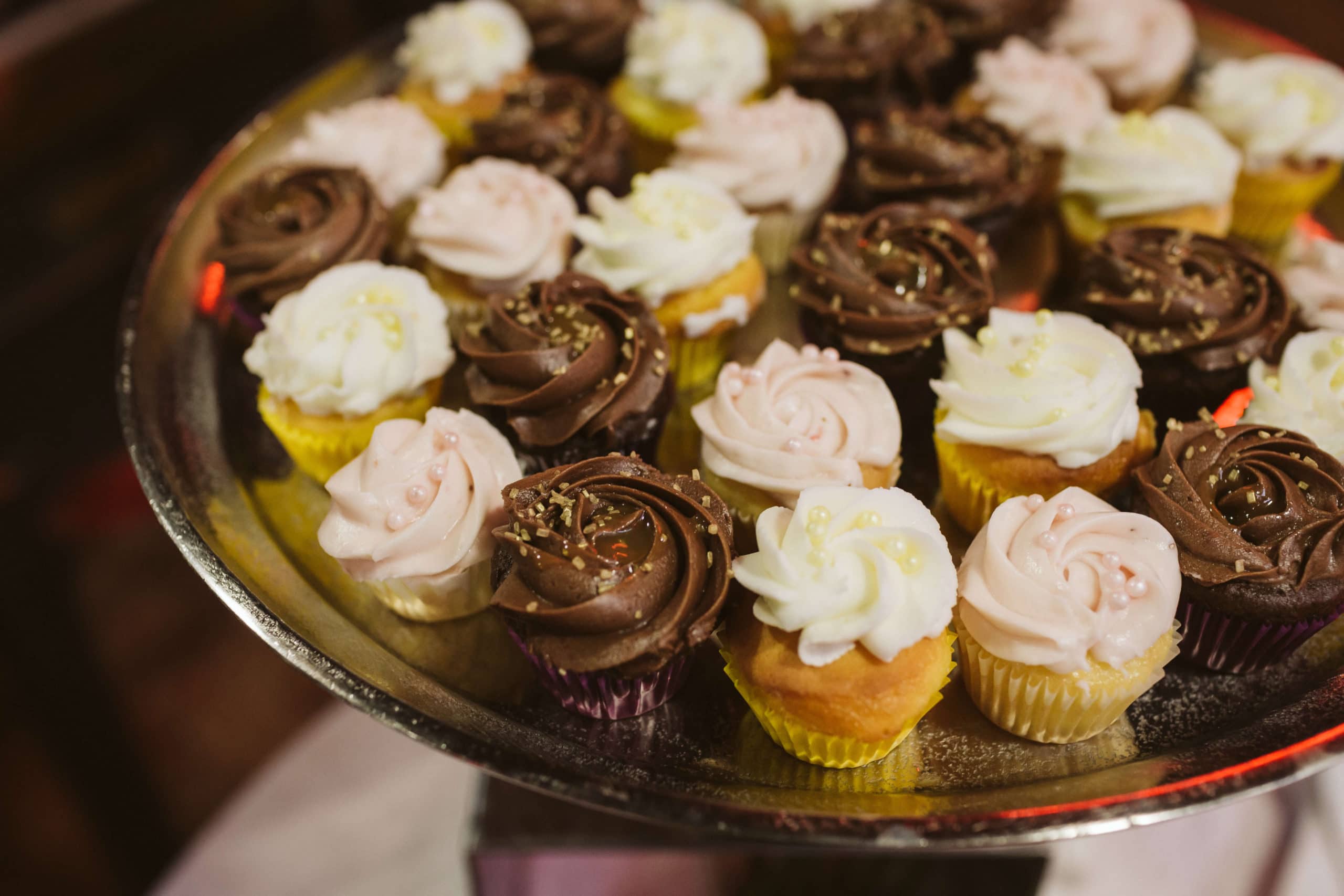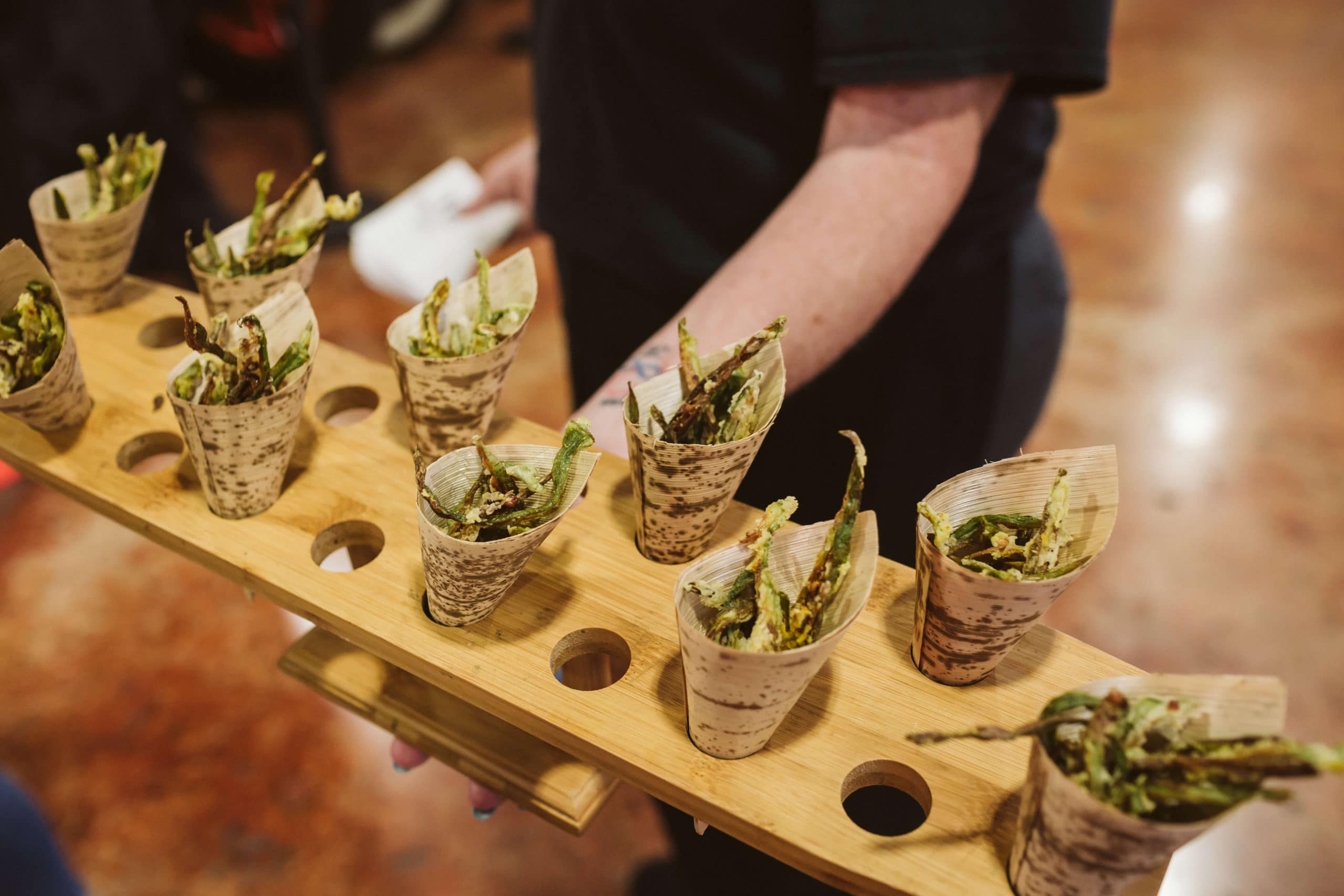 Holding Your Reception at the Coker Museum
After your ceremony, the Coker Museum can also be used as your cocktail hour and reception space. During cocktail hour, guests are free to roam the entire museum and explore while space for your reception is prepared.
Receptions are actually where the Coker Museum shines. It is most commonly rented for wedding receptions, engagement parties, rehearsal dinners, and birthdays. Their full catering kitchen makes it easy for any food vendor to come in and set up to prepare every course for a delicious meal.
The museum provides almost everything you need to make planning your reception as seamless as possible. Their on-site staff will go above and beyond to make the vision of your special day a reality. Not only will they do all of the set up work for you, but they also provide high-top tables that are perfect for a cocktail hour, round tables with chairs for banquet seating, serving tables for a buffet, and two custom-built drink bars all included in your wedding package.
We partnered with Events with Taste for this shoot. Events with Taste is one of Chattanooga's leading event production companies. While they're primarily a catering company that creates custom menus based on your specific tastes, they also provide several other services such as florals, catering and bartending staffing, lighting, sound, and entertainment. If all of that seems overwhelming to you, don't worry! Once you book with Events with Taste, you're provided with an event manager who oversees everything from start to finish.
Of course, no wedding would be complete without an amazing dance floor. The same stage that you can use for your ceremony can alternatively be used to feature live music or a DJ. The Coker Museum will even provide you with a professional sound system, so your vendors won't have to worry about lugging around hundreds of pieces of equipment. You and your guests will be able to dance the night away among all of the antique cars for an exhilarating end to what would be a truly memorable wedding.
Are you loving the eclectic vibes of this styled shoot? I love capturing all of the love and radiant energy of couples I work with. I'd love to do the same for you!
Hey there! I'm Rachael Crowe of OkCrowe Photography. I'm a wedding photographer based right here in Chattanooga but I am more than willing to travel to anywhere you need me to be across the country. Whether you're planning a wedding in a place as unique as the one in this shoot or you're planning a whimsical forest wedding, I would love to be there to capture every memorable moment for you. Simply contact me to kick start the conversation!