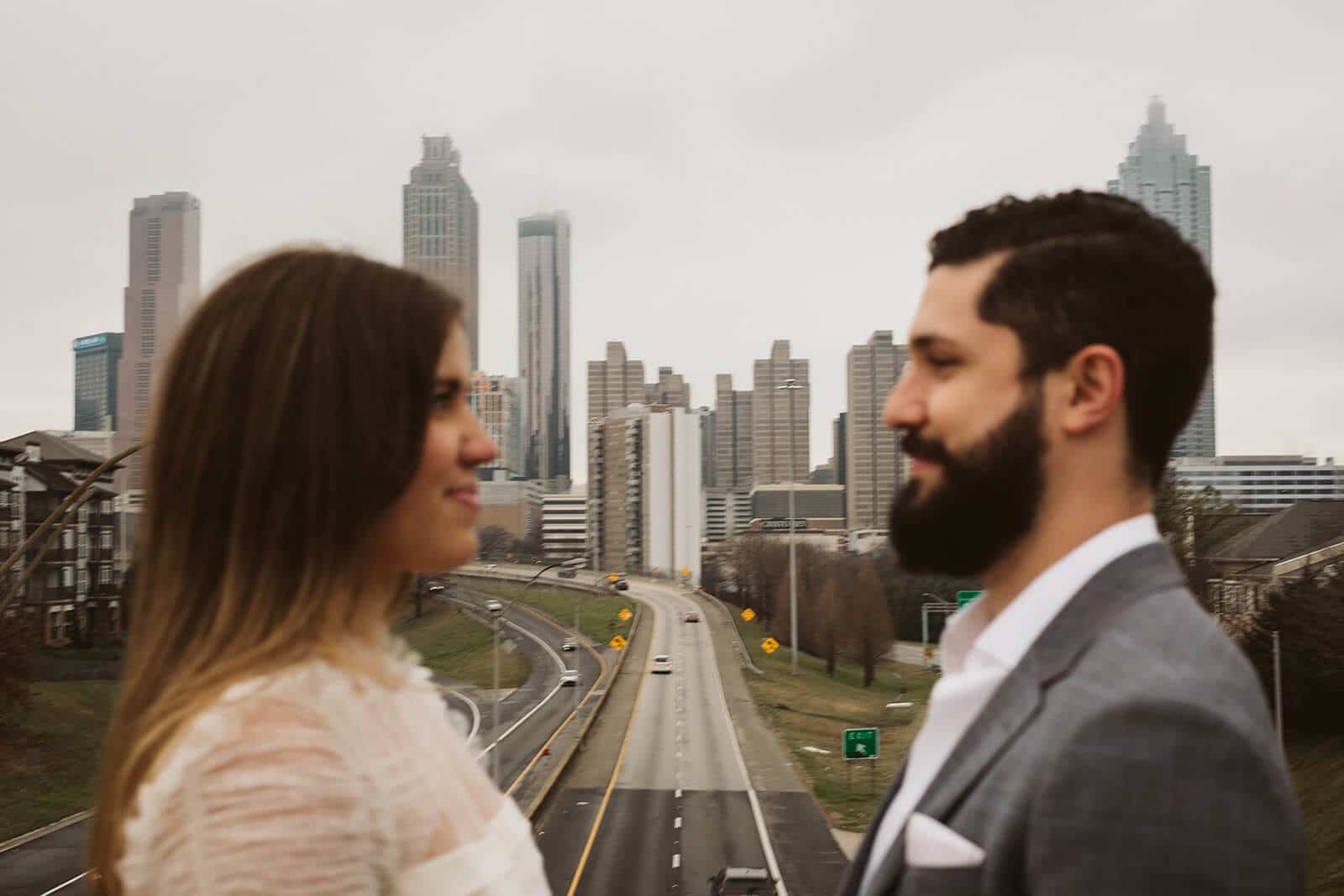 I made the quick, two hour road trip to Atlanta for Claire and André's engagement shoot, and later this year, I'll be shooting their wedding at The Venue at Lilly Lou's – an absolutely gorgeous venue minutes from Chattanooga and just over the state line in Trenton, Georgia. That said, the couple wanted to capture their hometown of Atlanta for a lighthearted, urban engagement session.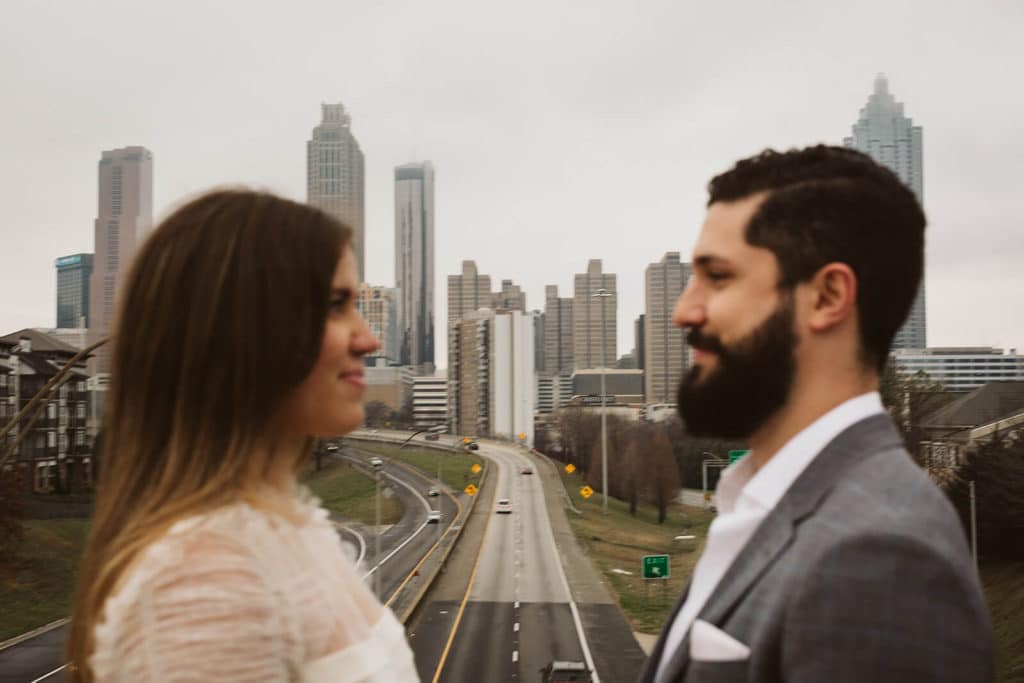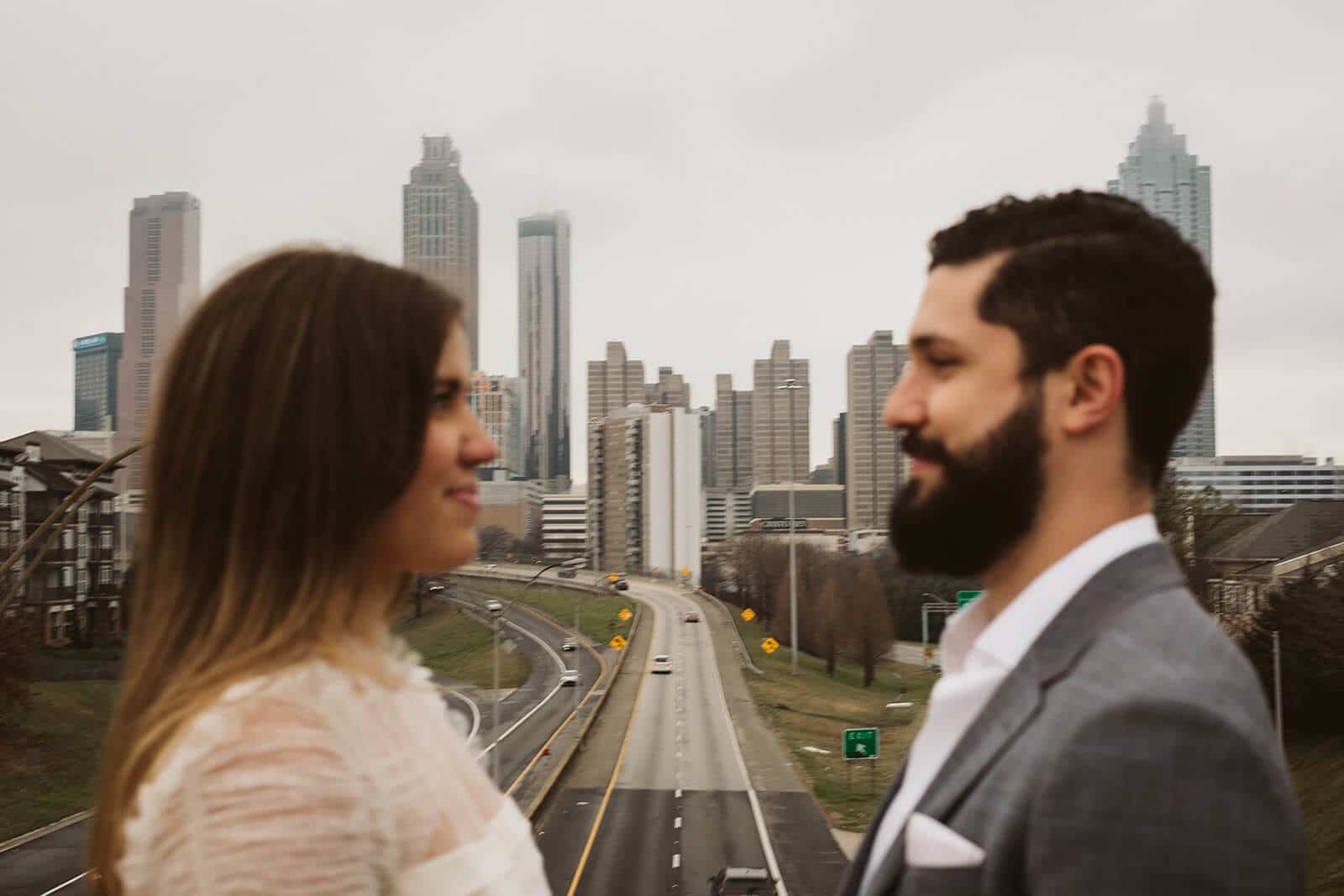 Urban Engagement Photoshoot in Atlanta, Georgia
Atlanta holds a special place in Claire and André's lives. It's where they met and fell in love and it's where they live together as a couple. They wanted their engagement photos to really capture their life and love of the city.
Claire works as a stylist and carefully chose hers and André's outfits for the day. She wore a beautiful, tea-length white dress with sheer ruched sleeves and a high-necked collar. Claire completed her look with an elegant pair of pristine white heels. For André, she chose a simple gray linen suit with a perfectly folded pocket handkerchief and a white button-up shirt. They made a positively dapper pair; a modern take on old school, vintage styles was a great contrast to the urban setting.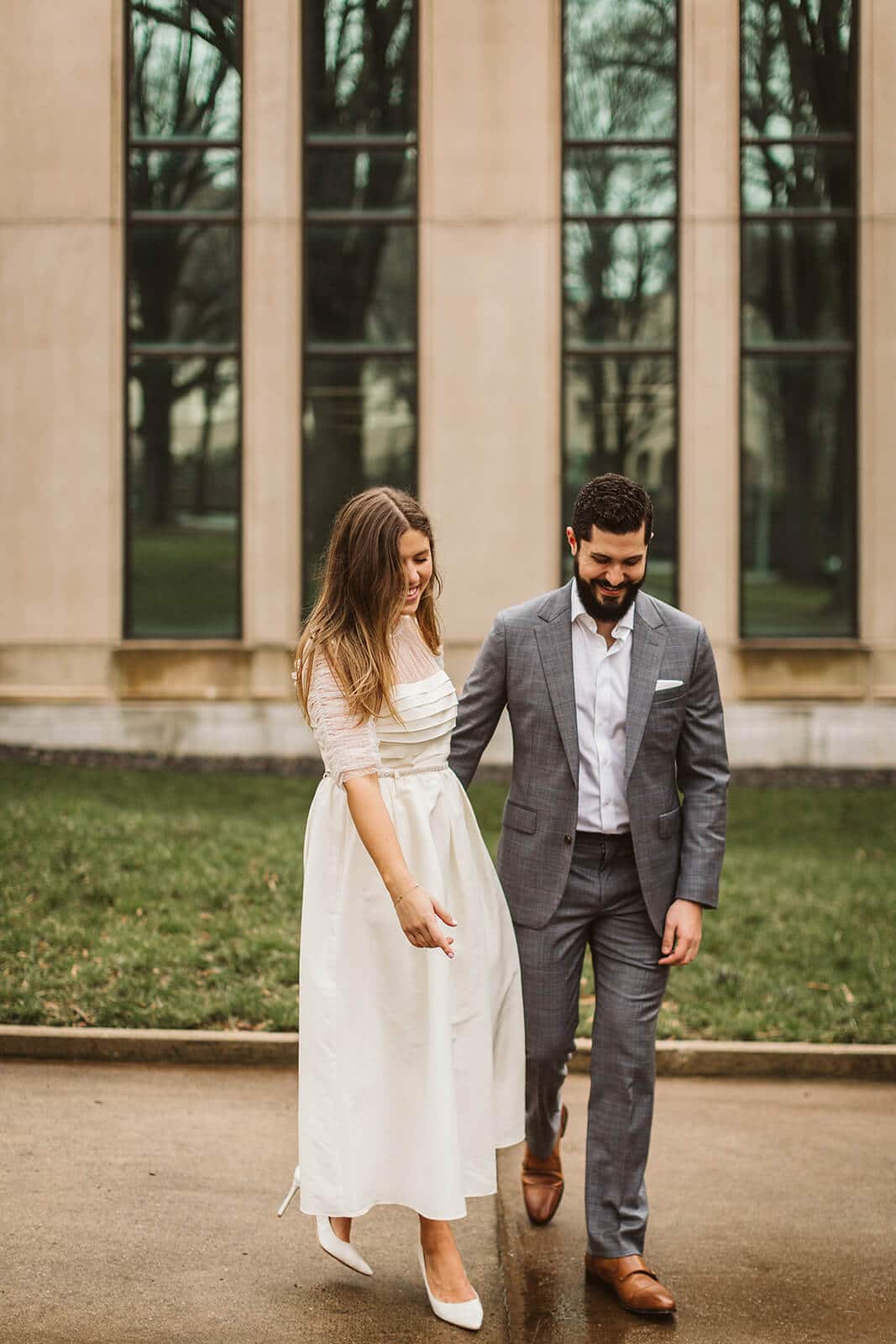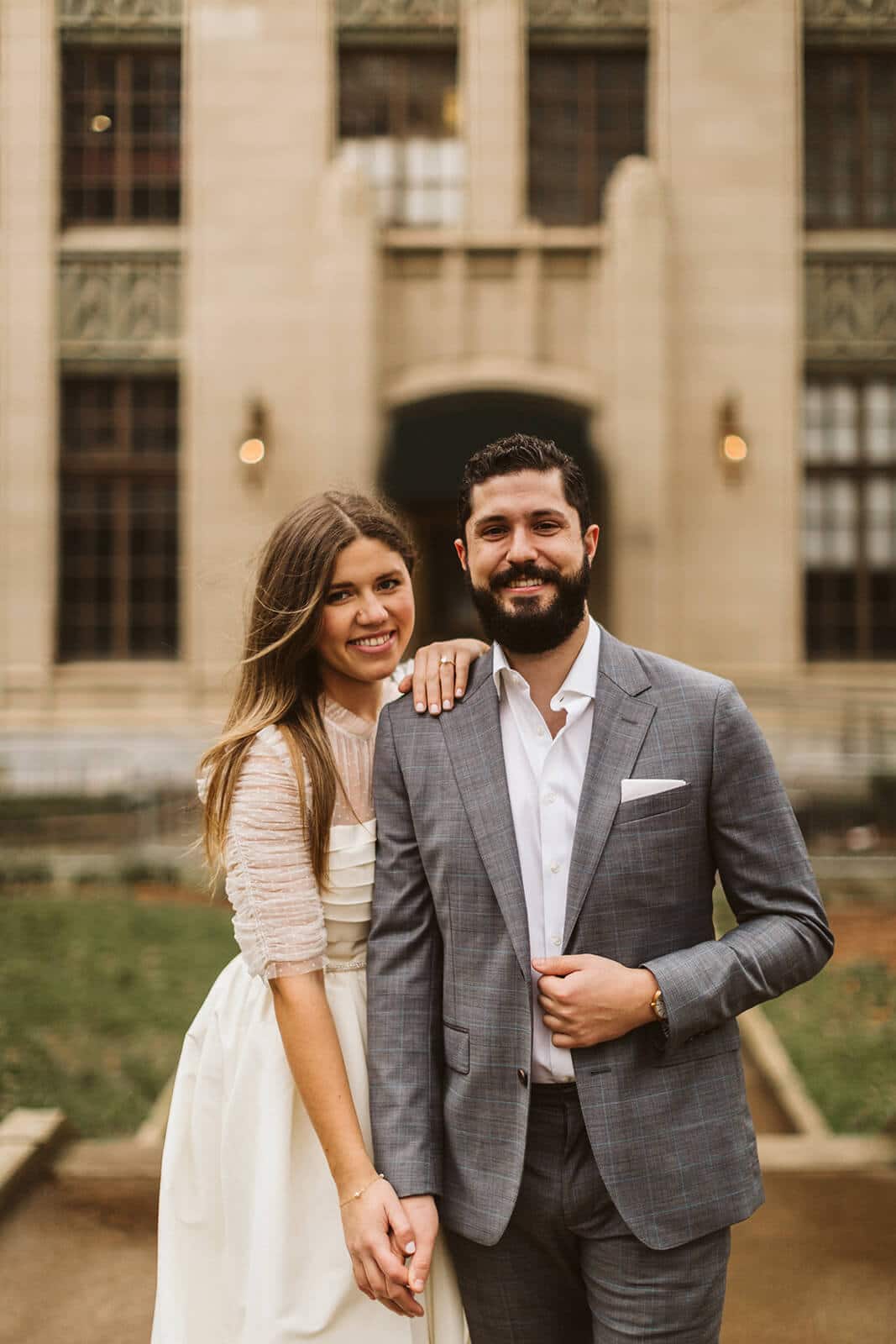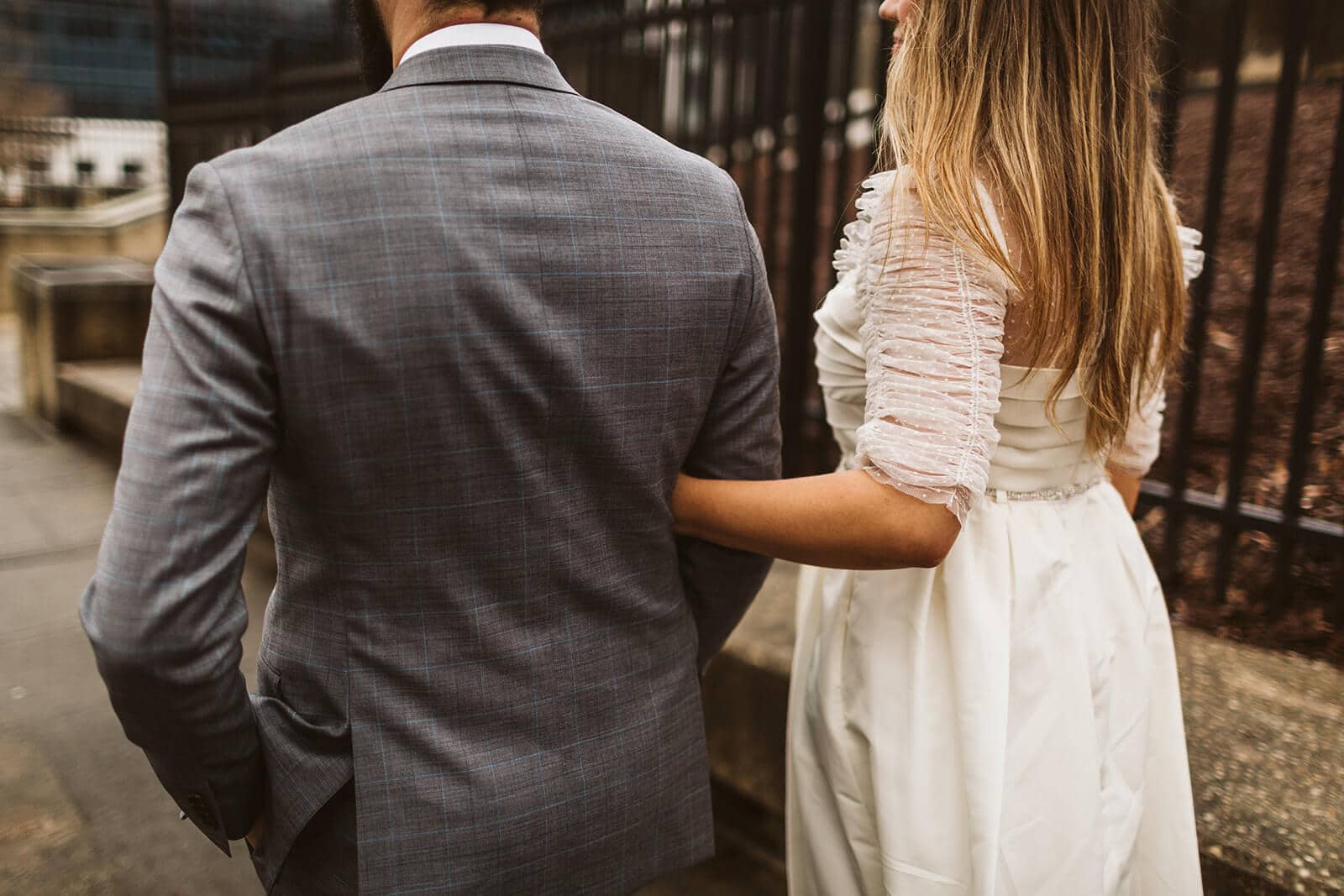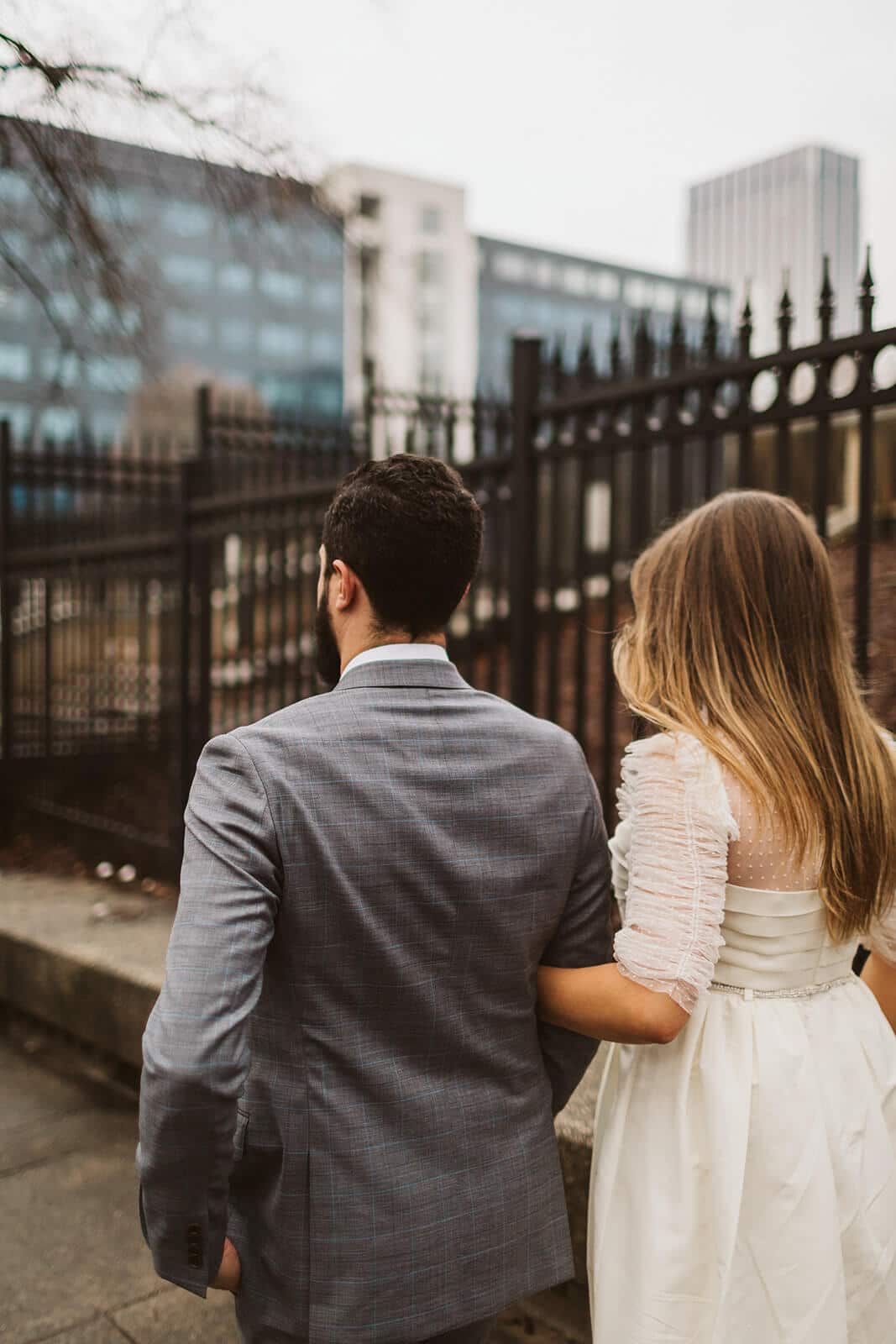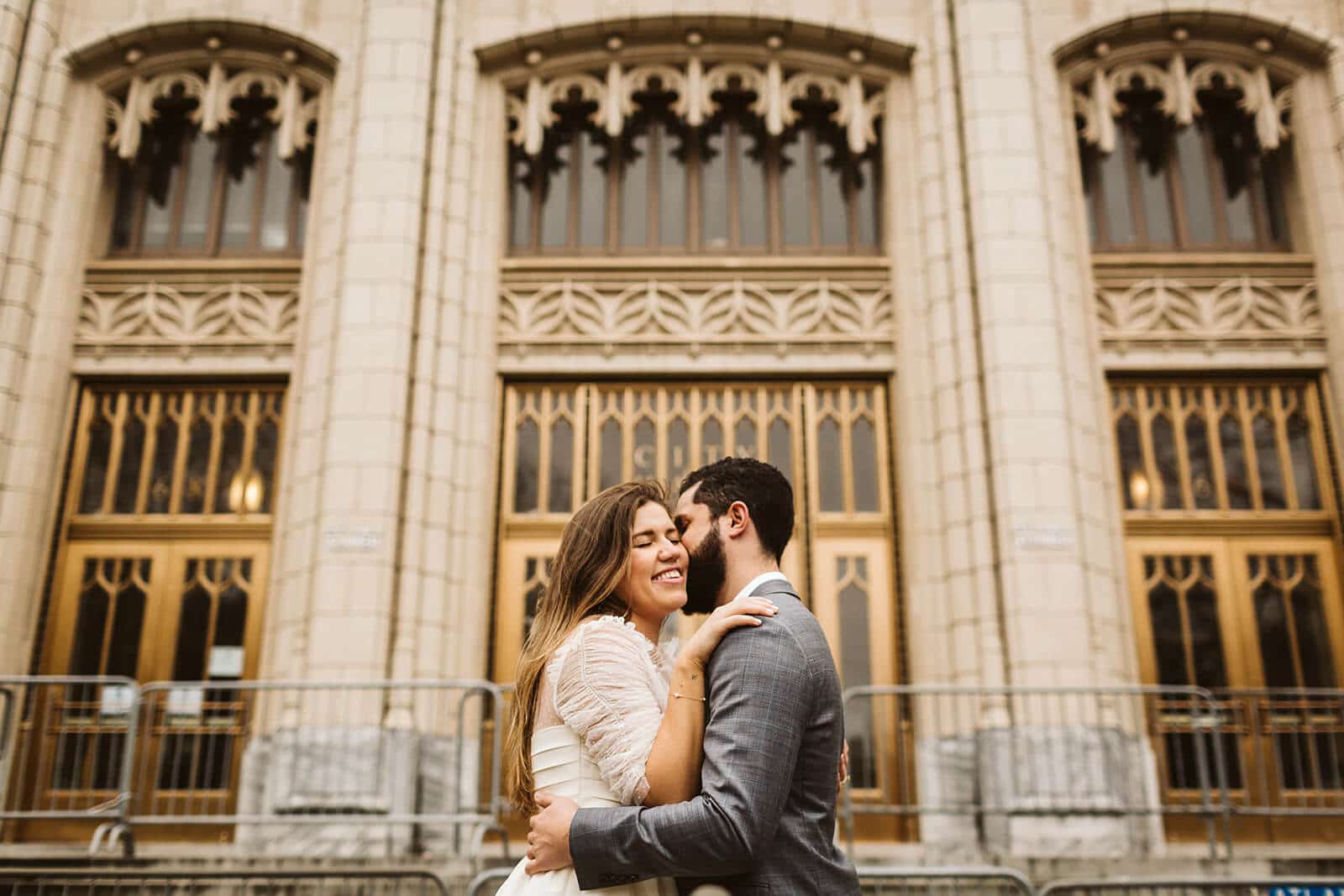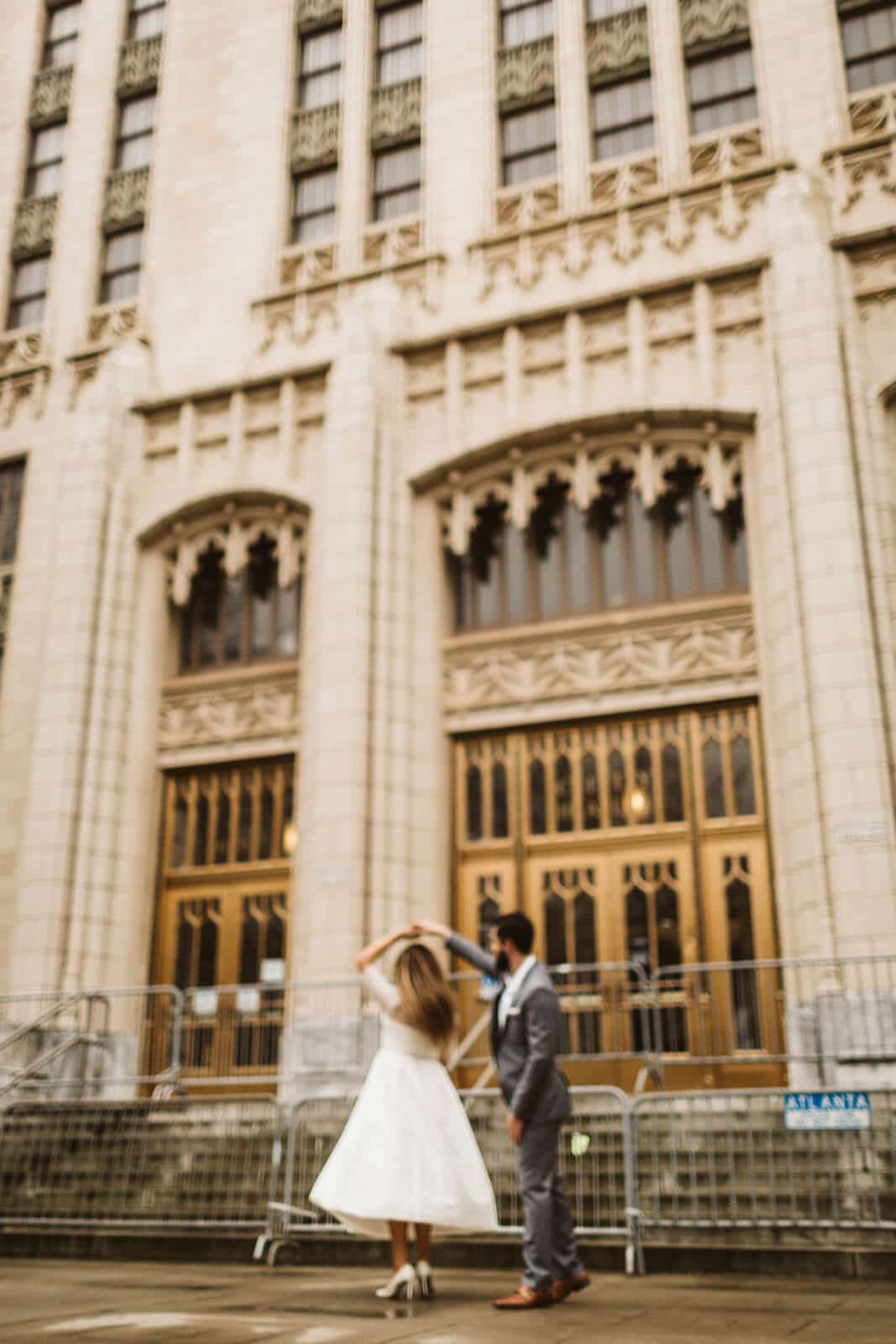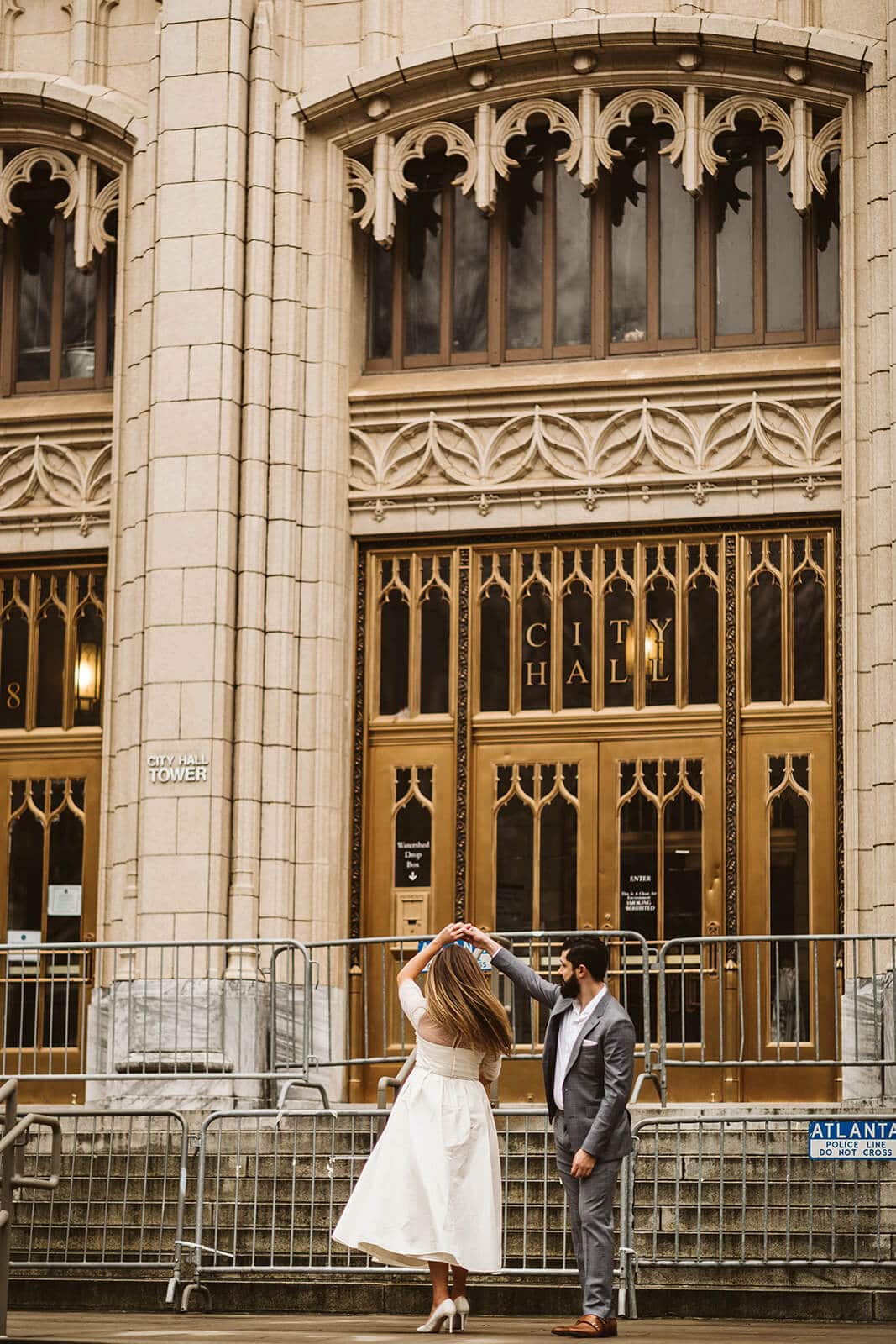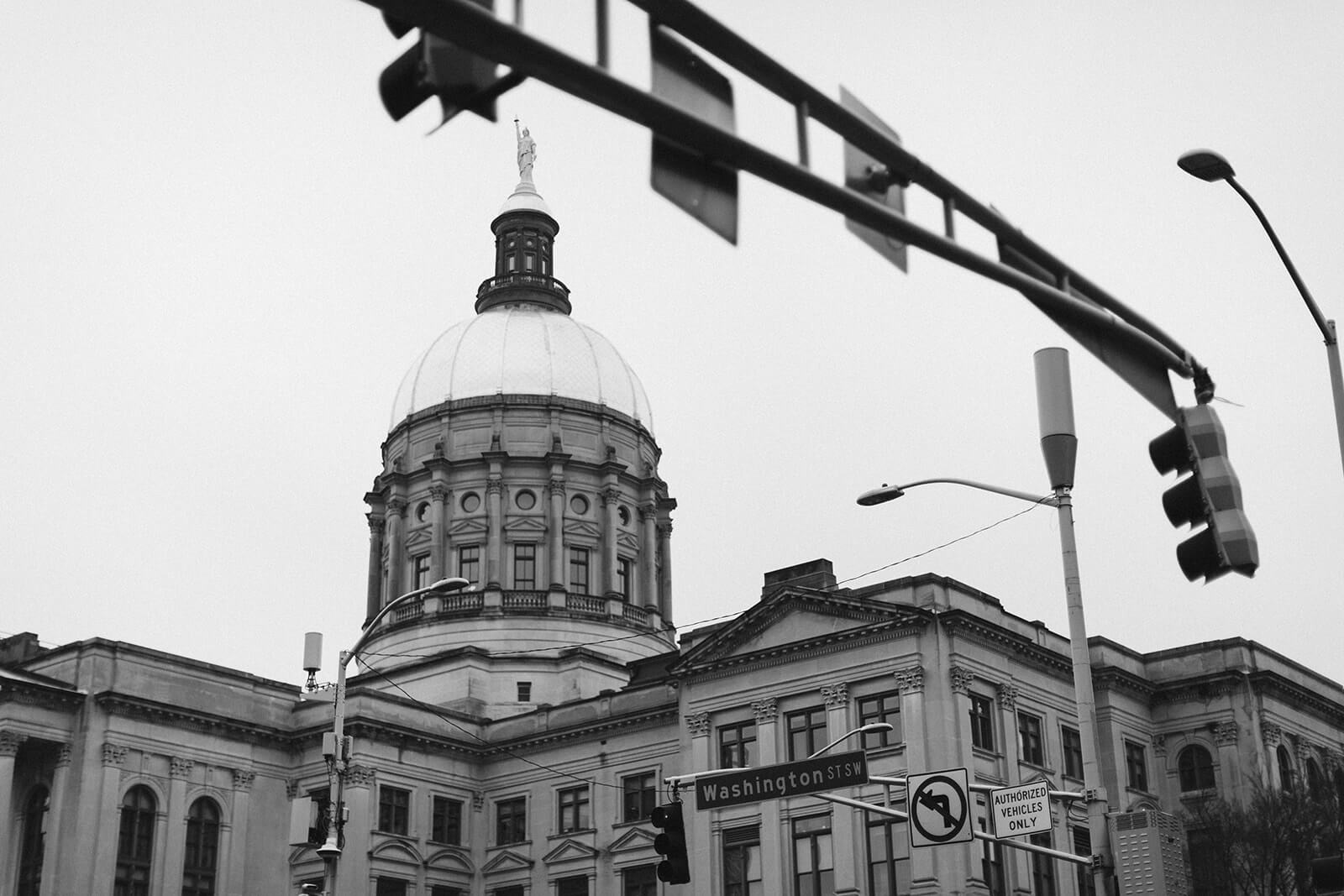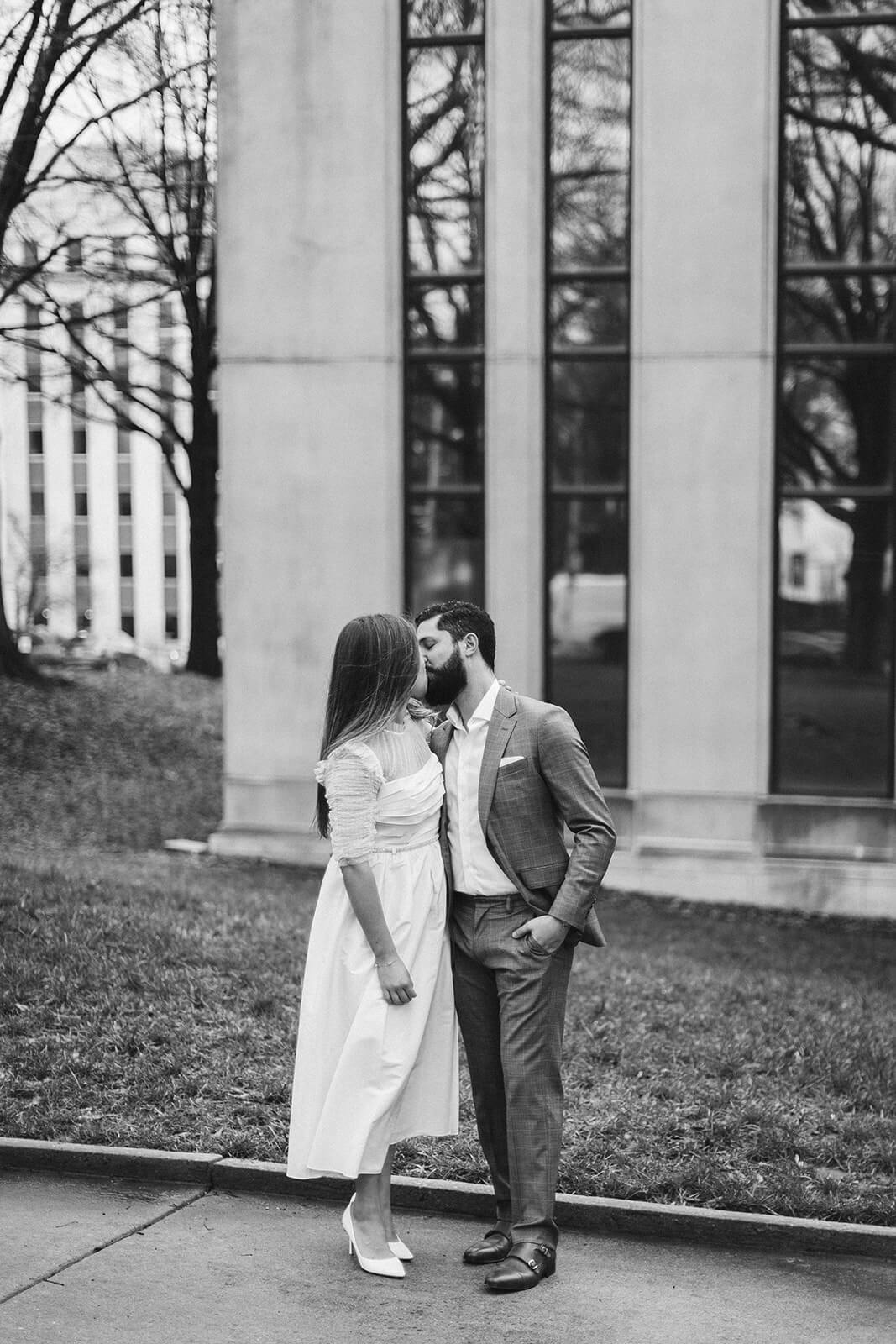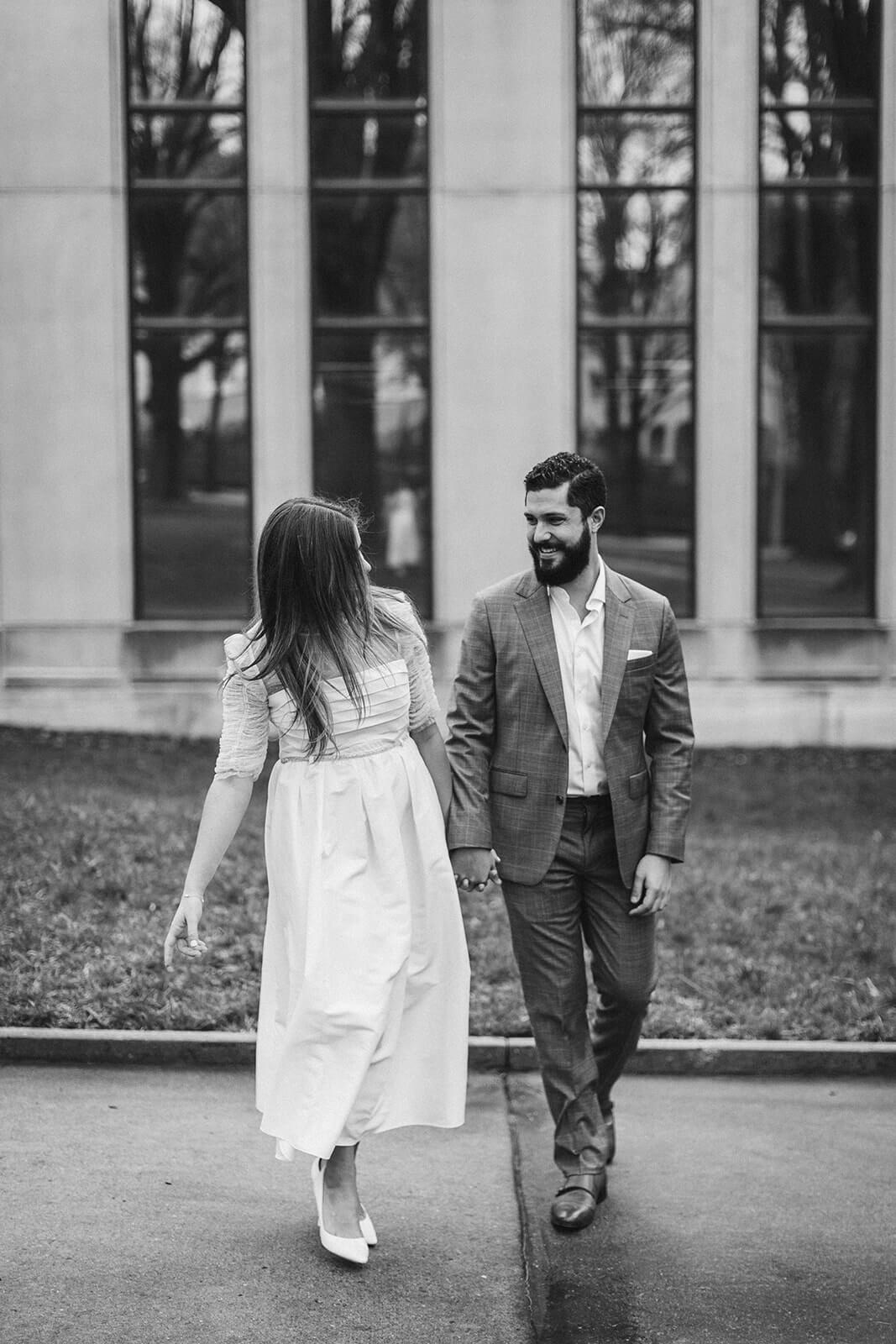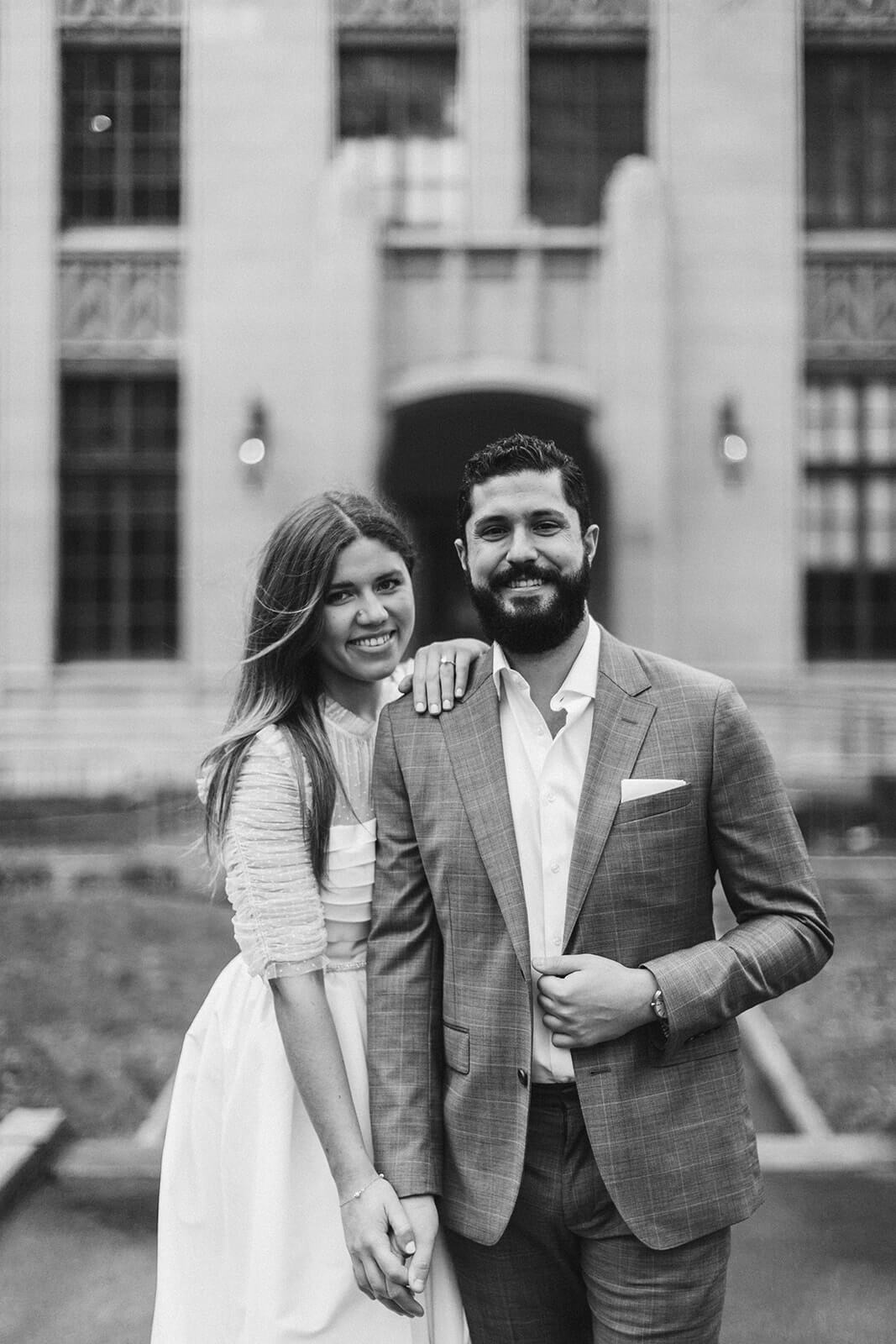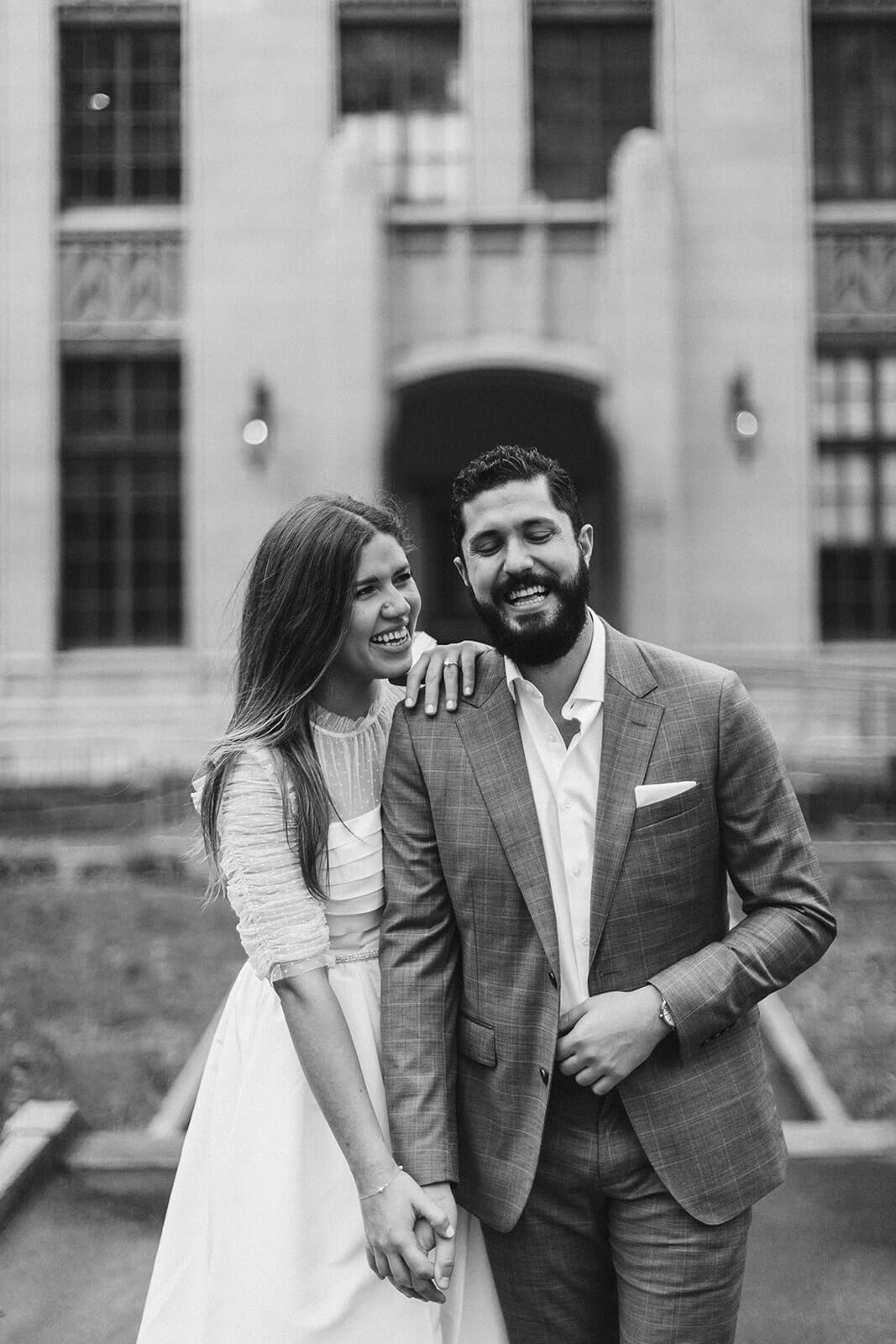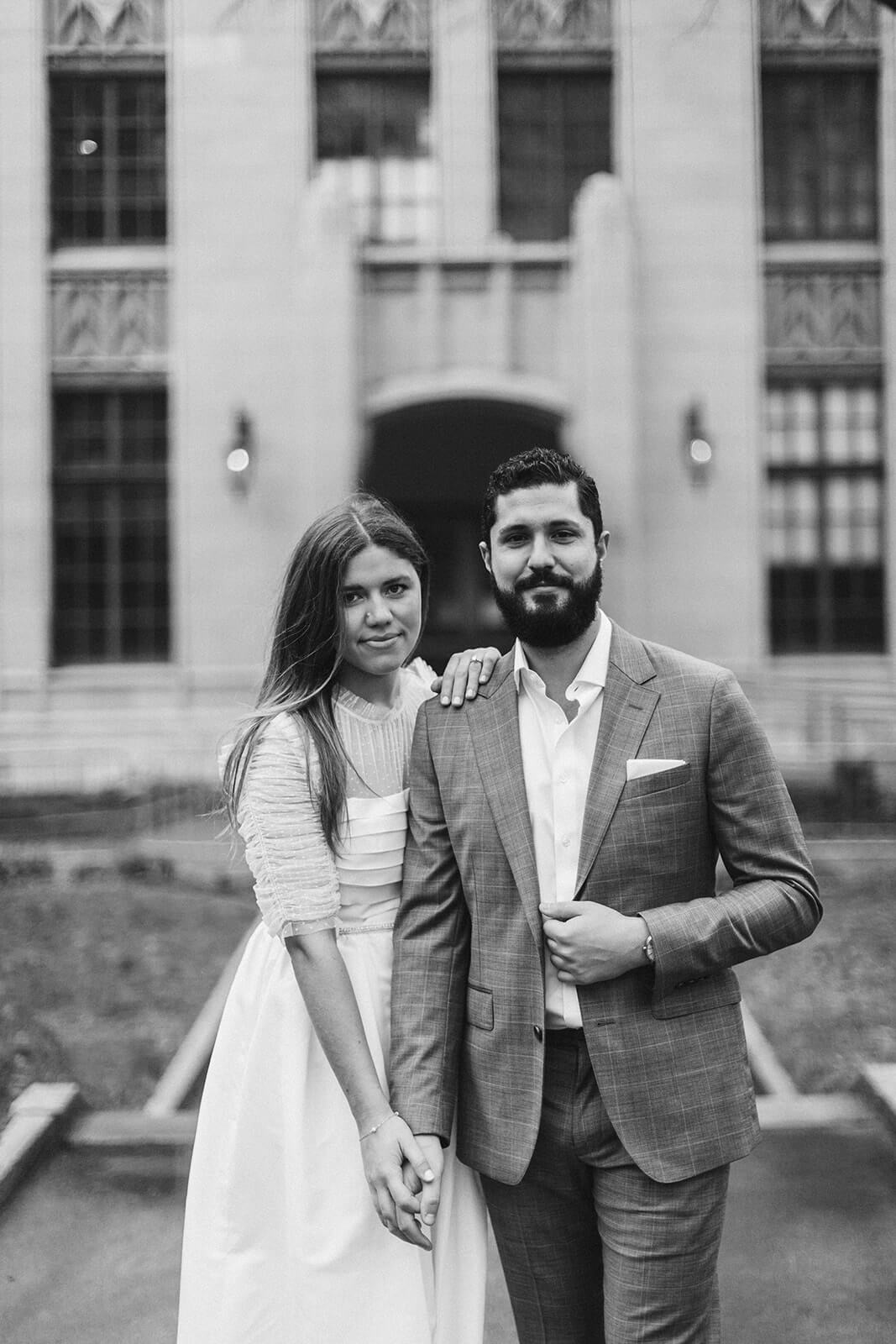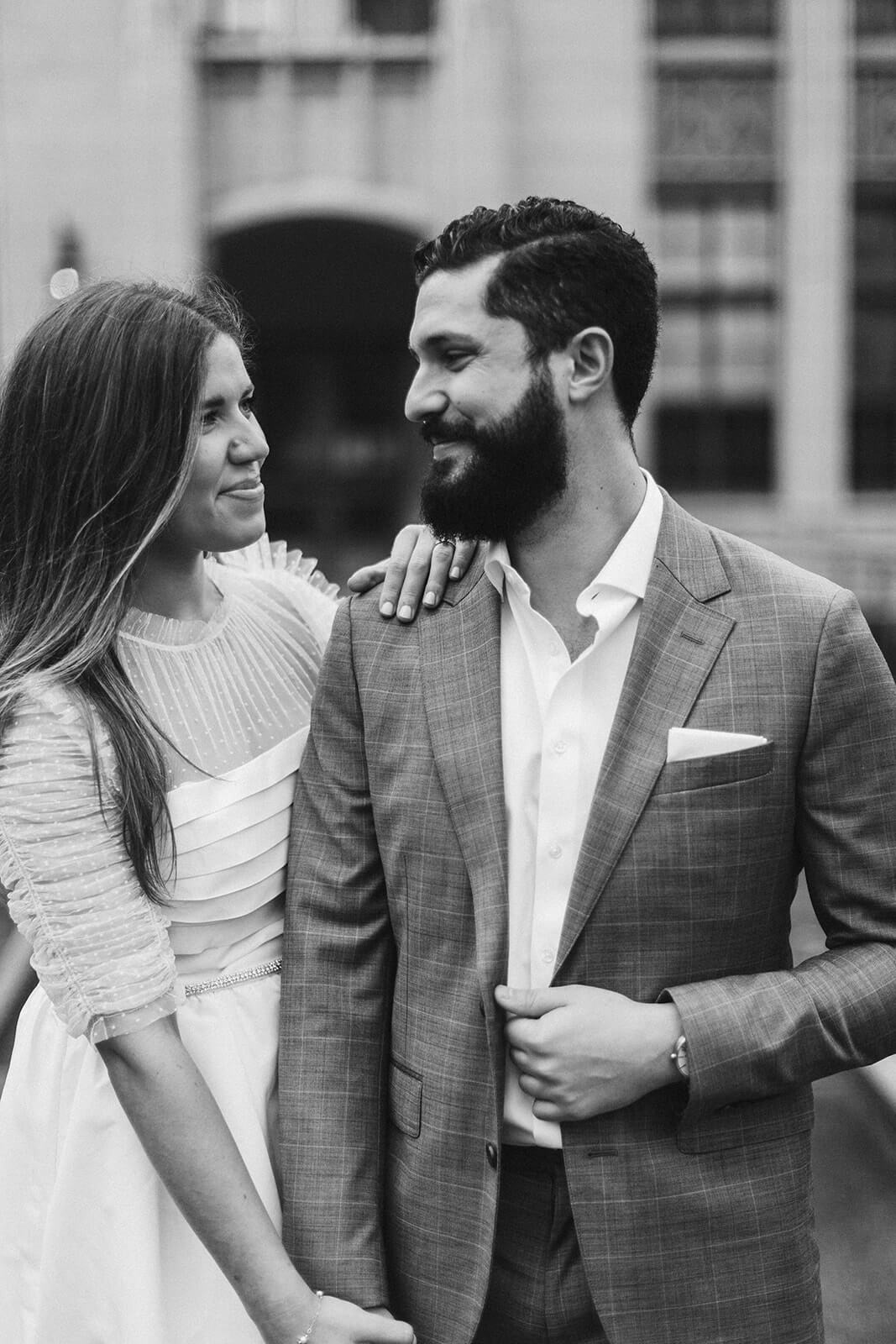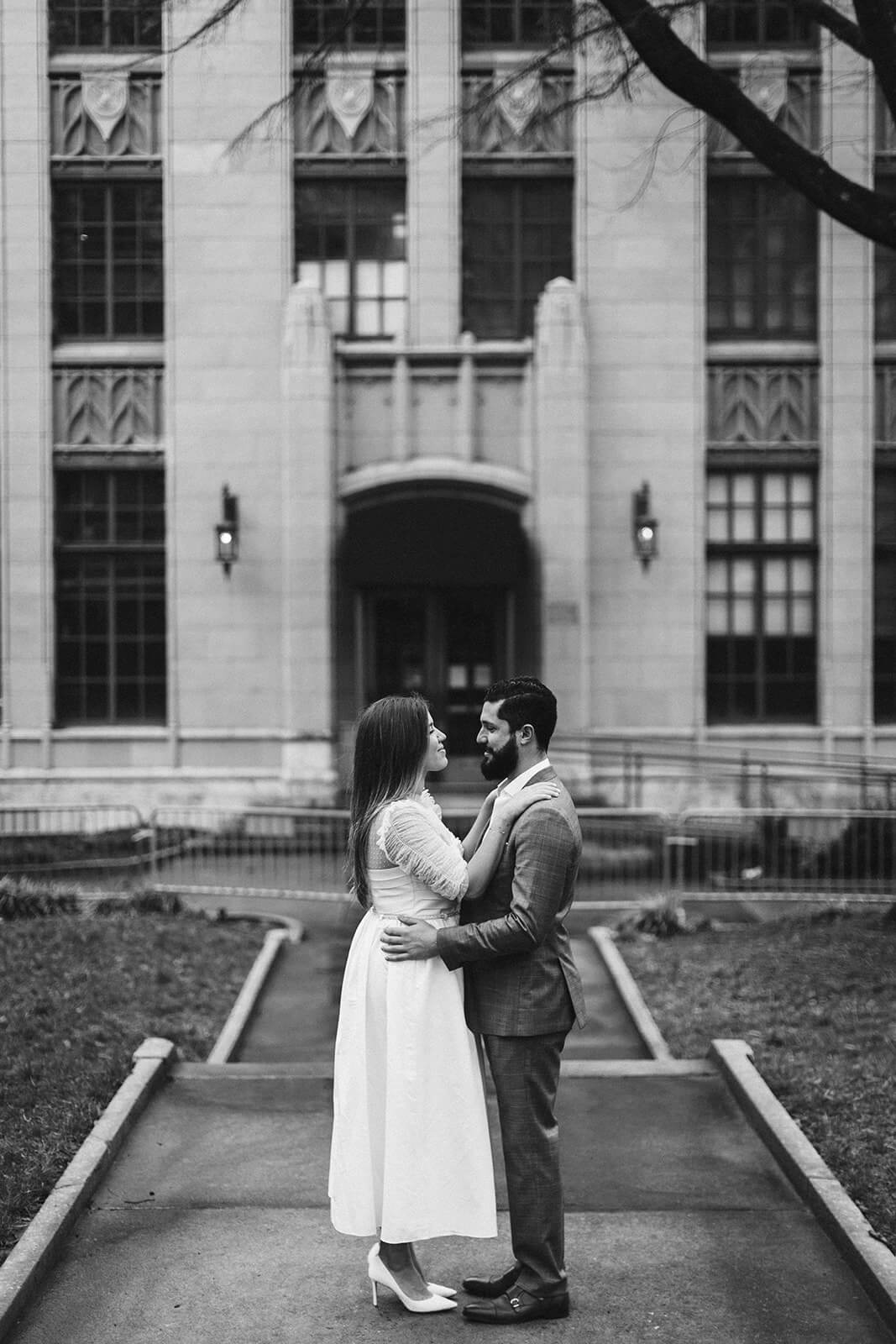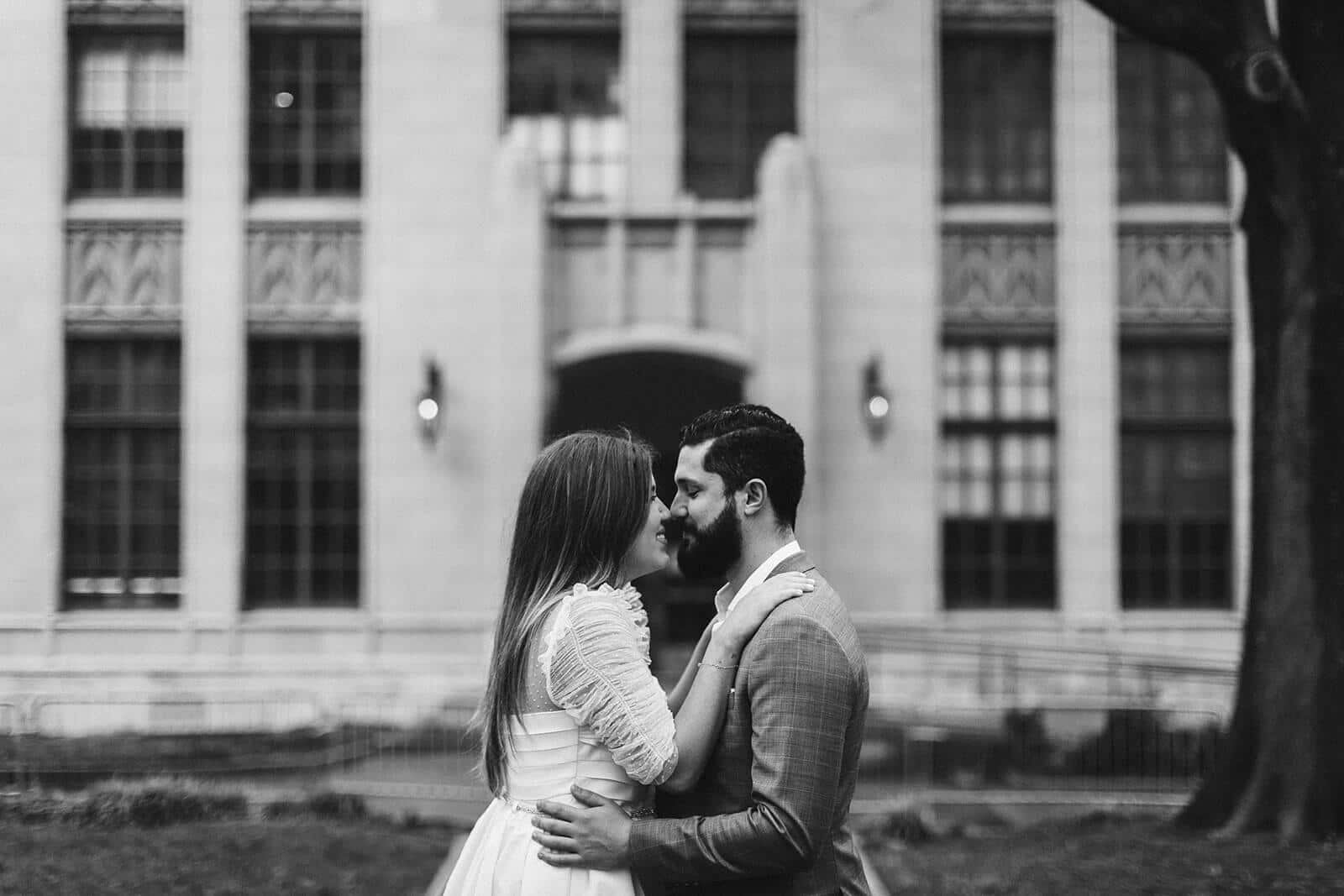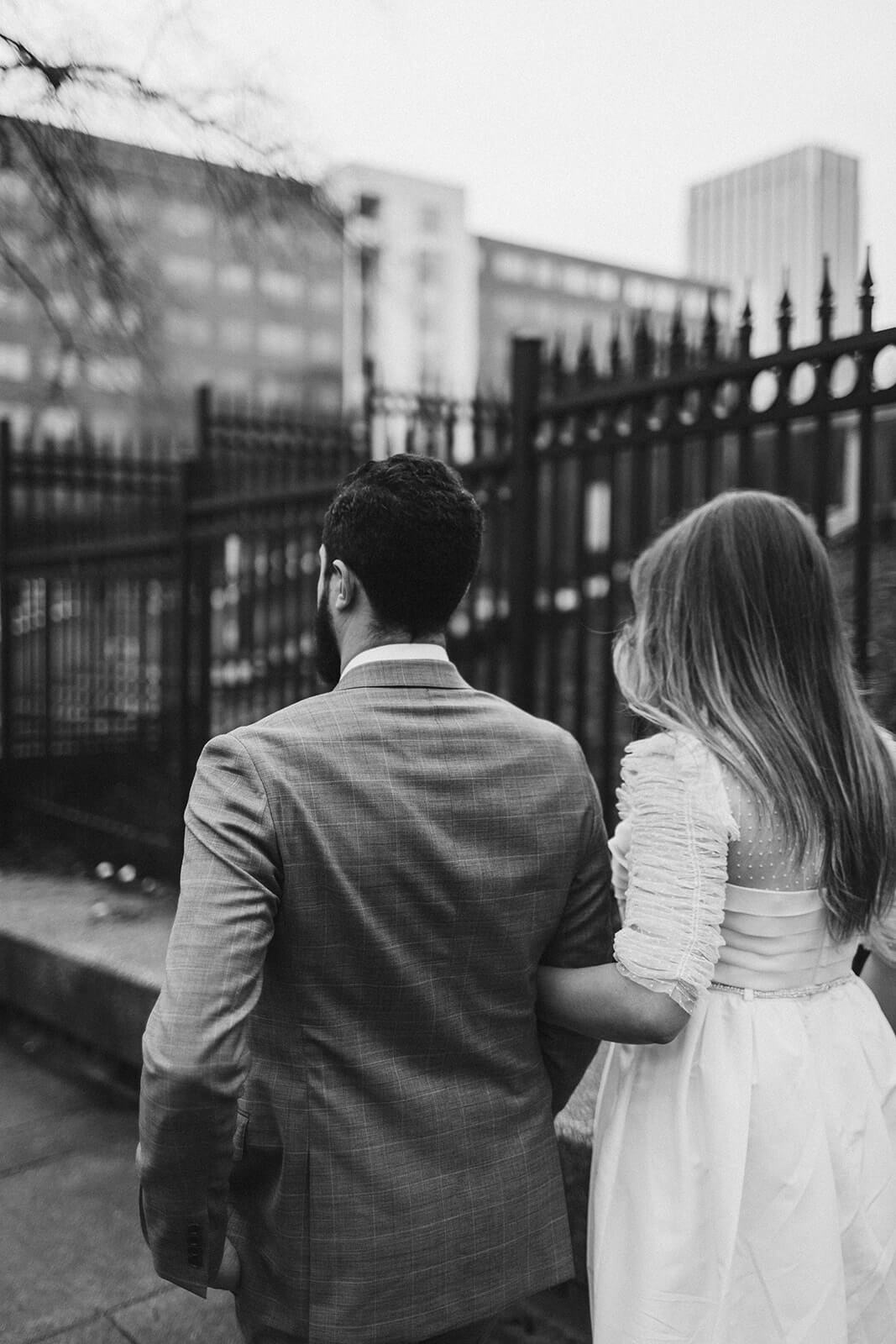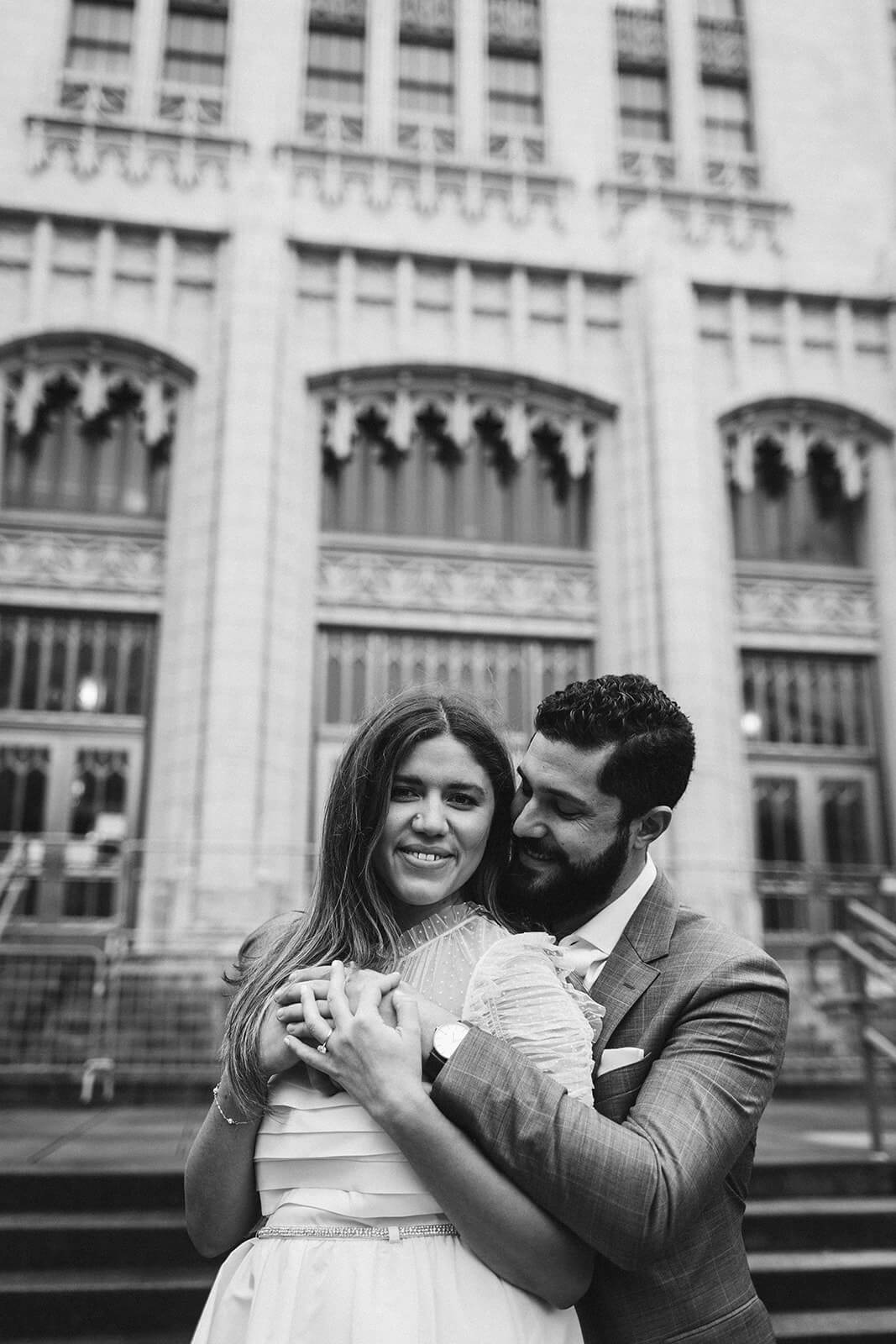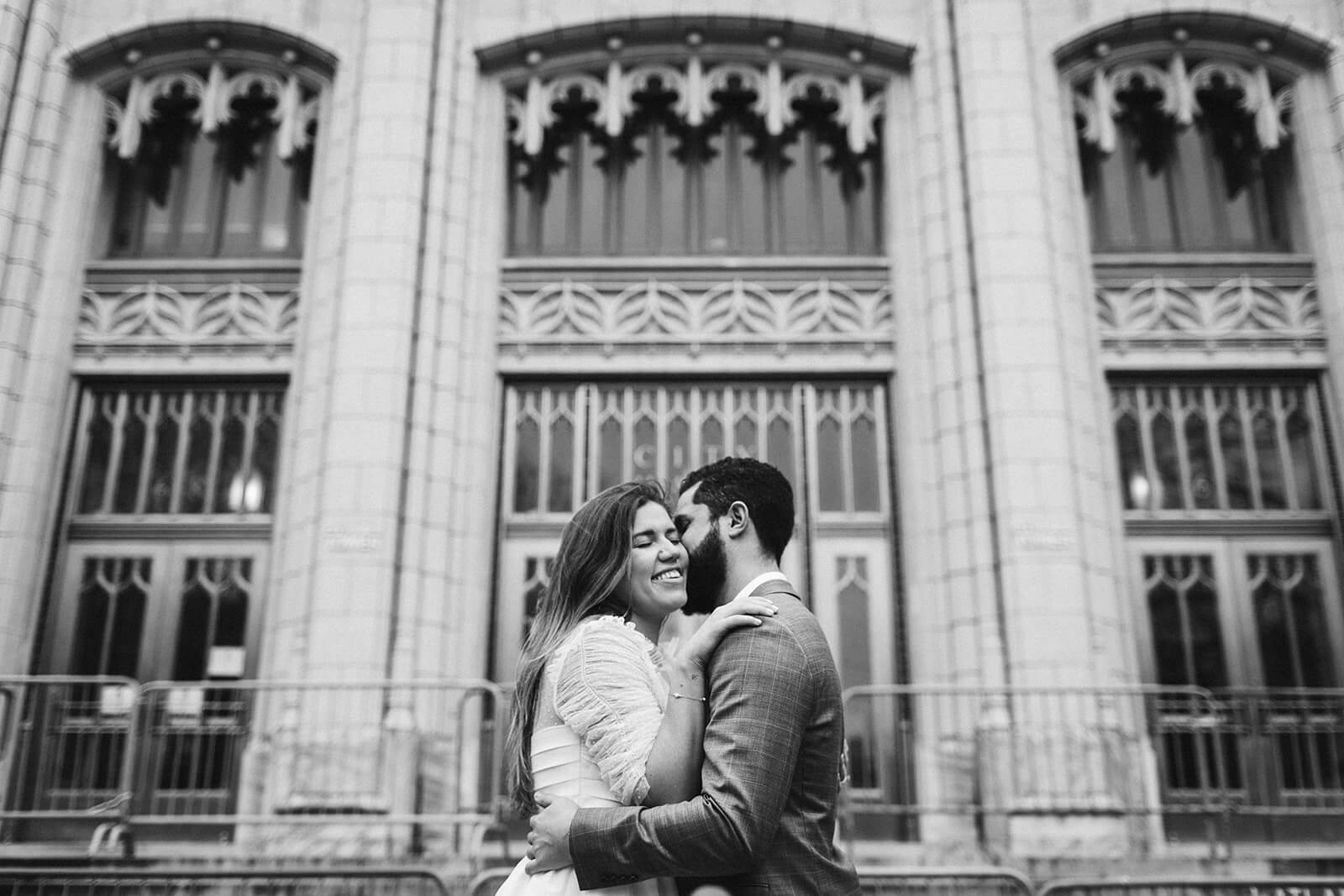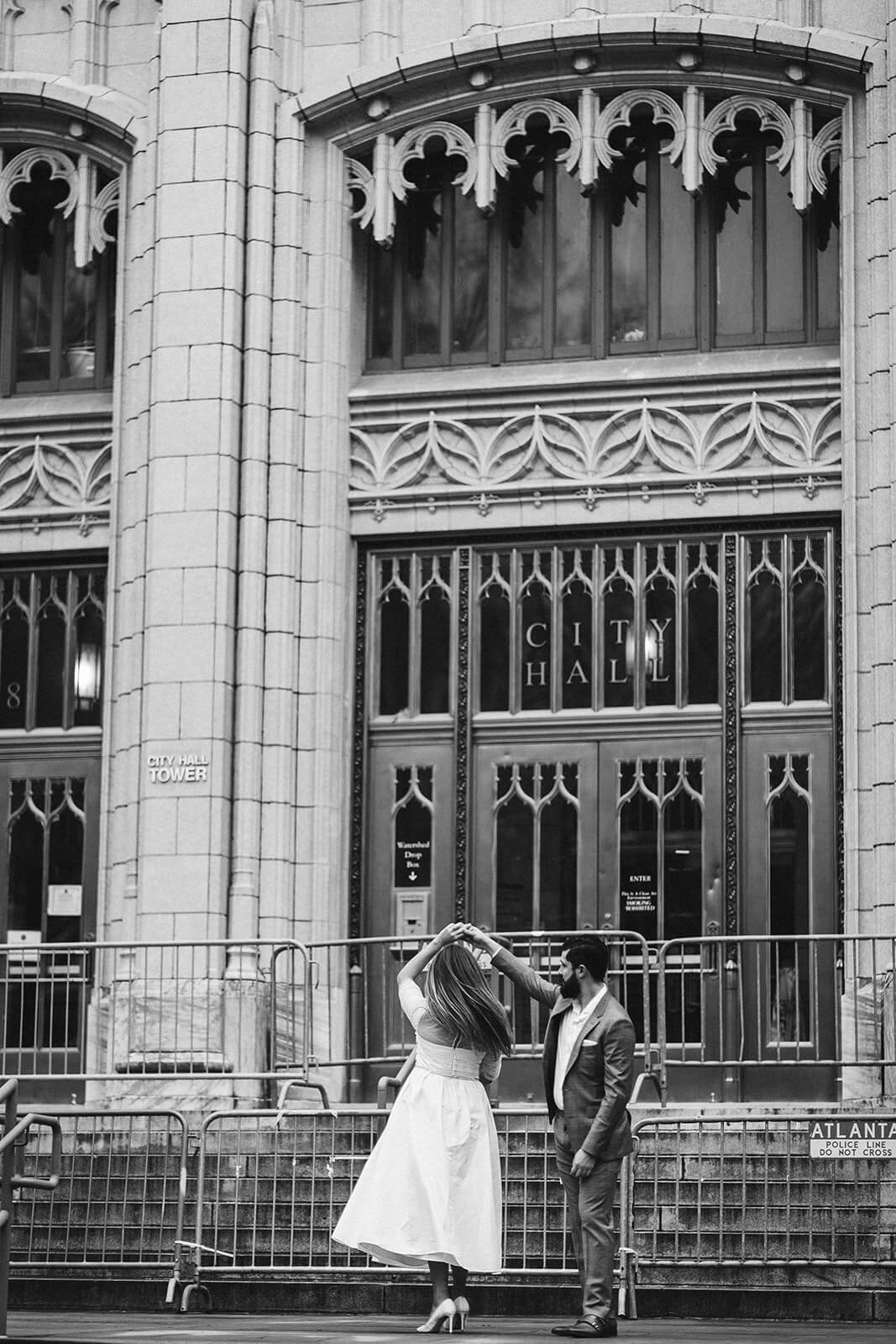 Using Urban Architecture to Create Captivating Photos
We began the day by taking photos outside of the Atlanta City Hall. The city hall building is located in the center of the government sector of Atlanta. It's an historic building once referred to as the "symbol of Atlanta's growth as a metropolitan center." The gorgeous Gothic architecture complete with window arches and intricate ornamental stonework designs made a wonderful backdrop for our couple. 
One advantage of urban photography is that there are many textures and interesting lines to work with due to the various types of city architecture. The massive doorway arches of the Atlanta City Hall building created the perfect frame around Claire and André. The wide angle shot captured the balance and symmetry of the three arches while maintaining focus on Claire and André's loving embrace. By shooting from a lower angle, it gives the photo a unique composition while capturing the majesty of the architecture in the background.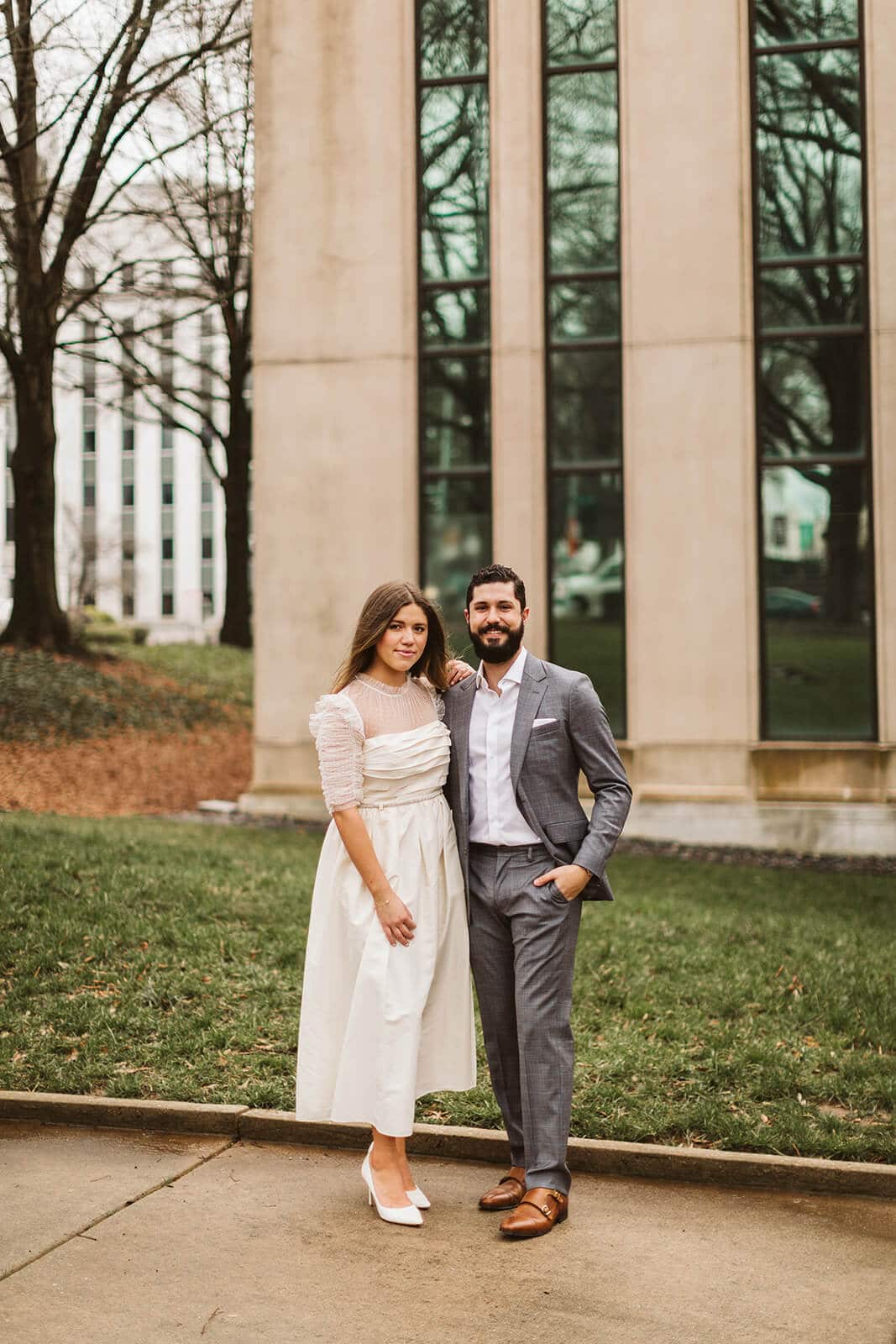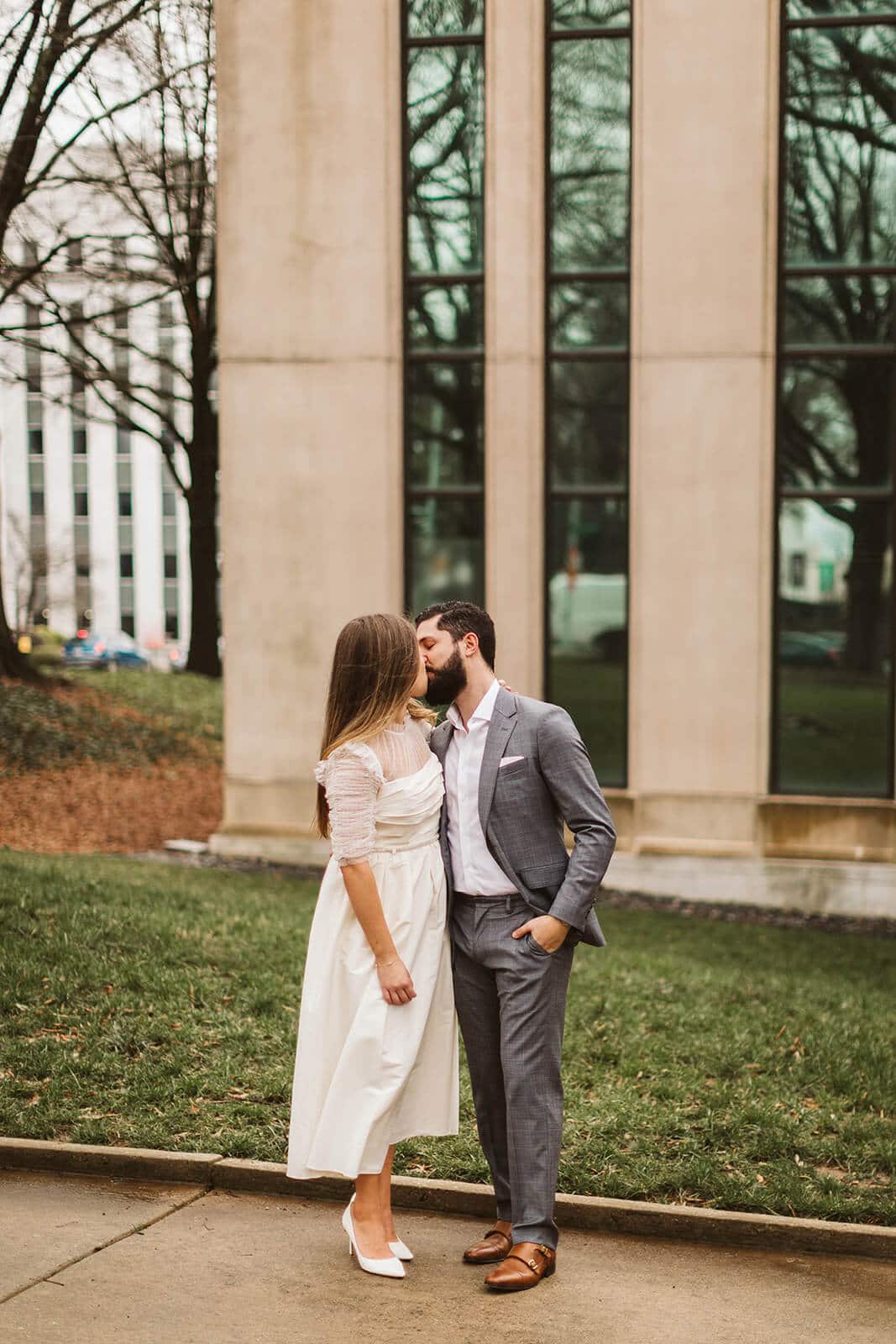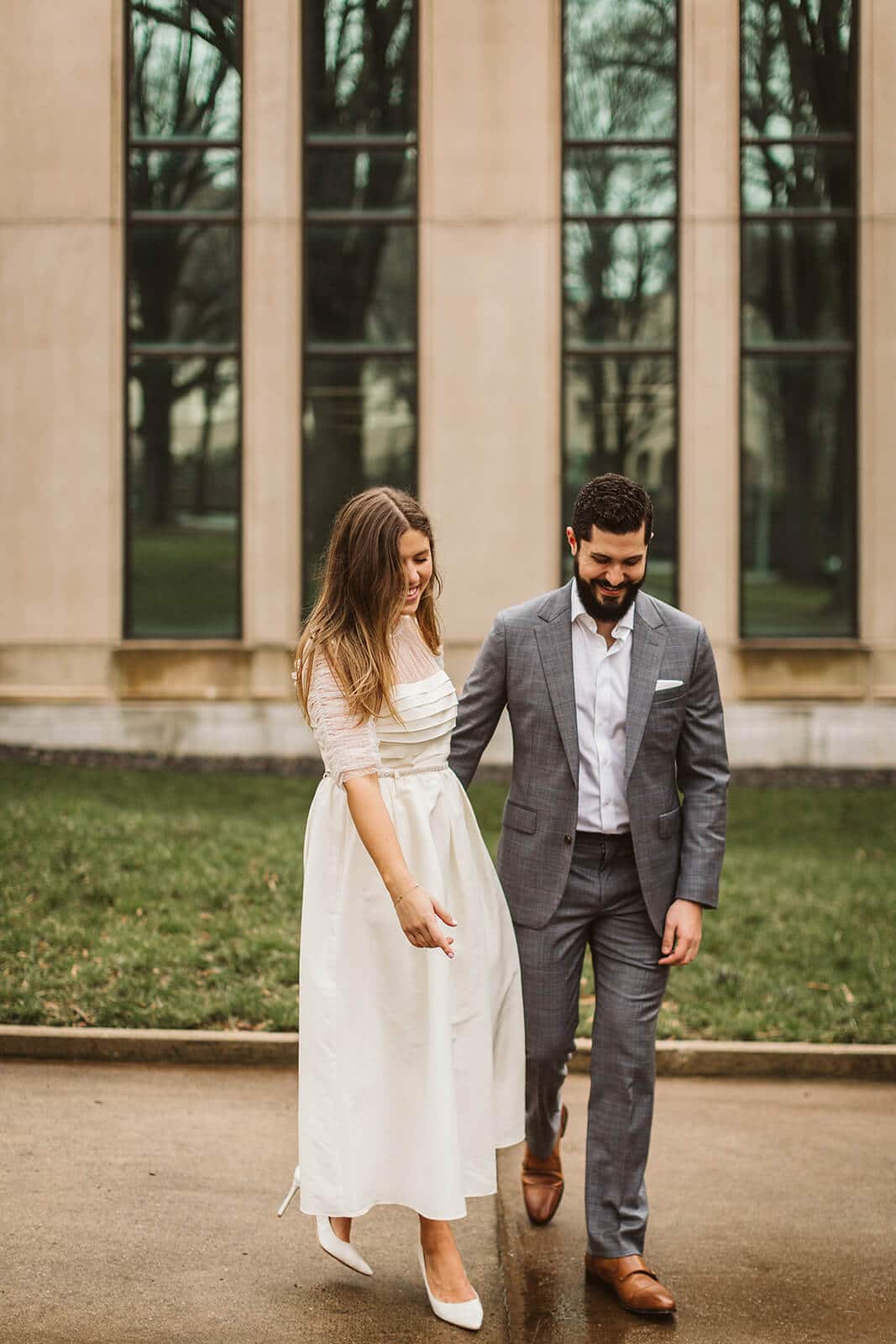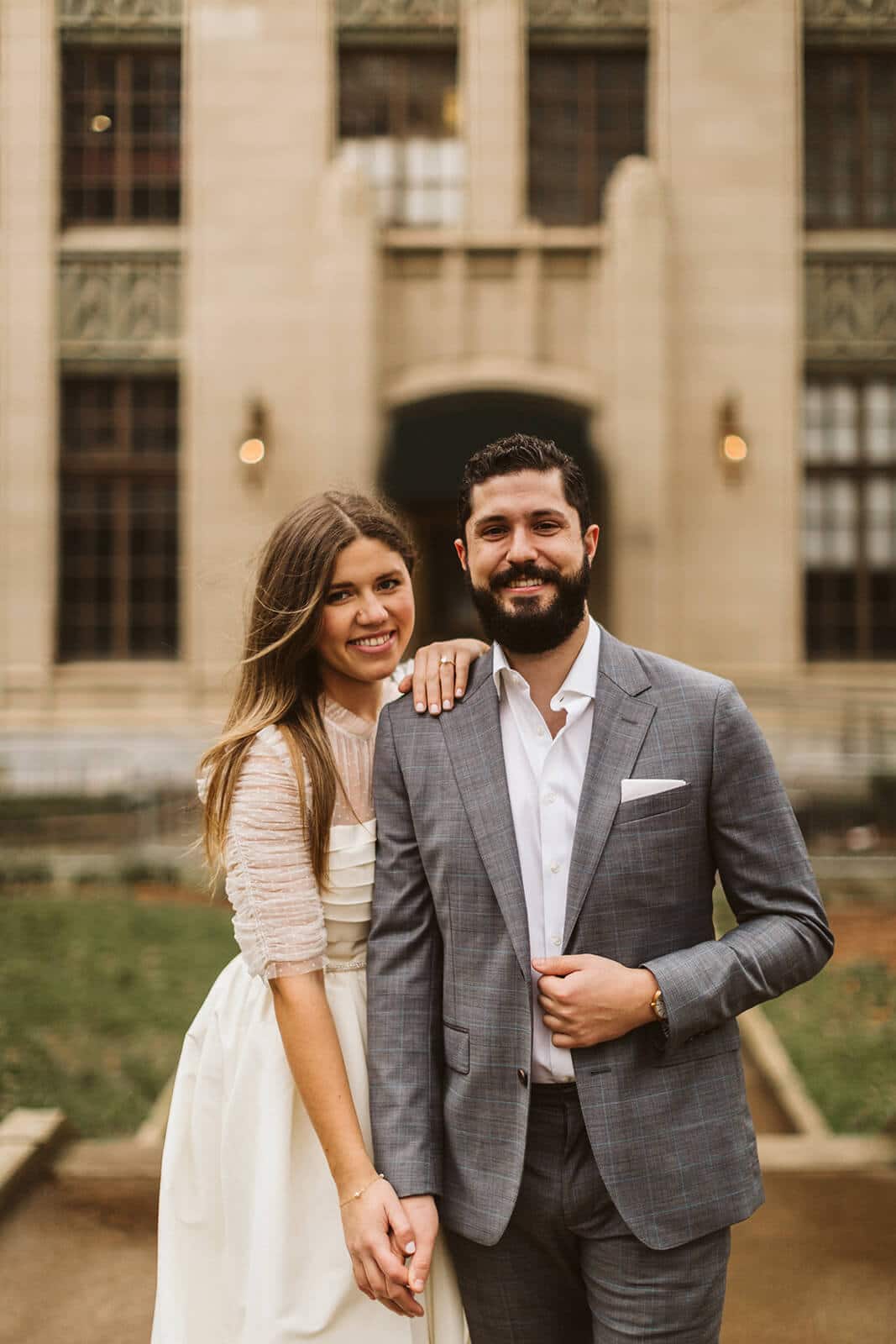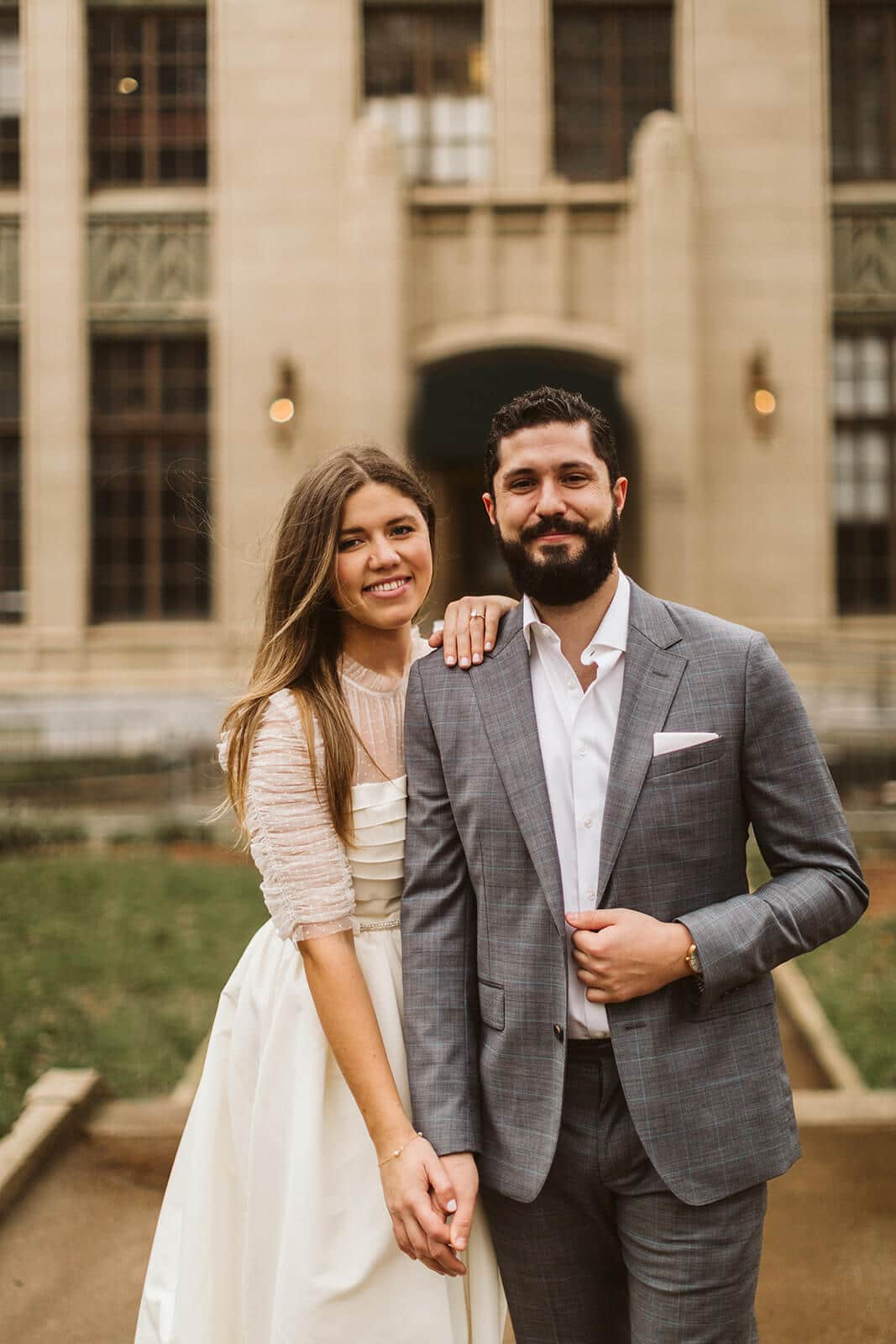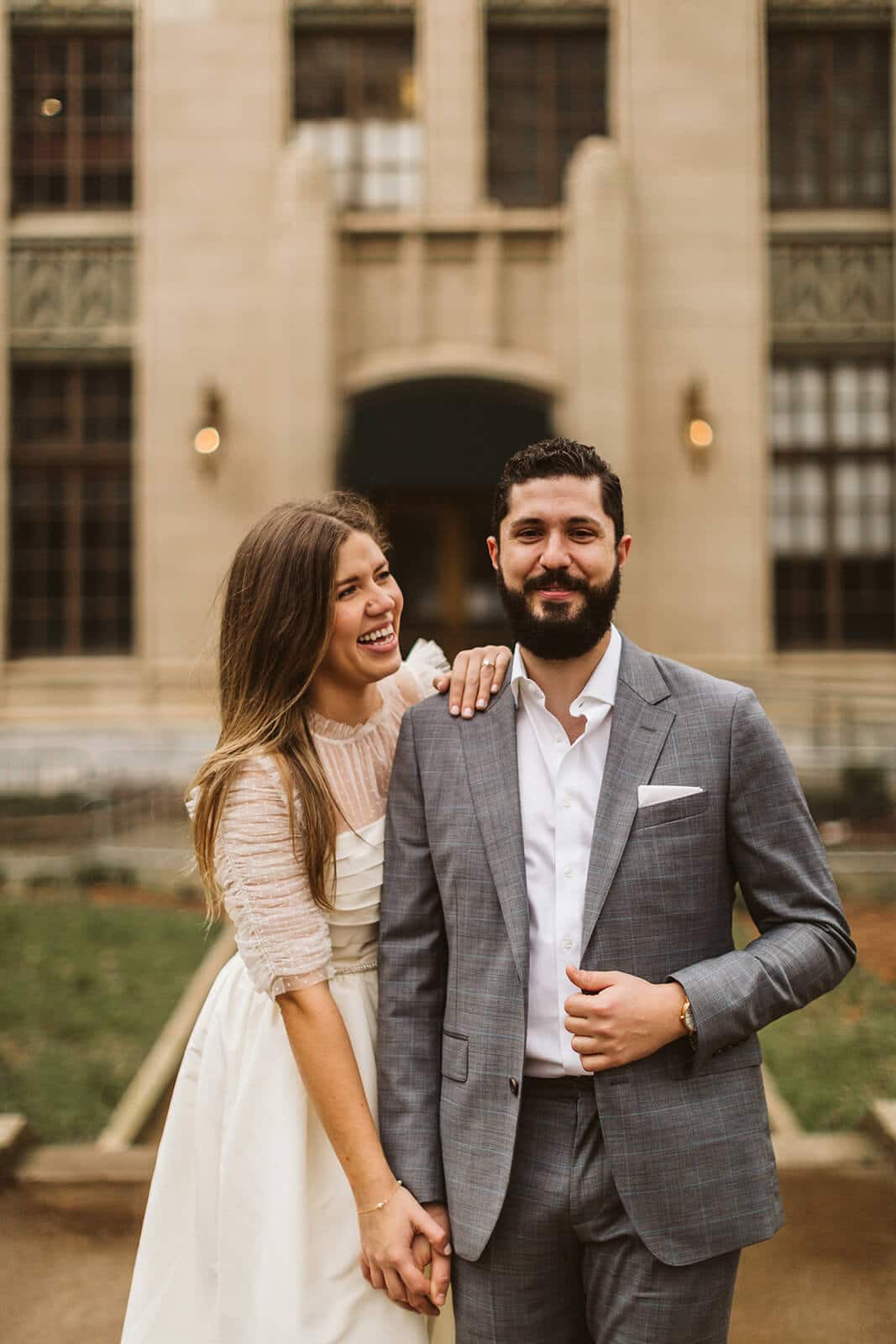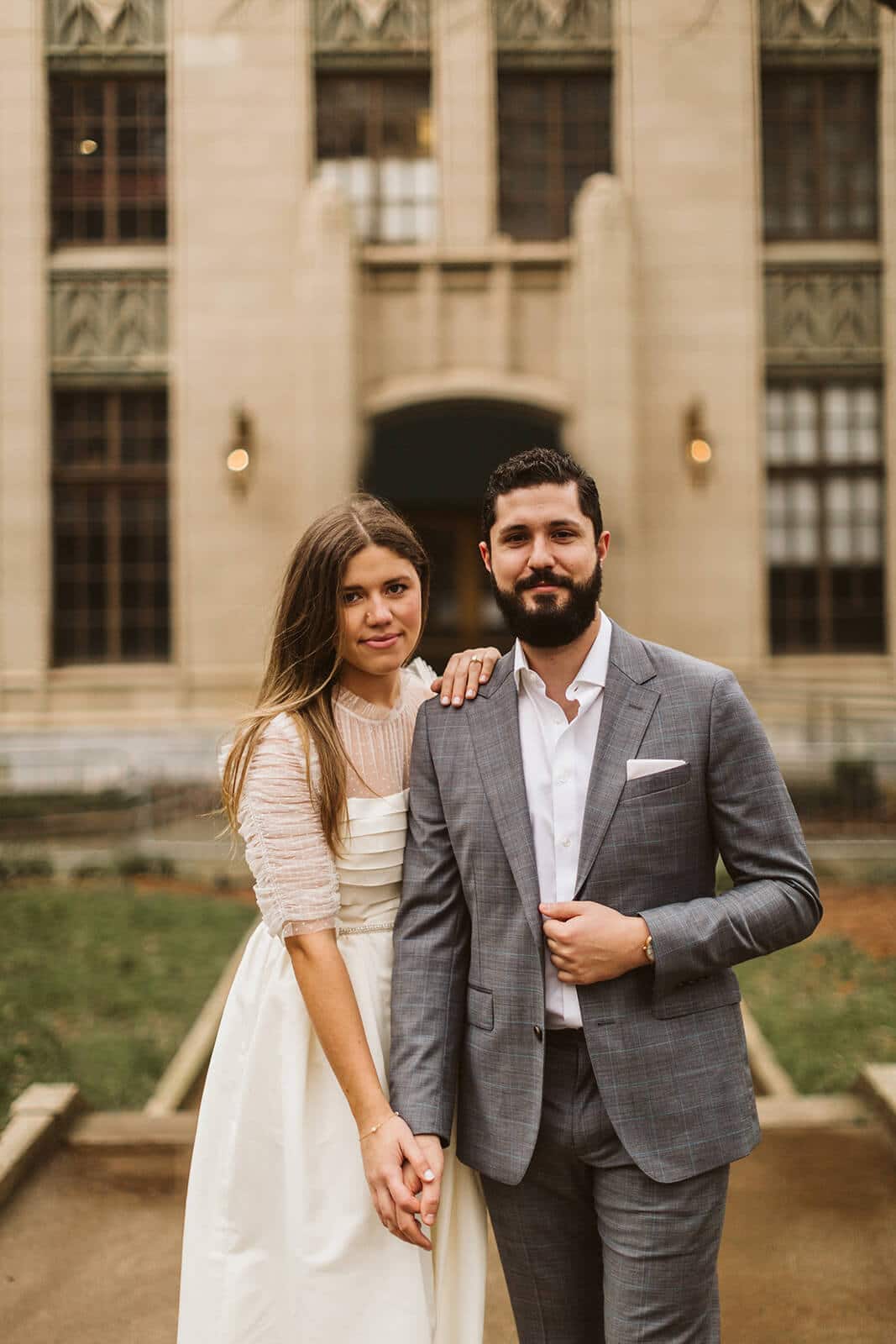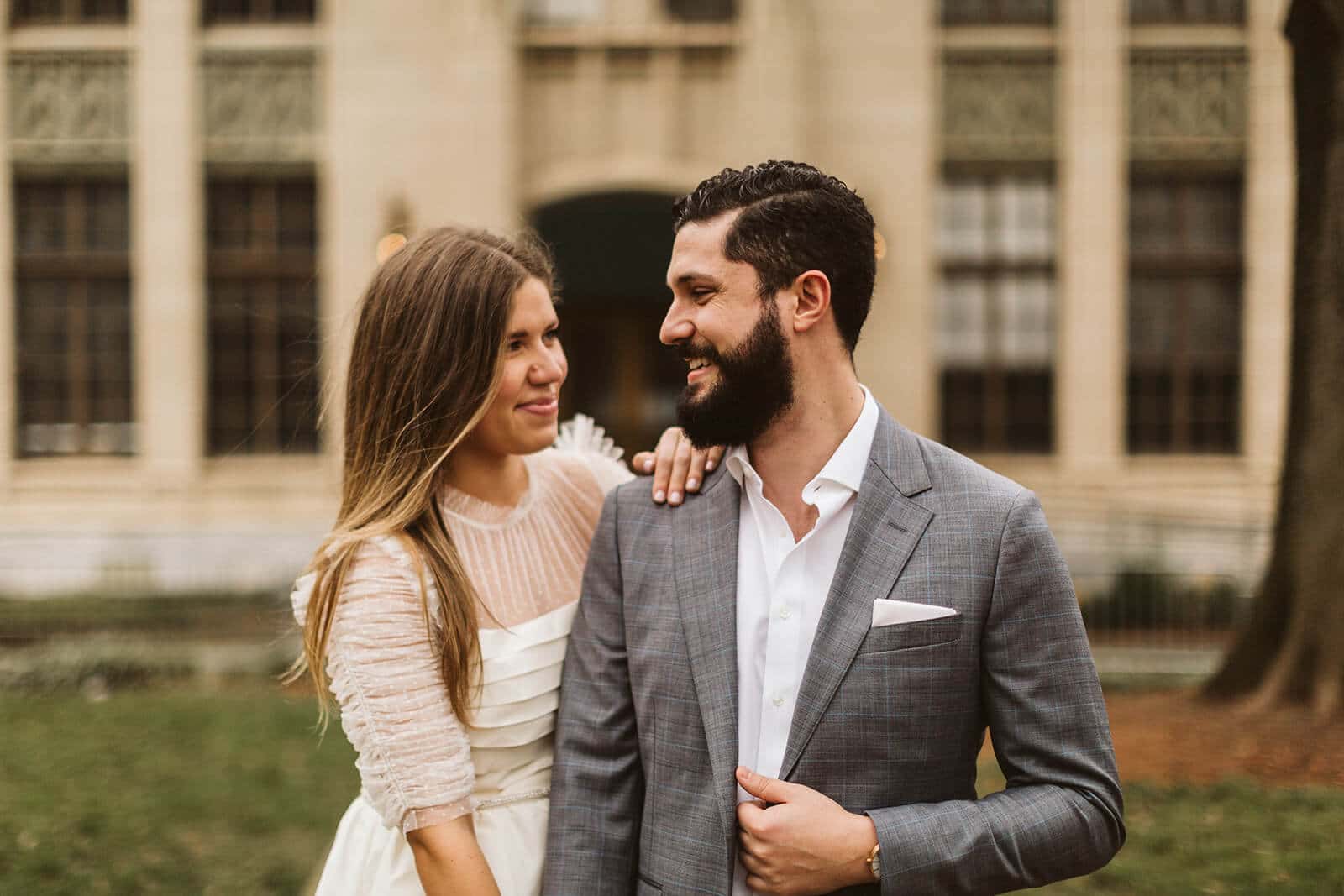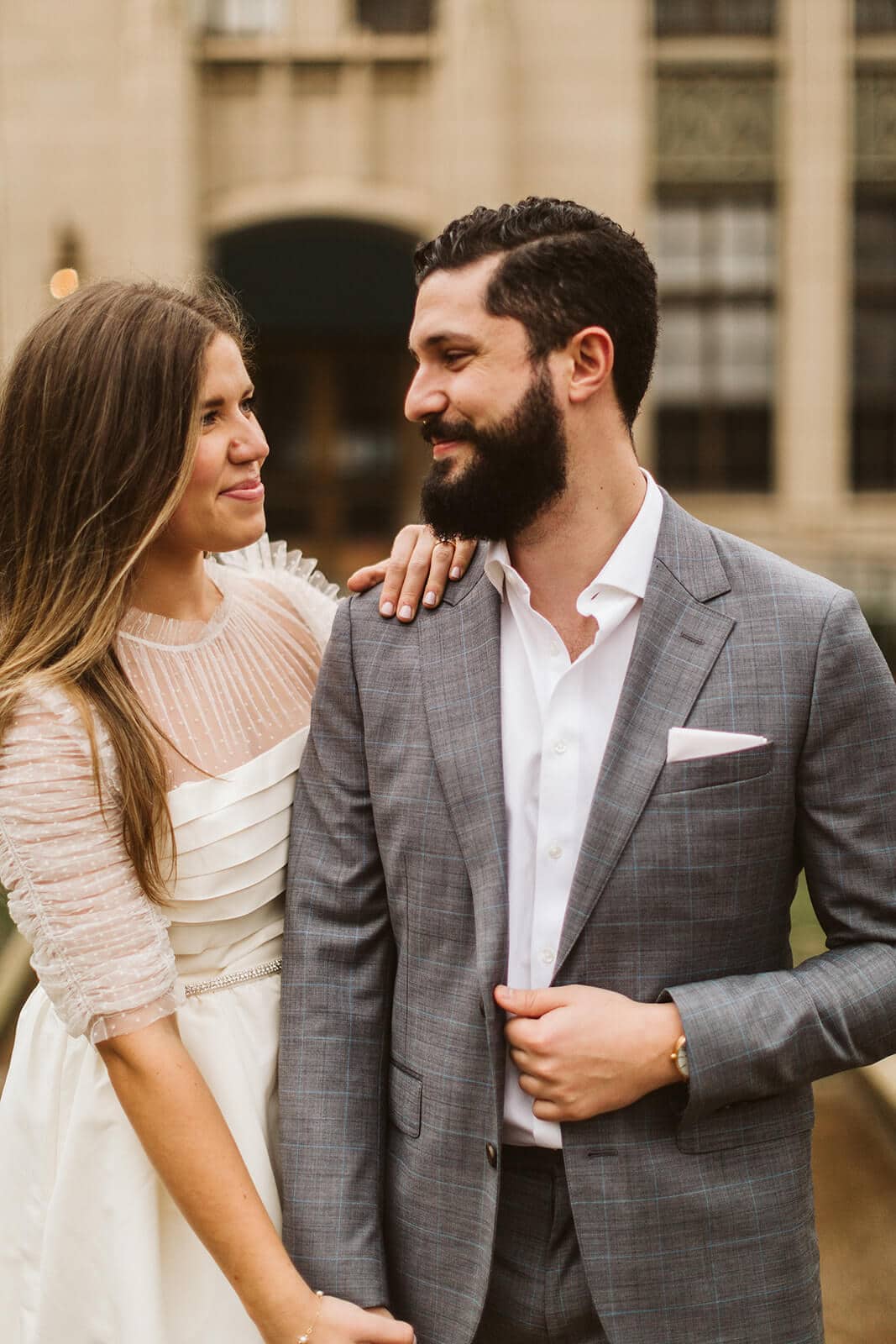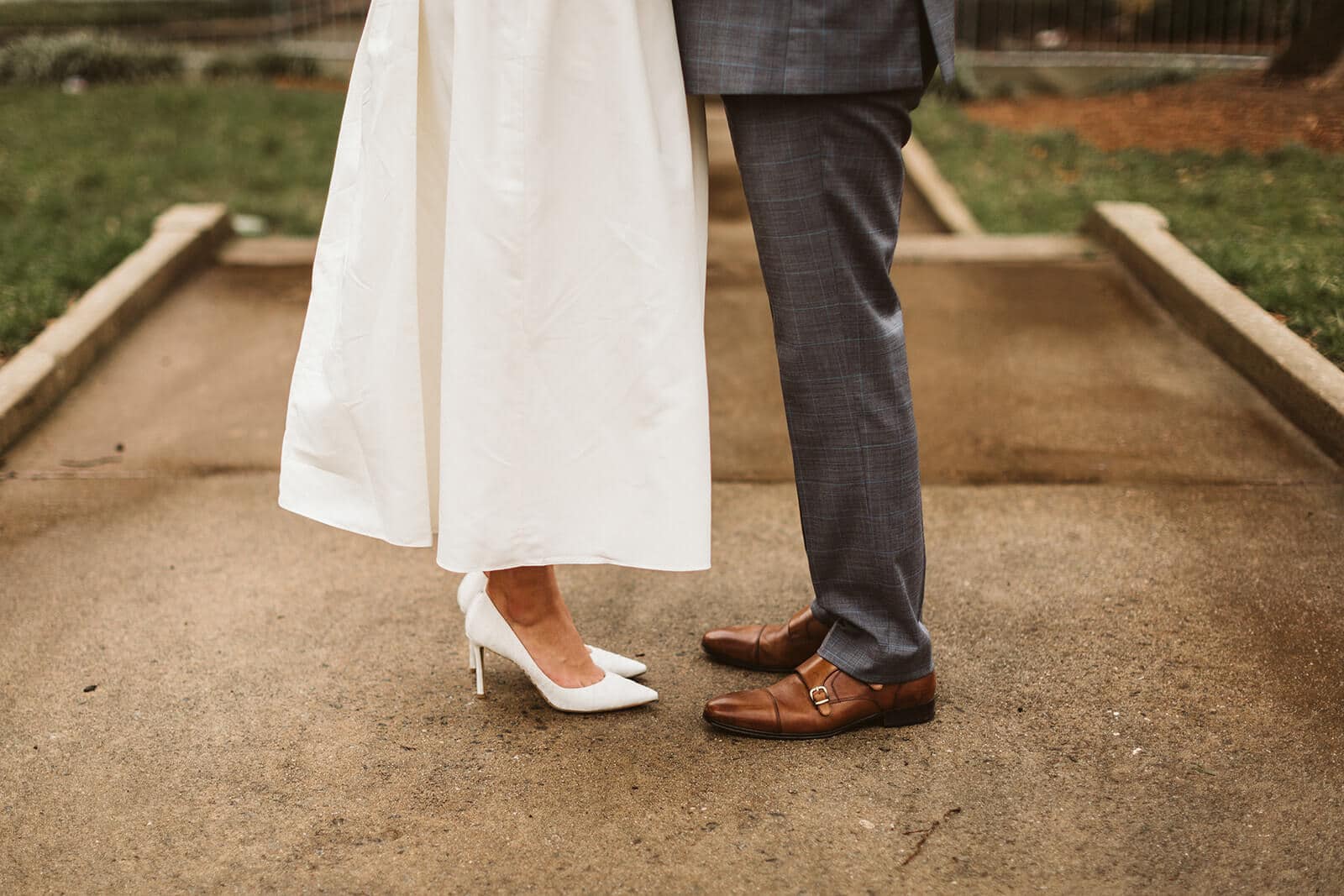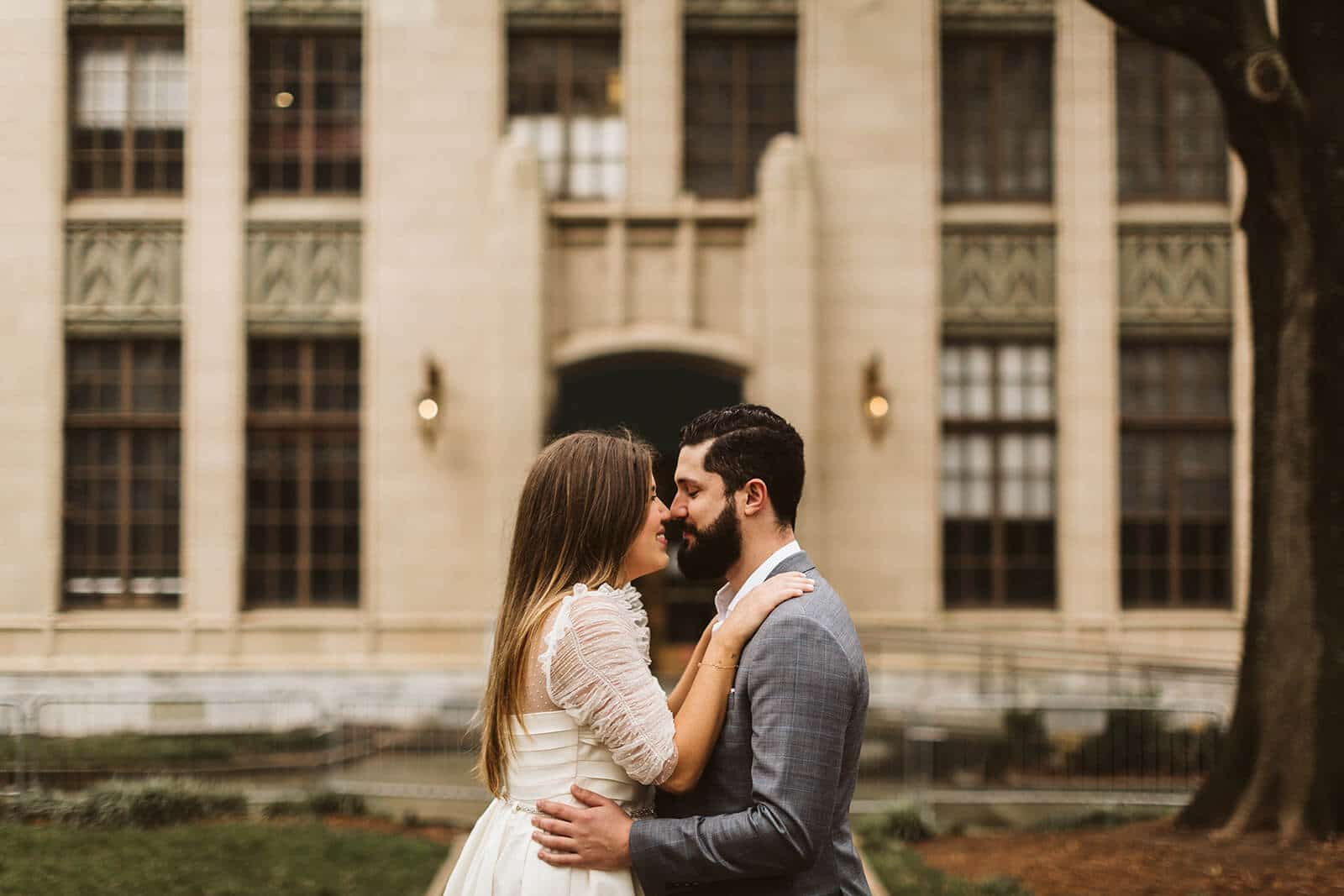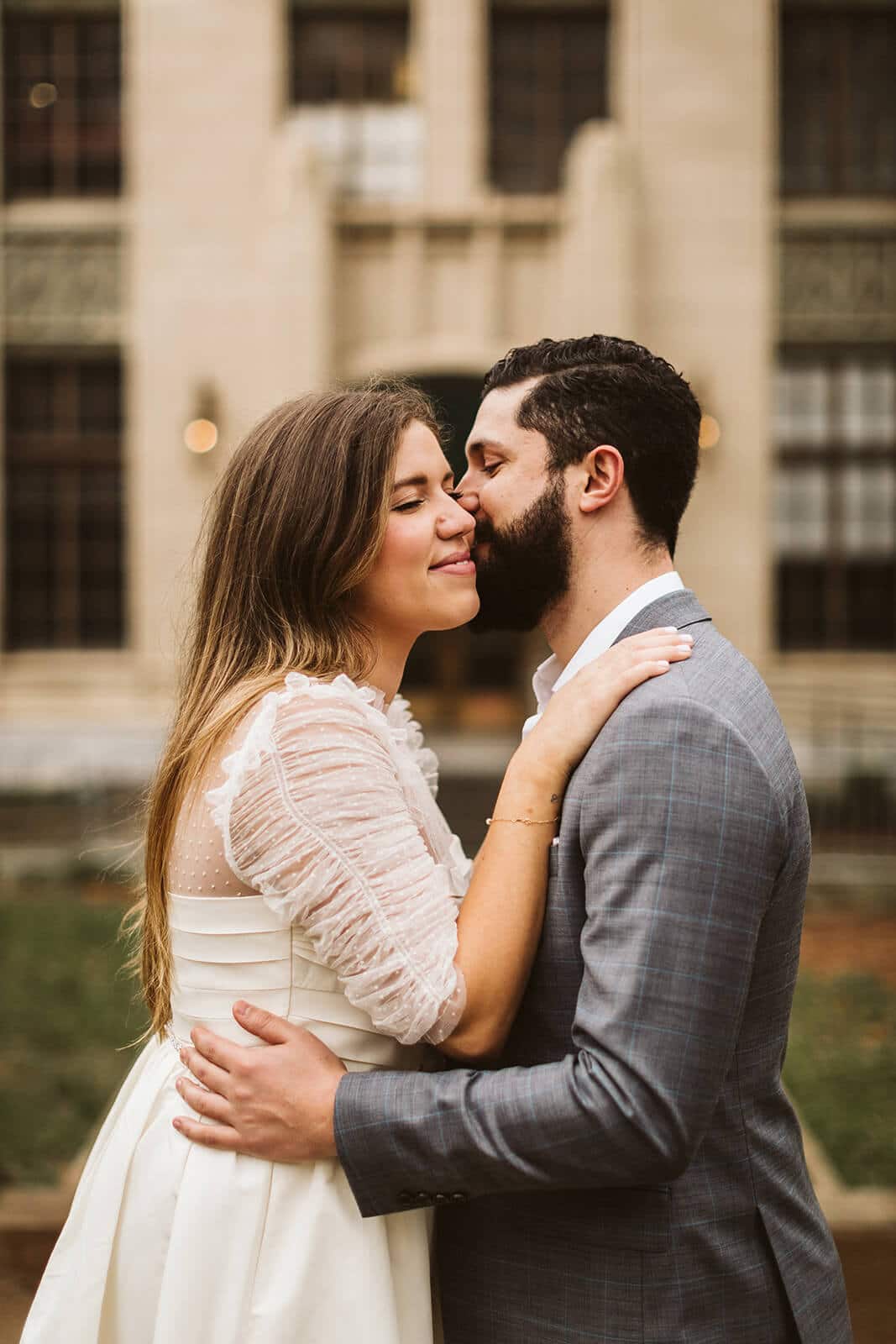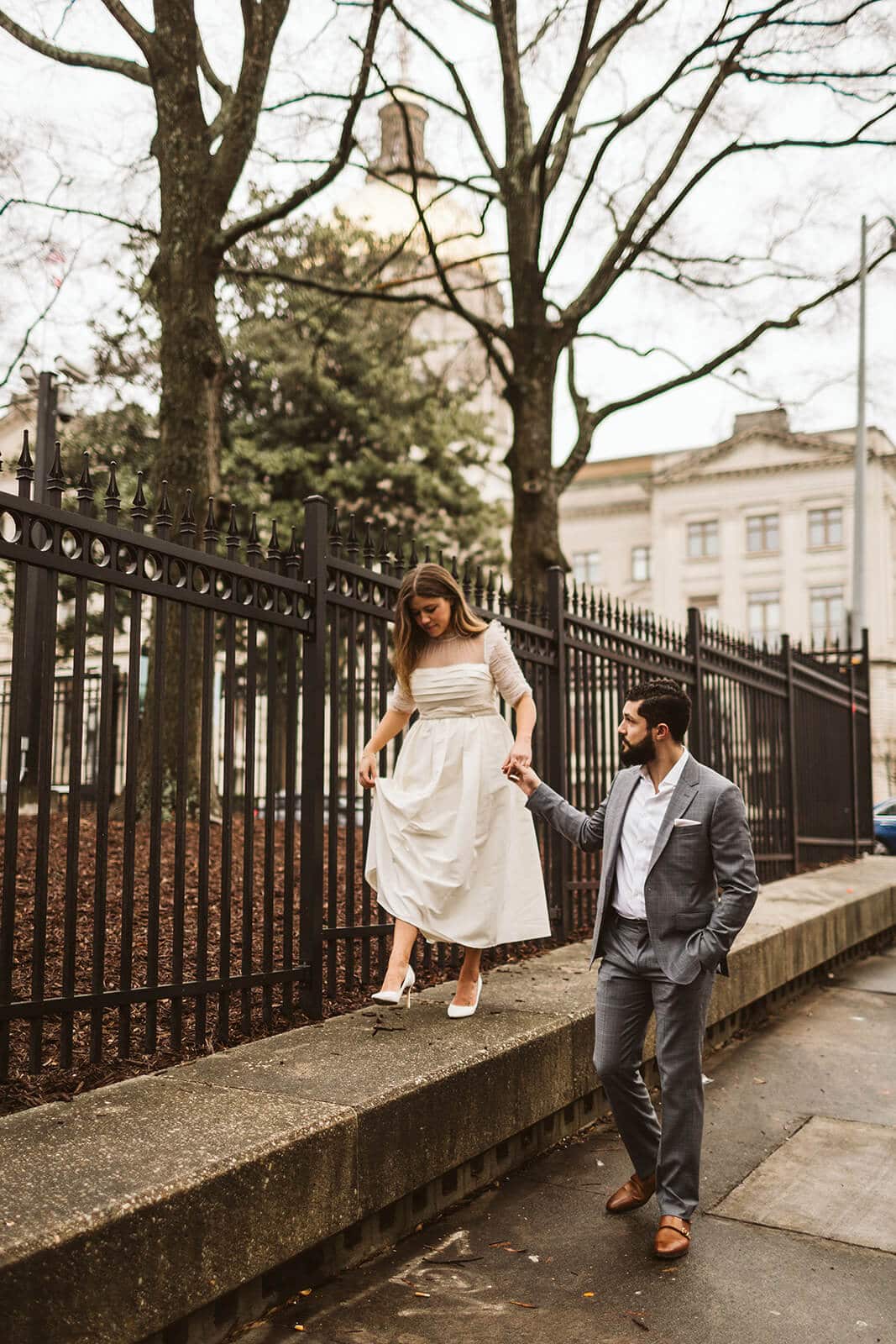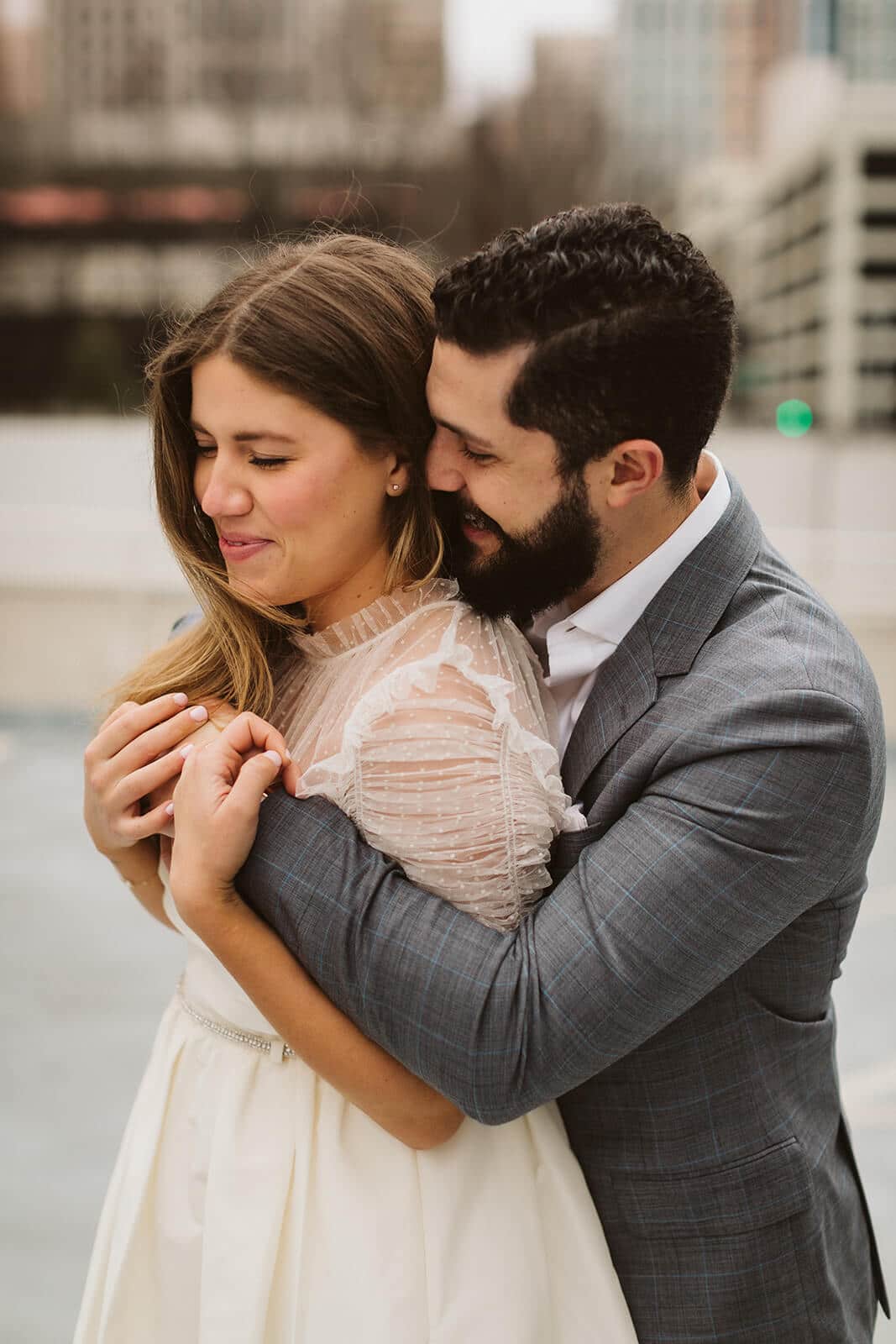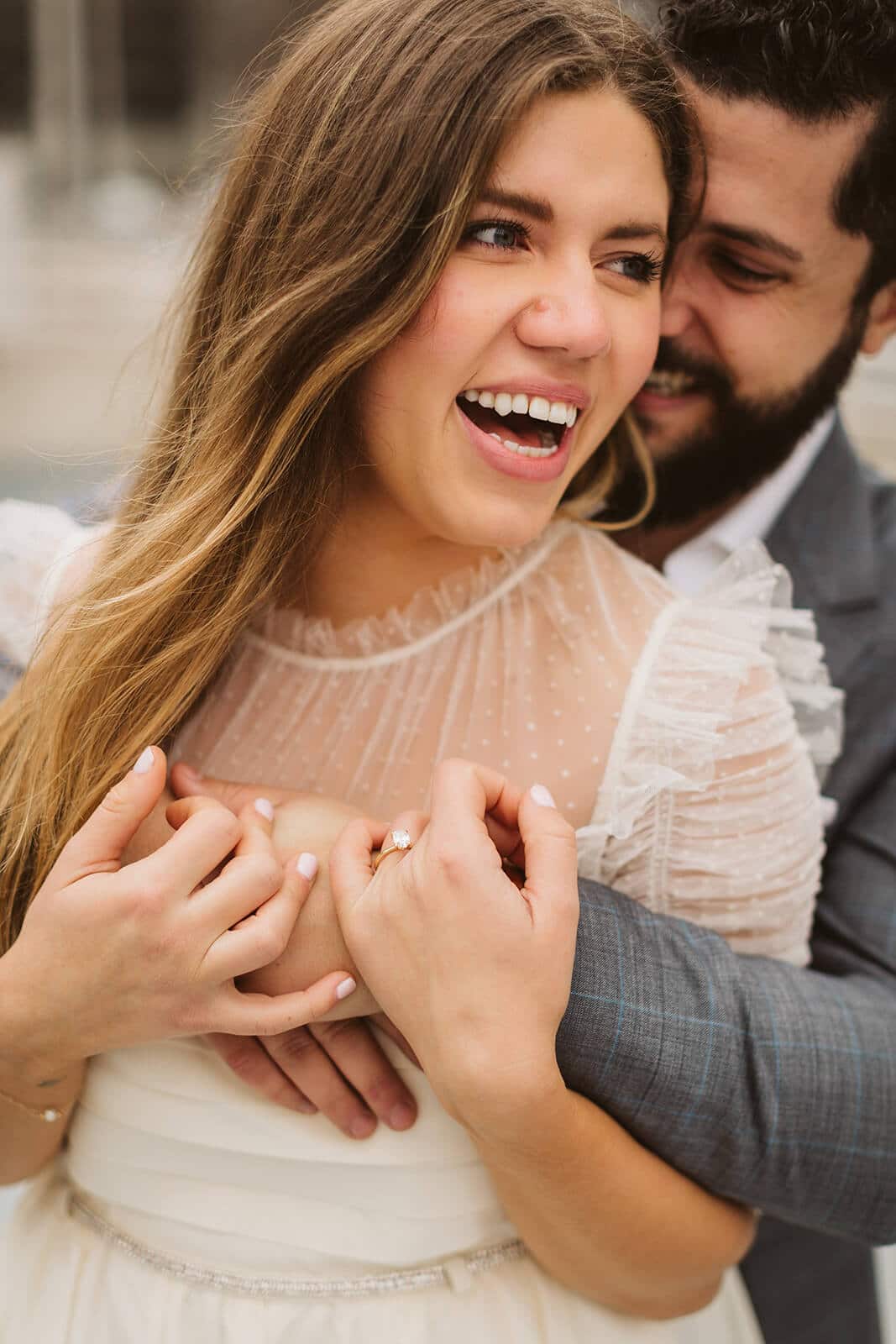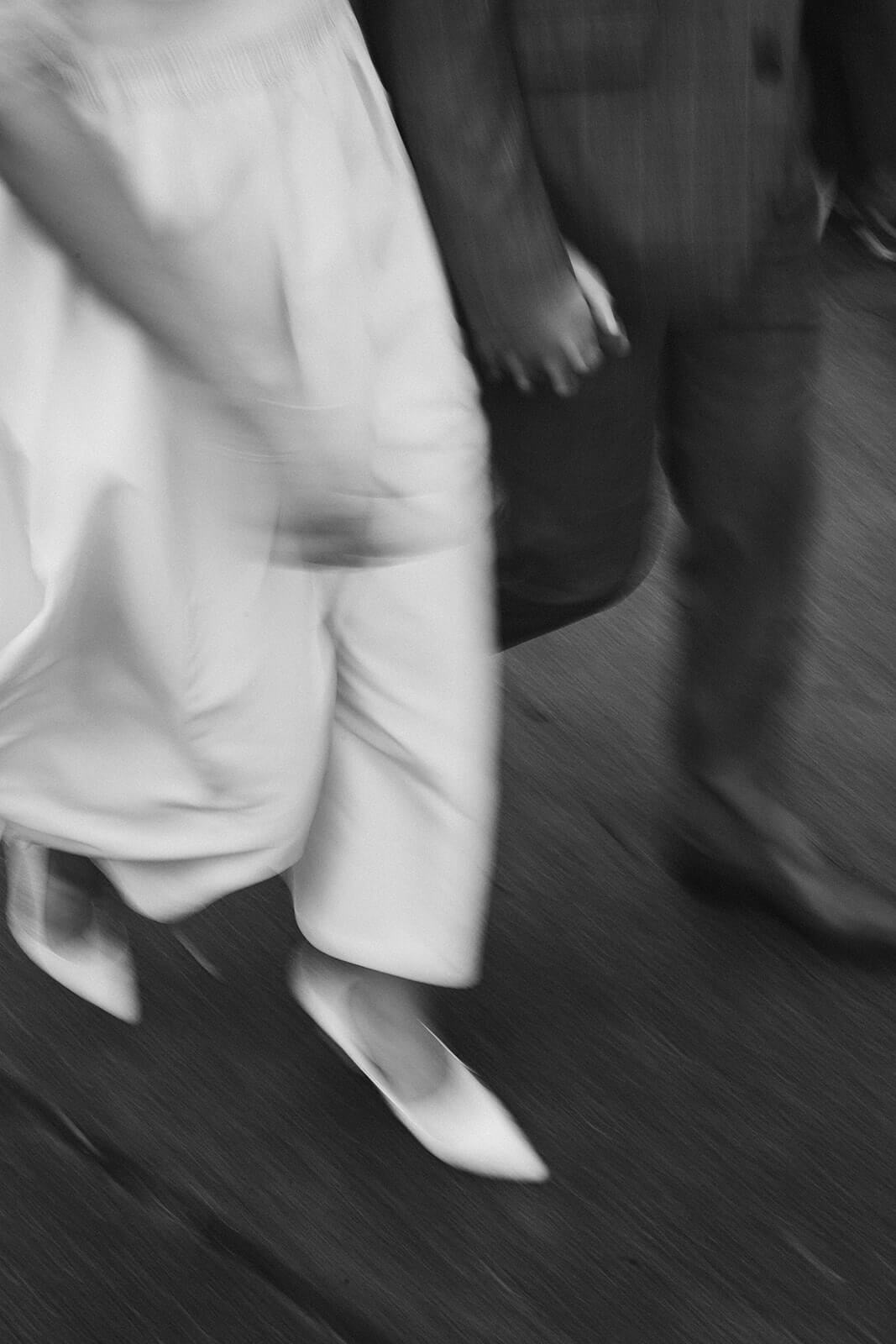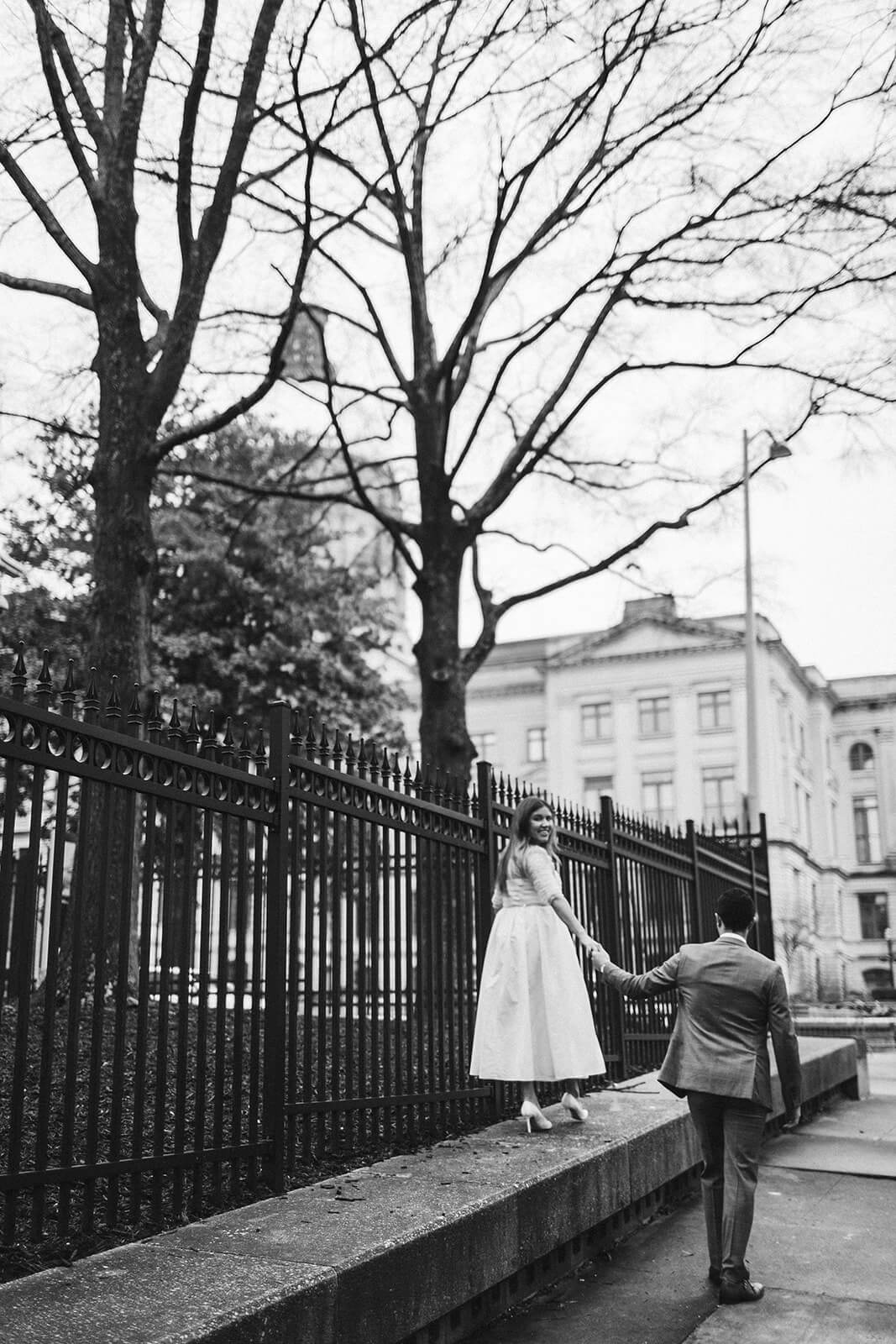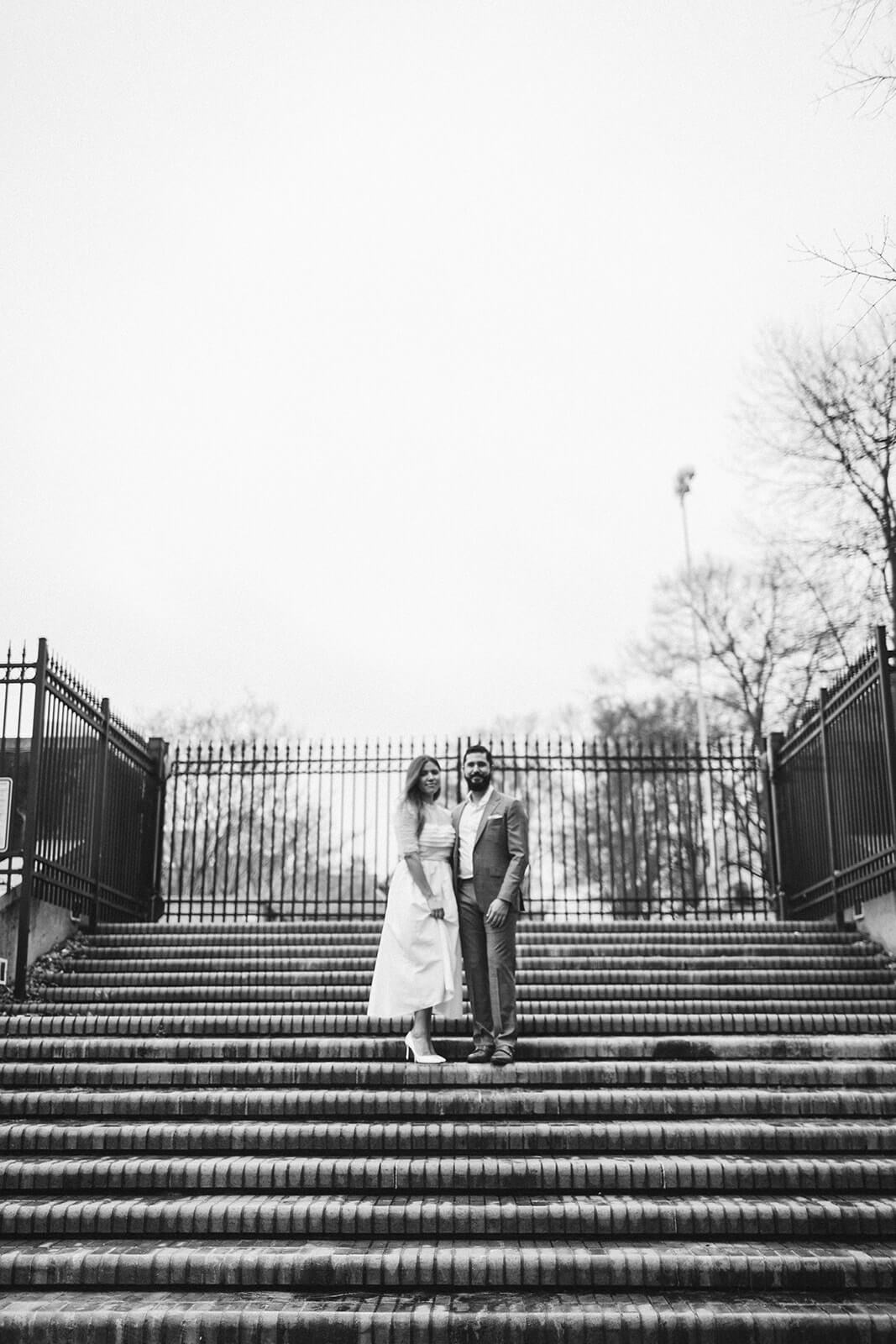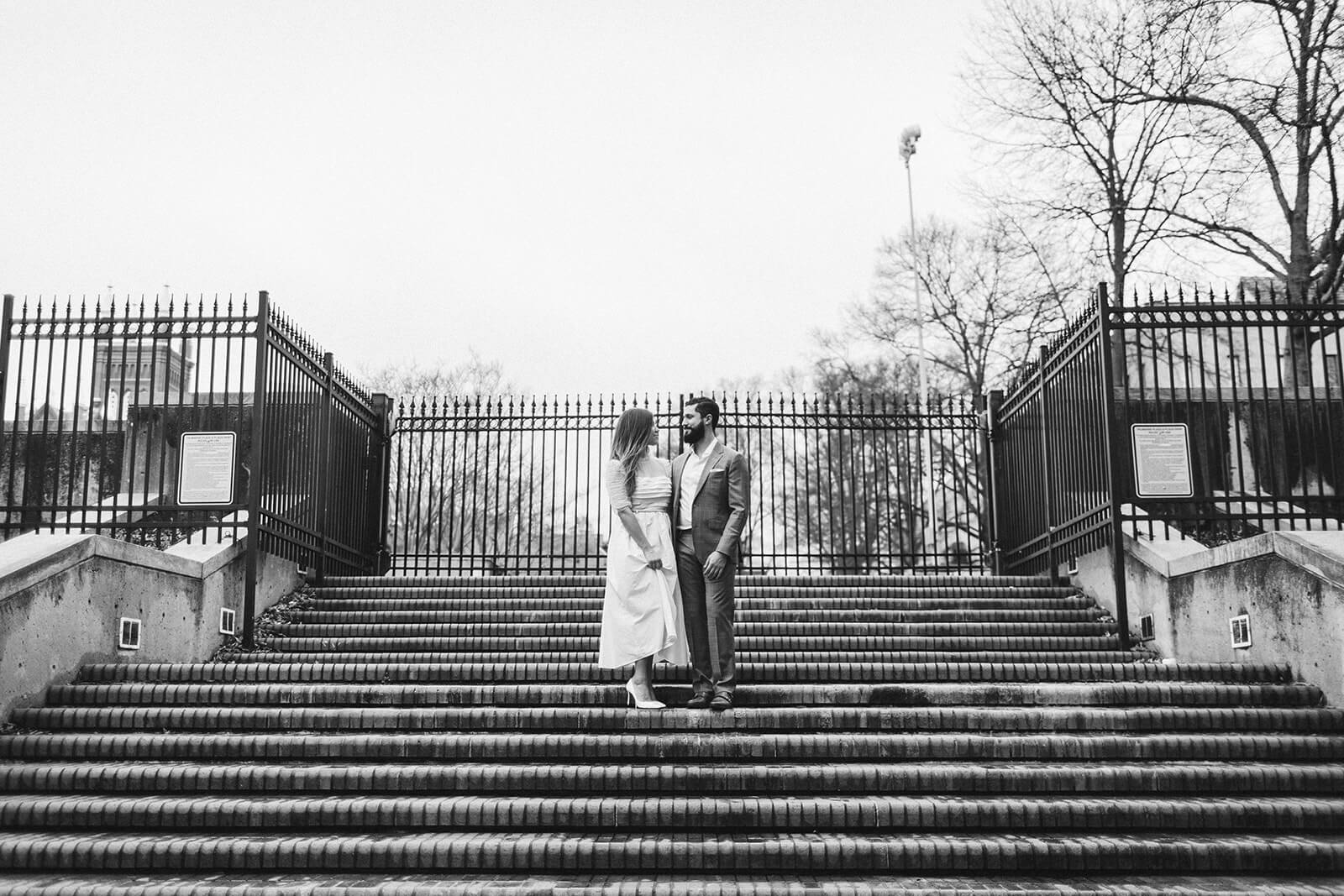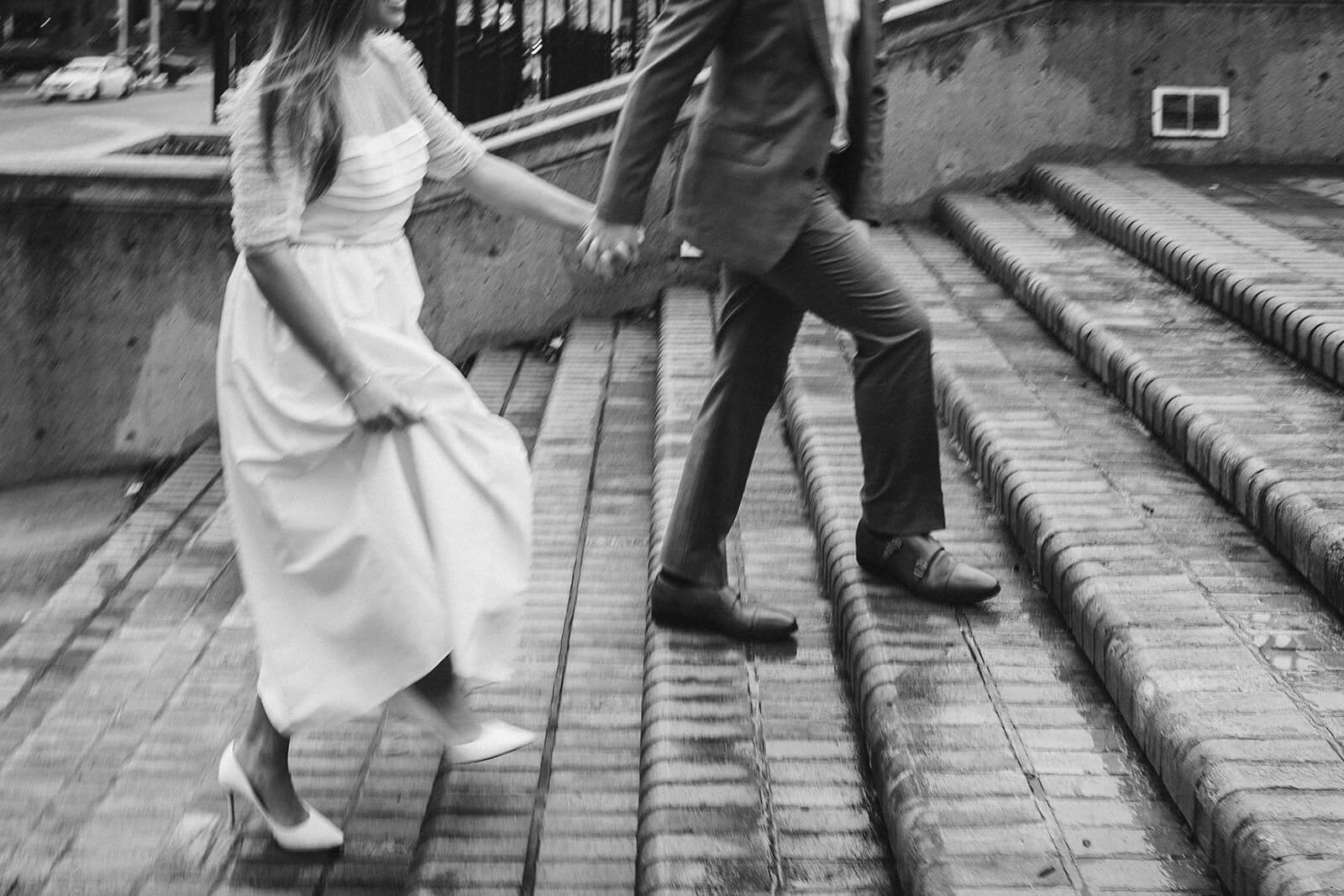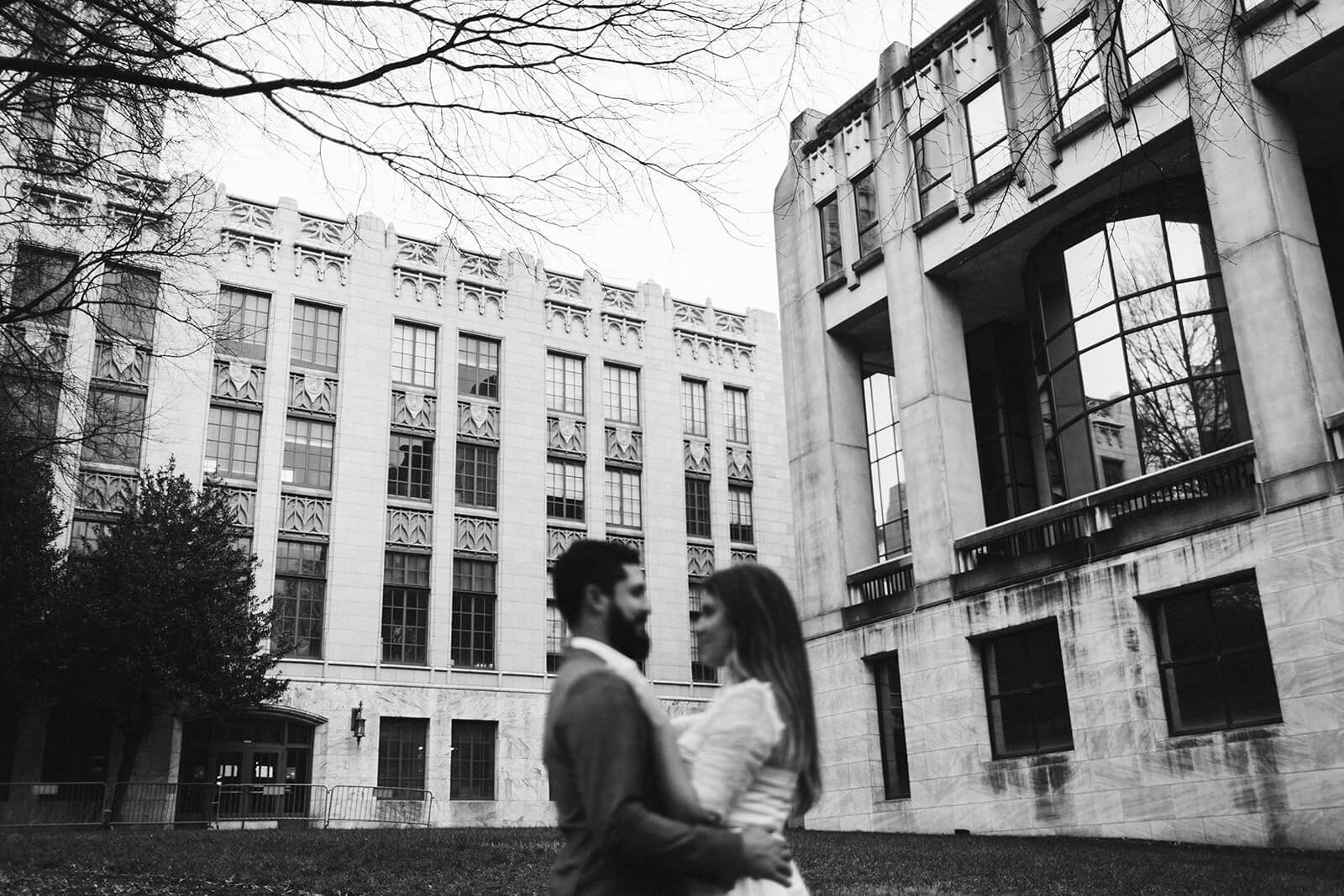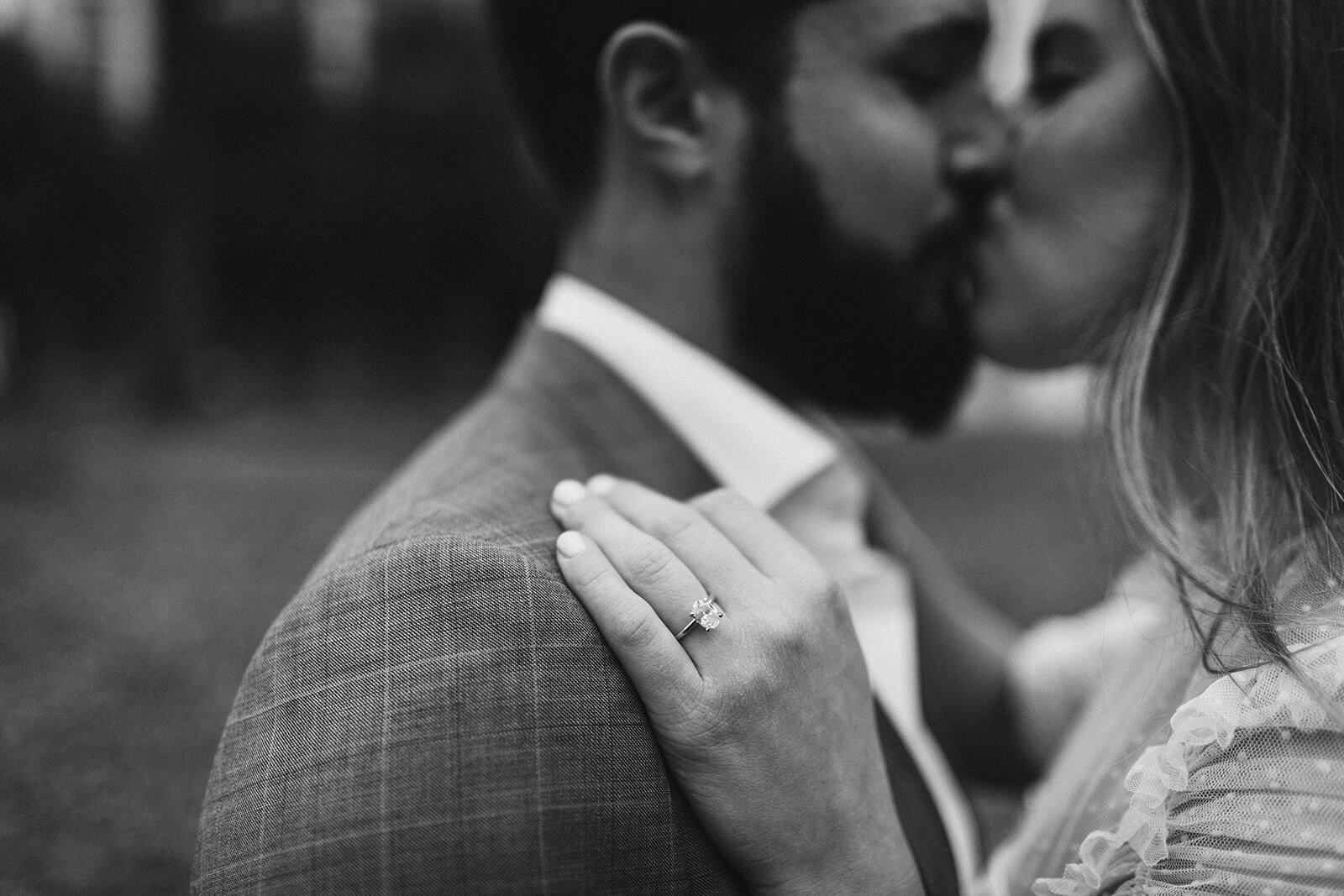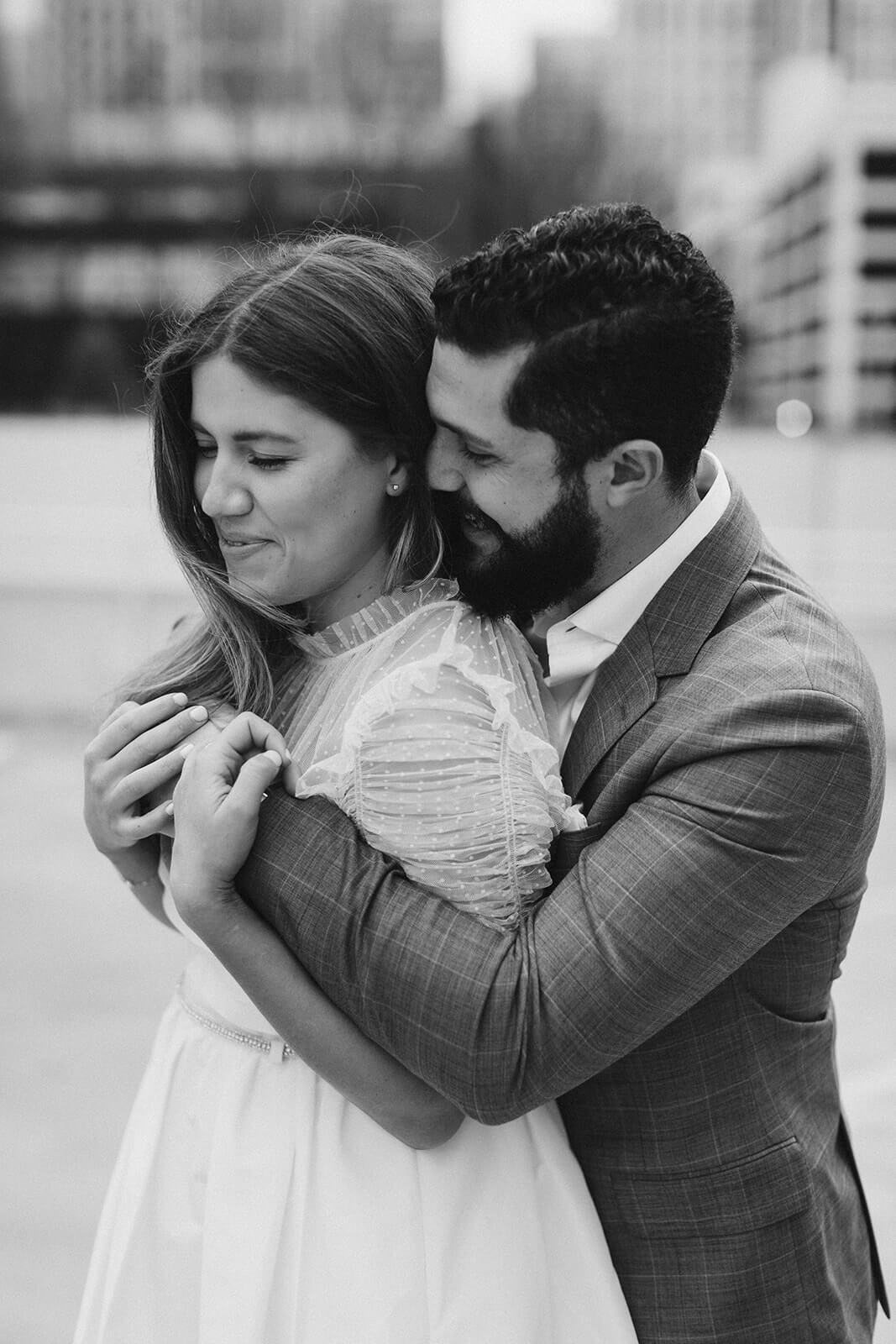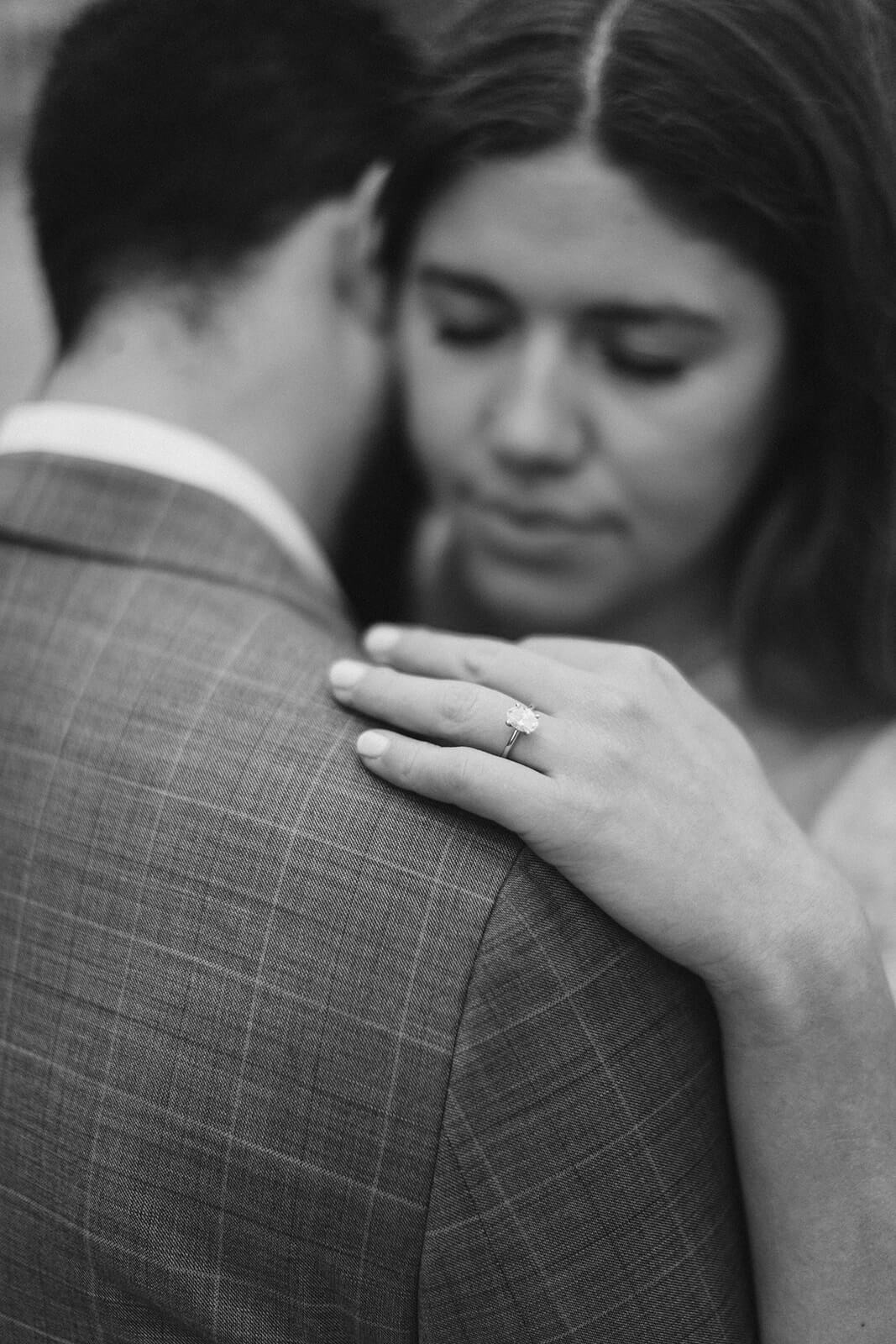 Capturing Candid Shots of the Couple in Their Element
After spending time around City Hall, we did a bit of a tour of the city. One of my favorite shots to get during urban photoshoots are walking shots. I simply direct the couple to cross the street or walk together down the sidewalk and snap photos while they're walking. It's a great way to get natural, candid photos of the couple instead of posed. Plus, with passing cars, streetlights, other people, and buildings in the background, they always turn out to be great editorial shots. I love the photos of Claire and André dancing in the street and of André gently guiding and holding Claire's hand as she balances along a sidewalk ledge. 
Capturing the perfect candid shots can be tricky especially for couples who have never had a professional photography session before. Having a camera in front of your face all day may make you feel shy or awkward, but it's one of the many reasons why I love doing engagement sessions. Engagement photography sessions are a great way to get to know your photographer and for your photographer to get to know you, too. Once you're comfortable with each other, it's easier to forget that the camera is there and capture those priceless candids.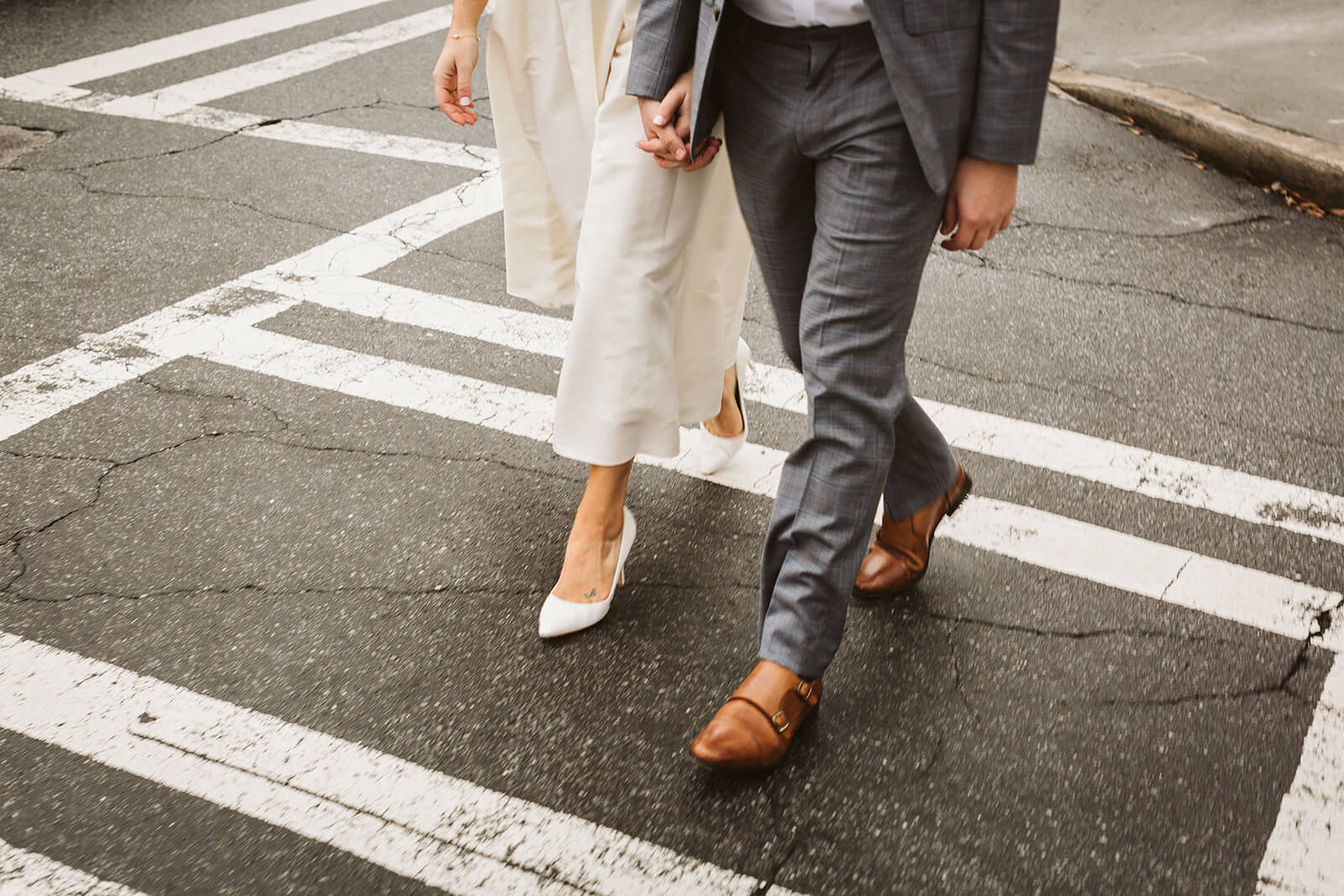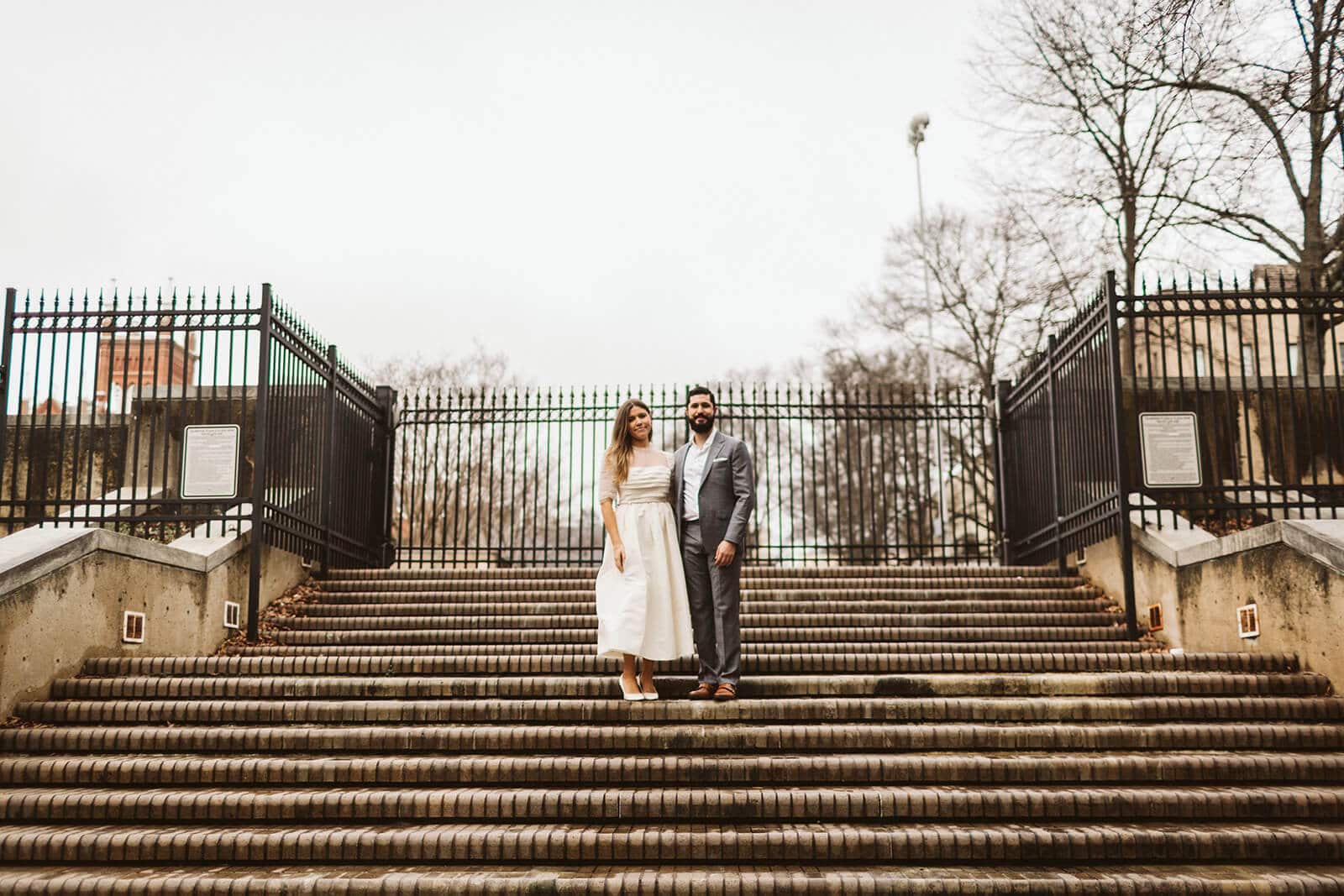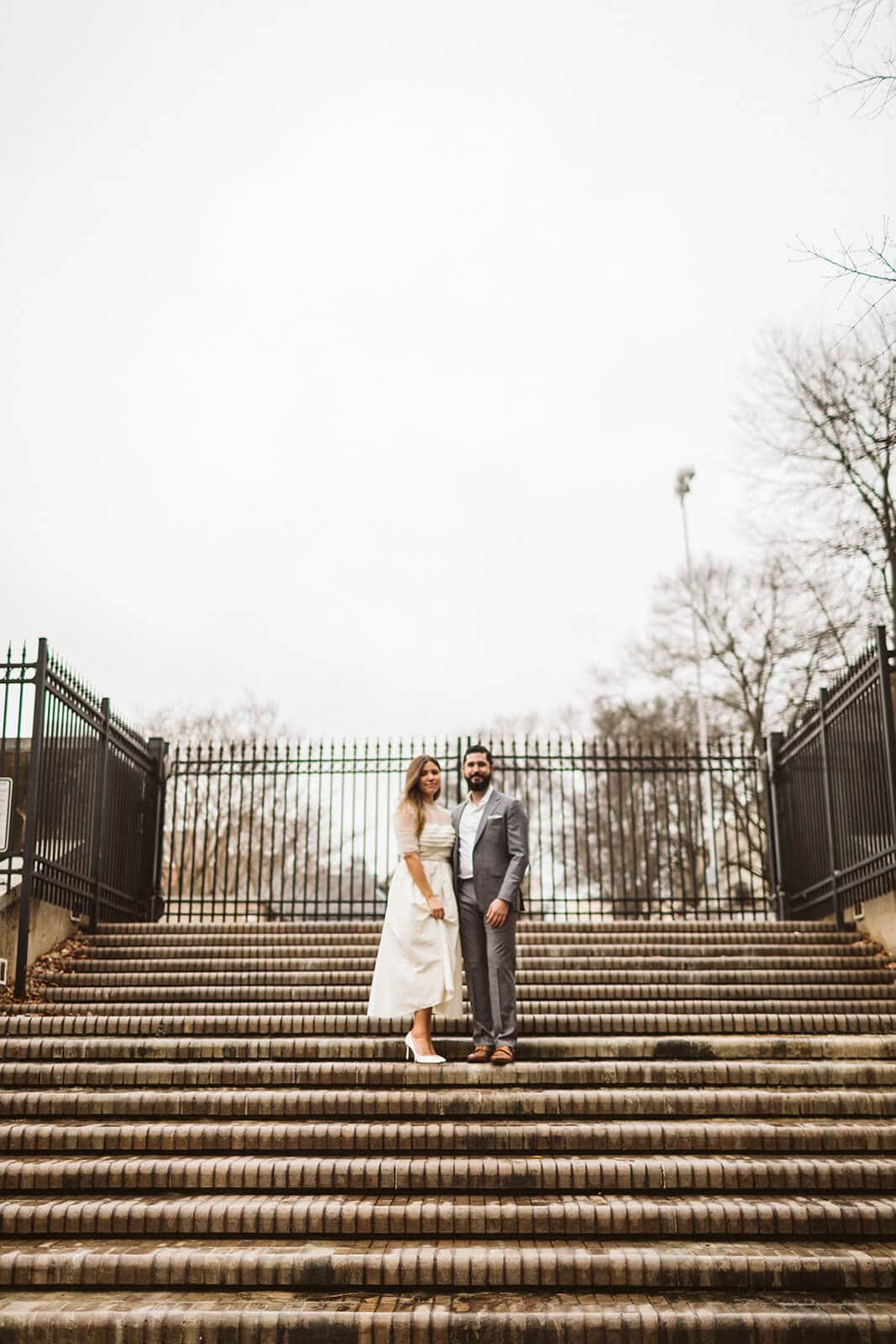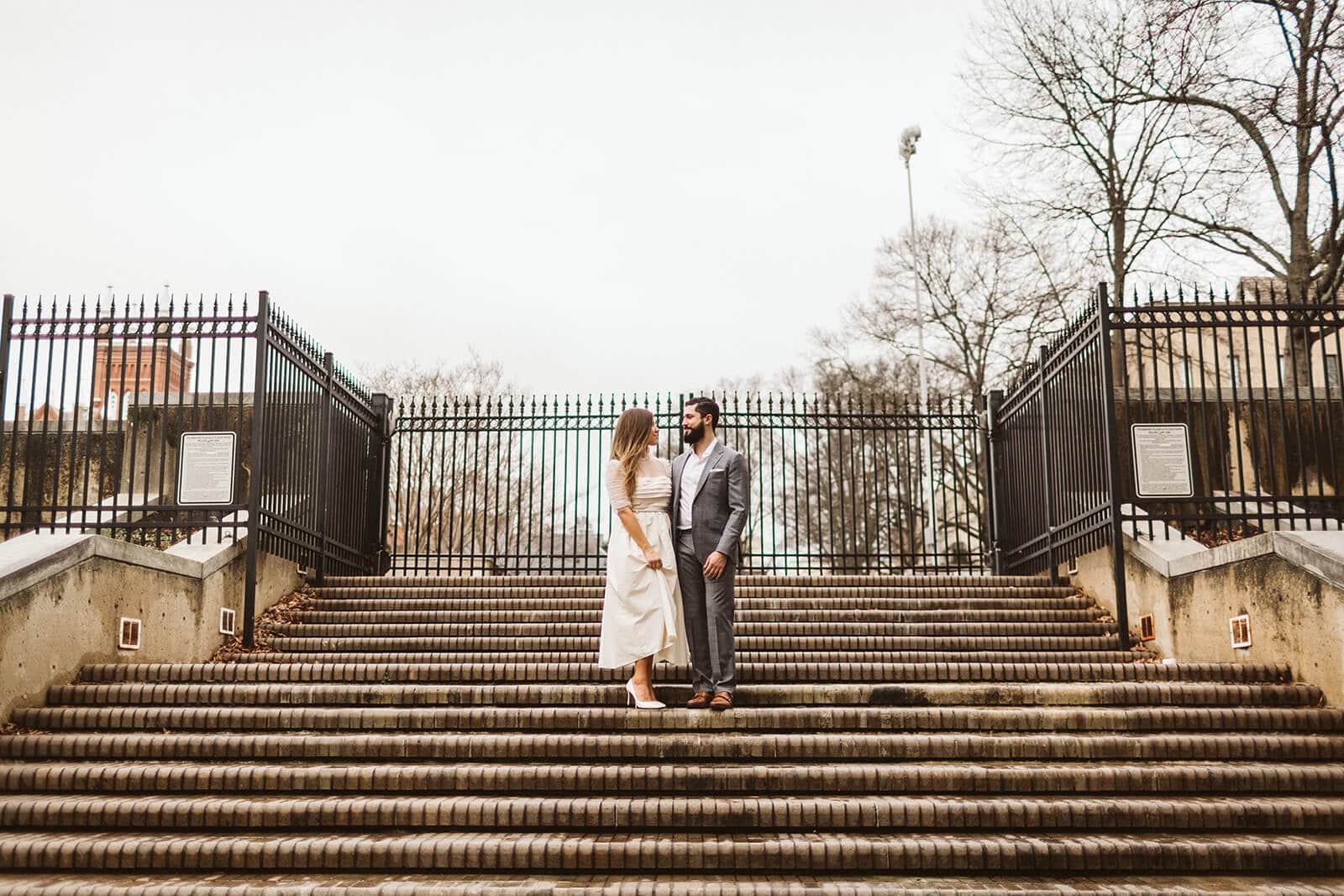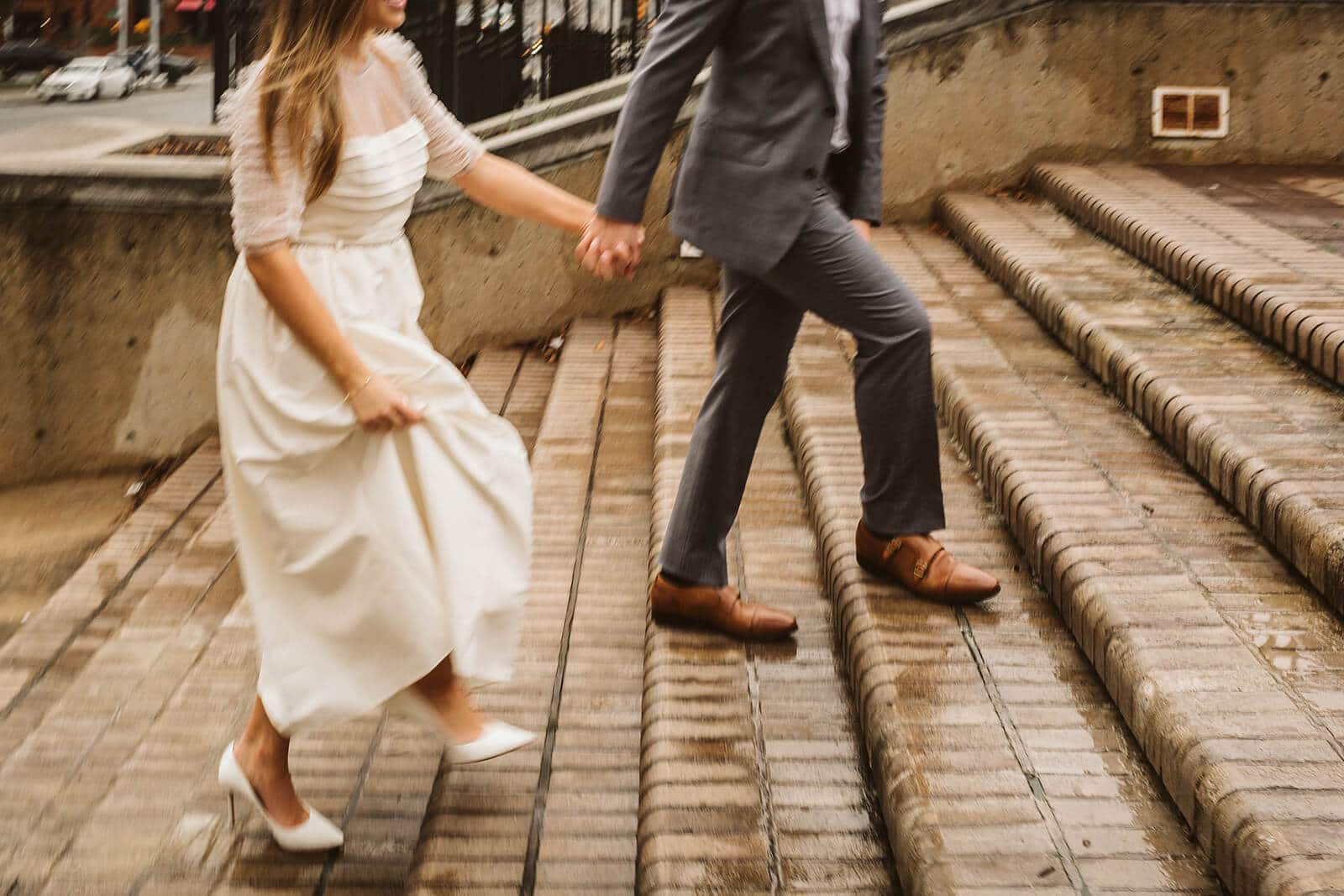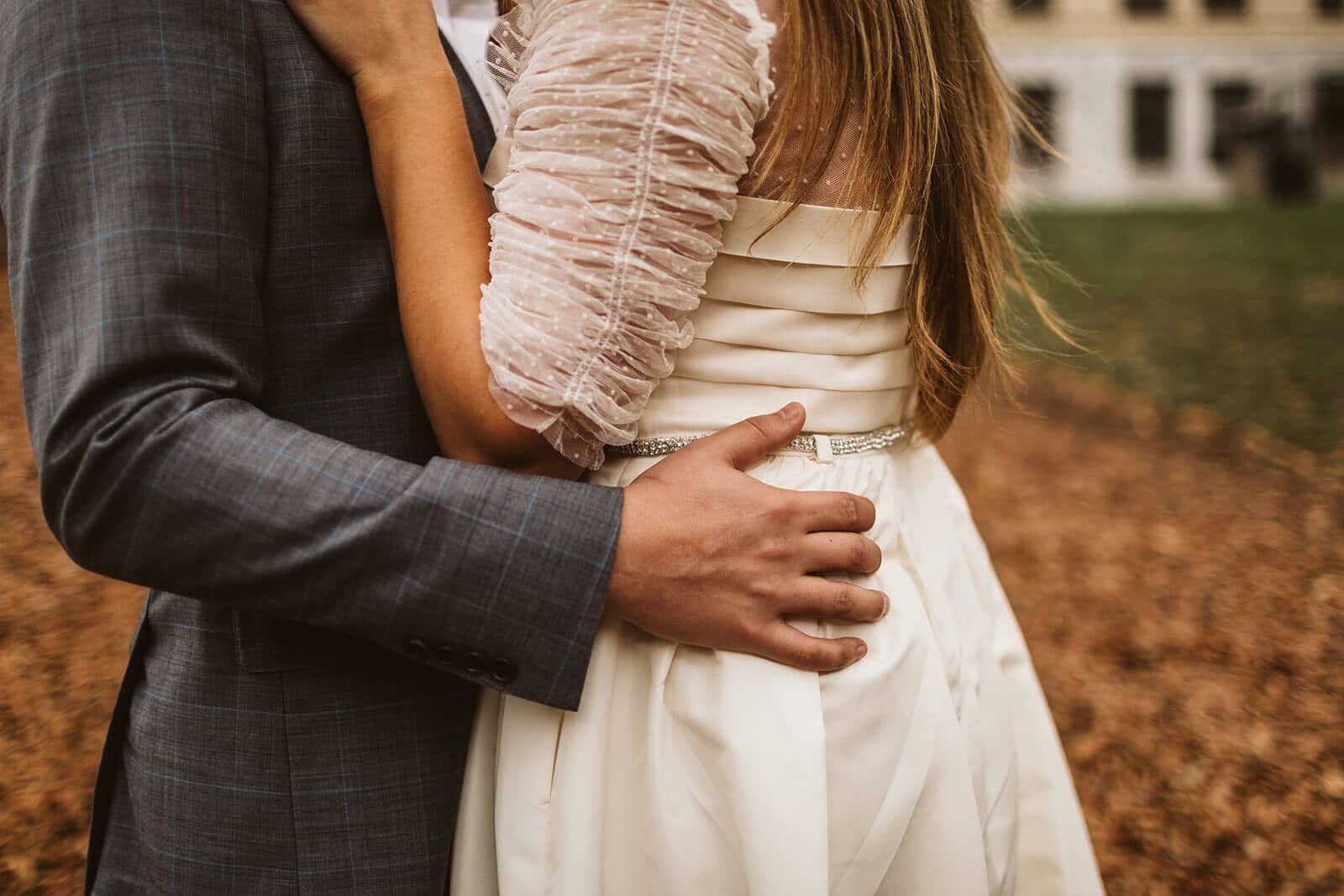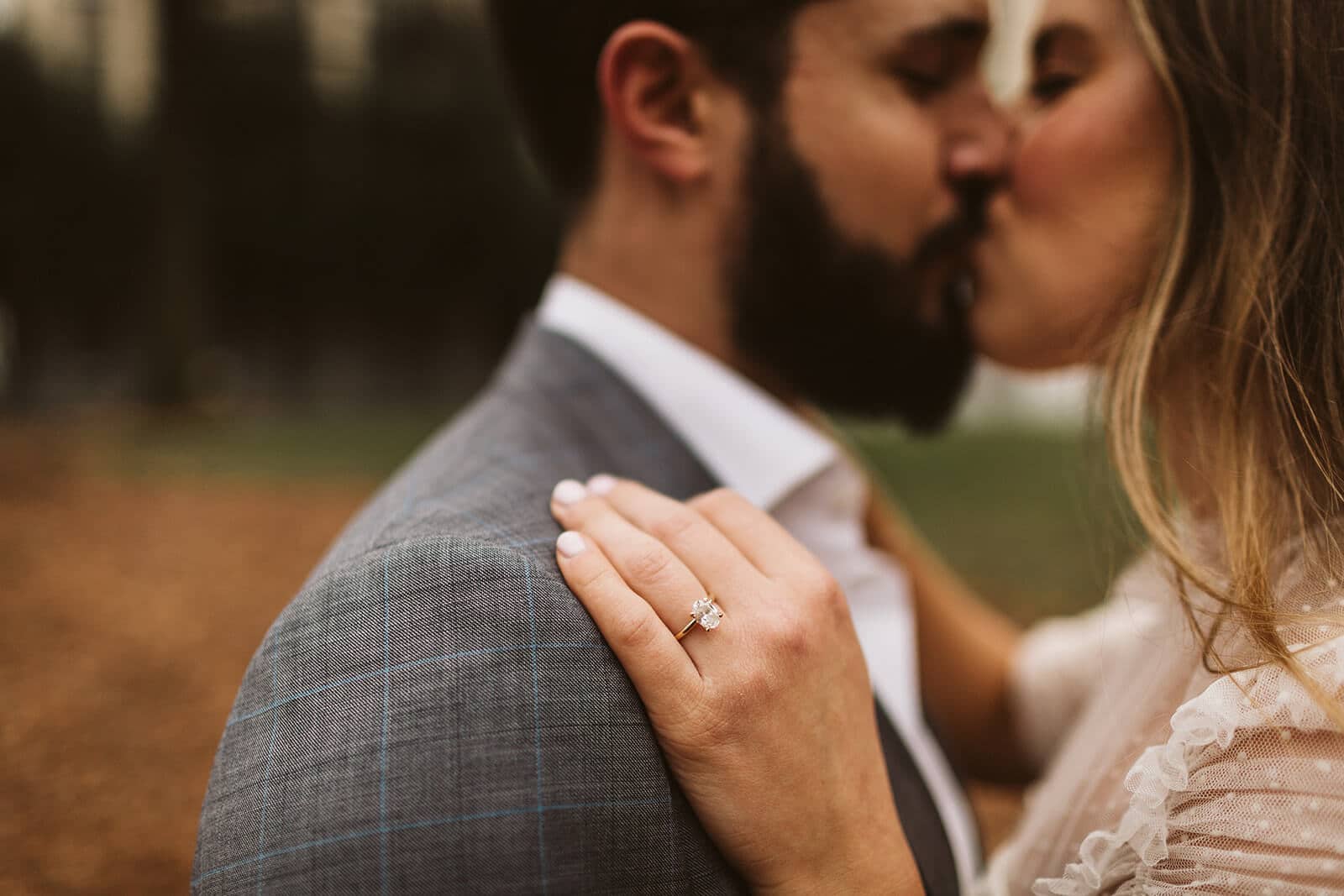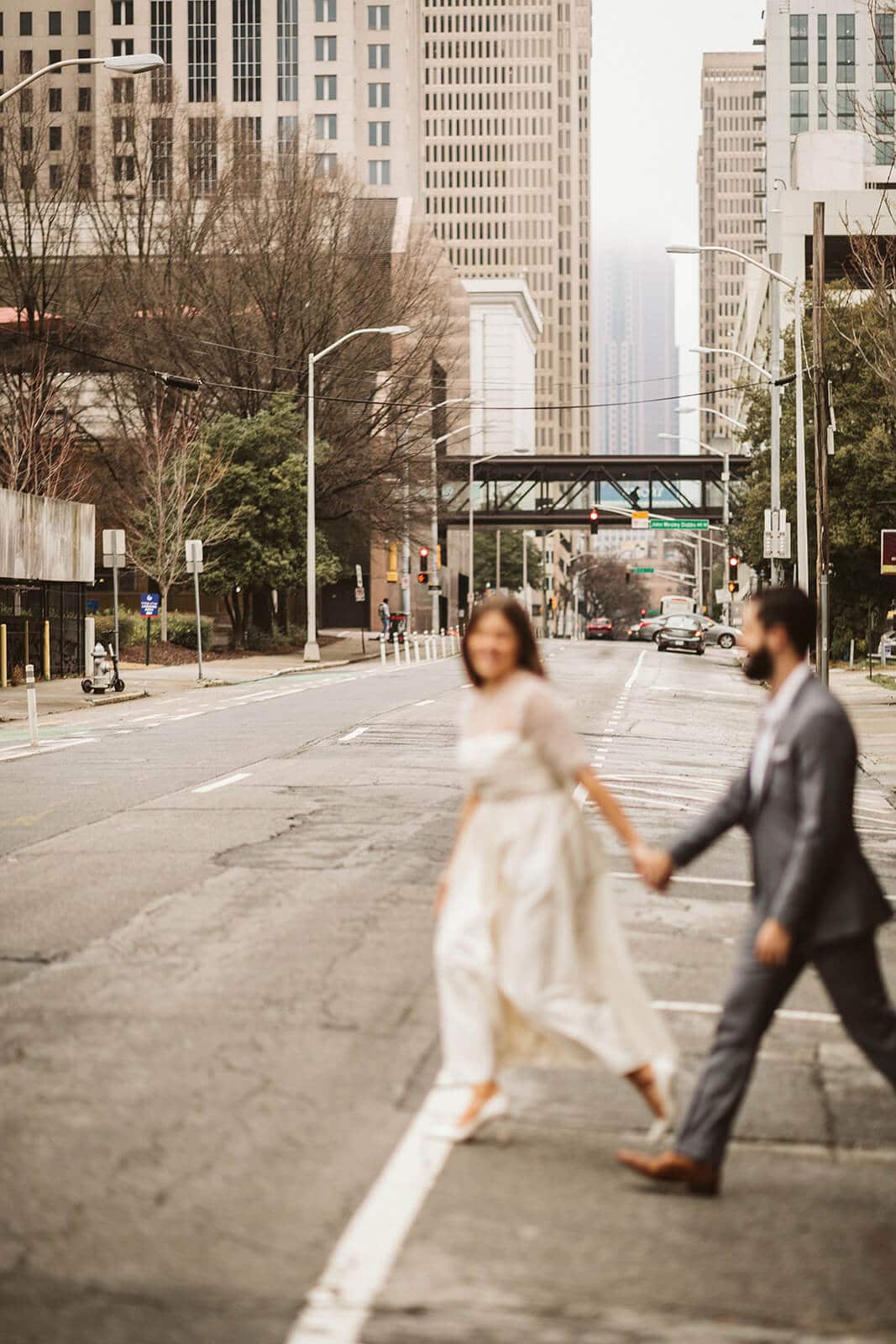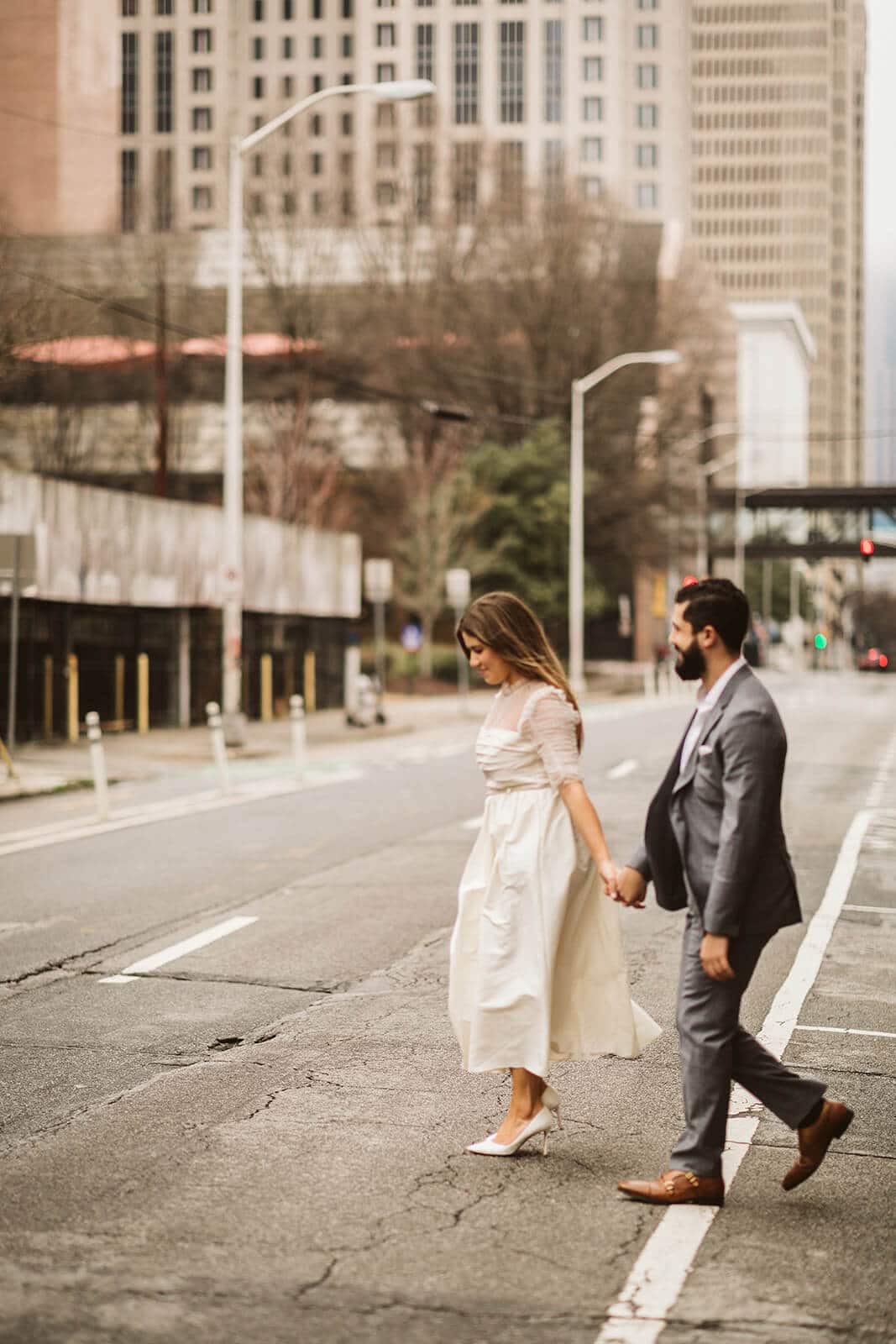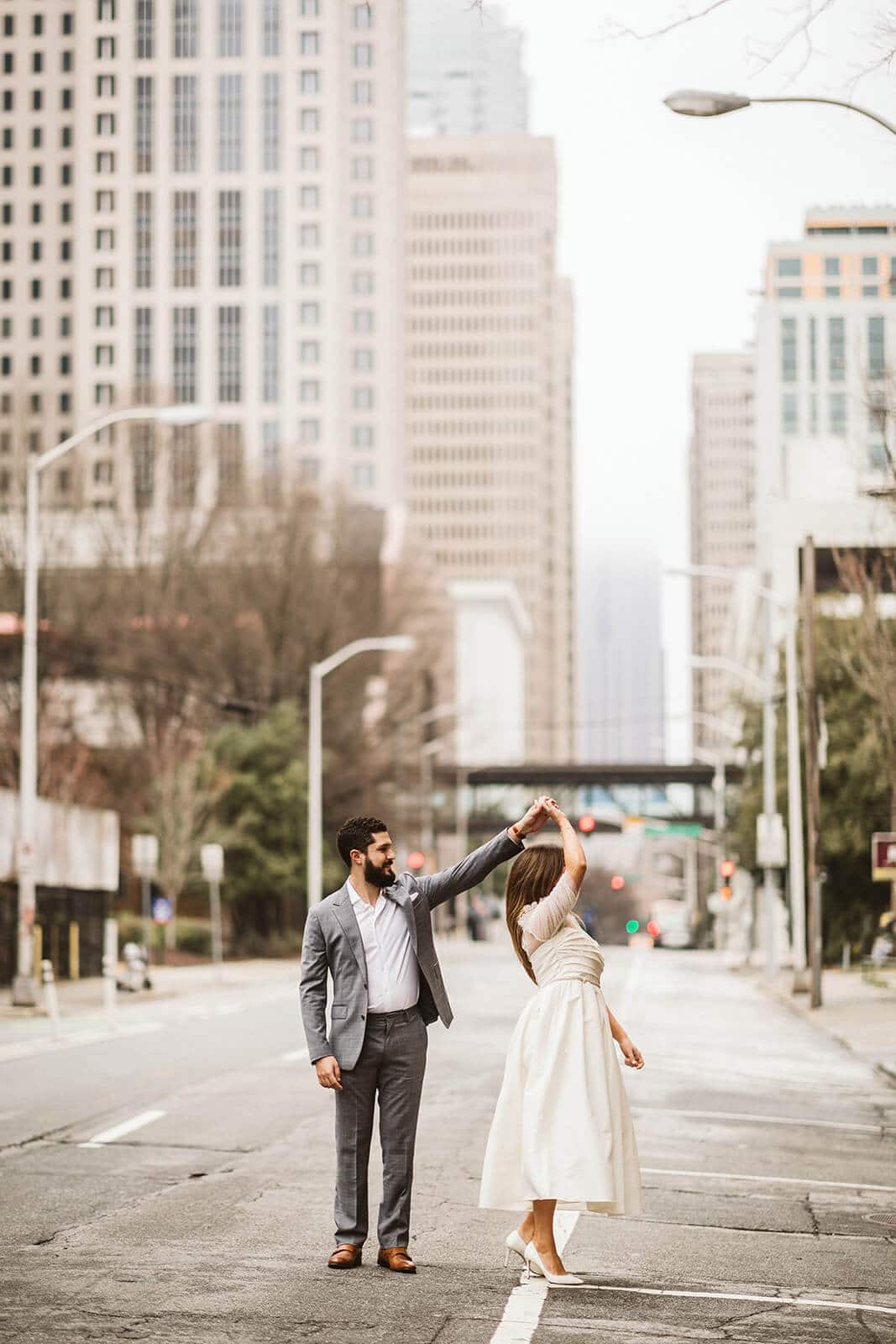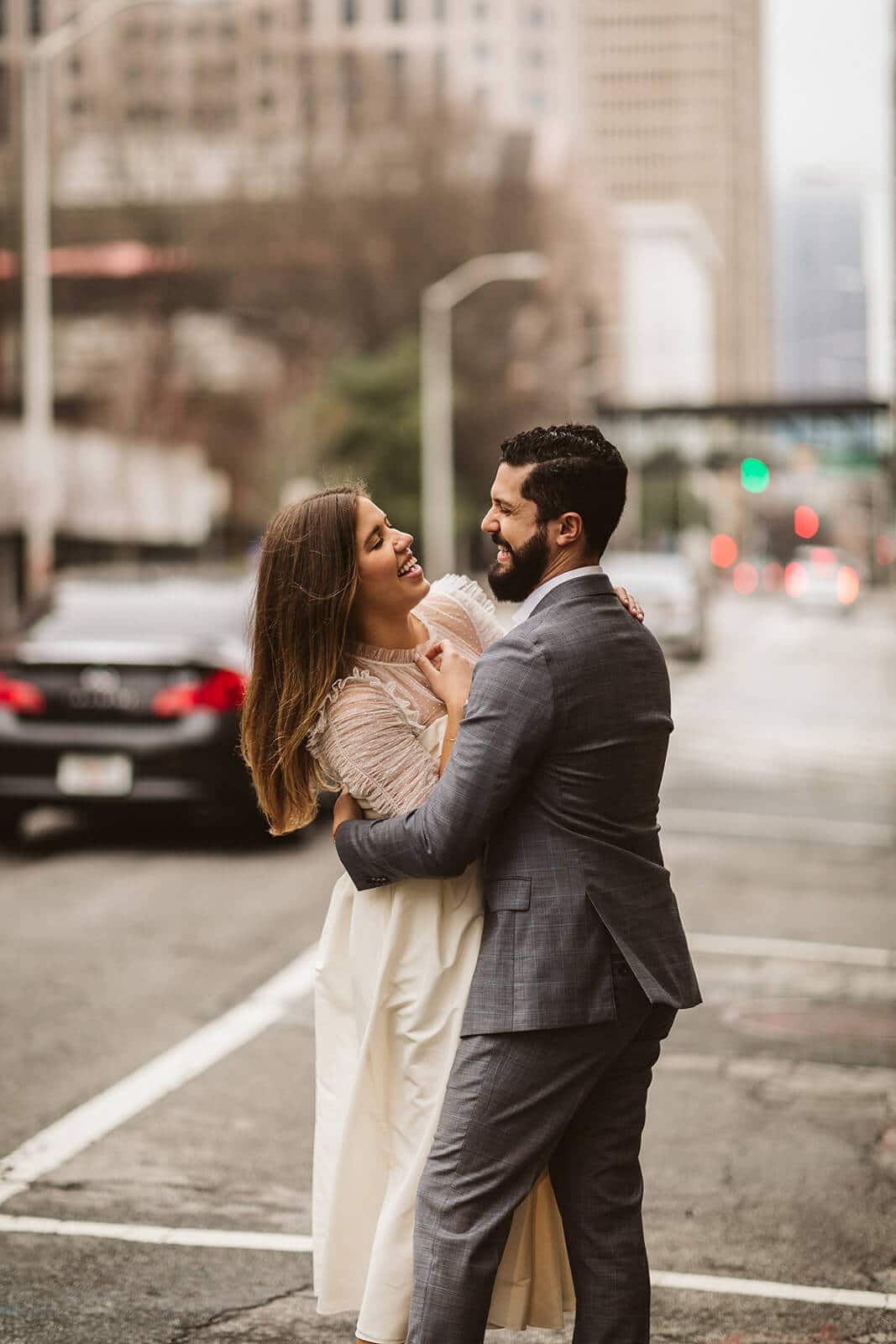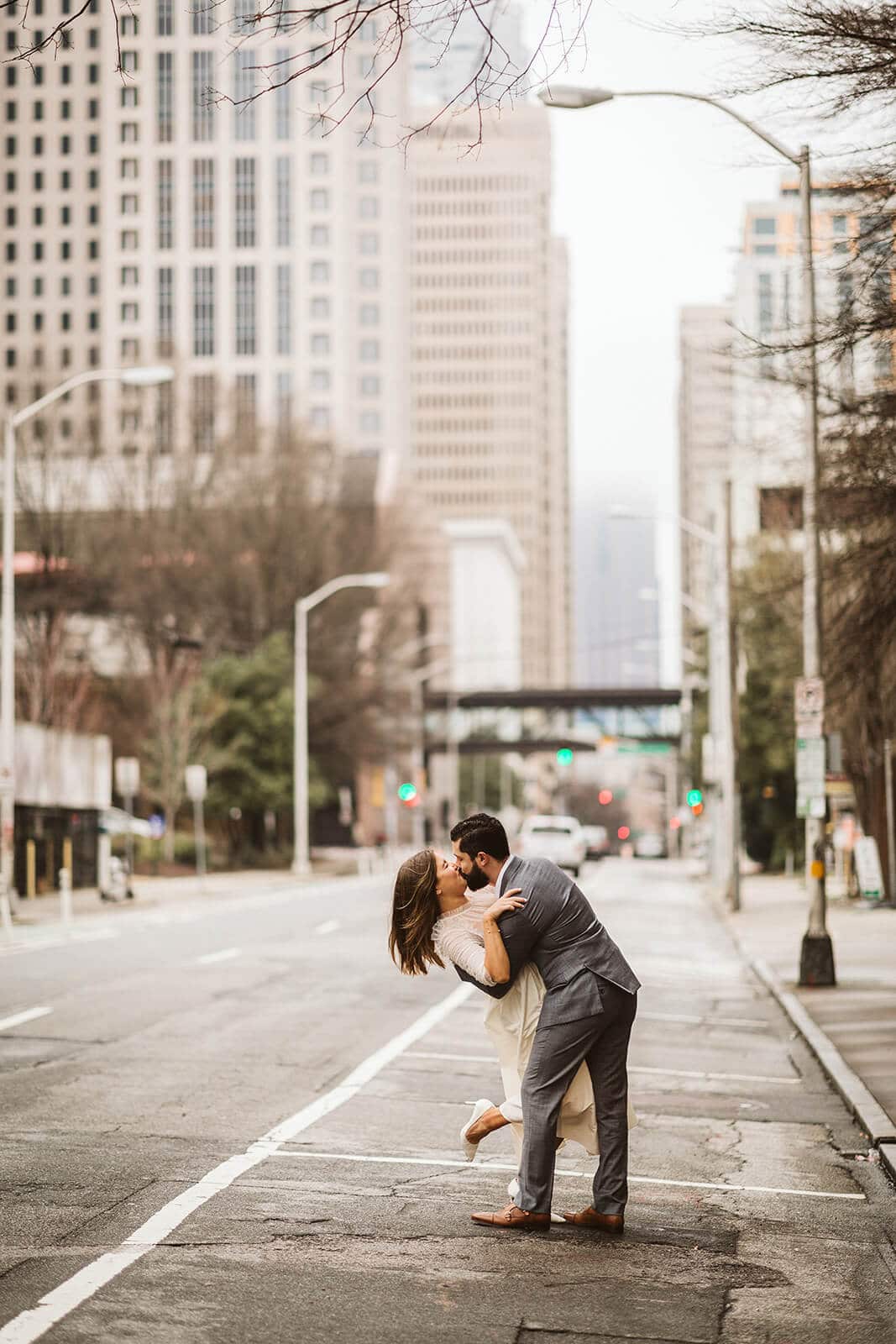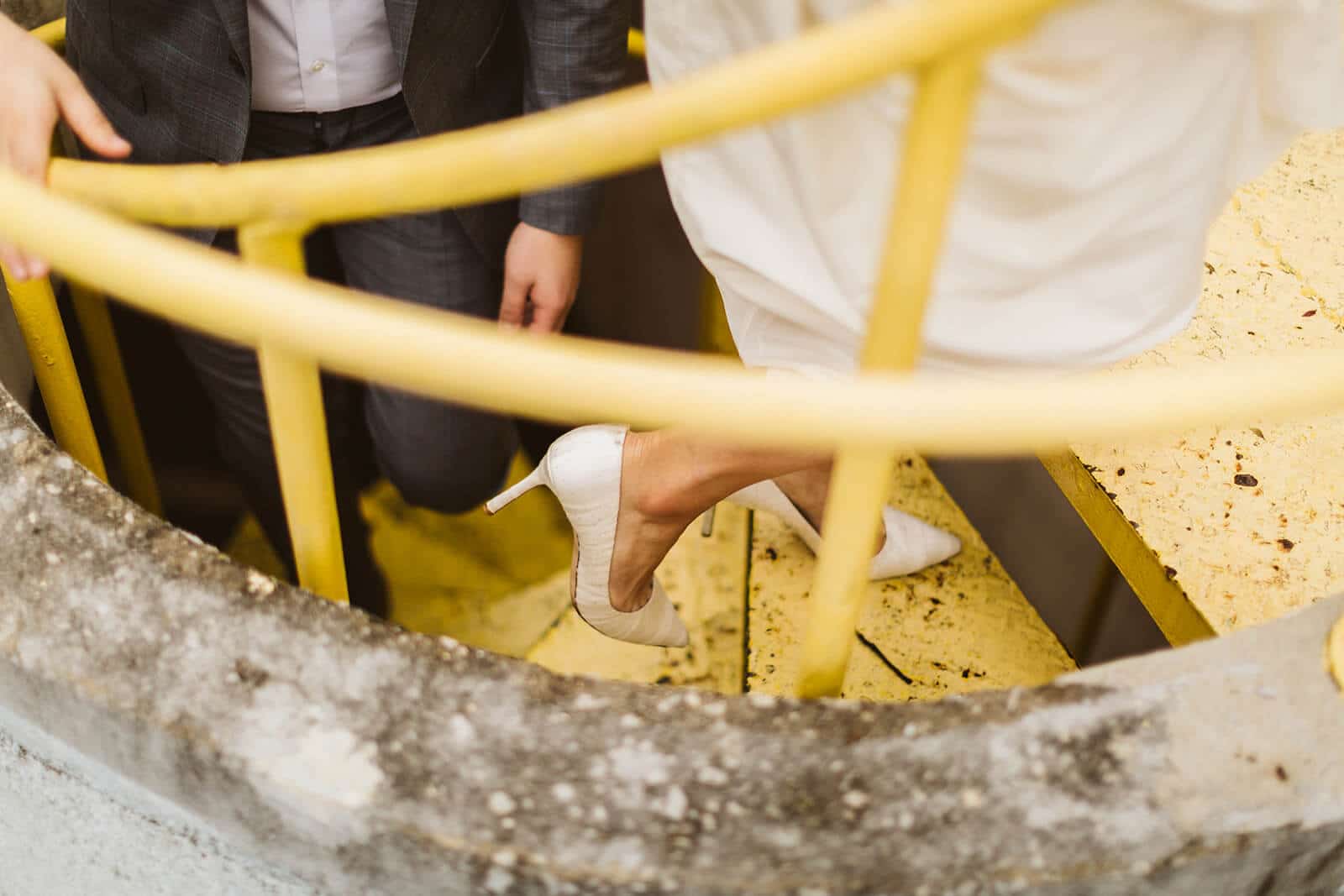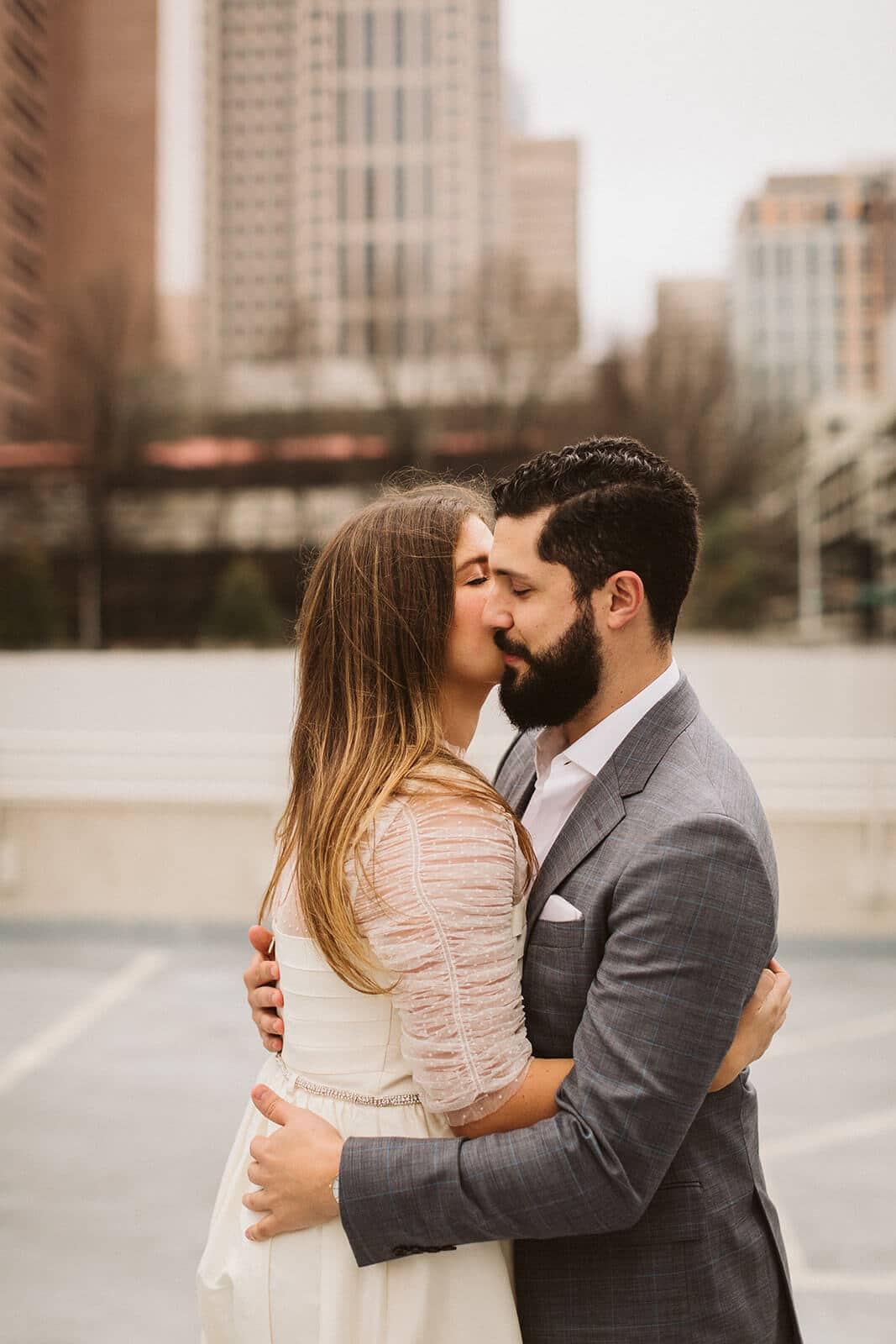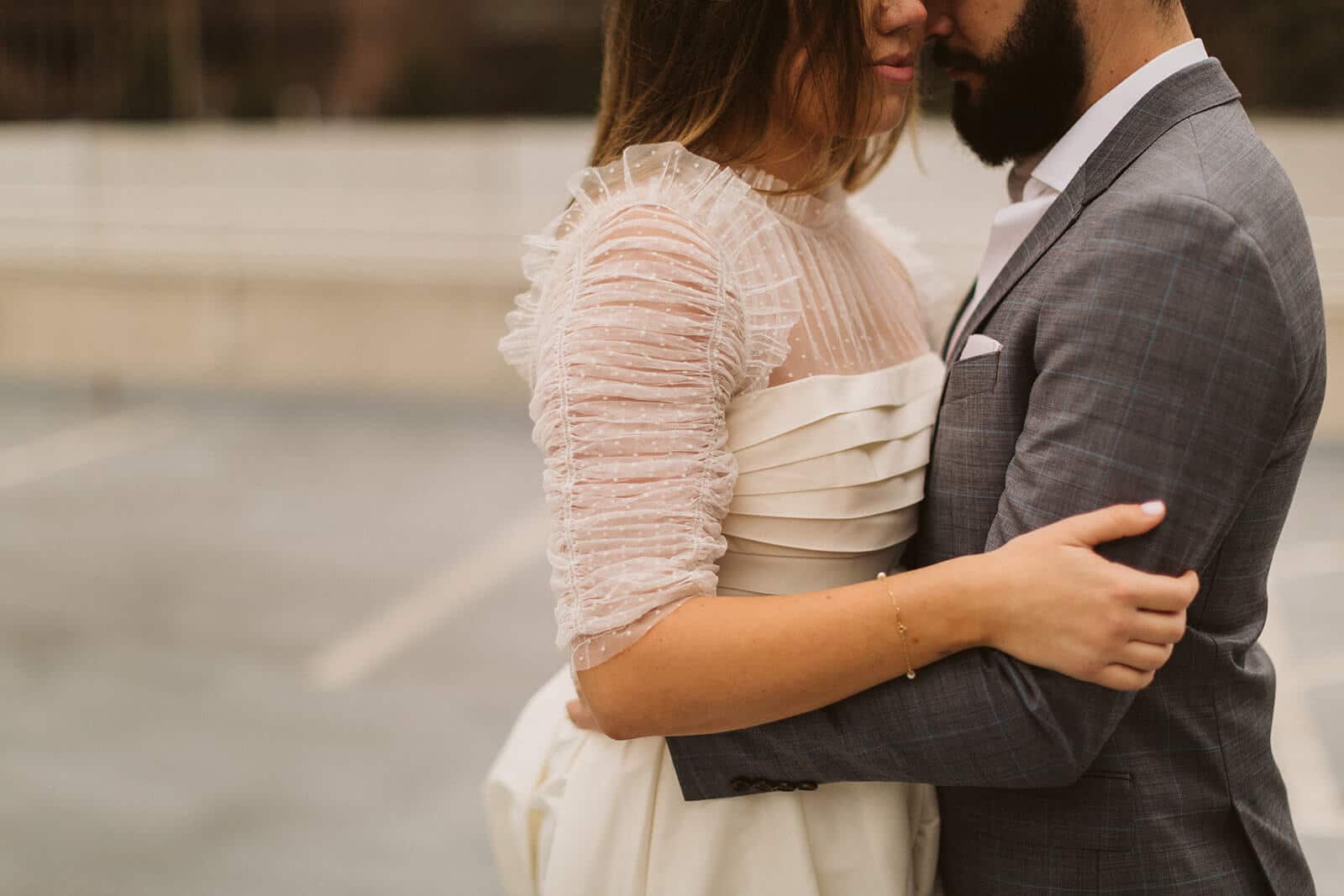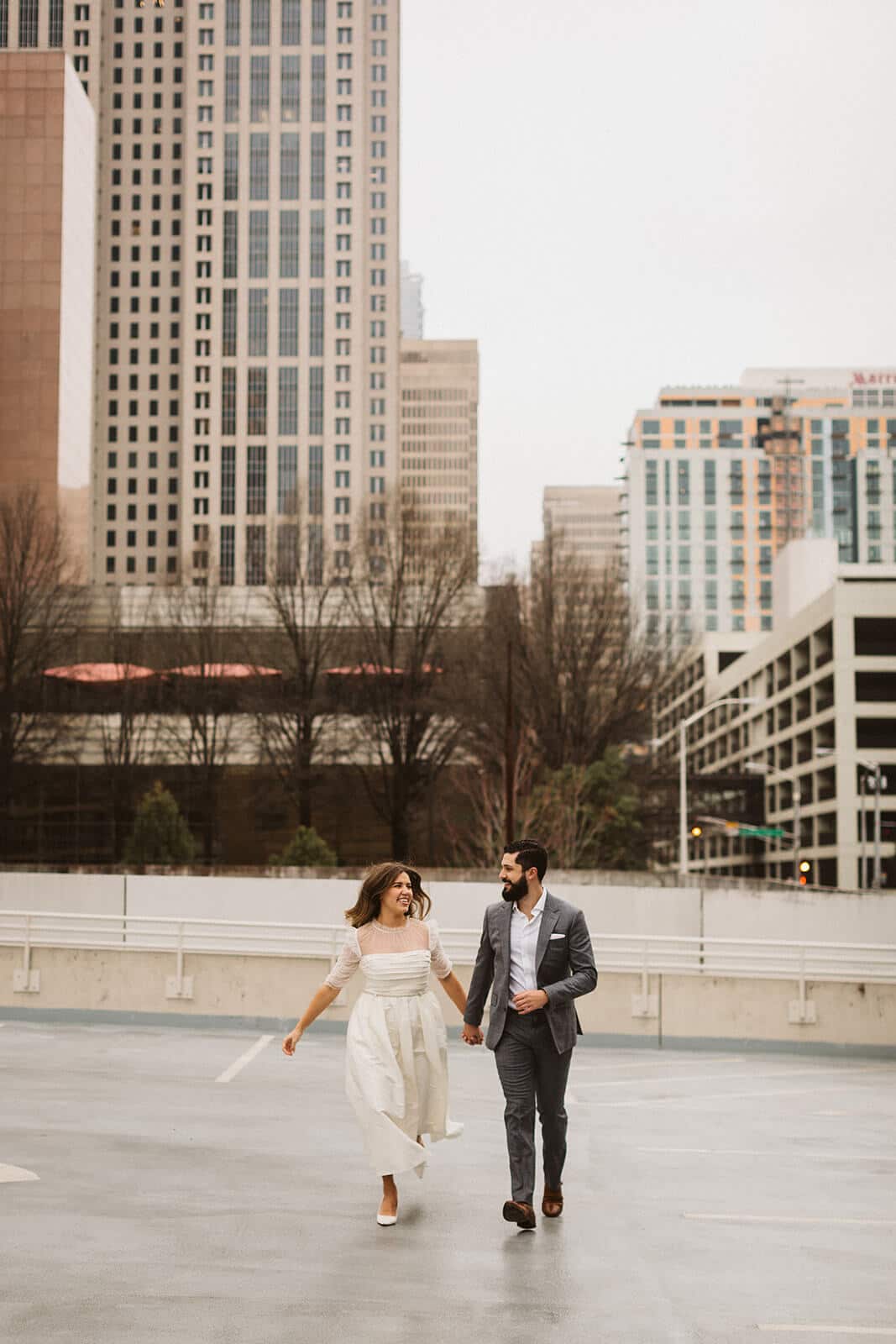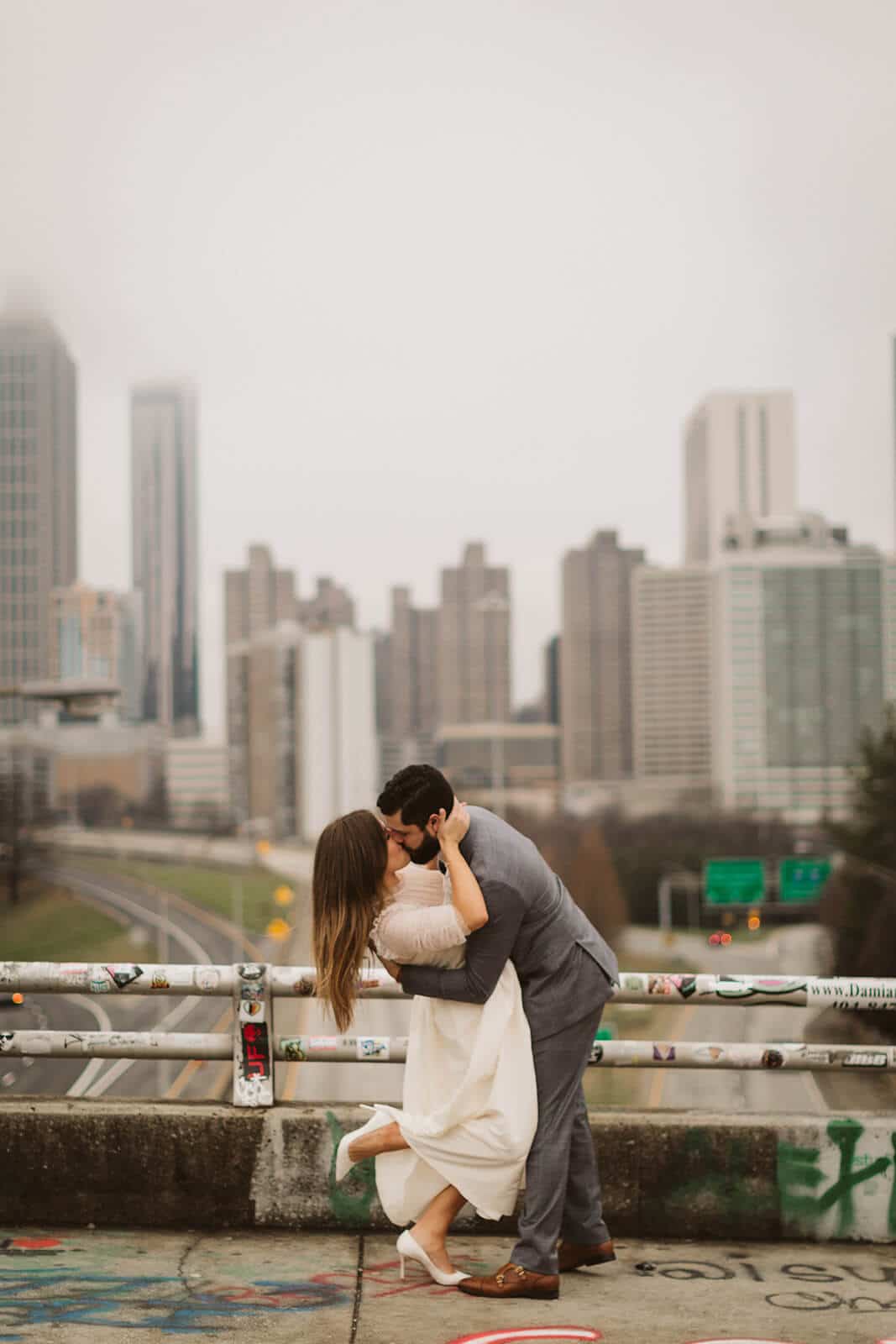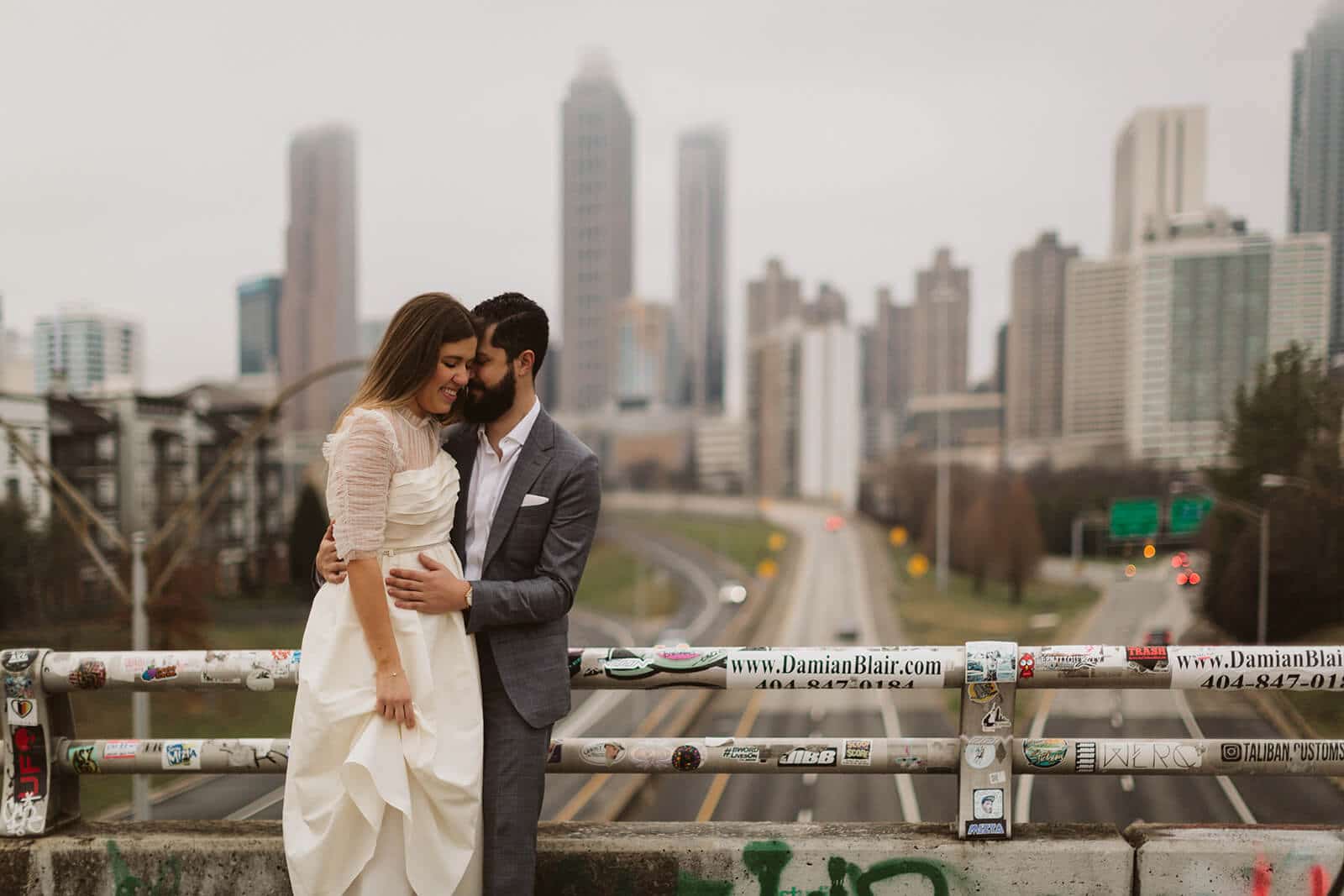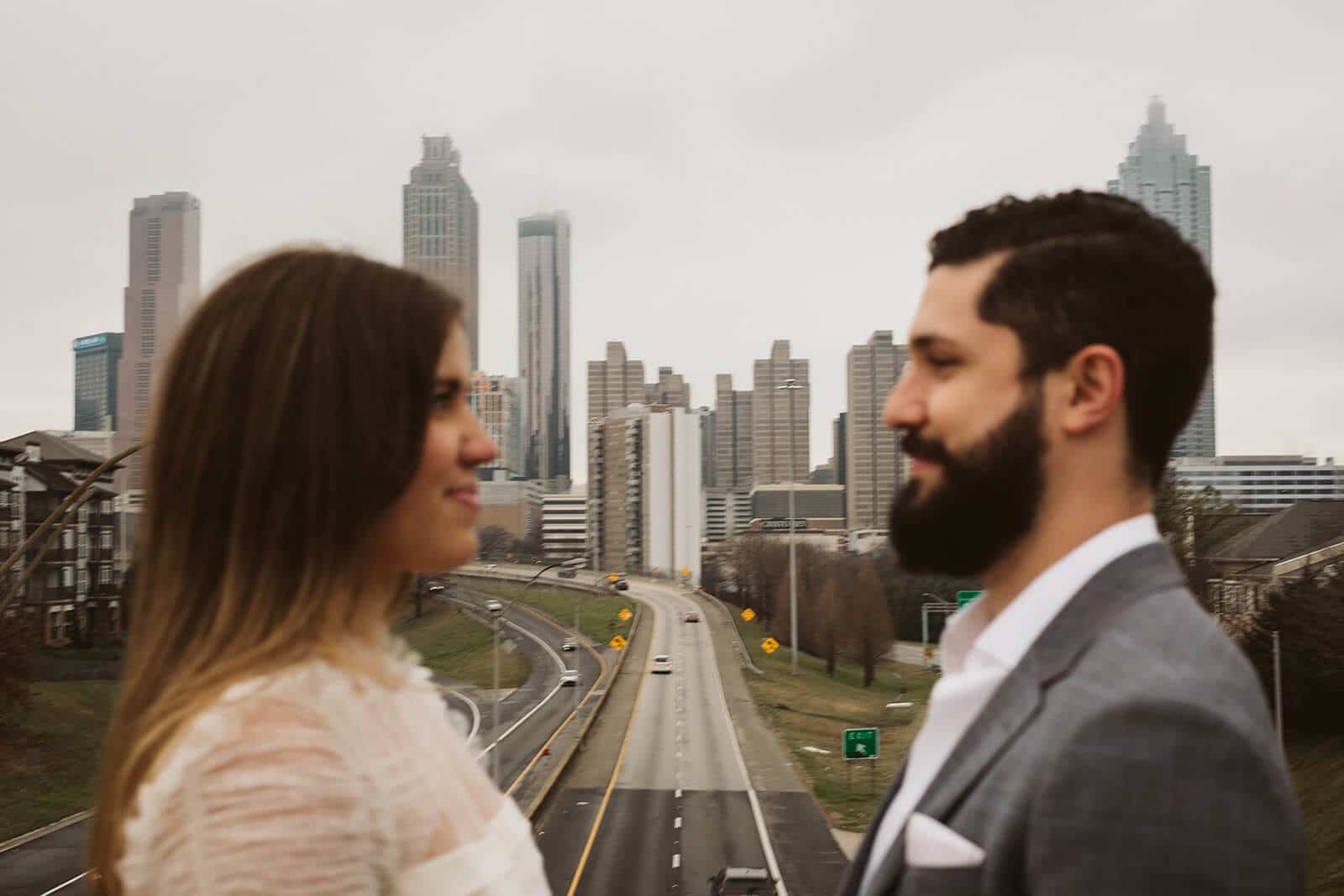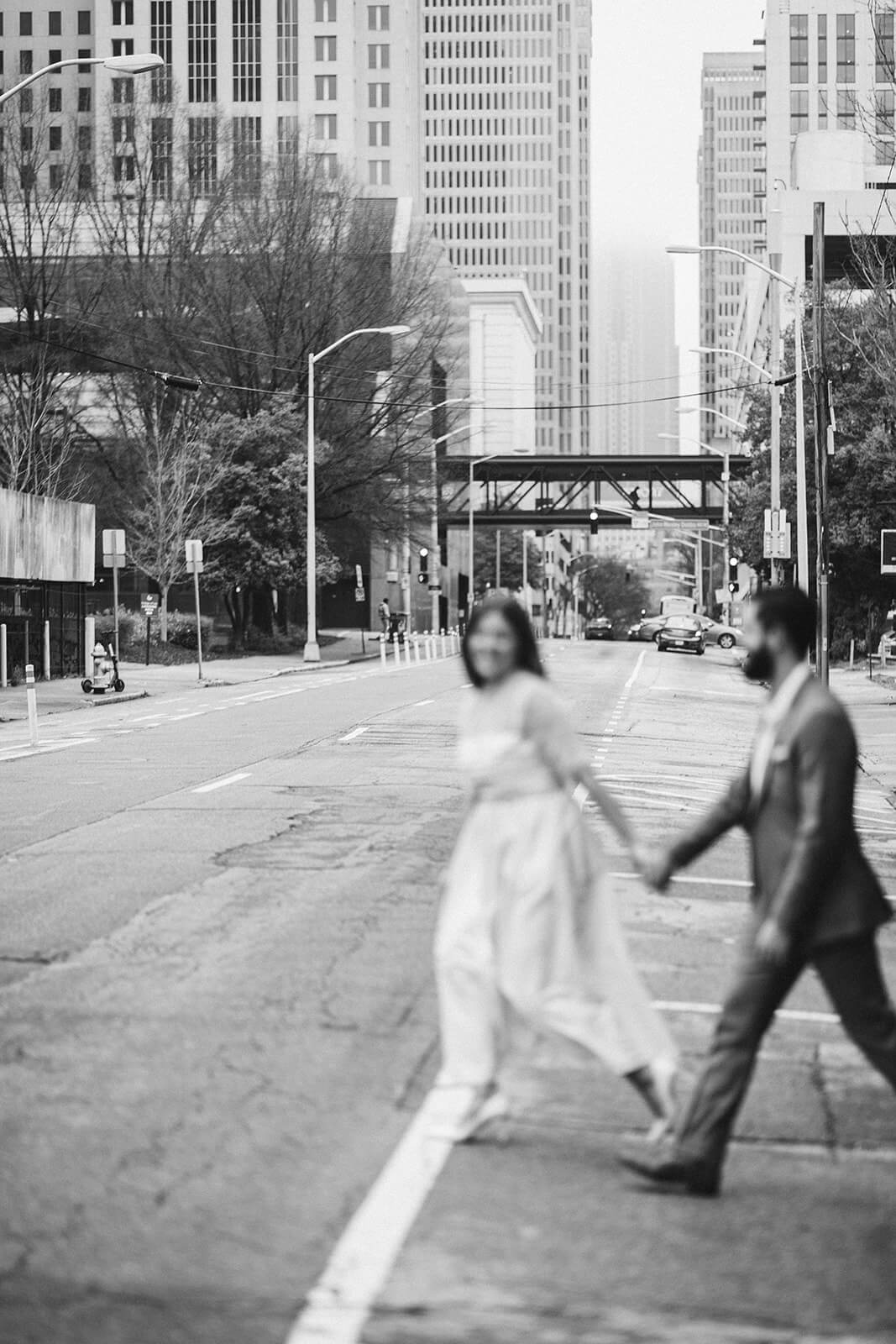 Using the Atlanta Skyline as a Backdrop
If you're planning to have your engagement session in a city or other urban environment, using the skyline as a backdrop is a must. With Claire and André, we first made our way up to an empty parking garage (which doesn't actually sound romantic, I know, but it worked!). It gave us the perfect vantage point to capture Altanta's skyscrapers in the background without them being too far in the distance.
We ended the day with a walk up to the Jackson Street Bridge. This bridge was once a secret with Atlanta residents as the best place to get a view of the downtown Atlanta skyline and snap a selfie. However, word got out (if you're a Walking Dead fan, you'll recognize the iconic shot from the Season One posters) and now plenty of visitors make their way to the bridge to get the quintessential Atlanta view. It's the perfect spot to snap some engagement shots, as well. There's not a lot of traffic and you truly can't beat the view of the skyline in the background. 
Claire and André looked so at peace together in front of their beloved city. I honestly couldn't imagine a more perfect way to end the day.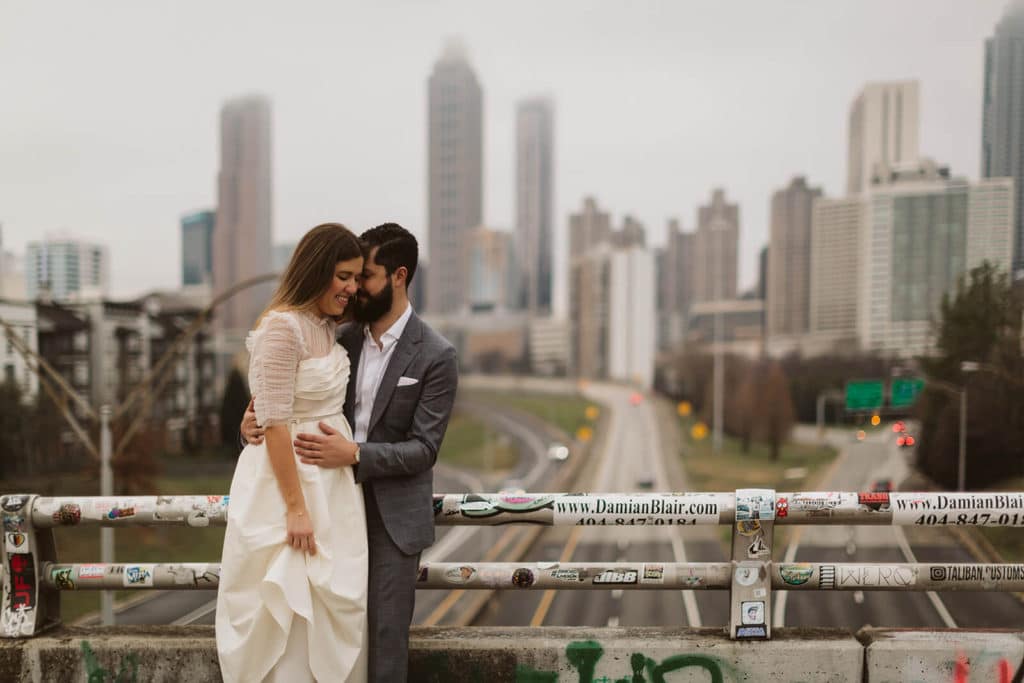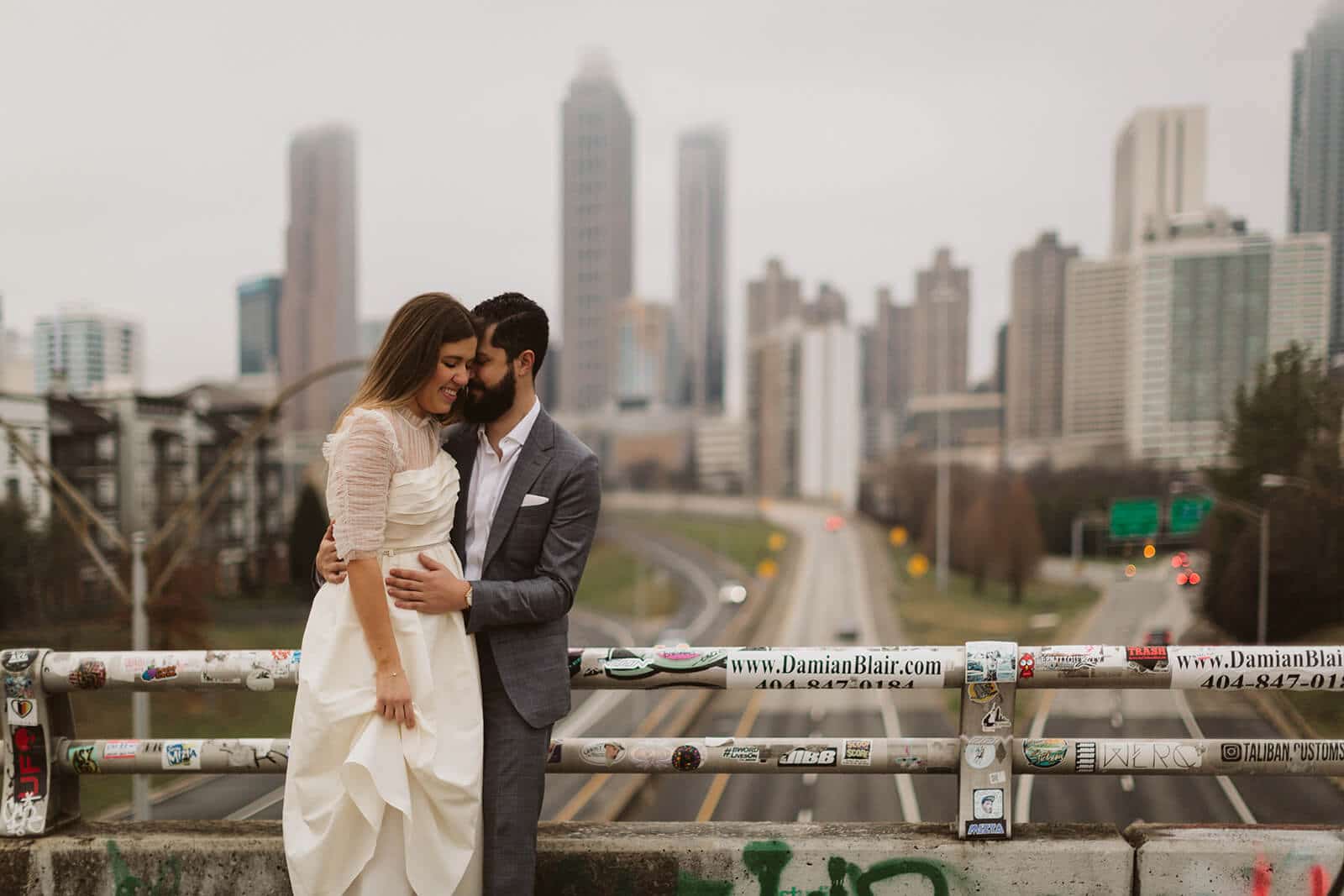 Are you thinking about having an engagement photography session? My most popular wedding photography package includes an engagement session! Whatever your vision for either engagement or wedding day photography is, I'm here to help you make it come to life!
Hi, y'all! I'm Rachael Crowe of OkCrowe Photography and if you've been hoping for an urban engagement photography session similar to Claire and André, I hope this blog has given you a dose of inspiration! I'm typically based in Chattanooga but I love traveling for photography sessions as well. If there's a place that's special to you, let me know and I can be there or check out my 2022 travel schedule to see where I'll be throughout the year. Whether it's for your wedding day or for your engagement session, I'm here for you!