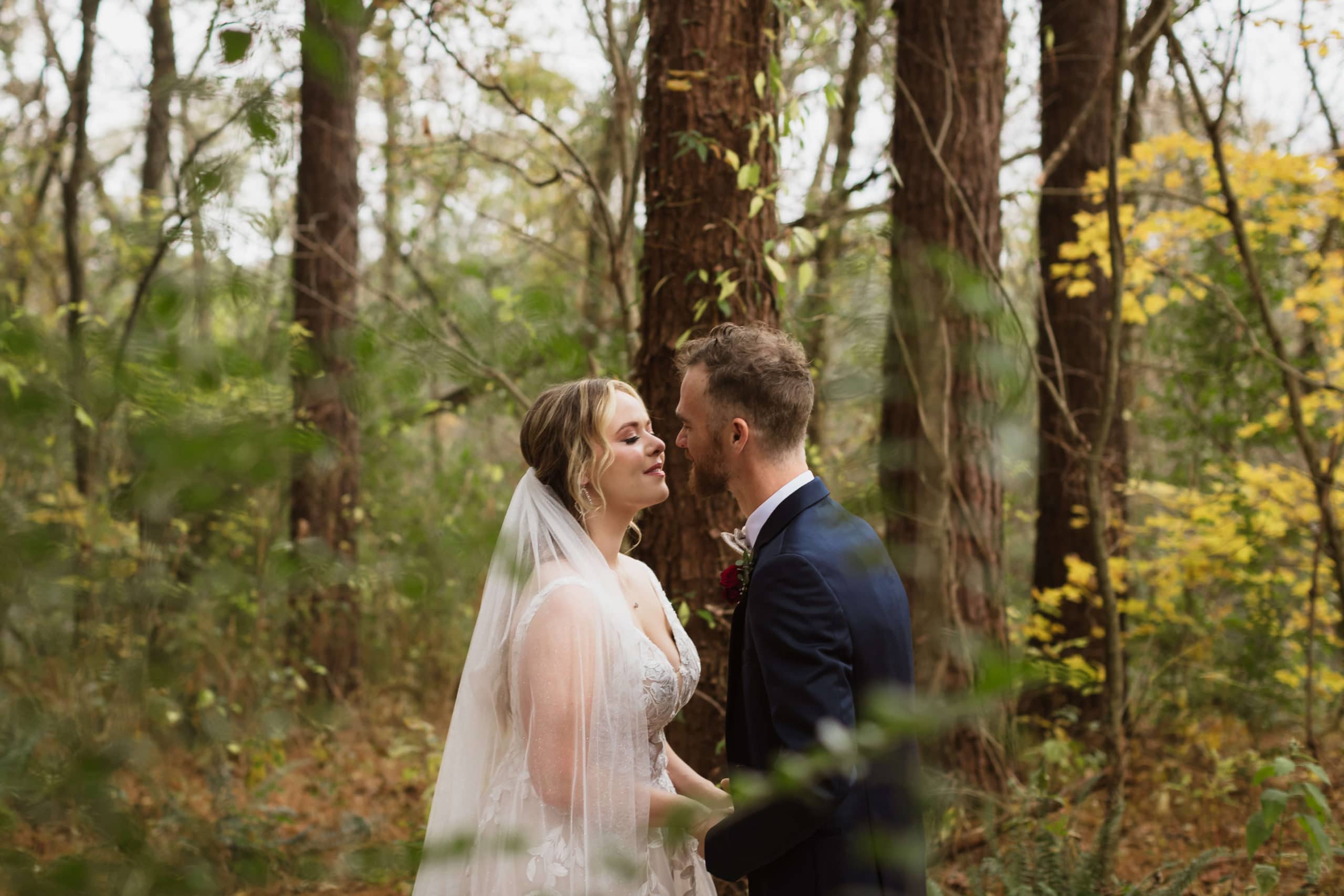 One Tennessee venue I truly love is Hiwassee River Weddings located in Delano, TN. If you're looking for an outdoor venue with an enchanted forest, fairytale feel for your wedding, look no further – HRW has you covered. With options to hold your ceremony directly in front of the beautiful Hiwassee River or in the midst of towering trees, your wedding day will be as magical as you've always imagined.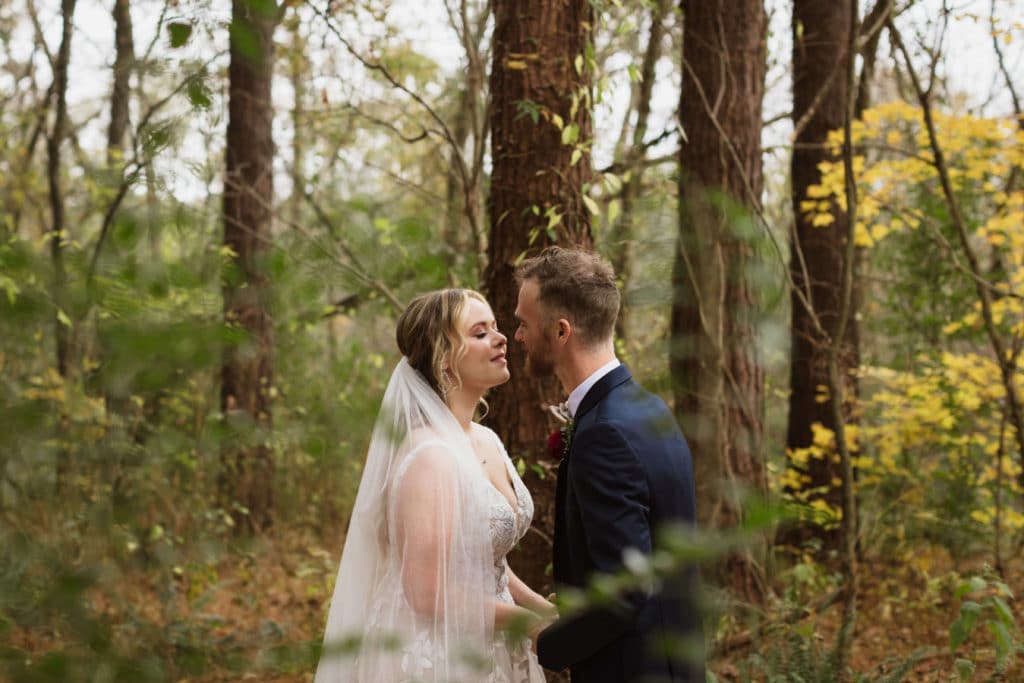 A Love Story Straight Out of the Movies
Macey and Asher were such a sweet couple to work with. They were so cute, optimistic, and incredibly excited to make their love story officially forever with their wedding vows. They planned an intimate gathering of their close family and friends for a cozy outdoor wedding.
When I met Macey and Asher and they told me their story, I could almost immediately see how it would make the perfect 'Hallmark' rom-com. Asher was originally from East Tennessee, but his dad took a job in Texas his junior year of high school, so he ended up moving to Macey's hometown. Macey's older brother Tyler met through school and became friends playing baseball together. Macey quickly developed a sweet crush on her brother's new friend. Years later, Asher accidentally messaged Macey and she decided to boldly ask him out. Now they're both grown up, back in Tennessee, and Macey is living out her fourteen year old self's dream of falling in love and marrying her high school crush.
One thing that really stood out to me about this wedding was Macey's amazing taste. From her outfits to her accessories, everything was simply amazing. Macey had two equally amazing dresses for her wedding day, both were purchased from Monica's Bridal in Chattanooga. Her ceremony dress was an A-line dress with a bodice made of lacy, embroidered vines and leaves that wrapped over her shoulders and around her waist before falling into a beautiful, full sheer skirt. Her reception dress was a simpler fit that was covered in sparkling sequins that shimmered everywhere she dances. With both outfits, she wore show stopping rhinestone boots. When she stepped into a secluded forest section of the venue to meet Asher for their first look, Asher was instantly moved to tears at the sight of his beautiful bride.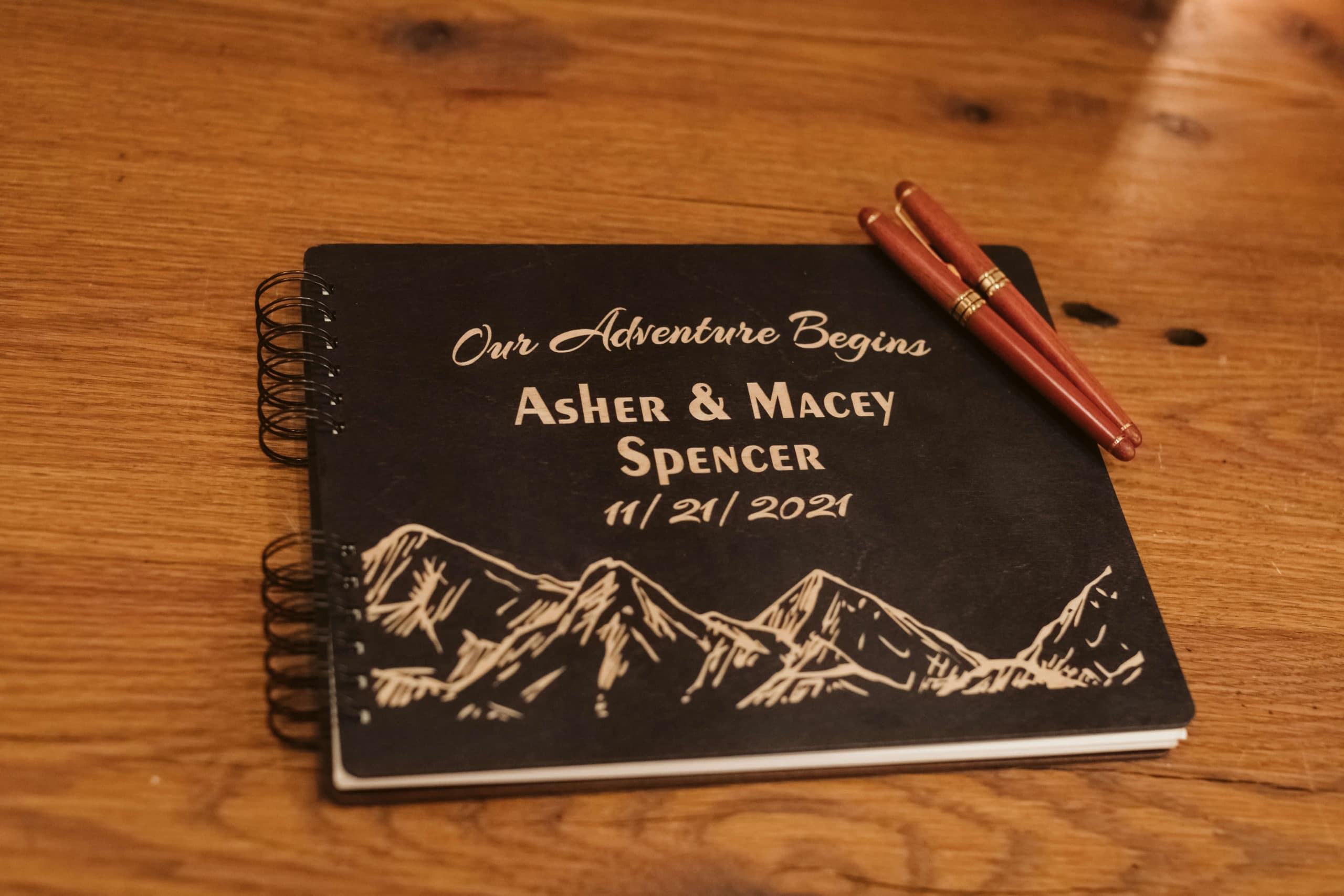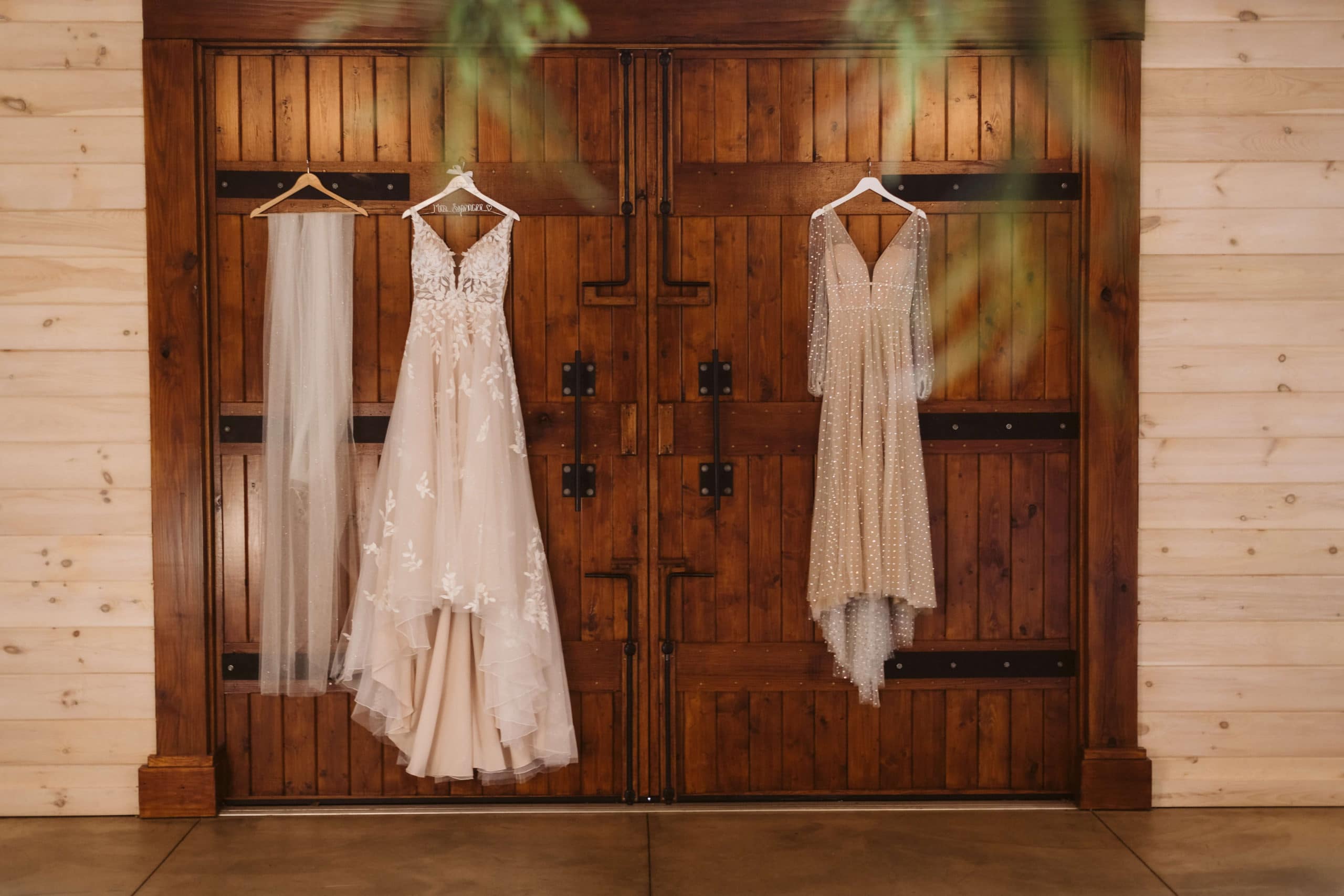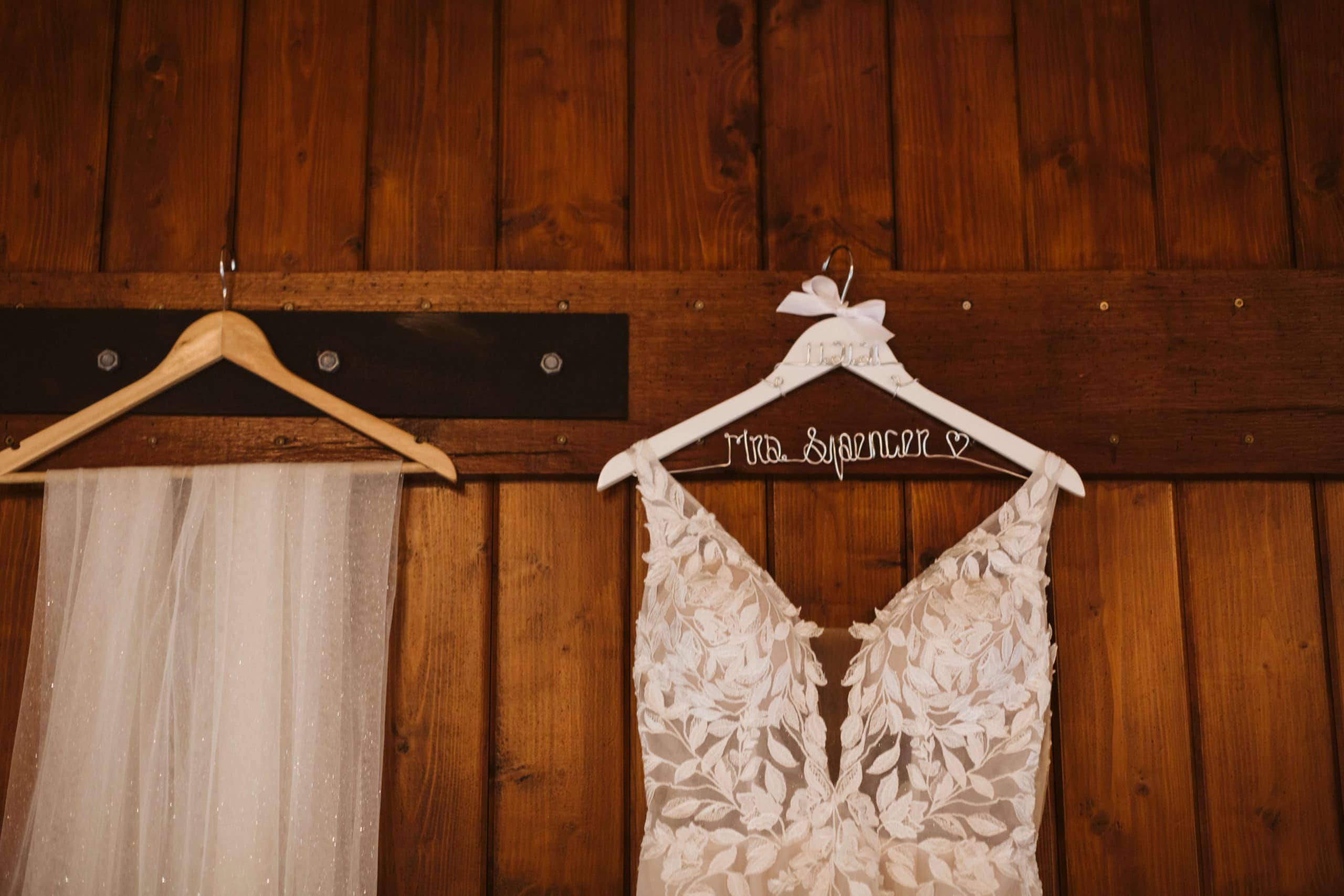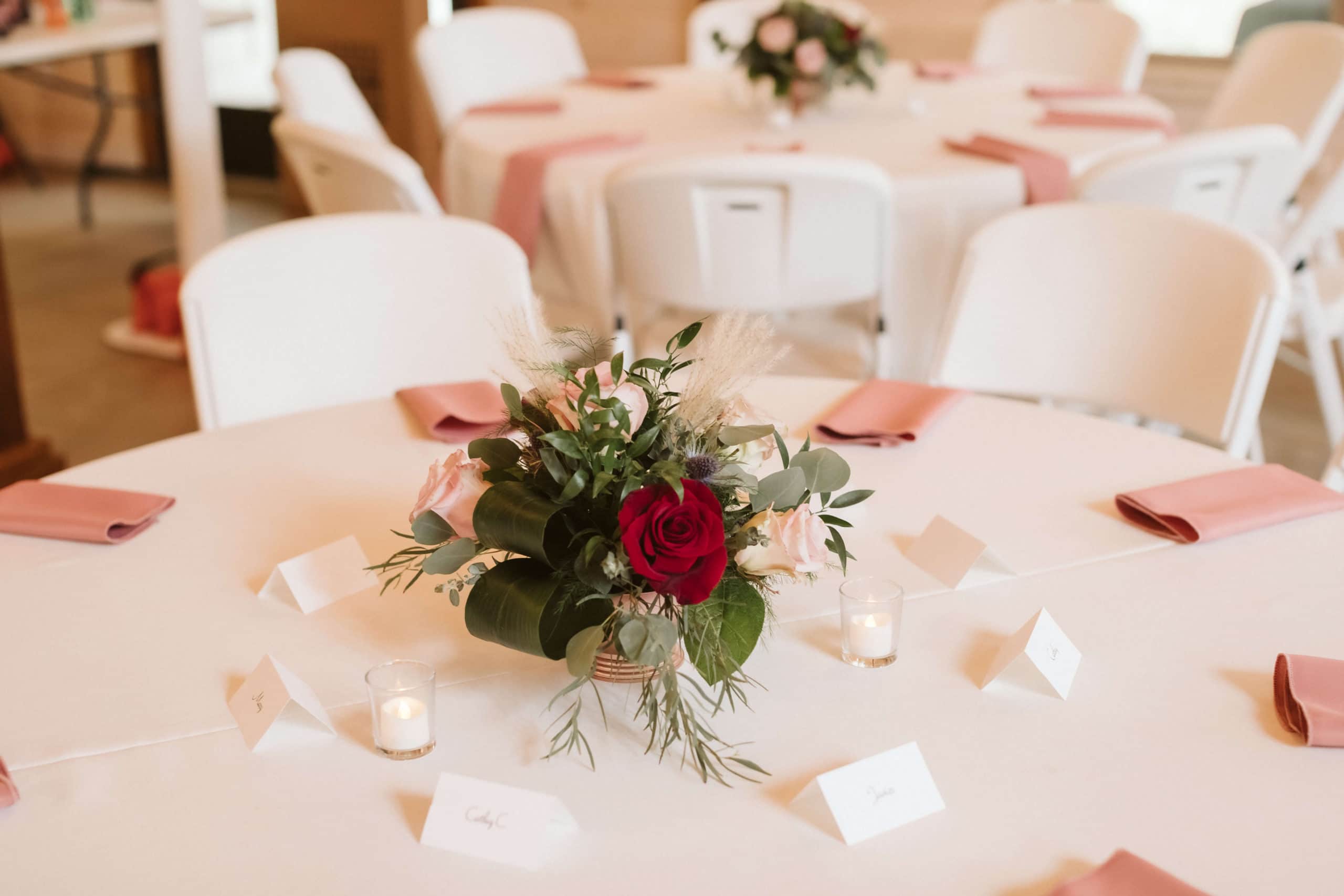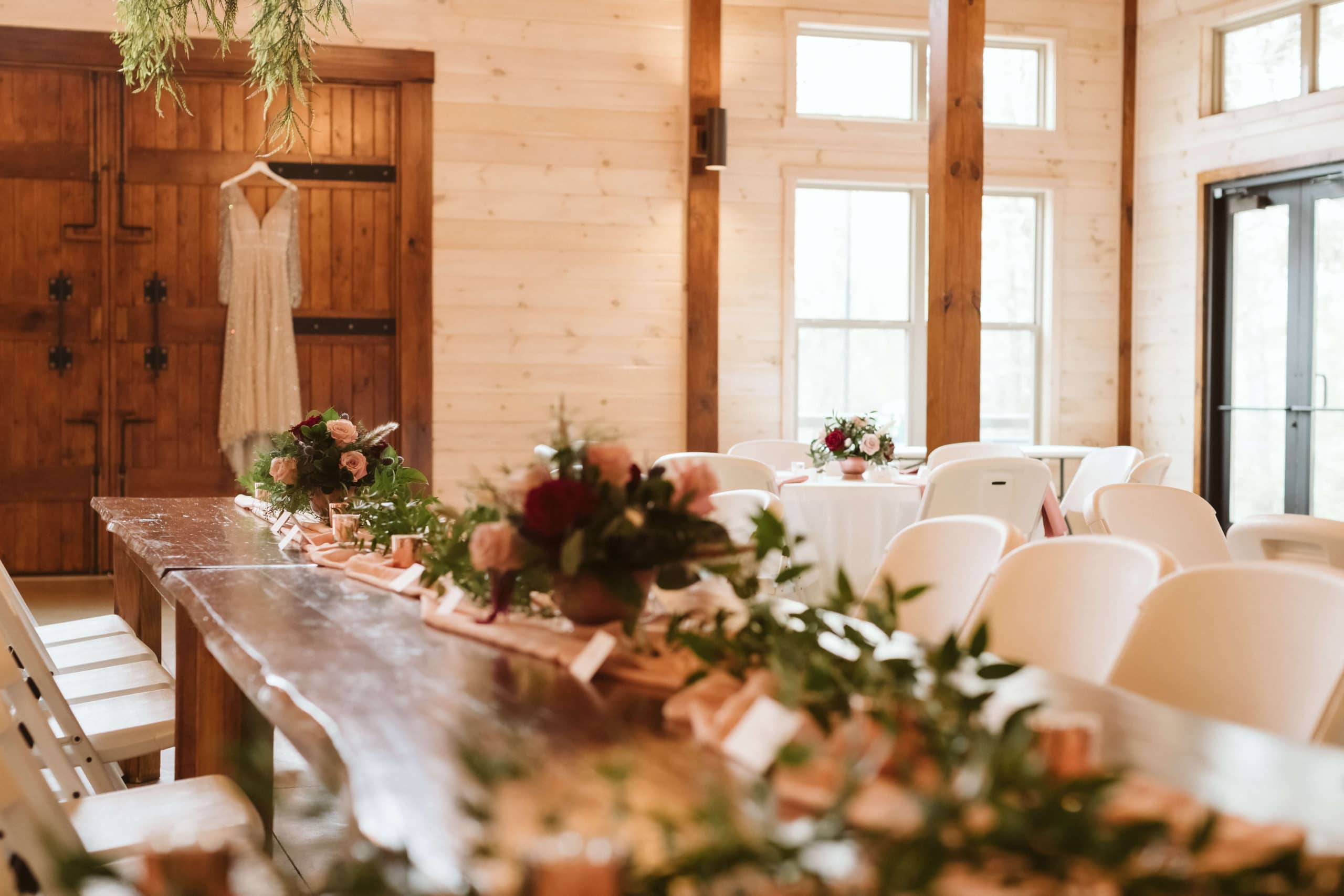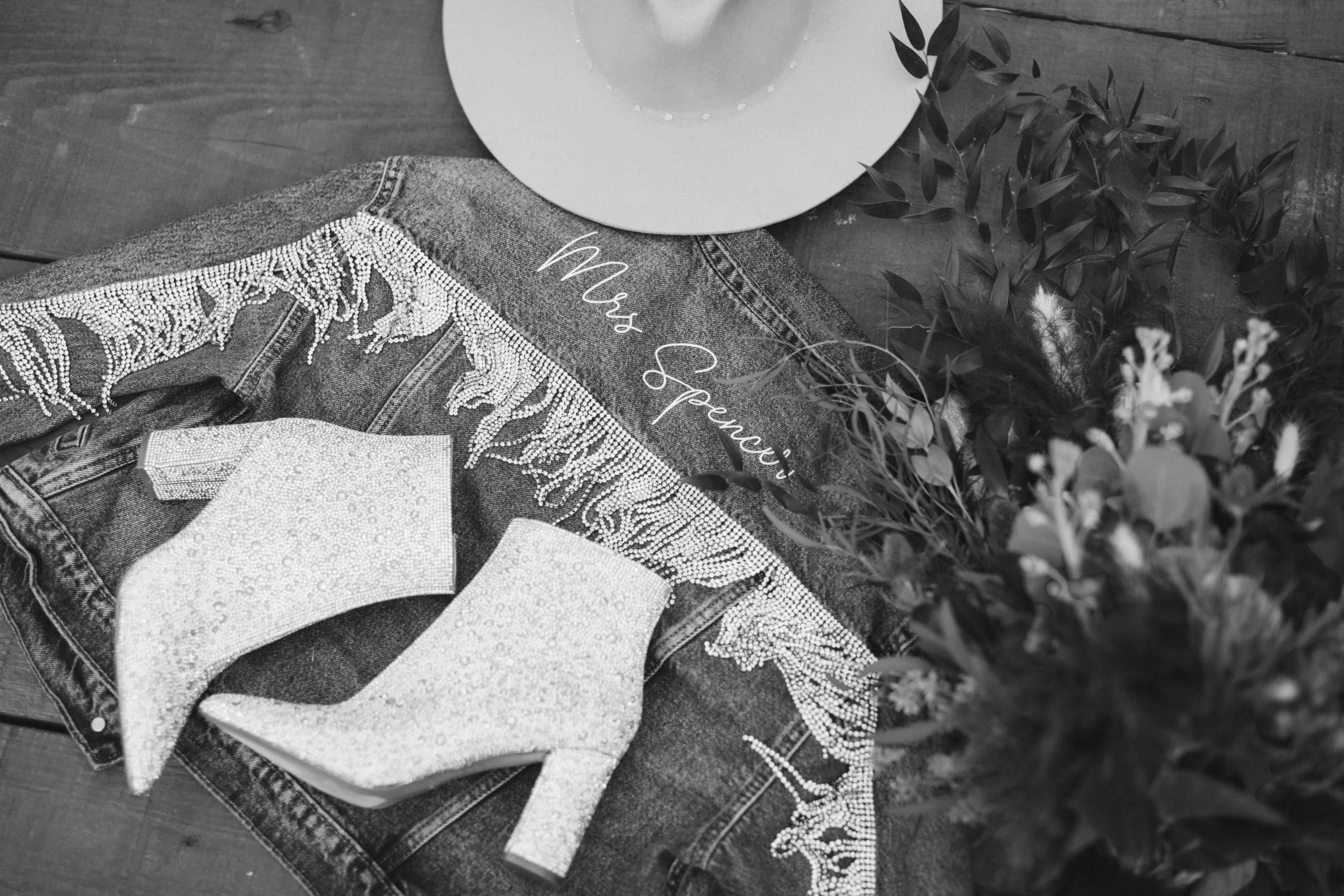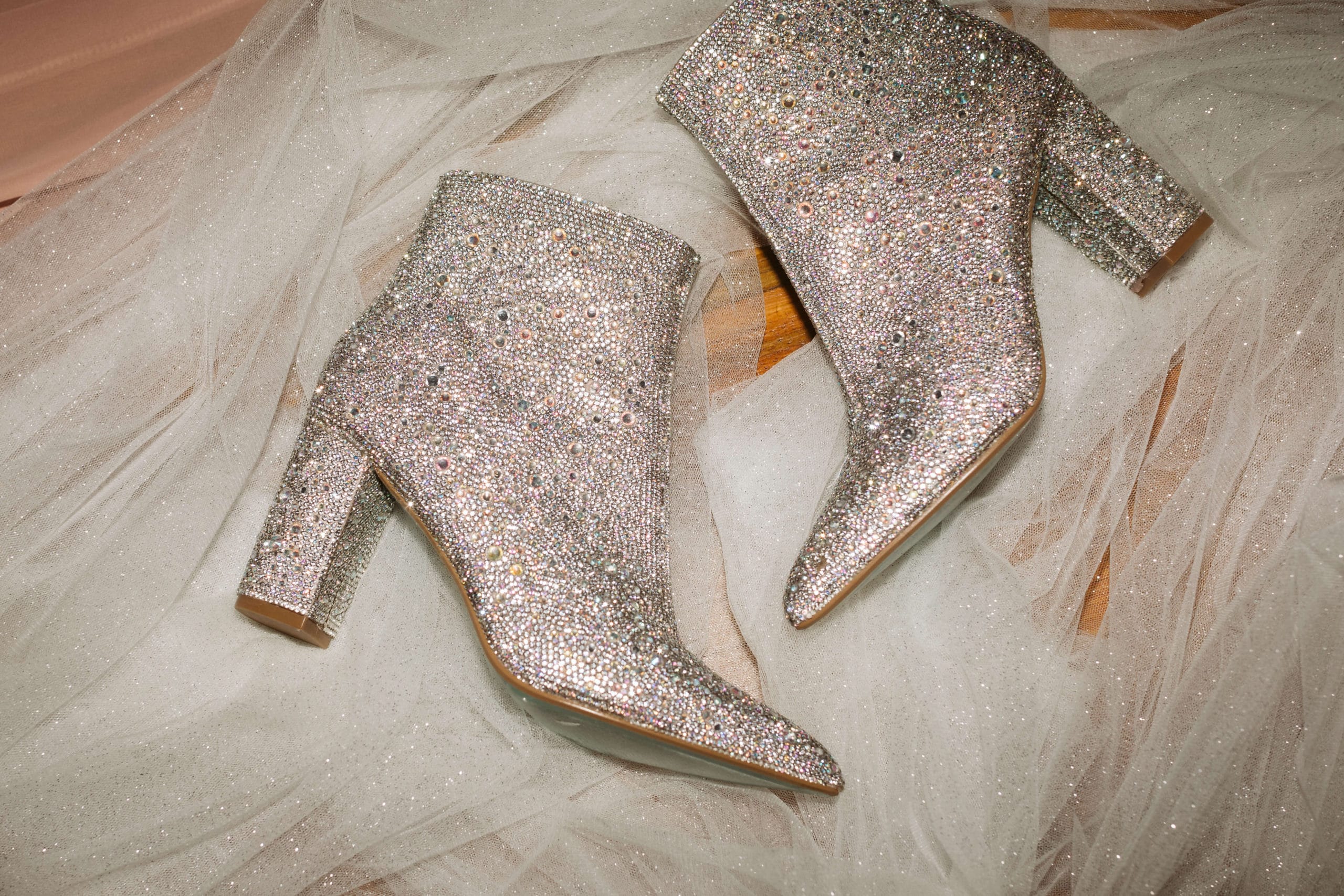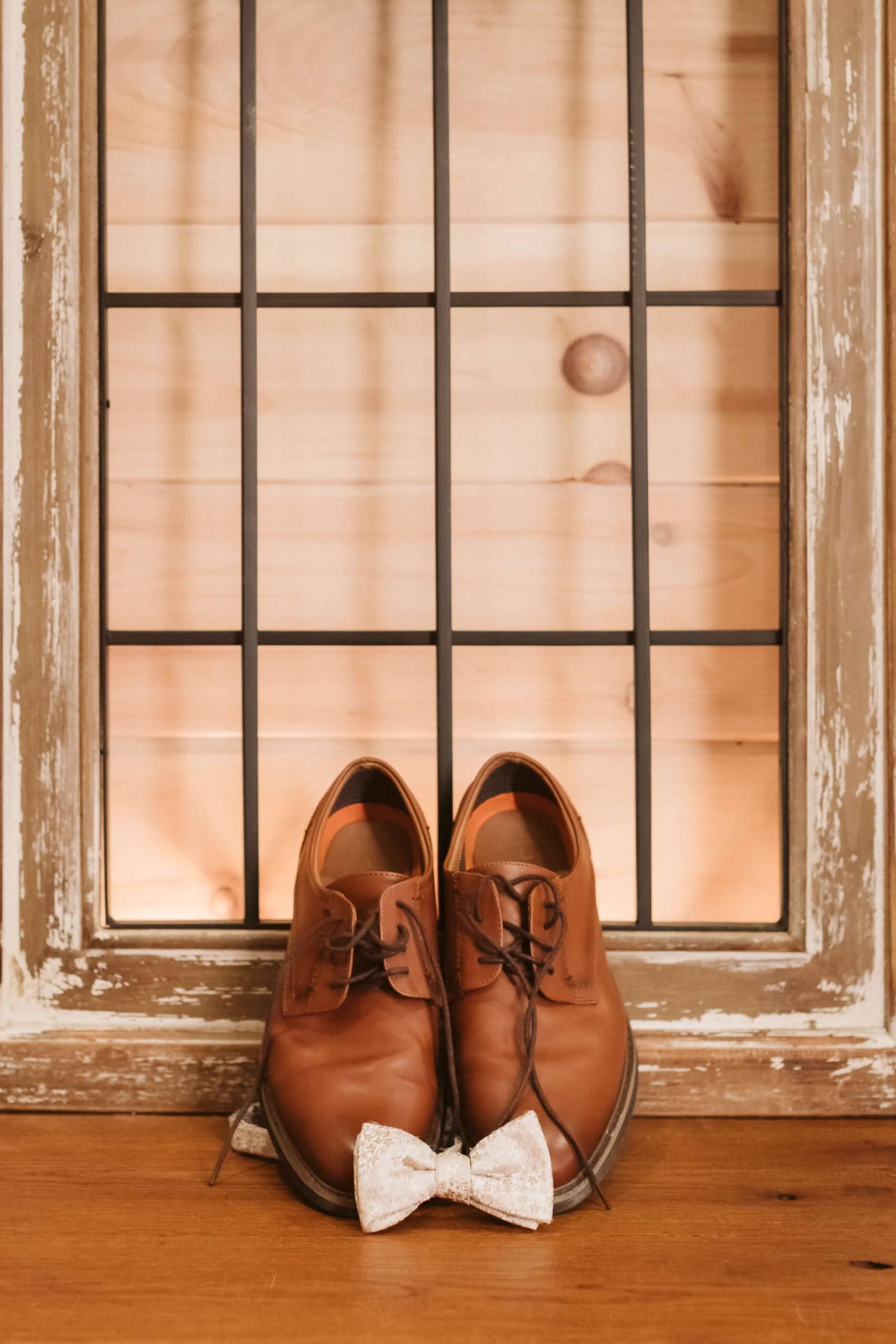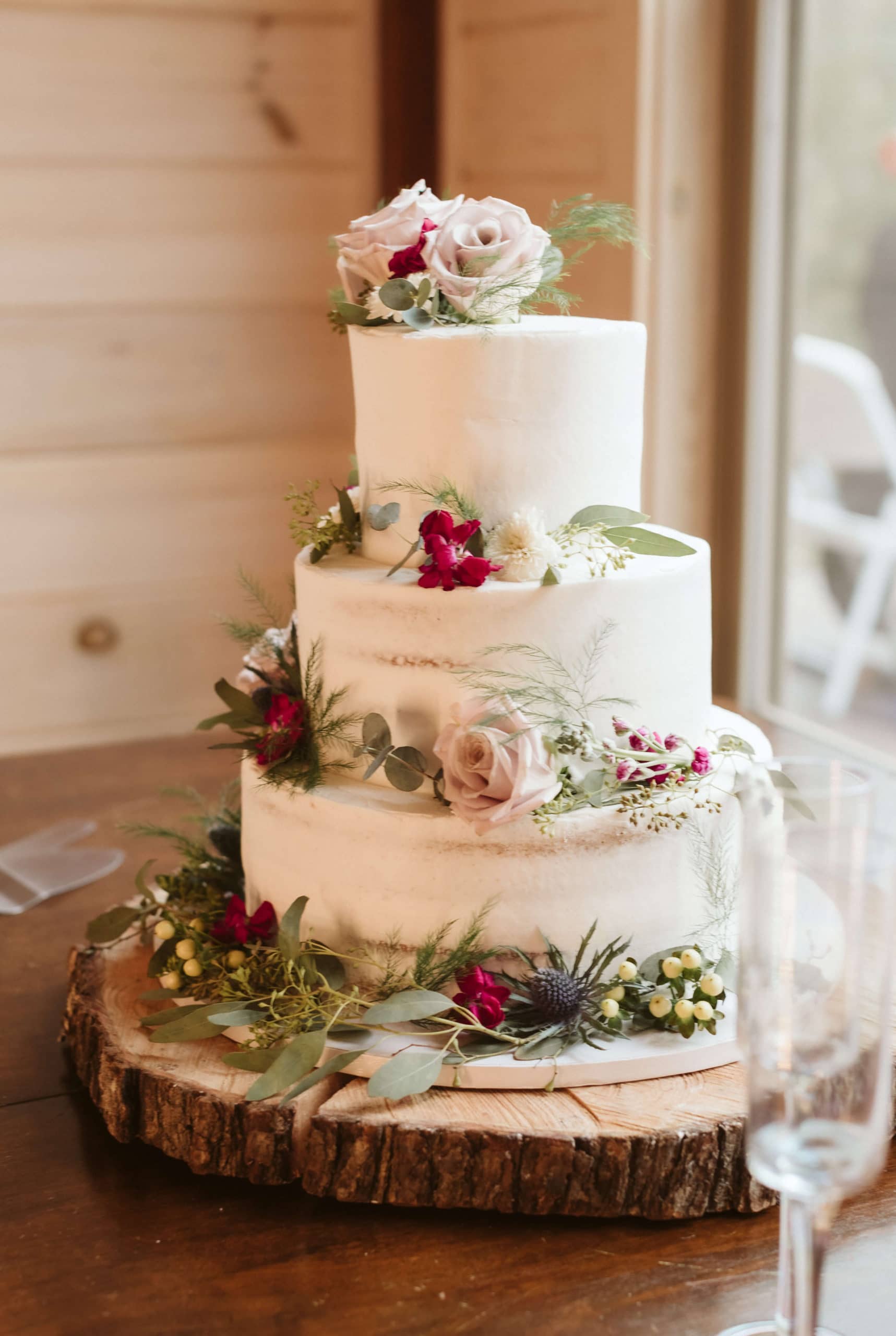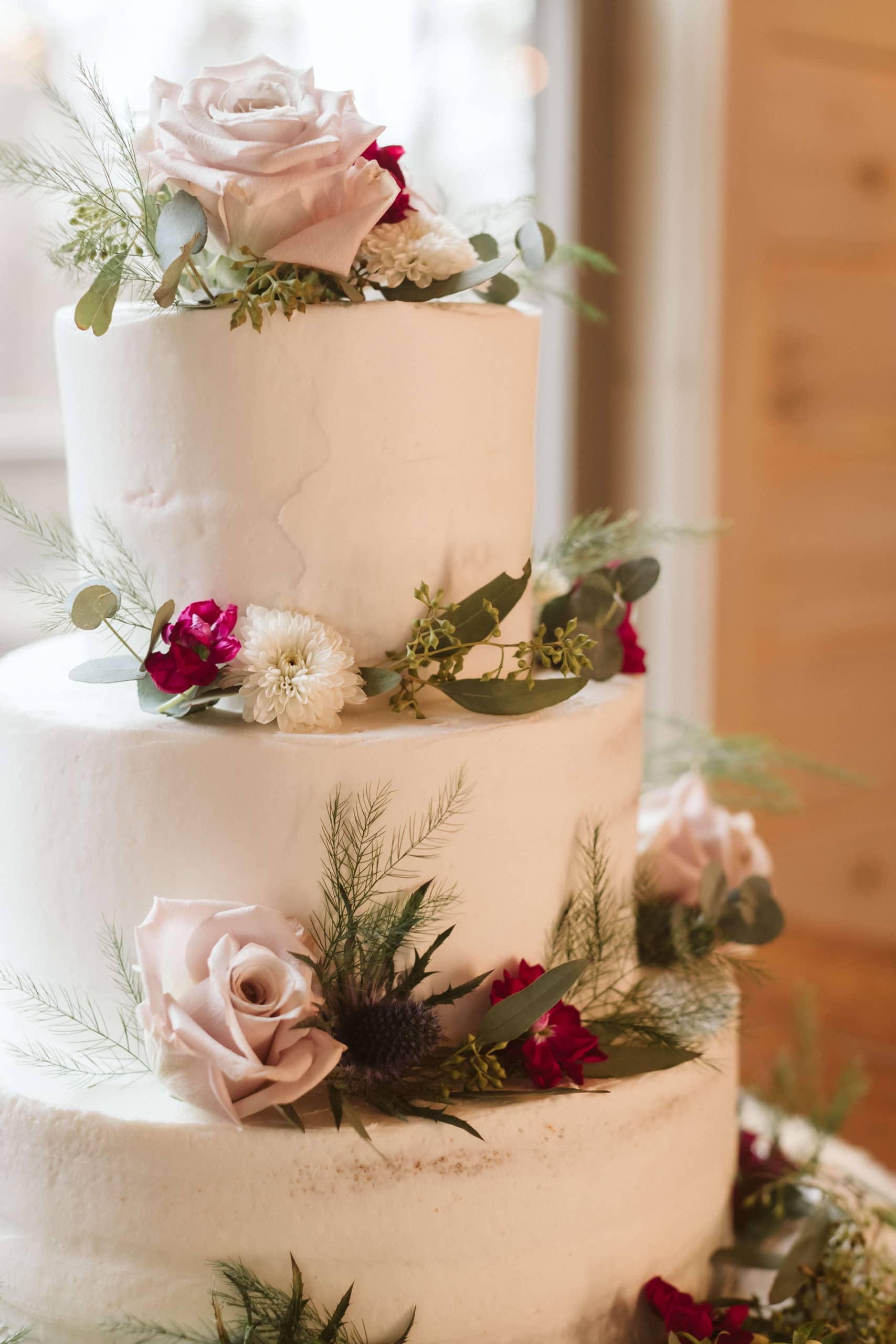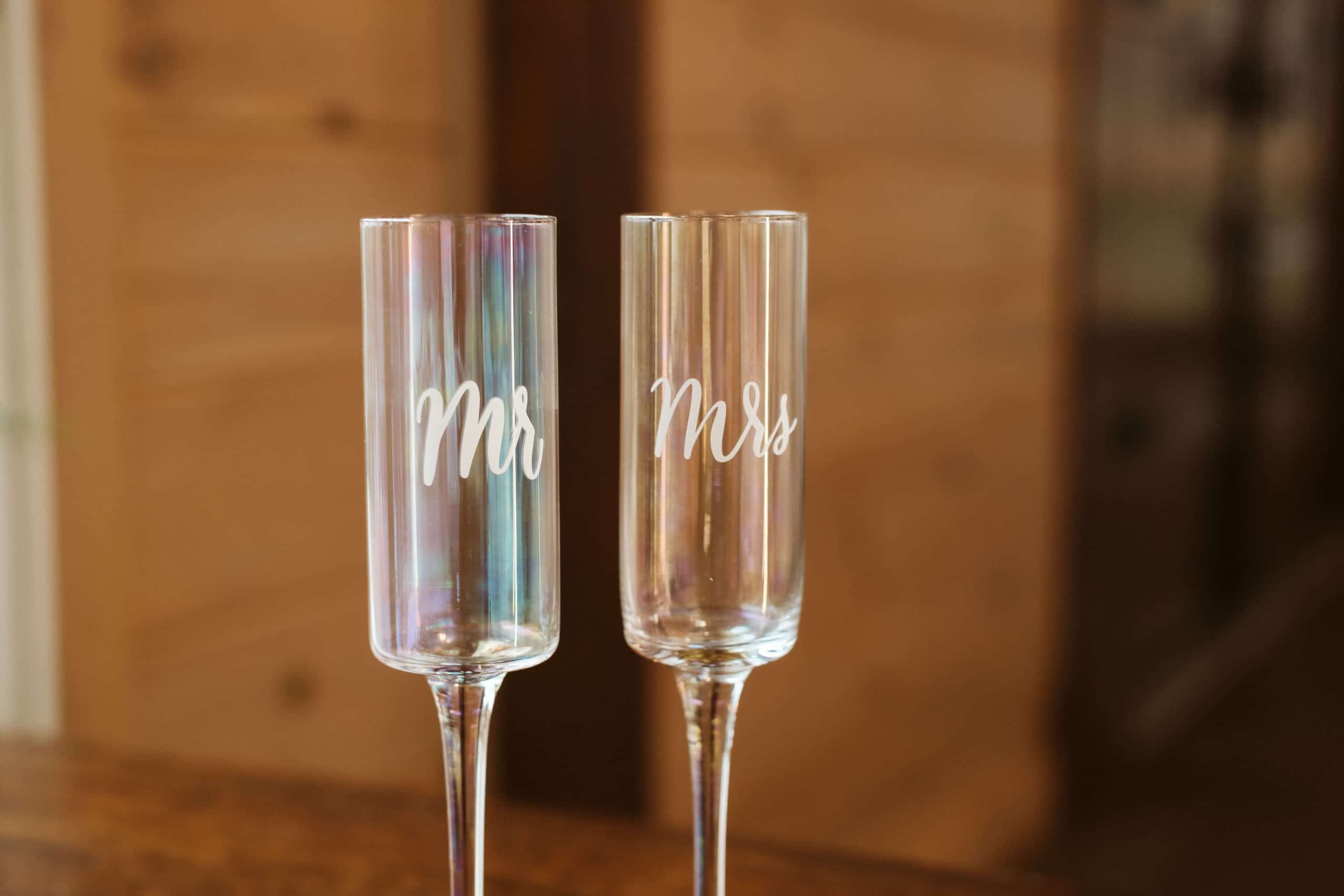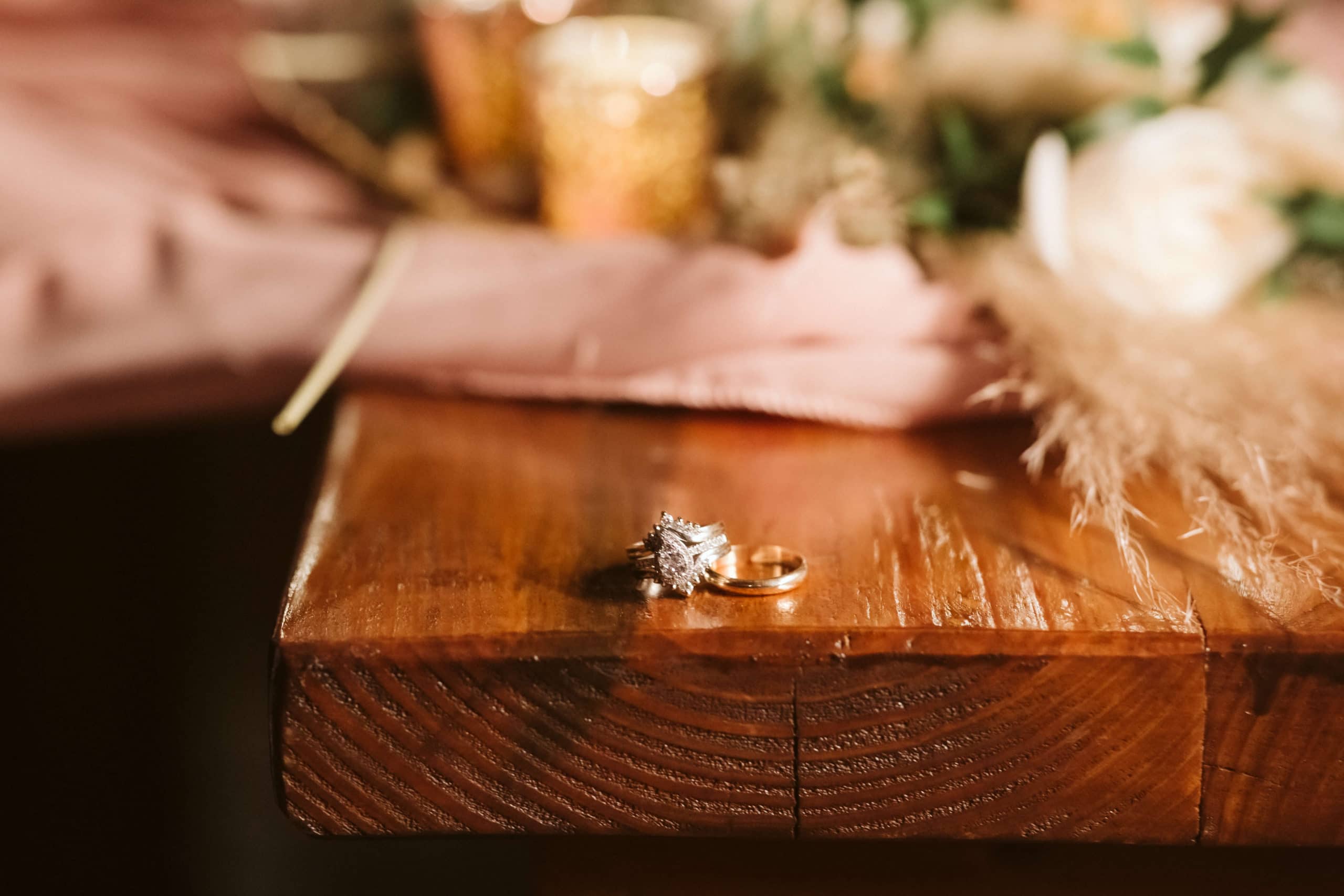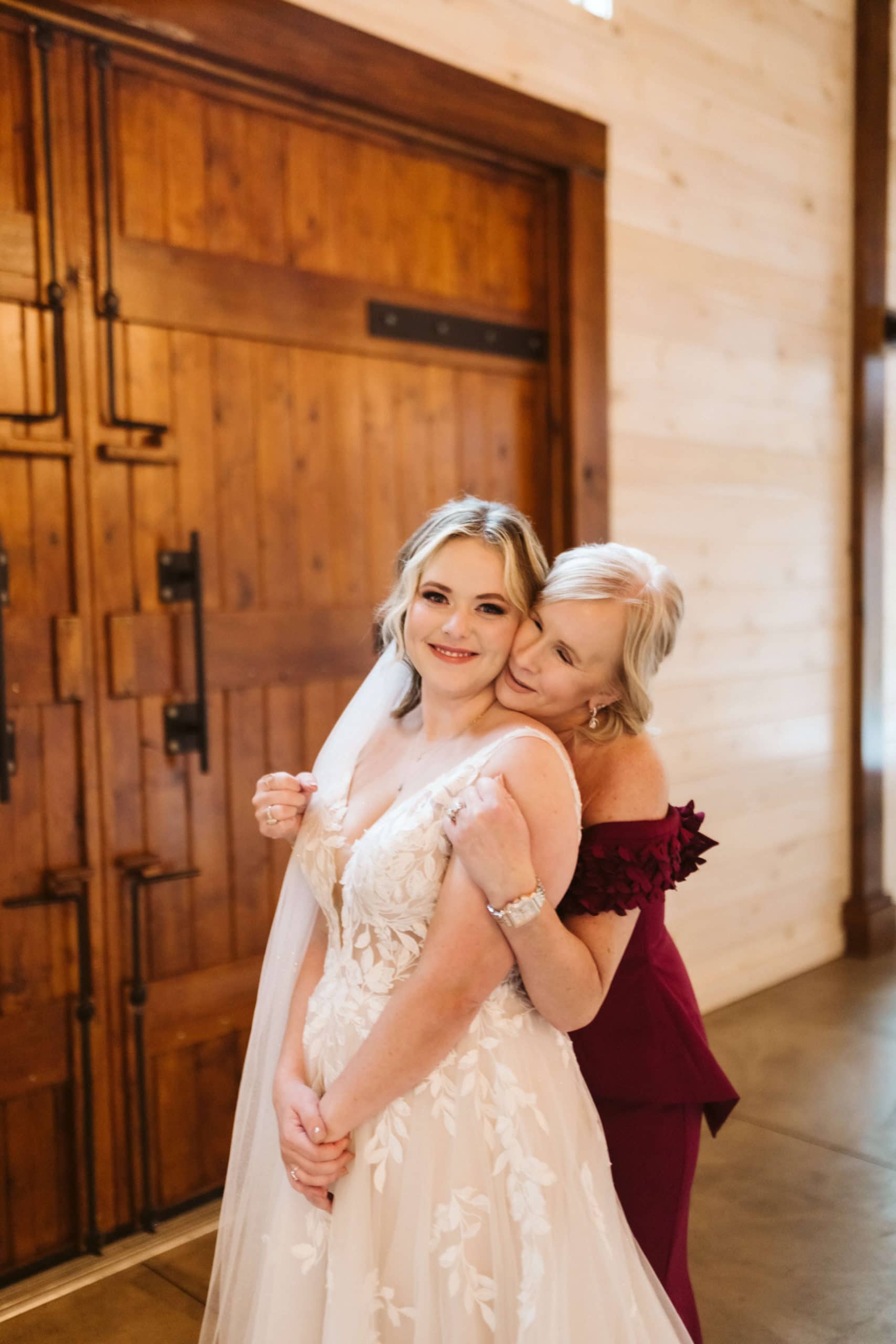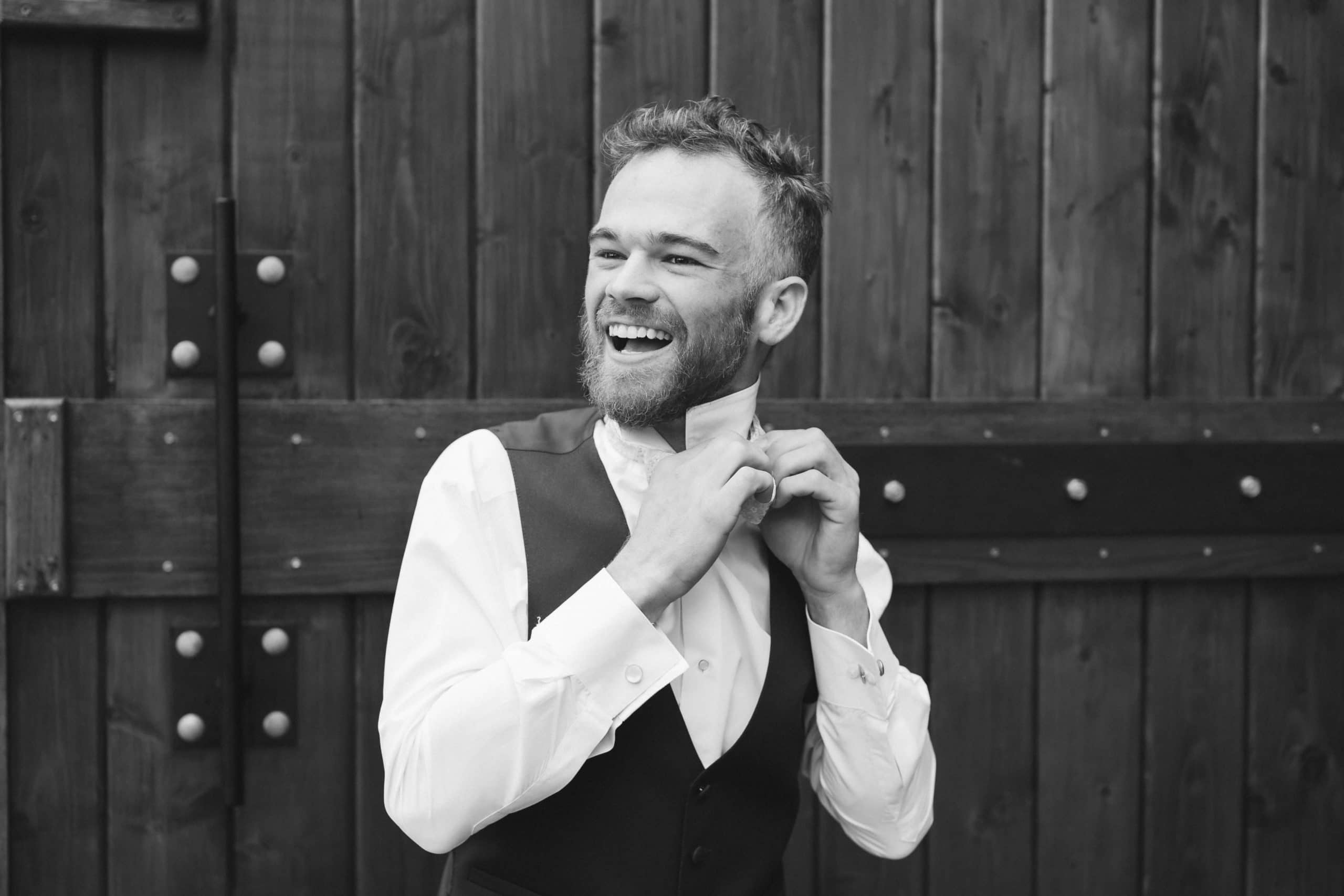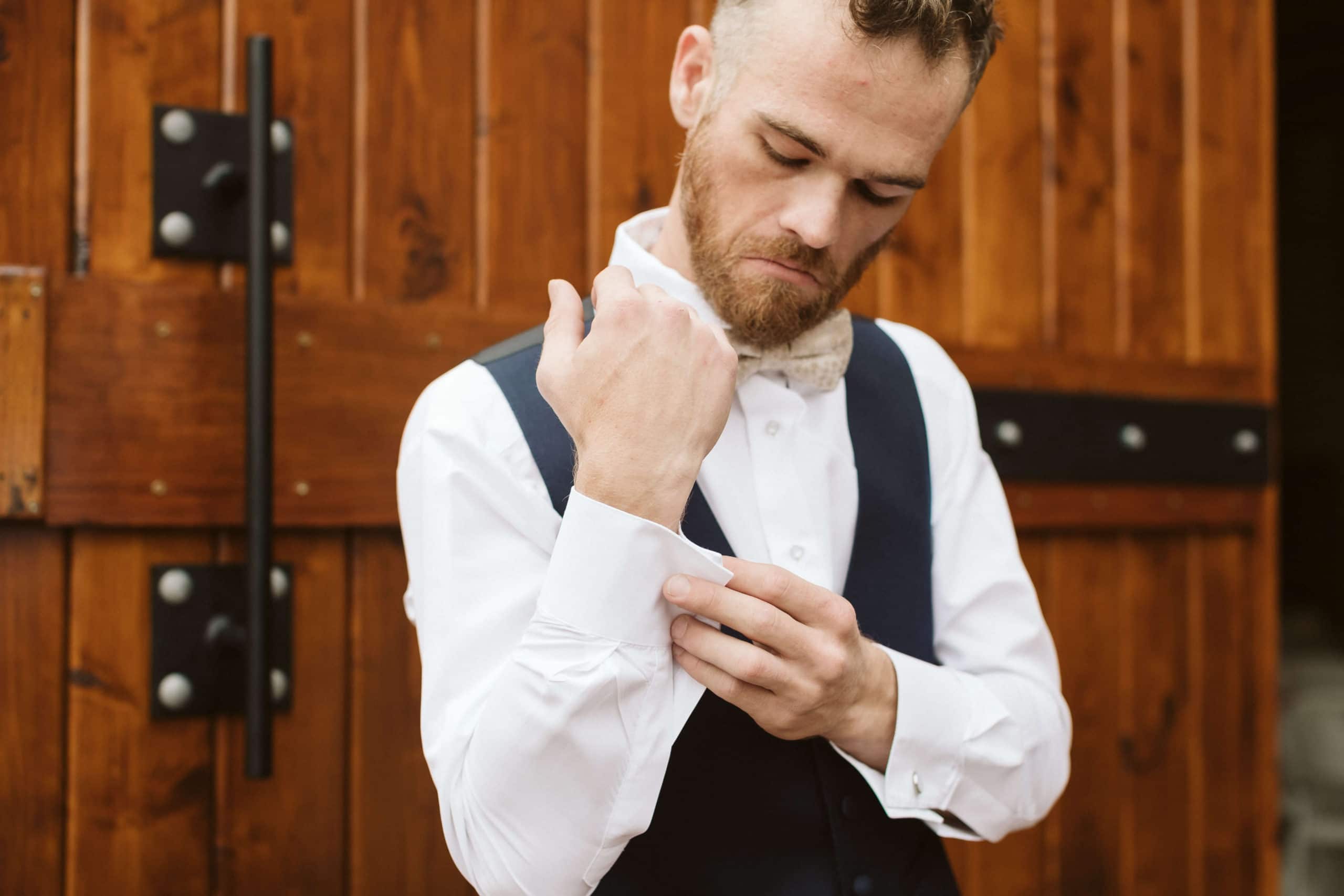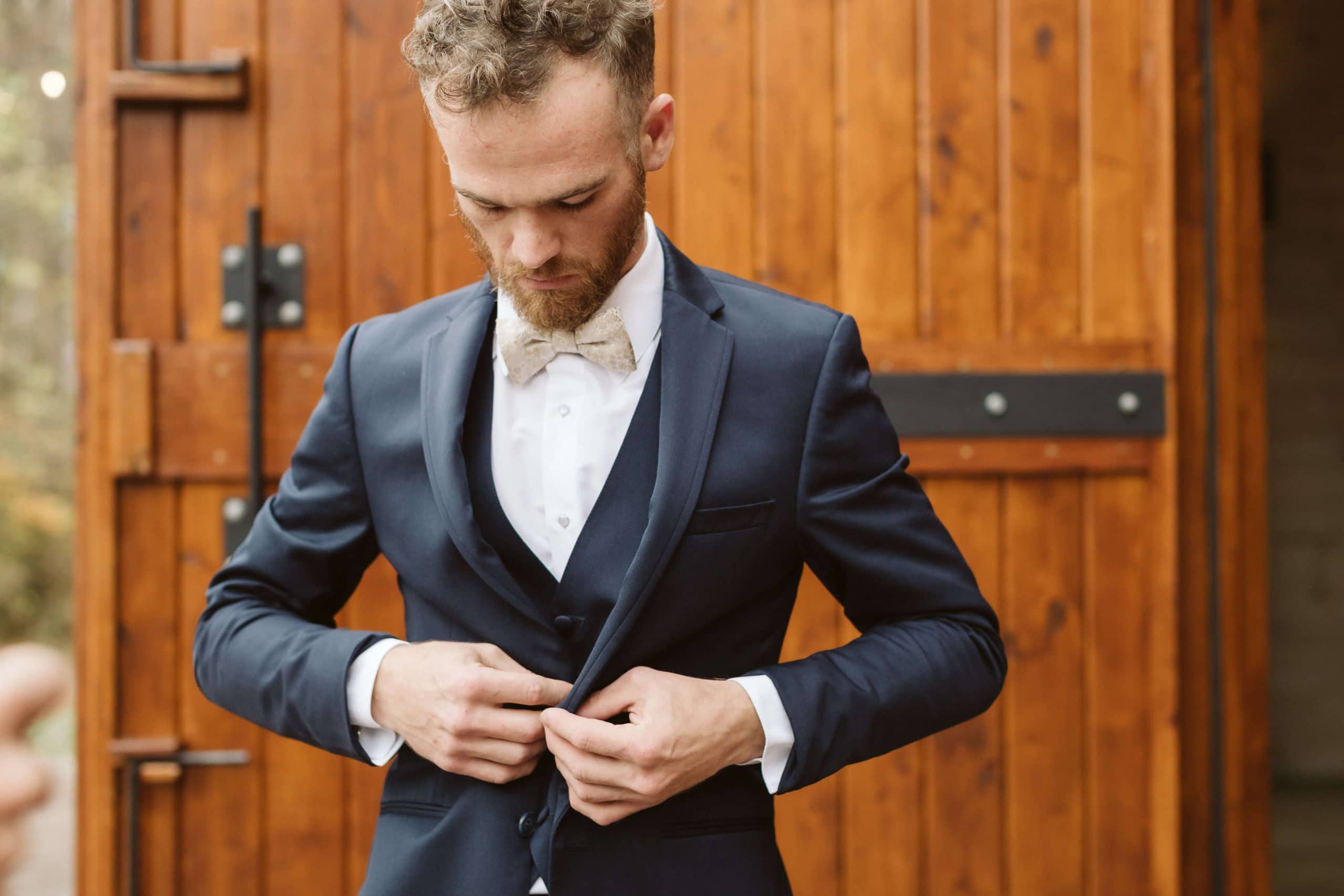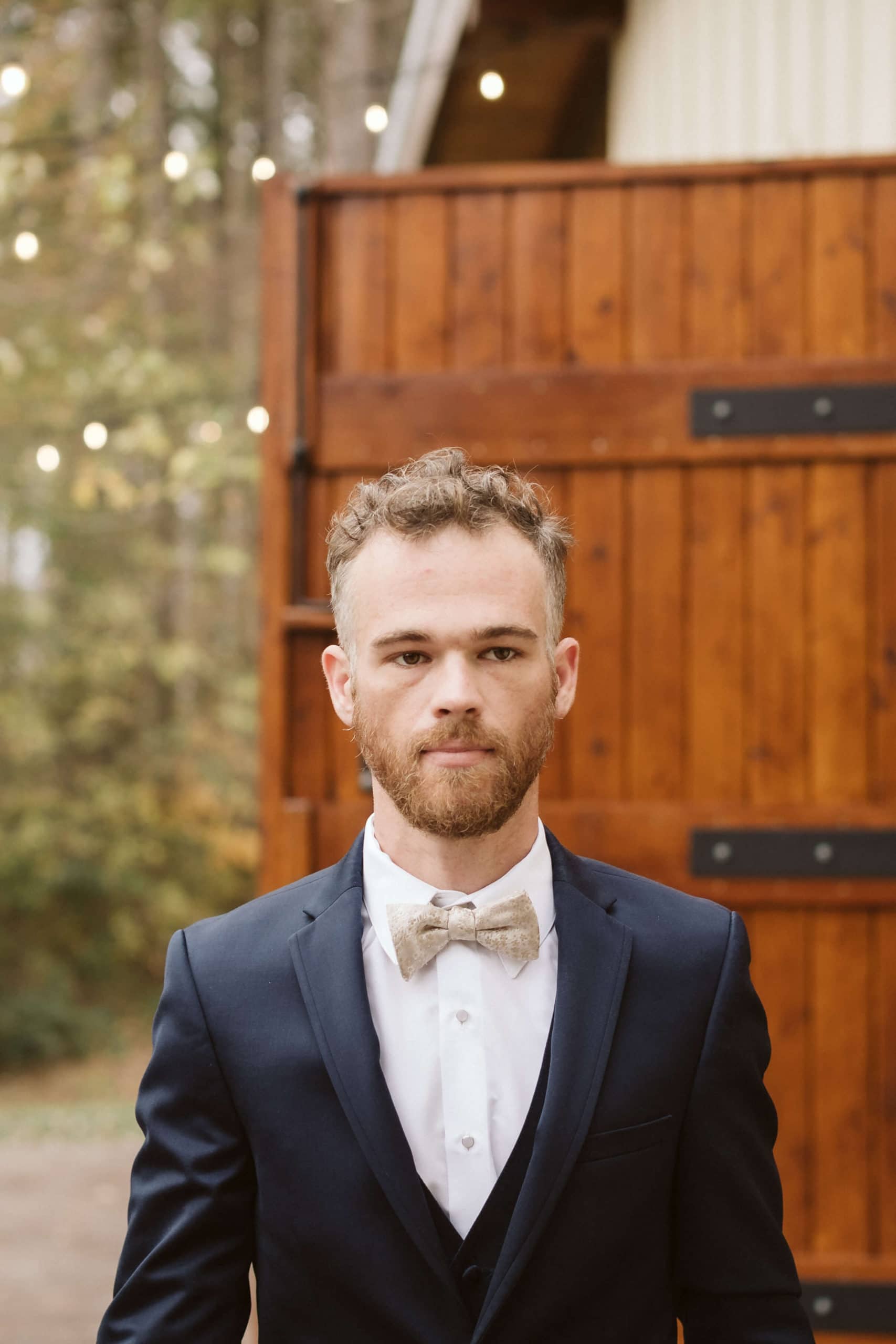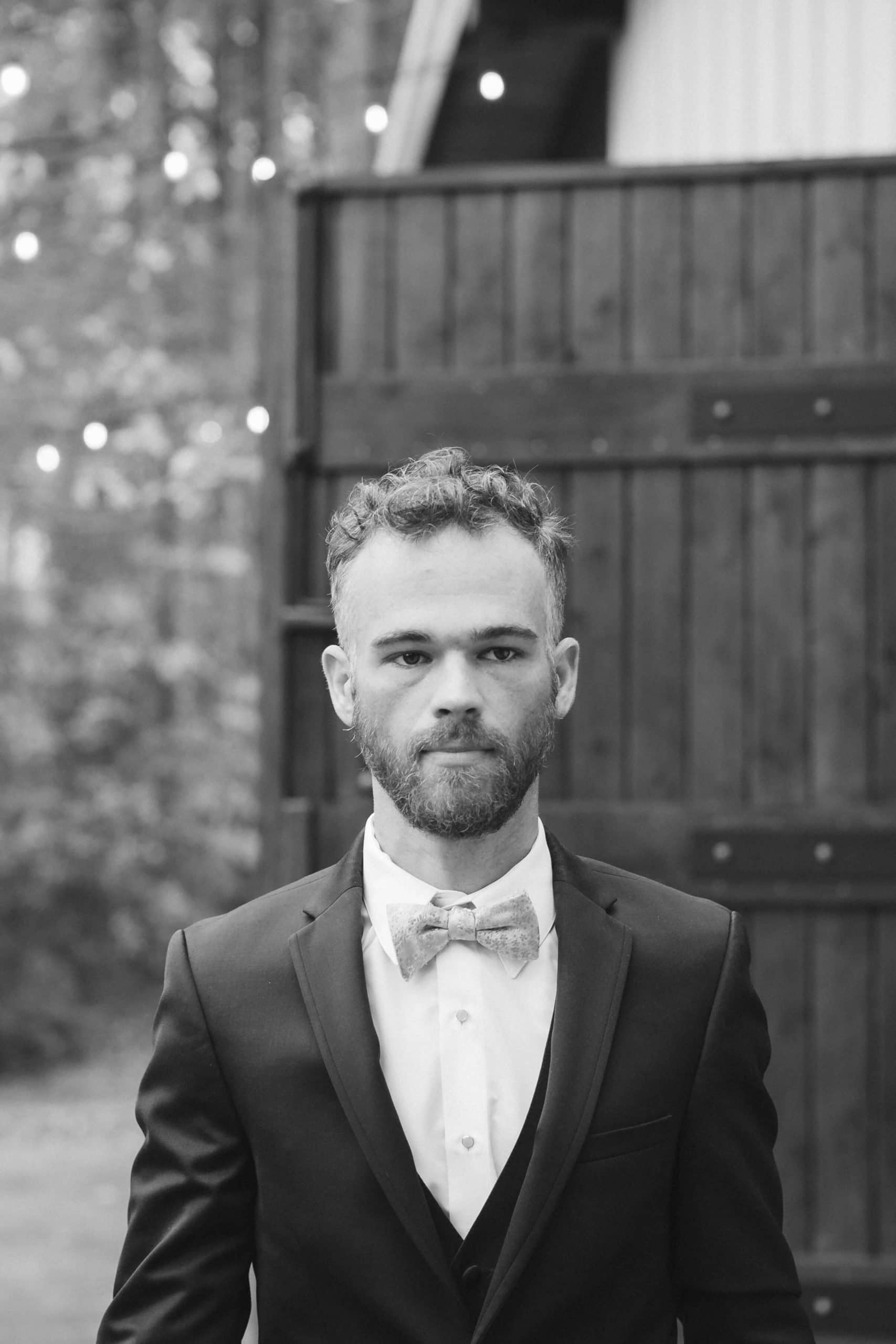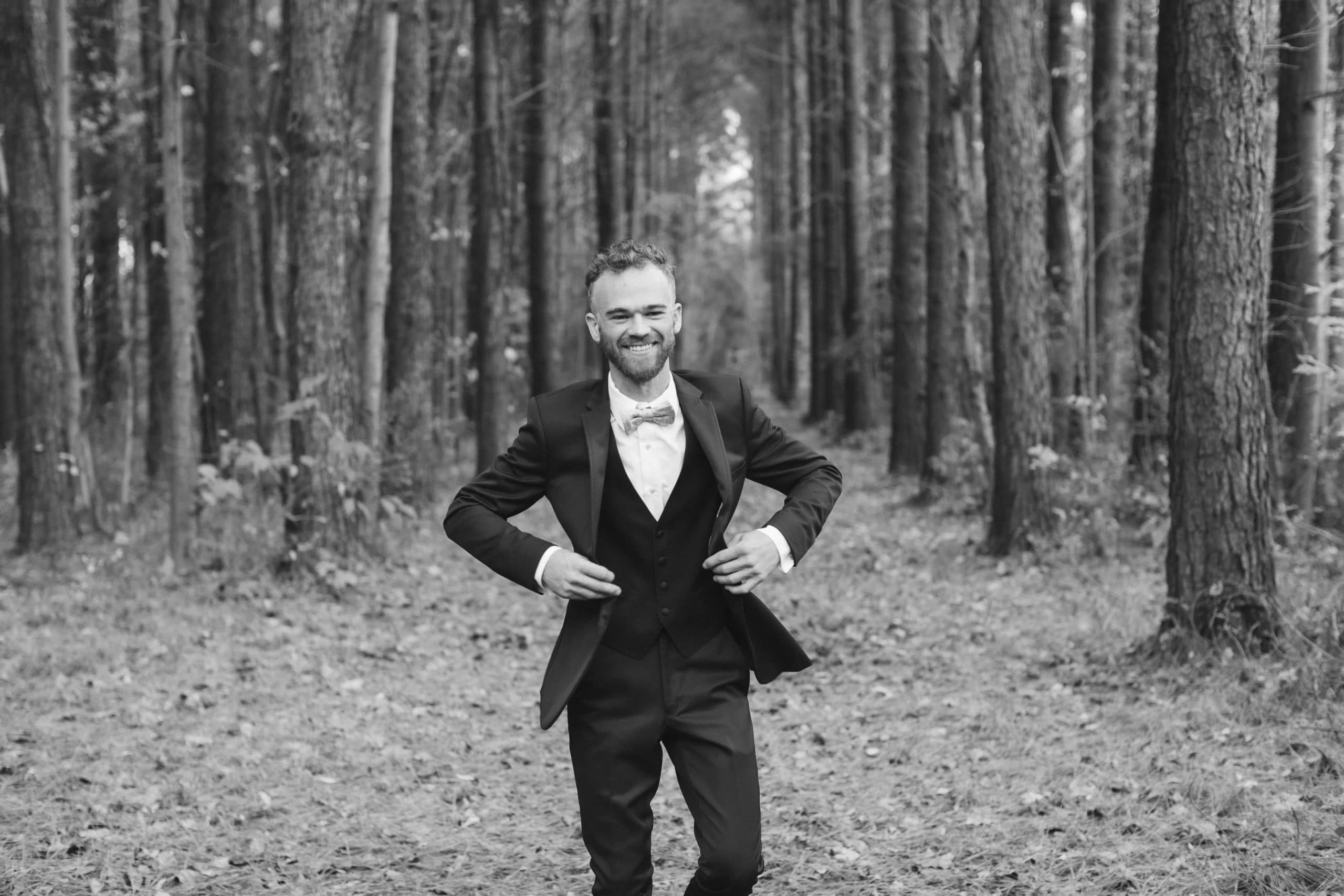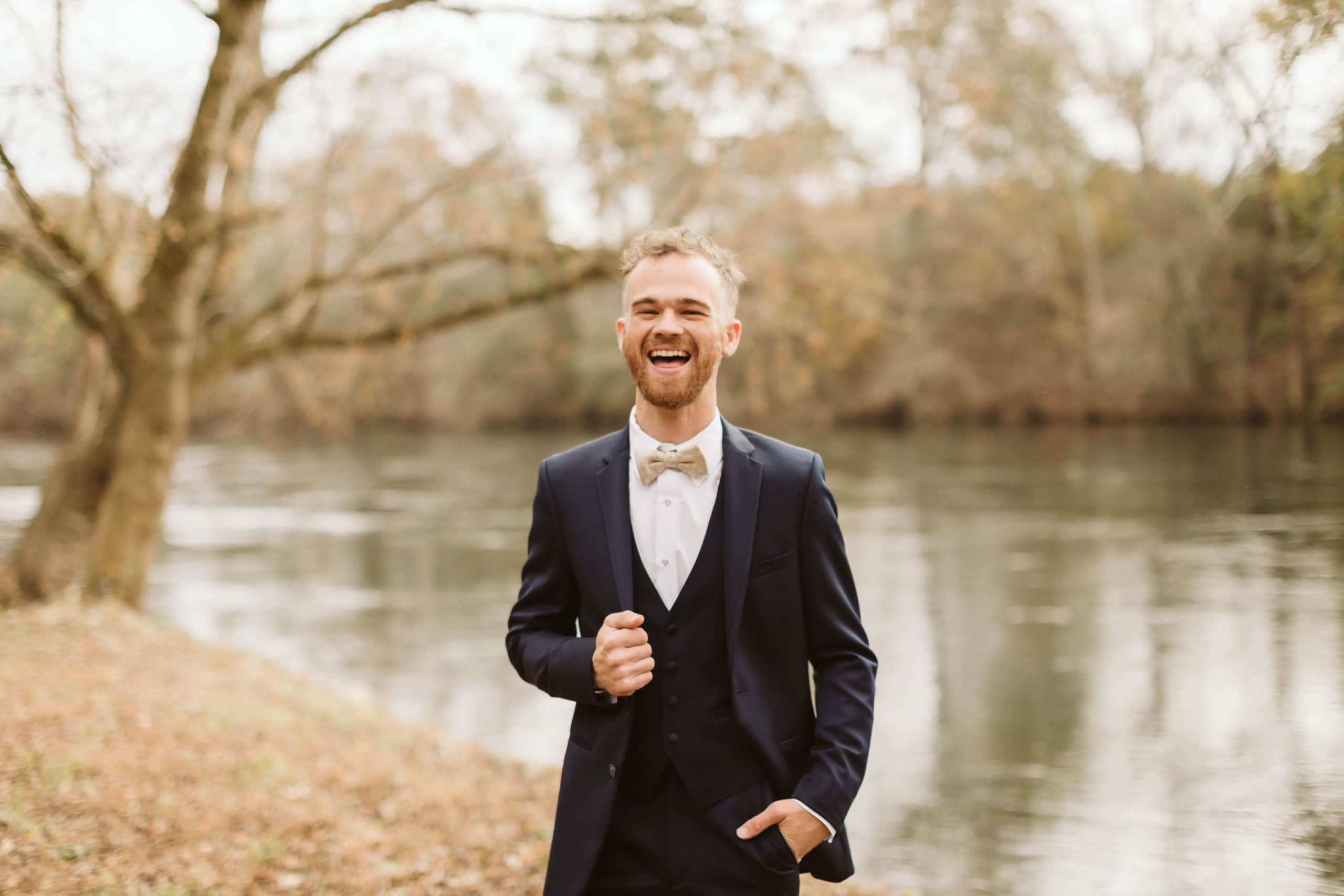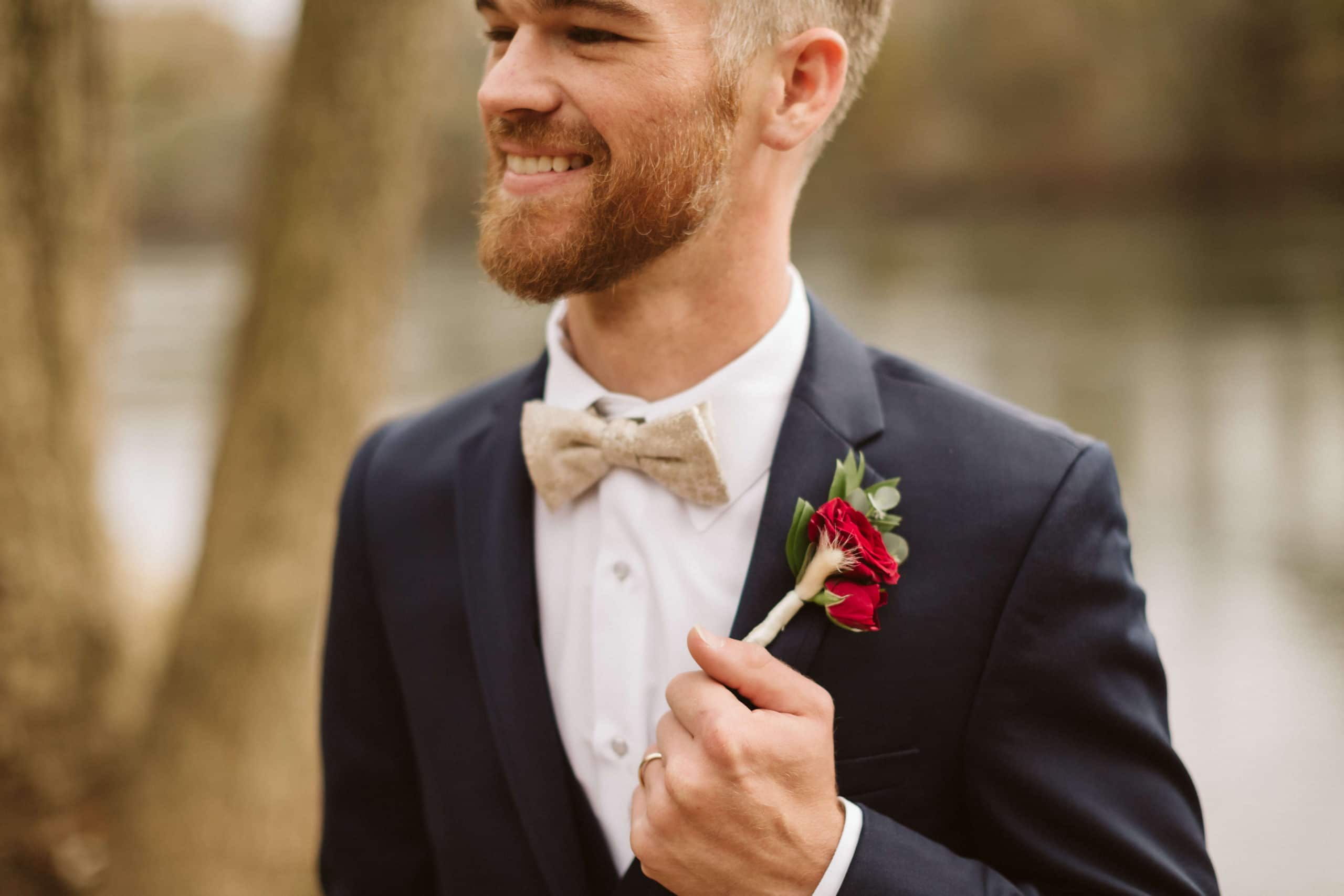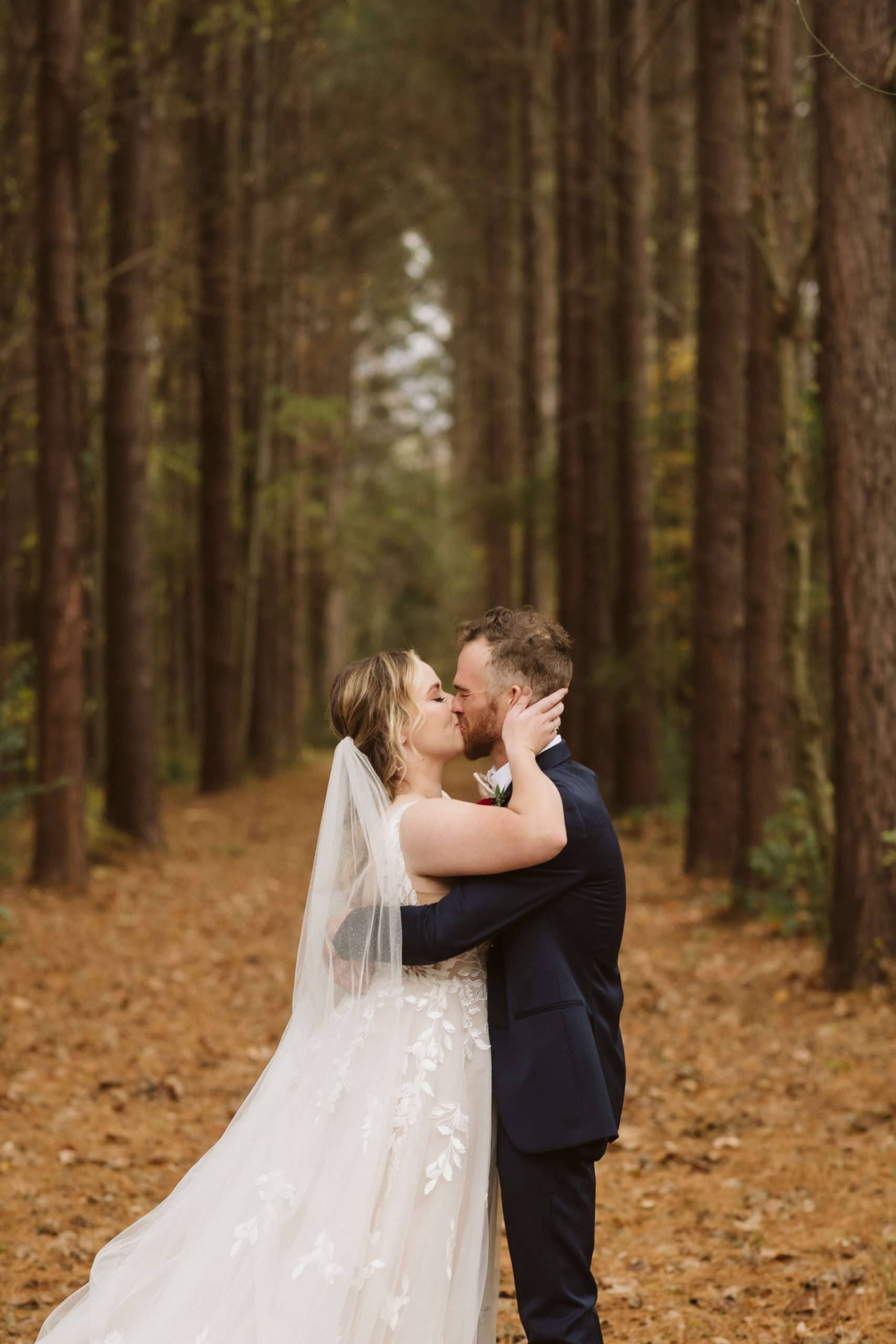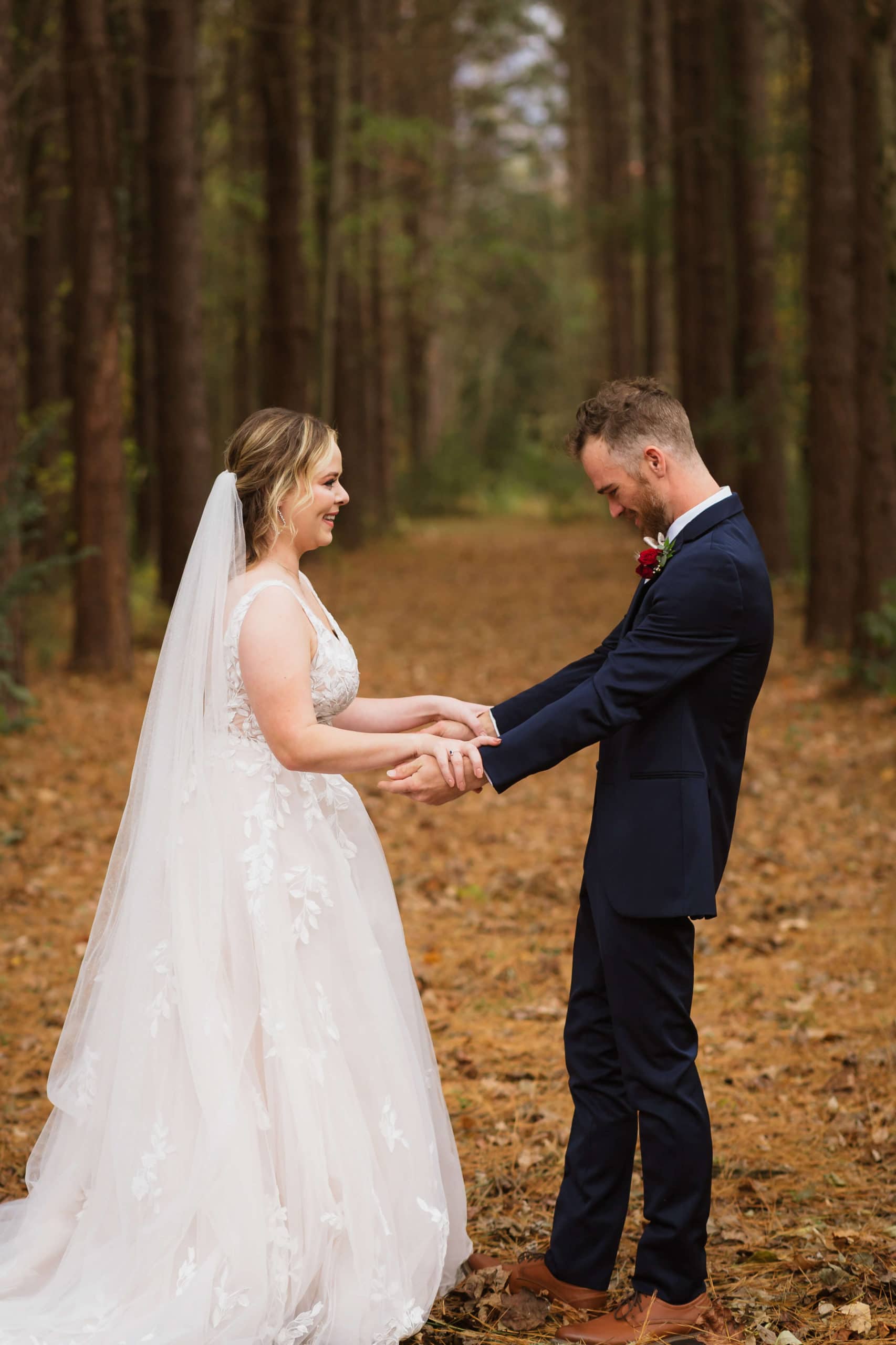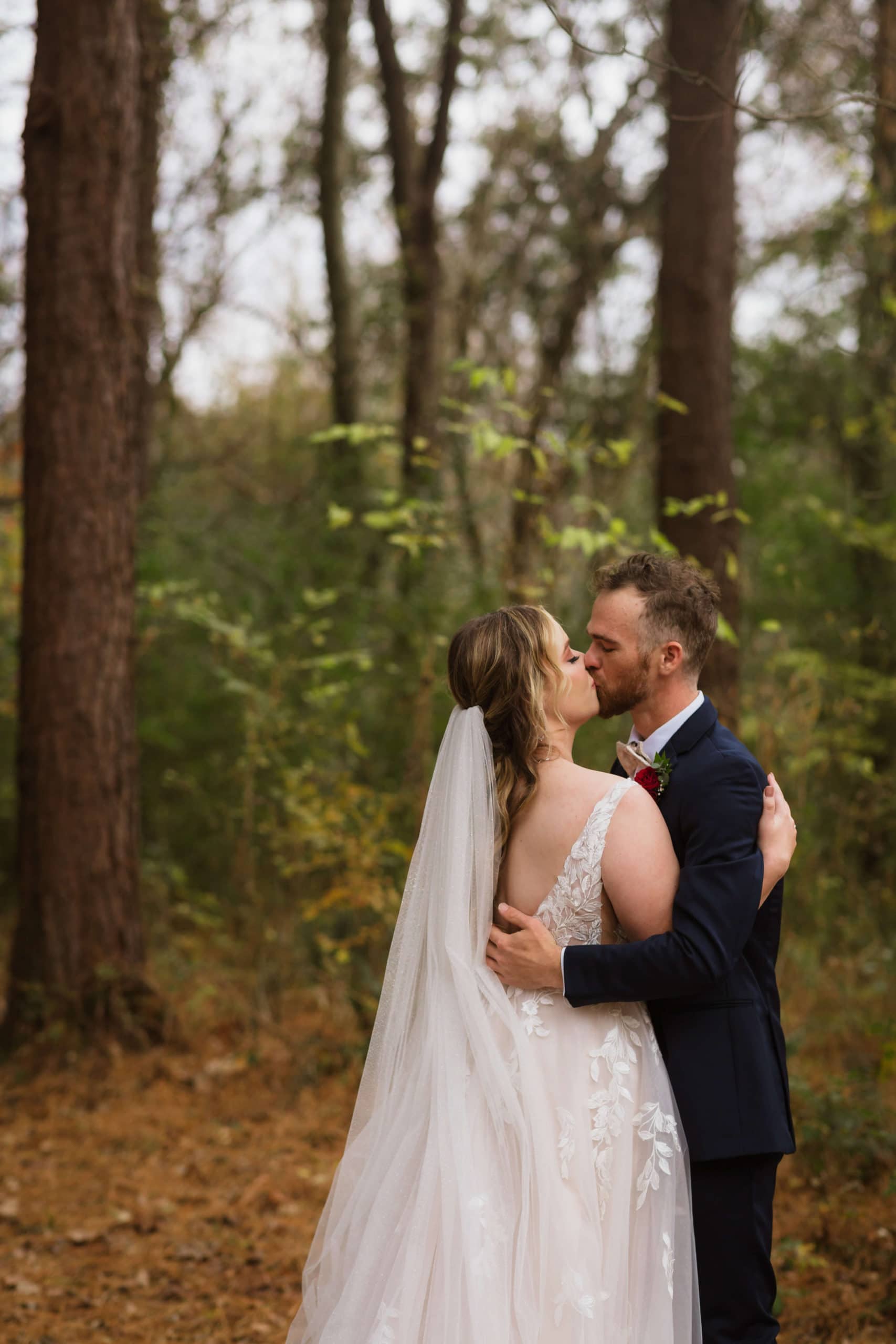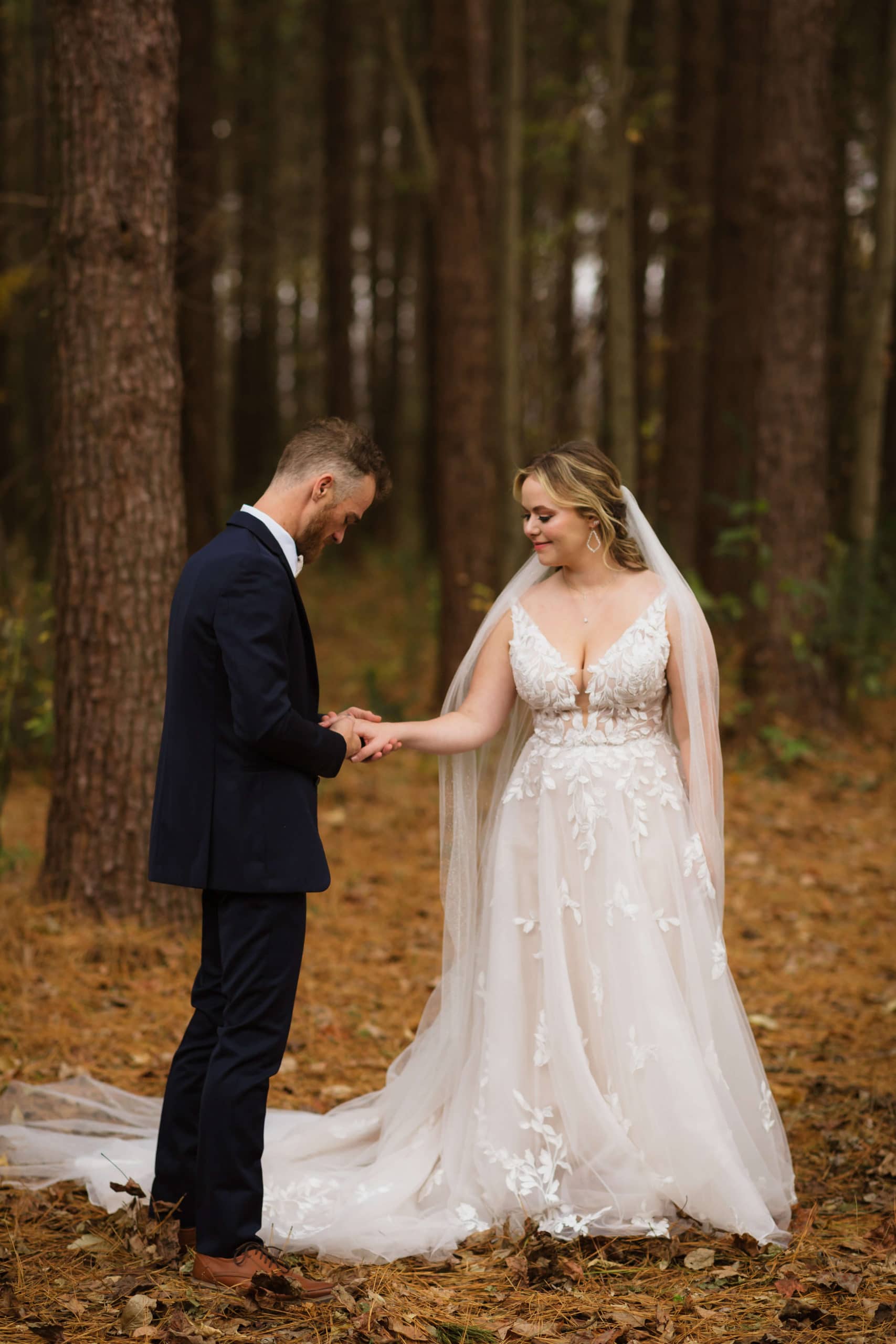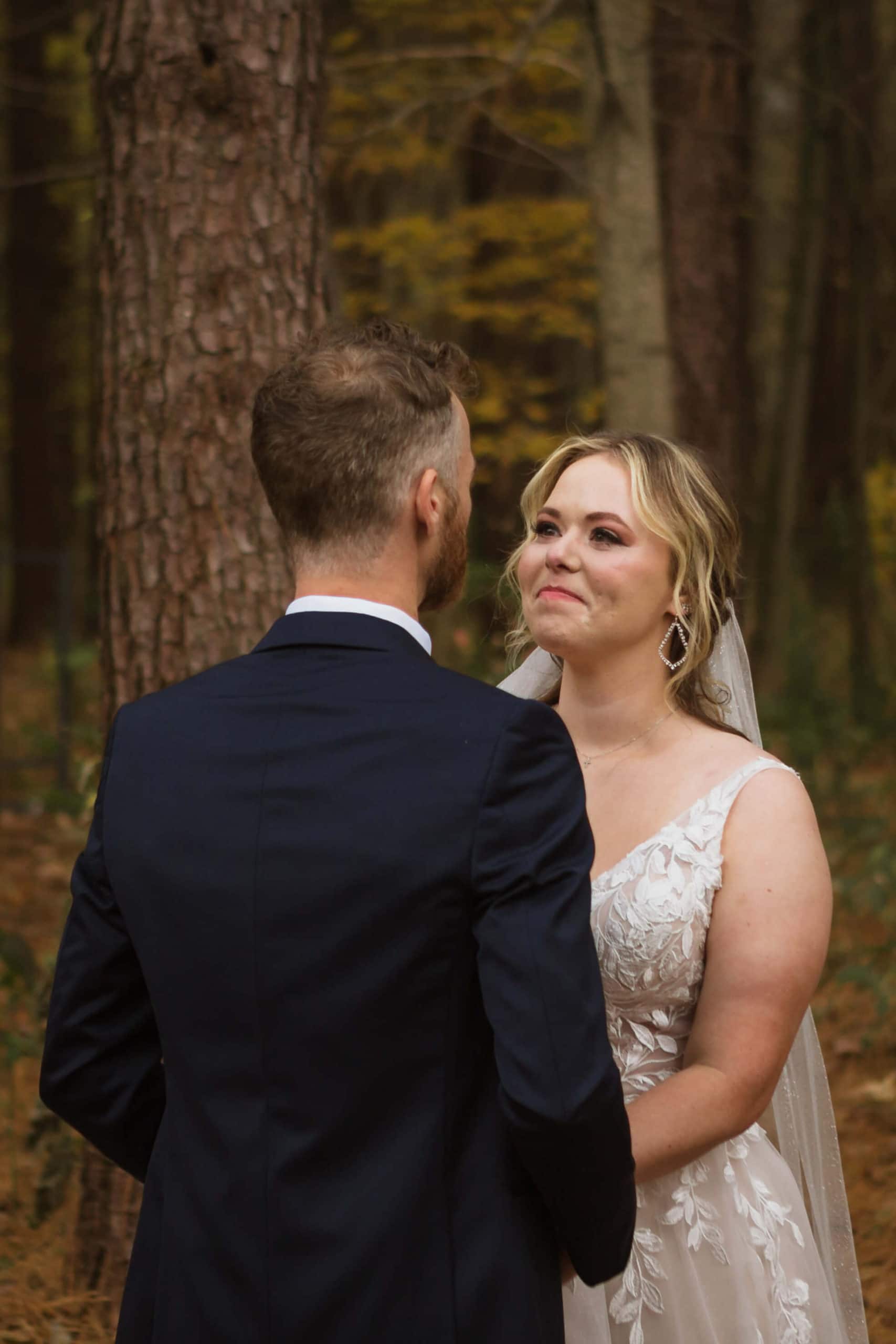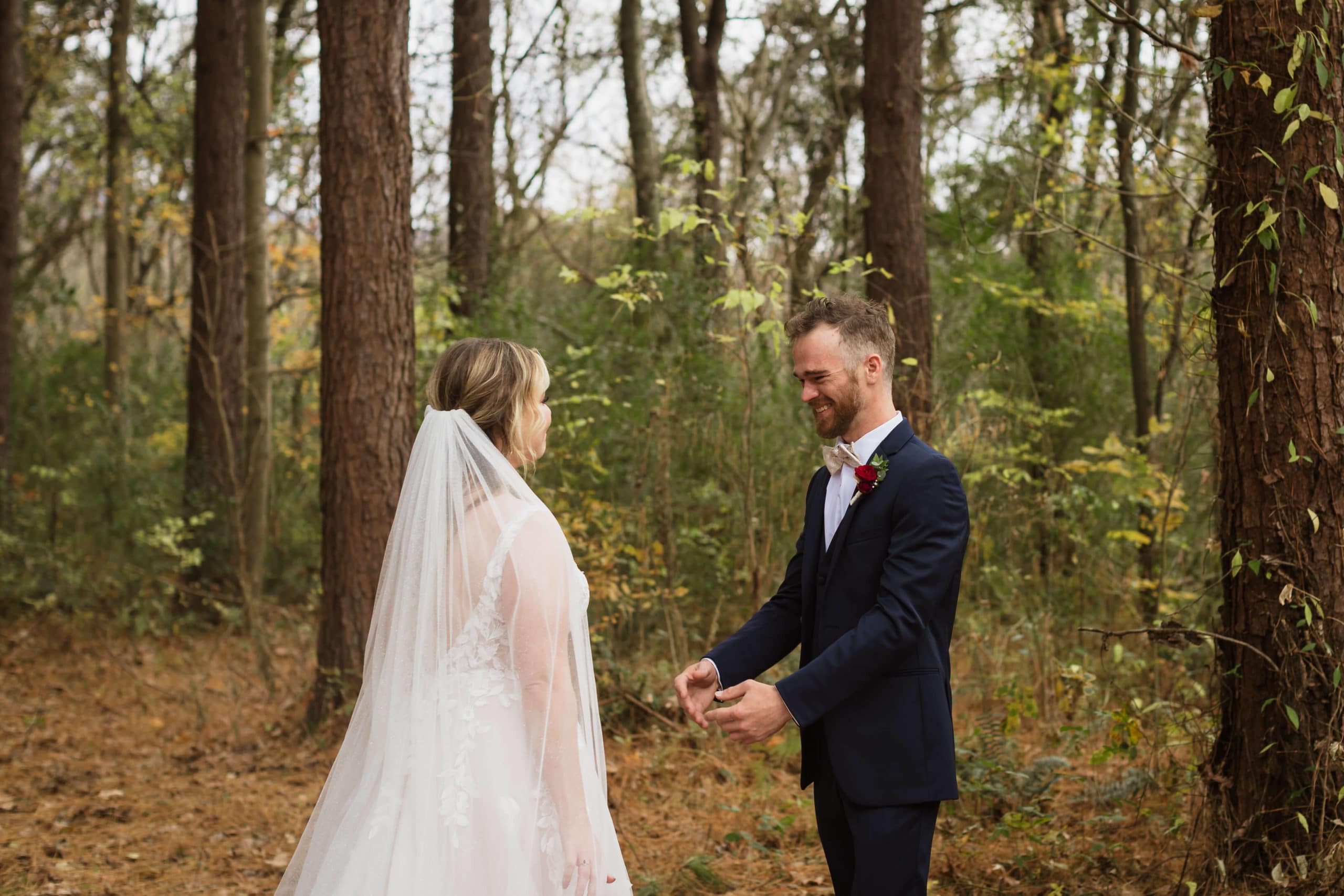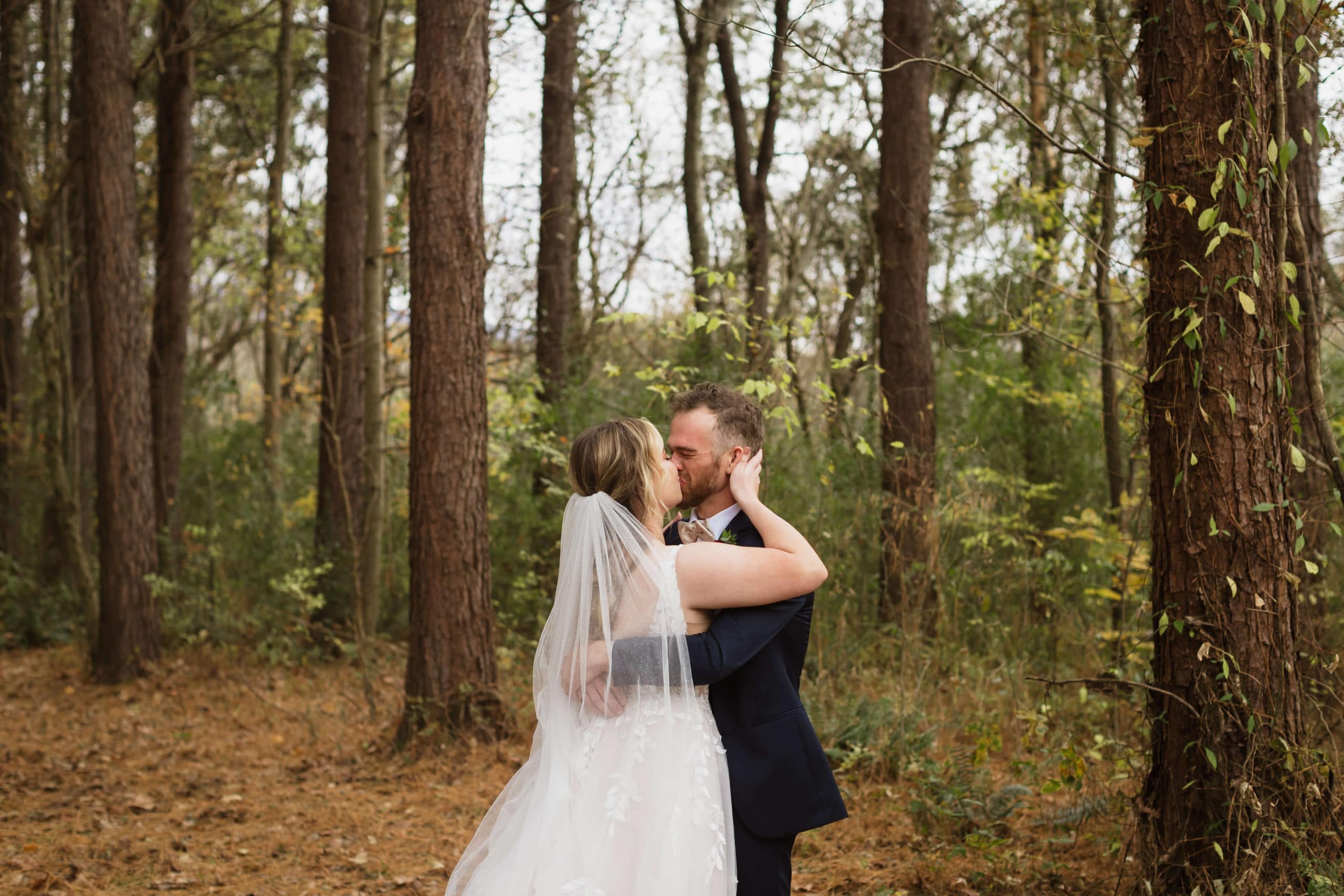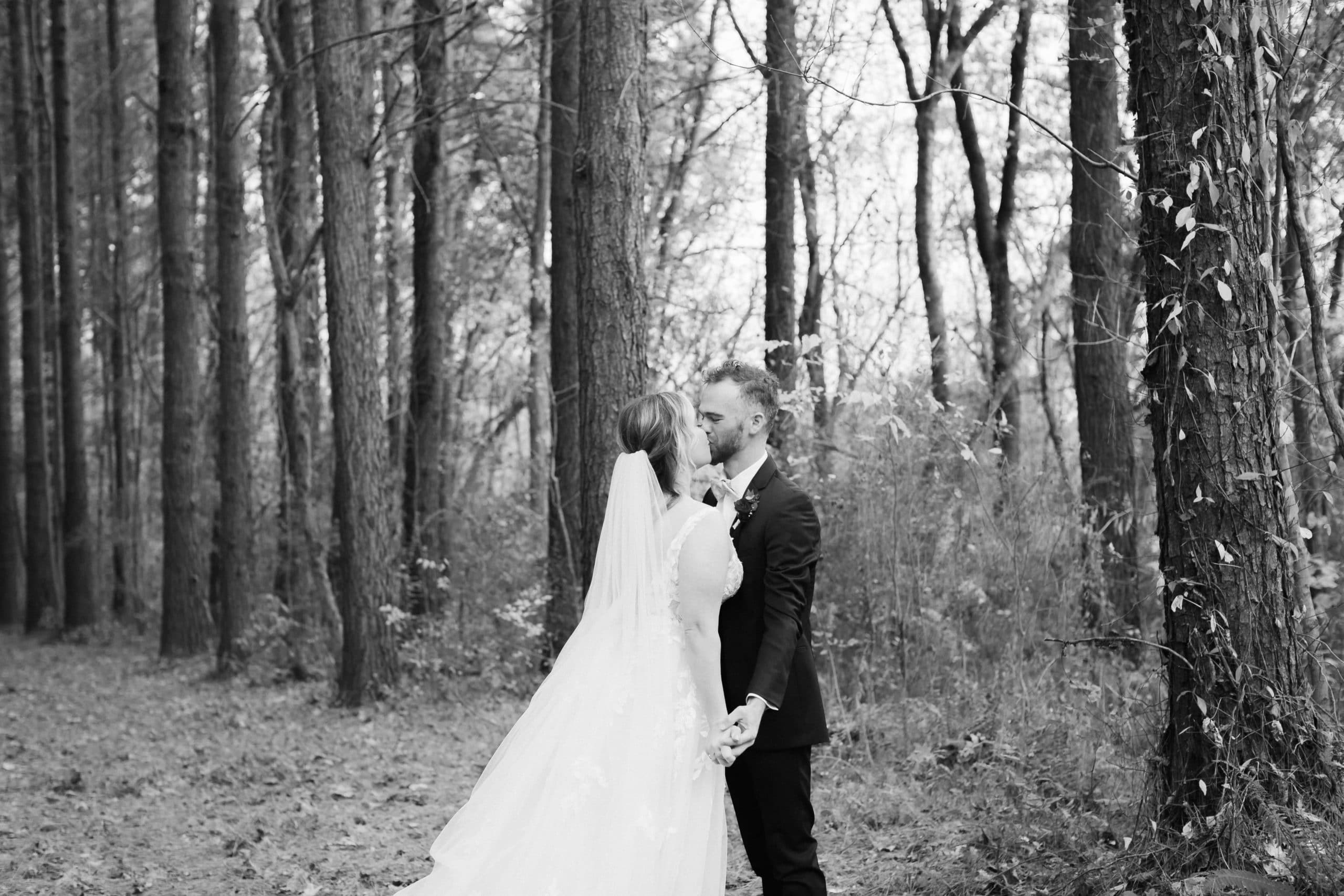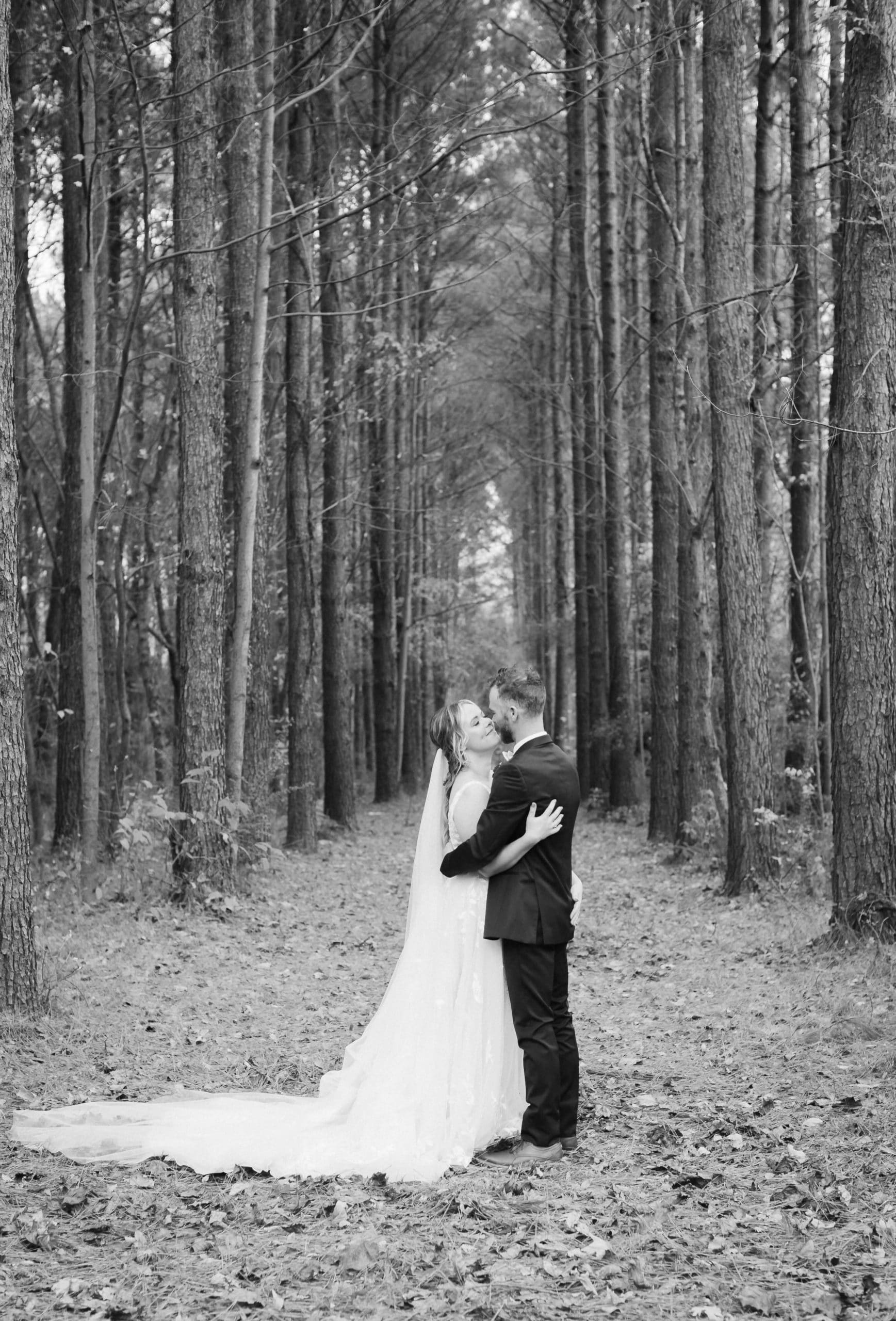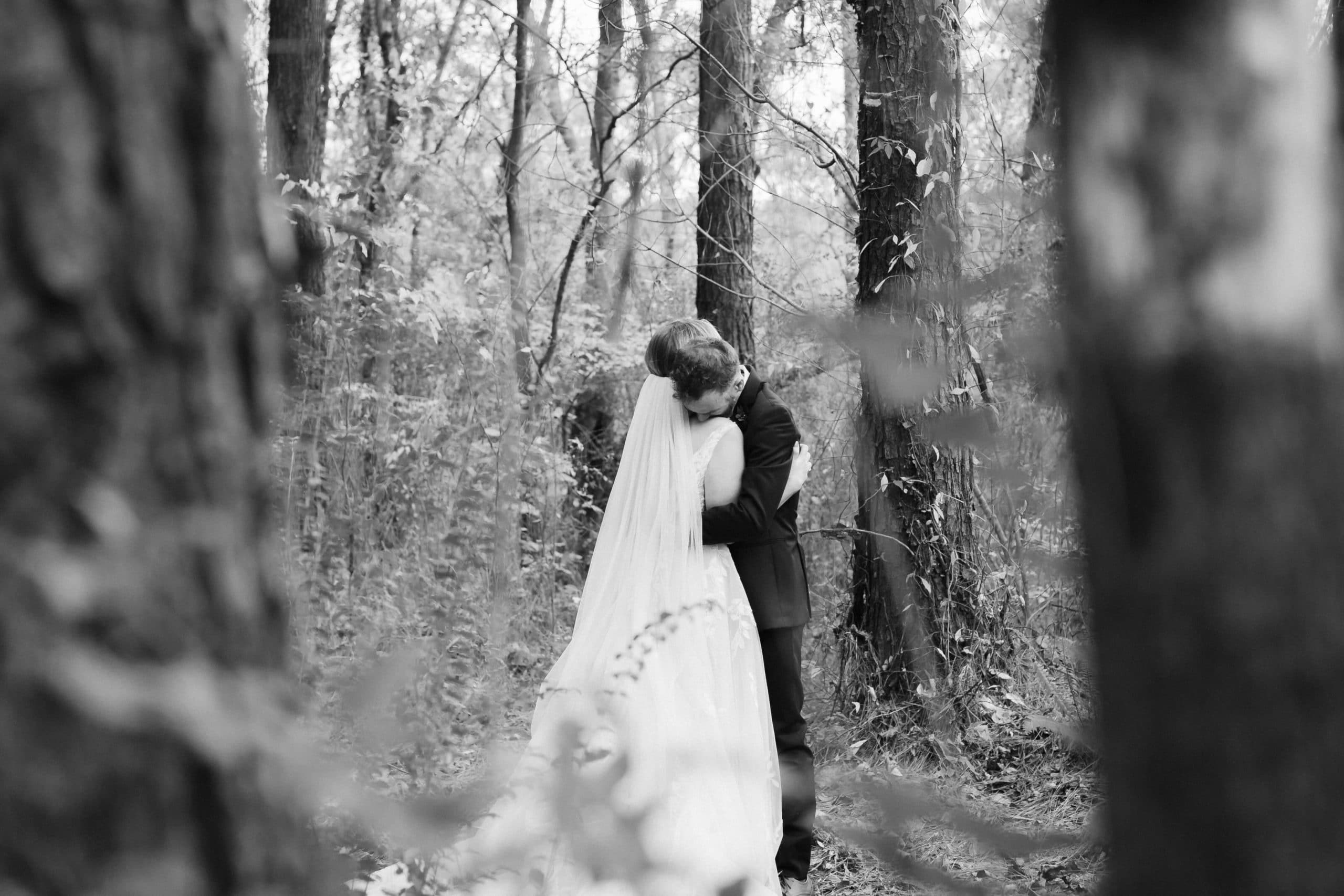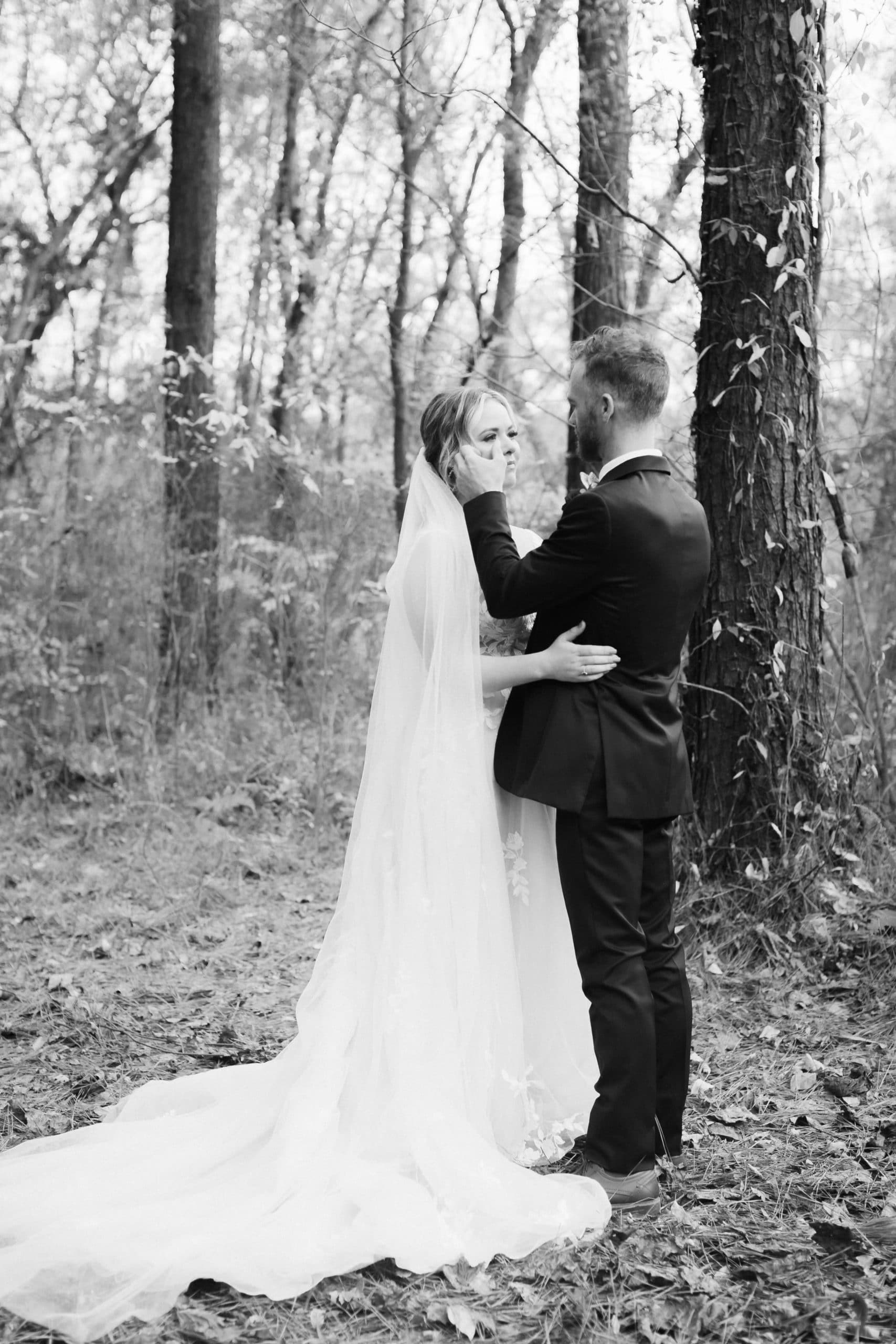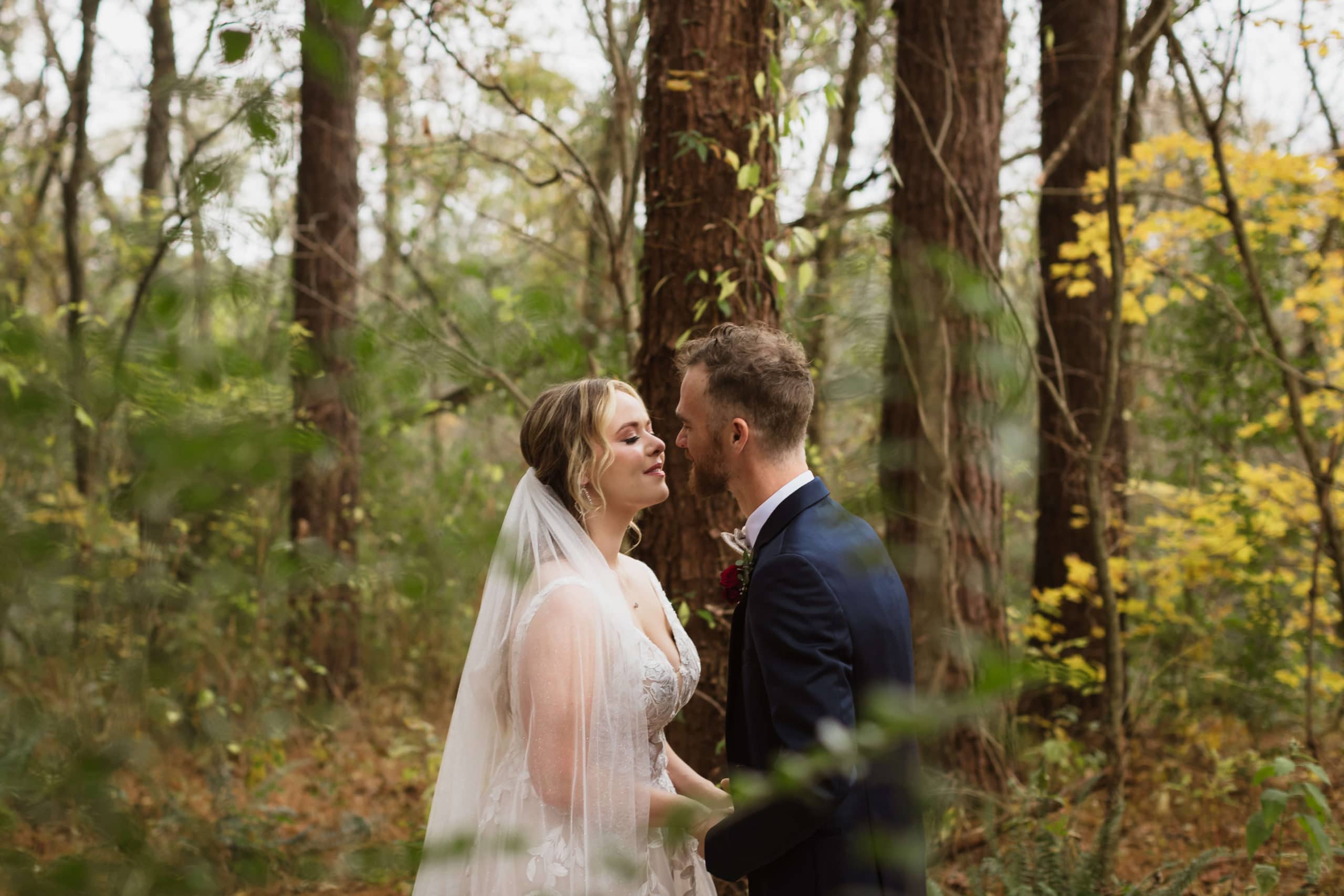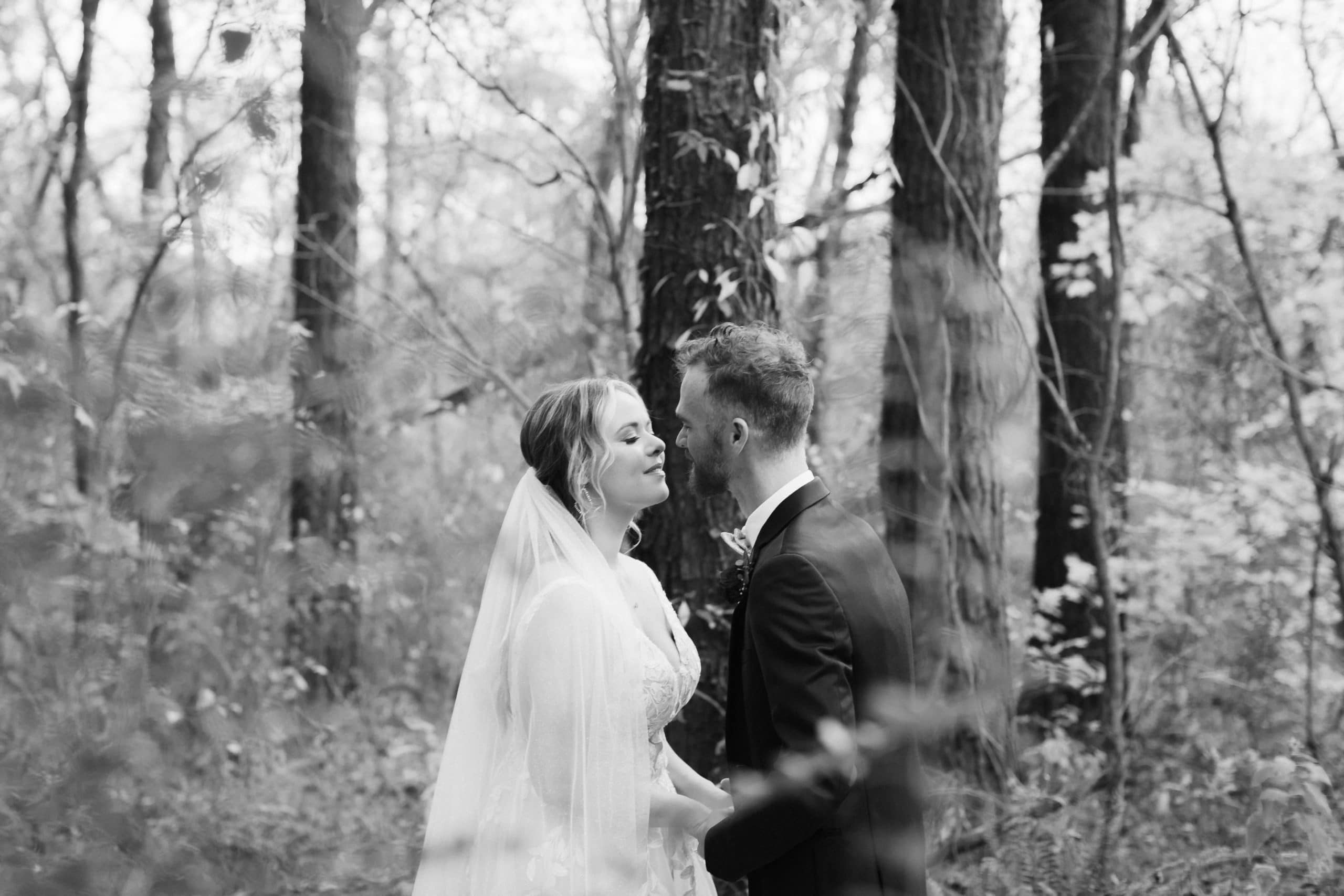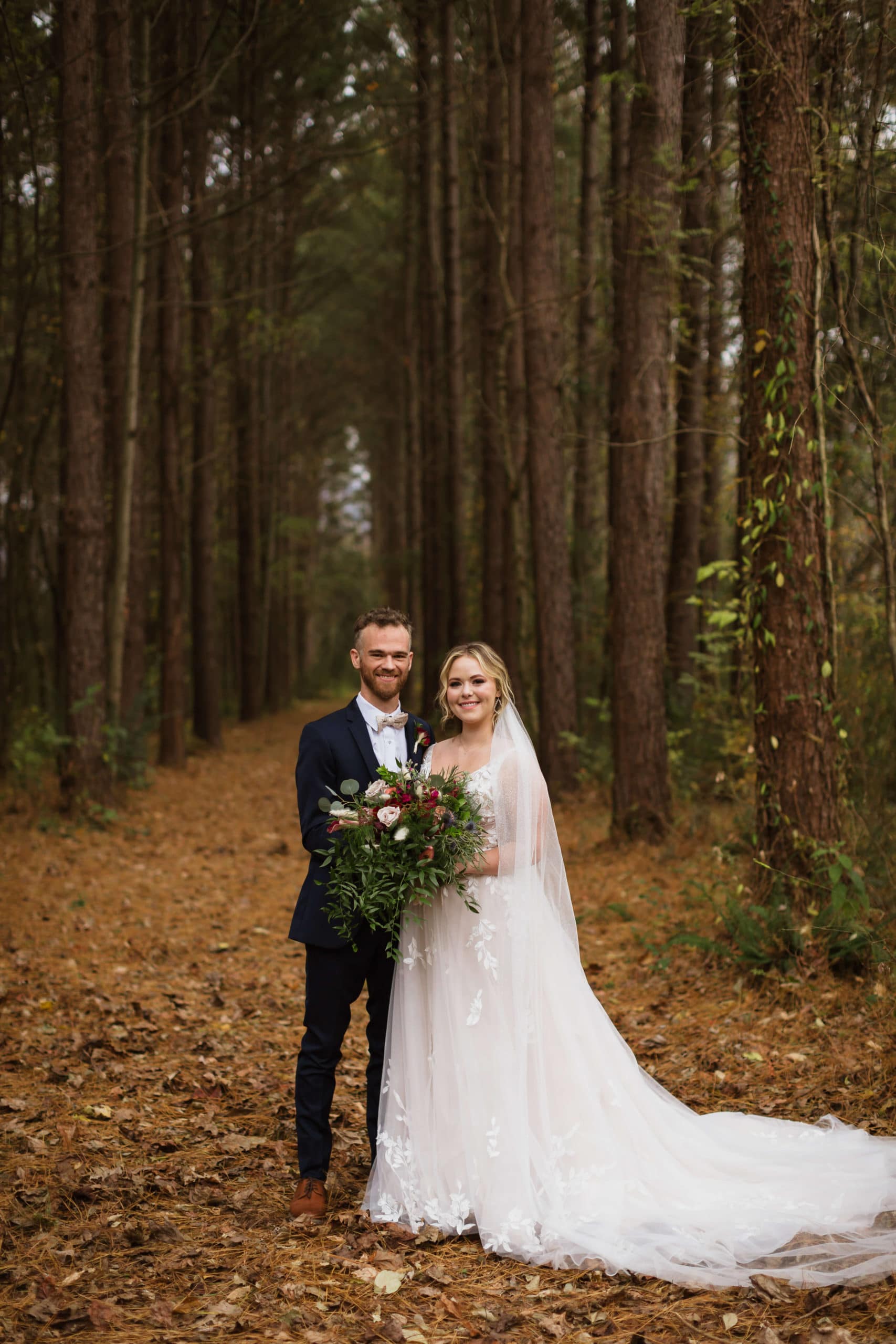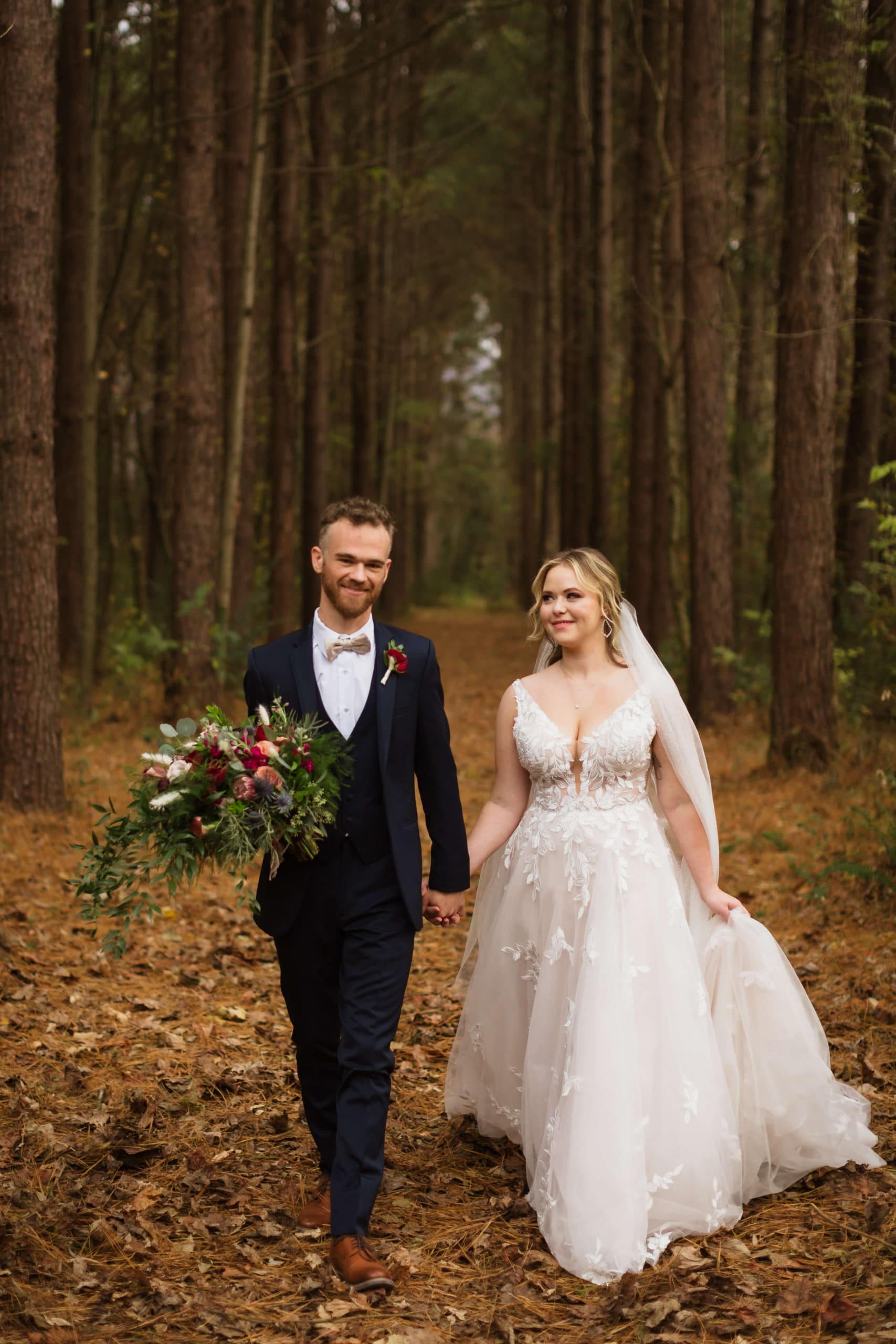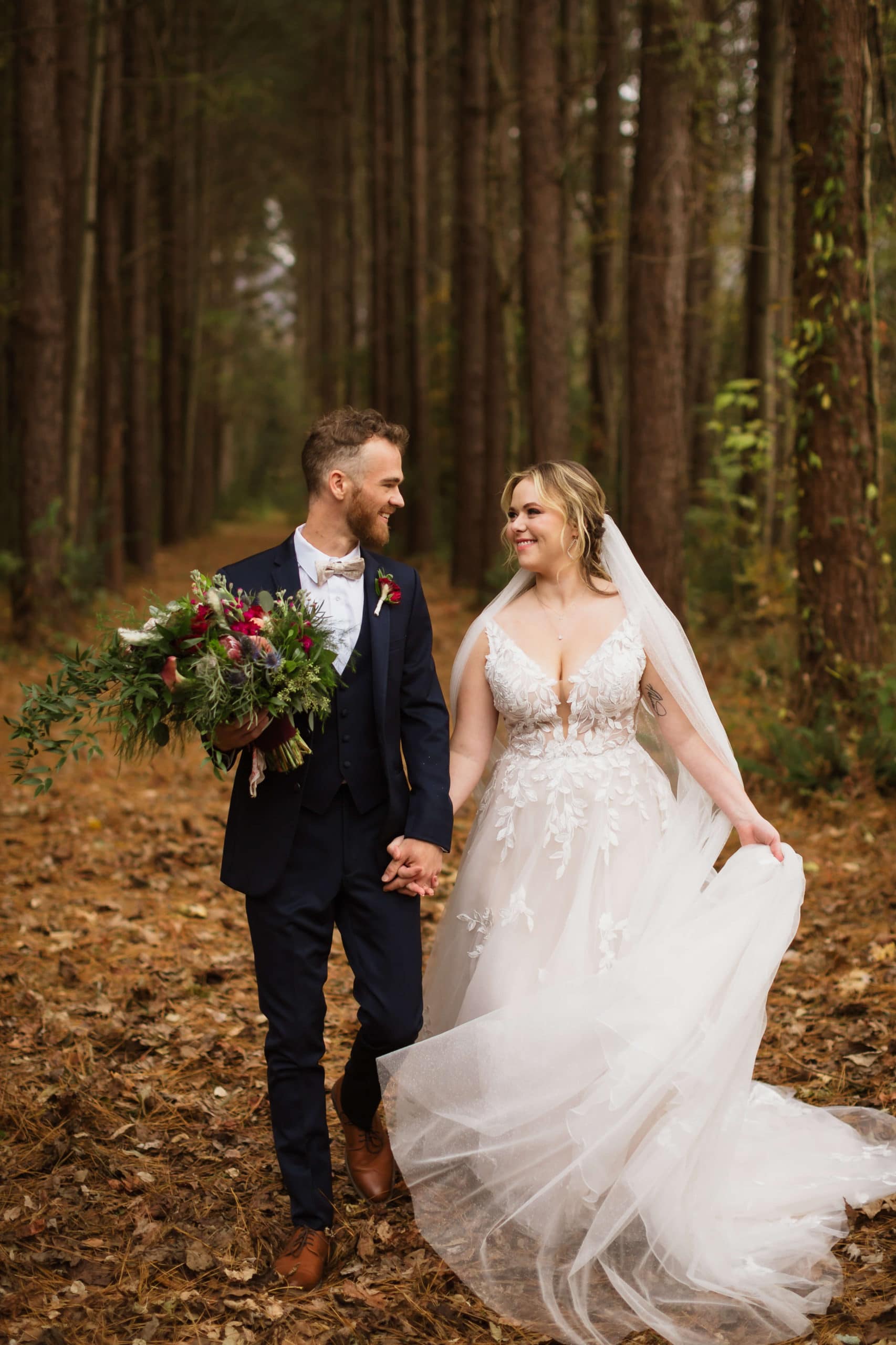 Enchanting Riverside Wedding at Hiwassee River Weddings
If you have ever dreamed of one day having a fairytale wedding, the magical Hiwassee River Weddings venue might just be your dream come true. HRW is a 19-acre property located on a peninsula jutting into the crystal clear waters of the Hiwassee River. With stunning river views on three sides and majestic trees towering across the span of the property, every inch of this venue provides a stunning backdrop perfect for outdoor ceremonies and photos. The venue is also entirely handicap accessible so even though it's located in a completely wooded area, every one of your loved ones can join in on your special day no matter what.
One of the great features of Hiwassee River Weddings is you can plan your entire day from getting ready all the way to the reception all in one location. Hosting weddings is their specialty and the venue itself was designed with weddings in mind. Their main building includes both a bridal suite and a groom's room for the entire wedding party to be able to get ready without any extra travel. They recently opened up Starr Mountain Lodge to rent to make it a whole wedding weekend!
Starr Mountain Lodge is a cozy, custom log home complete with lush mountain views and a blazing bonfire pit that sits at the base of Starr Mountain just 15 minutes away from the venue. It sleeps 13 guests so your wedding party or your close friends and family can all hang out together for one huge wedding celebration. You can even rent it for a whole week for destination weddings!
For their ceremony, Macey and Asher chose the river ceremony site. They got to say their I do's right in front of the babbling water of the Hiwassee River. Although the site comes with an optional wooden arbor and cross made from trees off the property, Macey and Asher used an elegant hexagonal arbor with custom florals to perfectly frame them and the scenic river behind them as they recited their vows.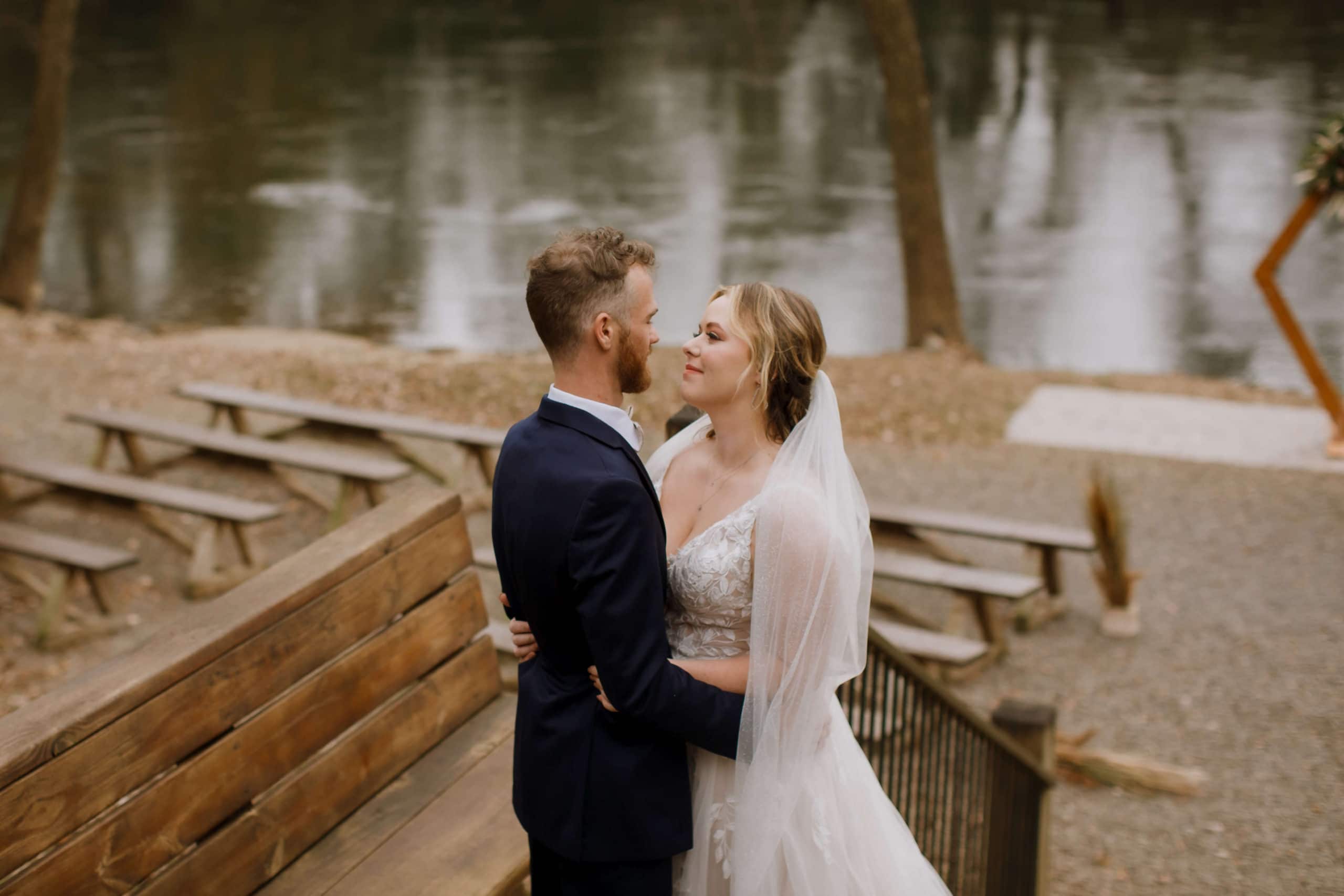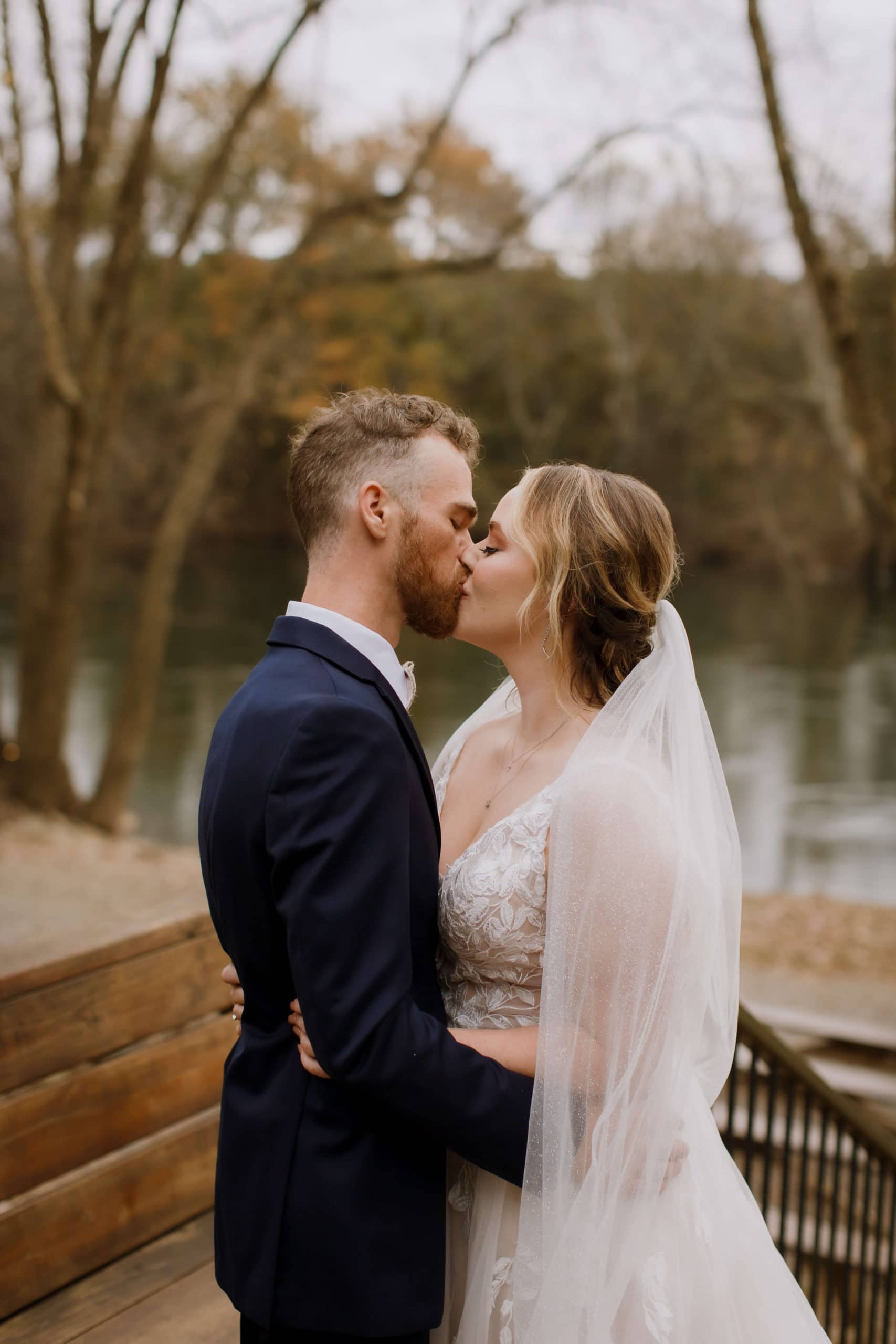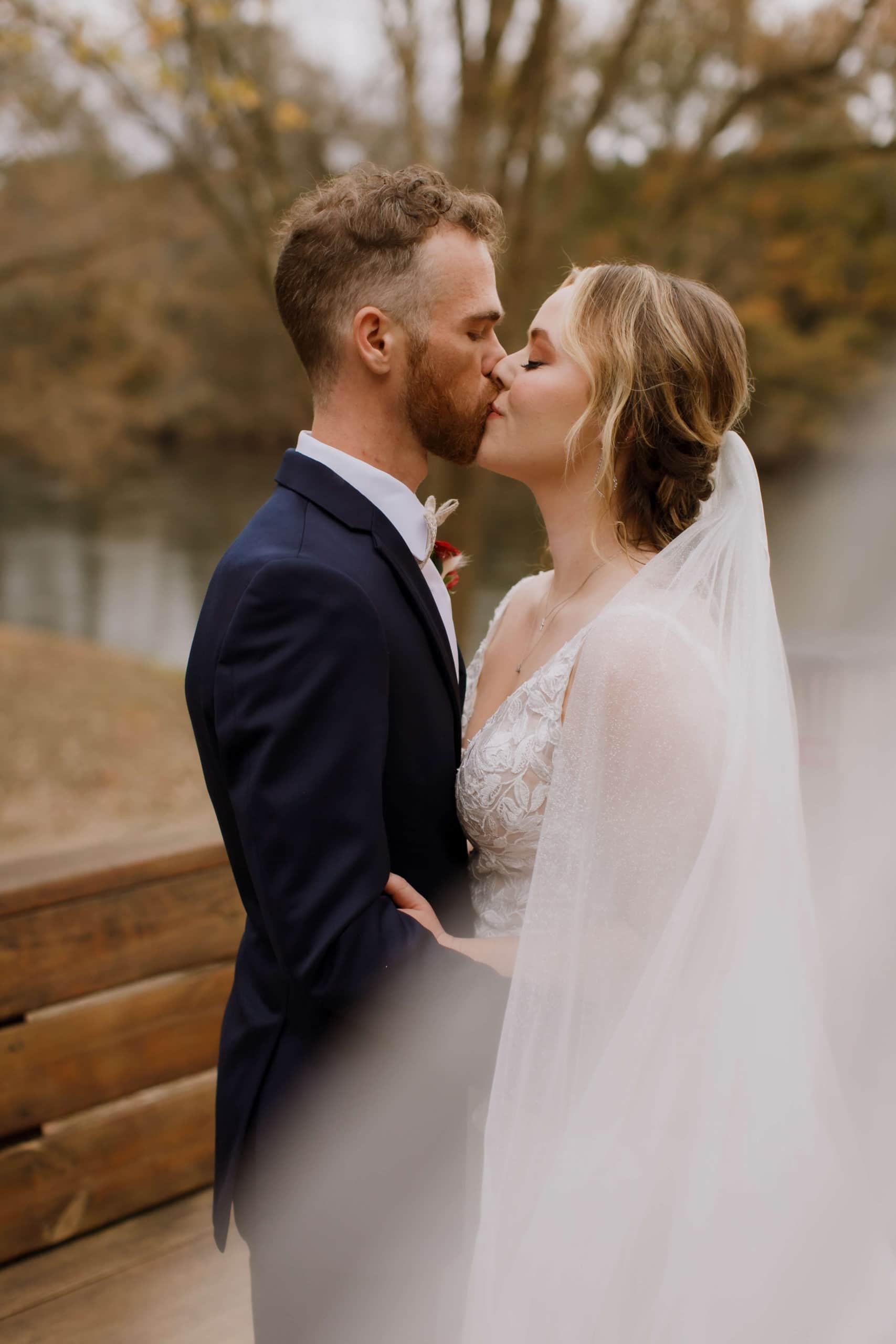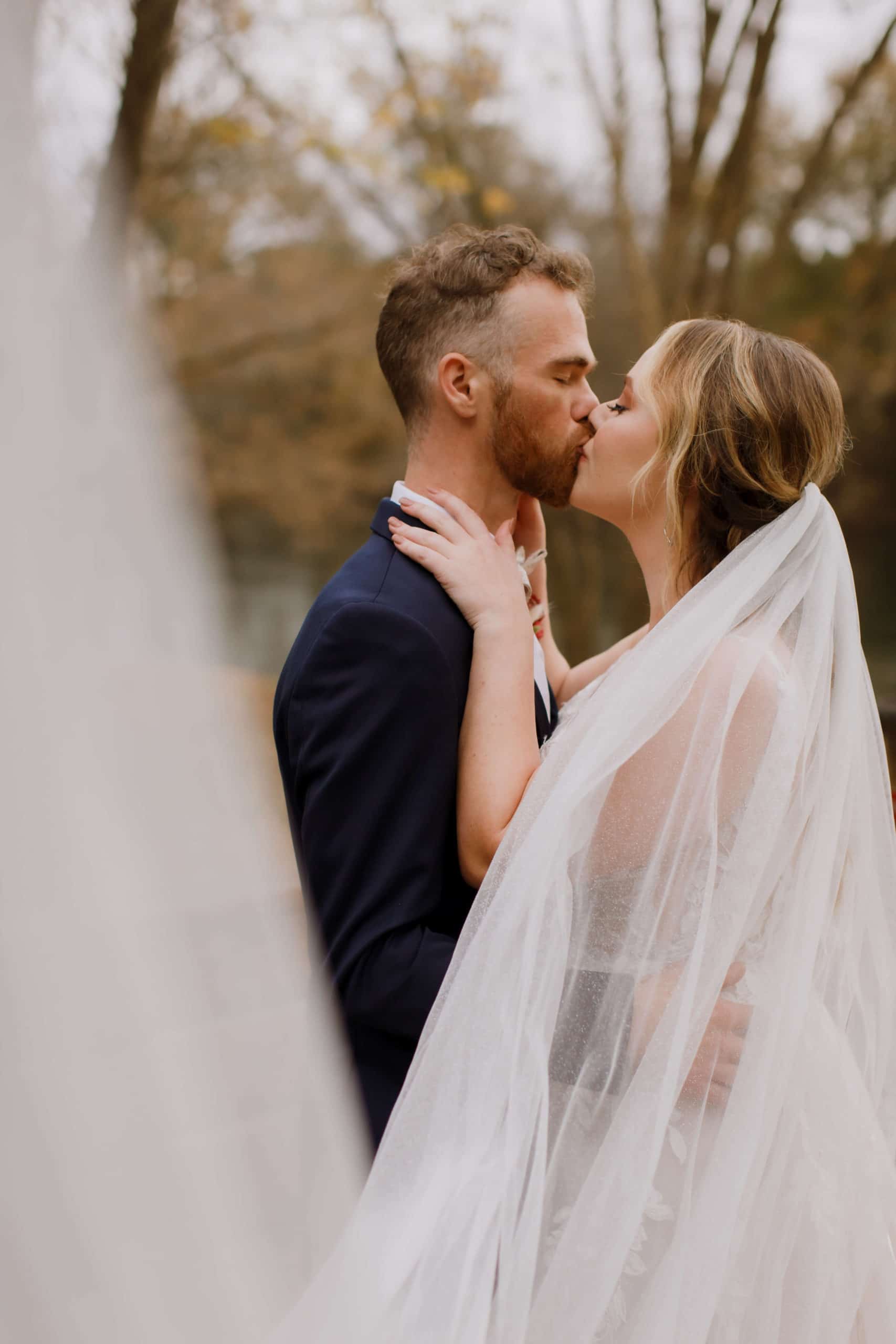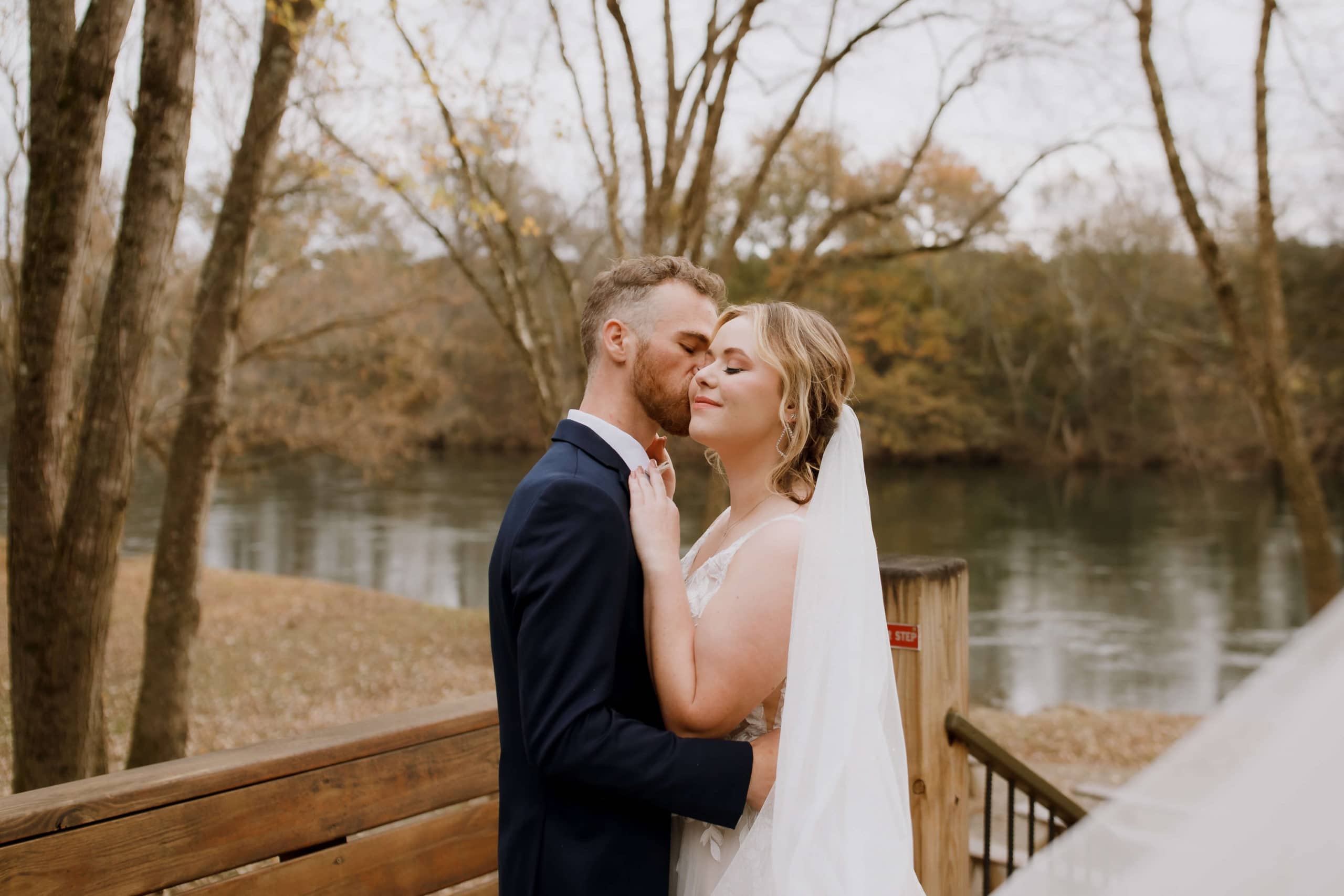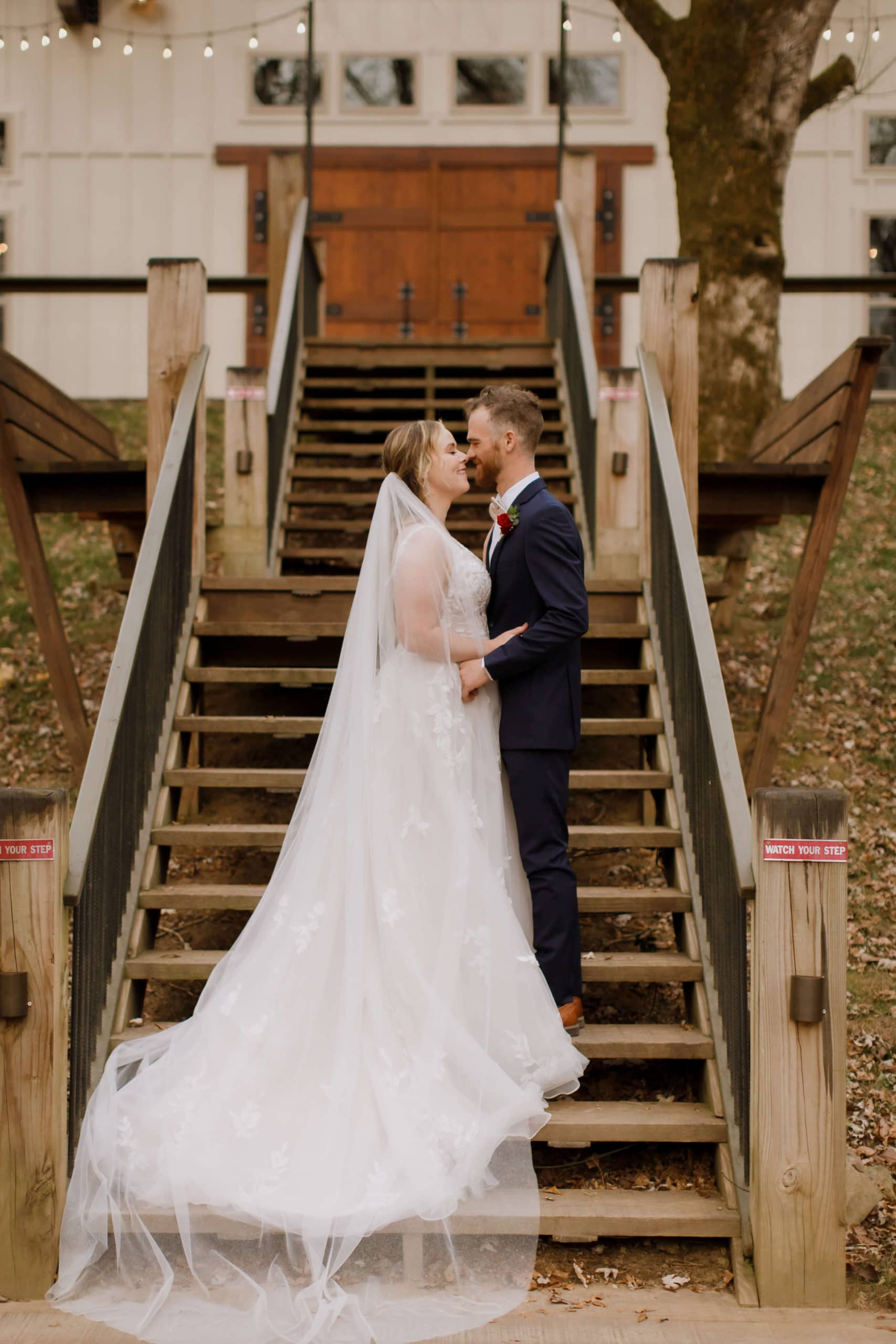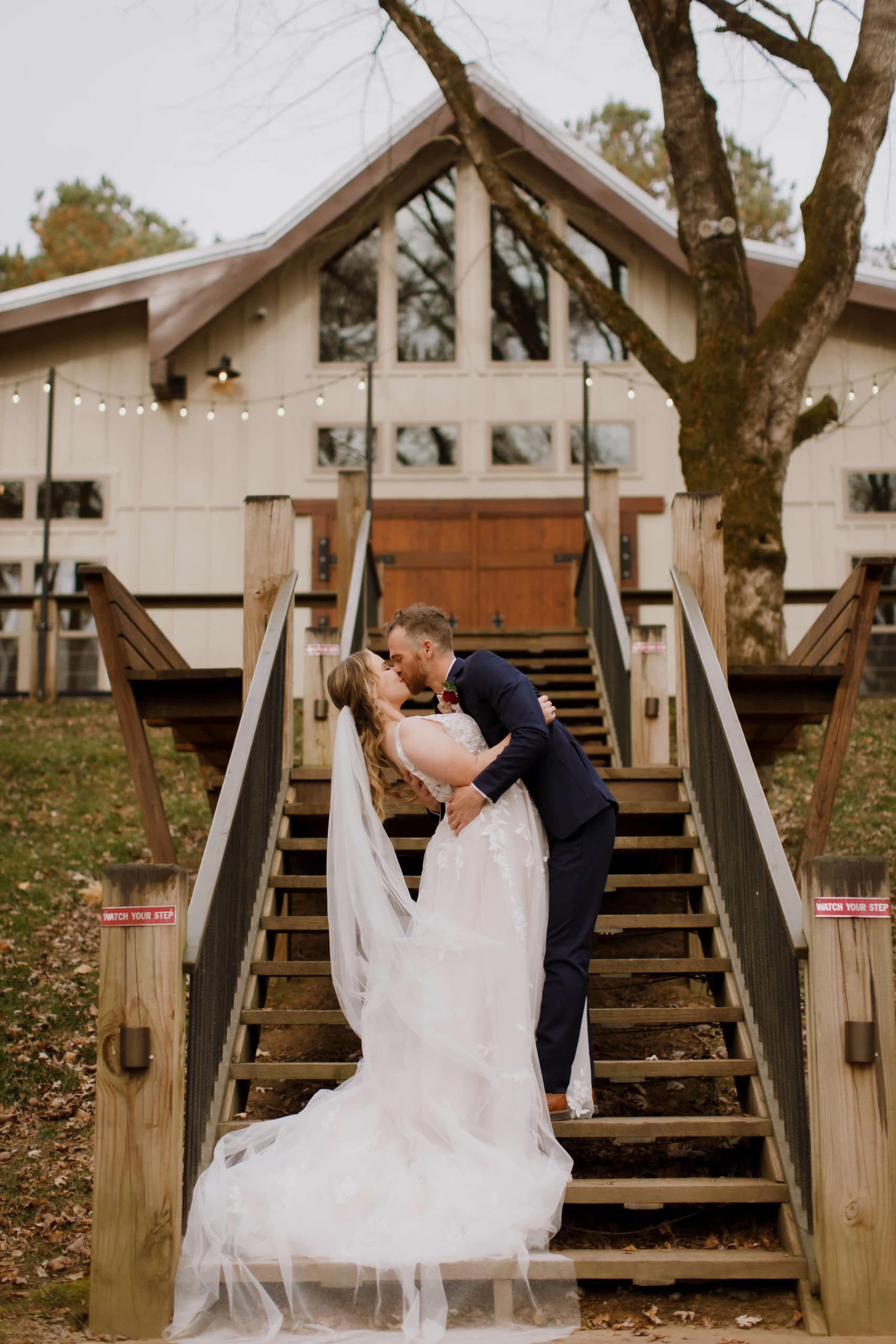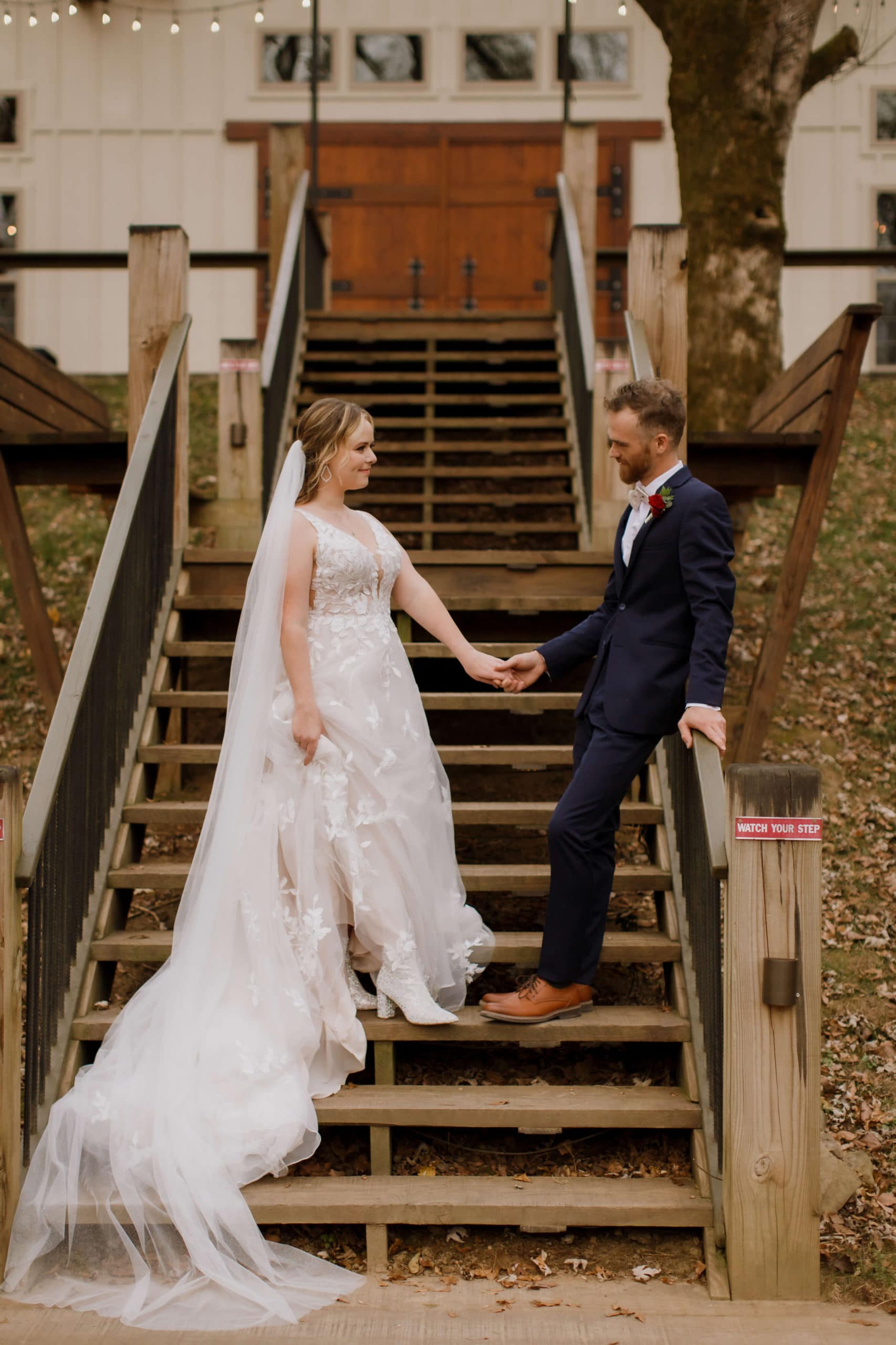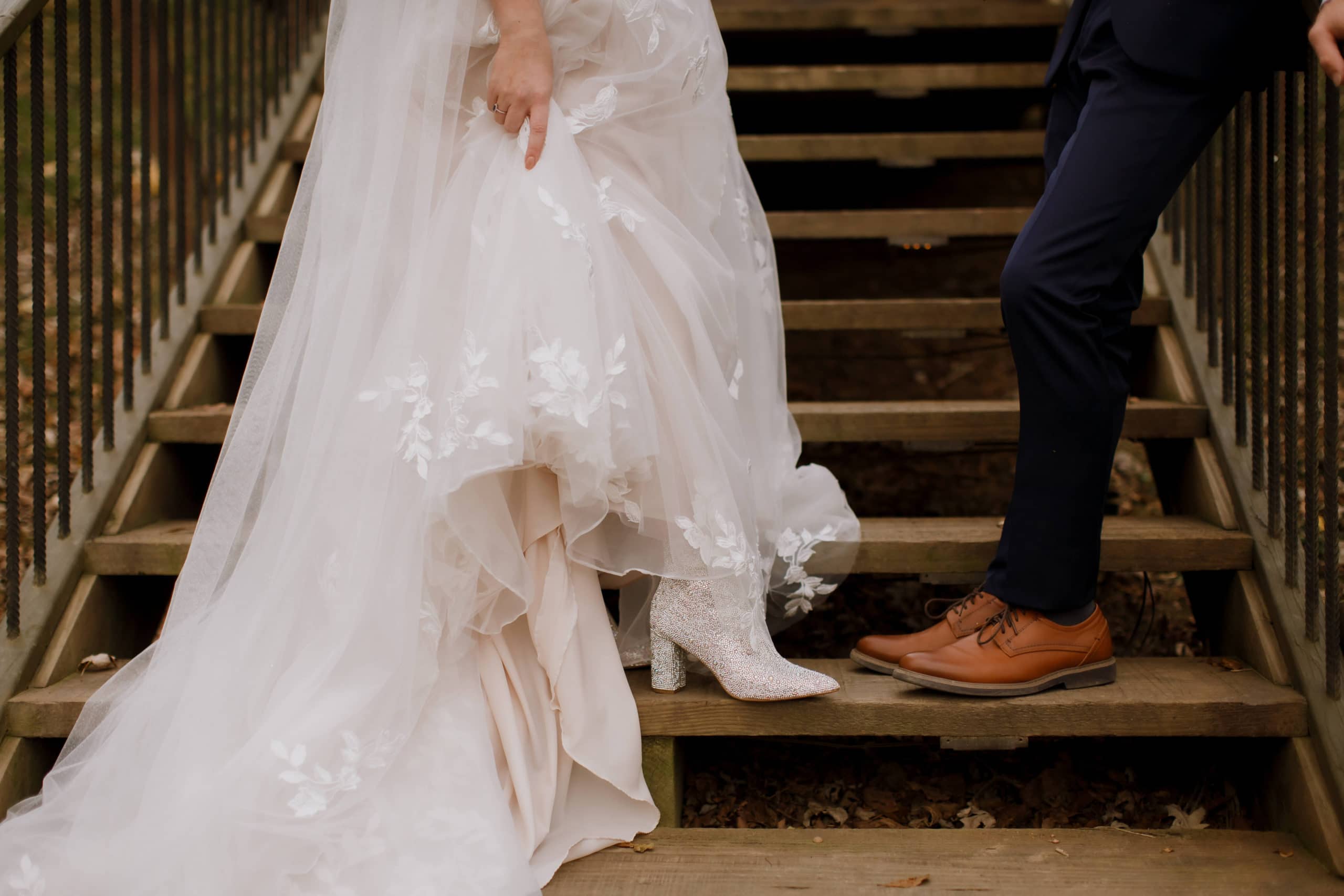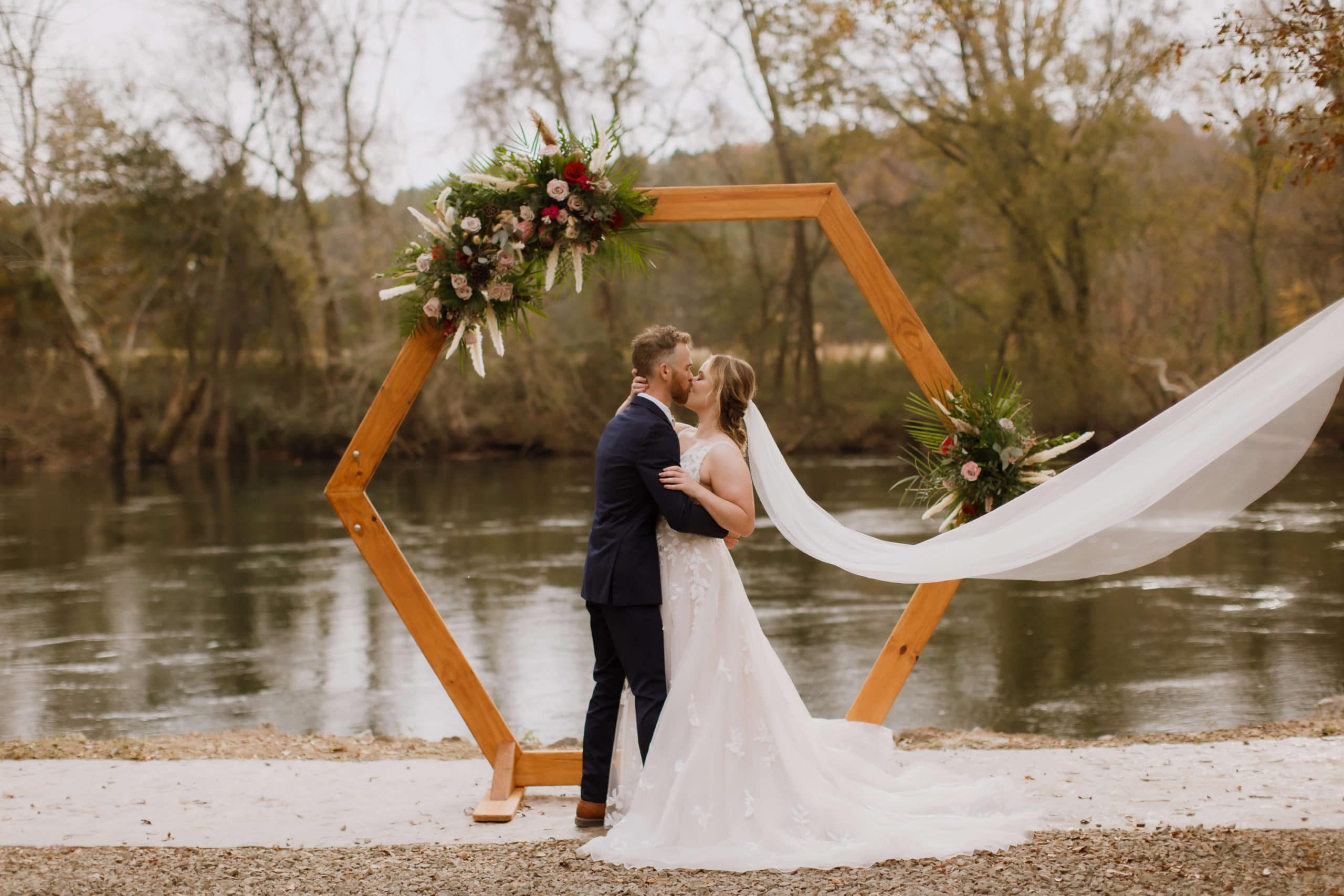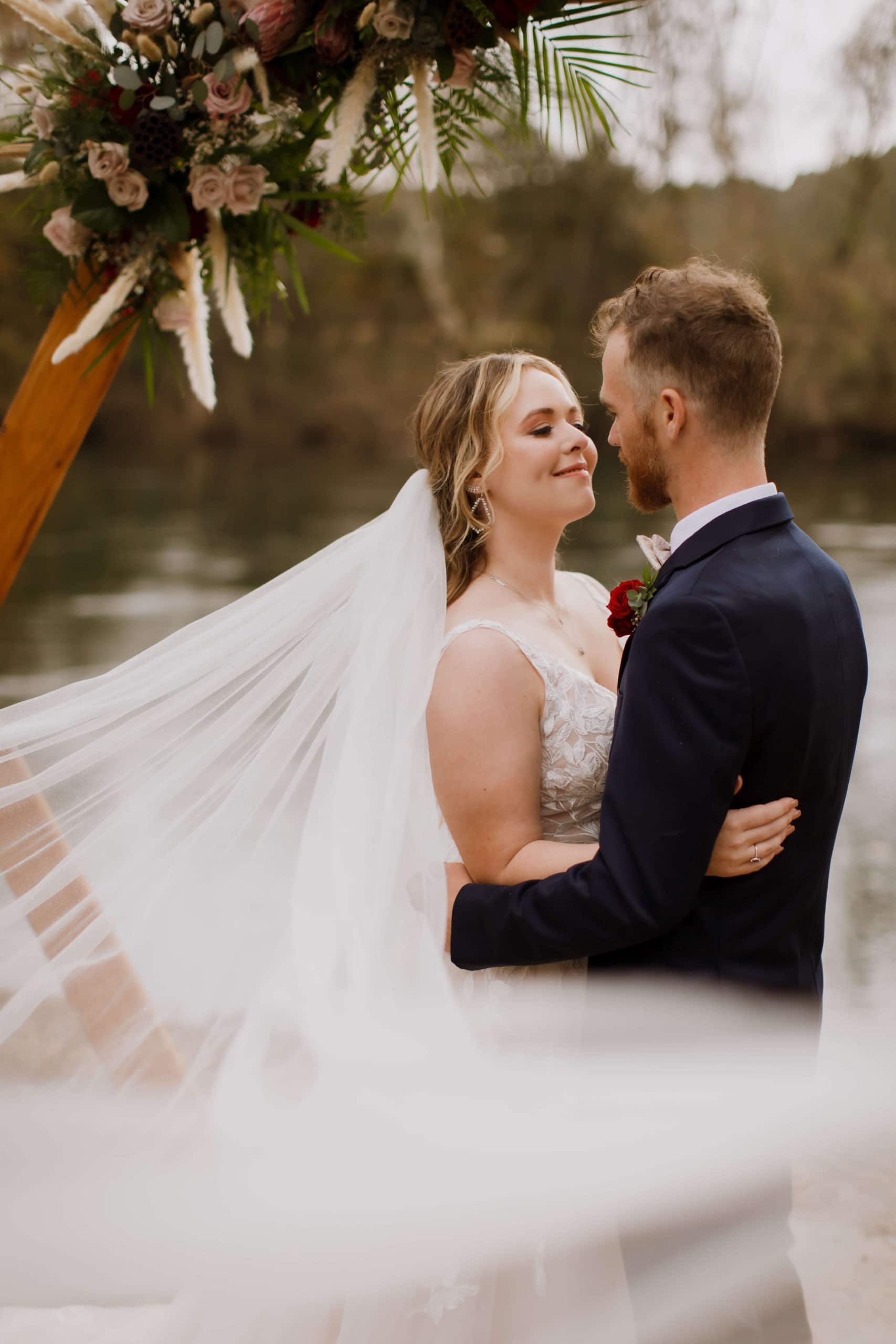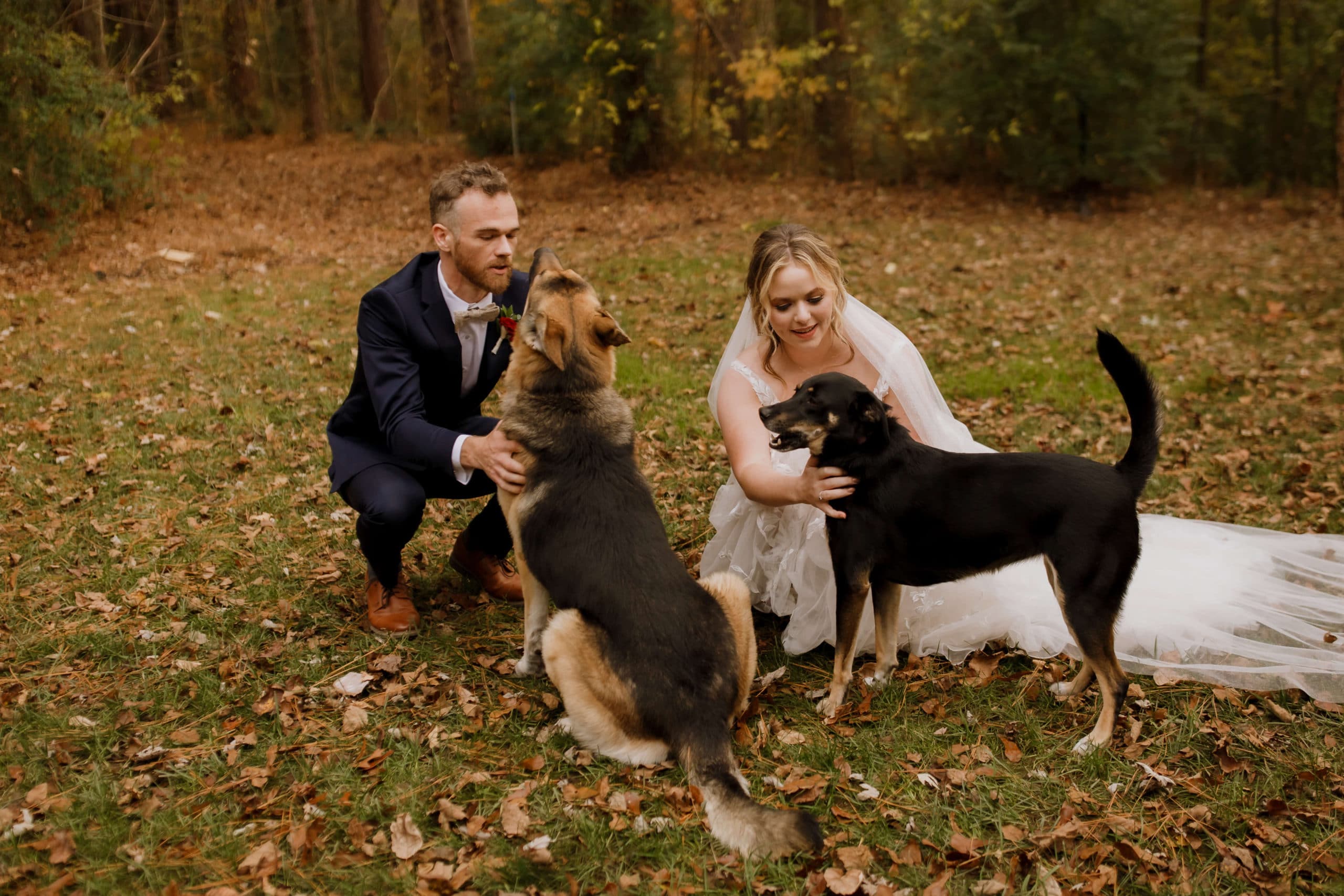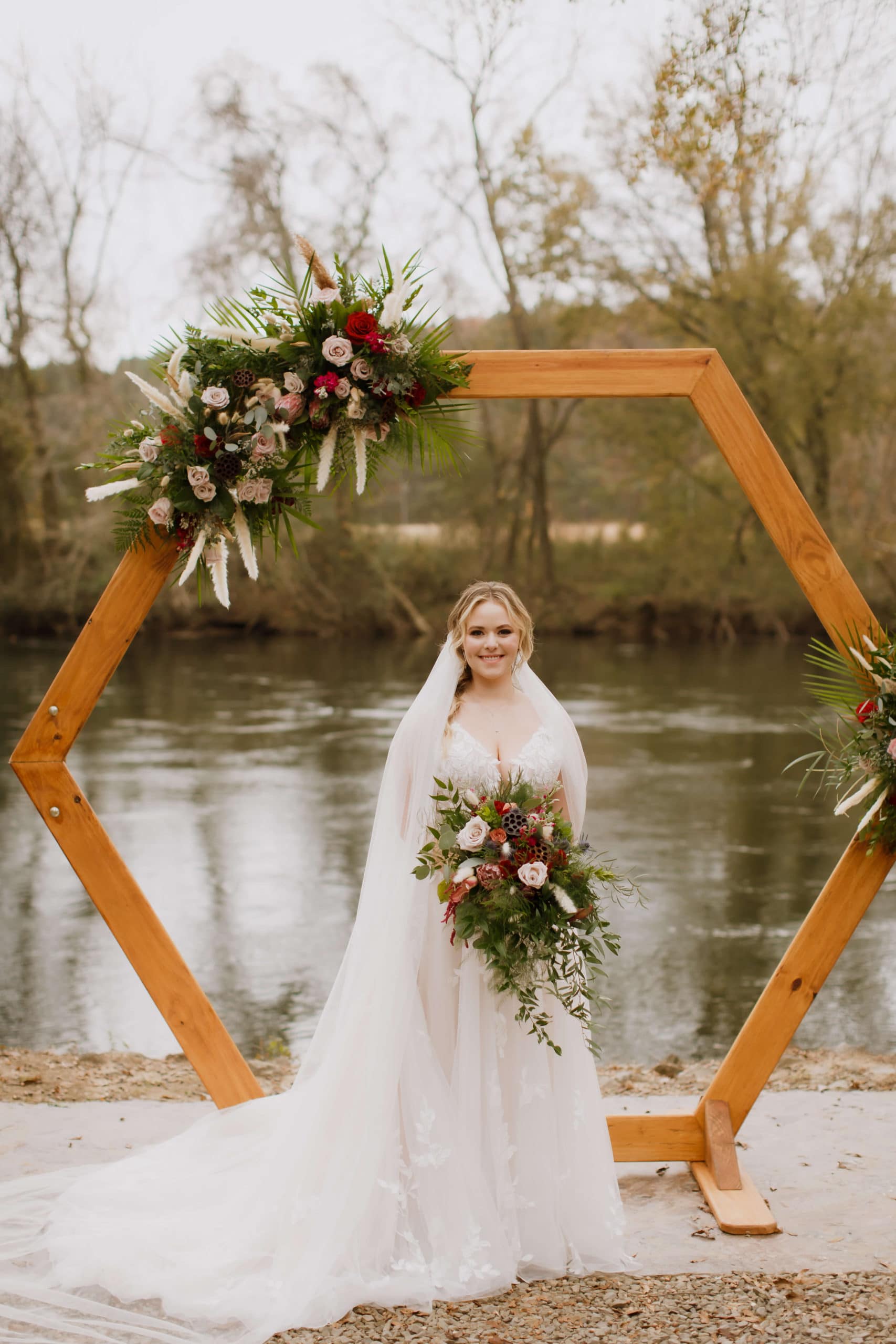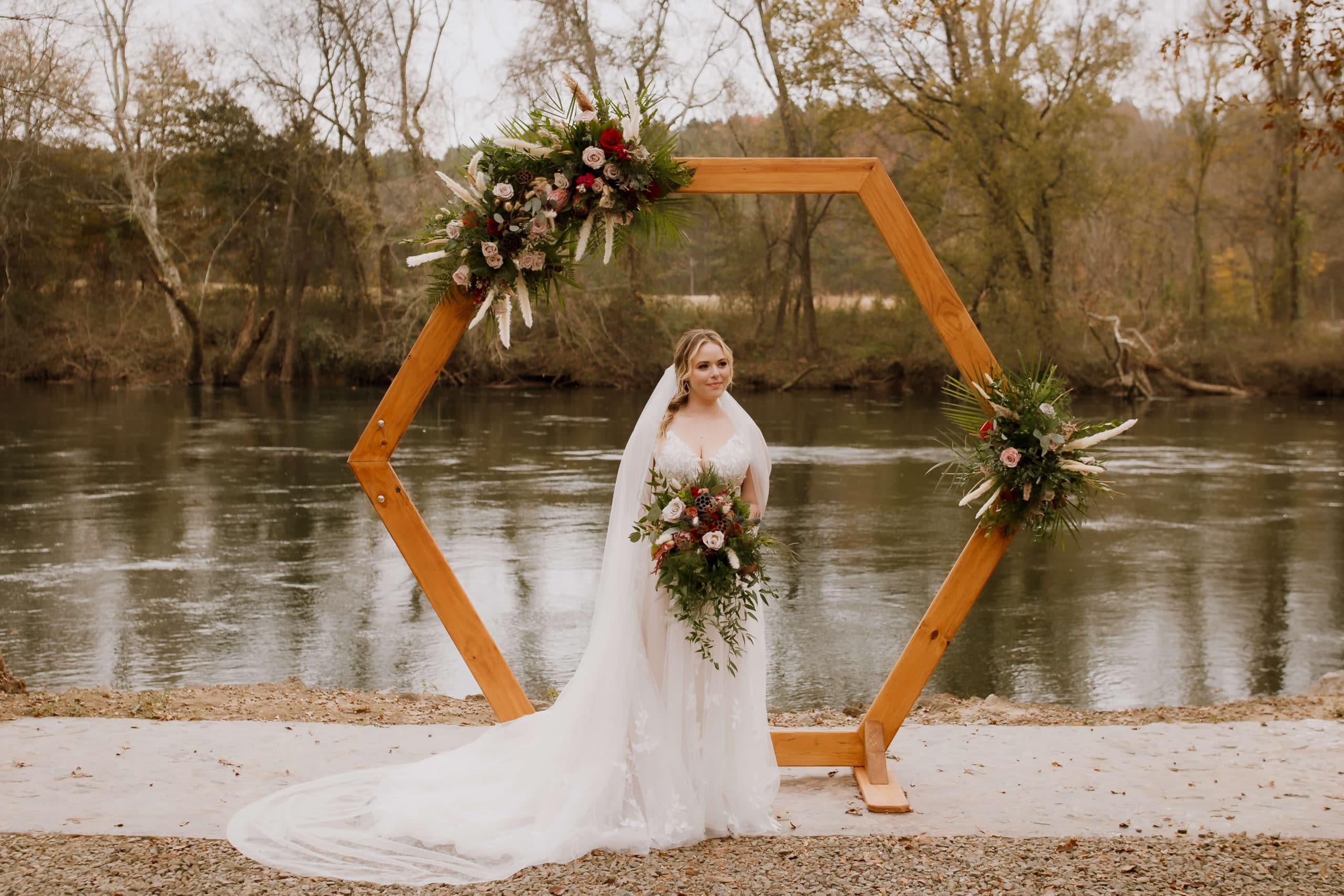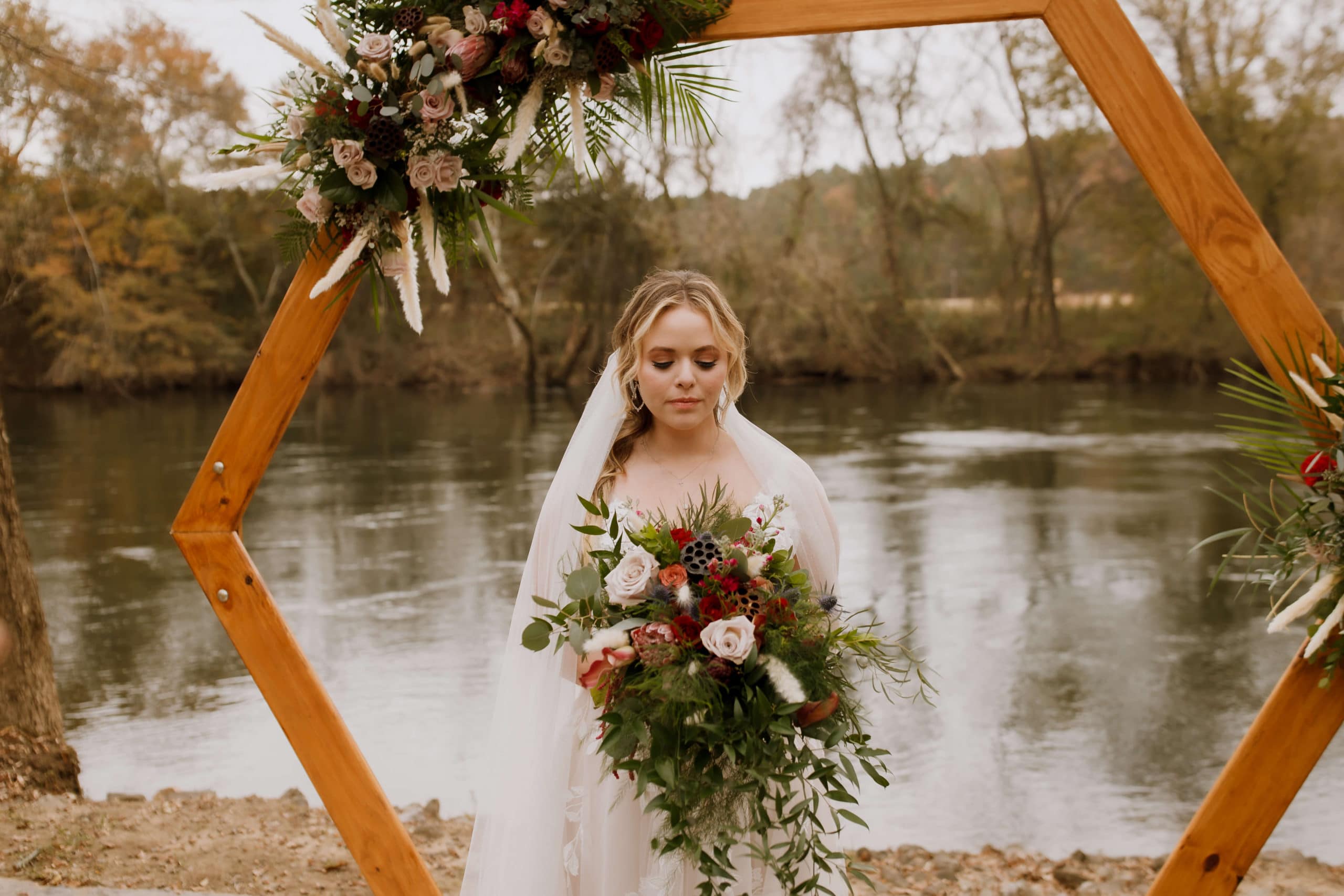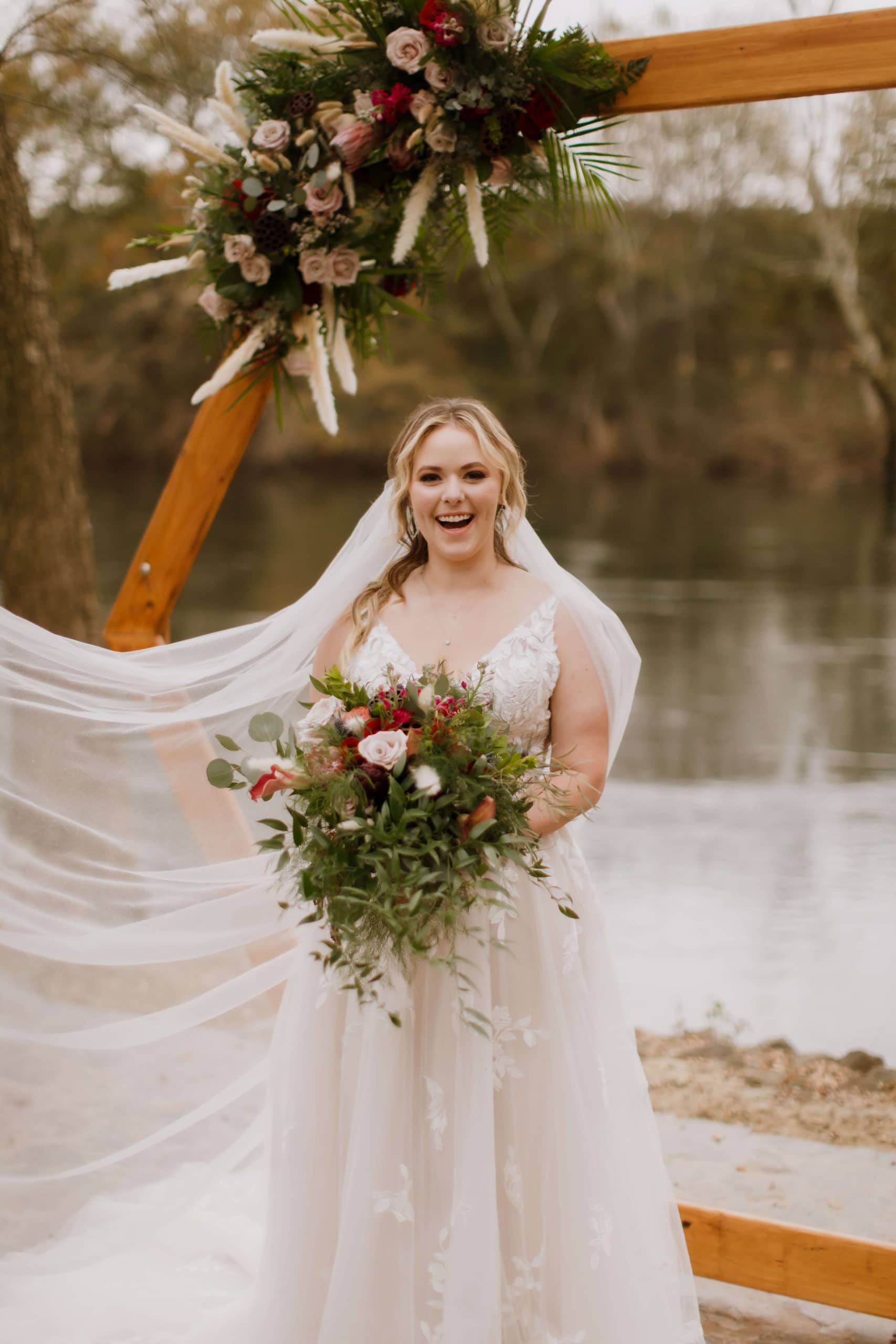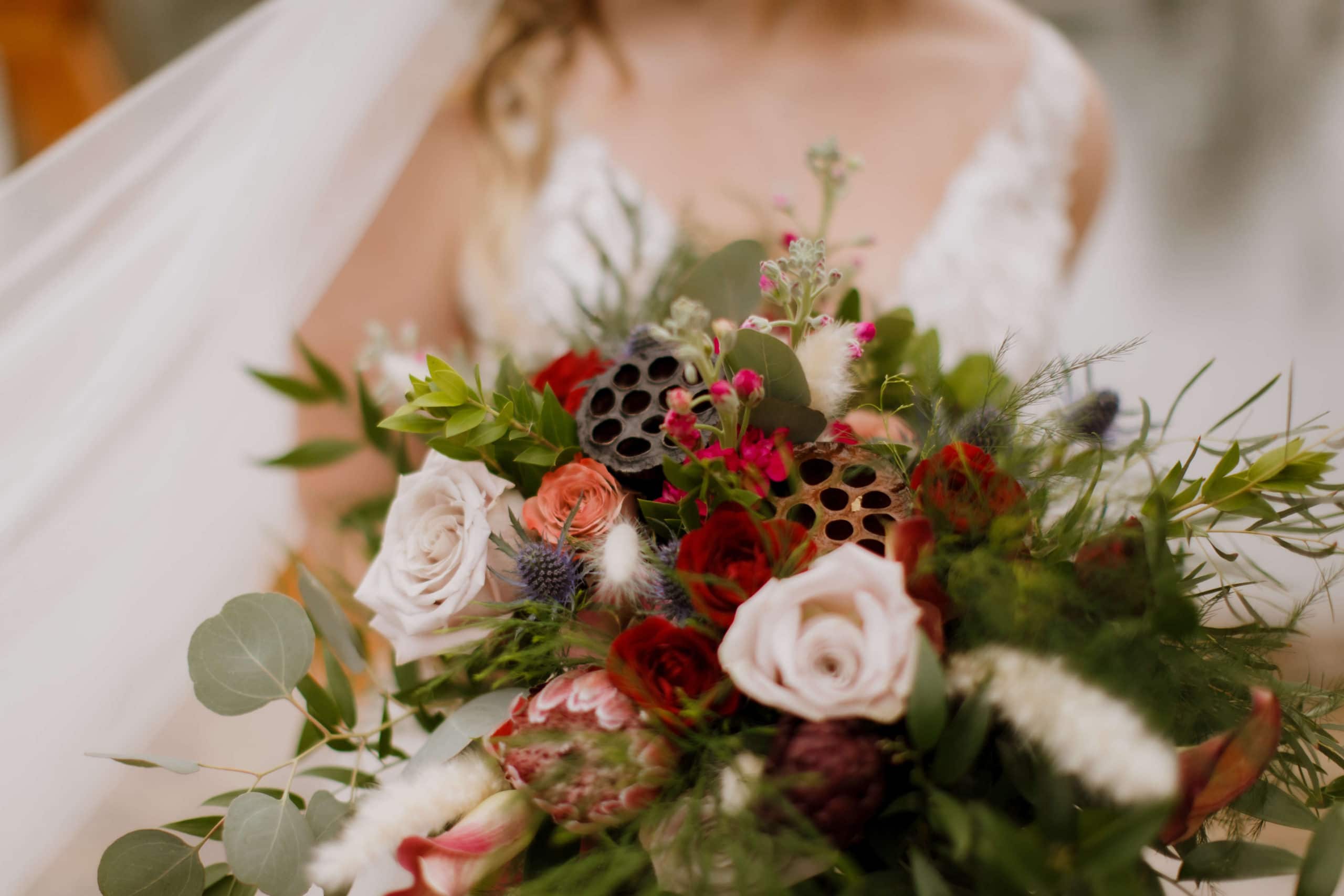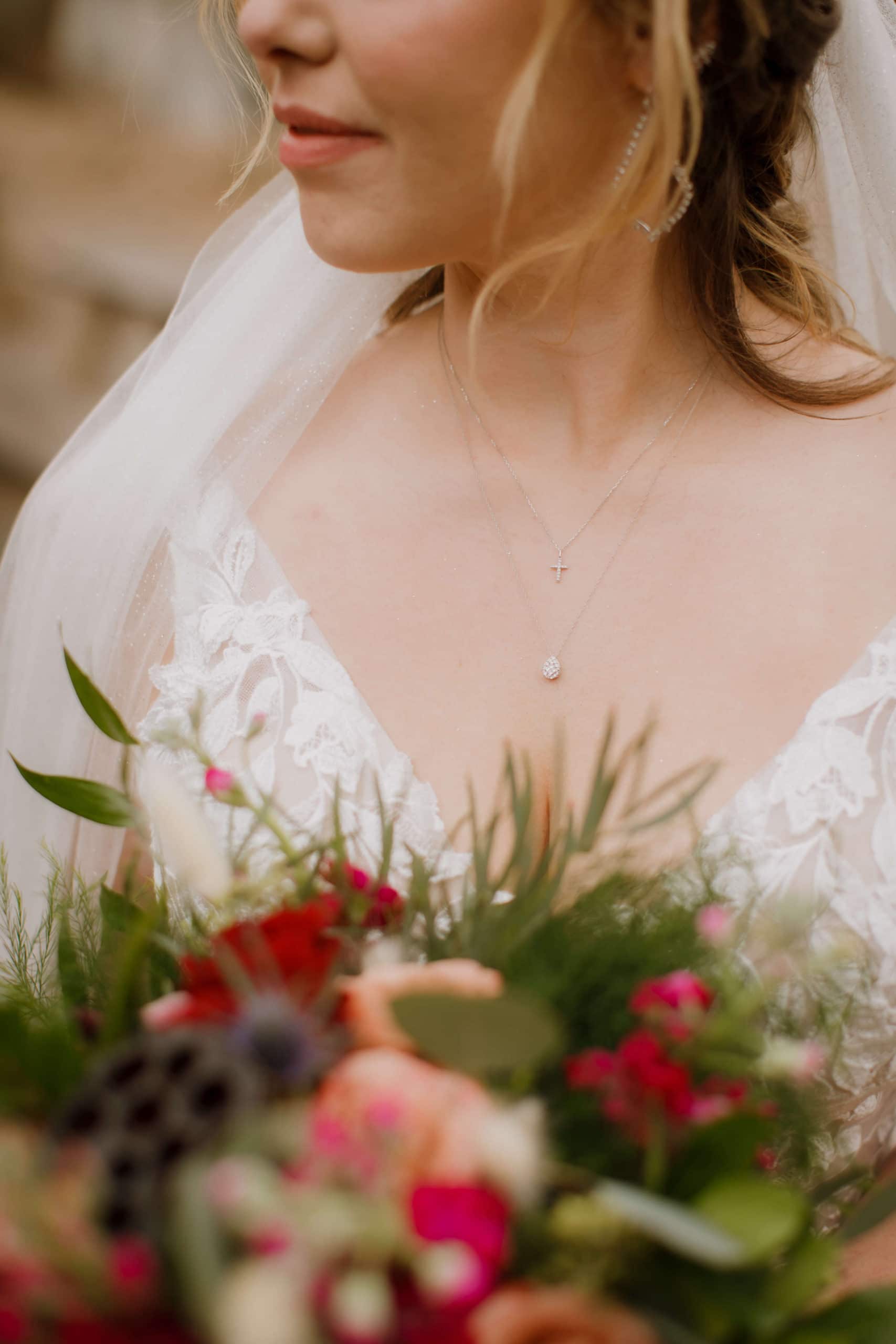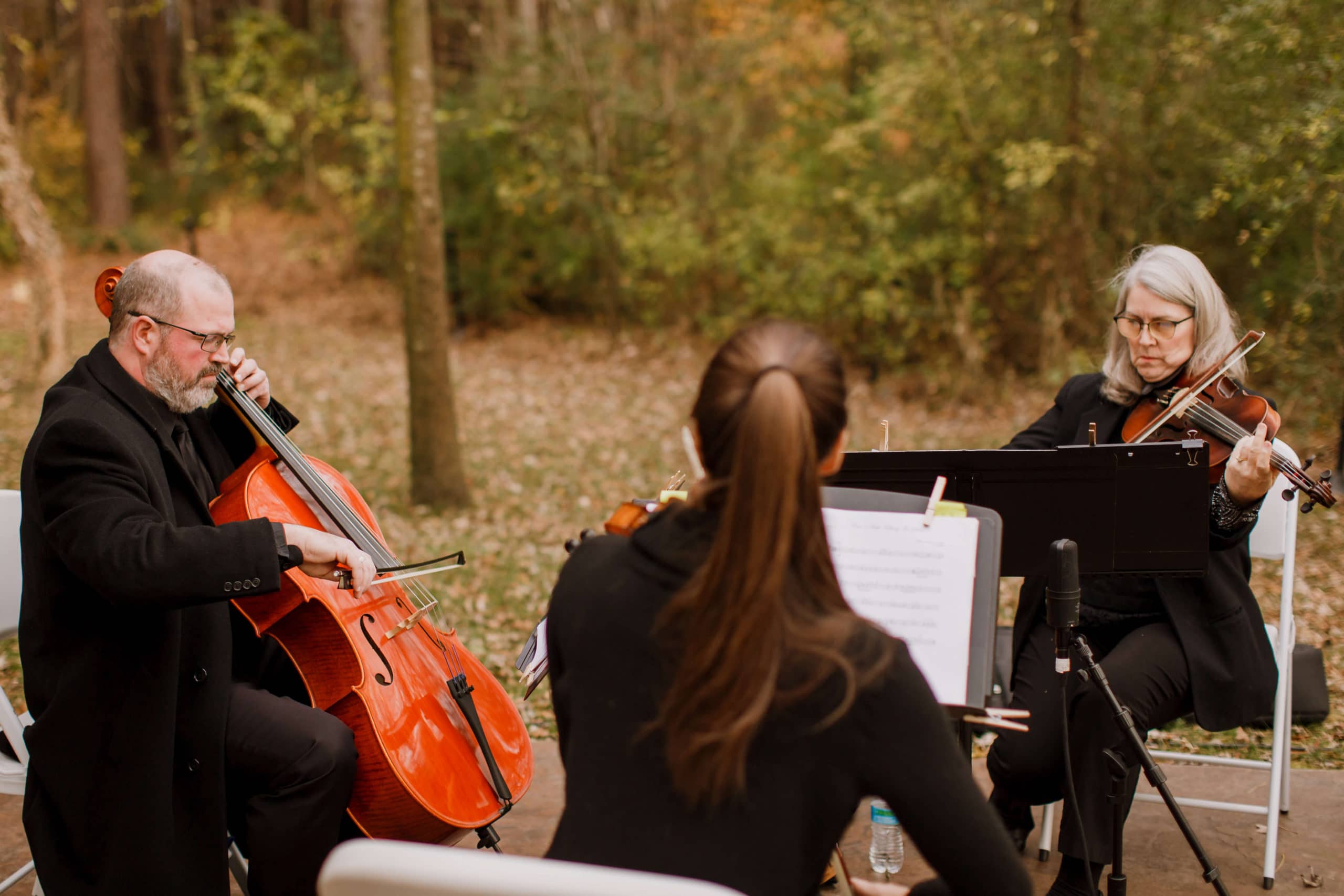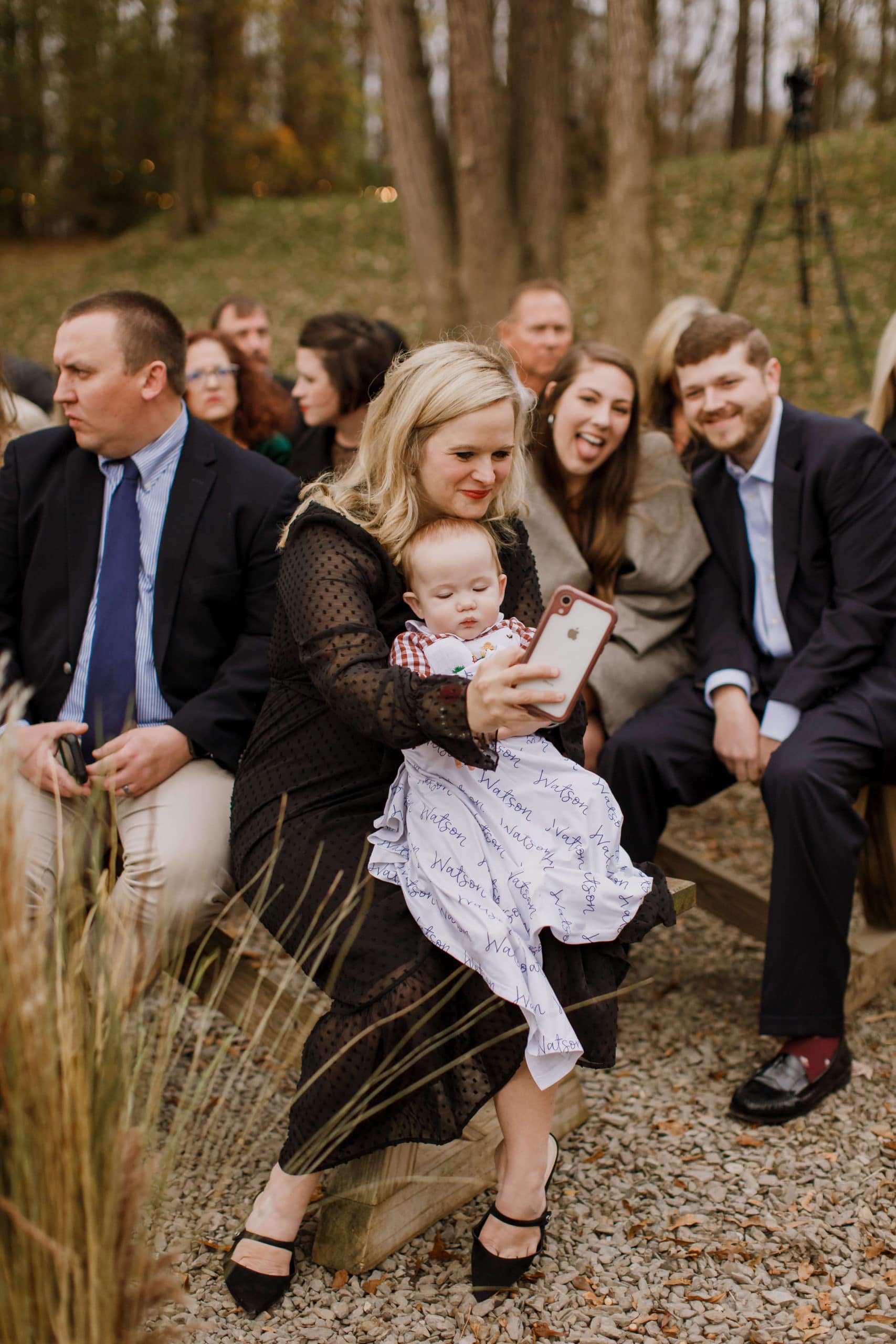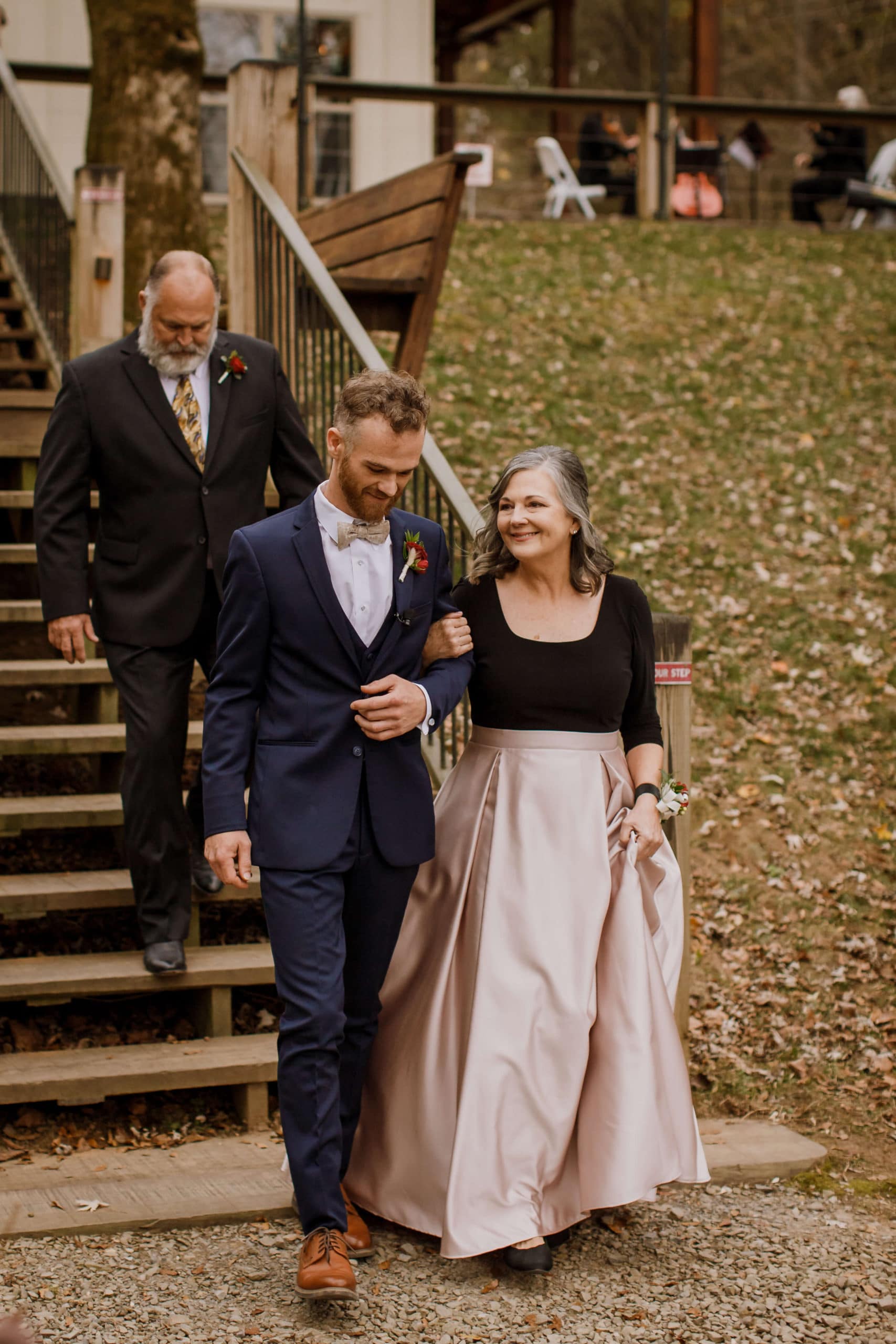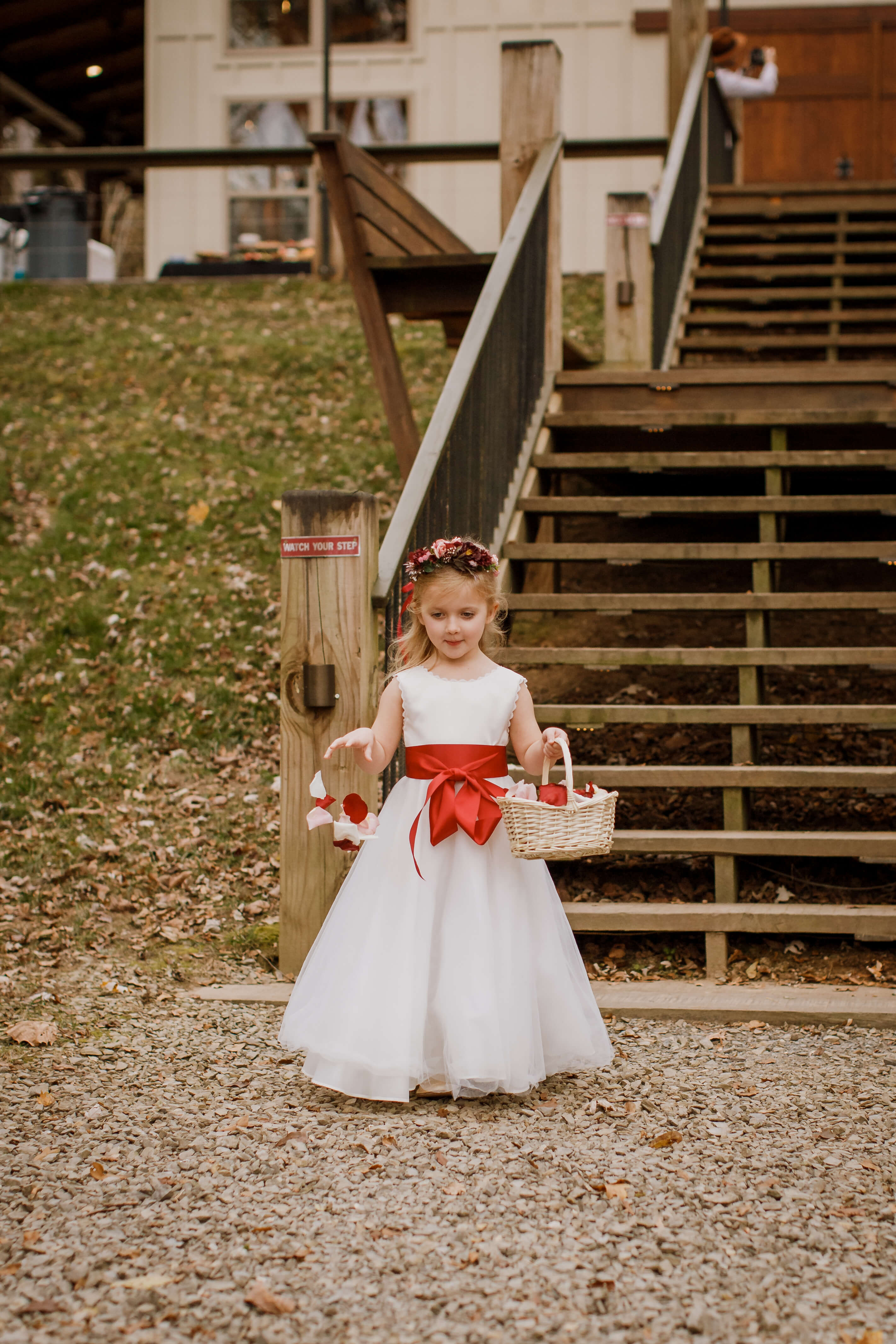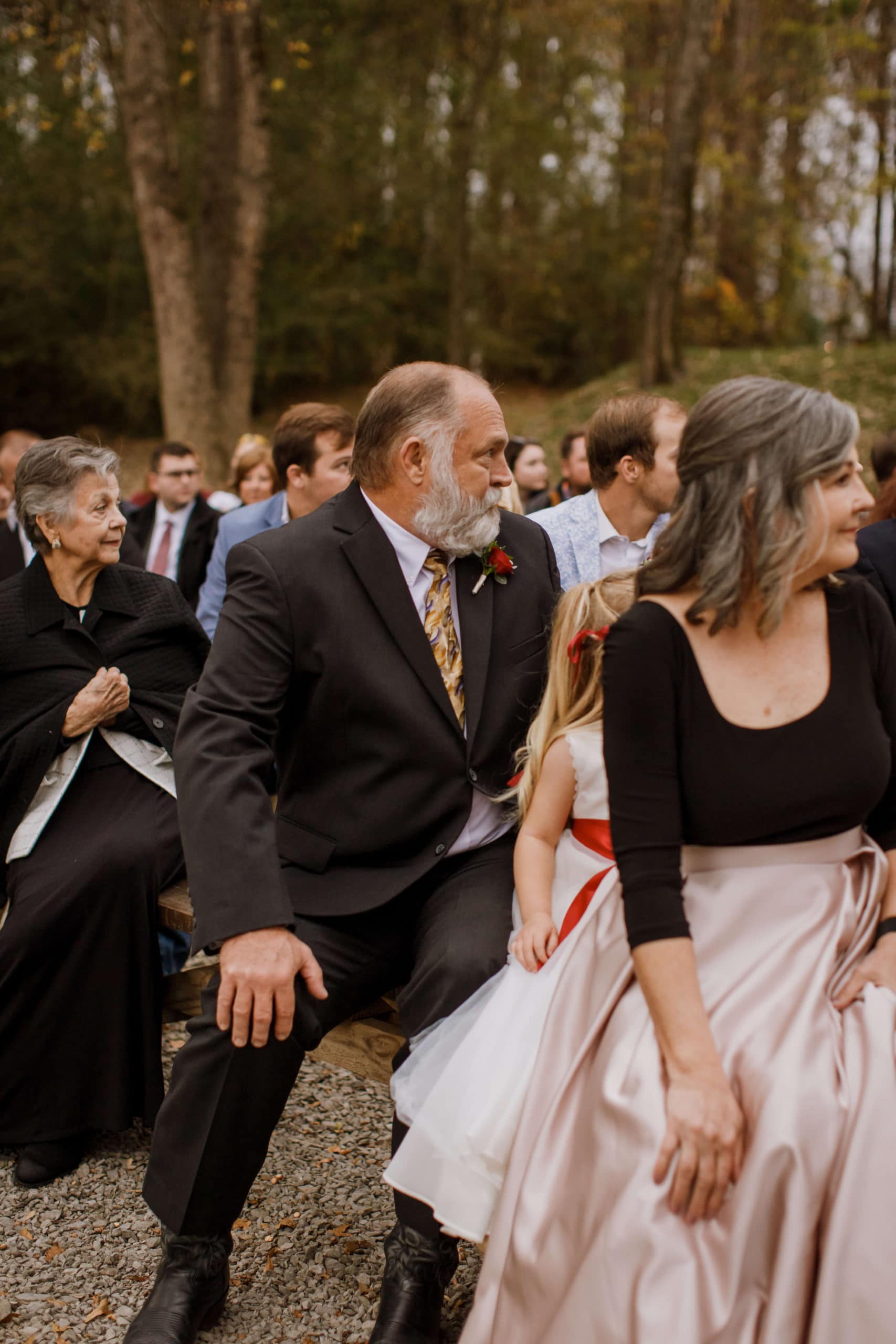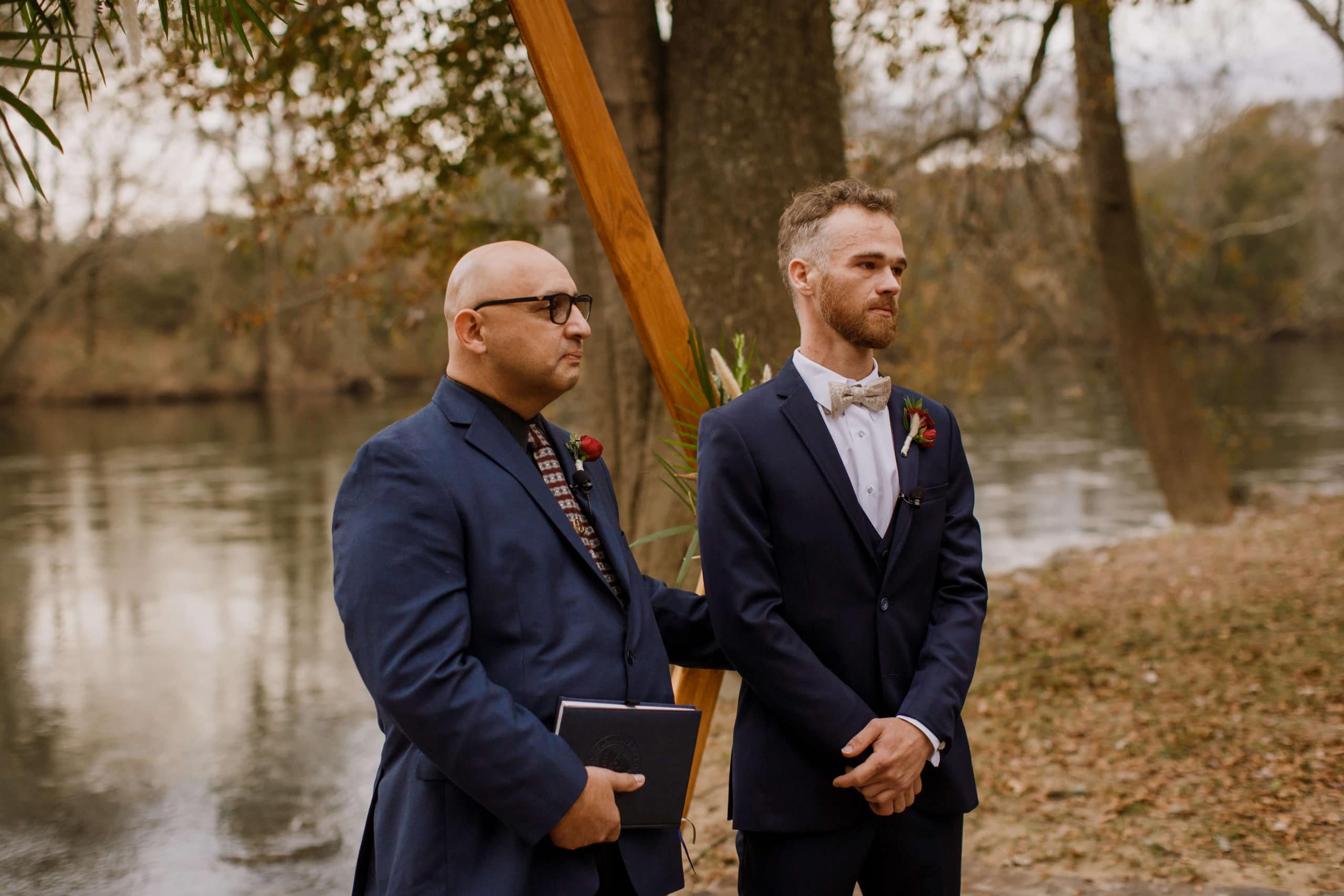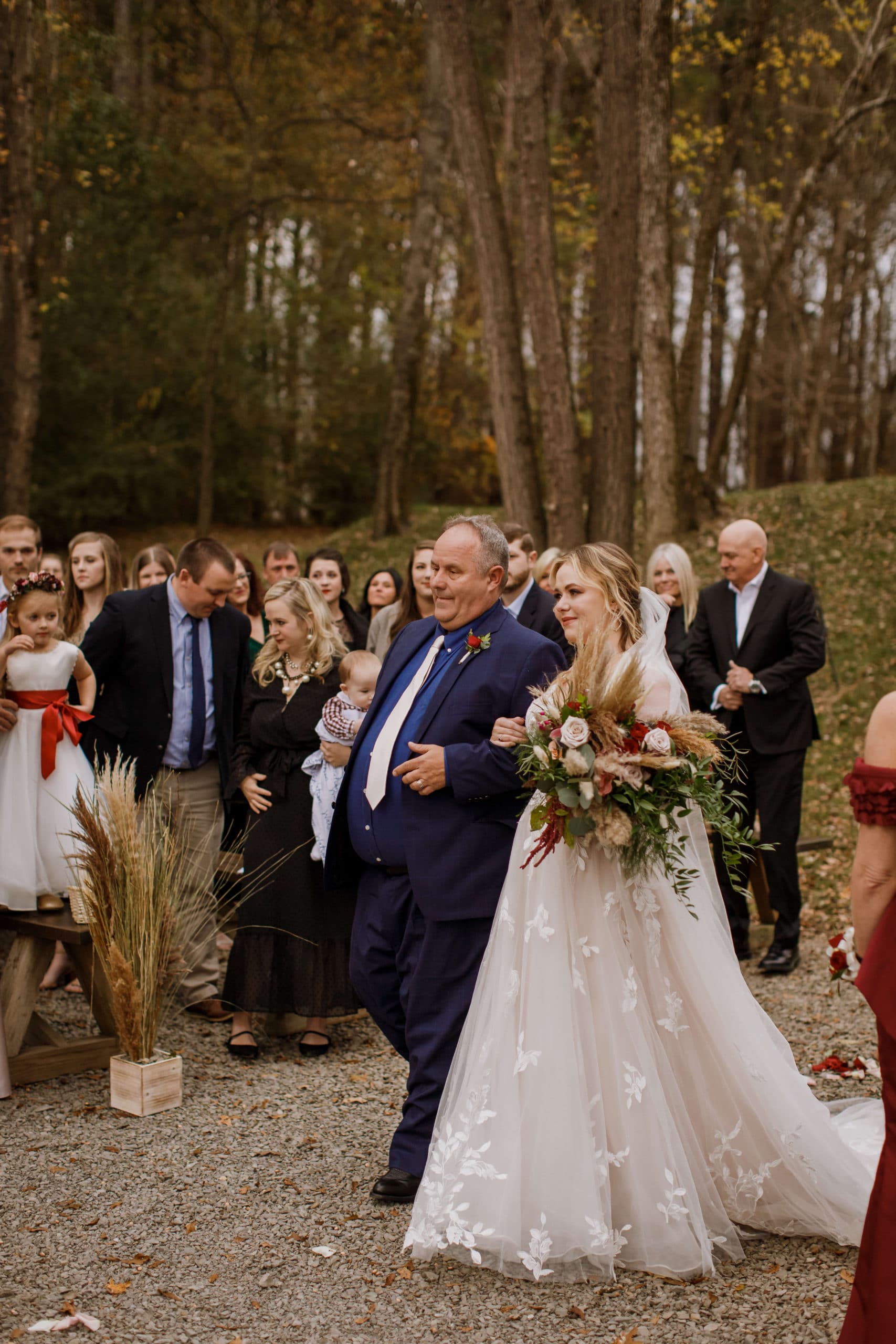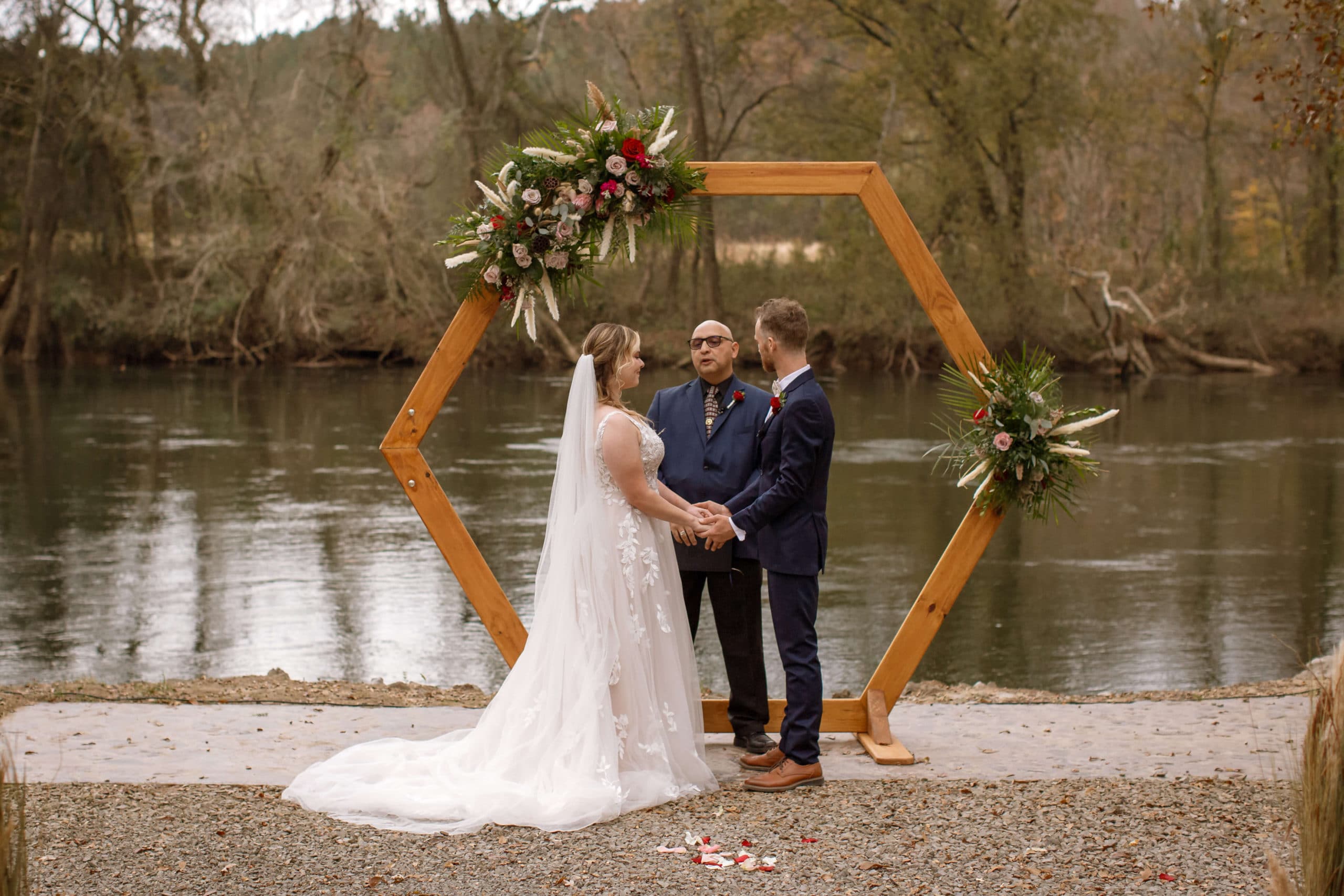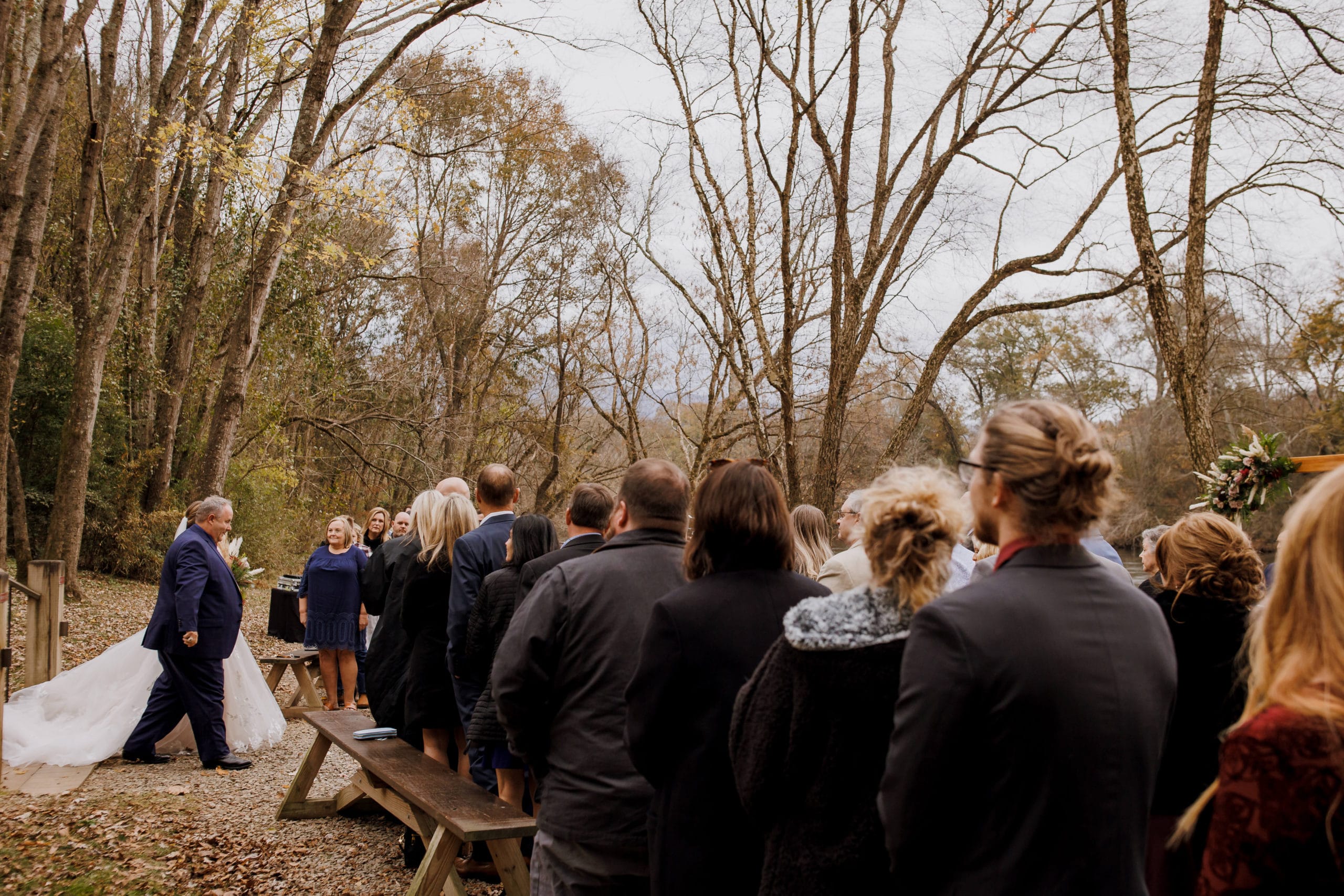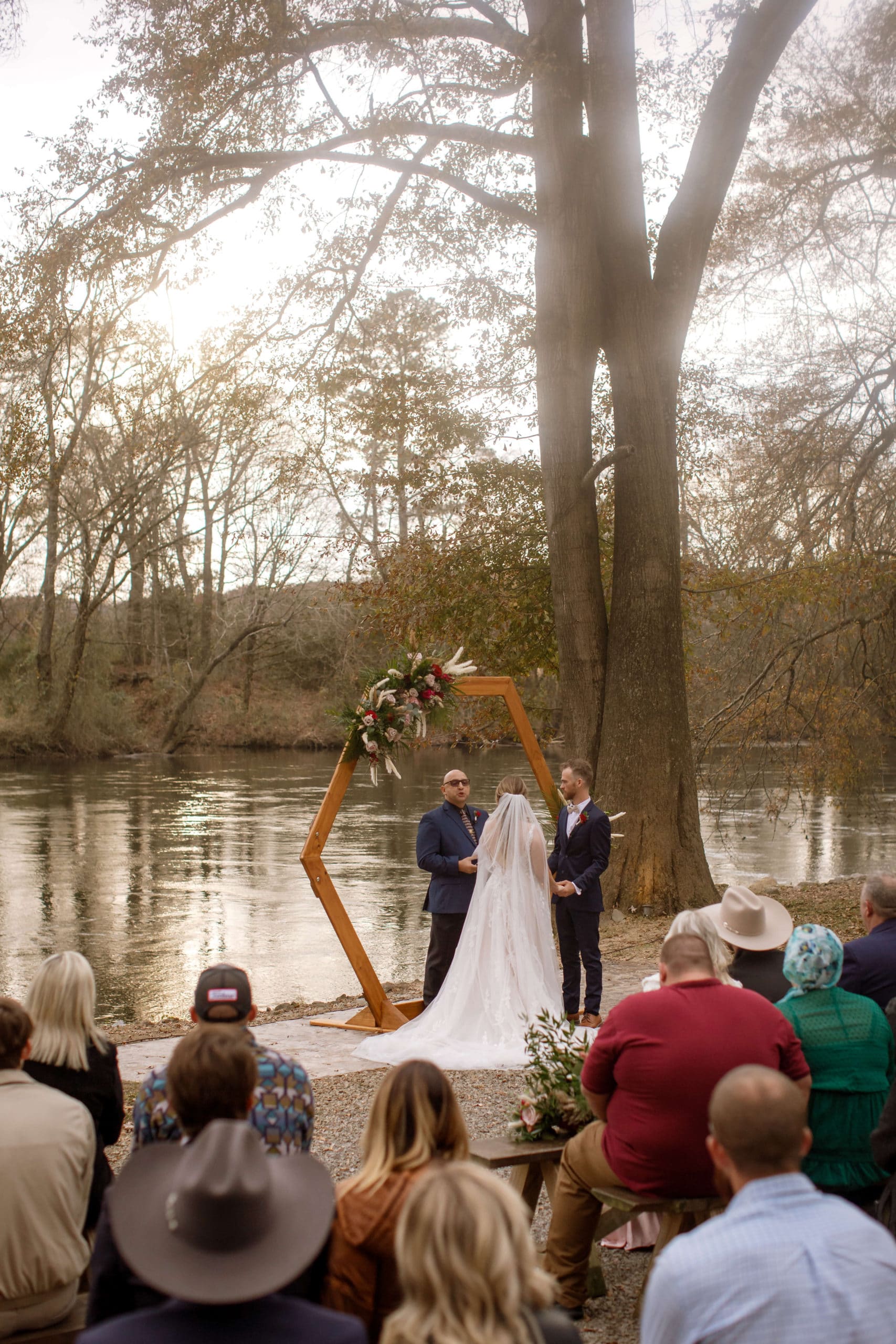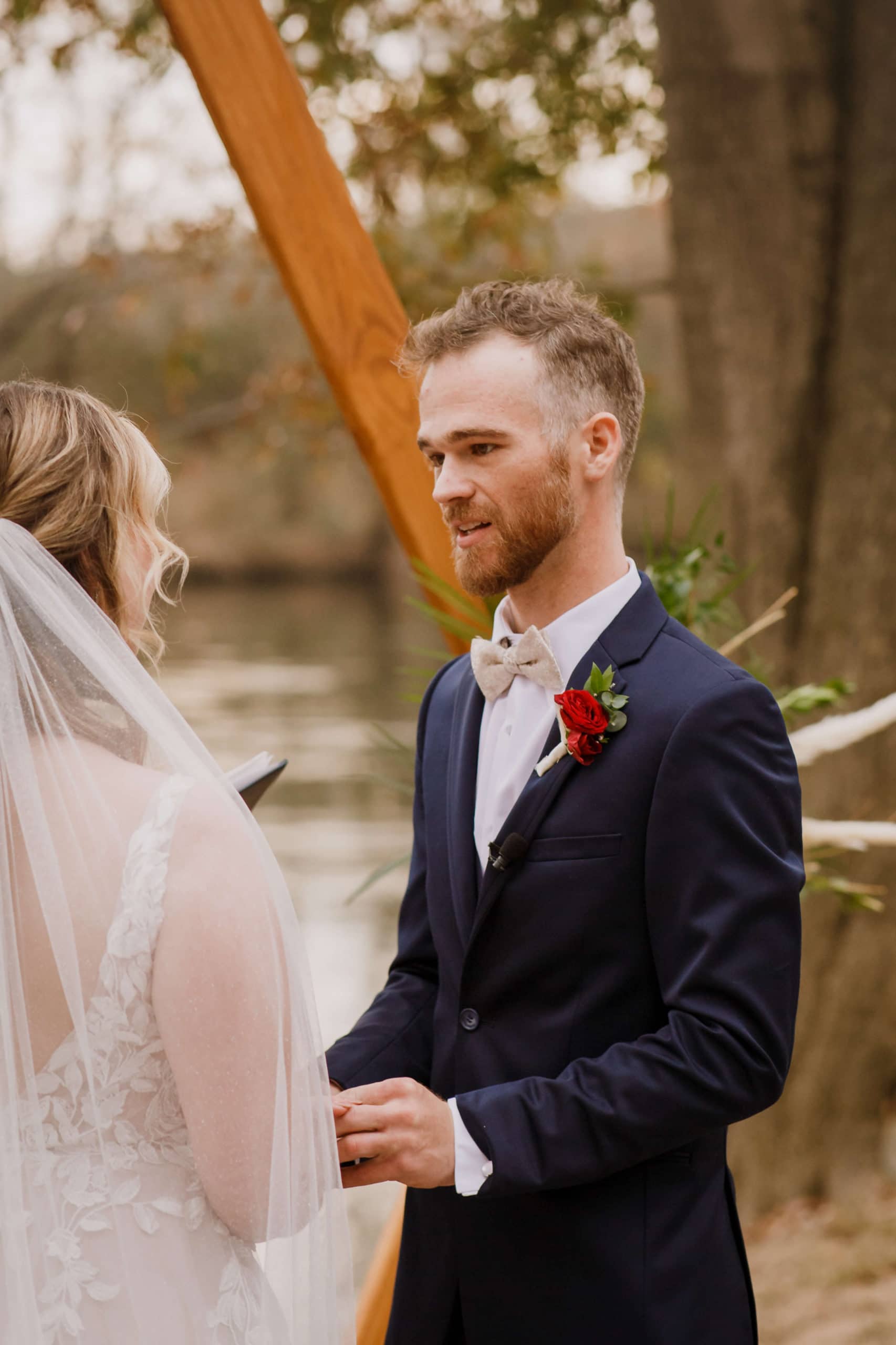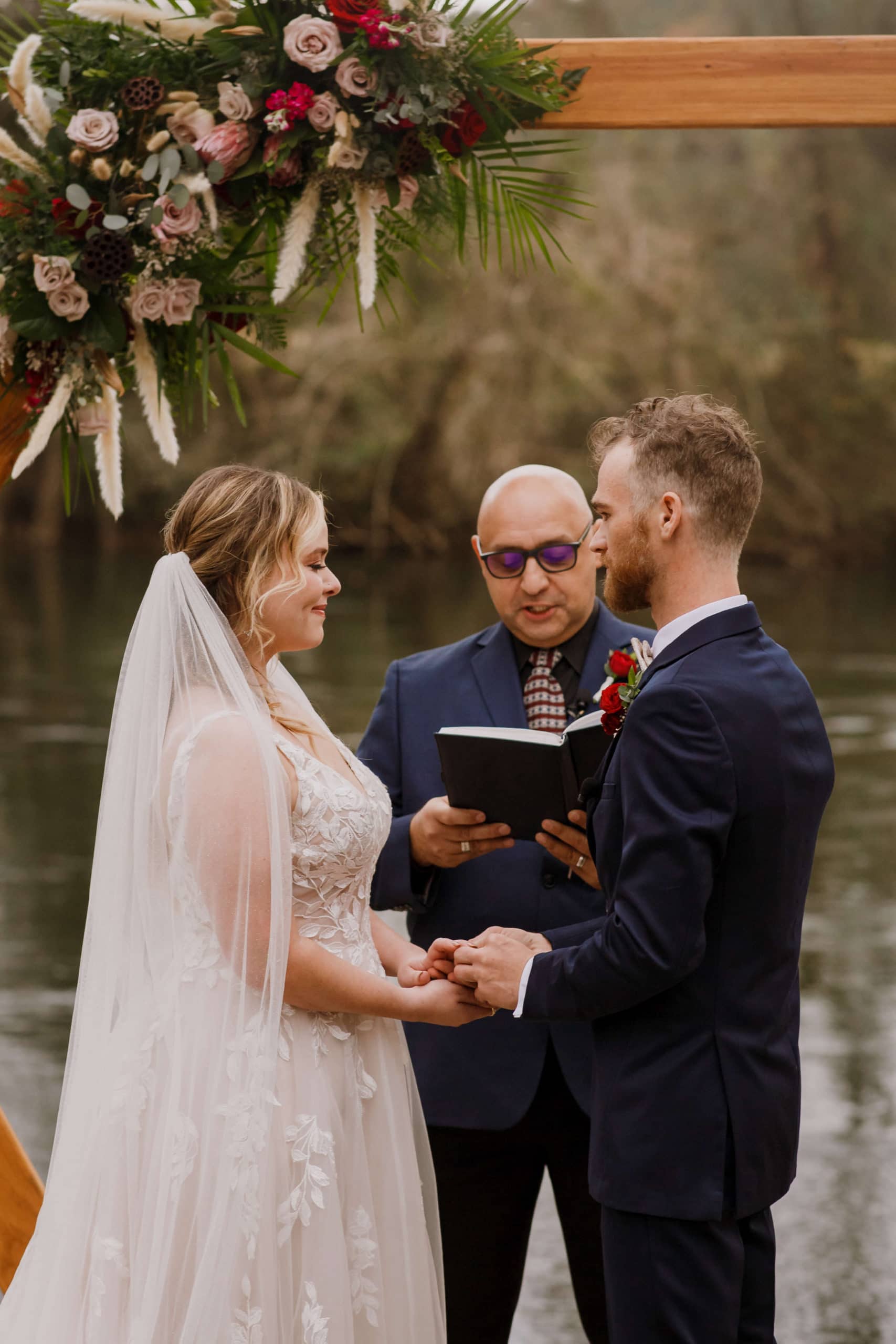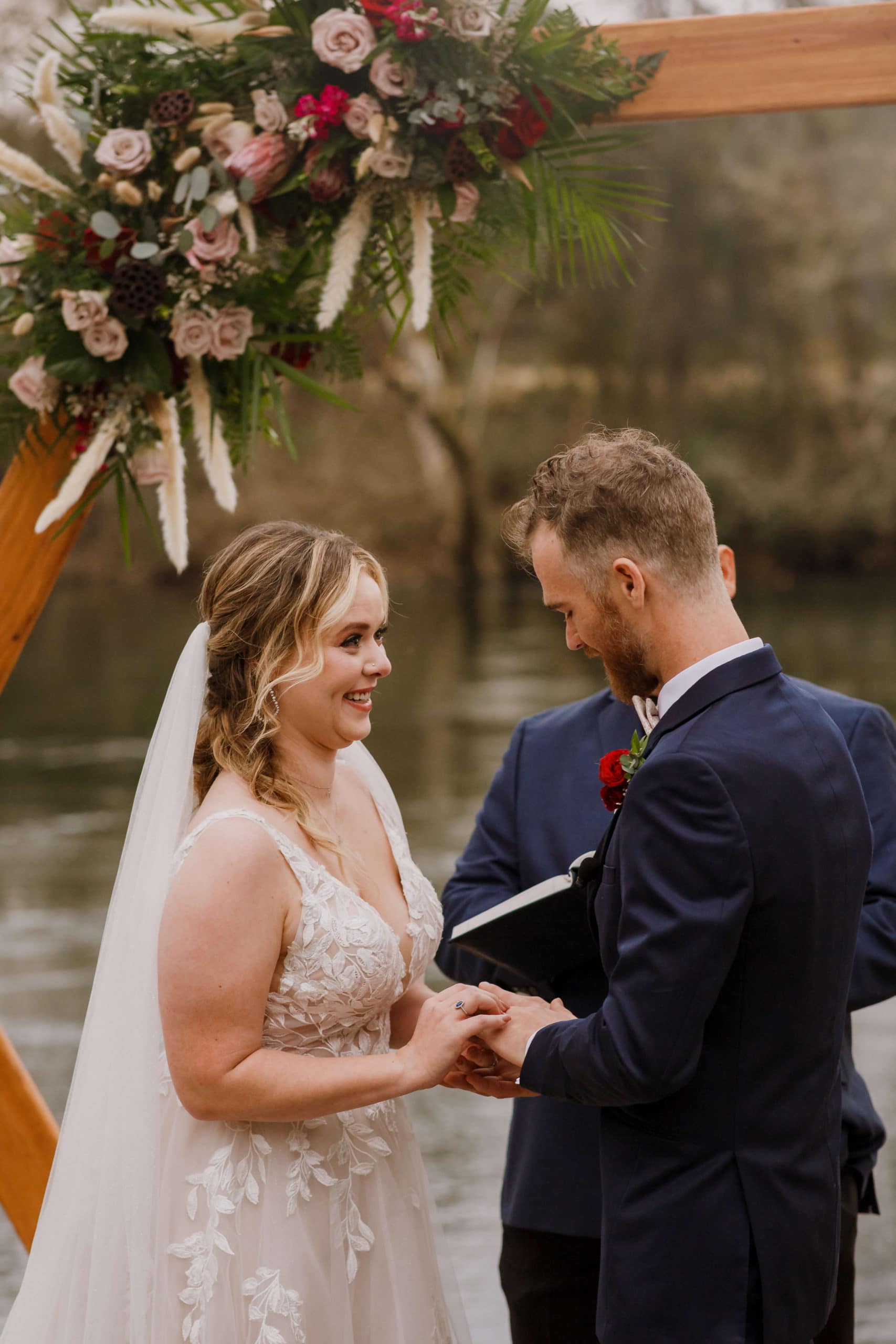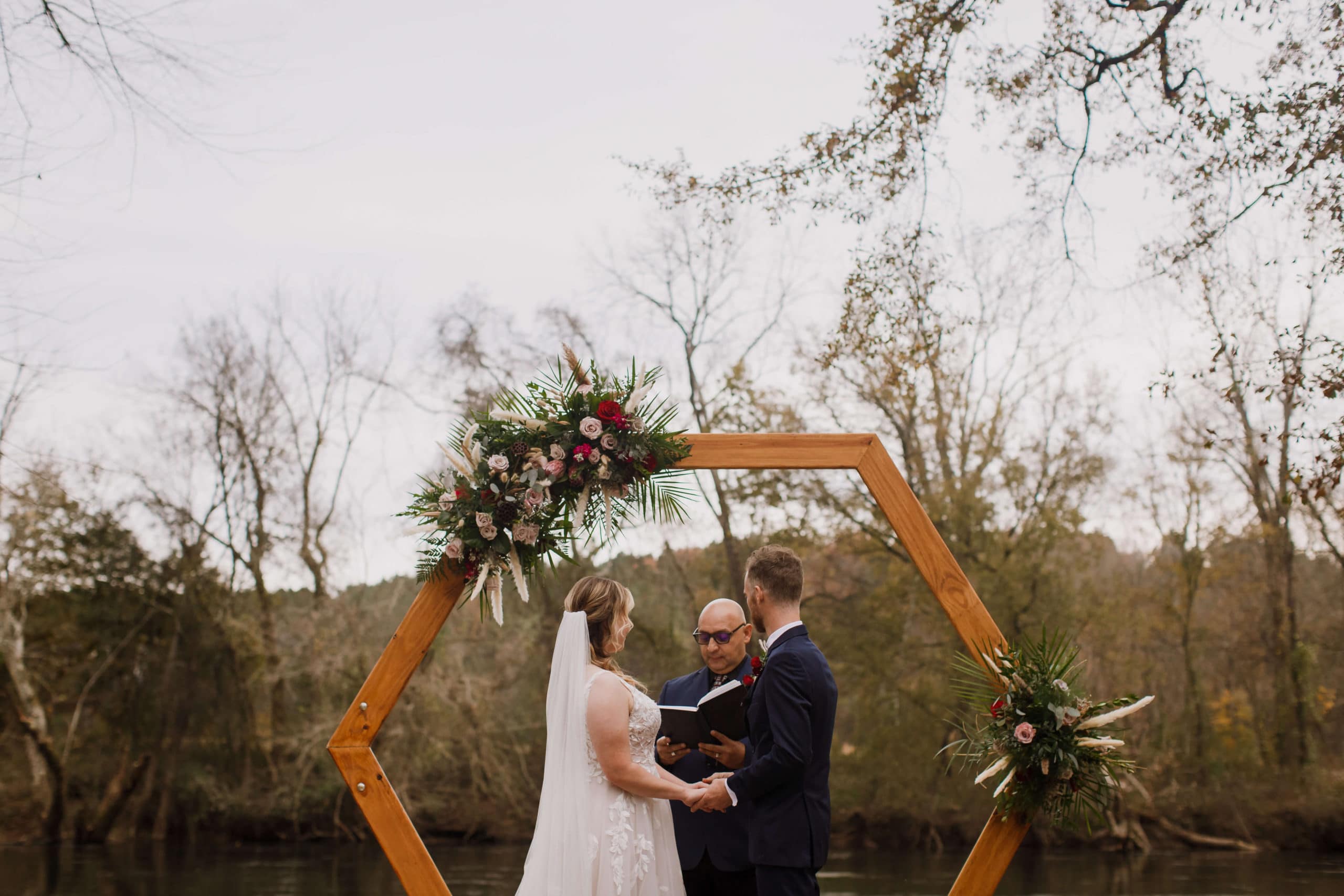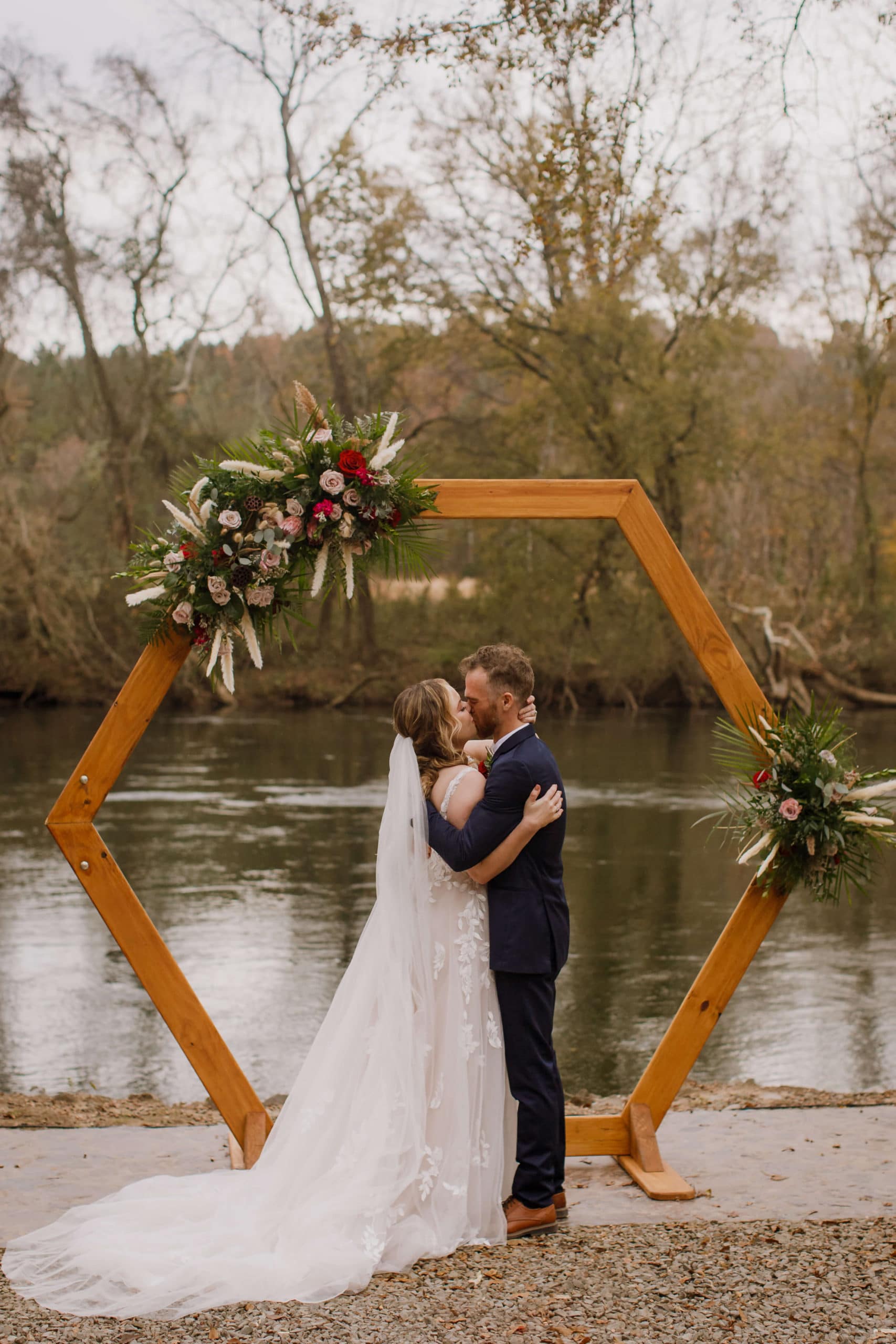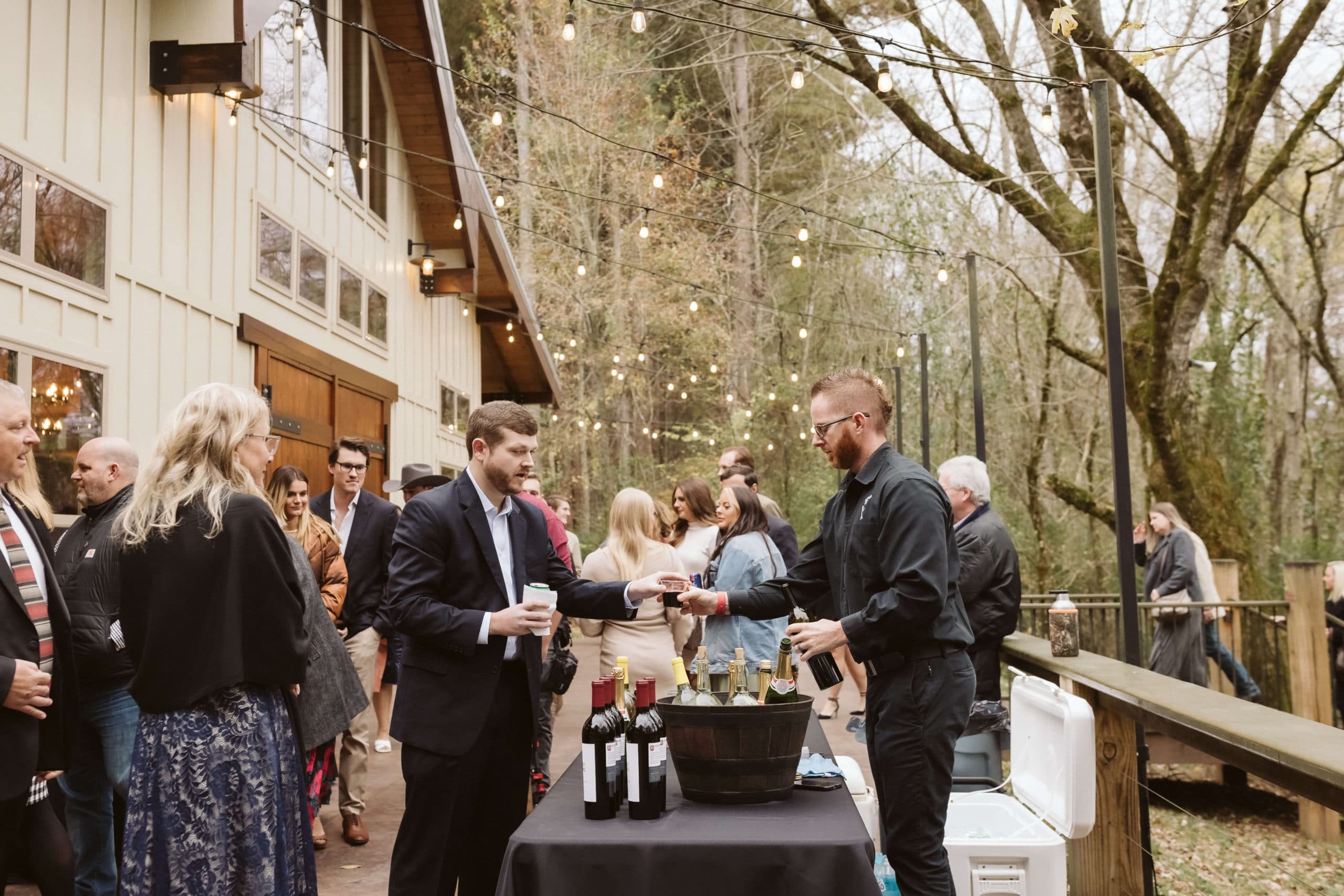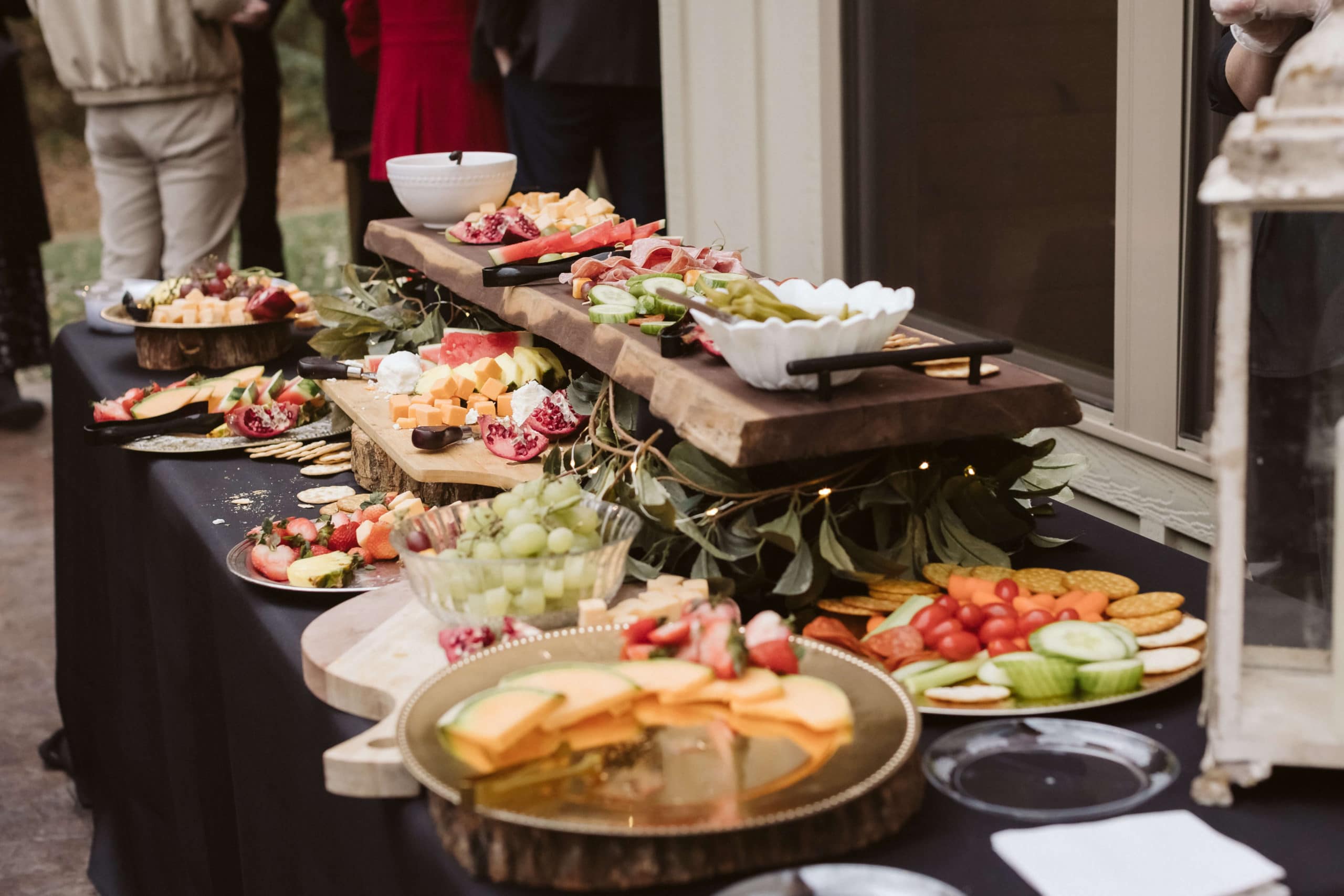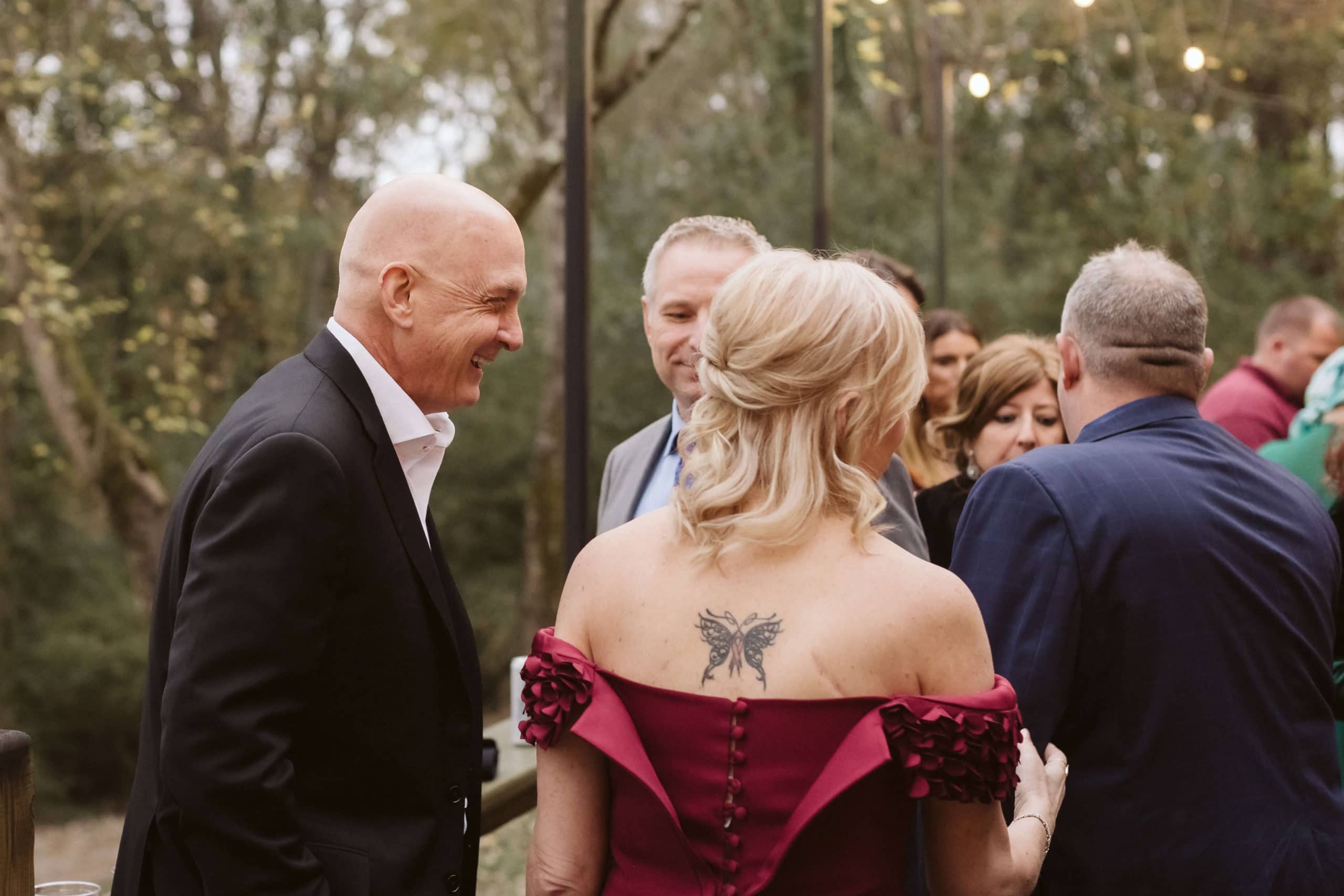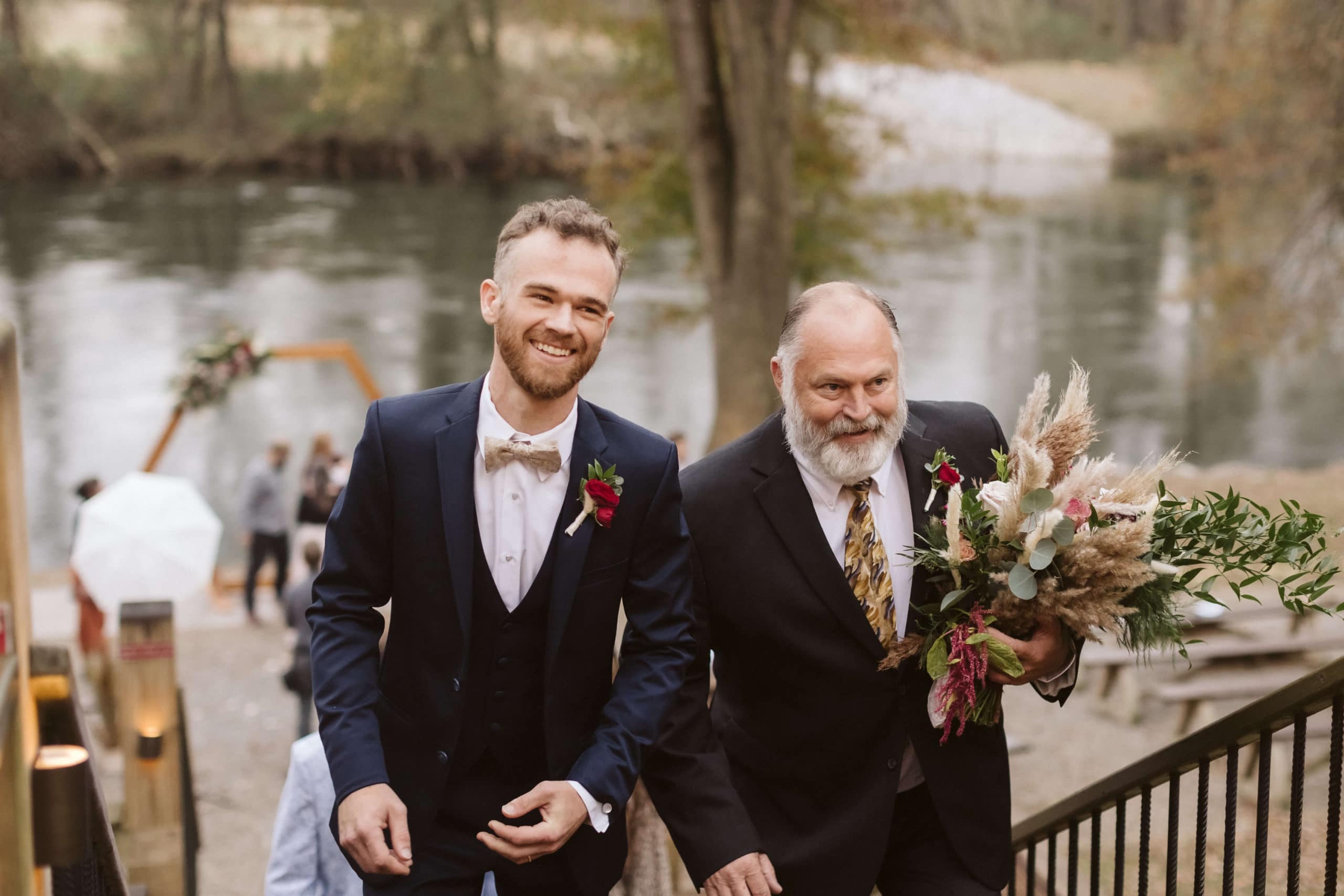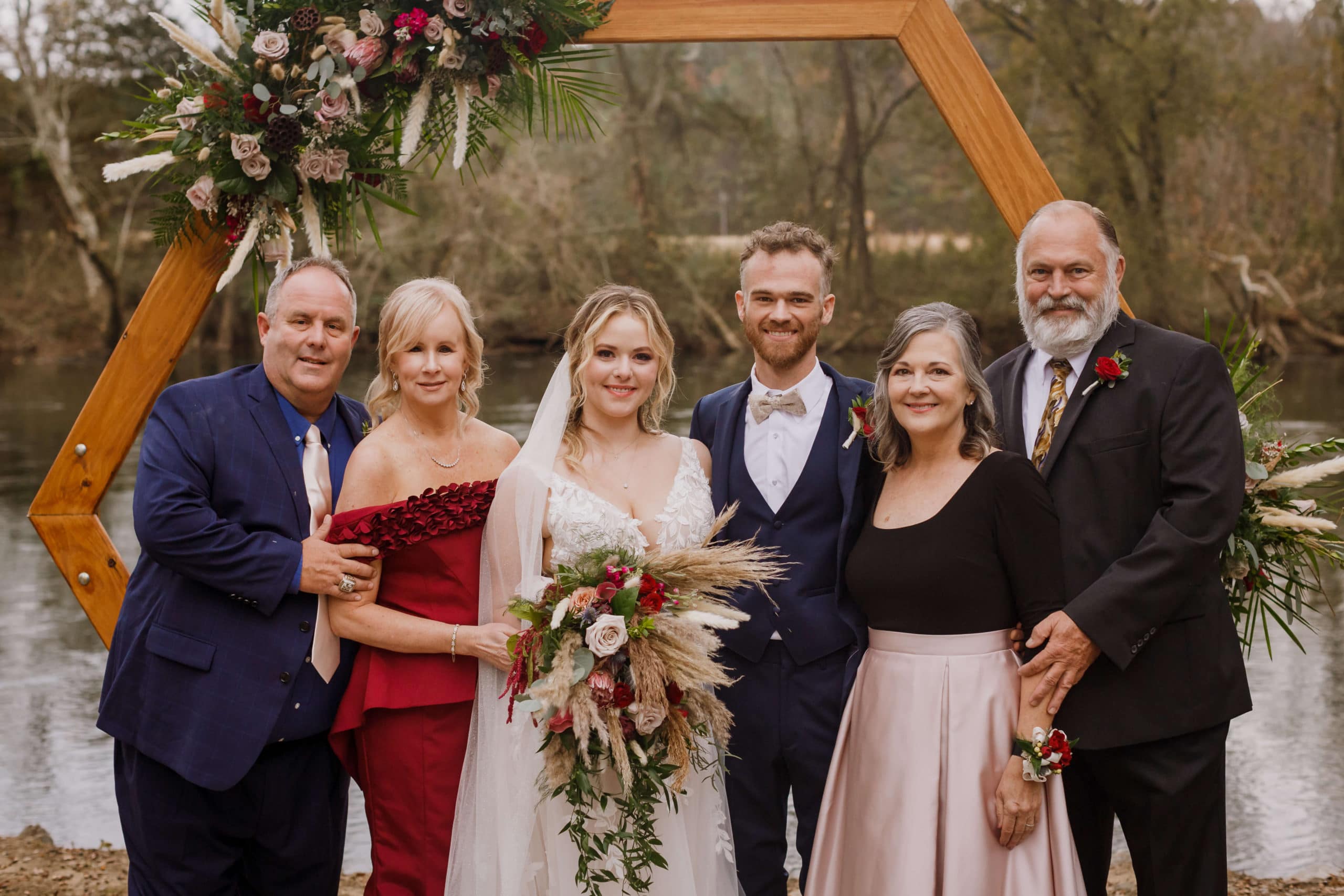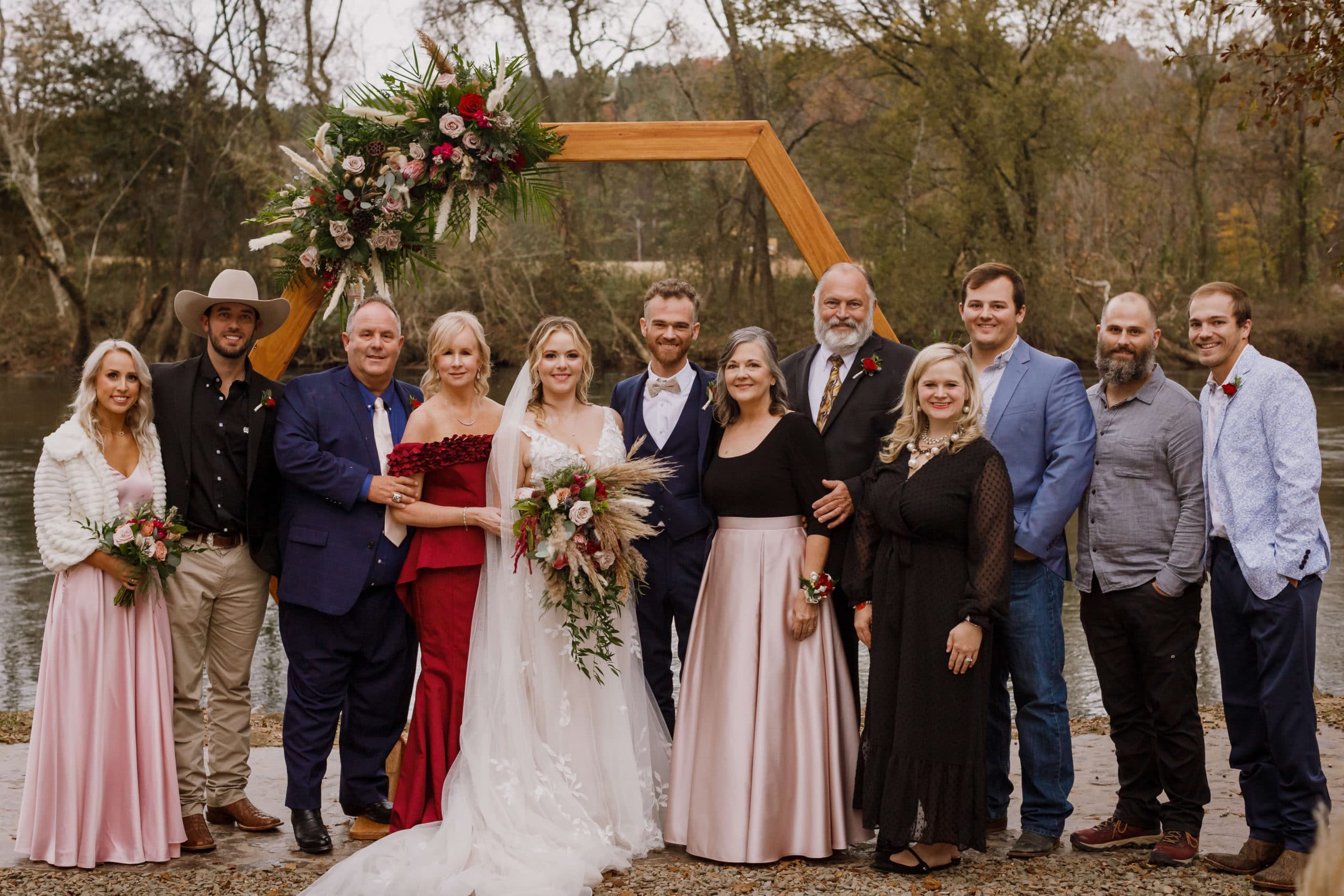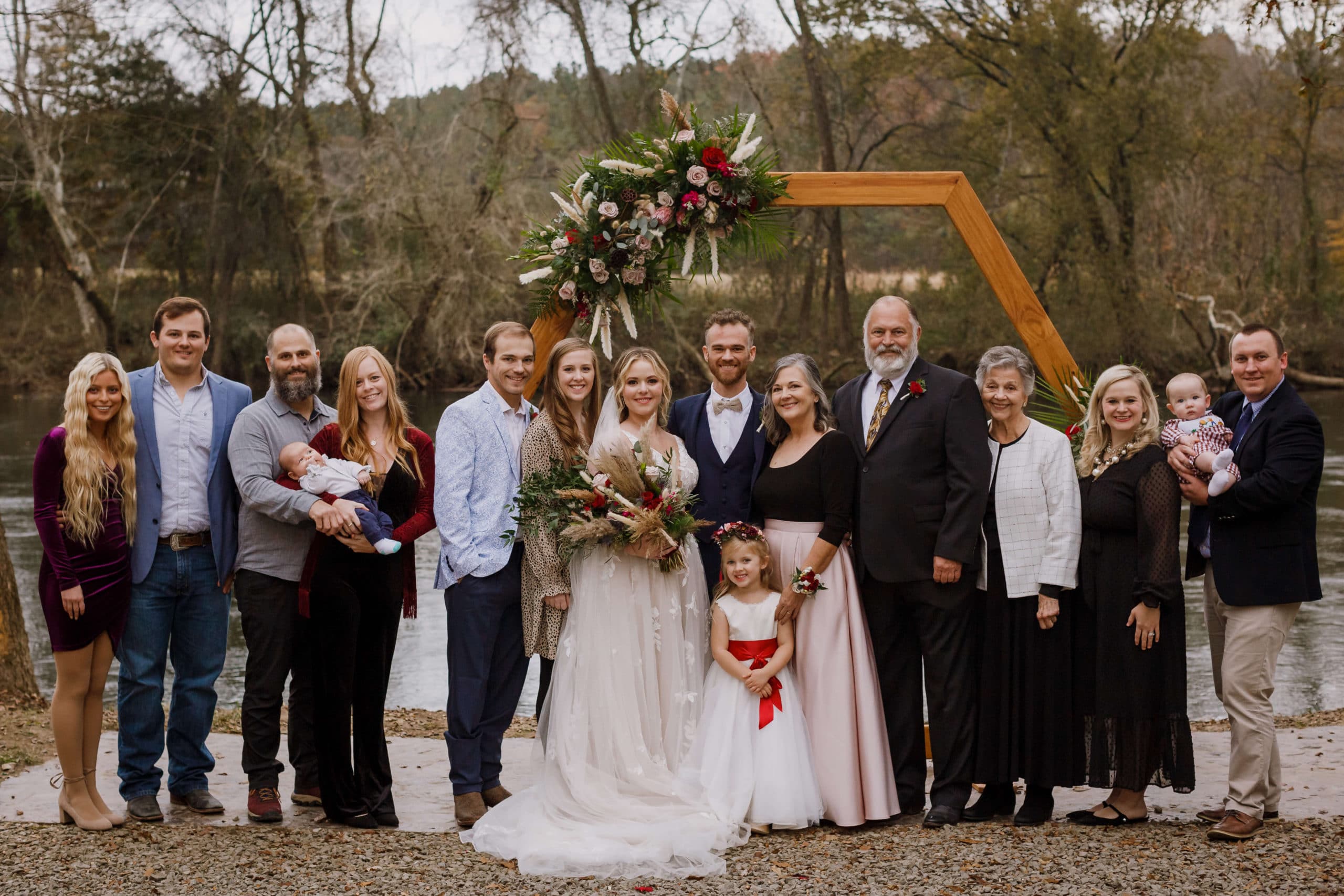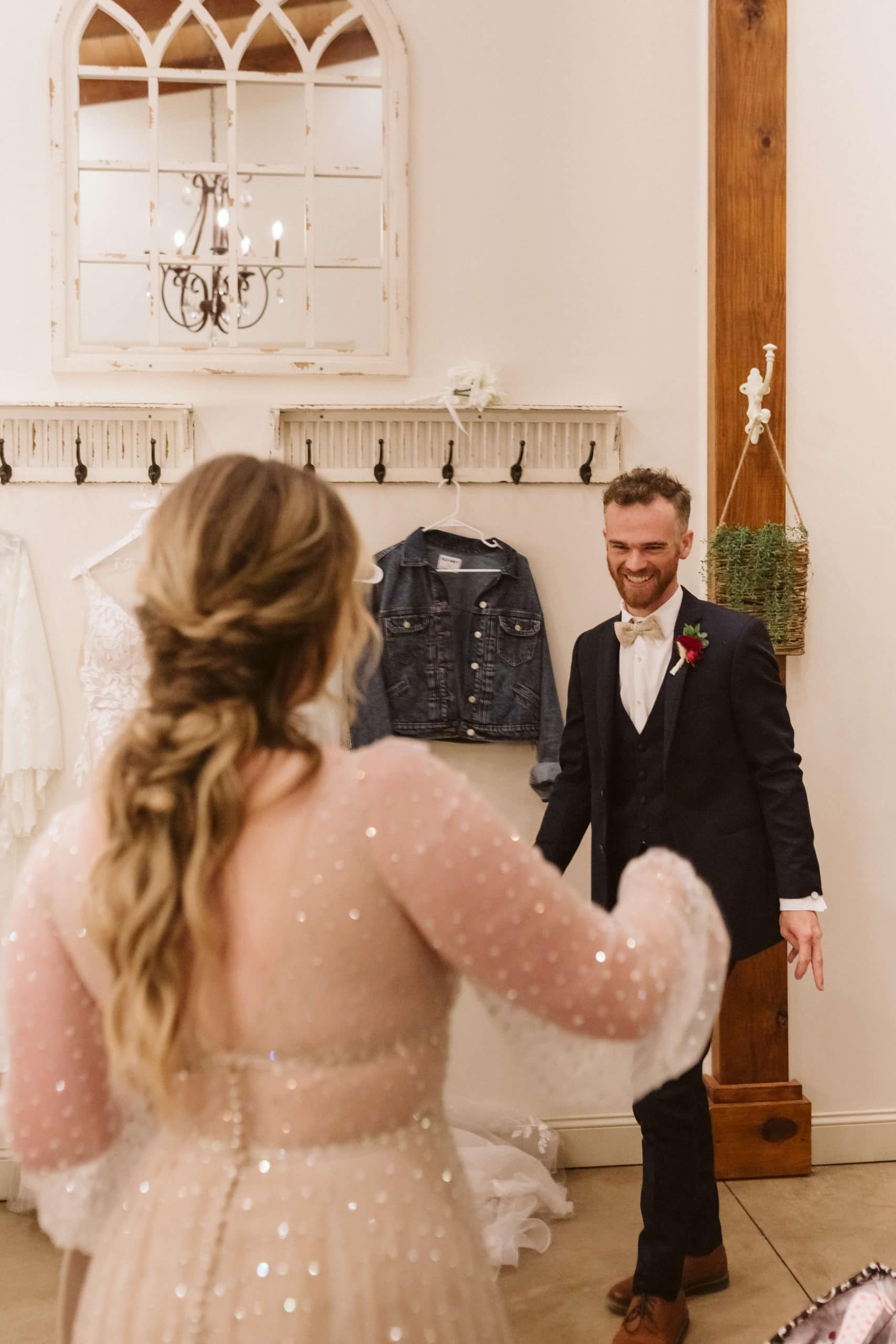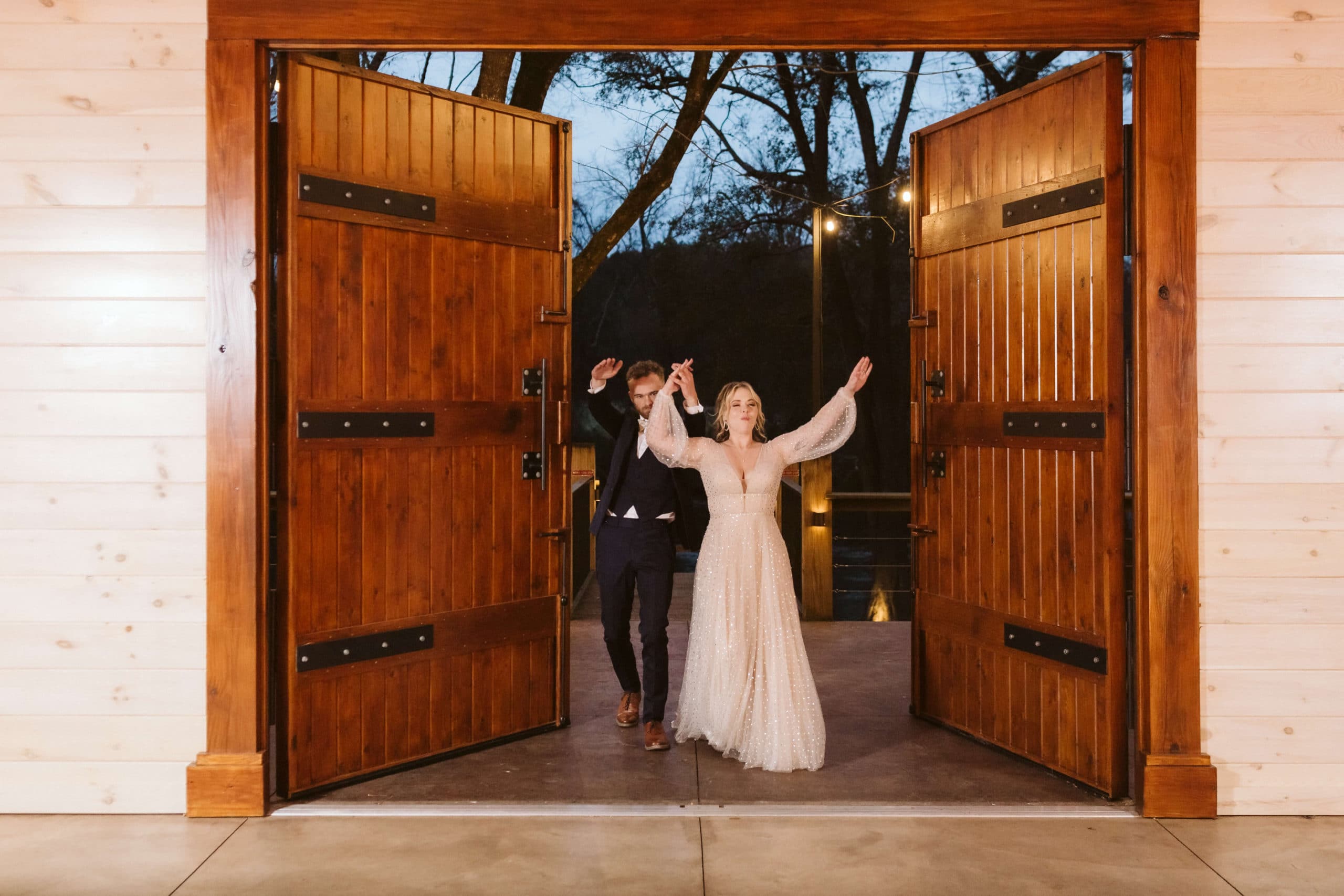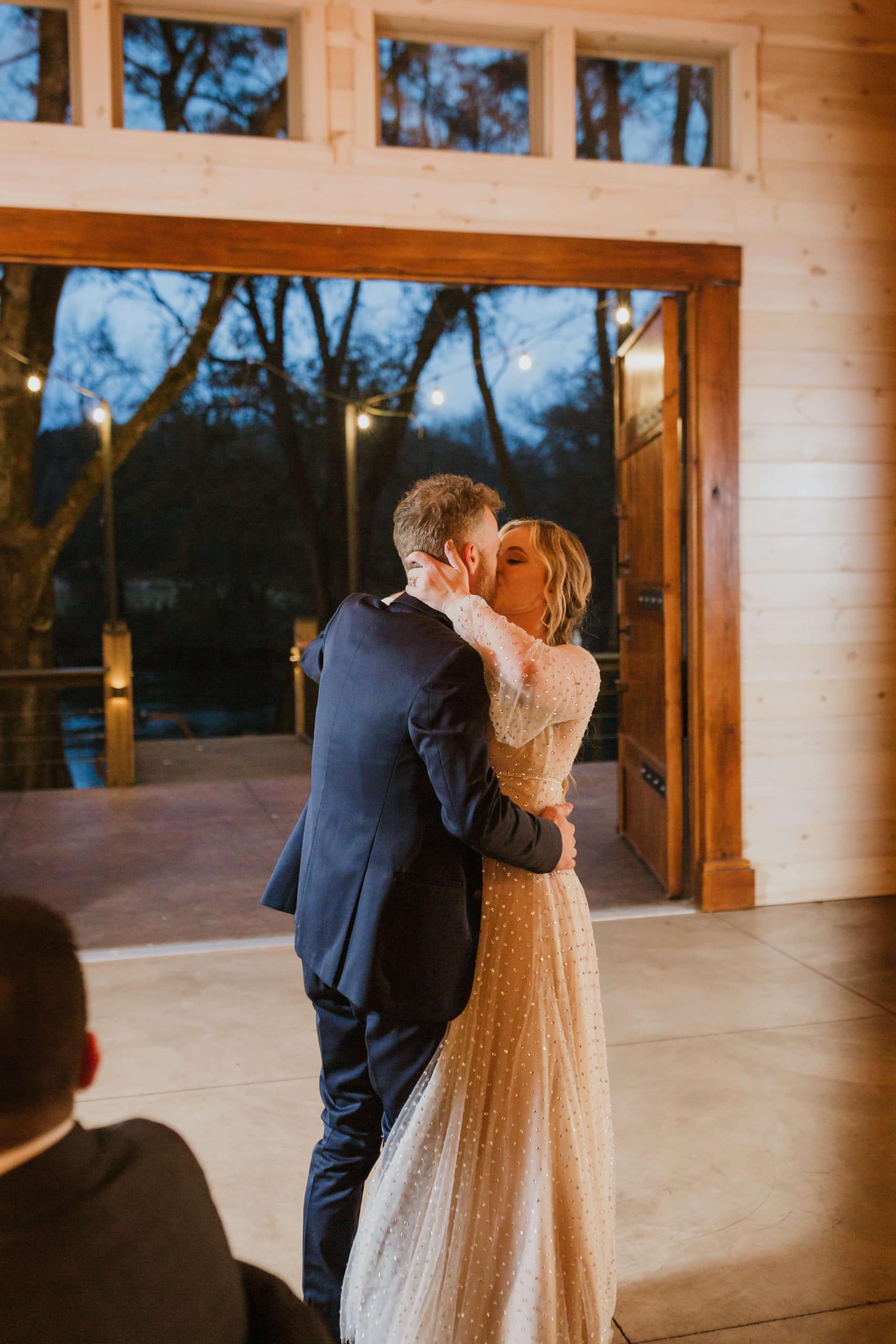 Grand Reception at Hiwassee River Weddings
The river ceremony site is situated directly at the bottom of the staircase leading from the venue's indoor hall. After their ceremony, Macey and Asher's guests were ushered back up the stairs for a quick cocktail hour while the indoor space was readied for their reception. Their friends and family enjoyed live classical music and hor d'oeuvres while Macey and Asher took some bride and groom portraits with their immediate family and close loved ones.
While cocktail hour finished up, Macey and Asher slipped away for a few moments alone to take in being newlyweds. I always encourage couples to take a few moments together after their ceremony. It's a great way for them to connect as a newly married couple and breathe in the momentous occasion.
Macey also took this time to do a quick outfit change. She slipped back into the bridal suite to swap her wedding dress for a fantastic evening gown with sheer billowy long sleeves covered top to bottom in sparkles. Asher came into the bridal suite for a second "first" look and just broke out into a huge smile. Macey later accessorized her reception outfit with a frilled denim jacket embroidered with "Mrs. Spencer" across the back and a white rhinestone cowboy hat that was perfectly fitting for a Texas girl.
Macey and Asher made their grand entrance into the reception amidst applause and whistles from all of their guests. The reception was held in the grand indoor wedding hall for couples who prefer an indoor ceremony or for a Plan B if weather prevents the use of the outdoor sites. The hall is a grand space with high ceilings, natural light from large windows, and exposed wooden beams emulating the feel of the tall trees on the property. Chandeliers of Edison bulbs and beautiful white drapes hang from the ceiling for a charming, fairytale effect.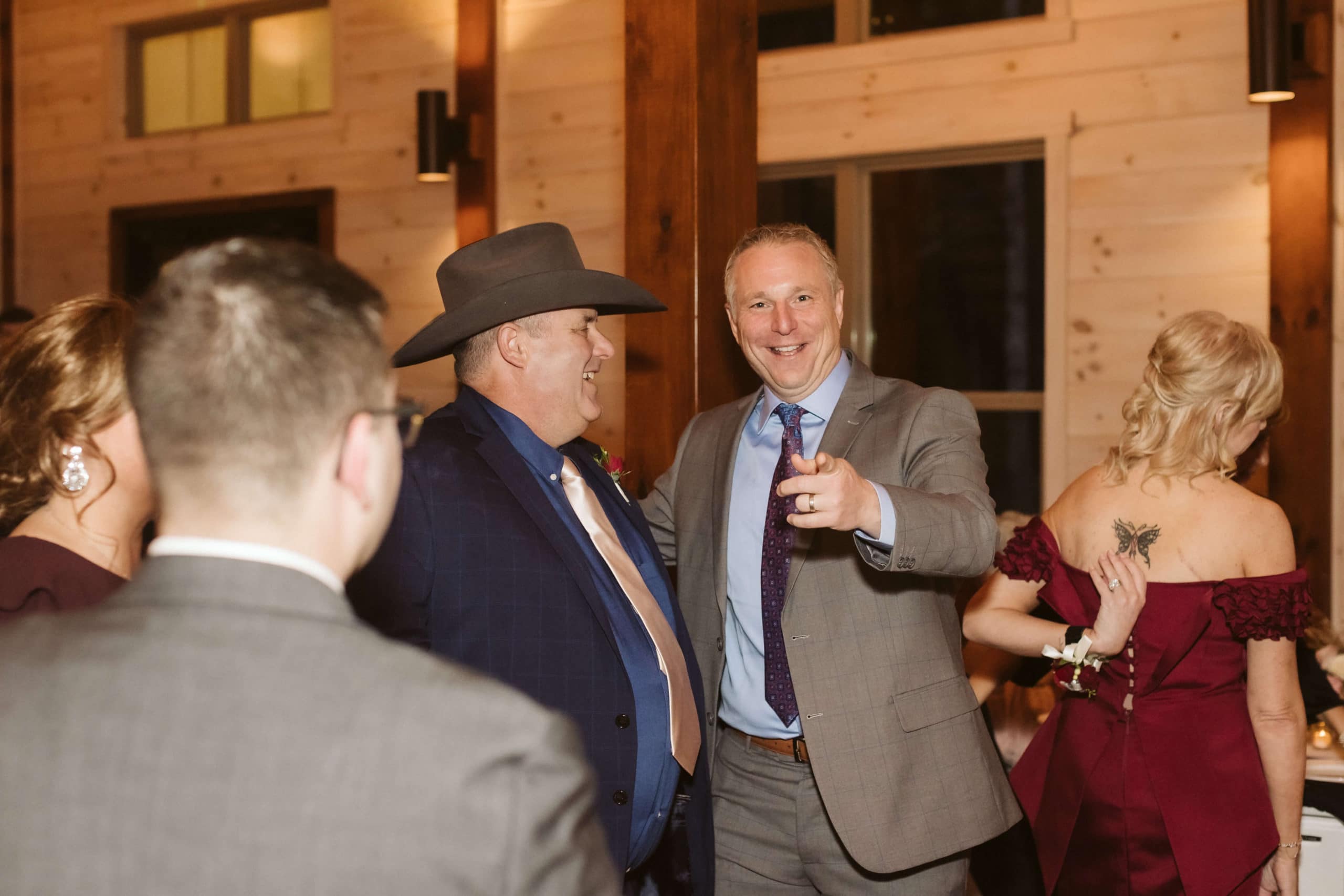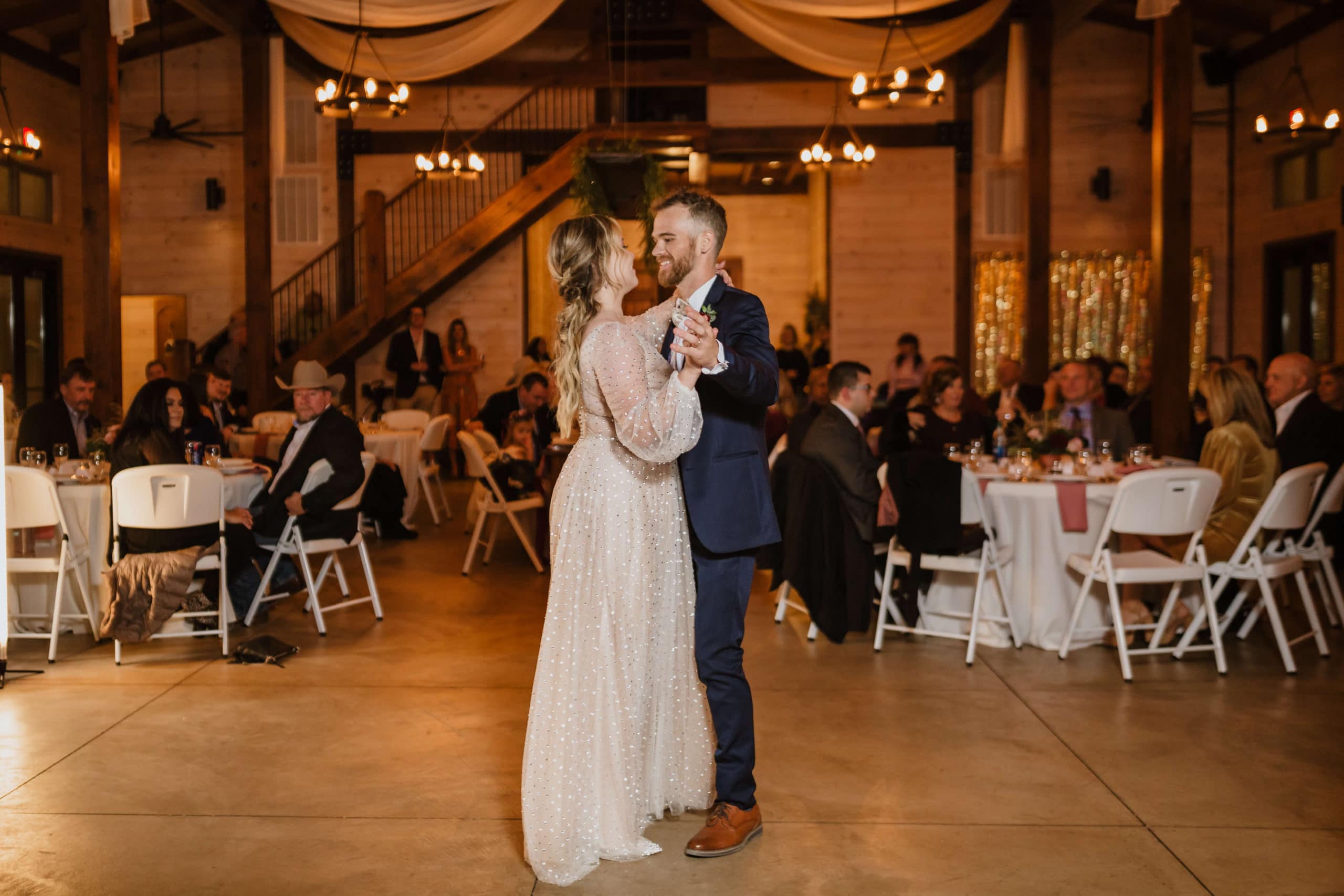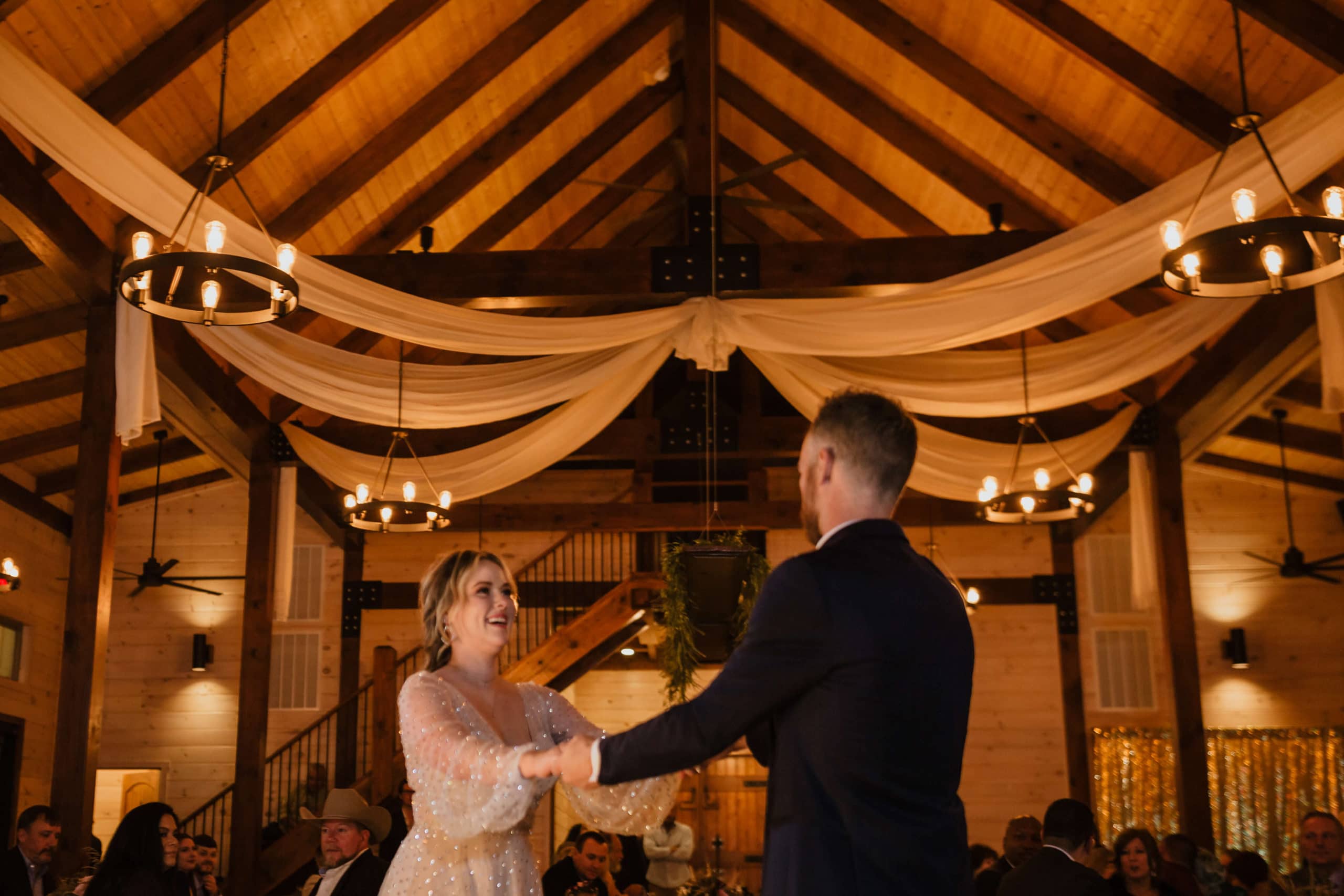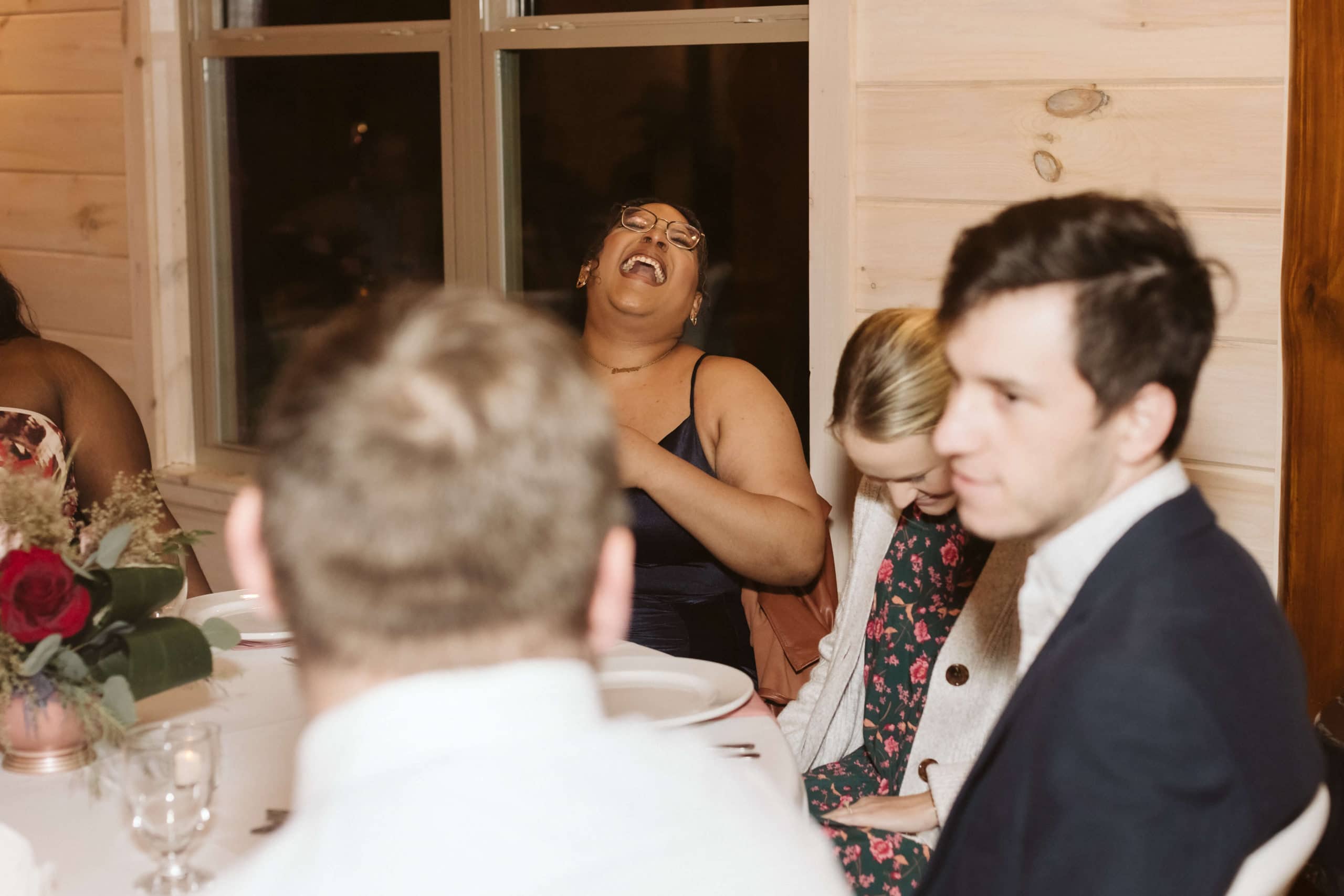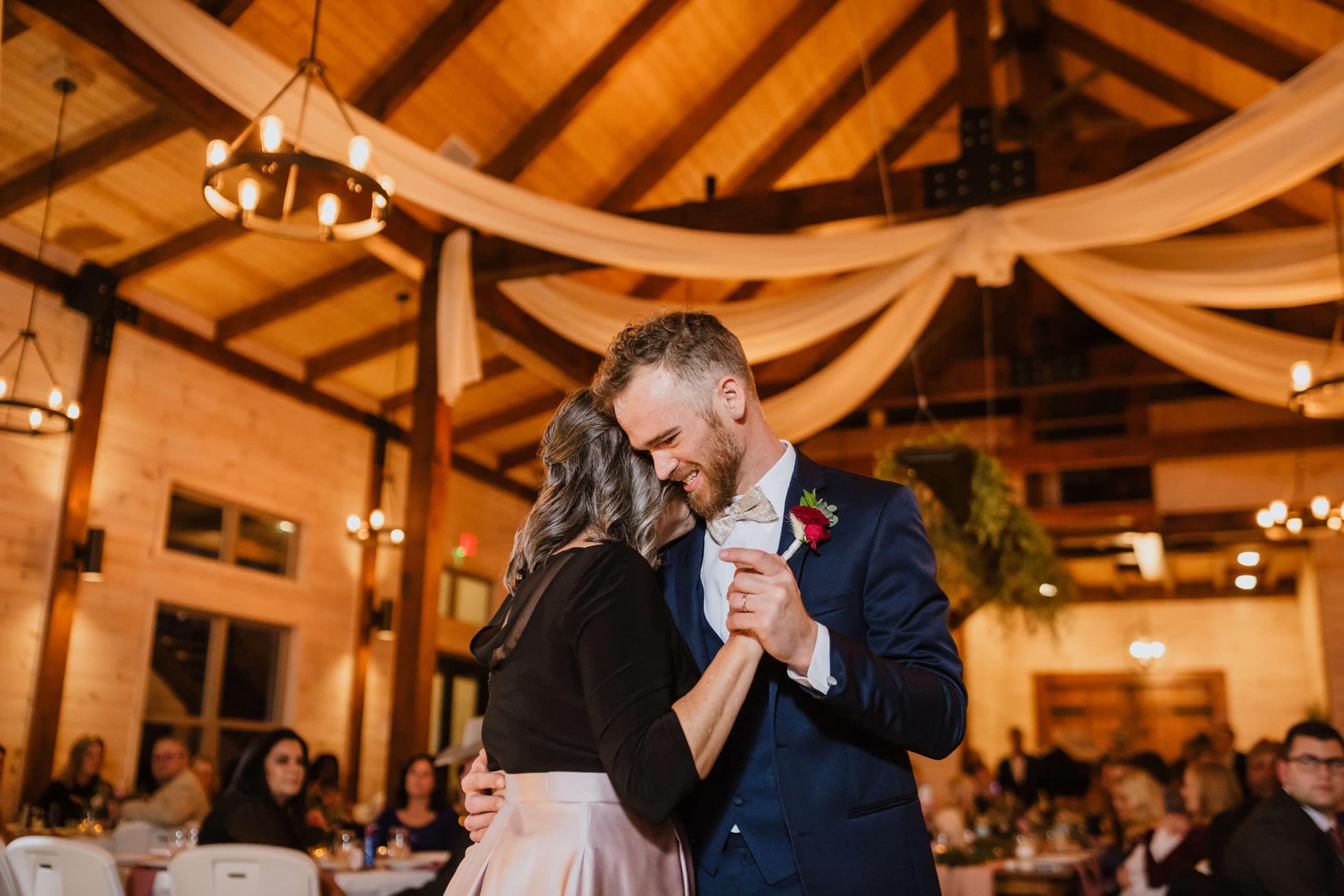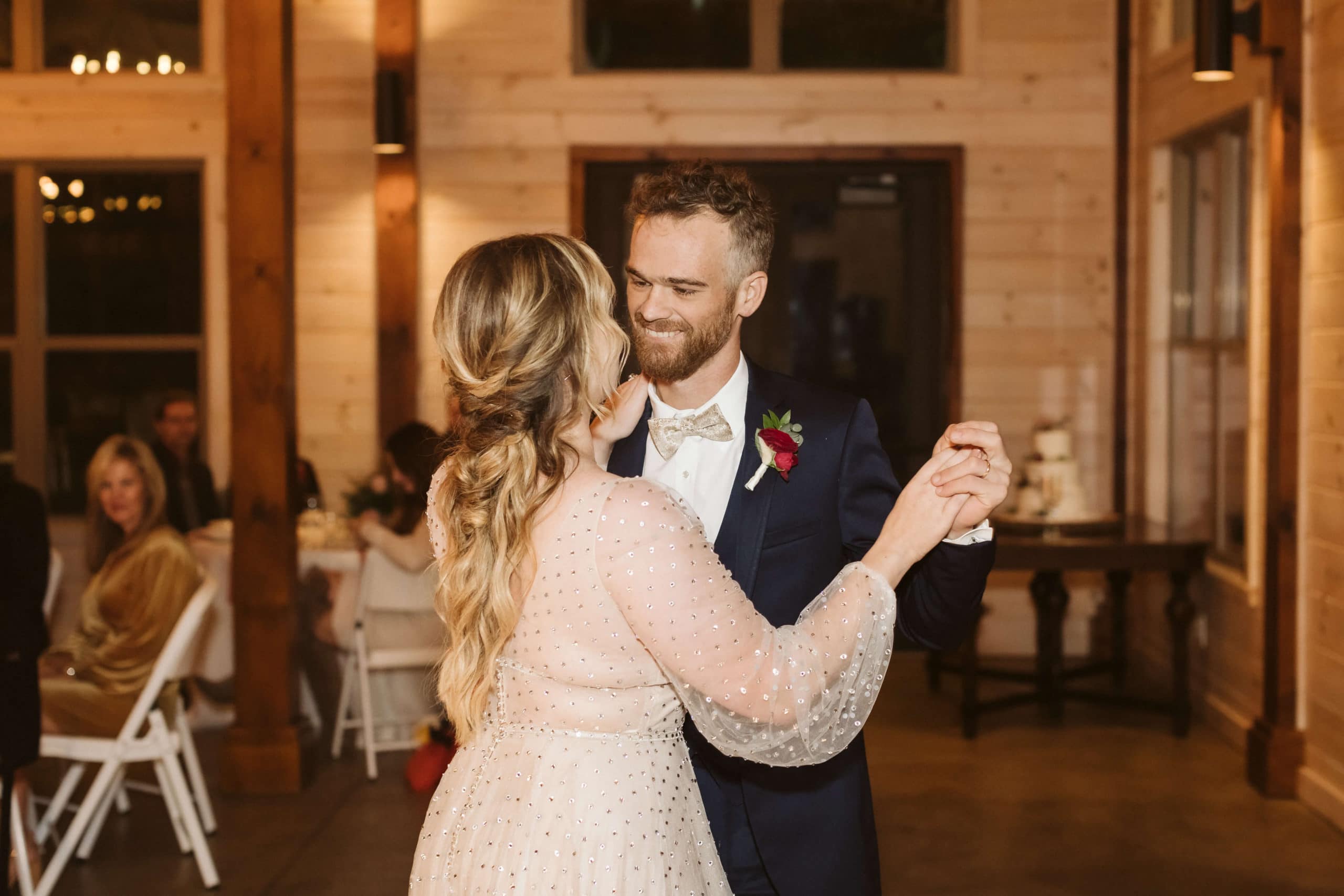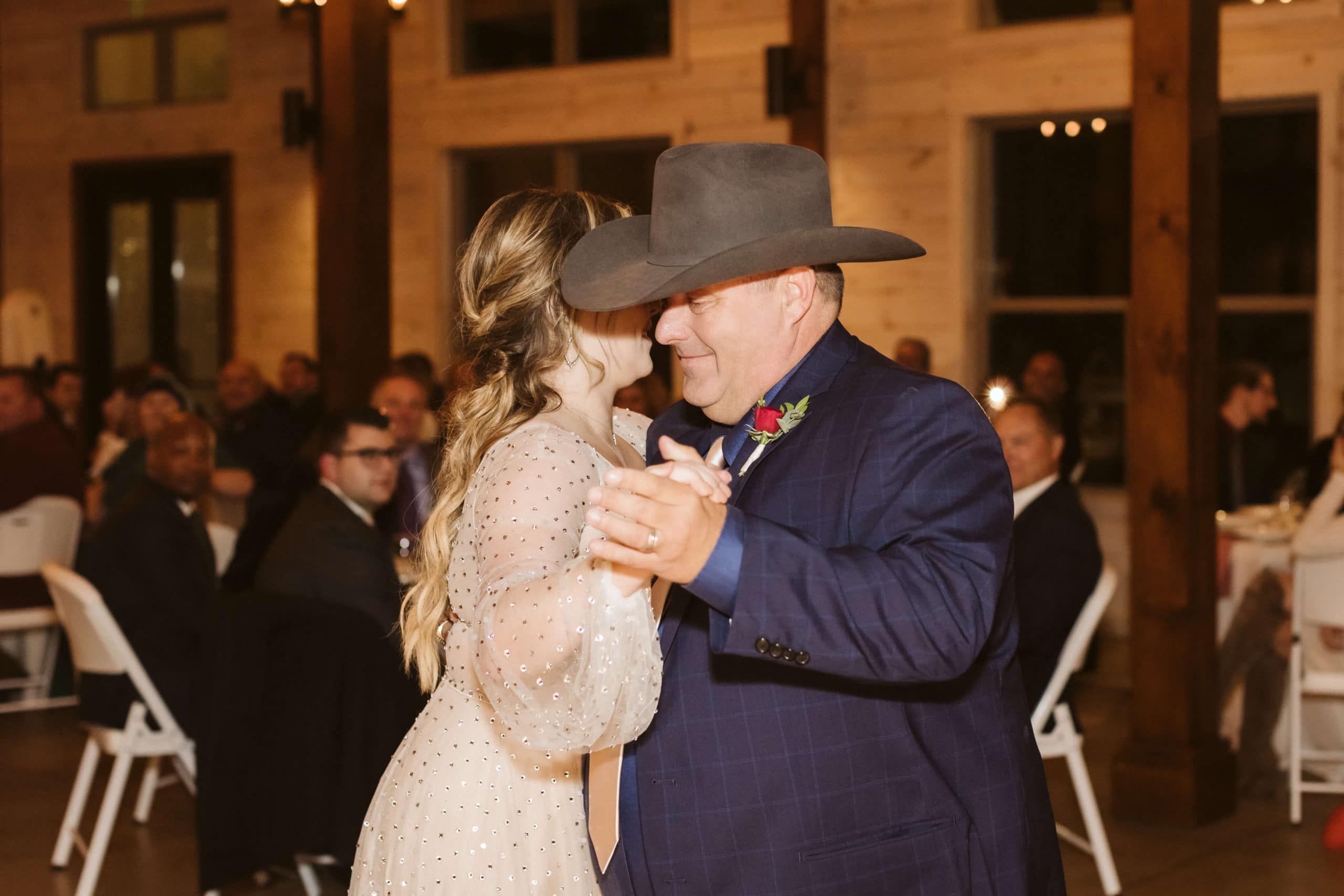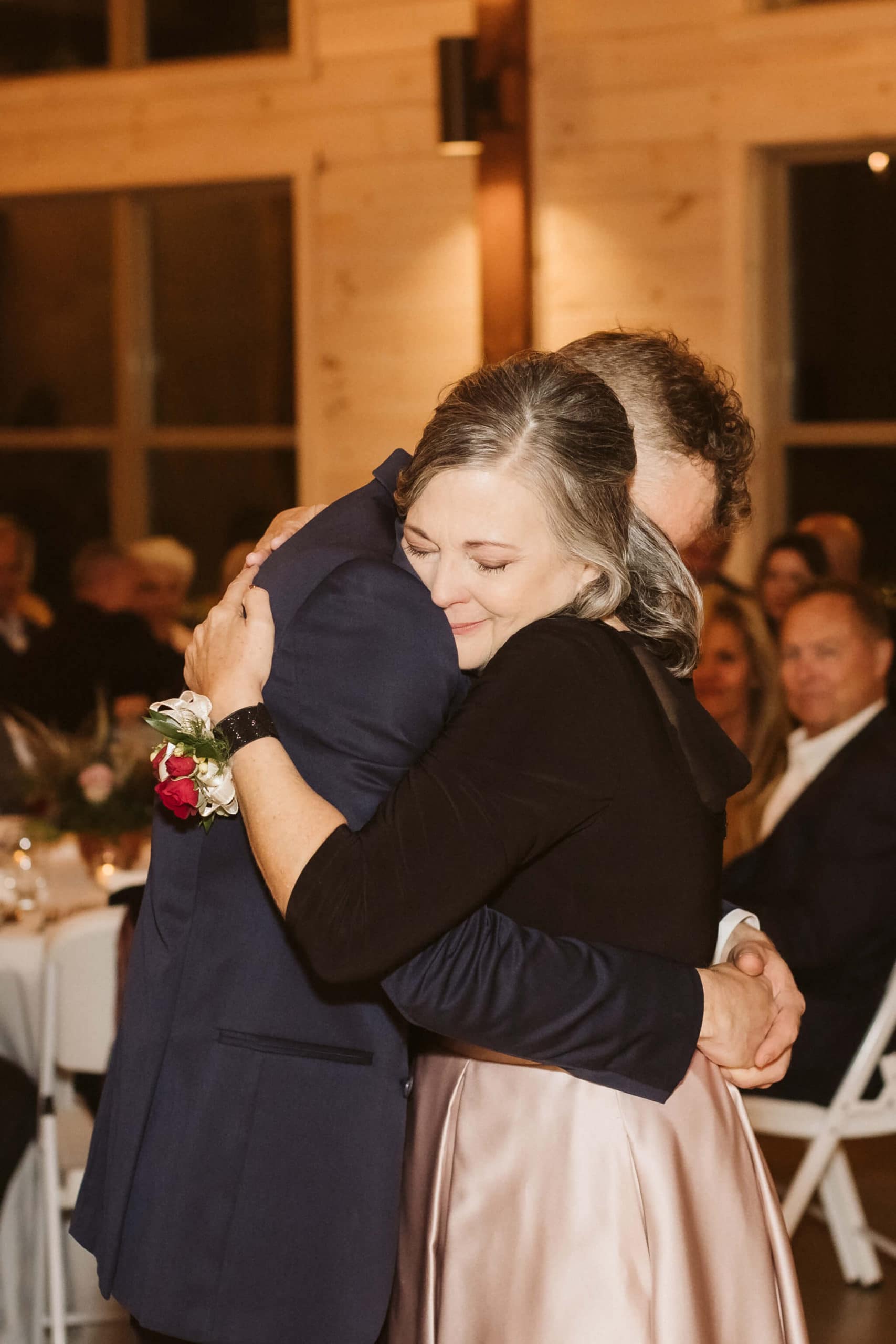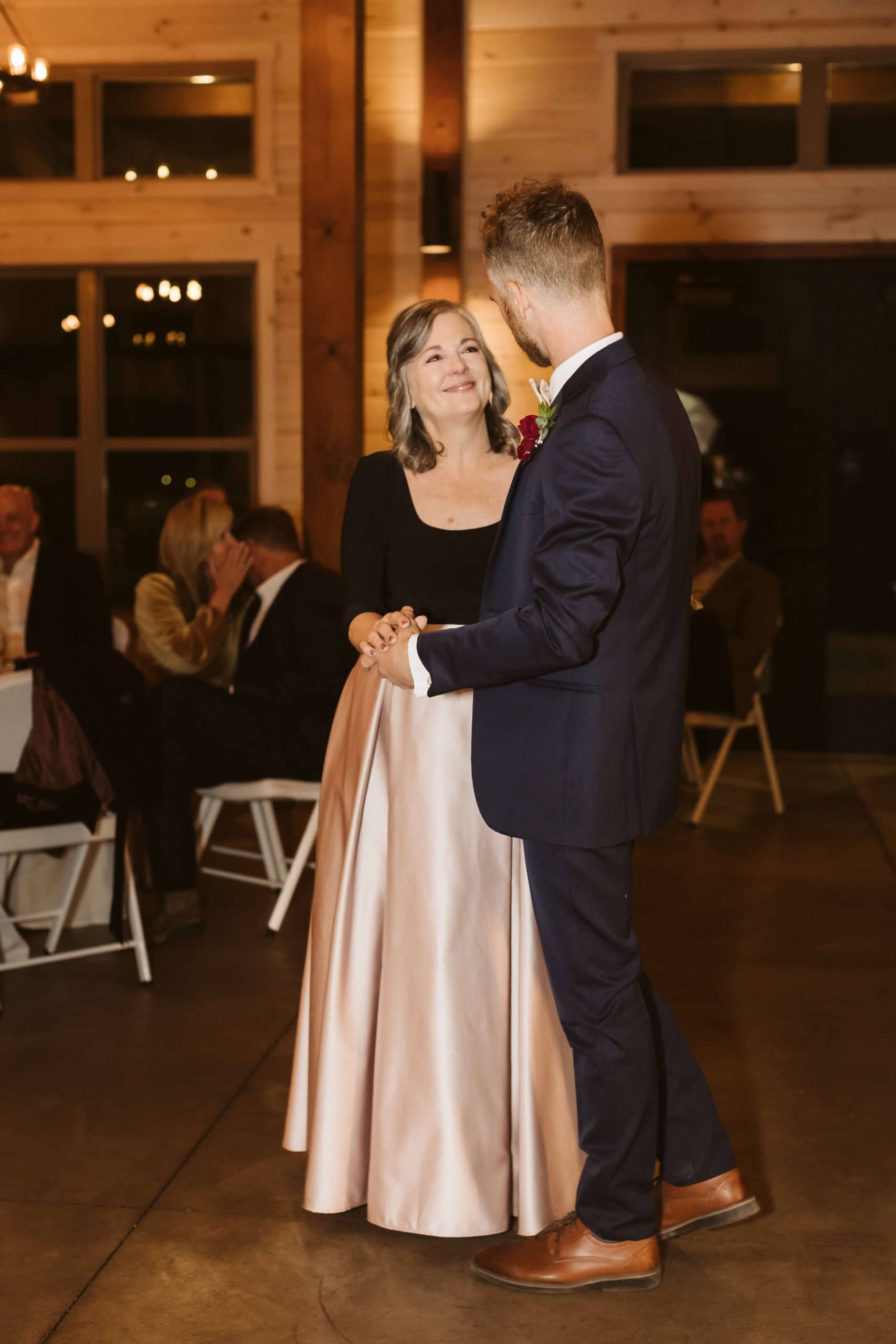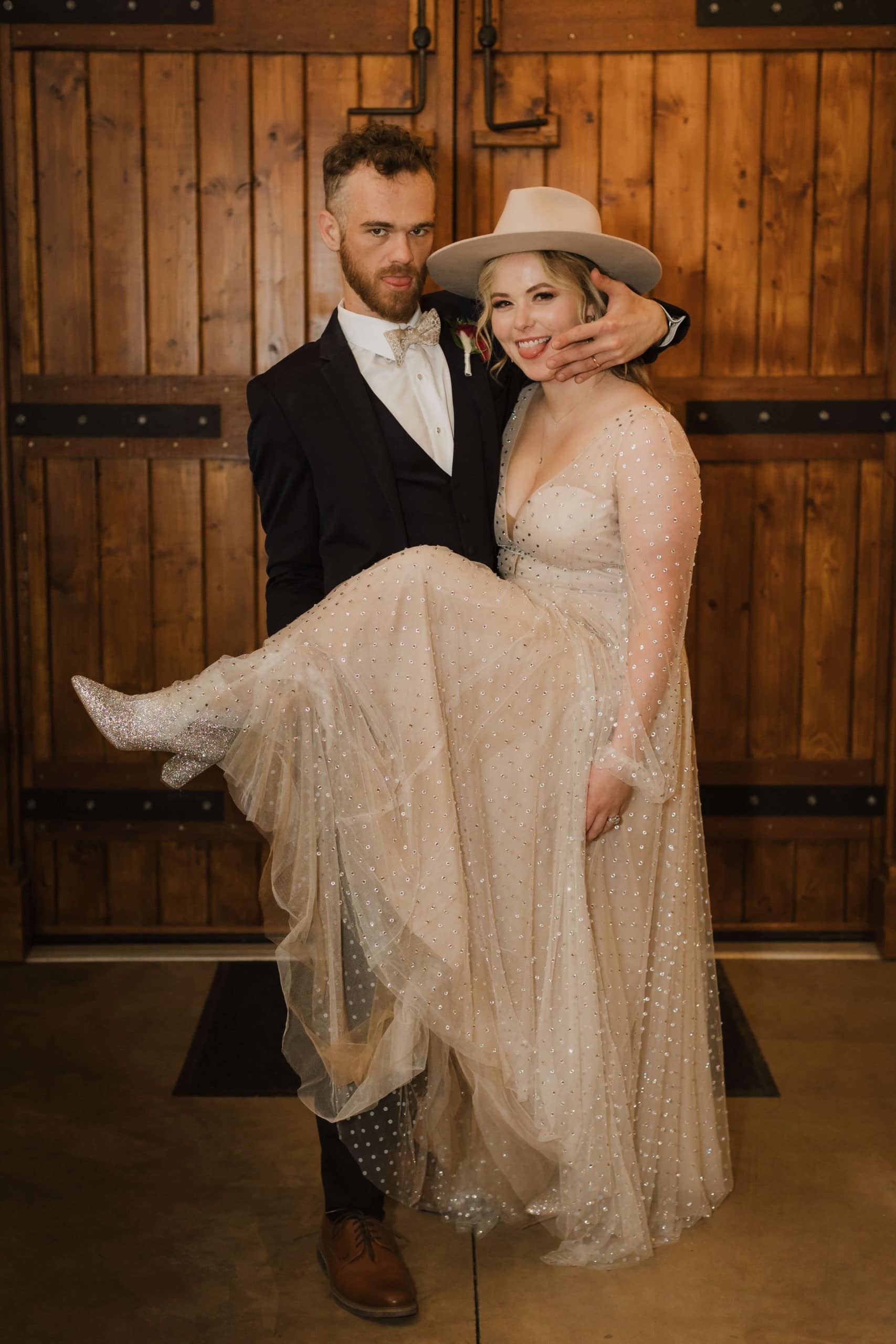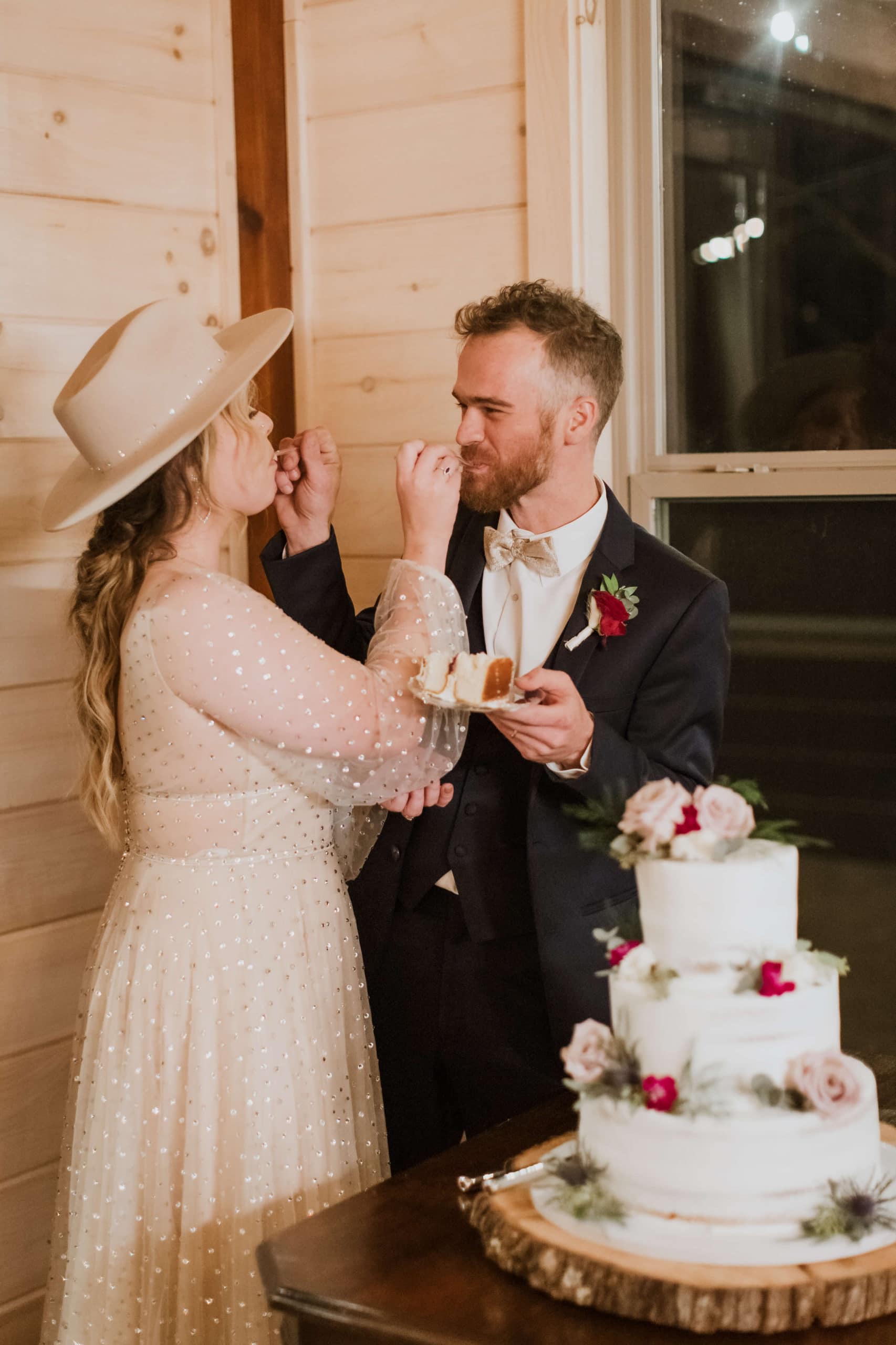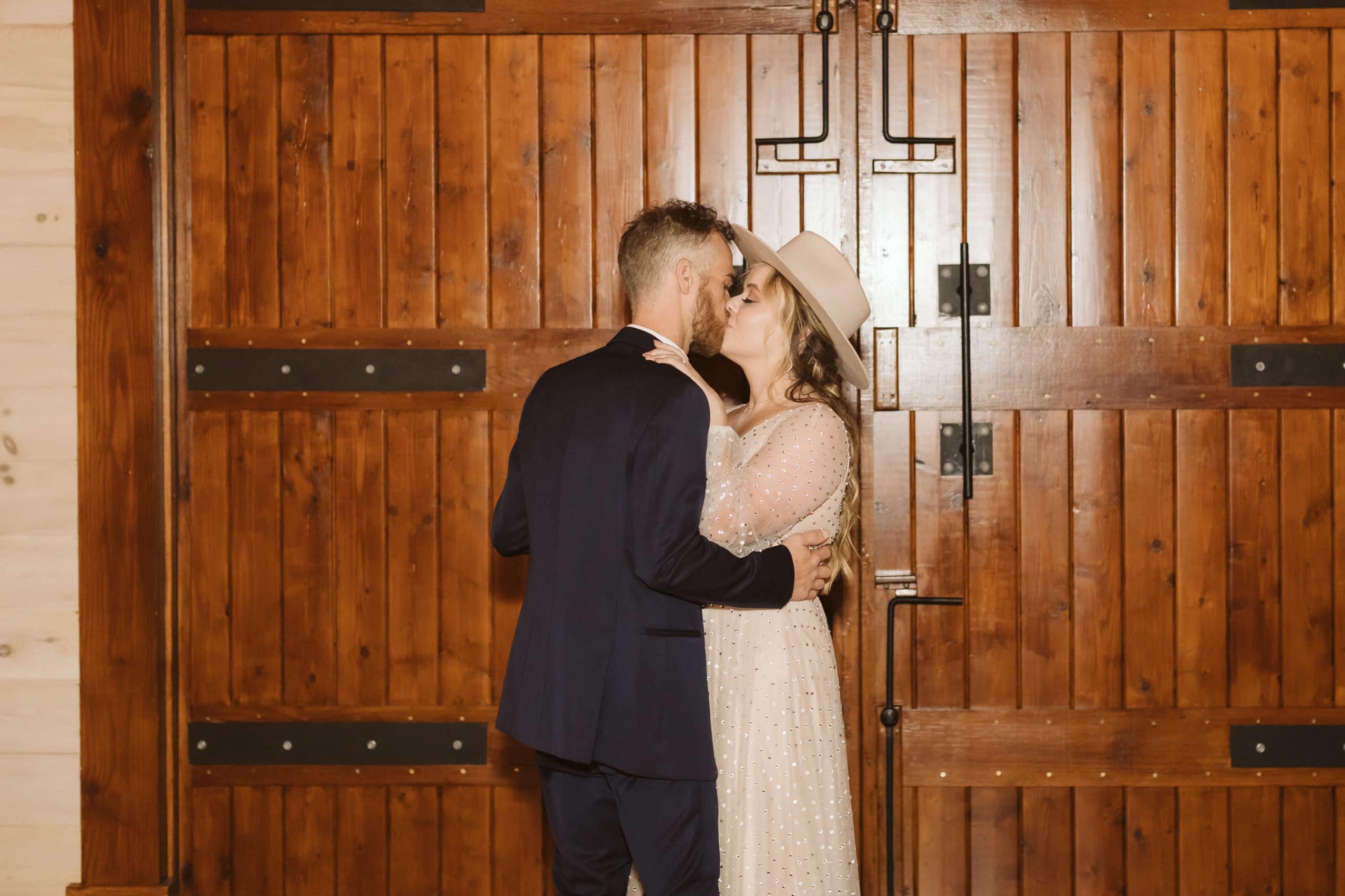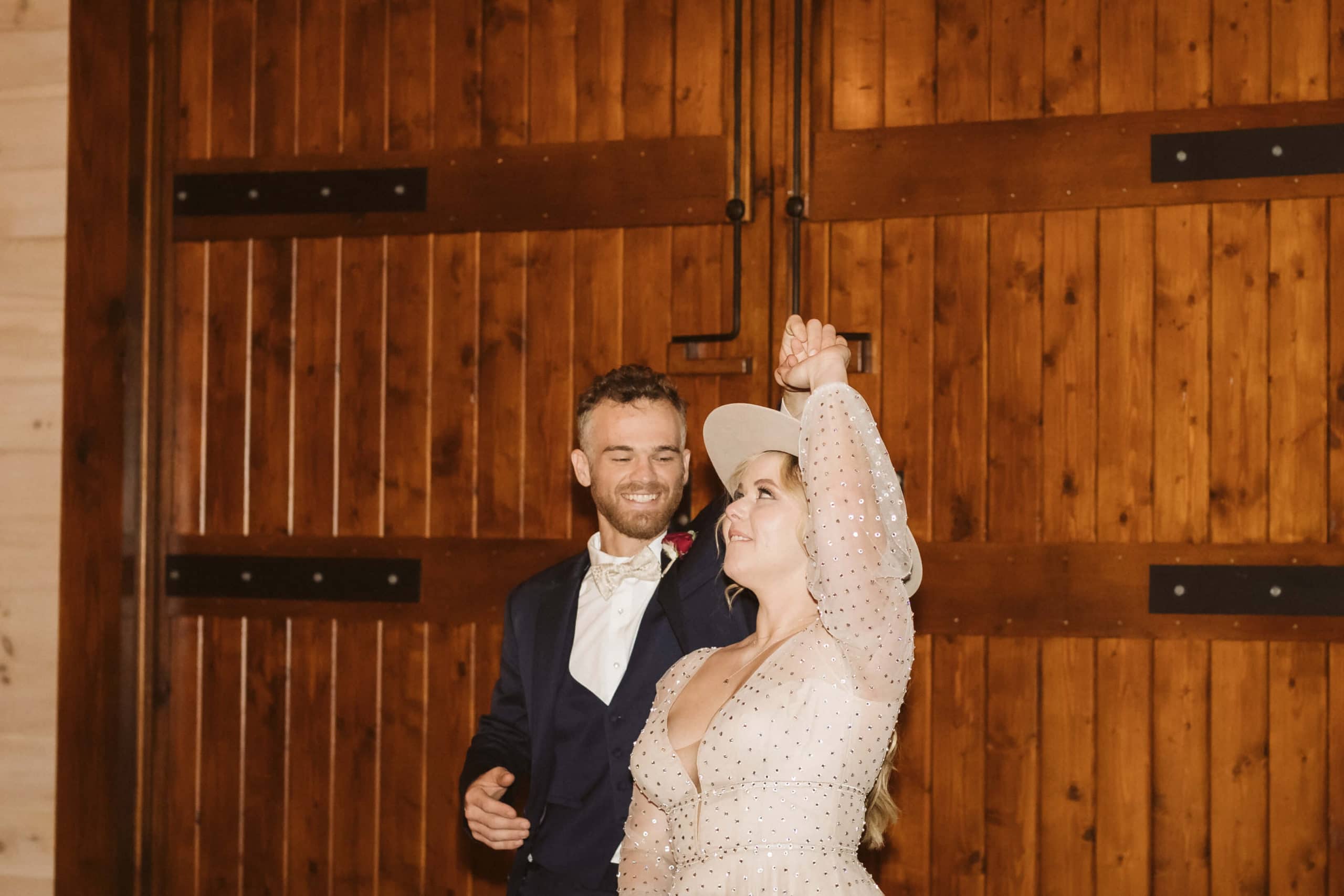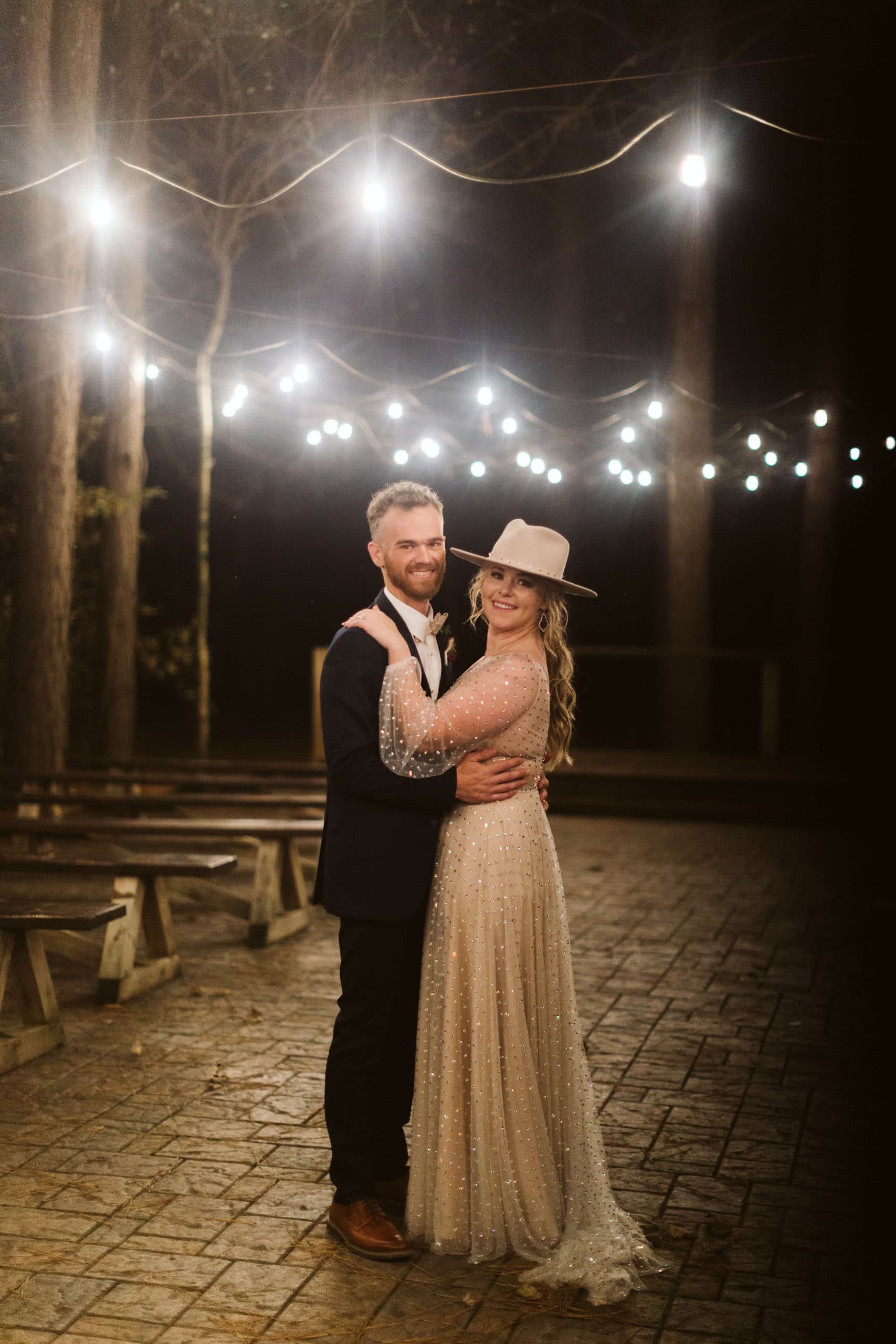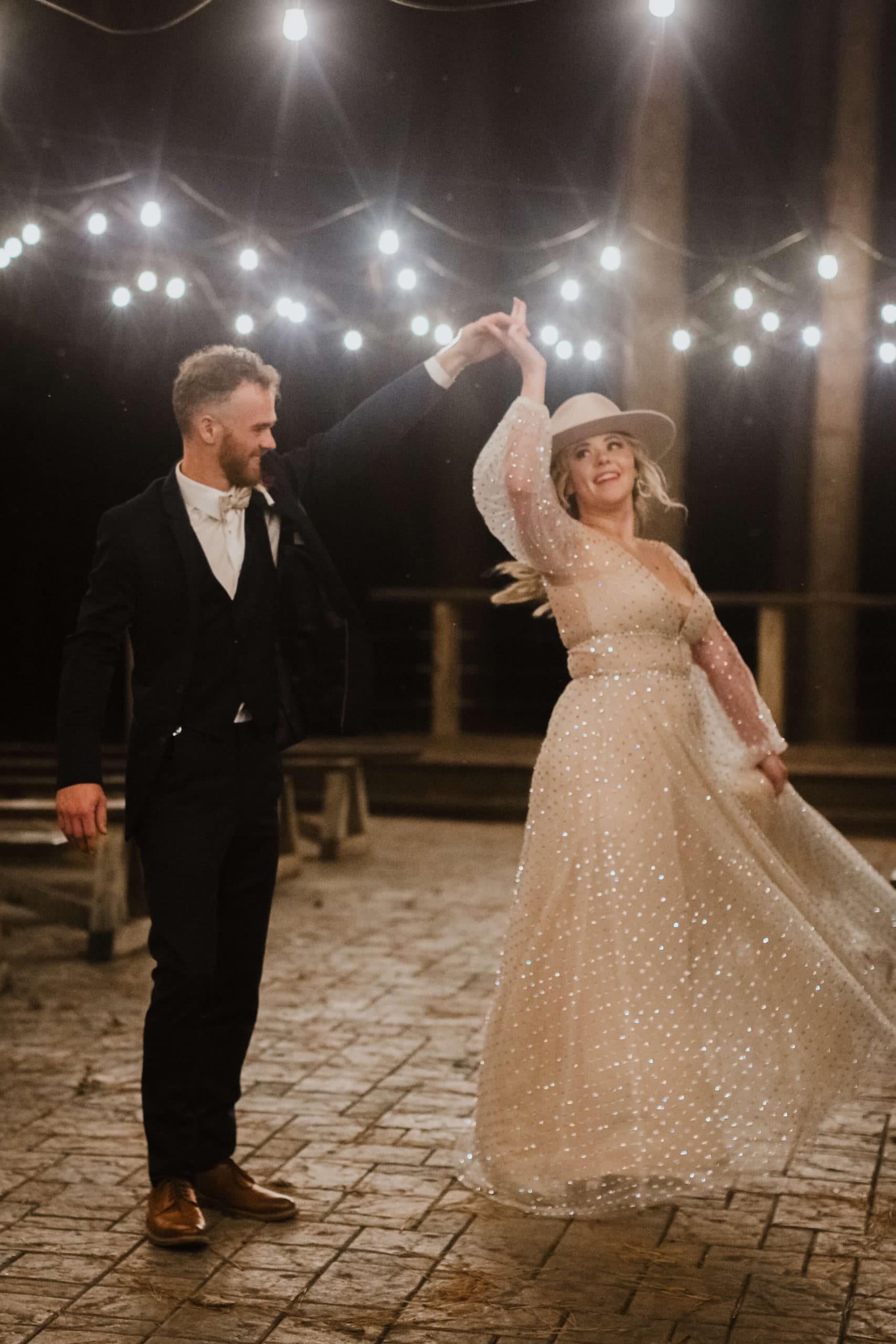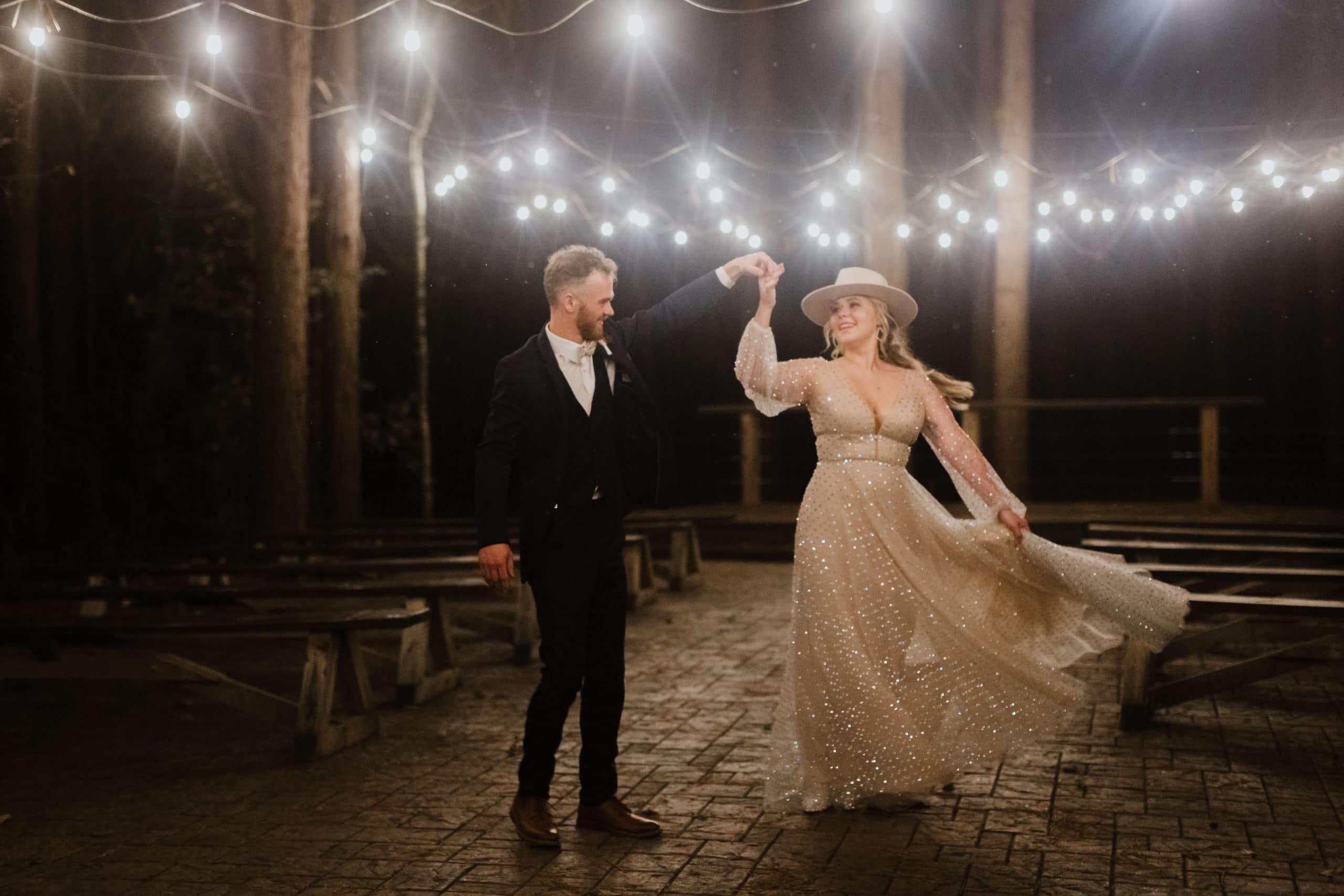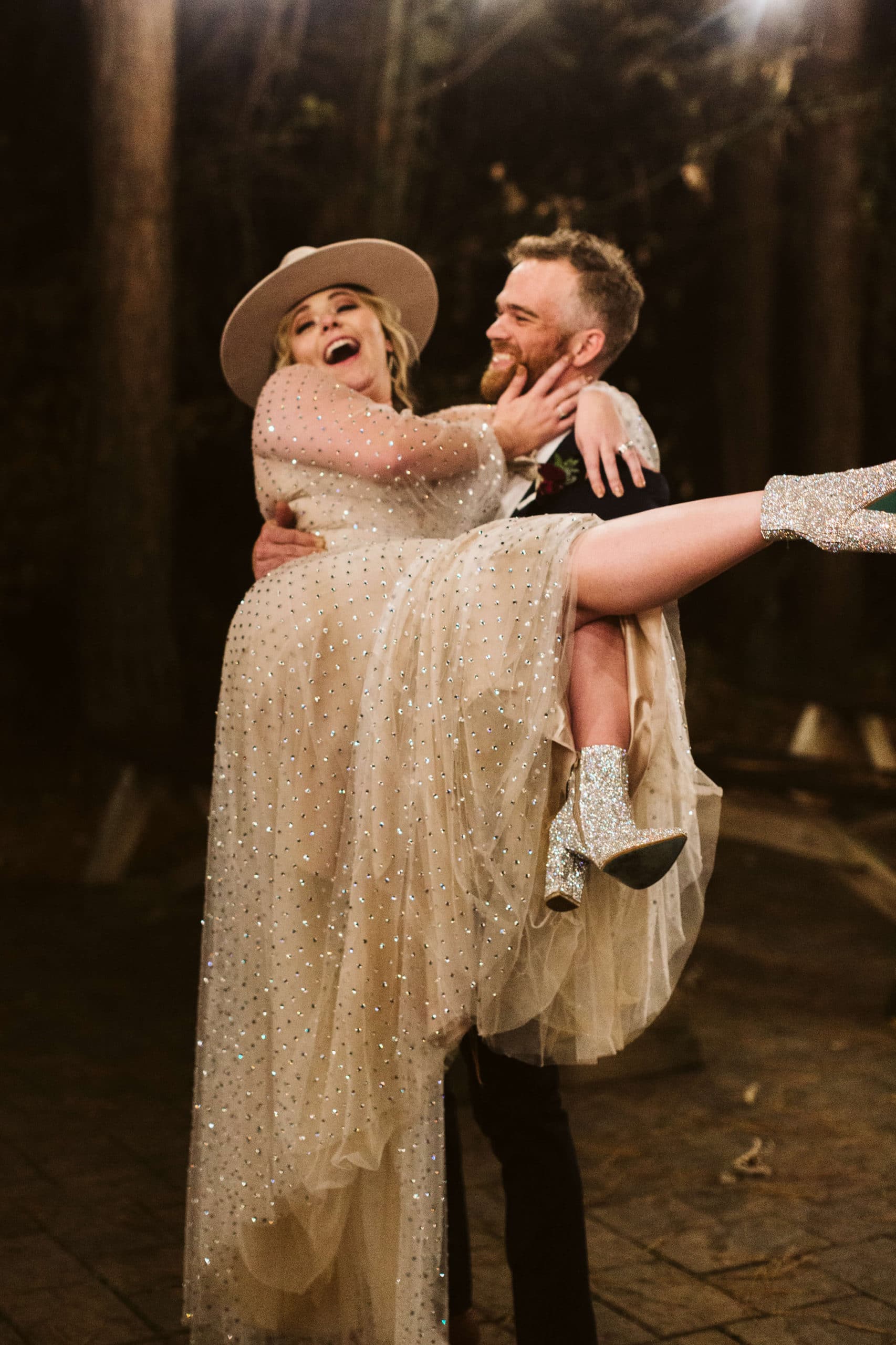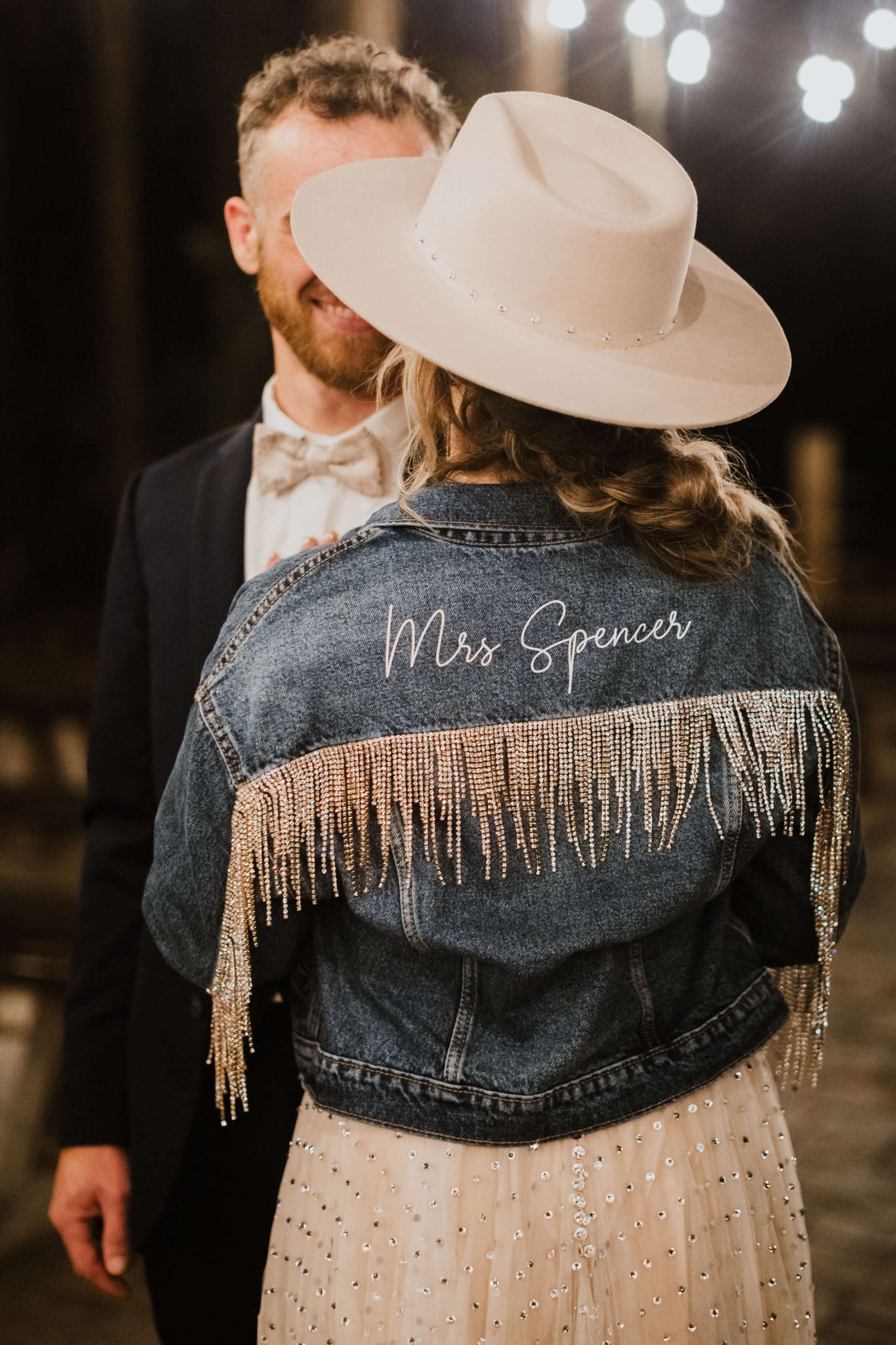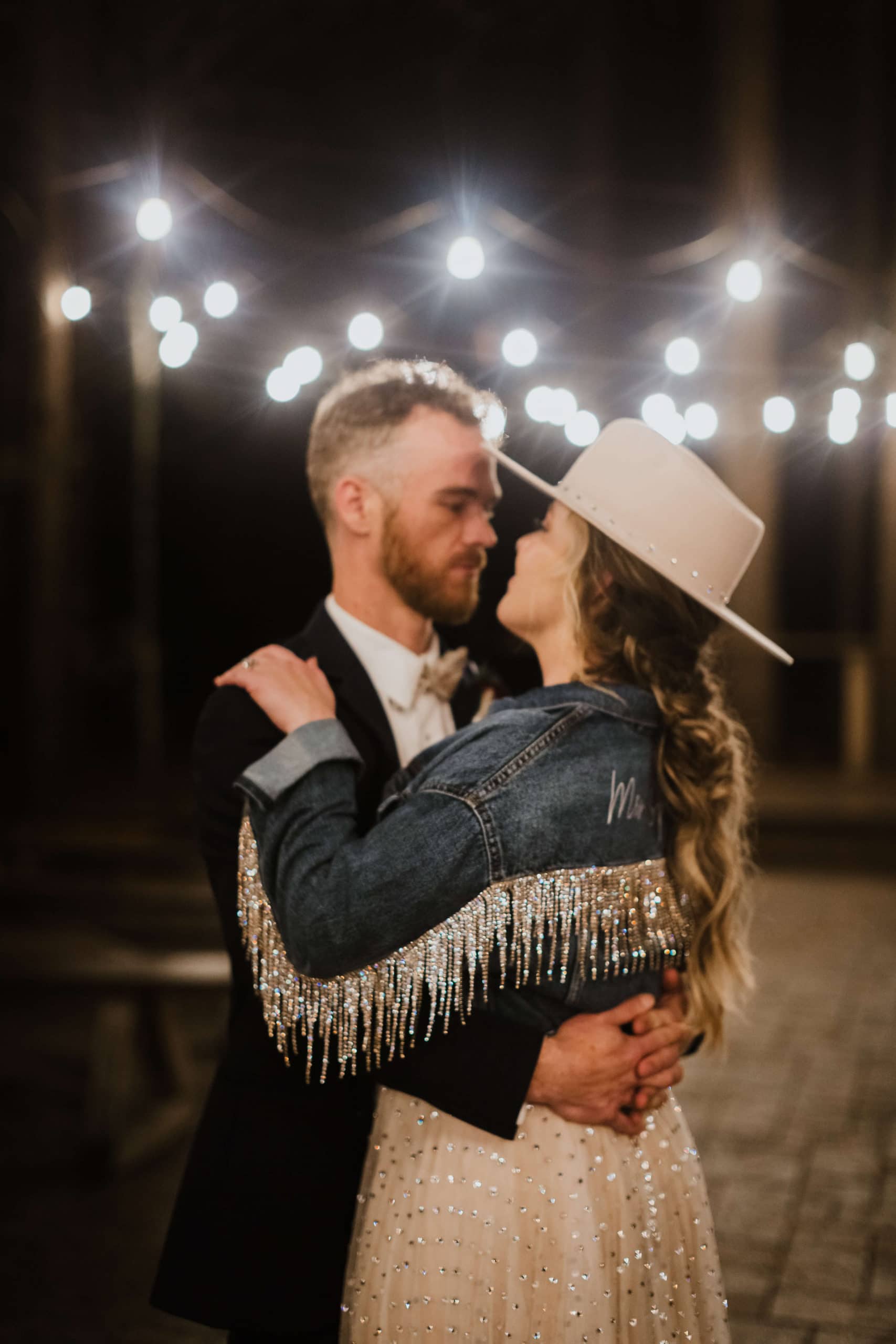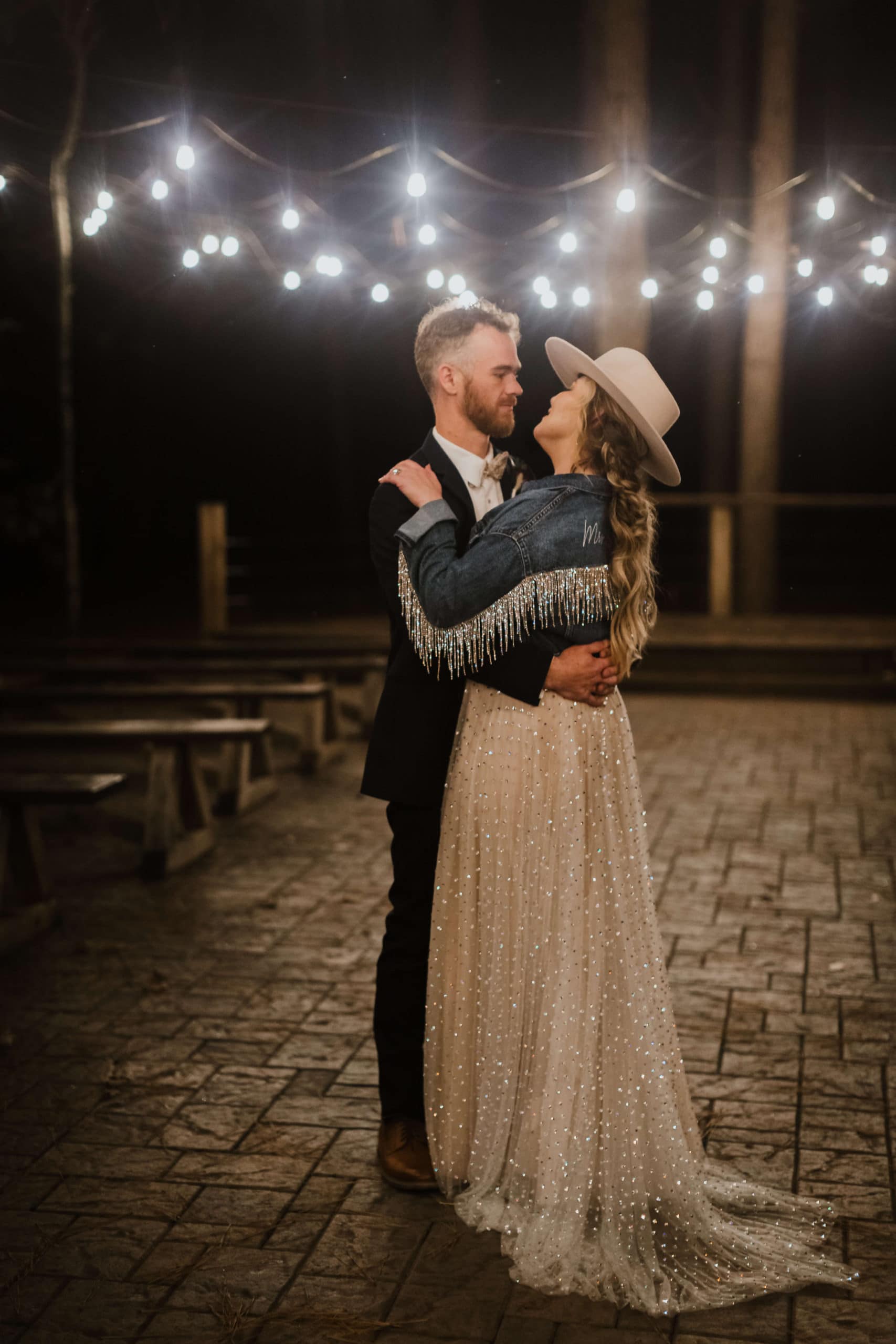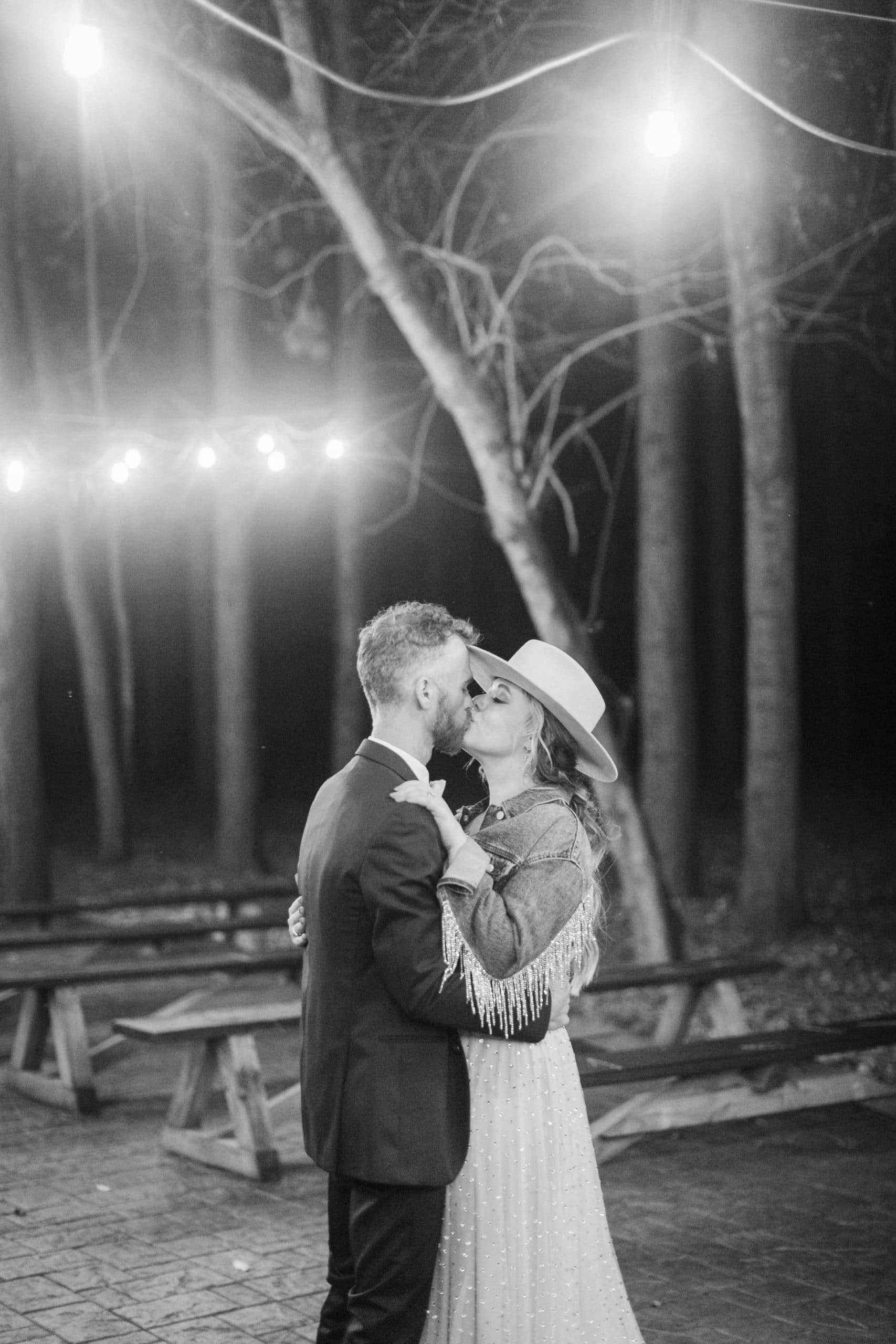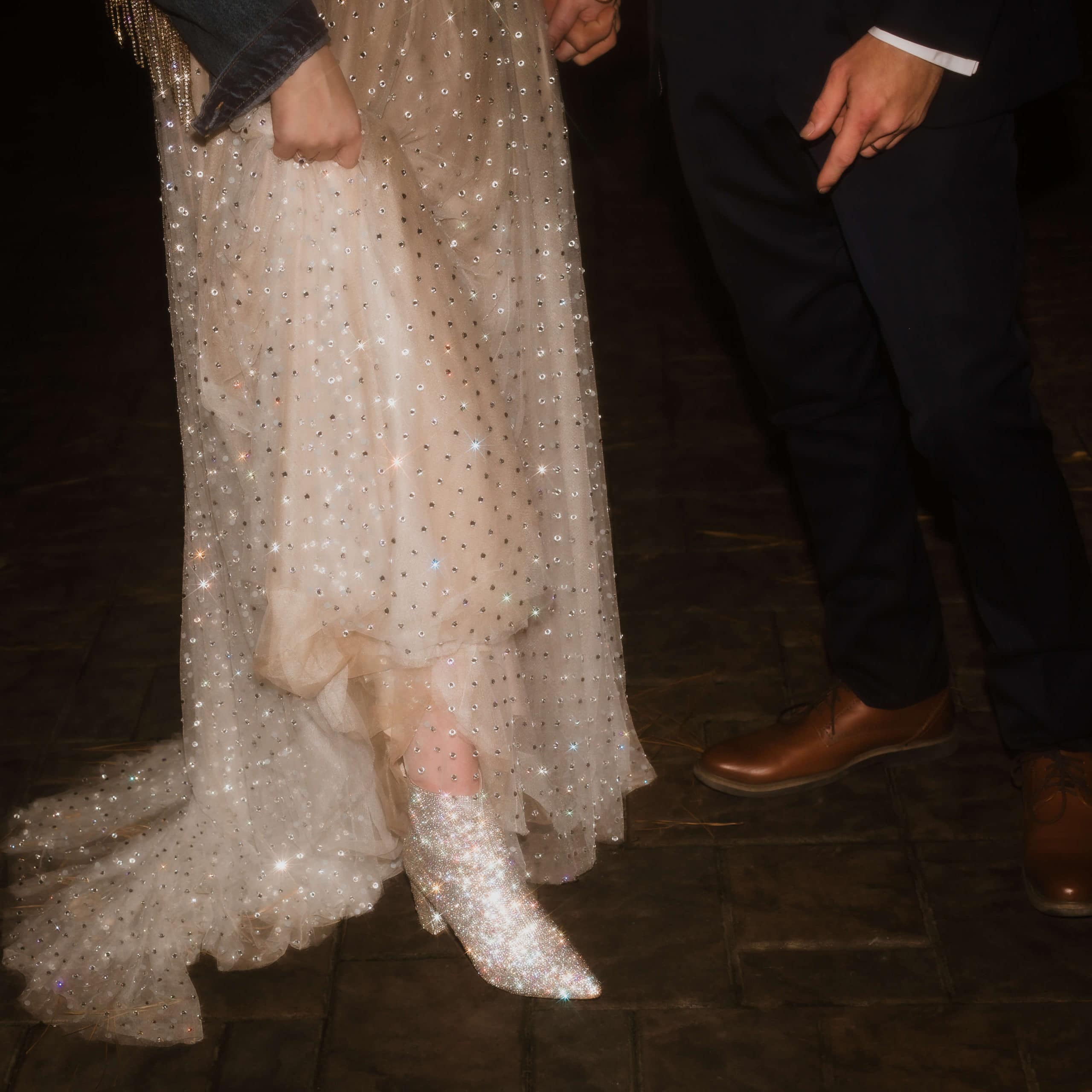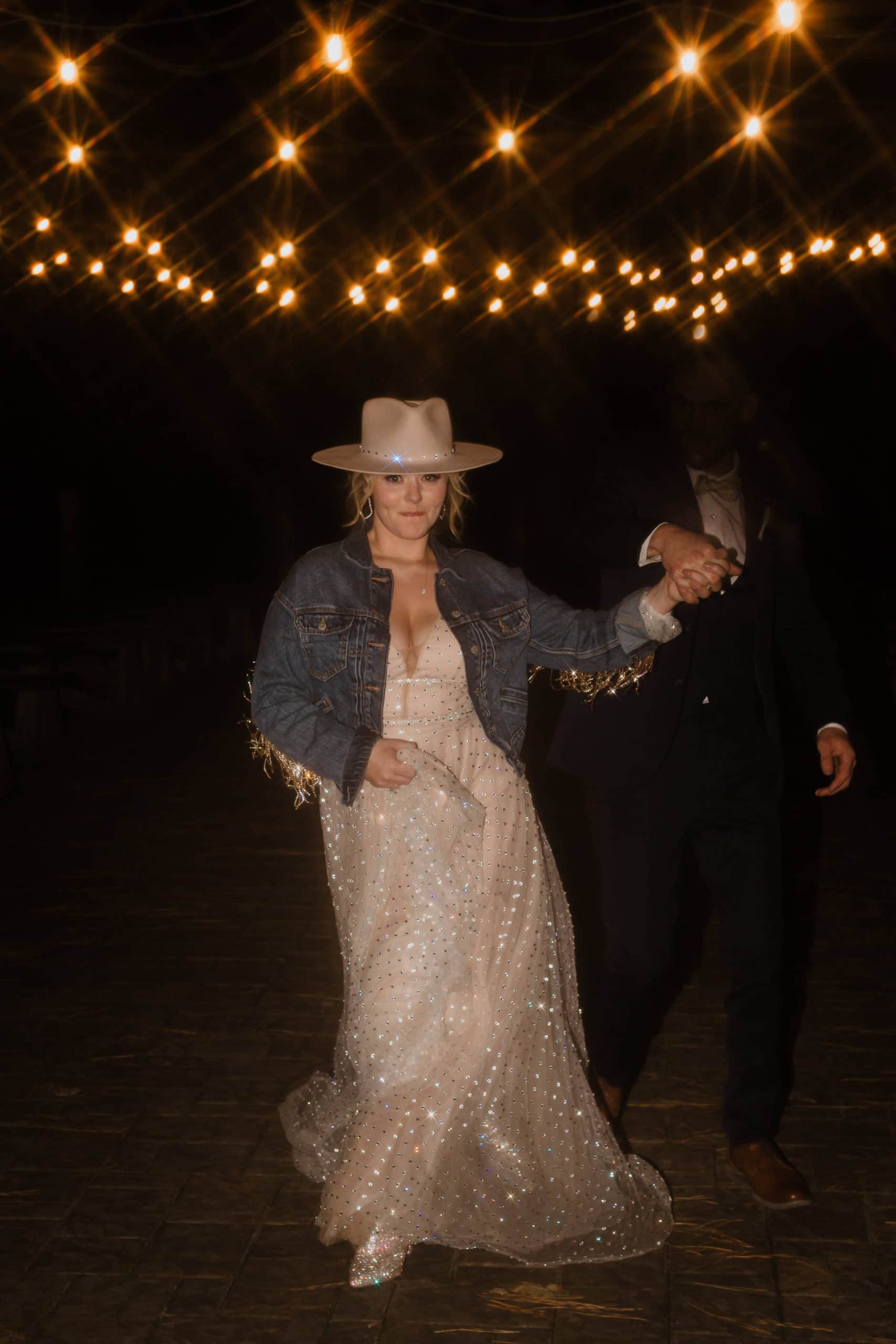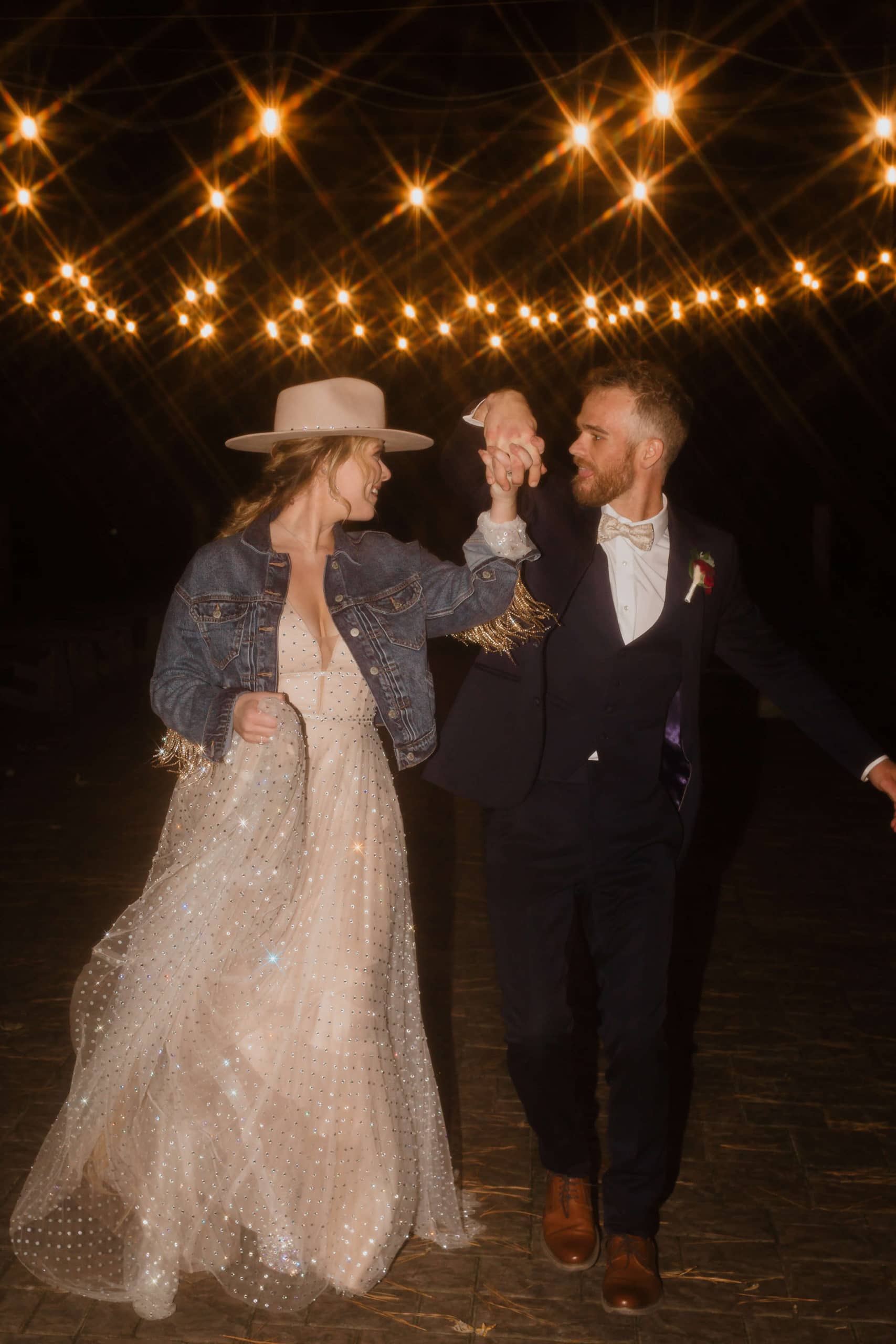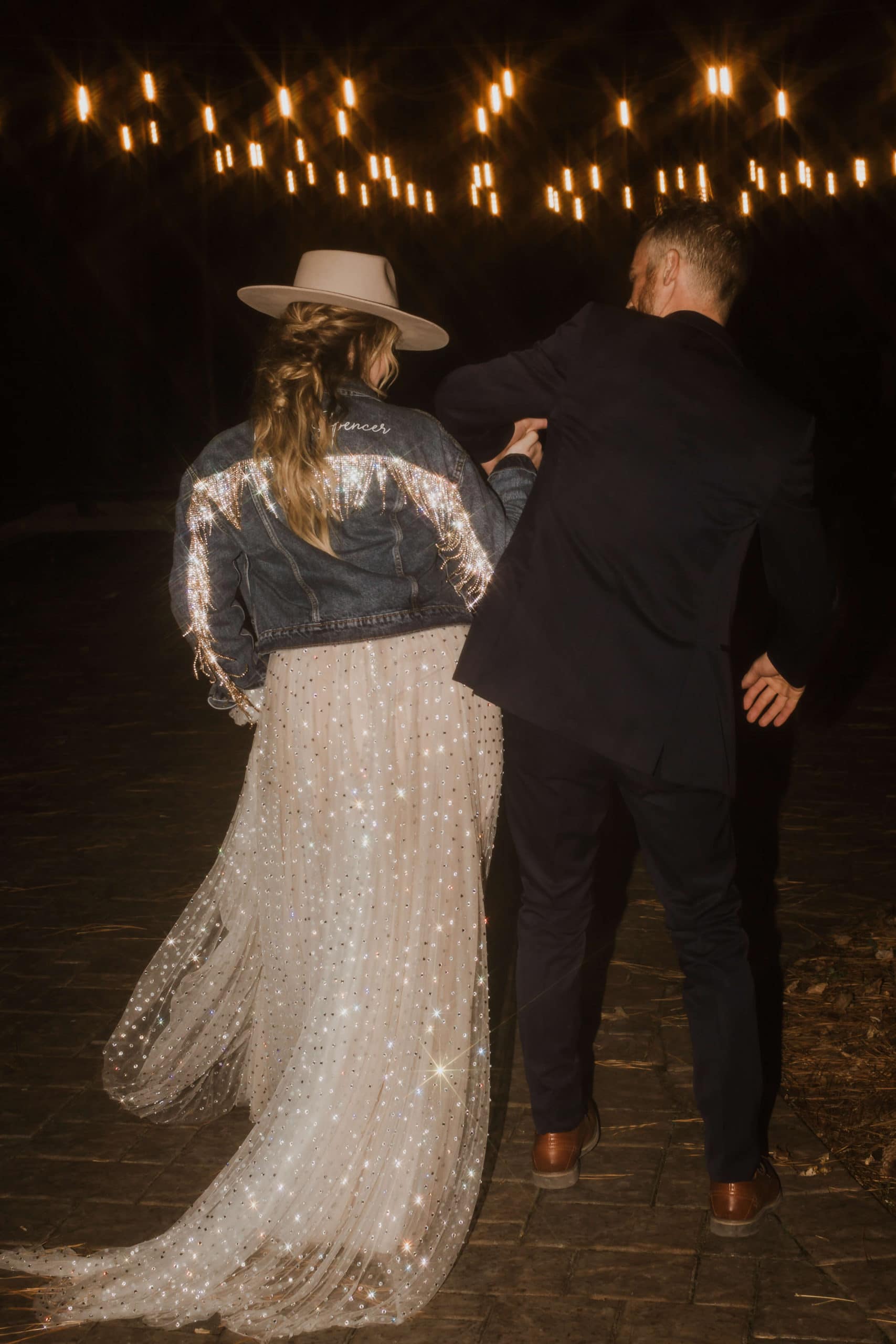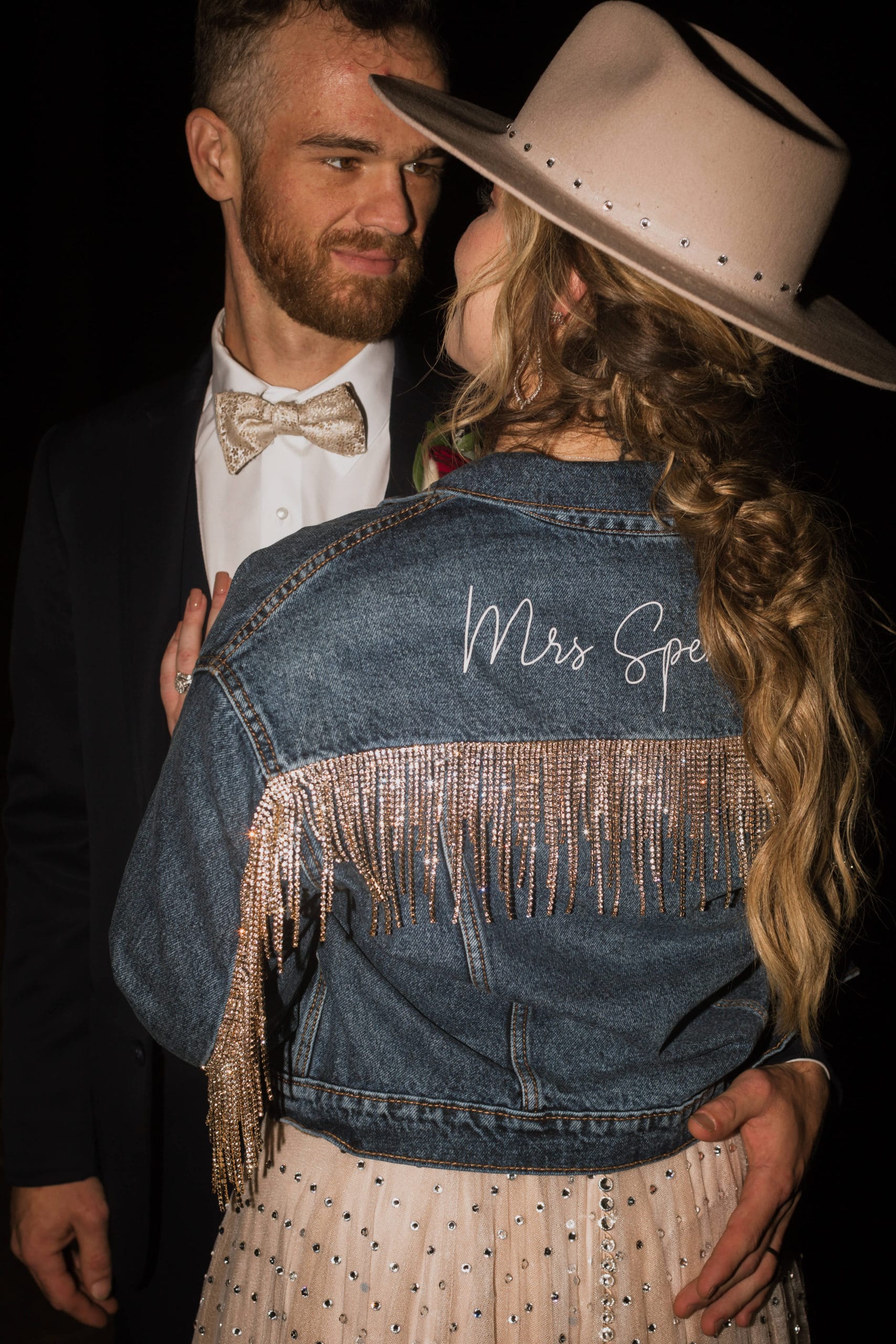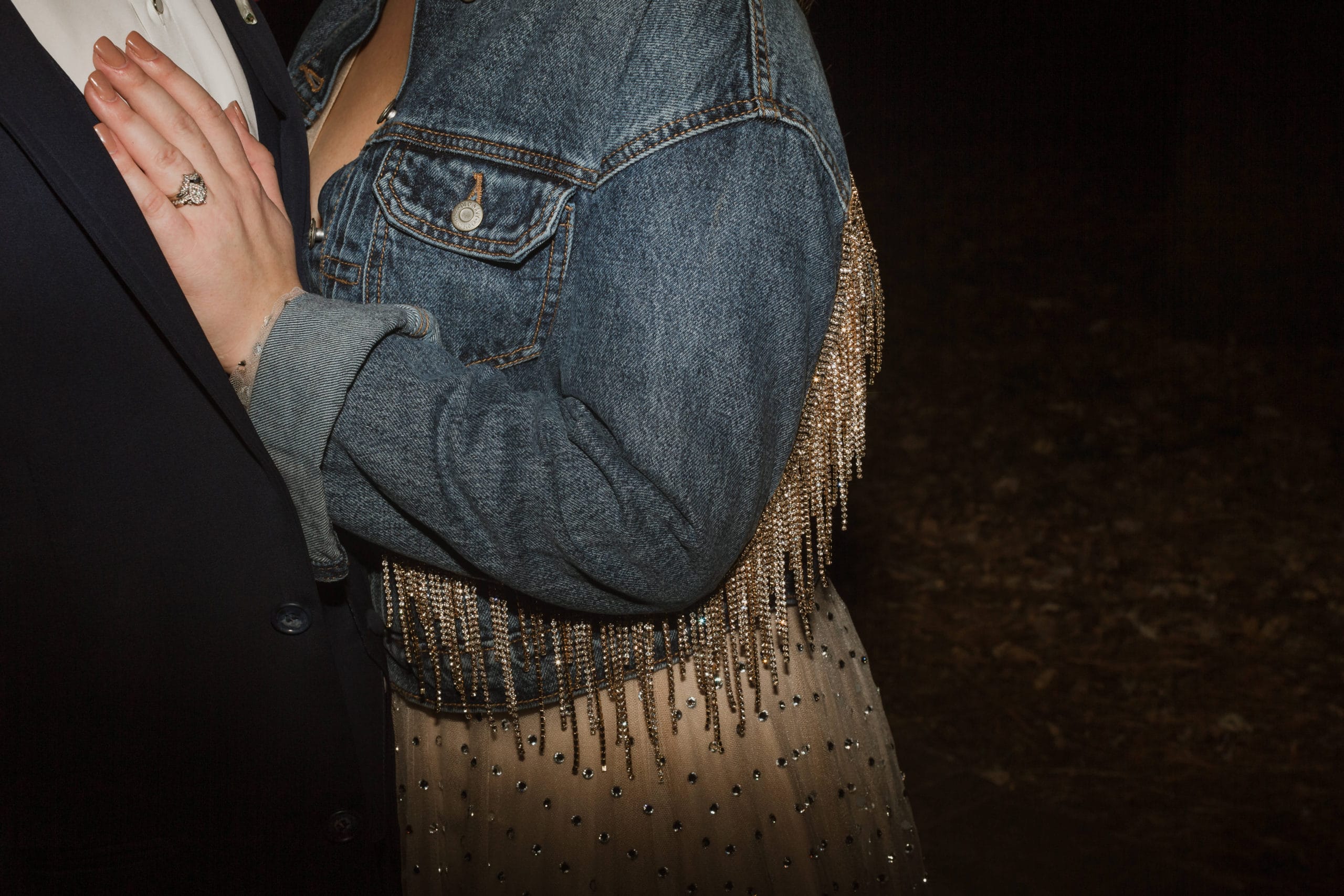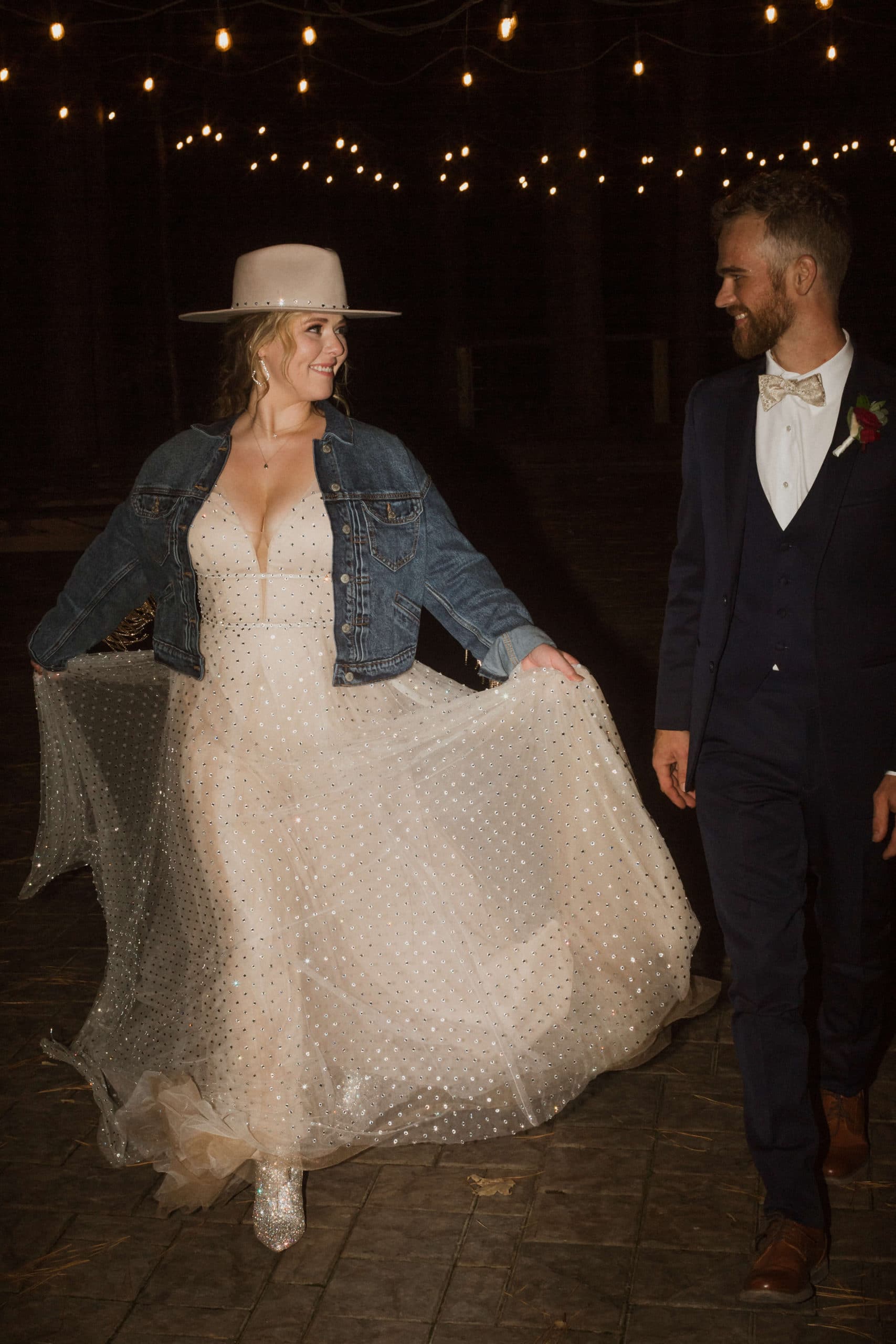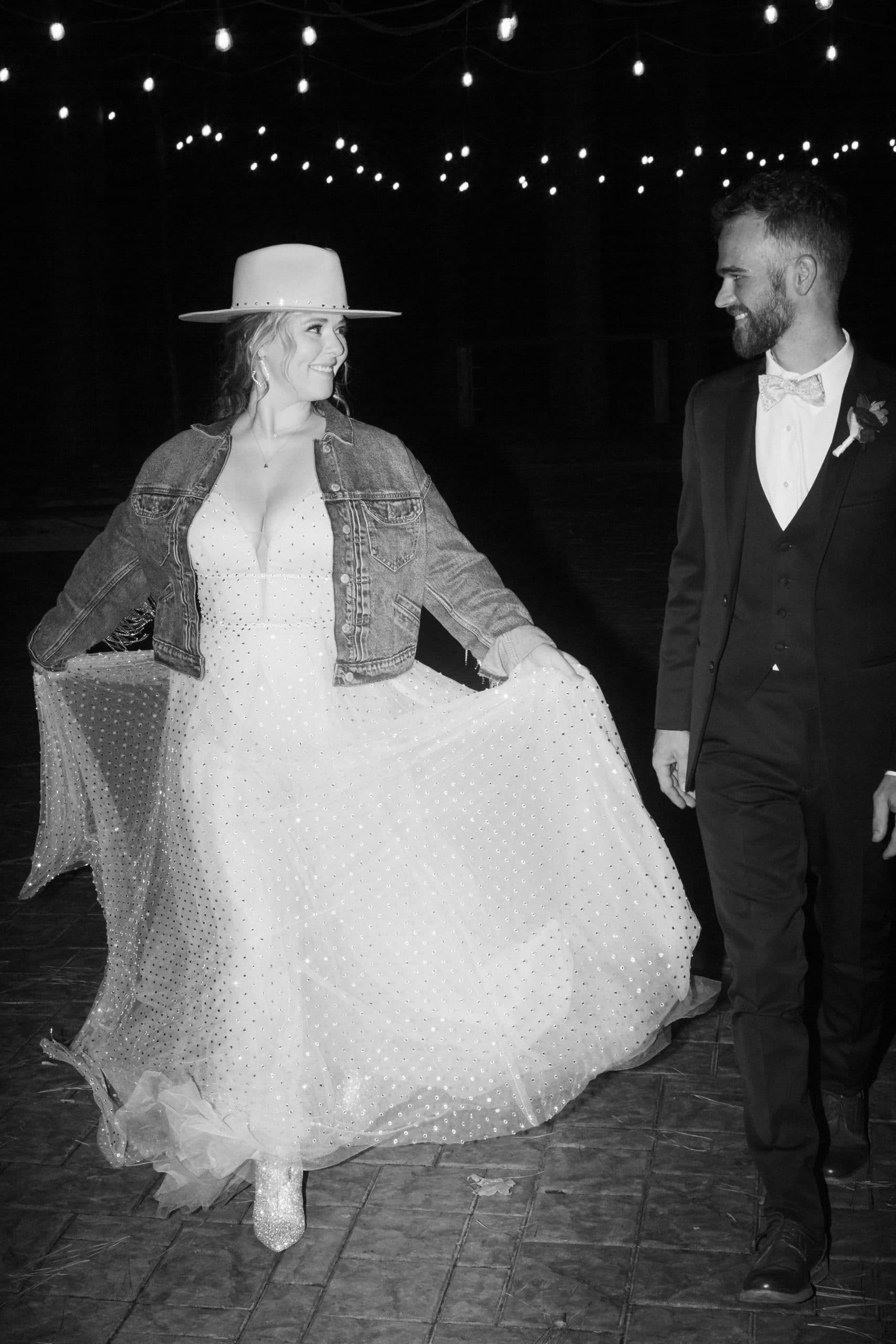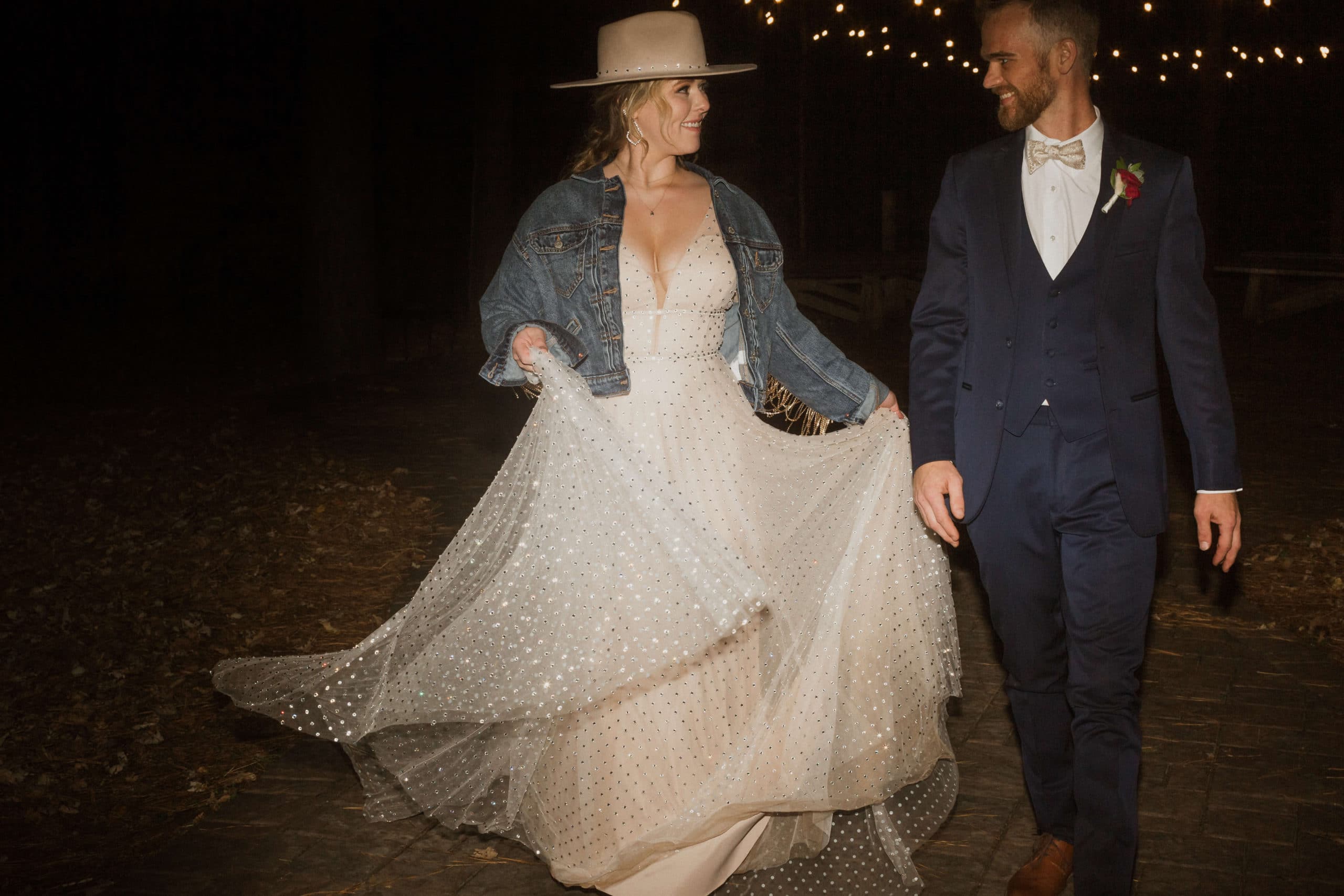 Edgy Nighttime Portrait Session with Direct Flash Photography
Normally I always make sure the couple gets a quick portrait session around sunset for golden hour photos. However, on the day of Macey and Asher's wedding, even though the weather started out beautiful in the morning, clouds began to roll in just after their ceremony and blocked out the sun enough for us to have to skip golden hour photos. I made the suggestions to do night portraits instead.
In the middle of the reception, I pulled Macey and Asher outside to the nearby forest ceremony site for night portraits. The forest ceremony site of Hiwassee River Weddings is the ultimate place for a truly outdoorsy wedding vibe. The area is fully paved and entirely surrounded by the tall loblollies that are native to the area. Strings of Edison bulbs hang across the entire area for a beautiful twinkling effect which is especially poignant at night. The space even has a custom wooden platform that's perfect for ceremonies to be held on without taking away from the beauty of the surrounding forest.
For Macey and Asher's night portraits, I chose to use direct flash for an editorial wedding portrait style. Direct flash photography is pretty literal in its title. It means using a flash directly pointed at the subject. These pictures tend to come out a bit more edgy than normal wedding photos and have a modern, editorial, almost paparazzi feel to them. It's a fantastic way to really capture the spontaneous feel of candid moments between the couple. In Macey and Asher's night photo session, I love how the flash enhanced the sparkles on Macey's evening gown and created a beautiful light leak effect on the string lights.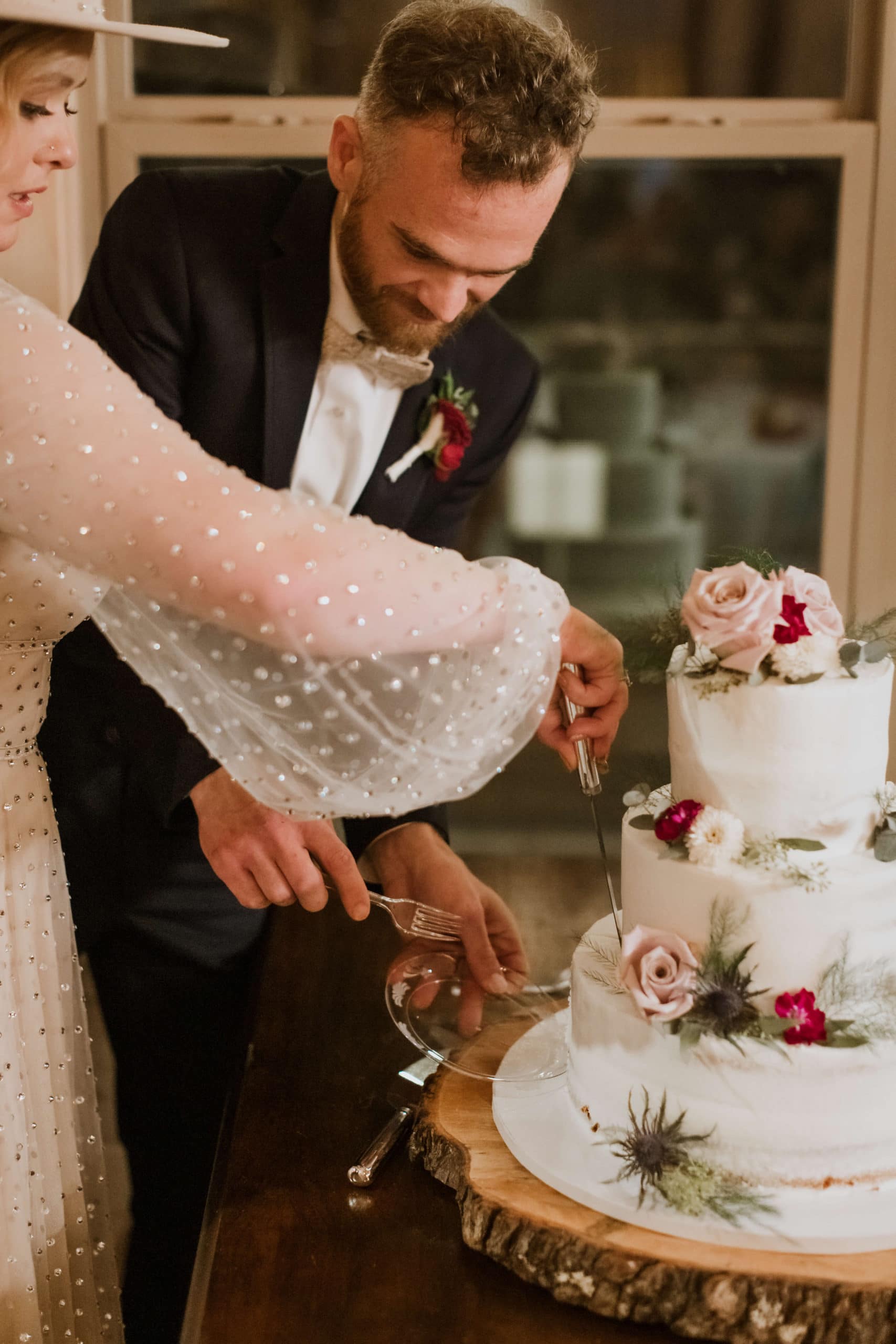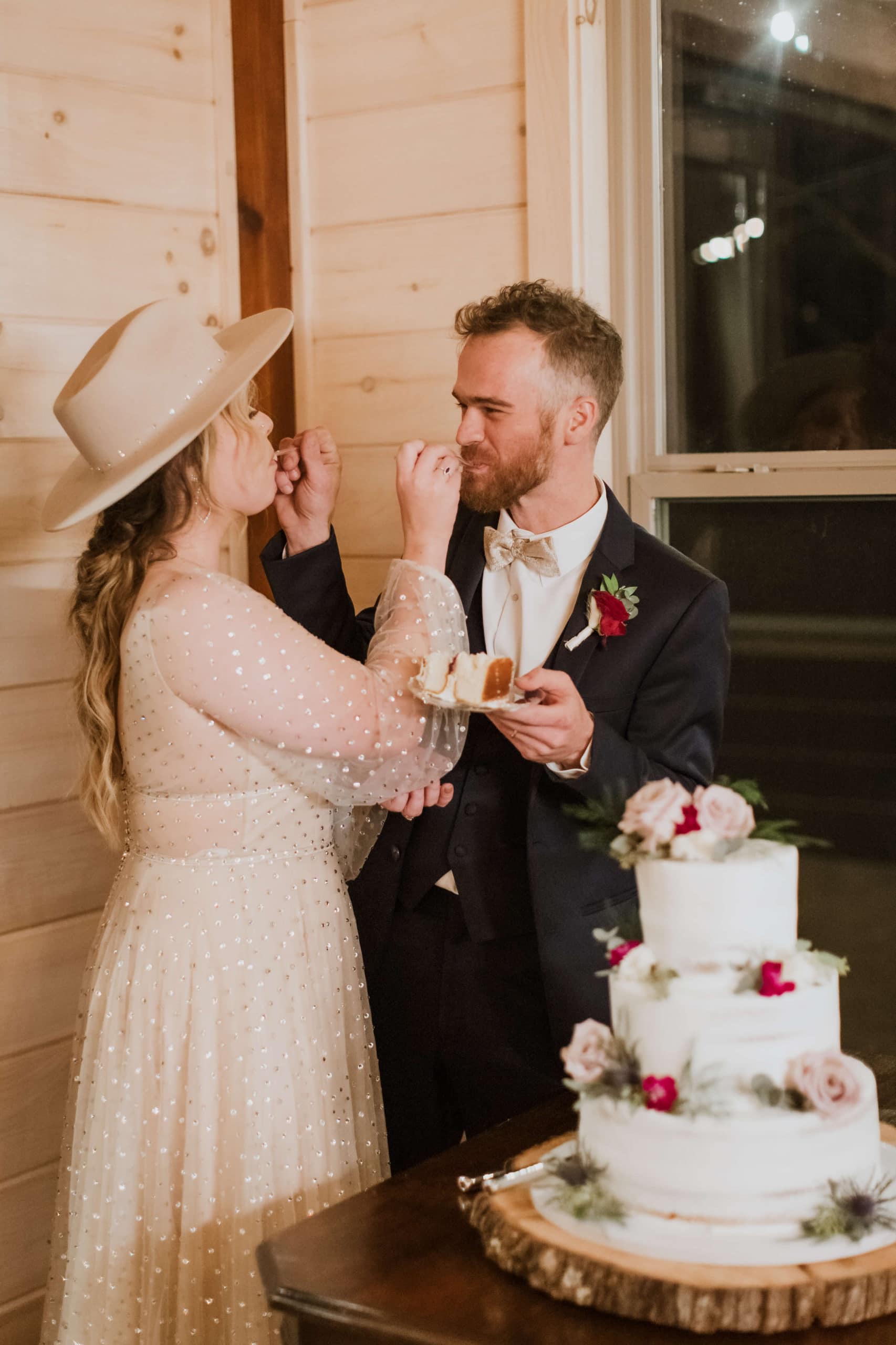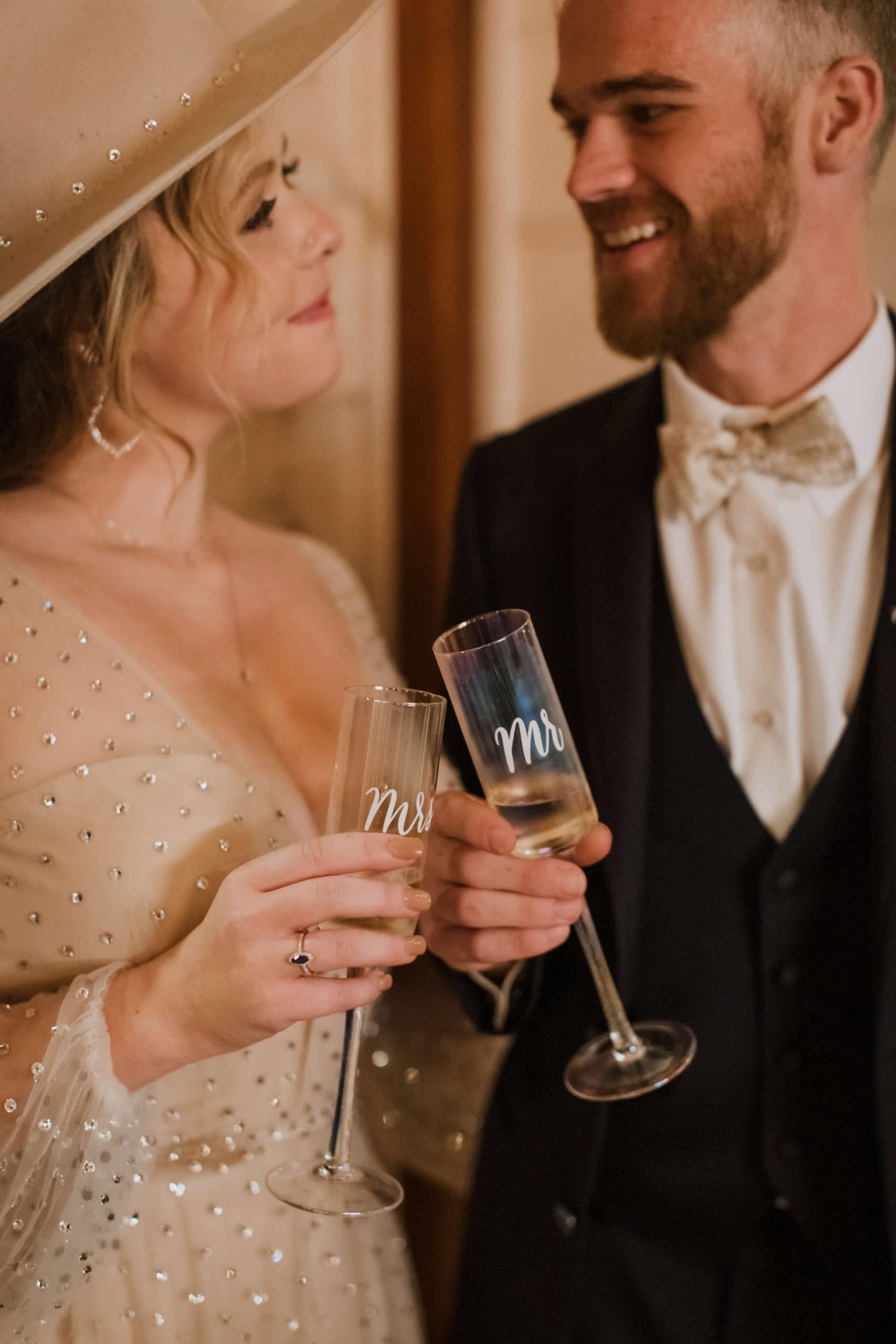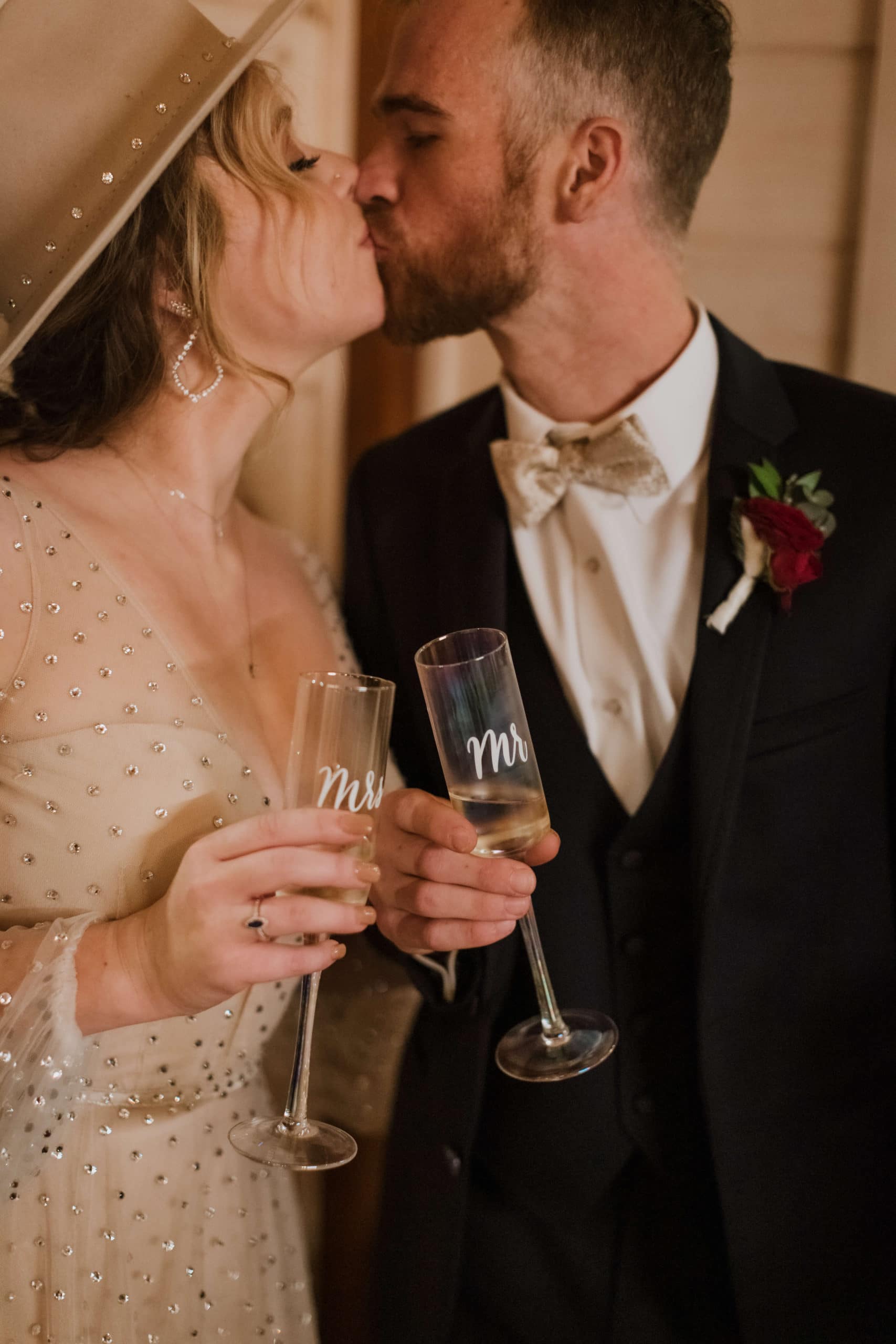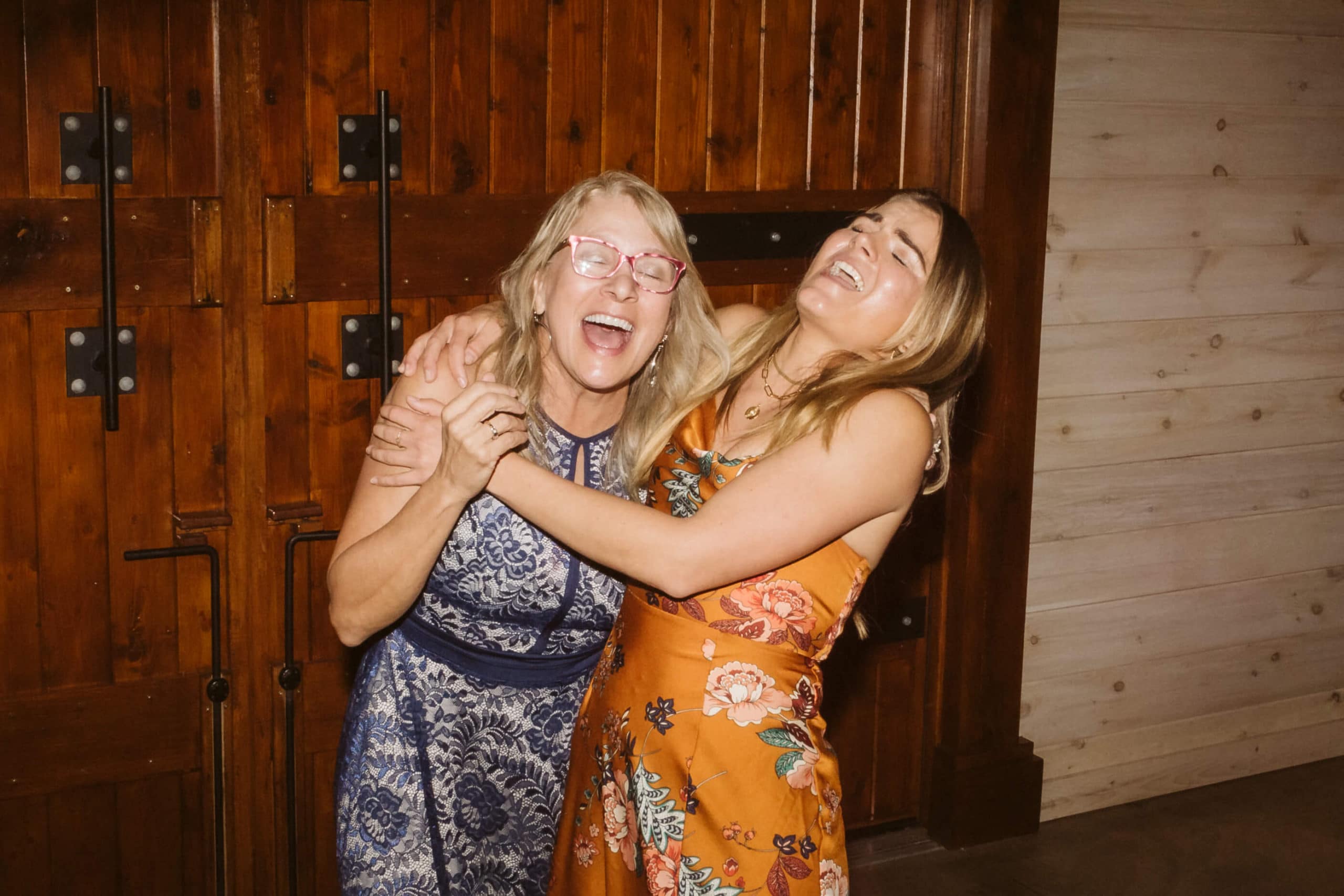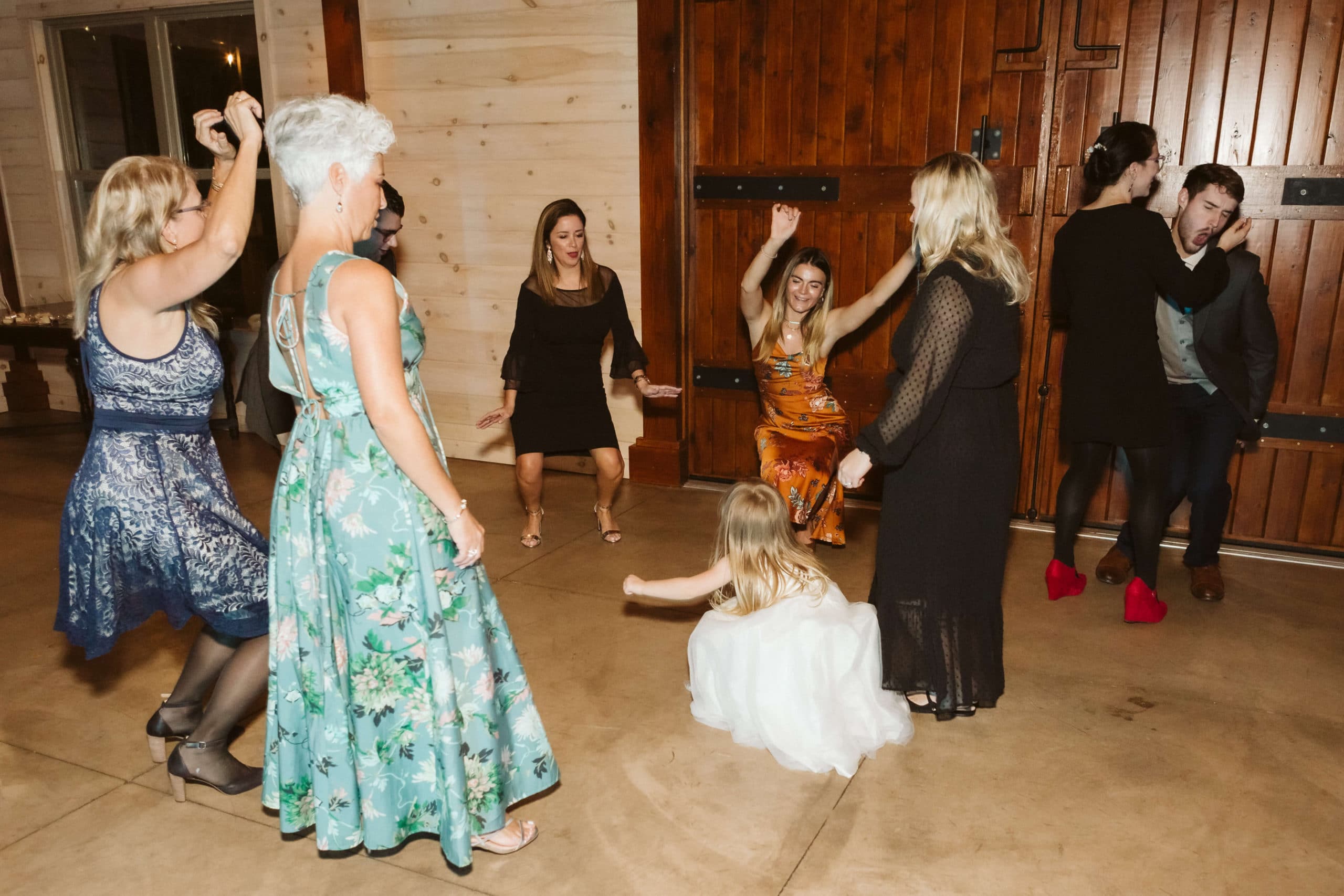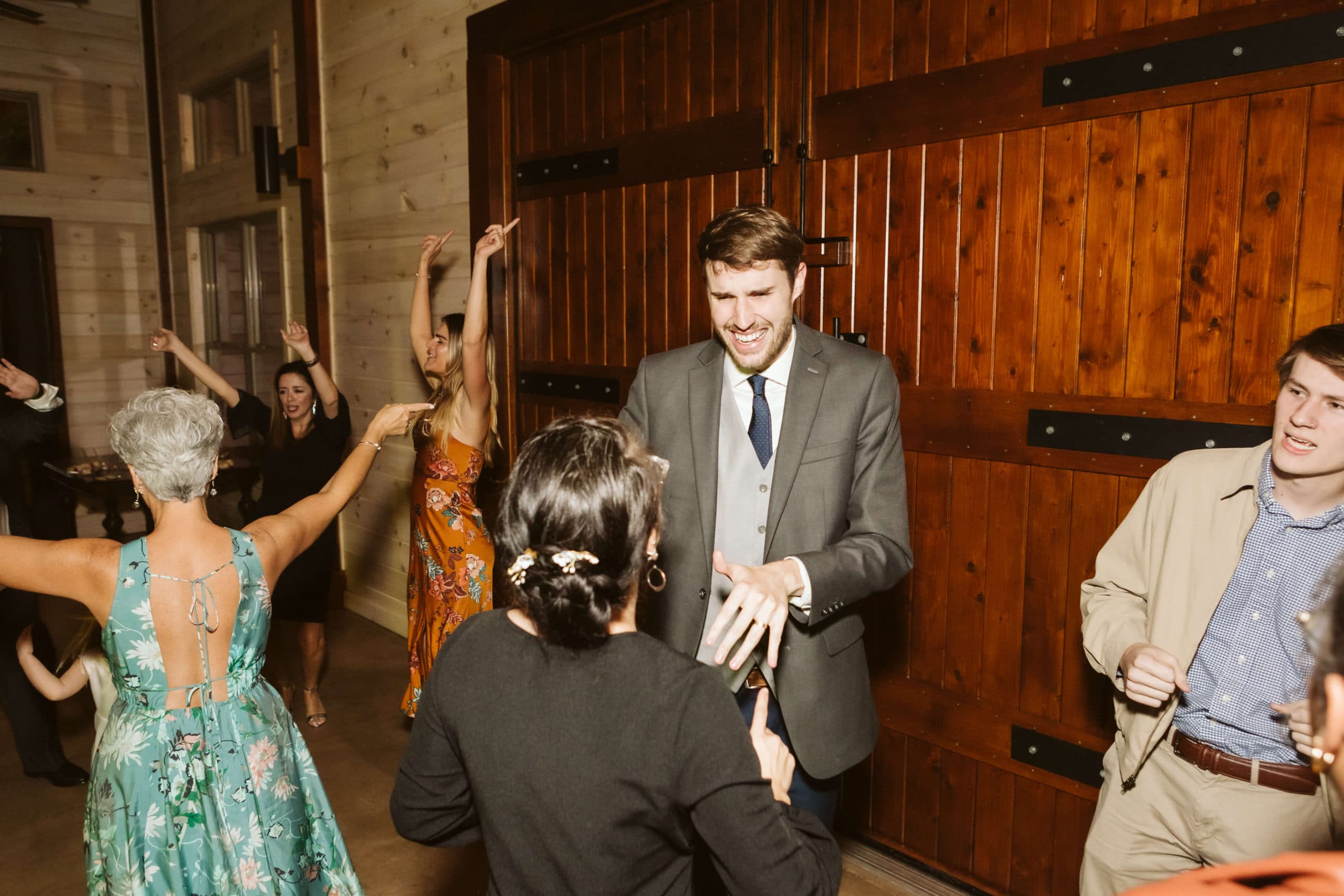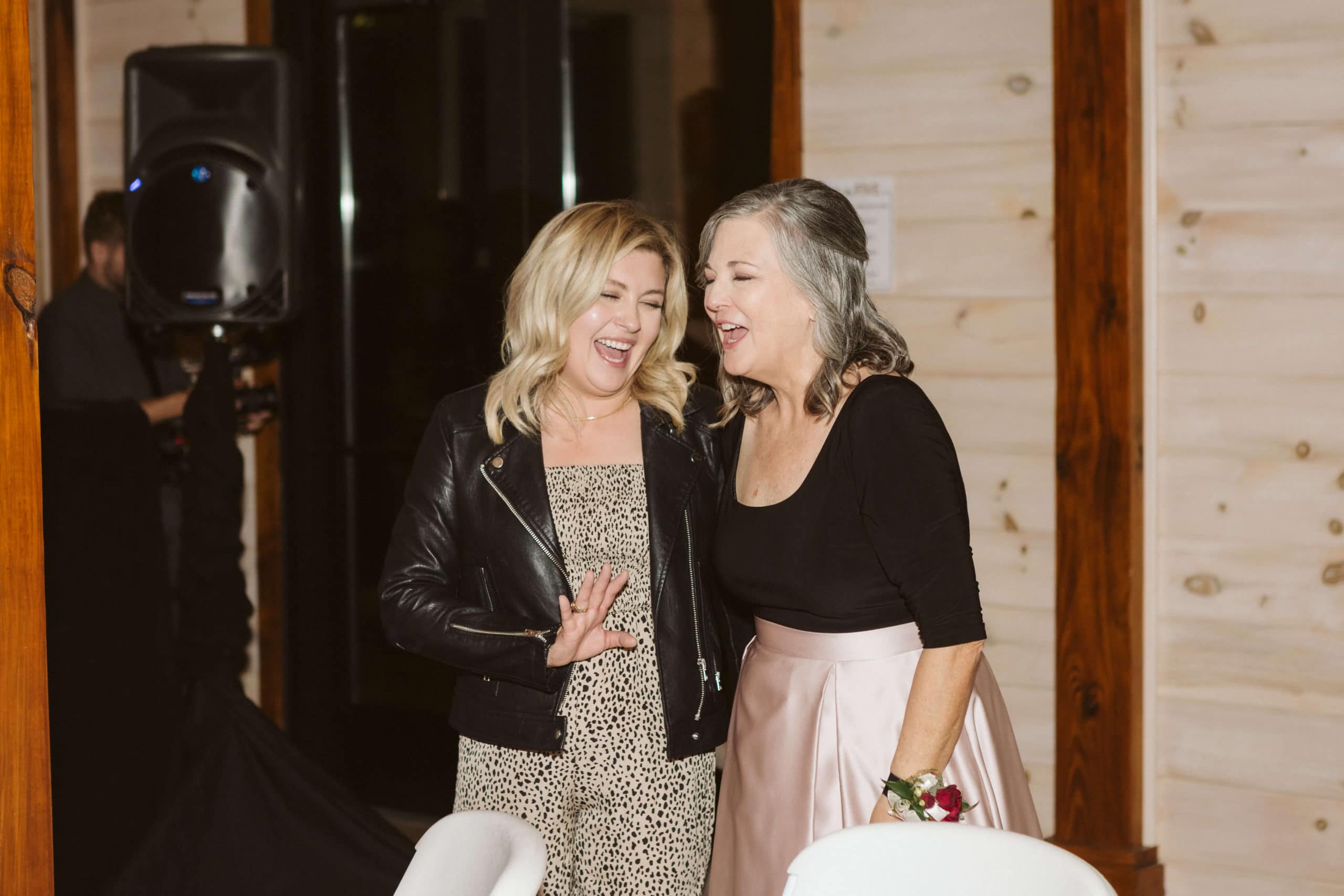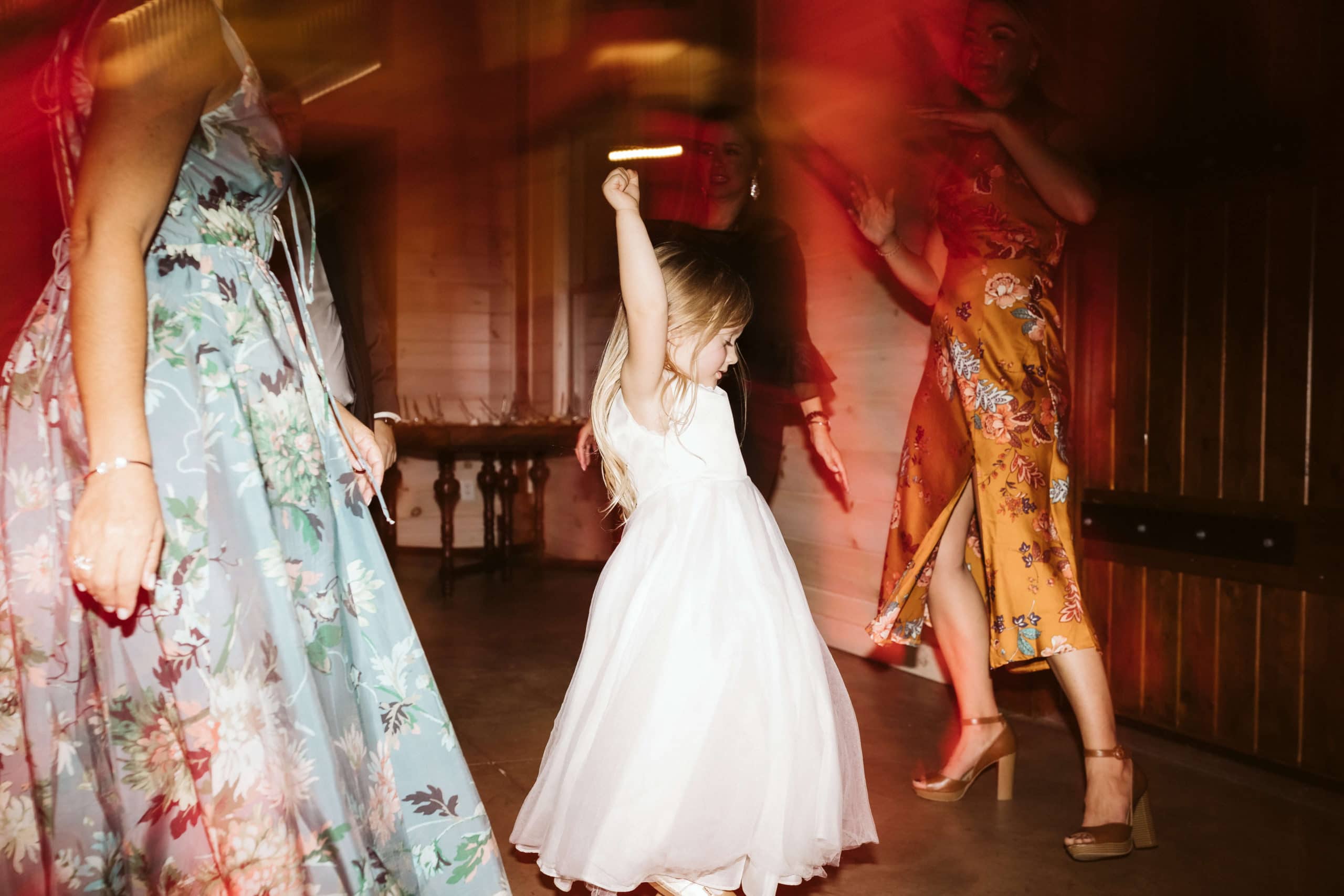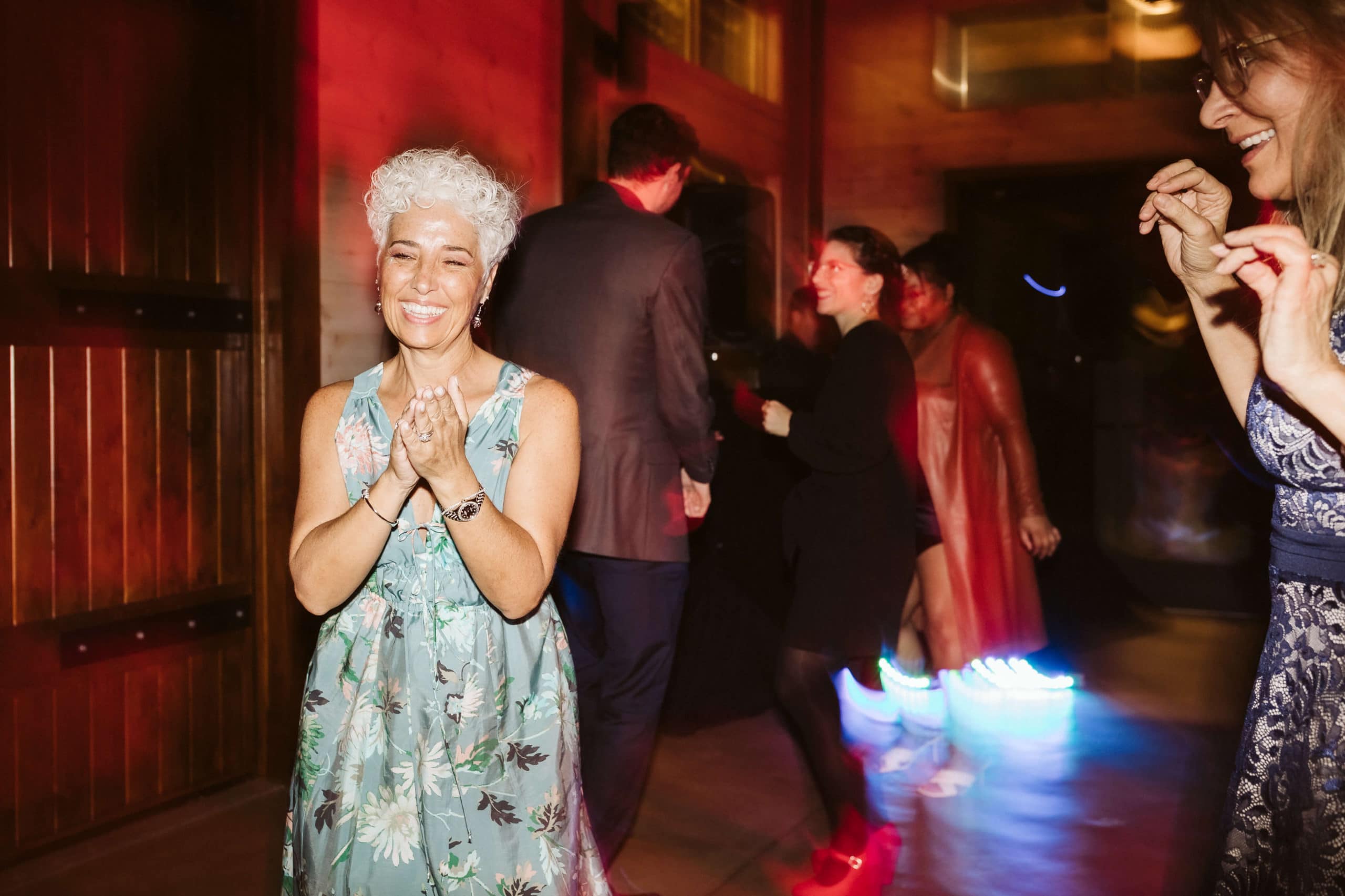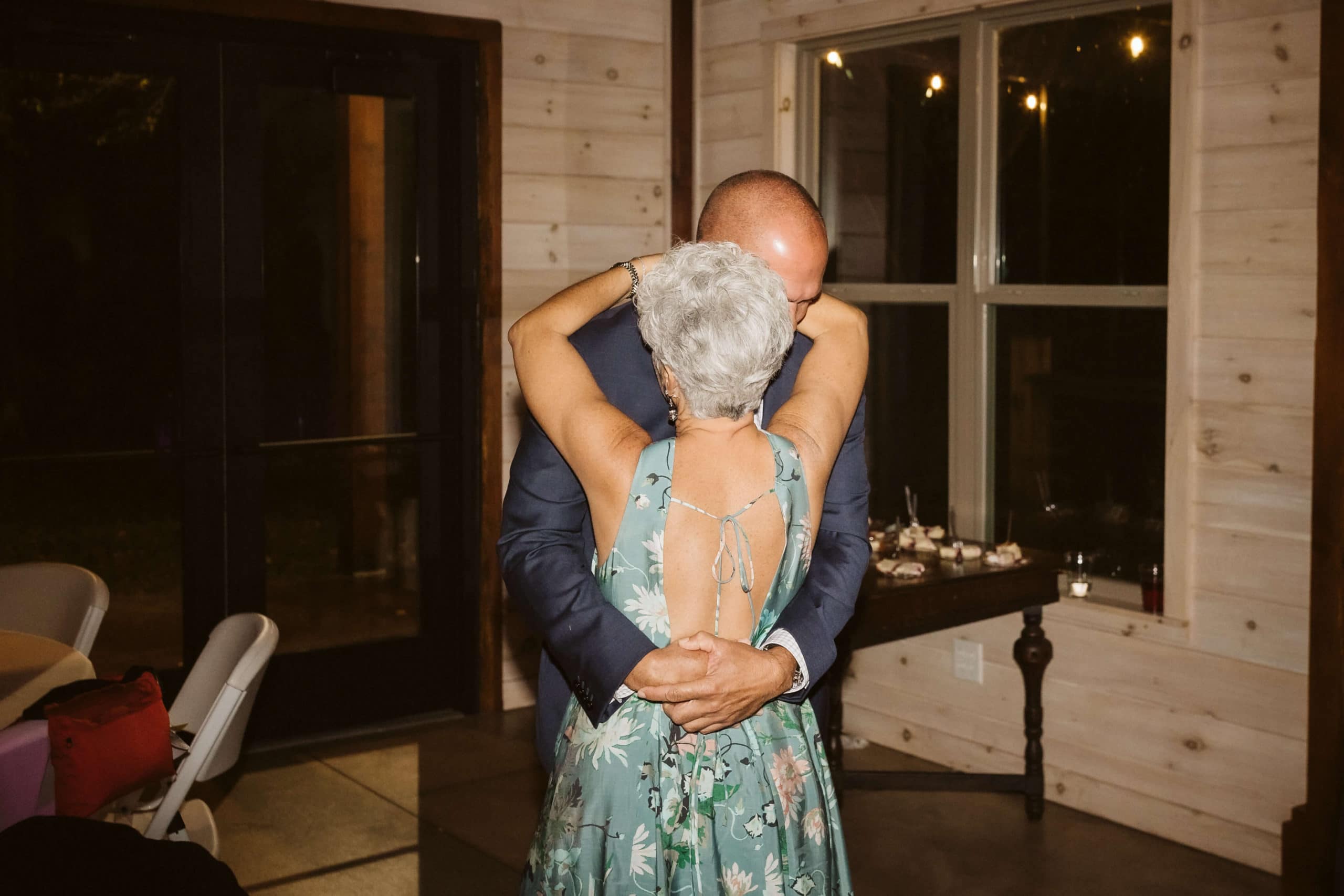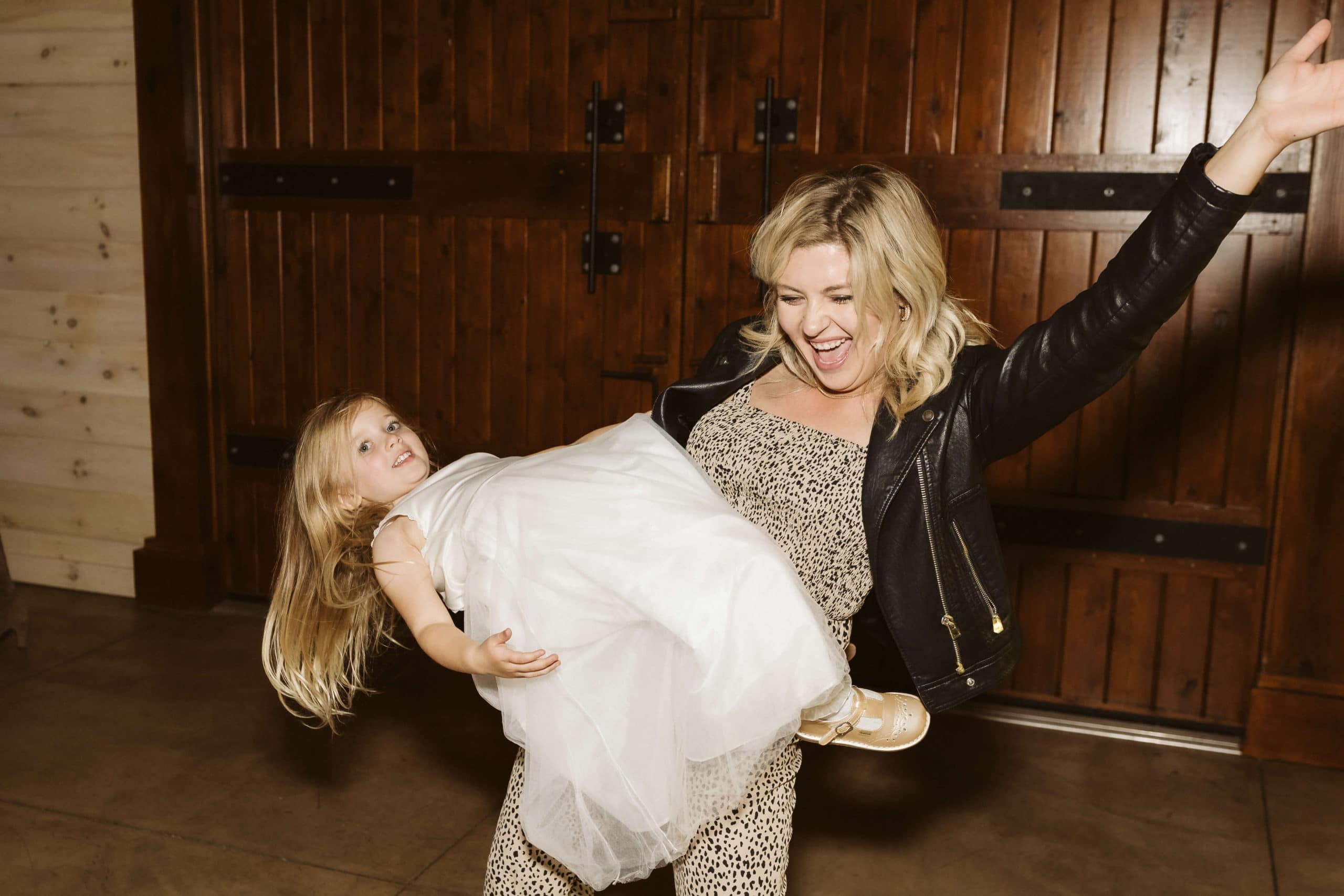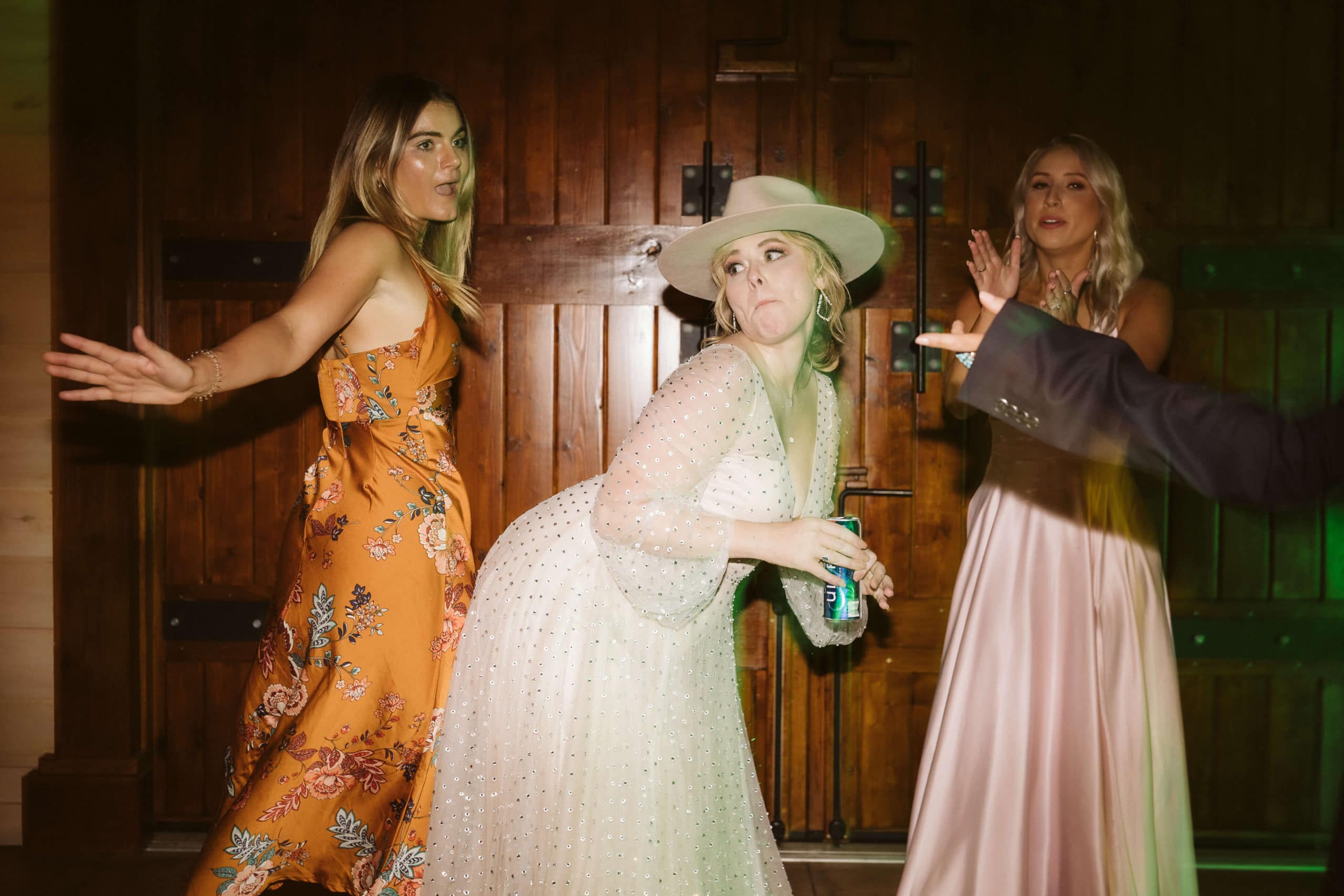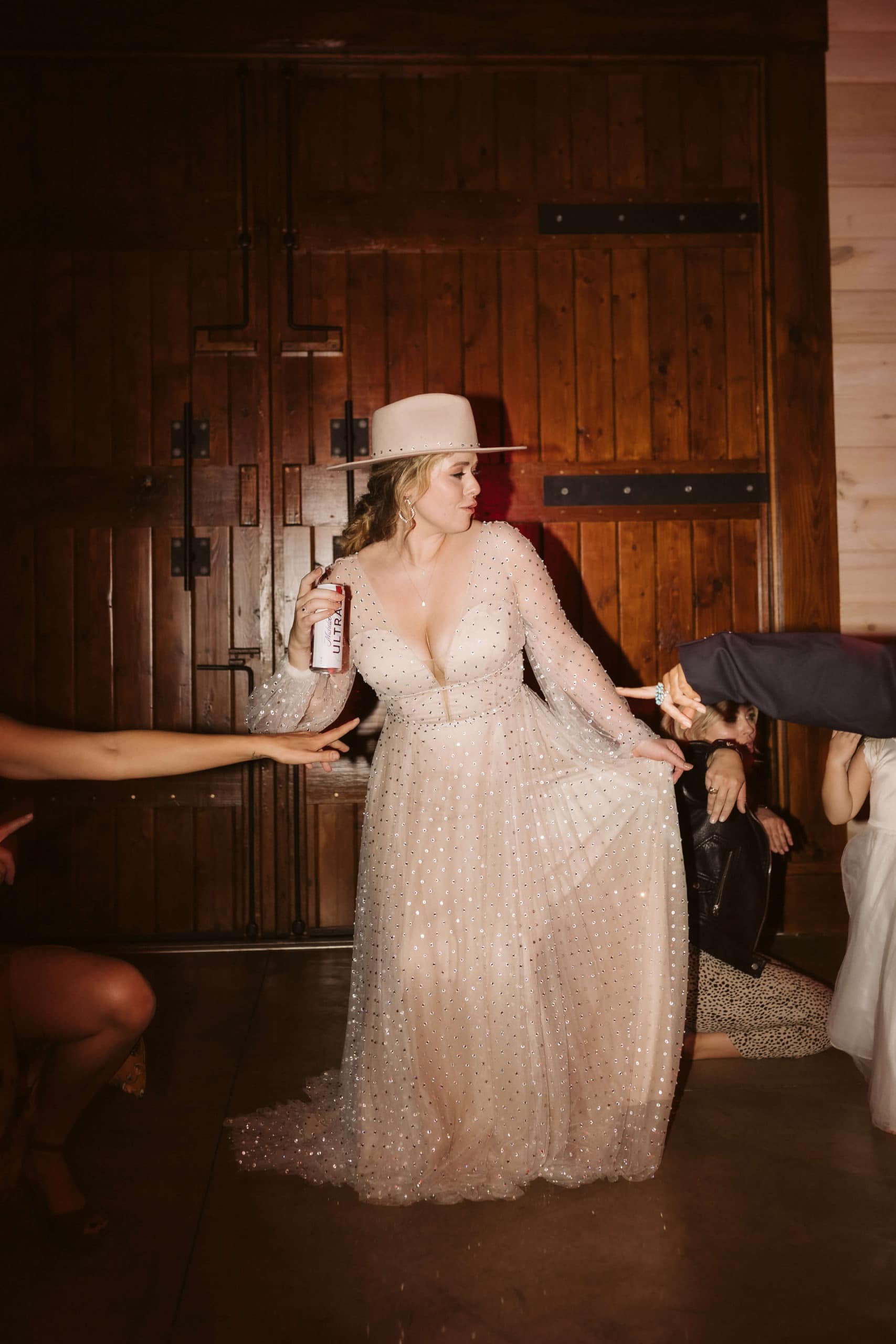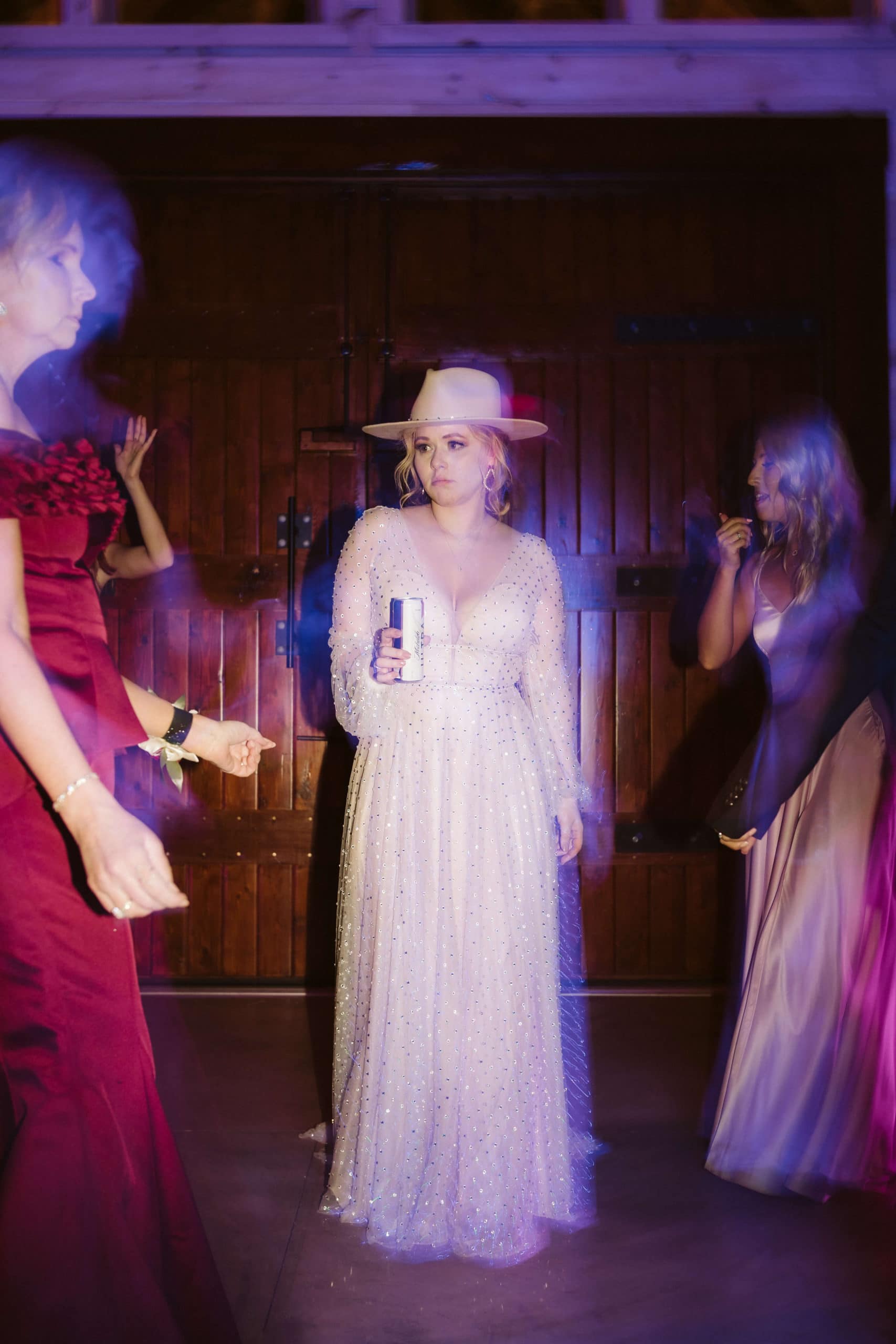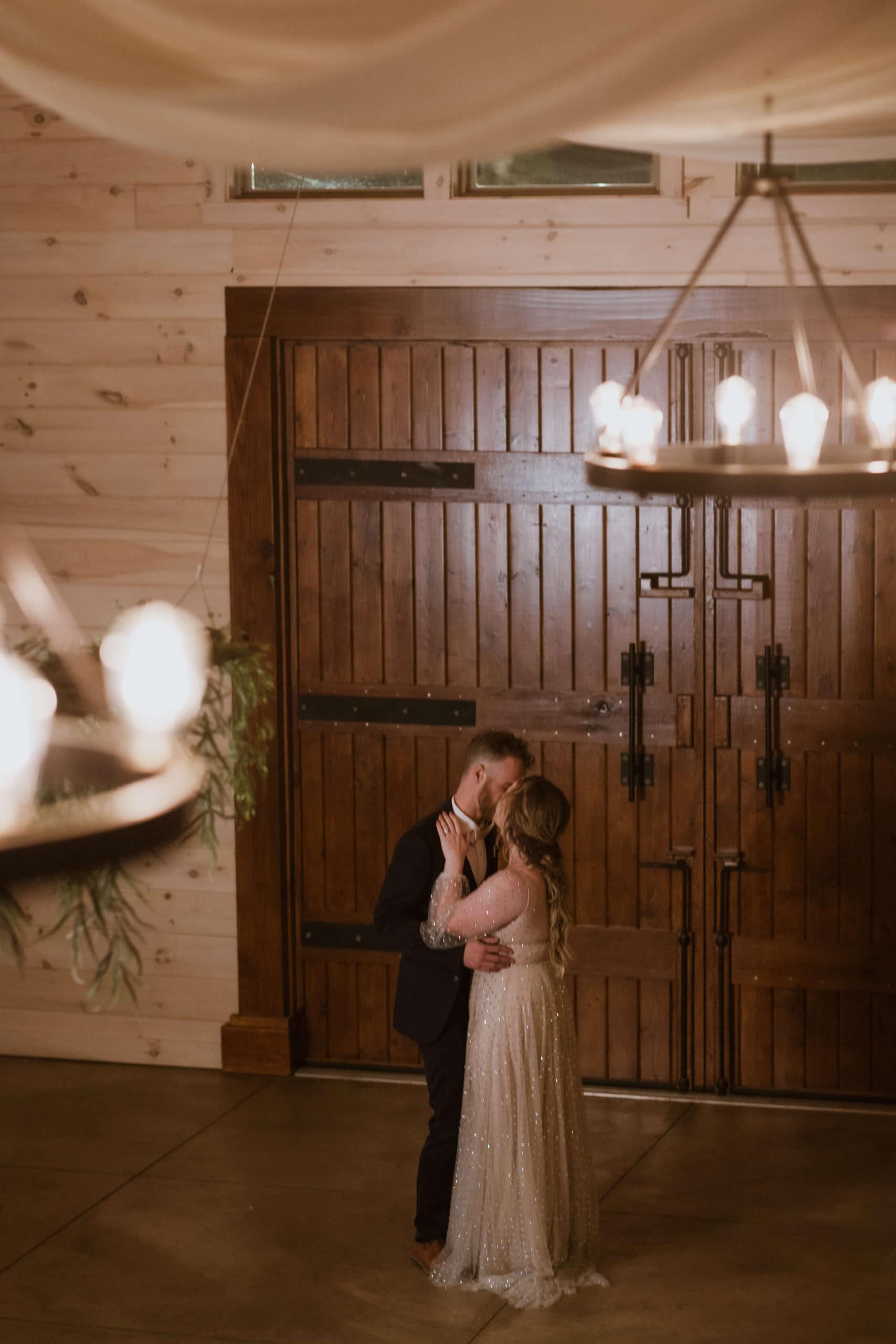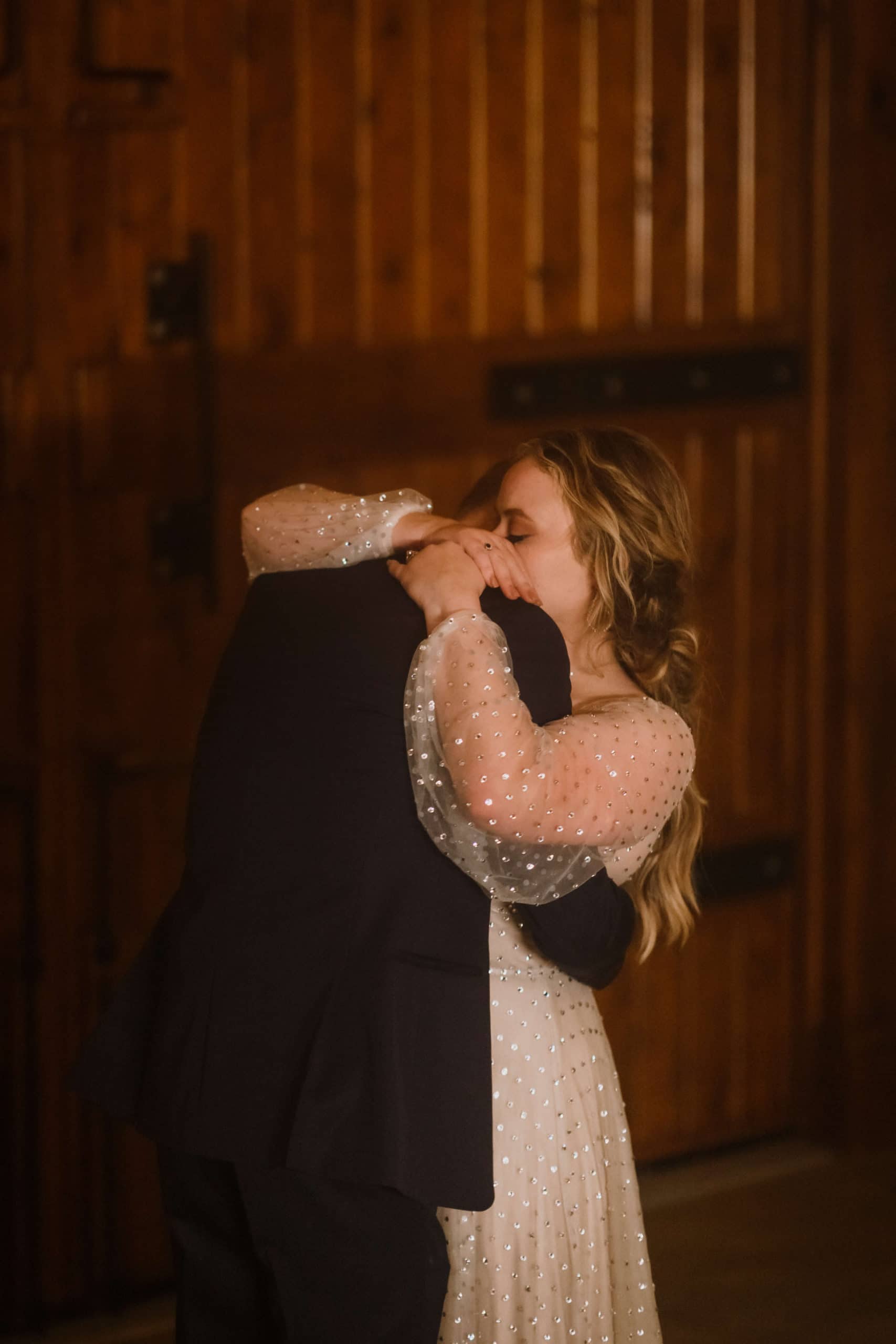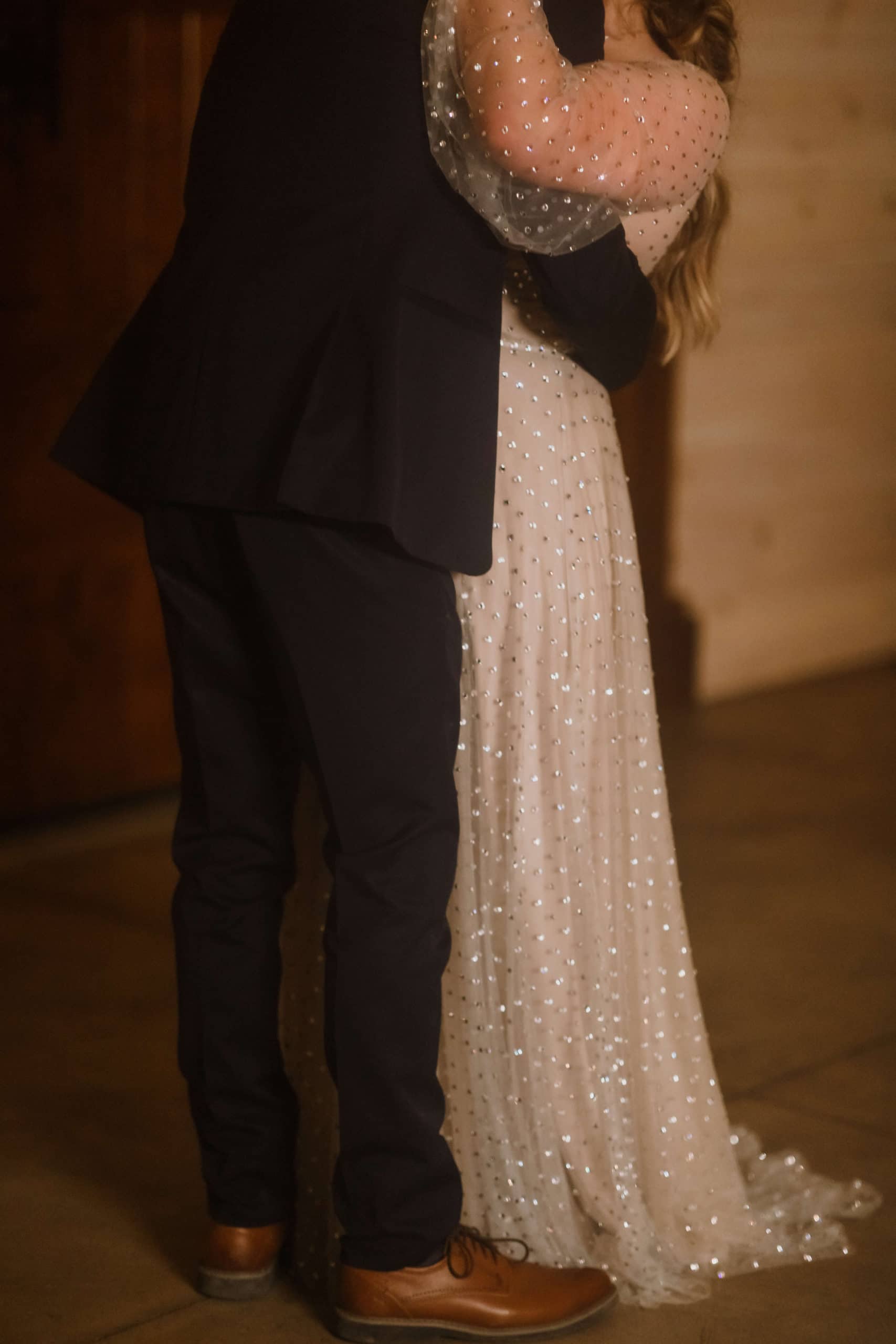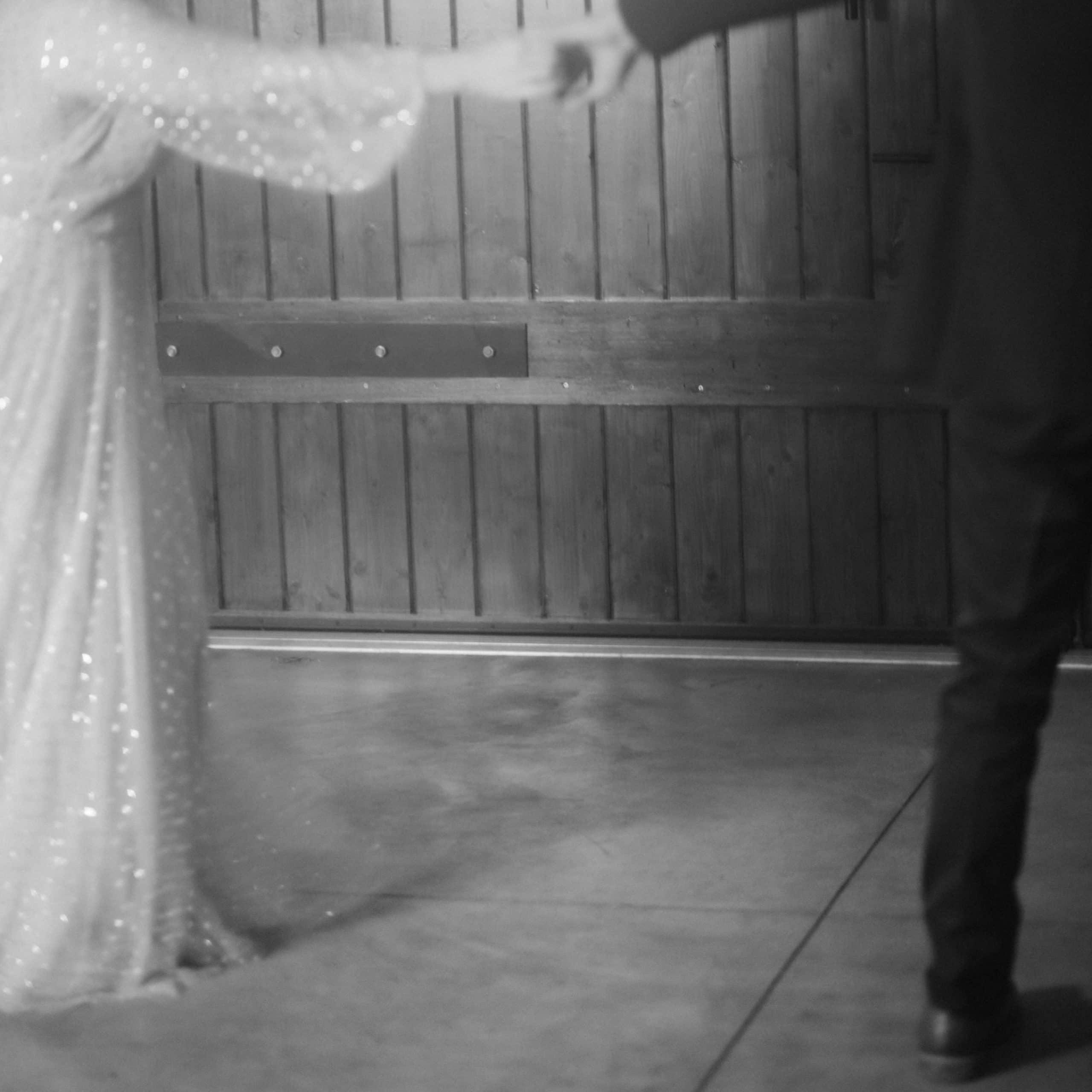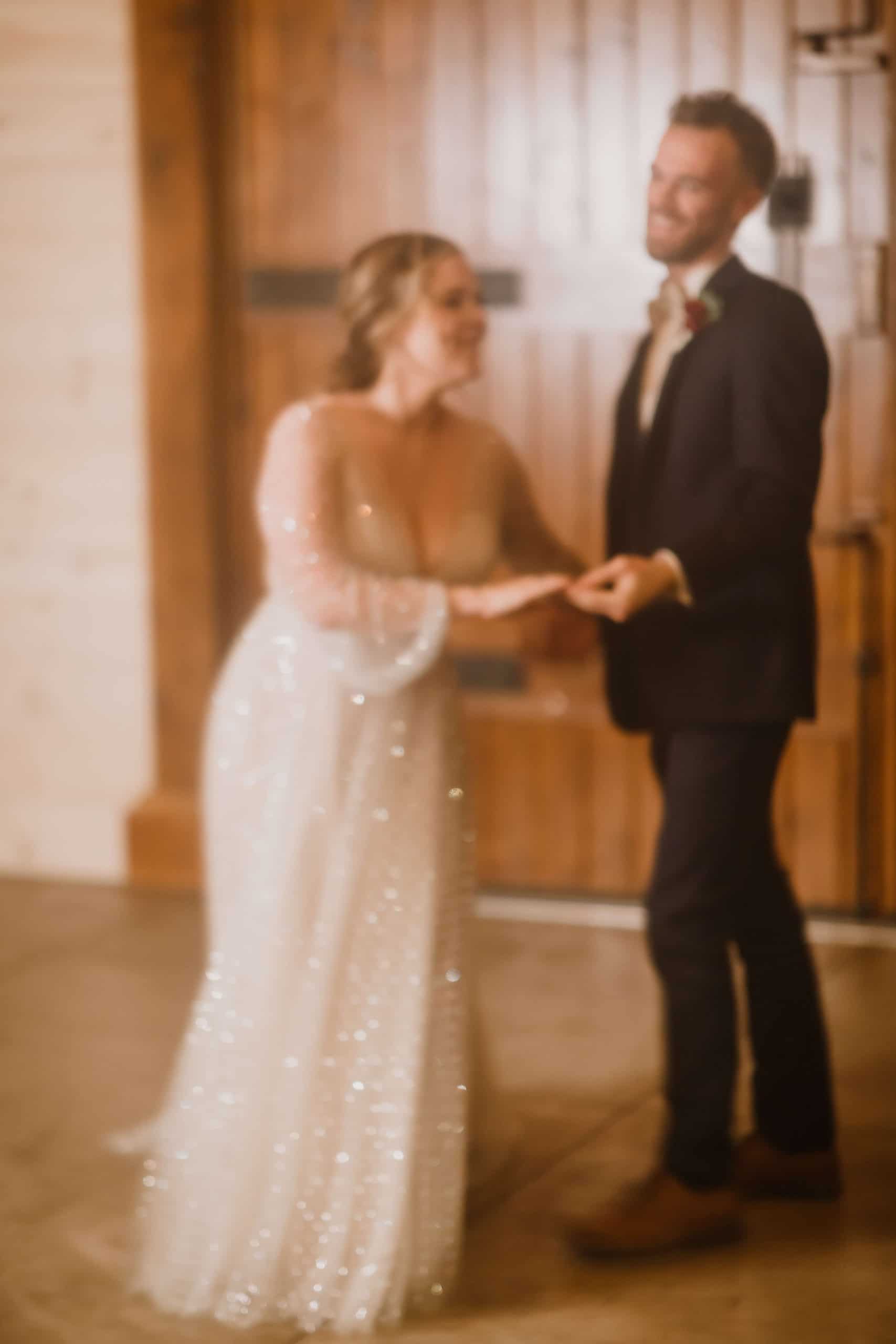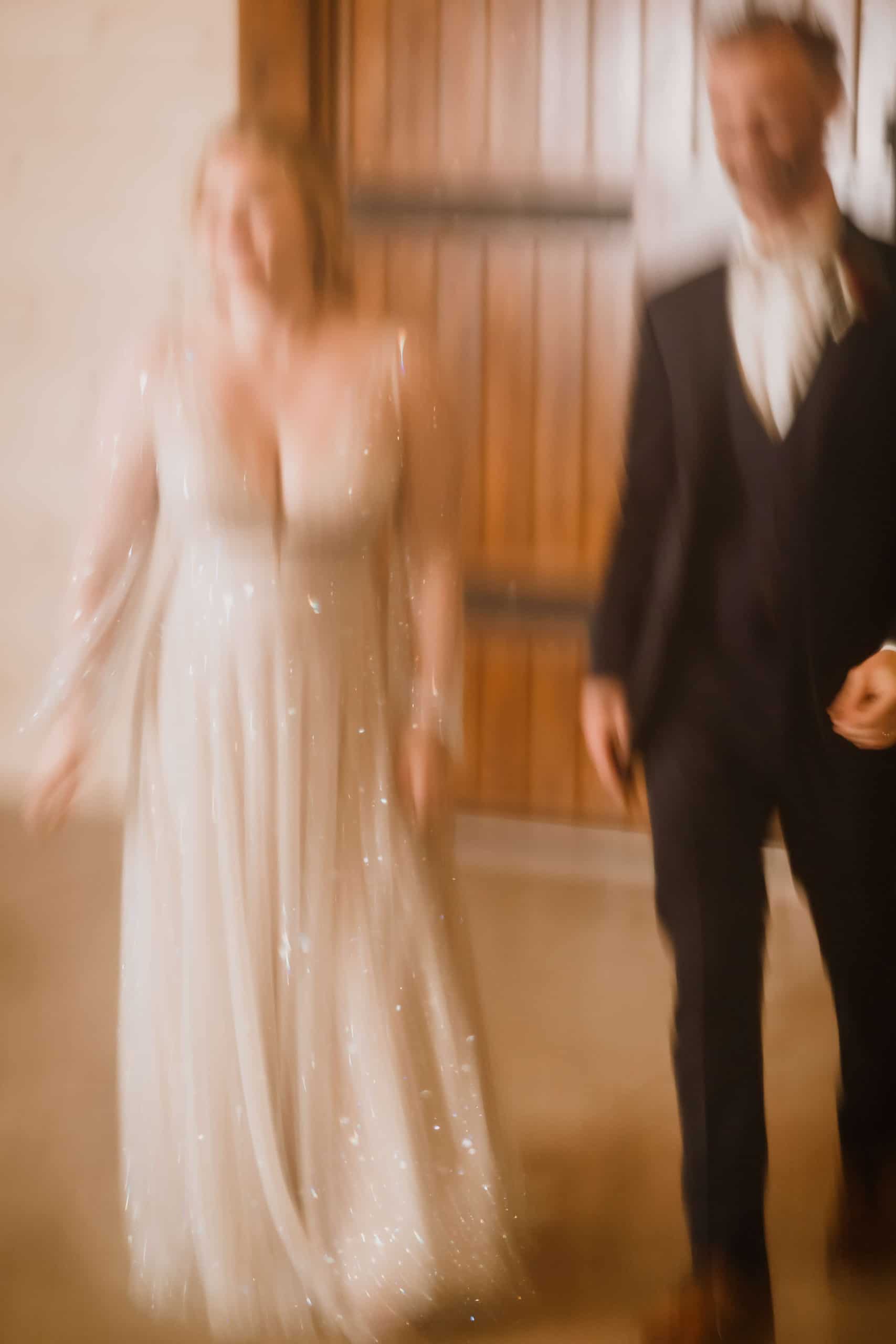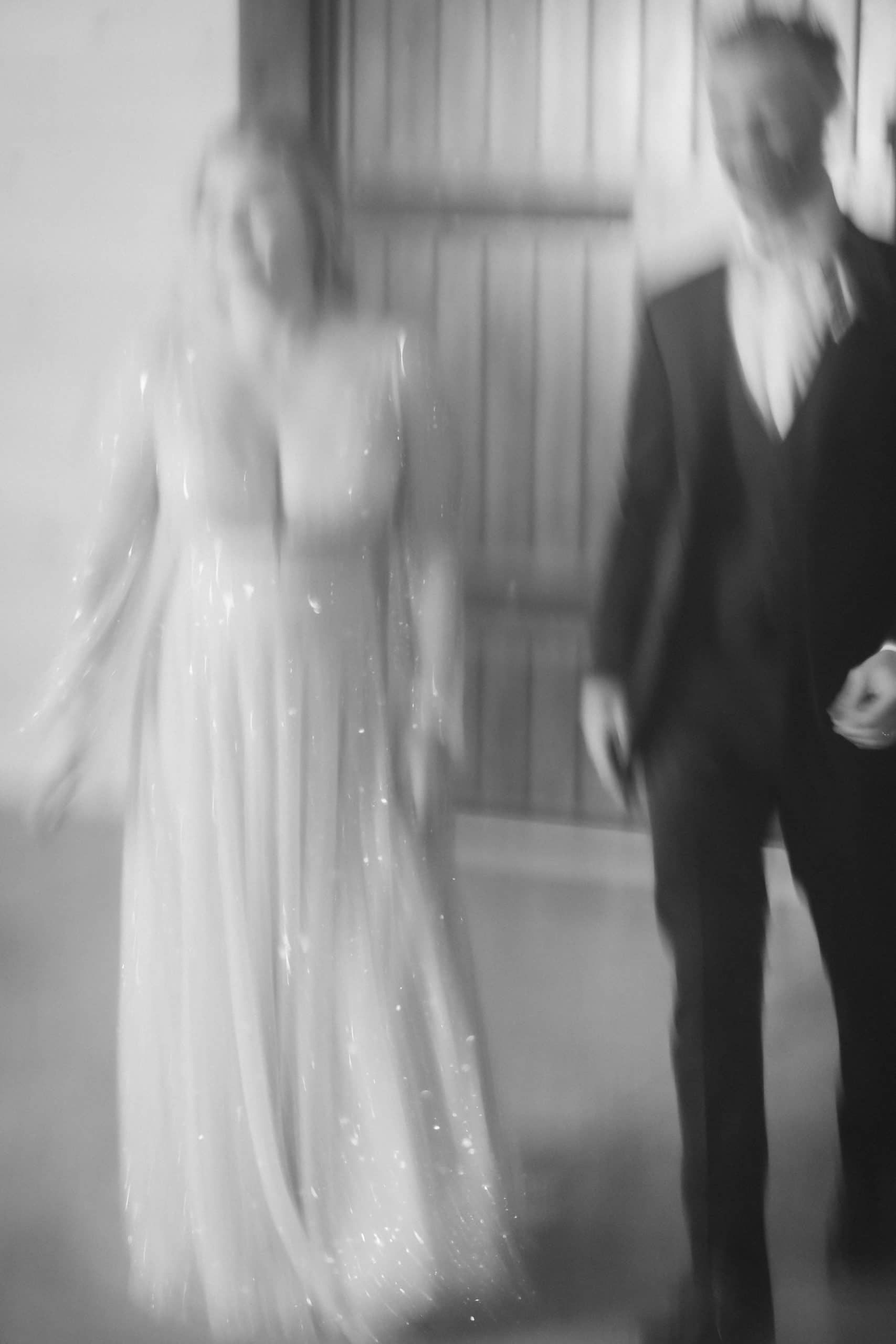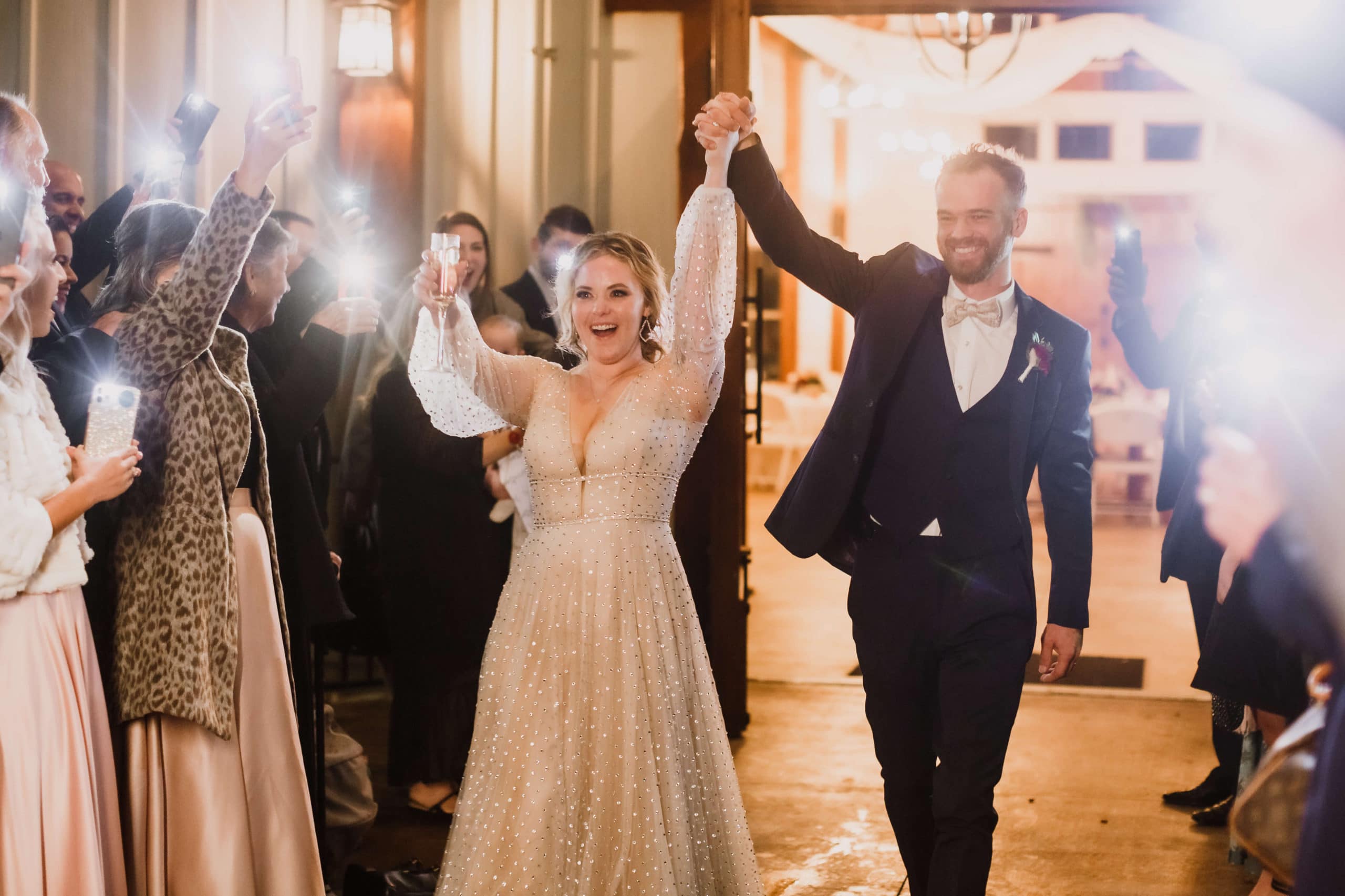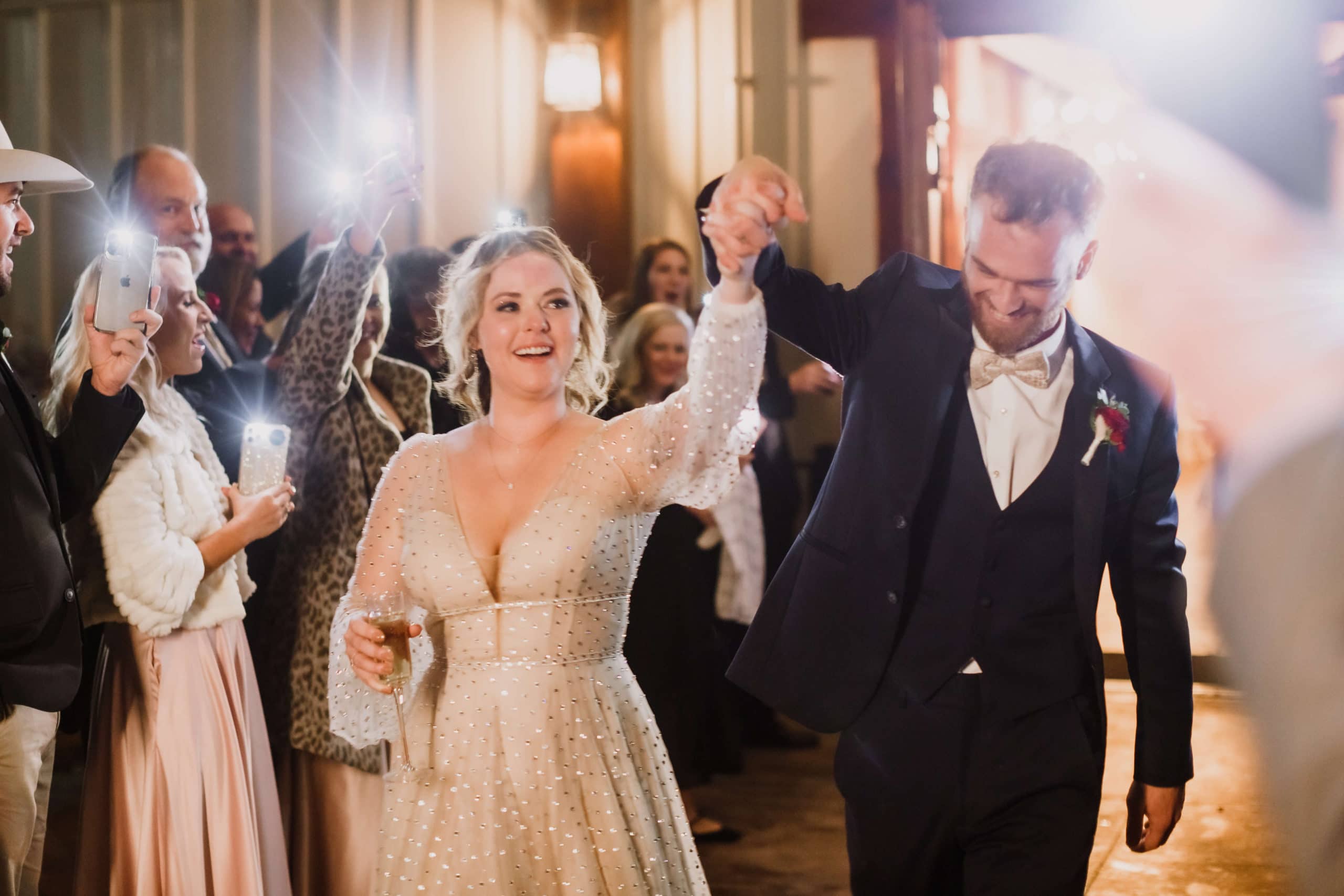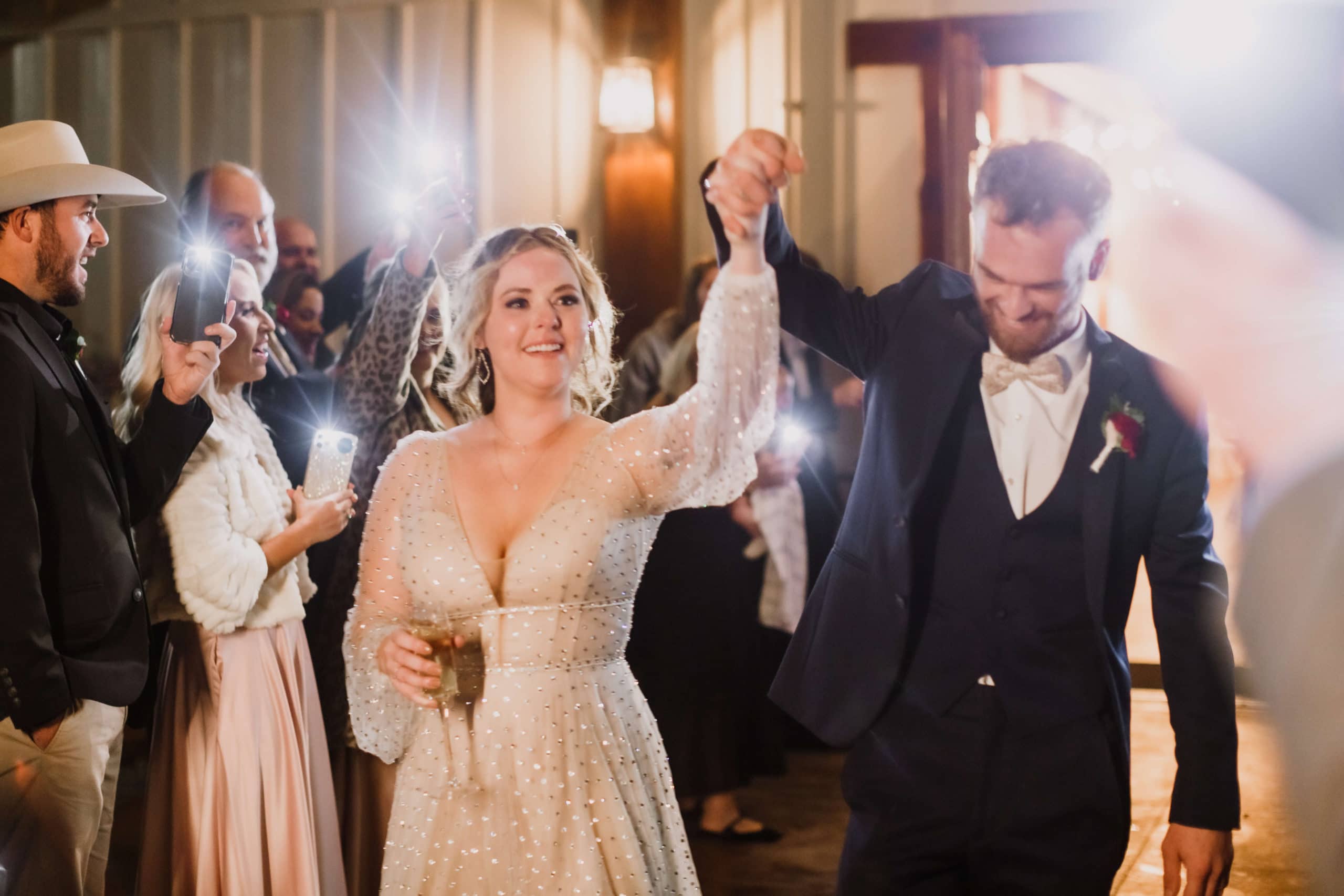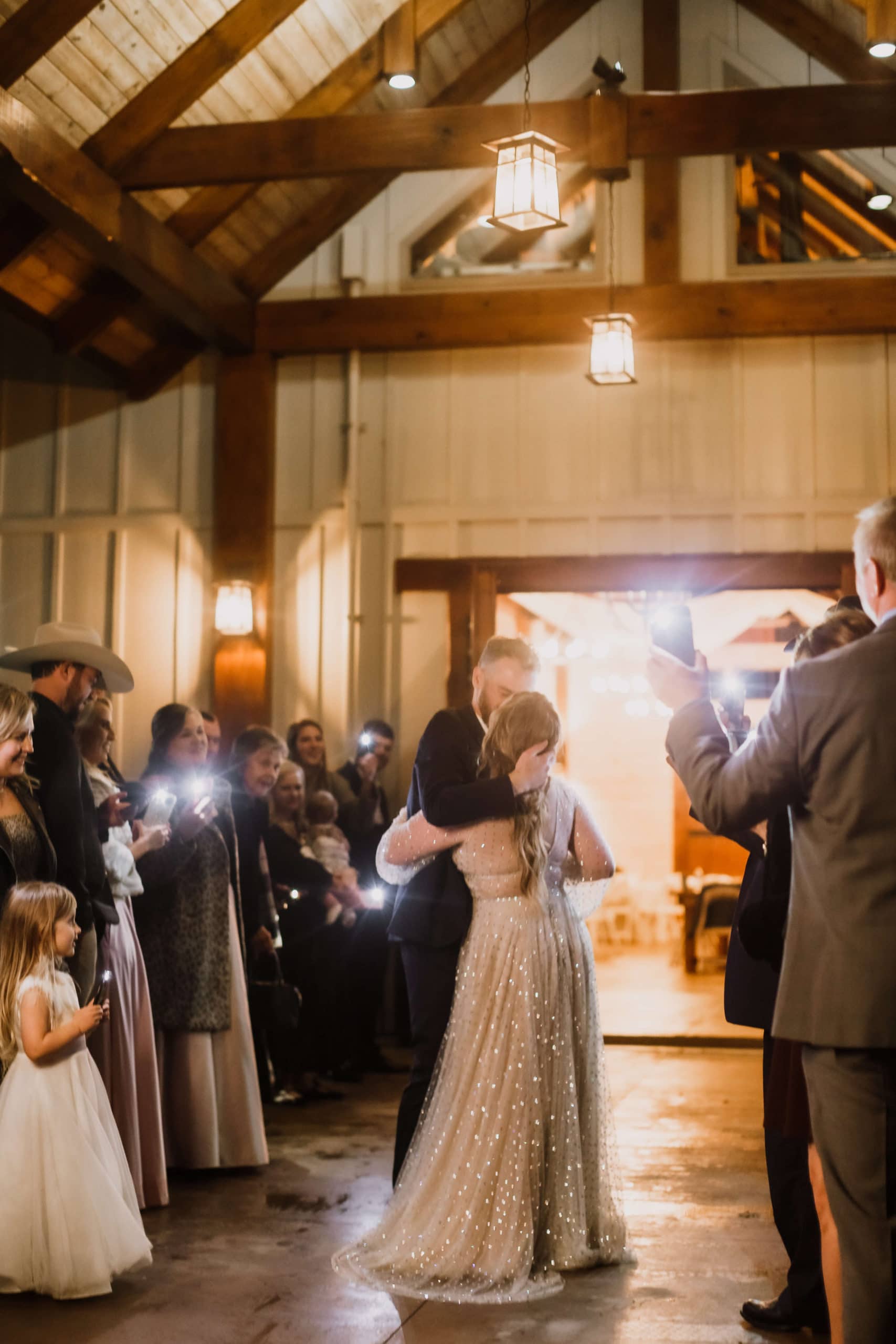 Making the Best Out of a Rainy End
Unfortunately, not long after we took night portraits, the clouds let loose and it began raining. This meant that the sparkler send-off that Macey and Asher originally planned had to be rethought. Thankfully, Bill, the venue's owner, had a pretty awesome Plan B that made Macey and Asher's send off unique and memorable.
At the end of the reception, Bill led the guests out of the back exit of the reception hall towards the parking lot and where the hotel shuttles were waiting. While Bill was coordinating the guests, Macey and Asher had a final romantic last dance alone in the empty venue. It was such a sweet and private moment; I'm so glad I was able to capture it on camera for them.
After they danced their final steps and shared one last kiss, the doors were opened and they exited the hall to all of their friends and family ready for a cell phone send off. A cell phone send off is such an easy back up plan when your original plan falls through. You can pretty much bet that all of your guests will come equipped with their cell phones. Simply have them all turn their phone flashlights on and face them towards the couple as they walk by. The camera picks up on the lights and creates a wonderful firefly effect around the newlyweds. It was the perfect way to end such an enchanting wedding.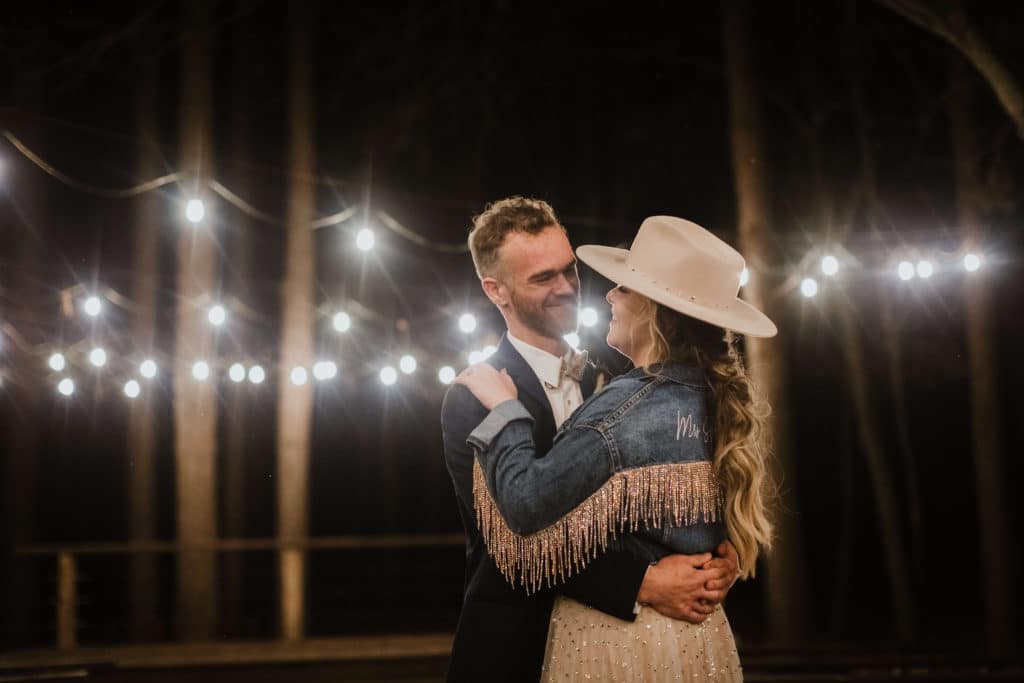 Have you been dreaming of a magical outdoor forest wedding like this one? I'd love to be a part of your special day and make sure it's everything you've ever imagined.
I'm Rachael Crowe of OkCrowe Photography. I've shot hundreds of weddings across the Chattanooga area and beyond. I'd love to be part of yours as well! Whether you want magical fairytale vibes or a trendy urban look to your wedding, I'm here to make sure every moment is captured forever. I'll answer any of your questions from all things wedding photography to even just normal wedding day inquiries. If you're still looking for a wedding photographer, I'd love to chat! Visit my contact form, and let's plan a wedding!