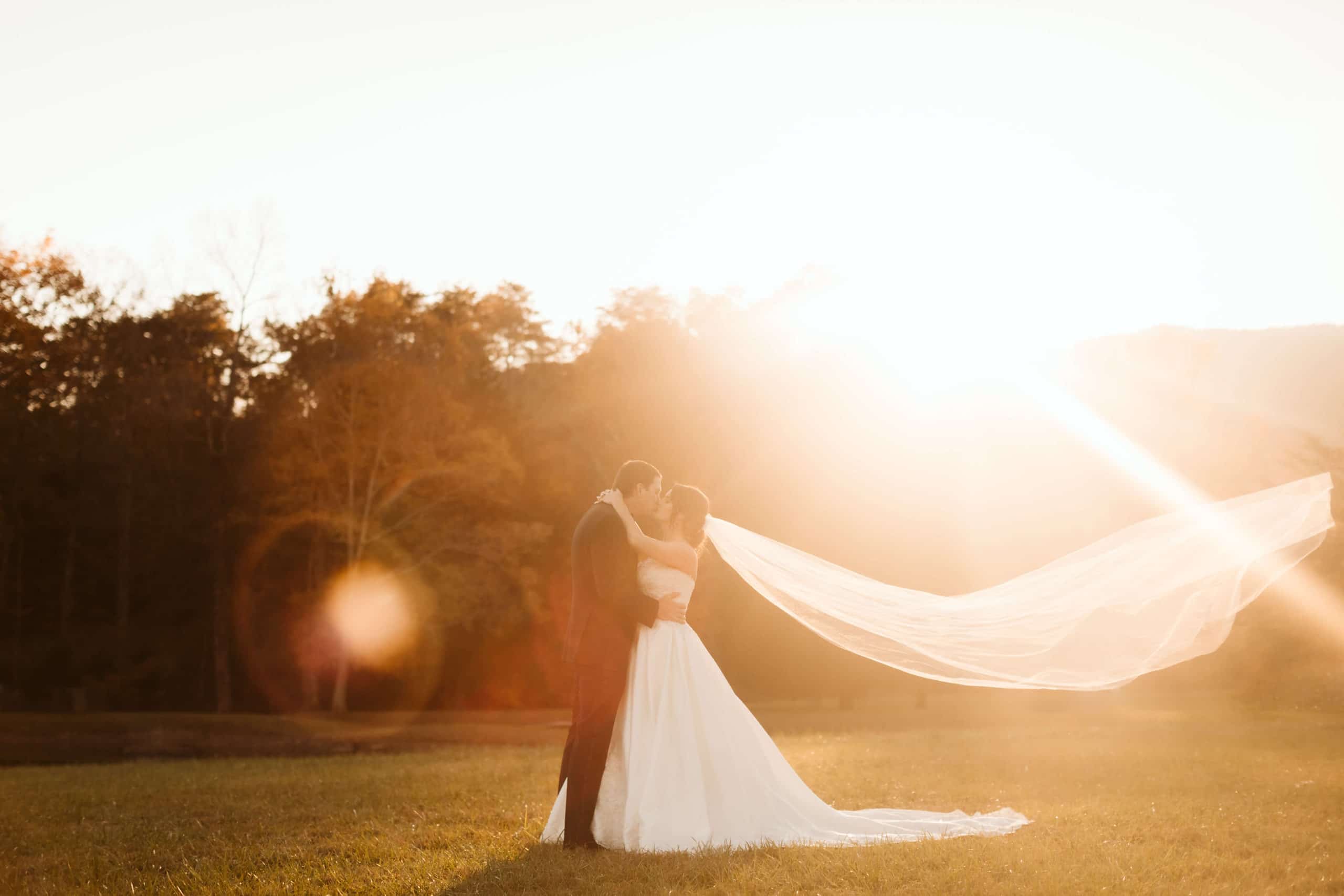 There are many wedding venues in the Chattanooga area that embrace the urban industrial vibes of city life. However, if you're a couple looking for a picturesque escape from the hustle and bustle of the city to celebrate your big day, you don't have to go far. Just a short 20 minute drive from downtown Chattanooga is the woodsy little haven of the Homestead at Cloudland Station.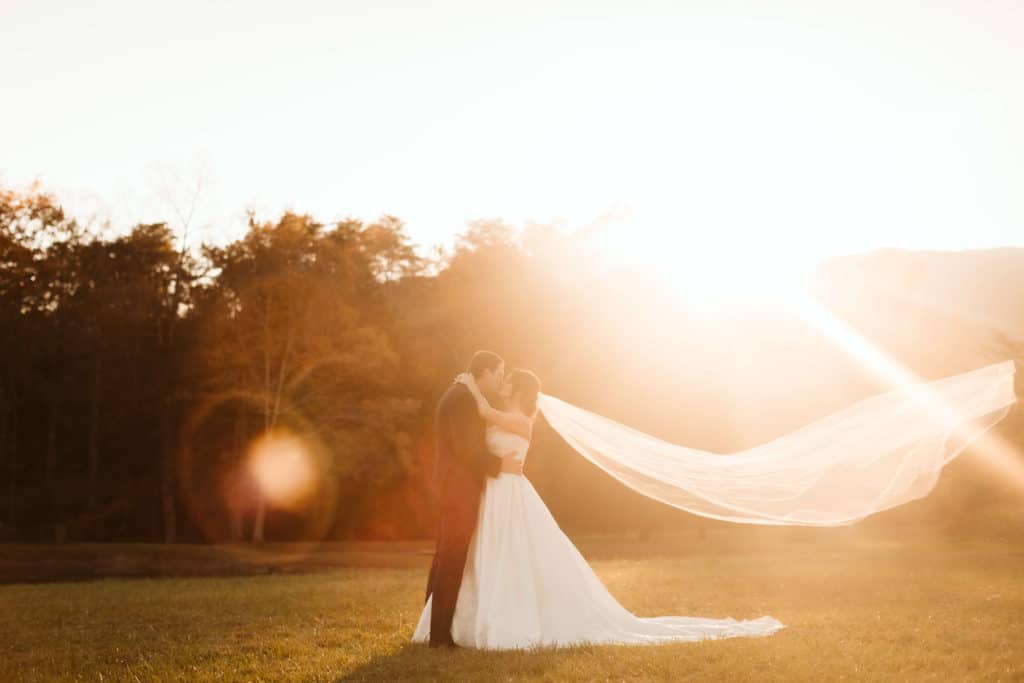 Picturesque Rustic Wedding at the Homestead at Cloudland Station
Cloudland Station is a homesite community that strives to take a break from the fast-paced world we all live in and embrace the simple things in life. Families from all over the area commission quaint little cottages or cabins as second homes or summer getaway houses to take a break from city life. It's a little nod to simpler times but with all of the modern amenities we're used to today. Cloudland Station is made of villages that value the warm community feeling of knowing your neighbors by name and embracing the beauty of life in a gorgeous natural setting.
The Homestead is a wedding venue located within Cloudland Station. It consists of an Italianate farm home for the bridal party to get ready in, a lakeside courtyard to hold your ceremony, and a 150-year-old refurbished barn for the reception of your dreams. Not only are the grounds of the venue absolutely lovely by itself but it's also located in a valley at the base of Lookout Mountain. Everywhere you turn while you're on the Homestead's property you're surrounded by the most spectacular views. In one direction are verdant forests that hold beautiful colors all-year-round and in the other direction are the peaks and valleys of the Northwest Georgia Mountains.
Because the Homestead is so close to Chattanooga, many couples will enjoy a peaceful wedding surrounded by natural beauty then after their reception, rent a party bus to keep the celebration going in an afterparty or bar in Downtown Chattanooga! It's really the best of both worlds.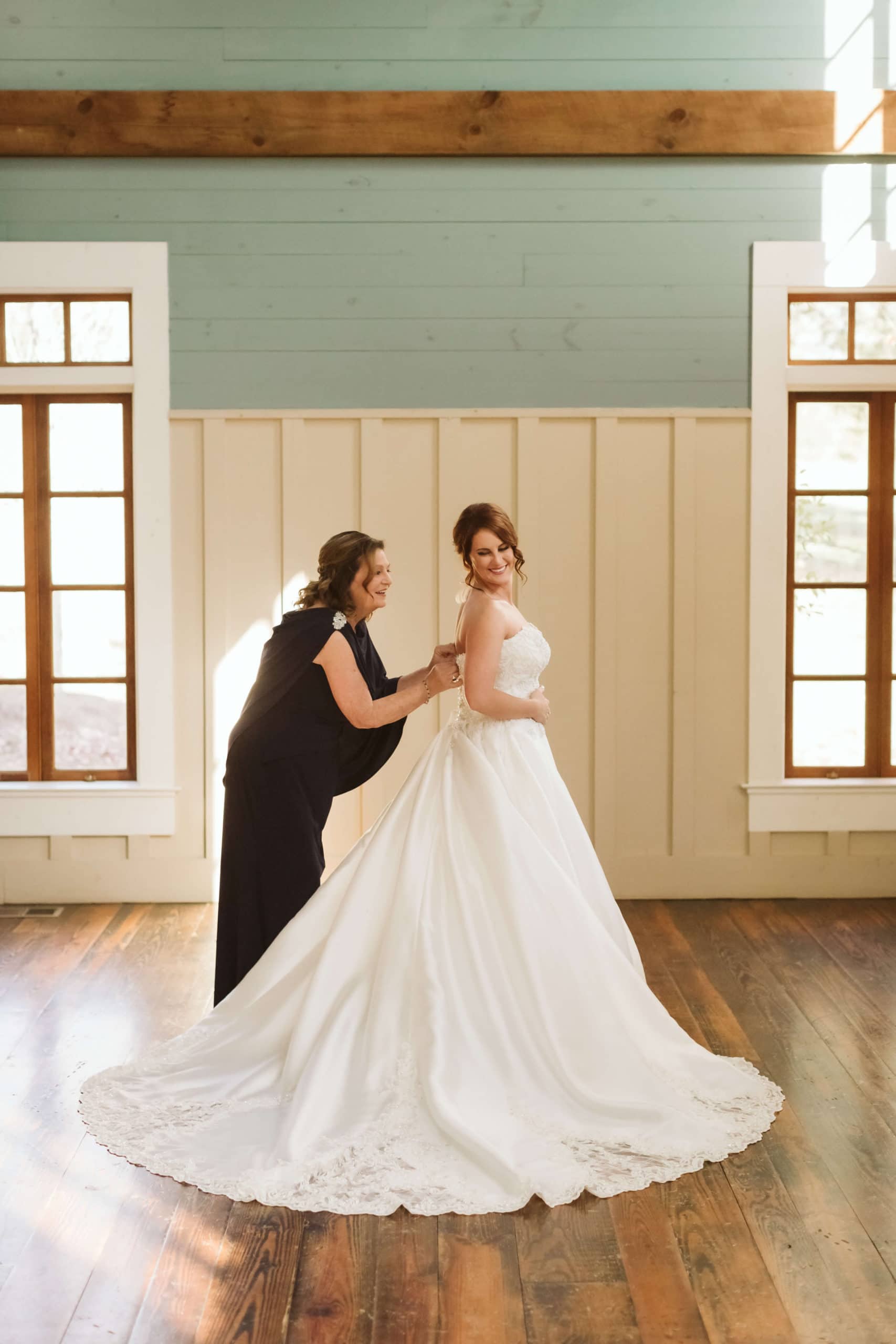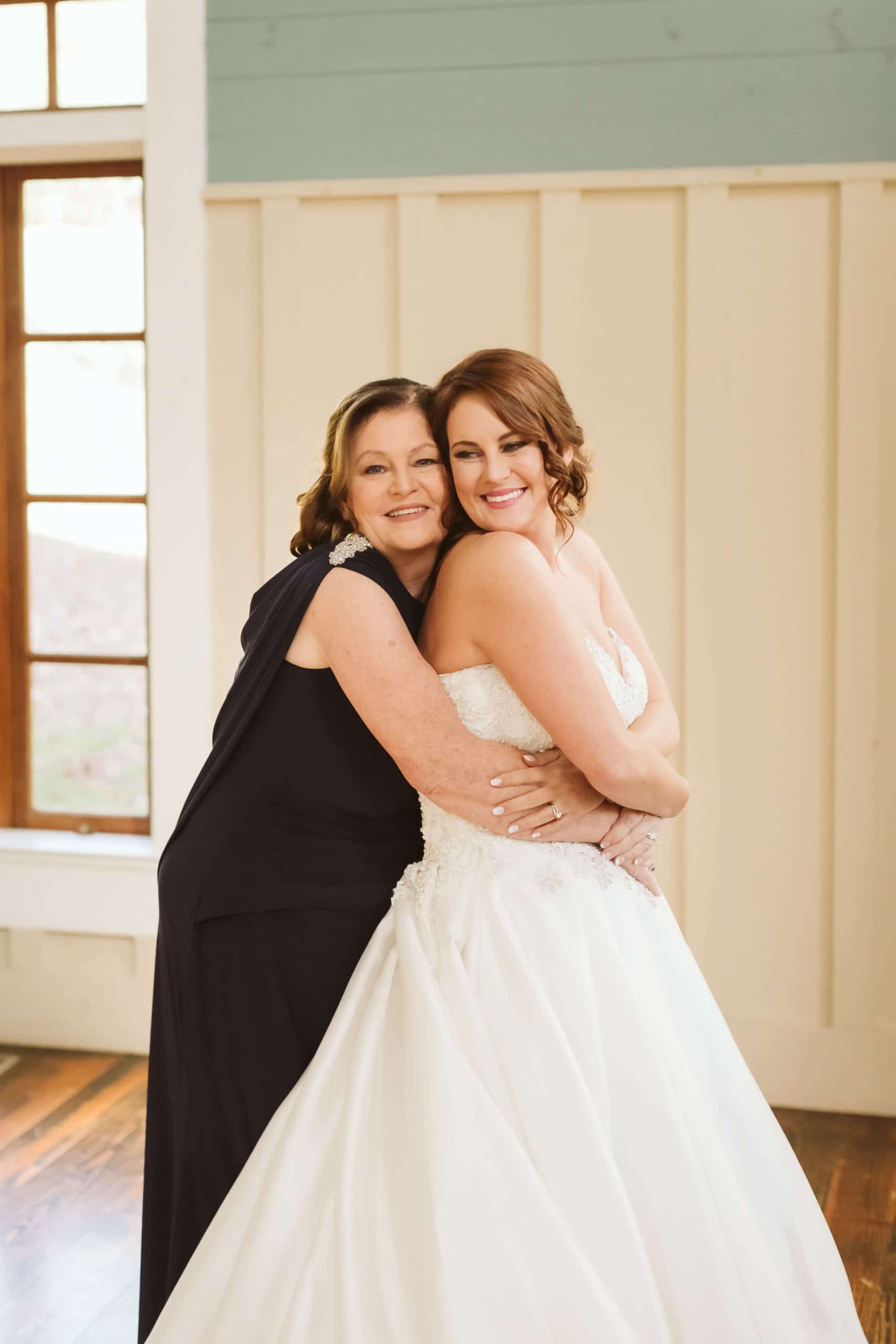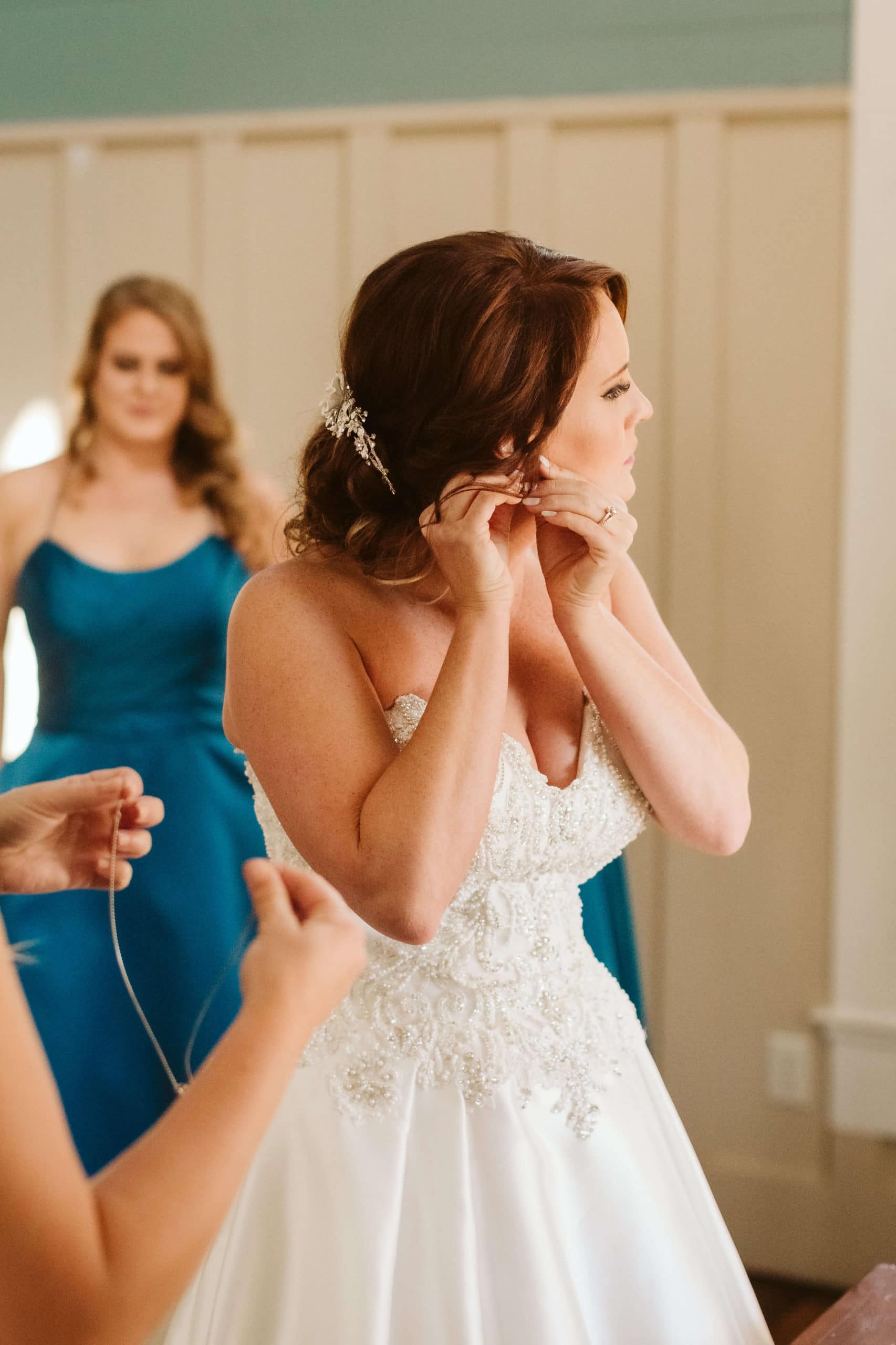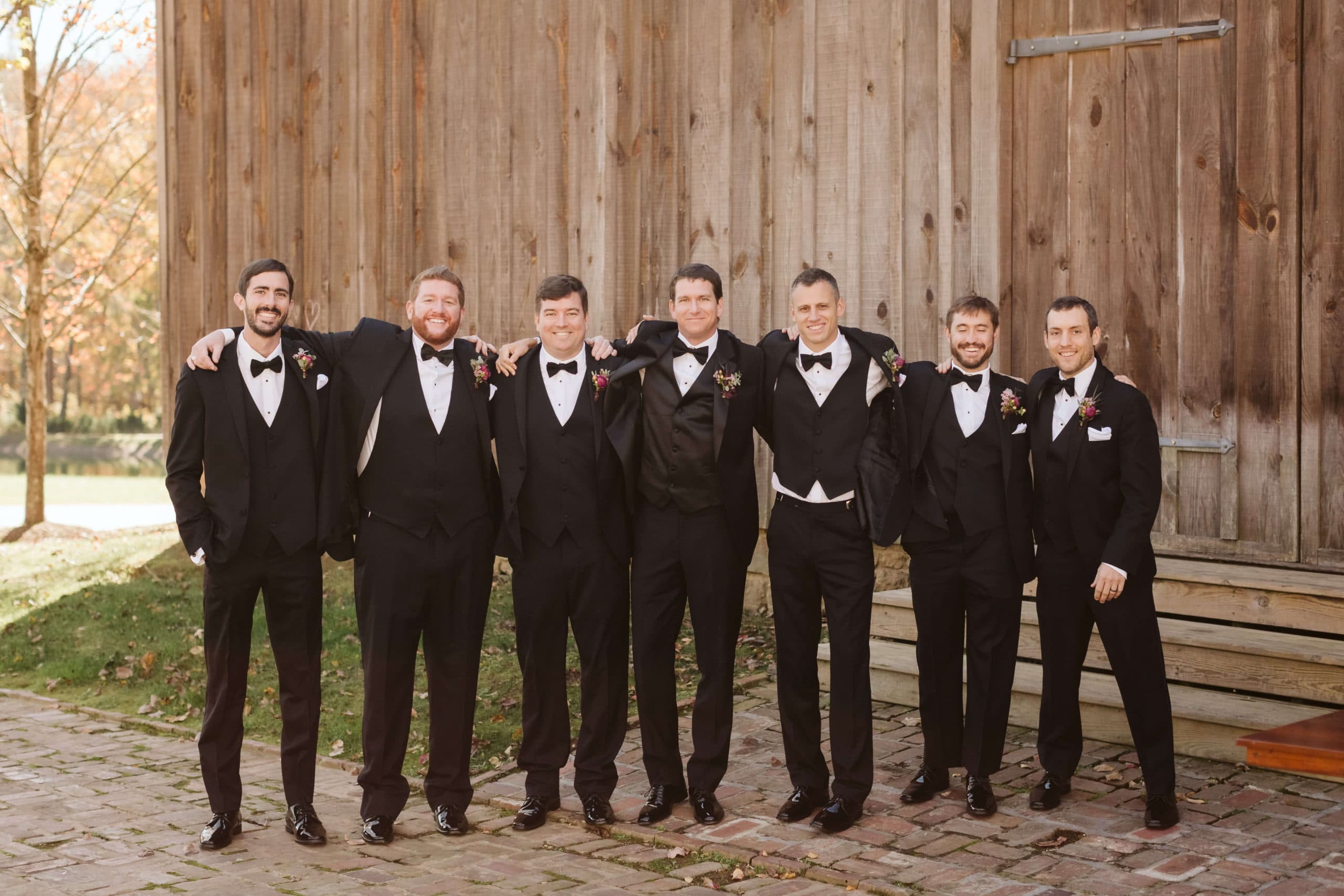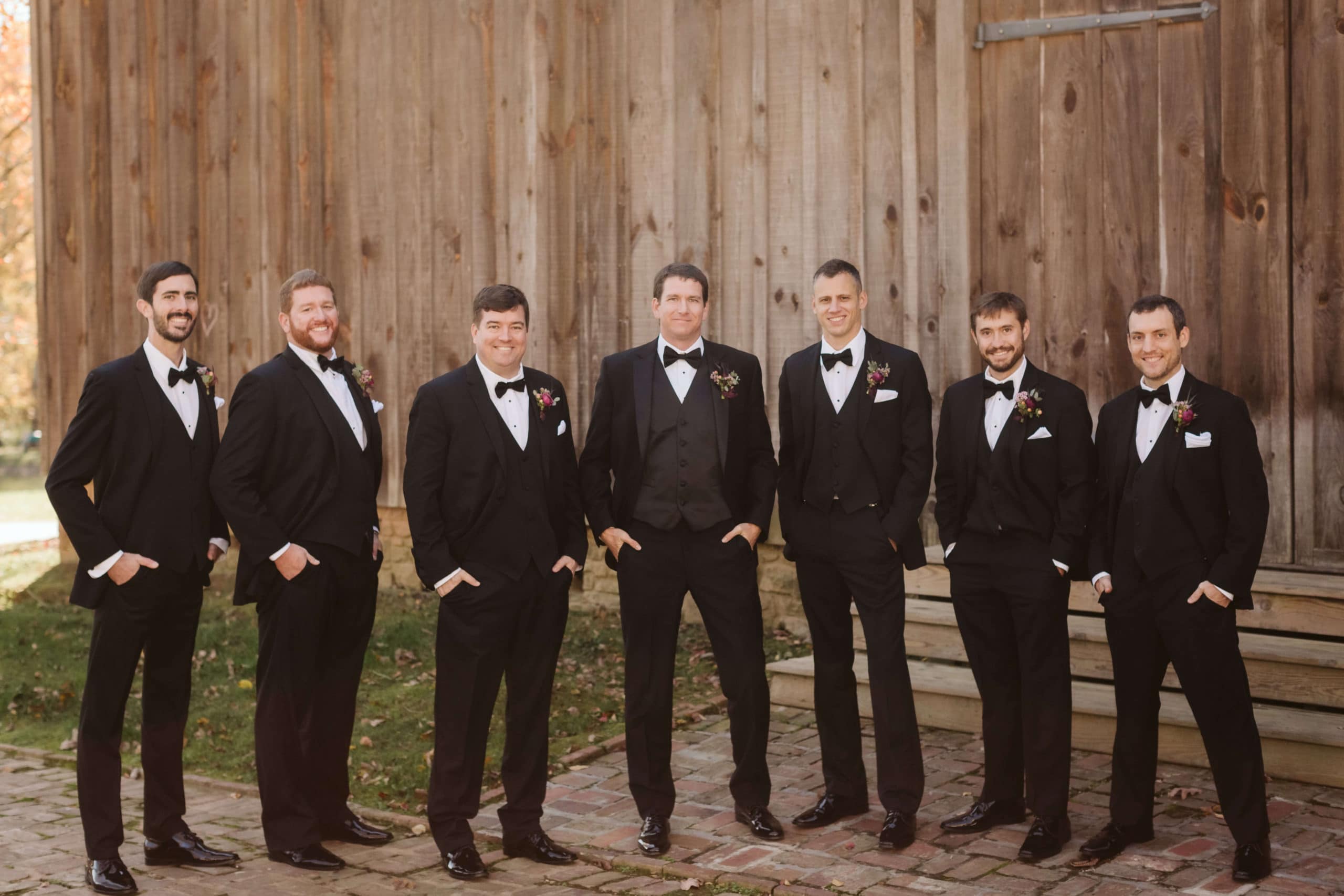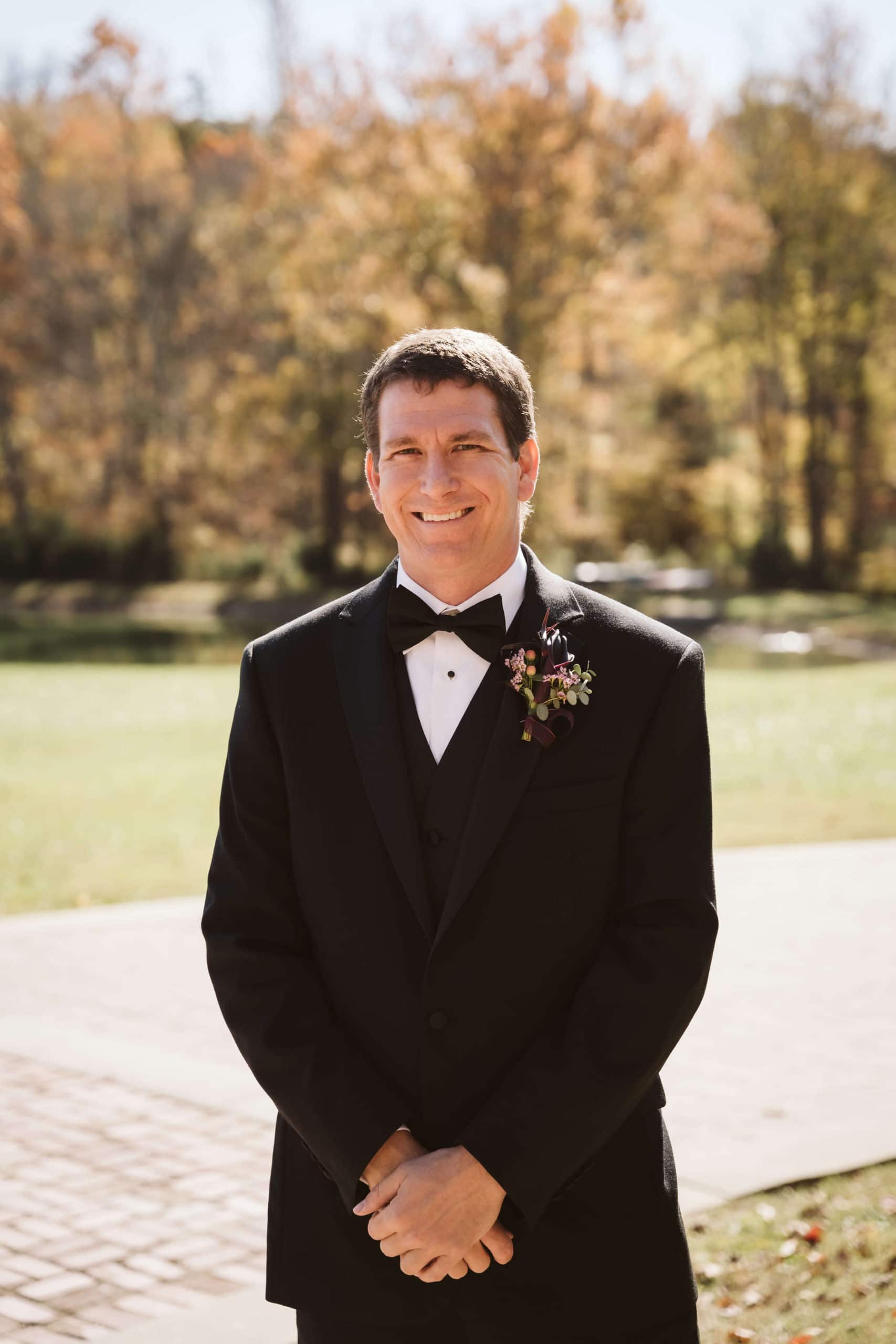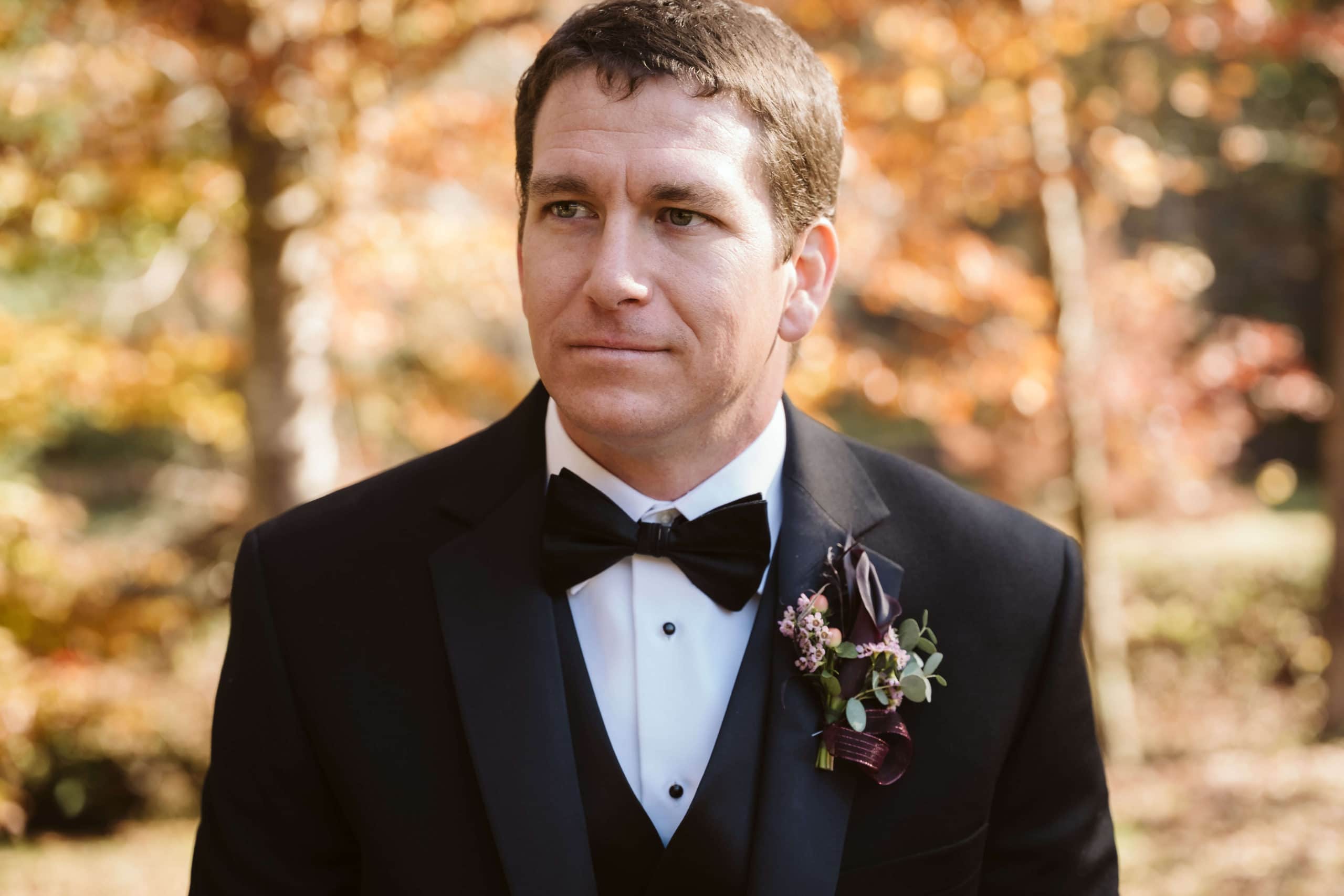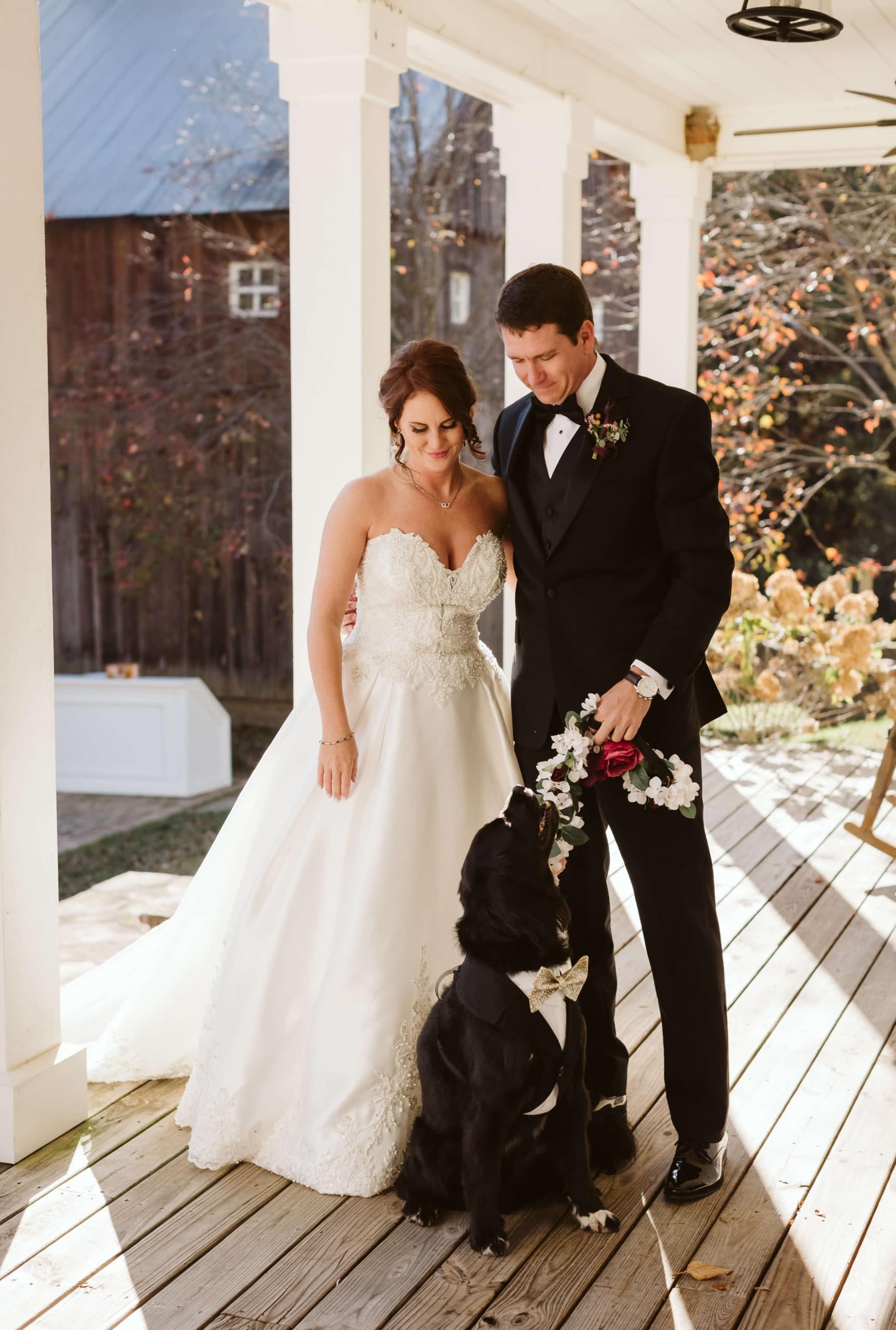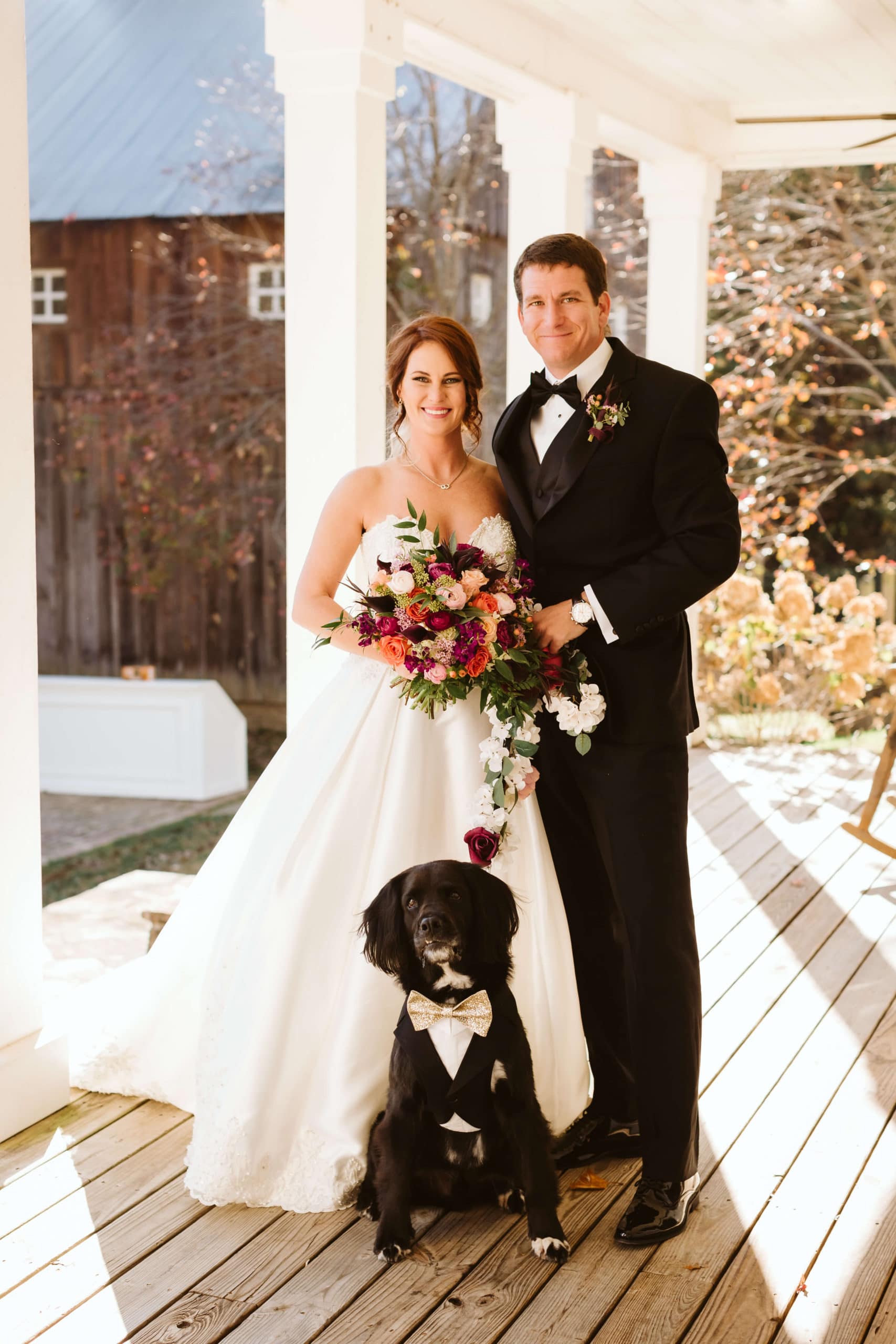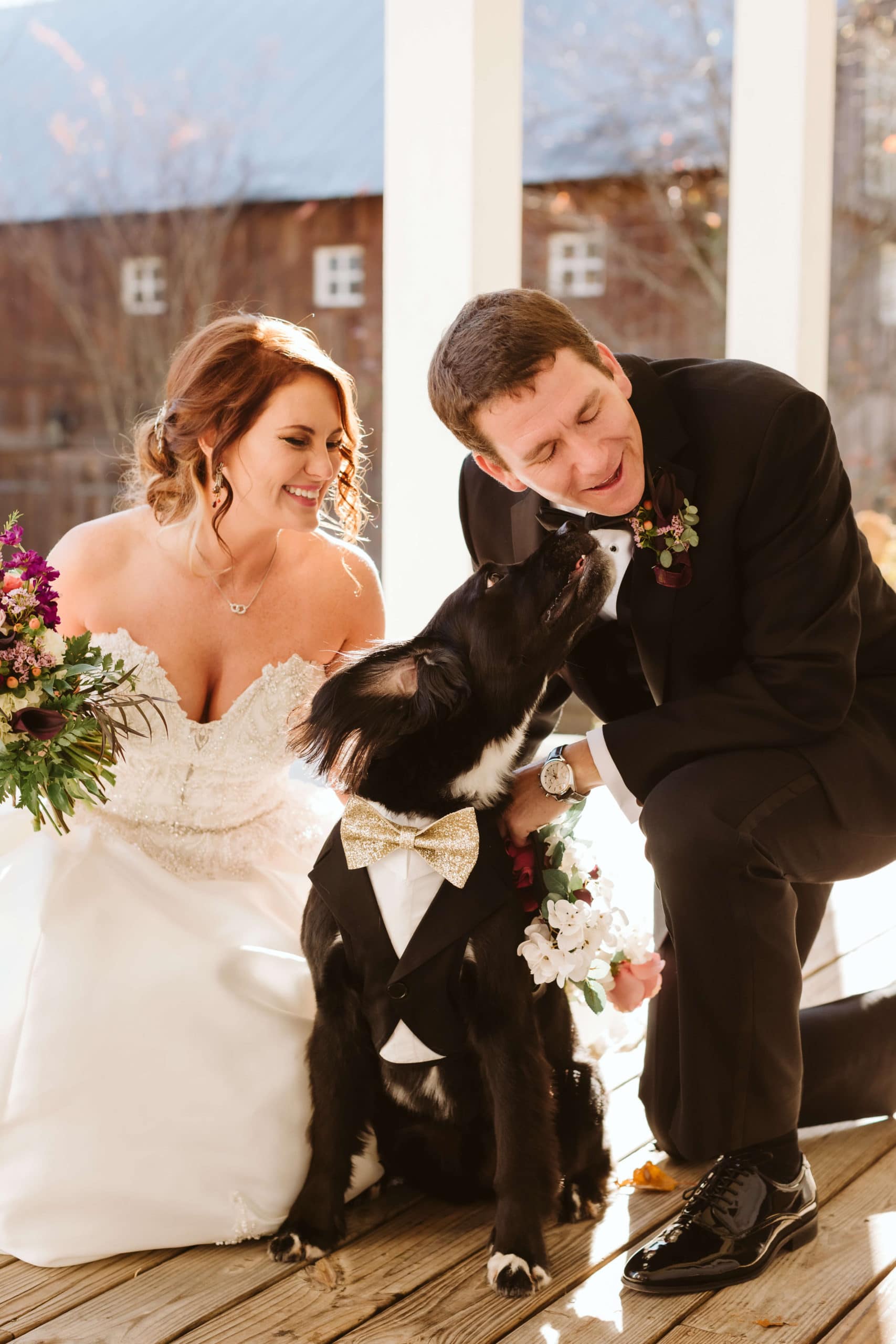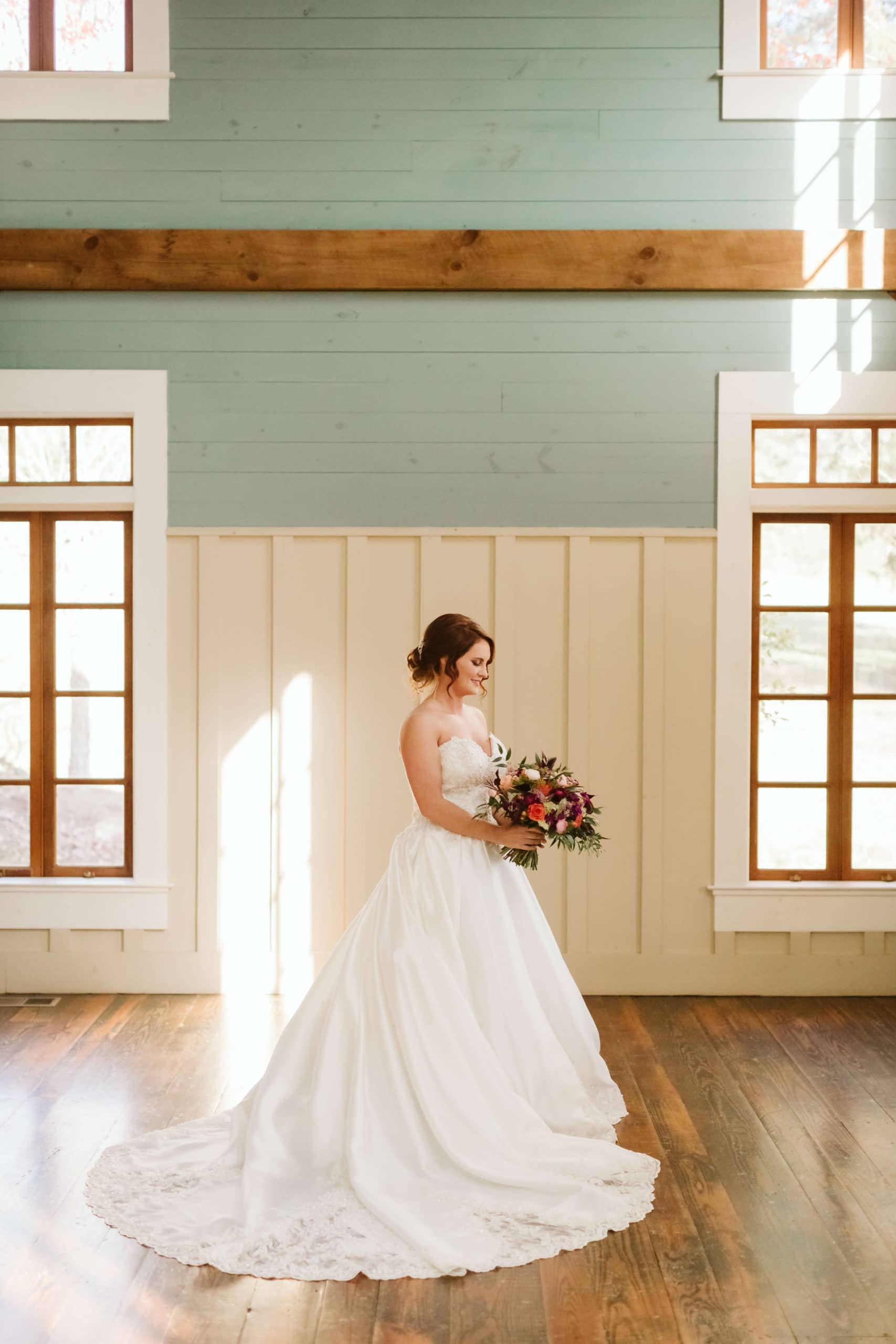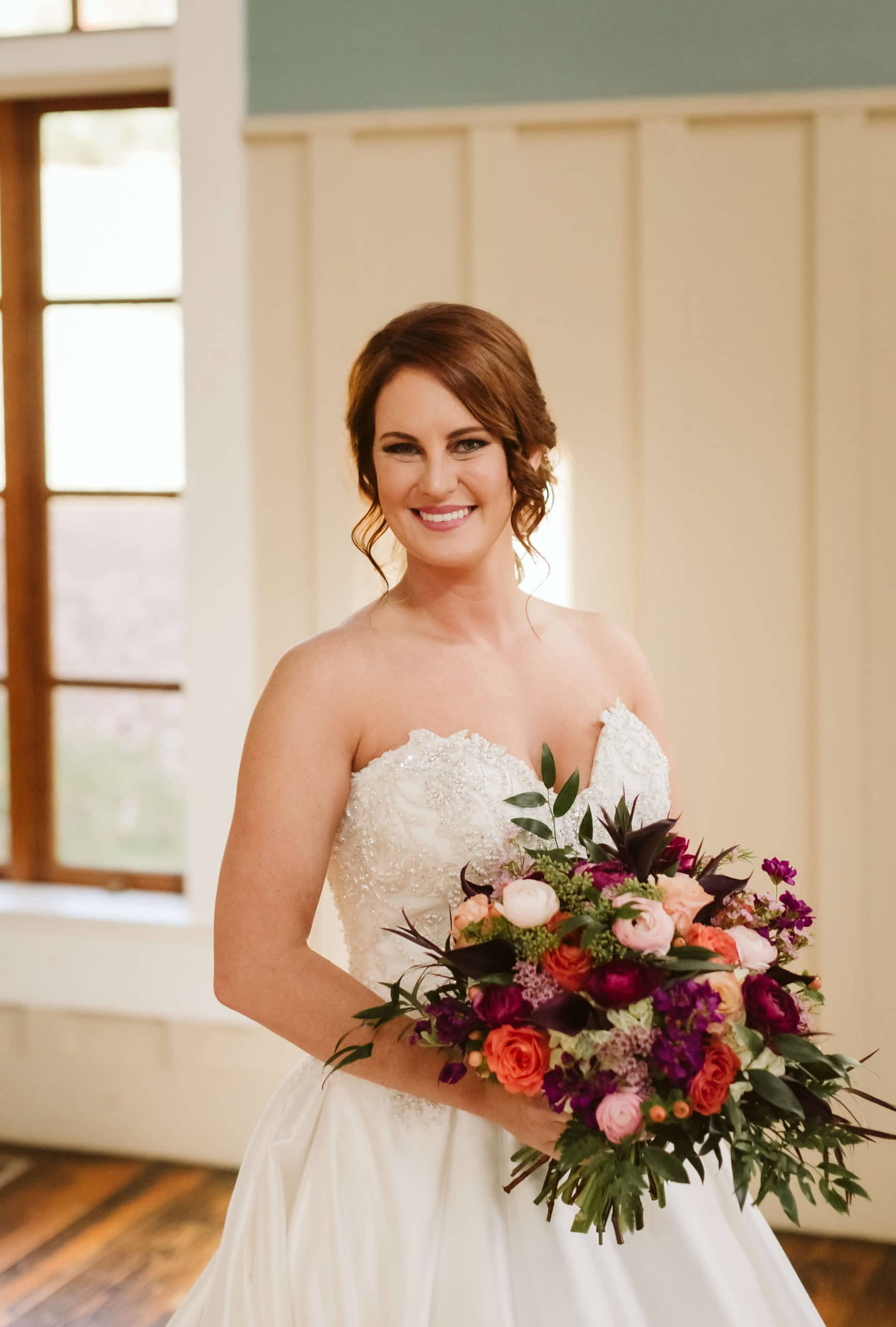 Ultimate Teammates Become the Ultimate Couple
Jen and Bryan are one of the sweetest couples I've ever worked with. When we were talking about their wedding and the kind of vibes that they wanted the day to be, they said they just wanted a big celebration for all of their family and friends. Basically, they wanted their wedding to be a celebration for everyone to simply have fun - especially a year after the pandemic started and they'd all been separated for so long.
The two of them met over a mutual love of ultimate frisbee. They both played during their college years at the University of South Carolina and over time, their love for the sport just kept bringing them back together until they finally started dating. After a year of being together, they moved to Chattanooga, bought a house, and adopted their adorable dog, Finn. Even now, they still love to play ultimate and have made lifelong friends in the ultimate frisbee community right here in Chattanooga.
Before their wedding, Jen, Bryan, and I had already met when I did their engagement session in Downtown Chattanooga. I am a huge advocate of having an engagement session. Not only will you have beautiful photos to use for your own memories but also because it helps you get to know your wedding photographer beforehand. By the time we reached their wedding, I had already met them and gotten to know them (and Finn!) and we were all super comfortable working together. It made photographing their wedding so much smoother and everyone had a great time.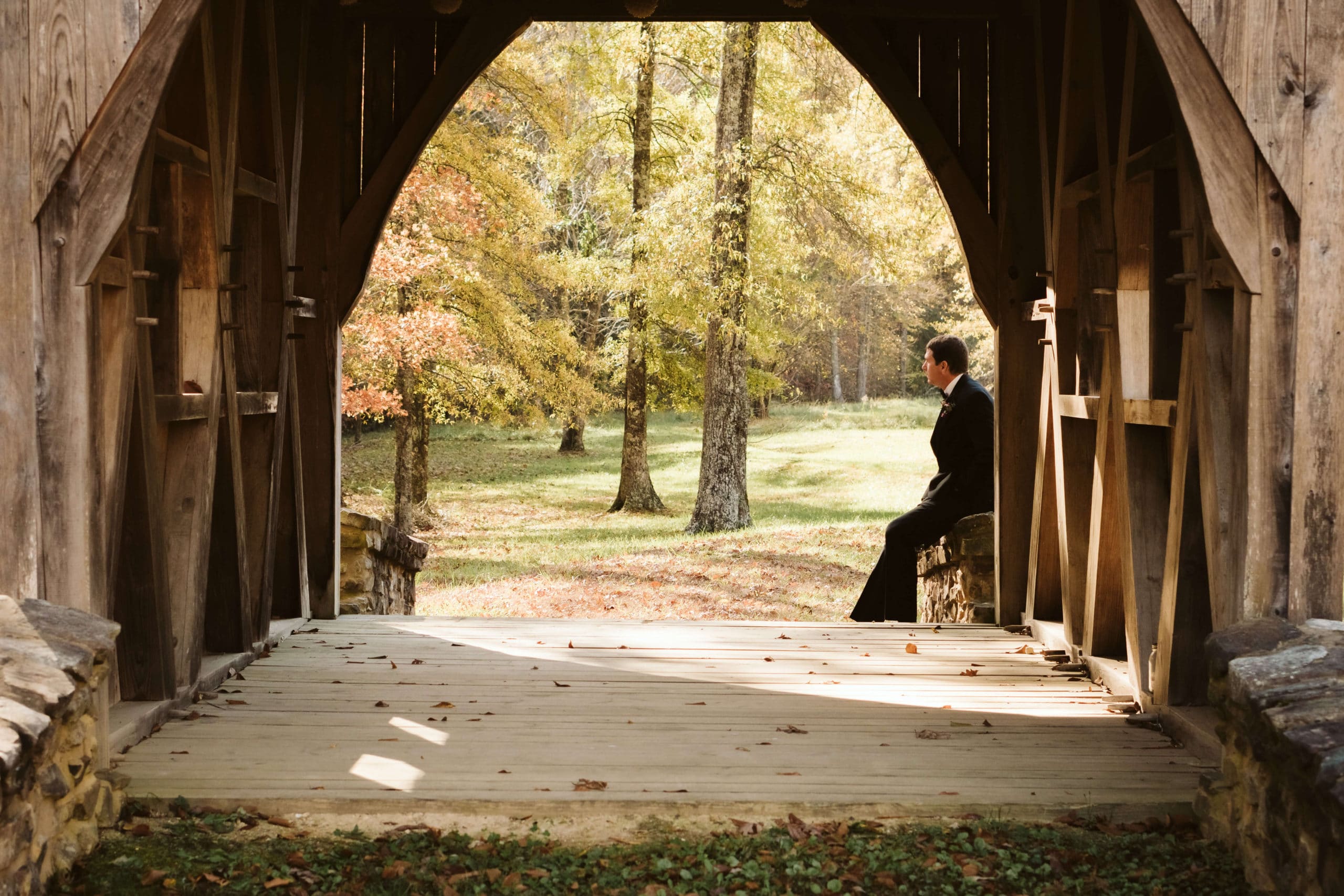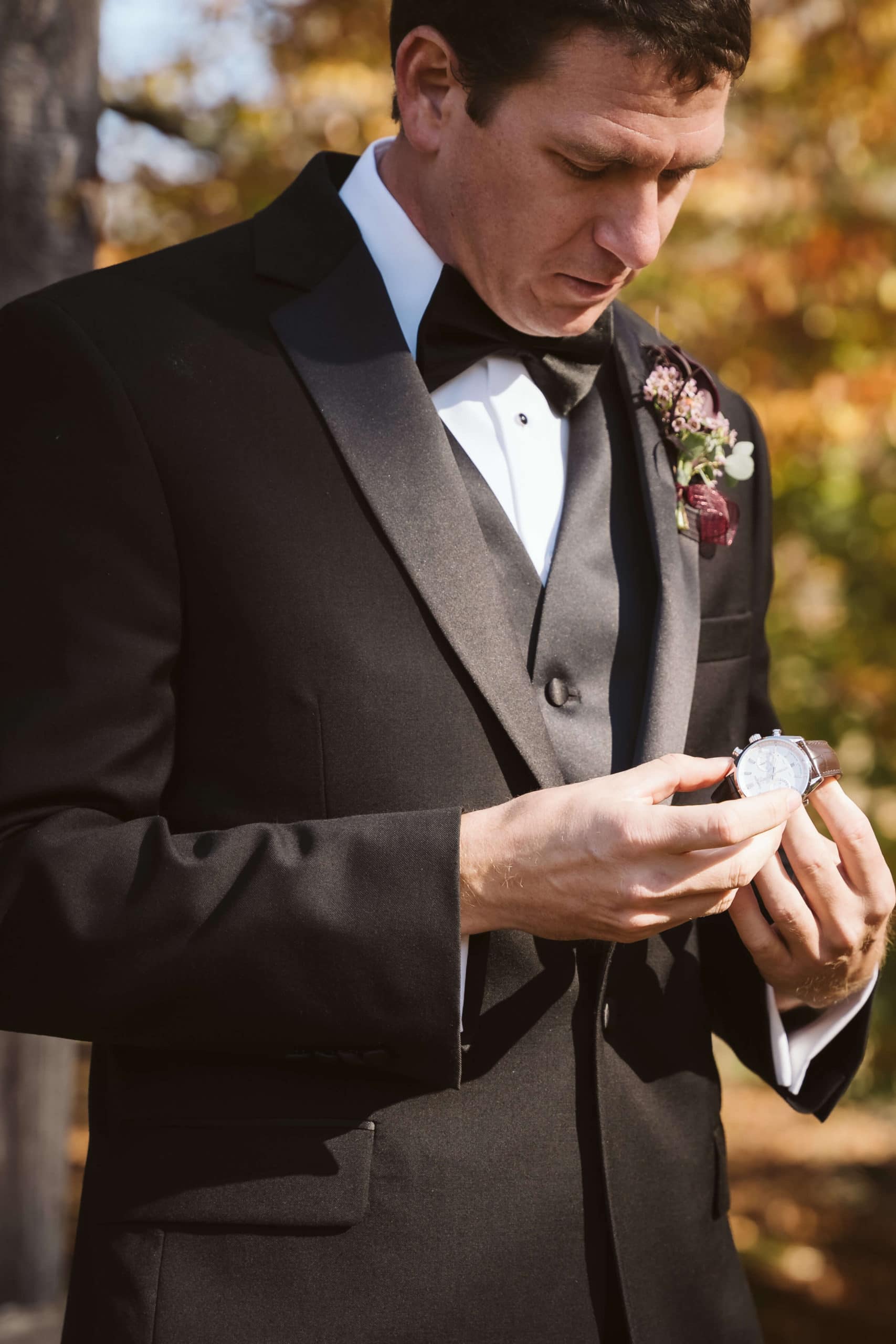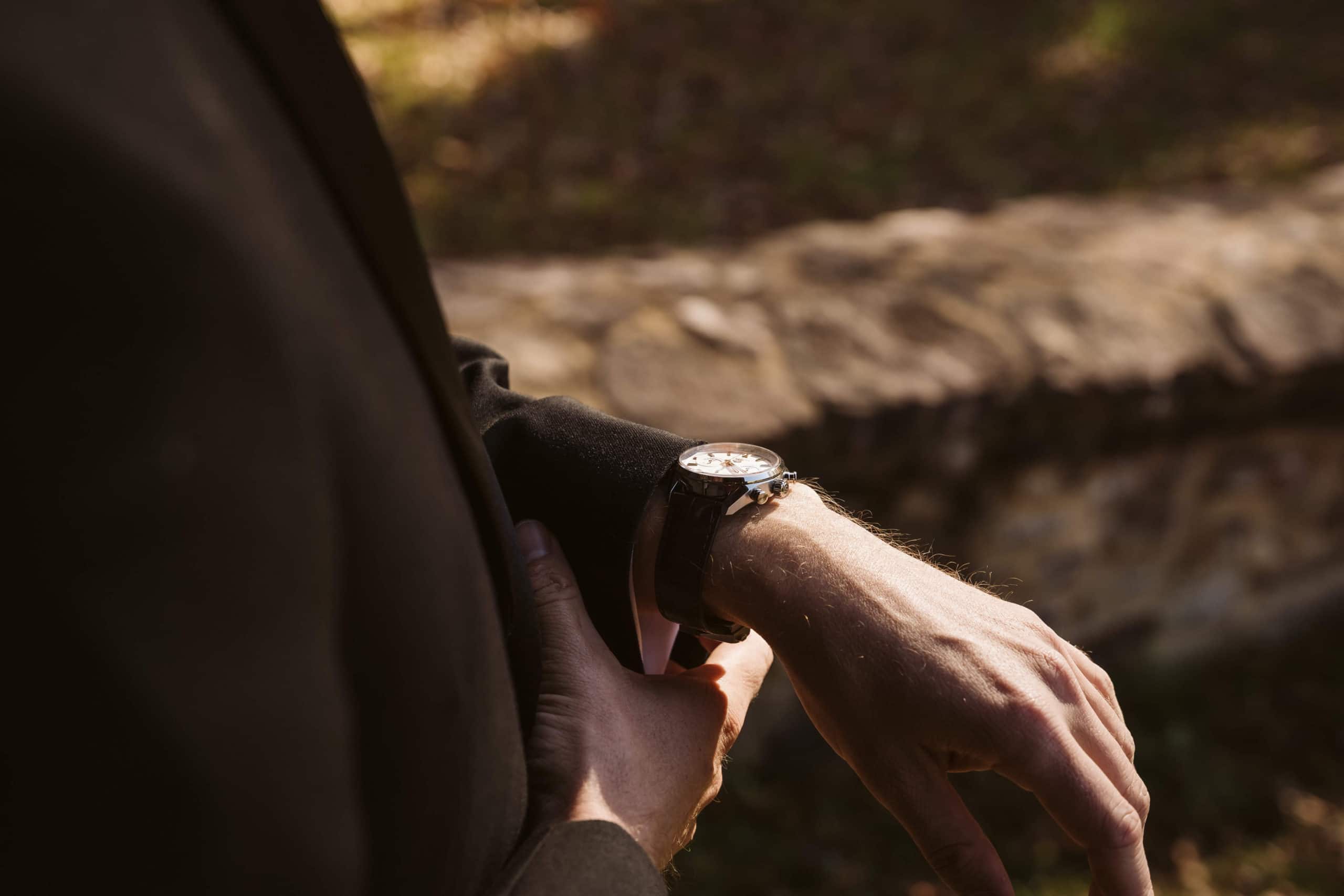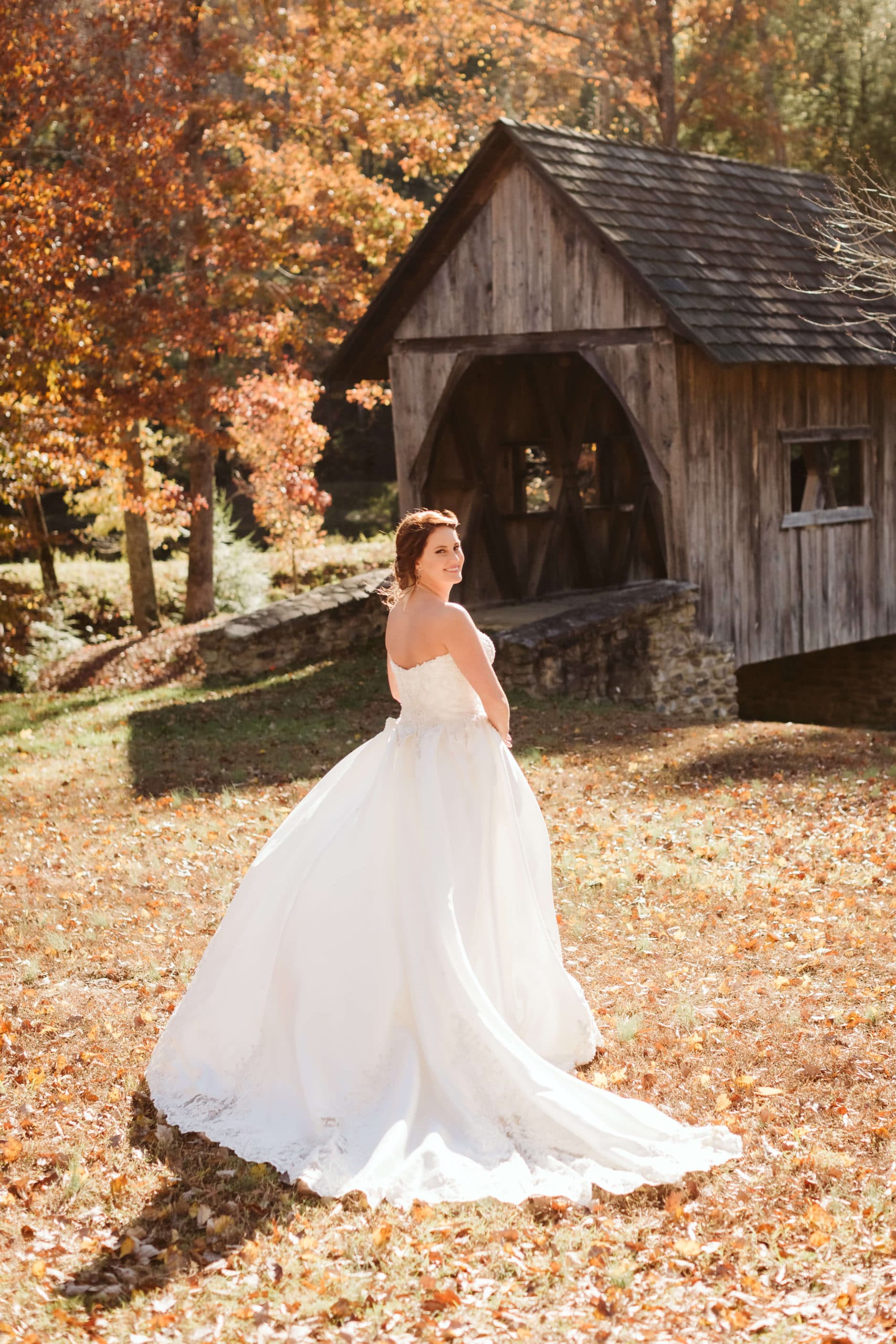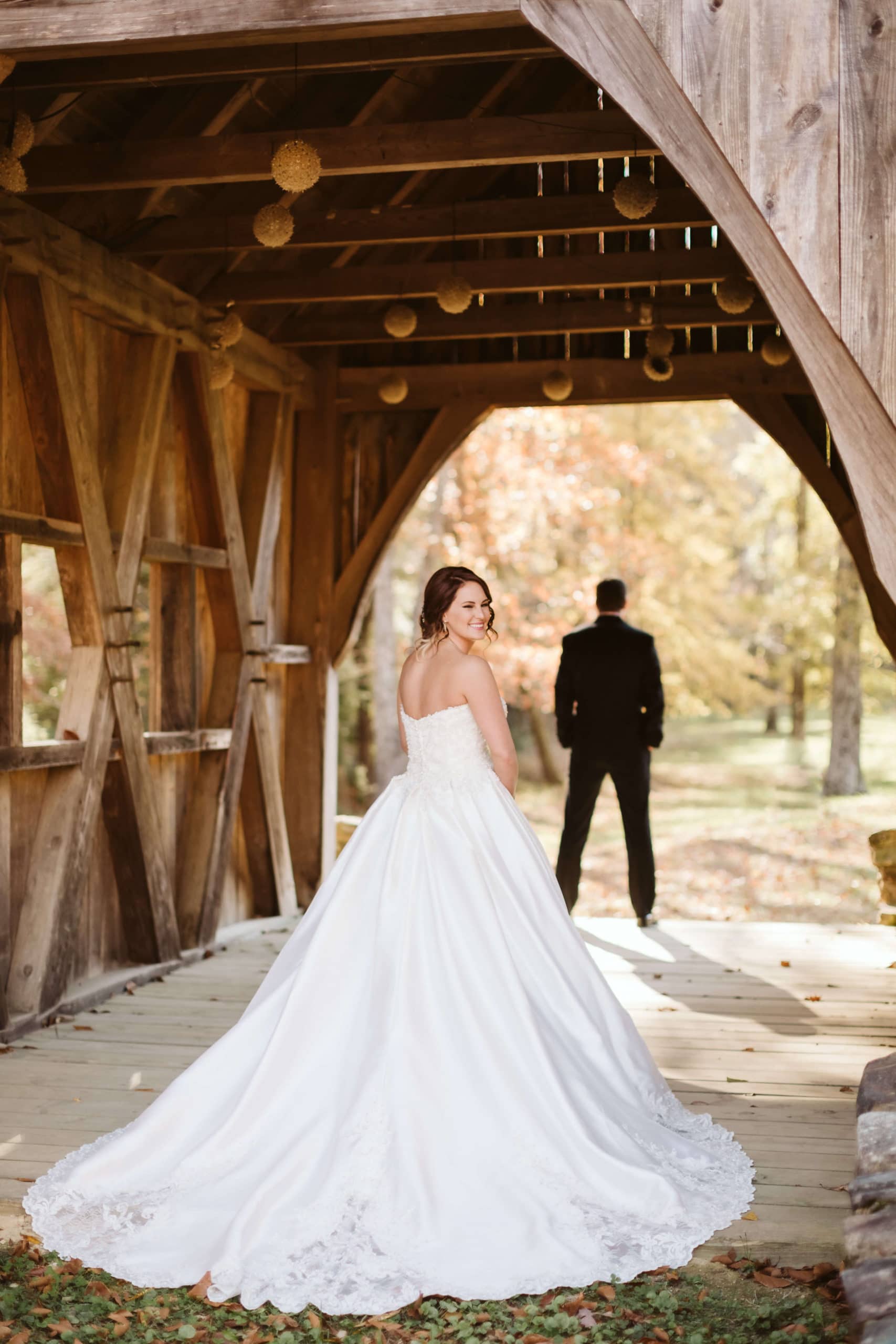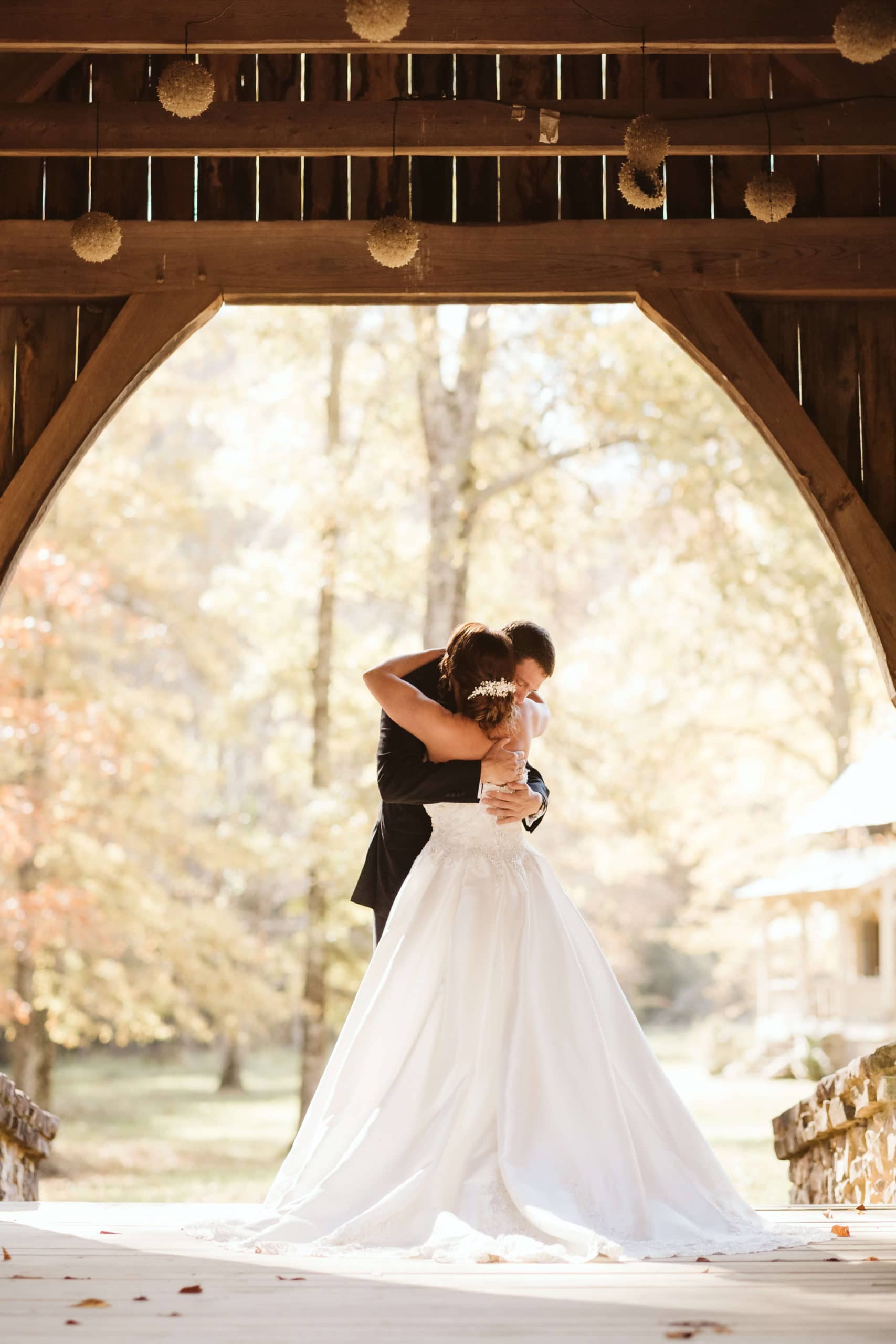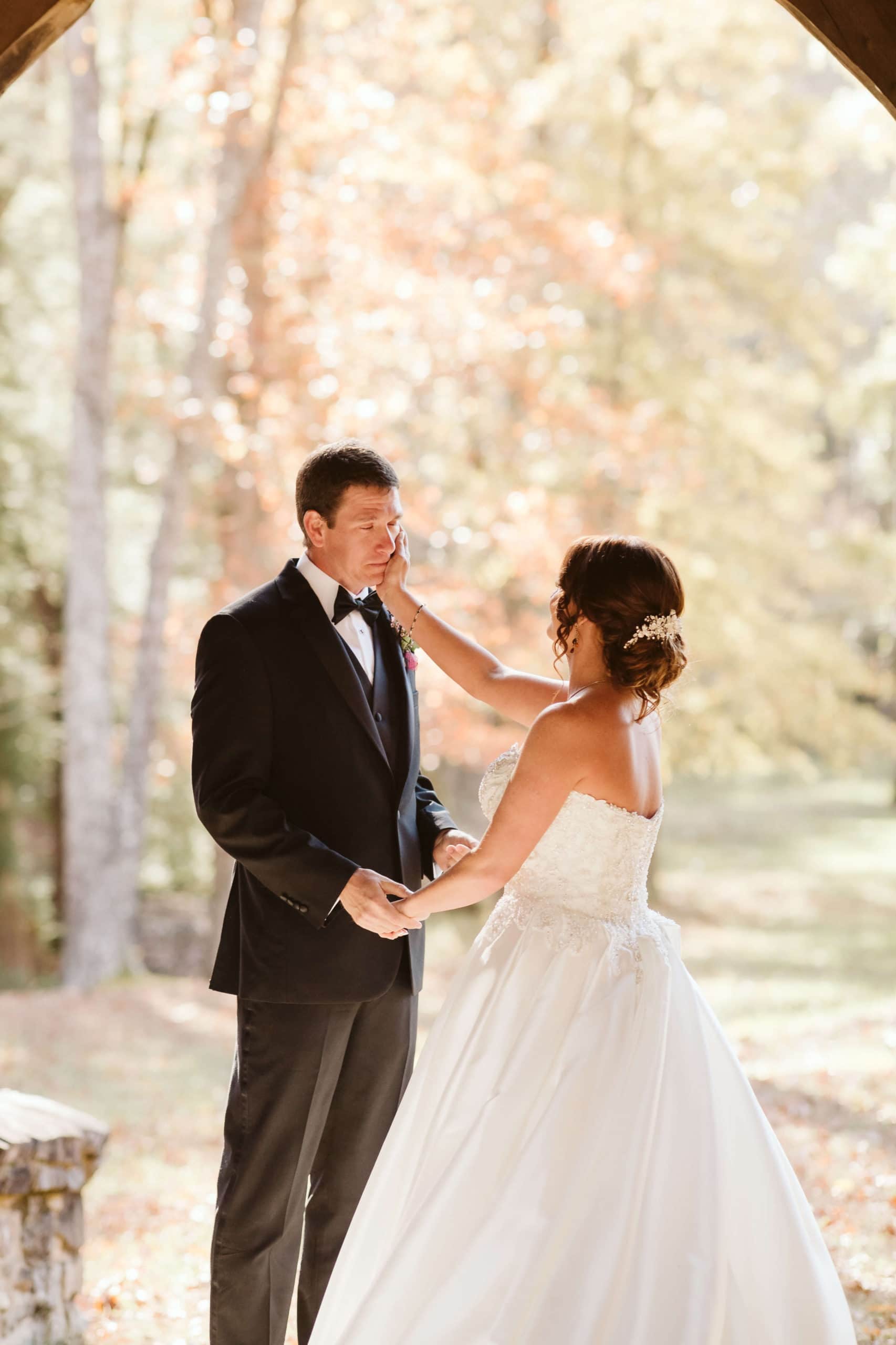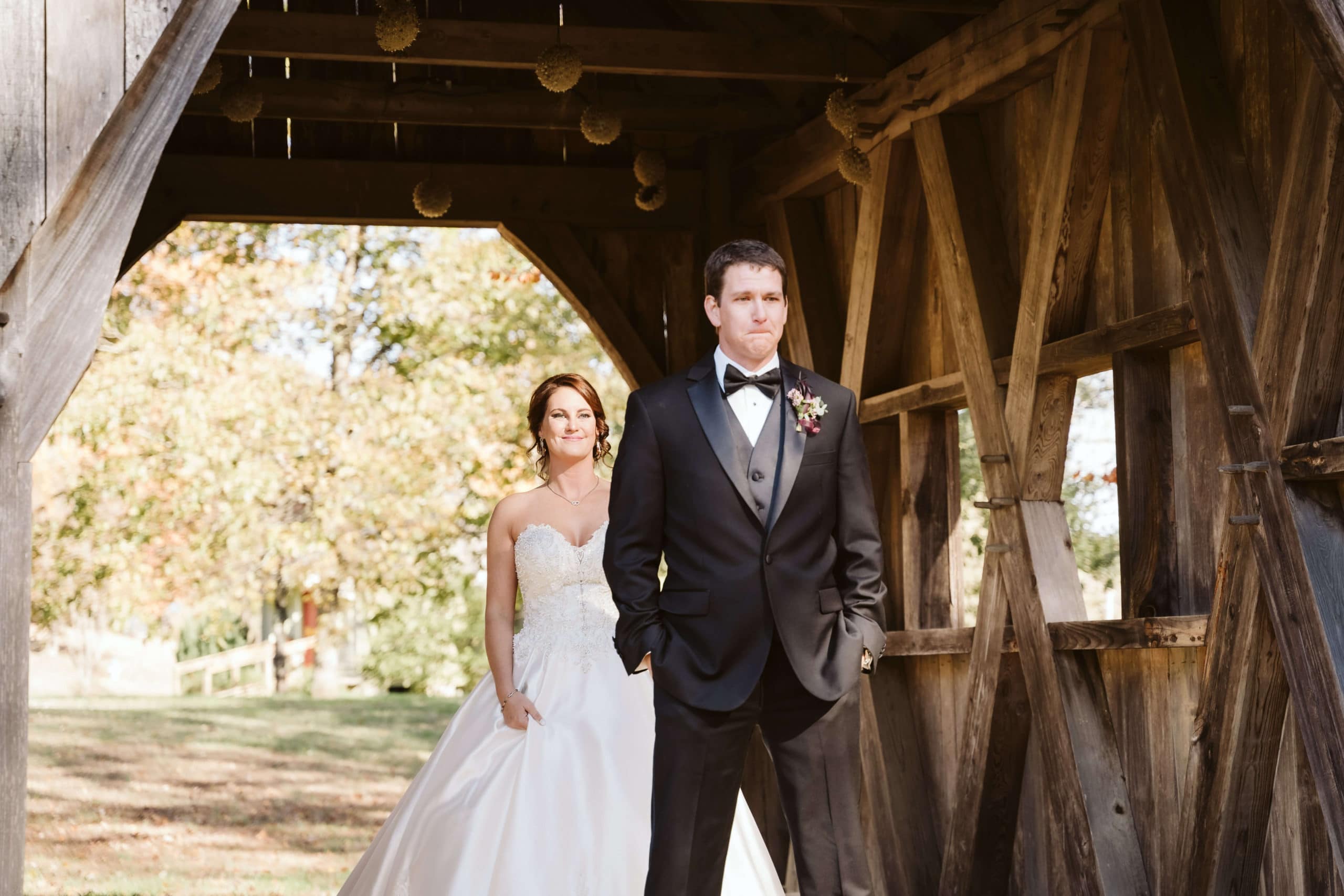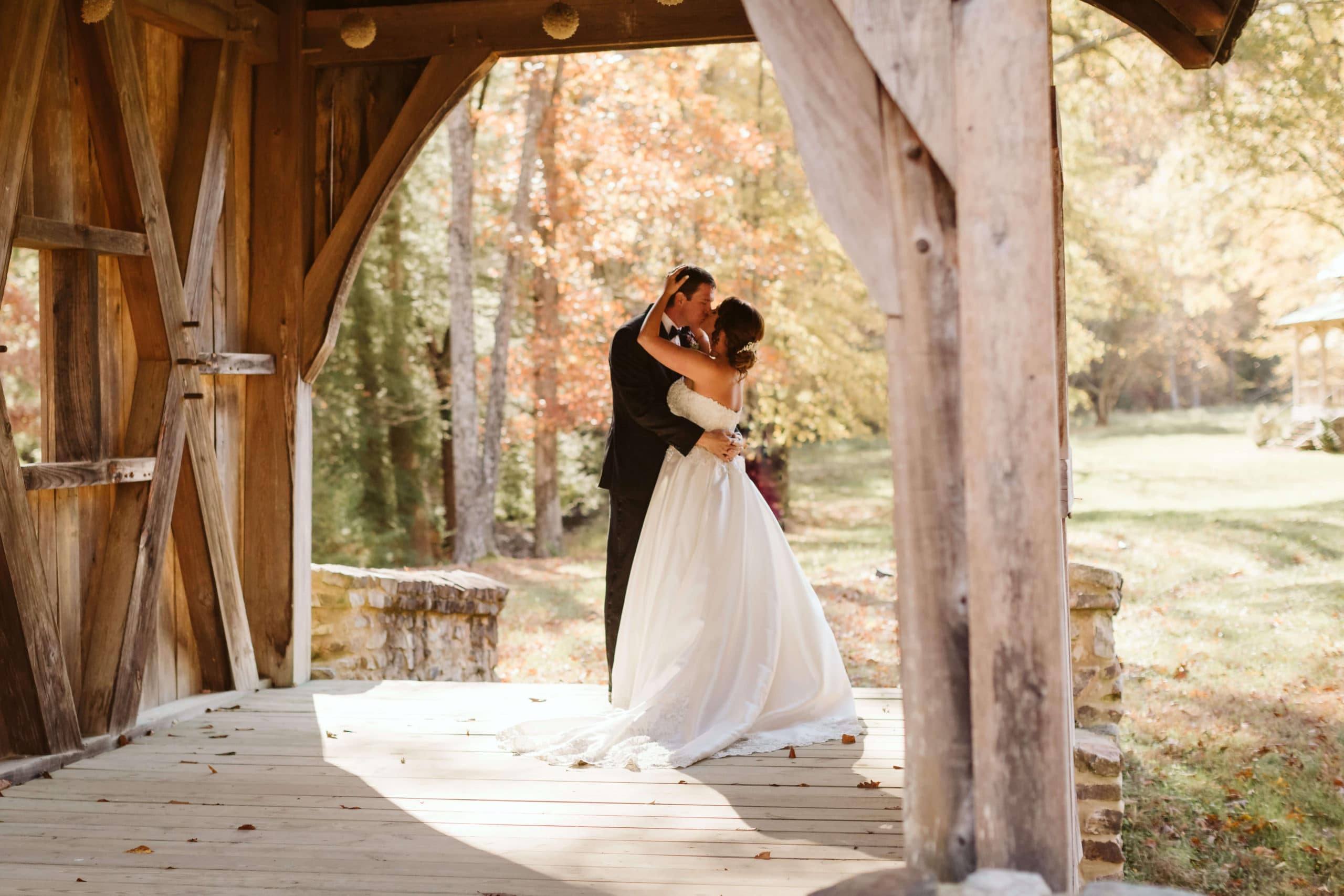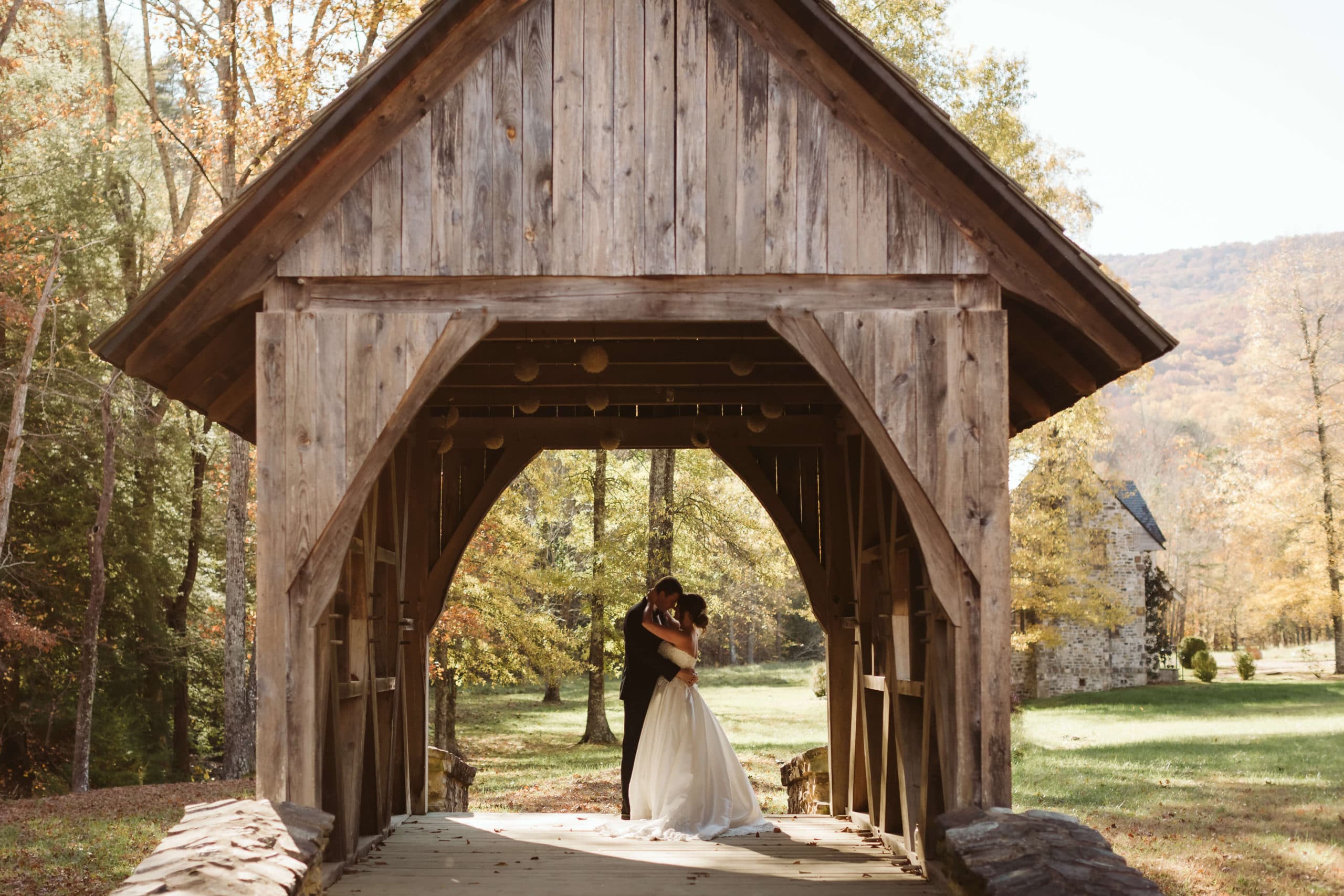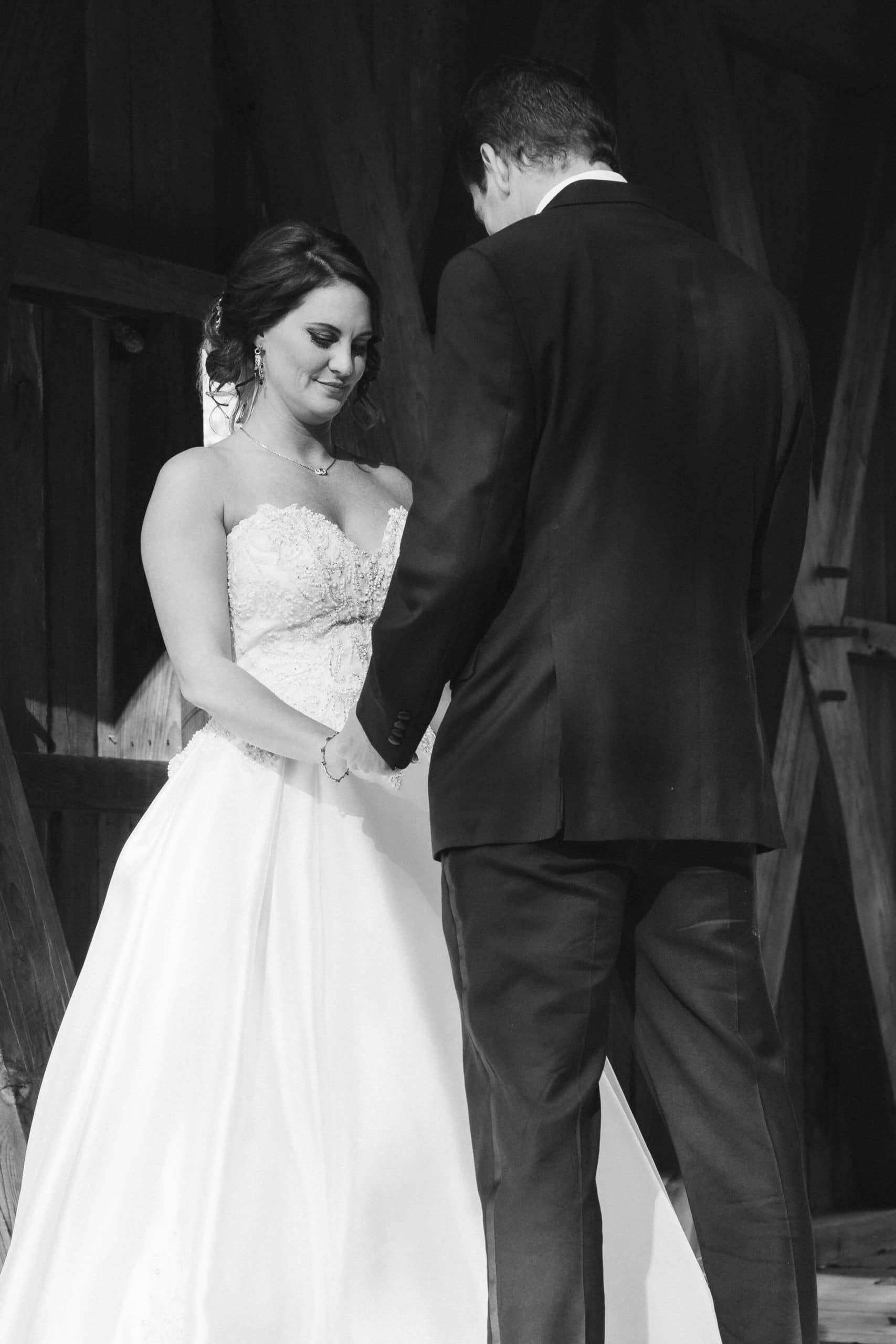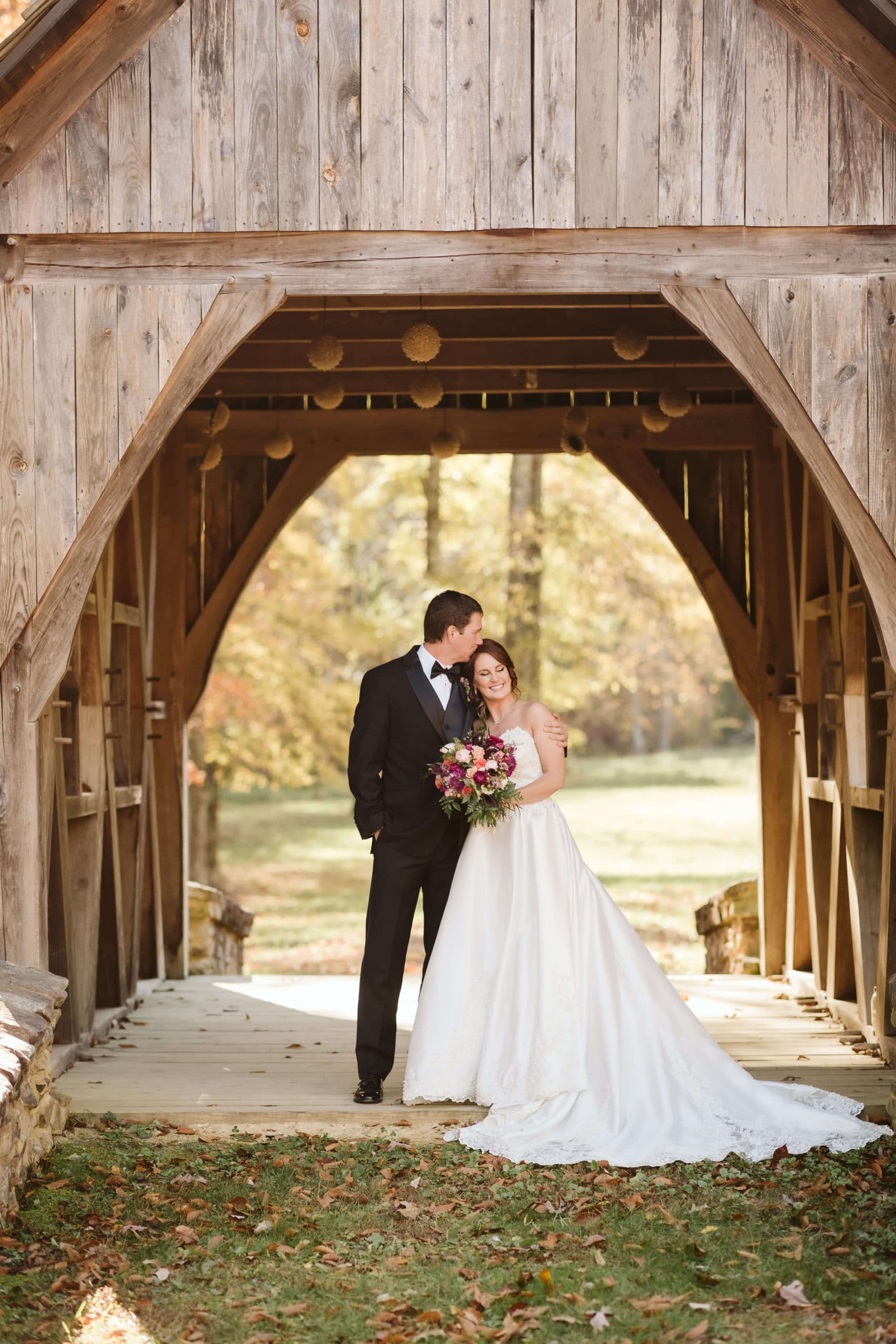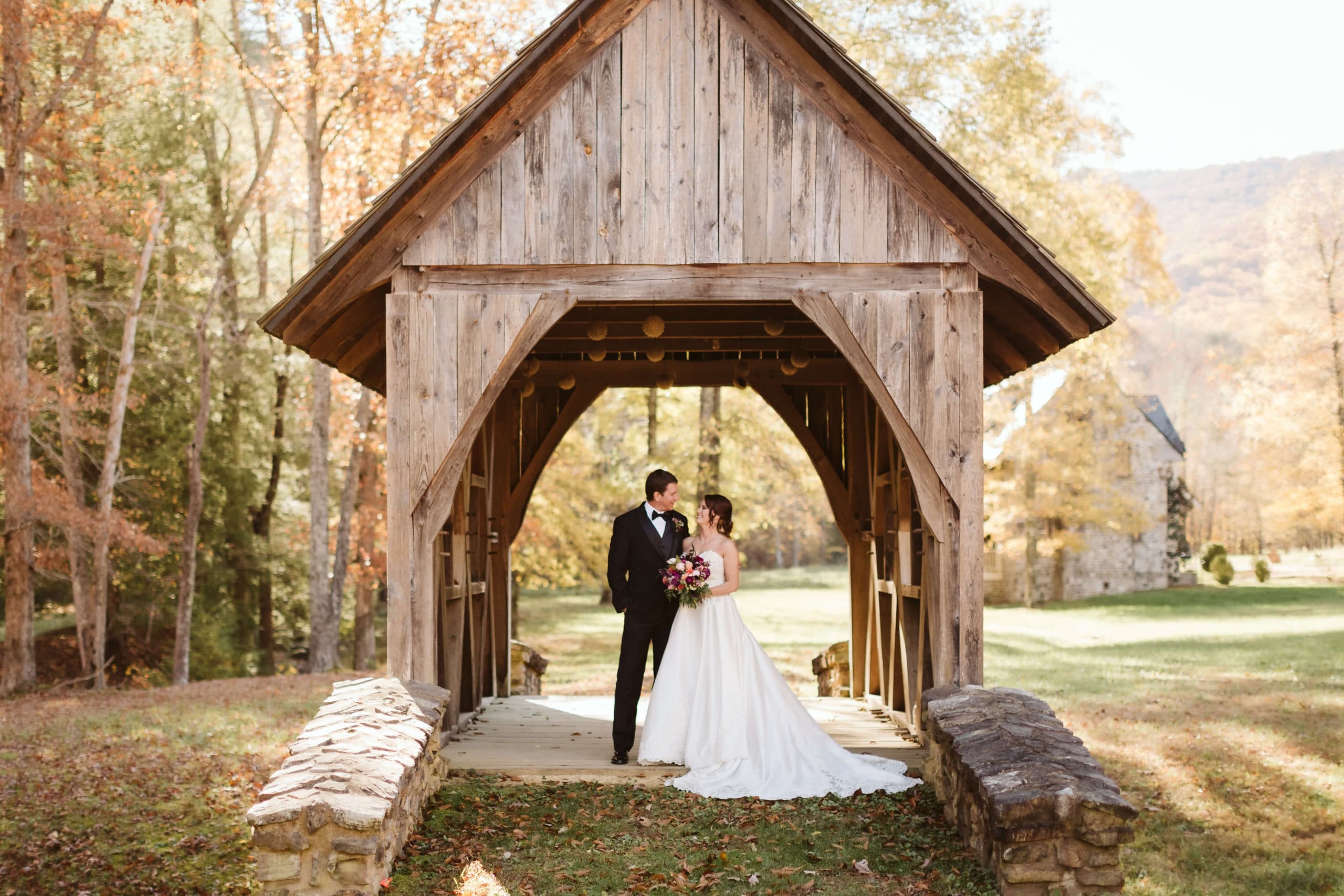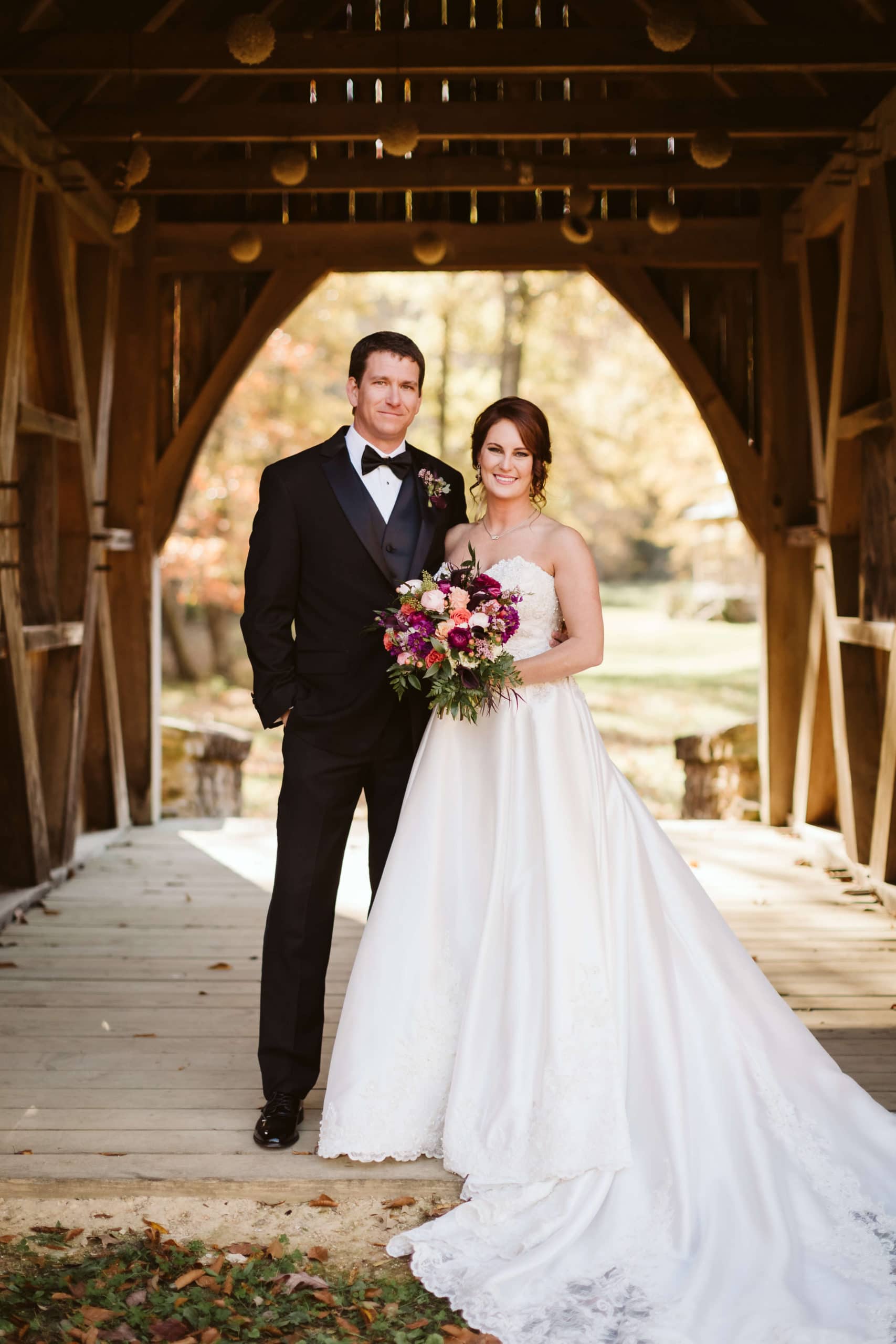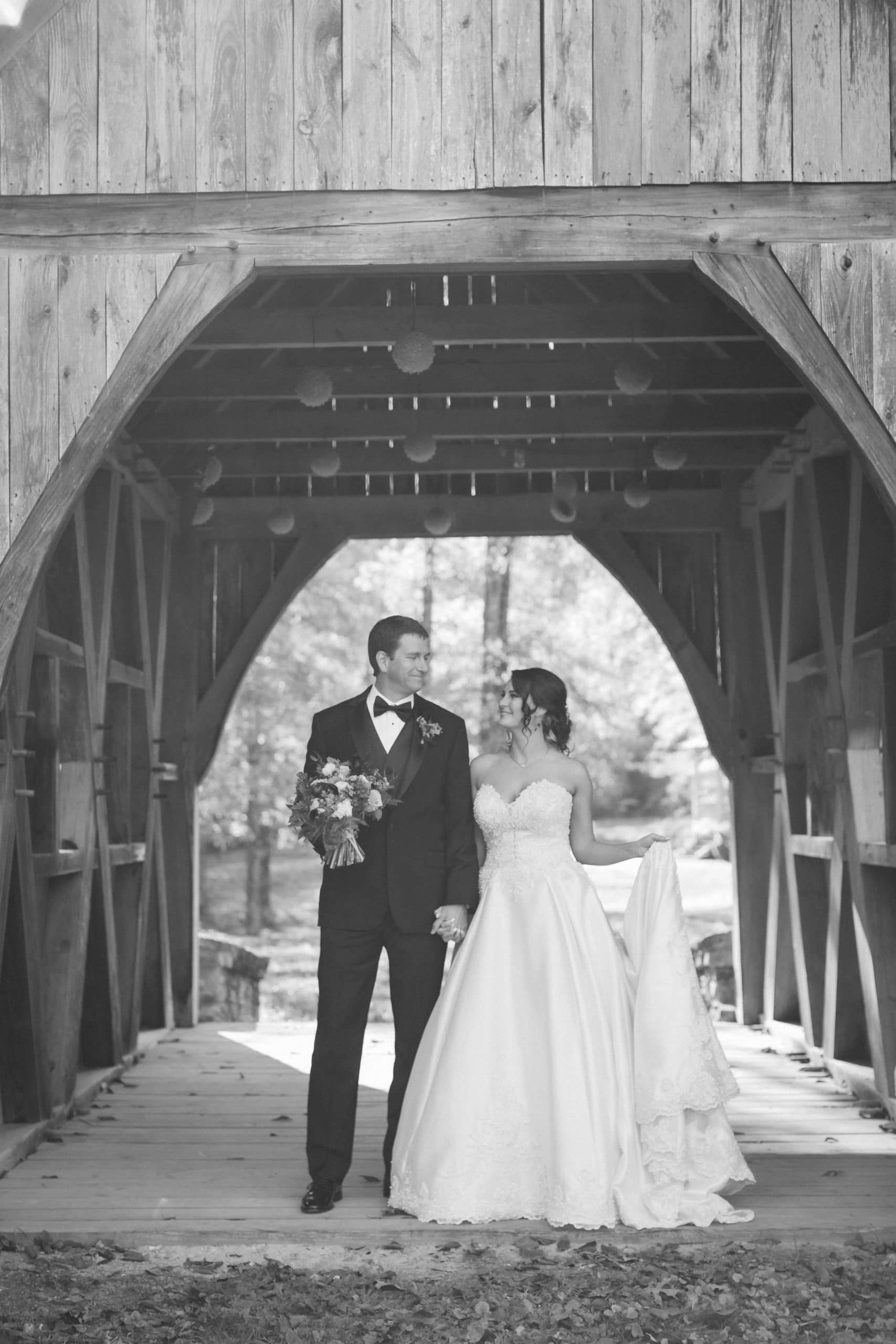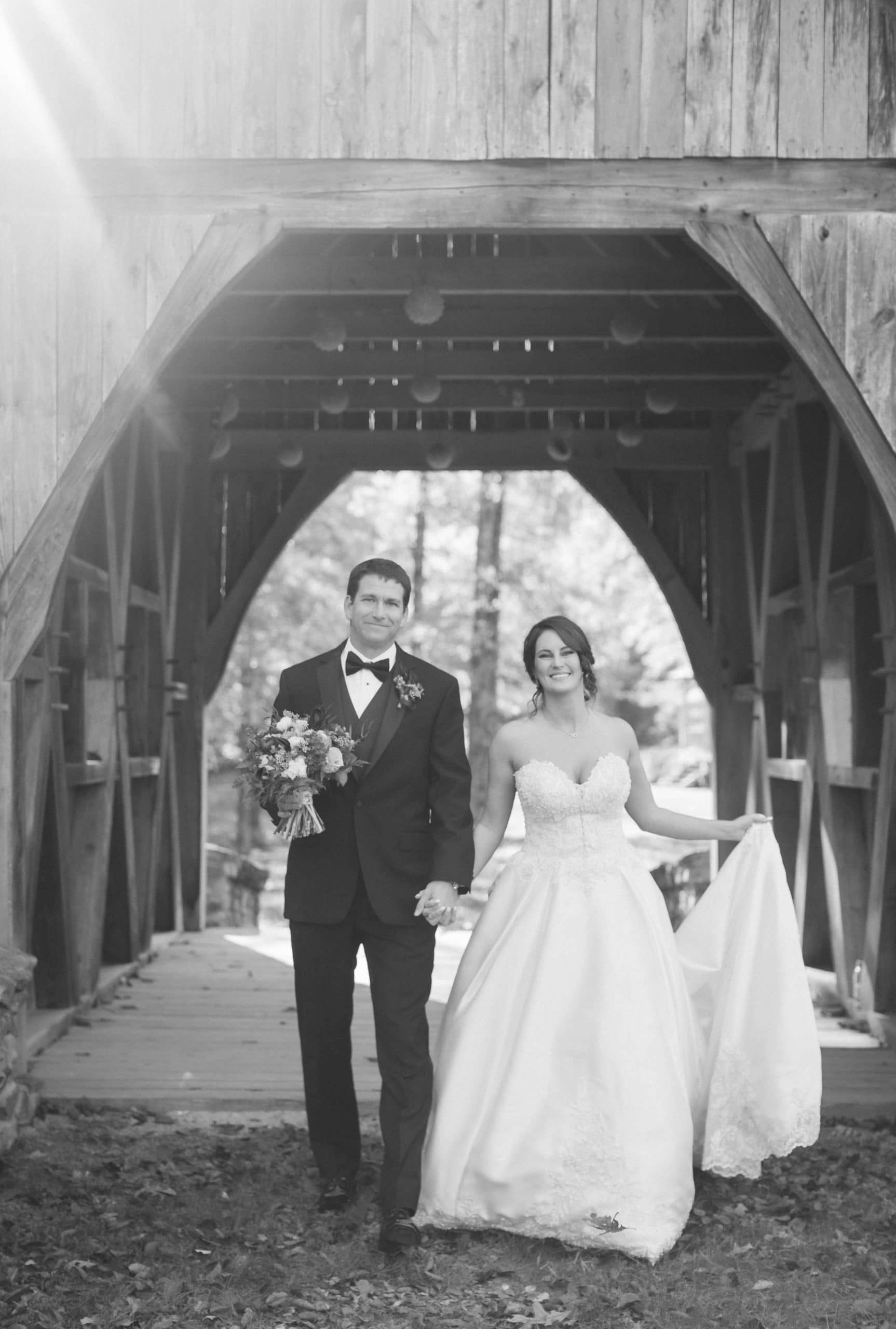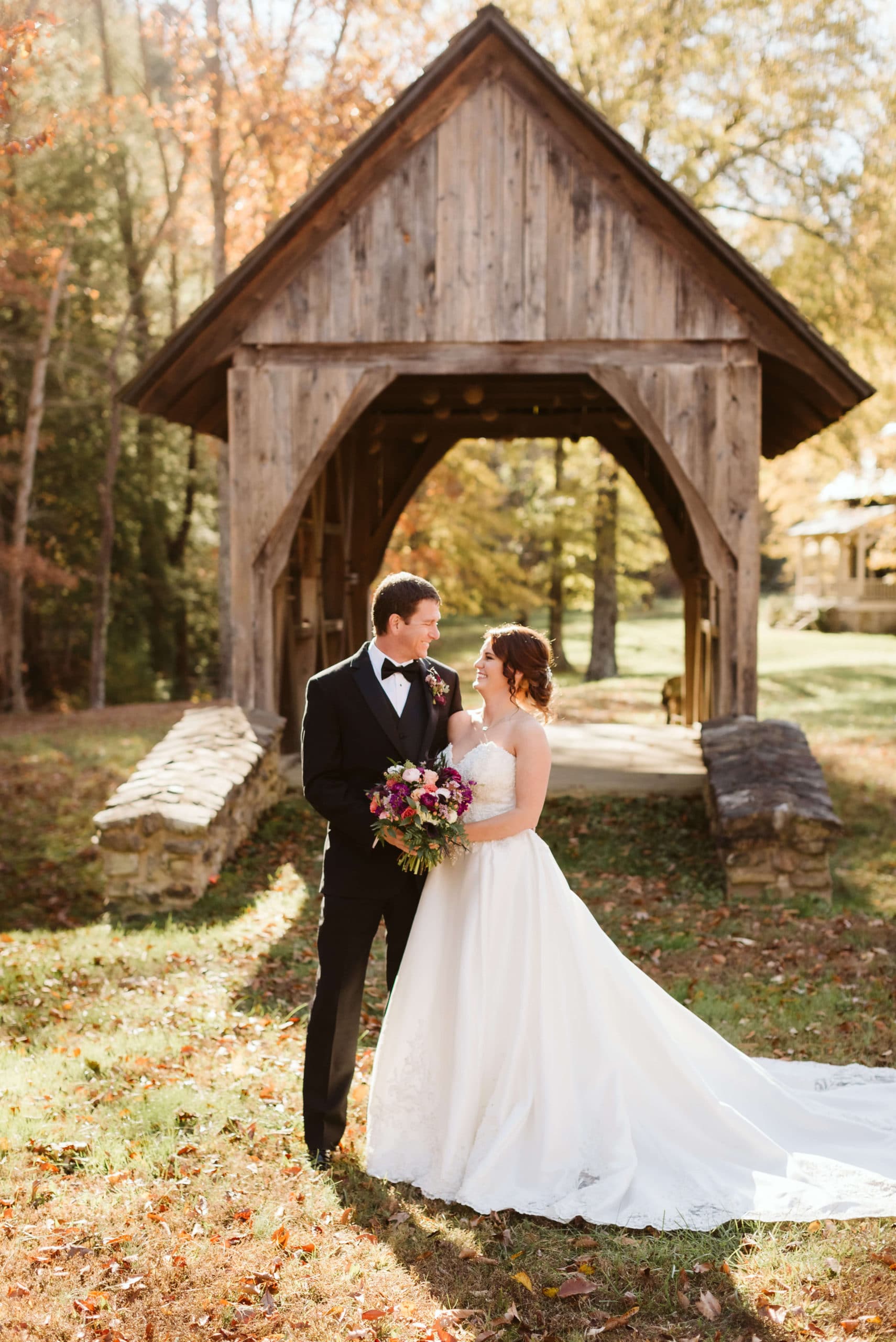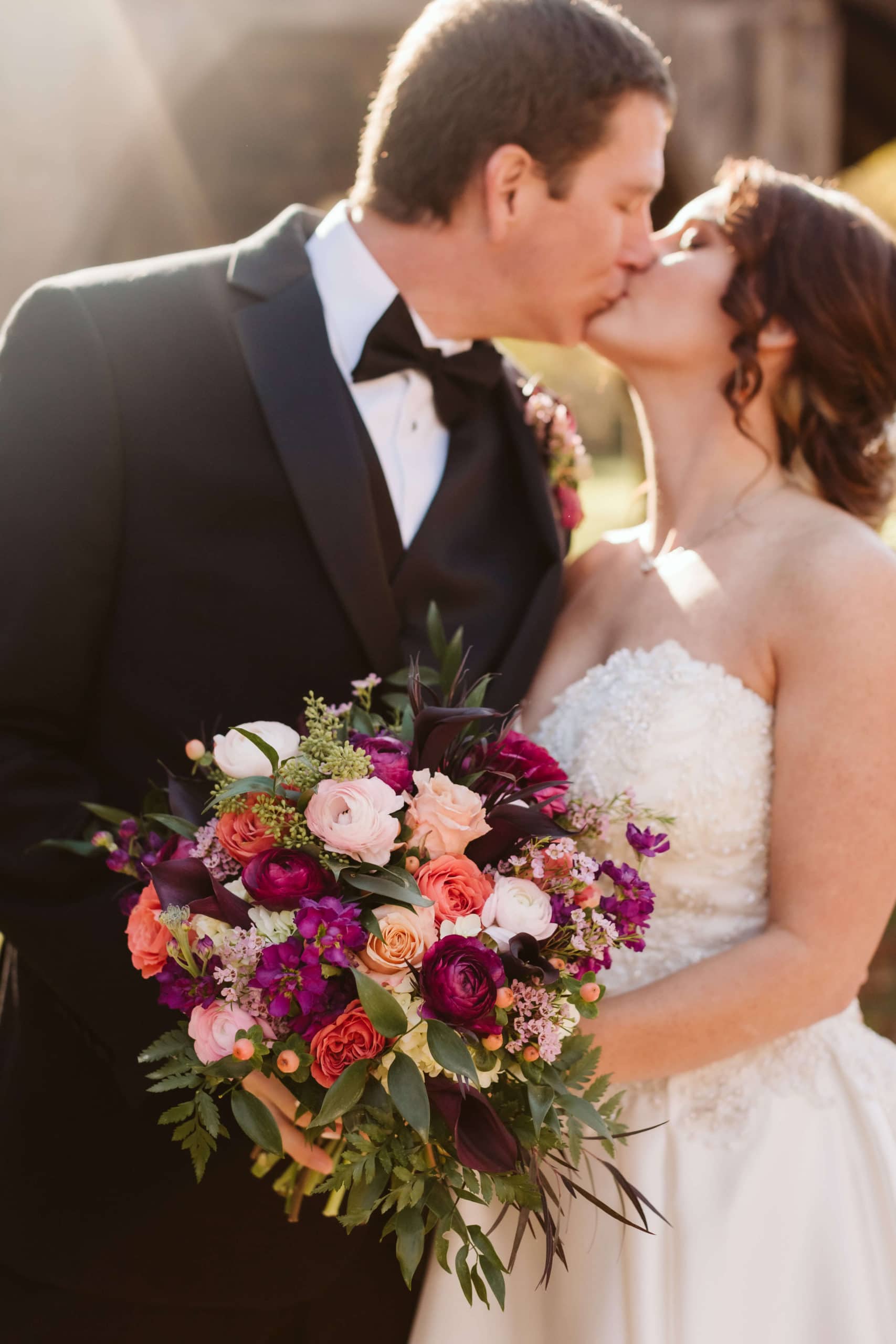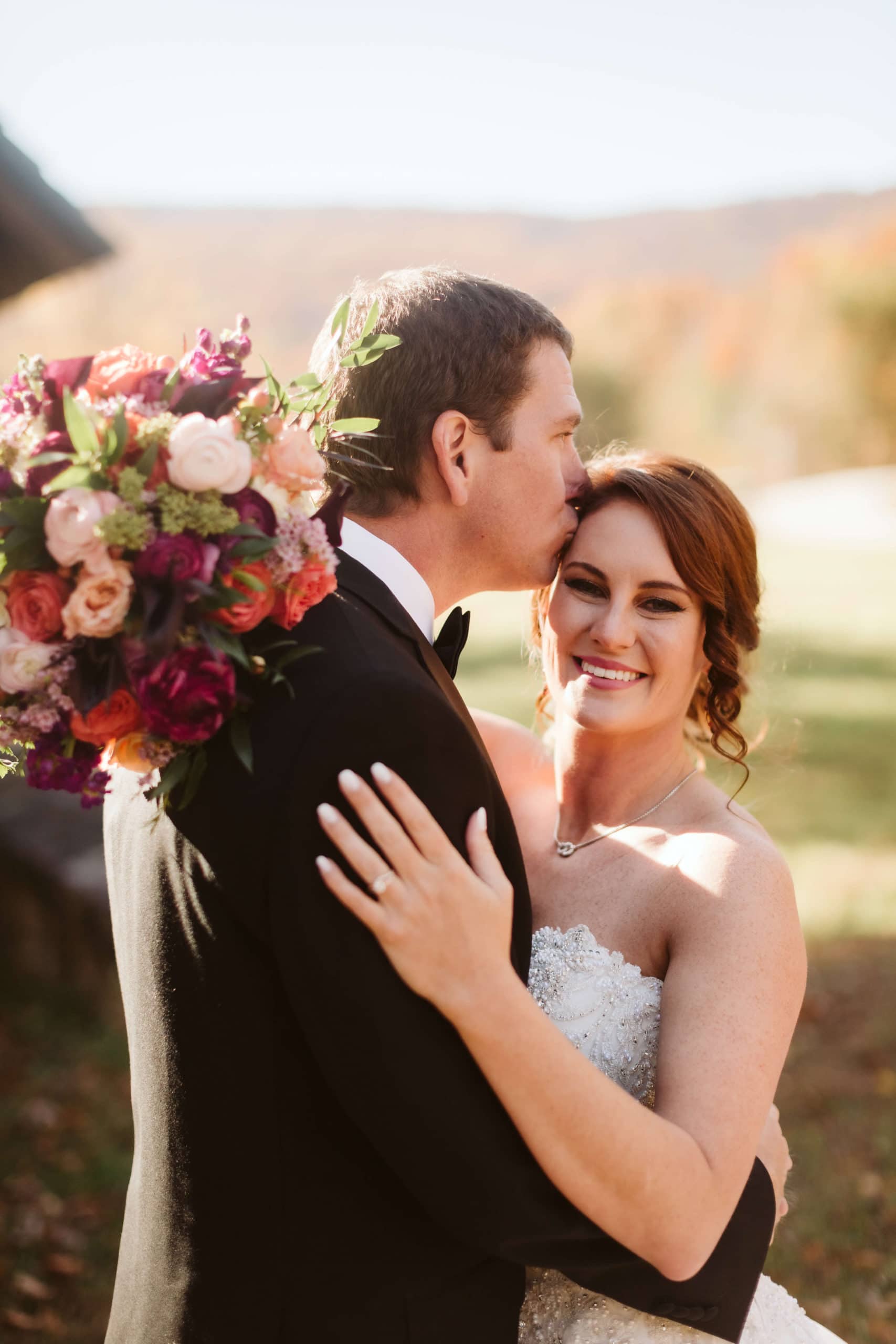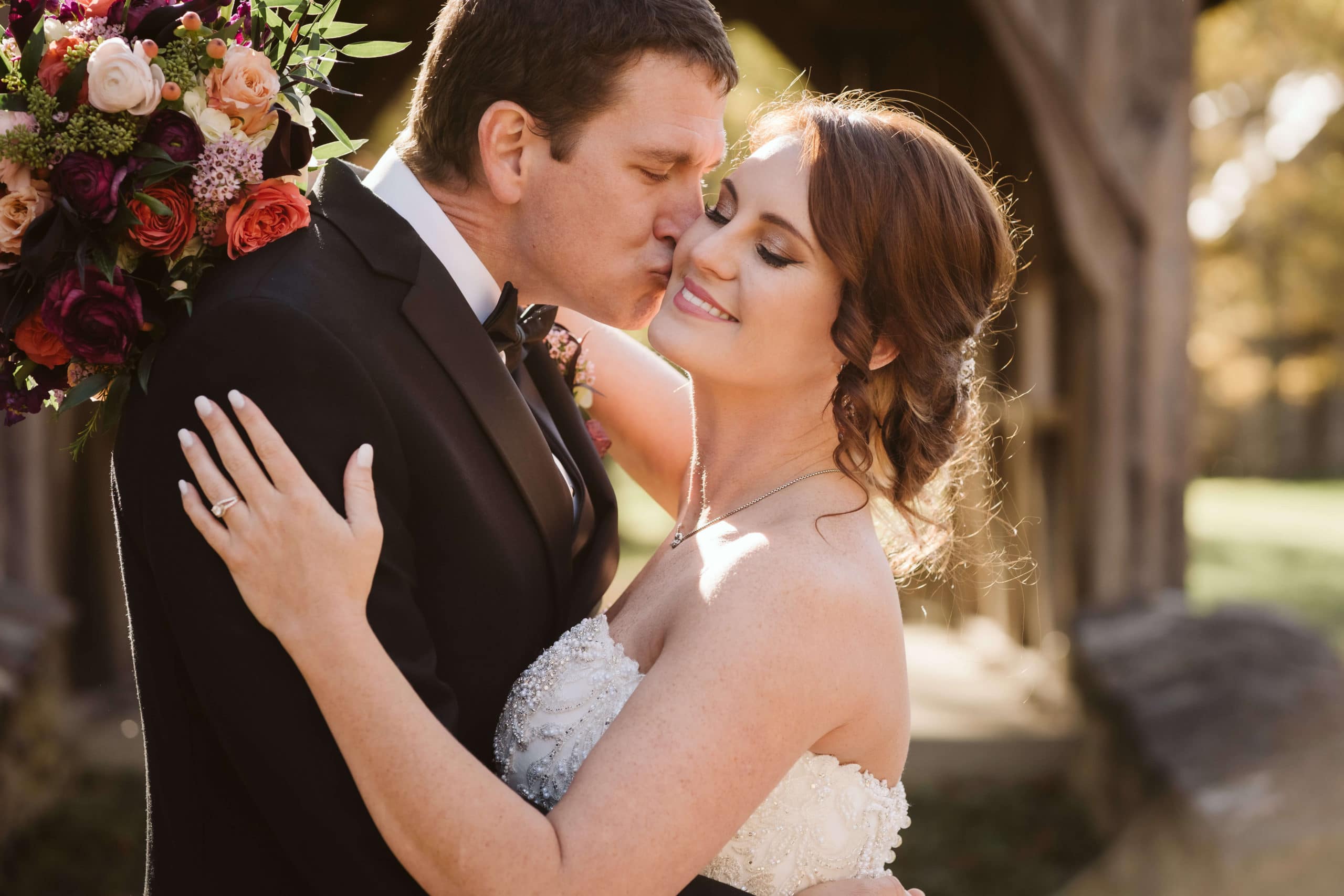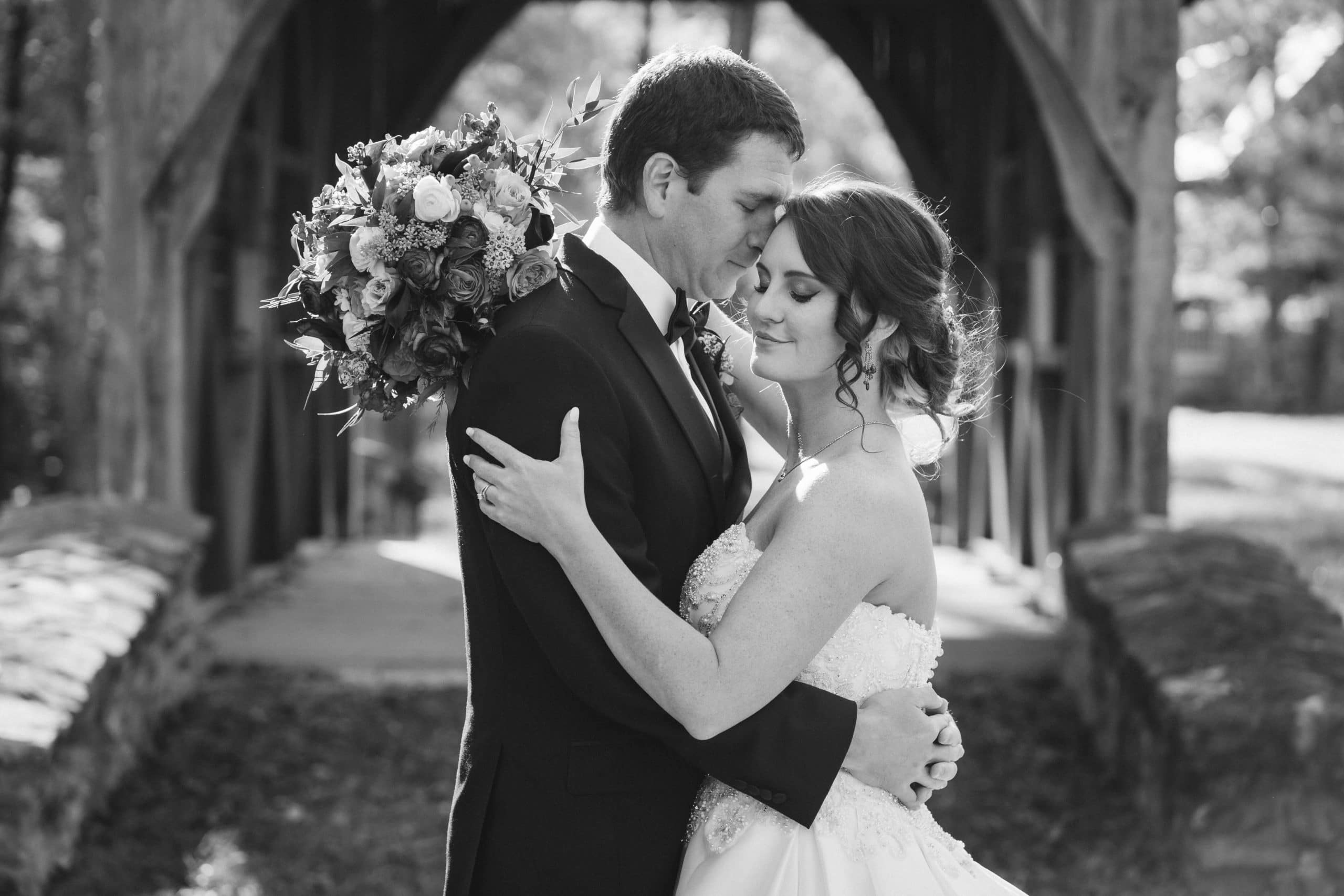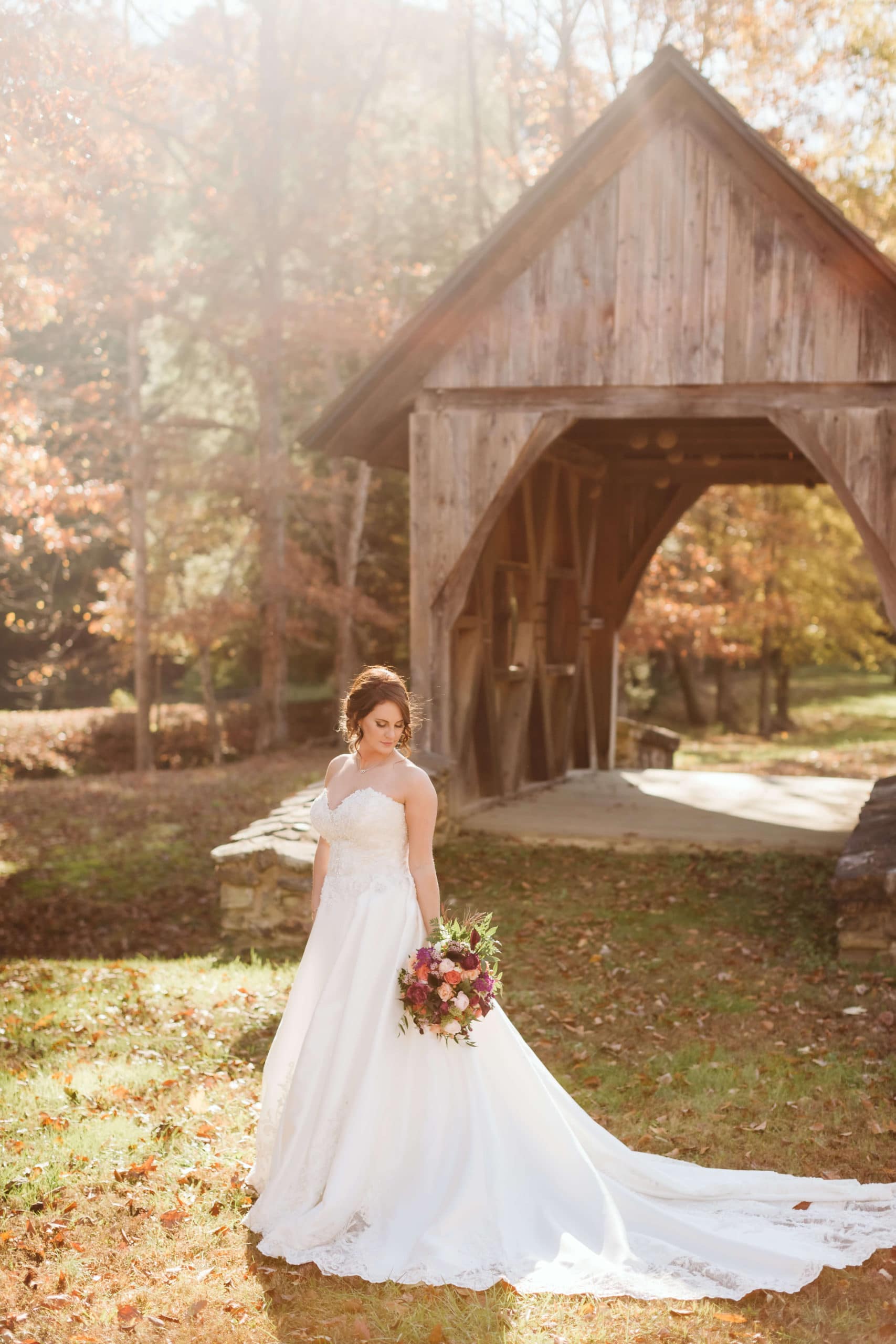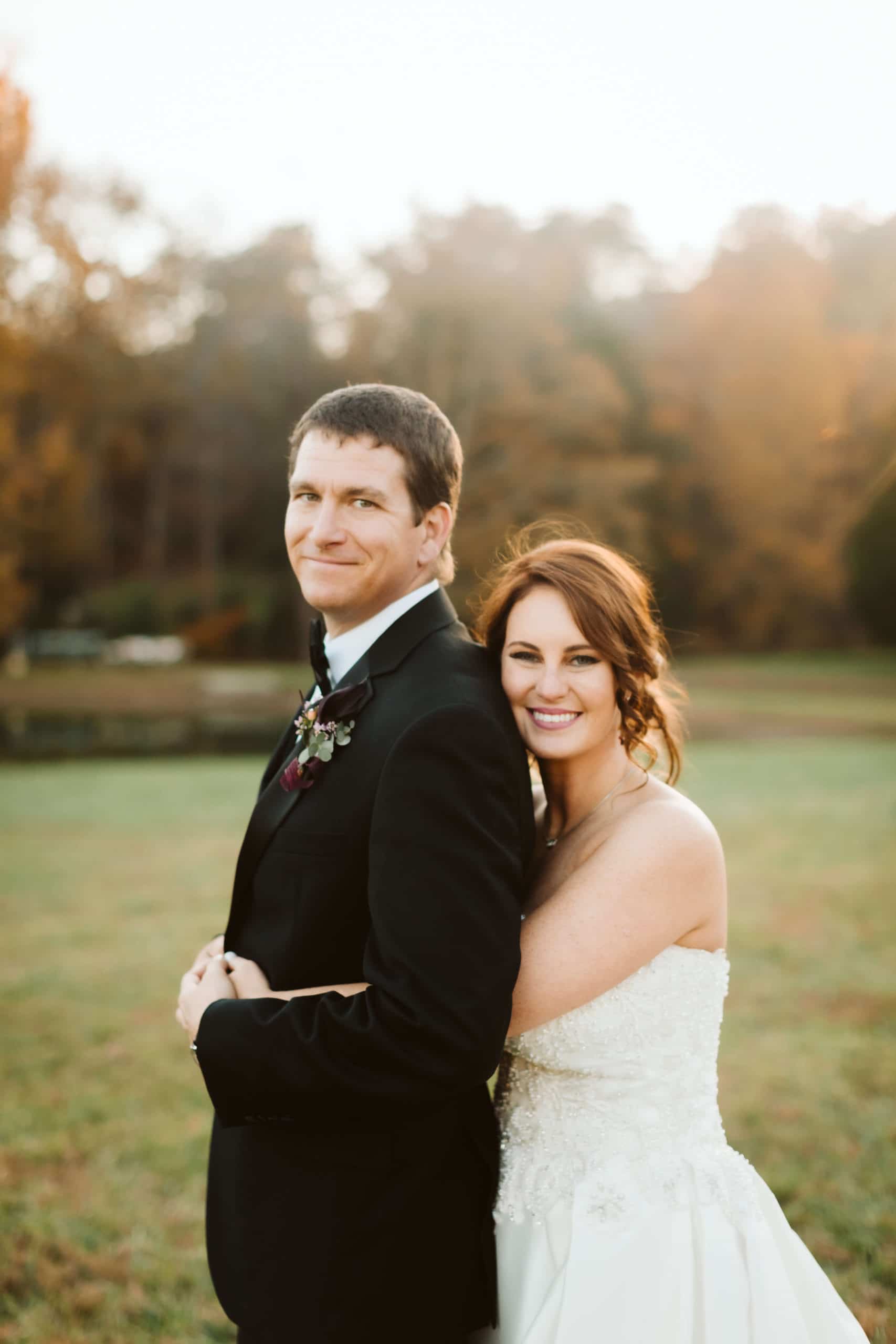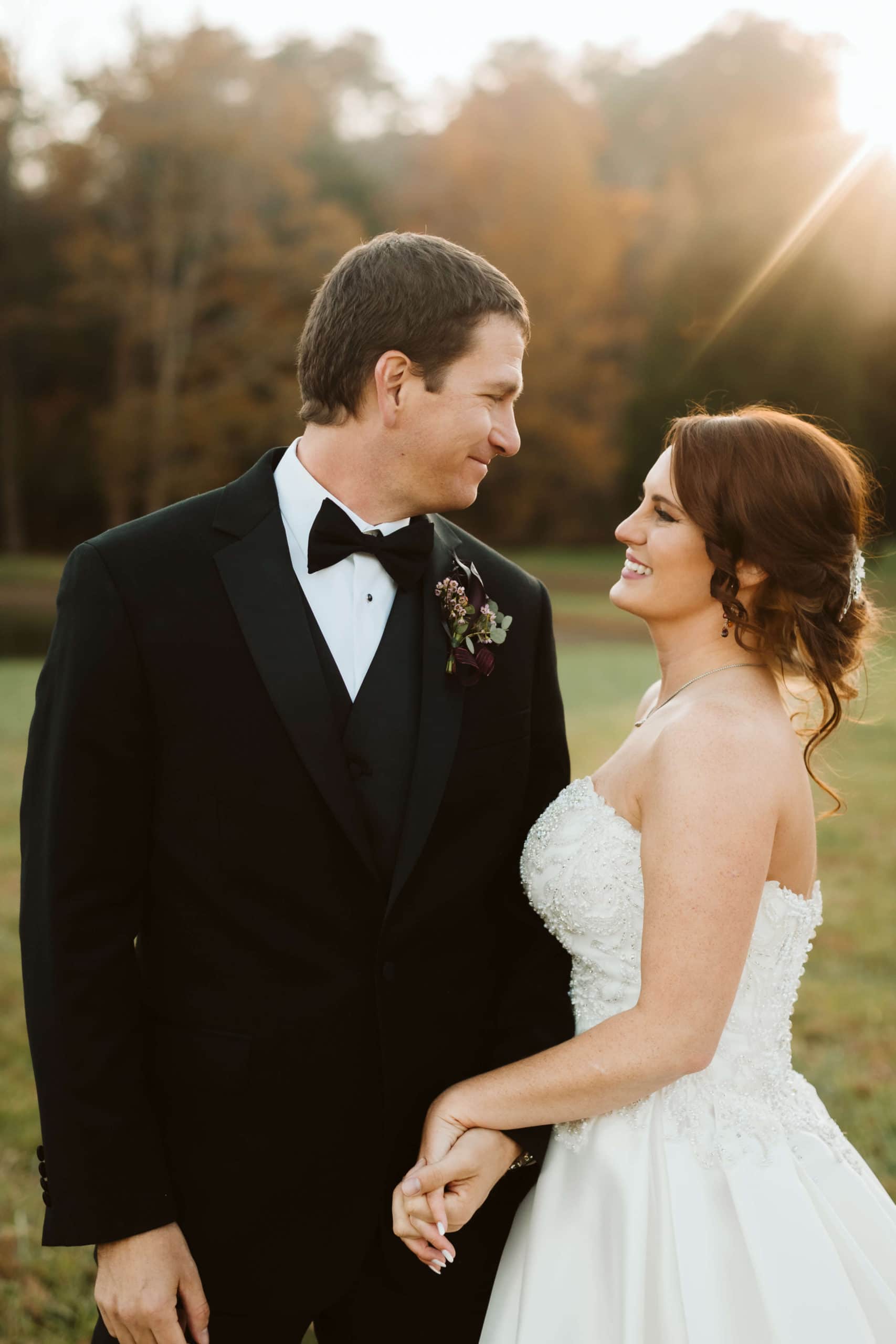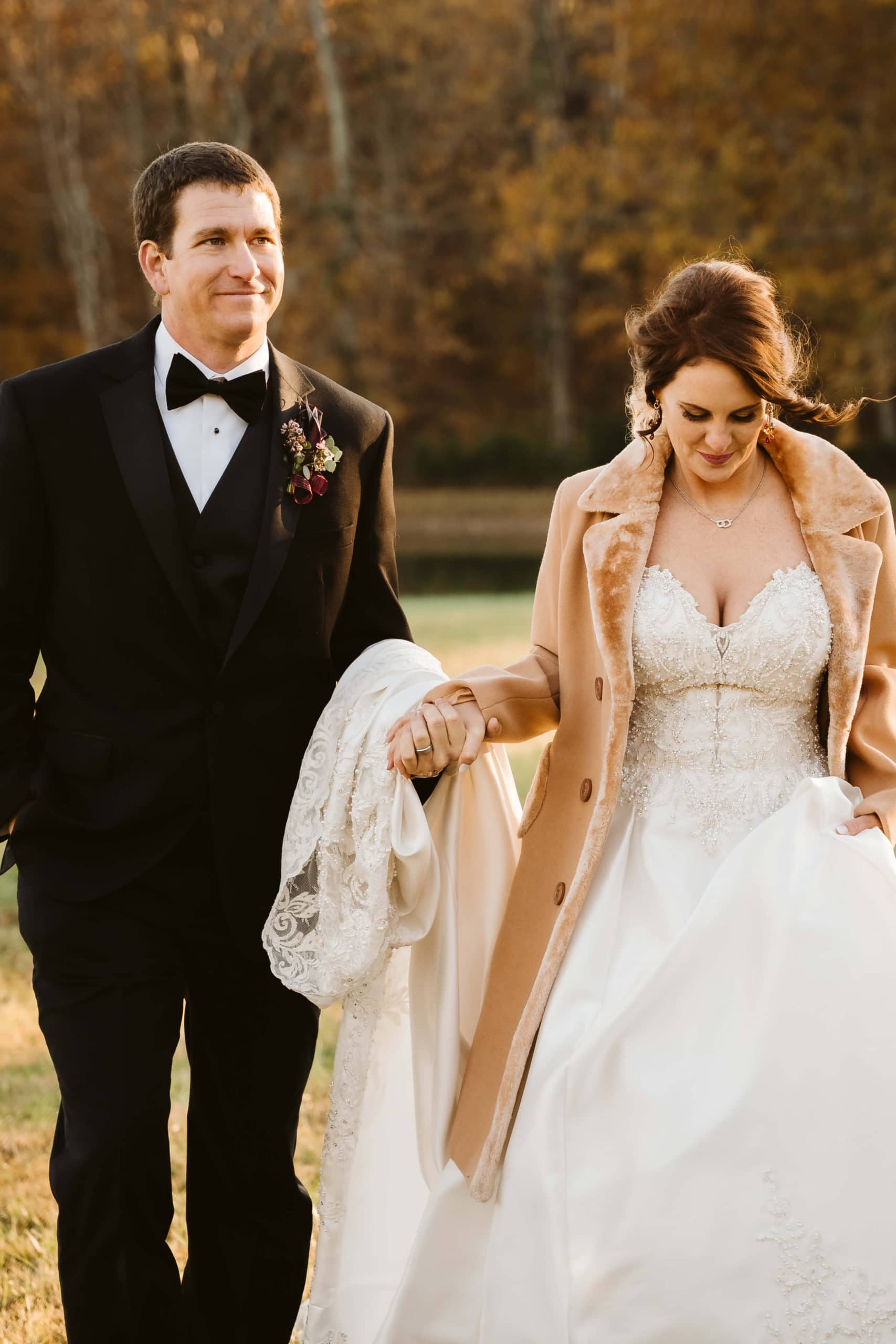 First Look on an Old Fashioned Covered Bridge
We started the day with Jen getting some last minute finishing touches in the bridal suite in Peacock Hall. Jen and her bridesmaids had already gotten their hair and makeup done at Bobby Pinning Studio so all that was left to do was get dressed. I love that we were able to capture the sweetest moment of Jen's mom helping her into her wedding dress.
As soon as Jen was dressed and ready, we went straight into the first look shoot. Jen wanted their first look to be at a quaint covered wooden bridge that was a short drive through the venue grounds and into the Cloudland Station property. The bridge is such a lovely little spot. It's surrounded by trees and has an amazing view of the mountains. With golden sunlight shining down and accentuating all of the fall colors, it was practically perfect.
By the time I arrived at the bridge with Jen, Bryan was already there with my second photographer. Having a second shooter for your wedding day is almost always a good investment. However, it's completely understandable if you choose not to invest in that add-on. Some of the benefits of having a second shooter is we're able to be in two places at once, we're able to get the same shots from multiple angles, and coordinate from different locations like at this wedding.
For Jen and Bryan's wedding, by the time we were wrapping up pictures of Jen getting ready, Bryan and my second shooter were already on their way to the bridge and getting groom portraits taken while they waited. Once Jen and I had arrived, we were able to get shots from one end of the bridge facing Bryan and from the other end where Jen was walking towards him.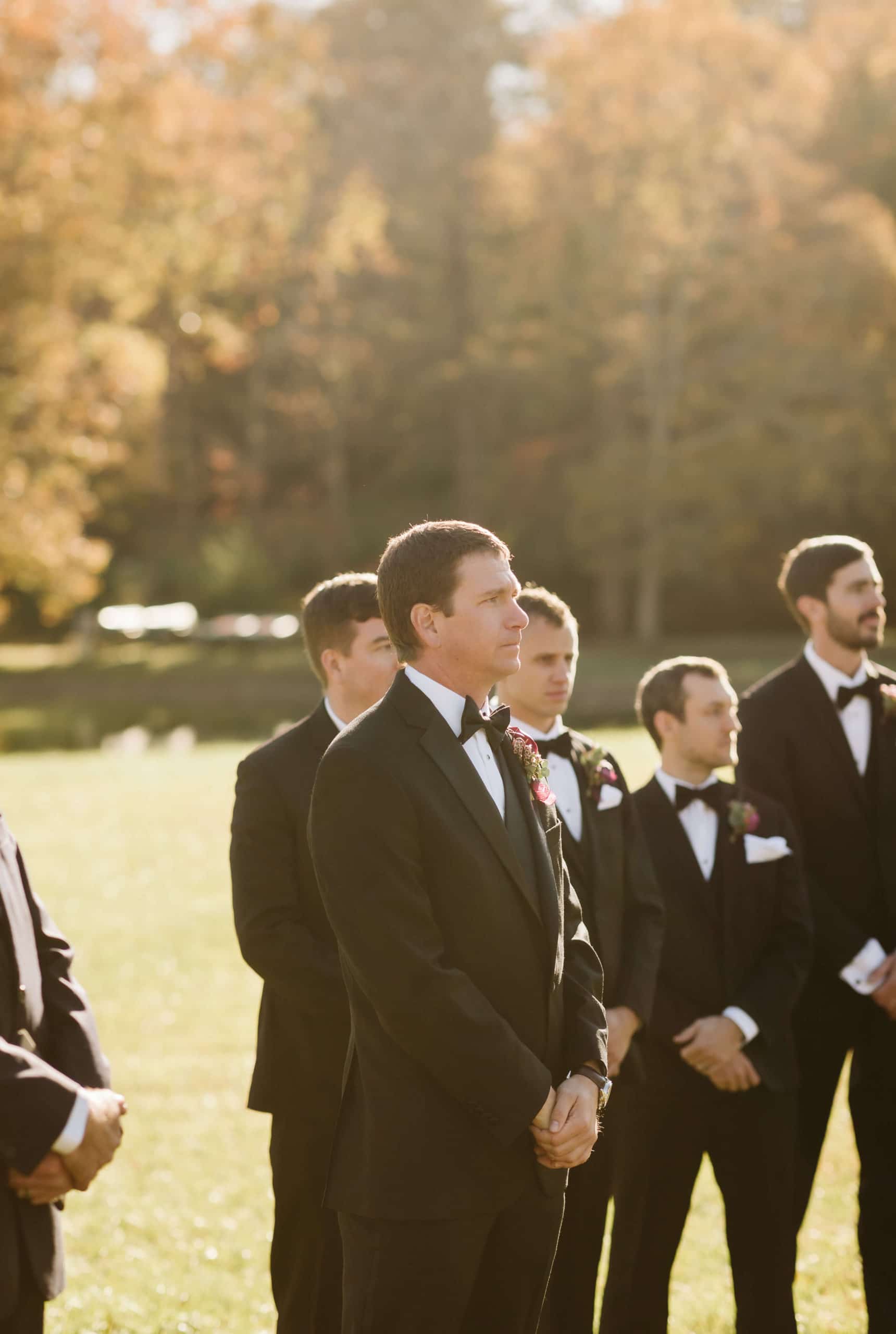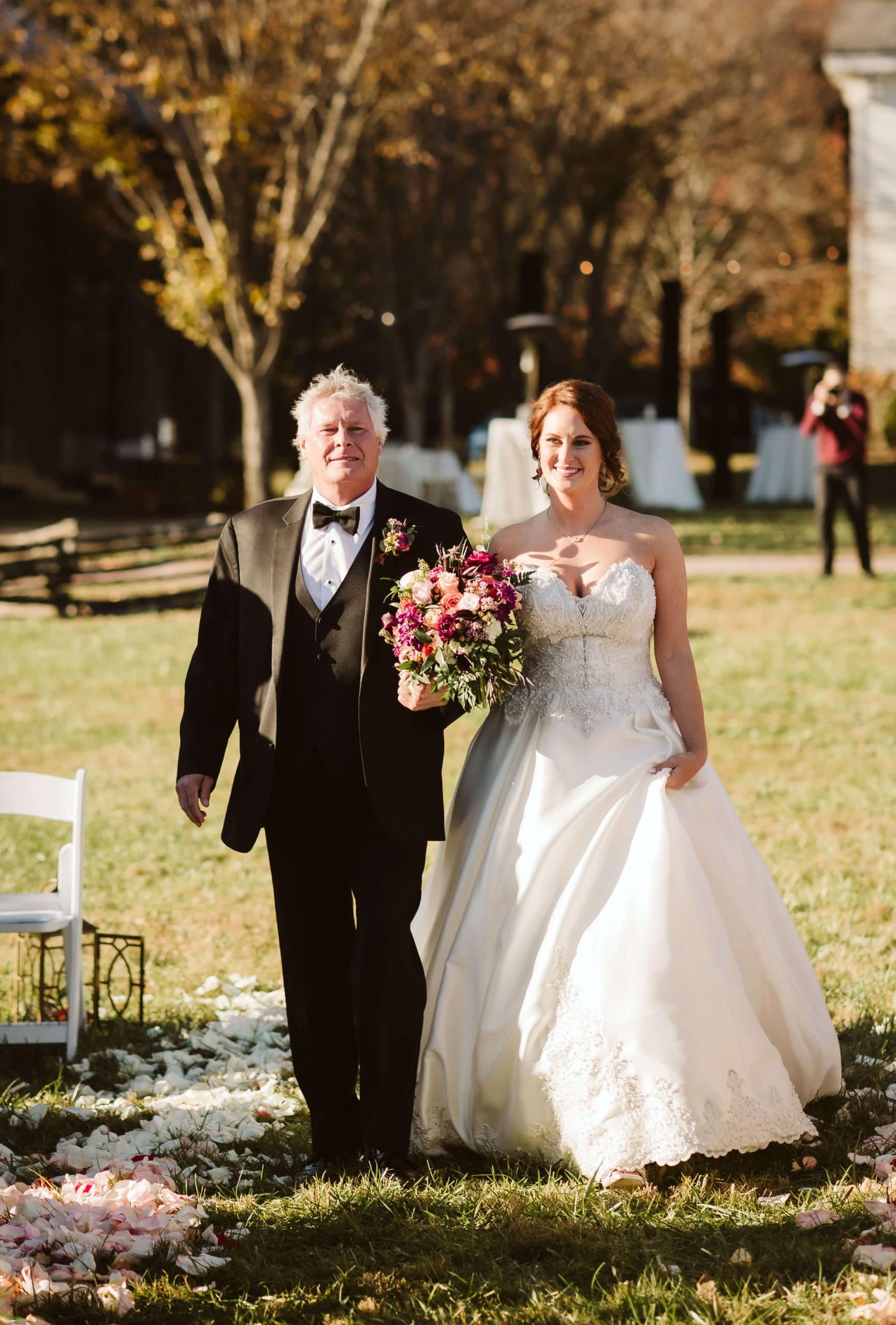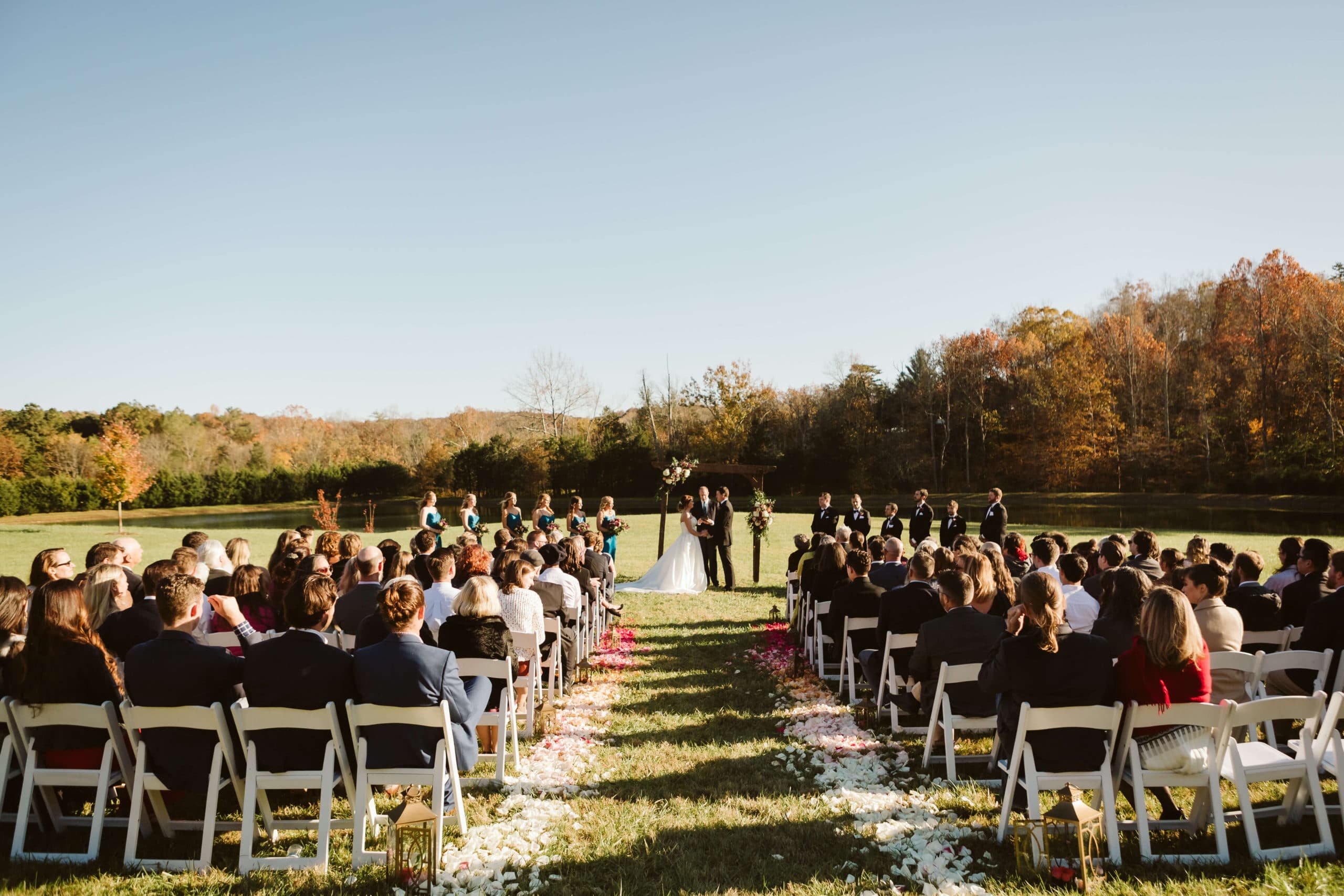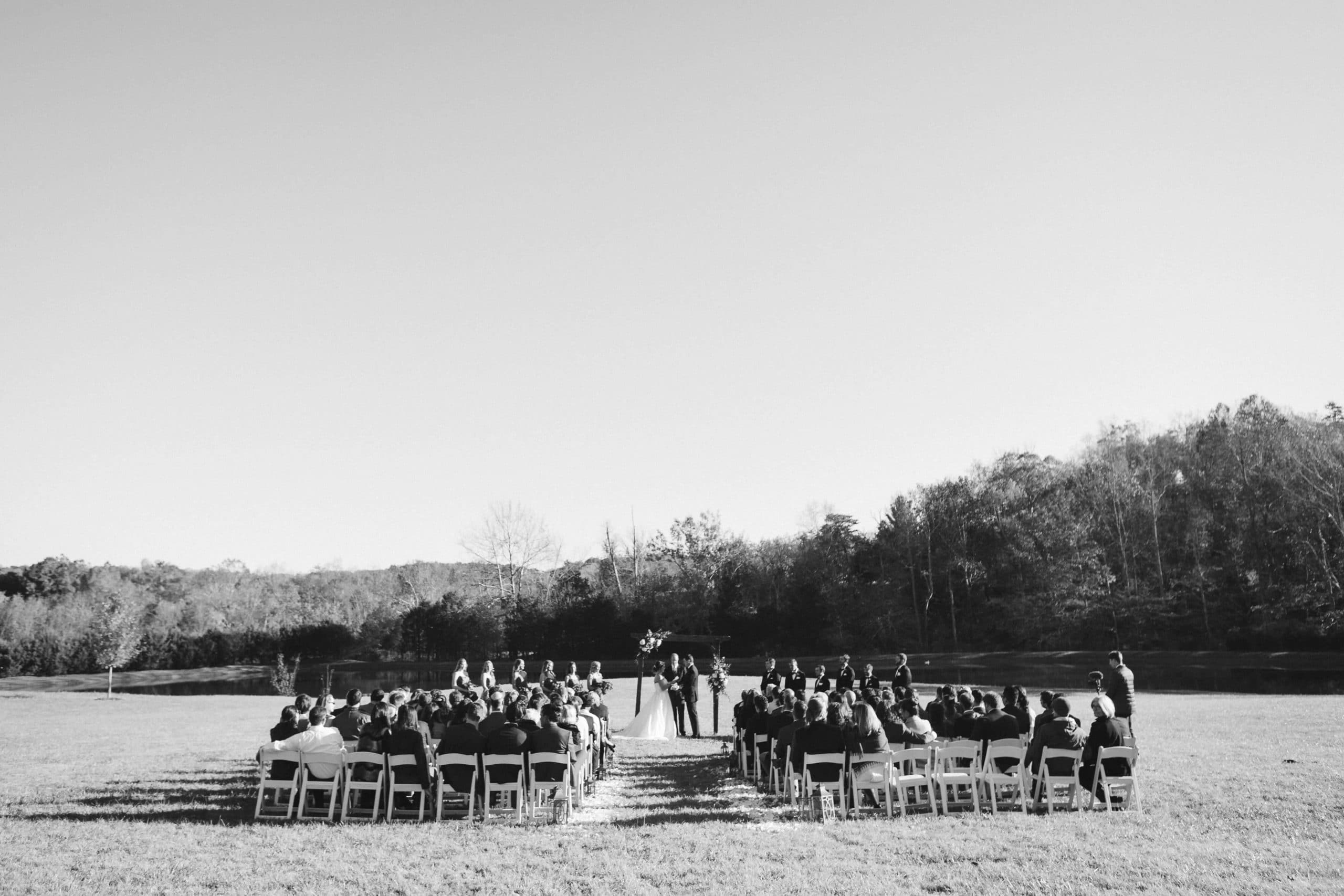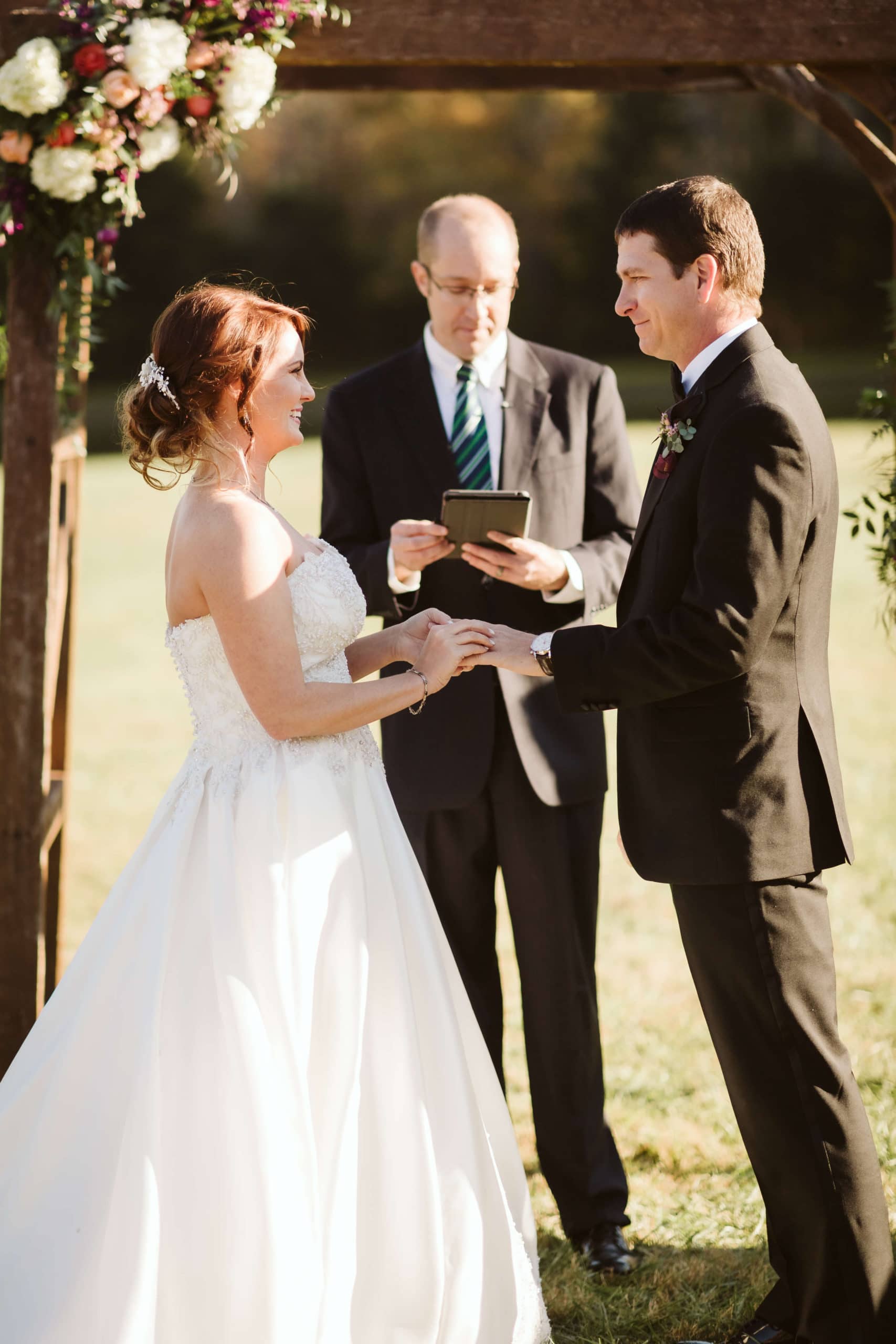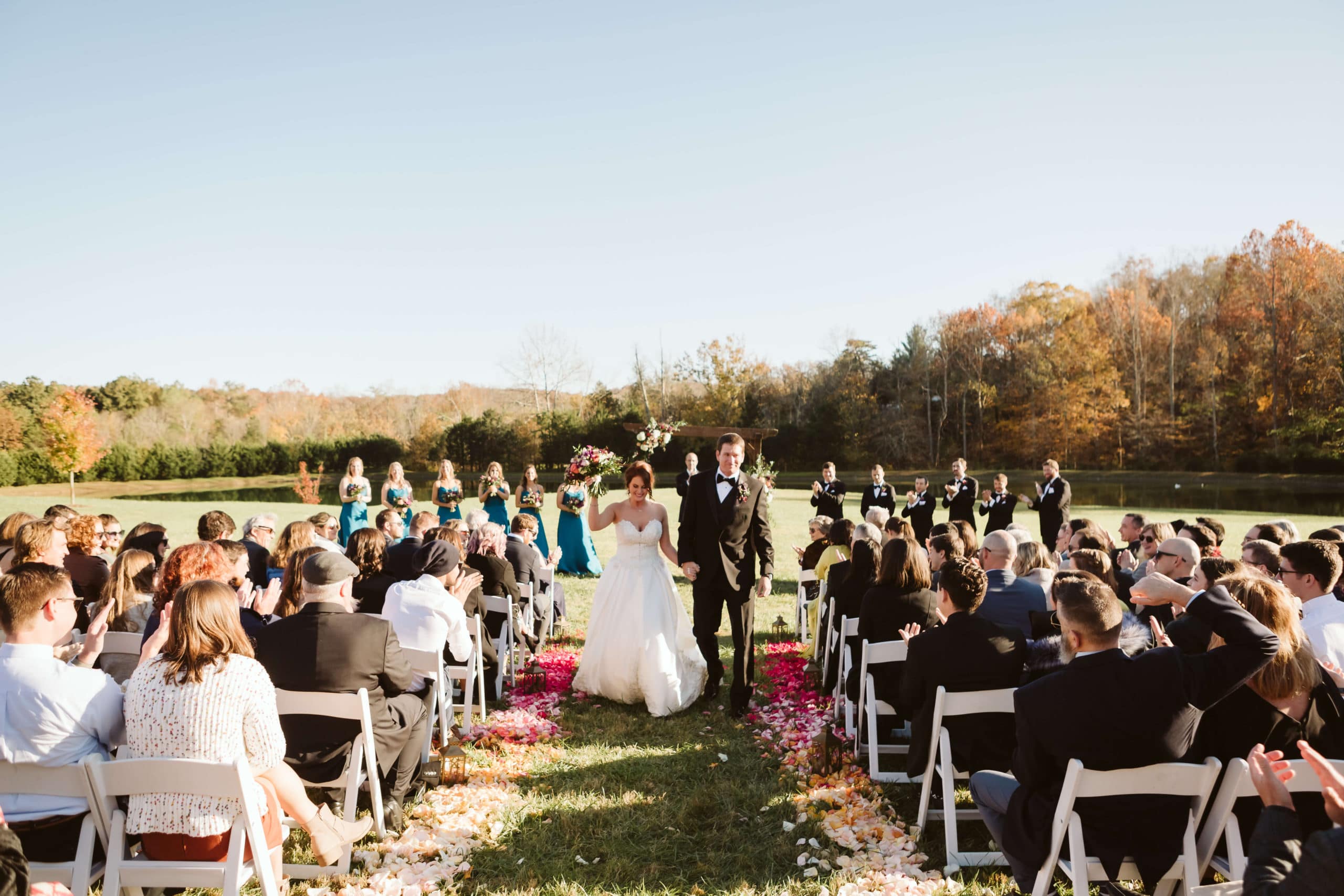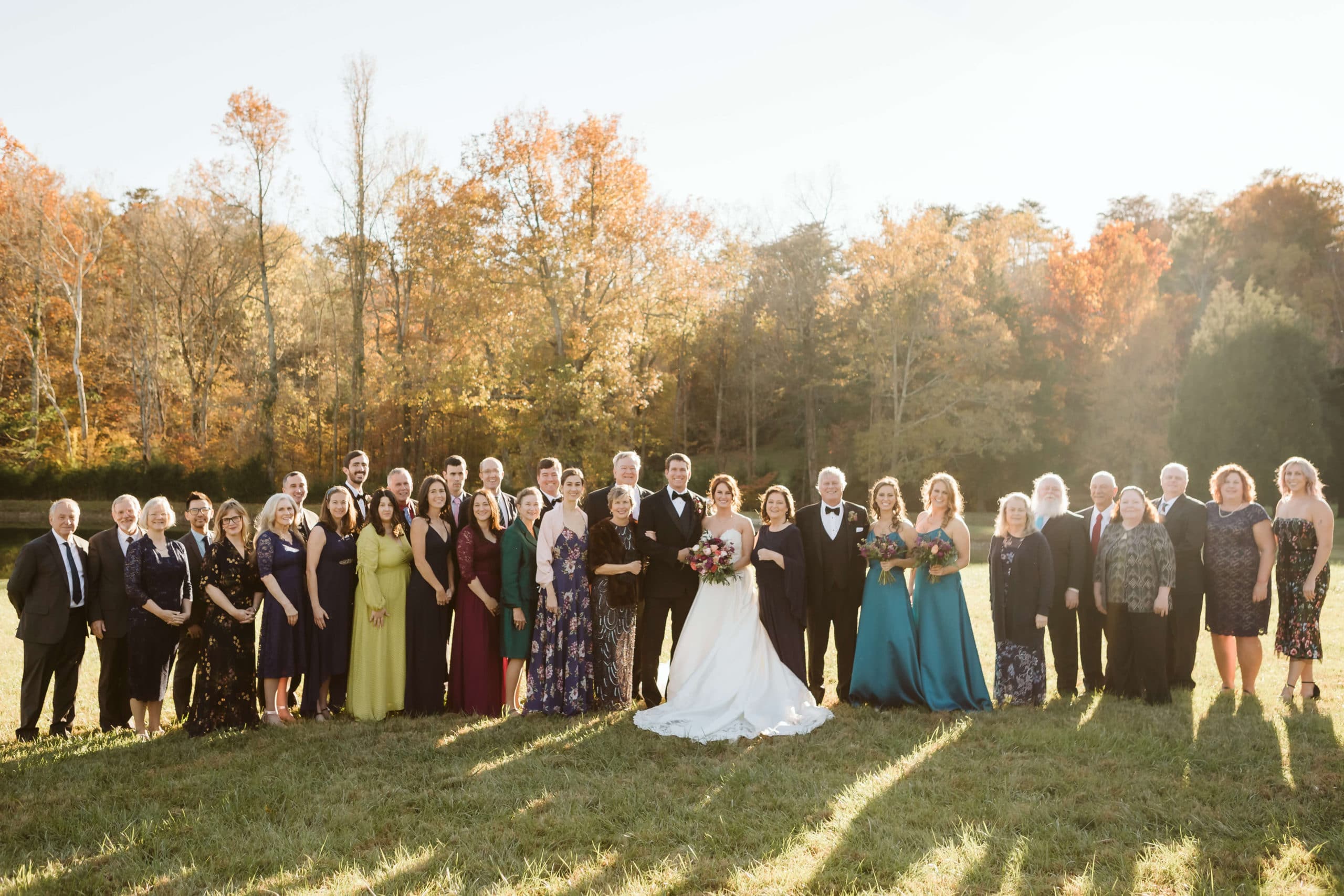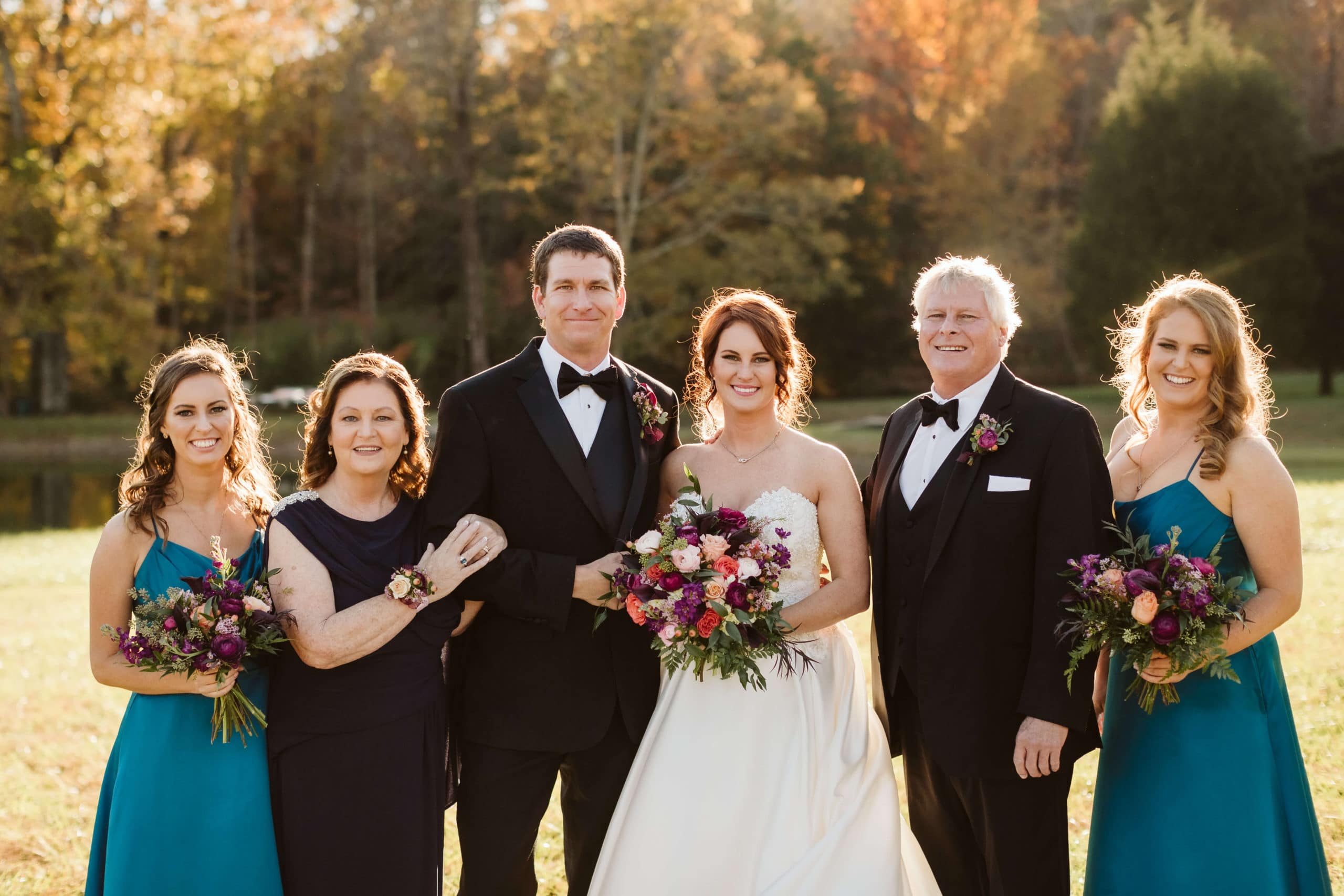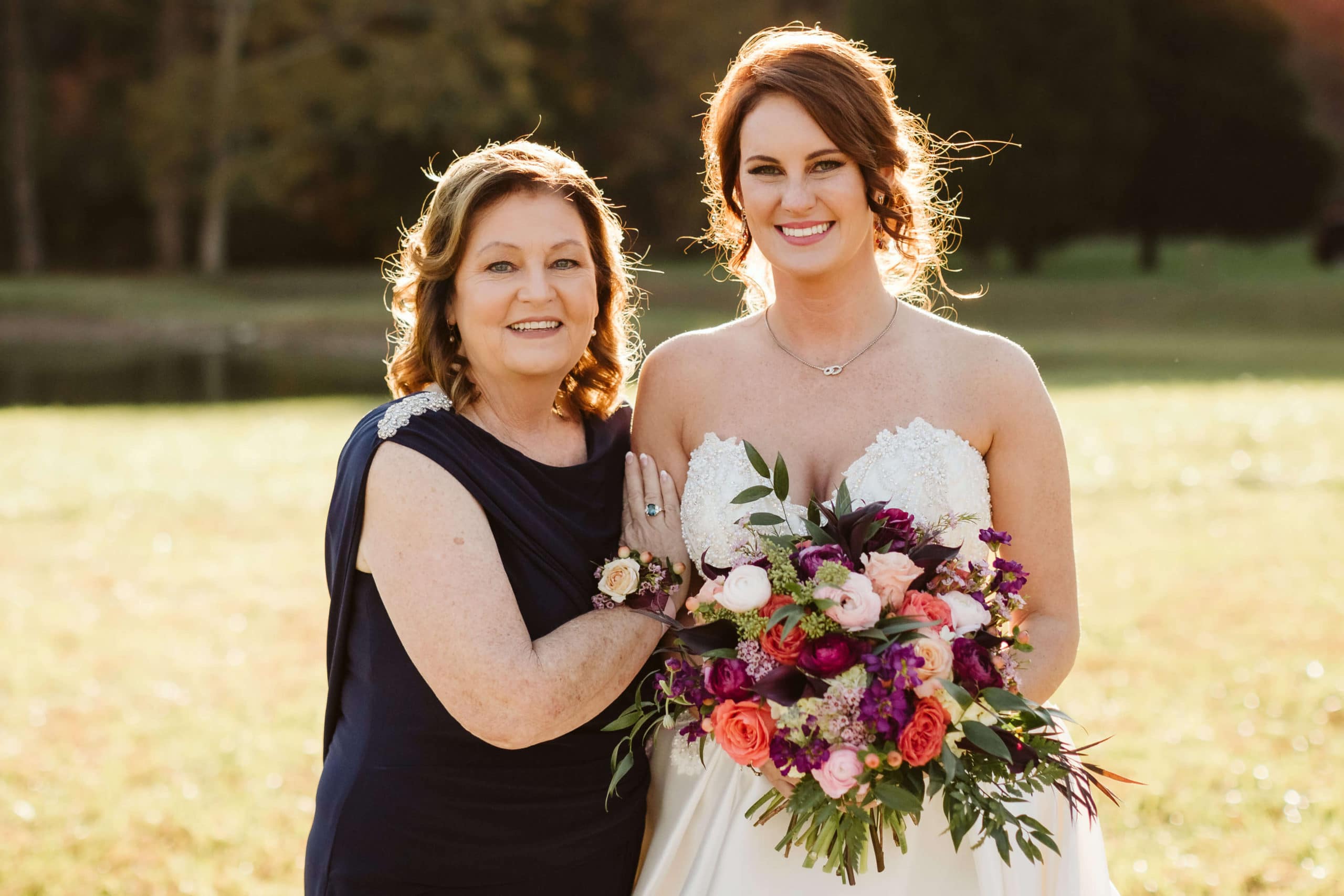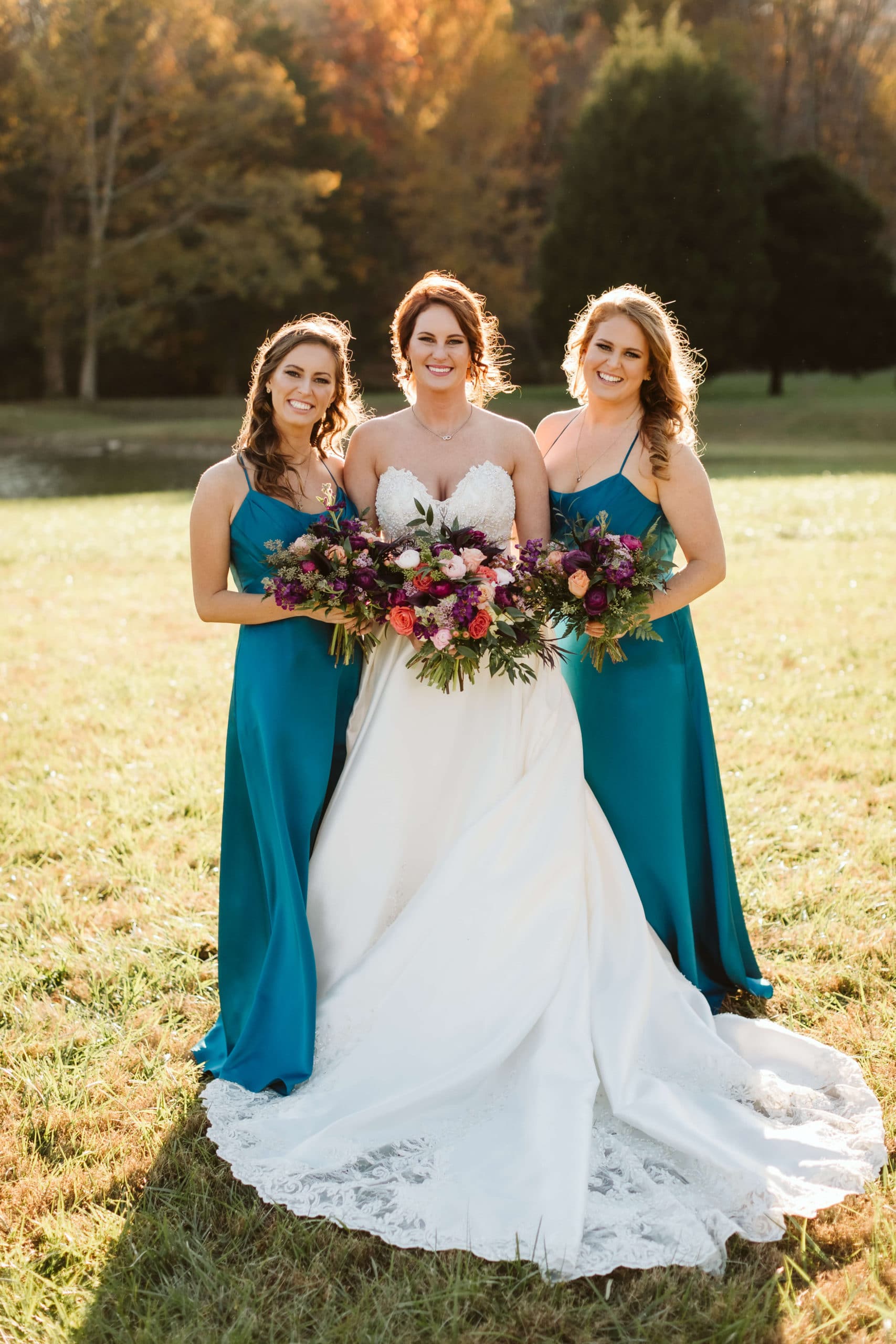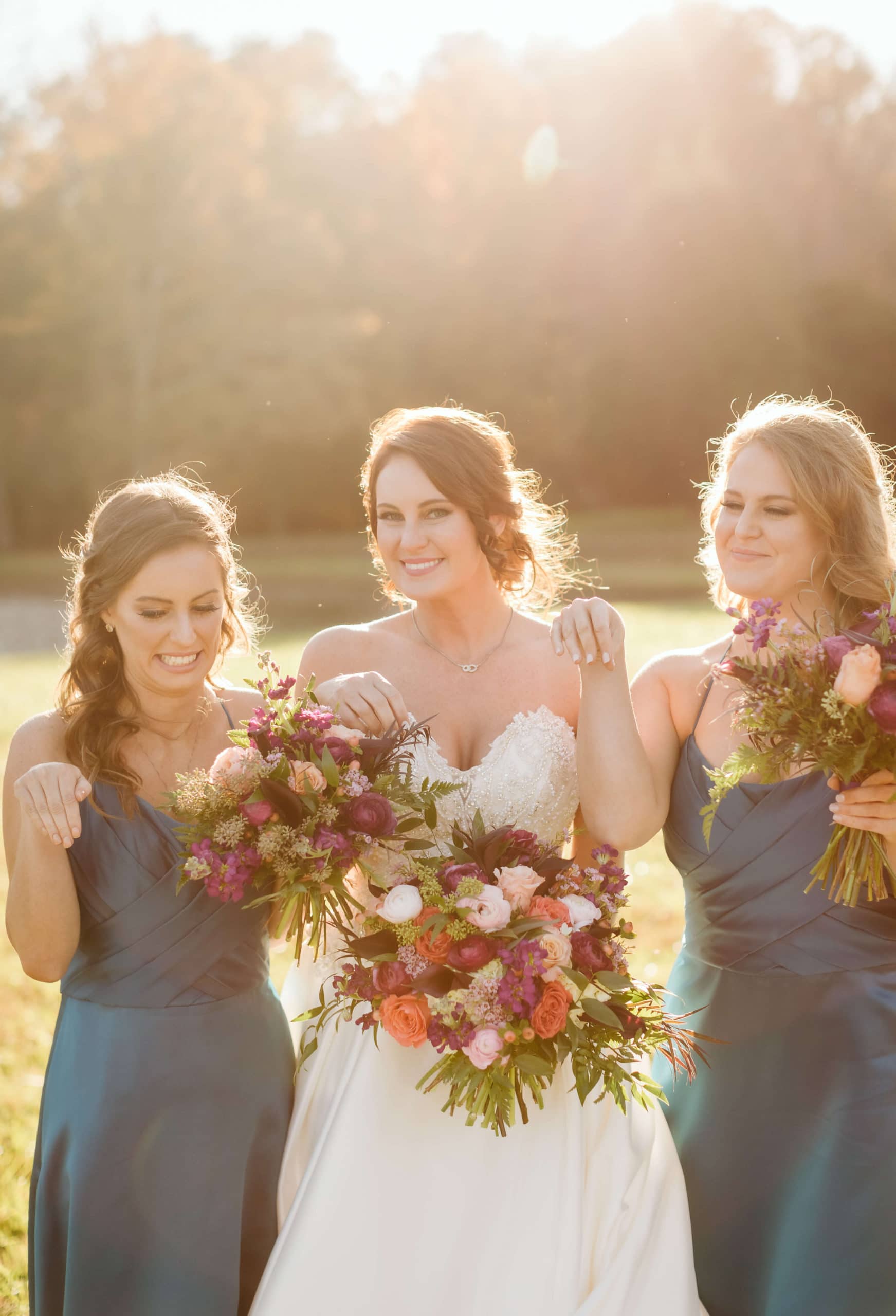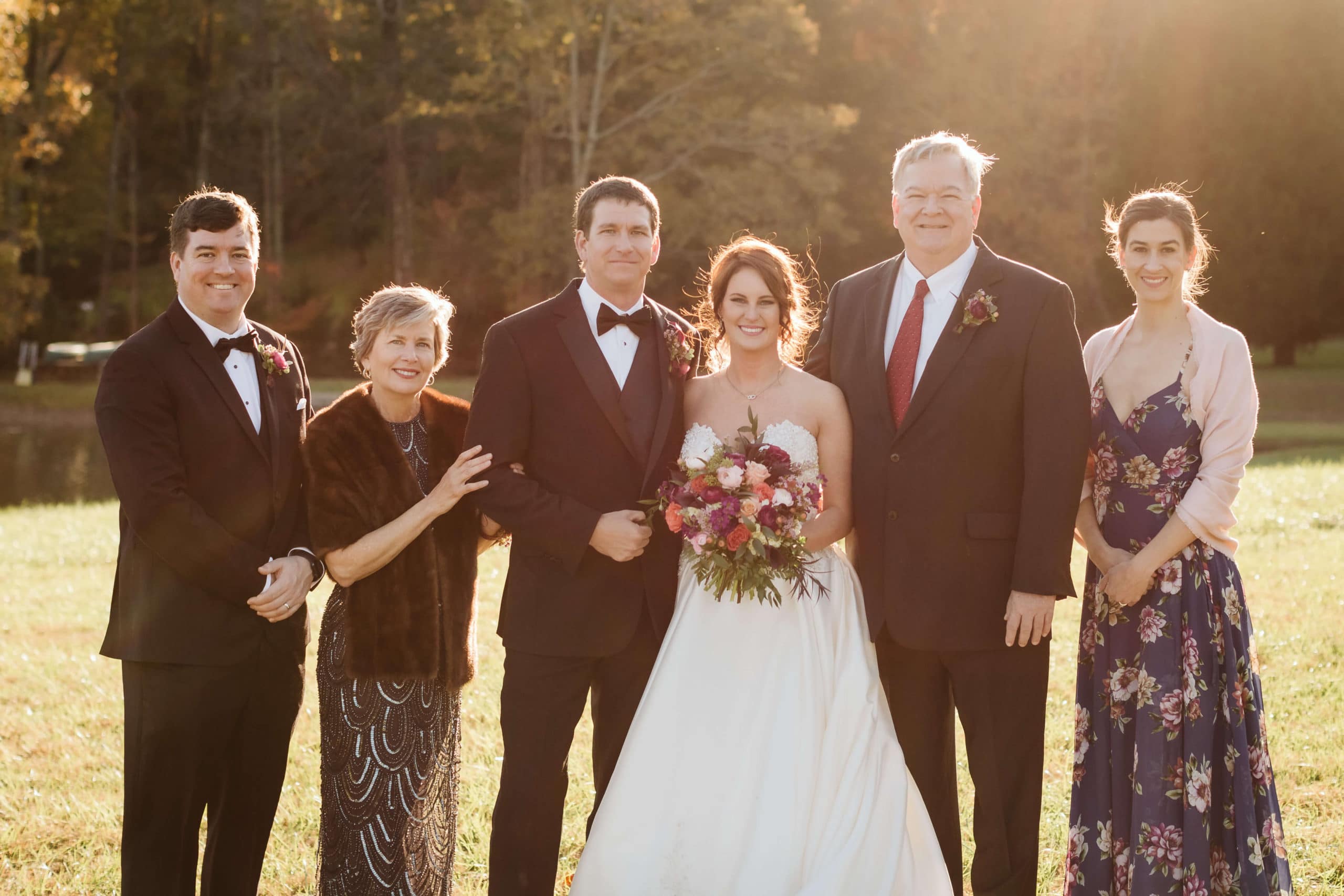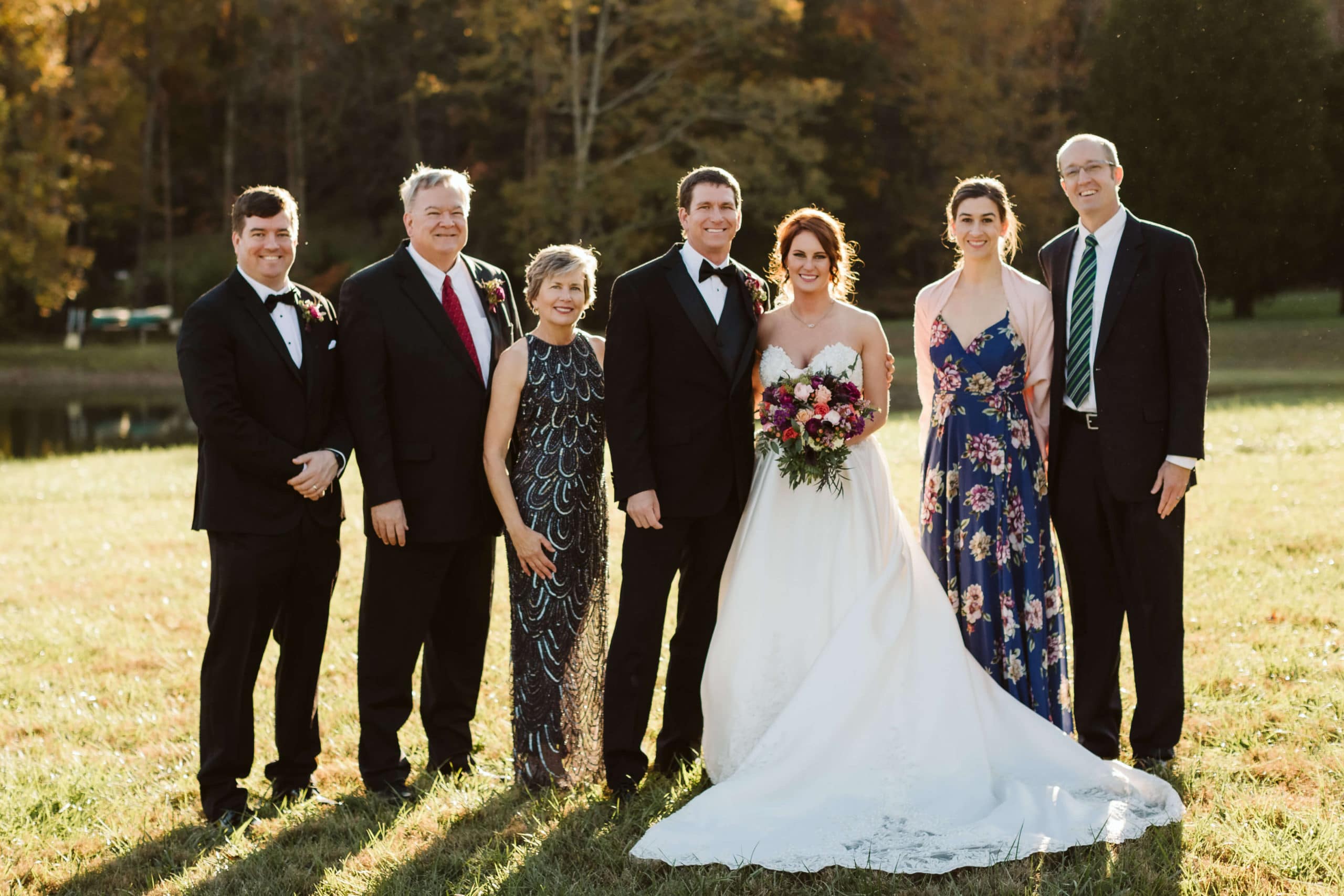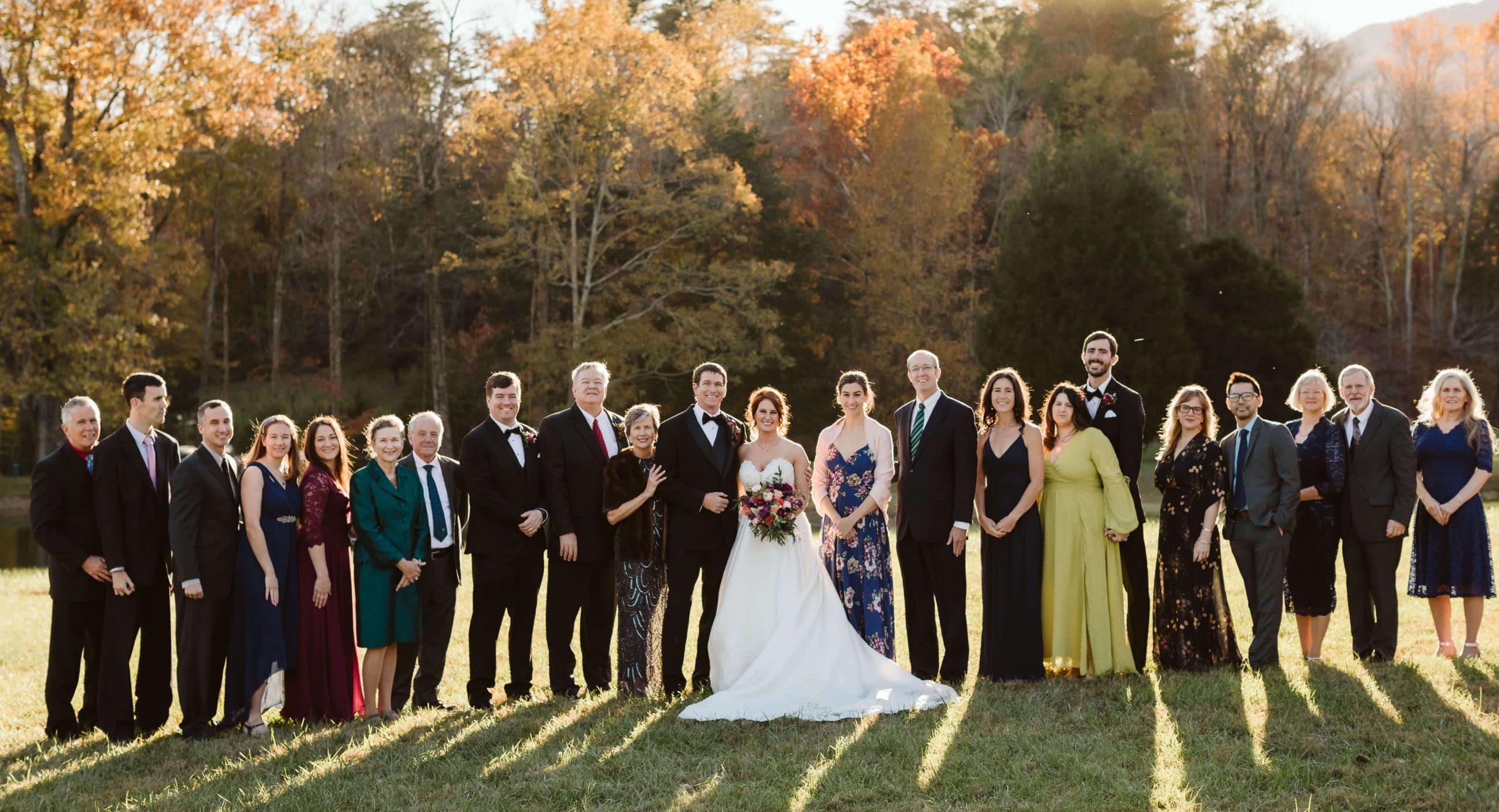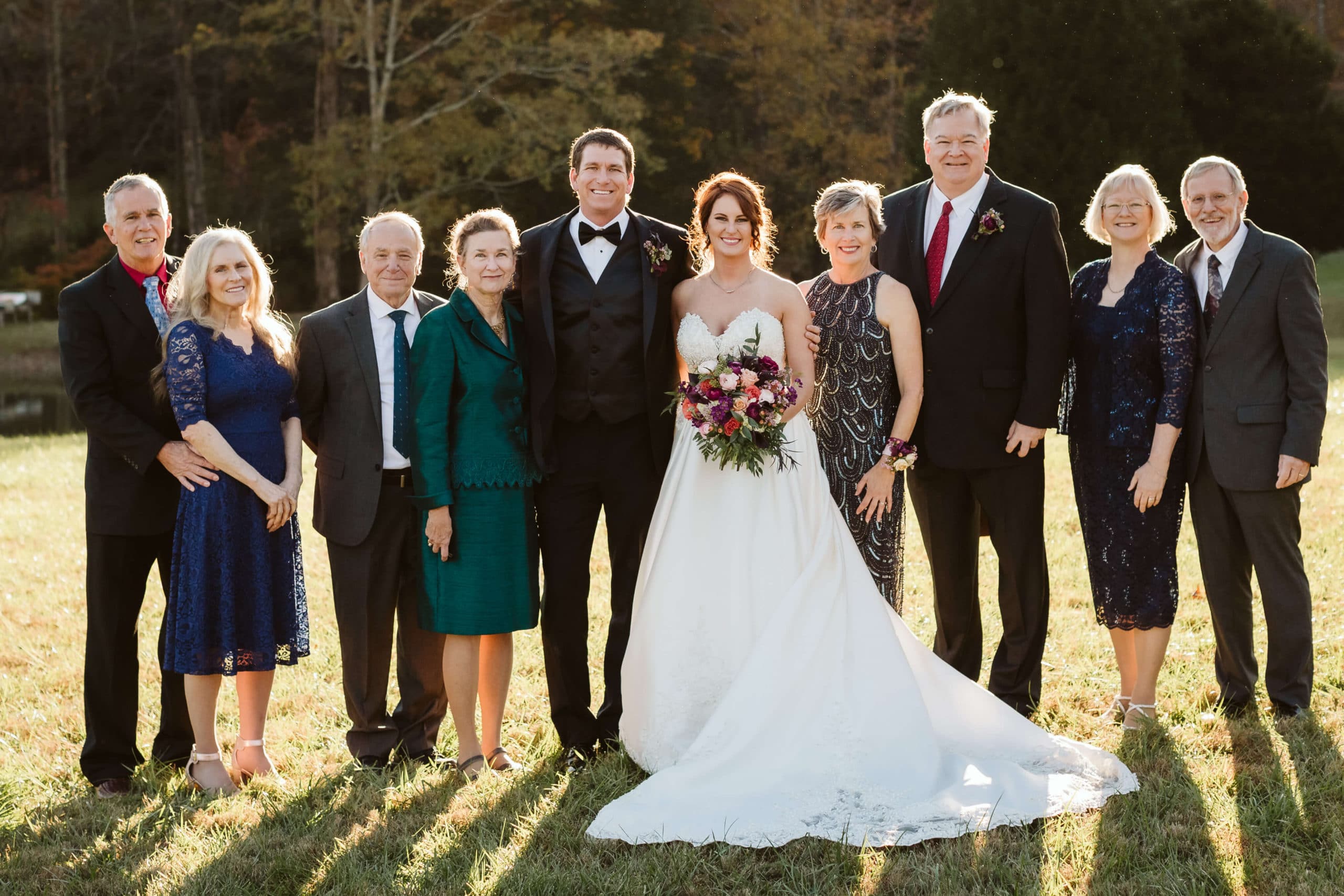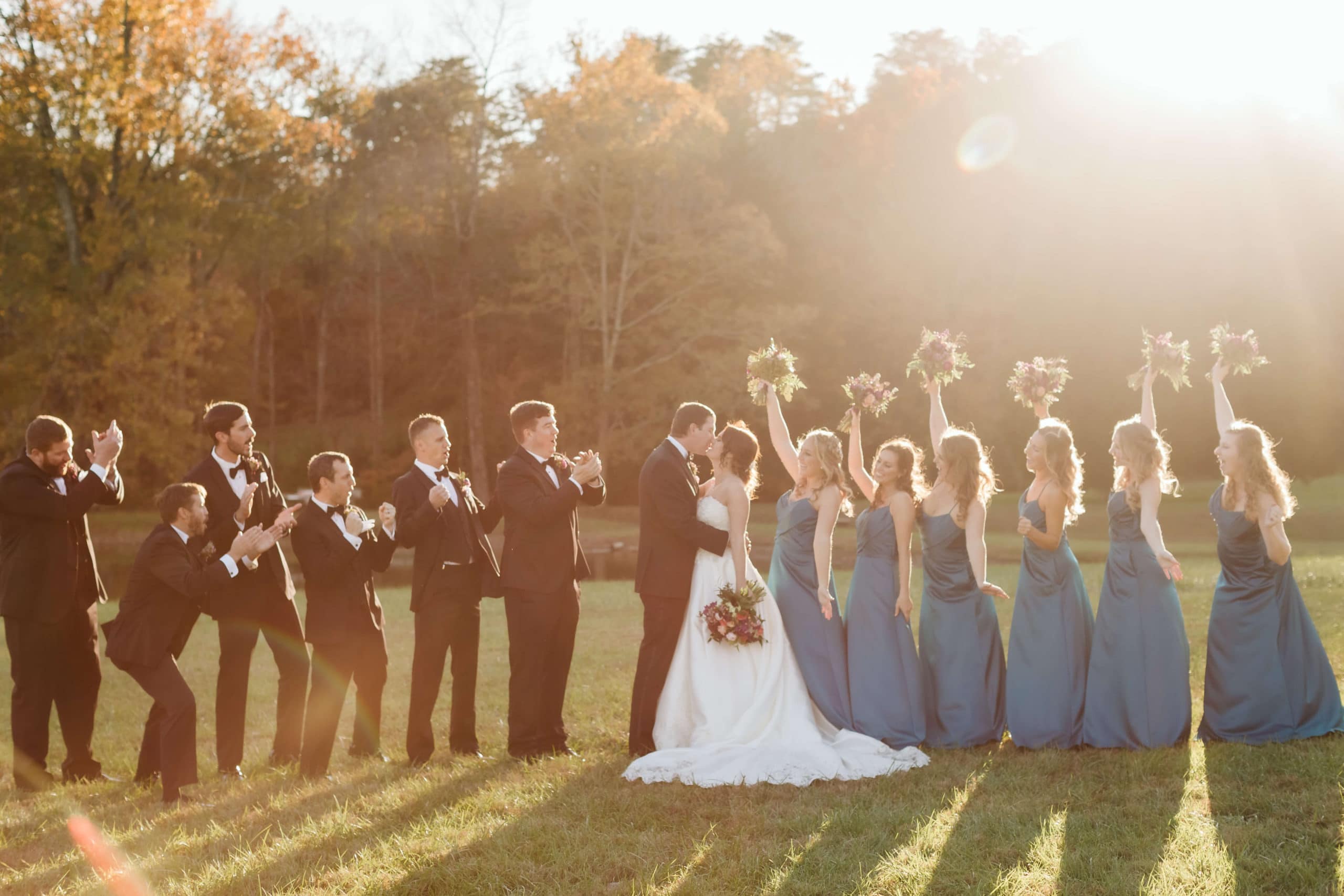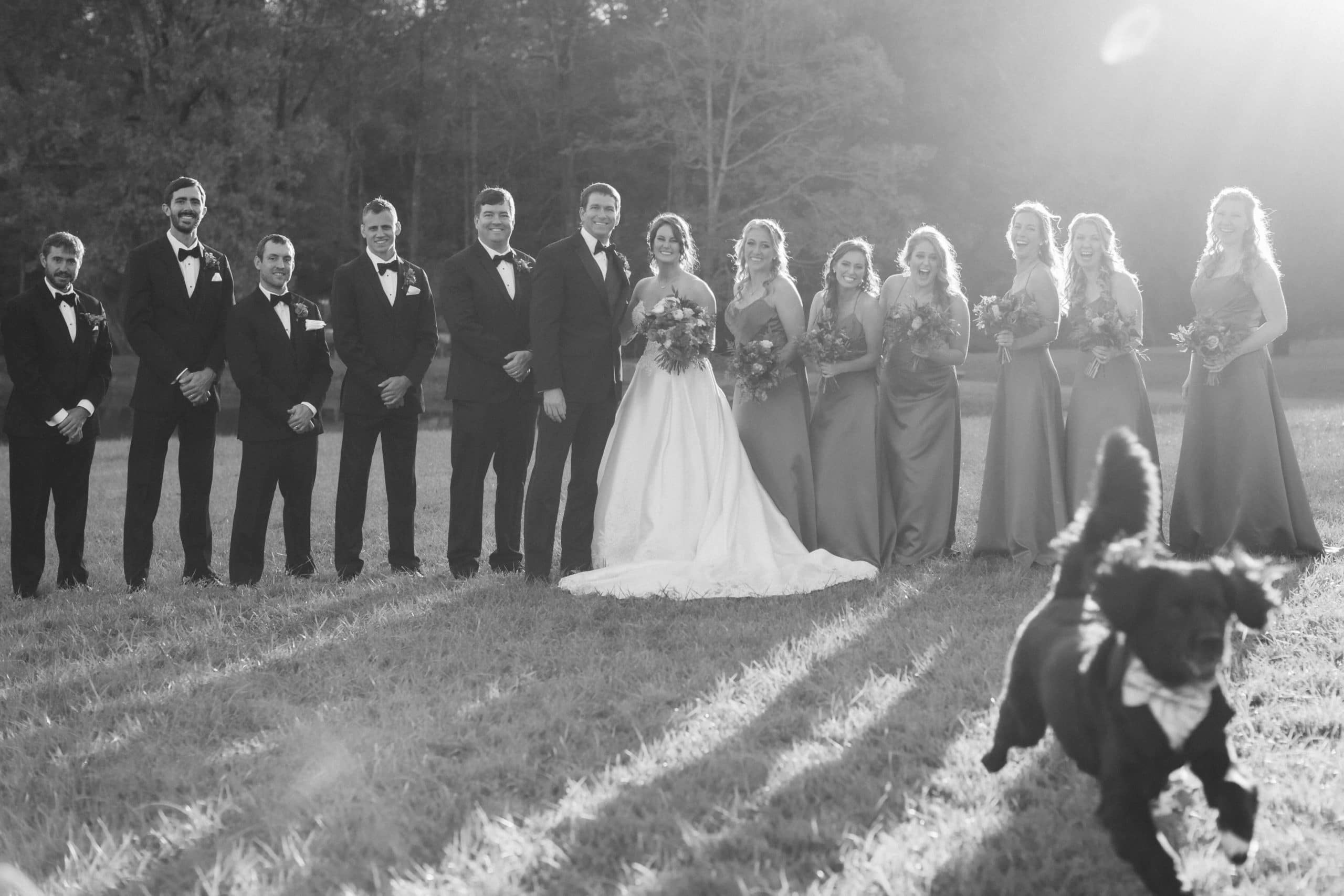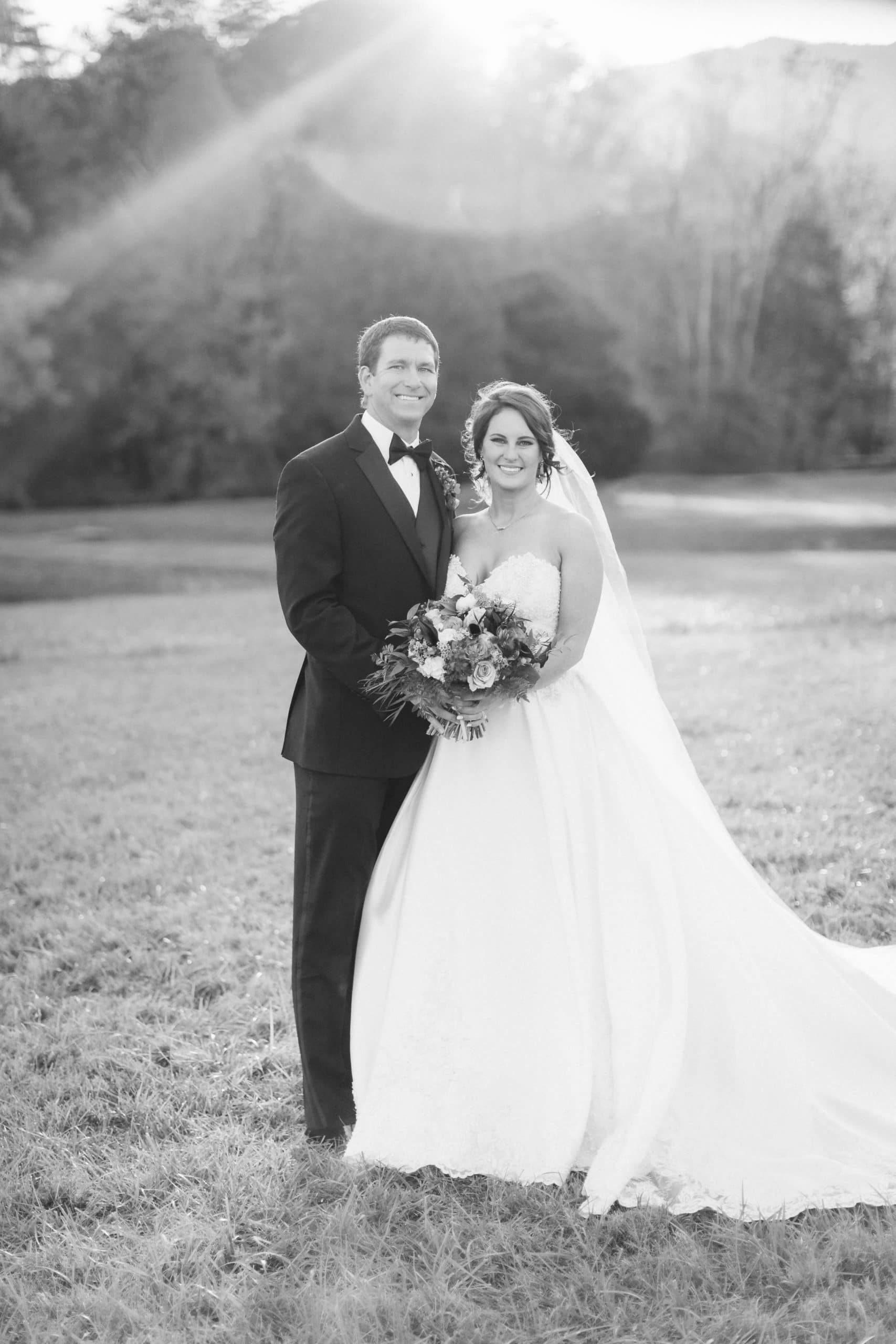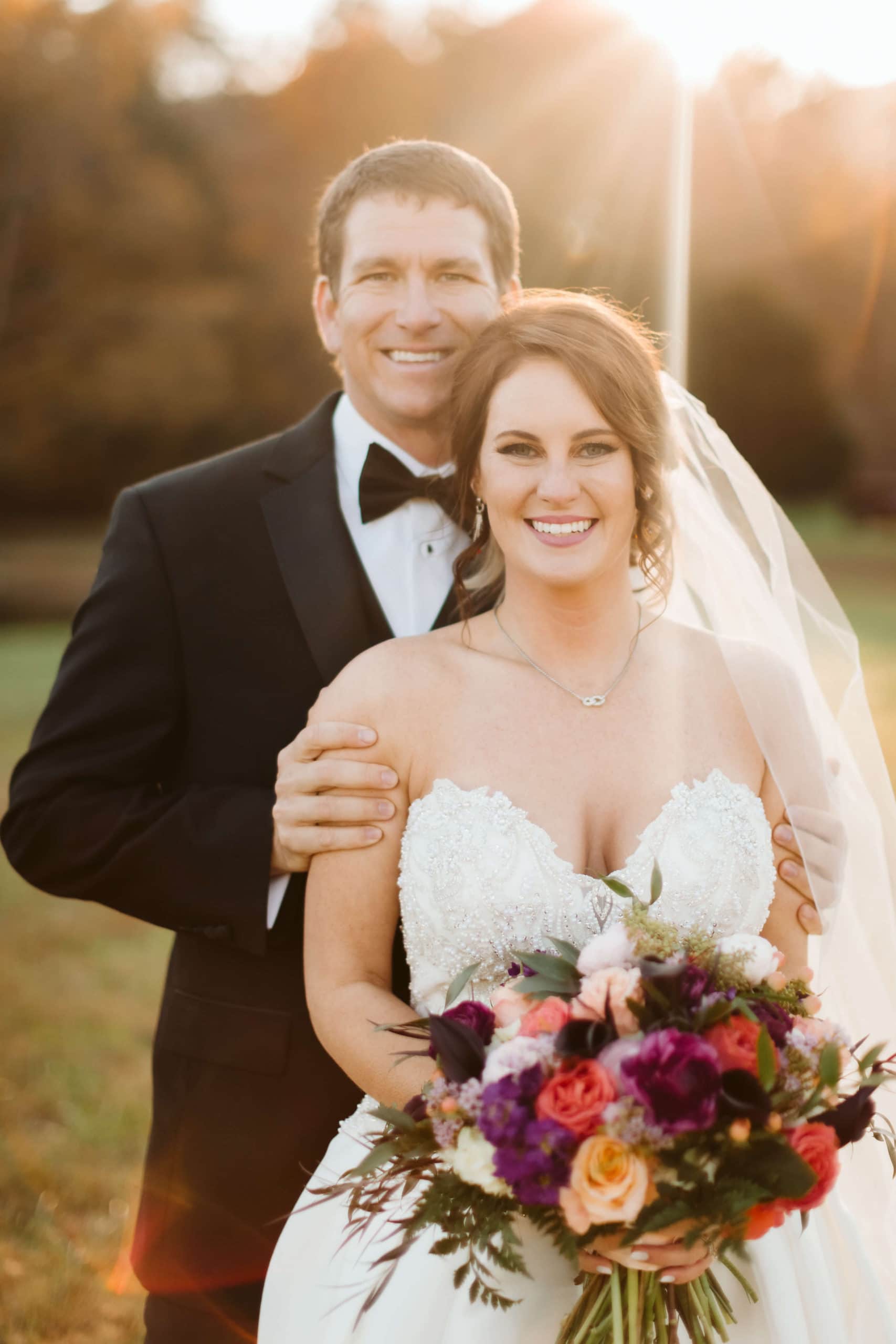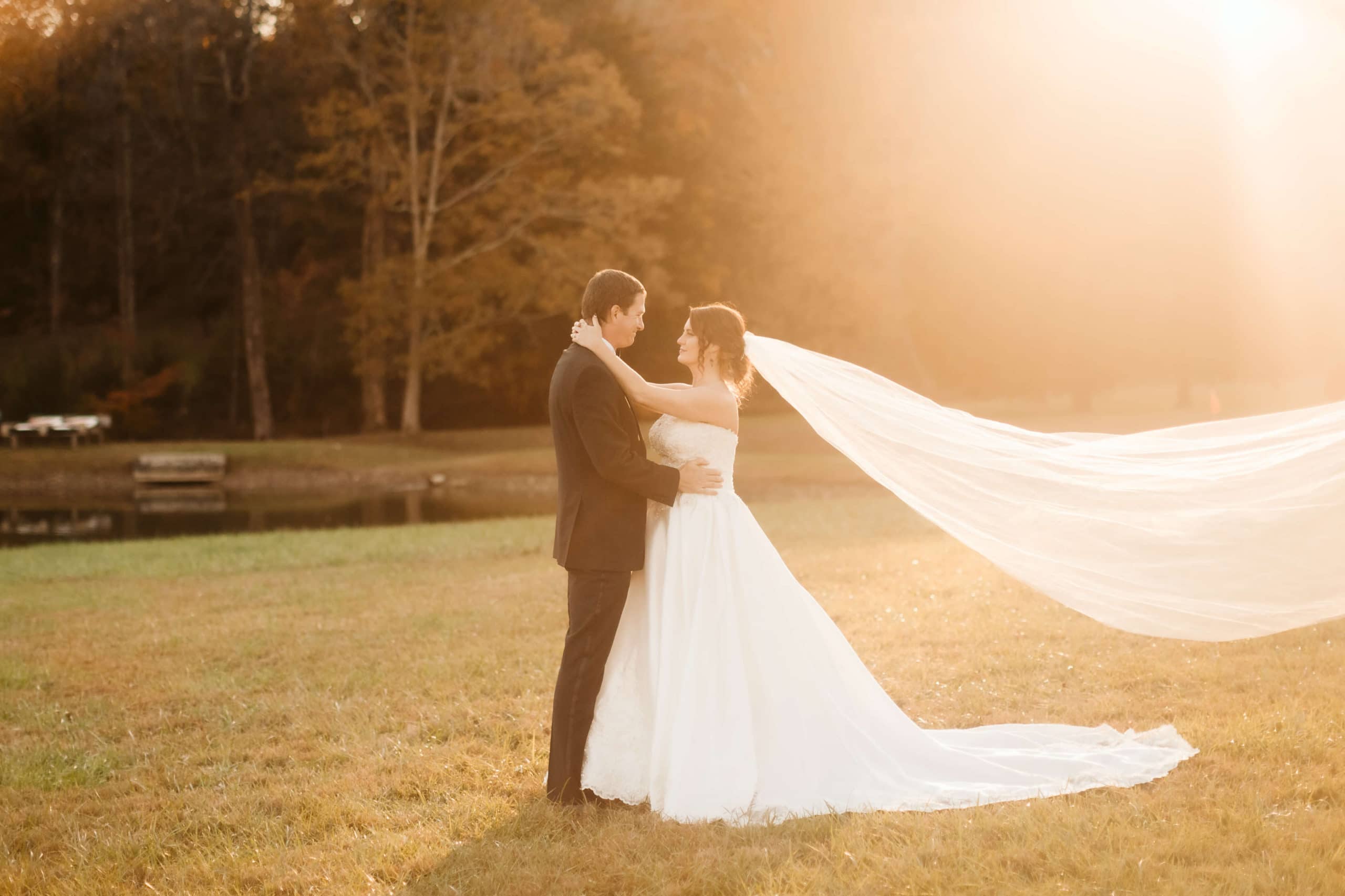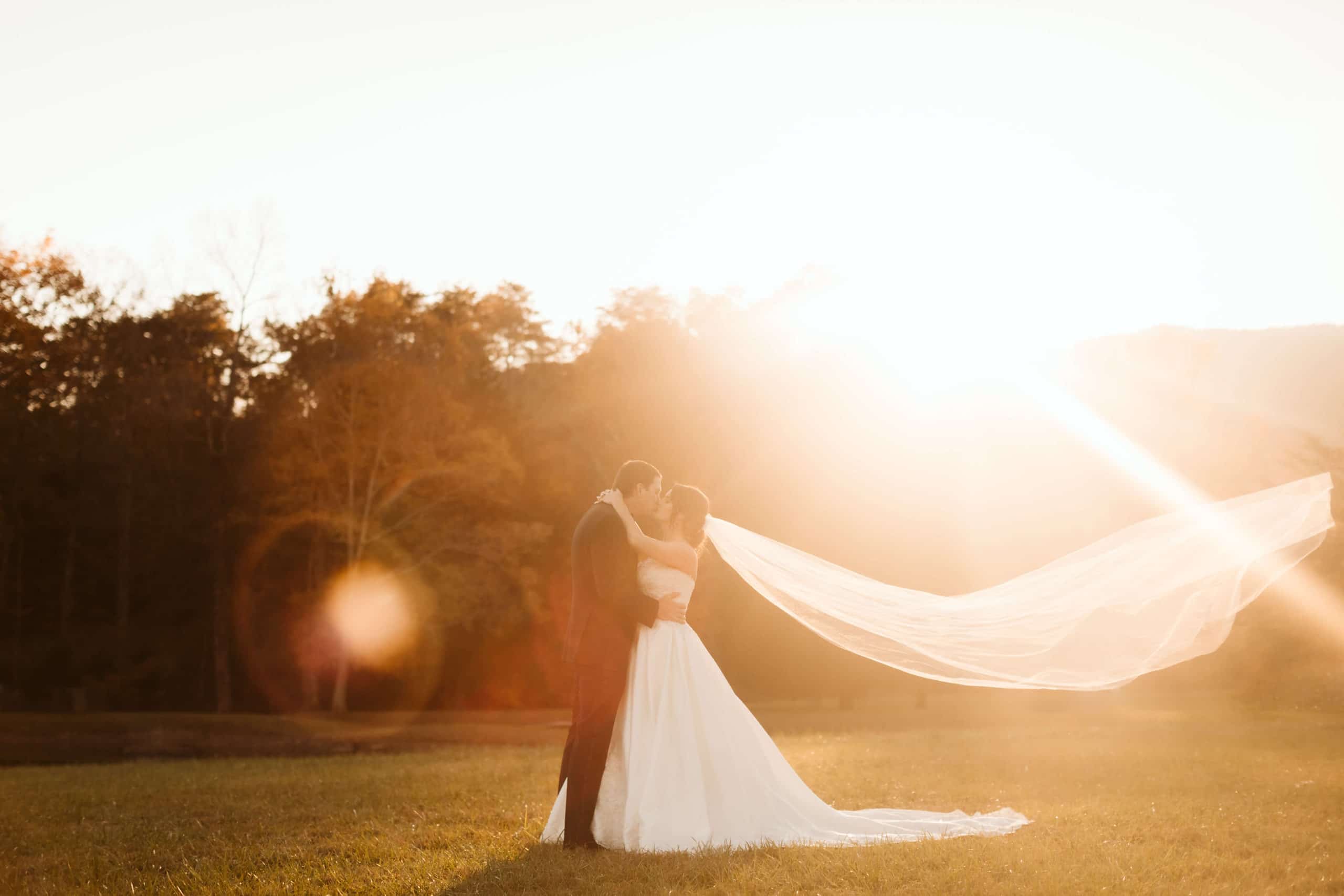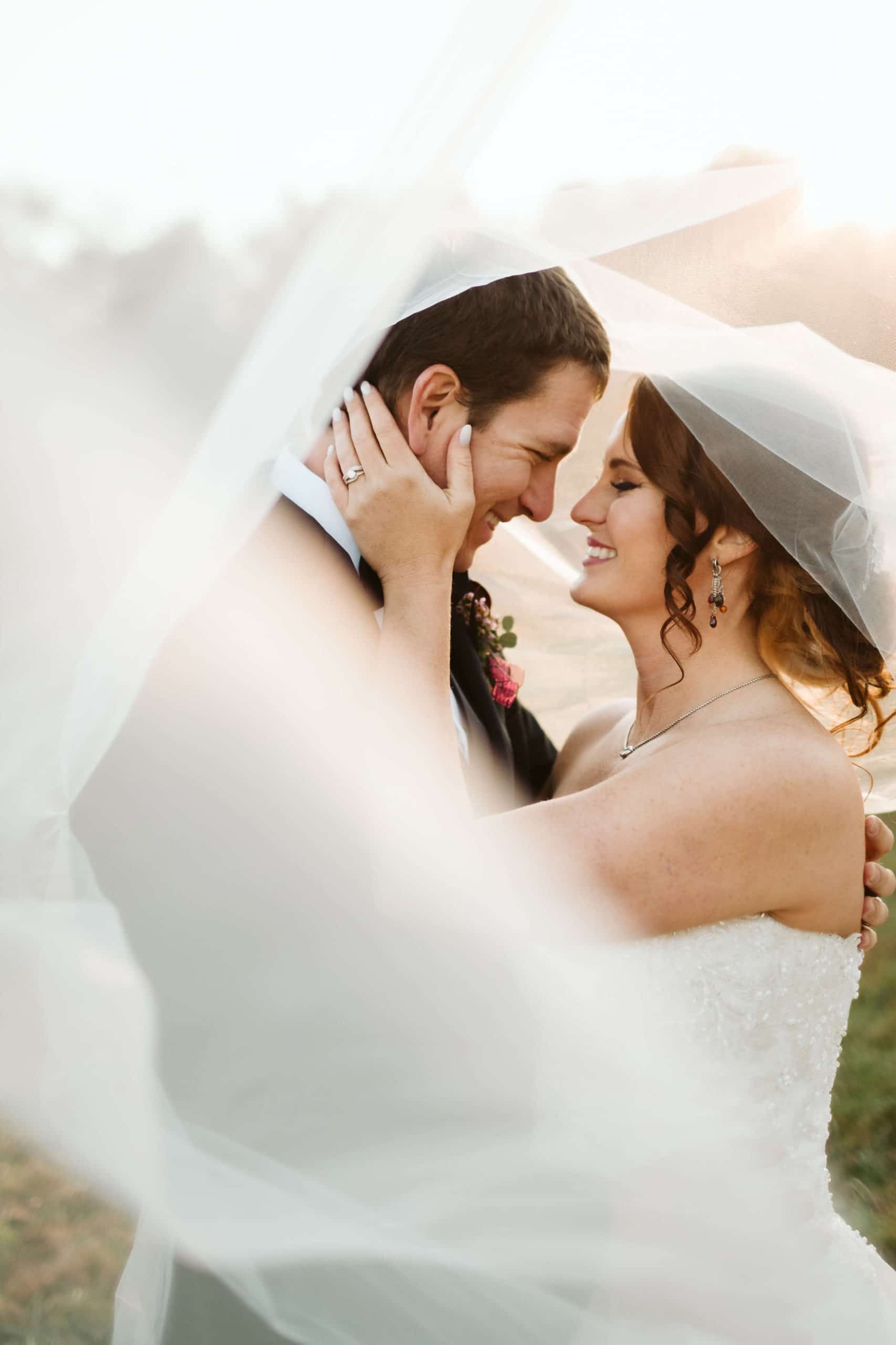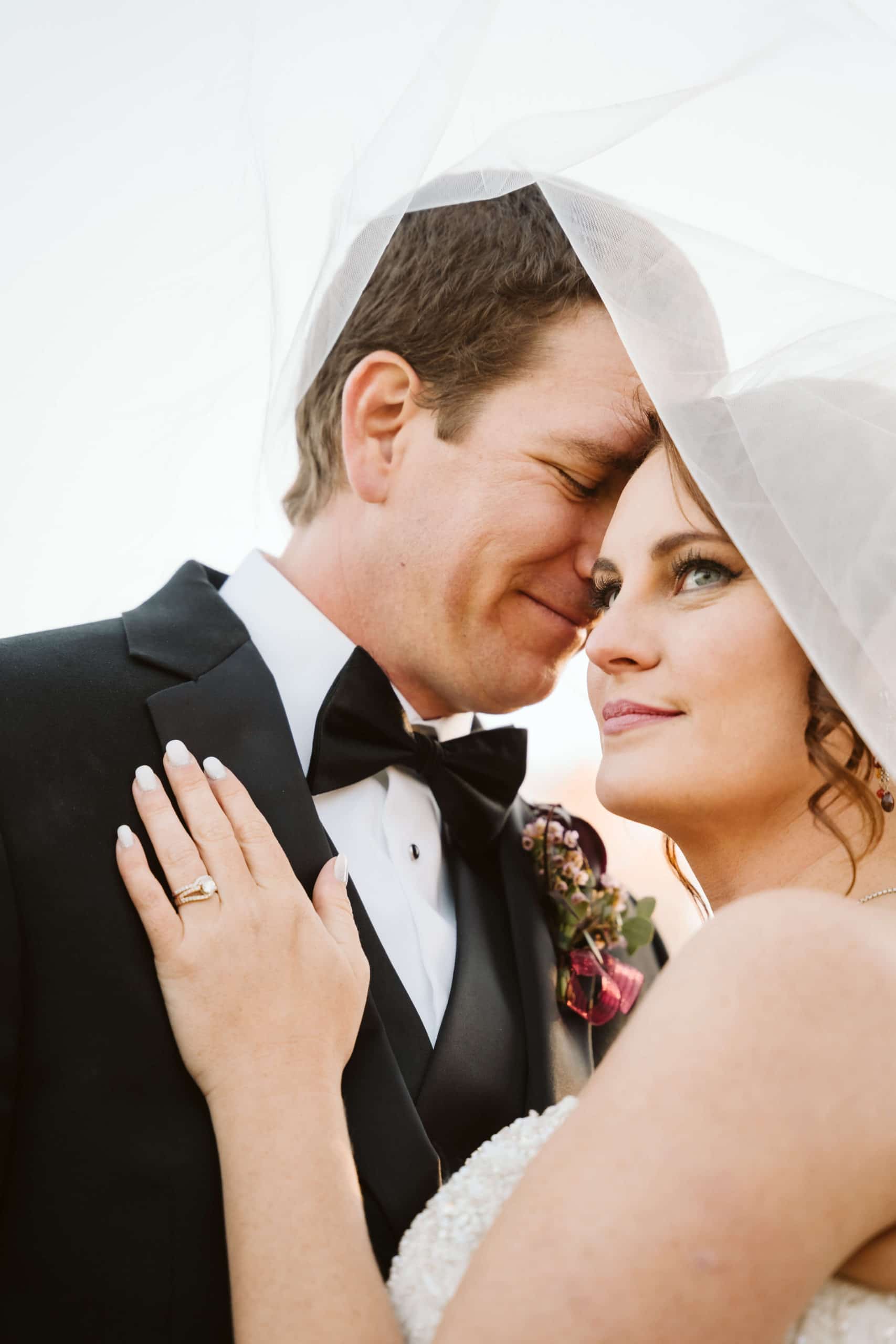 Lakeside Courtyard Ceremony at the Homestead at Cloudland Station
One of the great things about having a wedding at the Homestead at Cloudland Station is there are multiple options for areas where you can hold your ceremony. Some couples choose to make use of the Peacock House's grand front steps for their ceremony. The steps have a wide, natural brick layout that go straight up to the Peacock House's beautiful columned porch, and they empty below onto an old fashioned bricked carriage path. If it rains or if you'd prefer an indoor ceremony, the Celebration Barn can be transformed from a reception hall to a ceremony site with the proper amount of notice.
The main ceremony site at the Homestead, however, is the Courtyard directly in front of Lake Angela. The Courtyard sits directly opposite from Peacock Hall and features the stunning background of the lake and the forested valley that leads up to Lookout Mountain. This is where Jen and Bryan chose to hold their ceremony.
After their first look photos, Jen and Bryan had headed back to Peacock Hall to meet up with their wedding party to get ready for the ceremony. The Homestead provides white folding chairs and an arbor that couples can choose to decorate however they'd like as part of their classic wedding package. Jen and Bryan chose to keep their decorations simple and let nature speak for itself. Their ceremony was set up with live music right in front of the lake, rose petals lining the aisle, and jewel-toned flowers hanging from the arbor. The sun setting over the mountains cast the picture-perfect, final touch to their simple, heartfelt ceremony.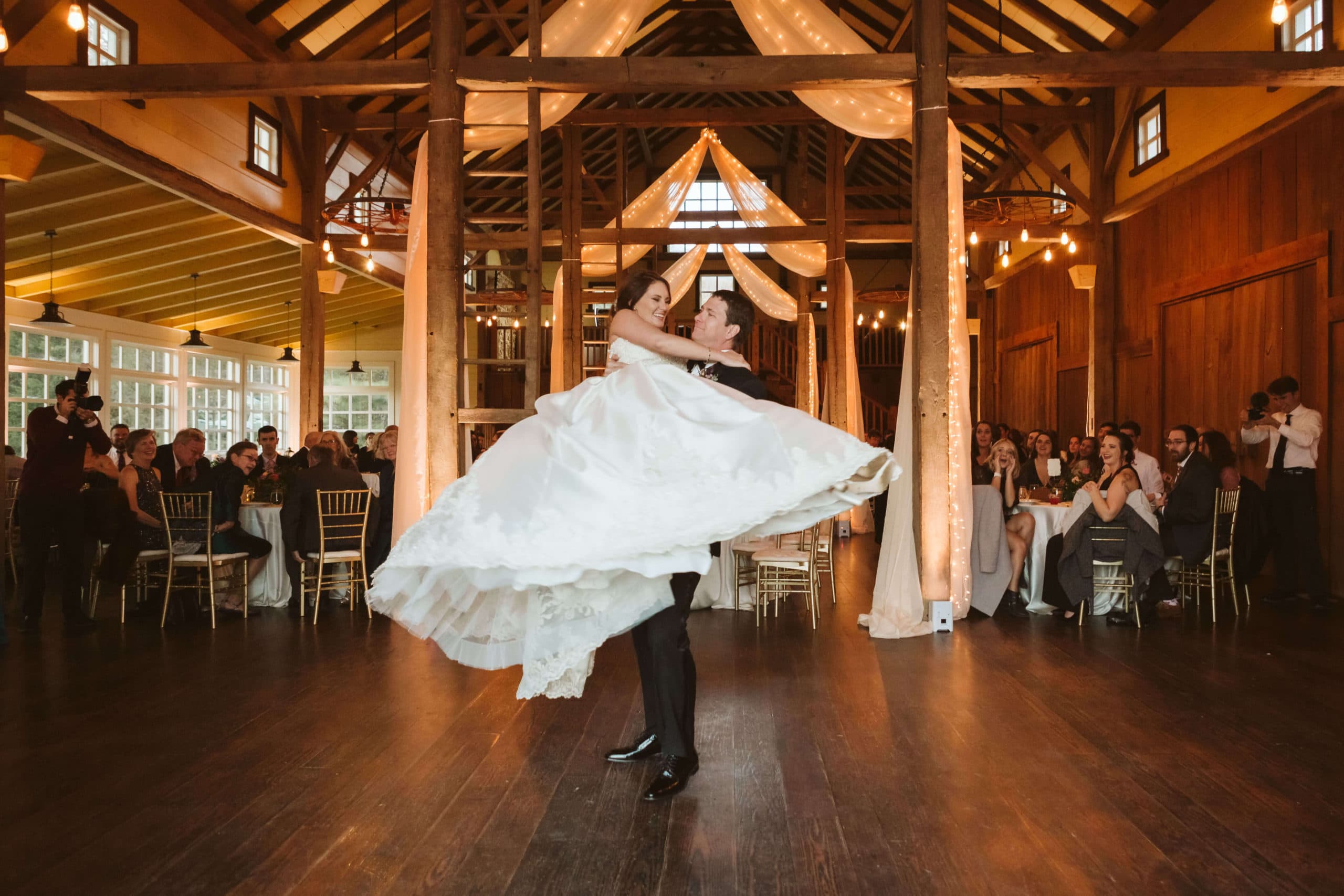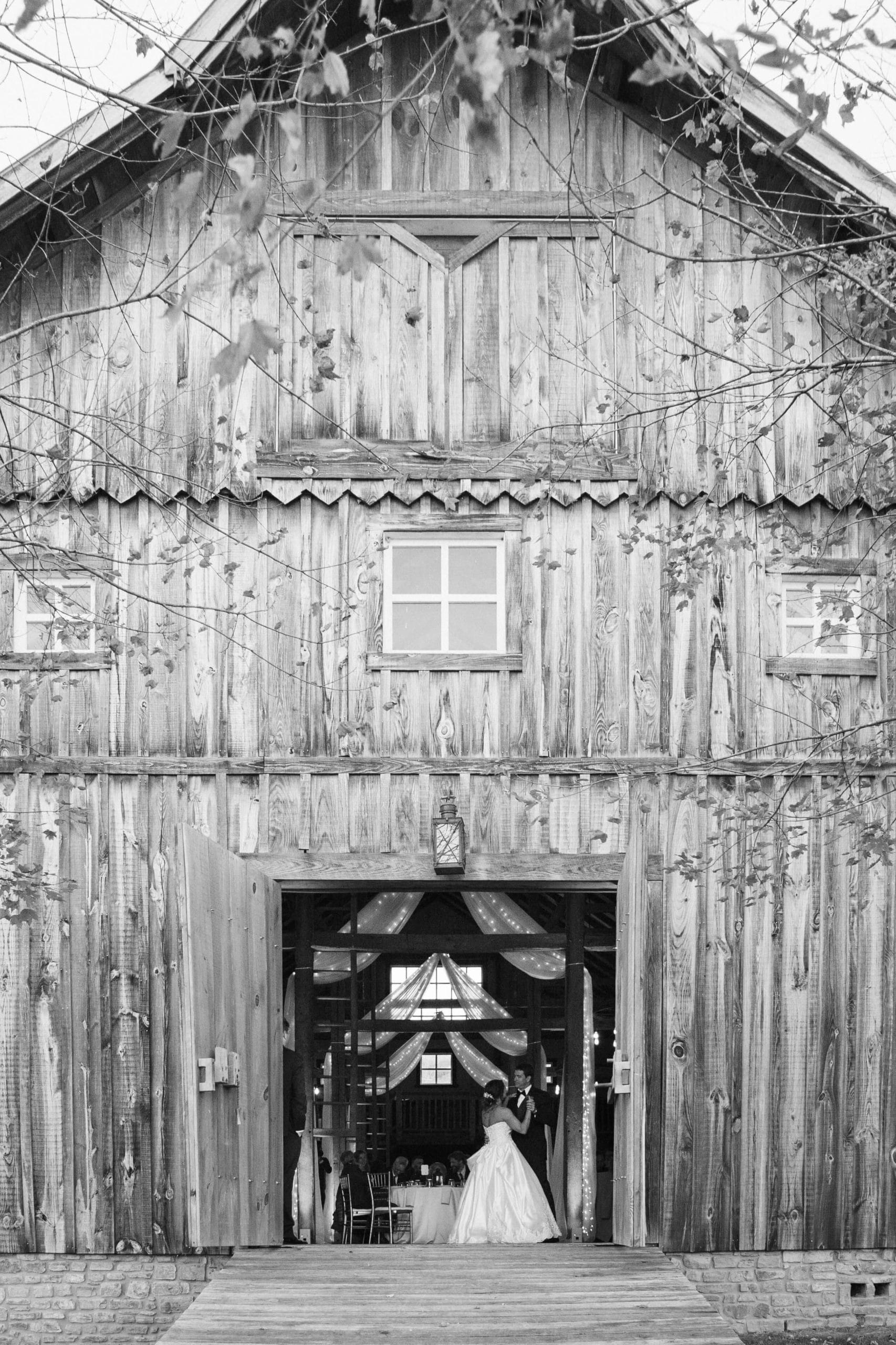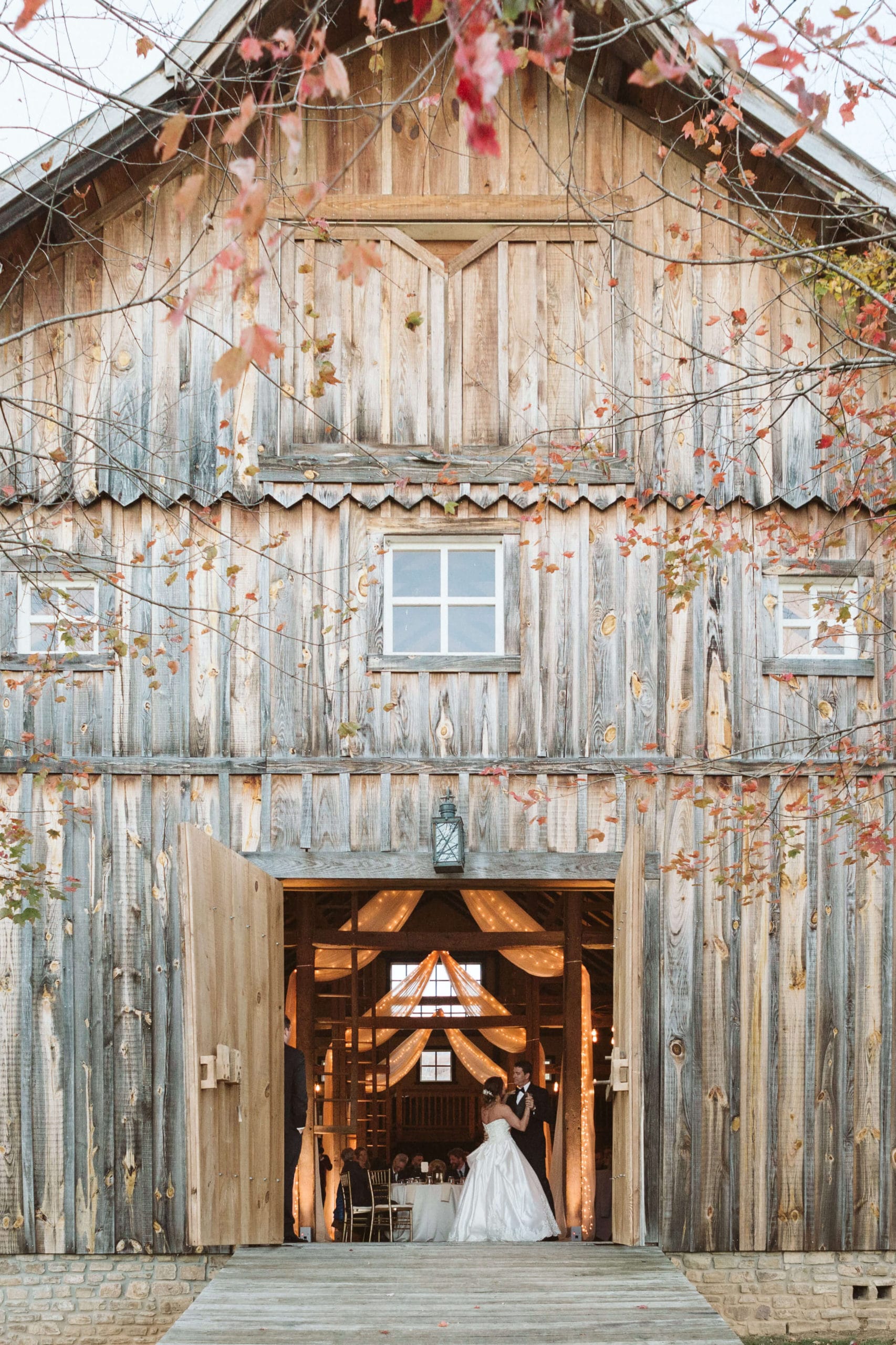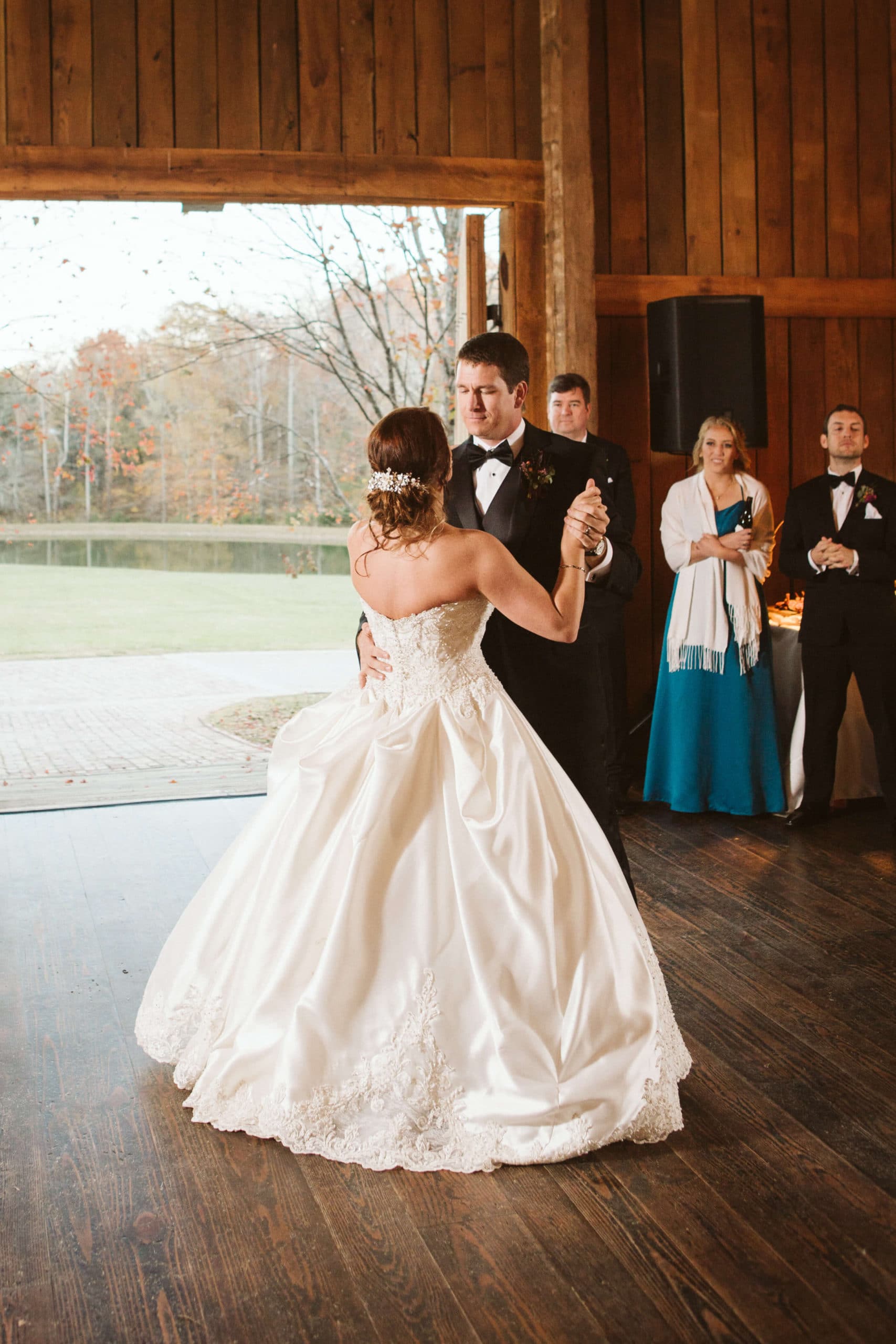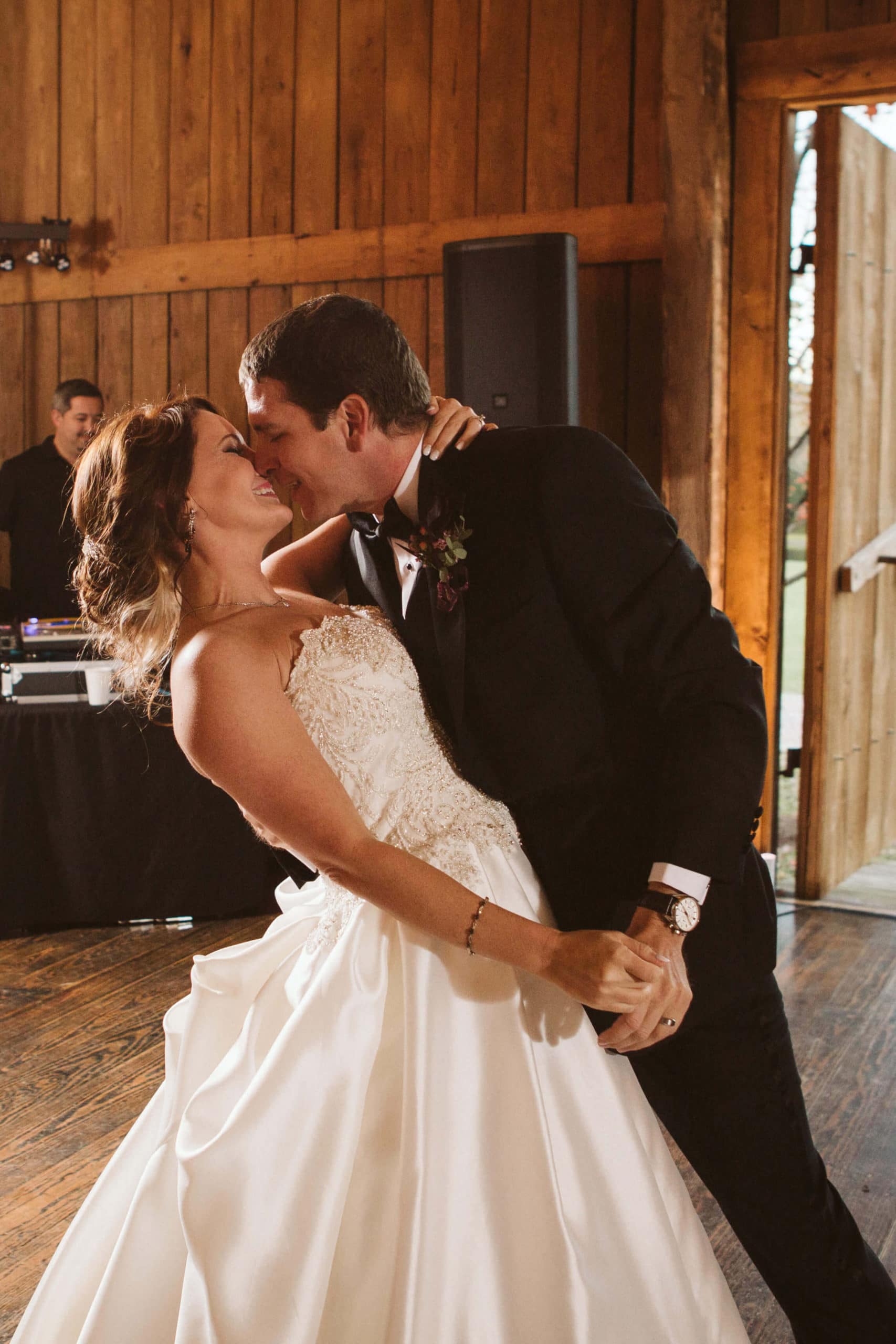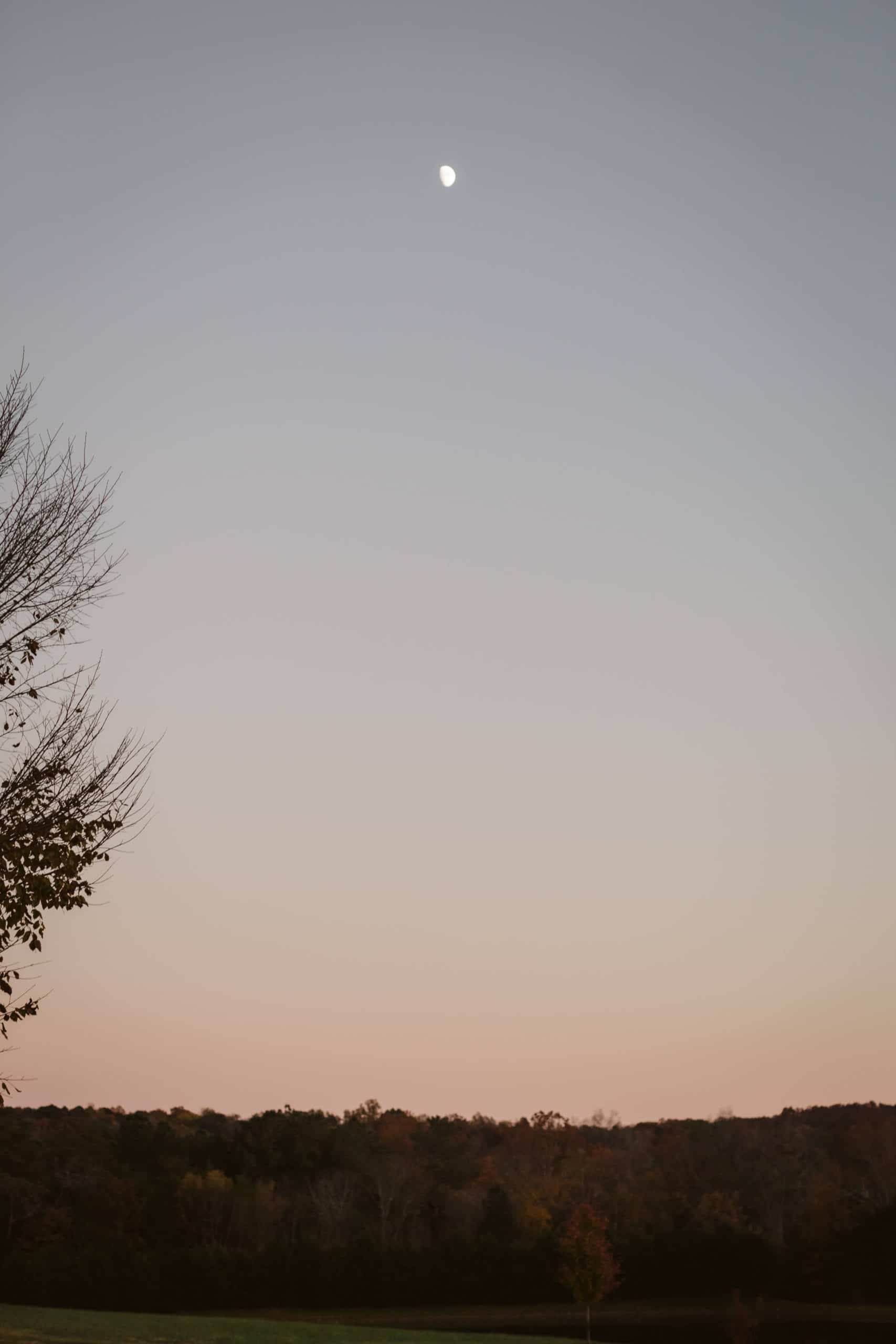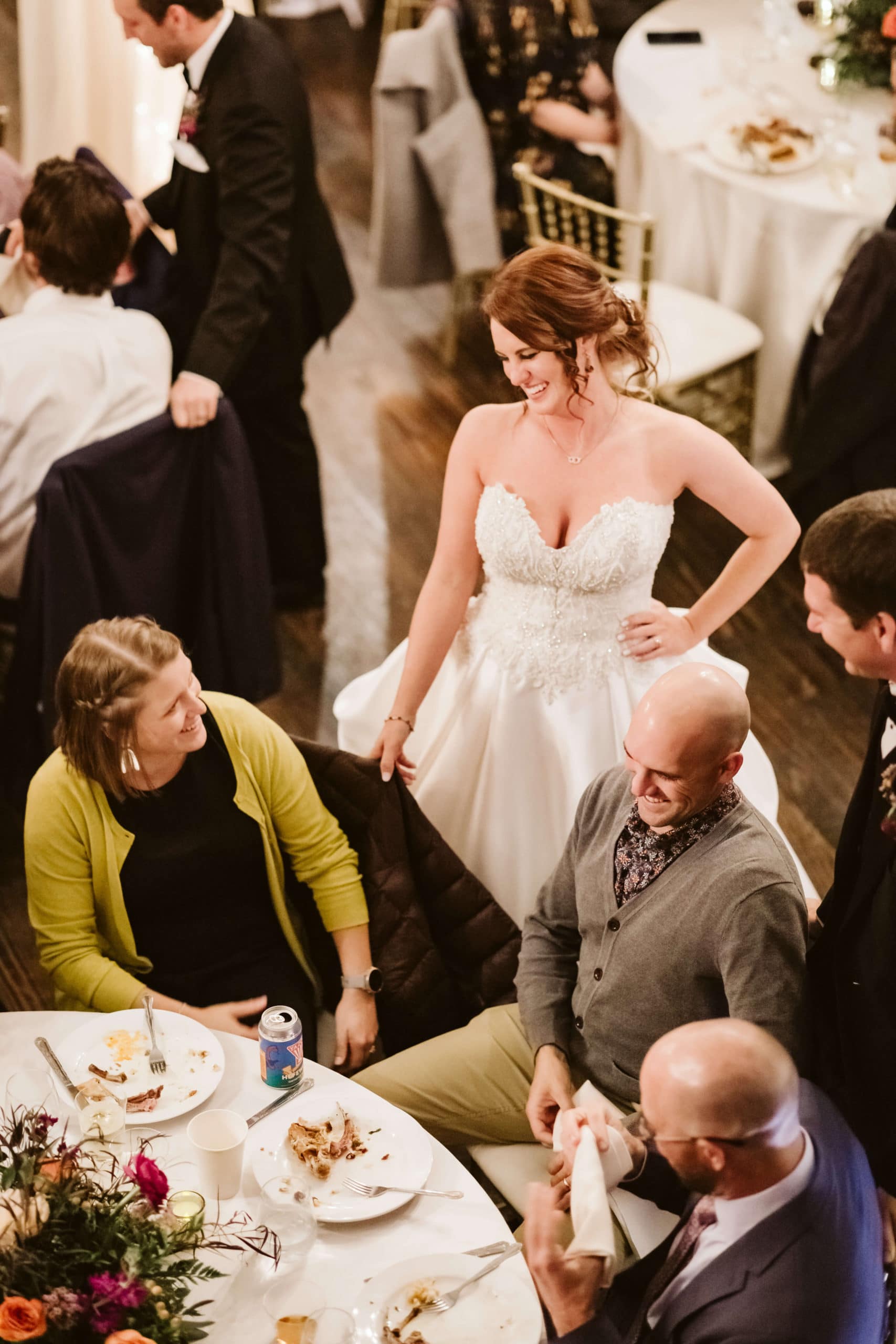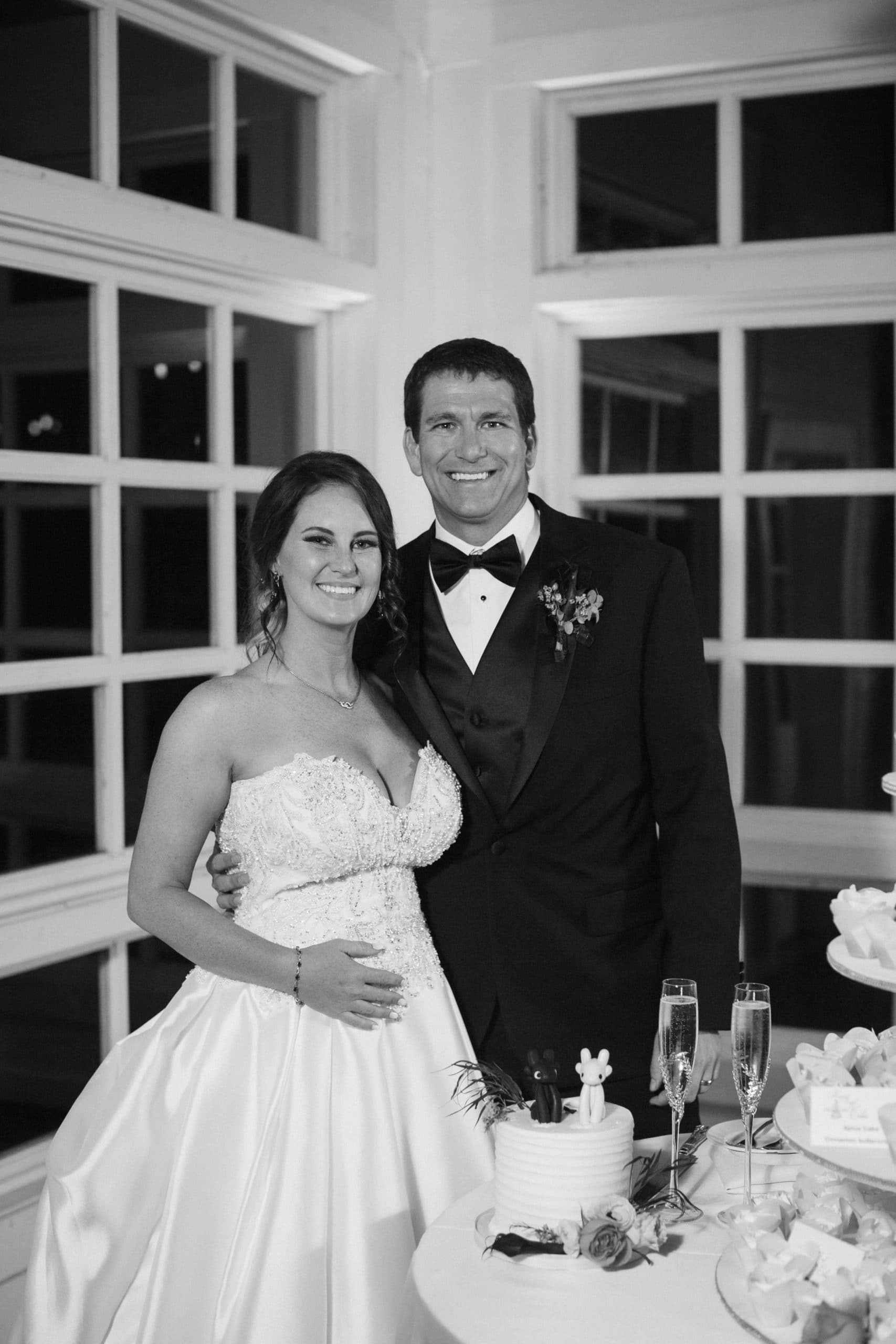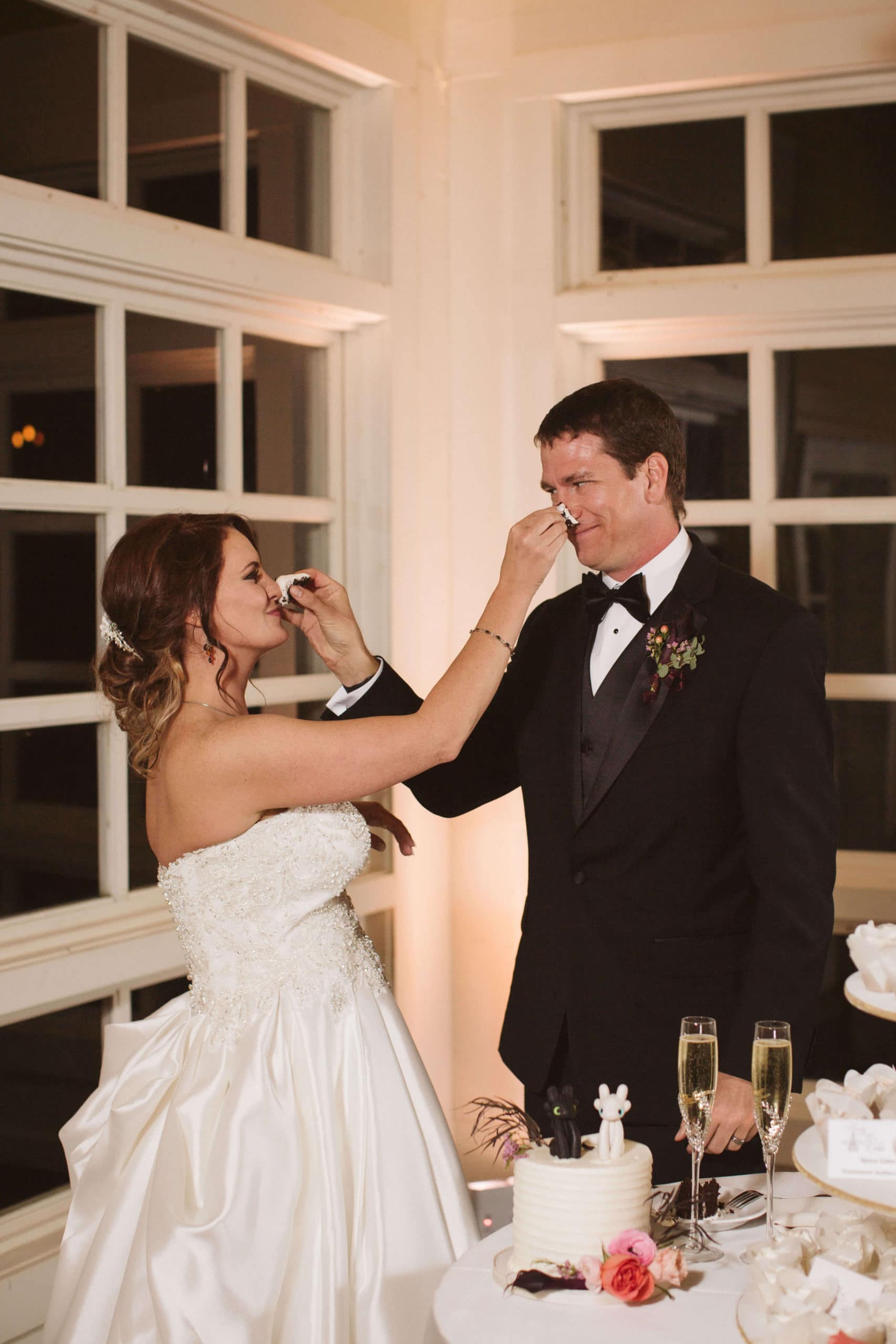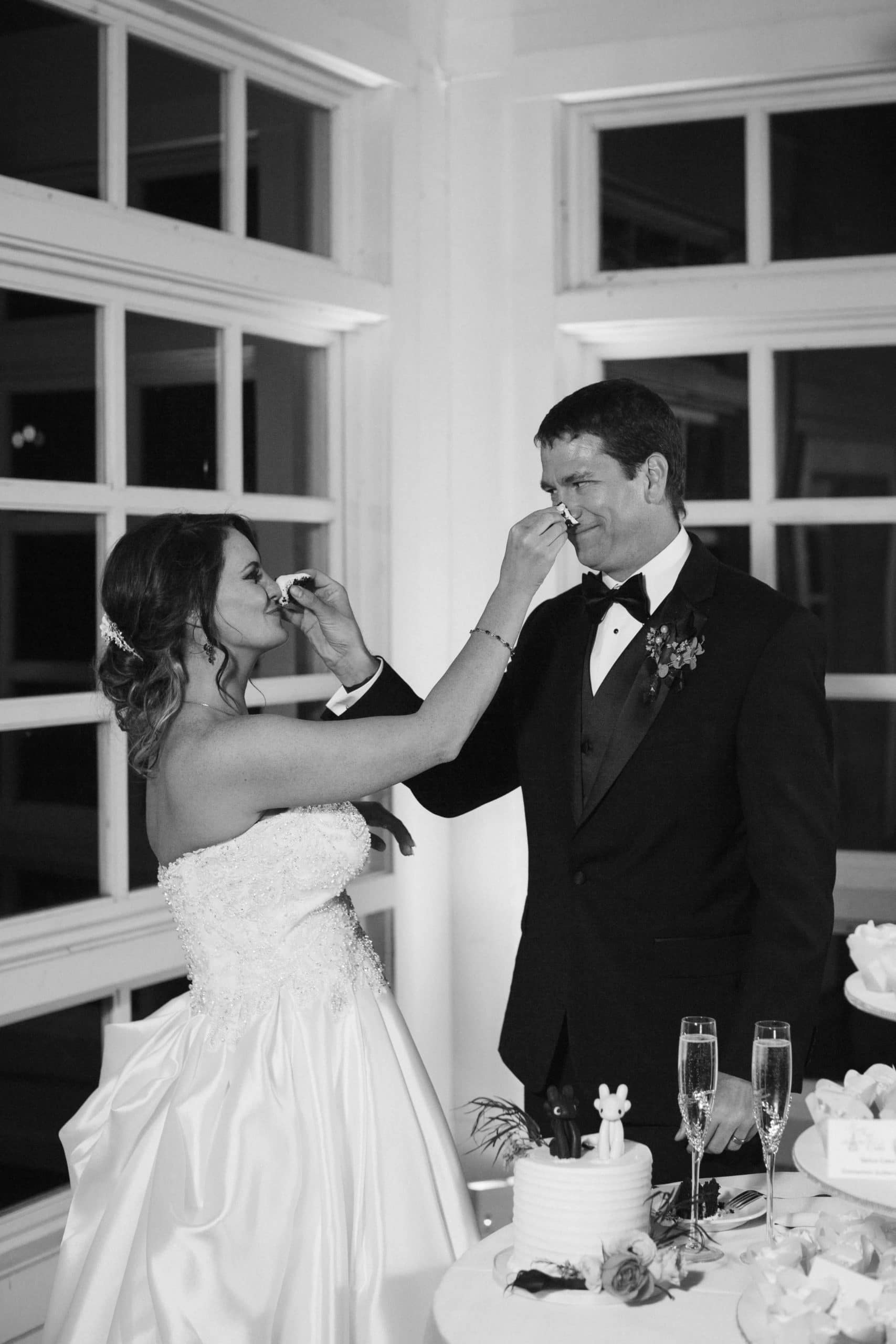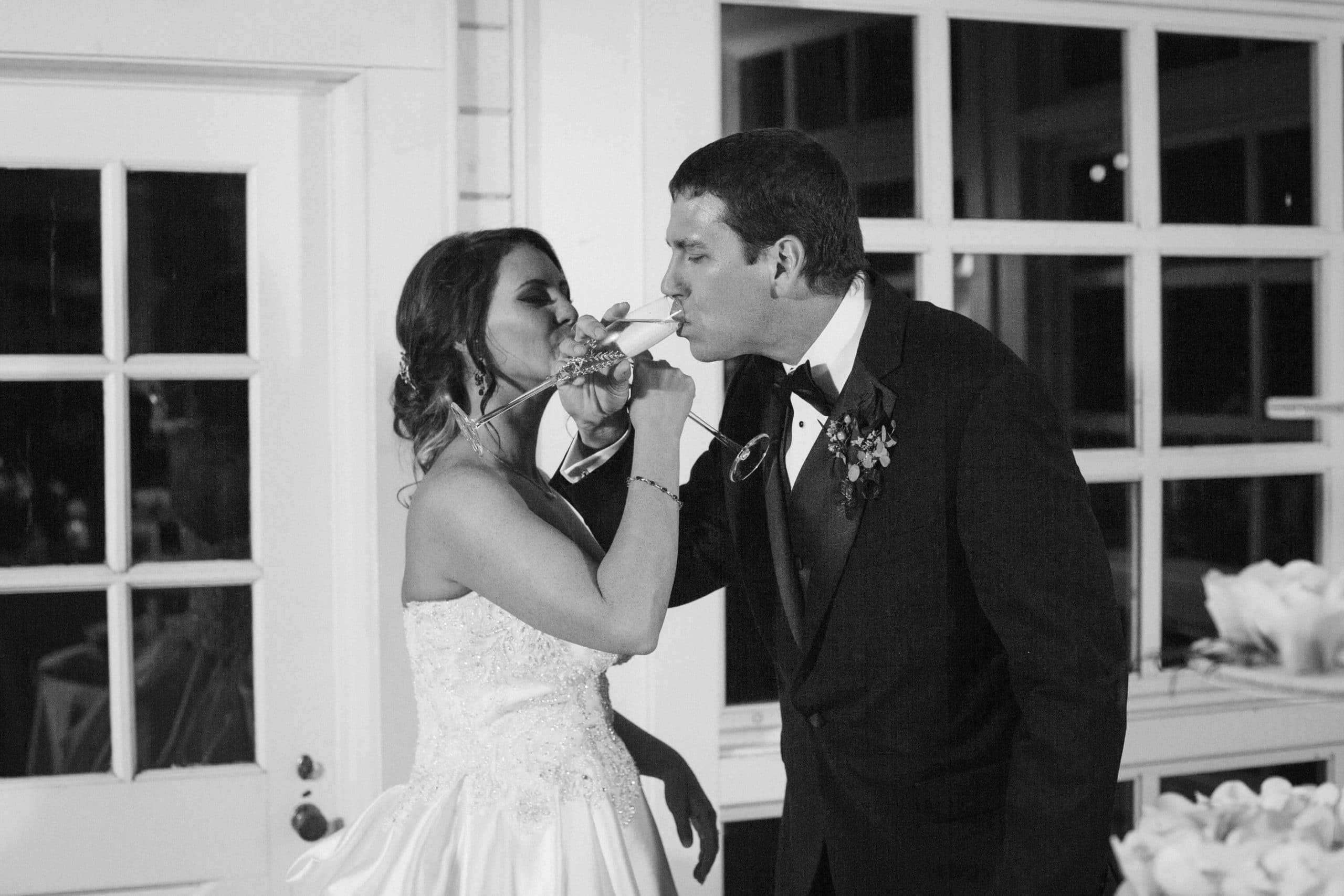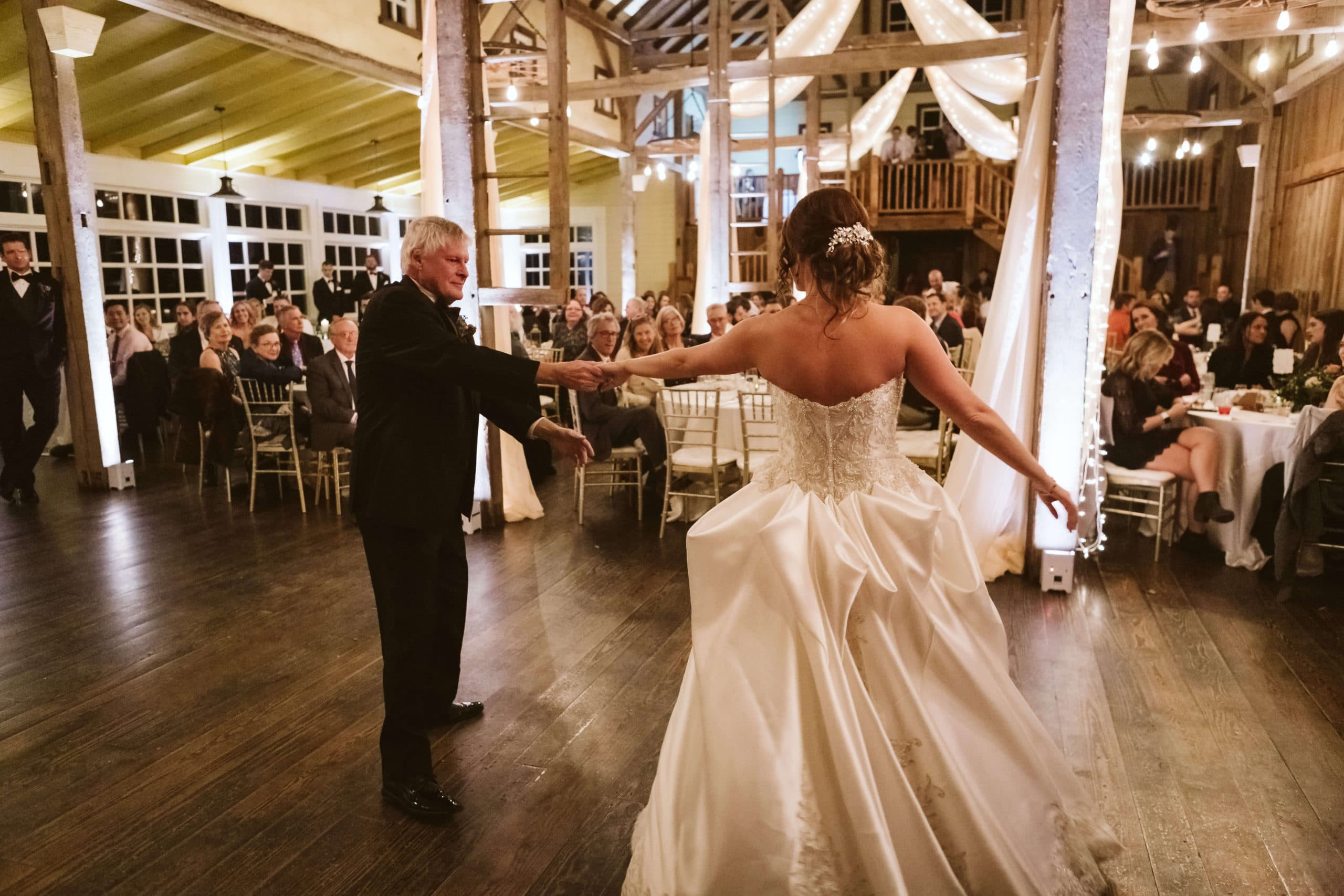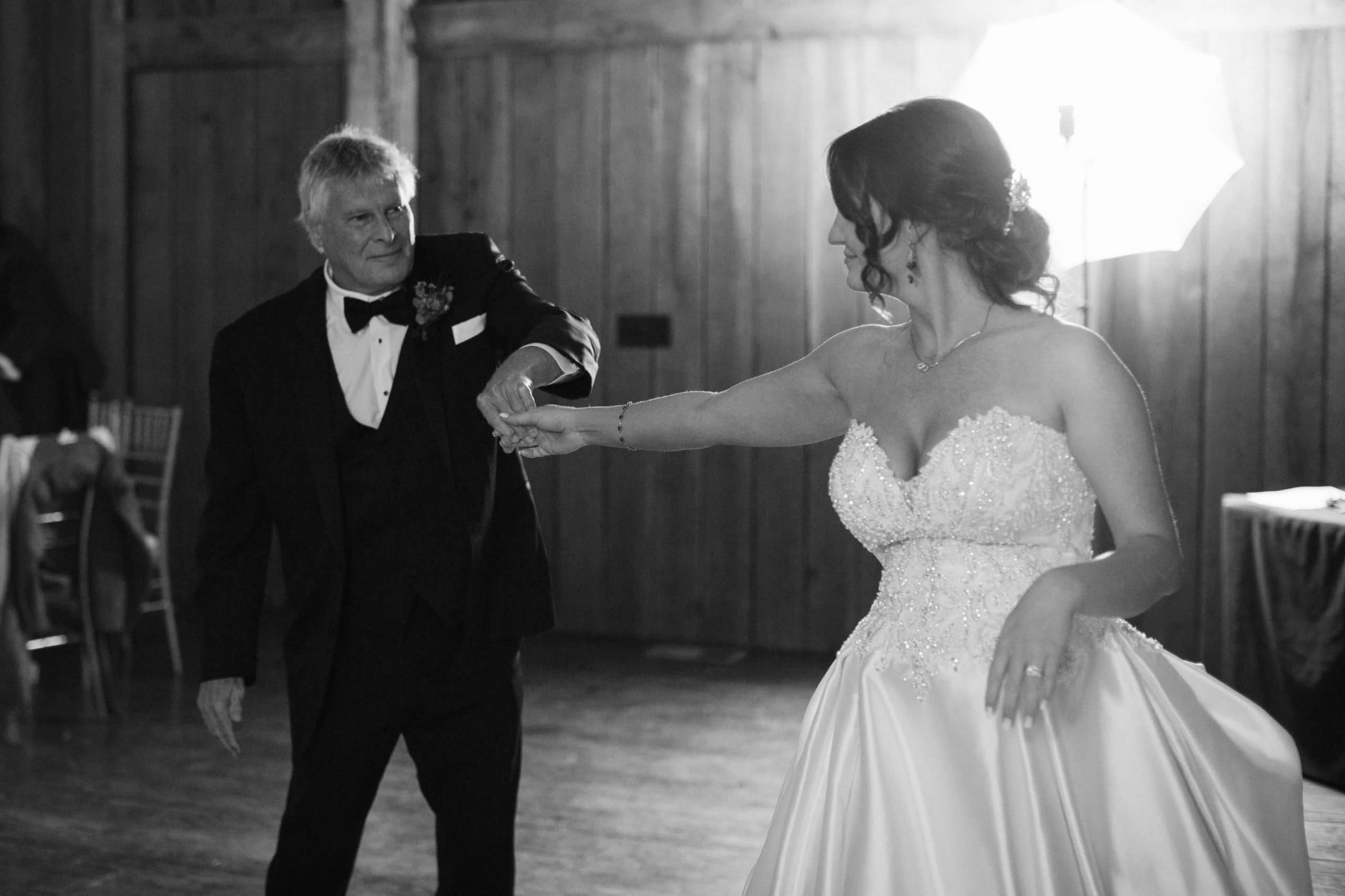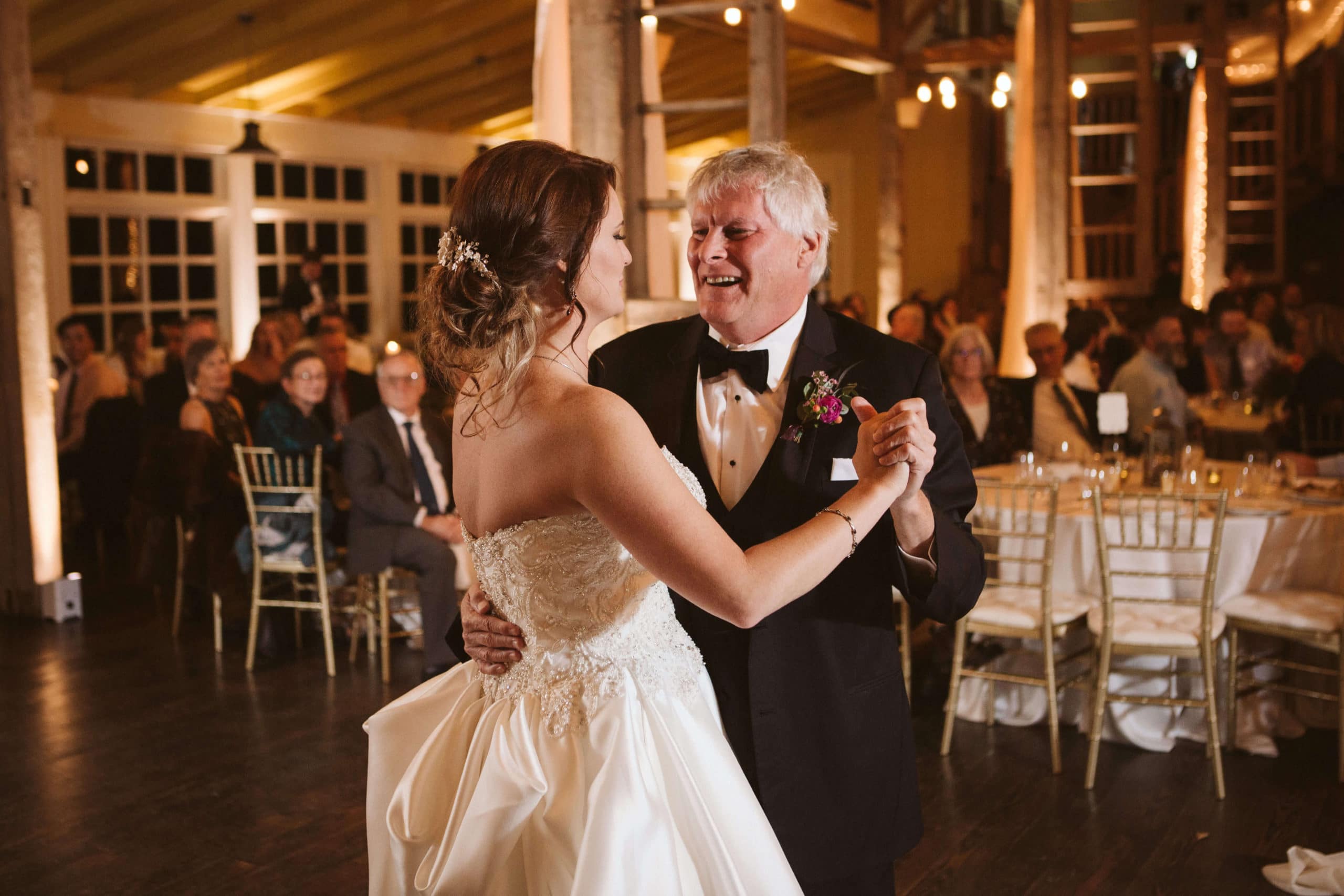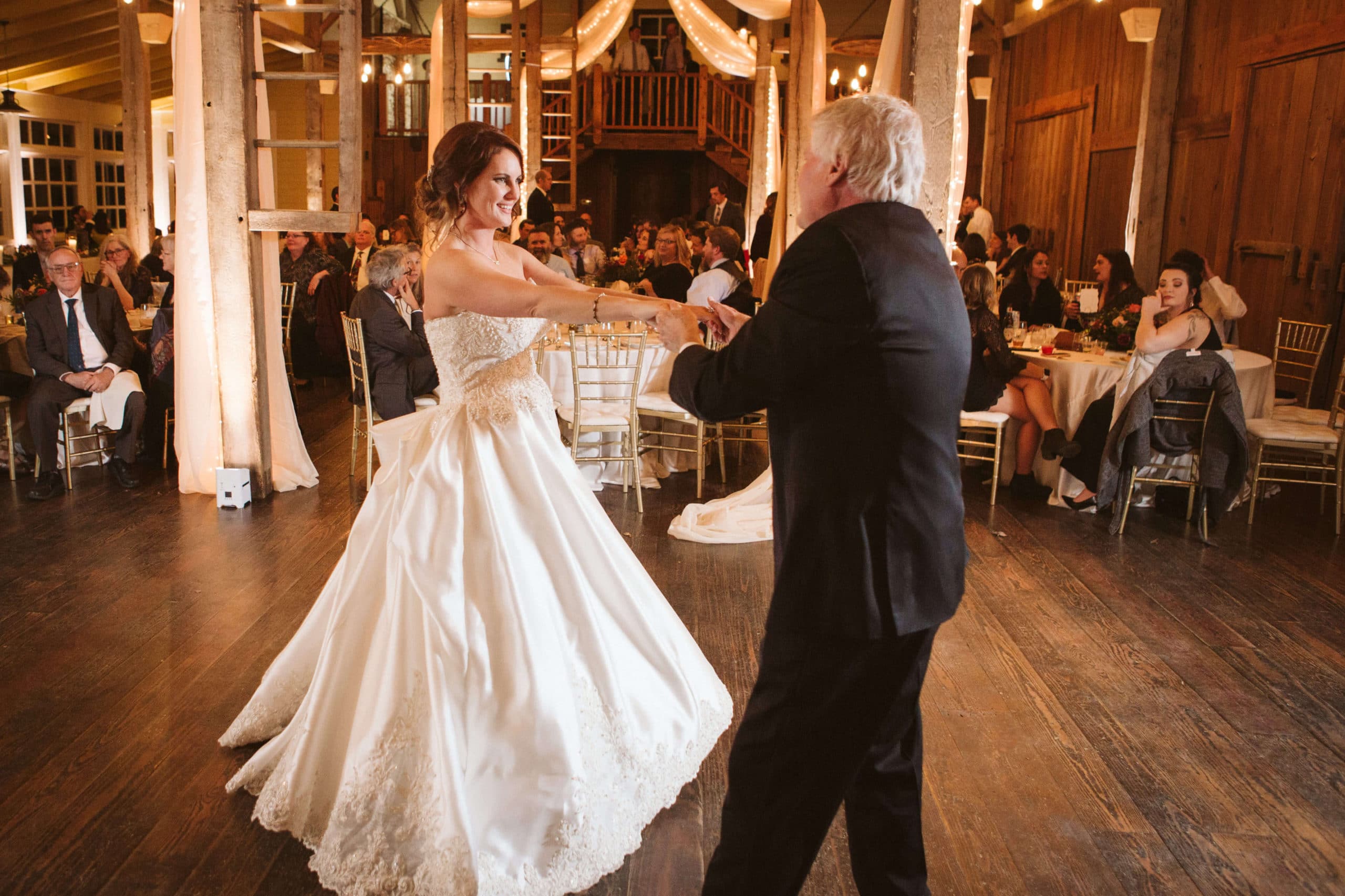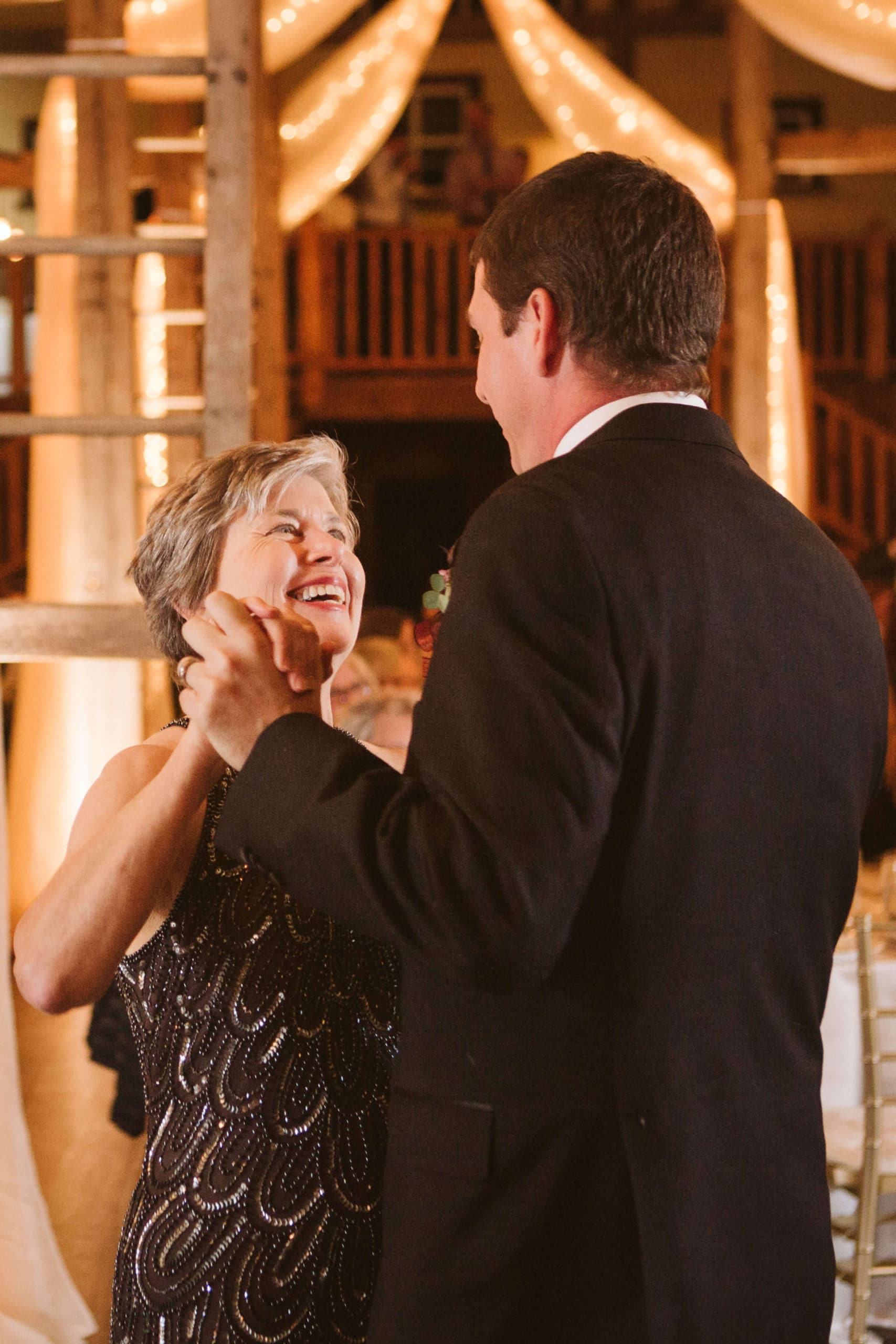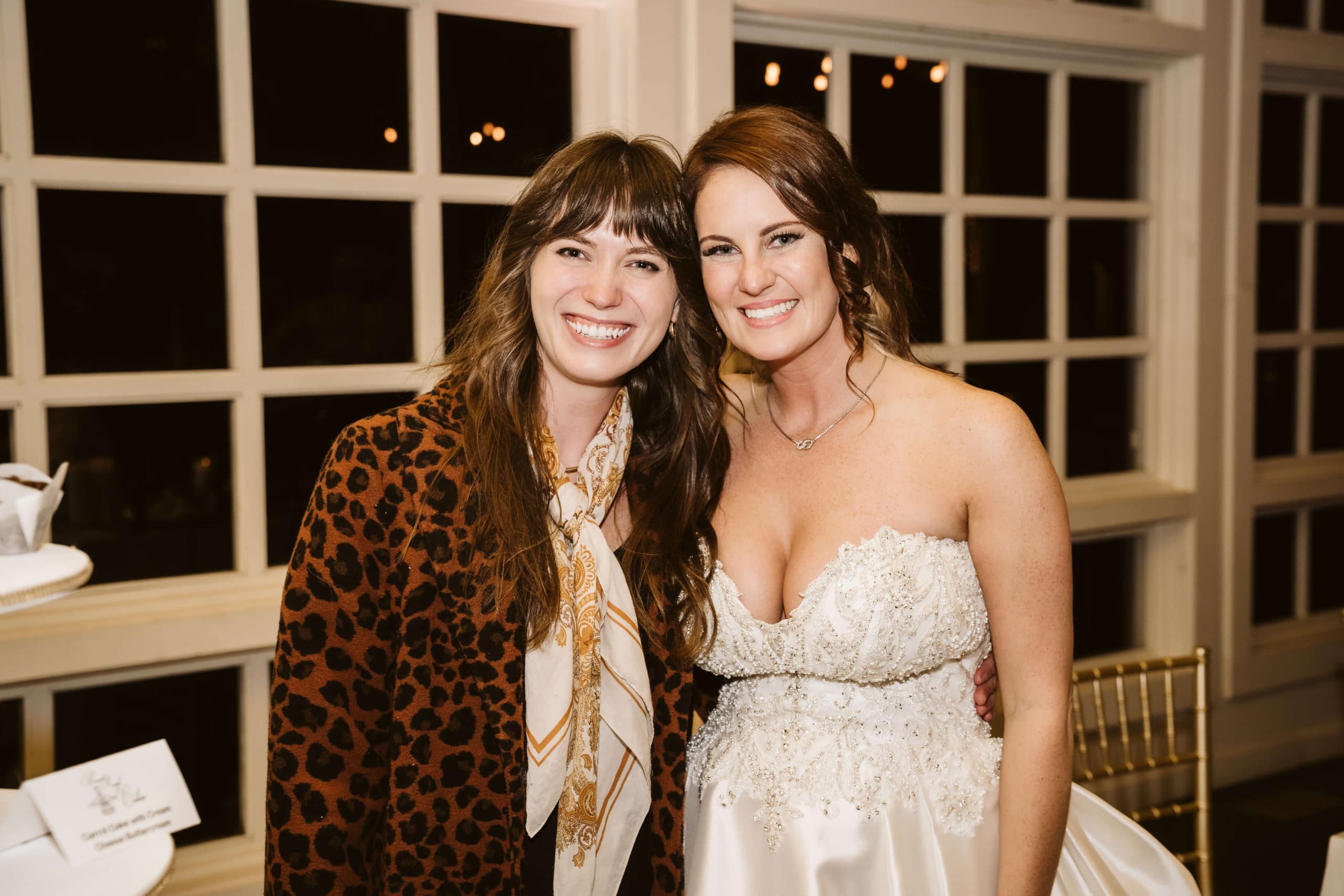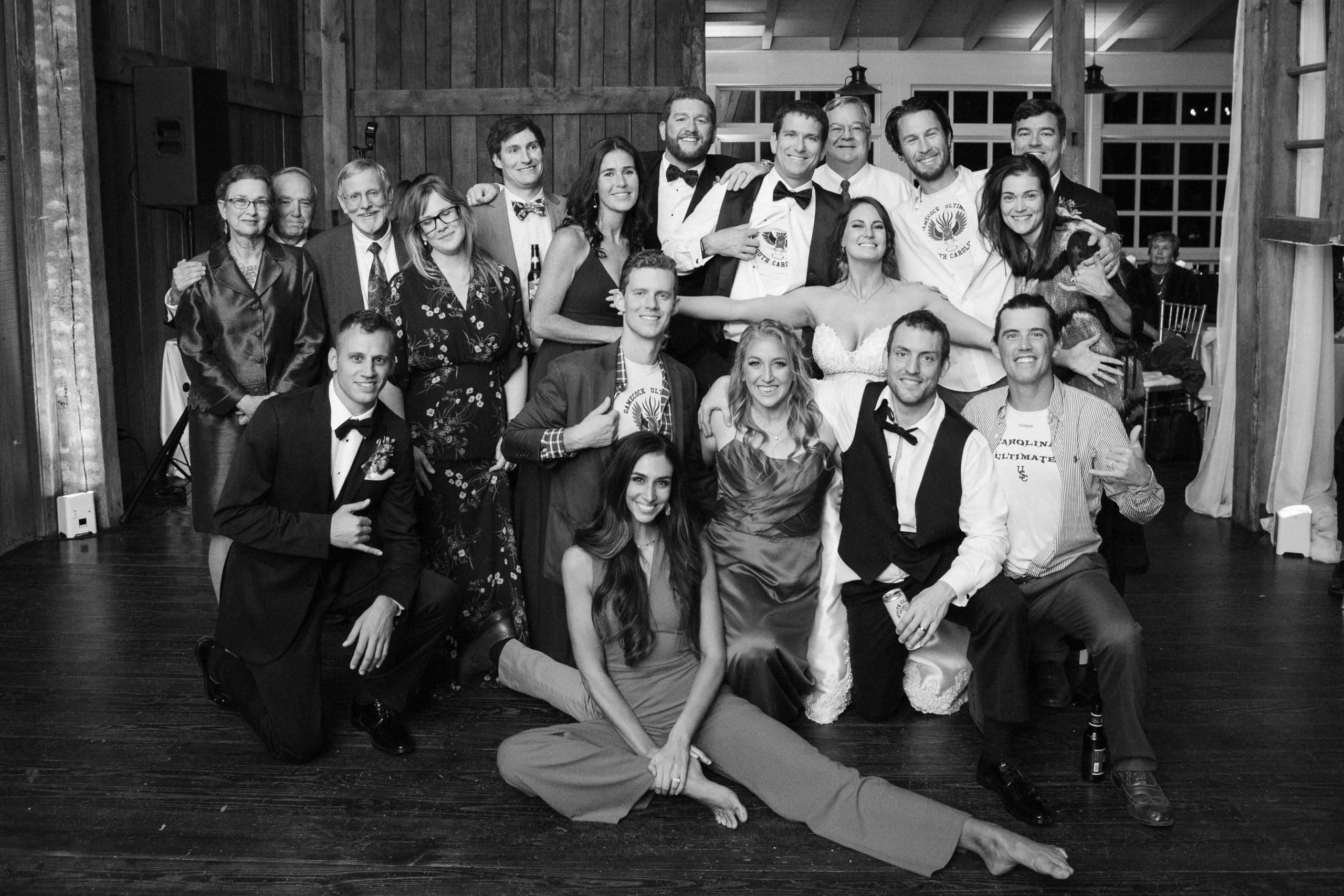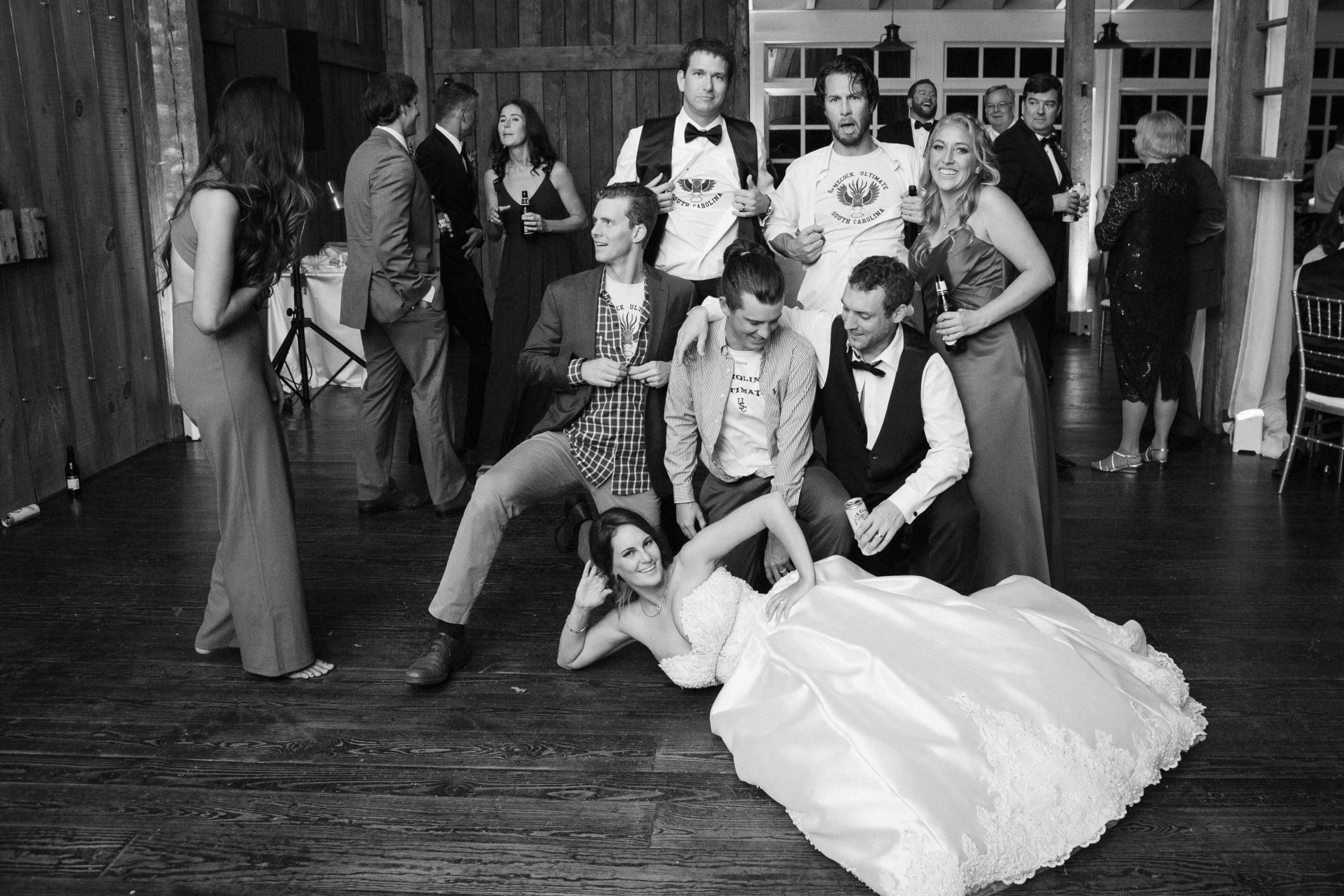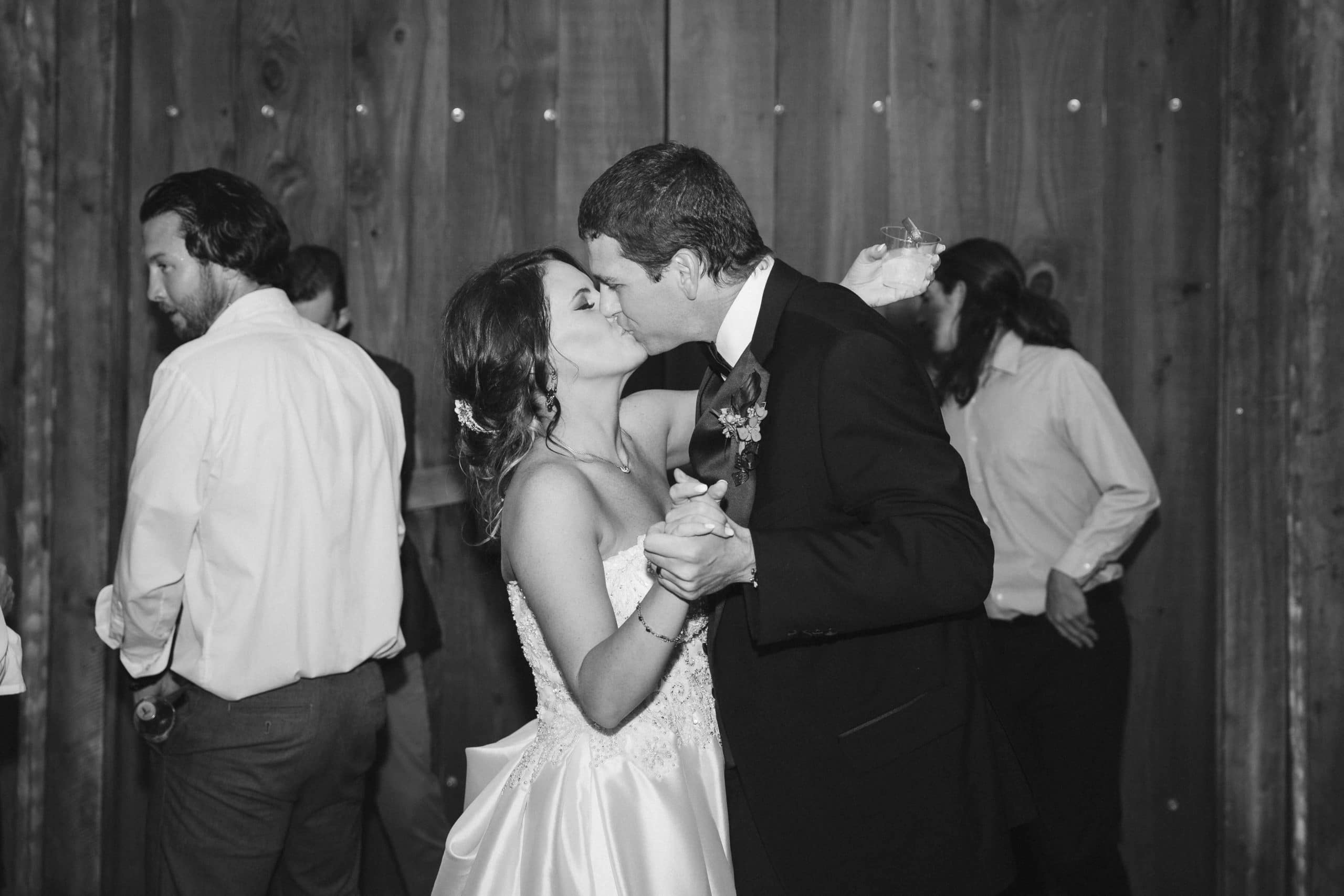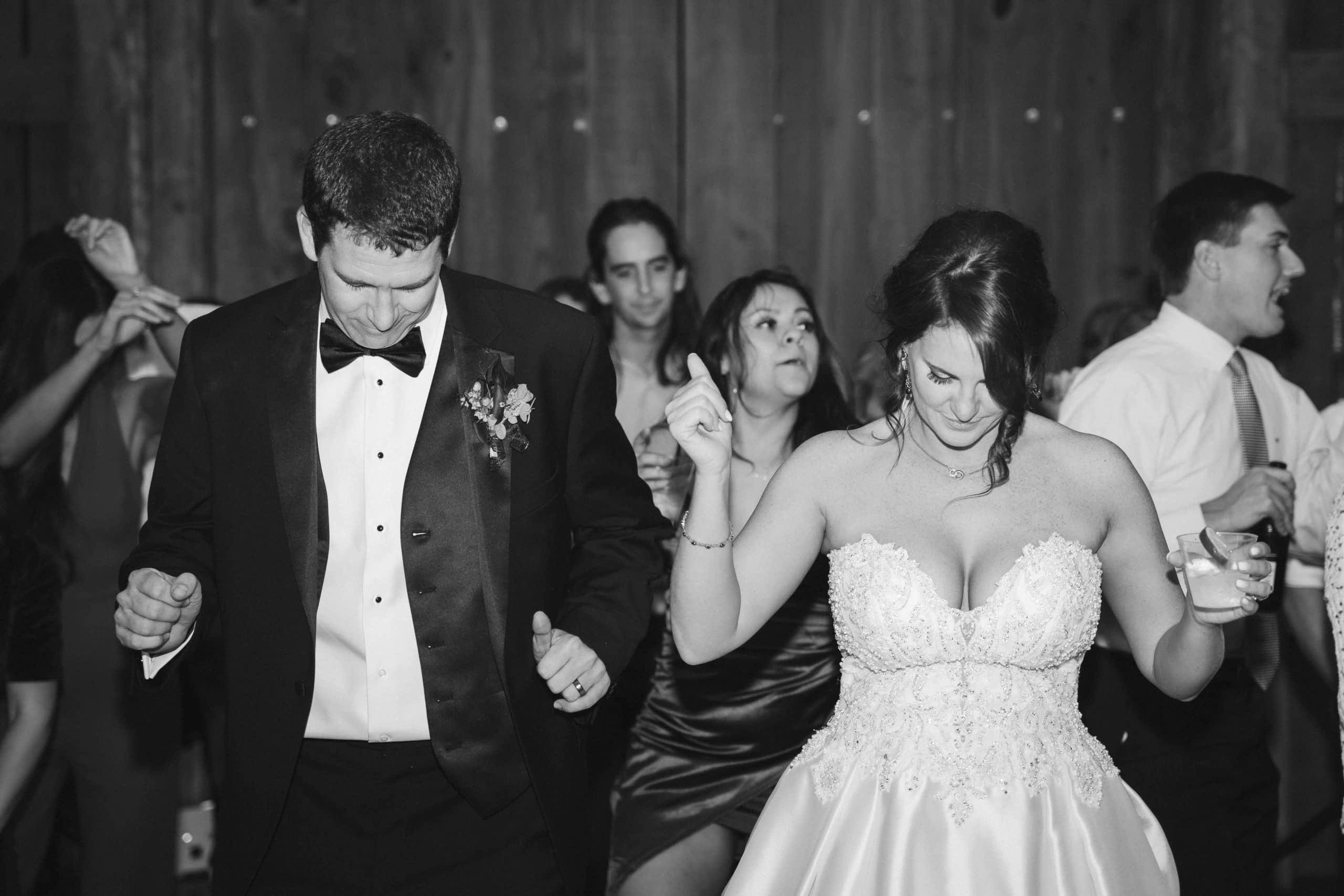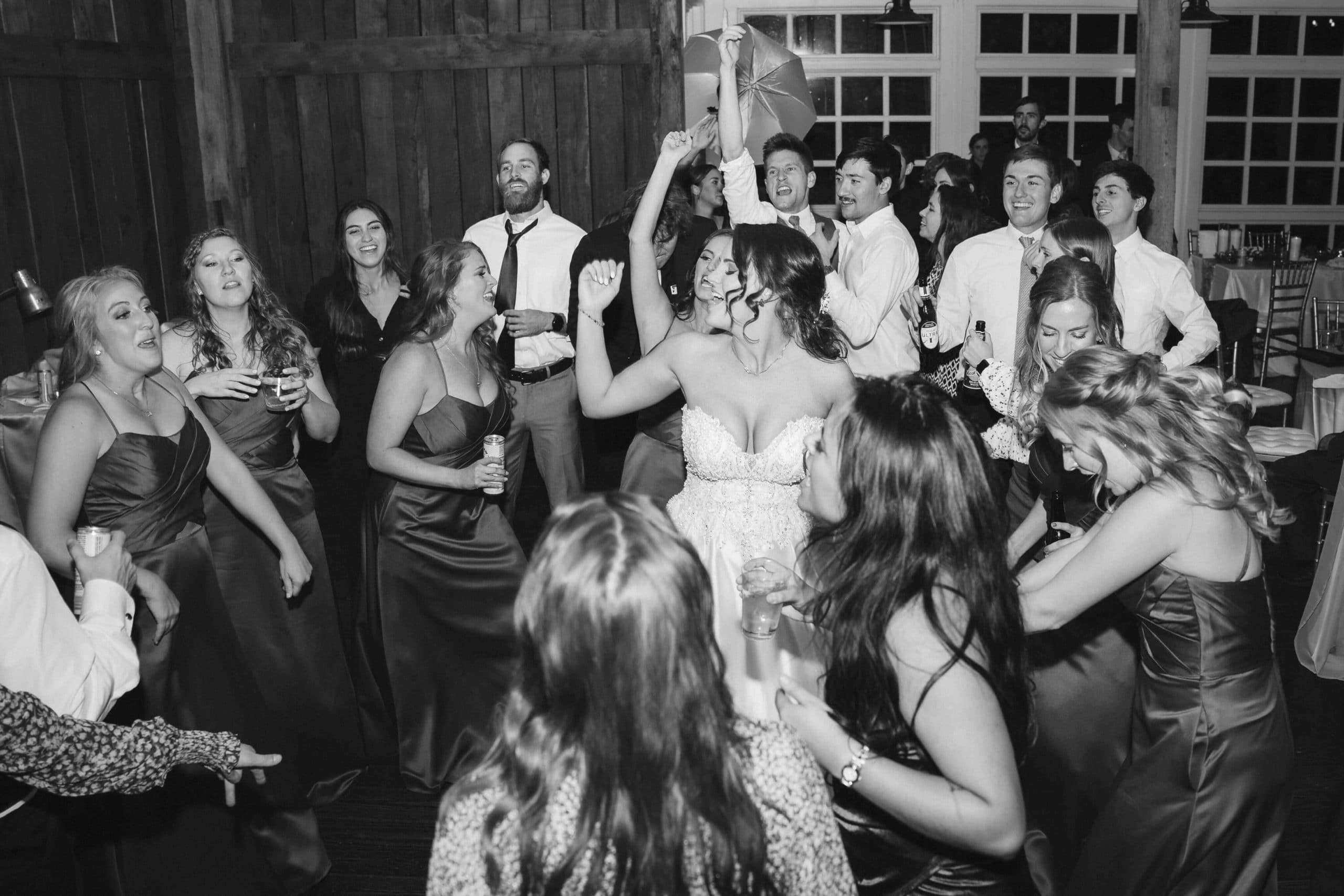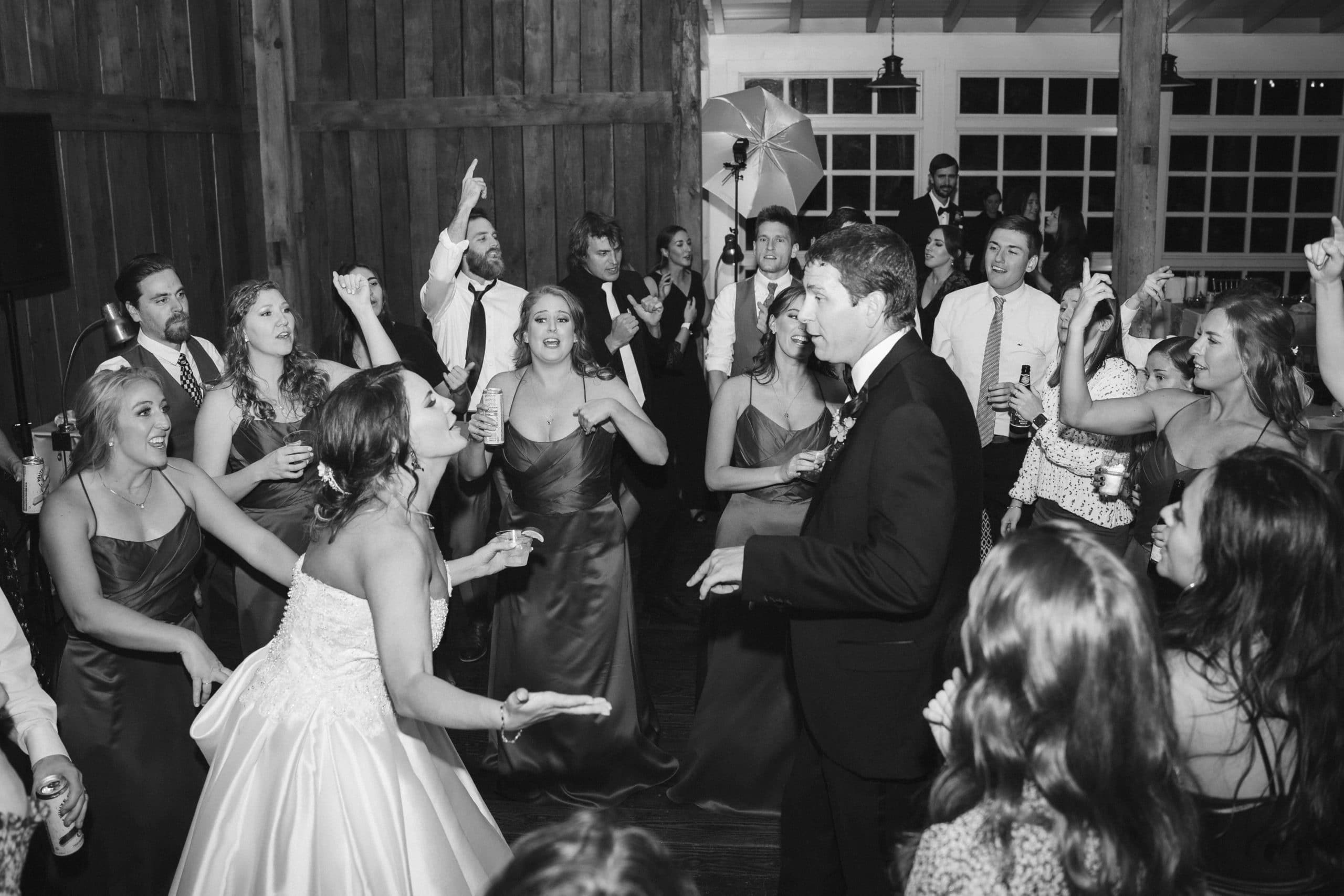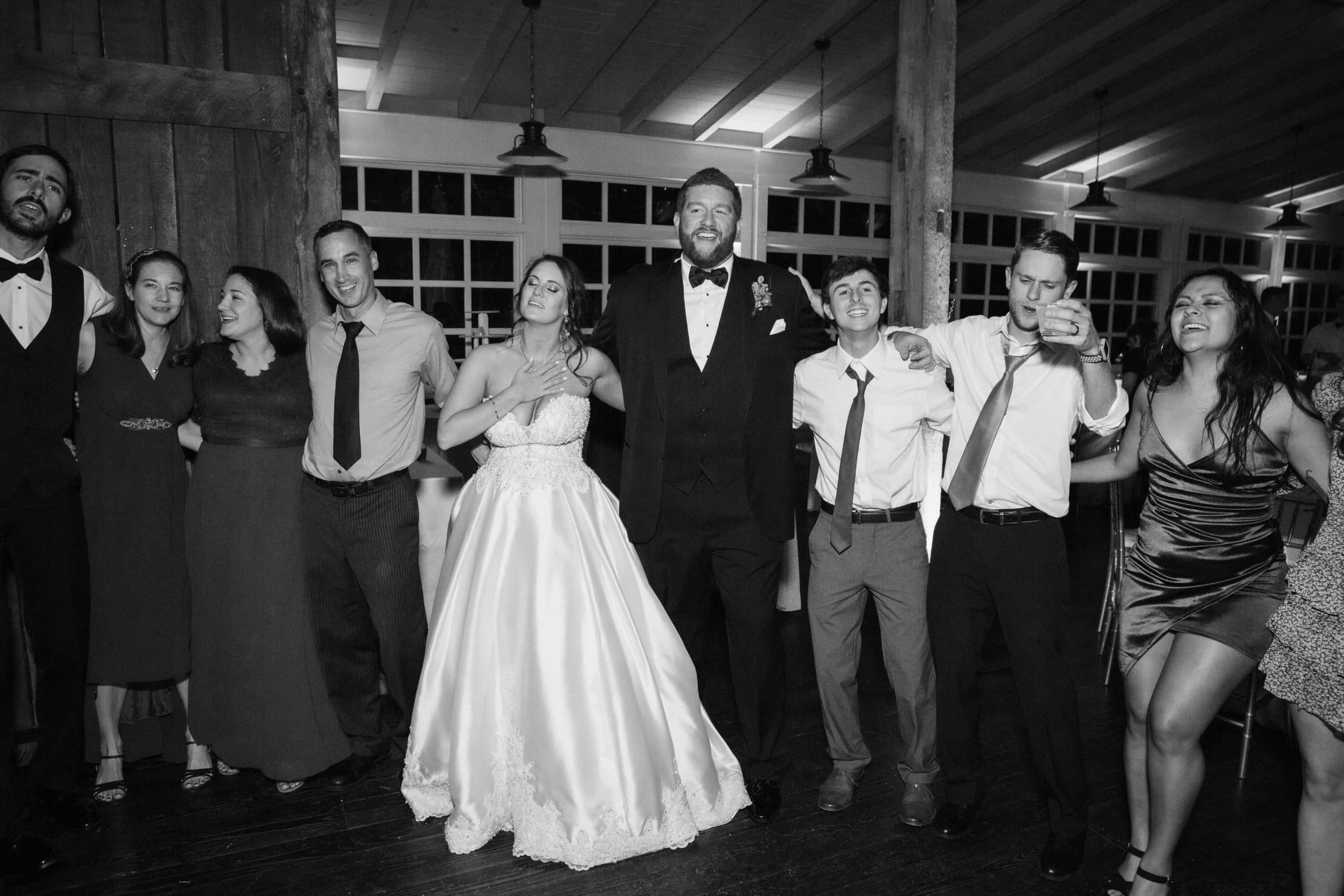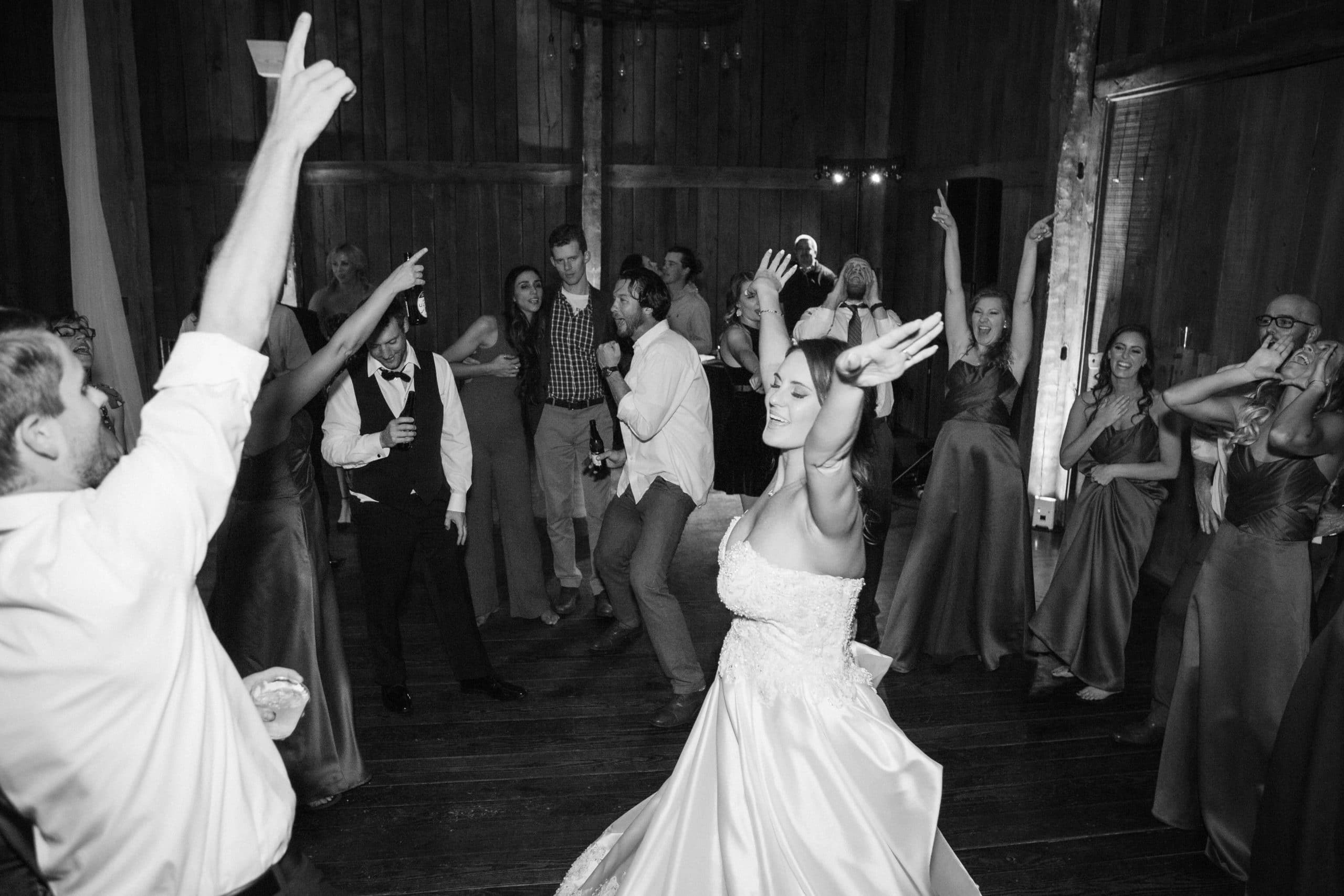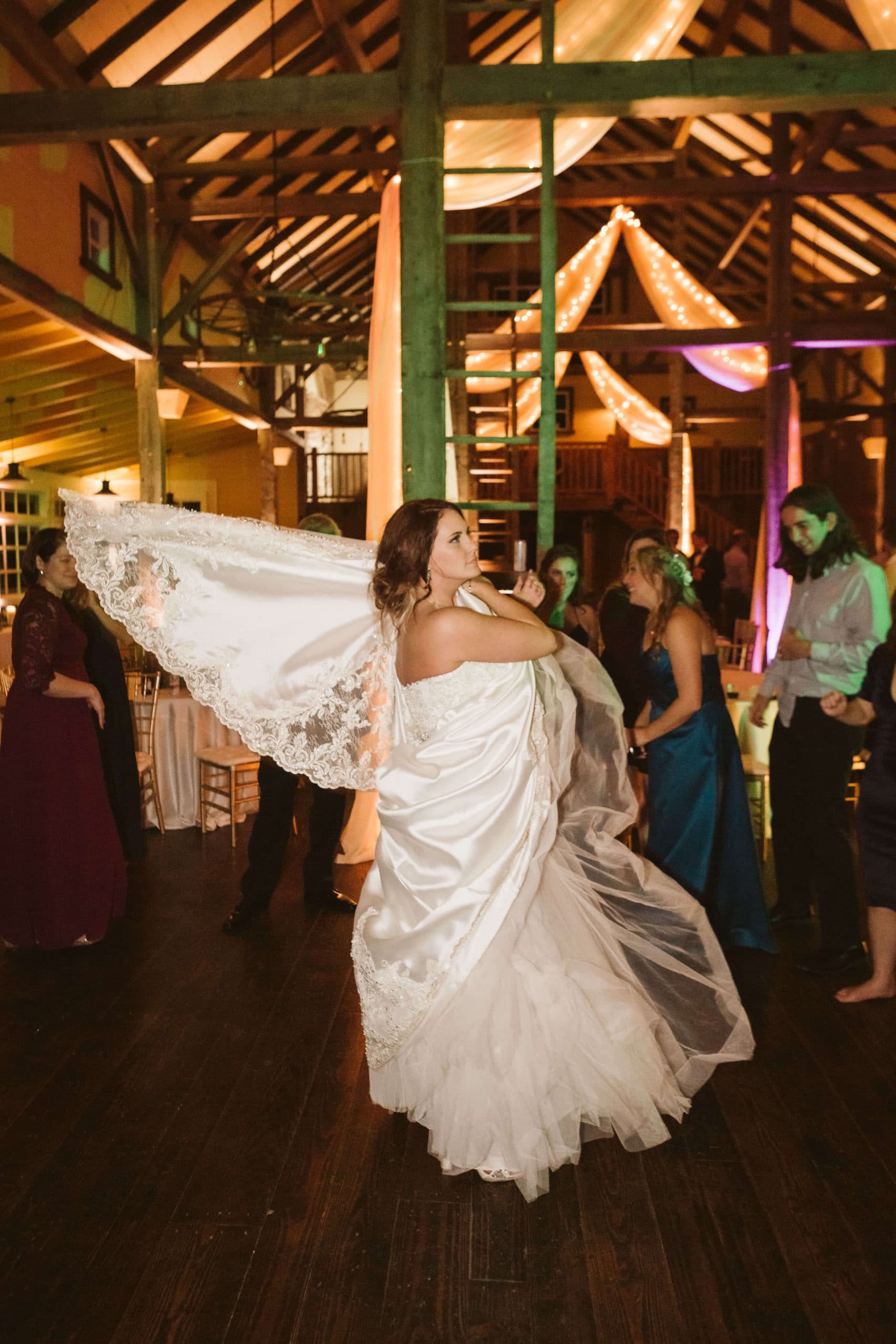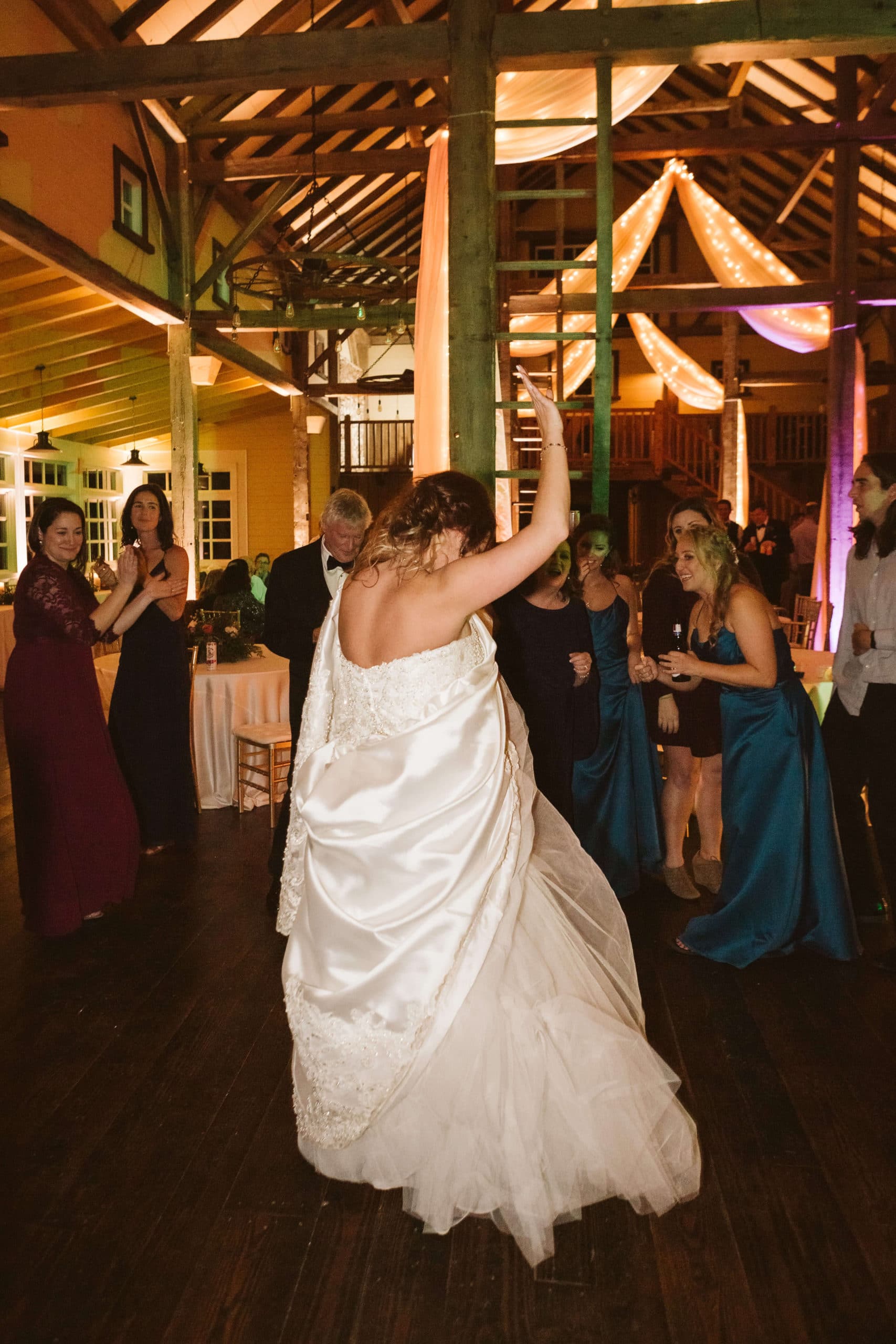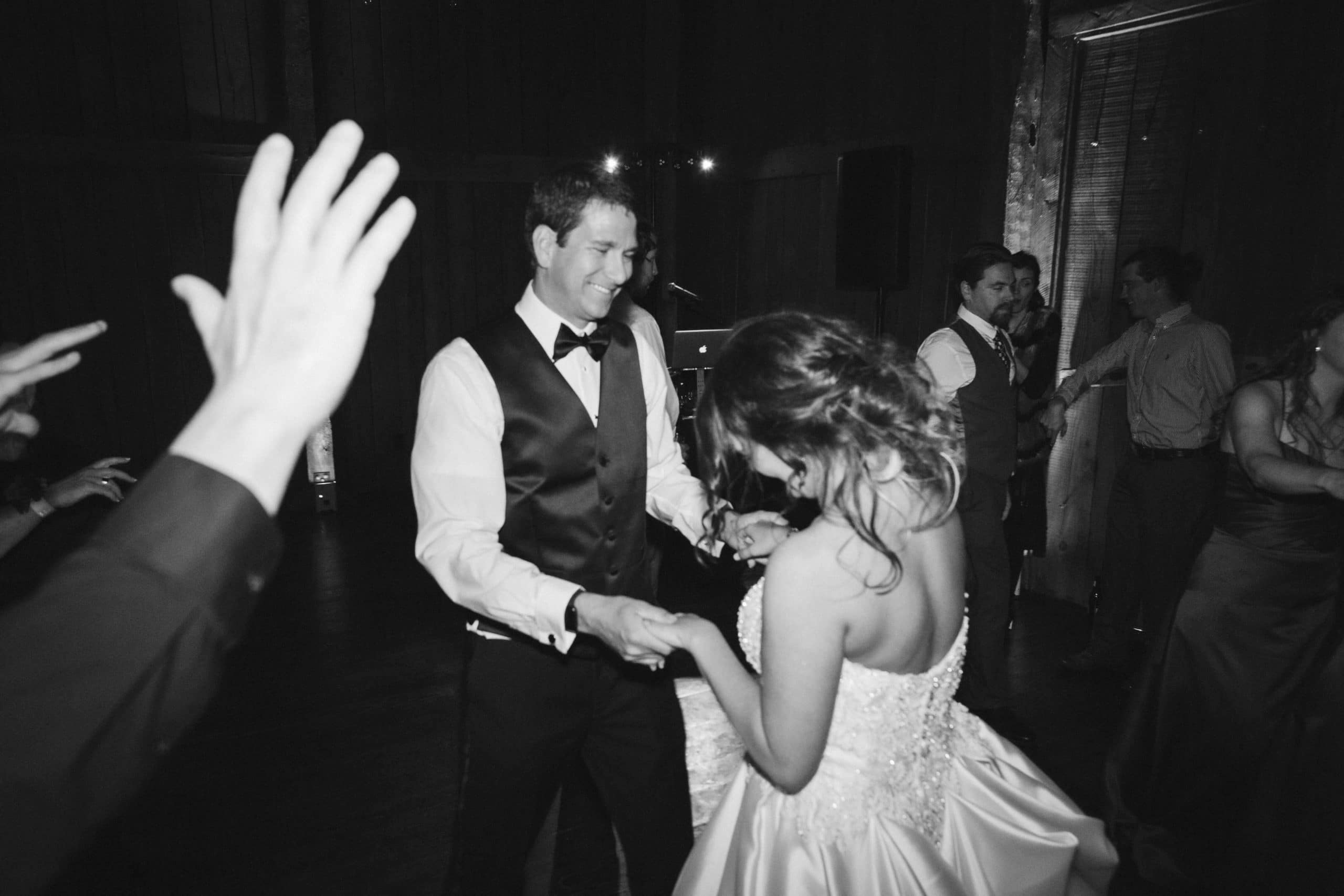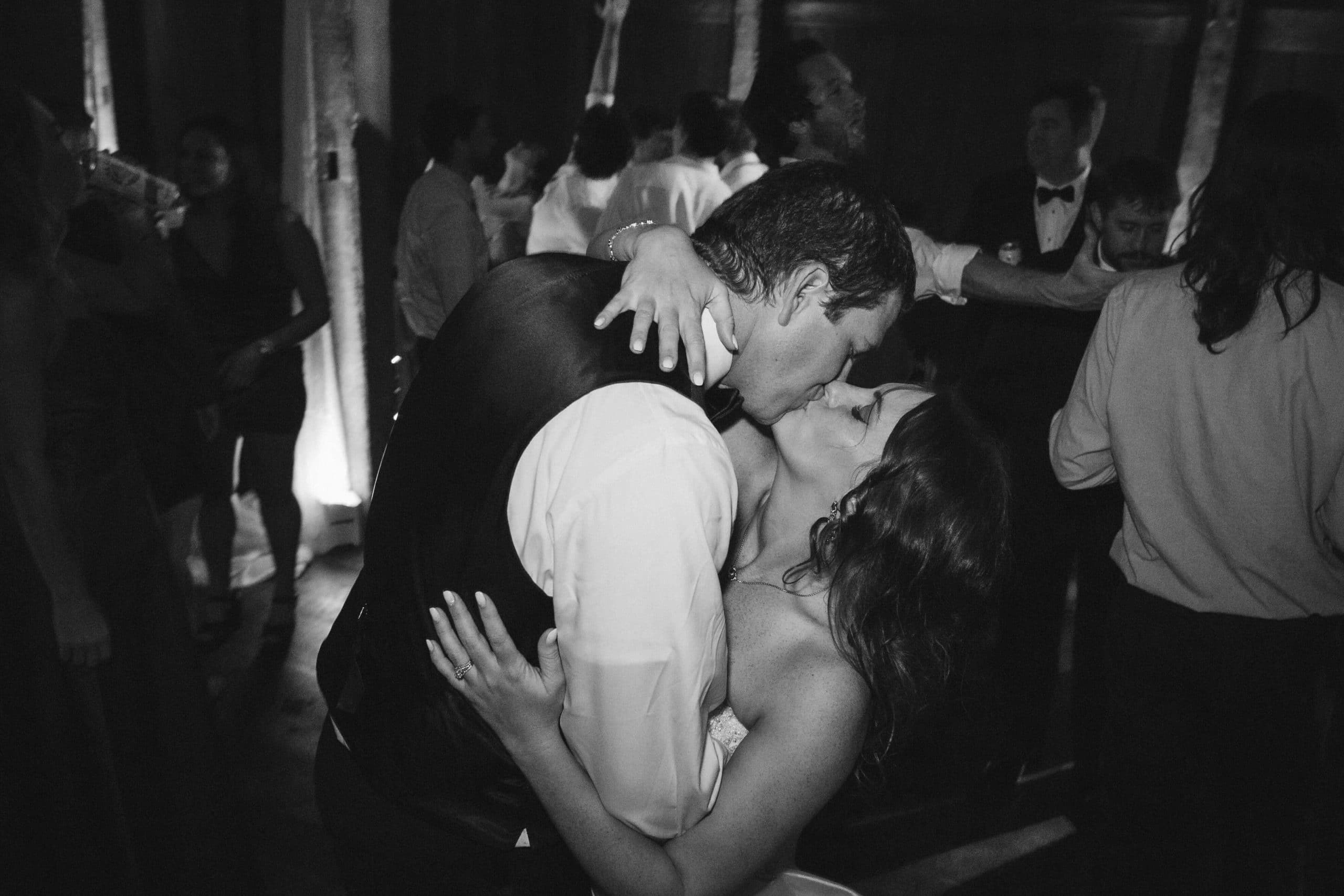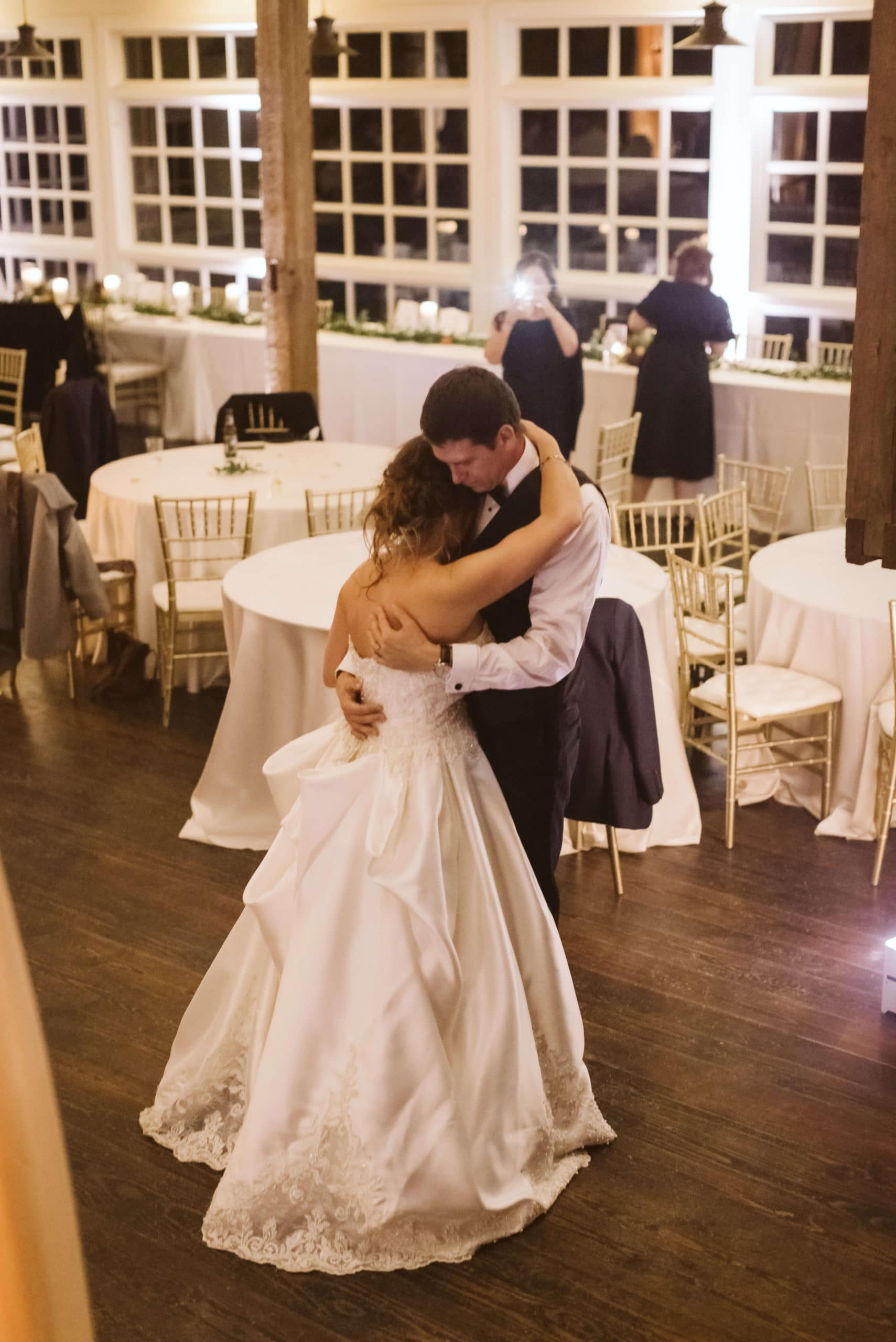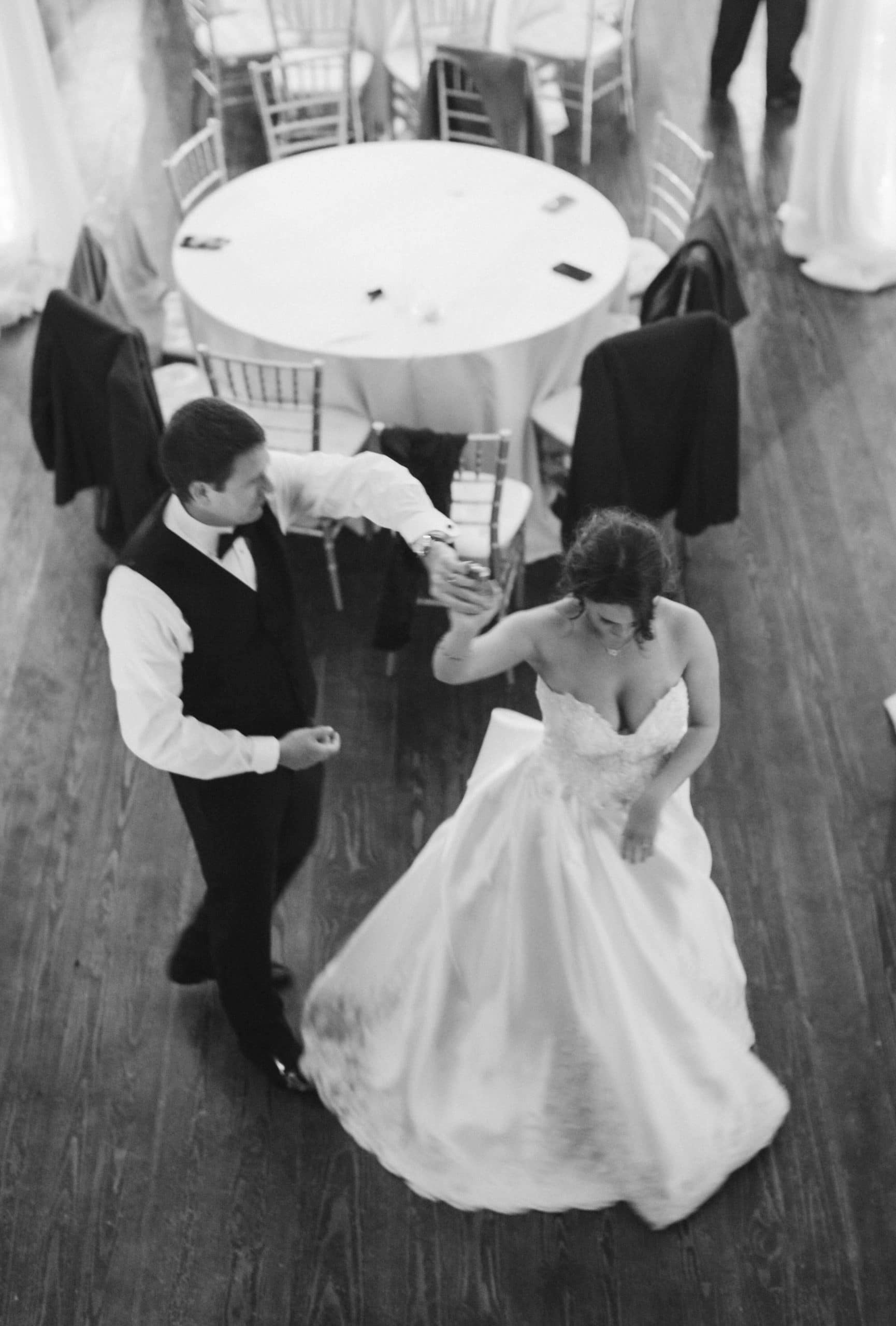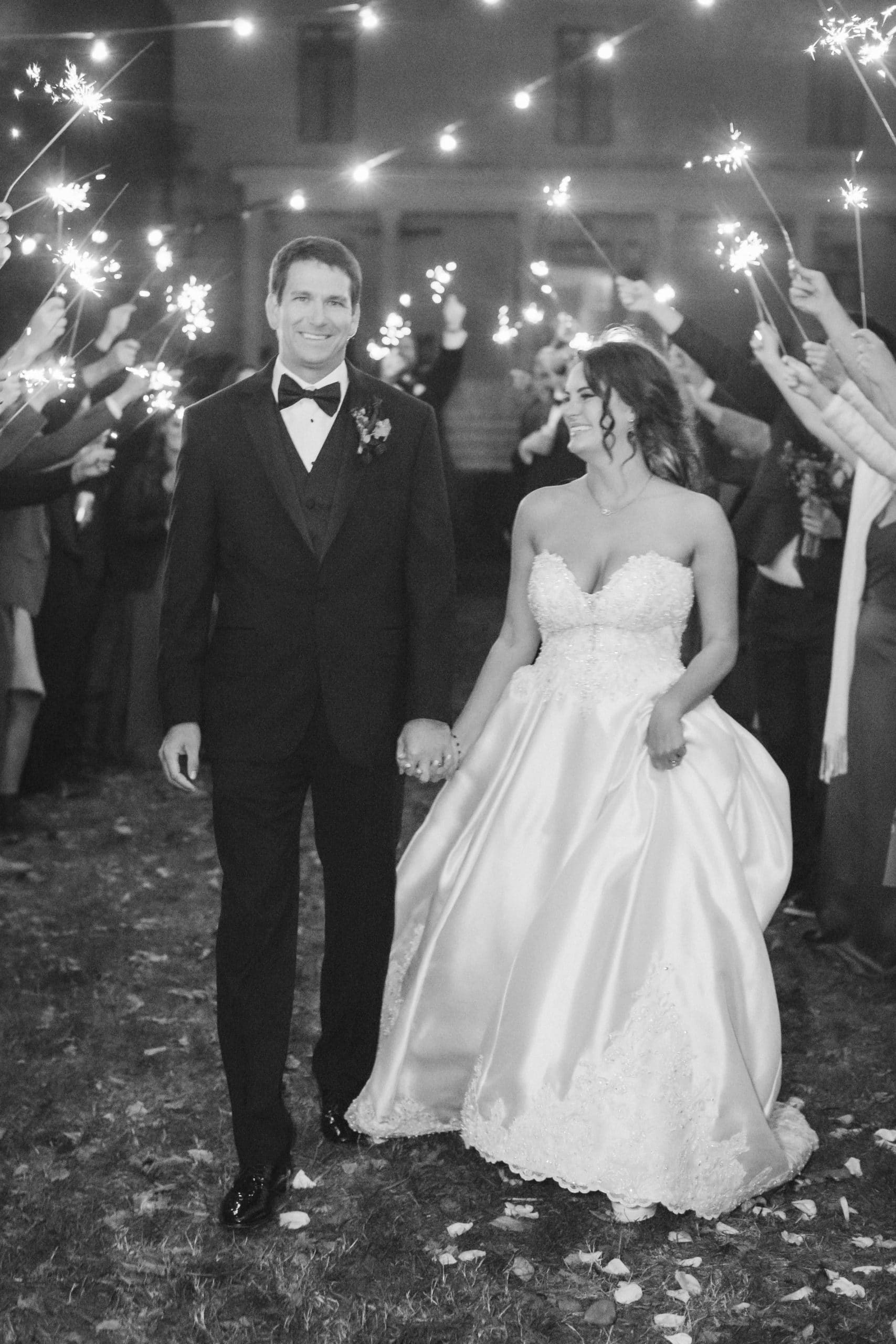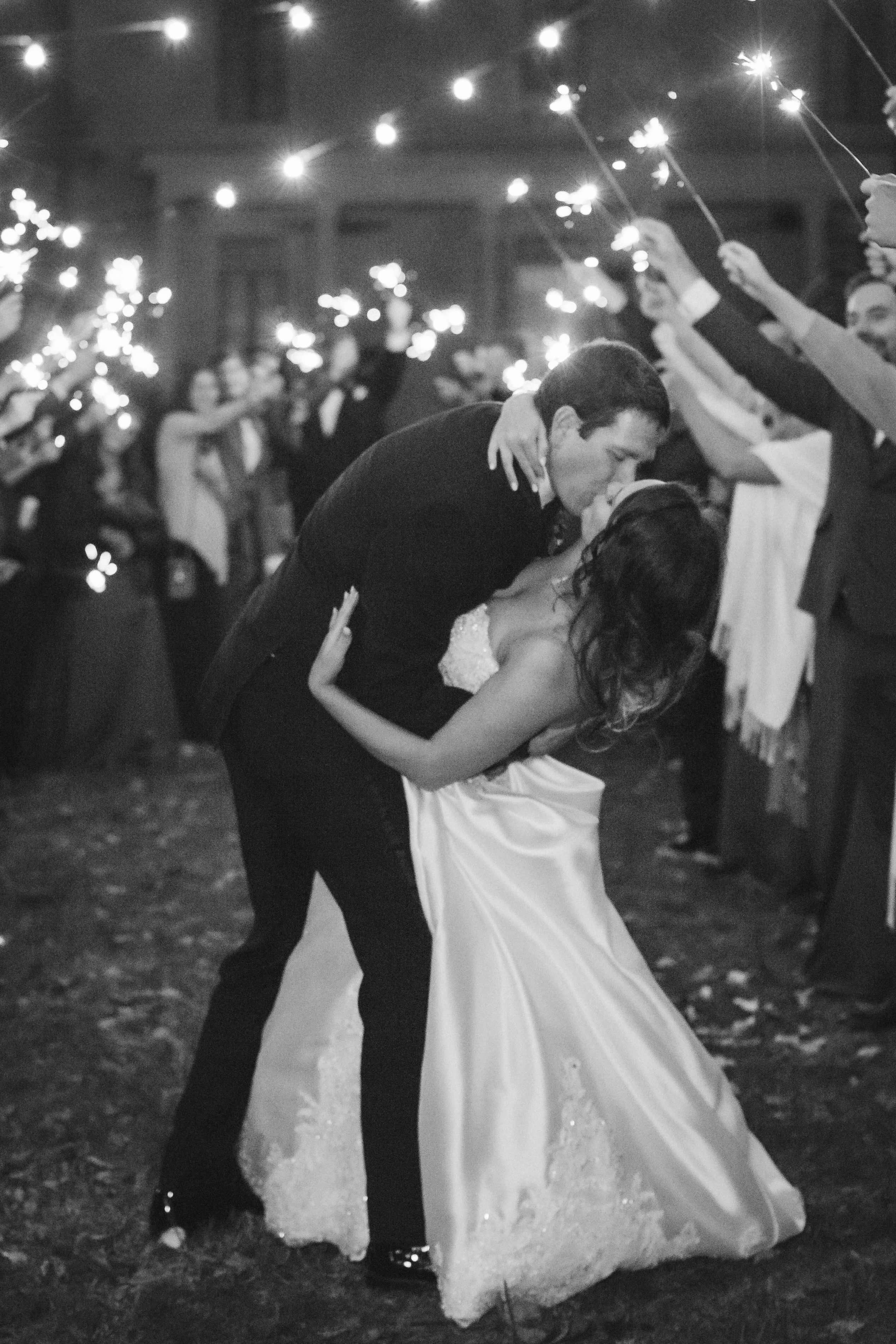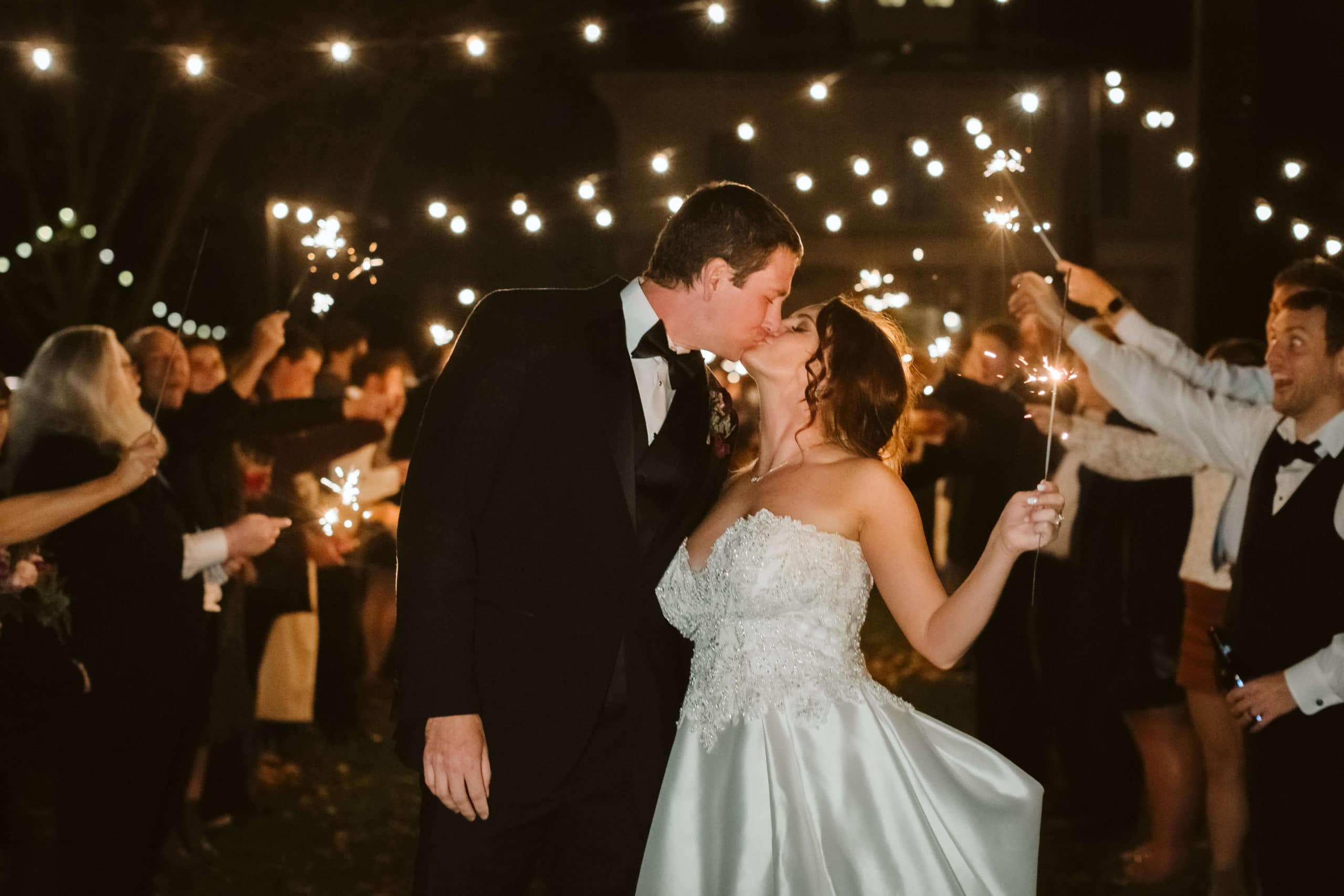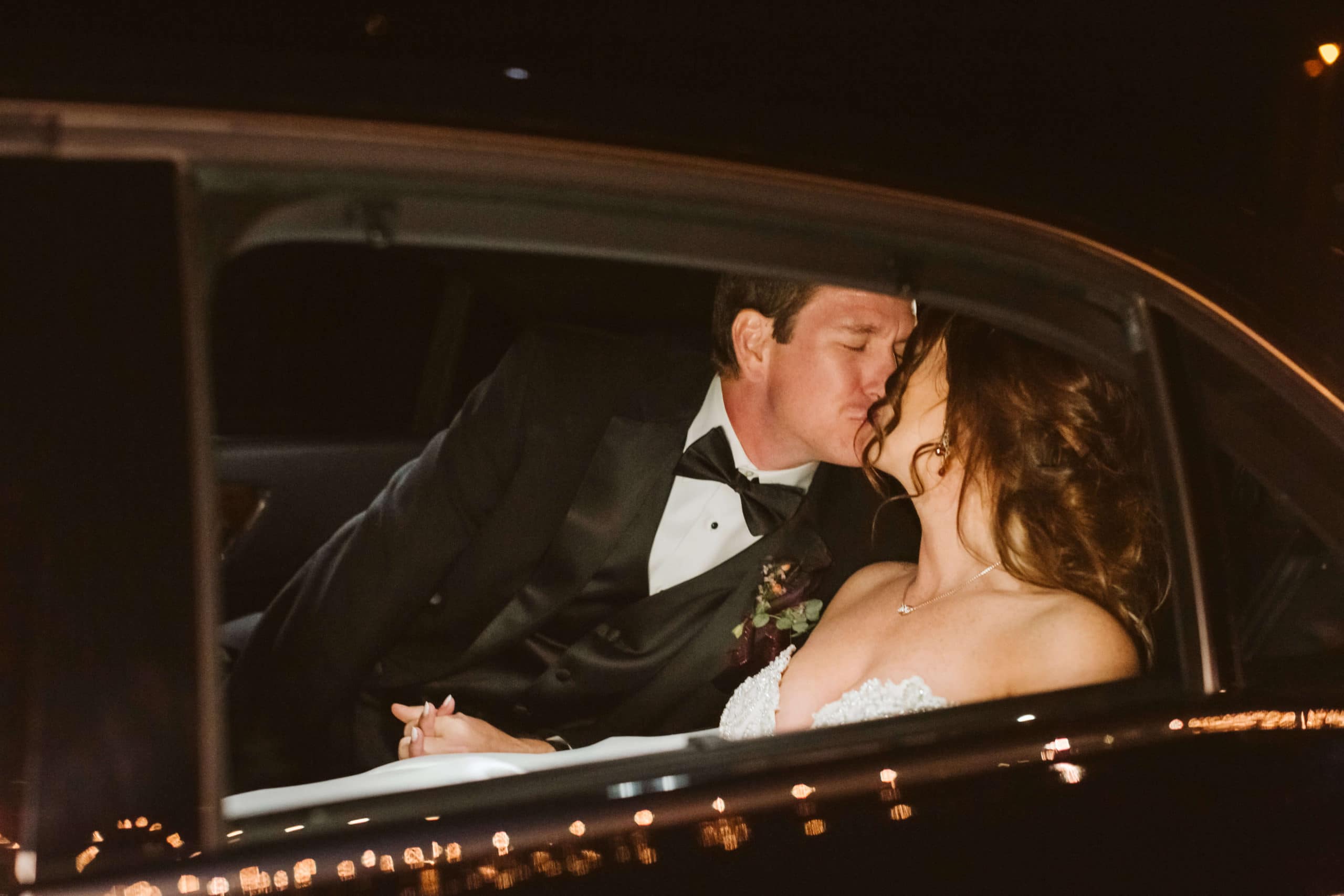 Elegant Barn Reception at the Homestead at Cloudland Station
We were running a bit behind in the photography schedule prior to the ceremony so afterwards, we got all of the wedding party shots that we hadn't gotten yet. One of the great things about hiring a professional photographer is that they always know how to go with the flow and adapt when the schedule gets thrown off a bit! We captured all of Jen and Bryan's required photos with their wedding party and family and still had time to get gorgeous sunset newlywed portraits done.
After their portraits, they enjoyed a quick cocktail hour on the Peacock House's lawn before heading into the Celebration Barn for their reception. This barn has to be one of the most elegant barns that has ever existed. It's a hand-pegged Amish-style barn complete with wood columns and exposed beams. However, it also boasts a full wall of bay windows that look out over the grounds. Paired with the lighted floor to ceiling curtains that the Homestead provides and the glow from the rustic chandeliers hanging over the tables, what could just be a simple barn transforms into a charming fairytale reception. And, as an added perk, unlike a lot of barn venues, this one is completely climate-controlled, so you and your guests are comfortable all-year-round!
Jen and Bryan's reception was full of fun just like they wanted. They got to catch up with ultimate friends from college and family that they hadn't seen in far too long. All in all, it was a great time. The atmosphere was just full of love and celebration. Jen even asked for a picture with me which was really sweet! I felt like I was a friend rather than just a vendor. Jen and Bryan were such a sweet couple to work with and I wish them all the best in their future together as husband and wife.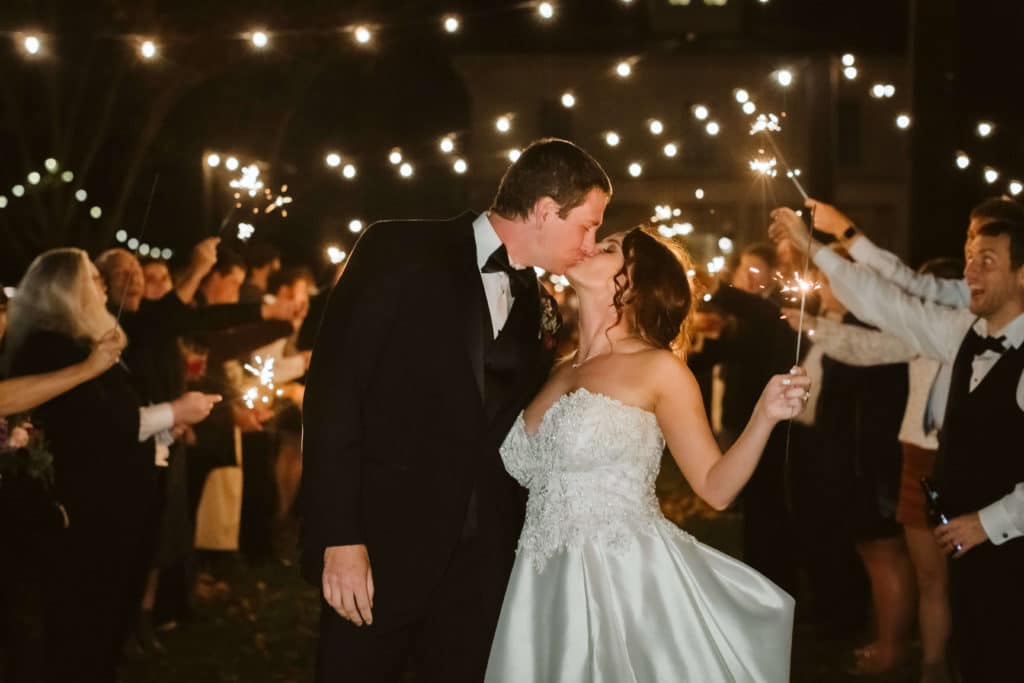 Are you in the Chattanooga area and looking for a wedding photographer? Whether you're in Chattanooga or beyond, I'd love to be there for you!
Hi, y'all! I'm Rachael Crowe of OKCrowe Photography. I'm based in Chattanooga and I've shot hundreds of weddings all across Tennessee and all over the country. If you loved Jen and Bryan's wedding, be sure to check out Caitlyn and Joe's wedding at the Homestead as well! They also had a fall wedding but chose a different ceremony location at the venue. I always love getting the opportunity to capture one of your life's biggest moments. If you're planning a wedding, I would love to chat! Head over to my contact form and let's get your dream wedding started!