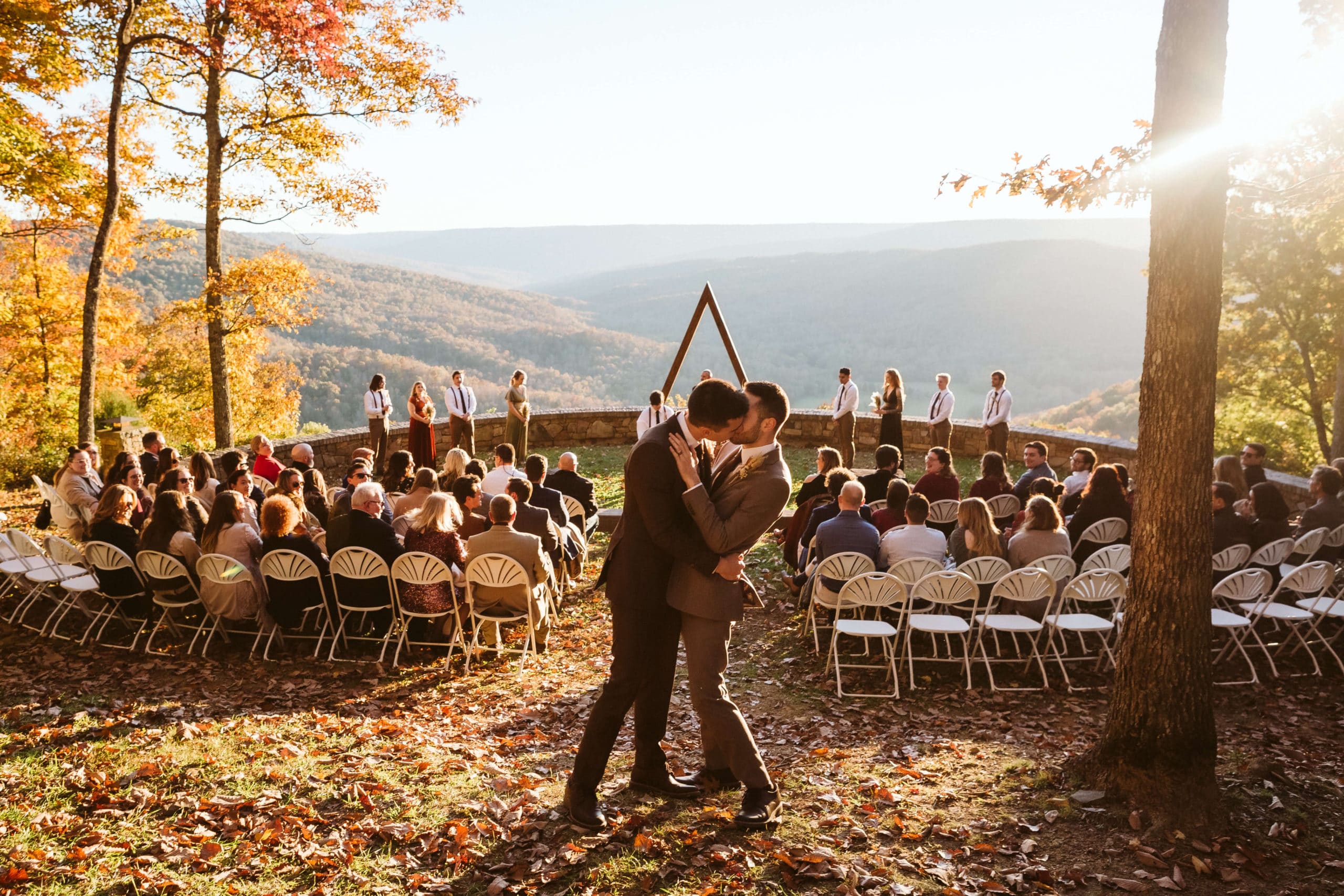 Ryan and Alex were referred to me by a college friend of mine and I could not have been more thrilled to be part of their wedding day. (Thanks for the shoutout, Jo!) I love when couples plan a day that speaks entirely to their personalities and interests. Ryan and Alex's wedding was such a vibrant and fun celebration that truly showcased their love.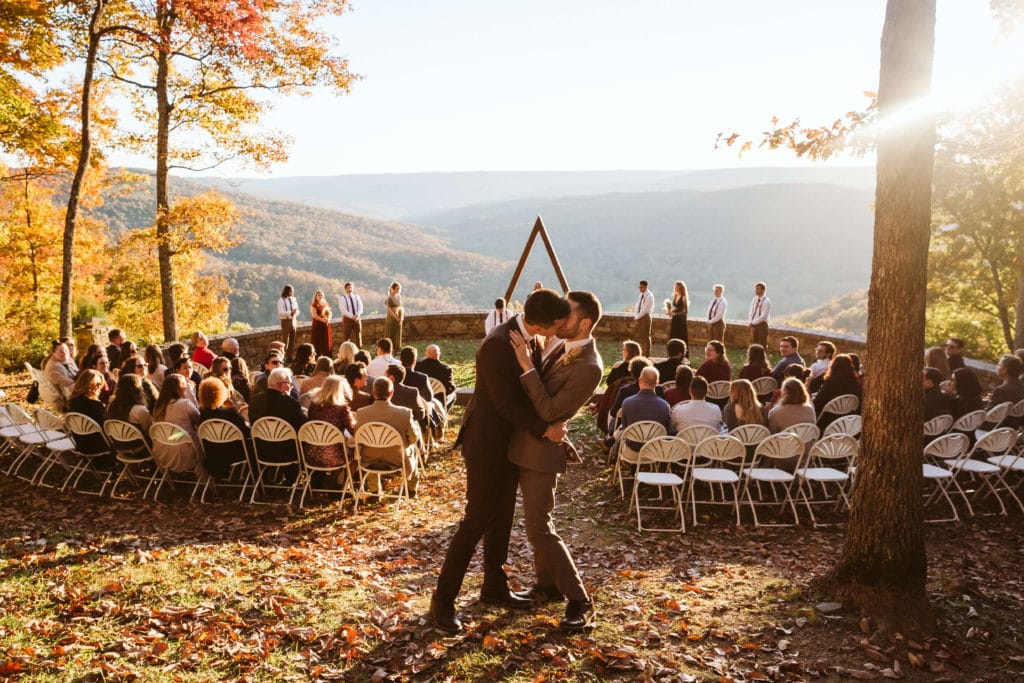 Sunset Ceremony on the Bluff at Myers Point in Sewanee, Tennessee
I have photographed weddings all over Tennessee, but this was my first opportunity at Myers Point – an overlook located in Sewanee so gorgeous I can't believe more couples haven't hosted their weddings here. While Ryan and Alex live in Washington DC, they embraced their Tennessee roots for a wedding that truly encompassed the amazing natural views that Tennessee offers.
Myers Point is located only 45 minutes away from Chattanooga and is part of a 480-acre gated community in Sewanee that looks out over the Lost Cove on the Cumberland Plateau. The Bluff is the actual area of Myers Point where Ryan and Alex had their ceremony. It's a small, wooded area where guests arrive by a short walk or via small golf carts shuttling back and forth from the reception and parking.
There was so much natural beauty here that absolutely no decorations were needed. Alex and Ryan simply had white folding chairs arranged in a semicircle for their guests and a wooden, triangular arbor for them to say their vows under. They left the rest to nature. It was early November so the leaves on the trees were beautiful shades of red and gold. All there was to see over the small ledge just behind the arbor were clear blue skies and rolling hills. And as soon as the sun began to set during the ceremony, the sun cast everything in a golden glow – creating the perfect backdrop for Ryan and Alex to exchange rings and seal their marriage with a kiss.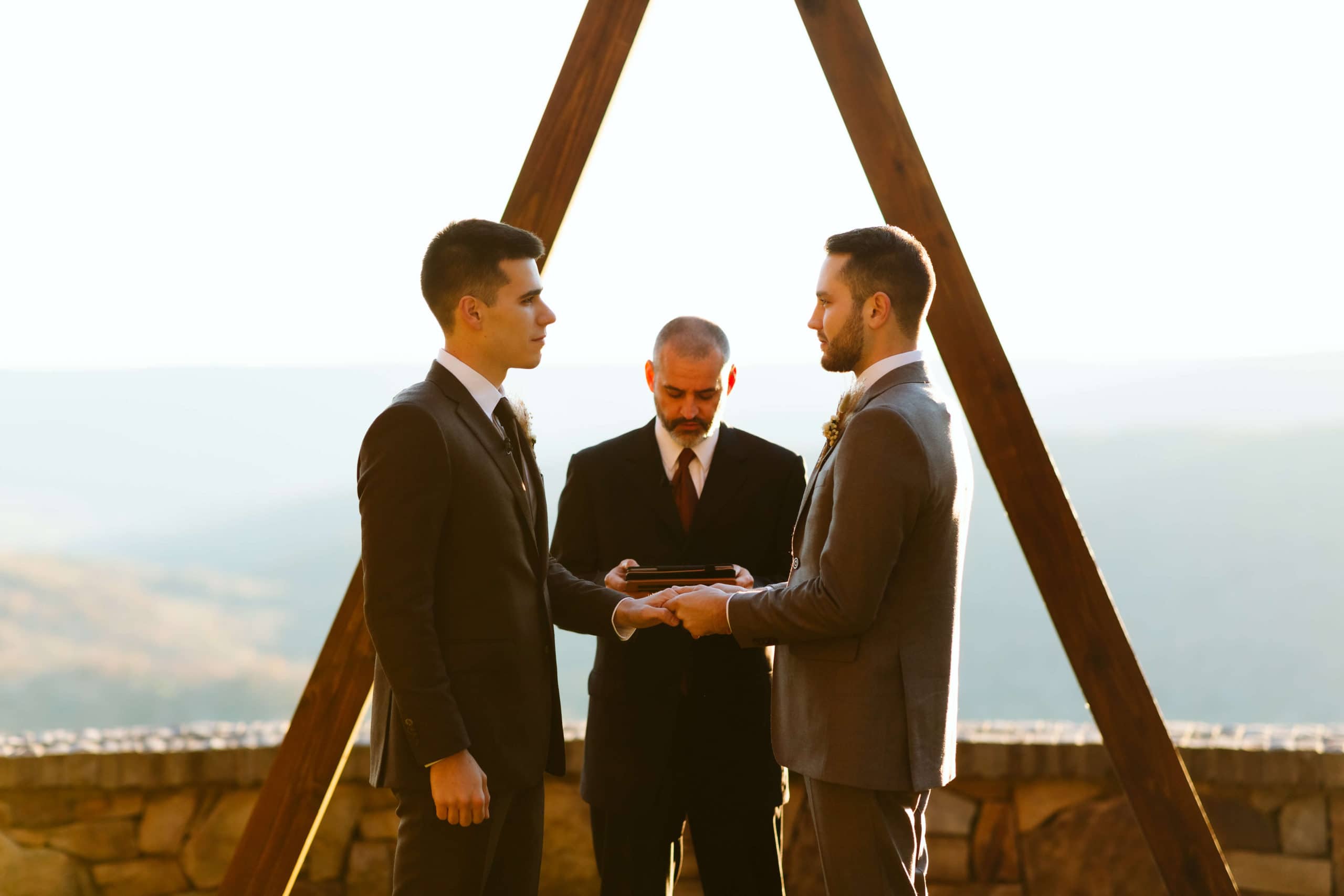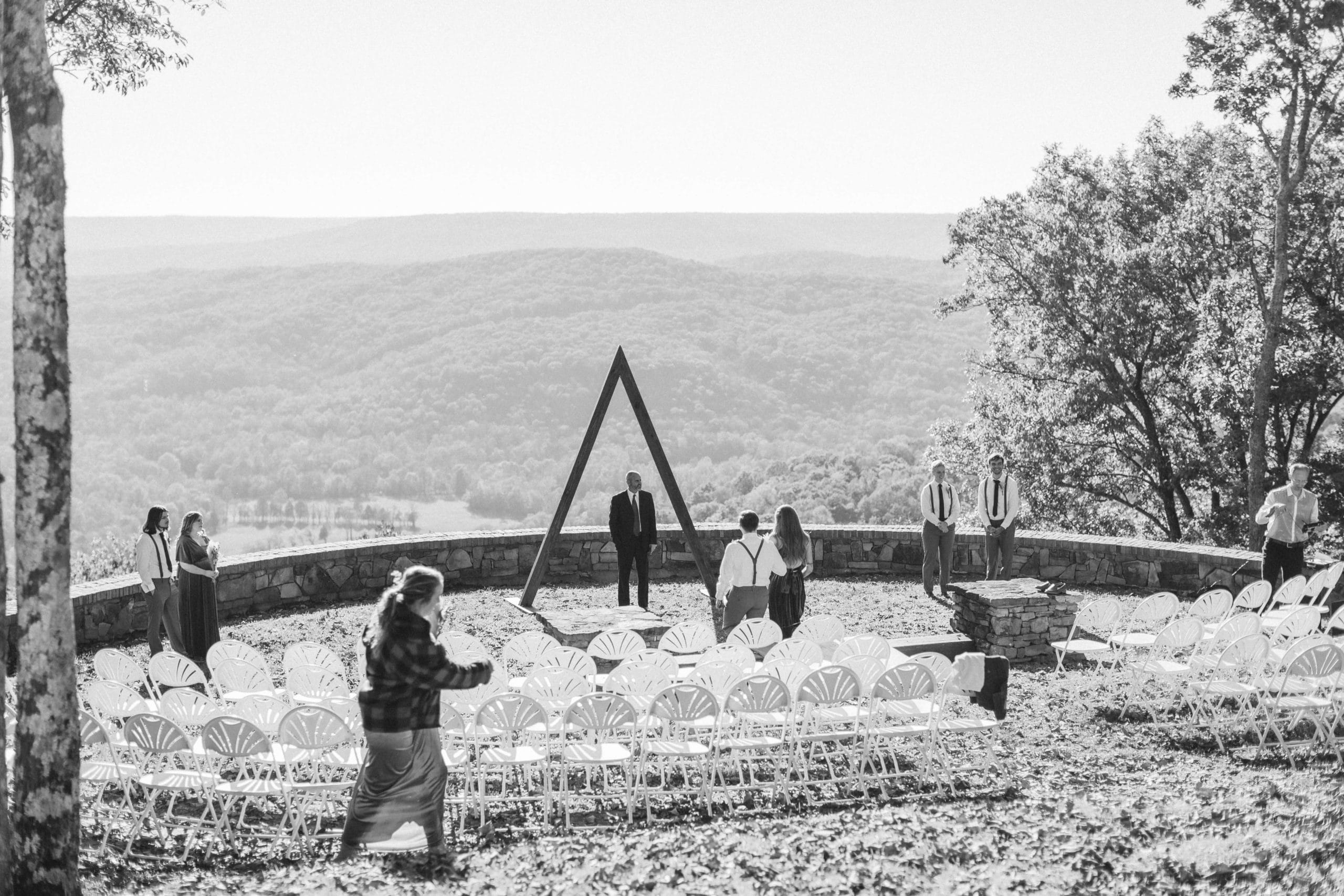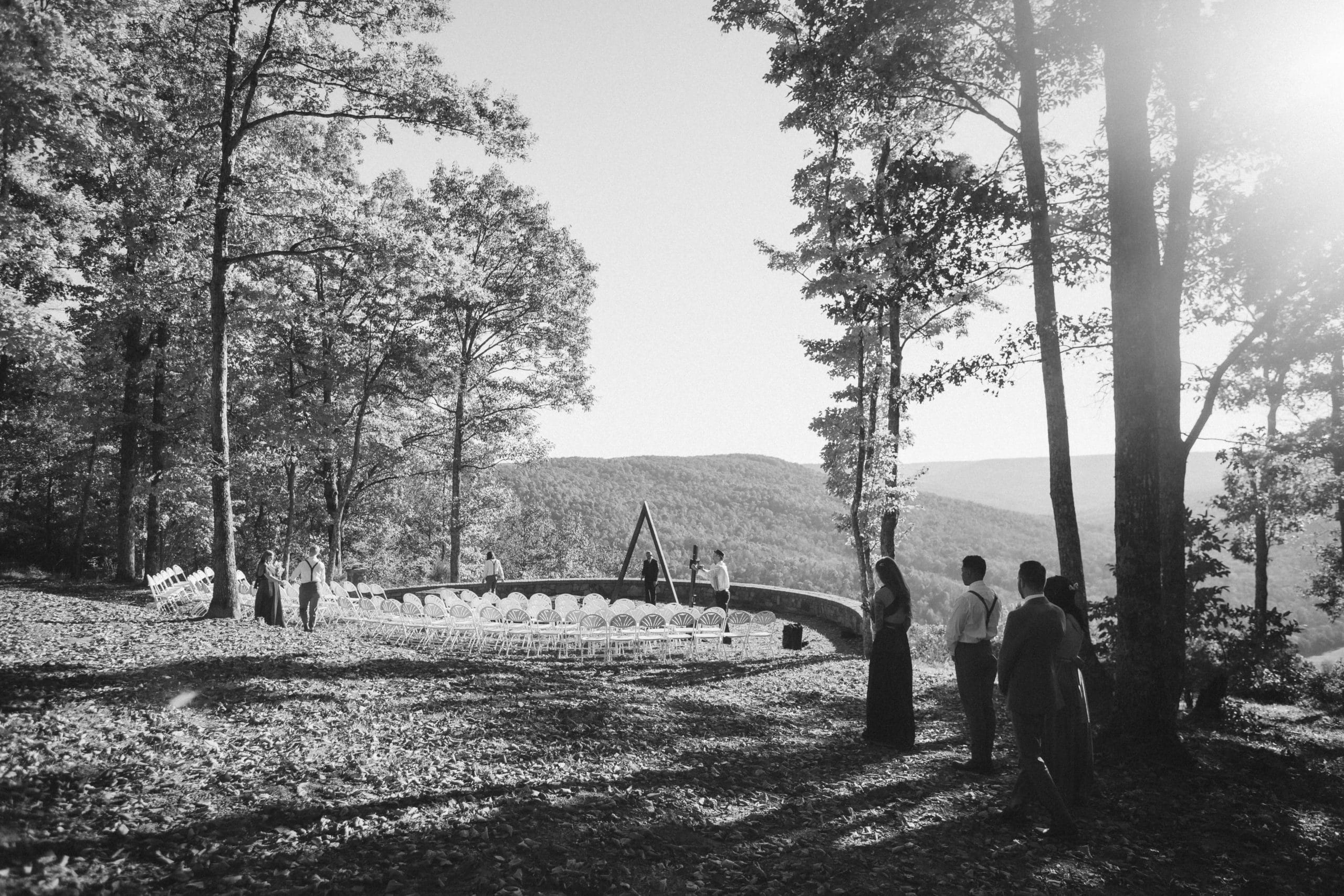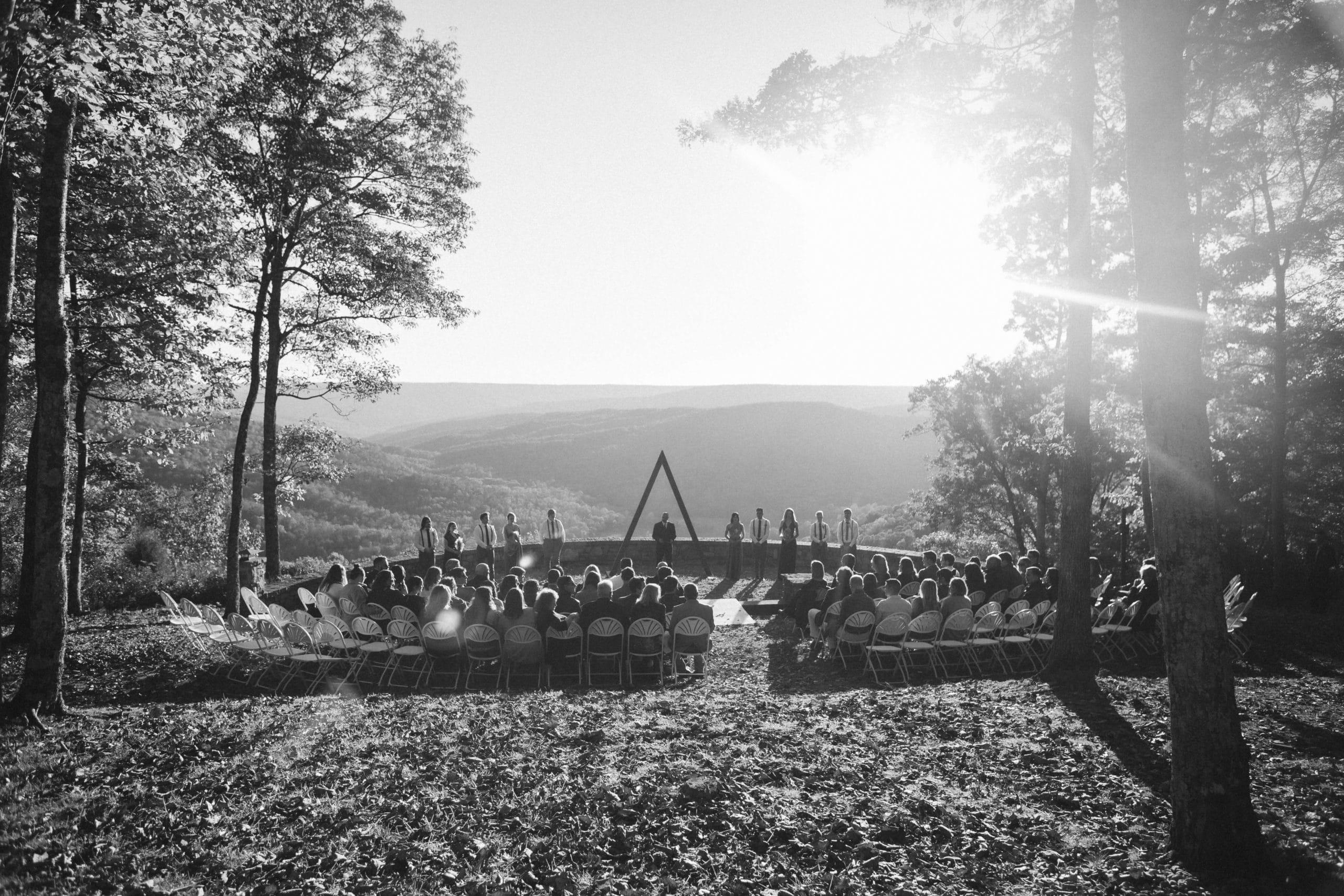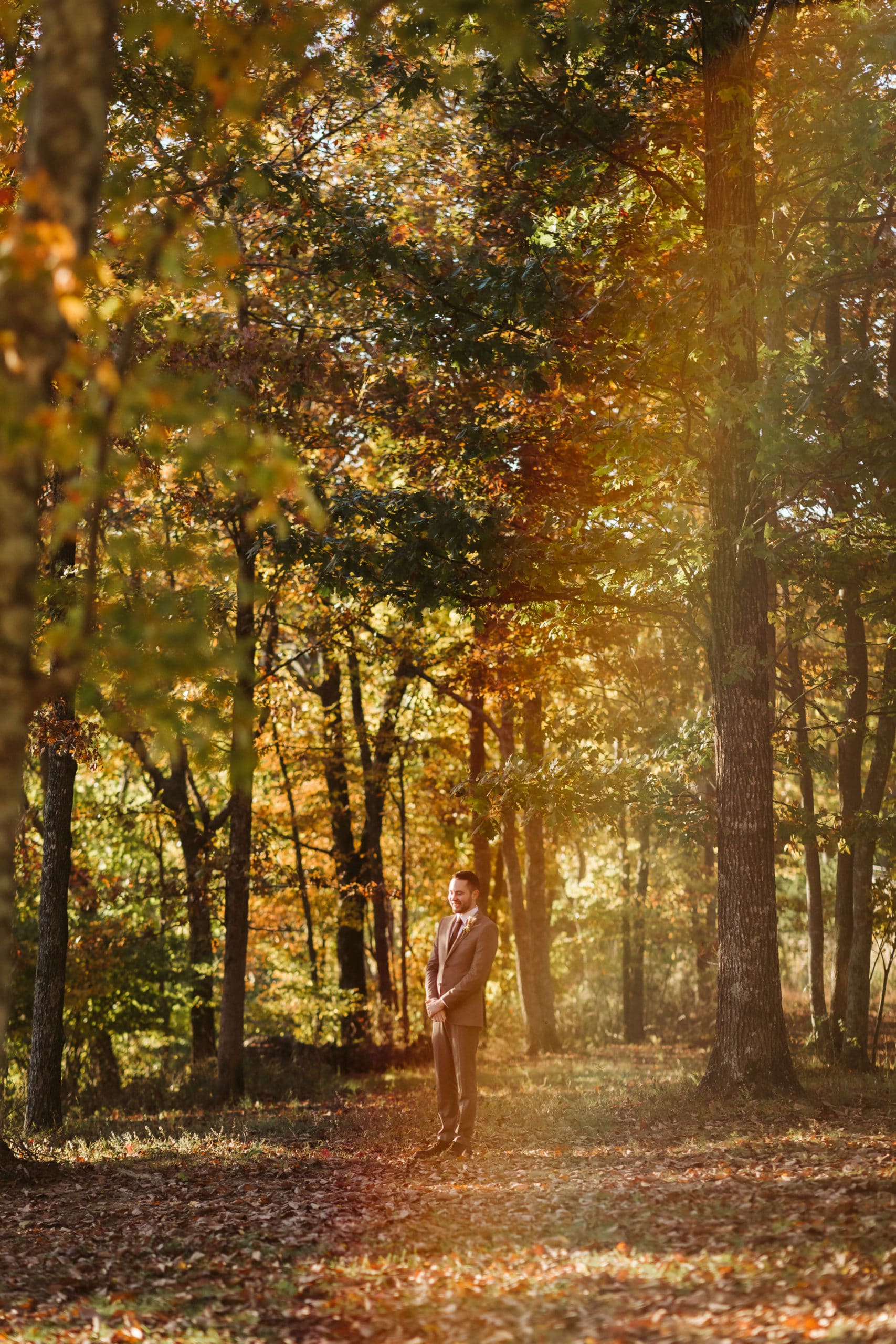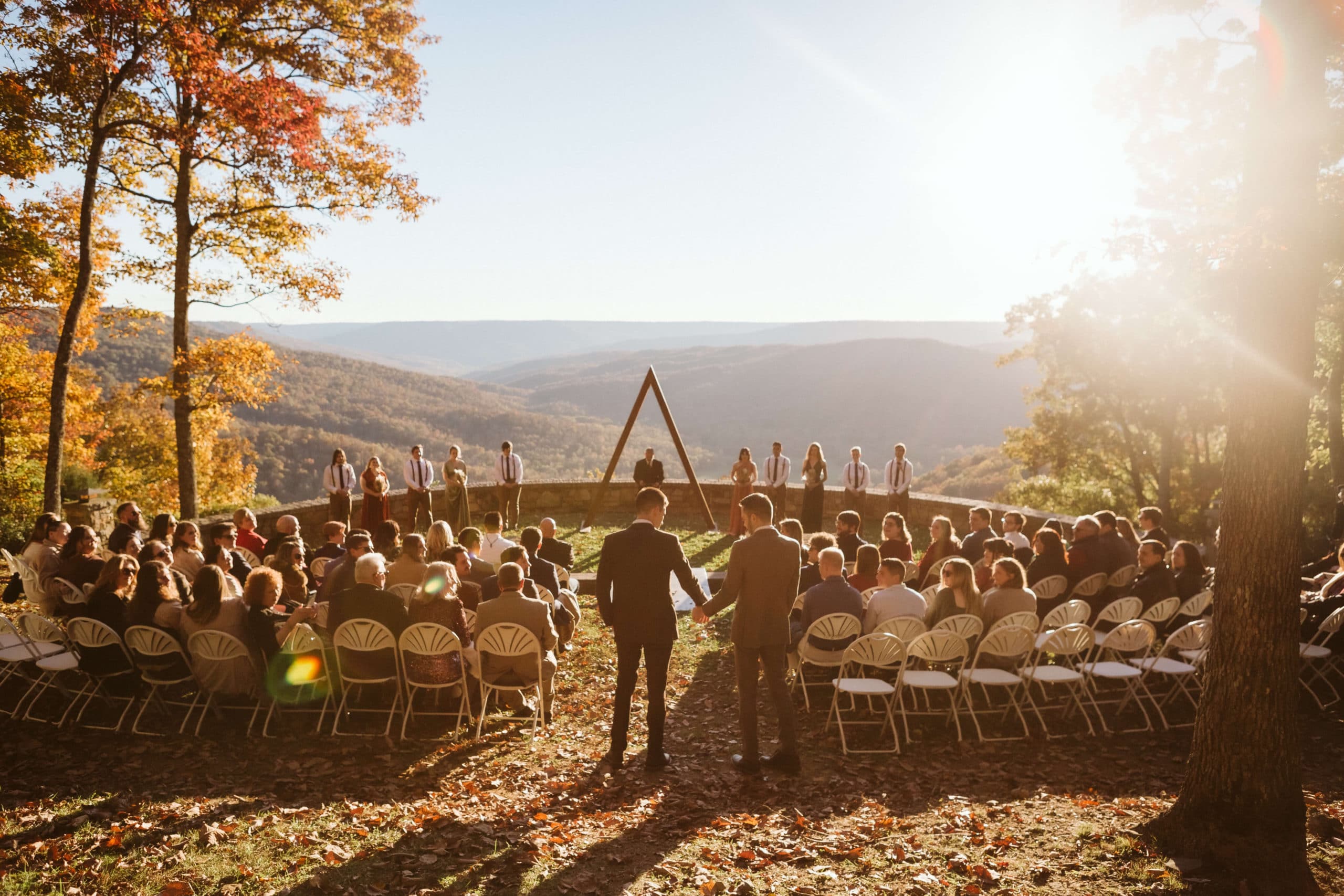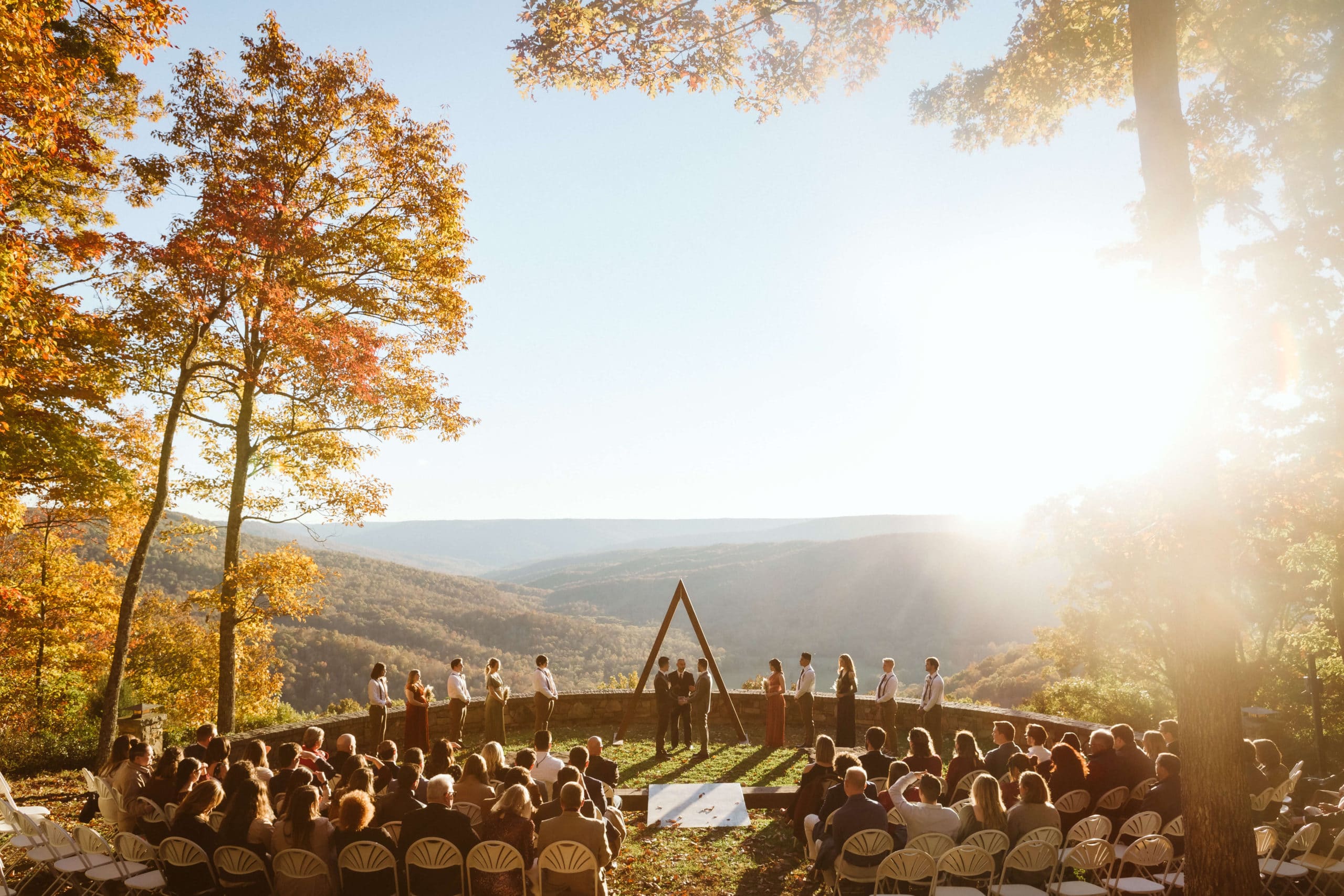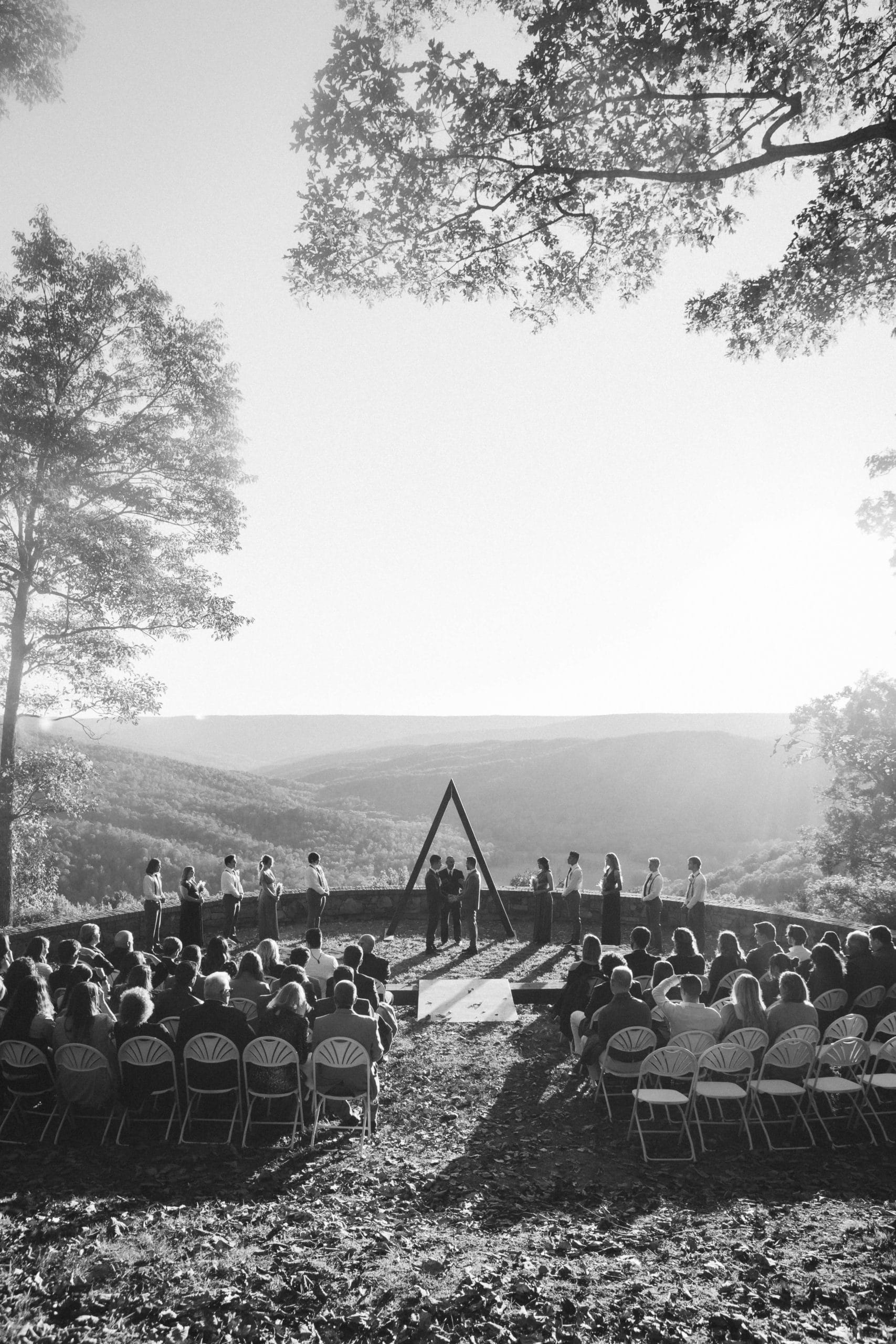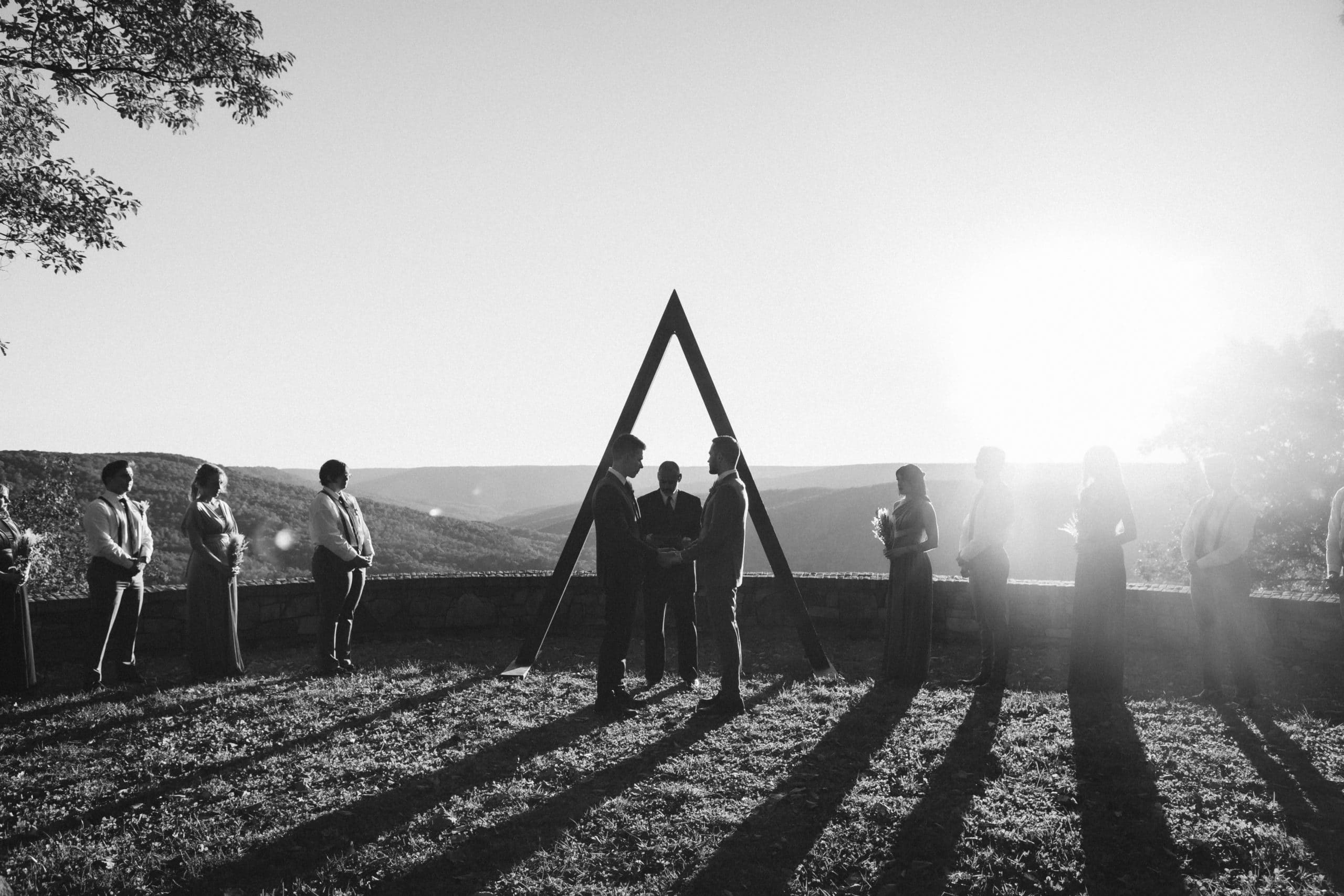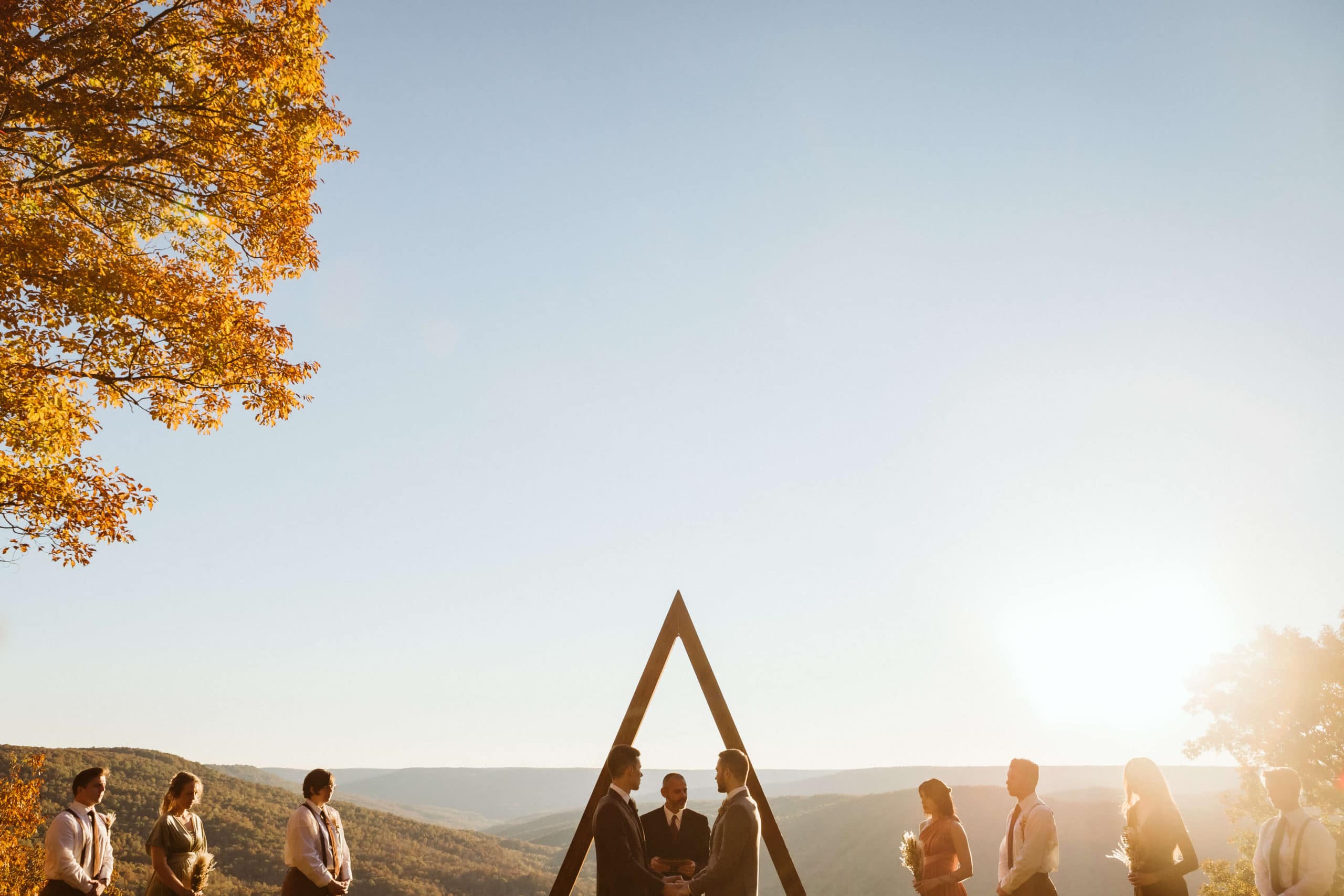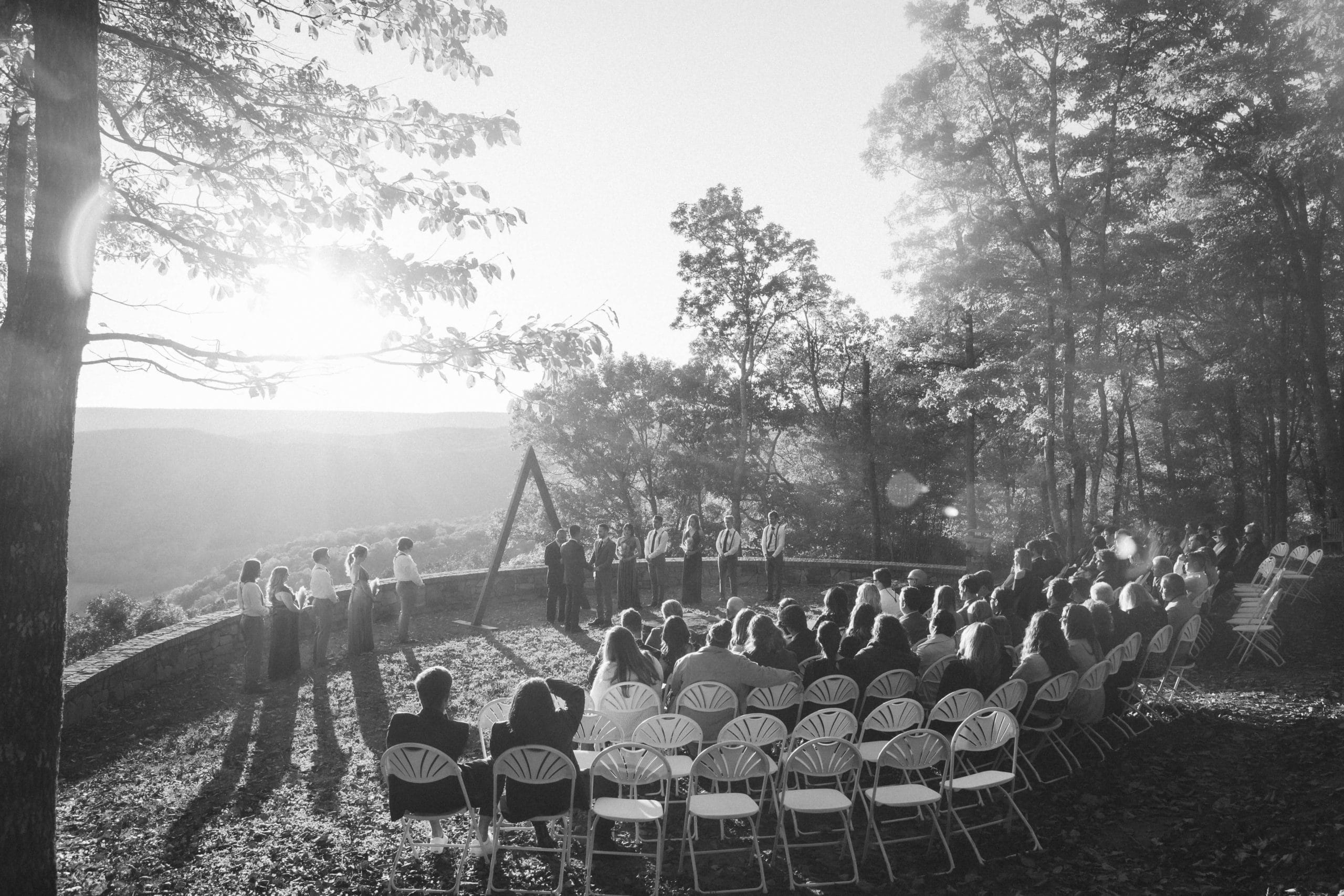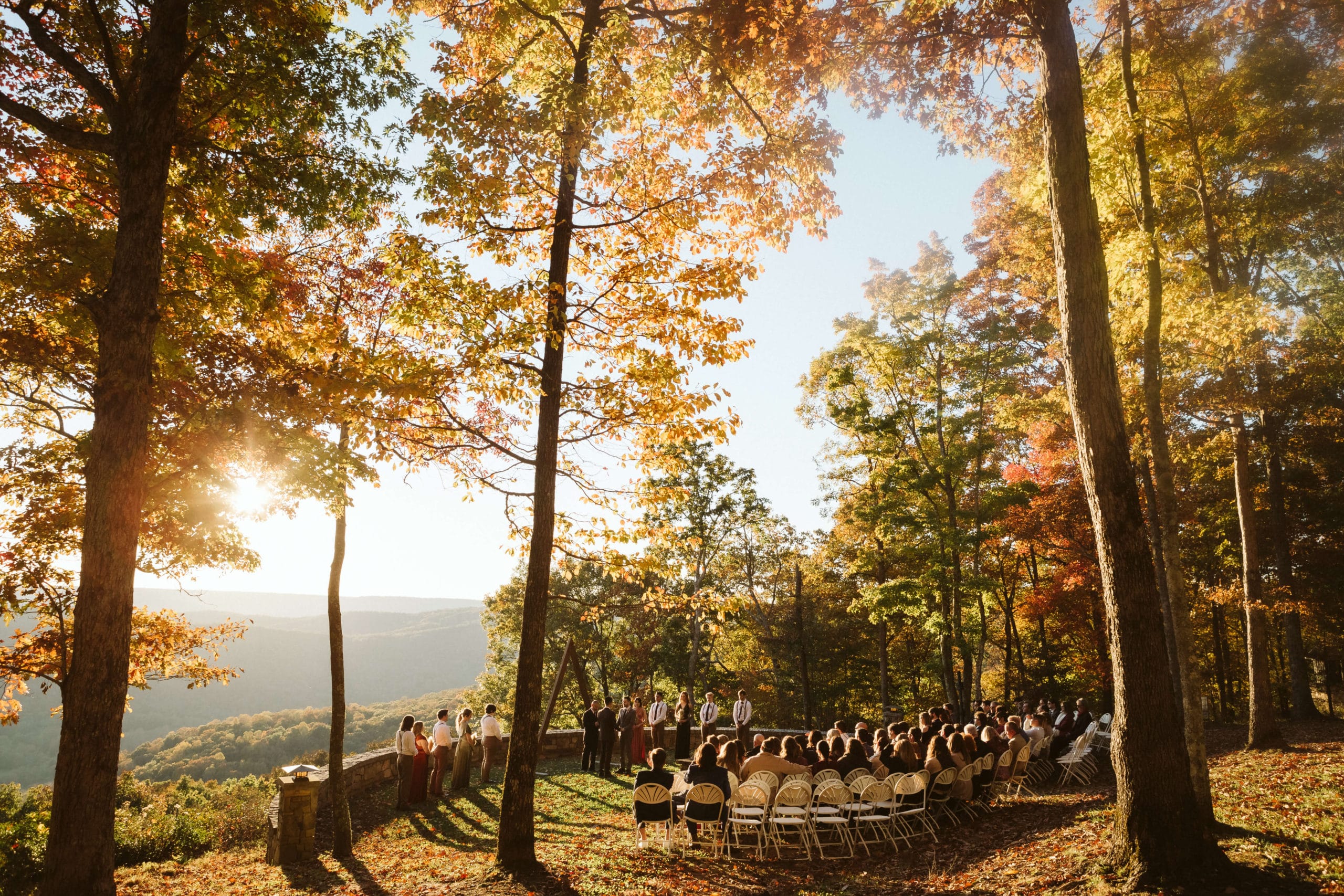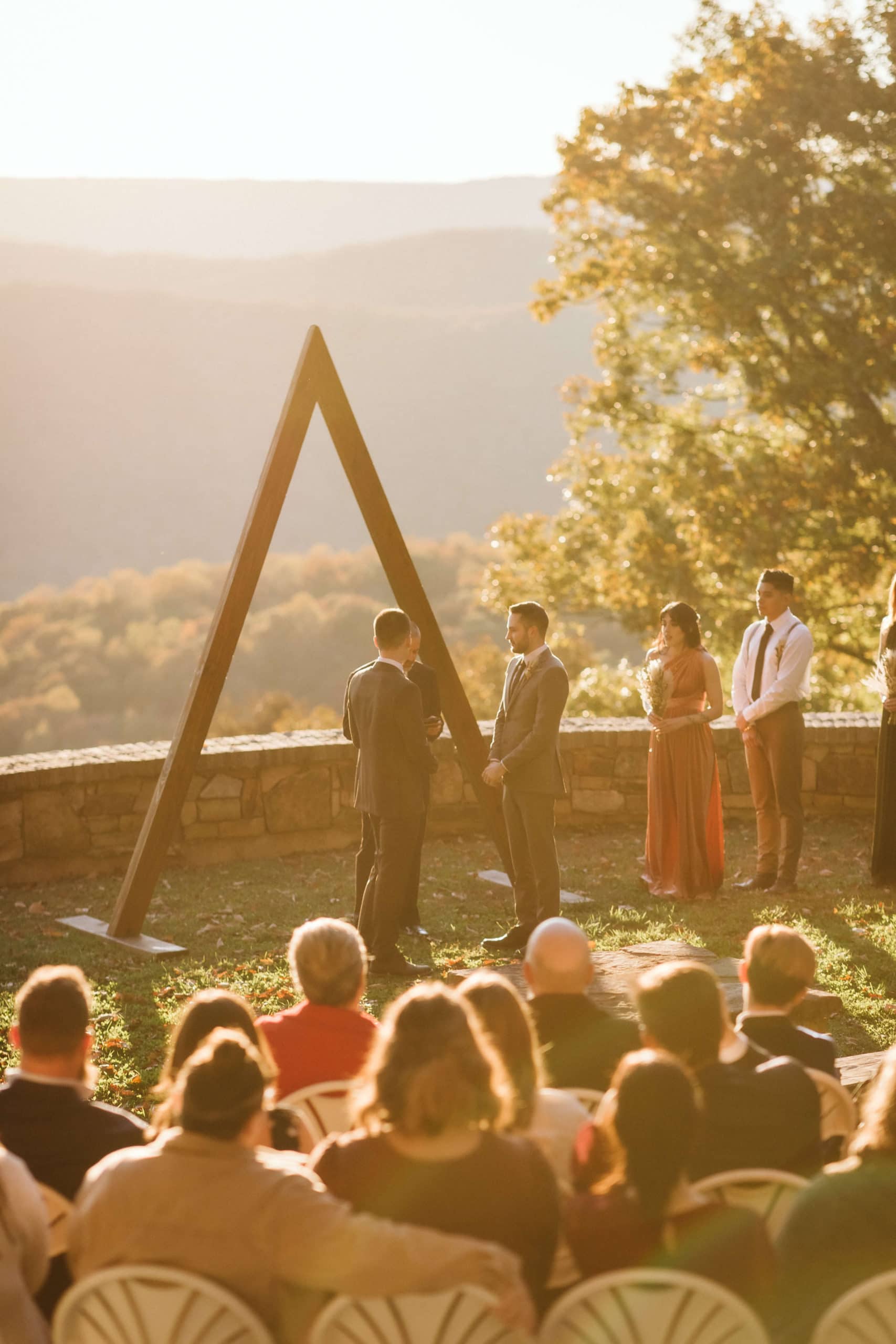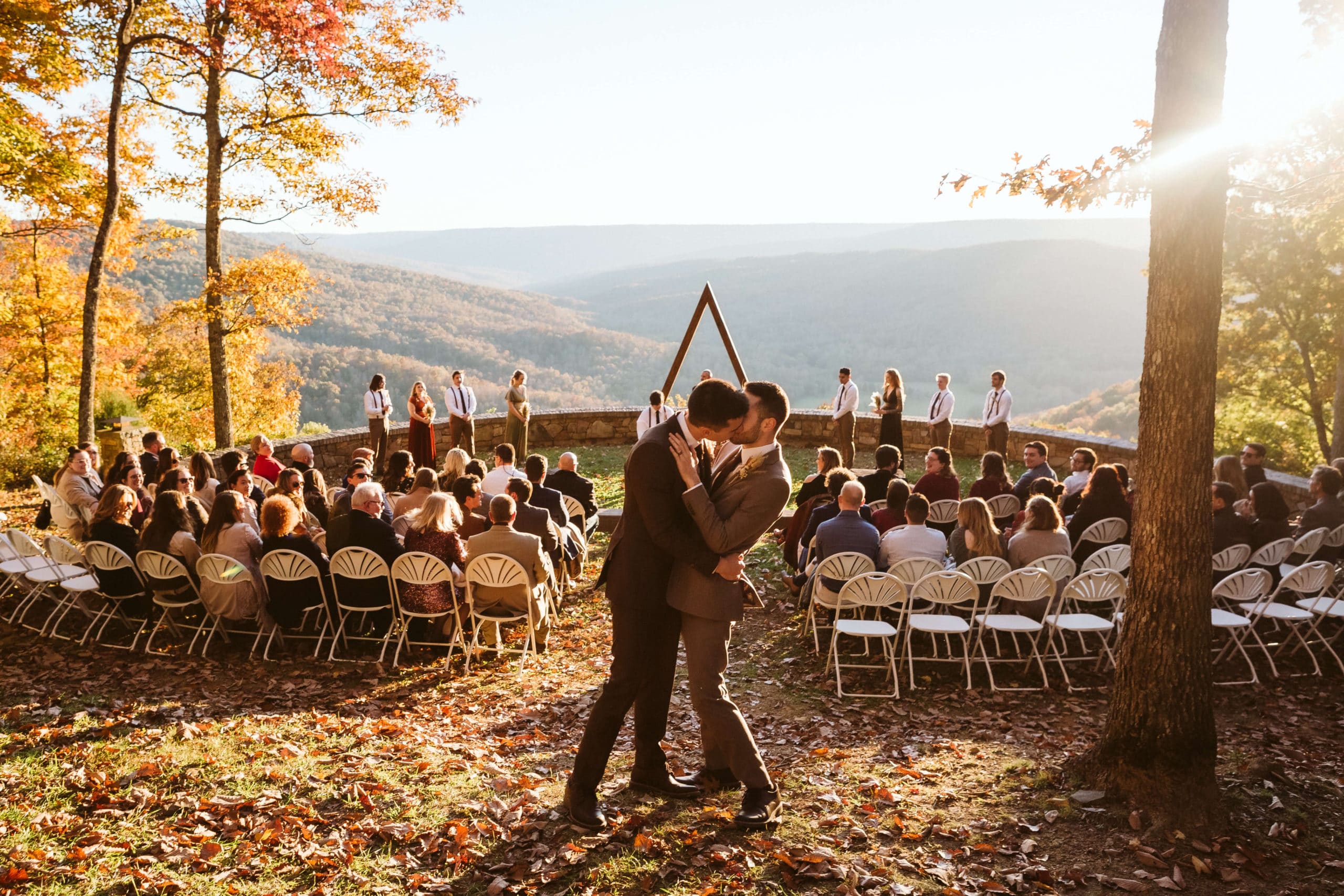 Making Time to Celebrate the Friendships that Brought Them Together
After their ceremony, Ryan and Alex made sure to carve out time in their wedding planning schedule to take pictures with all their loved ones before newlywed portraits. Their wedding was an intimate gathering of roughly fifty of their closest friends and family. It was really important to them that their chosen family be included in their day, even if that meant simply having them be a part of their professional wedding photography.
One thing that really stood out to me while we were still in the process of discussing their wedding was that they had known each other and dated for so long that there was no such thing as "Ryan's friends" and "Alex's friends." They were all just one huge friend group with no dividing lines – it was simply everyone's friends. It was such a sweet sentiment and I admired the fact the couple wanted to find a way to make time for those who had always supported them.
When it came time to plan their wedding party, they chose to have one whole "I Do Crew" instead of separate sides. It was a mixture of their closest friends who they knew would always have their backs.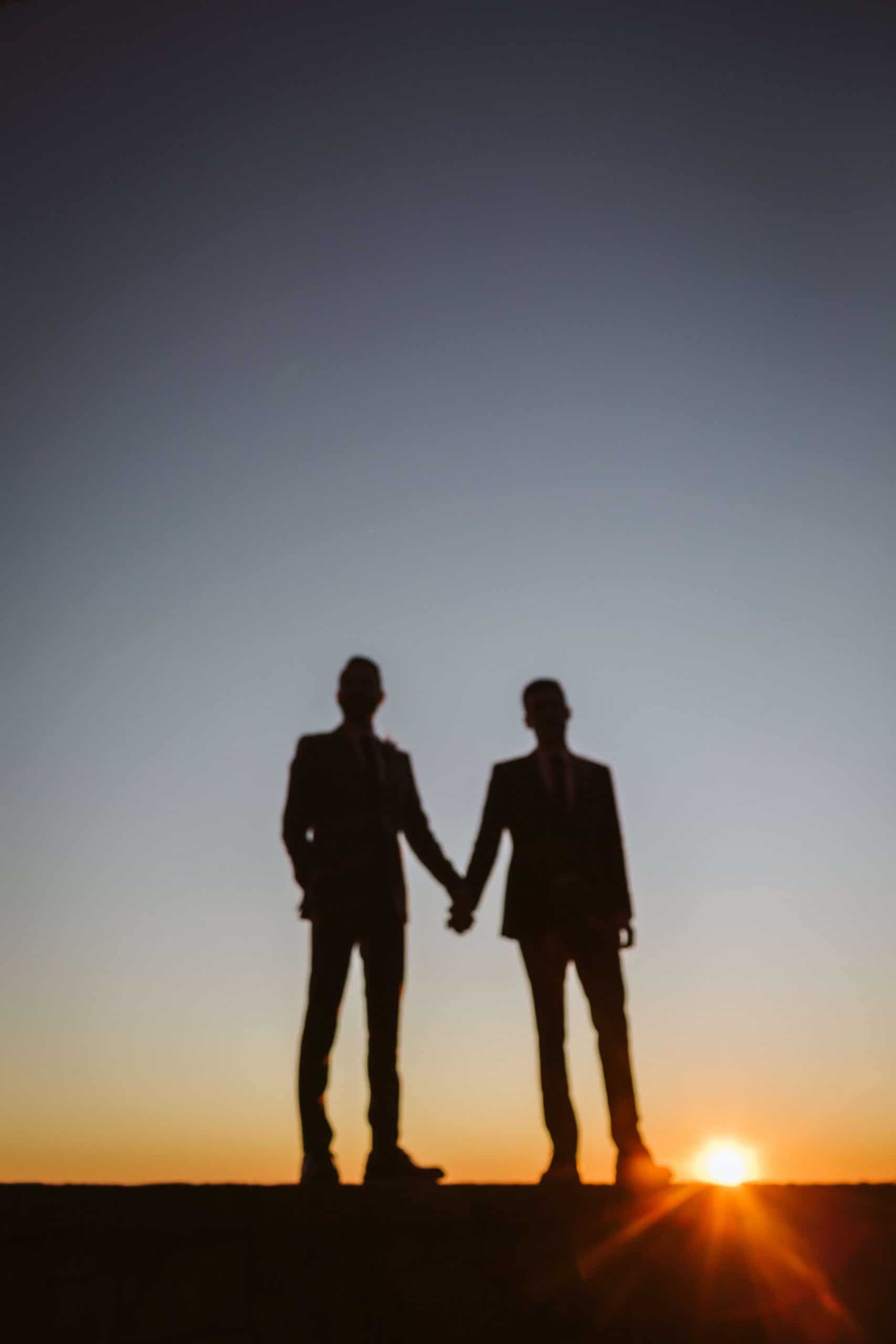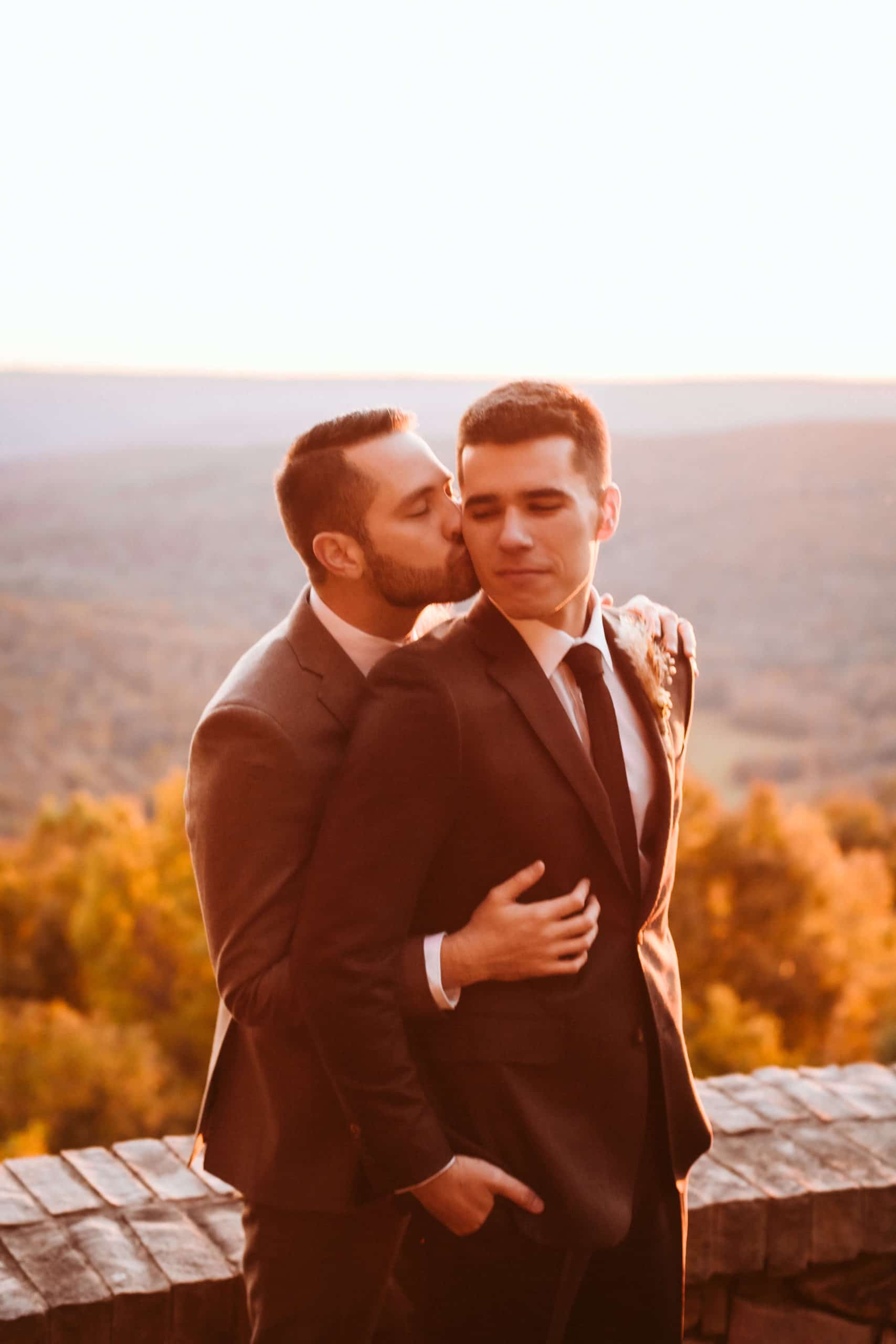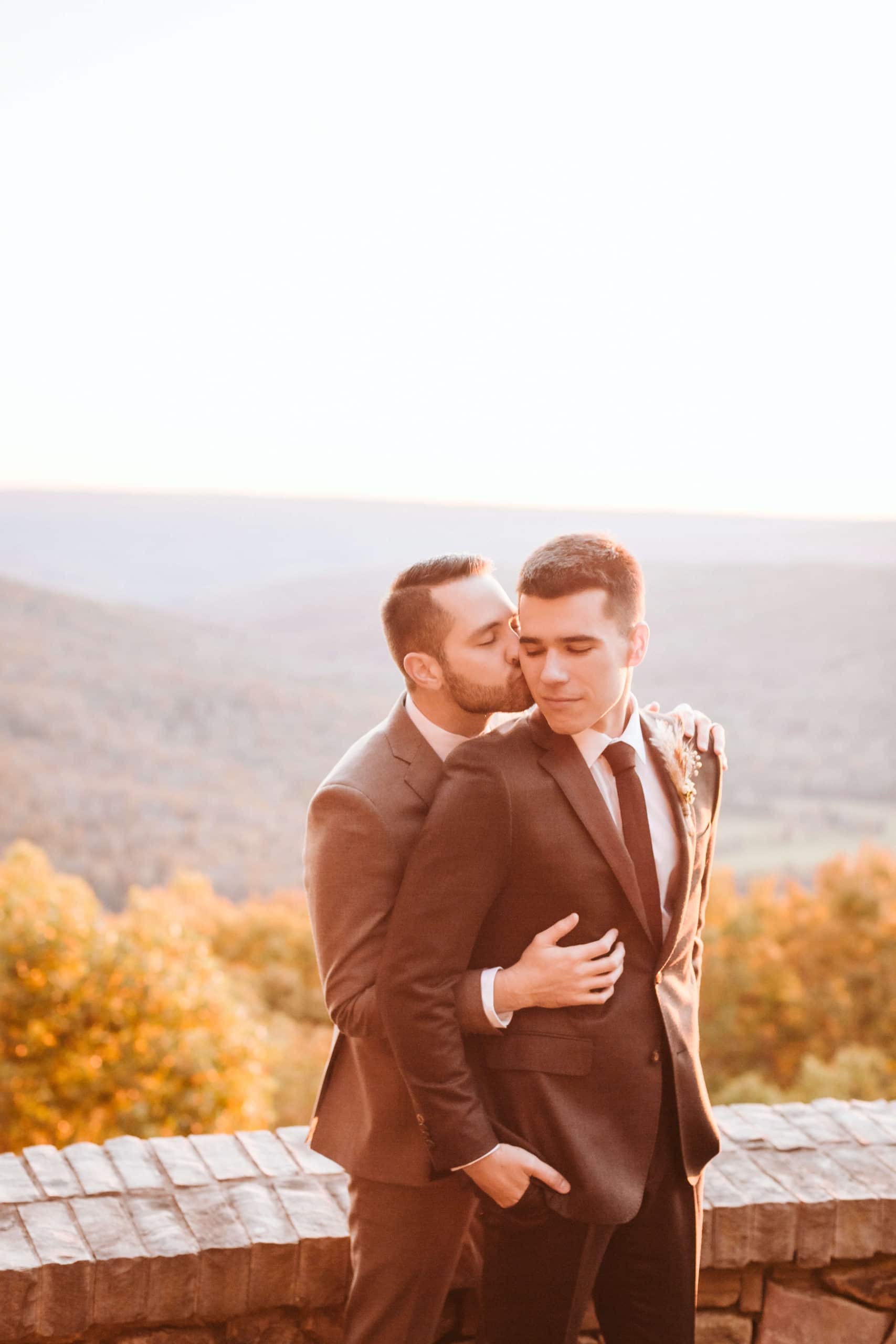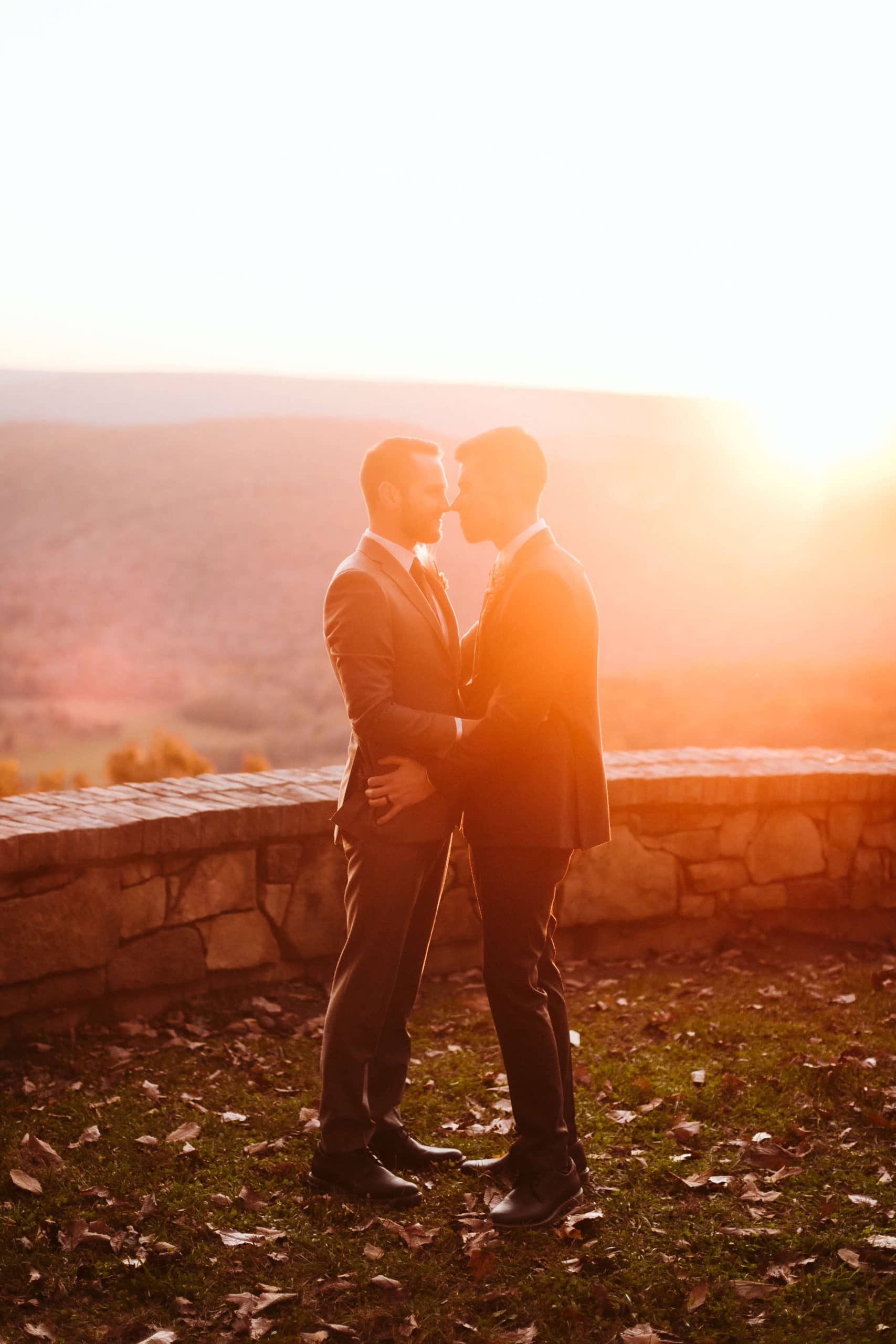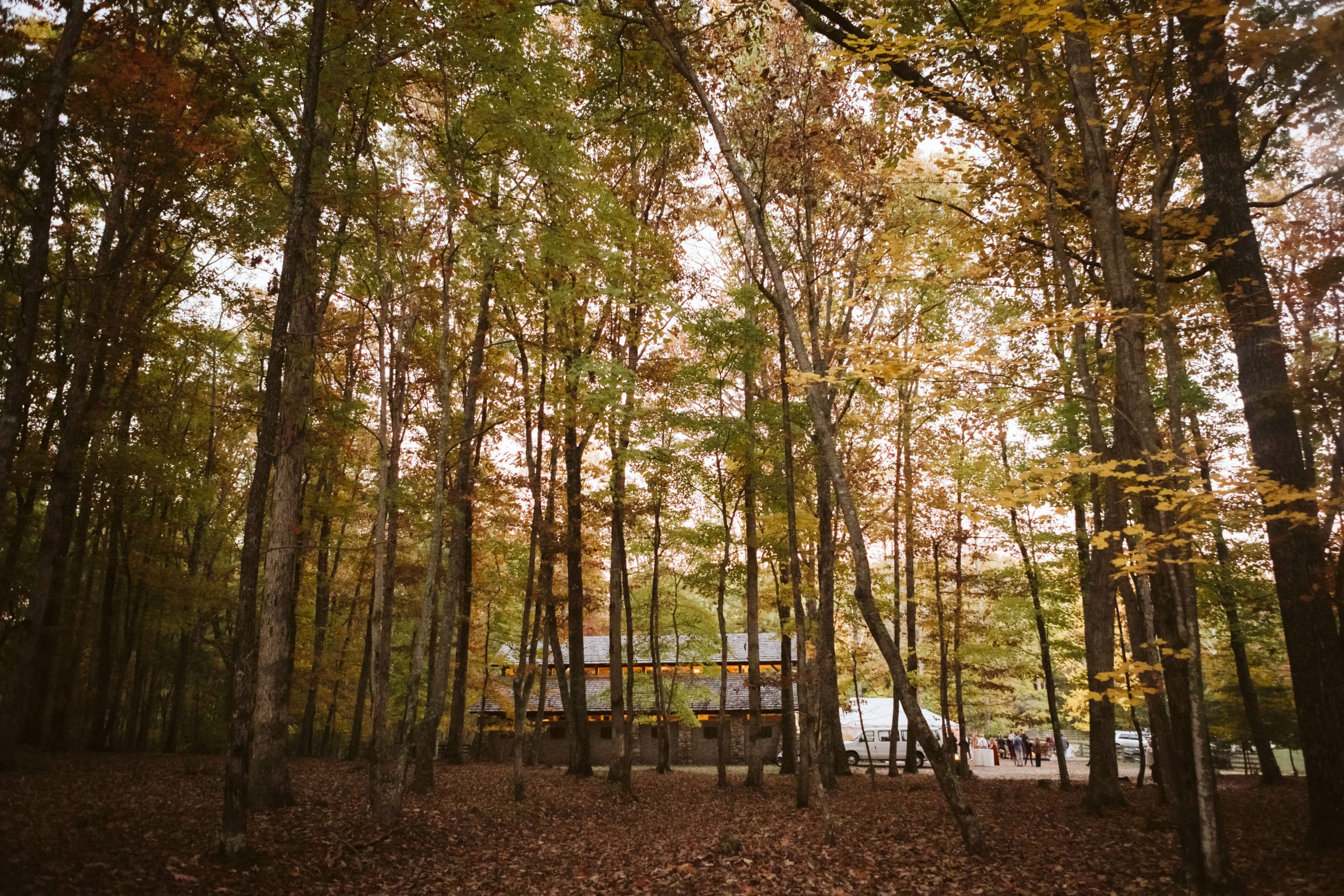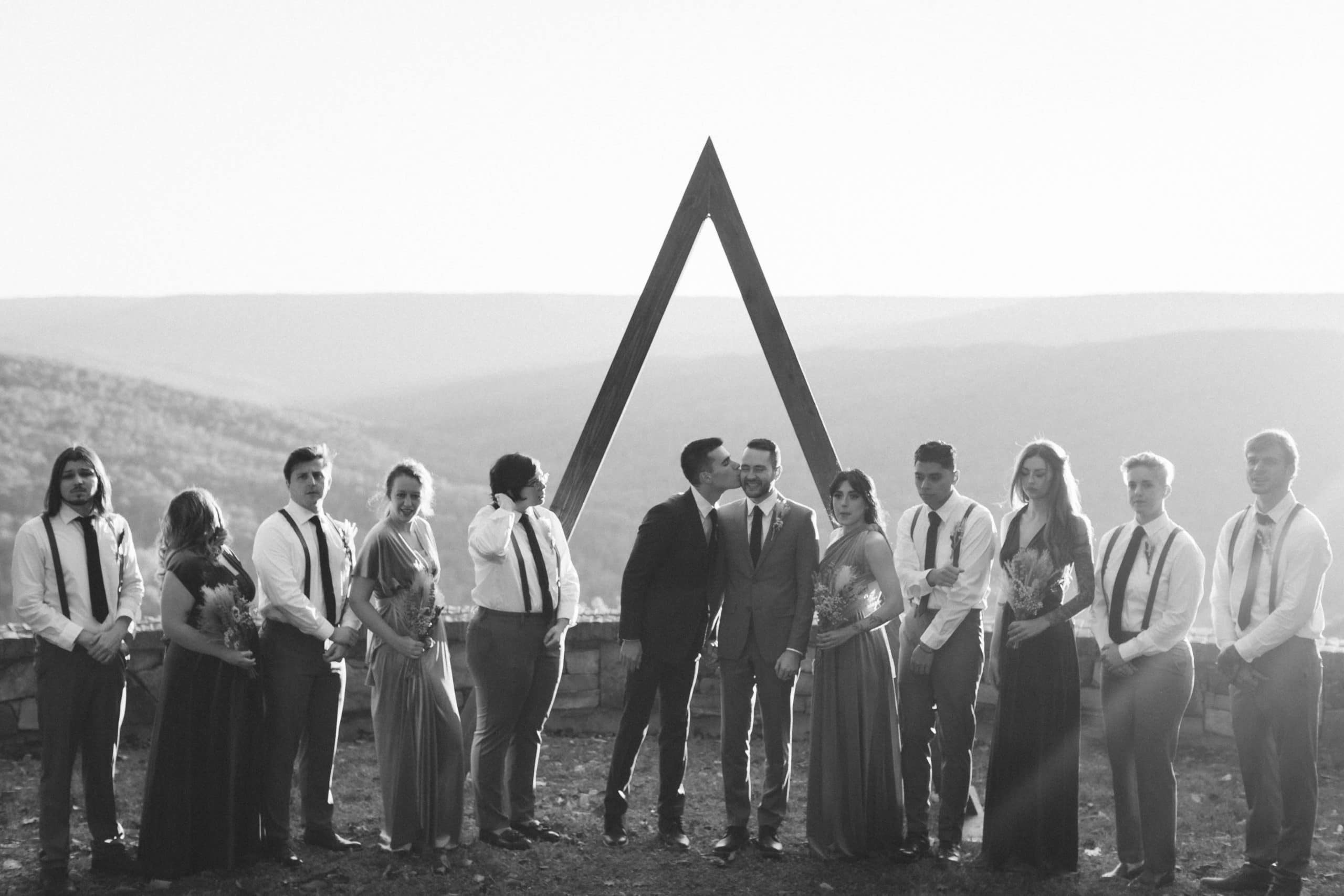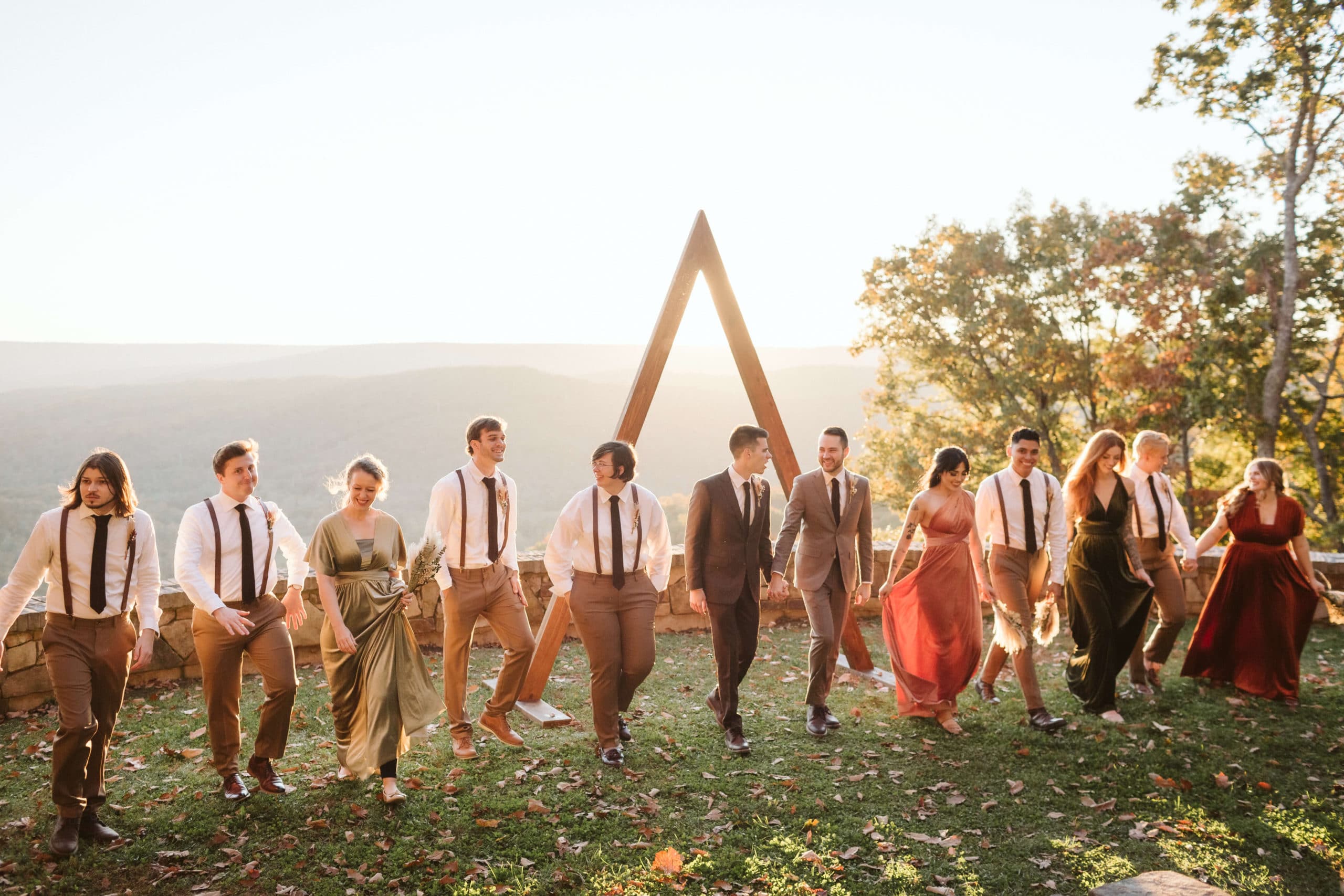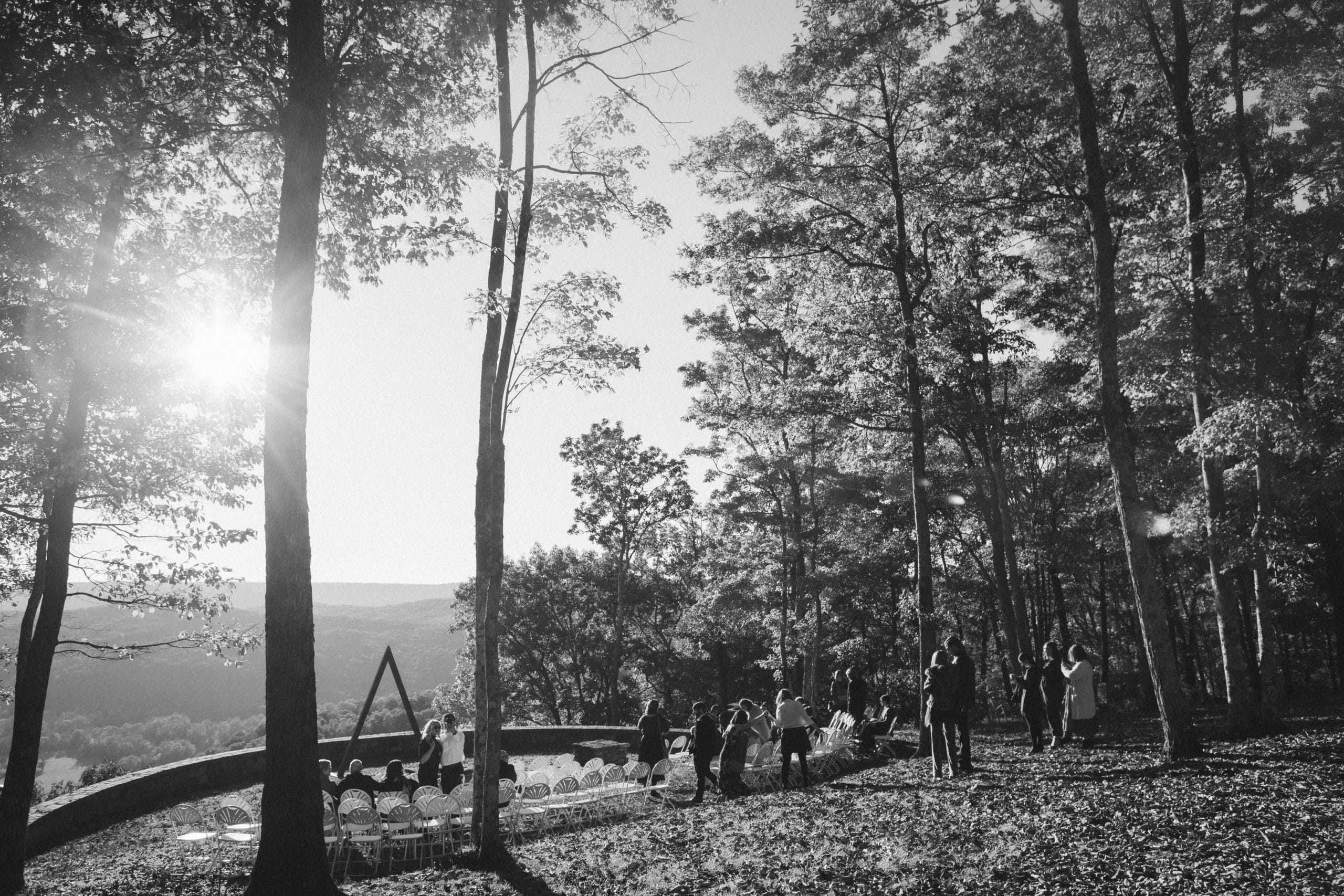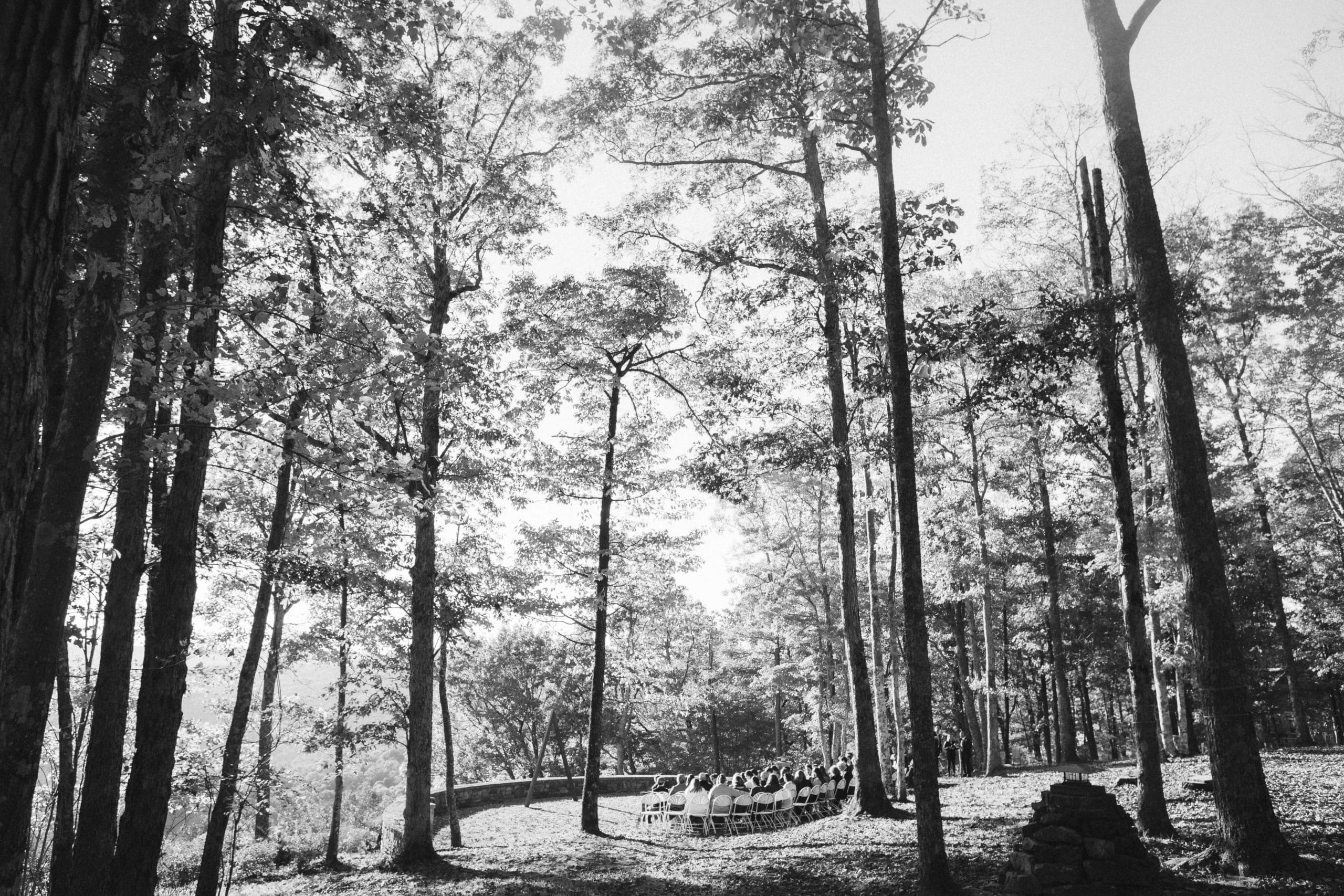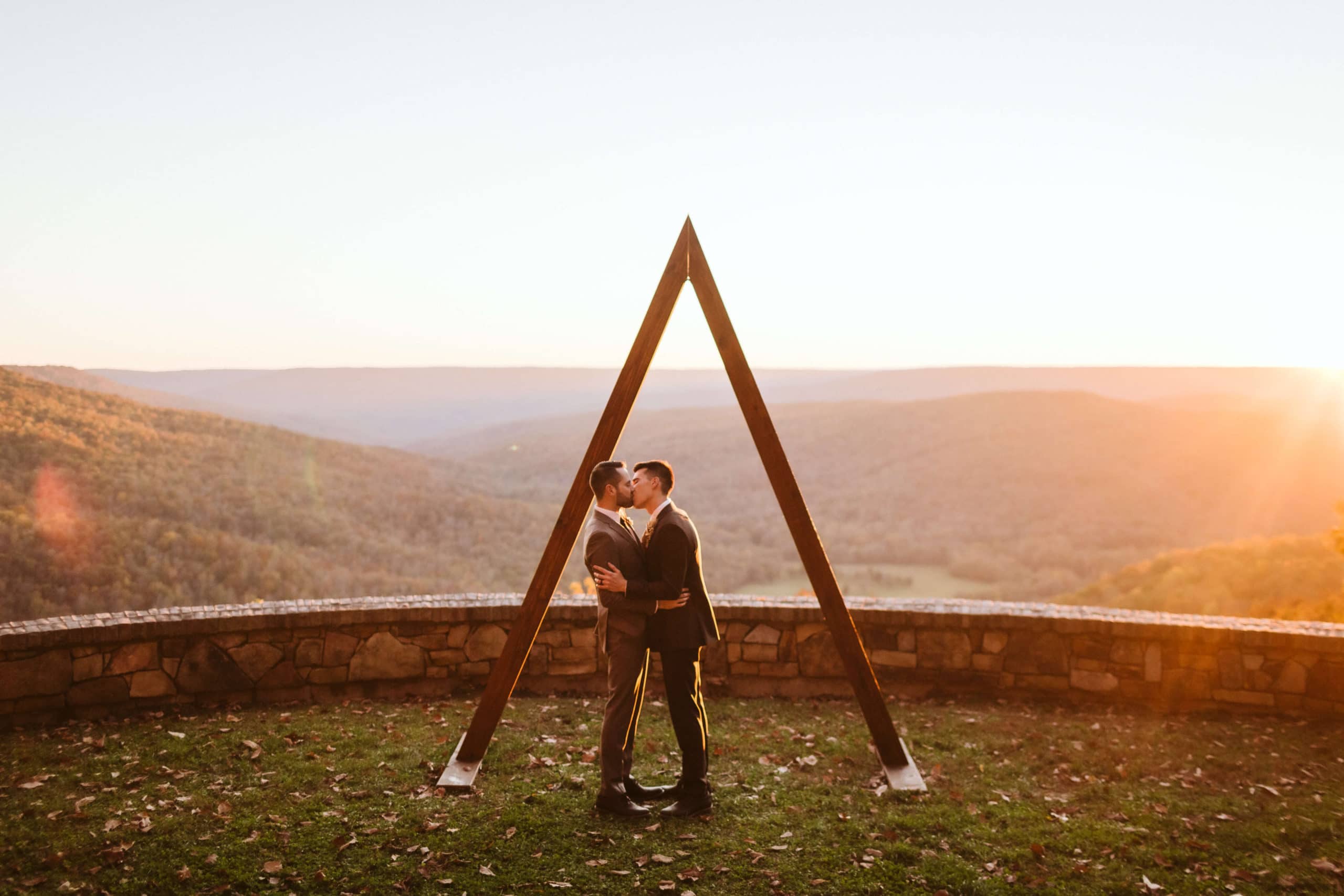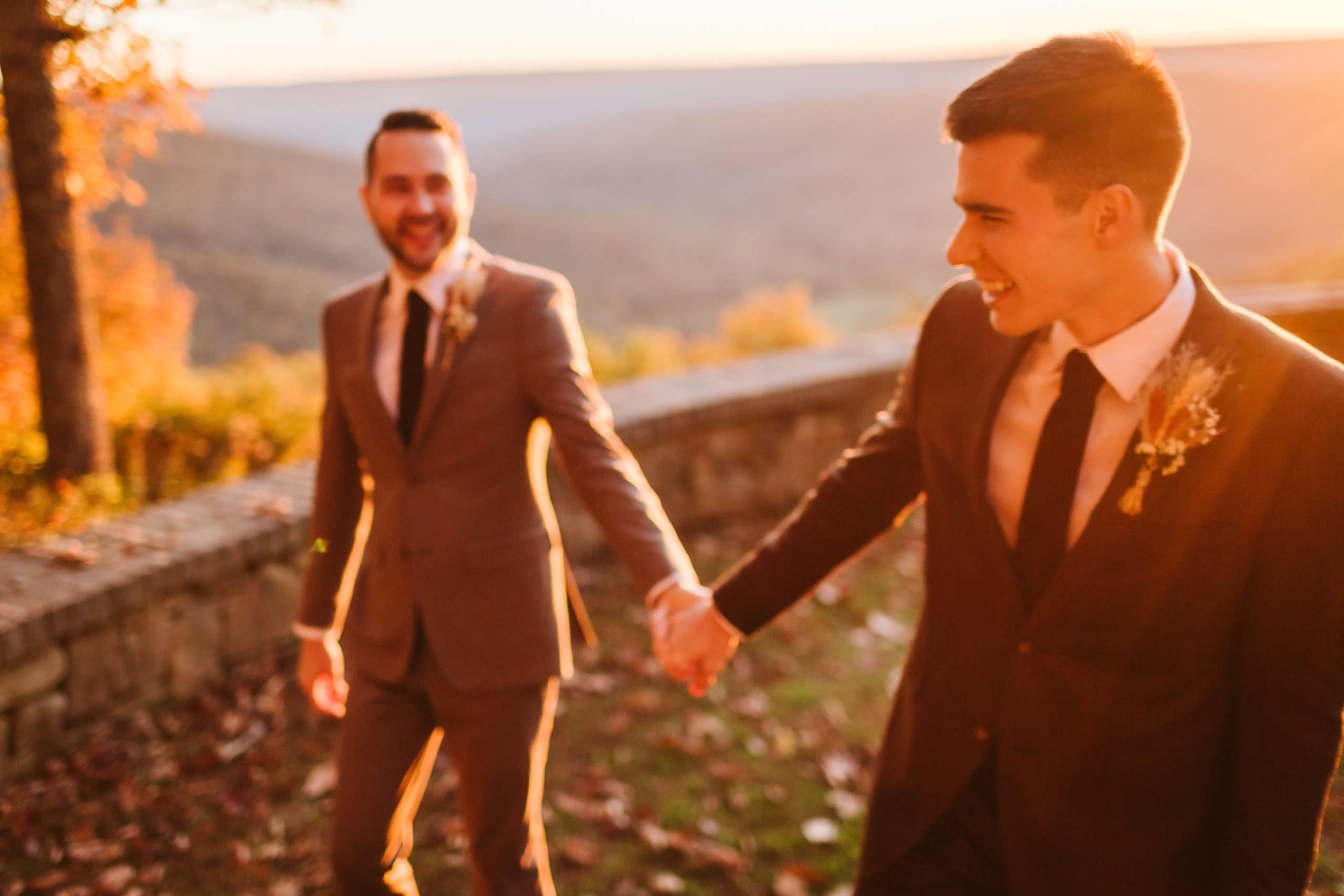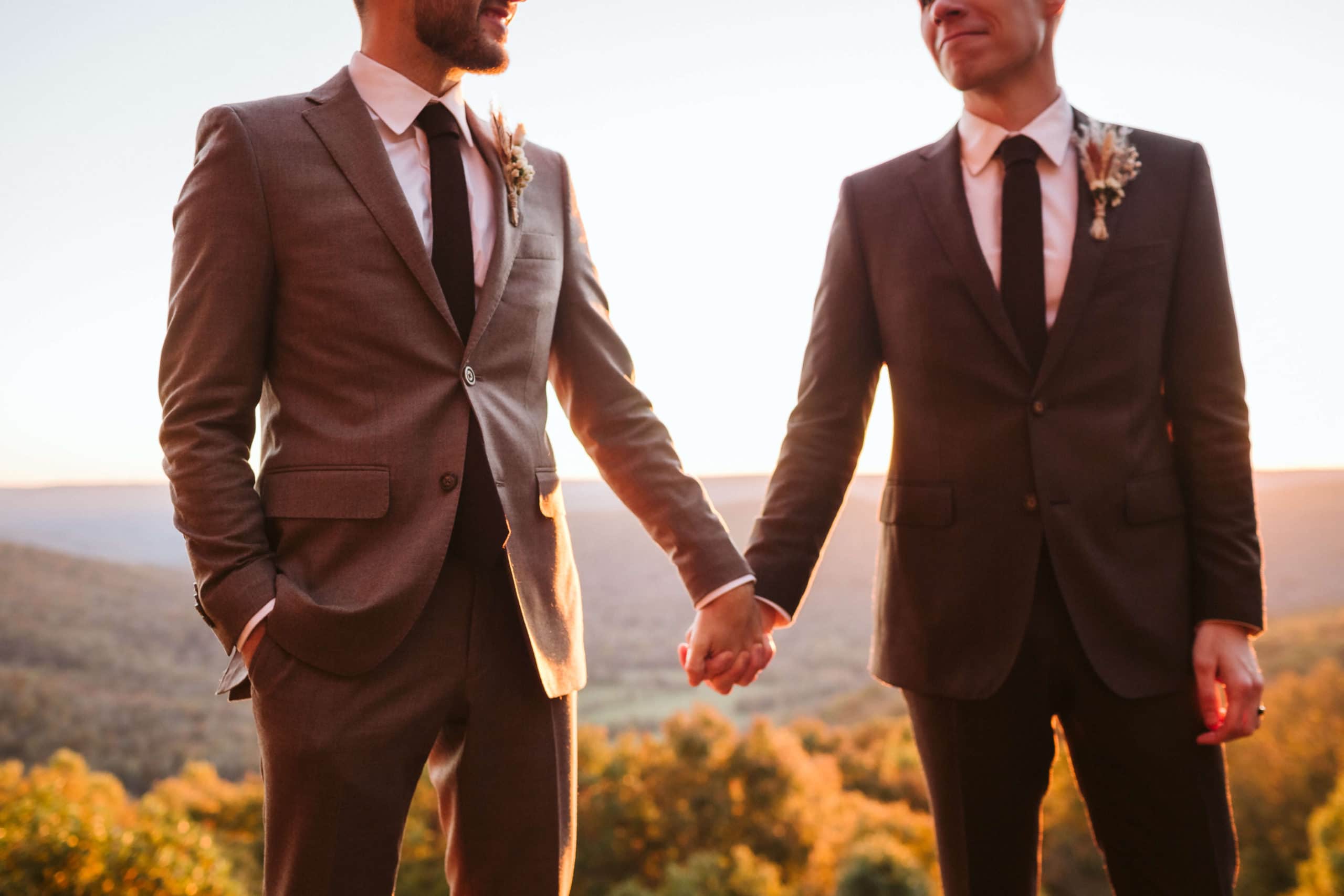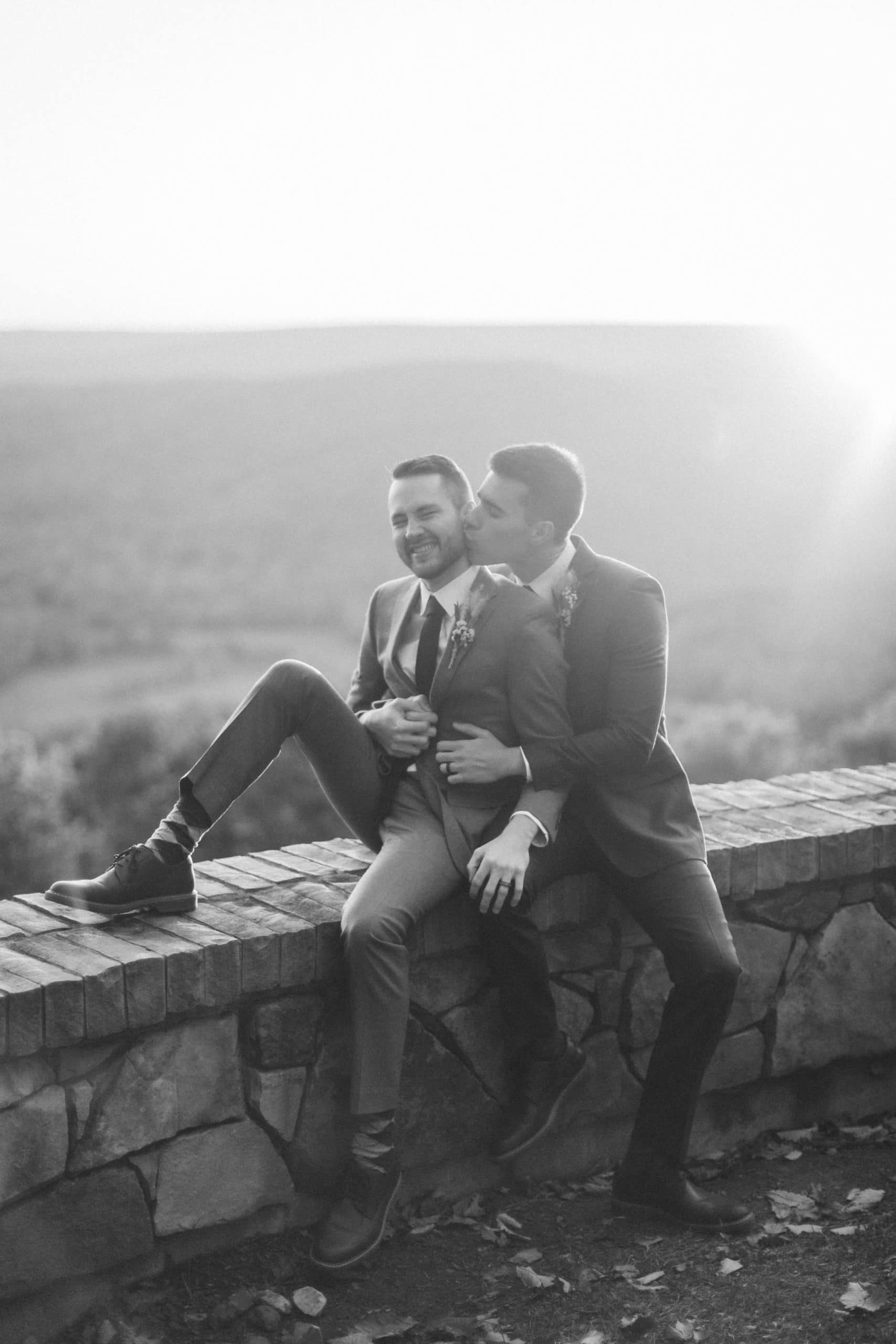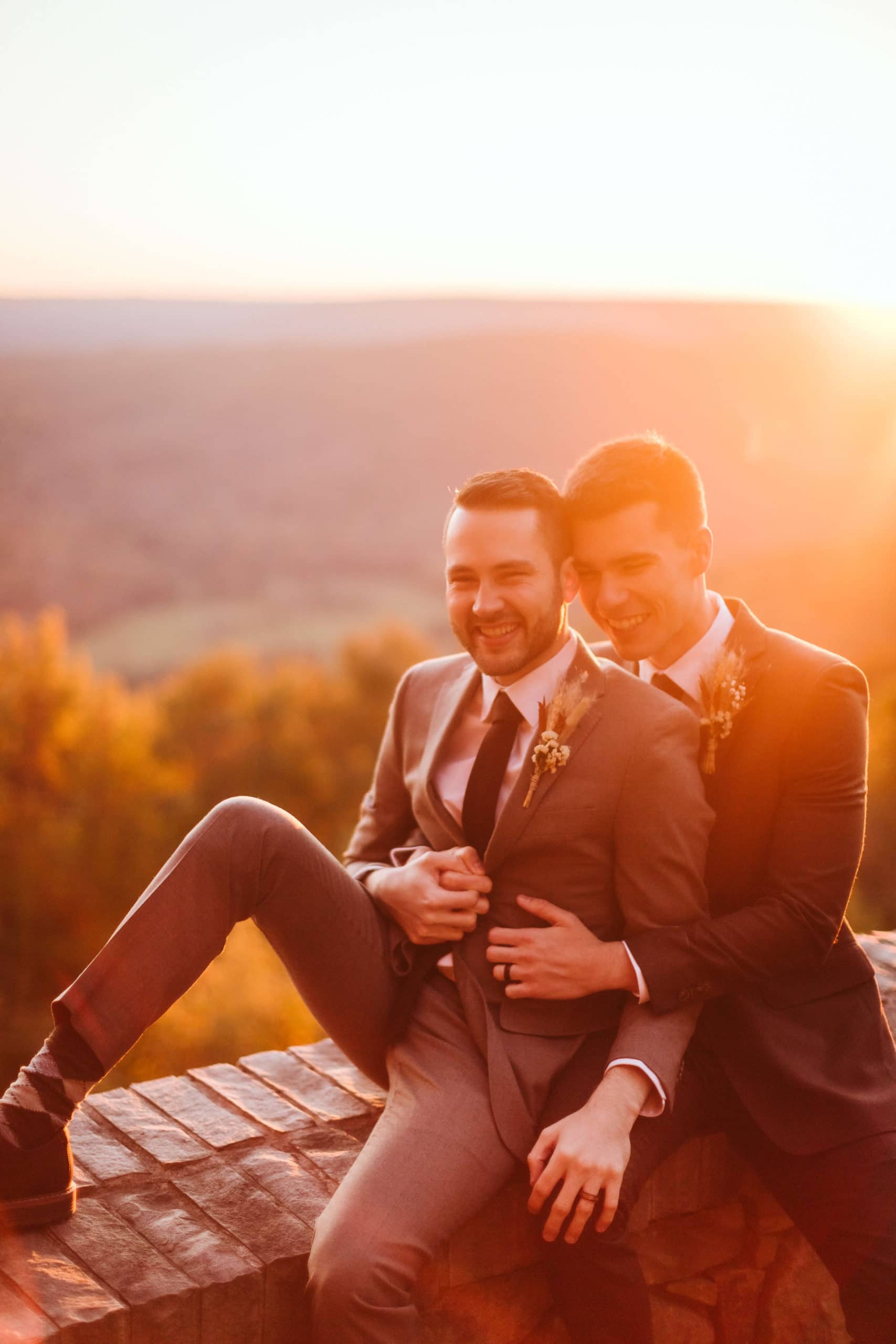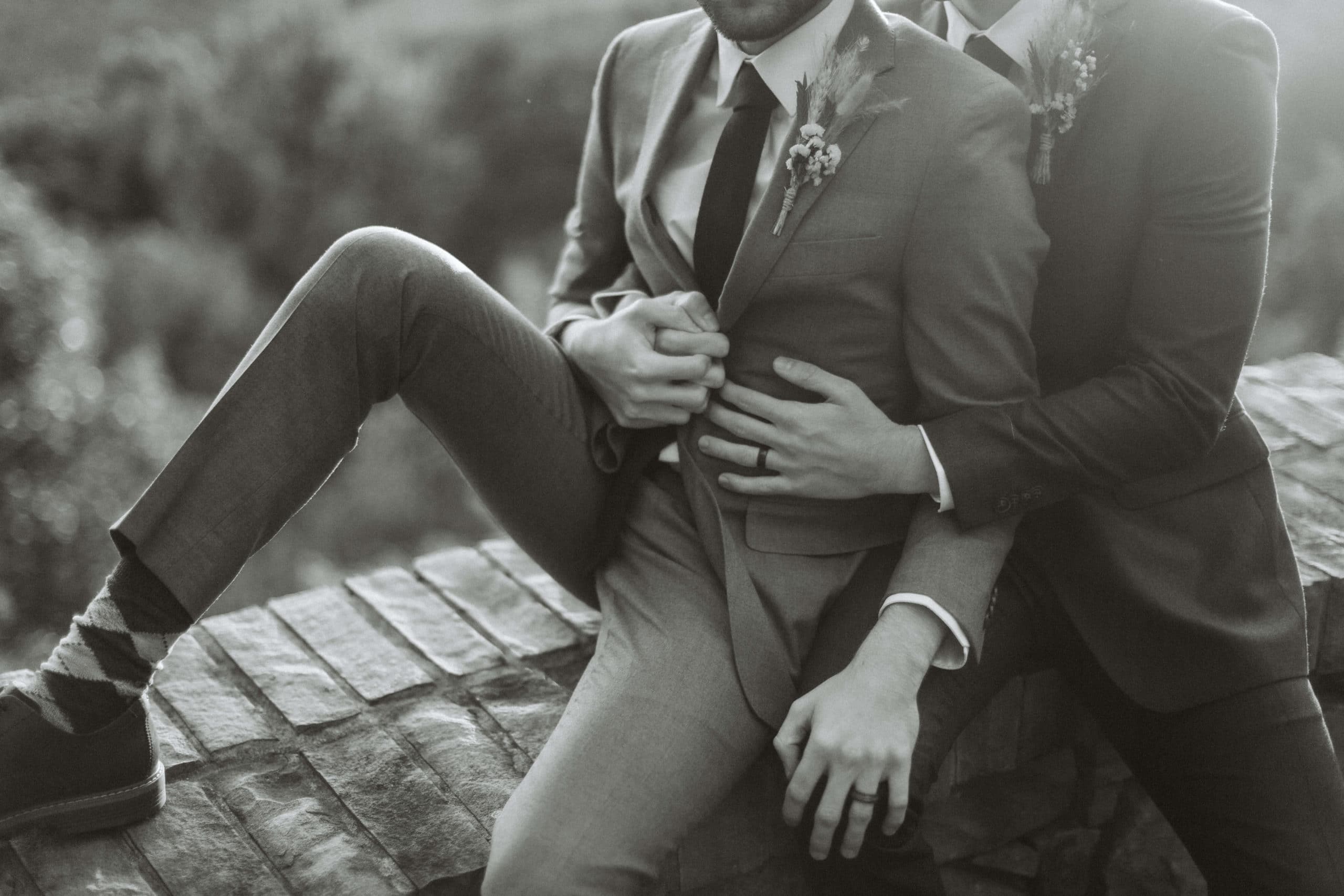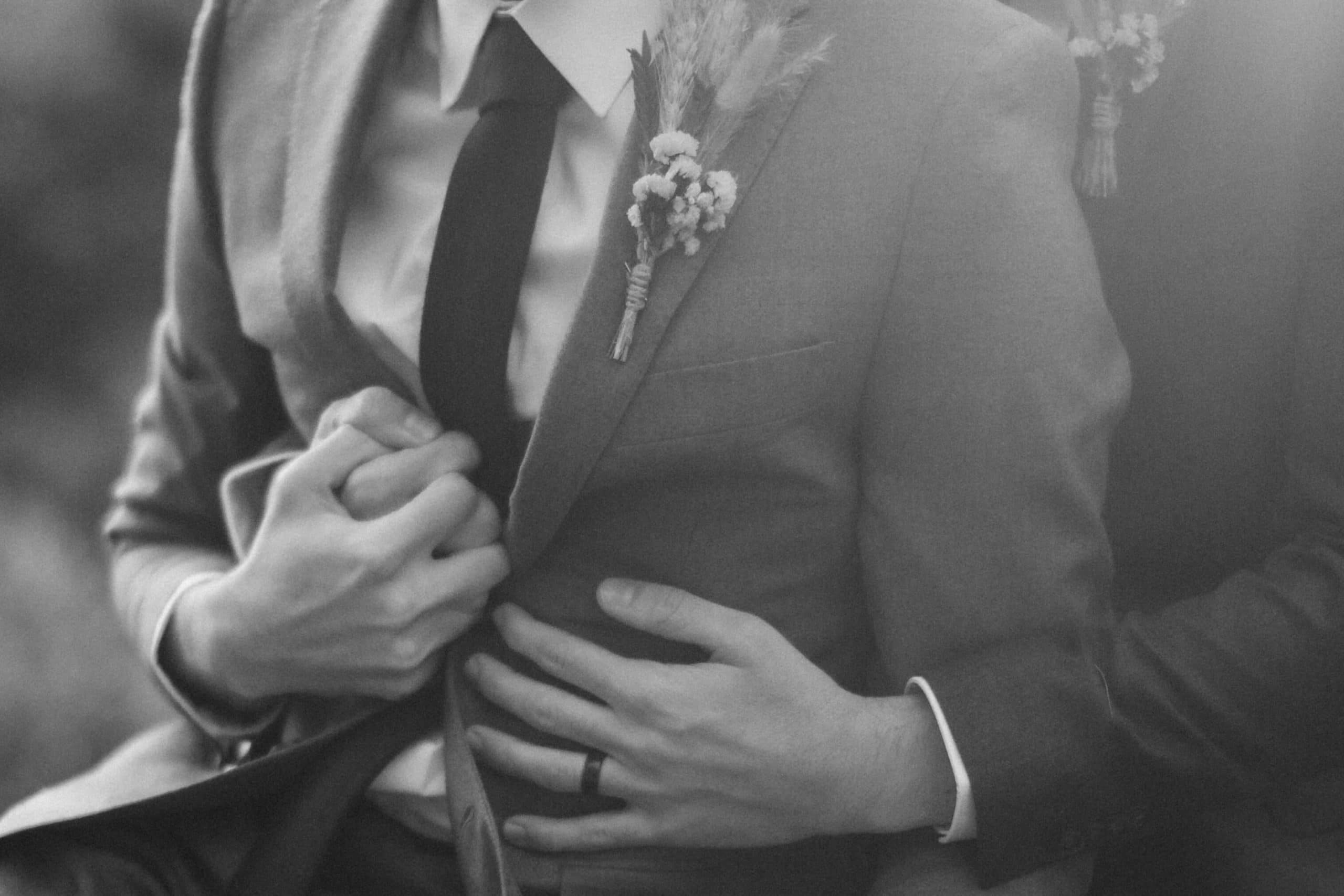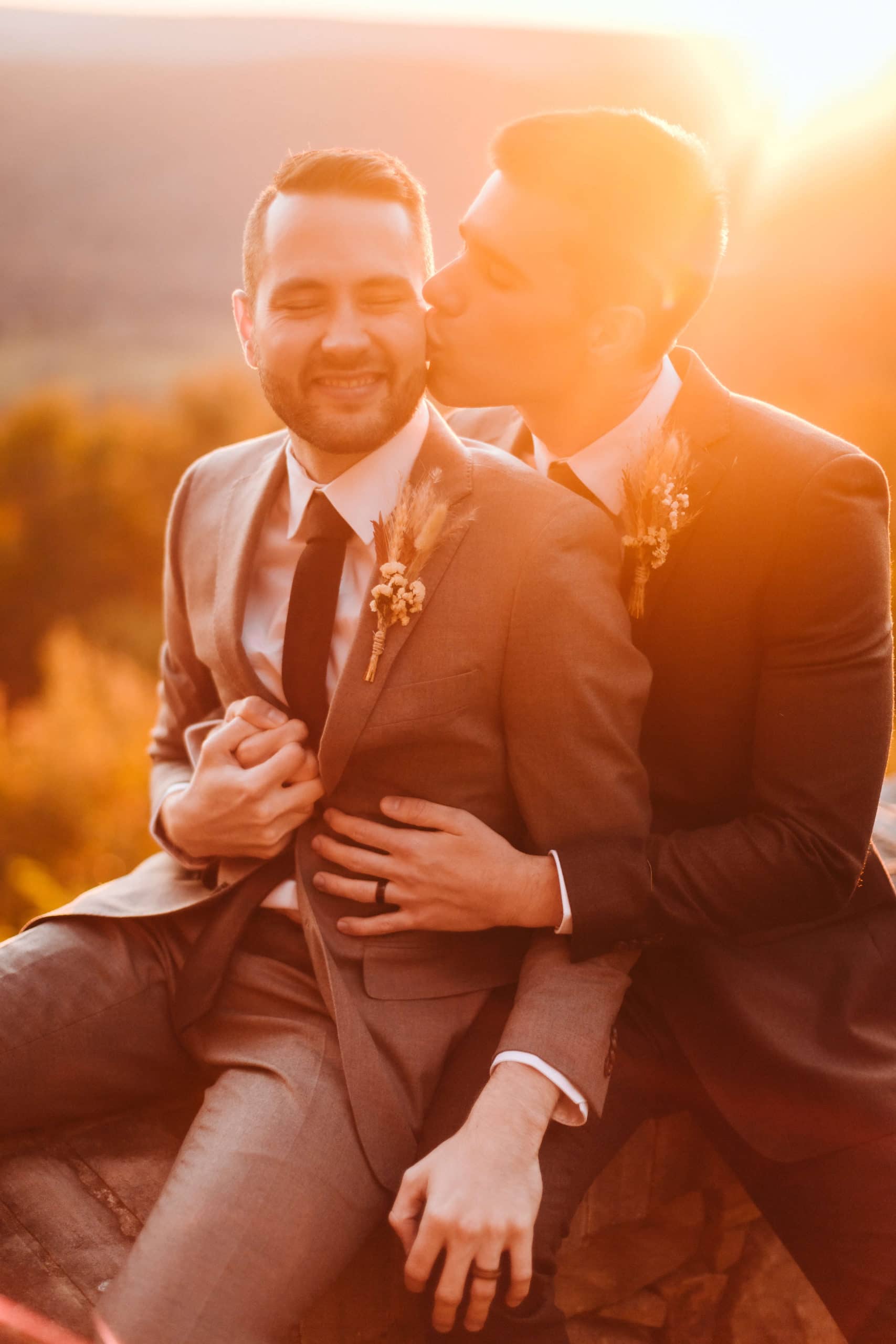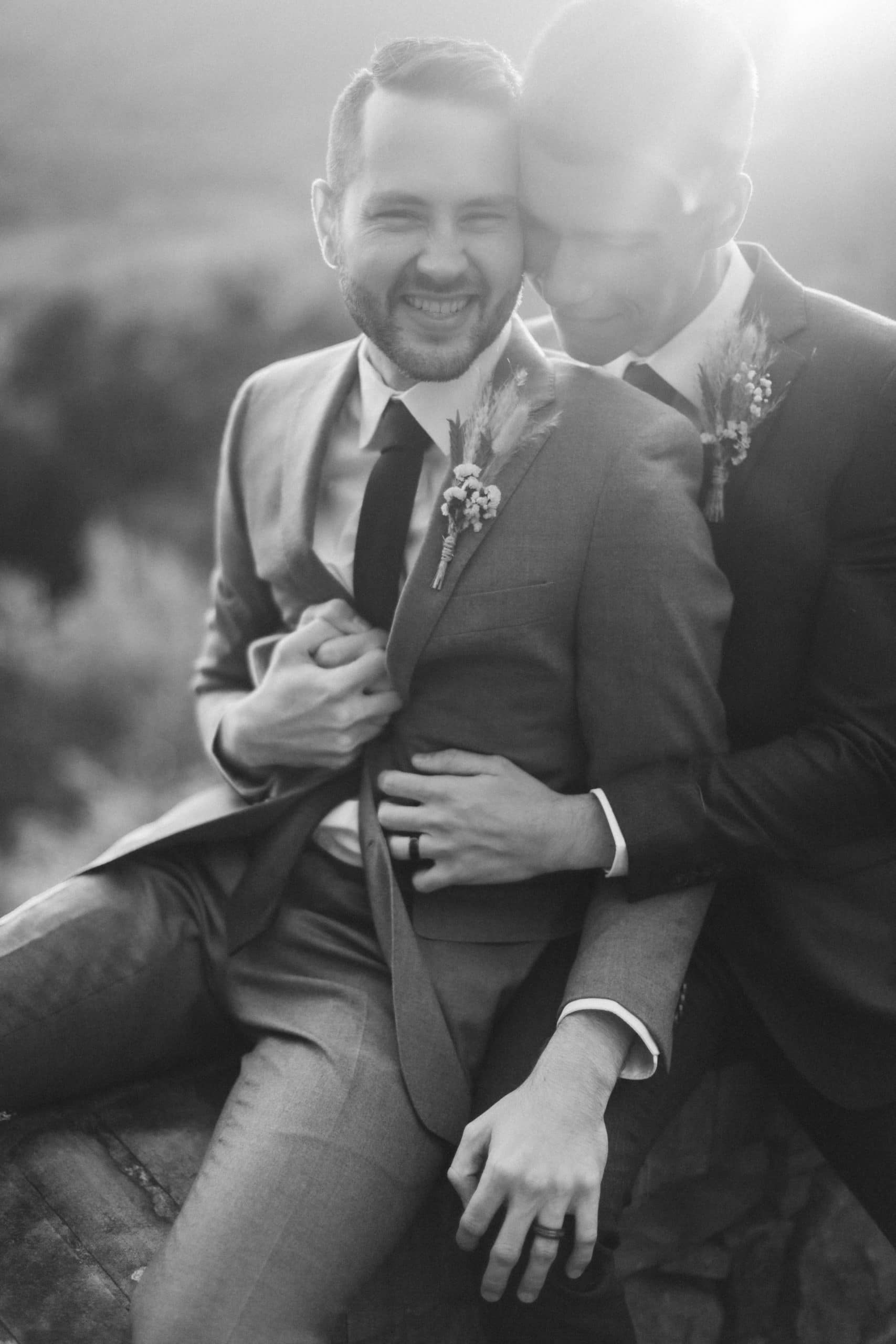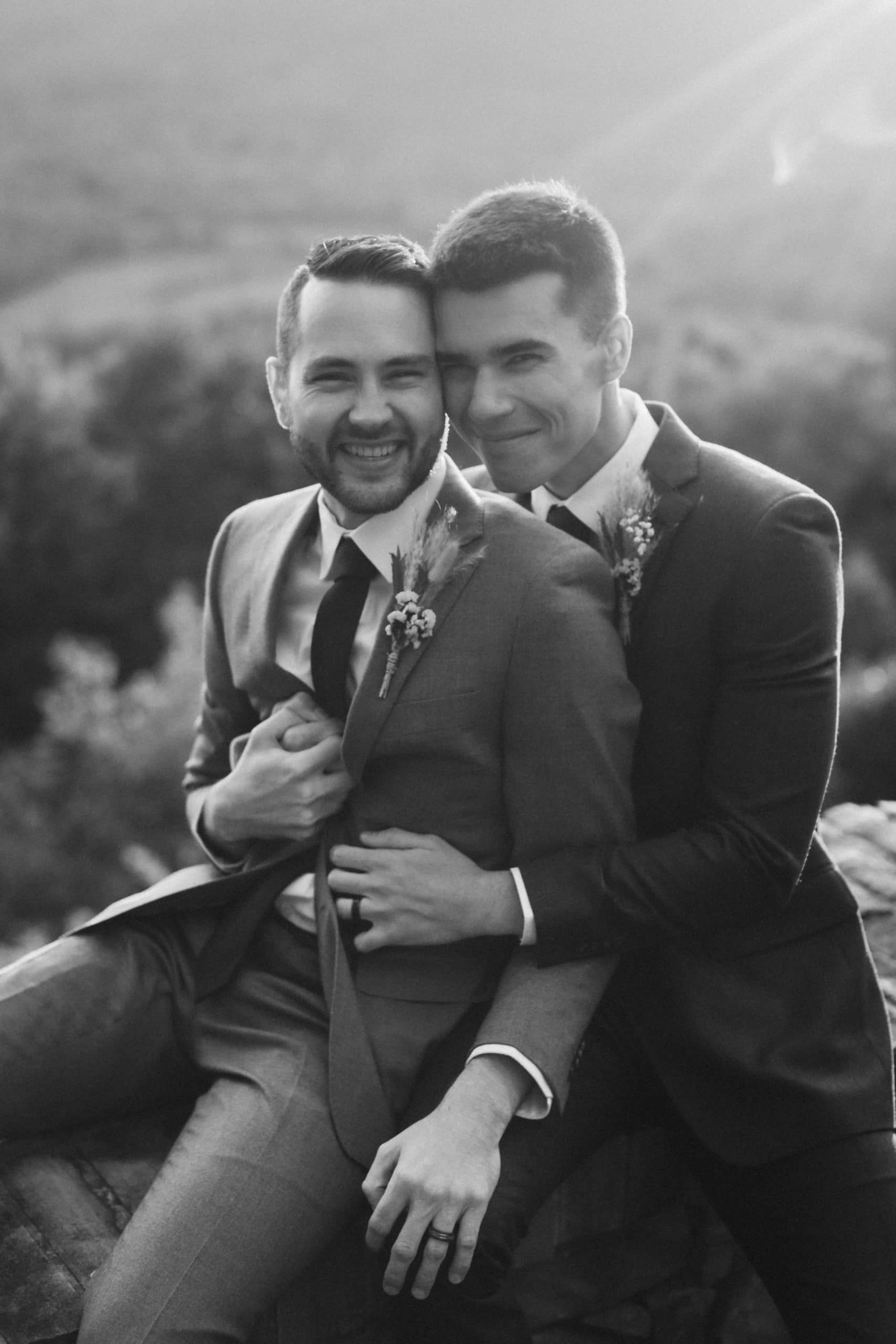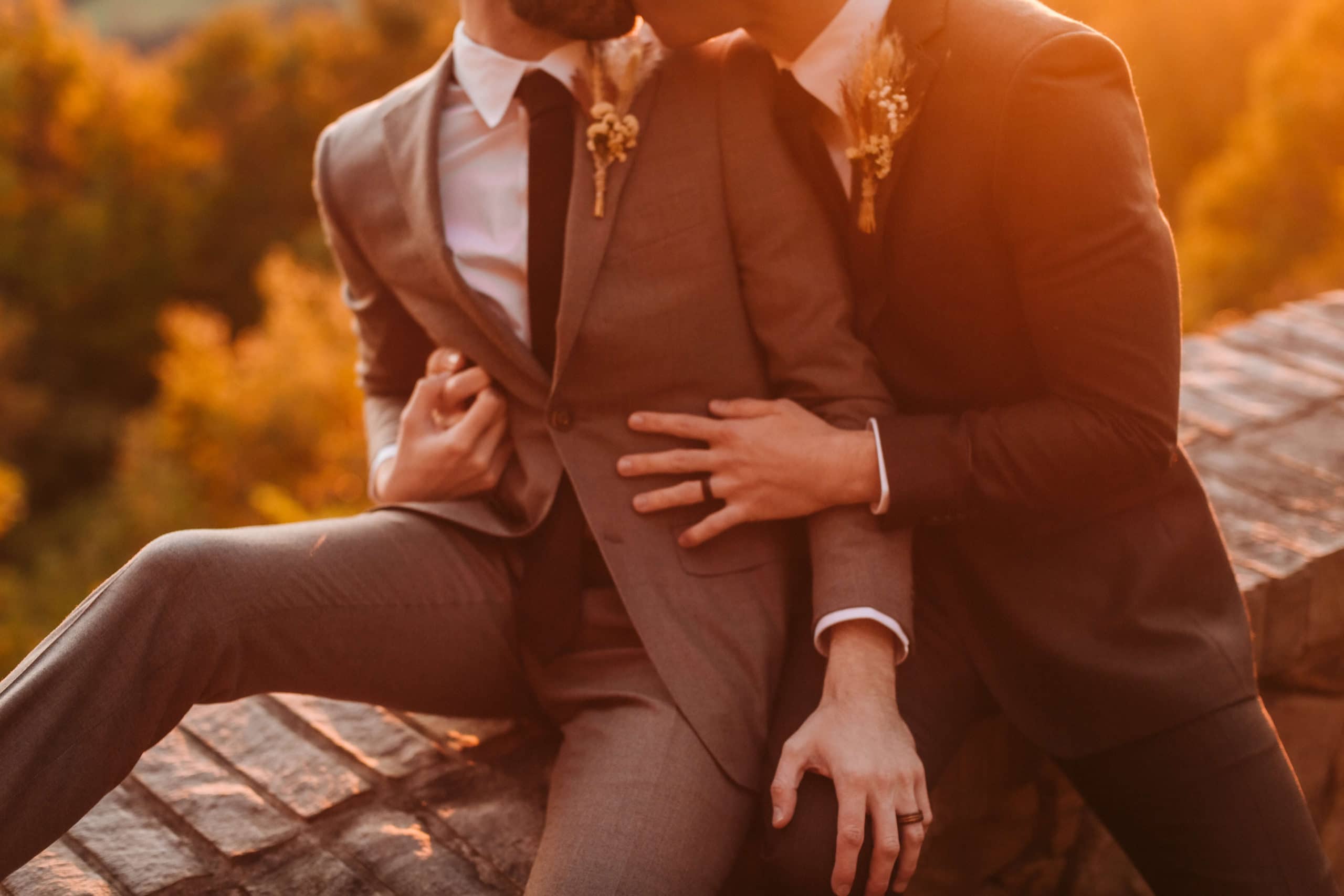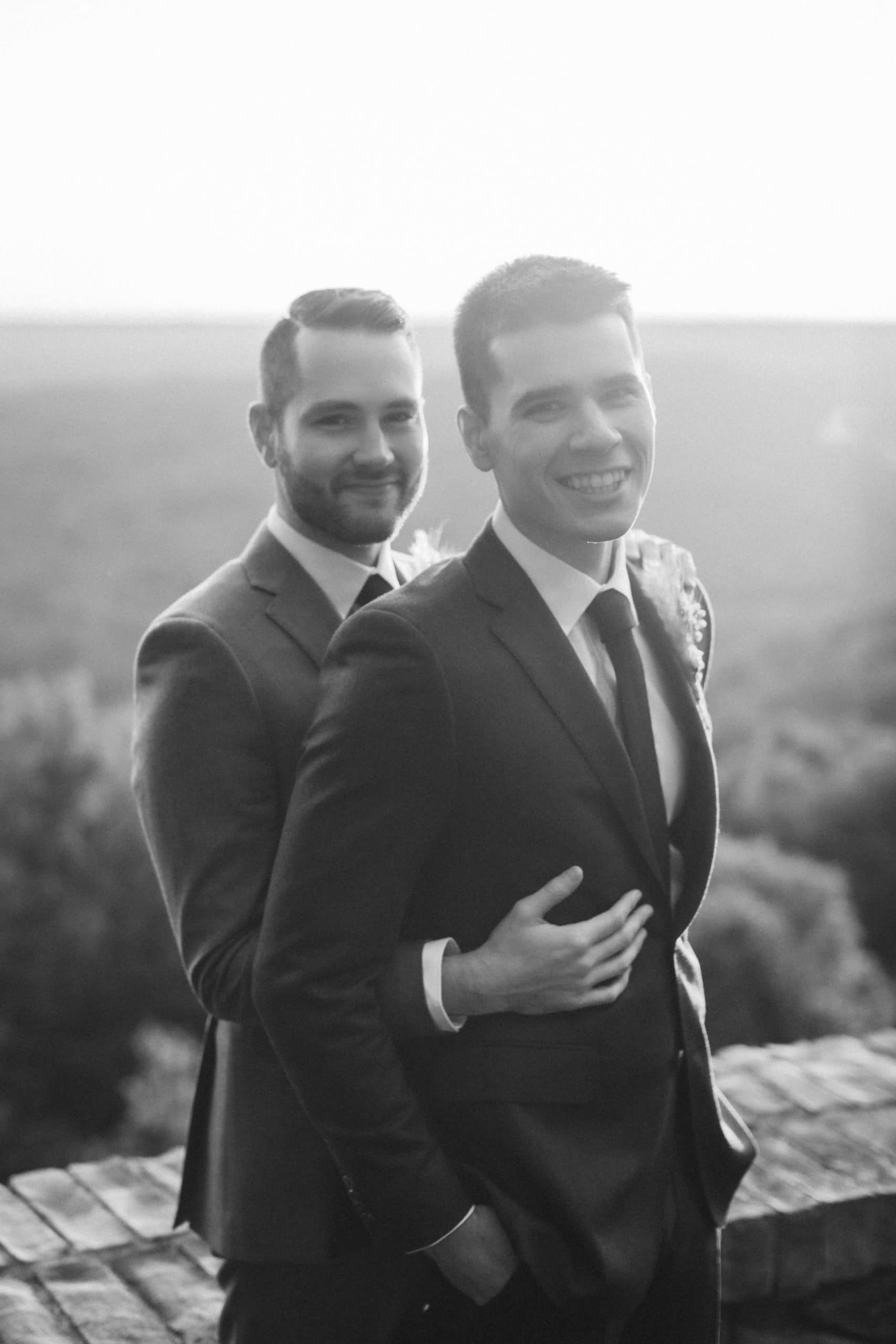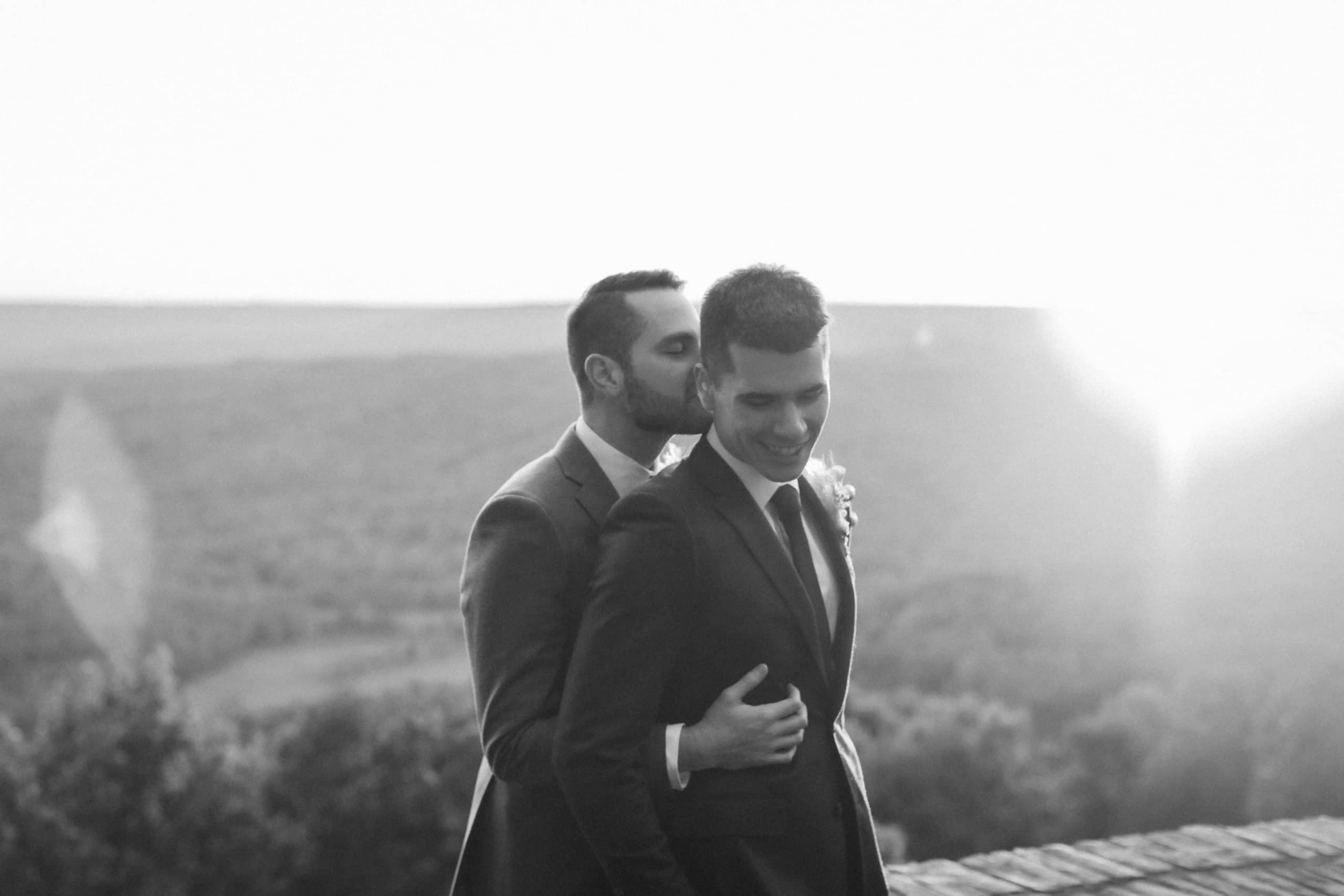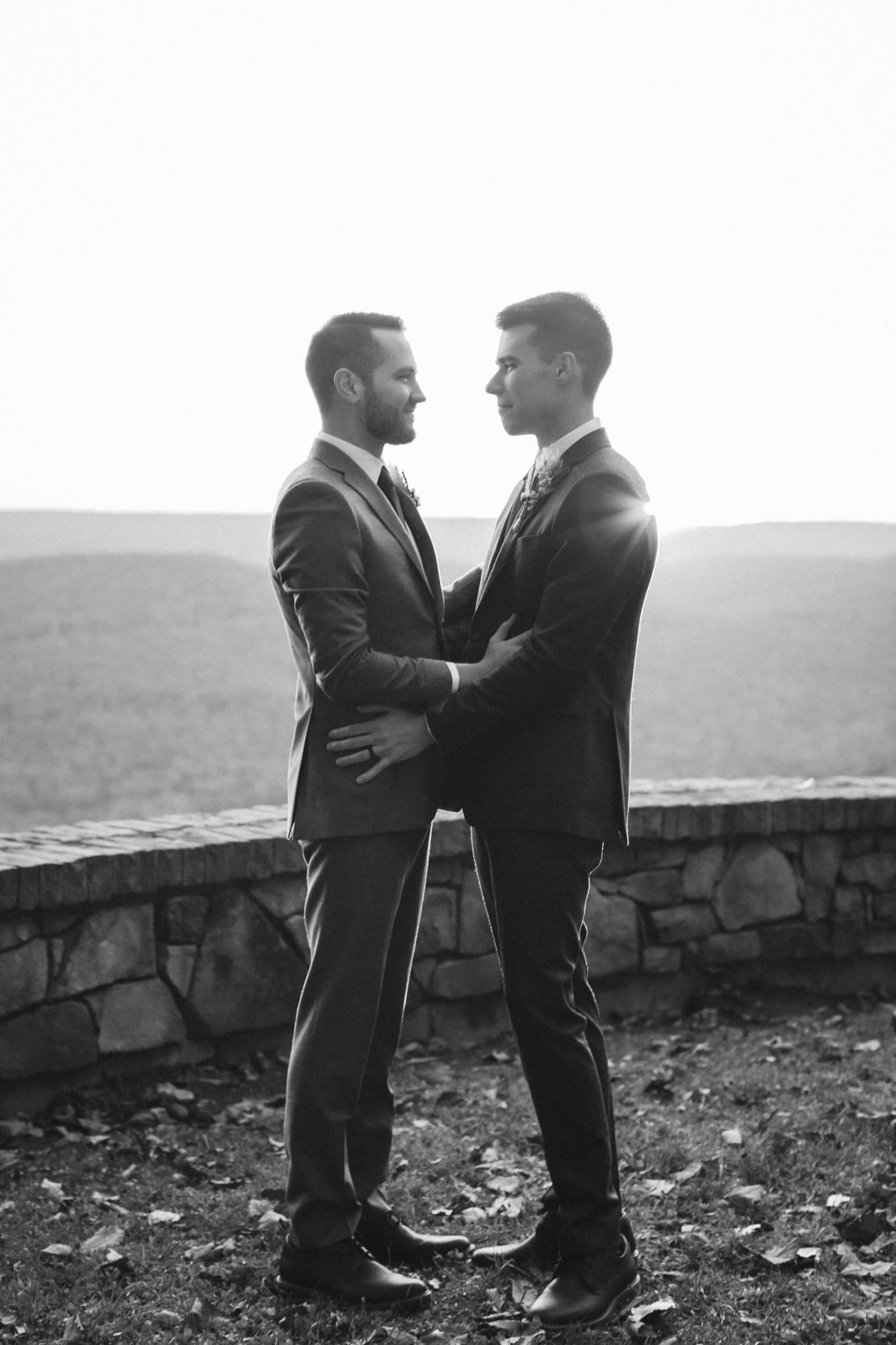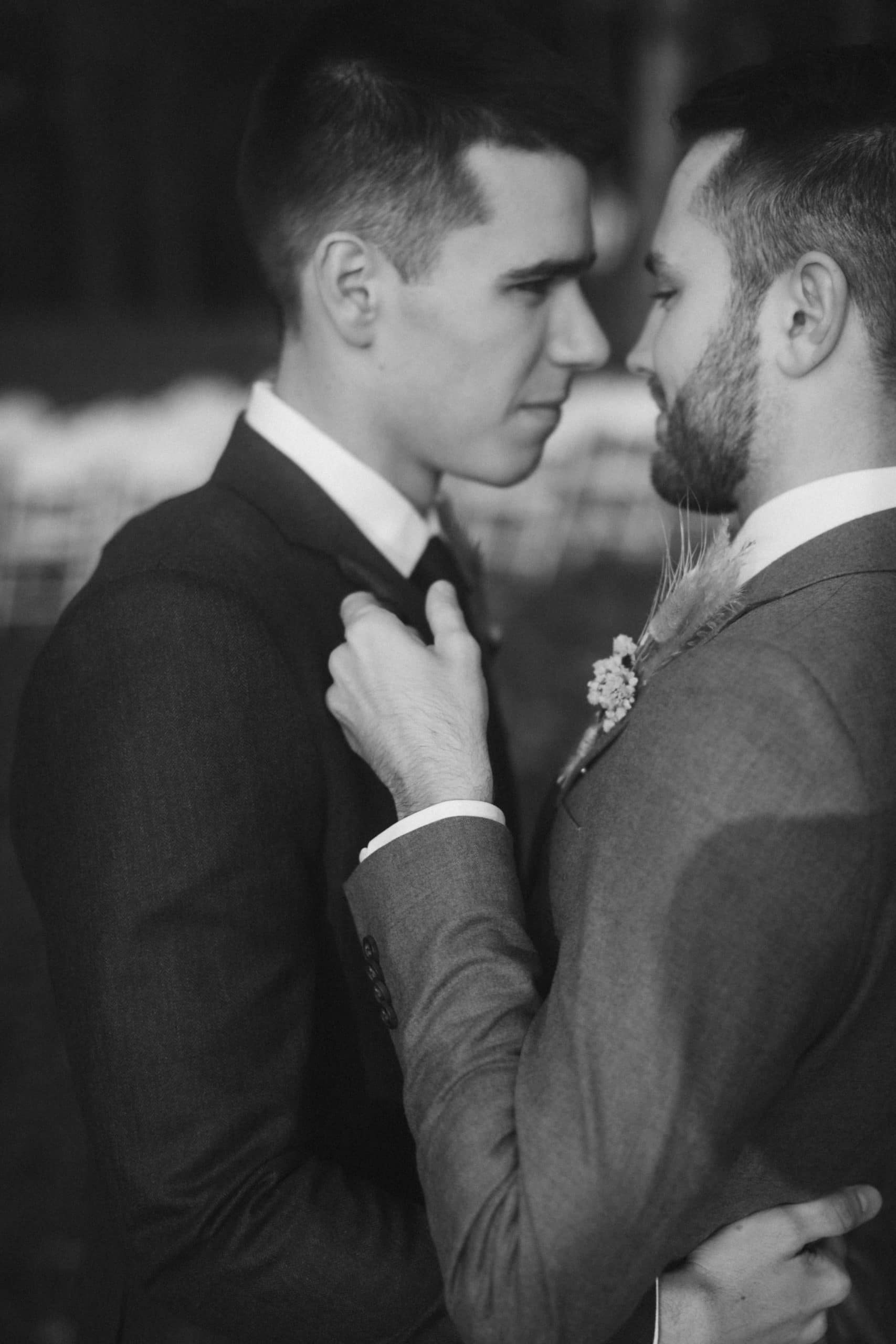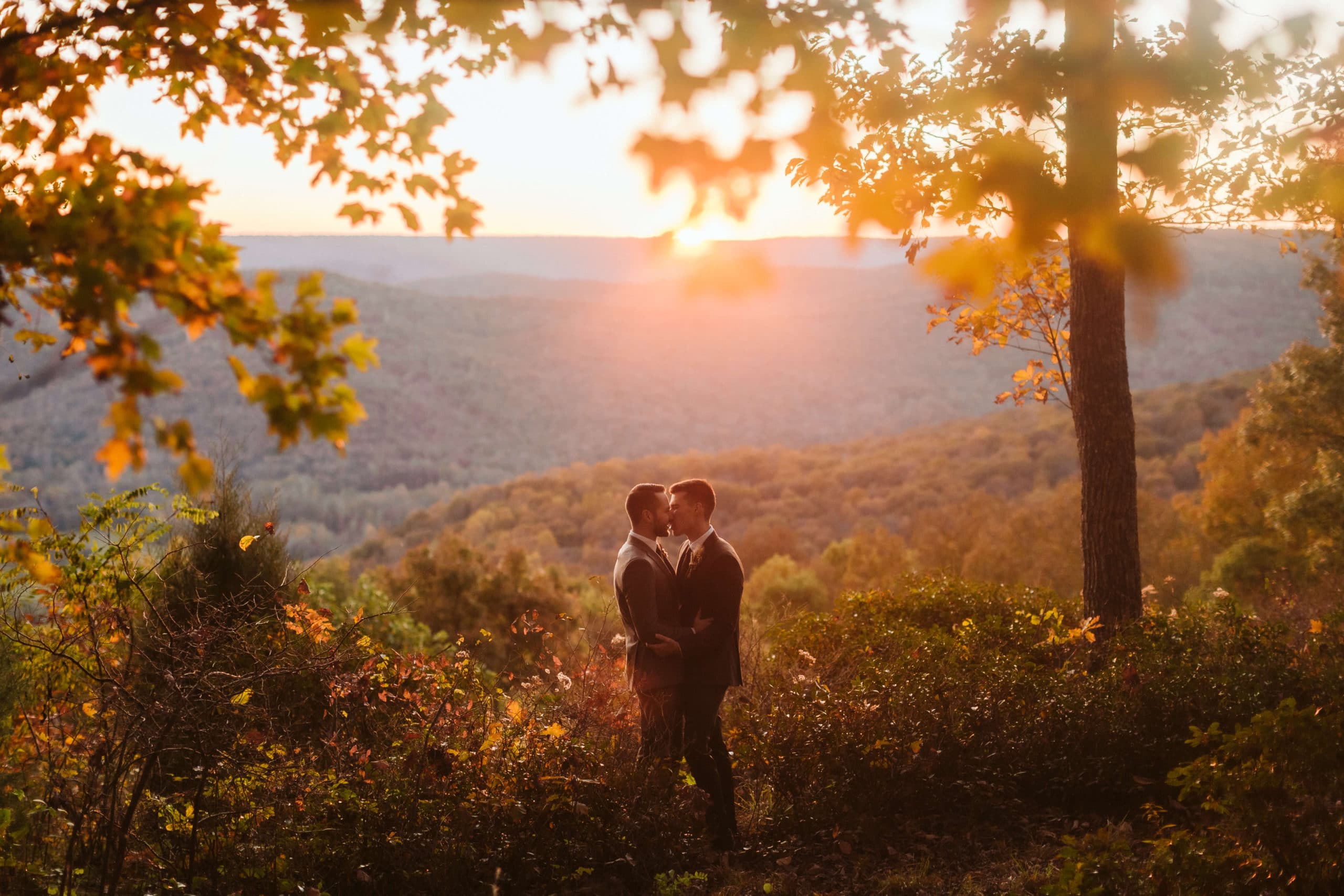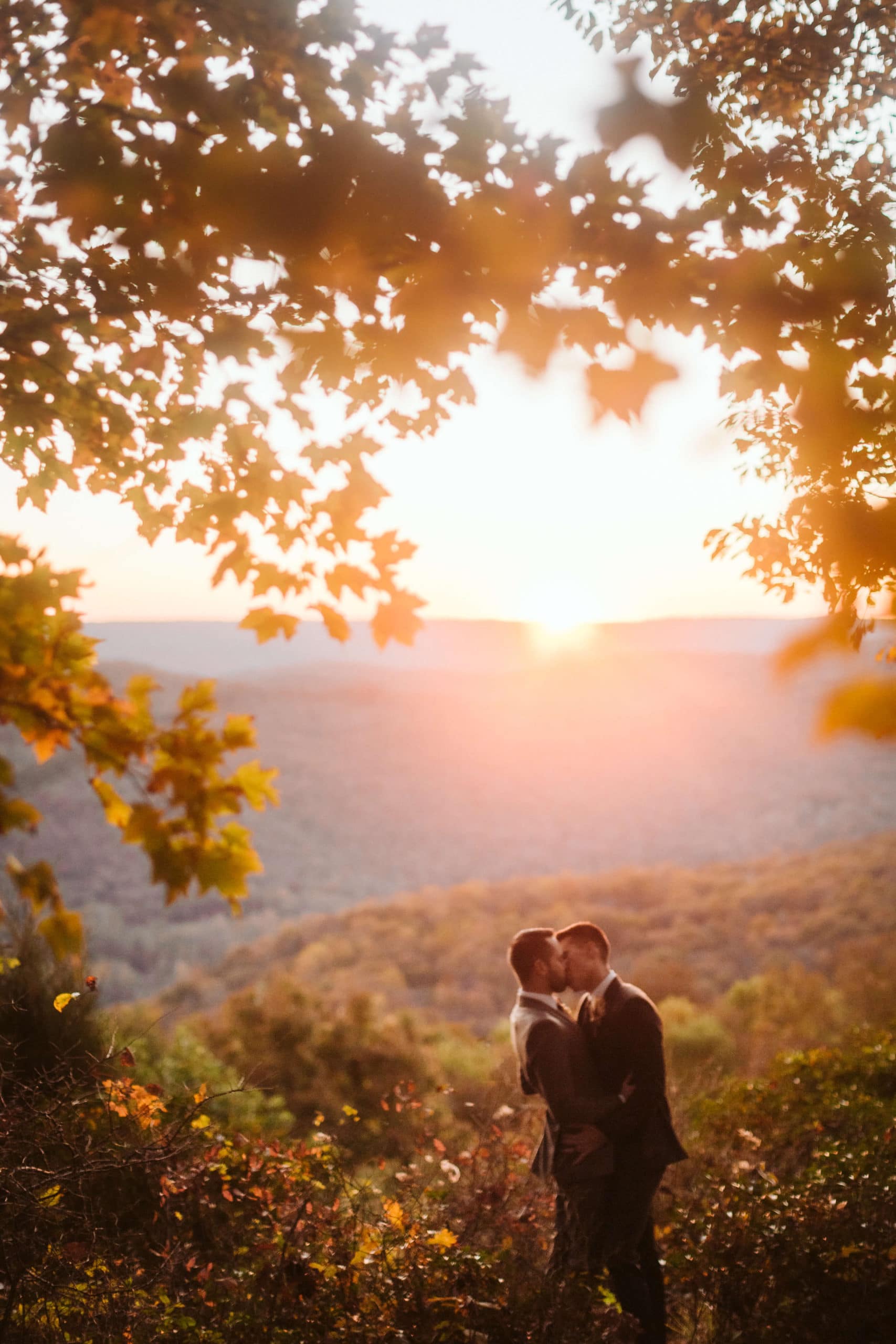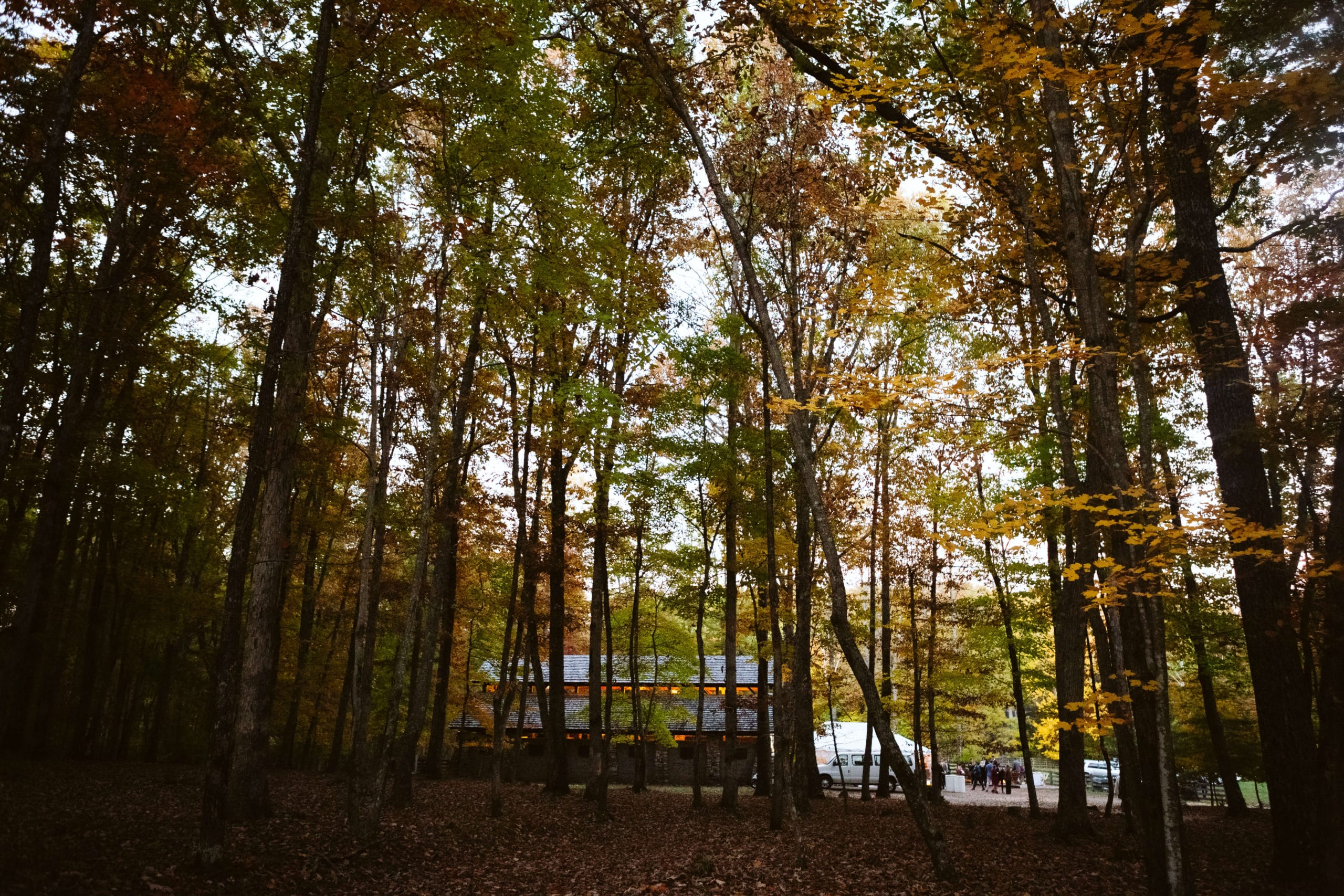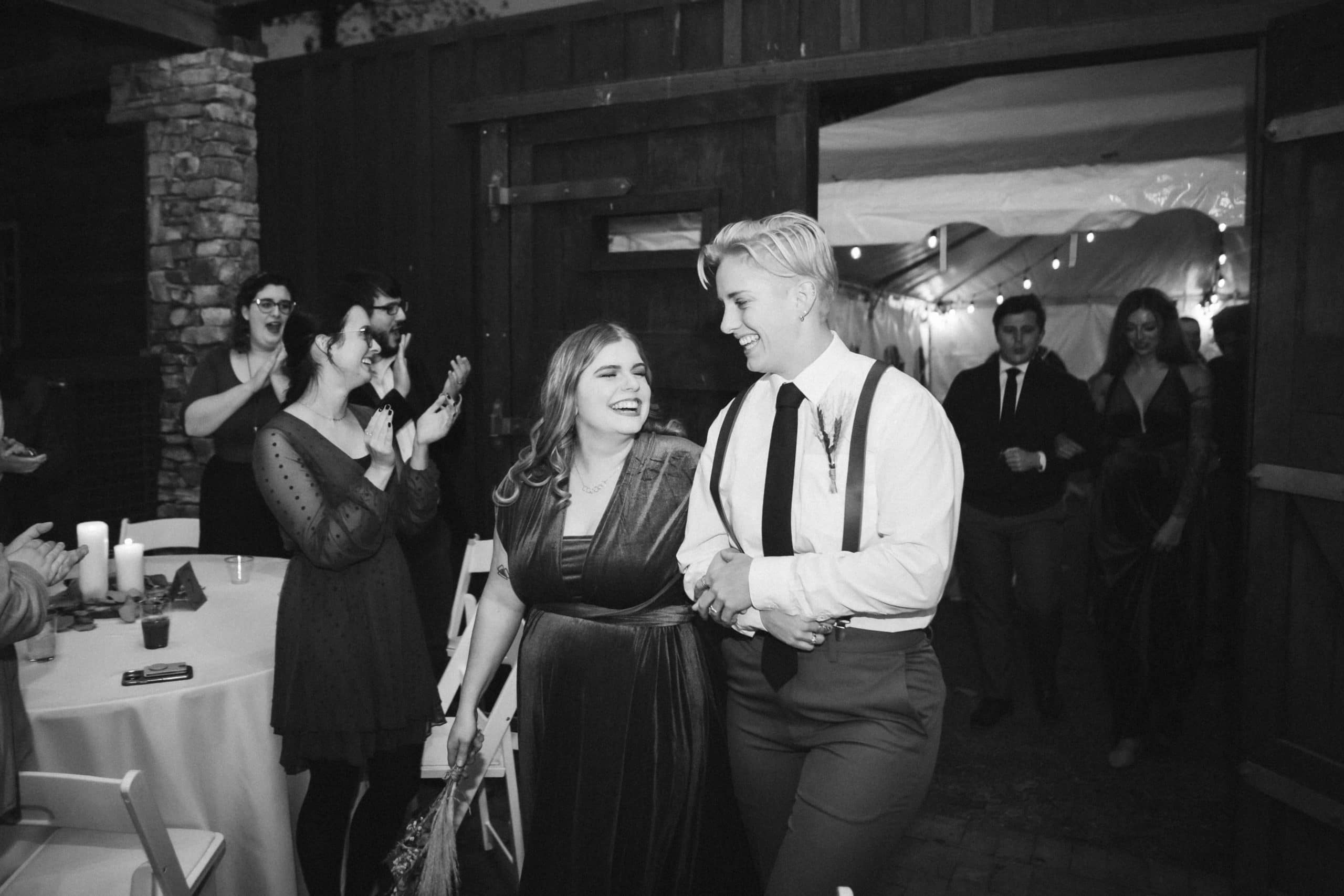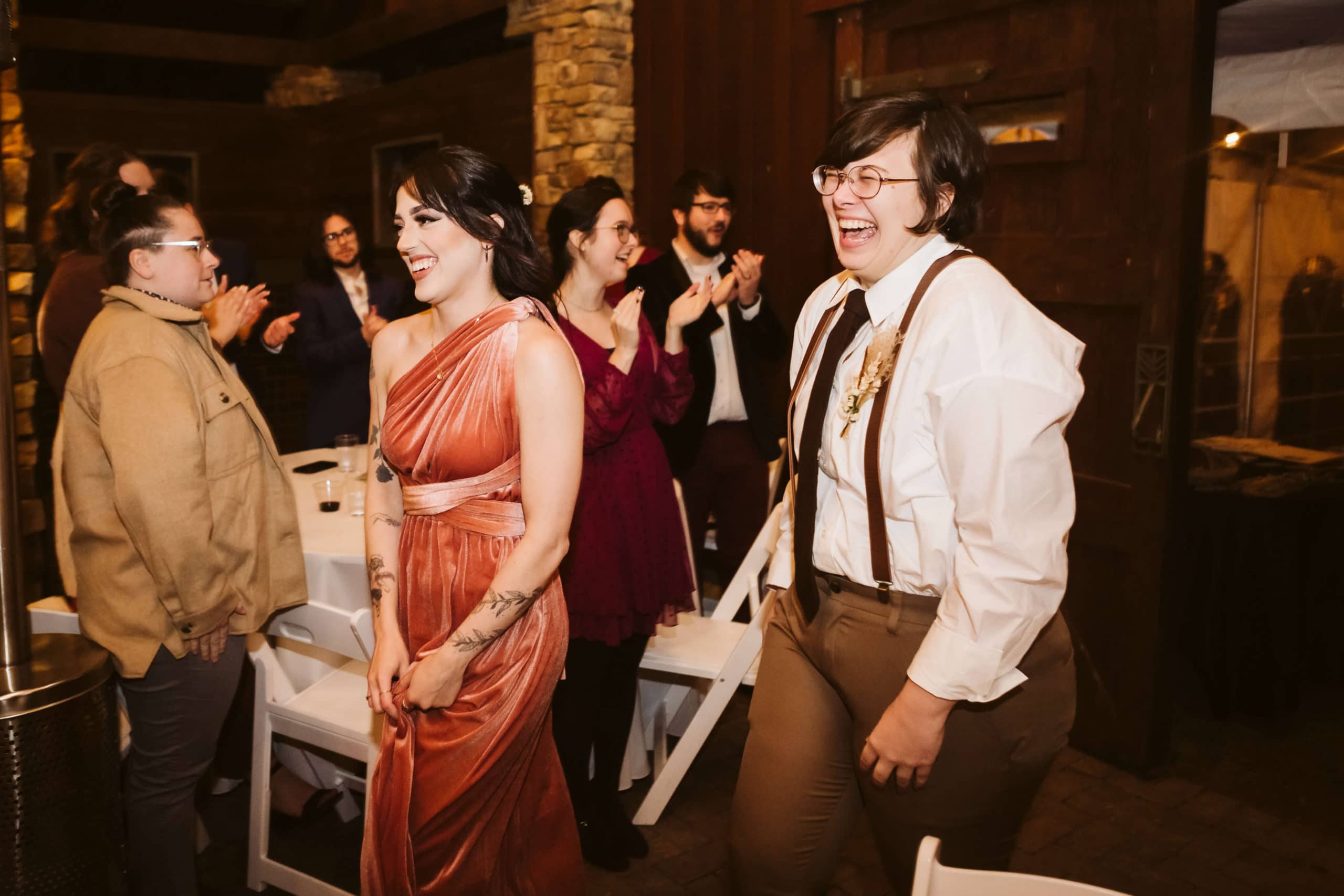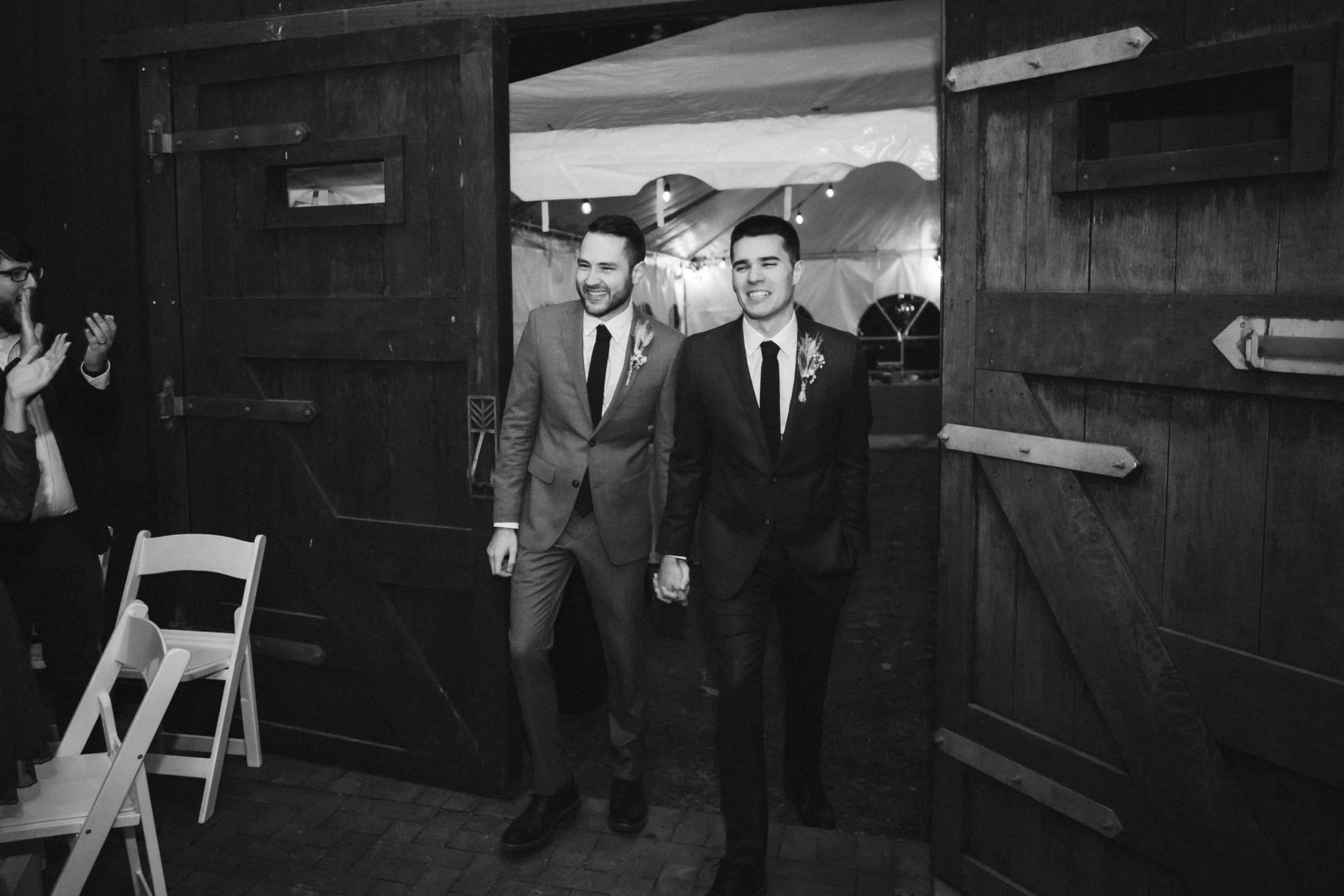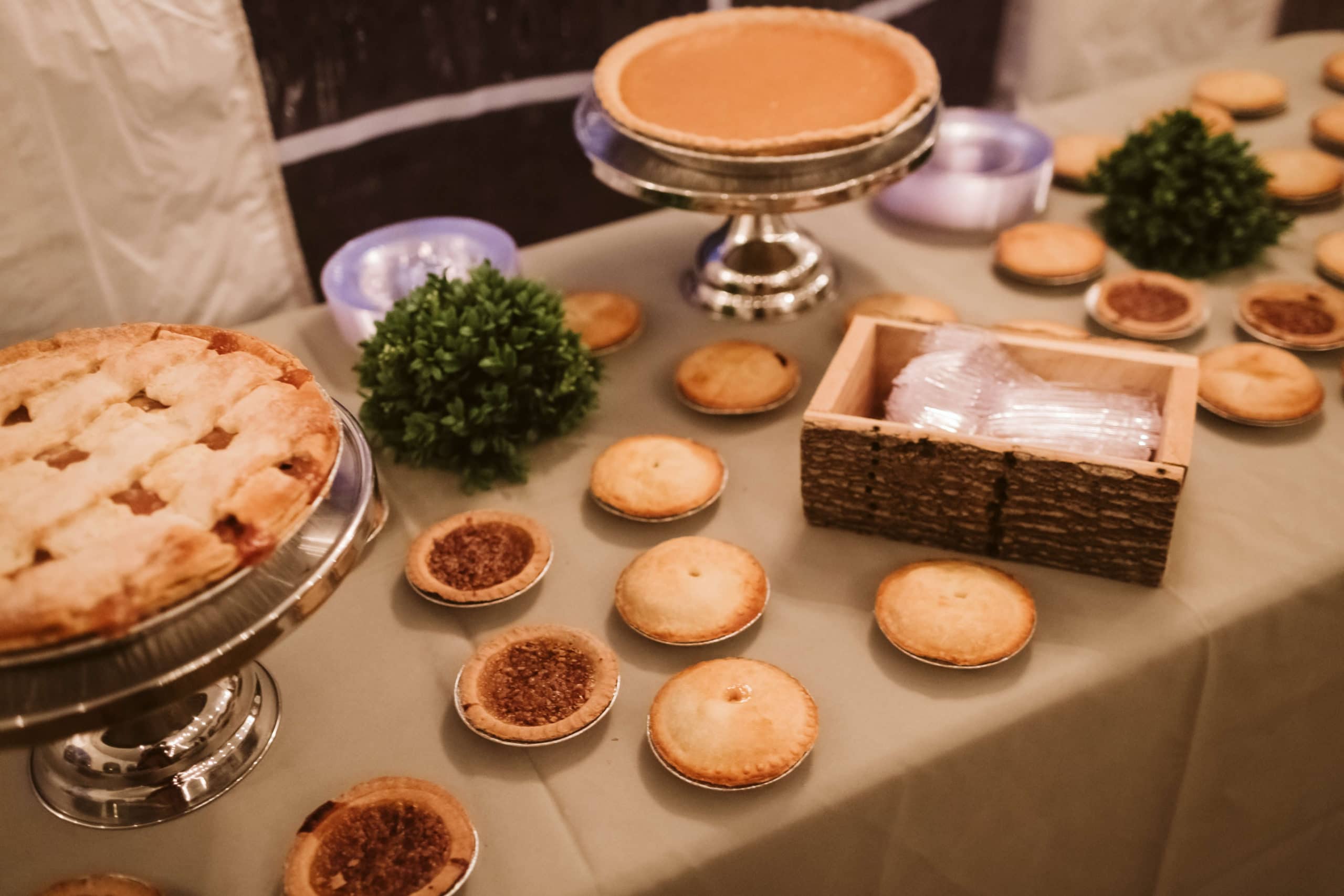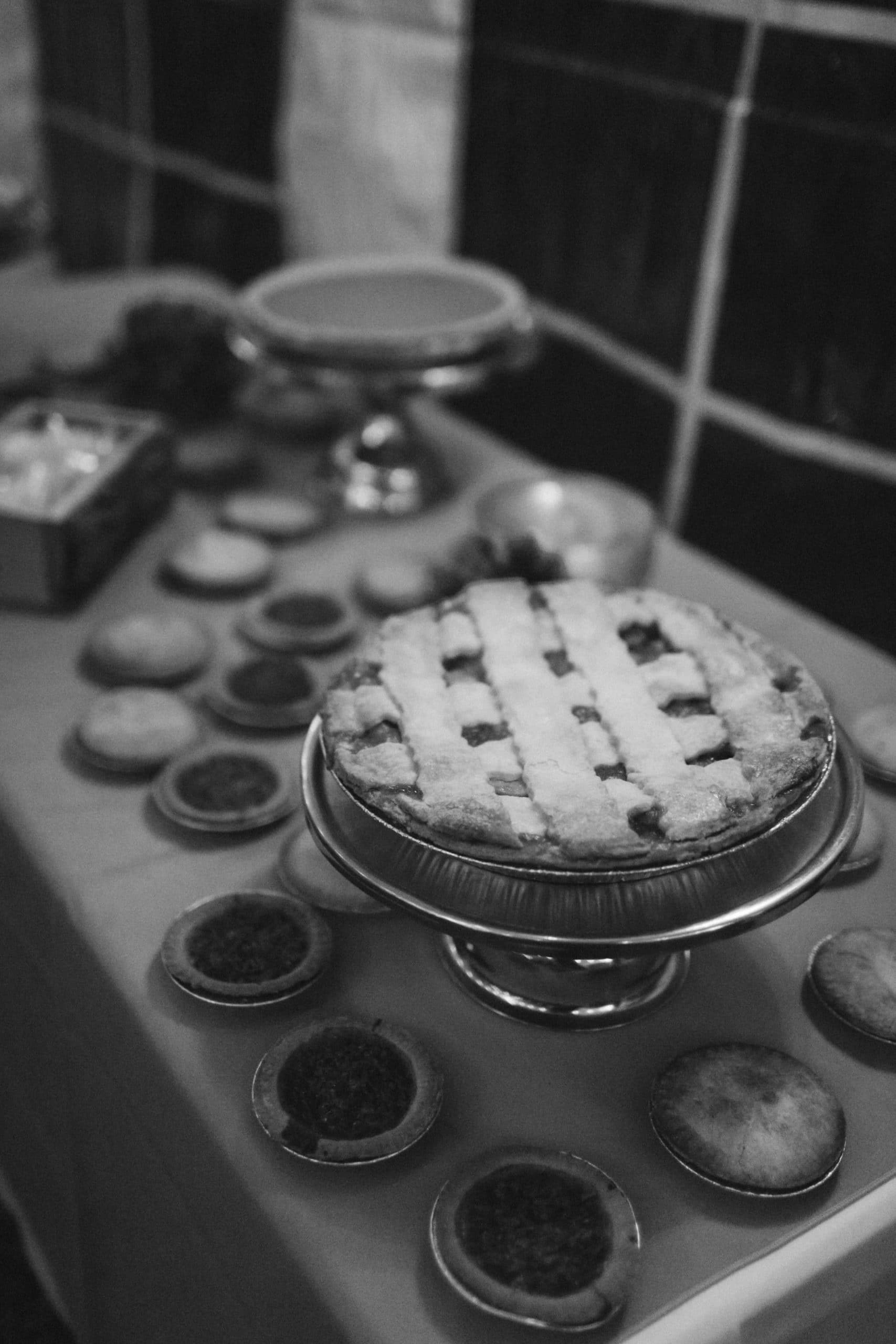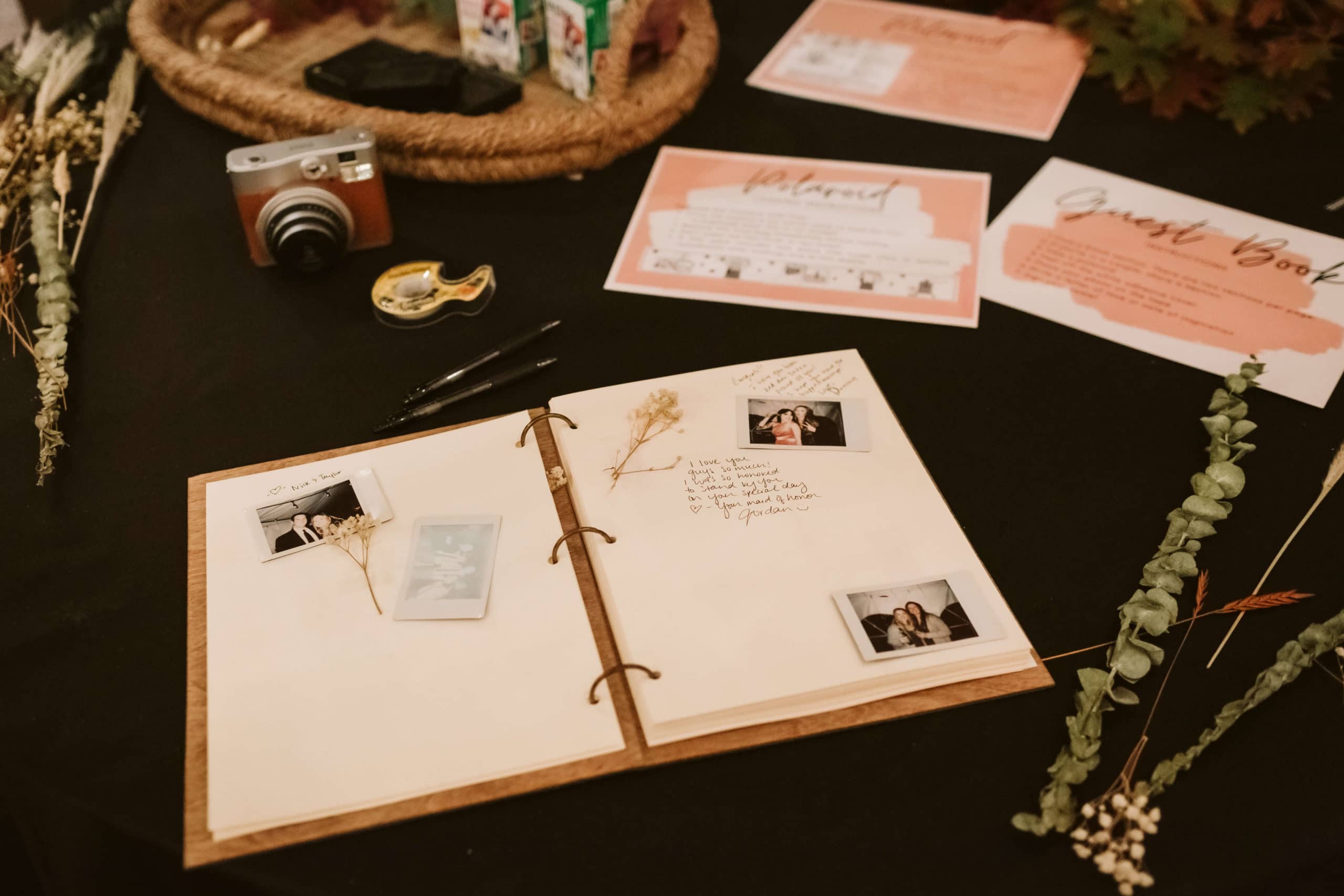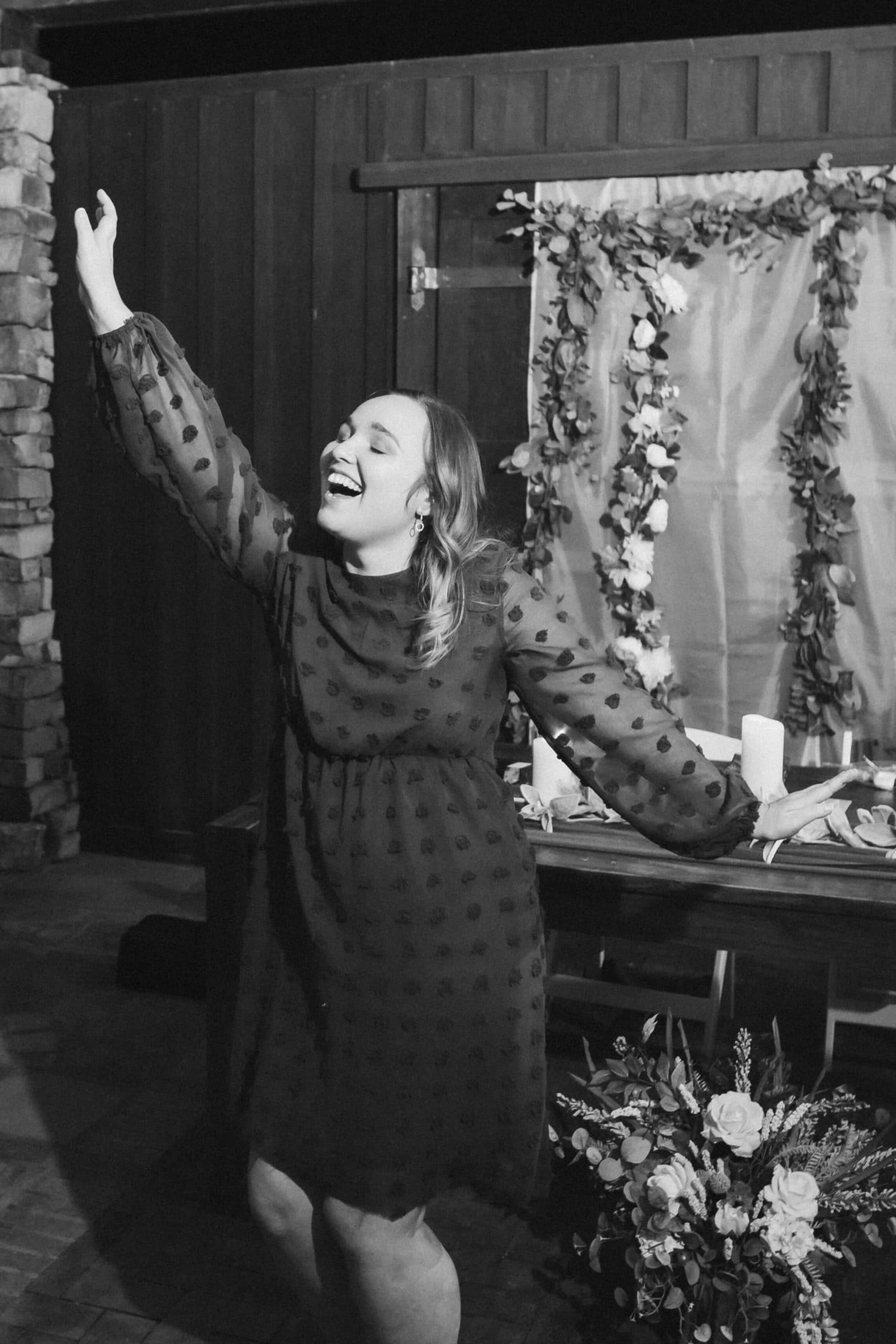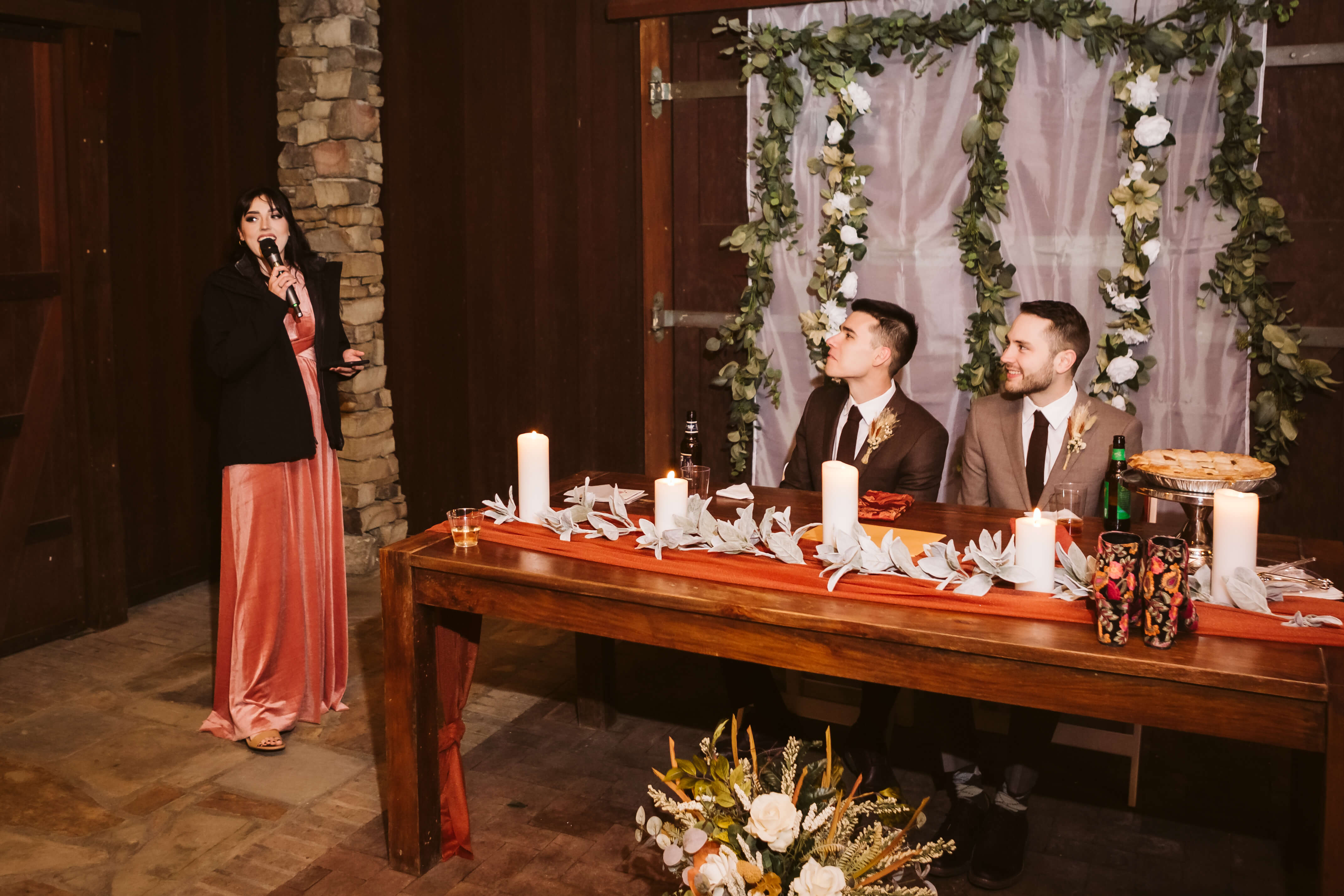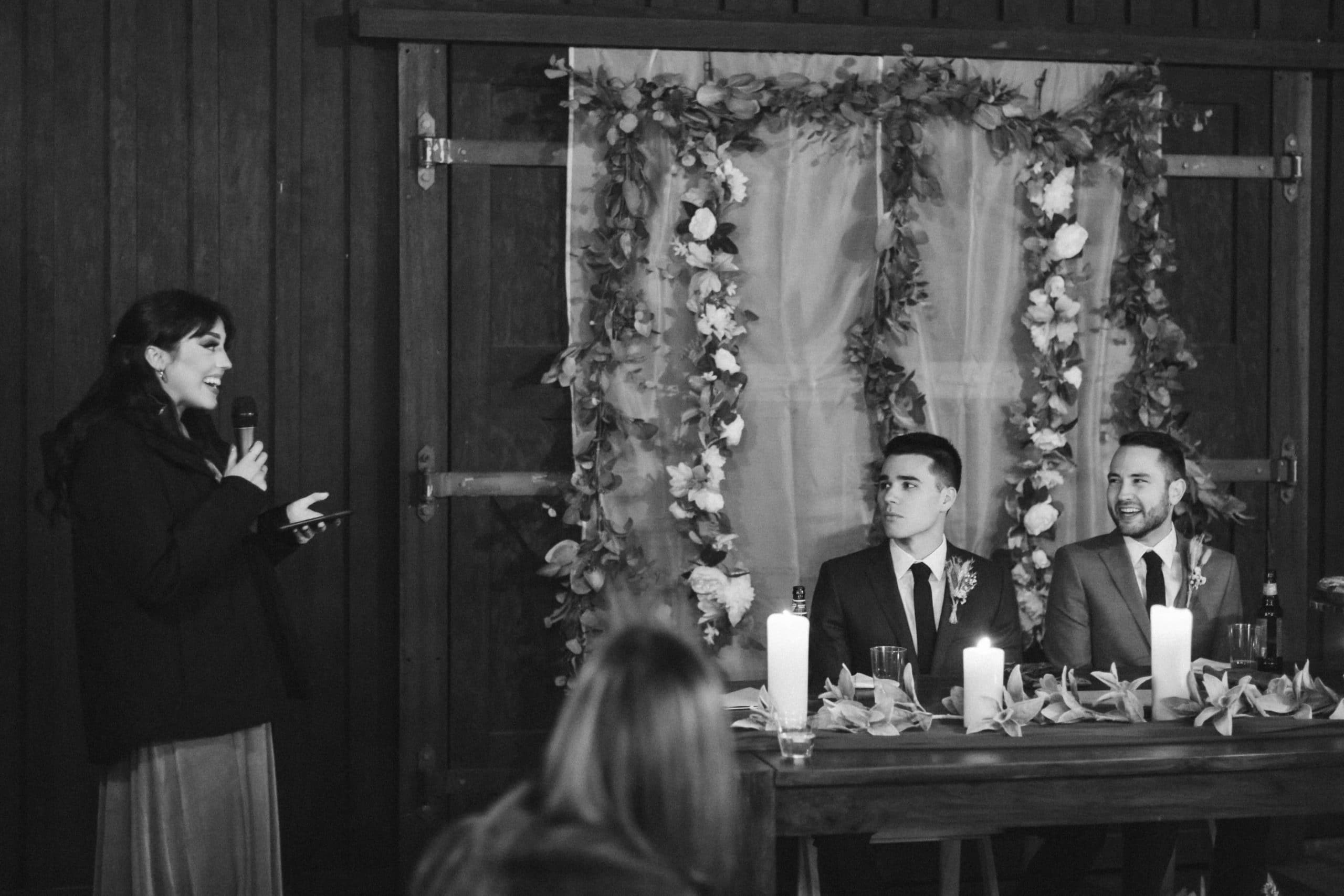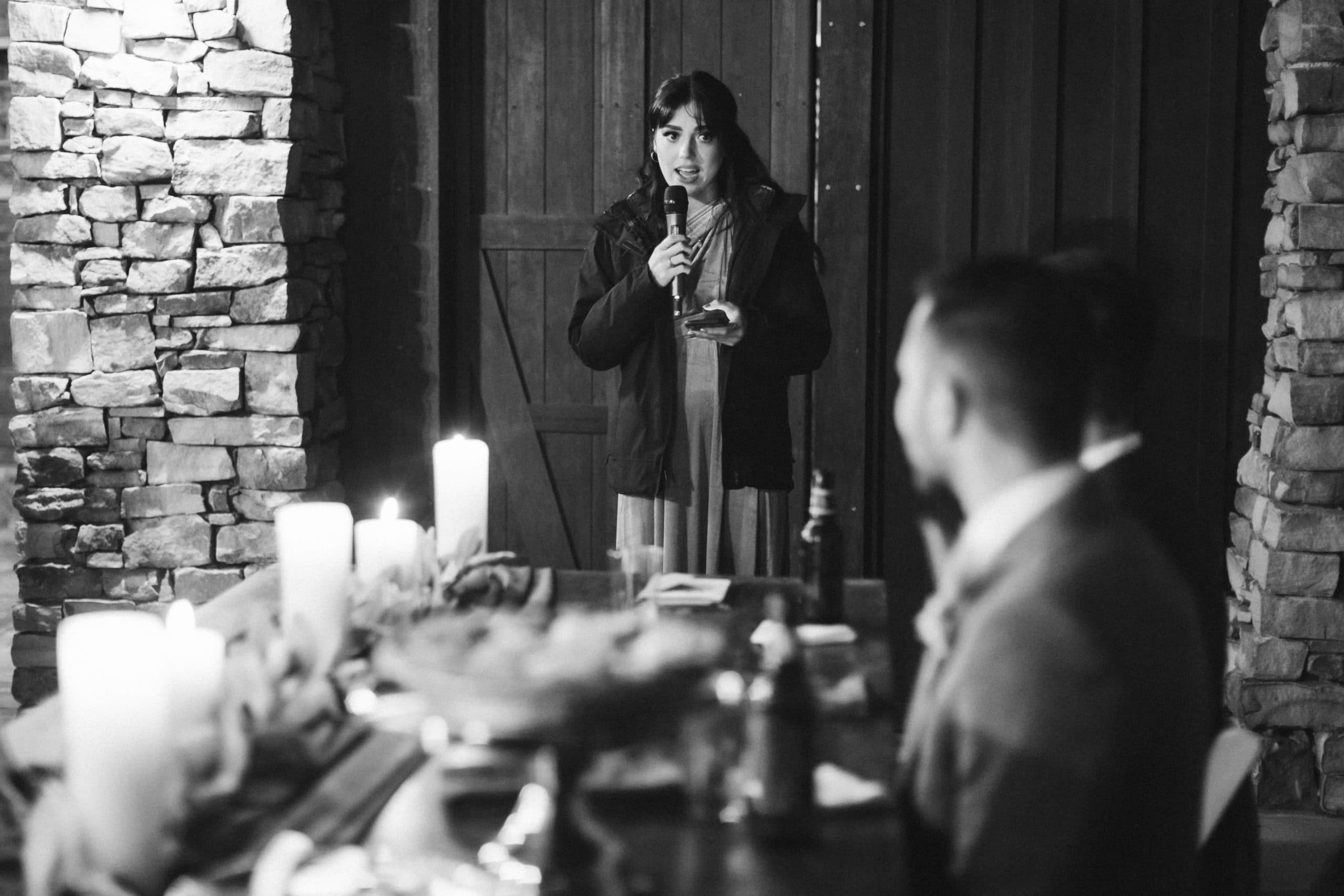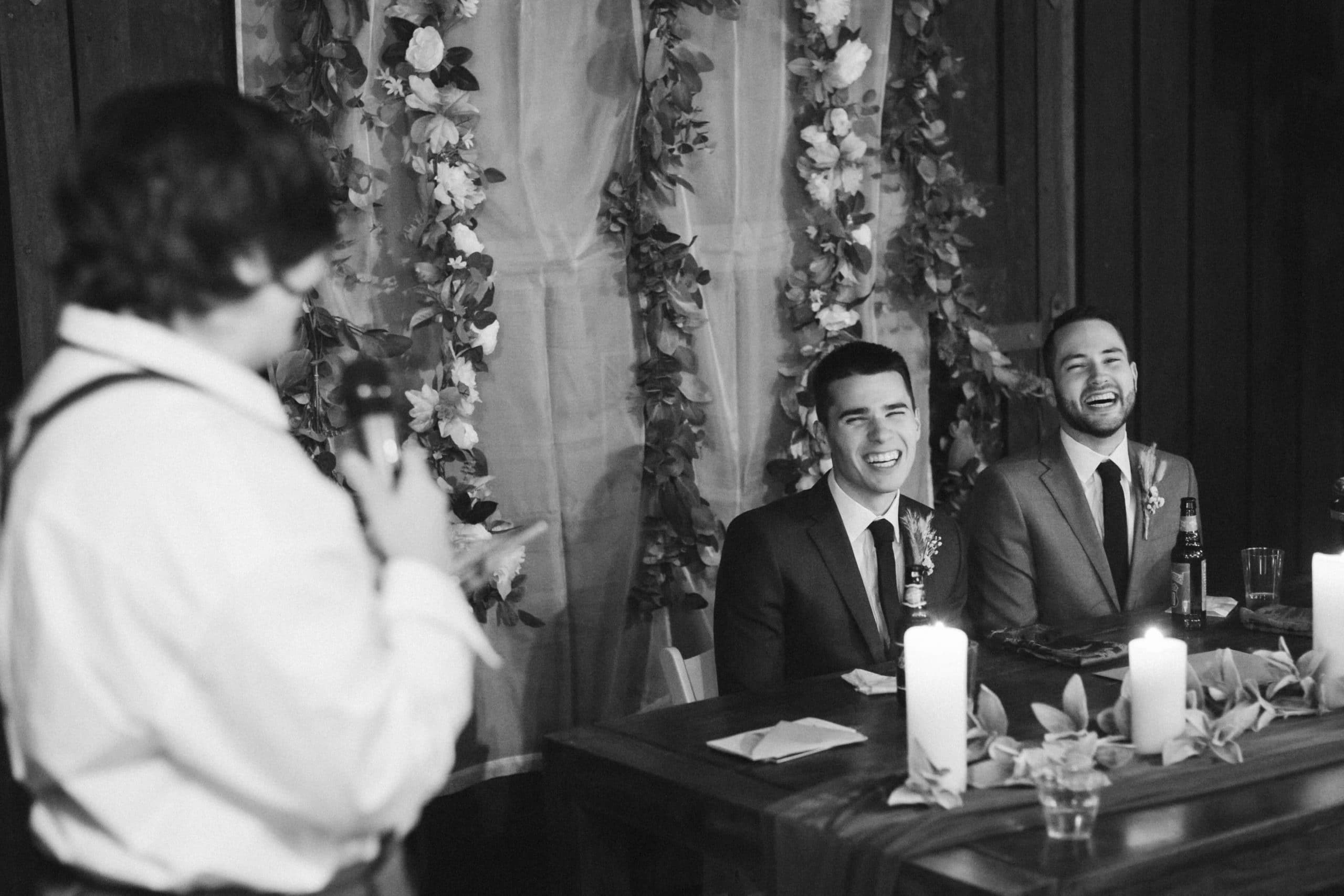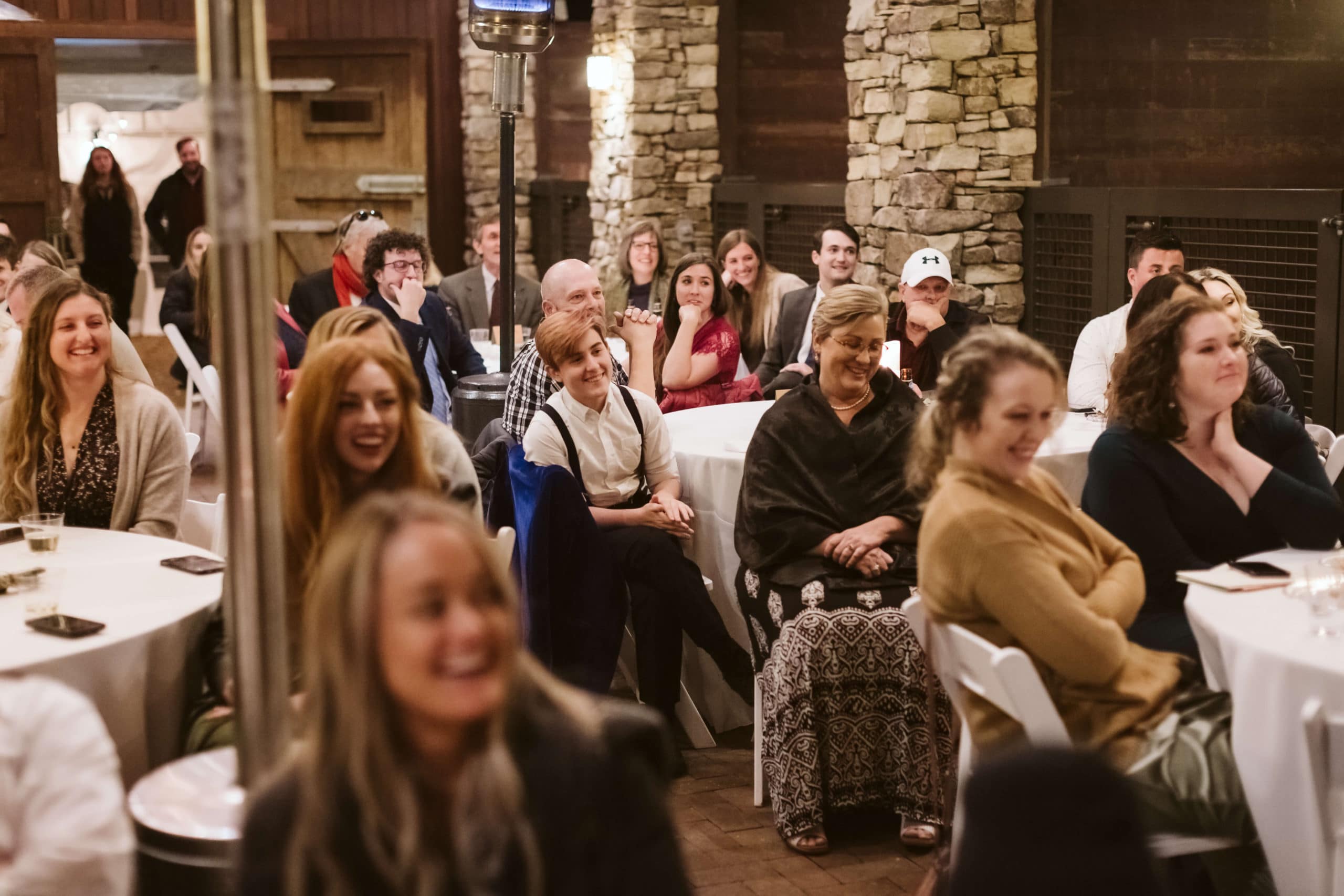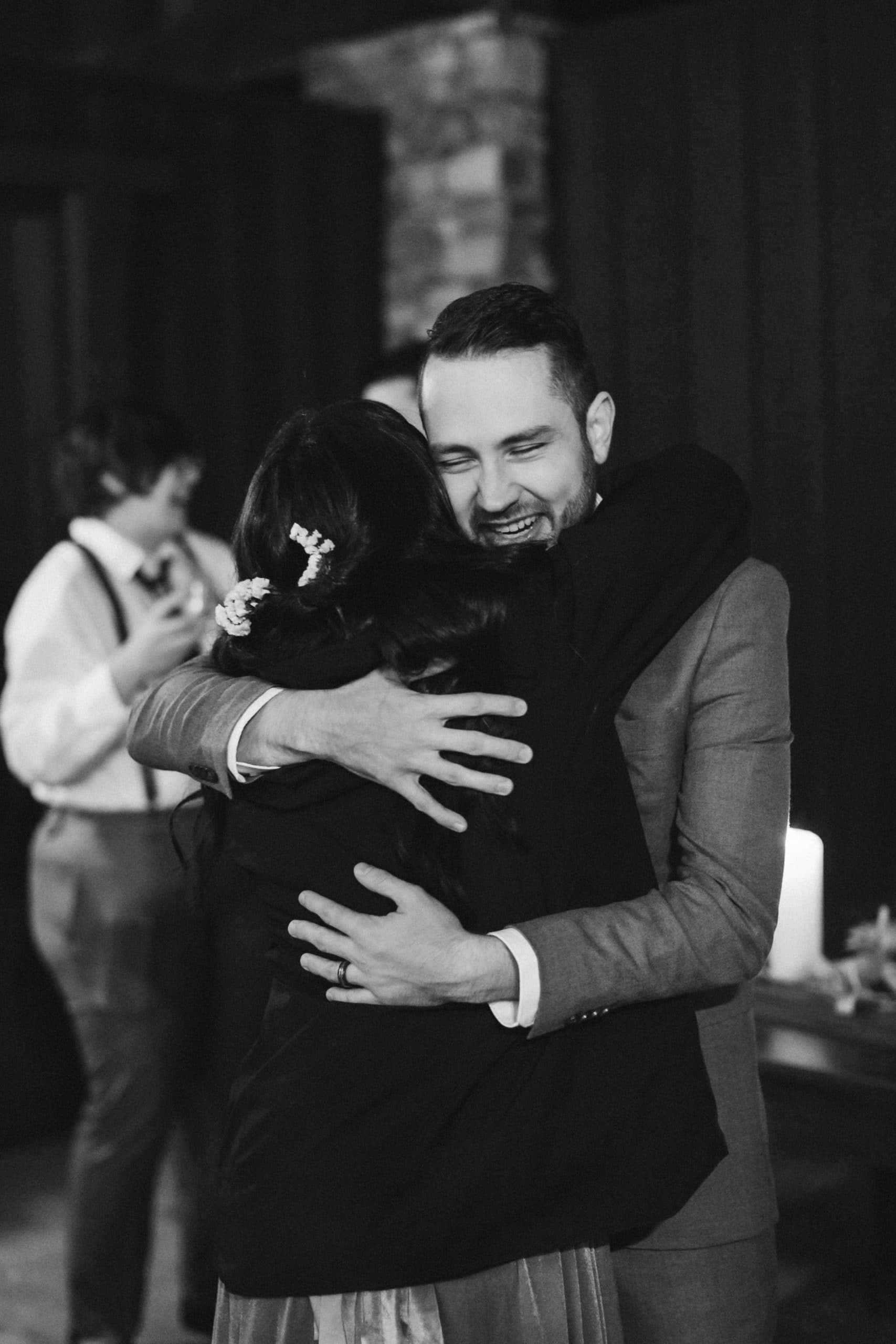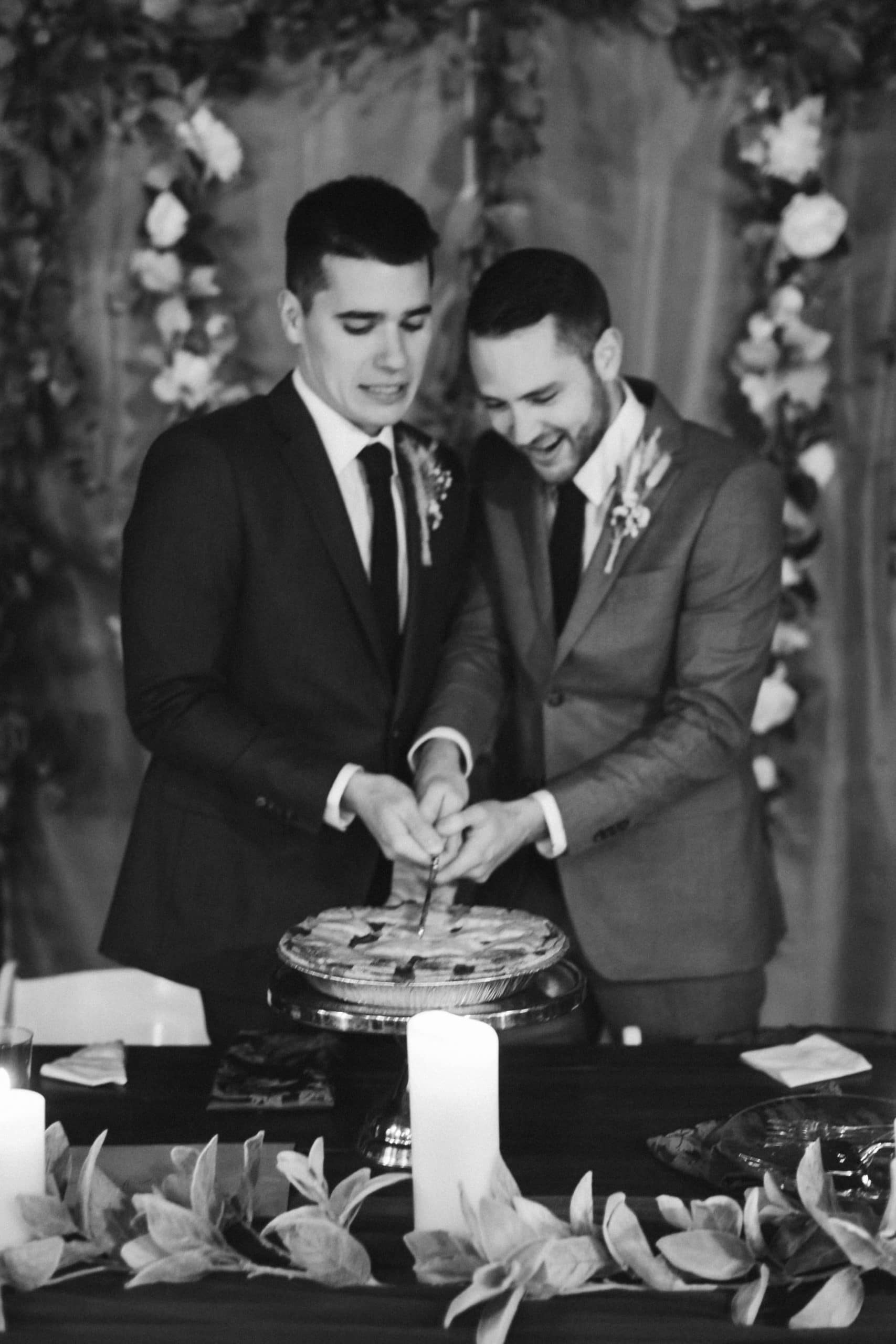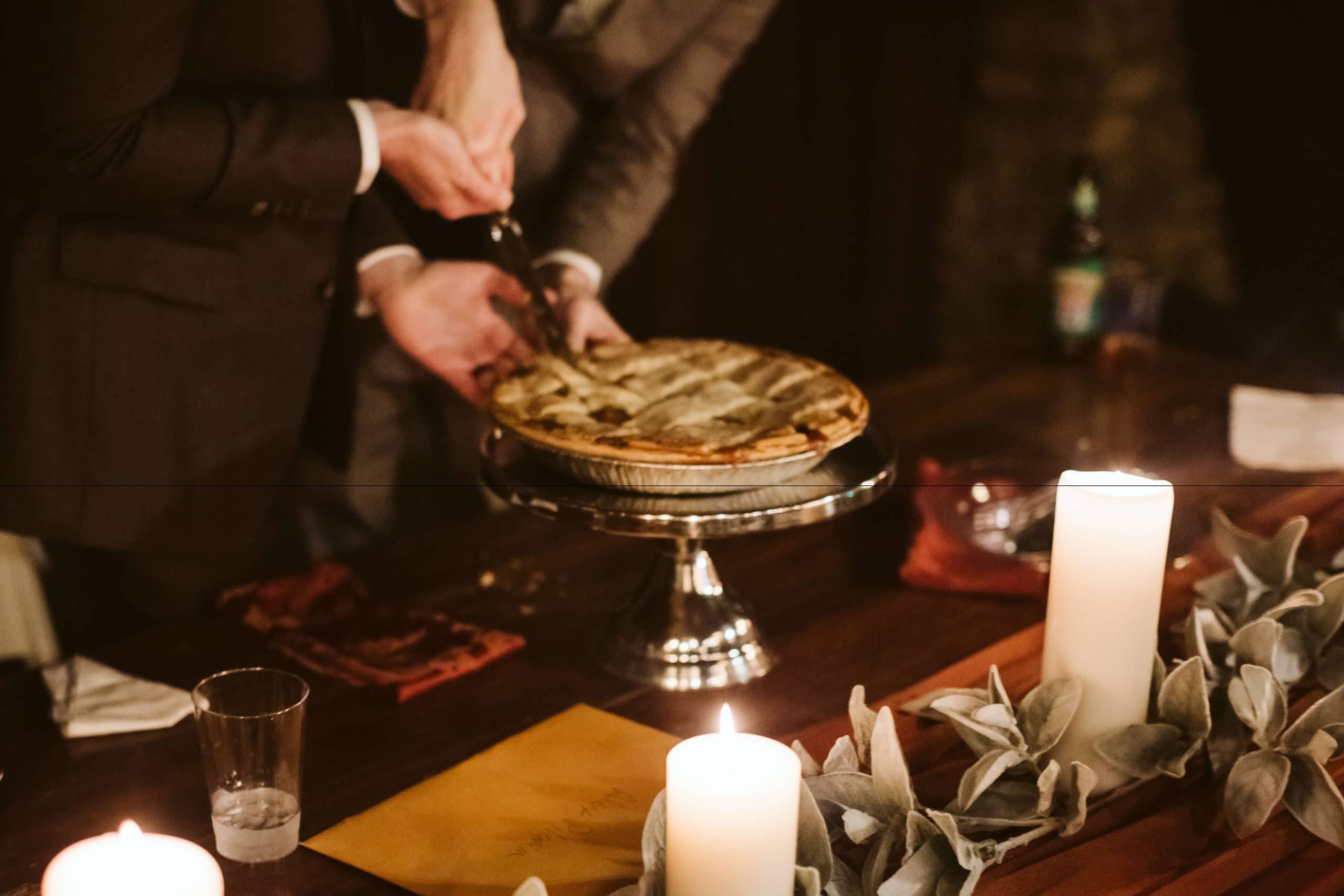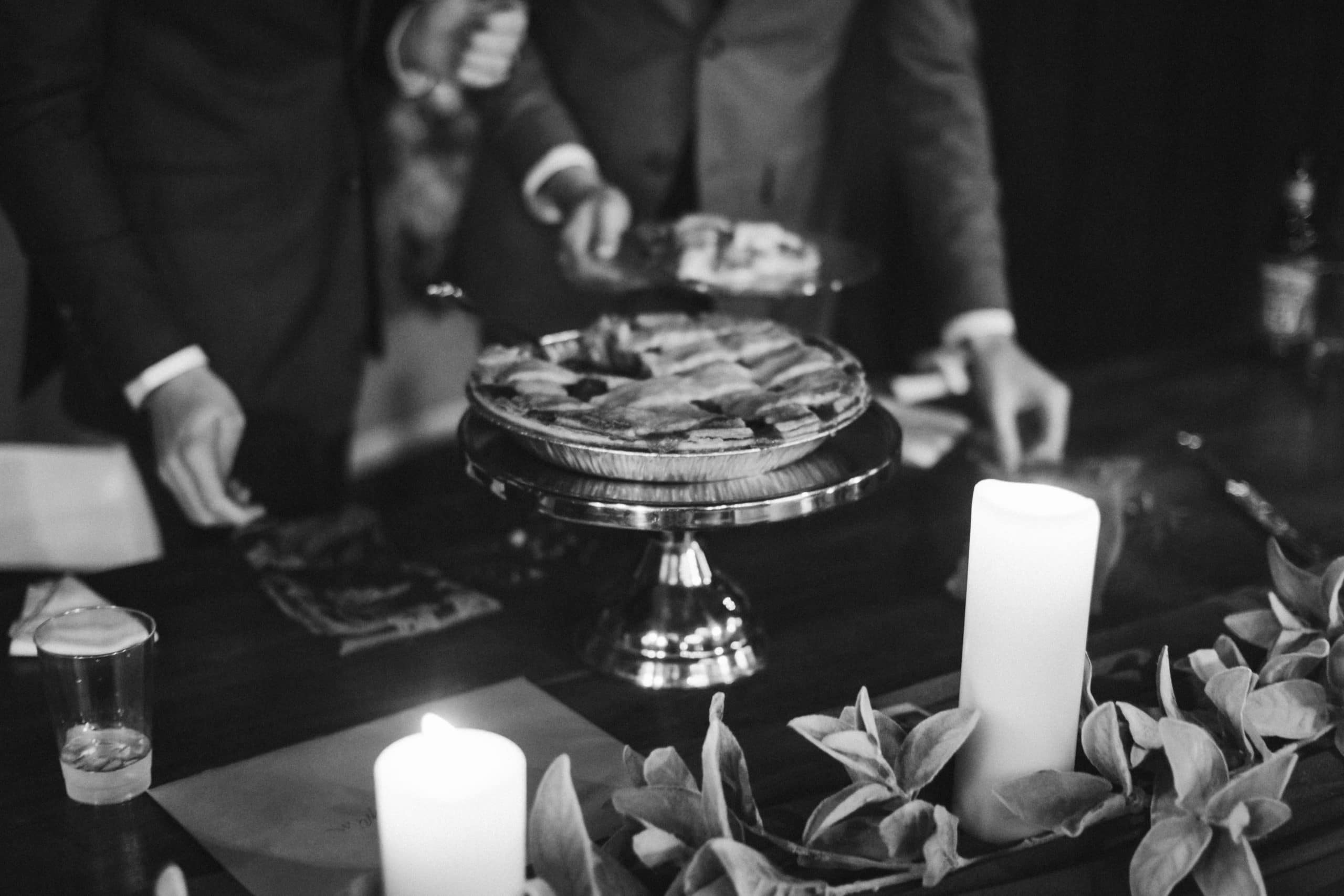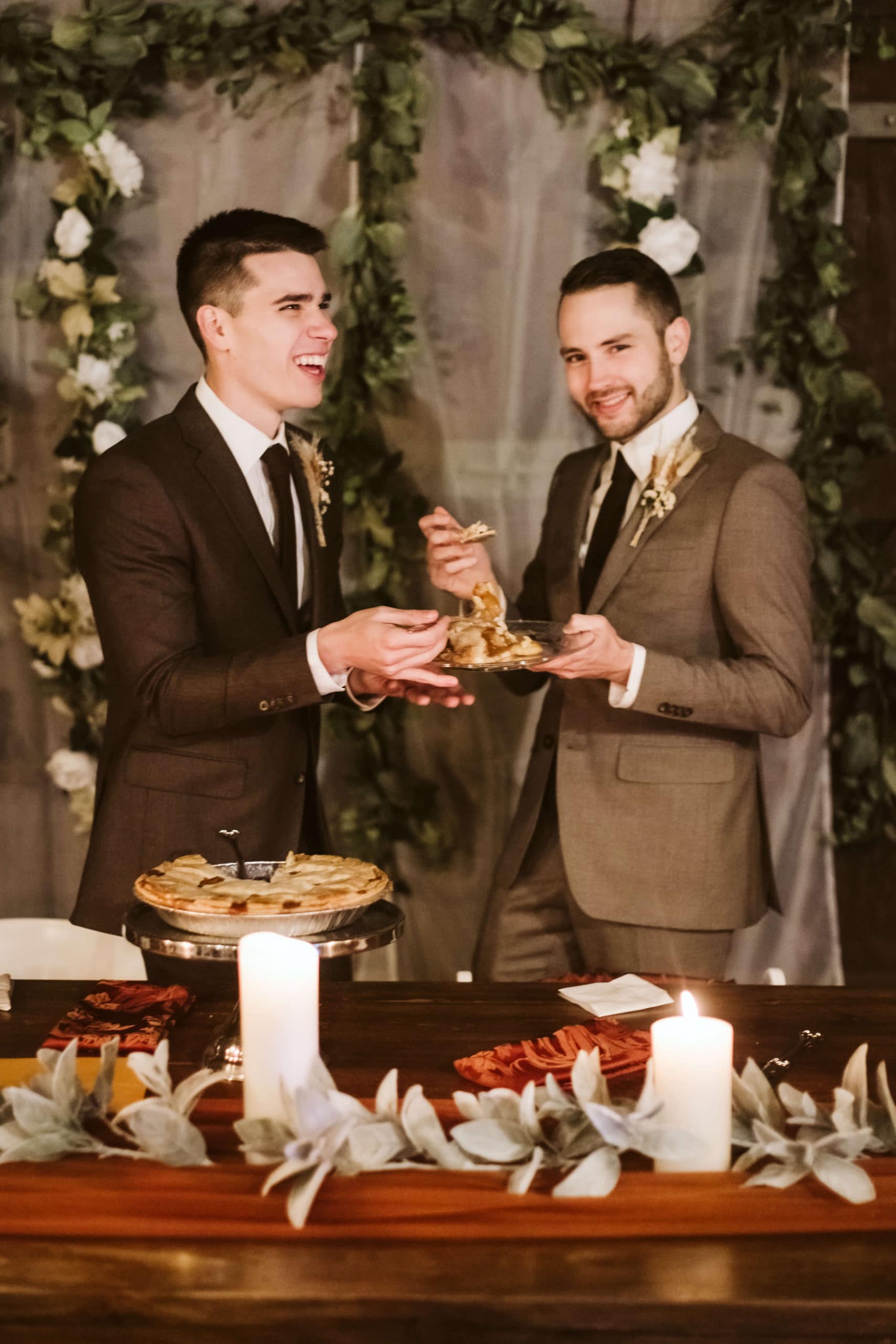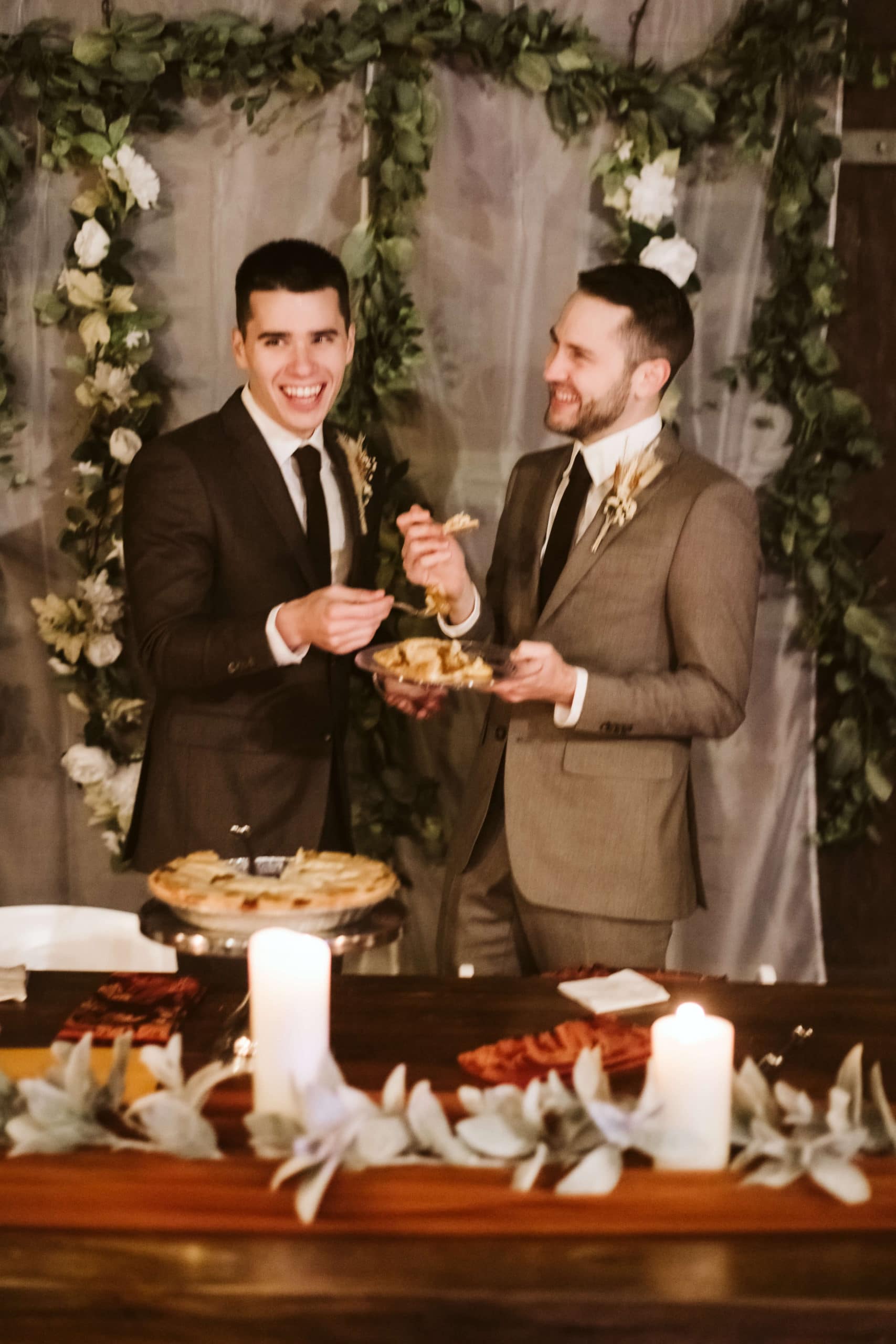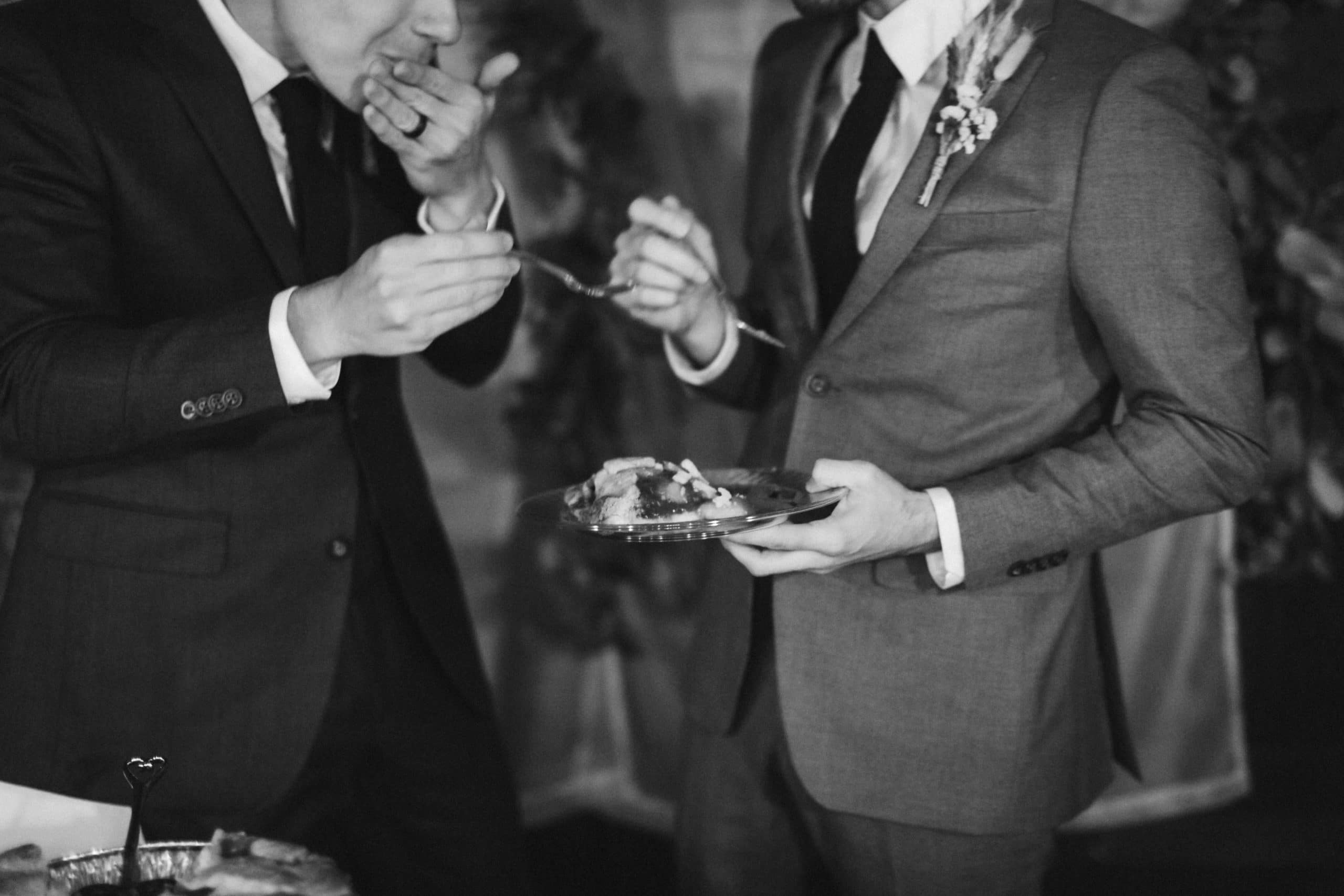 A Rustic Reception in the Cabin at Myers Point
As guests were shuttled back to the reception site, Ryan and Alex took golden hour wedding portraits on the Bluff and in the surrounding woods before heading back to the cabin themselves. The cabin at Myers Point is a cozy single story building with a small loft that overlooks the dining area. It's built from hand-chopped, reclaimed South American hardwoods and is perfect for close-knit gatherings.
With help from their friends, Ryan and Alex DIY'd most of the decorations used for their reception. They kept the florals simple and elegant with bunches of dried leaves scattered around tall, white pillar candles on wooden holders. I particularly loved their handmade guestbook: a binder of blank parchment pages which had a basket with a Polaroid camera and extra reams of film next to it. Guests could snap a selfie or take pictures of one another to tape inside and sign the book with their well-wishes and notes.
Ryan and Alex chose to skip having a cocktail hour. Instead, as soon as their guests were settled, they had their grand processional with their wedding party right away. This was a great way to save a bit of time, ensuring they would have plenty of time to hang out and have fun with their friends. From there, the couple had their first dance, then sat for speeches from their wedding party. Dinner was a full buffet of delicious barbeque options set up in a separate tent just outside the cabin doors. Ryan and Alex broke tradition and cut a wedding pie instead of cake before hitting the dance floor for the rest of the night!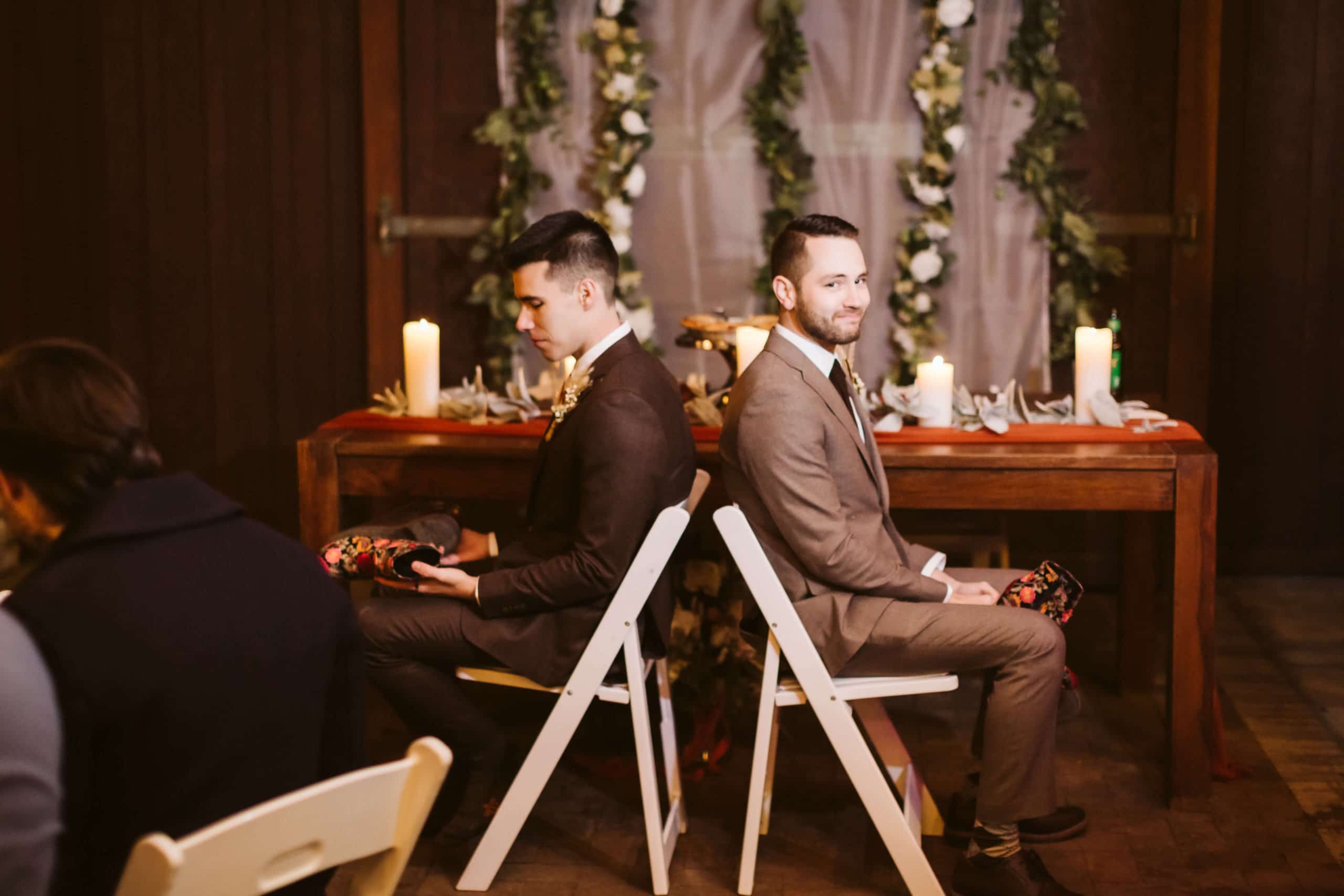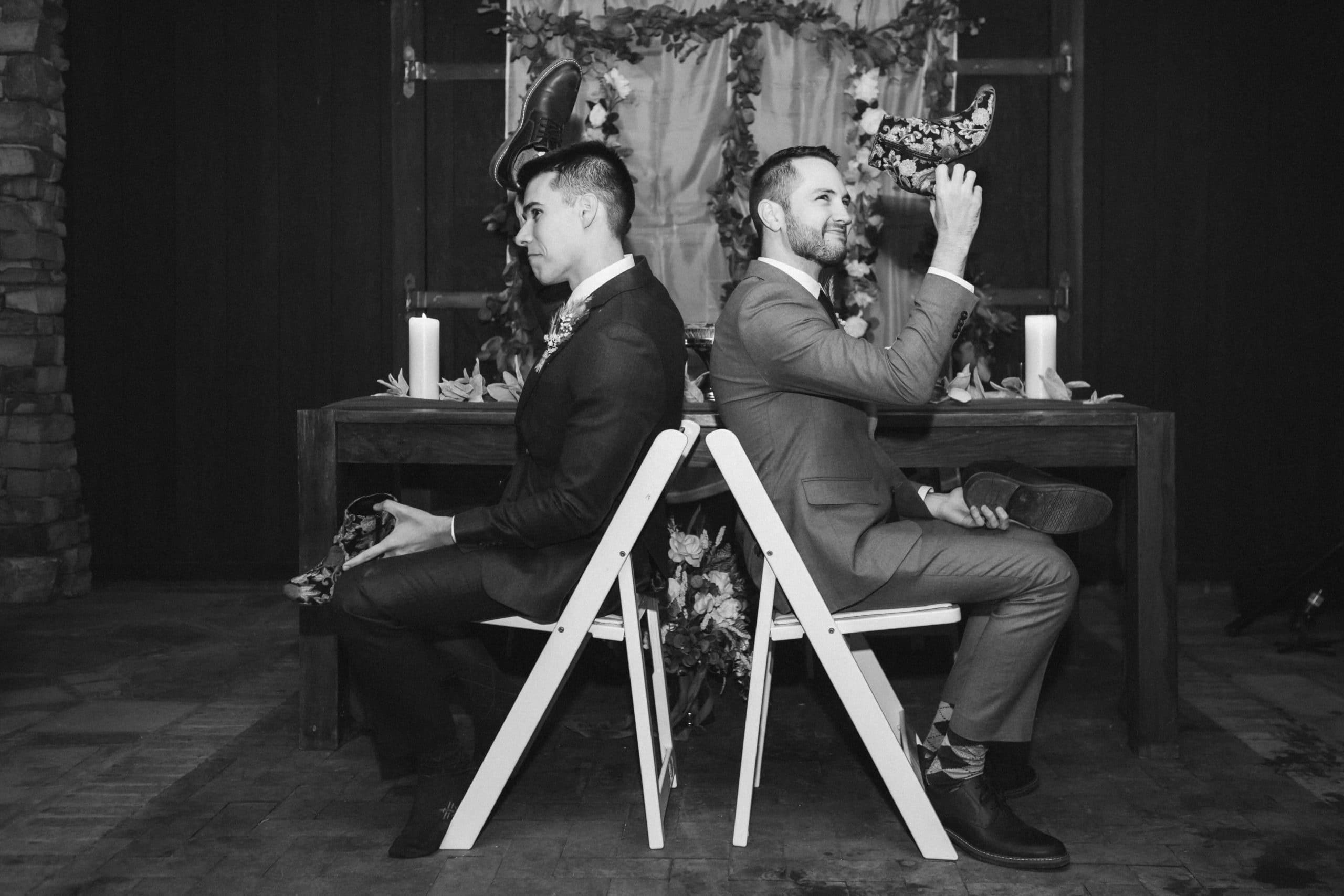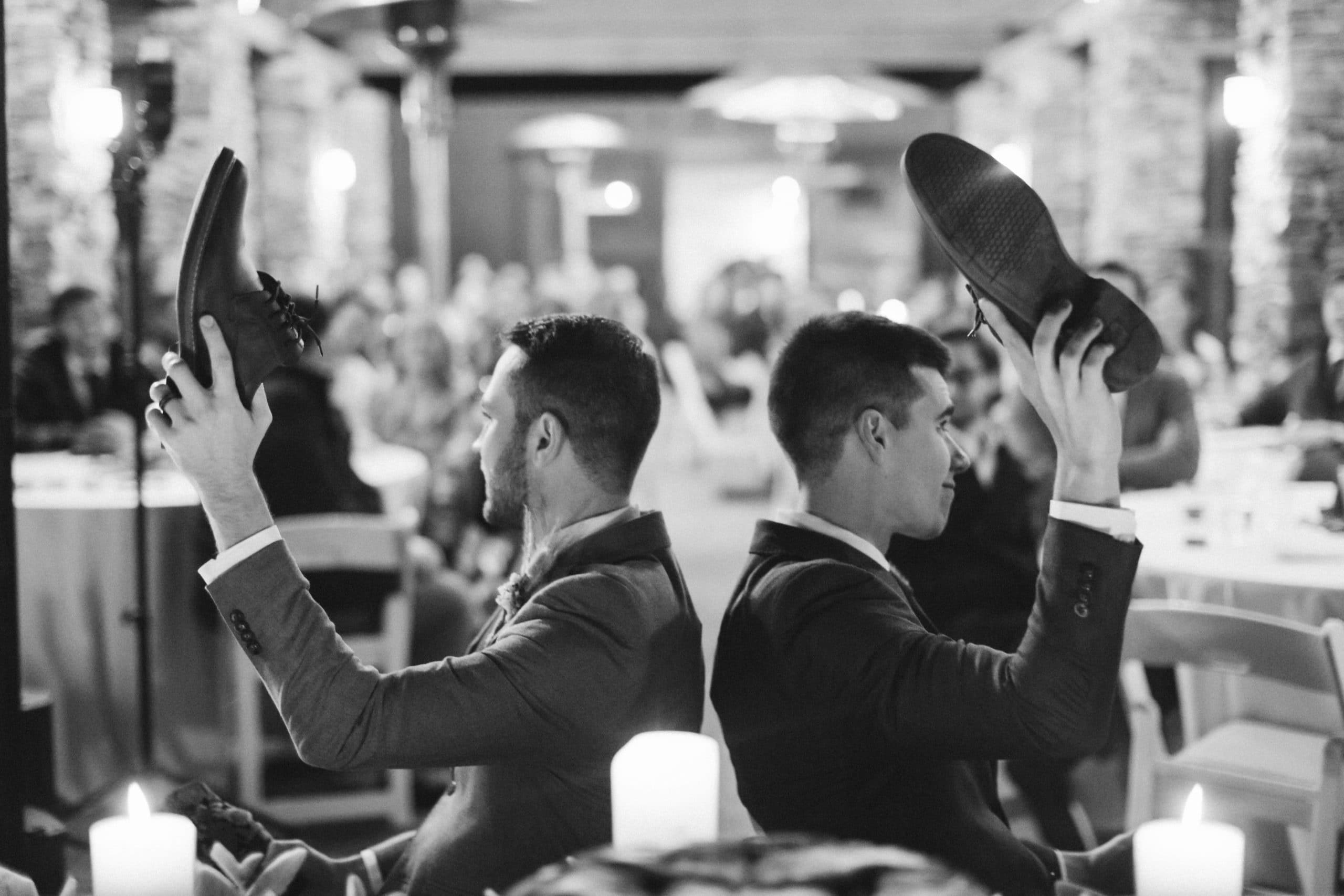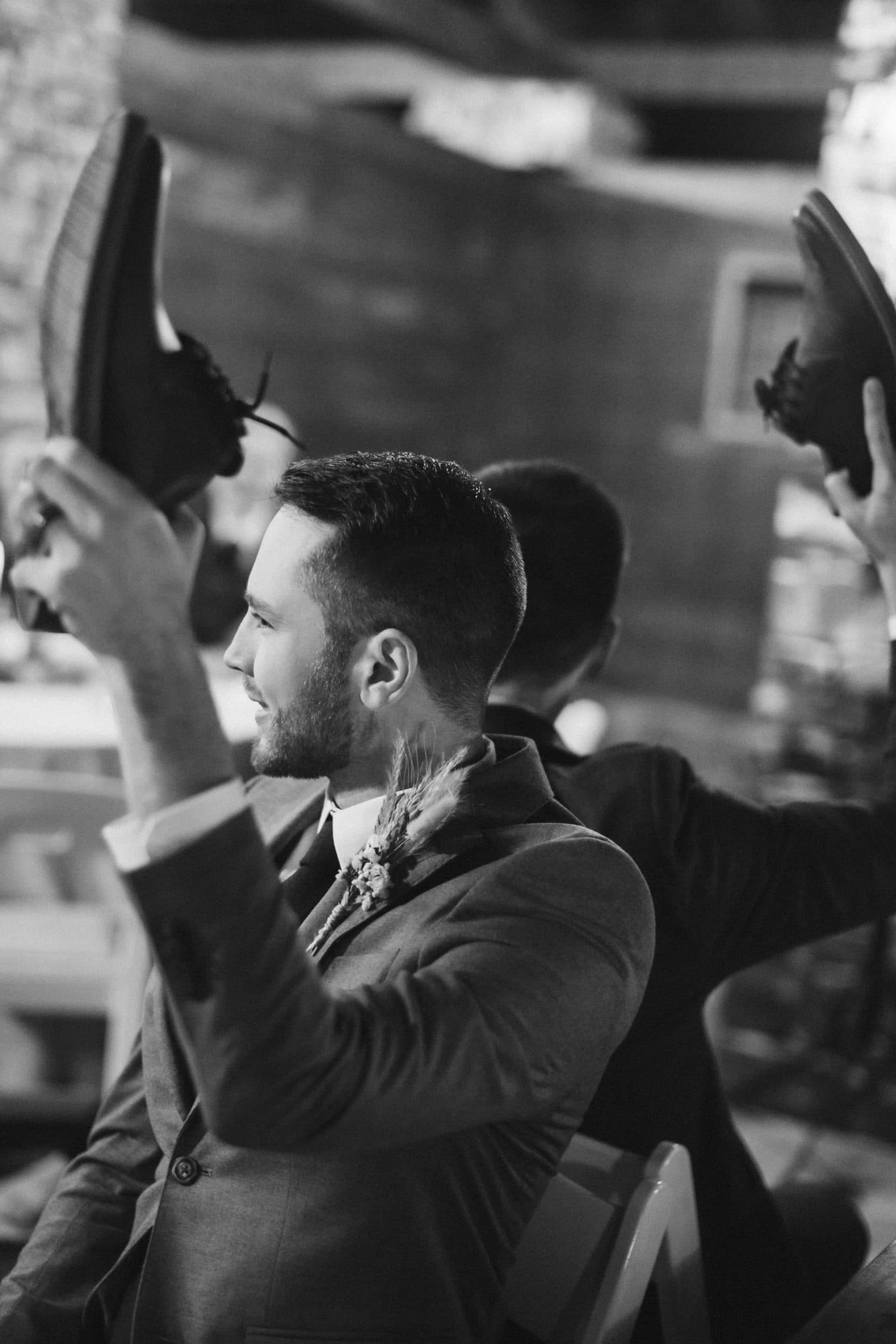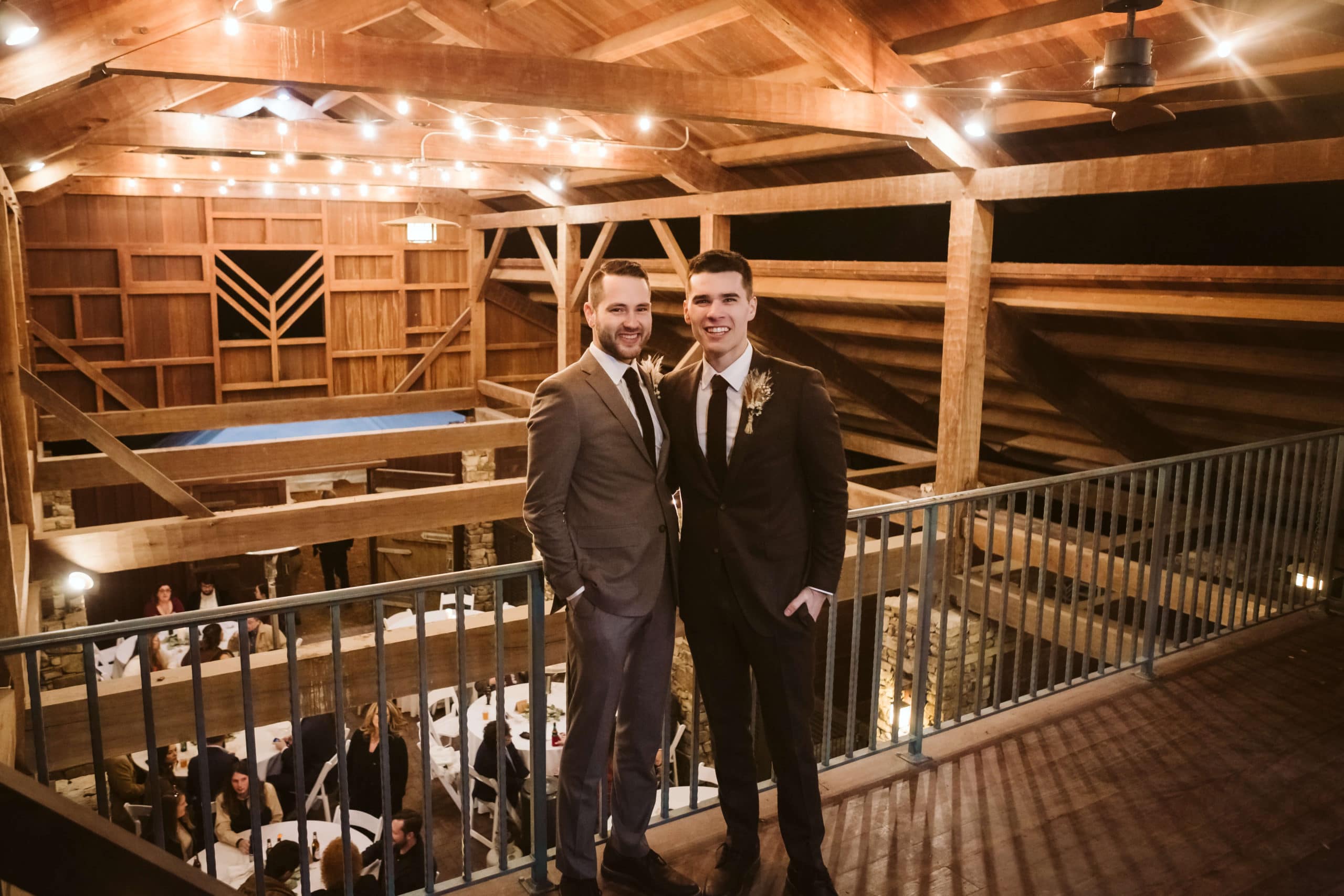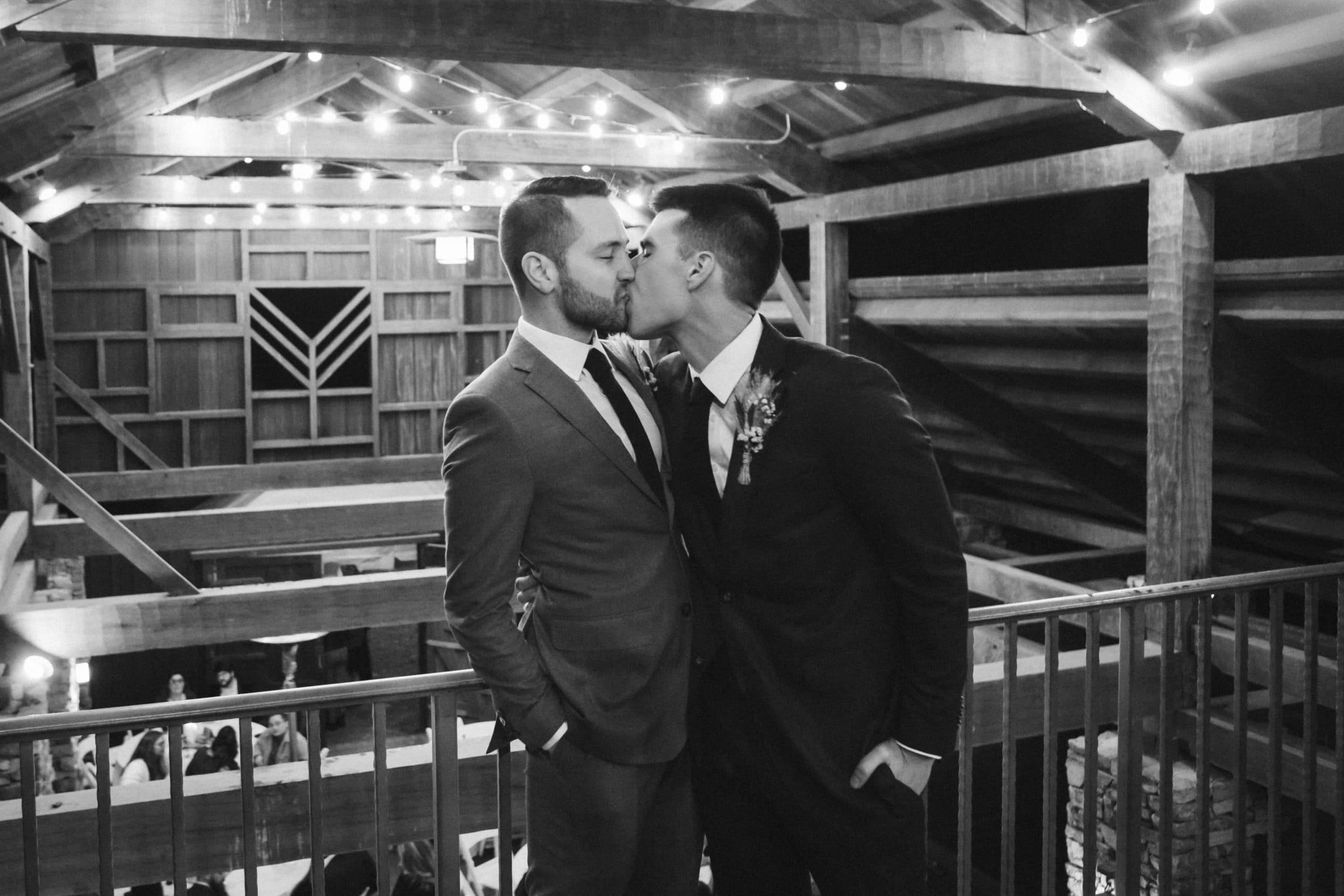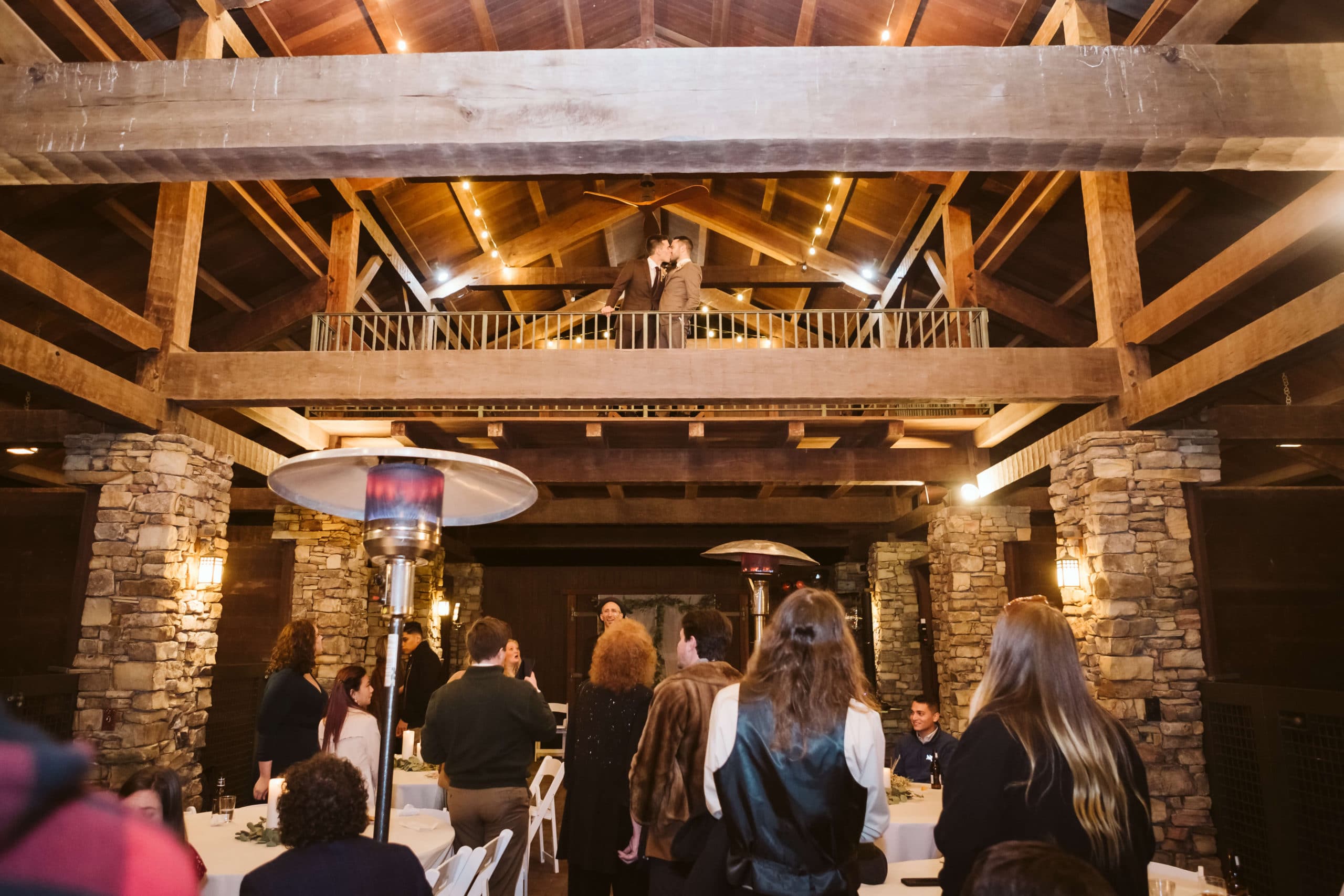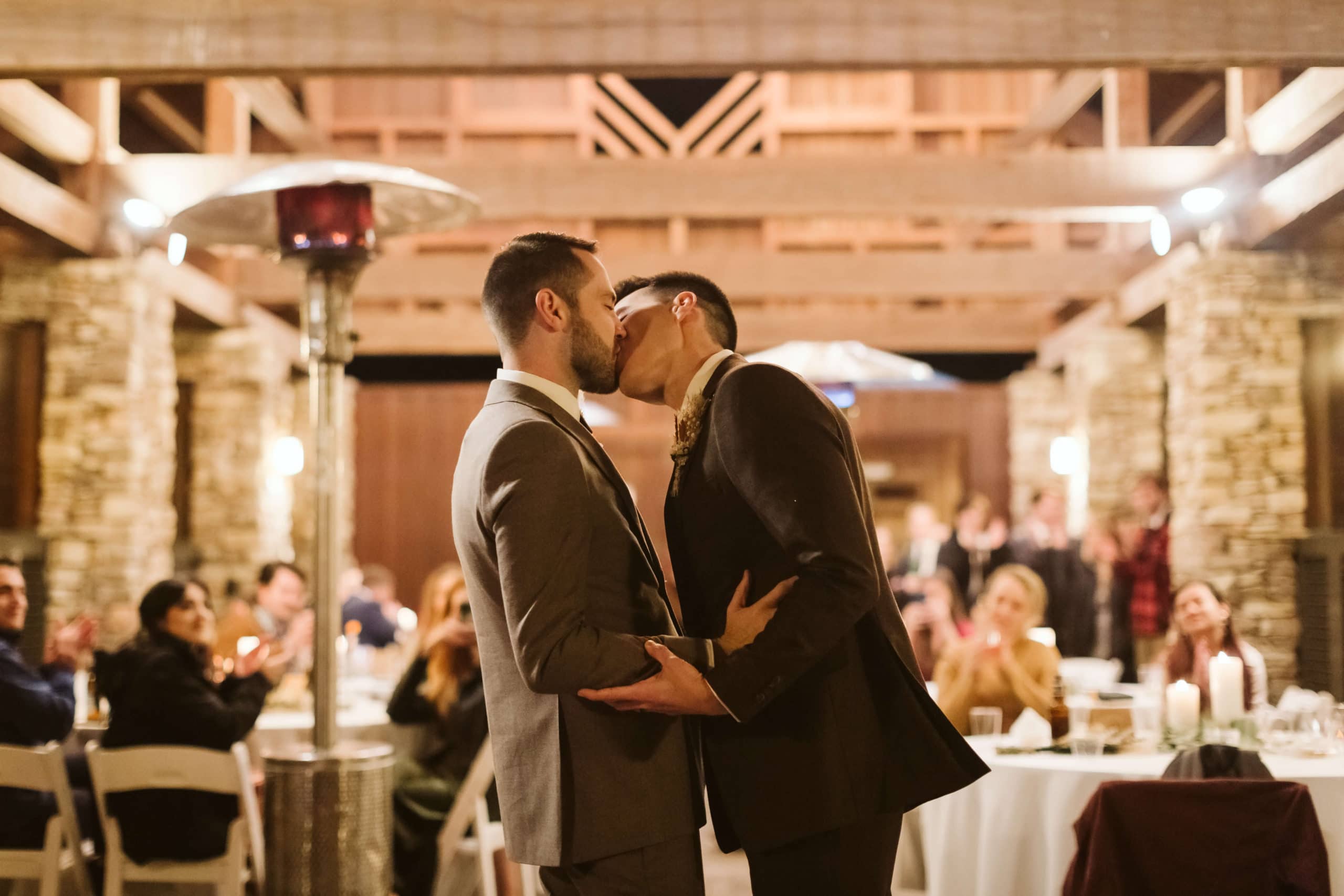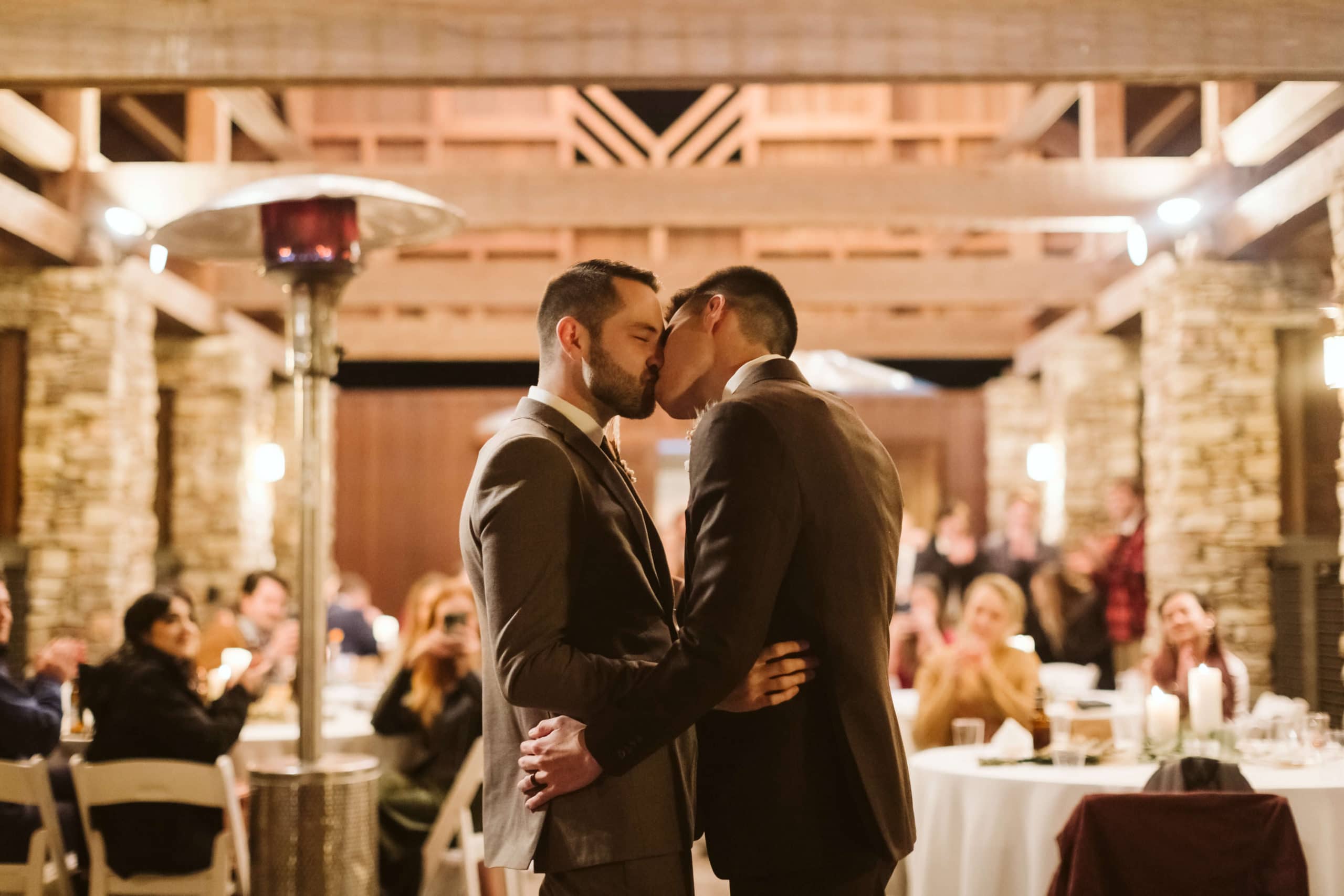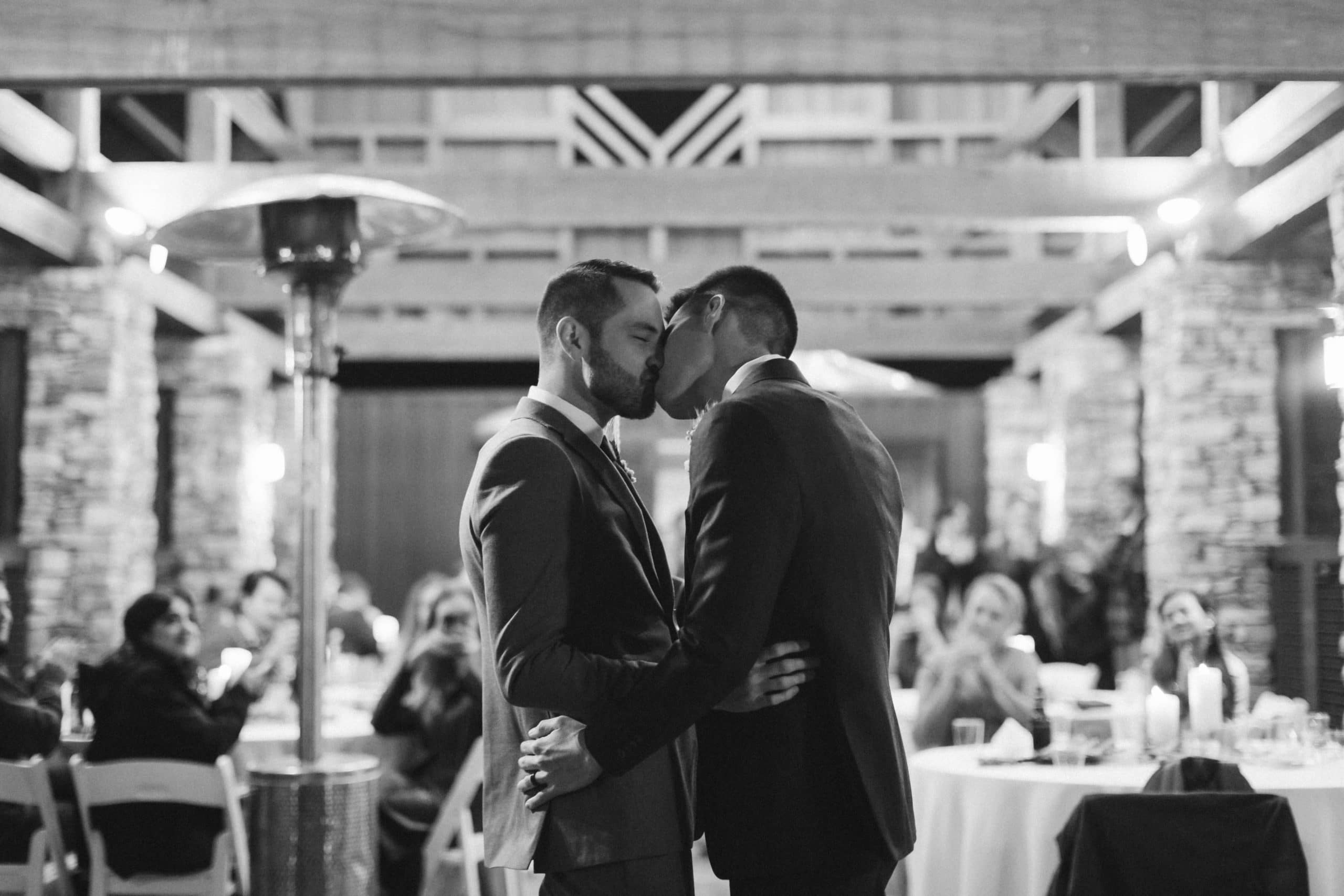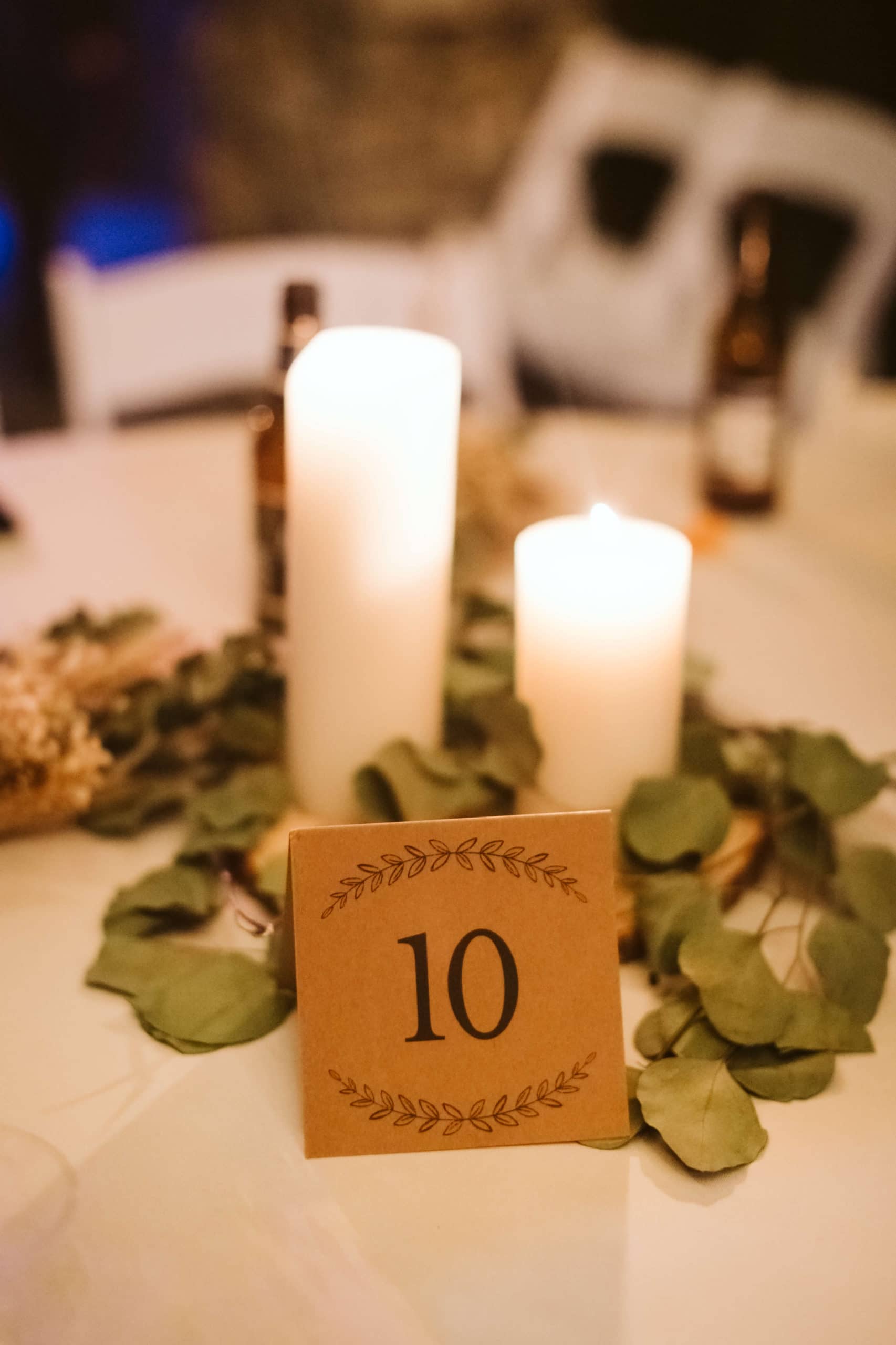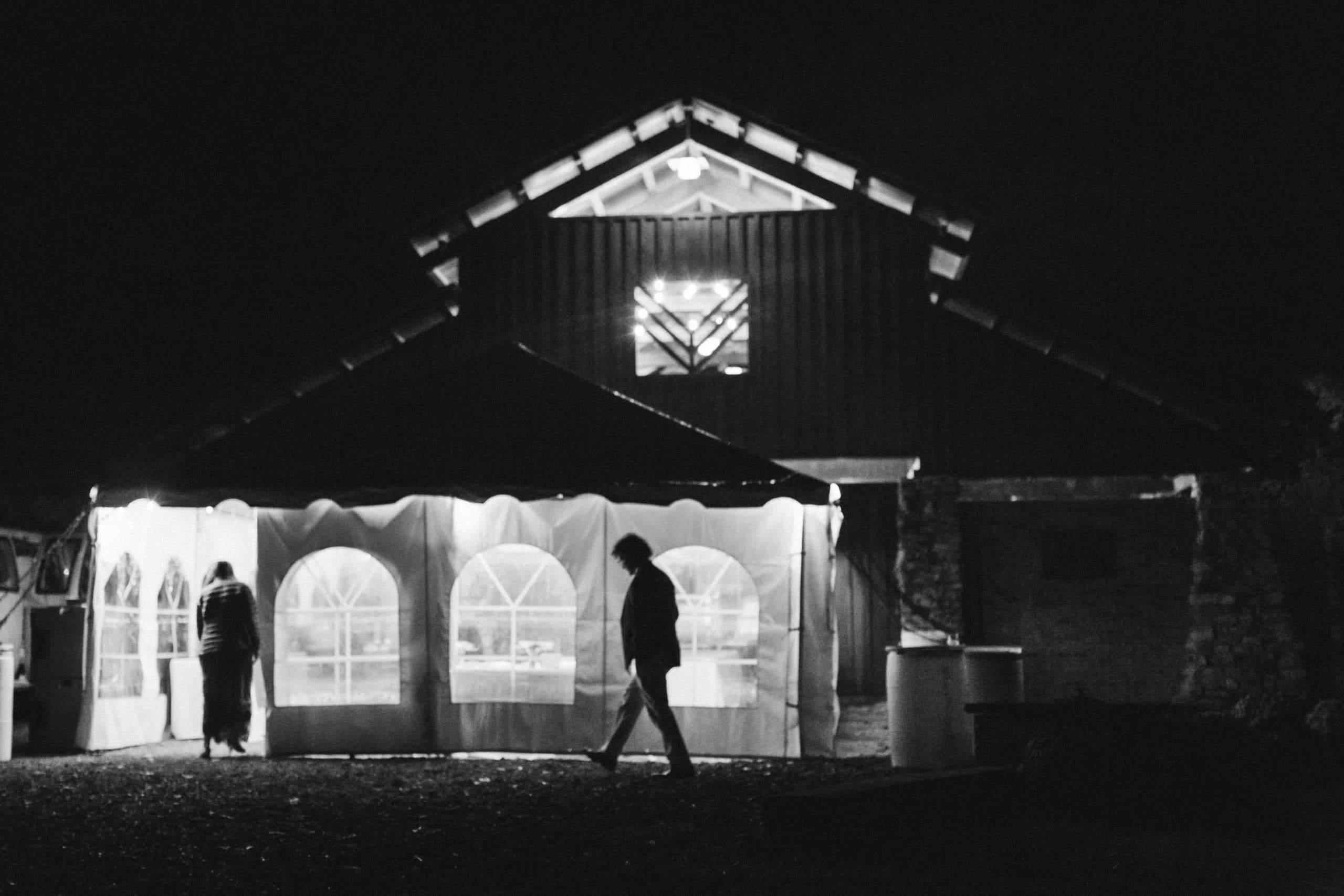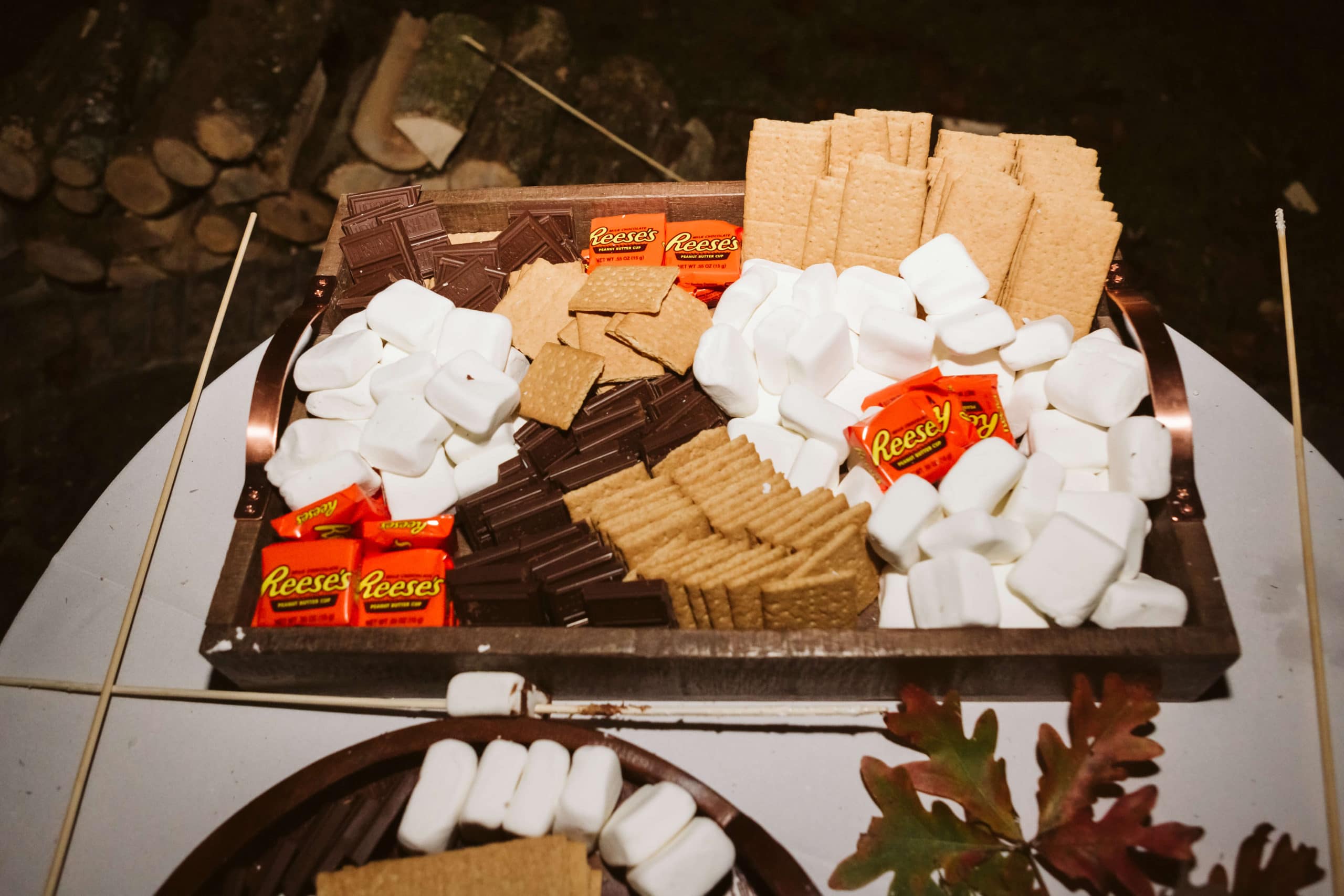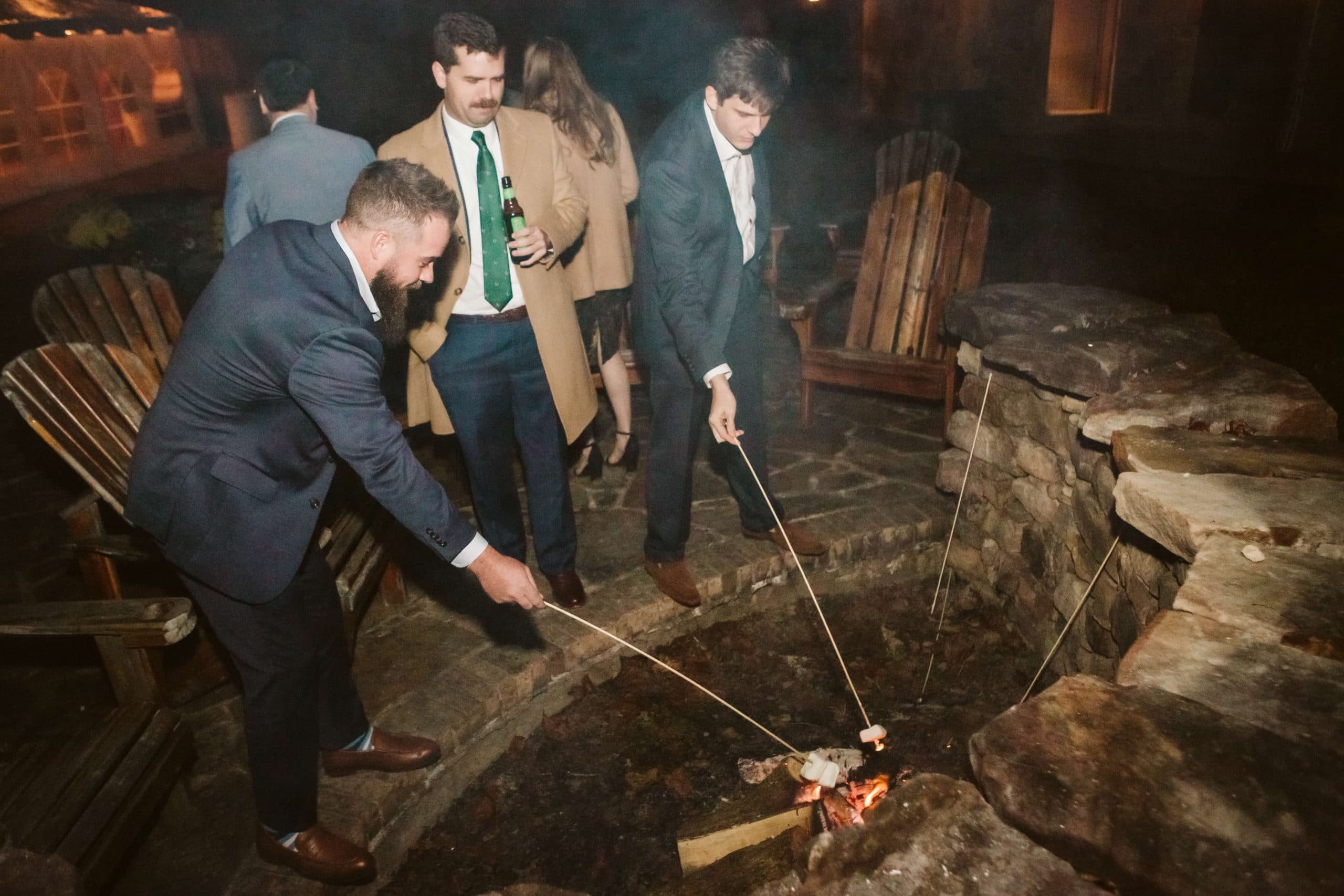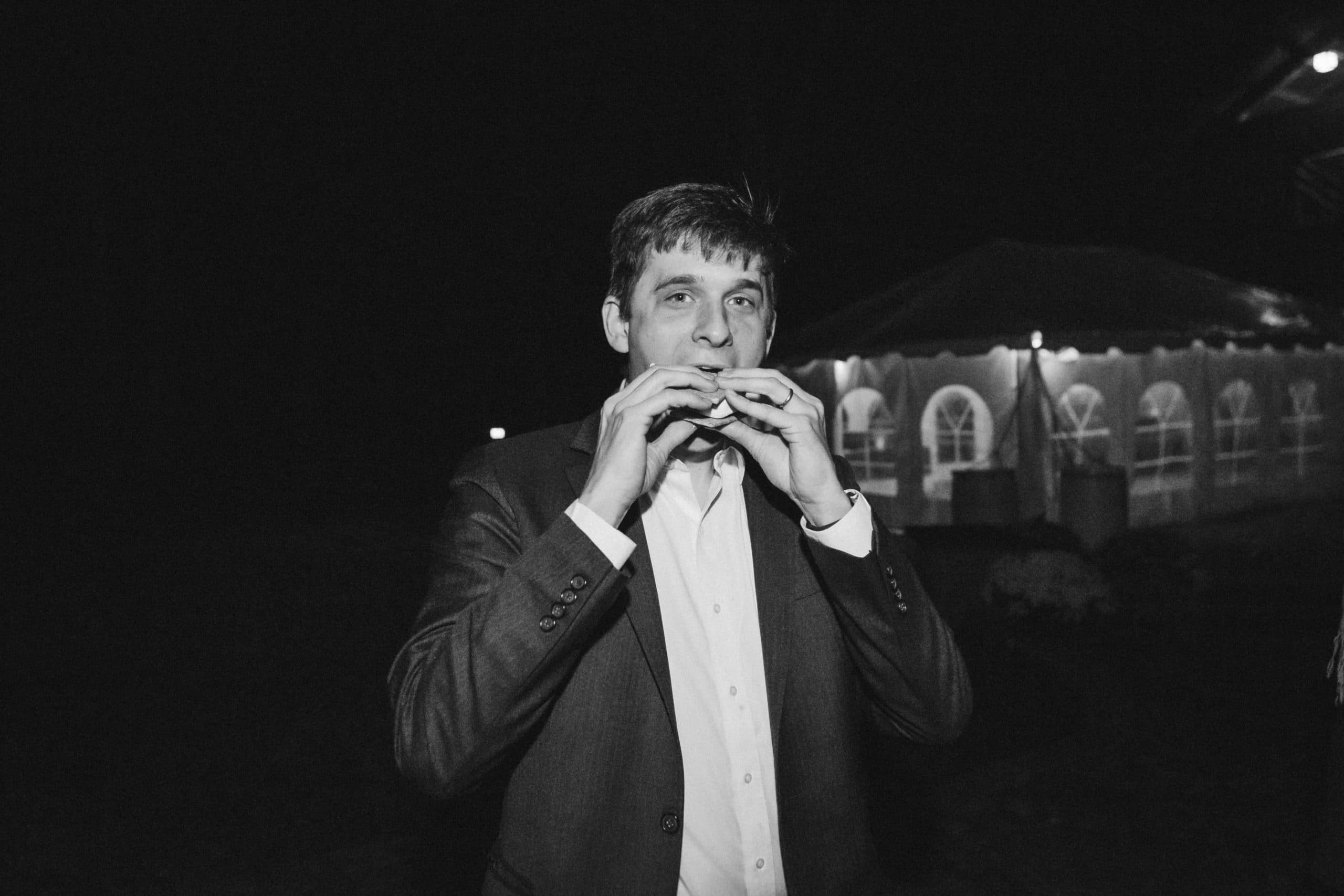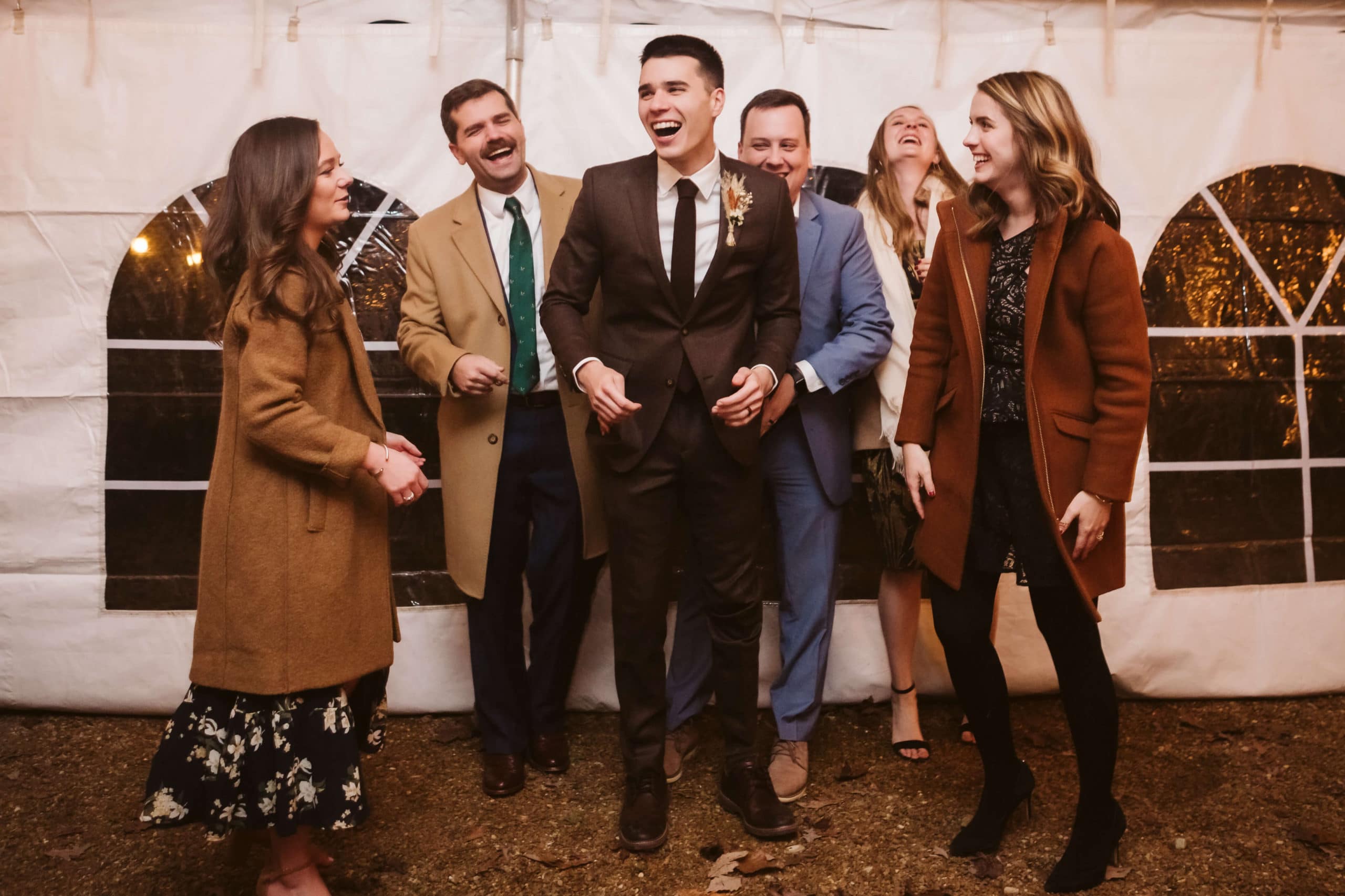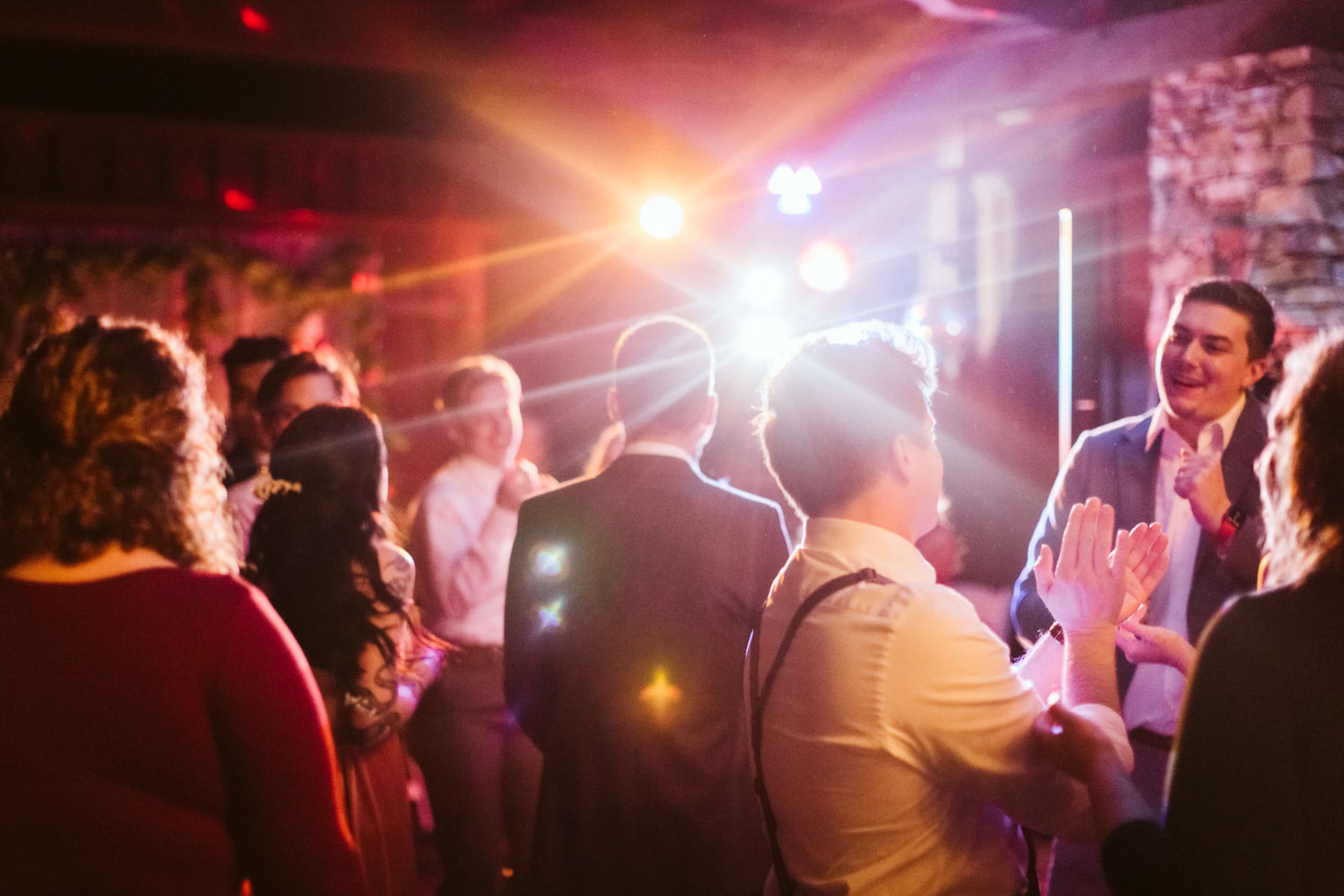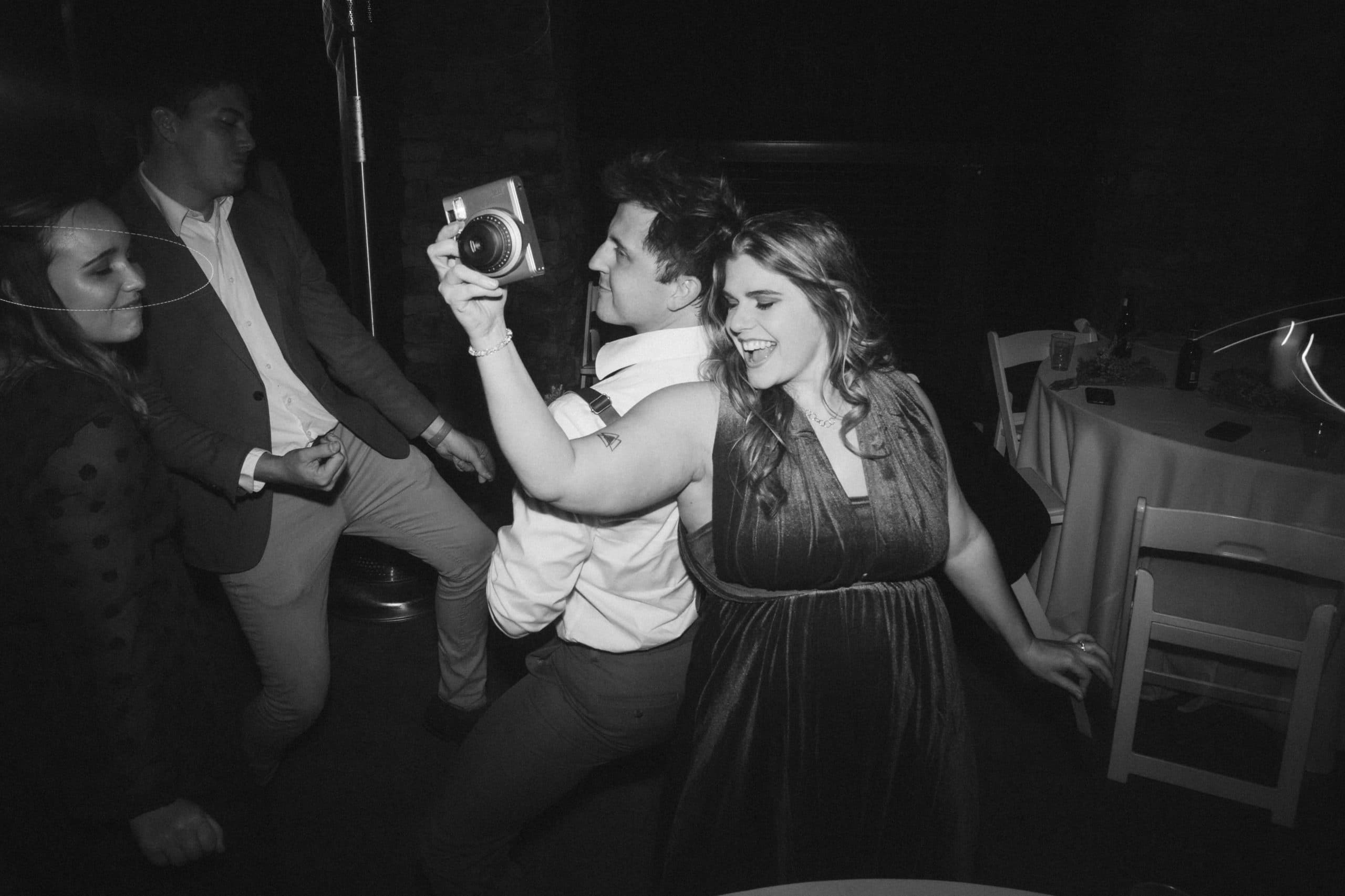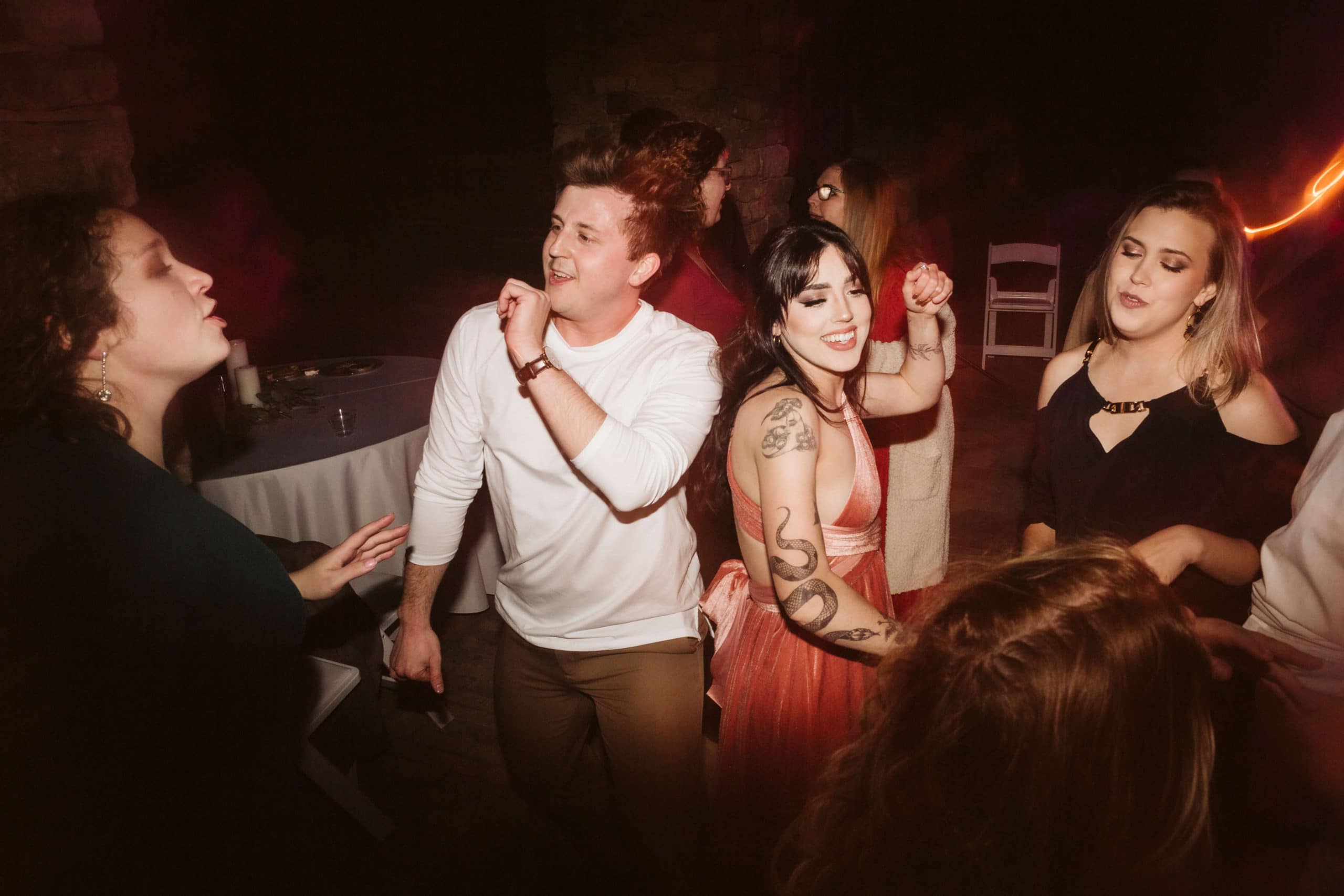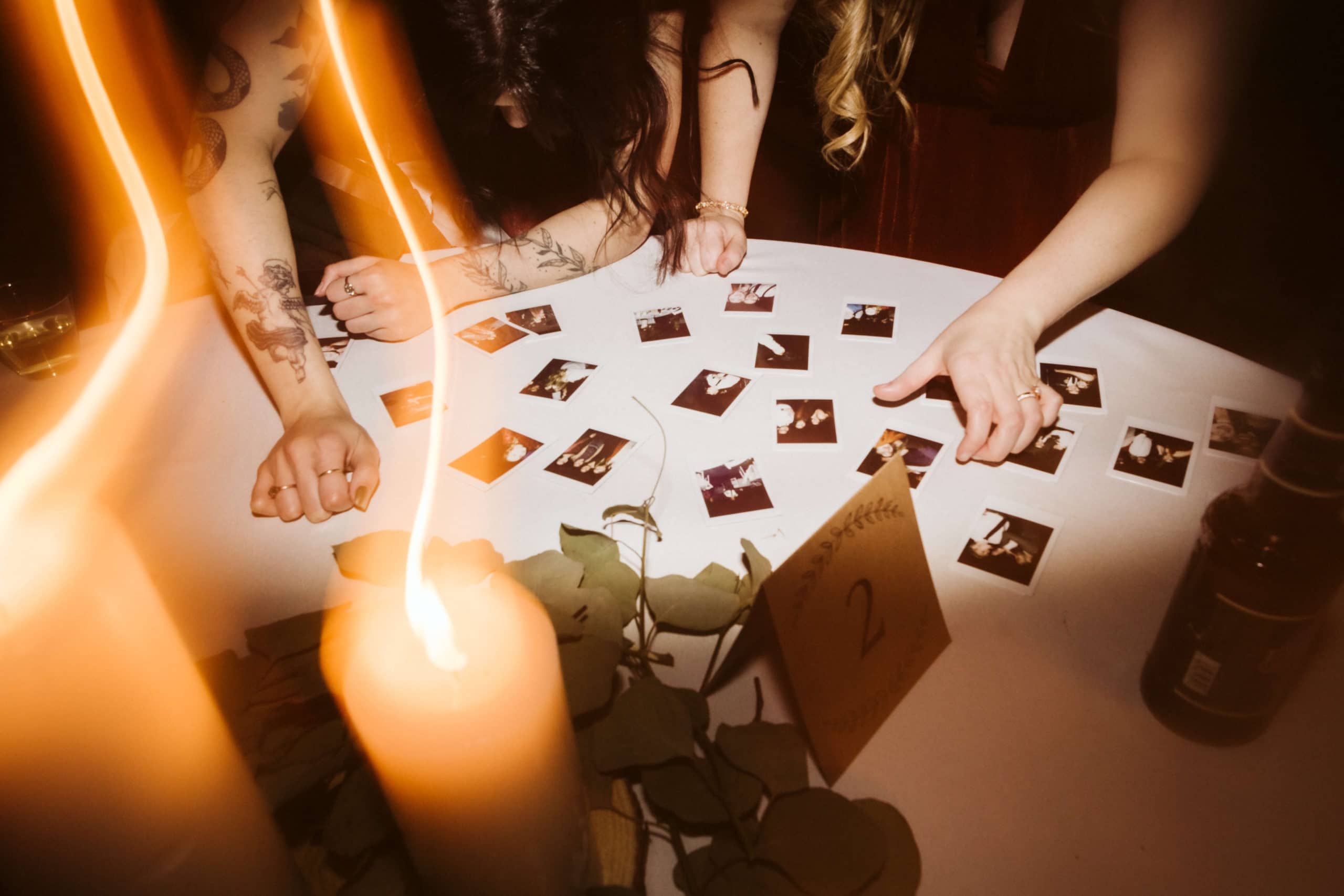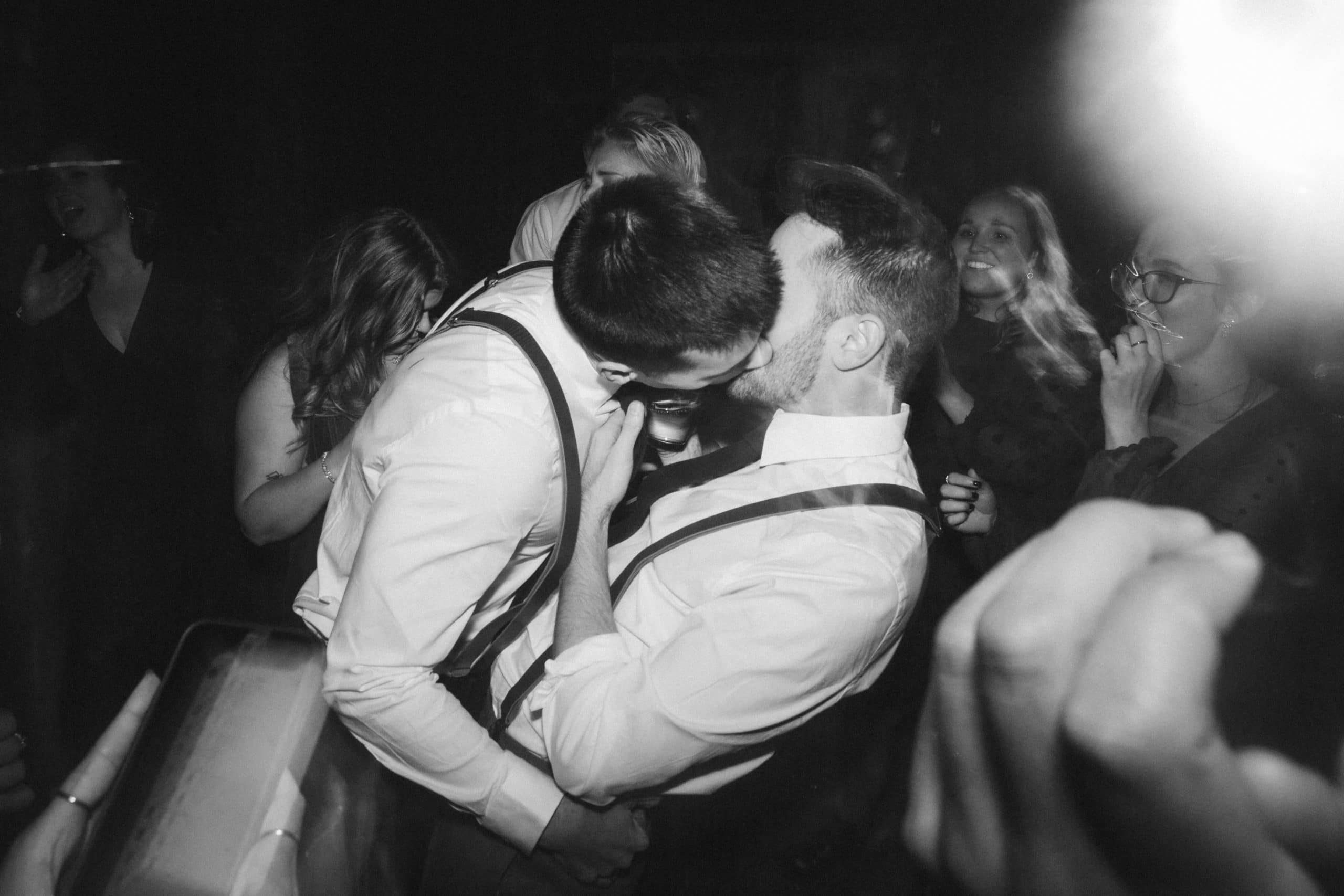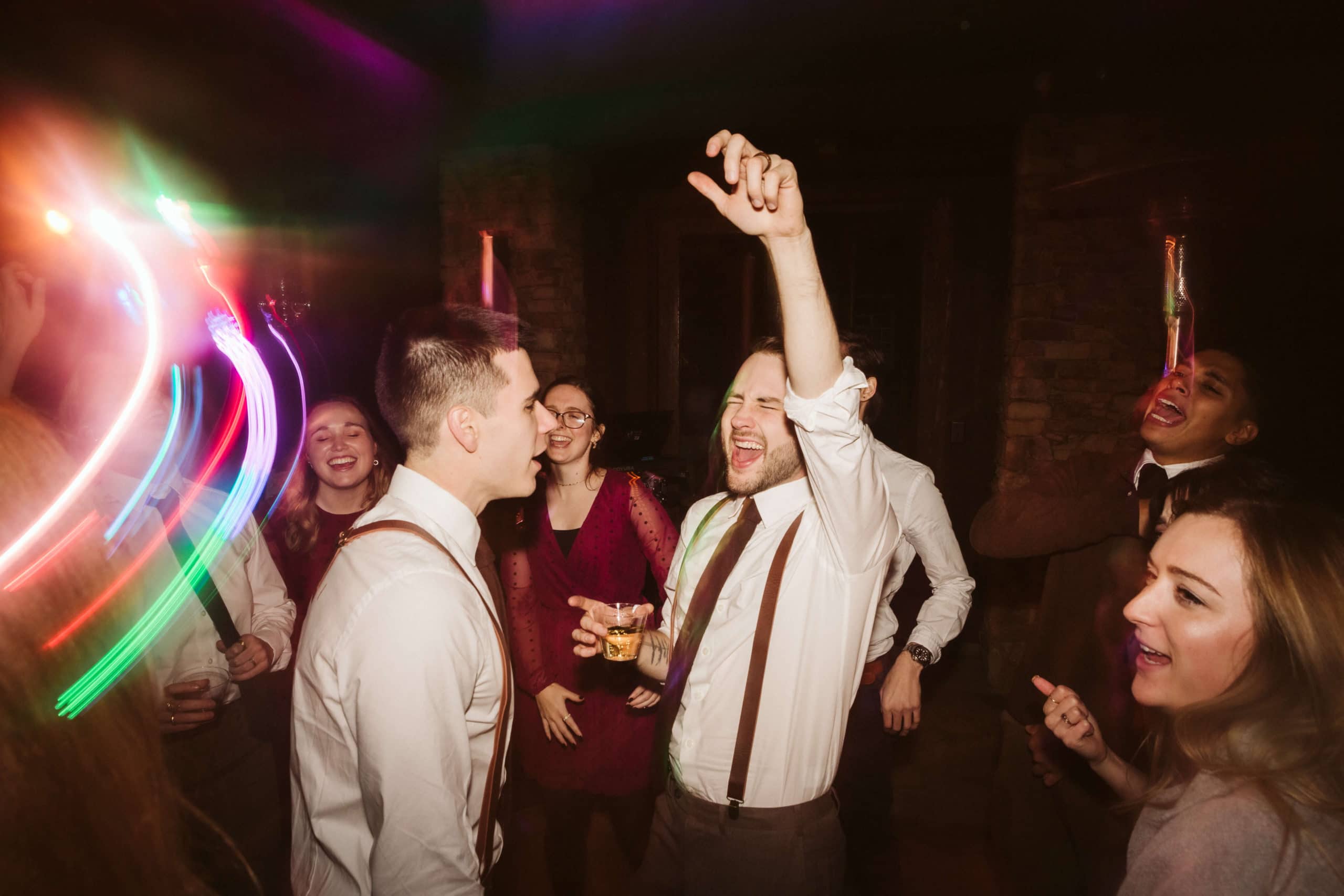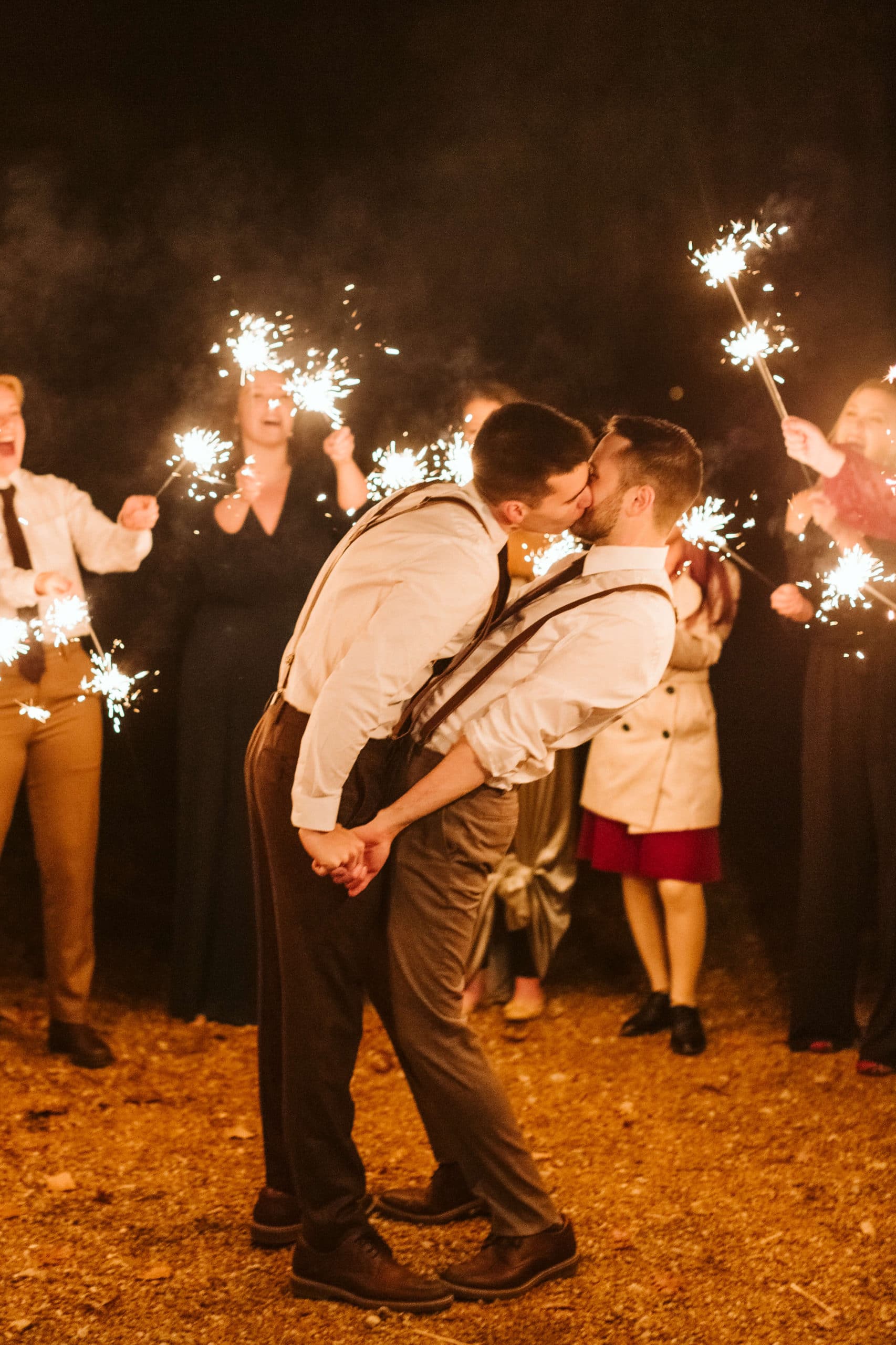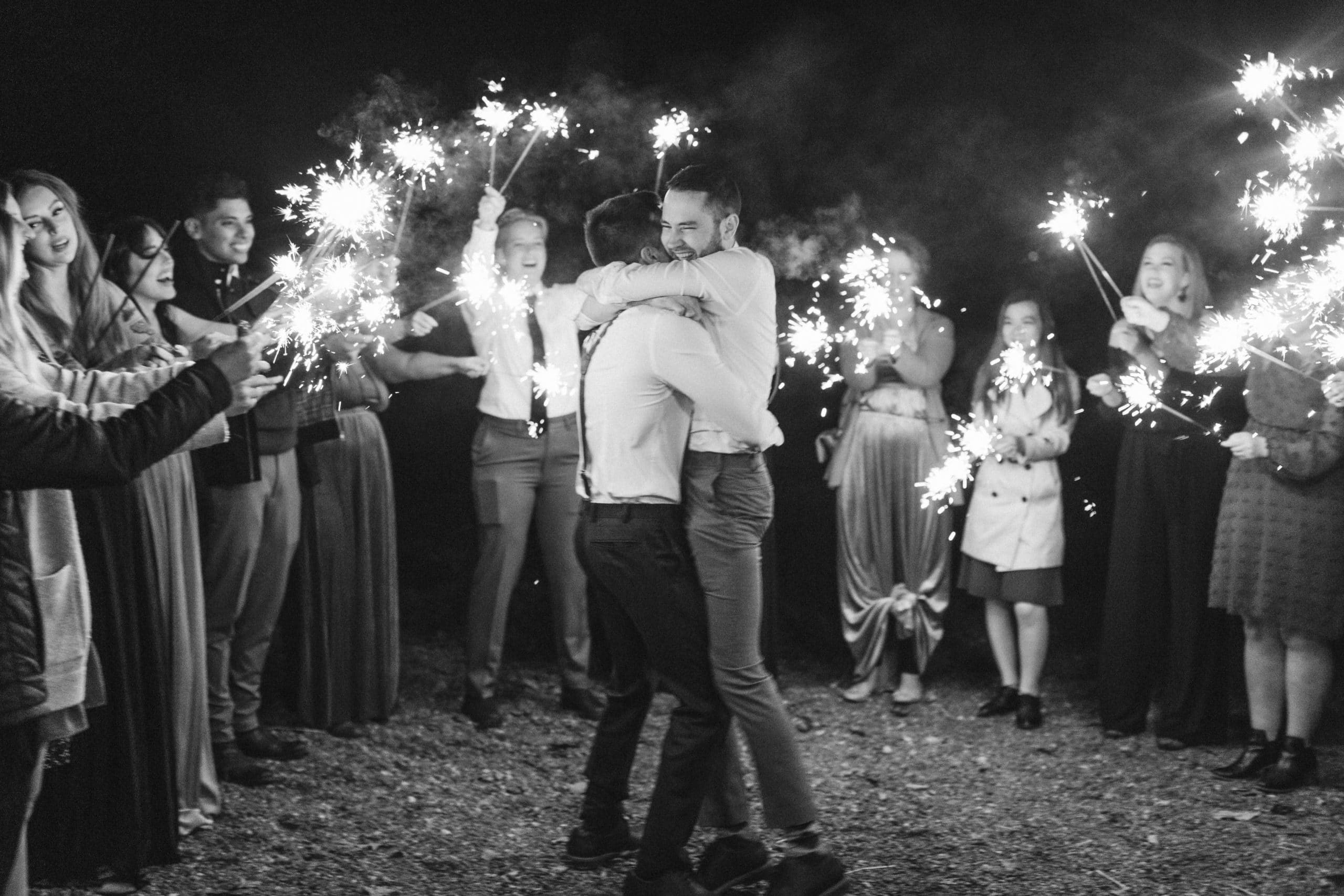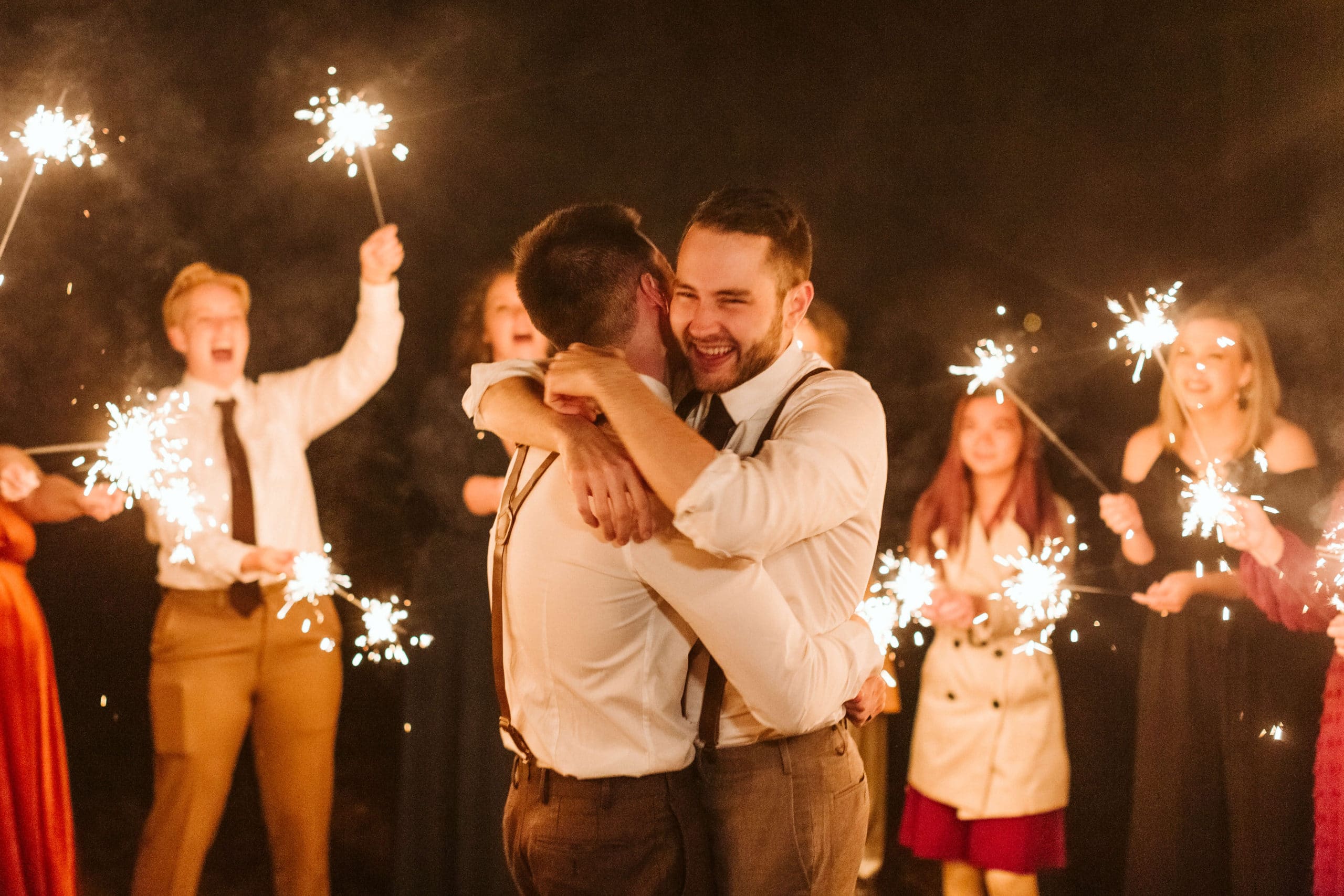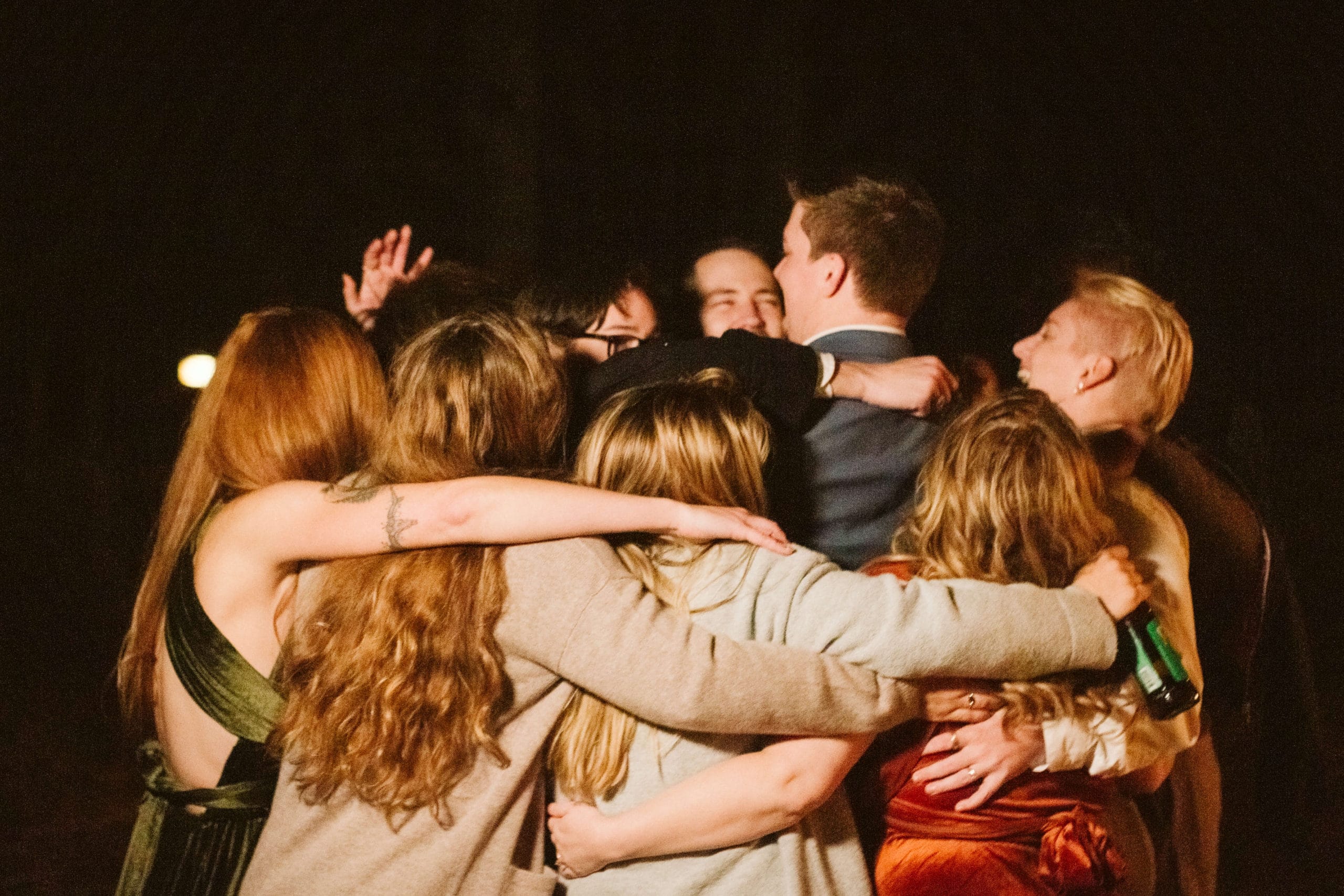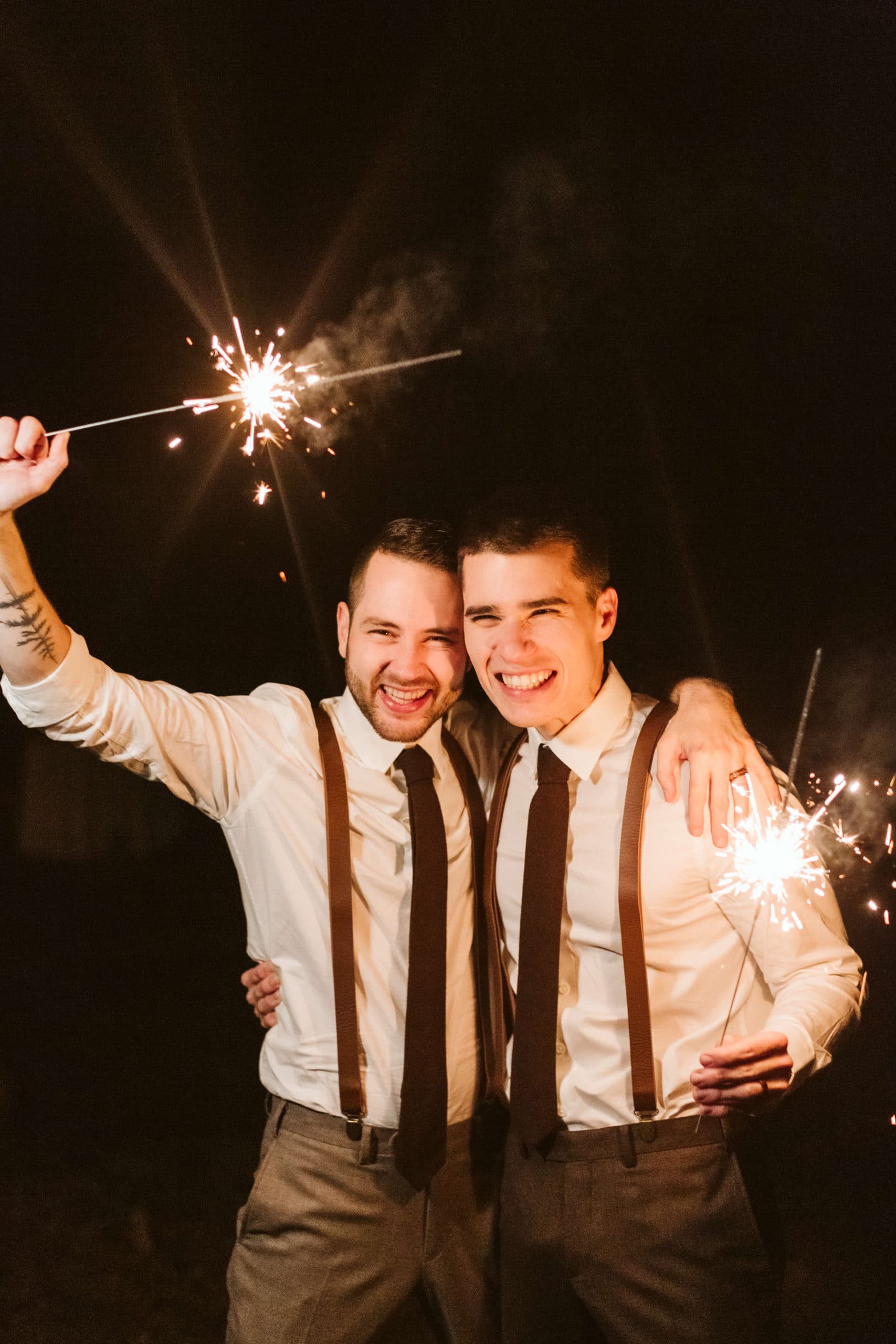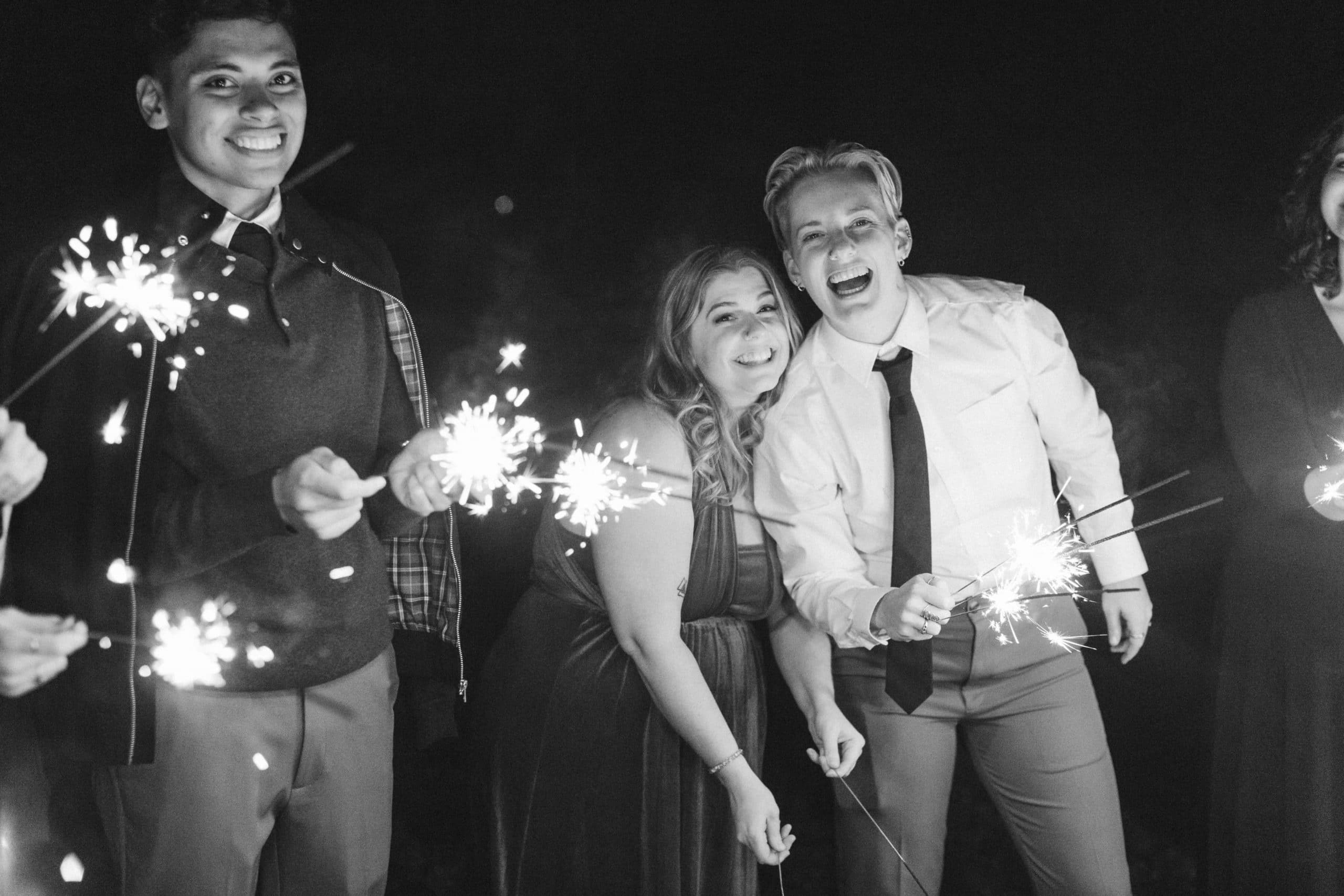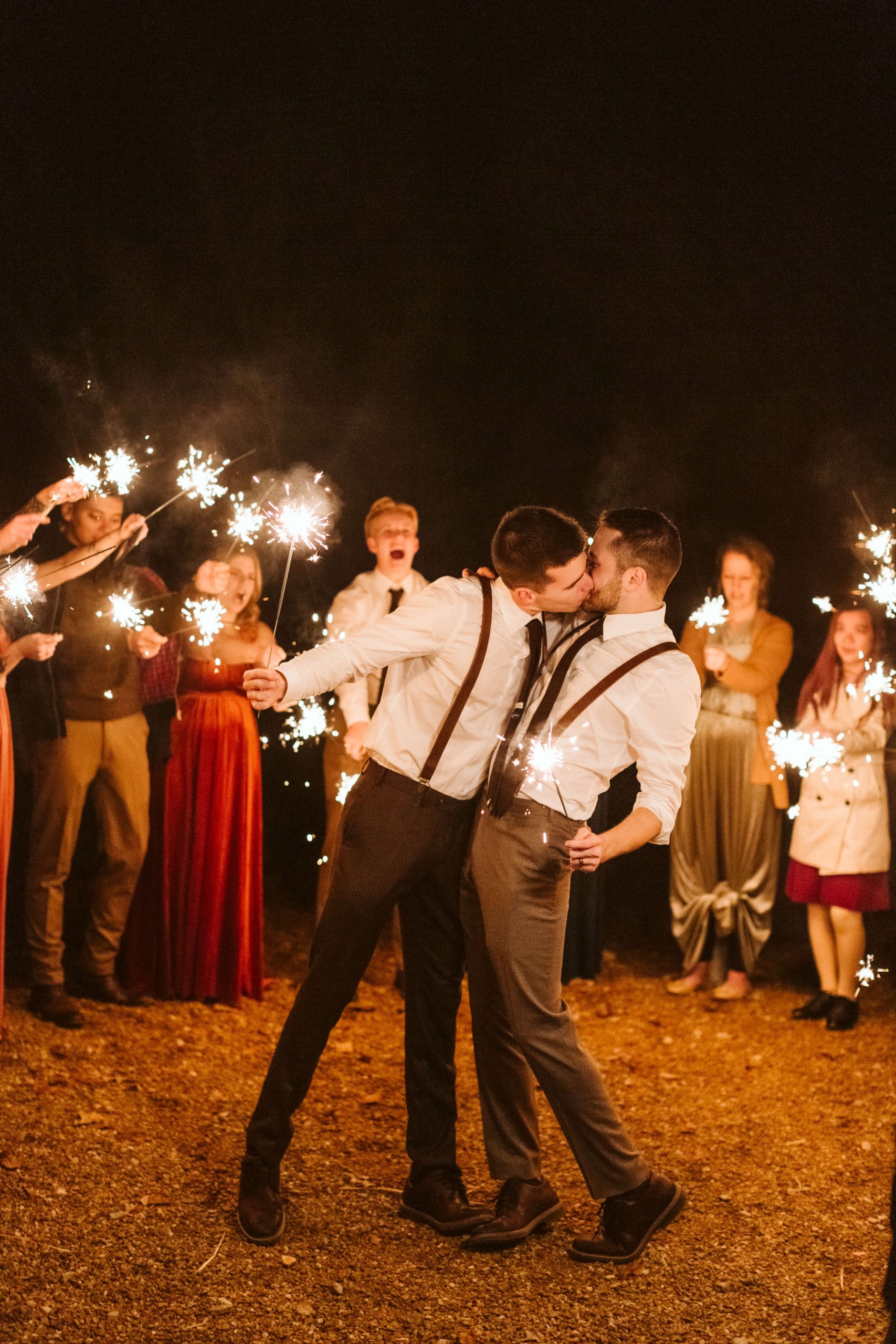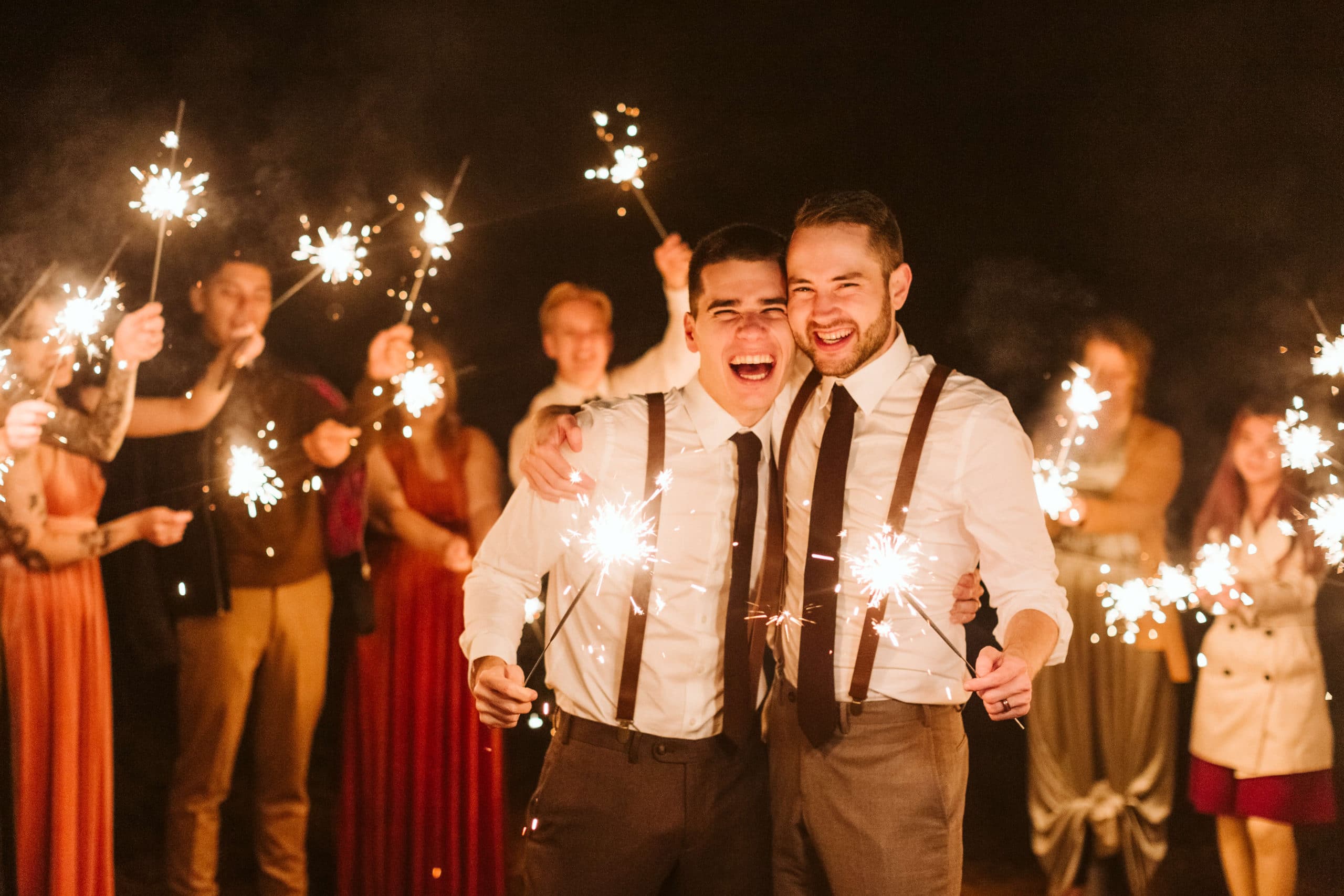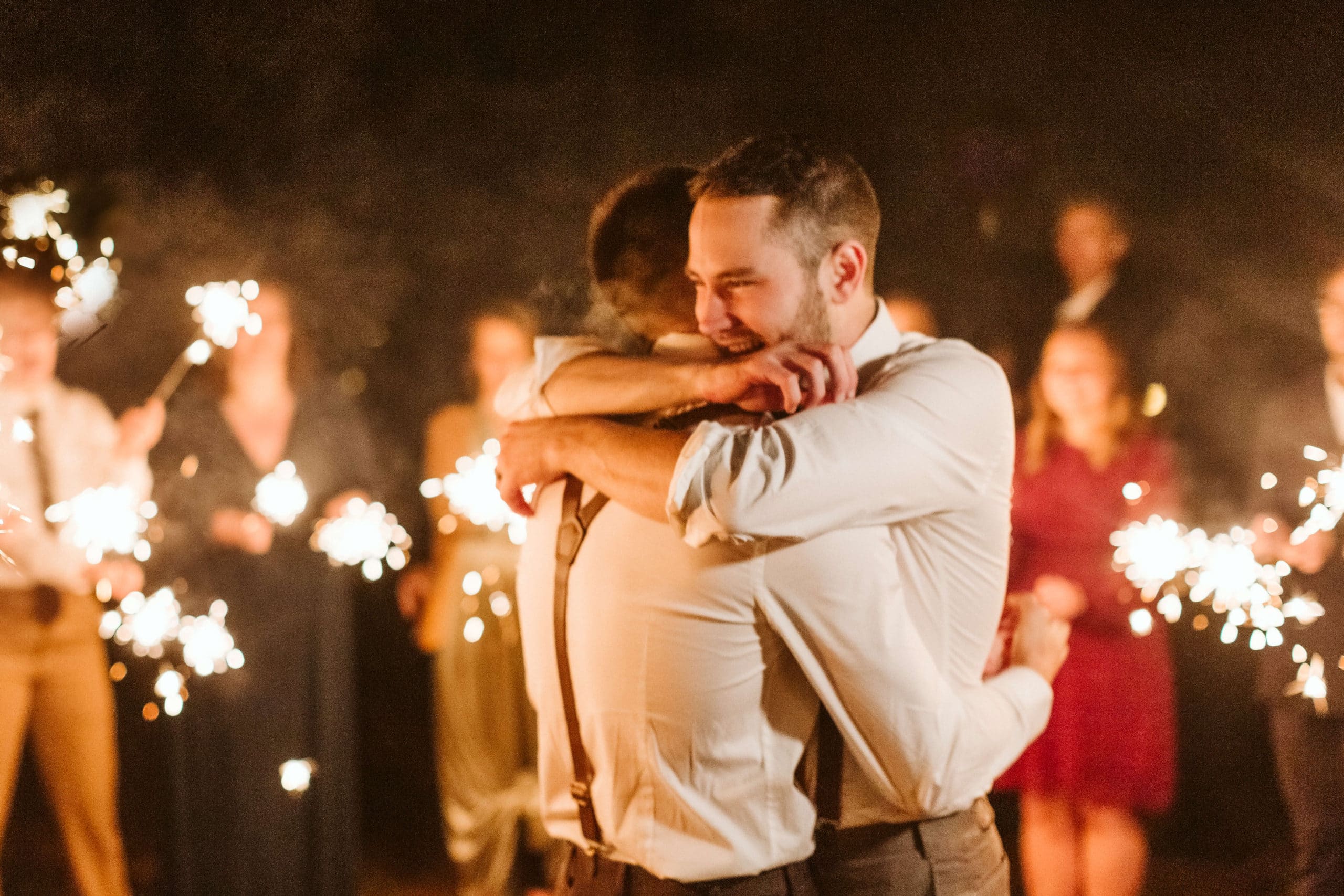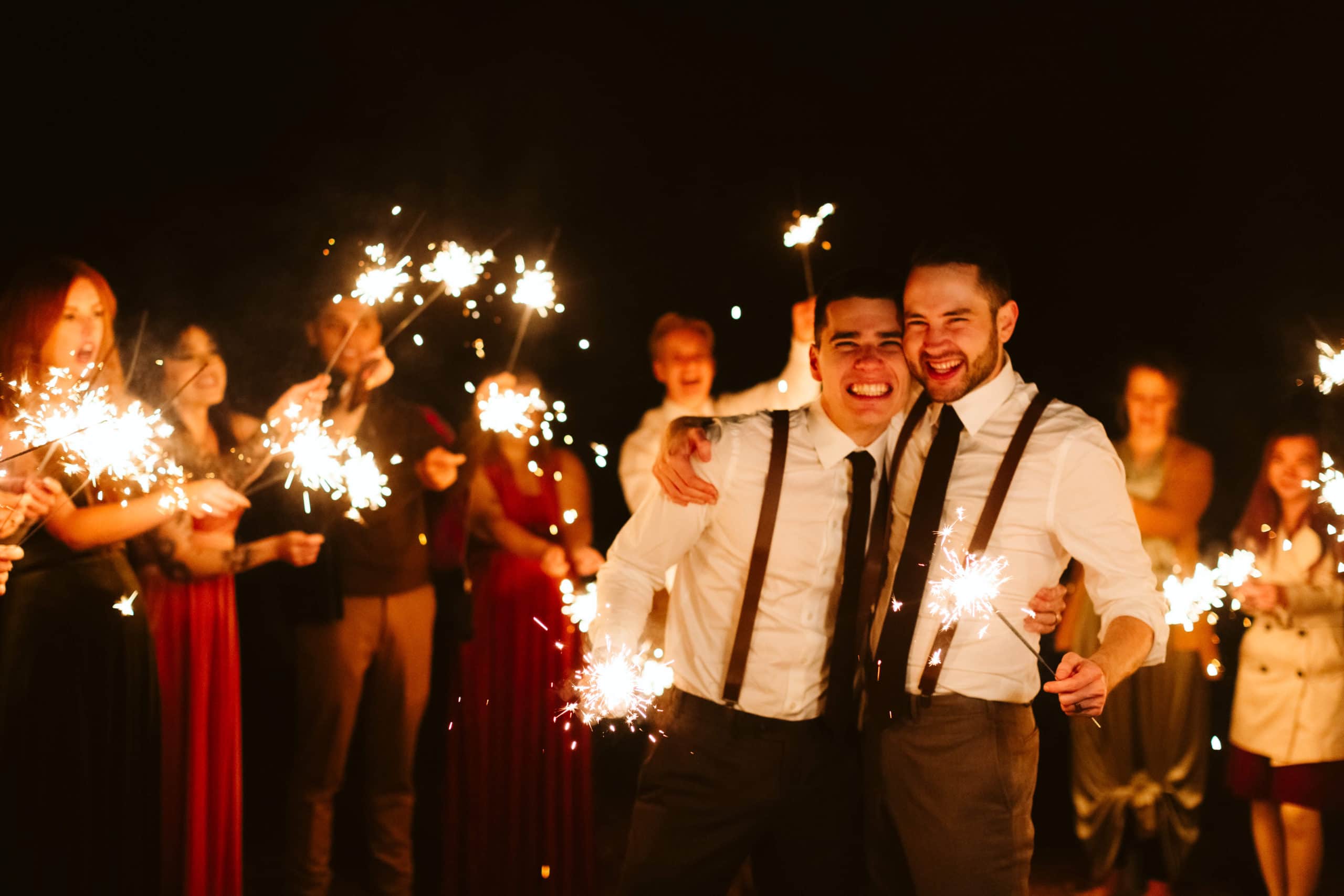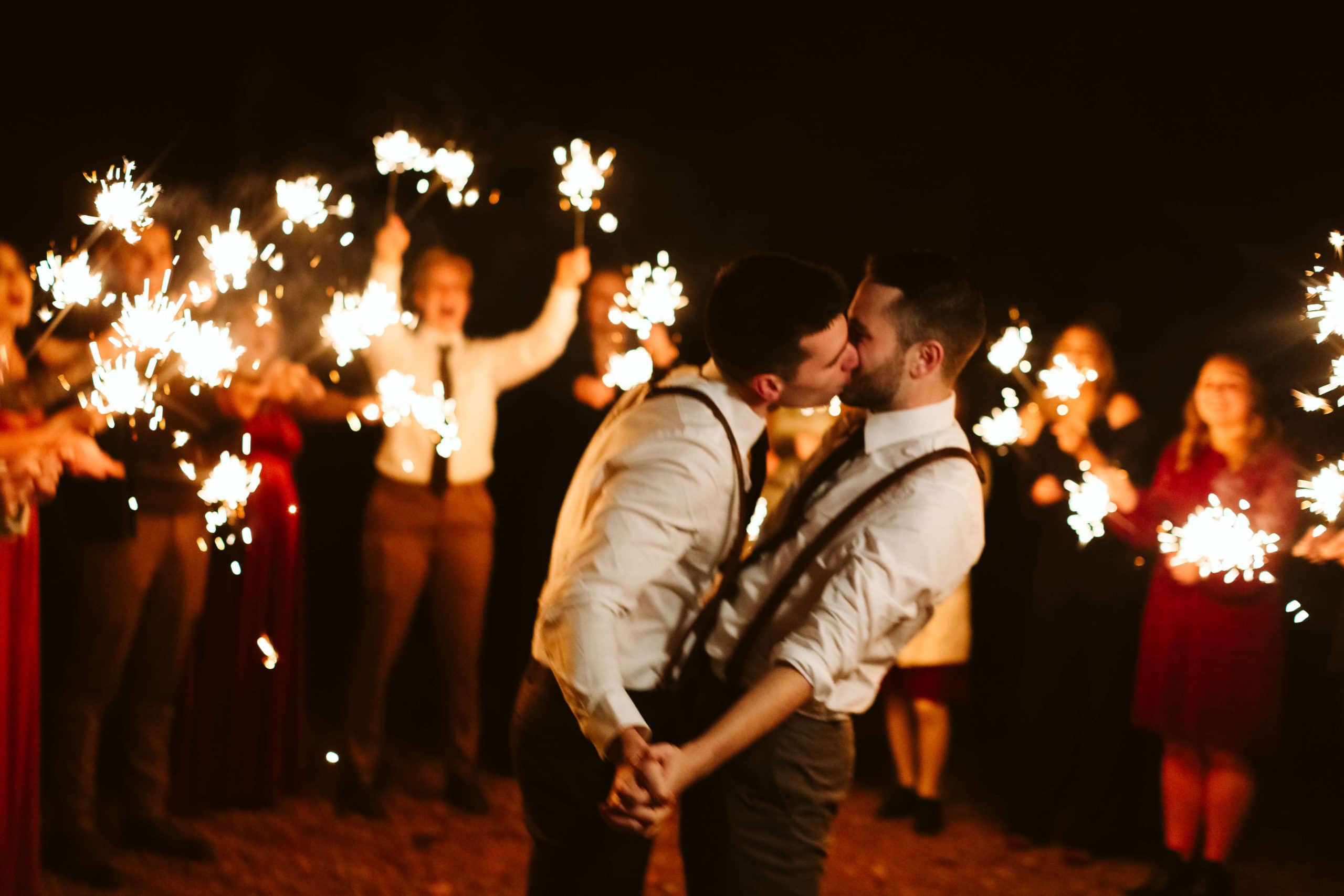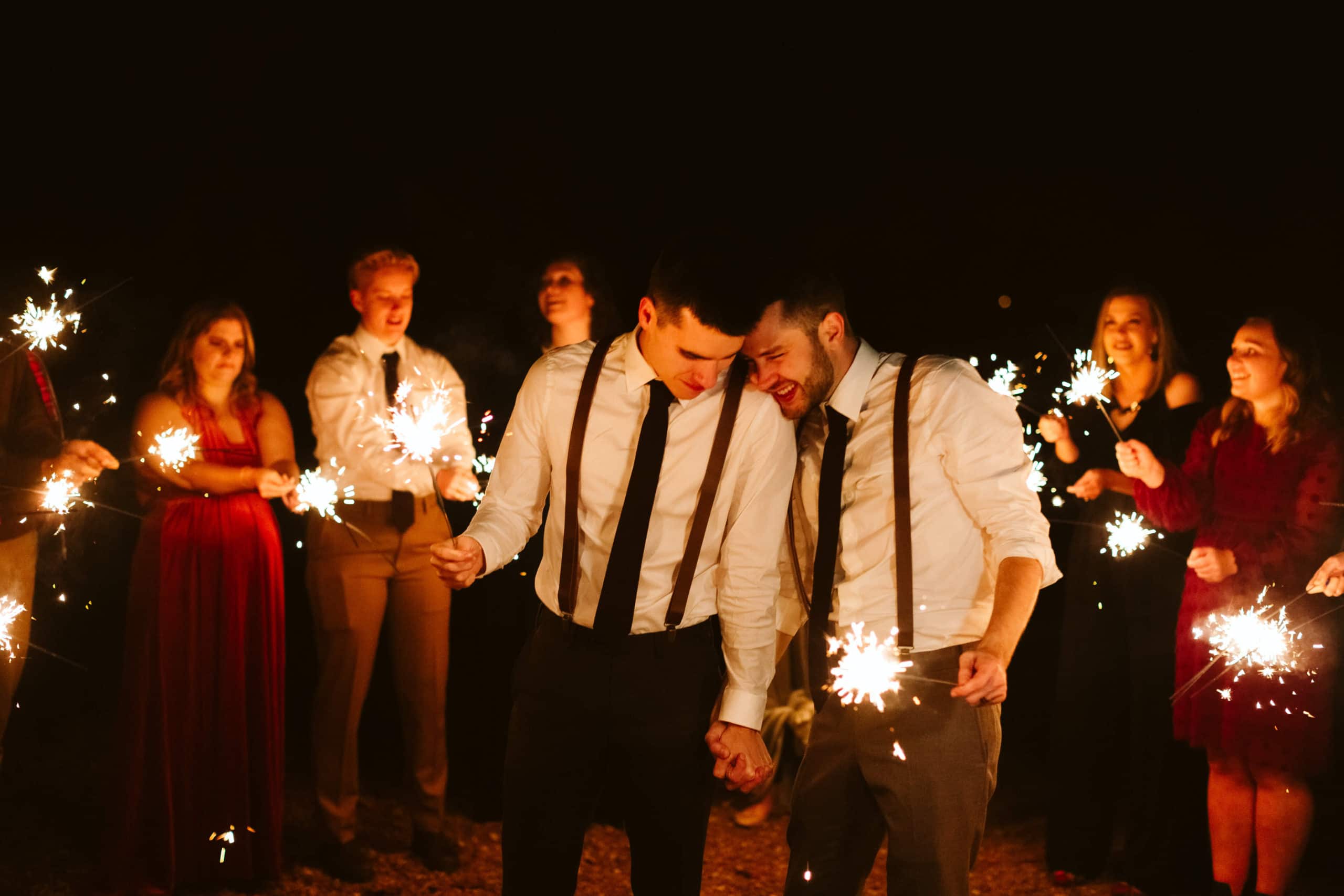 An End-of the-Night Sparkler Photo Session
Unlike most weddings where it's common for the newlyweds to parade out of the reception with their friends and family cheering them on, Ryan and Alex had no plans to leave their party early. Instead of a normal send off, we pulled the entire wedding party outside and handed out sparklers. They gathered around the couple and had a fabulous time waving sparklers around and having fun. Ryan and Alex were in the middle basking in all of the excitement and love that was surrounding them.
If your venue includes lodging for the night after your wedding or you don't plan to have a send off, this is a great option for couples who want a nighttime photo session. Sparklers always make for fun and lively wedding photos. By getting your wedding party involved, it really helps bring out the joy of the moment resulting in tons of candid photos of you and your new spouse with huge smiles on your faces.
After their sparkler photo session, everyone filed back inside for more dancing and s'mores made in the giant fire pit. Ryan and Alex's wedding was truly a celebration of love and friendship. It was clear that everyone involved had a wonderful time celebrating such a sweet couple.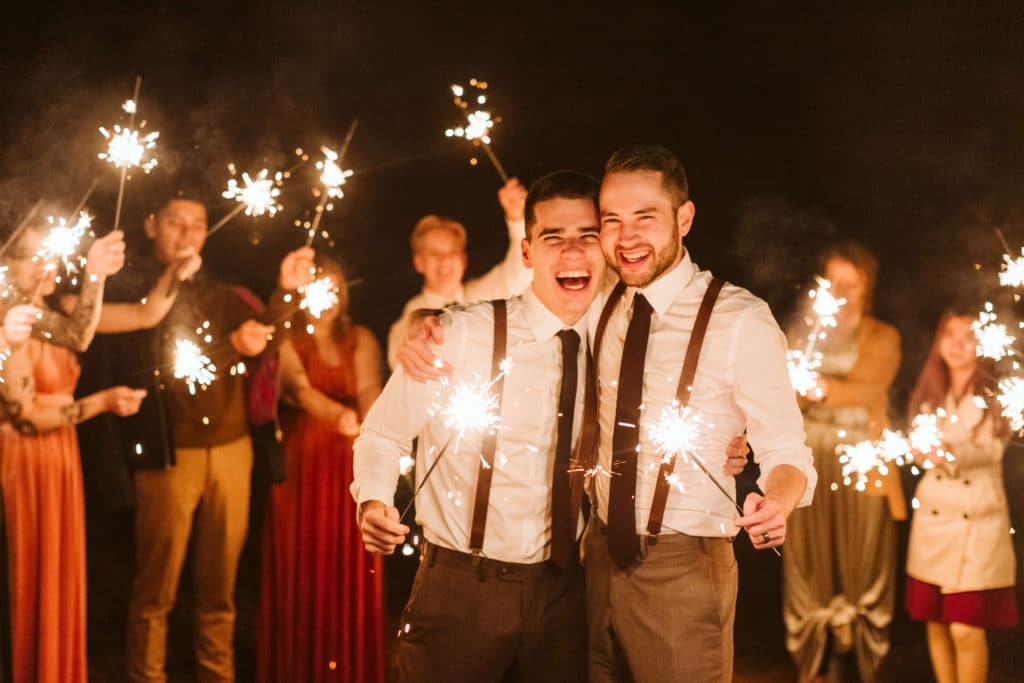 Did you love Ryan and Alex's wedding photos? Keep an eye out for photos from their engagement session coming soon and if you're on the hunt for a wedding photographer, I would love to hear from you!
I'm Rachael Crowe of OkCrowe Photography. I'm based in Chattanooga and I've shot hundreds of weddings all across Tennessee and beyond. If you're planning a wedding with lush forest views like Ryan and Alex's or if you're planning one in the heart of the city, I'm here to answer any and all of your questions and capture every moment of your big day. I would love to chat to chat with you about your vision for your wedding! Visit my contact form and let's start planning!