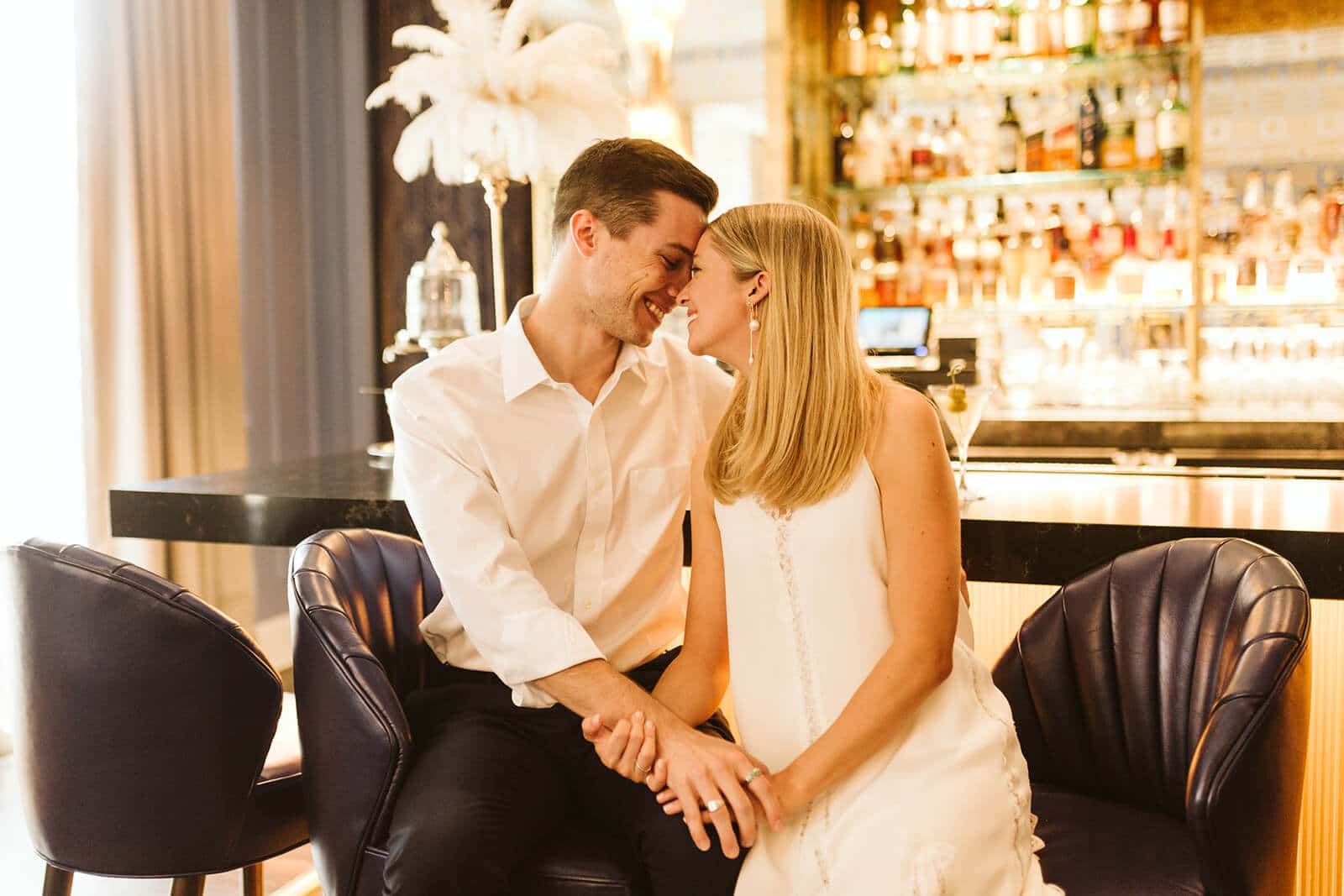 Even though we all love outdoor engagement photography sessions, indoor locations can make for stunning photos as well. Earlier in the year, I had traveled to New York City for a portfolio/engagement session photoshoot with Emily and Jim. We walked all over Brooklyn's DUMBO area for a beautiful outdoor shoot. However, when they decided to do another shoot in their hometown, they chose the absolutely stunning Read House Hotel.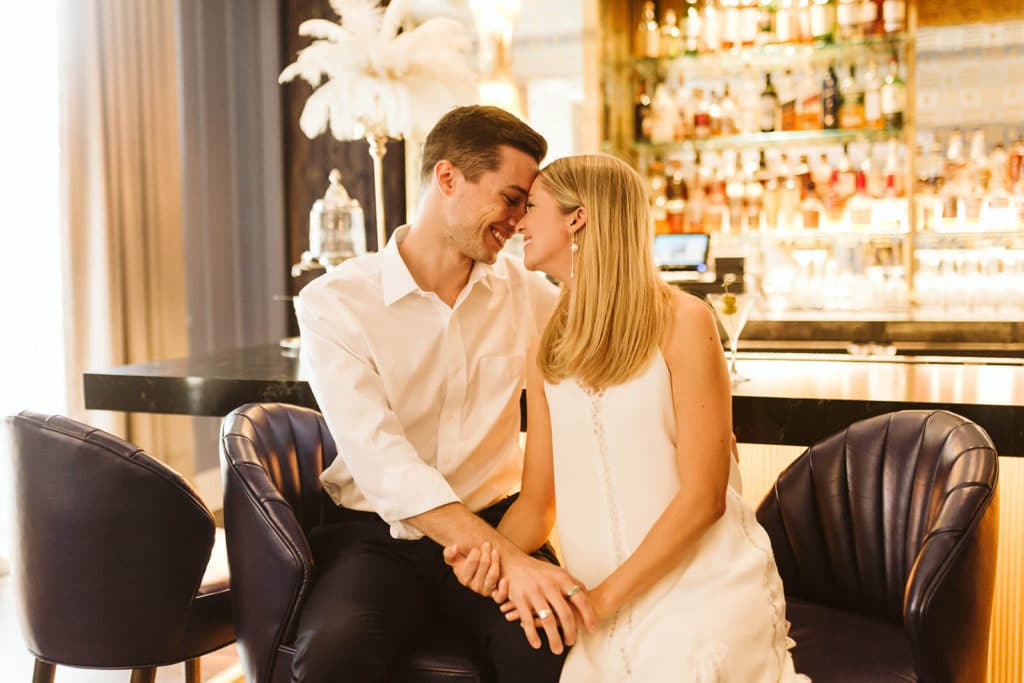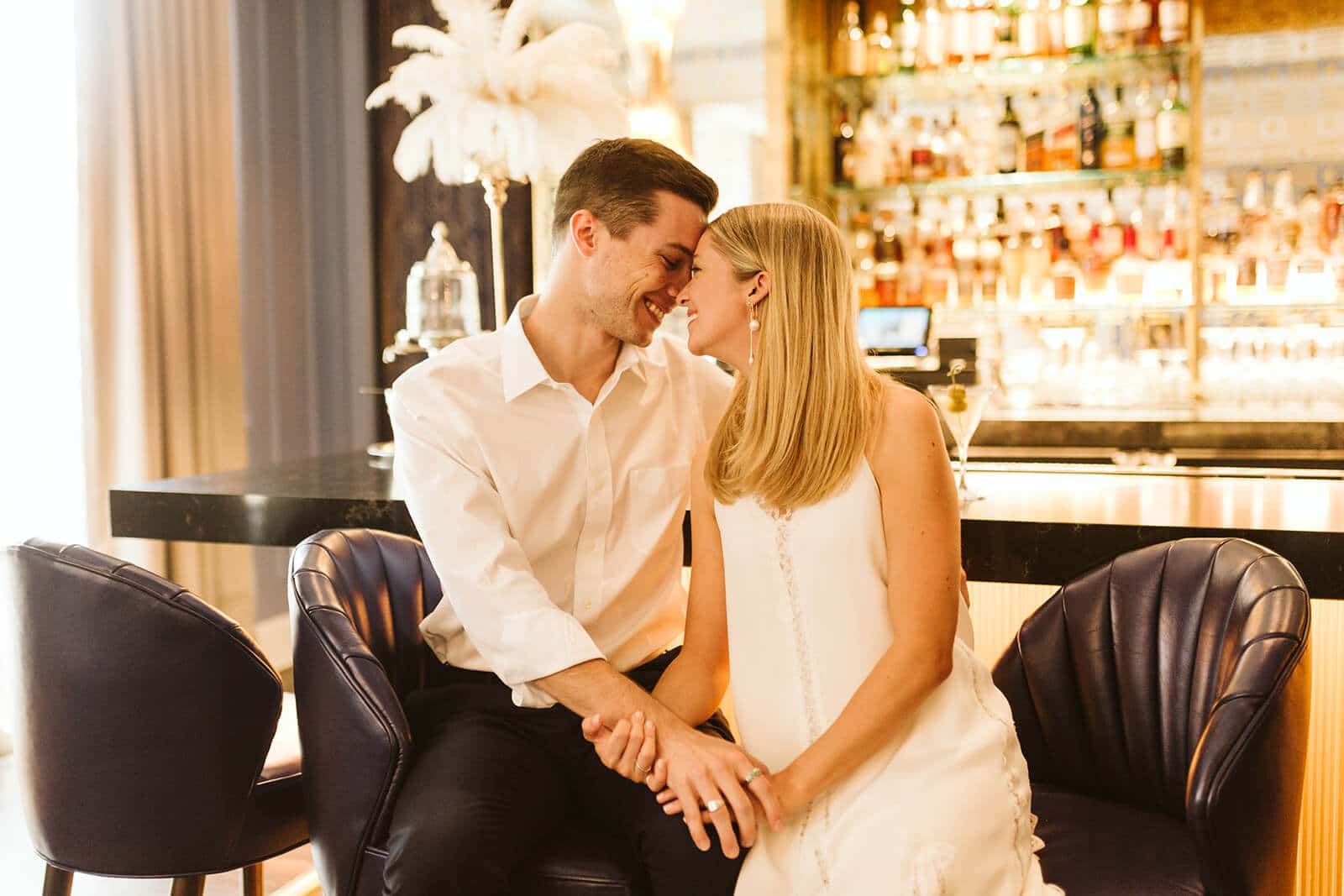 A Stunning Hometown Engagement Session
An engagement photoshoot session is one of the first big milestones couples hit when they're planning a wedding. I always encourage couples to book an engagement session with their chosen photographer. It's almost like a fun, easygoing practice run for your wedding day without all the hustle and bustle of sticking to a tight timeline. It's also a great way to get to know your photographer and for your photographer to really get a feel for your personalities and how they'd translate into the final photographs.
When Emily and Jim first contacted me about photographing their wedding day, it was a phone call all the way from their apartment in New York City. These photos are actually from their second engagement session. We previously had done a DUMBO Brooklyn session to document their life in New York City. However, they were planning a destination wedding on our very own Lookout Mountain here in Chattanooga as sort of a tribute to their southeast hometown roots. Jim grew up in Alabama and Emily lived just minutes away from Chattanooga. So, in addition to their NYC engagement photos, they also wanted photos that reflected where they came from.
In New York, Emily works in the fashion industry. Based on the trendy outfits for their Brooklyn shoot and their amazingly stylish apartment, they really wanted to find something that encompassed Chattanooga but was also classy and modern. They ended up choosing the Read House in the heart of downtown Chattanooga. After getting to know them quite a bit during each session, it's safe to say it was the perfect choice for them.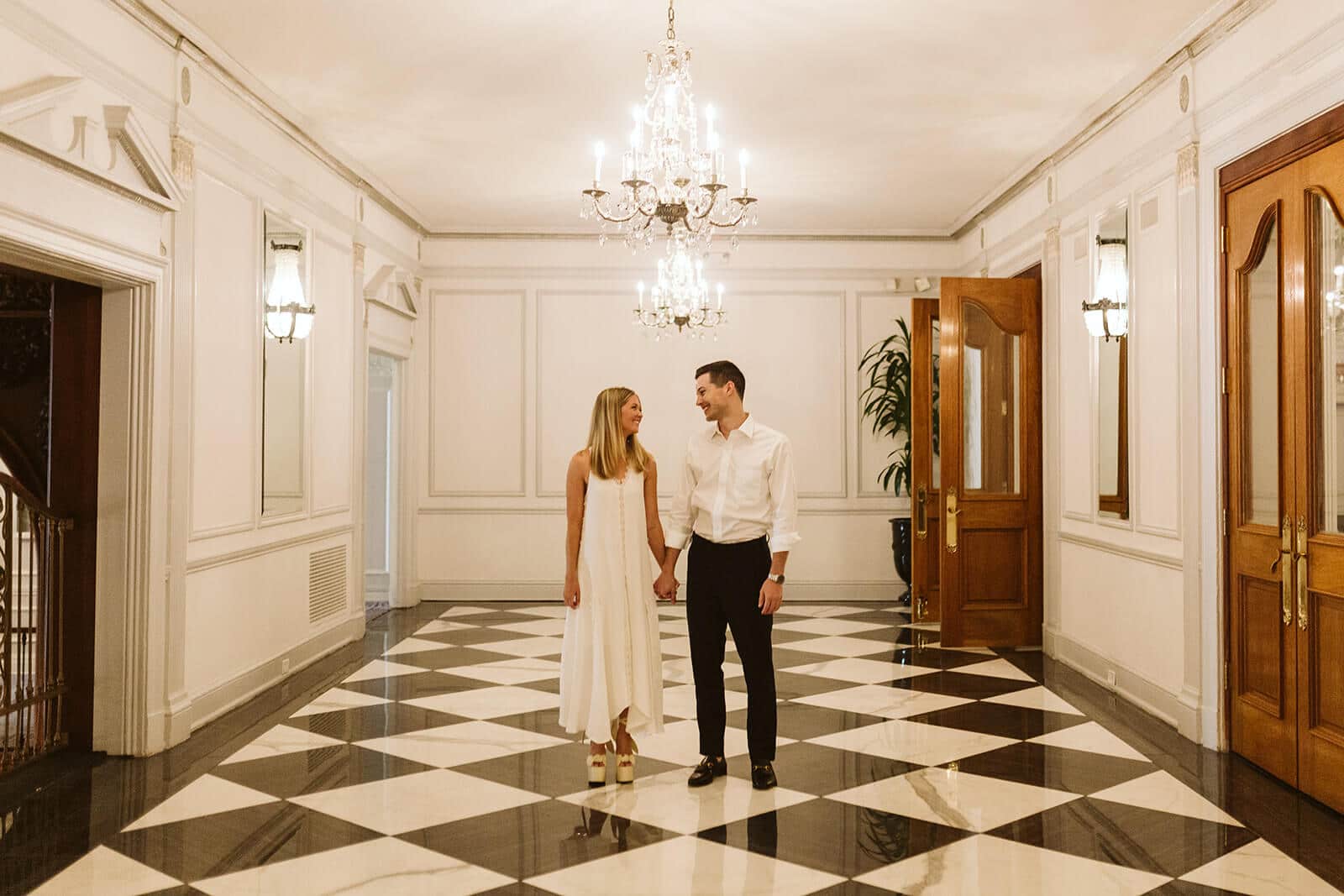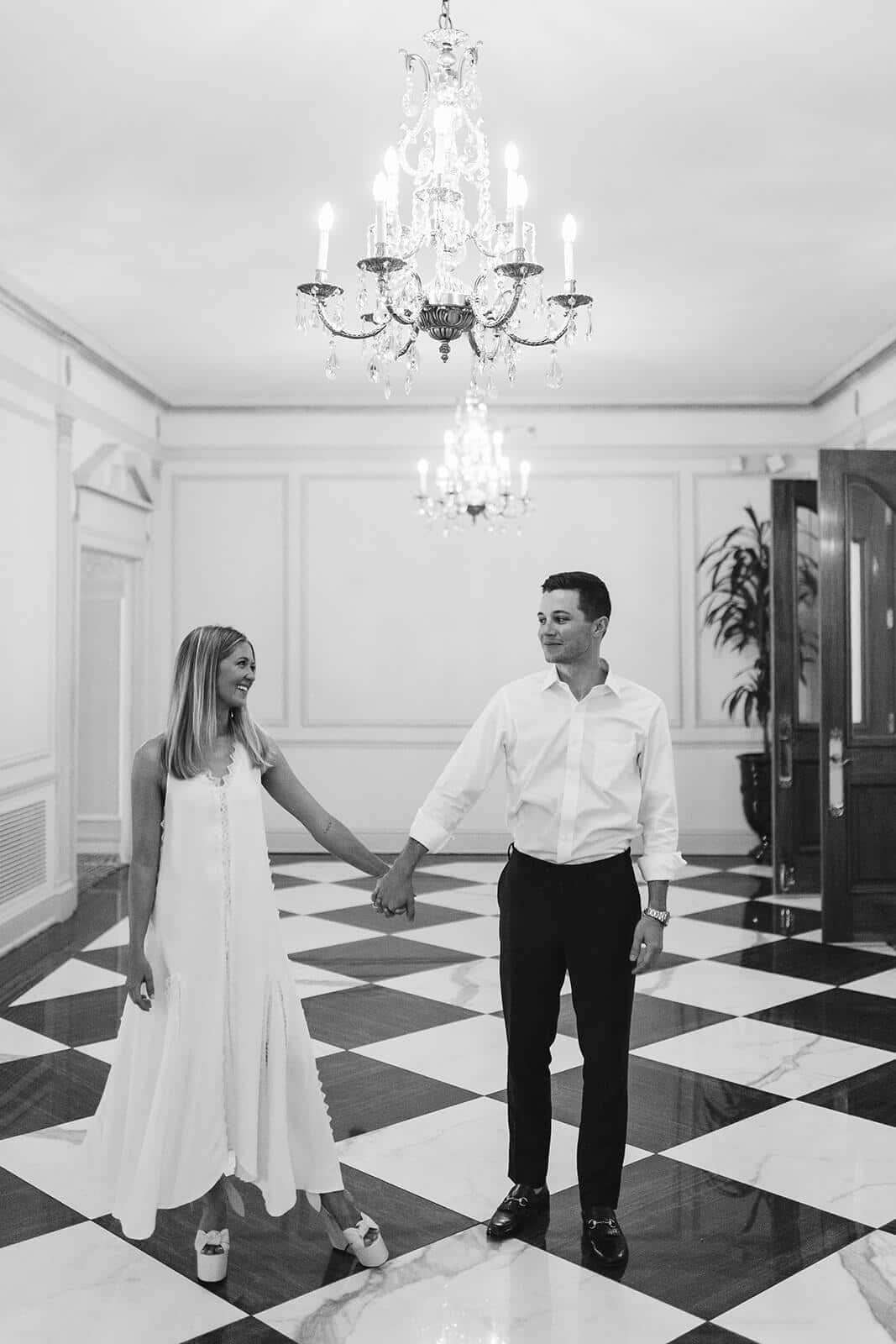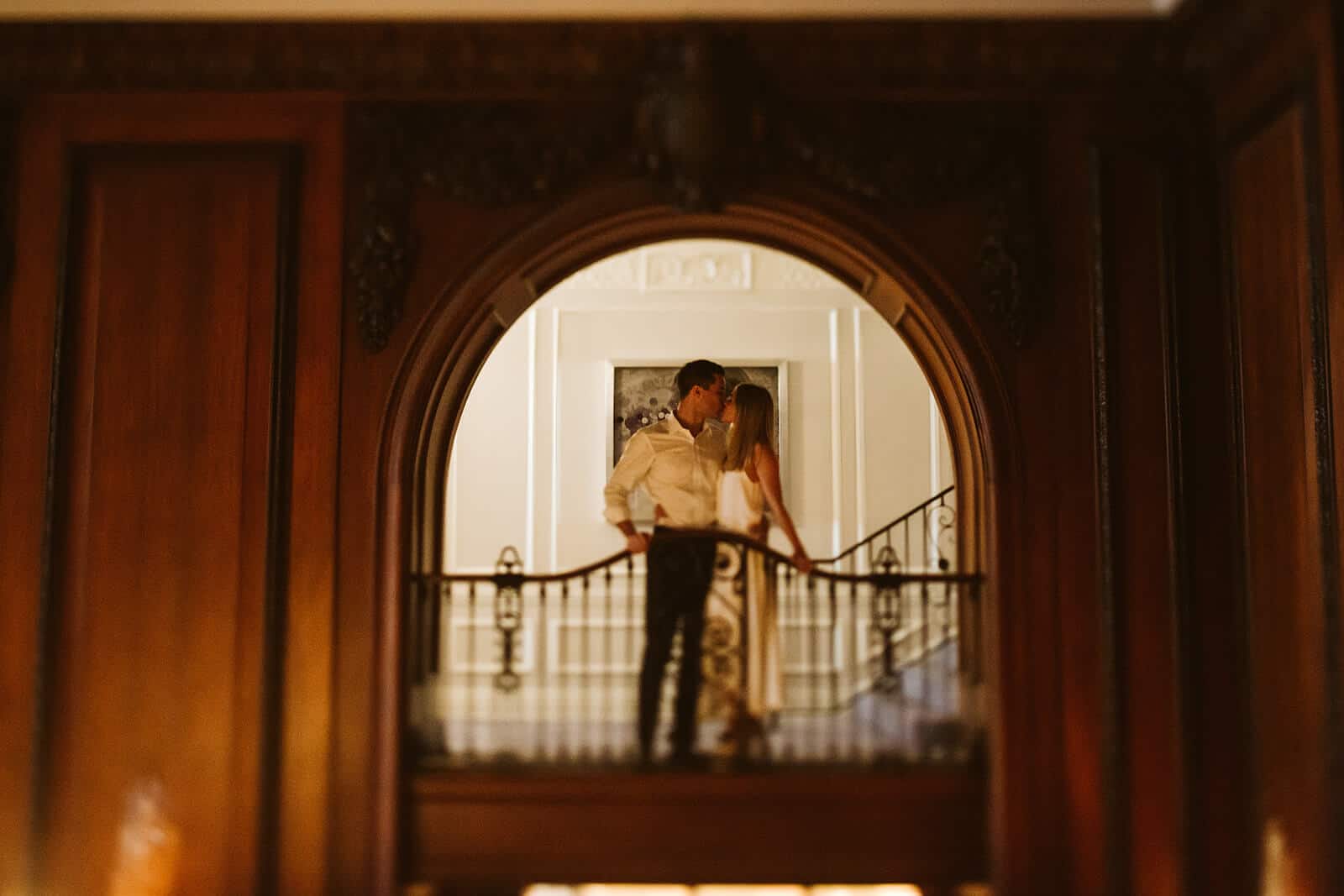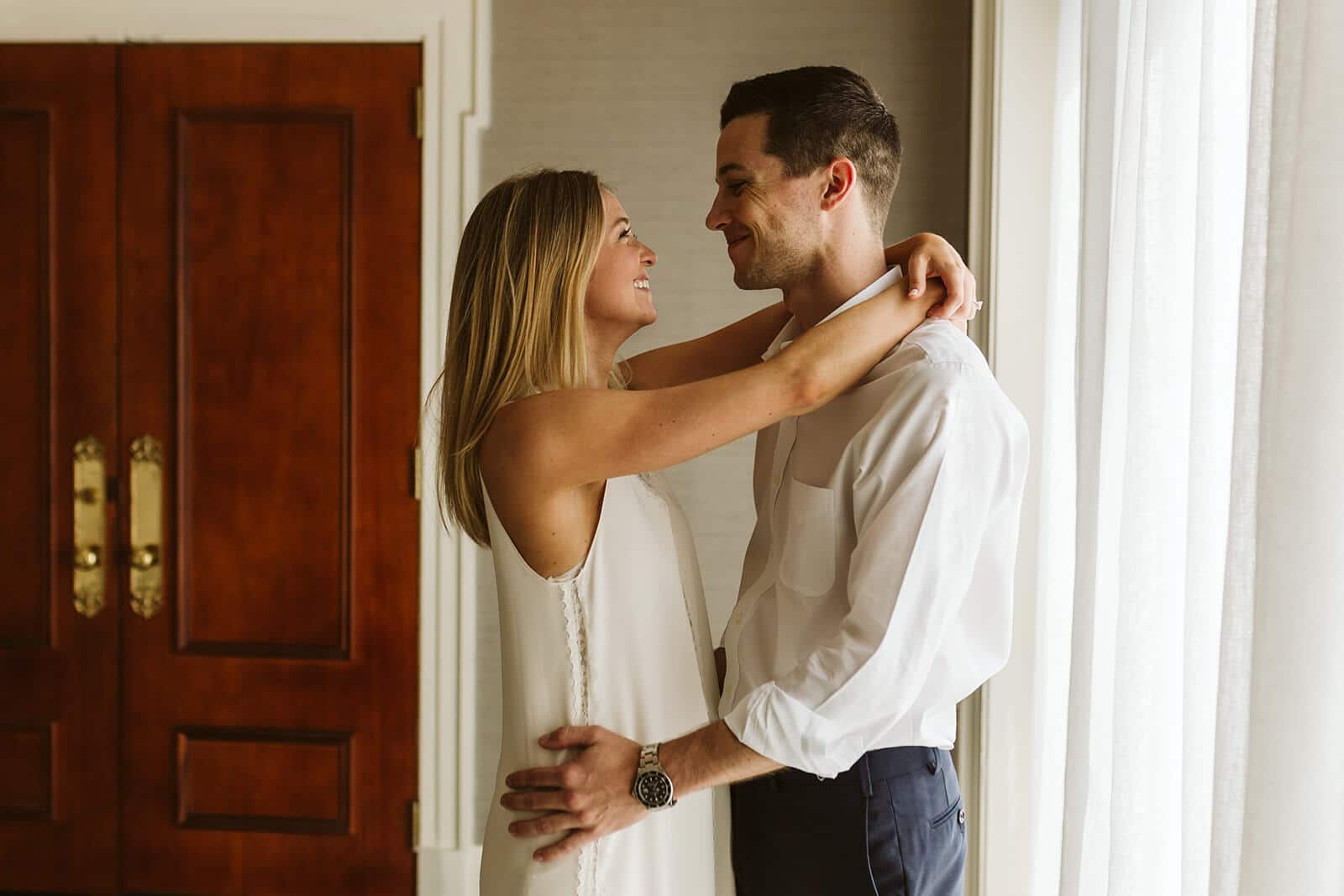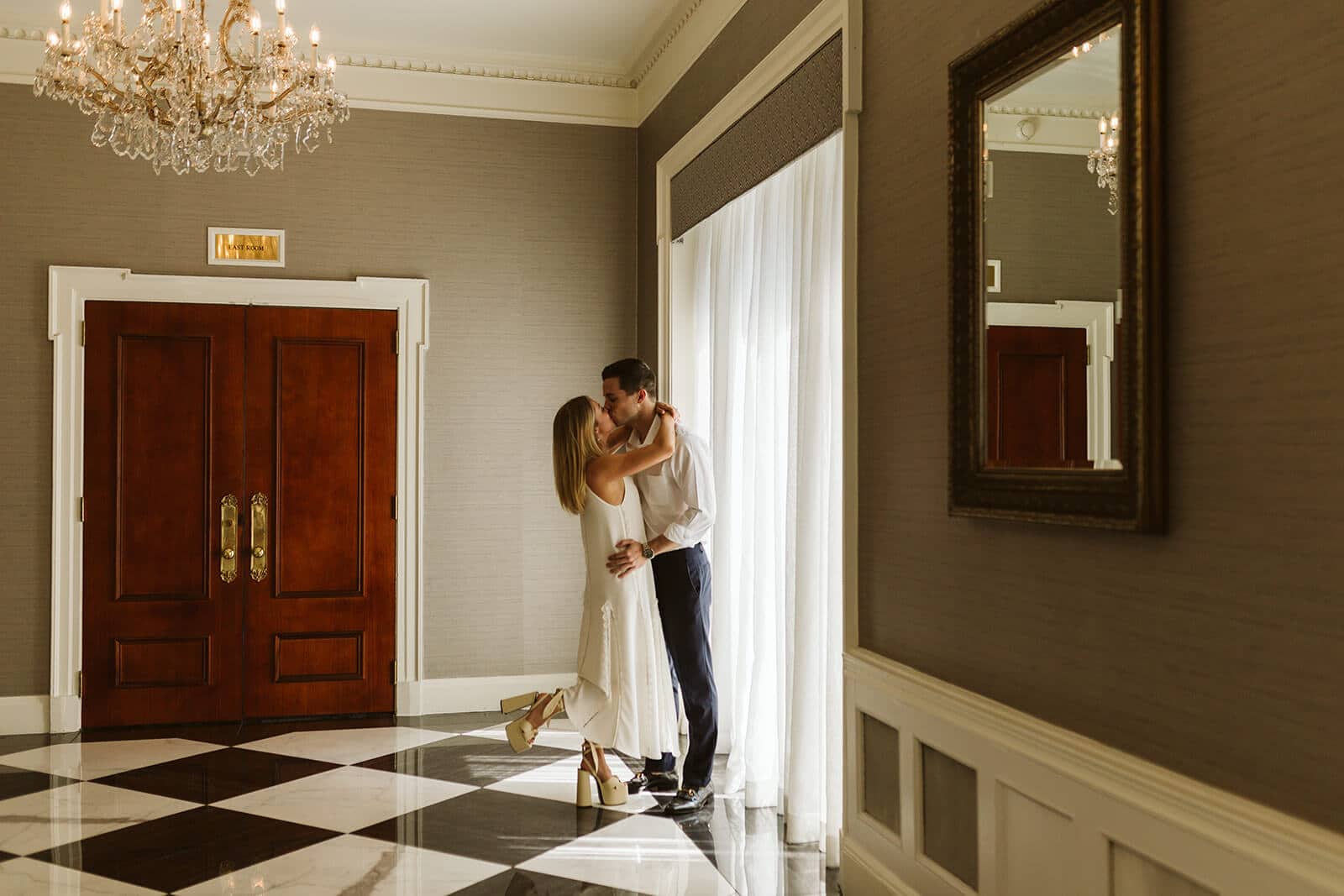 The Read House – An Ode to Chattanooga's Community
Emily and Jim really wanted to take their "hometown" engagement photos in a location that embodied Chattanooga. When I first met them for their Brooklyn photoshoot, we chatted for a while about Chattanooga and the difficulties of planning a destination wedding. They mentioned potentially doing a second engagement shoot in town before their wedding and the Read House came up as one possible location. It fit their classy, modern aesthetic so well. I was so excited to hear that's where they chose for their secondary engagement shoot.
Built in 1872 and completely renovated to its former glory in 2018, the Read House had always been a place for the people of Chattanooga to gather and socialize. Throughout its history, it has never been a place that turned away the local citizens. In fact, the Crutchfield family, who owned the property at the time when John Thomas Read rented it and transformed it to a hotel, wanted the location to be a place where people could meet, discuss the goings on in and around town, and throw grand parties. To this day, the Read House still radiates that warm feeling of community.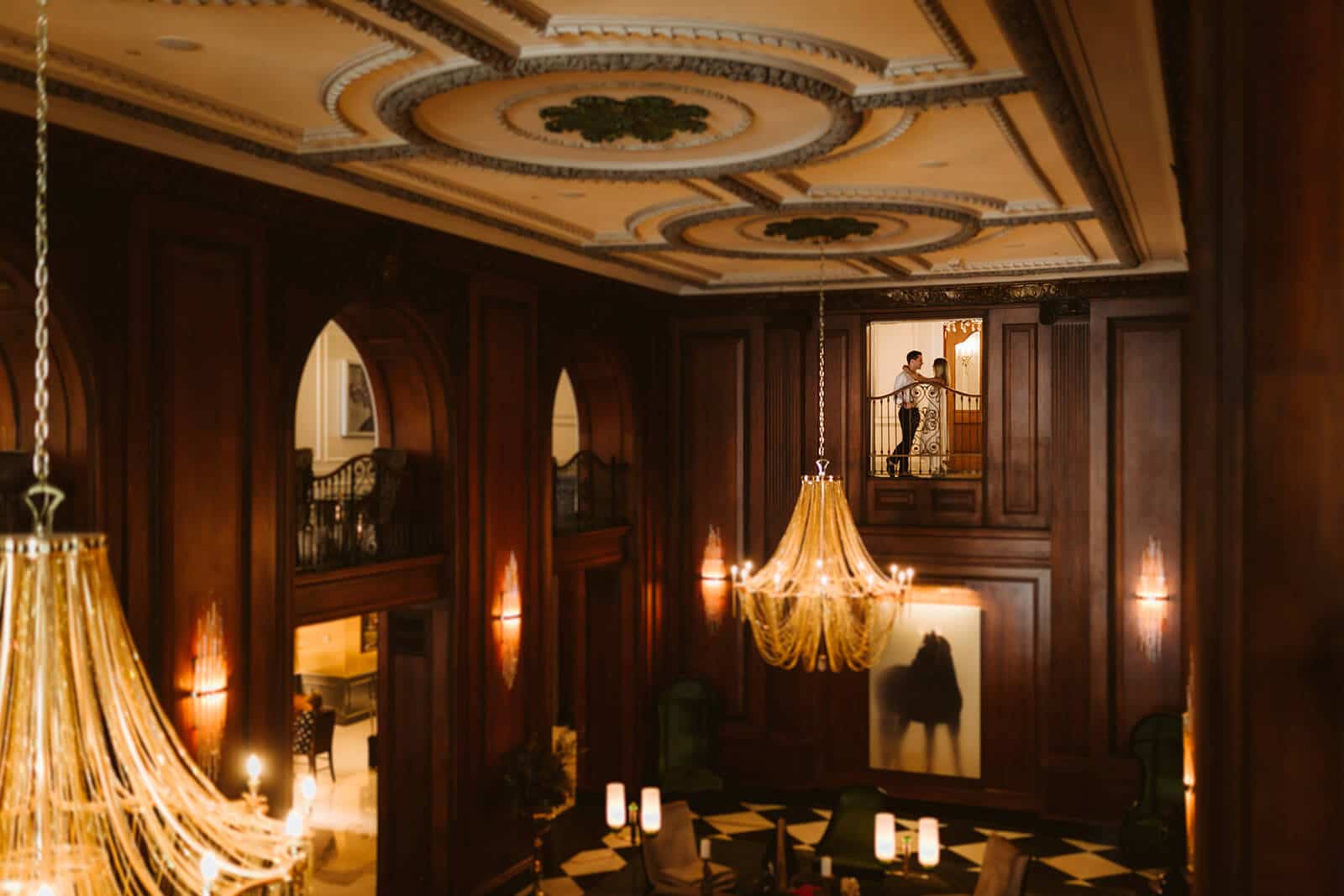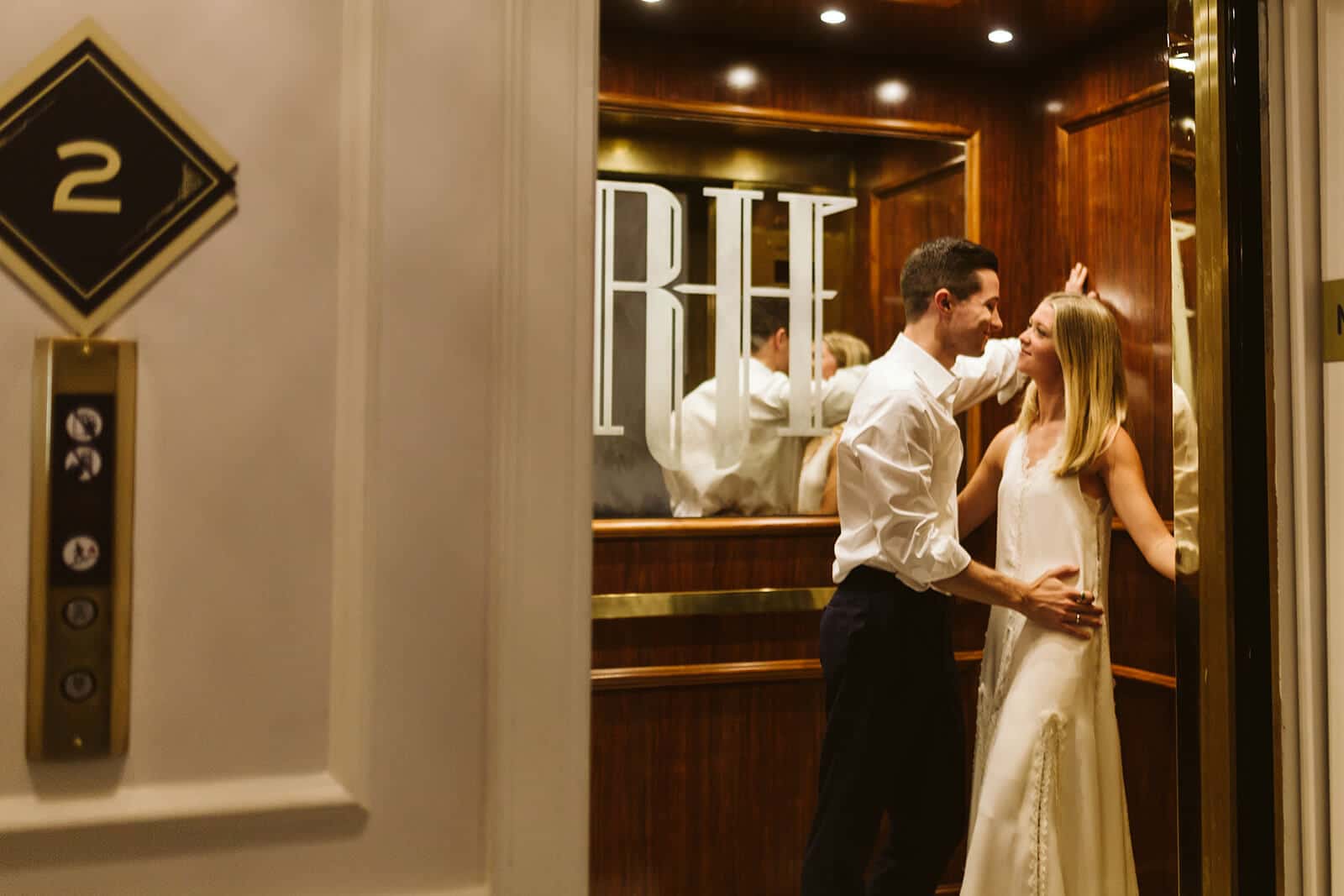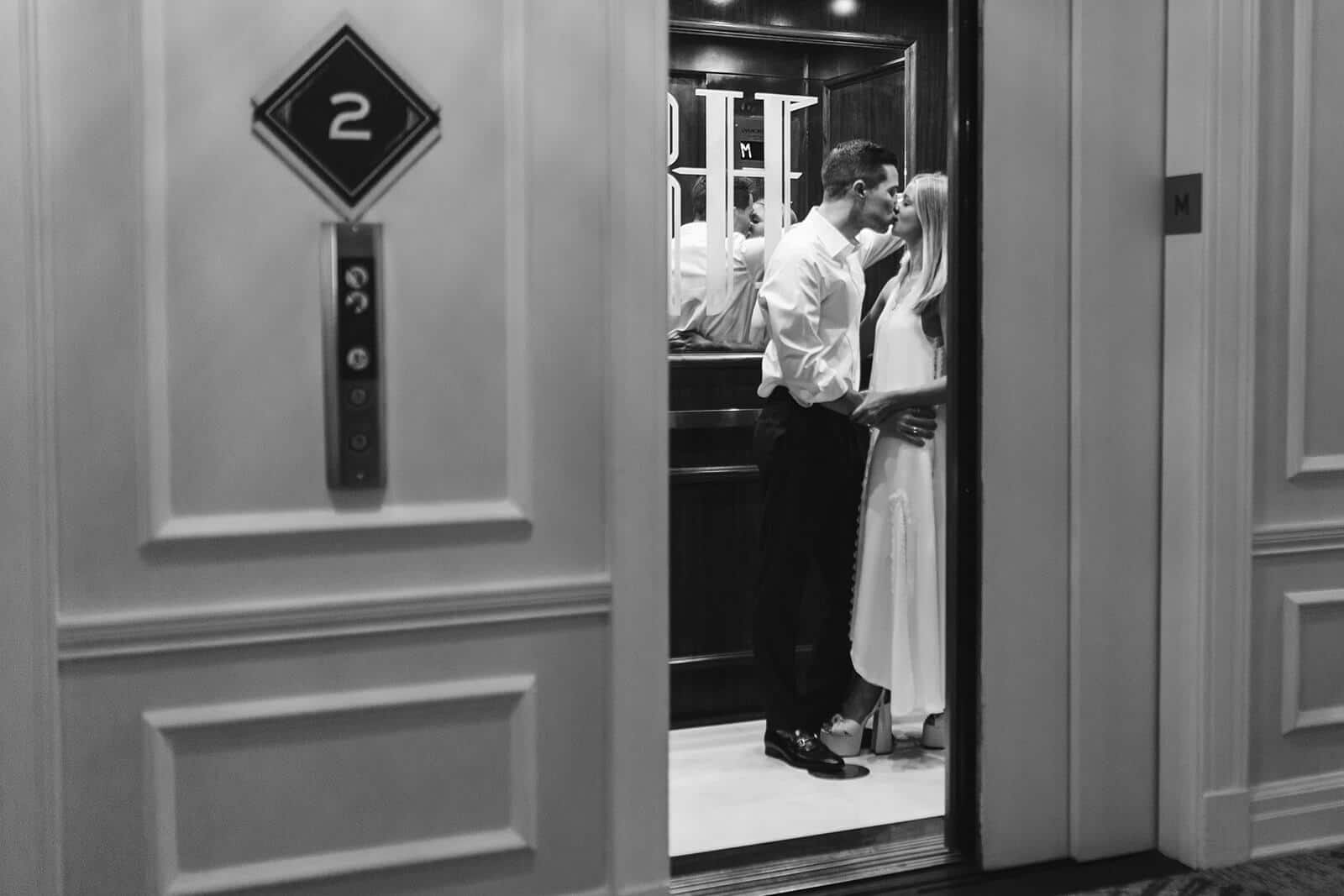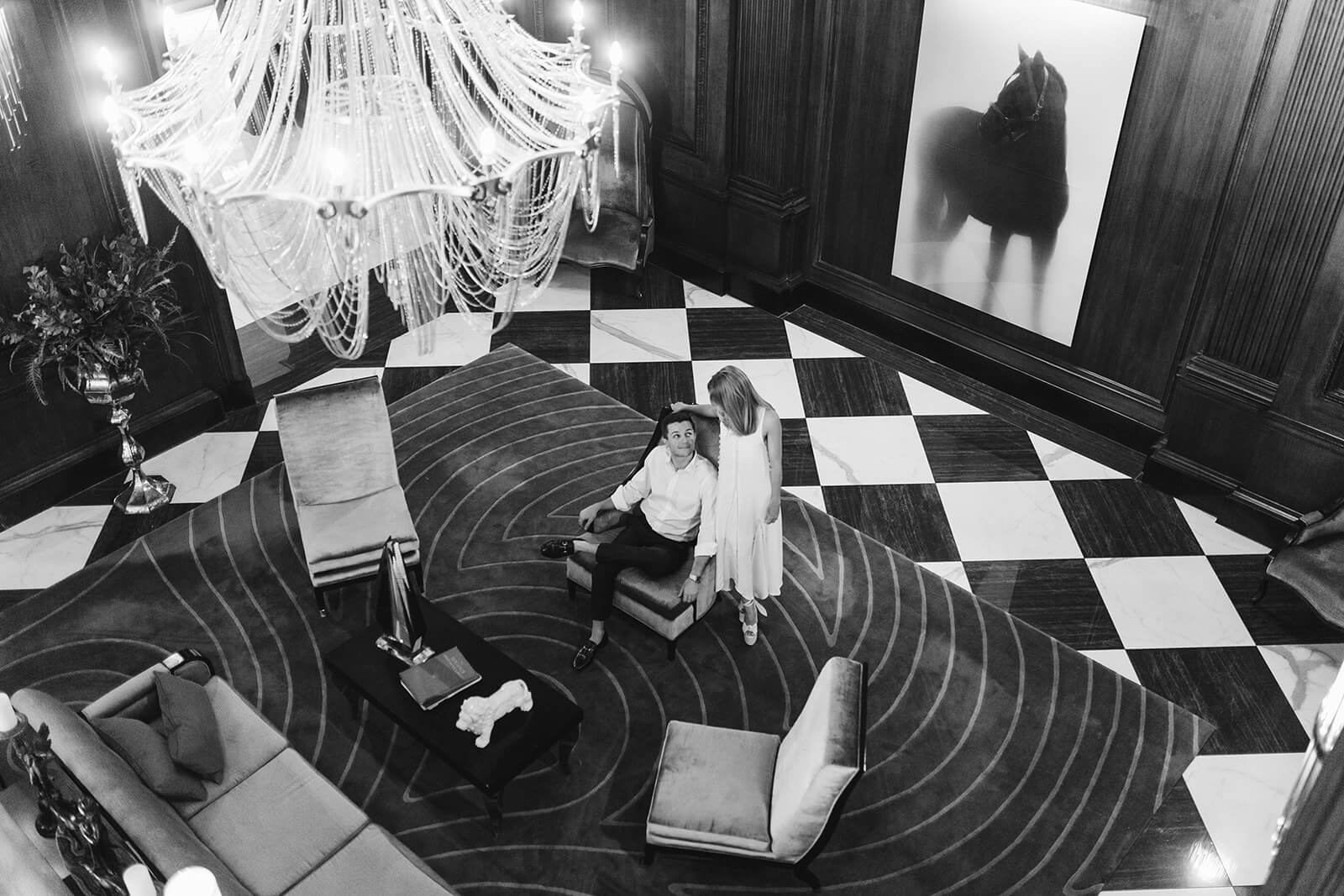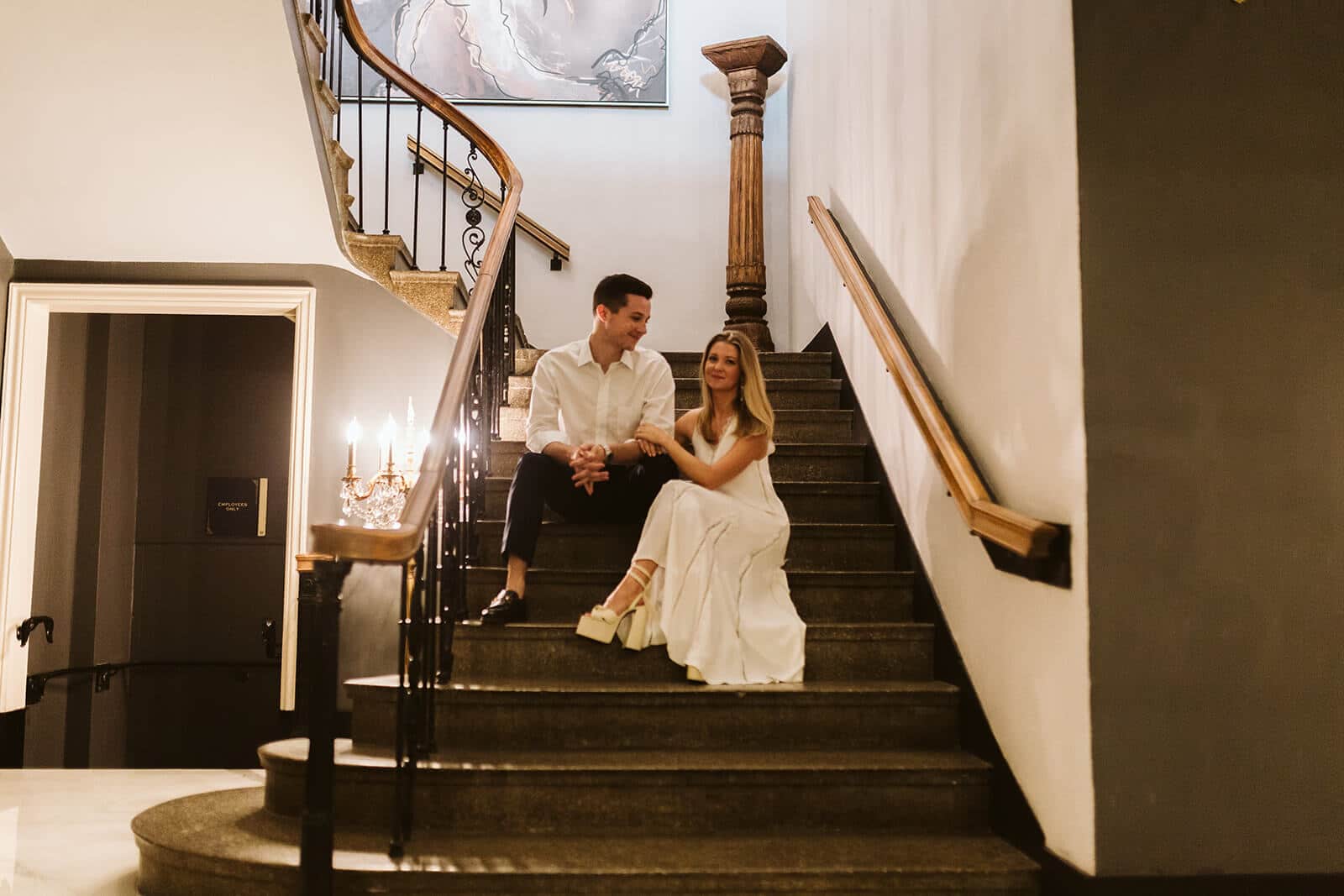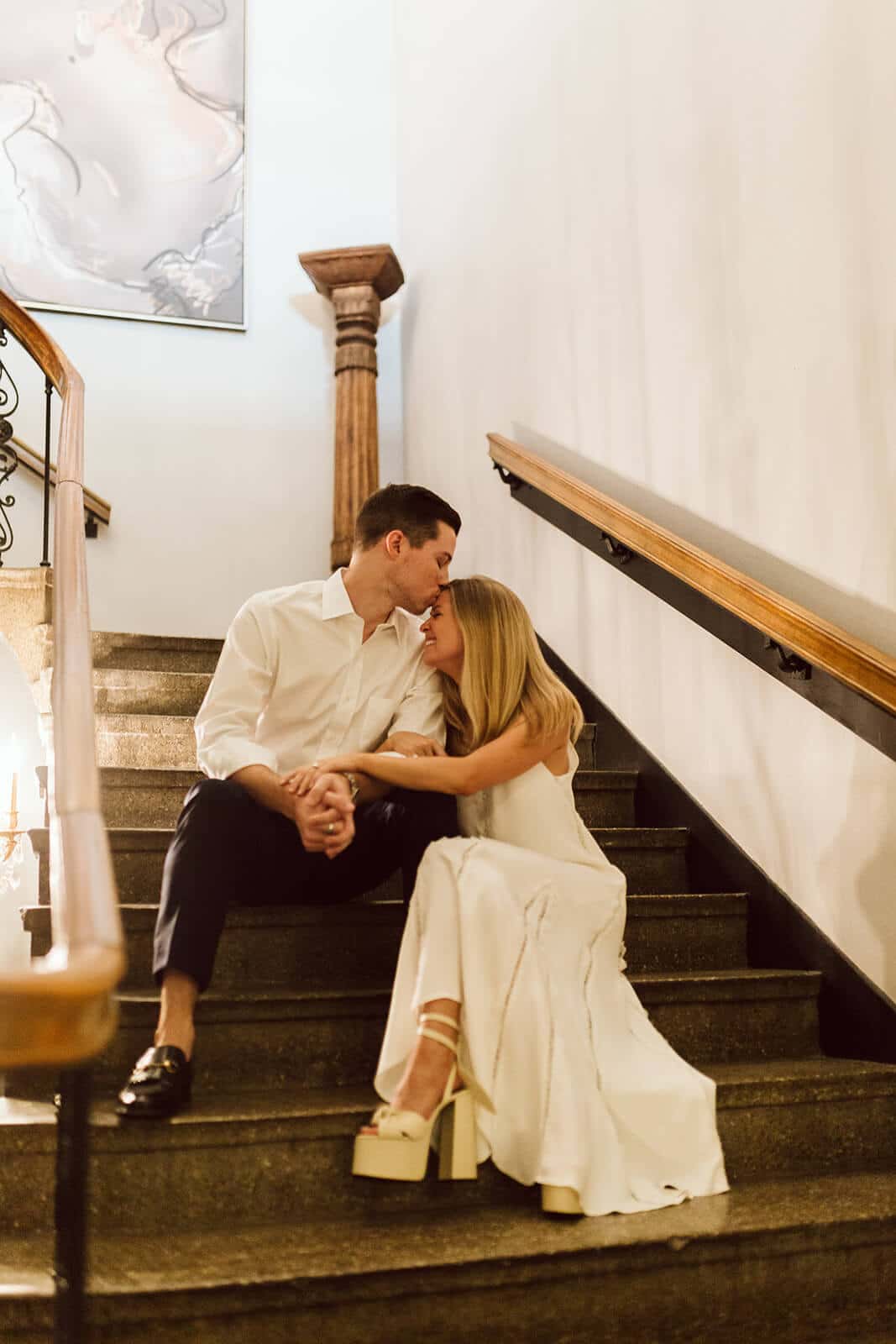 An Engagement Session Tour of the Read House
Even though many couples opt for outdoor engagement sessions to capture natural beauty and lighting for their photos, hotel lobbies – particularly of more upscale hotels like the Read House – are fantastic indoor locations. Many hotels have highly styled interior design that often results in unique and one-of-a-kind photos.
Because this was only an engagement session, we were limited to the hotel lobby and walkways and community spaces such as their in-house restaurants and lounge. Hotels sometimes have rules pertaining to hosting for photoshoots. However, there's never any harm in asking to use their space for your photo session. The worst that can happen is they say no and you move on to finding the next location.
When we arrived at the Read House, we started by taking photos in their glamorous lobby. Among the renovations that happened during the hotel's restoration, all of the furniture was replaced with modern pieces that gave off a distinct 1920s vibe. The 1920s was when the hotel was in the height of its glory days and at the center of jazz-era grandeur. The lobby lounge is this huge room with tall ceilings and dark mahogany walls with a giant crystal chandelier that hangs down in the center. Emily and Jim got cozy for pictures in a few of the plush green velvet chairs.
Something I really liked about the lobby area was there were alcoves that looked down into it on the second floor. They offered really interesting vantage points to take photos of Emily and Jim down below. After some photos in the lobby, Emily and Jim made their way up to meet me on the second floor. We just had to snap a few pictures in the elevator. The wood finish with mirrors and gold accents just screamed Roaring 20s and paired with Emily's sleek white dress, she could have been a modern-day flapper.
There was literally no spot in the Read House that didn't make for amazing photos. We got a few in the alcoves with their wrought iron gates overlooking the lobby and even some in the hallways with marbled checkered floors and winding staircases decorated with tall candelabras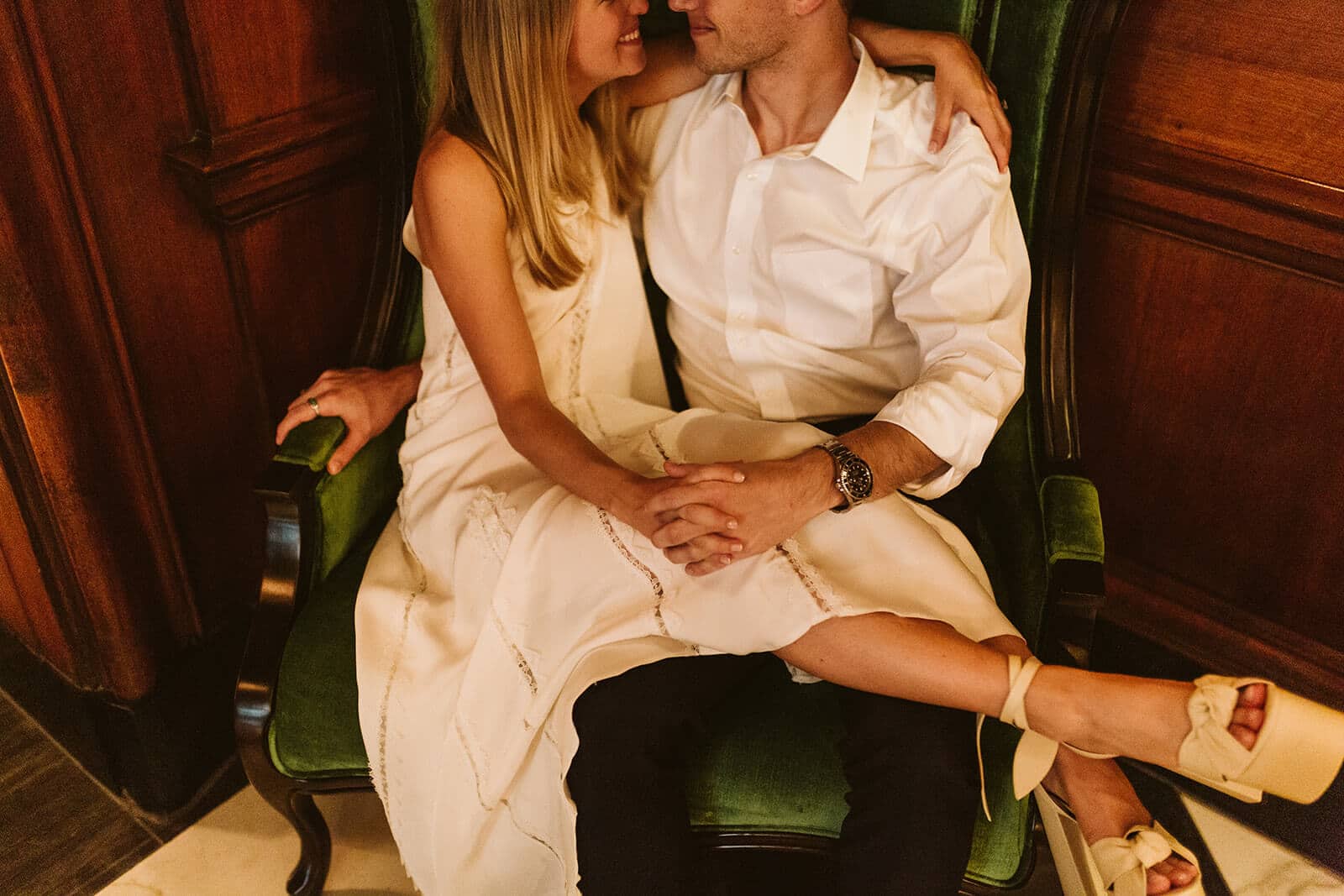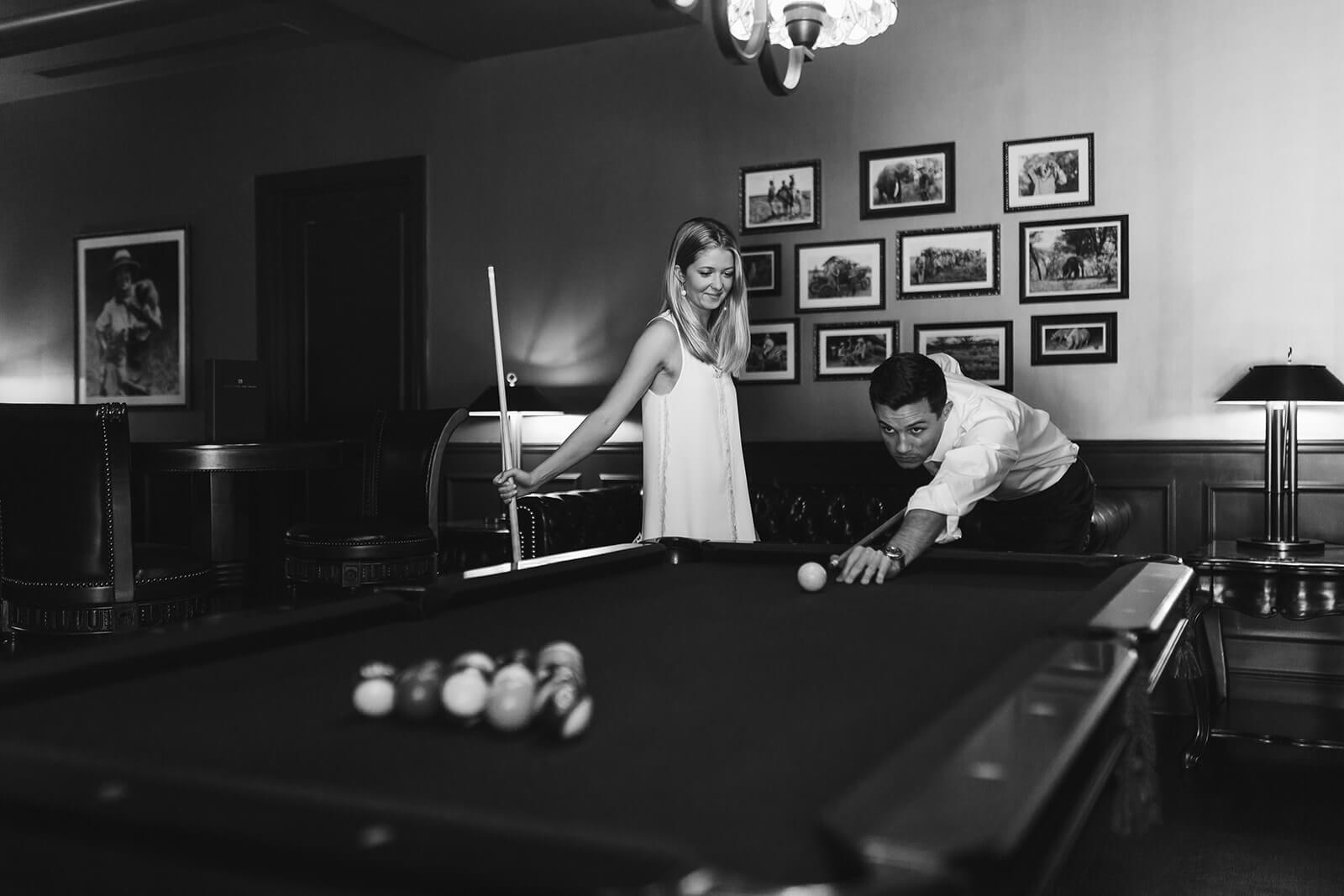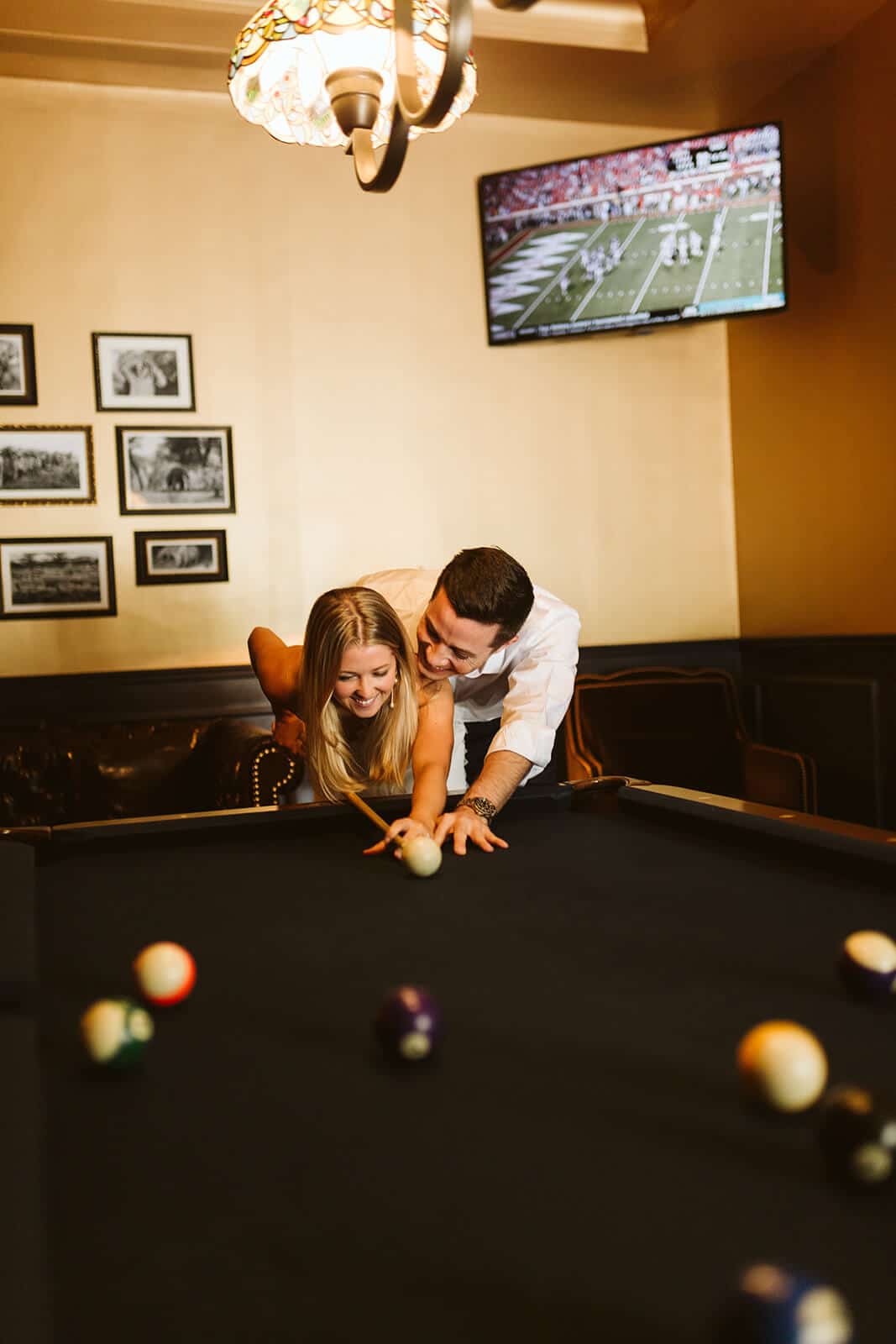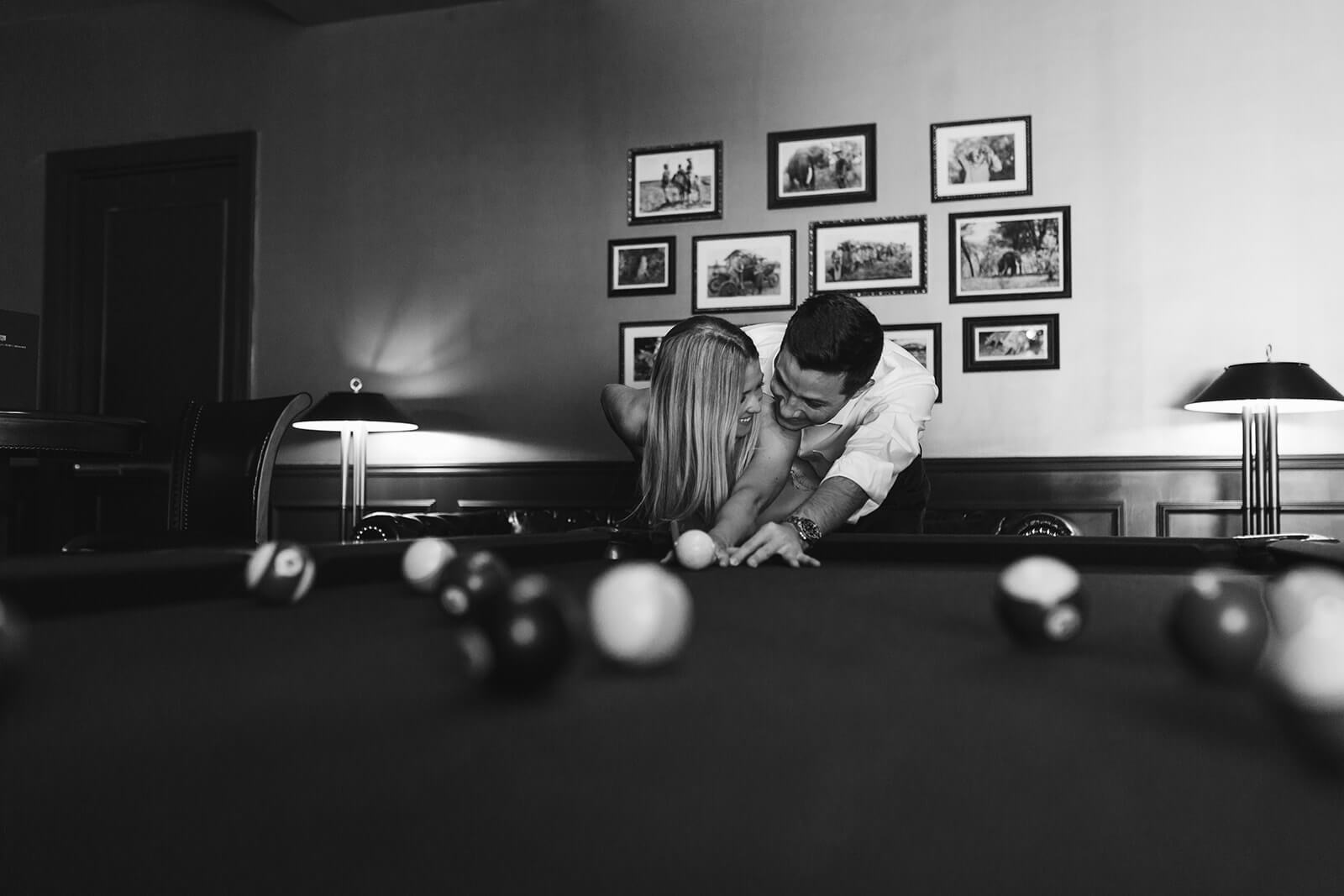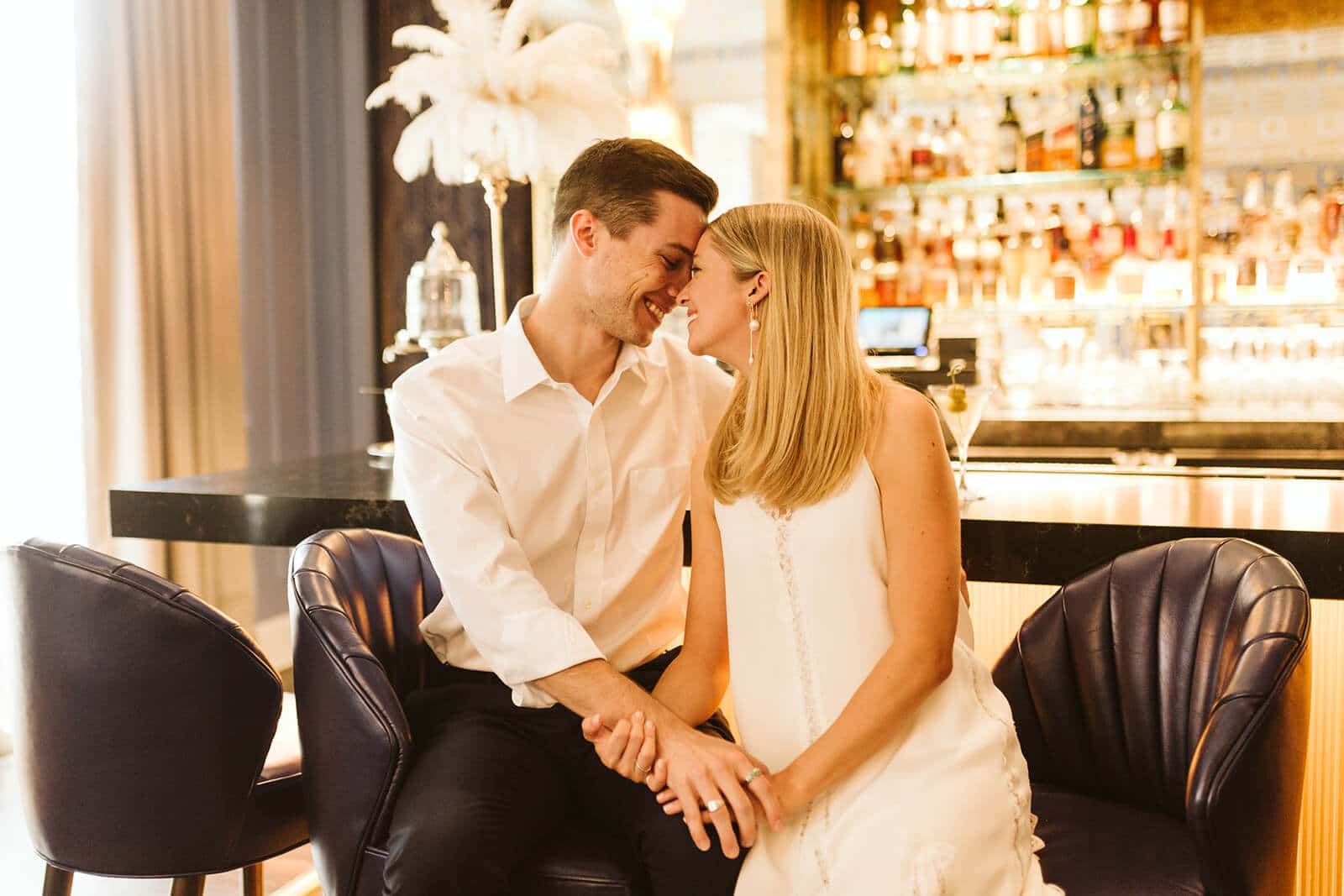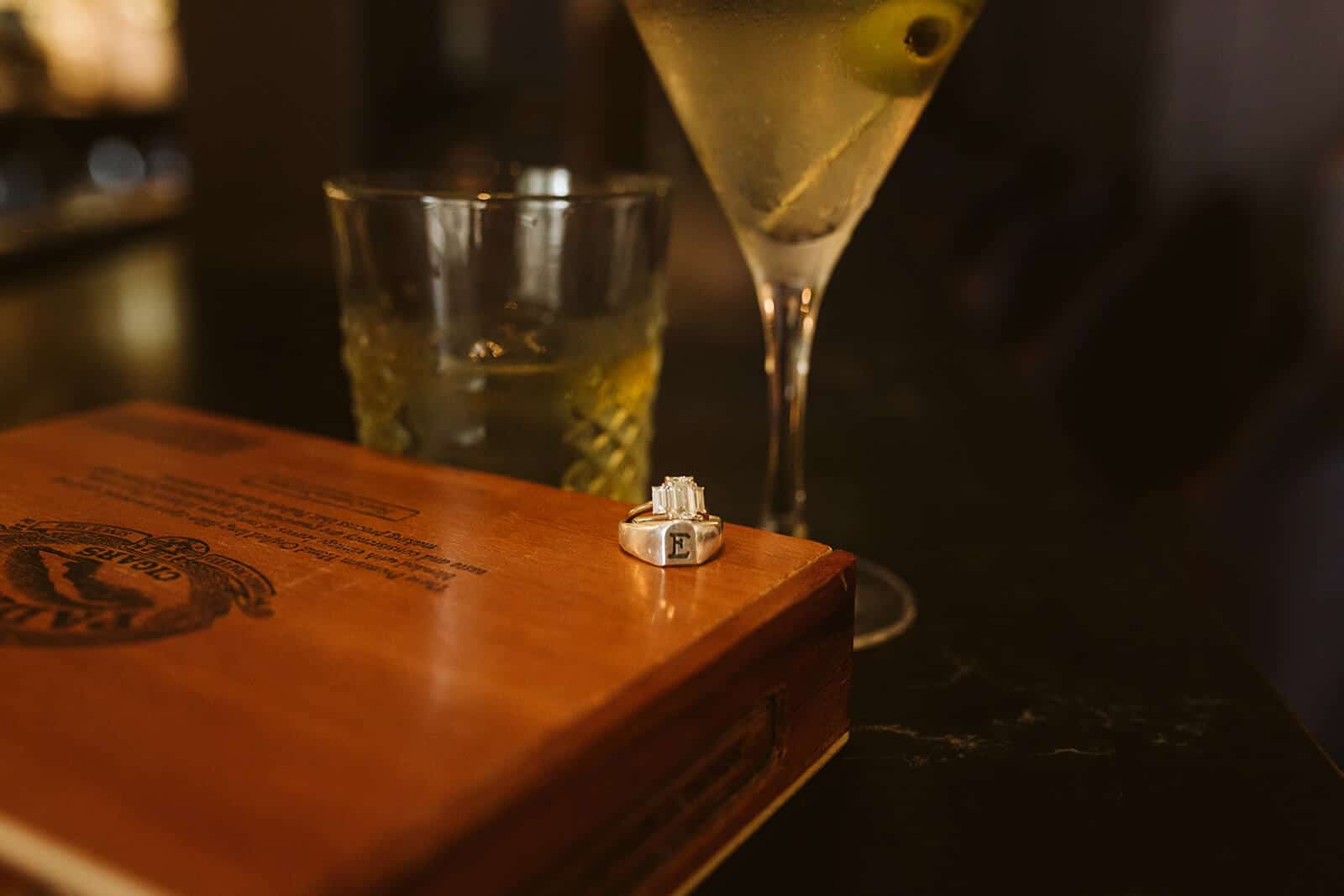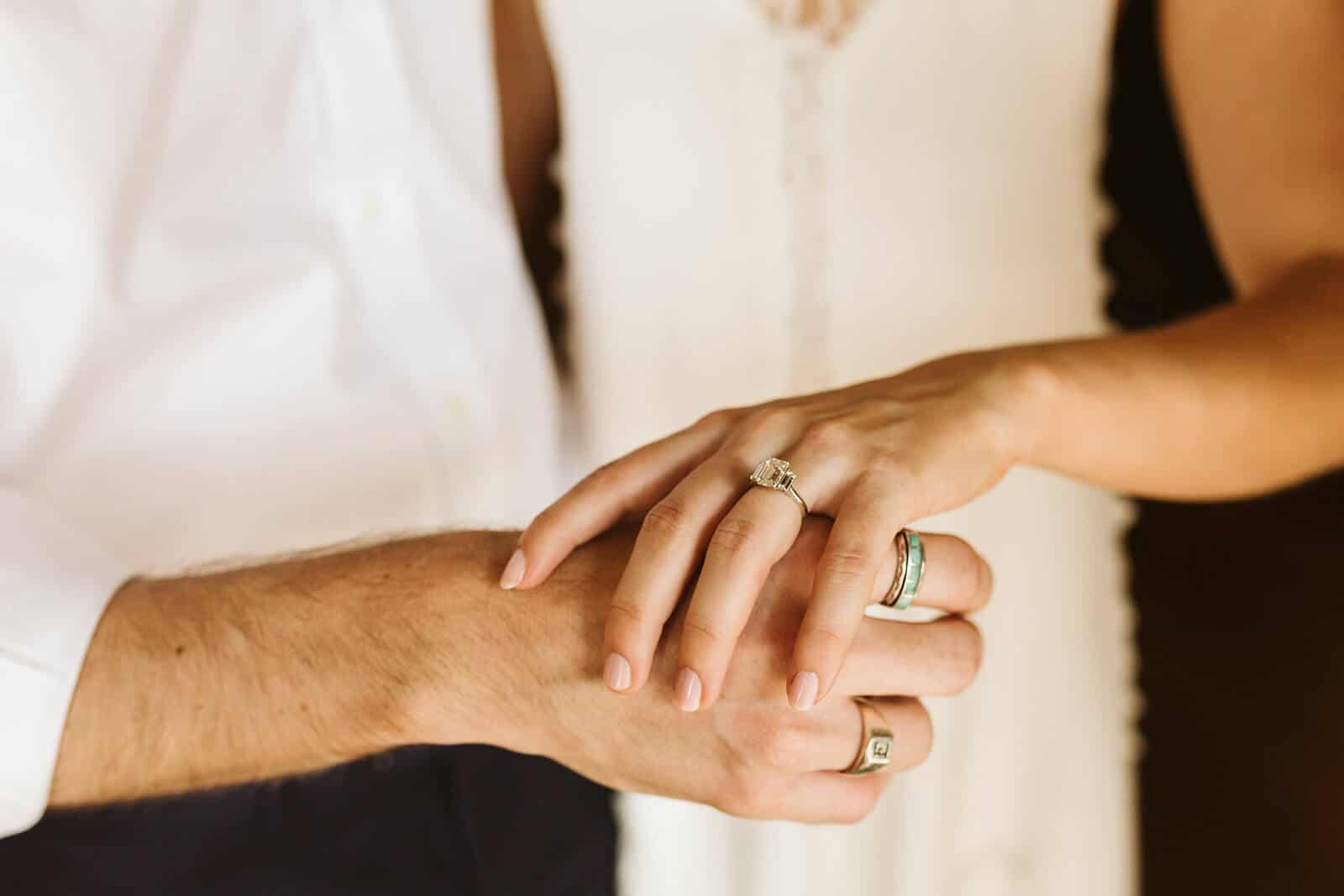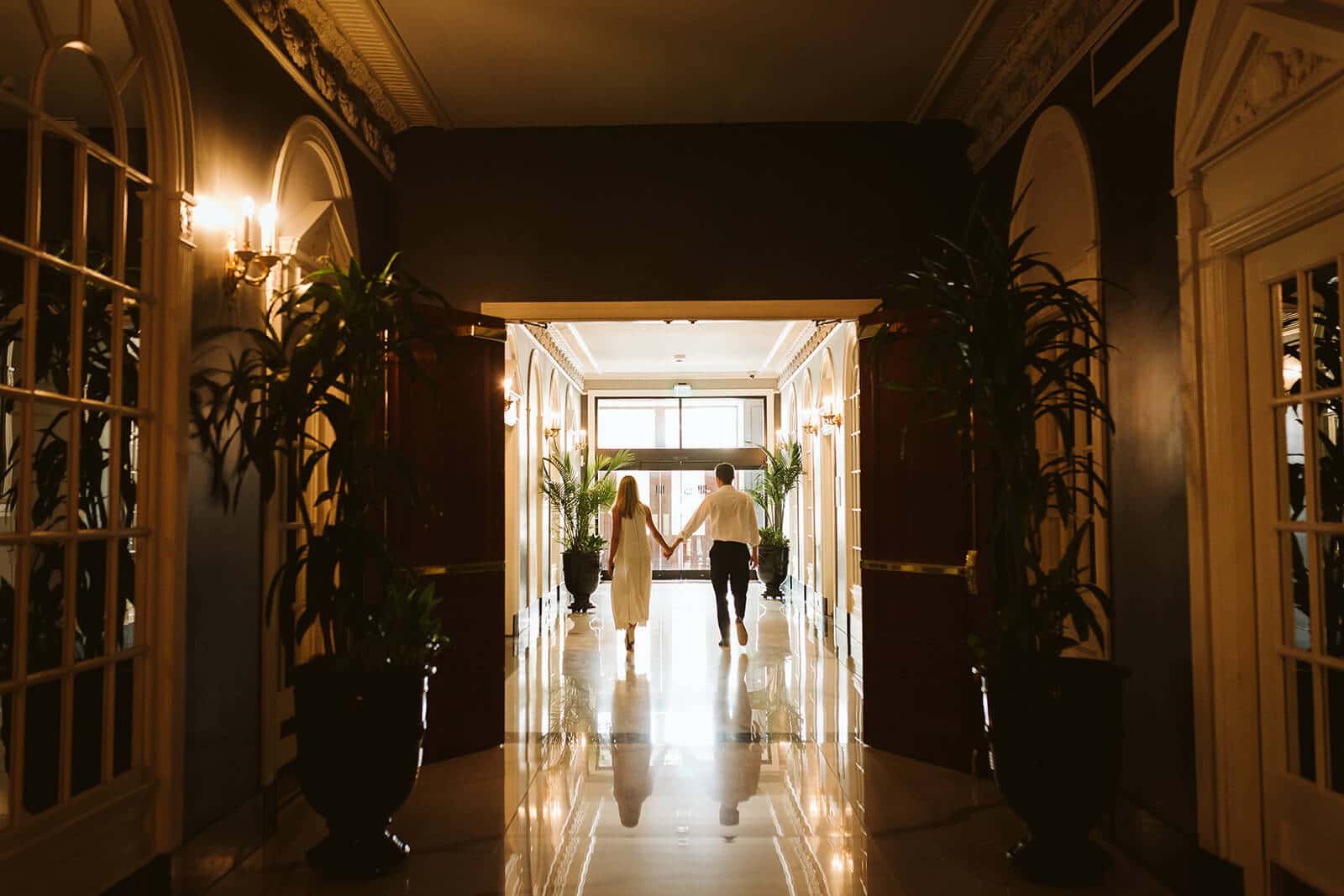 Timeless Venues for Your Big Day at the Read House
Not only is the Read House the perfect location for an extraordinary engagement session, it's also a wonderful location to host your wedding! There are 12 different event locations just within the hotel to accommodate anything from close, intimate gatherings to full, lavish weddings in their 1920s grand ballroom. Plus, with in-house catering with white glove service and experienced event planners on staff, your big day will be nothing short of fabulous.
The Read House's location in the middle of downtown Chattanooga also makes it a prime location for traveling guests to really explore the city. The free electric shuttle stops right outside the main entrance and can transport guests to either the North or South side of town to restaurants, parks, the Creative Discovery Museum, the Tennessee Aquarium, or the Riverwalk. There are also several fantastic hiking locations at nearby Lookout Mountain to really get up close to Chattanooga's natural beauty.
After your wedding, you and your guests don't even have to go far for an after-party. The Bar & Billiards Room is the hotel's resident speakeasy featuring handcrafted aperitifs (and digestifs perfect for an afterparty) as well as a full menu of delicious appetizers and entrees if you're feeling peckish after all that dancing. Emily and Jim actually ended their engagement session in the Bar & Billiards Room. They played a cuddly game of pool before finishing the day with an Old Fashioned and a martini.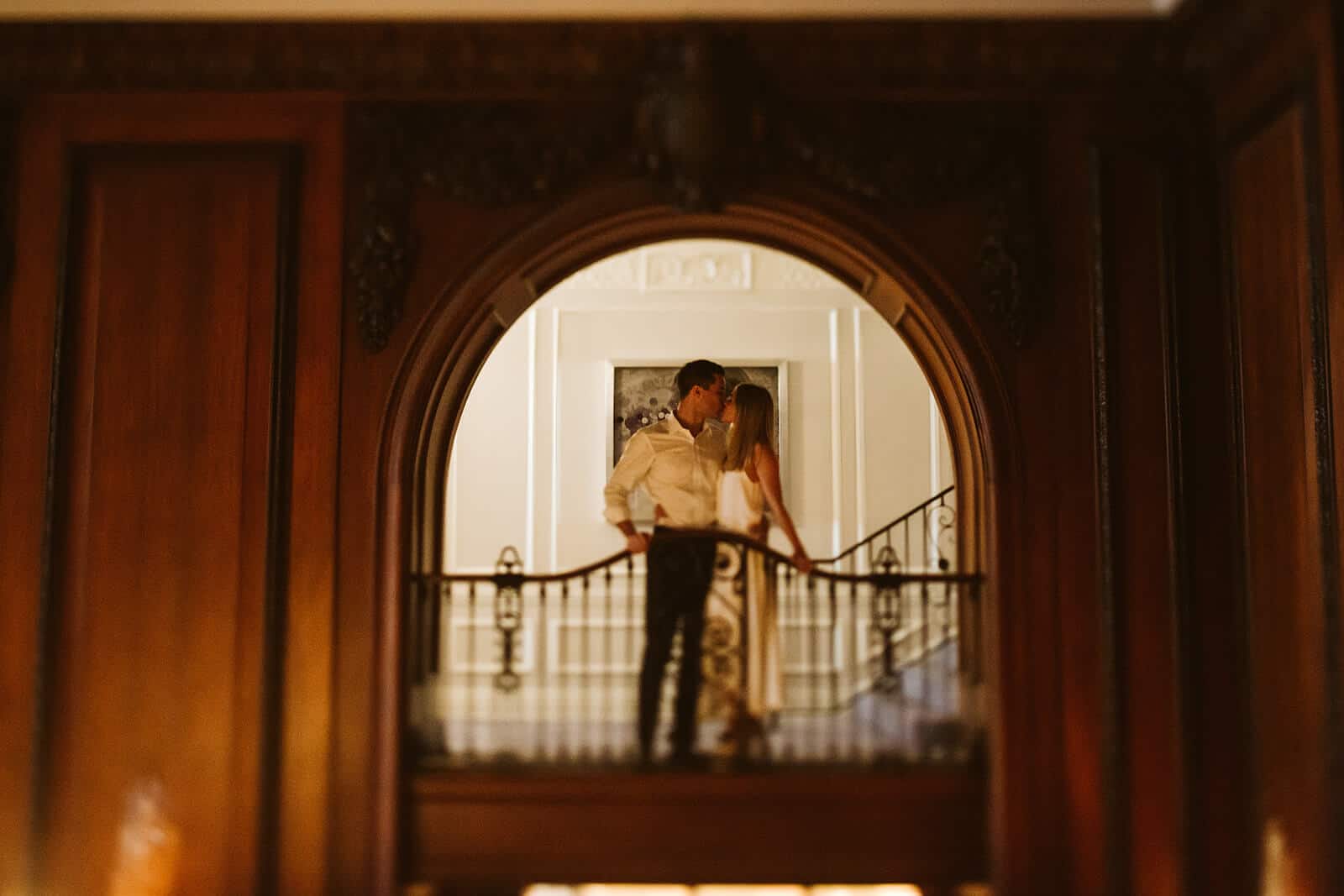 Hi! I'm Rachael Crowe of OKCrowe Photography. I hope you enjoyed Emily and Jim's engagement session at the Read House. Be sure to check out pics from their Brooklyn session and their Lookout Mountain wedding! Whether you're local to Chattanooga like me or located way off on the East or West Coast, I'd love to chat about how we can bring your dream to a reality whether it's for an engagement, wedding, or elopement! Just fill out my contact form, and let's chat!