Even a bit of wedding rain couldn't put a damper on this couple's day.
Rain and photography aren't necessarily best friends. And when it comes to your wedding day, rain can throw a major hitch in your schedule, ceremony arrangements, hair and makeup, and let's be honest — your mood. But I'm always amazed at how even the most unlikely wedding day occurrences create spontaneous, genuine moments that personalize a wedding, making it even more memorable.
Lexi and Ian had their hearts set on an outdoor ceremony, and I'm so glad they persisted. The Pavilion at Howe Farms, only 40 minutes from downtown Chattanooga, but situated on 350 acres of rolling Tennessee hills, ended up being the perfect venue for them. Providing a unique clash of elegance and nature, Howe Farms features 6 venues spread out across their wide-open fields, each offering their own flavor of wedding décor and views of the estate.
The Pavilion is one of their larger venues, accommodating up to 300 guests with 360-degree, panoramic views of the mountains surrounding it — a photographer's dream and a romantic scene for photos you'll cherish for years to come.
We'll start with the elegant details that would foreshadow the moments ahead for our pretty couple. Lexi's dress (thank you, White Lace and Promises!) was stunning underneath the chandelier with the mountains peeking in from behind. I just love the floral details in her dress cascading down the steps next to her bouquet. The lucky sixpence, ring, and handkerchief were gifts handed down from Lexi's grandmother.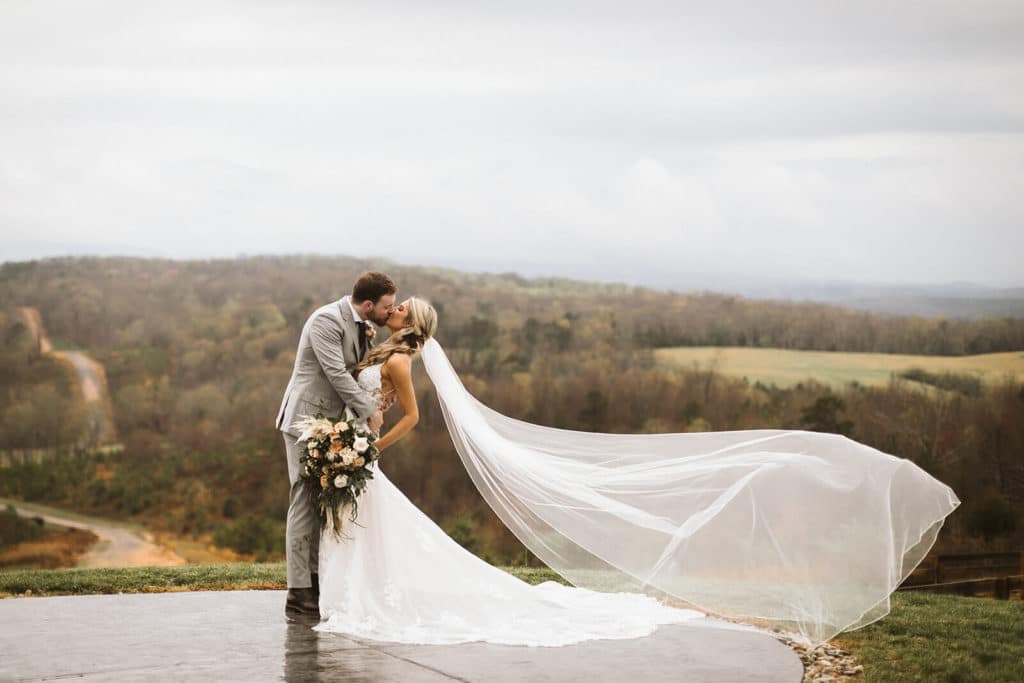 Bridal + Groom Portraits: A Fun Way to Kick-off Photos
The Pavilion's interior is gorgeous, with hardwood floors and contrasting white walls making a great backdrop for Lexi's bridal portraits. The stained-glass window with the flower perfectly accented her bouquet and floral wedding dress. Moving to the window under the chandelier, the white curtains perfectly outline her silhouette as she takes in the mountainous views. Oh, and we can't forget the groom! Ian's boots and navy-blue tie were the ideal attire for the occasion.
We had so much fun taking these — it's always an exciting moment when you're finally ready for photos.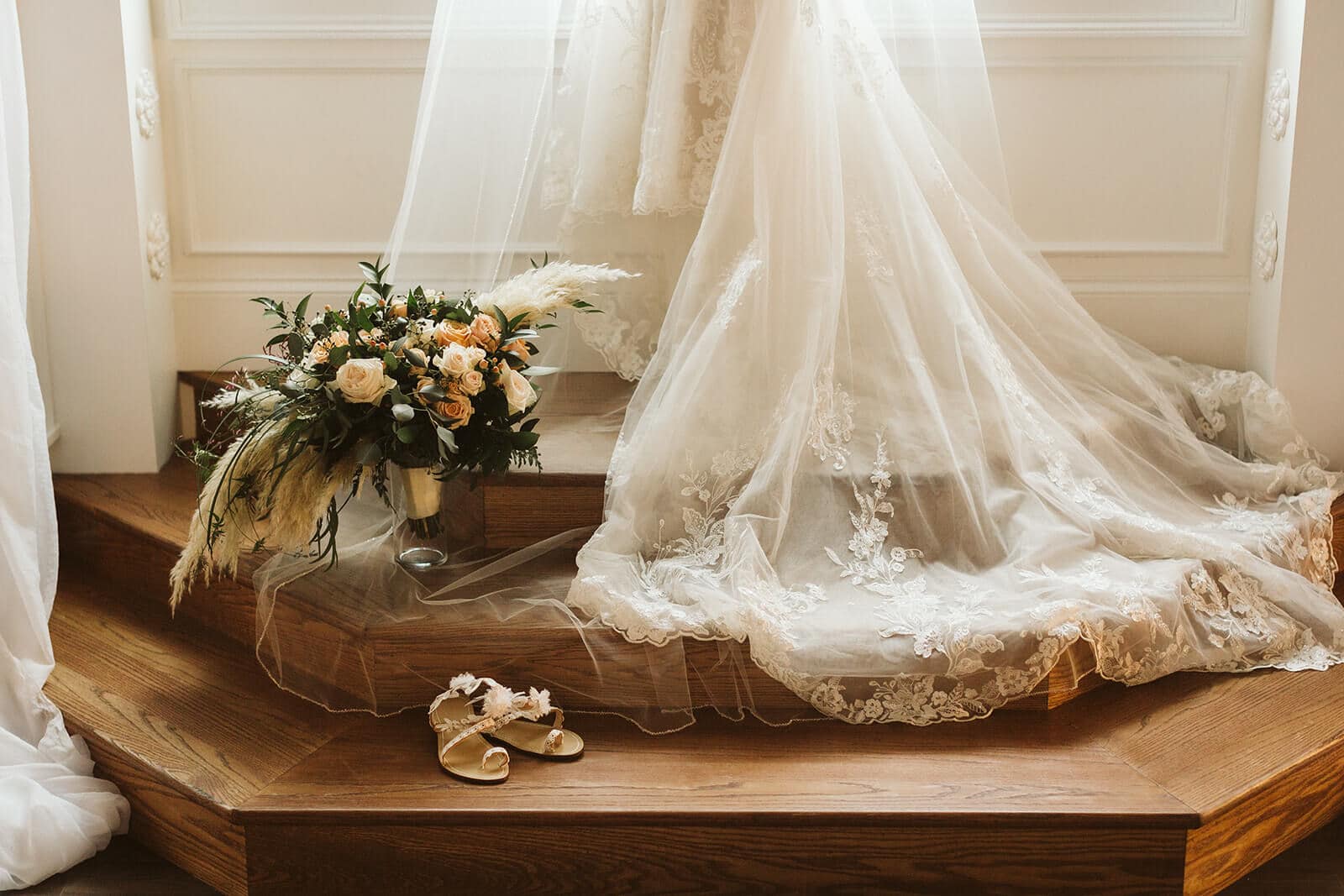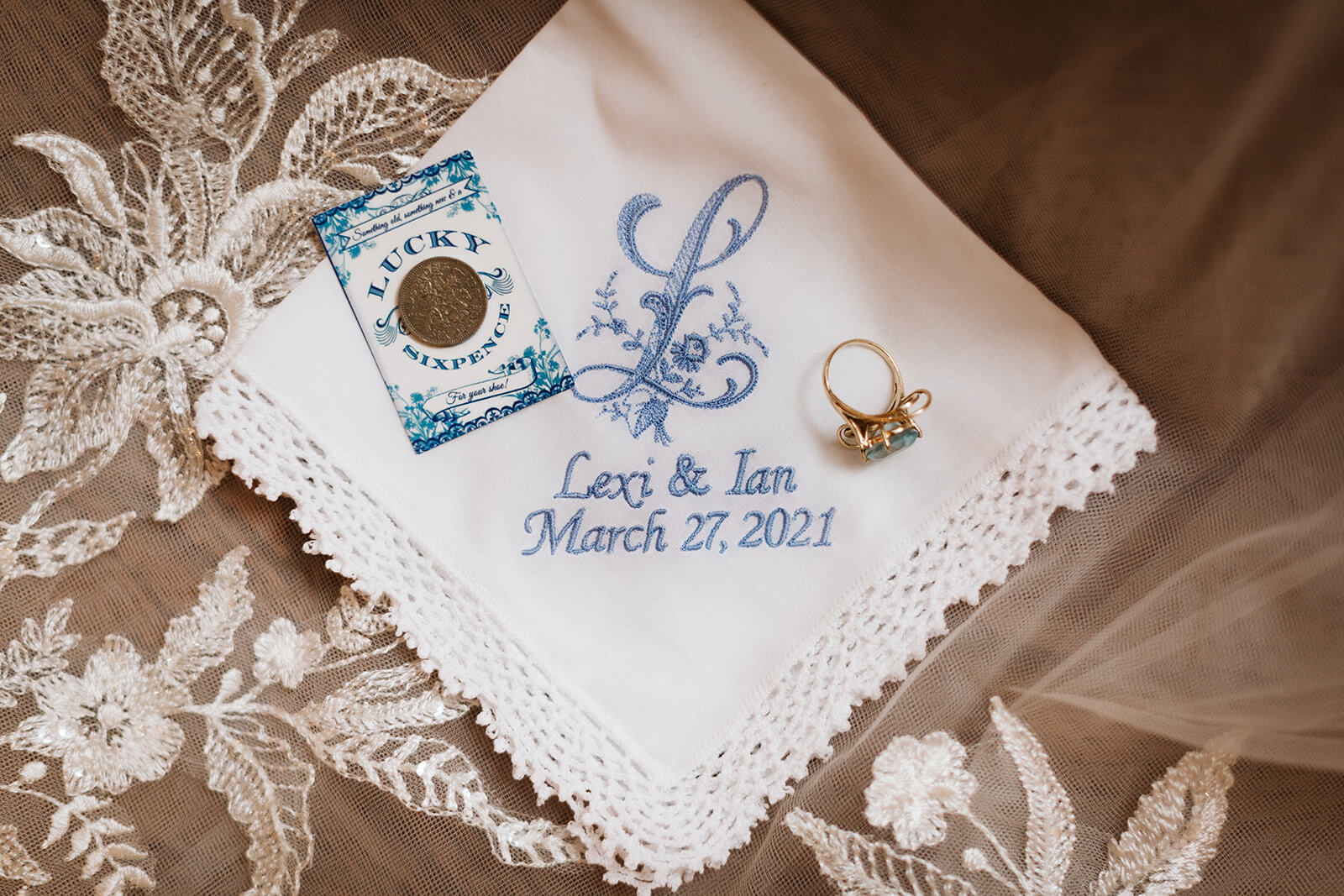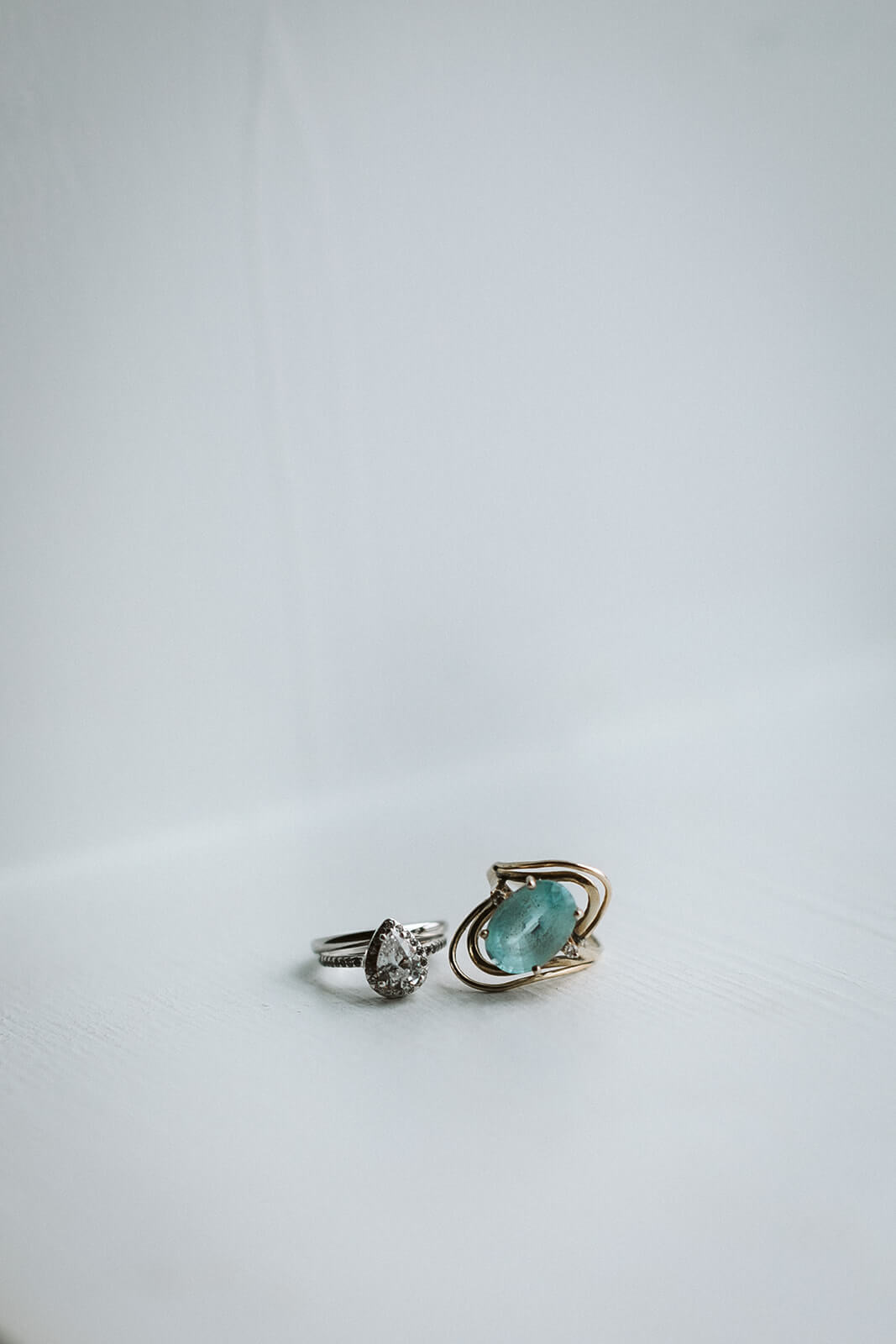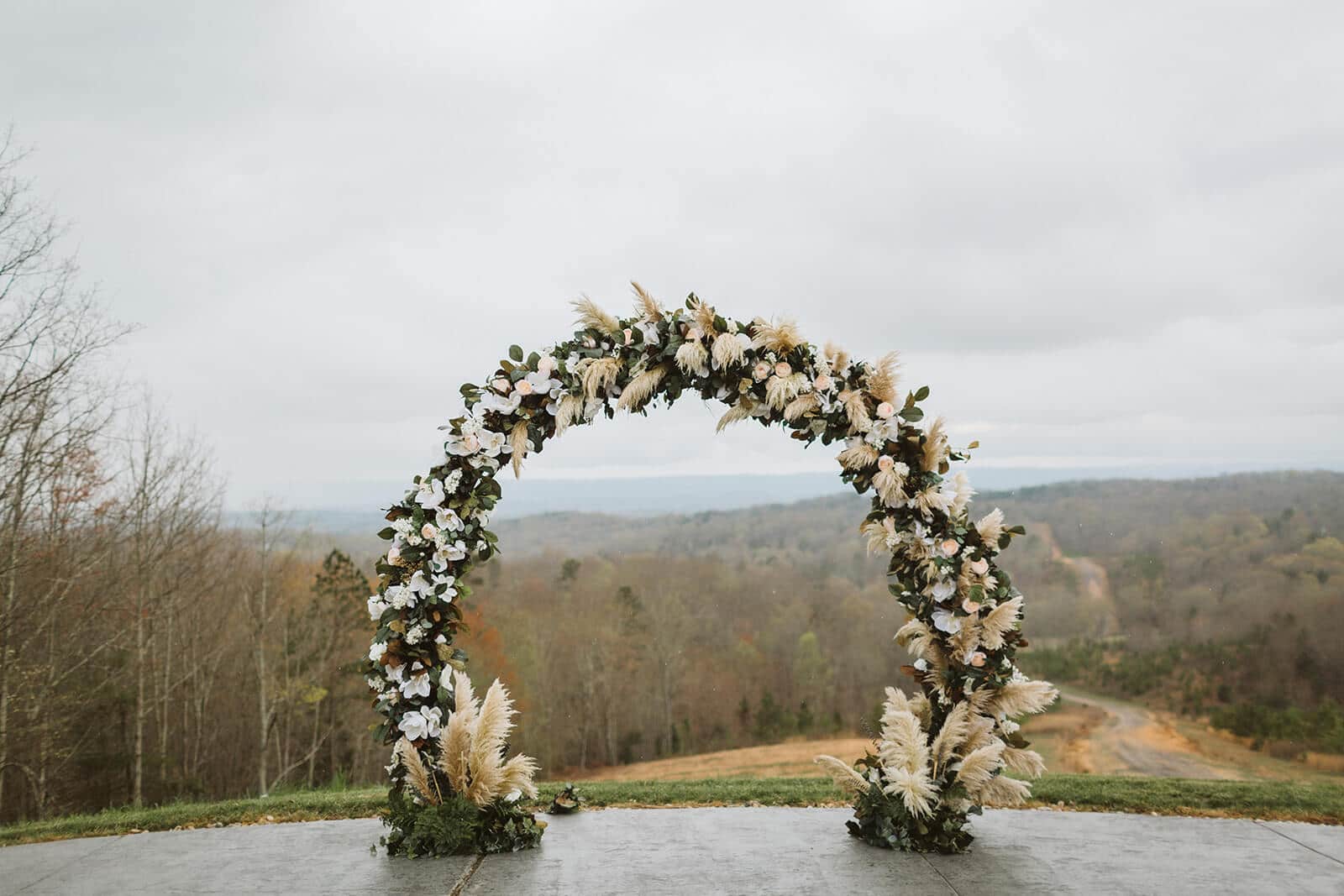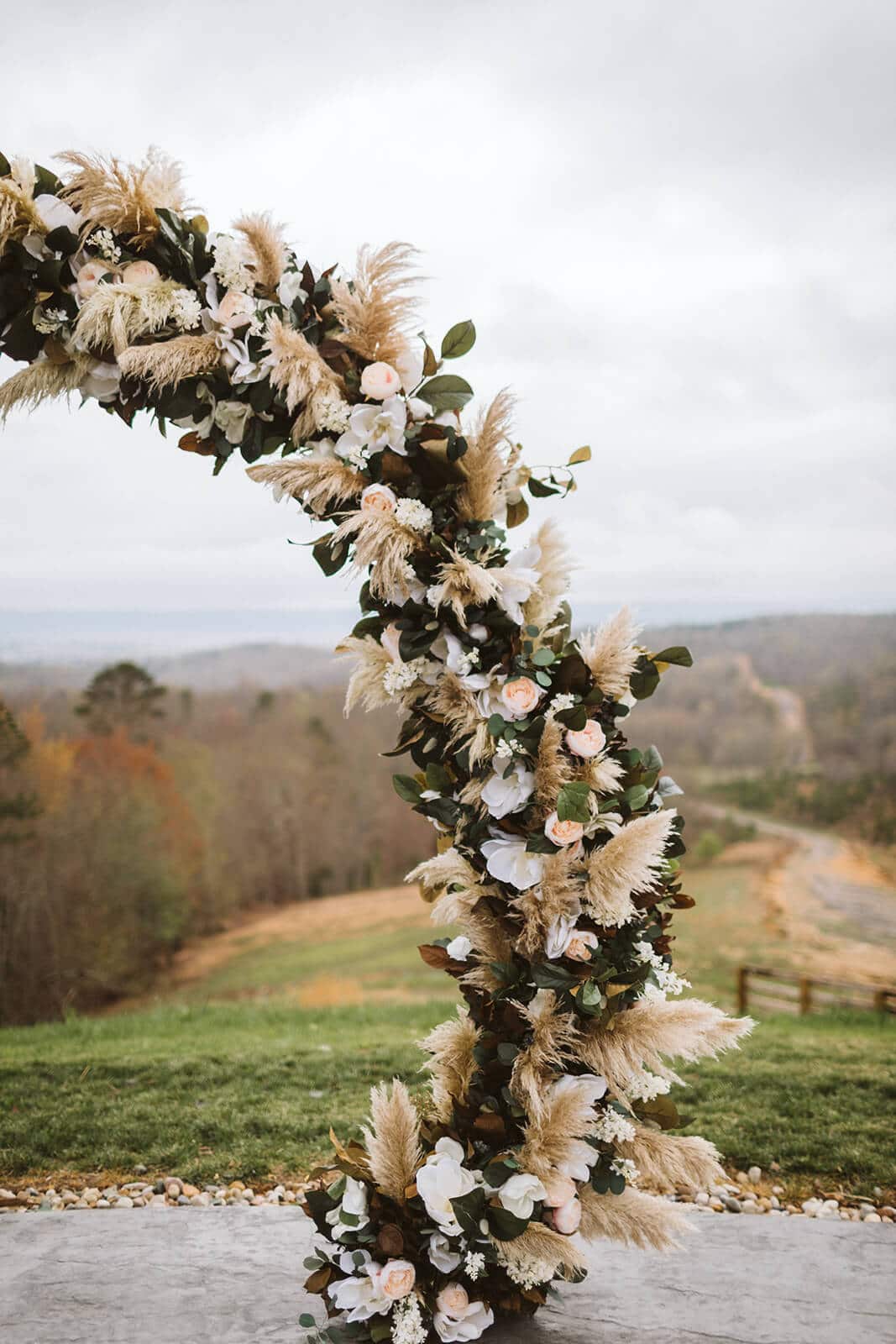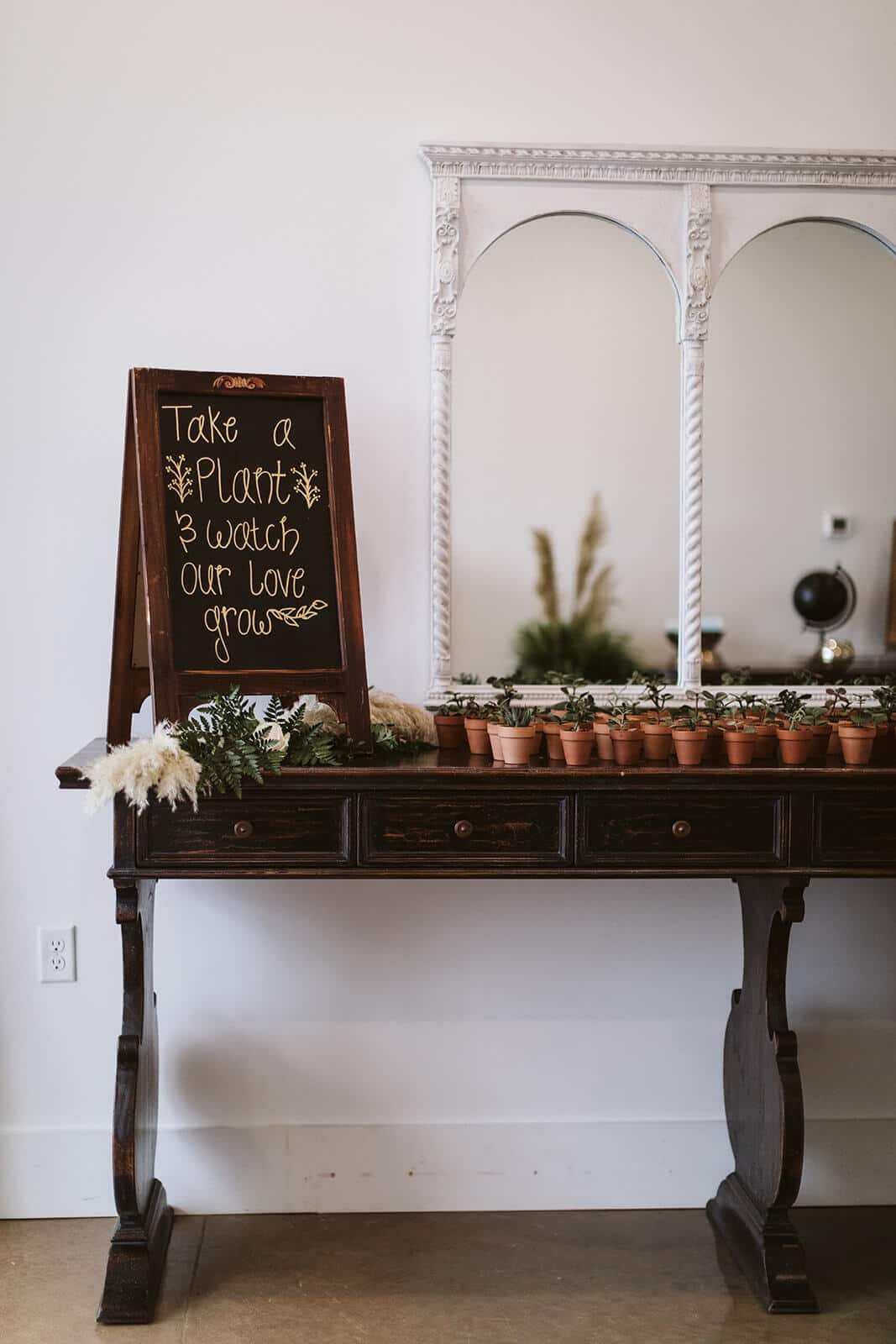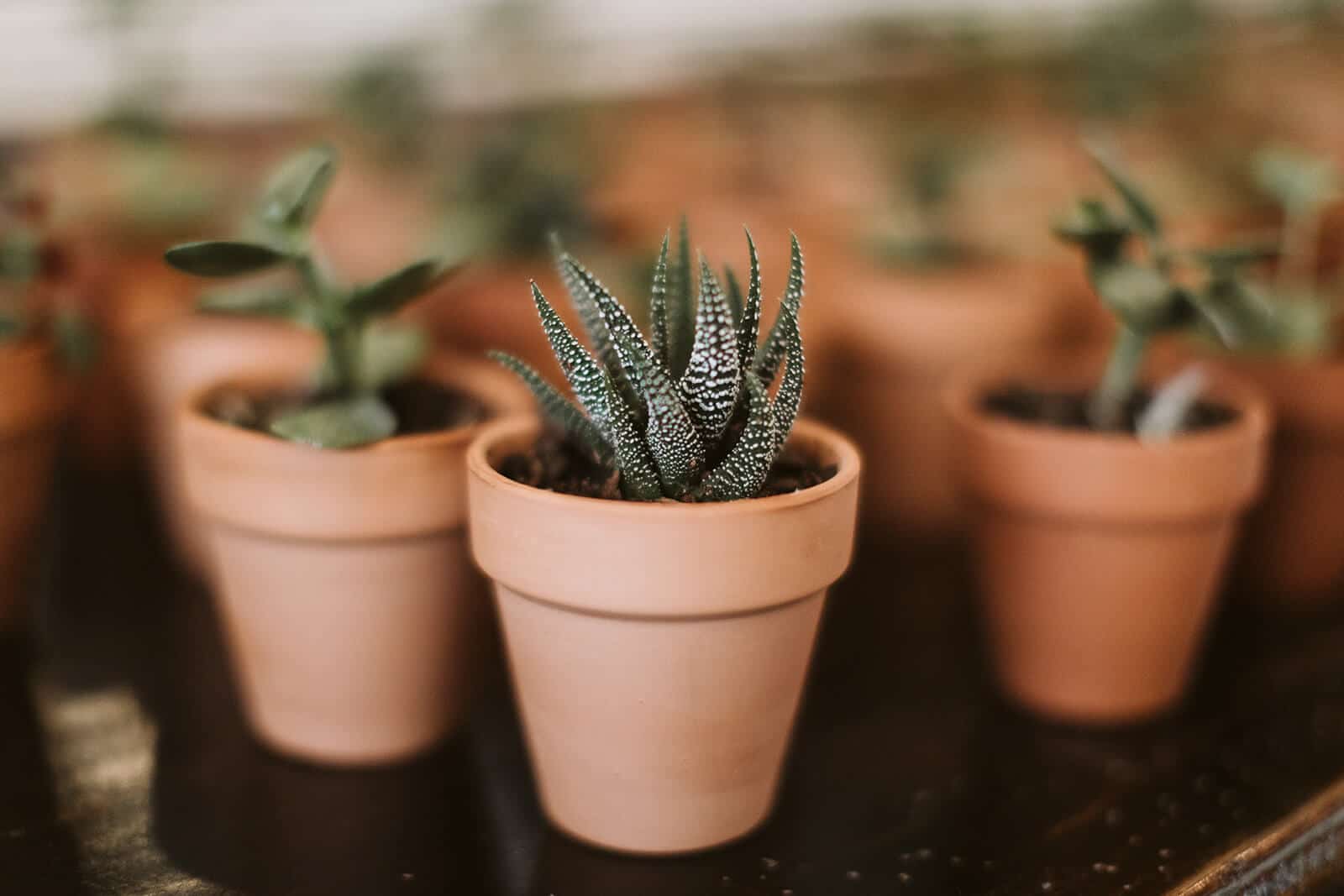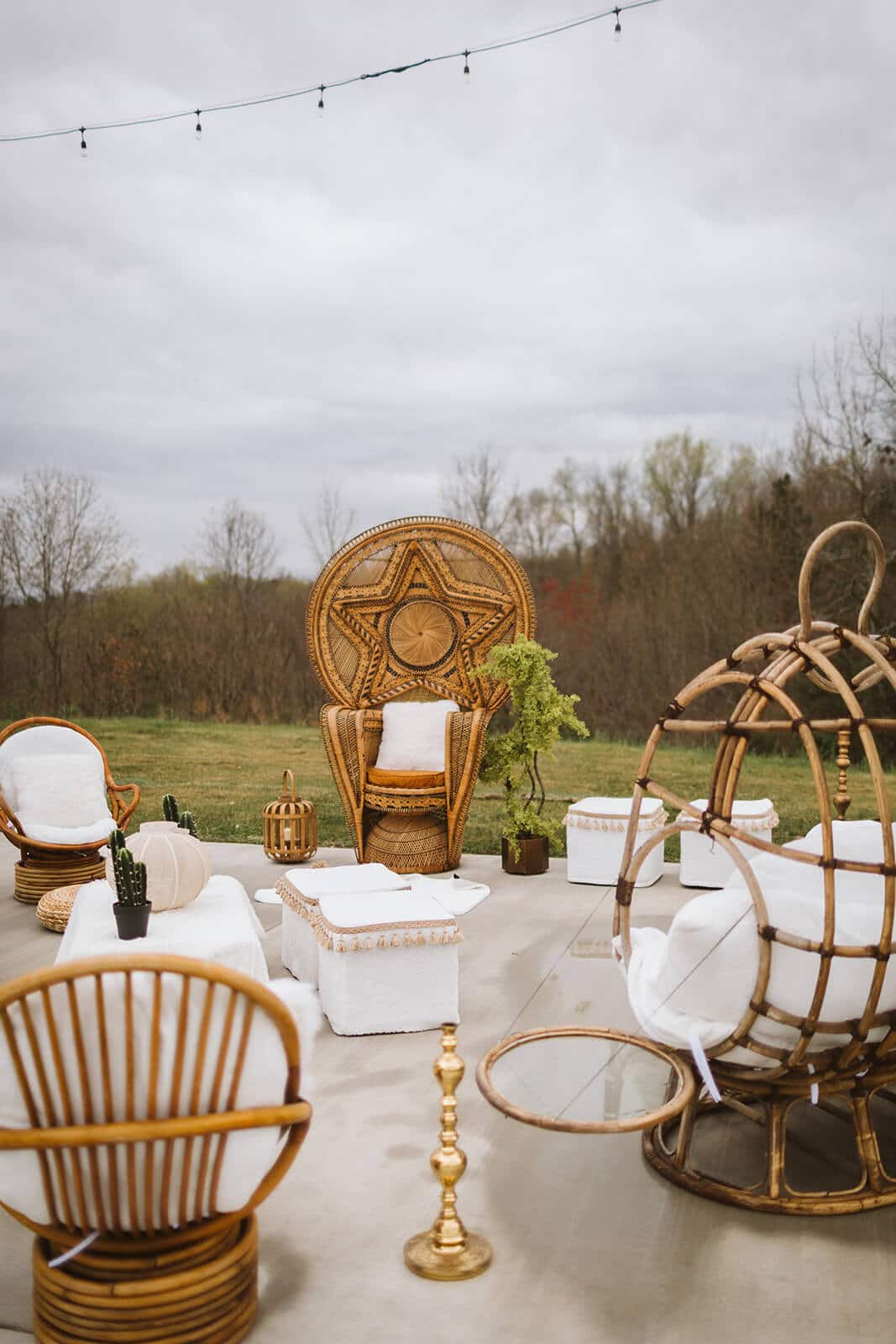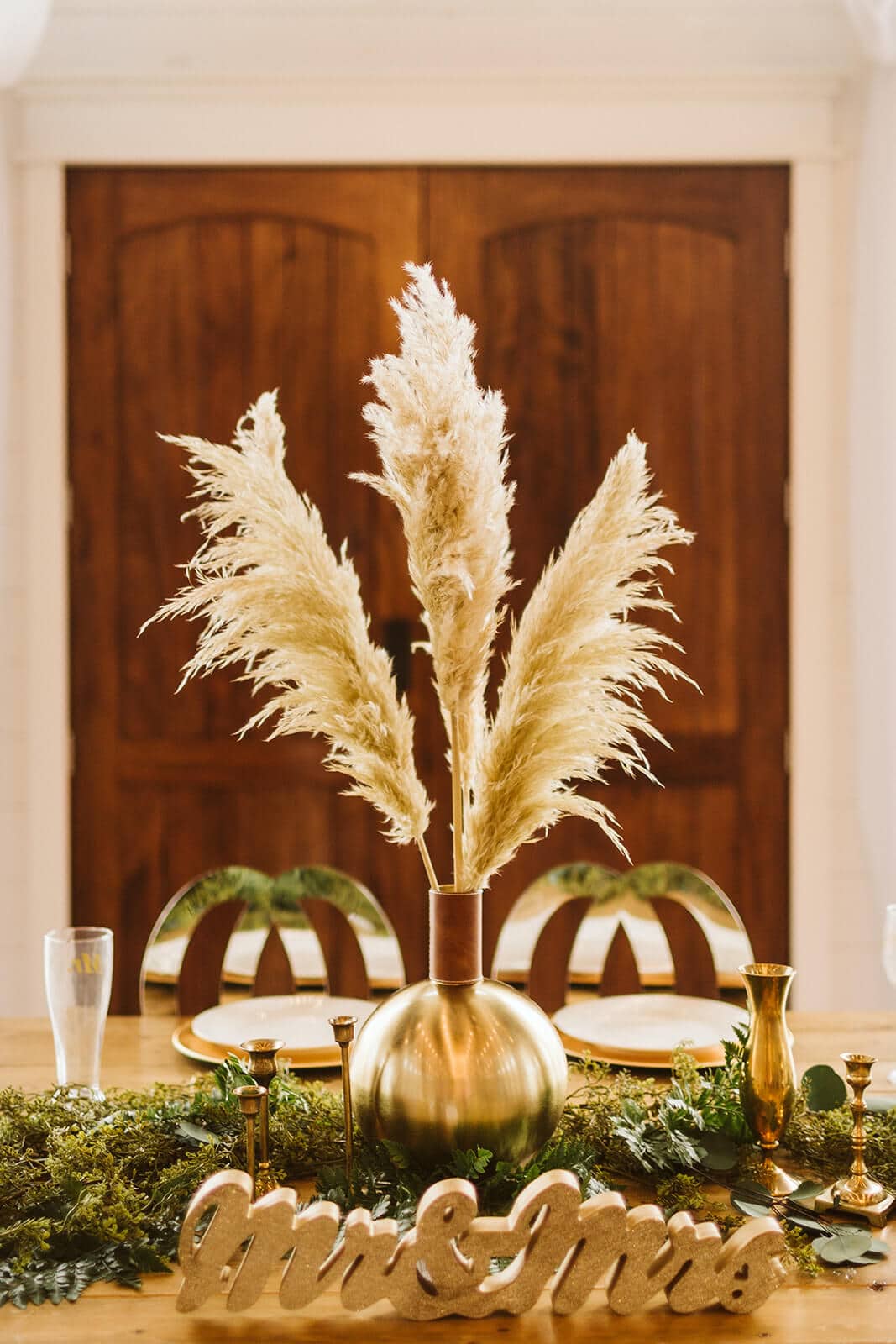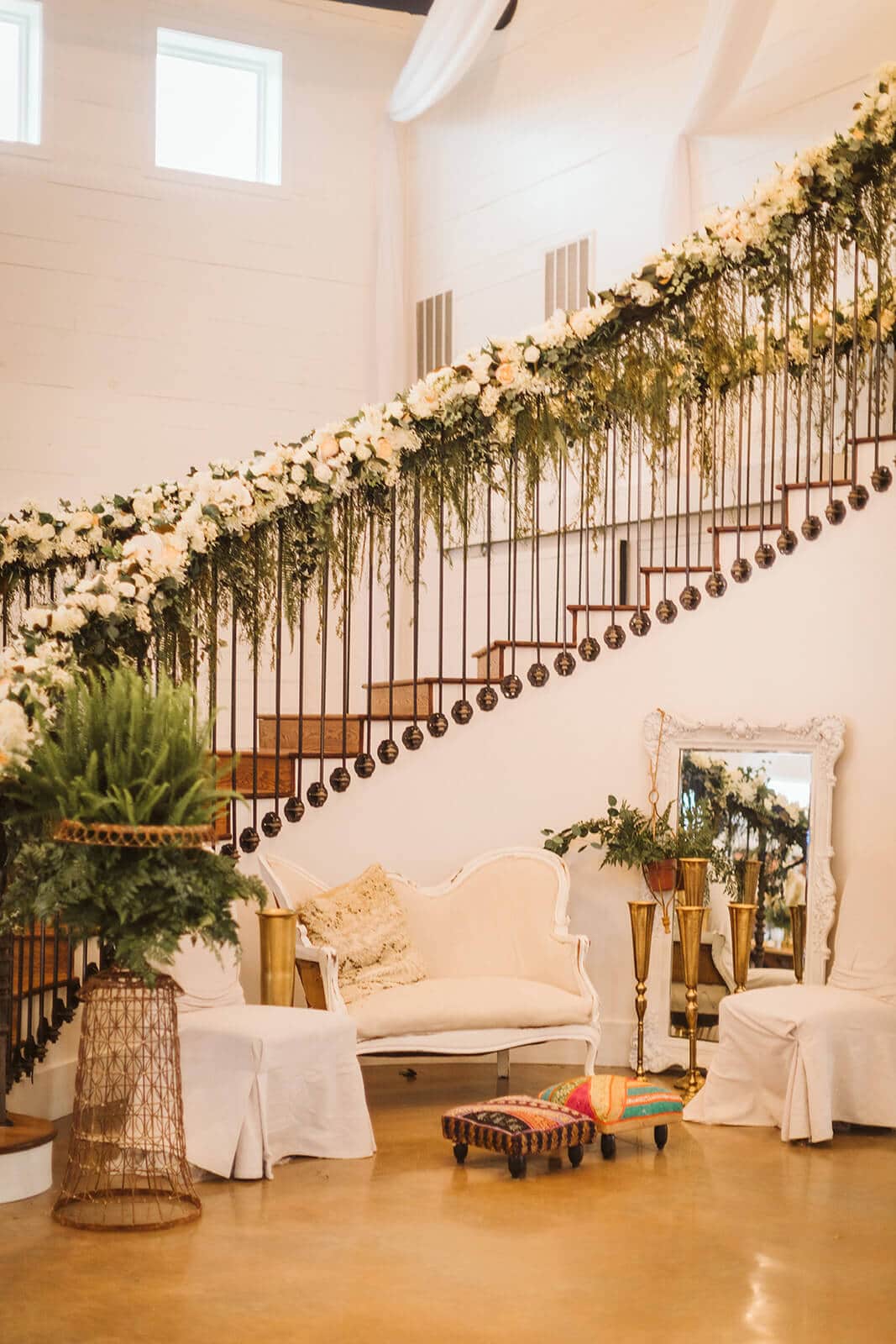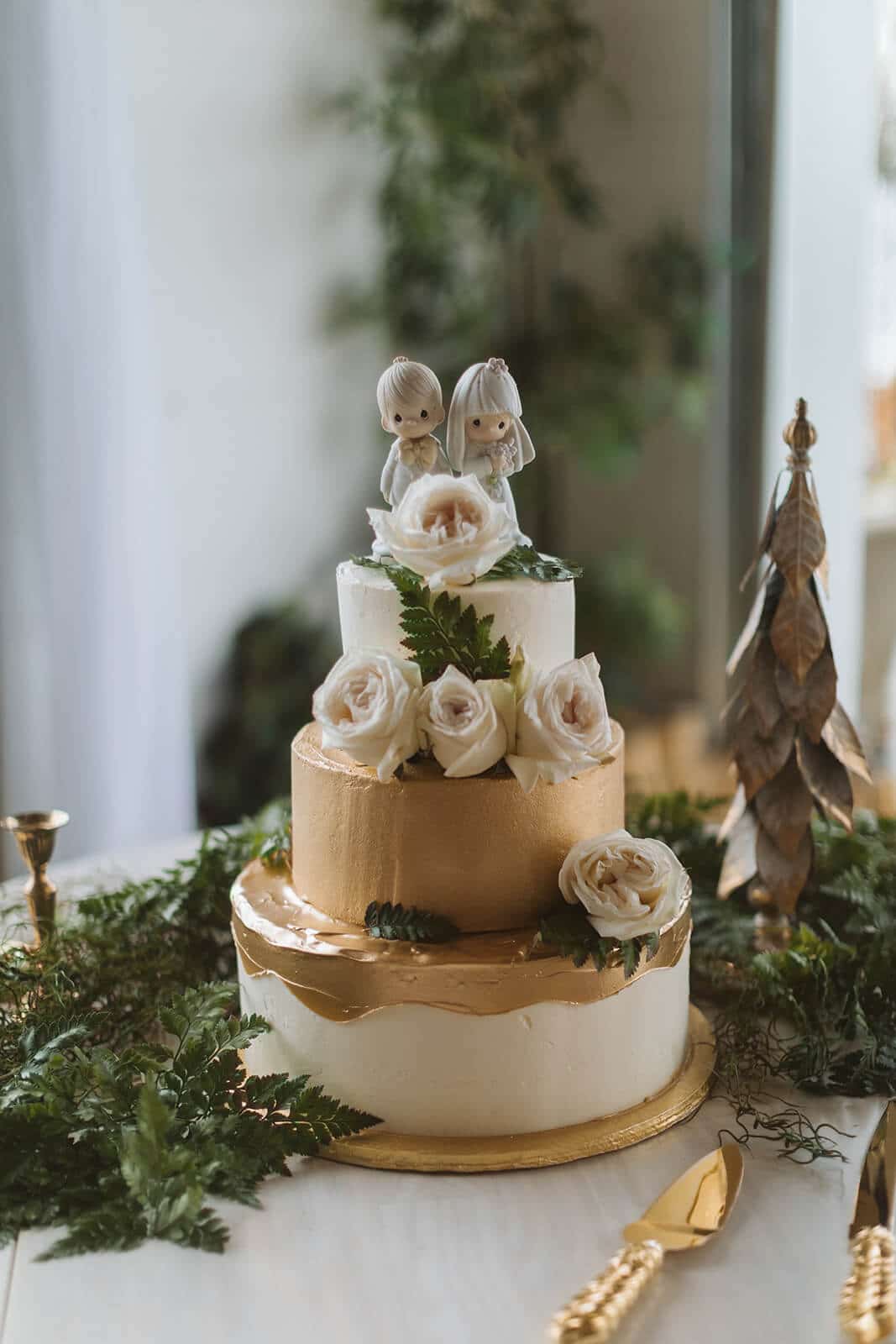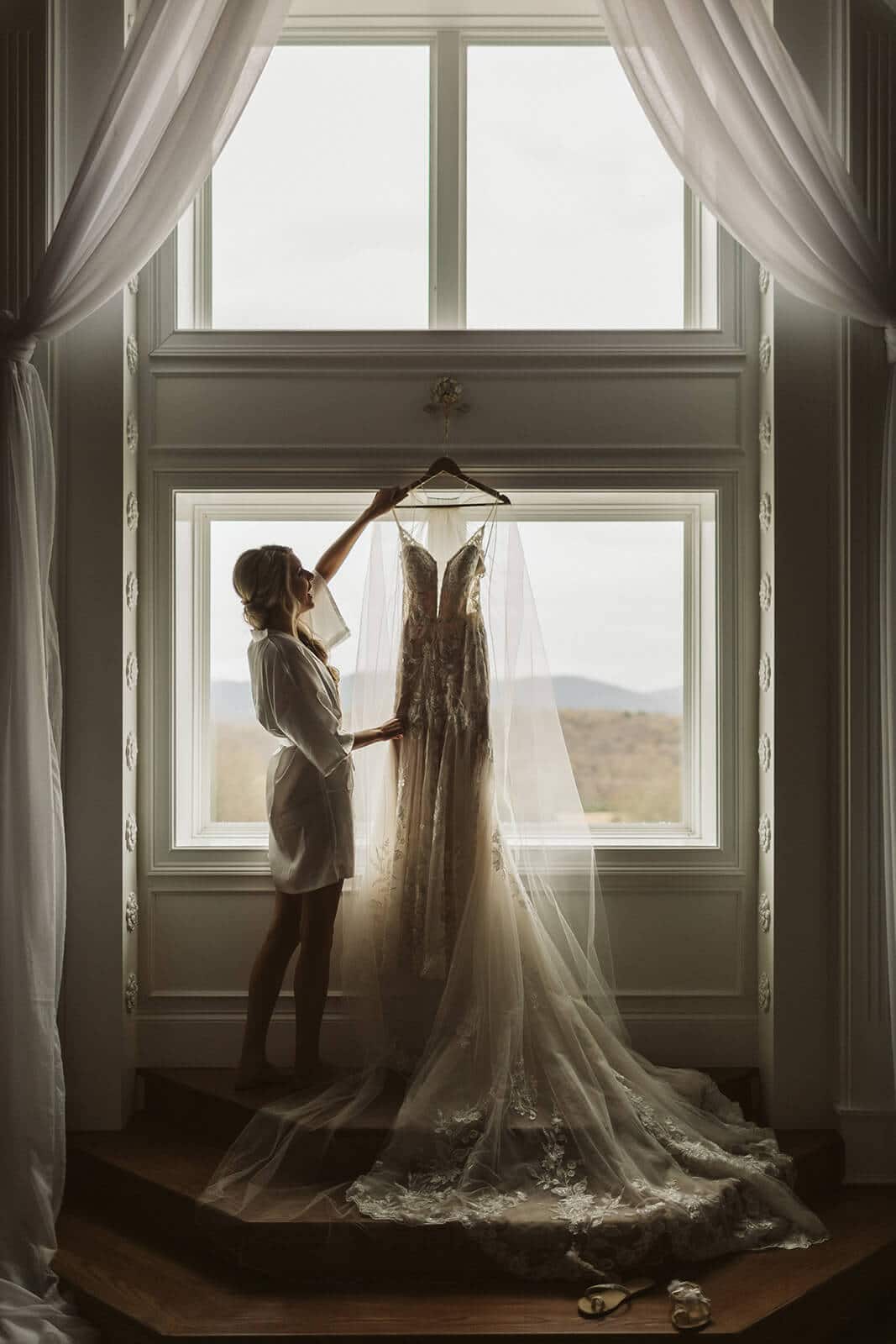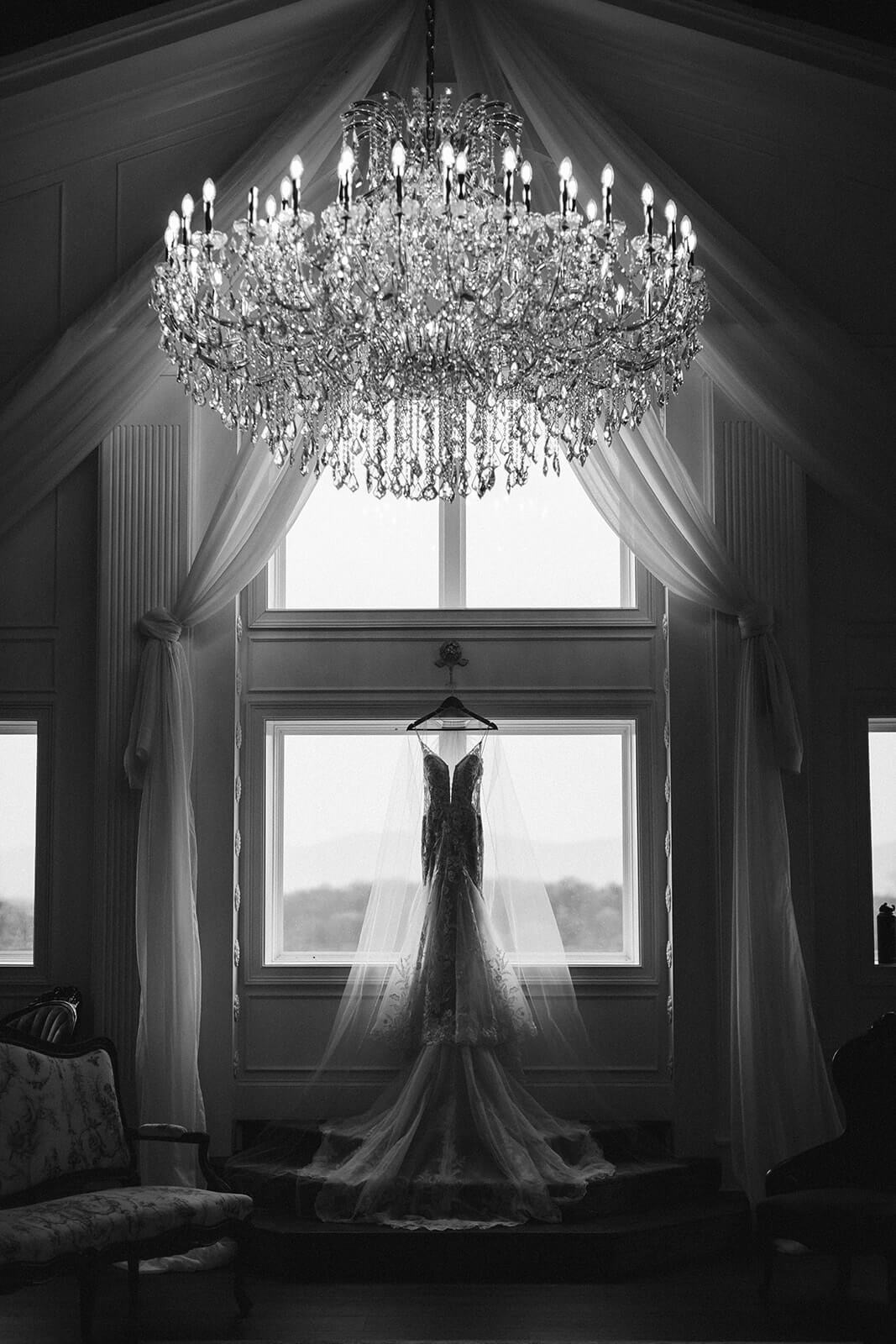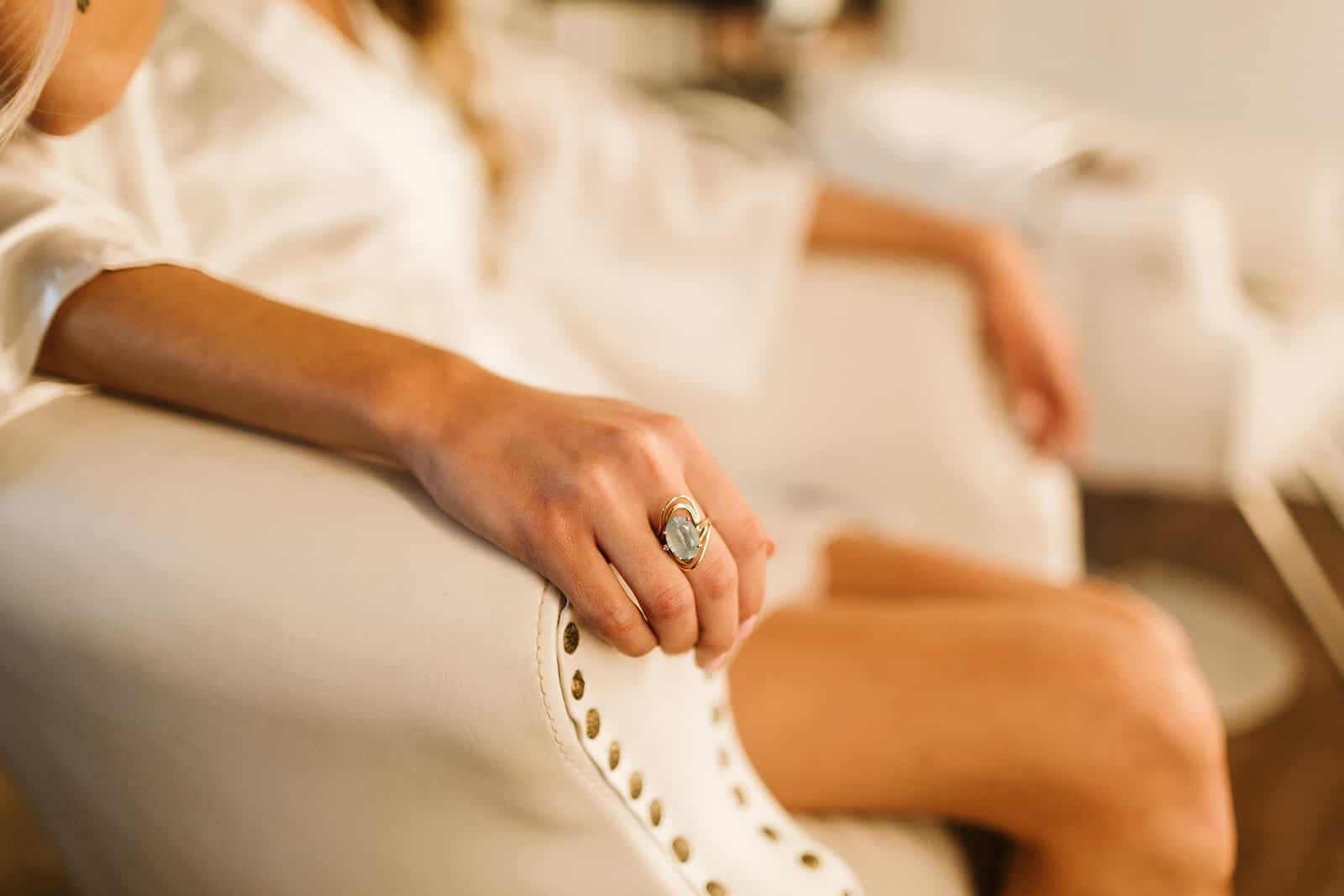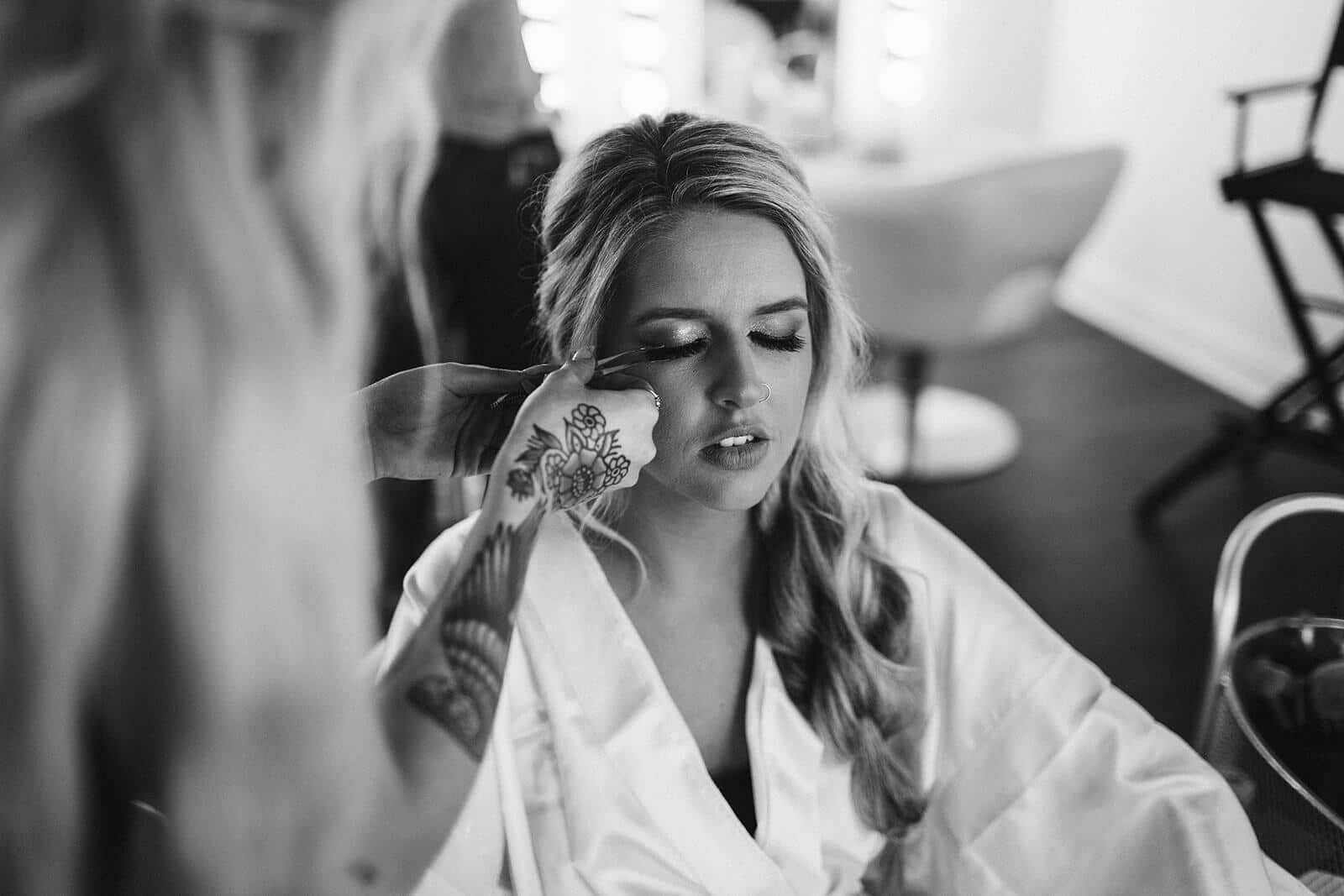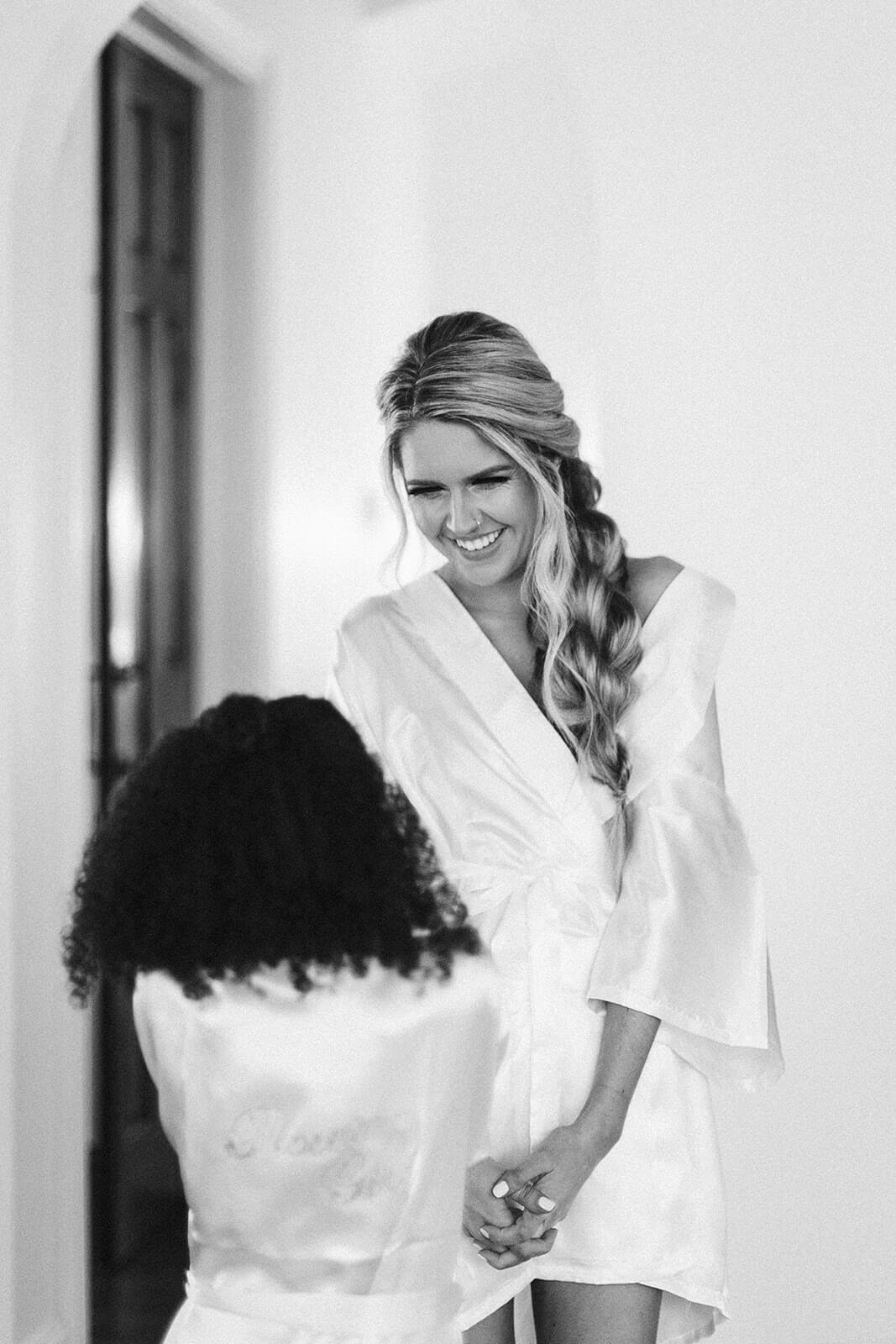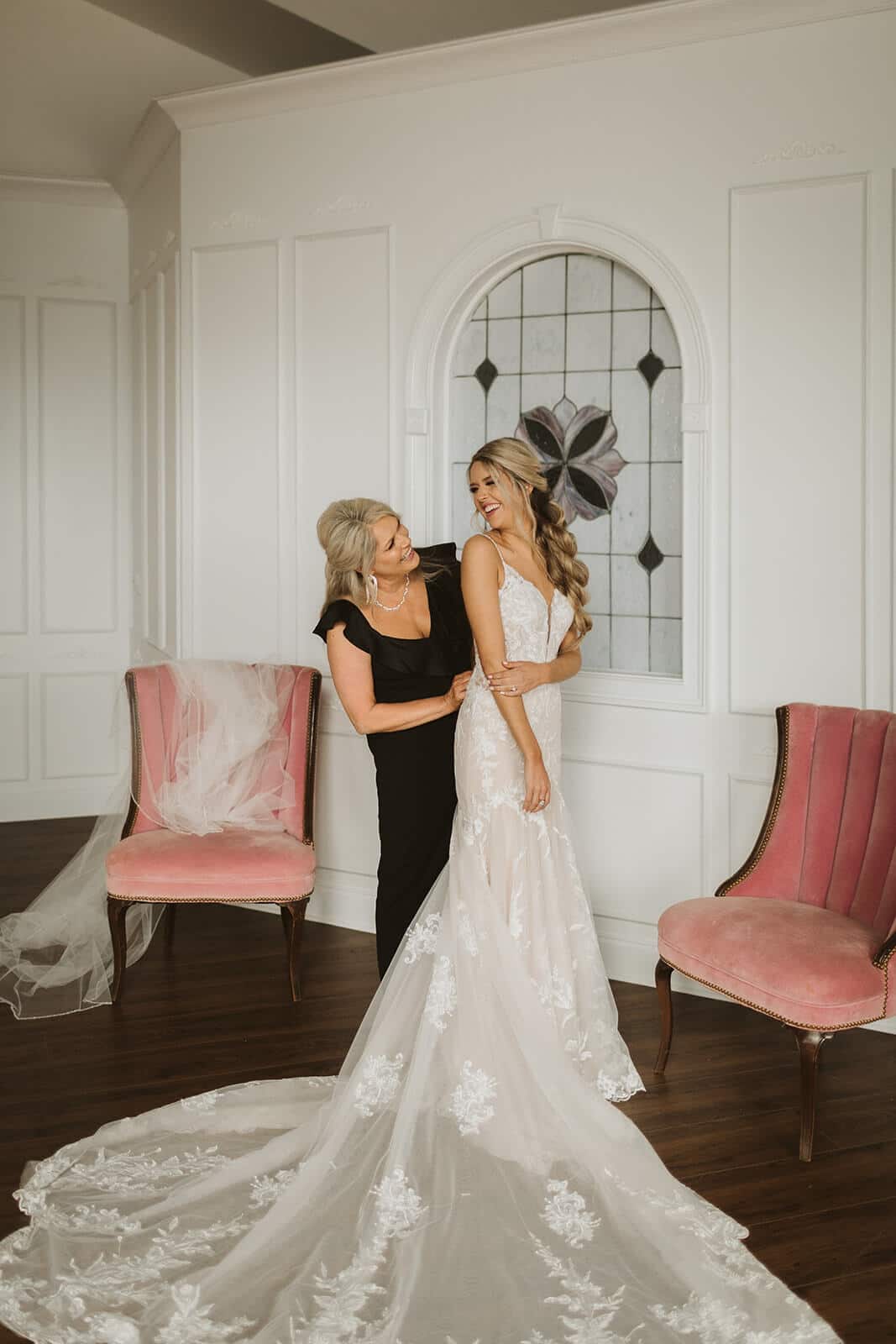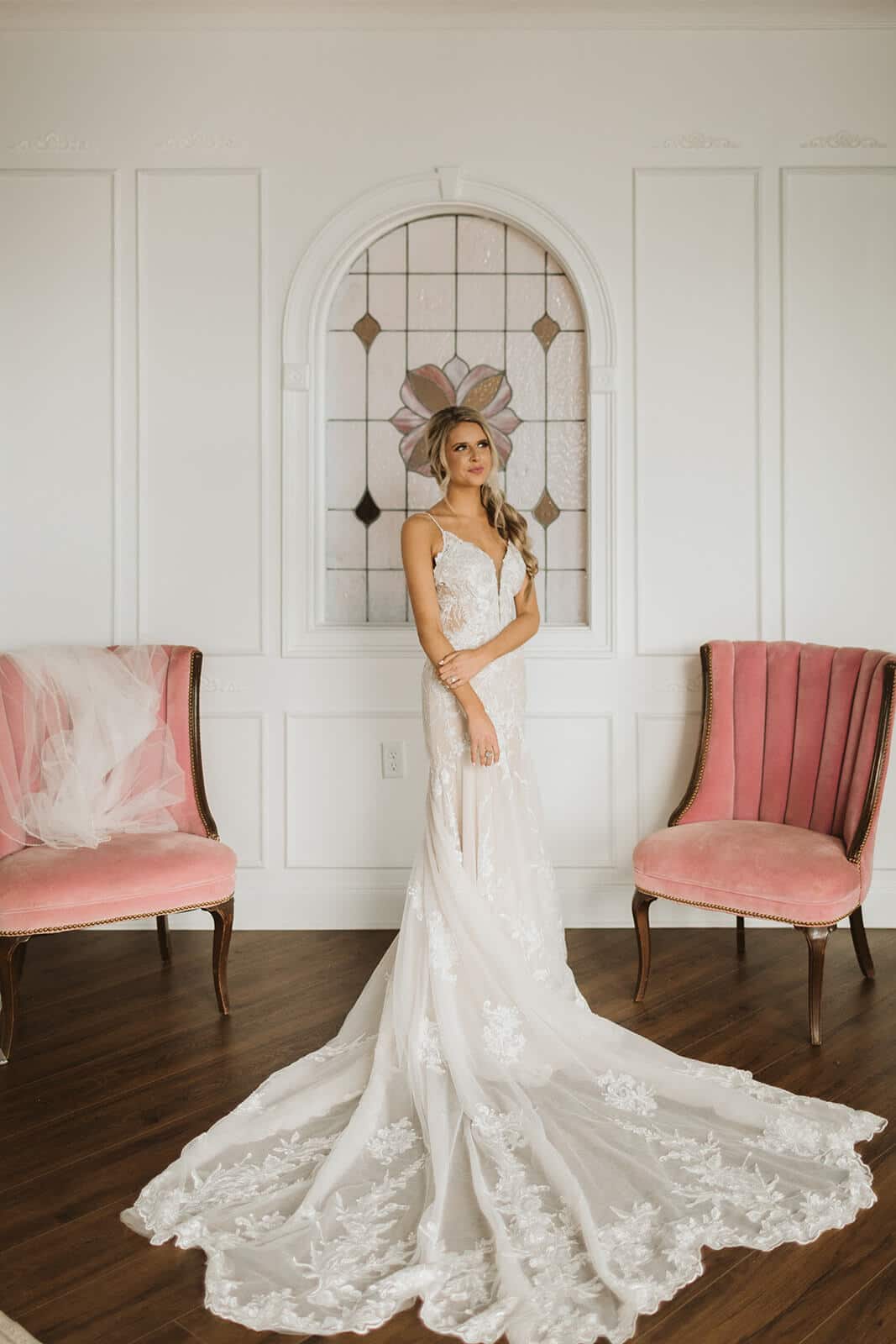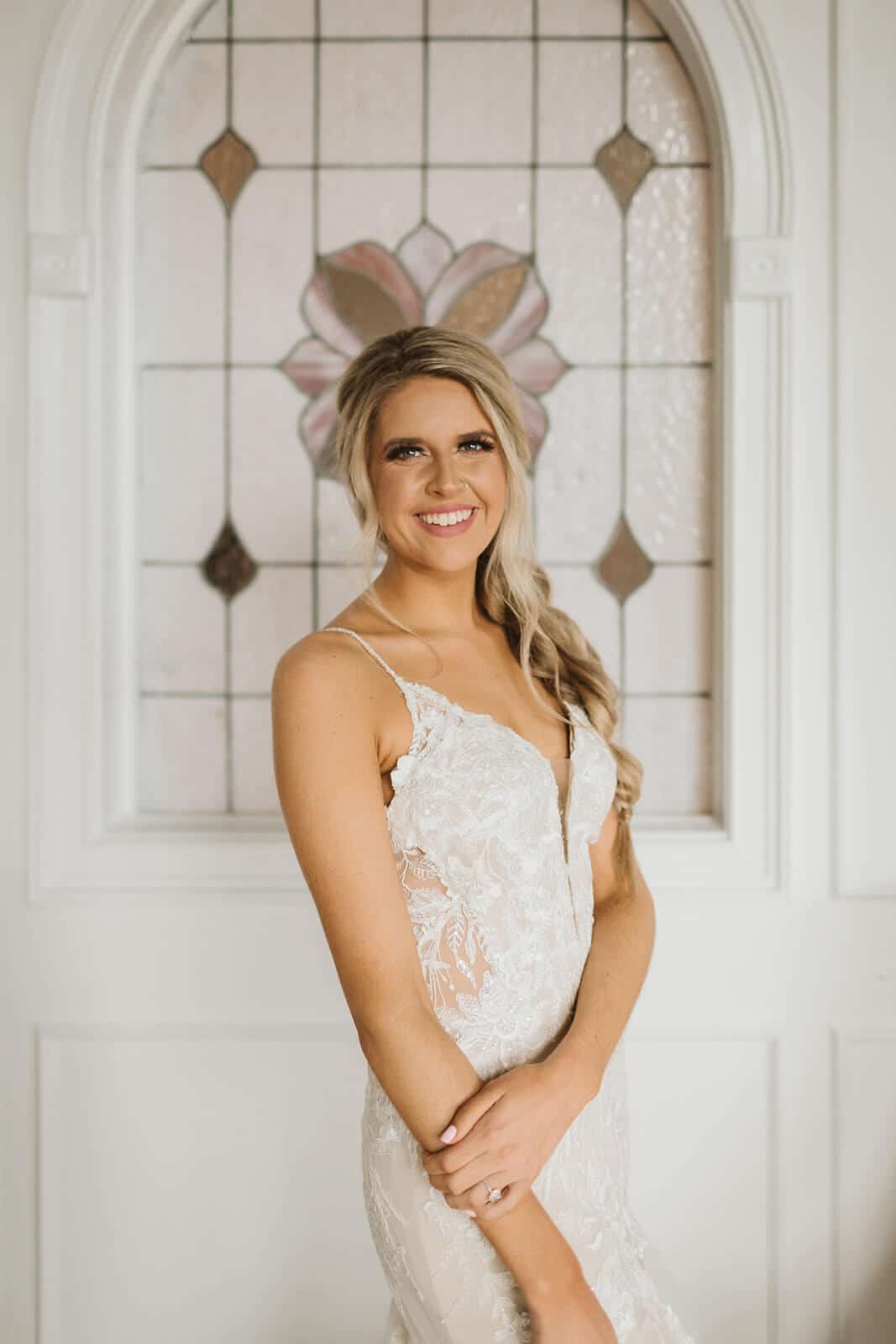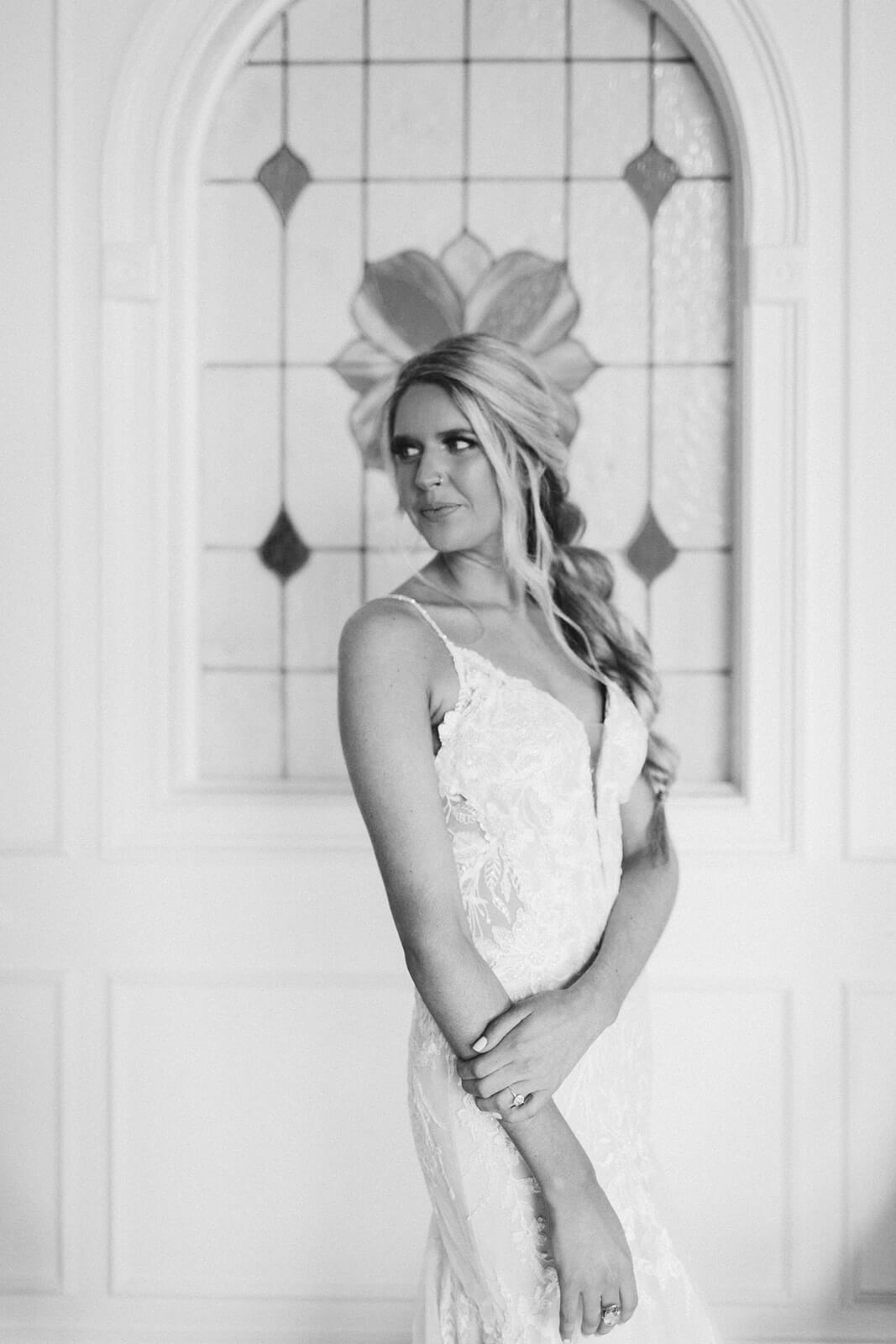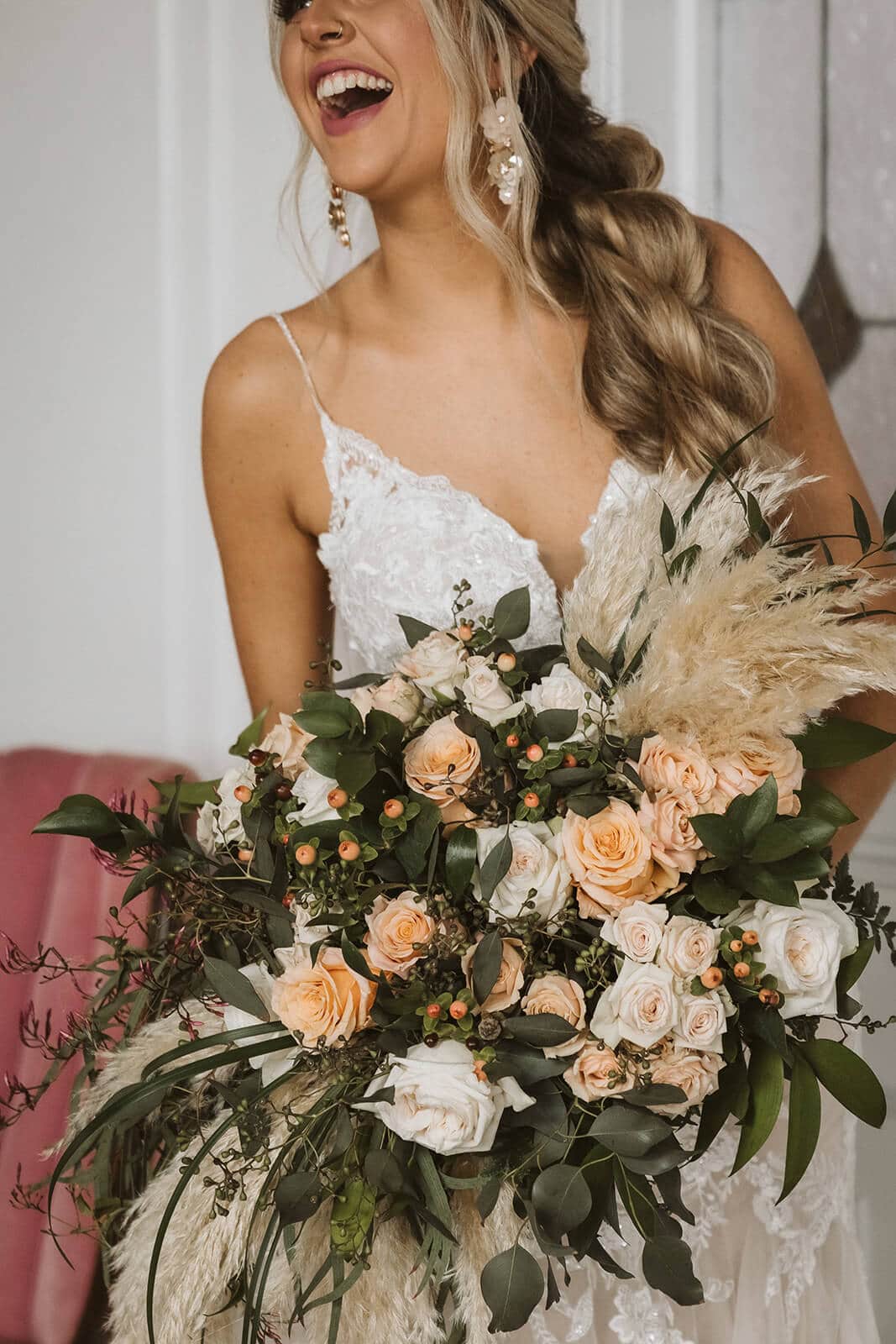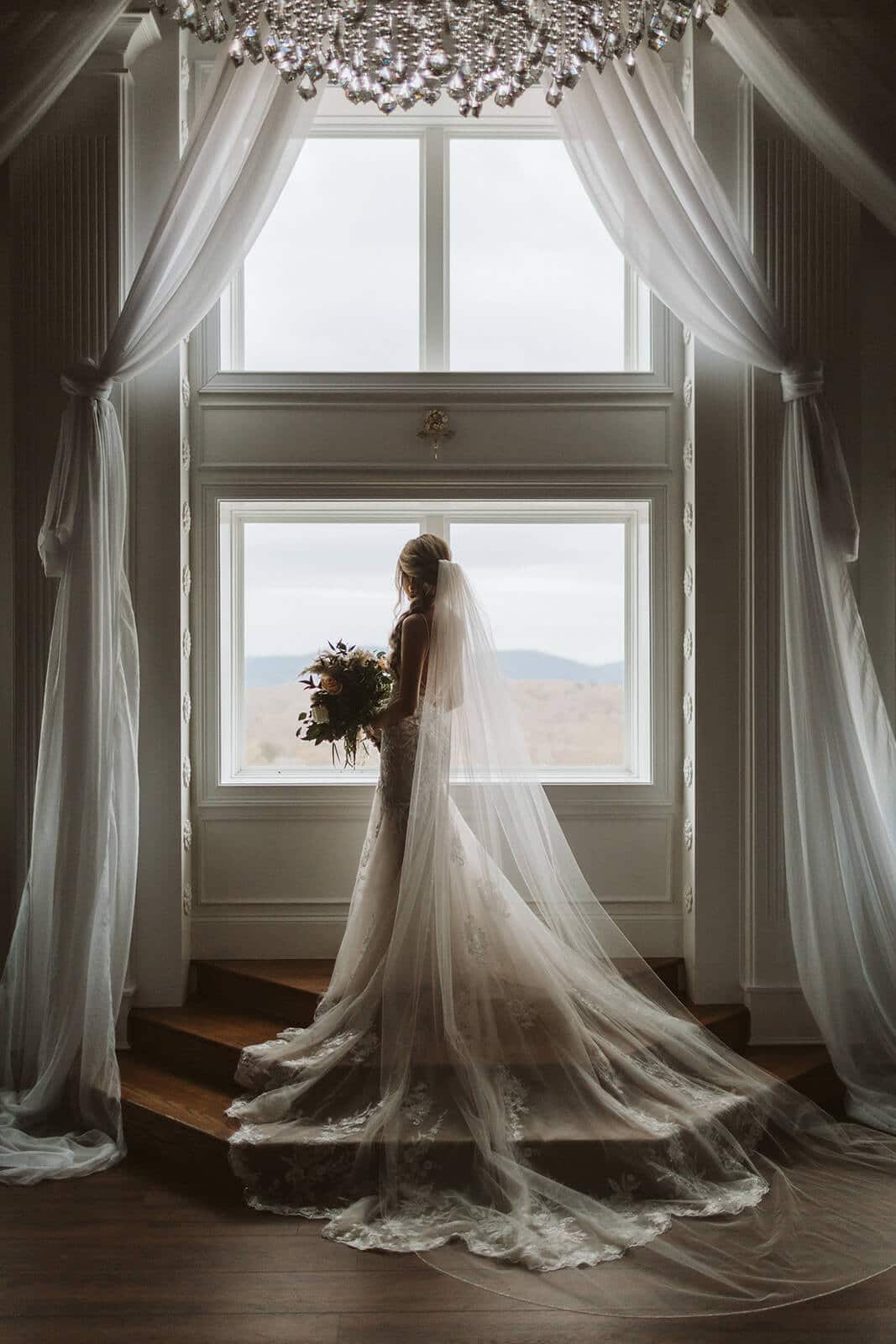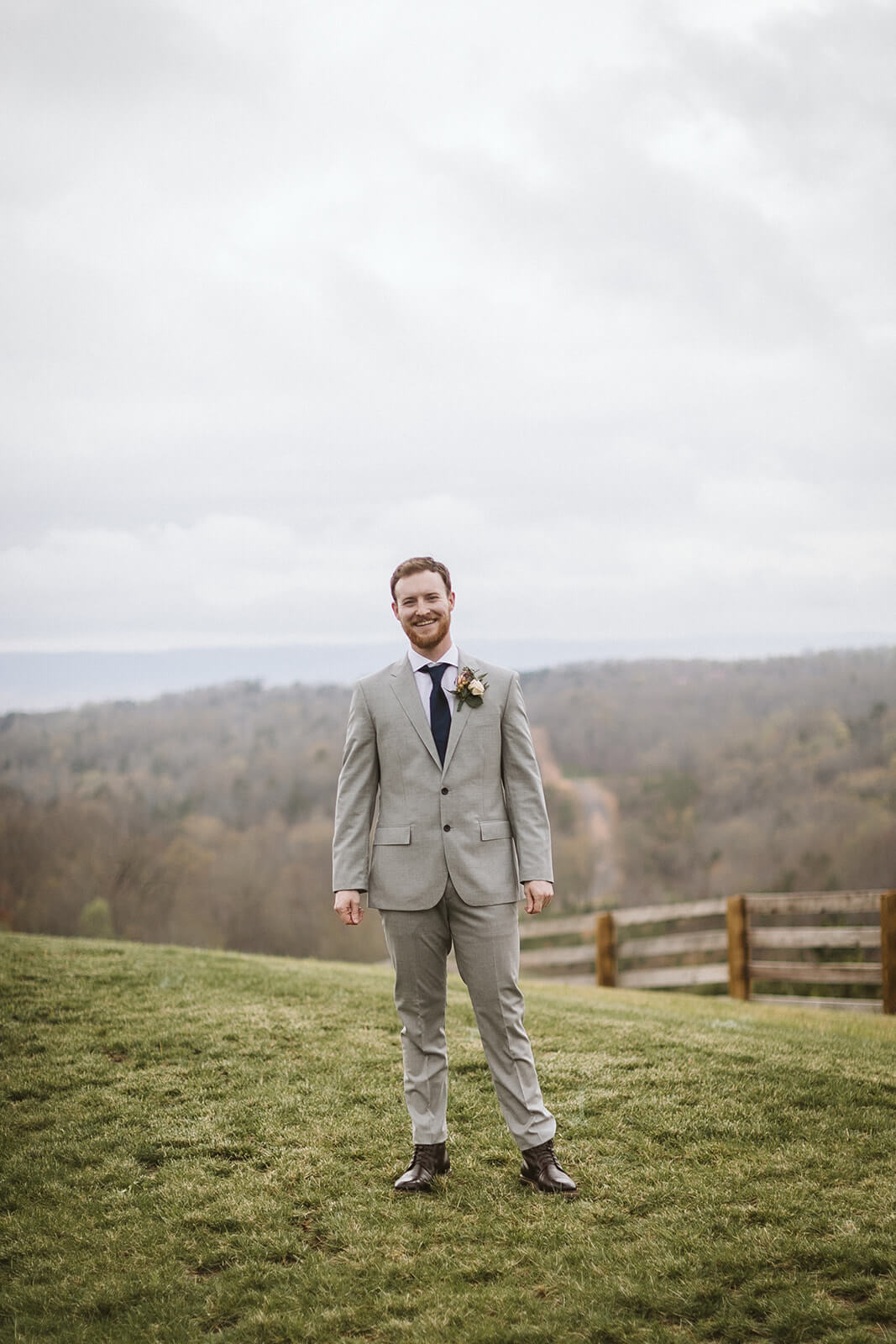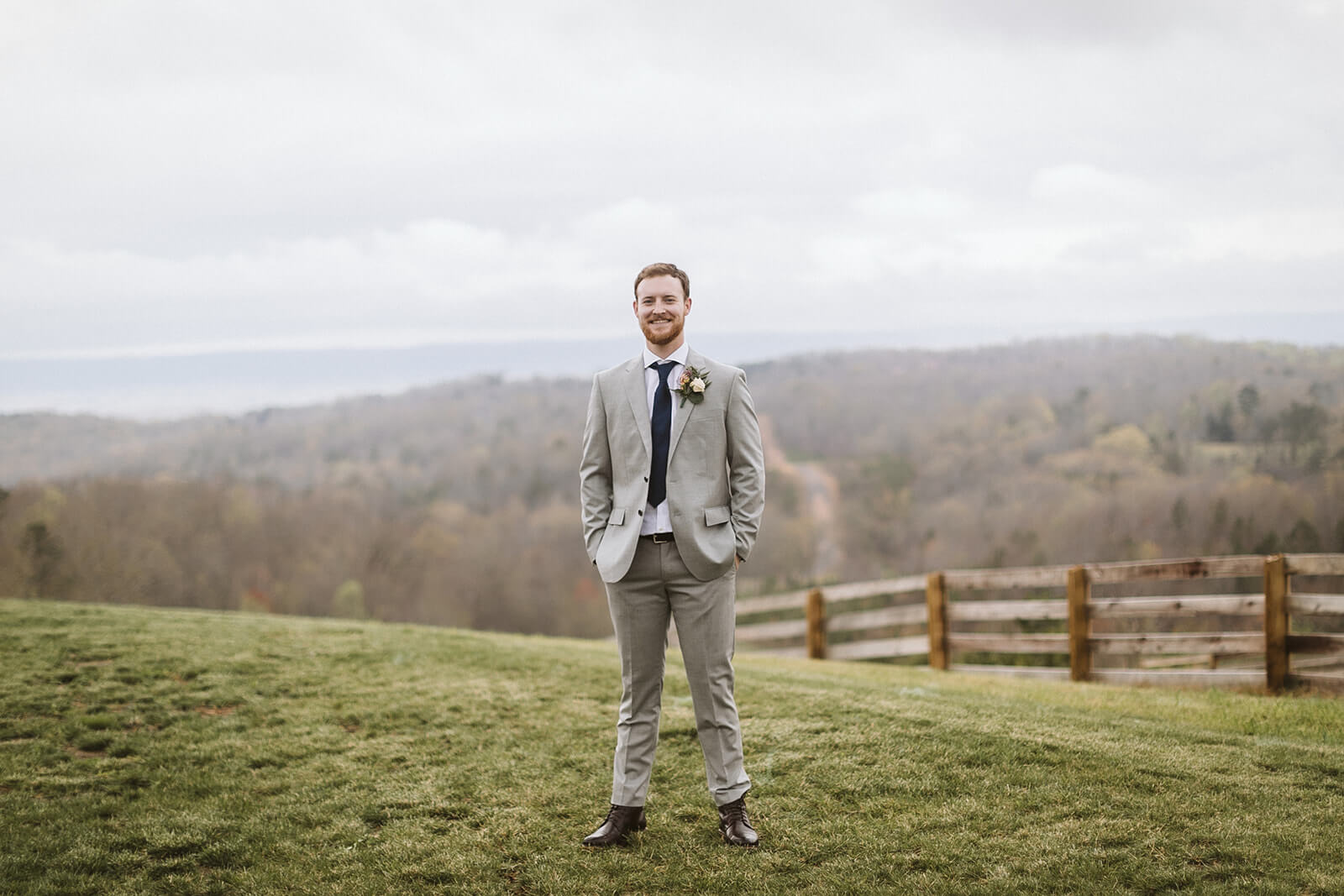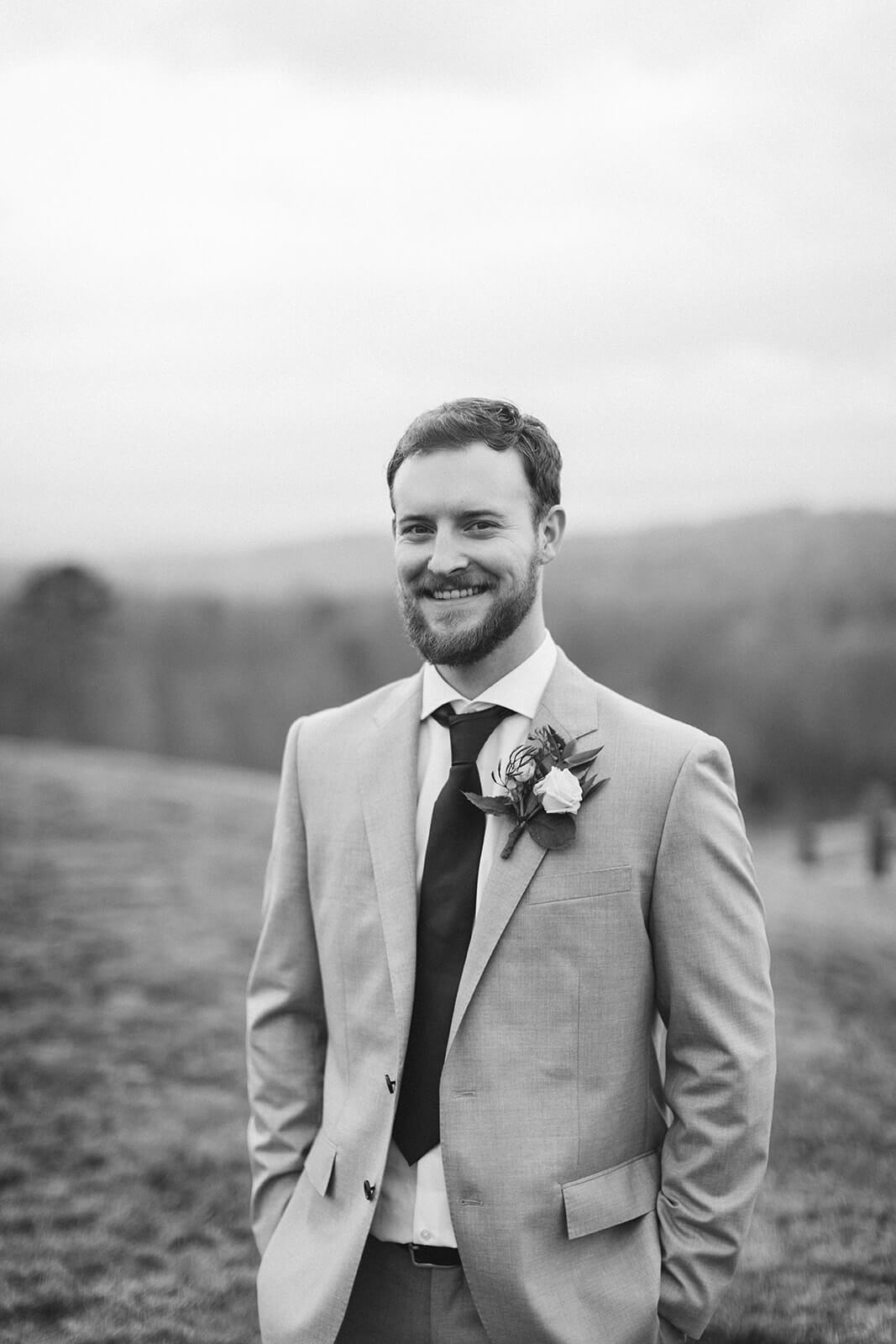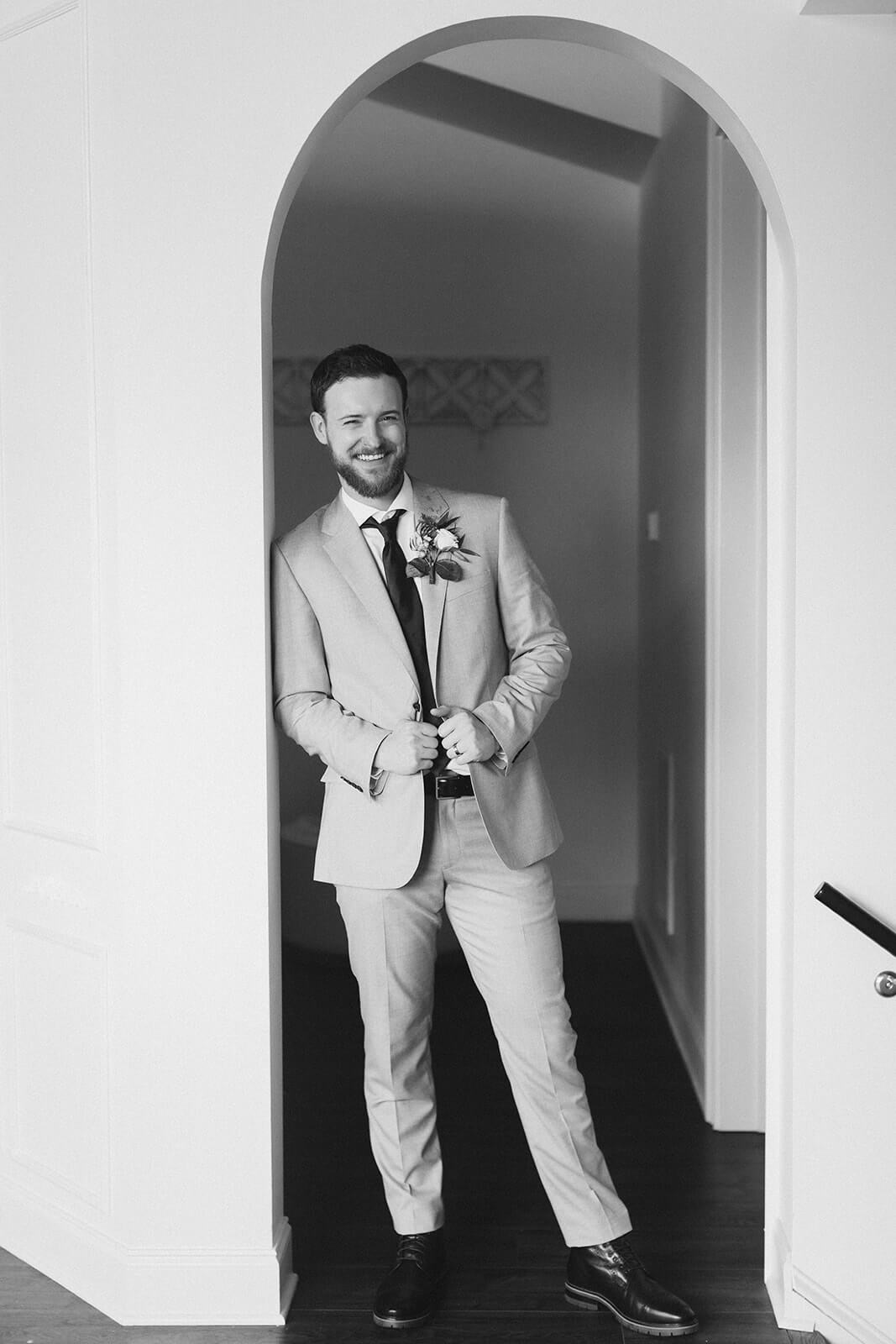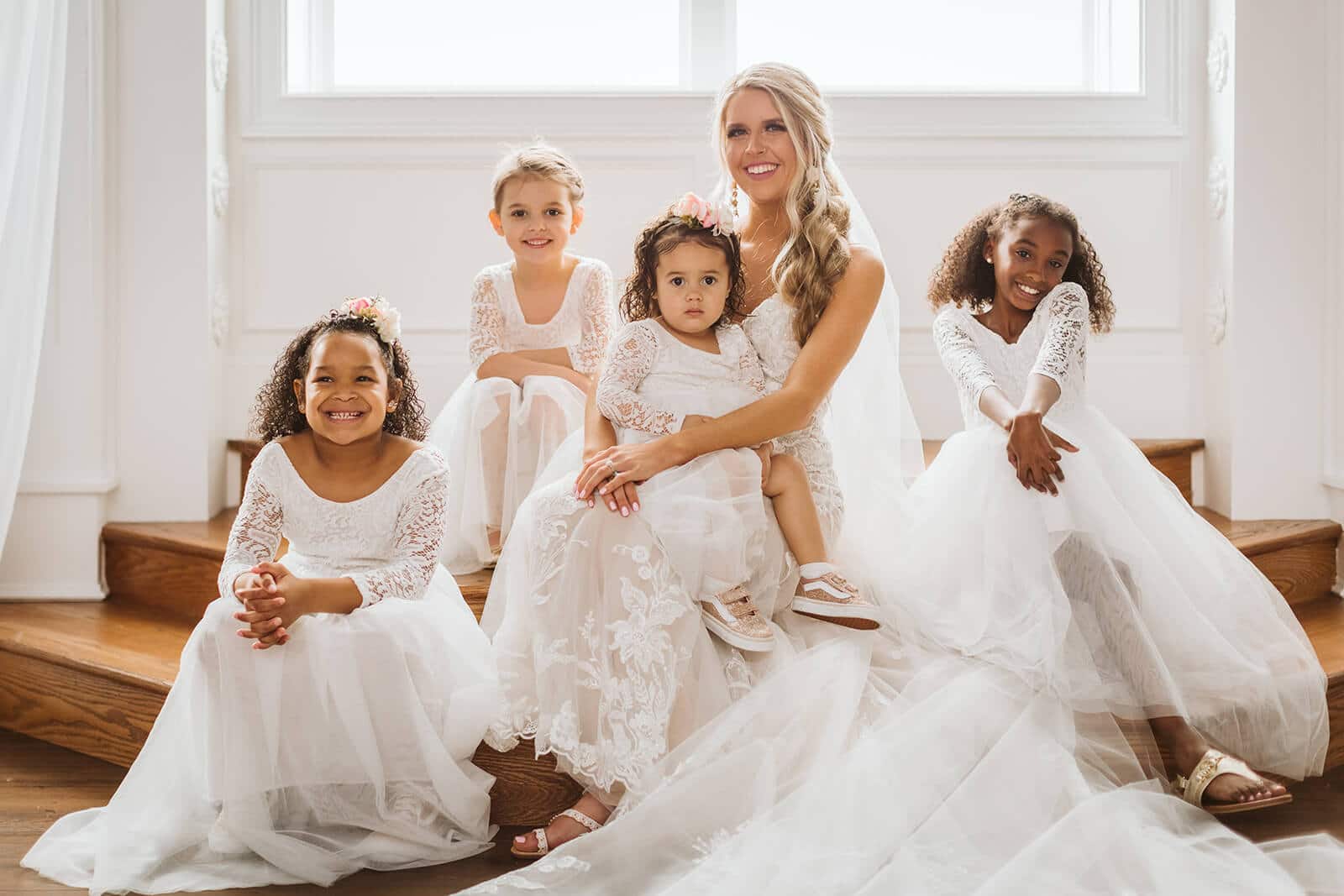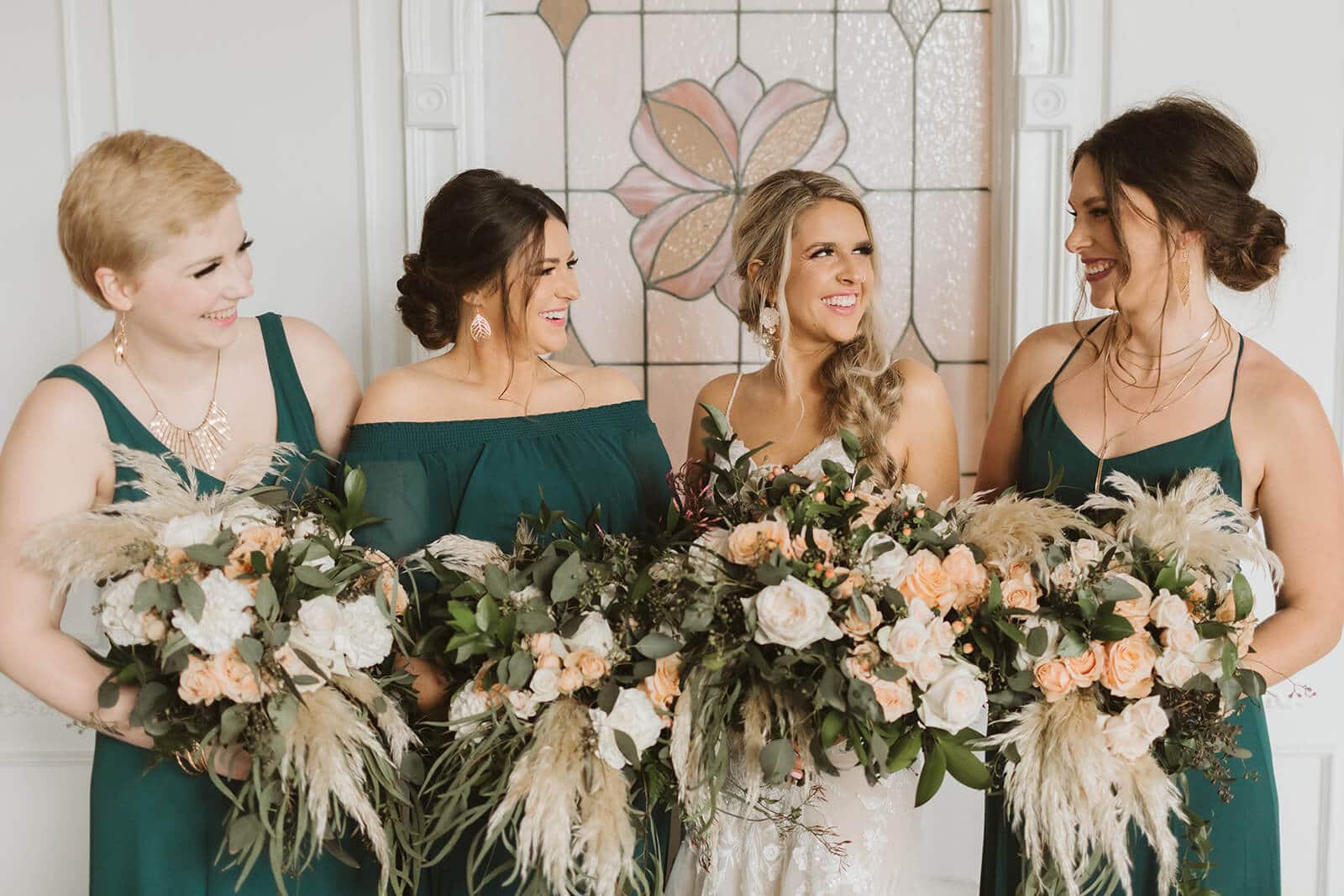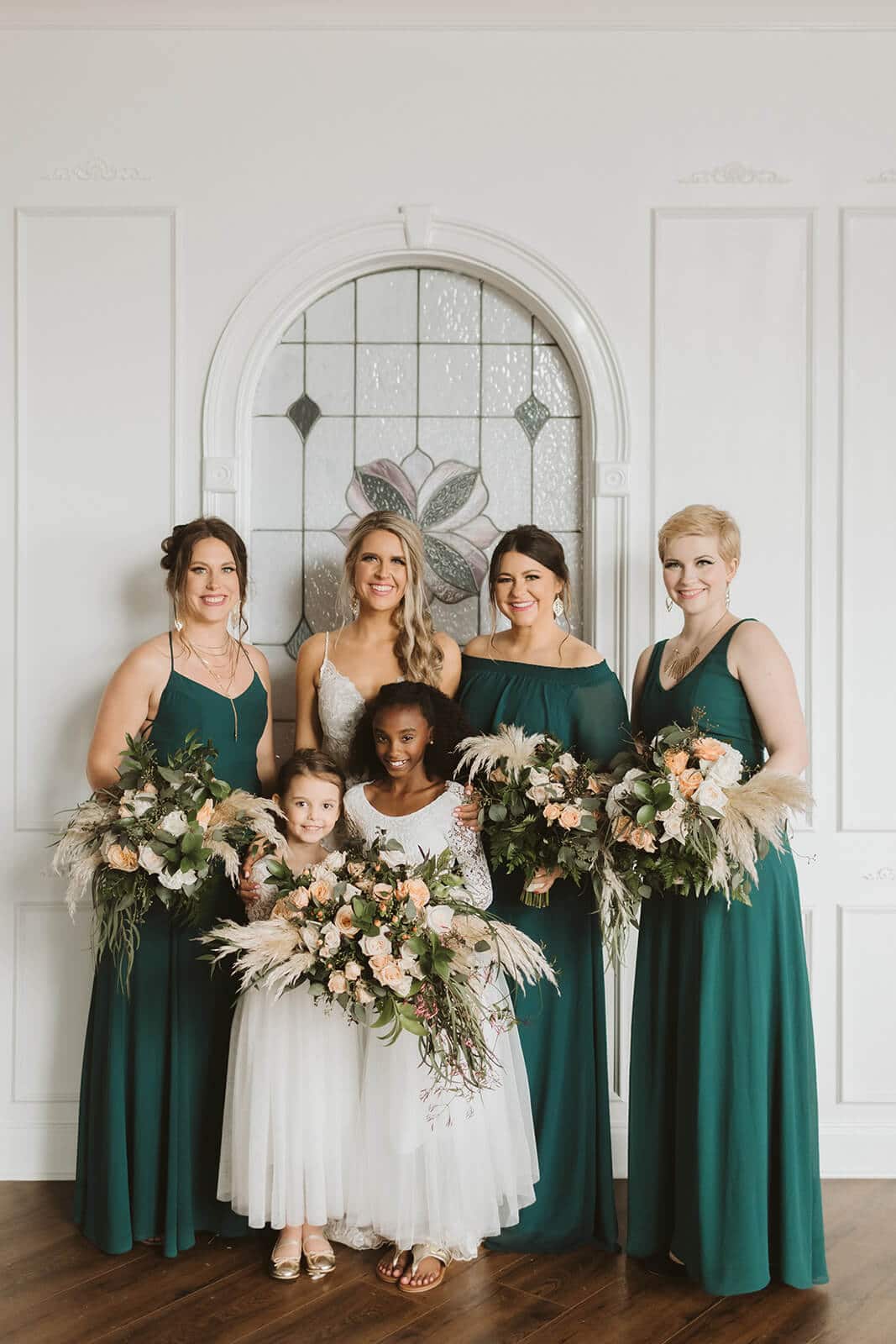 A Ceremony in the Rain
One of the first things I ask my couples is: What's your biggest priority when planning your wedding? Lexi responded, "Keeping it as stress-free and fun as possible. No bad moods on my wedding day!"
I'm here to report that despite a moody day outside, it couldn't have been more beautiful and stress-free. The rain lent itself to the couple's easy-going personality, and Lexi was undeterred in her quest for an outdoor ceremony. I remember her saying, "Everyone can get umbrellas; we'll be fine!" It's not every day you get to shoot a wedding in the rain, and paired with the scenery at Howe Farms, it somehow made the ceremony even more picturesque. It may have broken my lens — but I'll do anything to get your perfect photo!
I simply can't get over the yellow, pink, and green tones. From the aisle liners and white chairs in the clouds, to the cute umbrellas and arch framing the mountains behind Lexi + Ian, the ceremony couldn't have turned out more memorable or more them. You can always make a rain plan, and don't be afraid to get your dress dirty! You only wear it once.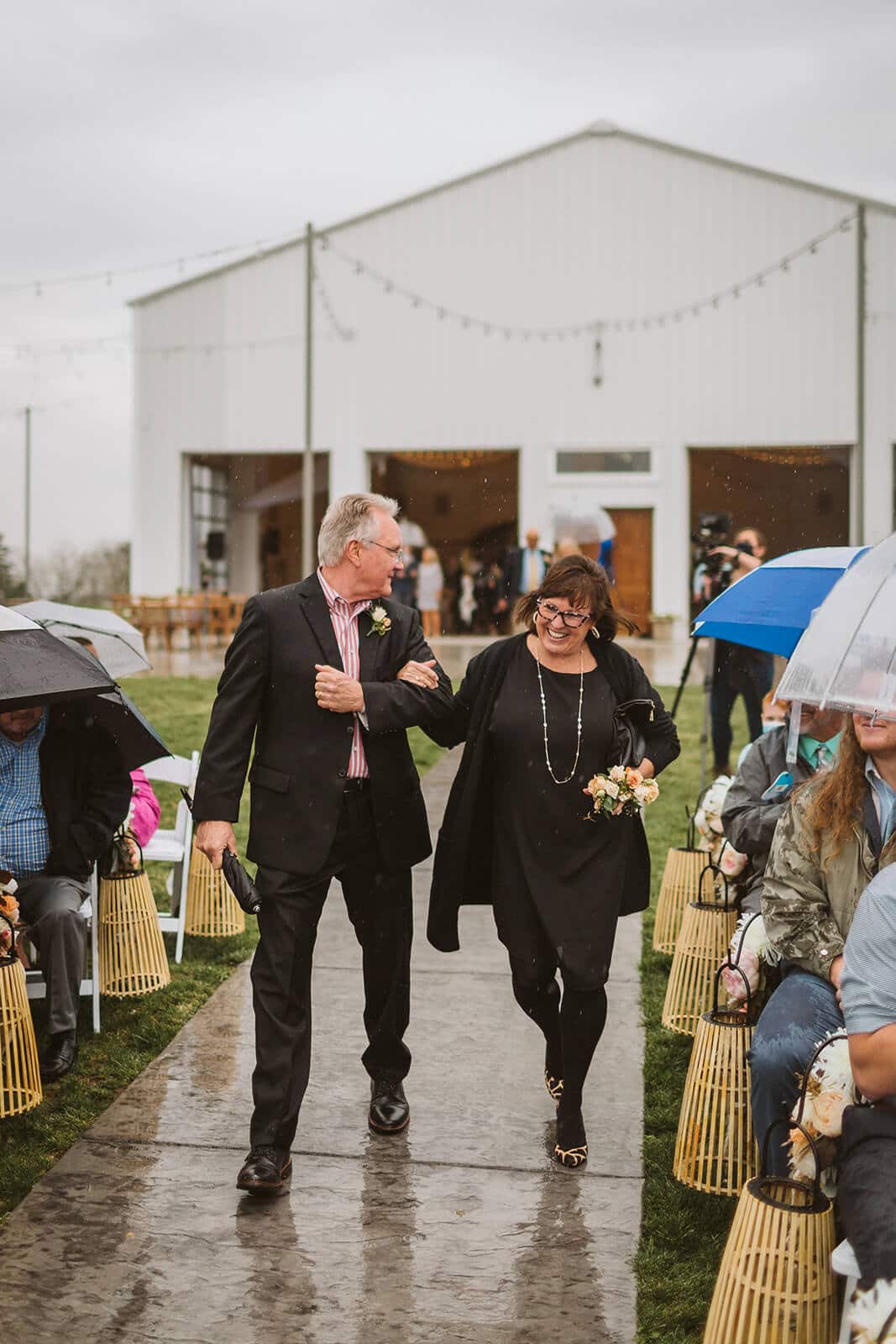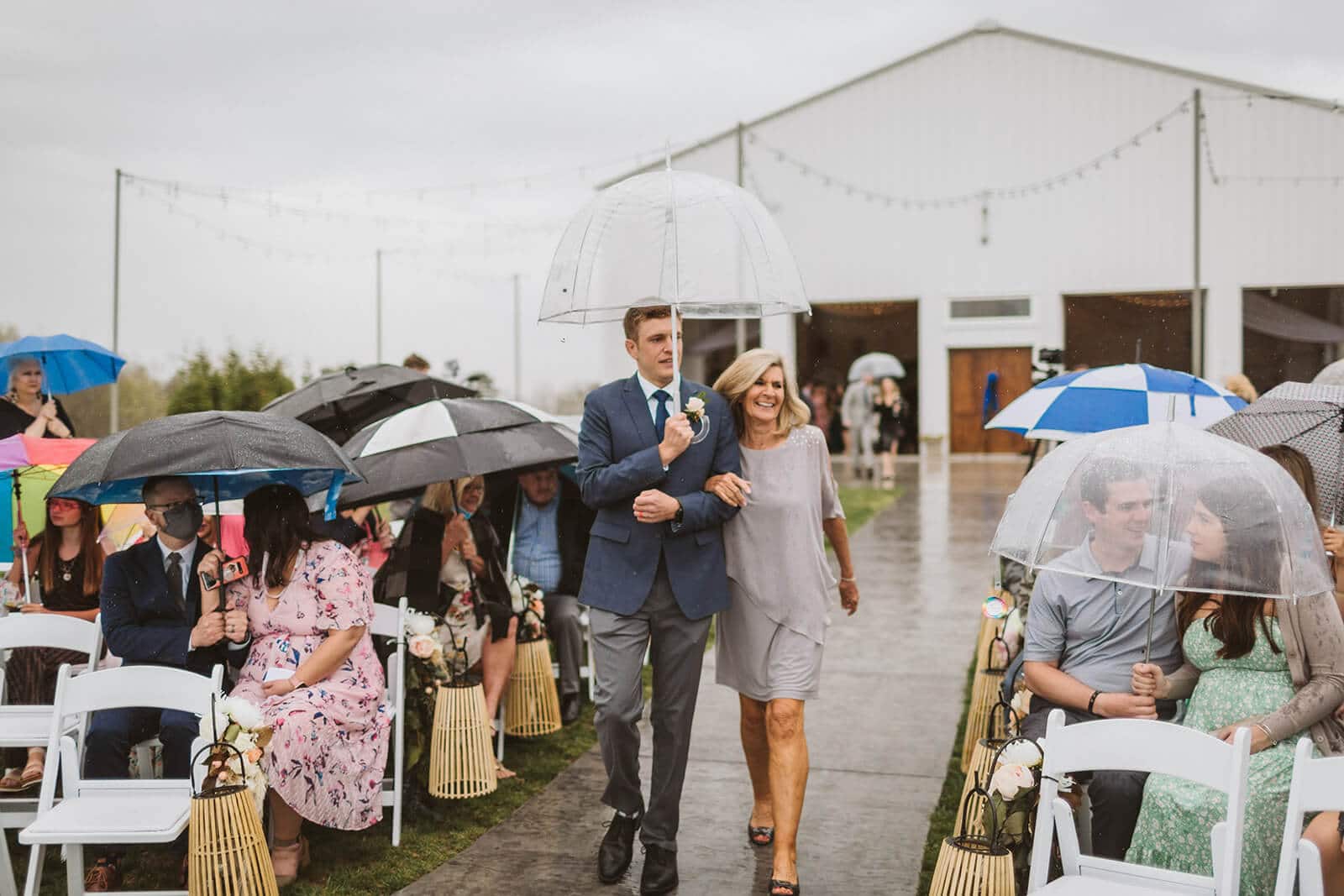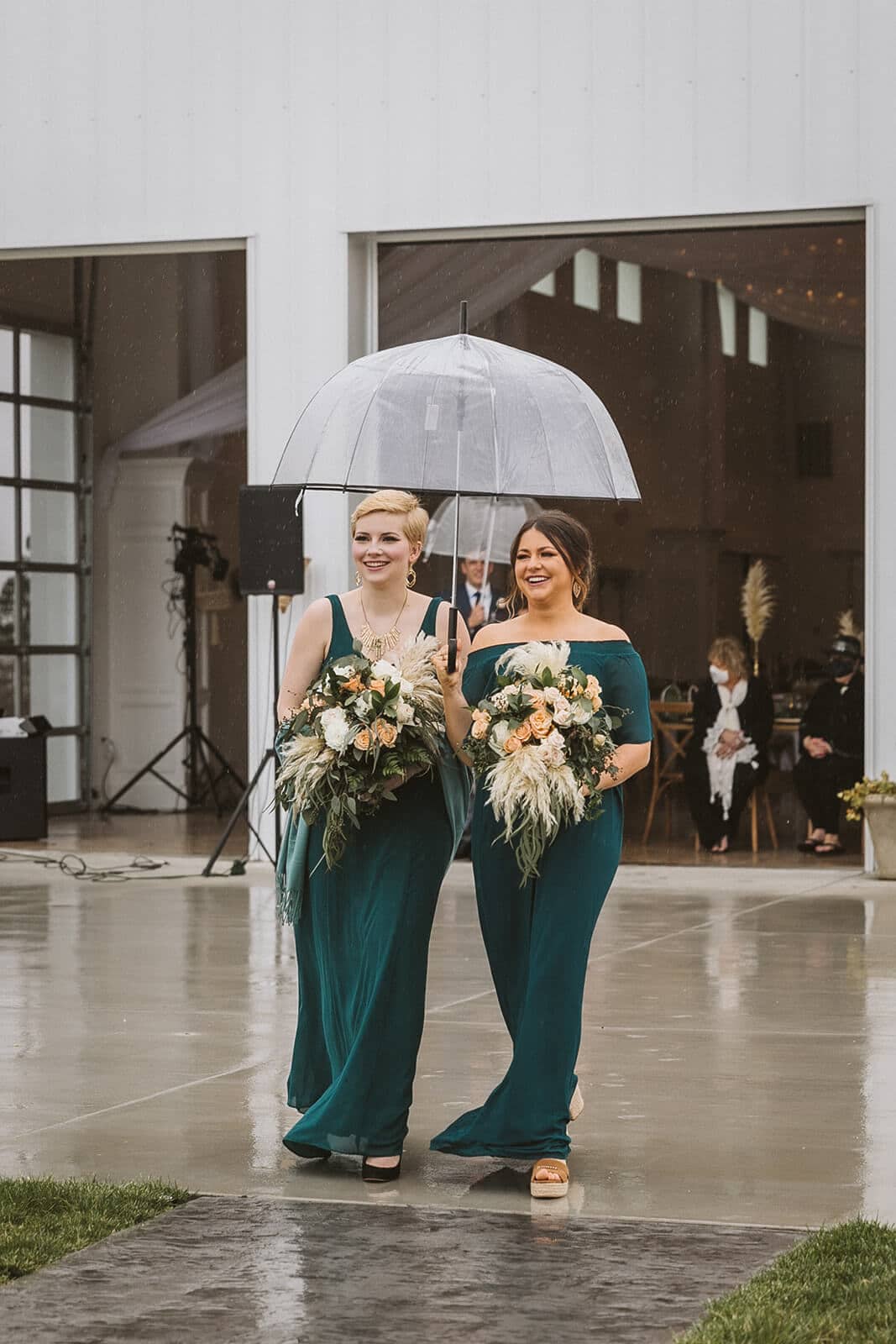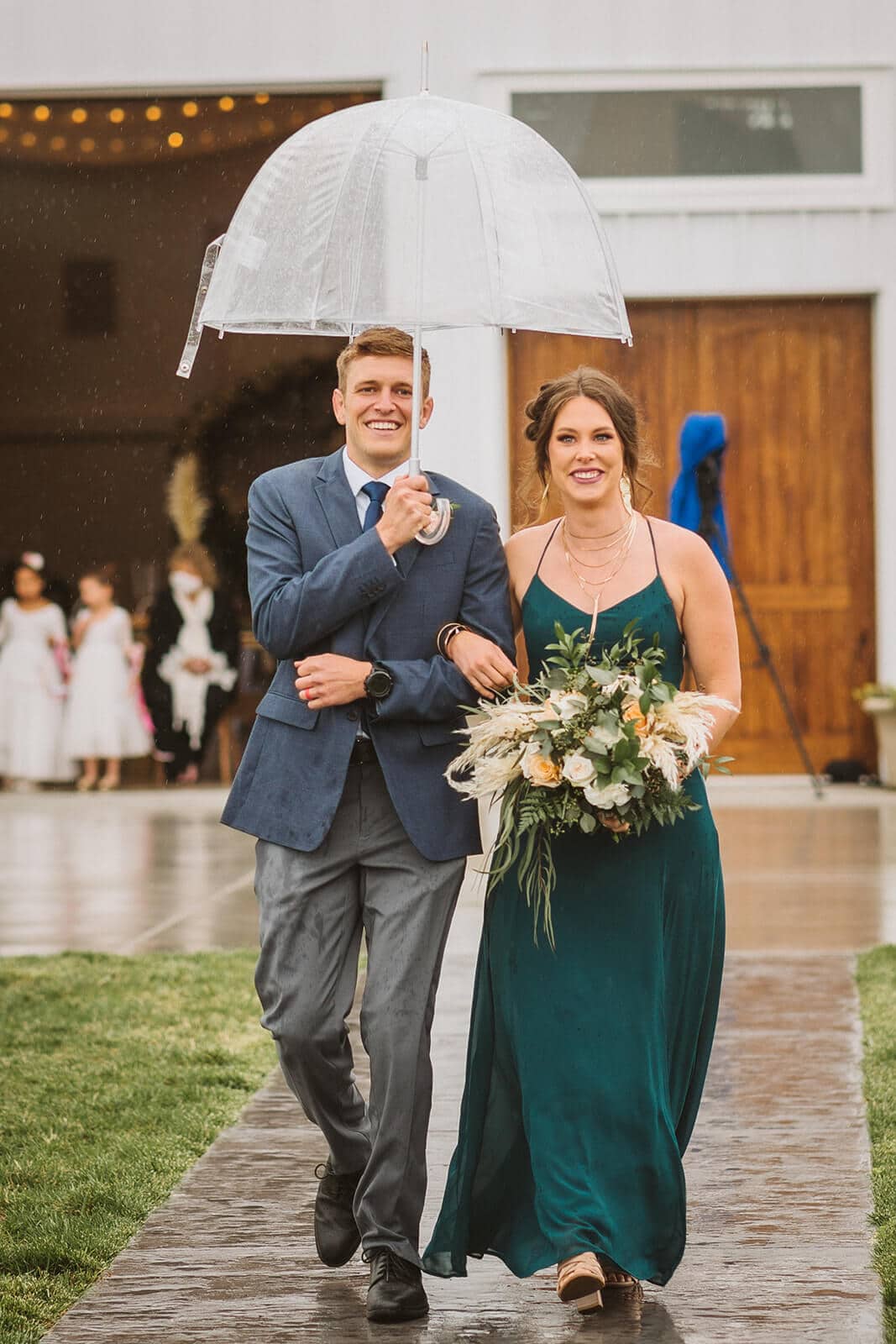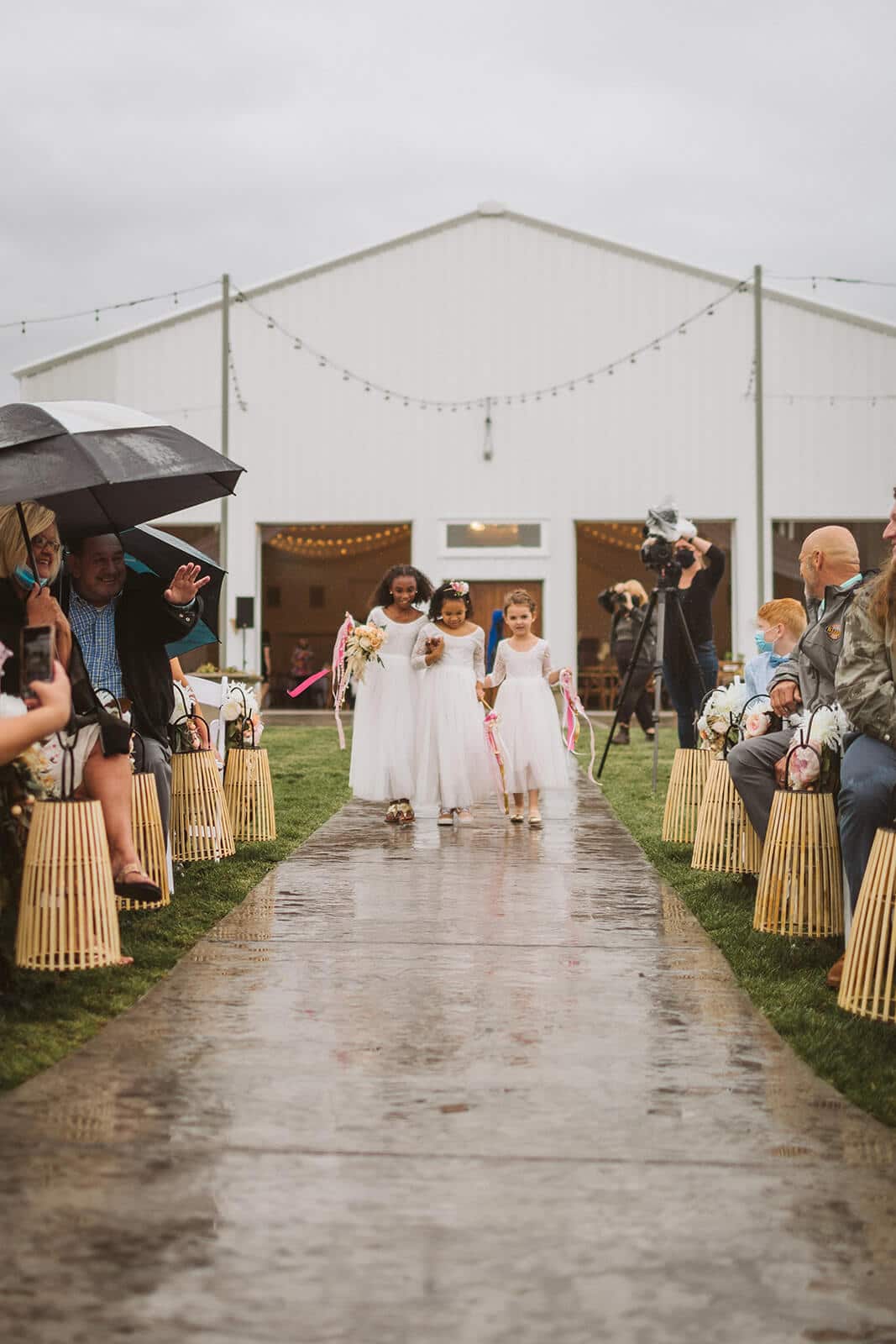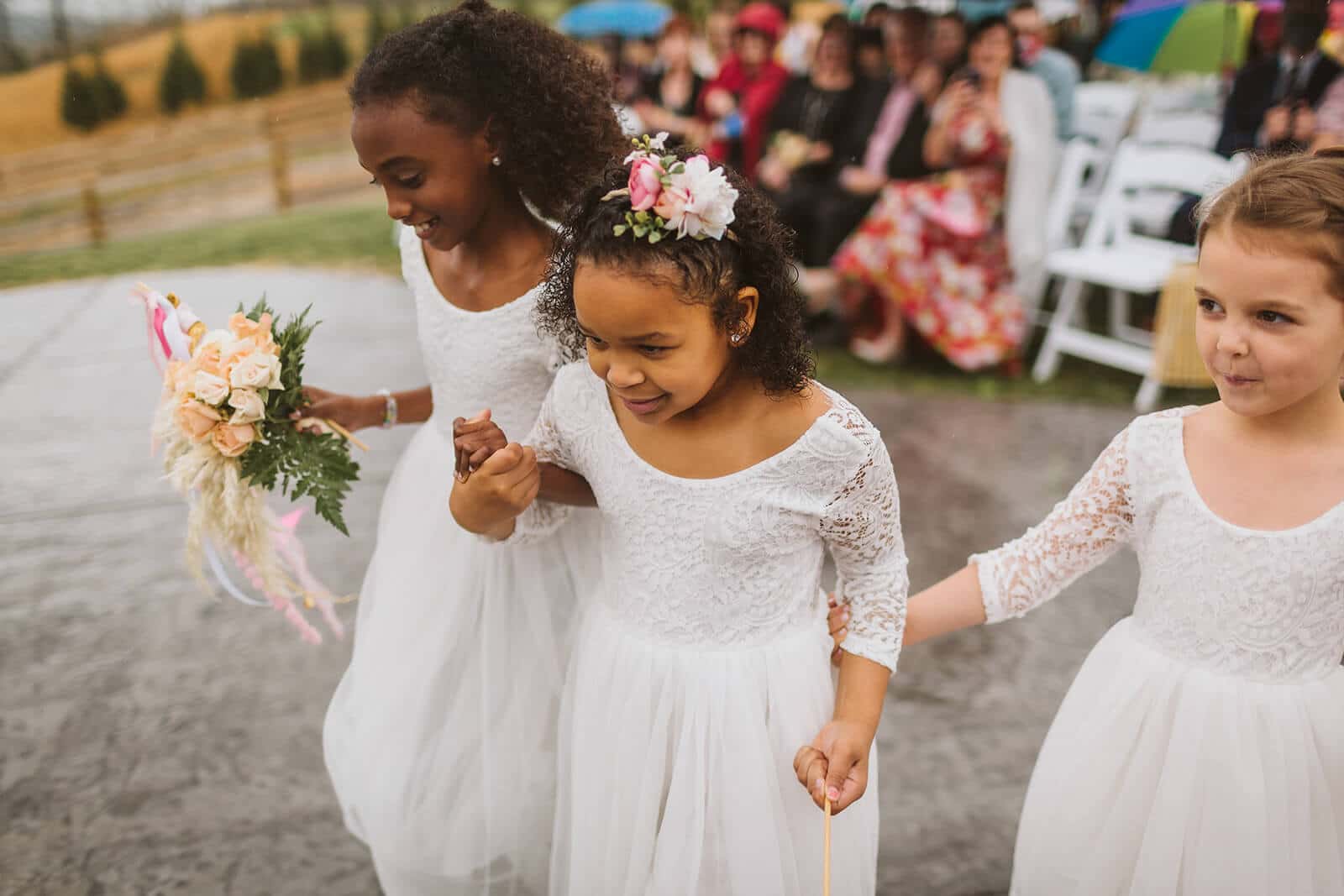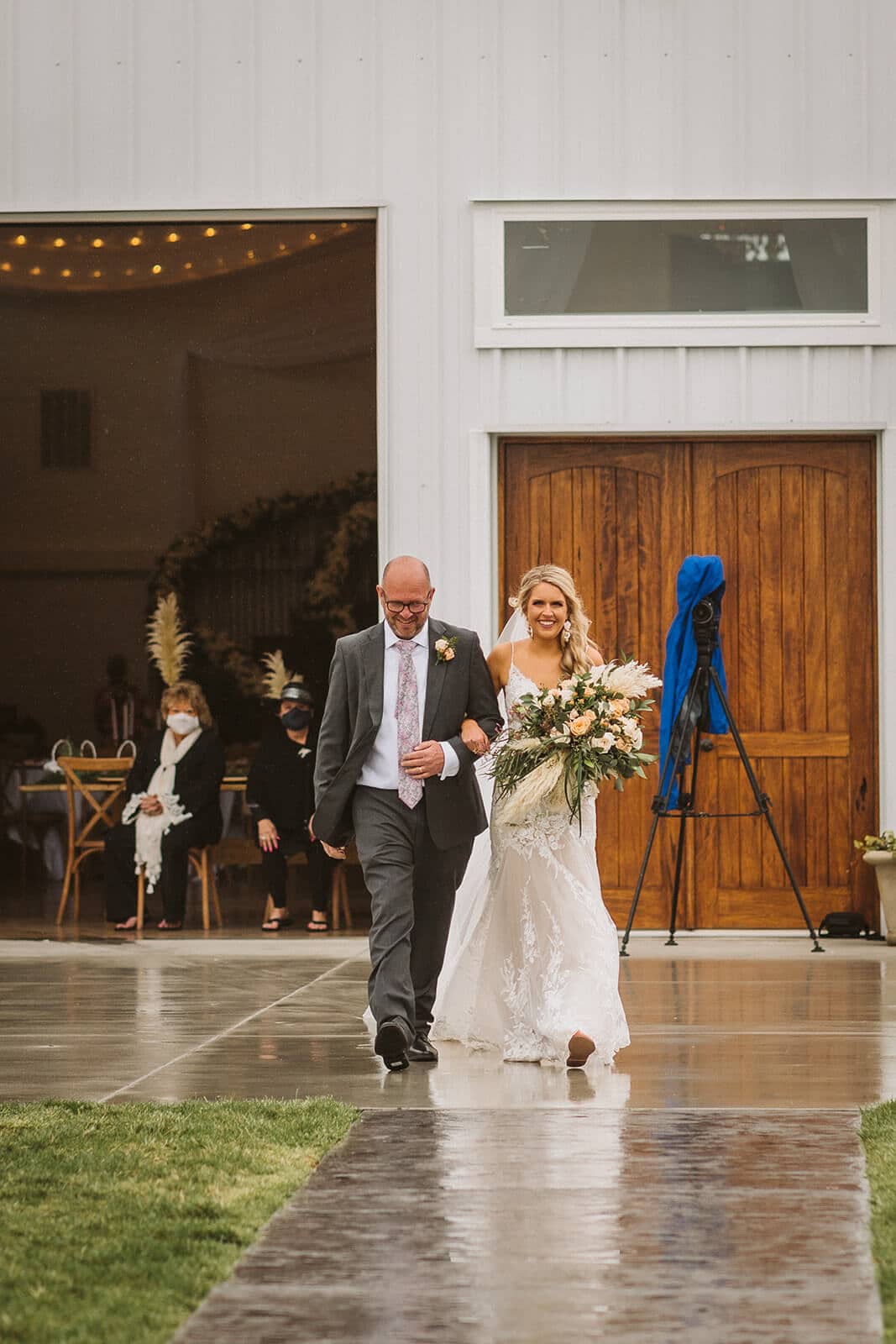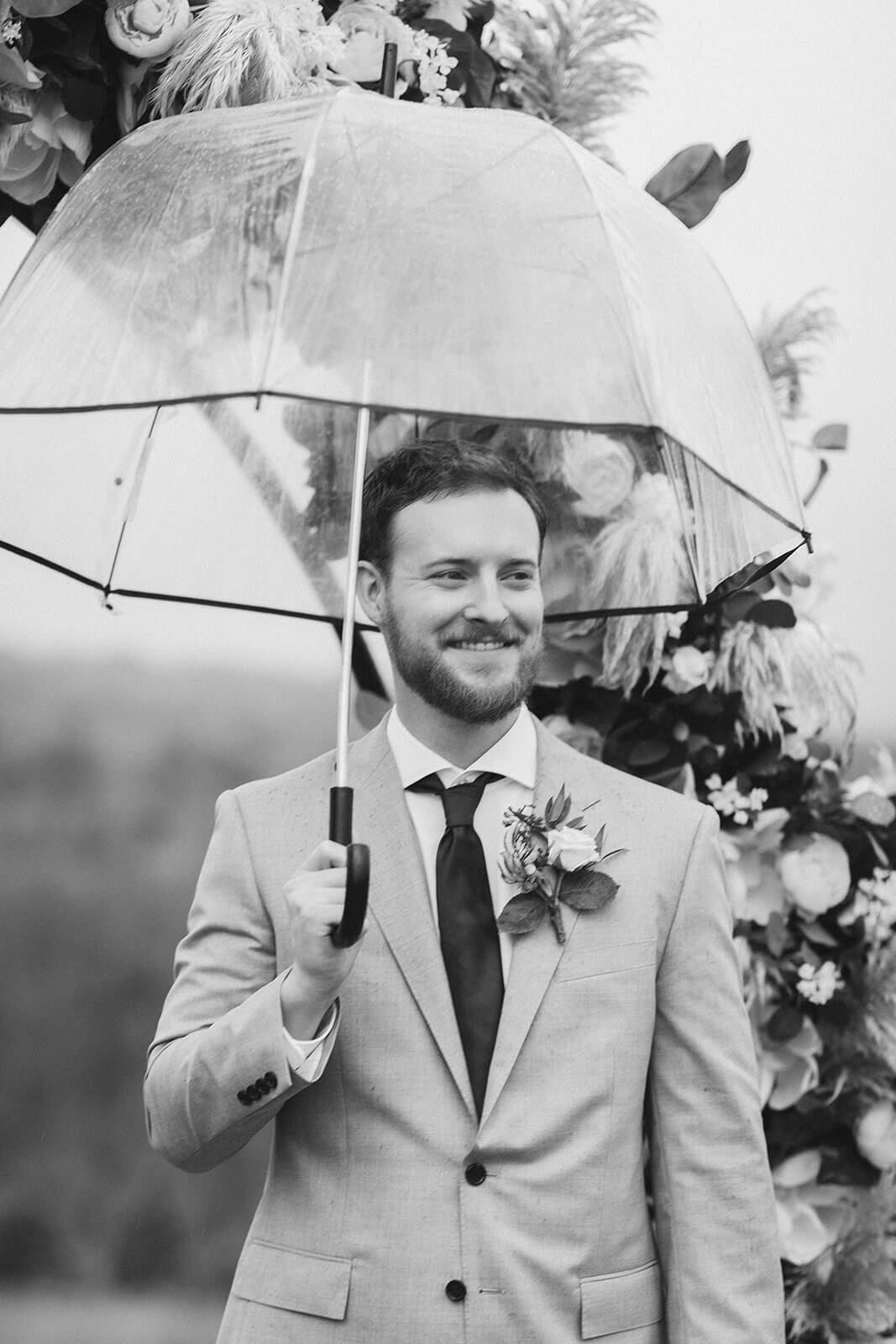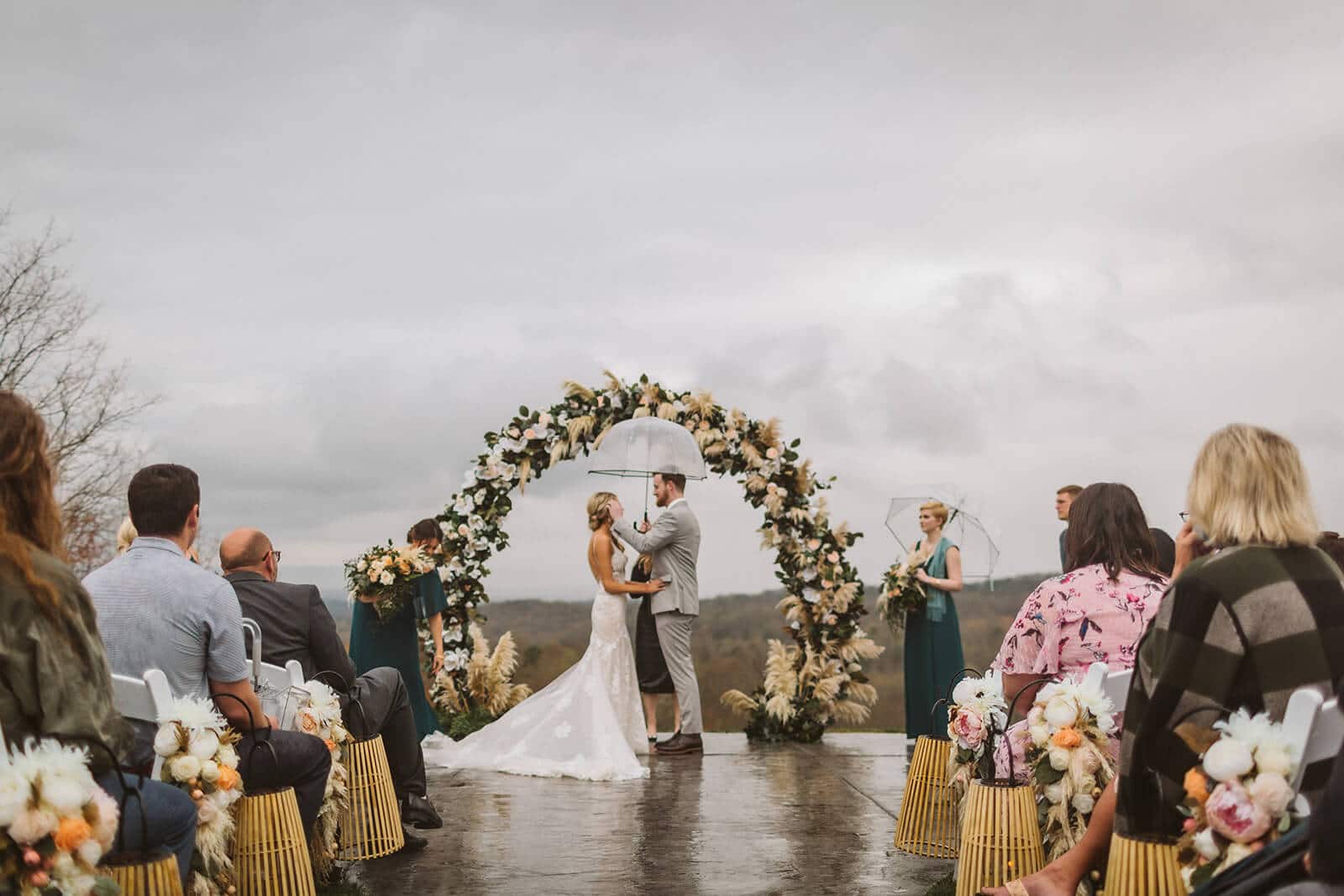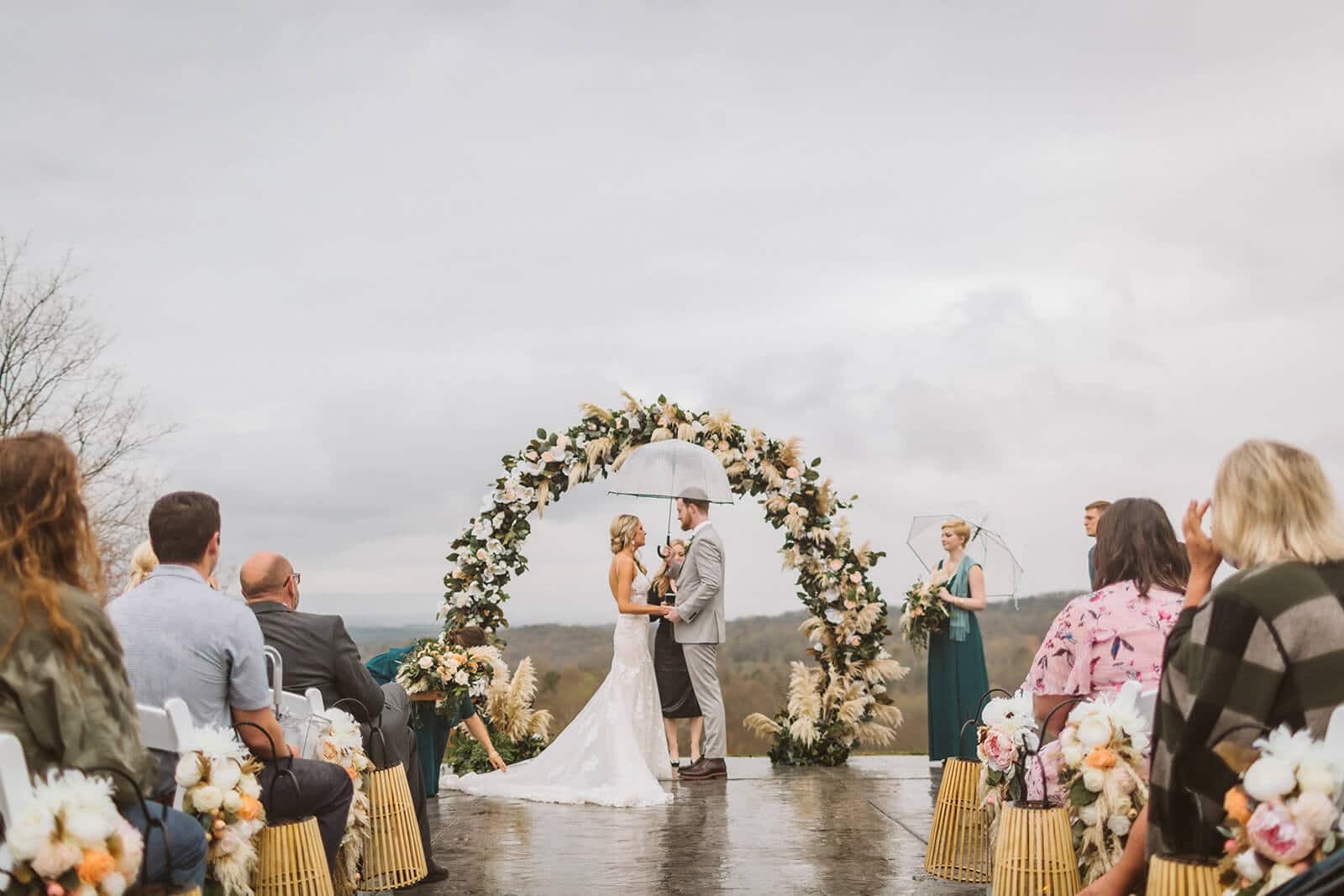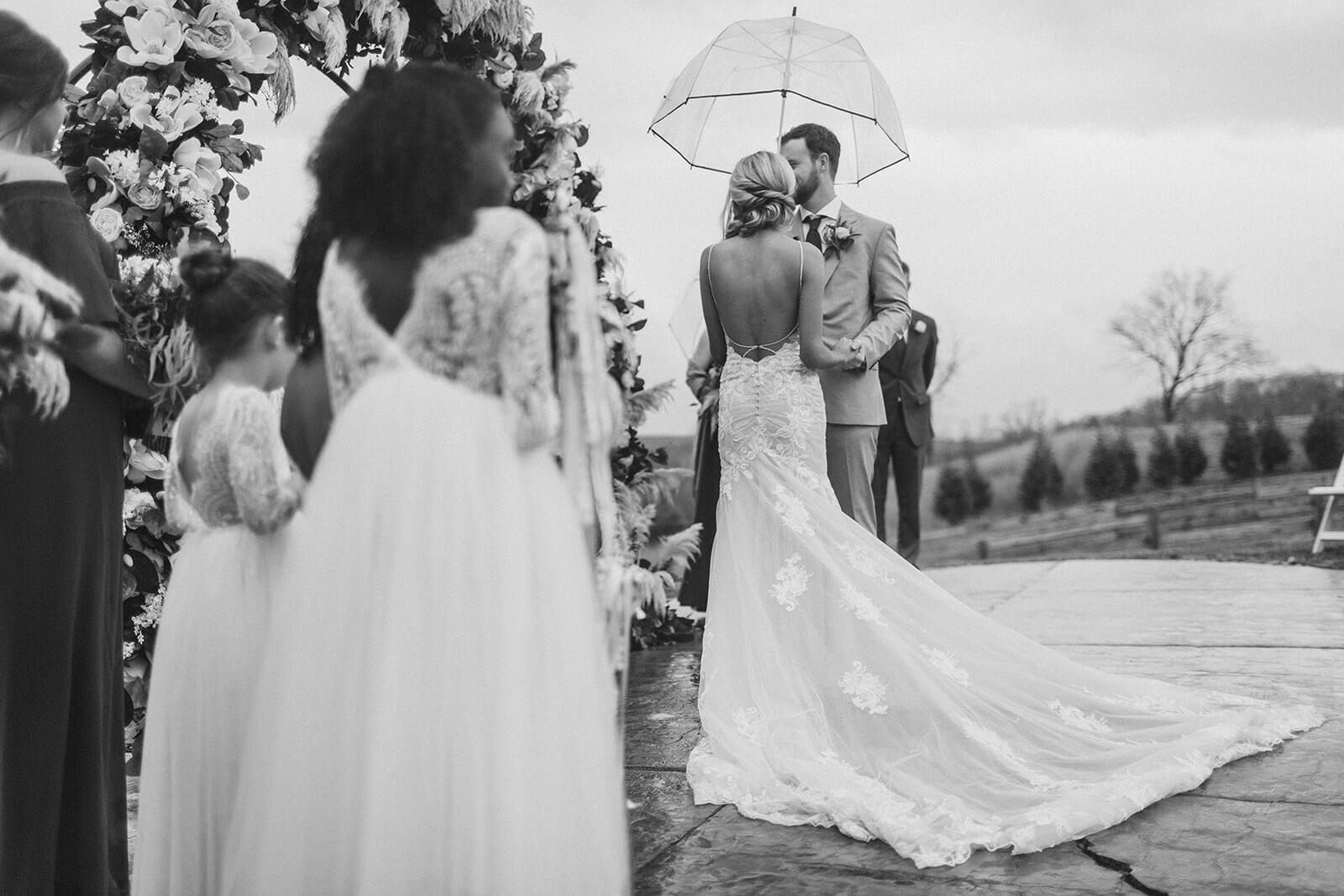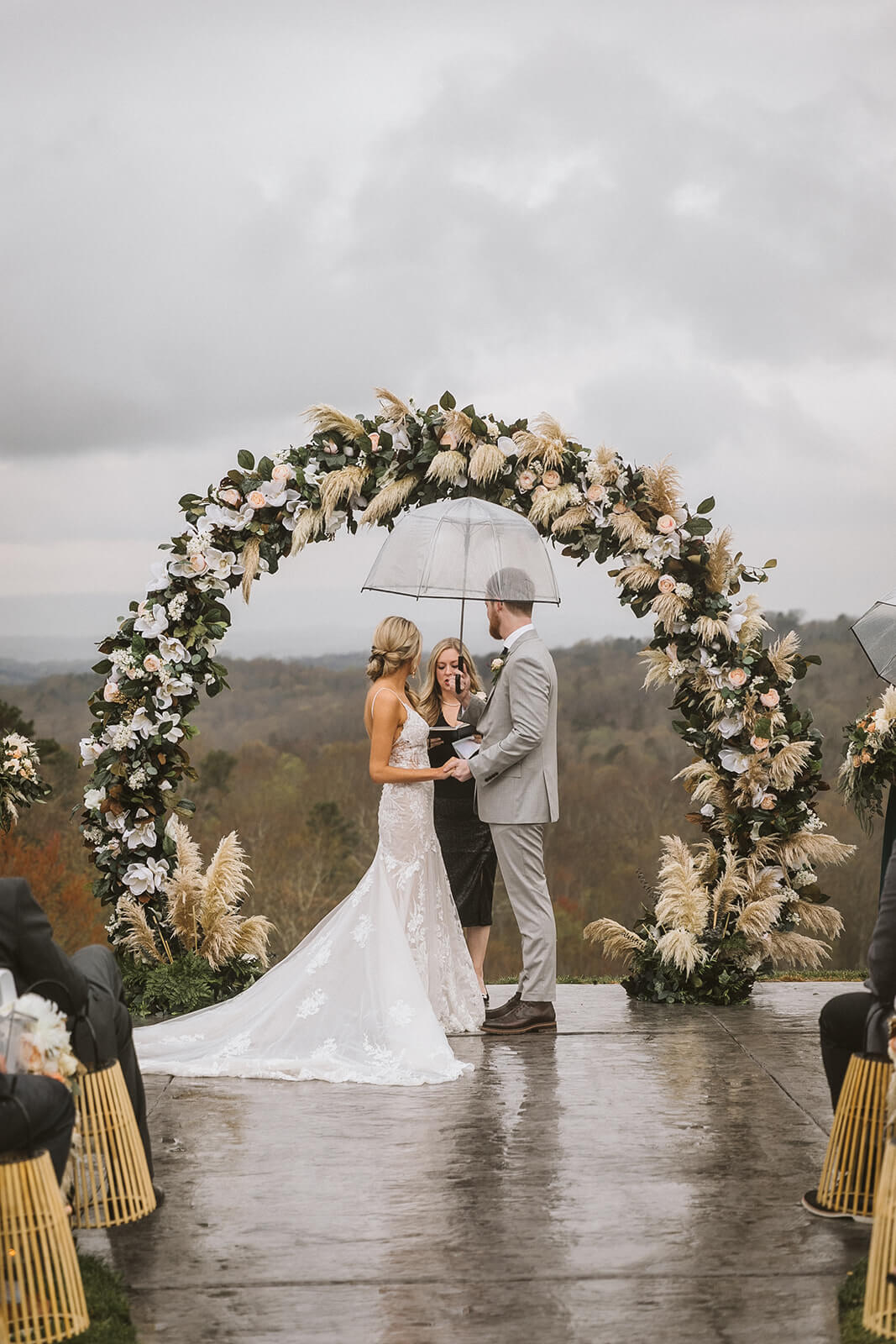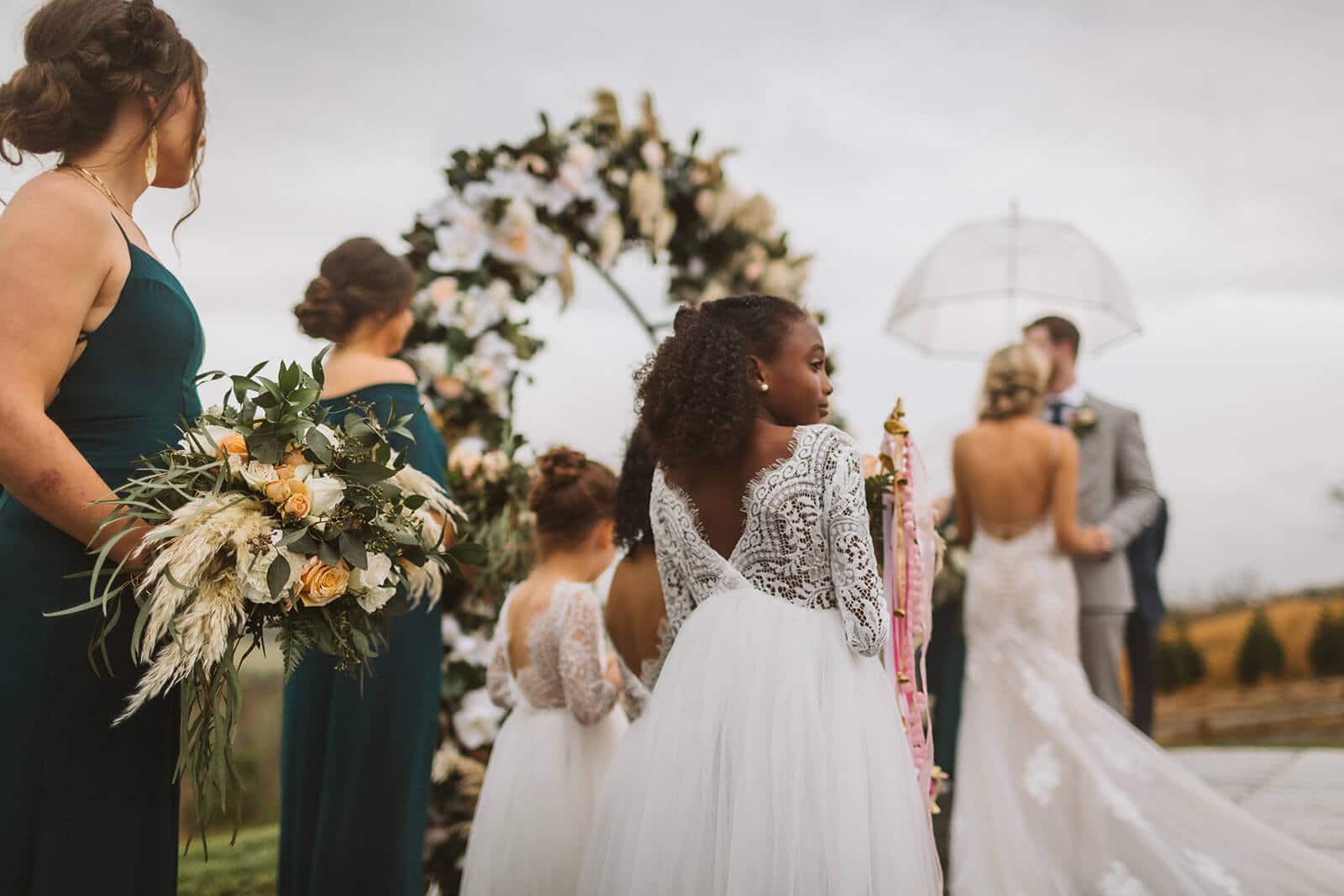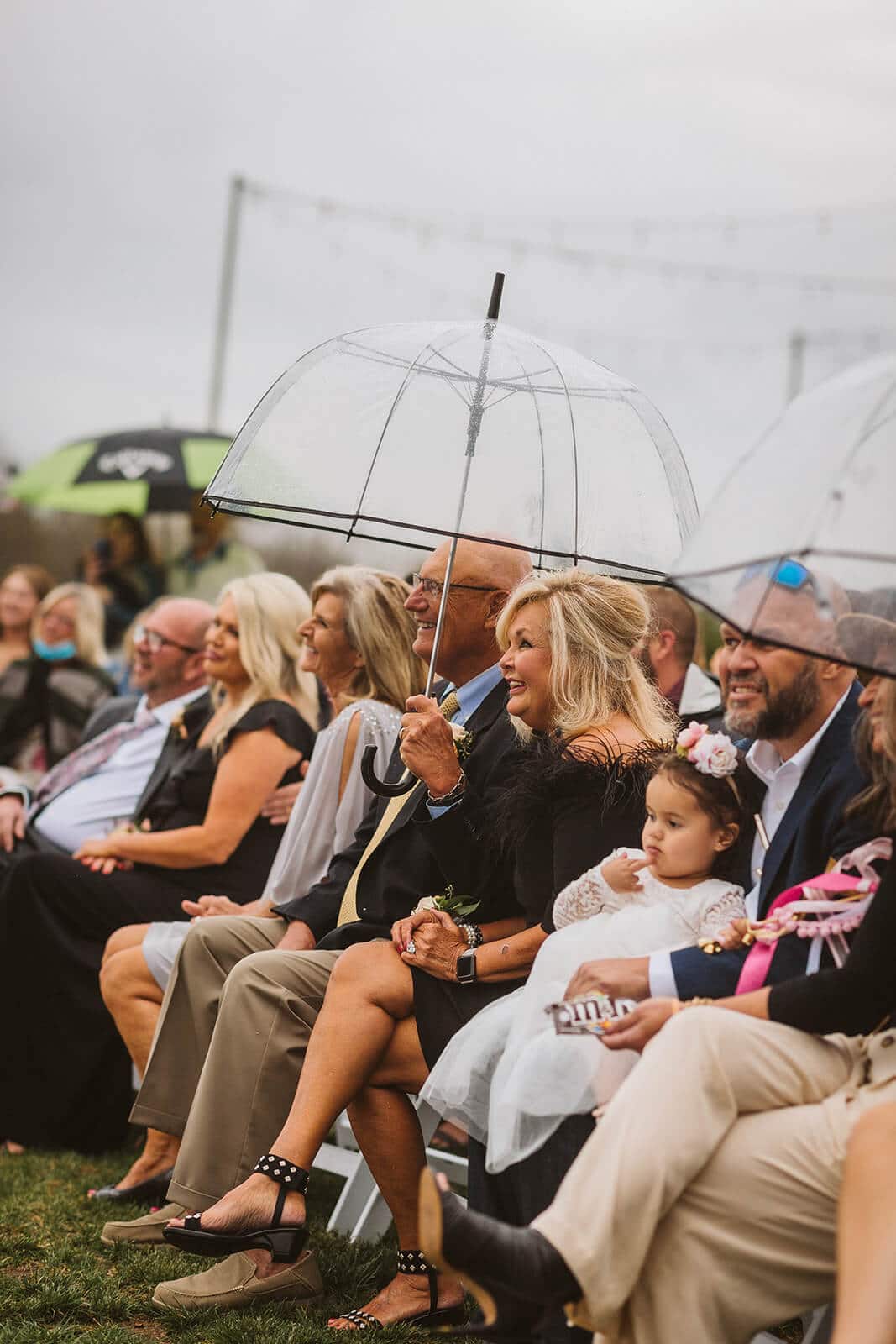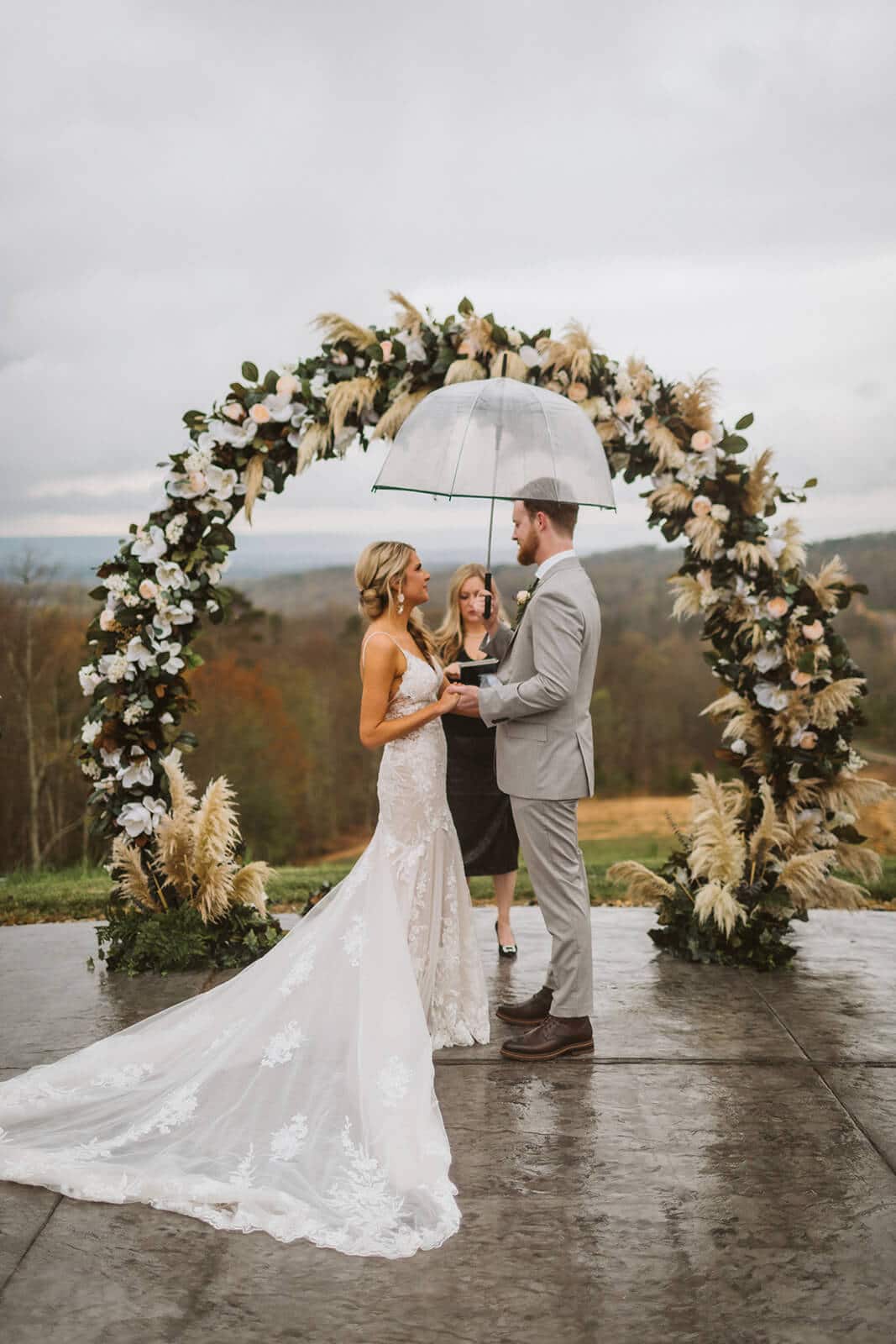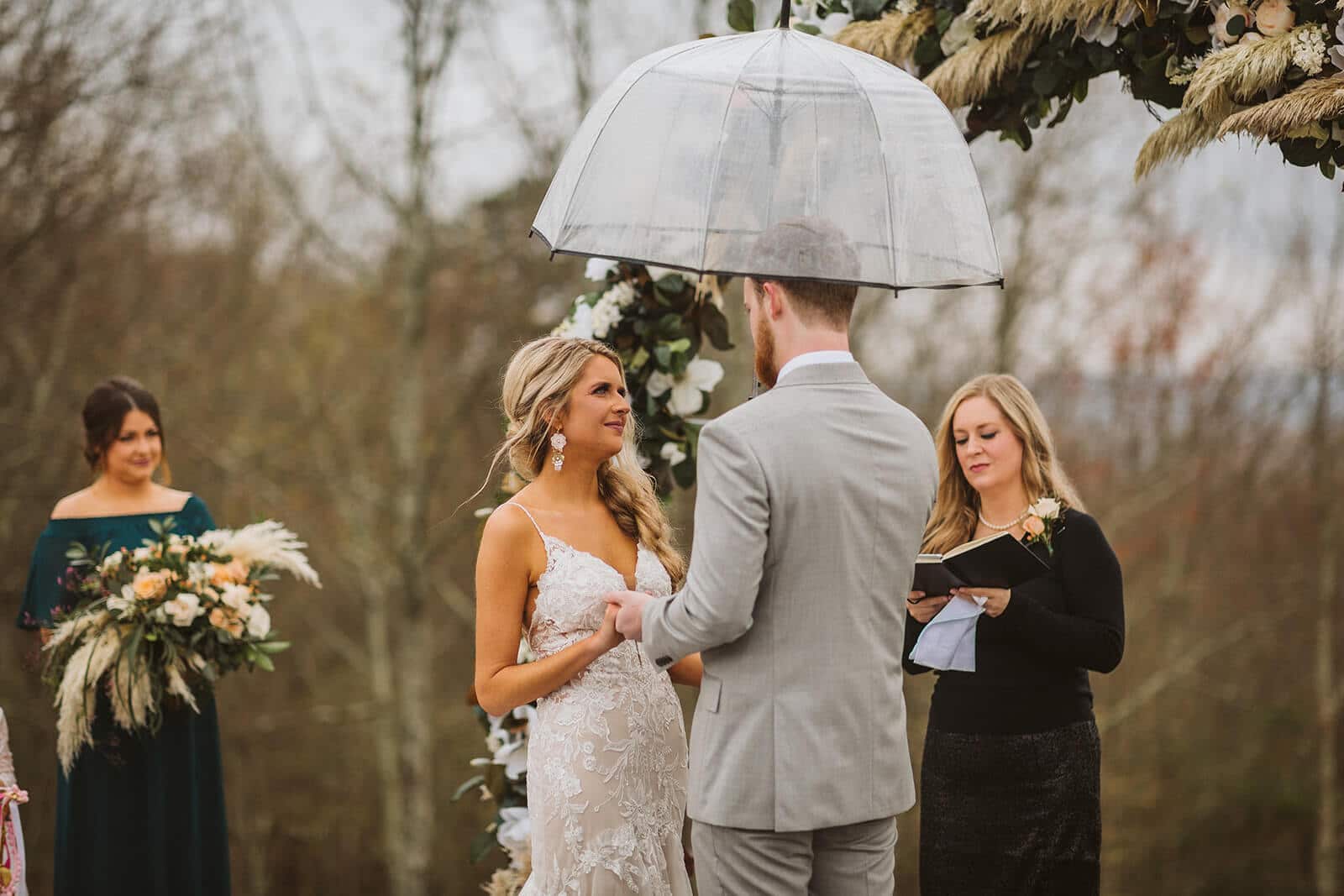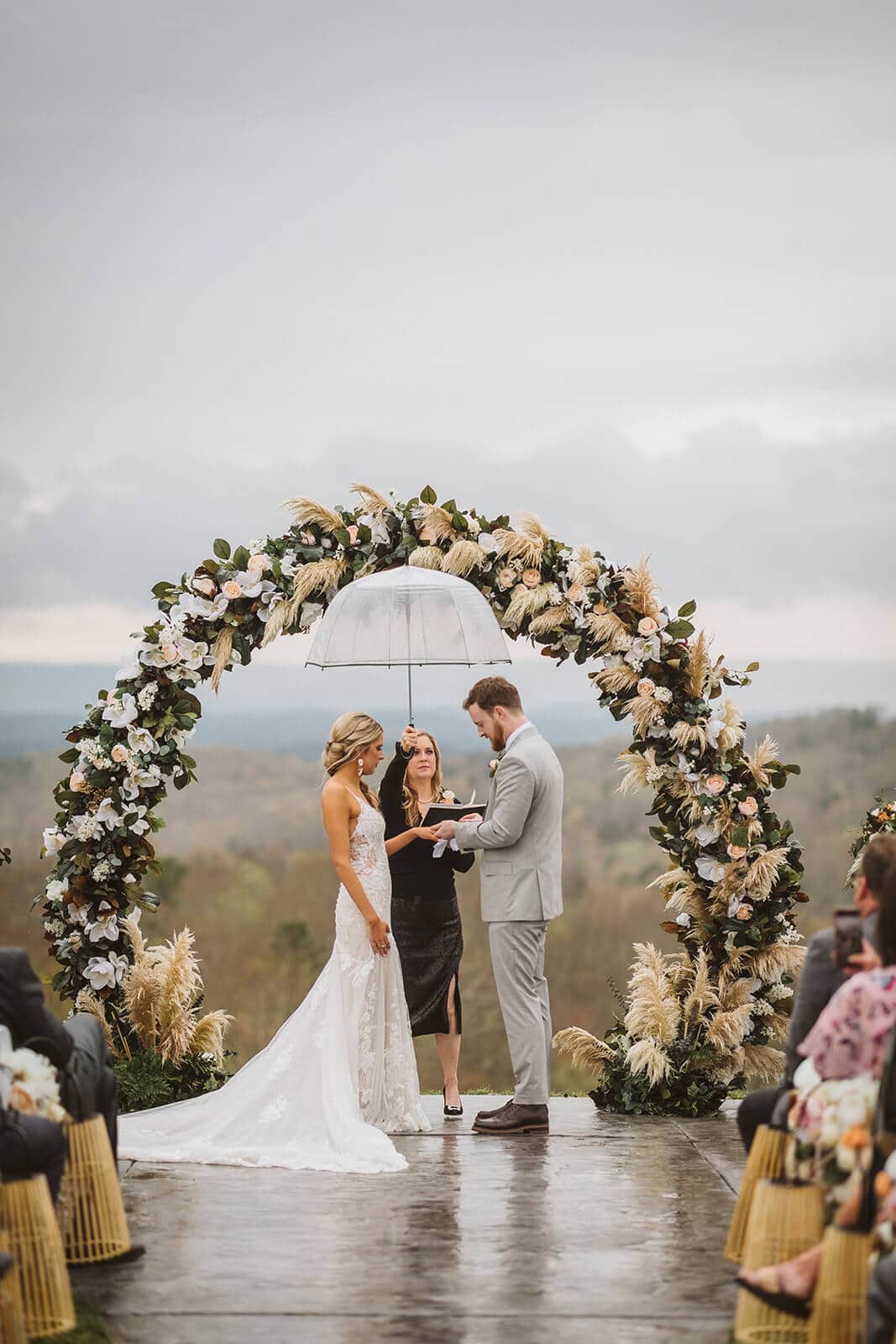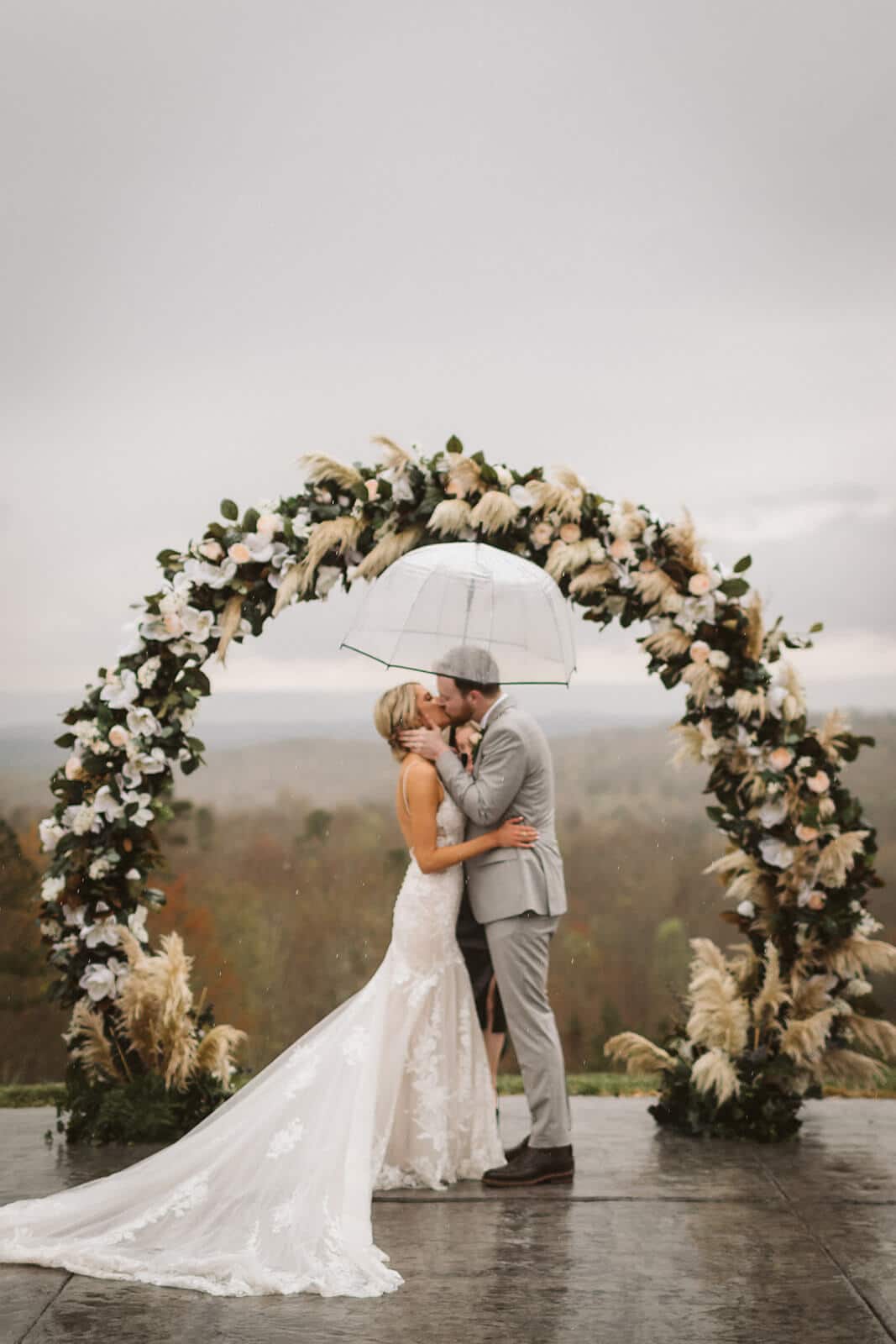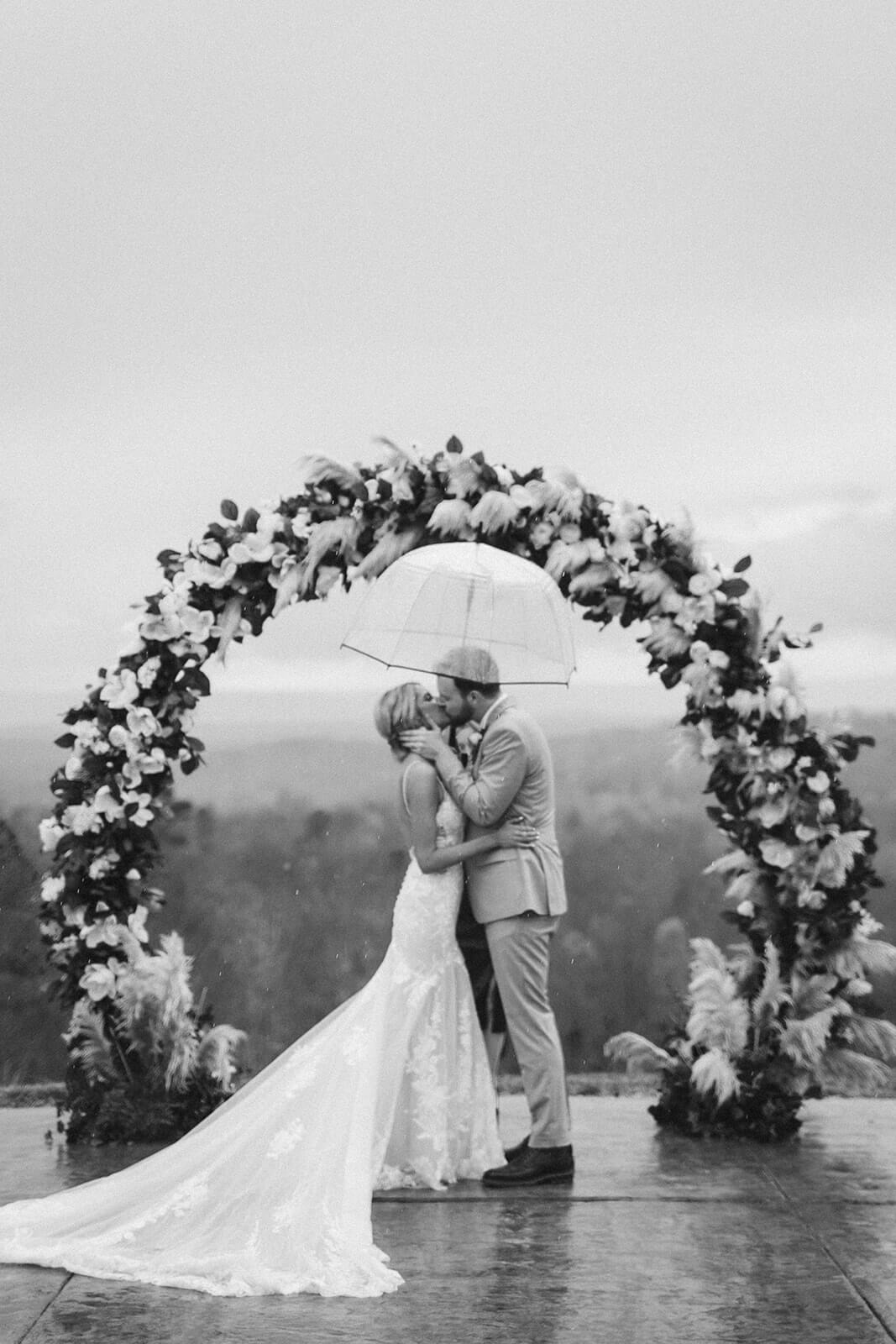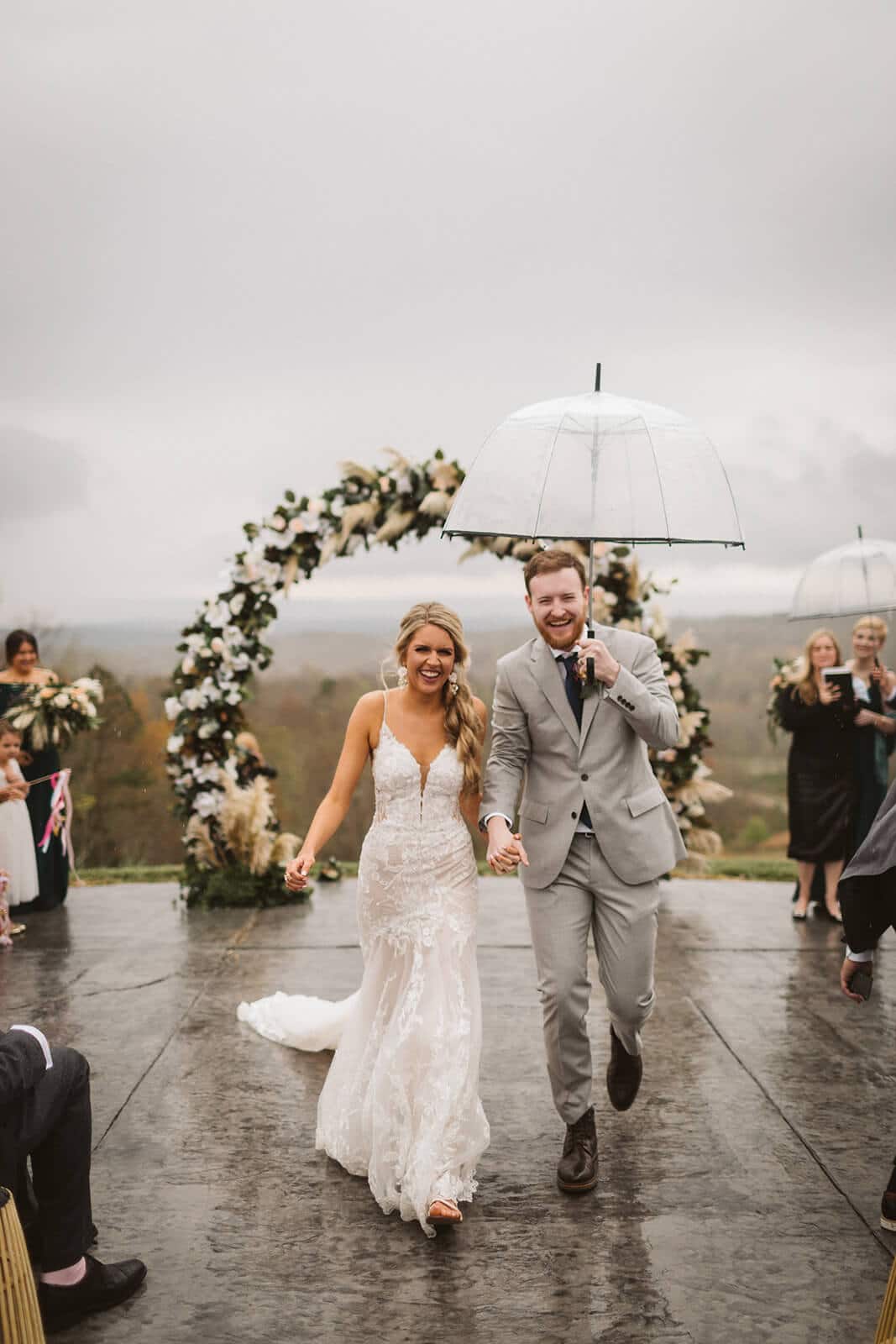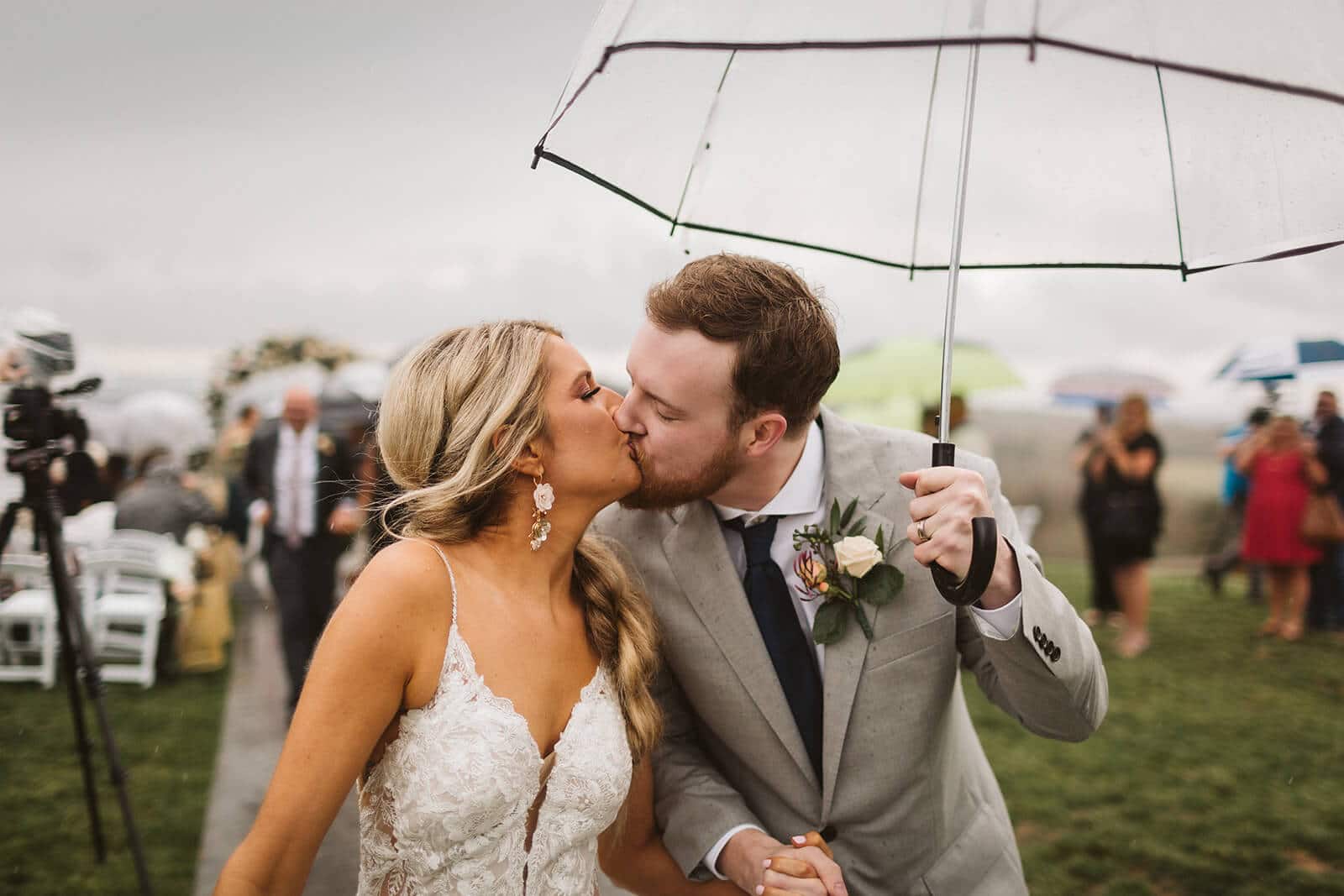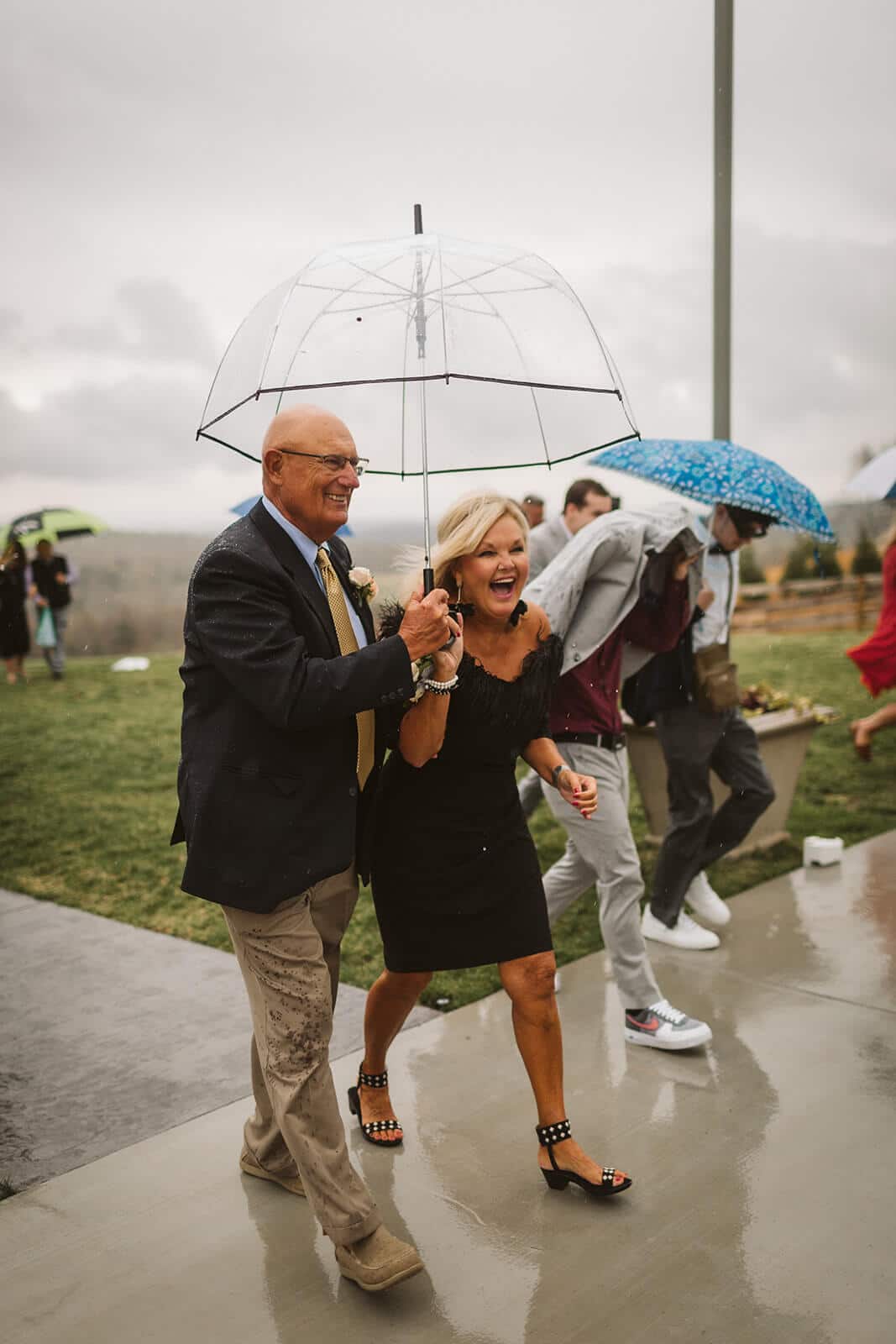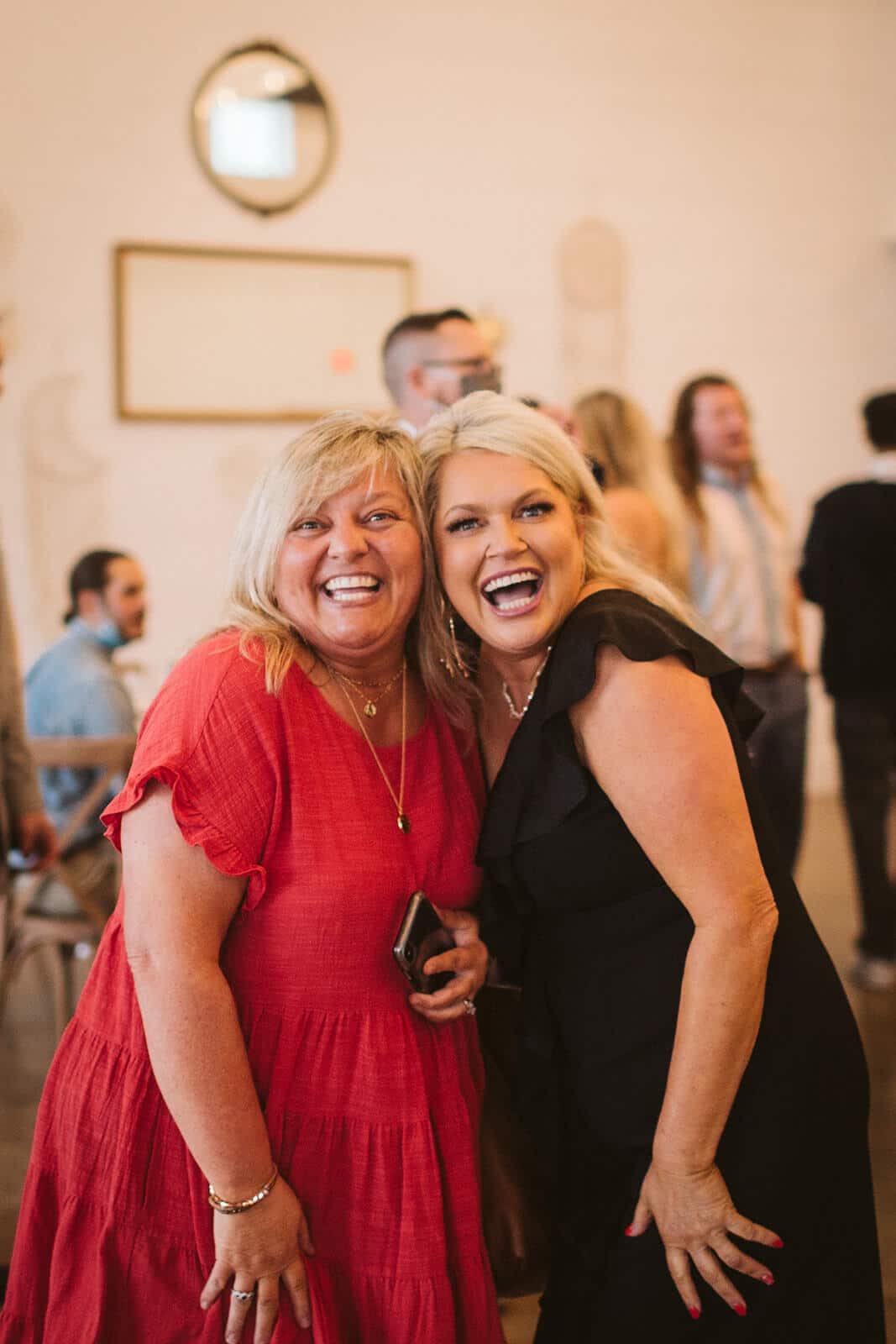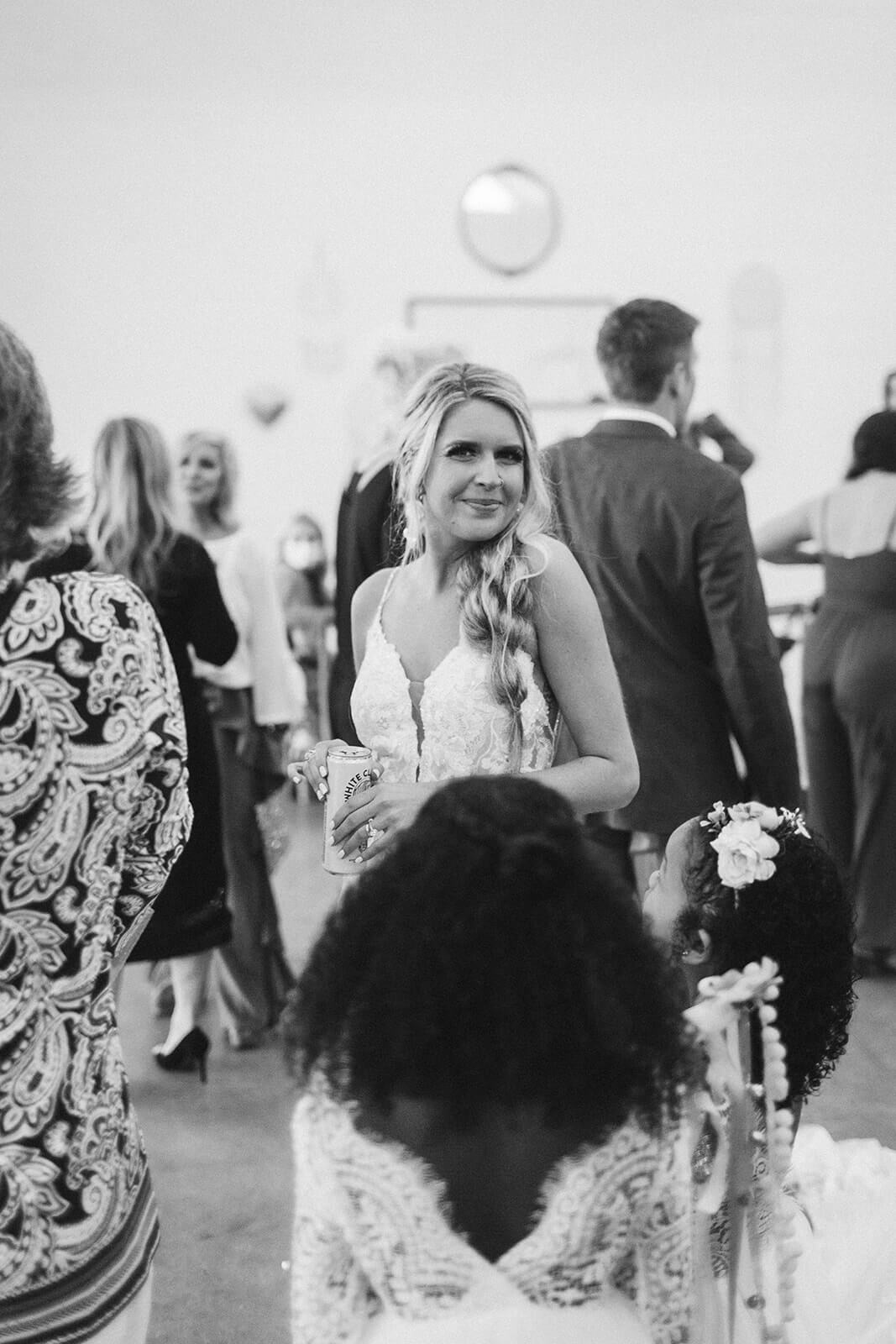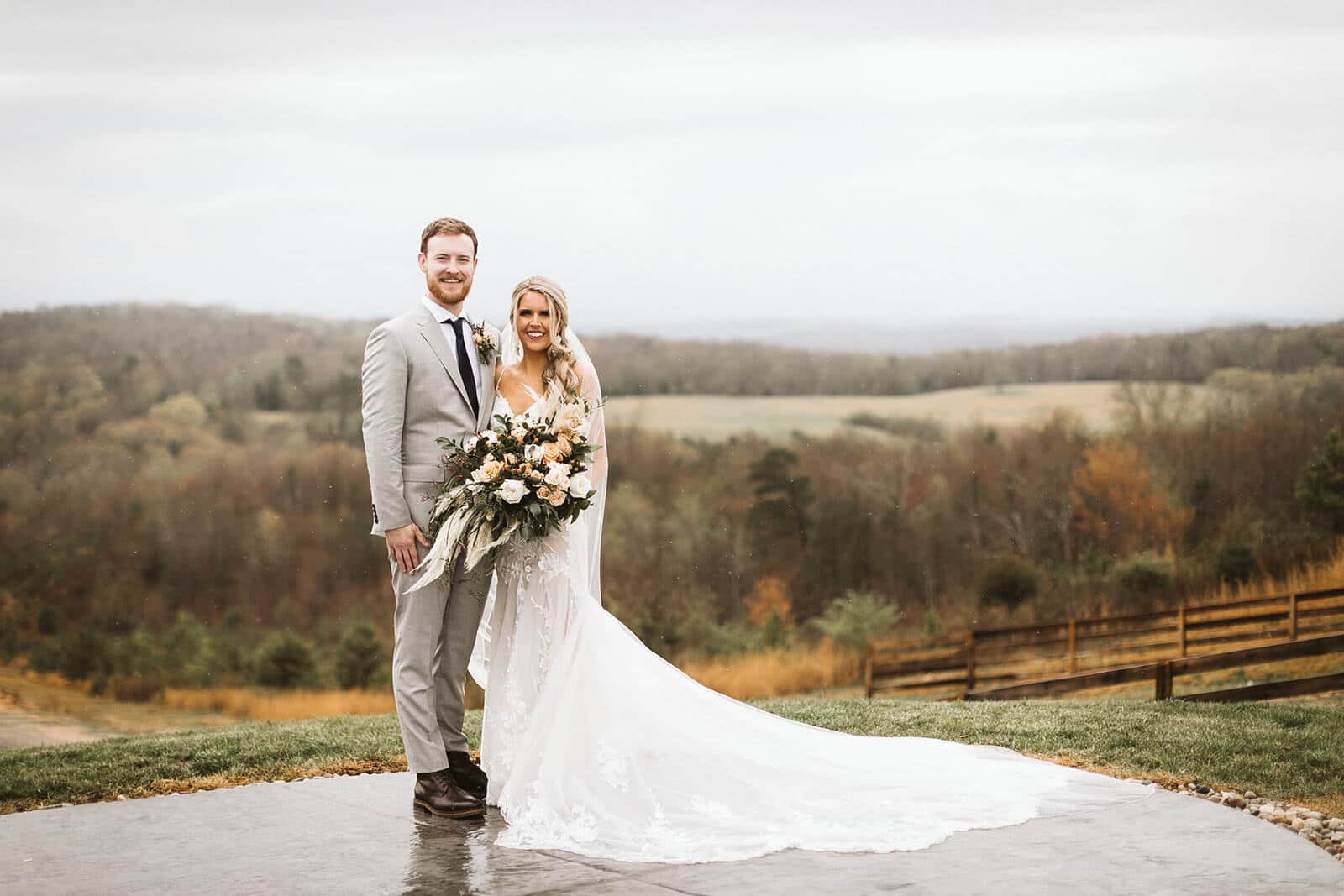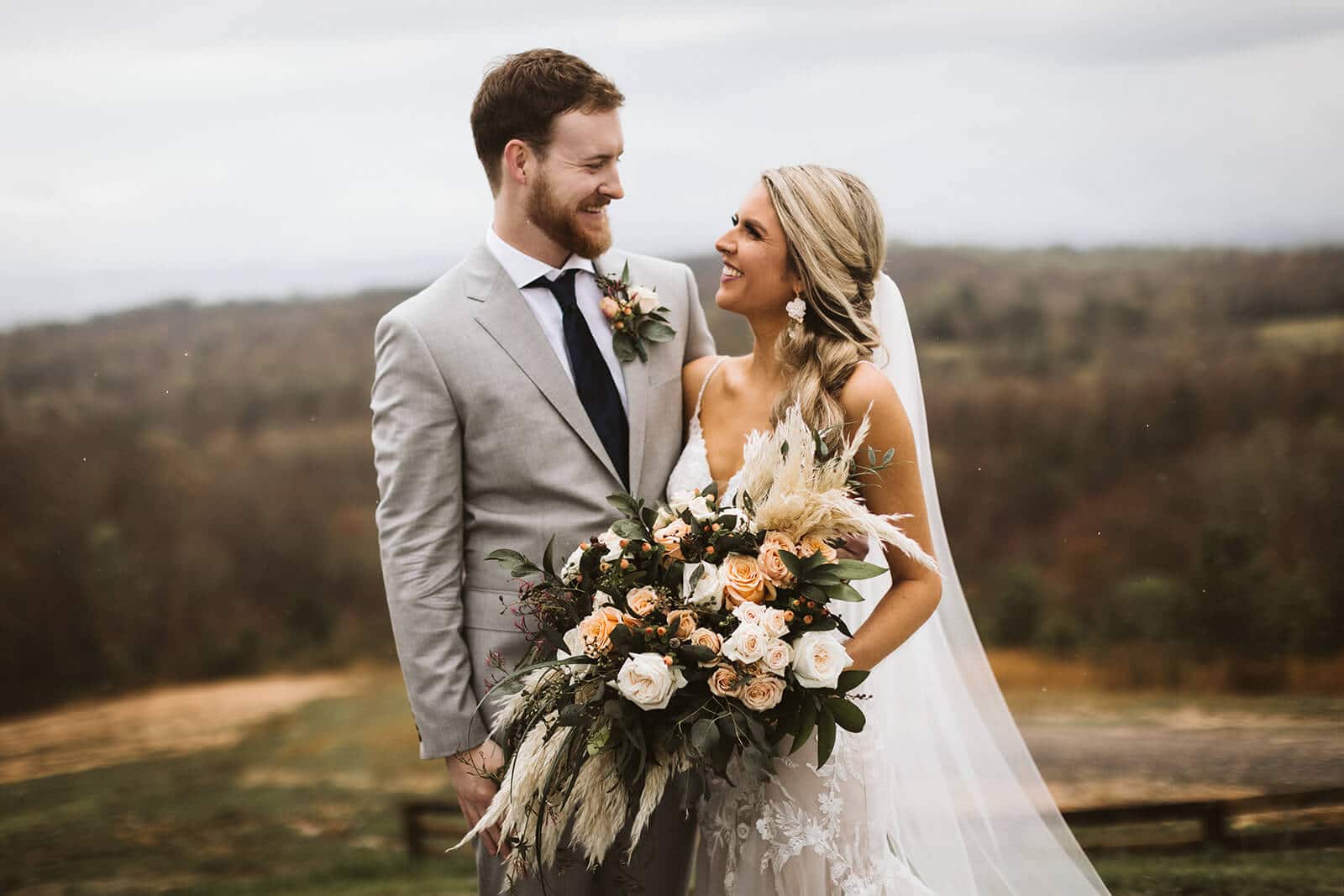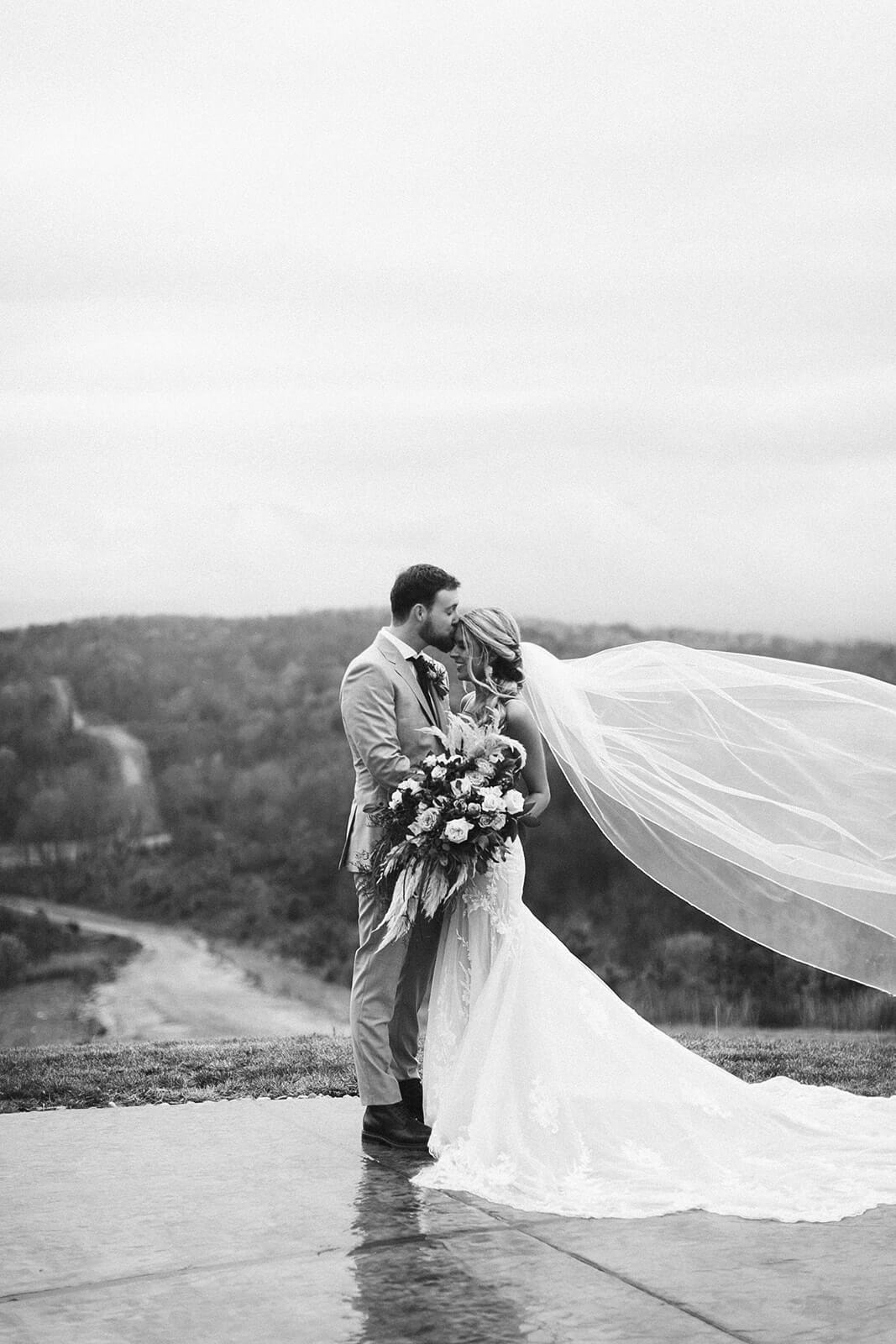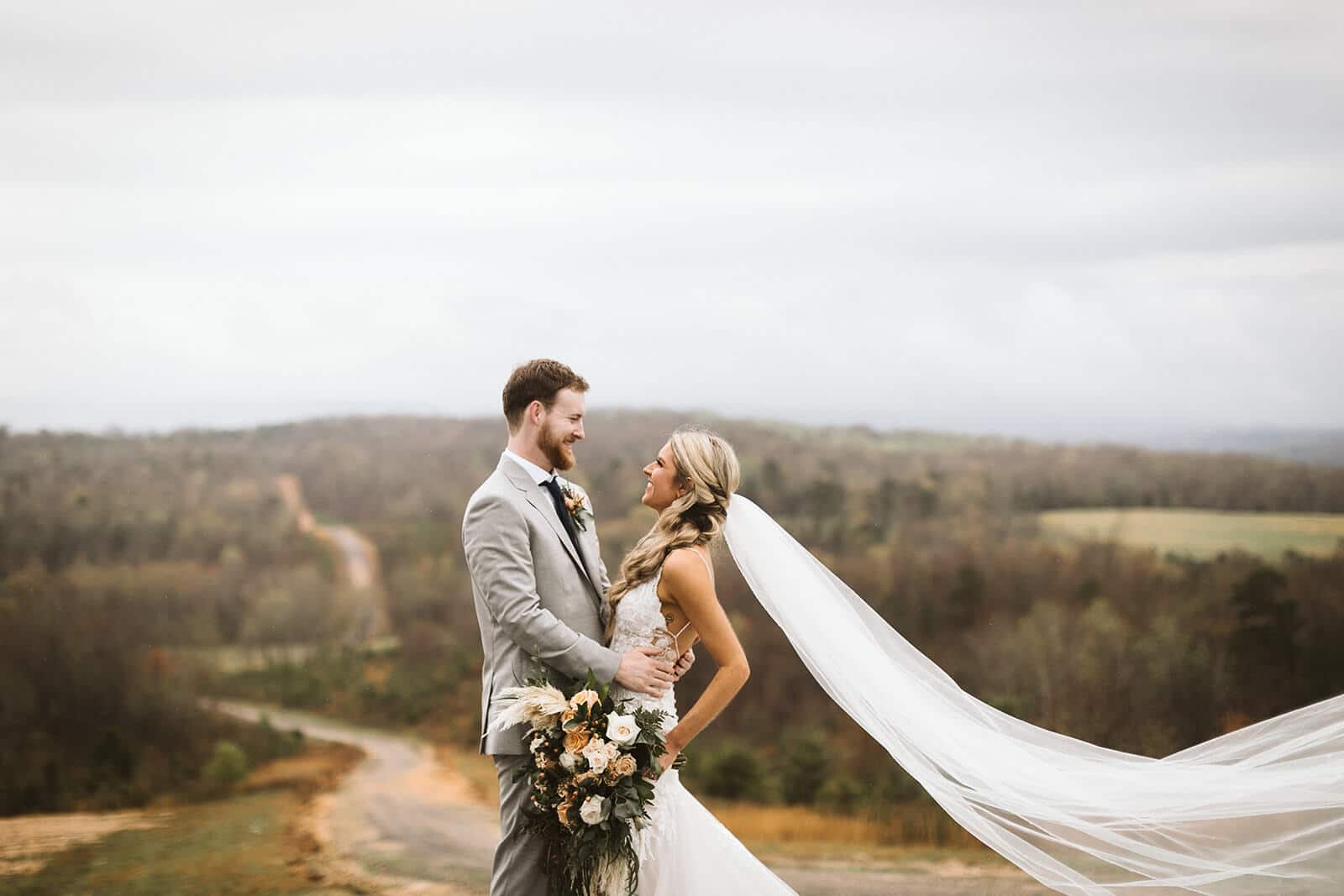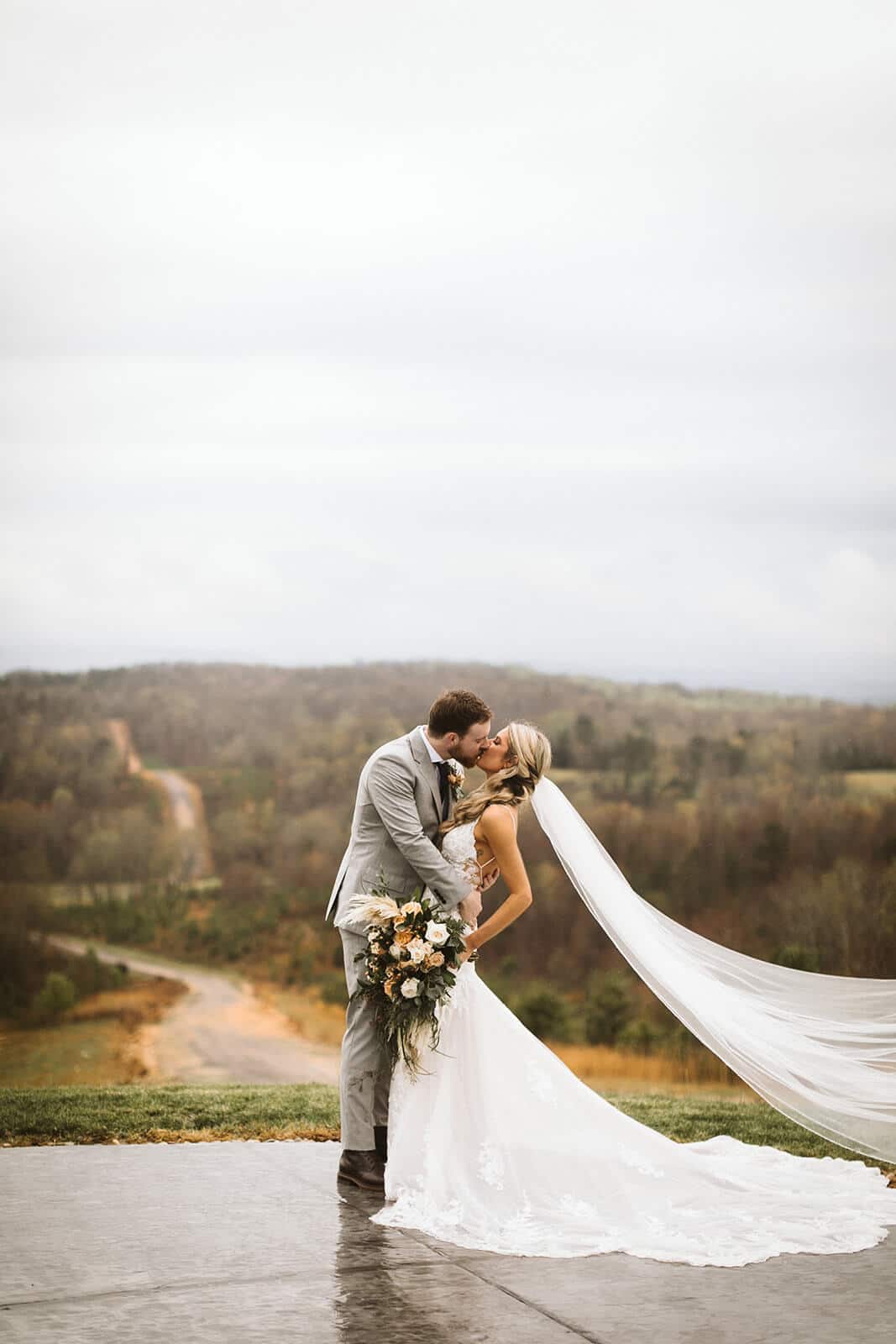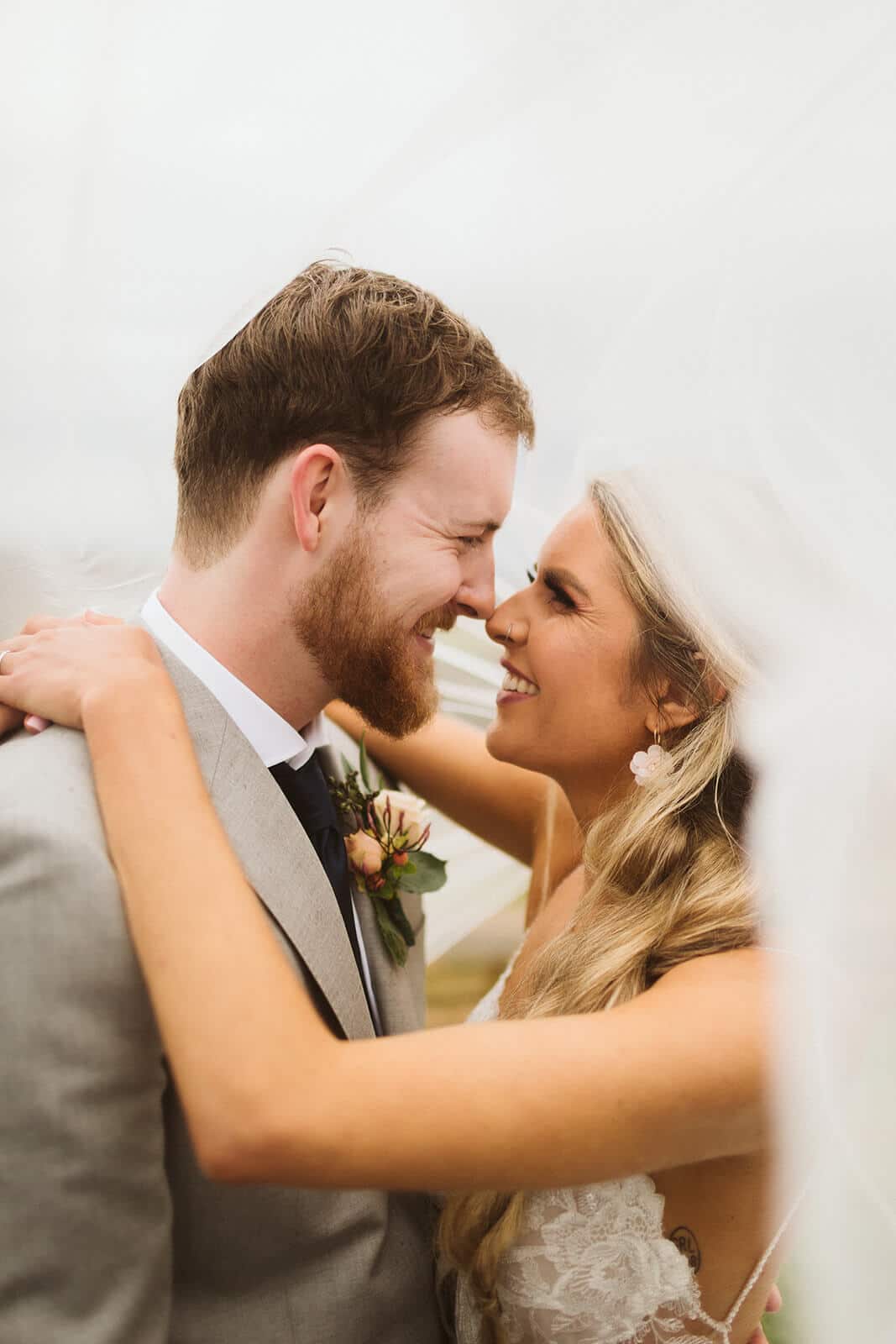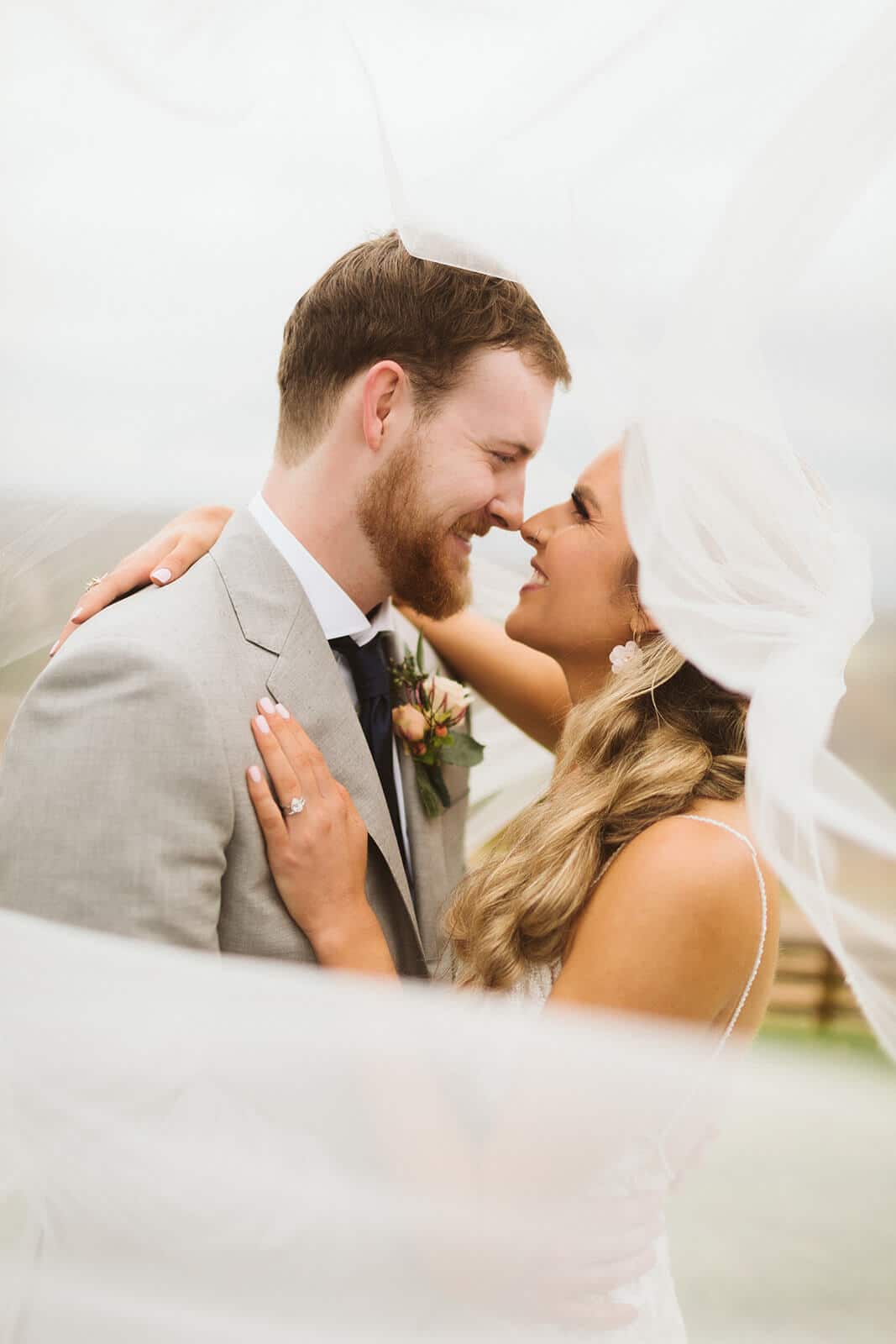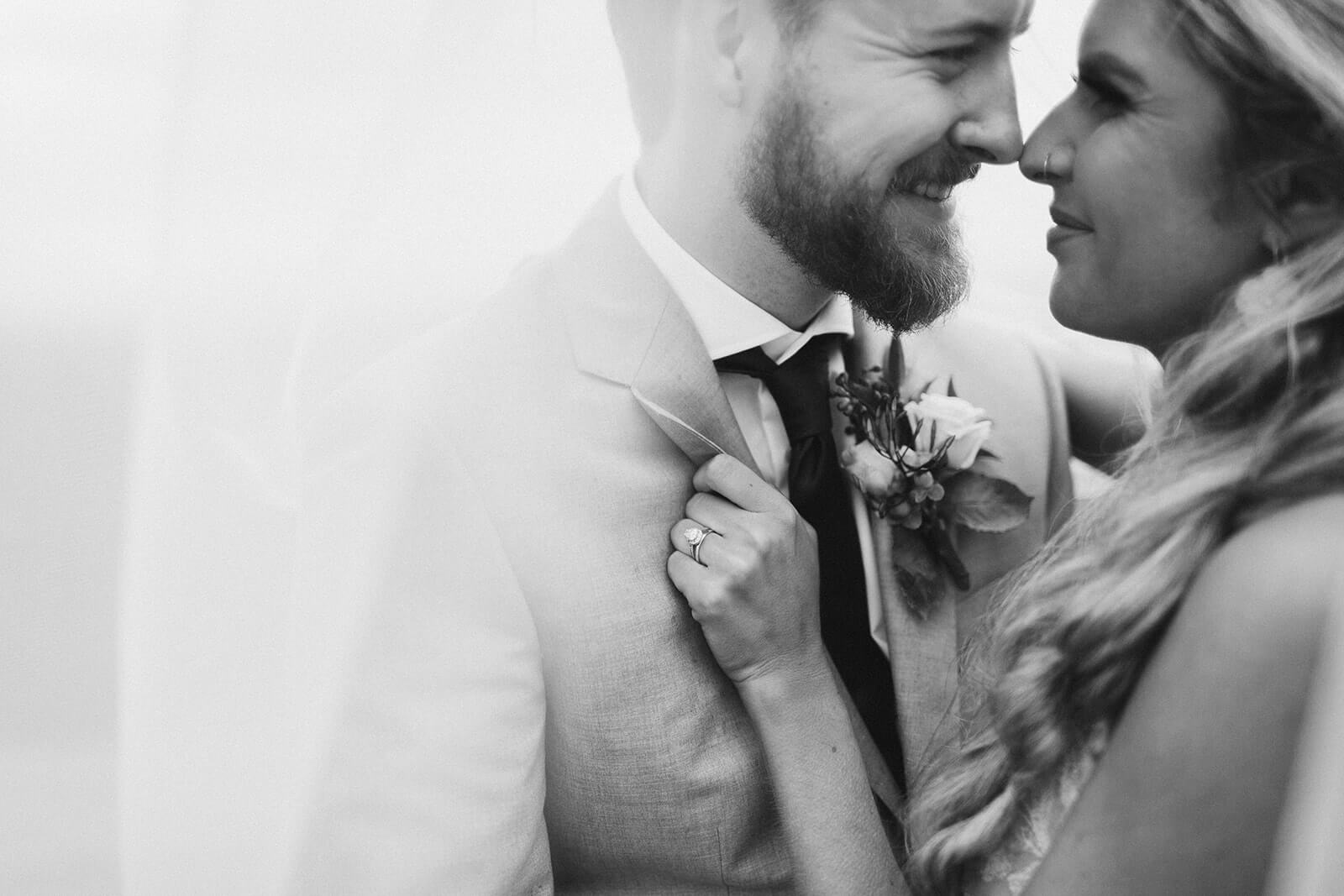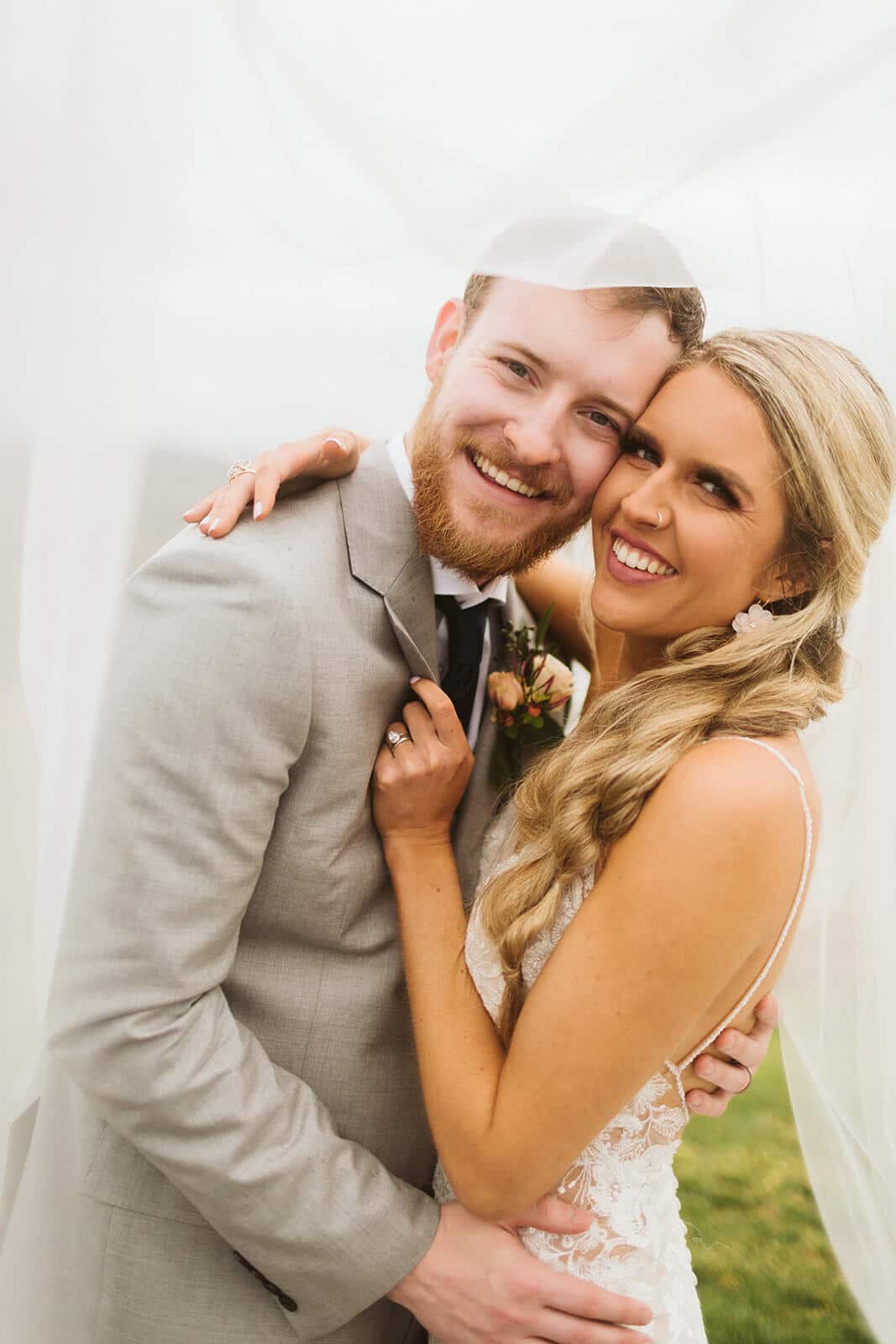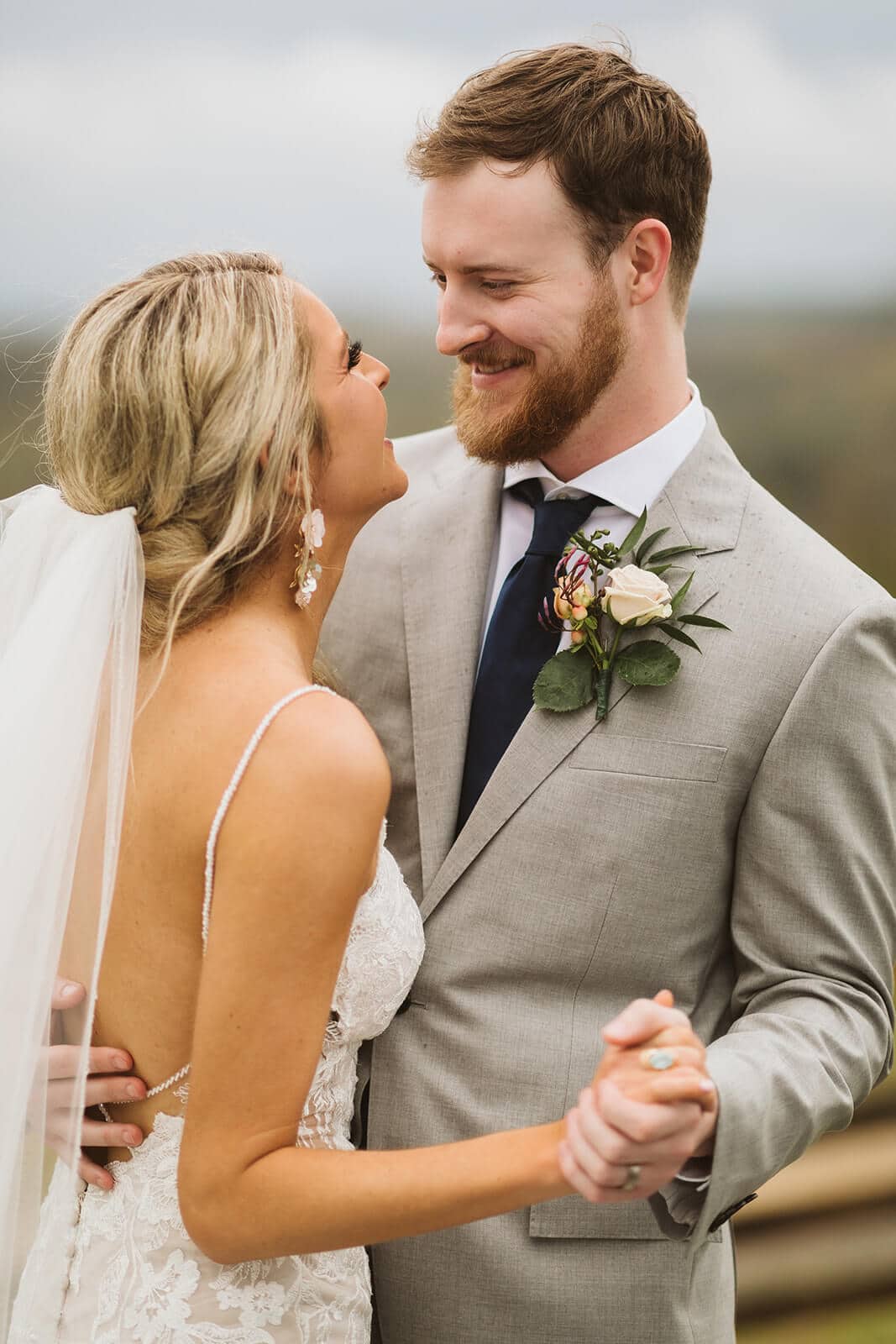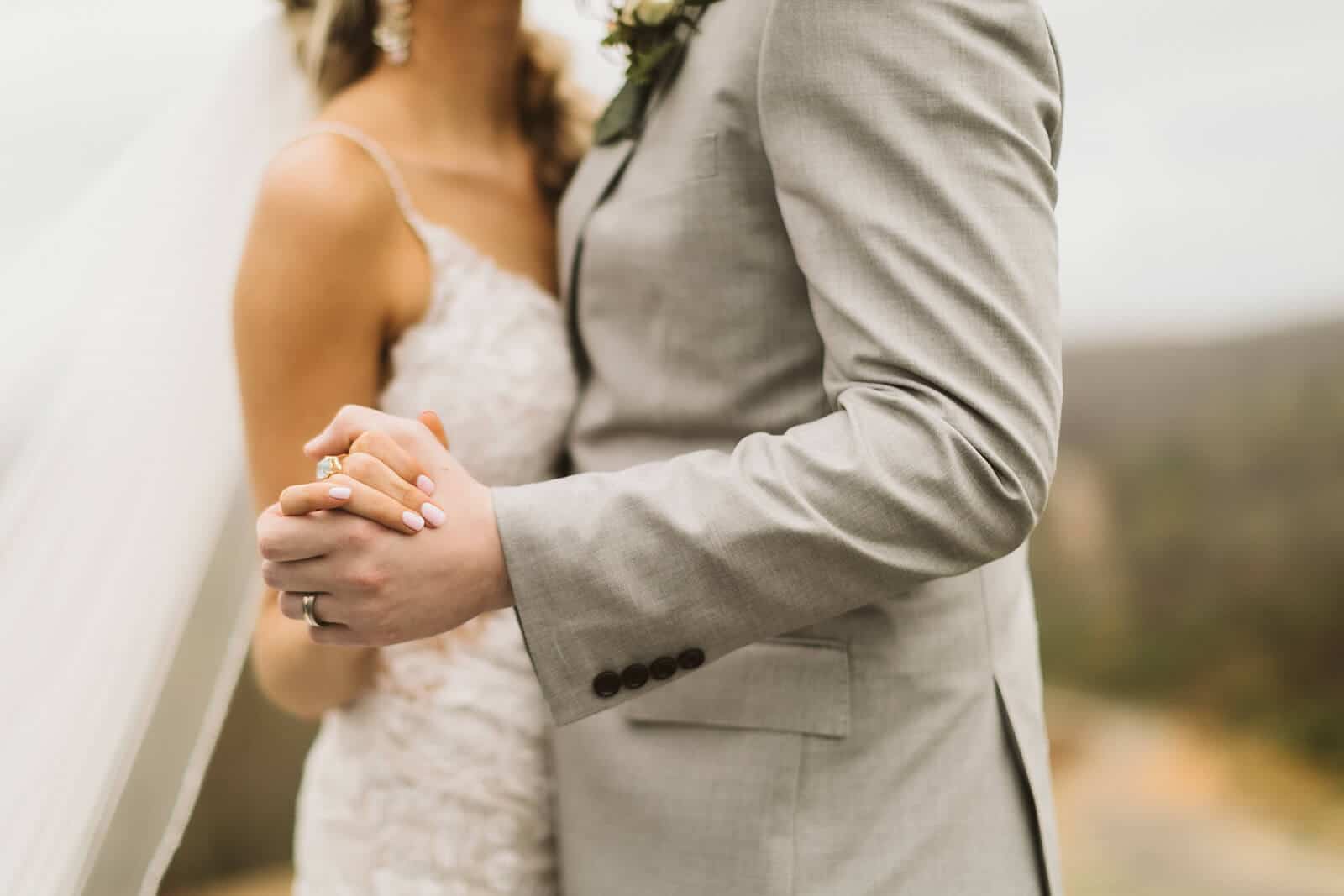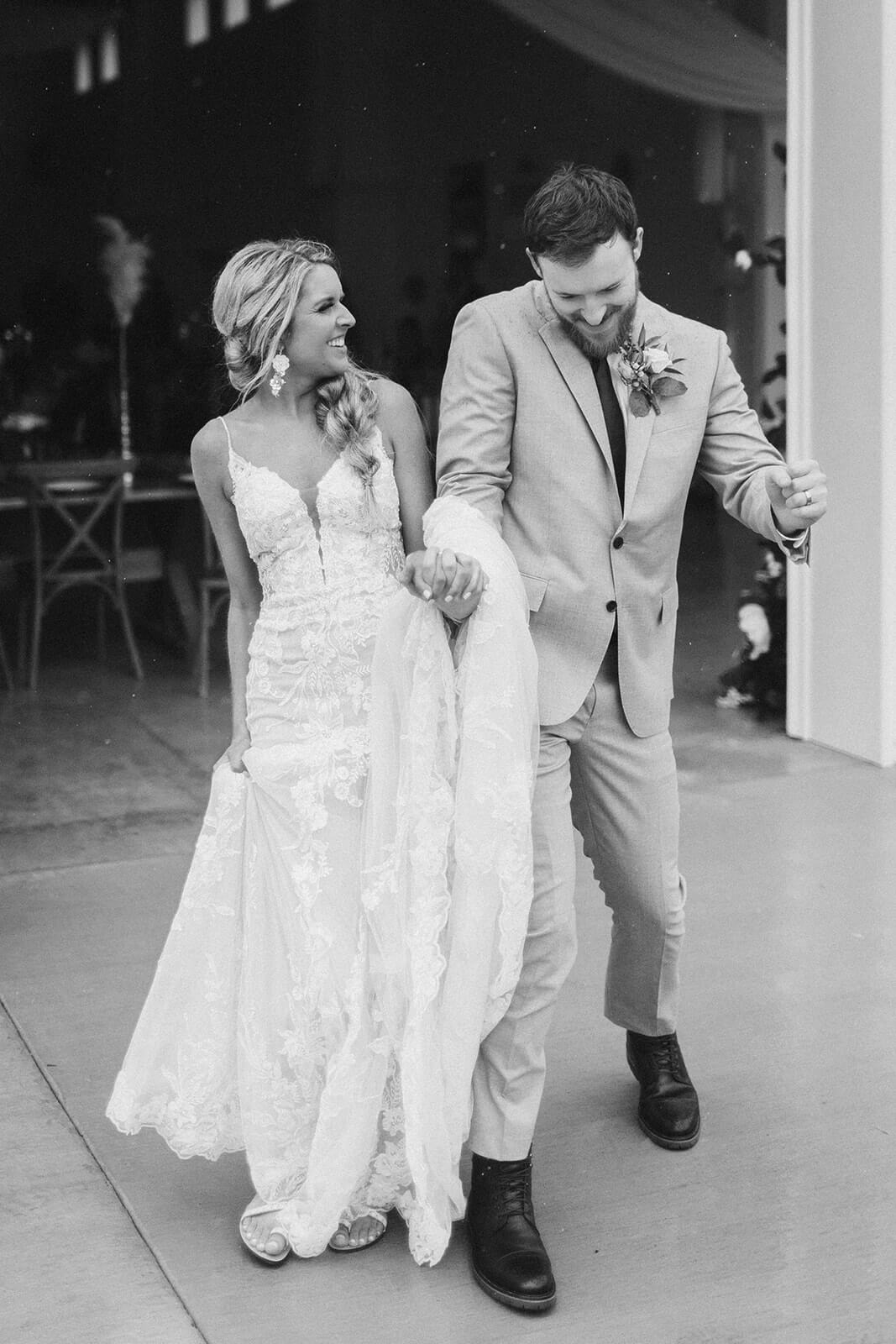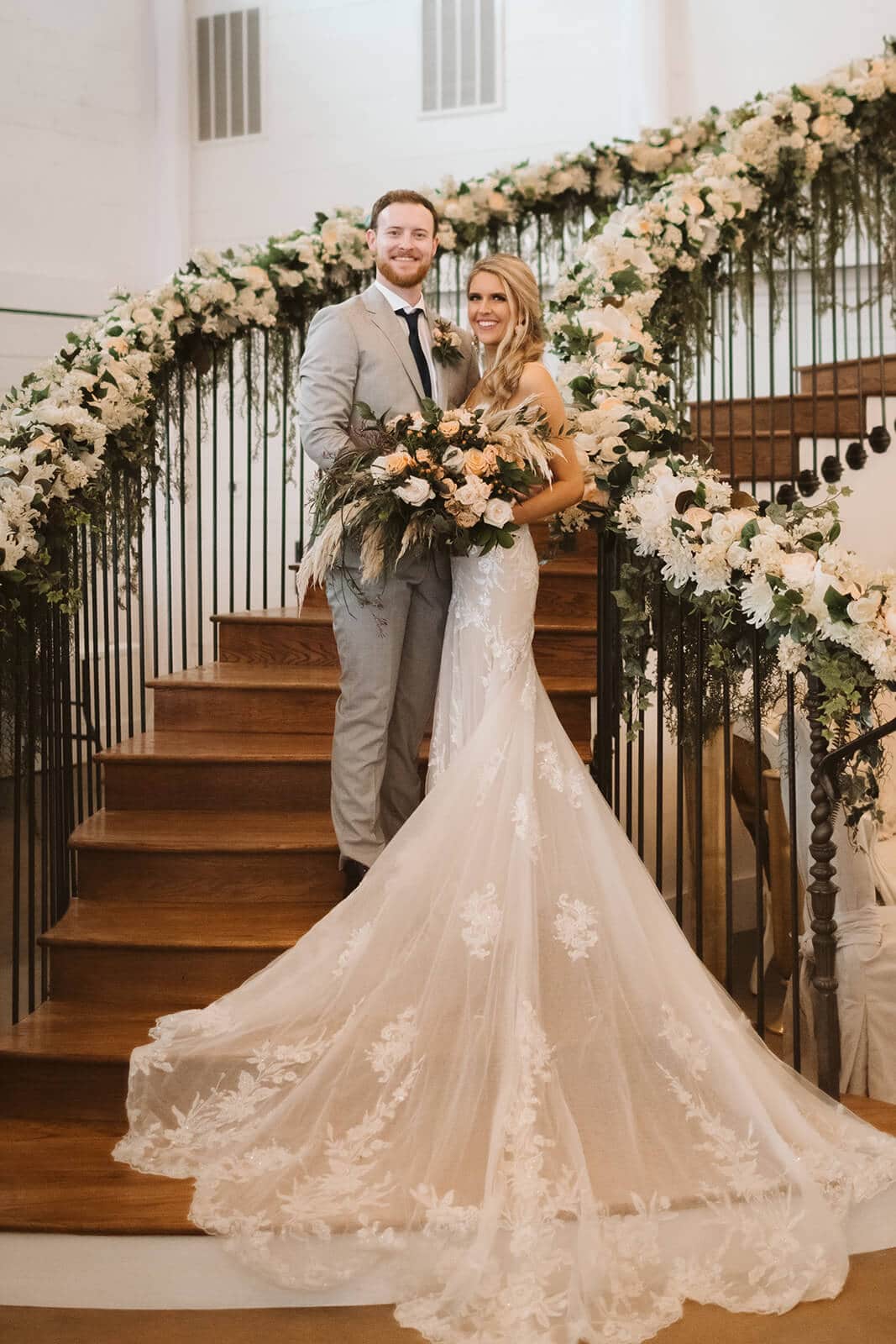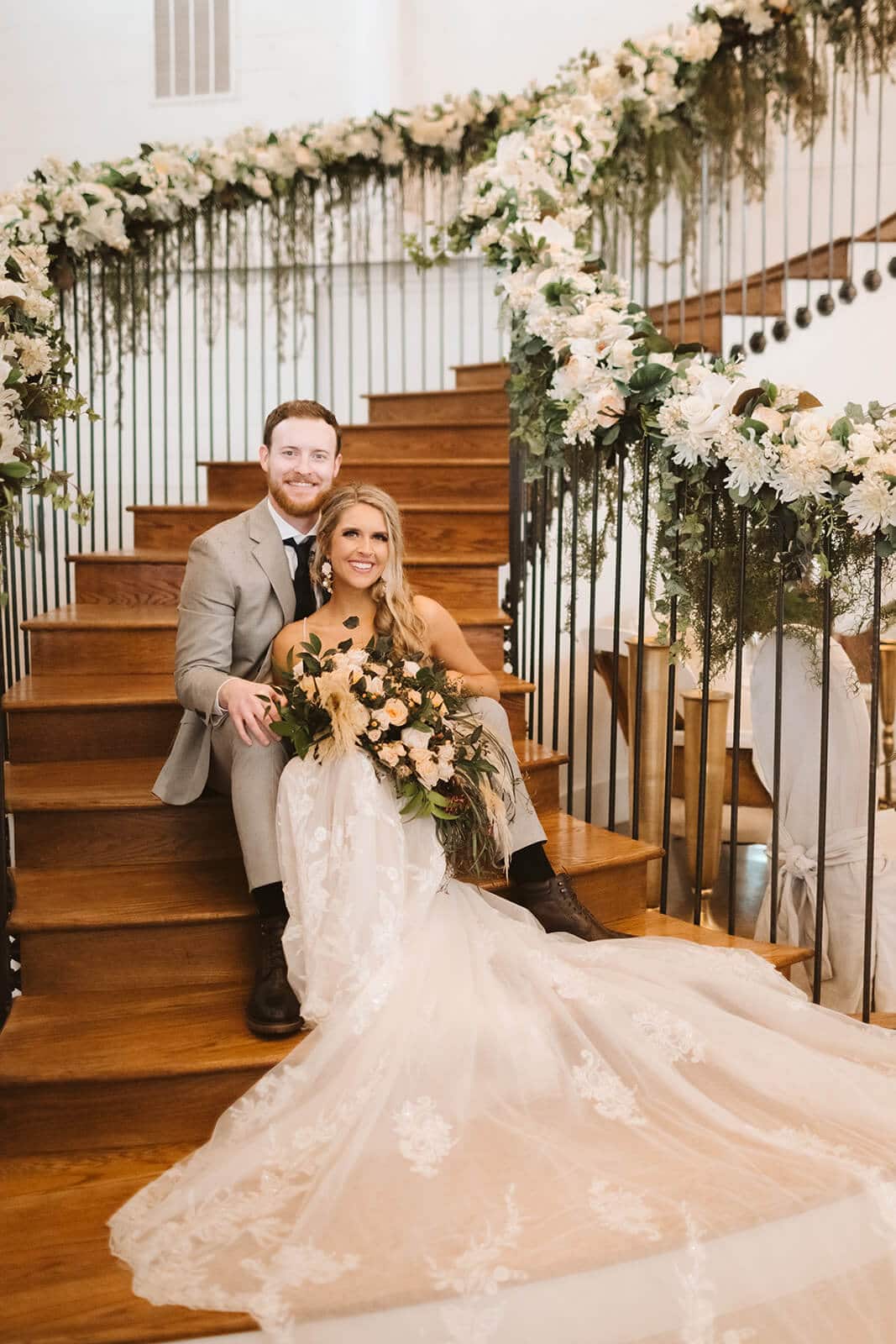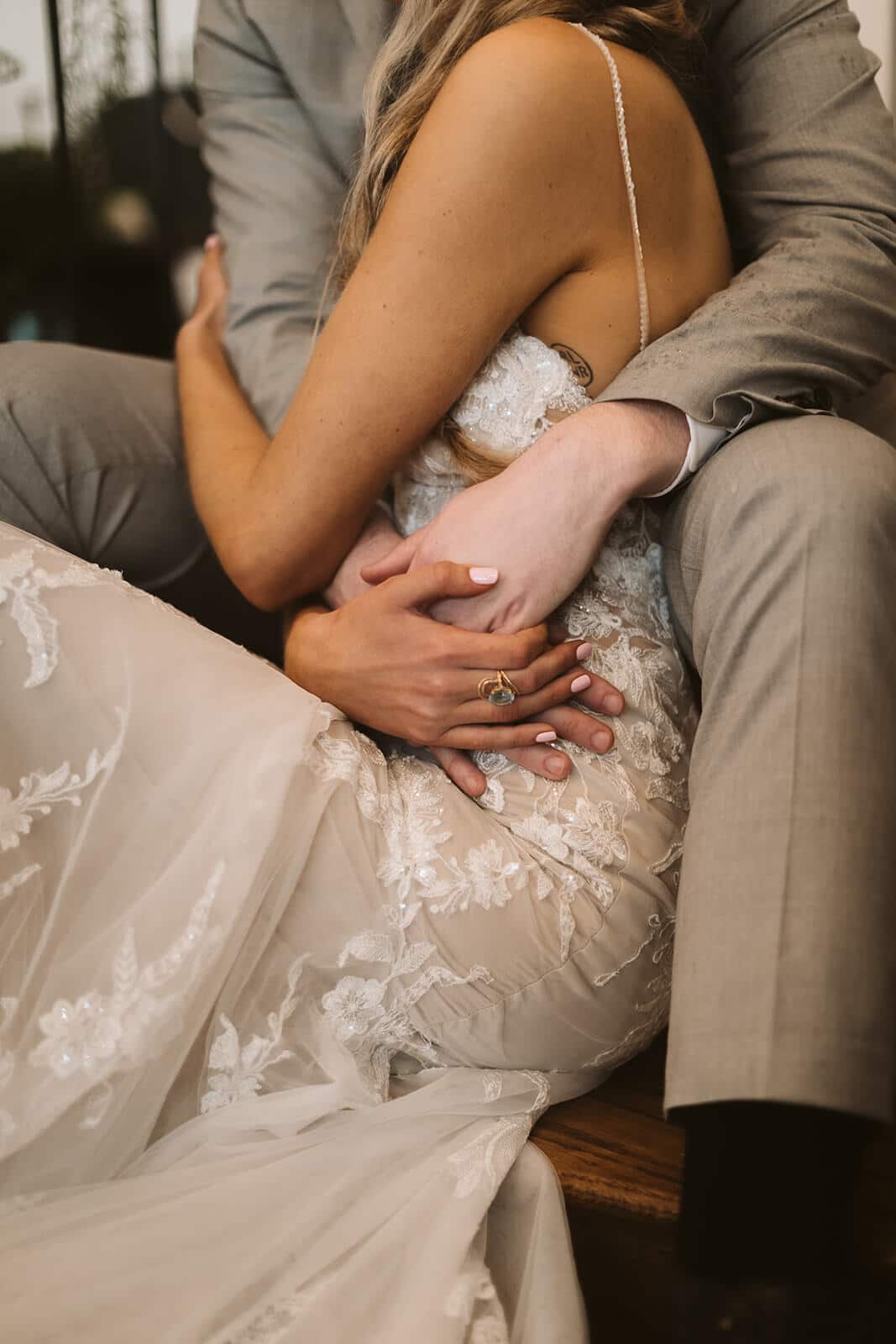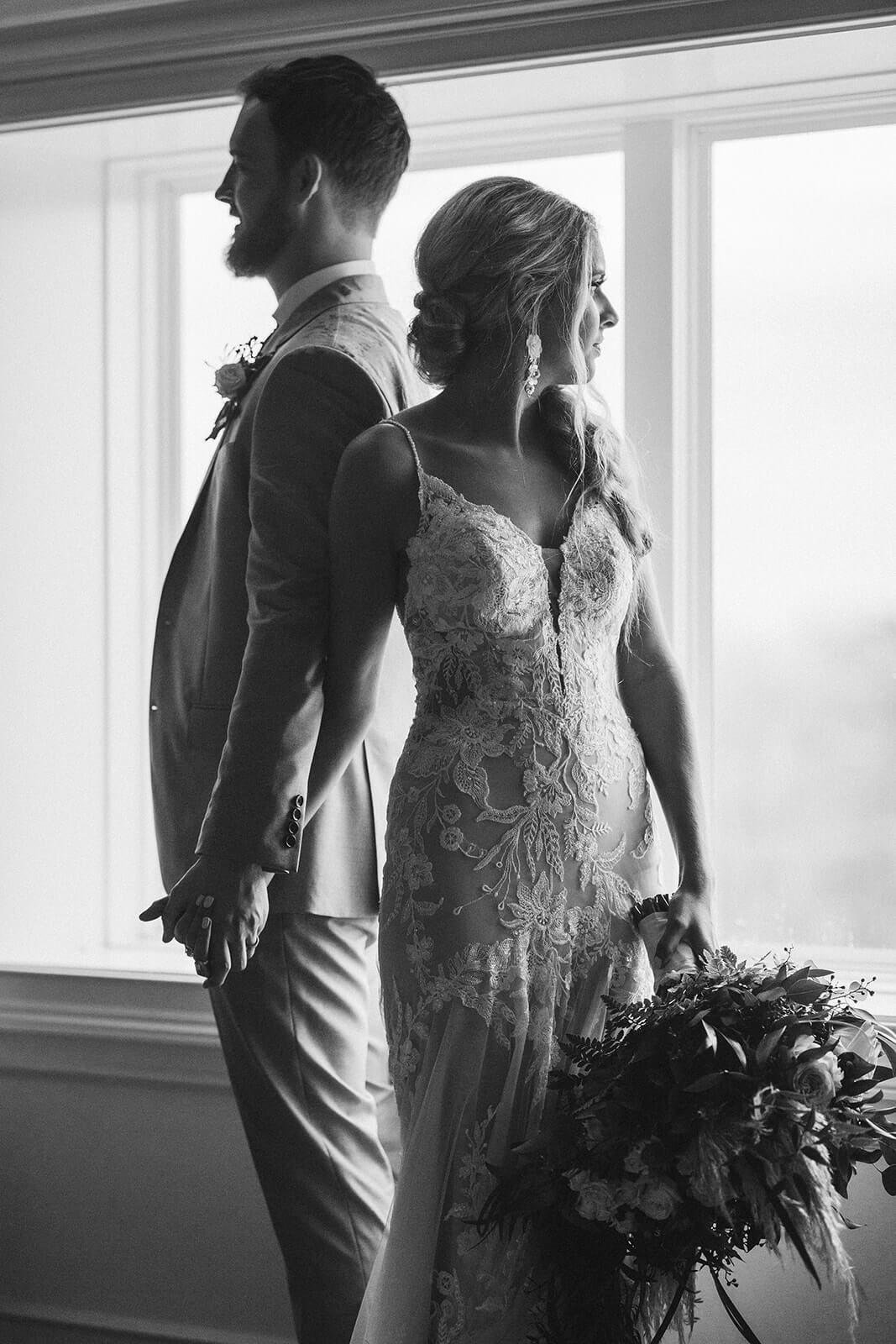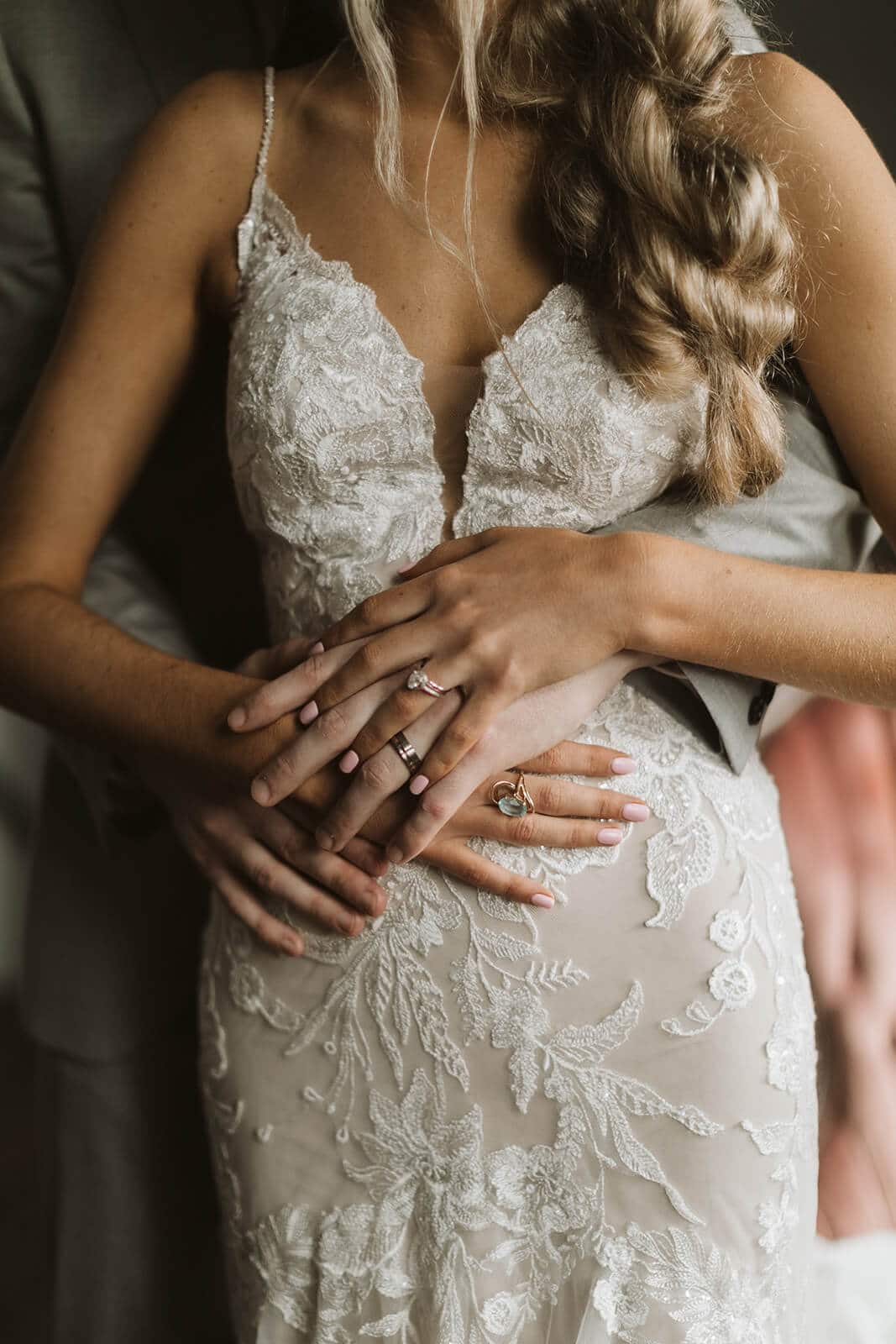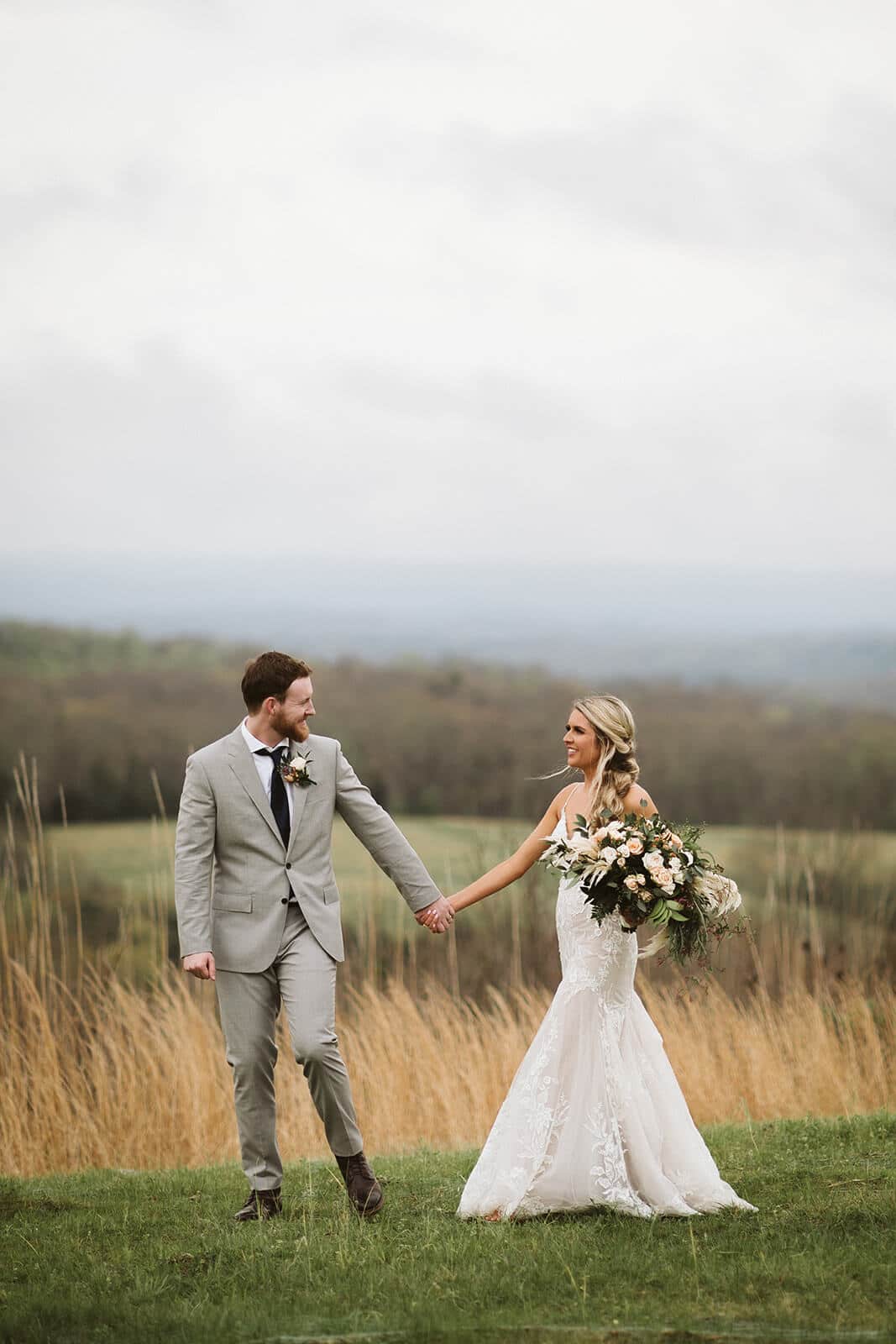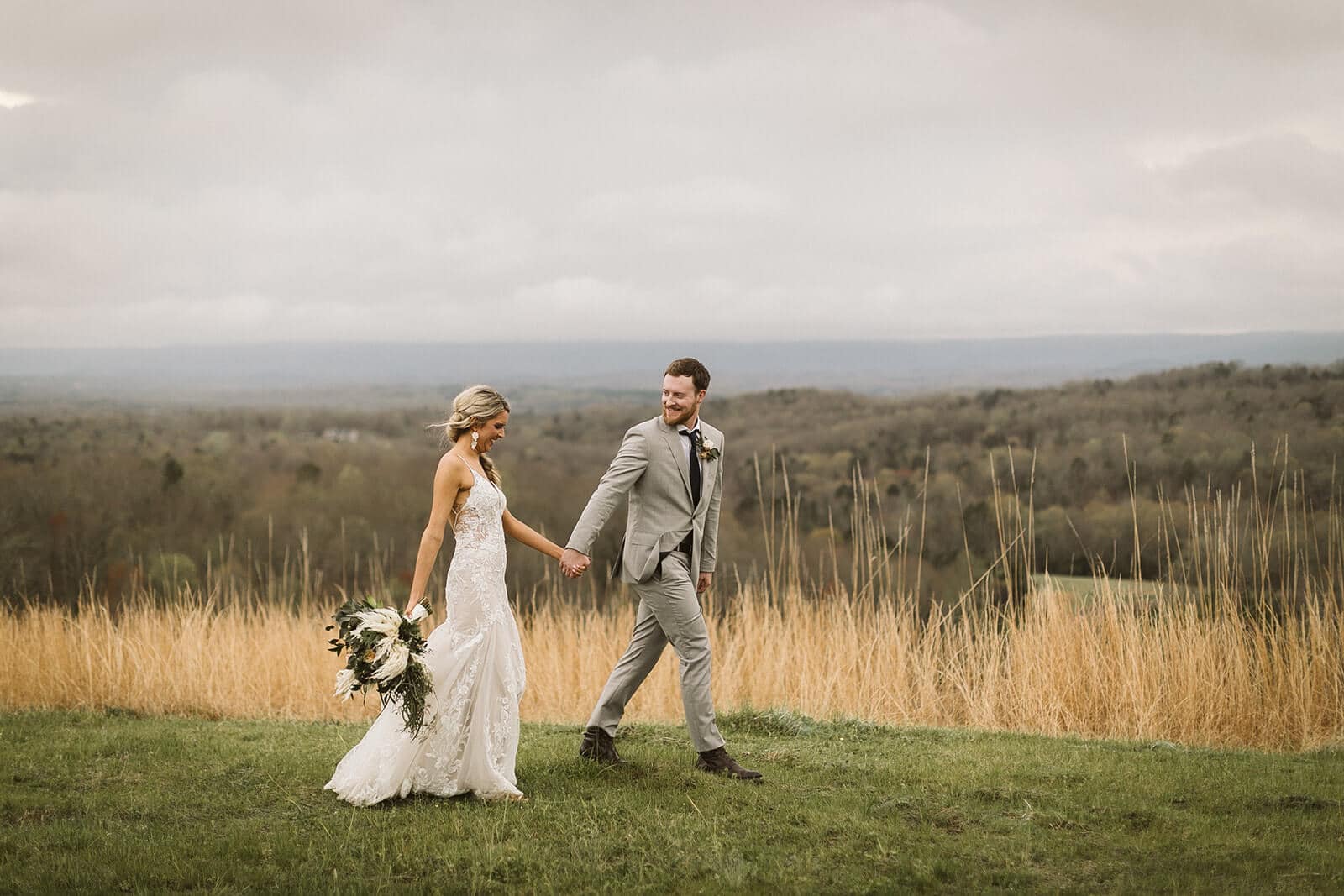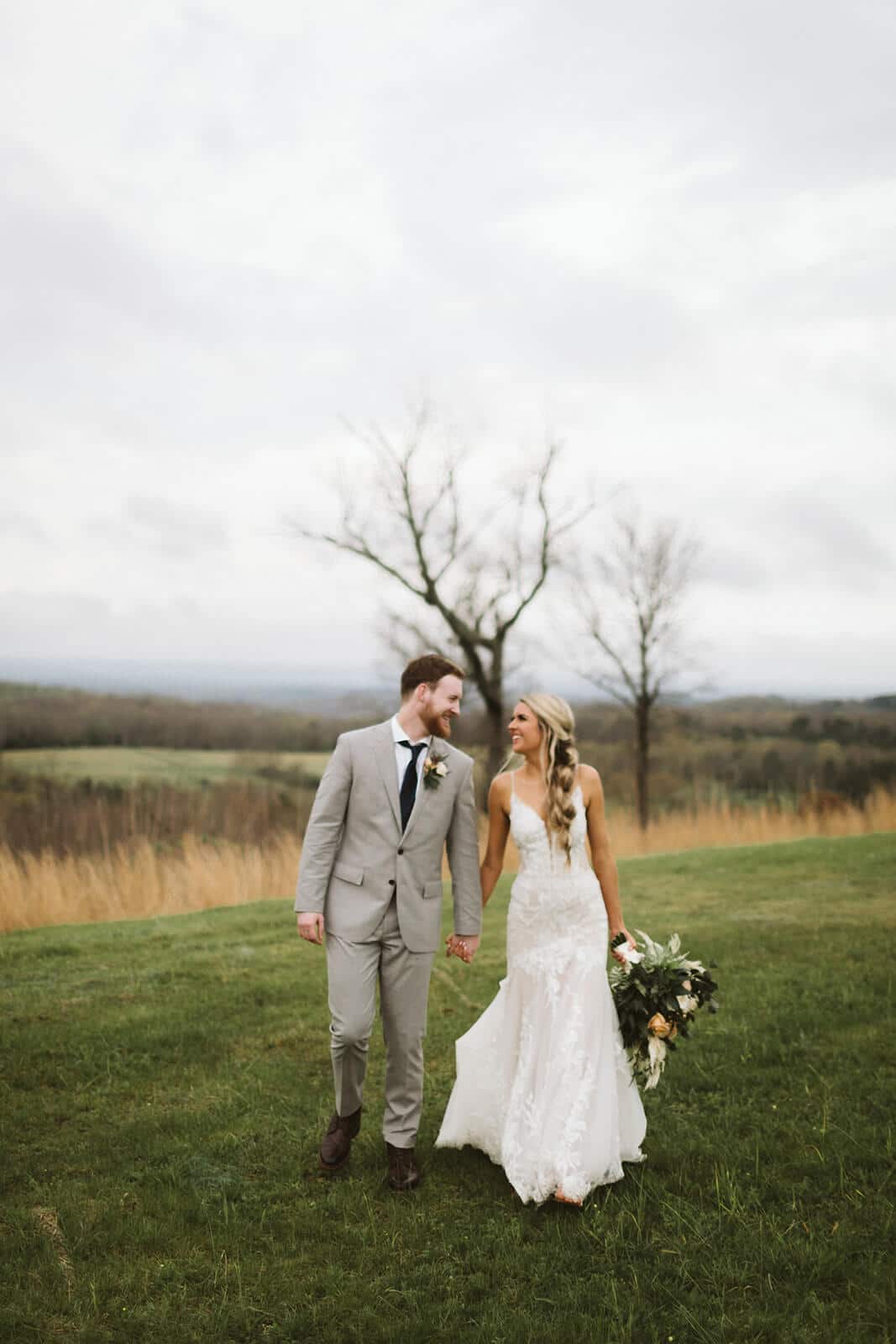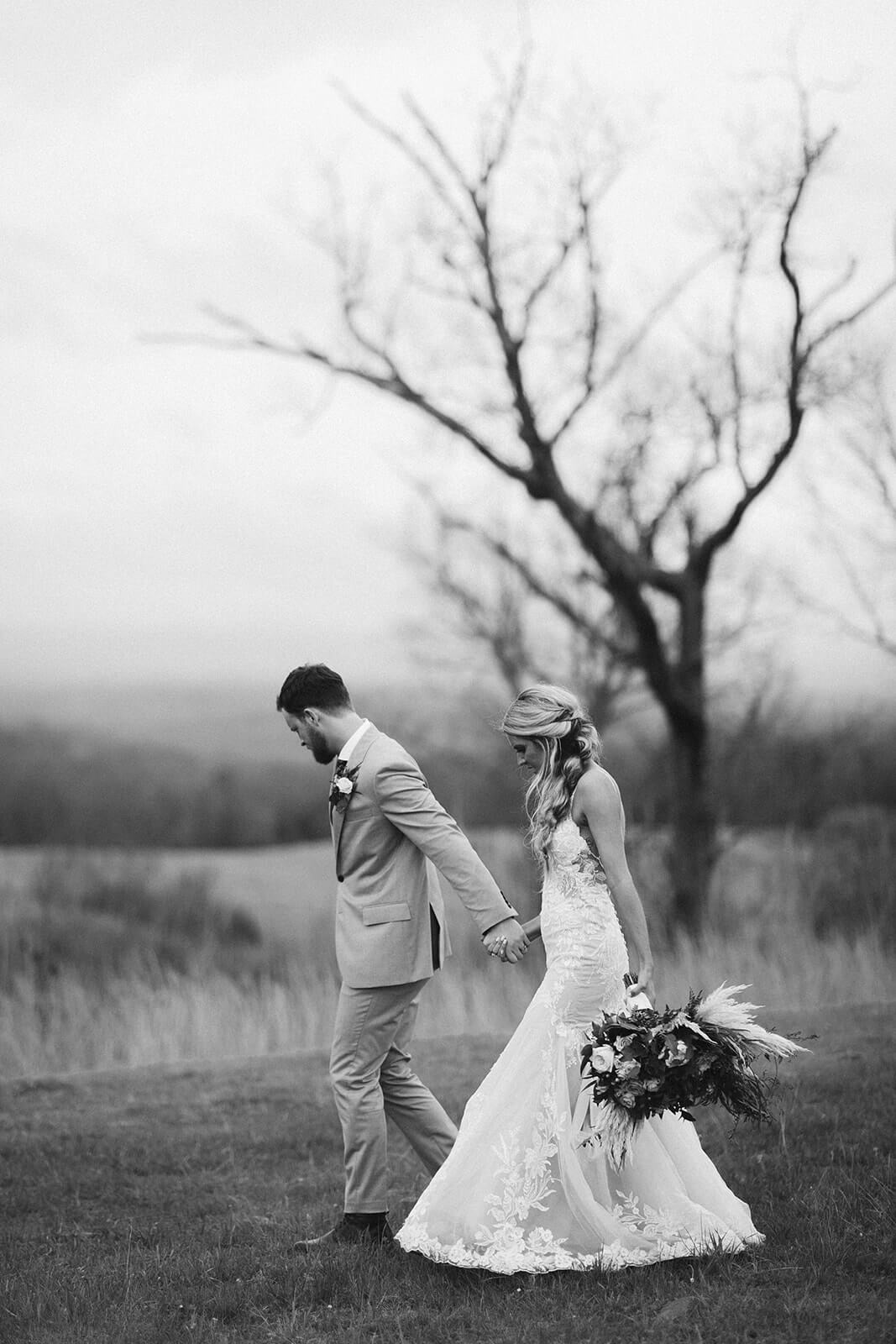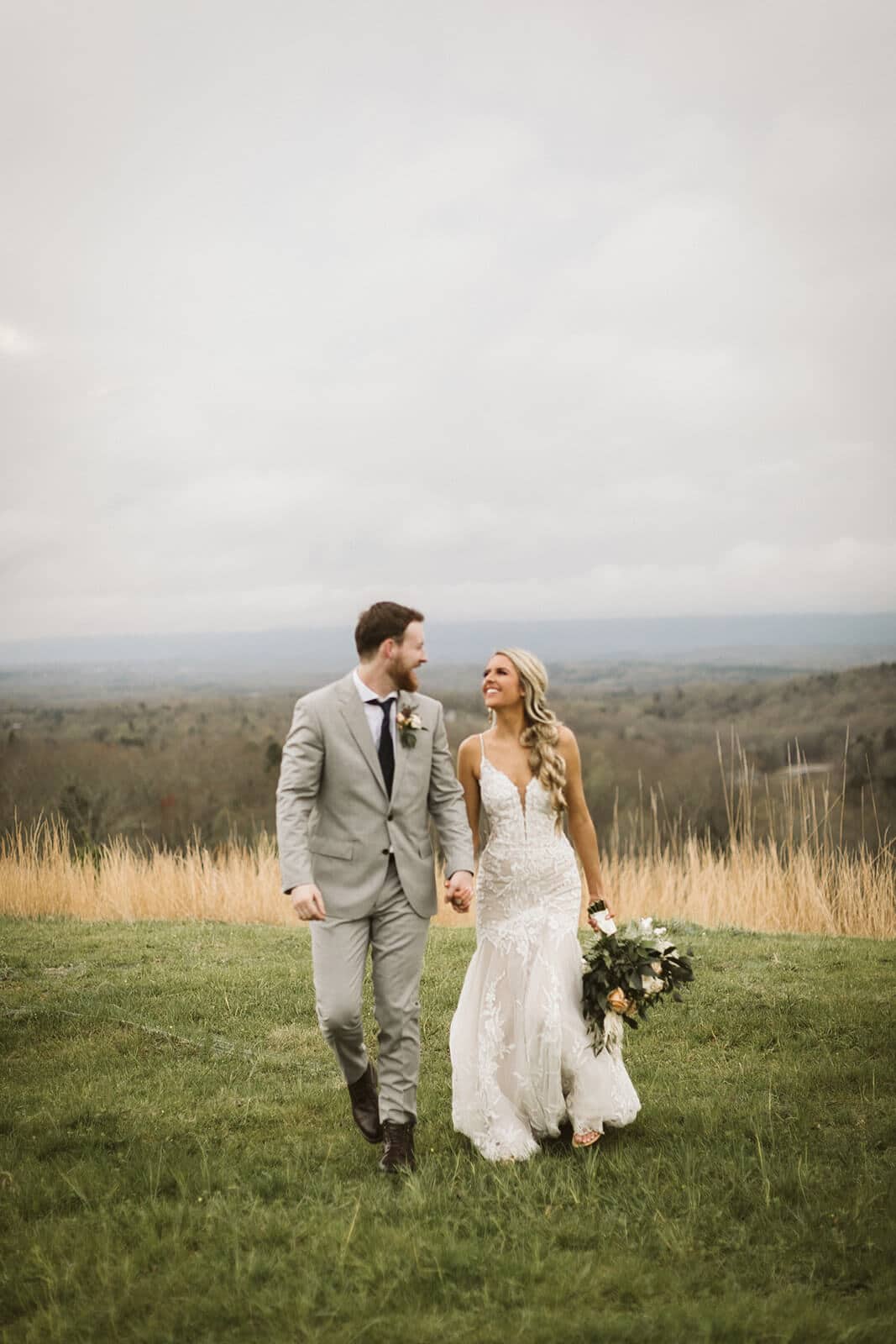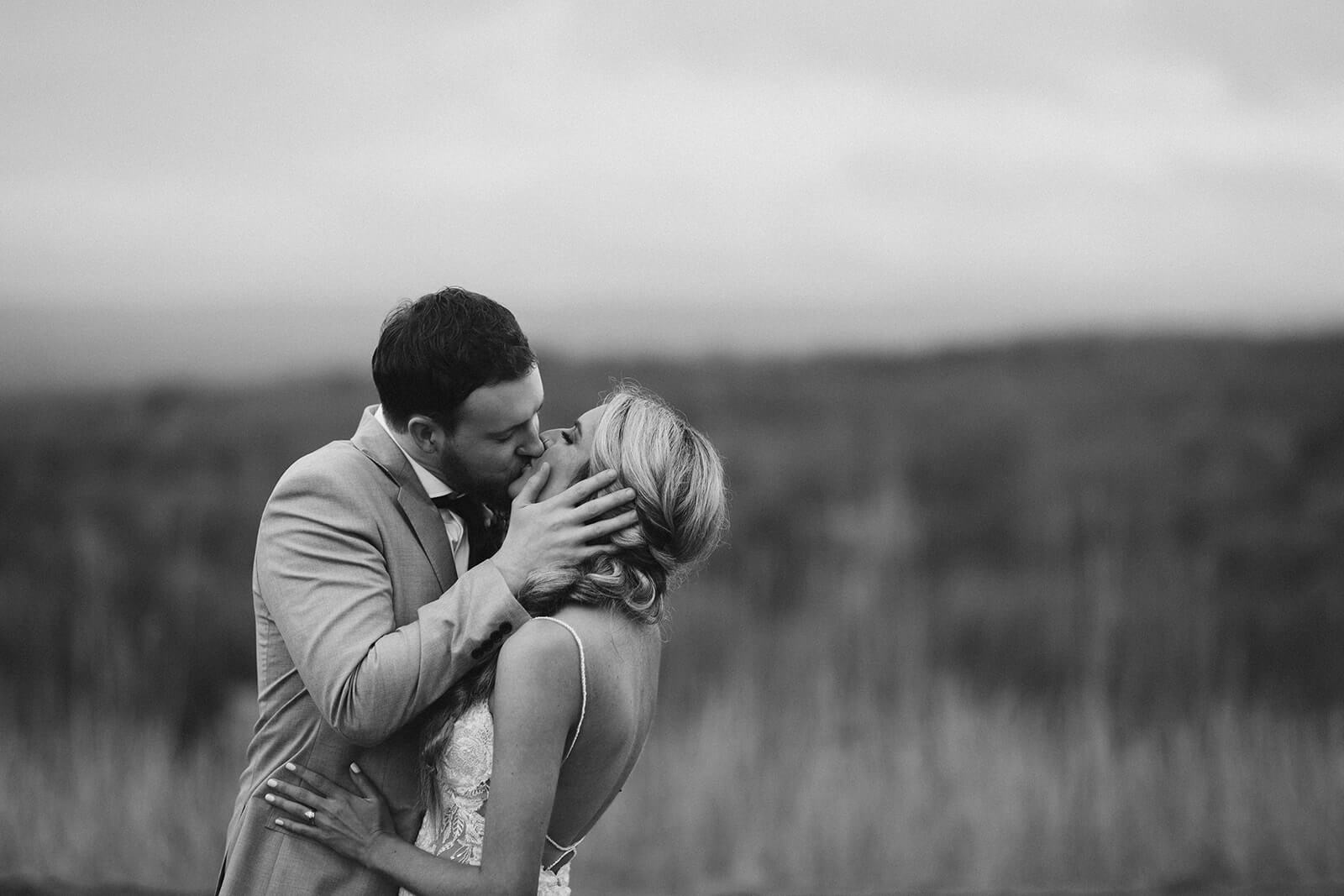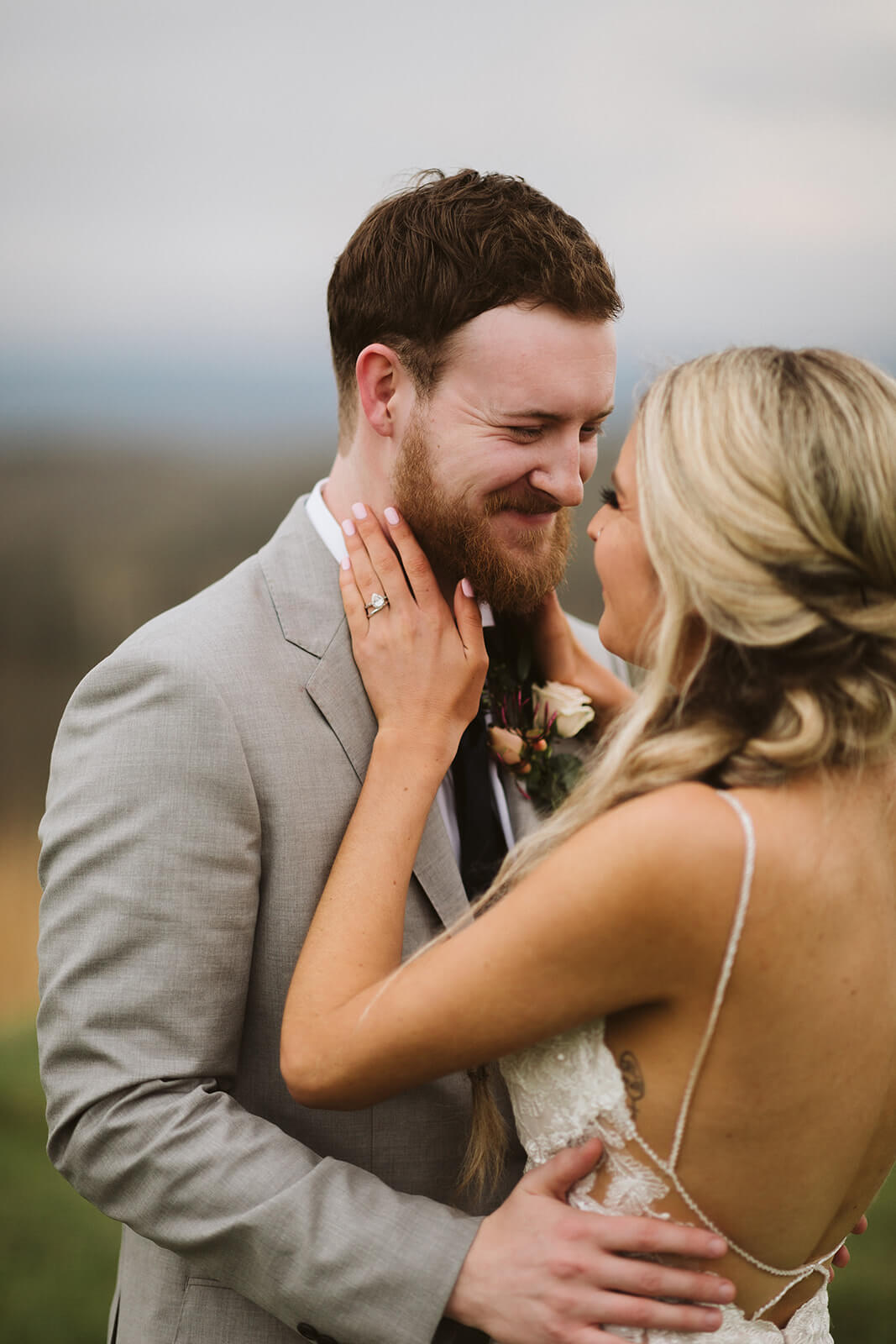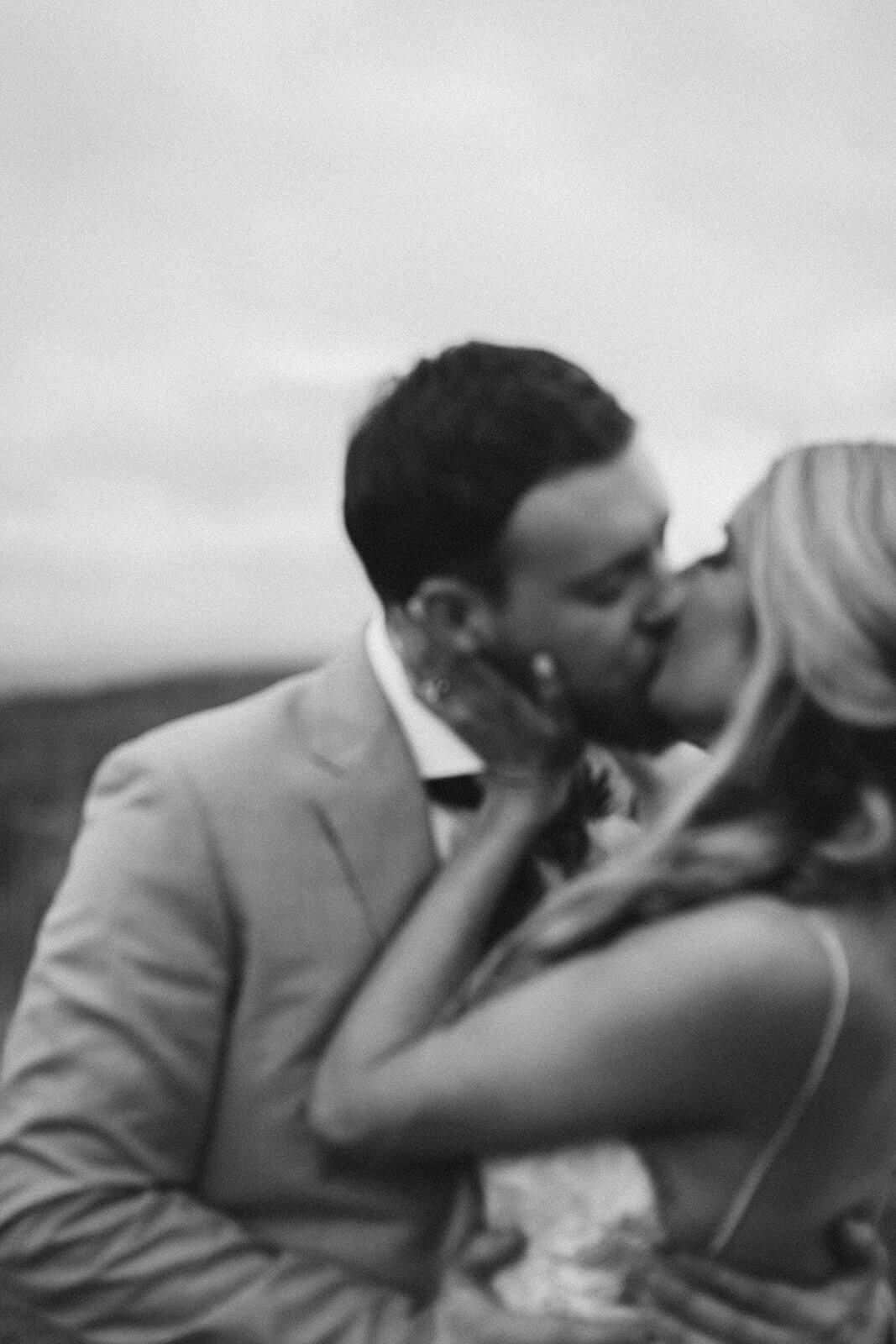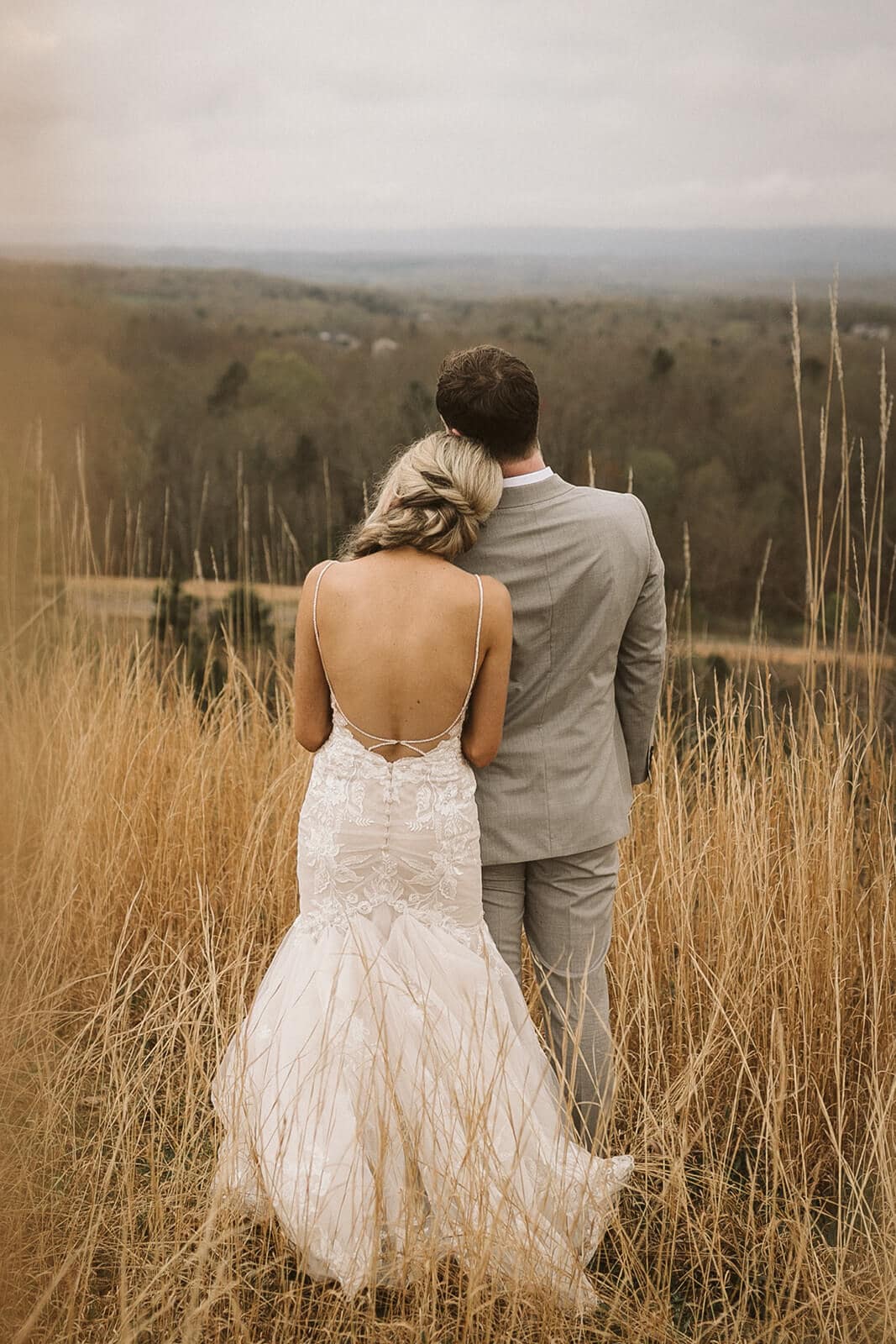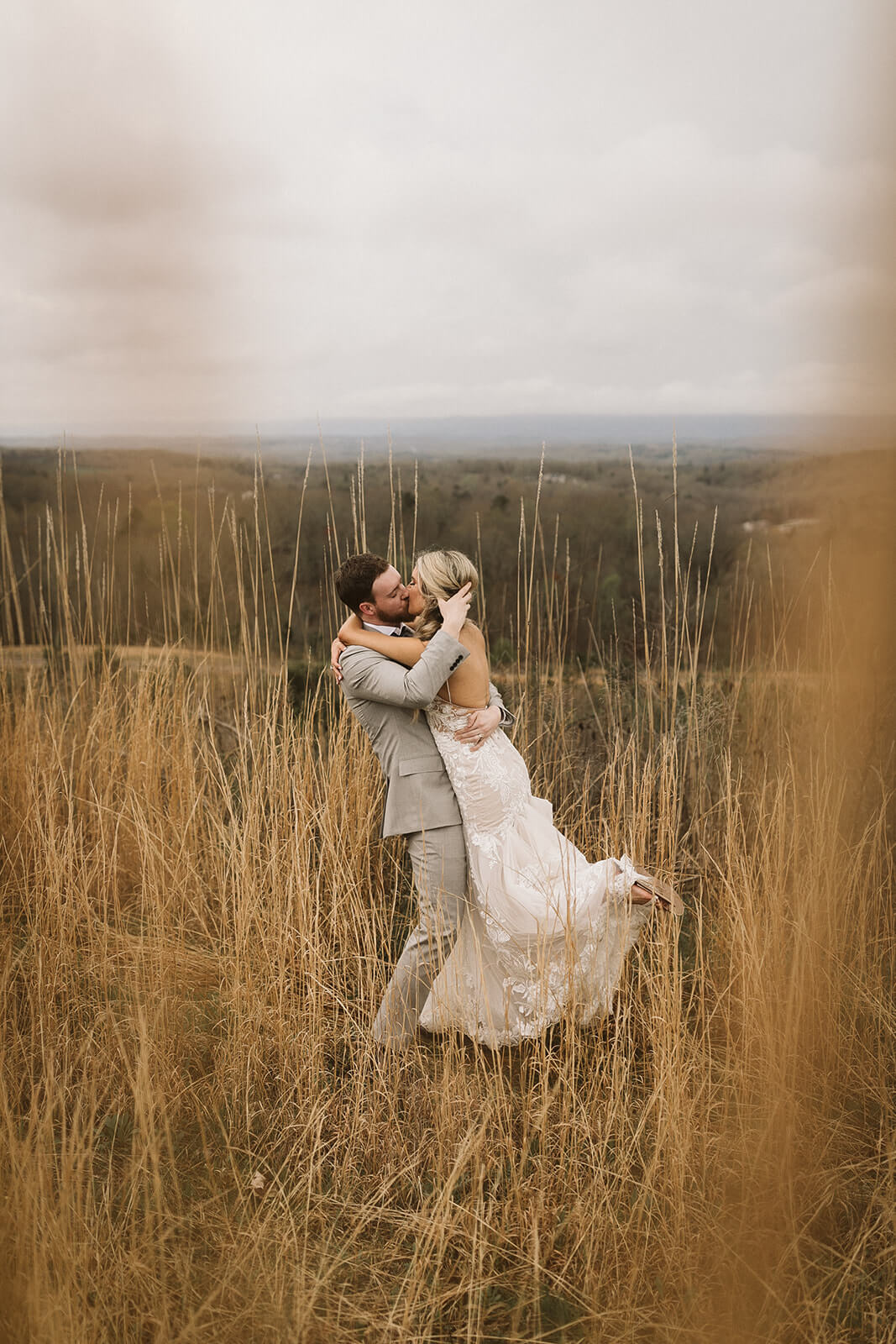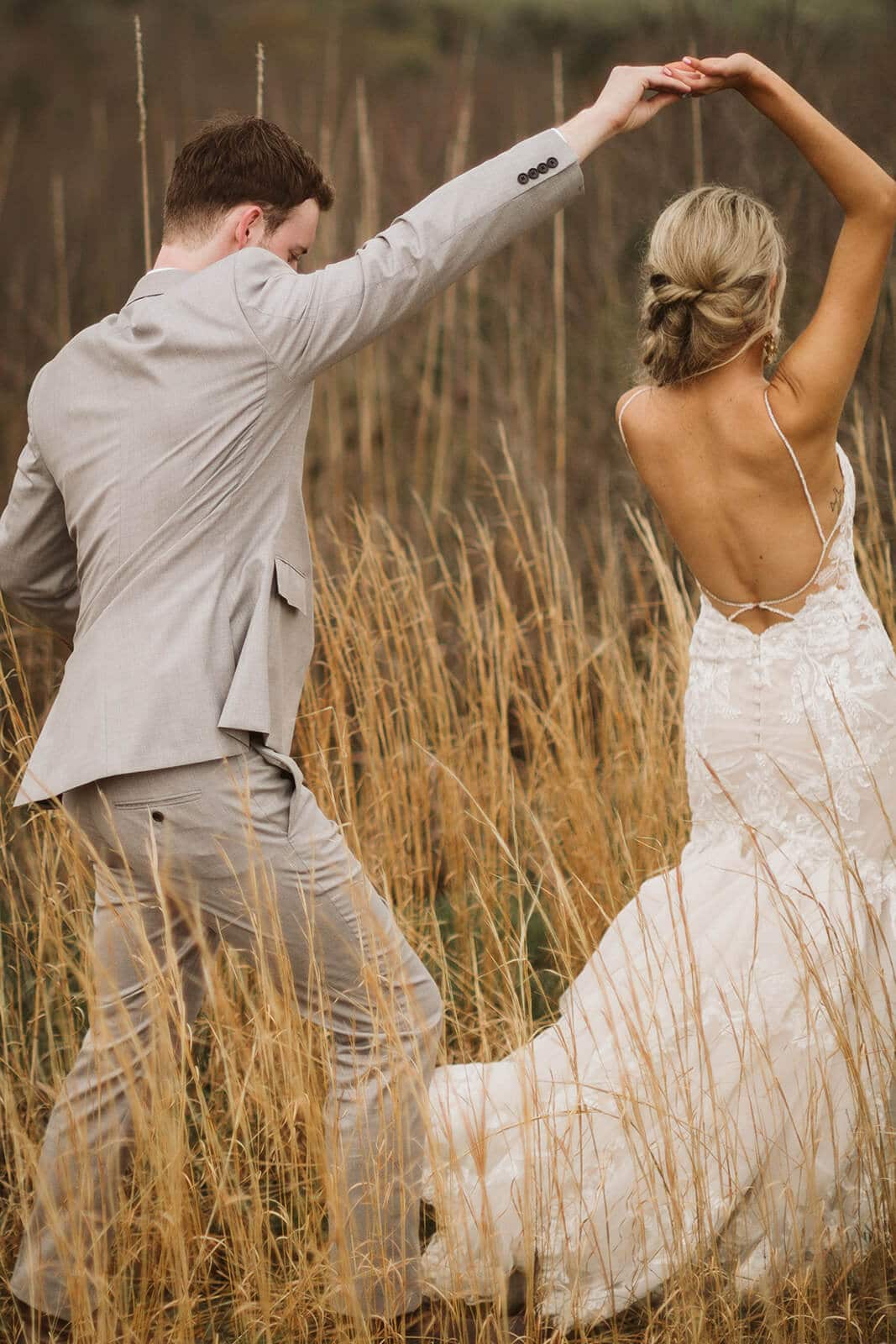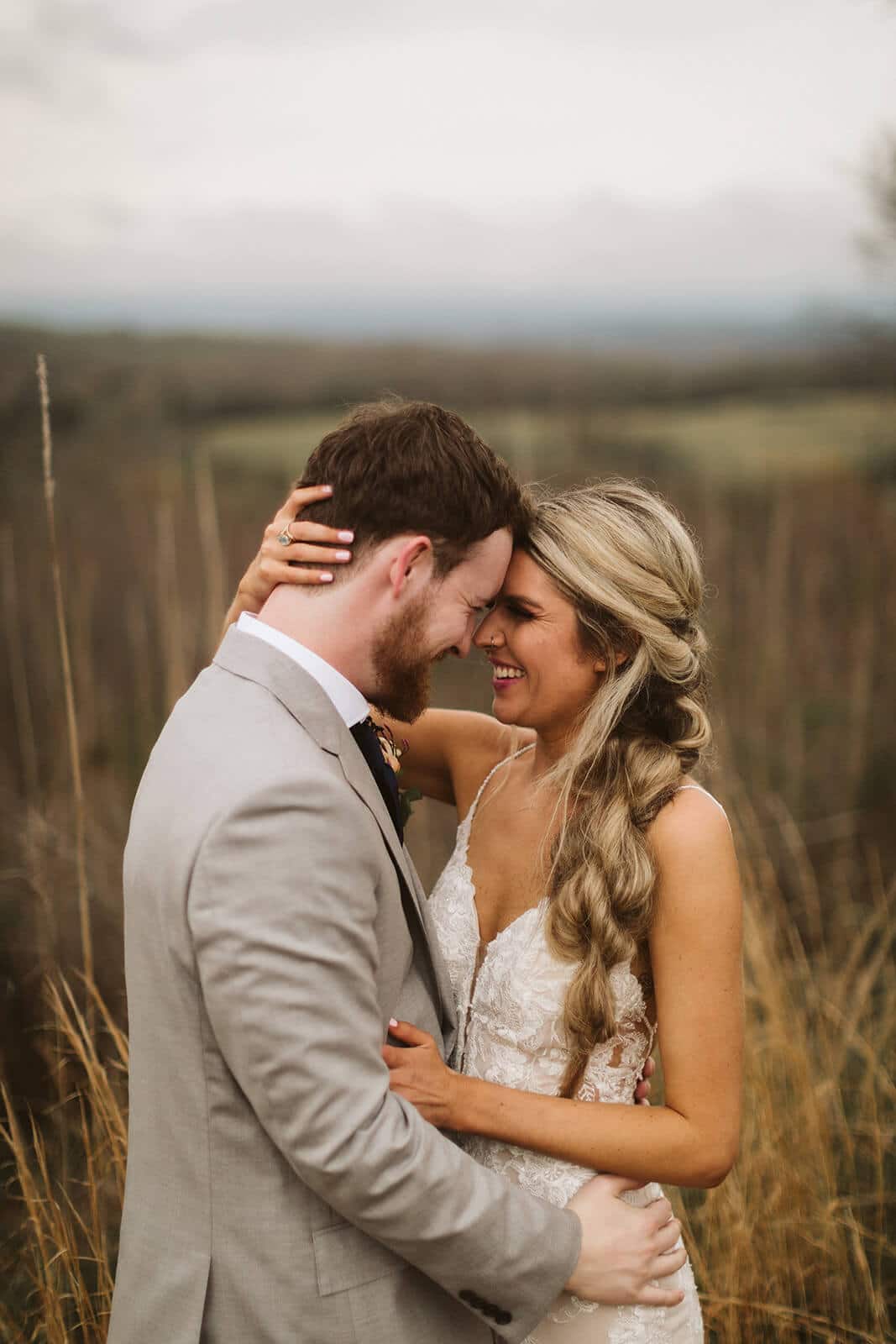 The Reception + Sunset
The Pavilion's subtle, yet elegant interior features a wide-open space with an amazing, curving staircase at the back, and garage doors to the patio that made for a fun way to take photos with family and friends. Everyone truly embraced the rain!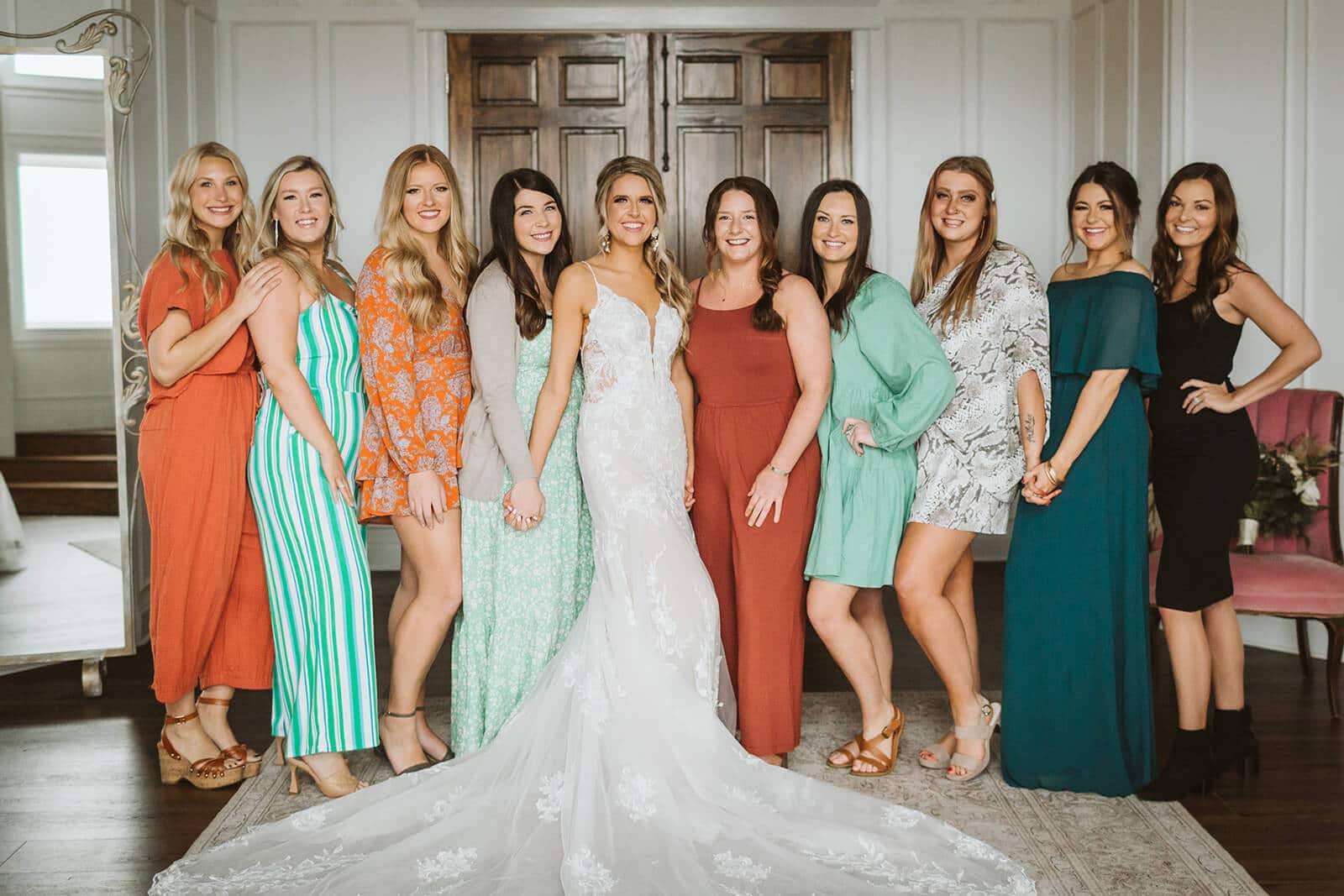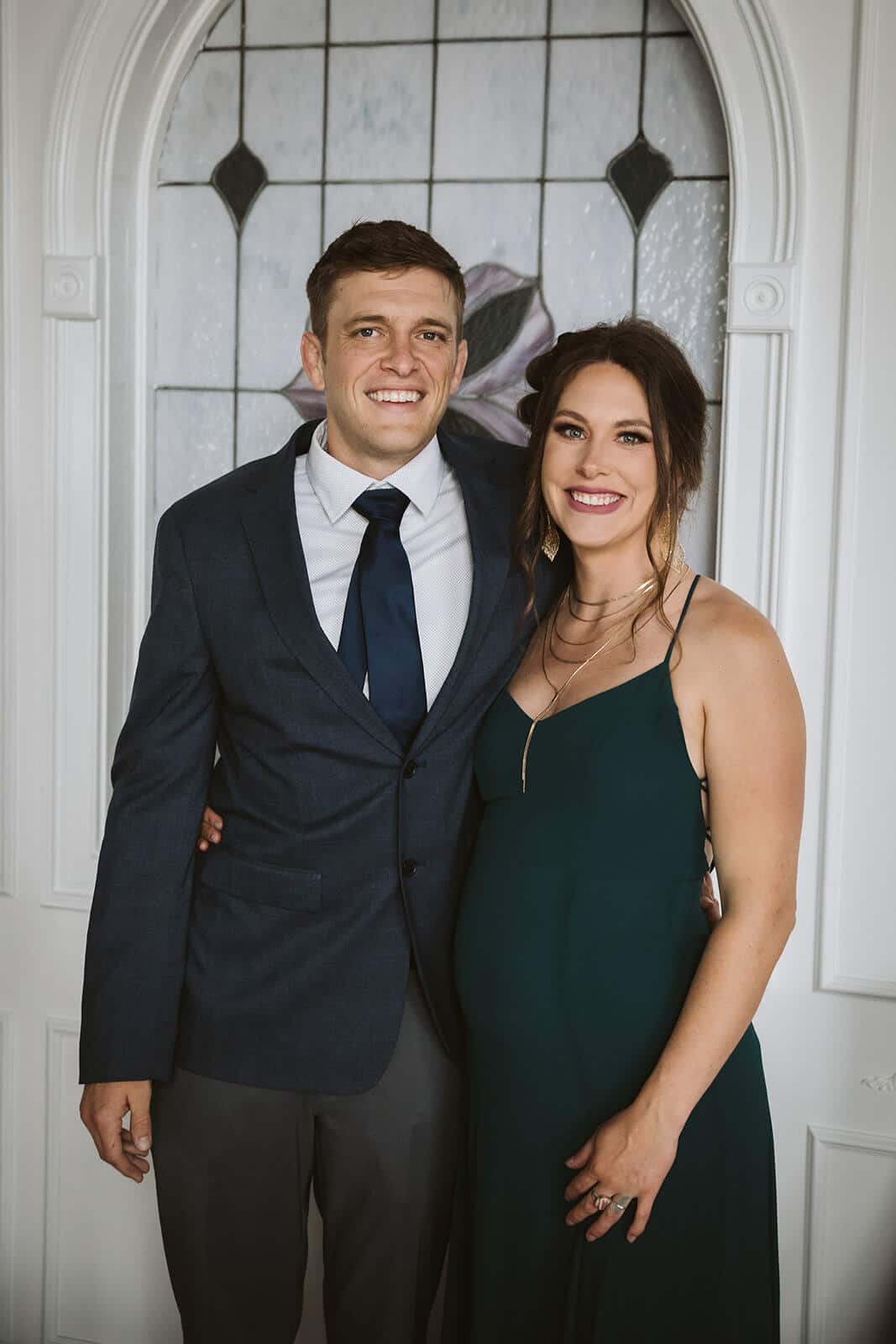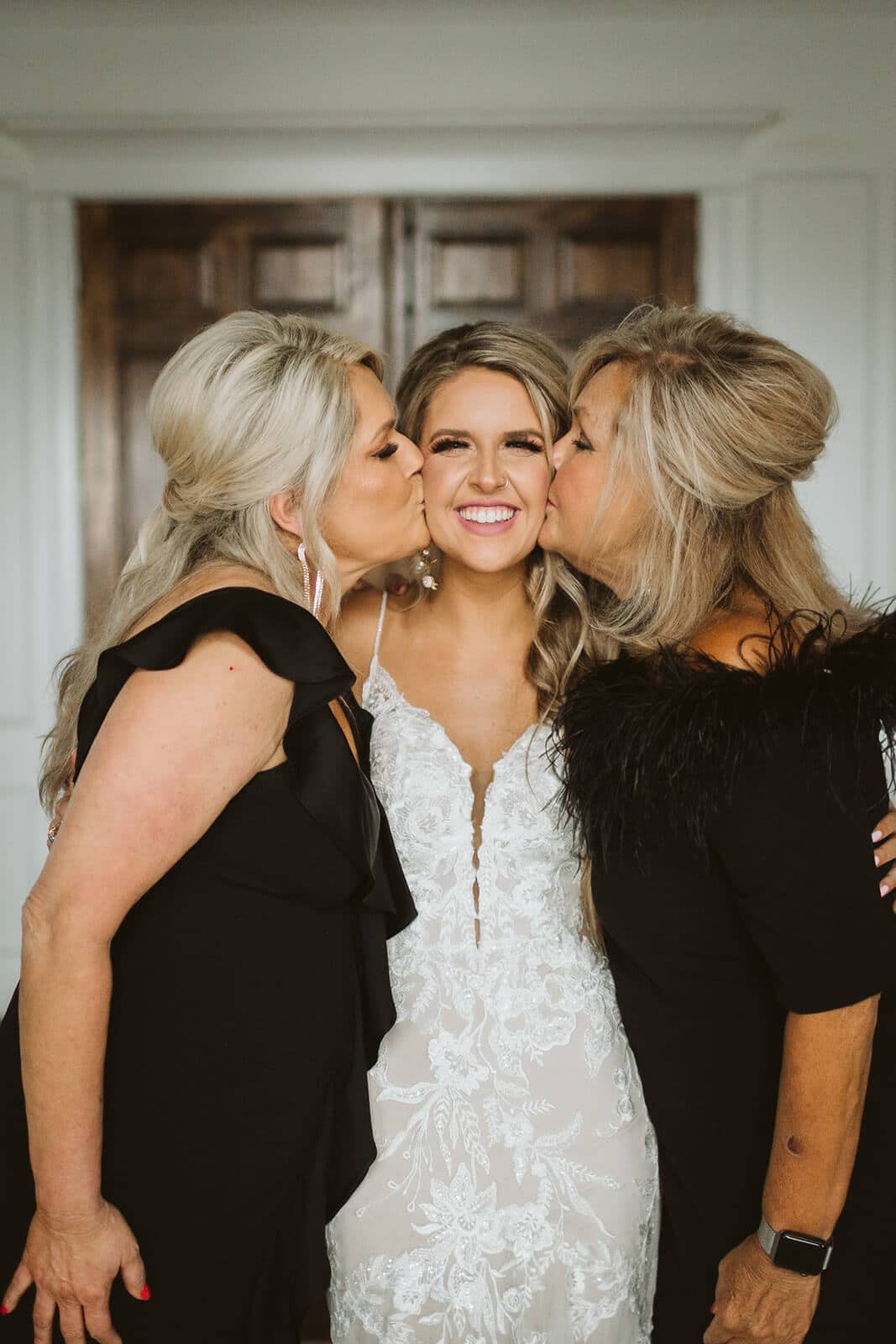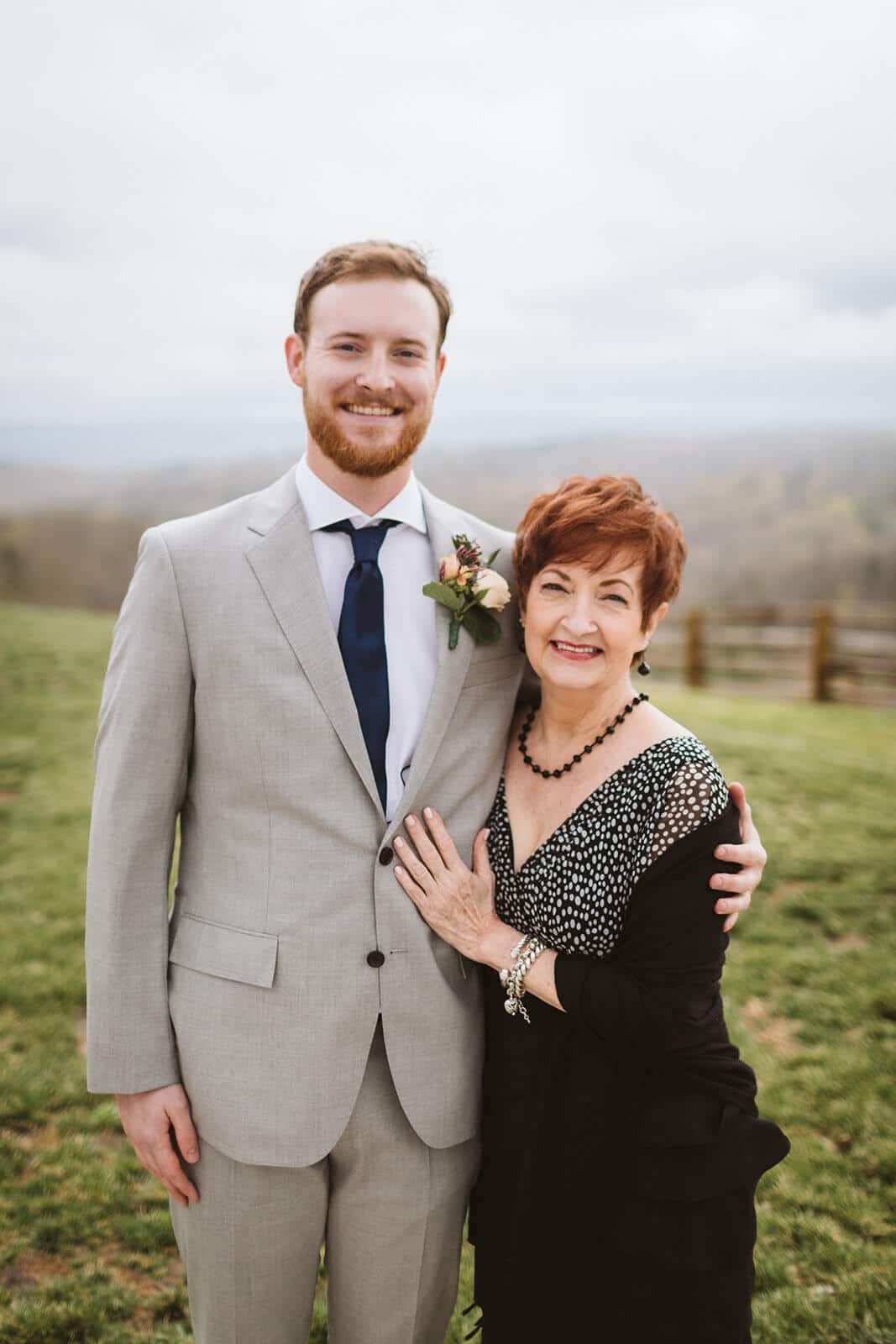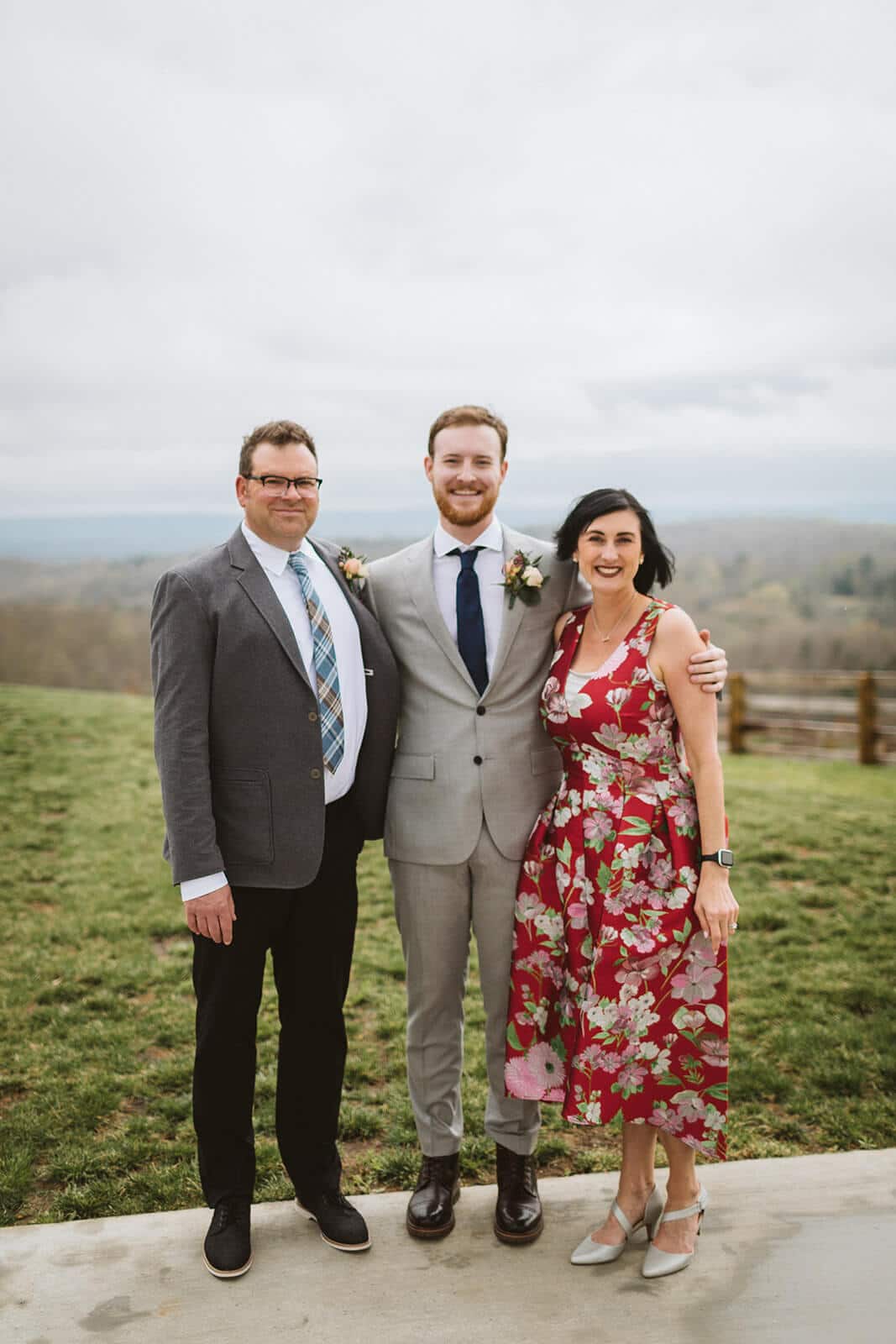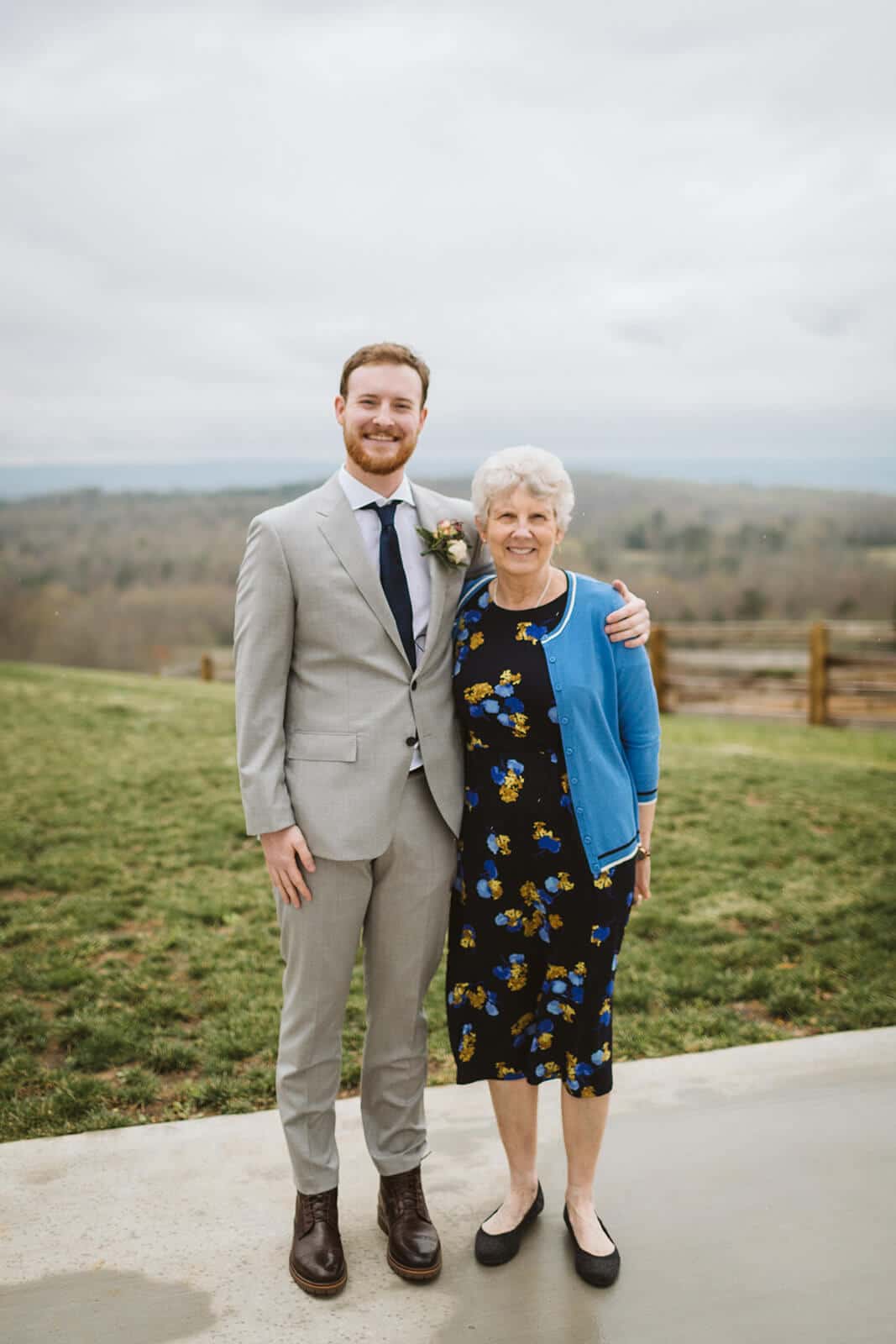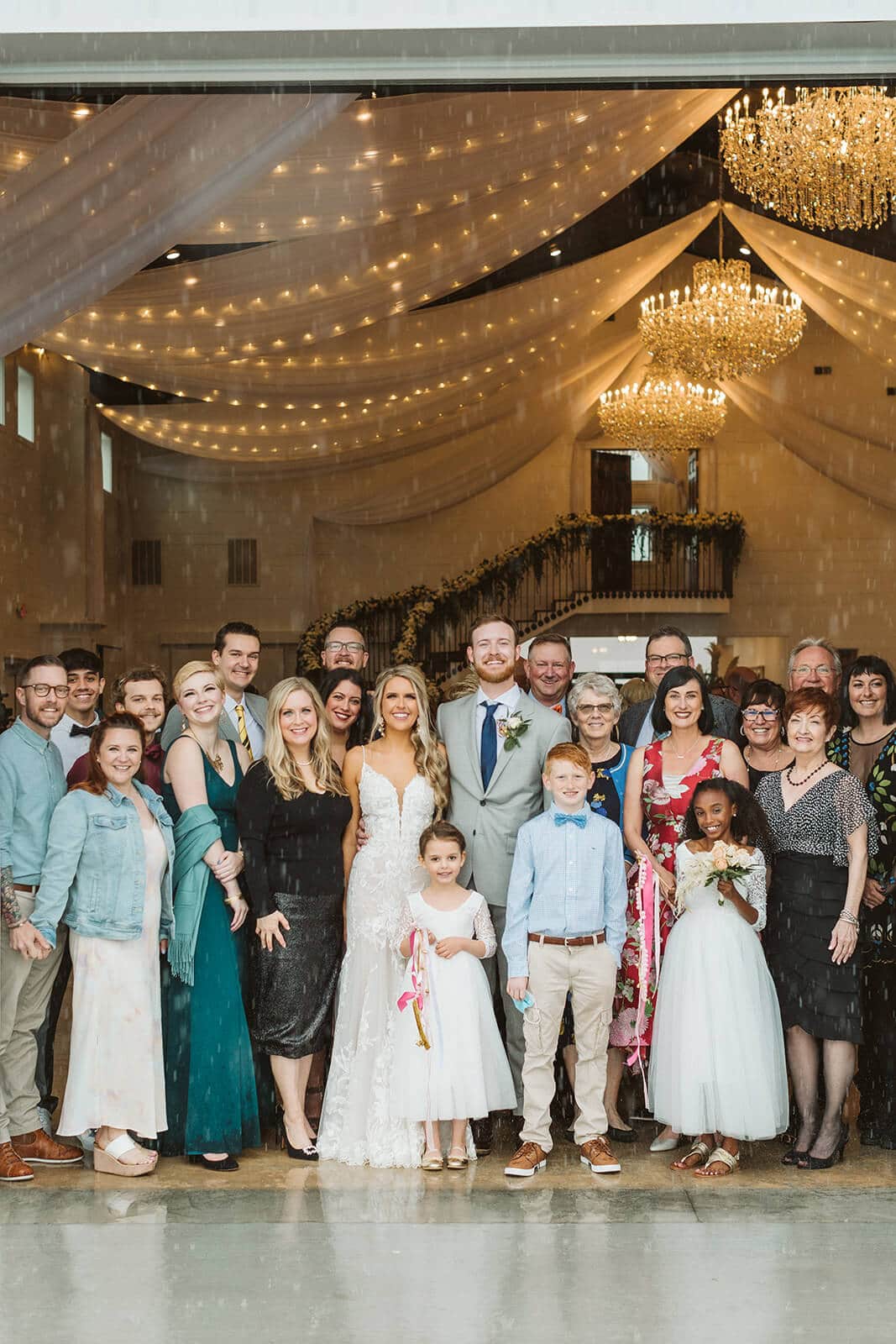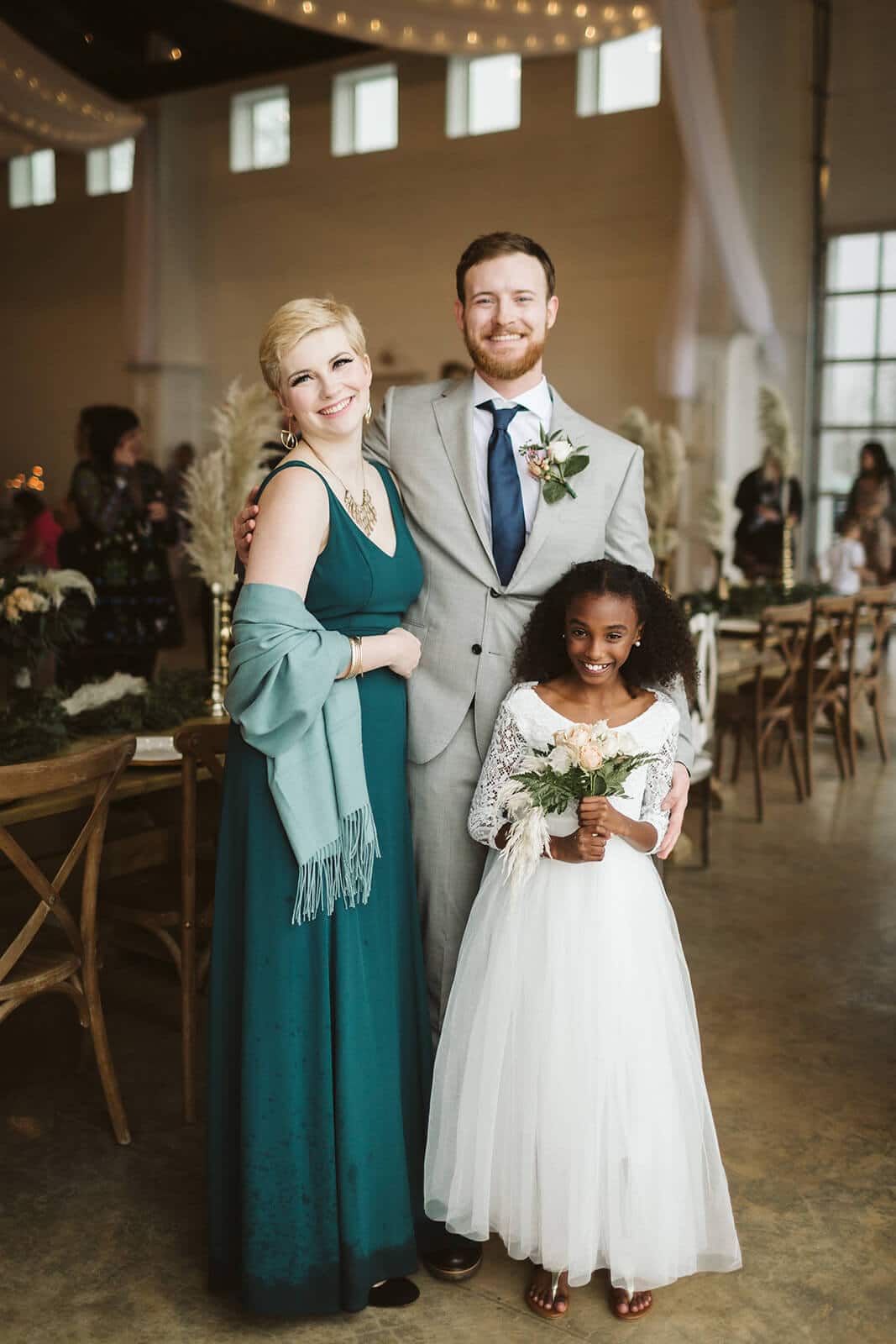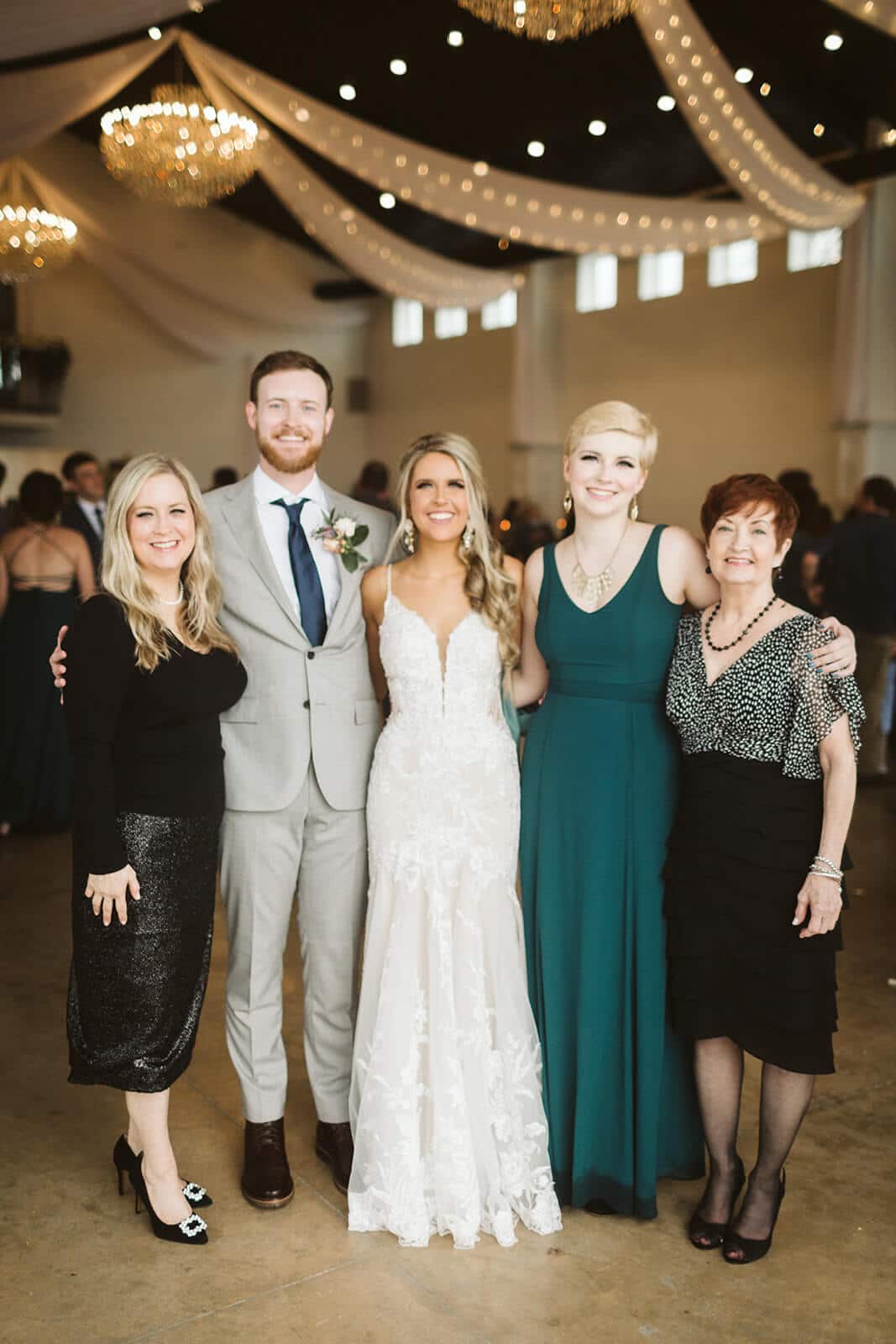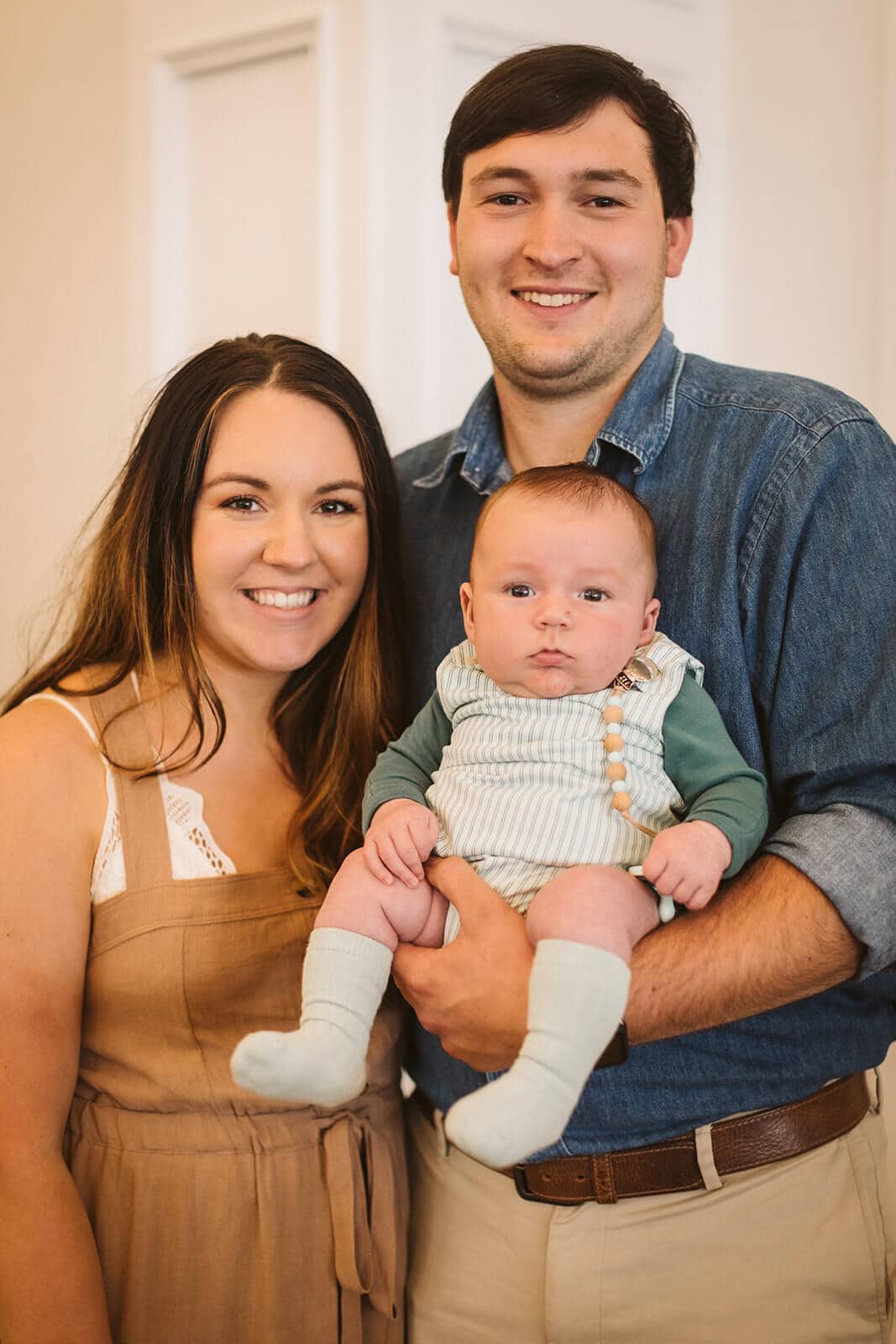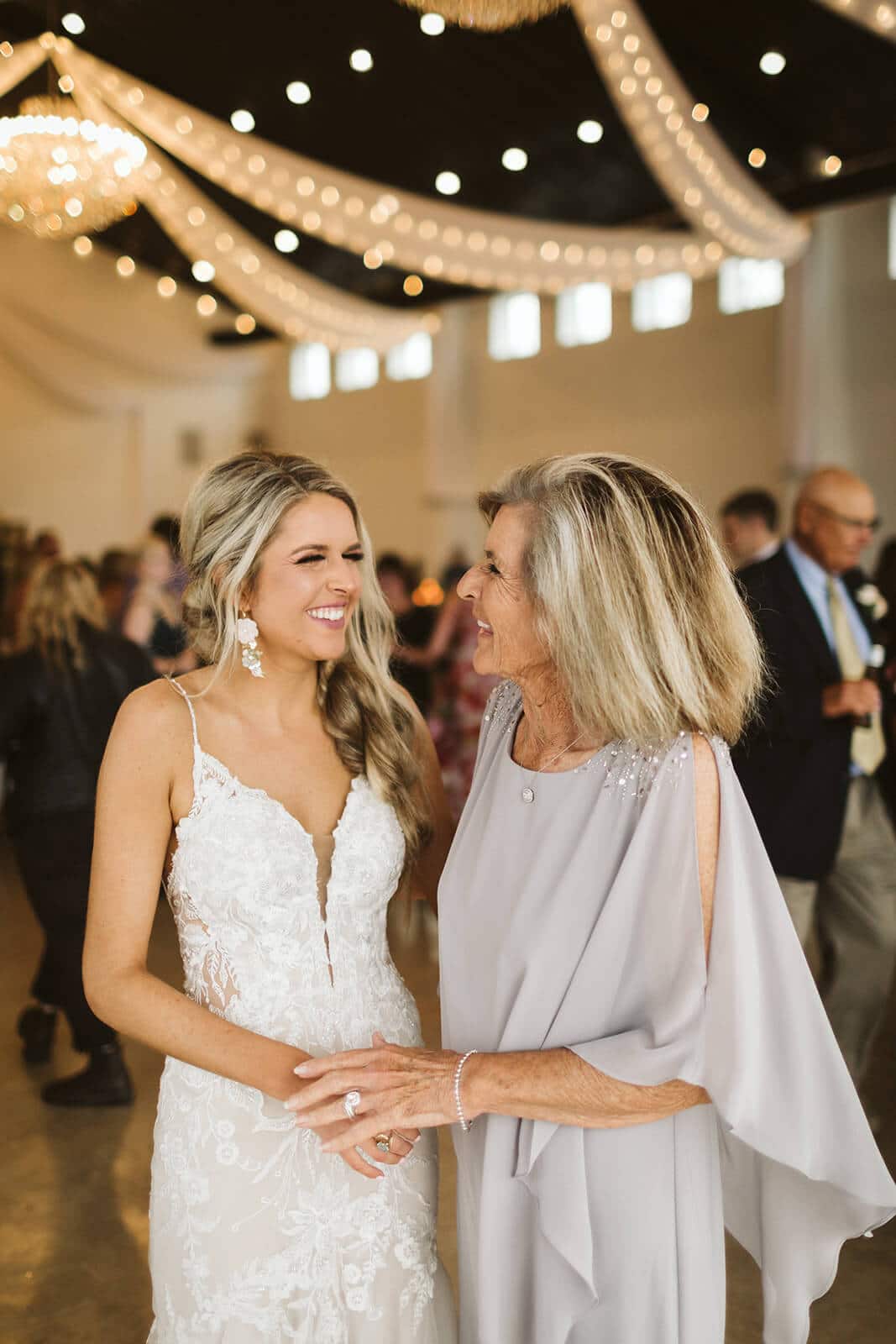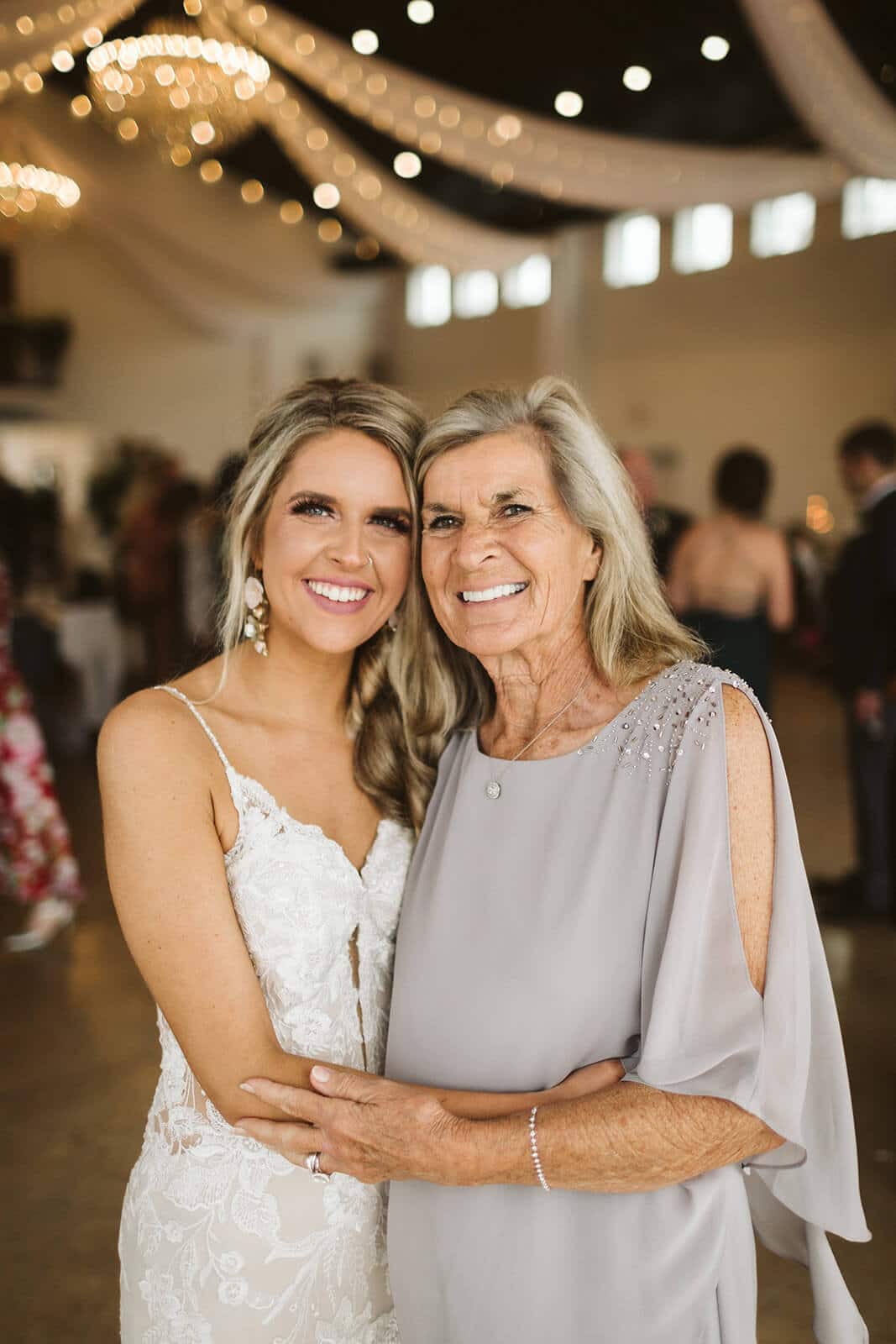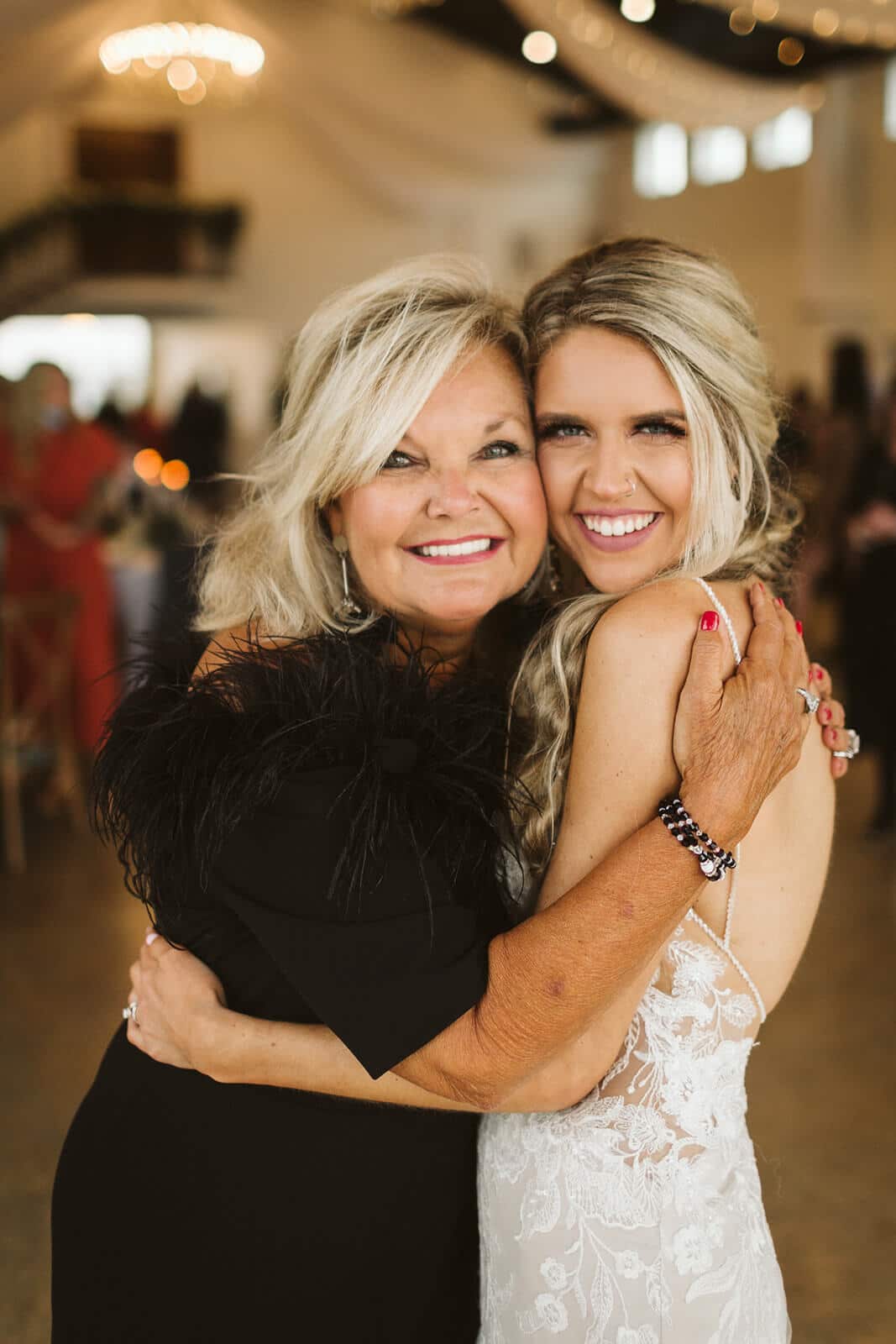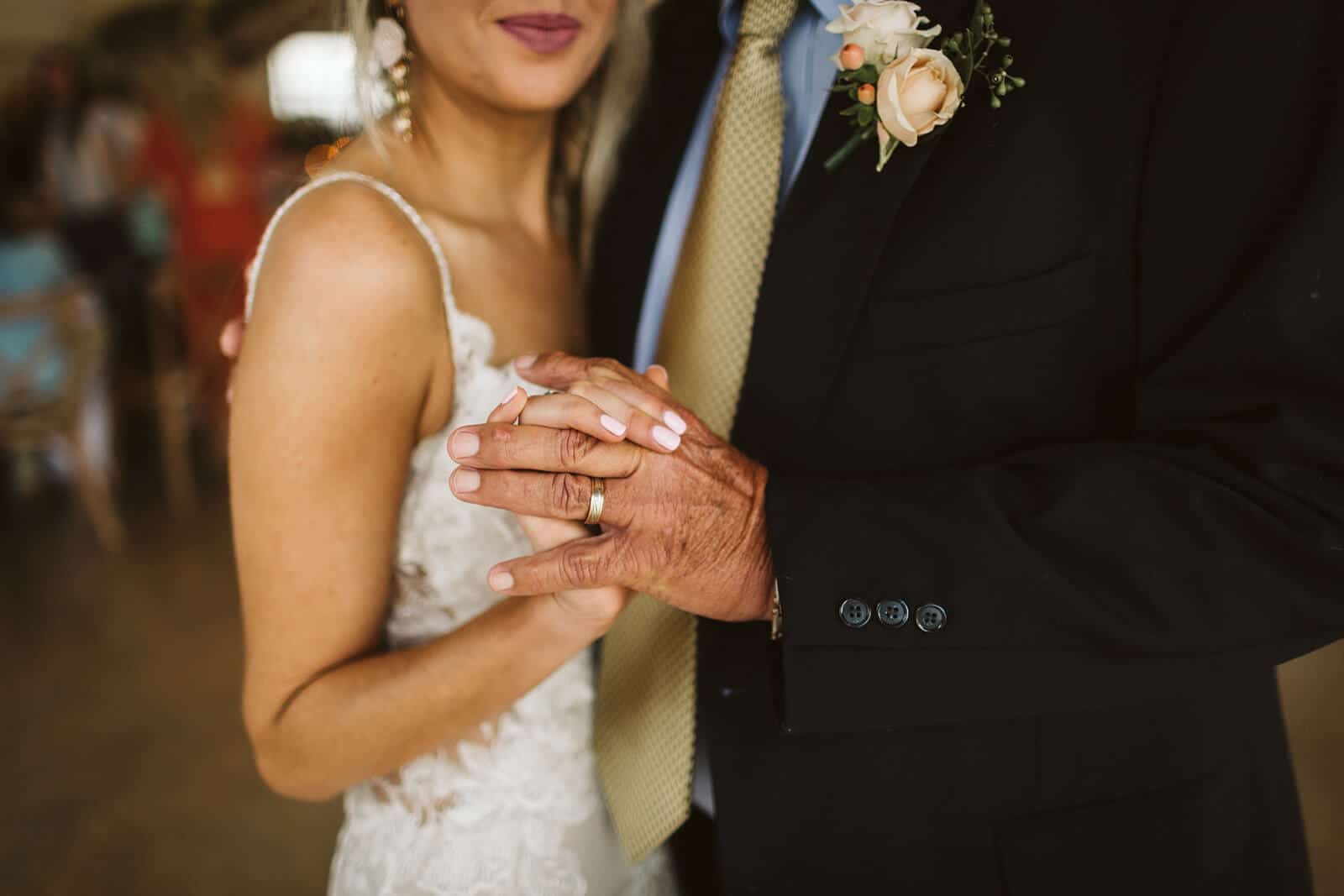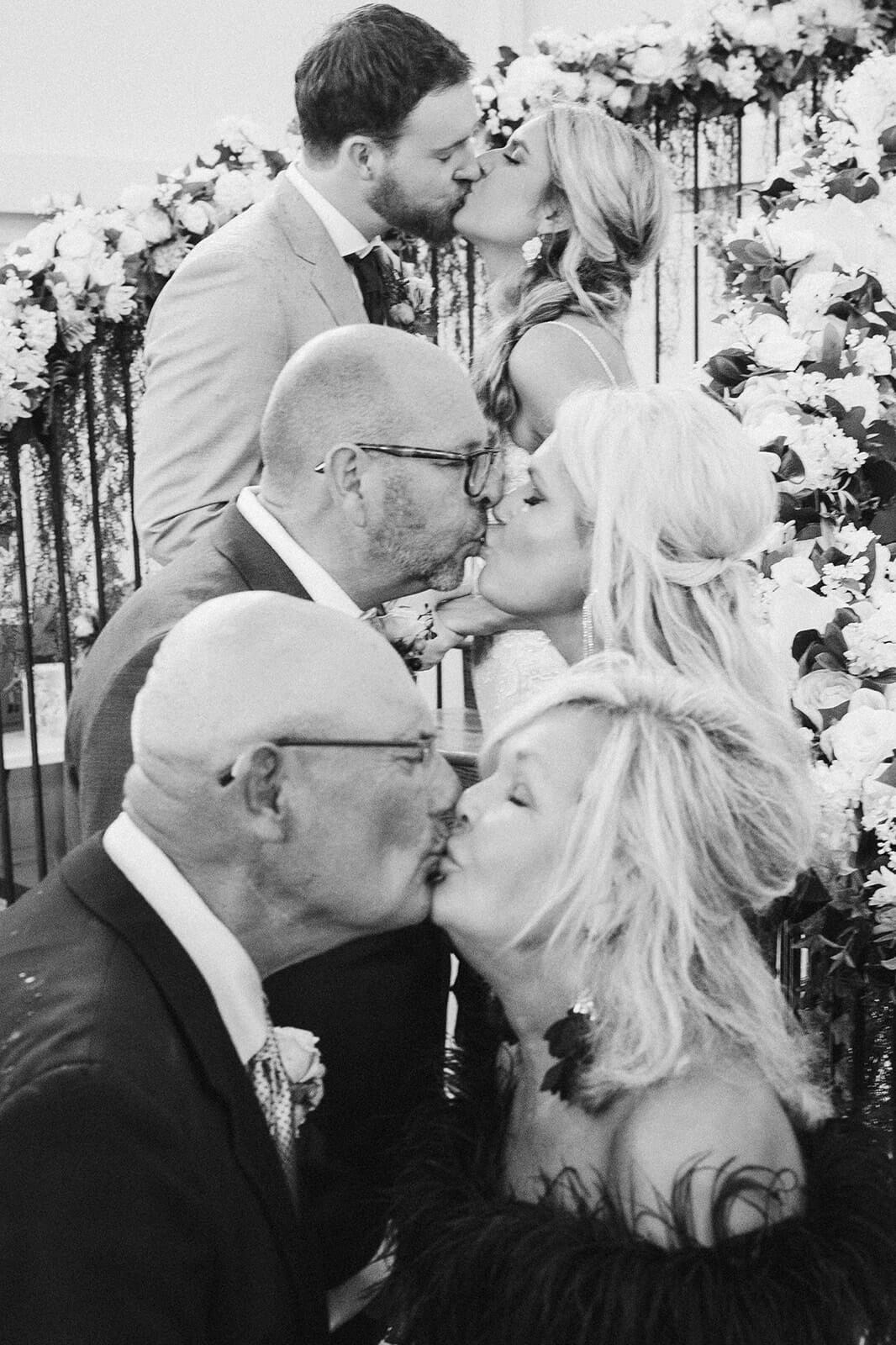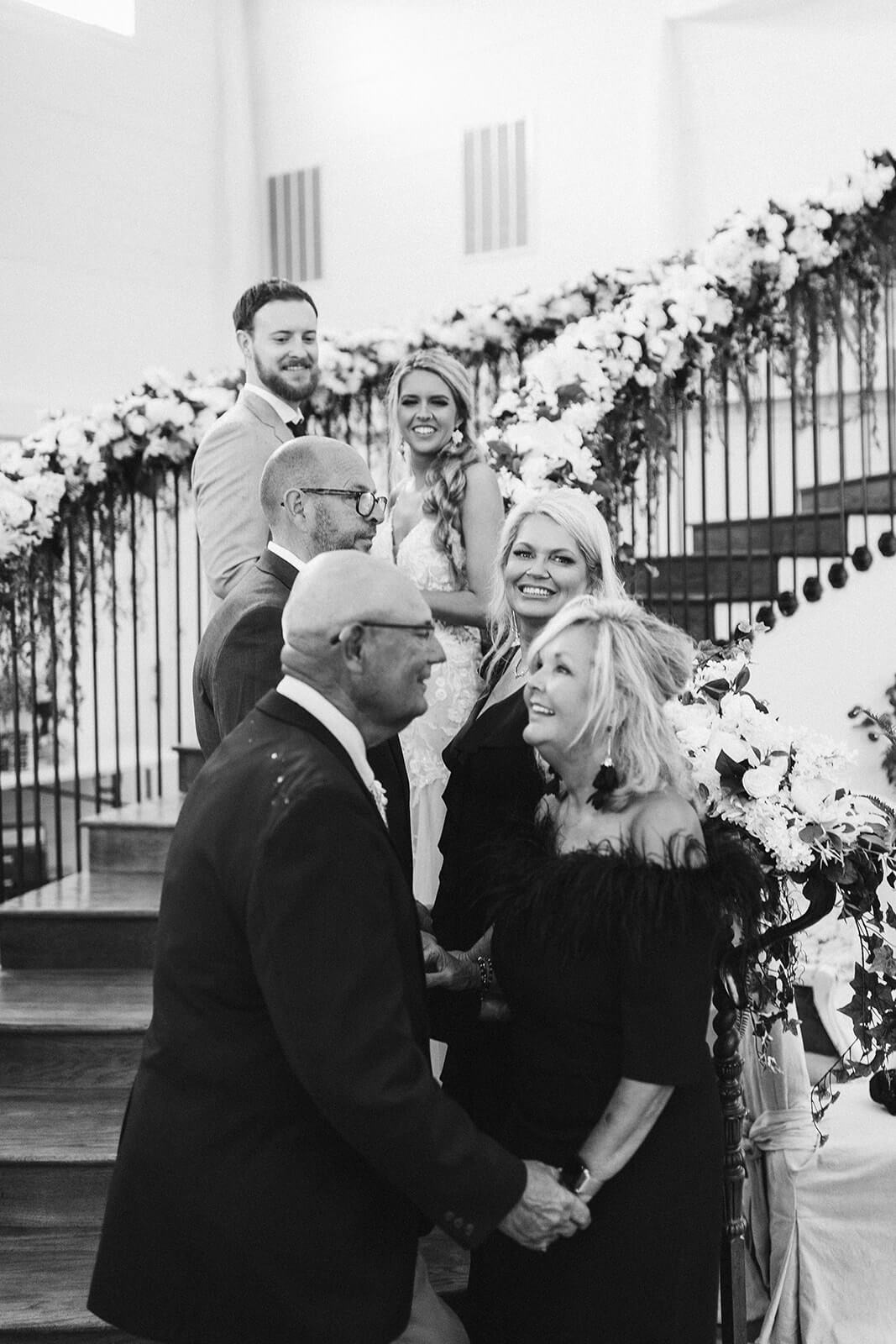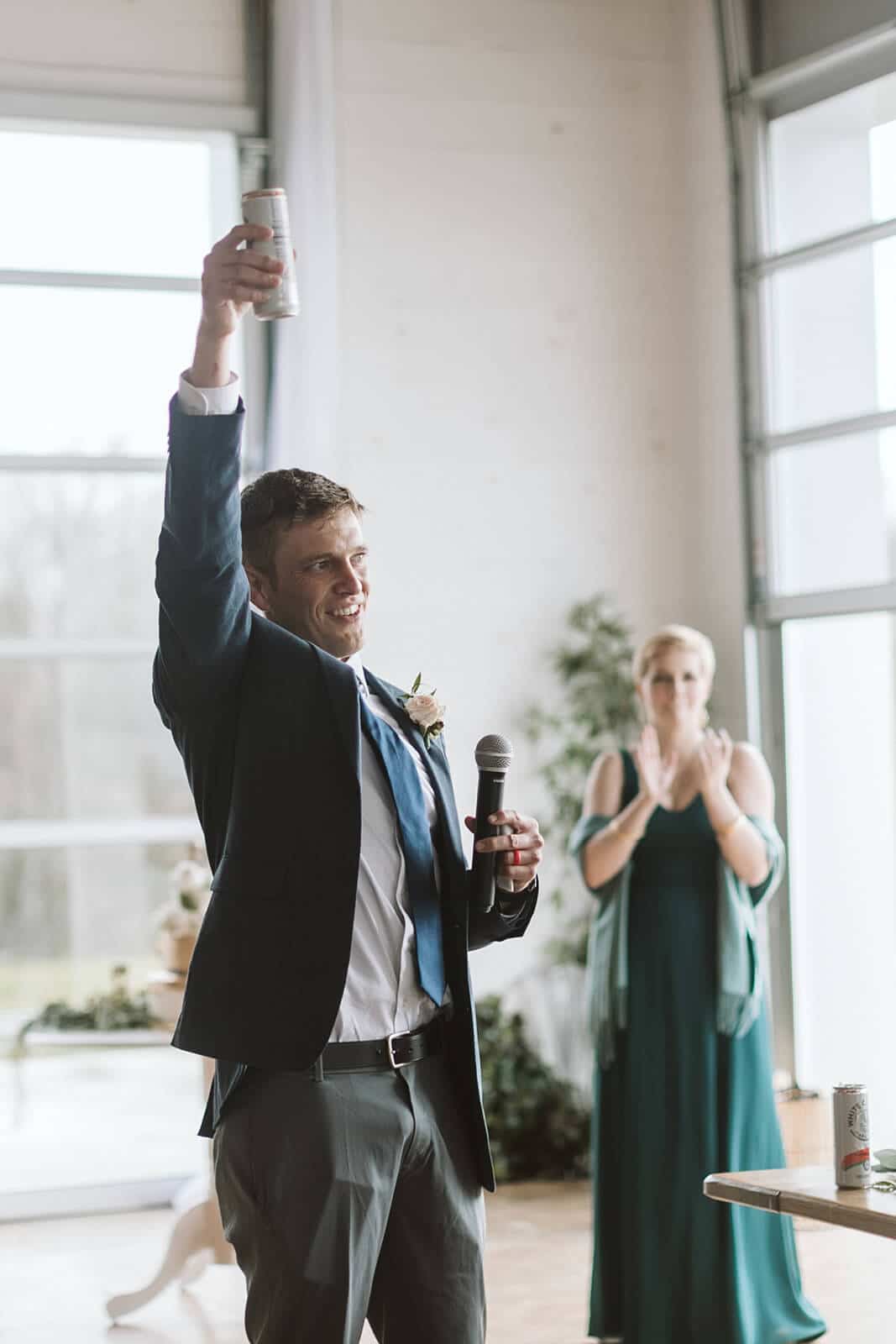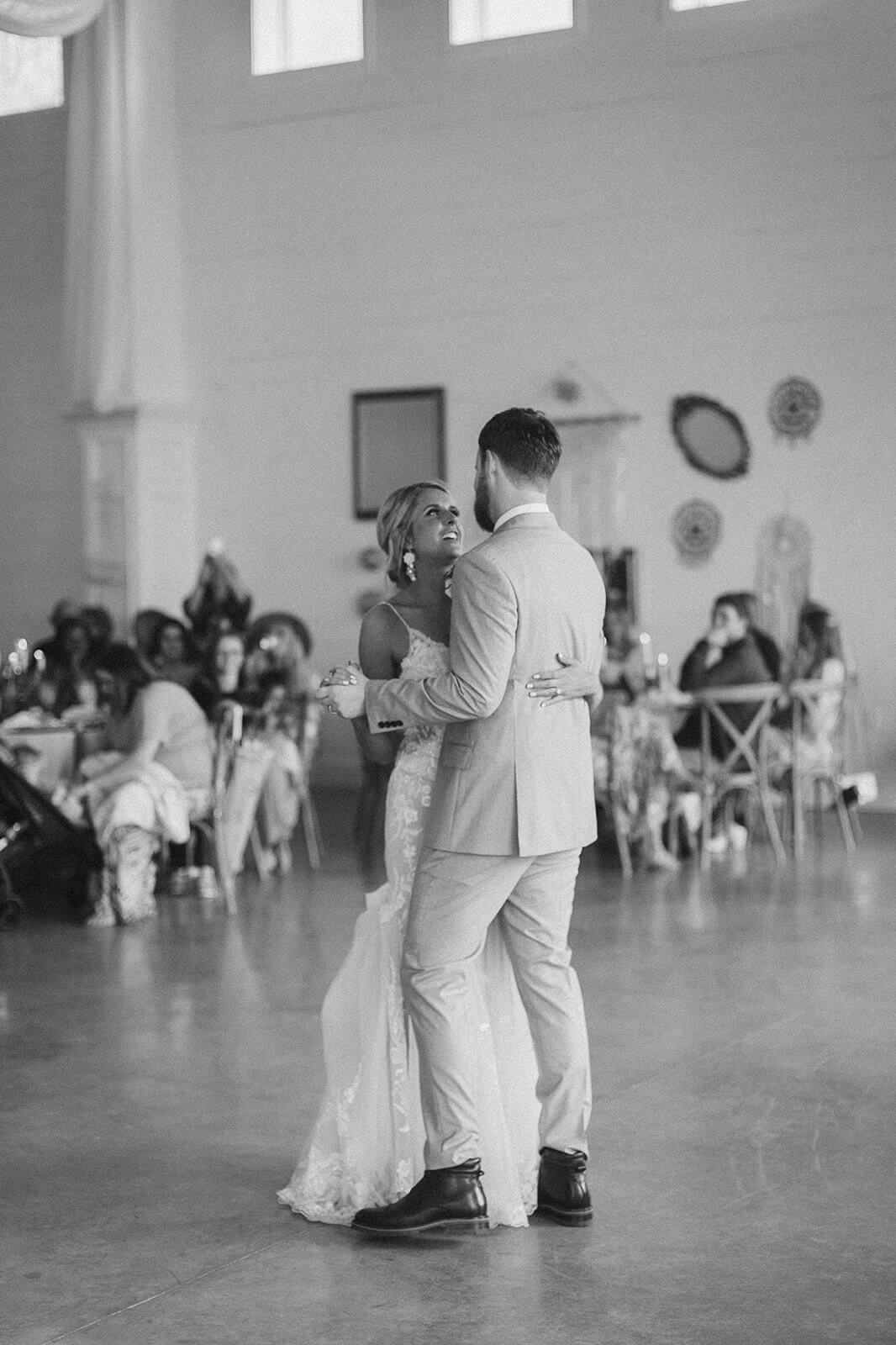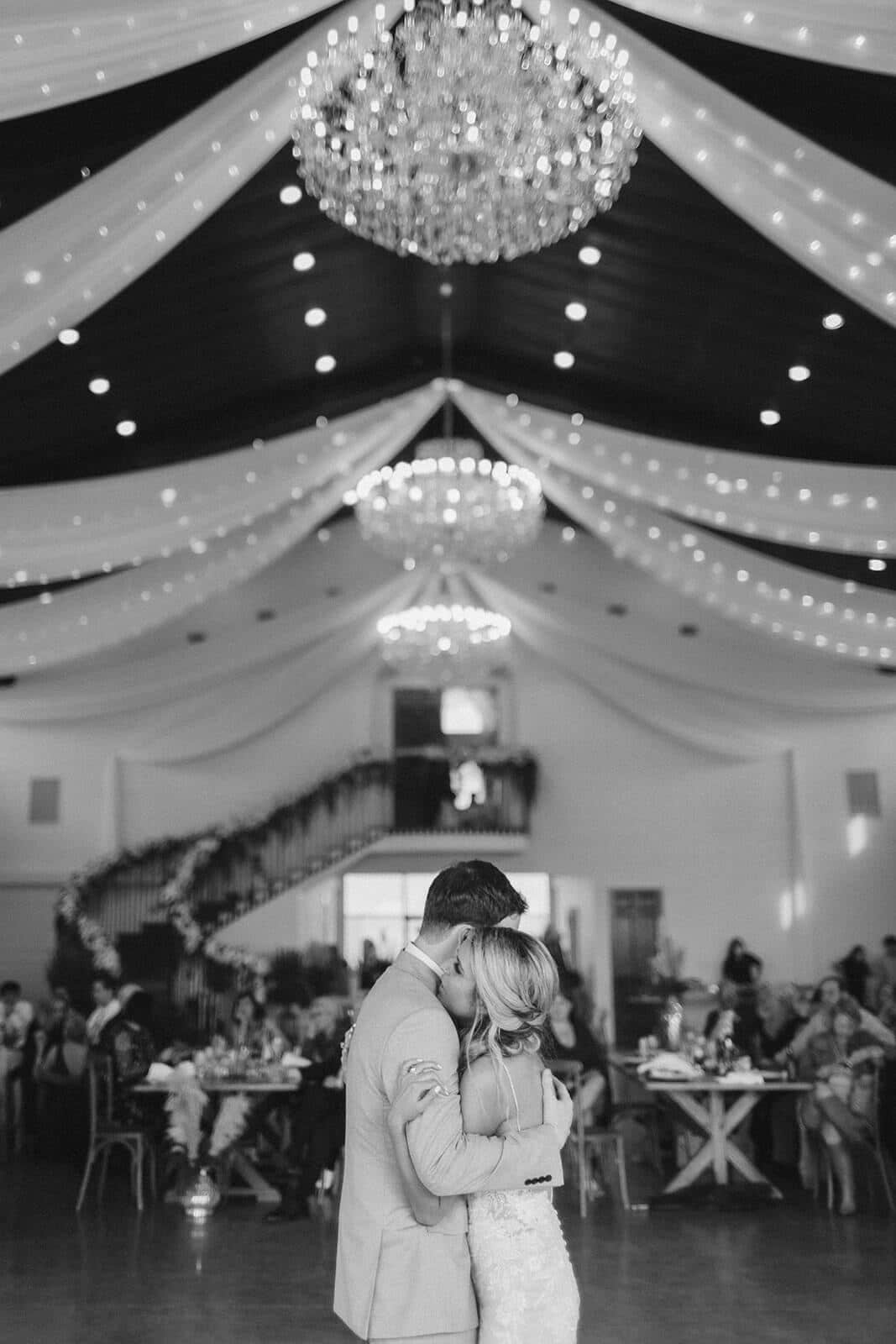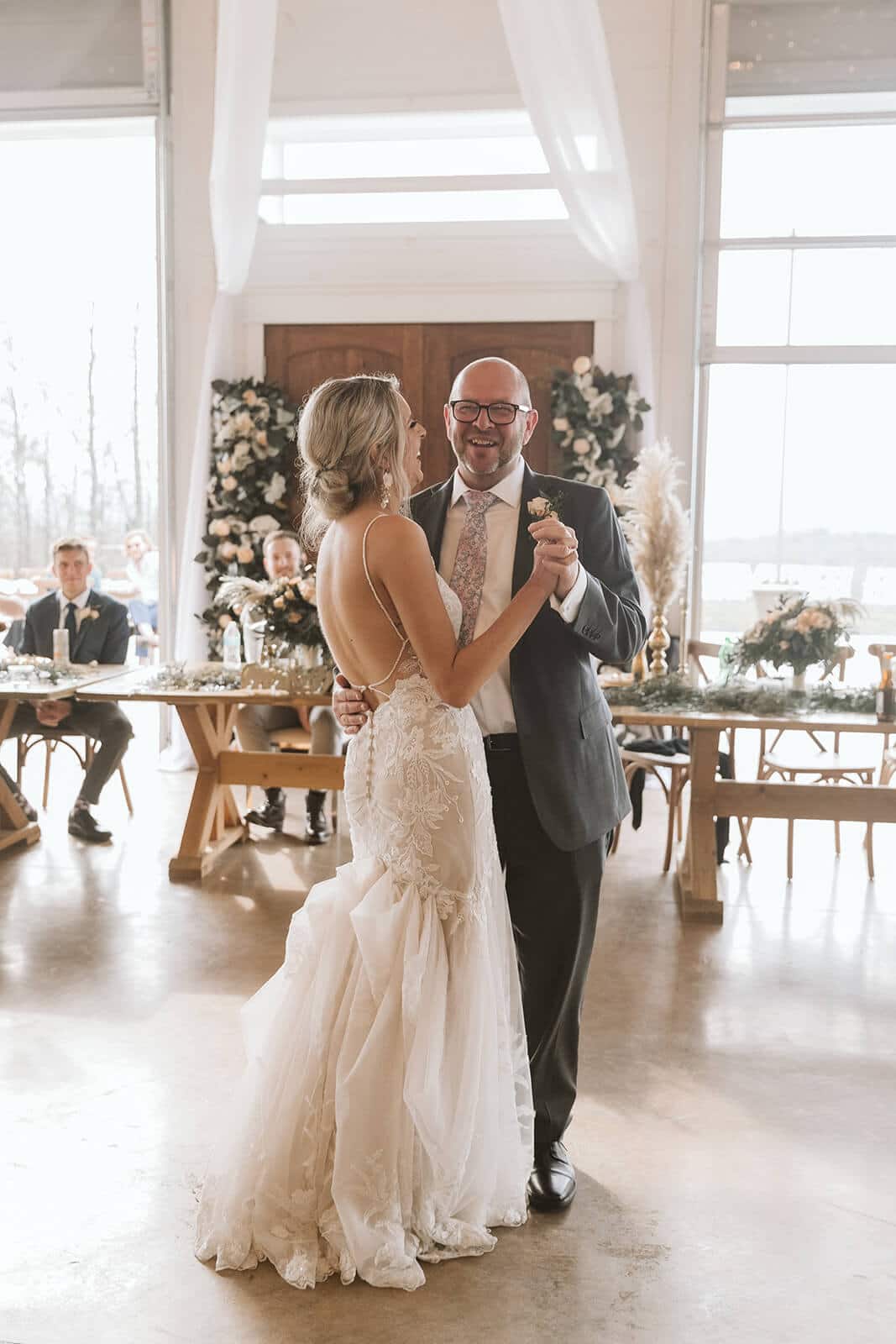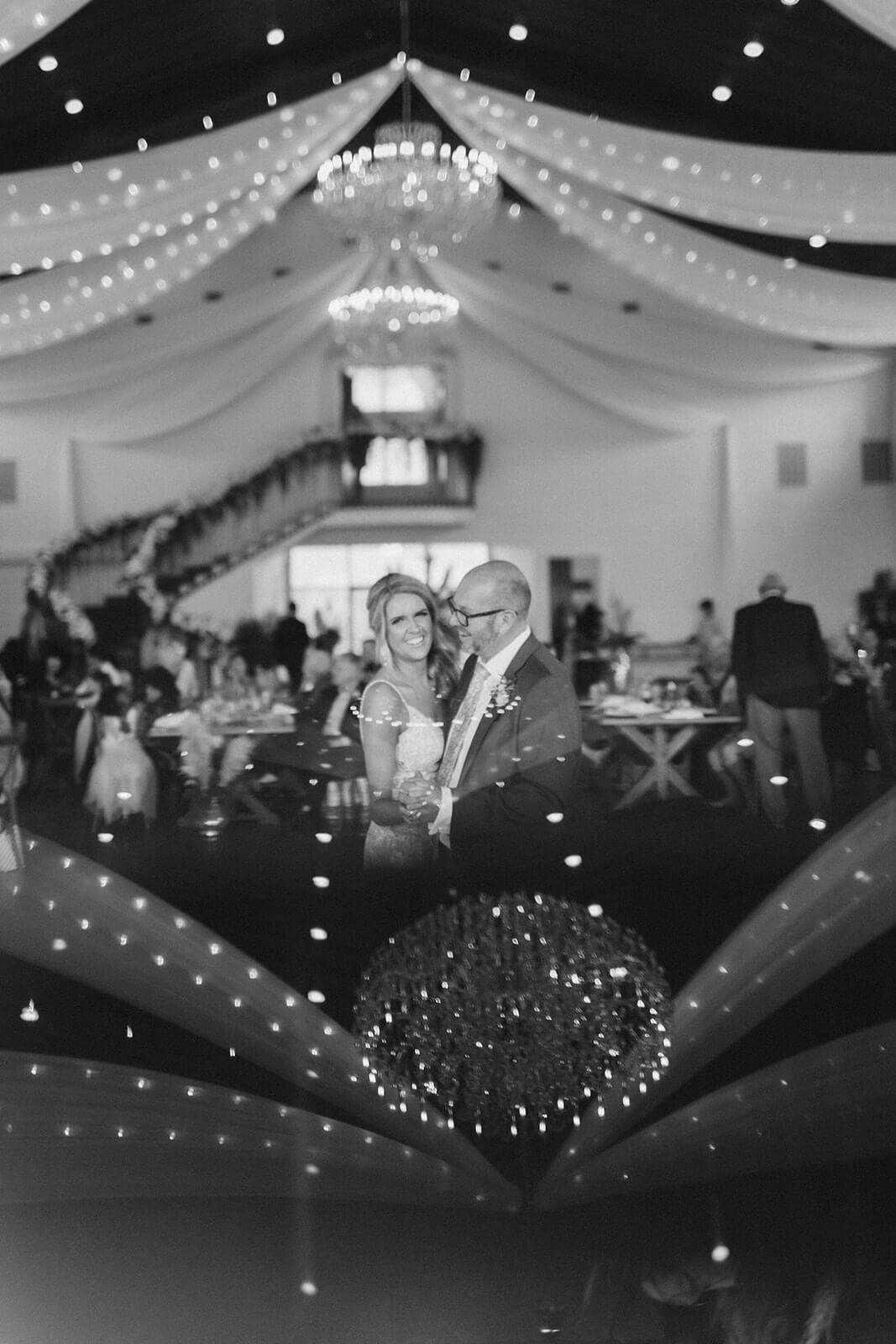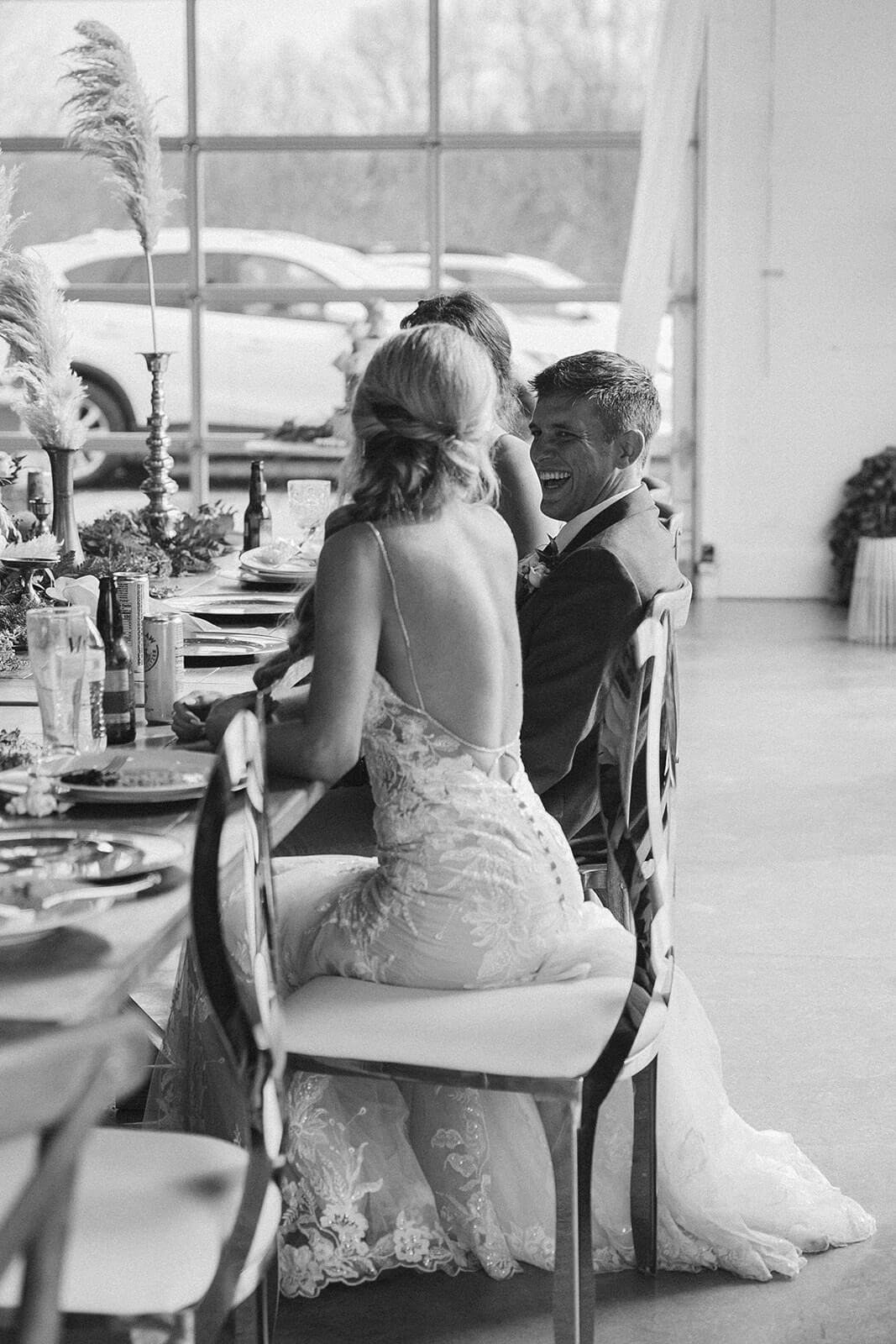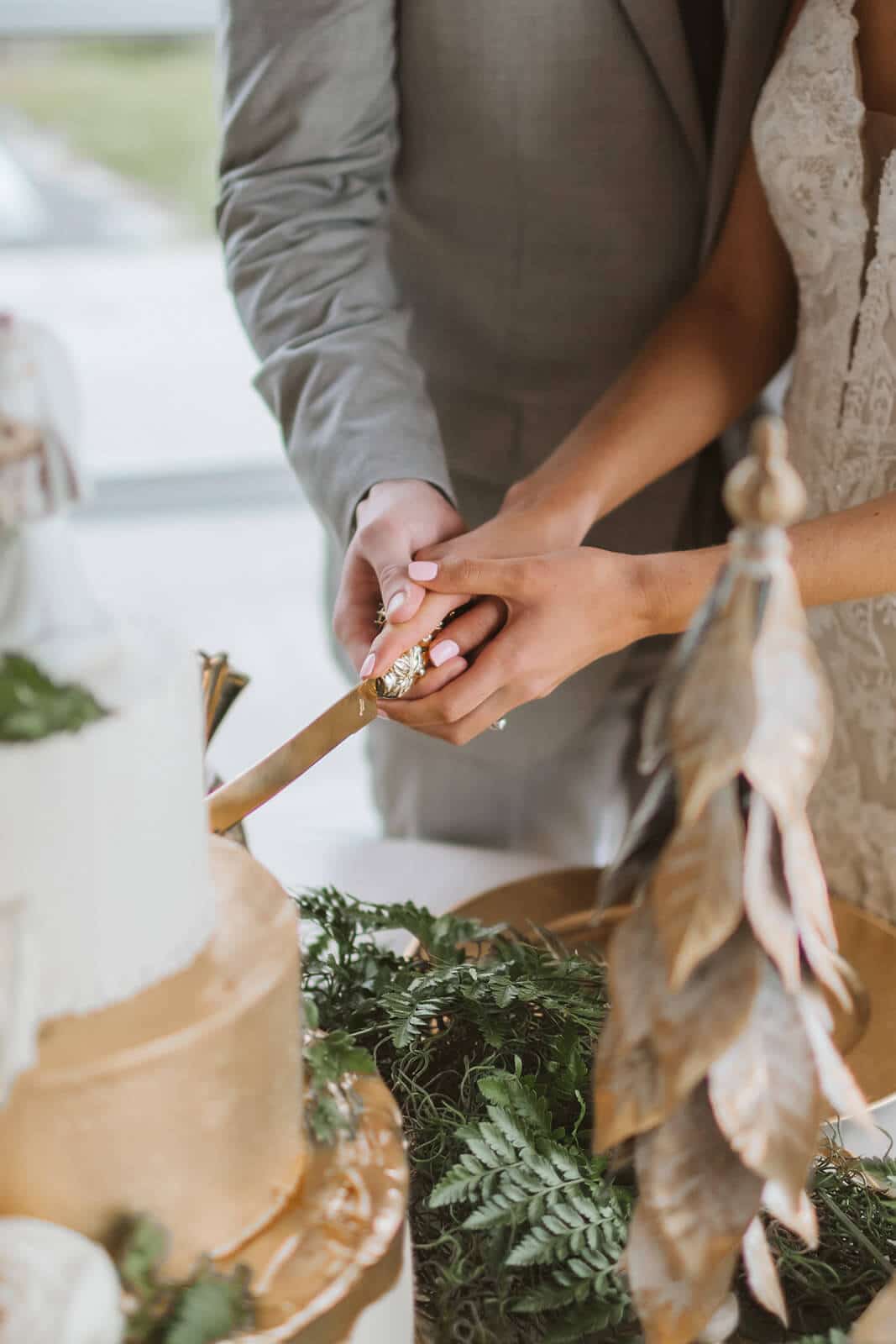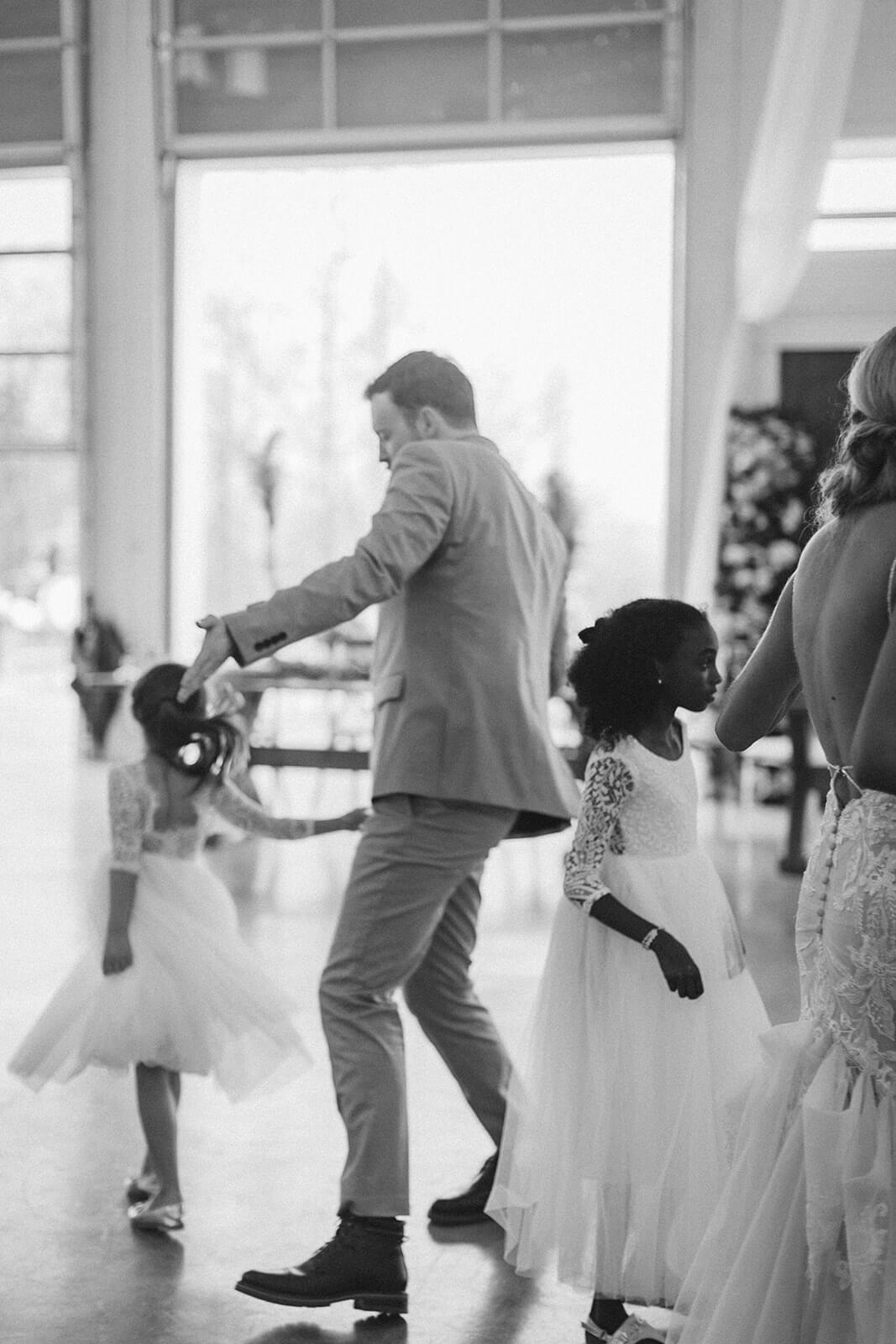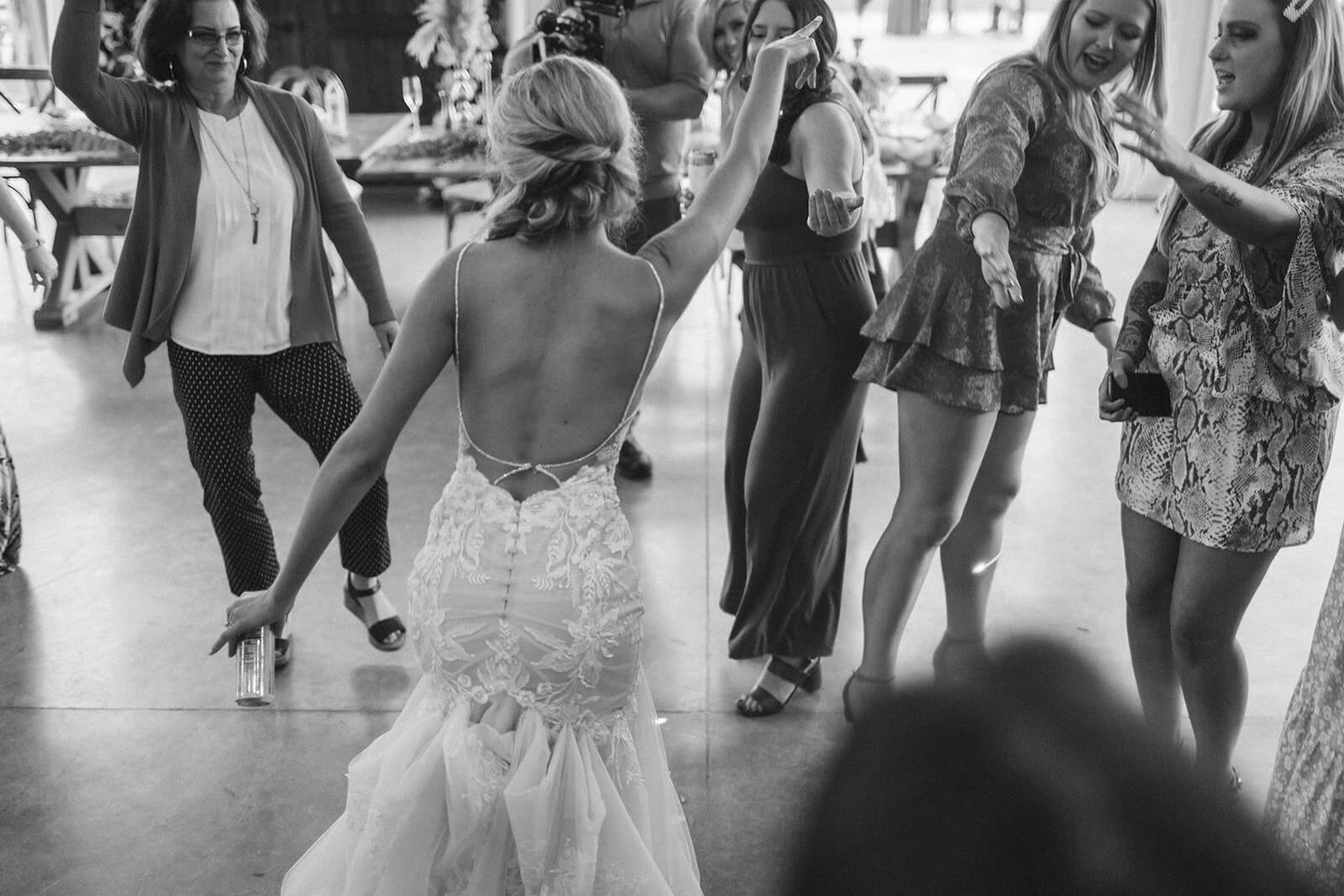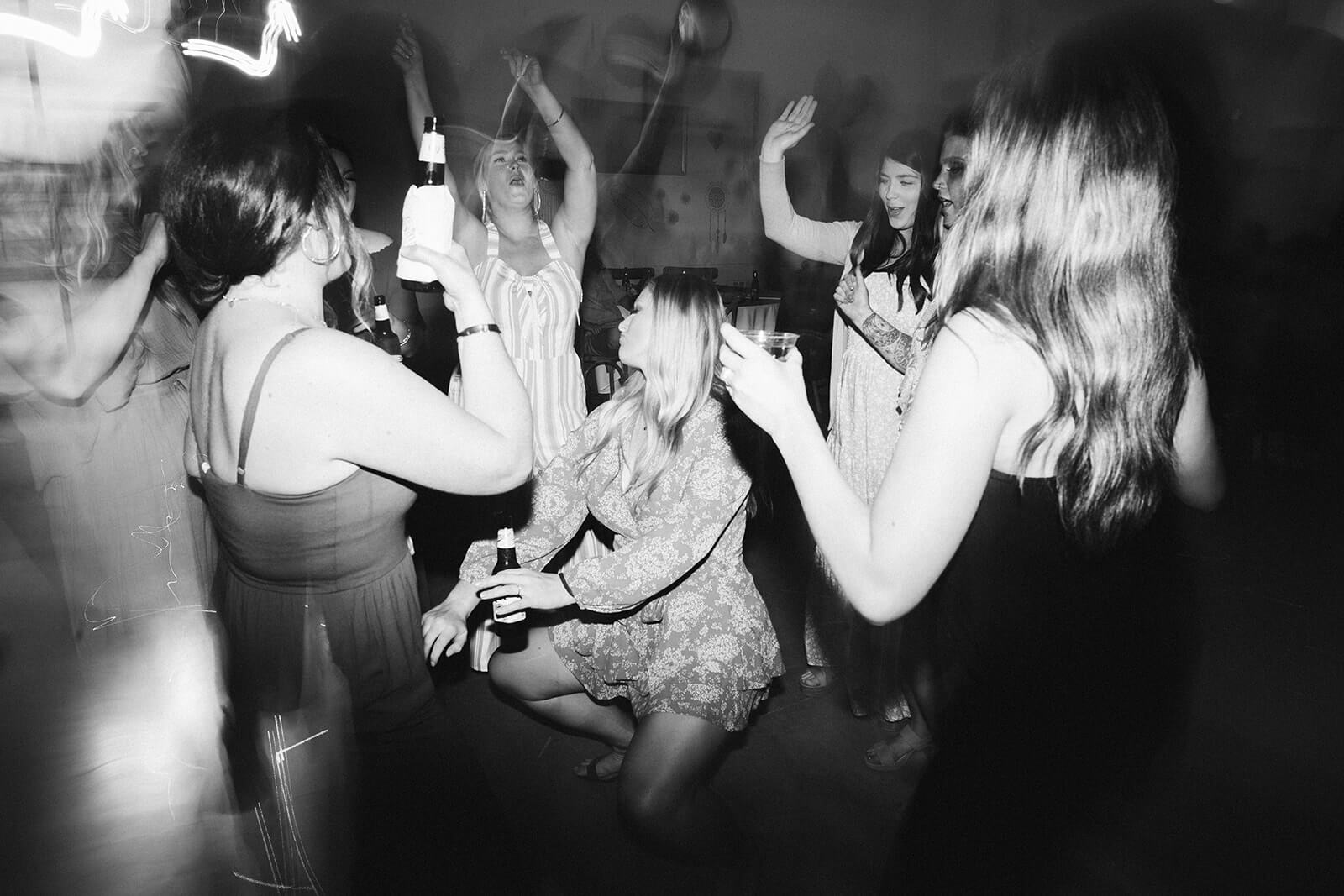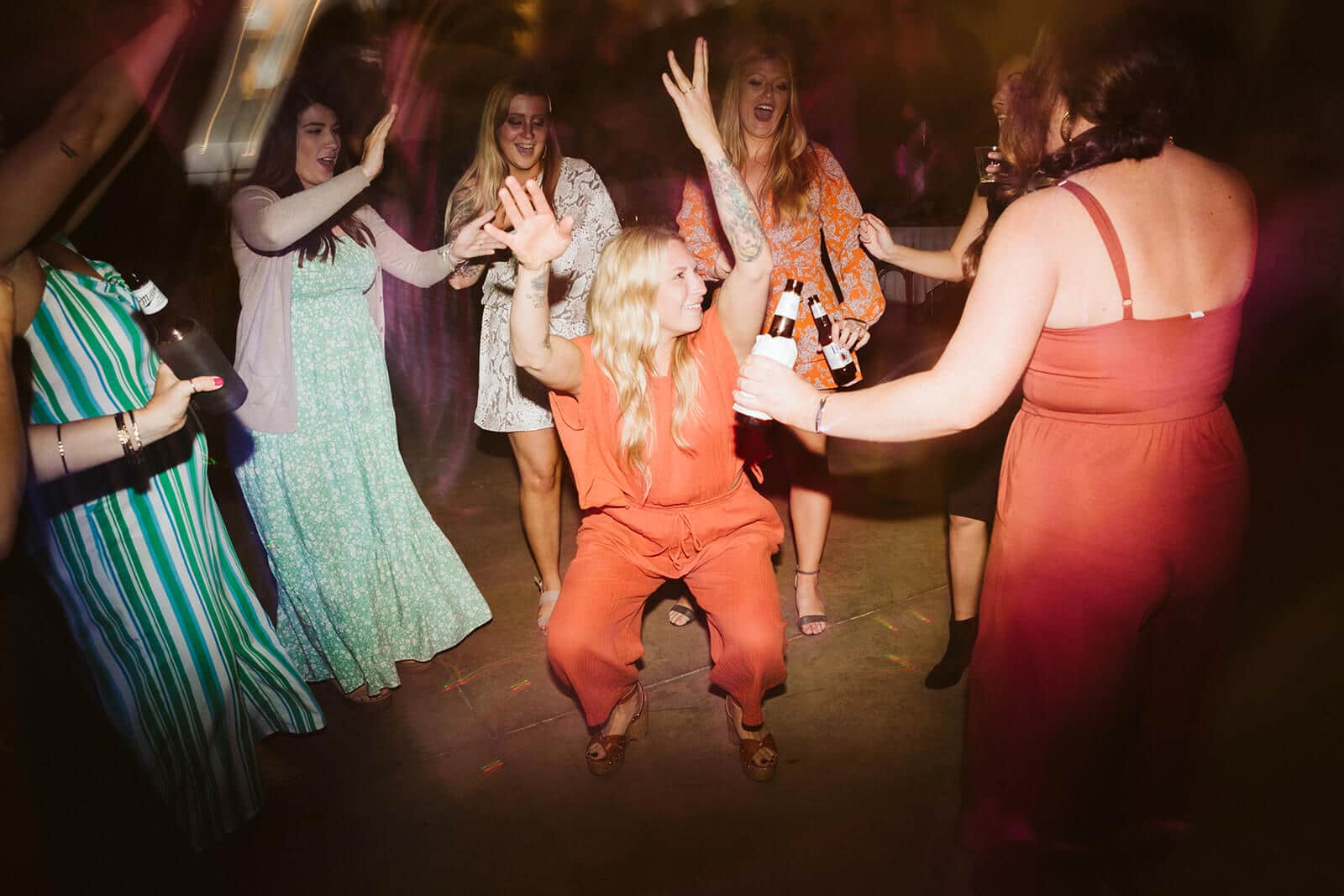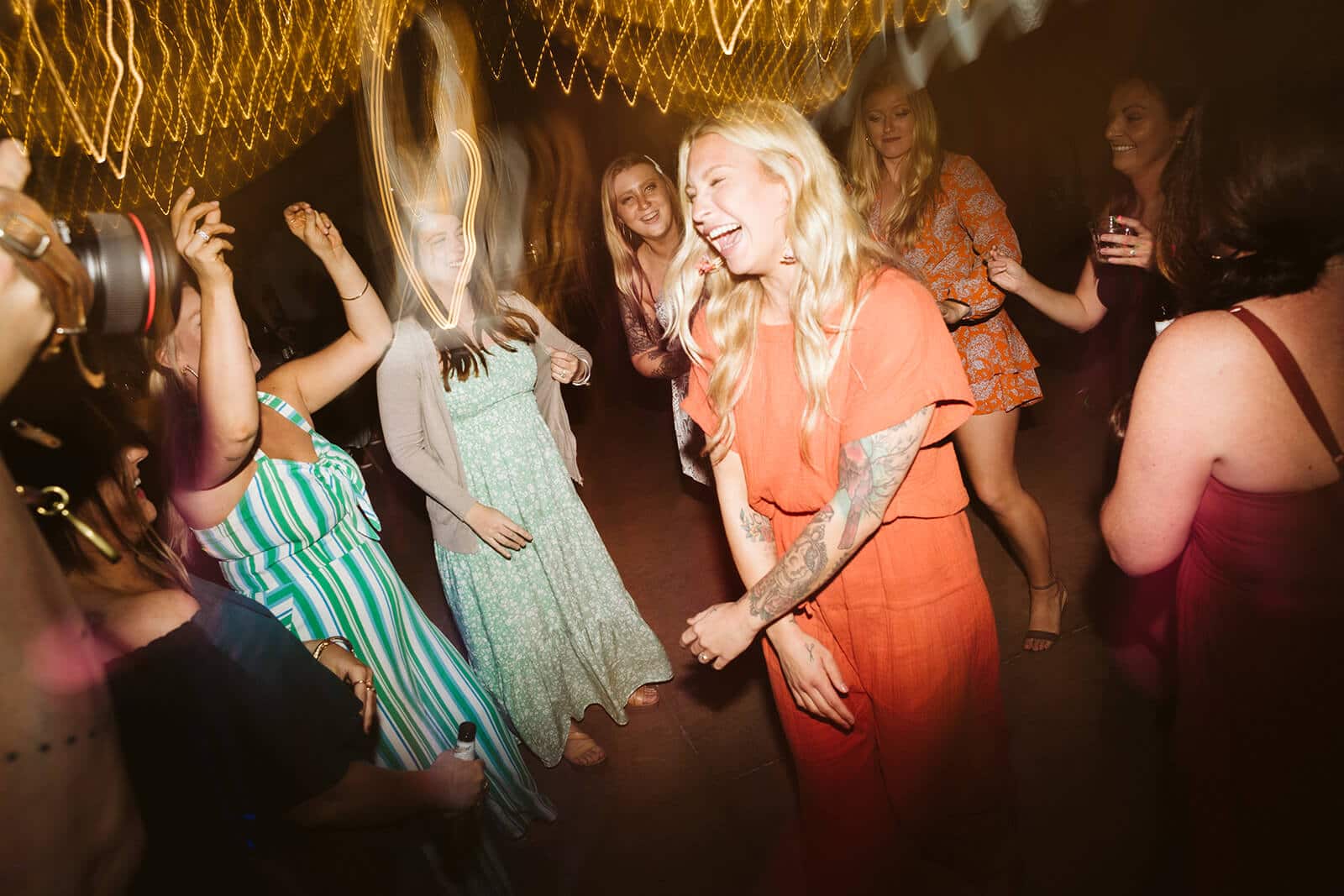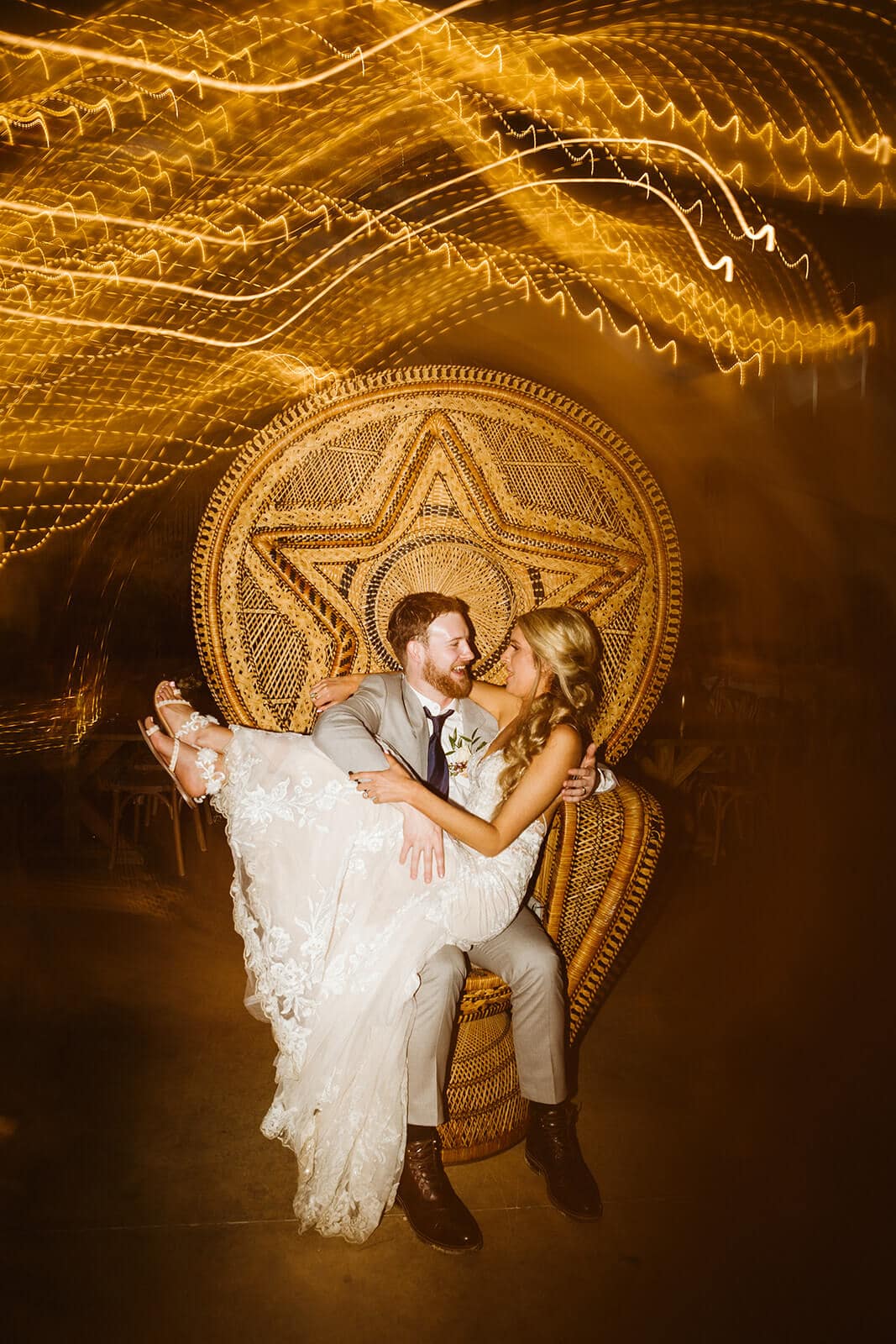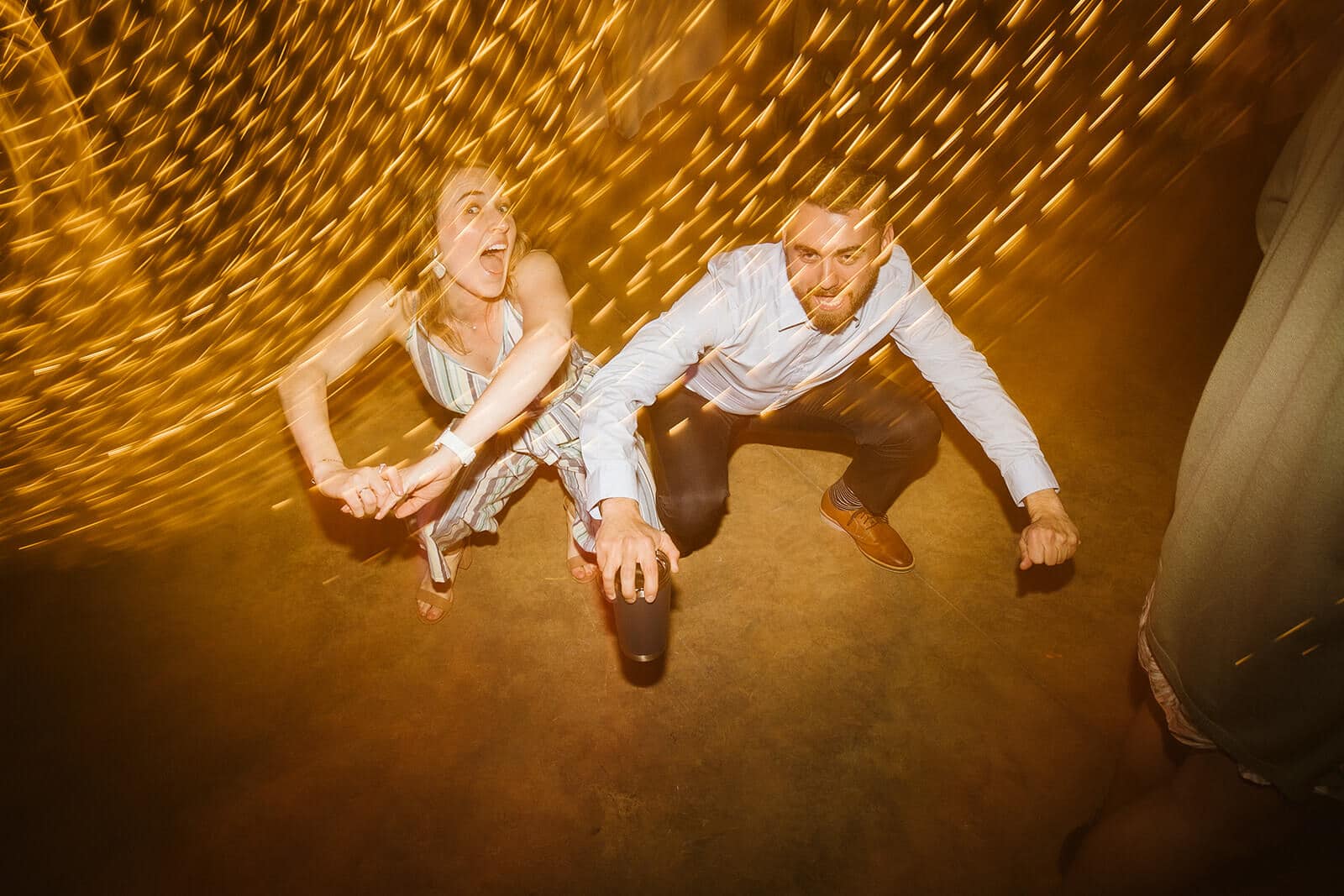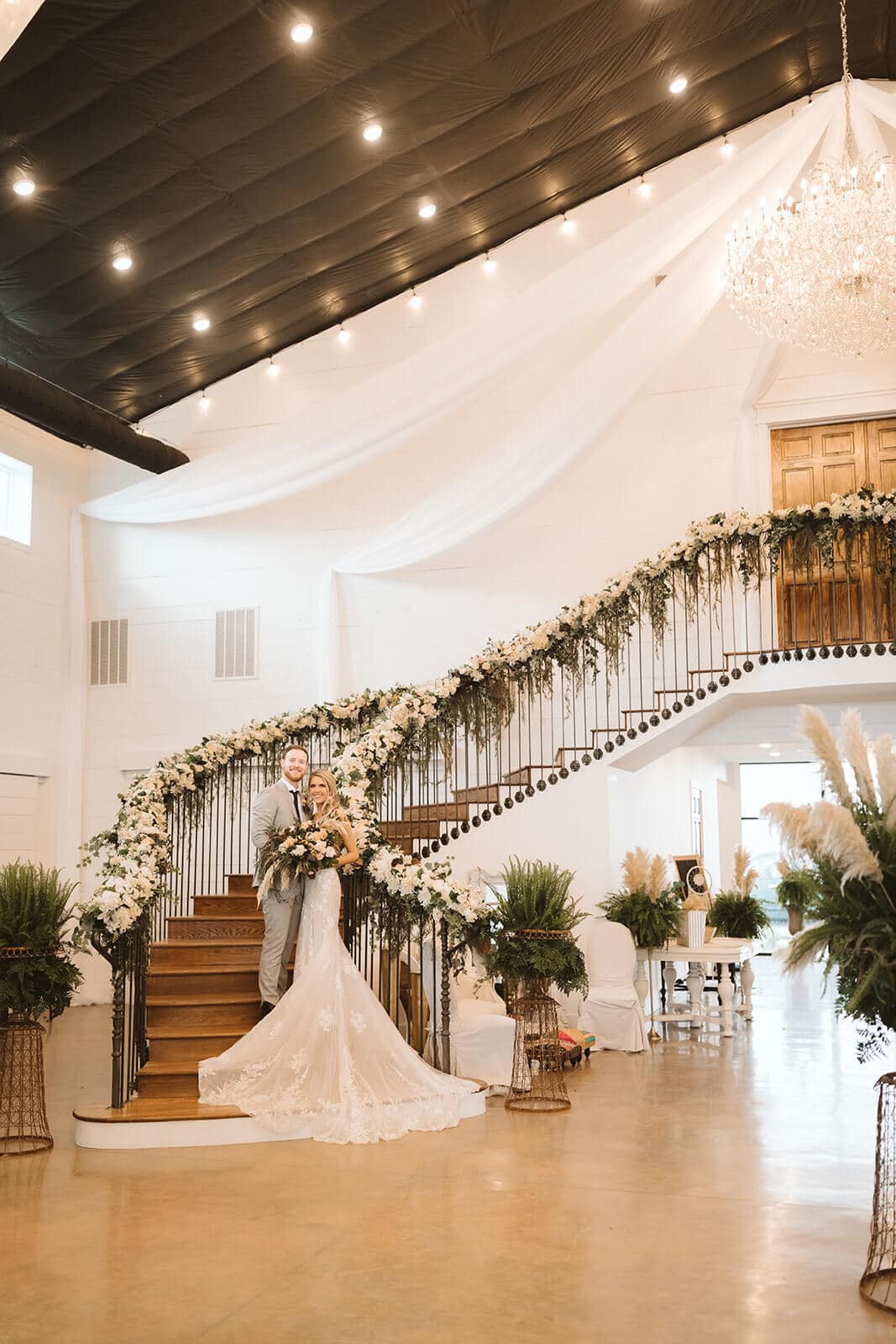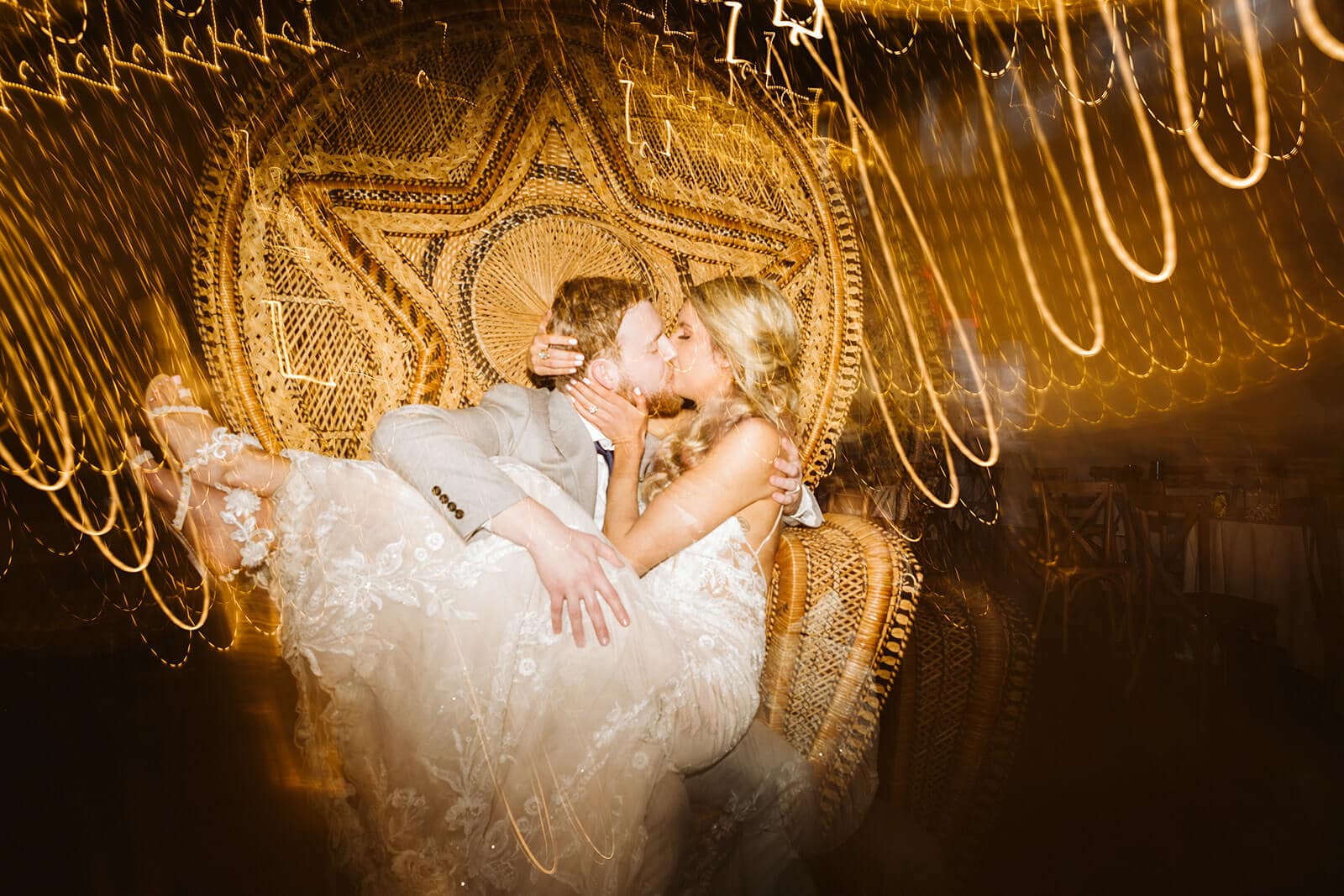 Lexi + Ian, thank you so much for letting me capture your wedding day. You both made it a pleasure!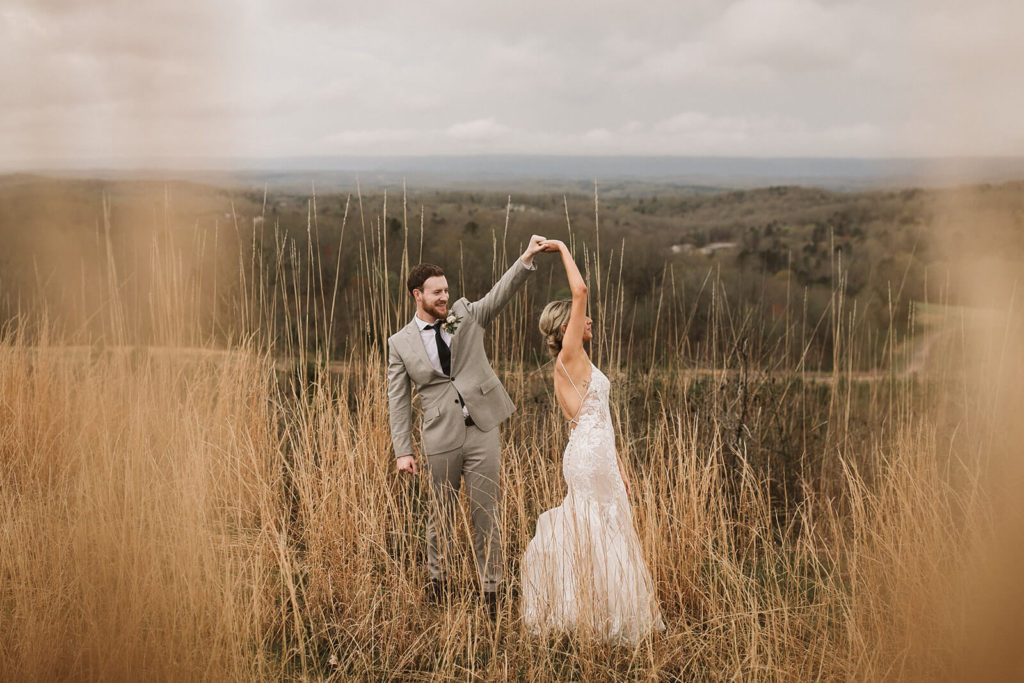 If you're planning a mountain wedding, rain wedding, or just your wedding, then I'd love to be your photographer!
Hey! I'm Rachael Crowe of OkCrowe Photography. I'm a wedding photographer based in Chattanooga, Tennessee but I've shot weddings all over the US including up and down the New England coast! Just say the word, and I'll be there to capture every moment and do whatever I can to help make your day memorable. If you're on the hunt for a wedding photographer, head to my contact form, and let's get this party started!