Some may consider a backyard wedding a casual, low-cost solution to planning a wedding. However, there are plenty of ways to transform a backyard into the elegant wedding of your dreams at a location that is special and personal to you. It may take some extra planning and perhaps a fresh set of eyes, but planning an upscale wedding in the yard you played in as a child is completely possible (and can be really fun!).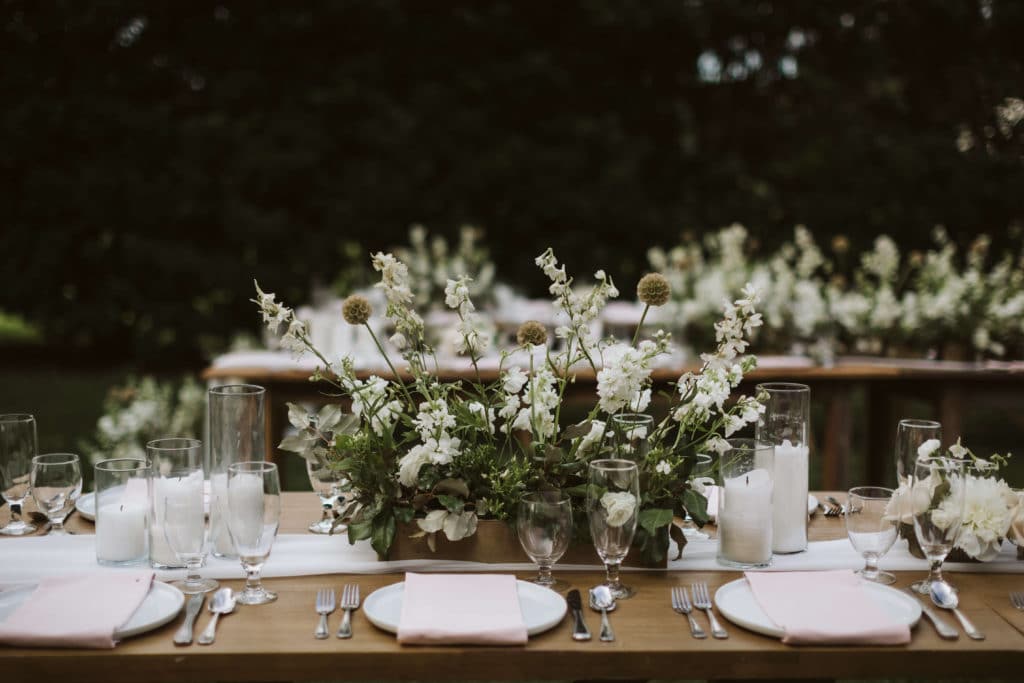 Coming Home for a Backyard Wedding Blessing
There is something special about being able to say "I do" in the place where you grew up. The sentimental value of hosting your wedding day in a place that means so much to you and your family cannot be matched by any mainstream wedding venue. When COVID restrictions for international travel were finally lifted, Scott and Minseong could not wait to have their marriage blessed in Scott's parents' backyard.
Scott met Minseong while he was studying abroad in Korea. The two hit it off right away and it was a love story for the ages. Scott proposed to Minseong while still abroad, however, the world shut down for the COVID pandemic shortly after. Unfortunately, they were stuck until international travel restrictions were lifted, meaning Scott's family wasn't able to see them in person to celebrate their engagement.
Together, Minseong and Scott made the decision to get married while they were in Korea. They had a celebration with some of their friends and Minseong's family and planned to have a second reception and blessing with Scott's family once they were able to. They just couldn't wait to actually be married.
When they were finally able to travel to Scott's hometown right here in the Chattanooga area, they chose to host their wedding celebration in the same yard where Scott grew up. The moment I walked onto the property and saw the space, I immediately understood why they chose to hold their wedding blessing there instead of a typical venue. Scott's parents own a large ranch house with a gorgeous backyard complete with a small pond, farmland for cows and horses, and stunning views of the Tennessee mountains. Not only was the space deeply sentimental, but it was also absolutely beautiful.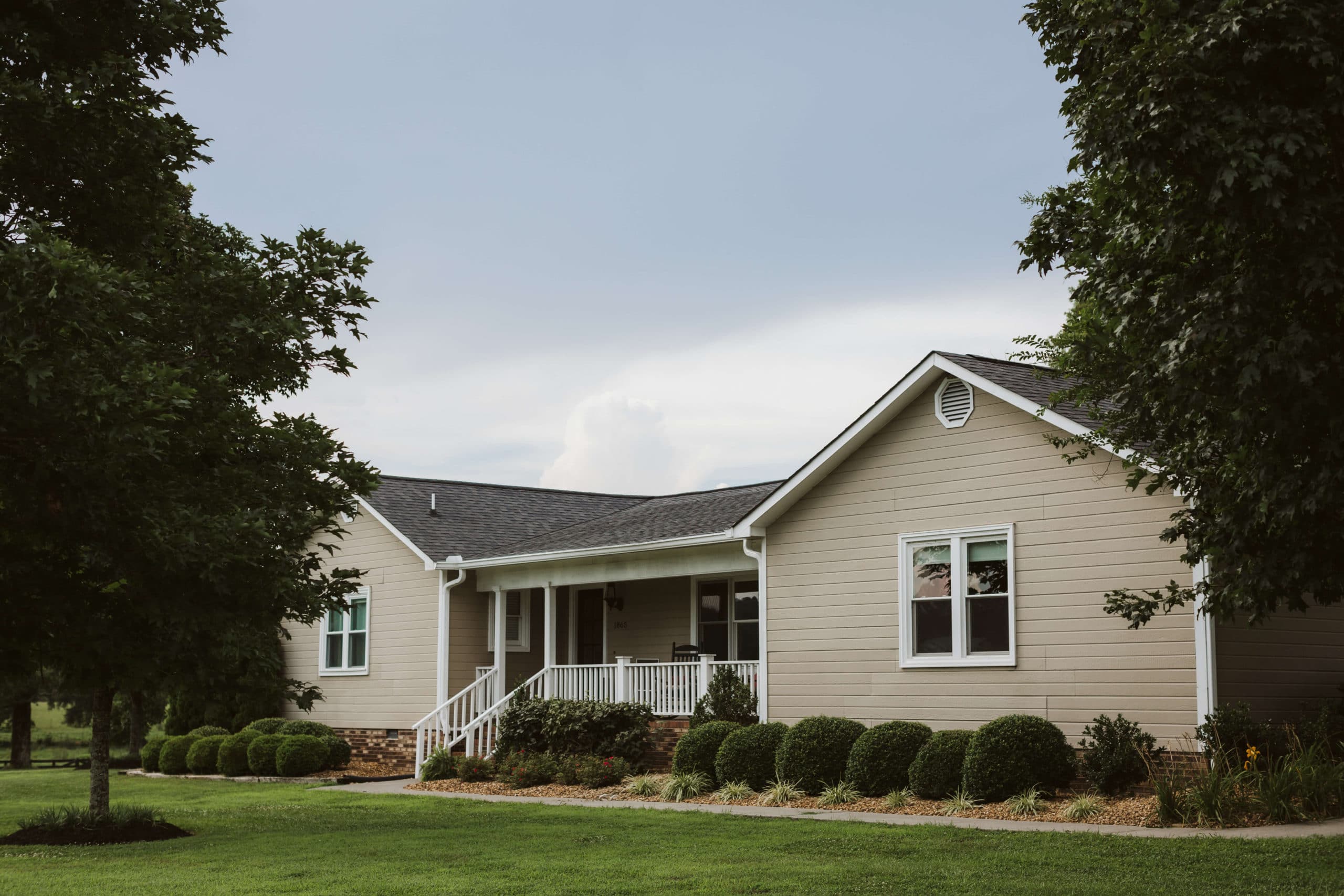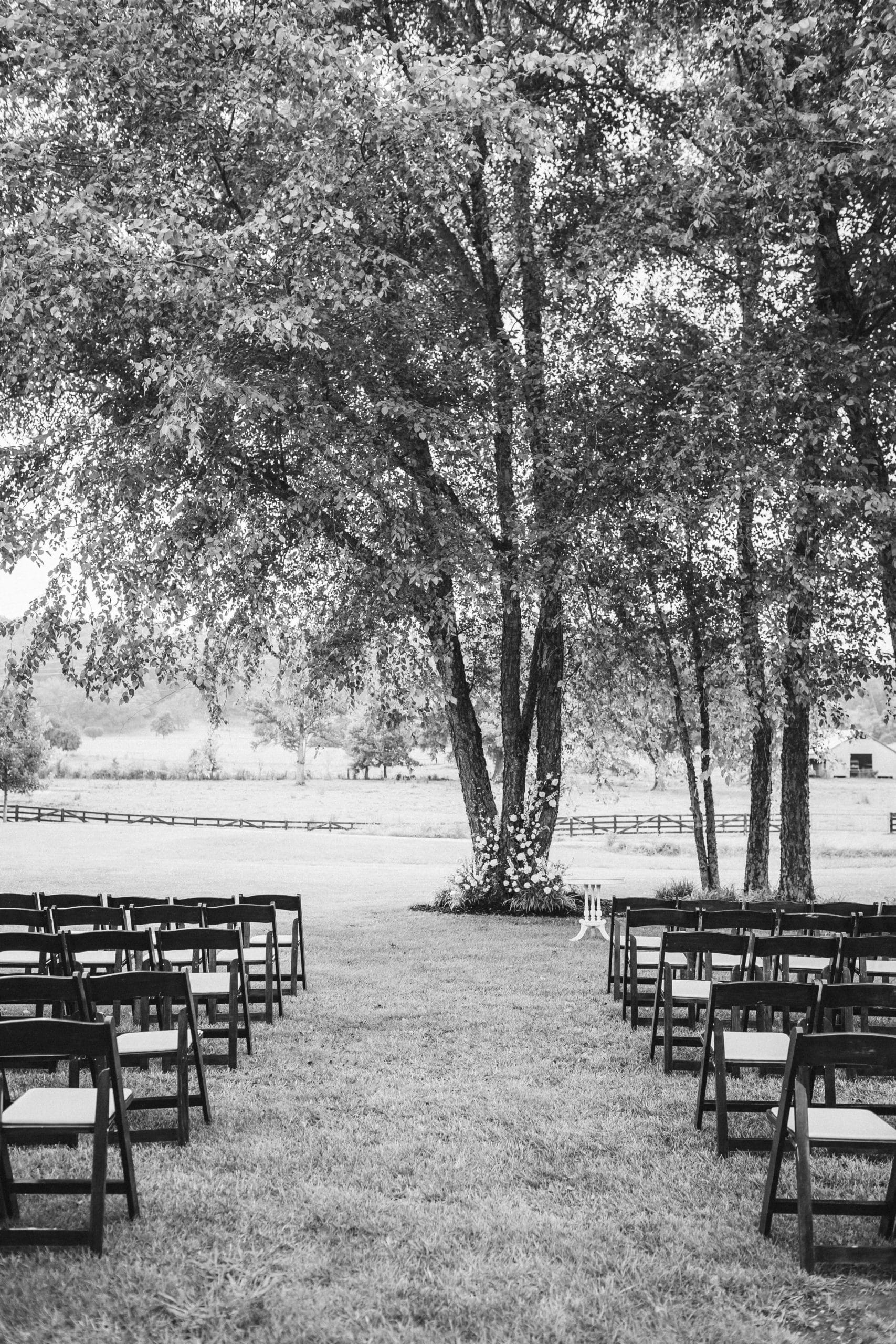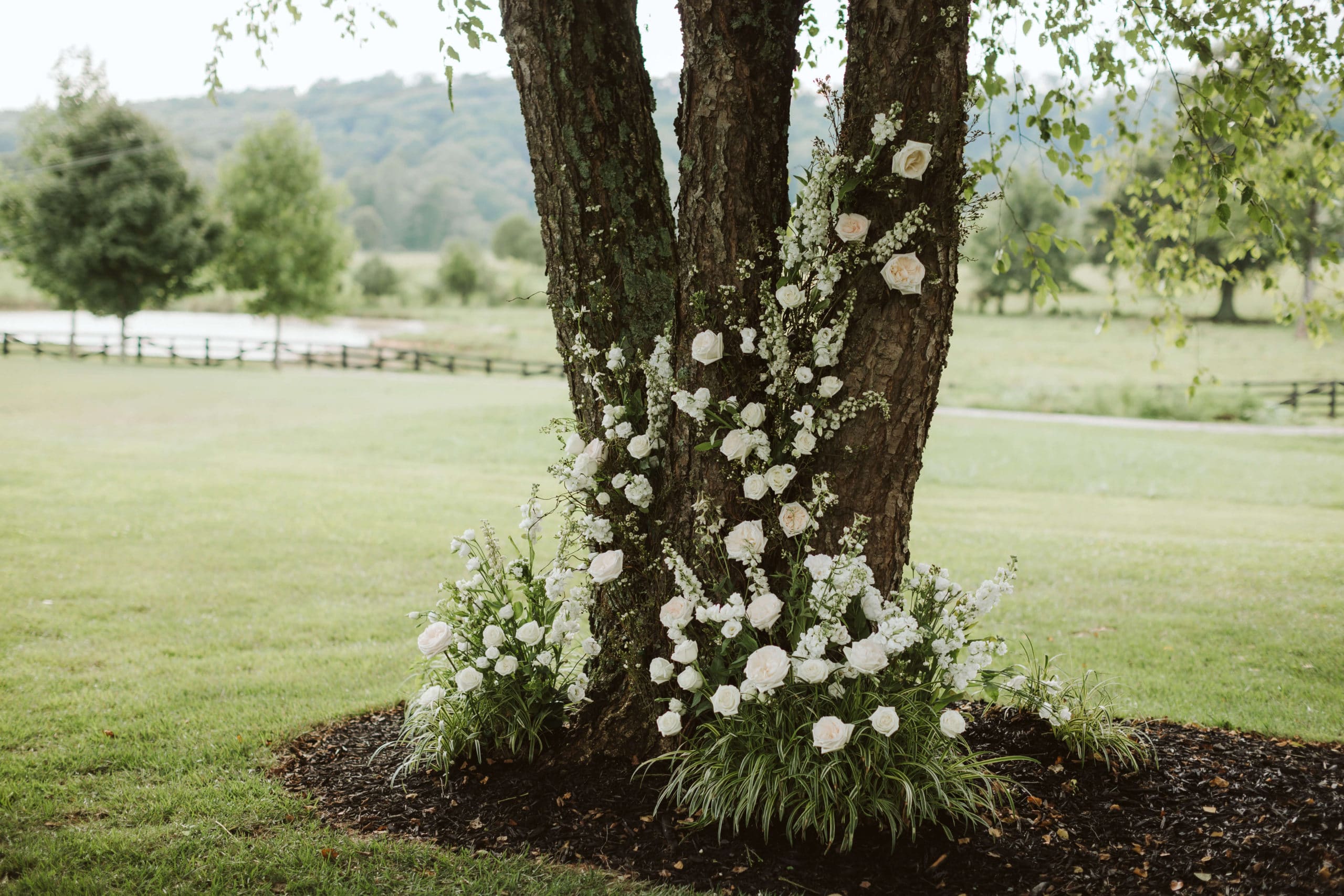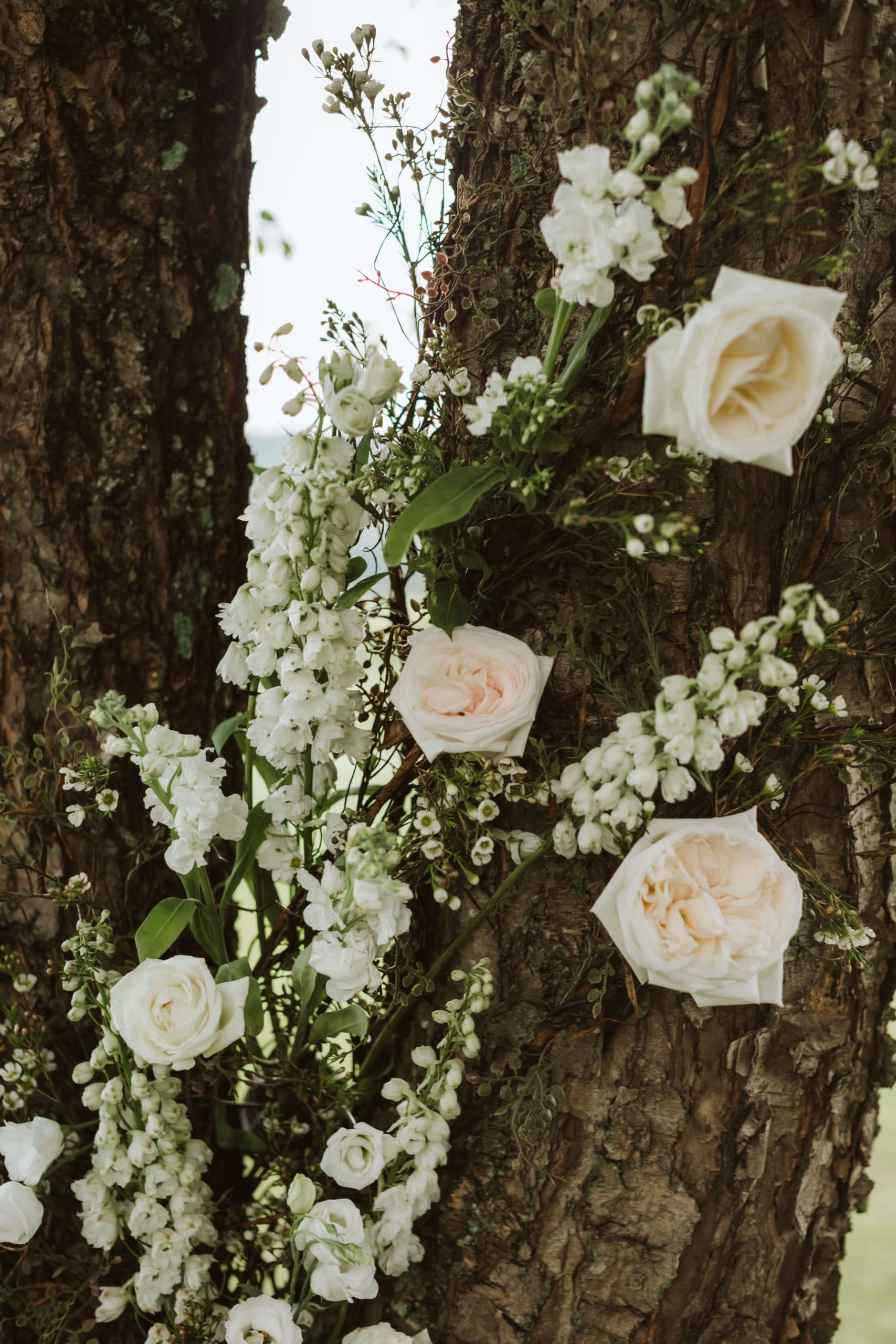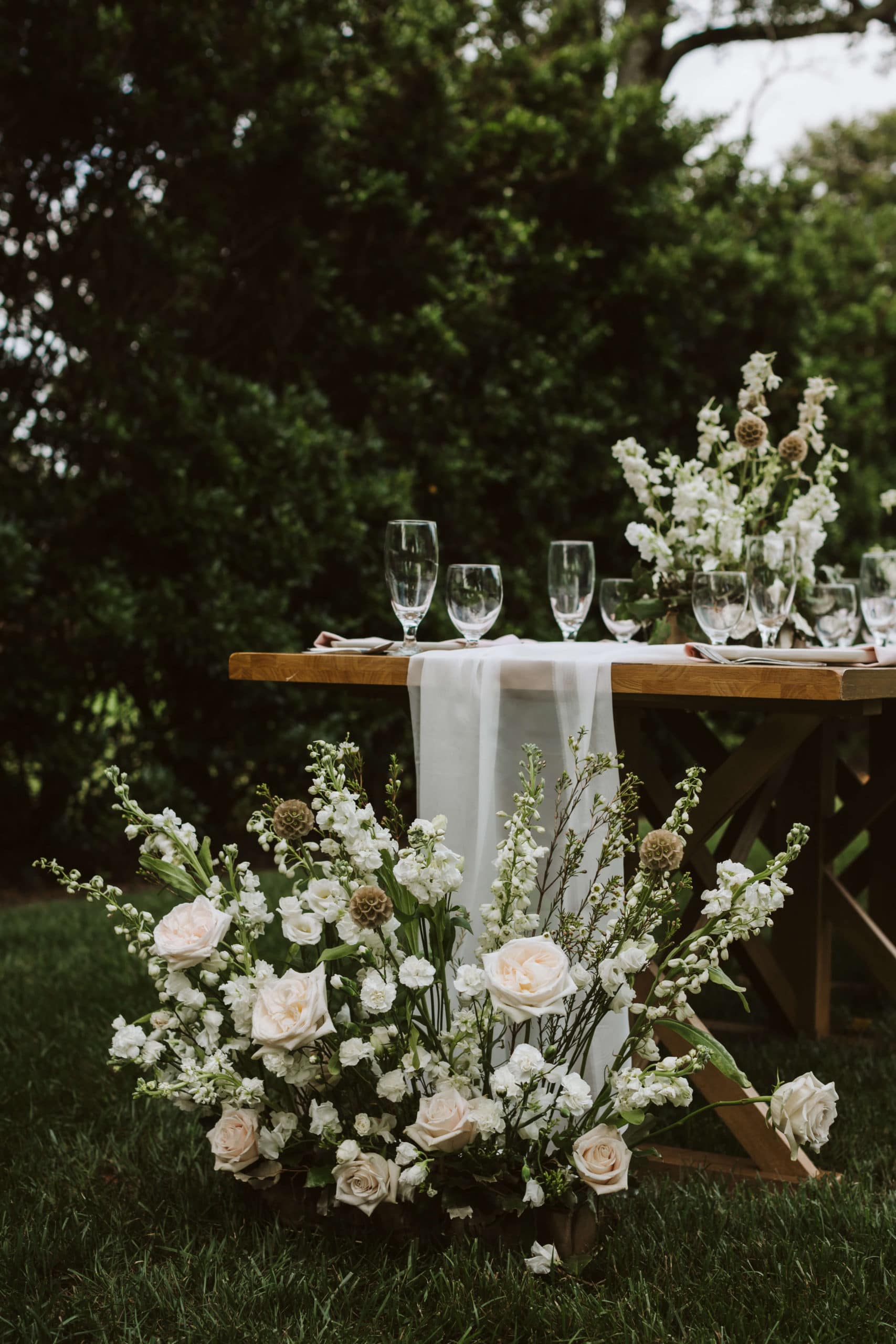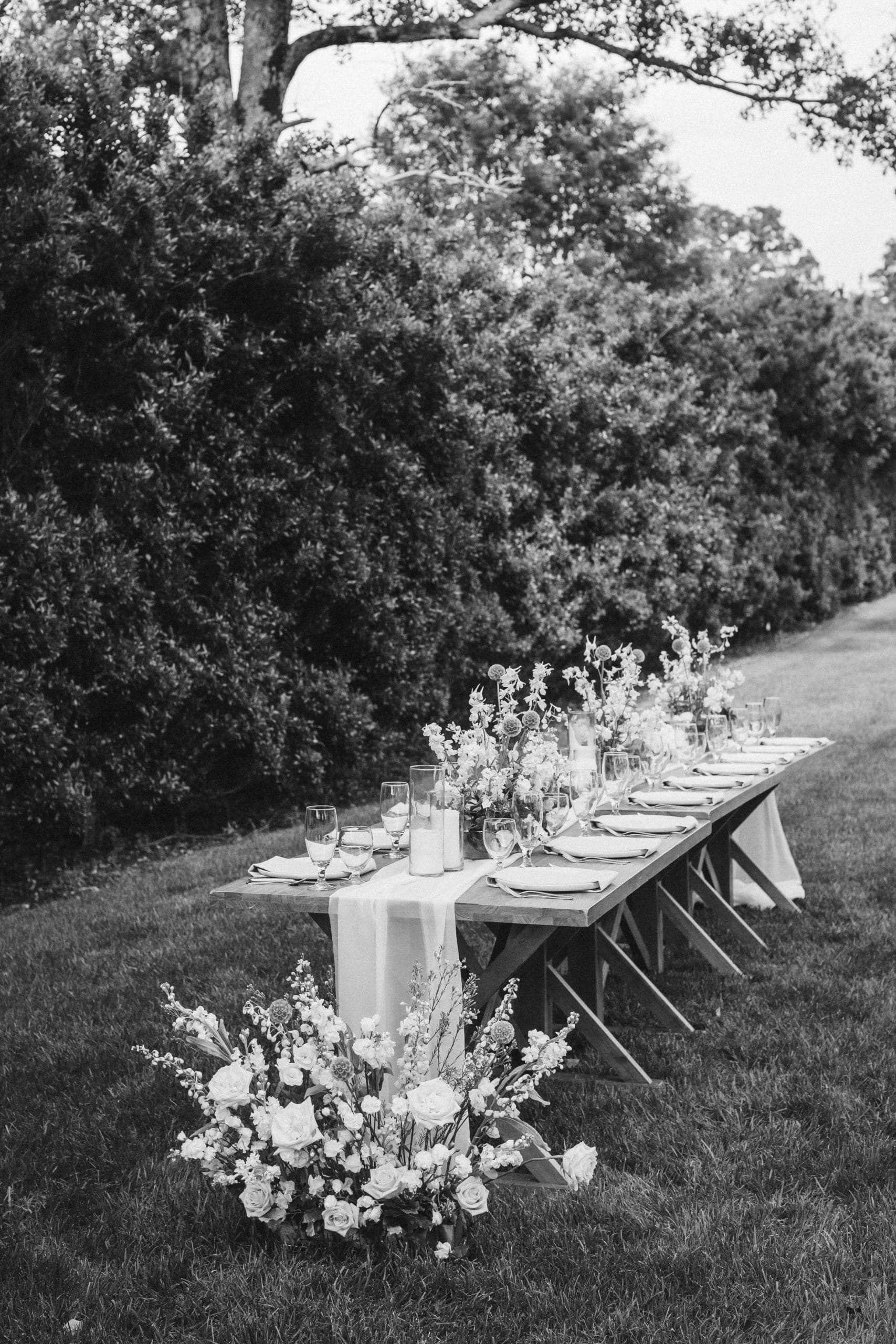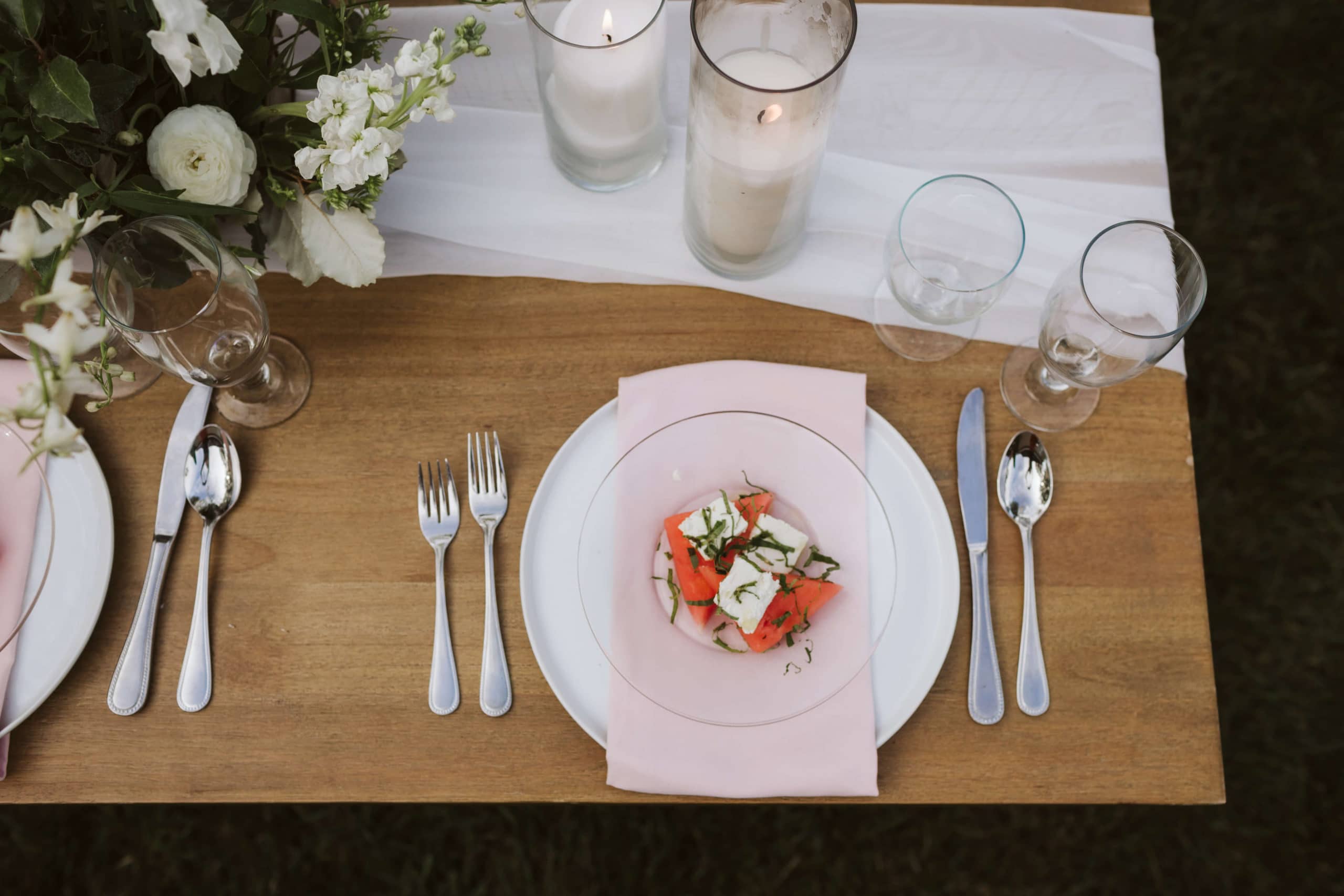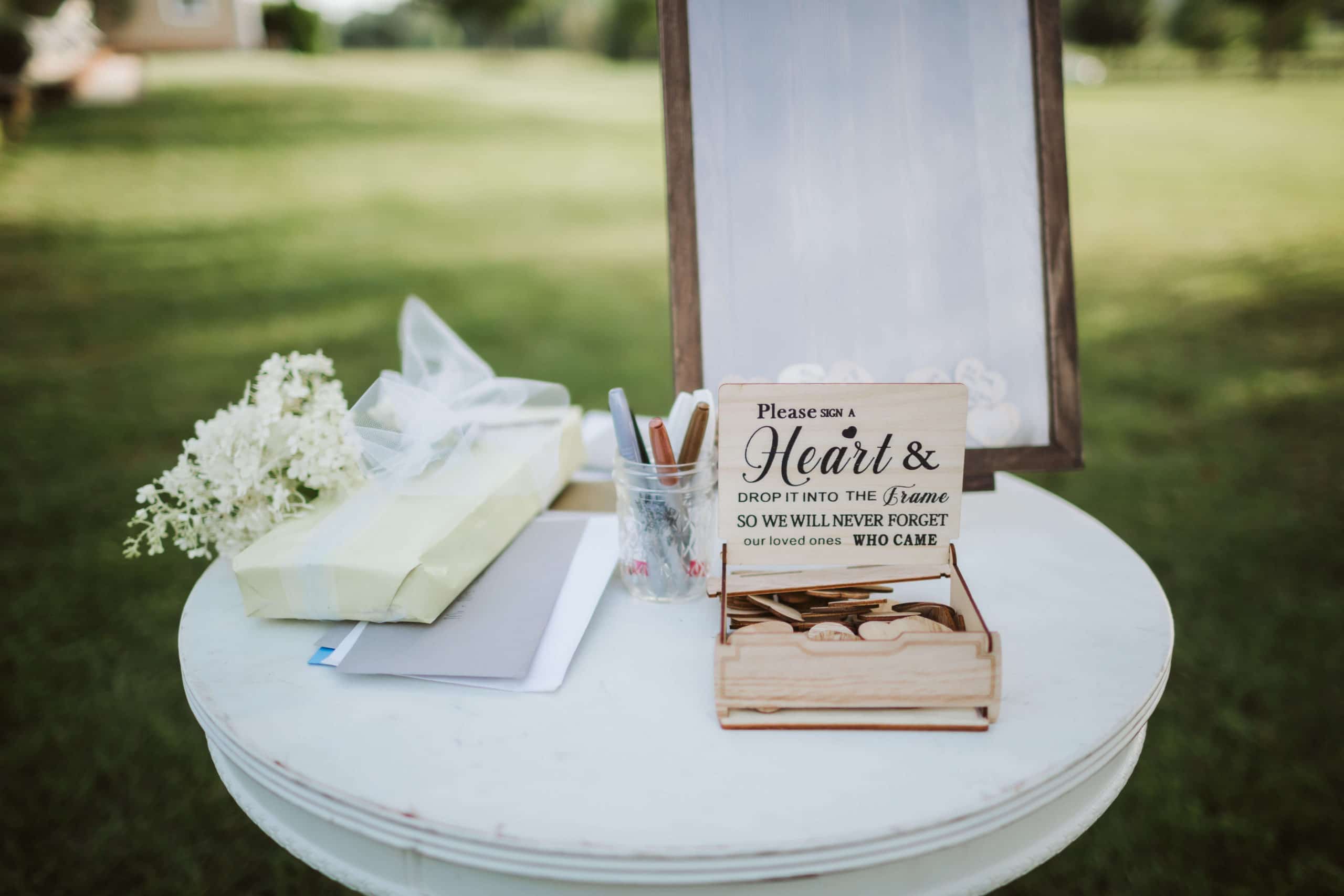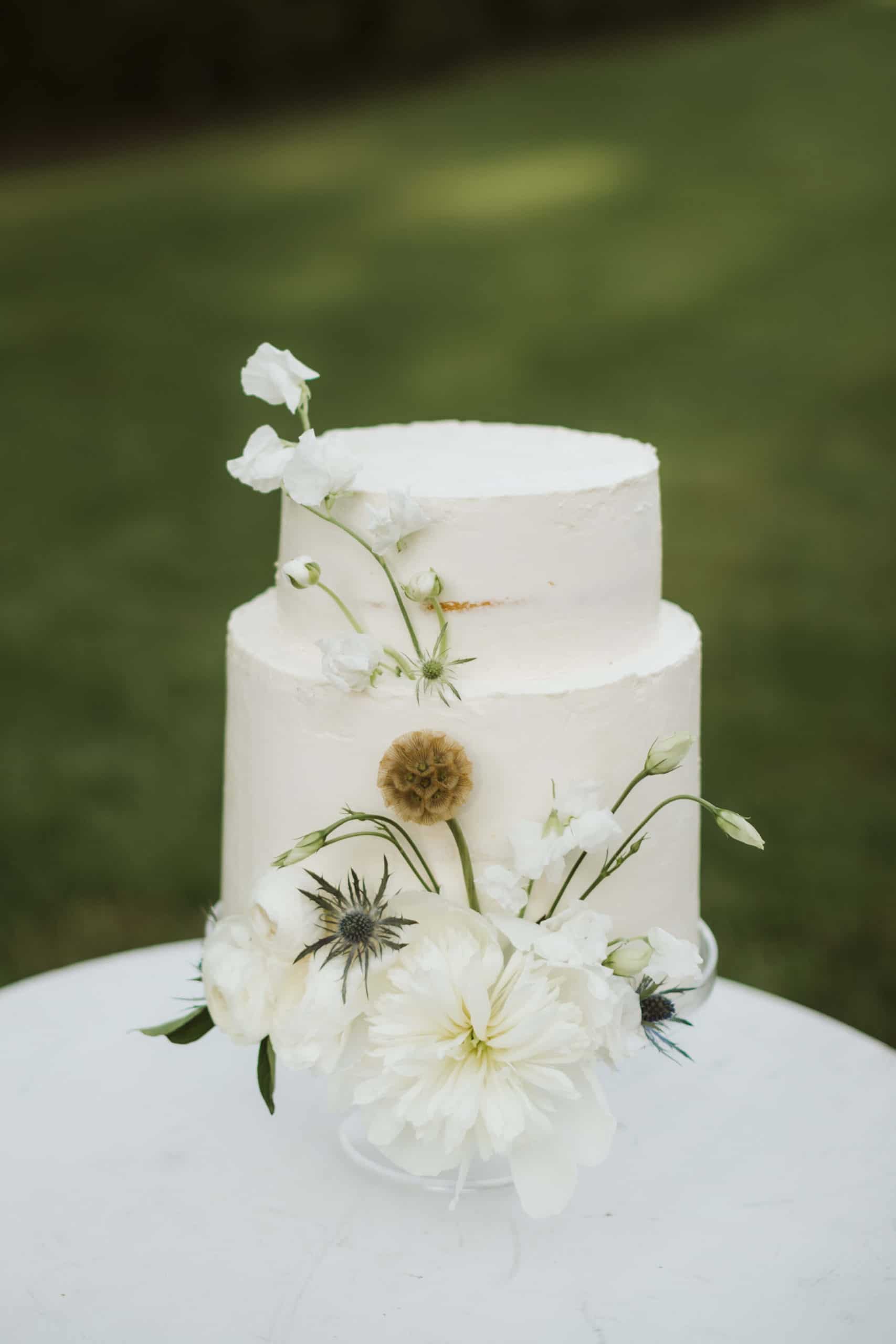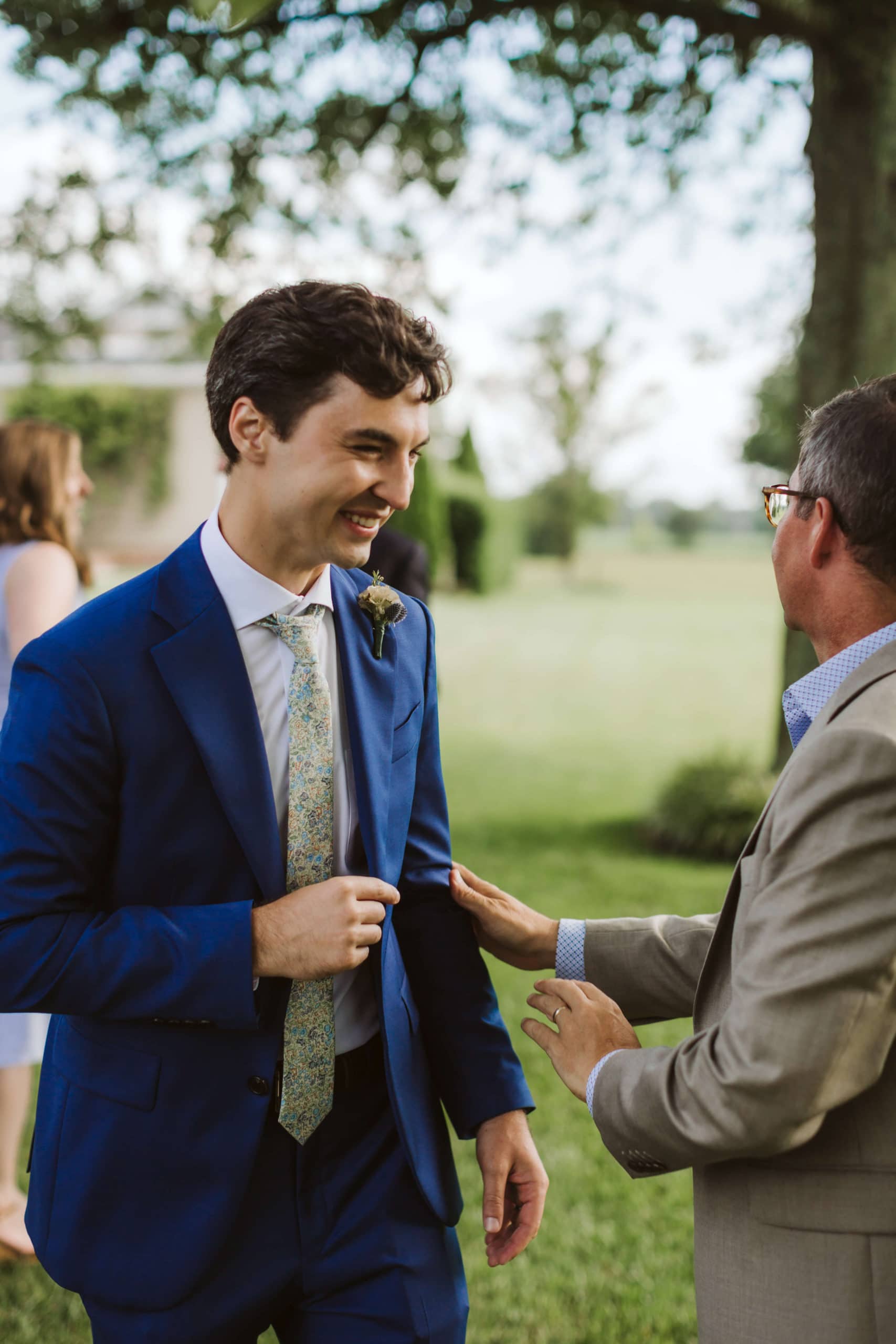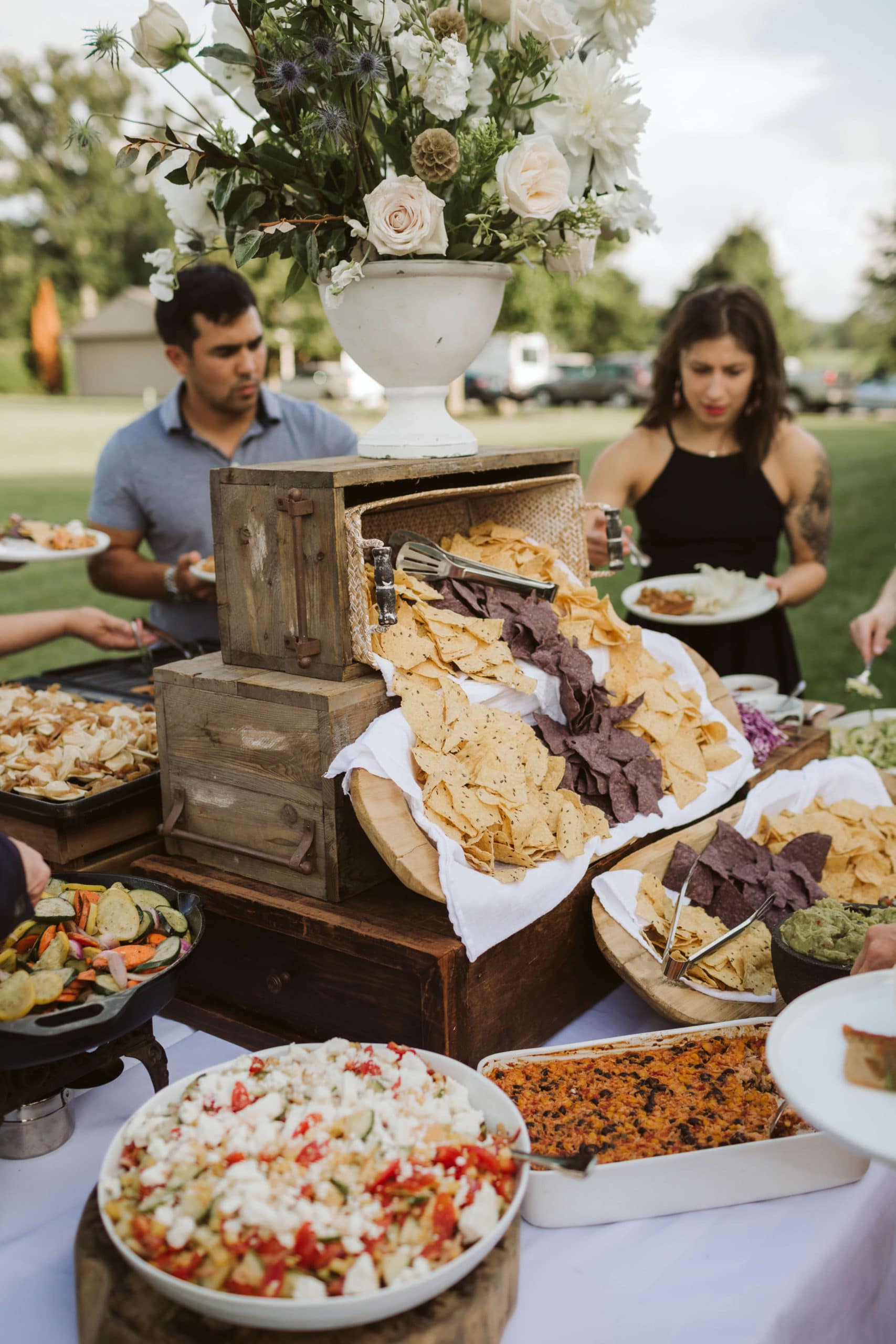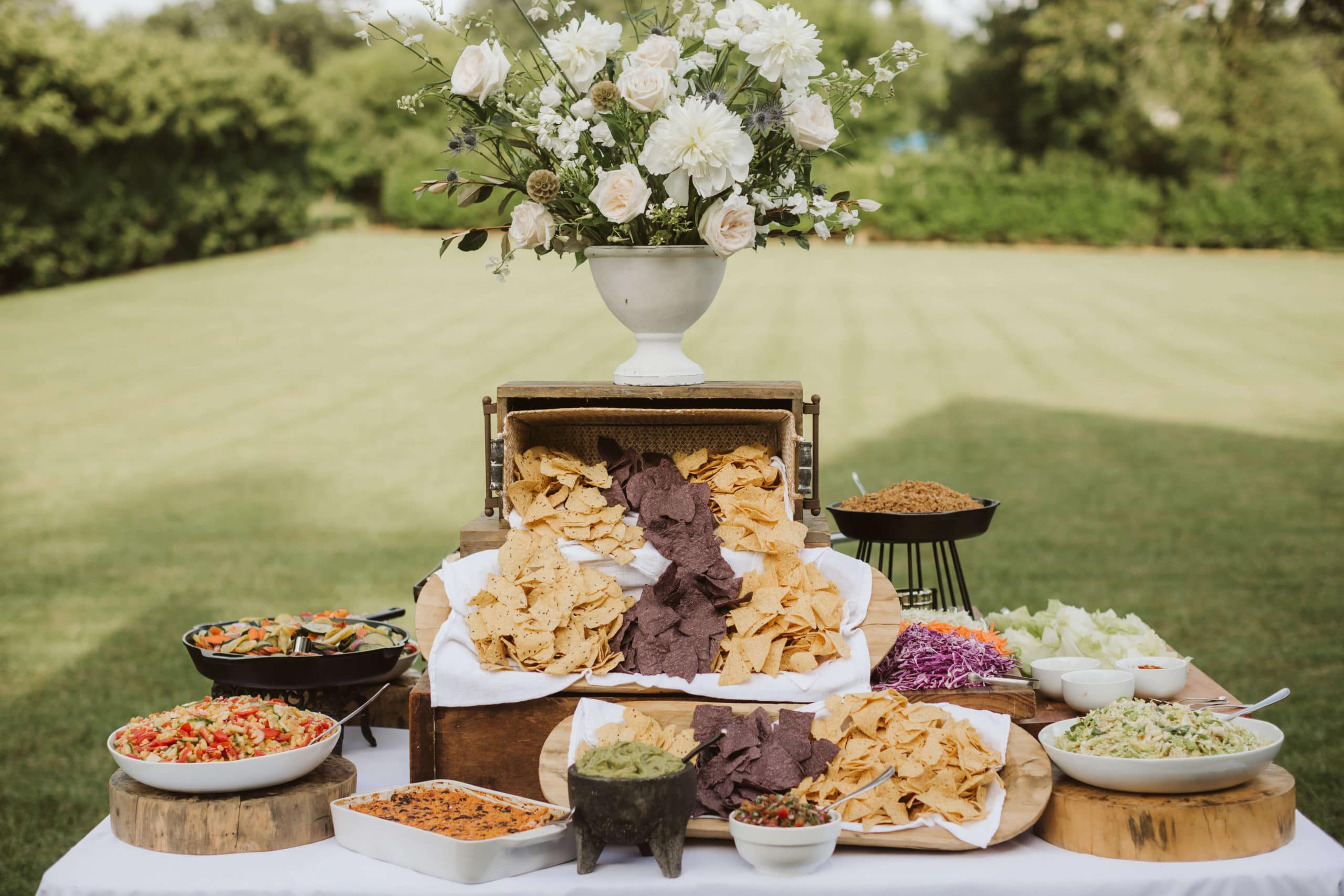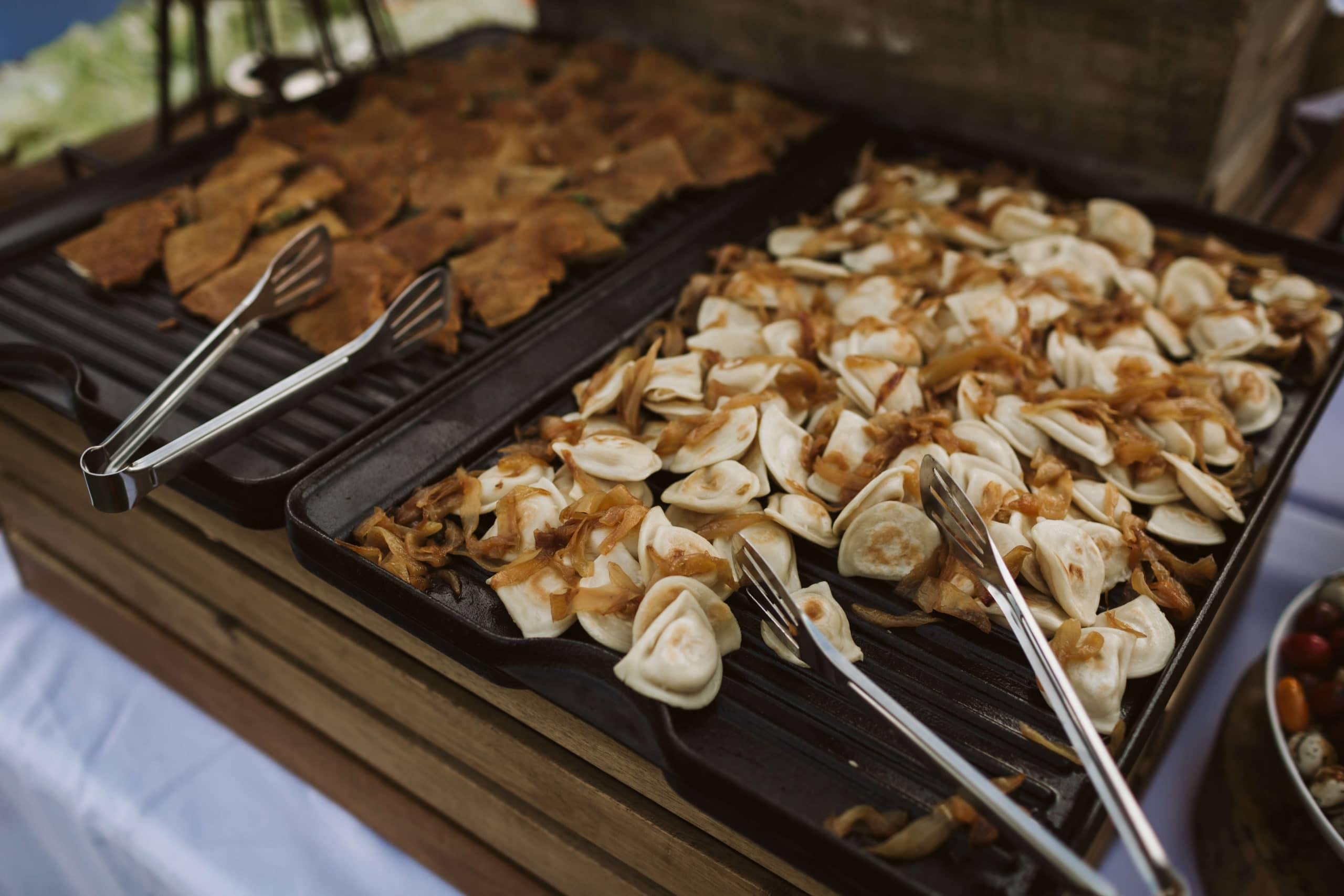 One Stop Shop Event Planning with Ramblewood Events
Although Scott and Minseong wanted to keep their guest list small with only Scott's closest family and some hometown friends, they still wanted the event to be a memorable one. To make sure their little gathering would be unforgettable, they hired Ramblewood Events to take charge of their big day from start to finish.
I absolutely love working with the Ramblewood team. They provide so many different services for couples planning their wedding or any other major events. They're truly a one stop shop when it comes to searching for vendors. Ramblewood Events is based in Chattanooga but, like me, are more than willing to travel wherever they're services are needed. The company is spearheaded by husband and wife duo, Zach and Riley, who are jack-of-all-trades wedding specialists with interior design knowledge on the side.
Because Zach and Riley have such an extensive background in interior design, they are able to take your description of your dream wedding and bring it to life in ways that simply exceed what you could have ever thought possible. Not only will they style and design your event based on your unique desires, but they'll also take care of everything from floral designs and décor to rentals and catering. They can also serve as your personal wedding planner who is there to help you every single step of the way, including creating an easy-to-follow event checklist, pricing out any necessary outside vendors, and then coordinating with those vendors to keep them up to date. On the big day itself, they will even act as your day-of coordinators so they can ensure everything you've talked about and planned happens exactly as it should. All this, and they'll work within your budget to give you the wedding you've always wanted.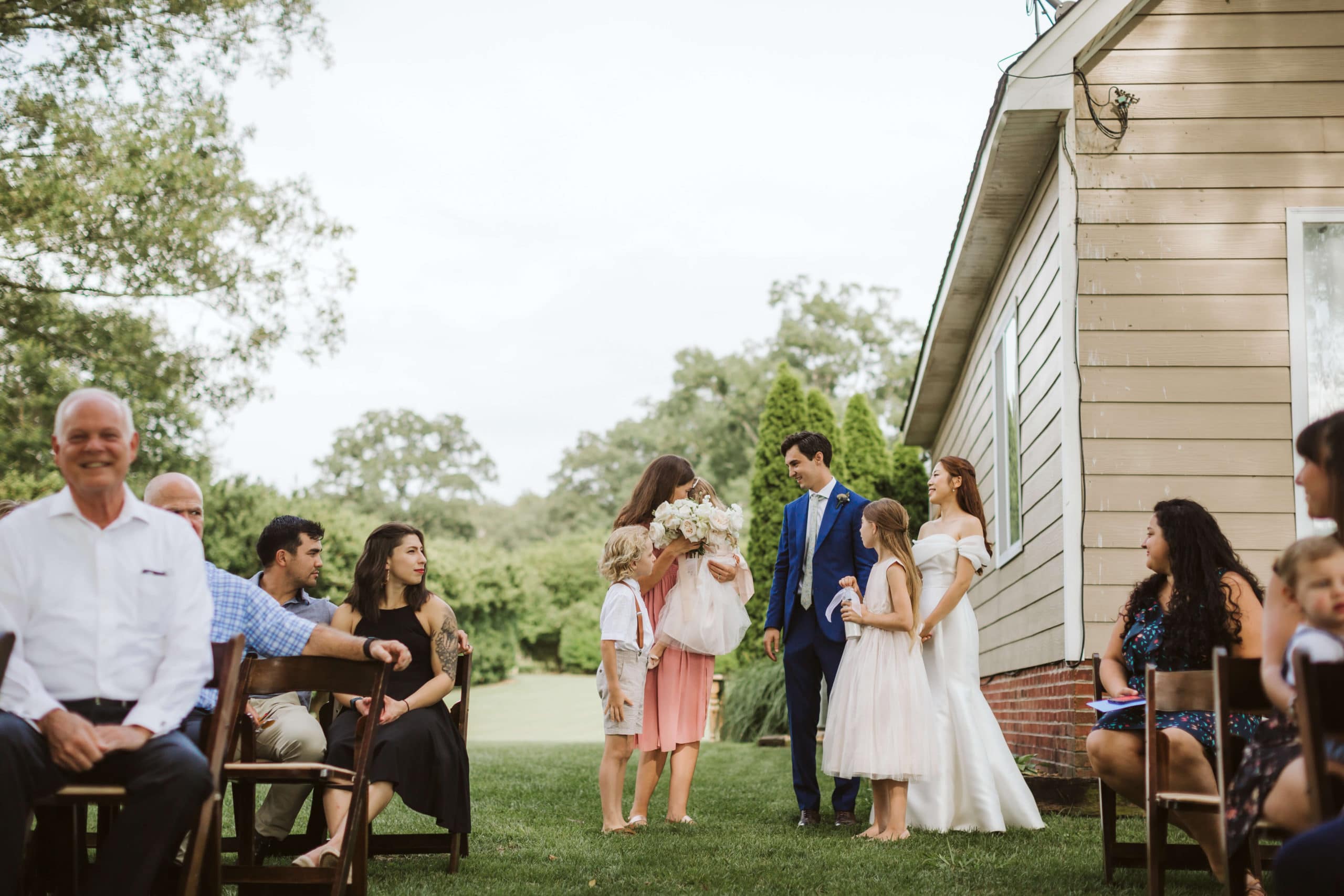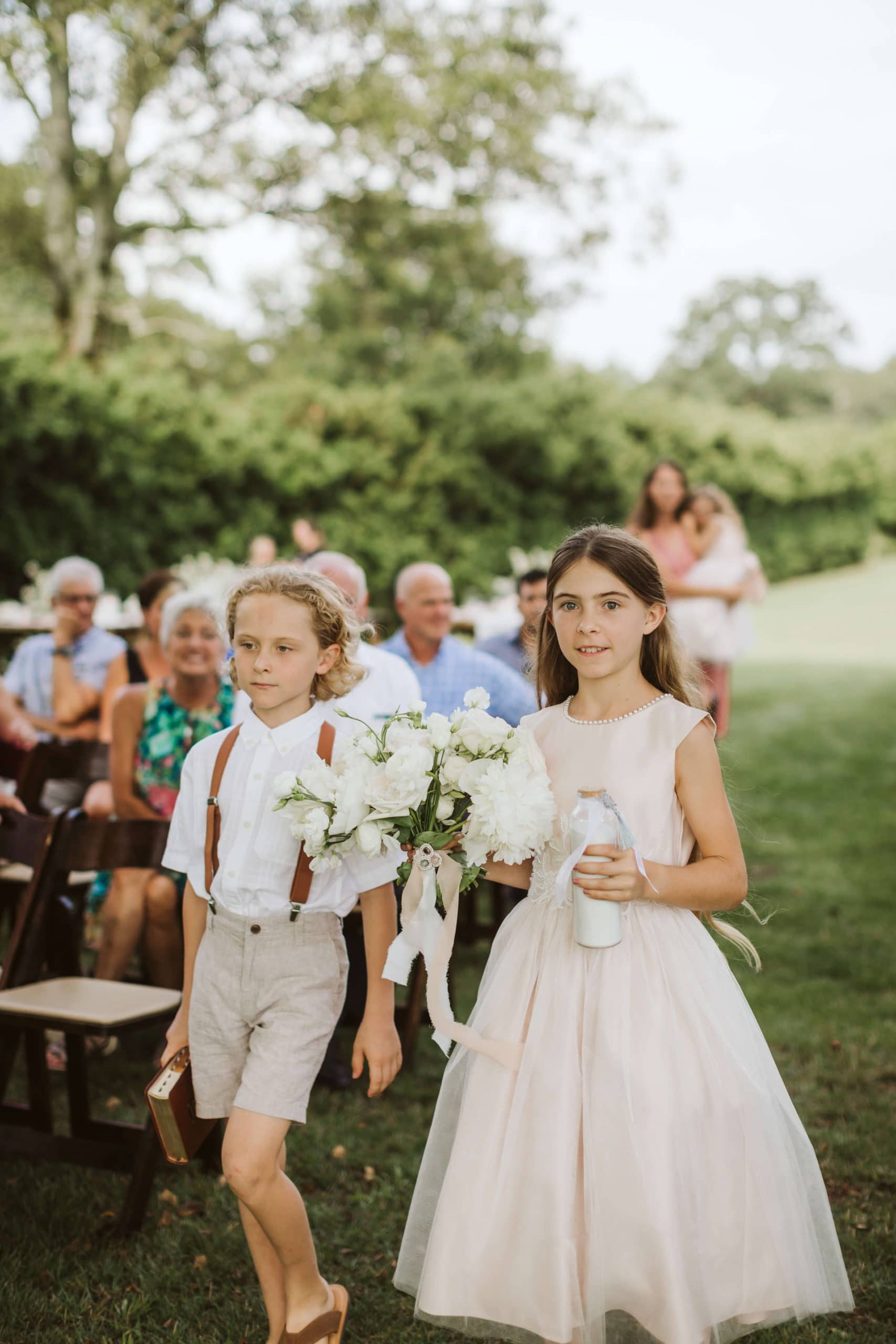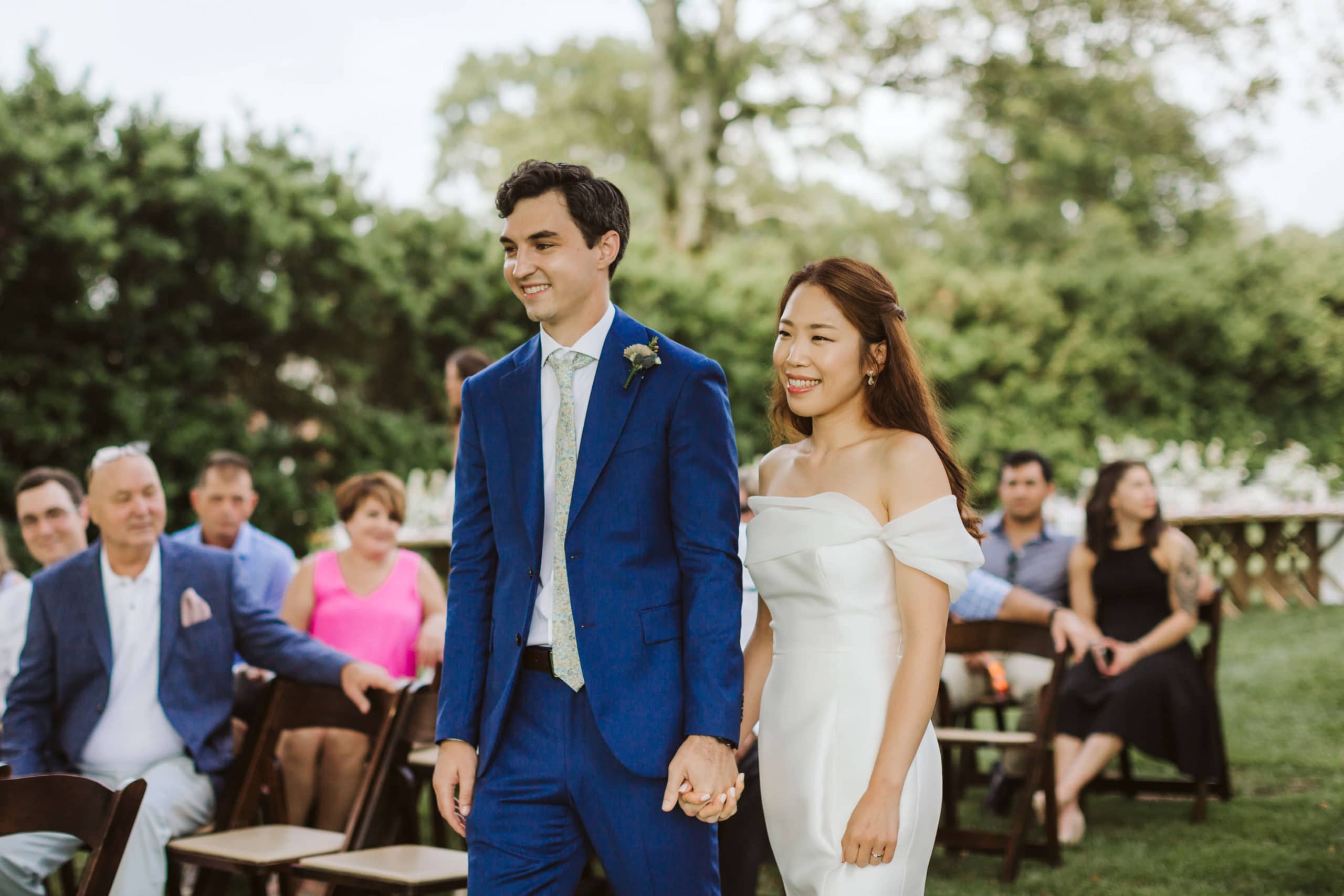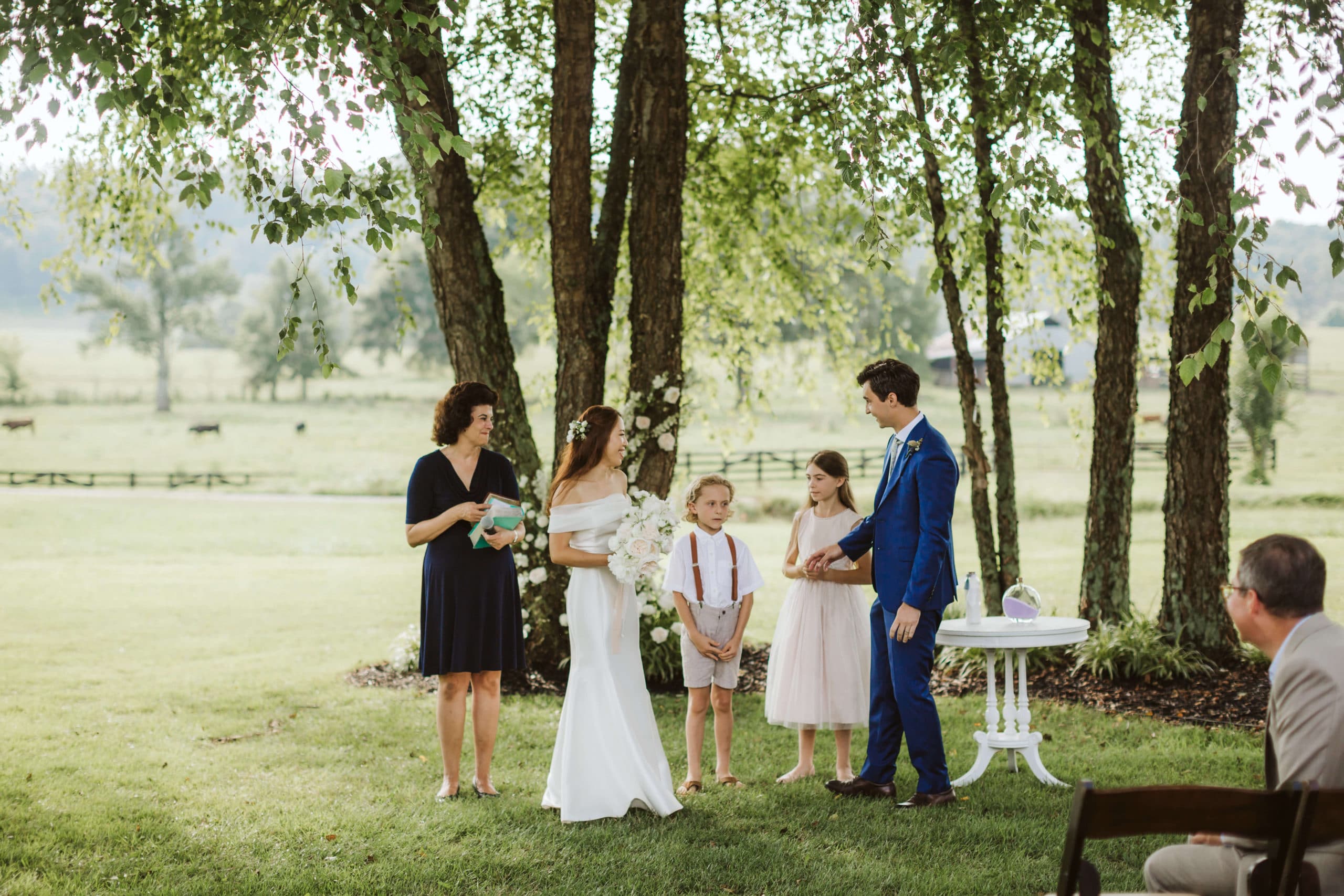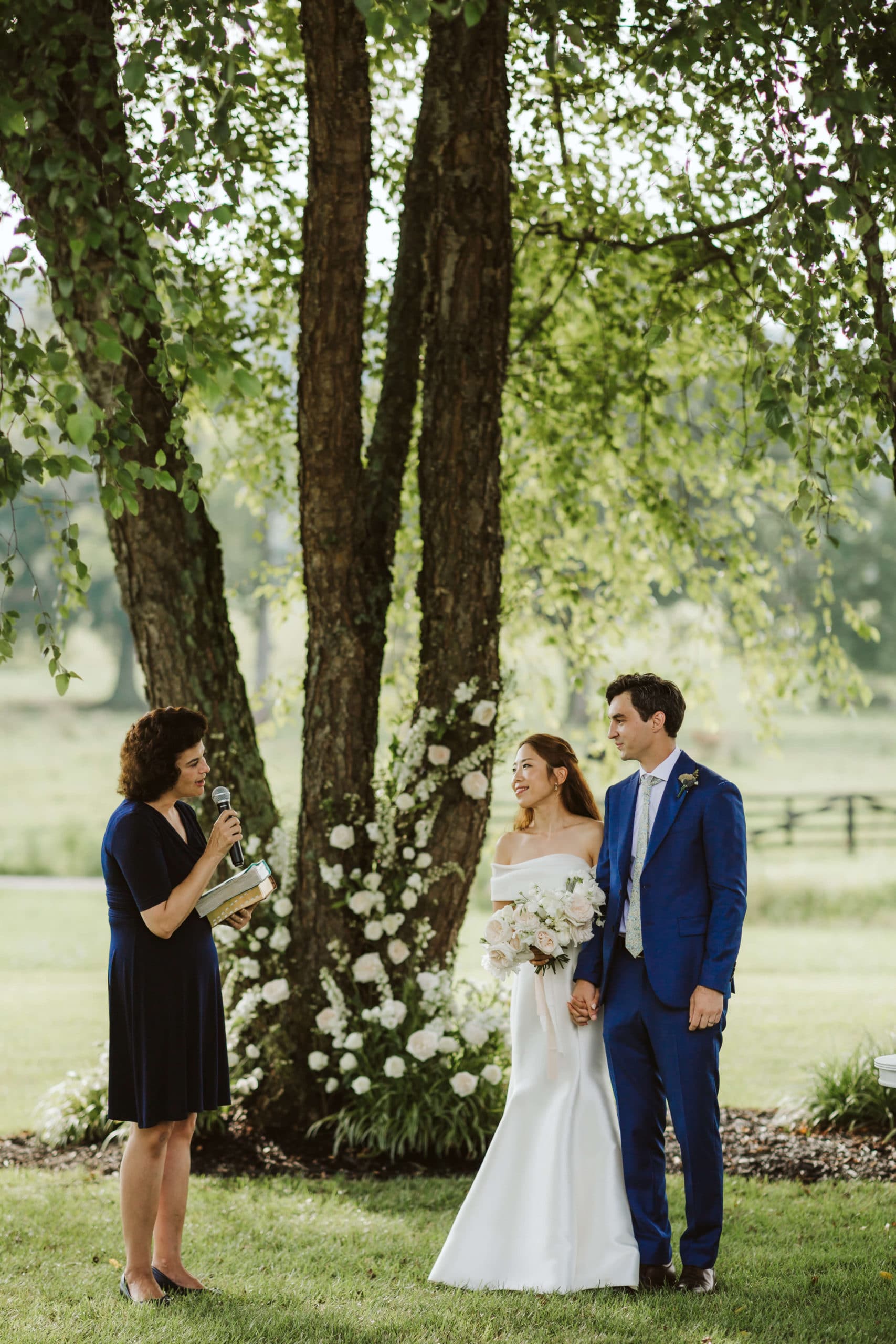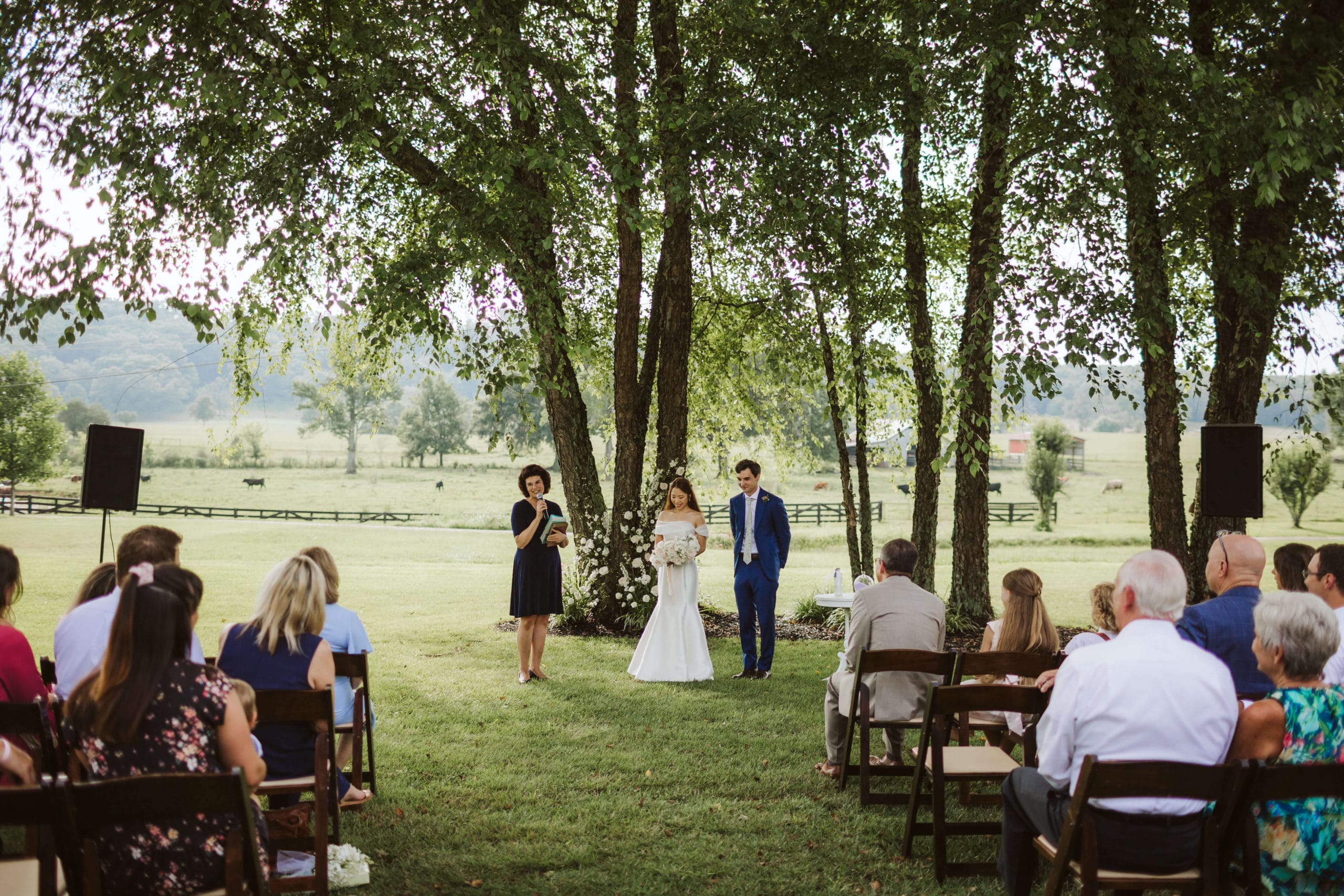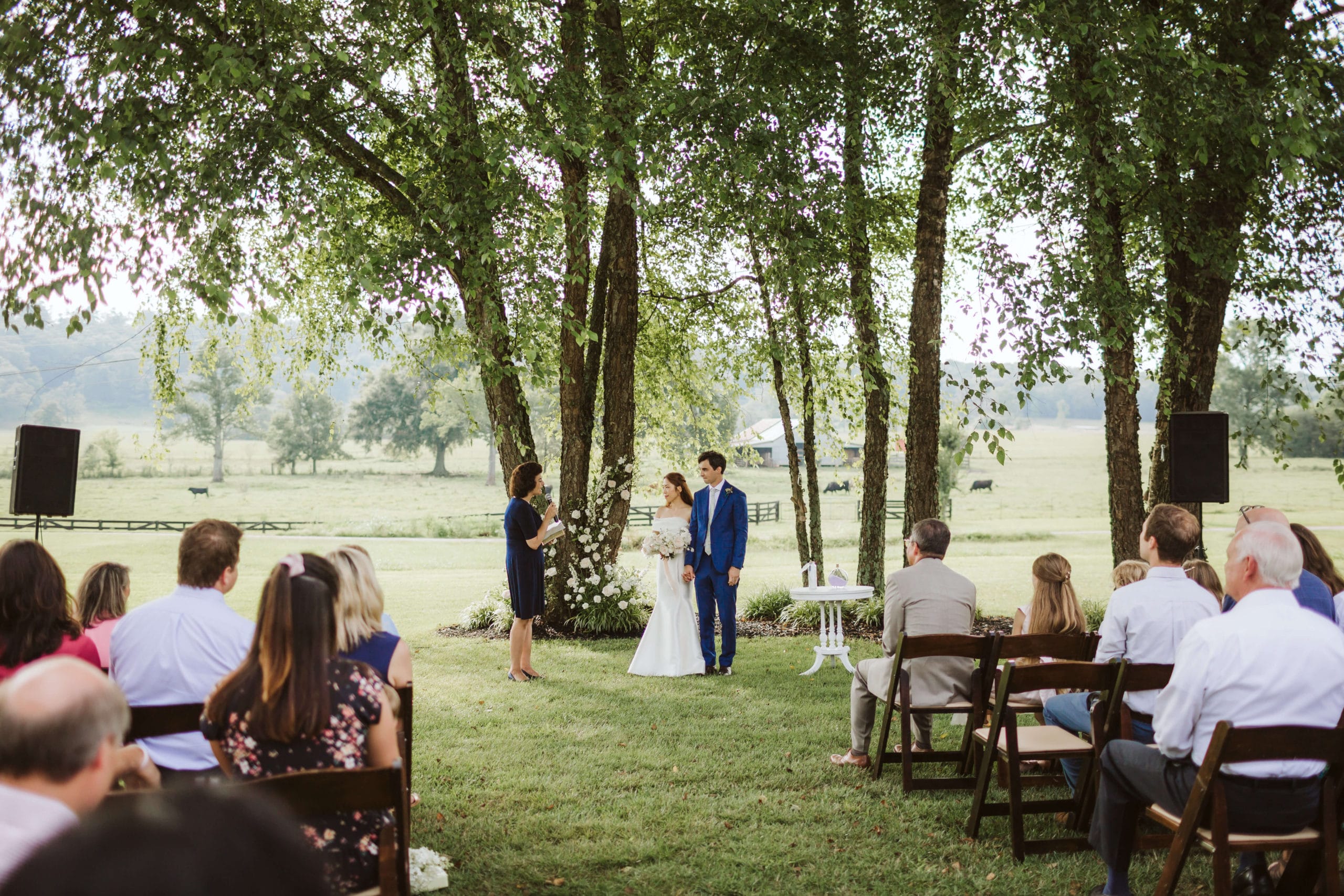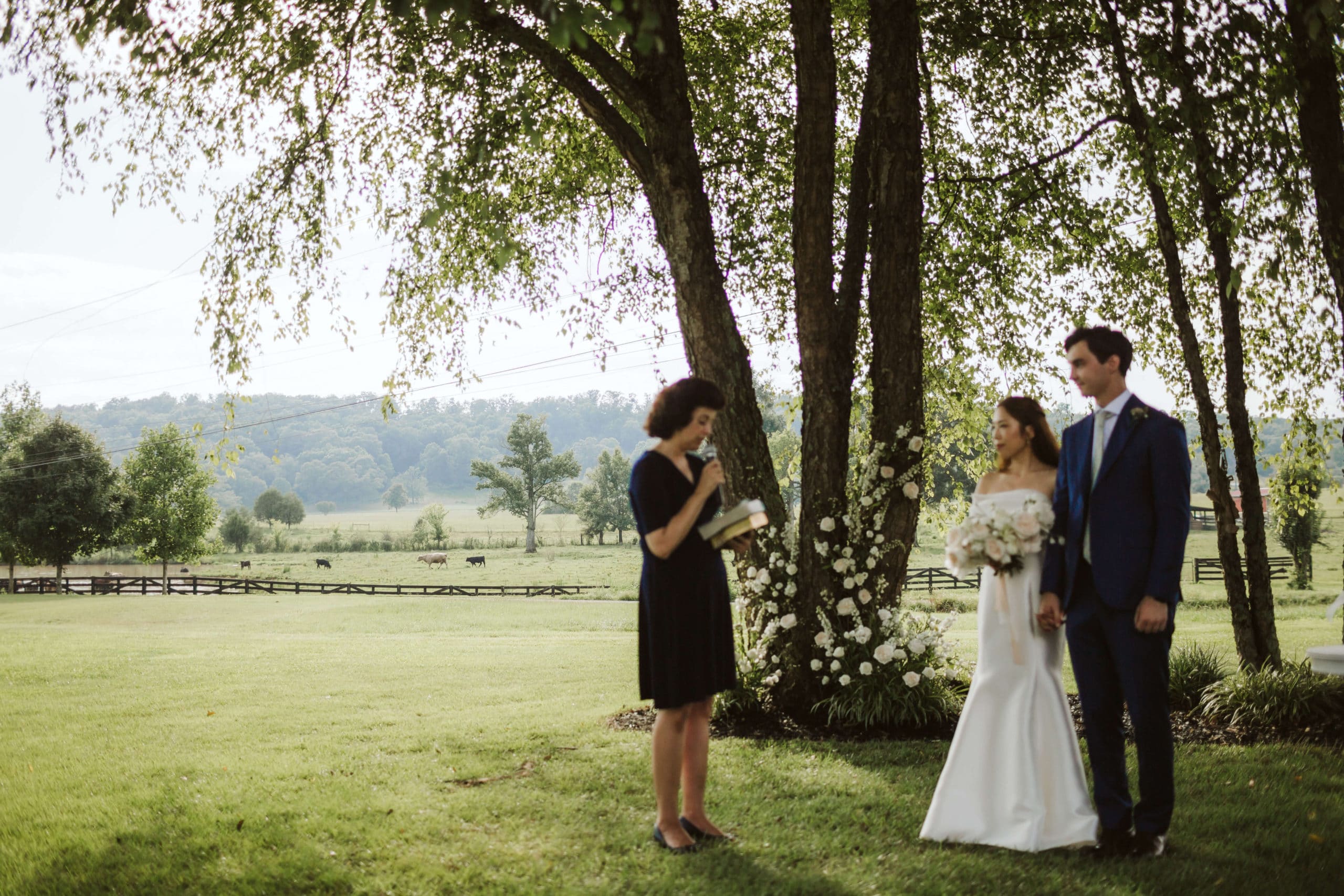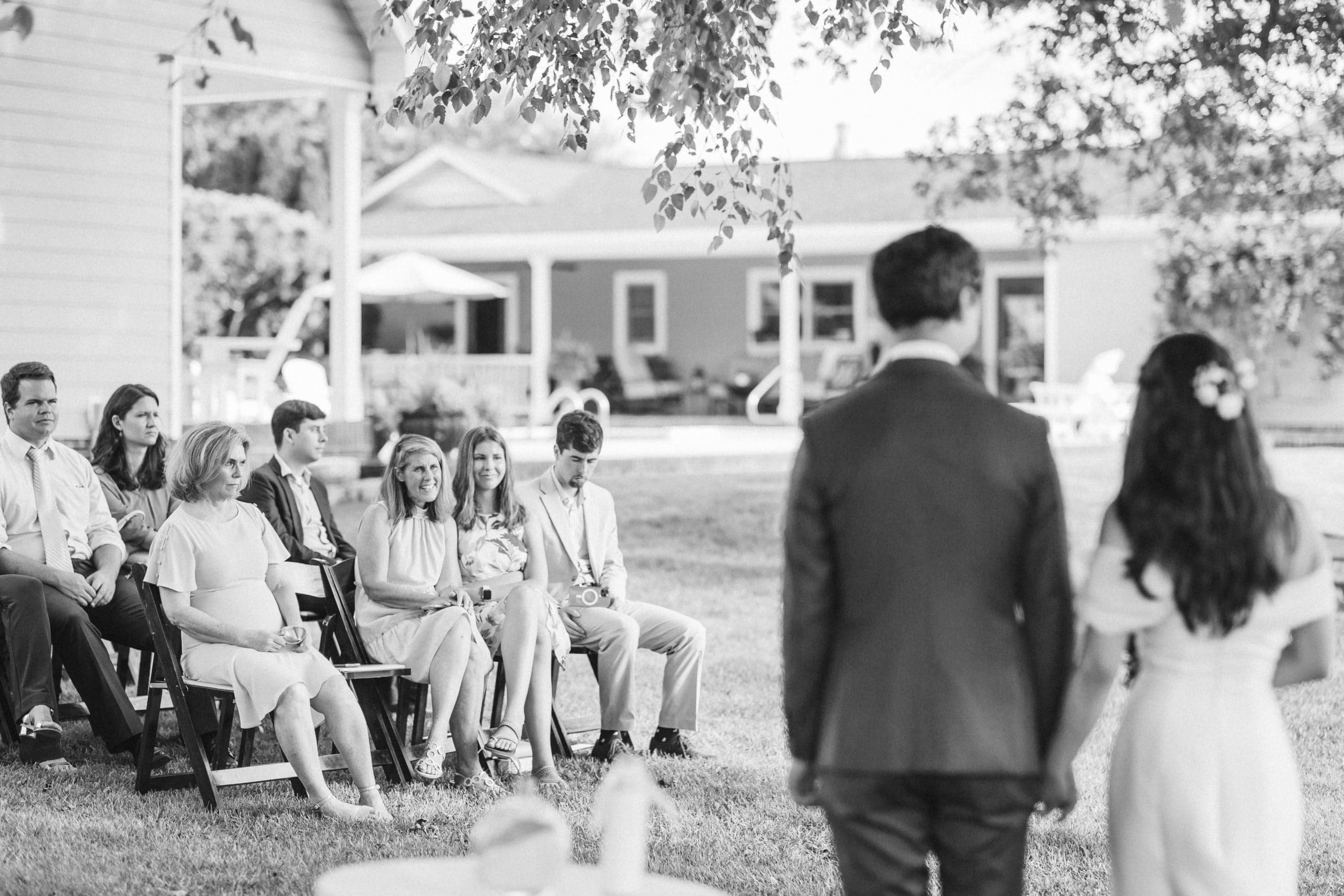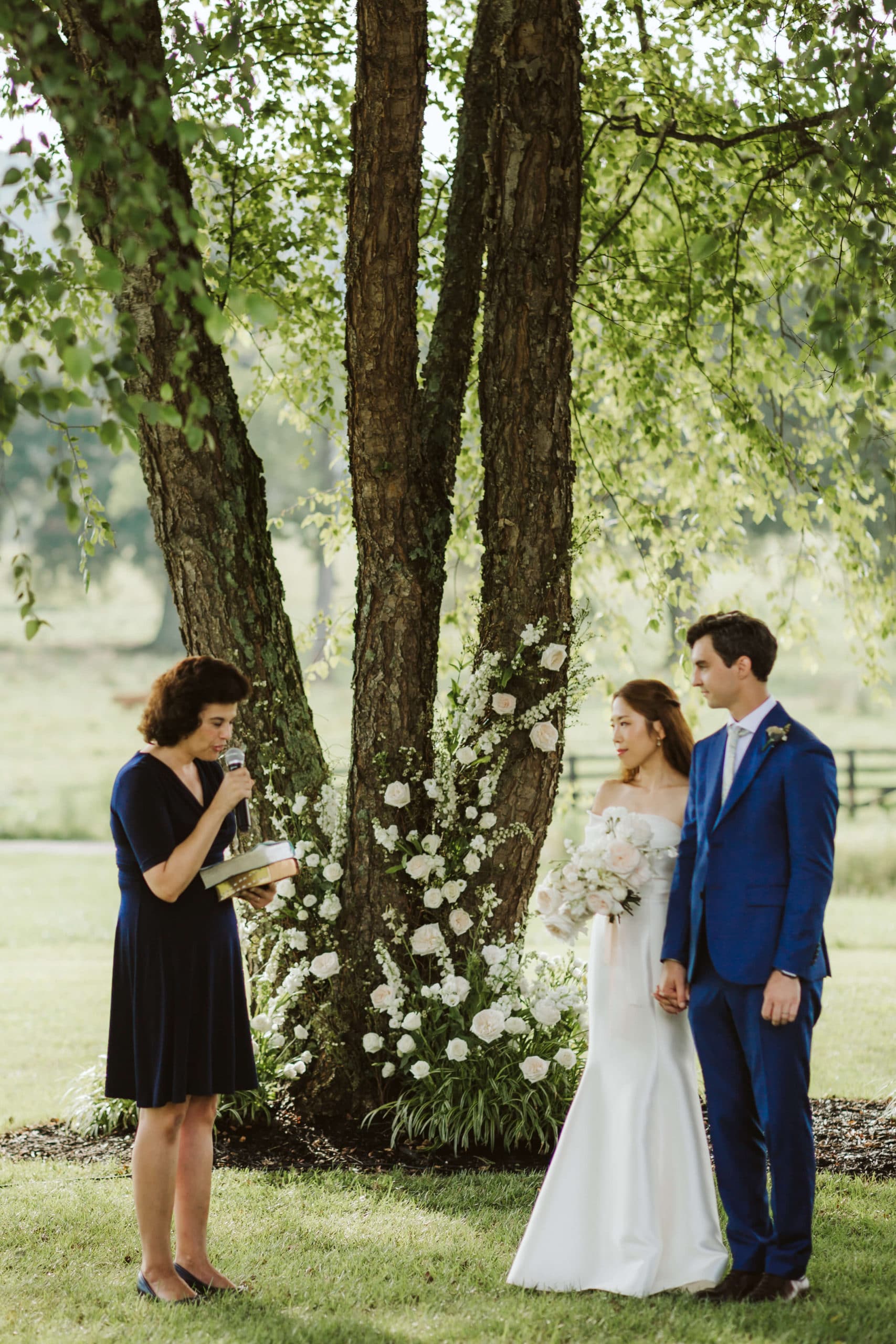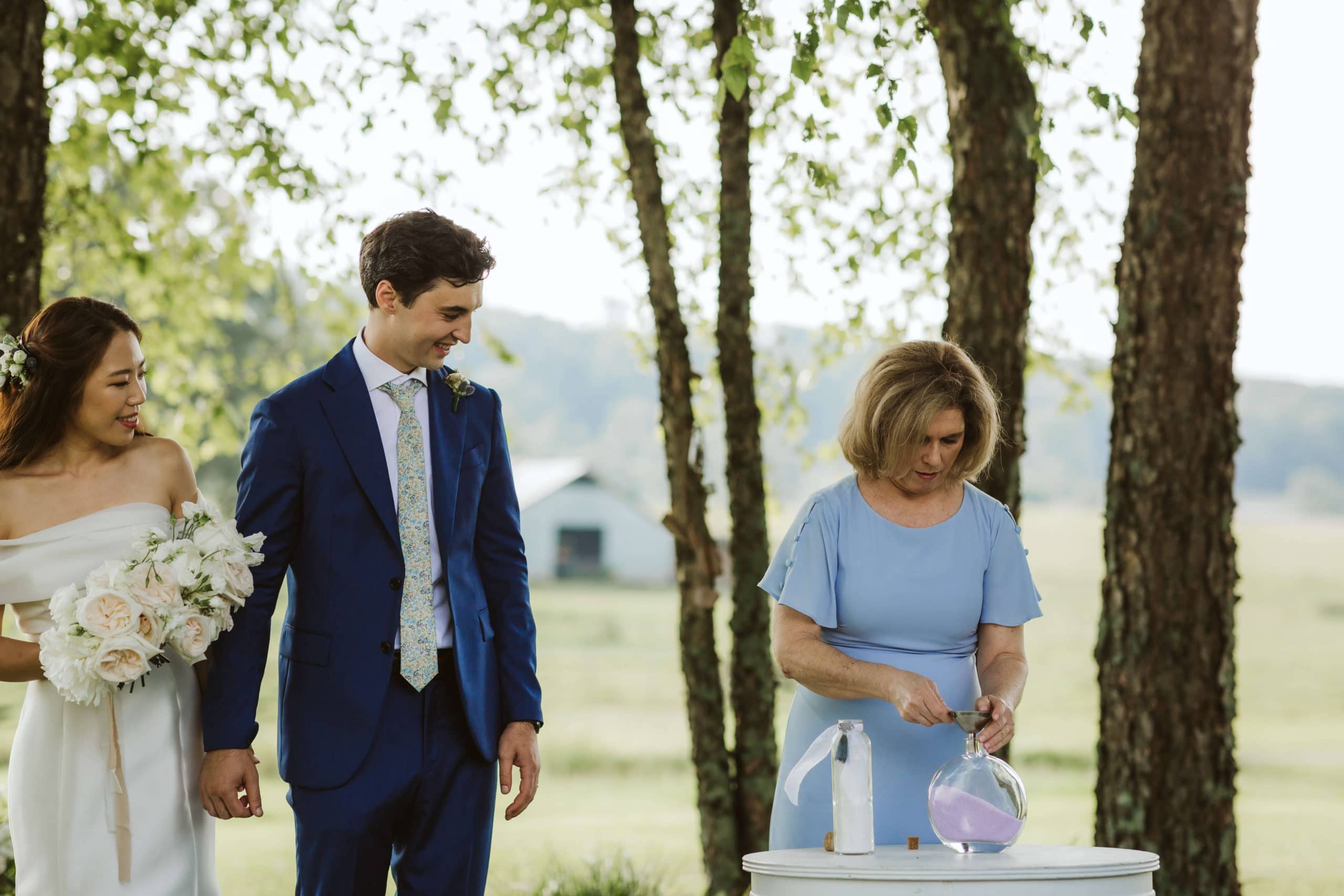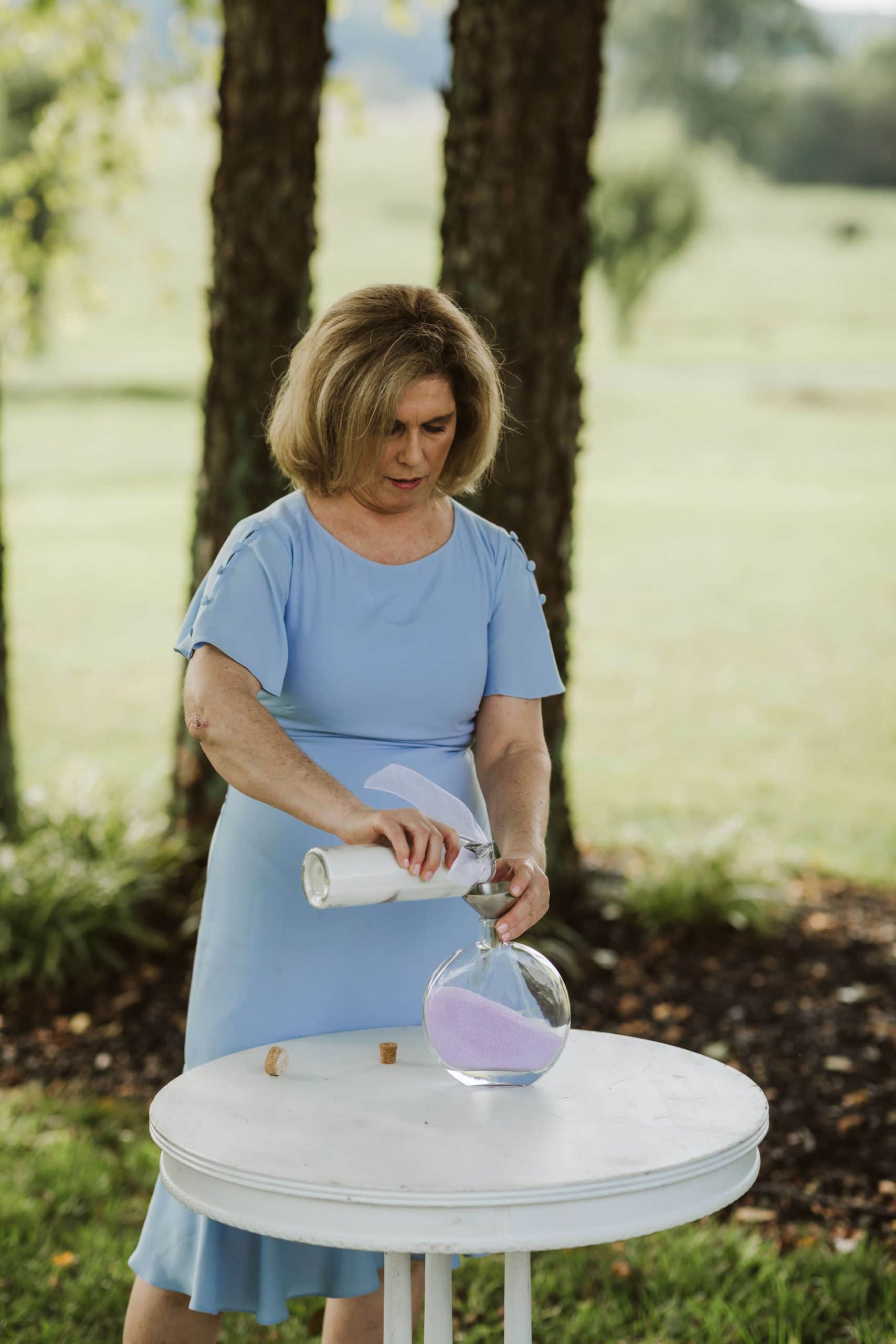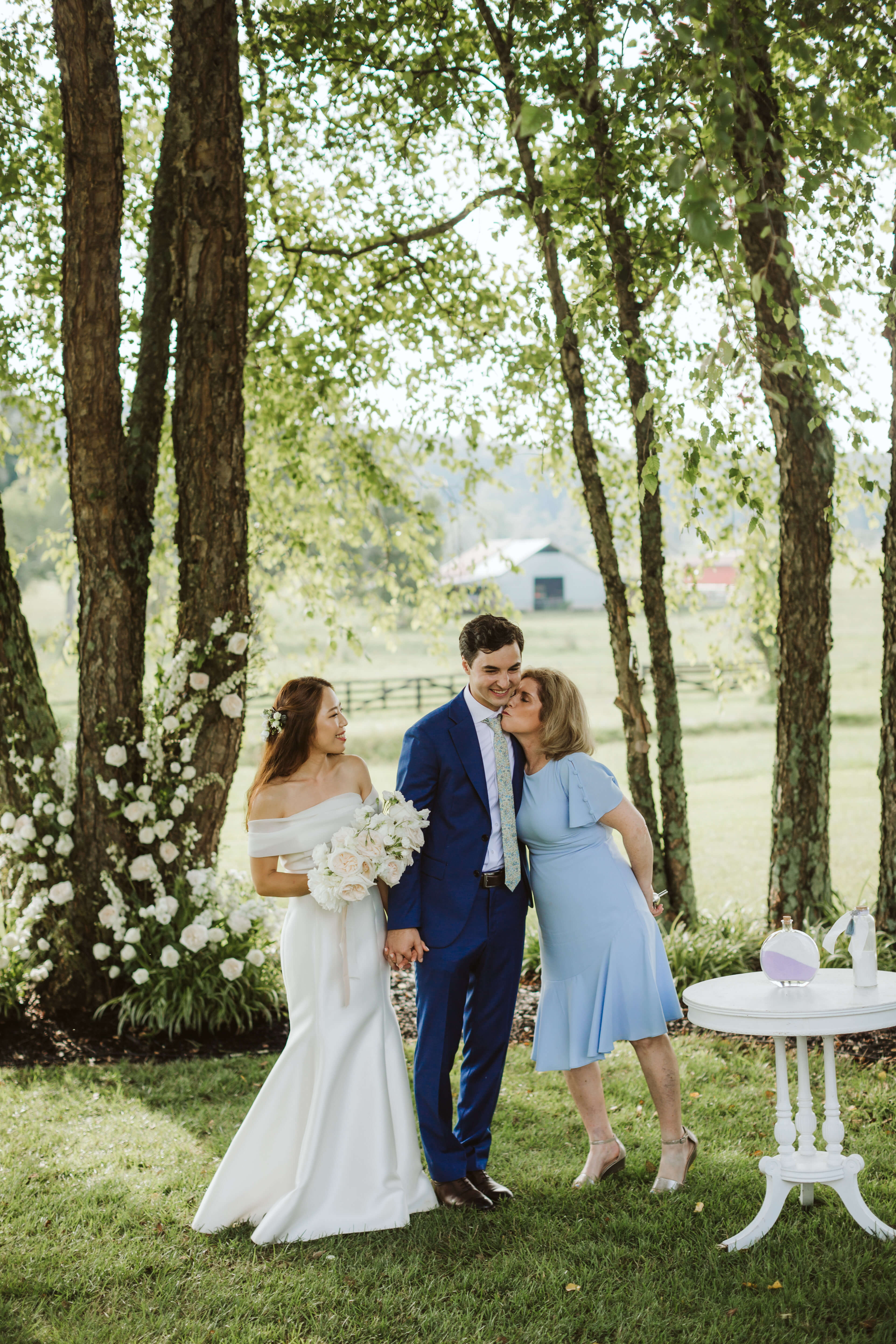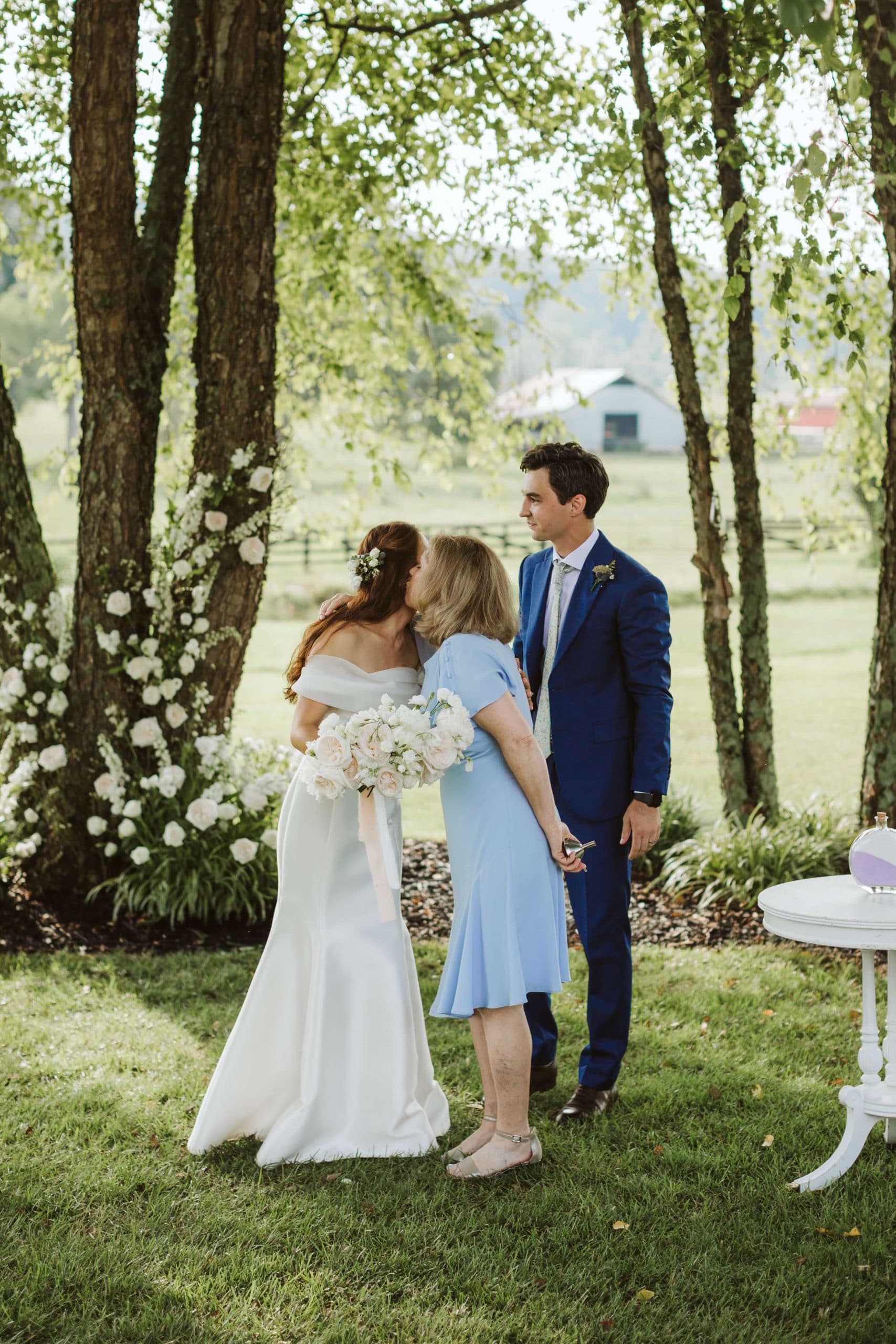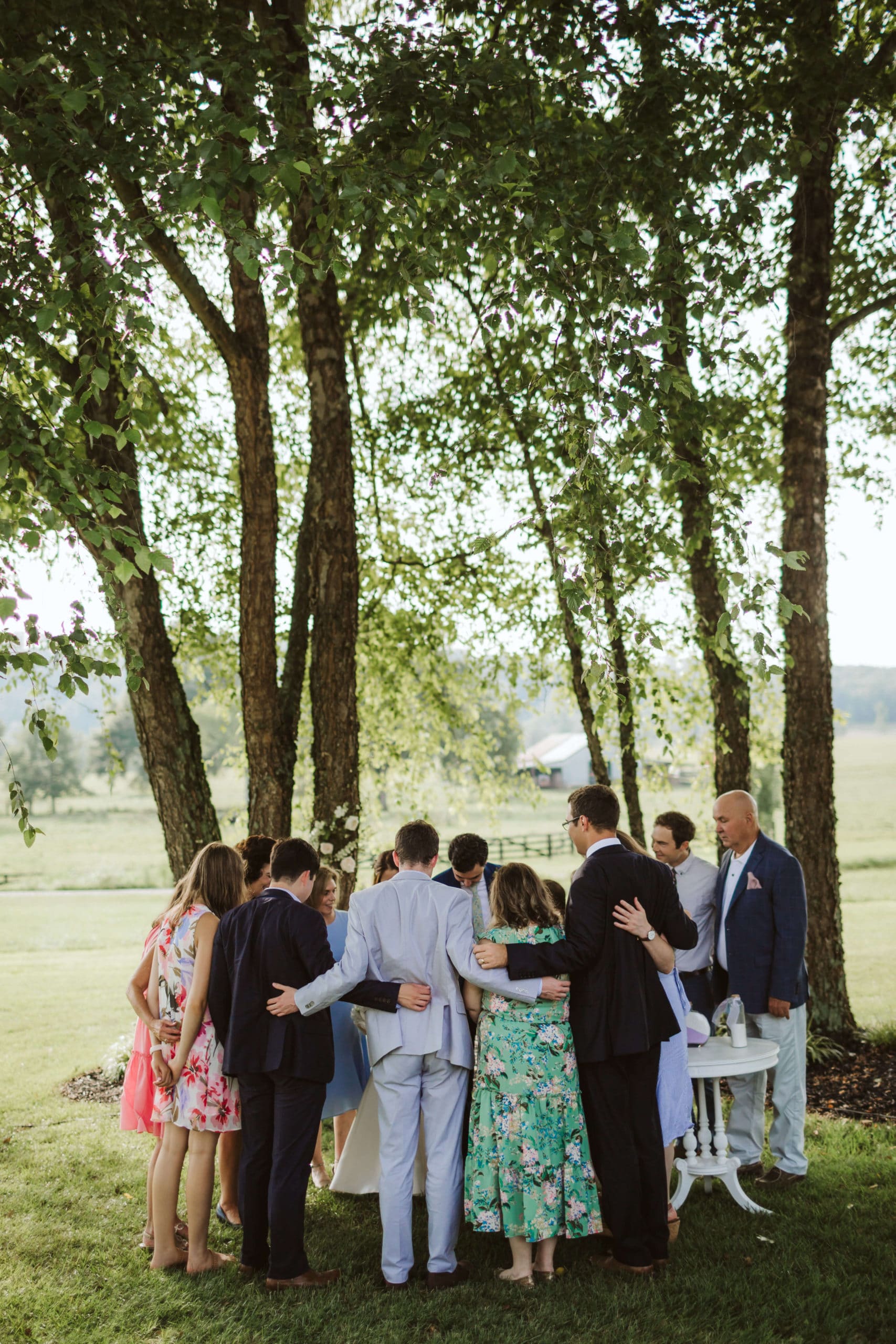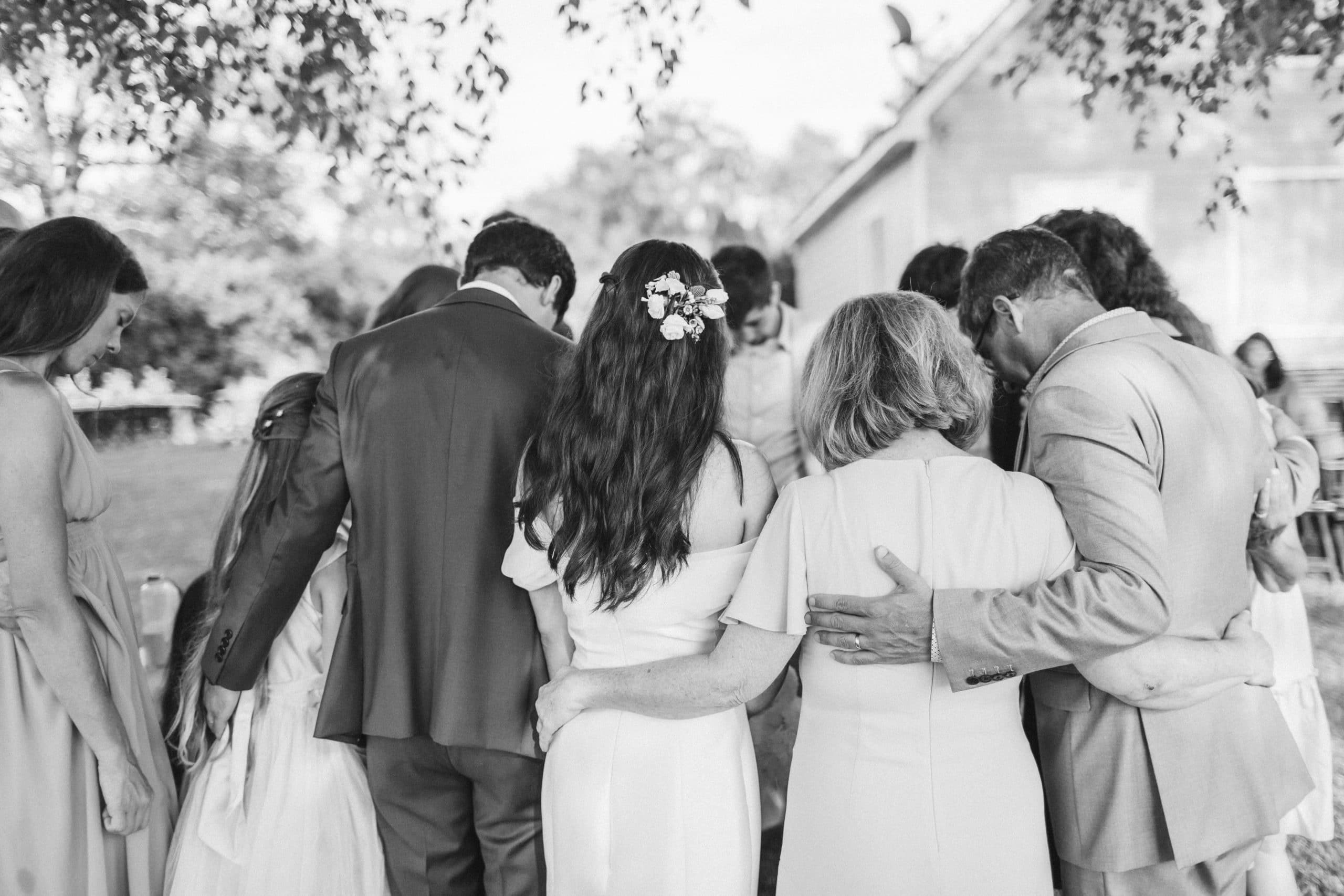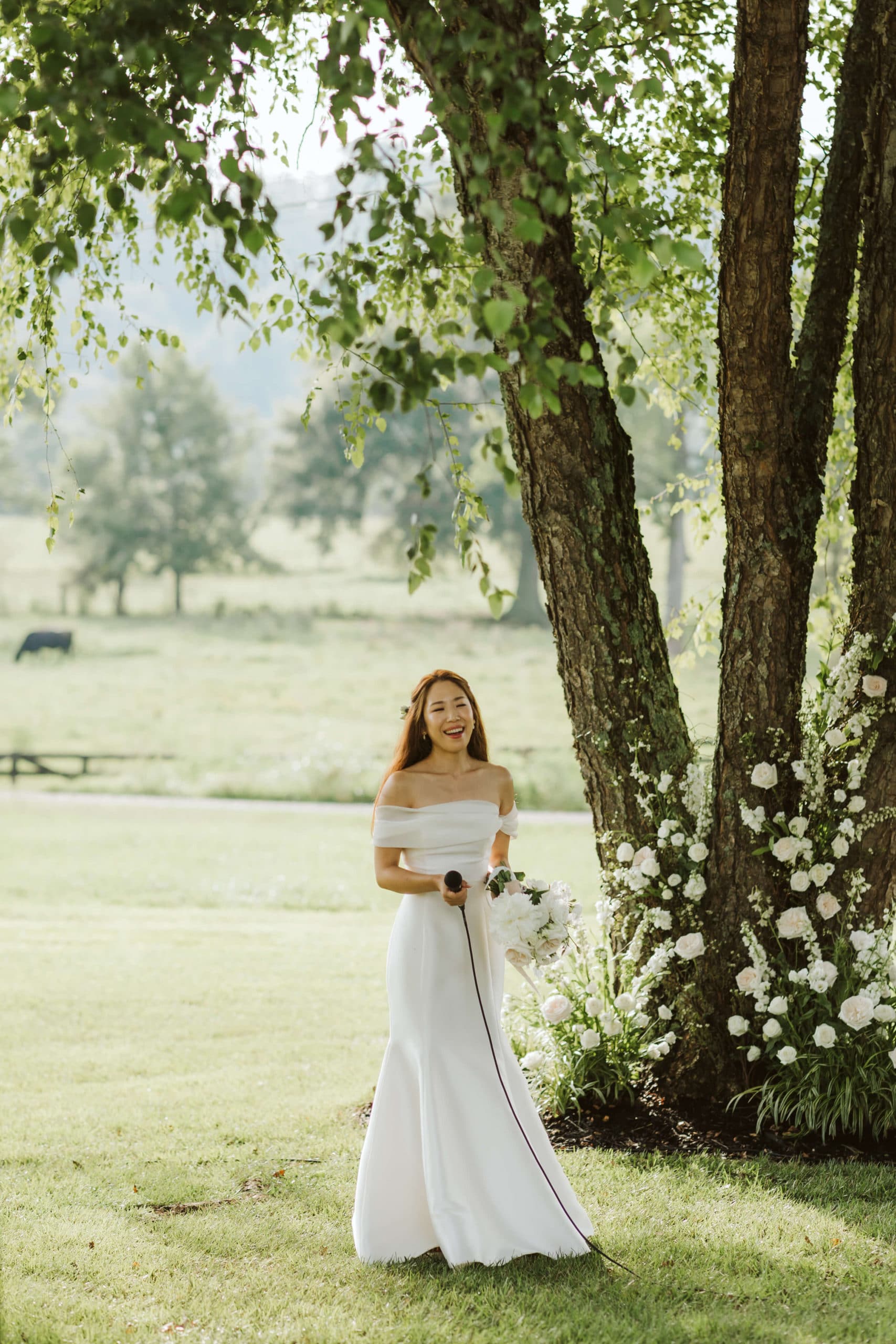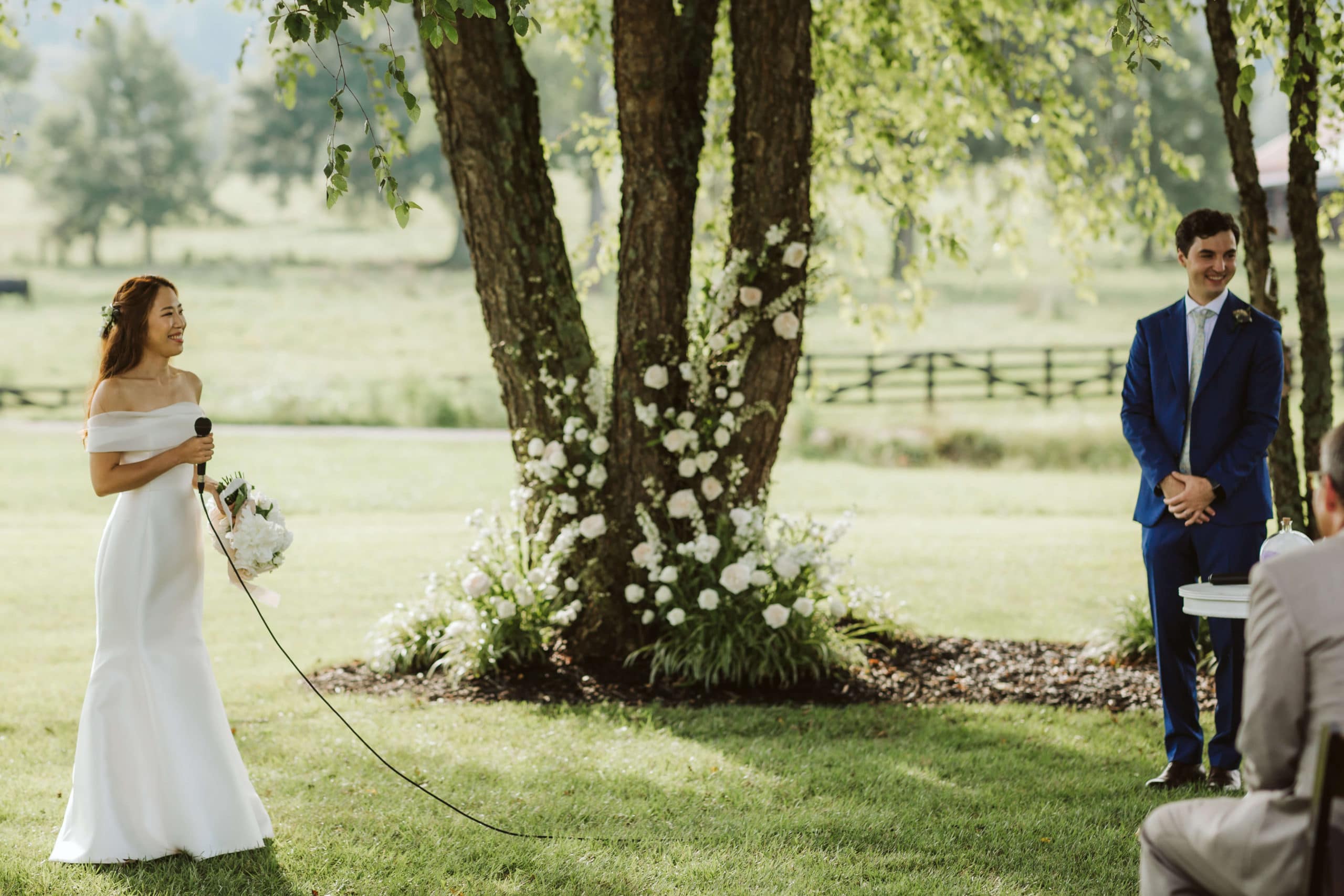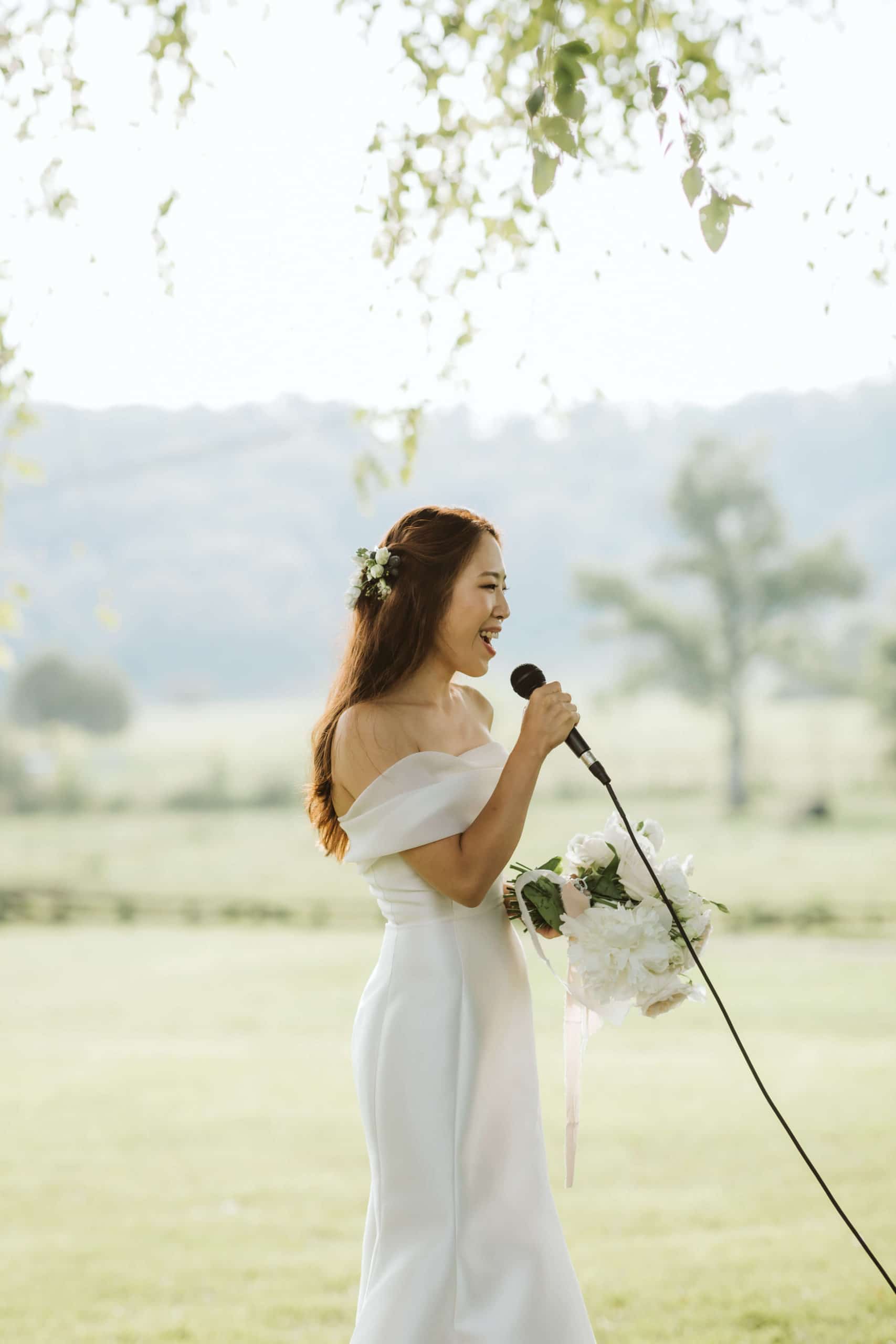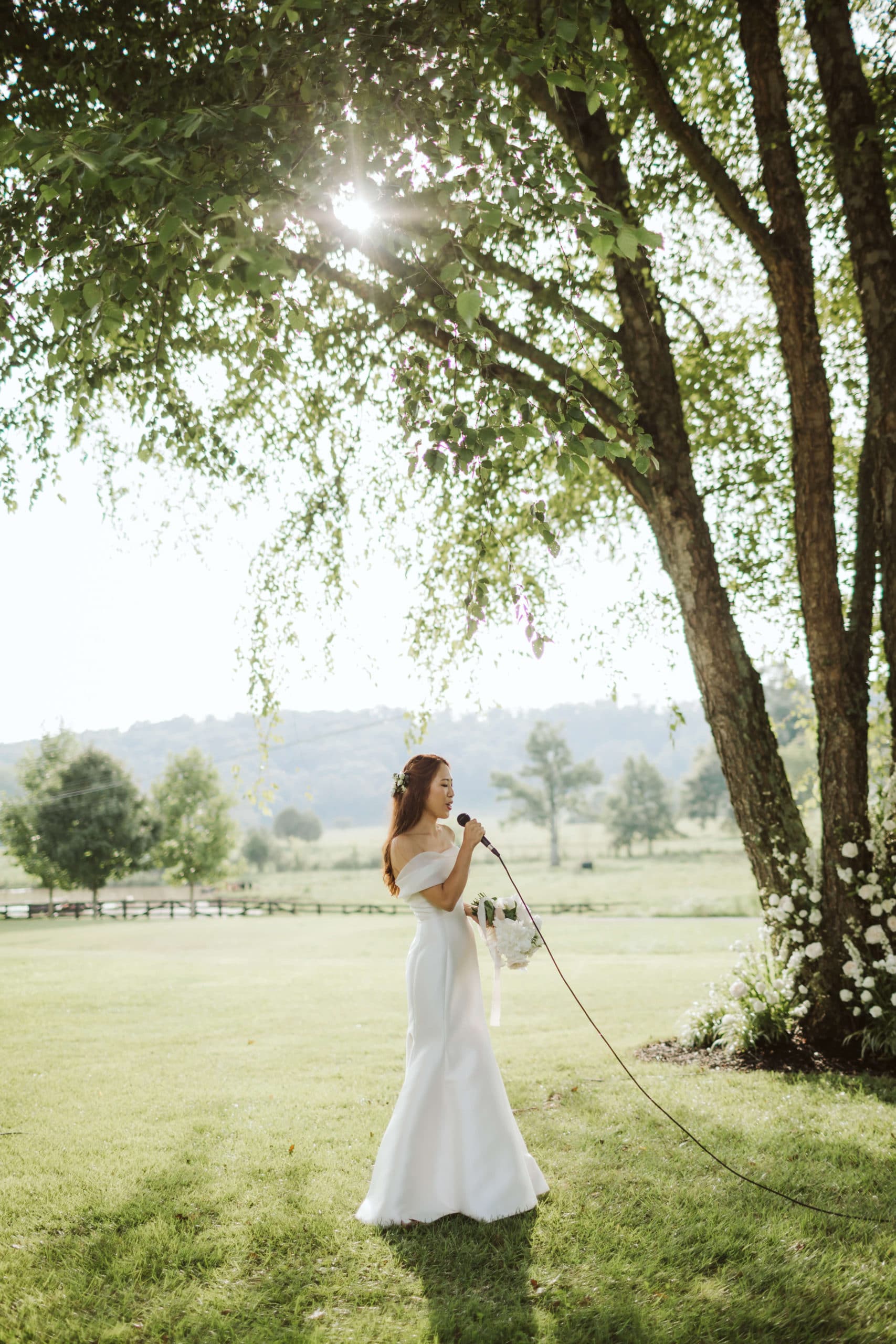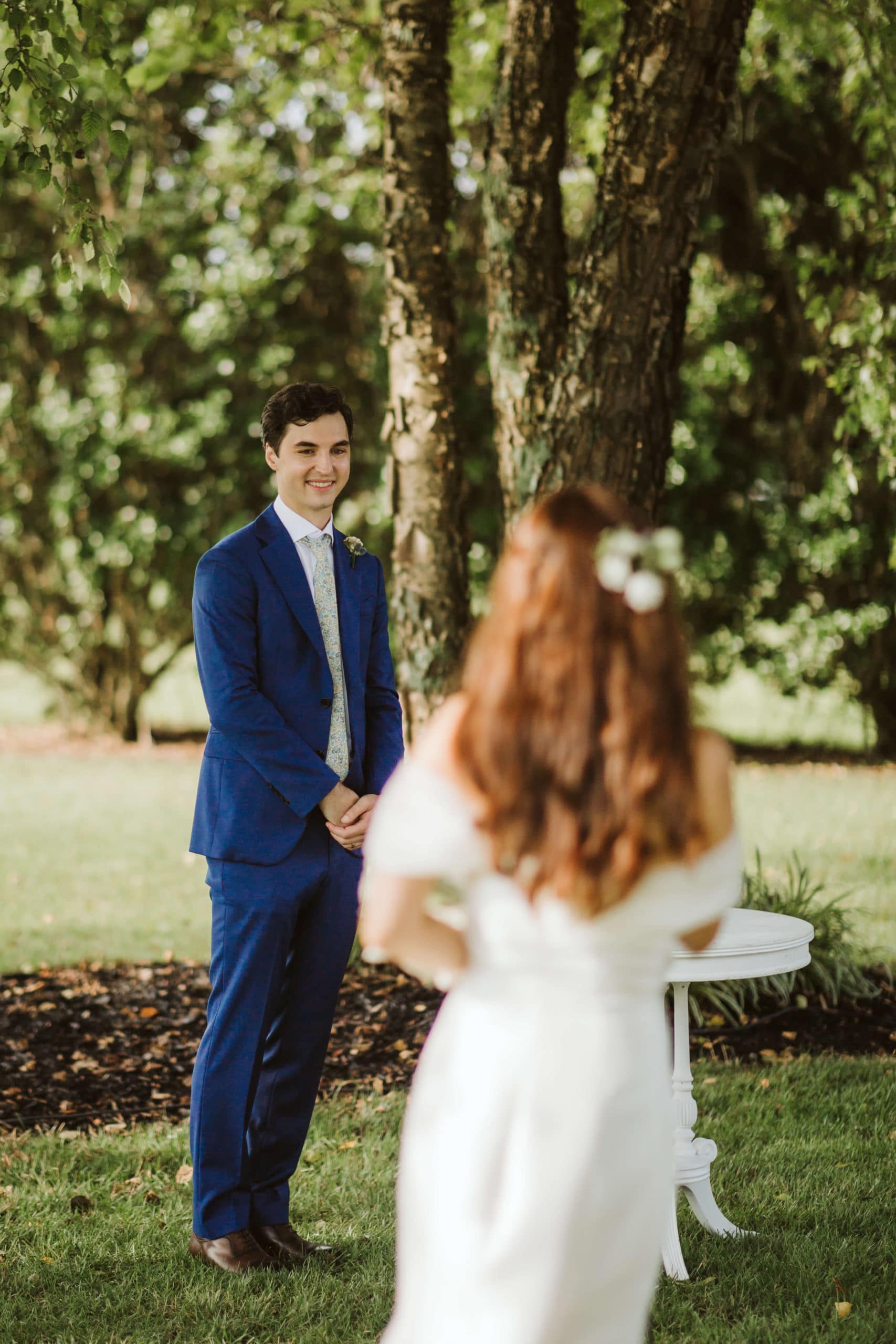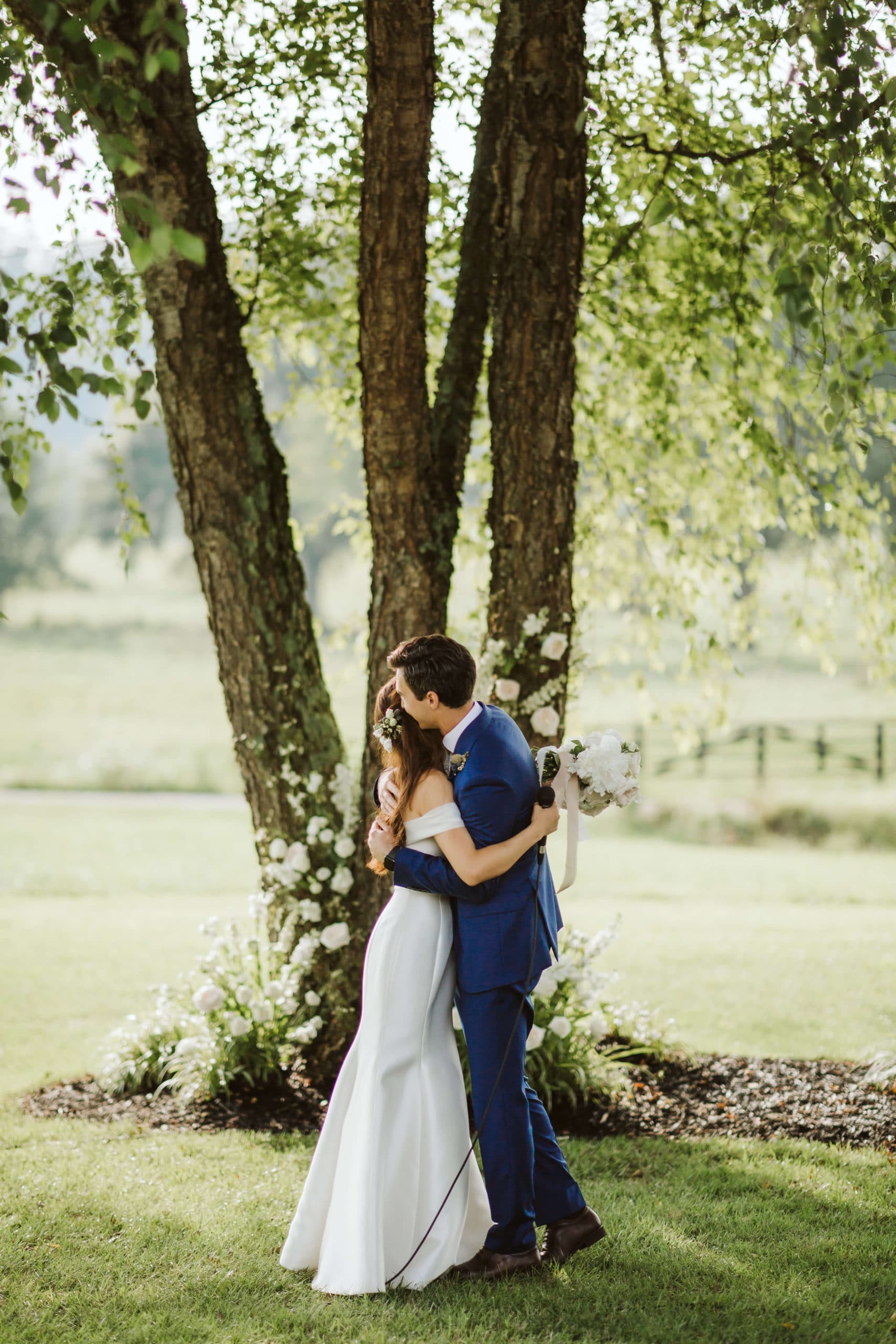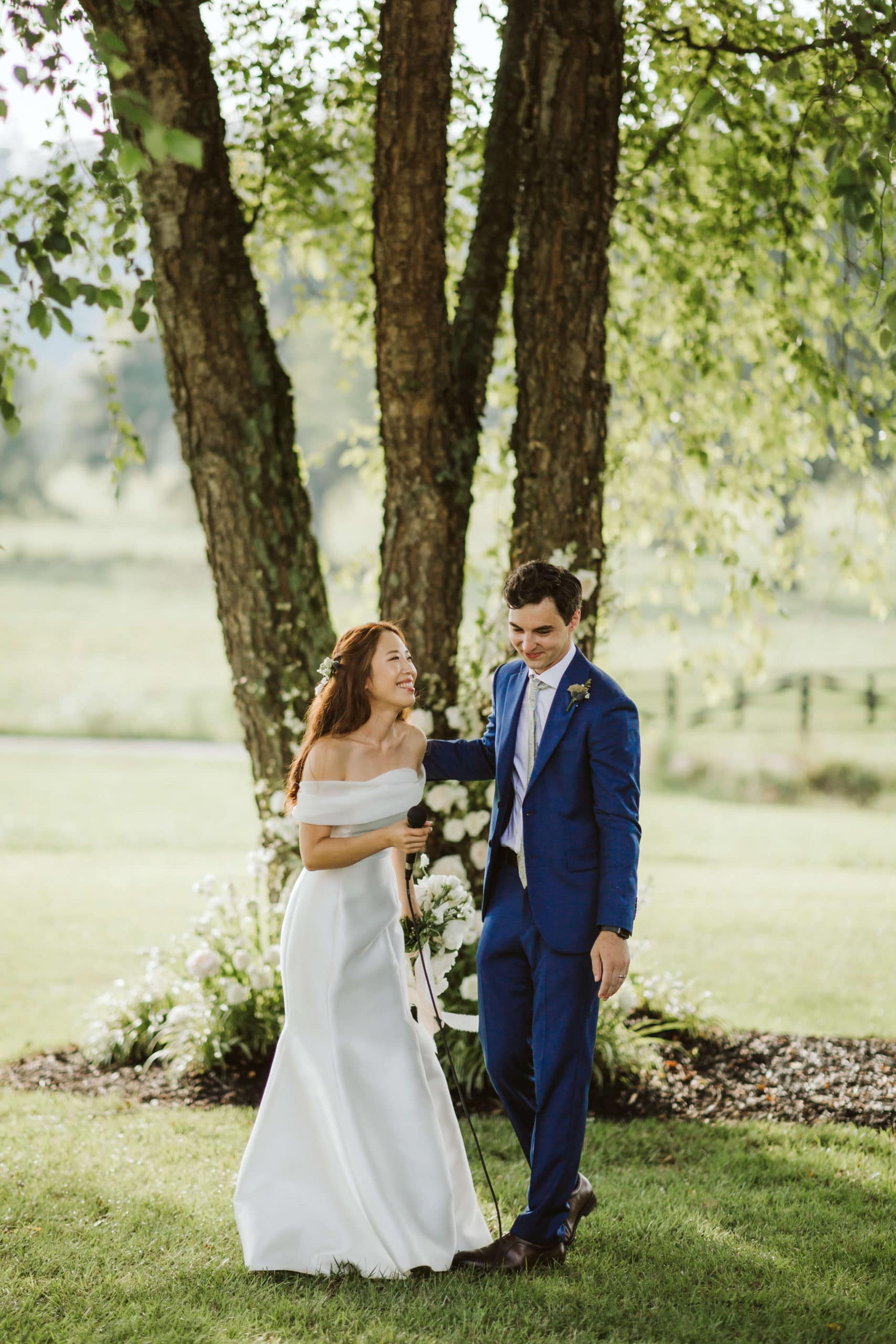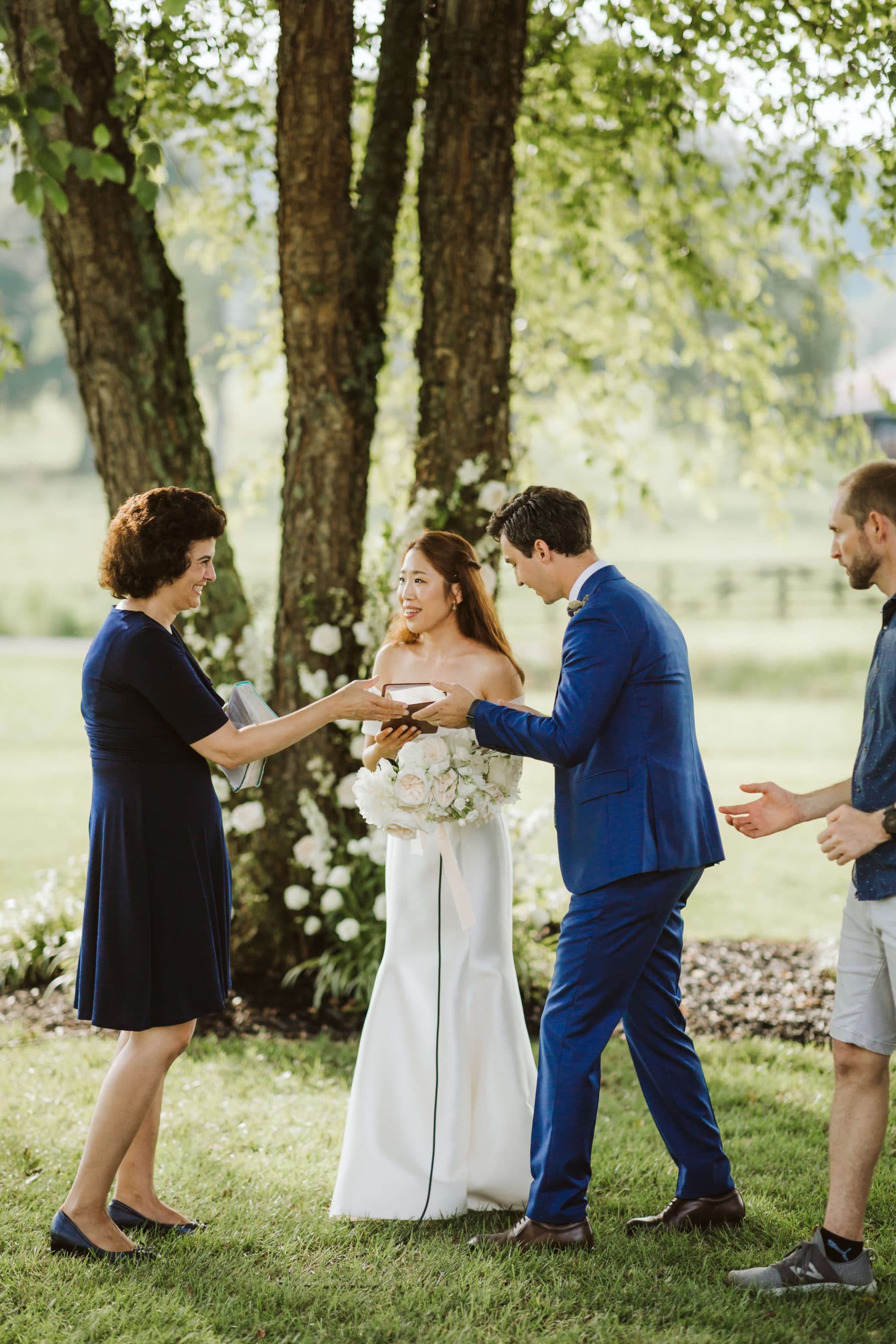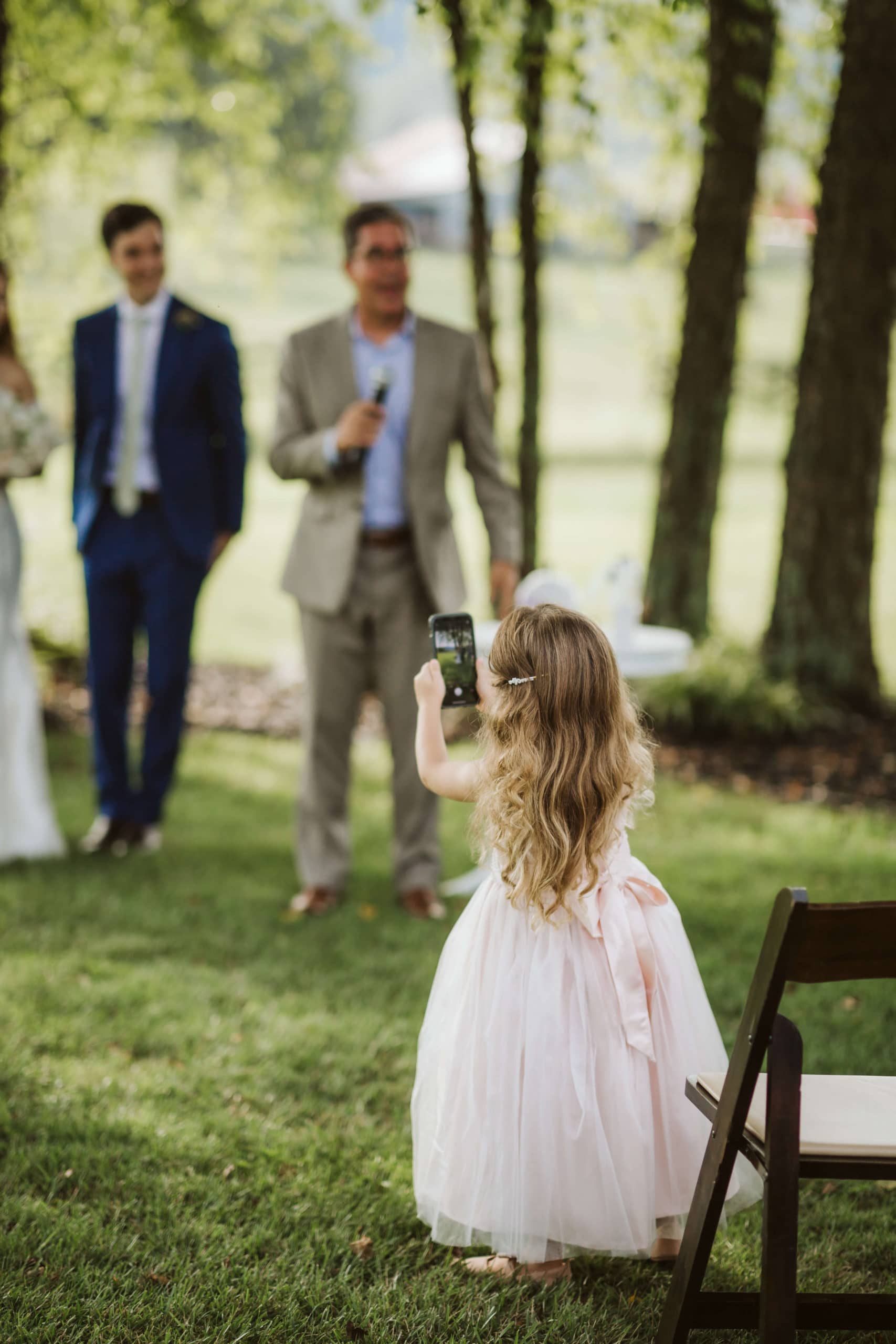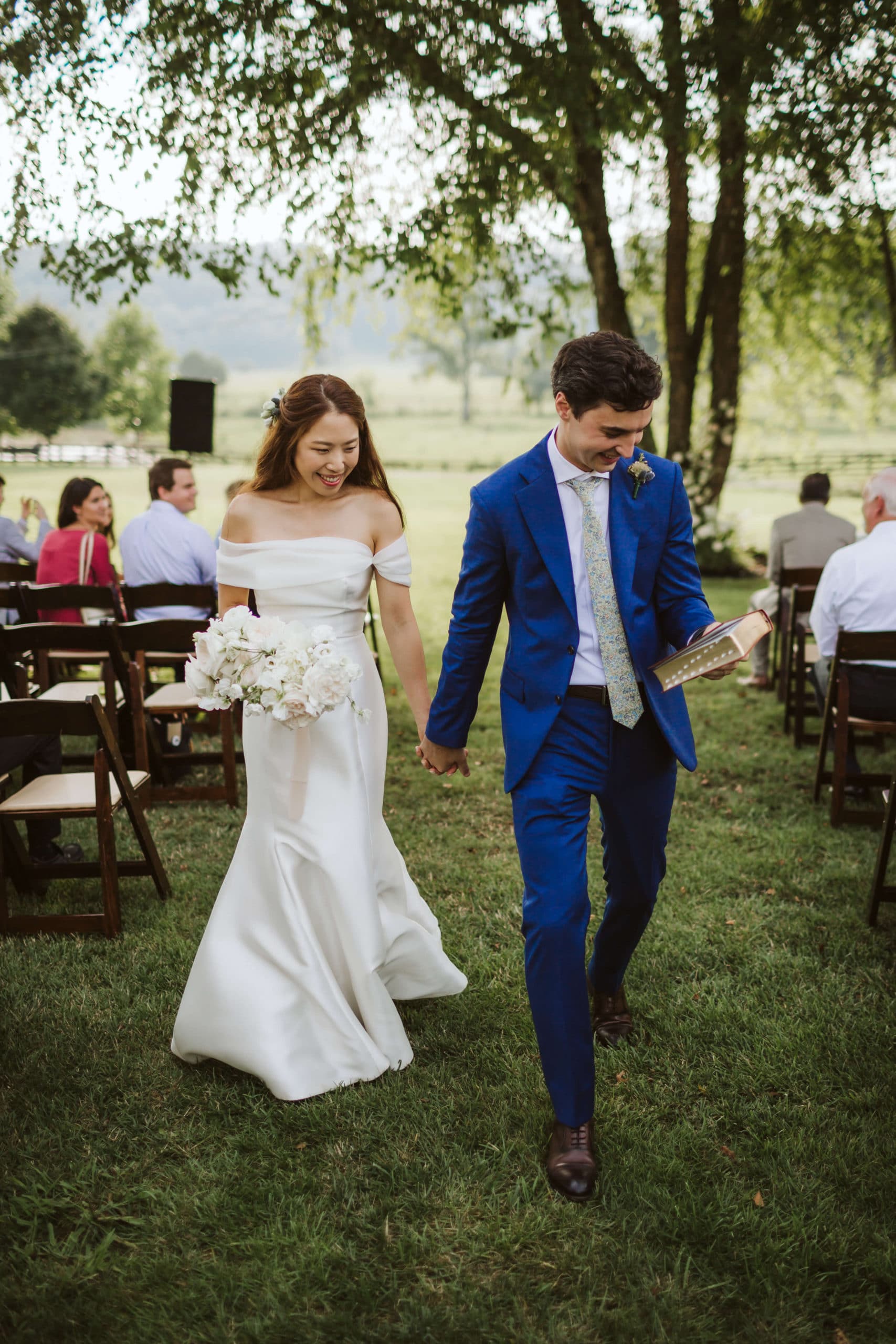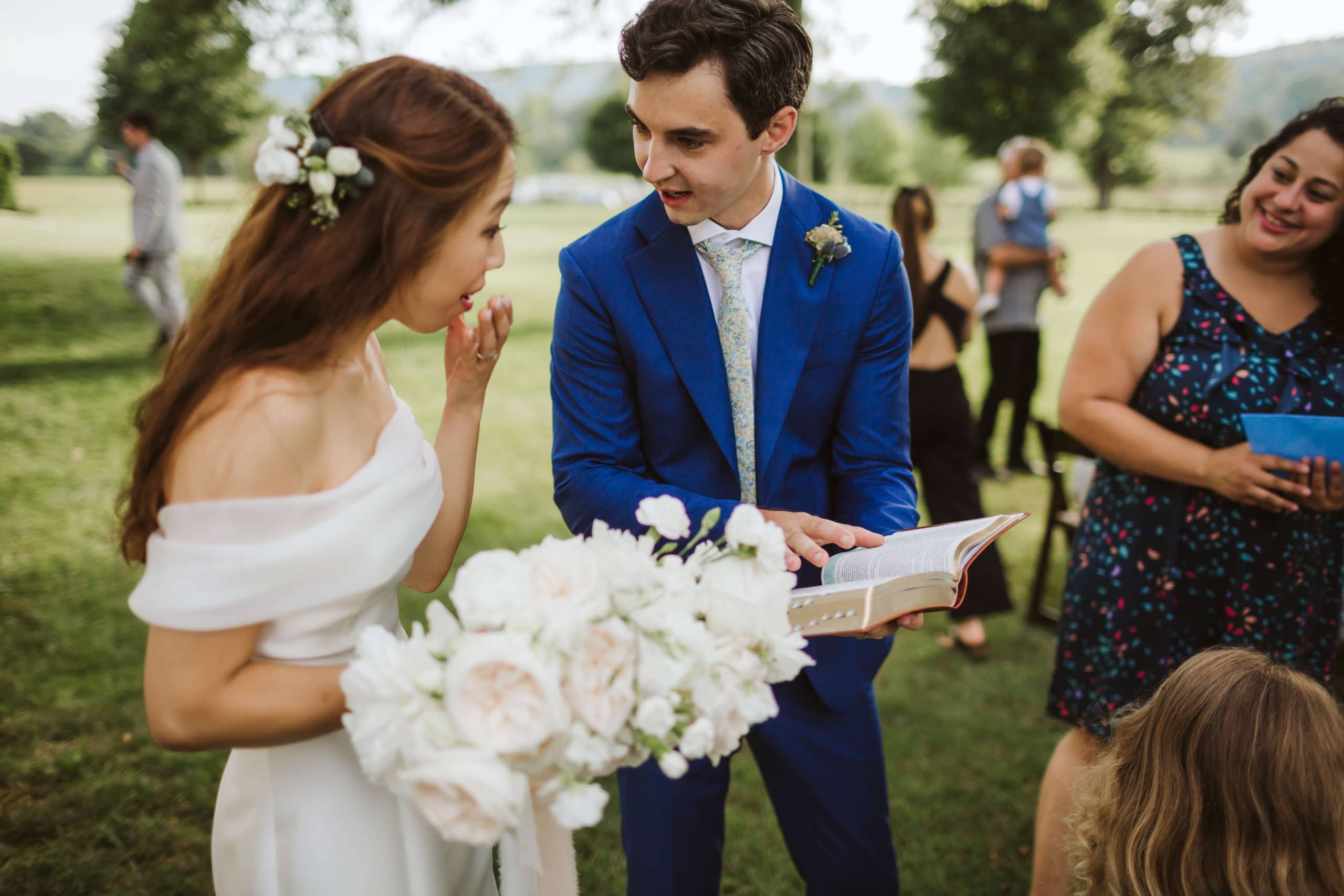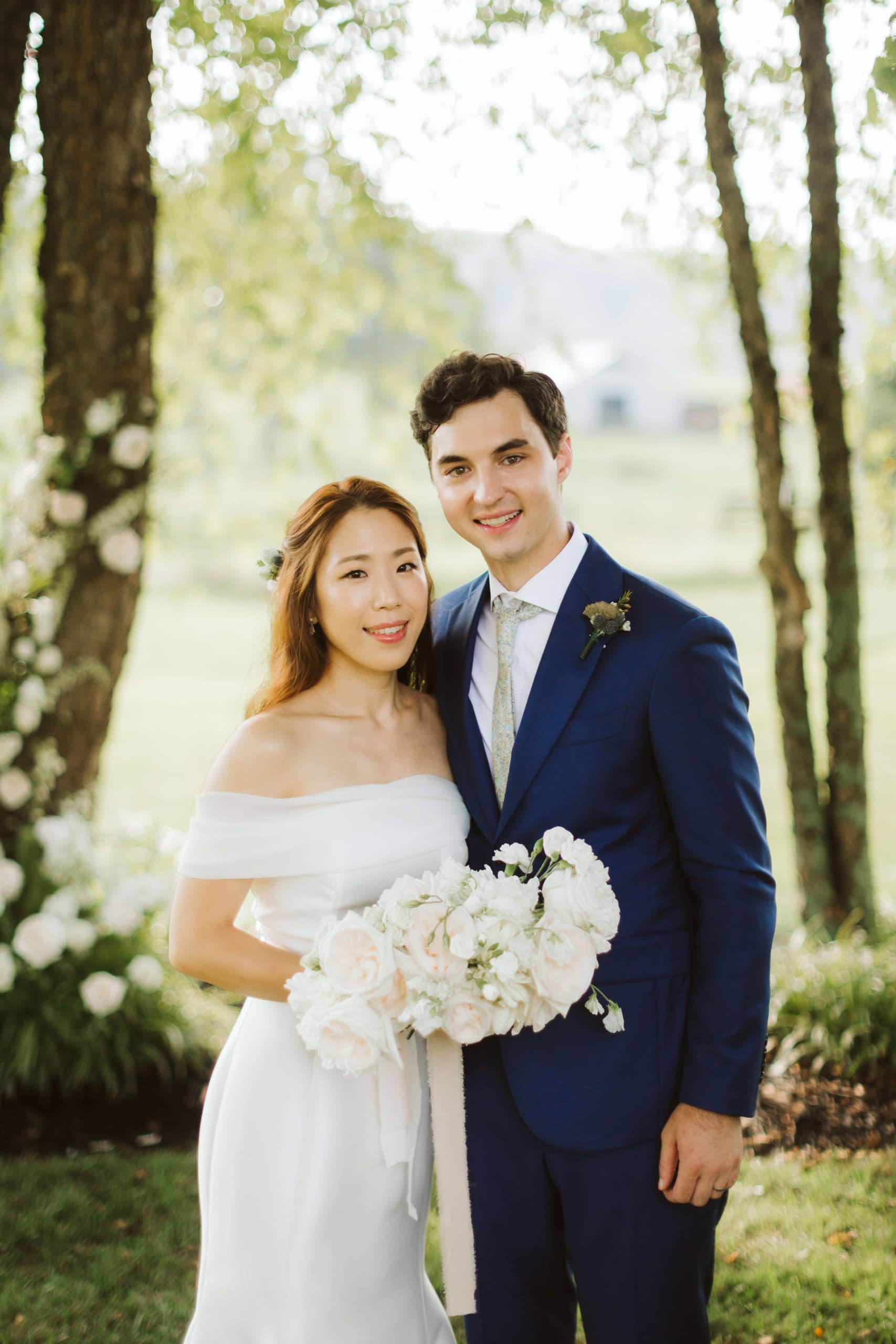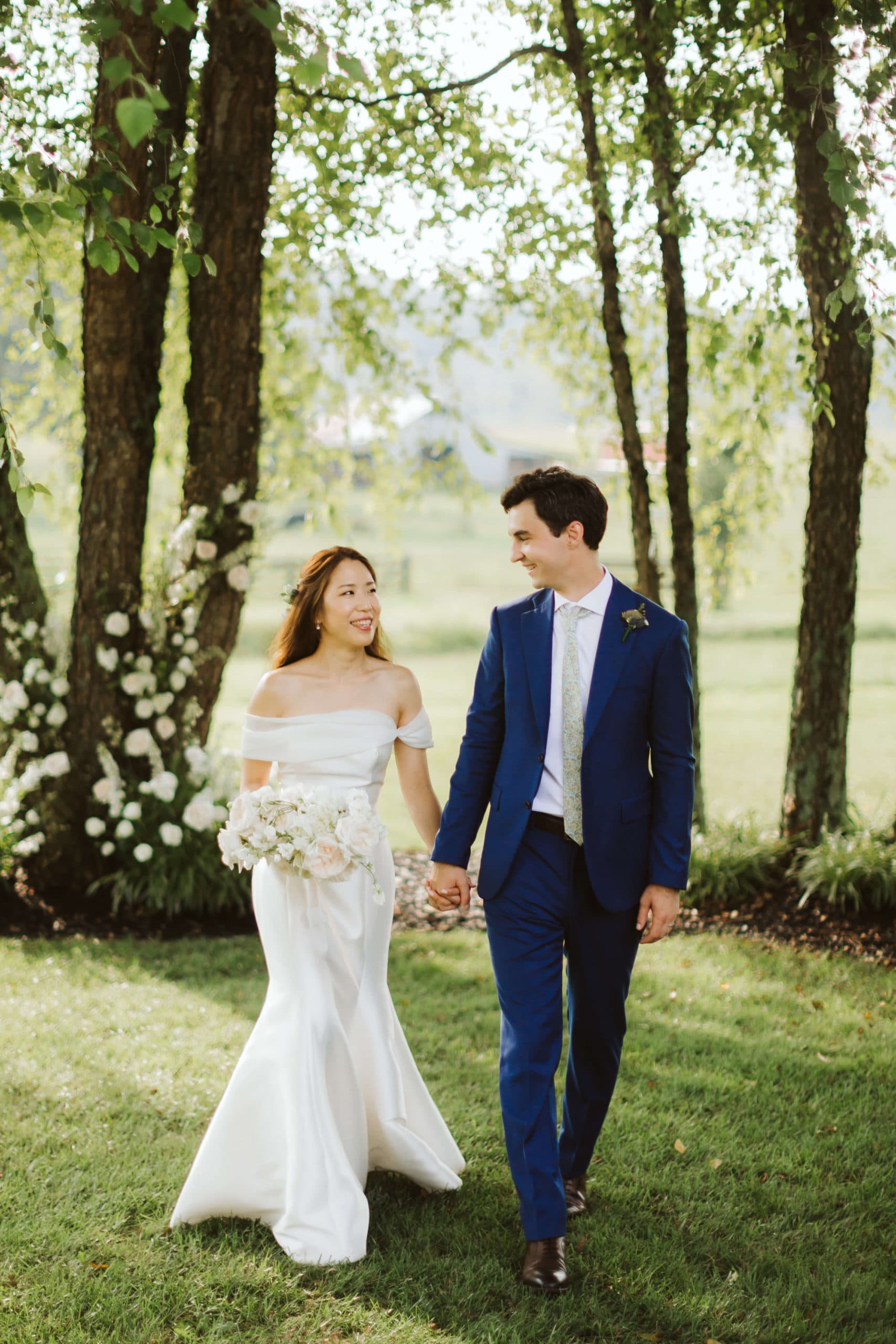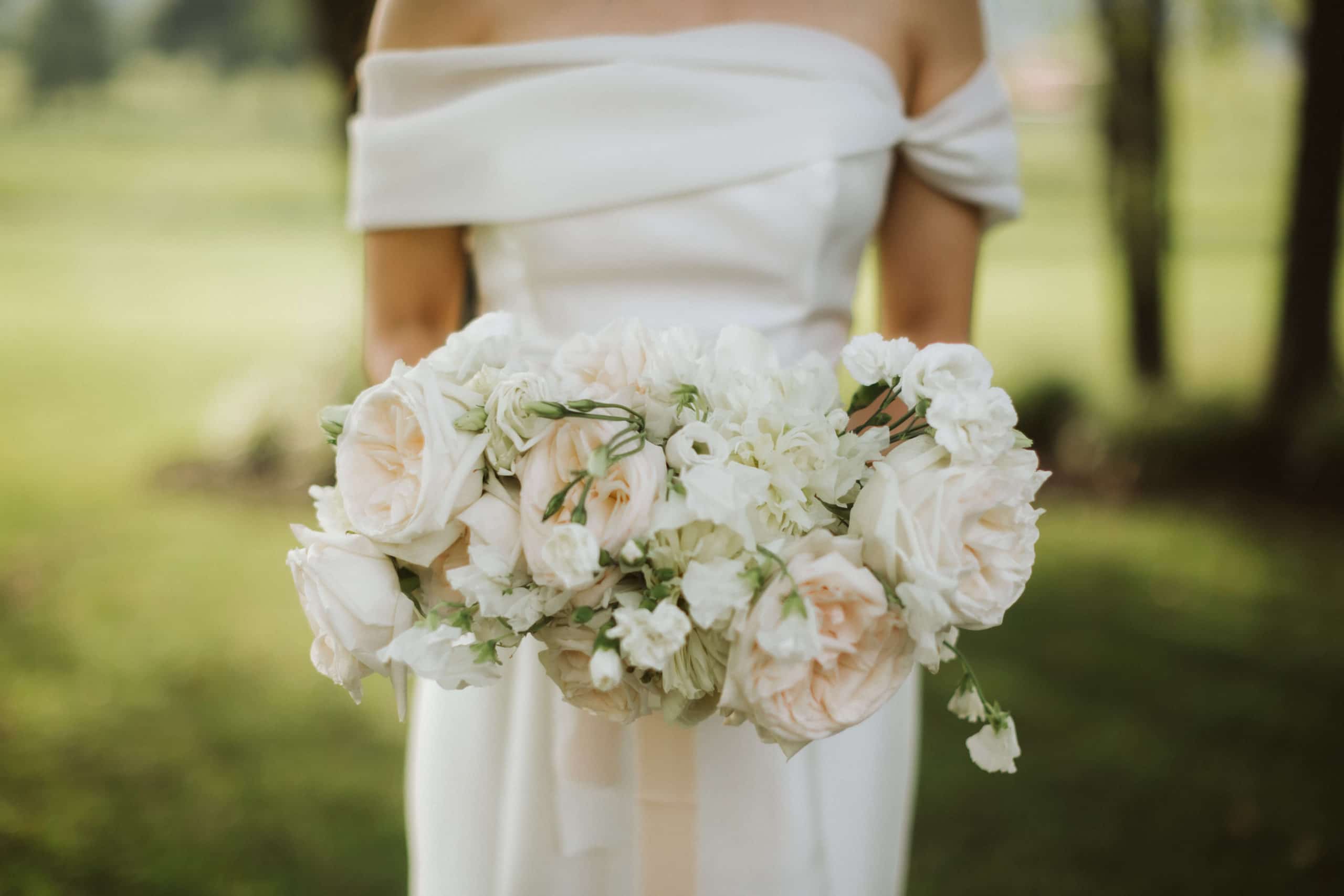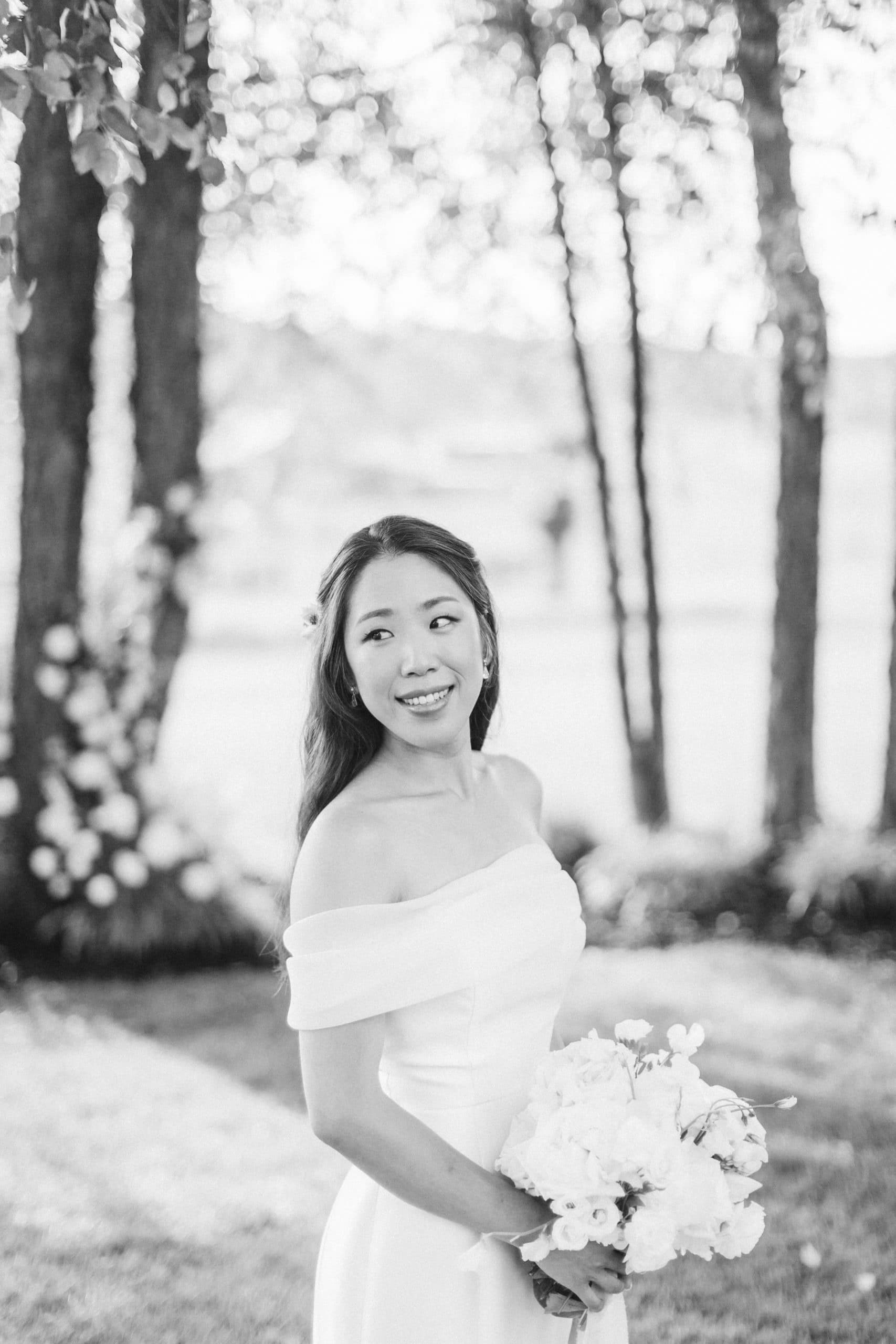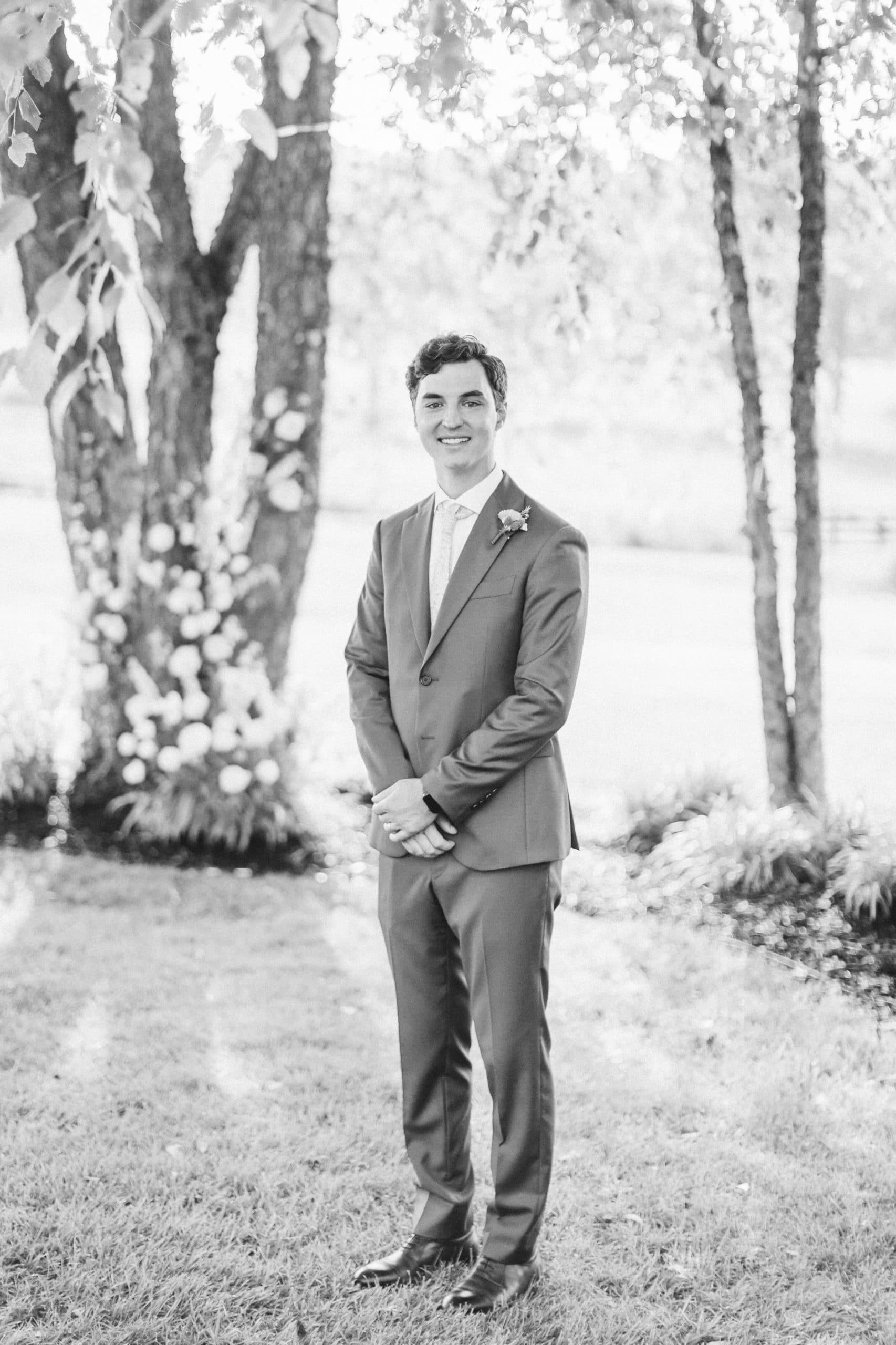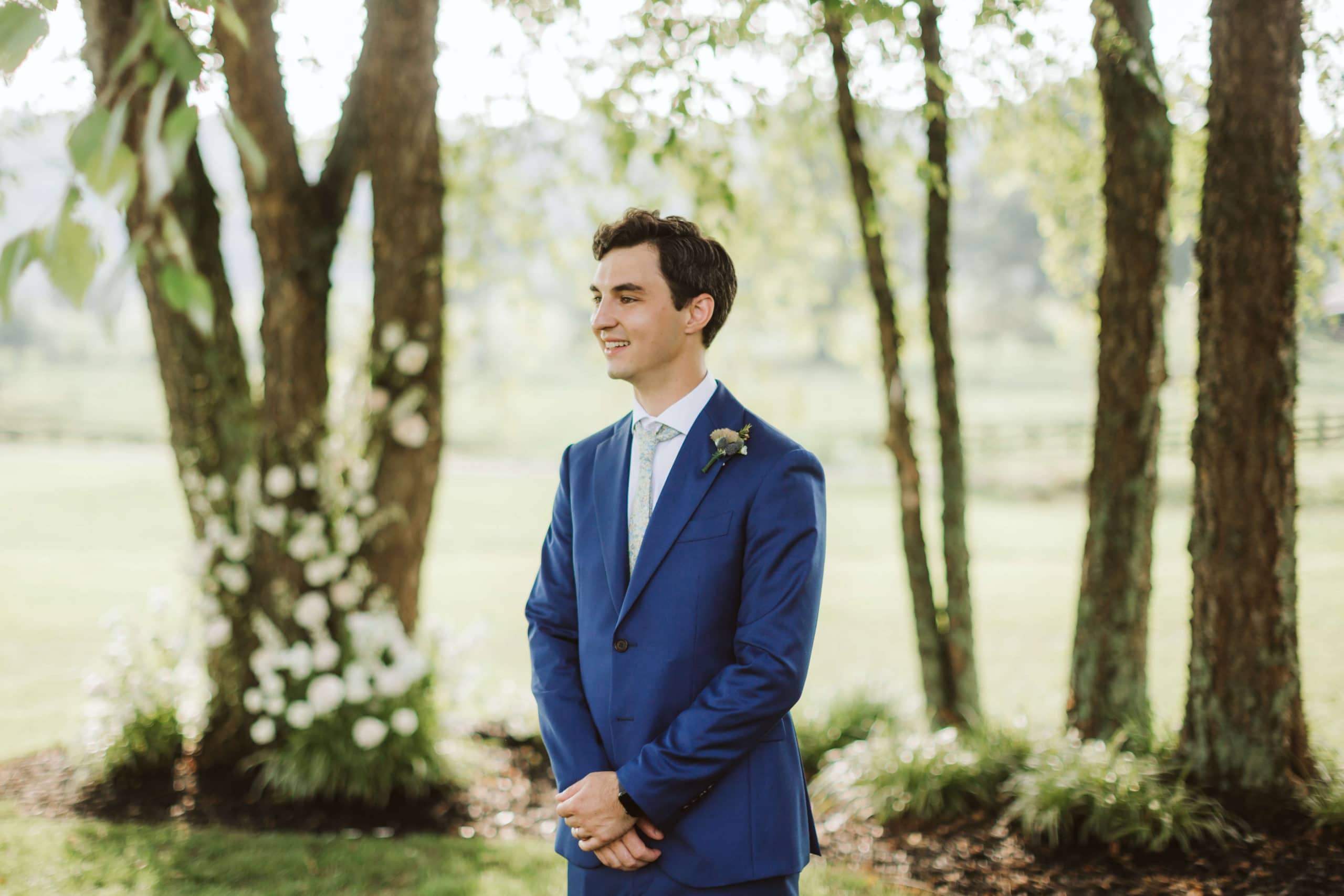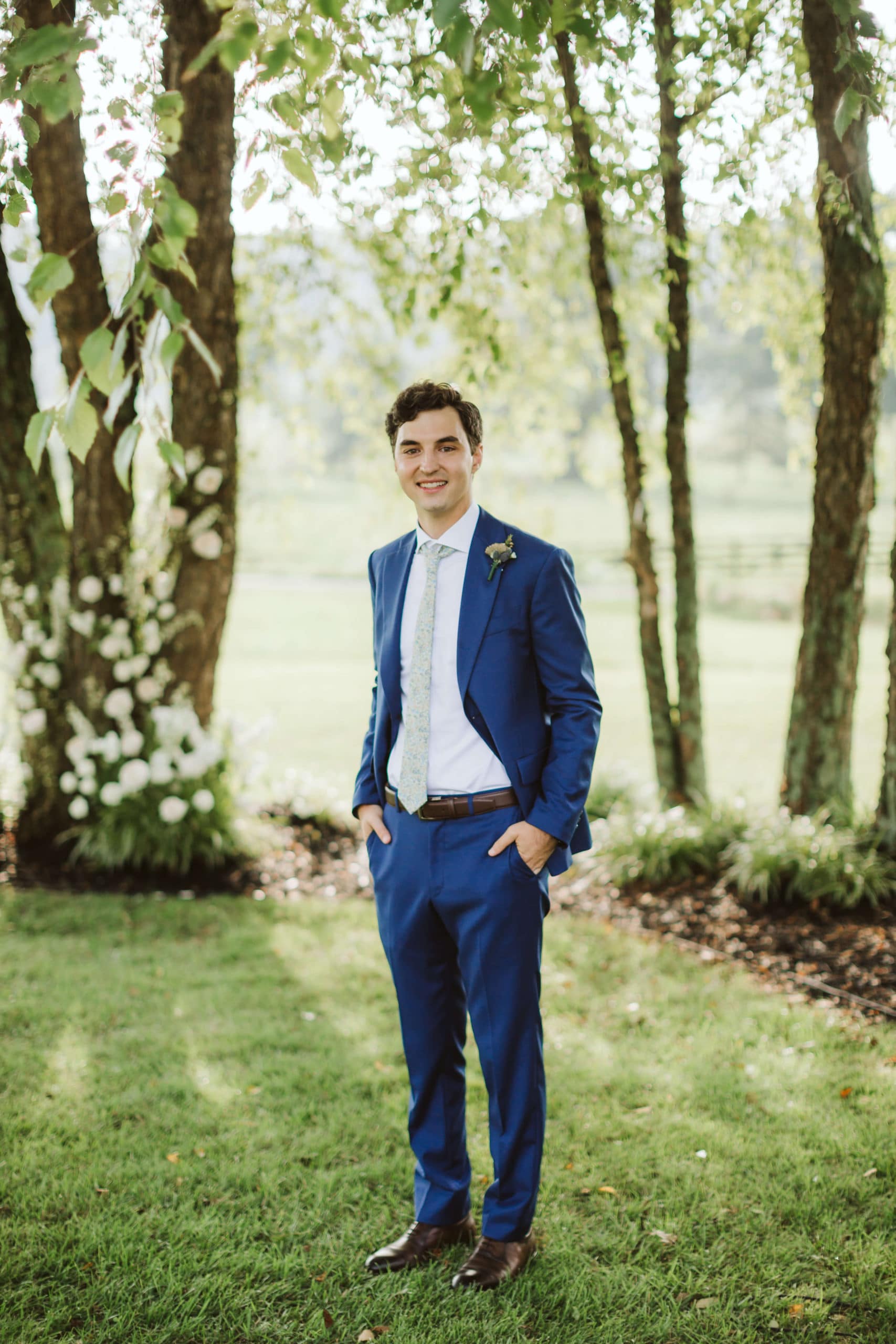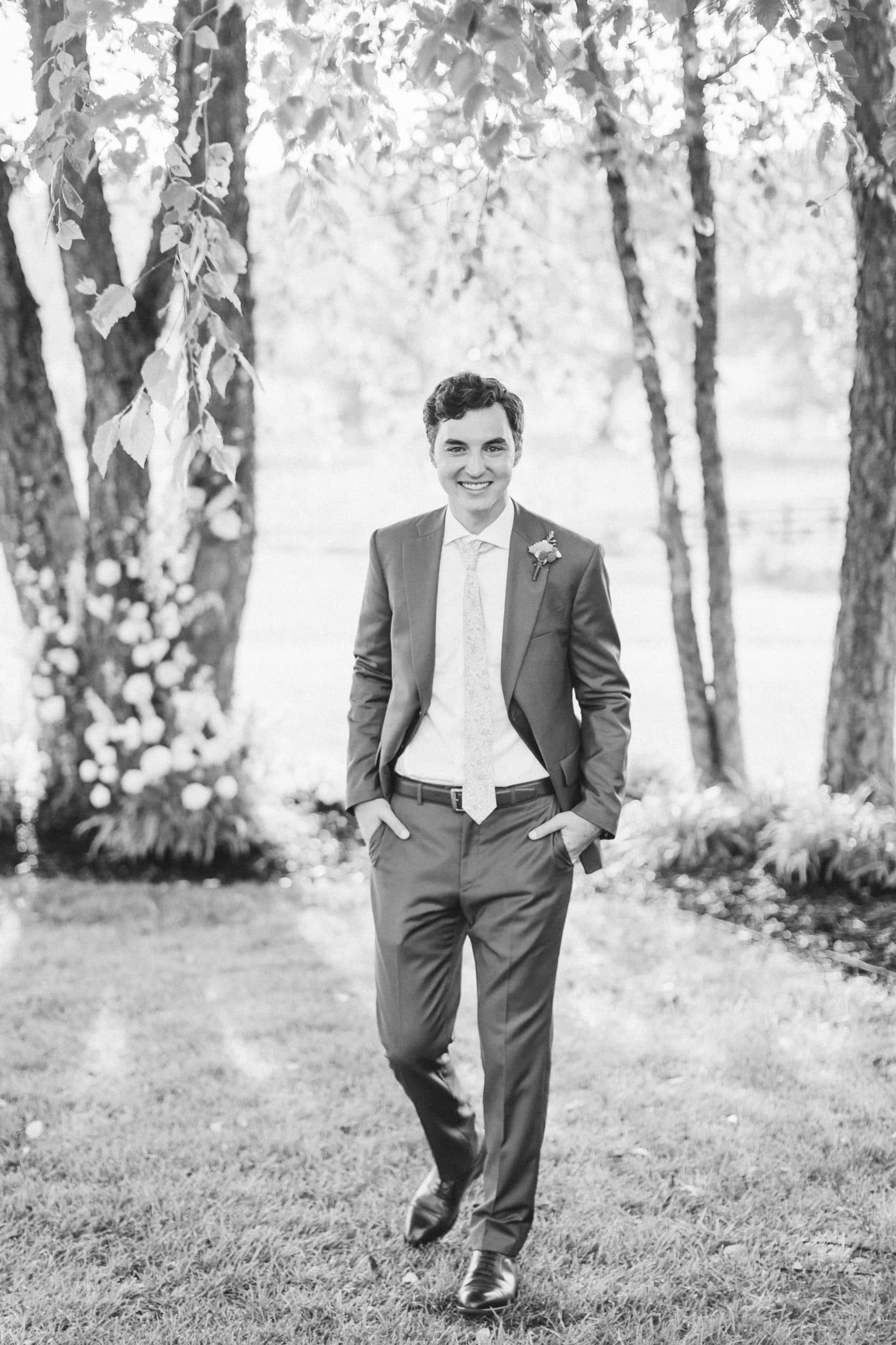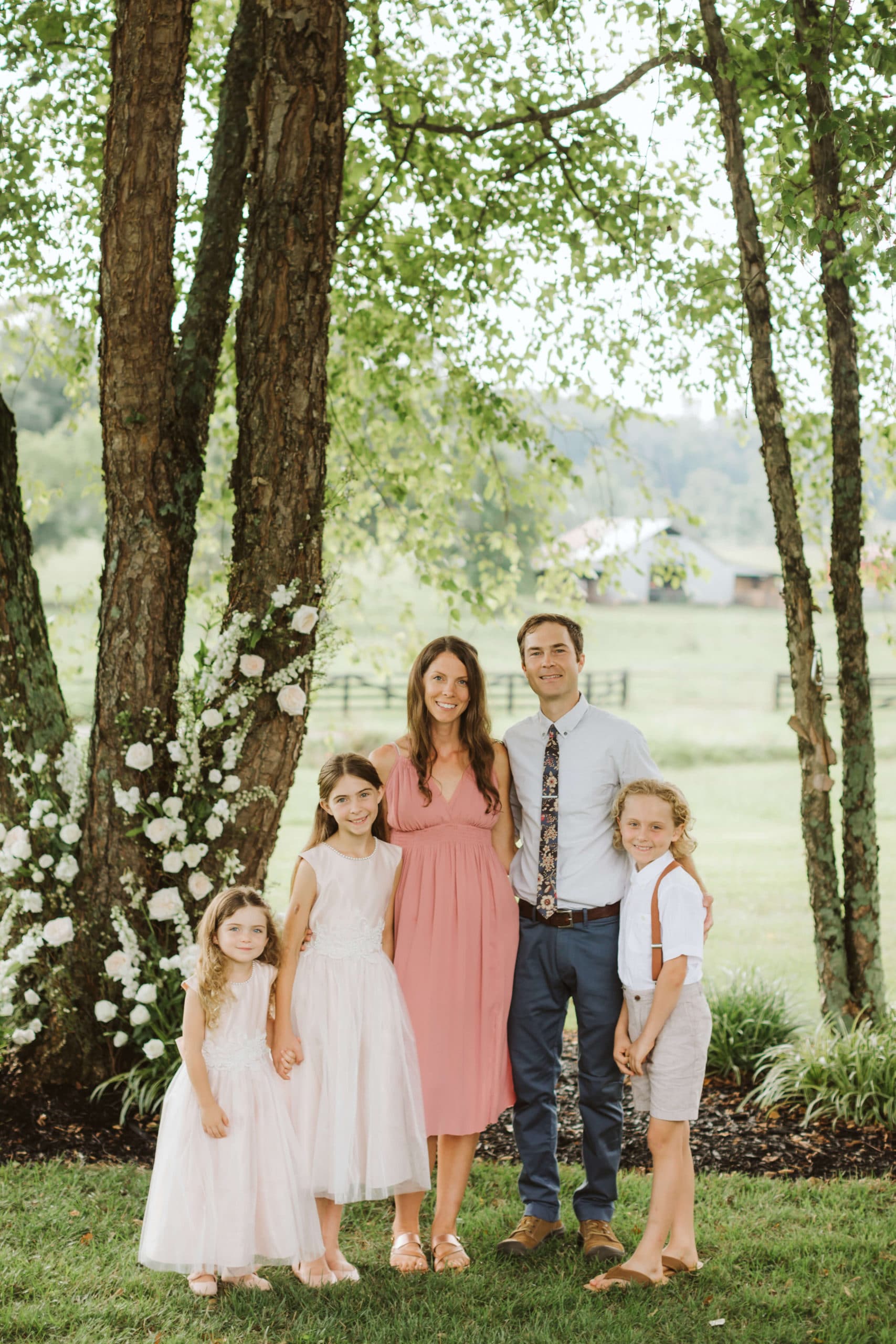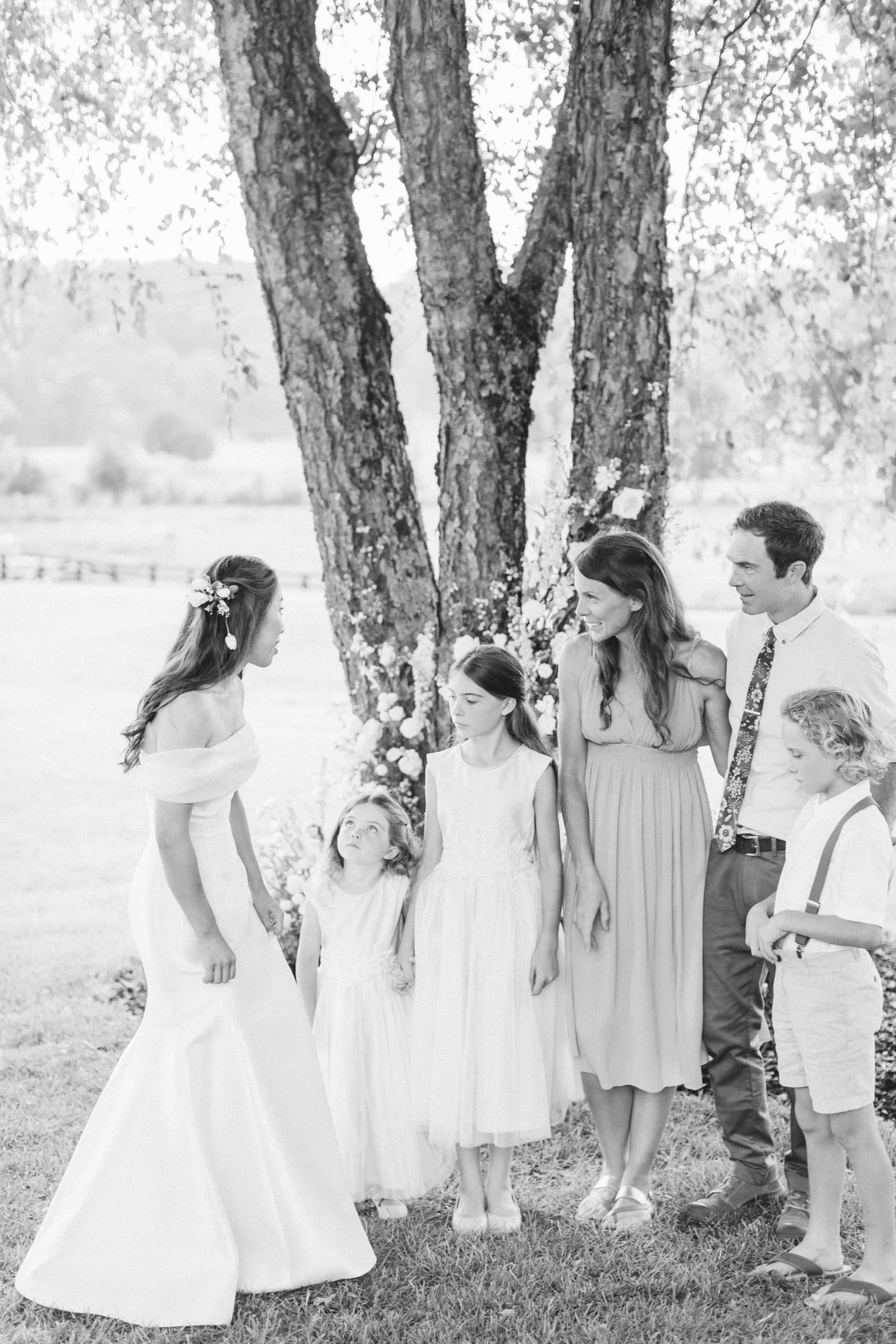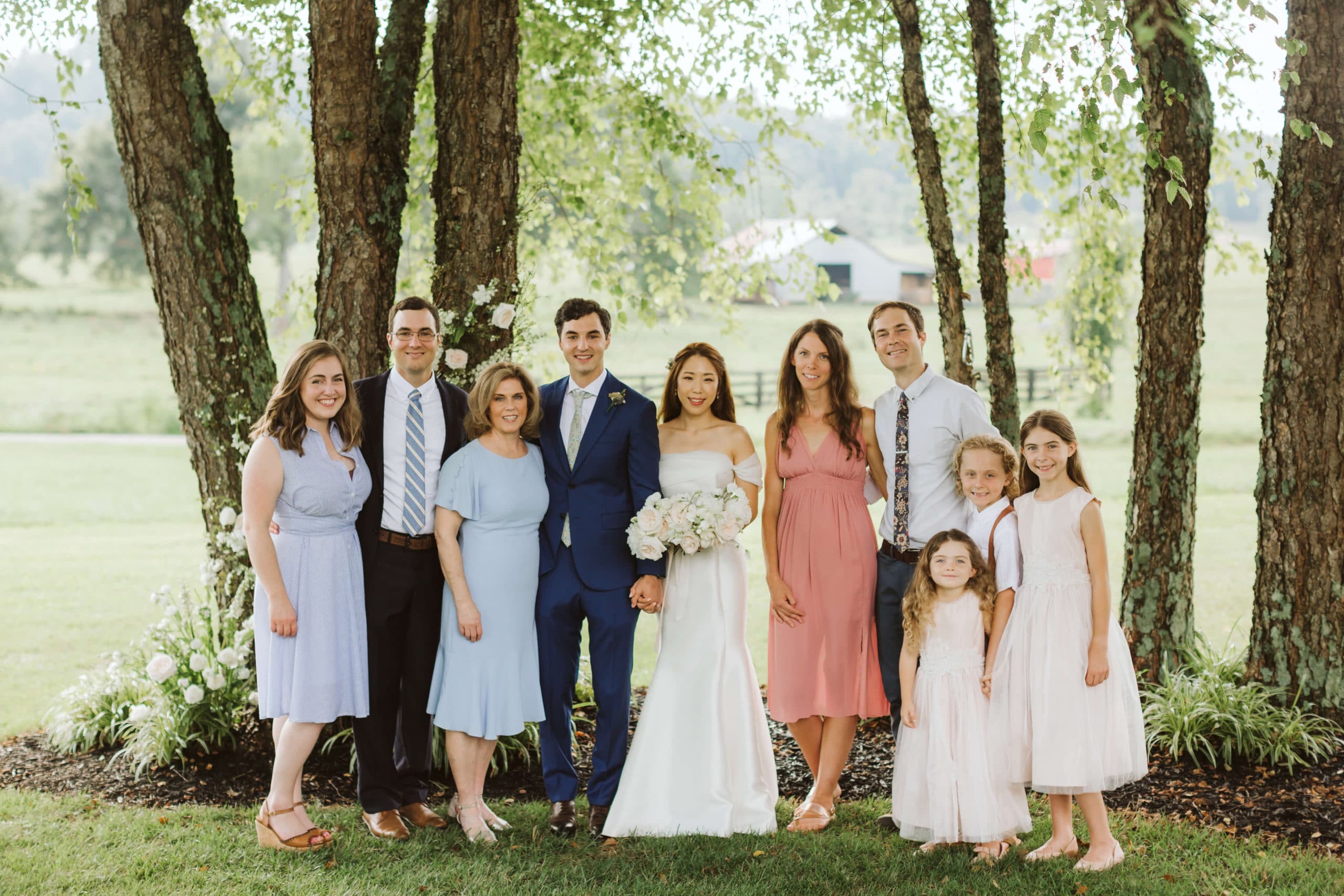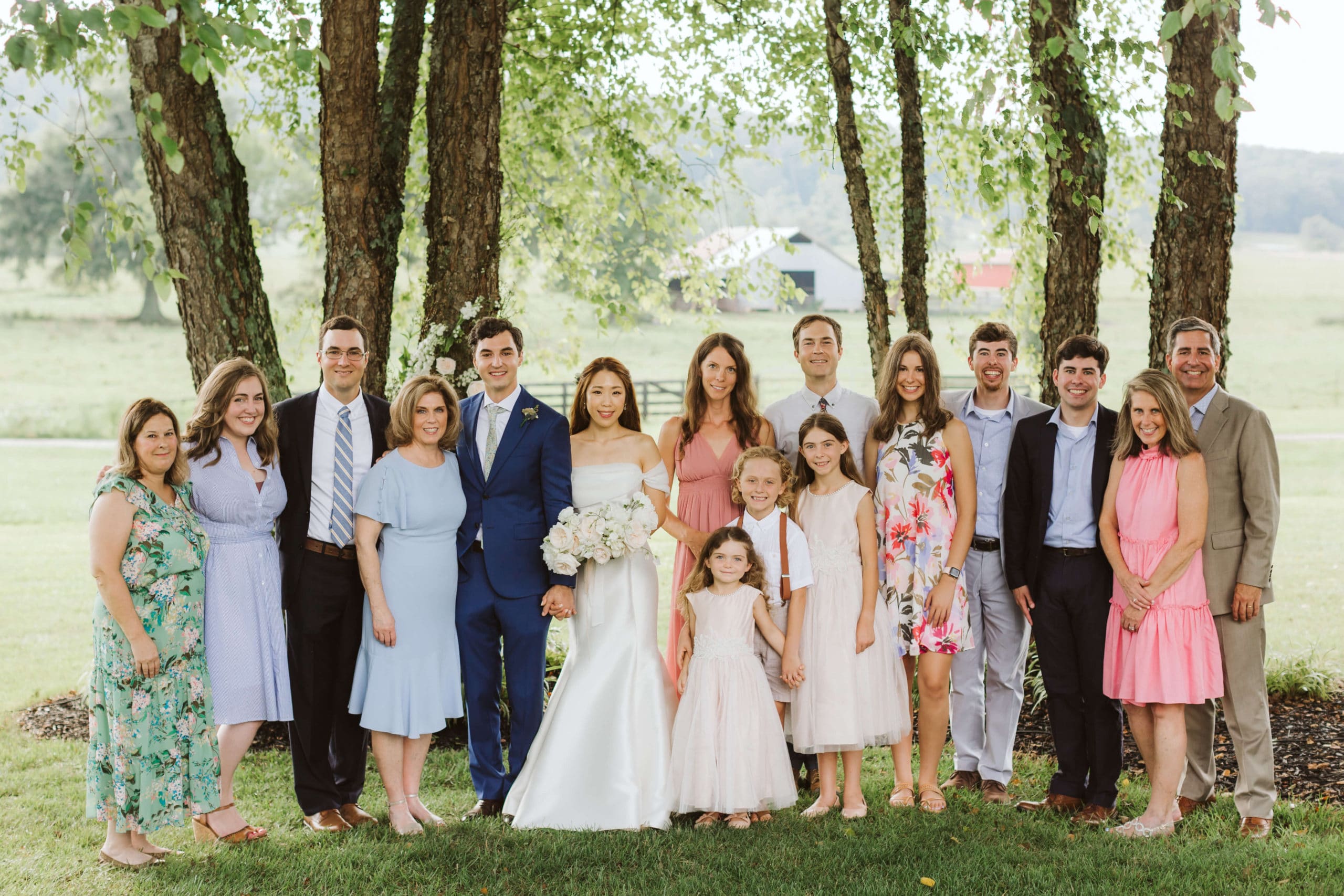 Hosting an Upscale Backyard Wedding with Ramblewood Events
Zach and Riley with Ramblewood Events did such an amazing job at turning Scott's parents' yard into something magical. Even though they were already married, Scott and Minseong treated this event like a mini wedding.
For their ceremony space, Zach and Riley set up wooden folding chairs in a field facing the pond and farmland. There was a small copse of lush trees that provided shade over the seating area. Their low hanging branches swaying in the light breeze coupled with the beautiful, green mountain views beyond the property created the perfect, picturesque background for Minseong and Scott's blessing ceremony. Ramblewood Events' floral design team did an amazing job at making the space even more elegant by adding white and green florals crawling up from the base of the trees. The flowers were incorporated so organically onto the trees and small bushes it was as if they had always been there.
Scott's nieces and nephews took the place of ring bearer and flower girls and processed down the aisle with a Bible for Scott's family pastor to read from and a bottle of white sand for their unity ceremony. Unity ceremonies are a great way to add a personal touch to a wedding. There are plenty of options to choose from with sand ceremonies being one of the most popular choices. For their sand ceremony, purple sand was already poured into a circular glass bottle to signify Scott and Minseong's marriage. Scott's mother poured in the white sand to welcome their union into the family and complete the design.
At the end of the ceremony everyone gathered together for one big prayer circle to bless Scott and Minseong's marriage, and the couple were gifted with a Bible that had notes from the entire family written among scriptures. Finally, Minseong – a talented opera singer – performed a beautiful song that brought everyone to tears to conclude the ceremony.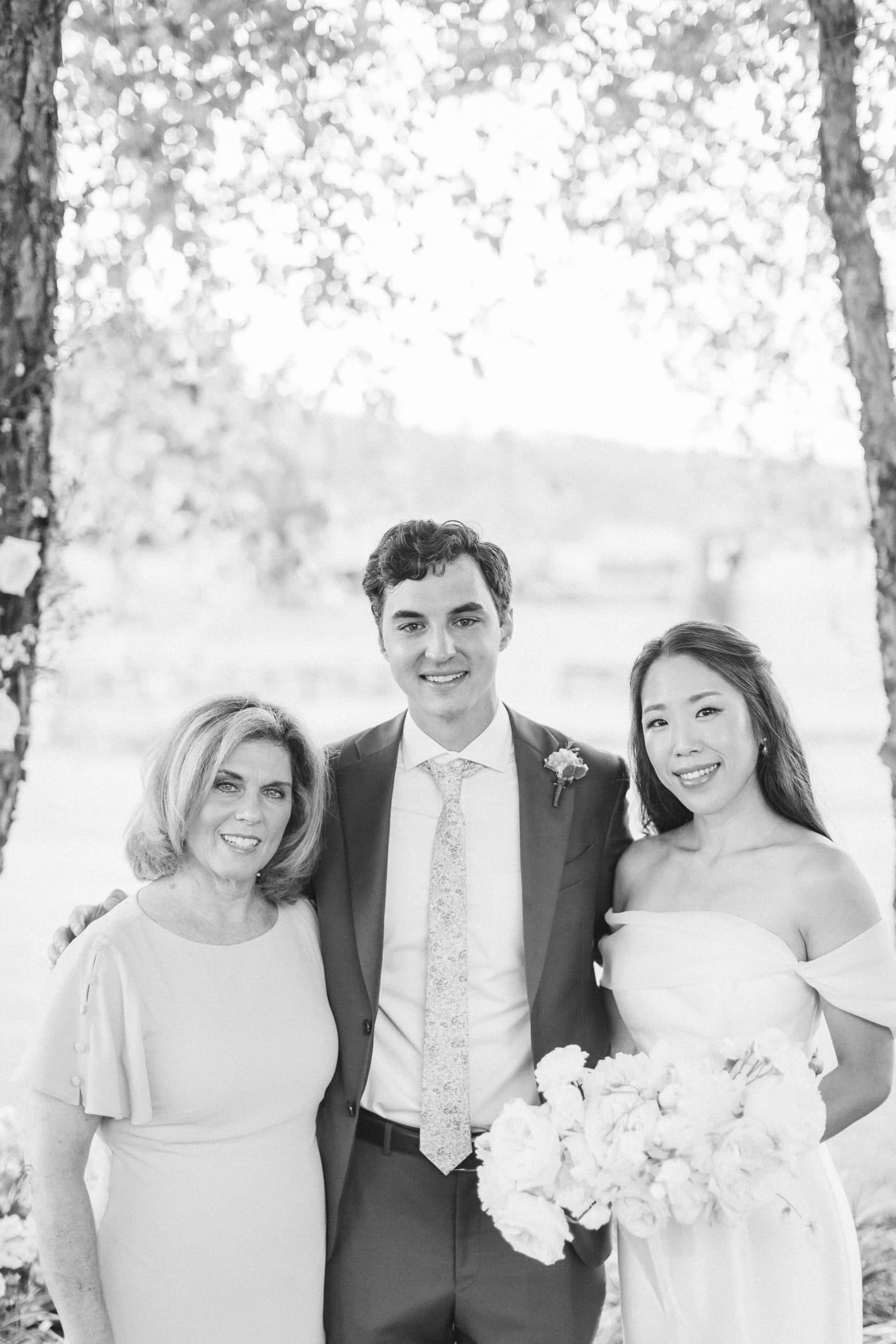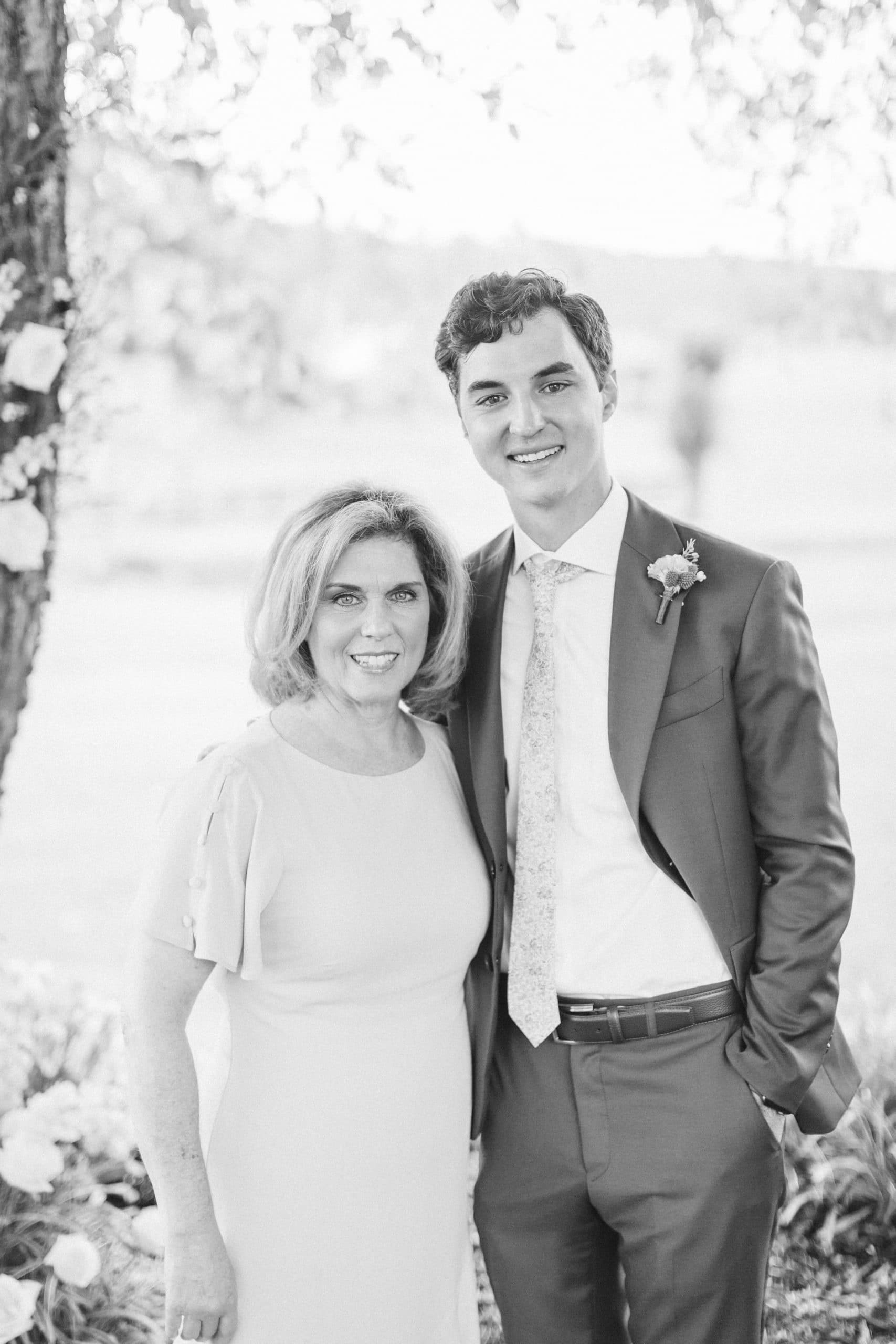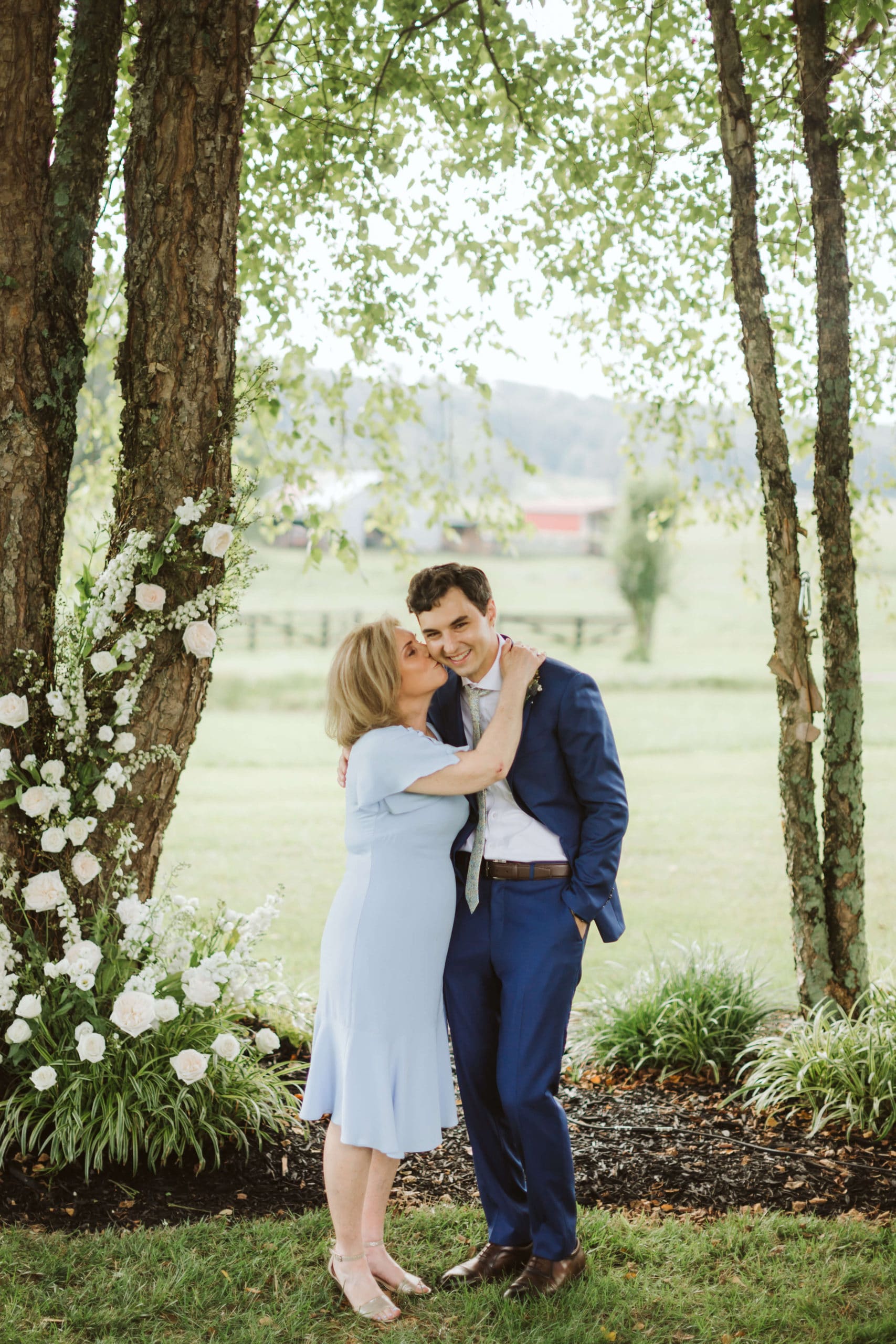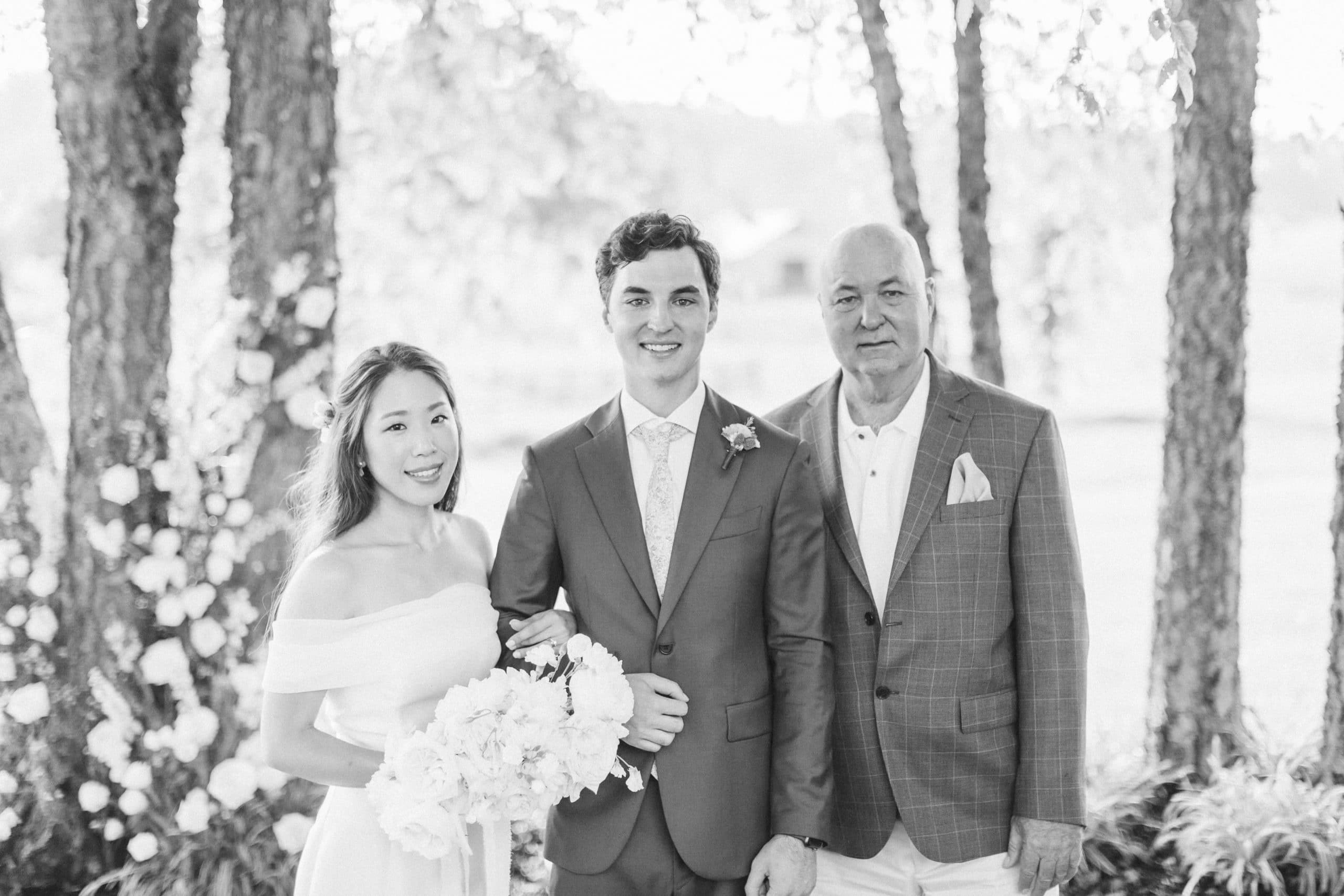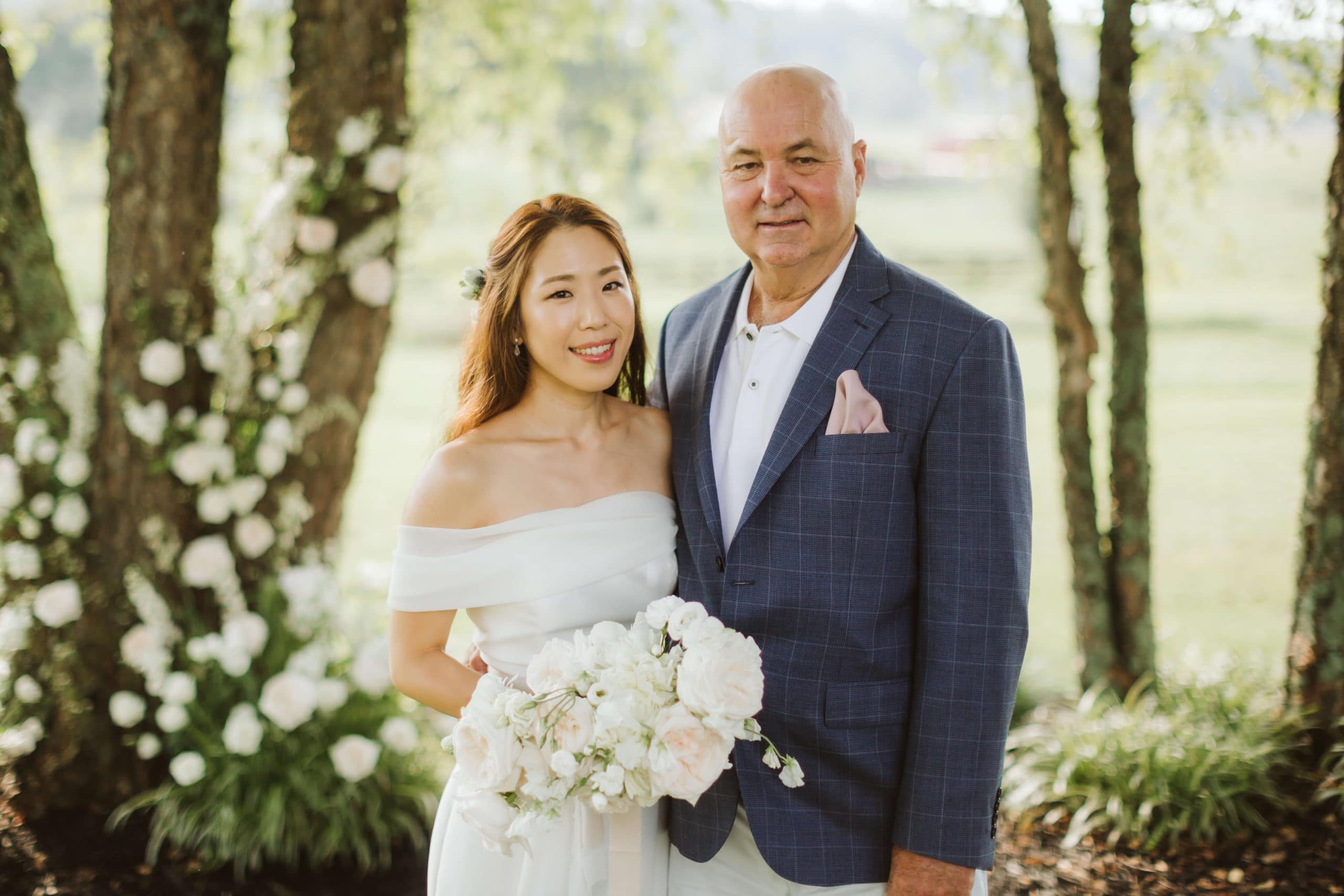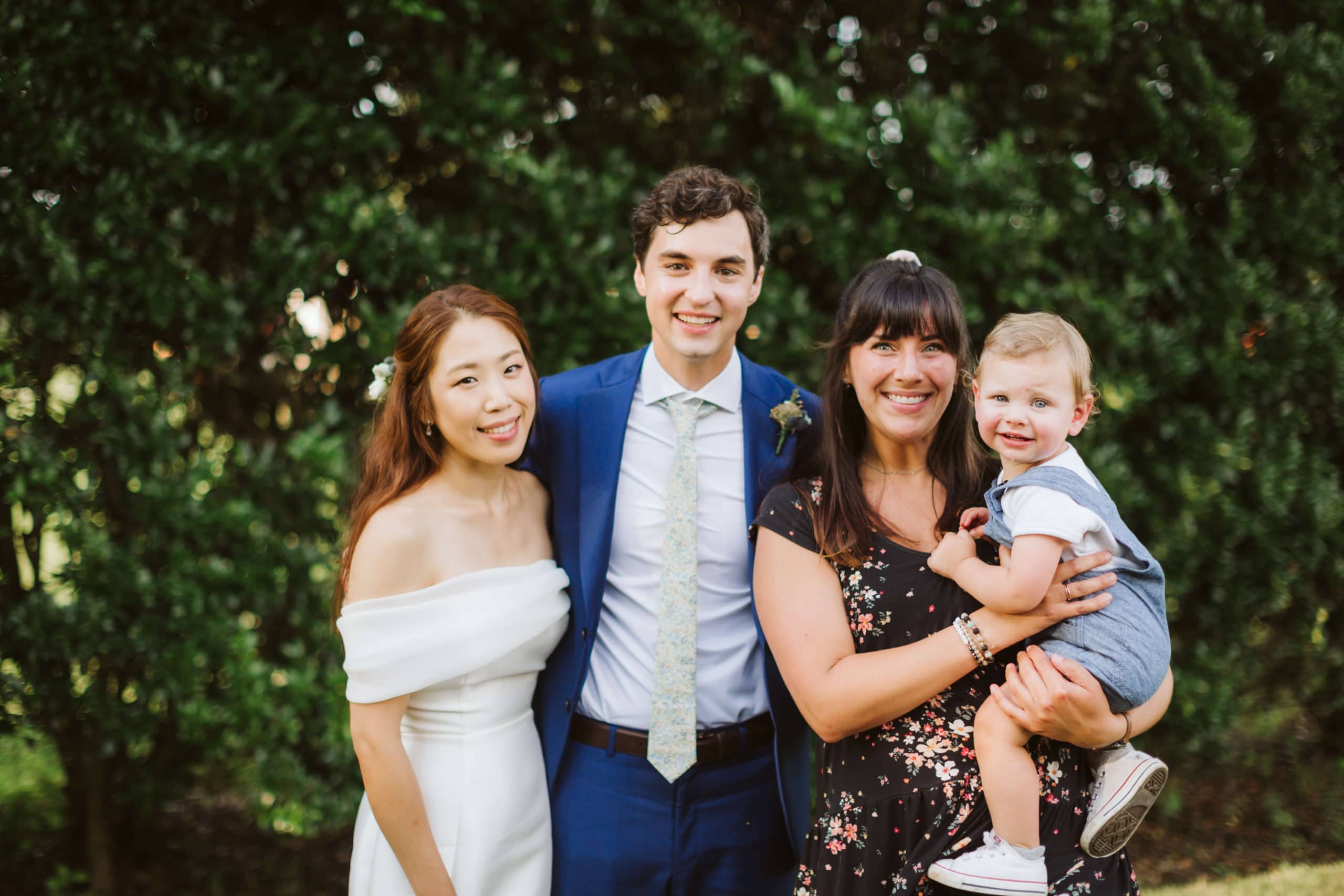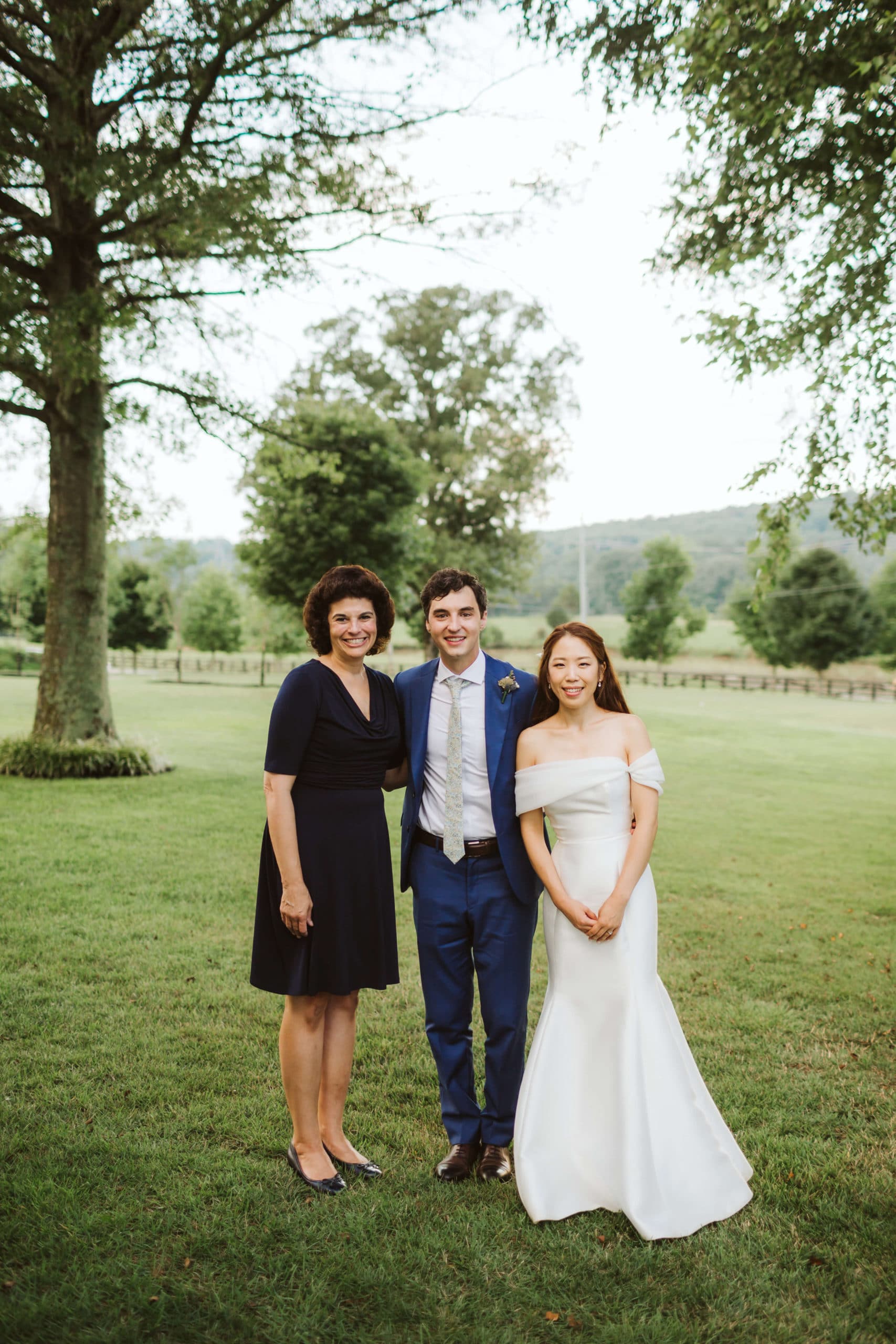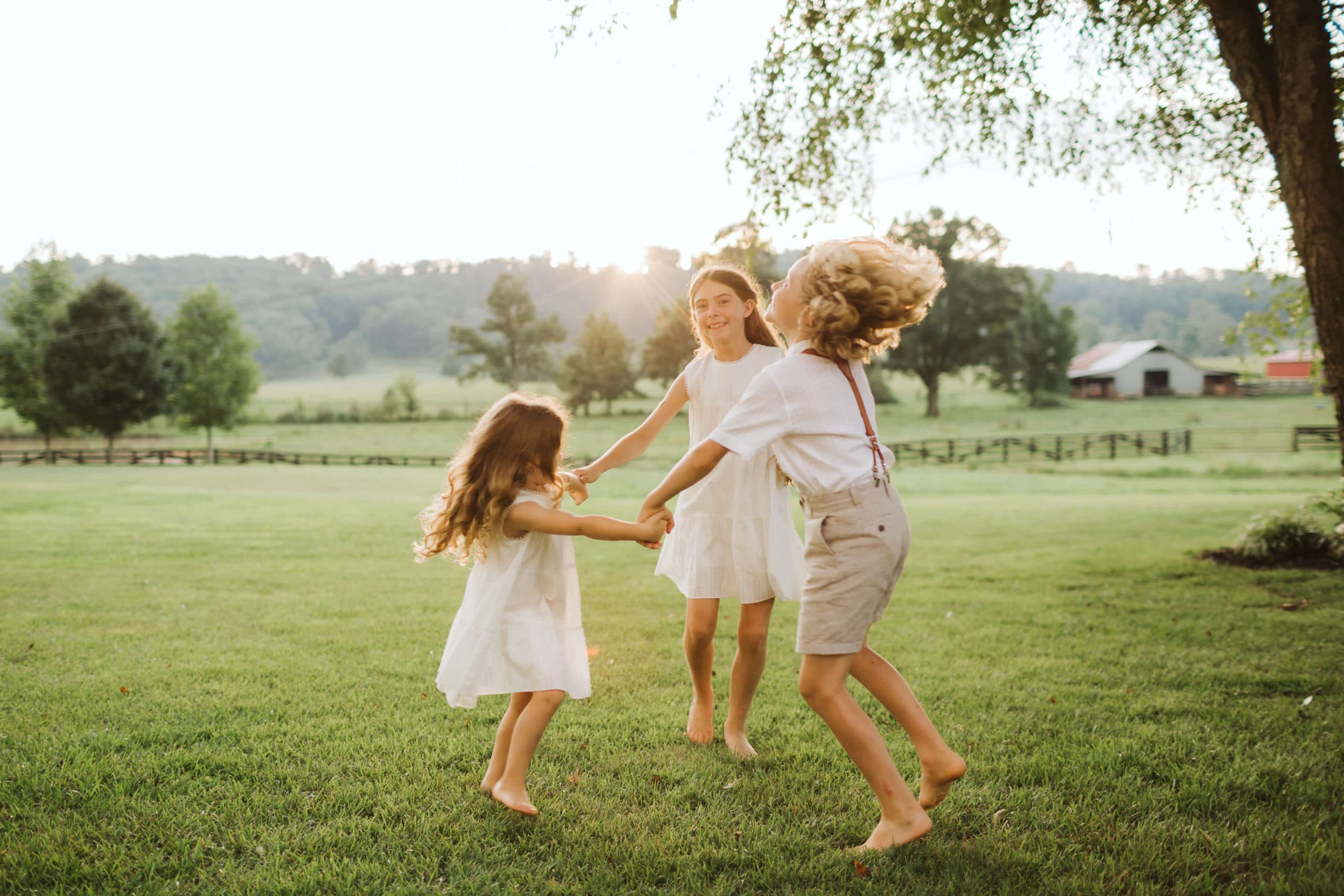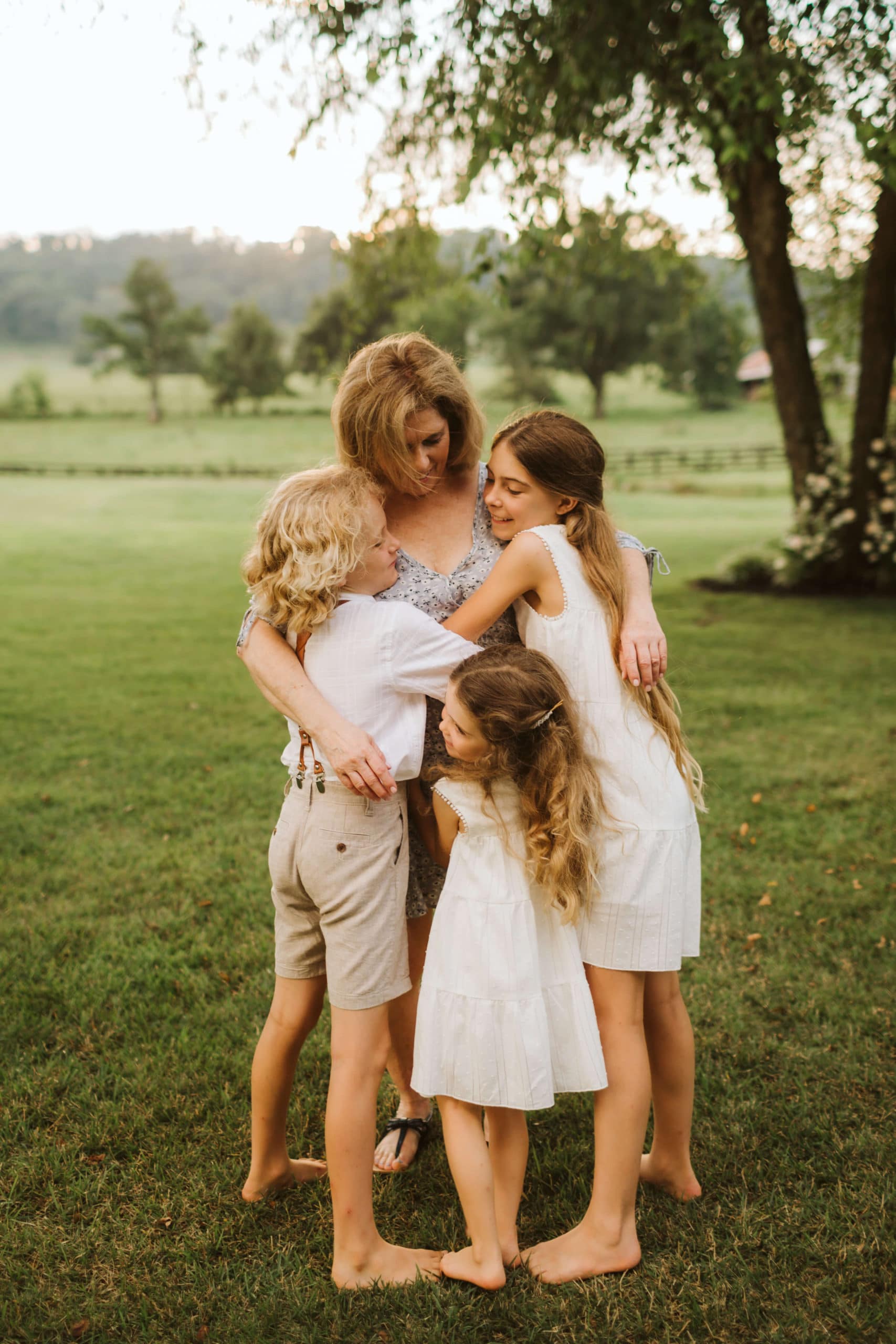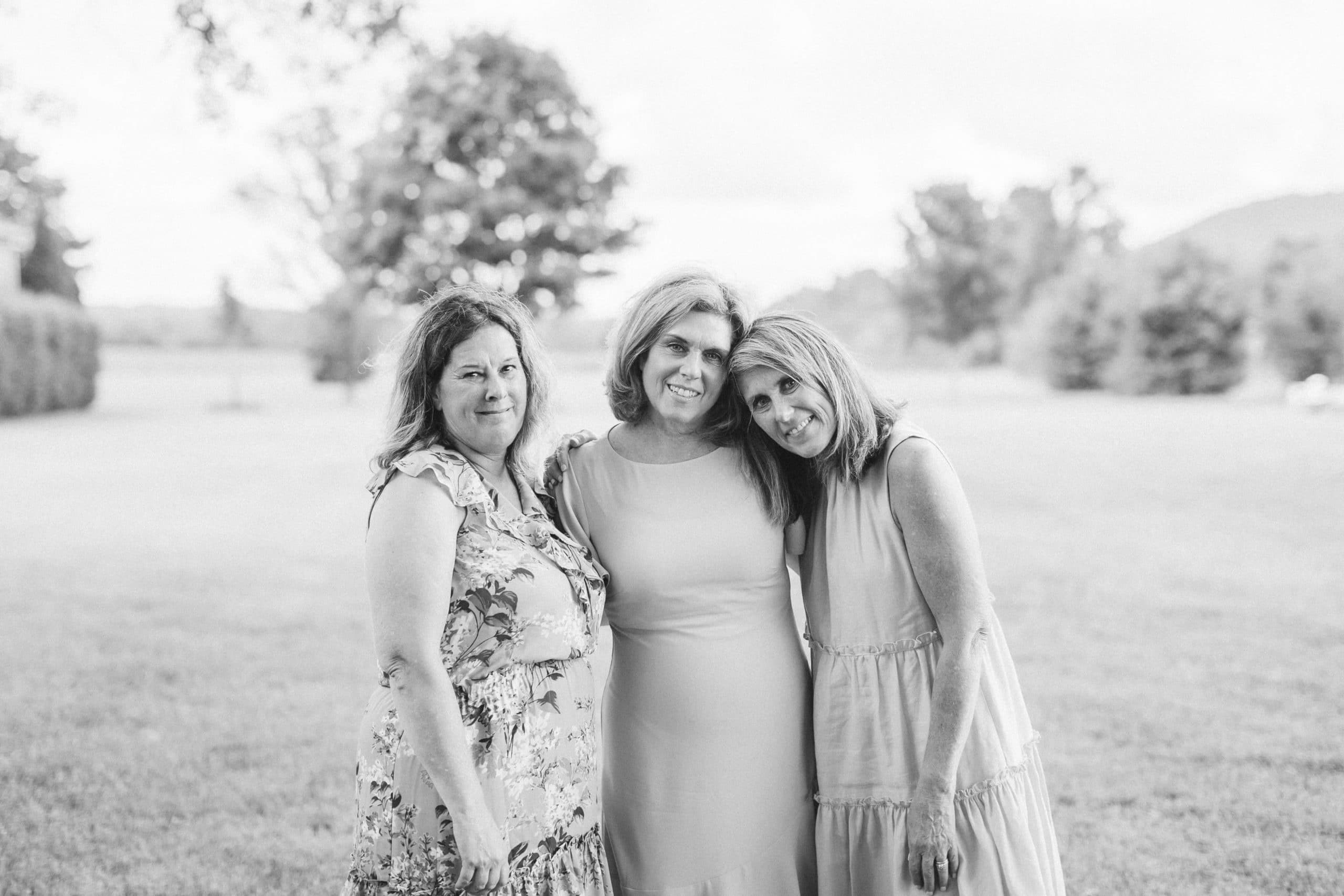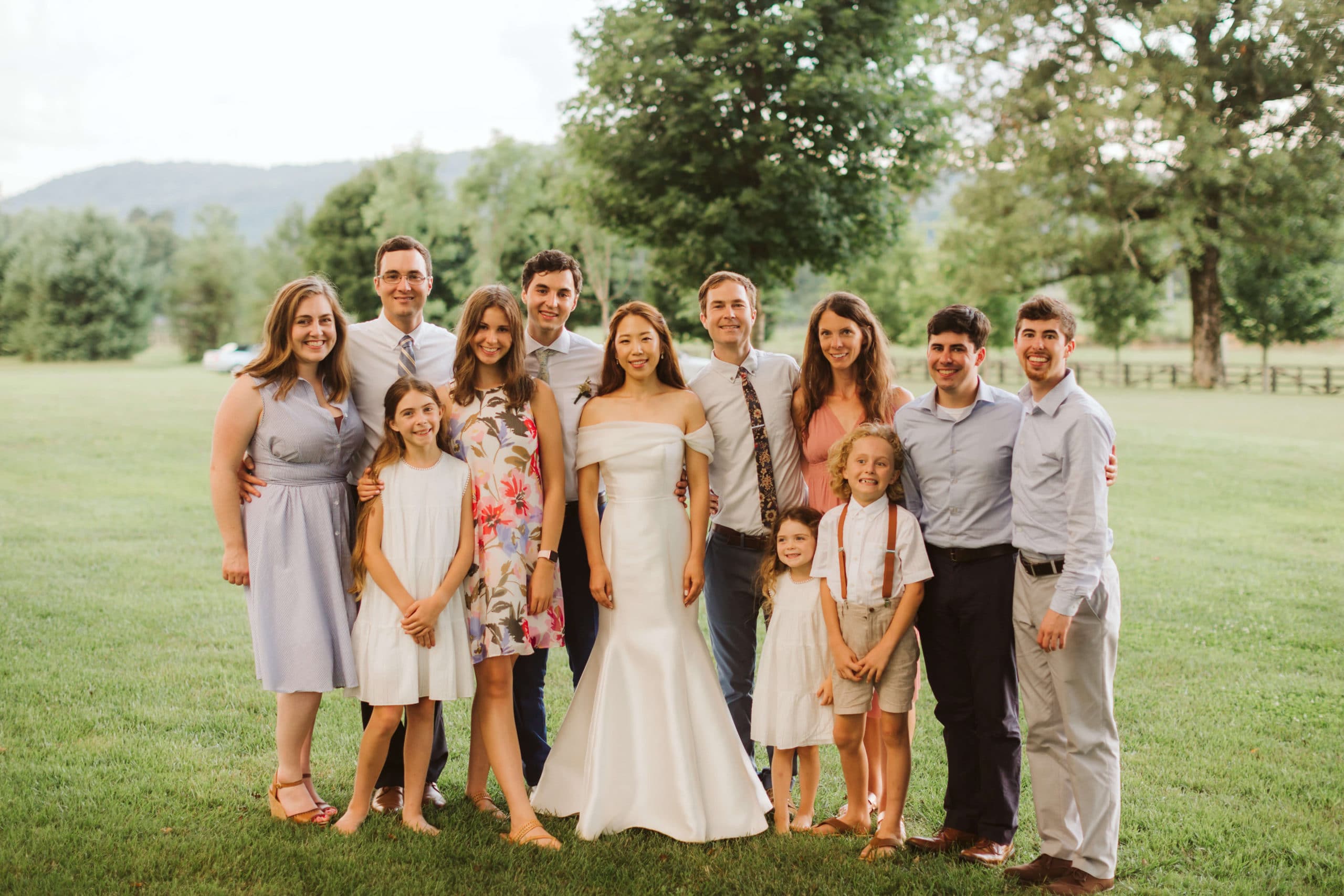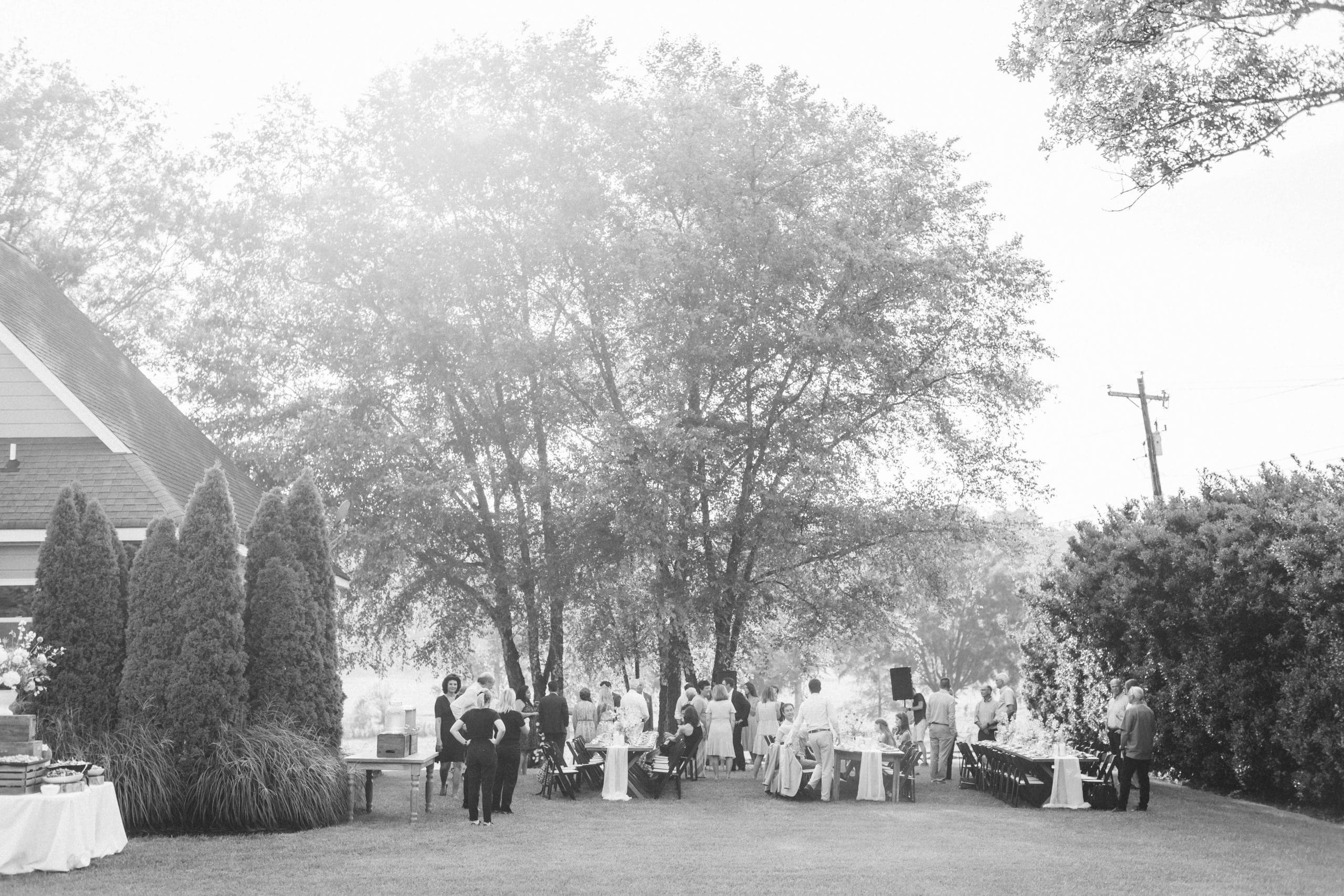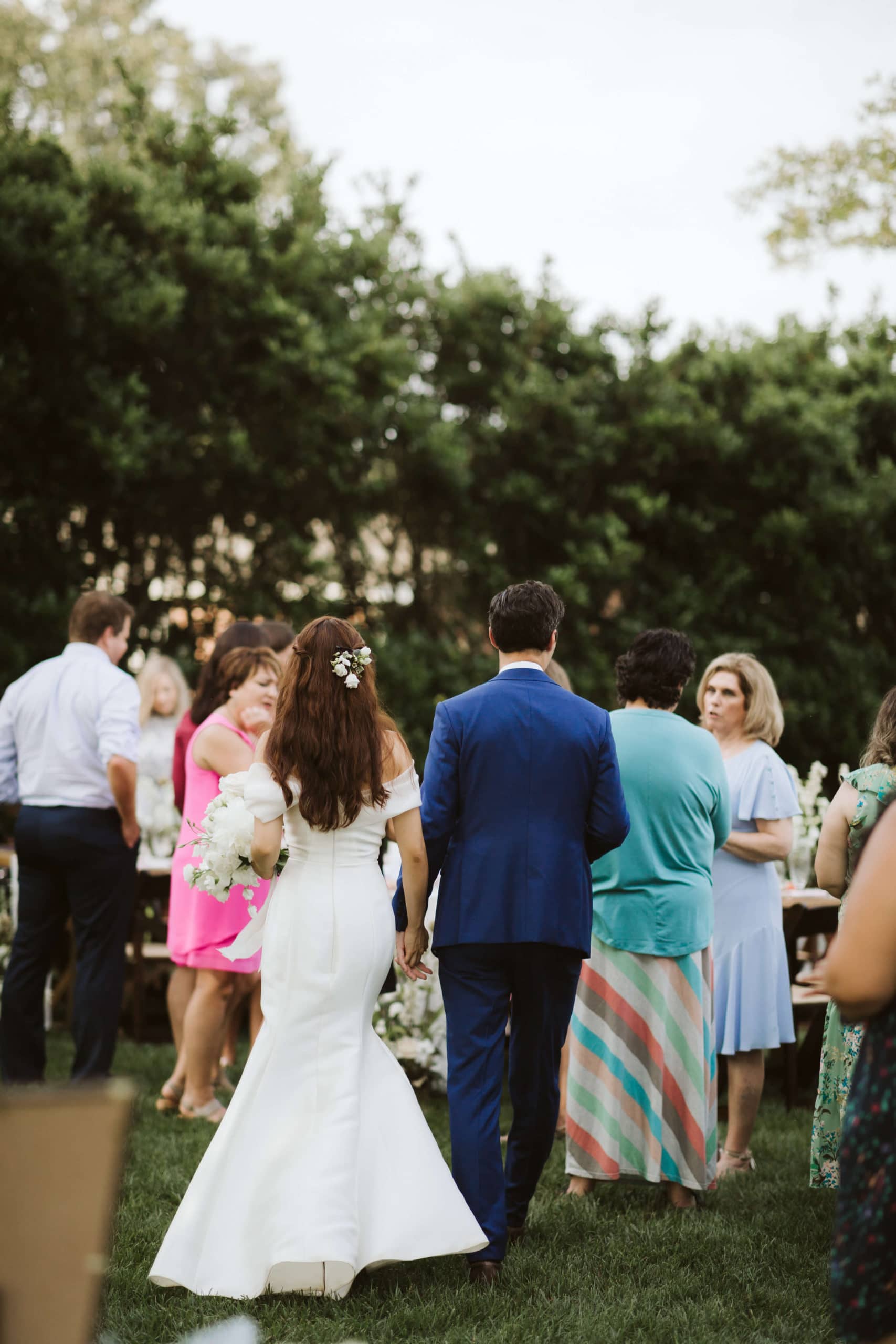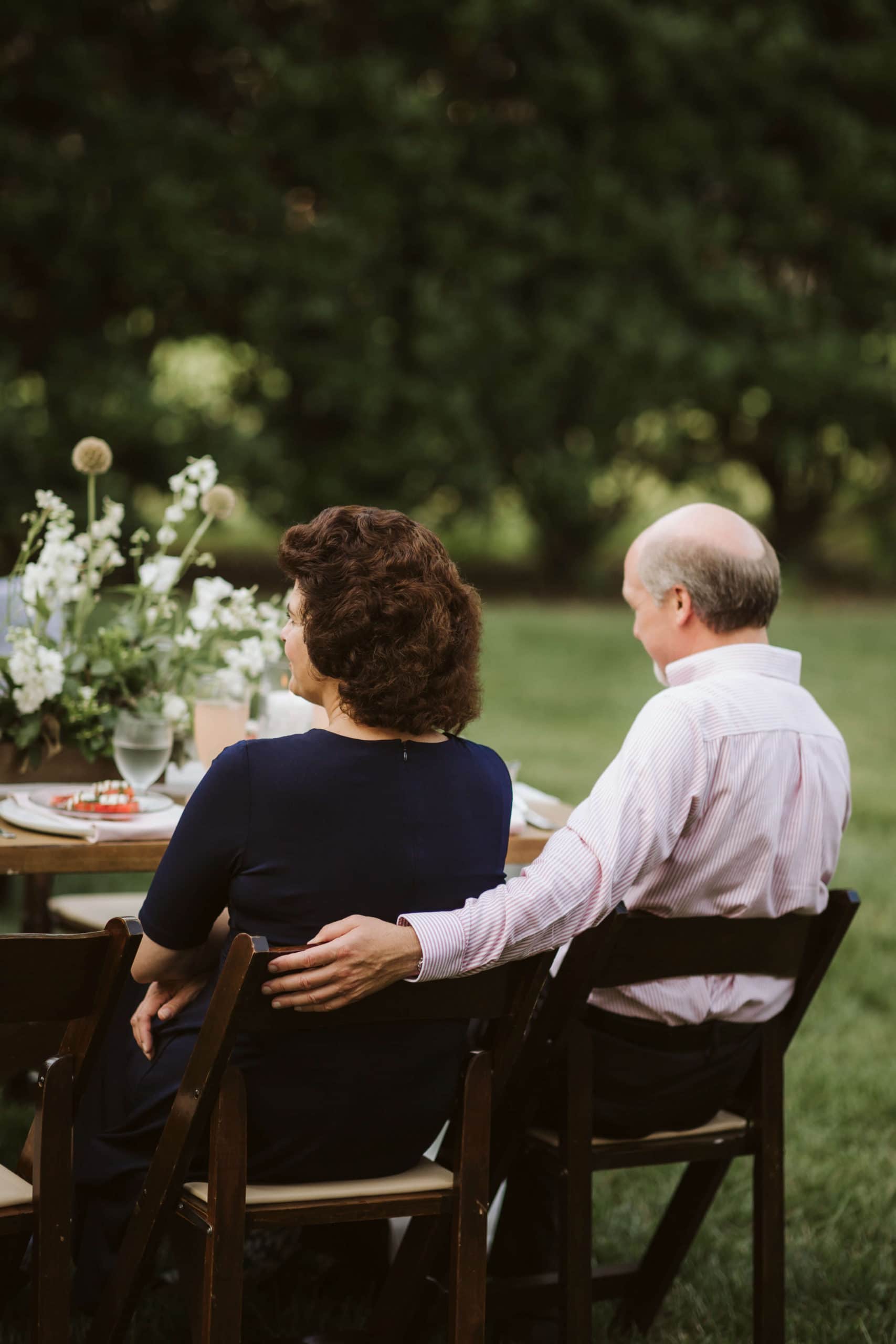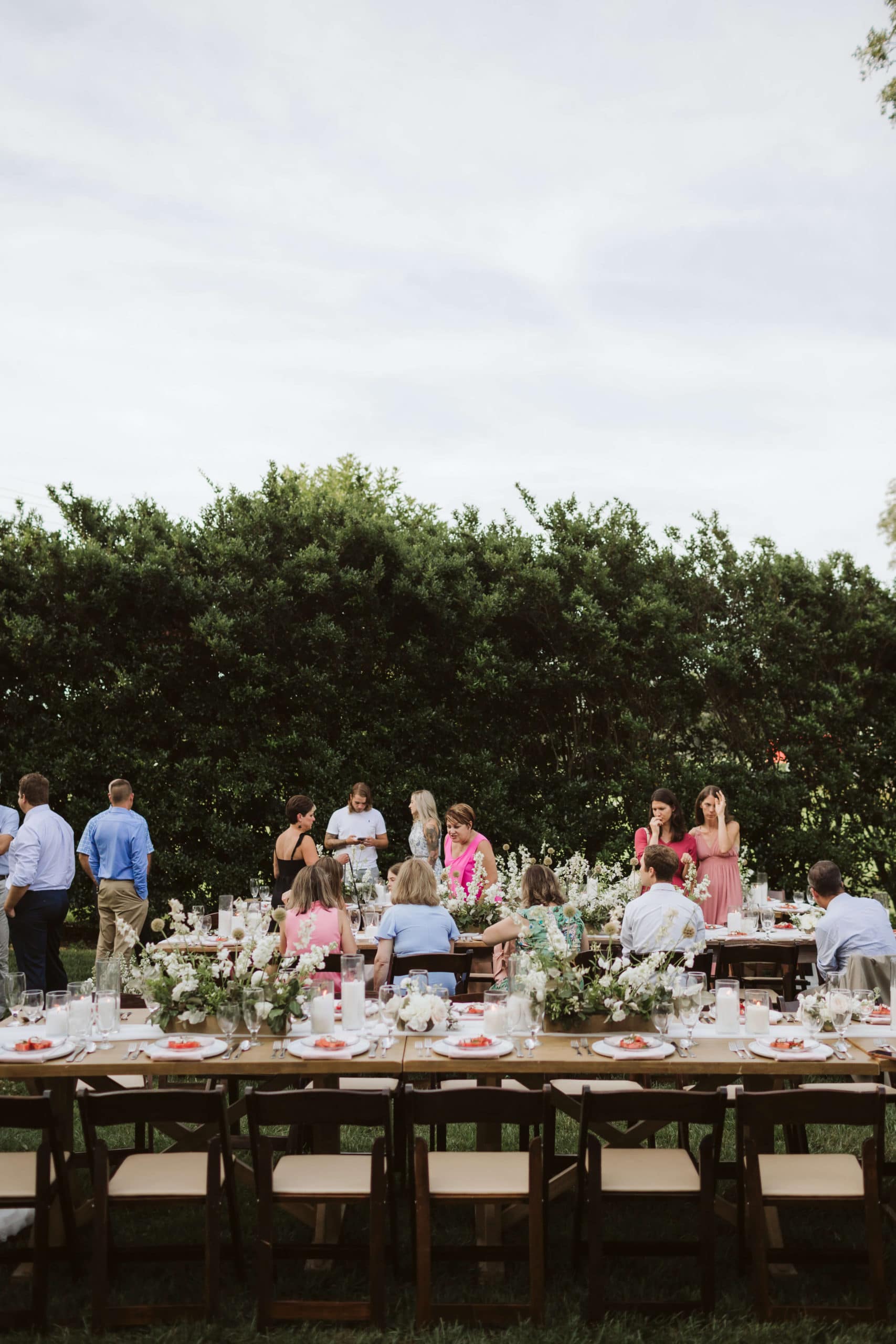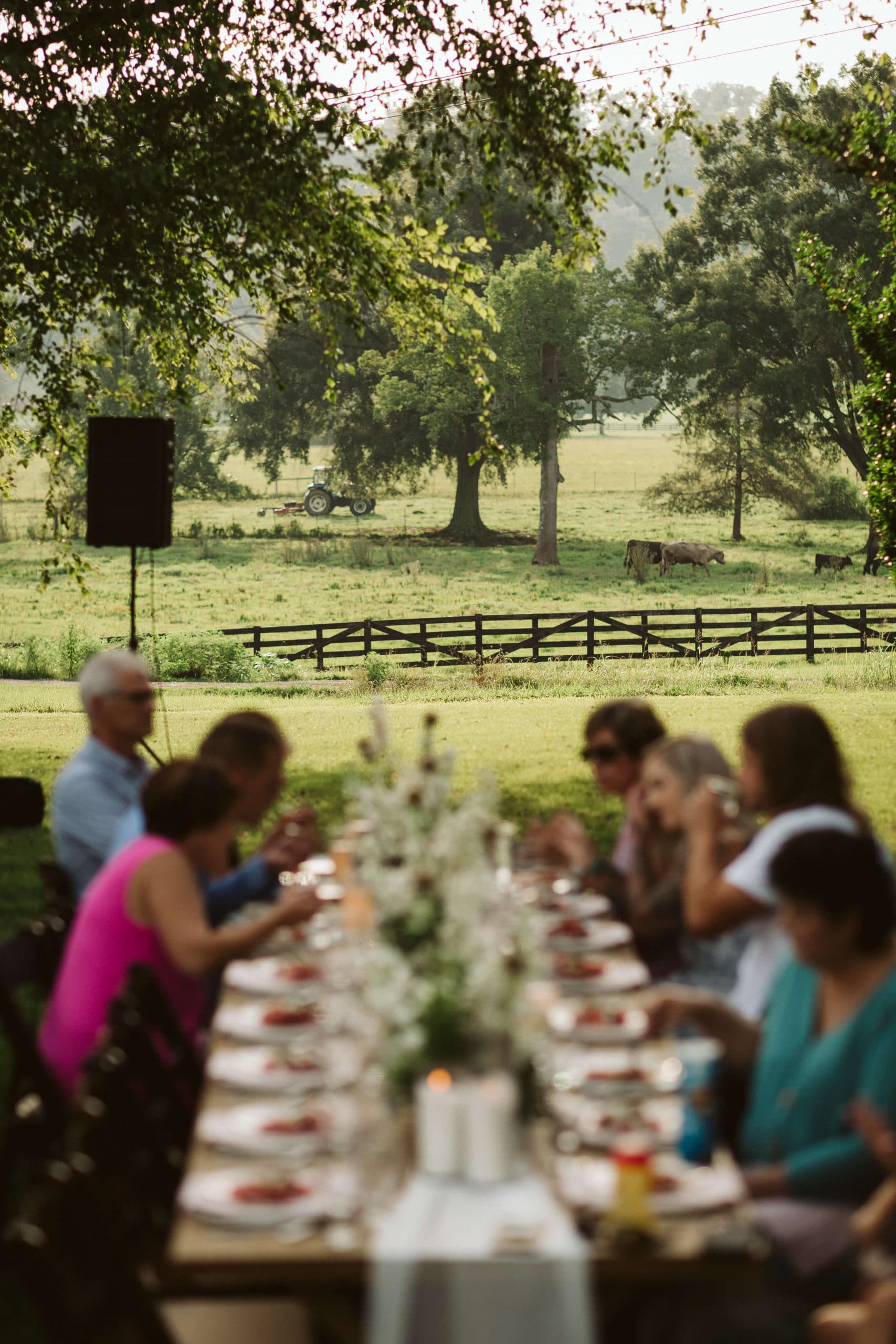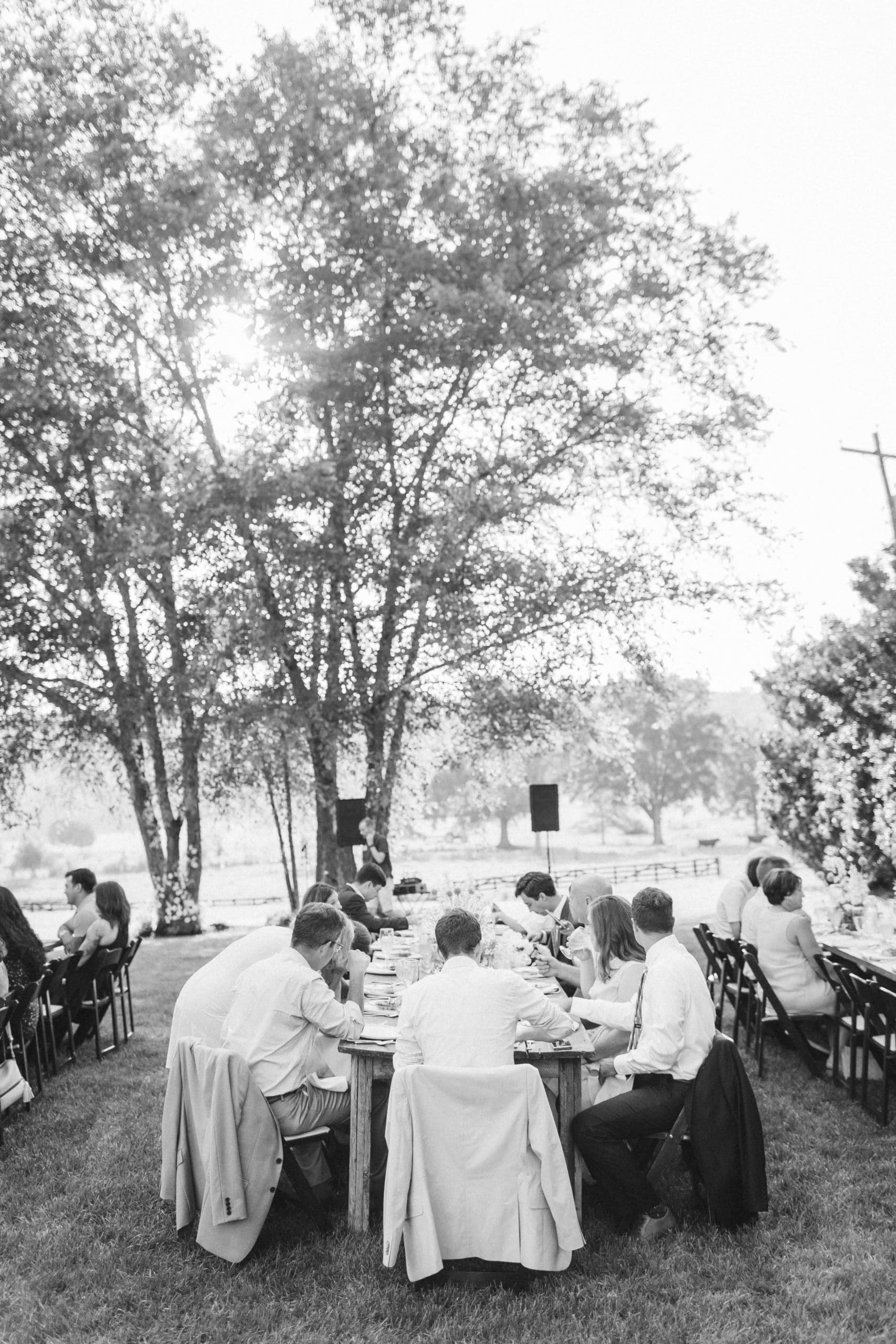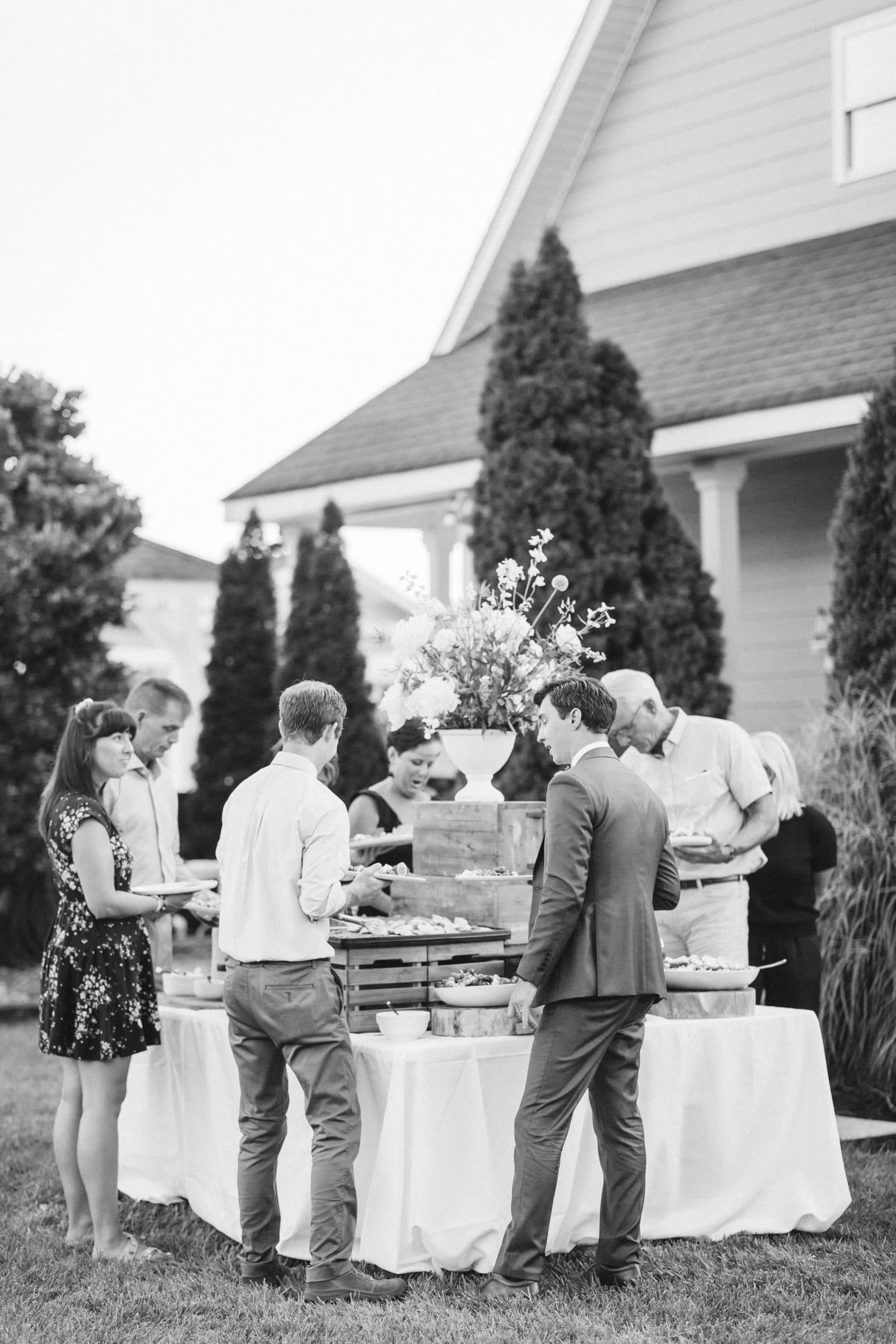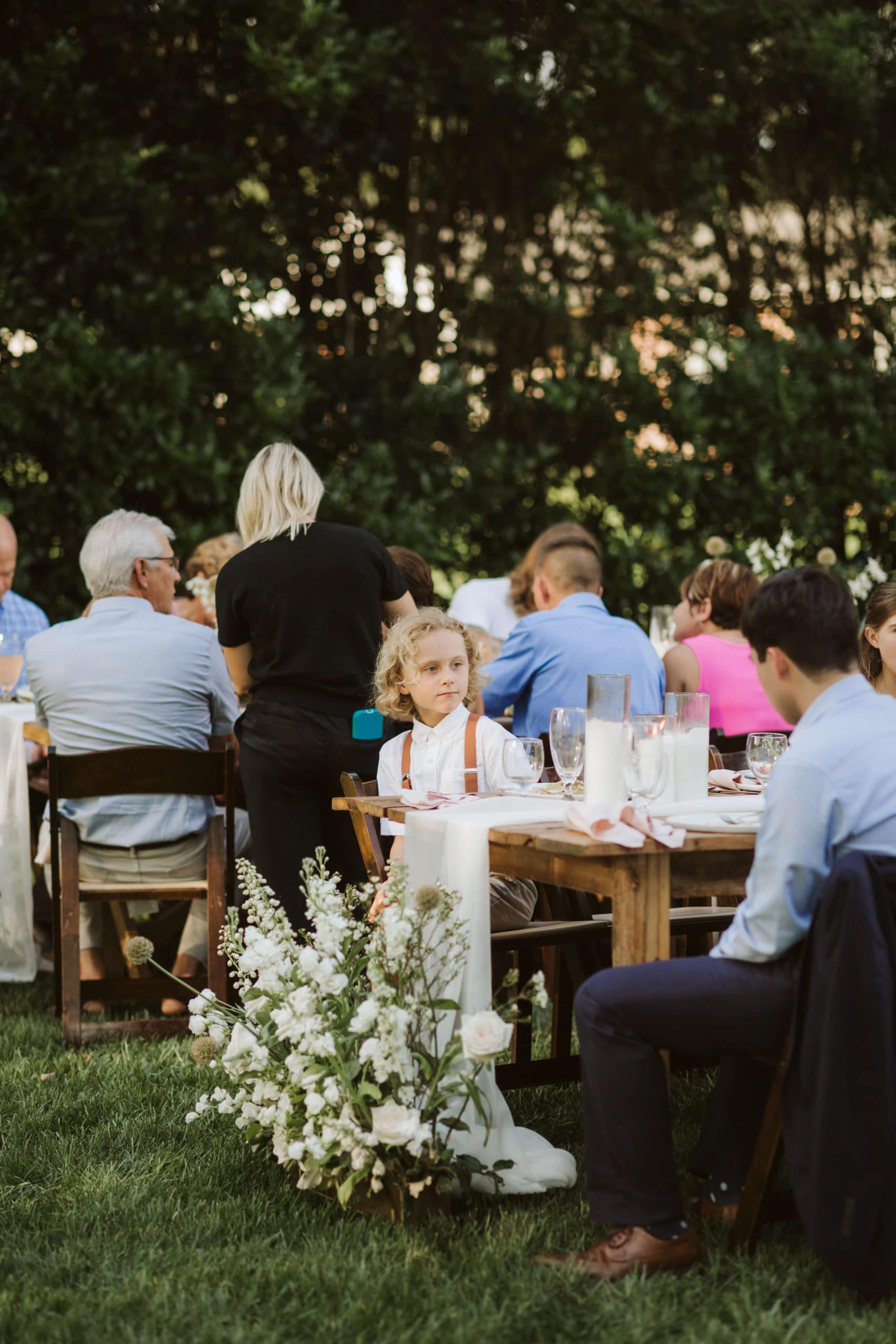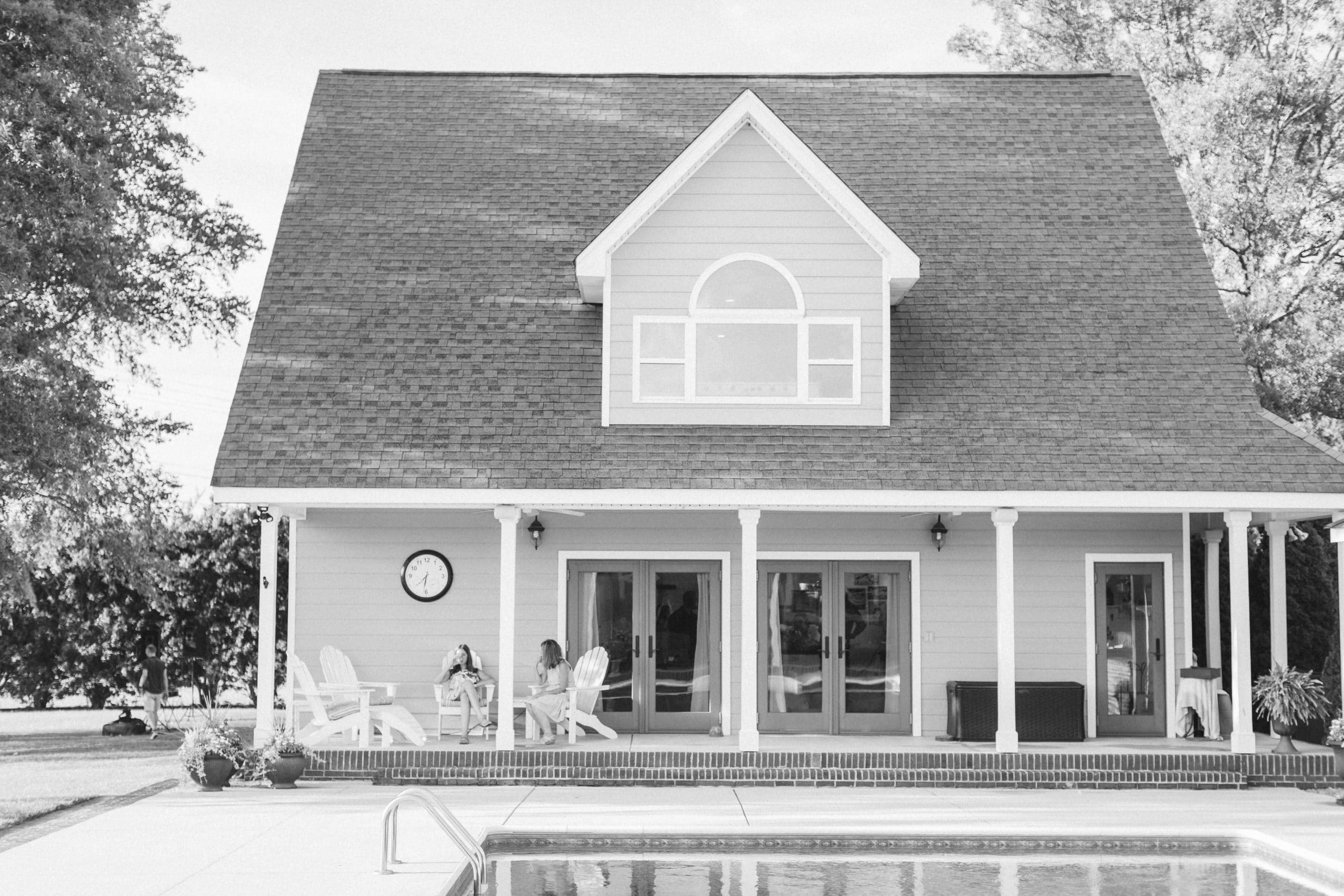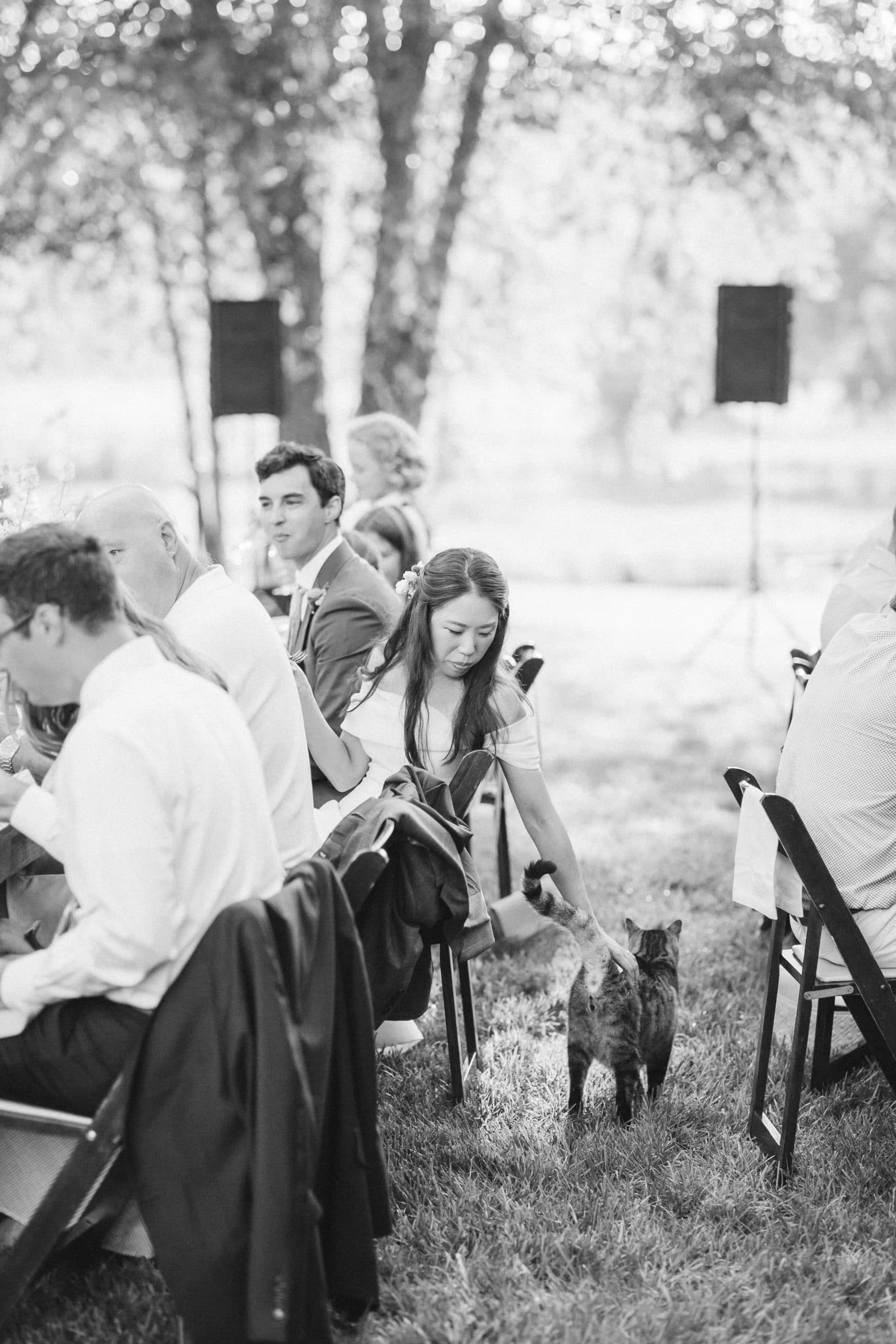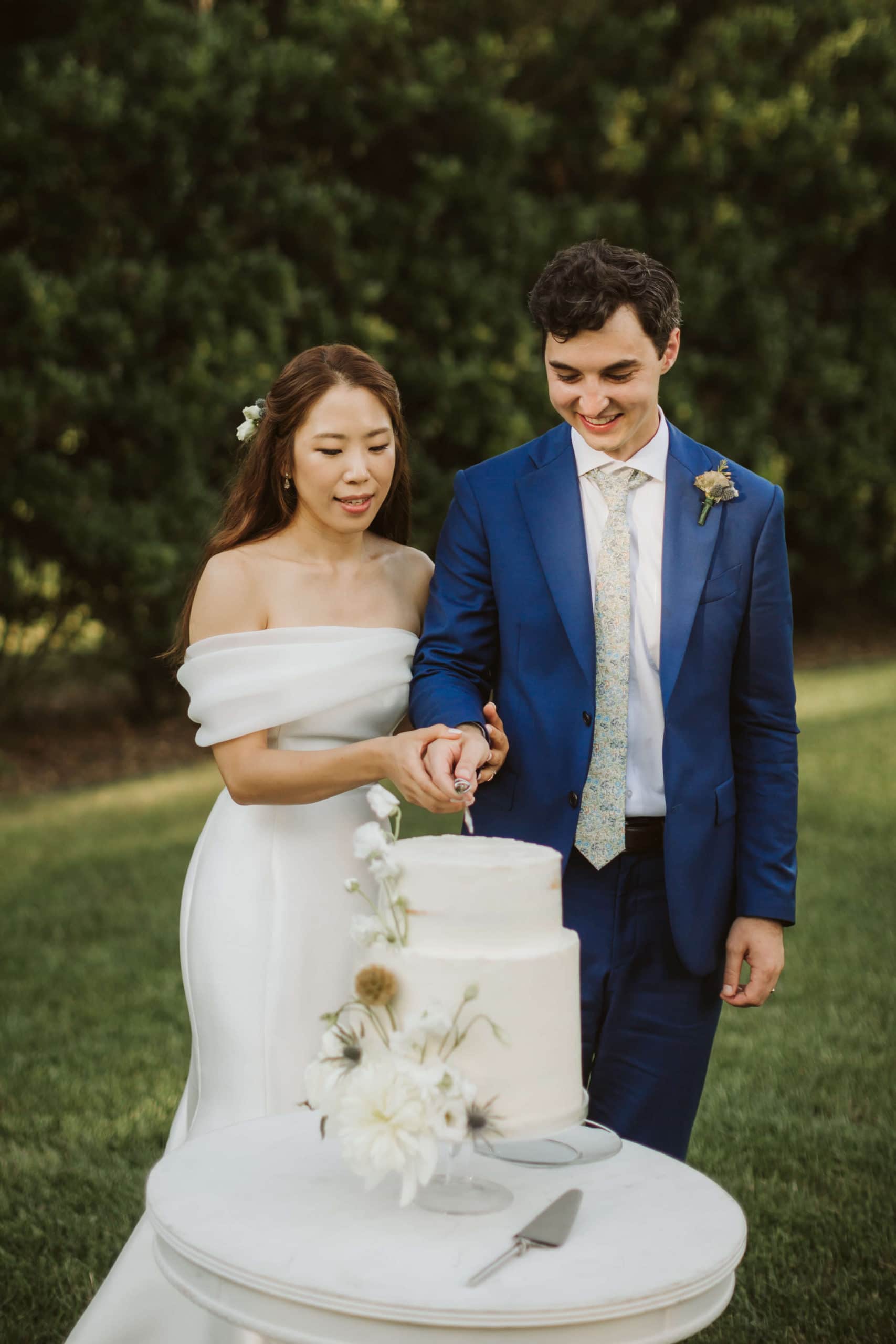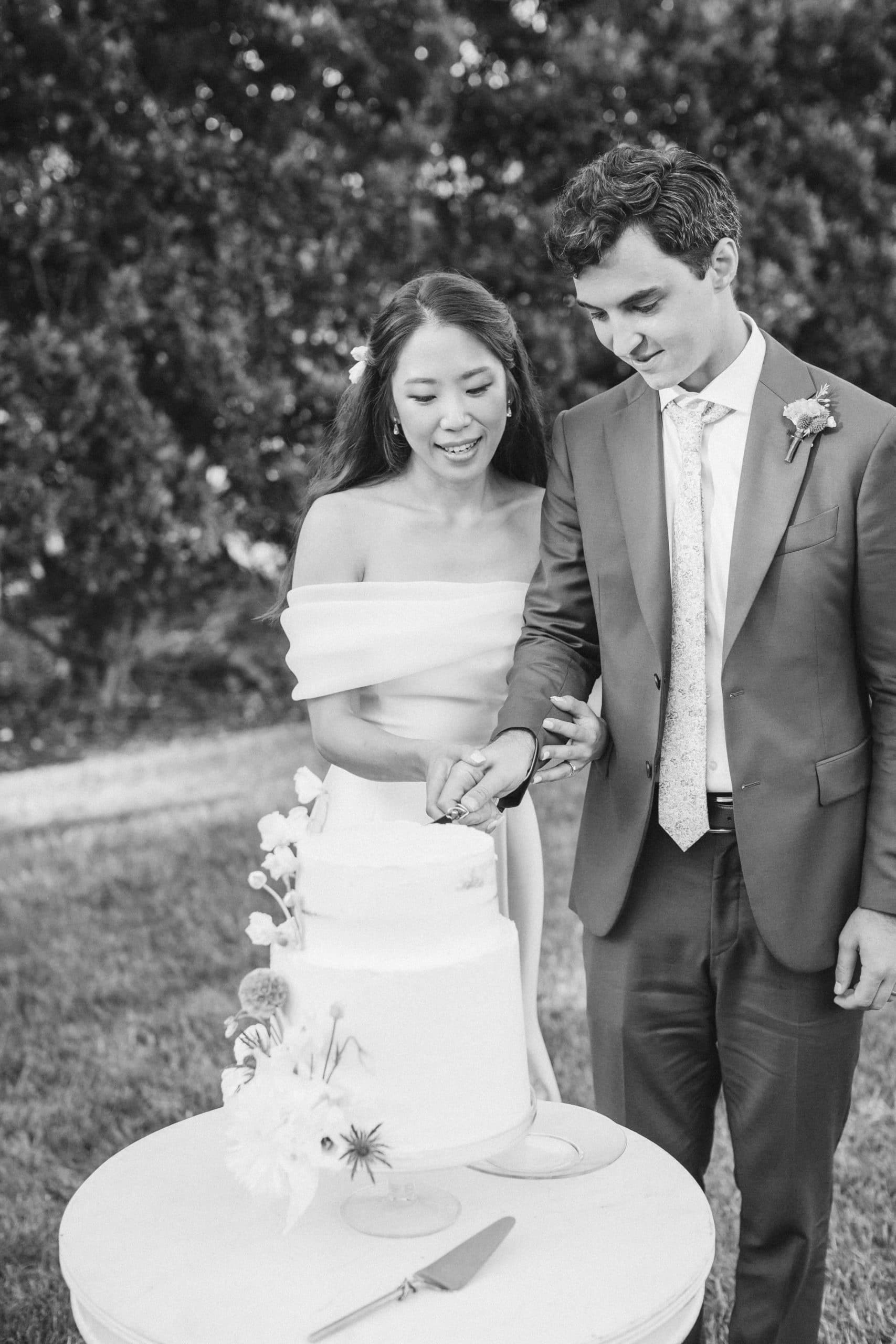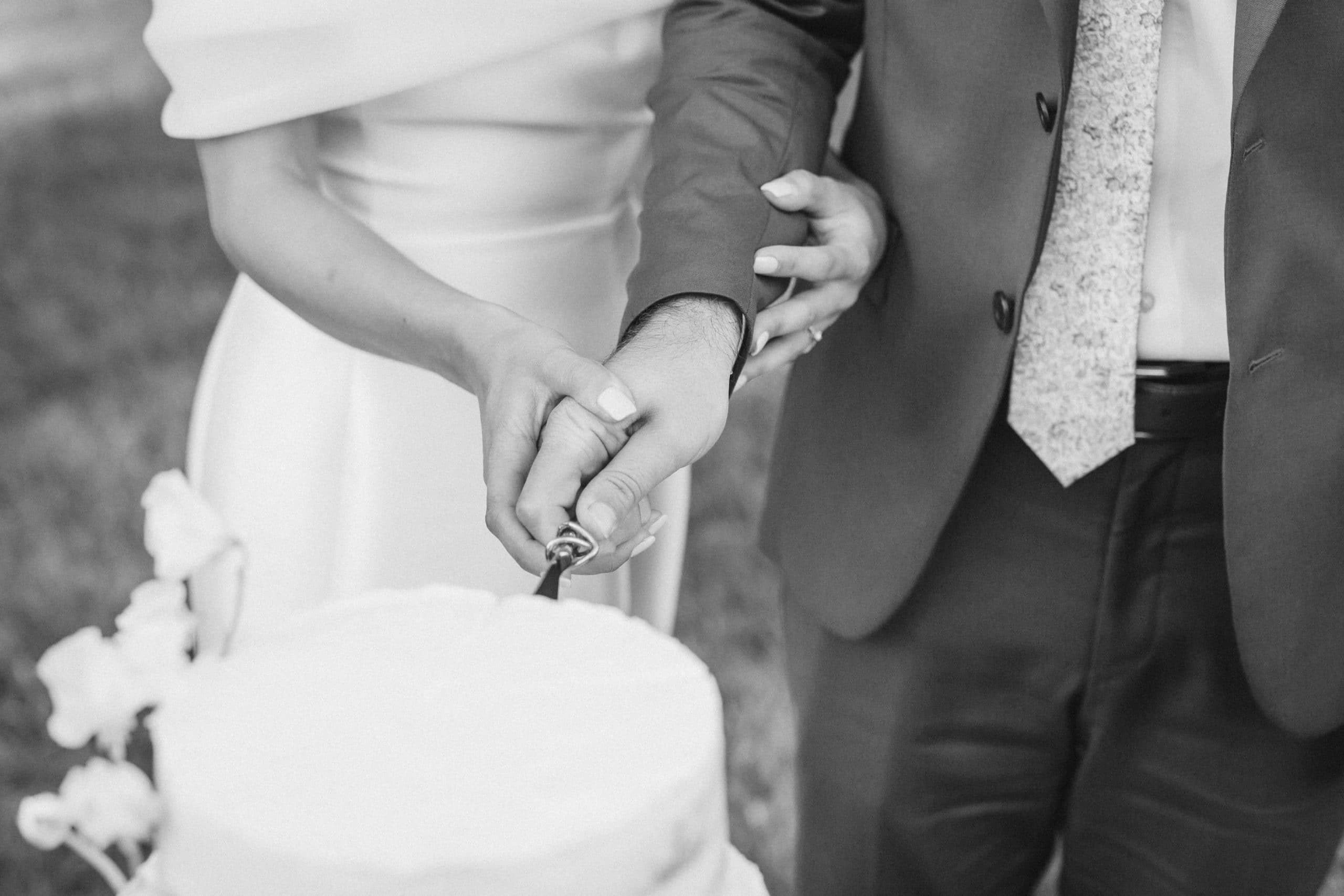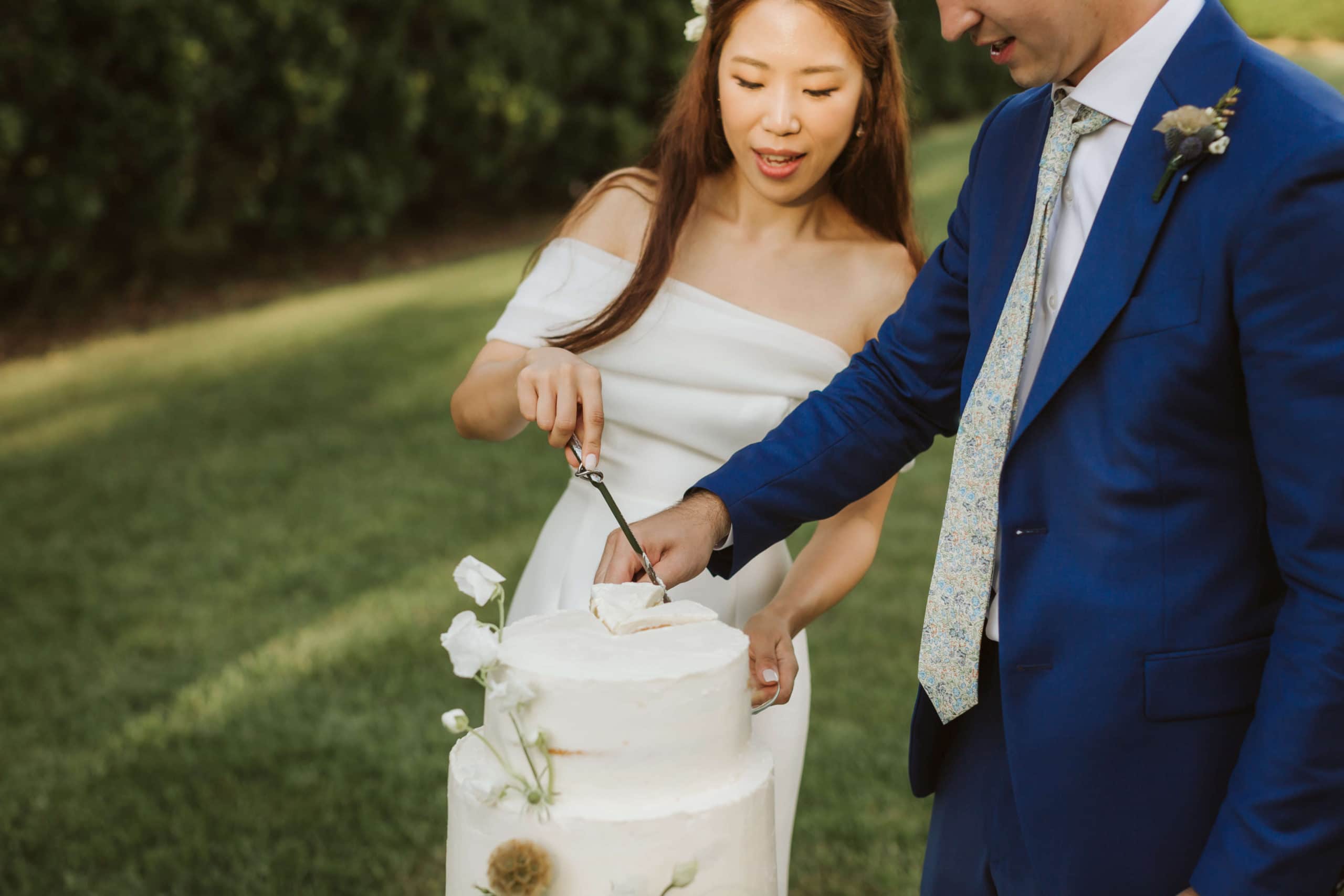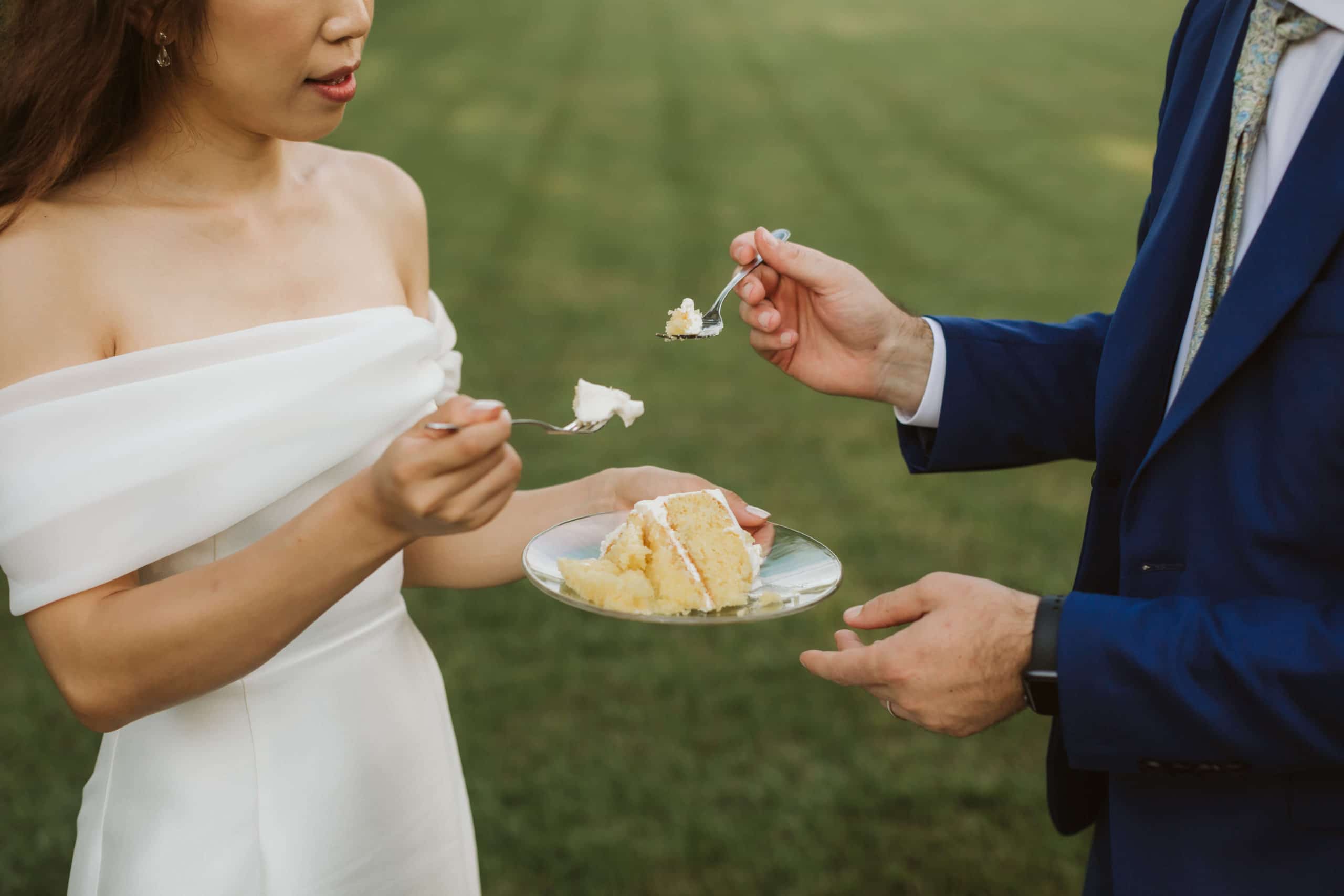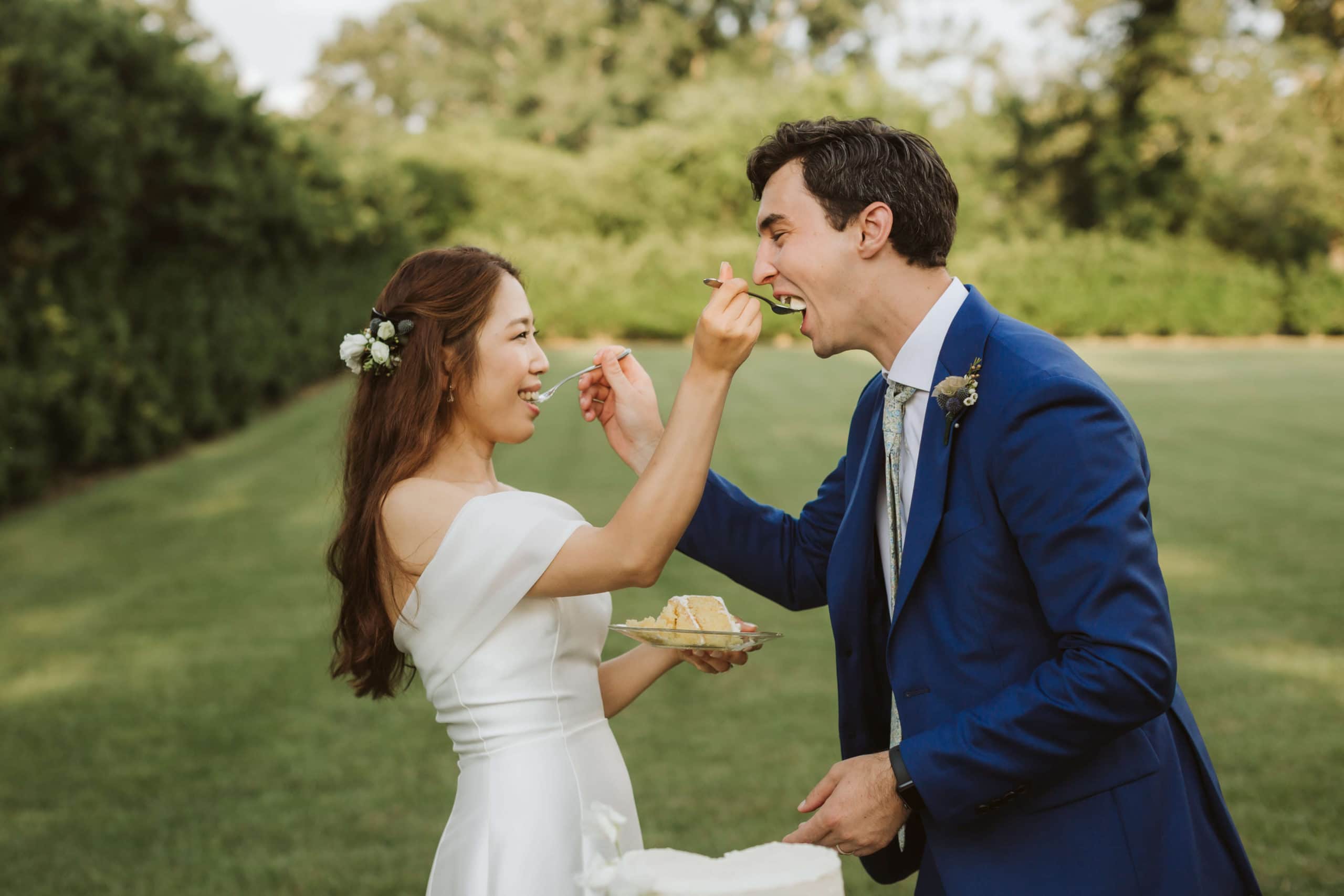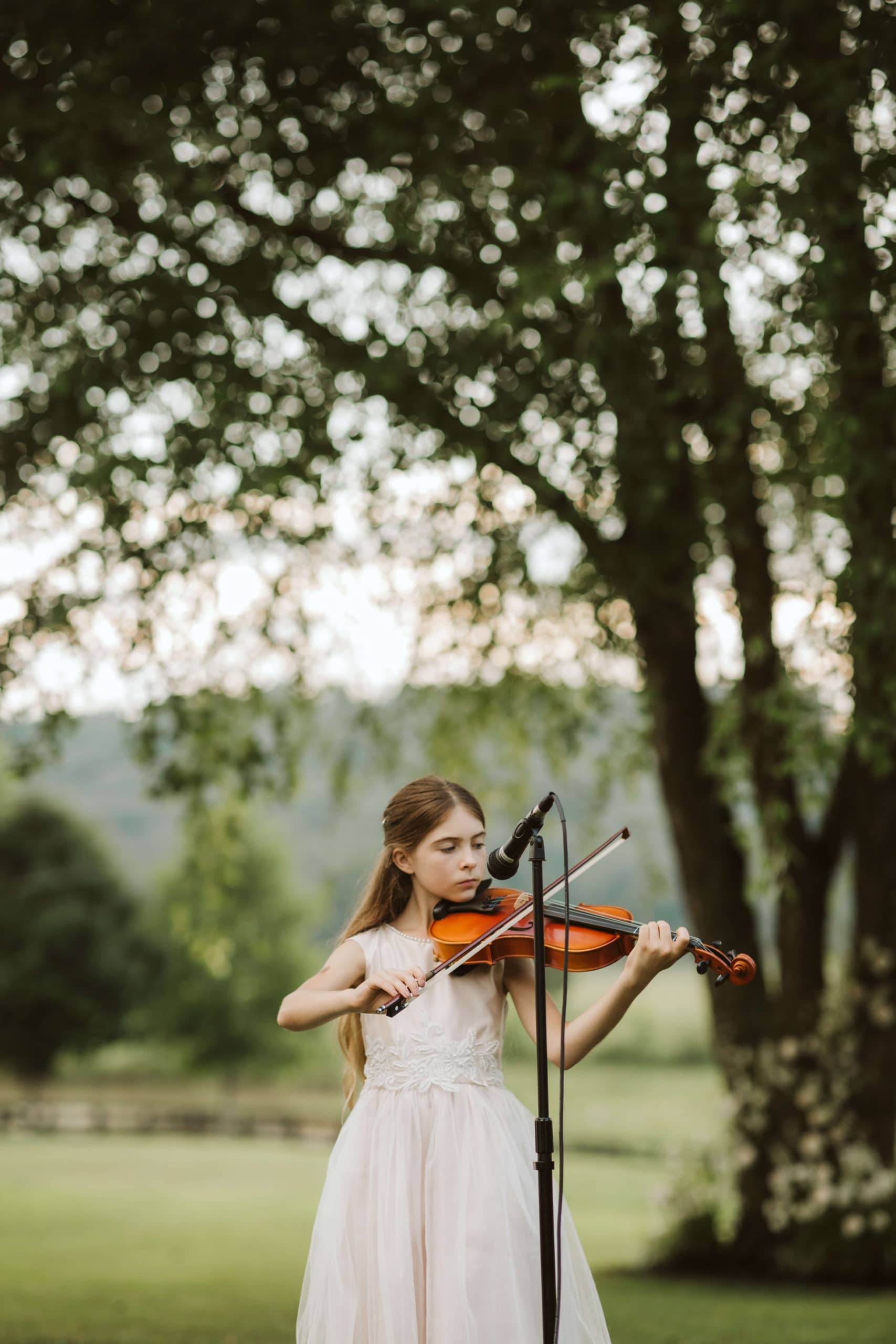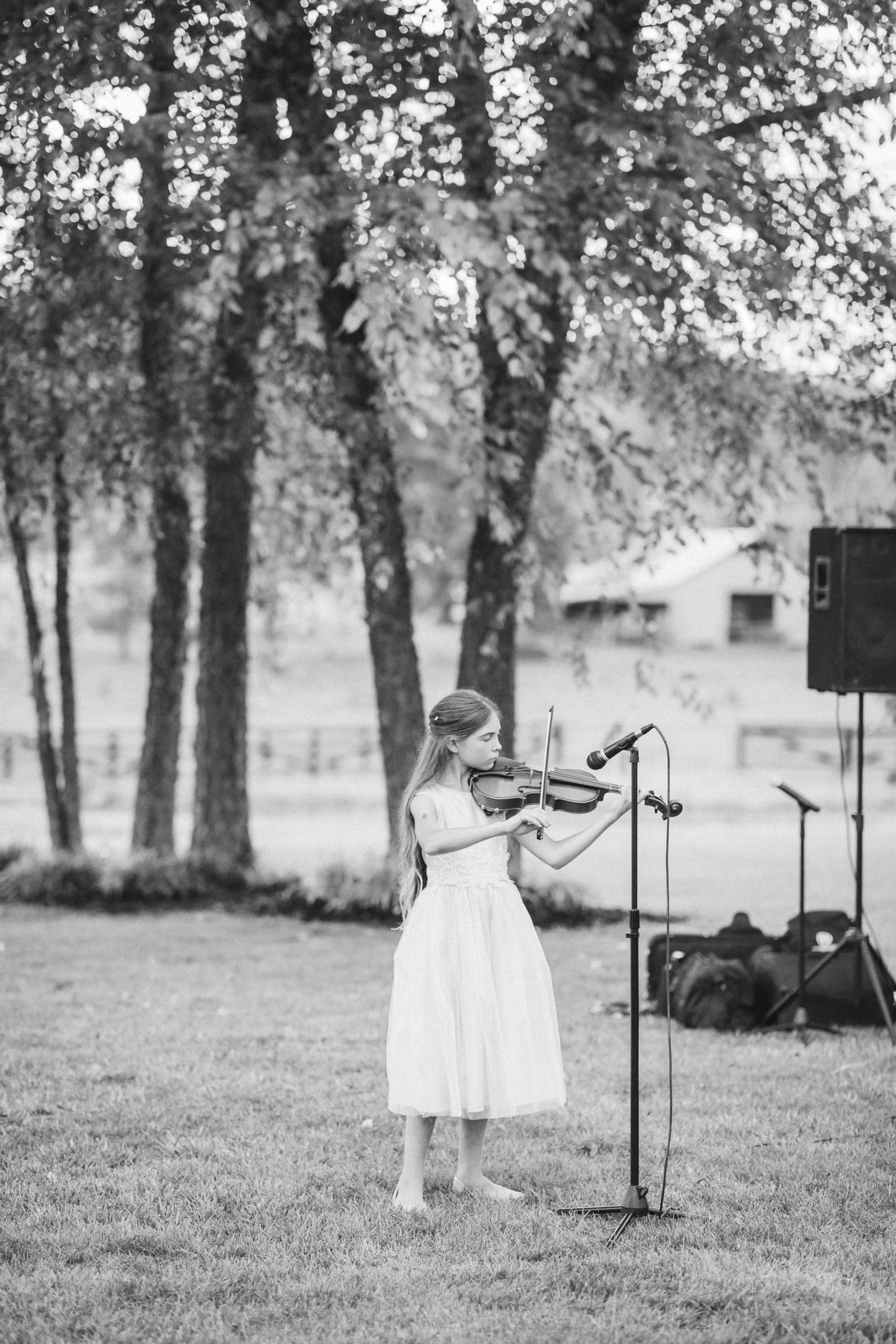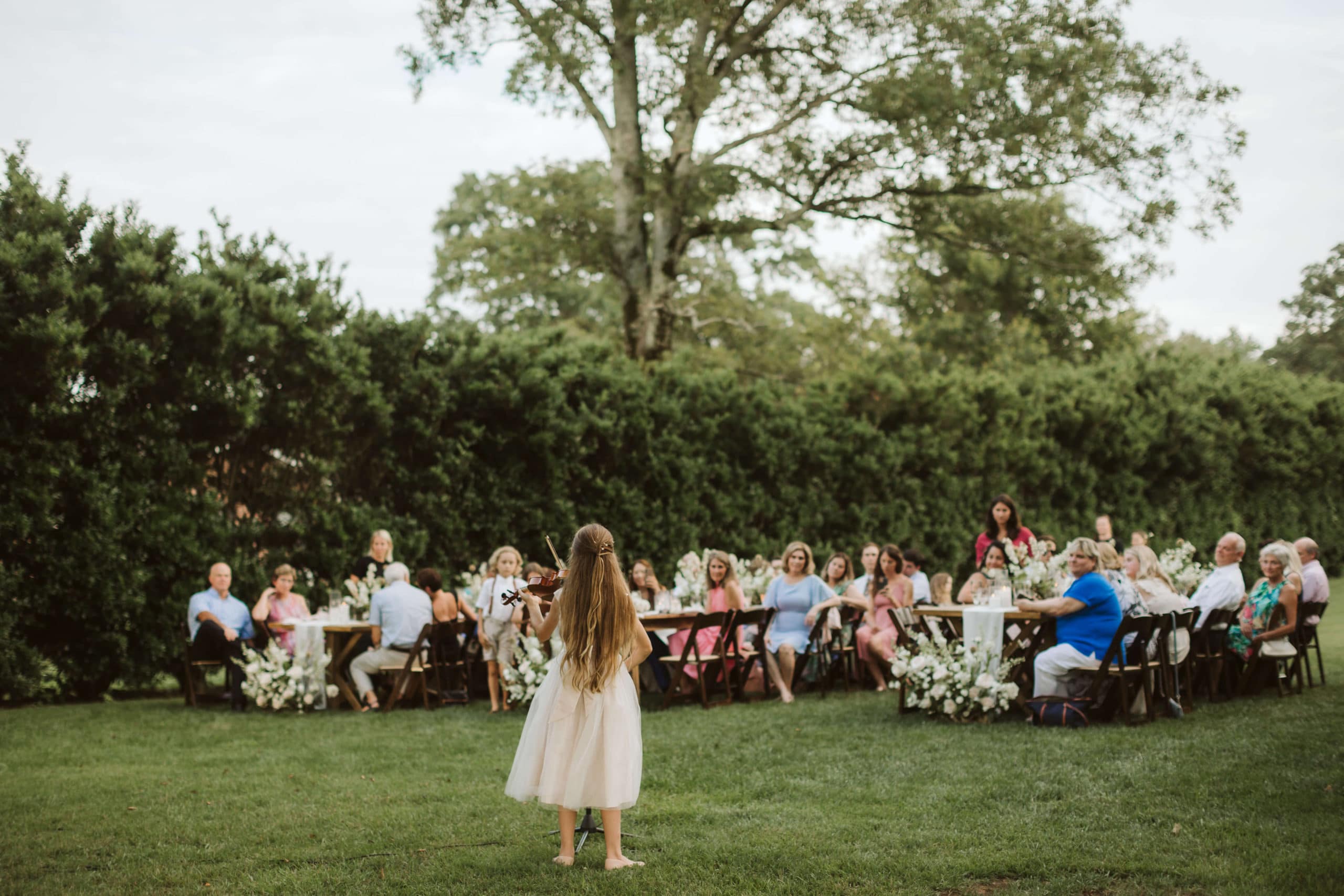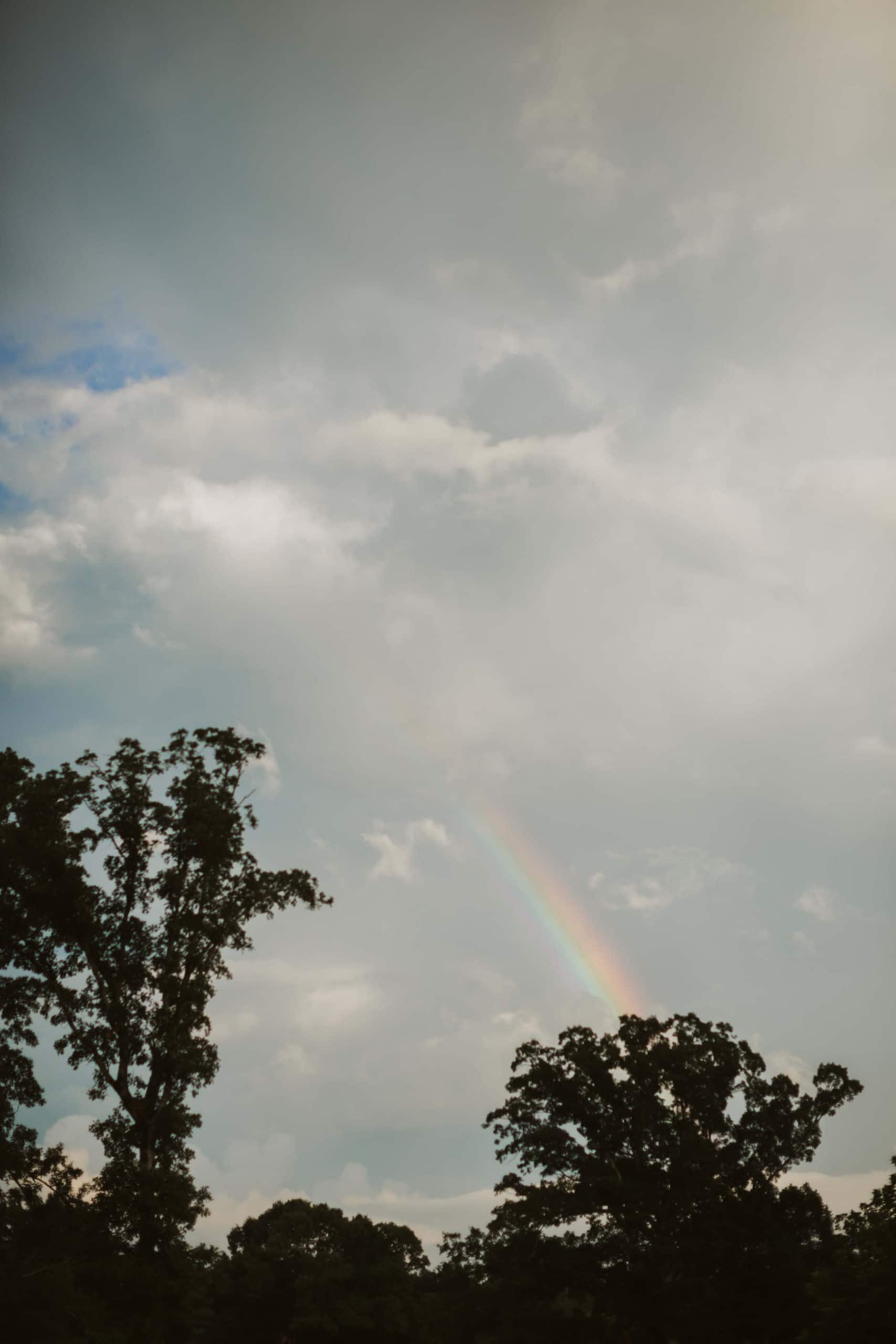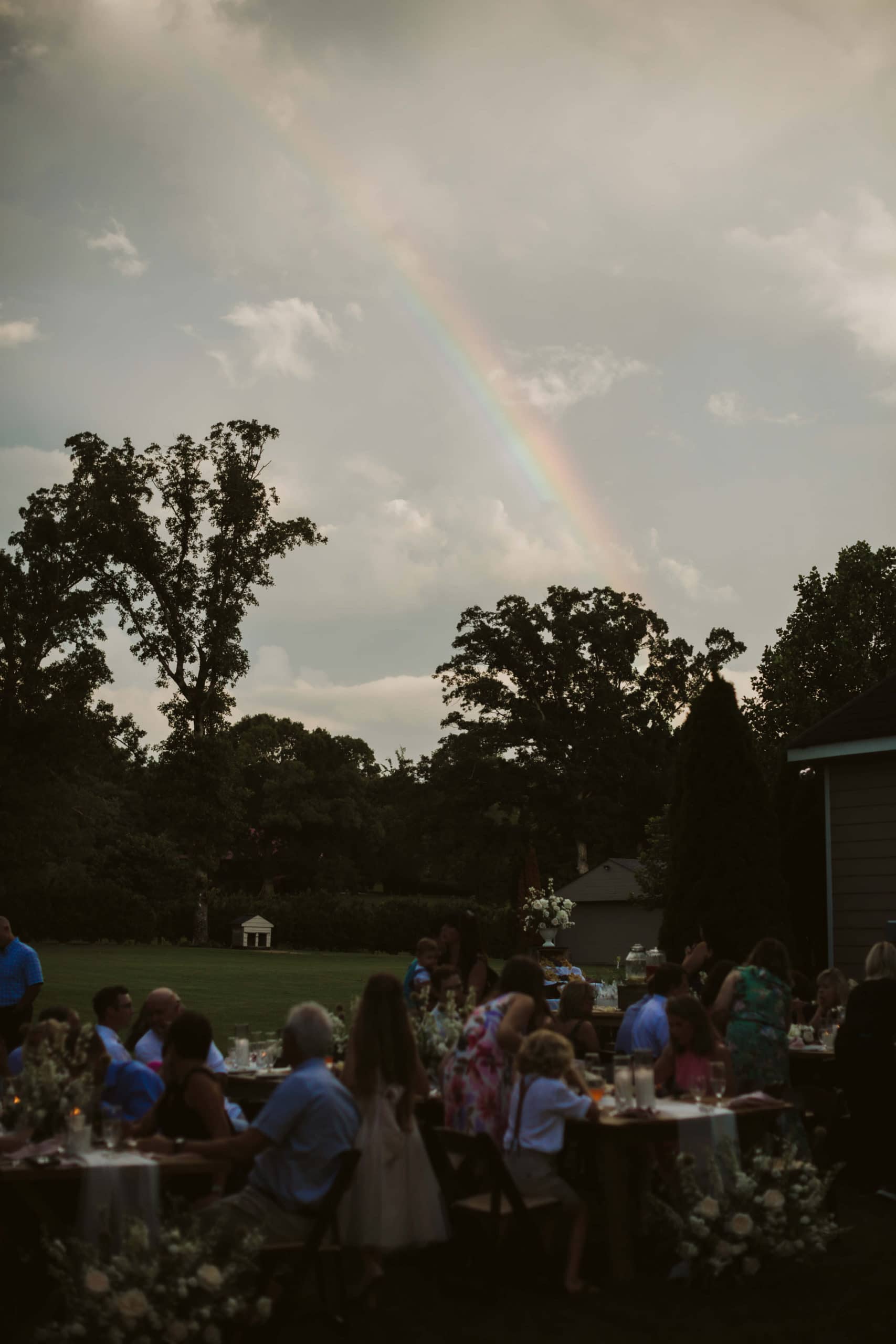 An Unforgettable Reception with Family and Friends
After the ceremony, I pulled Scott and Minseong away for a while to take some portrait shots of them together. Minseong was the epitome of beauty in her stunning mermaid silhouette wedding dress while Scott was as handsome as ever in a navy blue suit. Afterwards, we took pictures with each group of family members who came to celebrate, including a photo with their pastor. Family means so much to the both of them, so it was important that they got pictures with everyone. I was even able to catch a sweet candid shot of Scott's nieces and nephew playing in the grass.
The reception is really where Ramblewood Events was able to take this celebration from a normal backyard dinner gathering to a high-end event. They set up three wooden banquet tables each with a long white runner down the middle with candles and white and green florals arranged on top. Every table setting was perfectly placed and refined just as it would be for a reception in a sophisticated wedding venue. Ramblewood Events' catering crew set up a delicious buffet including an elegant nachos bar (yes, elegant nachos!) which left everyone happy and sated by the end of the meal.
For dessert, Scott and Minseong cut a simple, white wedding cake and posed for the classic shot of feeding the cake to each other. I especially loved the heartwarming, innocent moment when Scott's youngest niece came up to them before they had even cut the cake yet and asked for a little piece.
While everyone sat back down for cake and desserts, Scott's older niece played a beautiful song on the violin for everyone. It was at that moment that the sun peeked through the clouds at just the right angle and a rainbow appeared, stretching over the entire yard like a heavenly sign of hope and wonderful new beginnings.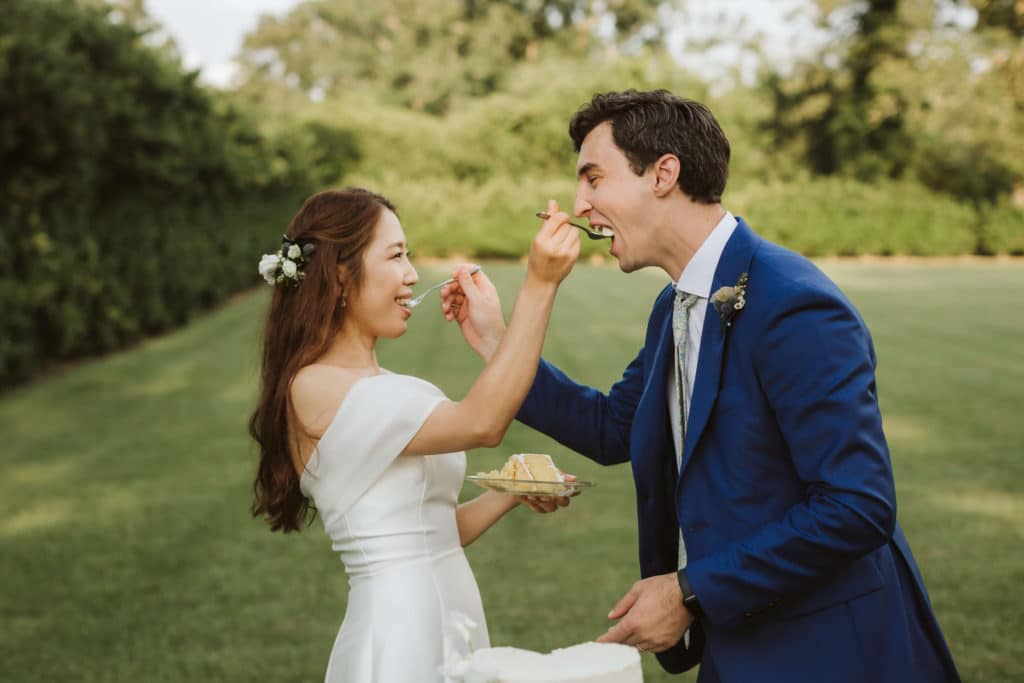 Whether you're planning a wedding, destination elopement, or a backyard extravaganza, I would love to be there as your photographer for the day!
Hey y'all! I'm Rachael Crowe of OkCrowe Photography. I'm based right here in Chattanooga but I've shot hundreds of weddings all across Tennessee and beyond. If you're planning a full-scale backyard wedding or even just a sweet, intimate elopement on a family farm, I want to be there for you! Even if you're not in the Chattanooga area and need me to travel to you, just say the word and I'll be there! Simply visit my contact form and let's get planning!