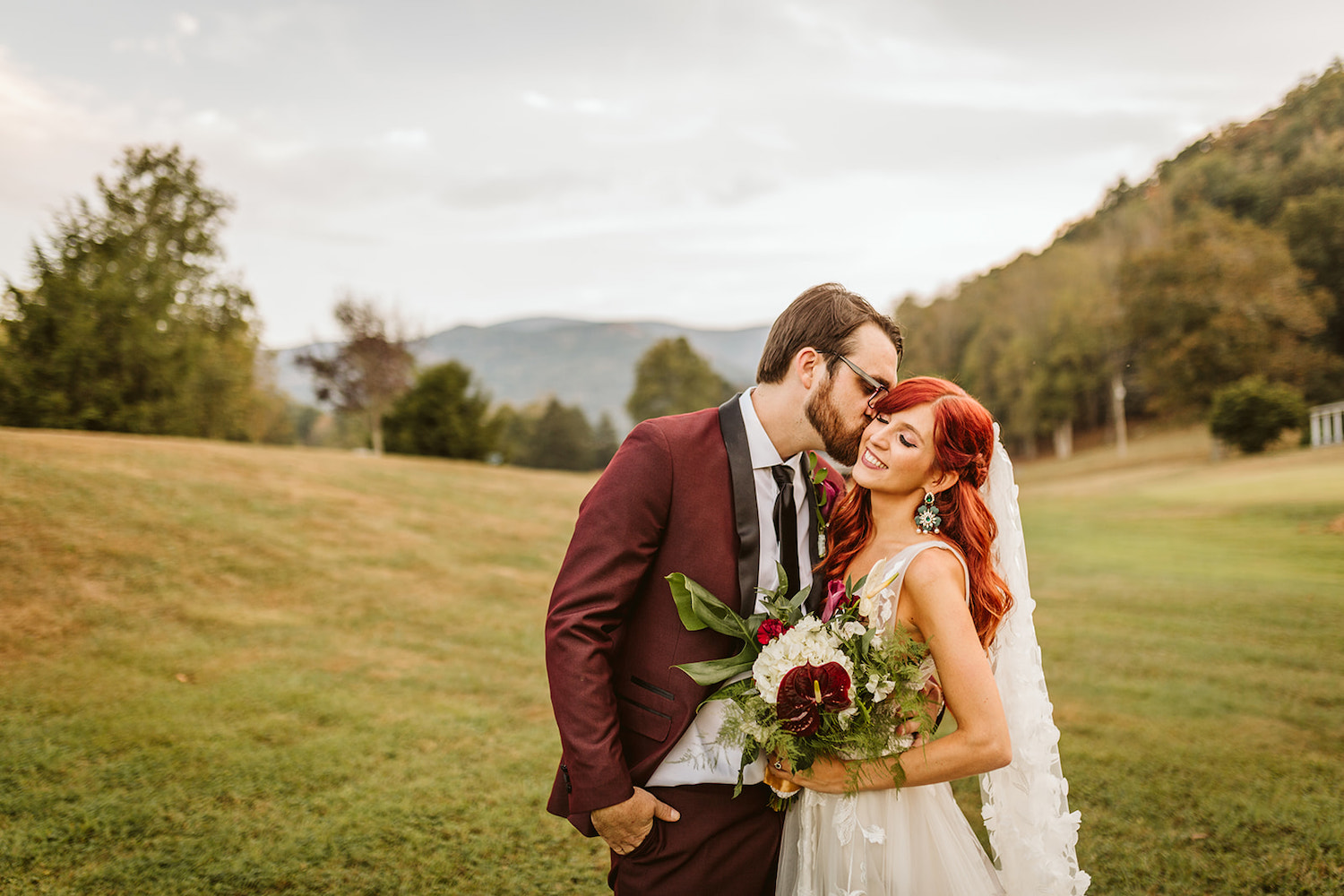 Caitlin and Matt found me through Instagram when they were searching for a photographer for their Roan Mountain wedding. The couple lives in South Carolina, but they planned to get married near family on Roan Mountain in the Cherokee National Forest. They'd been searching for a local photographer but weren't having much luck. So they expanded their search to all of Tennessee through the hashtag Tennessee wedding photographer and found OkCrowe Weddings!
Matt and Caitlin met when she was bartending during college at USC in Columbia, South Carolina. Matt's a musician, and he would come to the bar and tell her about the shows he was doing. Later she'd gush to her friends about "hot Matt." When she stayed in town over spring break to get in some extra work hours, Matt asked her out! From that first date, they've been pretty inseparable.
Caitlin says their common sense of adventure, love of exploring, and creative natures (she's an artist and graphic designer) are just as important to their relationship as the things that make them different.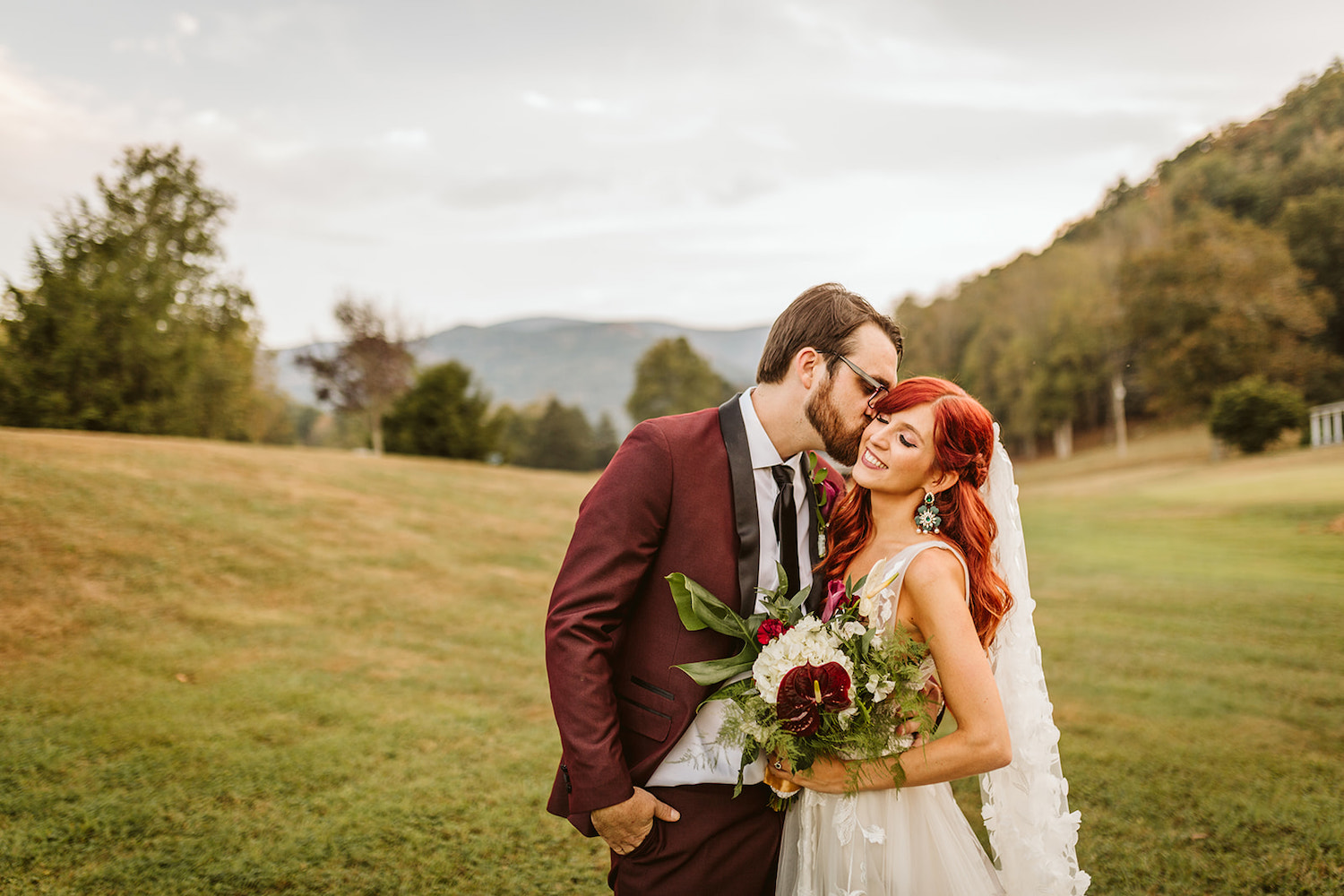 LET THE GOOD TIMES ROLL
Because she and Matt are both artists (musician and graphic designer), they wanted their wedding to reflect their chosen paths, their relationship, and their authentic selves. Caitlin's creative touch was involved from start to finish in every detail of the day. You'll notice her flair for bright, bold, and whimsical details in this gallery. She designed their invitation suite (HOLY WOW) and the plastic cups for their reception (Laissez les bons temps rouler is a Cajun French phrase meaning "Let the good times roll"). She hand painted hangers for her bridesmaids' dresses and all the signage for the ceremony and reception. Caitlin also ordered all the florals online from Bloominous and designed each piece herself! I'm pretty sure there's not much this lady can't do–and I love how incredibly her details came together to reflect a unique sense for their wedding day and relationship.
NATIONAL FOREST WEDDING HIDEAWAY
Matt and Caitlin got married at The Barn at Triple J Farms, which is just outside of Roan Mountain State Park near the Tennessee-North Carolina border. Deep in the heart of the Cherokee National Forest, it felt like a little hideaway from the rest of the world. I do so love state park and national park weddings for this reason.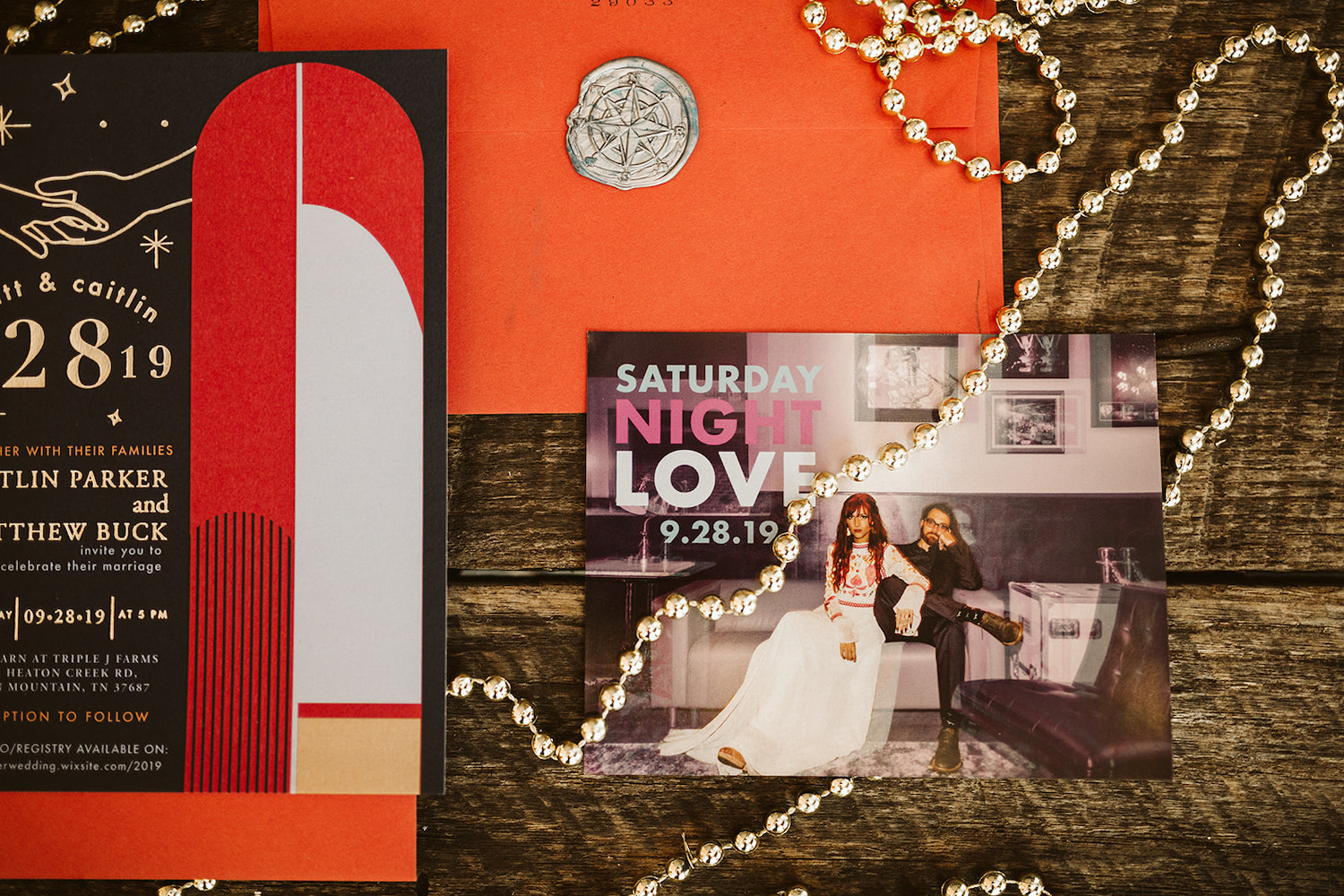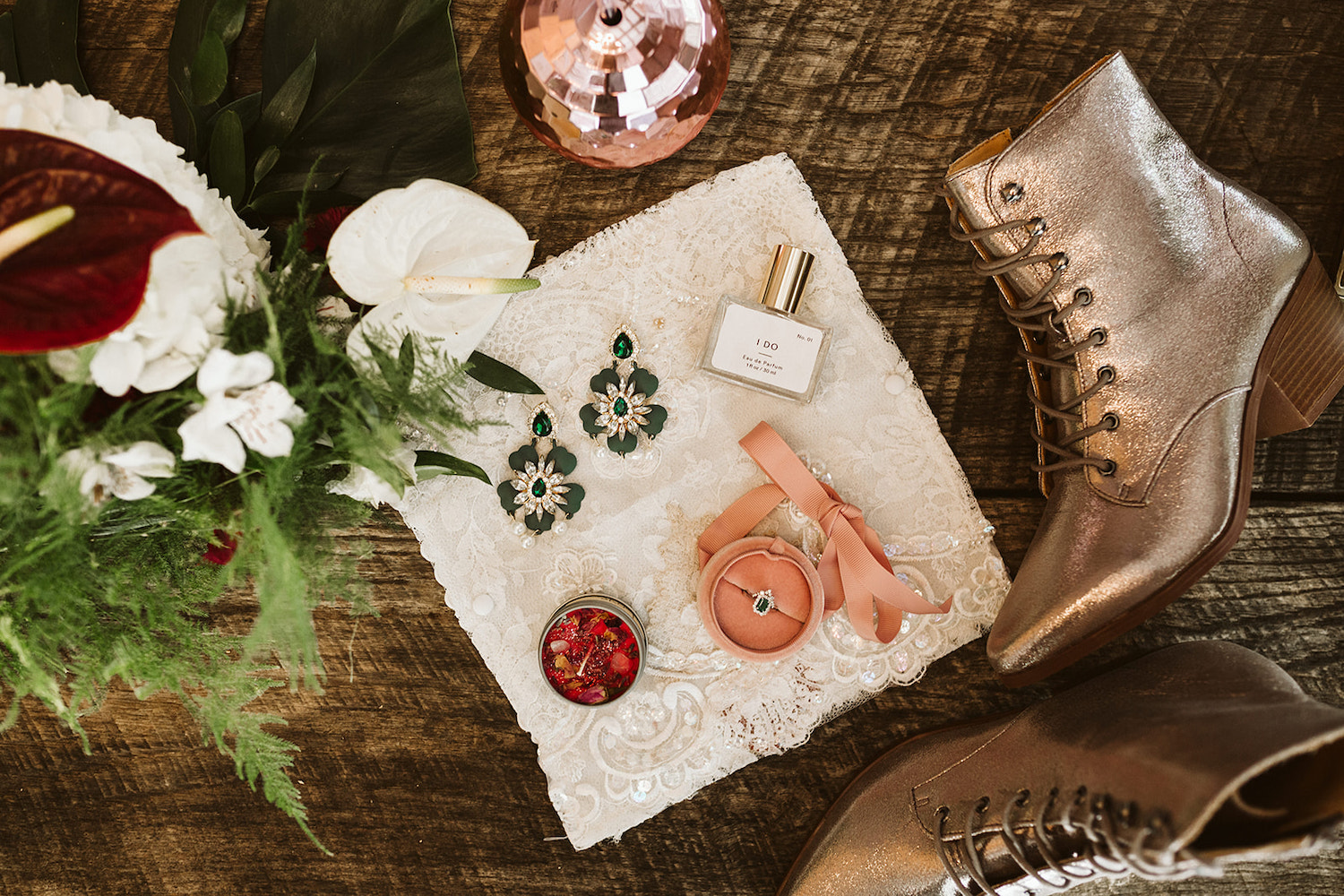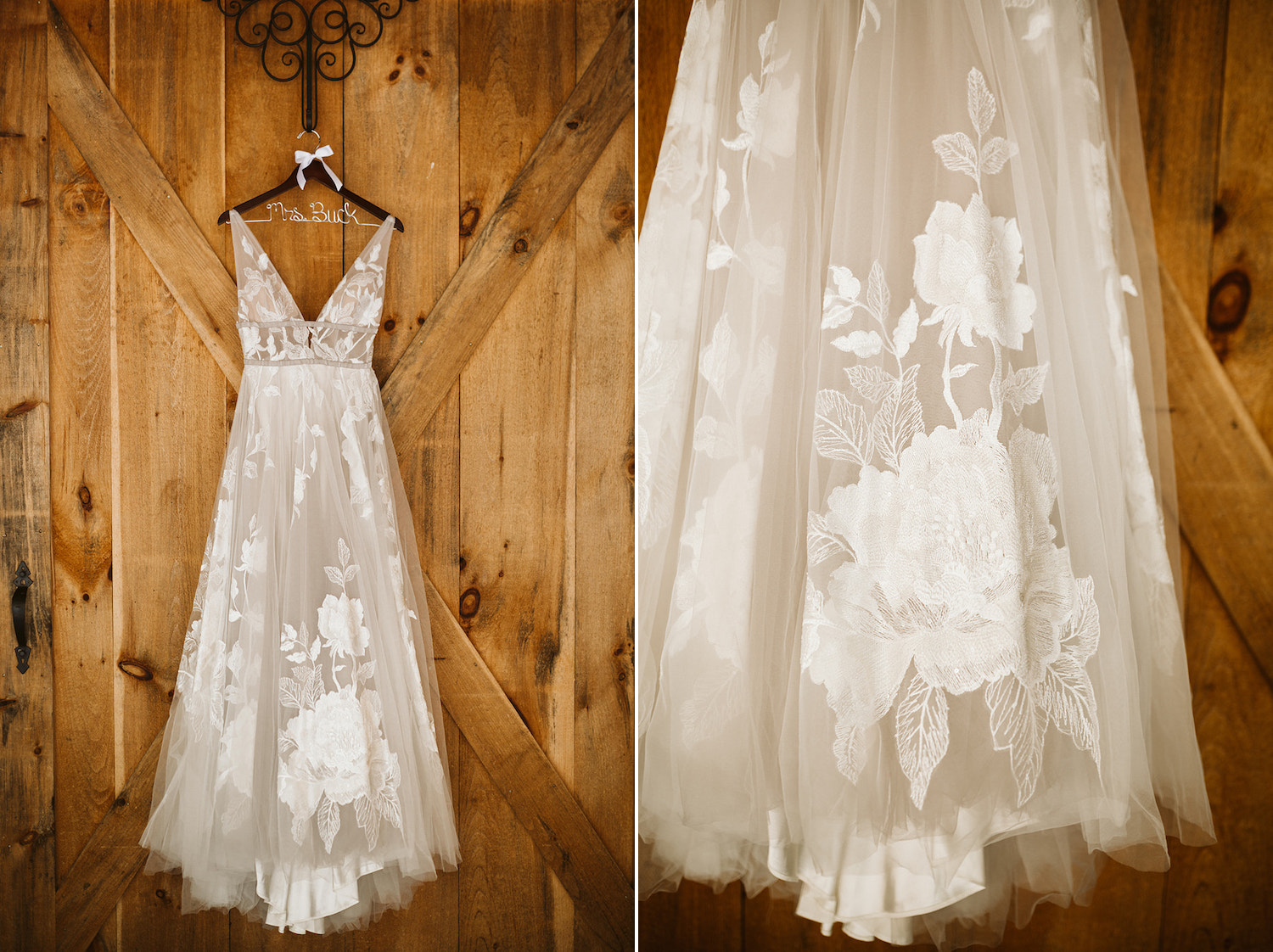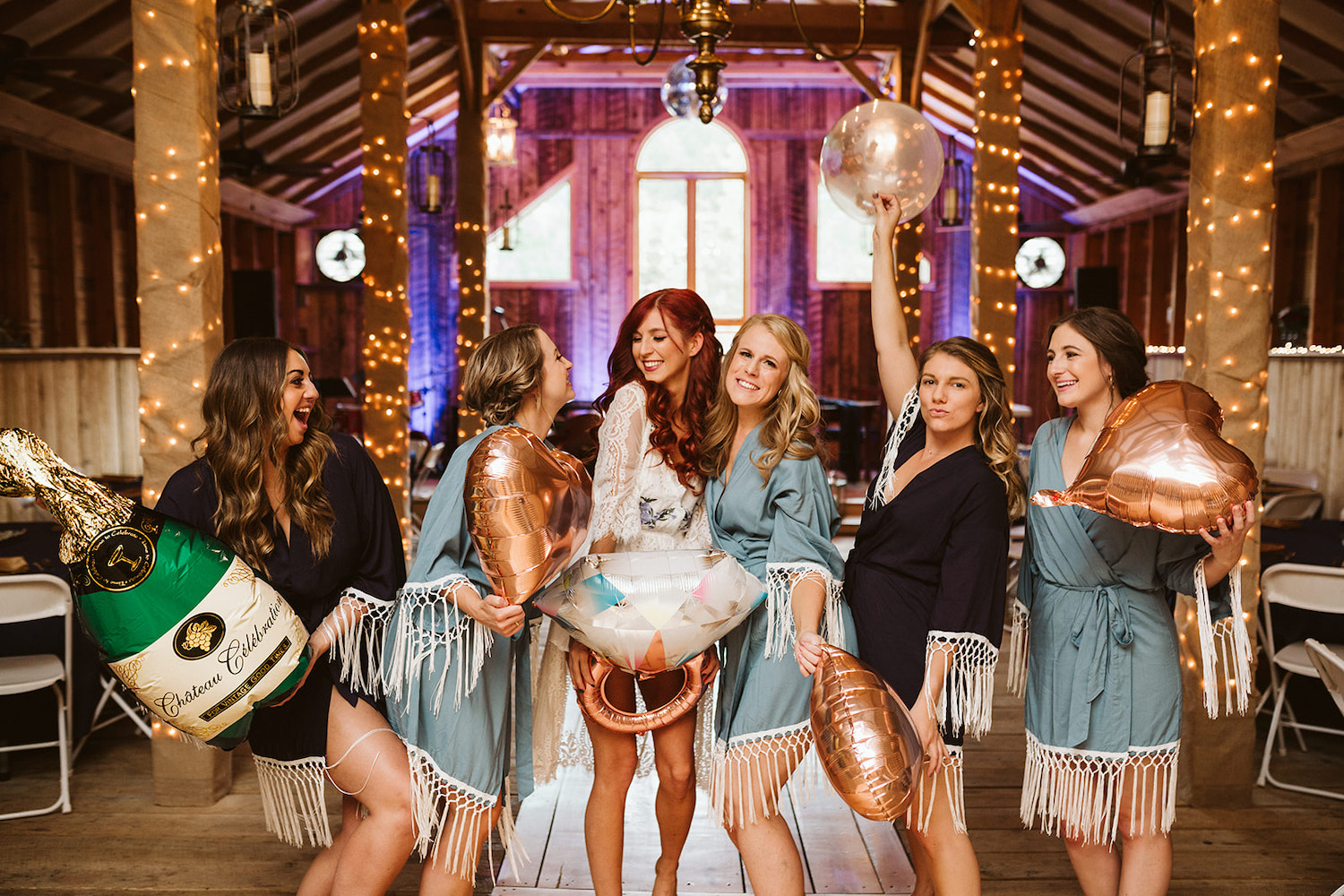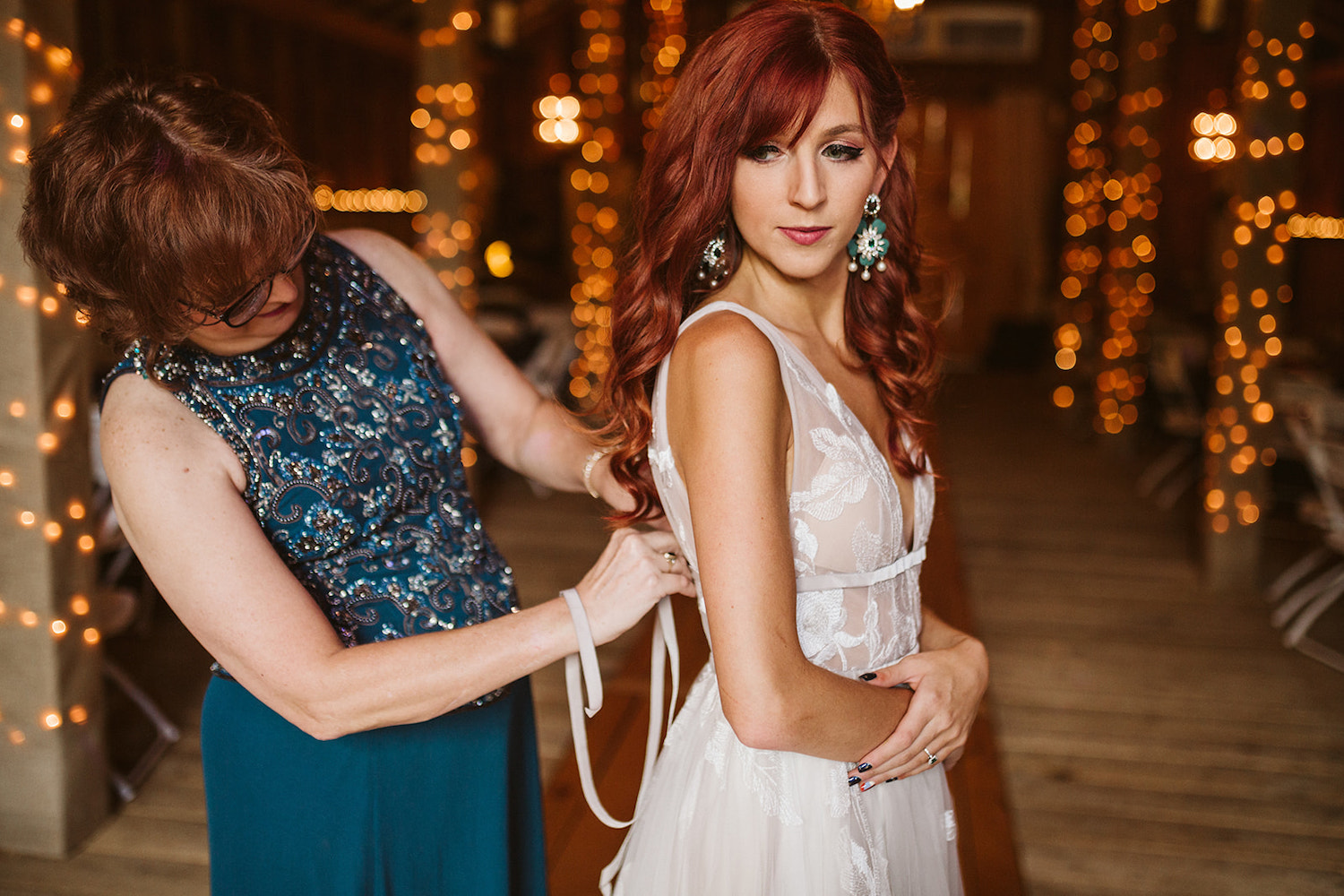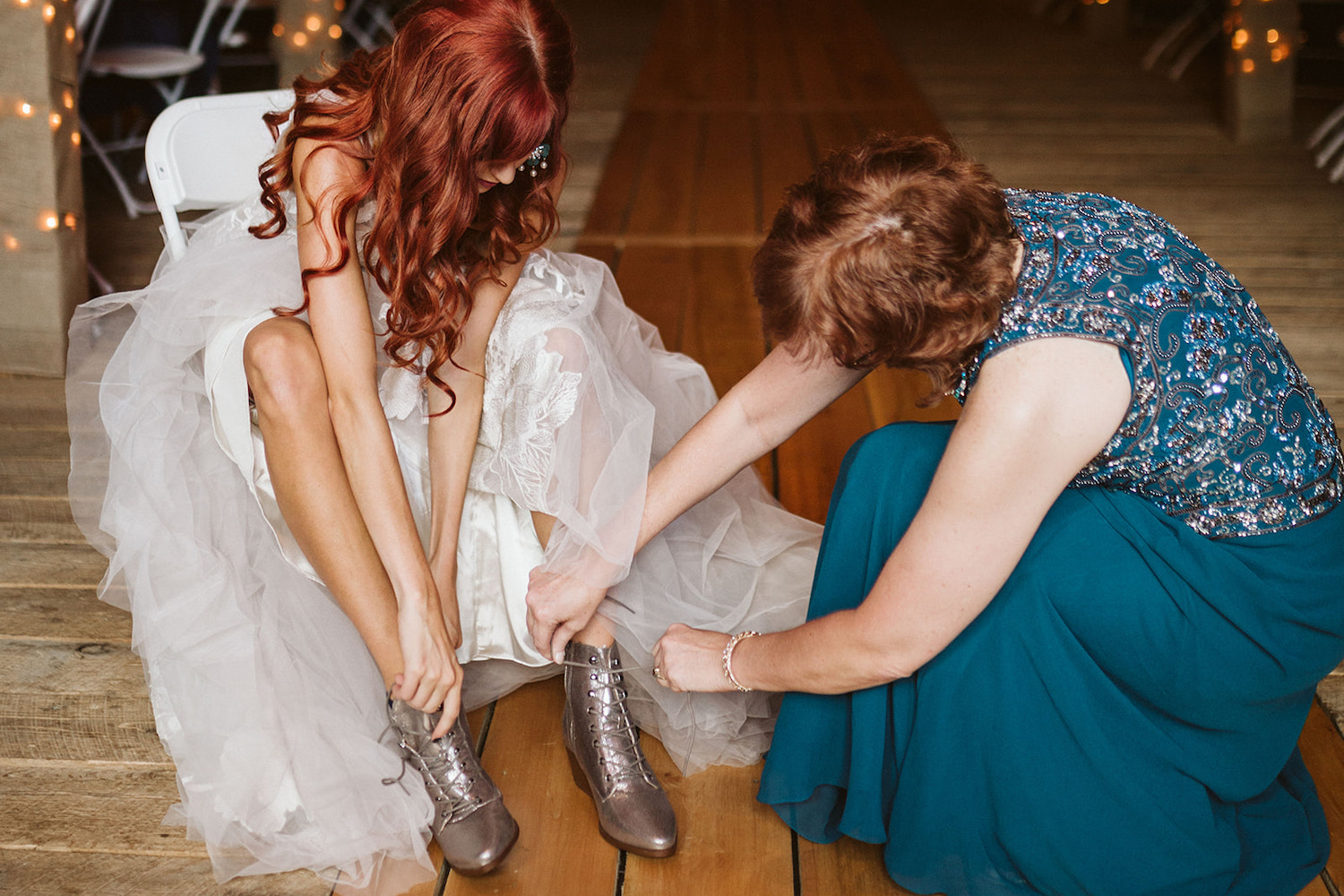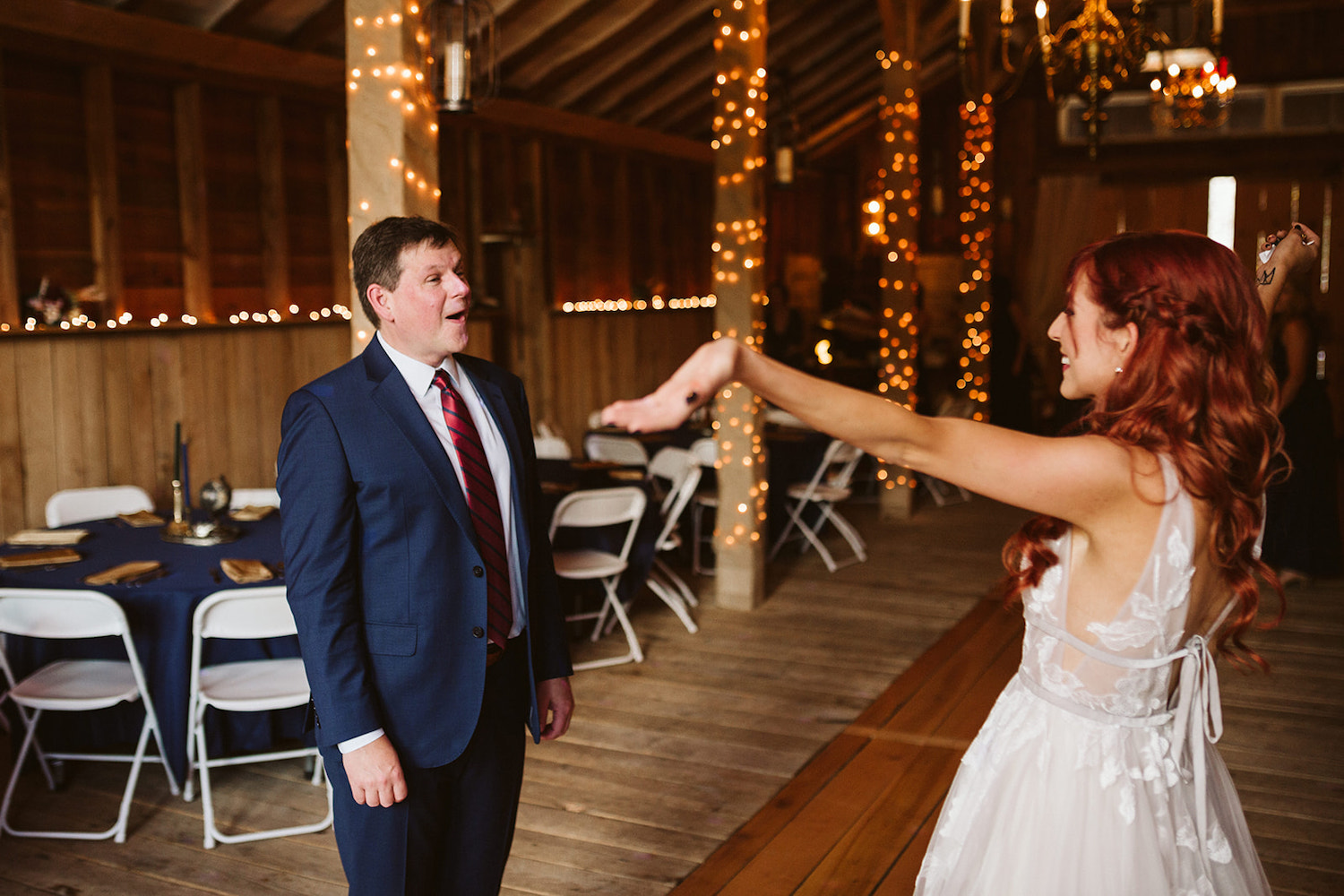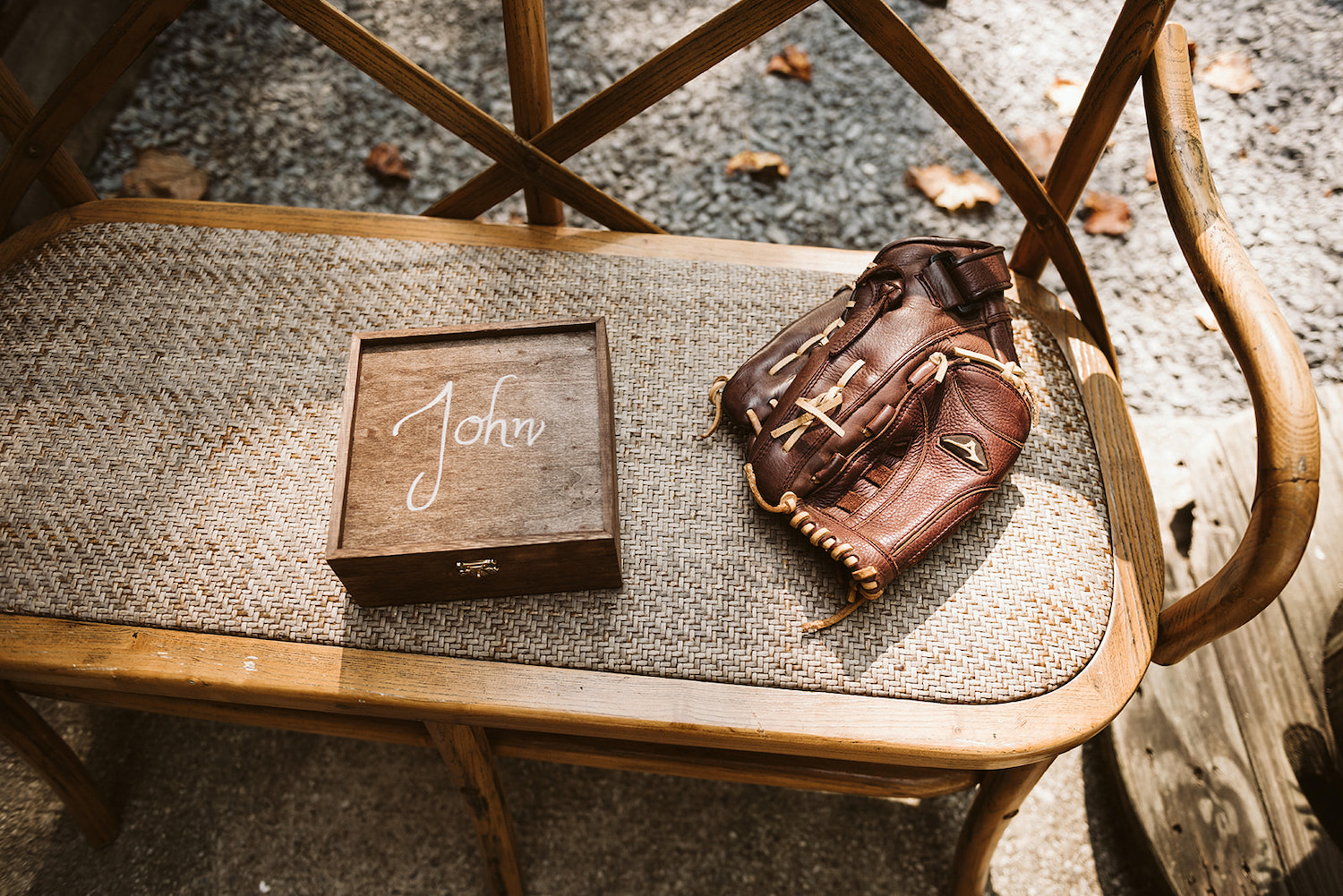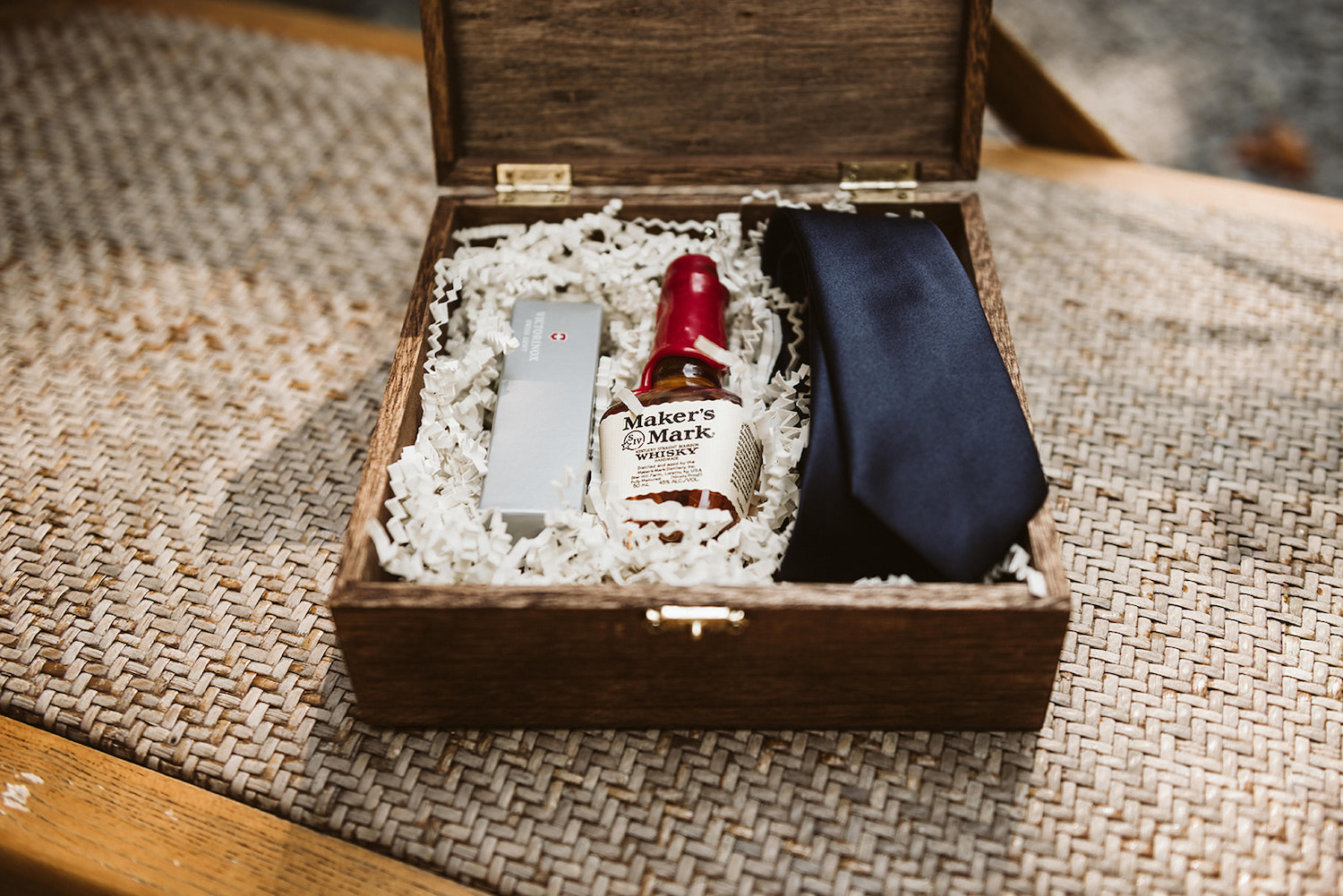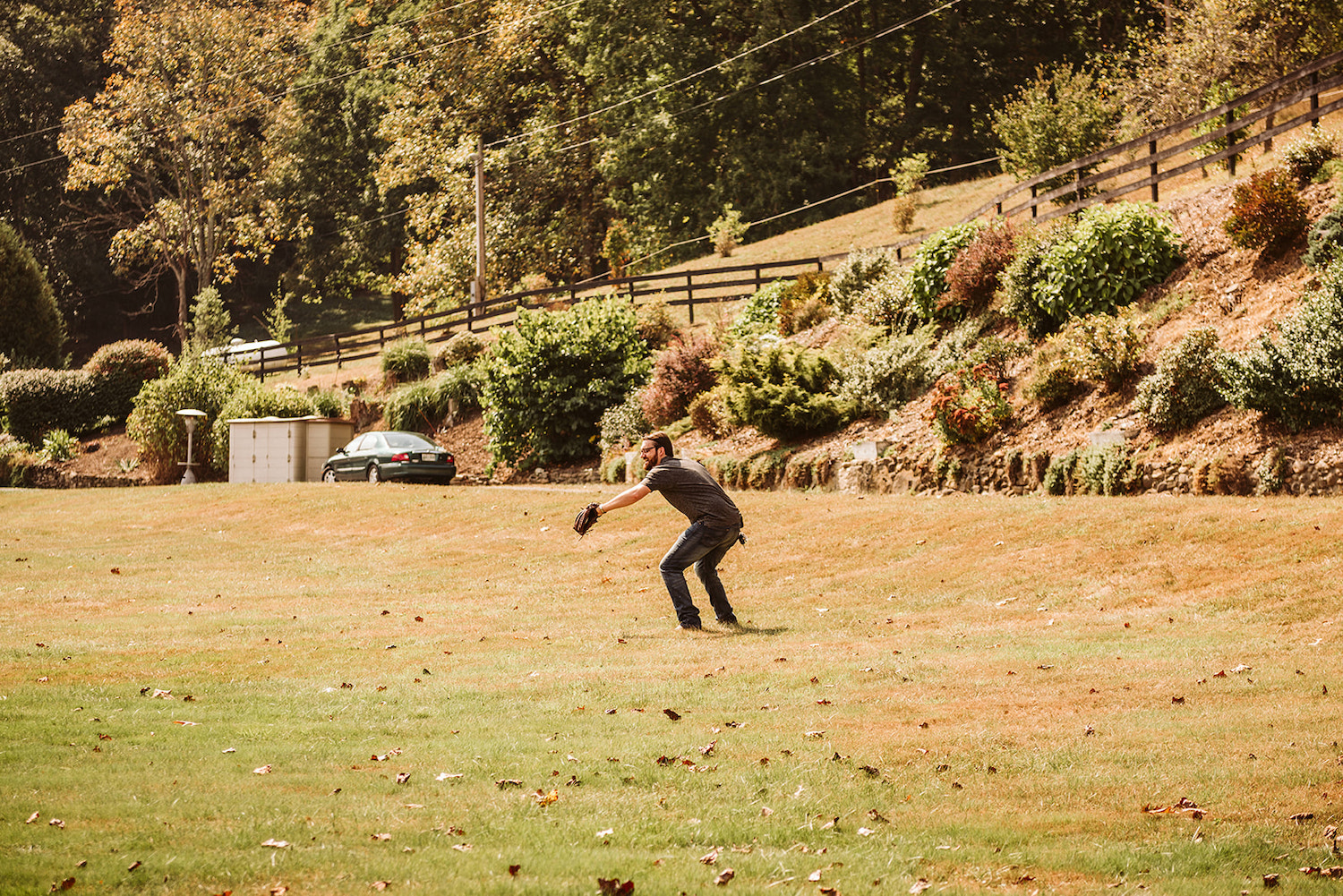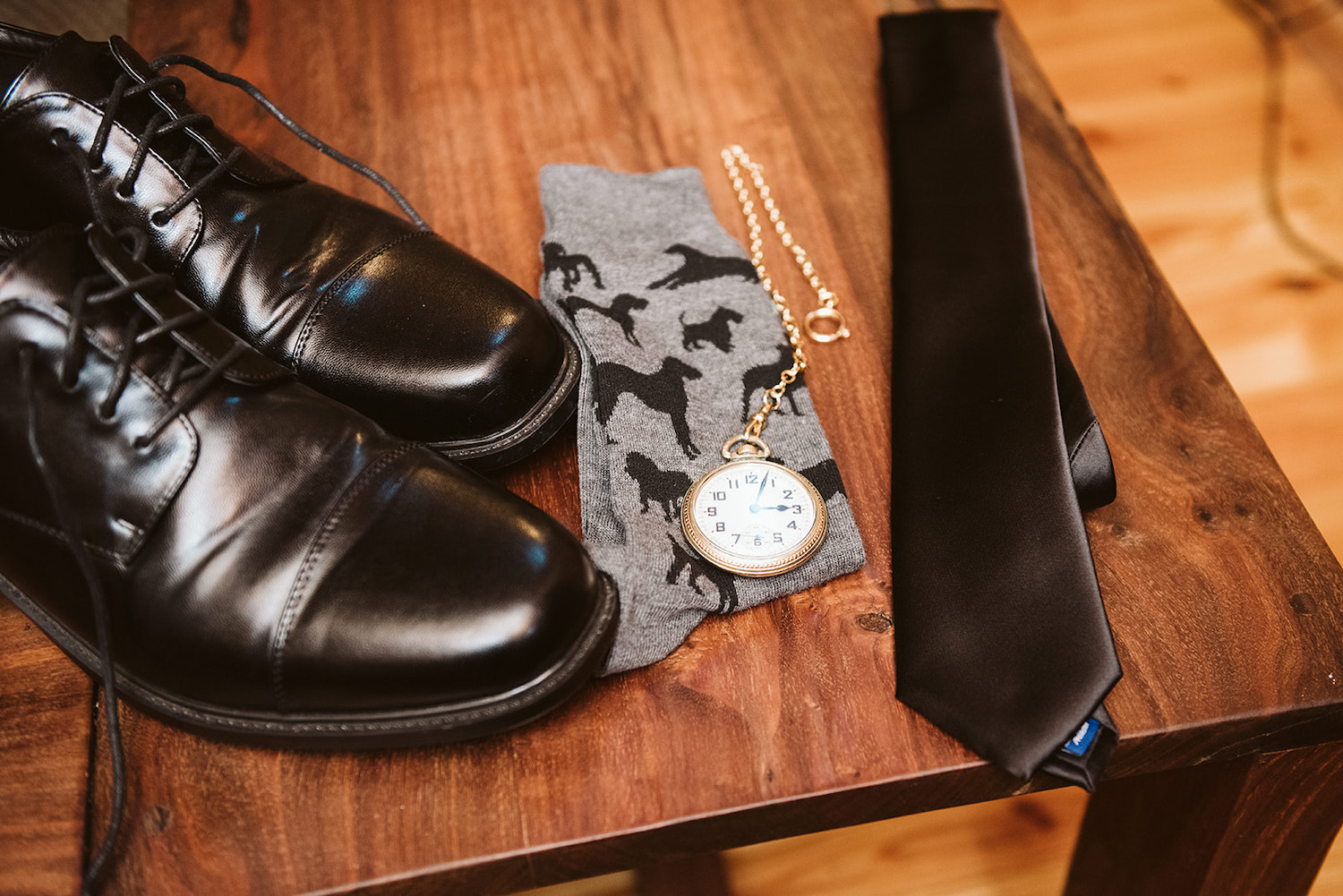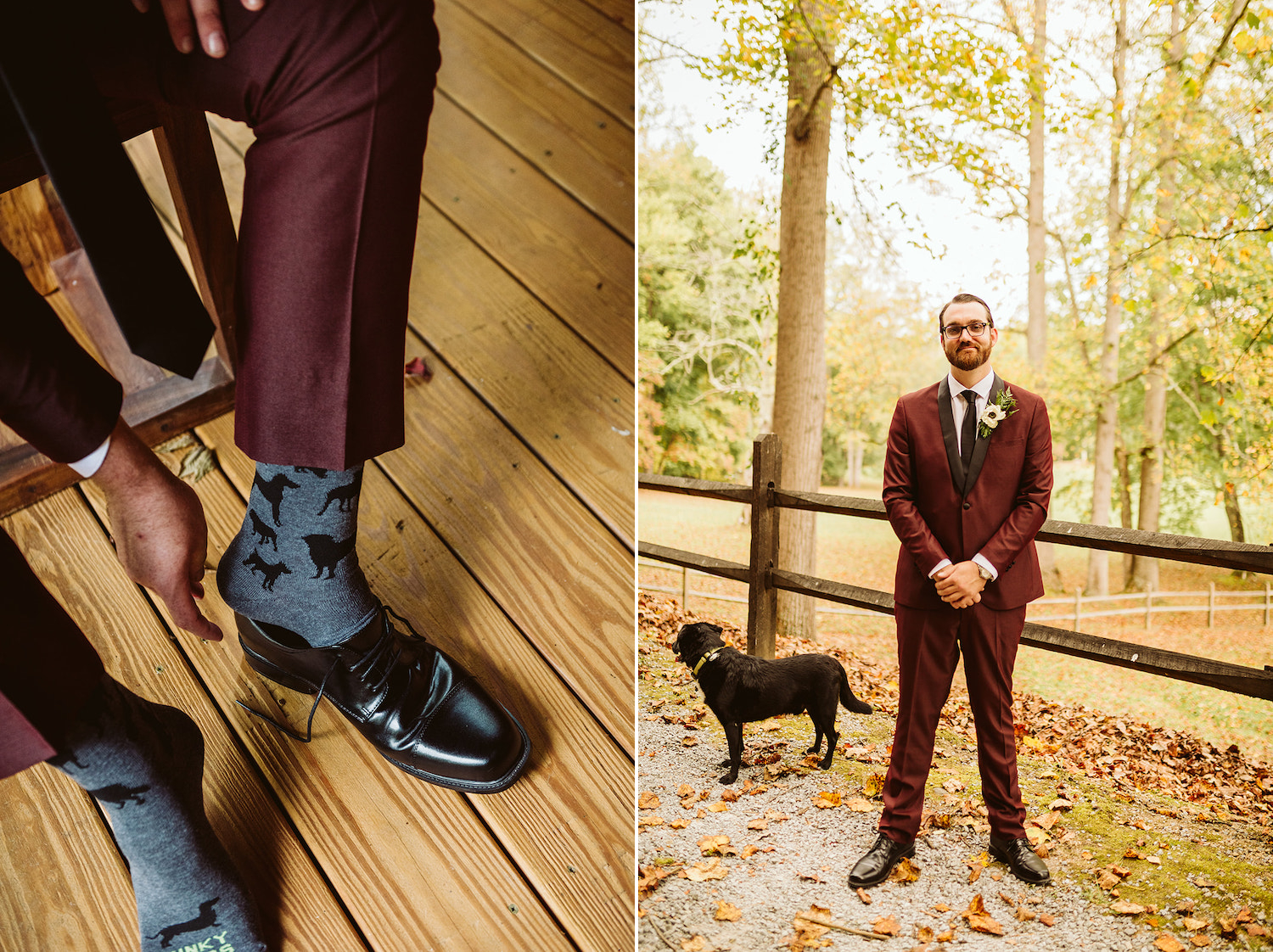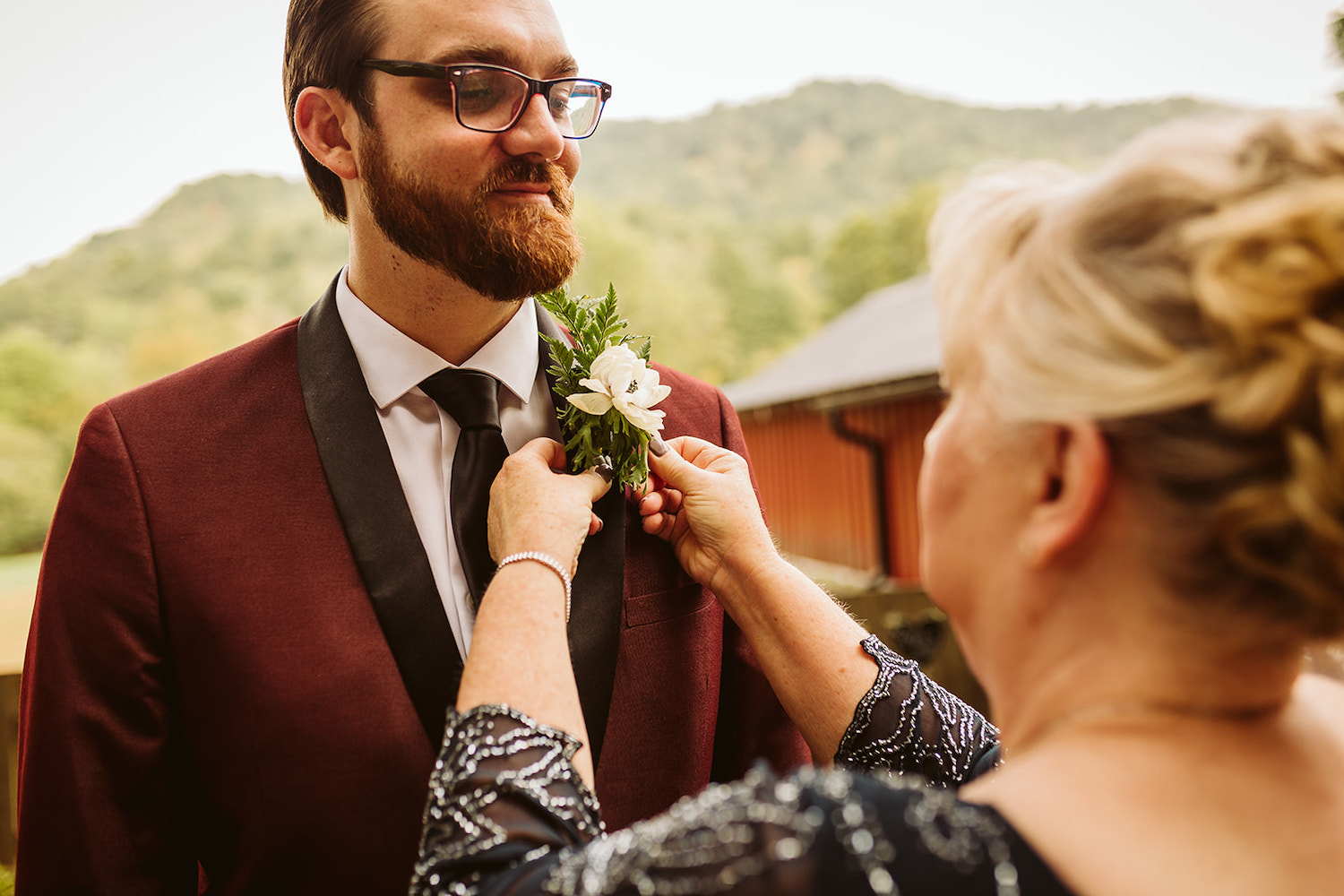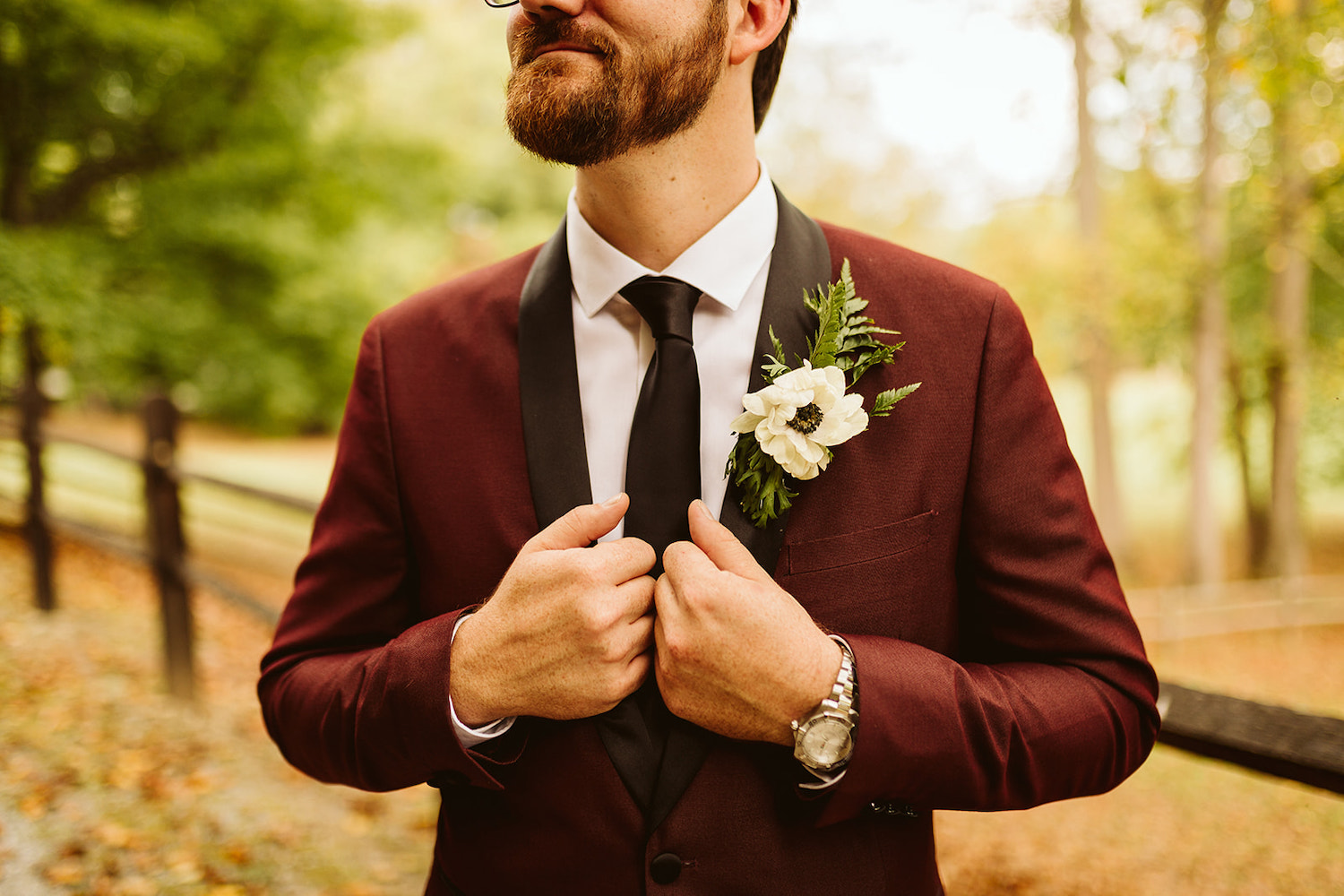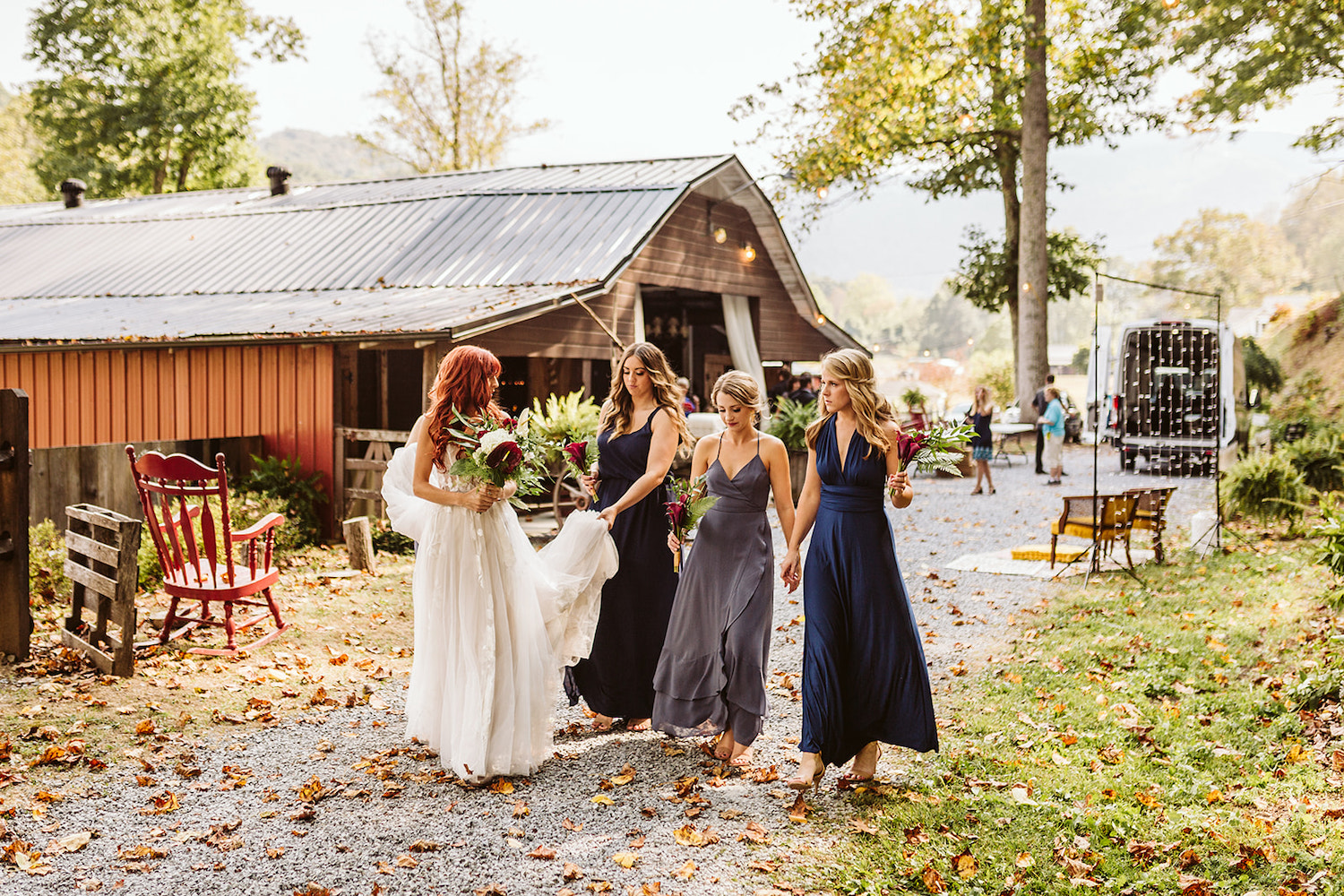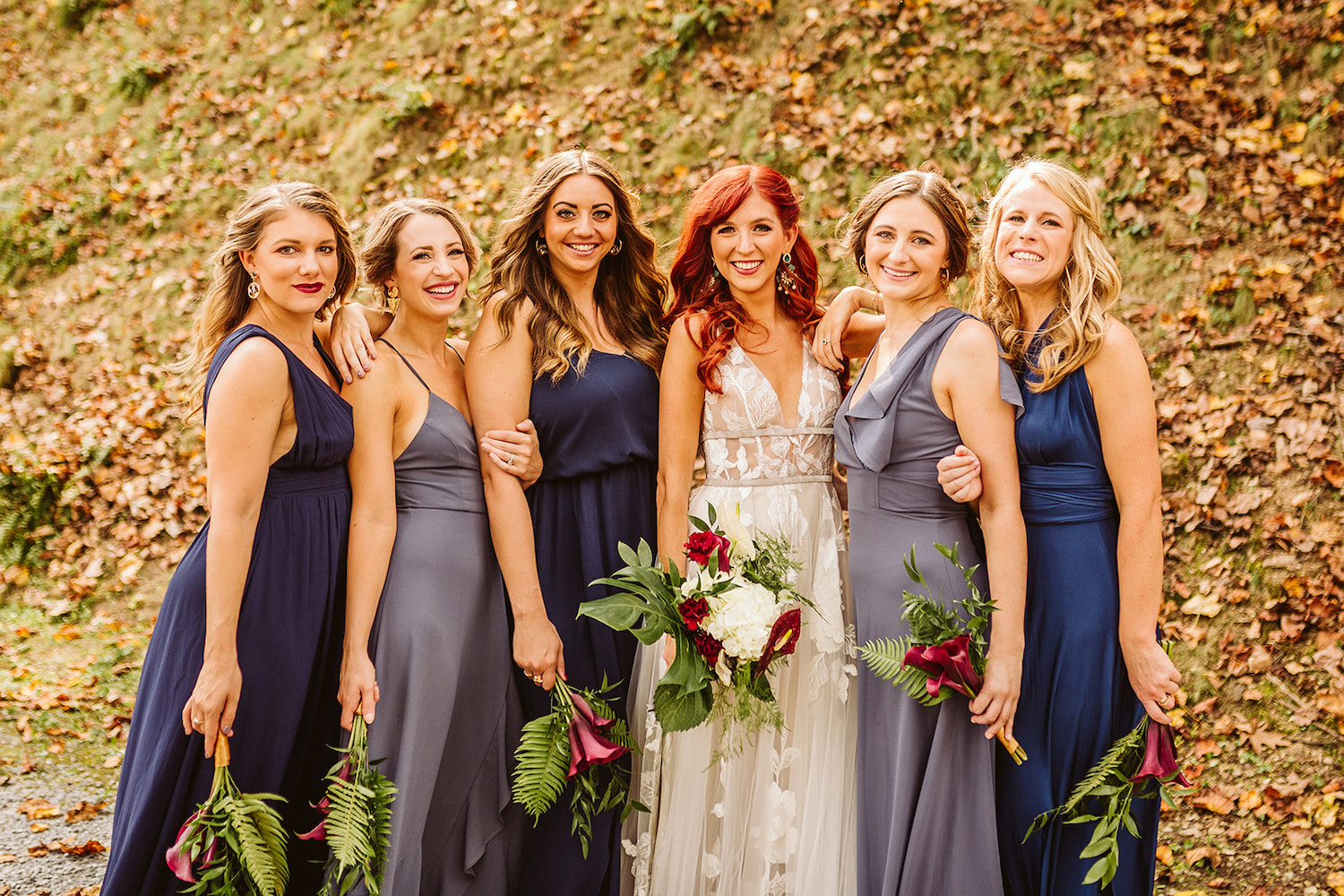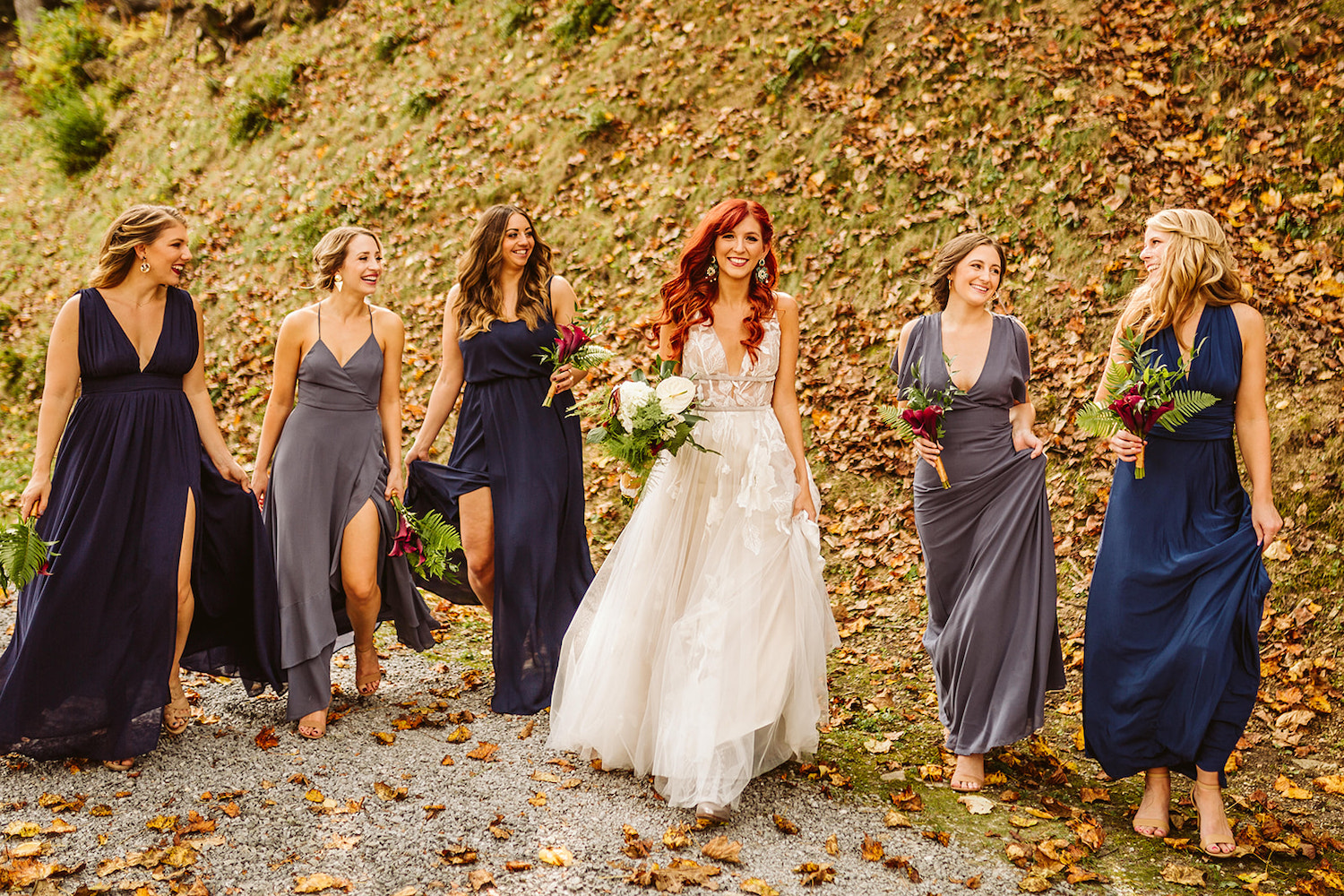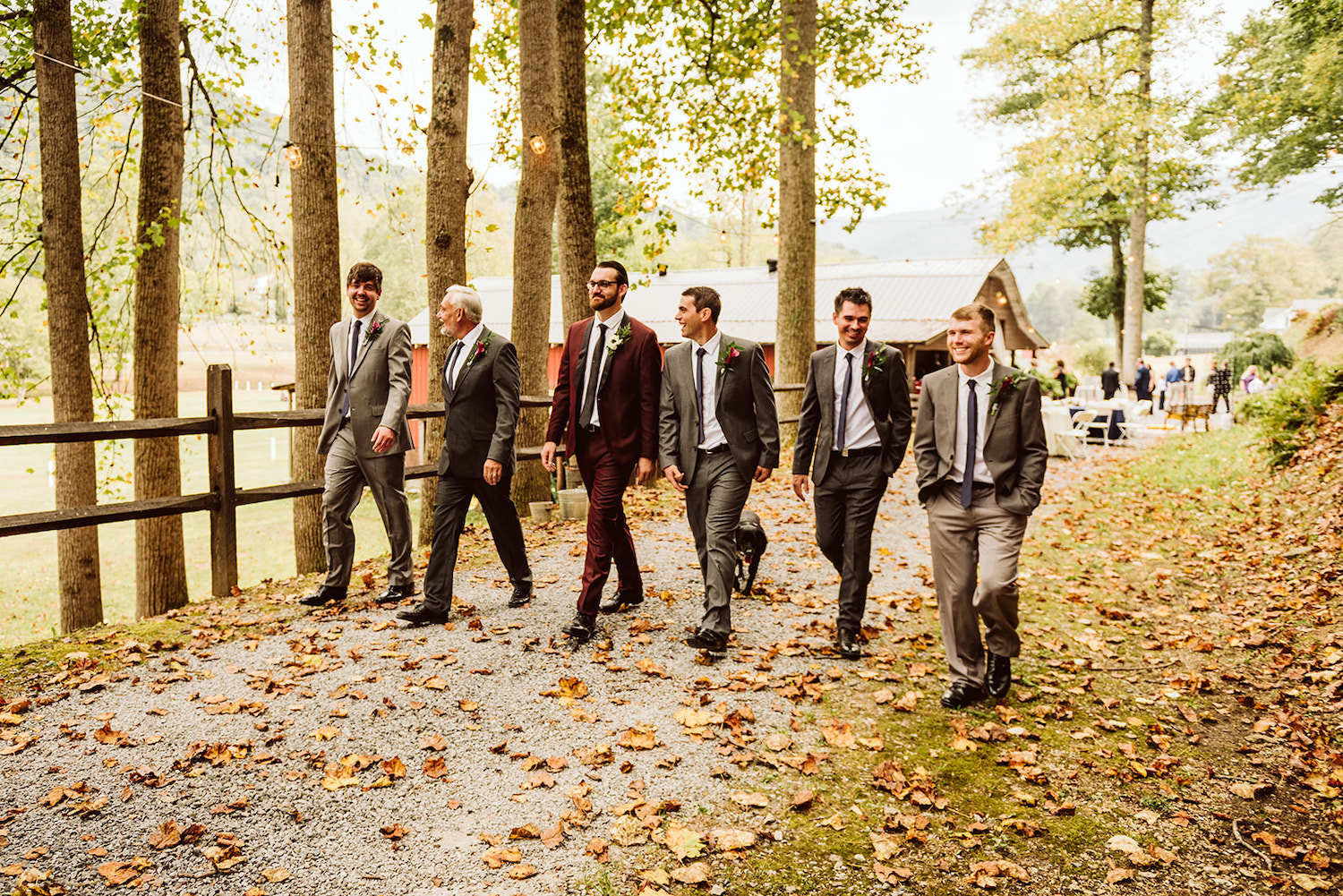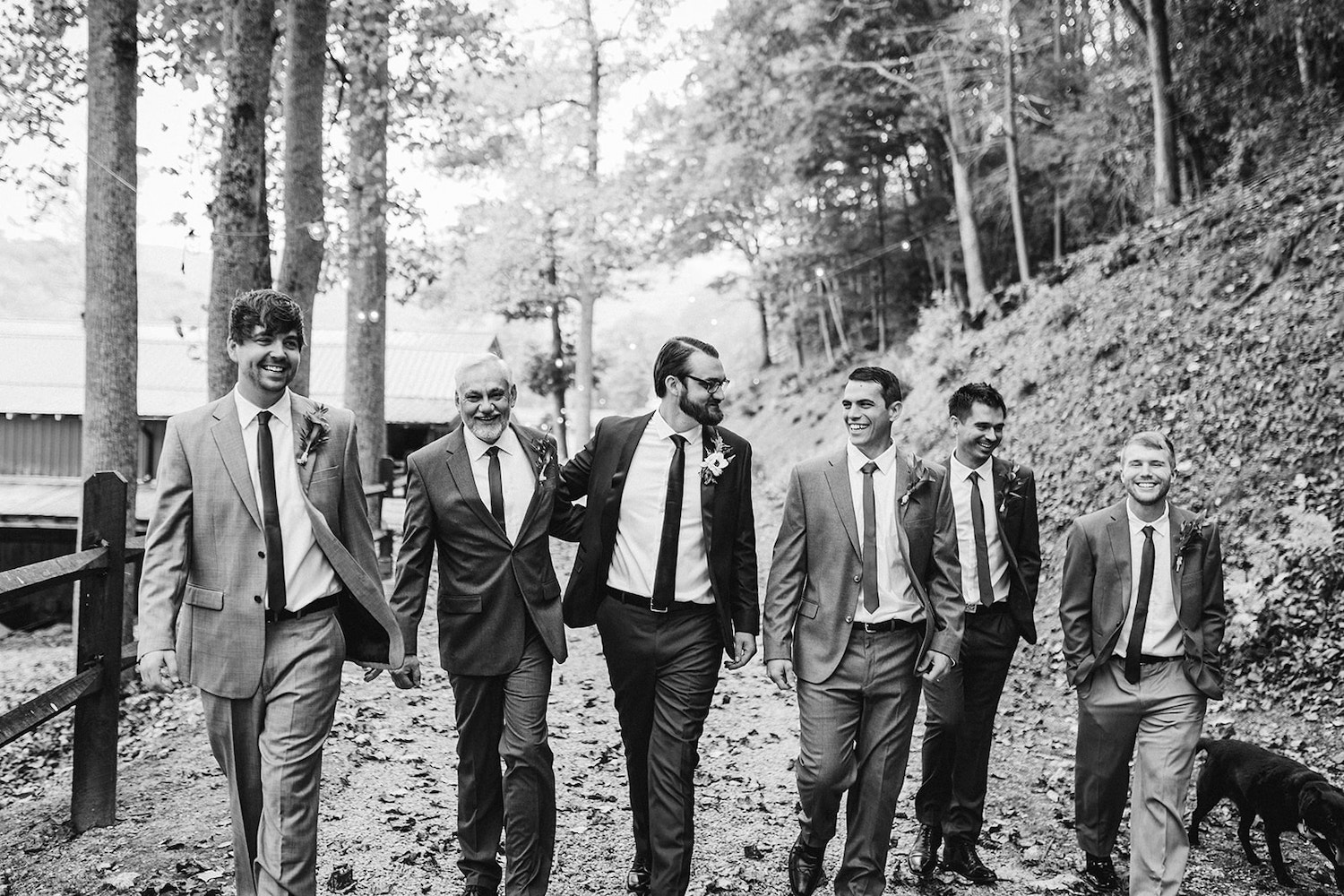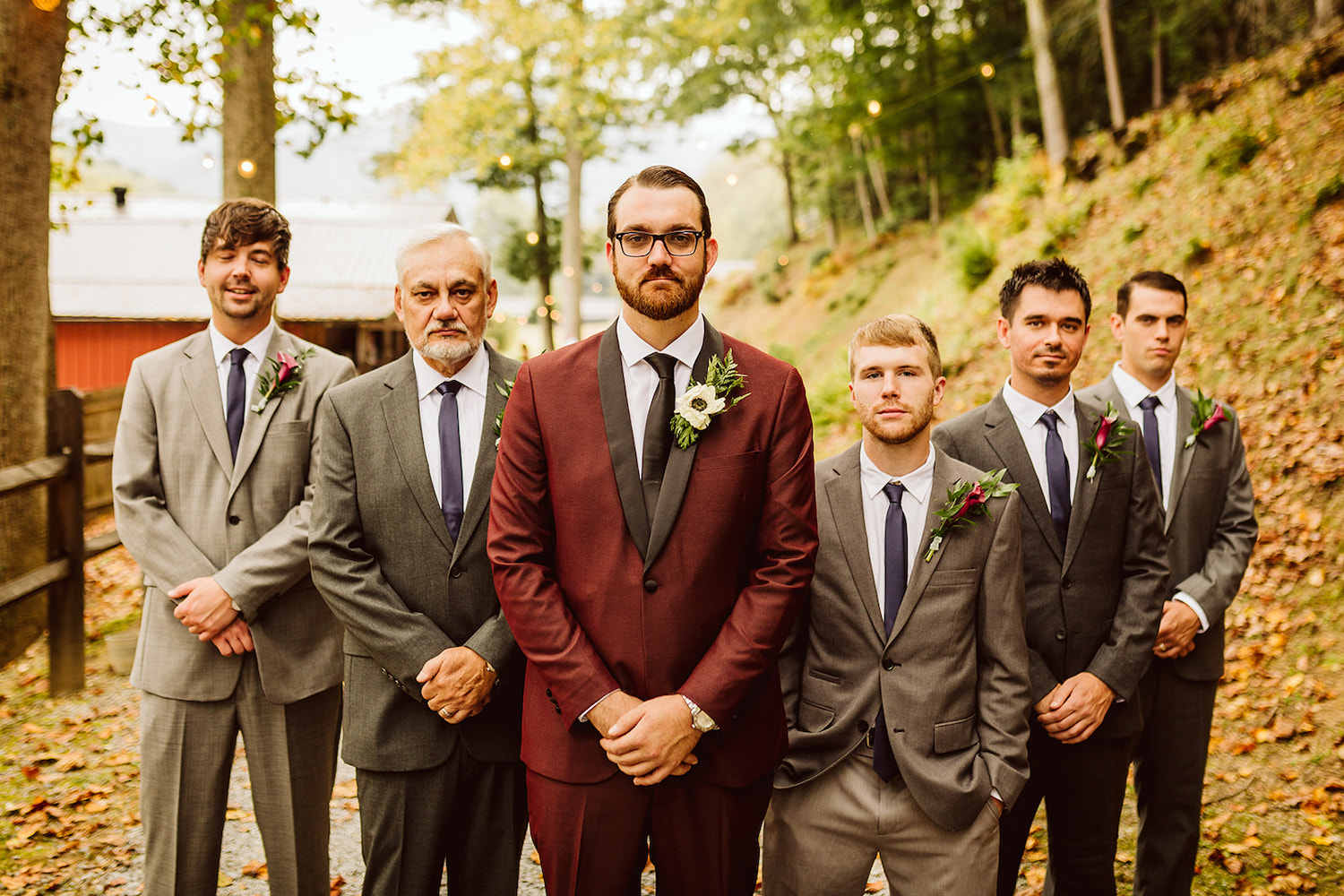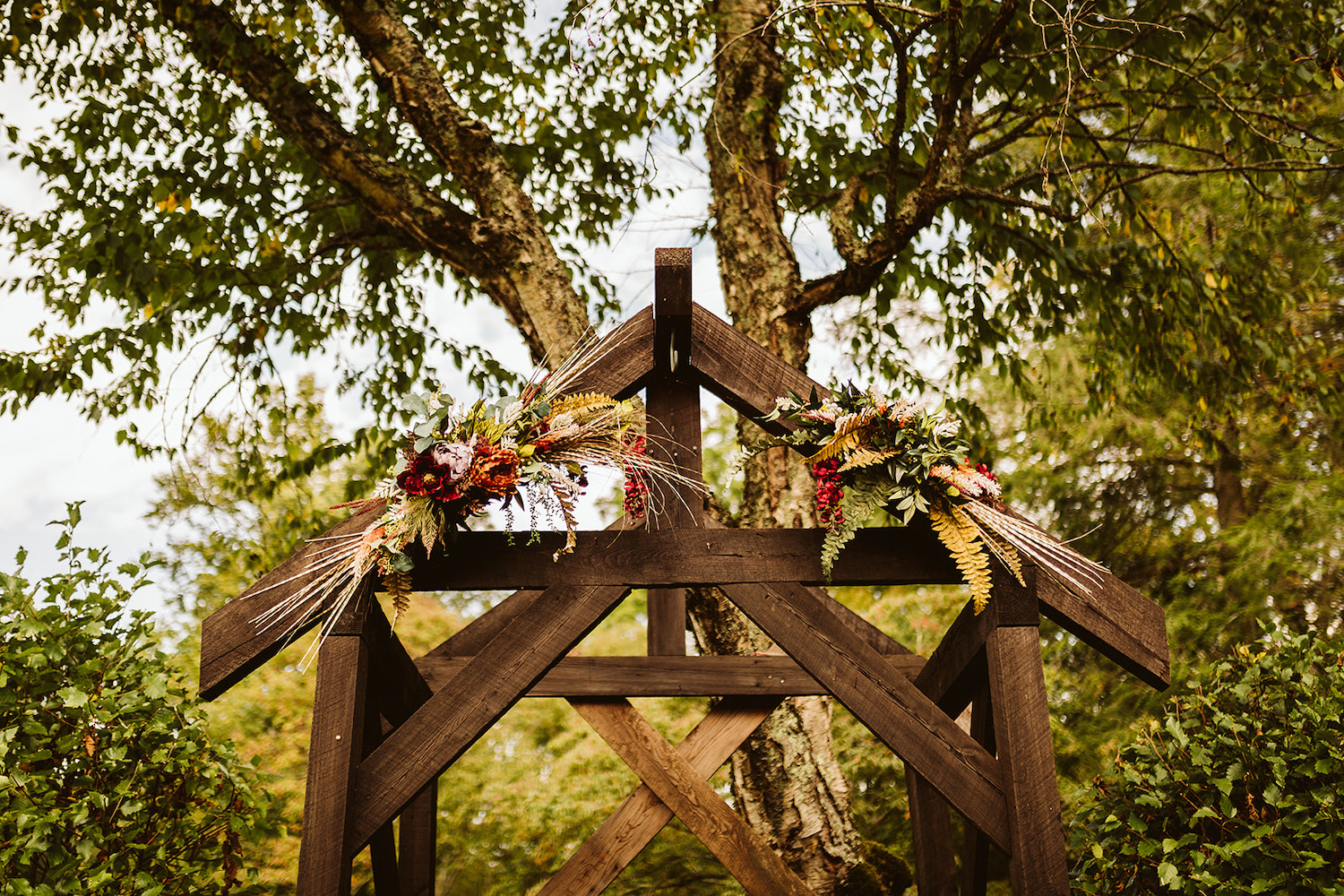 ROAN MOUNTAIN WEDDING CEREMONY
Here's how you know the world is small. I get hired to shoot a wedding 3 ½ hours away from home in the middle of a huge national forest. In talking to their friend Mel who officiated the ceremony, I realized how many friends we have in common back in Chattanooga. What a wild connection.
So Matt and Caitlin chose not to do a first look ahead of their ceremony. Y'all, Matt's face when he saw her walk down the aisle–I just can't. This is the sweetest moment. I love when his dad (also his best man!) leans over and squeezes him around the shoulder. So much tenderness, and these moments get me every time!
Caitlin and Matt have two really sweet dogs that they included throughout their day. I could not get over how their lab stood next to Mel watching his mom and dad exchange vows.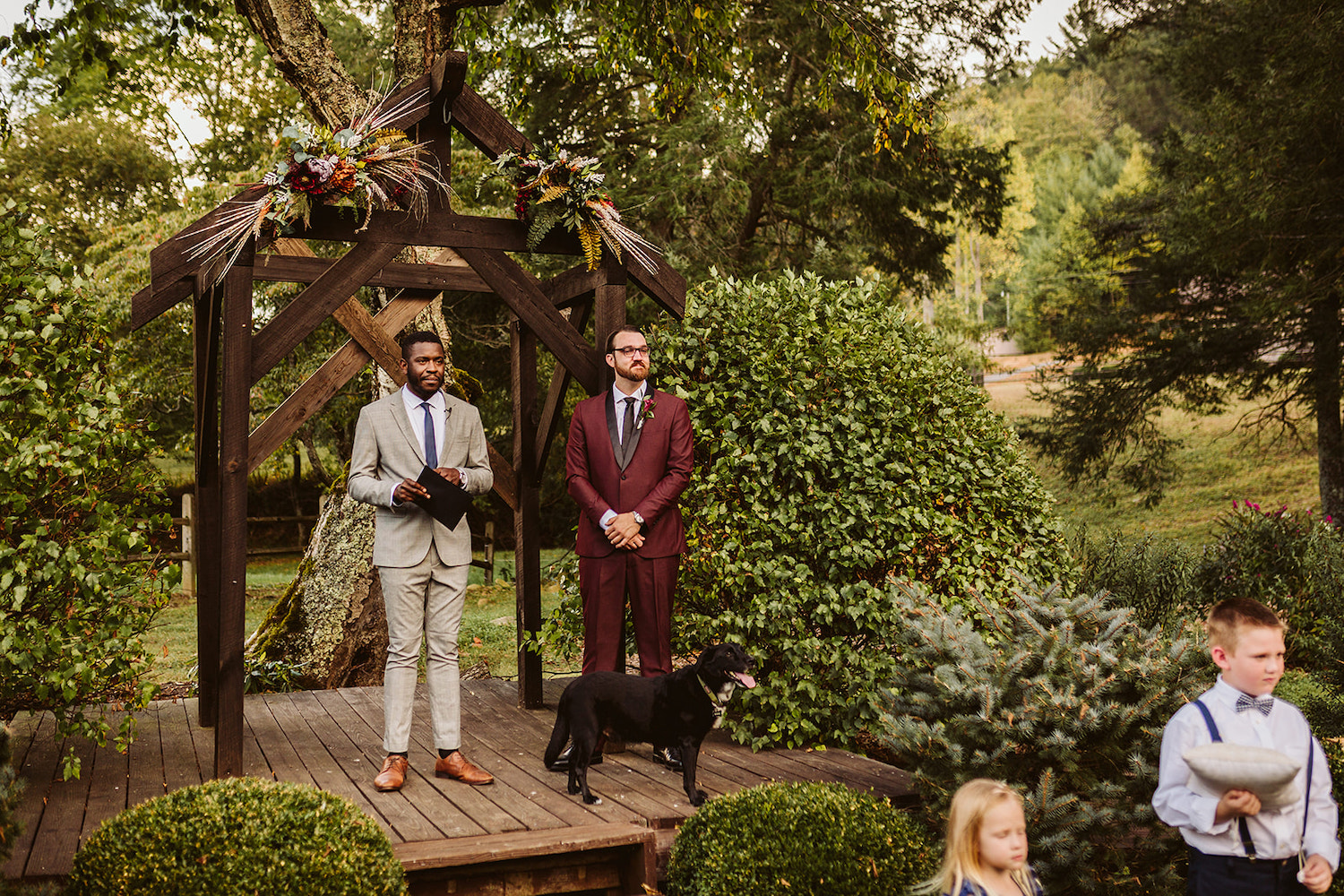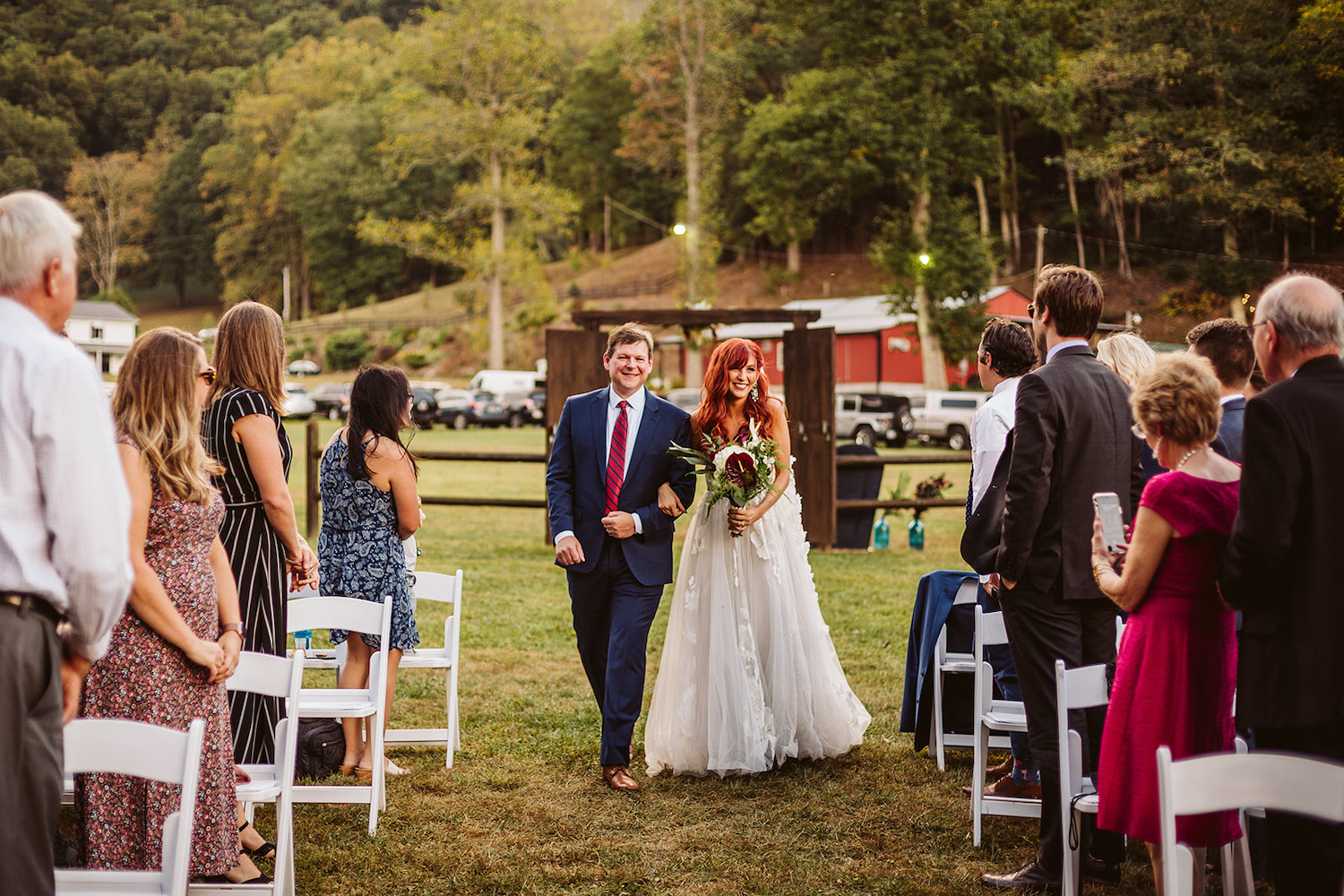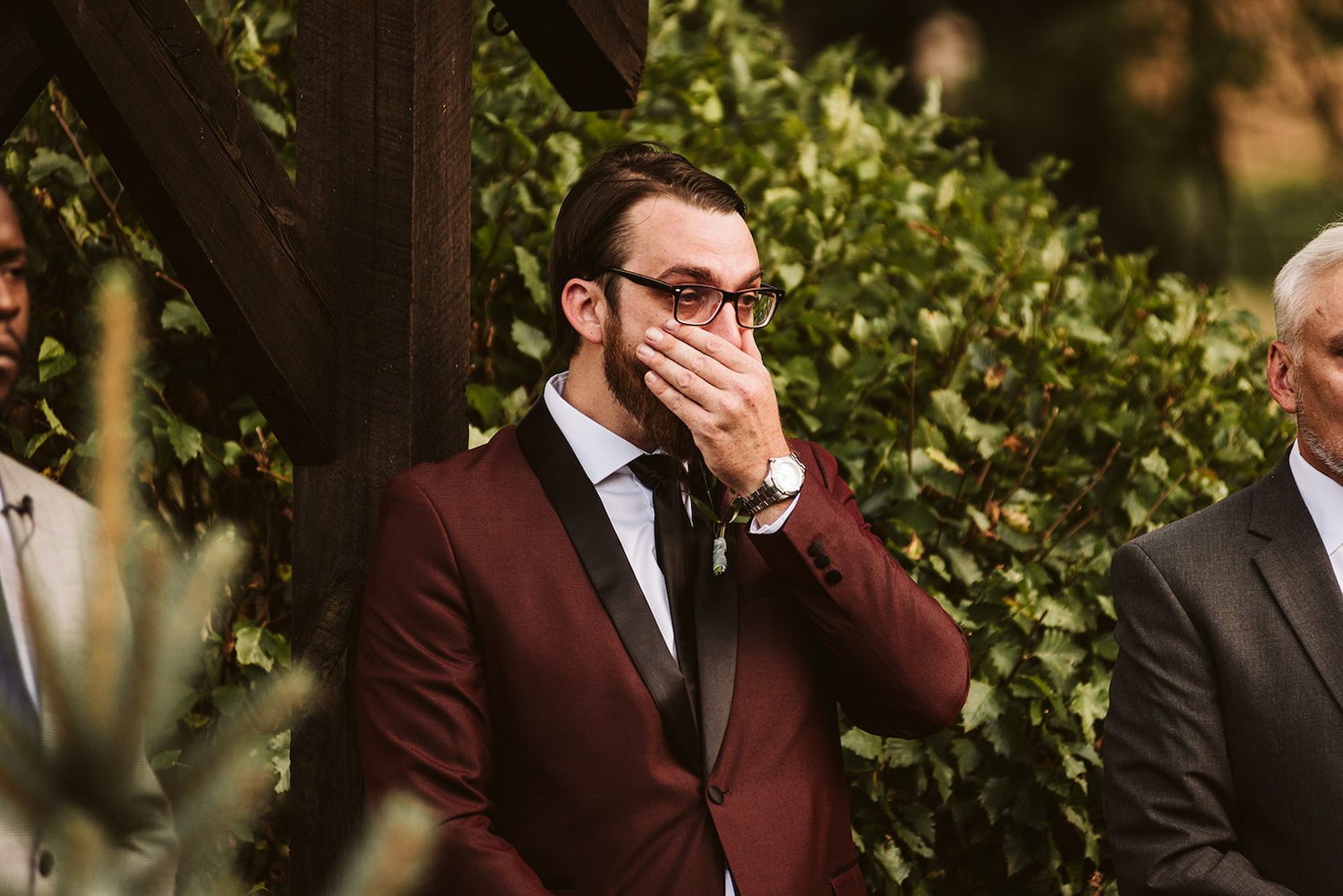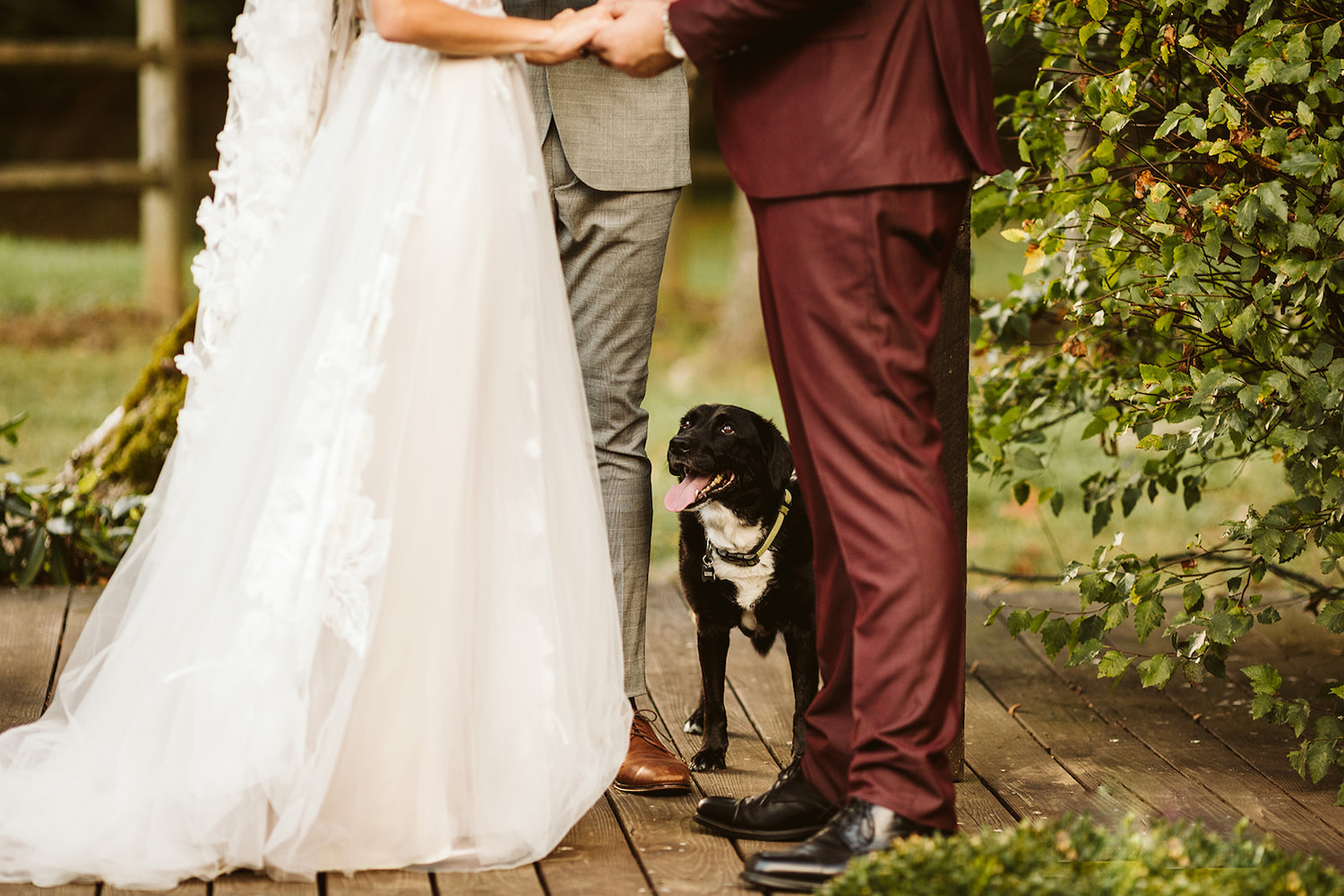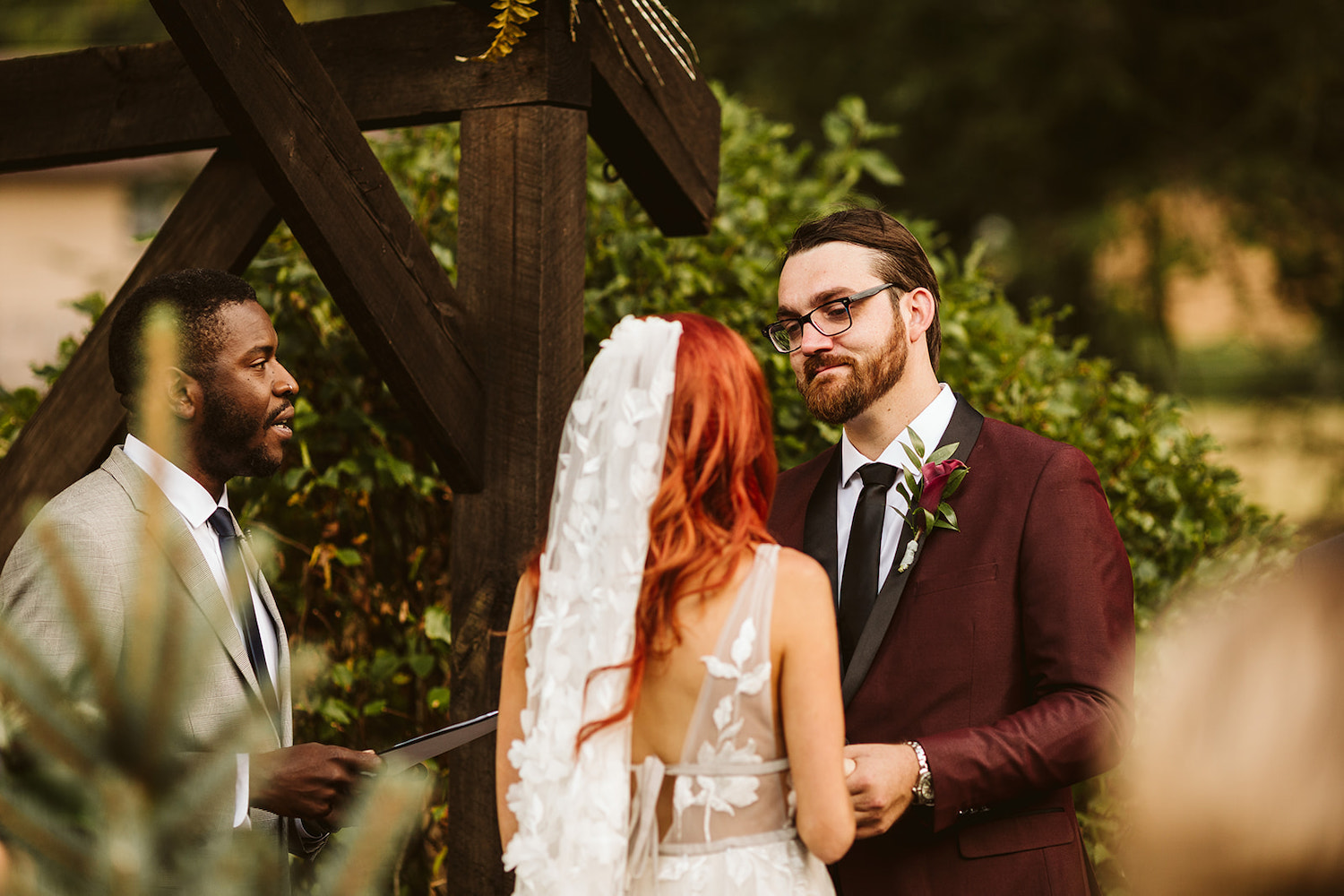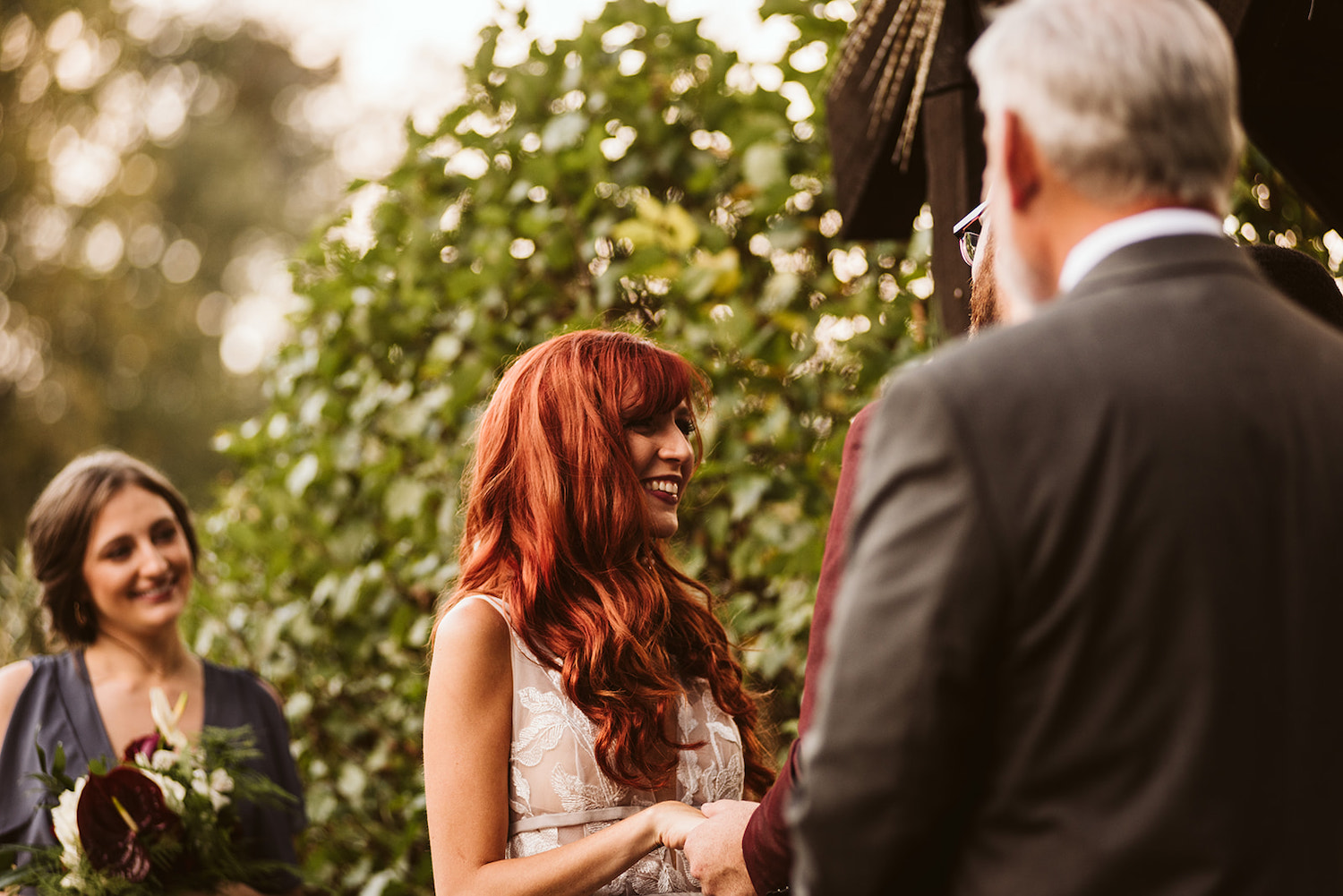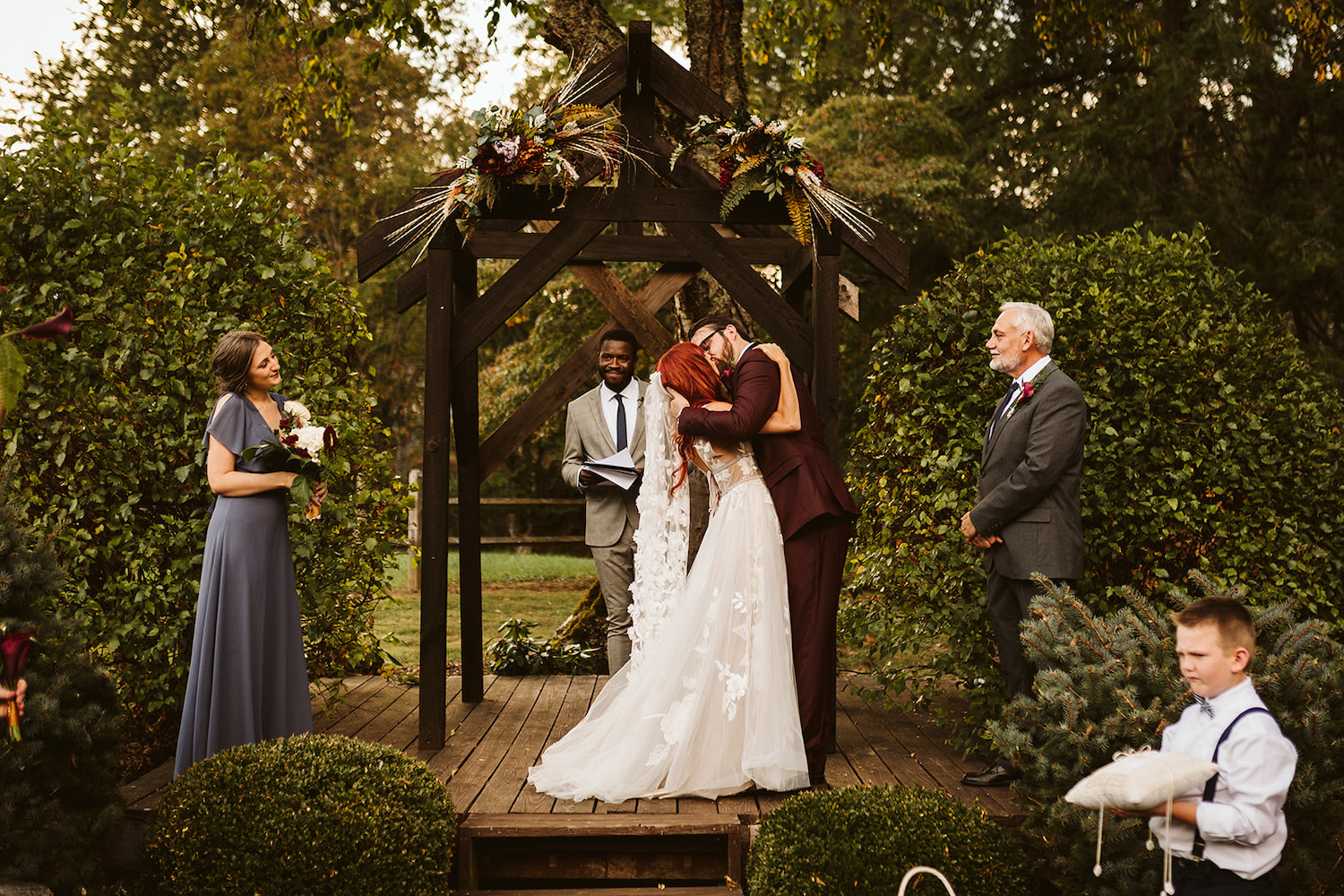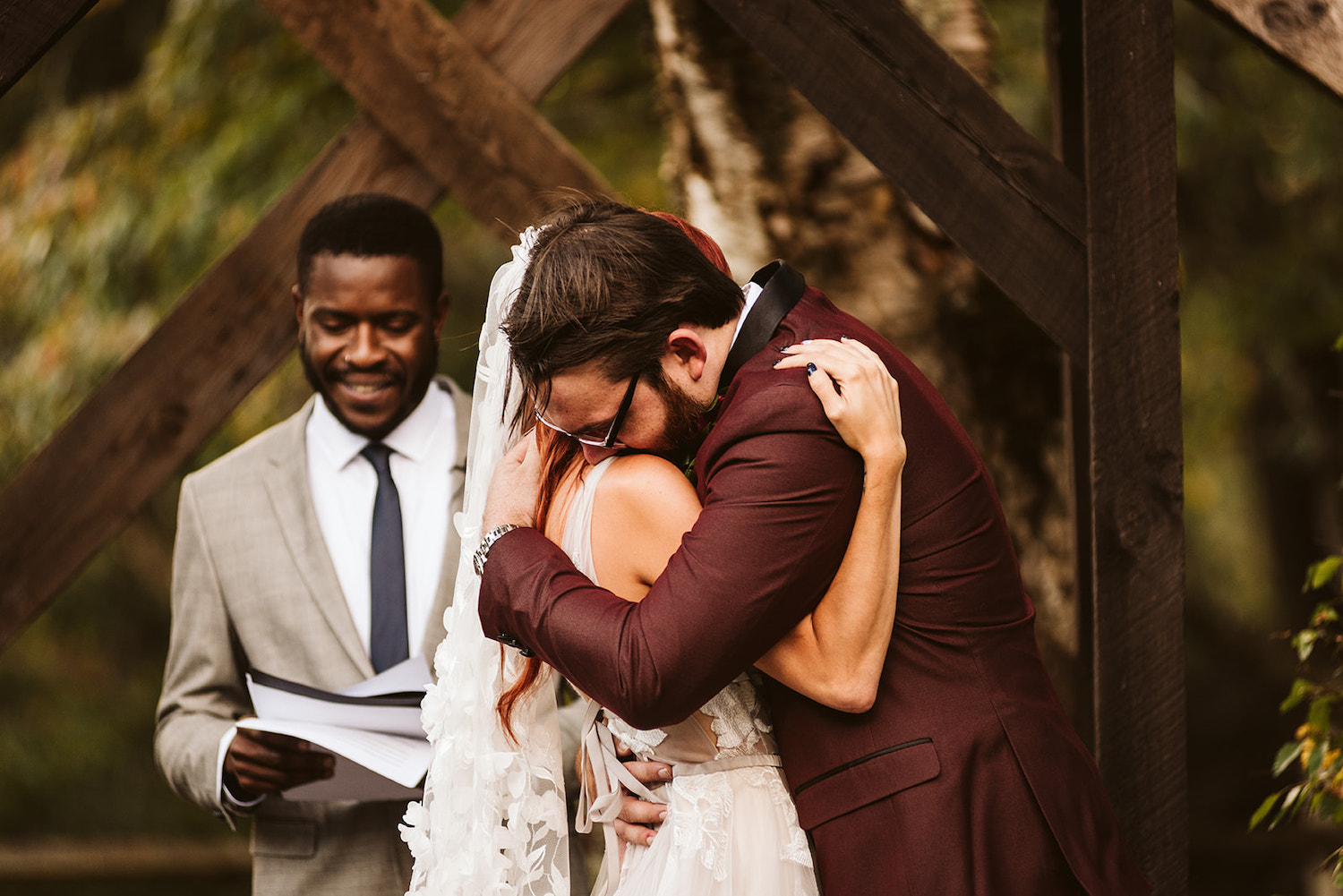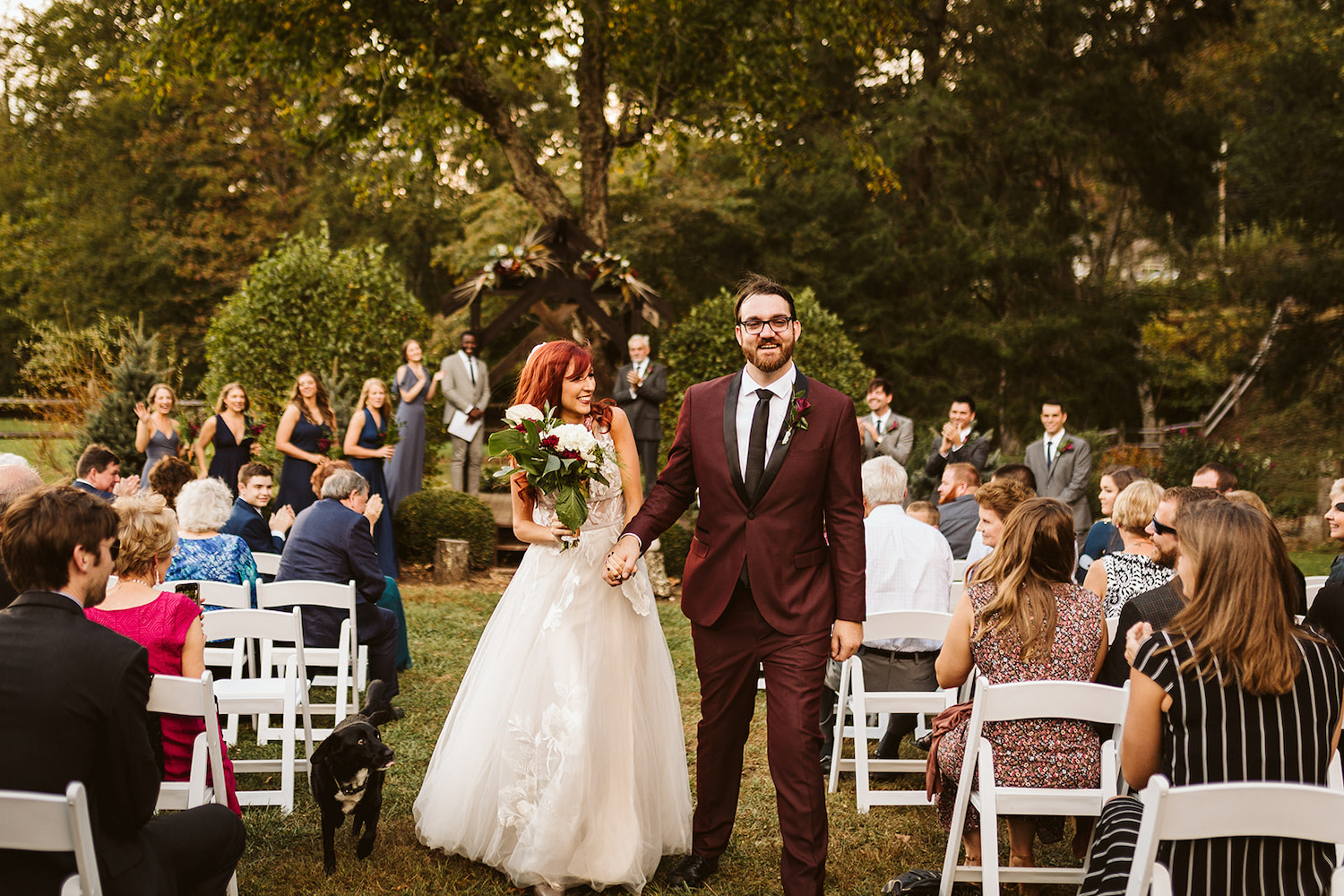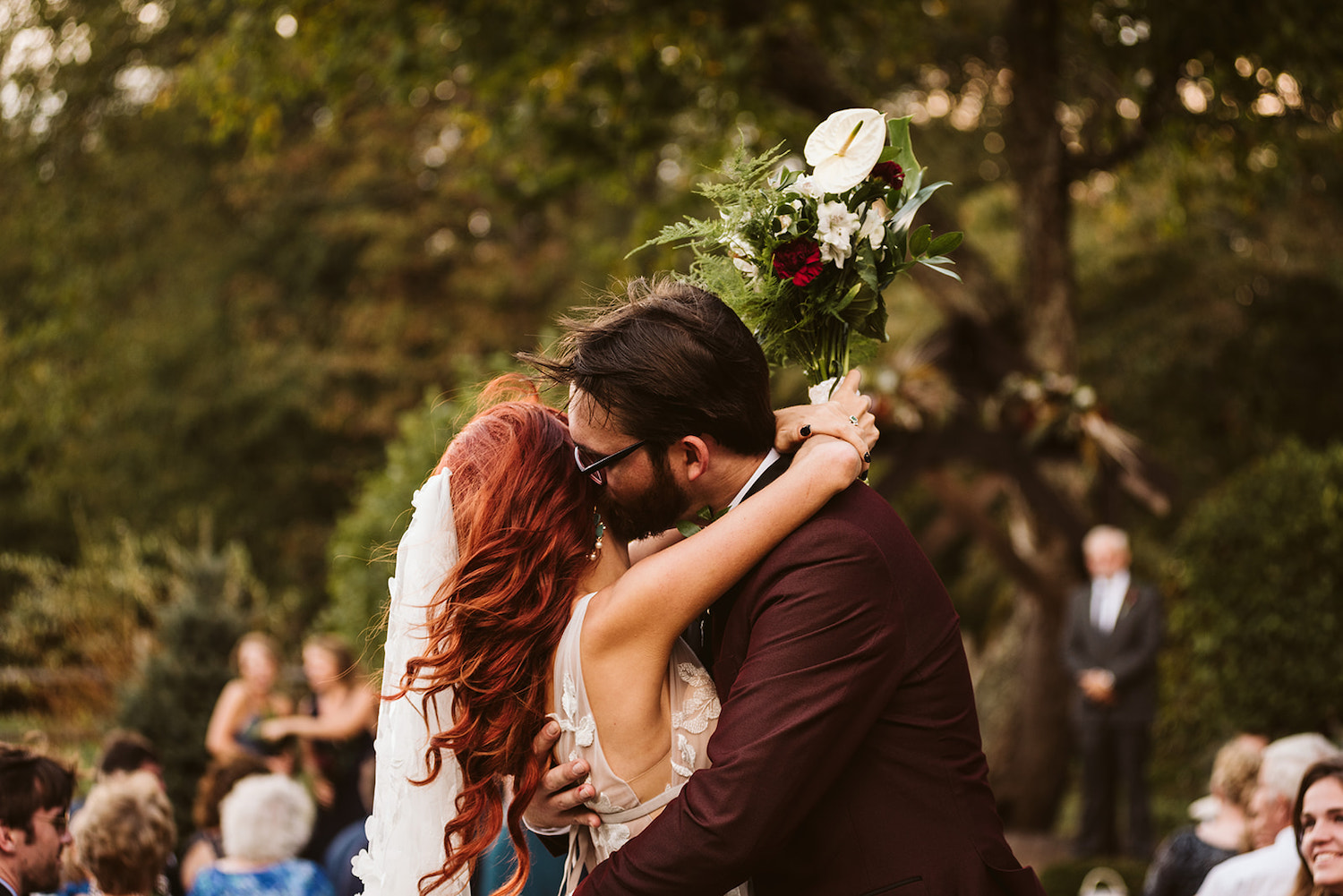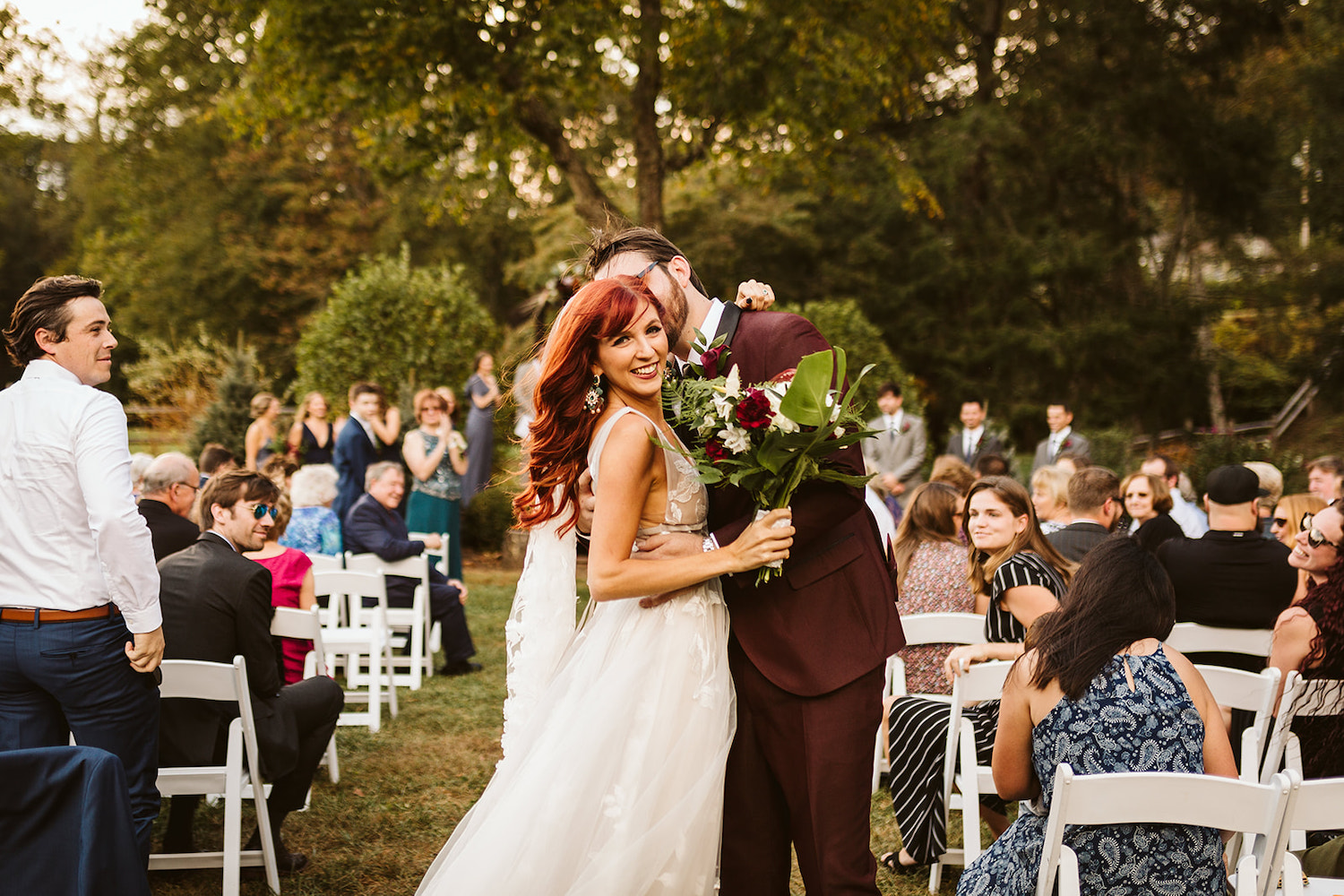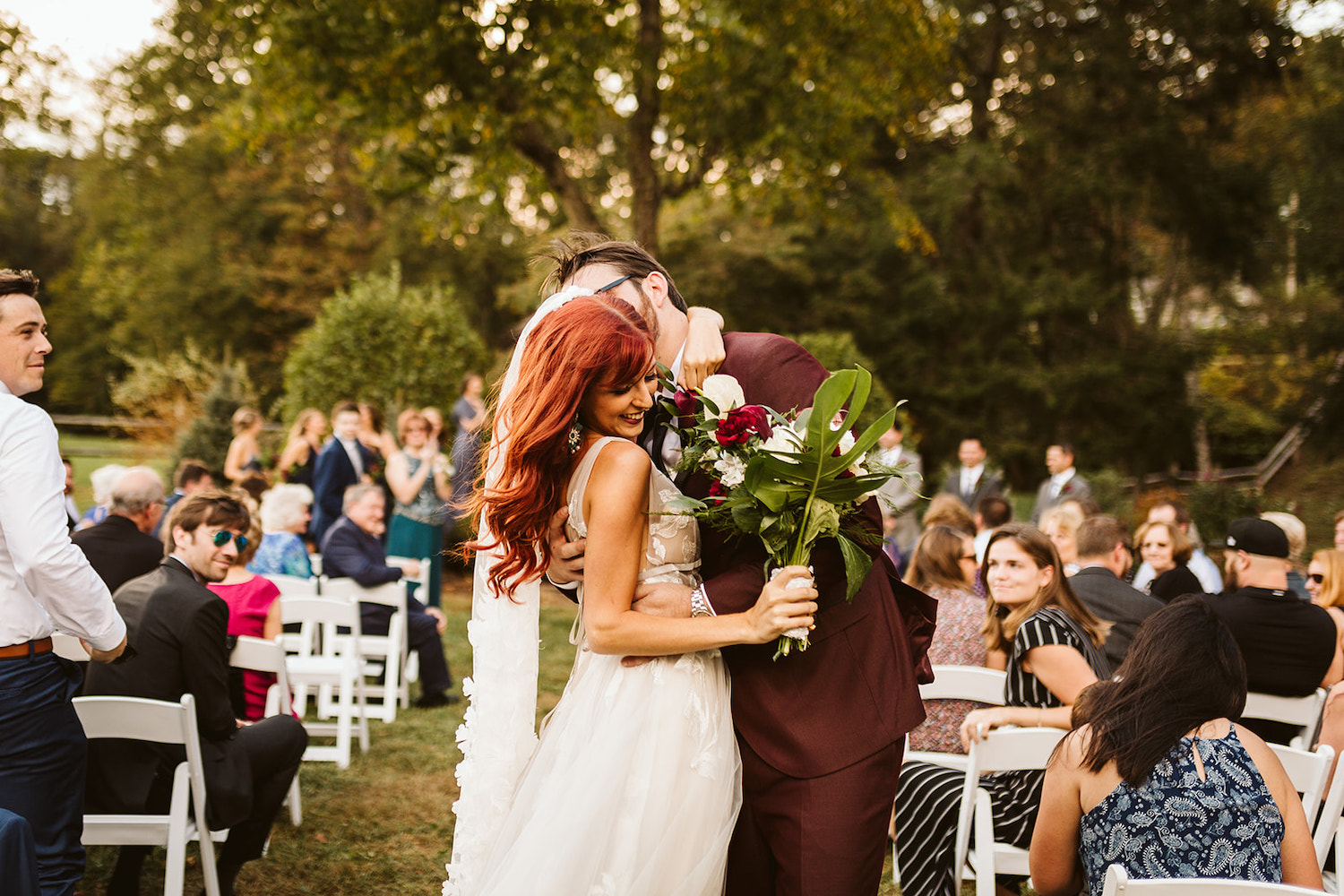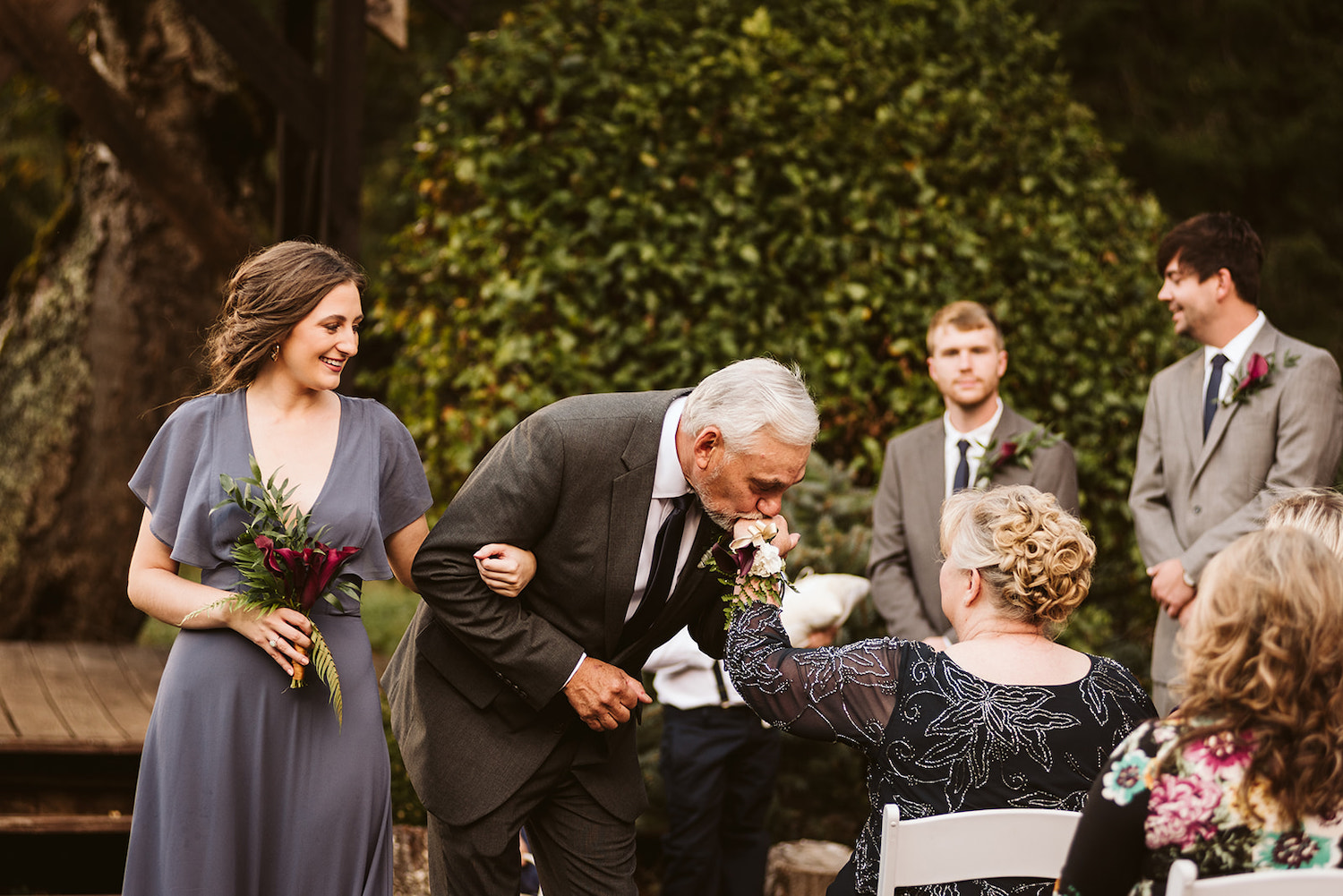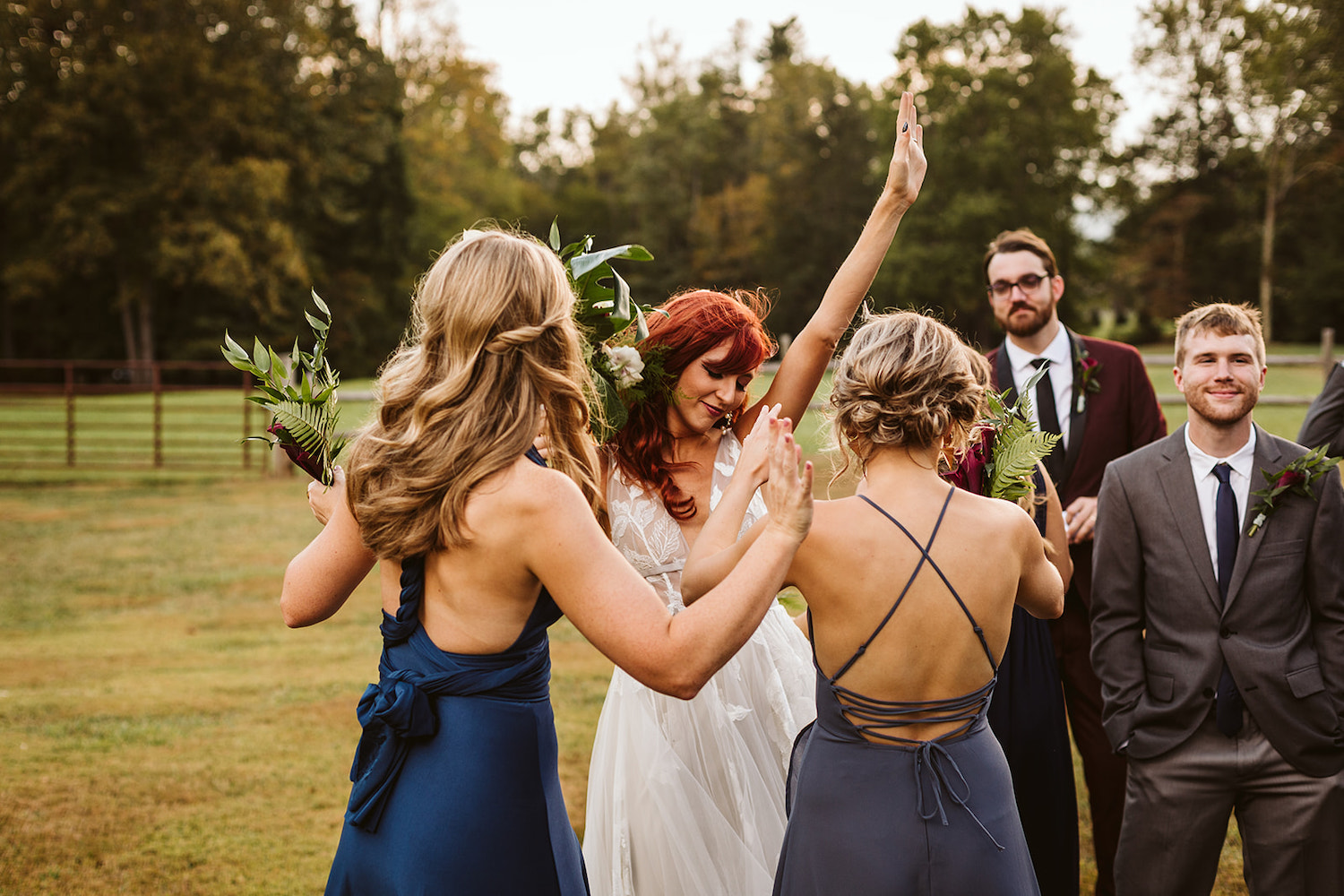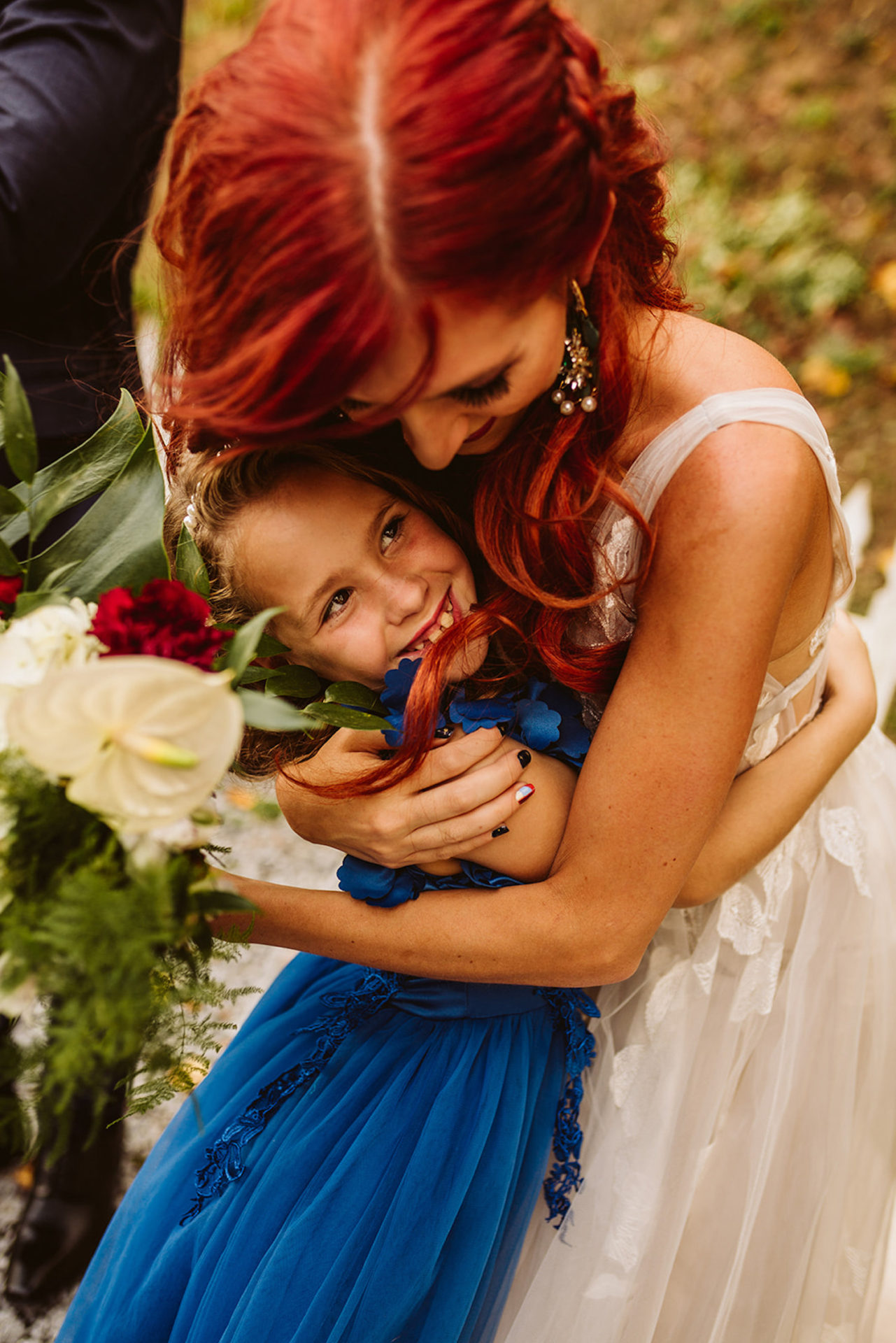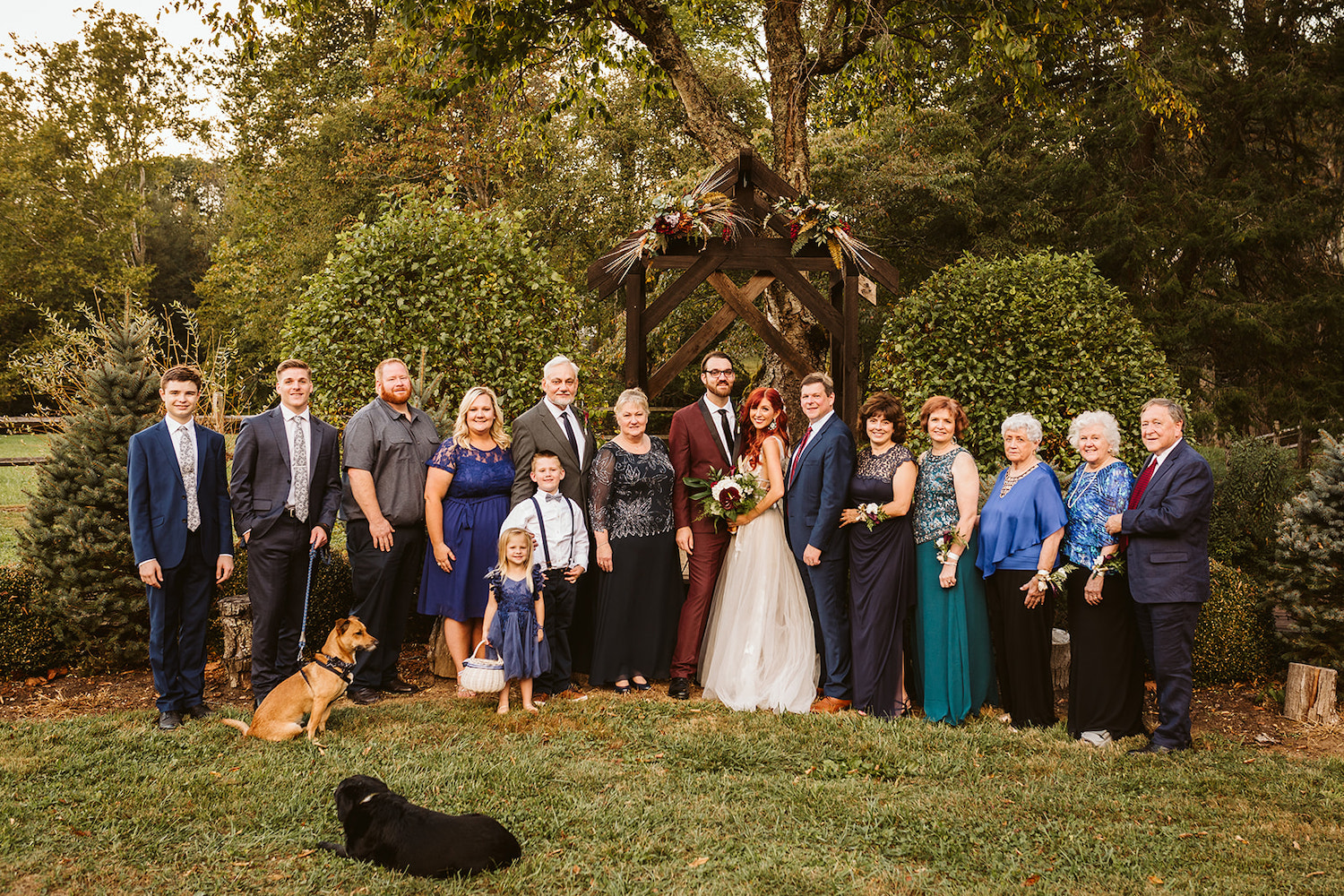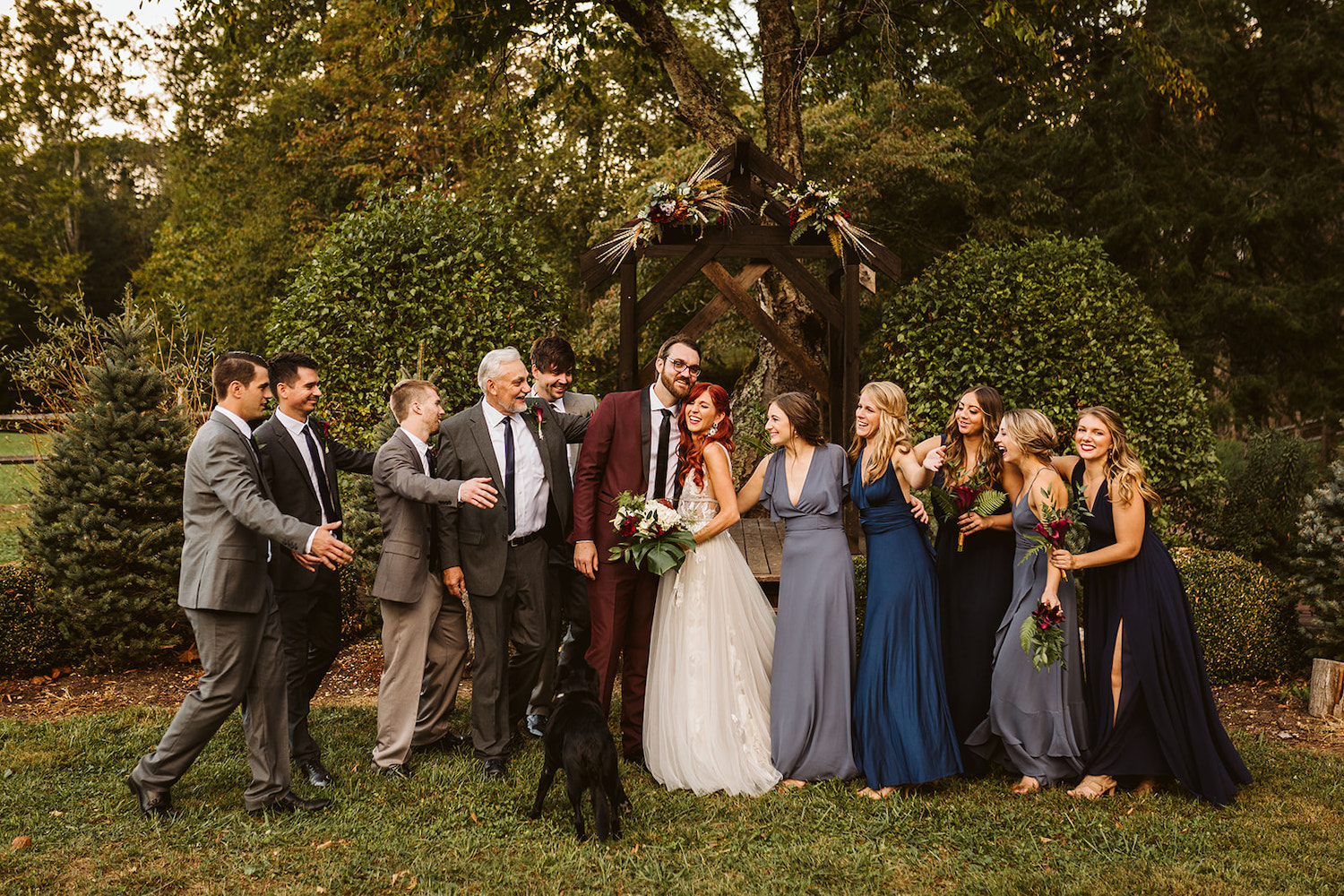 ROAN MOUNTAIN WEDDING RECEPTION AND SUNSET BRIDE AND GROOM PHOTOS
Matt and Caitlin's reception was a ton of fun. Their goal was to kick back and celebrate with their family and friends, and they accomplished that to the final moments. Matt's band played, and he would take breaks between dancing to go play with them.
Partway through the reception, I grabbed the couple so we could go out to the field for sunset portraits. You guys know these are one of my favorite things to shoot, and I love when my couples make time for them! Later, Matt and Caitlin told me they really enjoyed this session because the stress of the day was totally gone by that point. They were able to feel really relaxed and enjoy being themselves in front of the camera! These two highly recommend doing sunset portraits.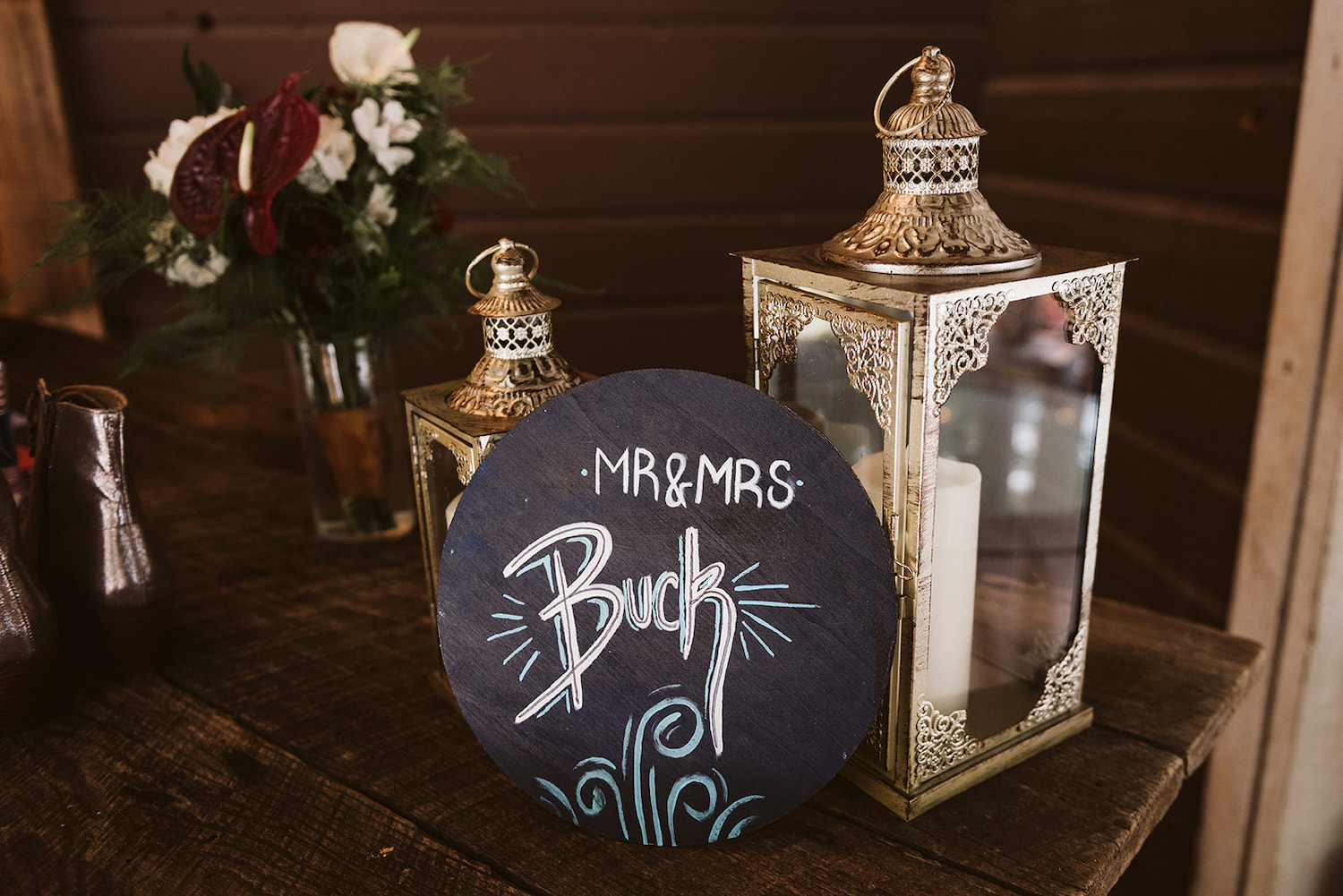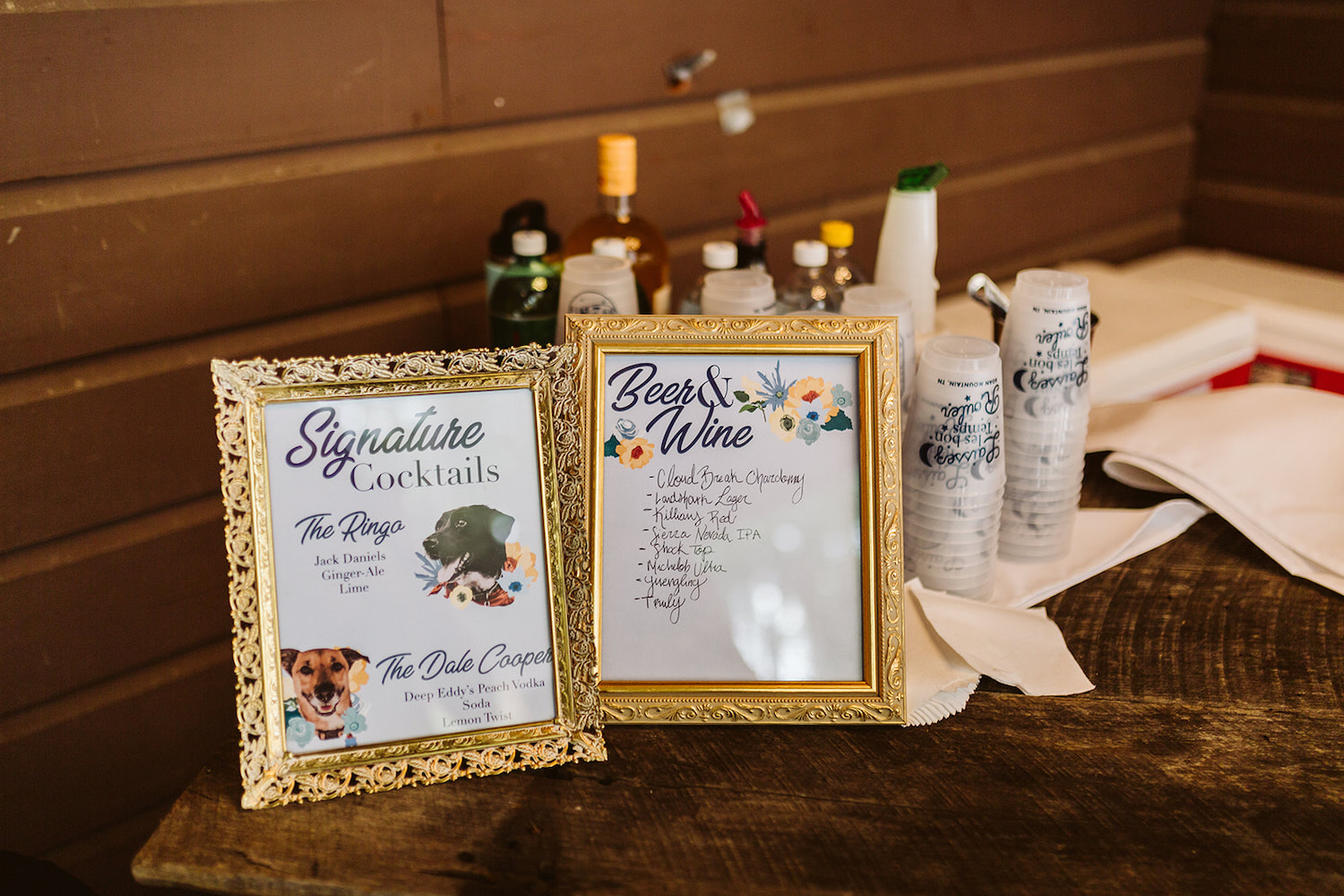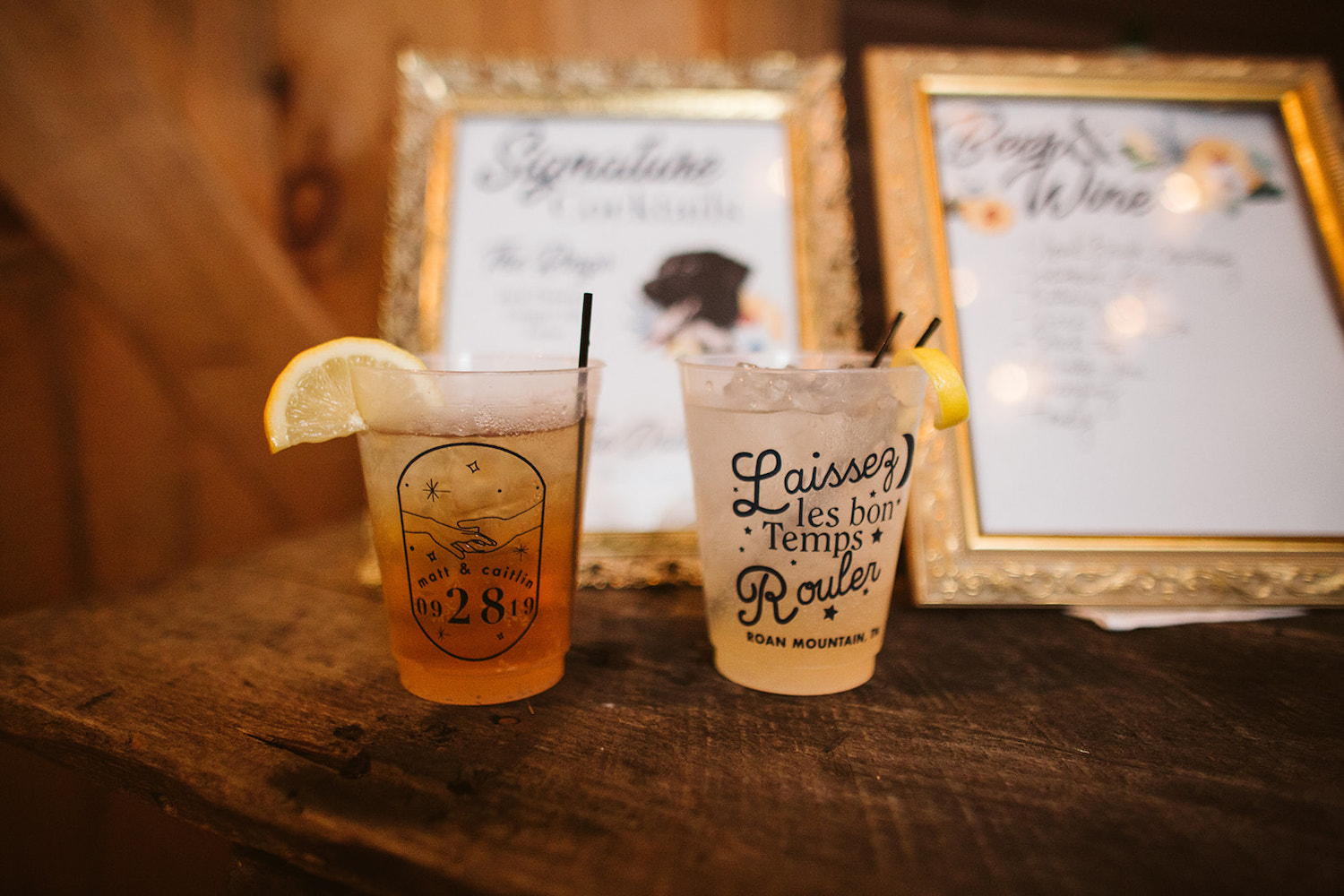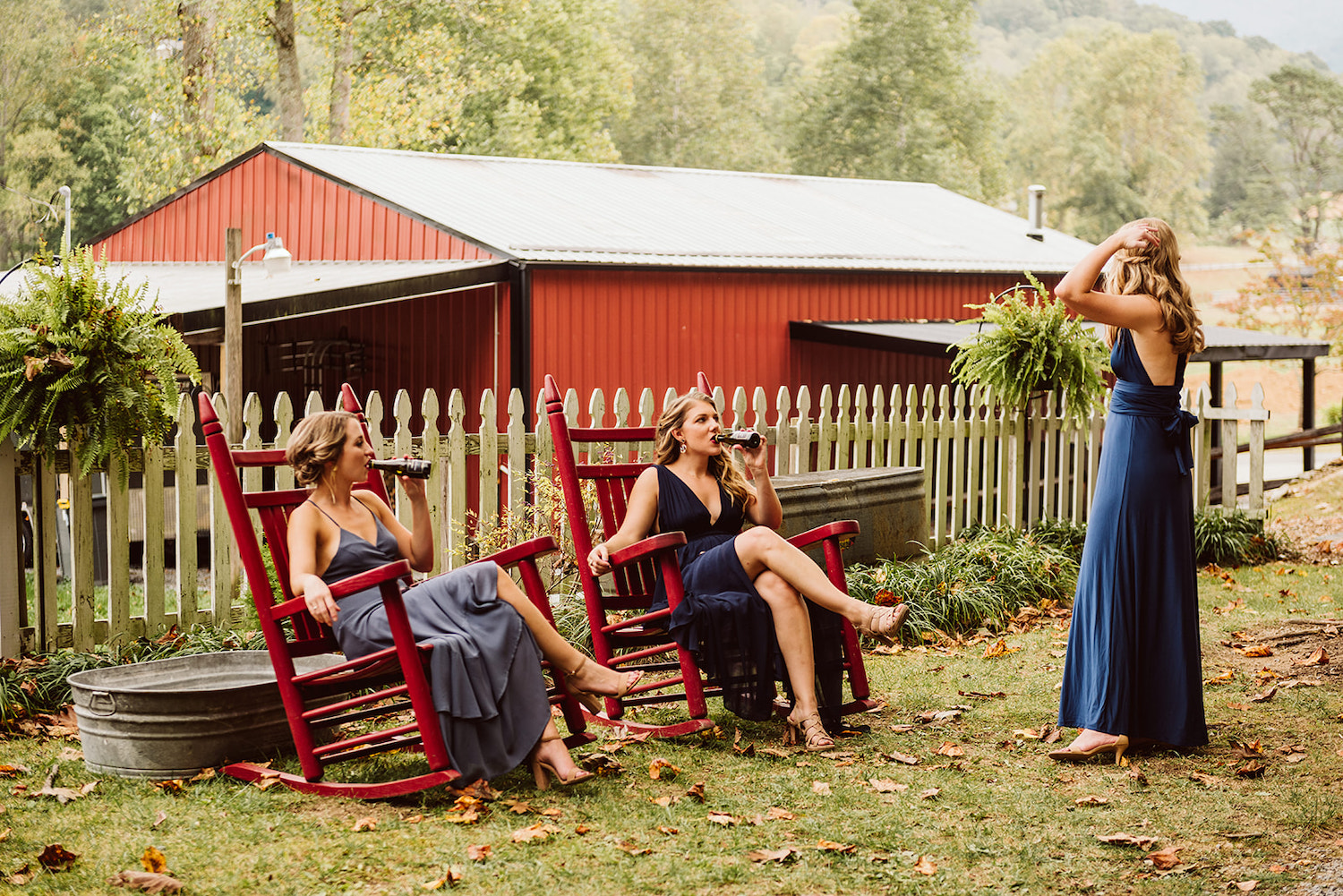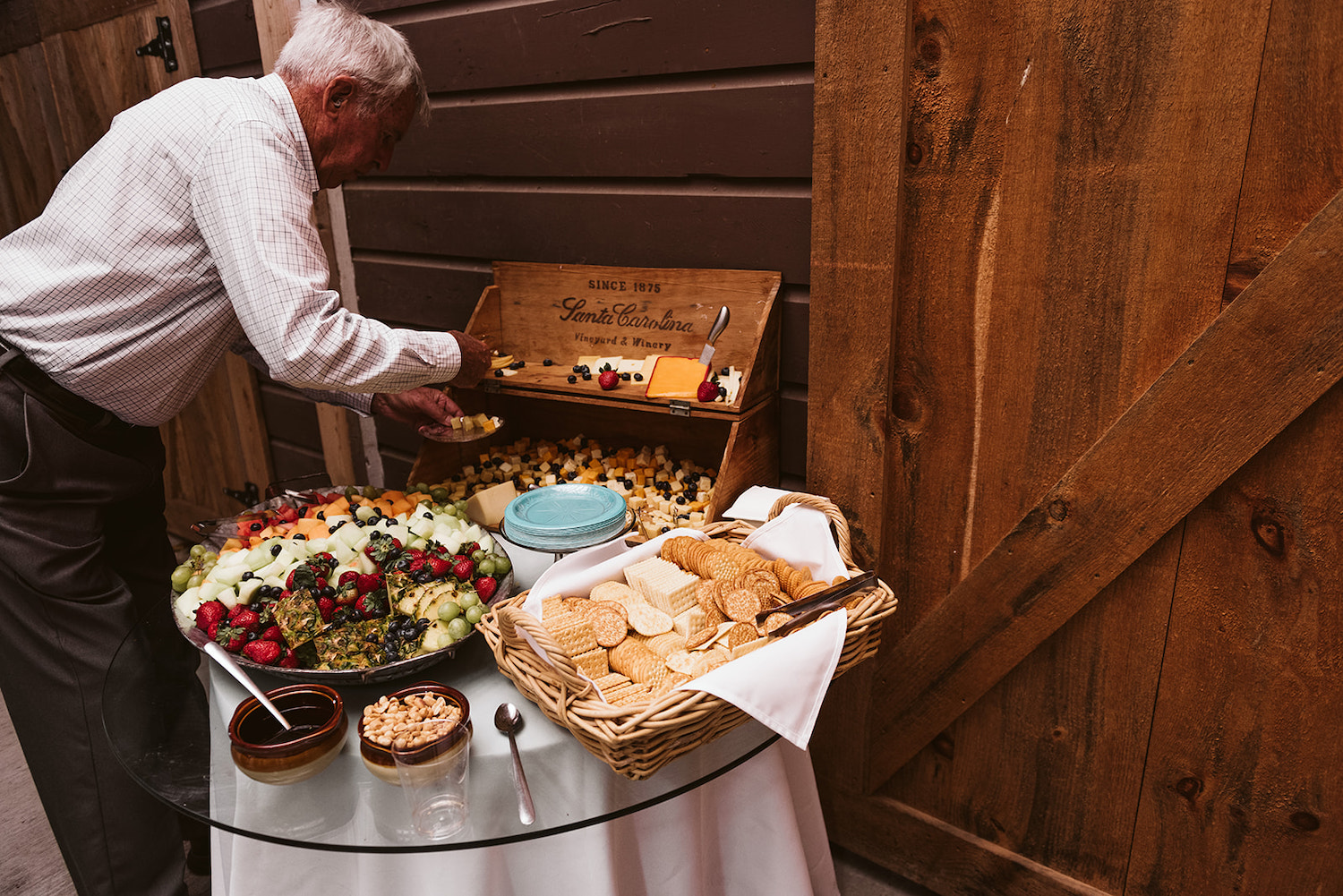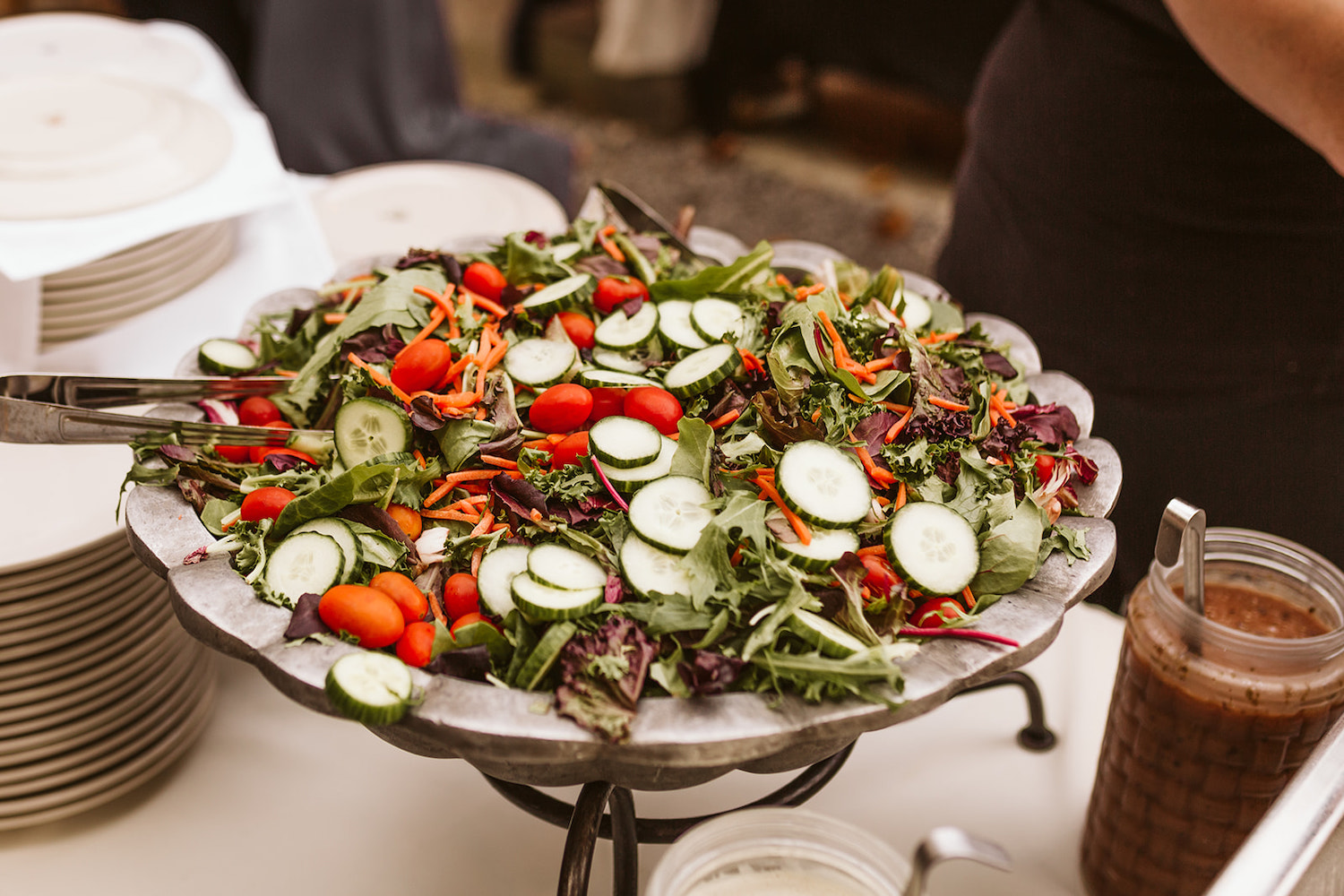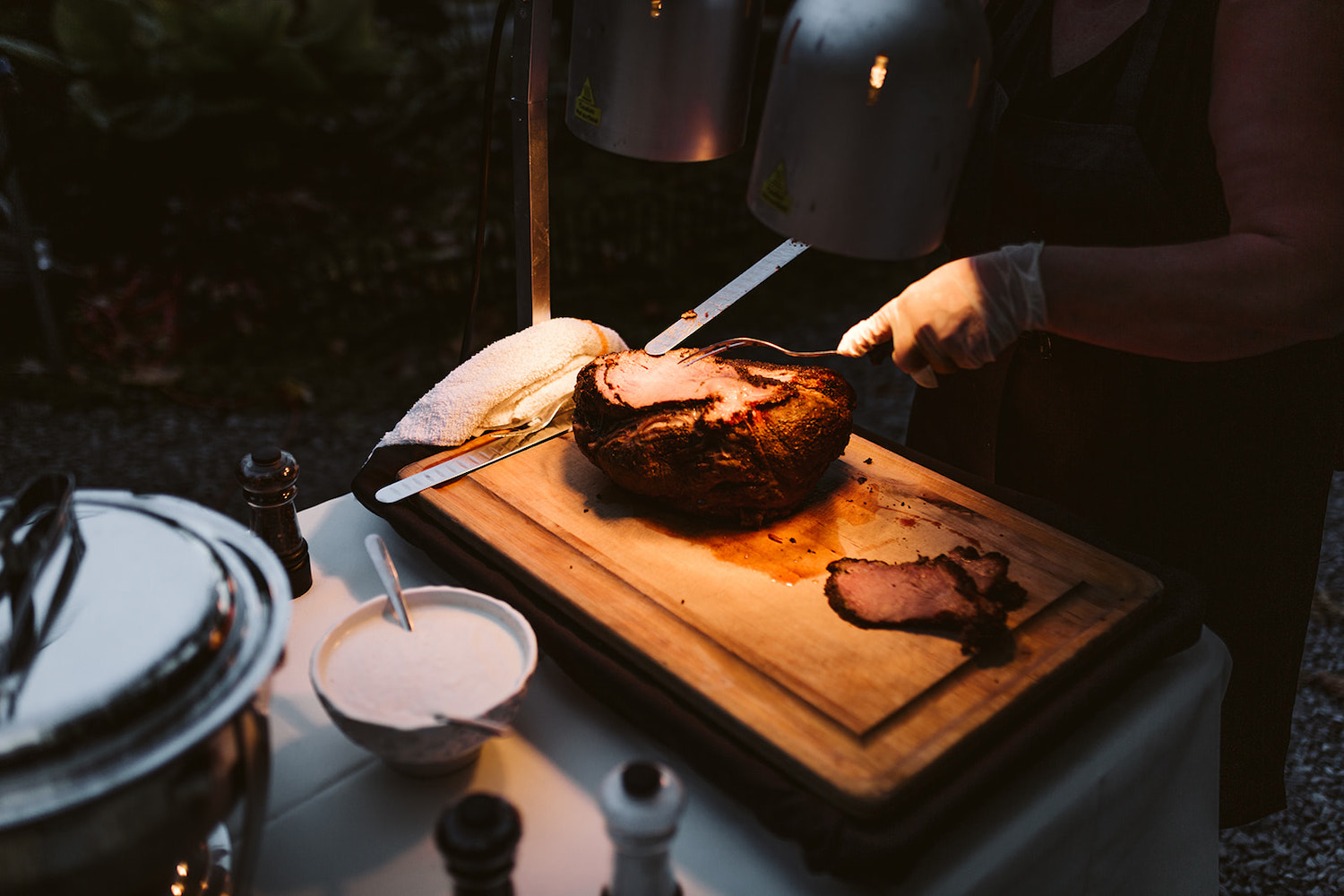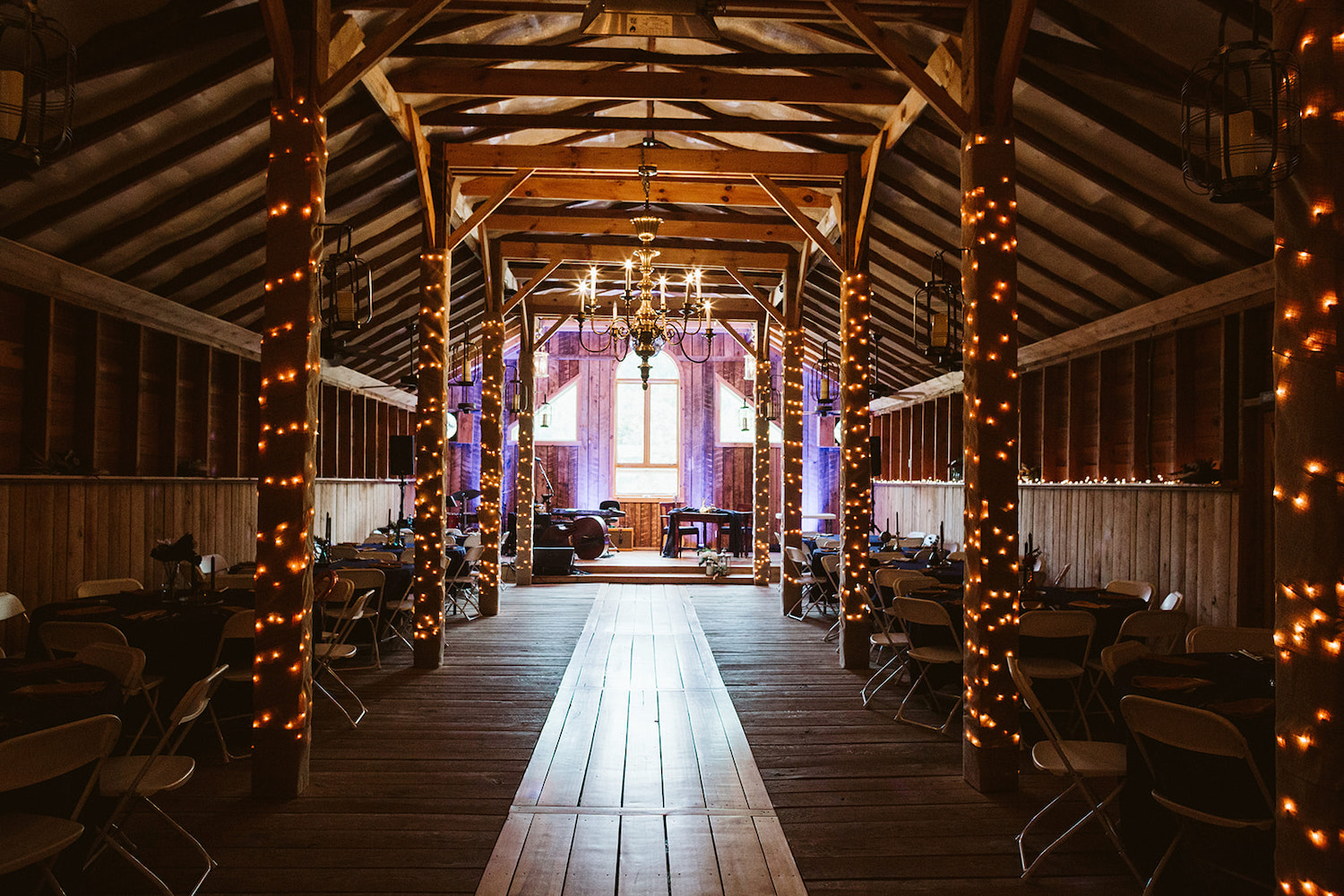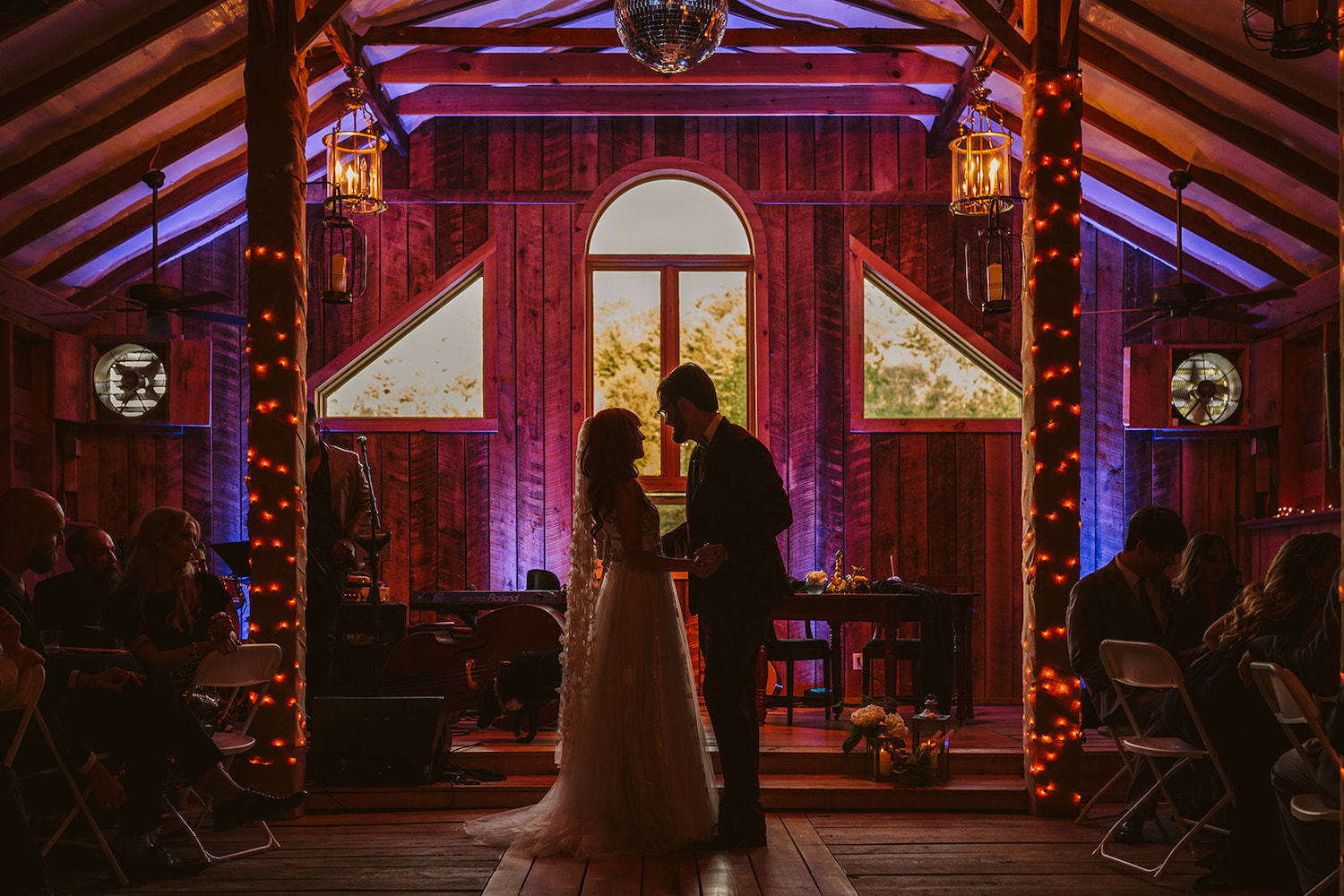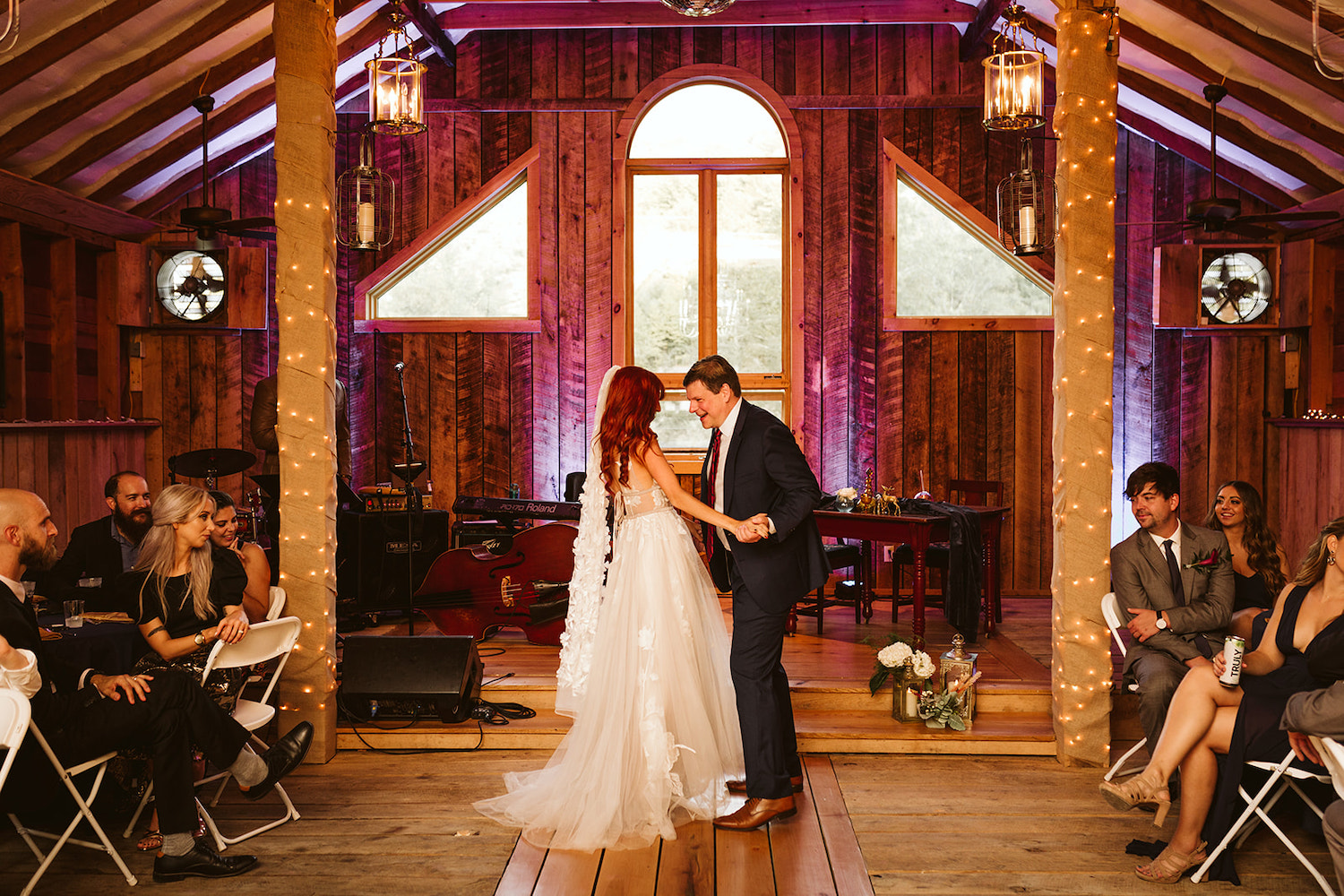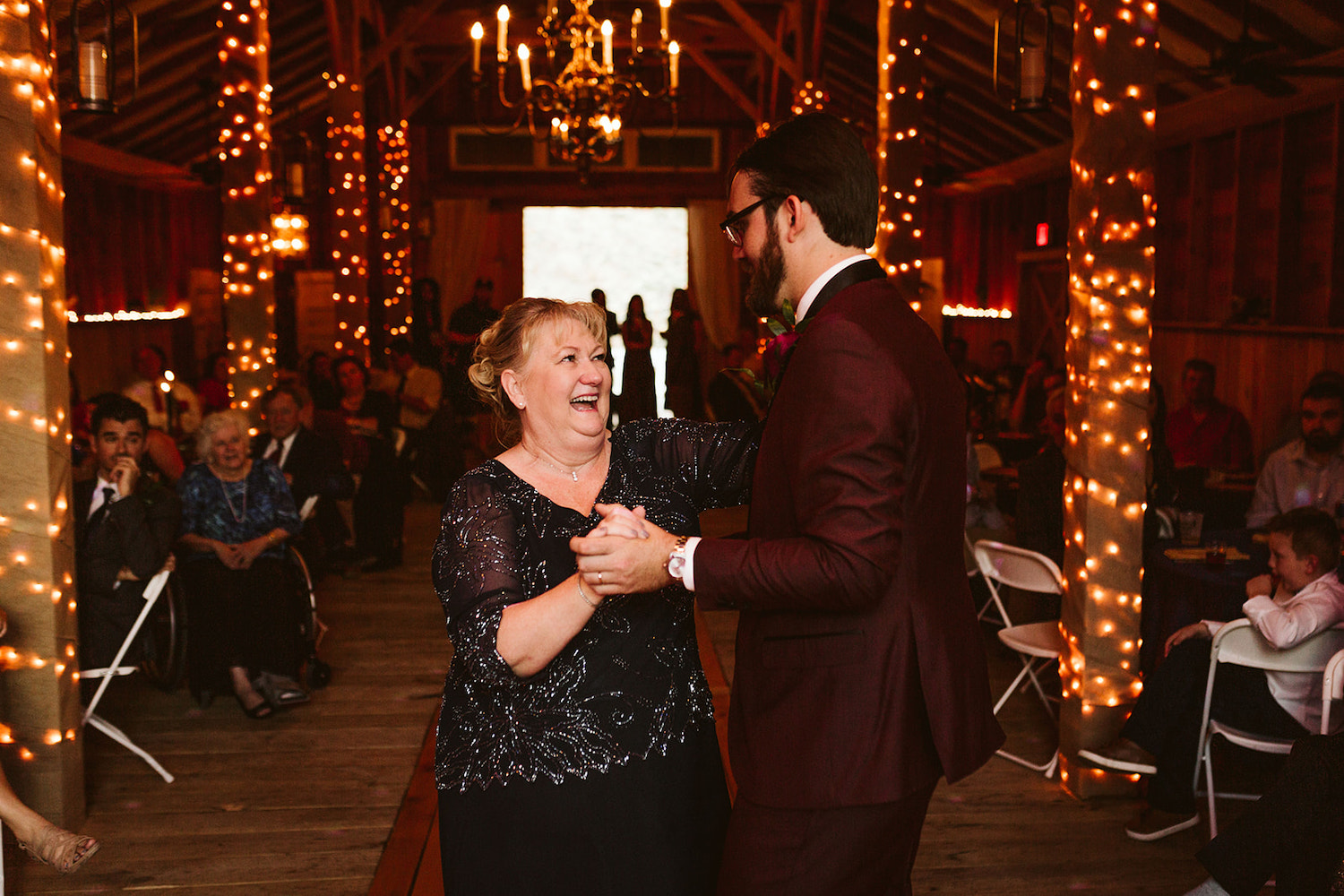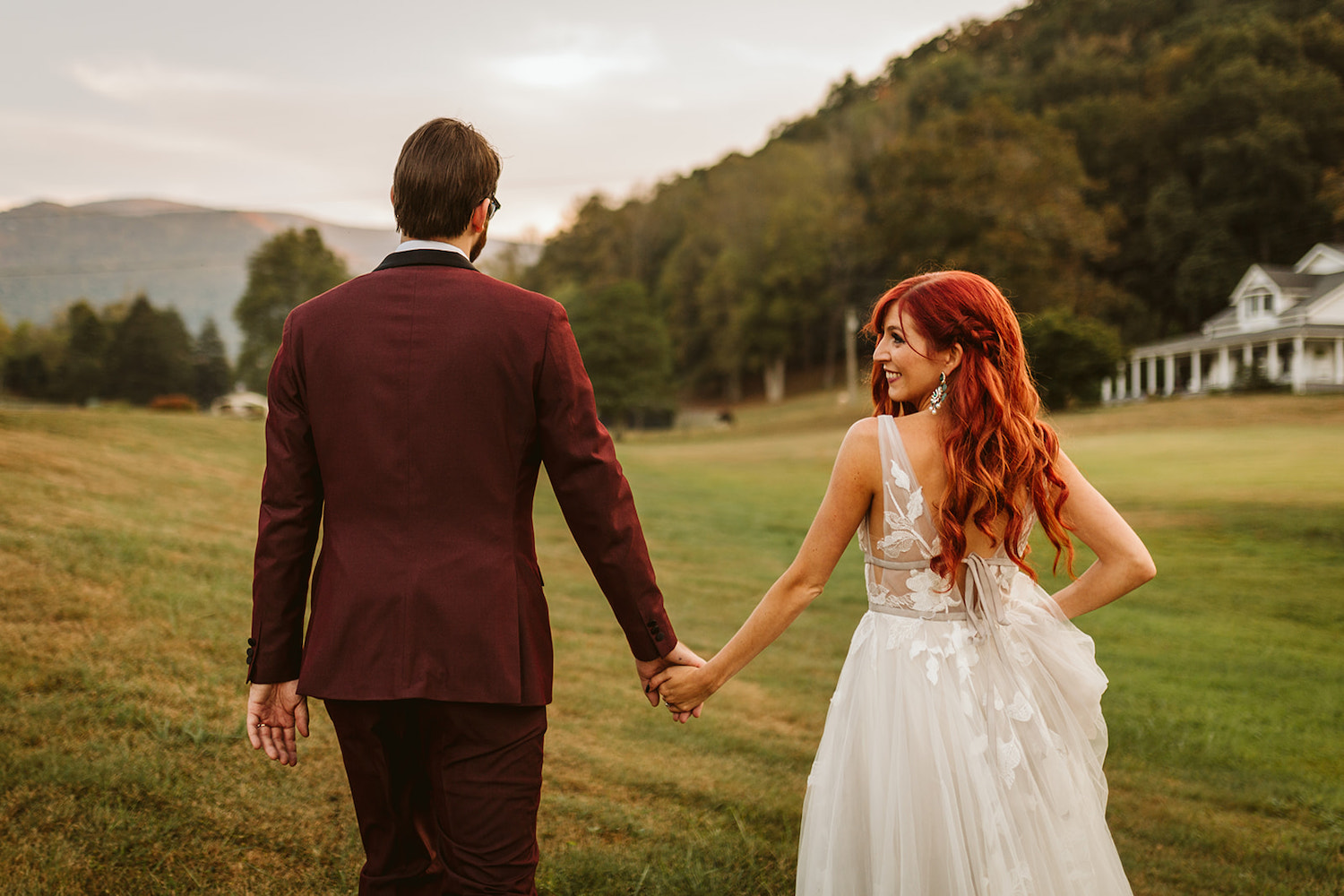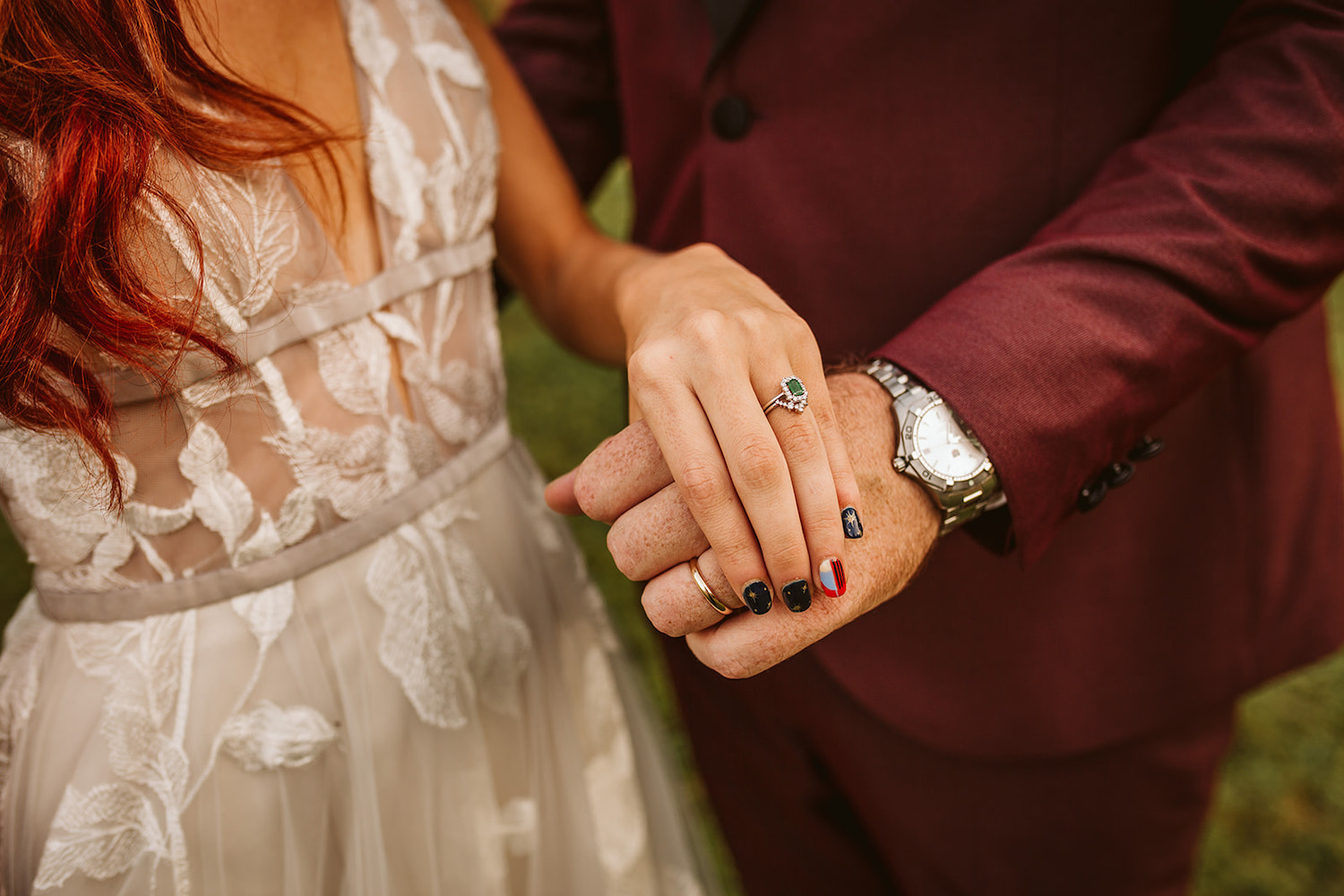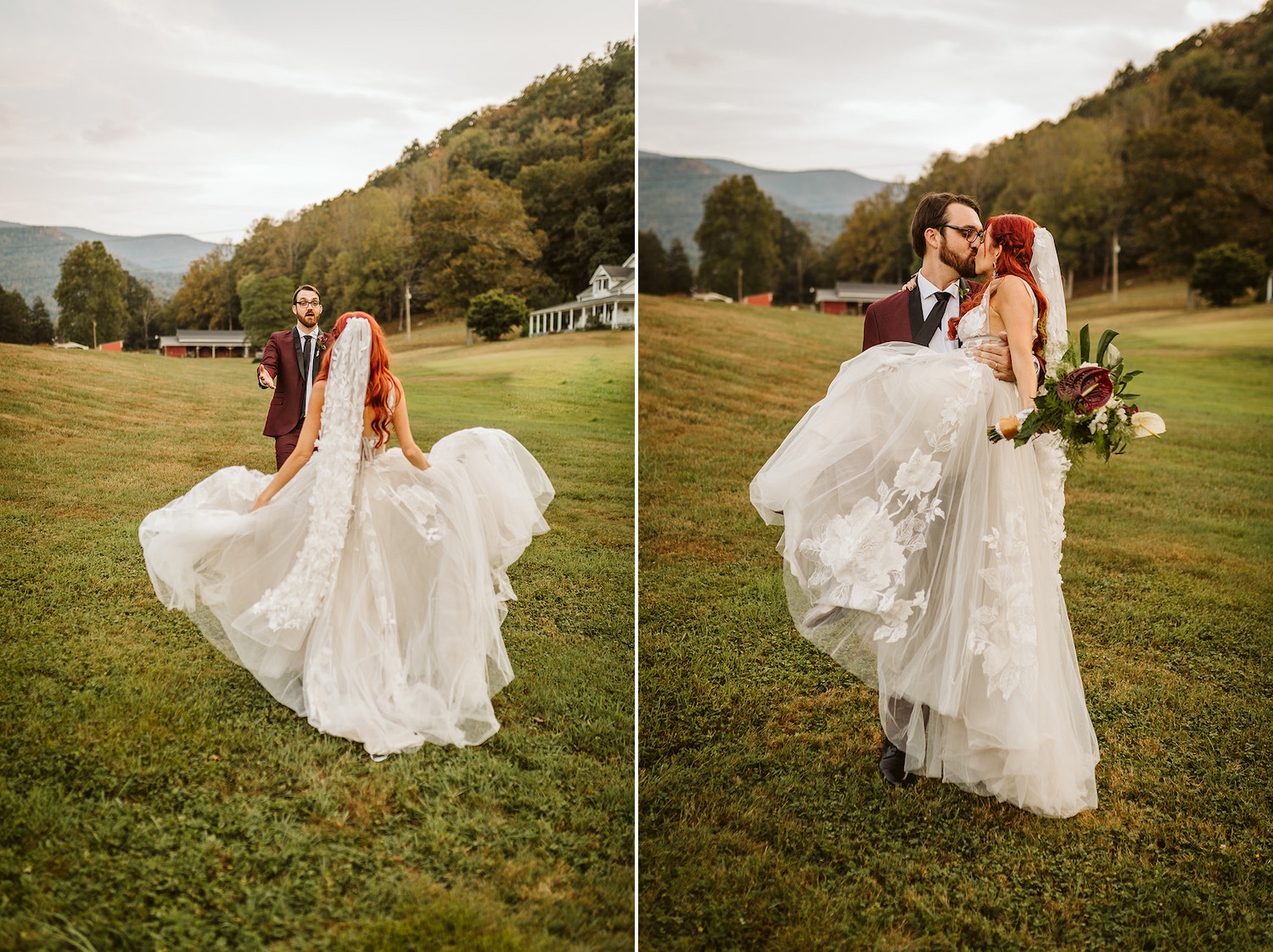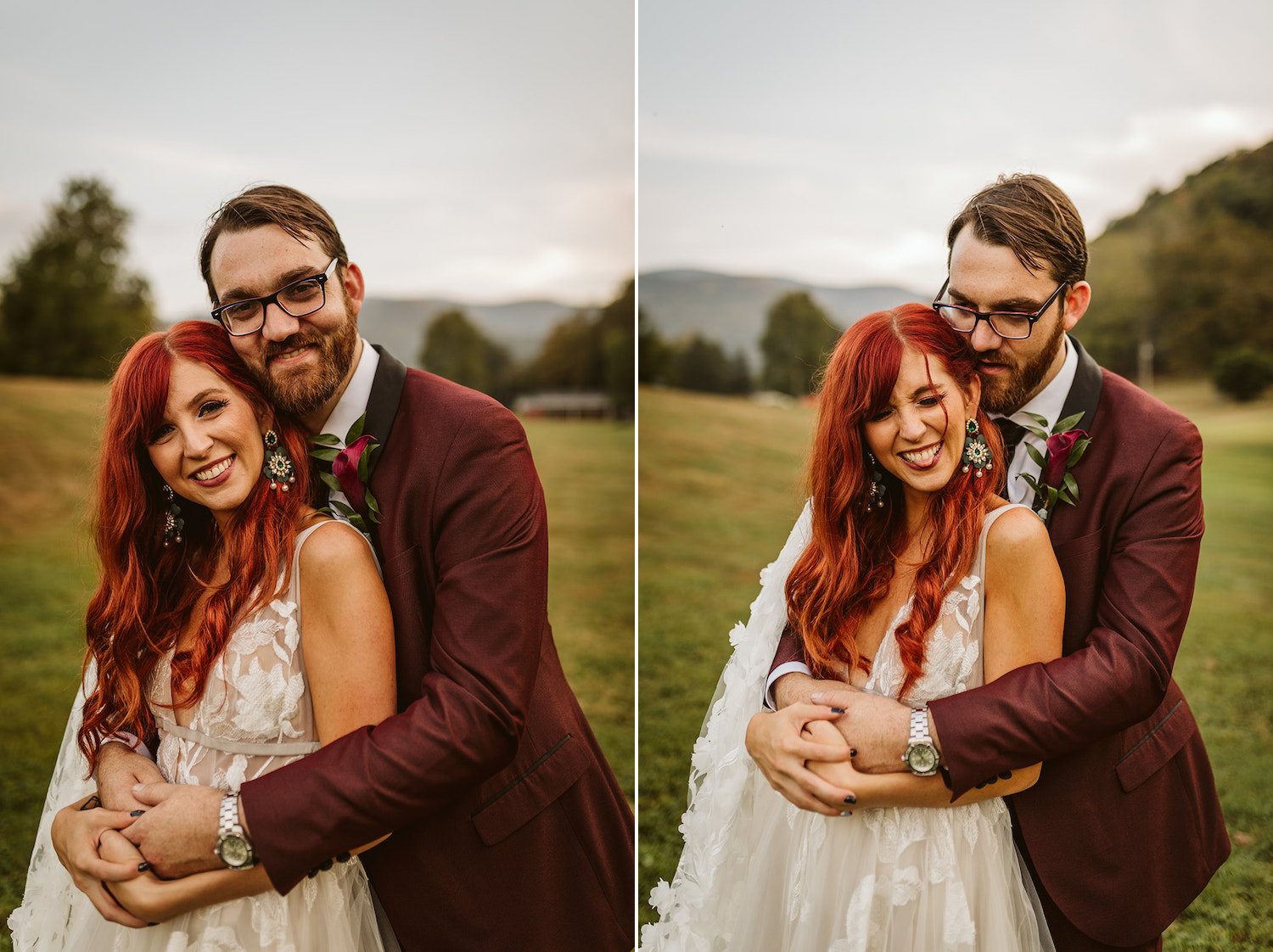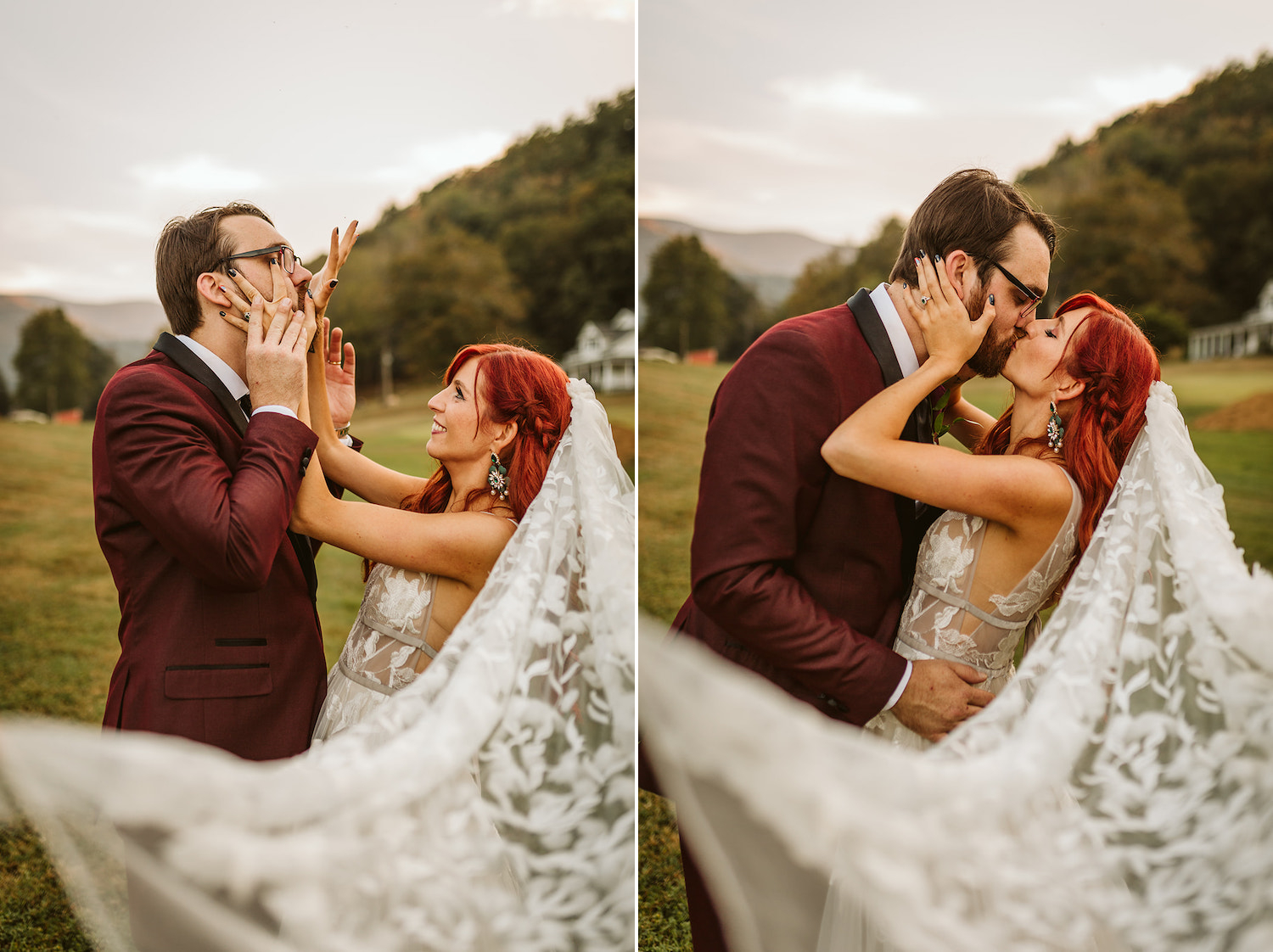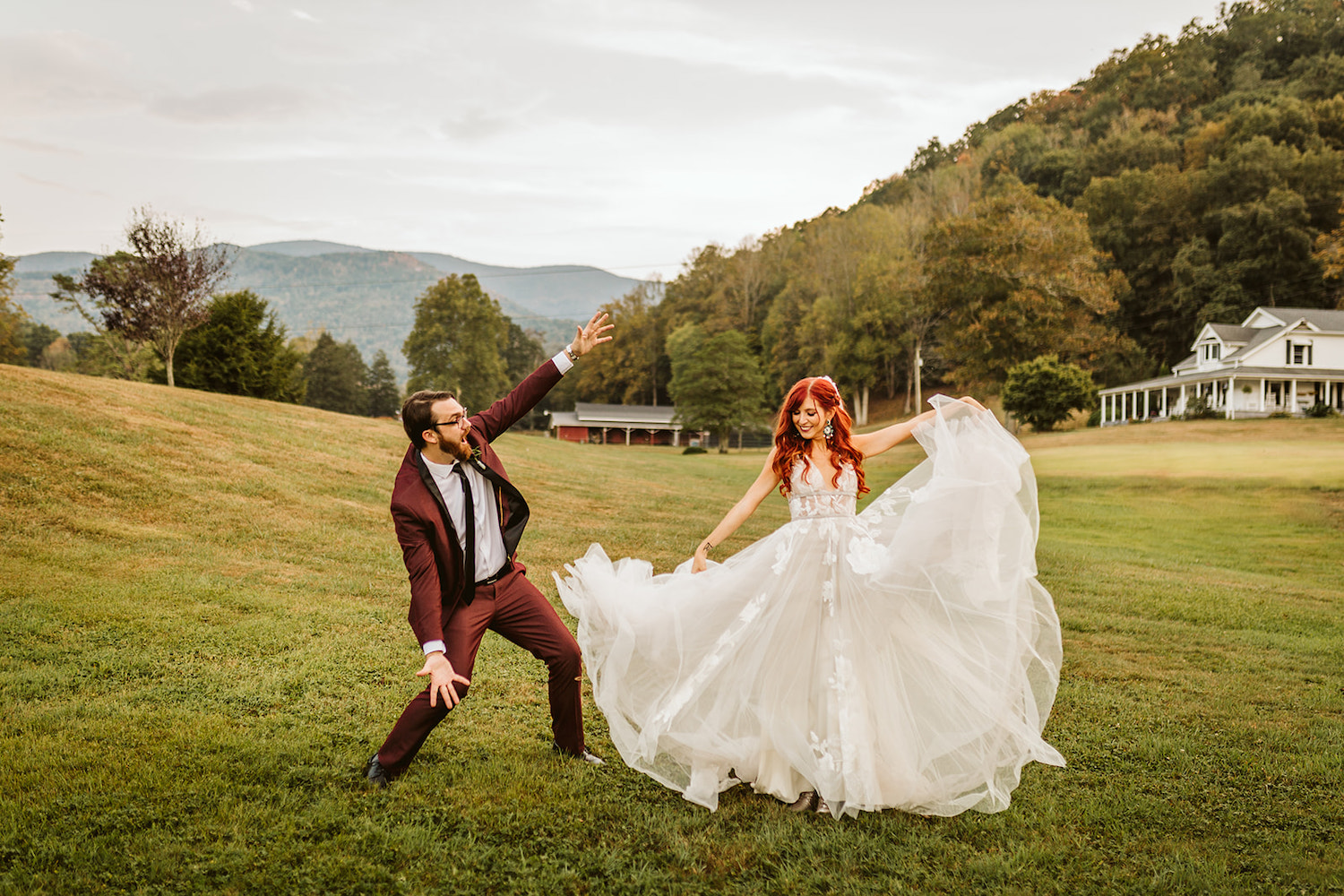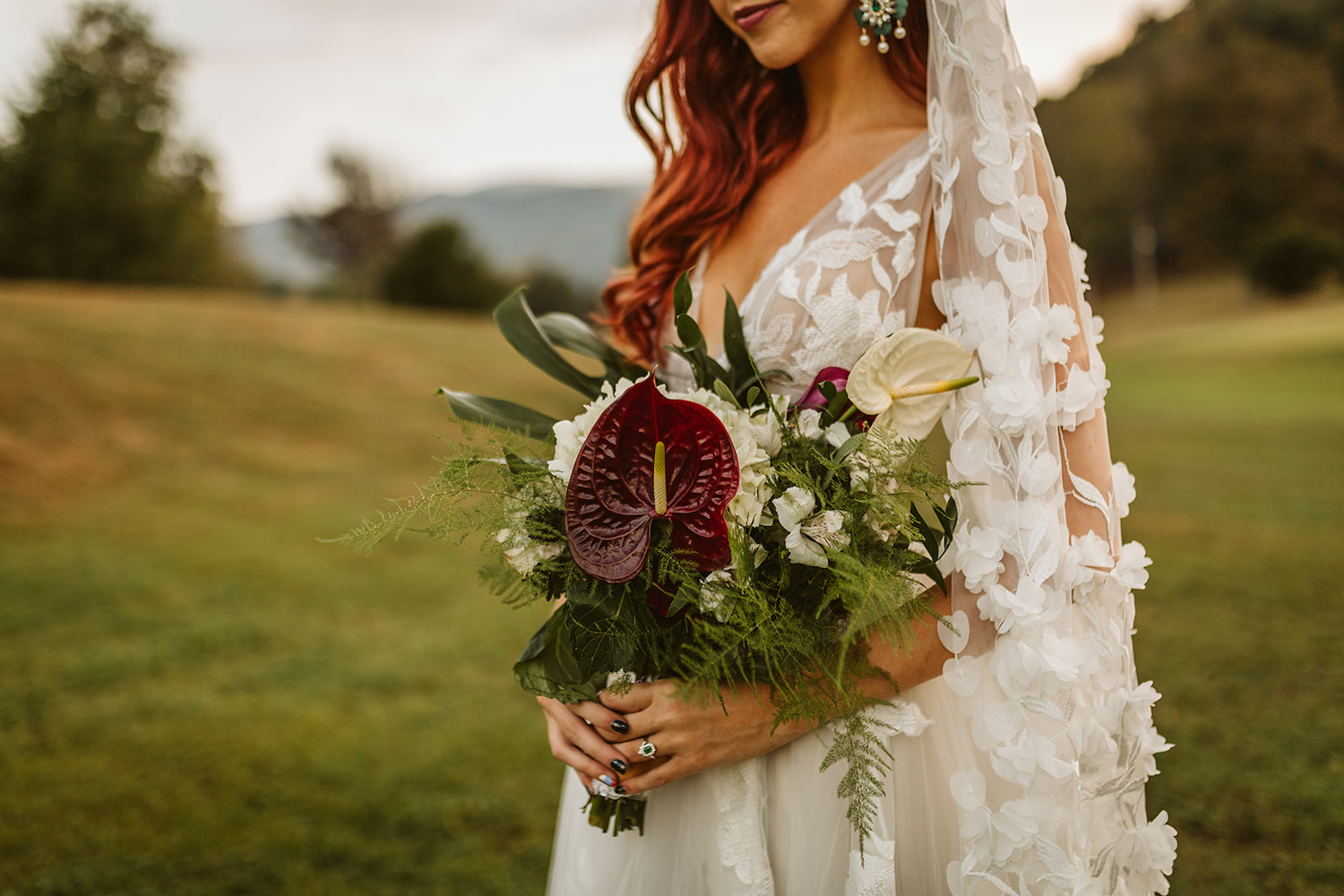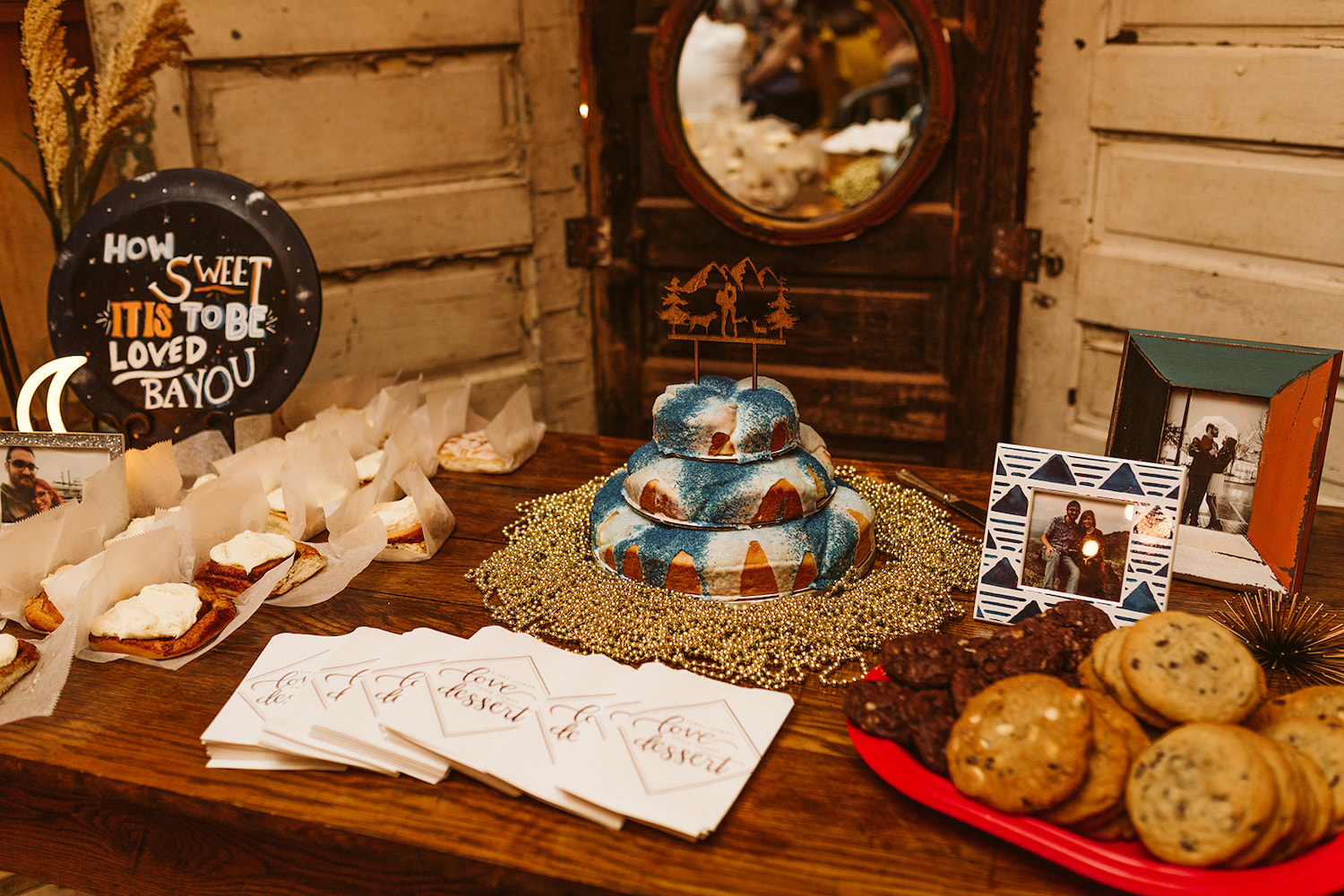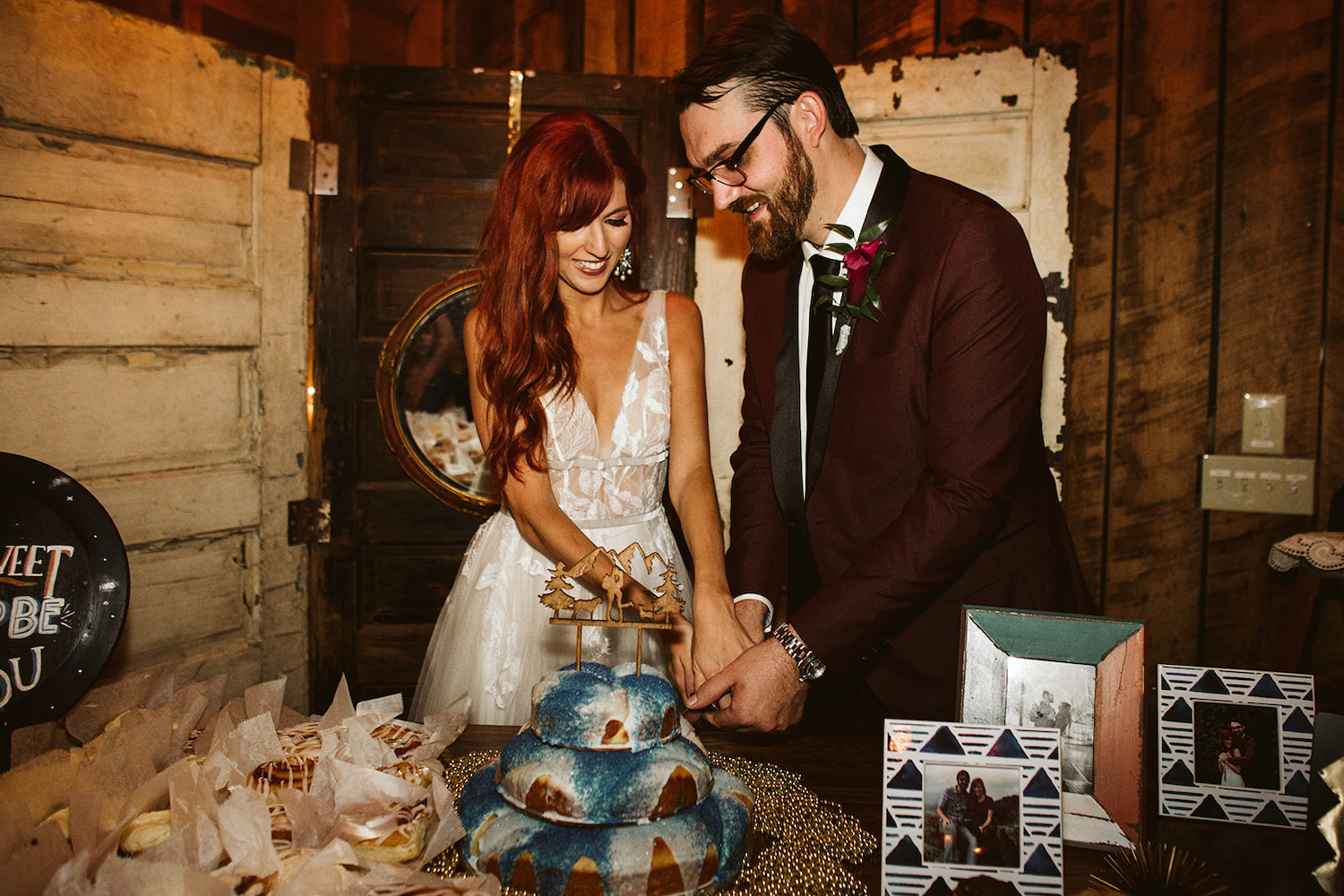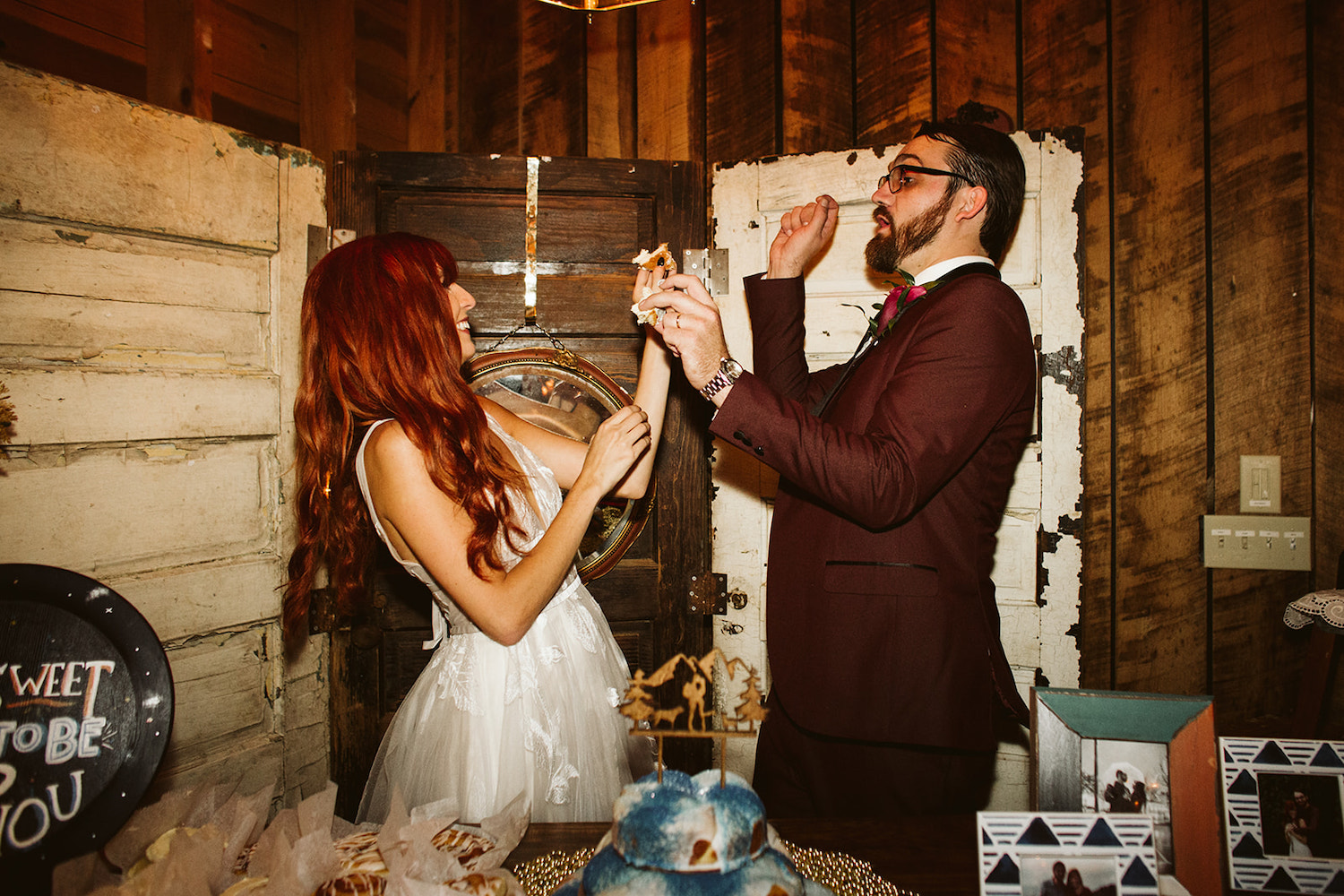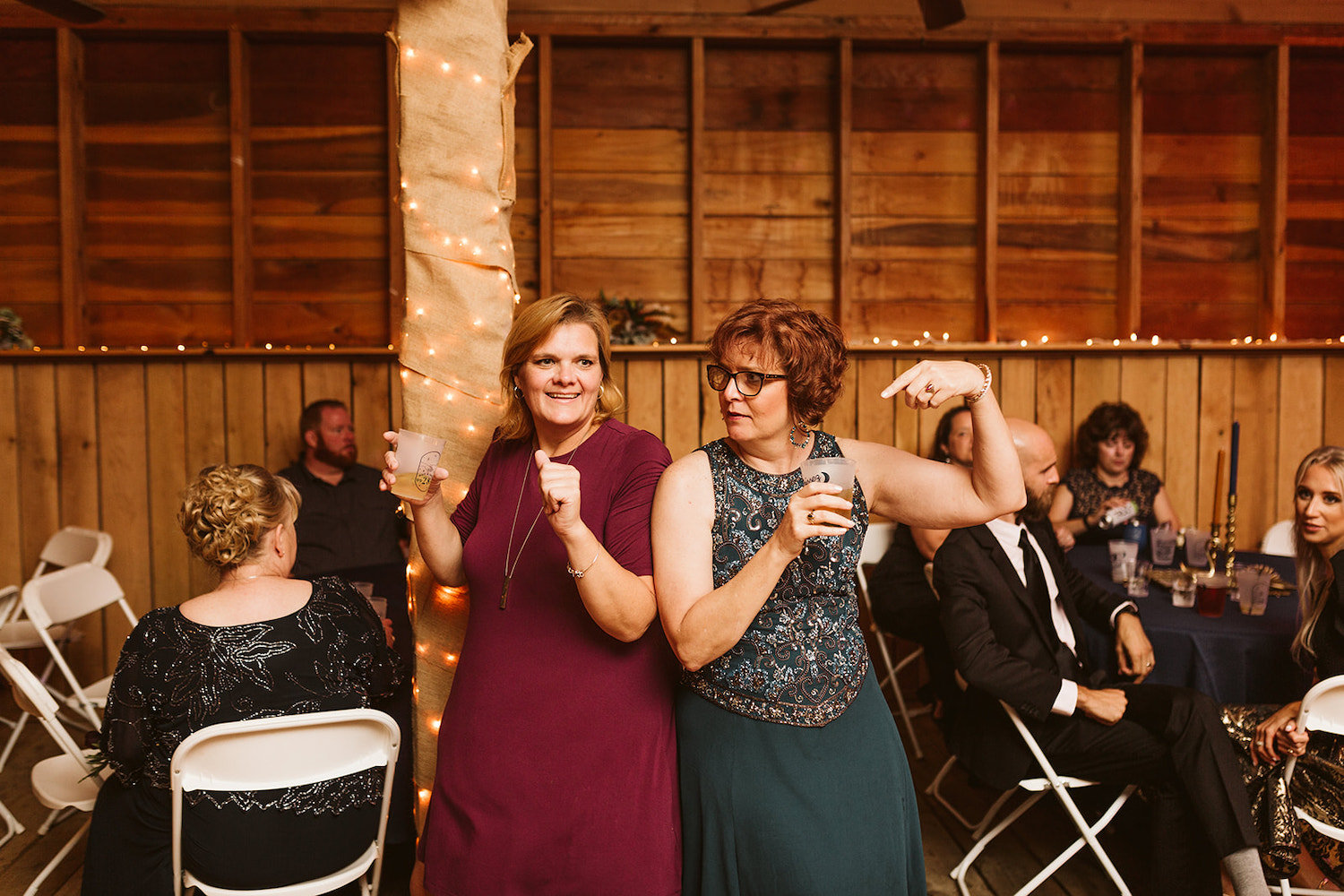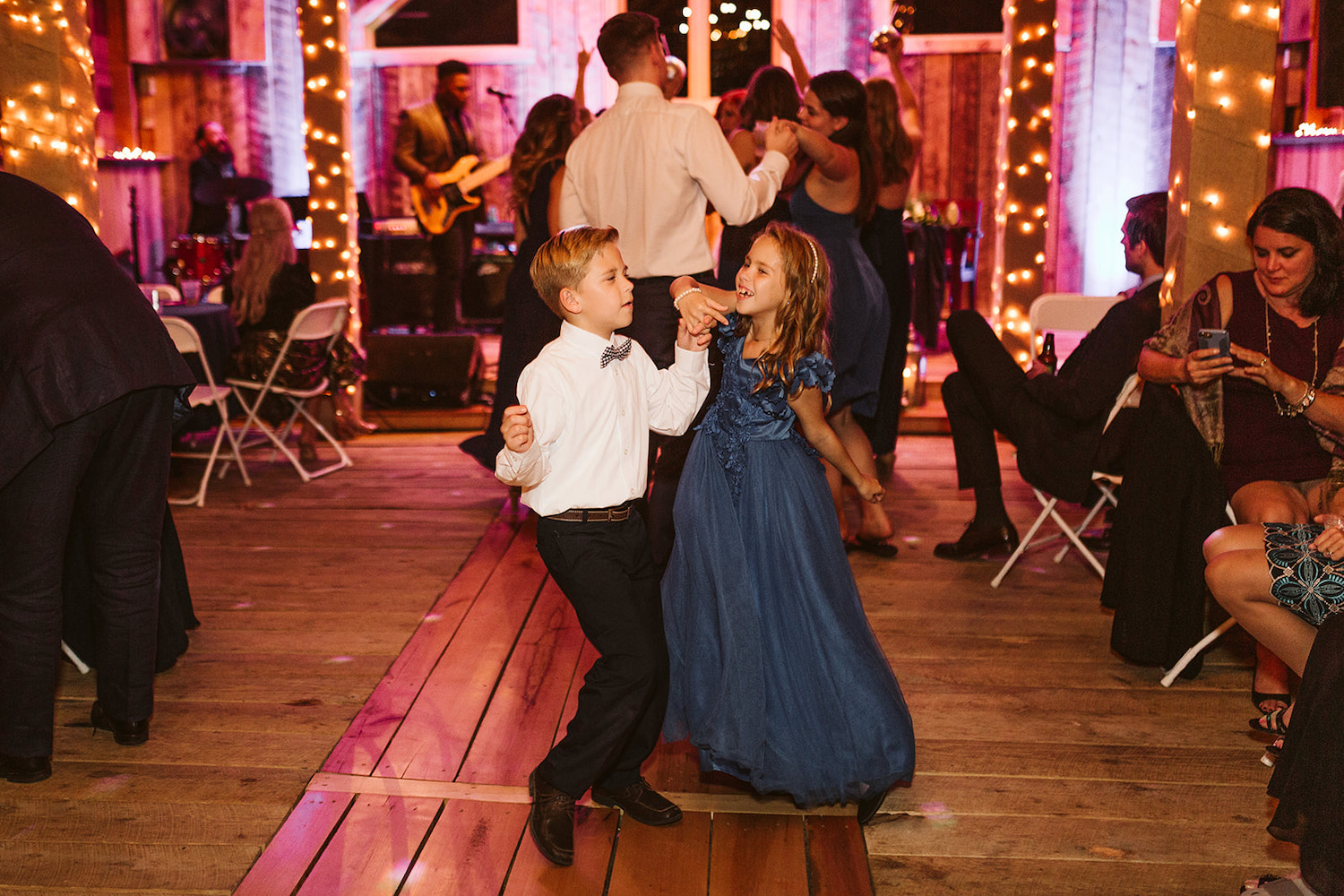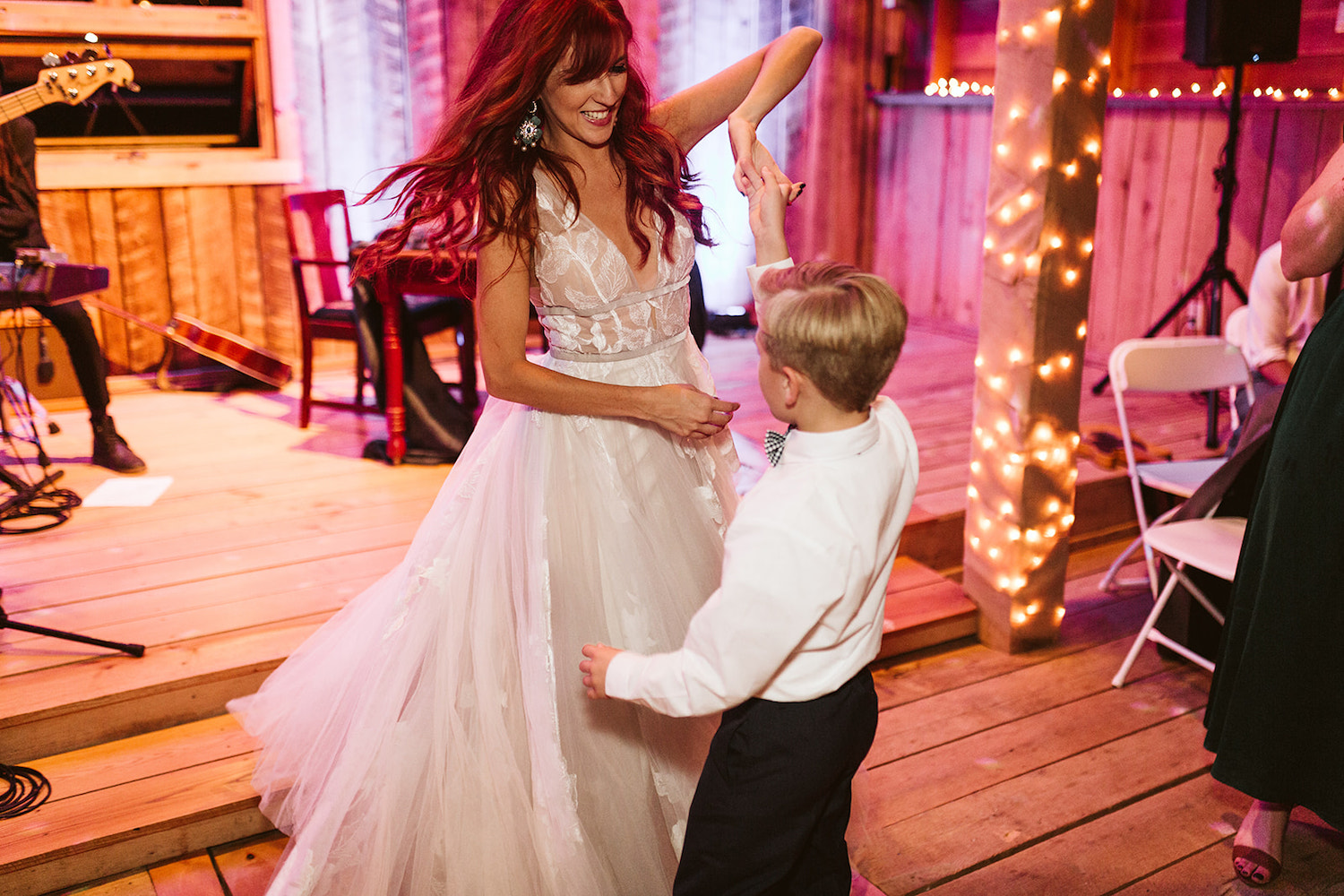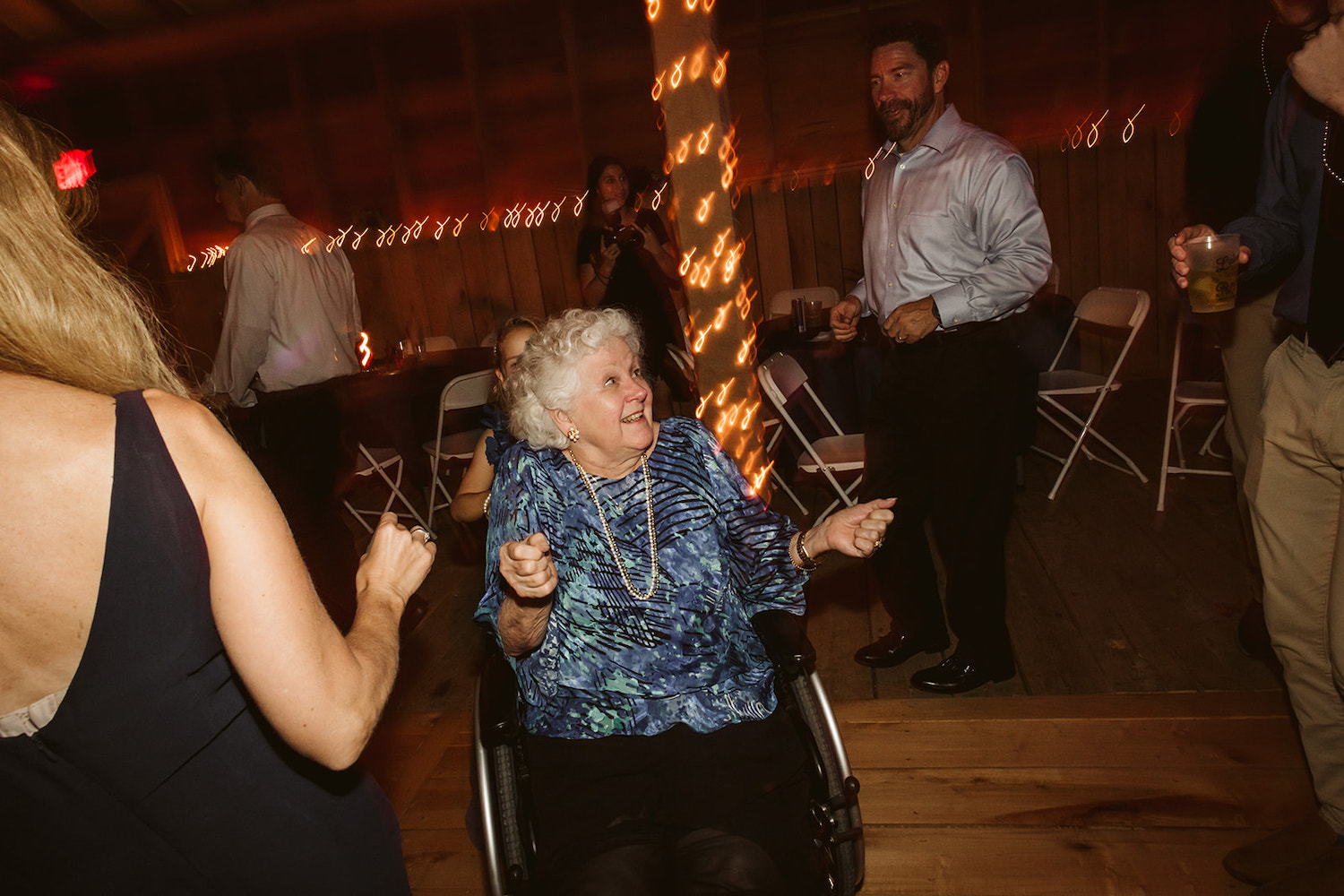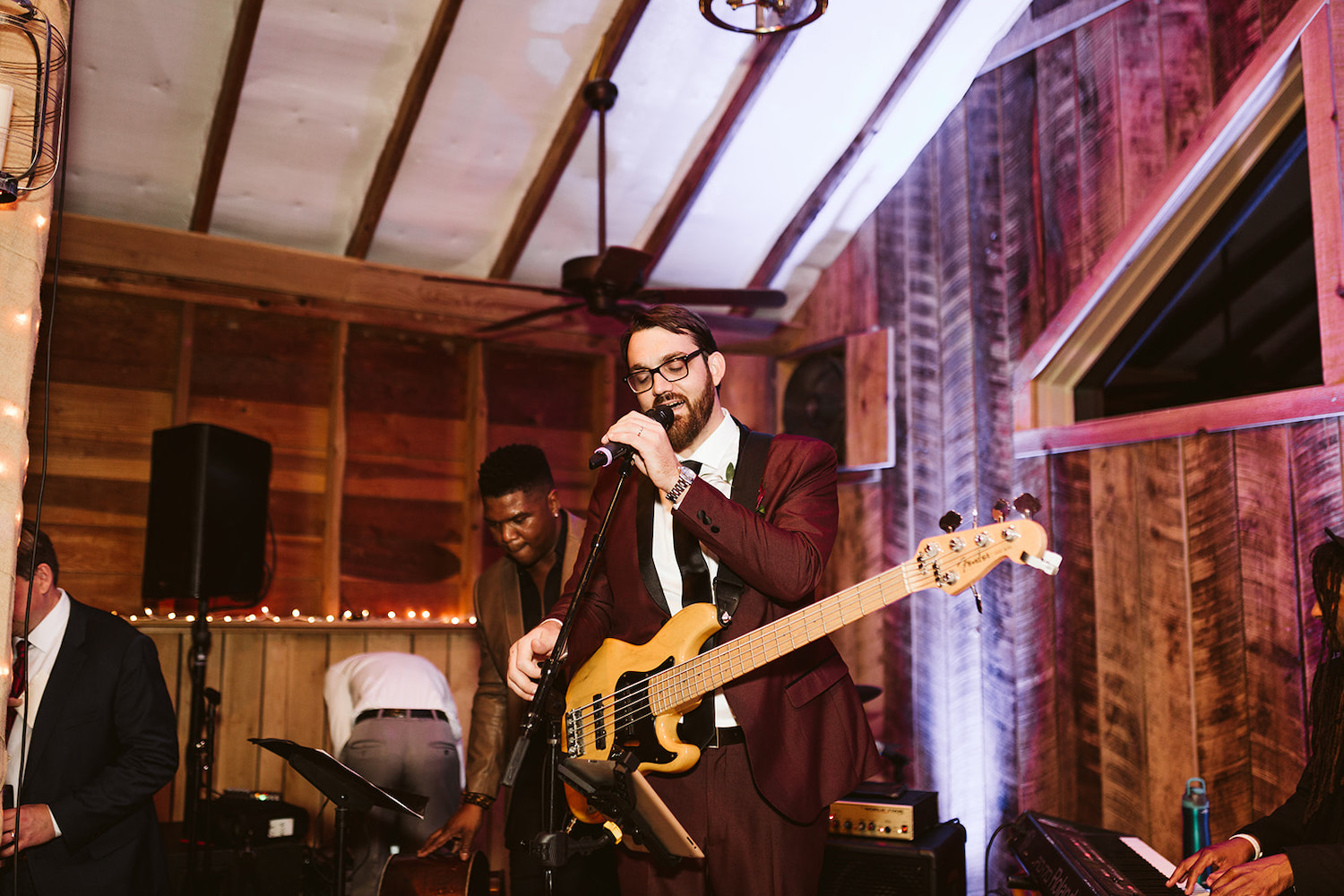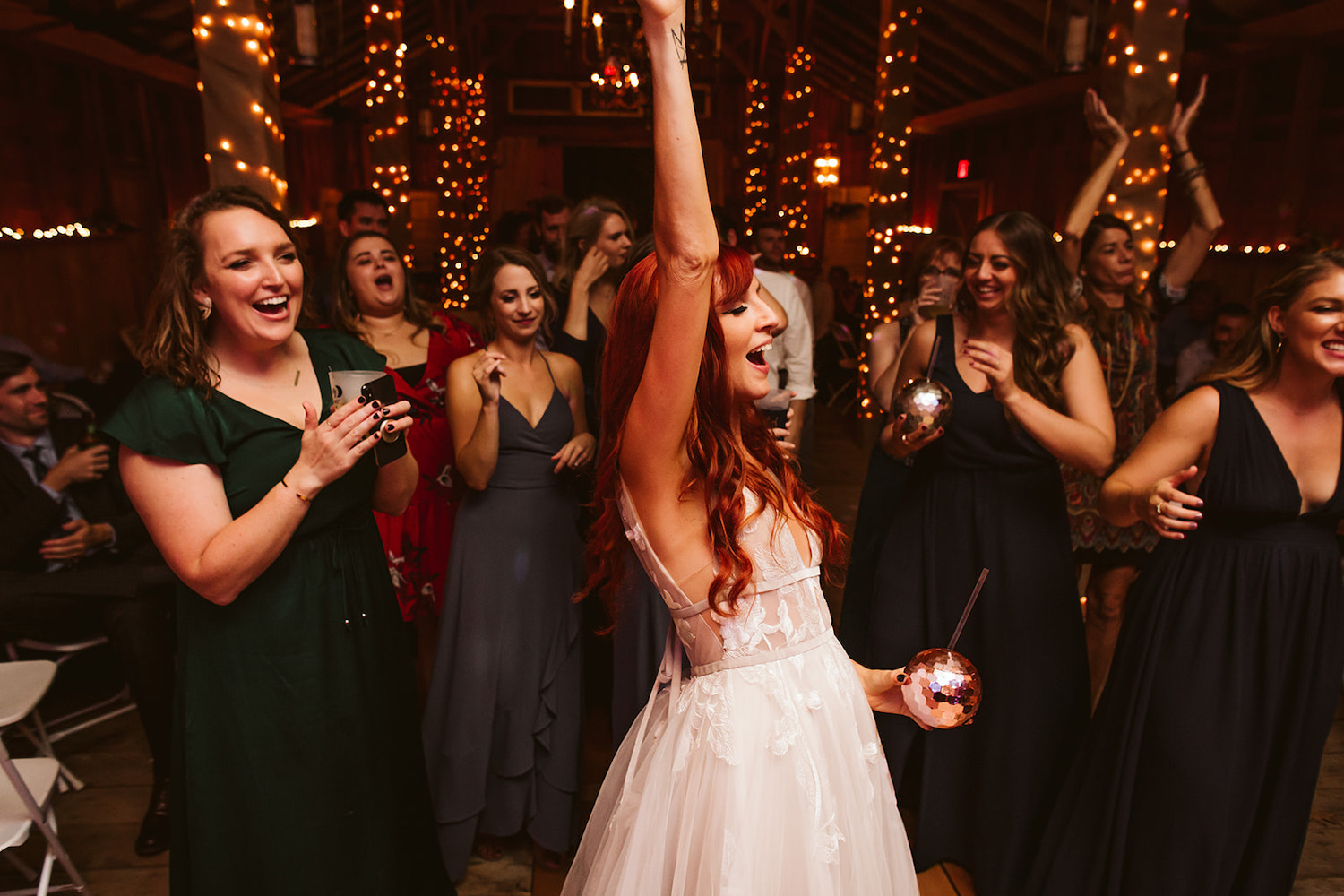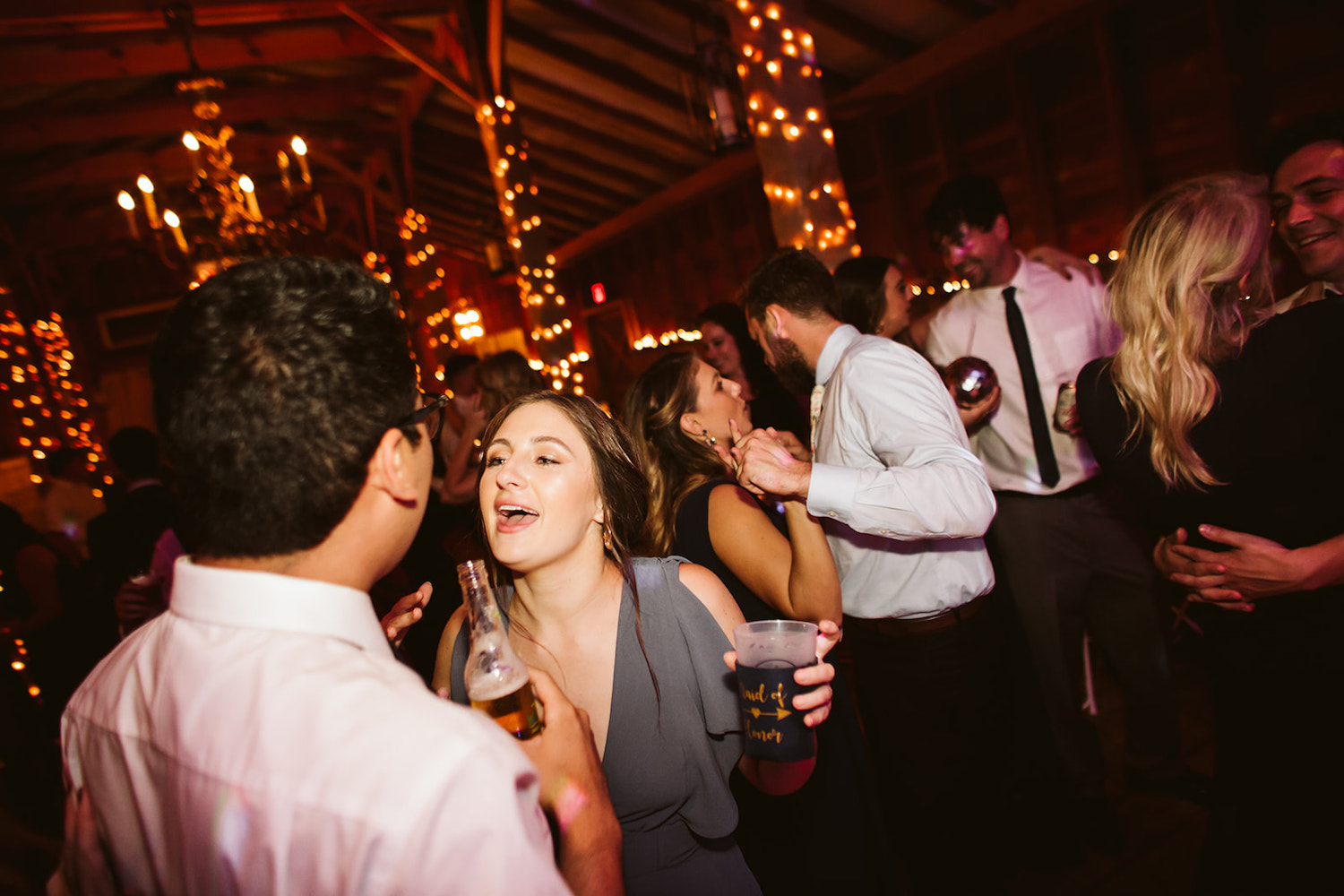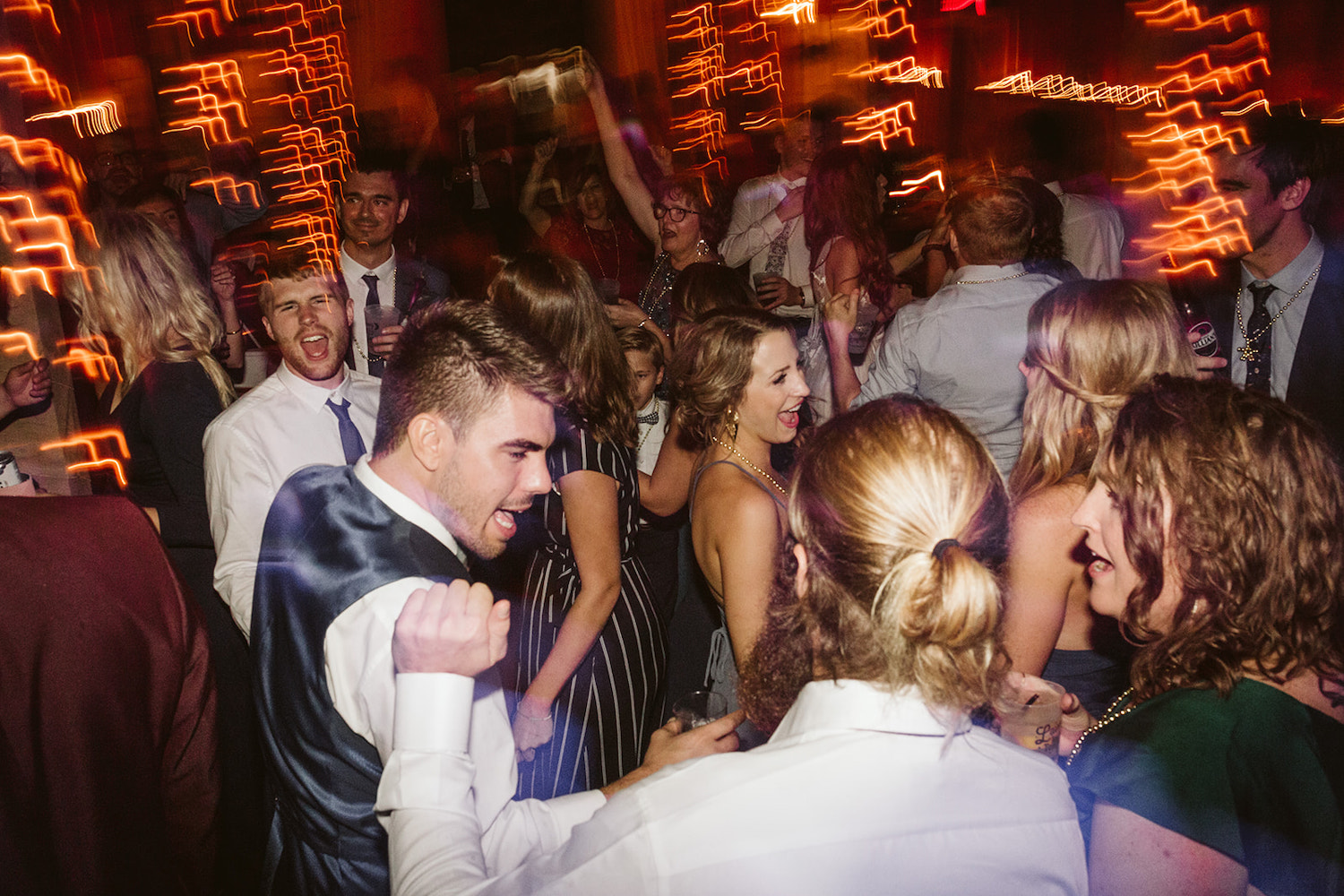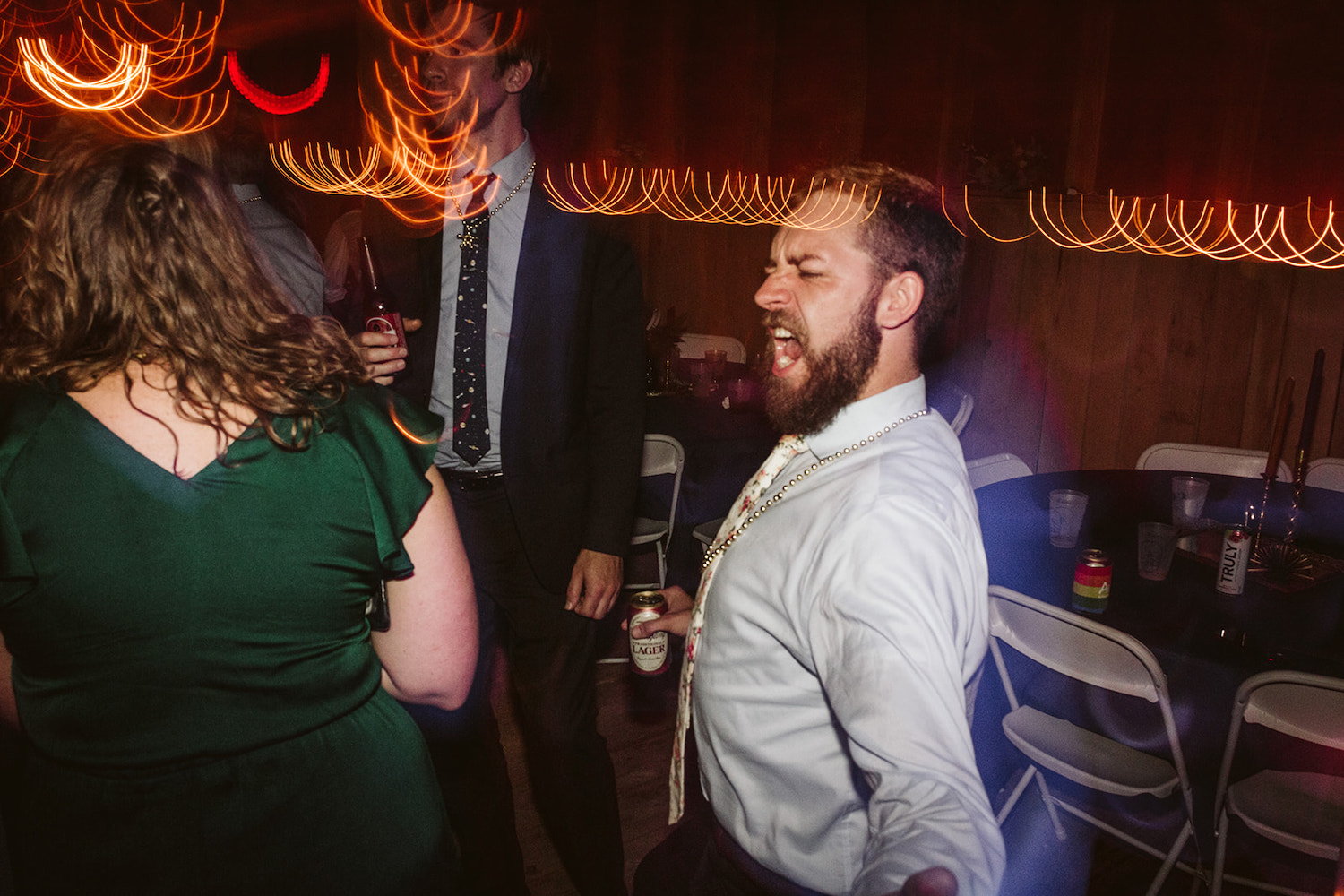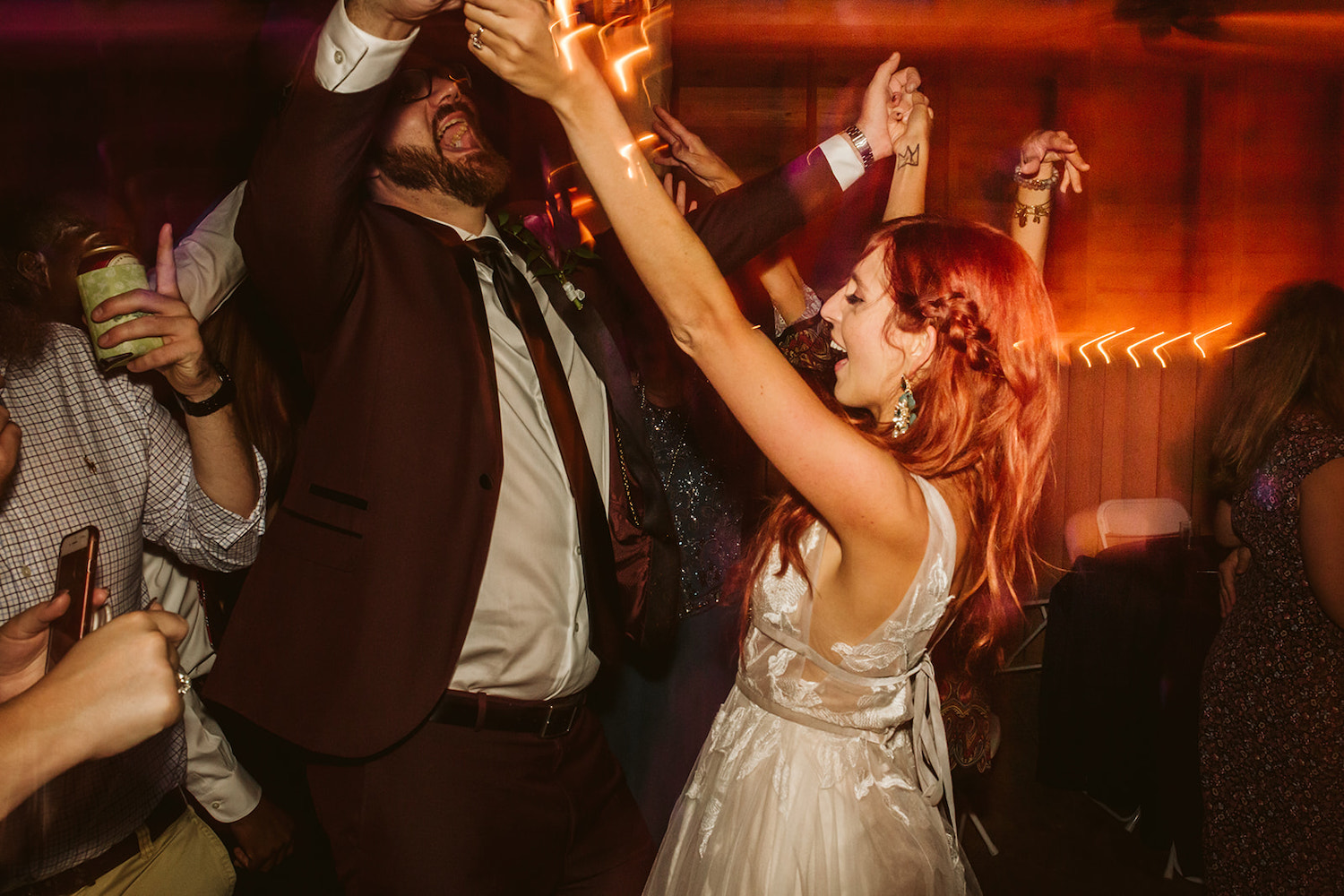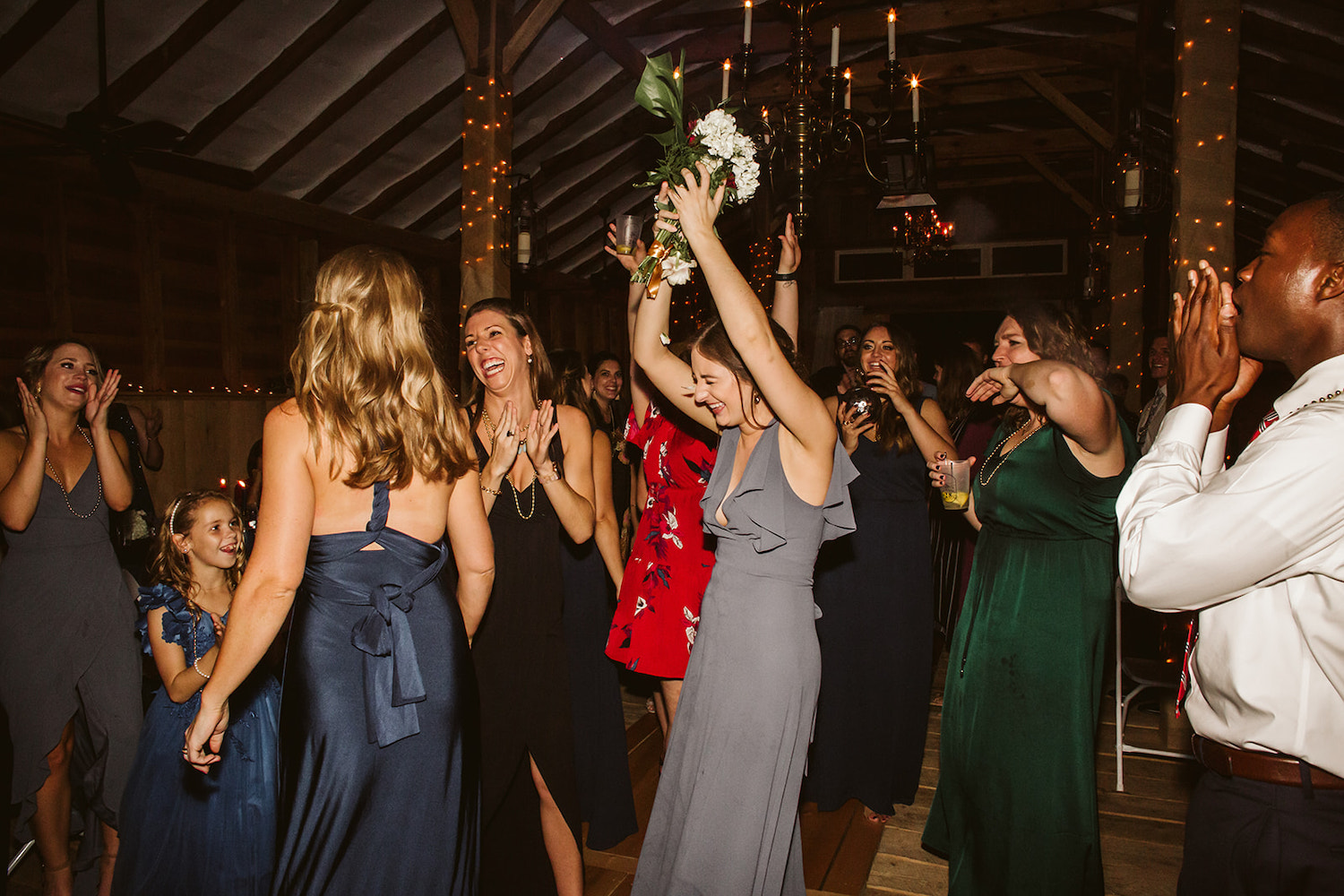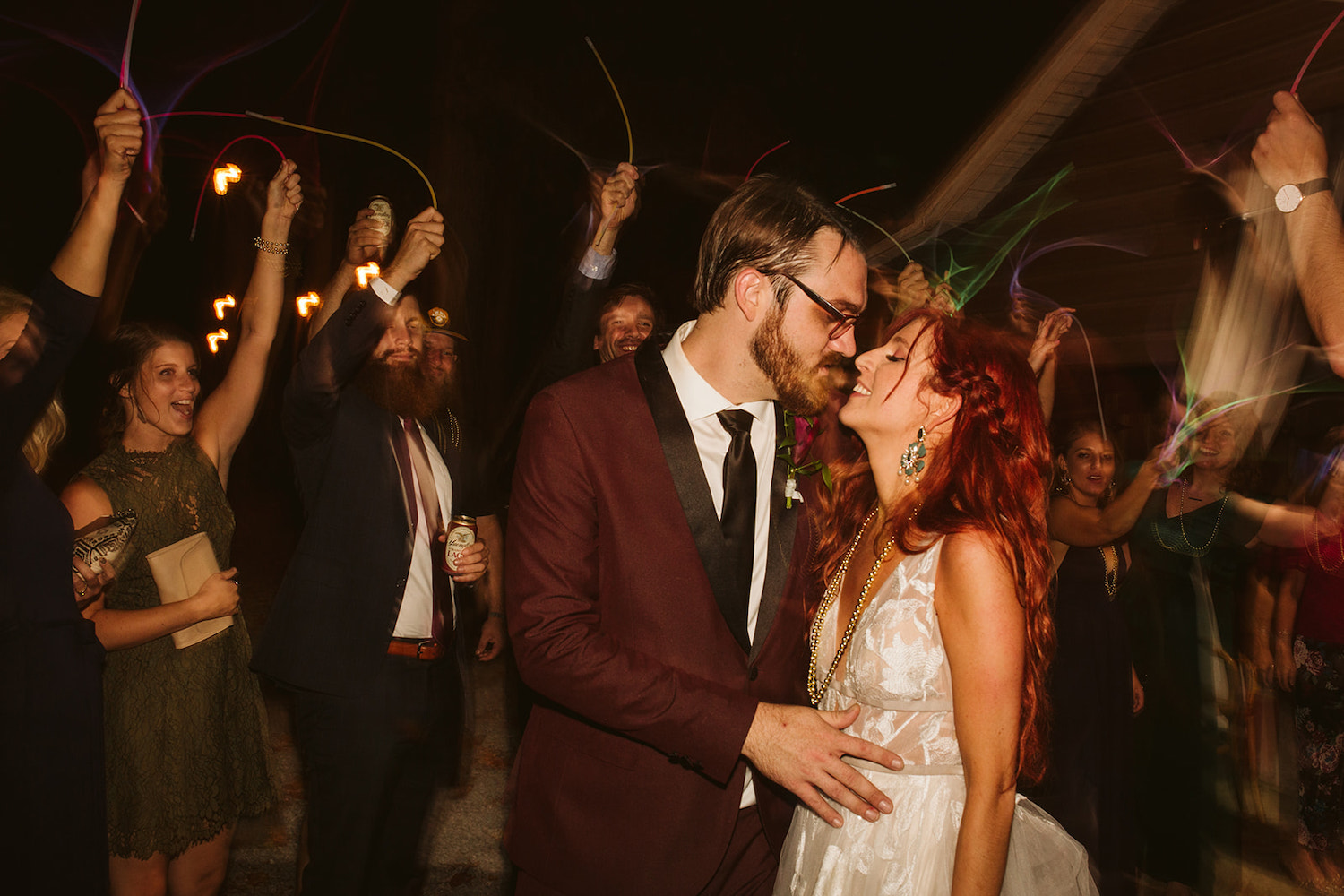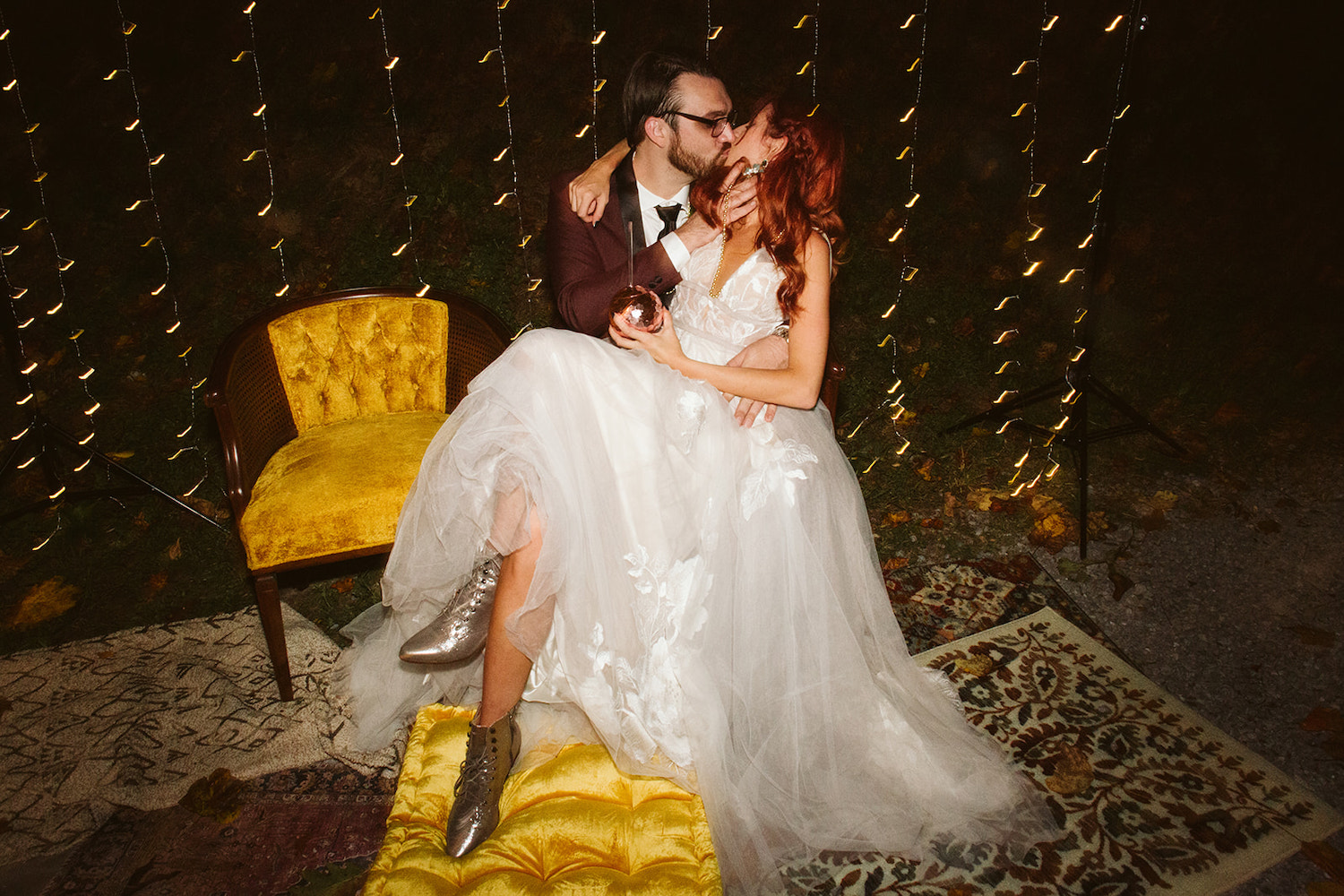 WHAT REALLY MATTERS <3
I send out a questionnaire about a month before each wedding I shoot. One question I ask is for advice the couple would give to future couples planning their dream wedding. Caitlin's answer really resonated with me. And I've got to say–Caitlin and Matt really took their own advice to heart and had an incredible day because of it!
"Figure out what's actually important to you and don't stress about the things that aren't really that big of a deal. Also go with your gut, listen to people's suggestions but don't let people force you to do things you don't want to do. In the end all that matters is you're together (and food, no one wants hangry guests haha!)."
Caitlin and Matt, thank you so much for trusting me with your wedding day! Congratulations, and let the good times roll!
Roan Mountain Wedding Vendors for Matt and Caitlin's big day
Venue: The Barn at Triple J Farms
Florals: Bloominous
Caterer: Gadabouts Catering
Cake & Desserts: Stick Boy Bread Co (Boone,NC)
Musicians: Nick Brewer on keys, Reggie Sullivan on upright bass, and Brendan Bullon on drums
Officiant: Mel Washington
Dress: J. Major's
Groom's tux: Brittons
Graphic work (invitations, signage, cups): CVP_Graphics
Cups printer: Totally Promotional
Invitations printer: Mercurio Brothers
---
That

#TennesseeWeddingPhotographer

tag is a powerful tool! I love exploring new corners of my state, and I am consistently floored by our country's state and national parks/forests. If you've thought about having your wedding (or any sort of photoshoot!) in one of these parks,

contact me
. I'd love to work with you on that!
Hi, y'all! I'm Rachael Crowe of OKCrowe Photography. I'm a wedding photographer based in Chattanooga, TN, and I love when my couples choose Tennessee as their destination. I also love to travel for weddings, elopements, and engagements. I hope this blog inspires you. I've got tons more wedding and engagement blogs to share!