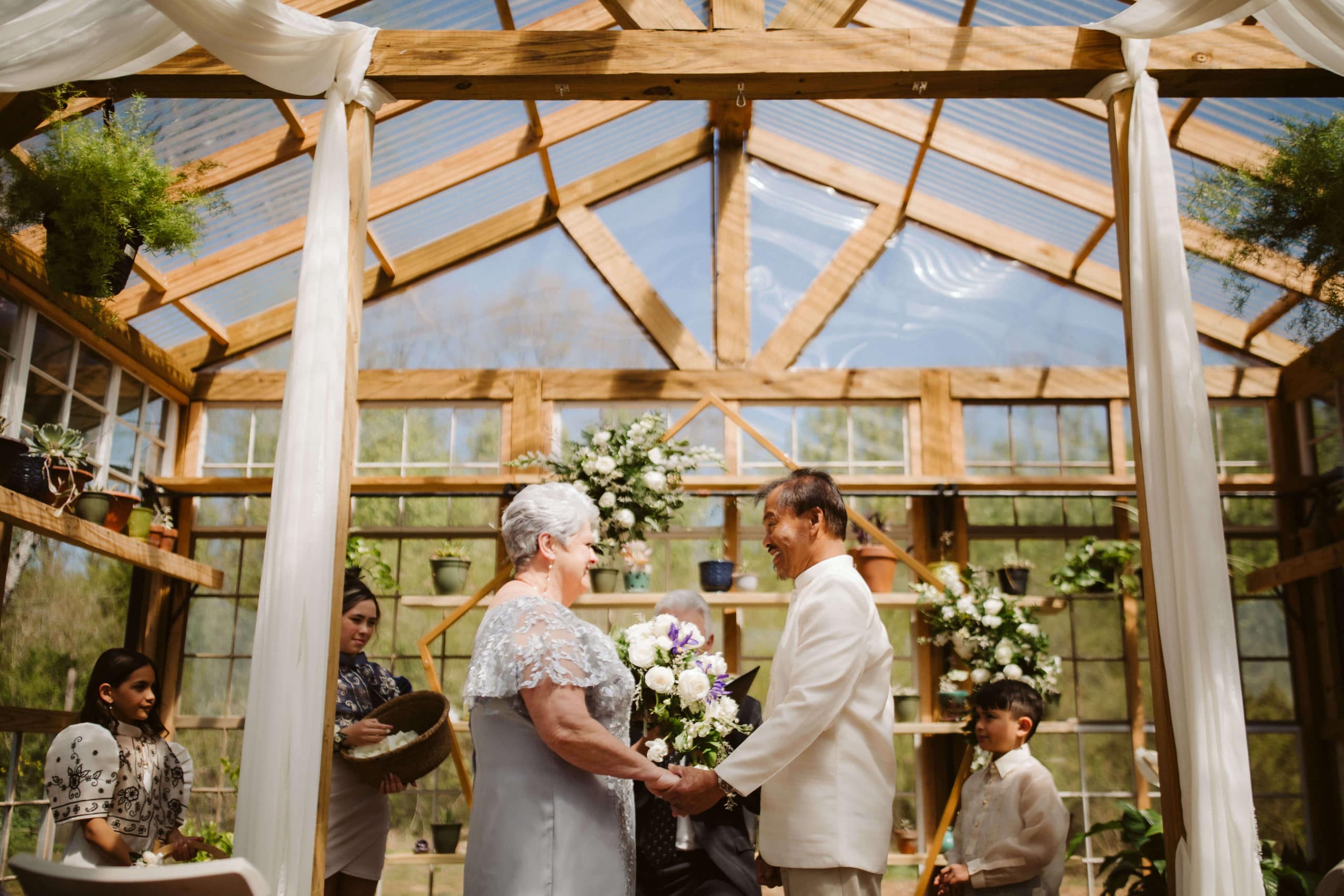 As a wedding photographer, my purpose is to capture your love story through the lens of a camera. While that mostly means I'm out photographing weddings and elopements, sometimes it also means being there to capture your vow renewal surrounded by all of your family and friends. That is exactly what I was asked to do when Vanessa Moser, owner of Moser Manor Farms, called me to photograph her parents' wedding vow renewal.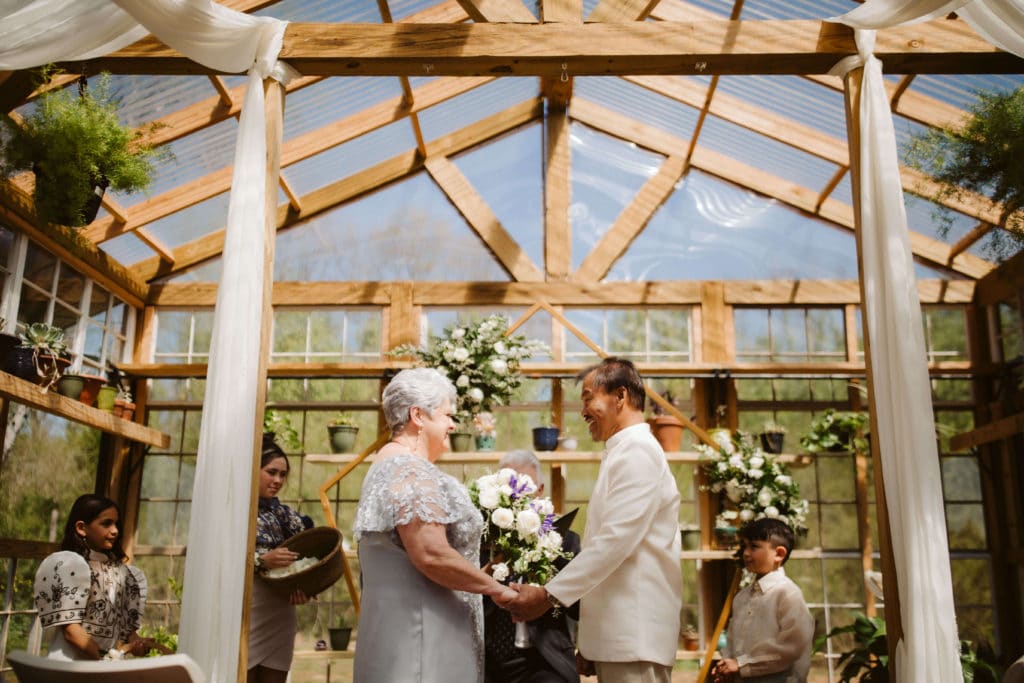 Planning a Vow Renewal for Mom and Dad
Vanessa is the owner and operator of Moser Manor Farm, a small acre farm and homestead in Chattanooga that's just minutes away from the always-bustling downtown. Although farm life wasn't how Vanessa envisioned her future, her husband, Jeff, was a Nebraska farm boy fresh from the US Navy. Now twenty years later, they've created a sustainable farm and homestead and are raising and homeschooling three children while integrating the farm as an active learning environment.
As a nurse, Vanessa has always believed that prevention holds the most value when it comes to maintaining and living a healthy life. Her goal in opening the farm was to pave the way for the community to realize the importance of real, fresh, and sustainably grown food. One of the principles that she values most is respecting the land and making sure to leave it better than the way they found it so that it can keep giving for the next generations to come.
With that in mind, Vanessa has a deep connection to generational value. She comes from a mixed background with immigrant parents from the Philippines and Uruguay who fought to give their children a better life. In honor of them and just following their 42nd wedding anniversary over the Christmas holiday, Vanessa chose to throw her parents, Iris and Jayce, a vow renewal celebration on the farm surrounded by all of their family and friends.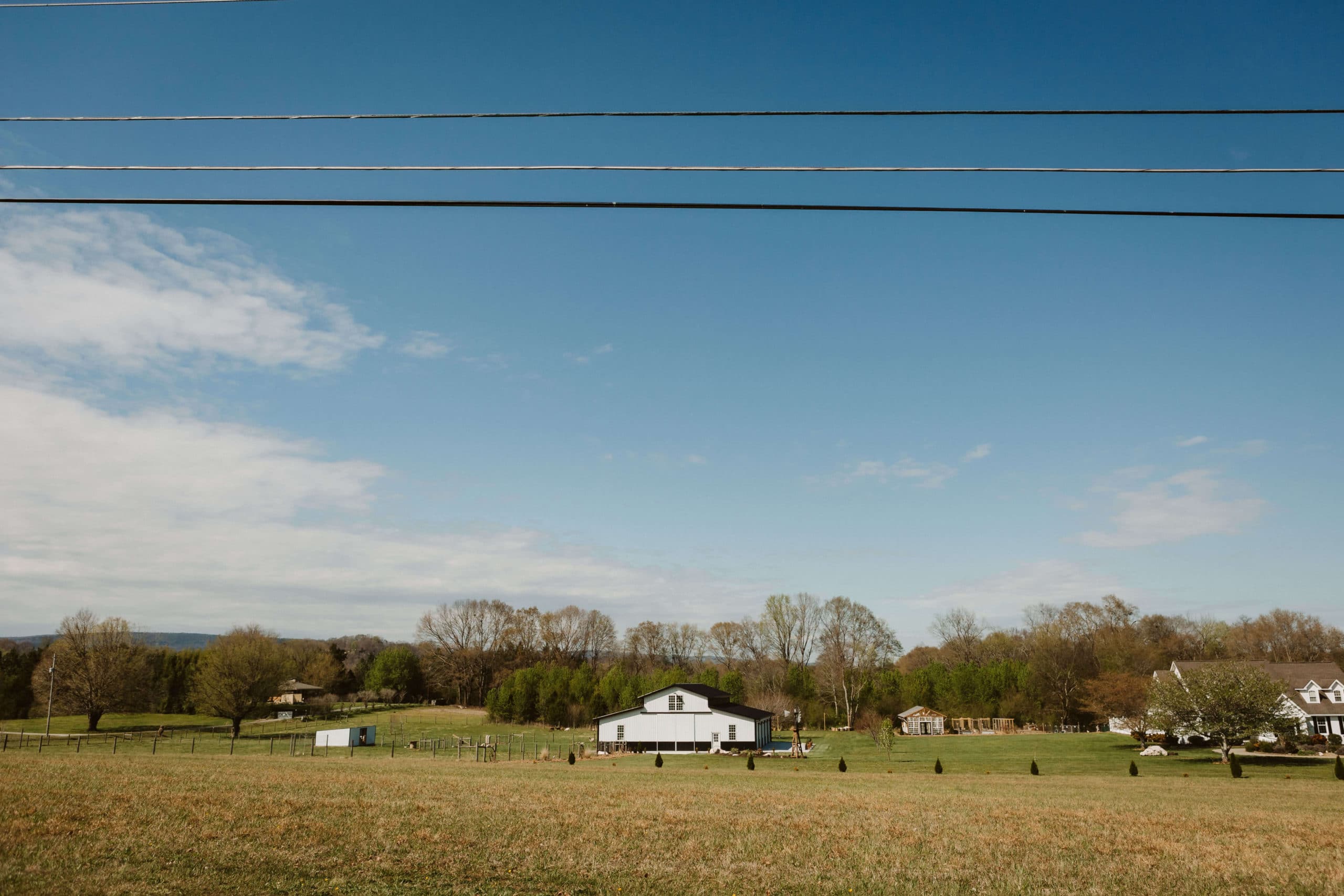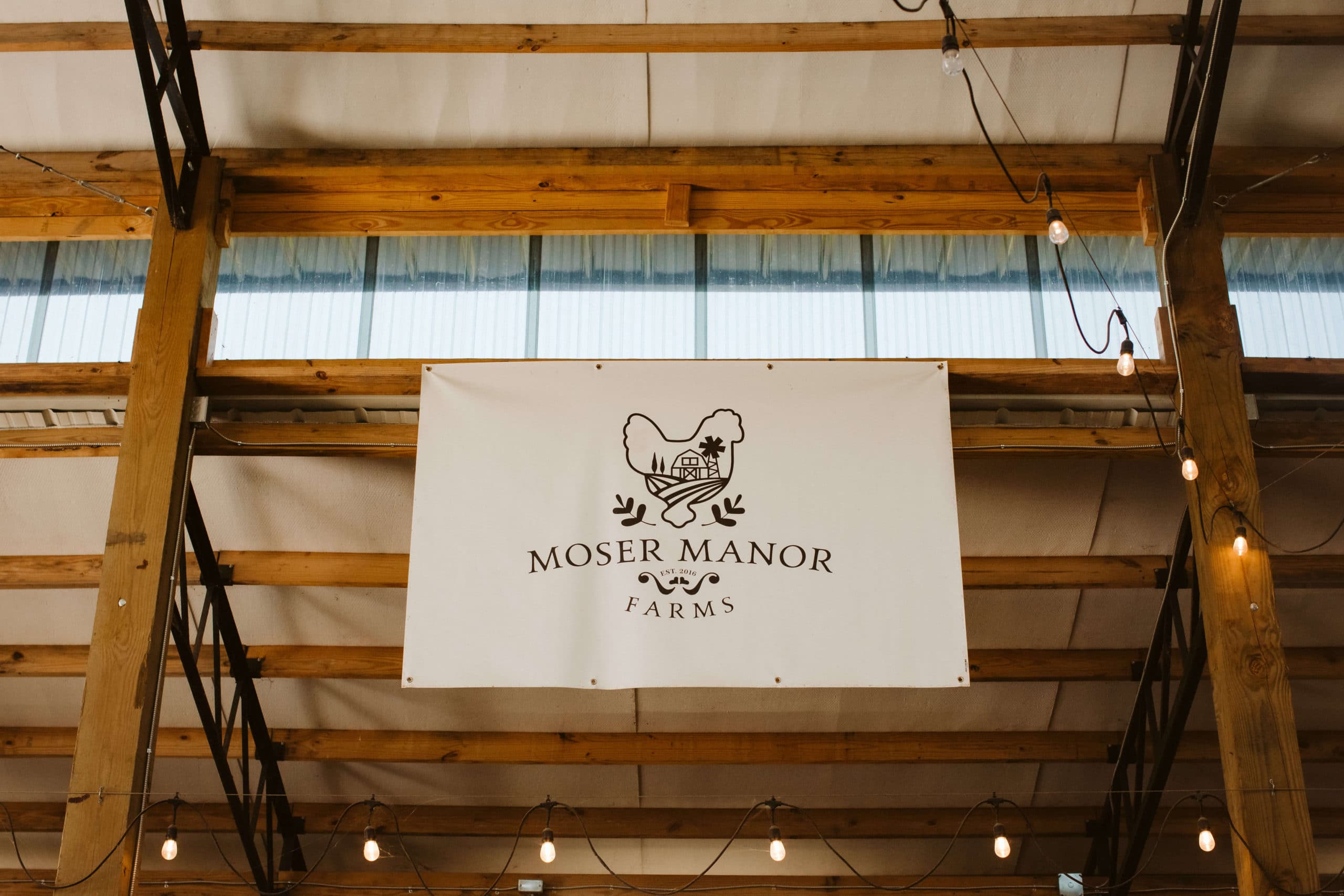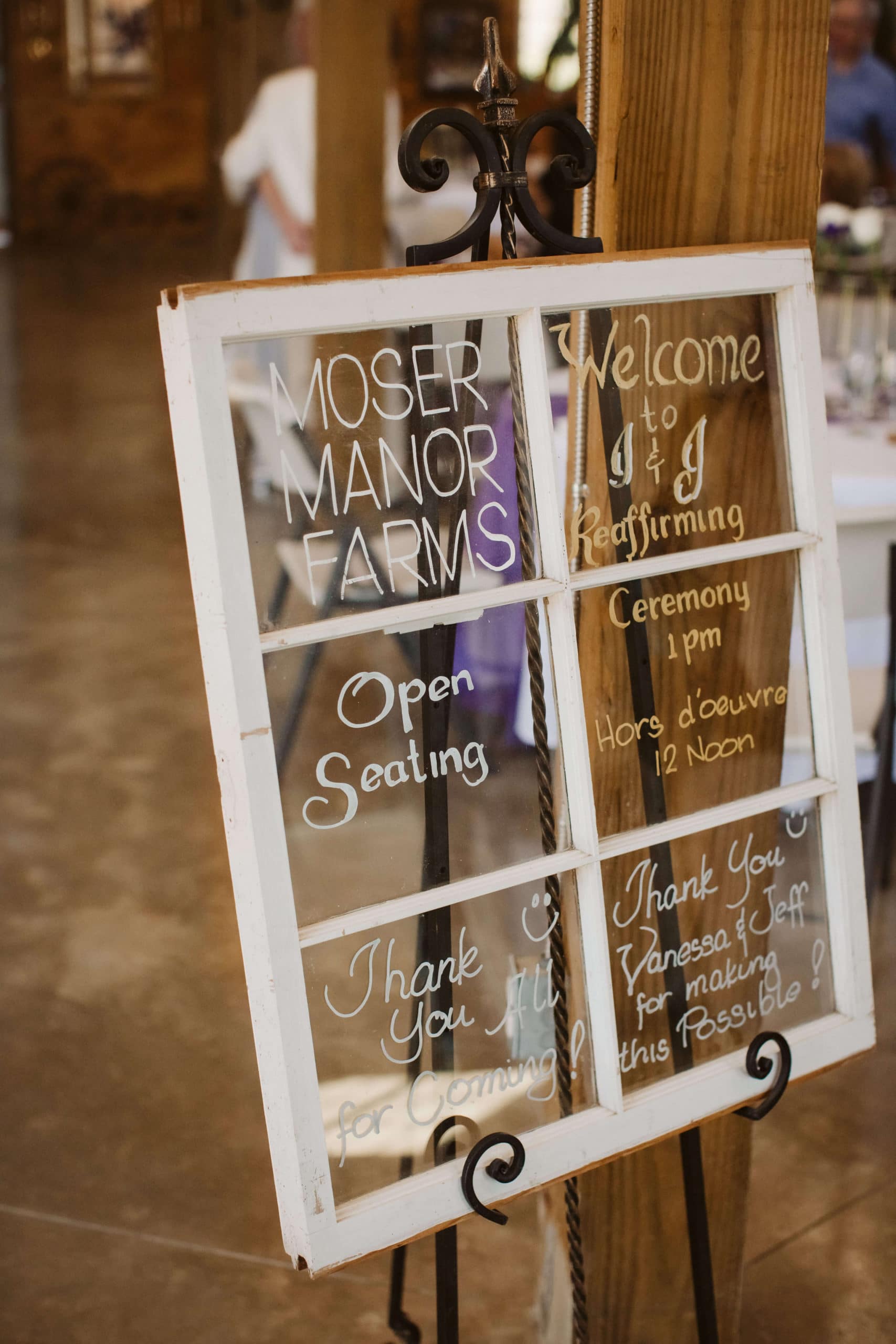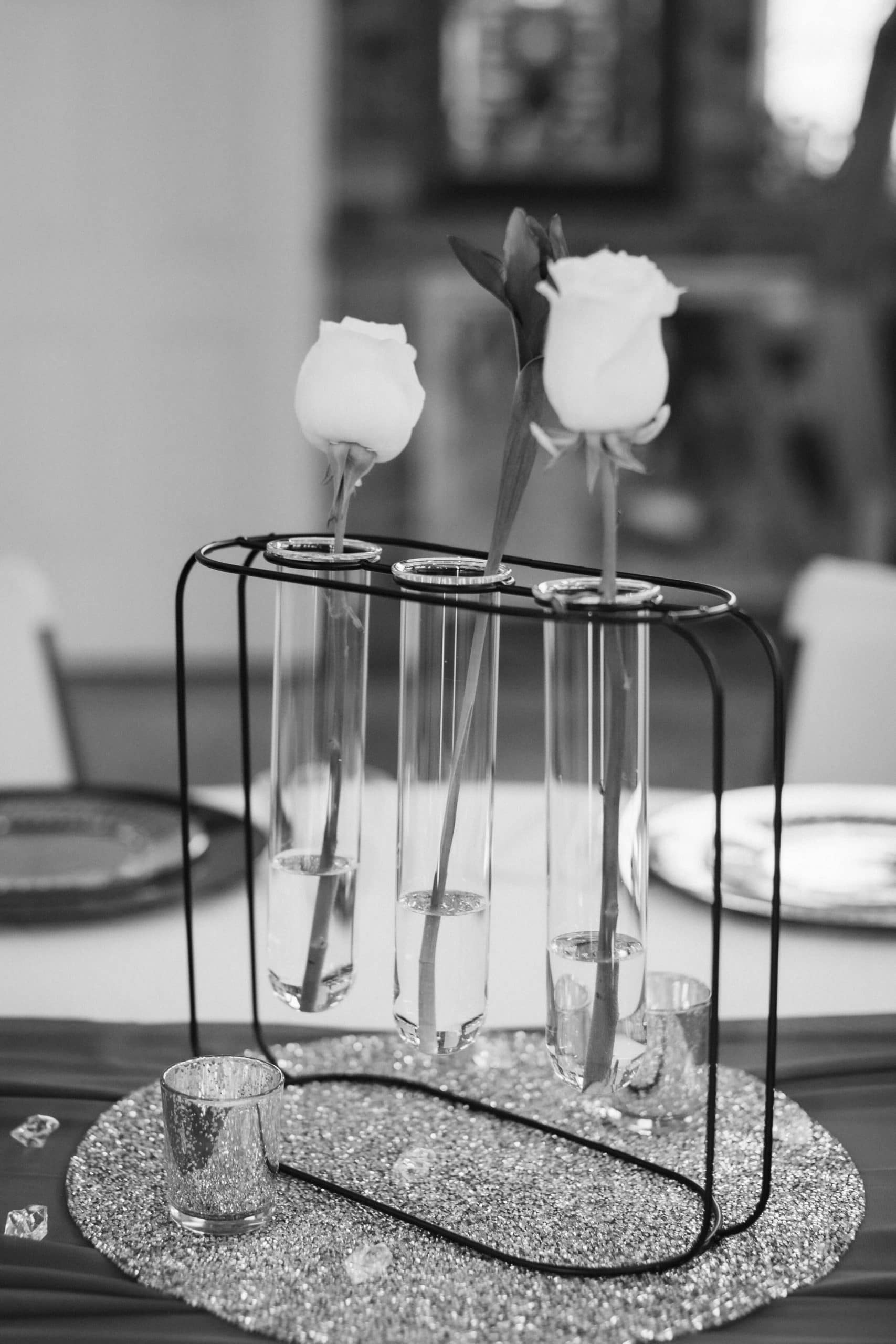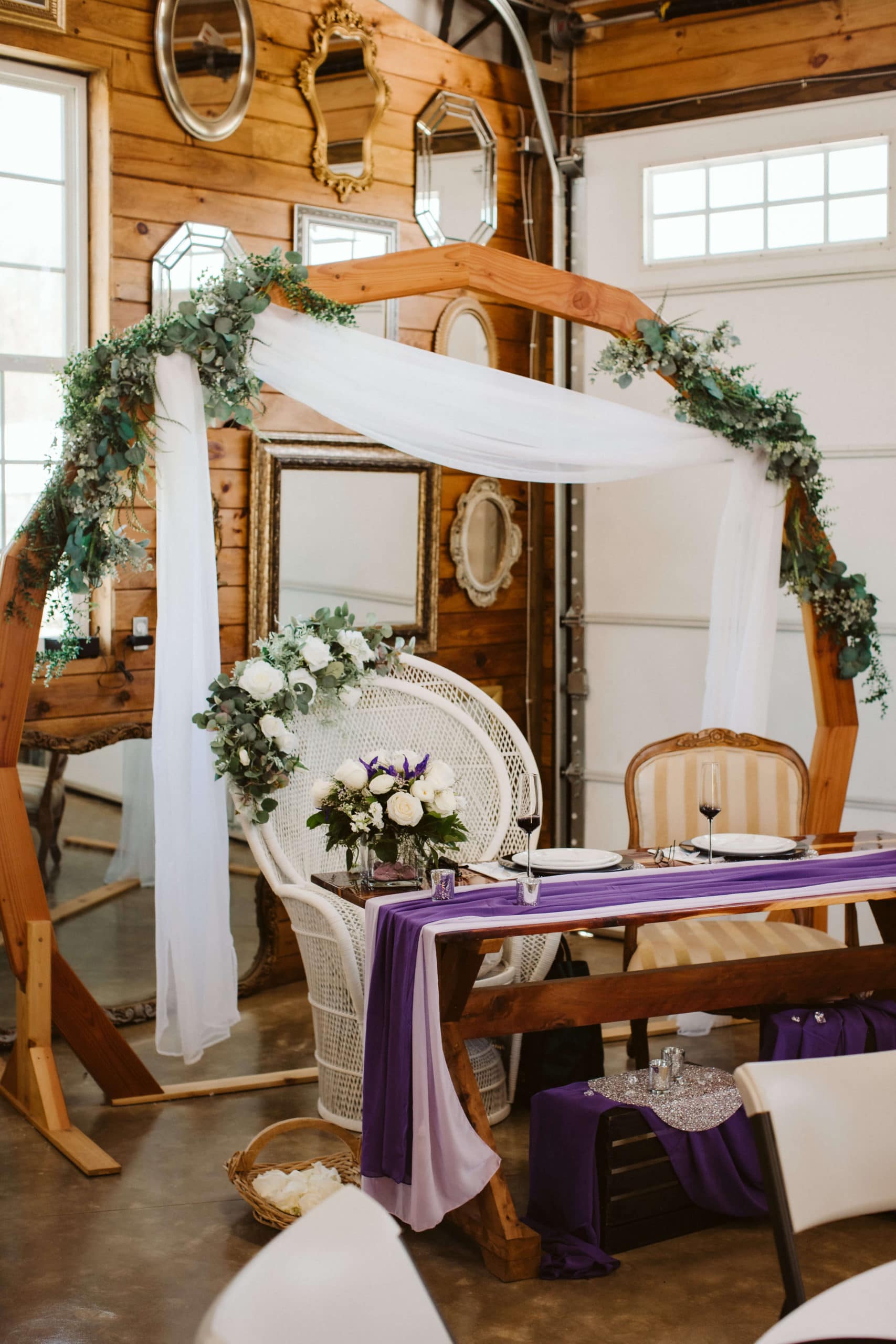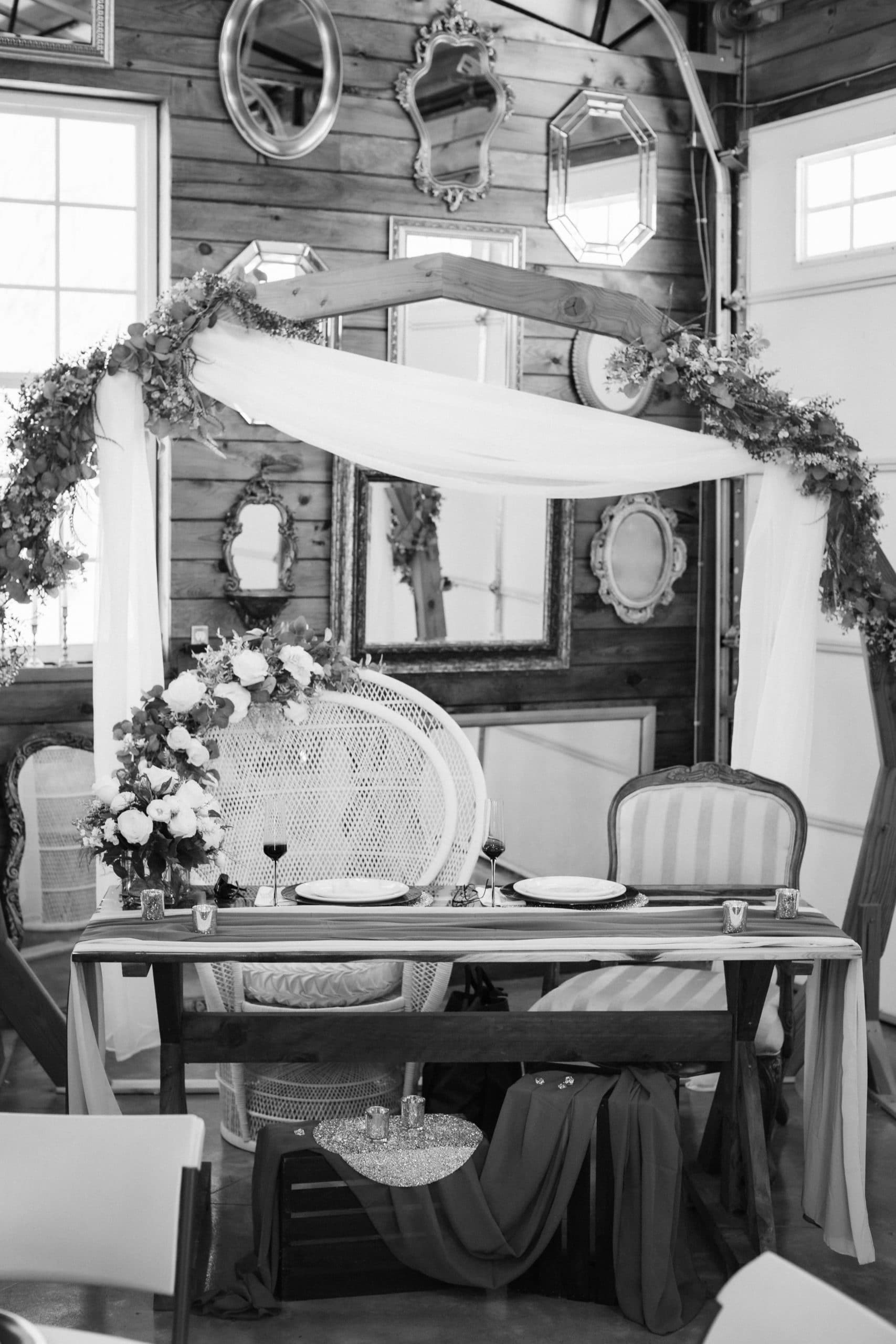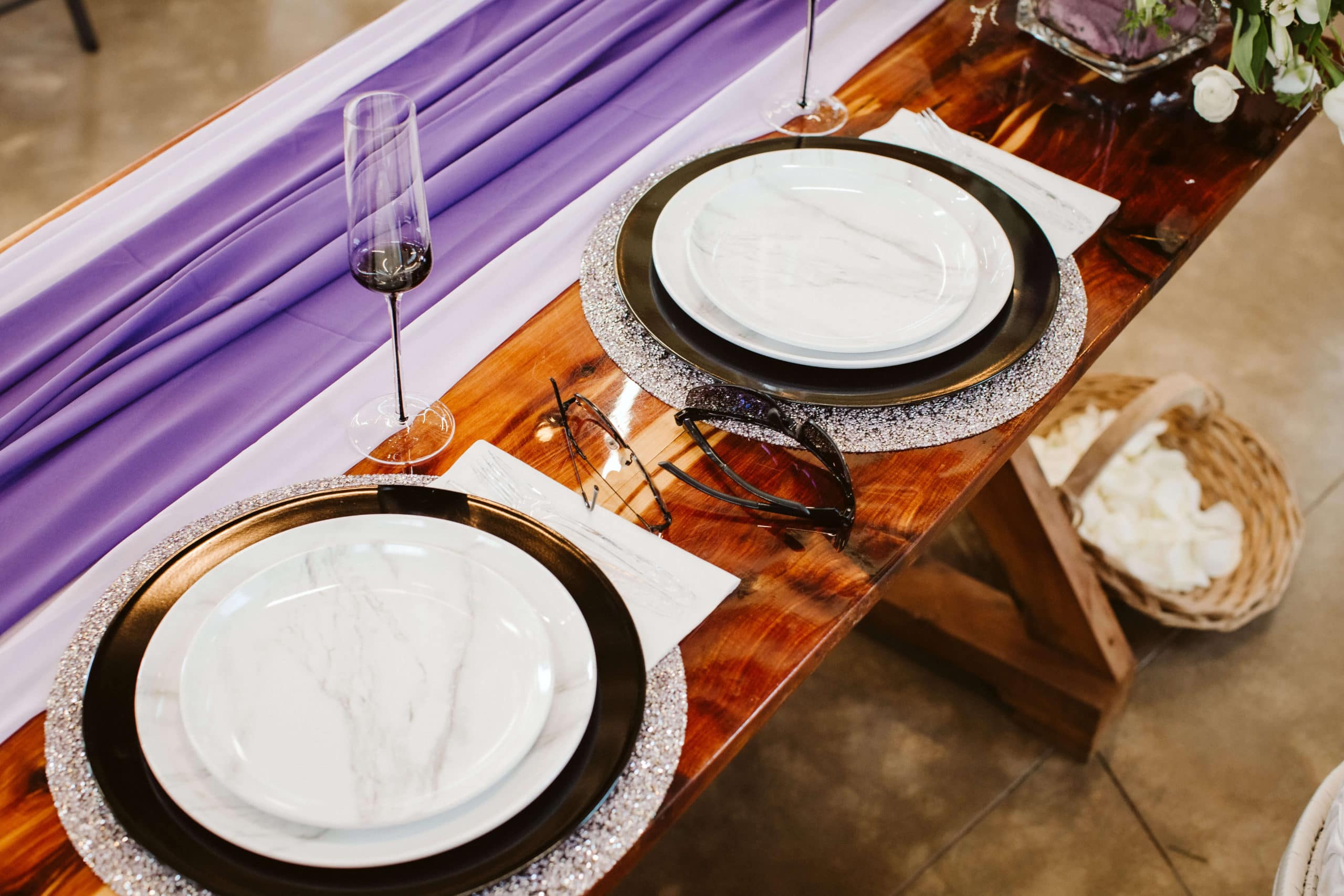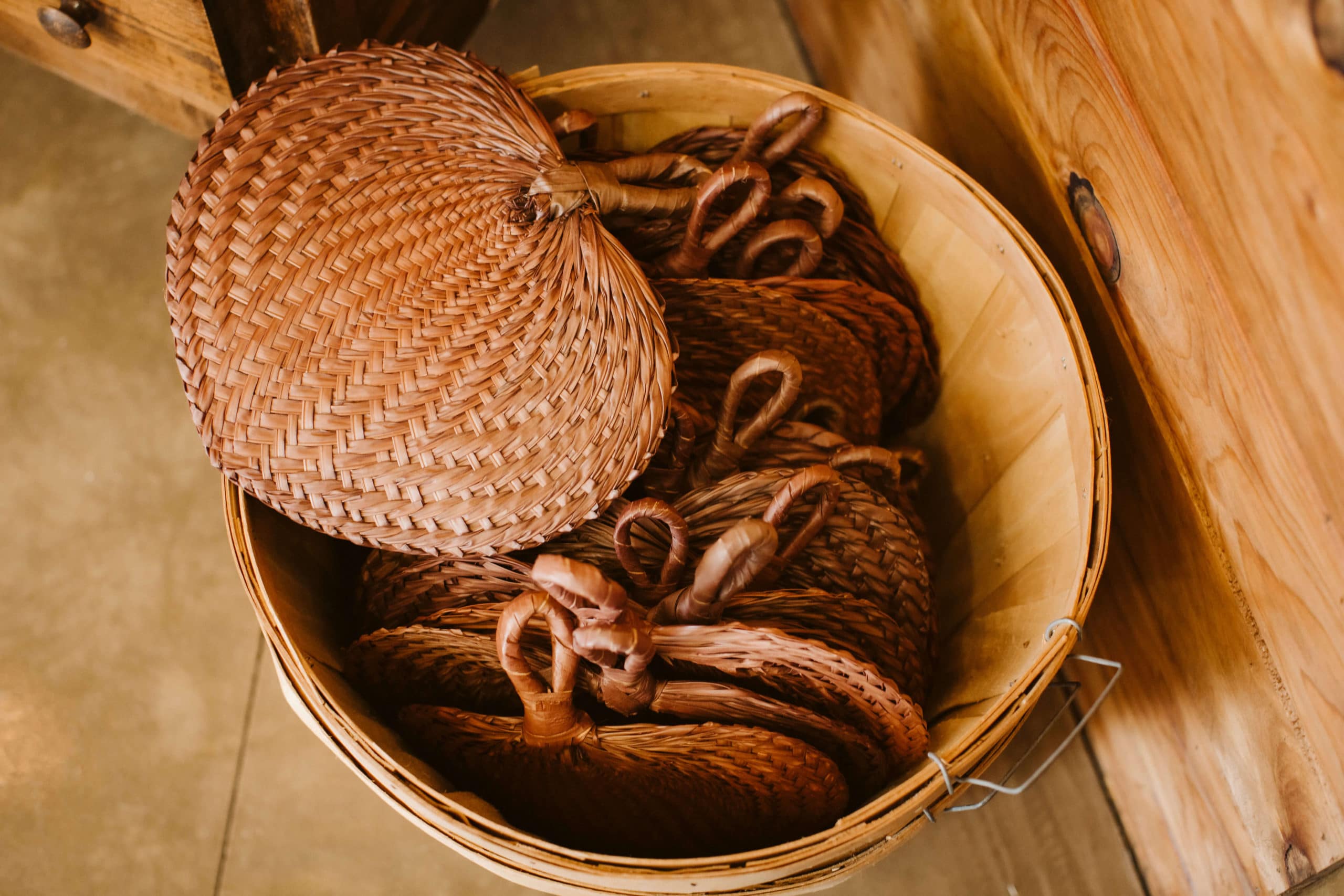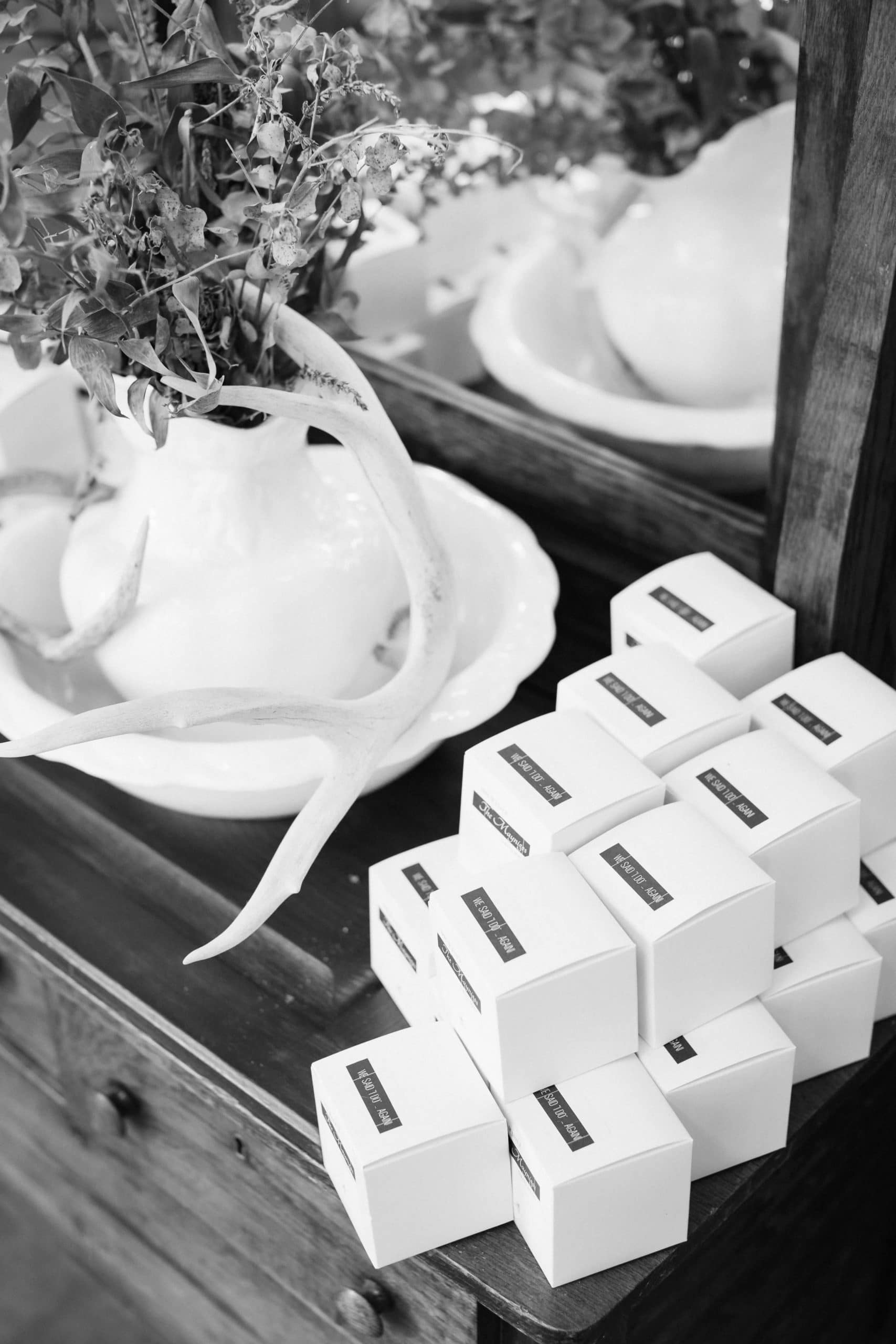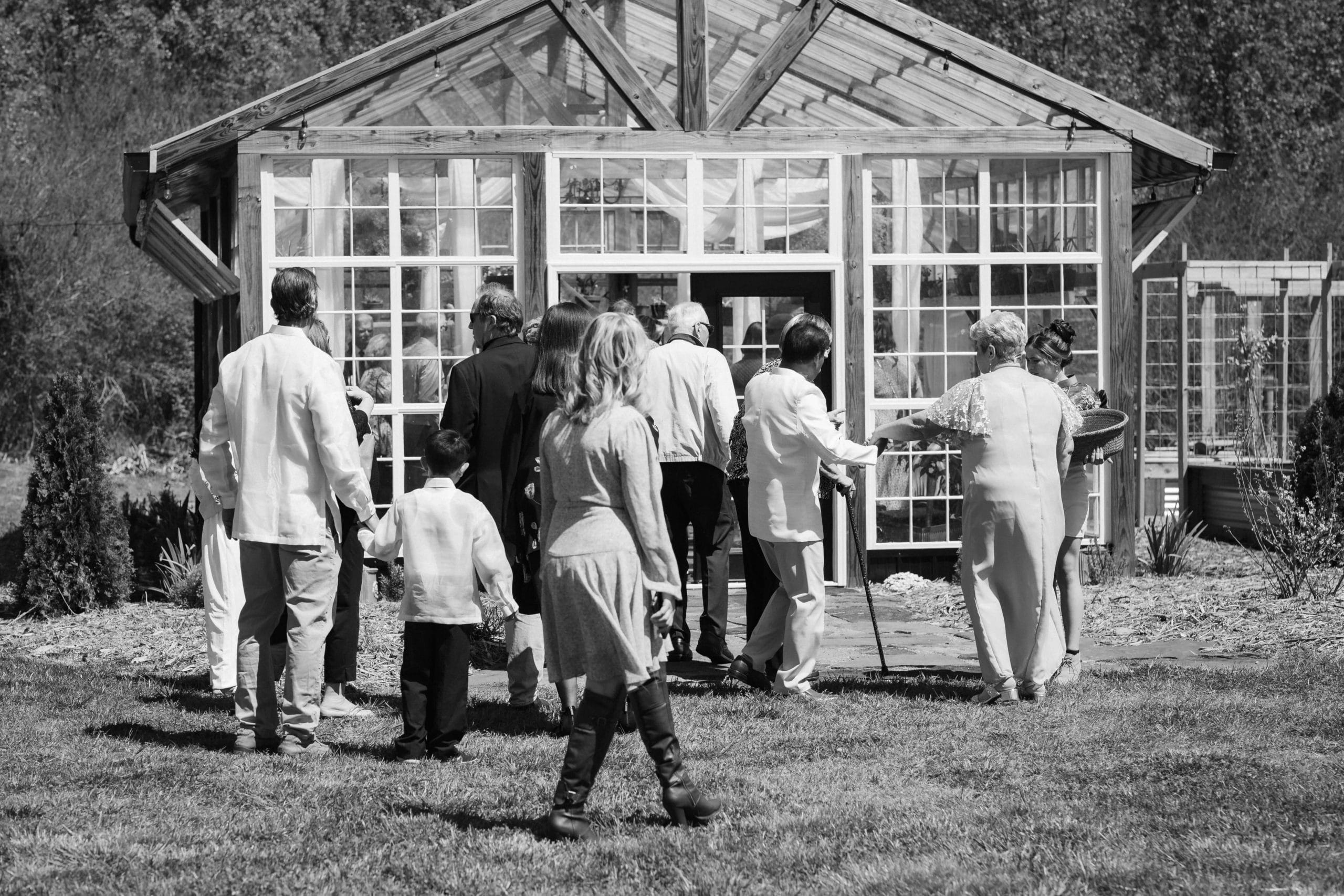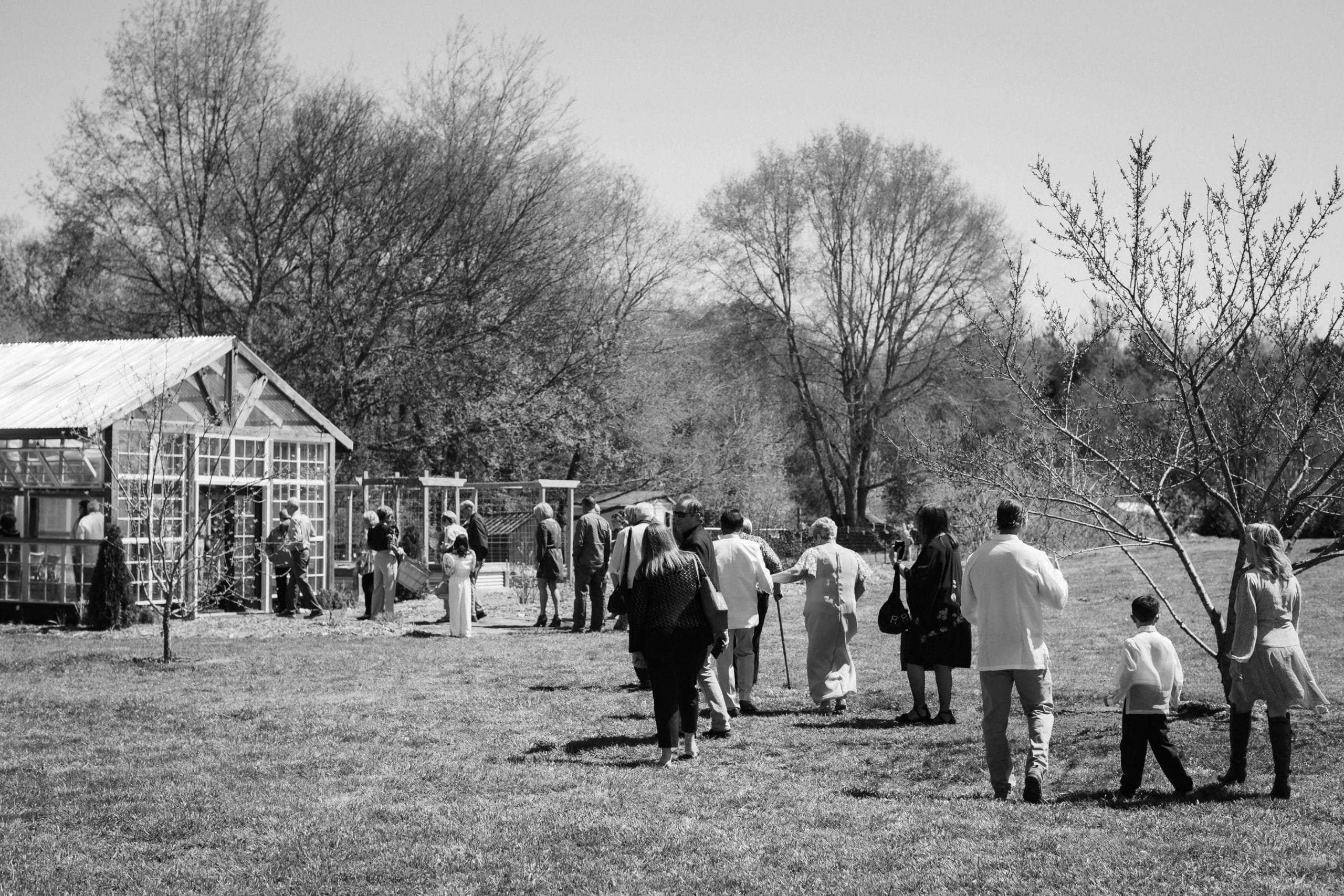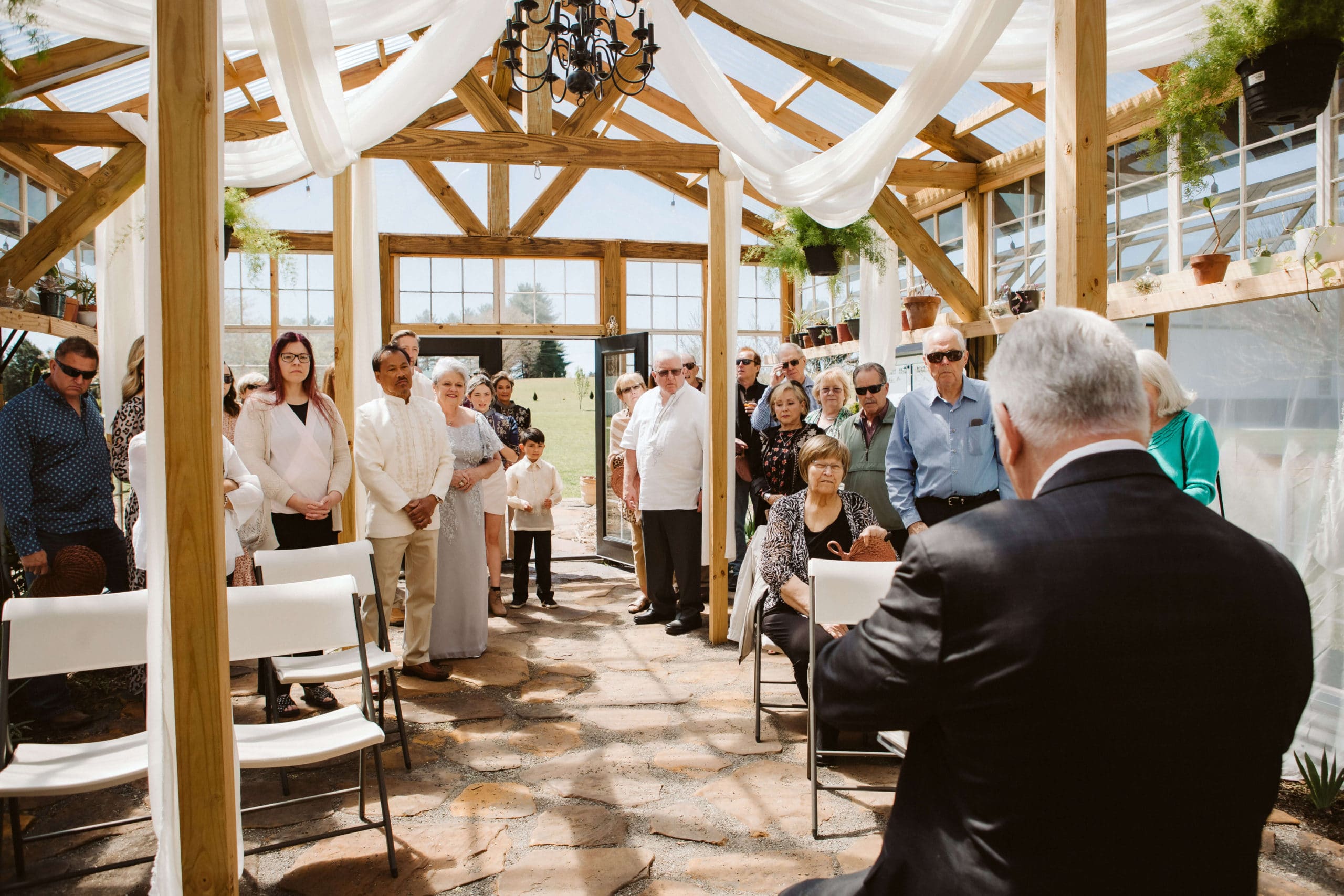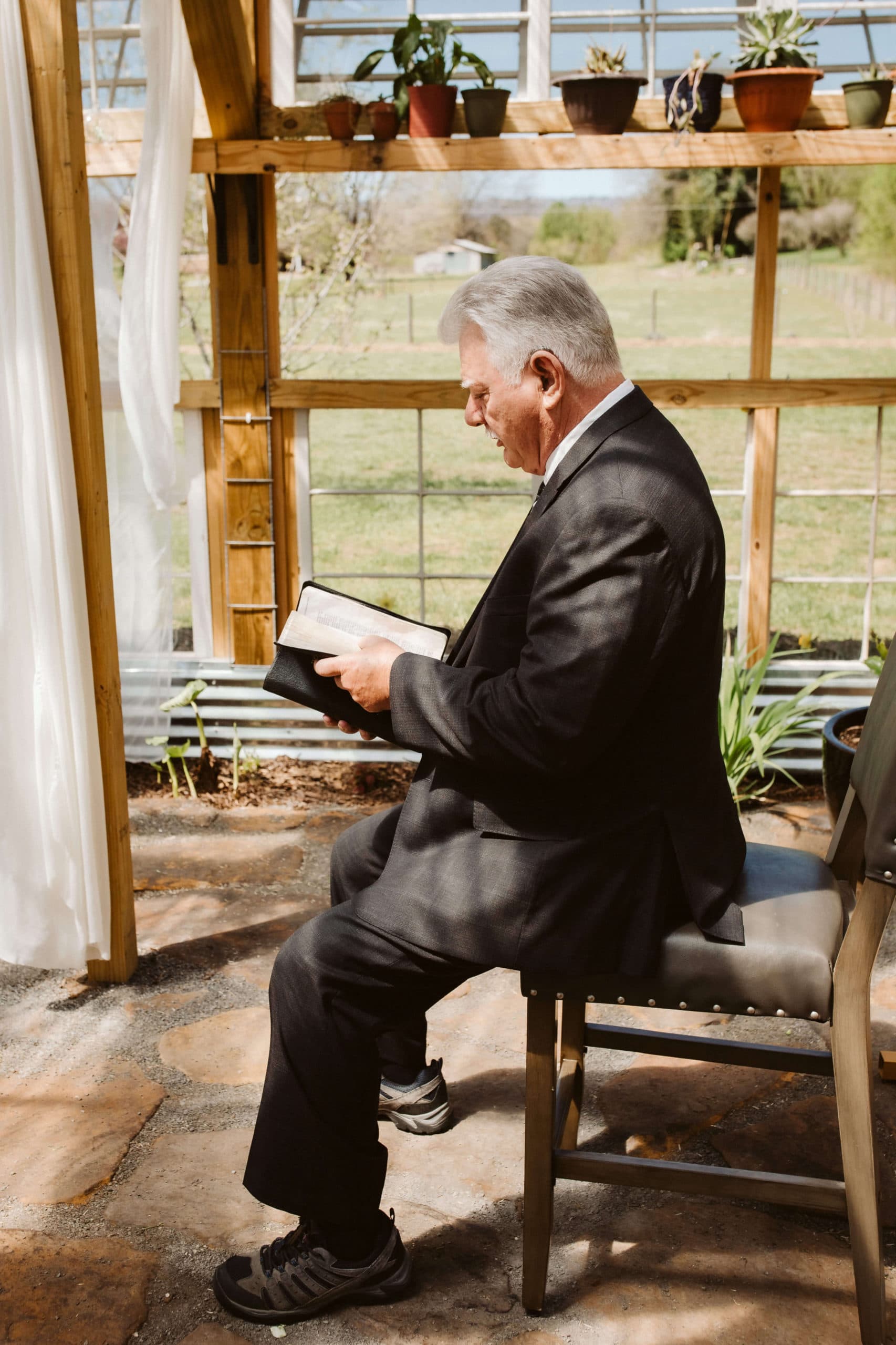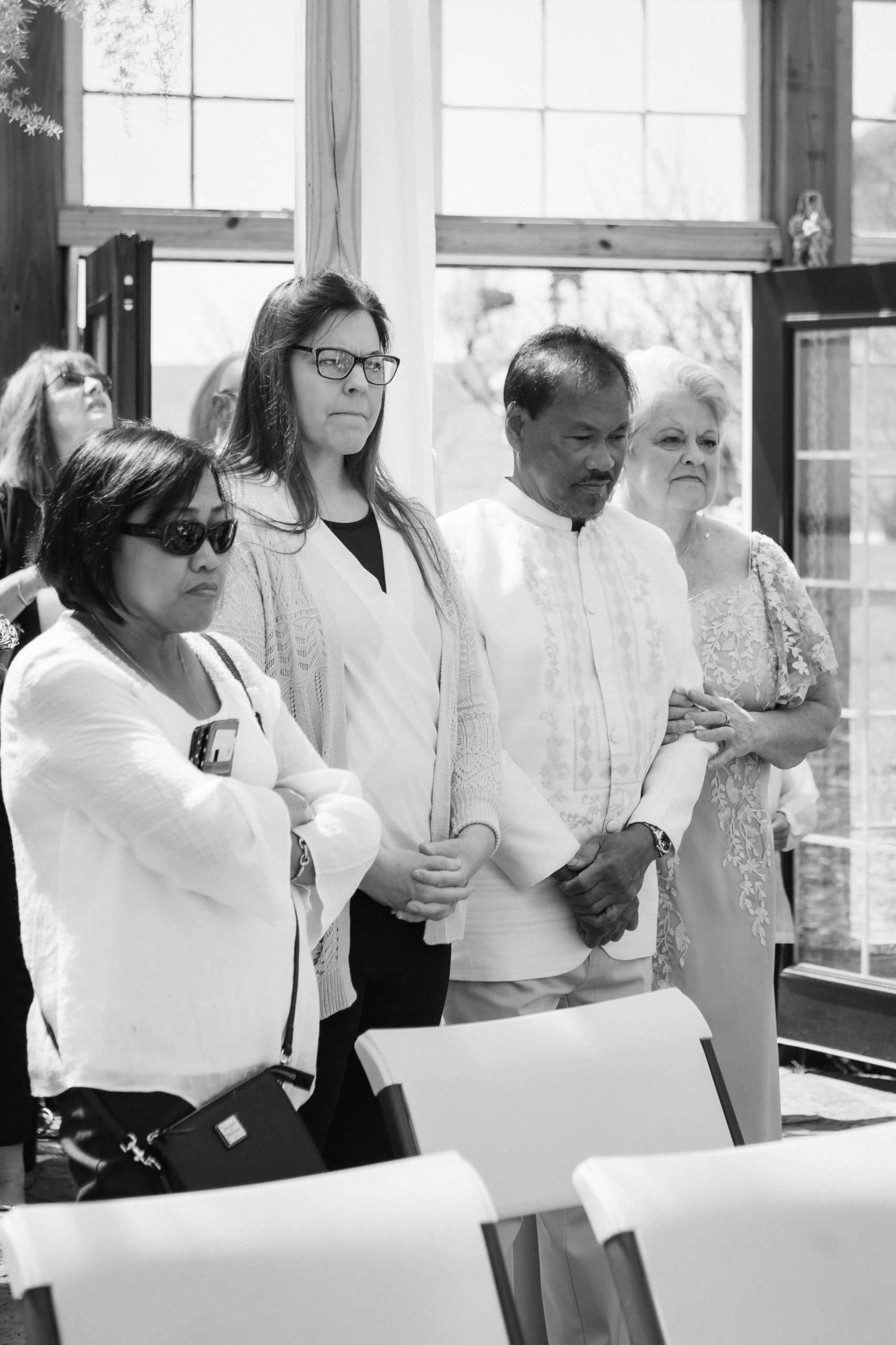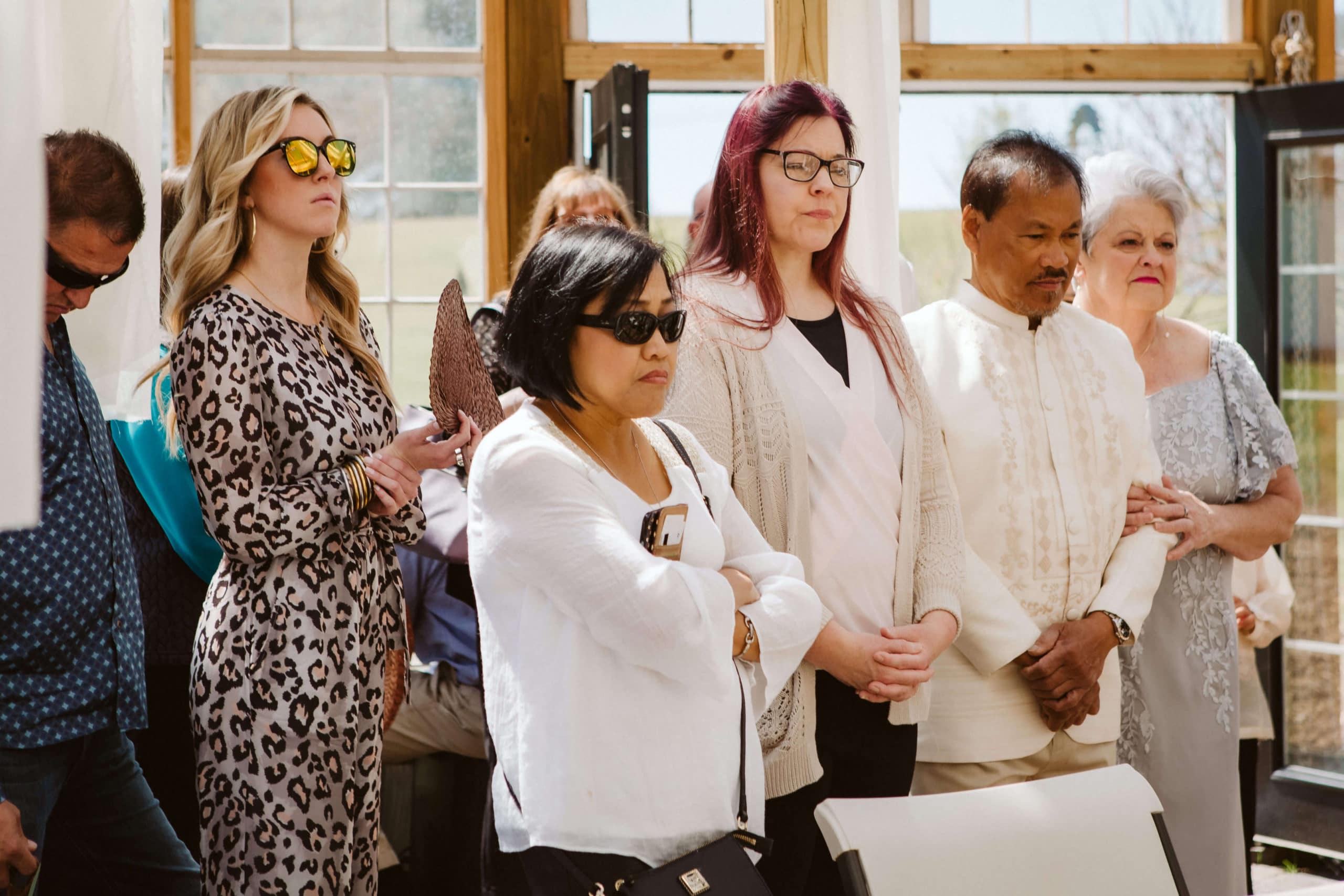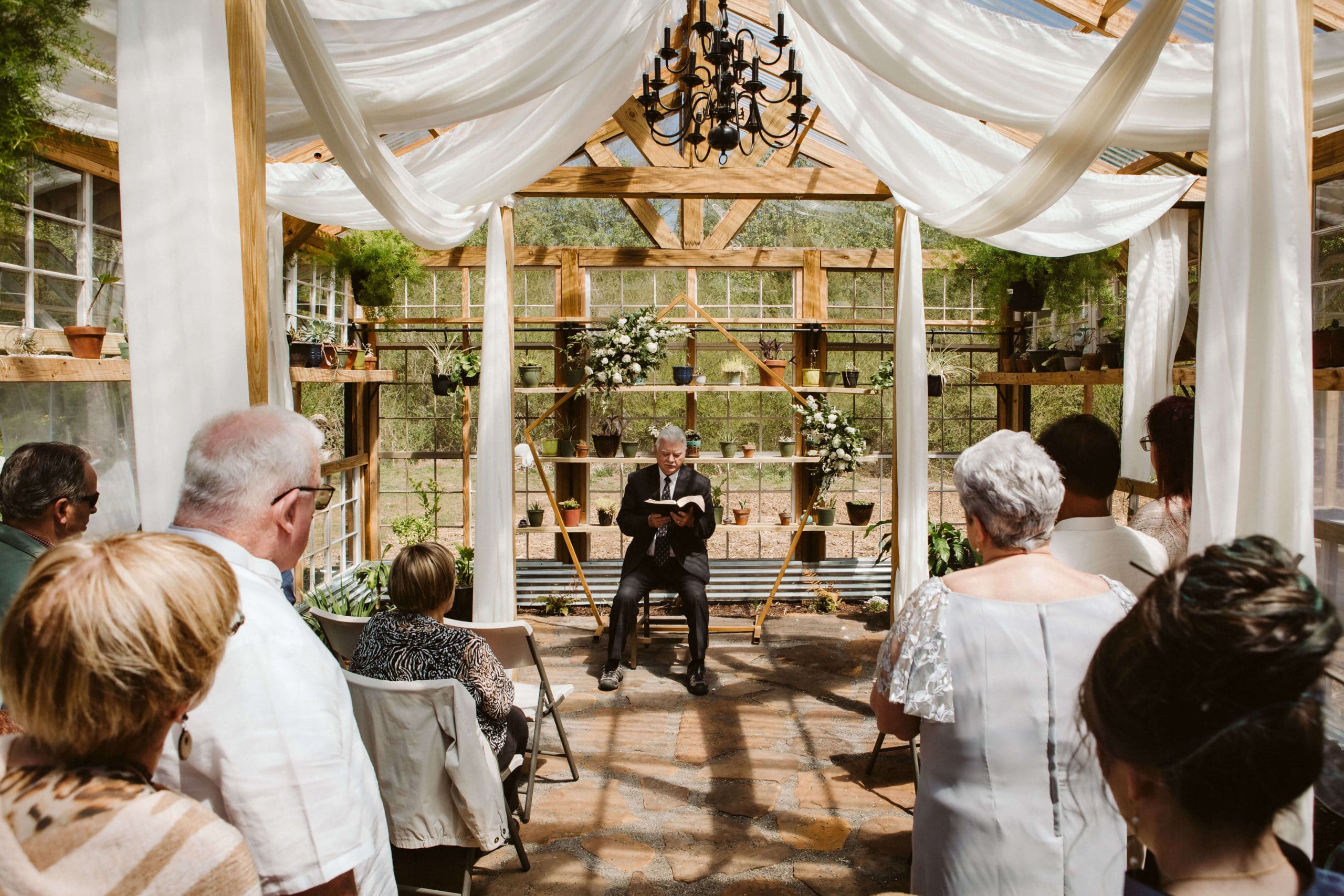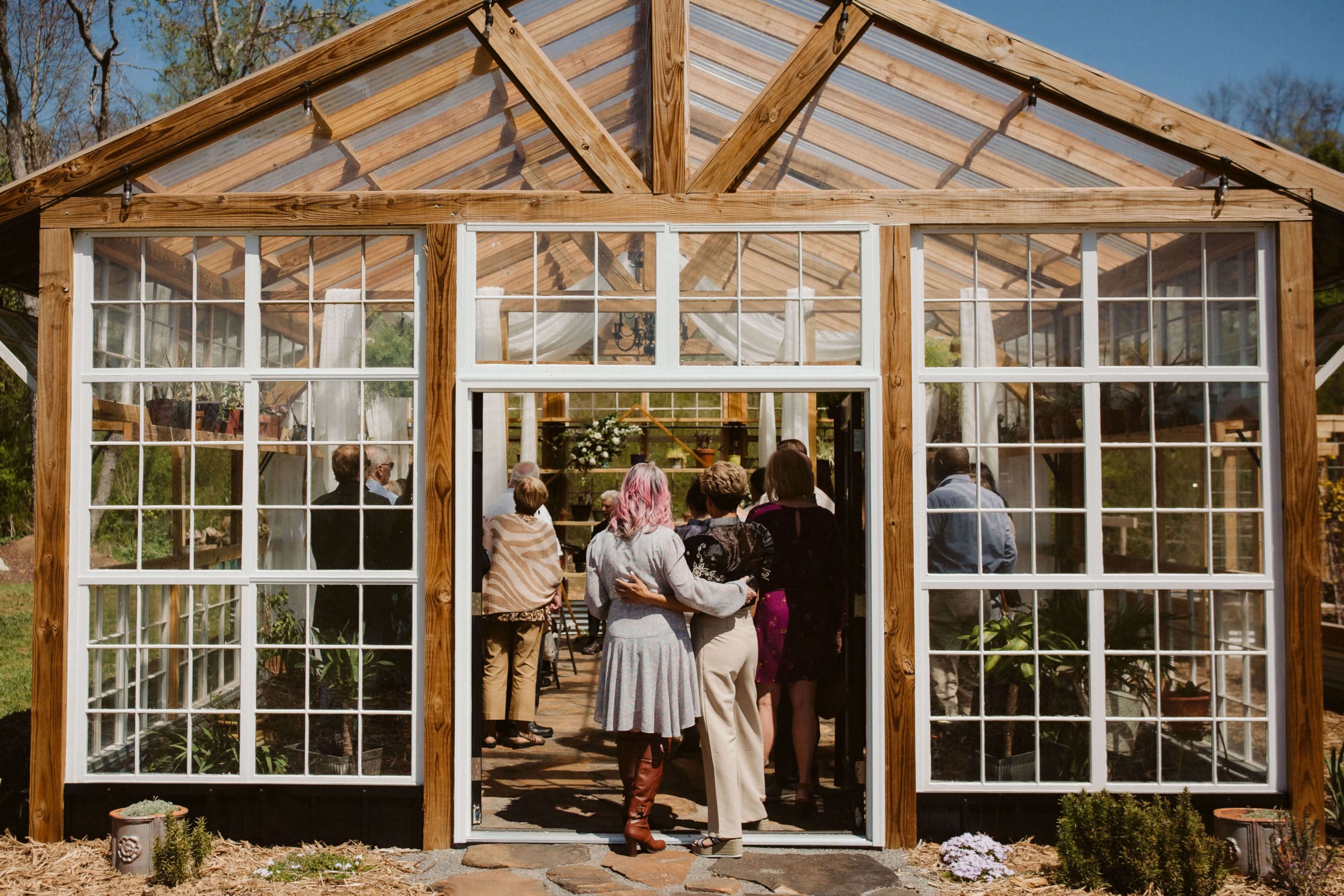 A Quaint Venue for Micro-Weddings and Events
Not only is Moser Manor Farm an active farm and homestead, it doubles as Moser Manor Events – a charming little venue specializing in small, intimate events for up to 50 people. Vanessa and Jeff have completely transformed their little six acres into an enchanted garden oasis complete with three charming venues for both ceremonies and receptions.
Moser Manor Events was established in the middle of the pandemic. It was Vanessa and Jeff's way of bringing love and joy to the community in the midst of so much fear and unknown. They completely renovated and constructed their space to create a venue perfect for anything from brunches, upscale picnics, showers, small parties, and micro-weddings.
There are three main venue spaces that are available to rent for events at Moser Manor. The first is the Rose Garden Arch which is a handmade arch at the apex of their garden surrounded by the stunning beauty of the surrounding nature. For an indoor ceremony that still has the look and feel of the great outdoors, the Greenhouse is another wonderful option. Finally for slightly larger parties, Vanessa and Jeff opened their Signature Barnhouse that's complete with guest restrooms, a prep kitchen for catering, and a large pasture with a fire pit so the stunning views are never too far away.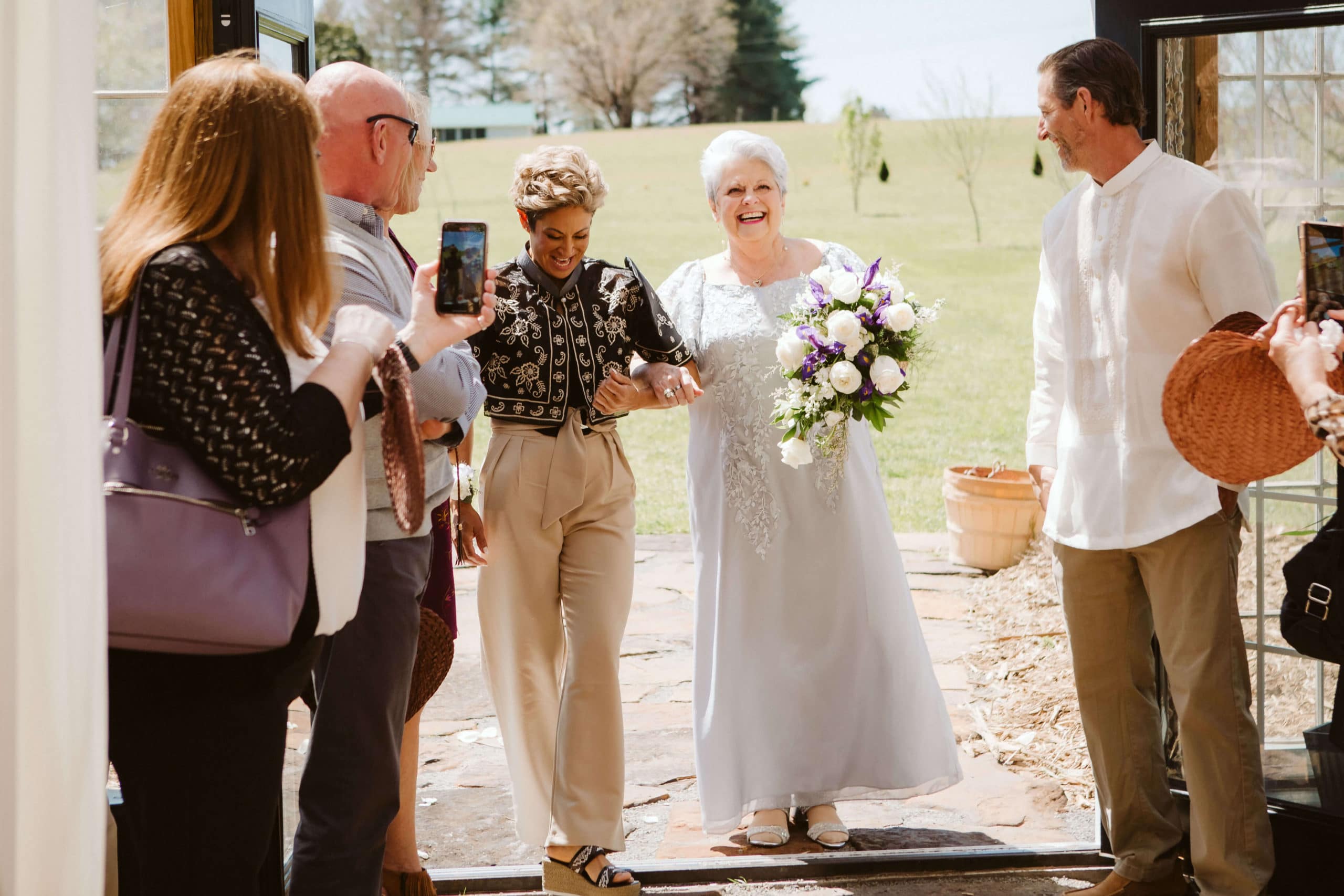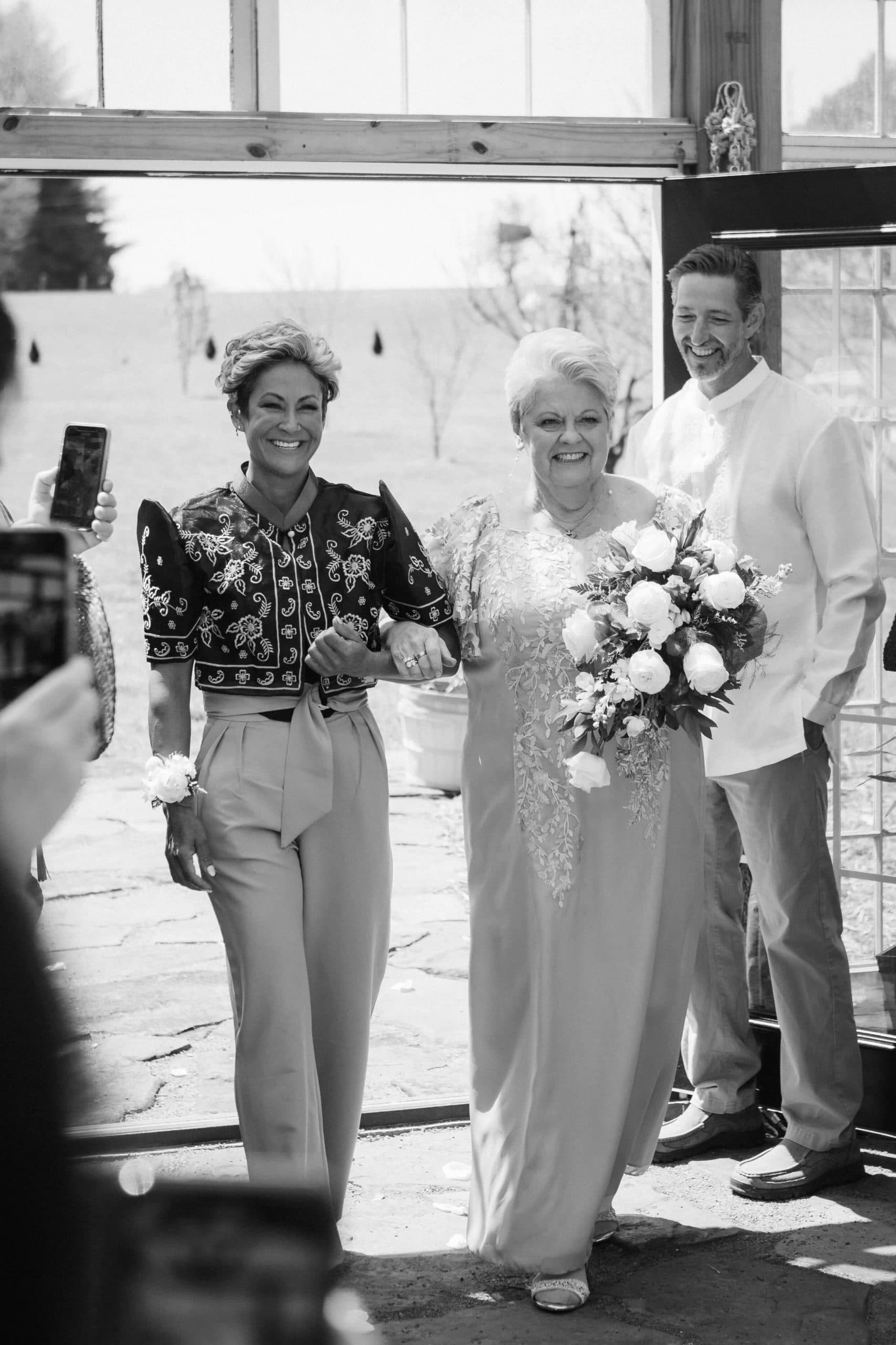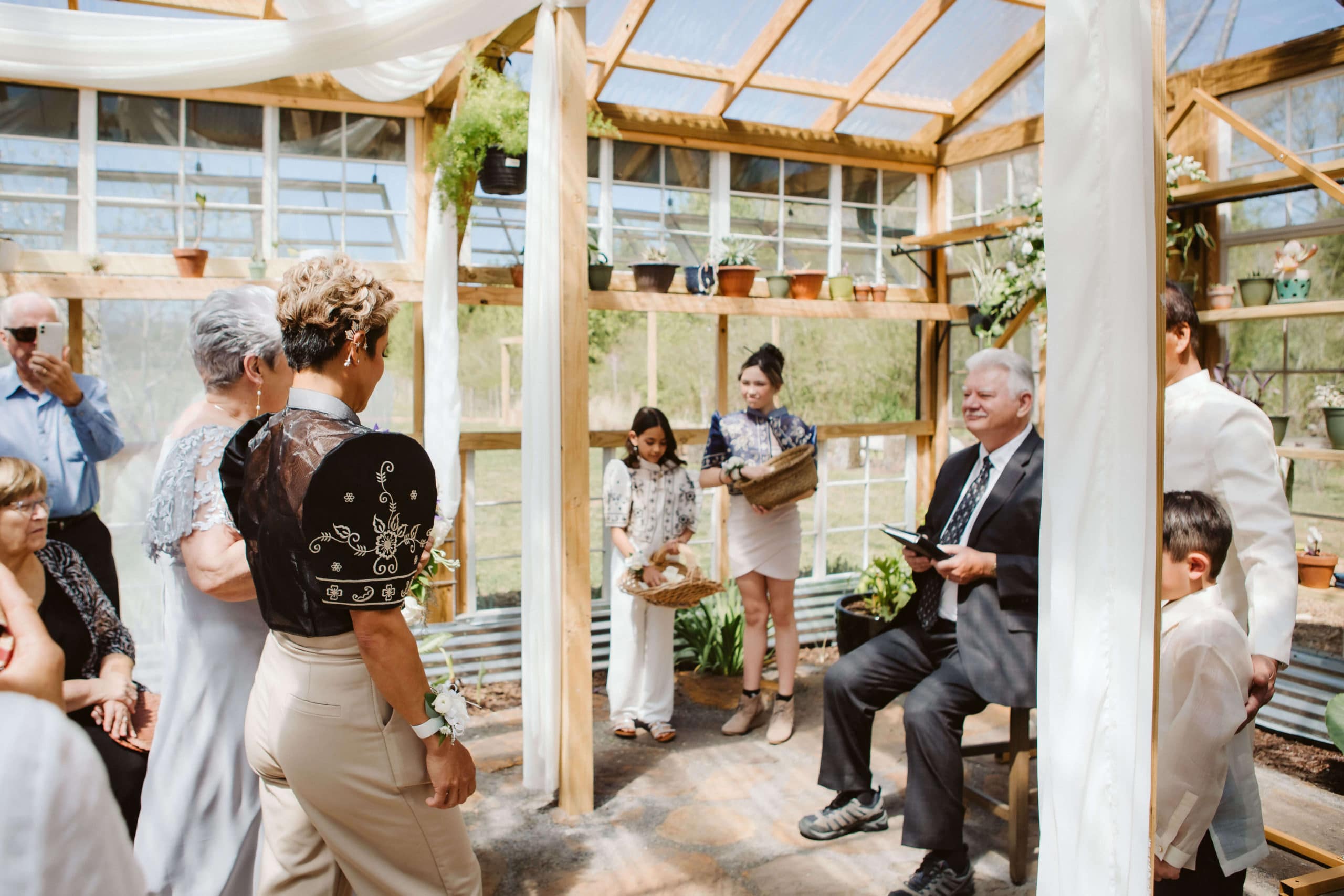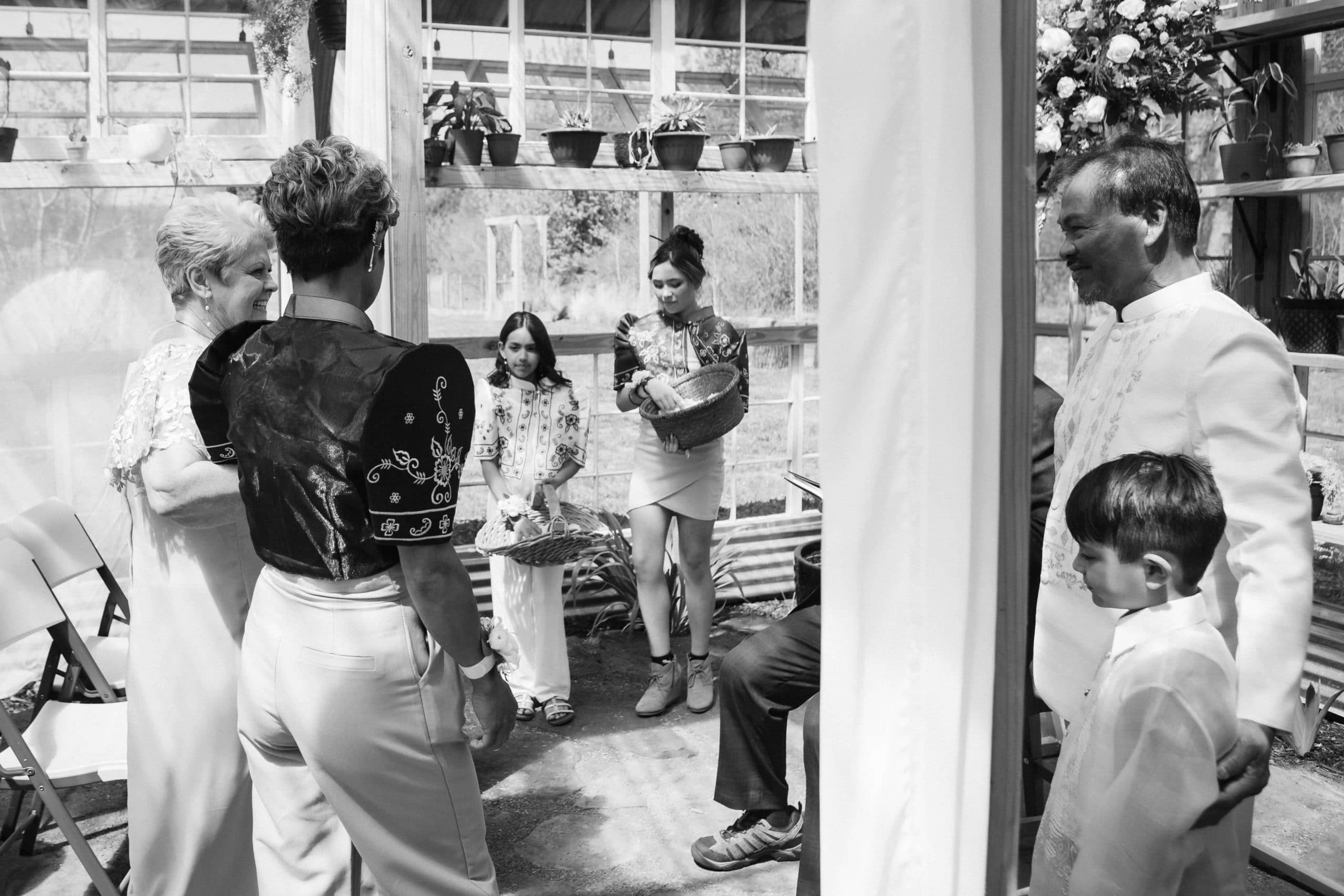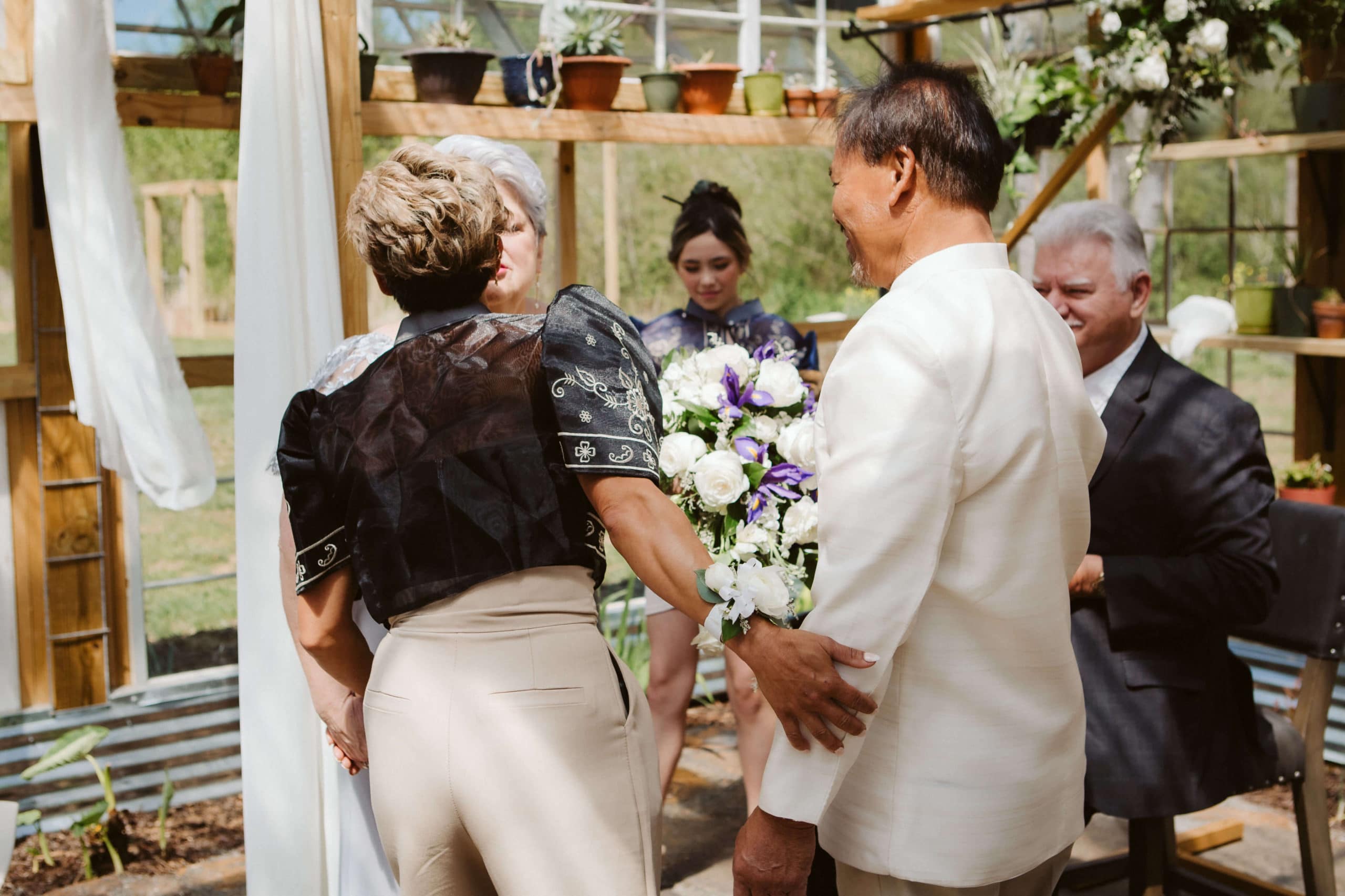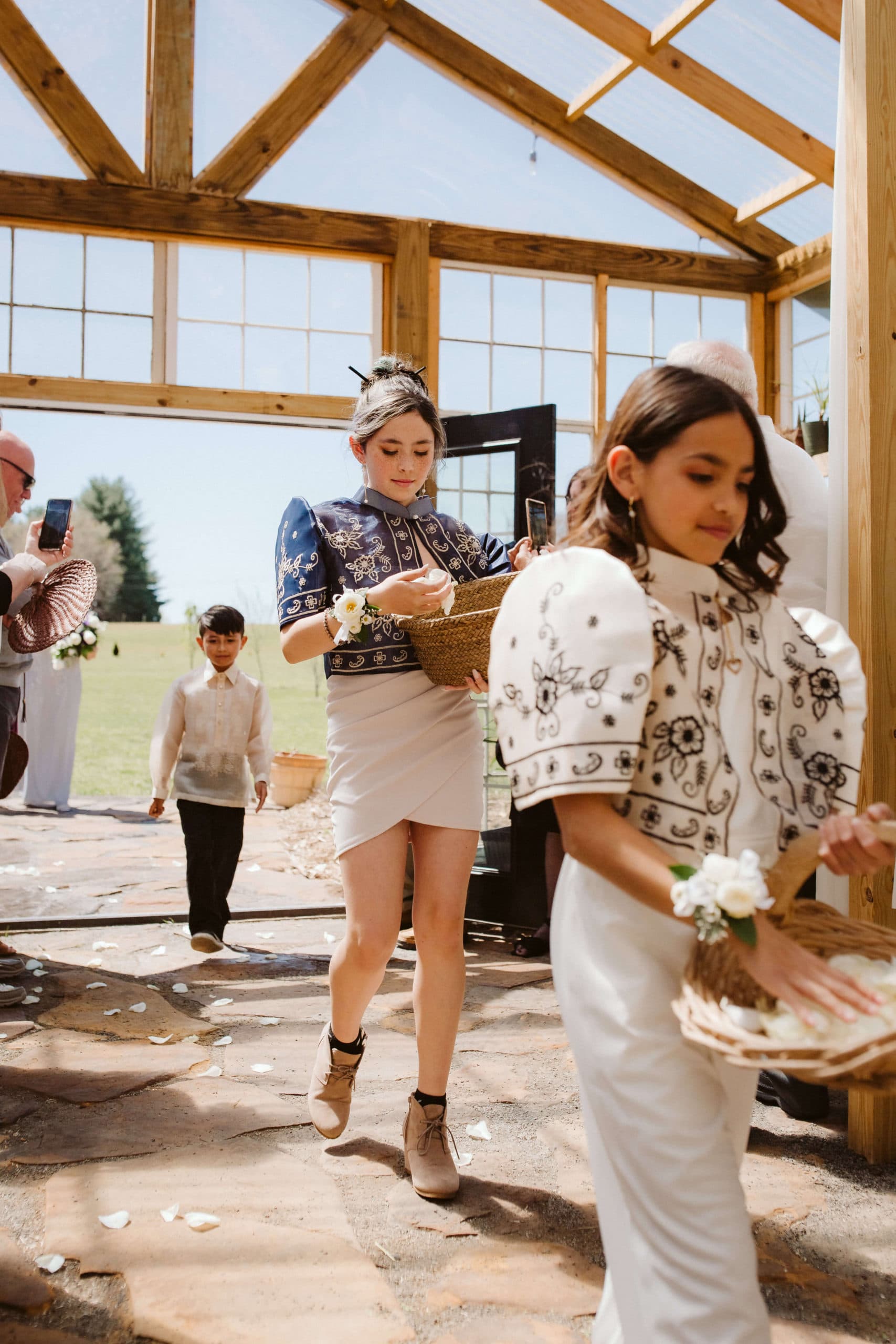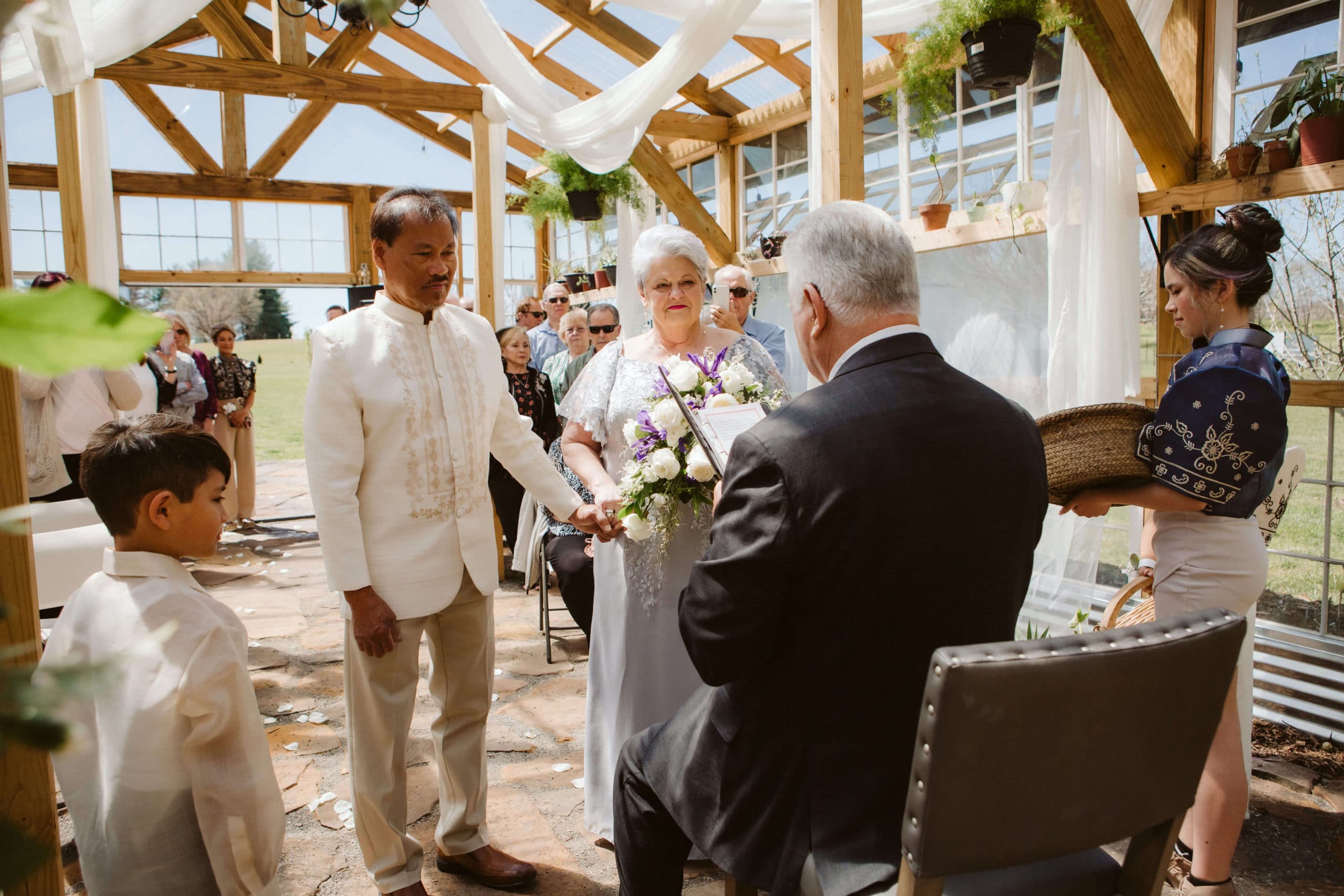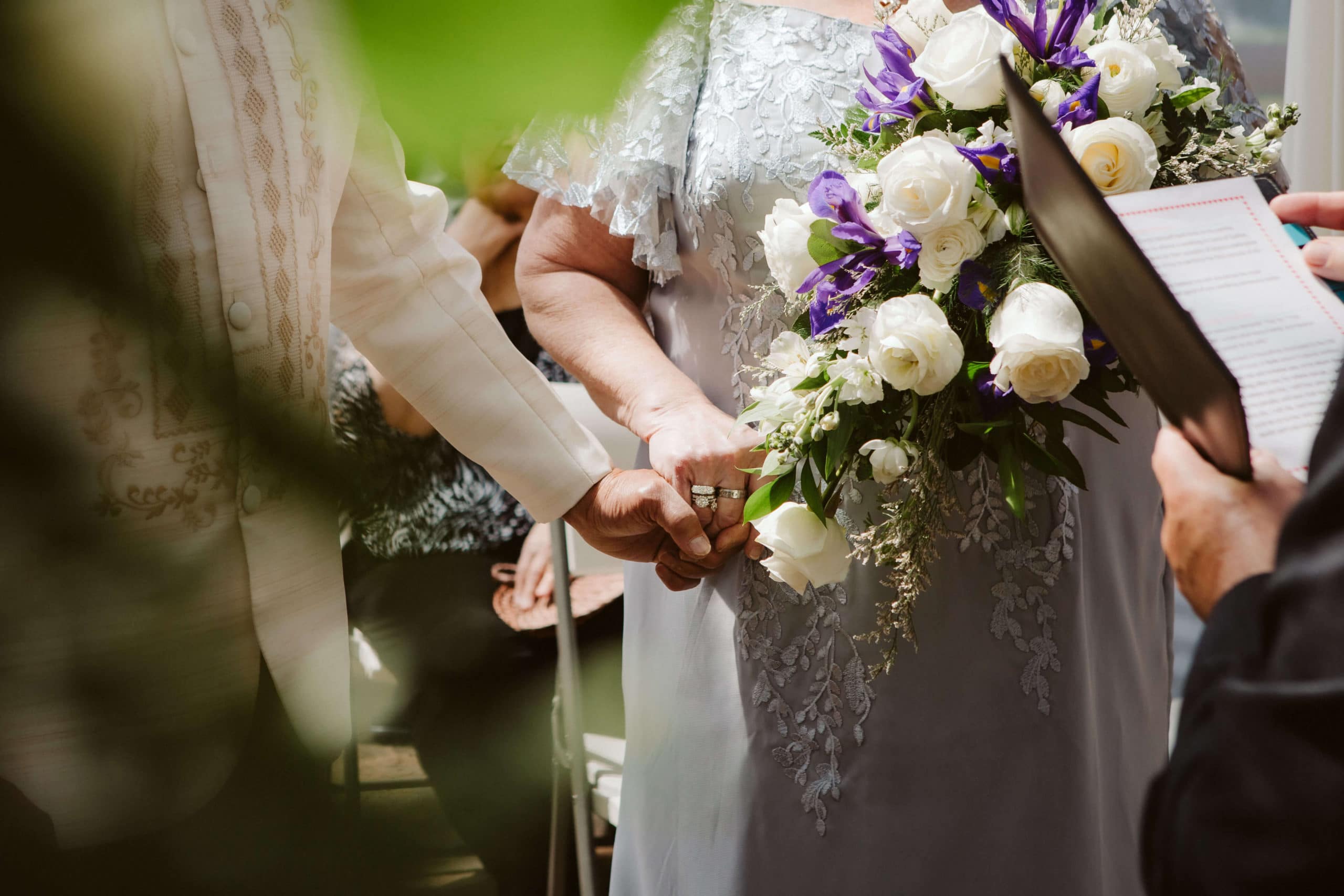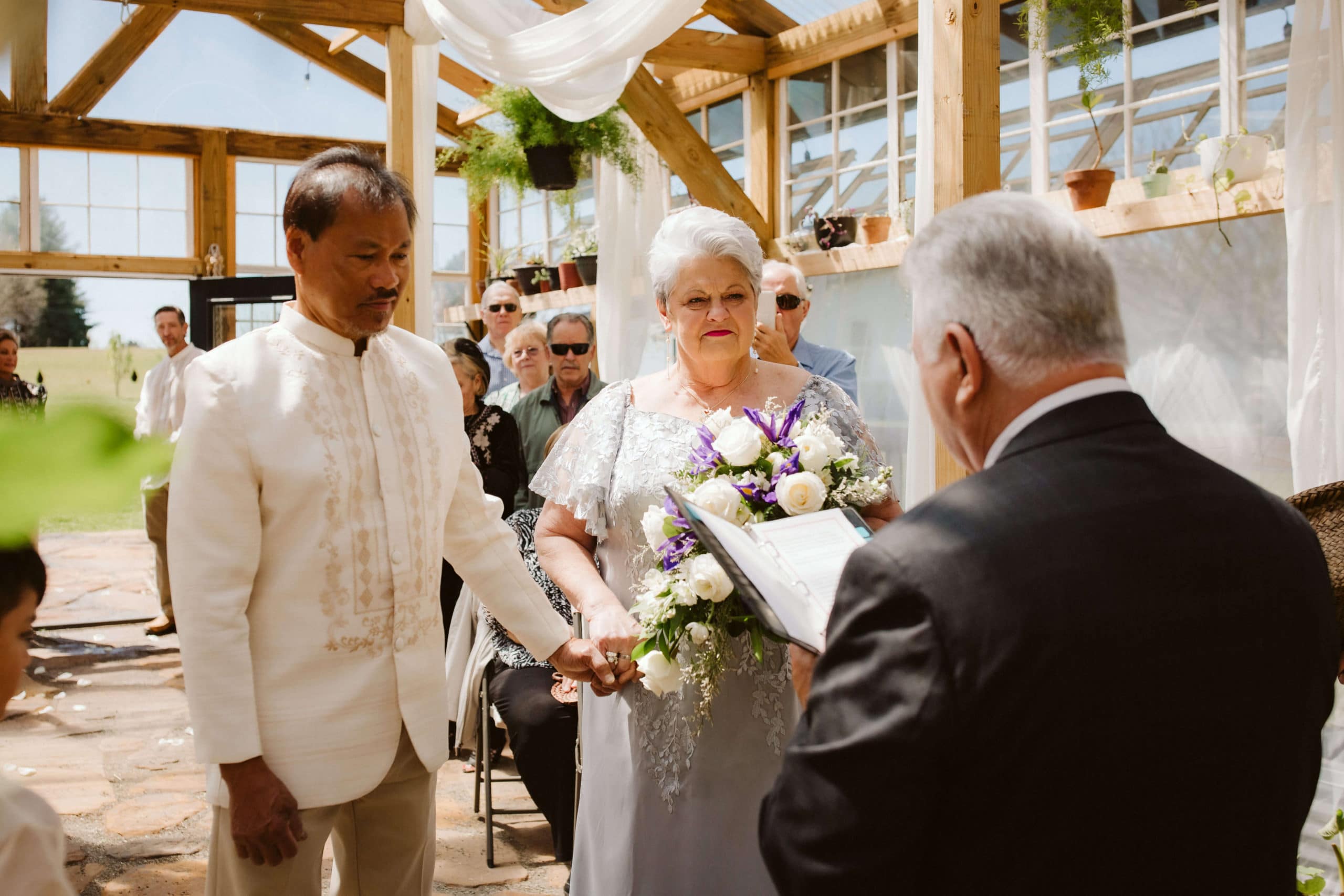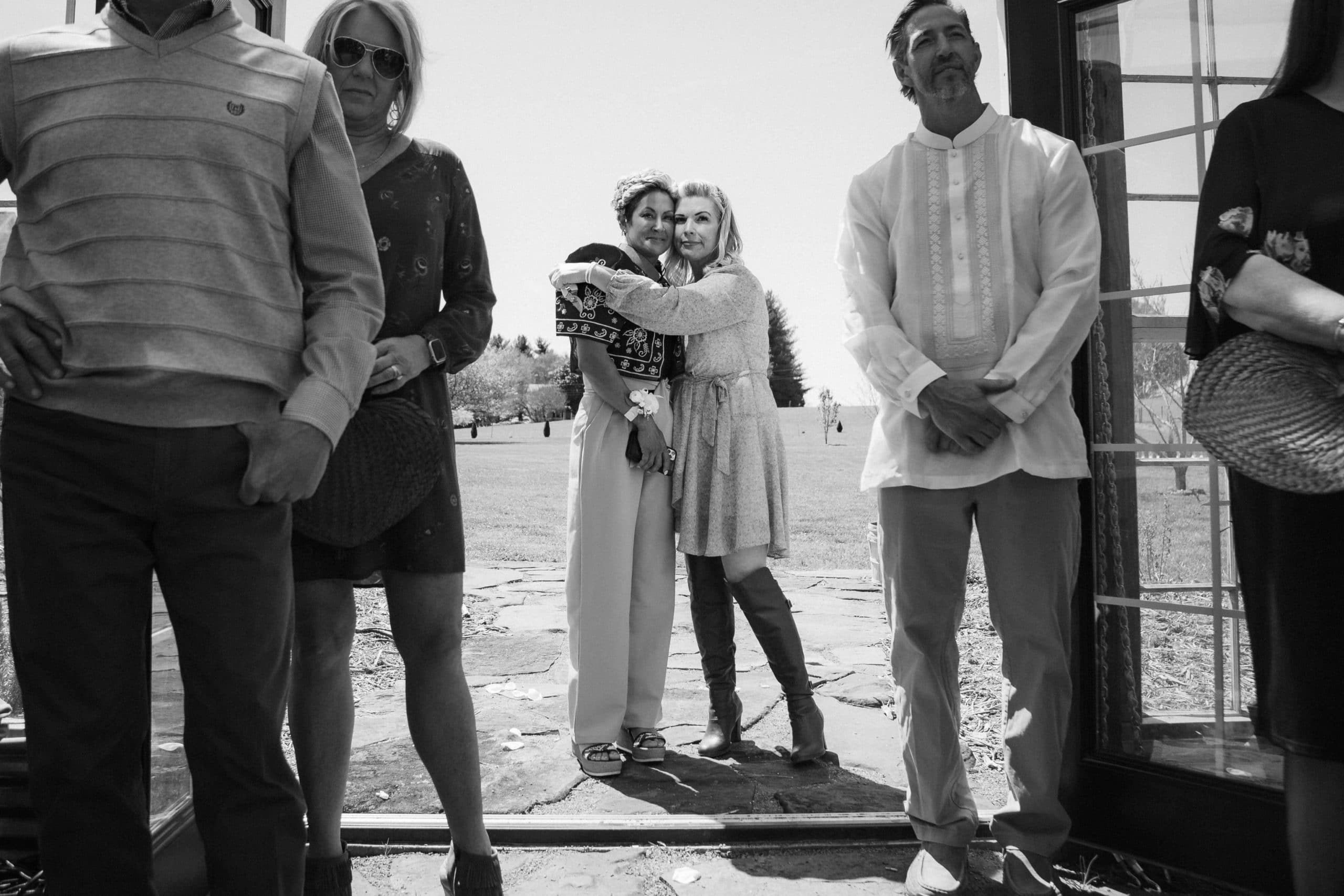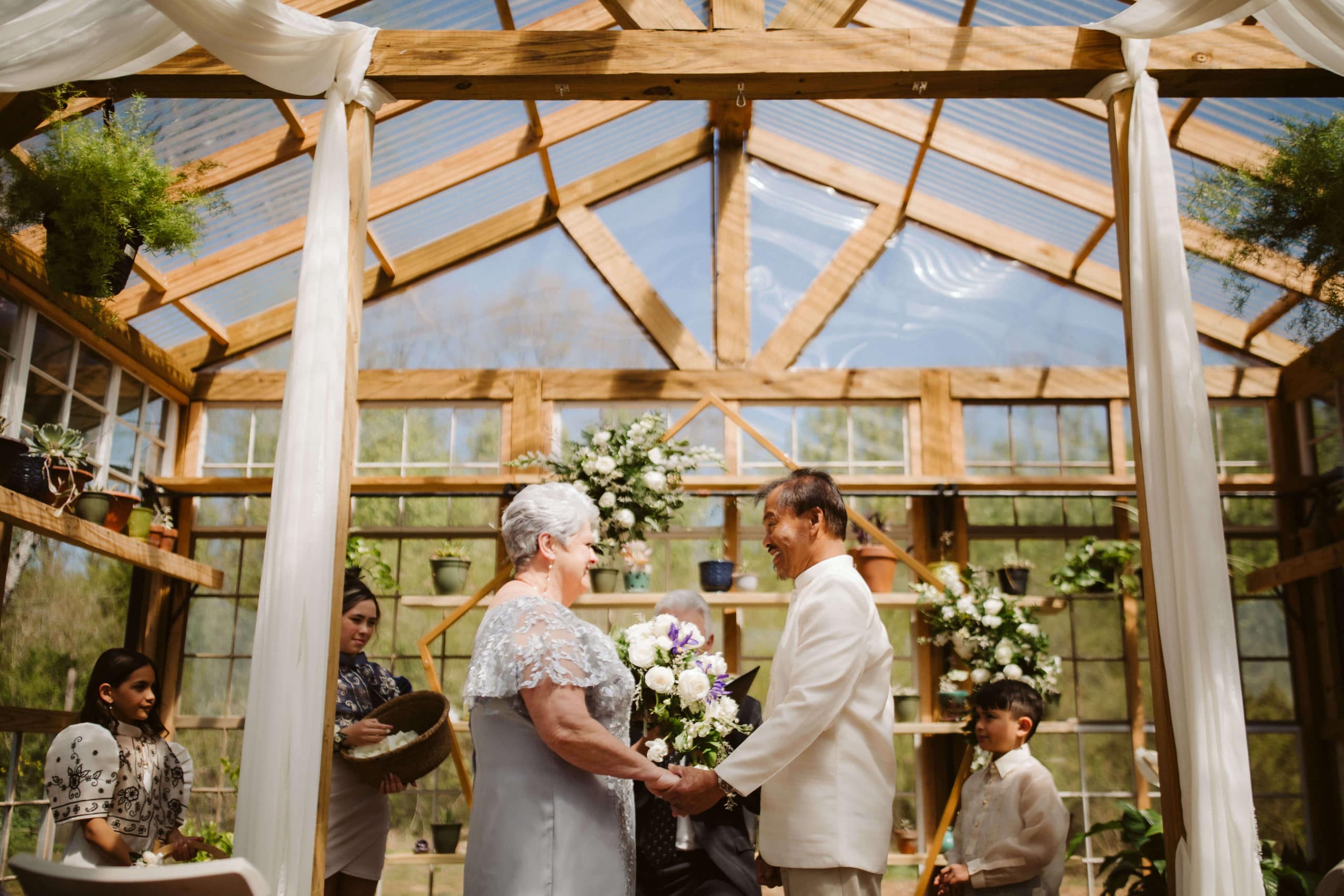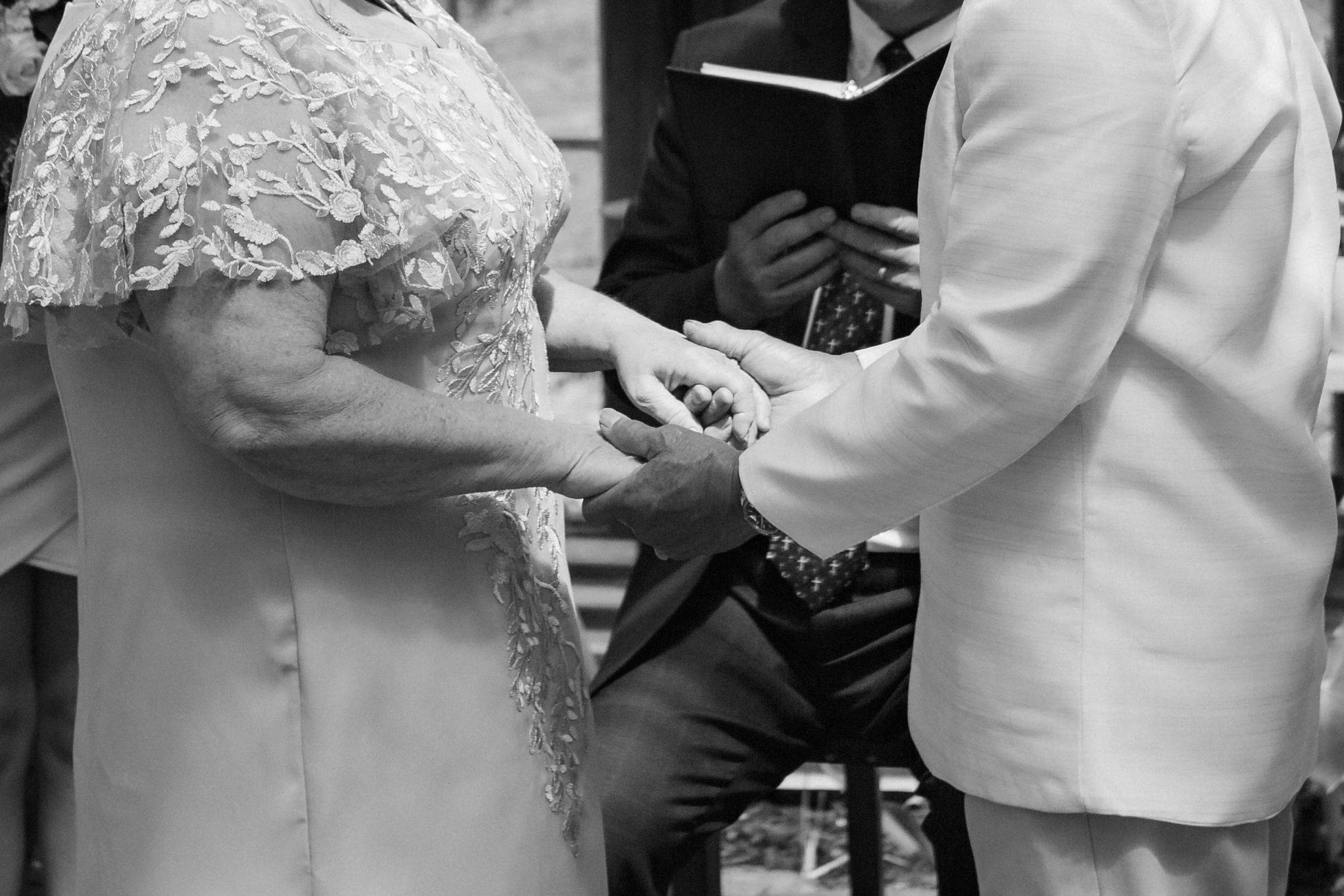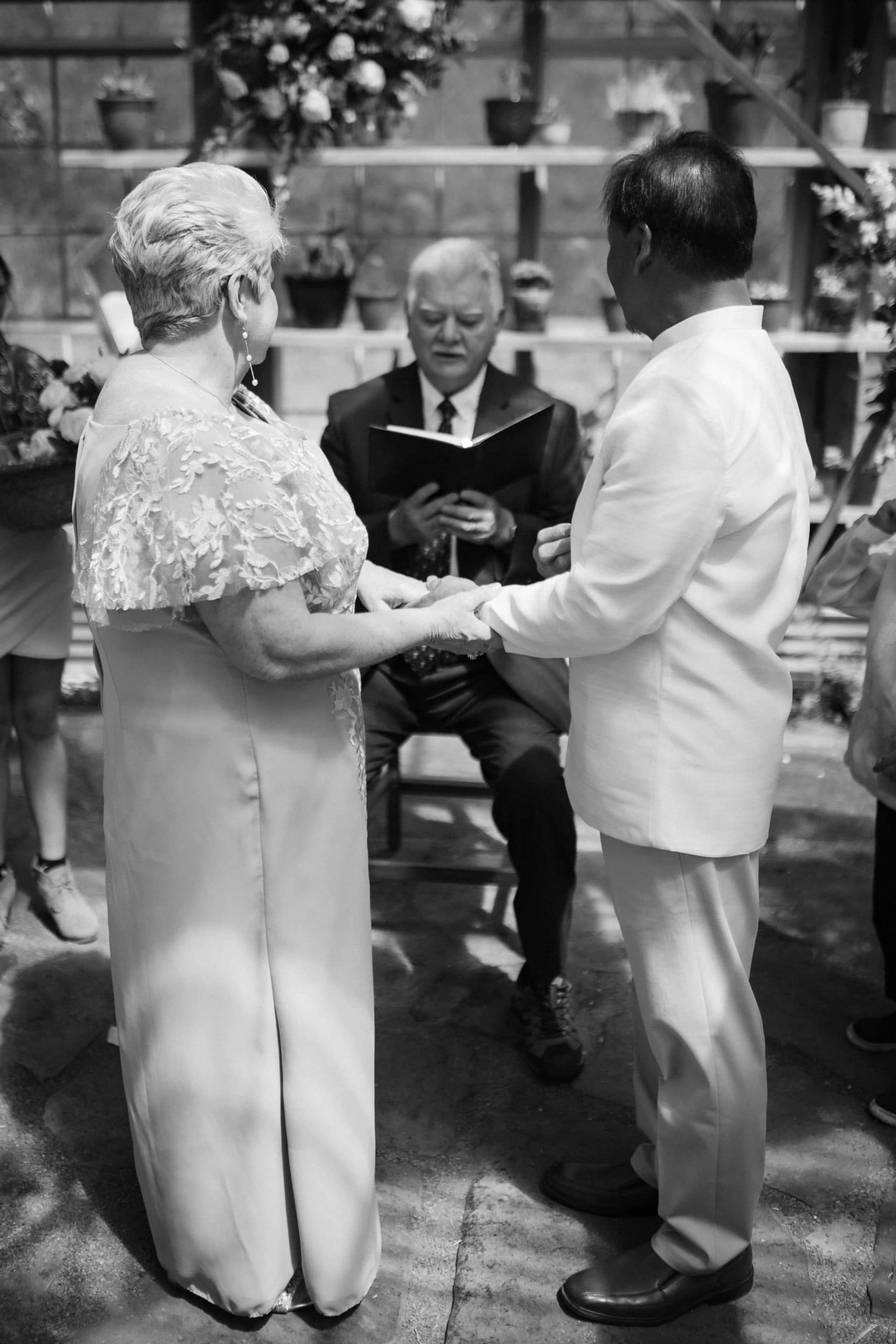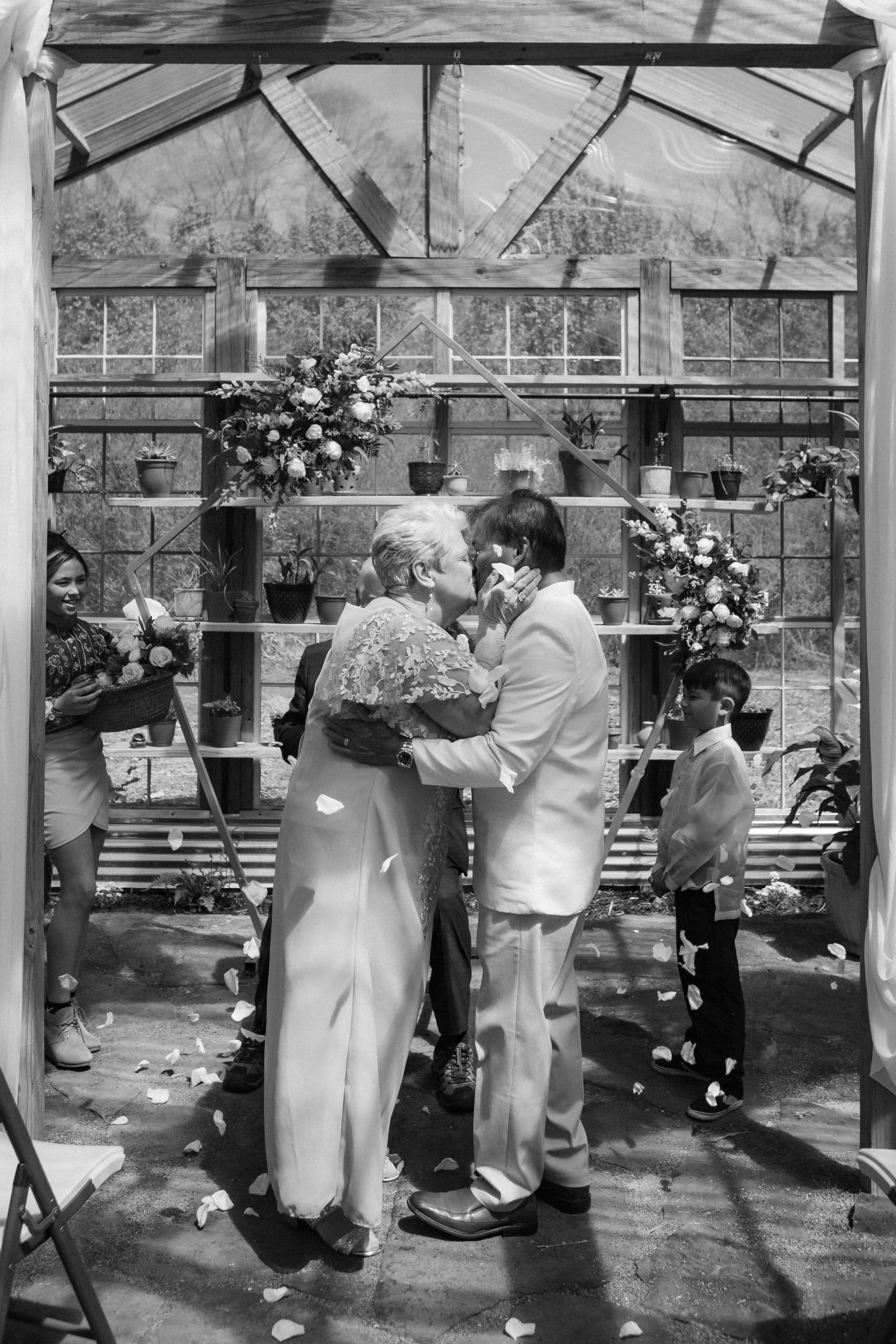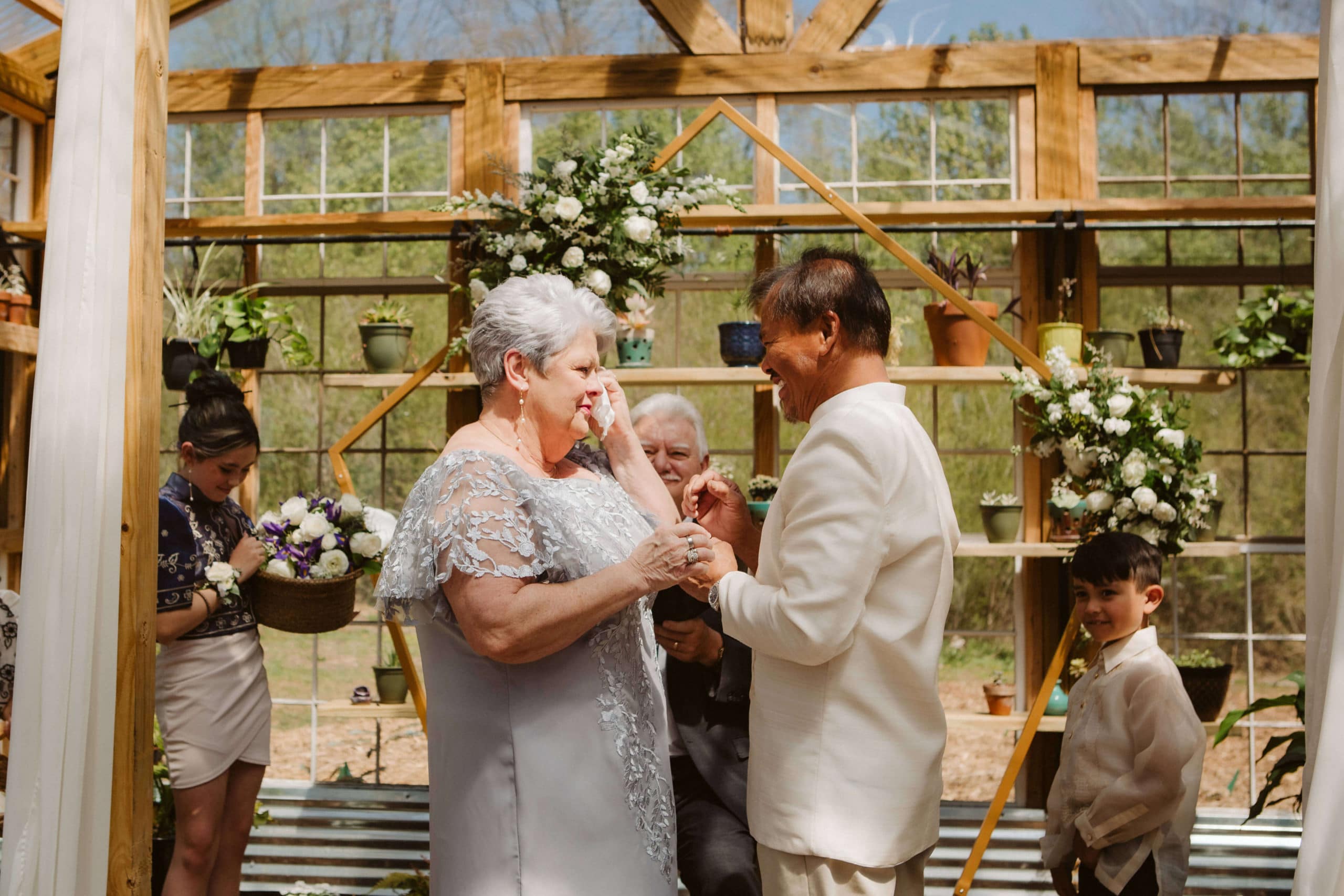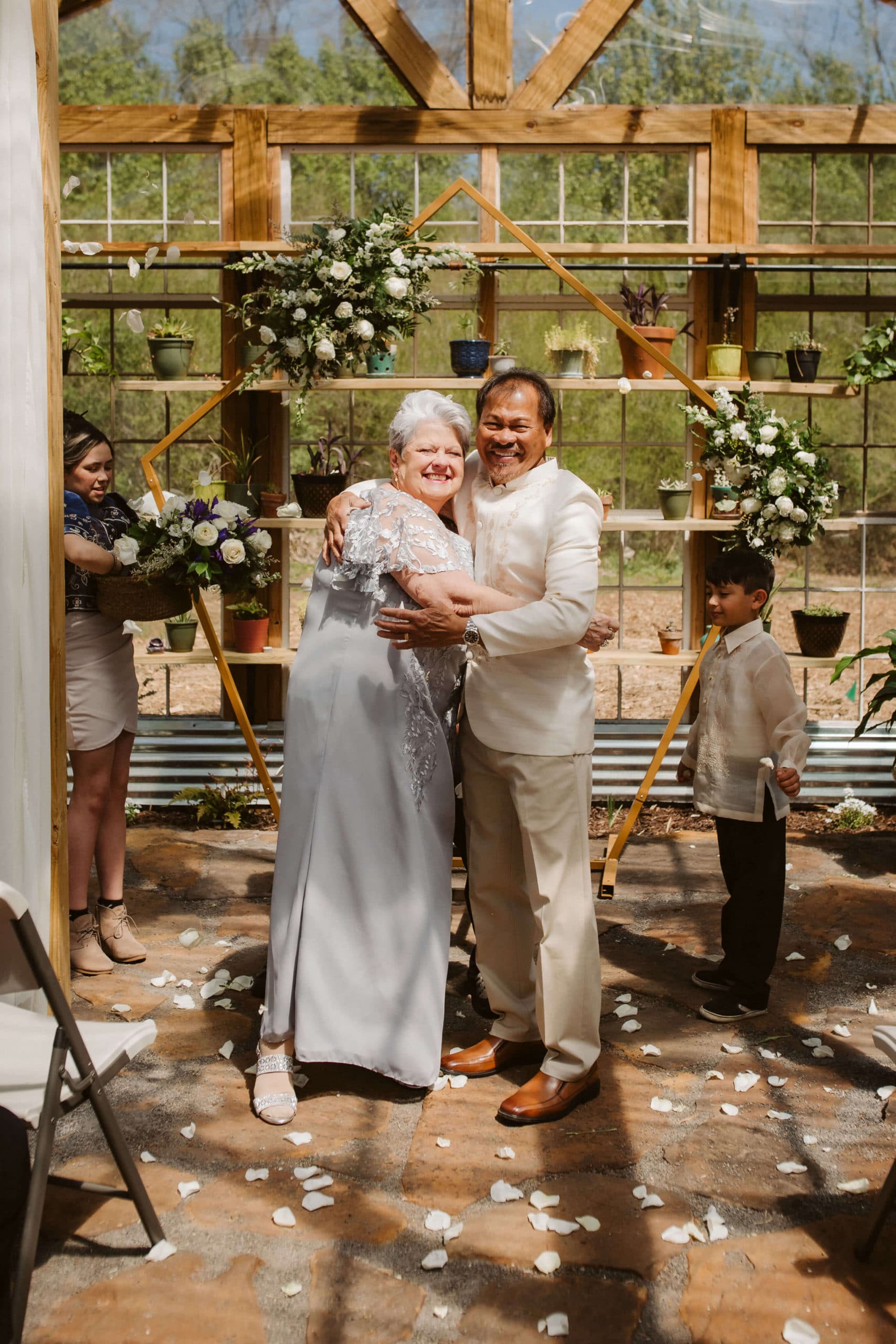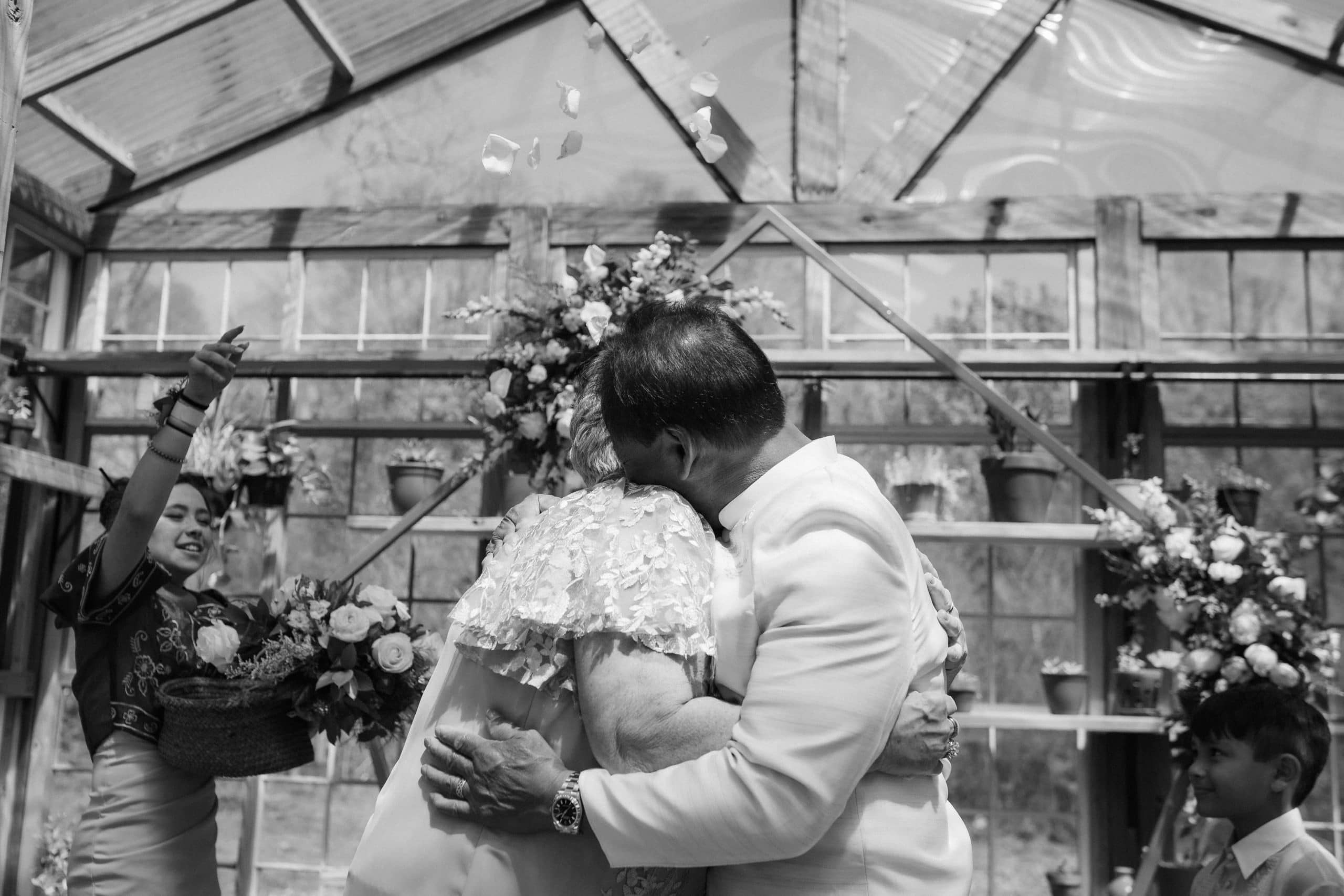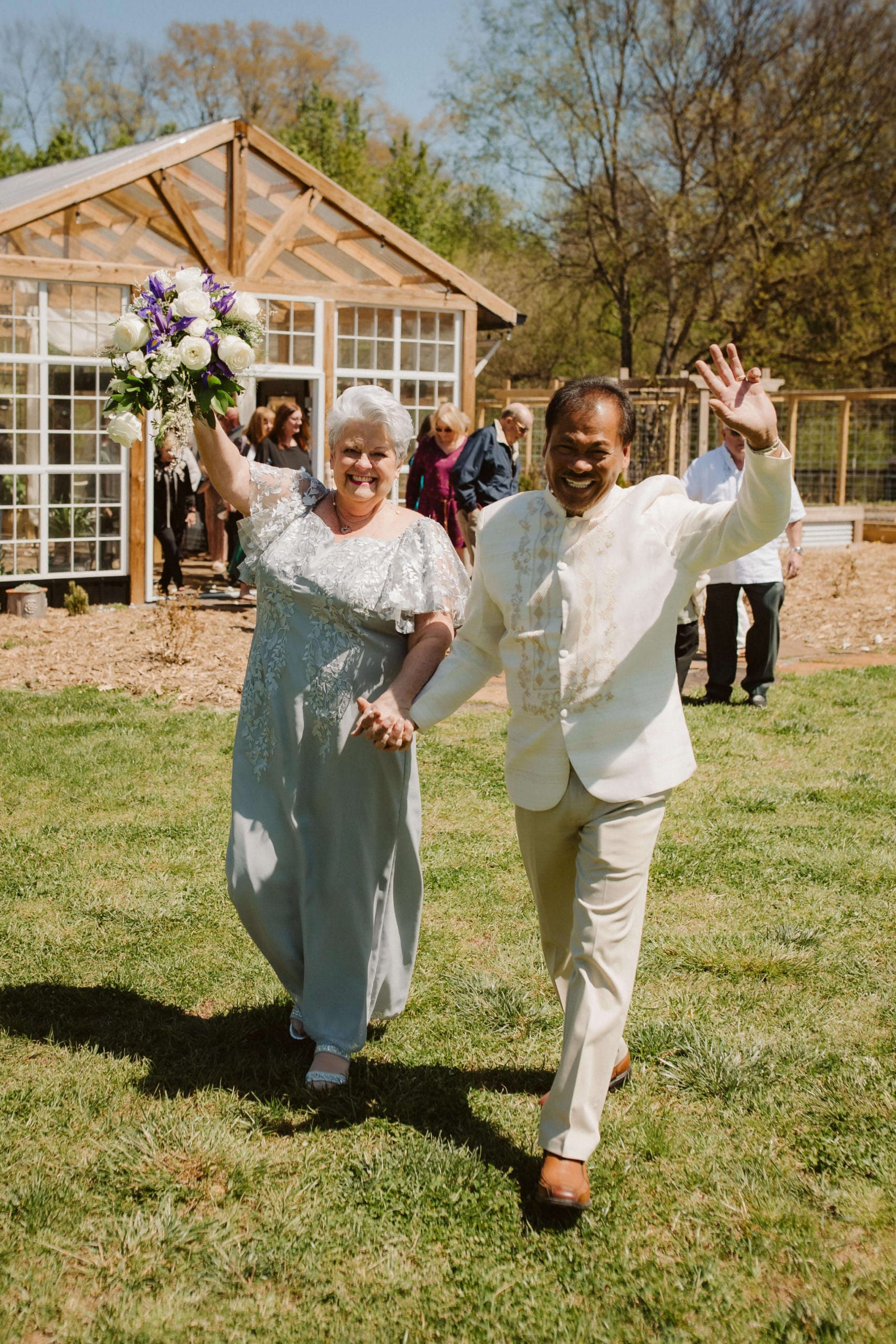 An Intimate Vow Renewal Ceremony in a Greenhouse Oasis
For her parents' vow renewal, Vanessa prepared the Greenhouse for the ceremony. Their gorgeous greenhouse was designed around 68 vintage windows for a full 360 degree view of the farm grounds and gardens. Between the riverbed stone floor, numerous potted plants on shelves along all of the walls and around the perimeter, and the refreshing spring breeze flowing through the open windows, the Greenhouse is truly a wonderful oasis escape that was perfect for the intimate vow renewal ceremony. As an added bonus, when you rent the Greenhouse for your event, beautiful drapery is included in the price. Pristine white drapes loop across the rafters and down the pillars to flutter in the breeze creating the perfect background for your ceremony pictures.
The wonderful thing about vow renewal ceremonies is they are not constrained by the legalities of weddings. They are simply a heartfelt way to express your love for one another and reaffirm the promises you made on your wedding day. If you're planning a vow renewal, you can plan it in whatever way you want it to go. While you don't necessarily have to be as in depth as you would be planning a wedding (unless you want to, of course), there's no need to call a legal officiant or reobtain a license or marriage certificate.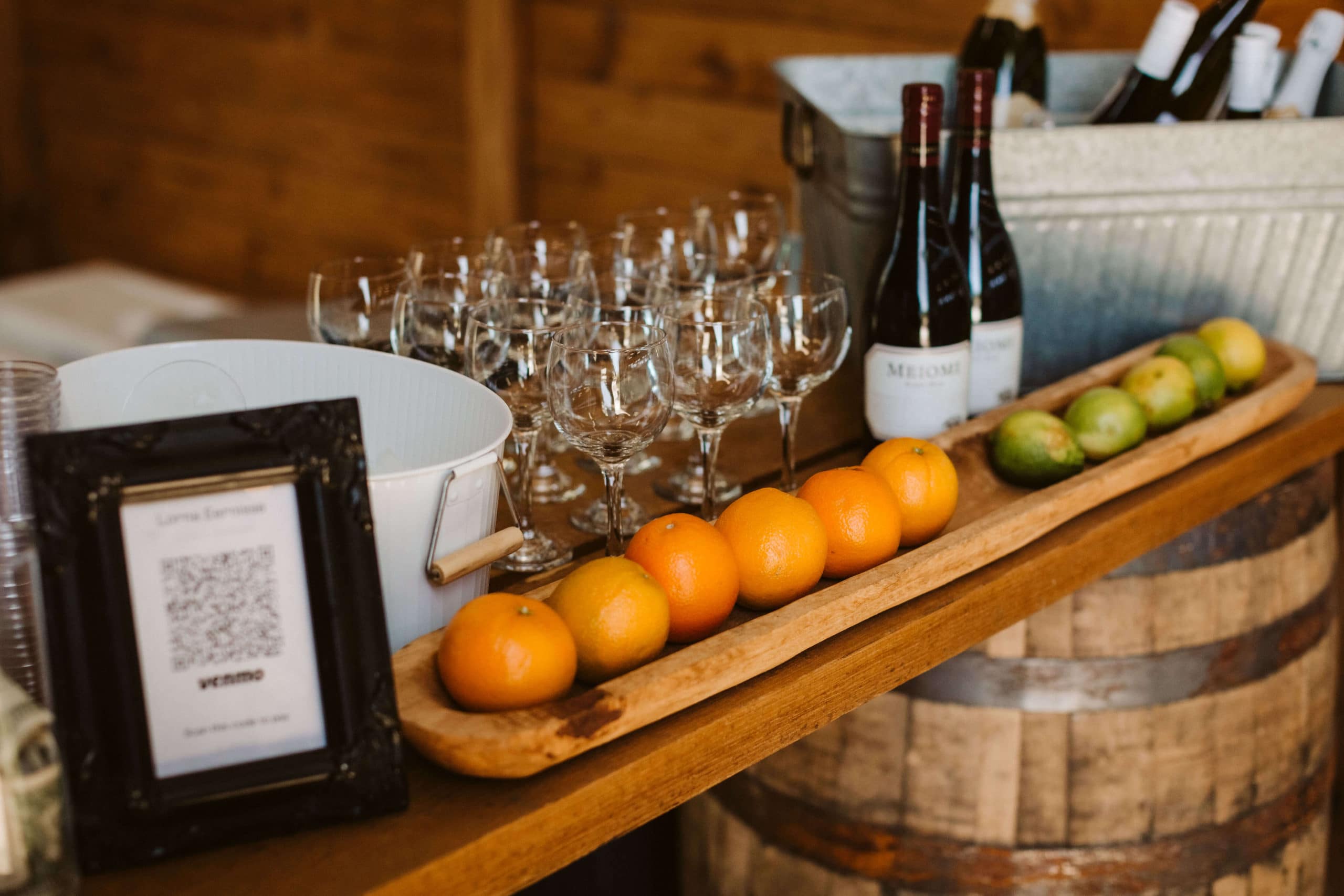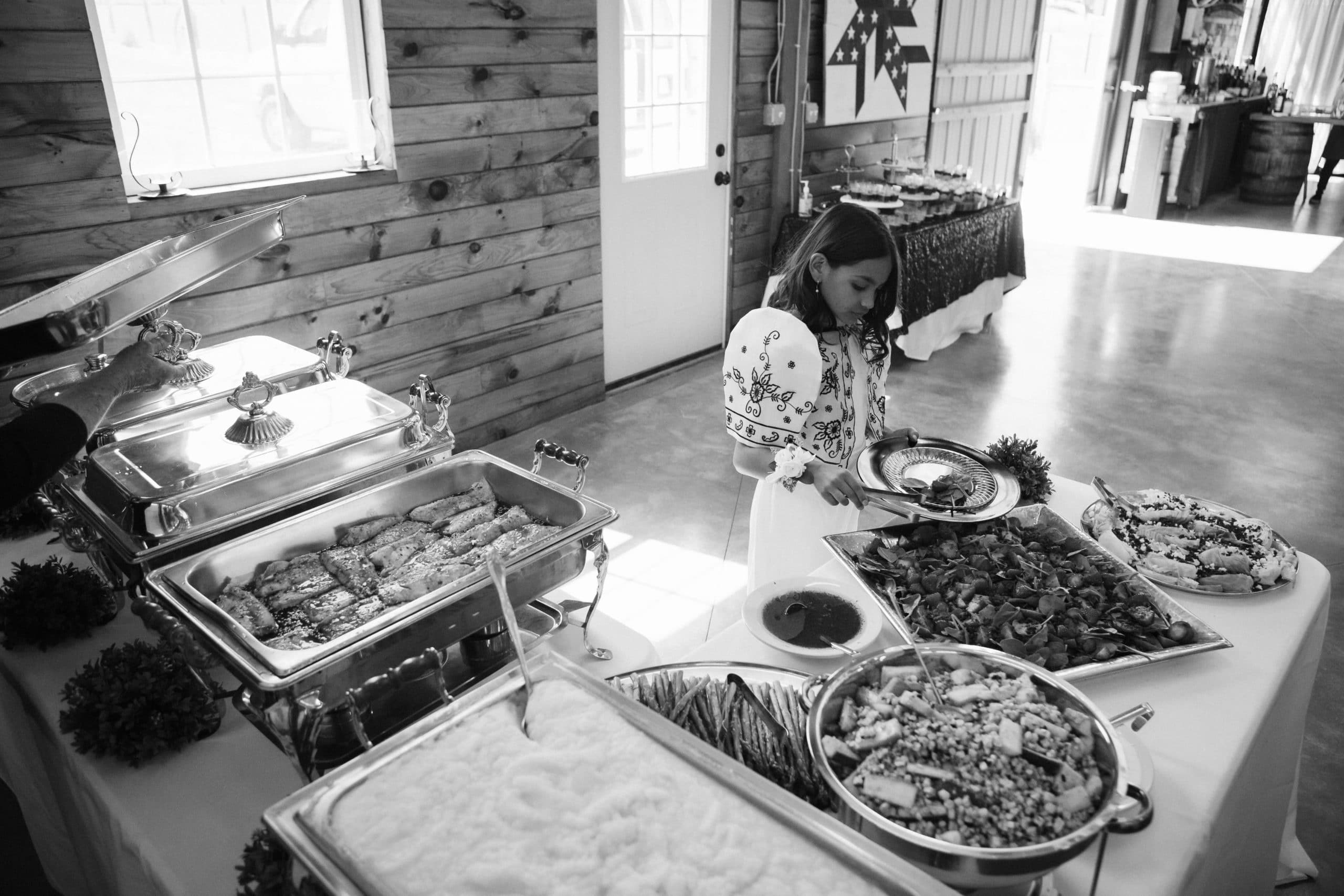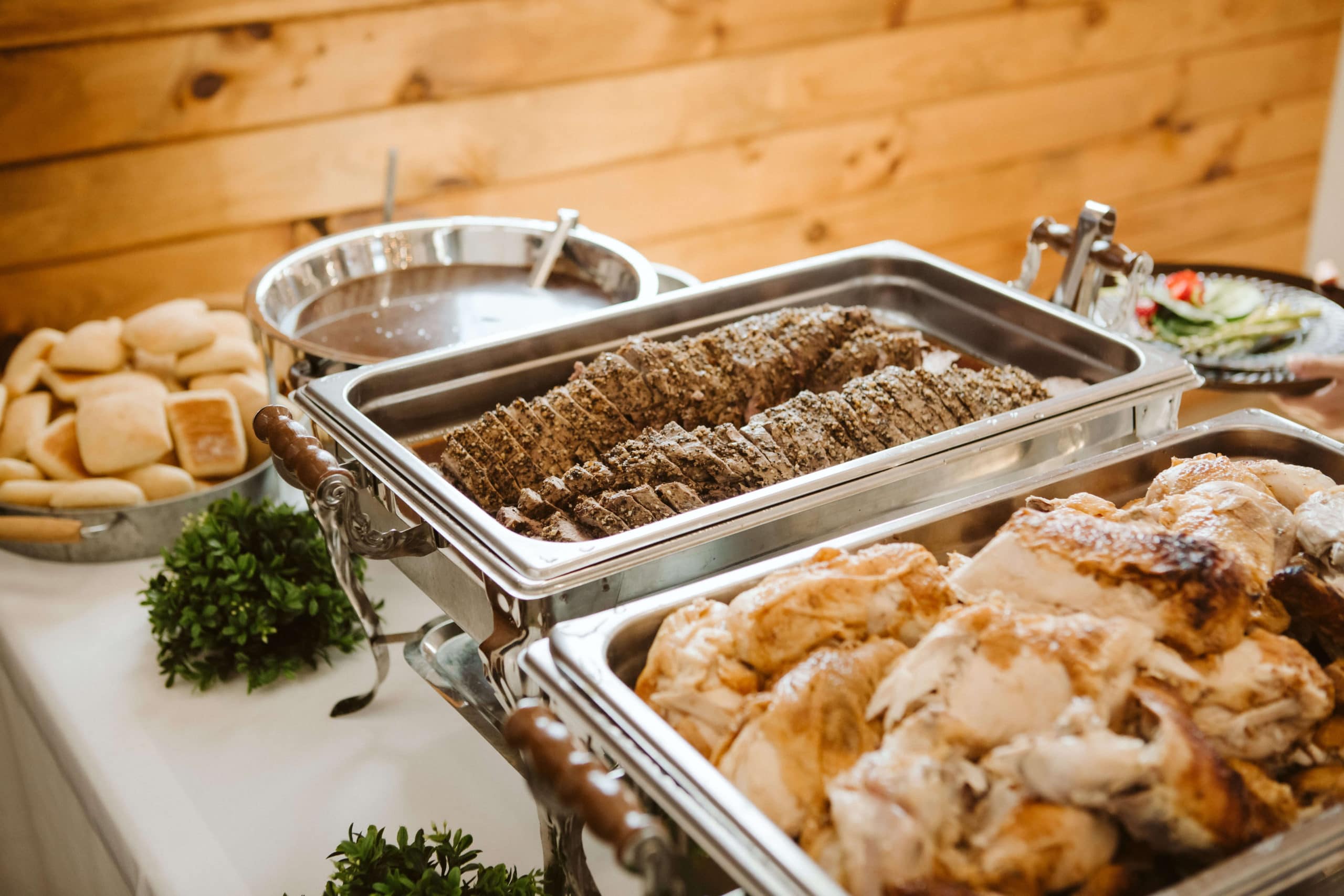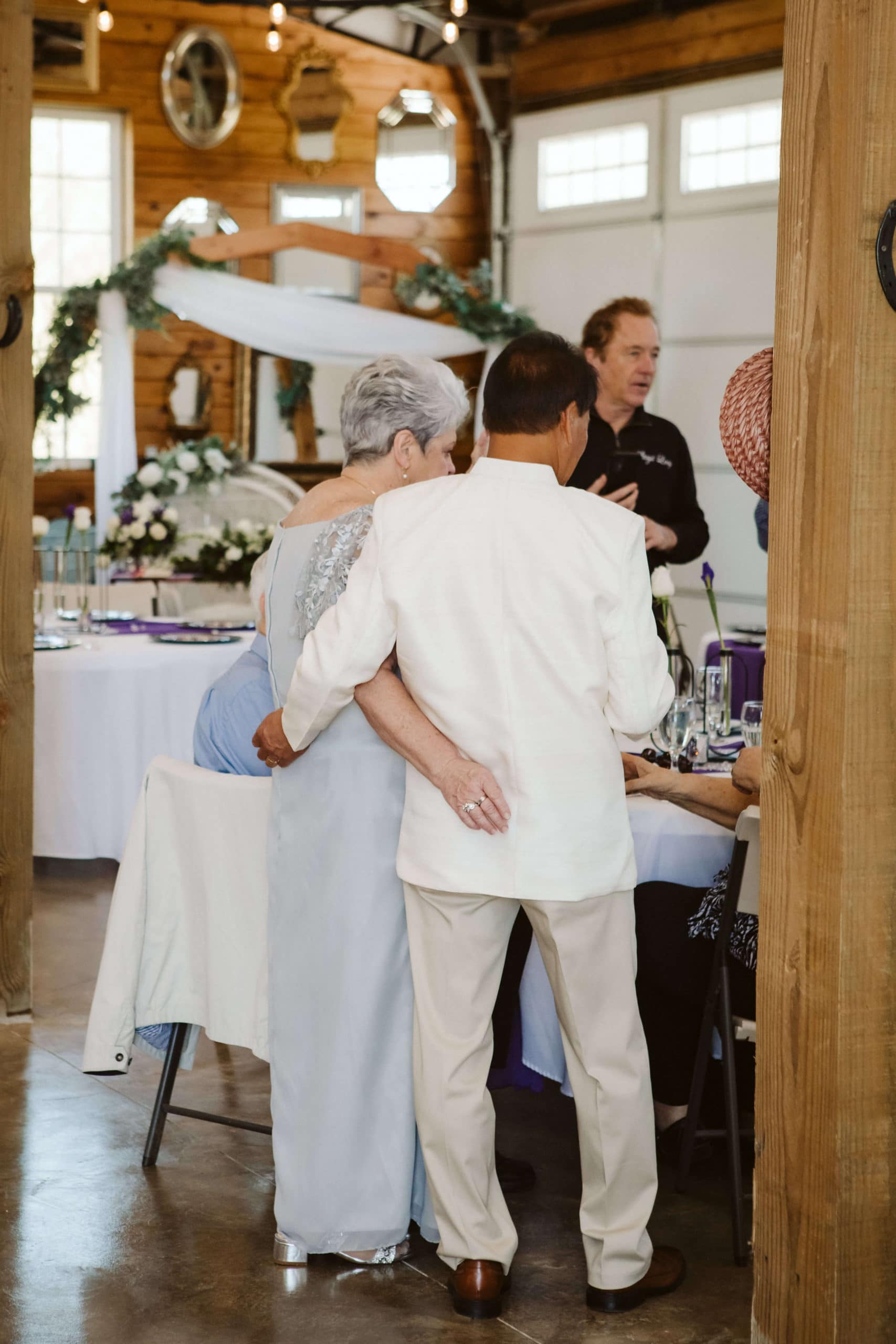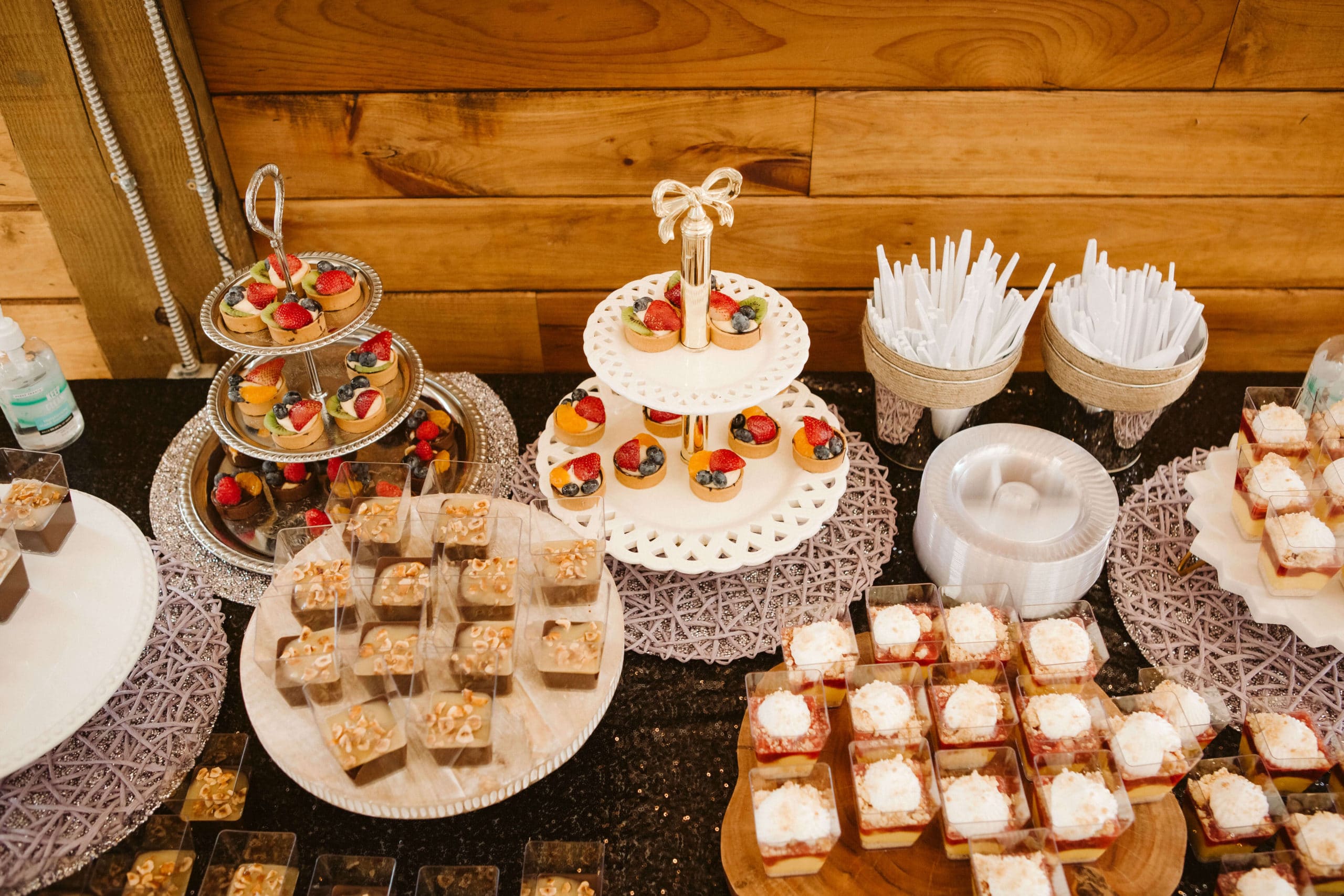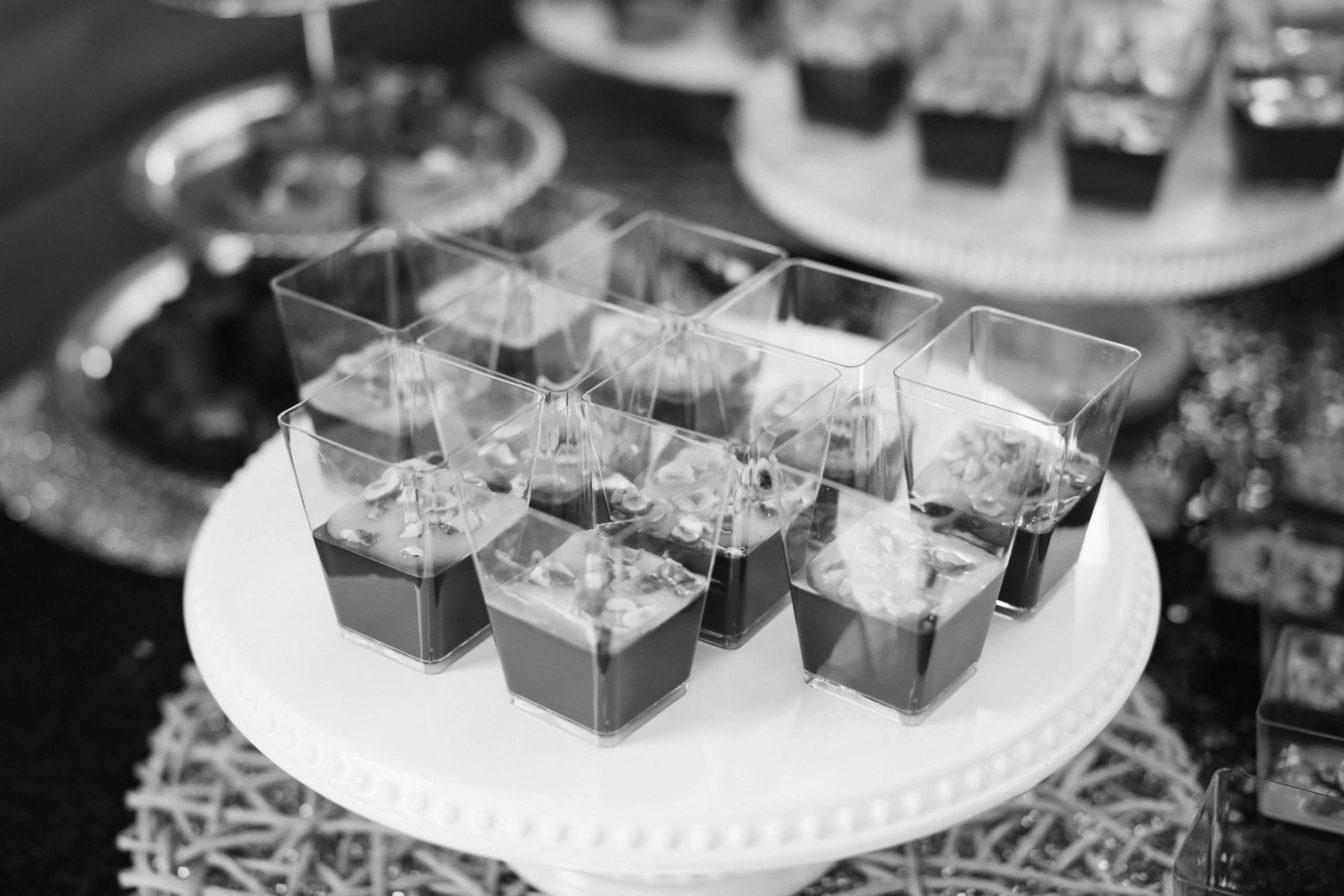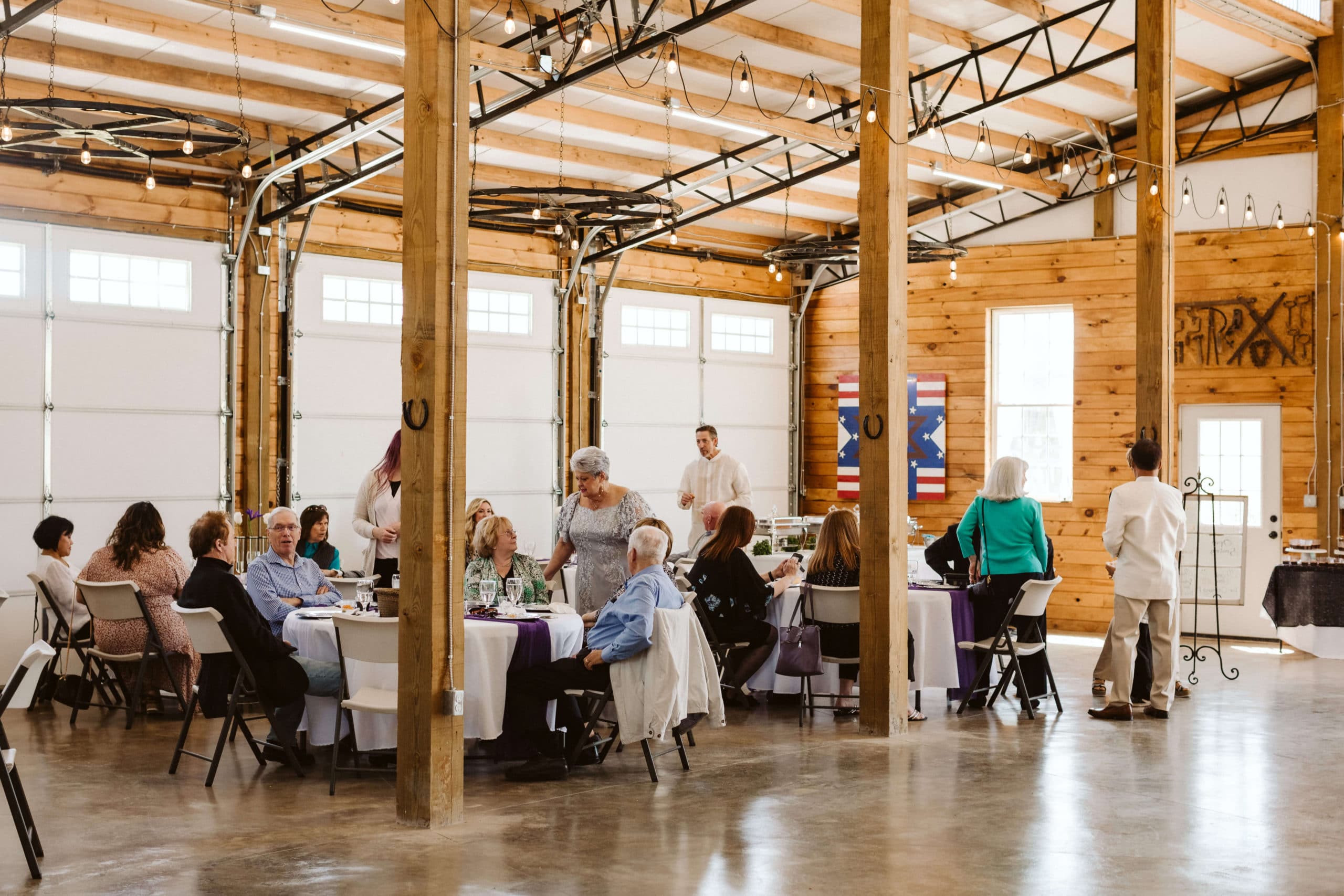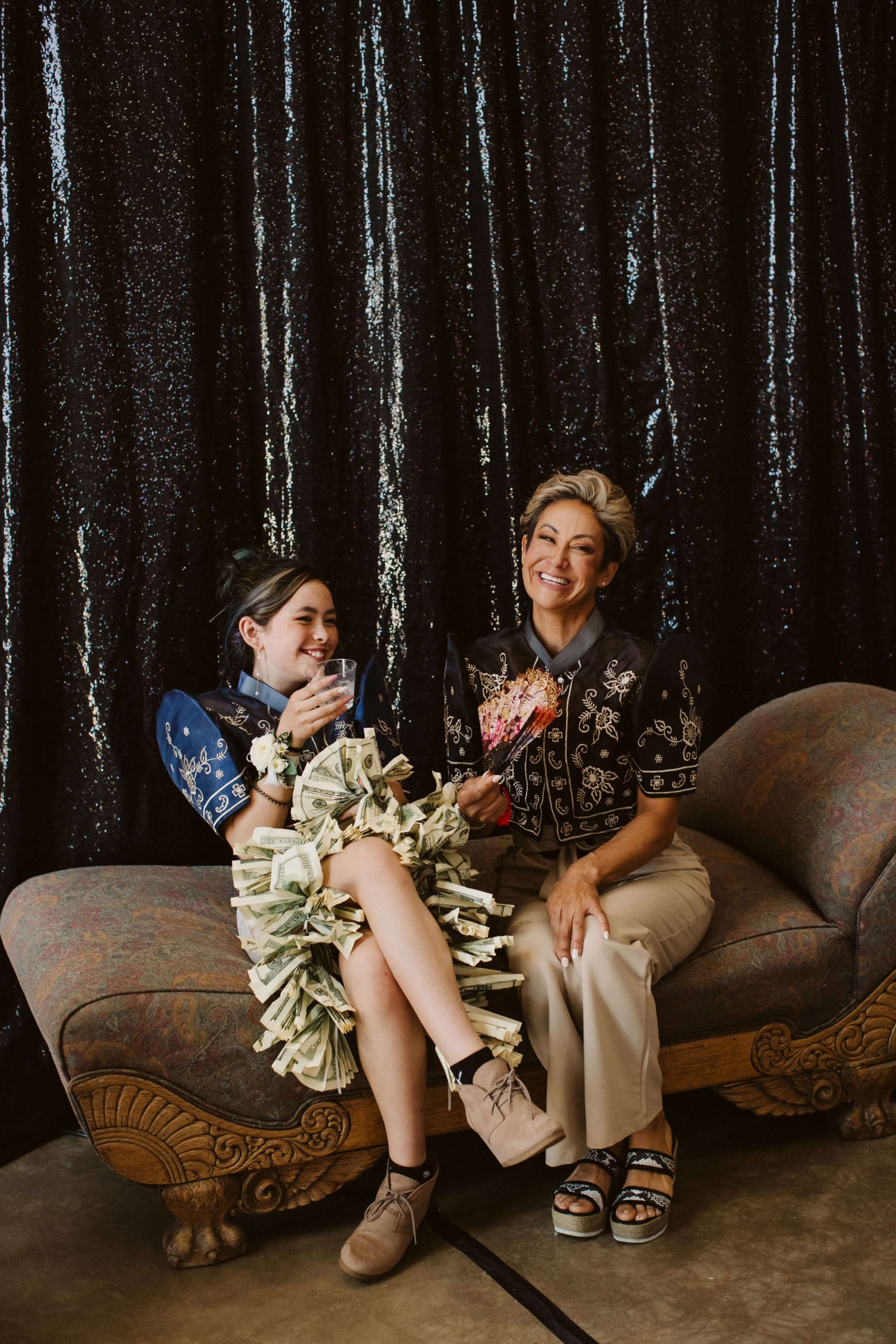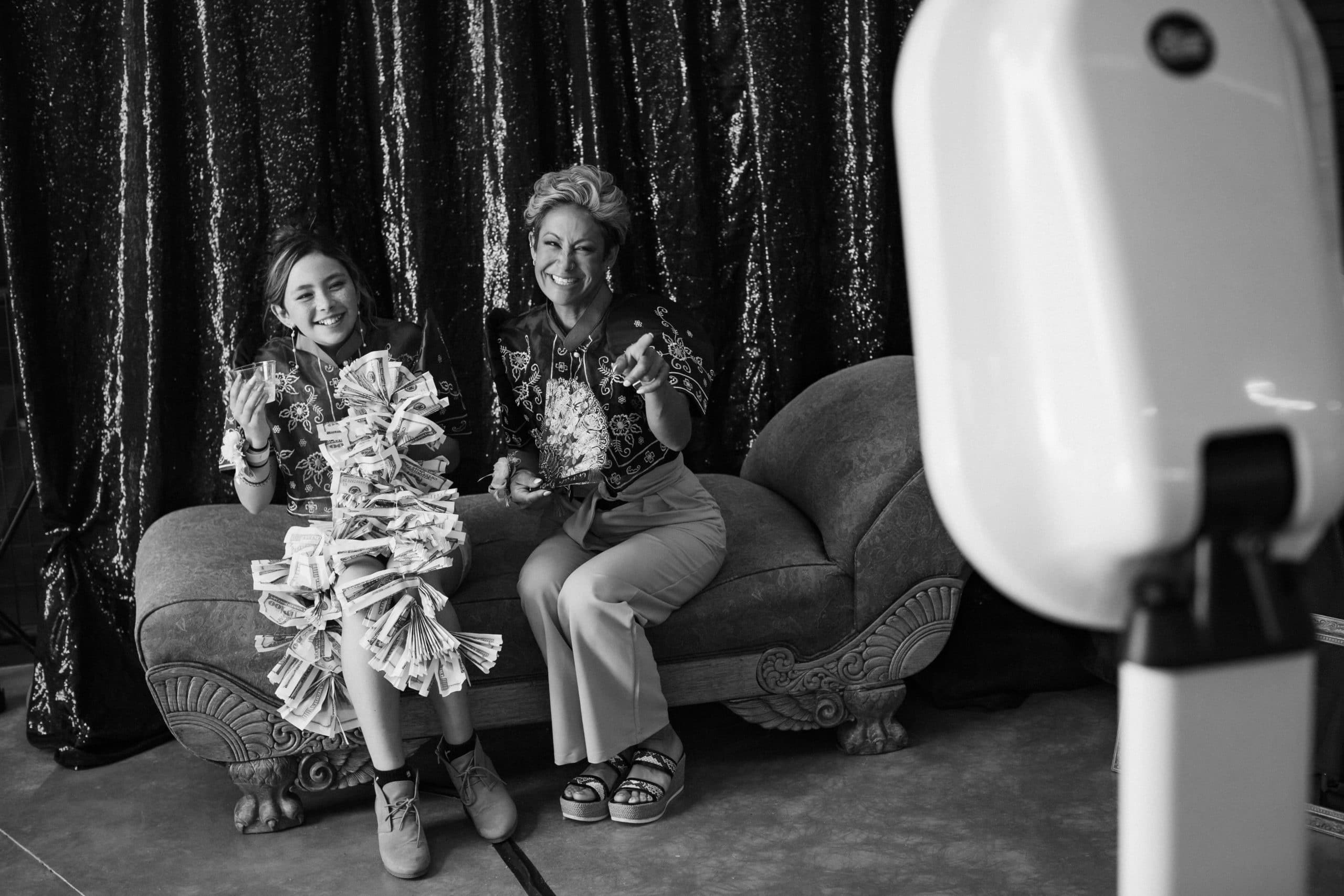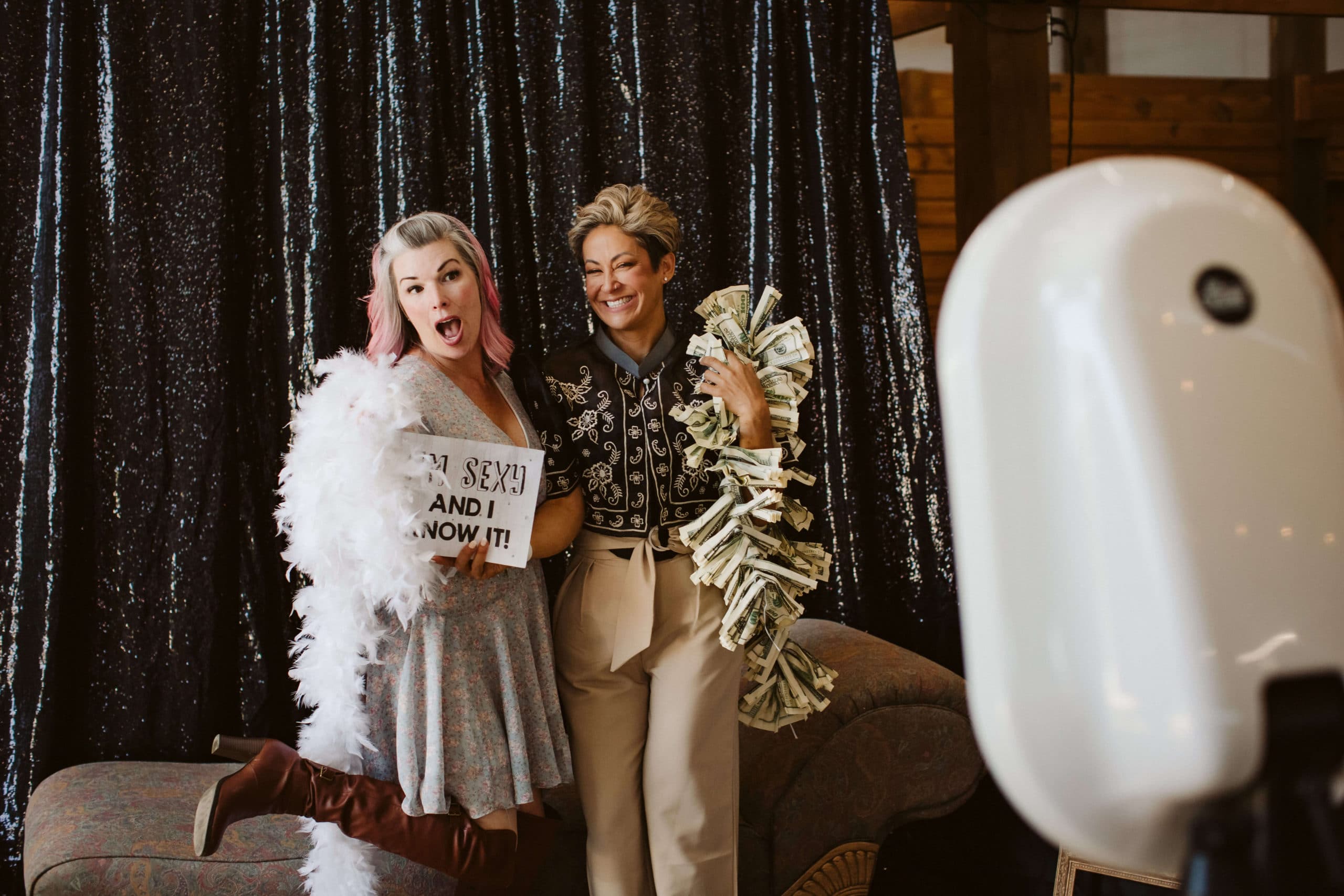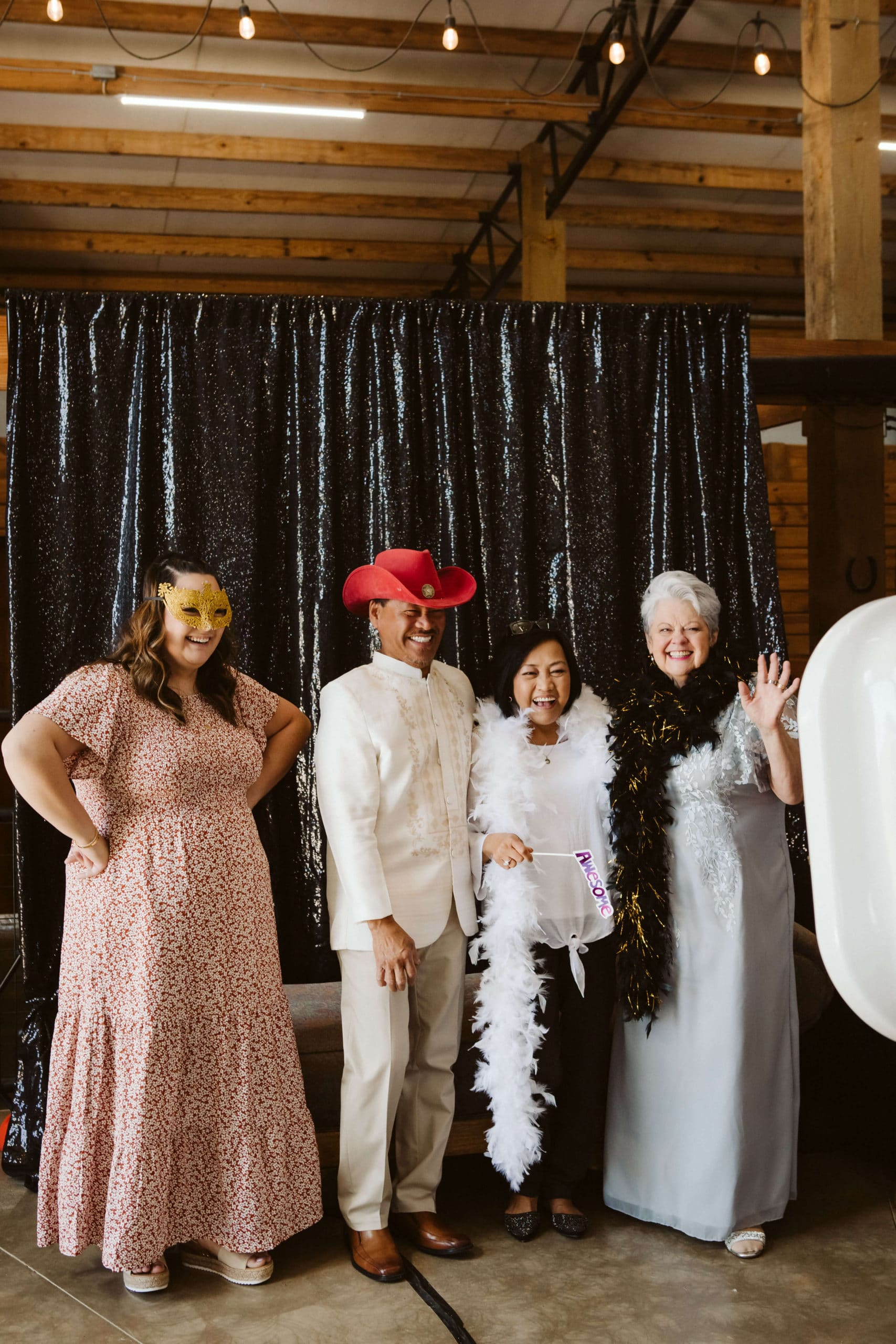 Honoring Their Filipino Heritage
Family and heritage came first during Iris and Jayce's vow renewal. Iris and Jayce along with their immediate family were dressed in the customary Filipino formal attire – barong tagalogs for the men and Filipiniana mestiza boleros or gowns for the women. In Filipino culture, barongs and Filipiniana styled attire are the height of regality and customary for formal events.
During their ceremony, Iris and Jayce's good friend presided over the vow renewal. He said a short opening prayer to start the ceremony before their grandchildren, Vanessa's three kids and the flower girls and ring bearer for the ceremony, sprinkled the aisle of the greenhouse with white rose petals. I captured beautiful pictures of Vanessa walking her mom down the aisle to meet Jayce where the beautiful couple stood together to renew their vows. As the ceremony closed, the two were showered with flower petals again in lieu of customary rice to signify abundance and good blessings for the years to come.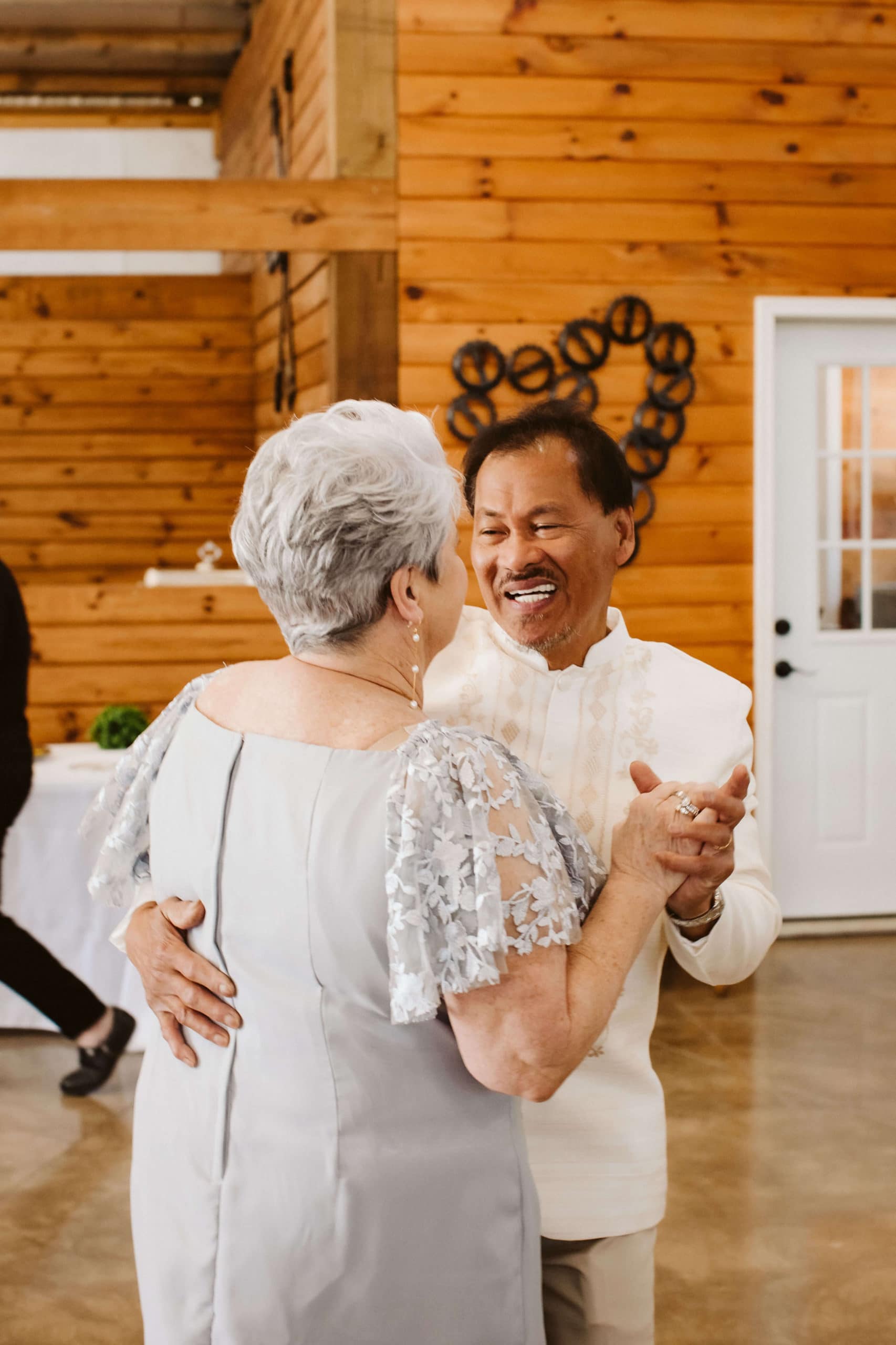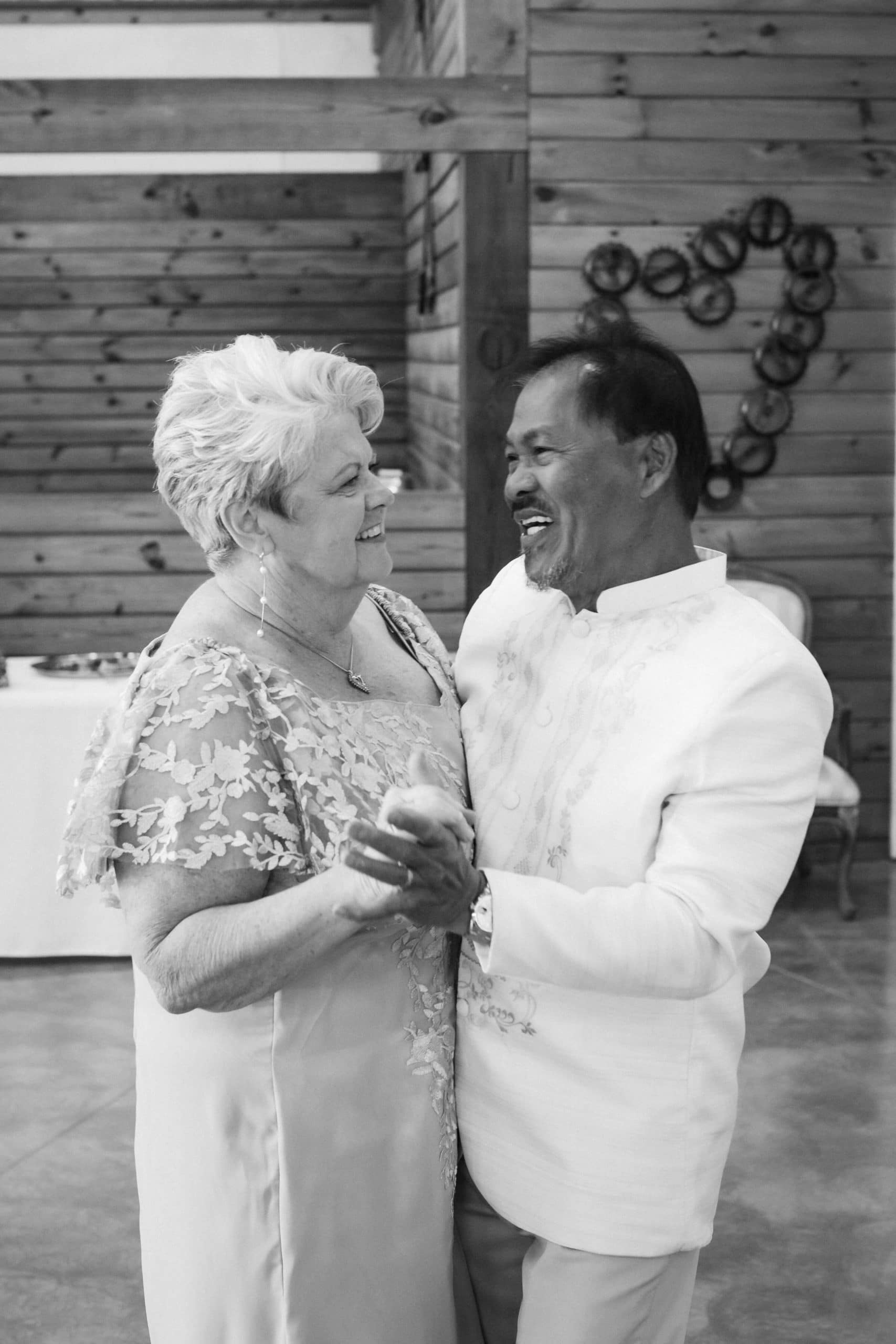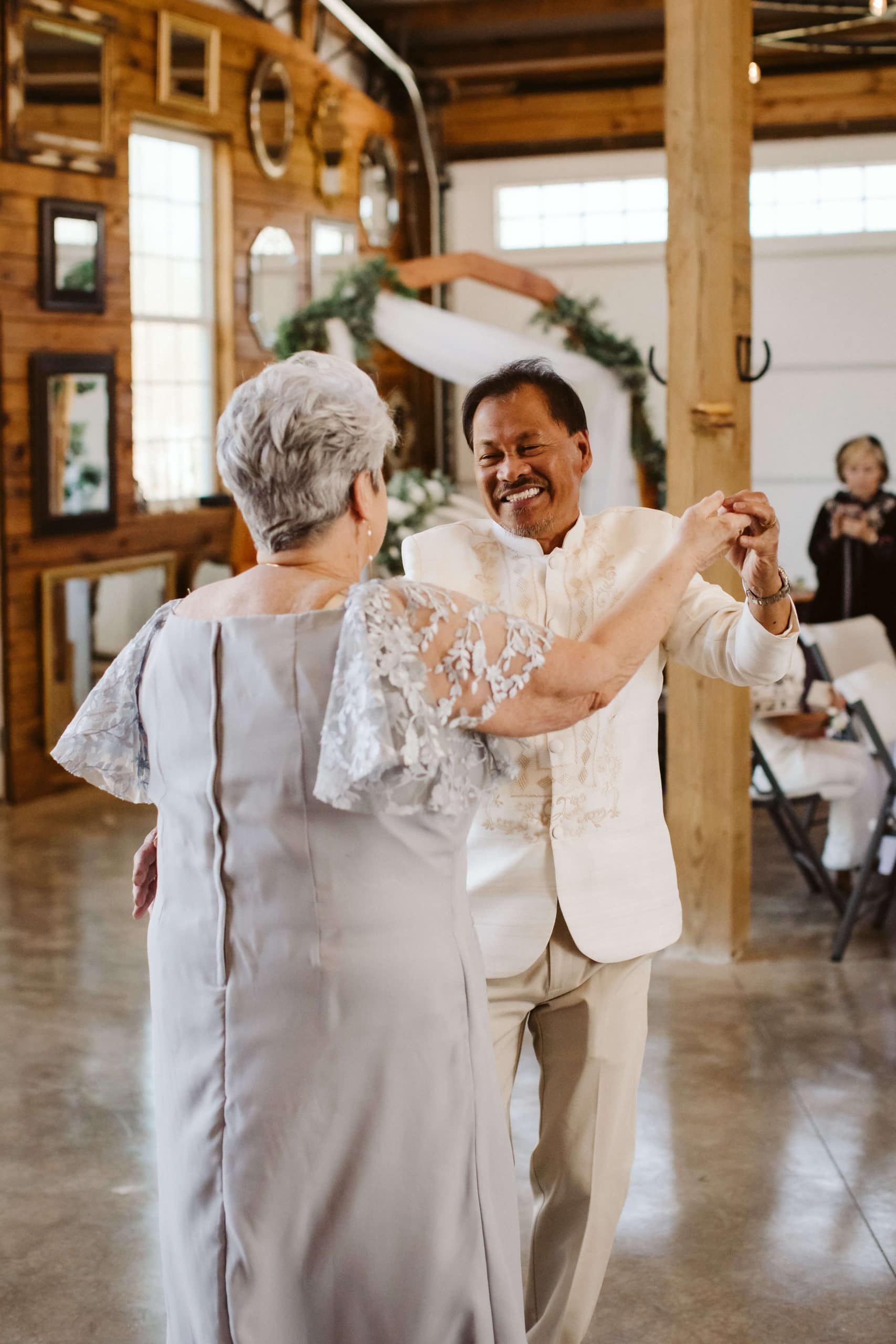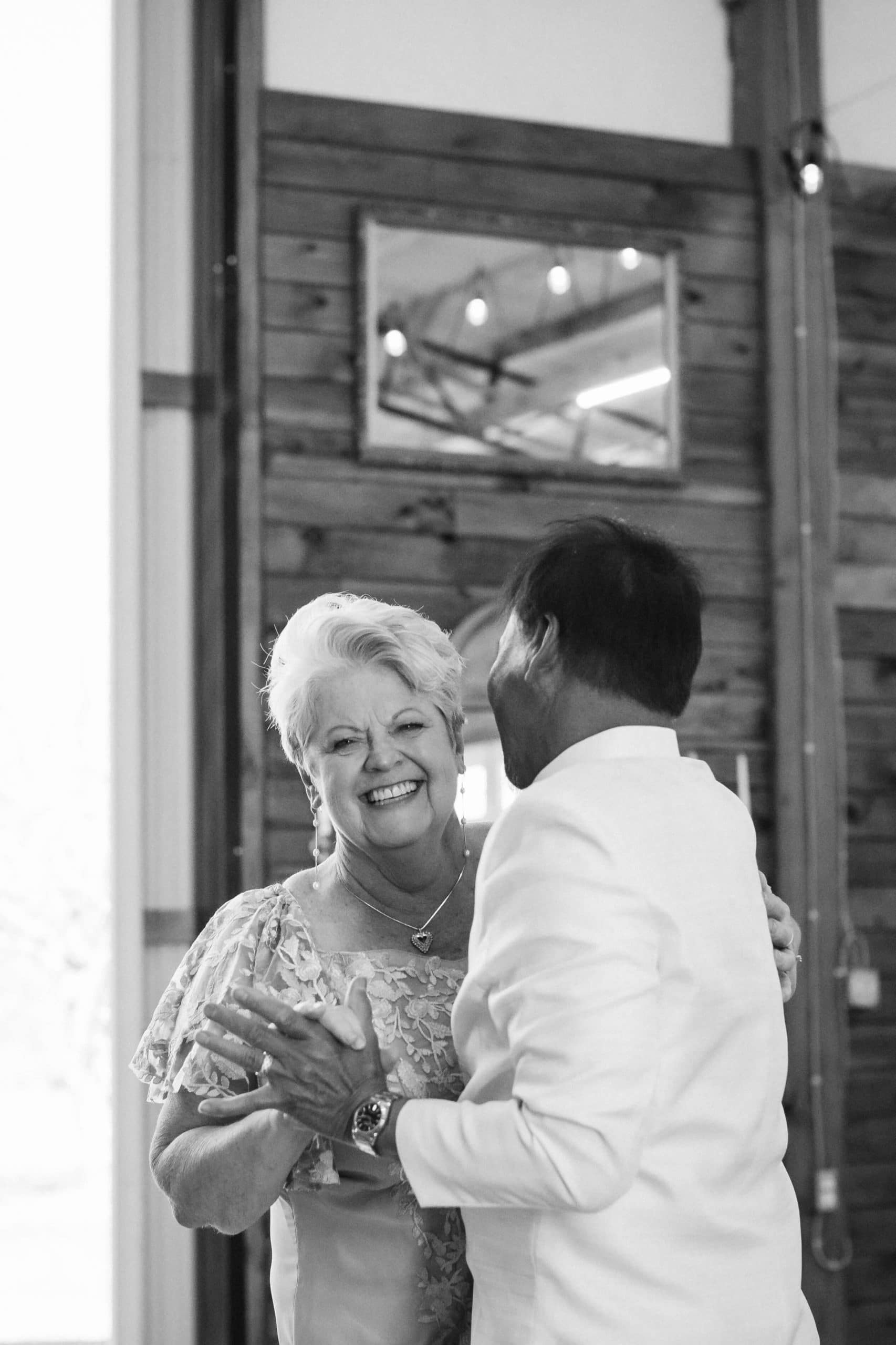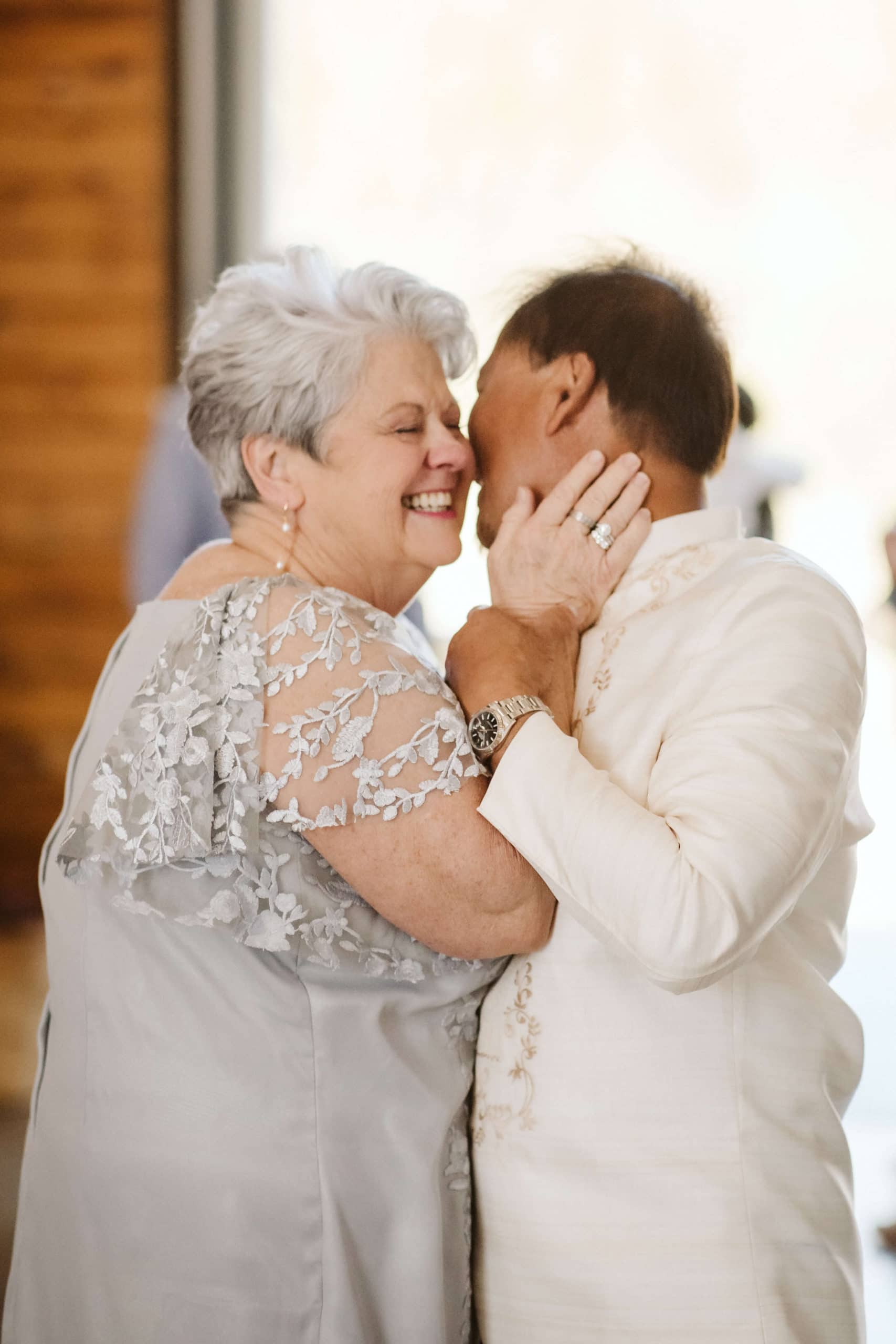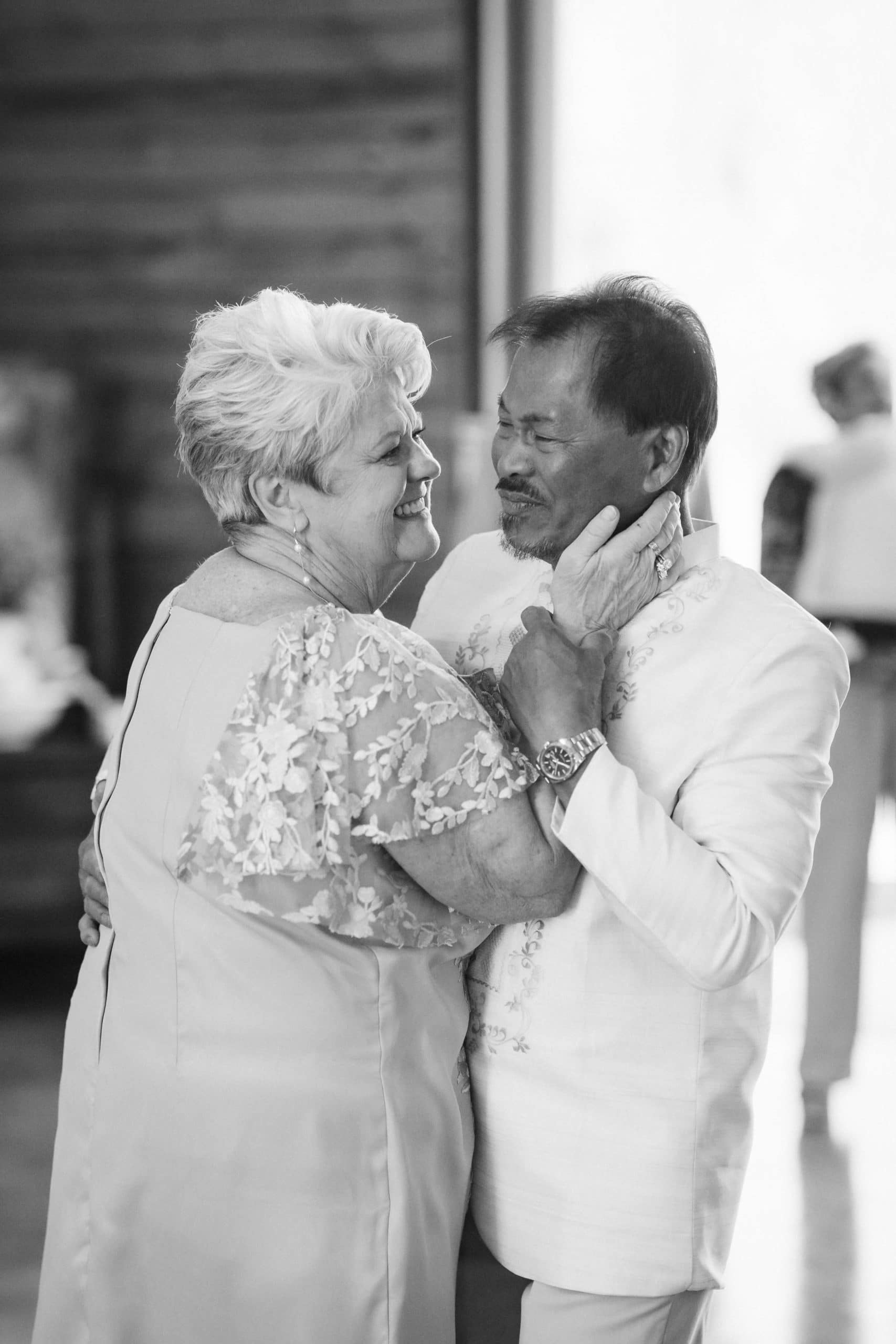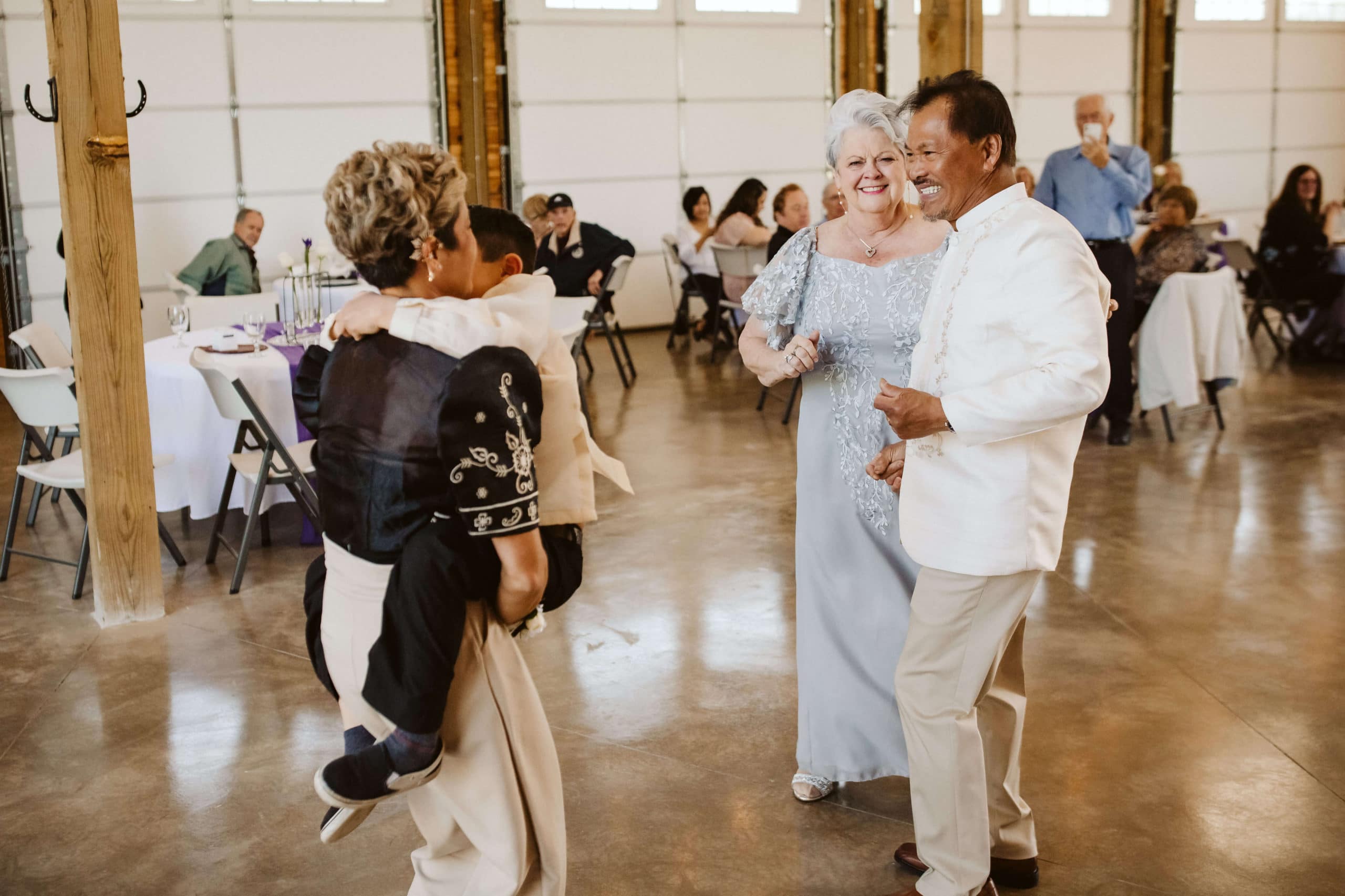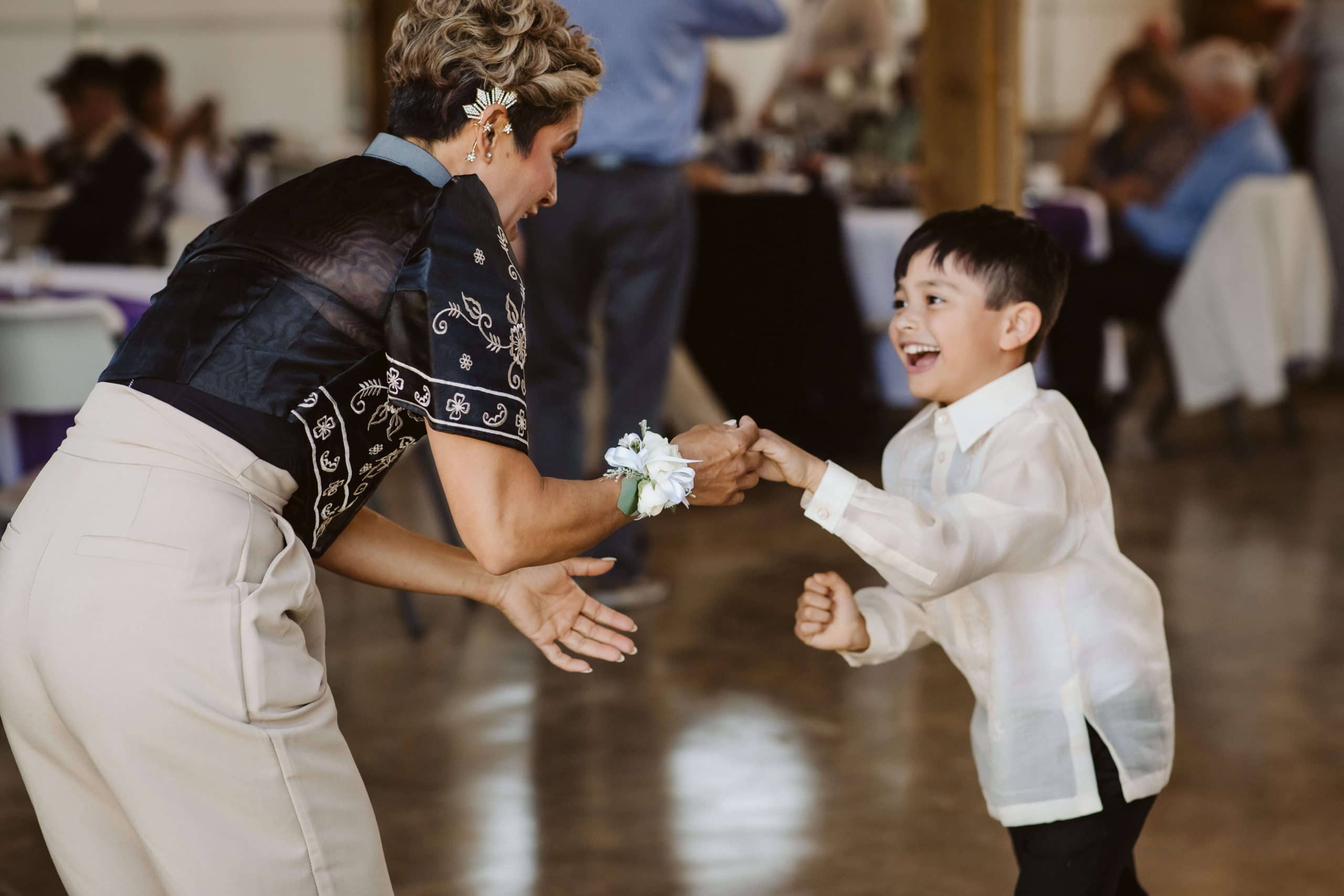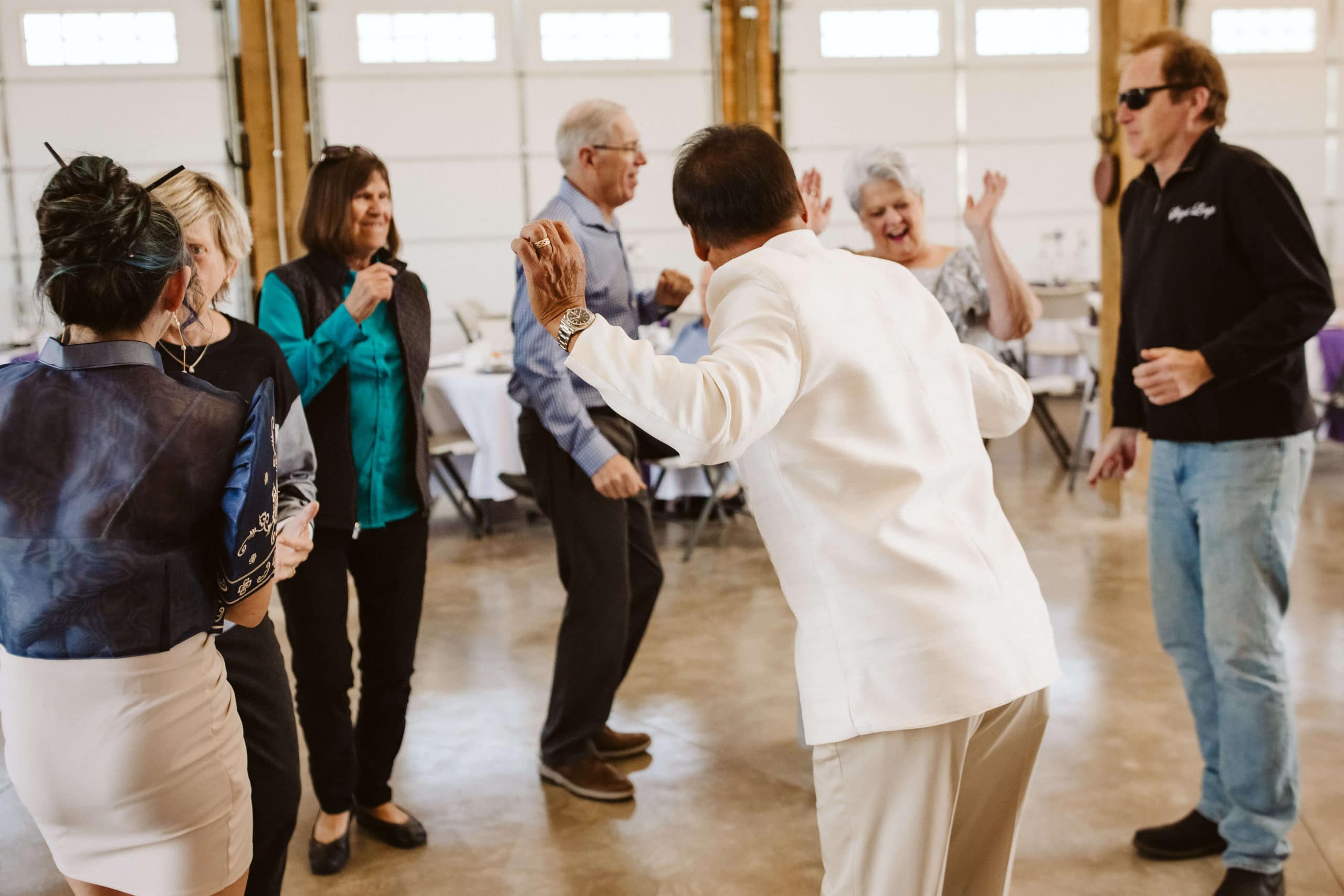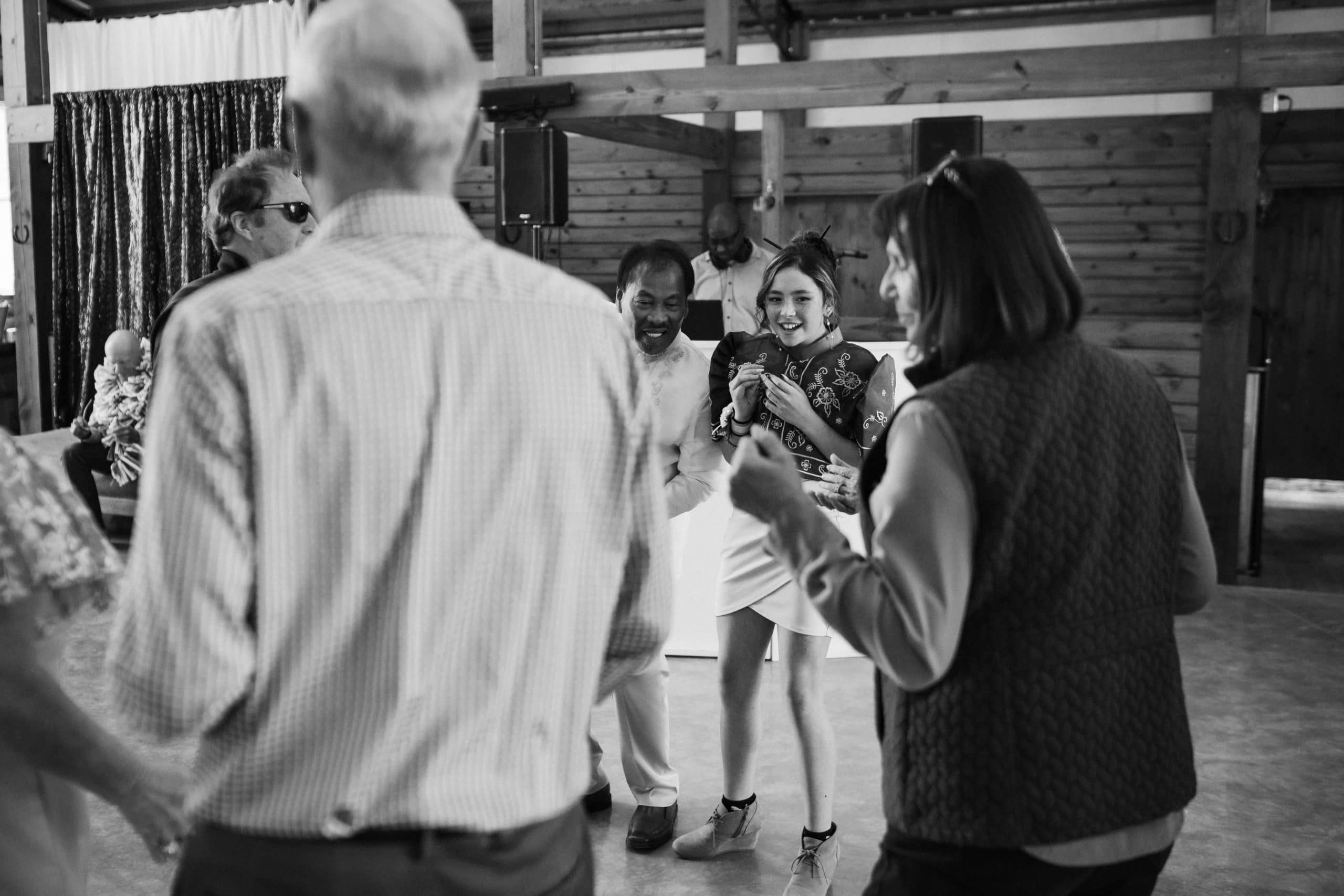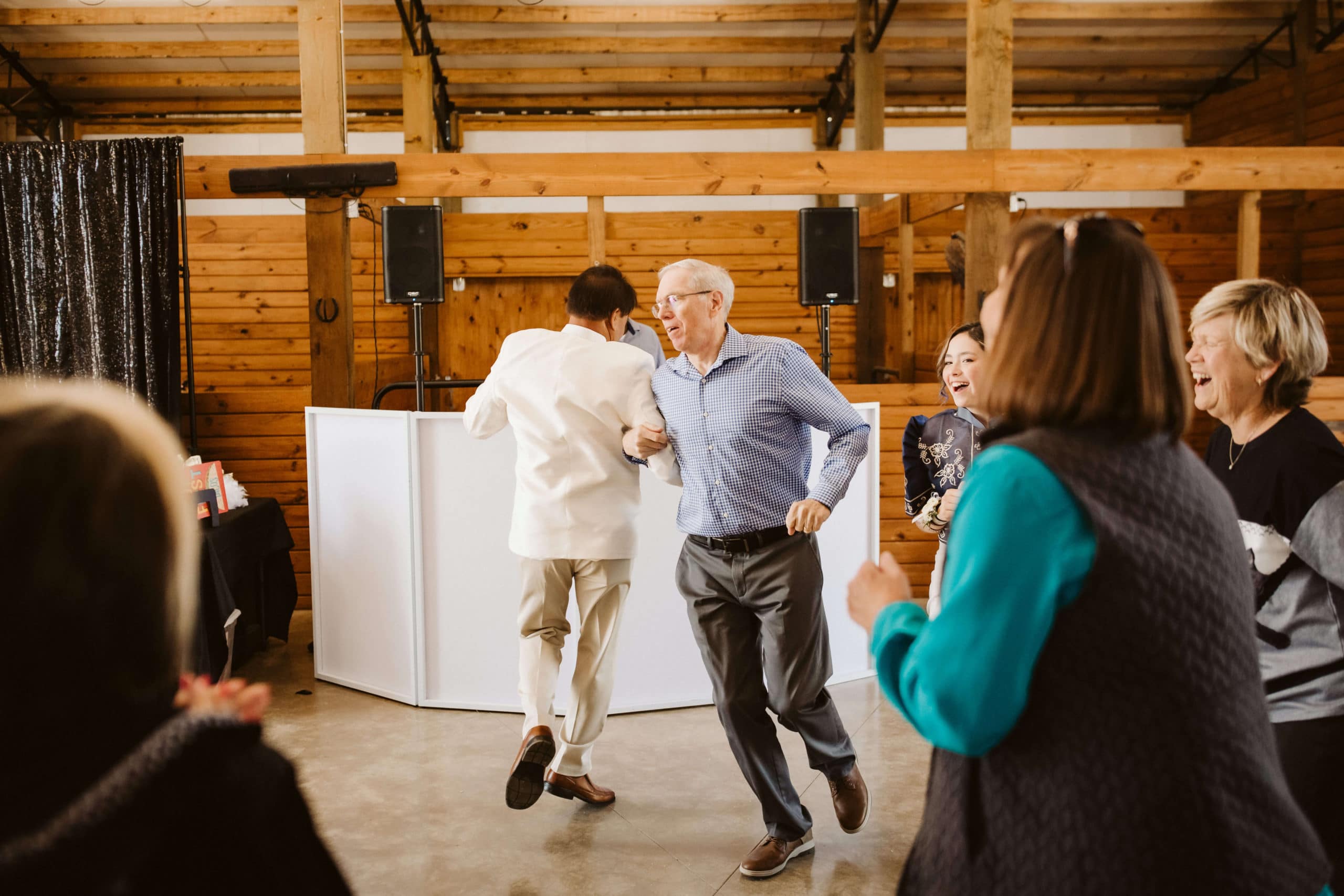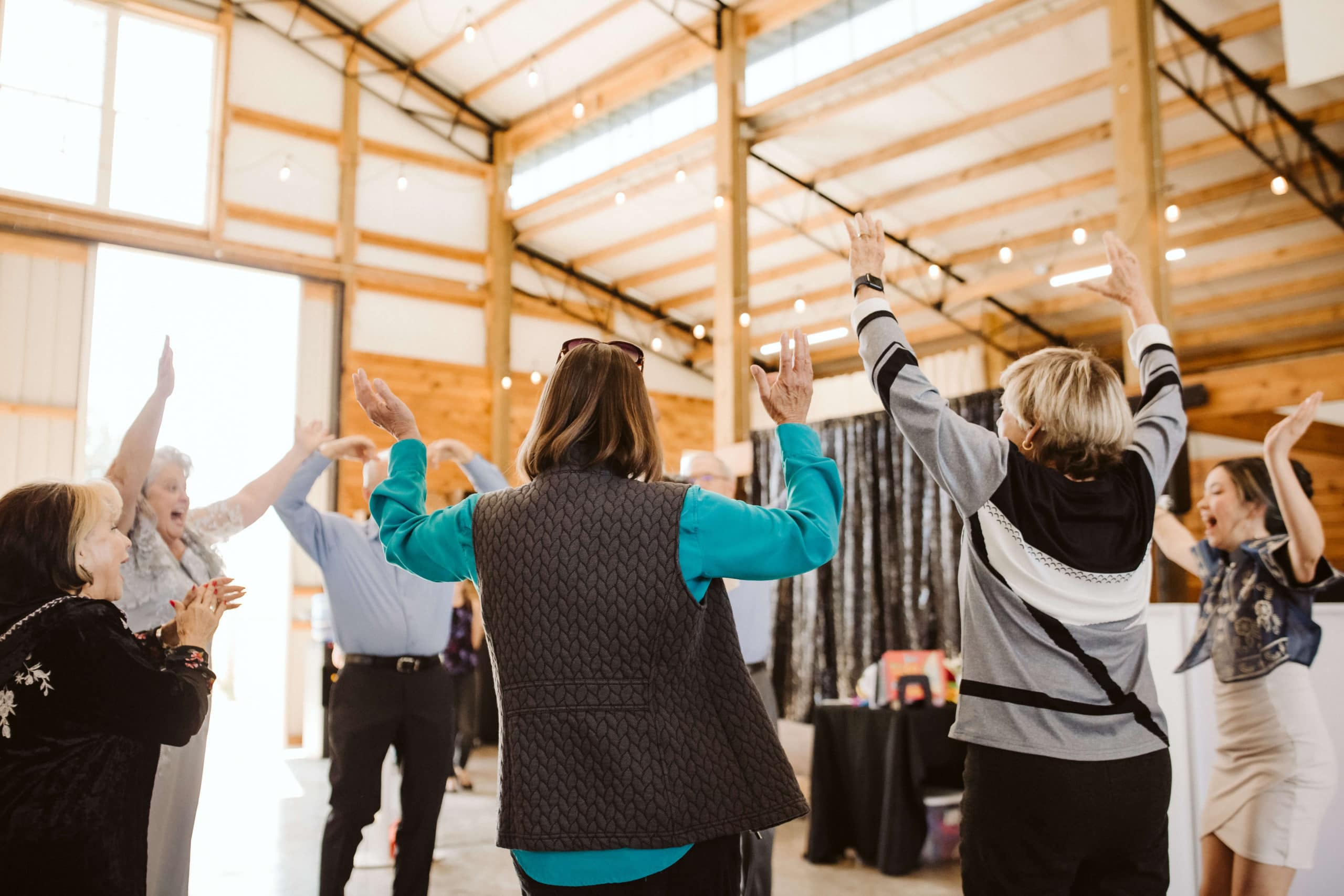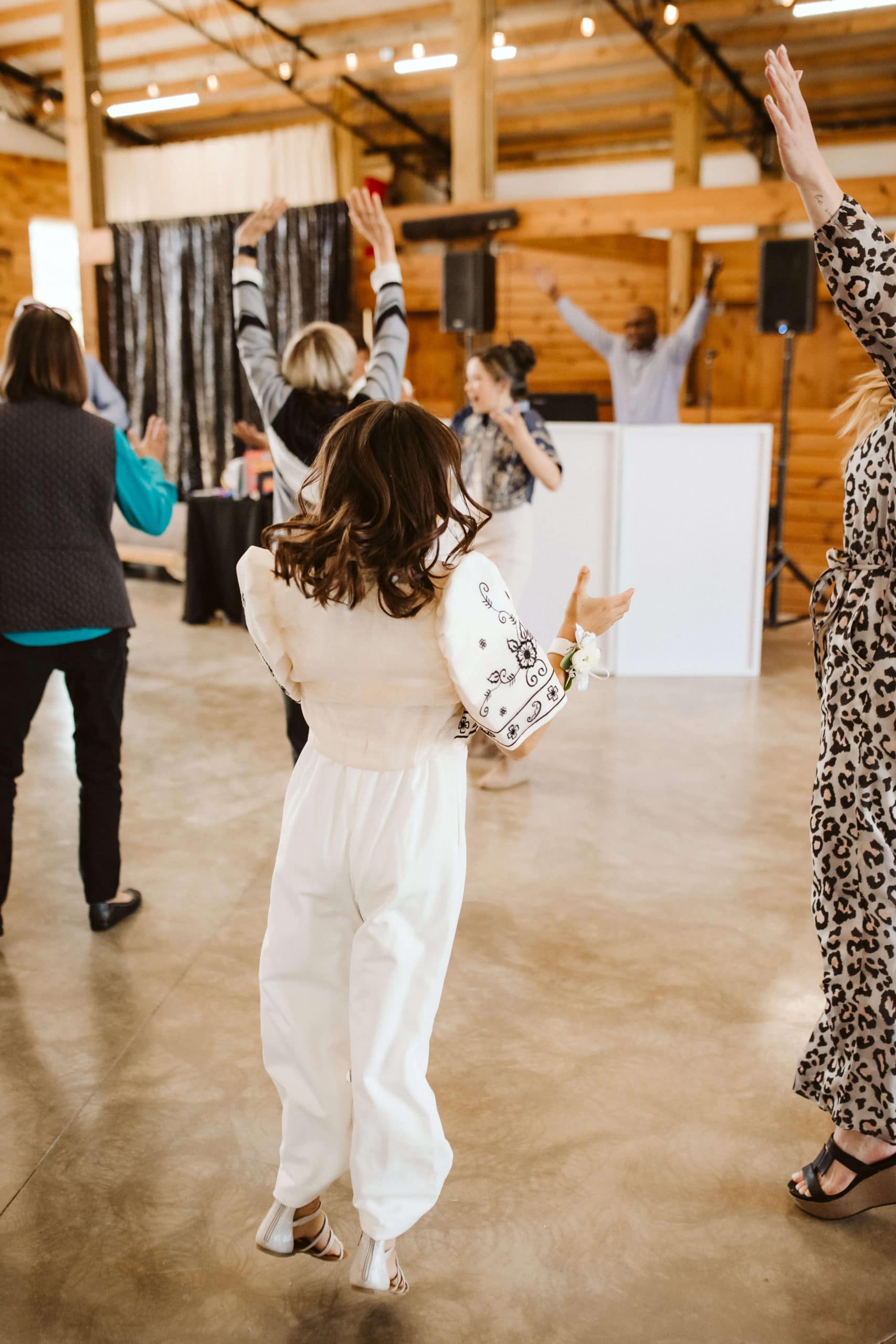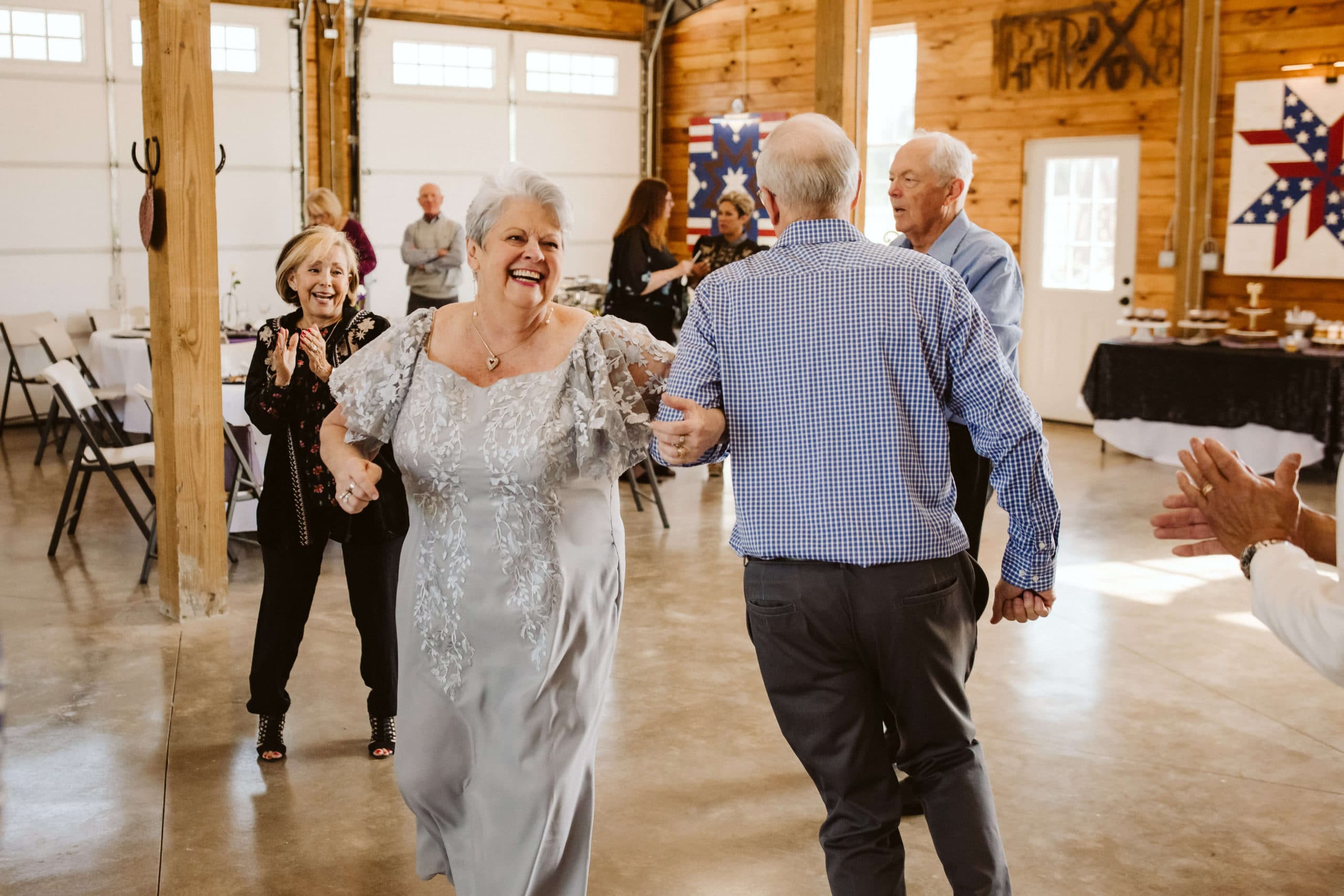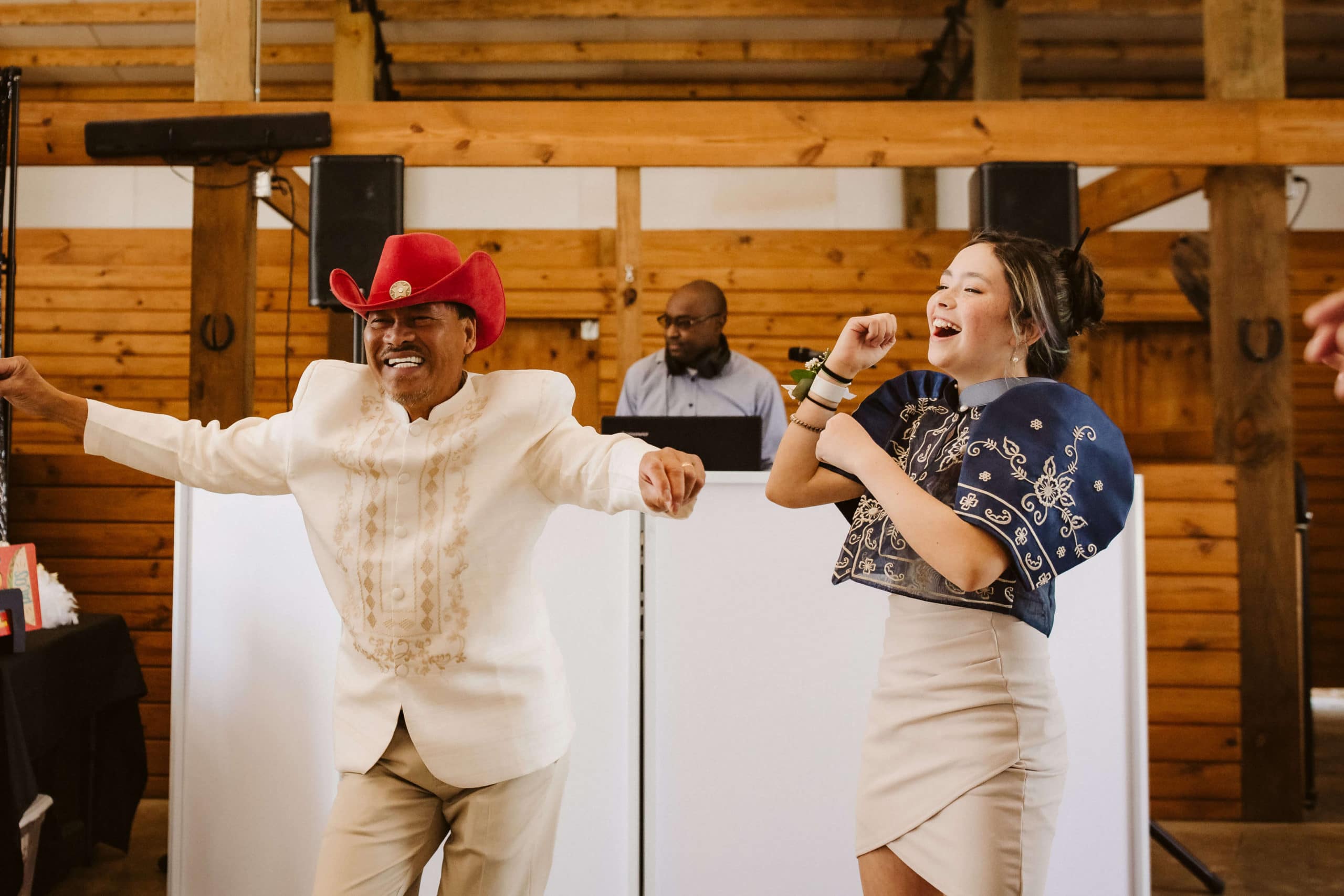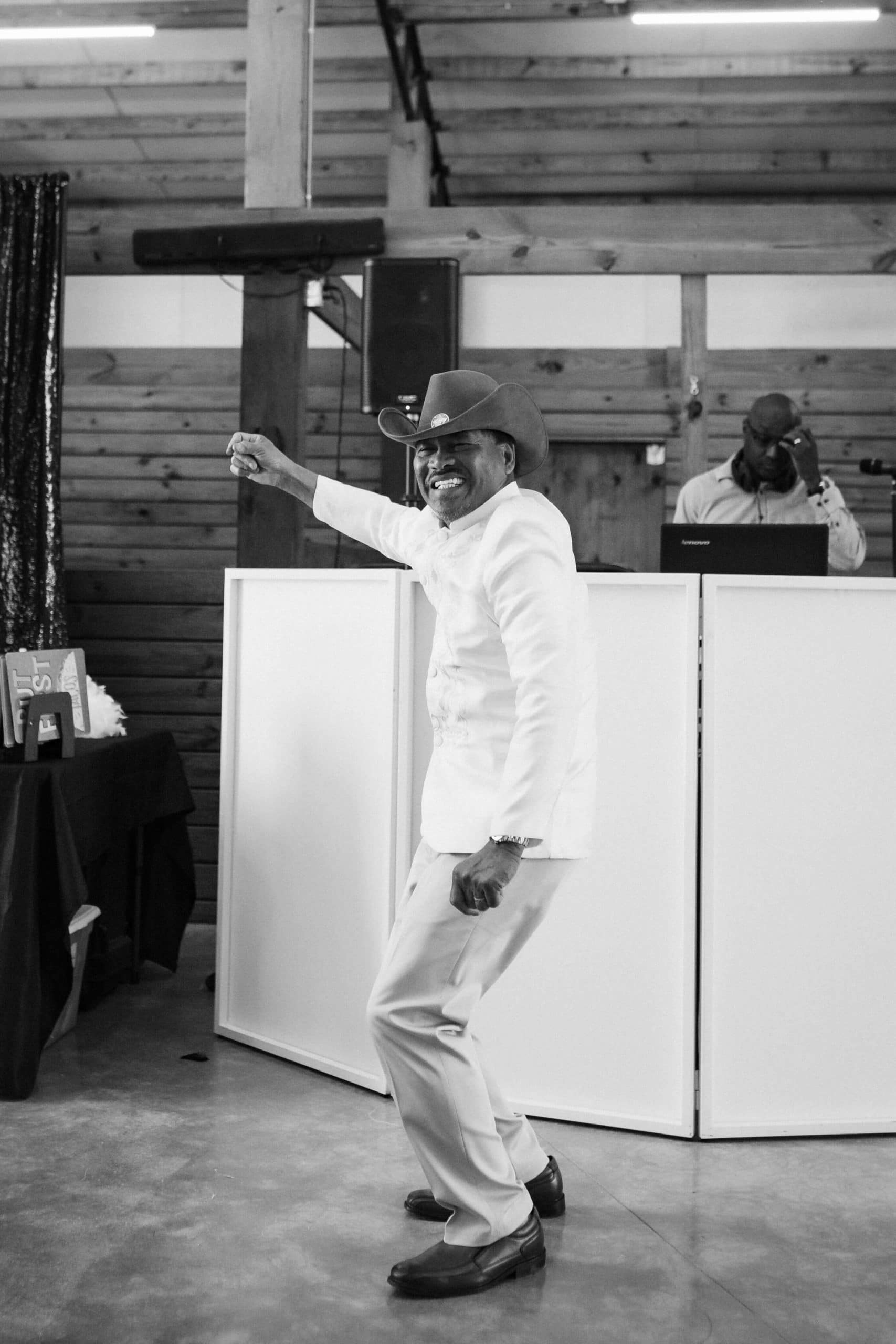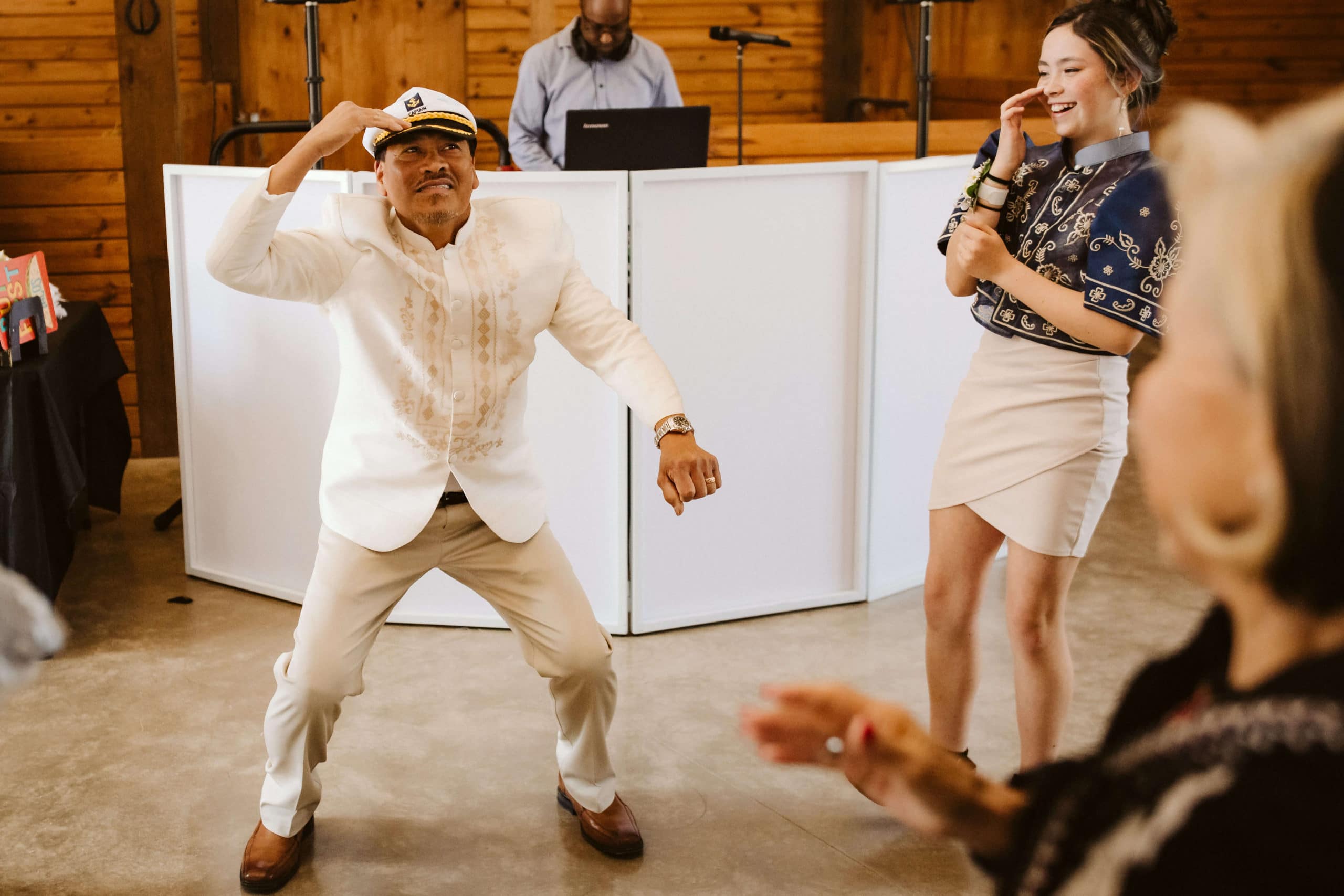 Reception in the Signature Barn of Moser Manor Farms
If you've ever been to a Filipino event, you know they are all about the fun, dancing, and good food. Iris and Jayce's vow renewal reception was no different. After their ceremony and with huge smiles on both of their faces, Iris and Jayce processed out of the Greenhouse and led their family and guests to the nearby barn for the reception.
Just like practically every other structure on their little farm, Vanessa and Jeff built the barn from scratch with their own hands. It's complete with everything you would need to throw a wedding reception or large event. There was plenty of space in their prep kitchen for the catering company Vanessa hired to prepare a huge array of delicious buffet foods for the reception. While everyone was sitting down to eat, Iris and Jayce stood up to say a few words of thanks to all those who came to celebrate their love story with them before raising their glasses and toasting.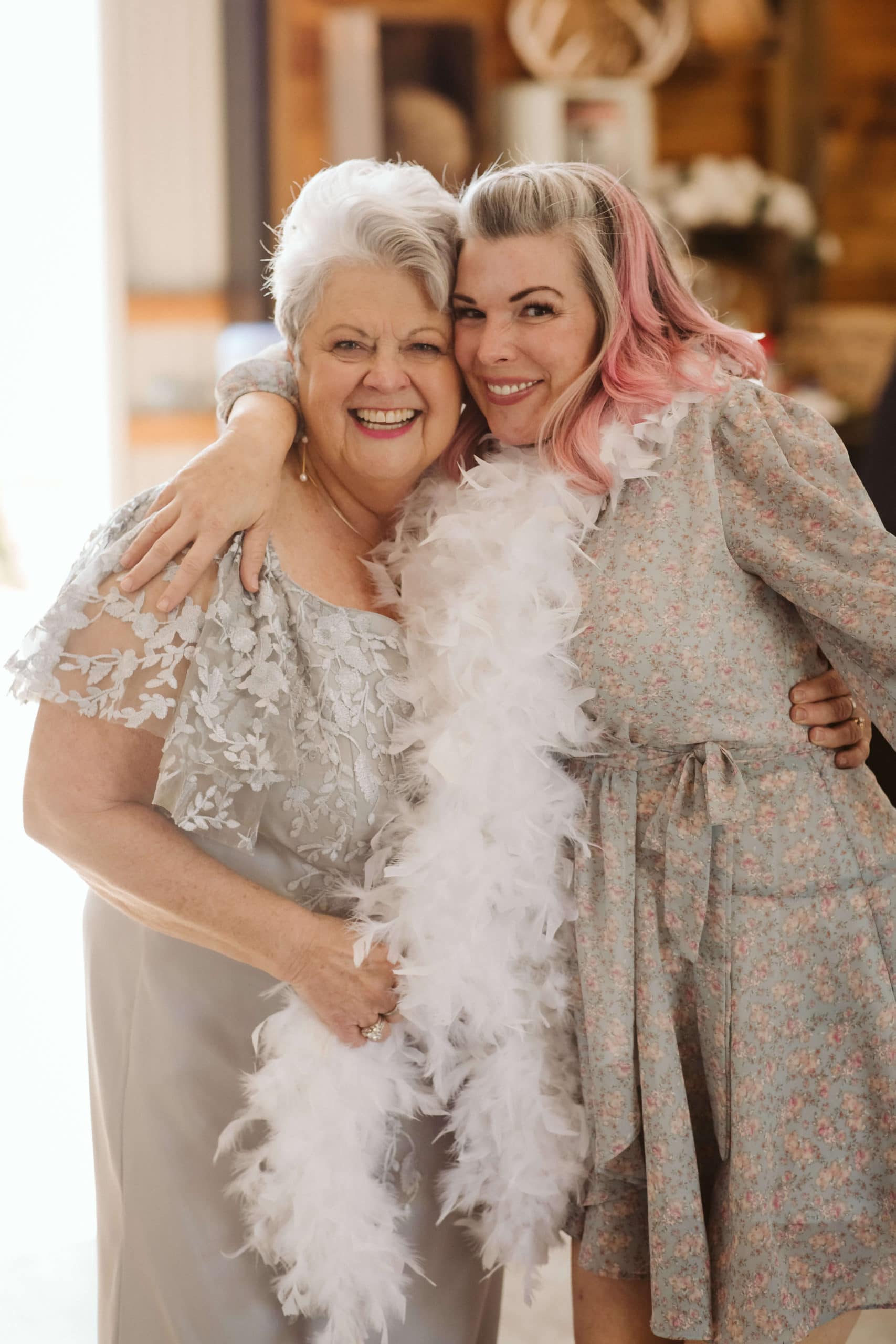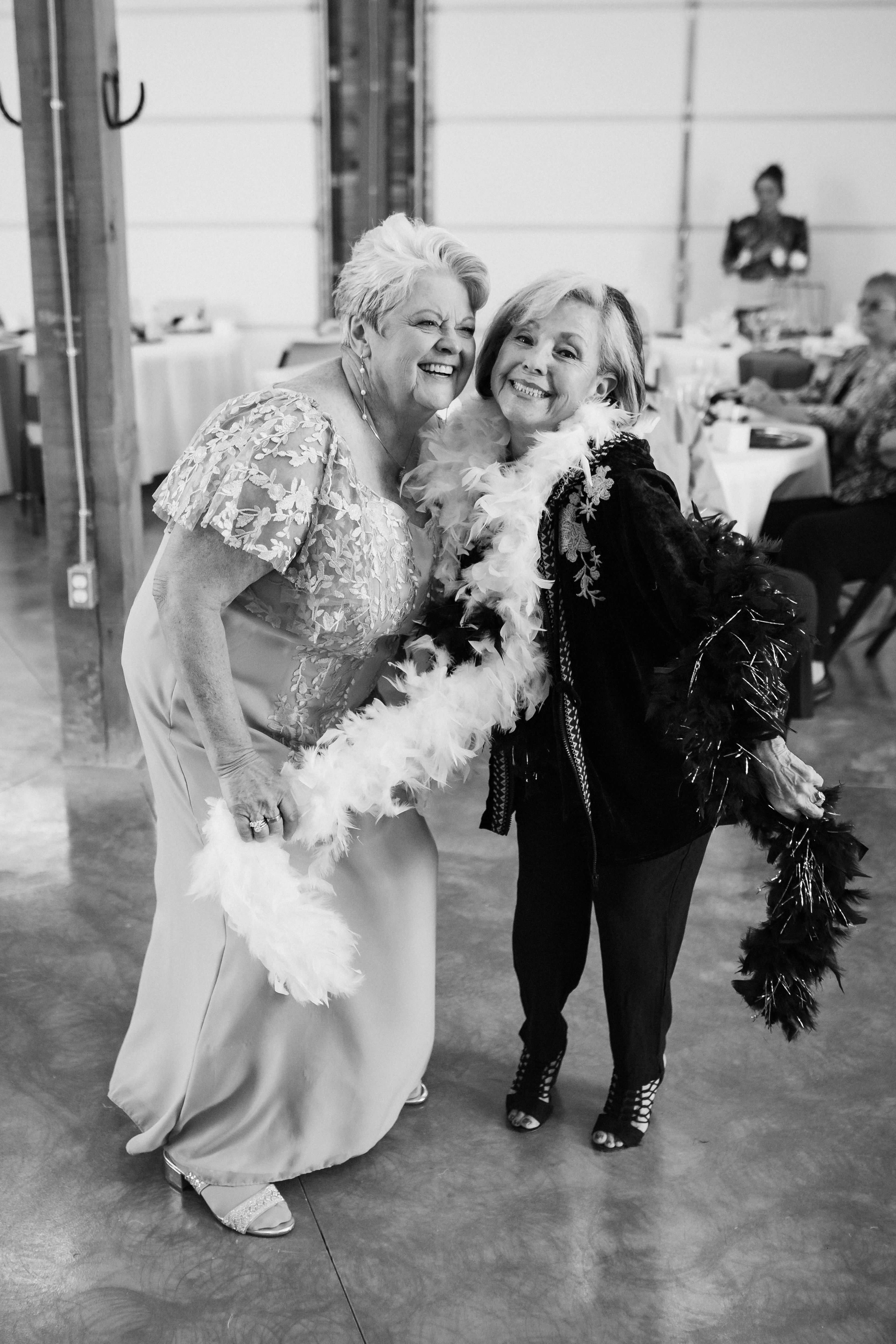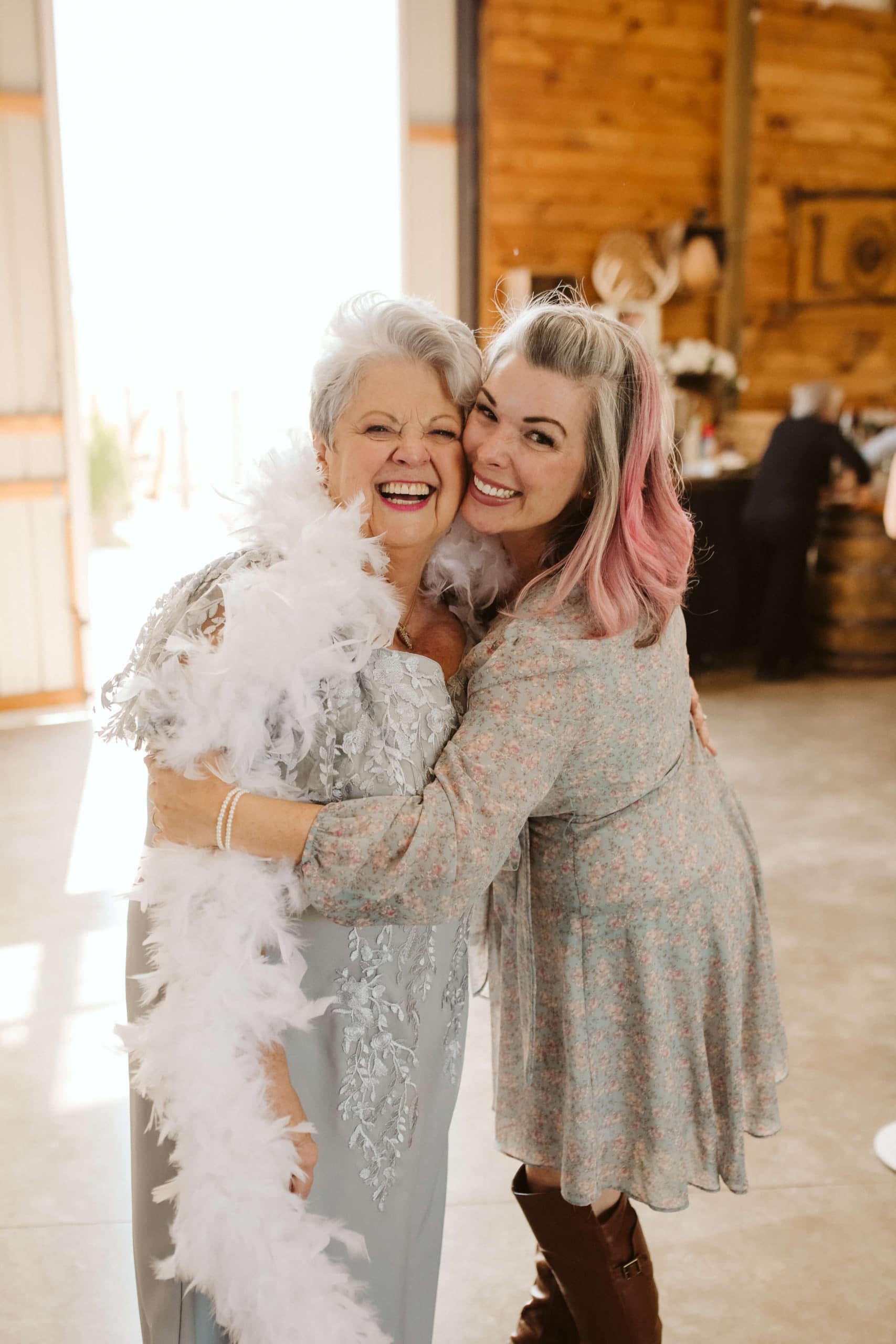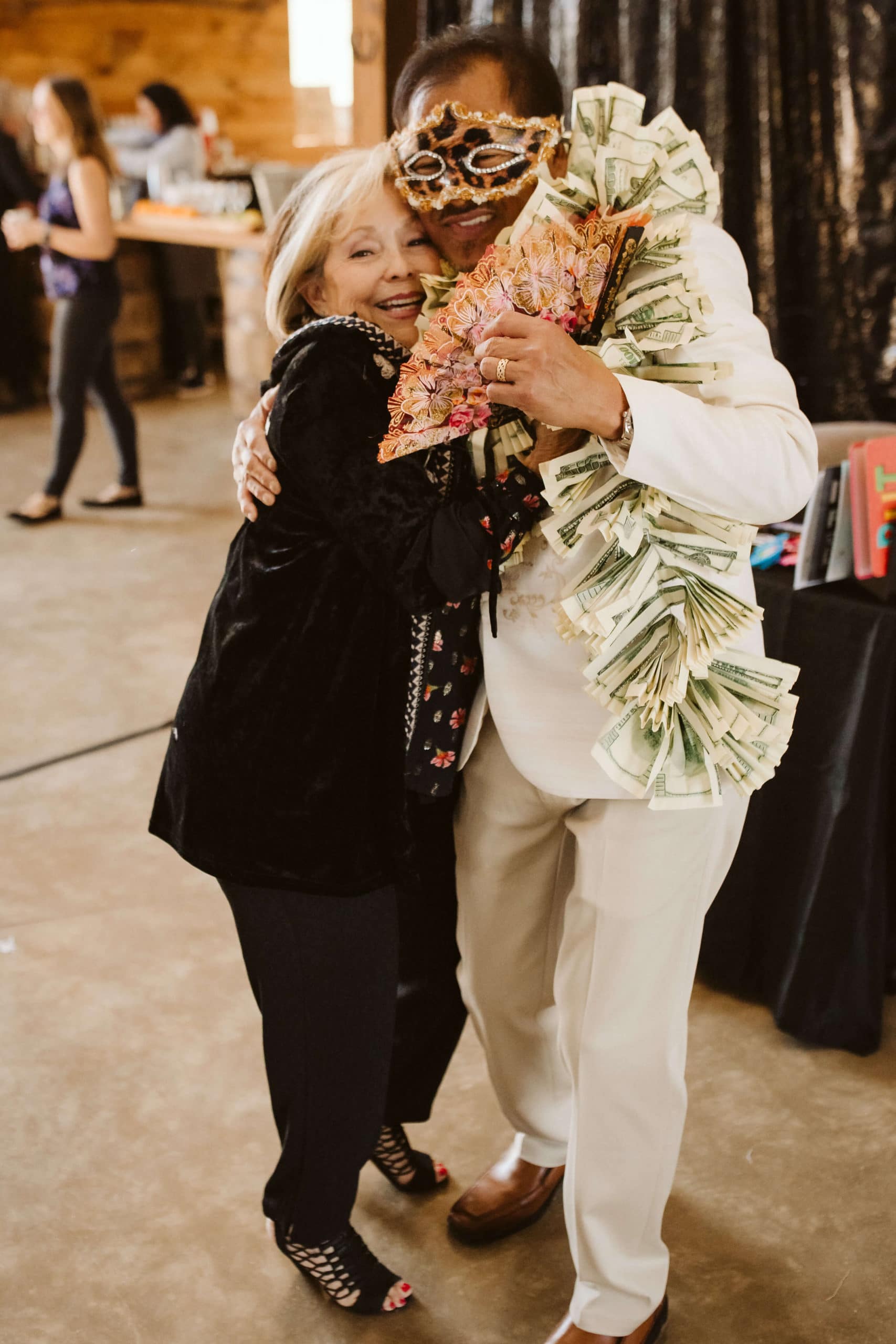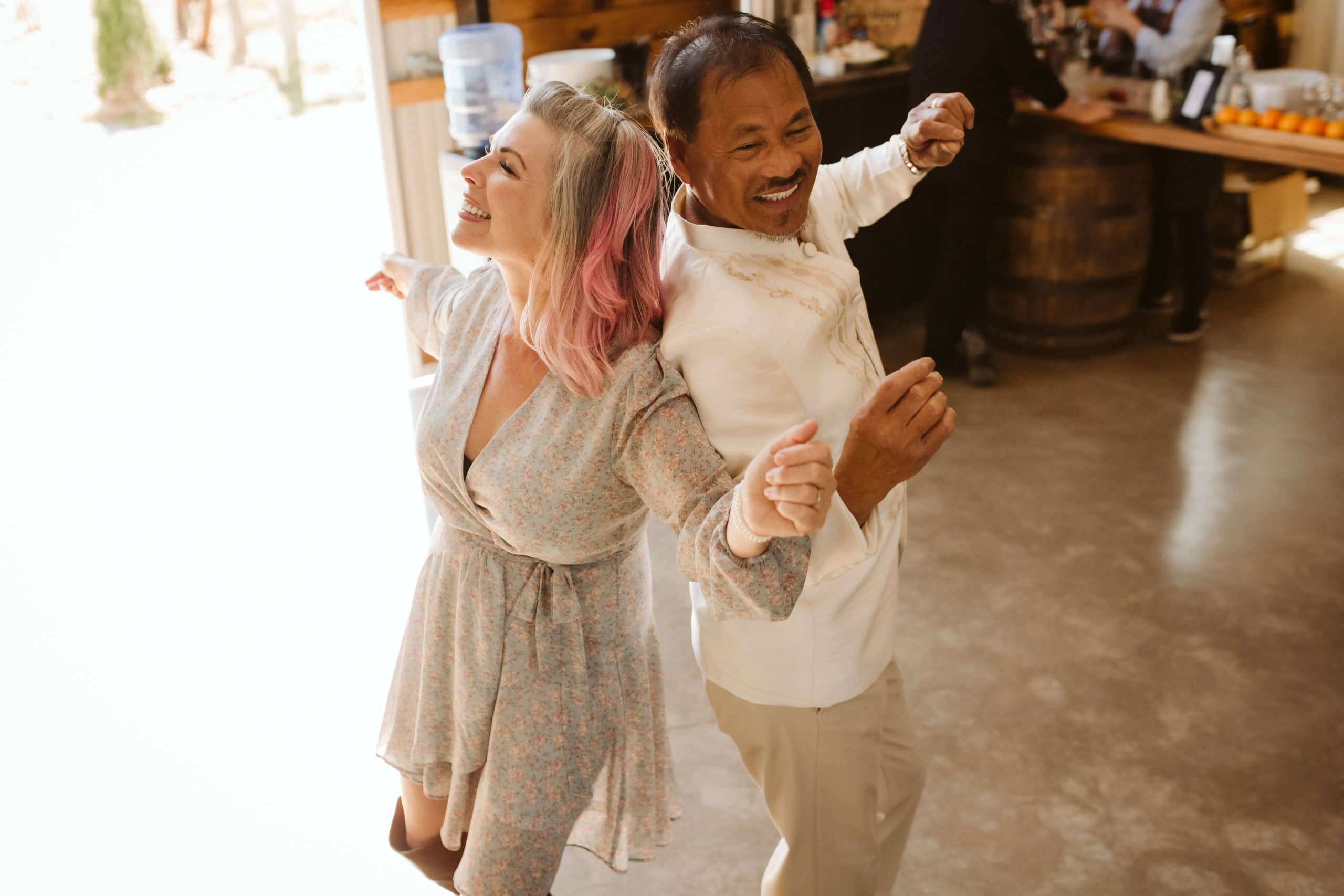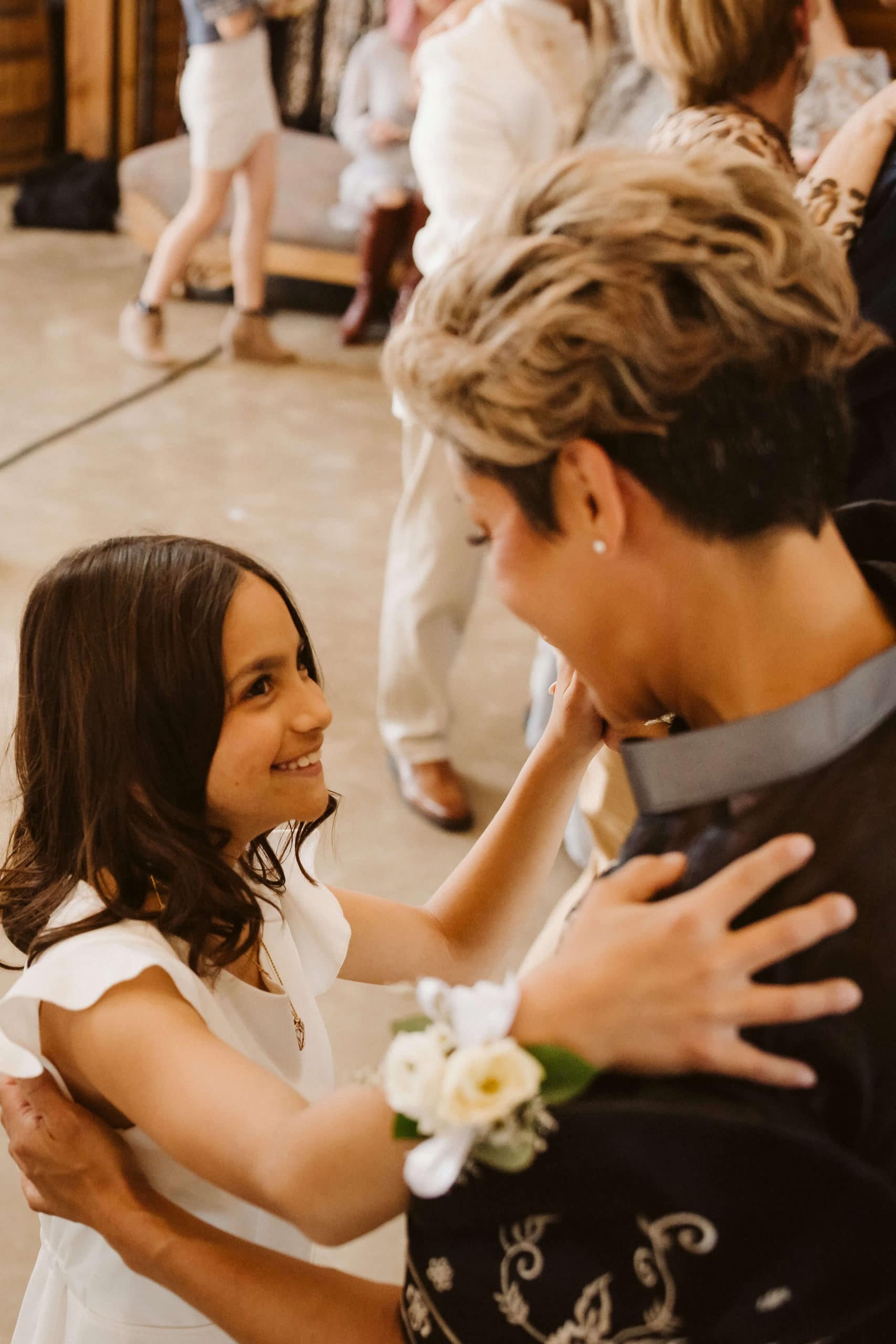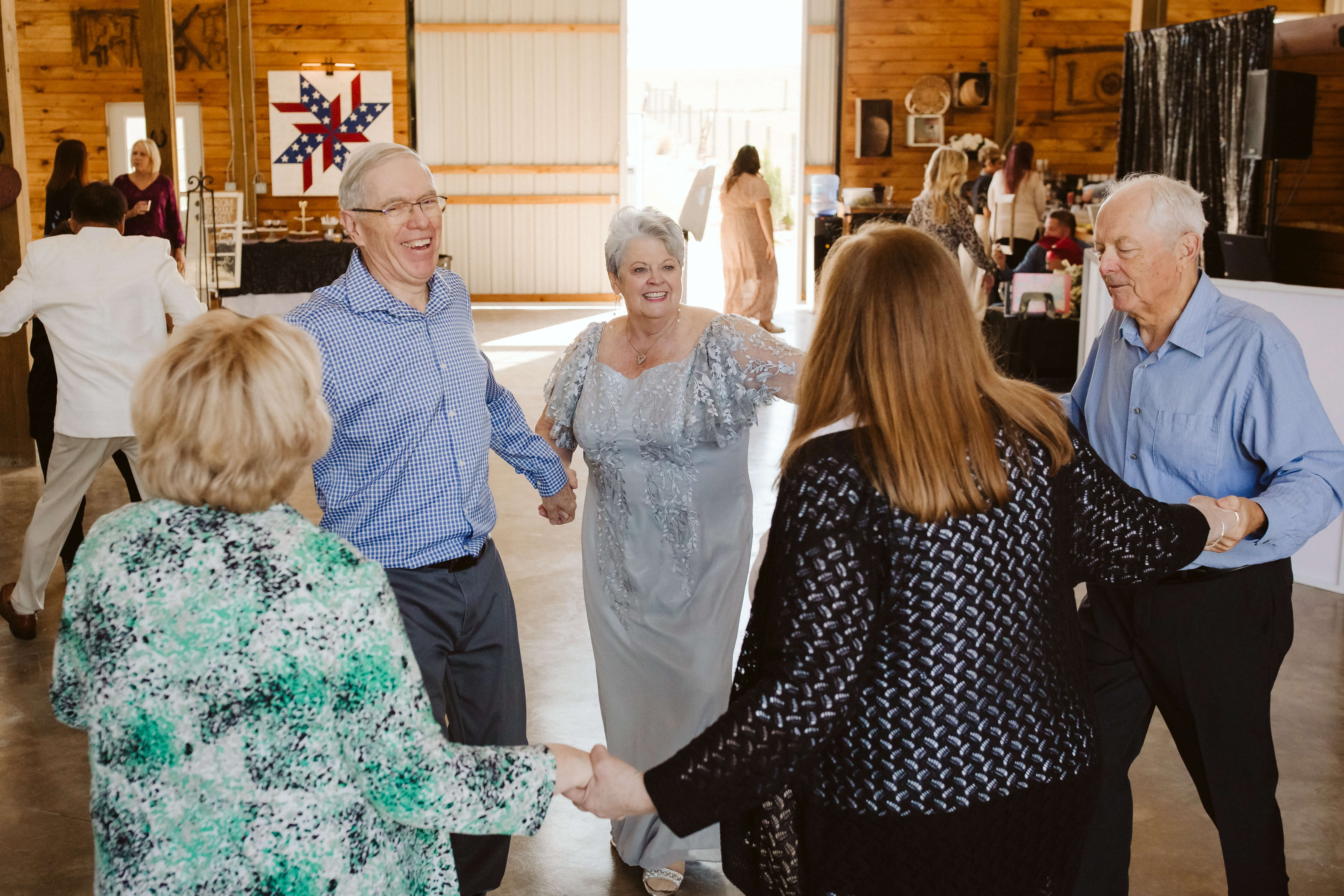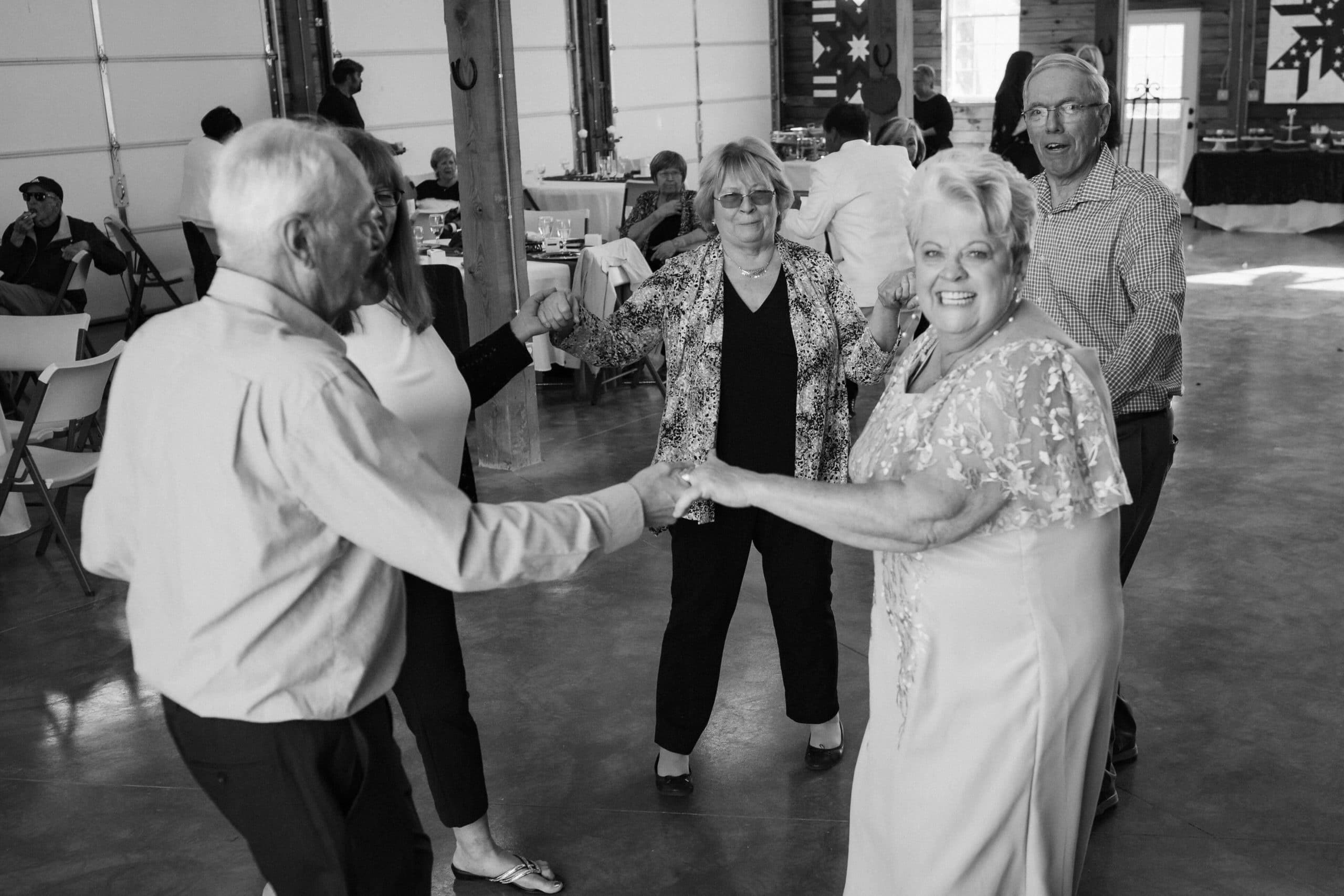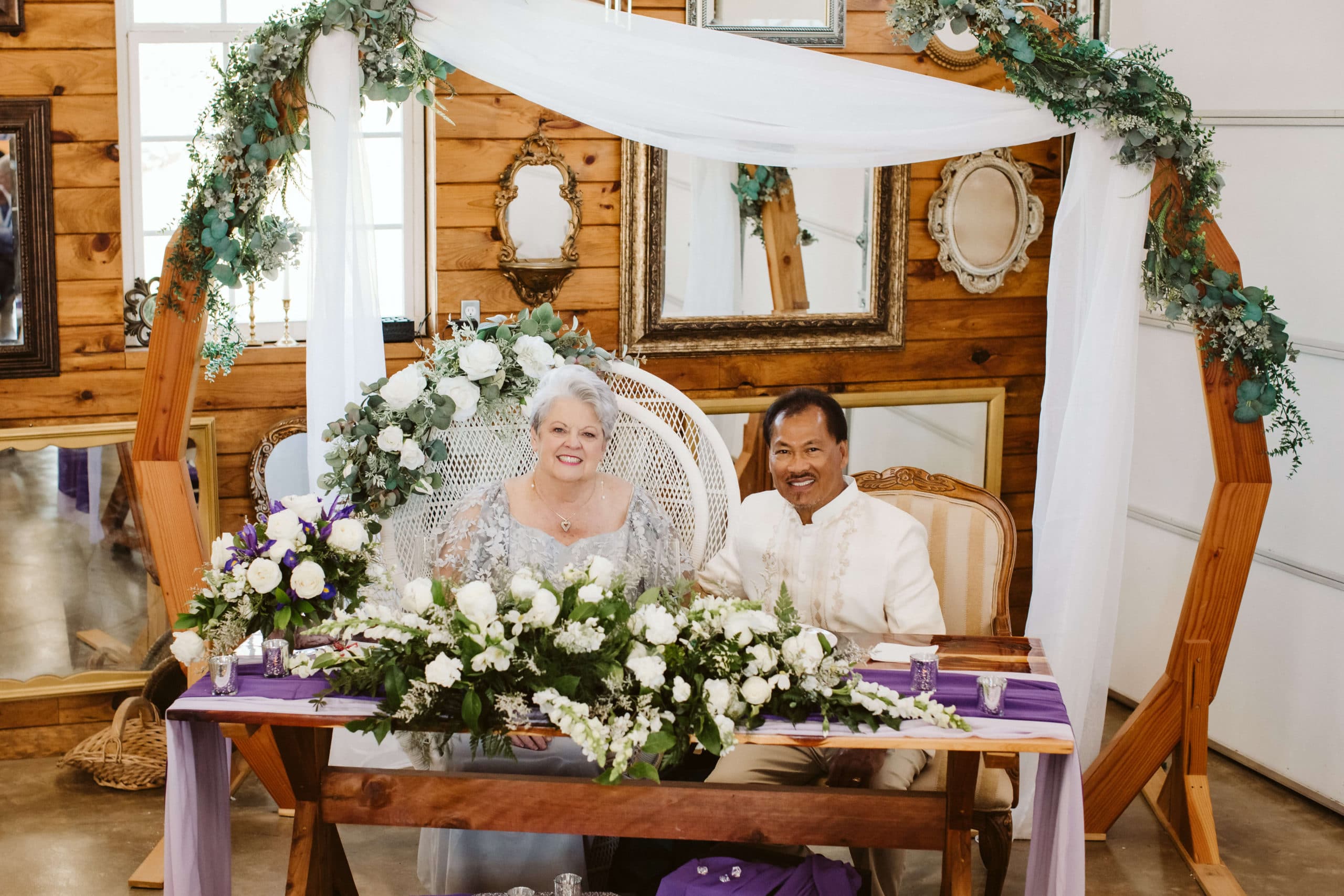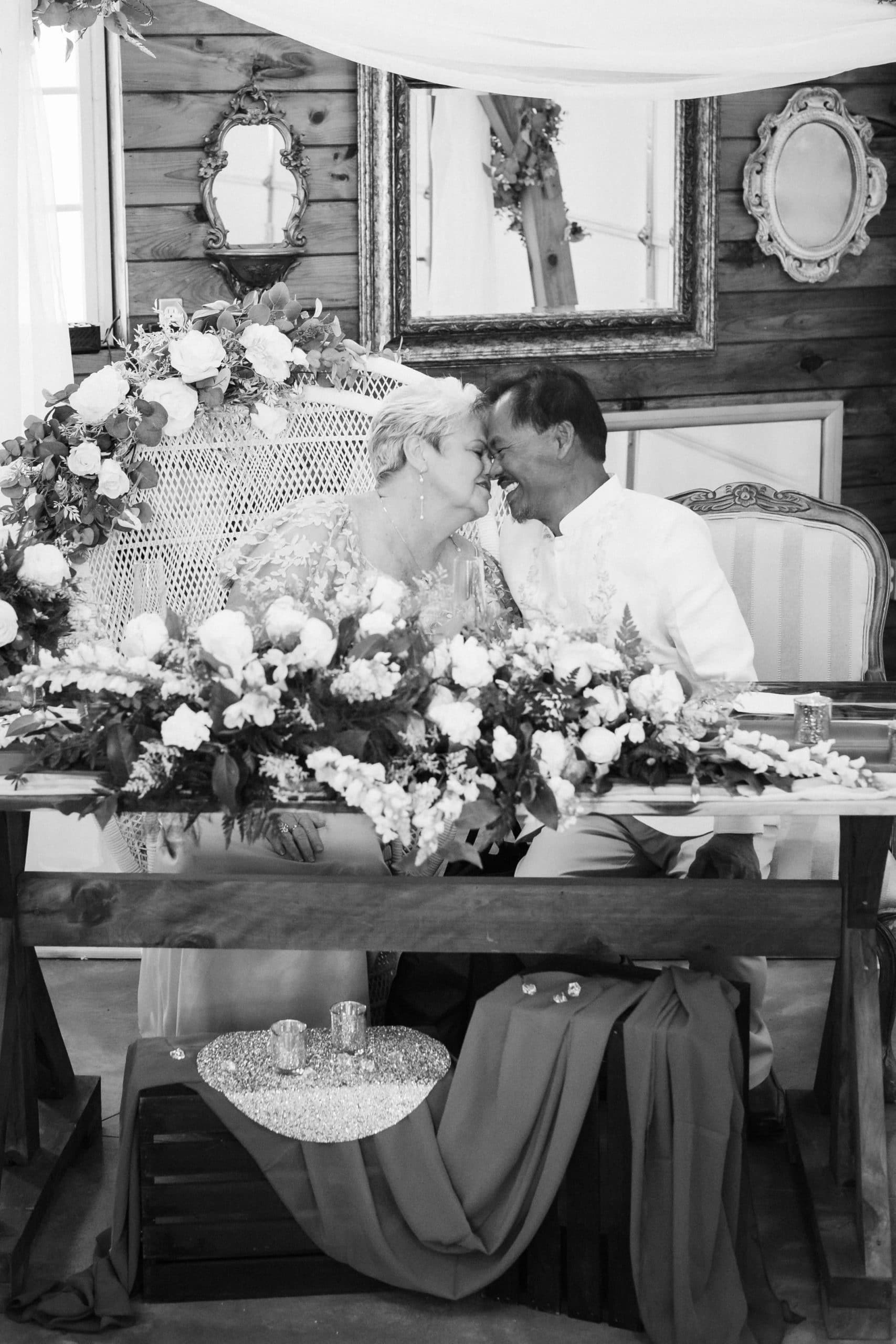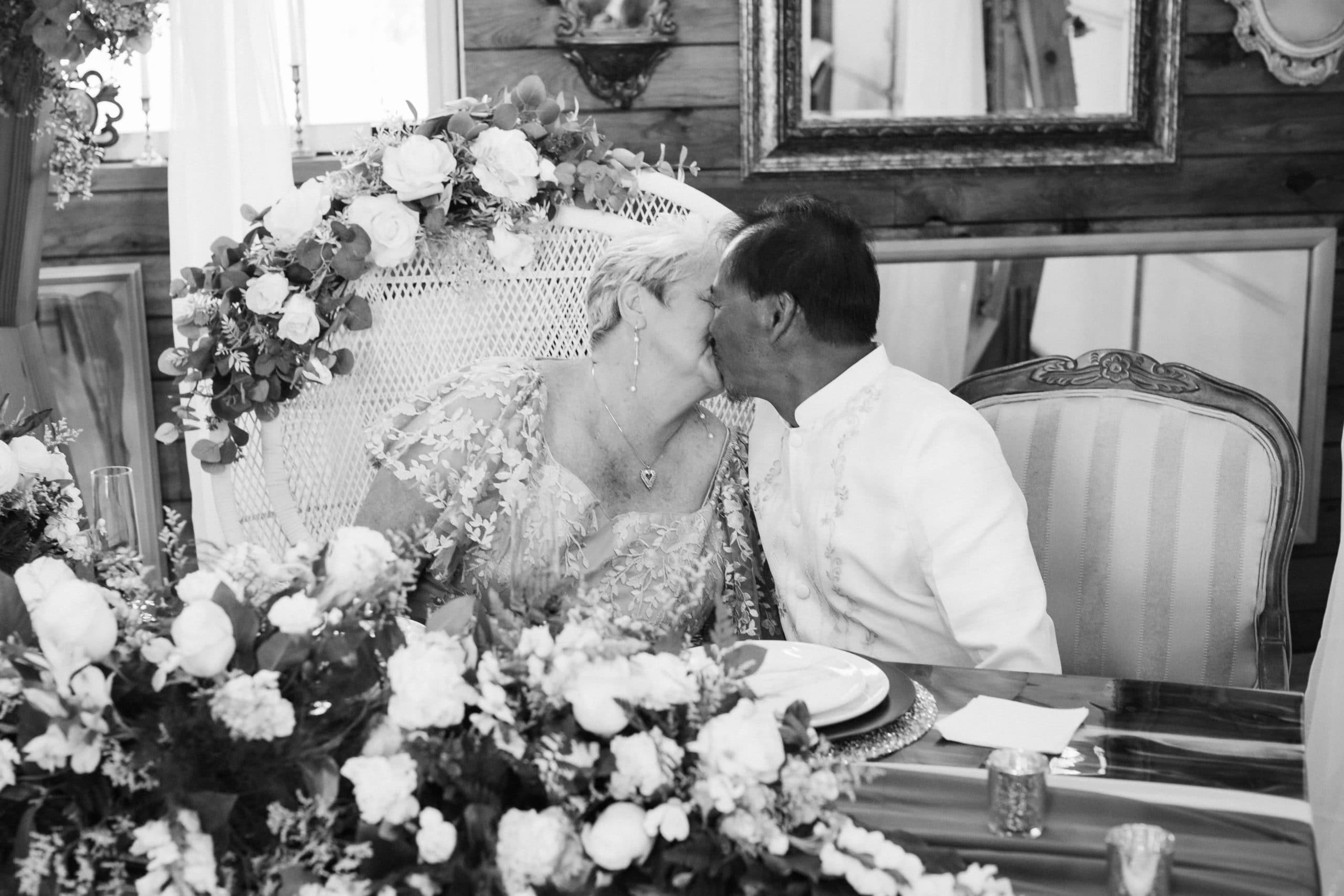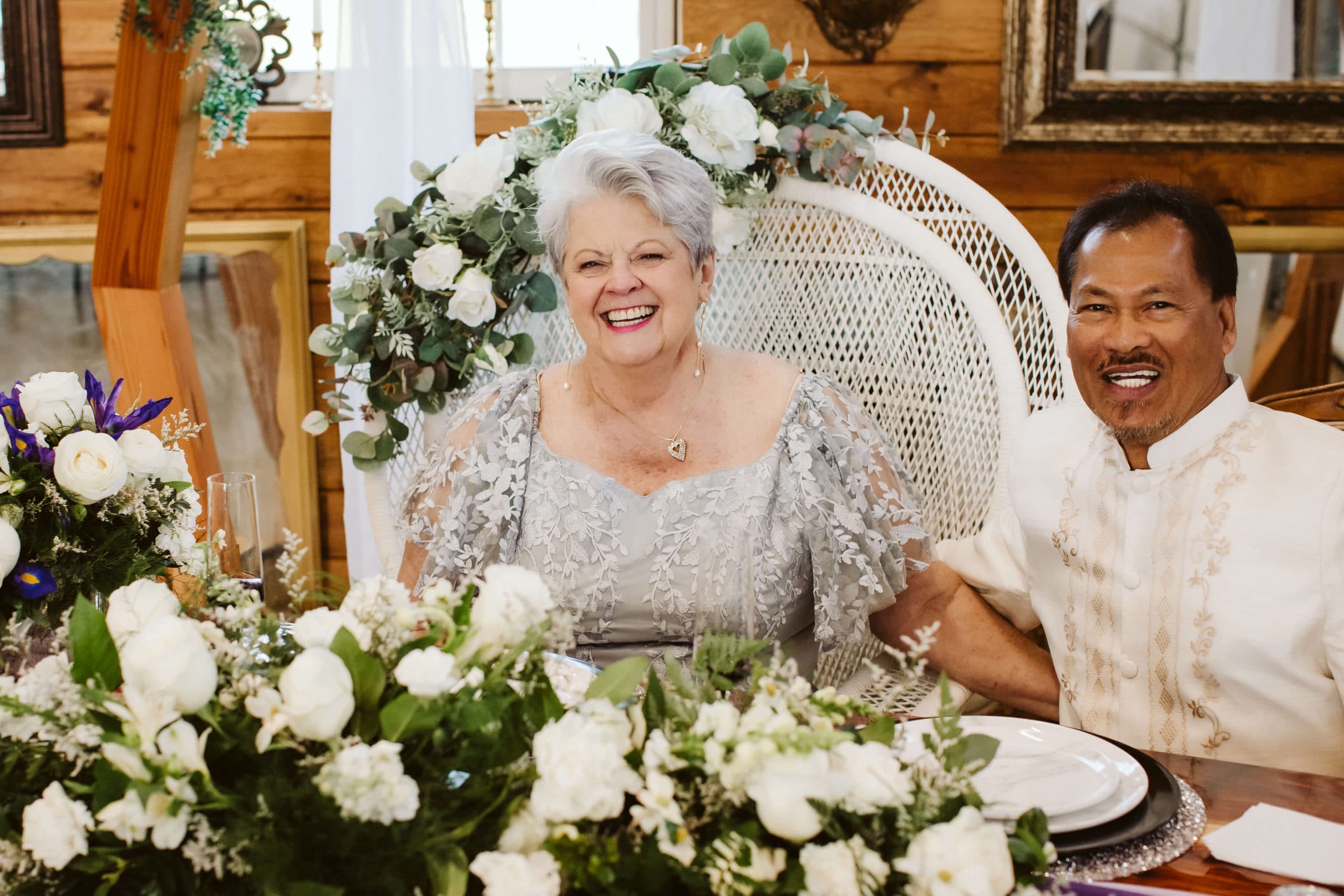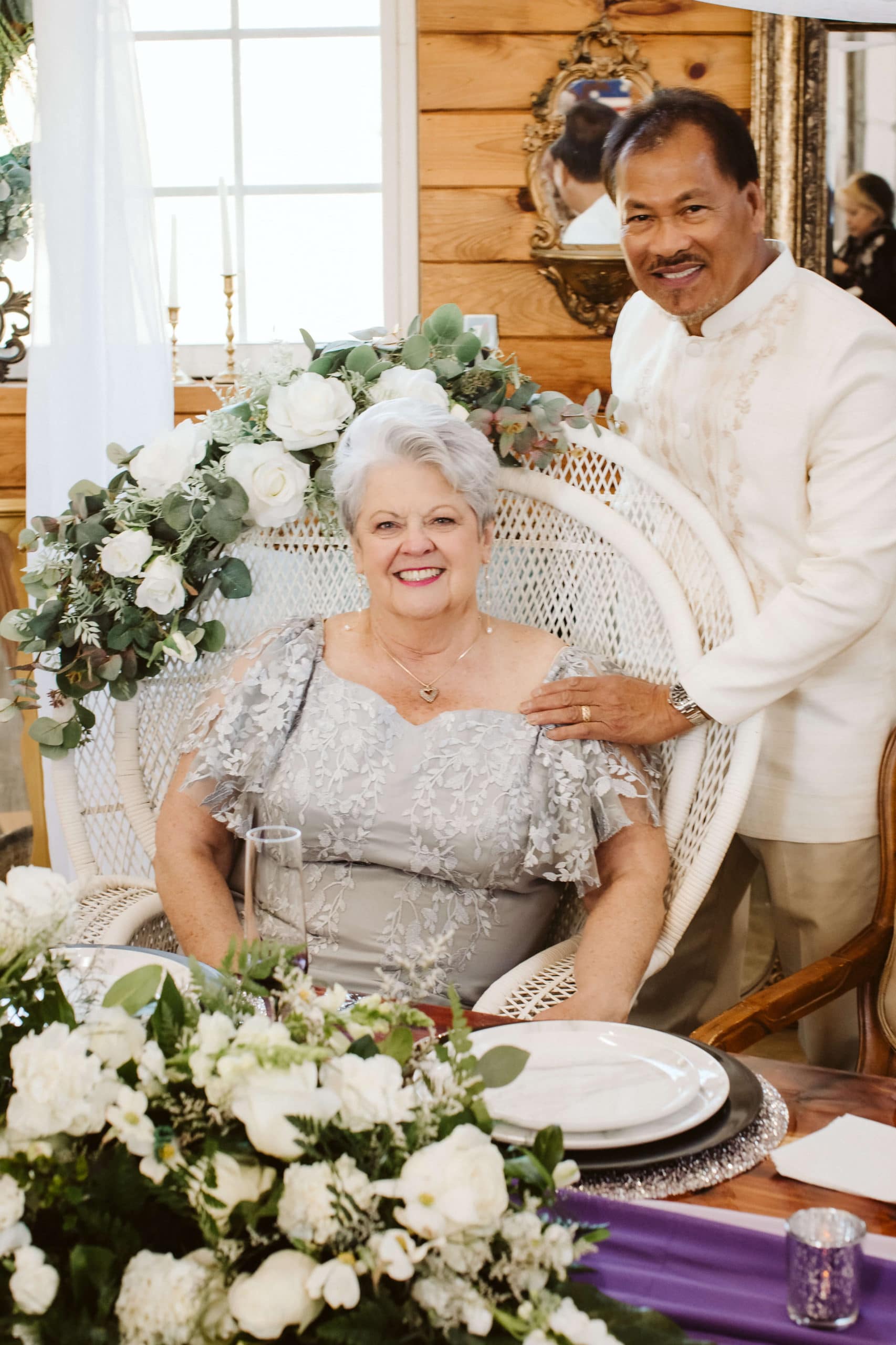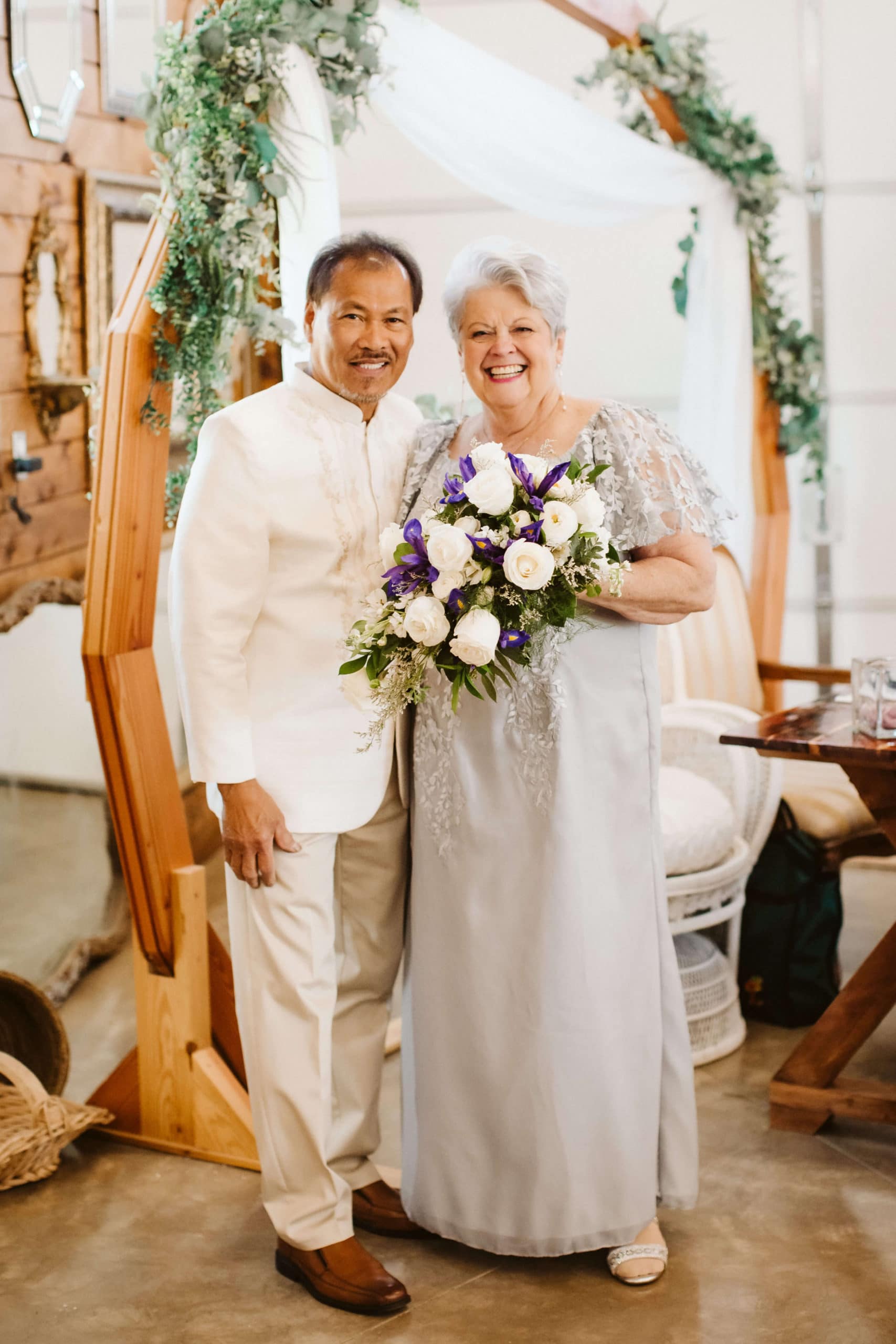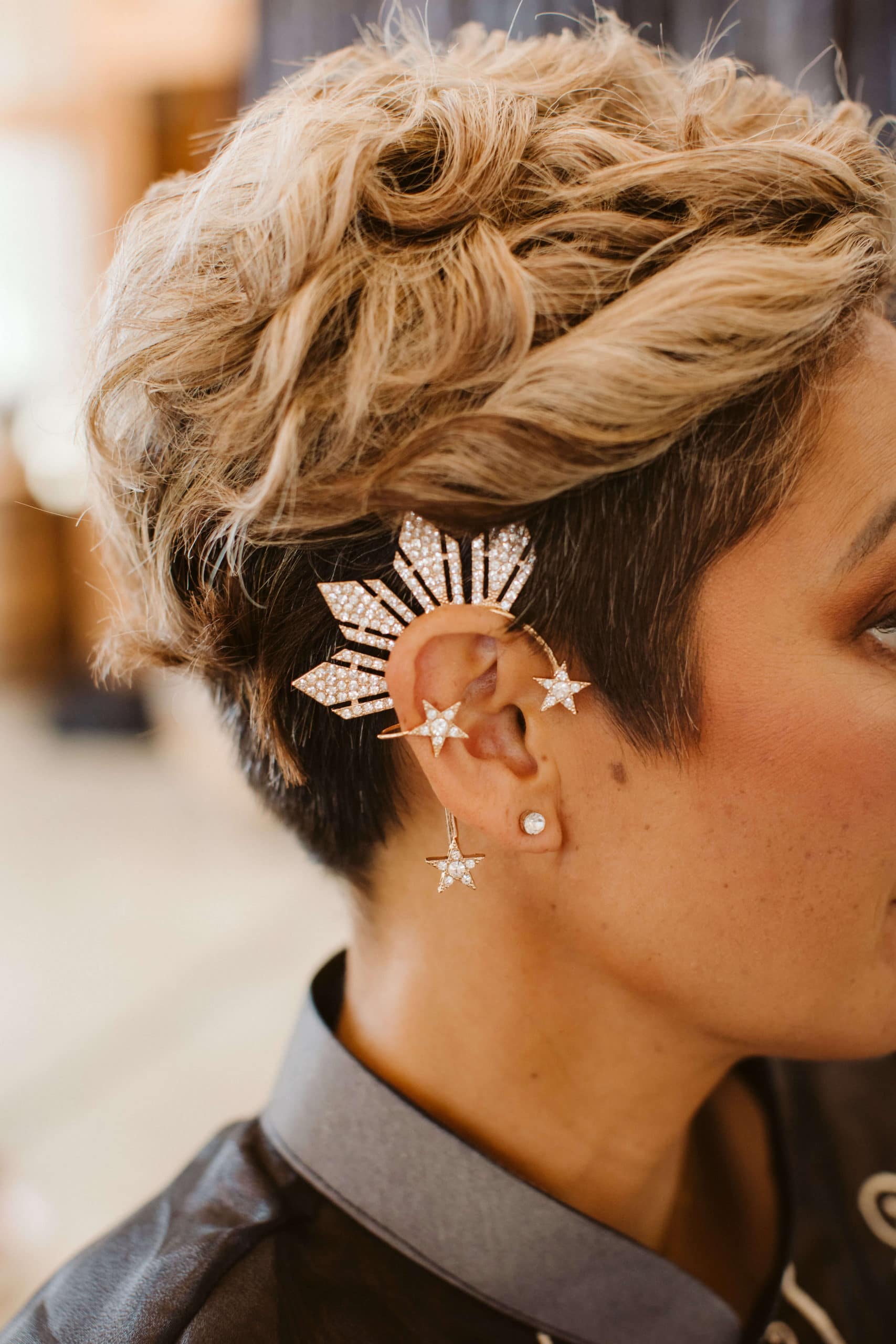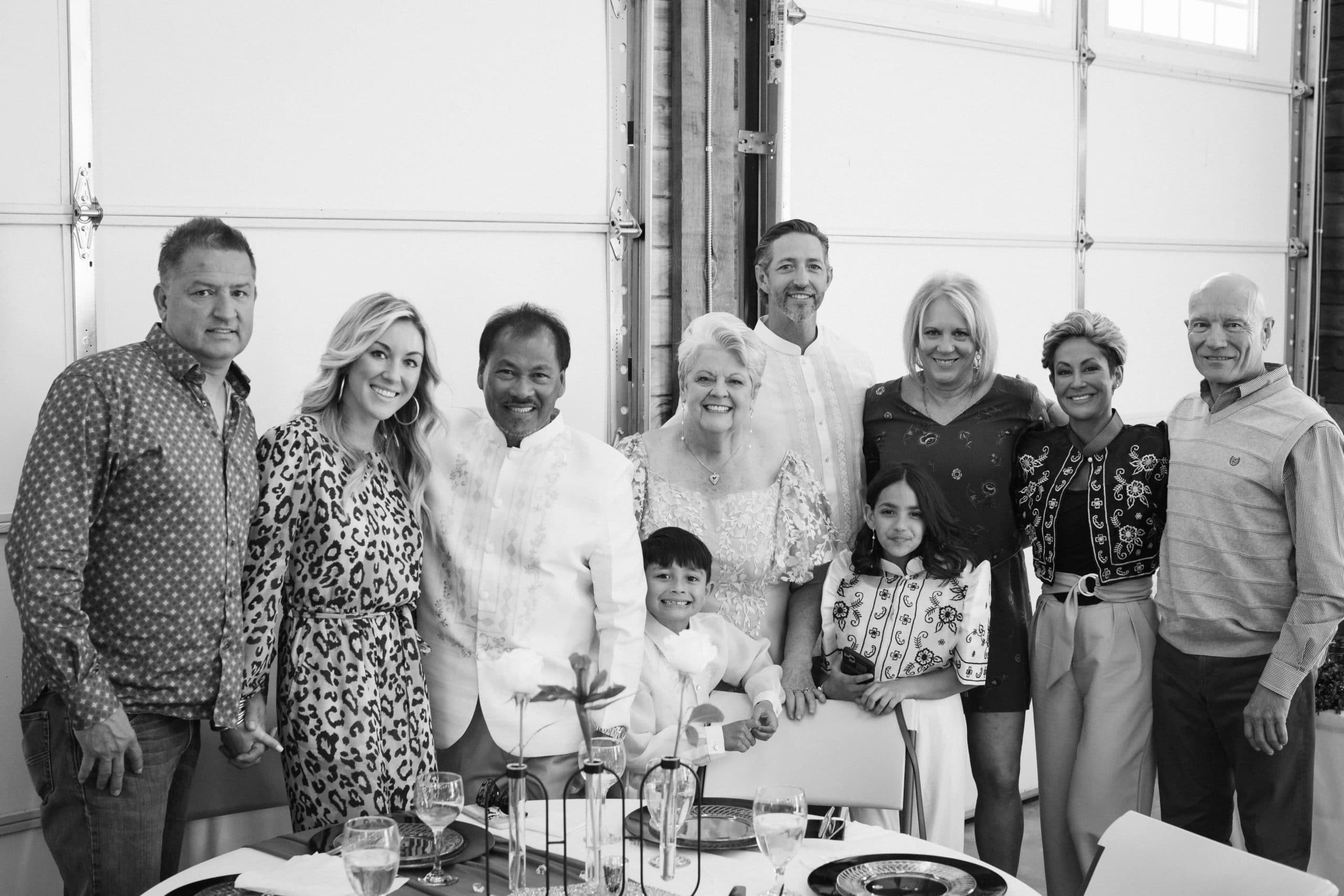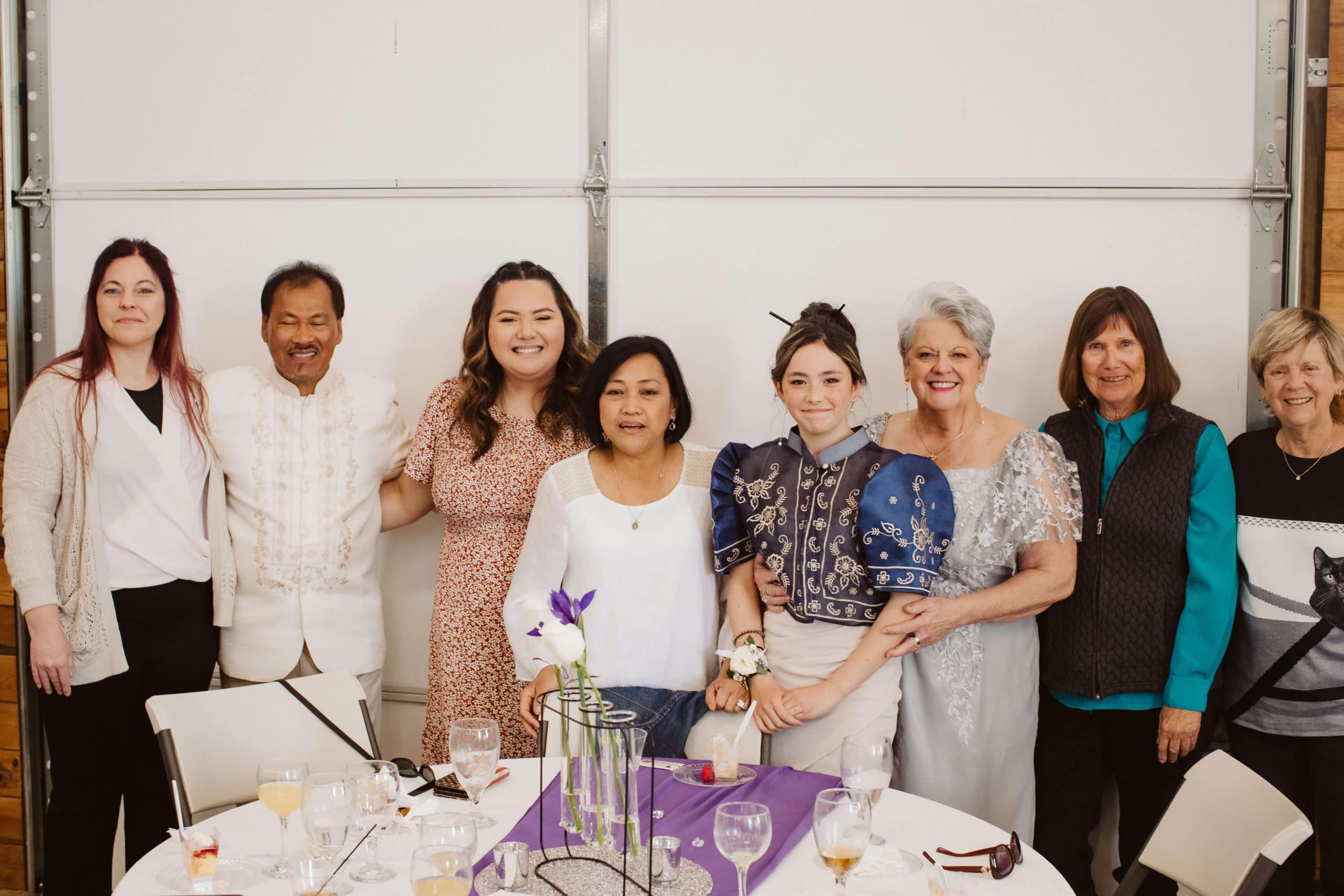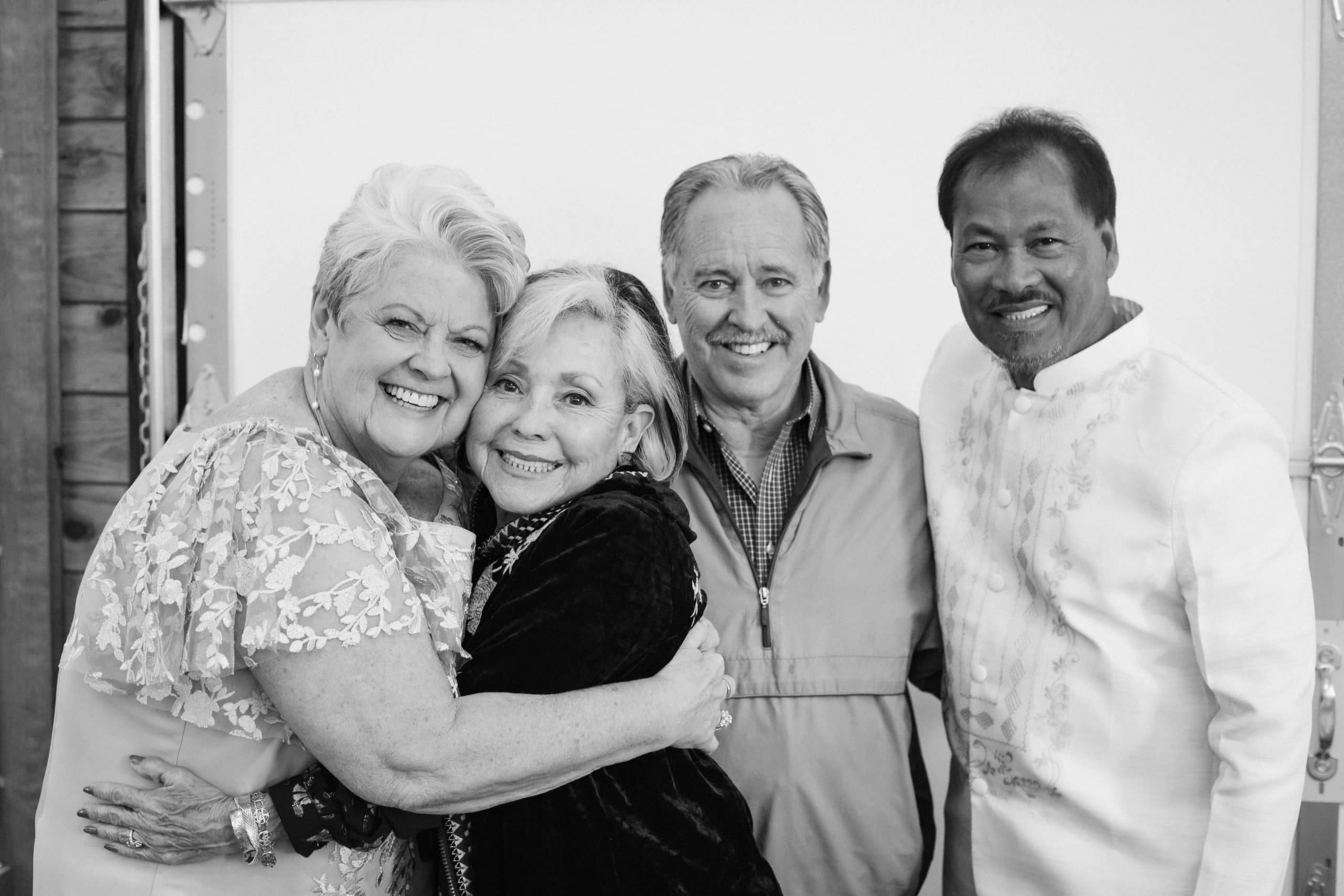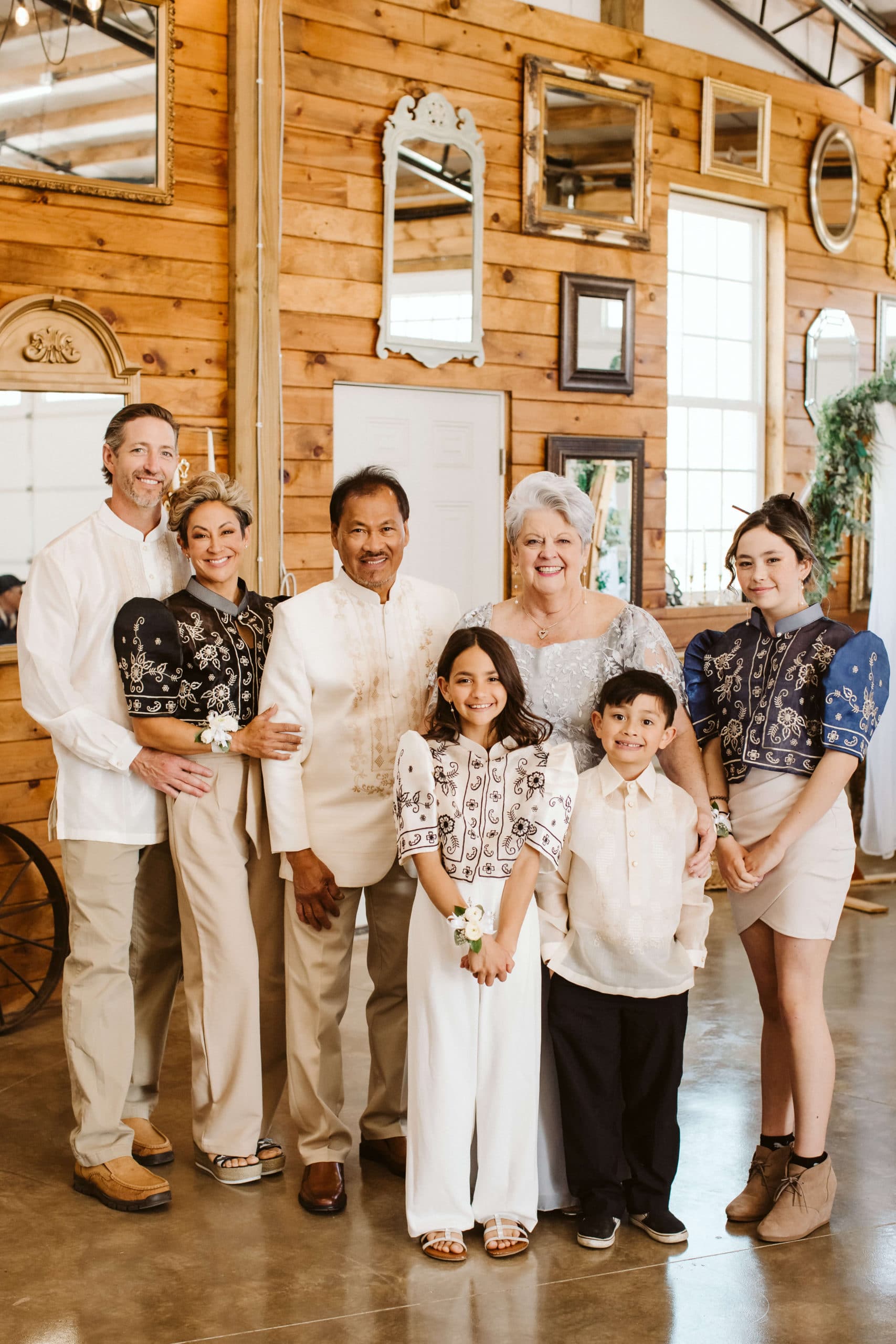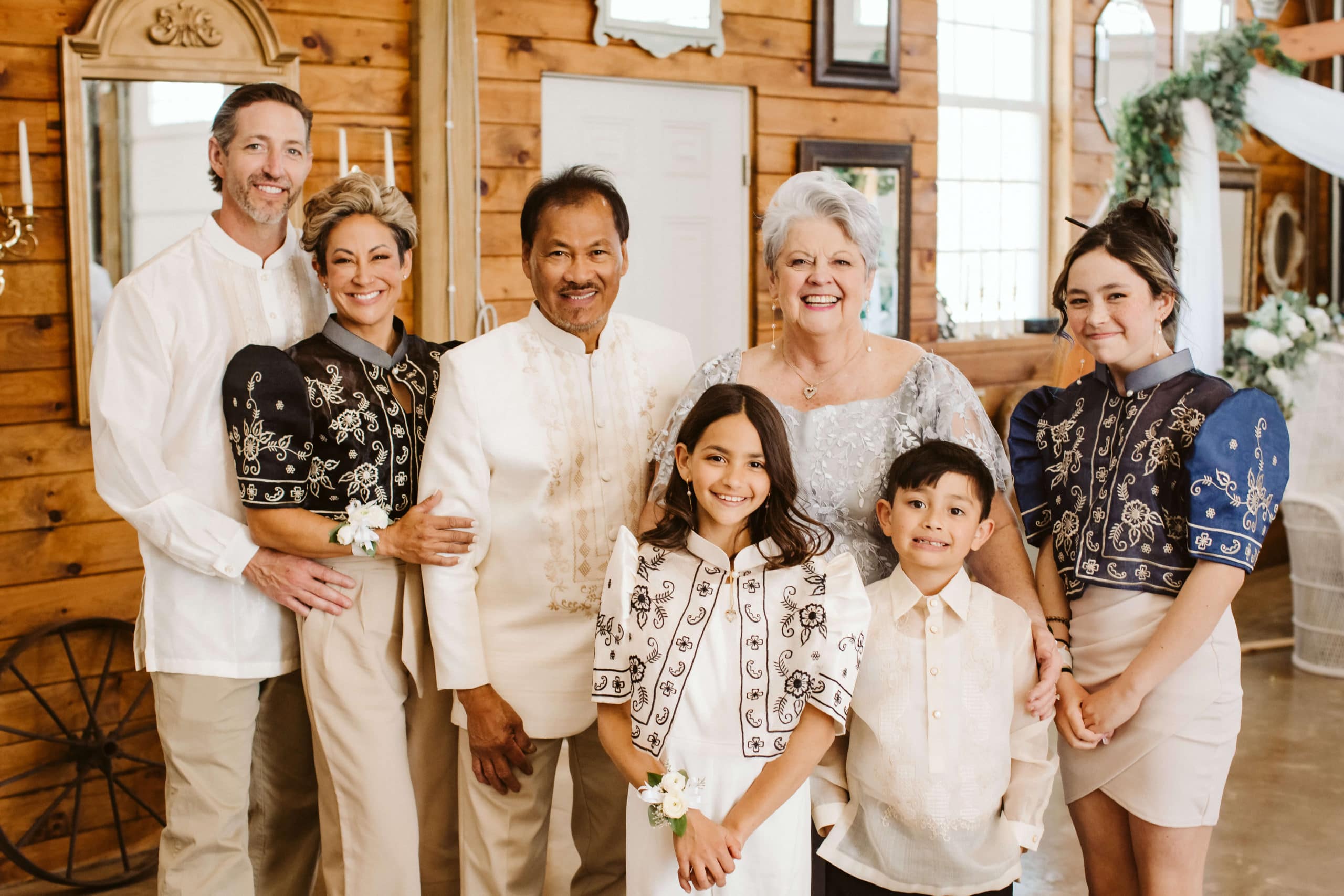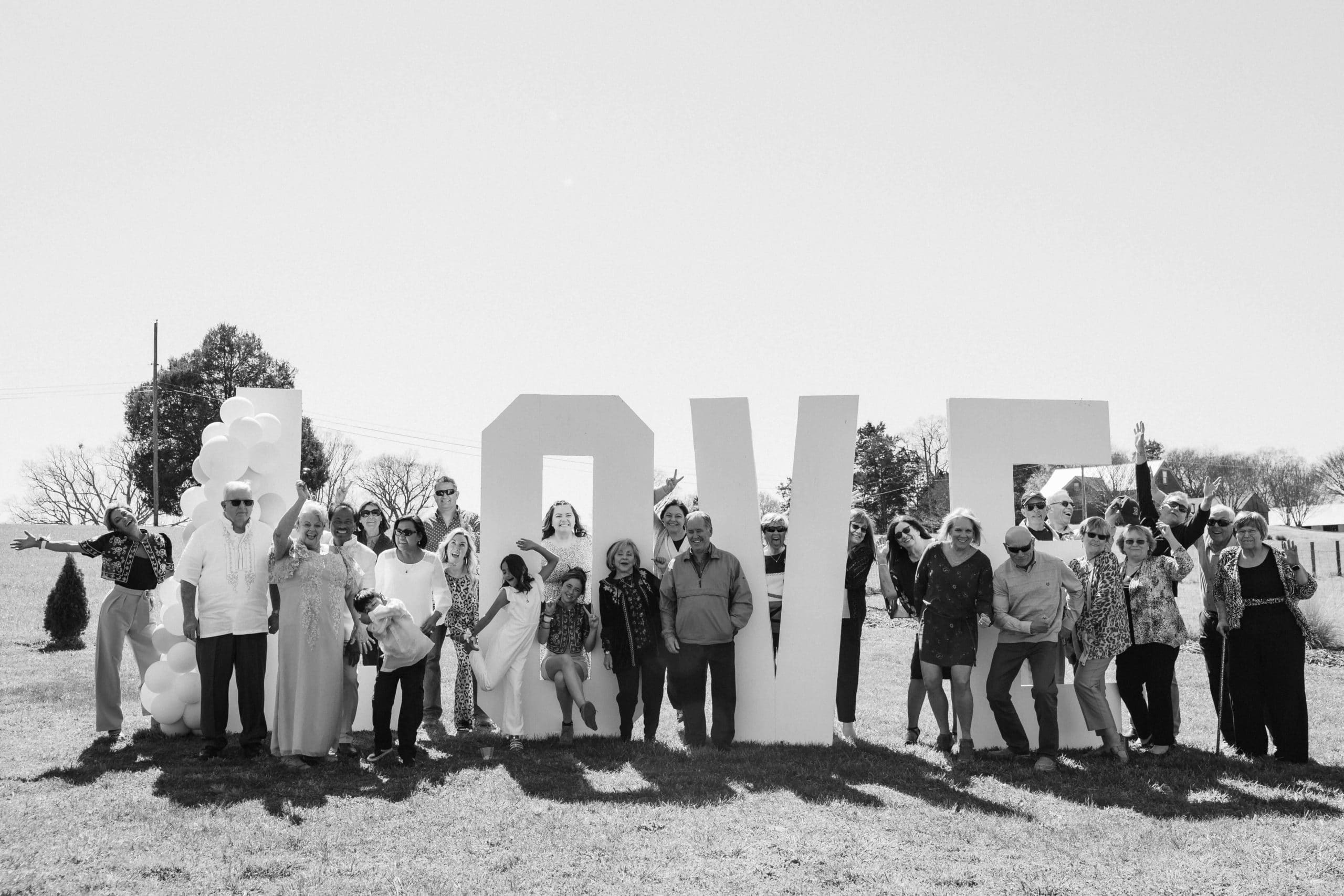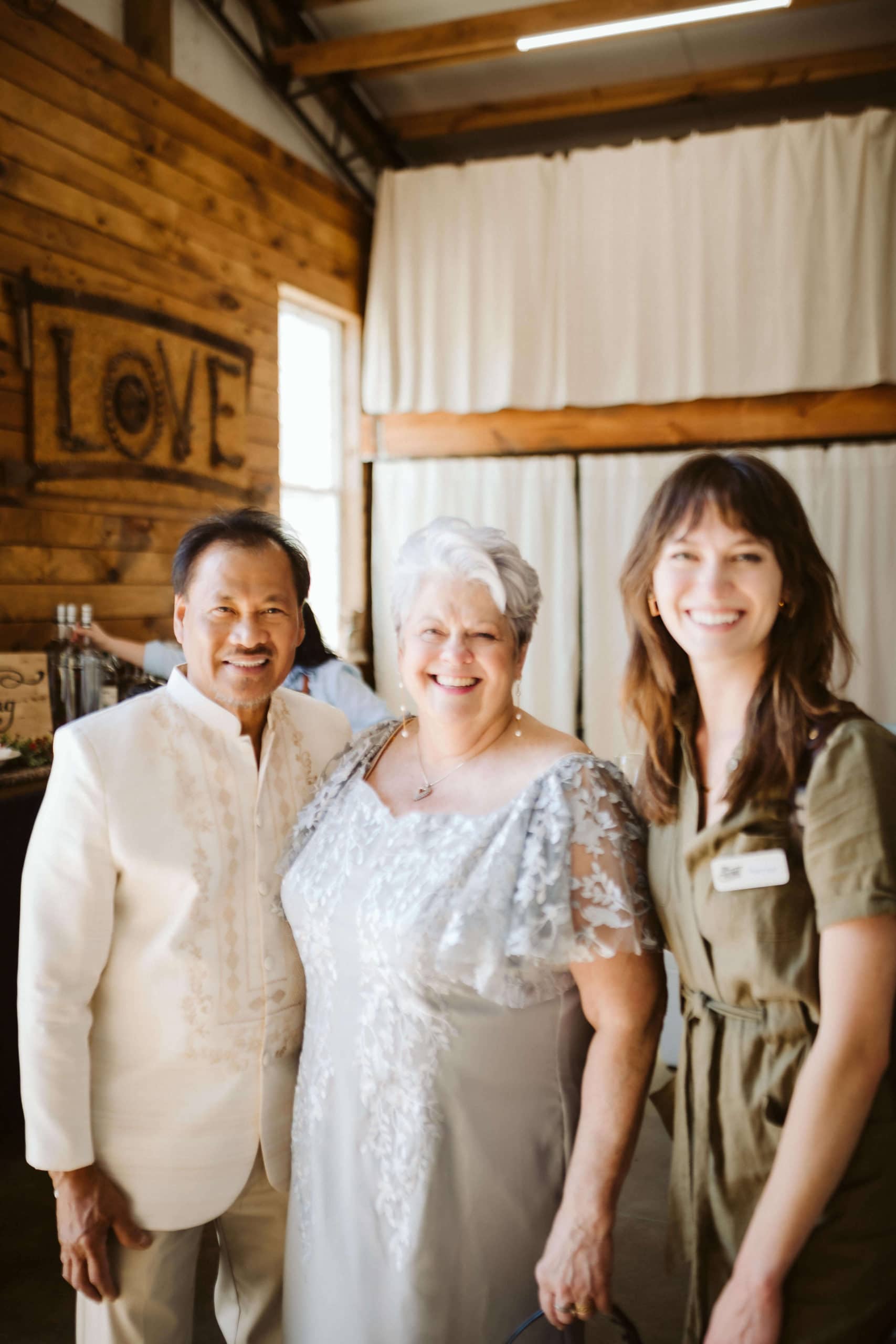 Having Fun on the Dance Floor
Once everyone was full, the dance floor opened and everyone present was on their feet and happily dancing. Iris and Jayce shared a joyous dance together and even did a traditional Filipino money dance. There are several different variations of money dances across different cultures. During the dance, couples are showered with money or money is pinned to the bride and groom to help them establish their life together and show them how much they are loved. In Filipino culture, the money pinning can take a few different forms including "decorating" the couple with a garland of money which is what was done for Iris and Jayce.
During the reception, I was able to steal Iris and Jayce for a few moments to take a few "newlywed" photos. For weddings and other events, couples can use various decorations provided by Moser Manor including the wooden arch that stood behind Iris and Jayce's sweetheart table. Also included in the venue rental is the cozy vintage lounge chair that Vanessa set up in front of our sequined black curtain for the OkCrowe Photo Booth station.
Iris and Jayce's vow renewal was a wonderful day filled with love and family traditions. The whole day was a beautiful tribute from Vanessa and her family to their amazing parents and their love.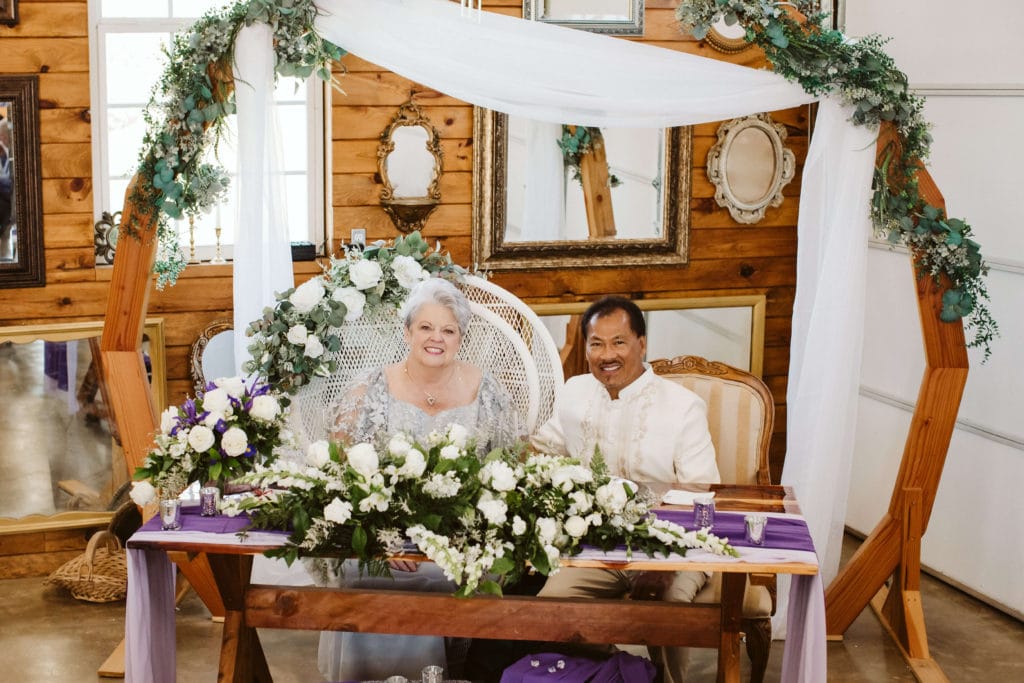 Have you been searching for a wedding photographer to be there to capture the special moments throughout your own vow renewal? I'm your gal! I would be honored to be there for you!
Hi! I'm Rachael Crowe of OkCrowe Photography. I hope you enjoyed the photos of Iris and Jayce's sweet vow renewal. Whether you're planning a vow renewal of your own or planning your wedding or elopement, I would love to be a part of it! I'm based in Chattanooga but if you need me to, I'm more than willing to fly out to wherever your celebration is. Check out my travel and availability schedule to see where I'll be this year or just fill out my contact form and let's chat!