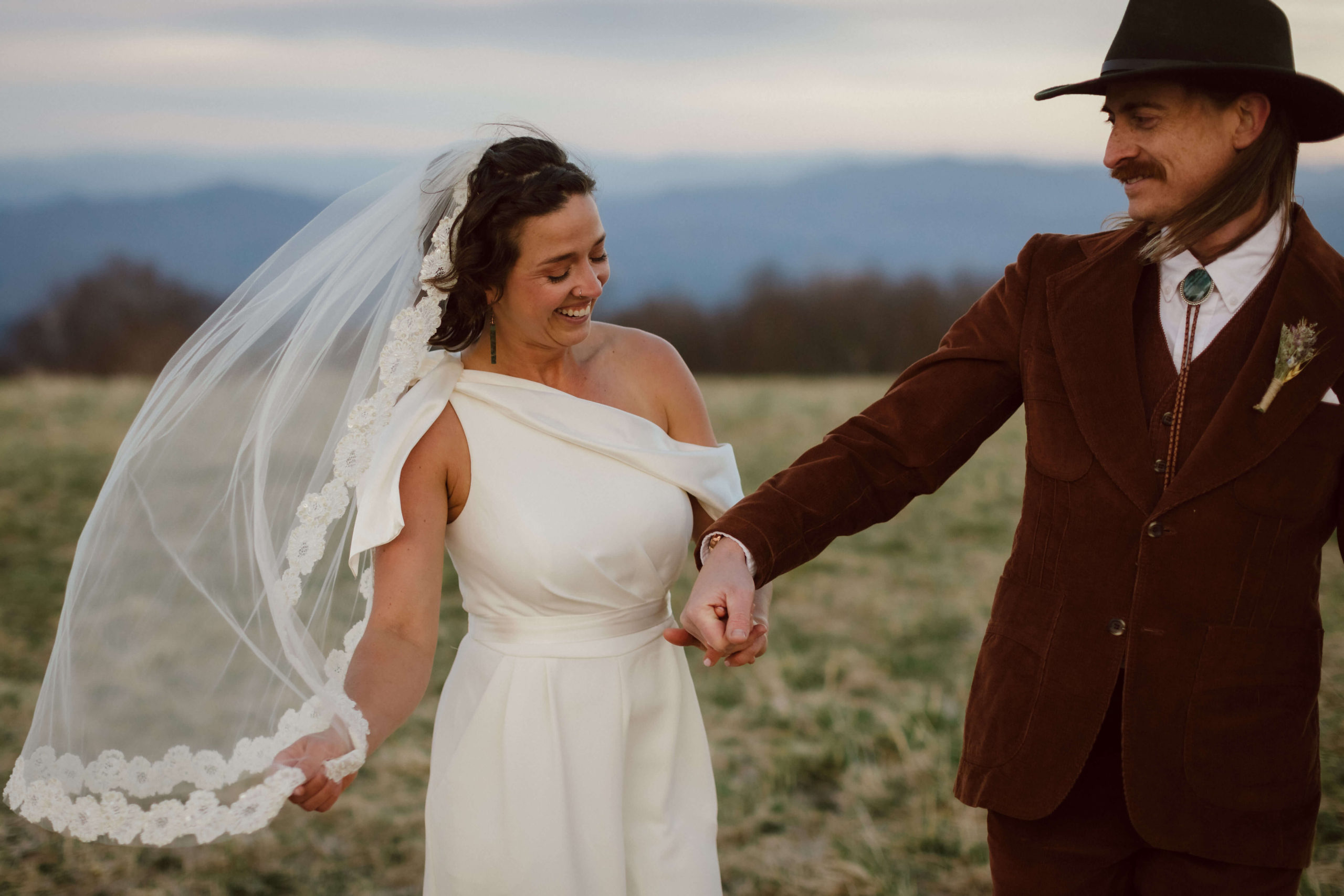 There are many various traditions that center around weddings. Many Western couples go for the traditional "white wedding" complete with the dress, the tux, and a wedding party followed by a big ceremony and reception. However, something to remember about planning your wedding is that it's about you and your partner and your love story. If your story doesn't line up with typical traditions, do it your way! That's exactly what Liv and Rusty did for their intimate elopement surrounded by the great outdoors.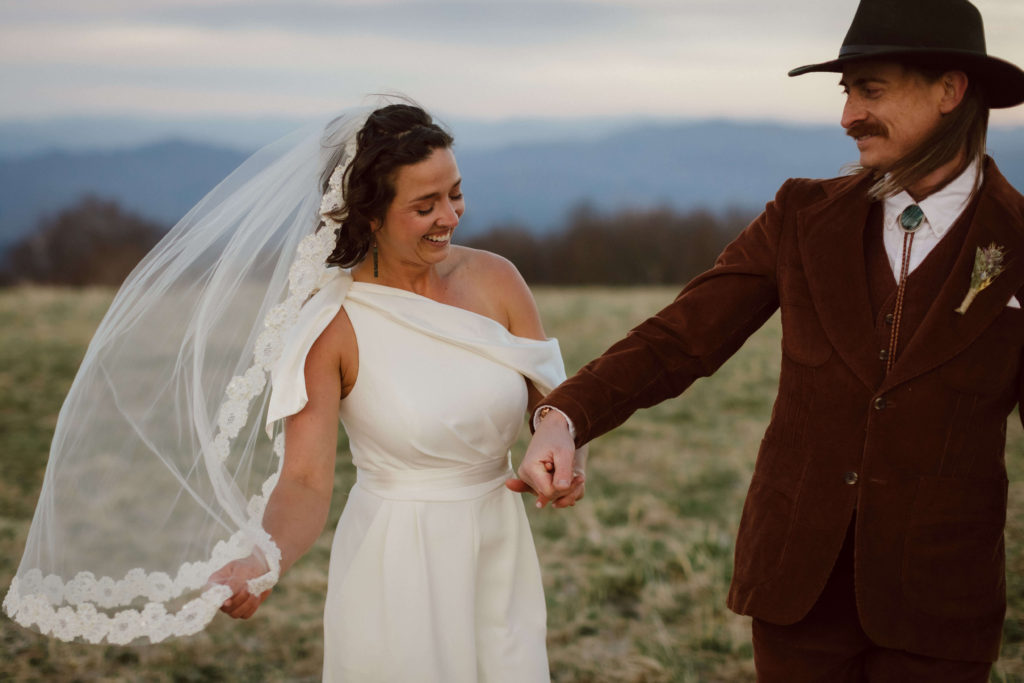 A Smile That Changed Everything
Nature and adventure lovers at heart, Liv and Rusty met while they were working at the Zipline Hilton Head in South Carolina. They were both running the zipline tour that took tourists through a two and a half hour aerial tour of the palmettos and moss-covered oaks that make up Hilton Head Island and over Broad Creek for a bird's eye view of the boats, marshes, and dolphins below.
Not every couple can remember the exact point in time that they saw the person they would end up spending the rest of their life with. However, if you asked Liv, she could tell you precisely when she saw Rusty for the first time. Right next door to the Zipline Hilton Head is their partner company, the Up the Creek Pub and Grill. Liv was already at the pub when Rusty walked onto the porch for a drink. The moment he smiled Liv knew that he was the one.
For the rest of that summer, the two spent their time acting like teenagers in a whirlwind summer romance. They spent every moment together either working up in the trees experiencing the natural world around them in a way most people never would or digging their toes into the warm sandy beaches. By the time fall rolled around, they had already moved in together and could be found cooking amazing meals every night.
In the time after that serendipitous summer, the two relocated across the country twice. They went first from South Carolina to Portland, Oregon before putting down their roots in Chattanooga. There they purchased their first home and adopted another puppy to add to their happy little family before Rusty finally proposed.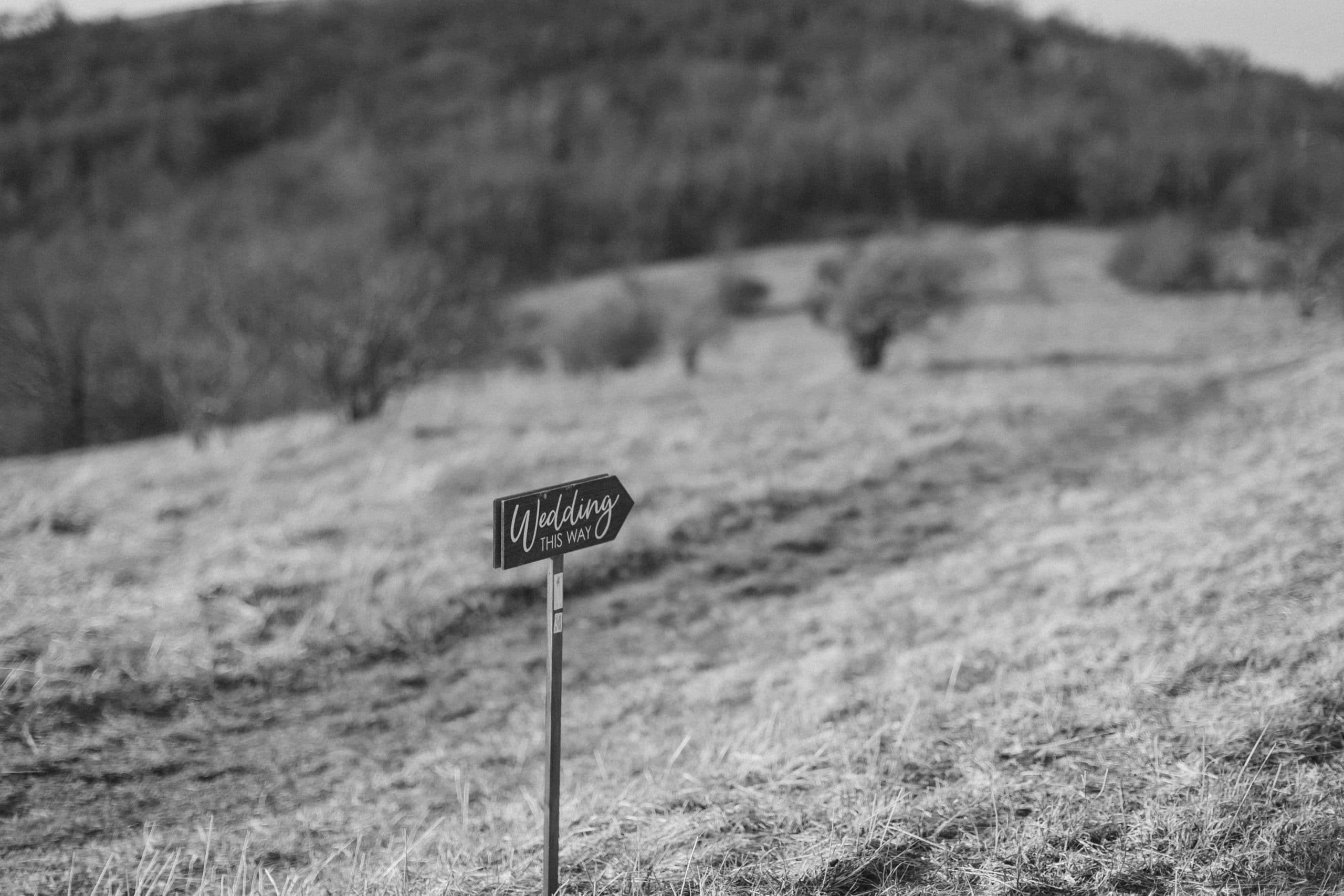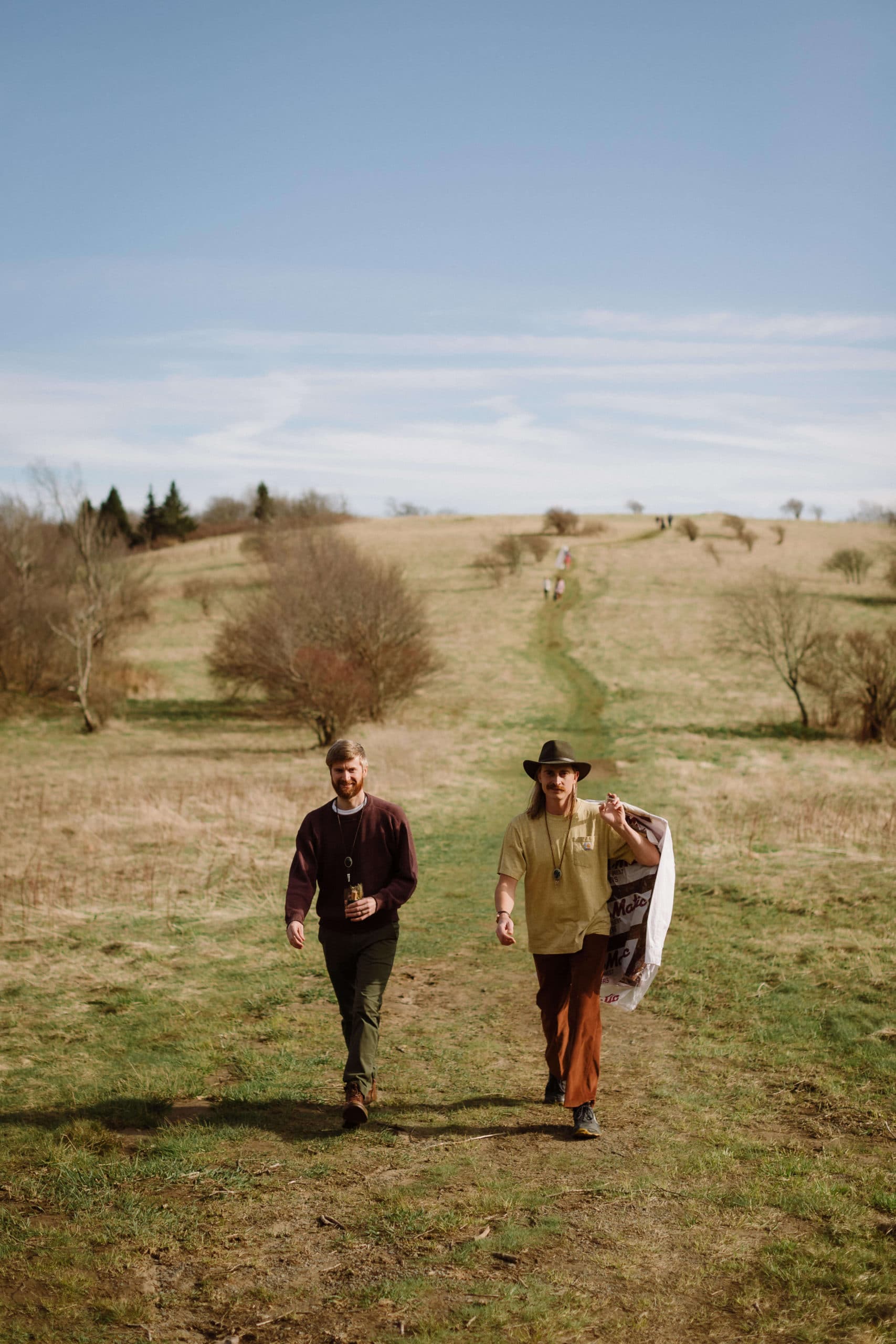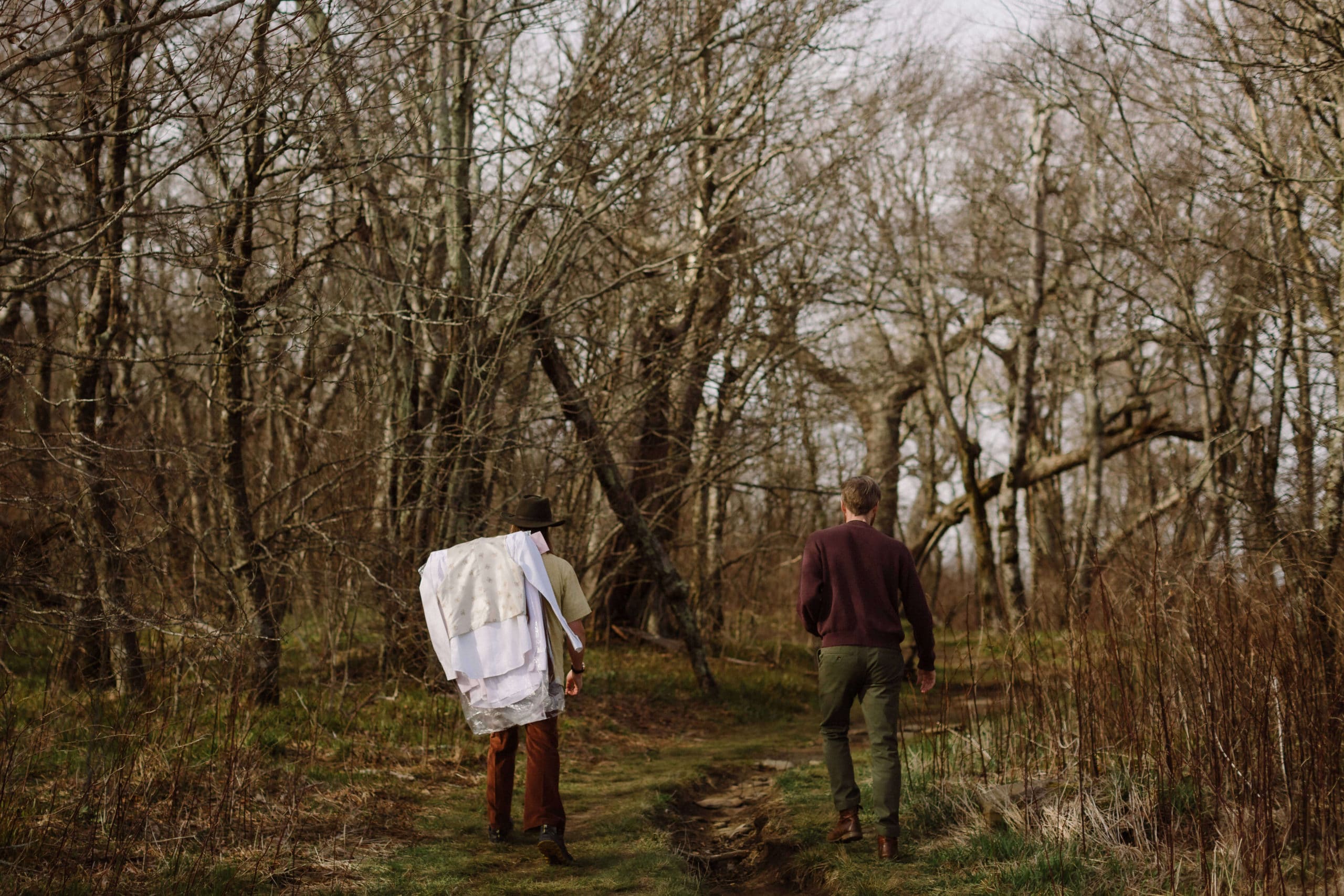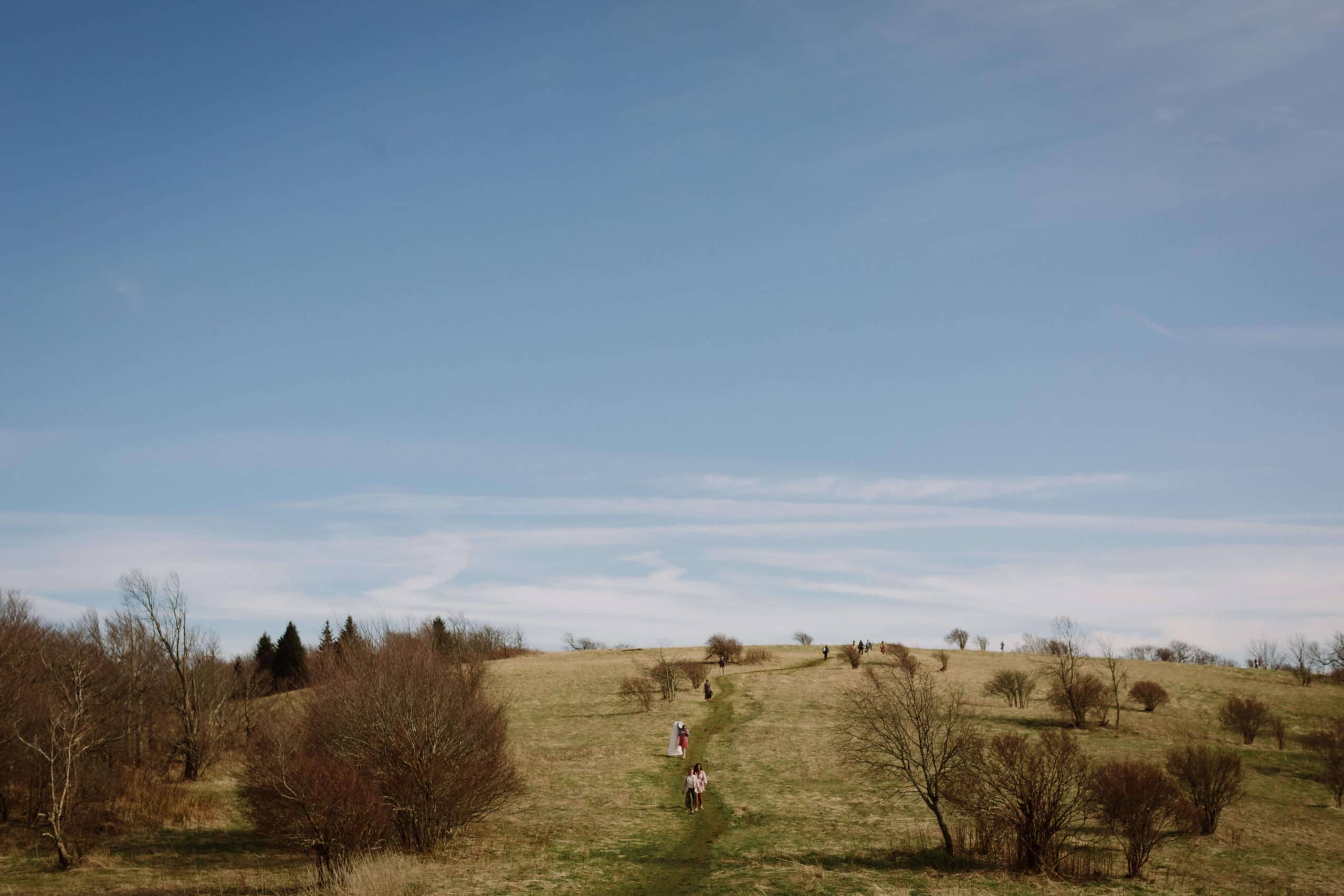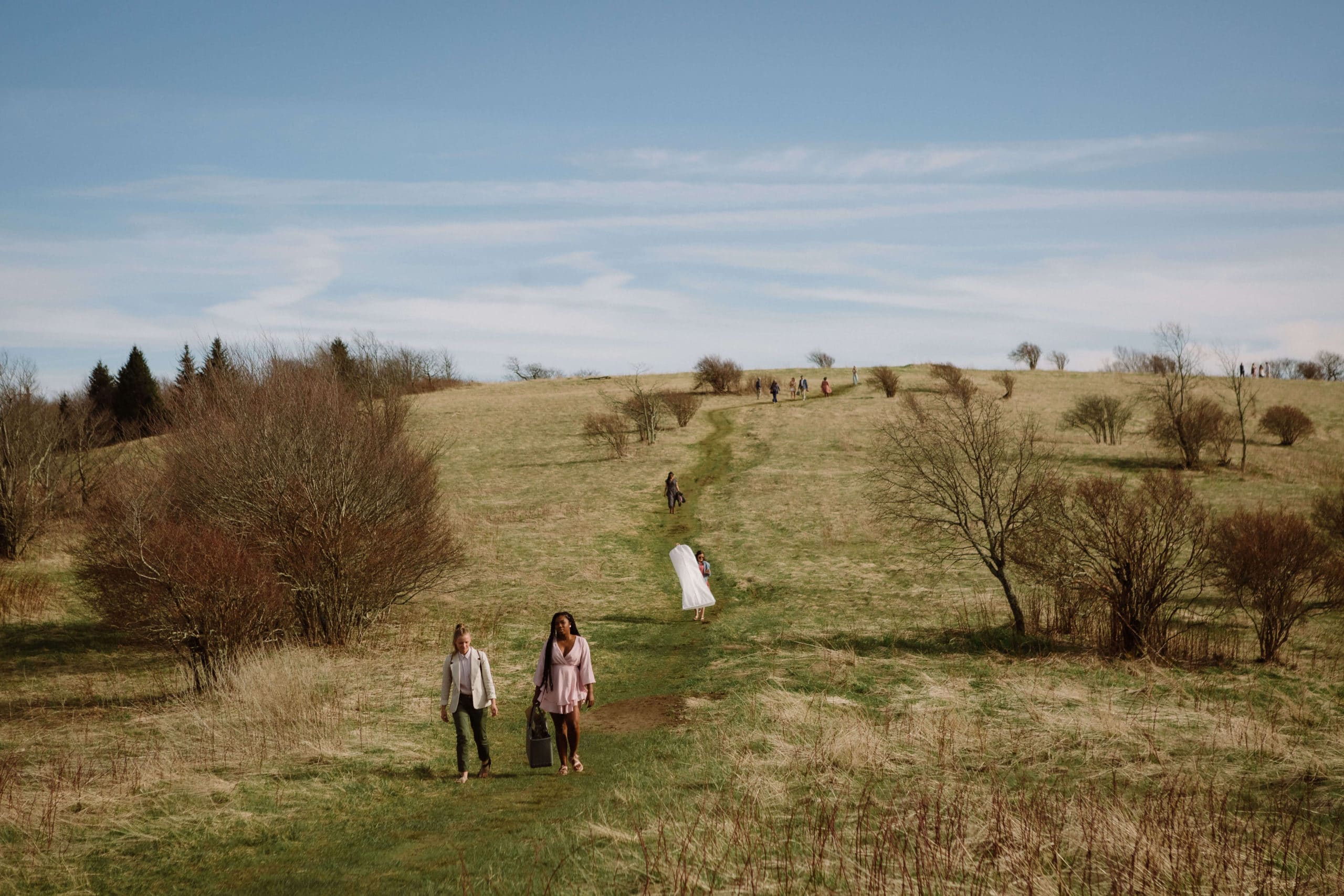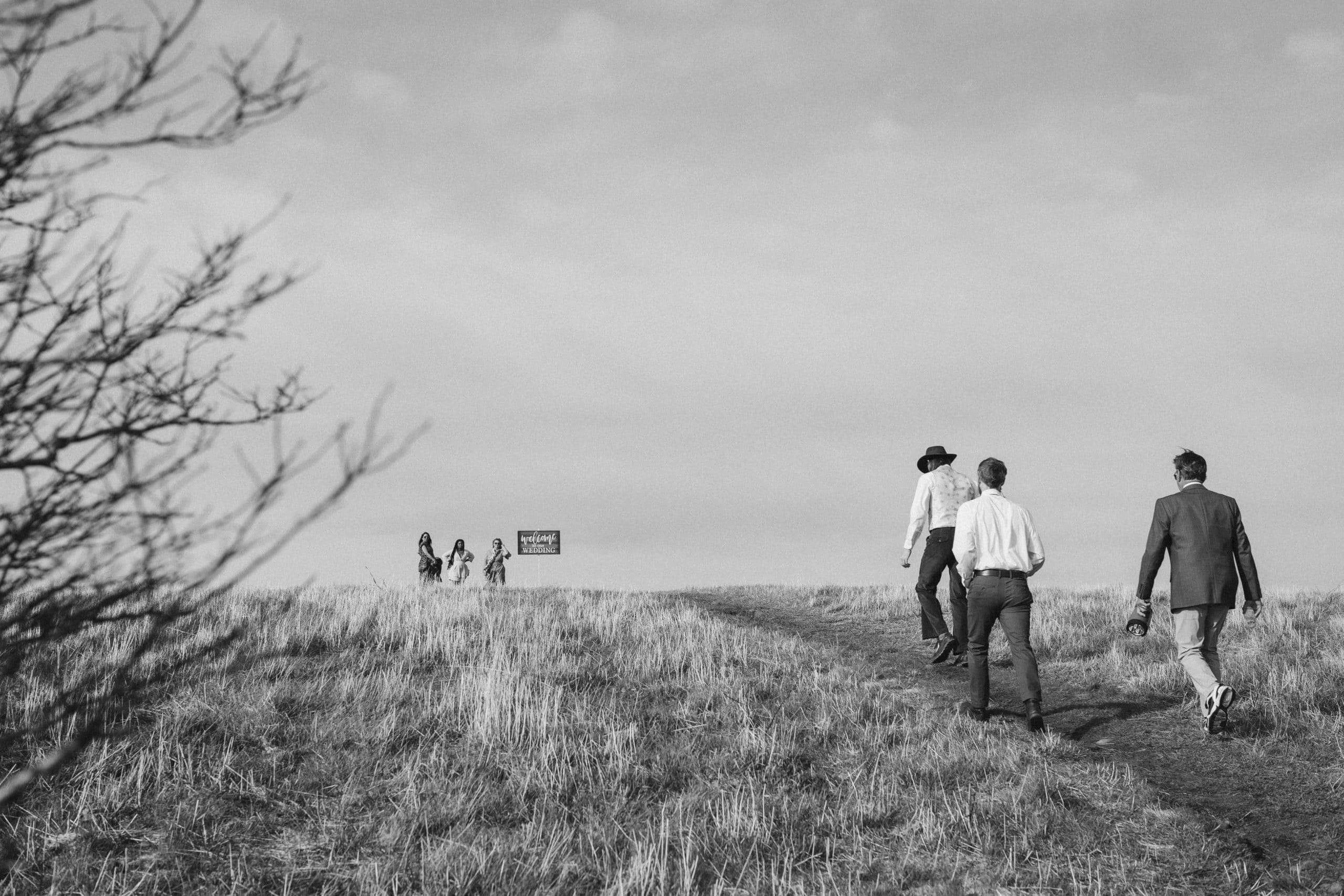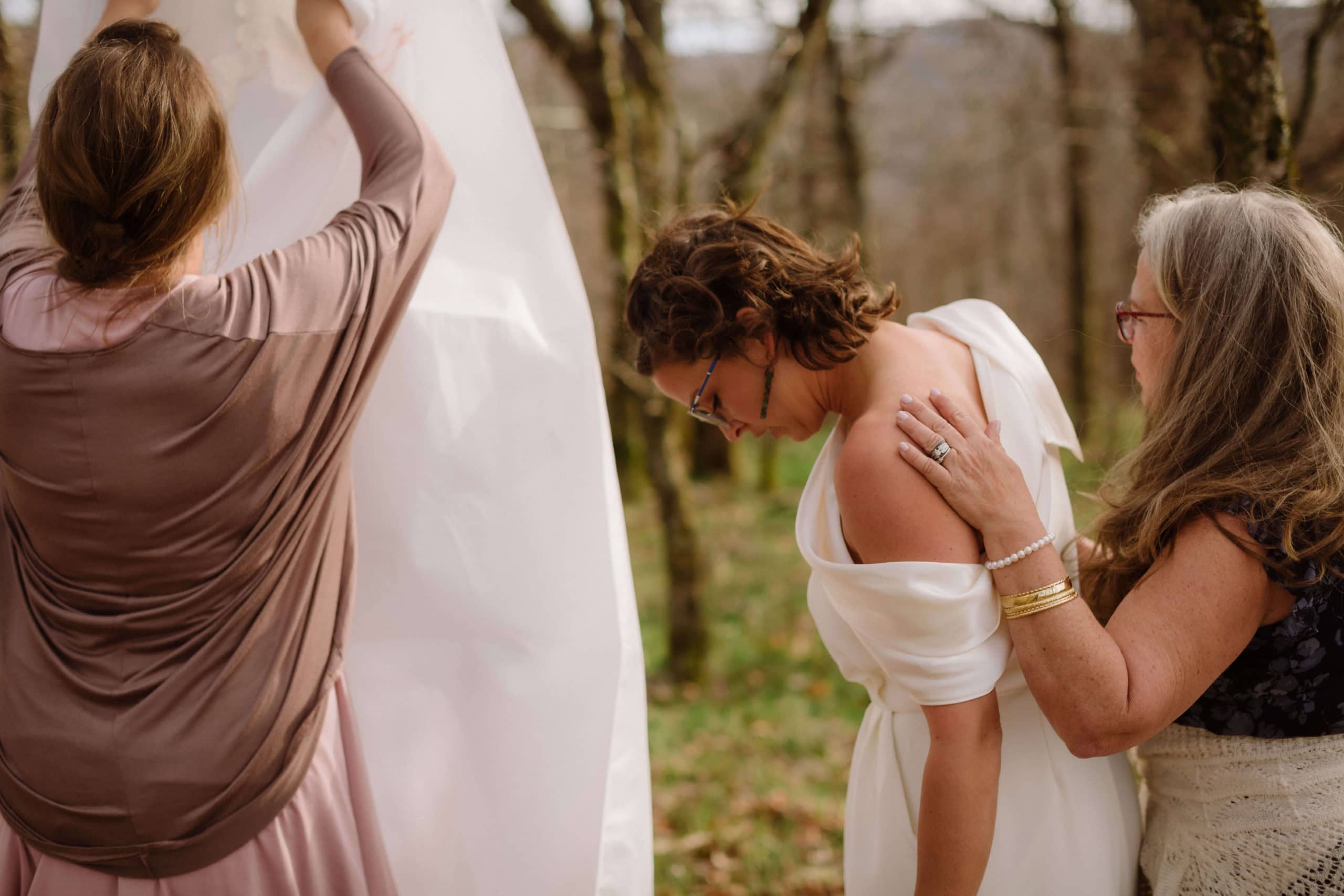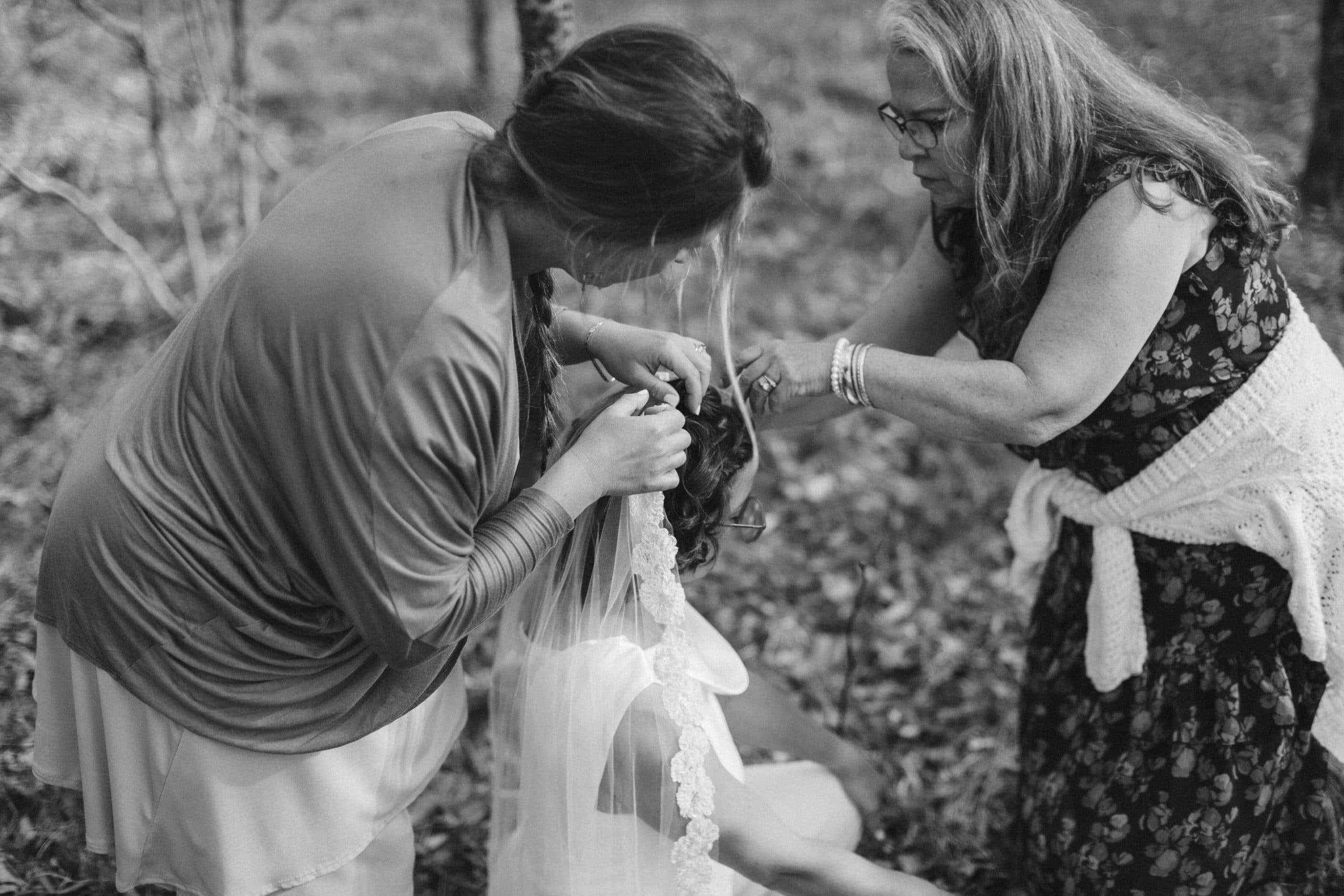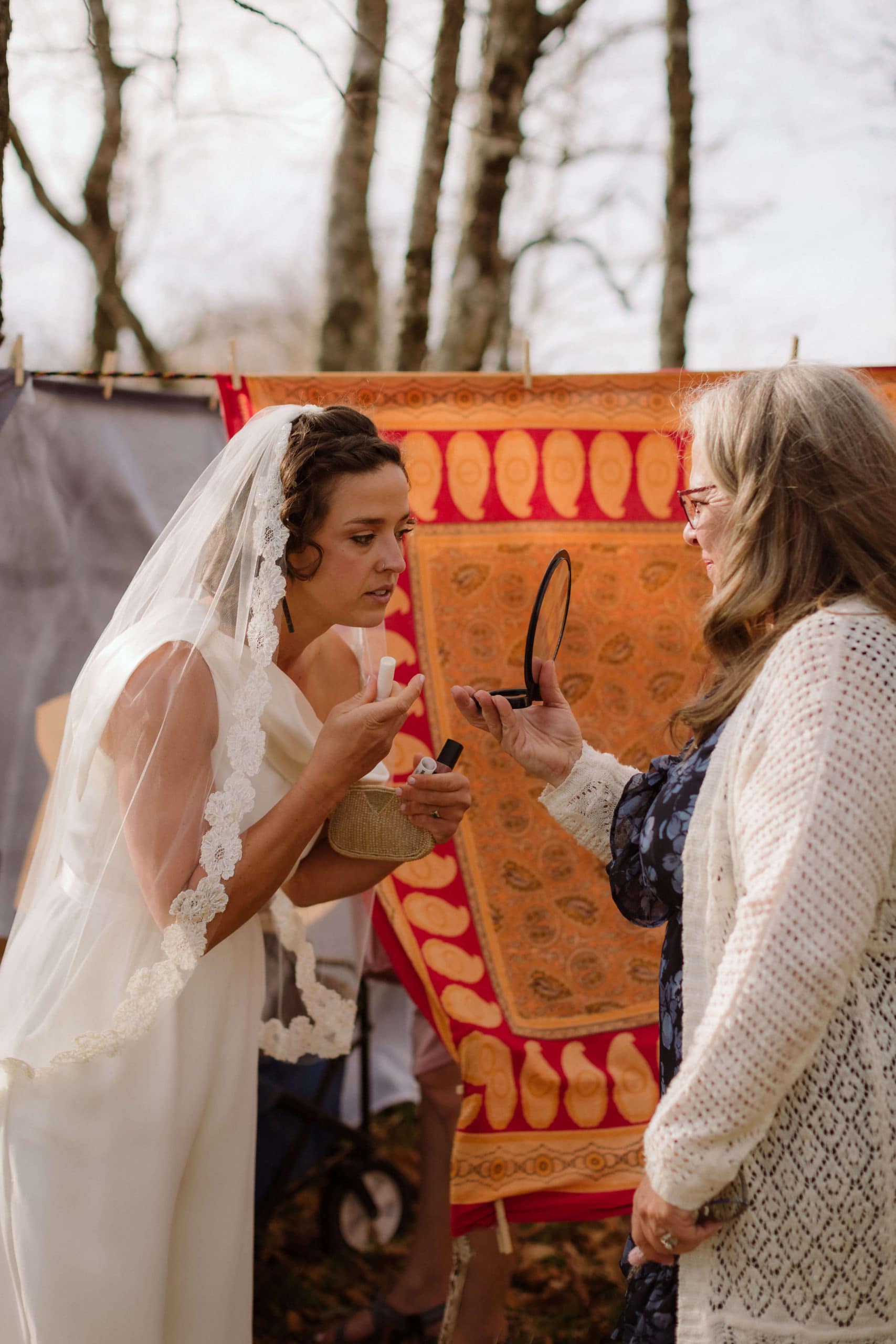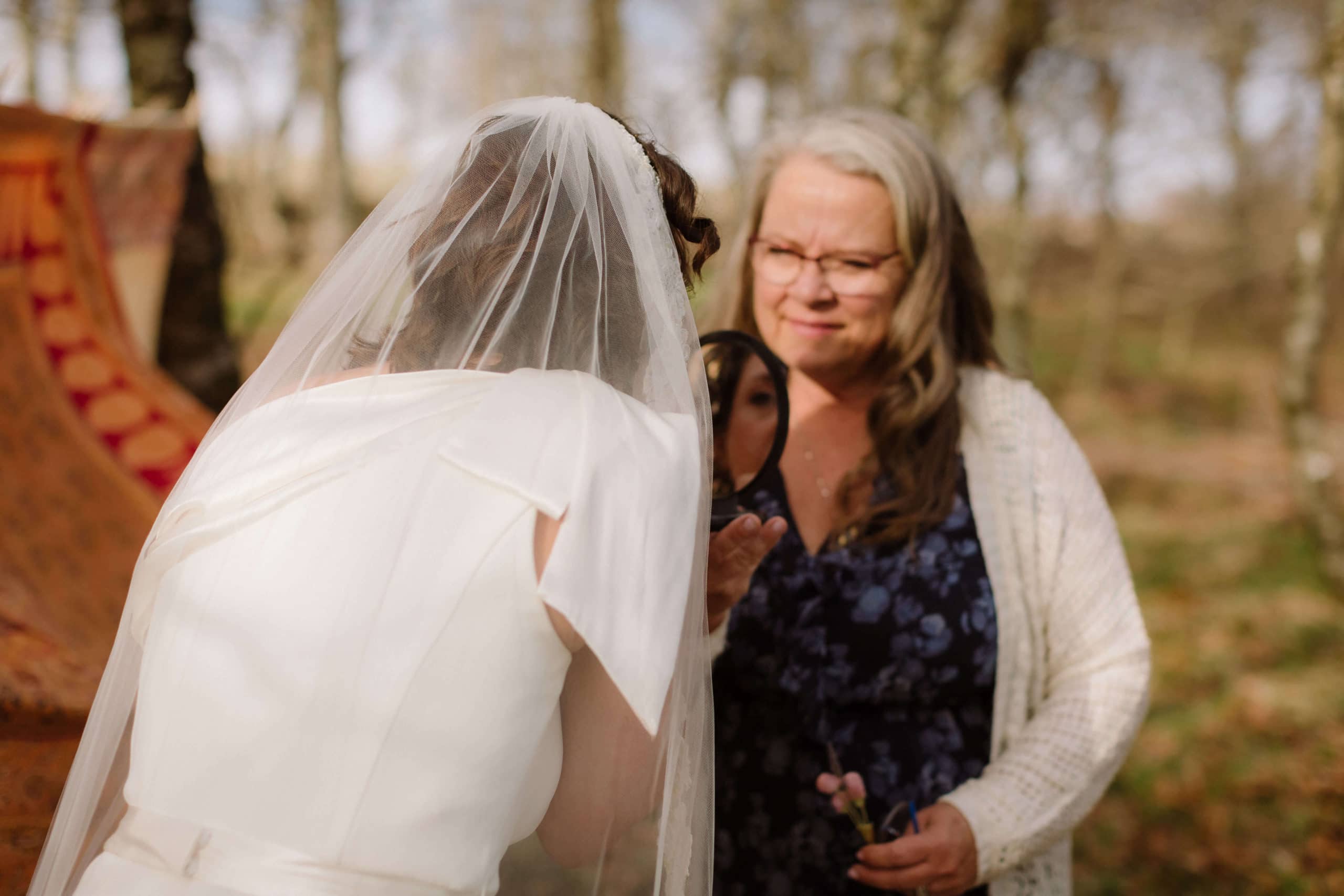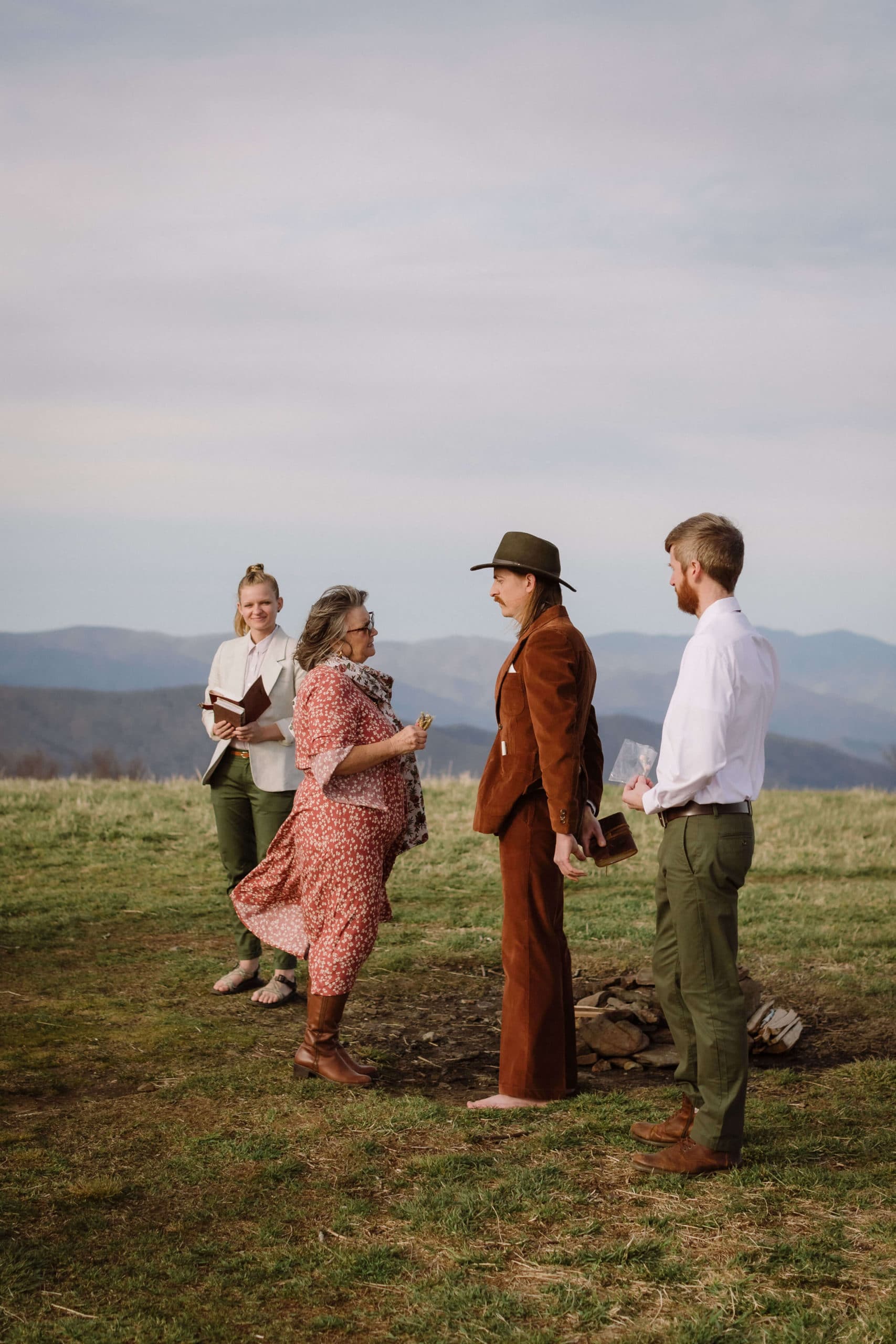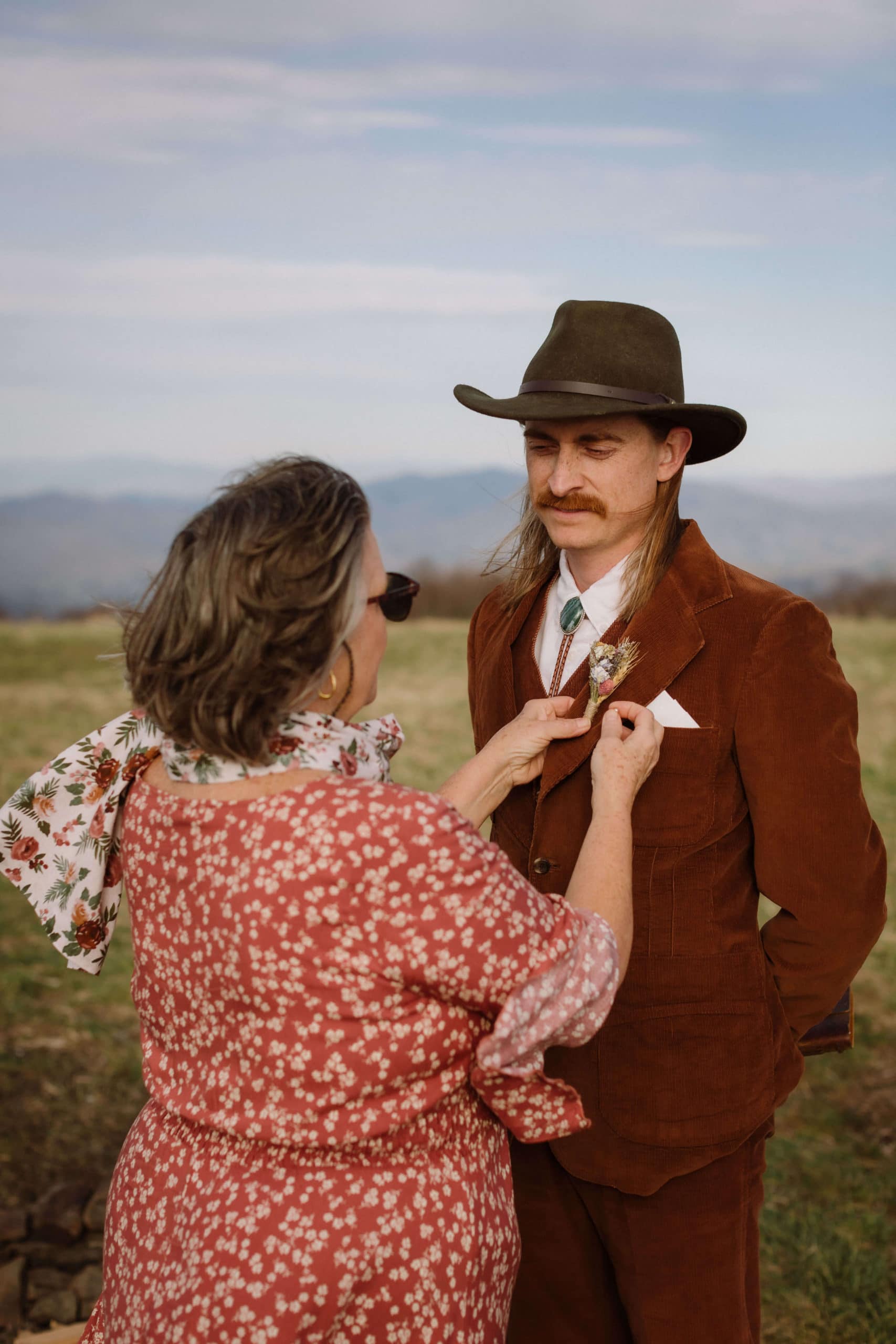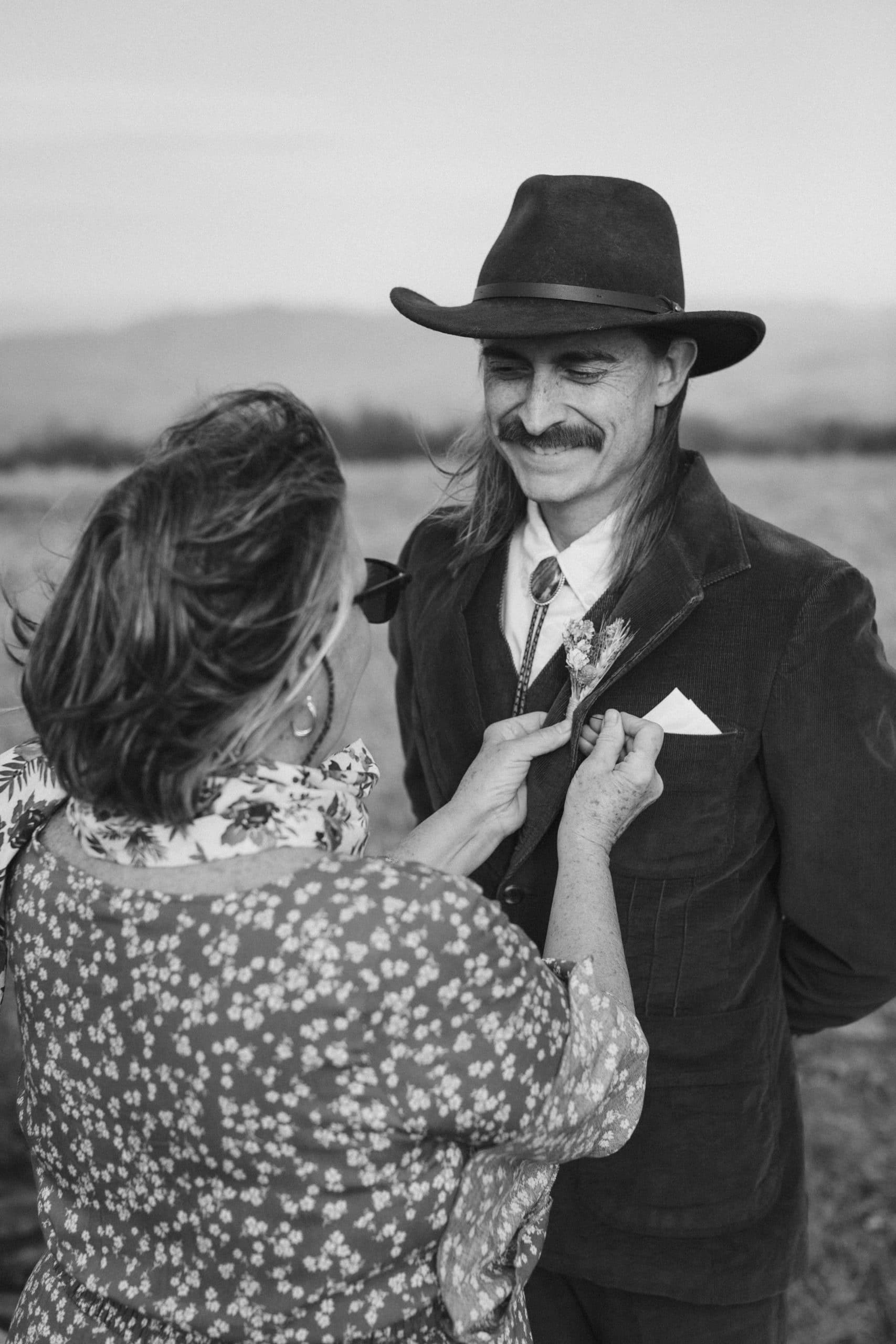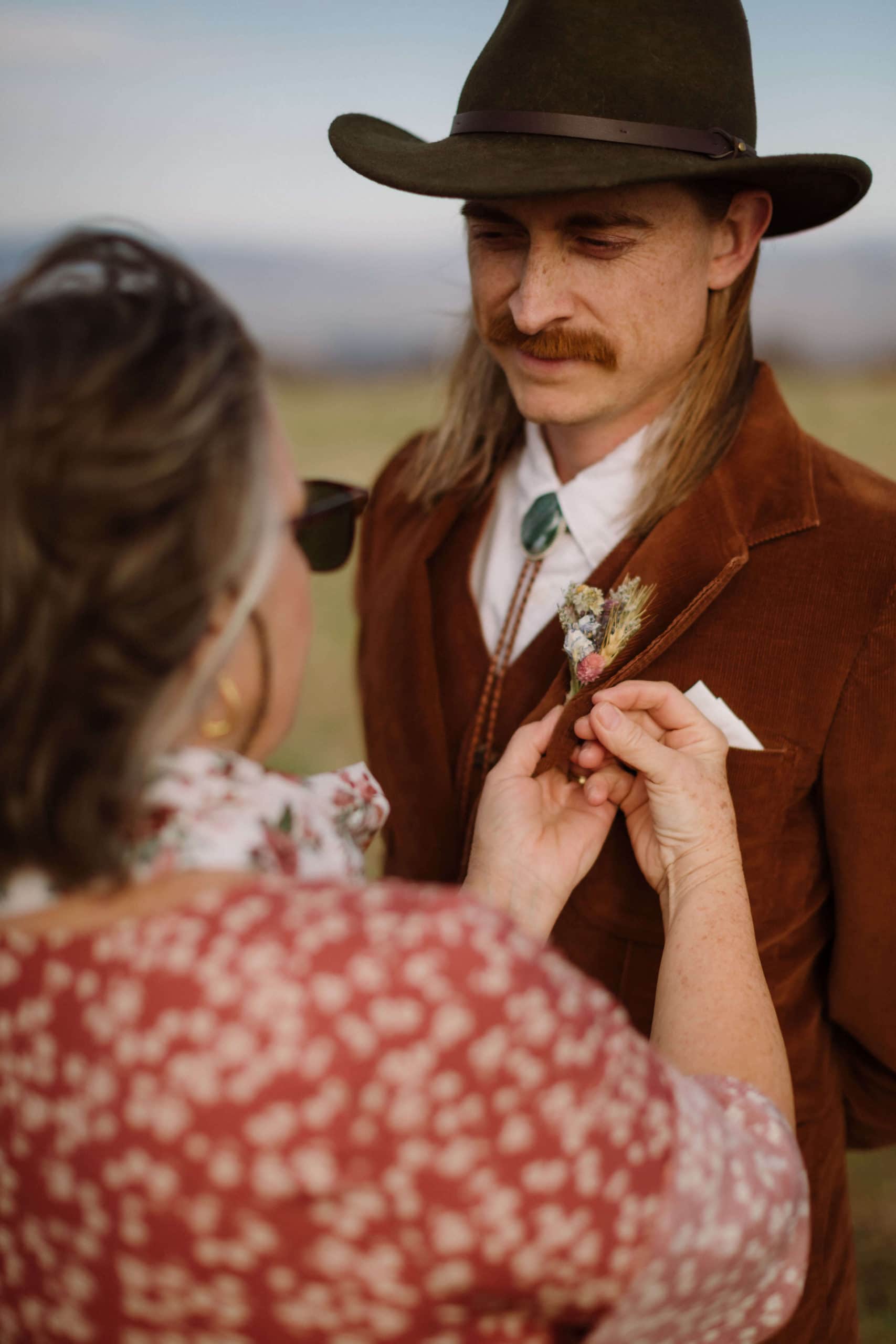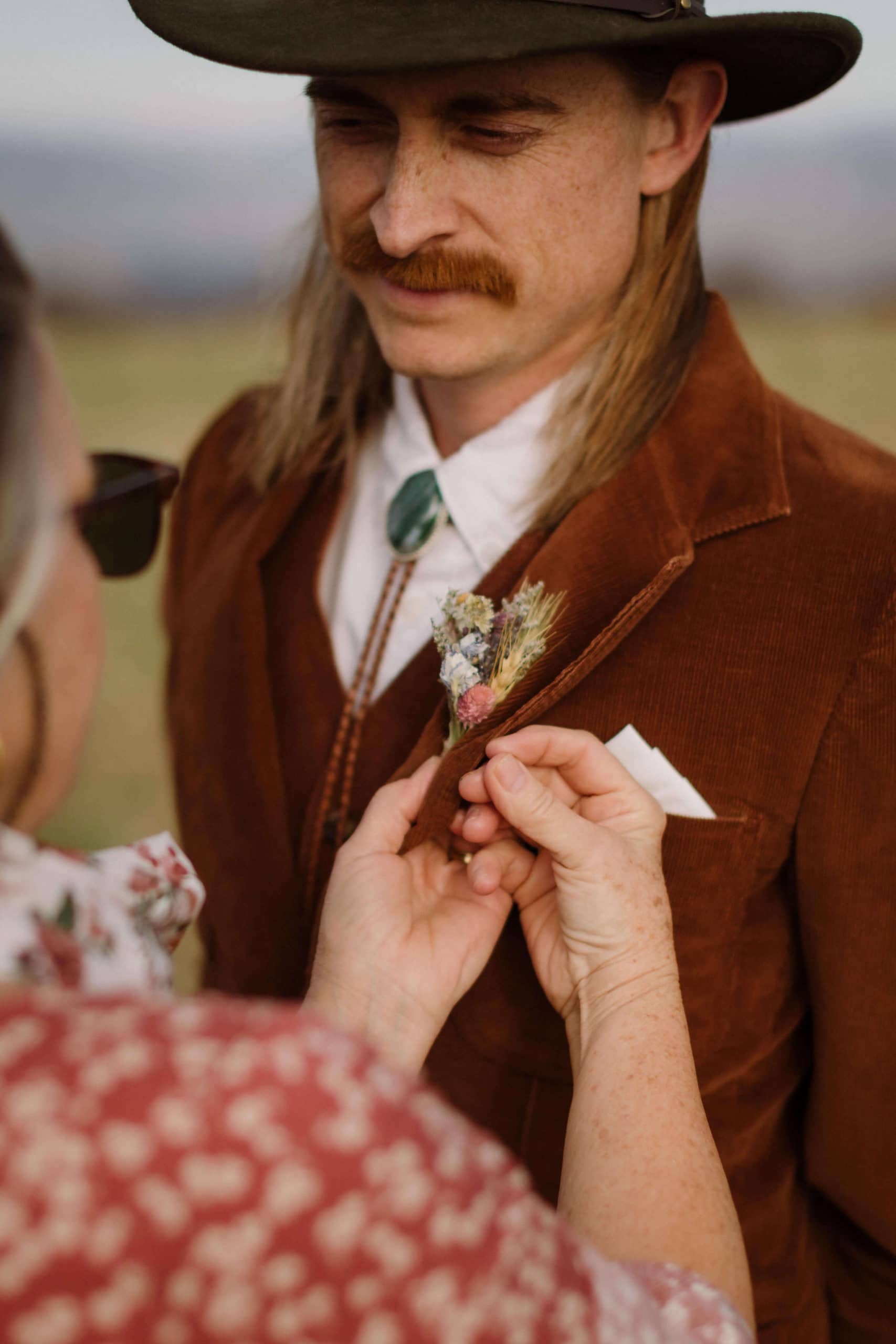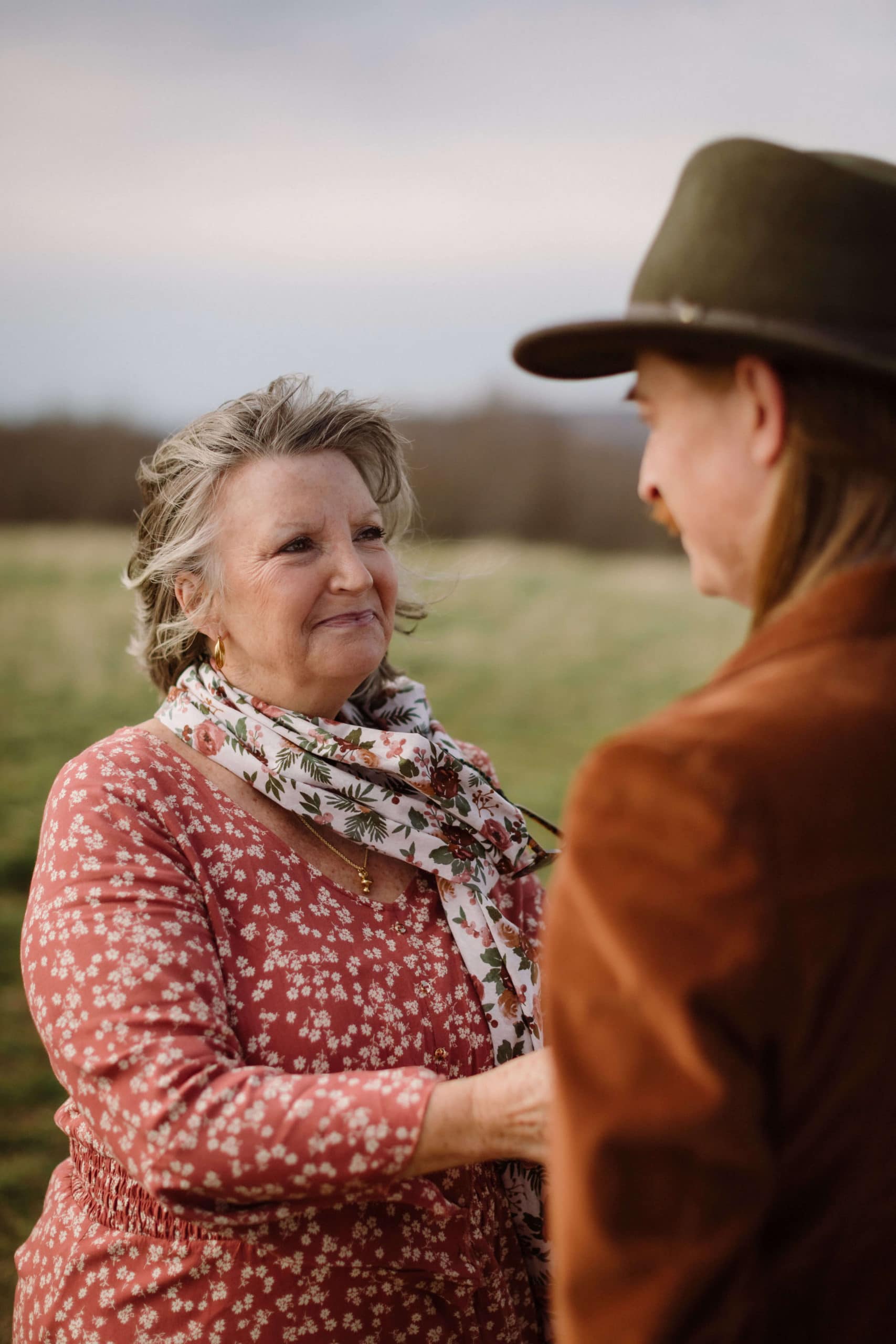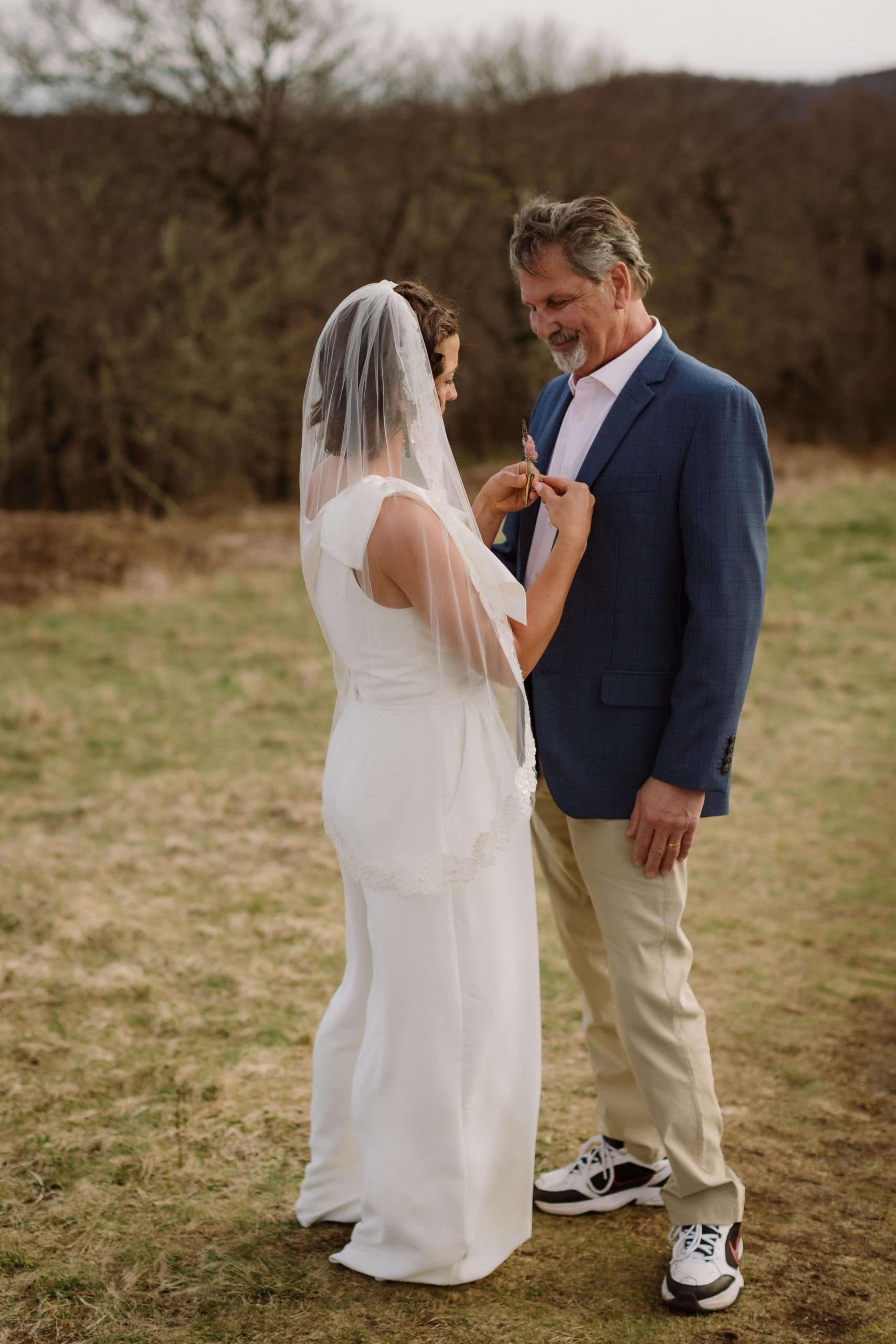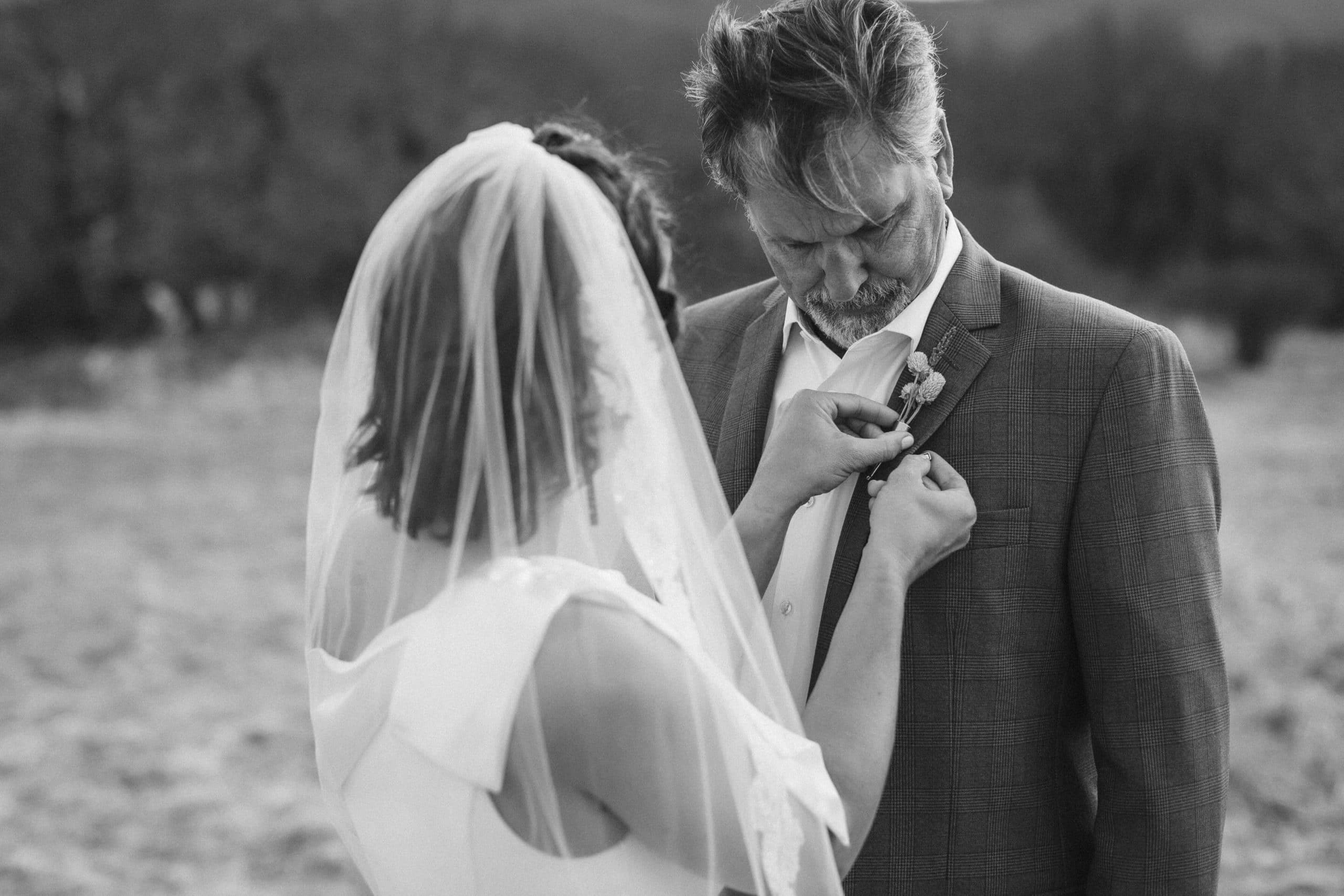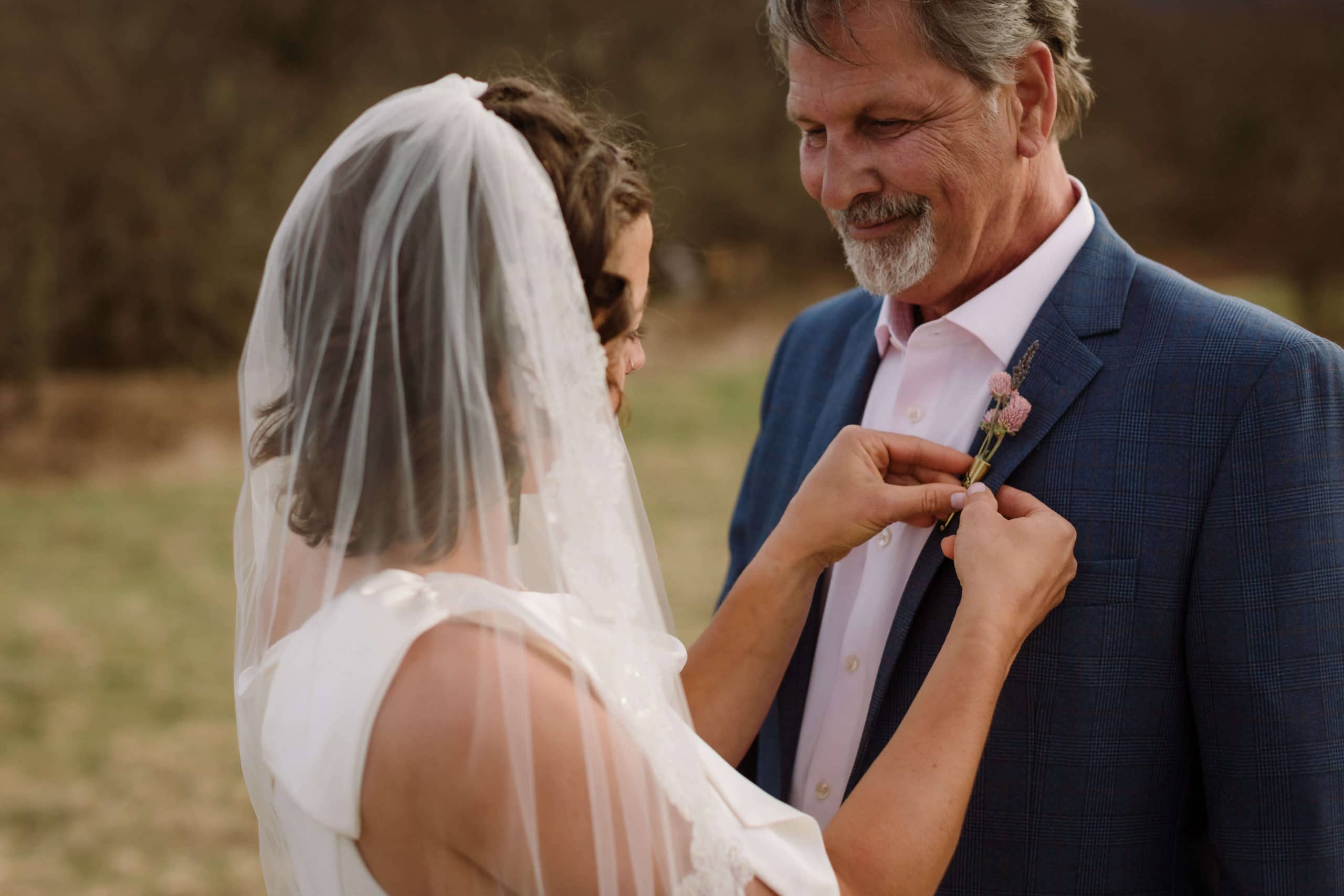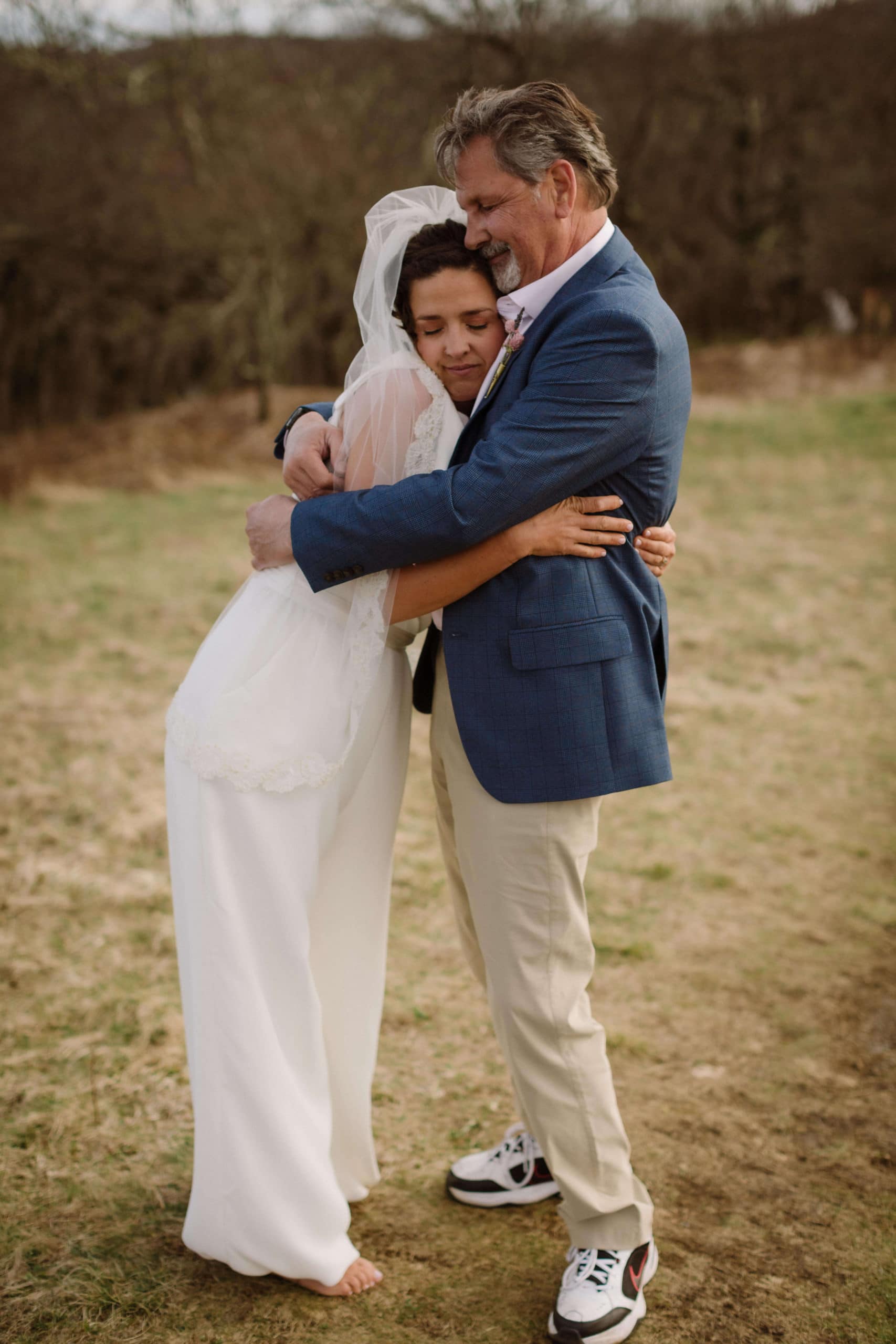 Plan Your Wedding Your Own Way
When it came to planning their wedding, one of the biggest things that Liv and Rusty wanted to do was to make sure their wedding was done their way. With so much excitement surrounding weddings, it's easy to be influenced by opinions of family and friends and by the media always promoting grand, movie-worthy events. However, for Liv and Rusty, their only desire was to have a small, intimate get together with their closest loved ones surrounded by the beauty of nature.
Oftentimes, engaged couples feel that there's a checklist of specific things that they have to do when they're planning their wedding. However, something that you should always keep in mind is that the day is supposed to be about you and your partner. If a formal white wedding doesn't fit into your love story or suit your personalities, ditch it entirely and do what feels right to you. In the end, it doesn't matter whether you cut a wedding cake or a wedding pie. What matters are the promises that you make to each other and the future that you're going to build together.
For their wedding, Liv and Rusty threw almost the entire rule book out of the window. Instead of renting a huge venue or going to city hall, they decided to have a destination elopement. They picked a gorgeous overlook back in North Carolina close to where they first met to be the place where they would say their I do's.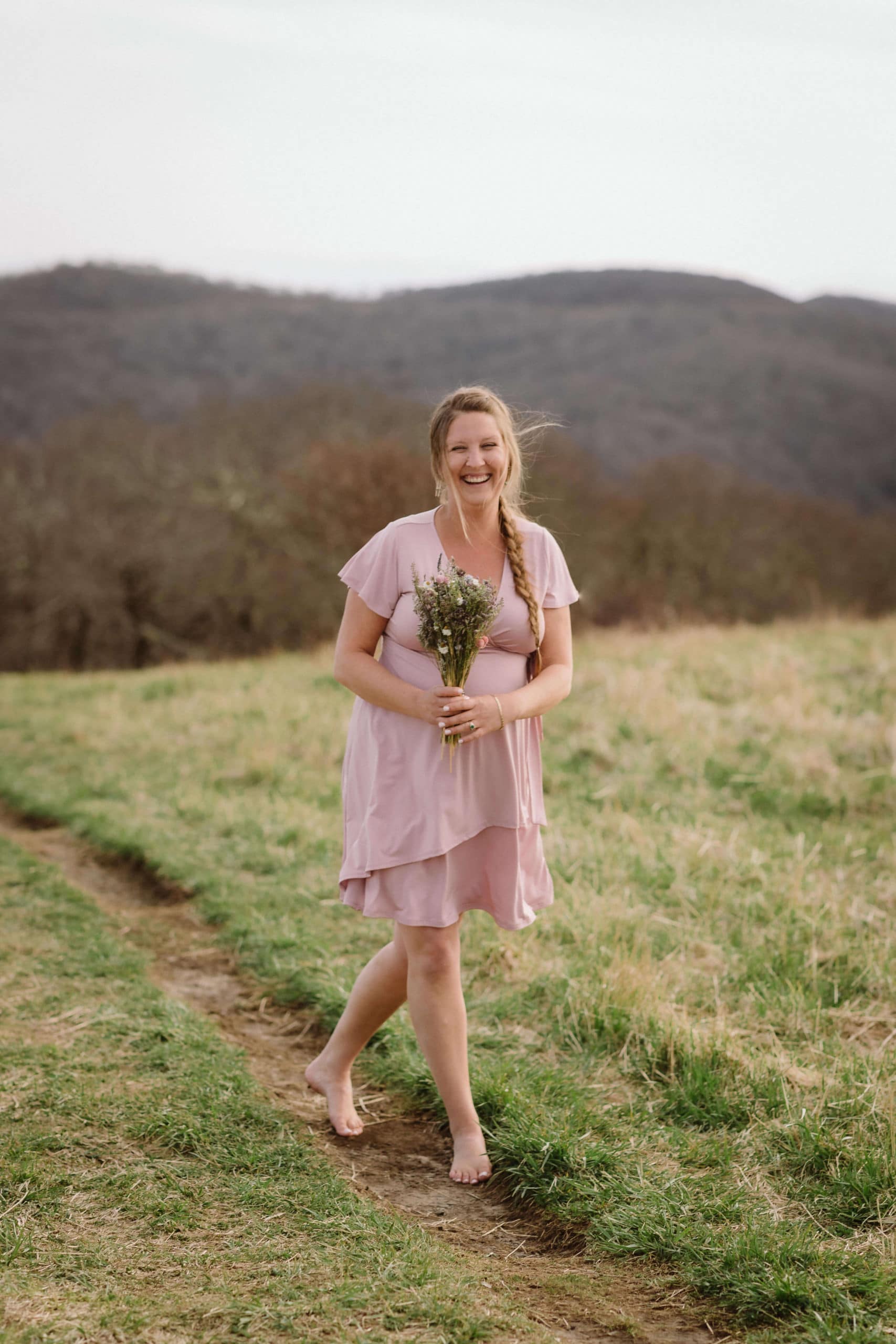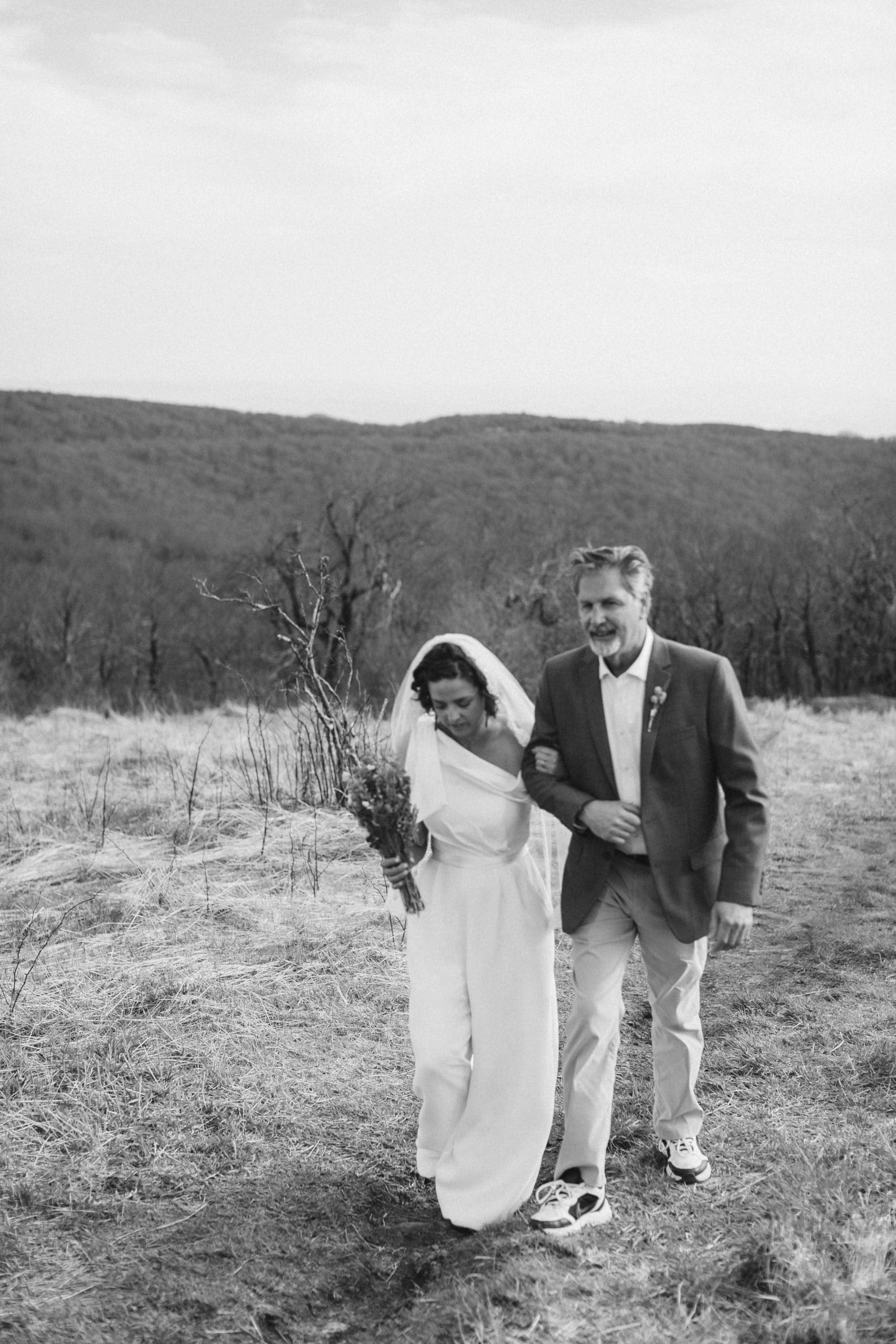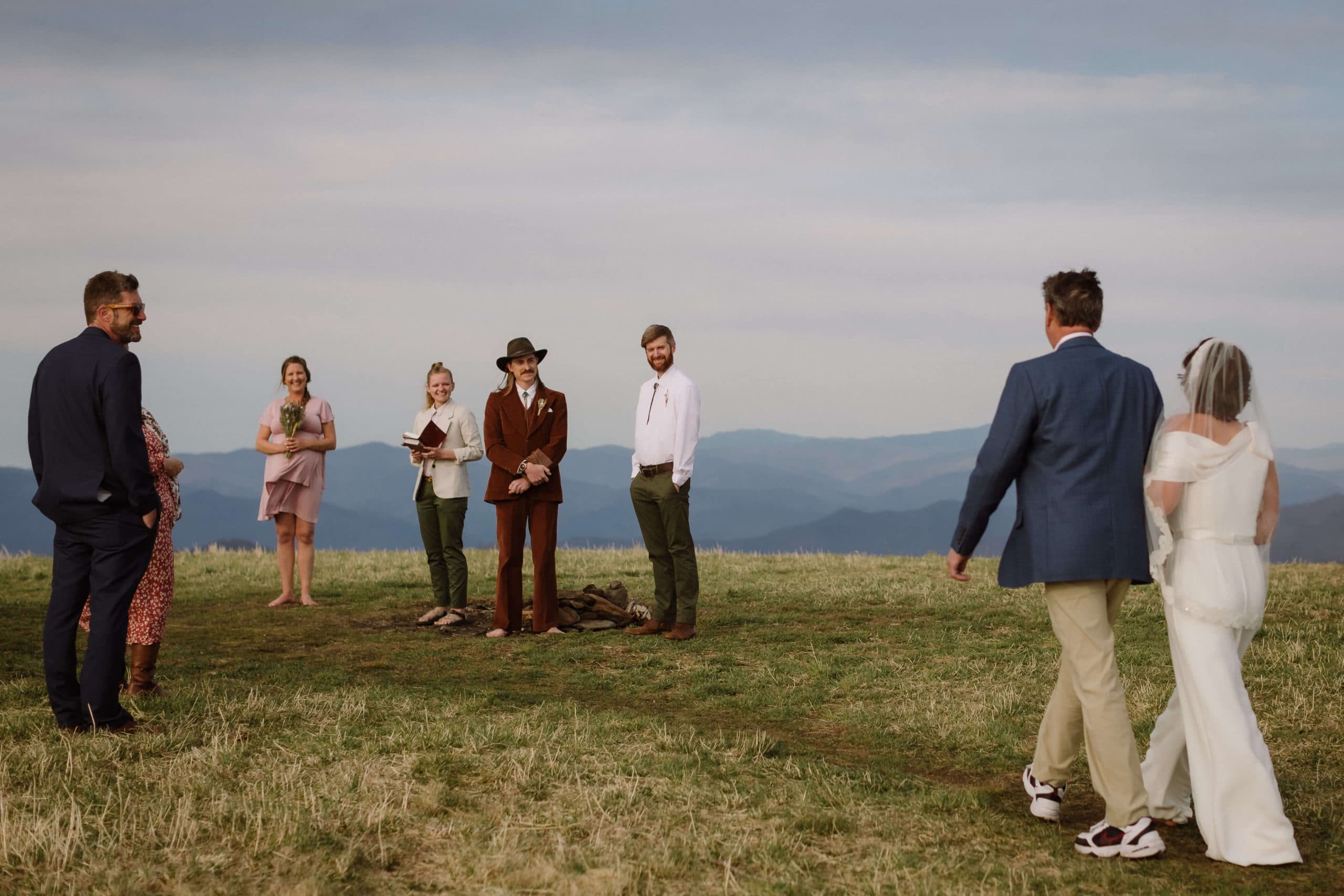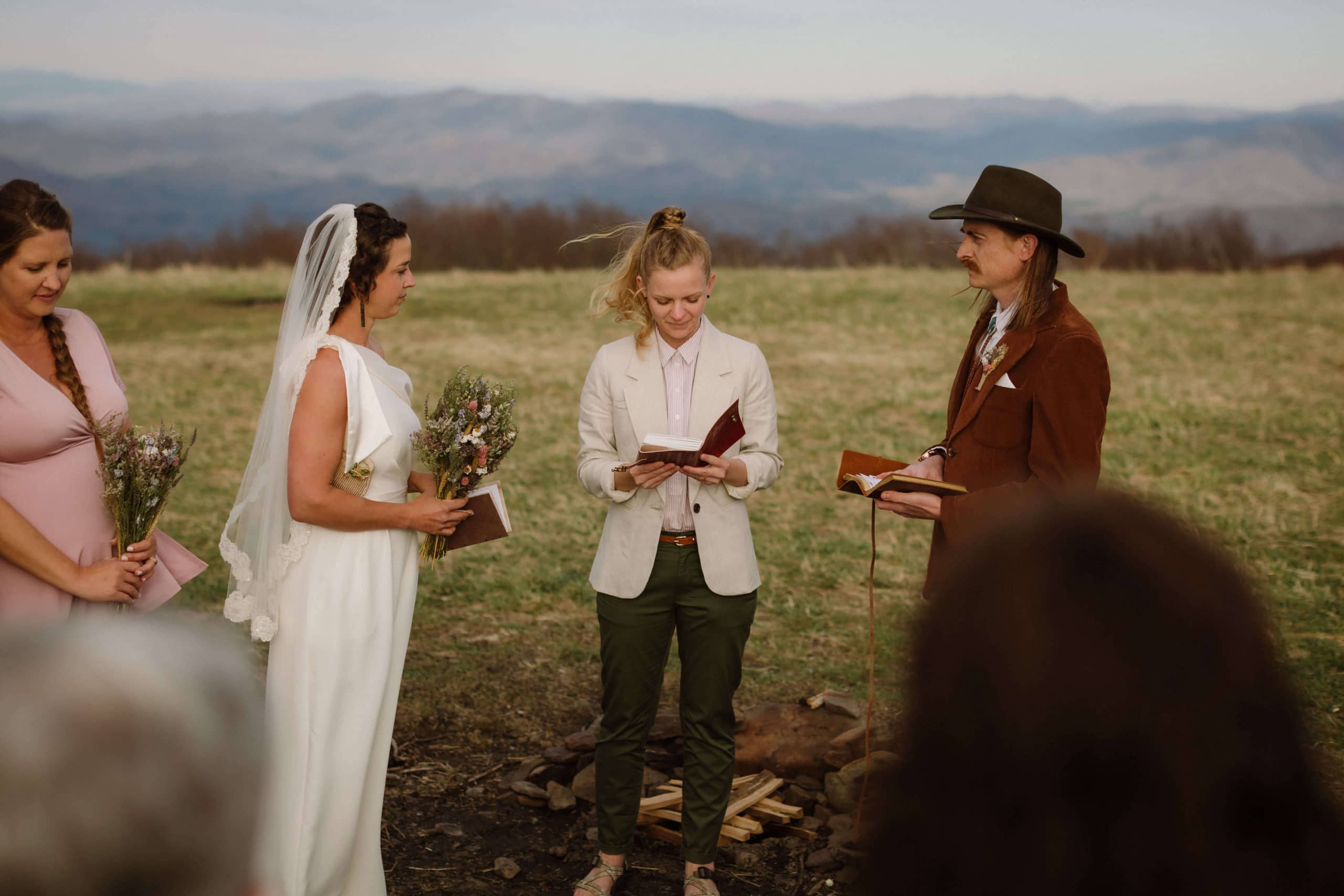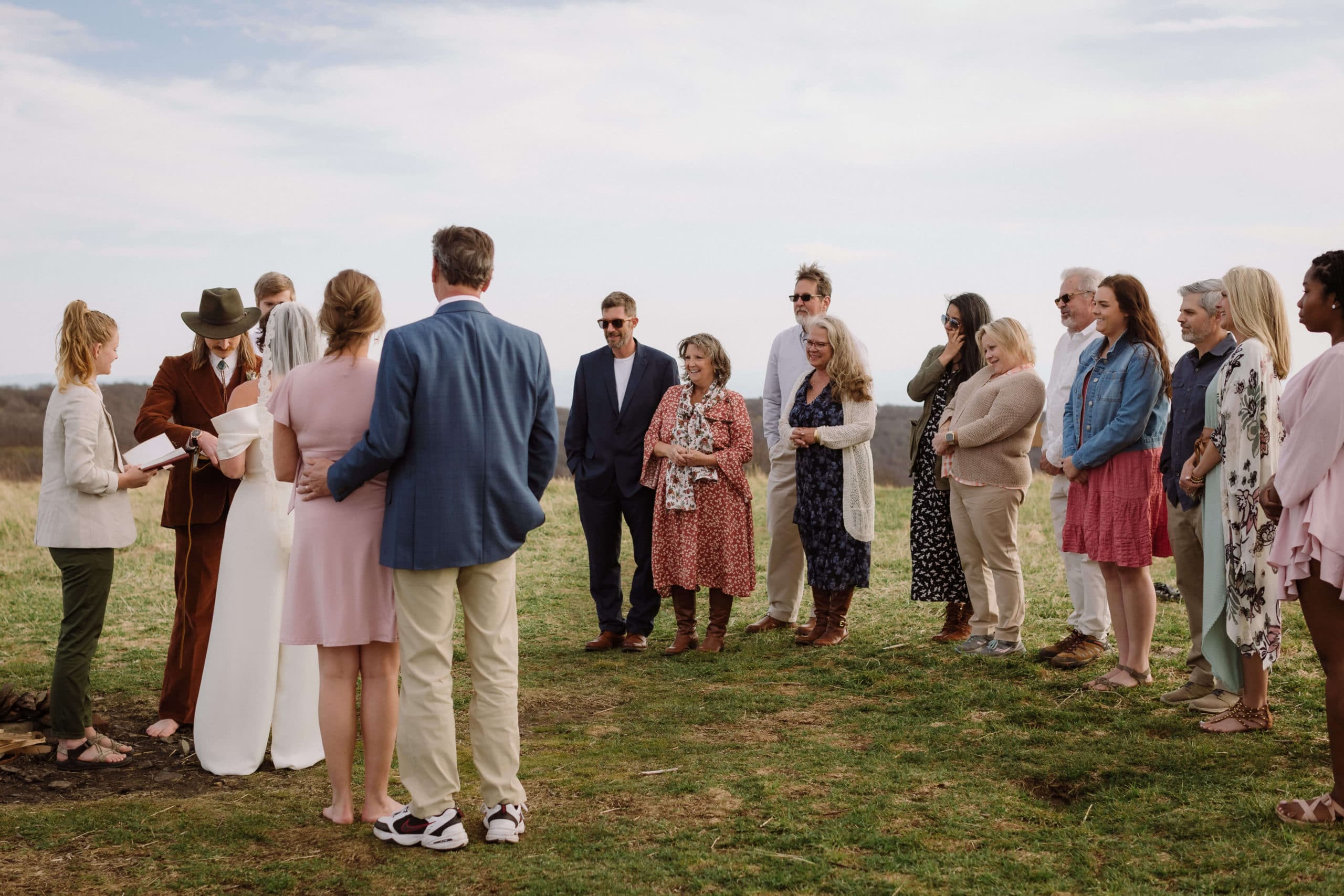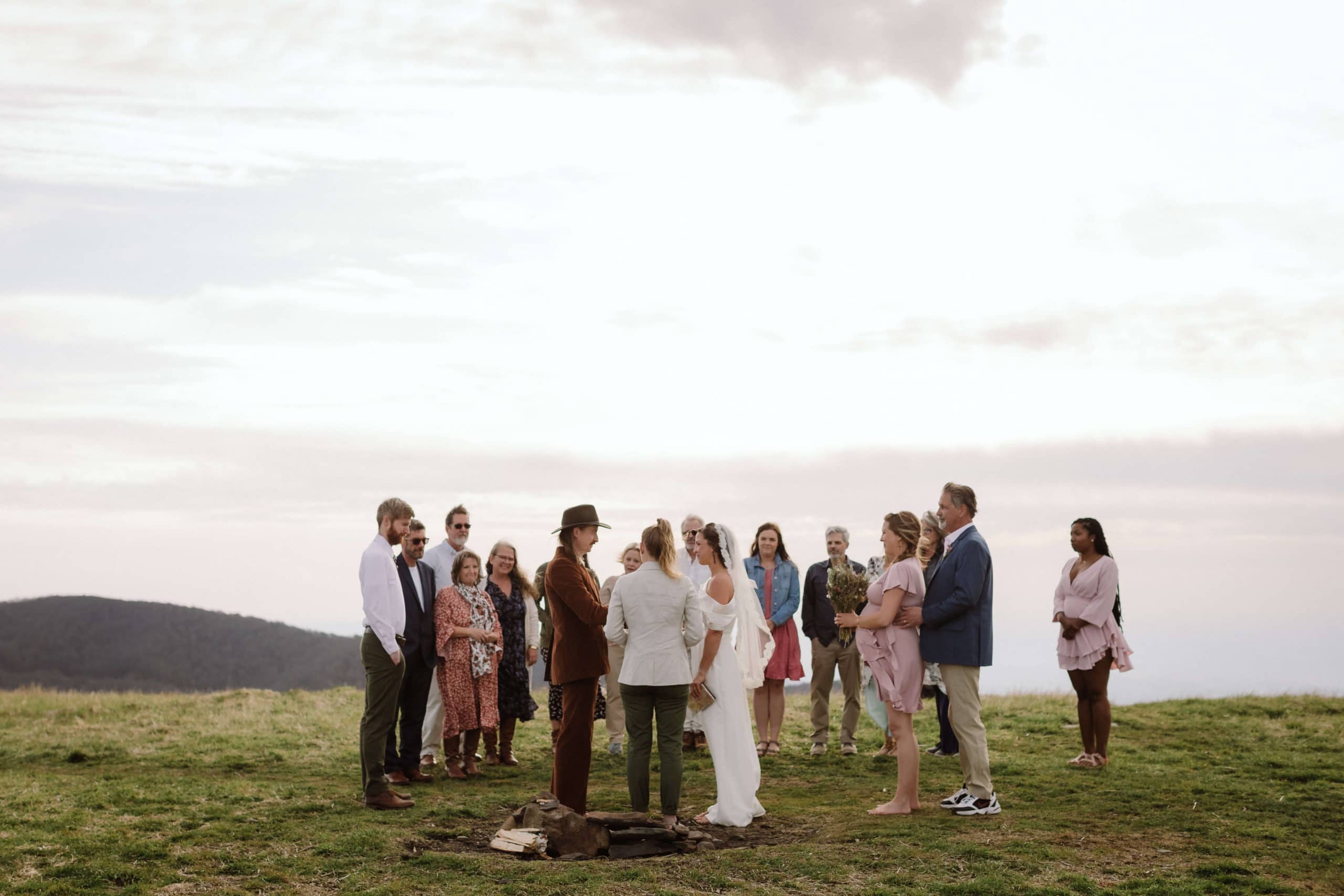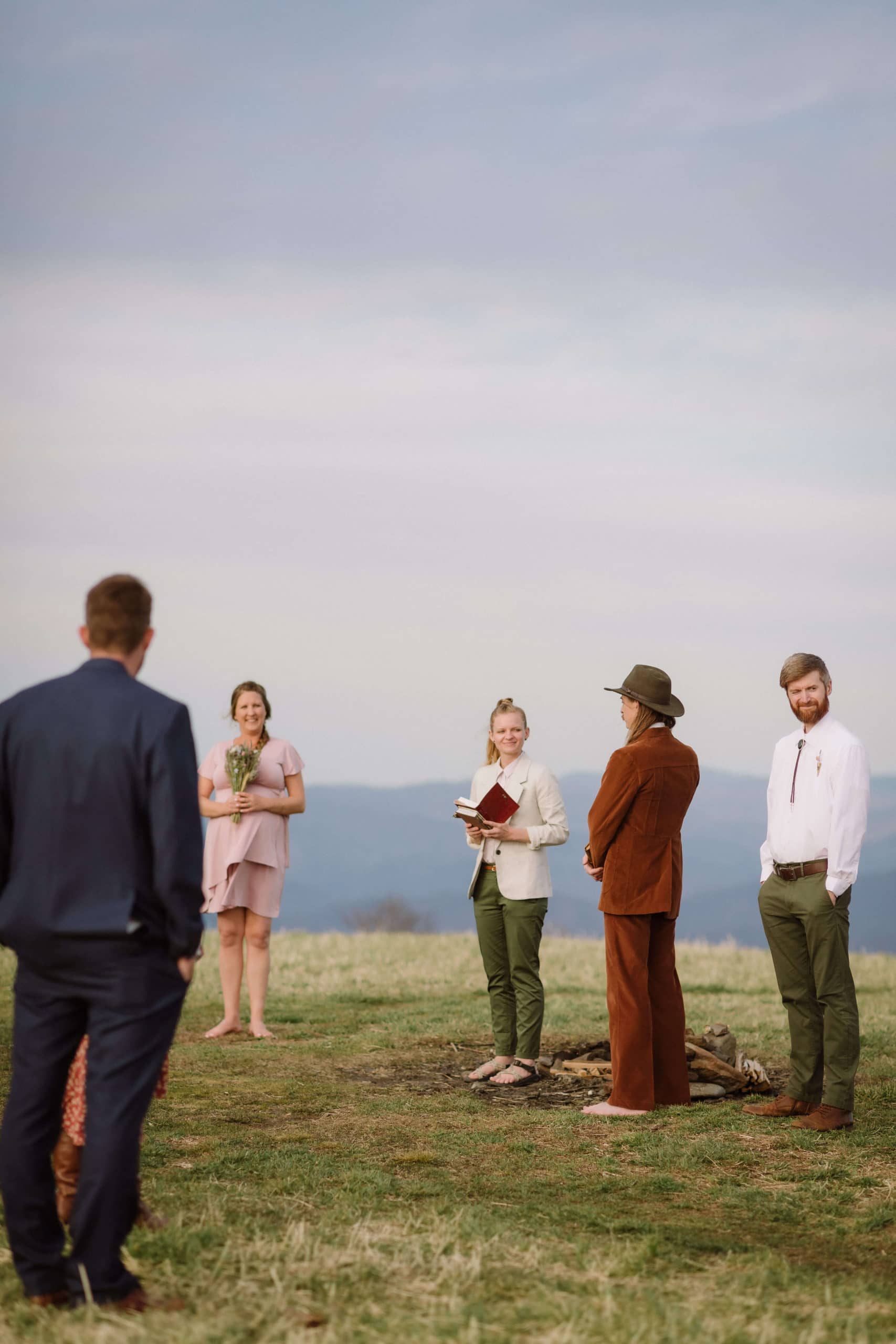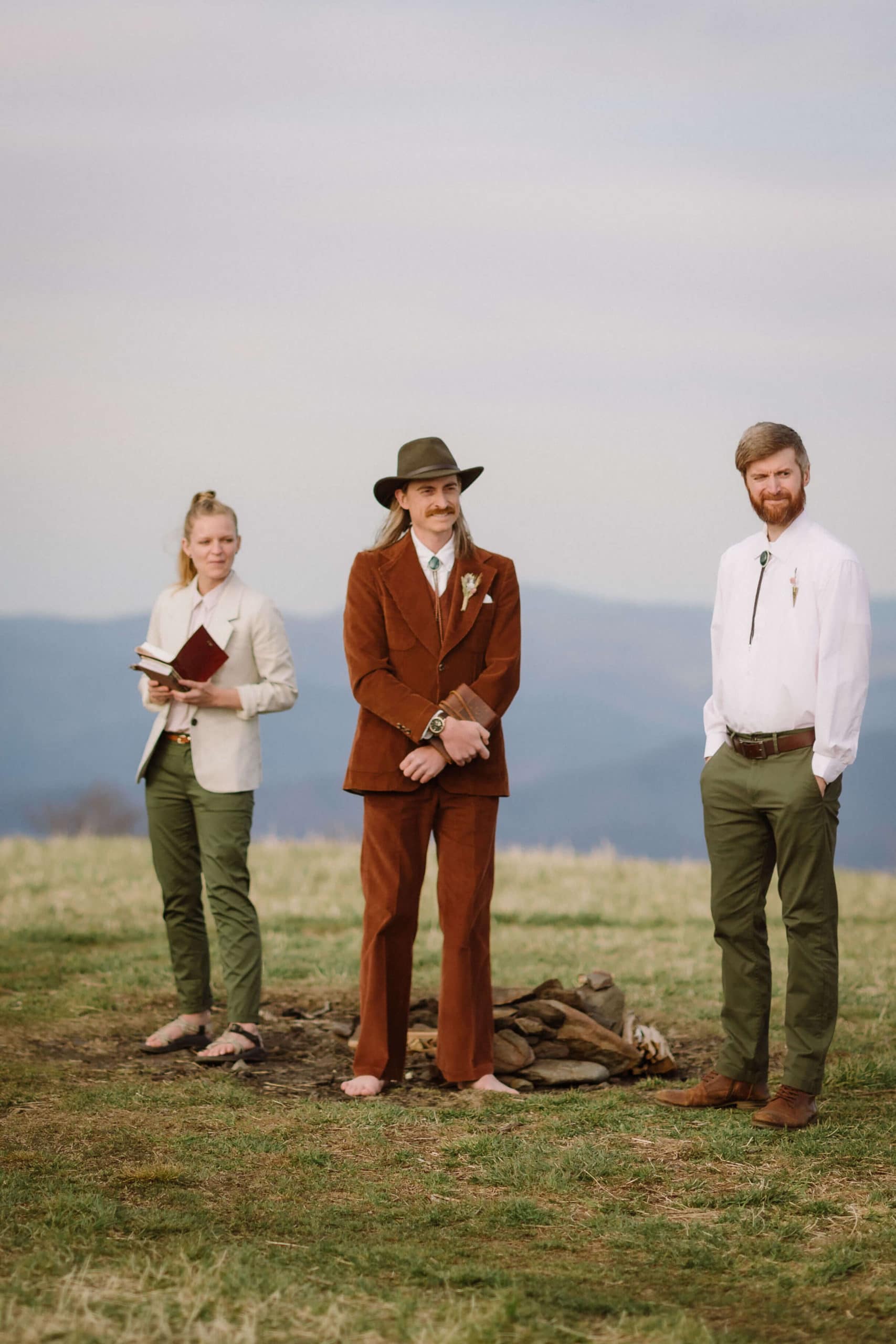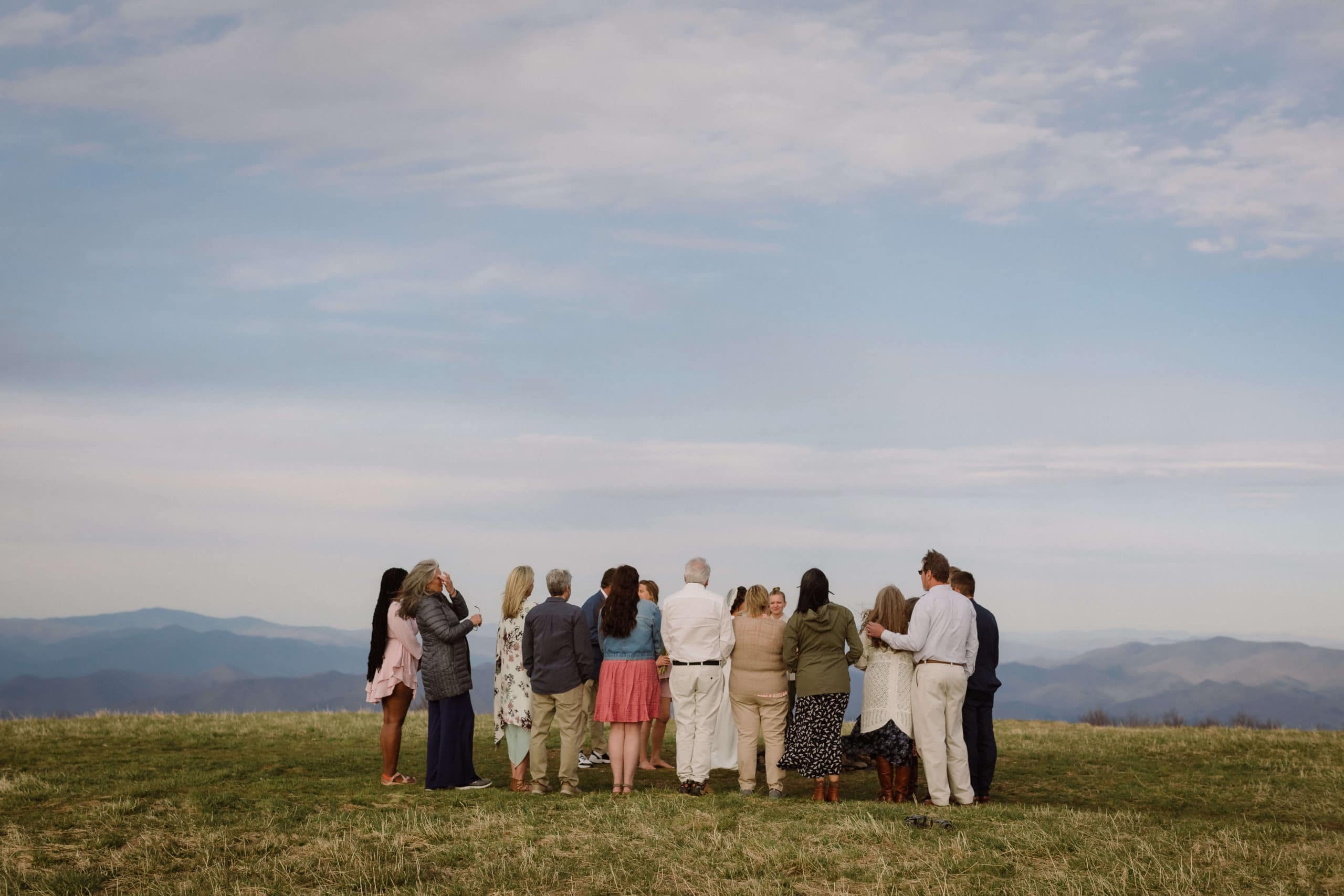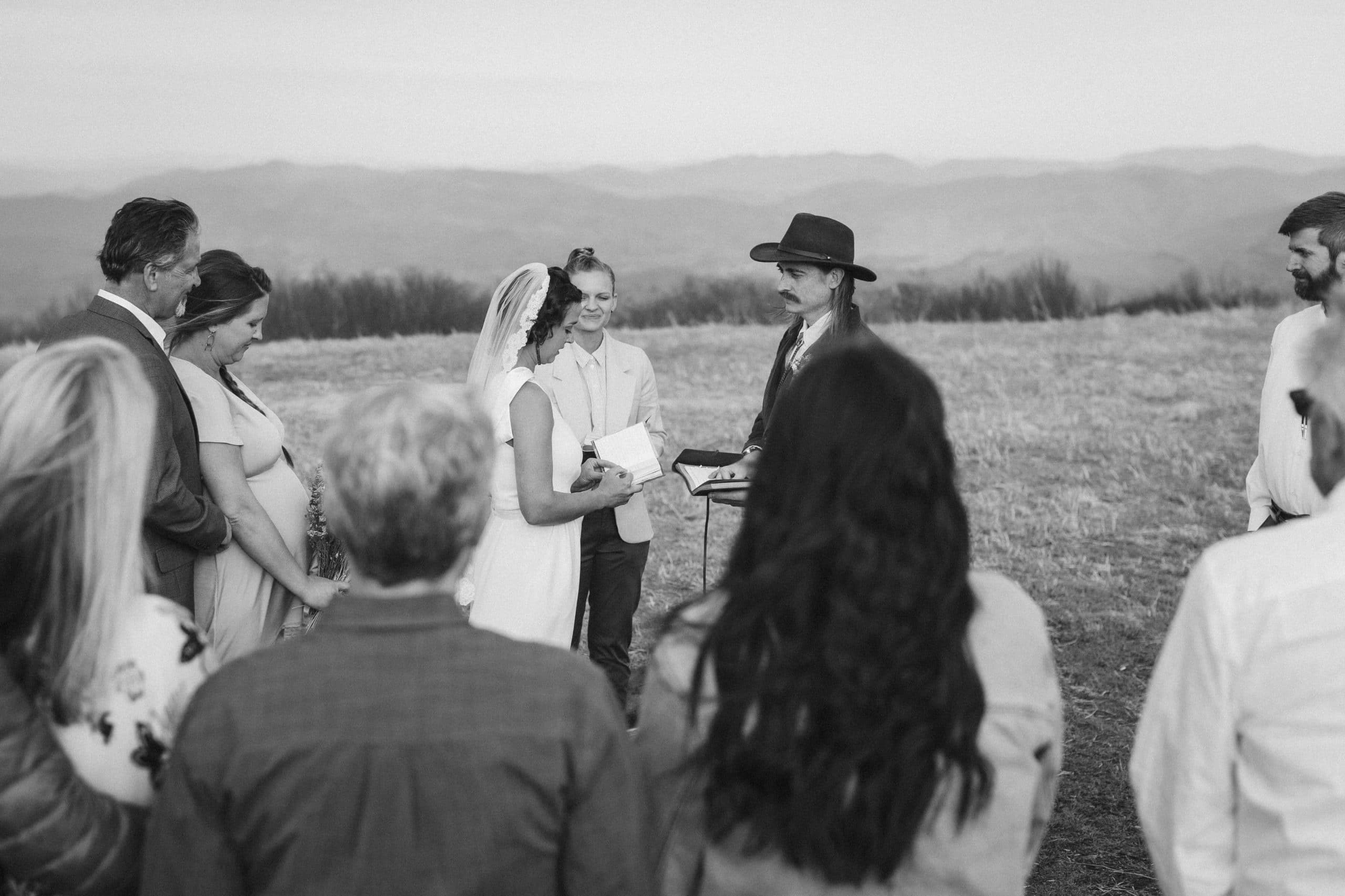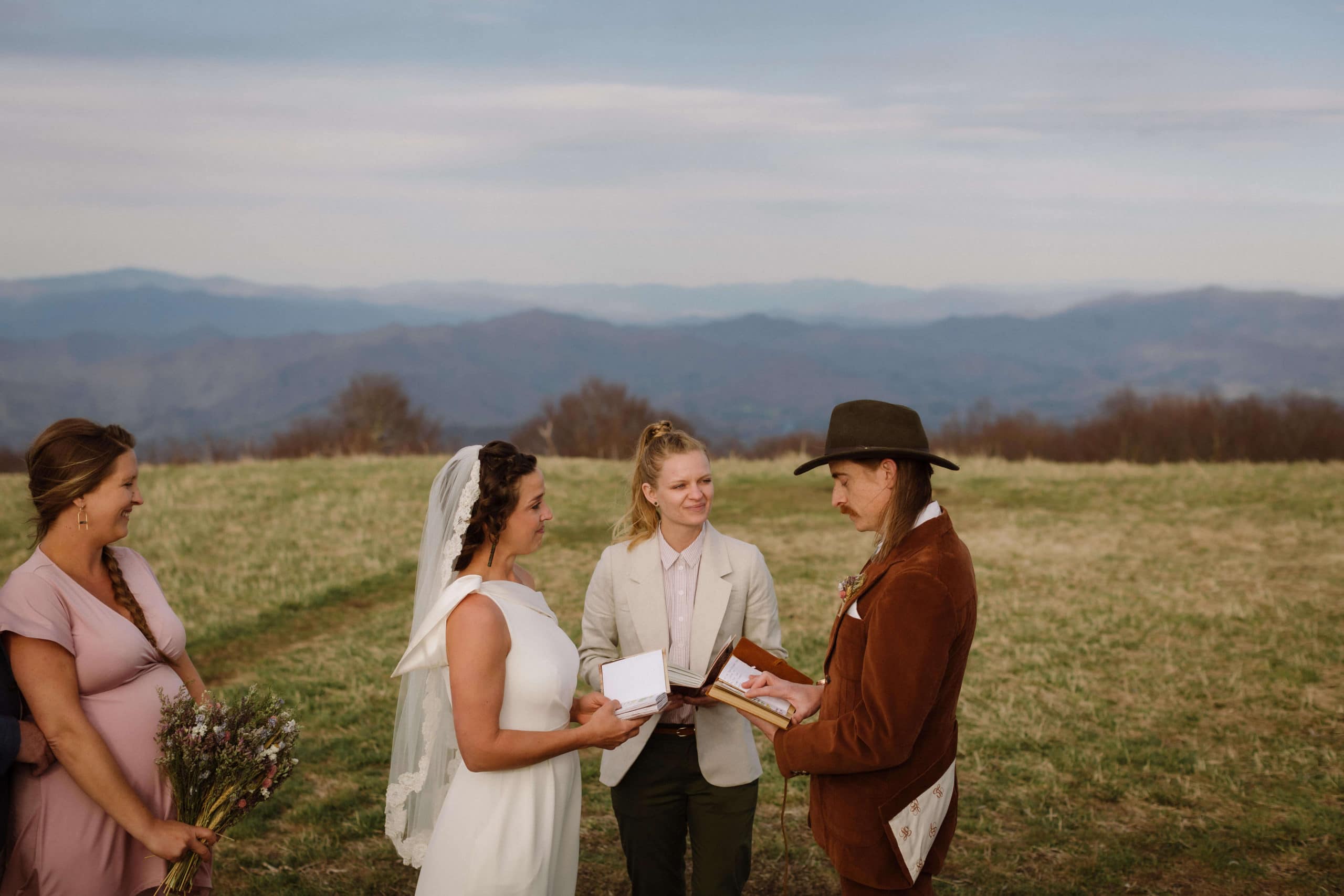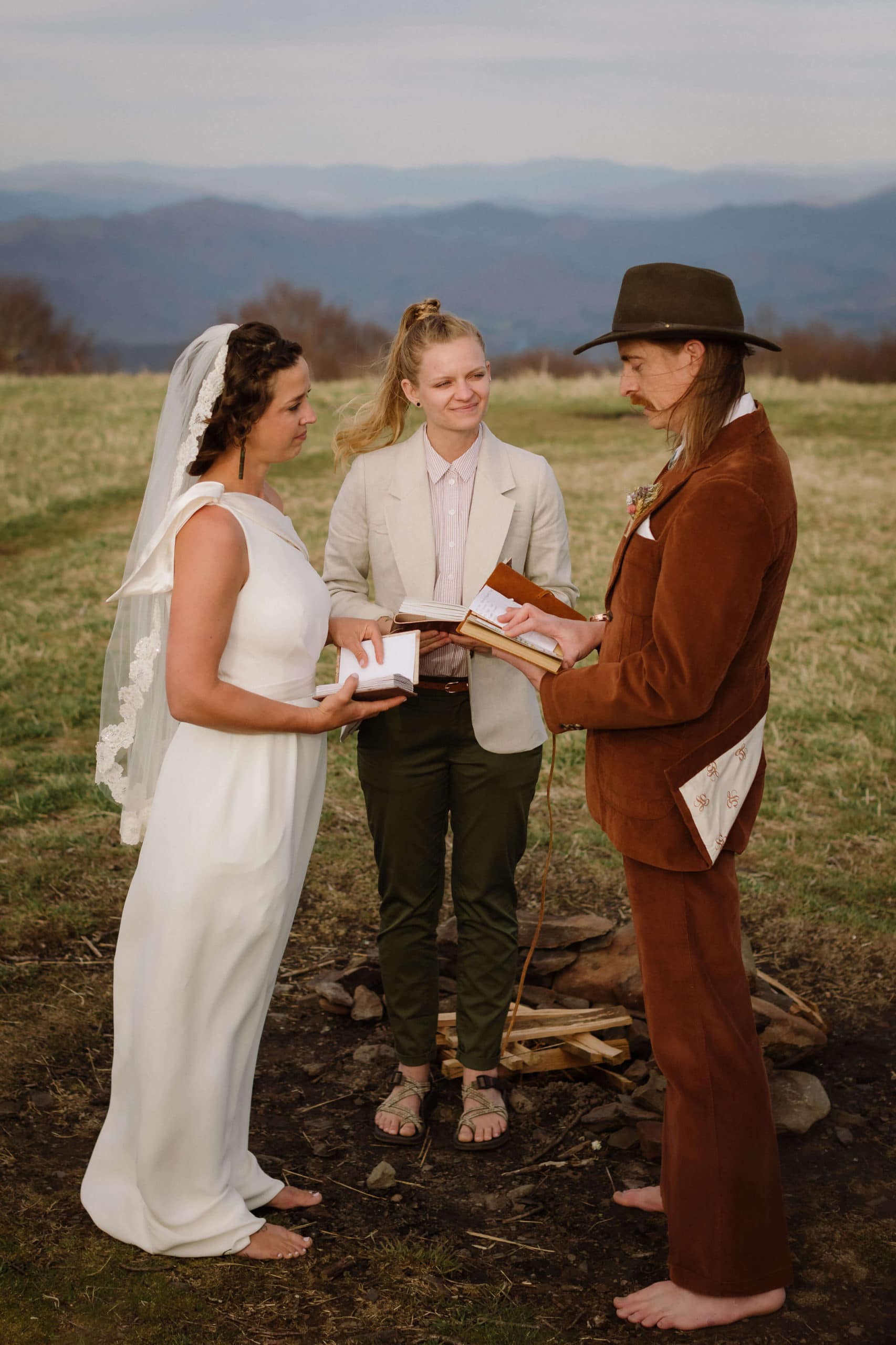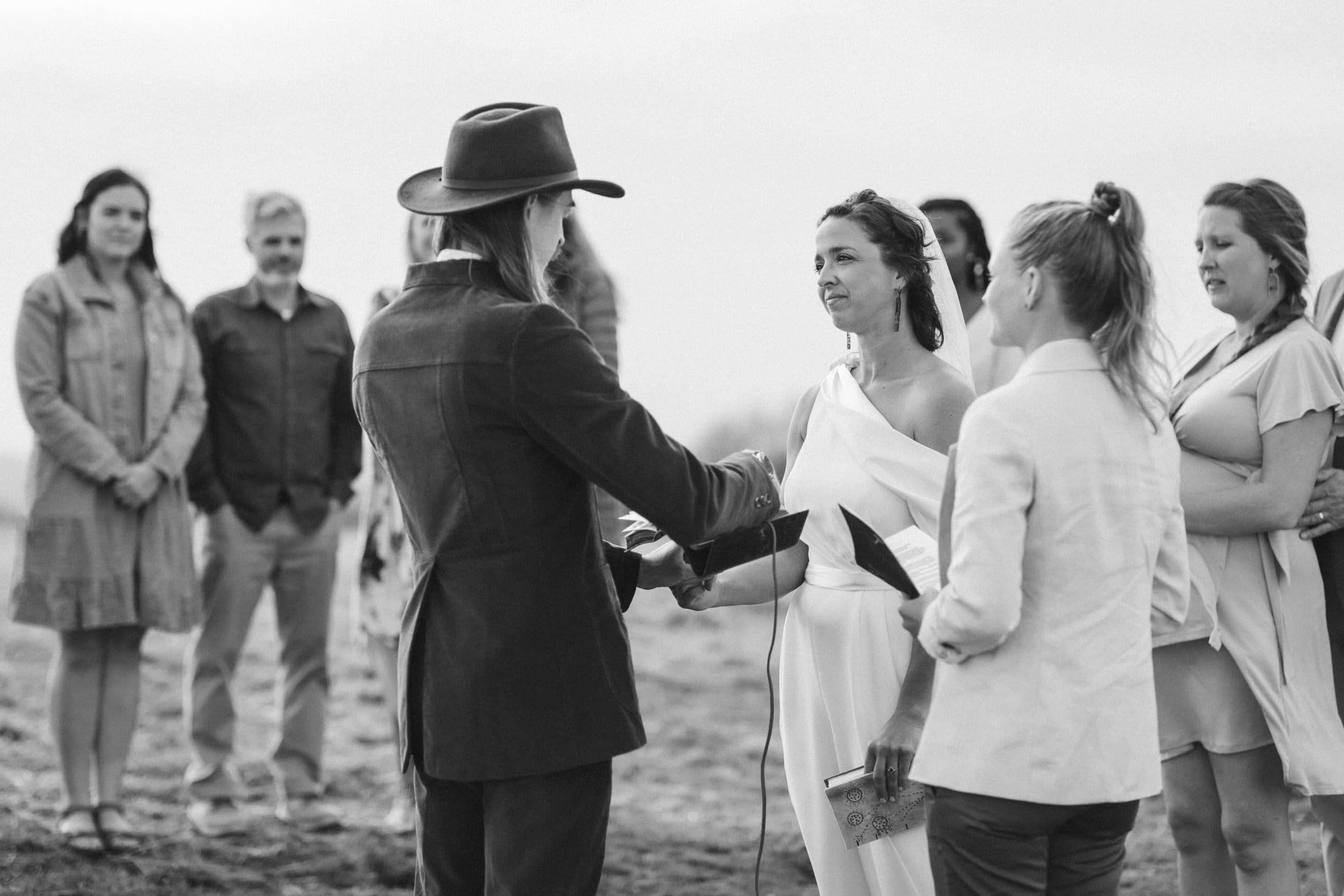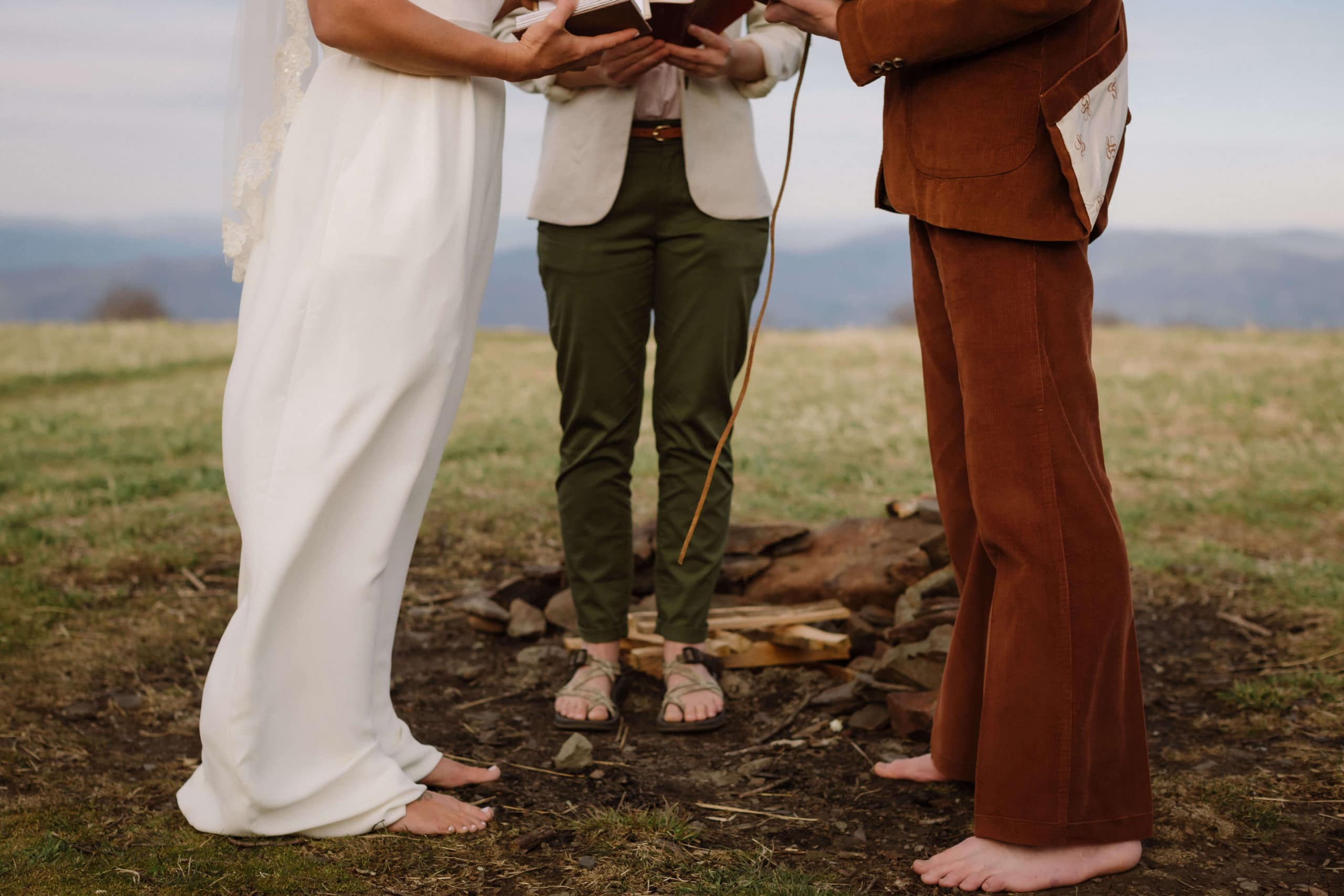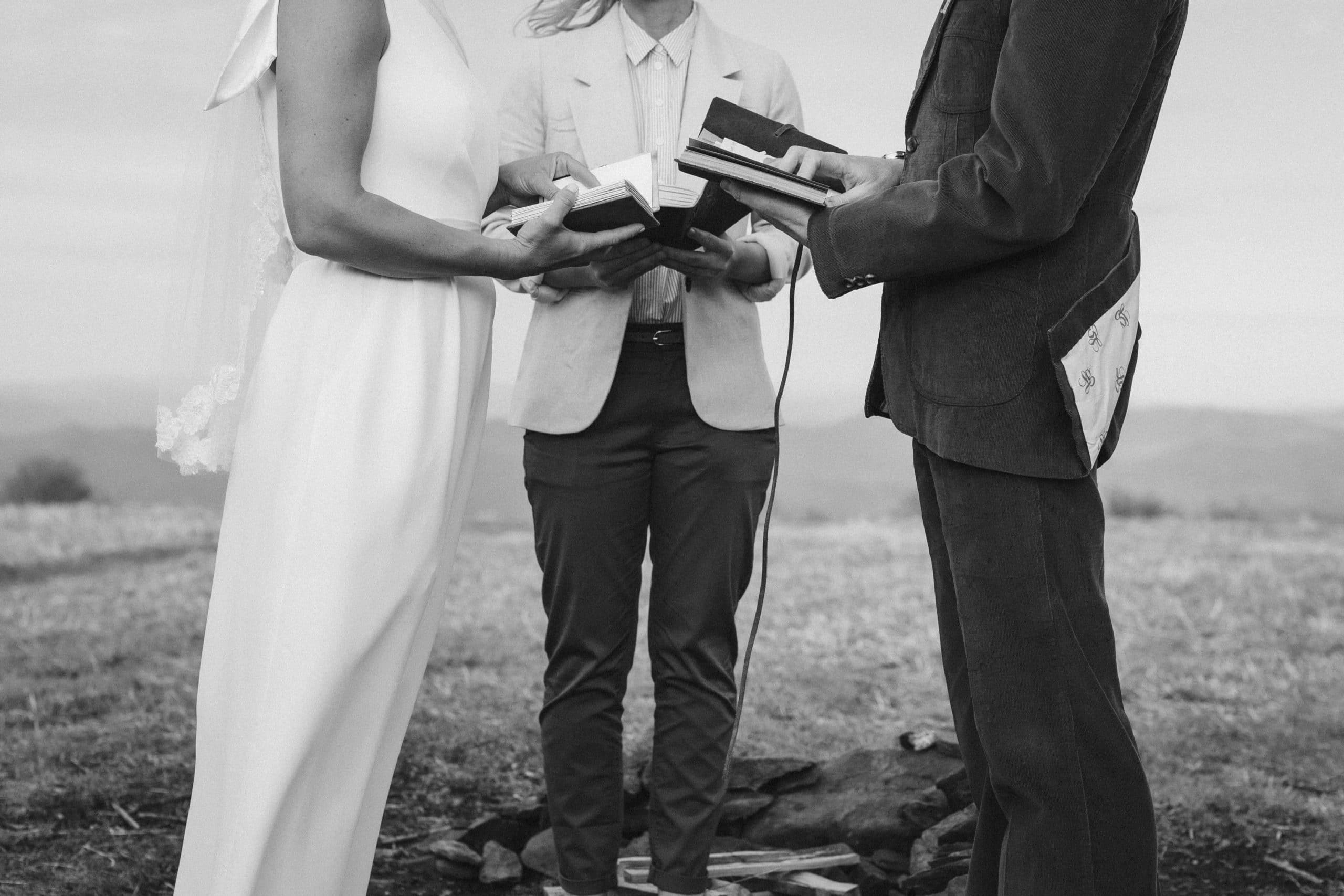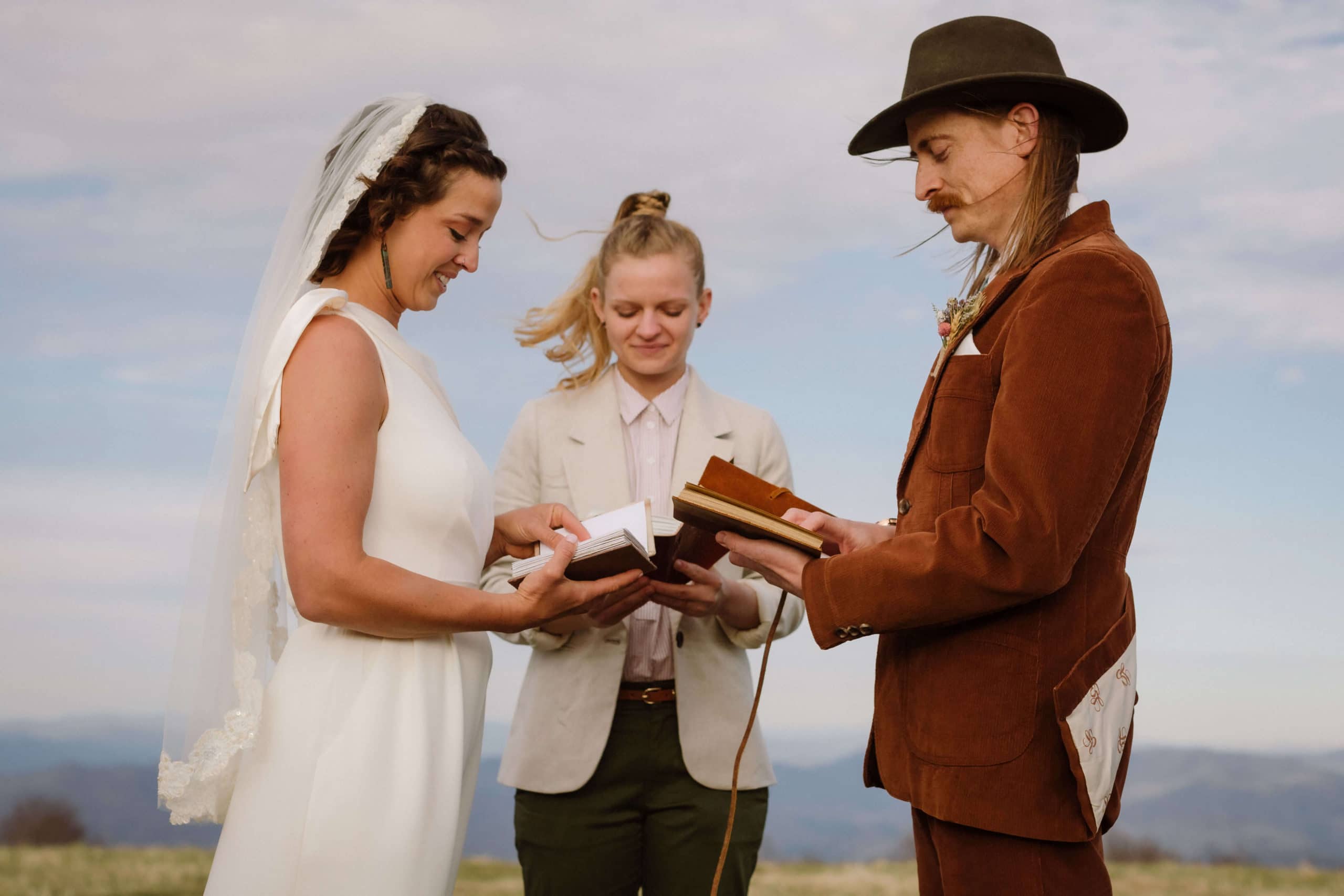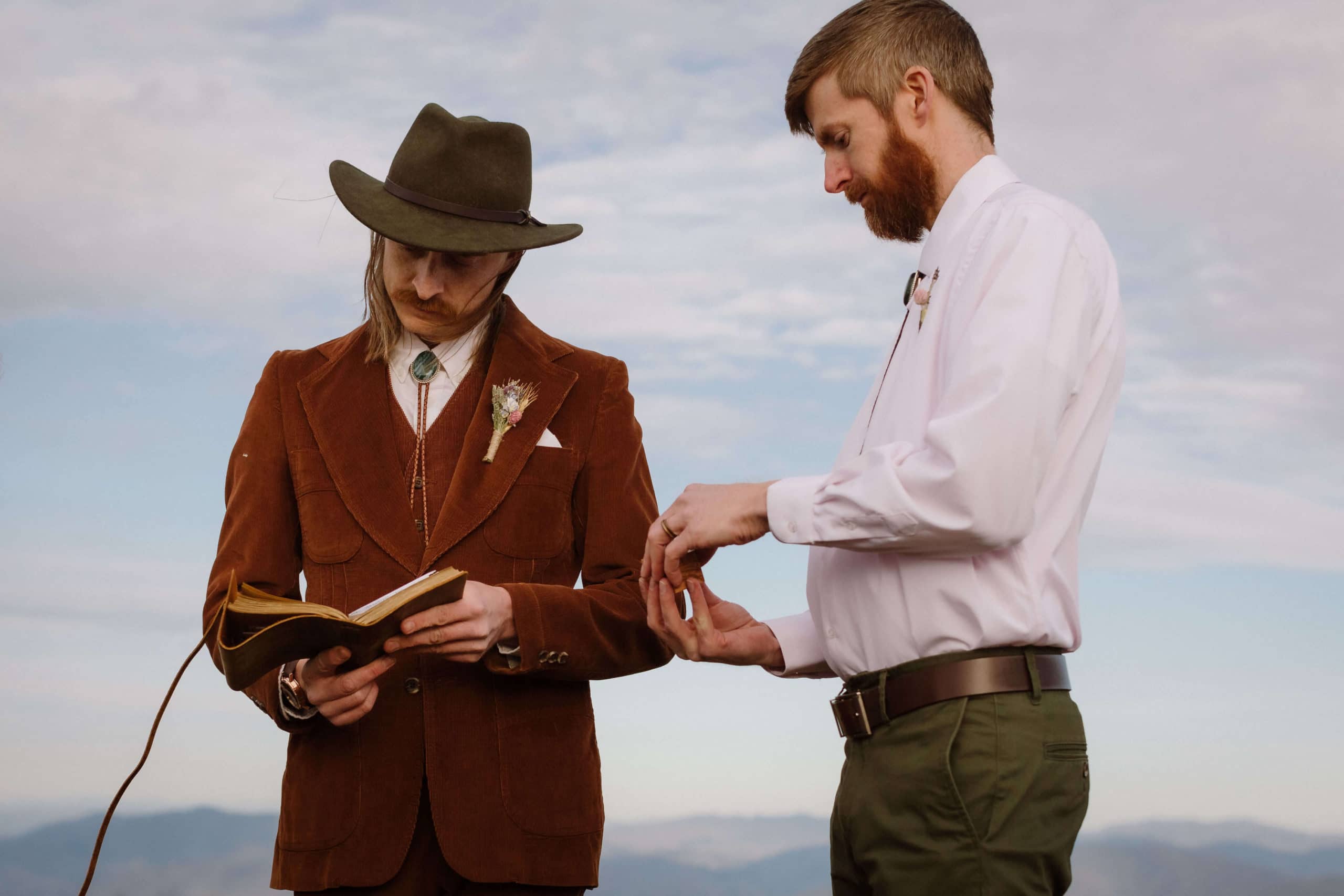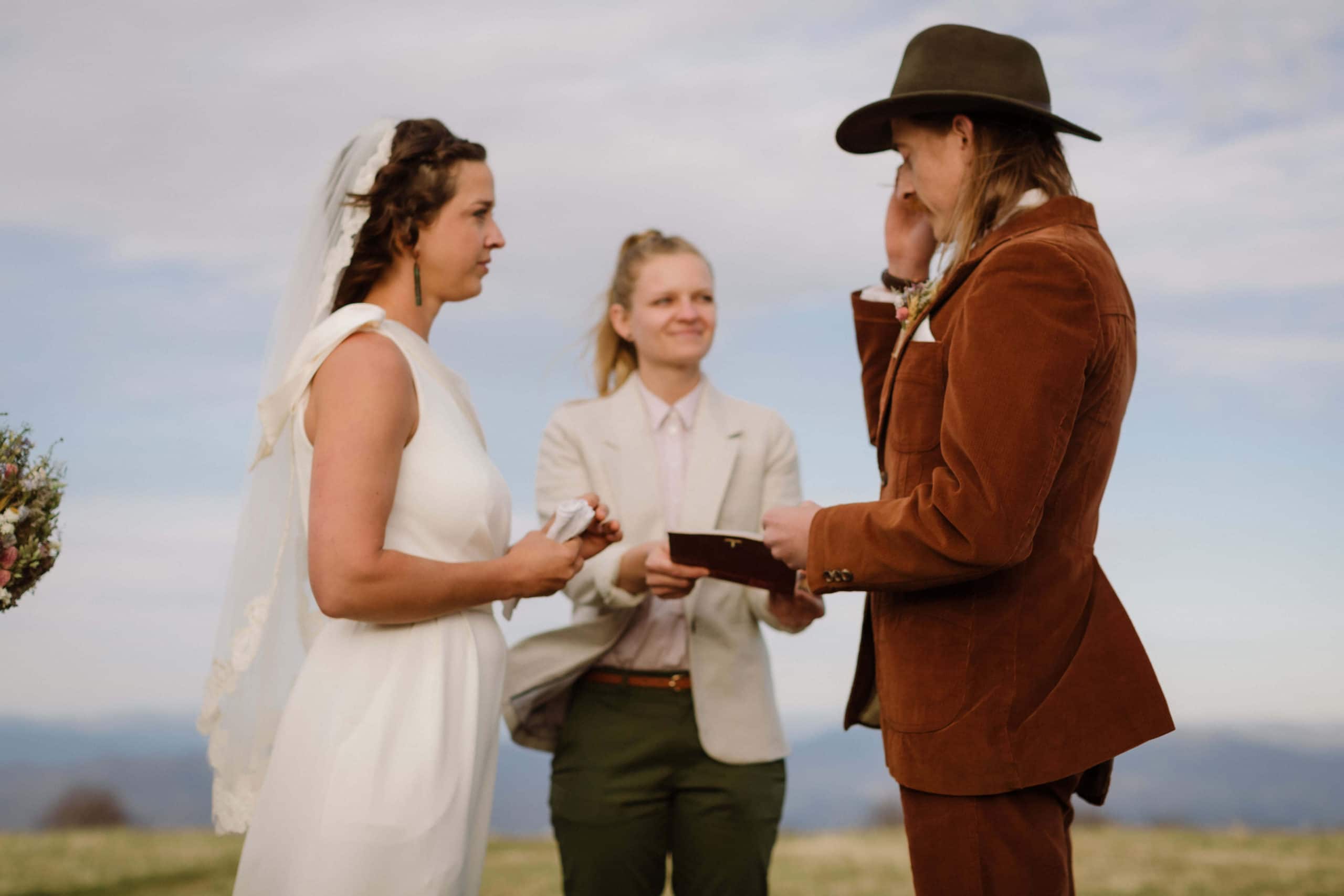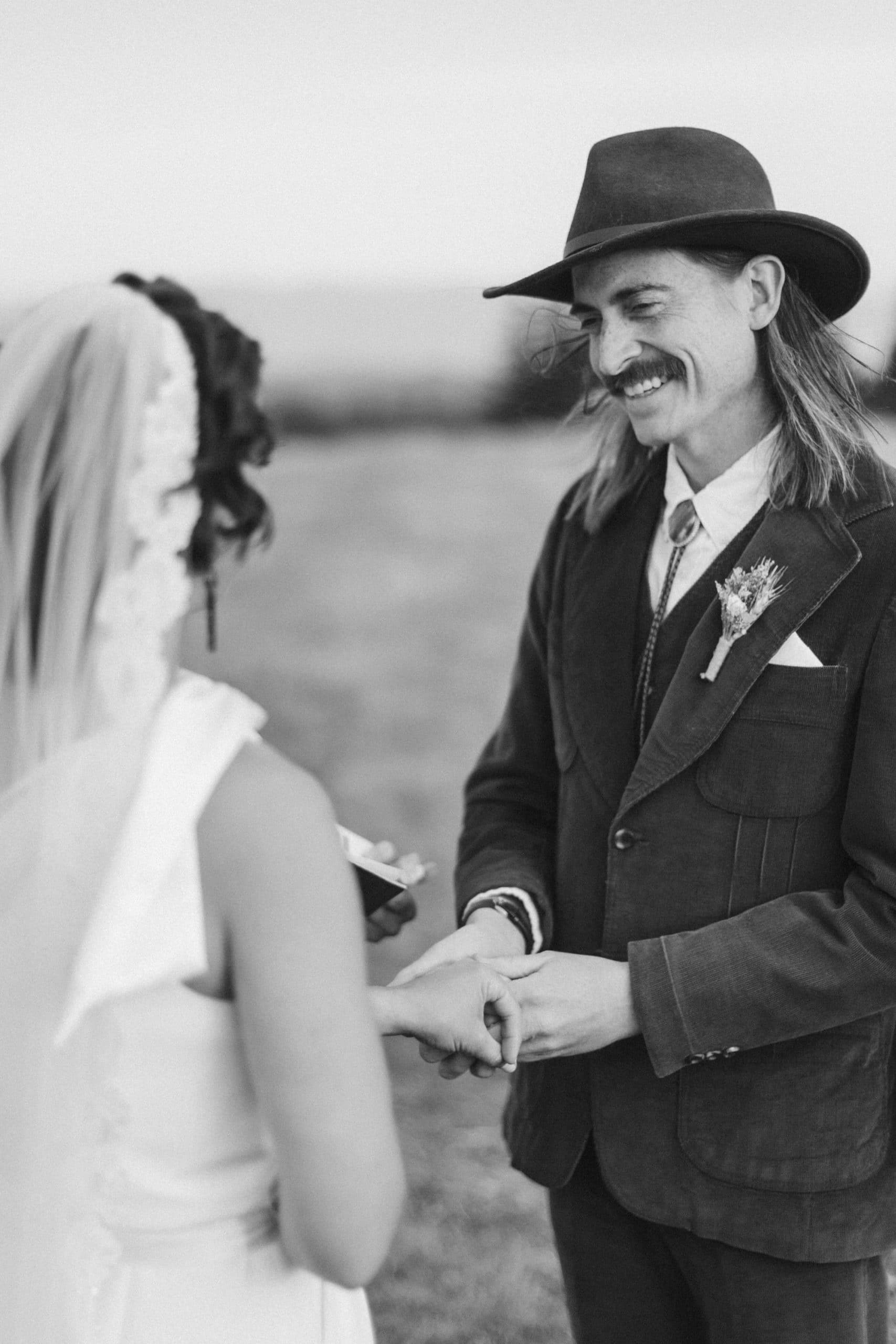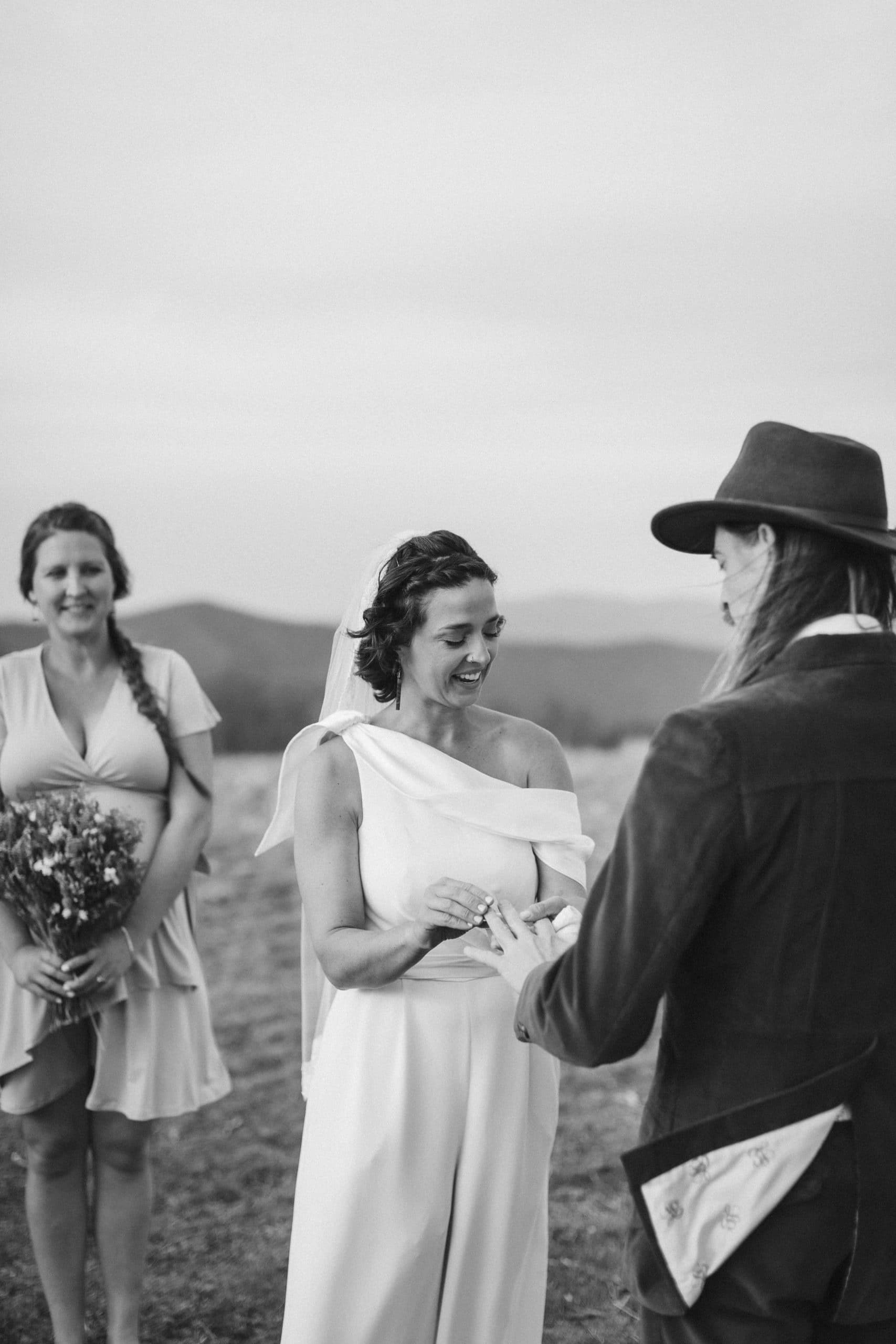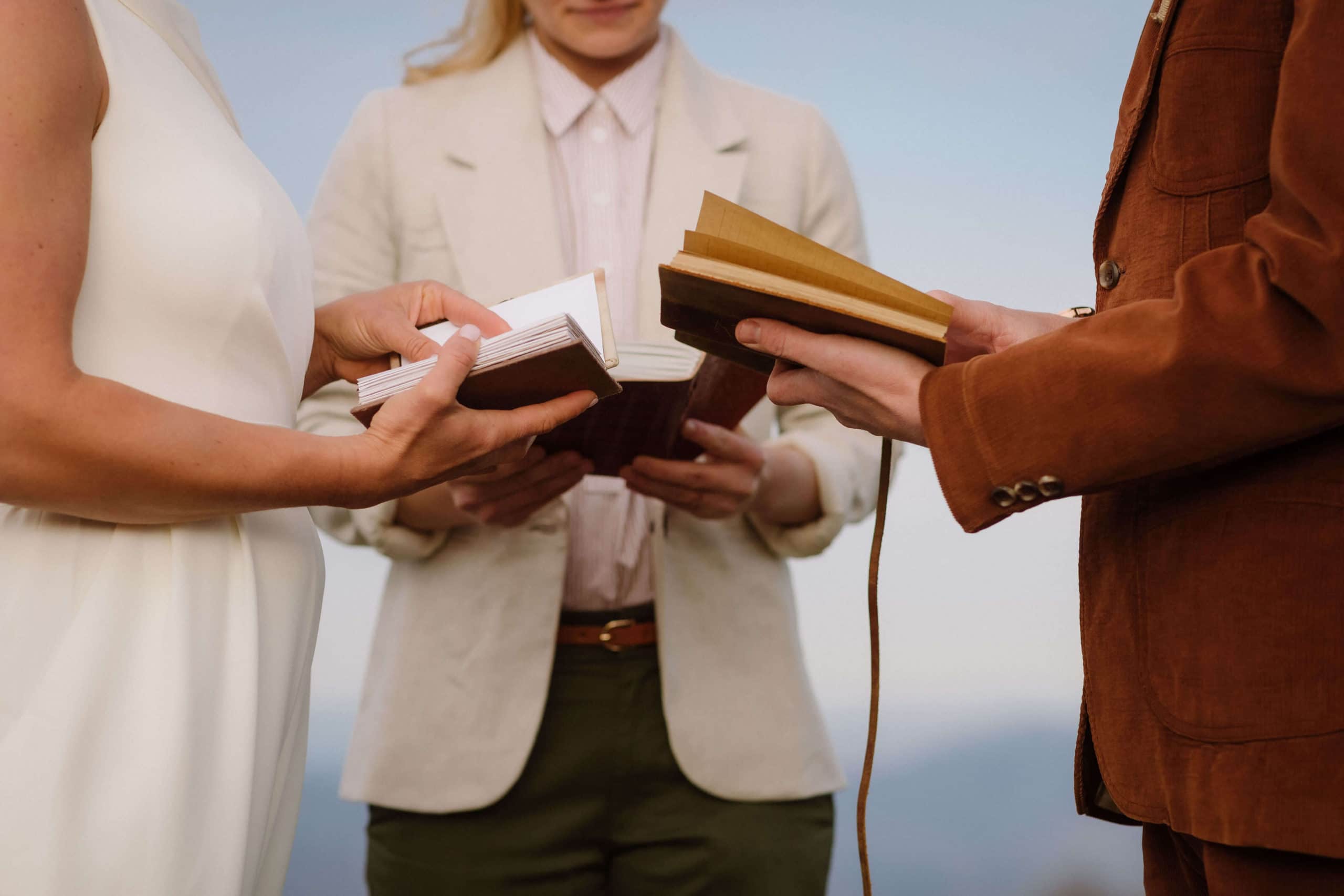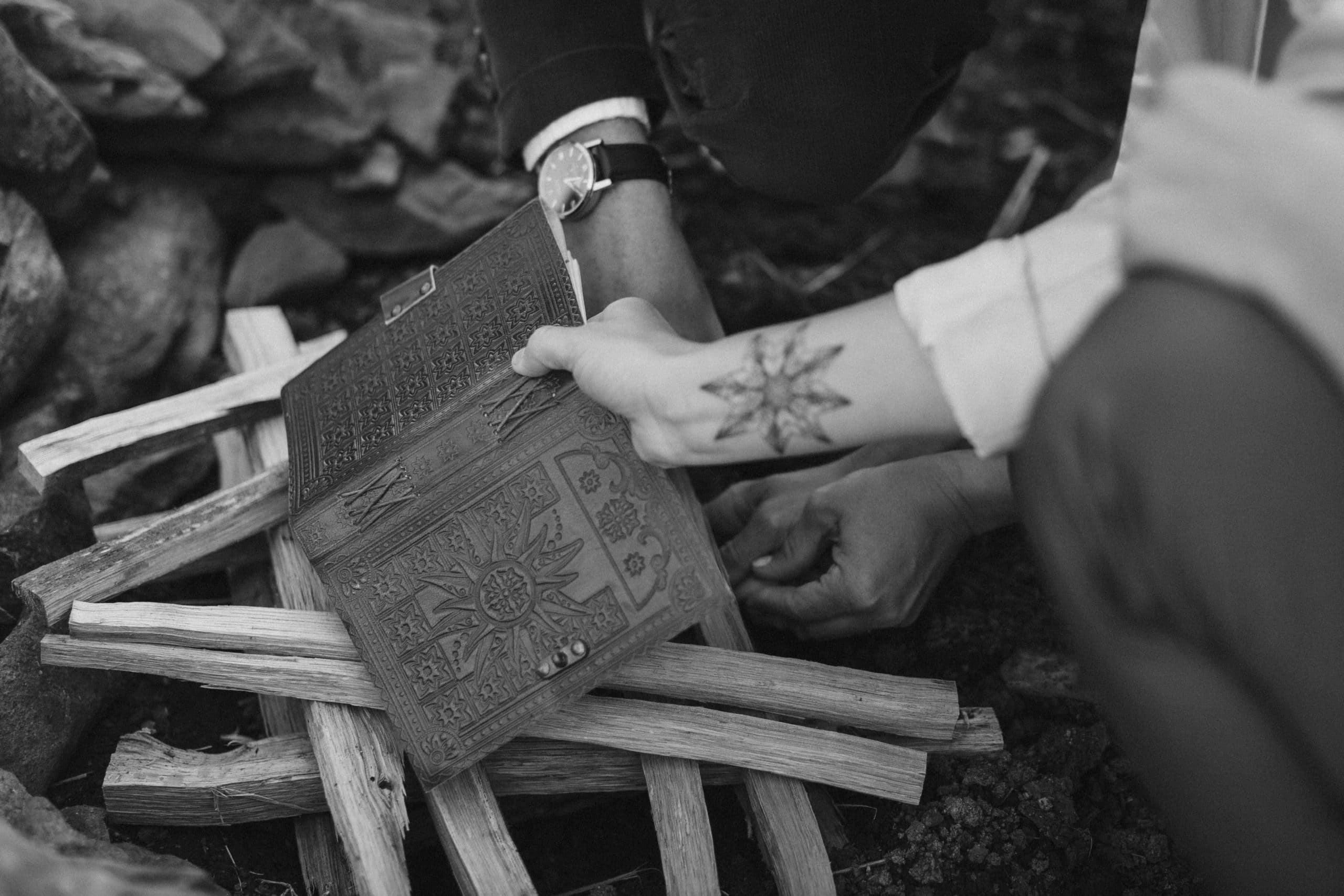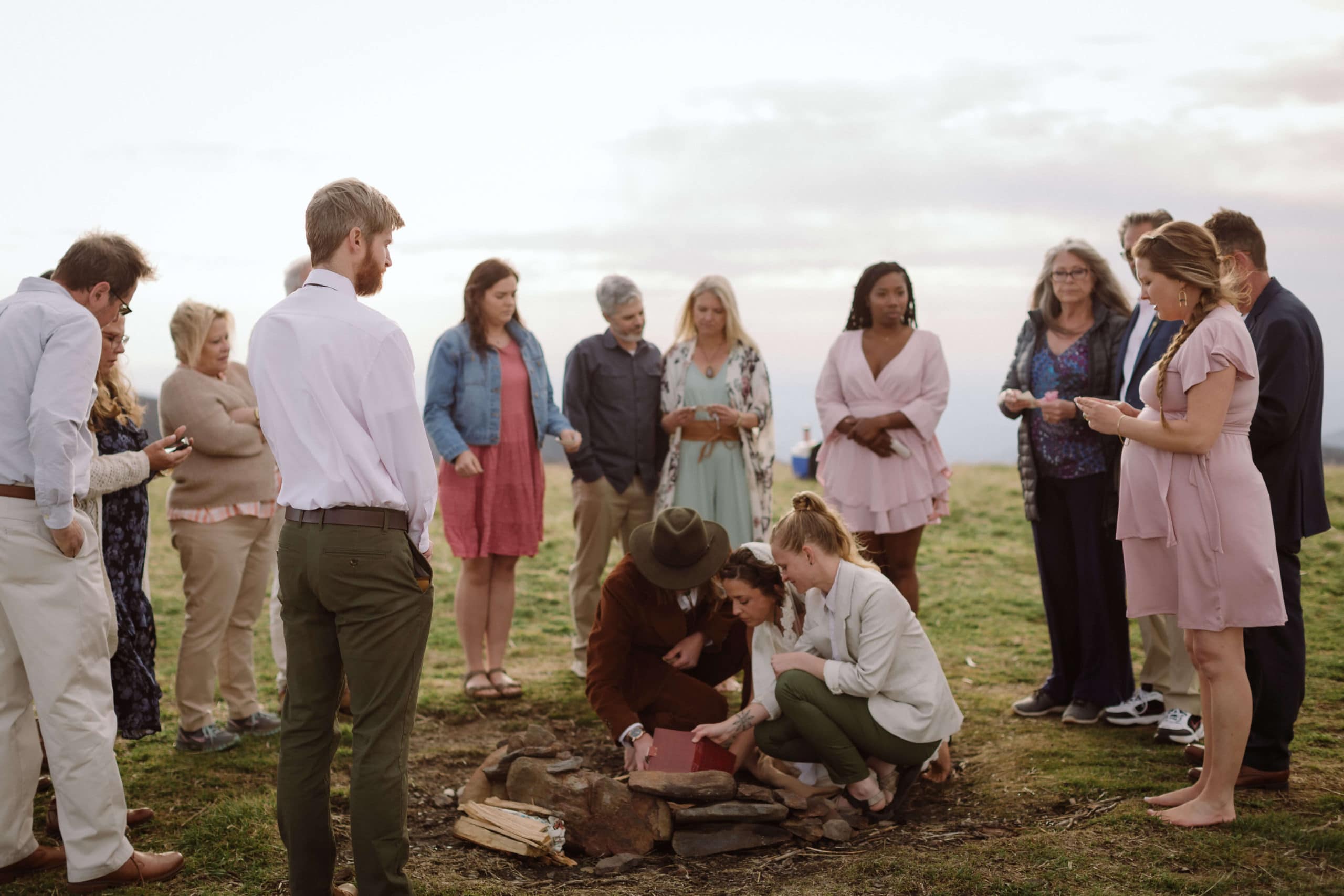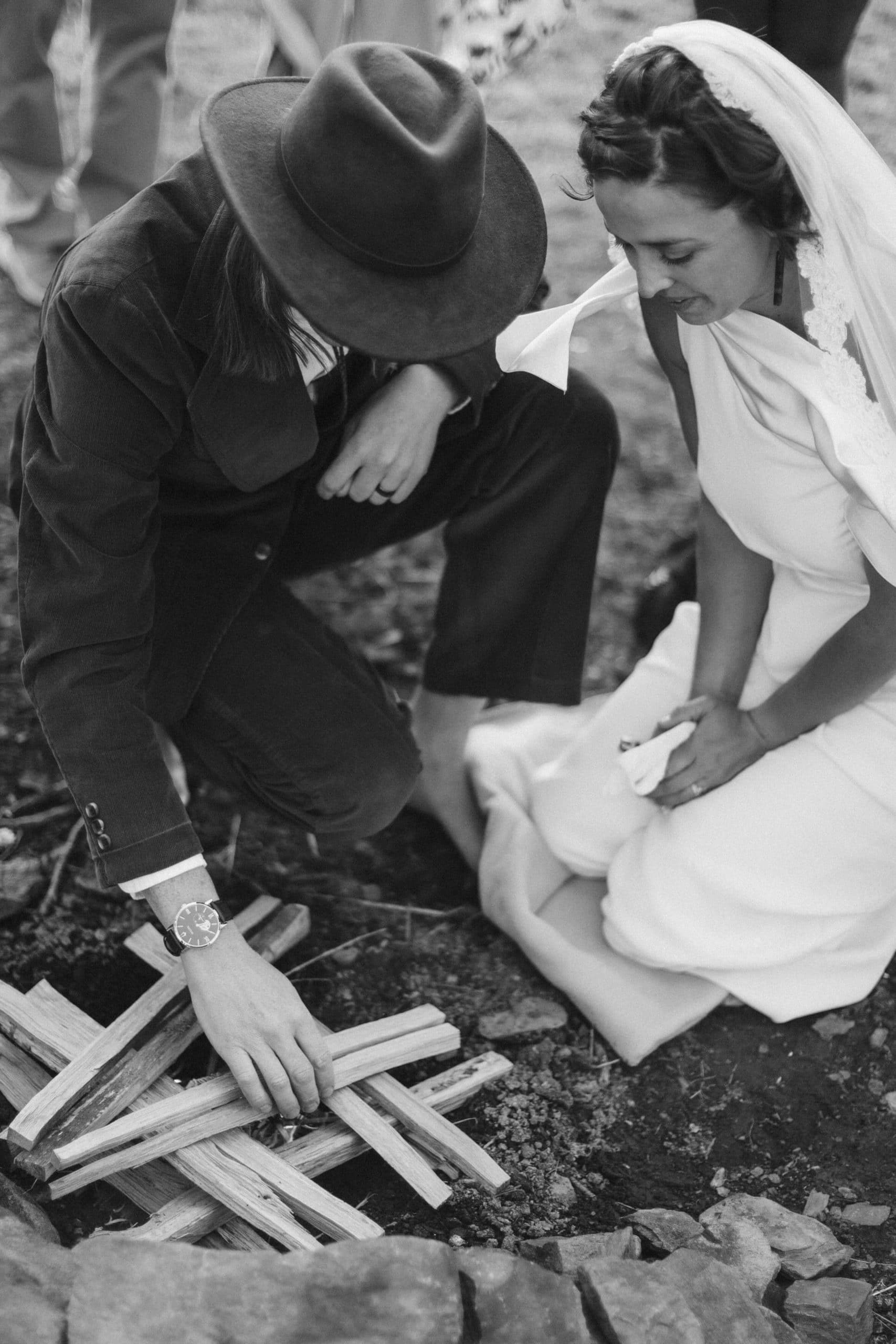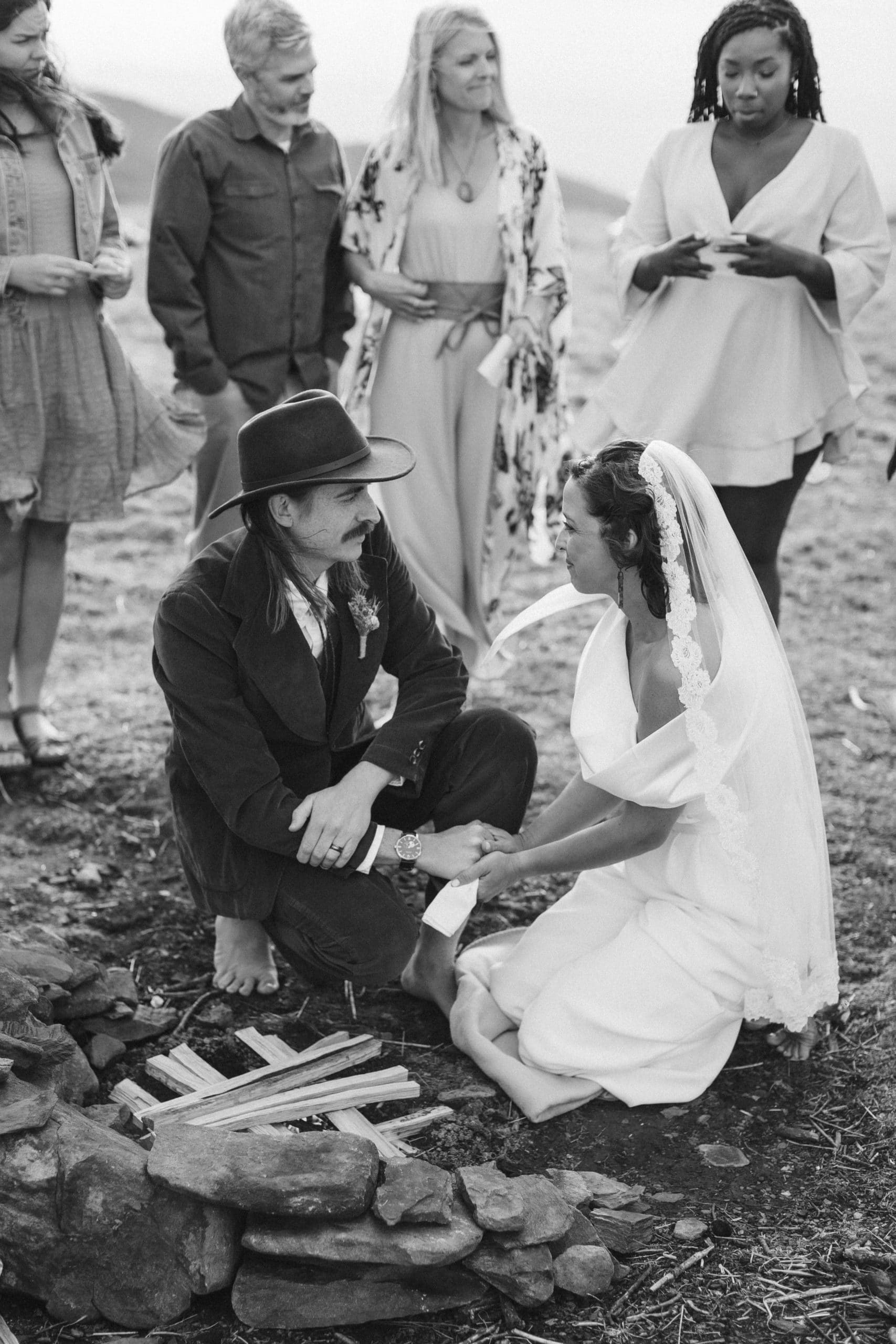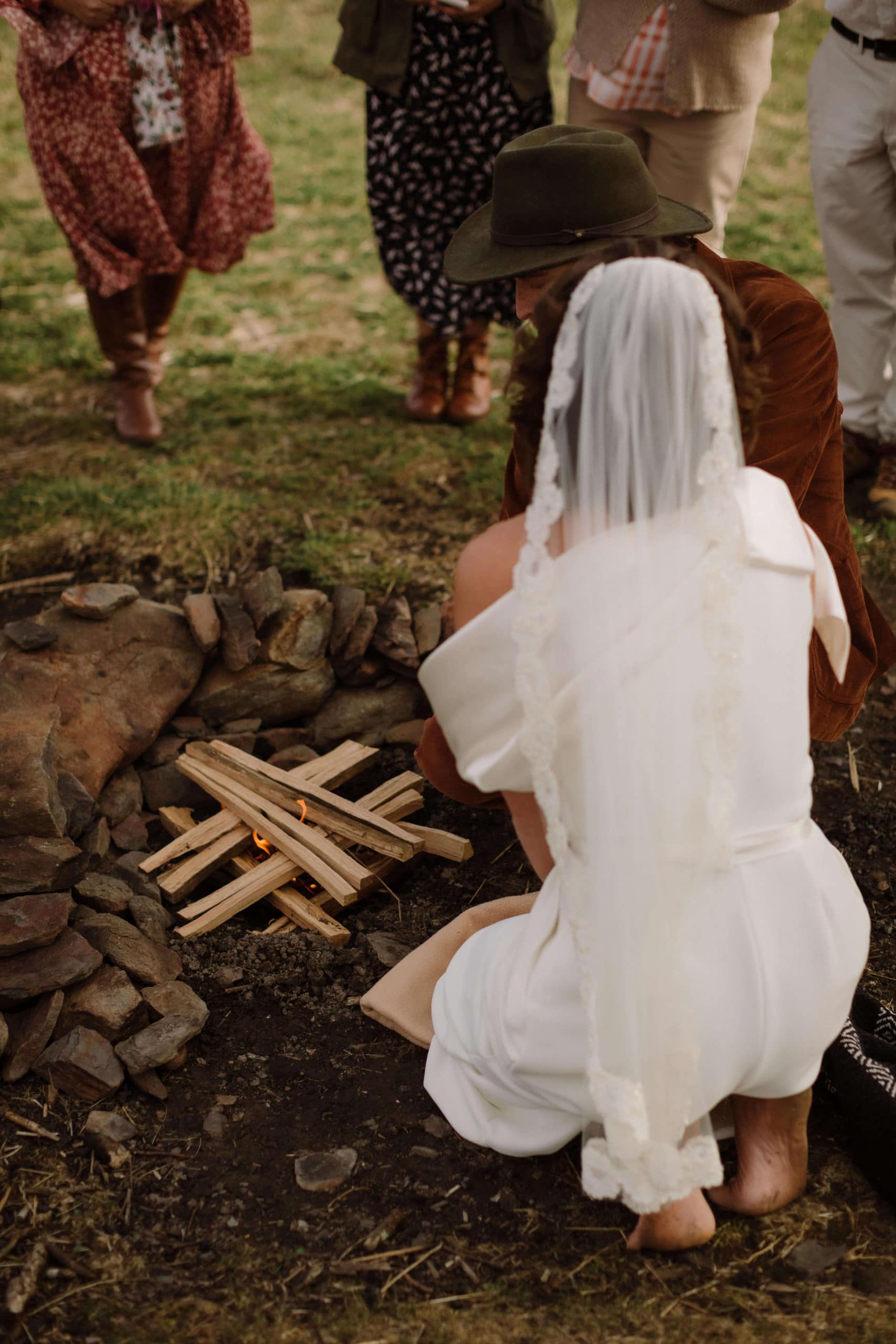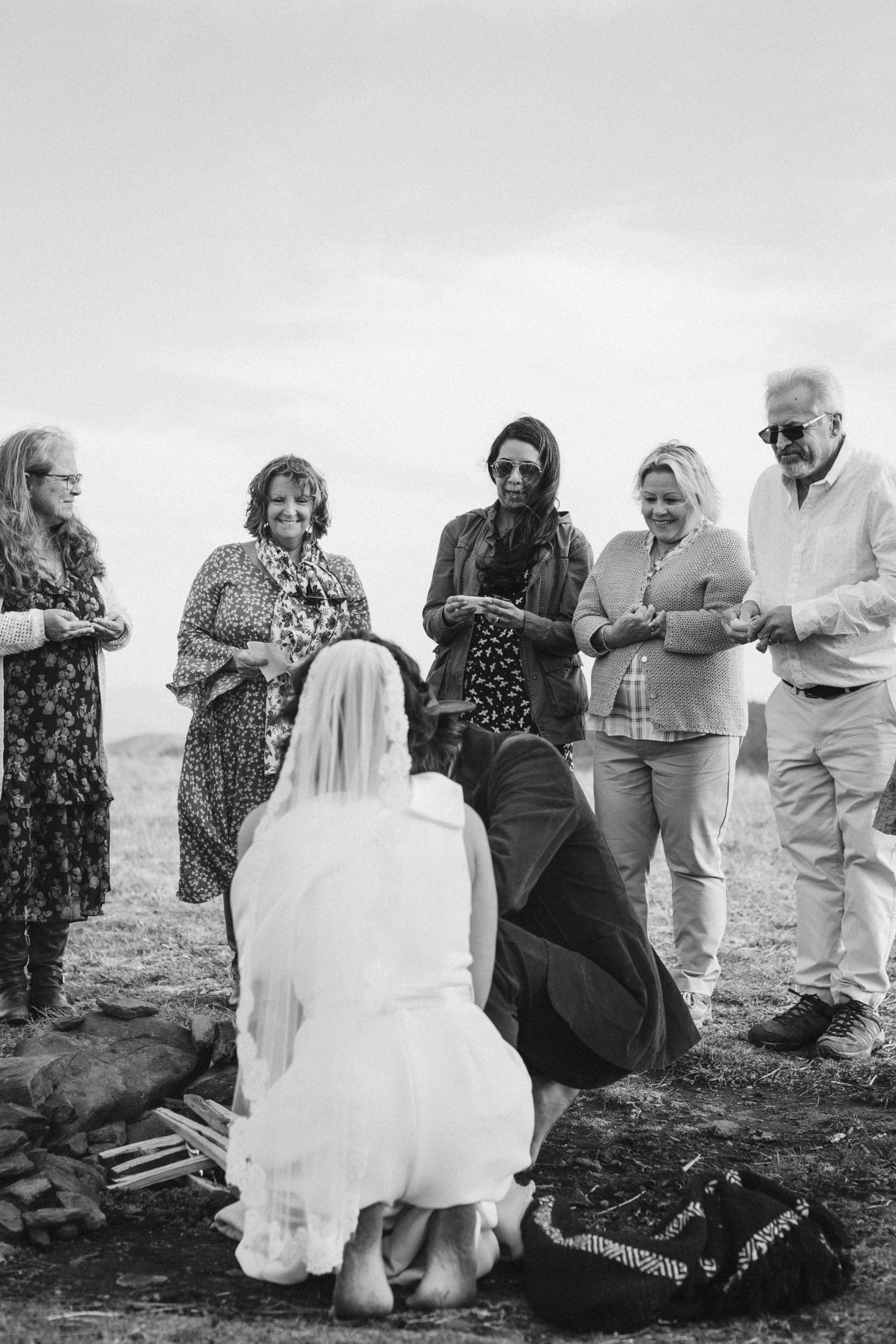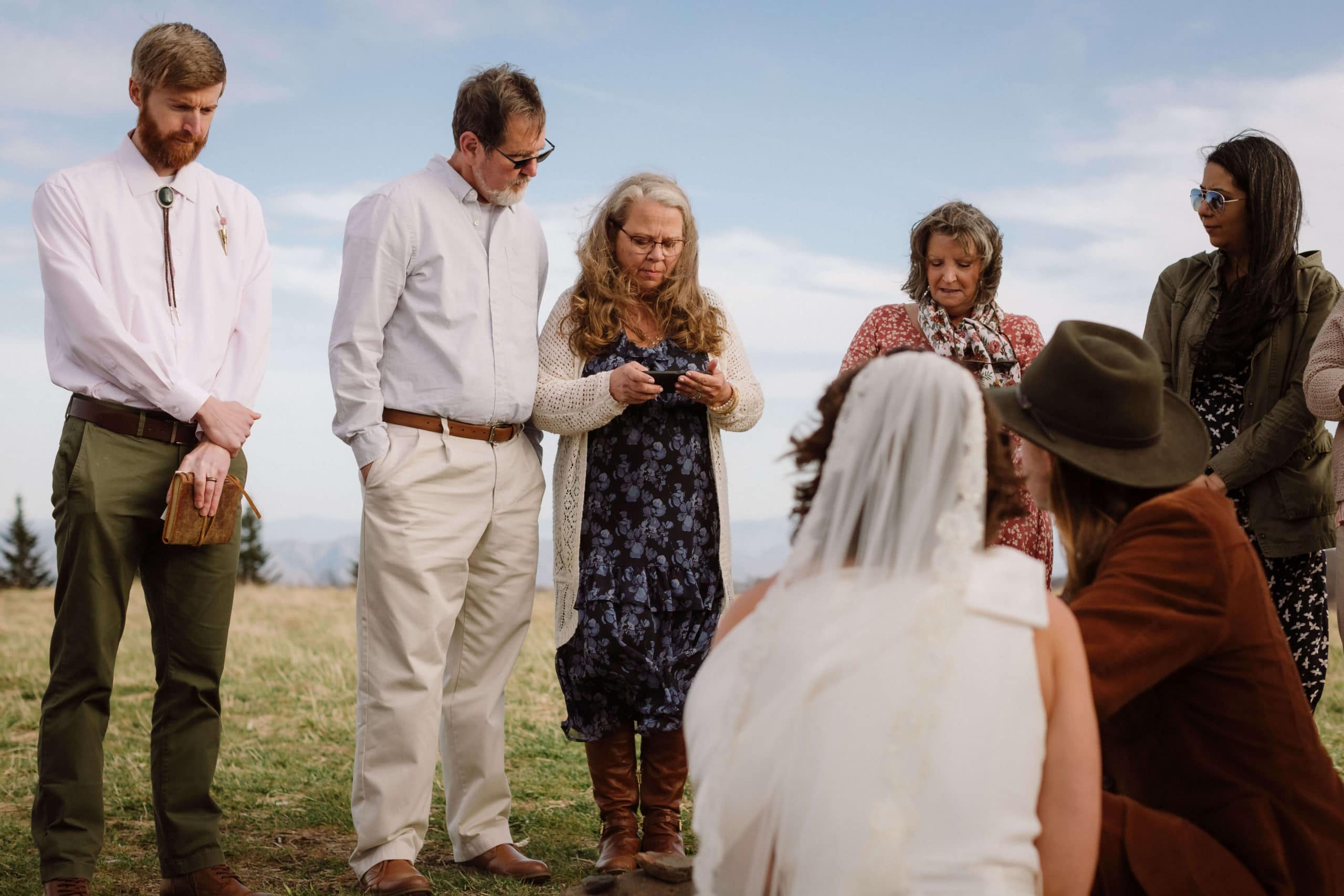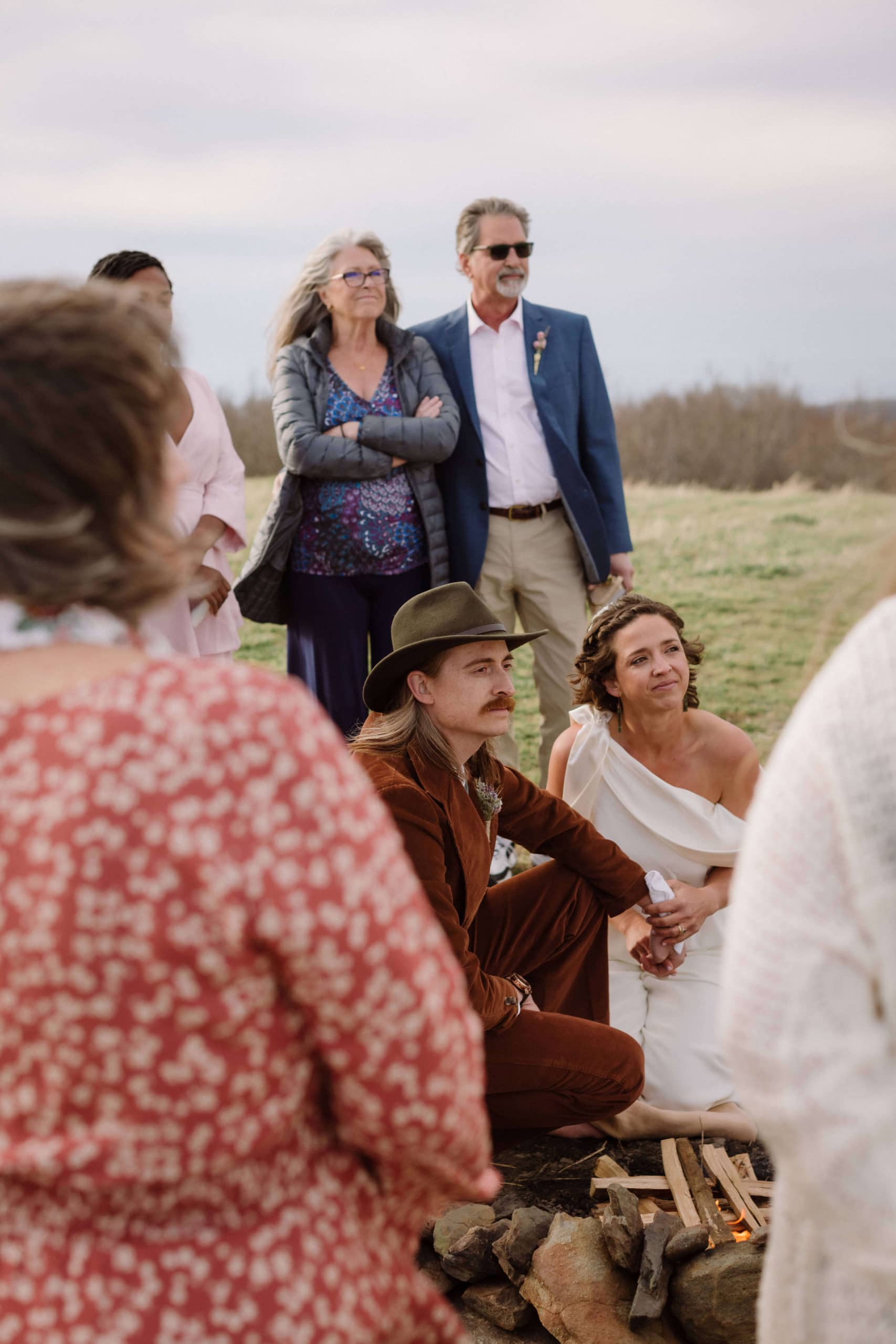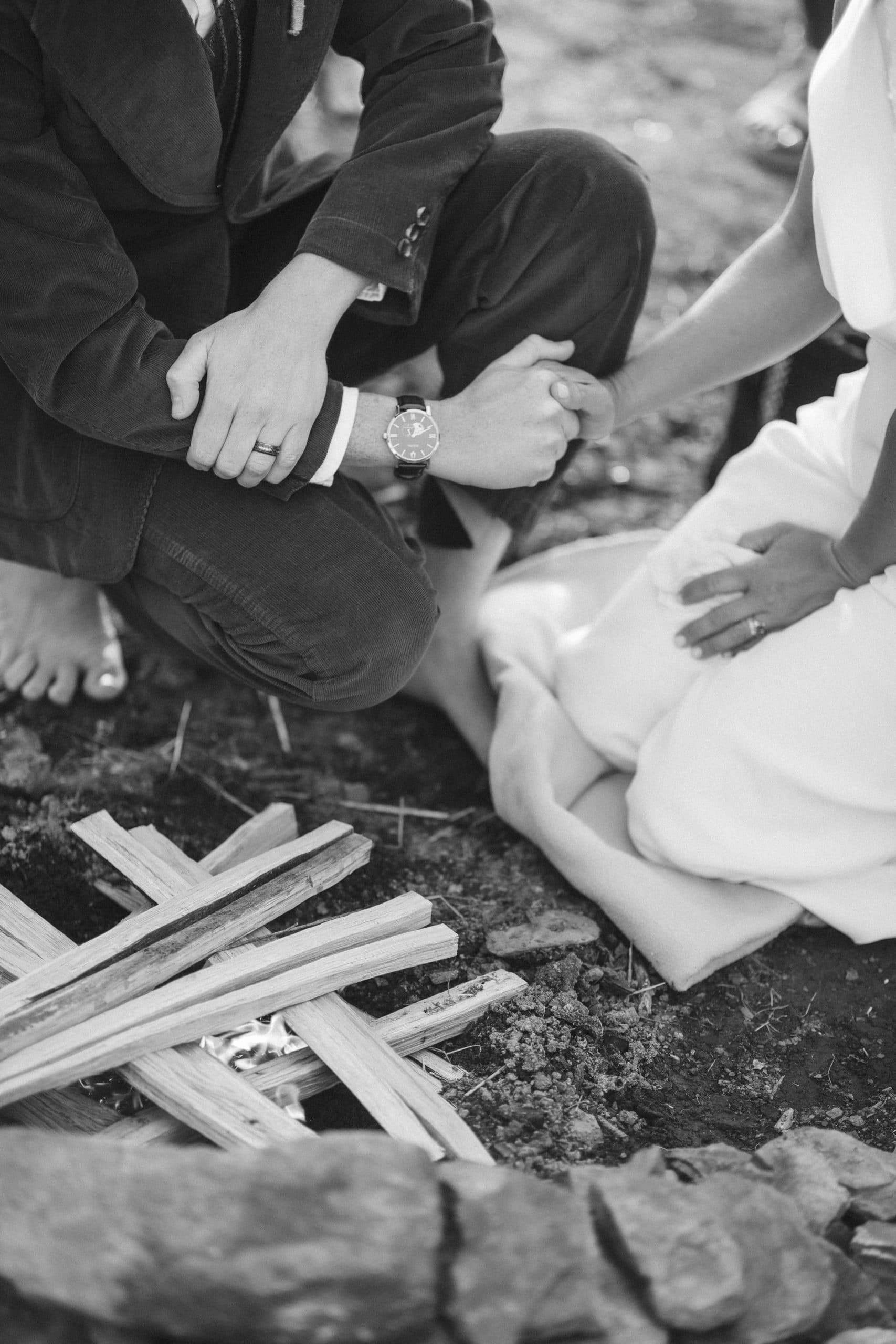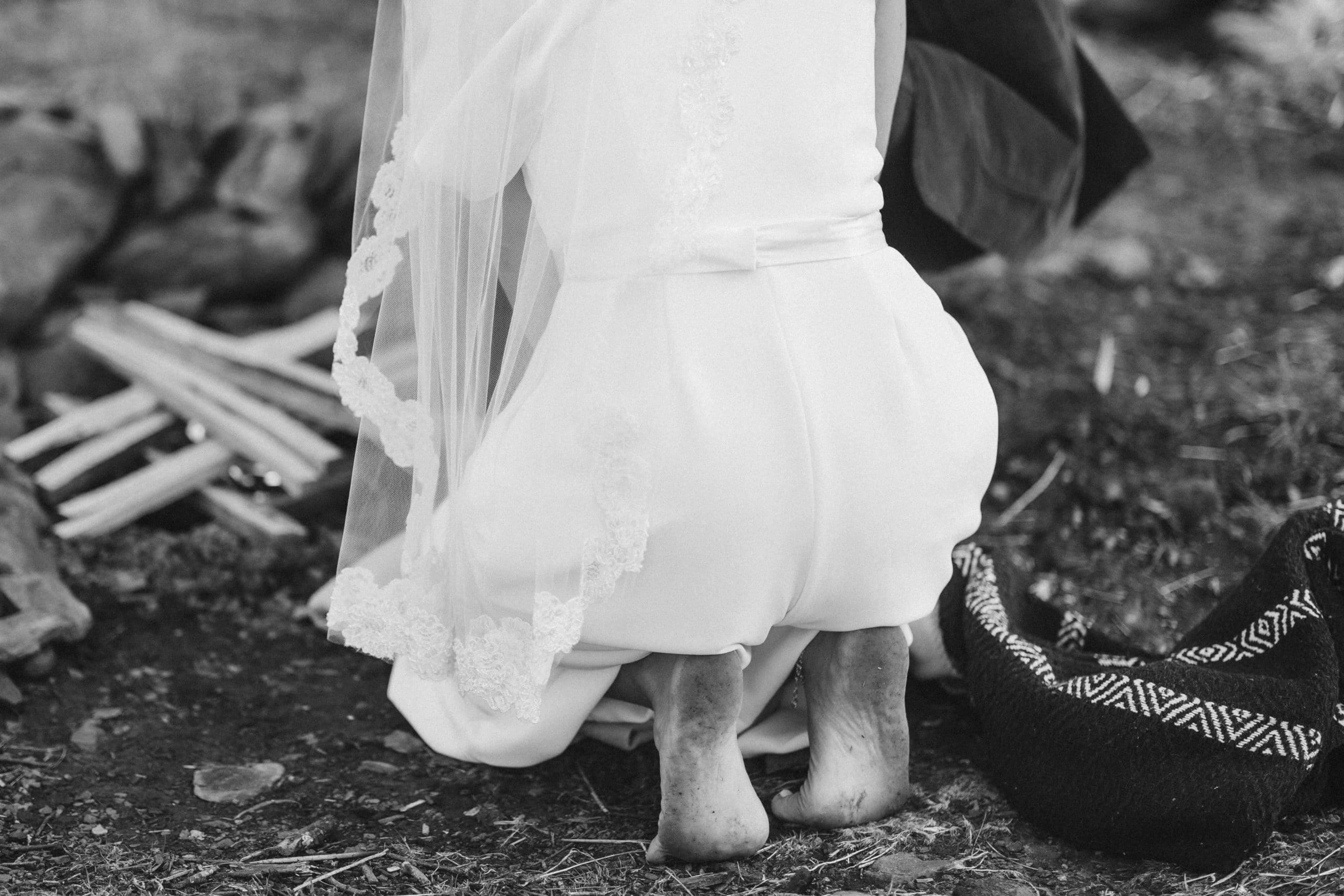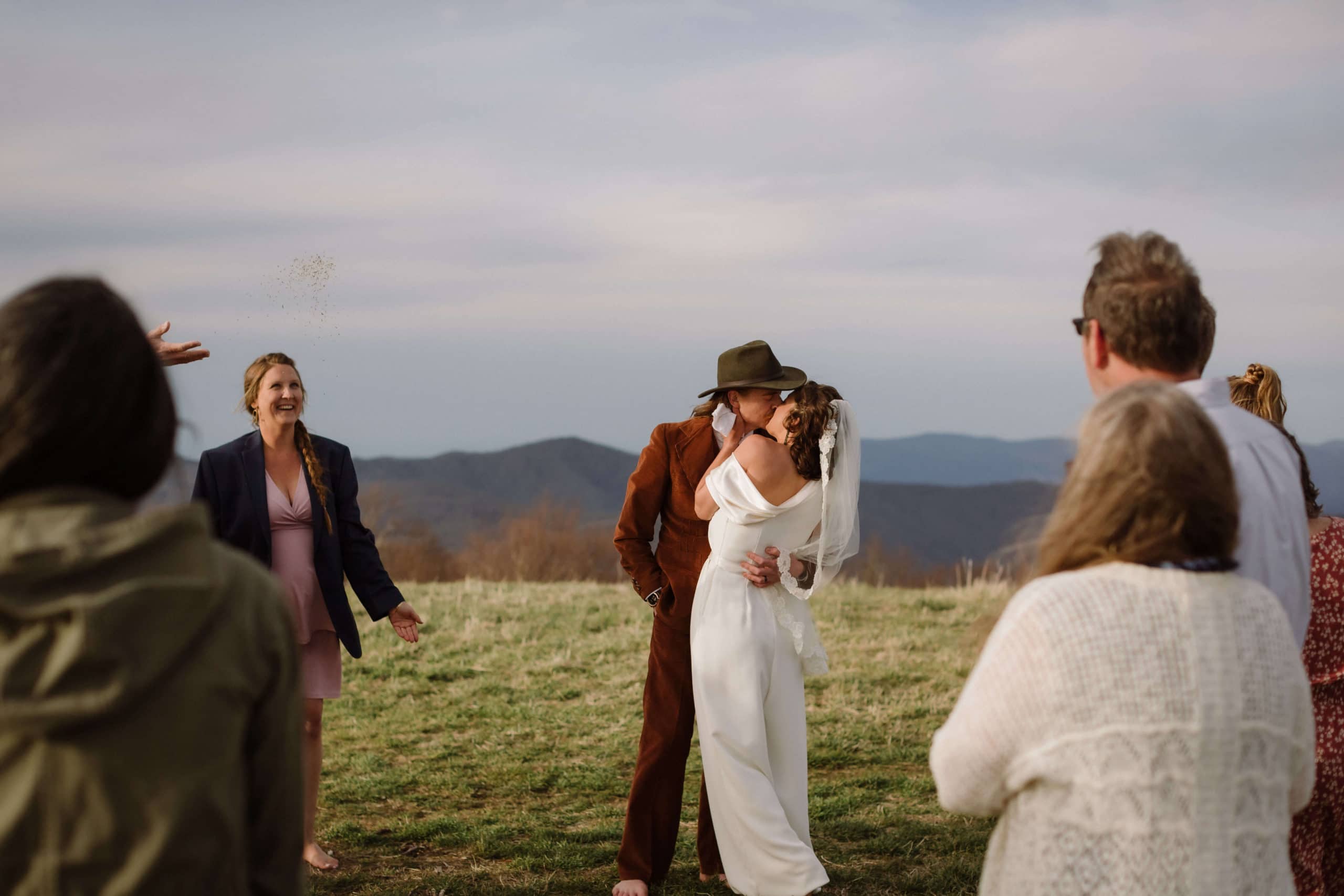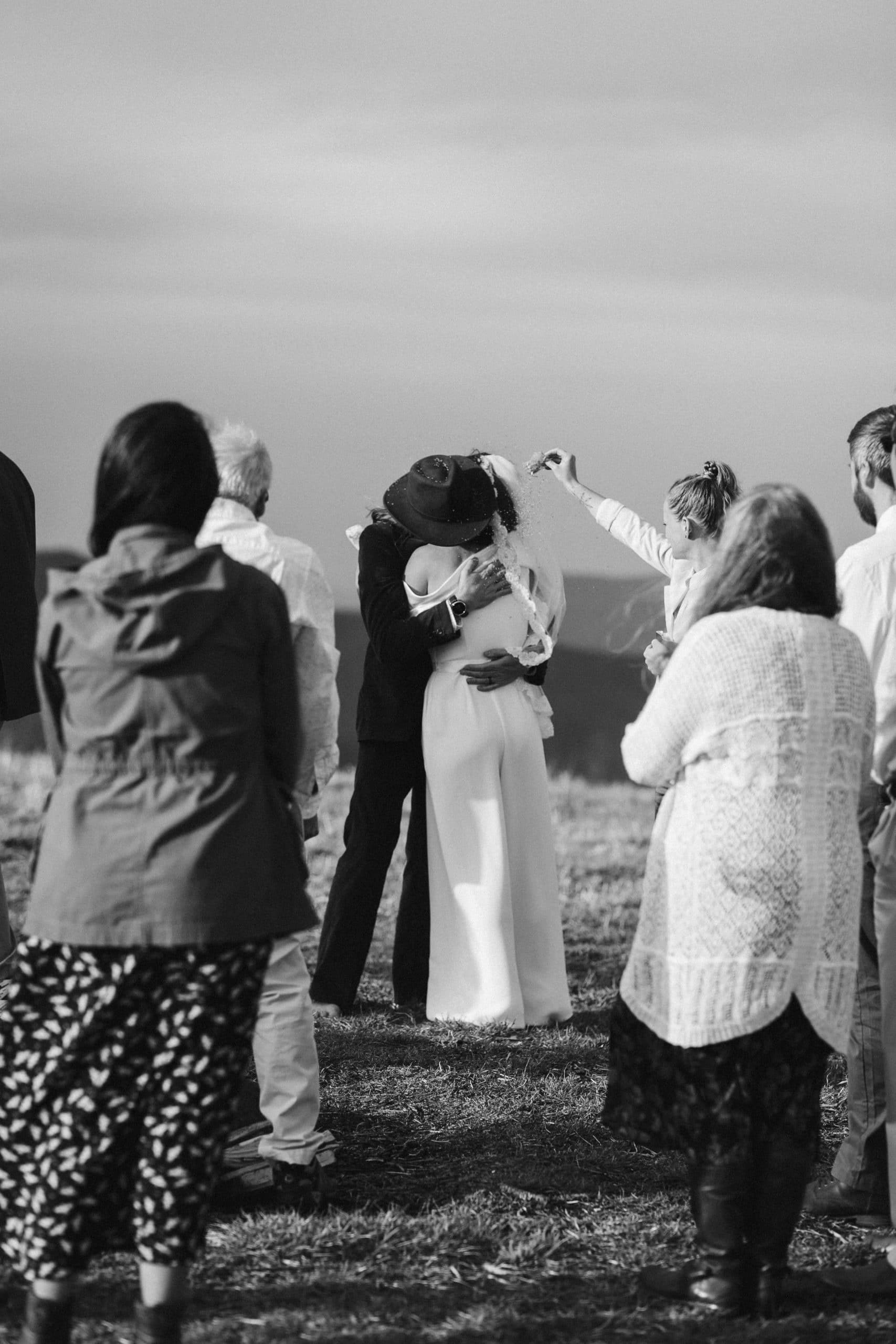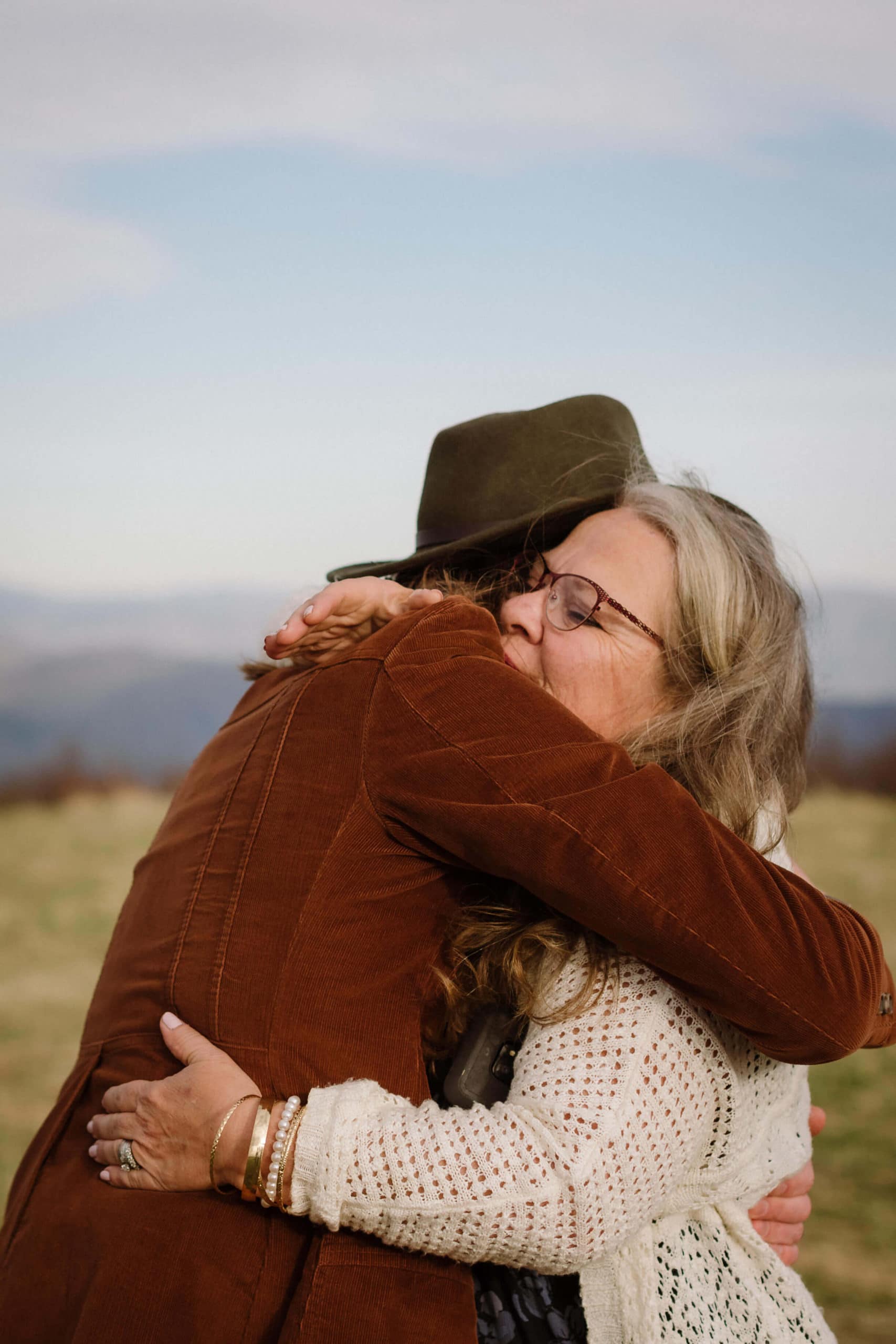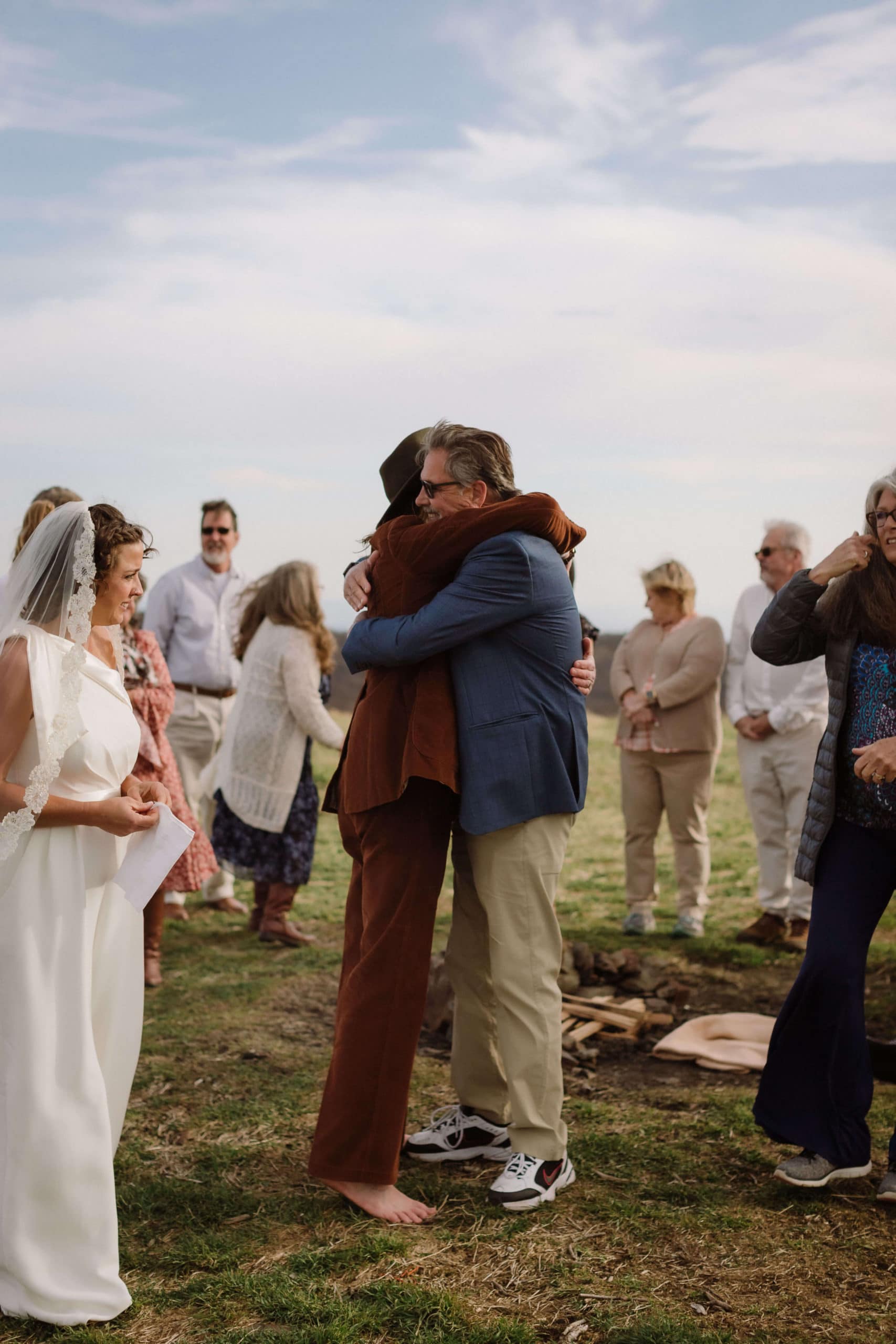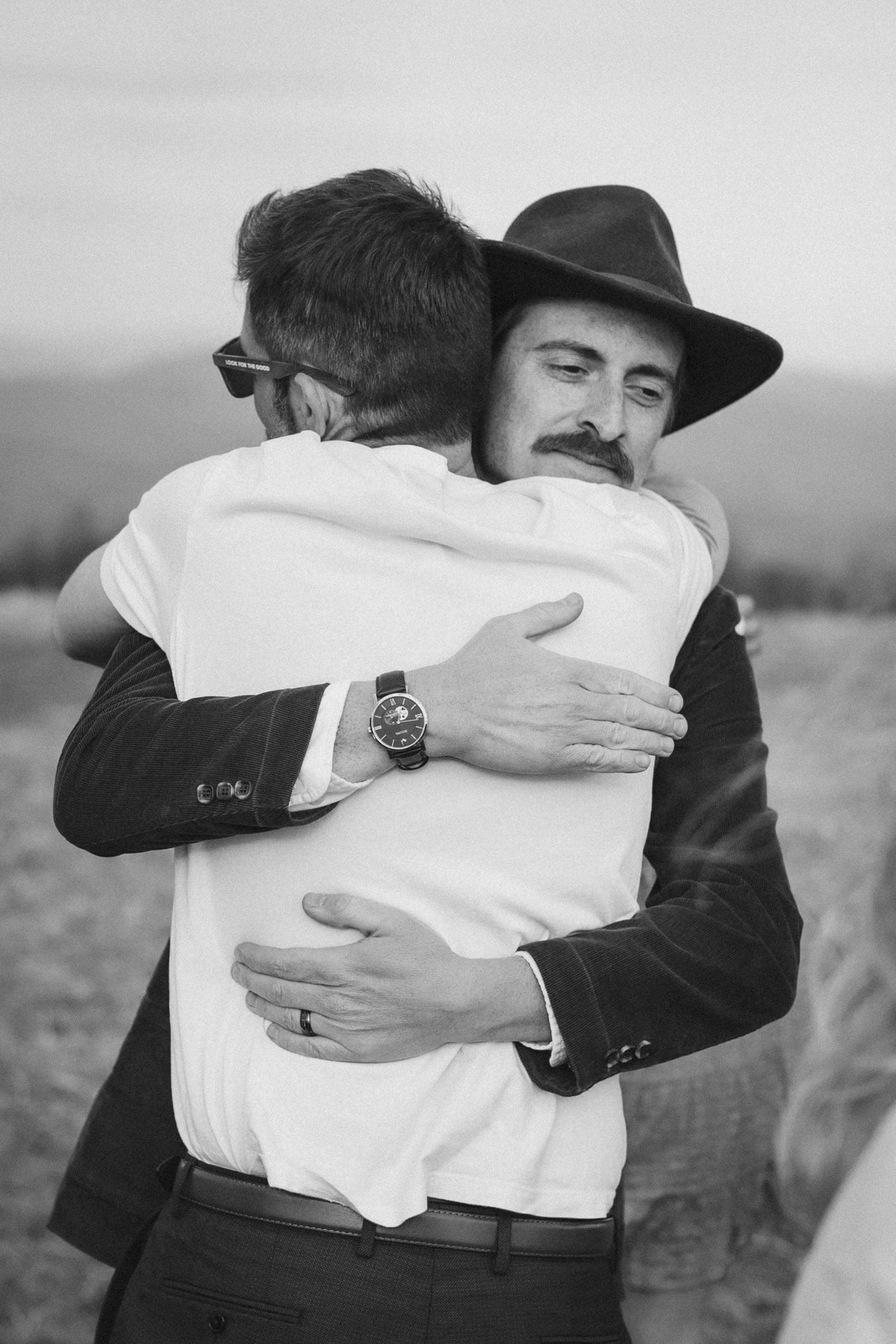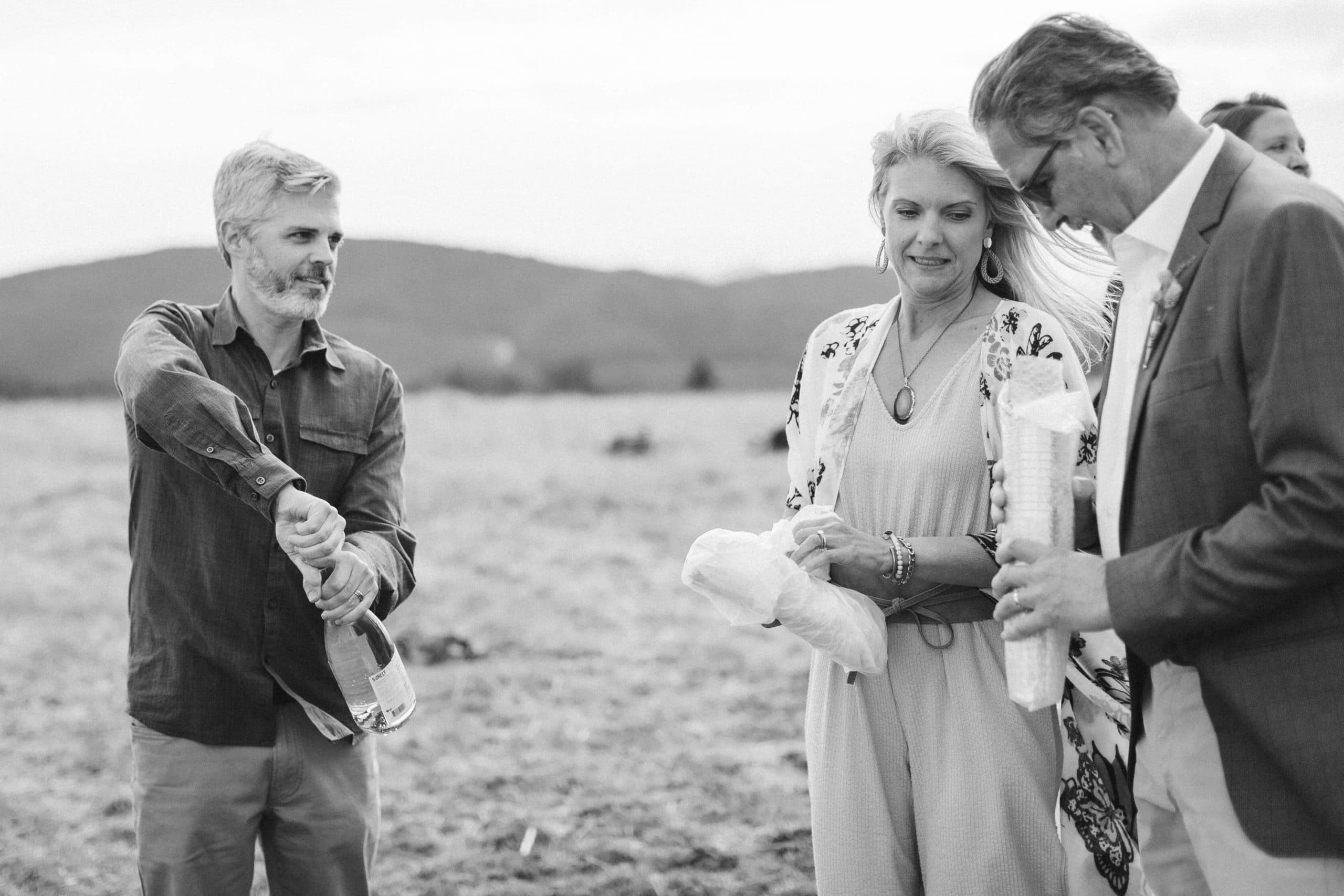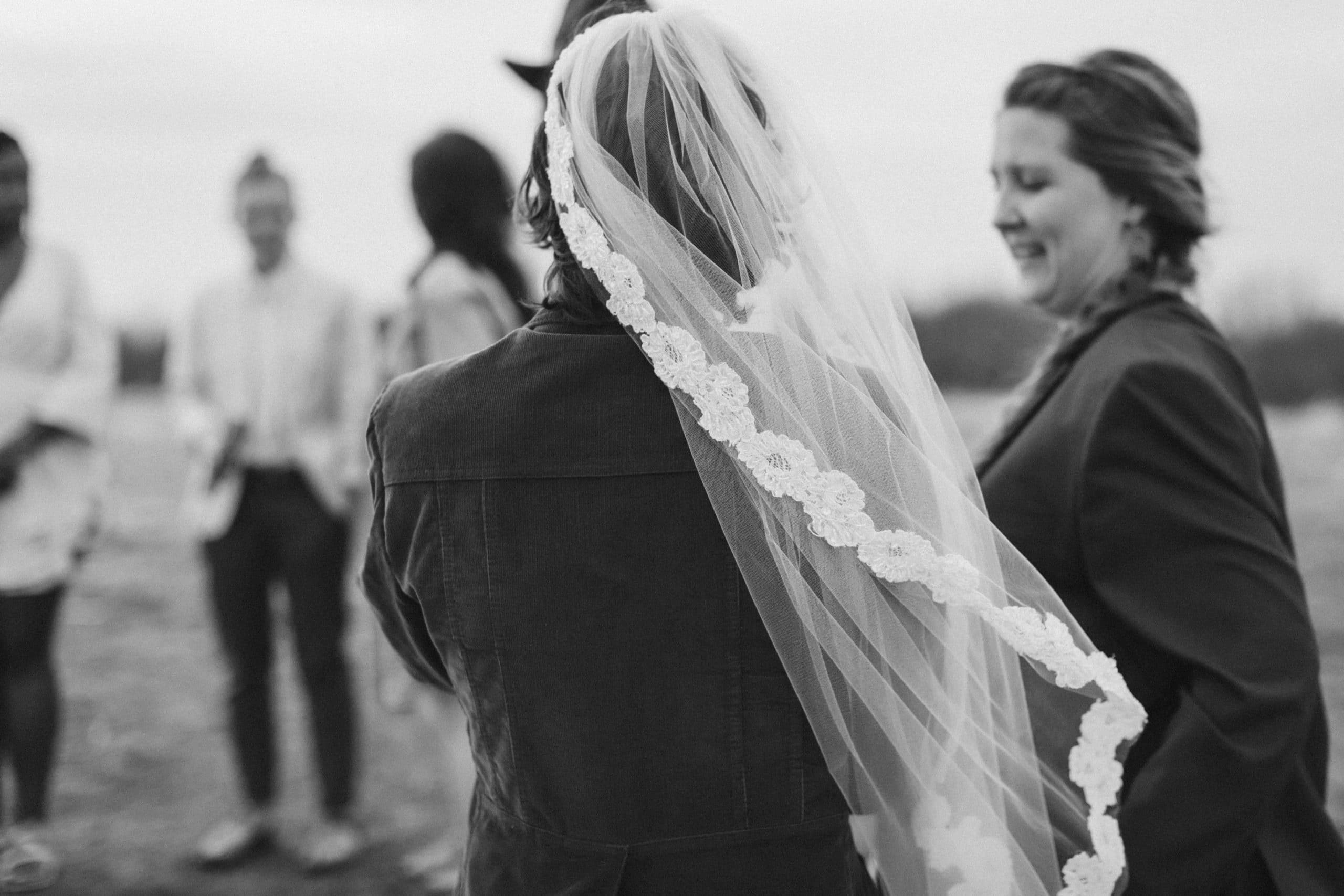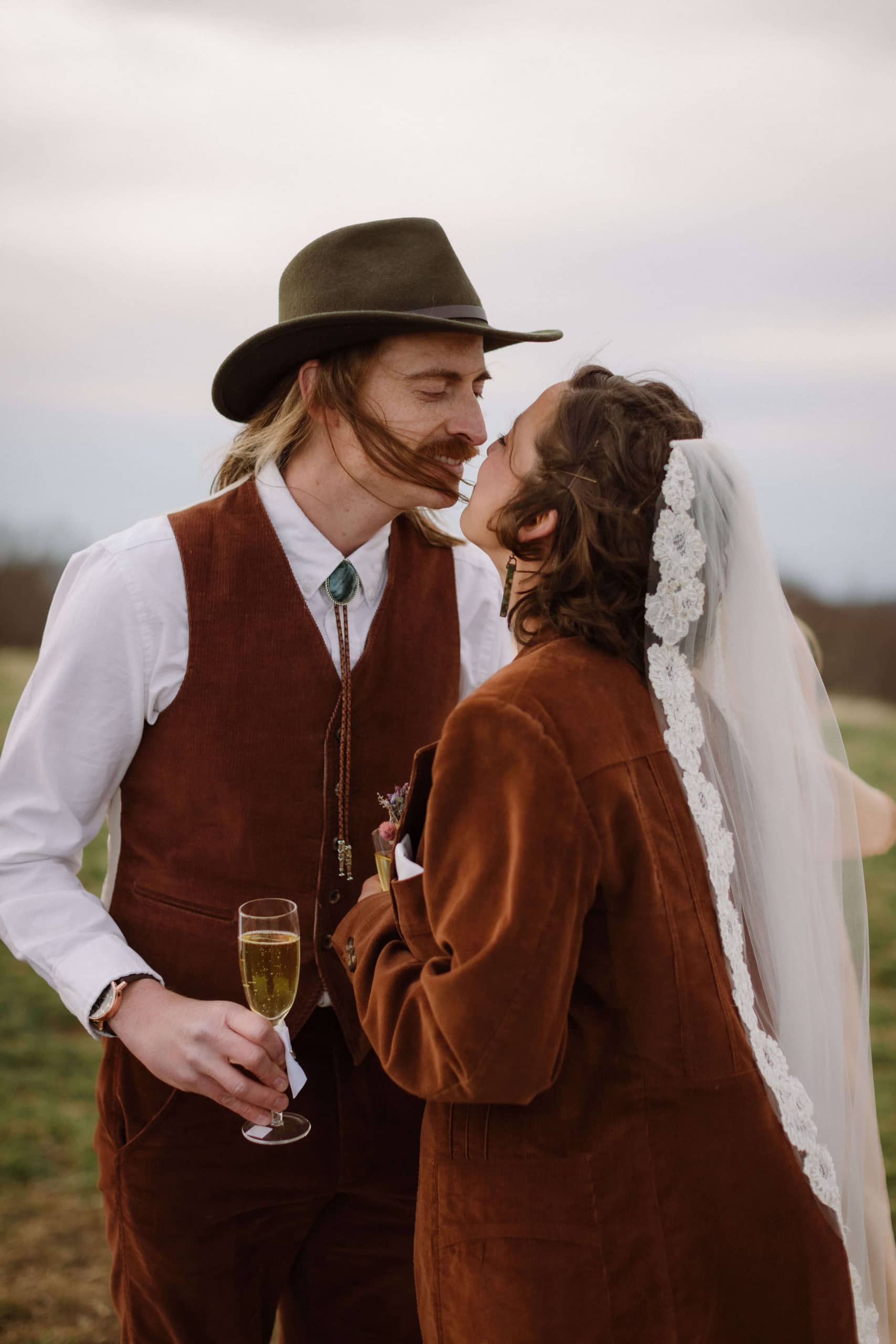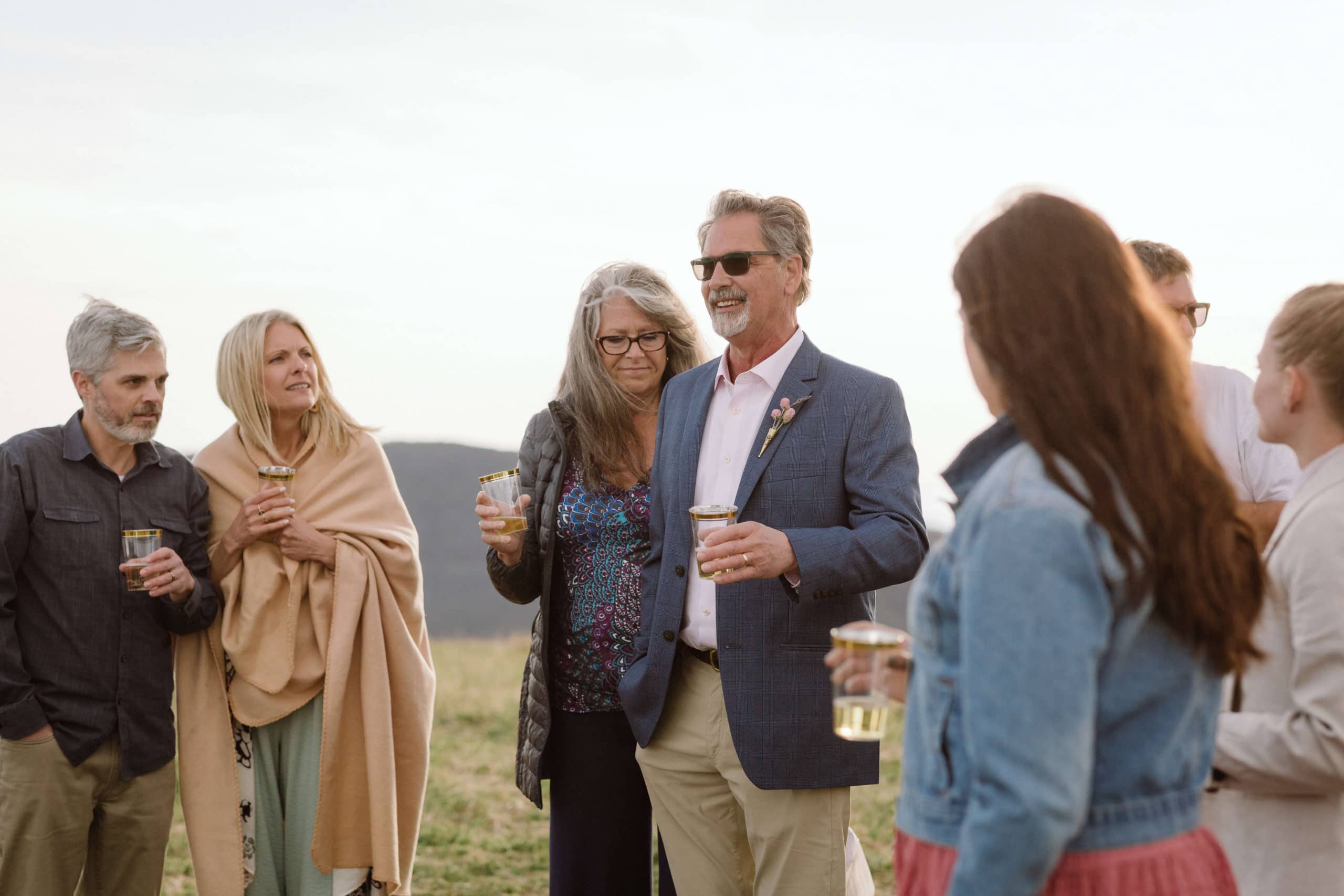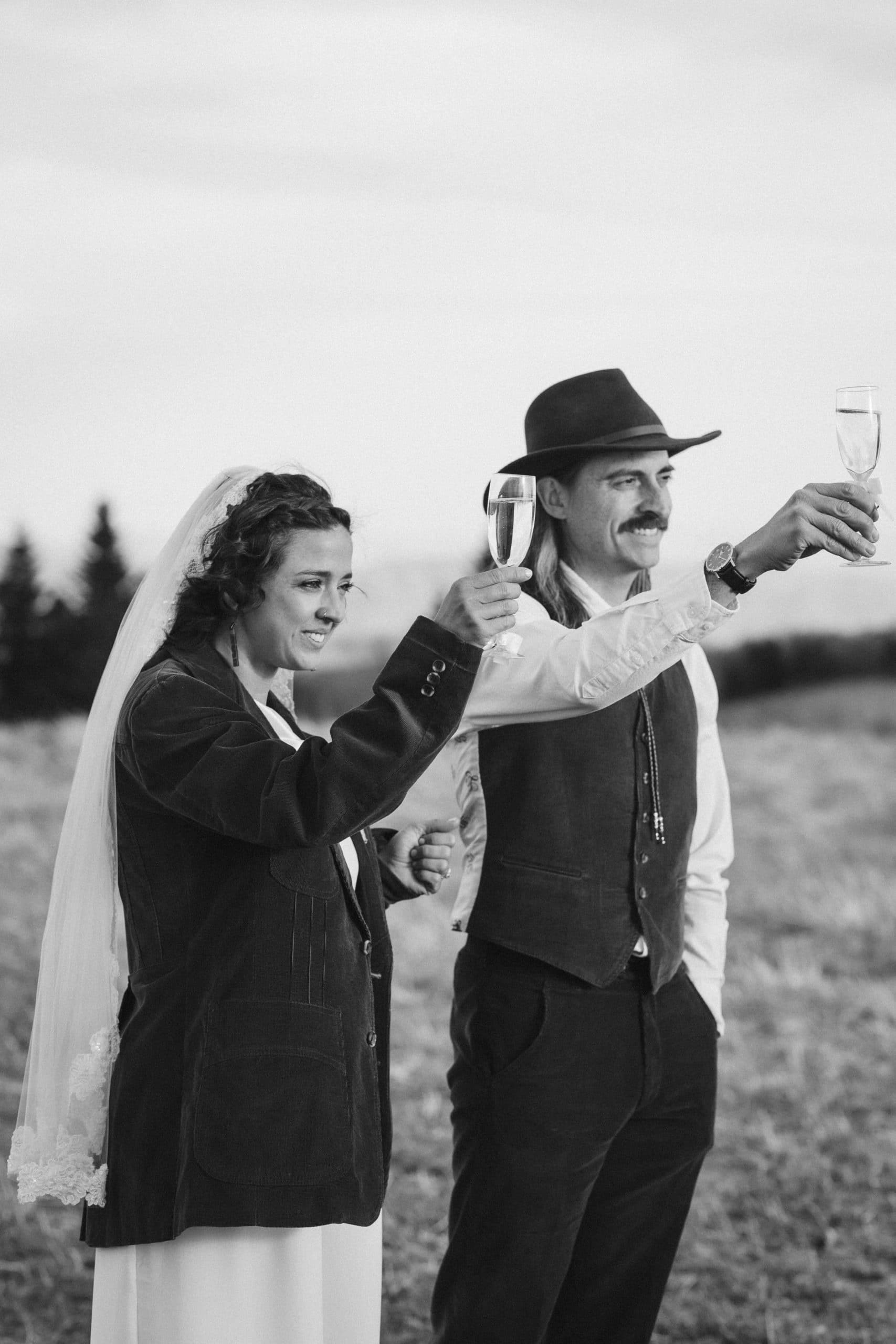 Intimate Wedding Ceremony in the Mountains
For Liv and Rusty's elopement, they chose a spot that was special to them. When they were still dating, there was a little place off a North Carolina highway that they hiked up to one night to watch a solar eclipse reach its totality. Only about a mile hike from a tiny parking lot on the edge of the road, is a secluded little knob at the top of a bald mountain. It's a small area but it's perfect for a romantic picnic or, as in Liv and Rusty's case, a secret elopement.
The couple chose to invite a small group of their closest loved ones to be a part of their ceremony. Everyone gathered and began the little hike up to the knob early in the evening. Because it was such a hidden area, Liv and Rusty left adorable little wooden signs starting from the highway all the way up to the place where they would be holding their ceremony.
We started our photography session with everyone hiking up the little trail together. Liv and Rusty weren't planning to have a first look session, but they were already mostly ready and brought their wedding outfits to dress in a makeshift changing area surrounded by blankets. Liv's mom and sisters helped her into a modern styled bridal pants suit and fastened her veil into her hair before checking her makeup in a handheld mirror. Not one to leave her dad out of the pictures, Liv shared a special moment with her father as they shared a quick father-daughter first look and a sweet embrace. Meanwhile on the other end of the knob, Rusty's mom helped him pin on his boutonniere and adjusted his striking red suit jacket.
Liv and Rusty's wedding ceremony was short and sweet, officiated by one of Liv's oldest friends. The couple exchanged heartfelt vows and lit a small fire together. All of their loved ones gathered around the two as the fire warmed their intertwined hands and said a few words of love and support over them.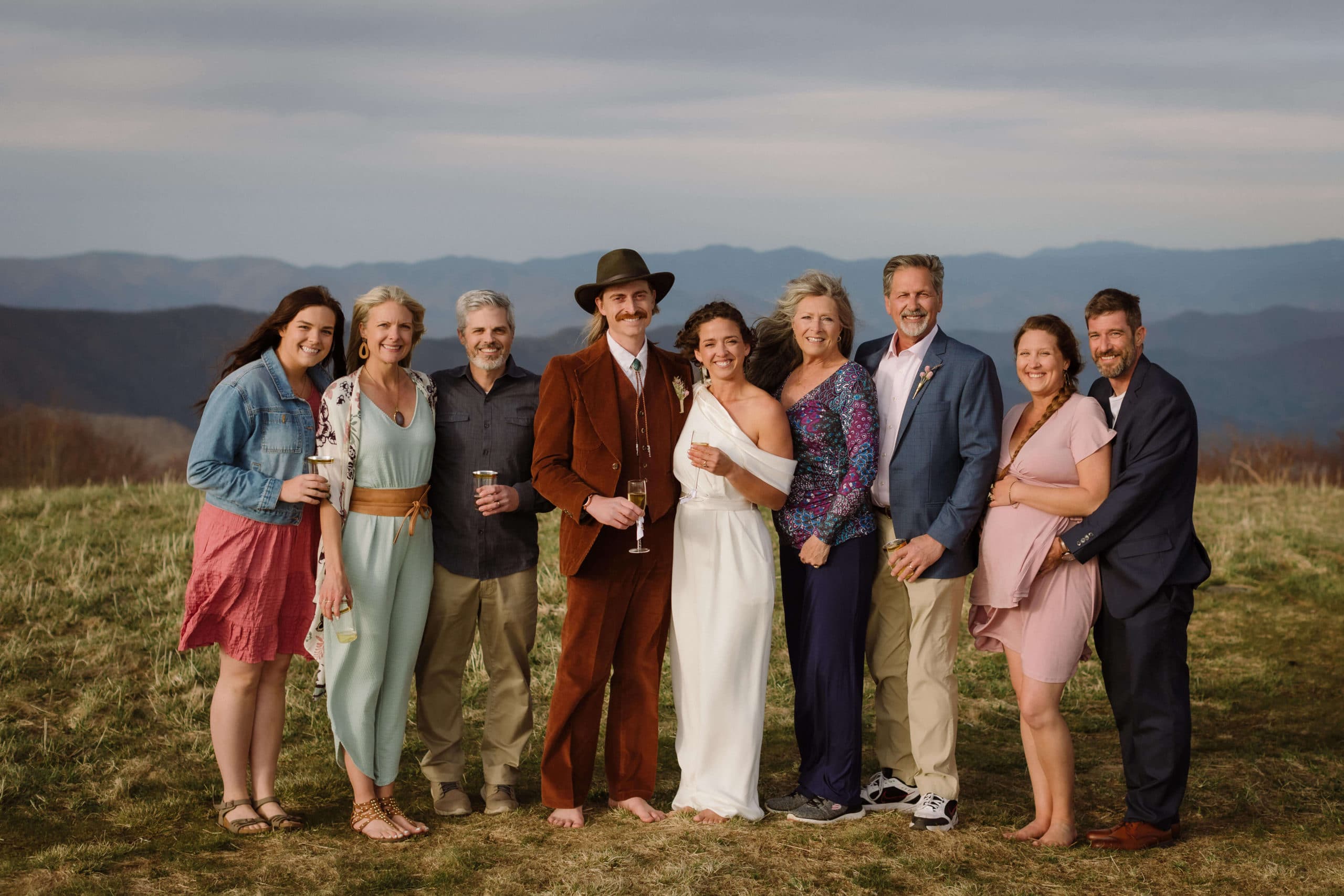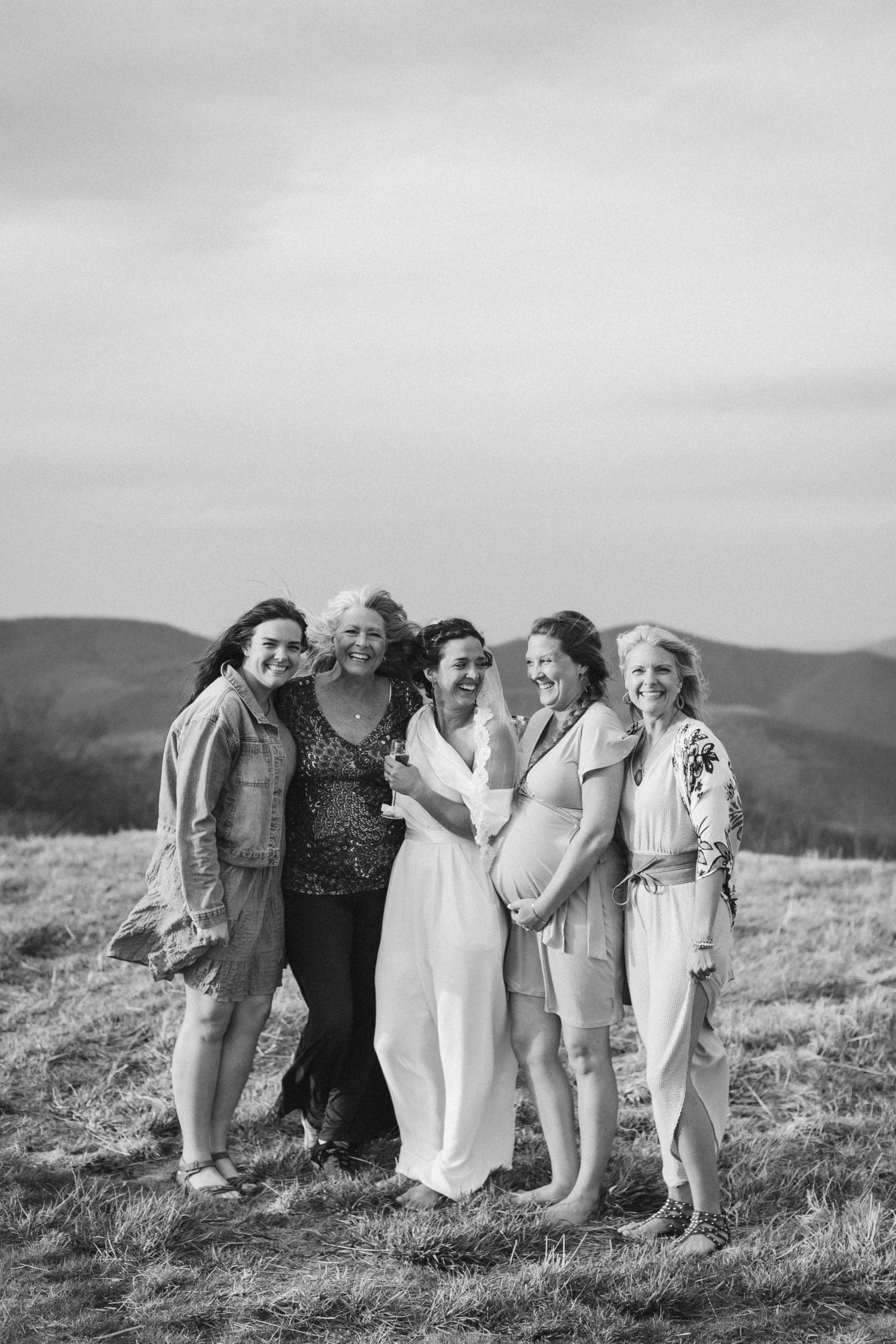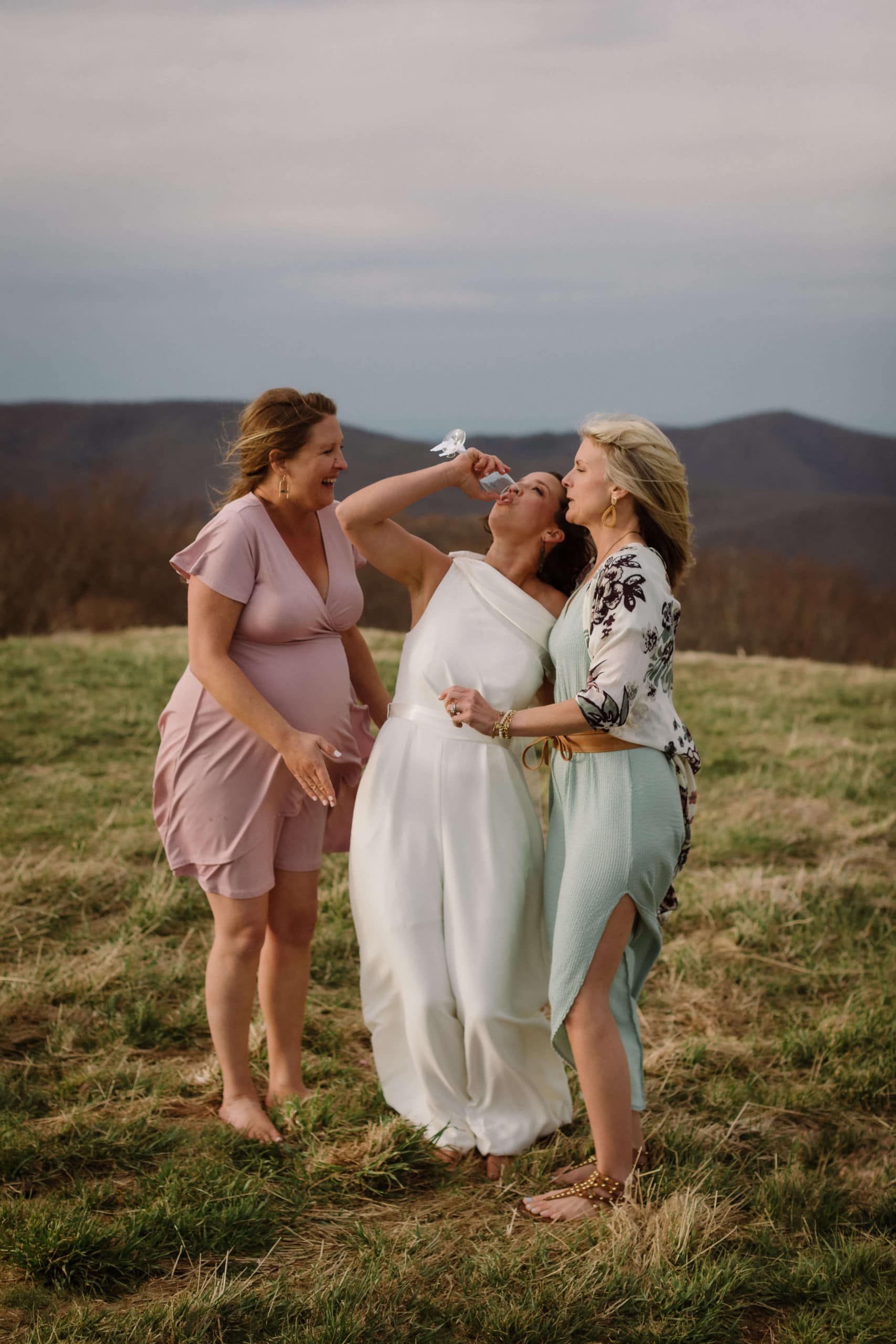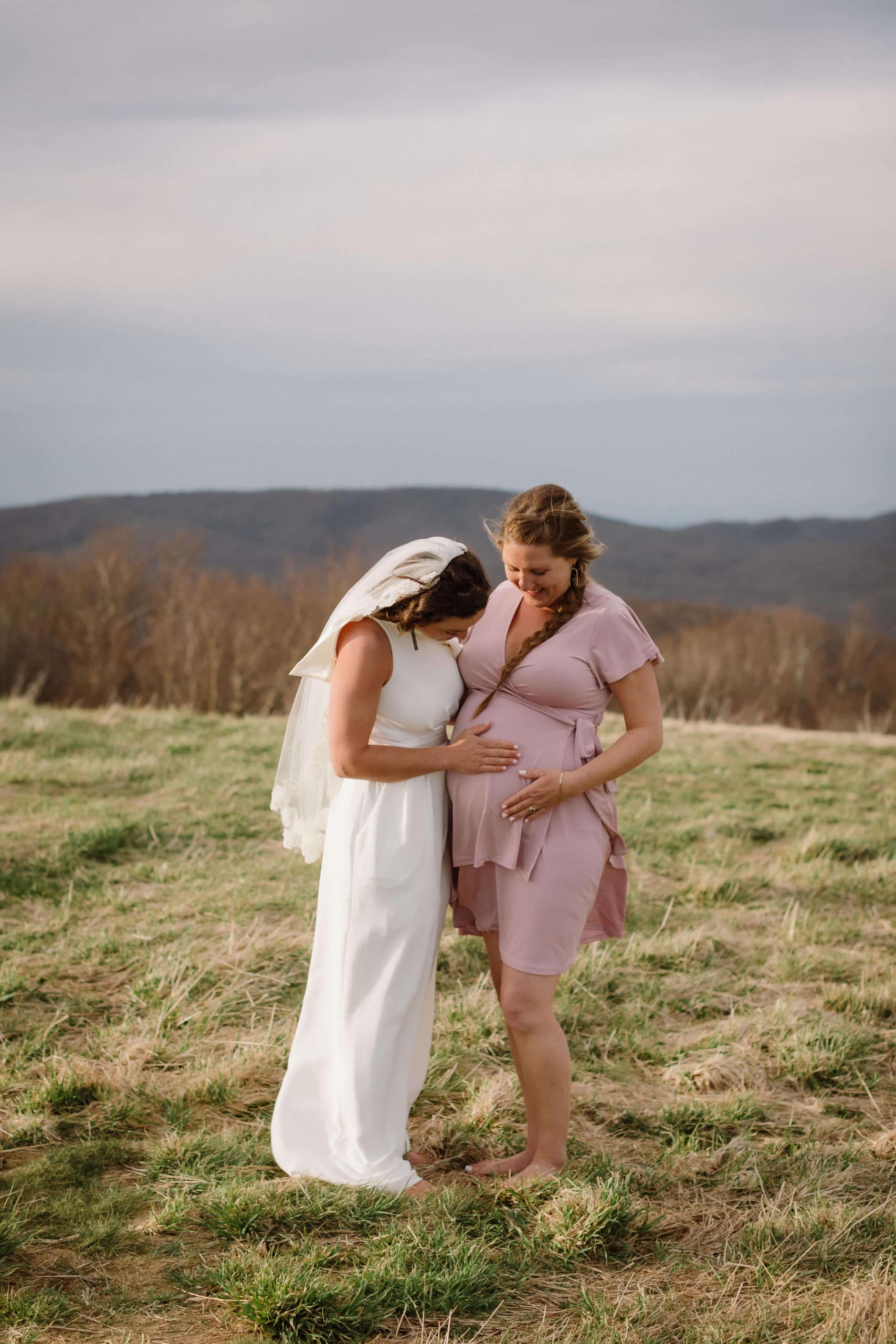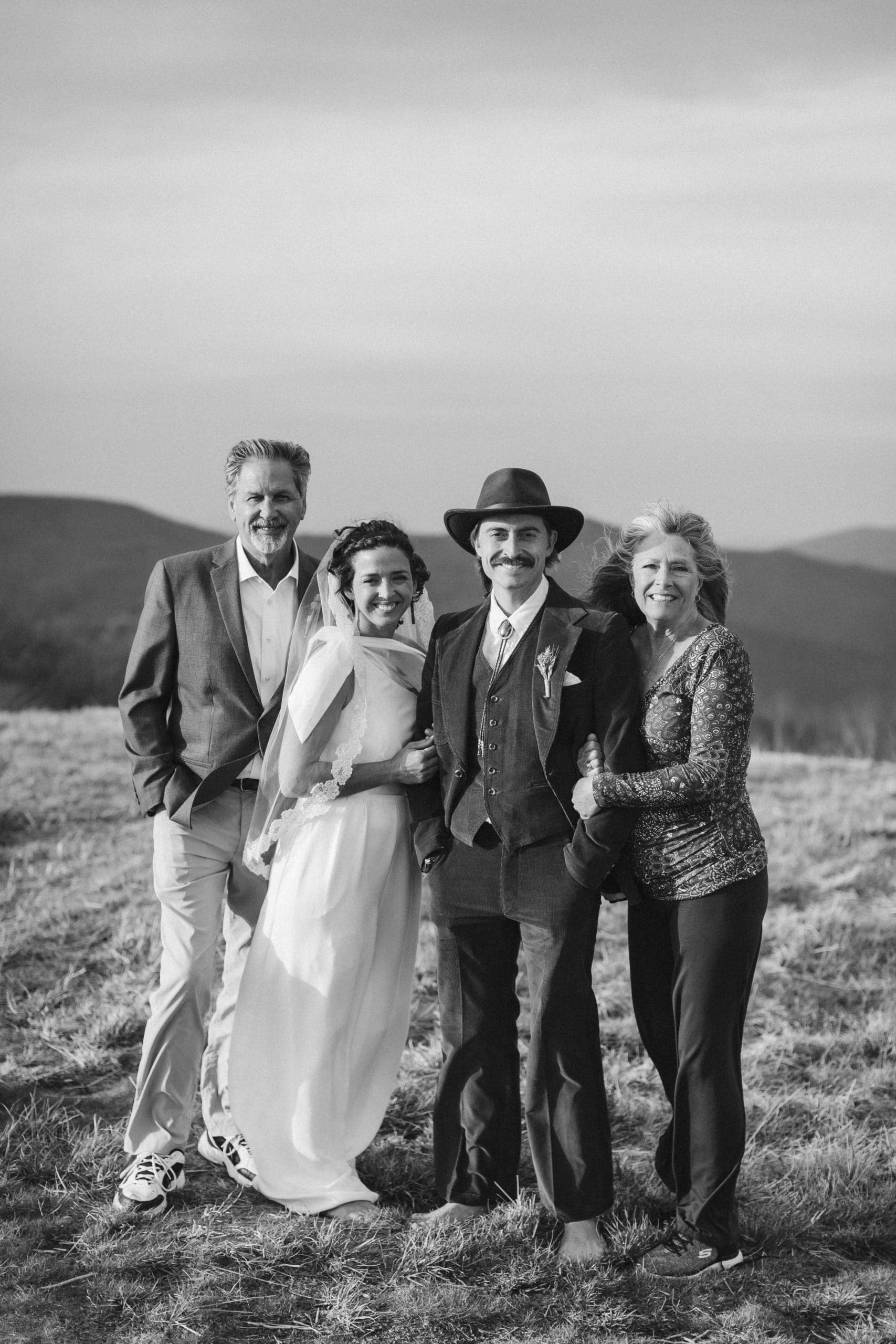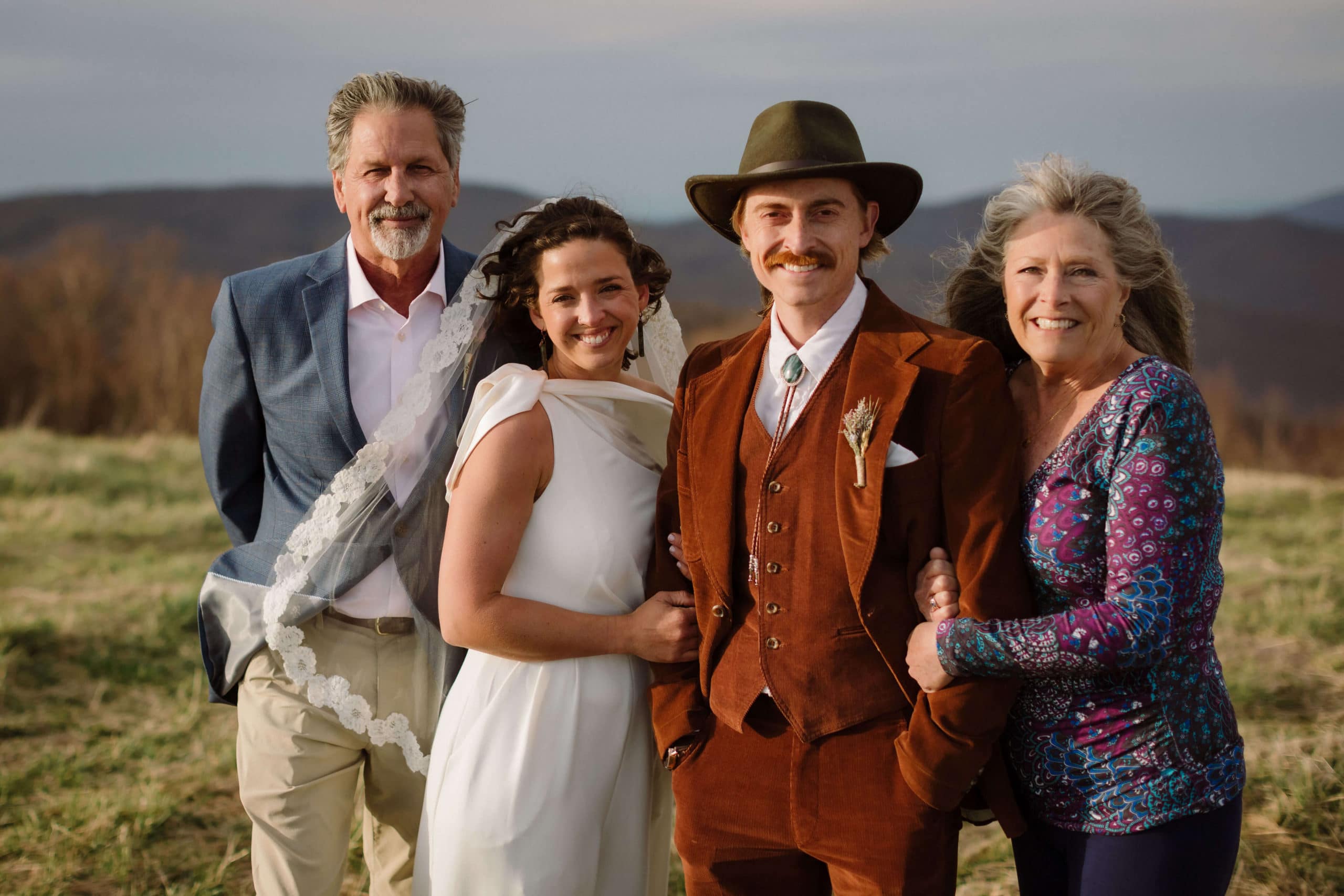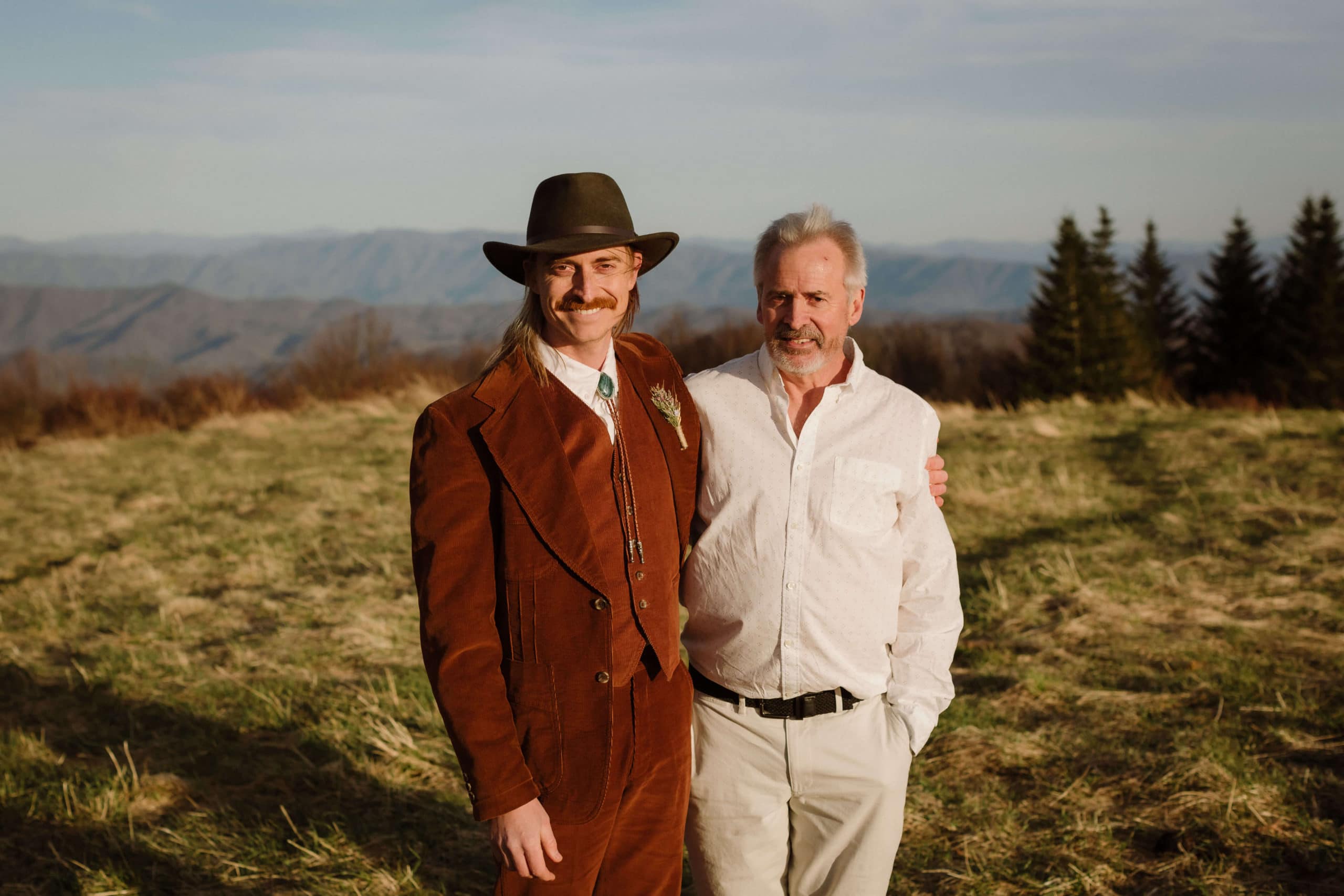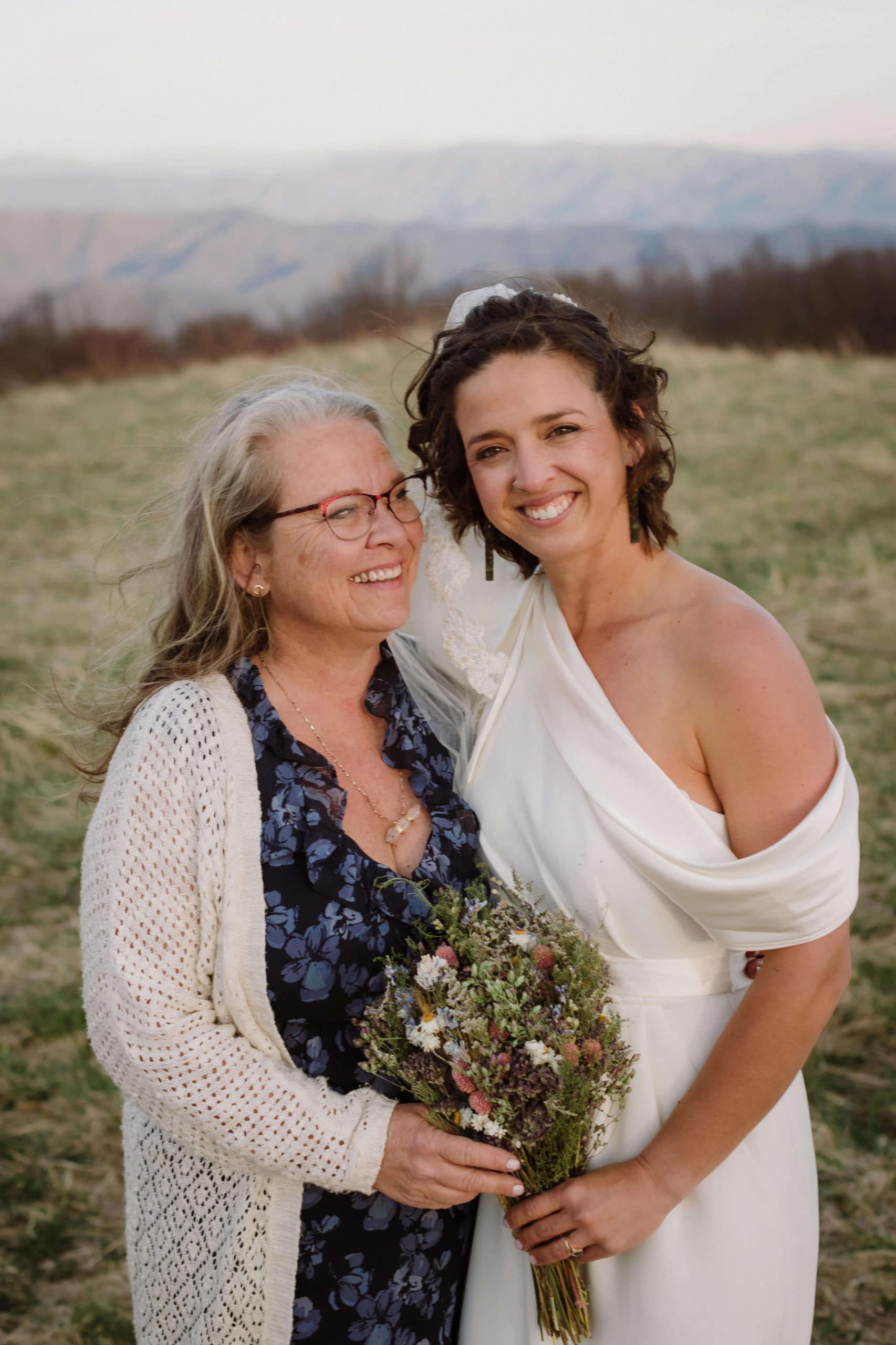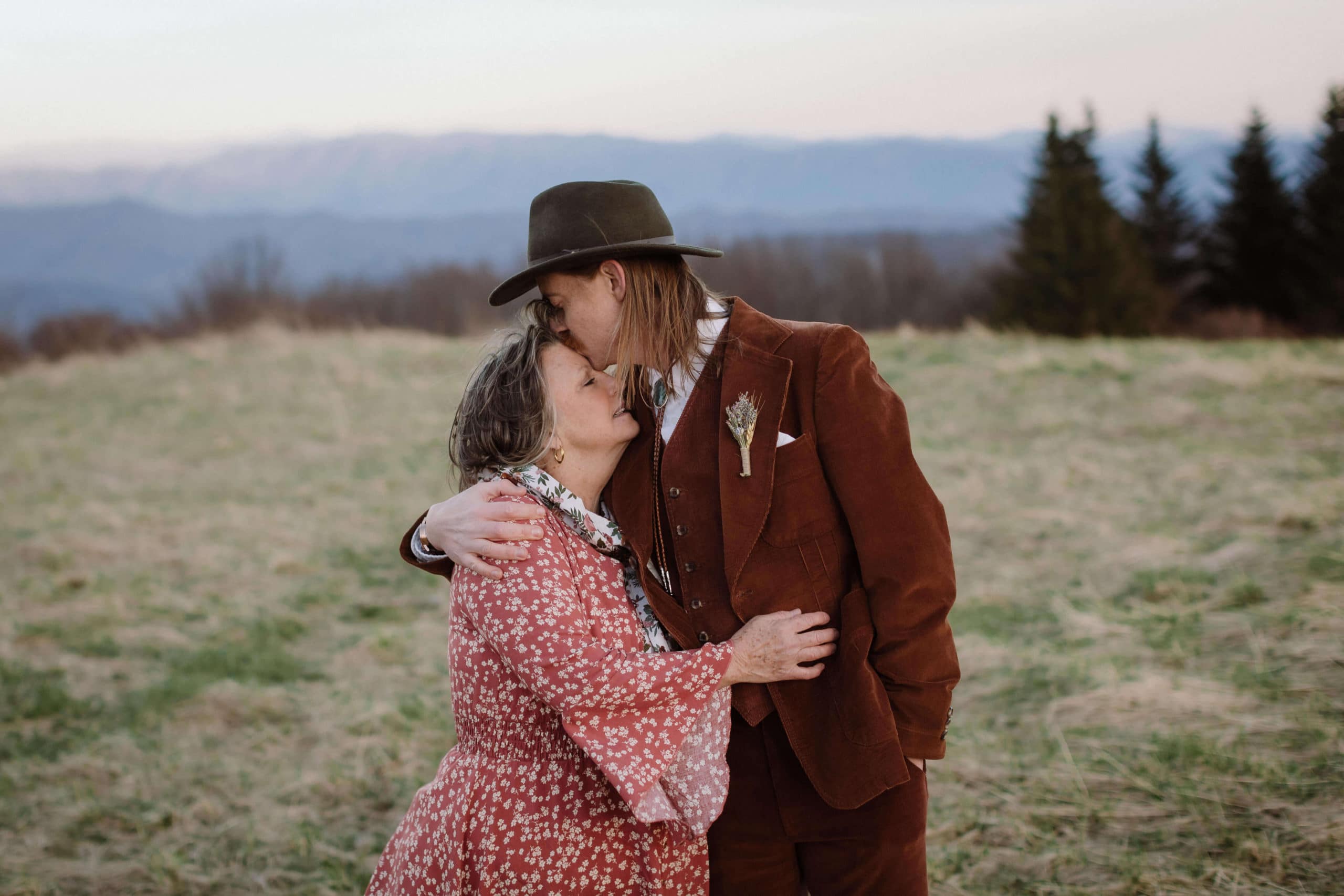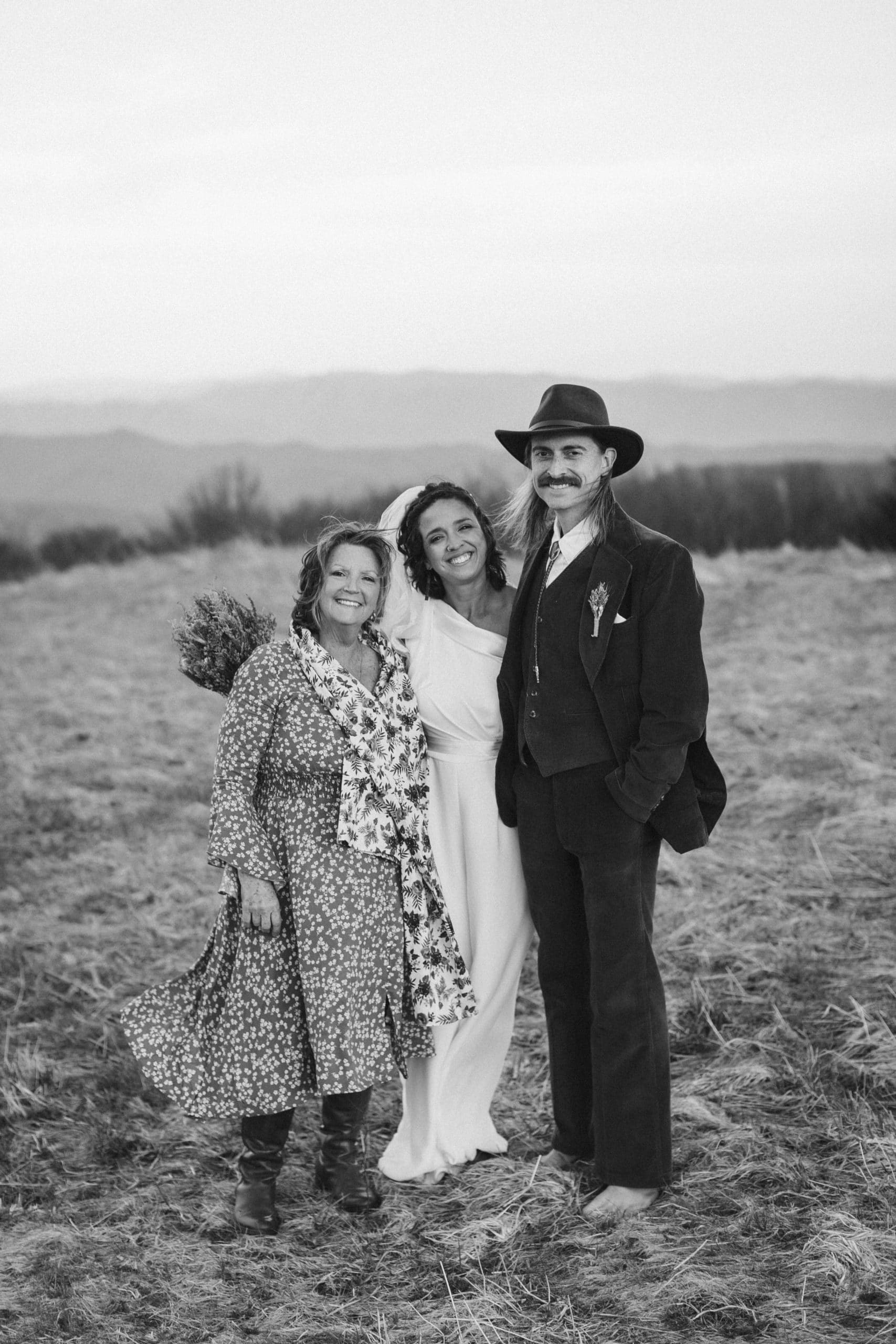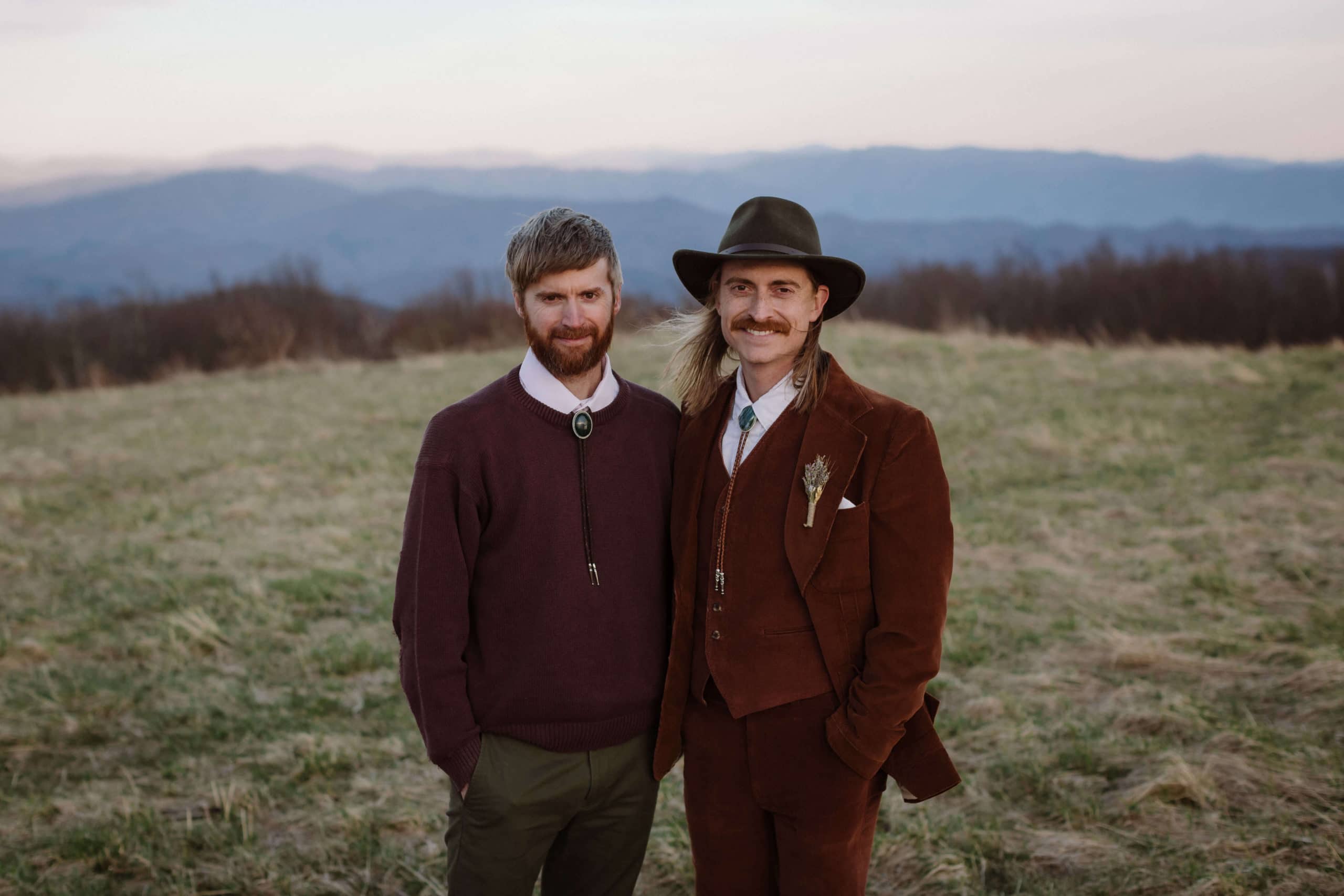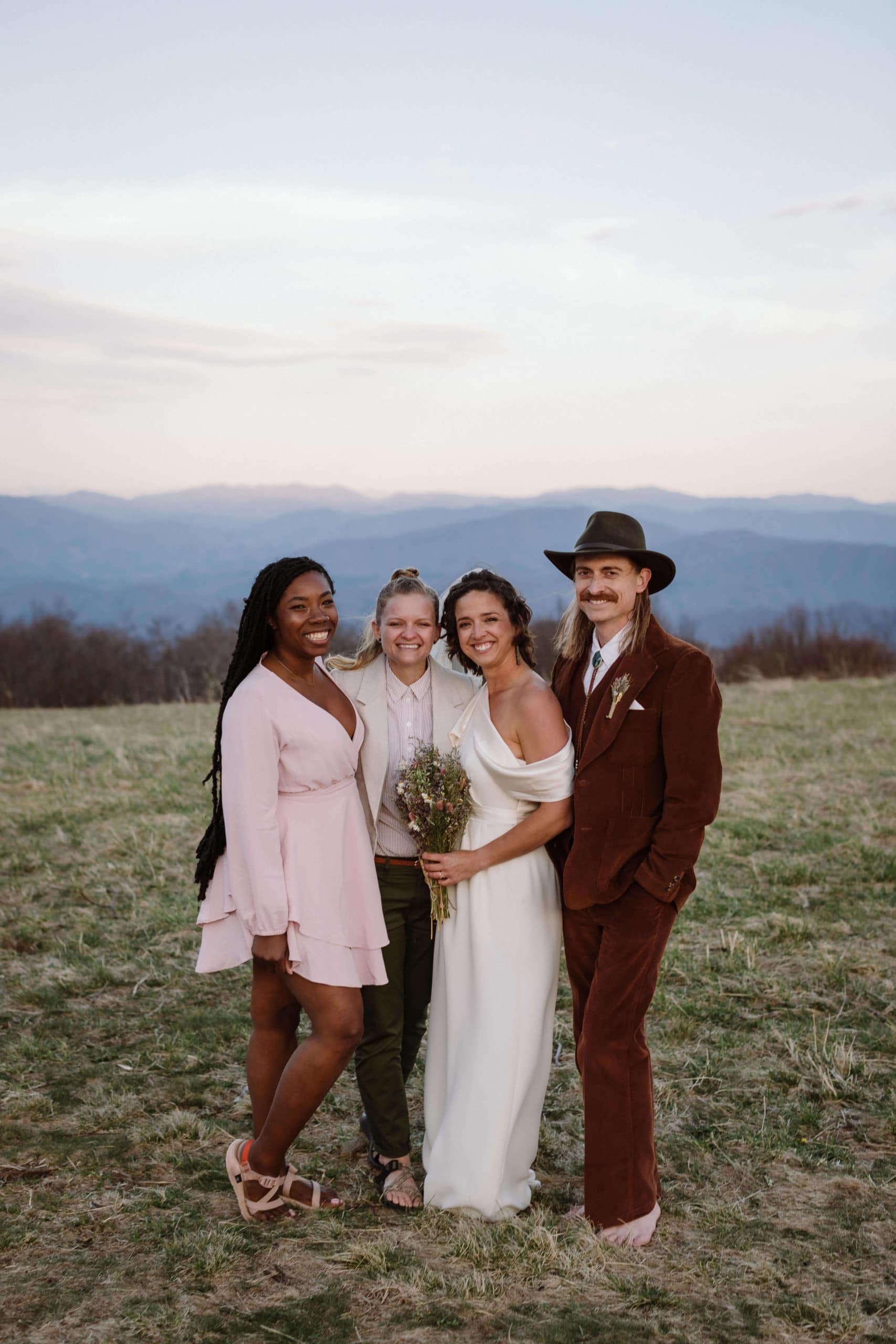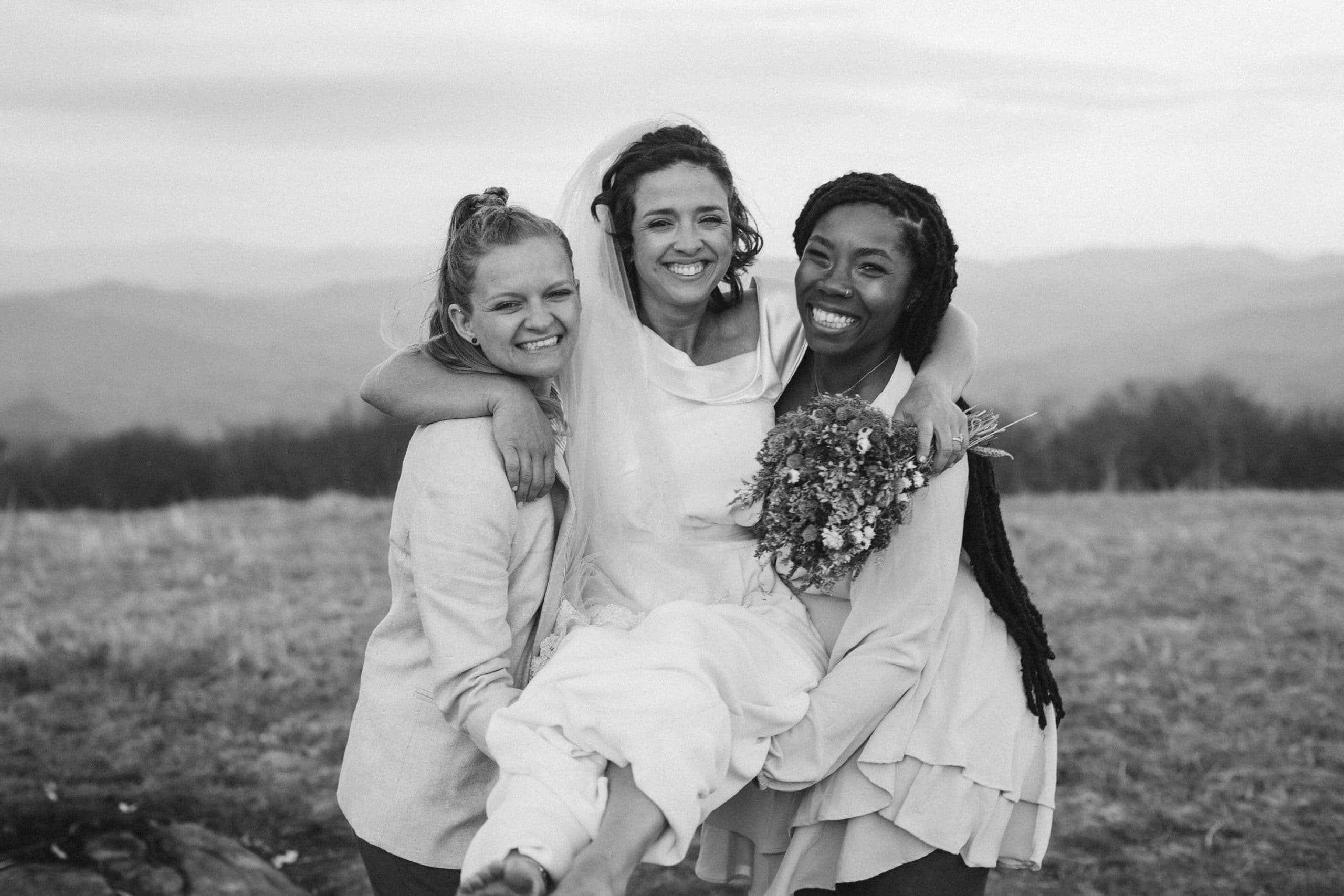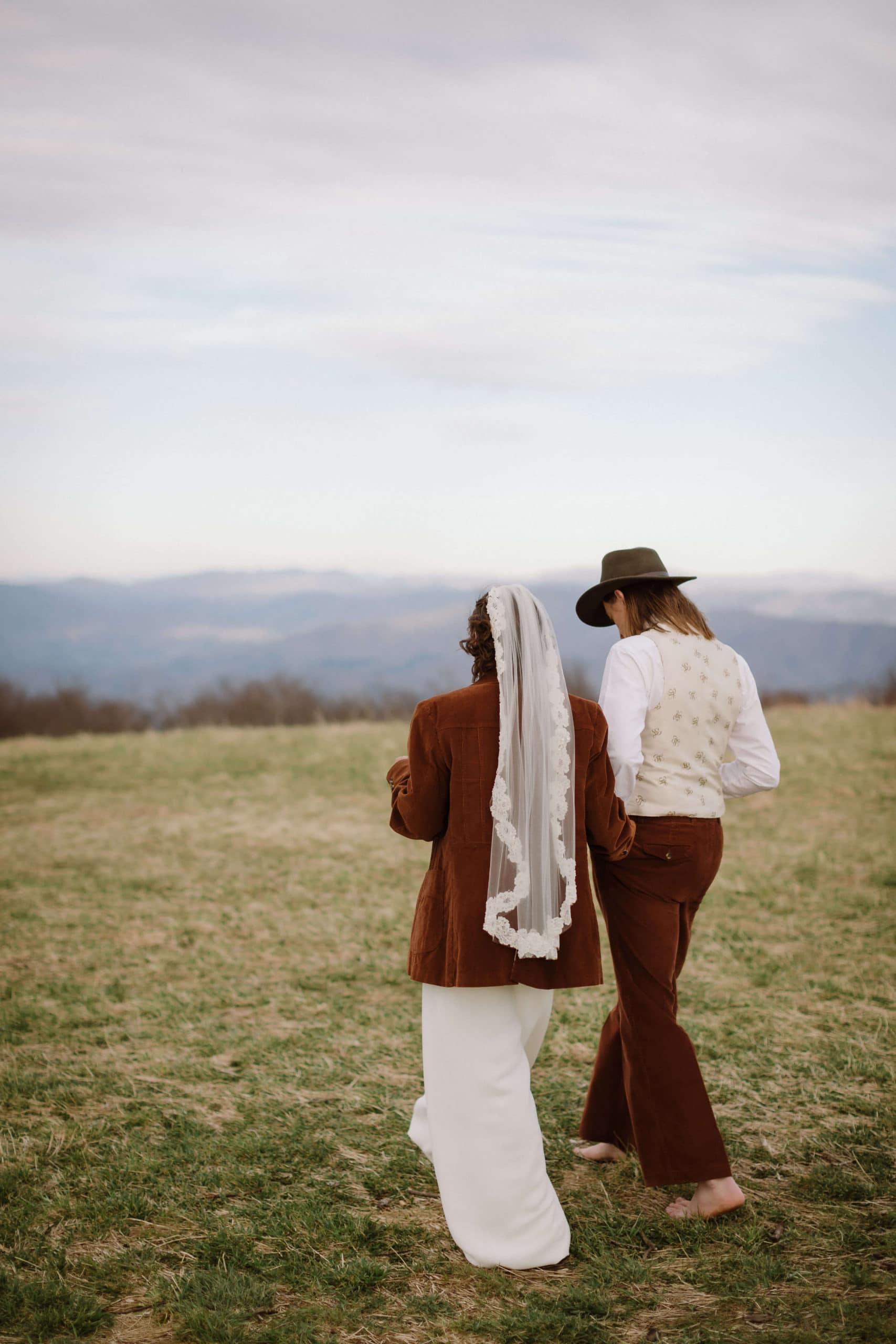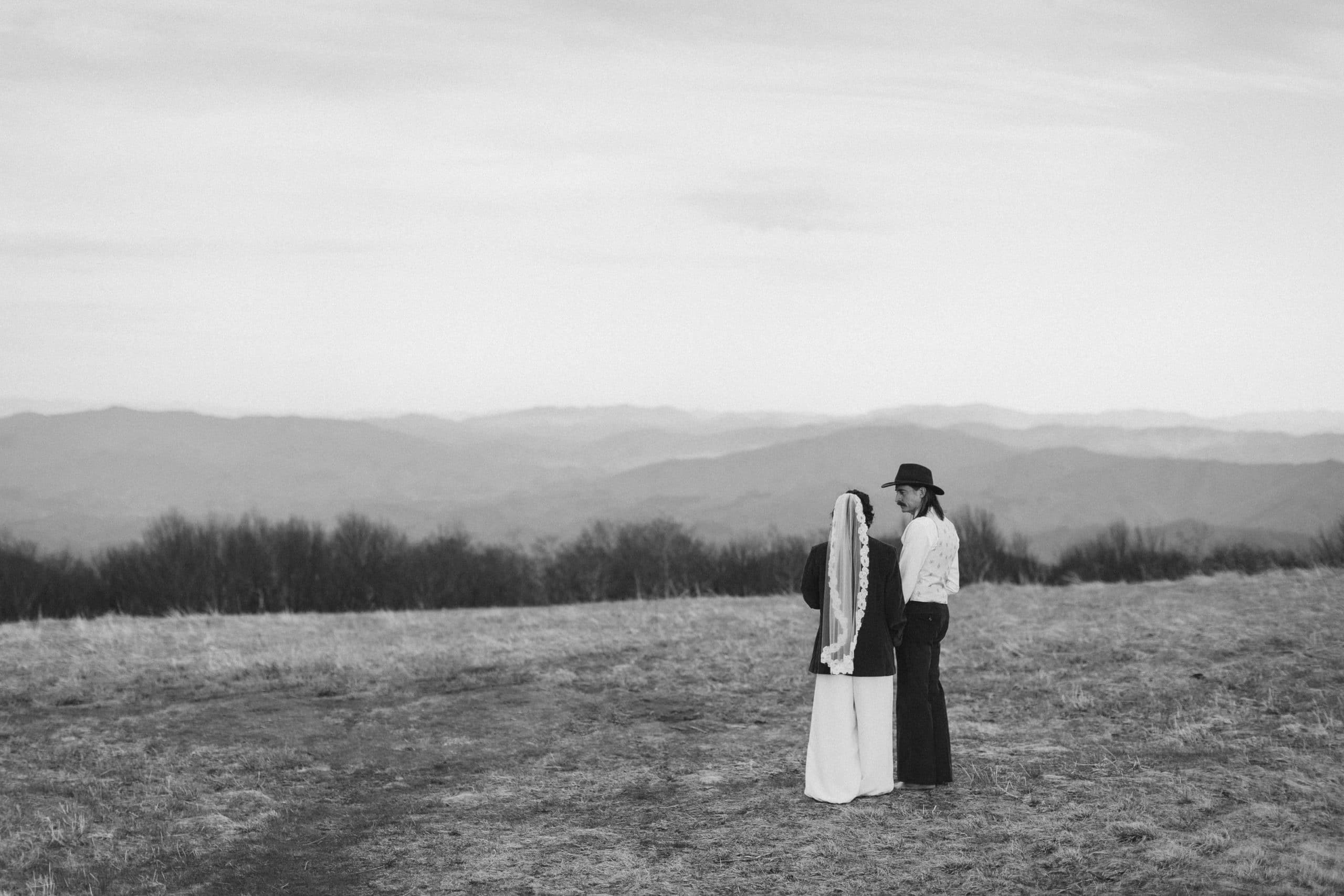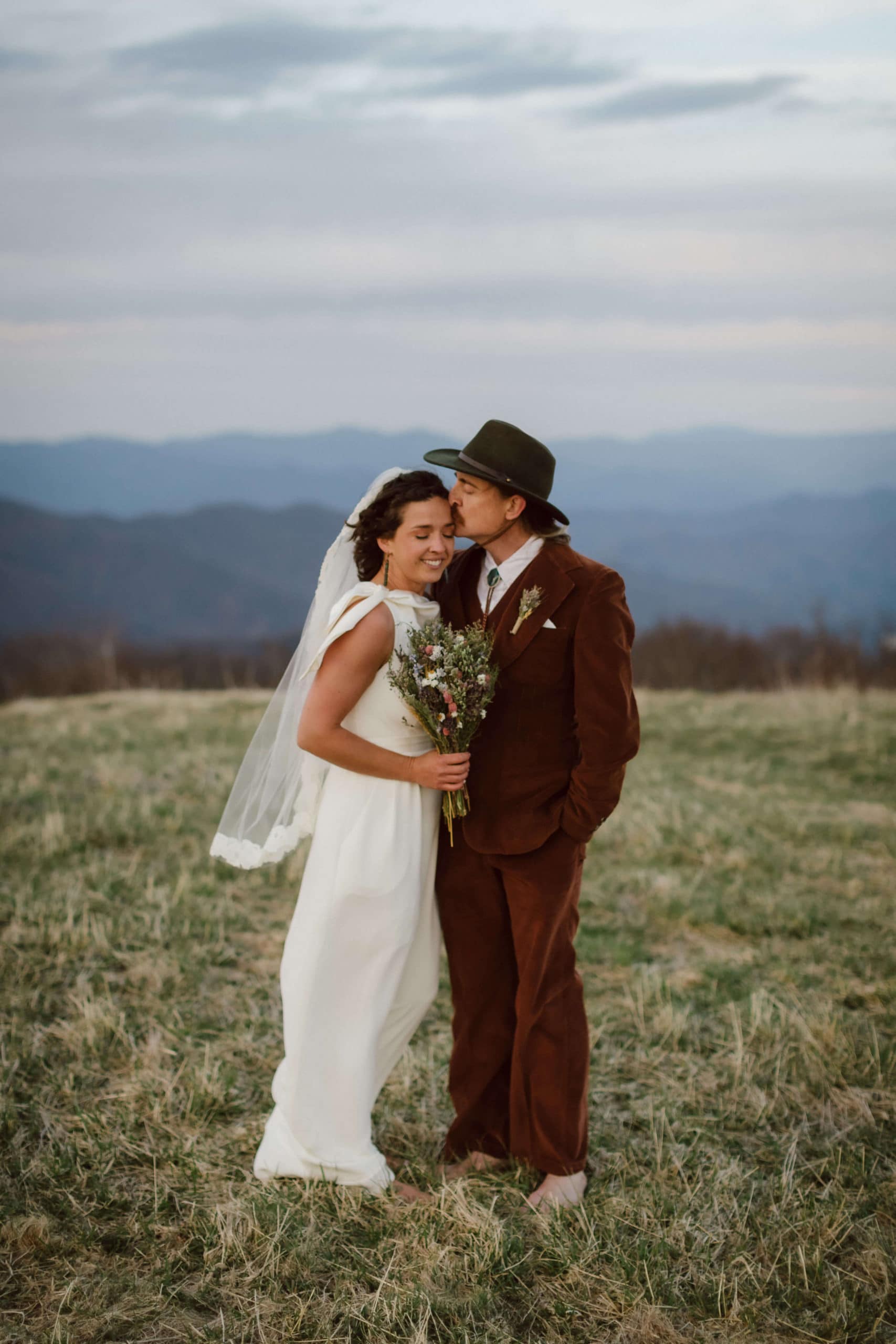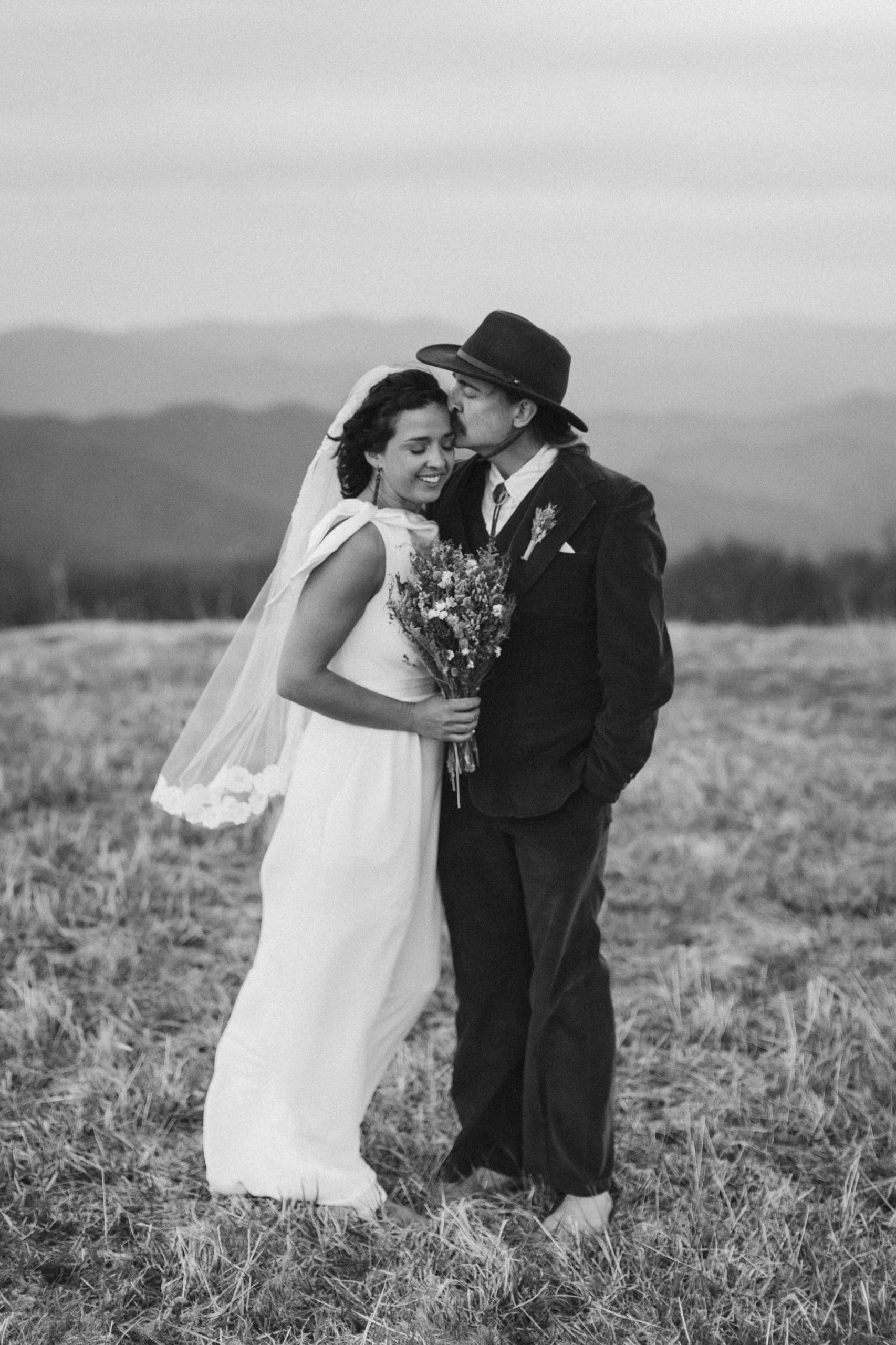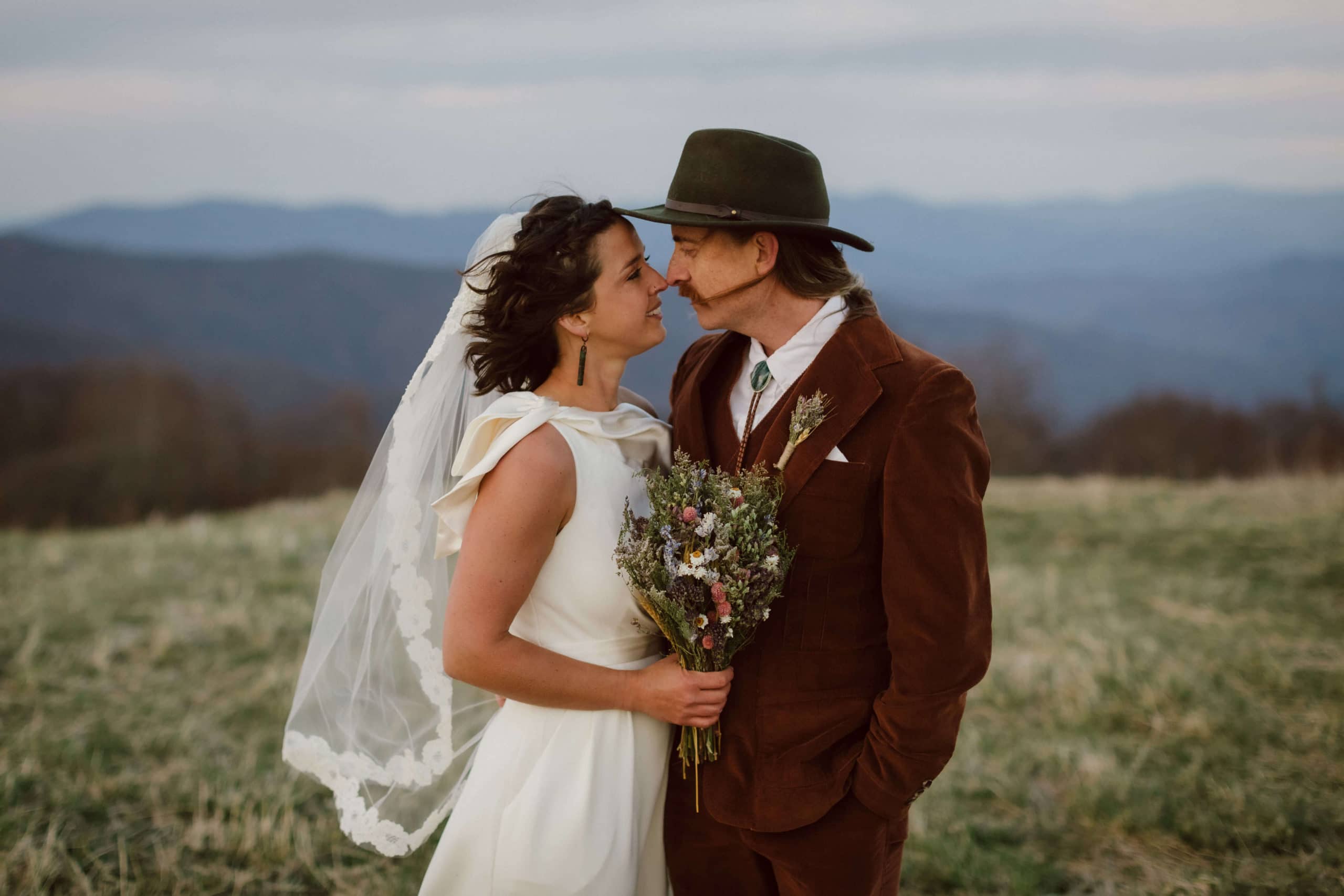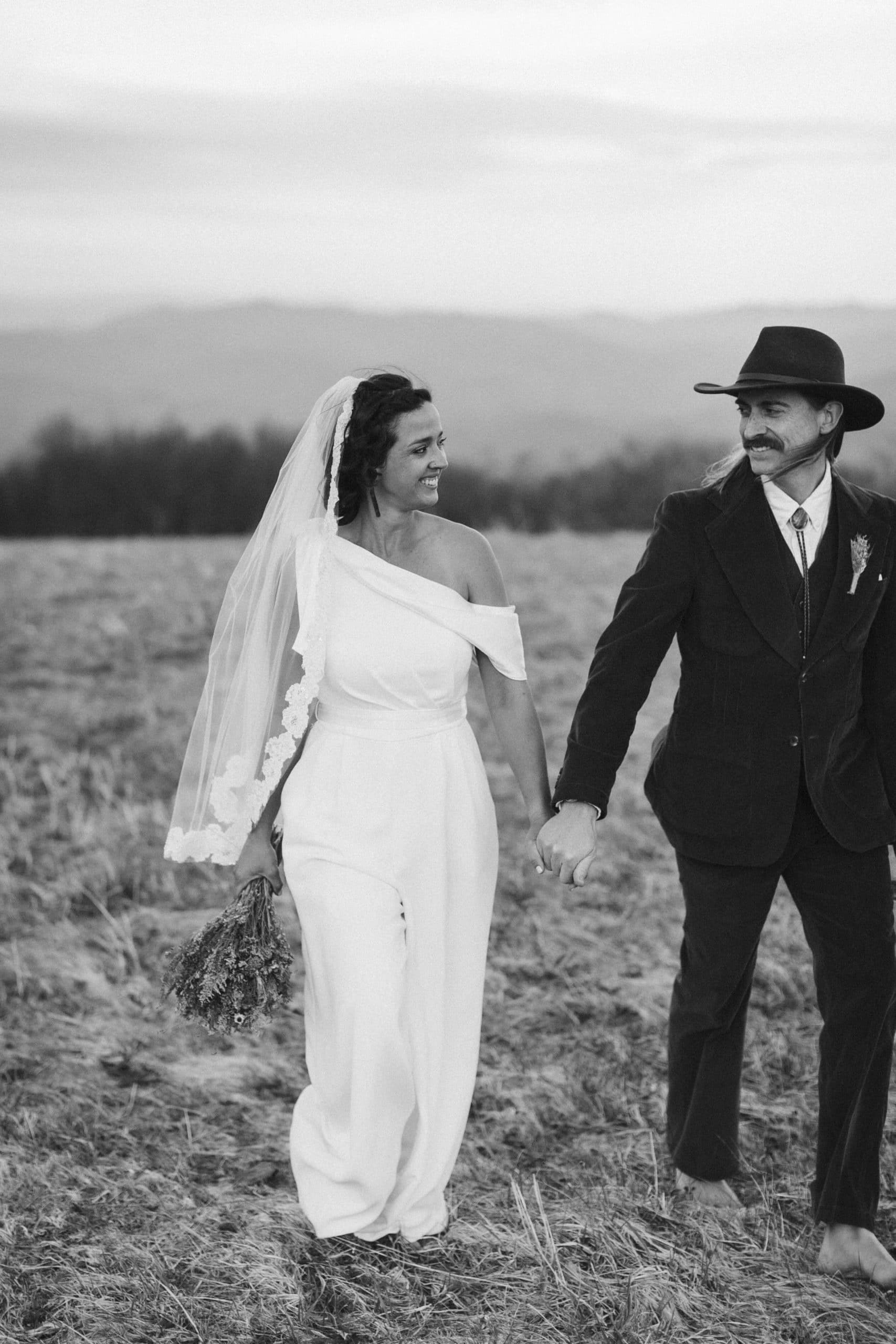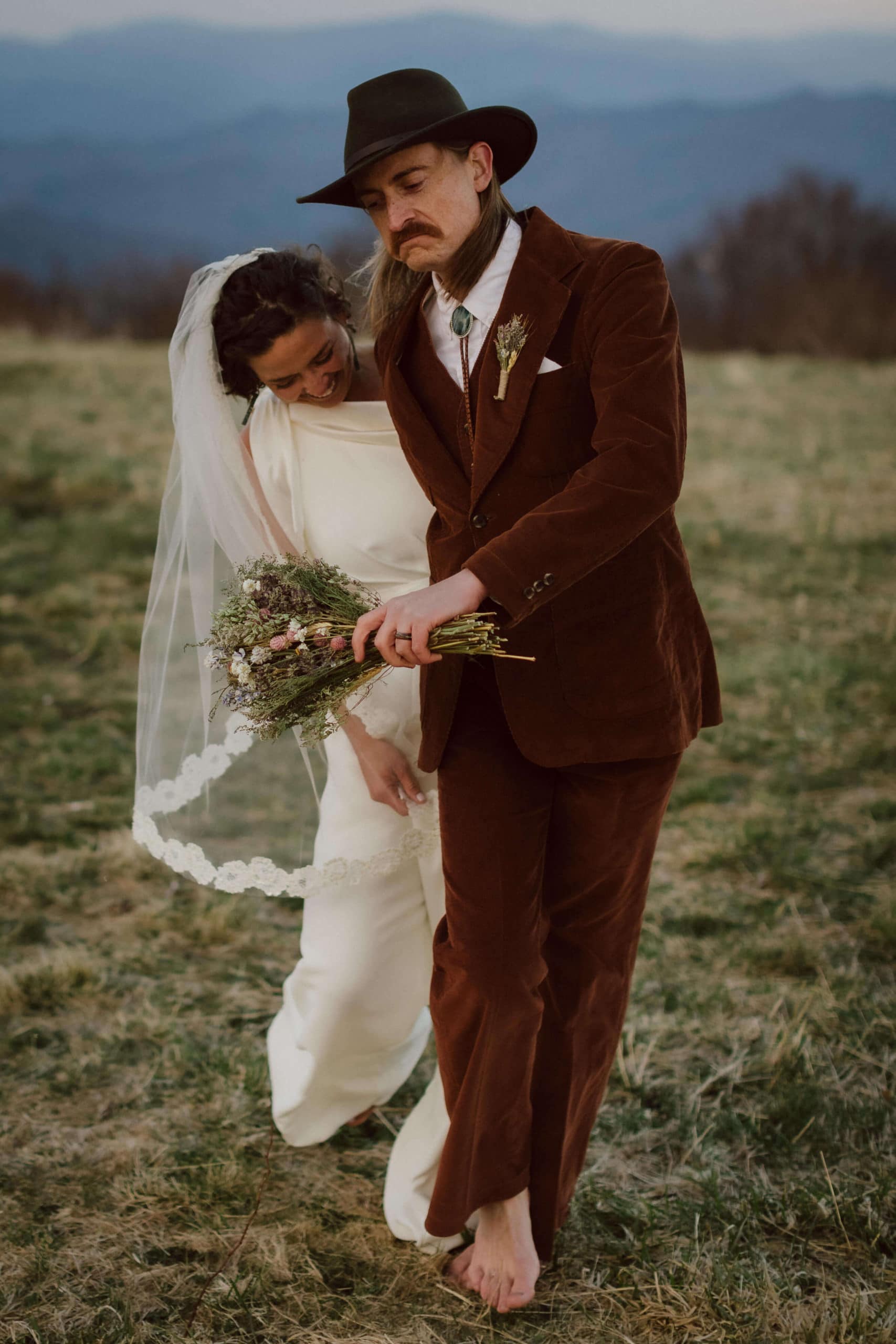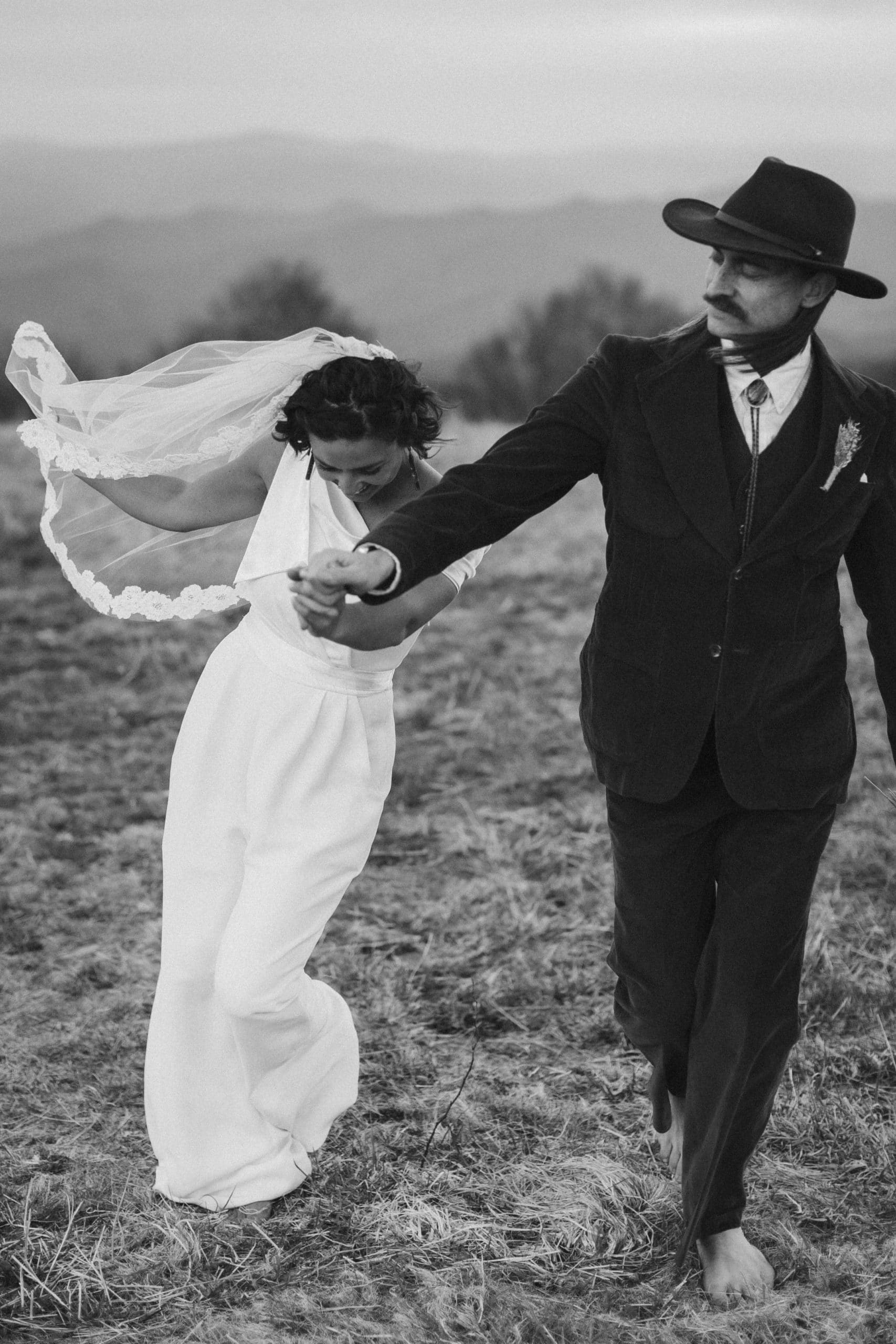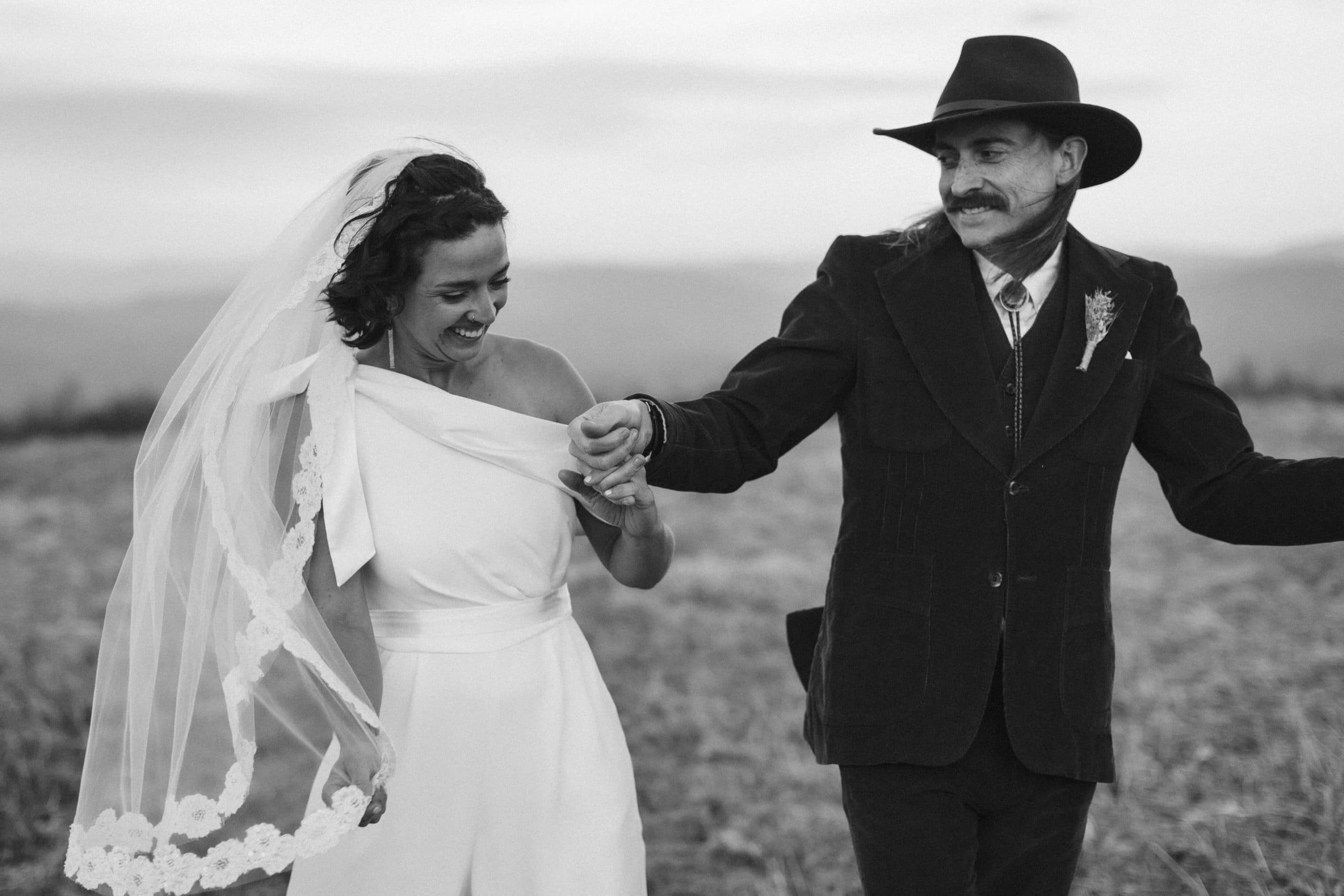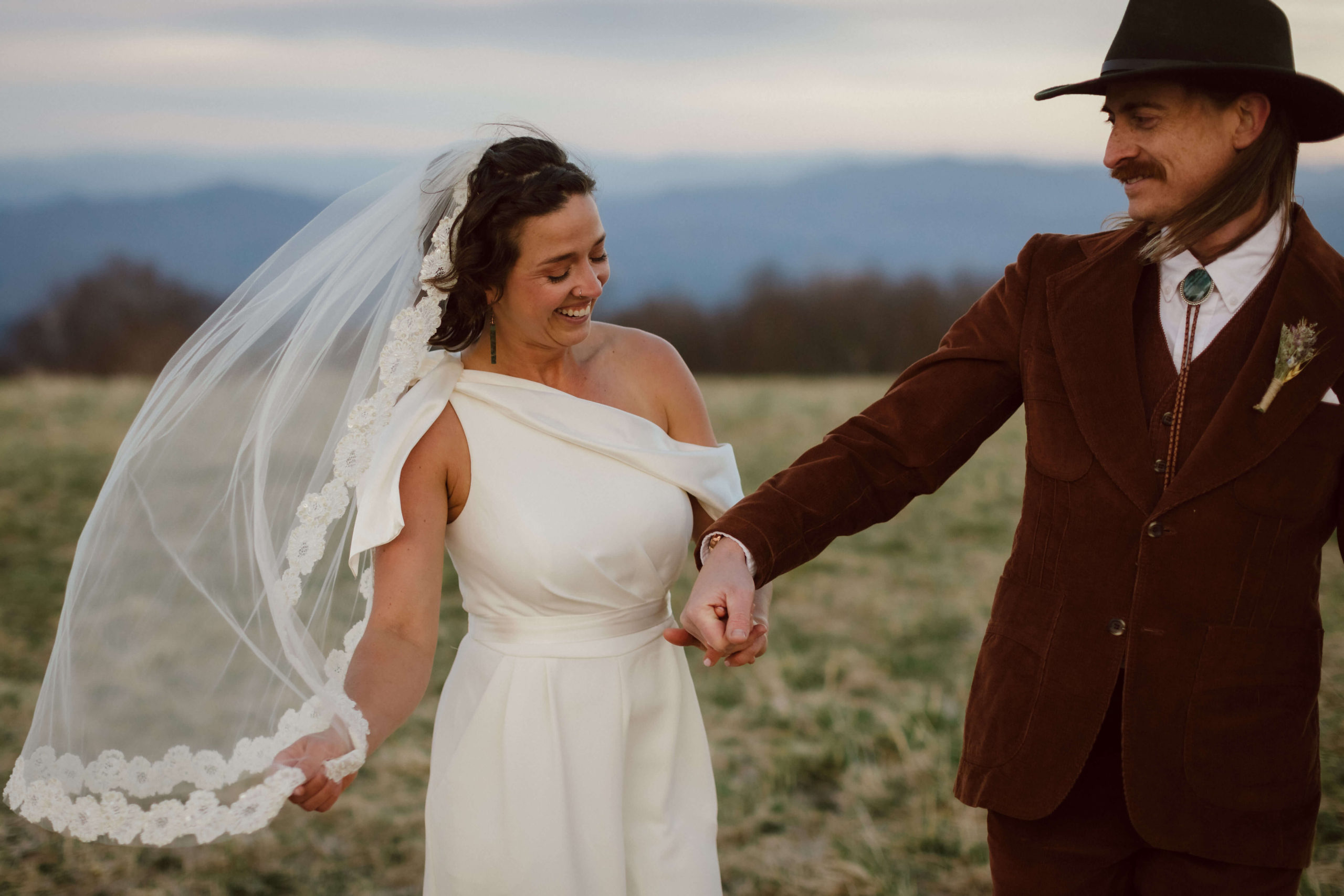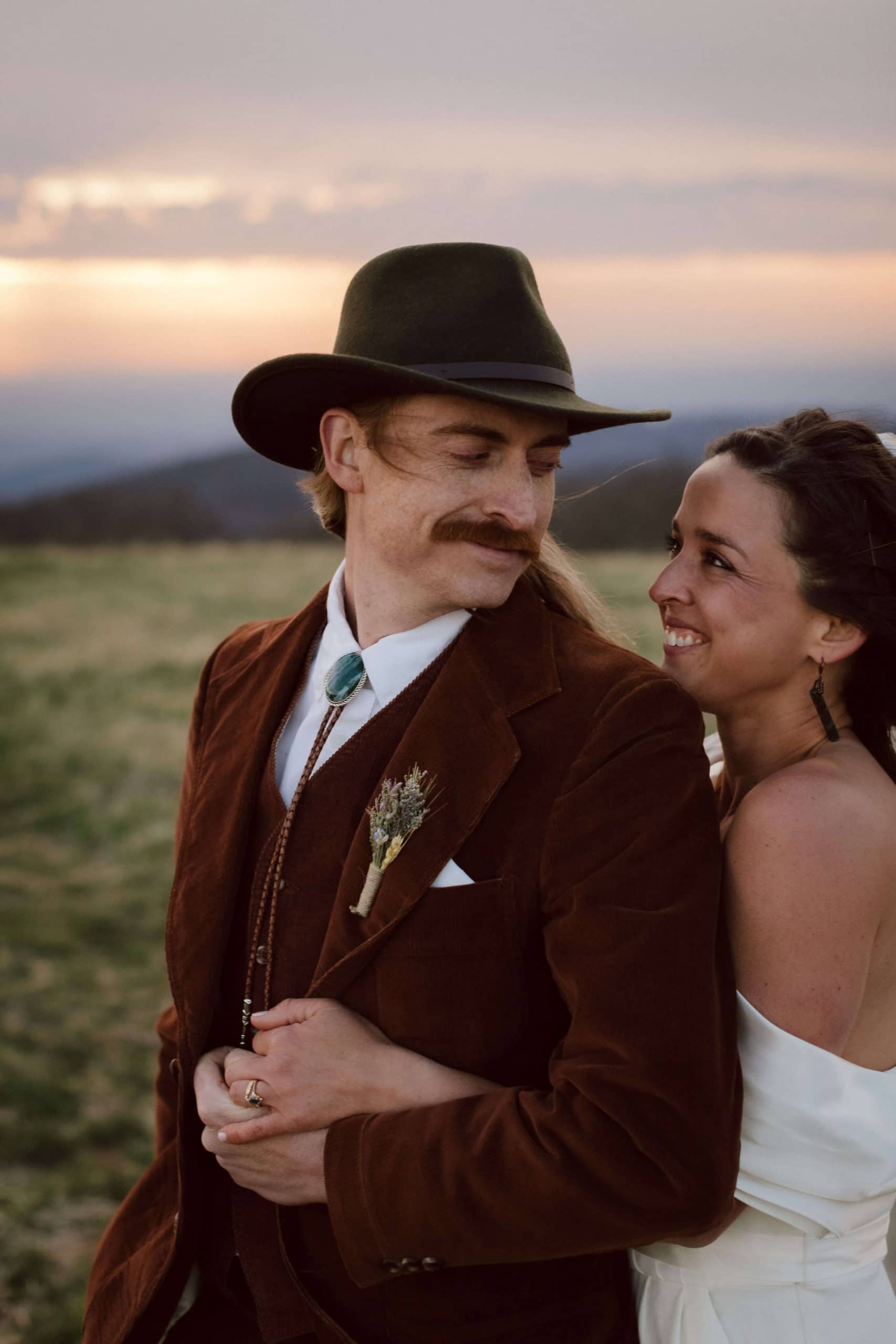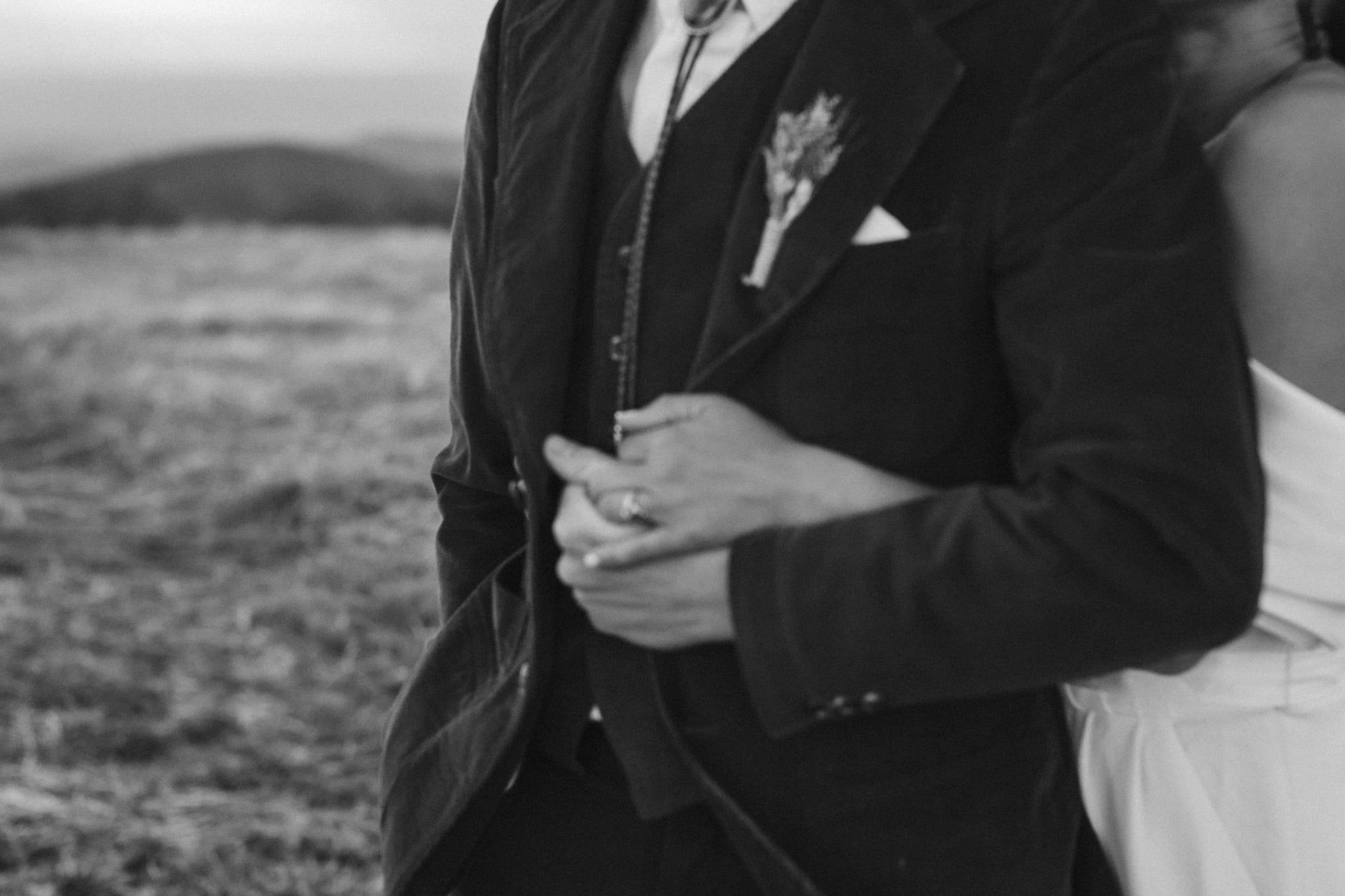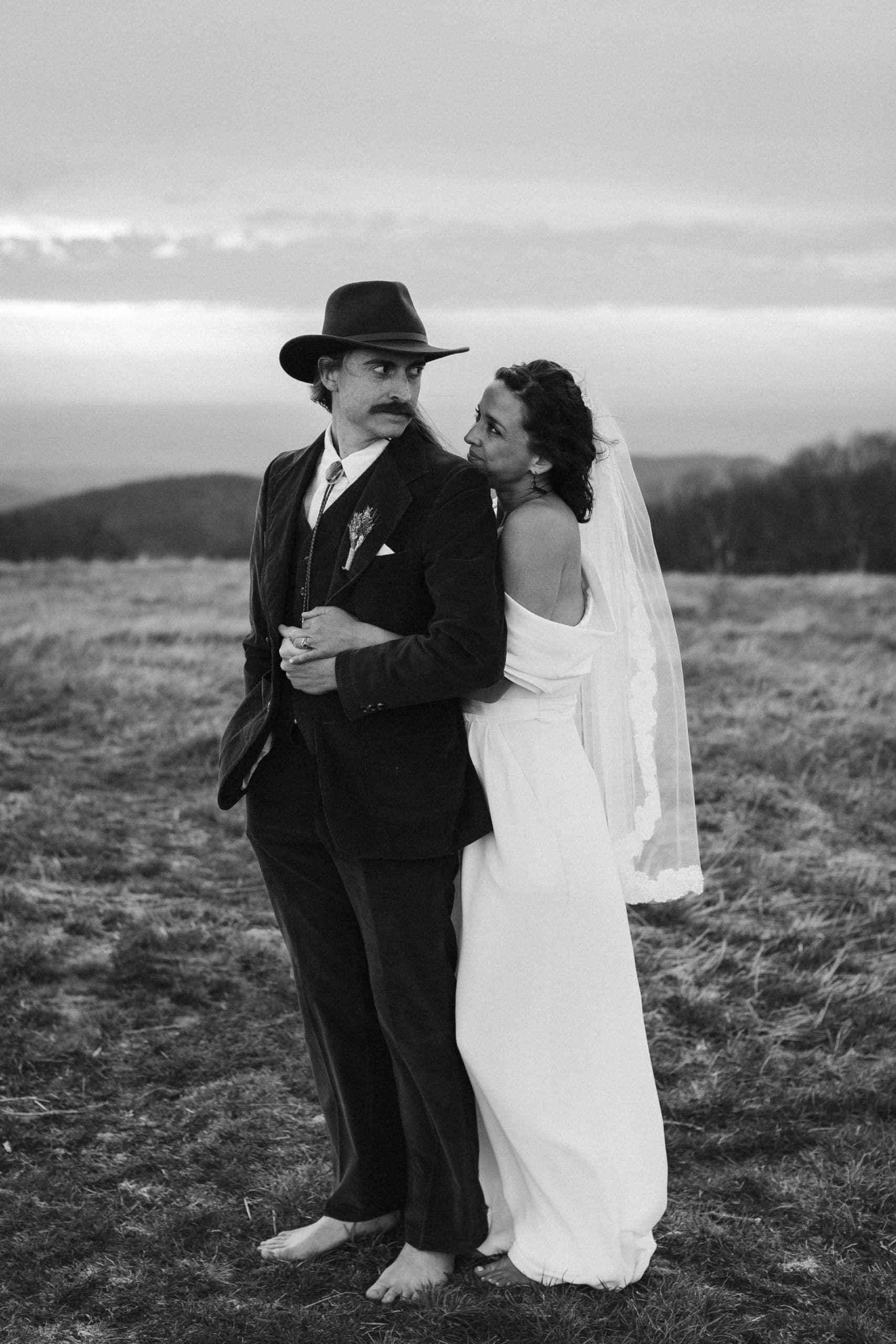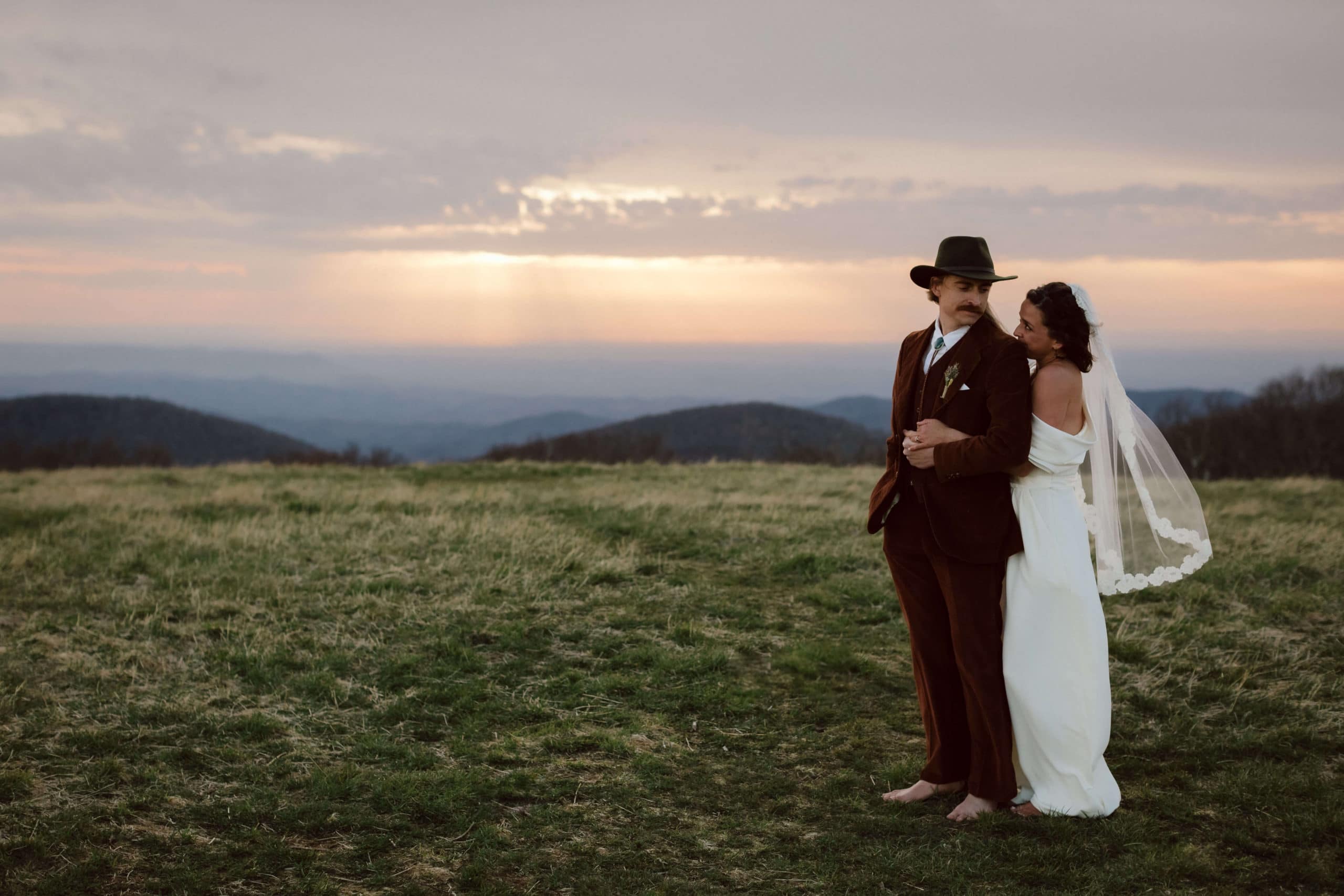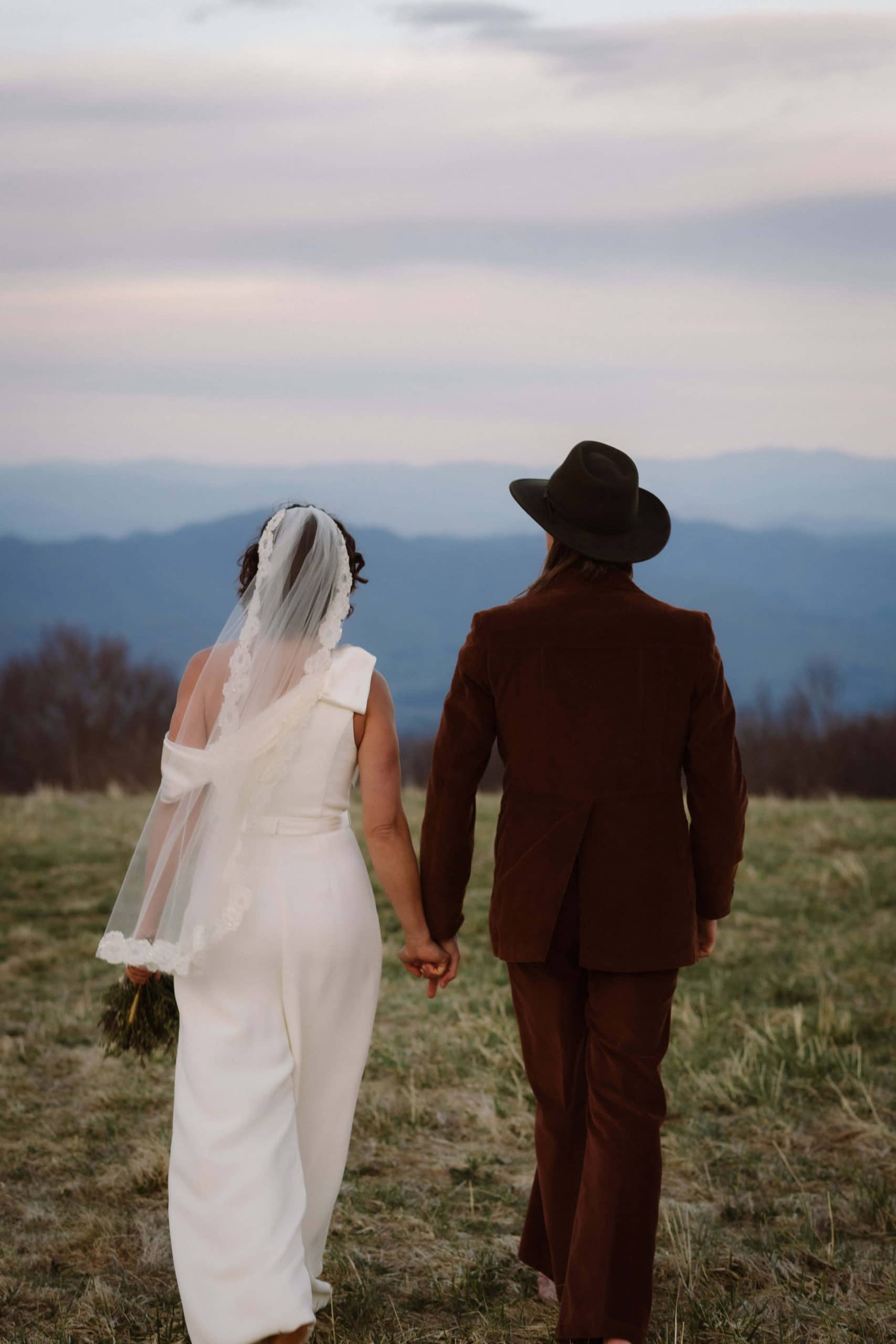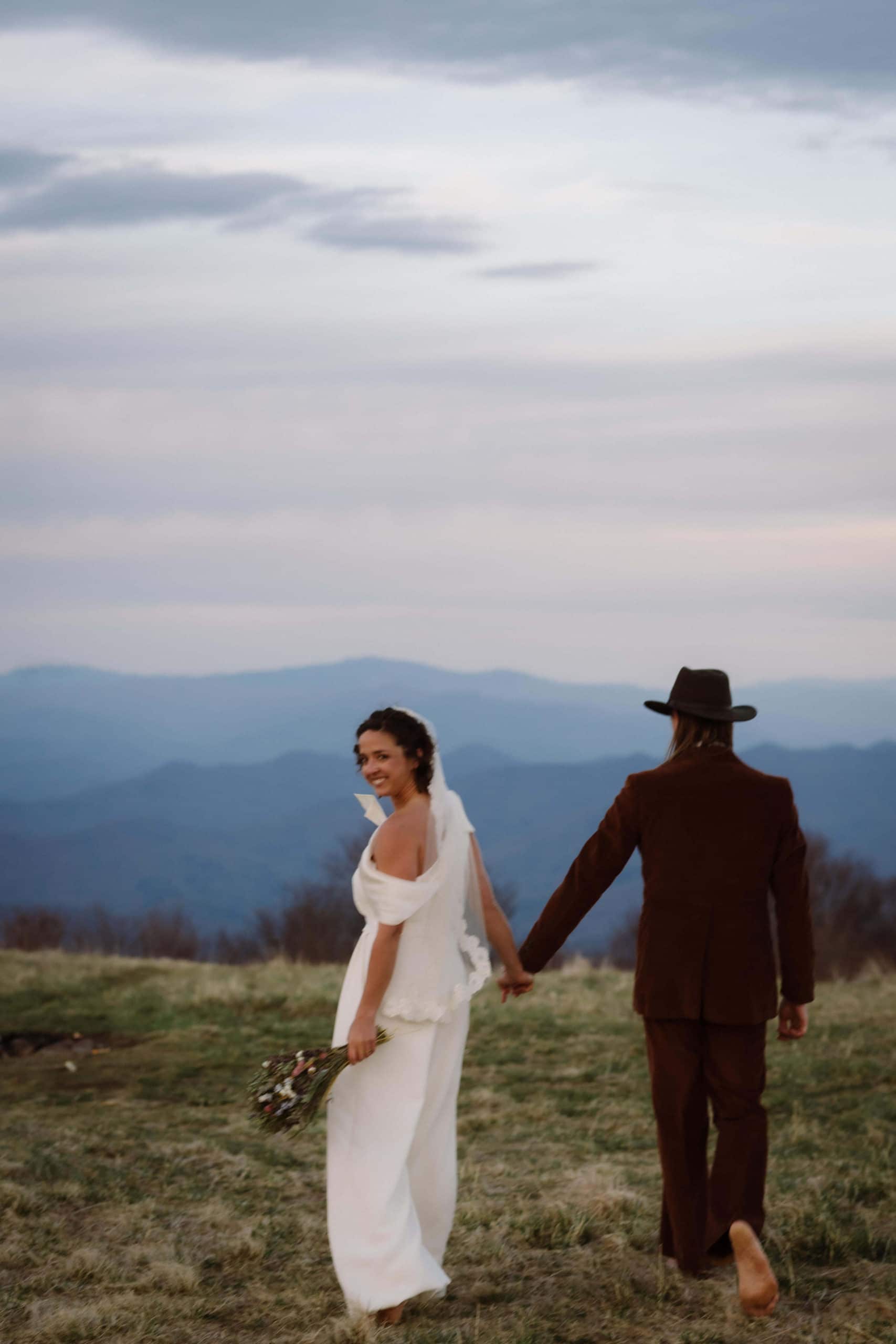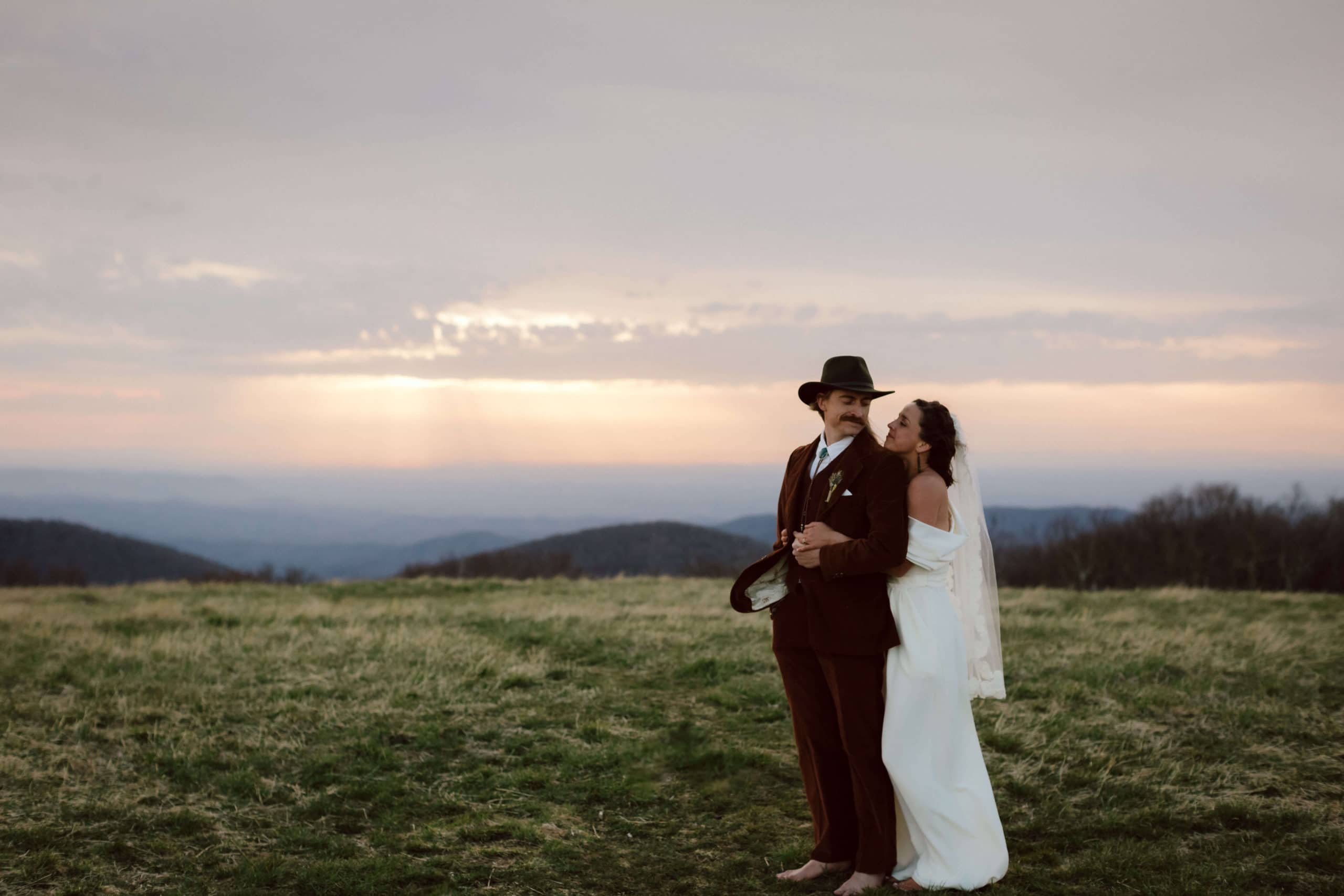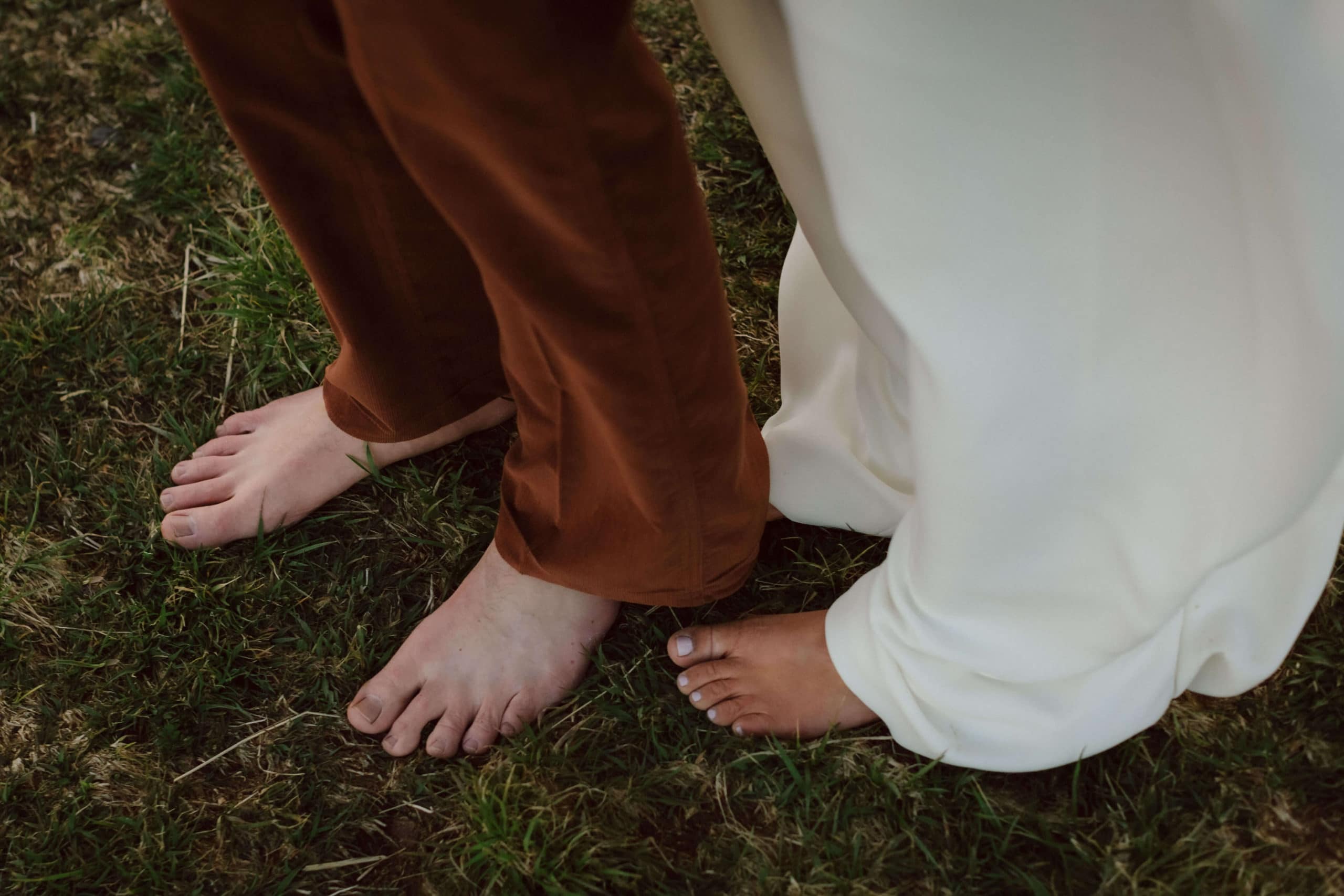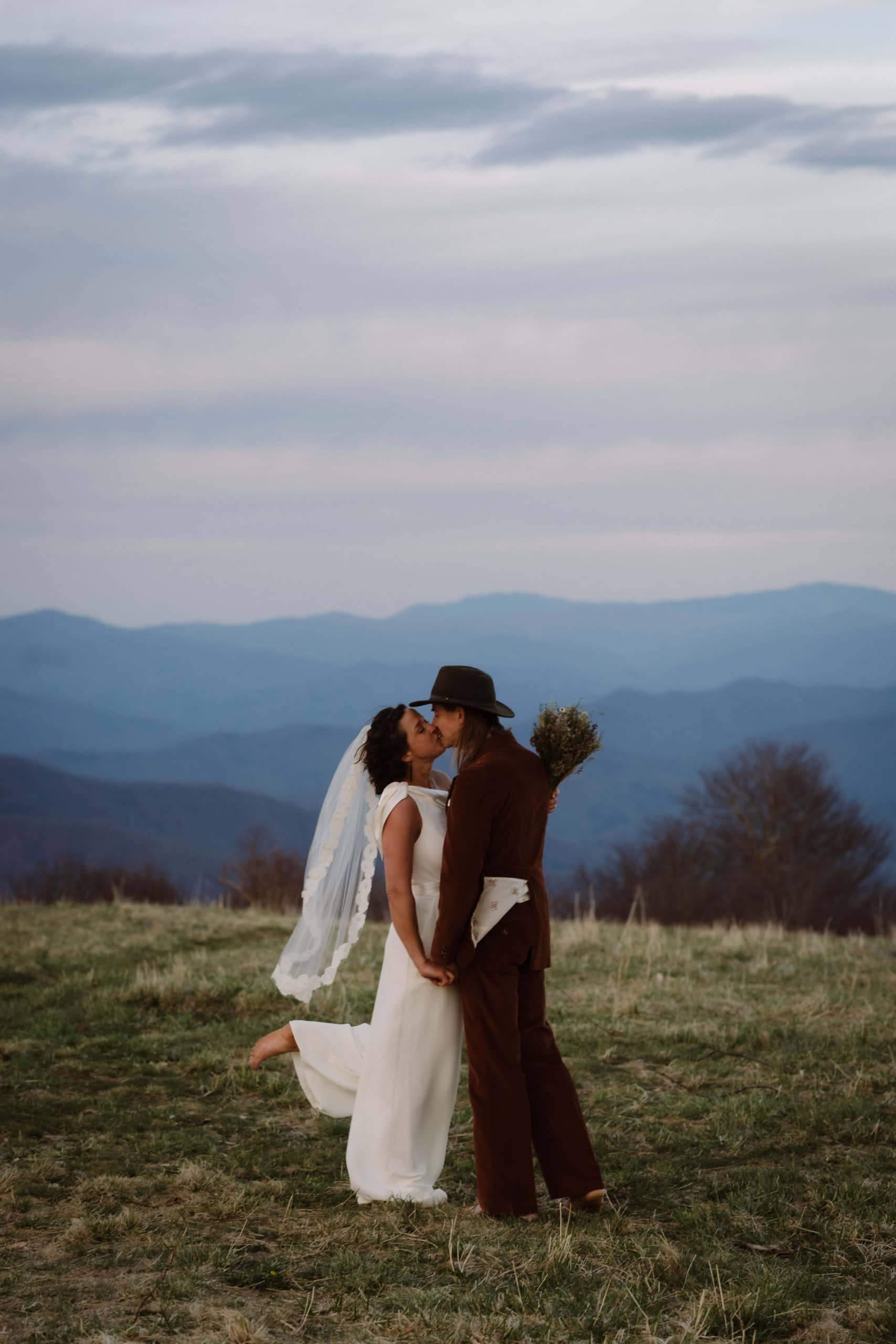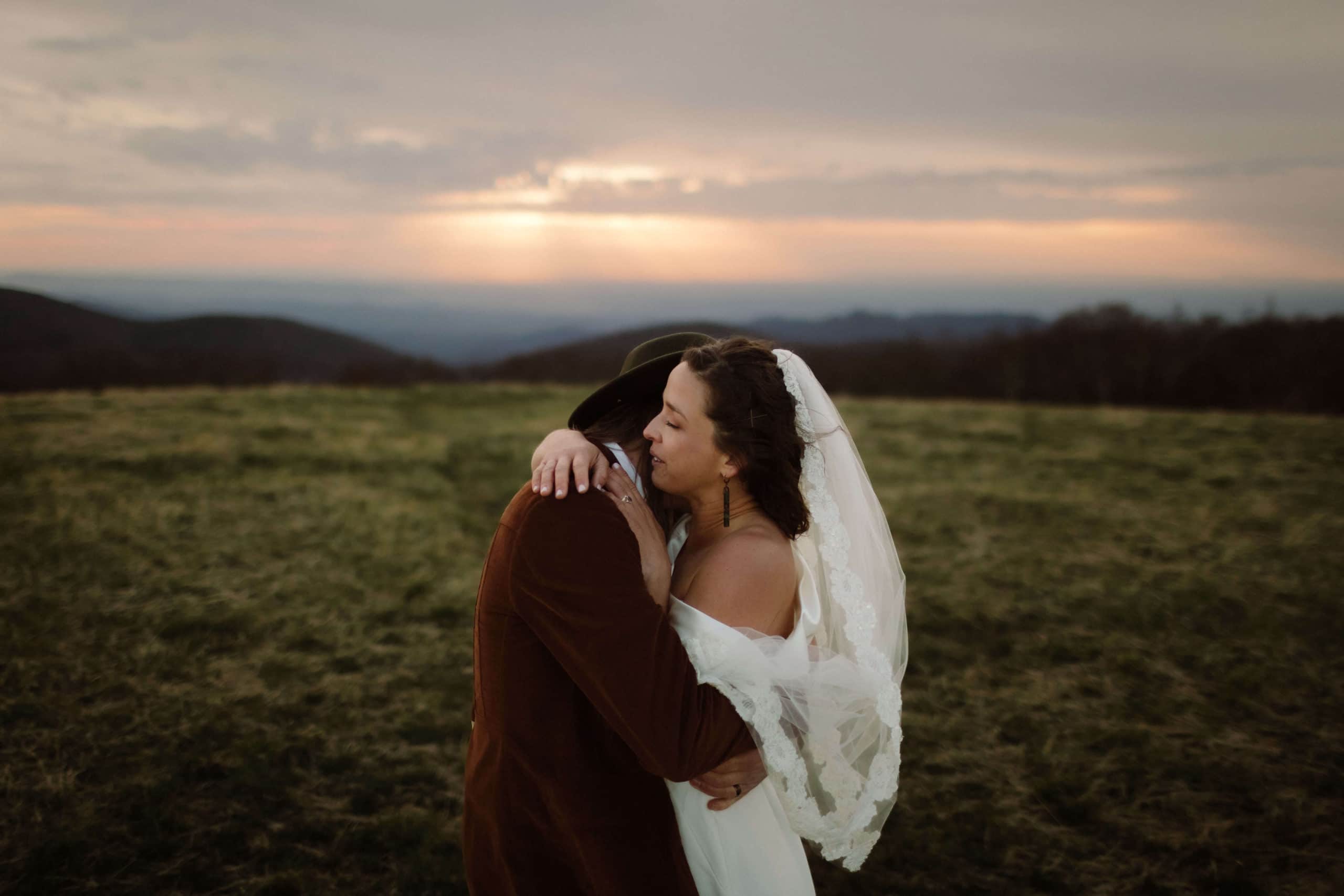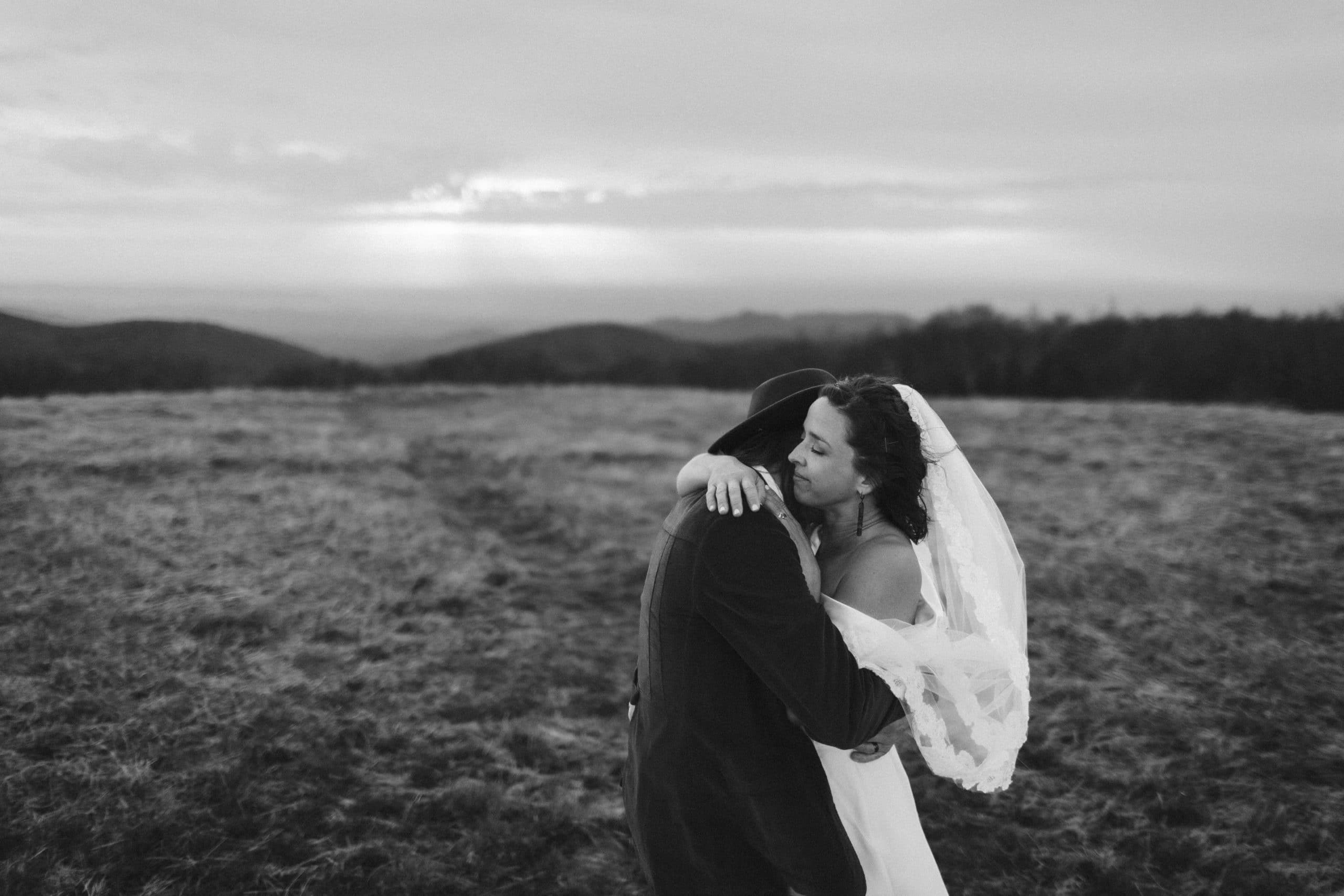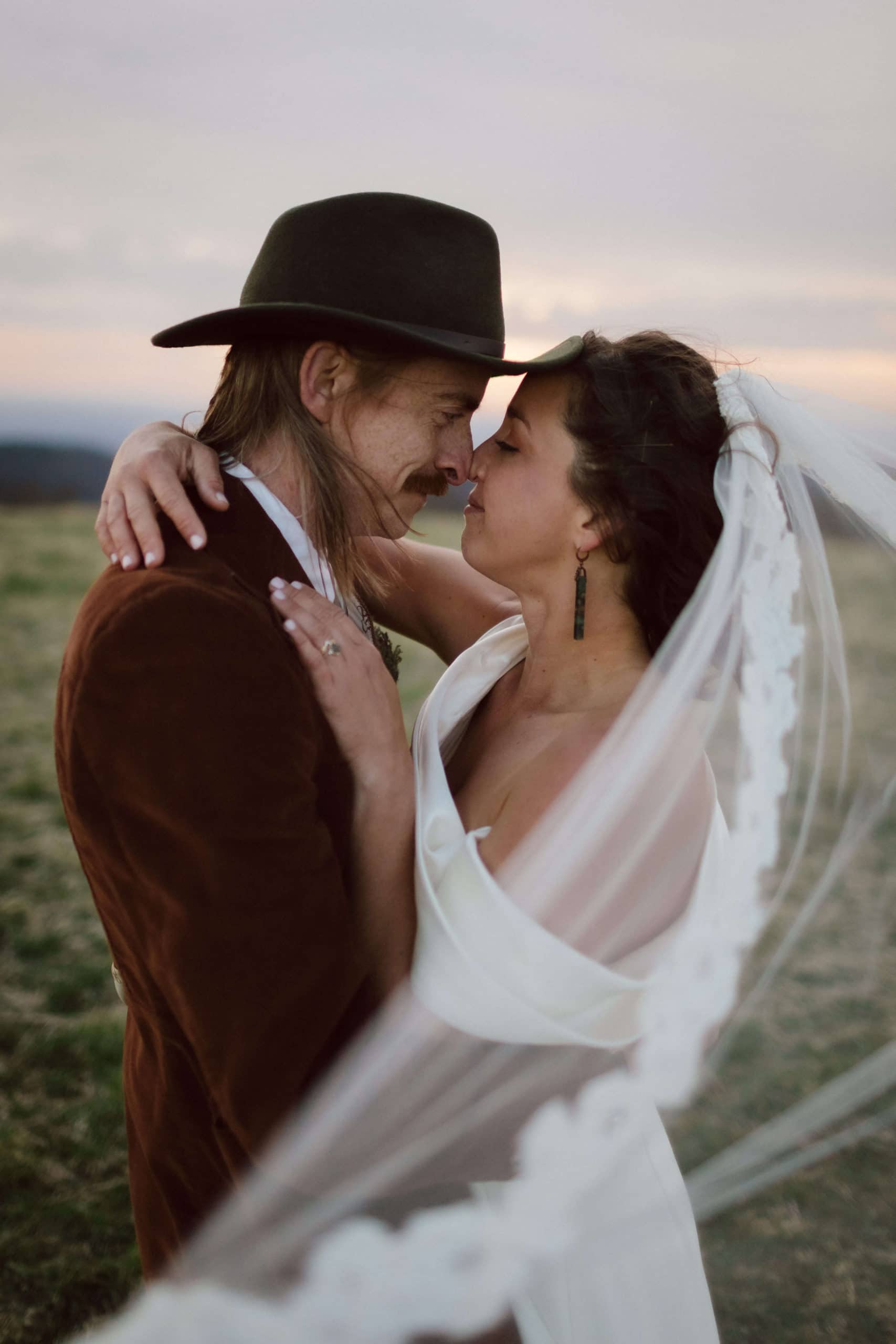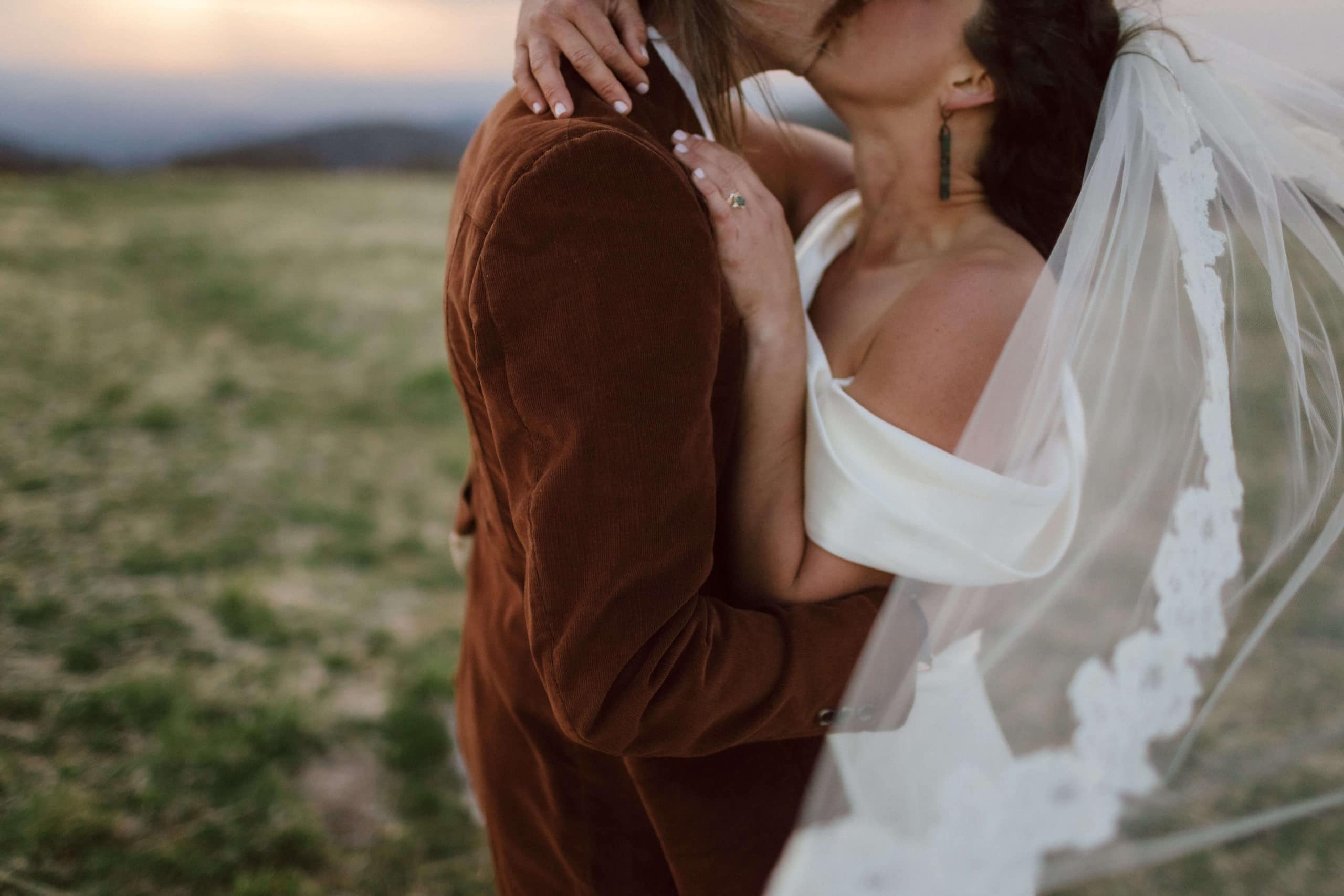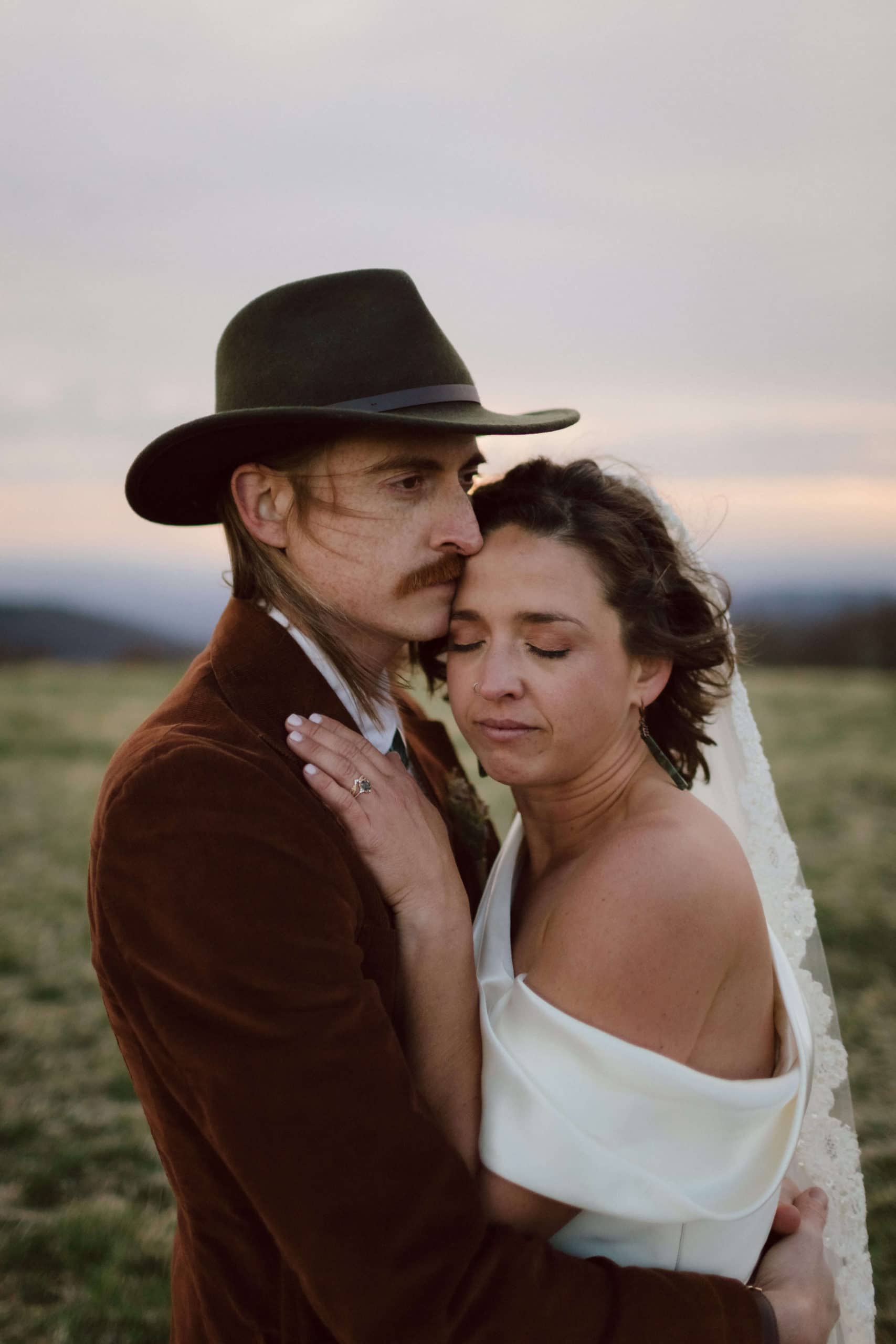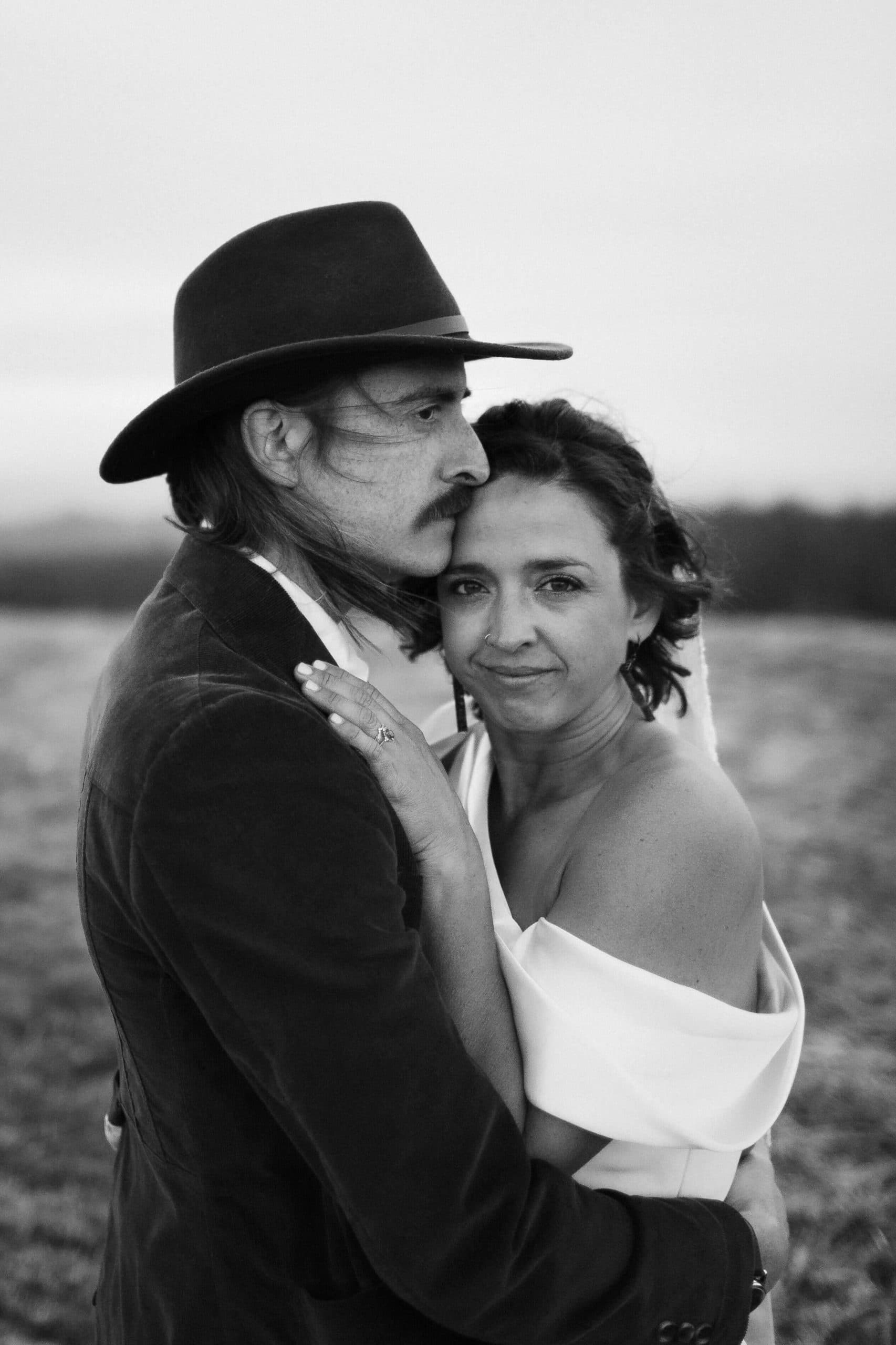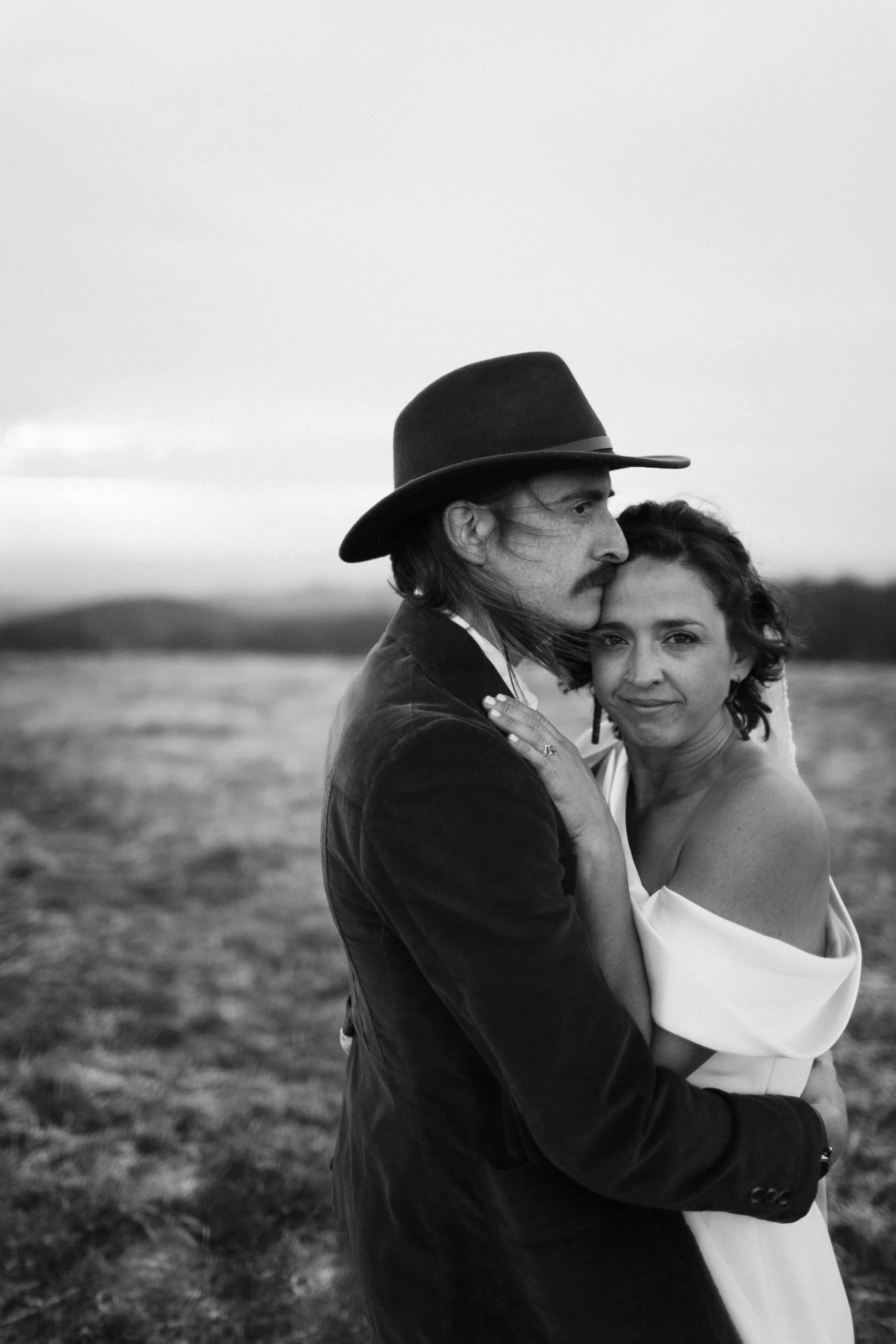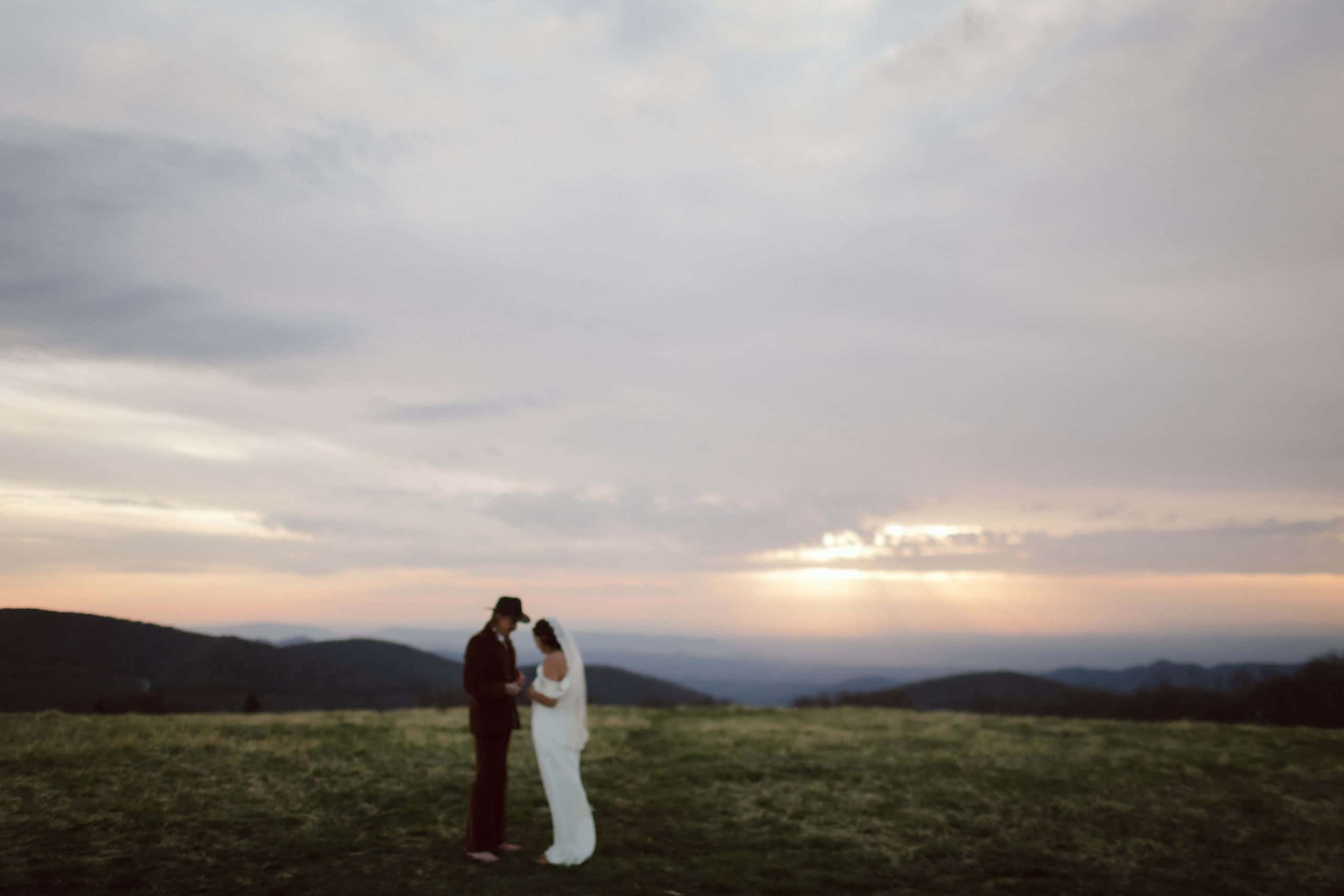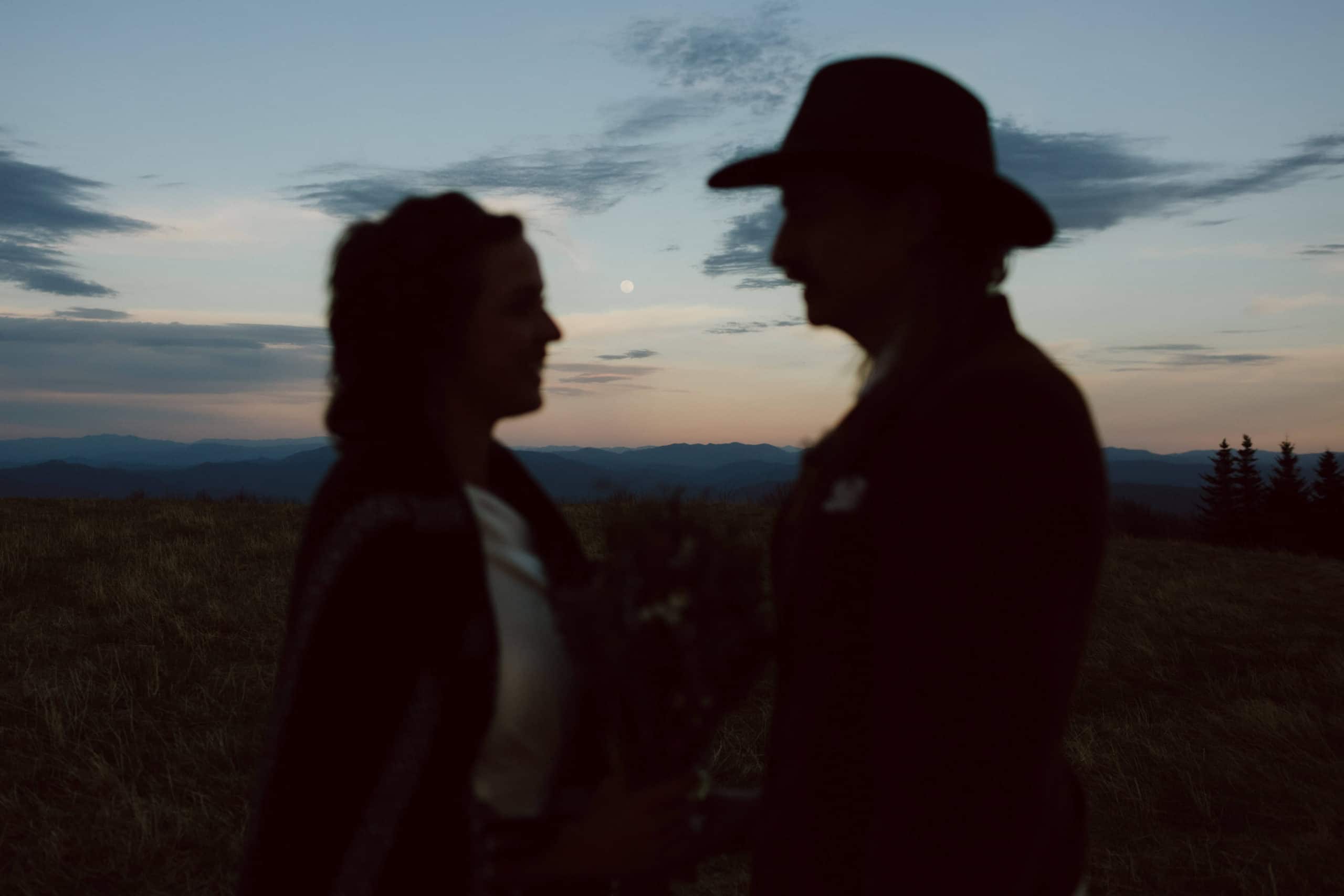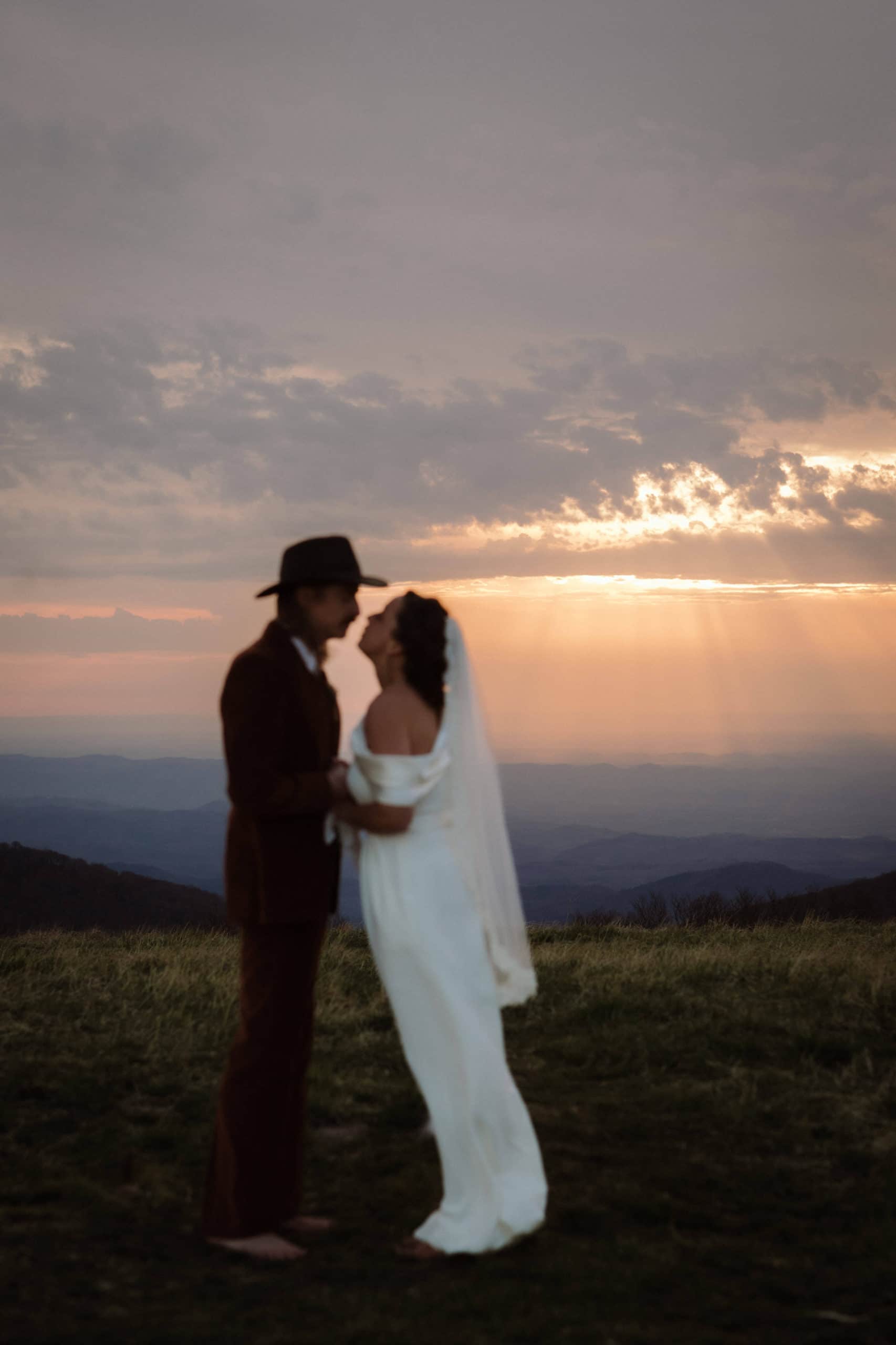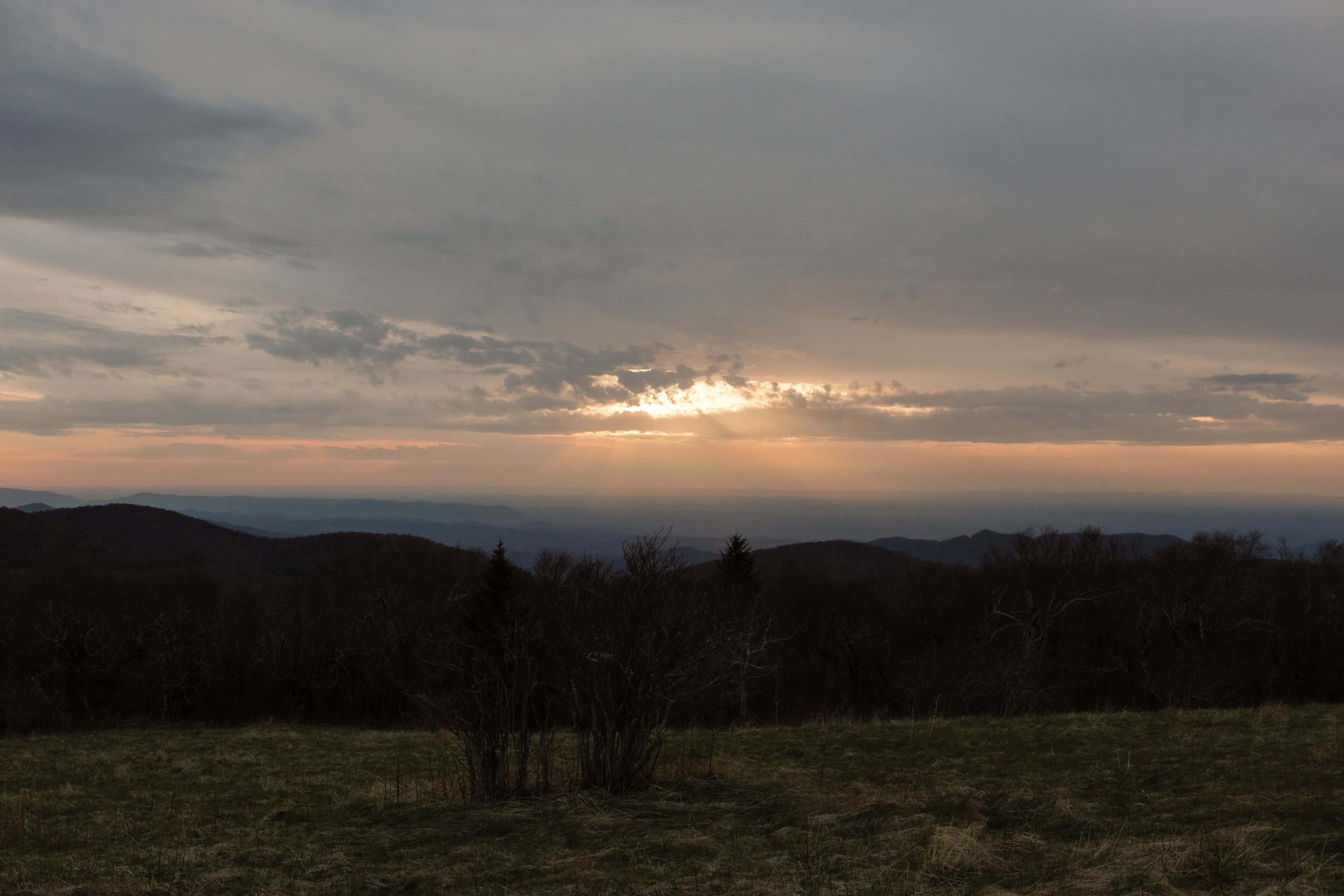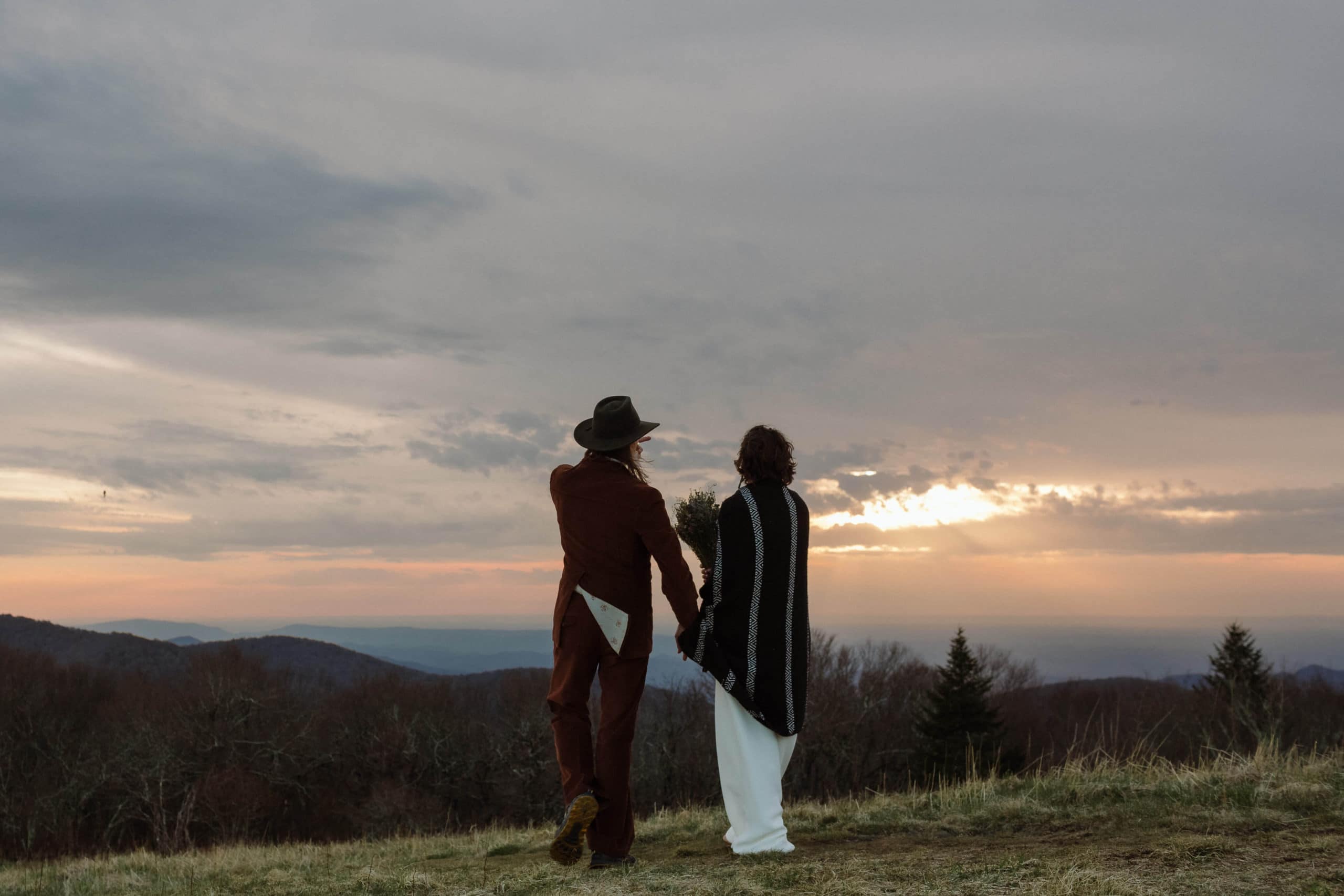 Champagne Toast Around the Fire and Sunset Portraits
Liv and Rusty planned their ceremony knowing that they wanted to have newlywed photos taken on the knob at sunset. After their ceremony, they popped a few bottles of champagne with everyone and had a toast around the fire. They made sure to have portraits taken with all of their friends and family who joined them on this special occasion before everyone began heading back down the hiking trail.
Although Liv and Rusty hadn't planned a formal send off, everyone tossed a few sprigs of lavender and rosemary over the couple. Rosemary is a fragrant herb that has long been used as a symbol of remembrance, love, and loyalty while purple lavender flowers represent devotion, faithfulness, and spiritual connectivity – all wonderful traits for a beautiful marriage.
As the sun began to set, Liv and Rusty hung back from their group for their newlywed photos. When we were first in talks about me coming with them to photograph their elopement, Liv and Rusty said that they liked my photography style and trusted my judgment when it came to special requests for specific shots. While I do love when couples allow me the freedom to capture moments as I see them, Liv and Rusty's request to have photos taken at sunset could not have been more perfect.
When the sun began to dip below the horizon, it lit up the little meadow where they held their ceremony and cast the mountains around them into beautiful blue and purple shadows. Between the orange glow of the sun and the pink clouds in the sky over the mountains, it was the perfect backdrop for Liv and Rusty's photos. The panoramic shots encompassing all of nature's beauty with Liv and Rusty embracing in the foreground were so them and the most wonderful way to end their lovely wedding.
Is there a wedding coming up in your future? Whatever your plan is for your wedding whether it's big or small, I would love to be there to help bring your vision to life.
Hi, y'all! I'm Rachael Crowe of OkCrowe Photography. I'm a wedding photographer based in Chattanooga, Tennessee but I am always happy to travel in order to help couples achieve the wedding or elopement of their dreams. Whether you're planning an intimate ceremony in a secret meadow on a mountain like Liv and Rusty or planning a grand affair in New York City, it would be my honor to be there to document every special moment of your day. Take a look at my travel and availability schedule to see if I'll be coming to your area or visit my contact form to inquire about any other locations that are special to you!