Fynn and Mary Howard had a very unique, beautiful farm wedding. It had classic and rustic elements and the whole day had a very southern feel. But they also included very personal touches, and included some non-traditional ways of doing things. Everything was so perfectly tied together. They pulled off this southern farm wedding in the best way possible!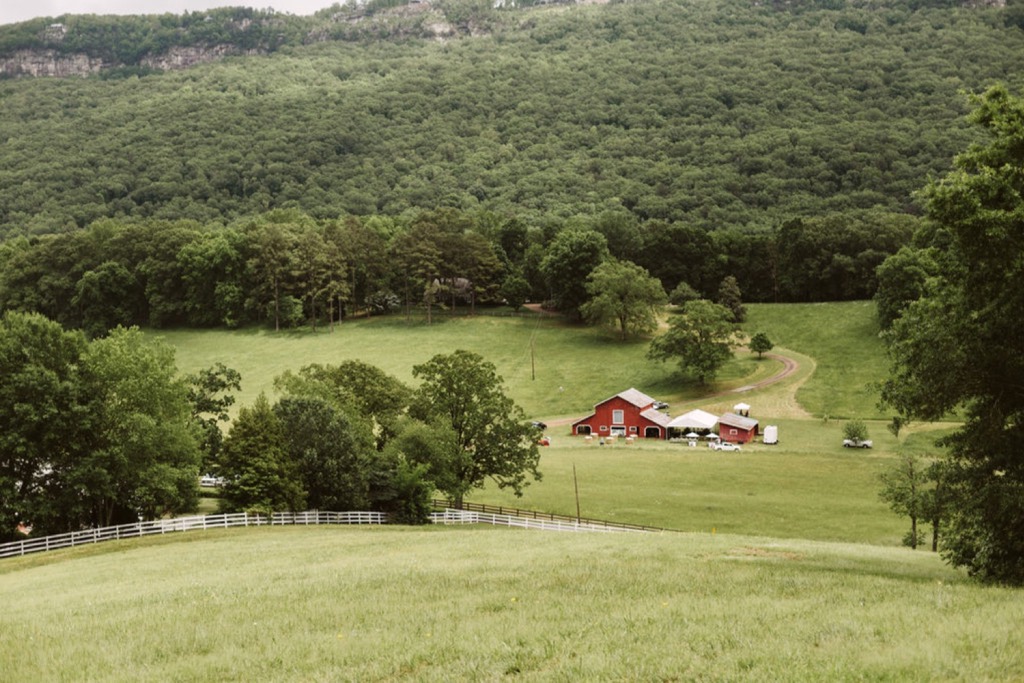 Mary Howard's parents have a gorgeous farm in Chattanooga, Tennessee. It's SO pretty – rolling hills, horses and cows in the surrounding fields, wildflowers everywhere… It's so scenic and lovely, and everything was pulled together so beautifully on the wedding day.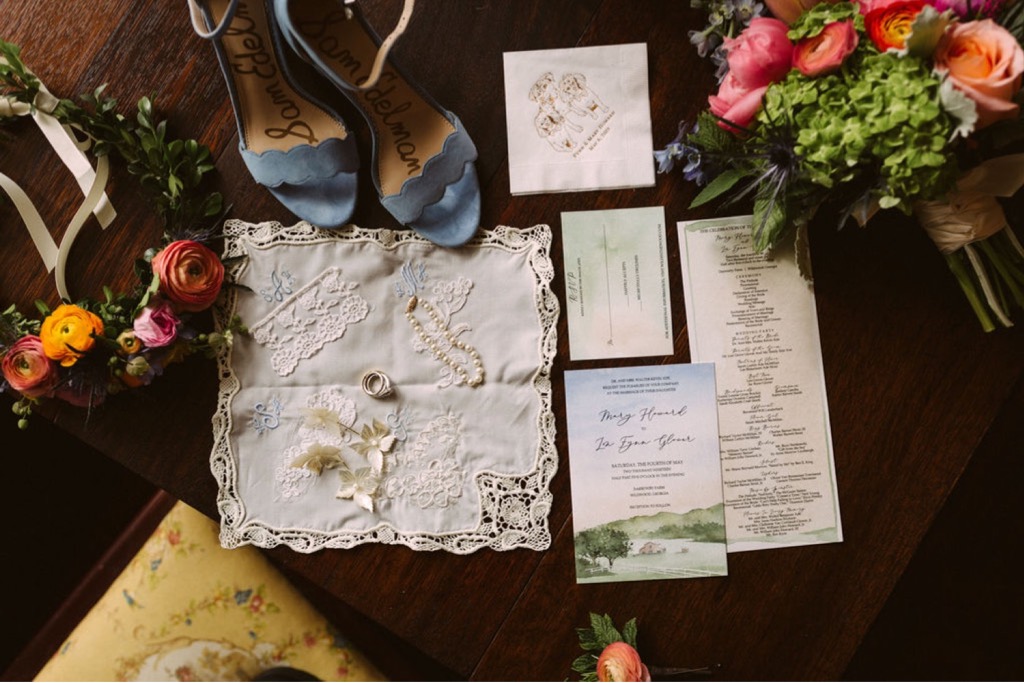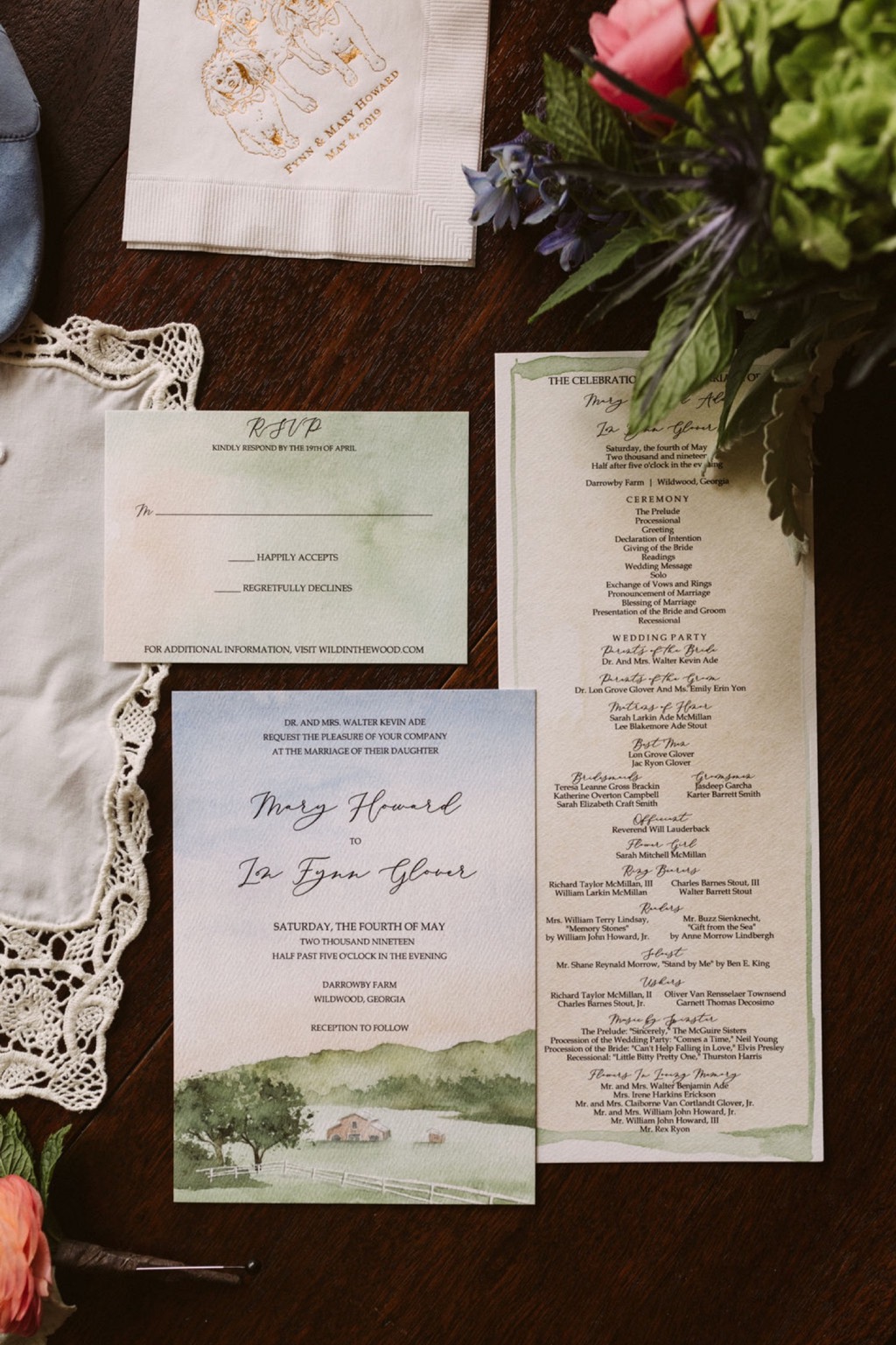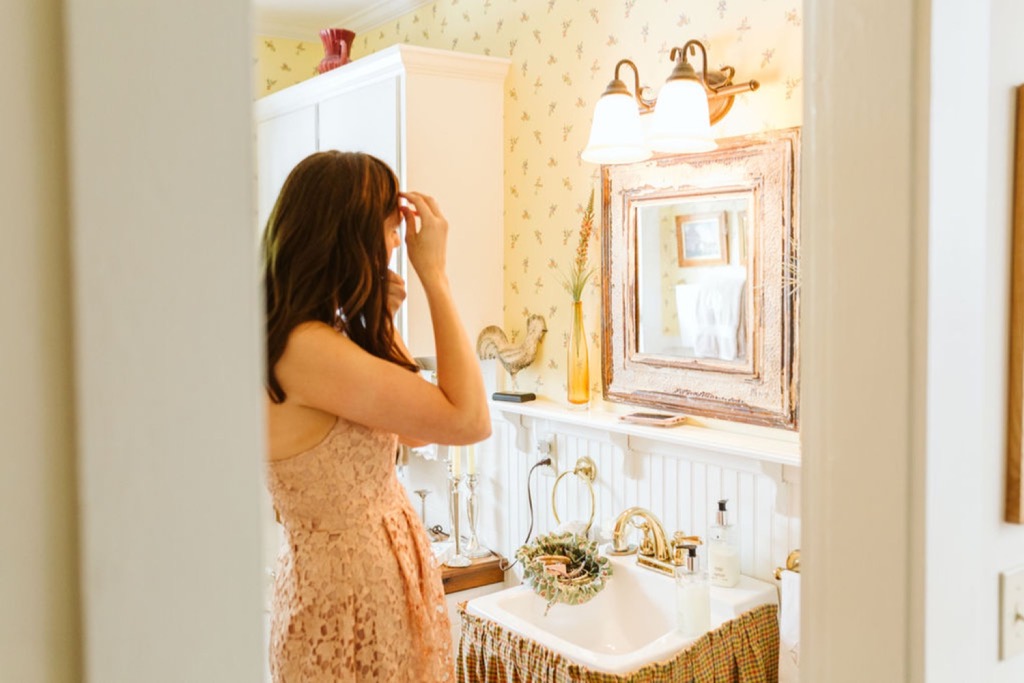 Mary Howard bought her dress in Atlanta, from a designer named Tatyana Merenyuk. She didn't realize it when she chose her dress, but Tatyana is actually NYC-based. Mary Howard used to live in New York, and when she found out that's where her dress was from, she was so excited! It's a nice sentimental detail that reminded her of the time she spent living in NYC, which is very cool.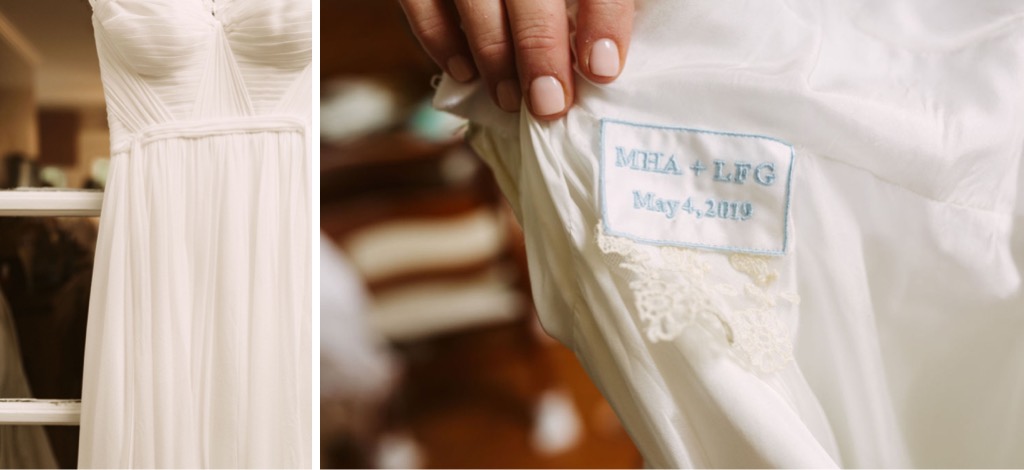 She got ready in her childhood bedroom. There was a skylight in the roof, which made for the most amazing lighting.
I always recommend having natural light for your getting ready photos!
If you can plan to have a window or skylight in your getting ready location, it will help to ensure your photos are stunning.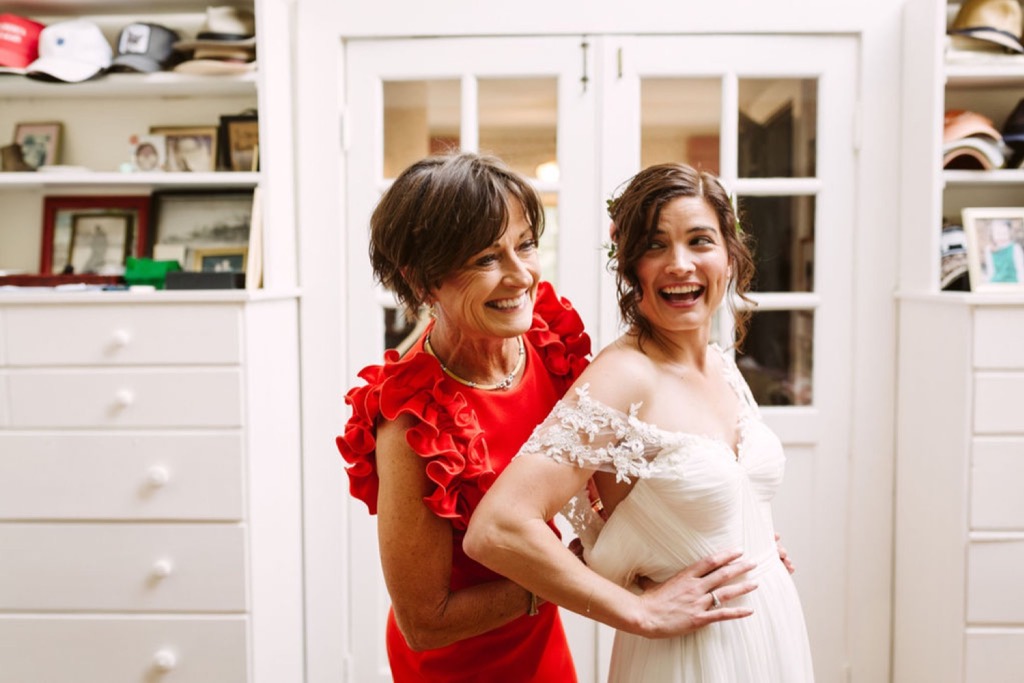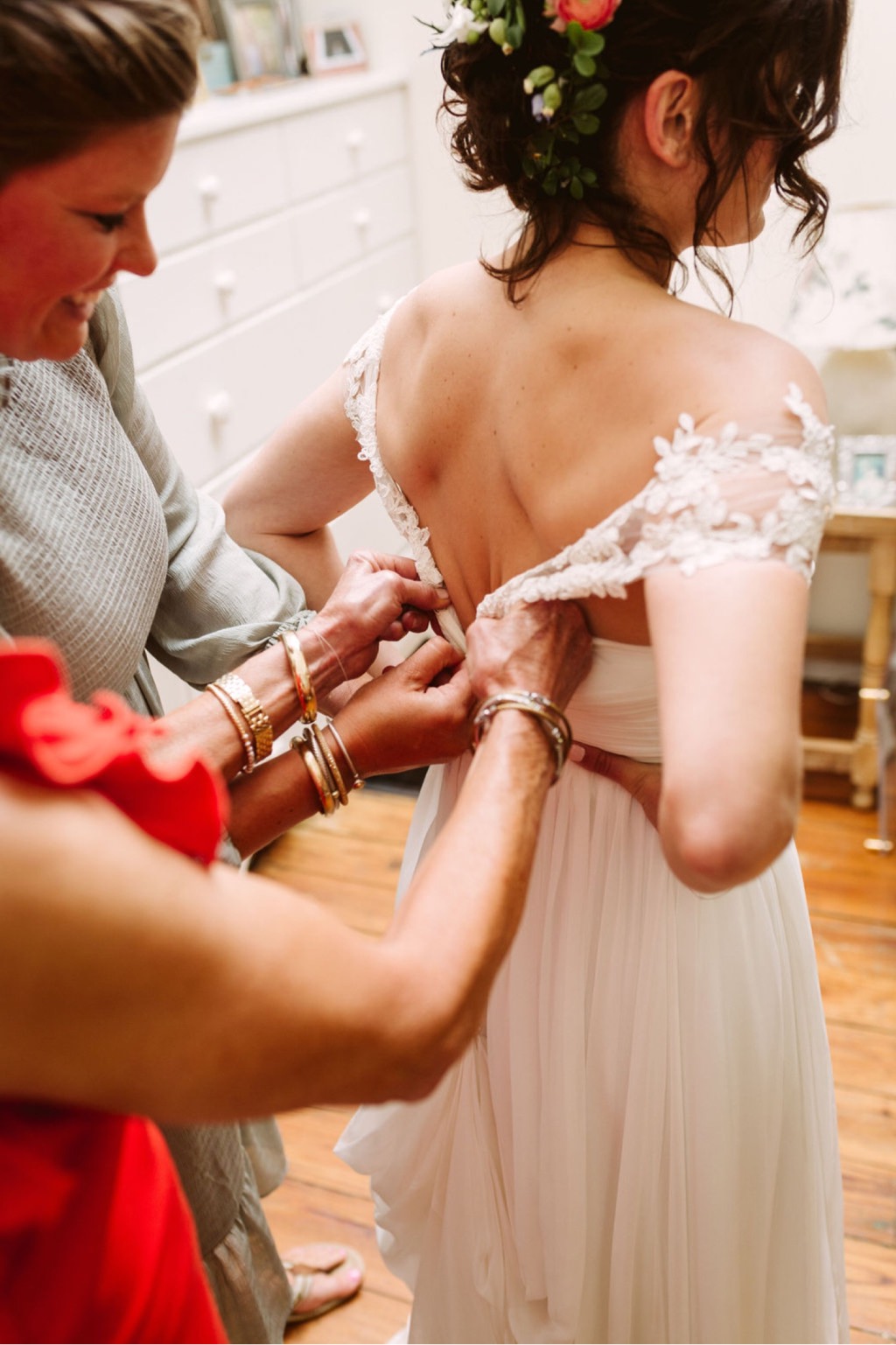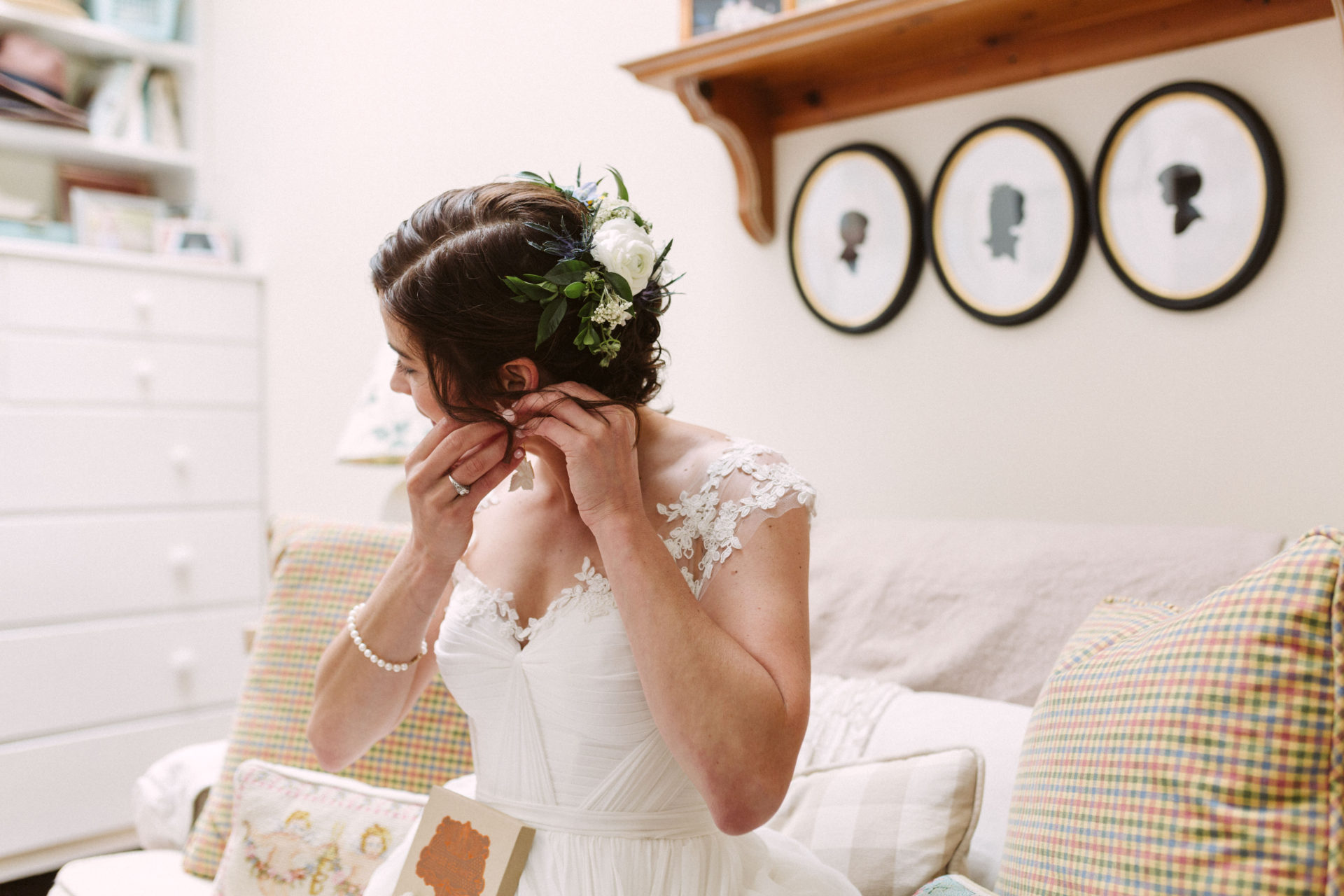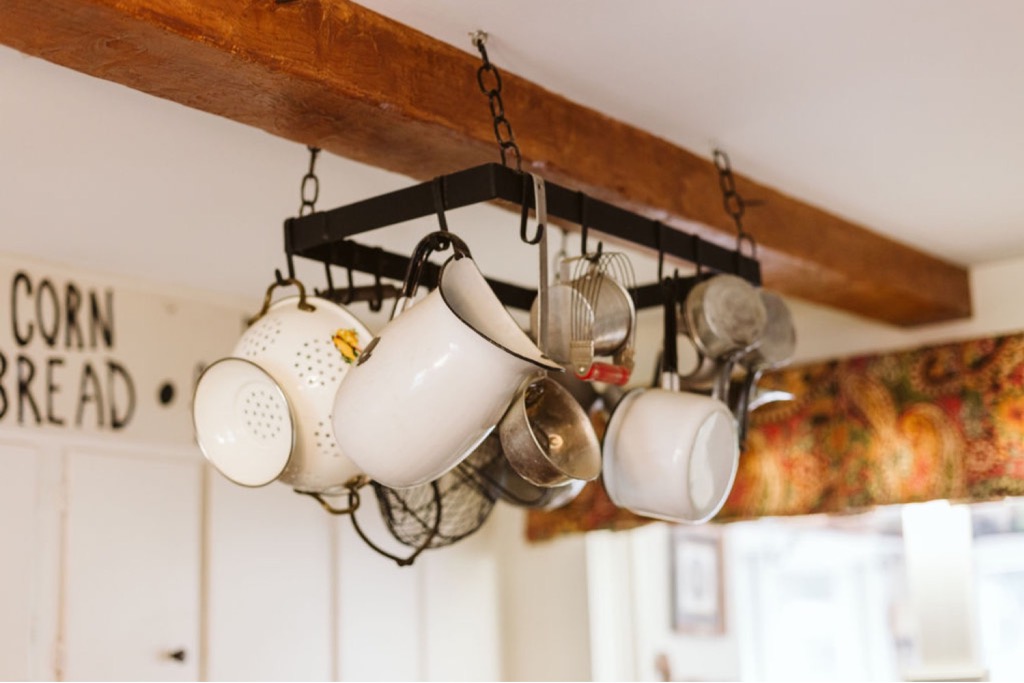 This southern farm wedding had so many charming elements –
a moving first look, a friend singing during the ceremony, and heartfelt handwritten vows.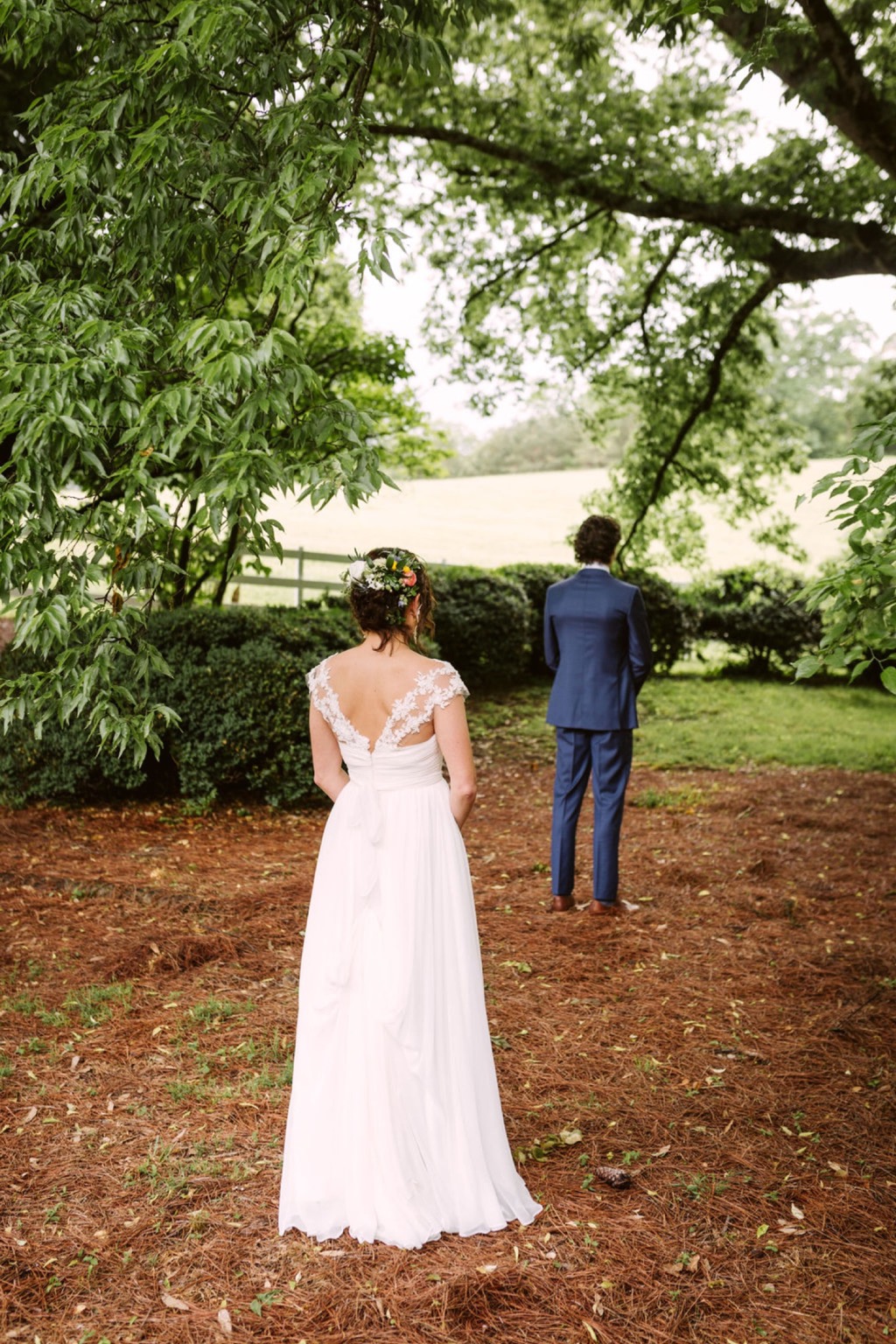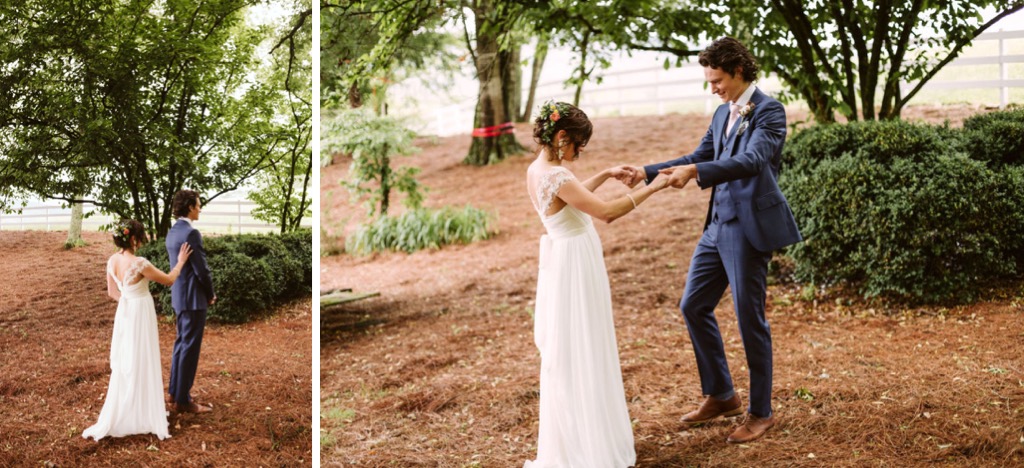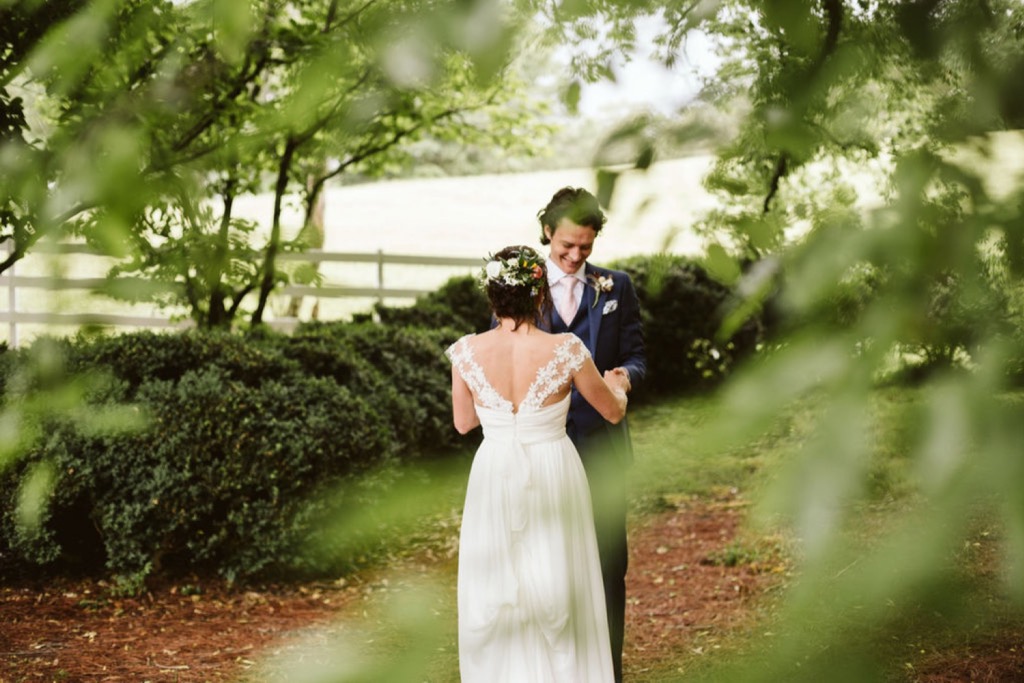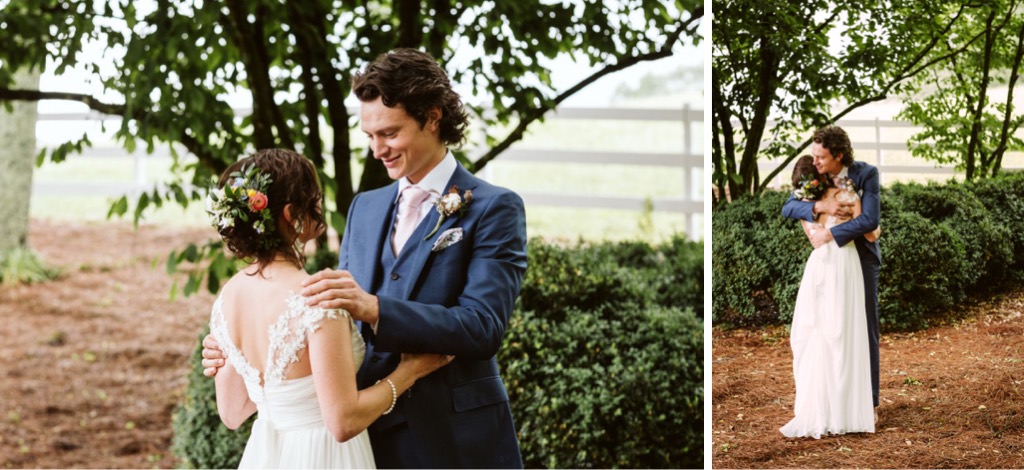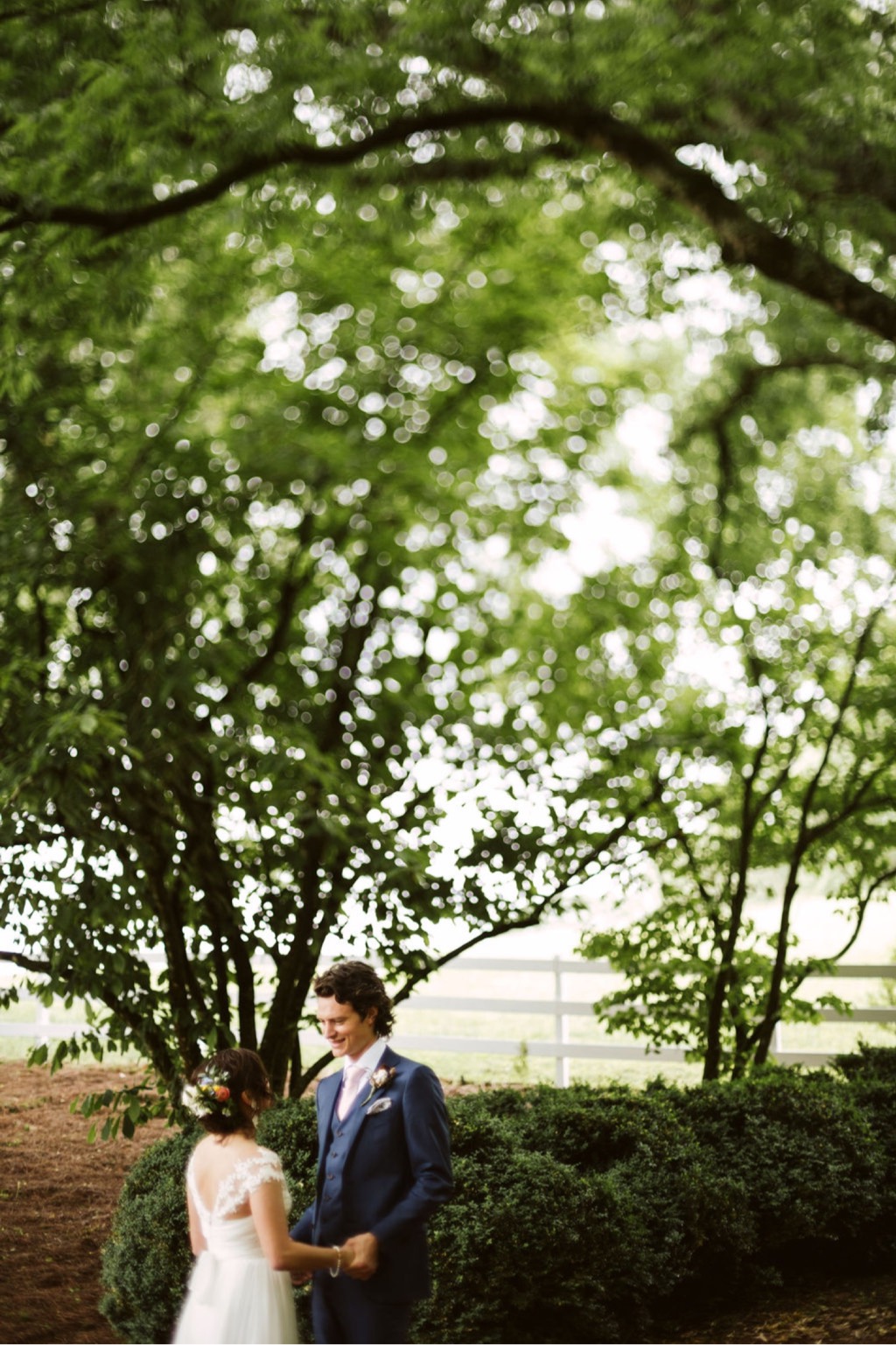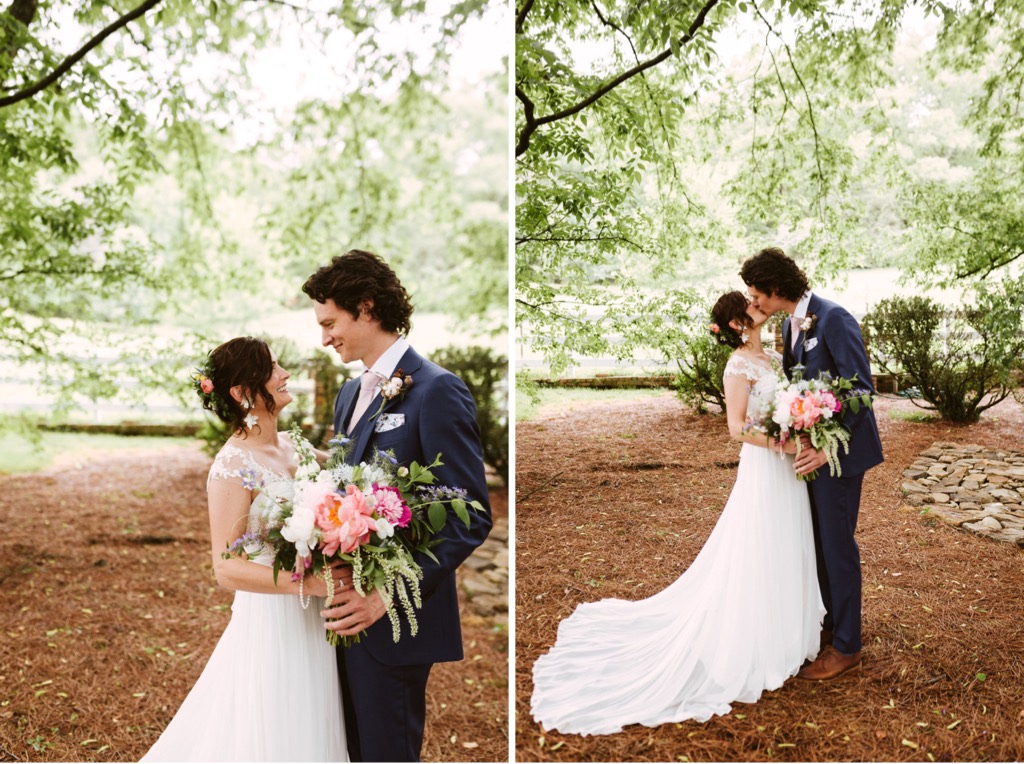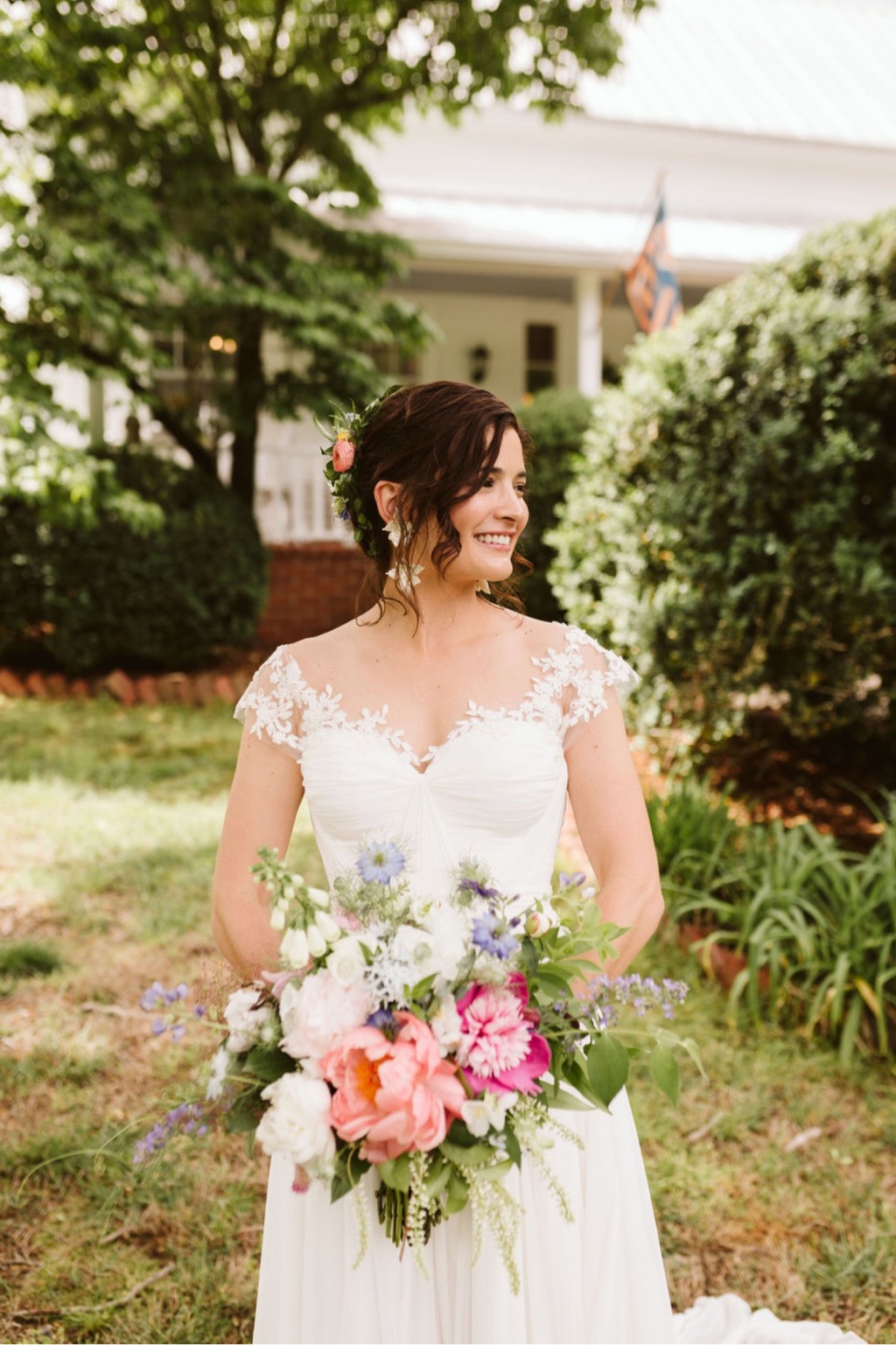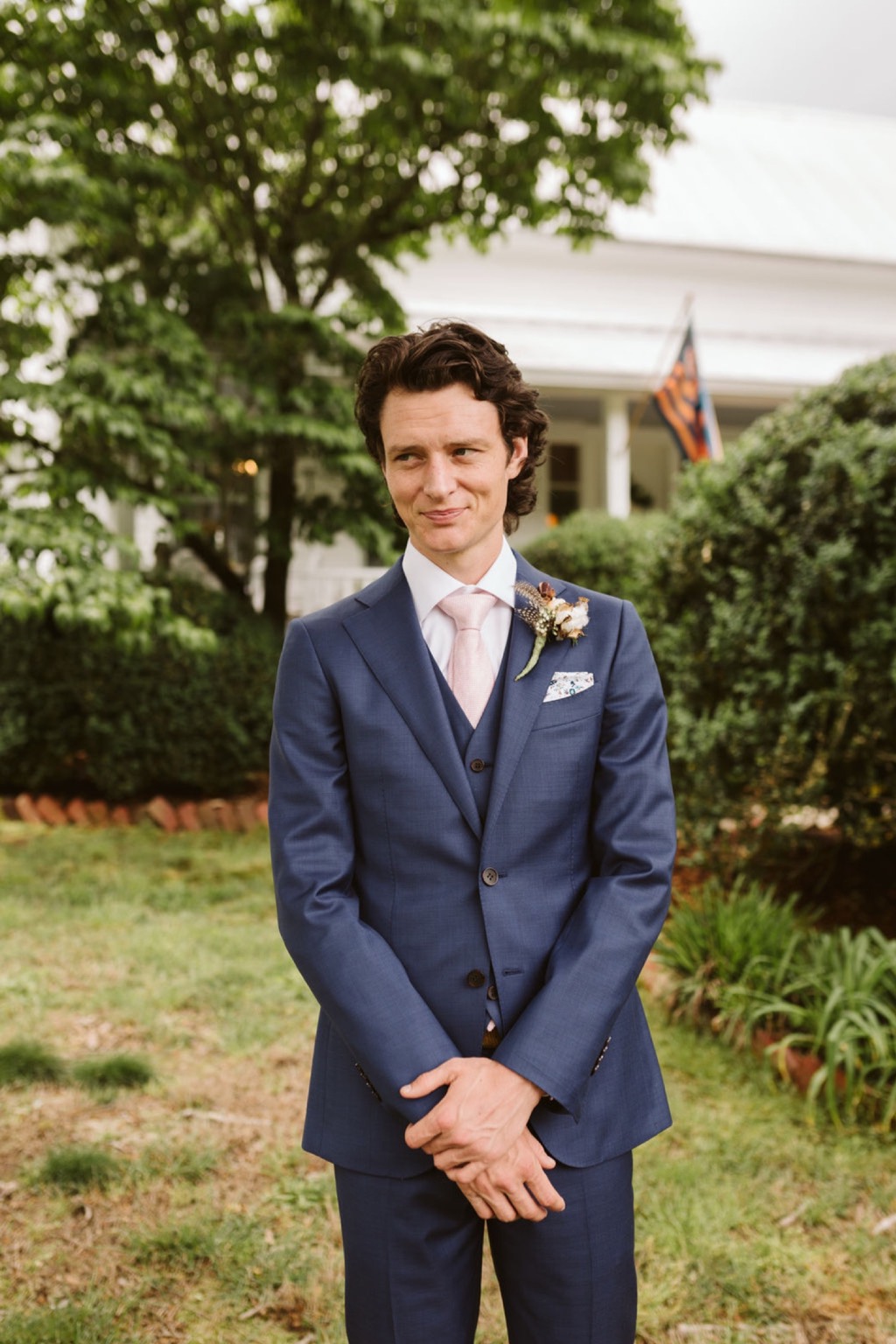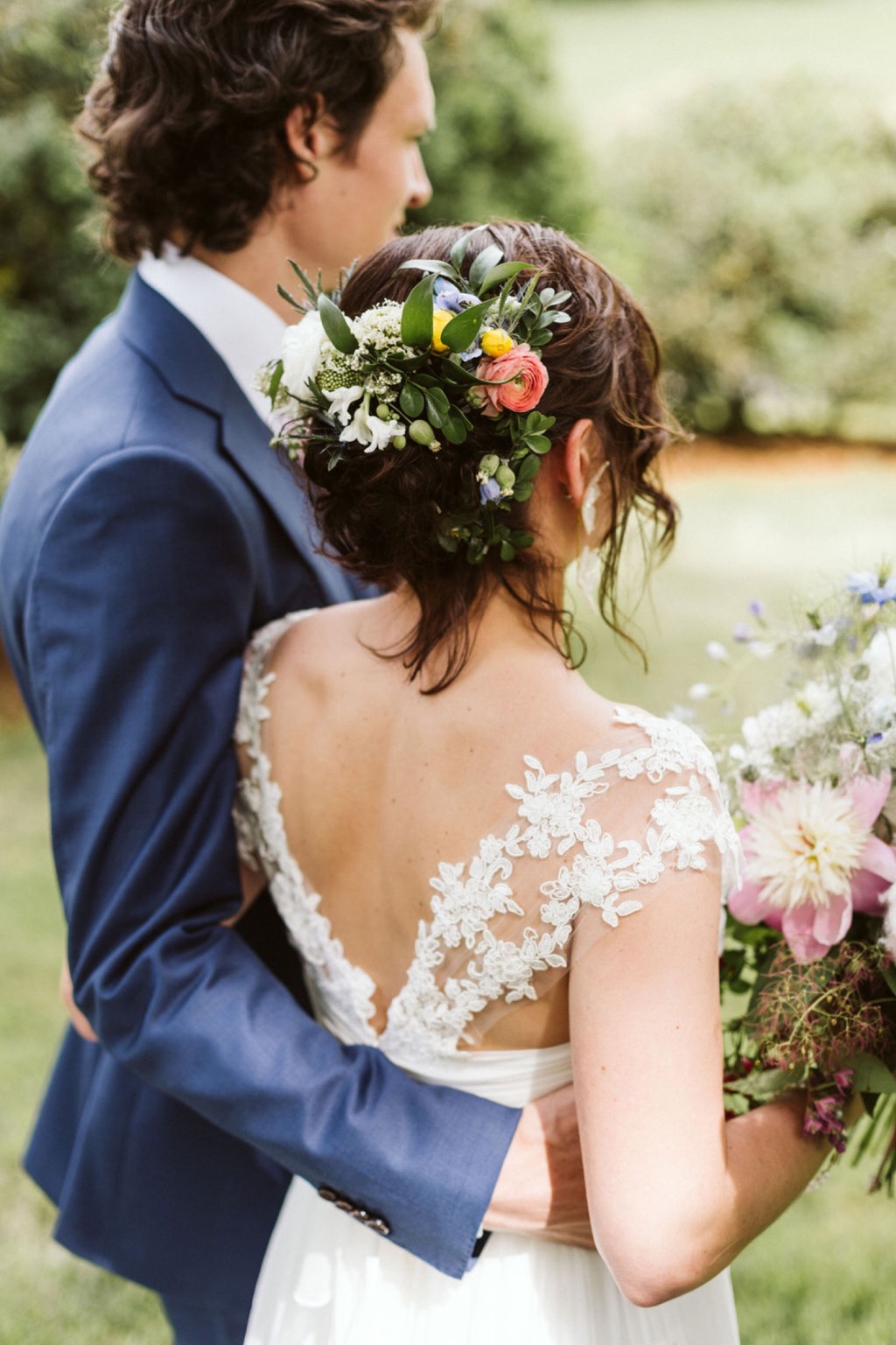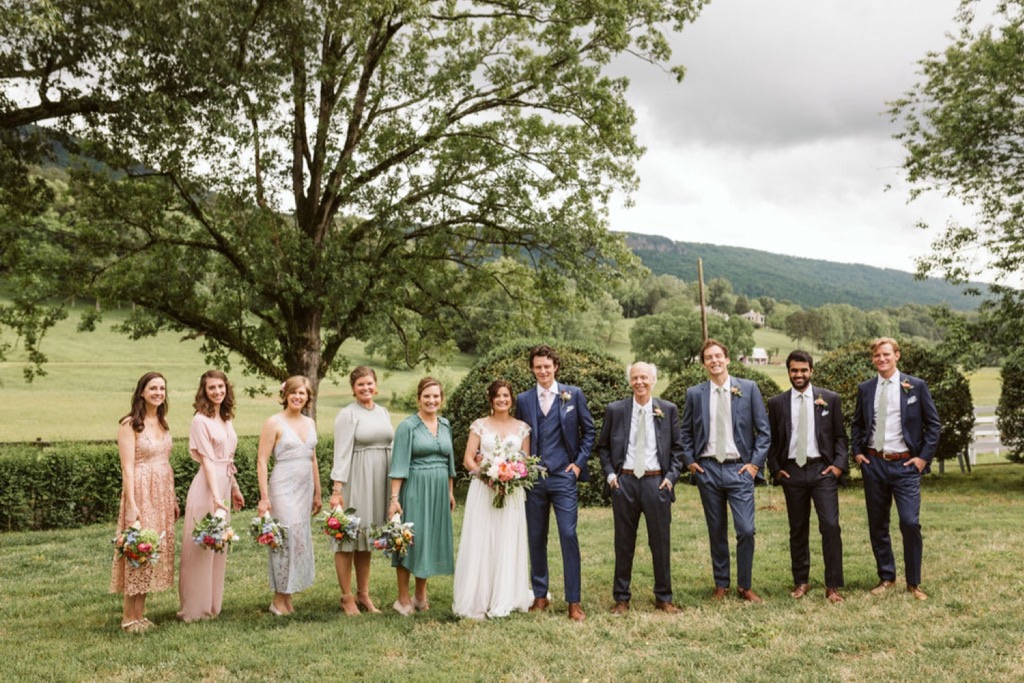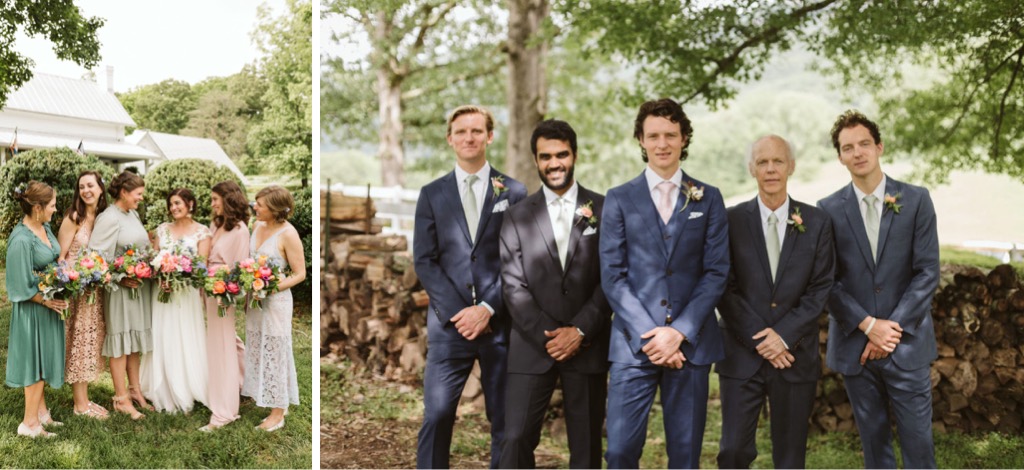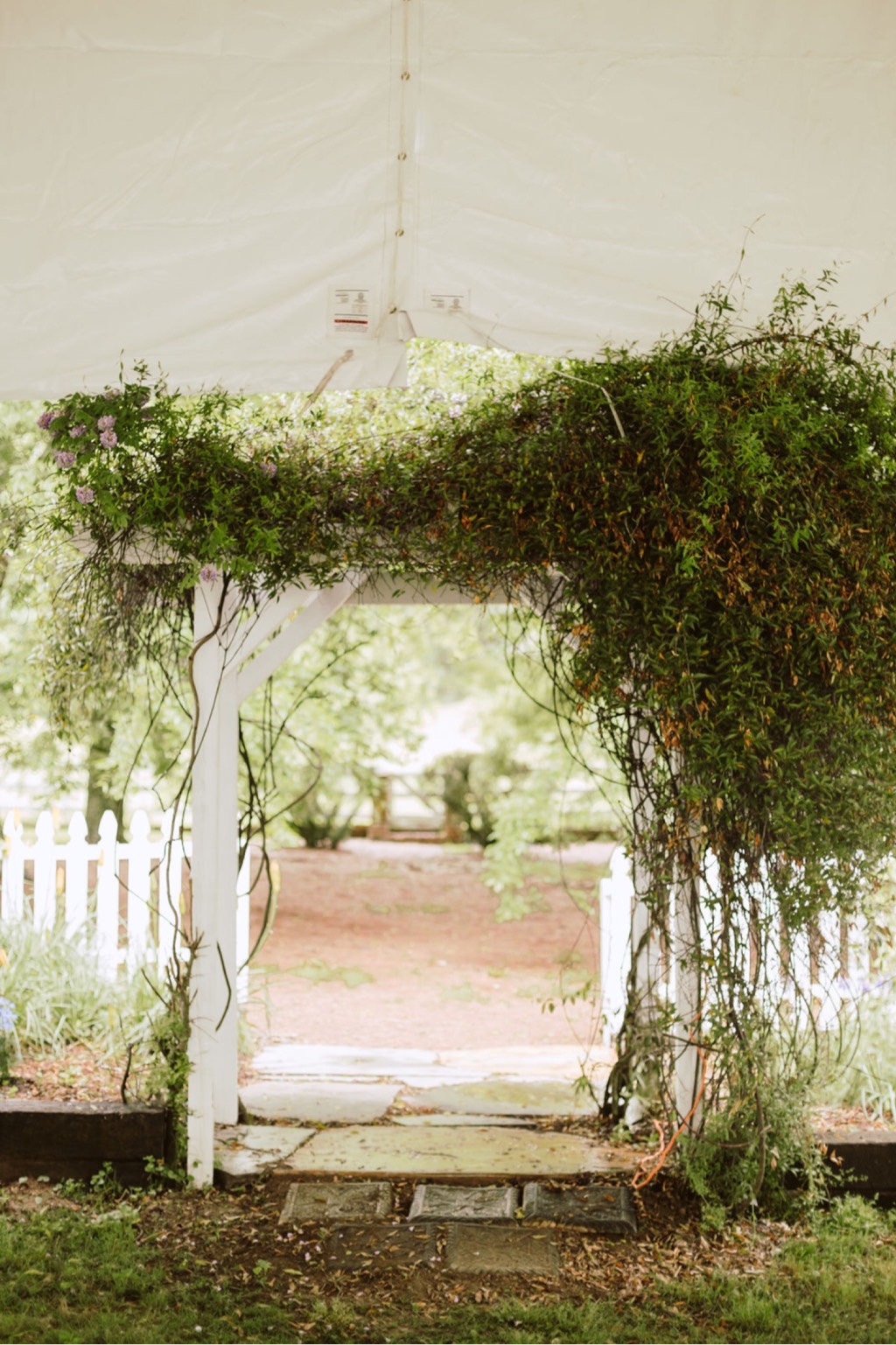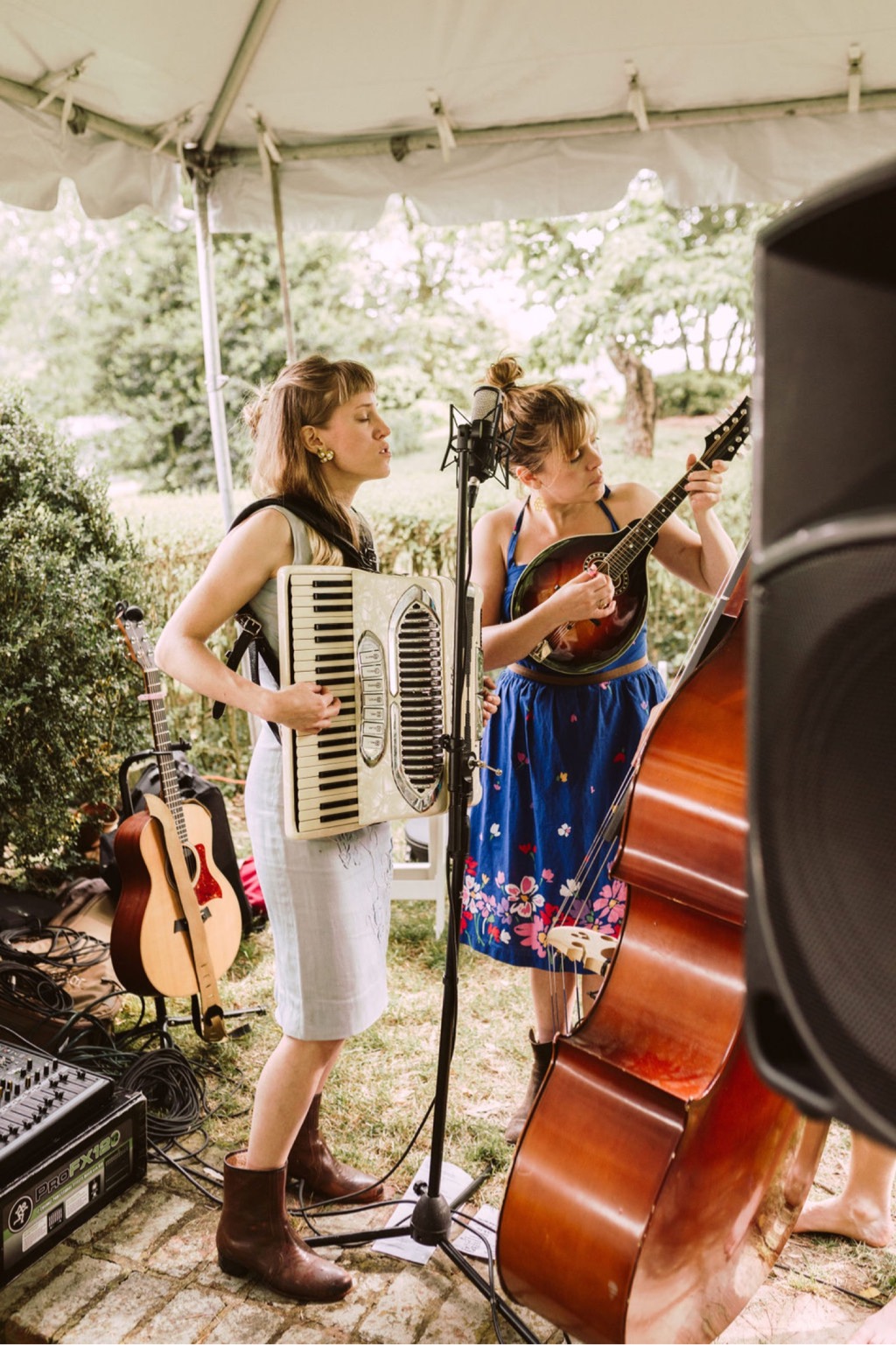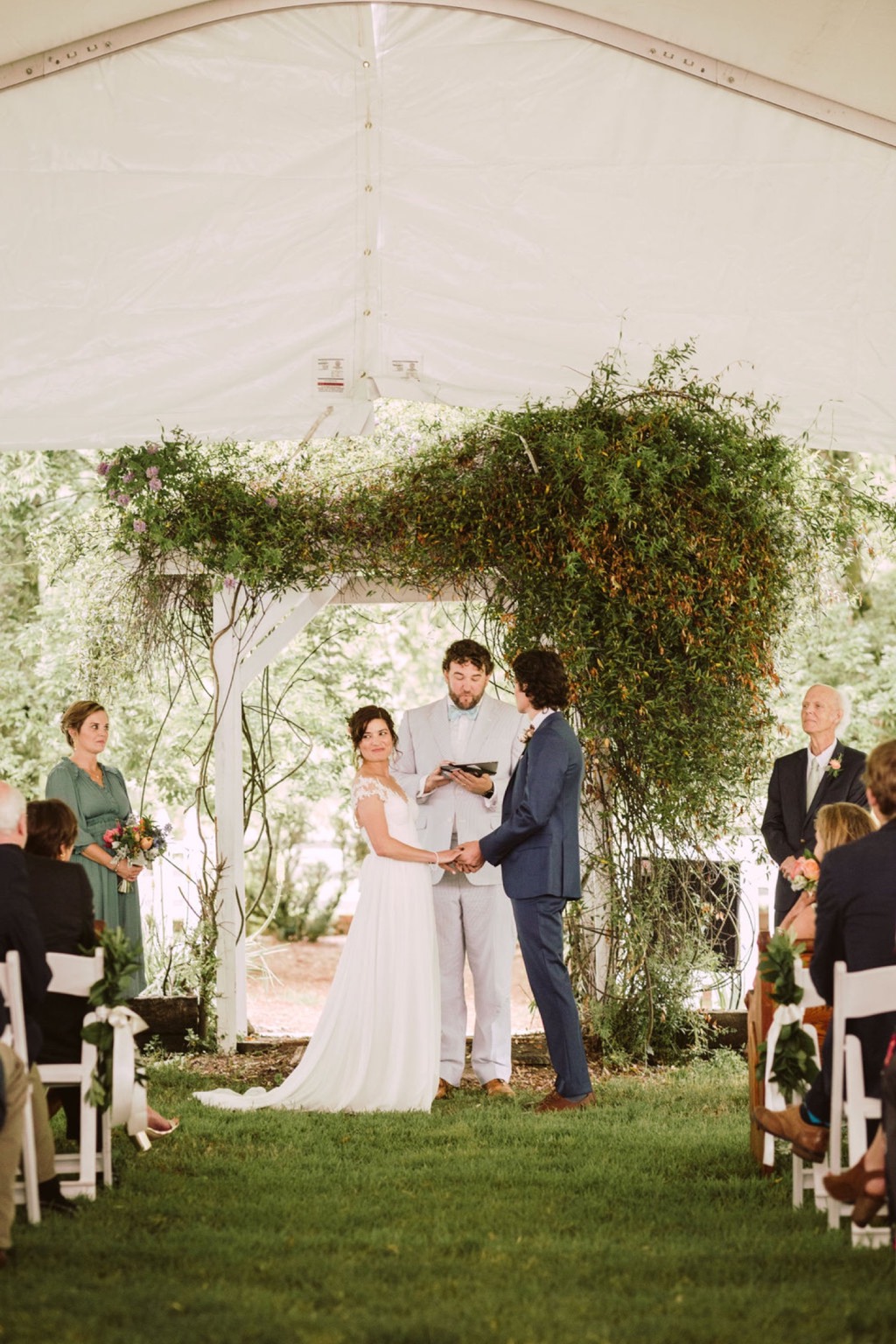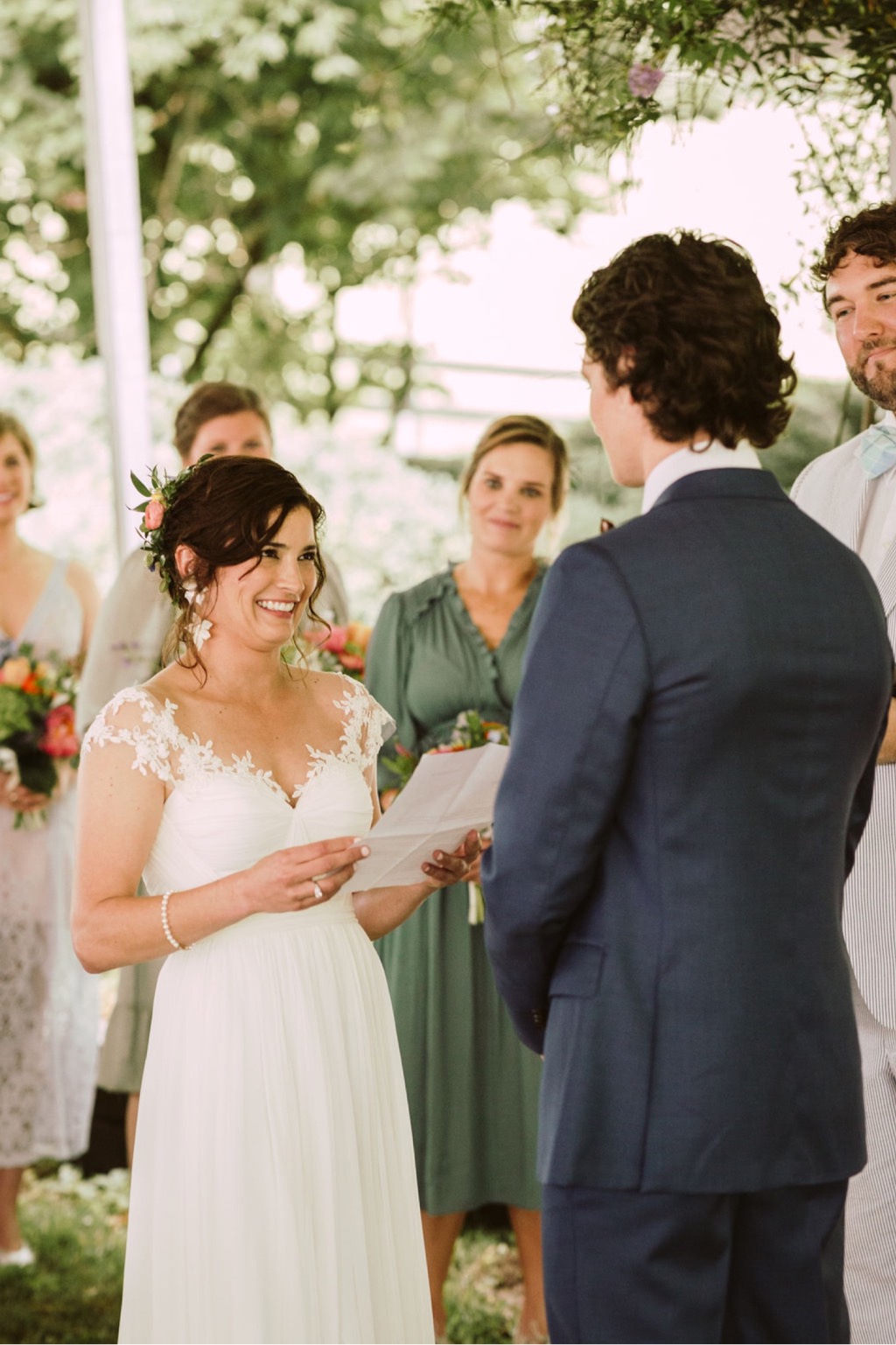 The reception was held at the family barn across the street from the house. It was a little ways of a walk – so they decided to do a PARADE. Mary Howard came up with the idea herself and it was SO cool! She wanted a way to incorporate some of her musician friends into her wedding day. She's very involved in the Chattanooga music scene, and wanted a way to pay tribute to that.
She created a parade with all of their guests. Everybody lined up with noise makers and balloons, and marched to the reception while the walking band played "While the Saints Go Marching In". It was the cutest thing ever! I wish every wedding would do this! It was the neatest idea.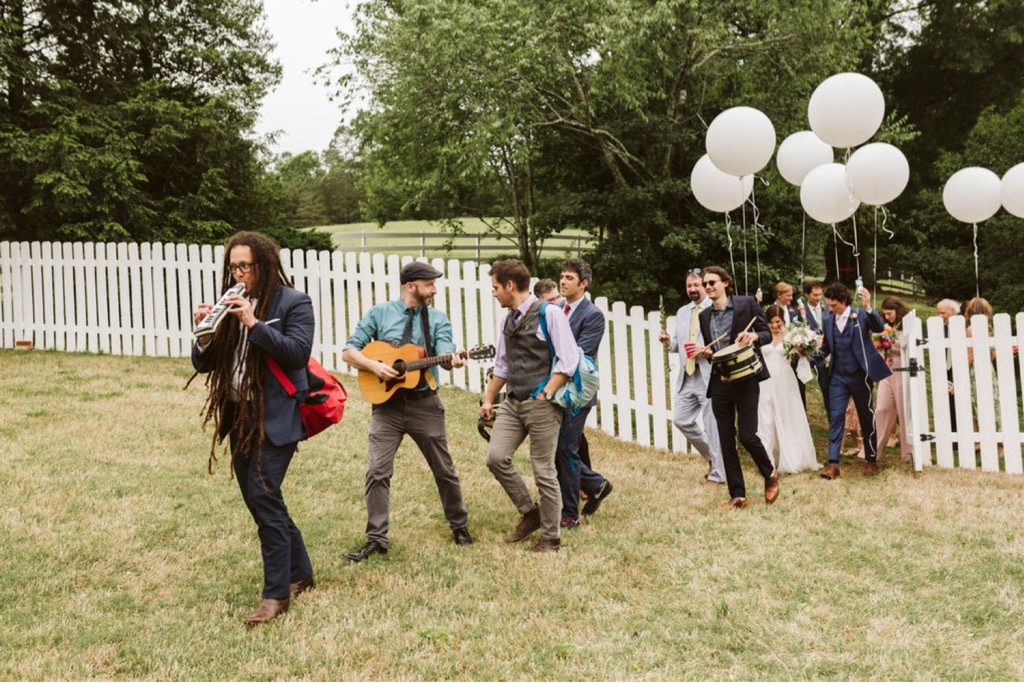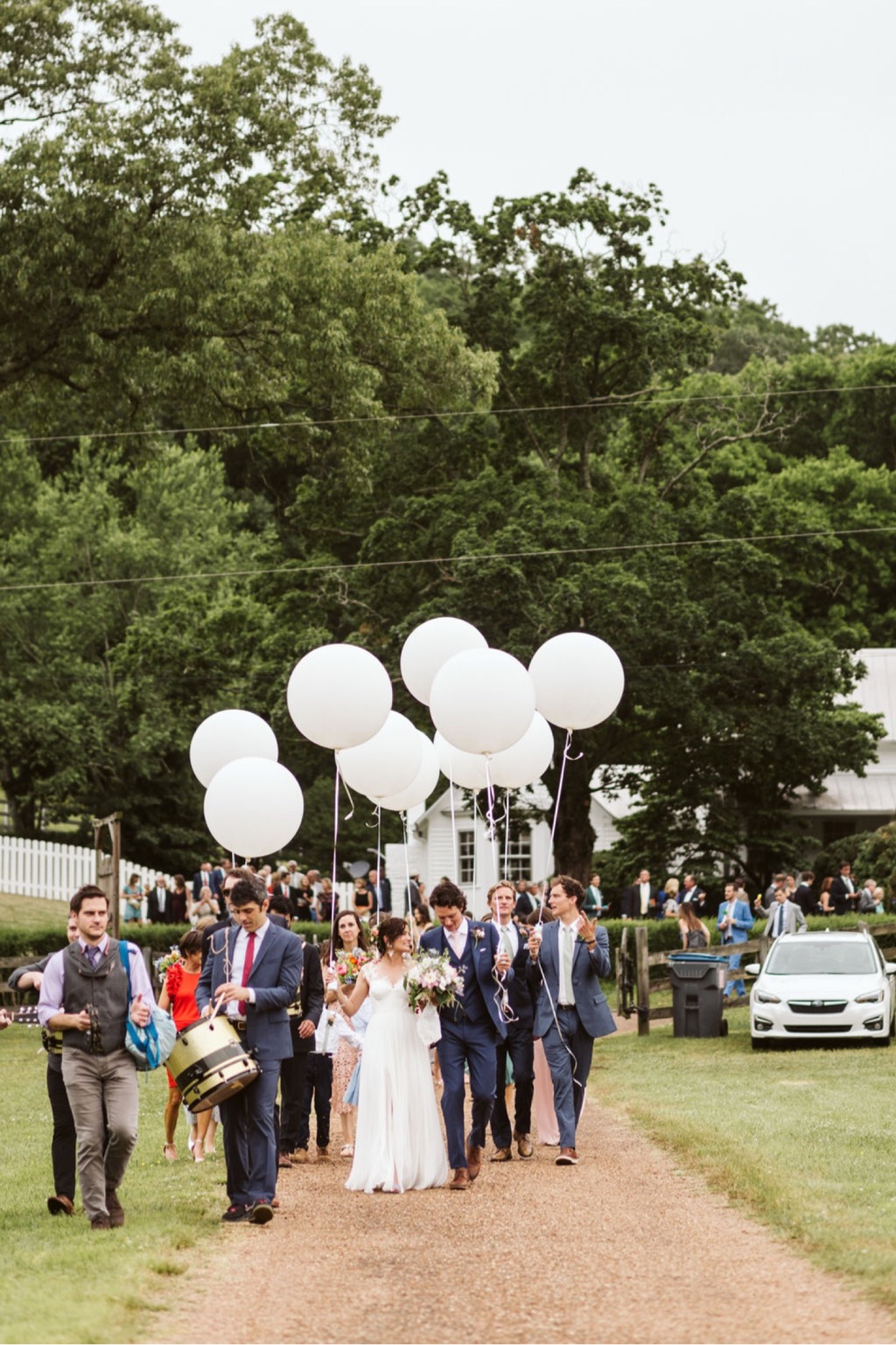 Because Fynn and Mary Howard had scheduled a first look, we had already taken bride and groom portraits and family photos. It left time for the parade march, which was perfect. Super freaking cute!
If you're on the fence about doing a first look – I say go for it!
A first look leaves more room in your wedding day timeline.
By doing portraits and family photos earlier in the day, it frees up space later in the day. This allows you to add unconventional things or meaningful experiences into your timeline that you typically wouldn't have time for.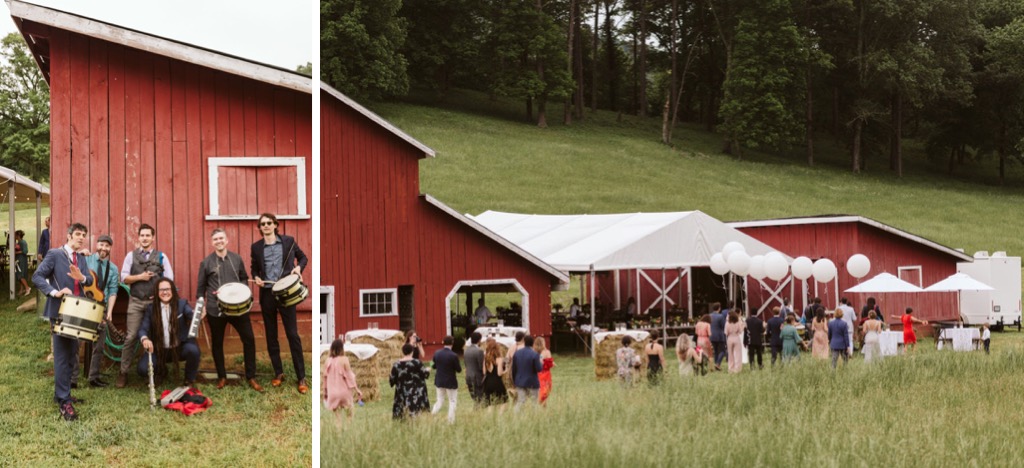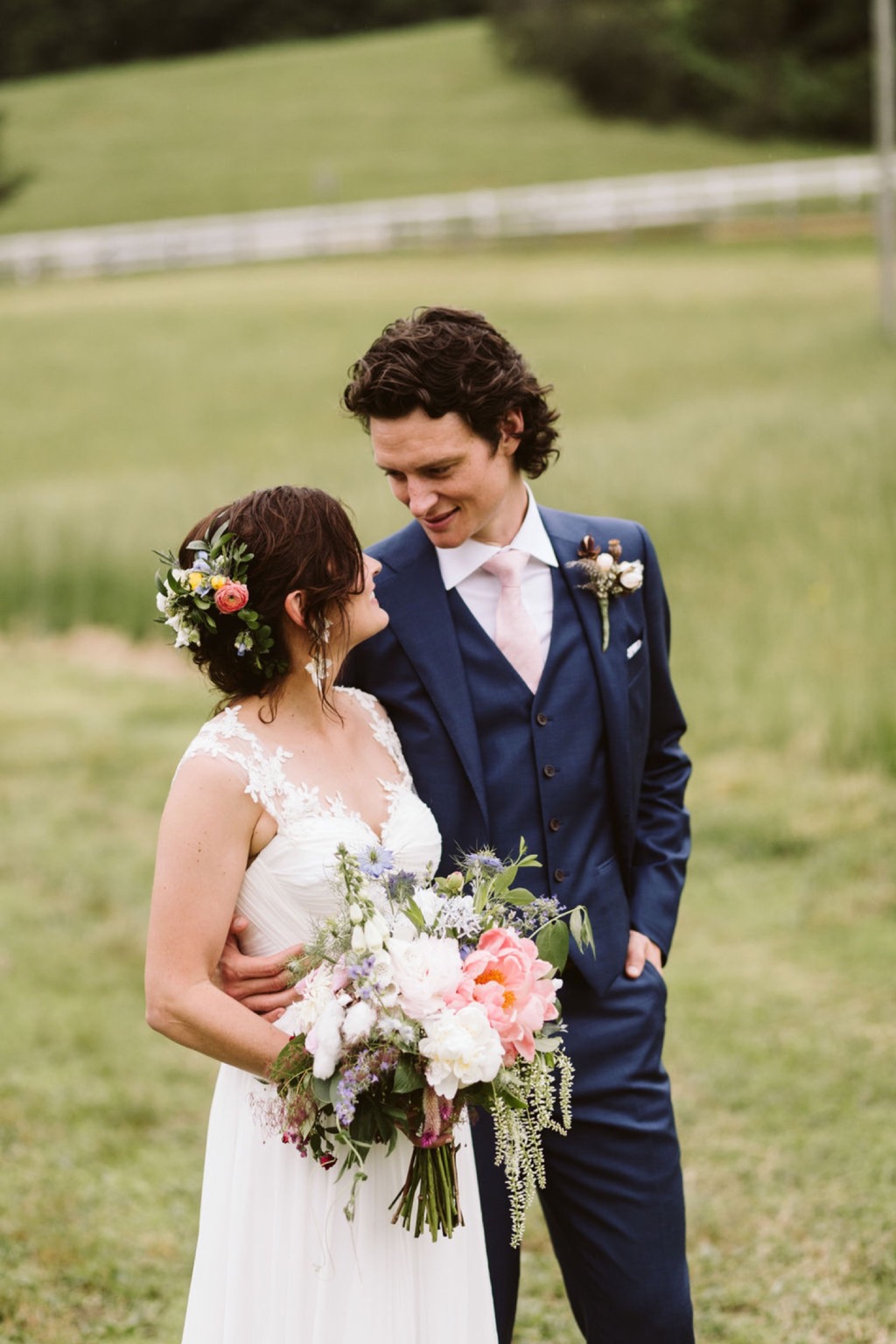 When I snuck Fynn and Mary Howard outside for sunset portraits, there wasn't much of a sunset! It actually started raining halfway through, but they rolled with it. 😉 We had a blast and got gorgeous pictures with the rolling hills in the distance!
Always, always make sure you have a few minutes to sneak away for bride and groom sunset portraits!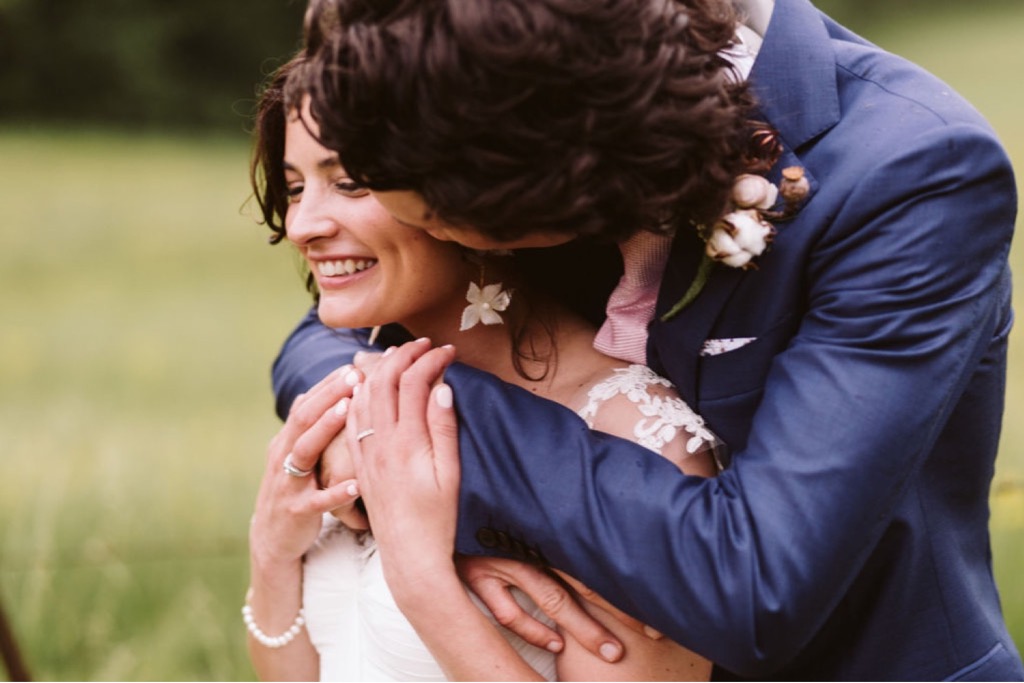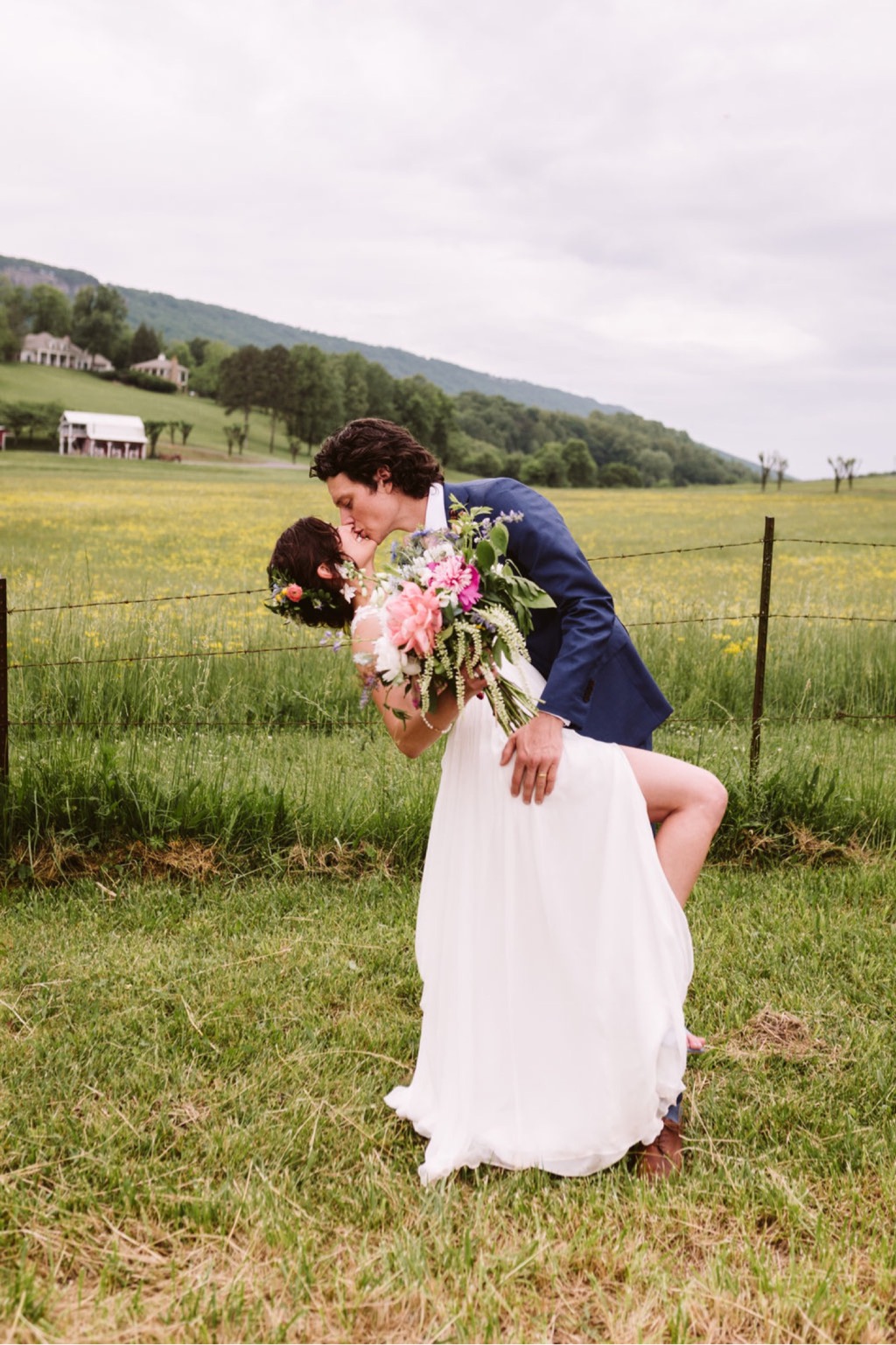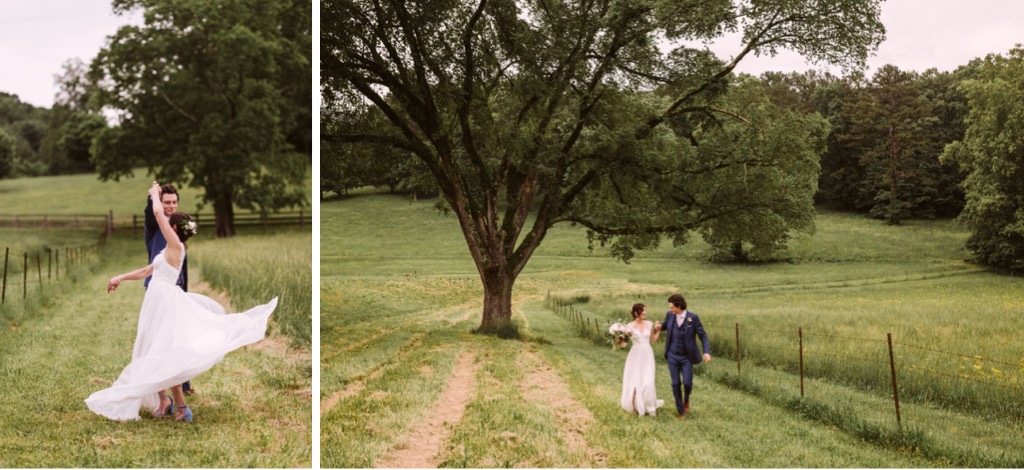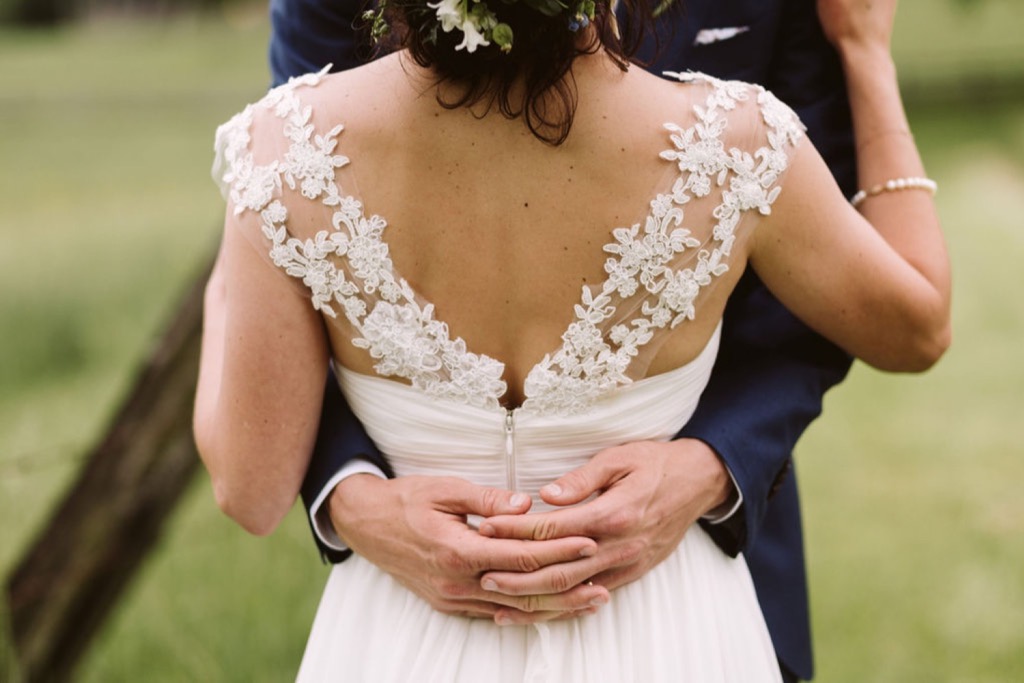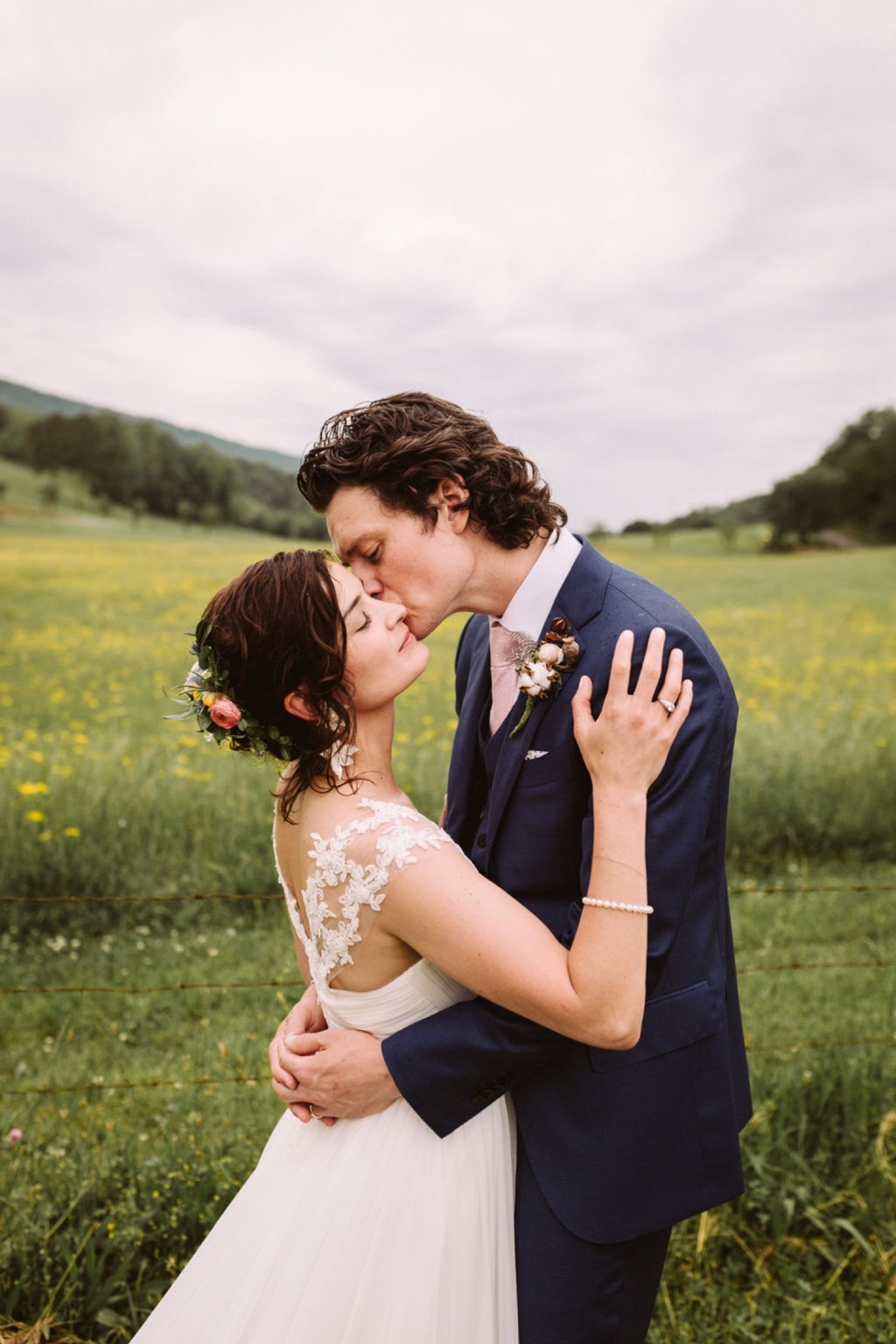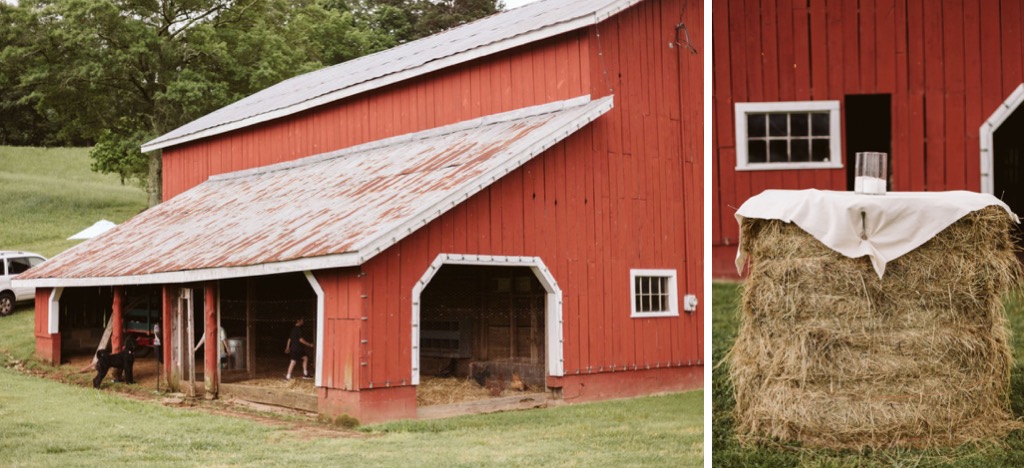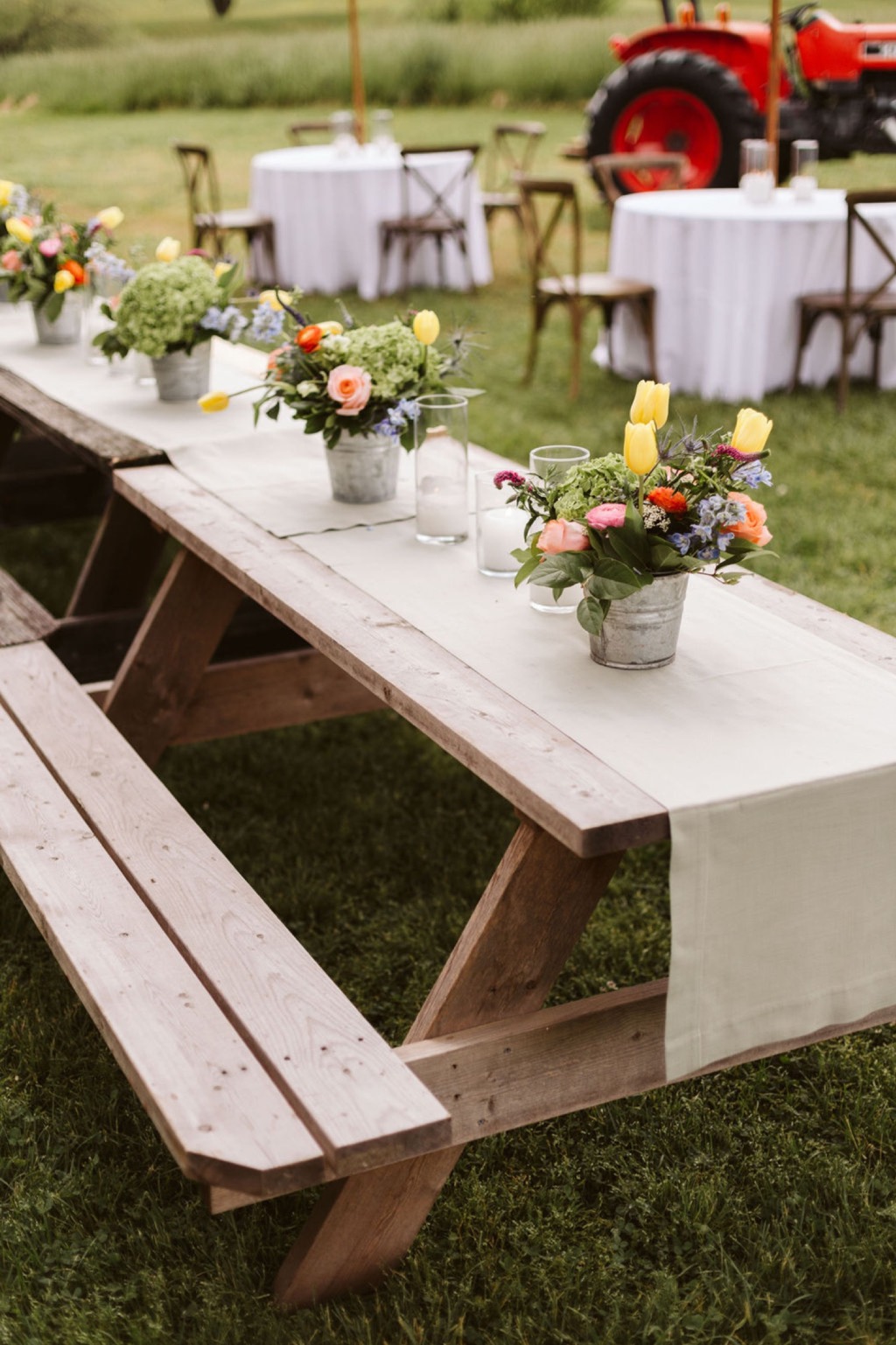 At the reception, they had really cute Southern, rustic details. Hay bales with tablecloths draped overtop with forks holding the linens on, a tractor outside ready for the late-night getaway… It was all really cute!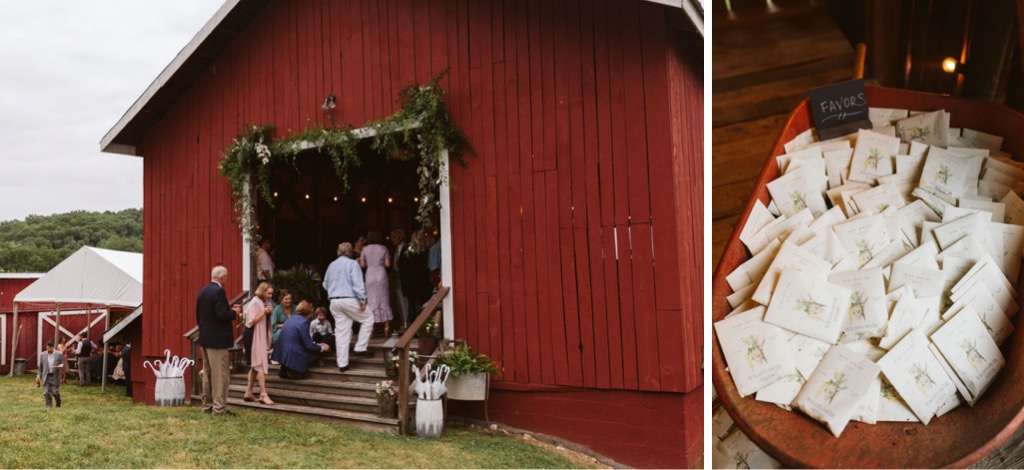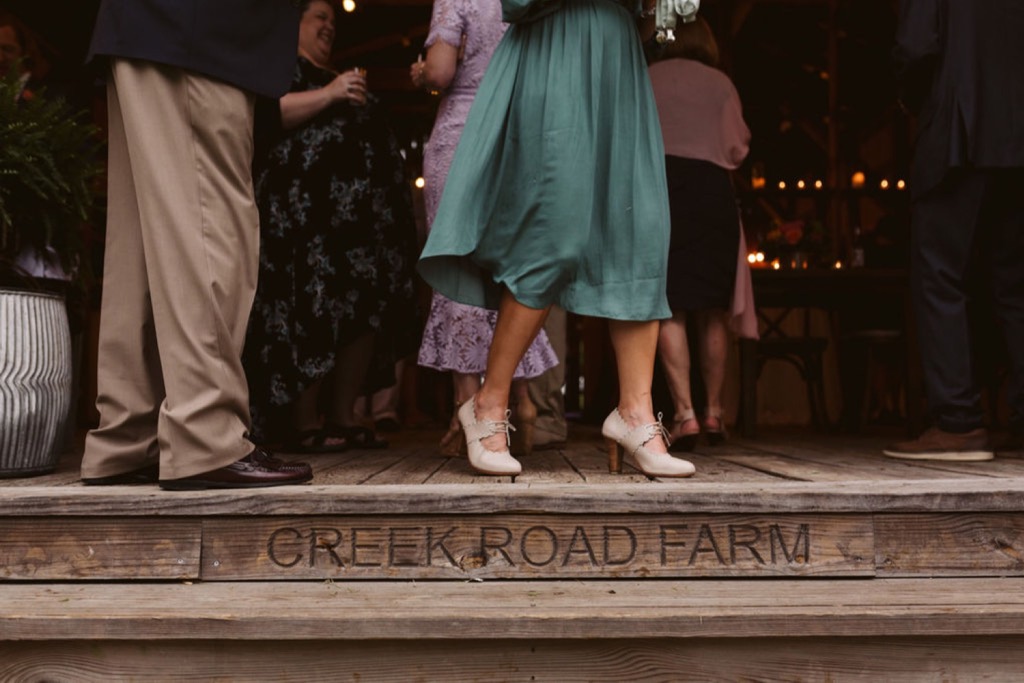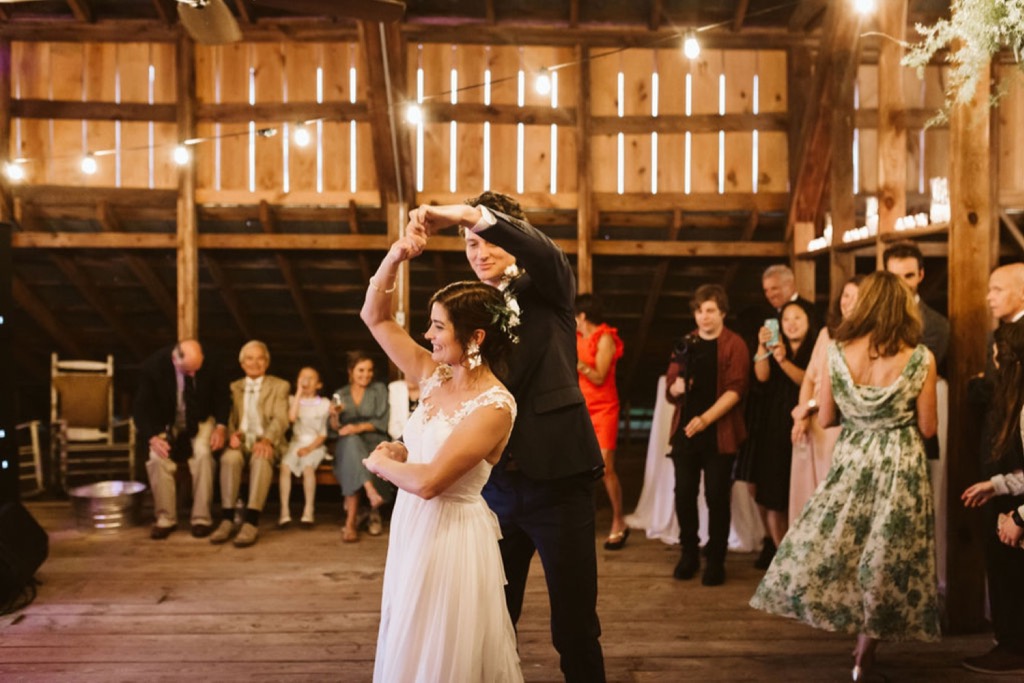 Let's talk about the first dance.
It takes a lot for me to be blown away at weddings, nowadays. But I was BLOWN AWAY by Fynn's dancing! He is SUCH a good dancer! He's taken lessons moves like a professional. He was swinging Mary Howard all over the place – it was straight out of a swing dancing movie! I've never seen a guy dance like that, and I thought it was the coolest thing ever. He even danced like that with his mom! Throughout the entire reception, Fynn was going person-to-person with everyone on the dance floor, twisting, twirling, and spinning them. It was the most fun thing to watch and totally made my night!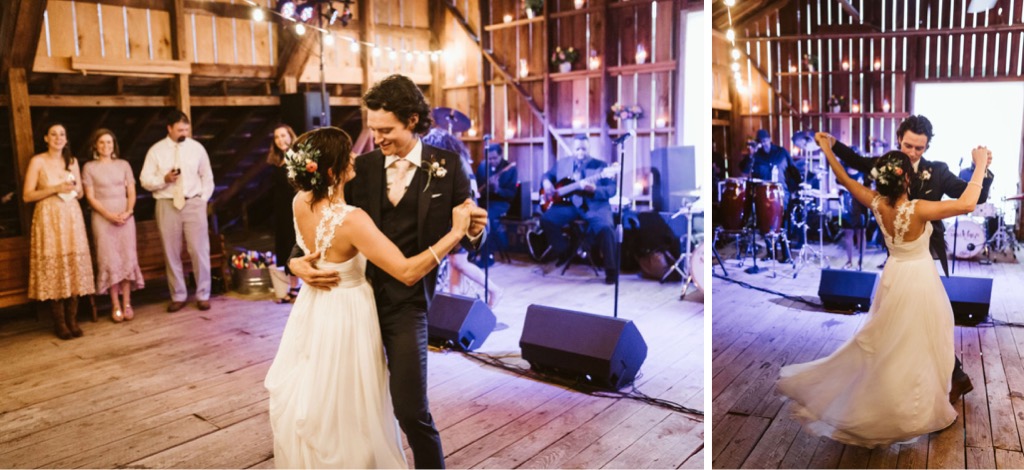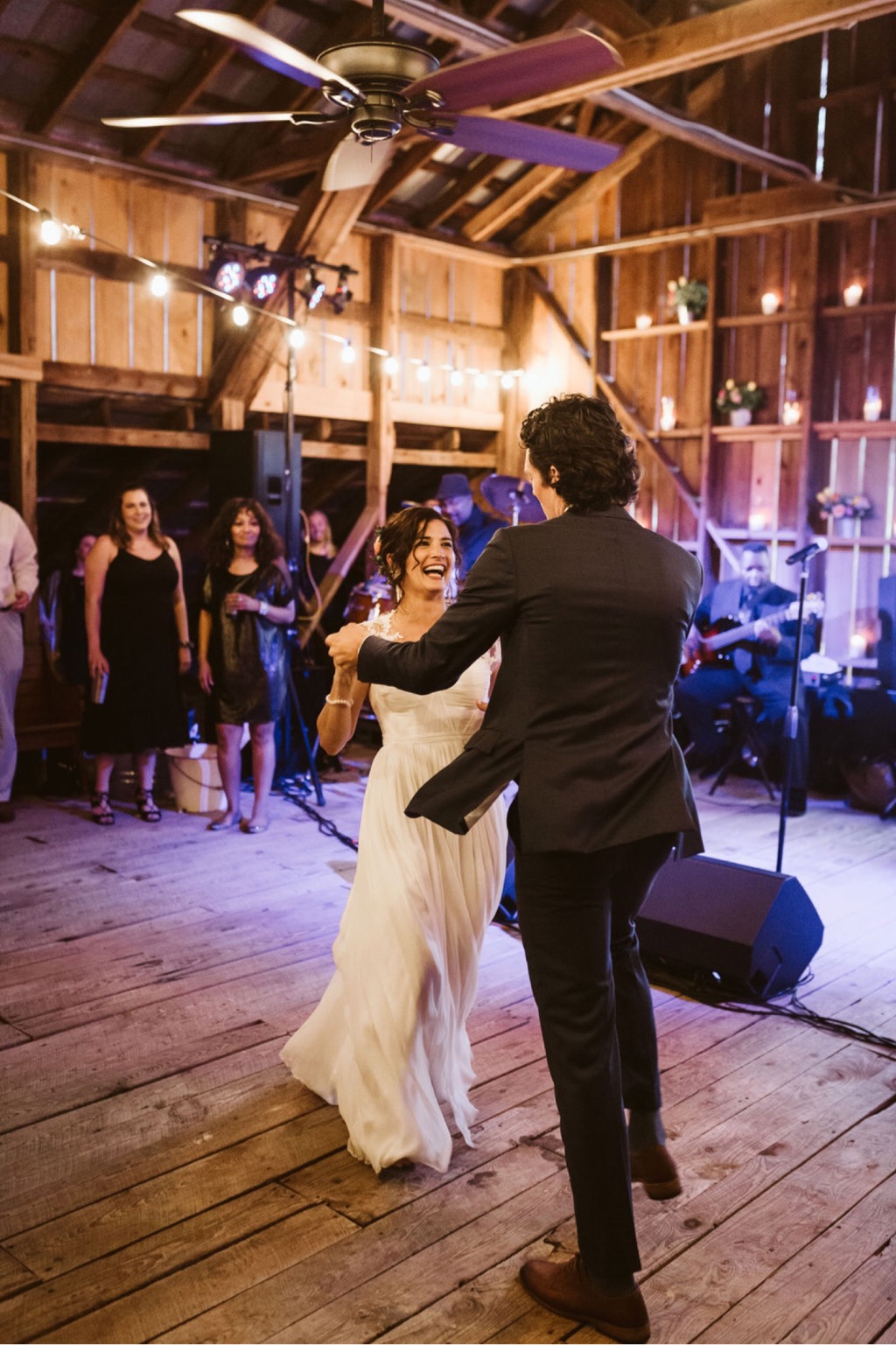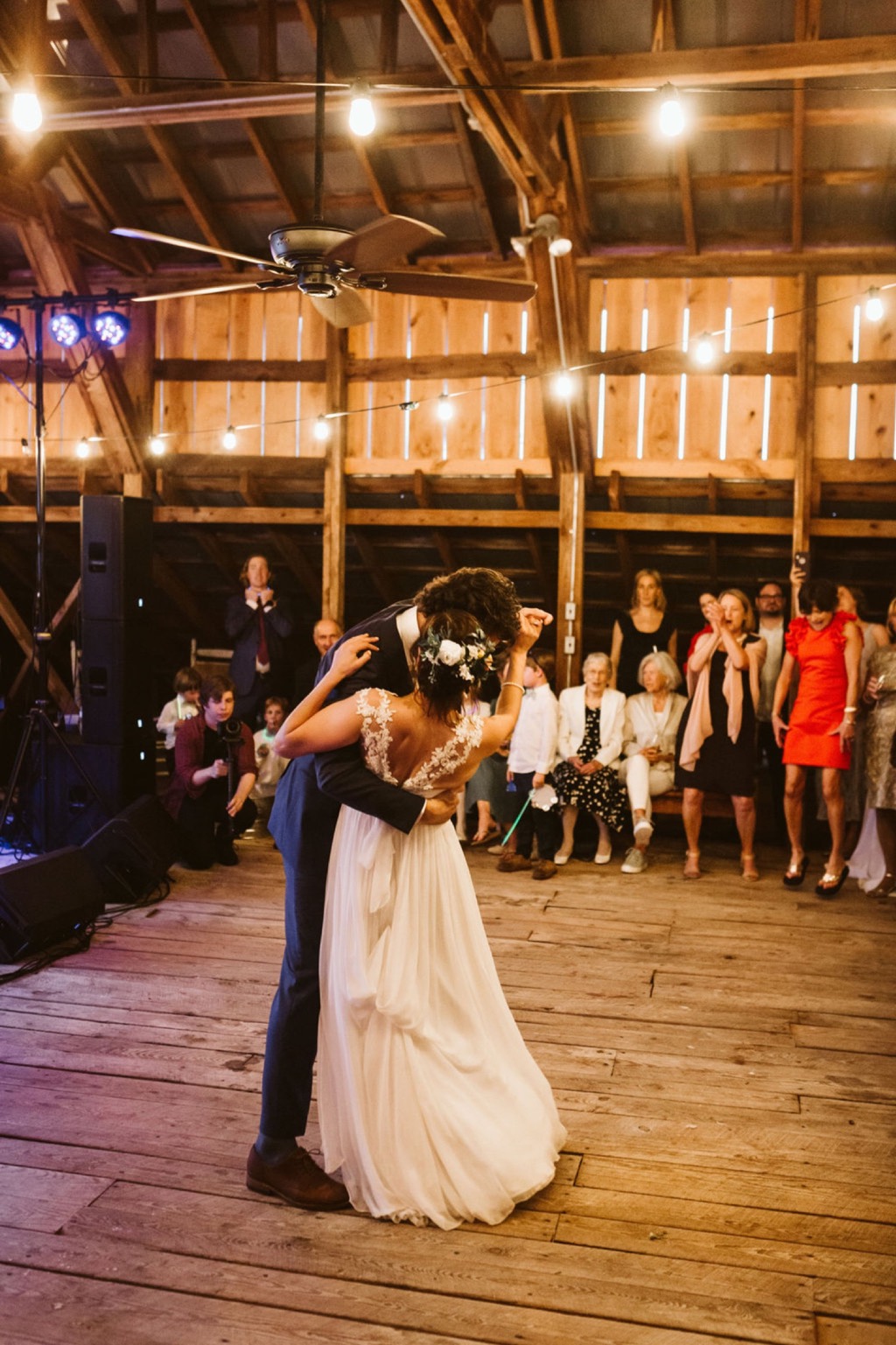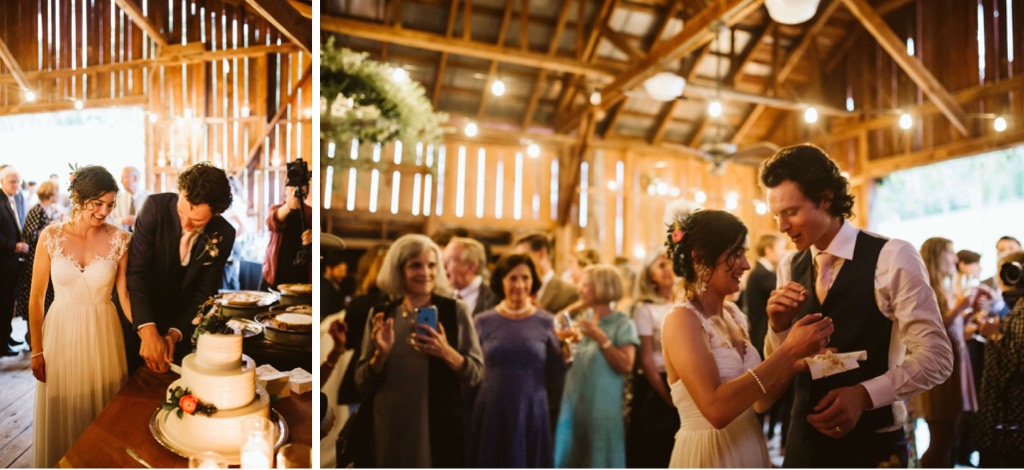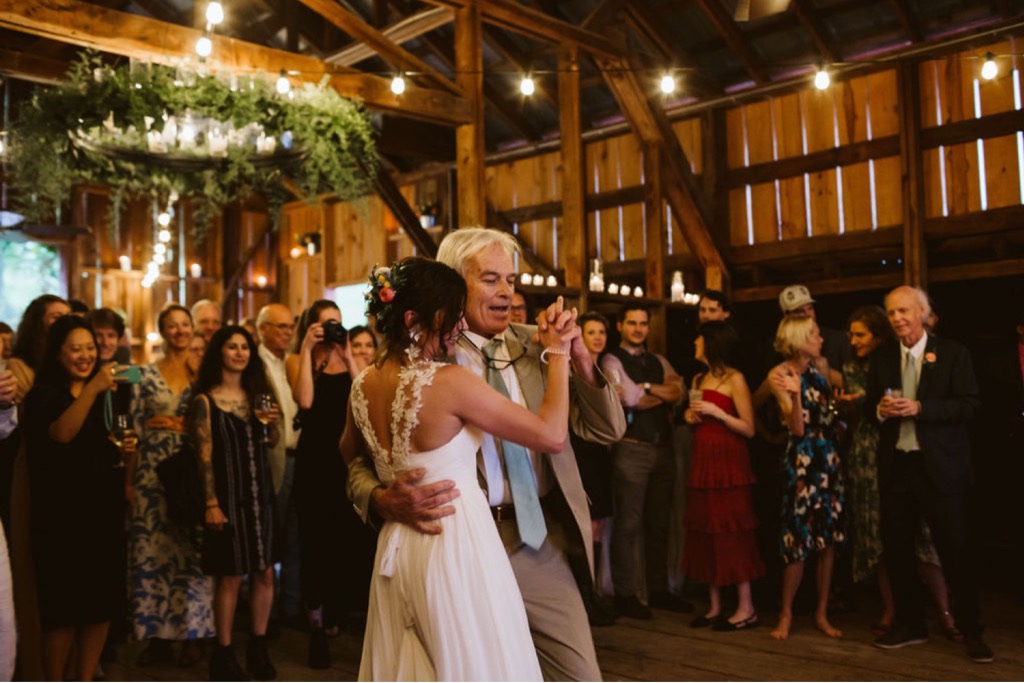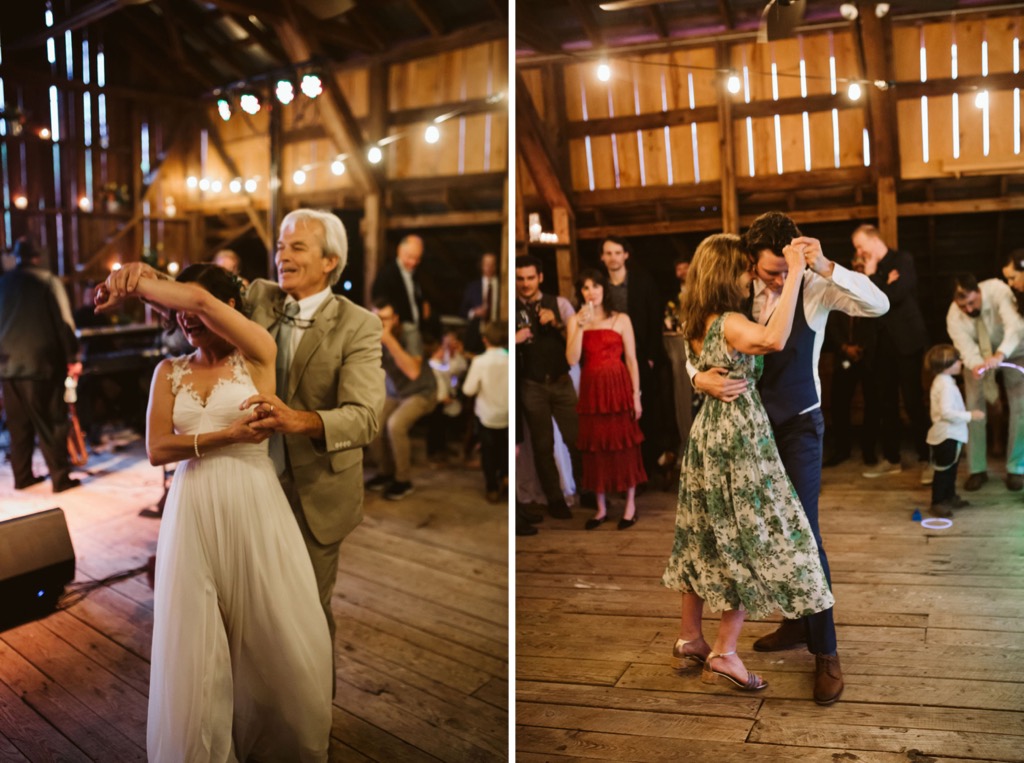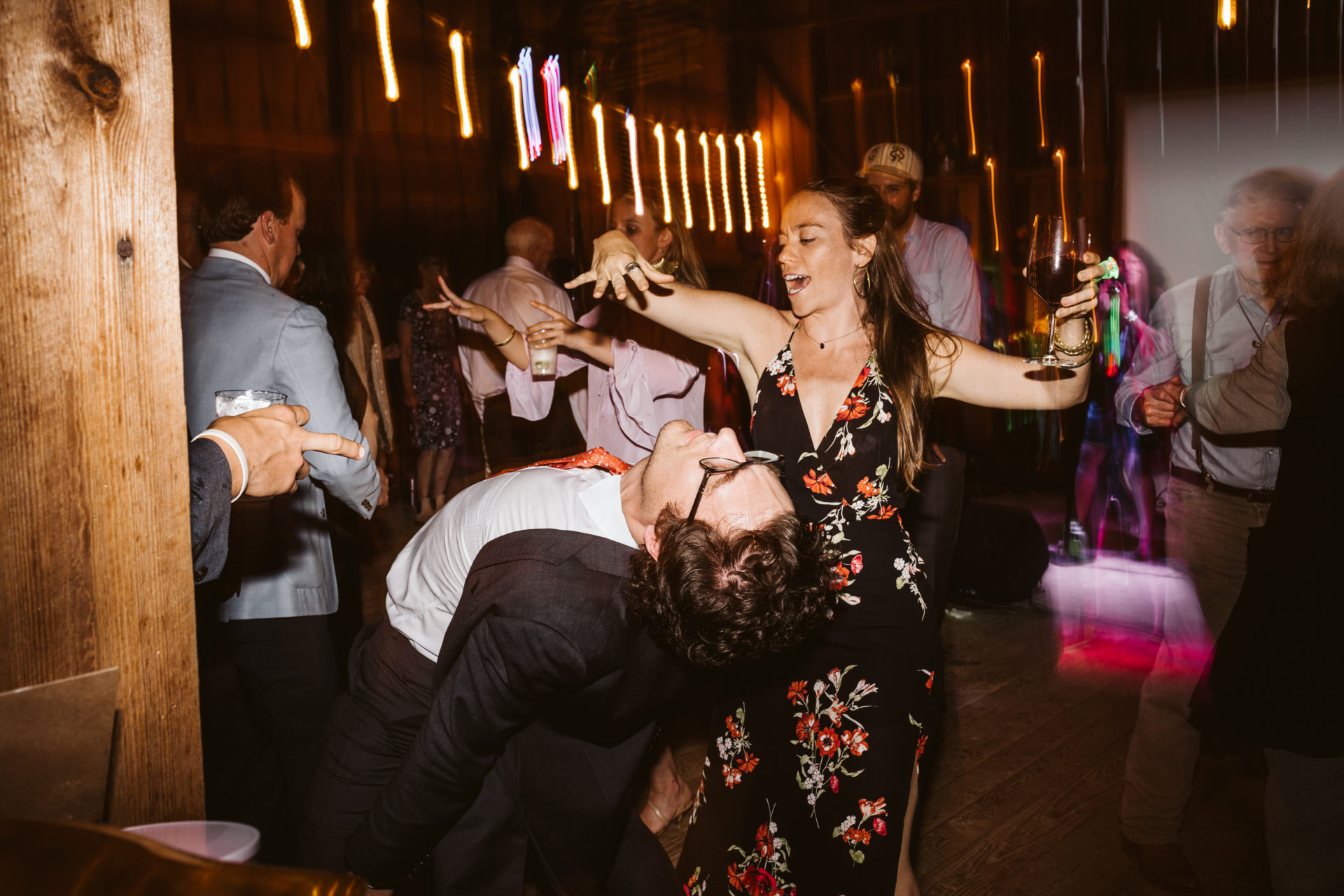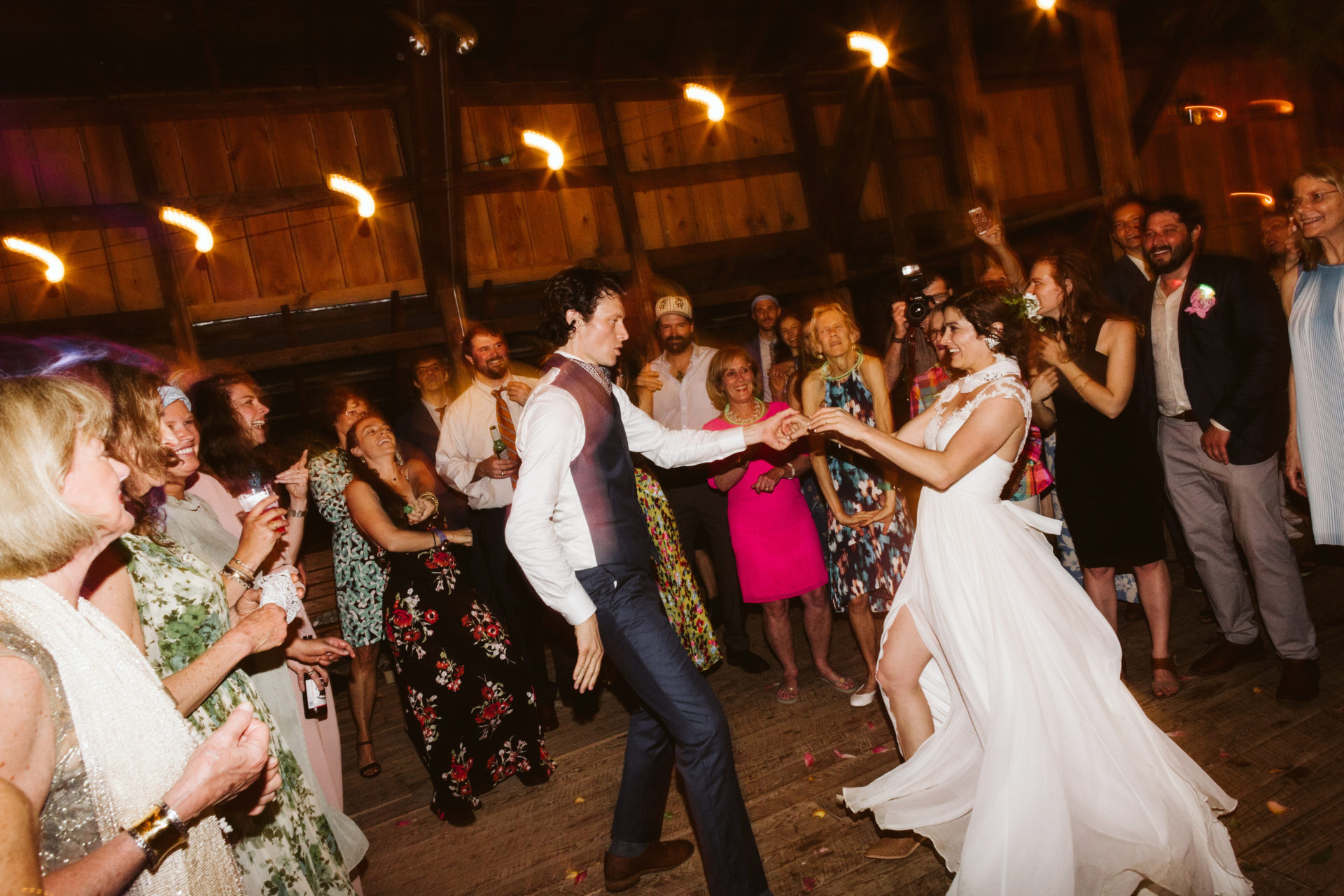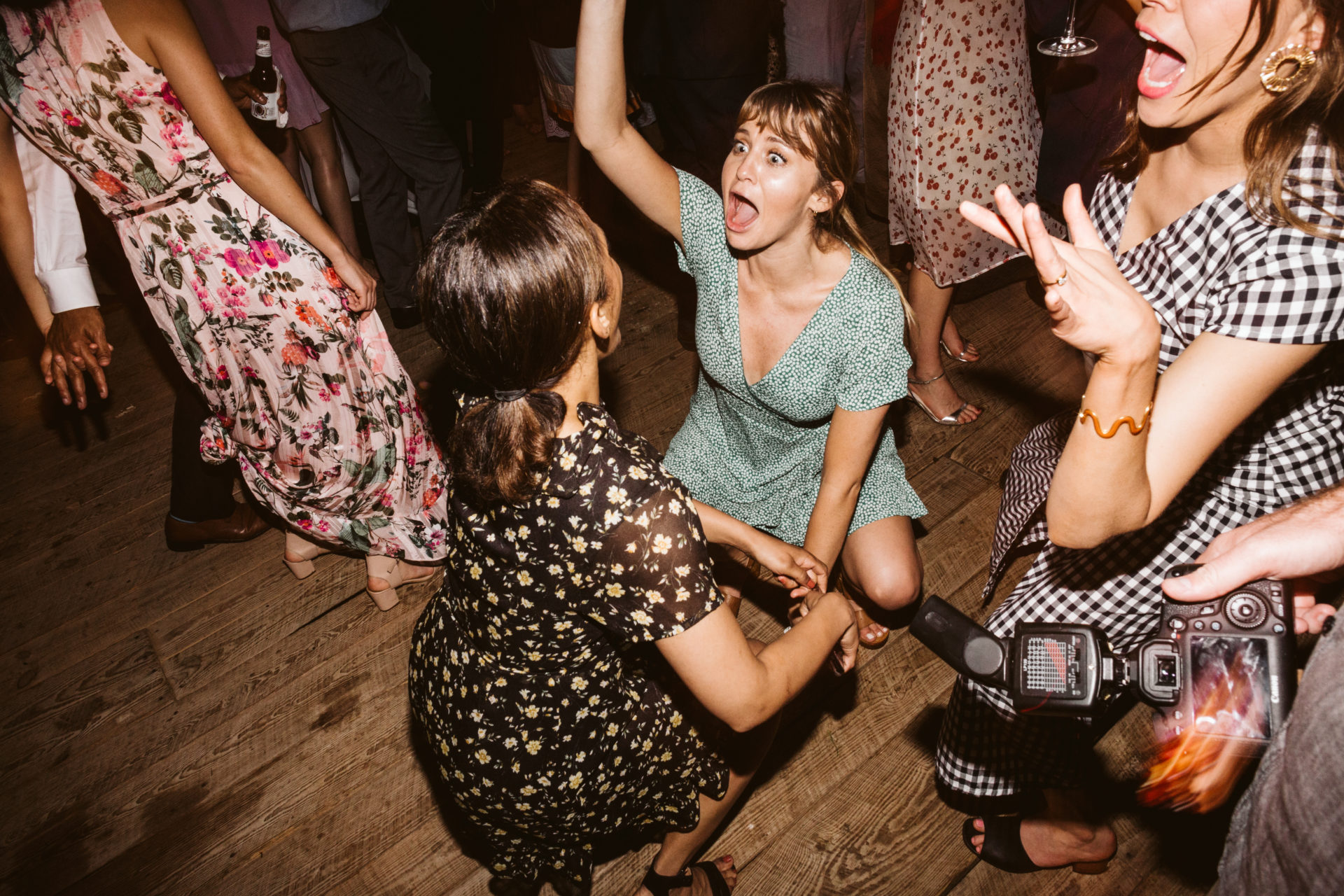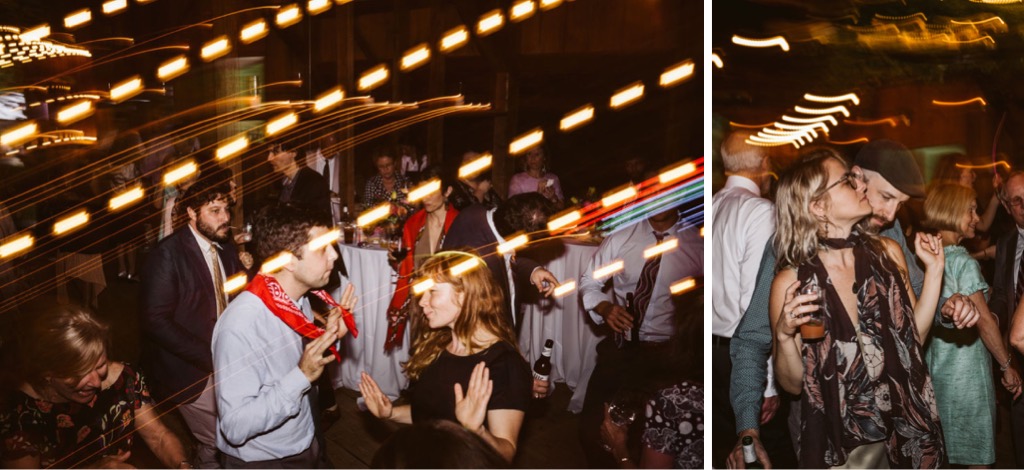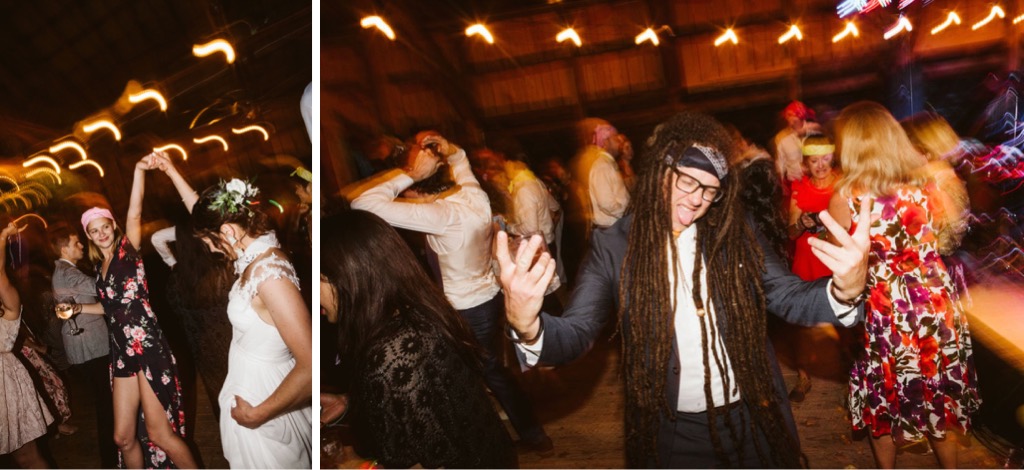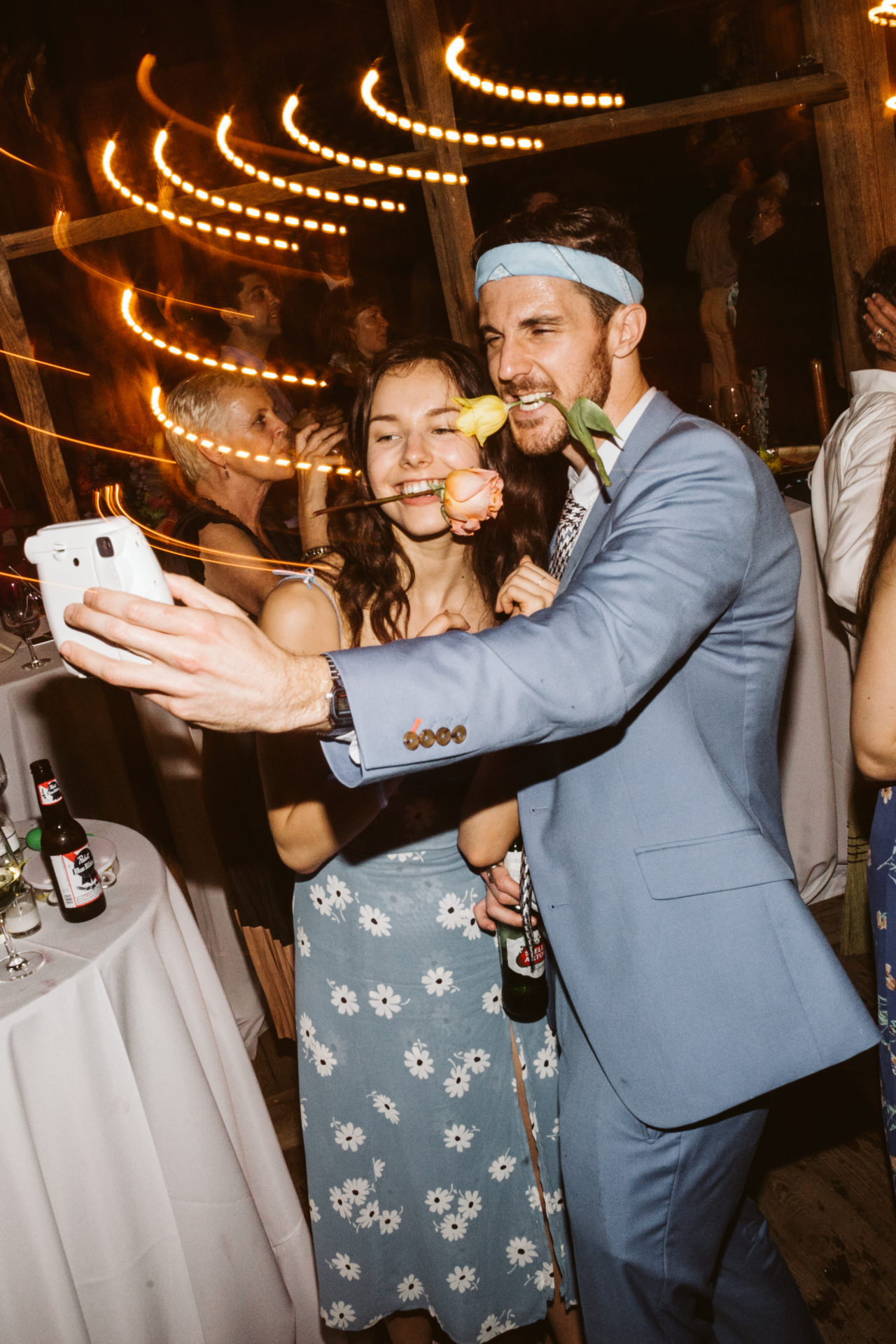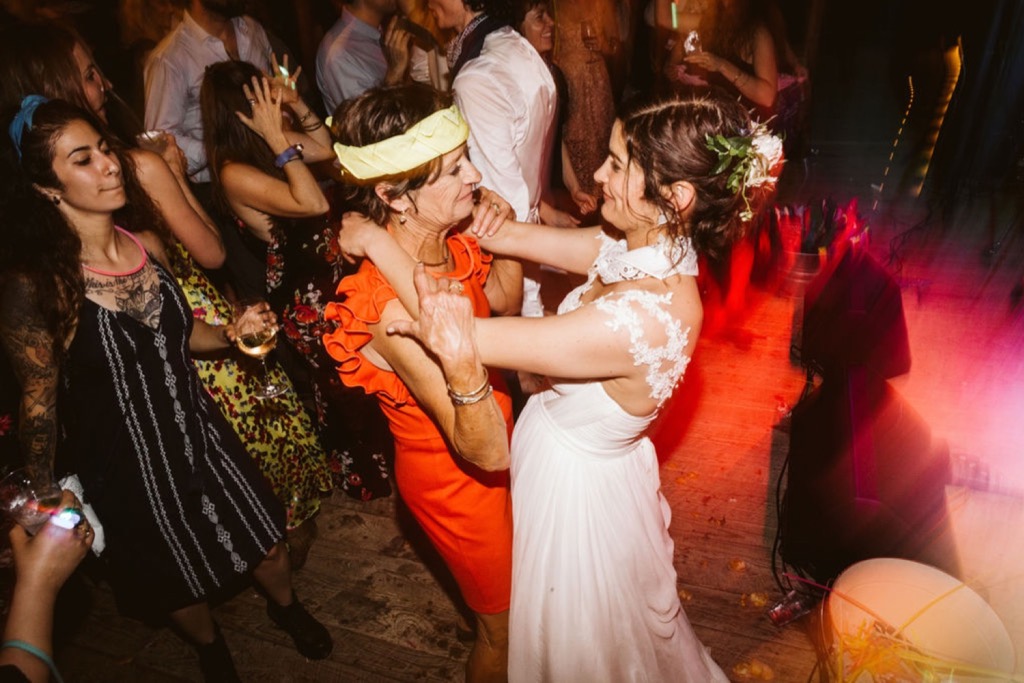 The last part of the evening was supposed to be a sparkler exit. It was raining pretty heavily, though, so we had to come up with a plan B. Myself, and Mia + May, the AWESOME wedding coordinators, came up with an idea to try glow sticks instead. We decided to do their exit inside the barn, and handed out glow sticks and noisemakers to everyone.
What to do when it's raining during your sparkler exit?! Get creative!
I had everyone line up in a tunnel, and Fynn and Mary Howard danced through the tunnel while I shot from the other side. It turned out SO cool! They headed outside to where their getaway tractor was waiting, and then hopped on the back! With balloons in hand, they (slowly!) tugged away on the tractor. As they made their way back to the farm house across the street, family and guests waved them off while Fynn and Mary Howard beamed at each other.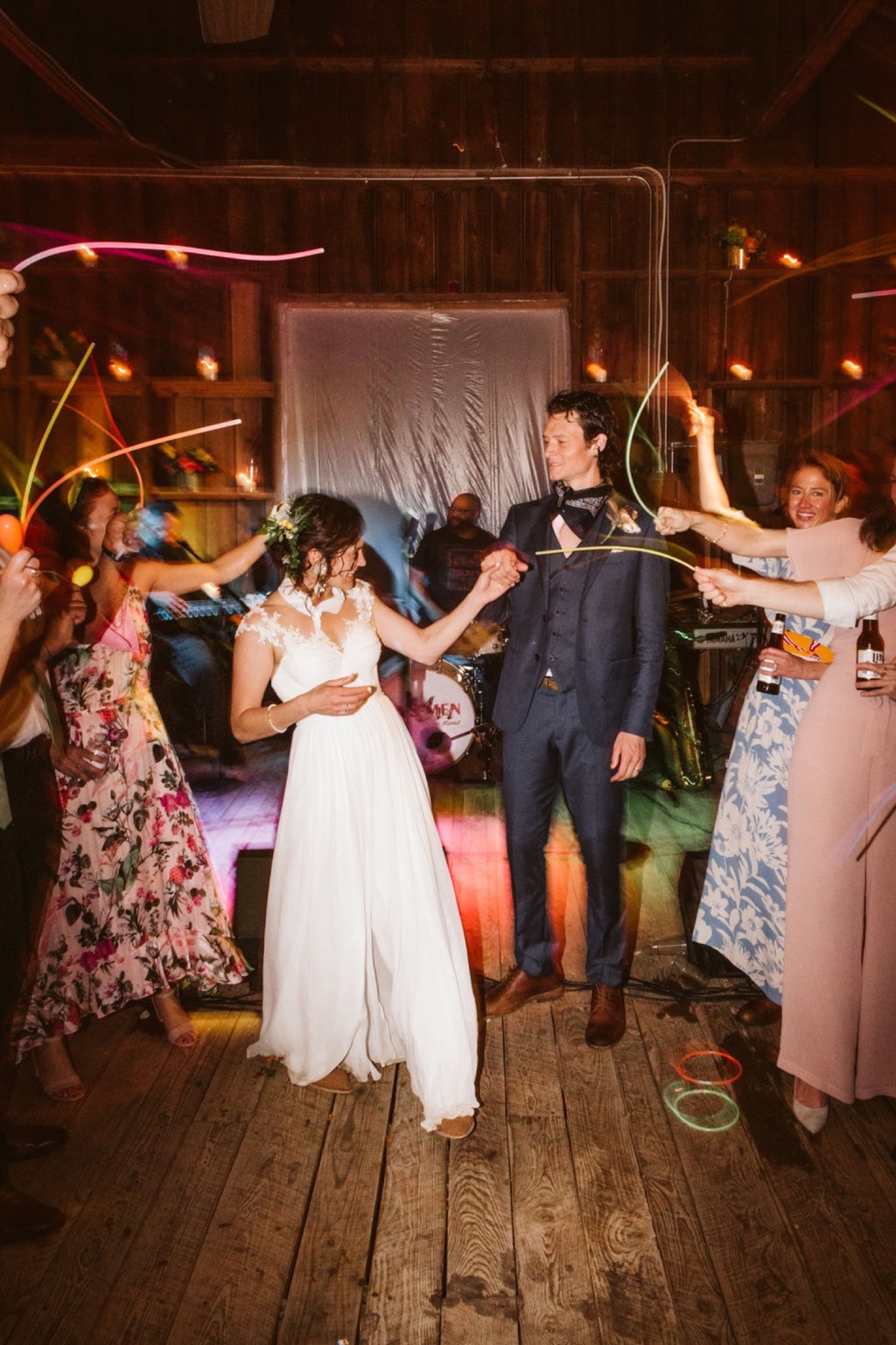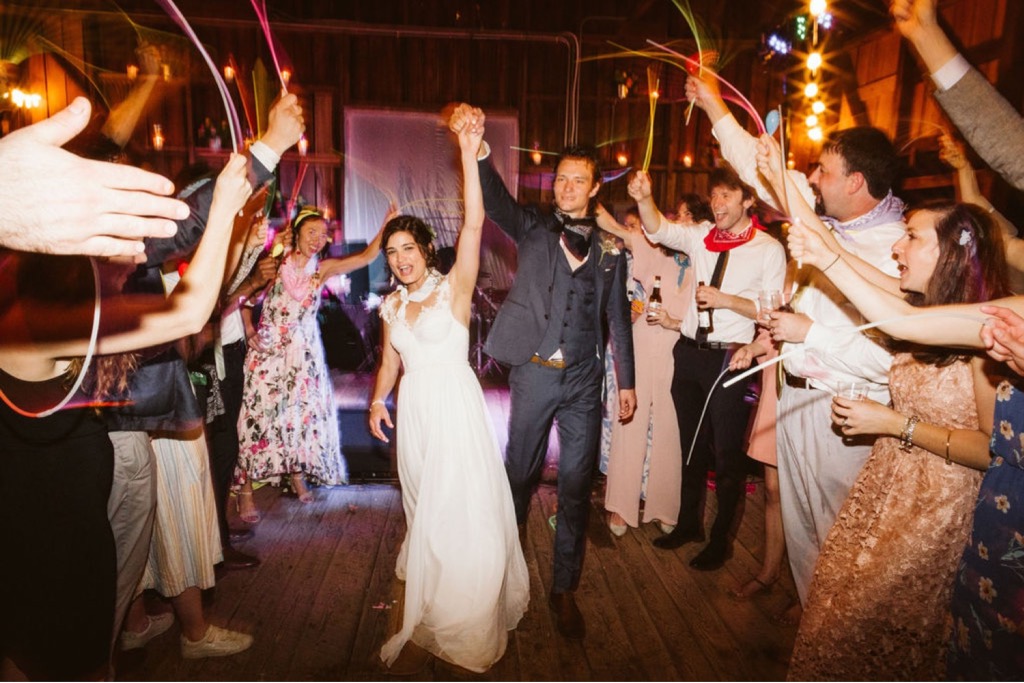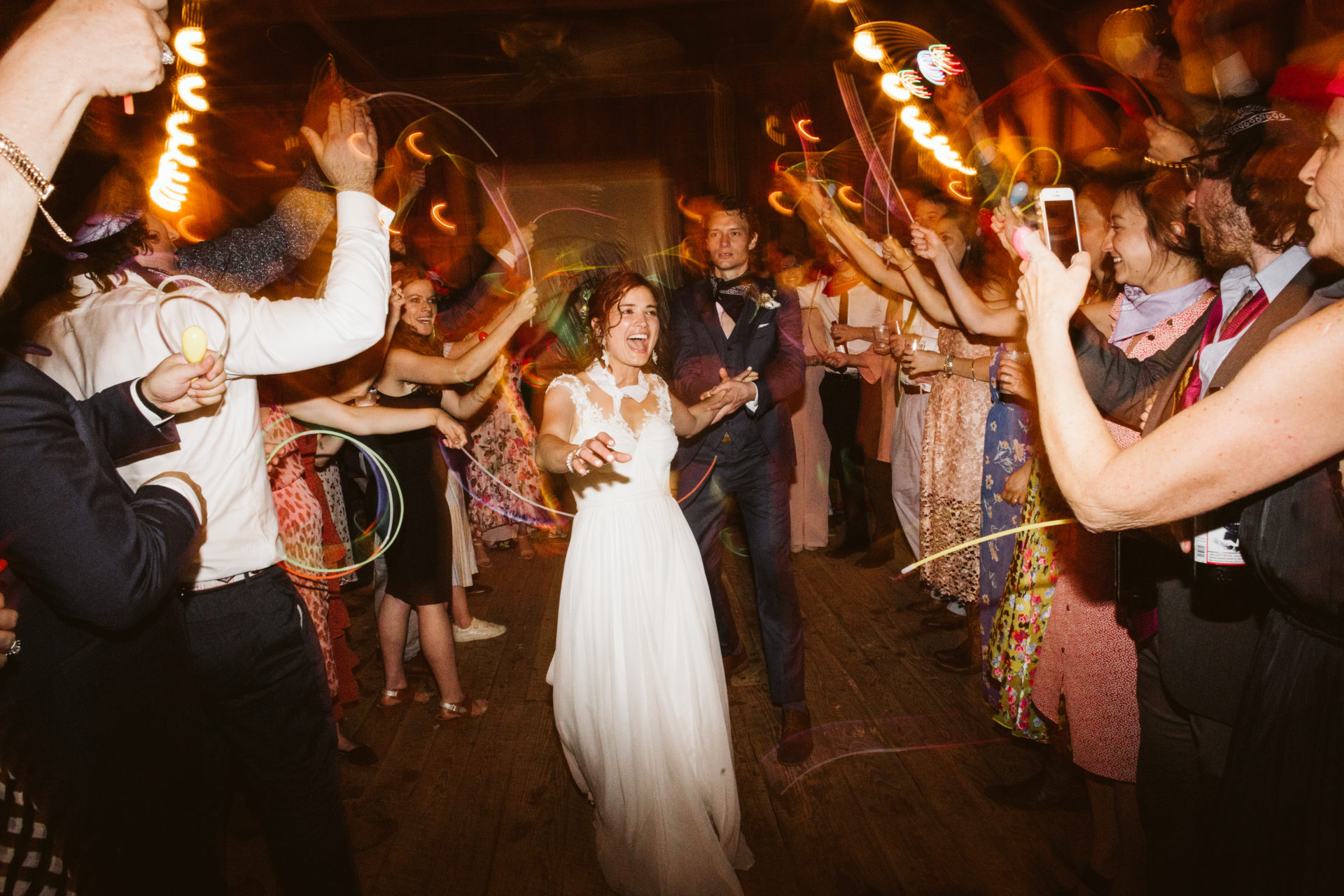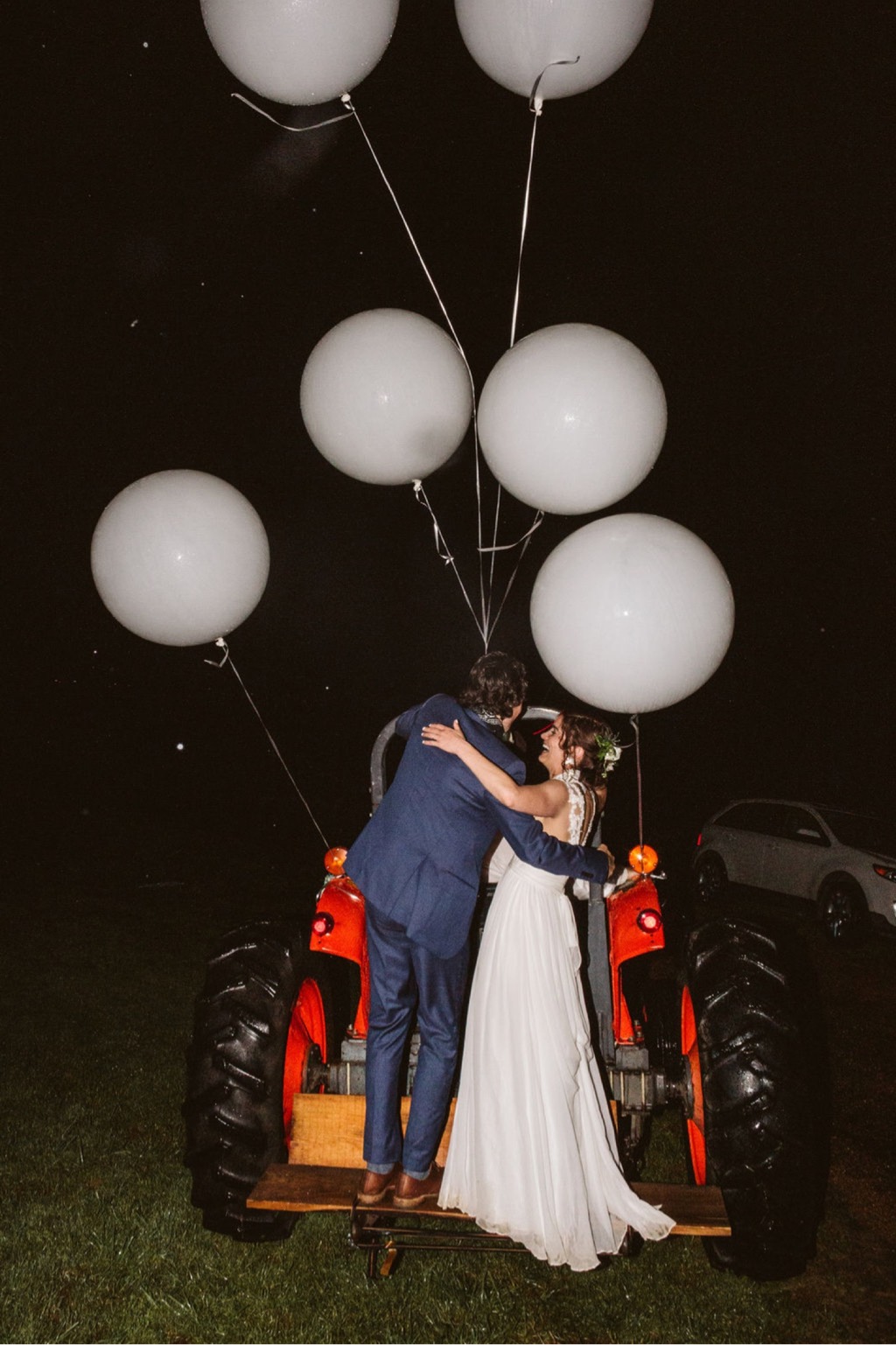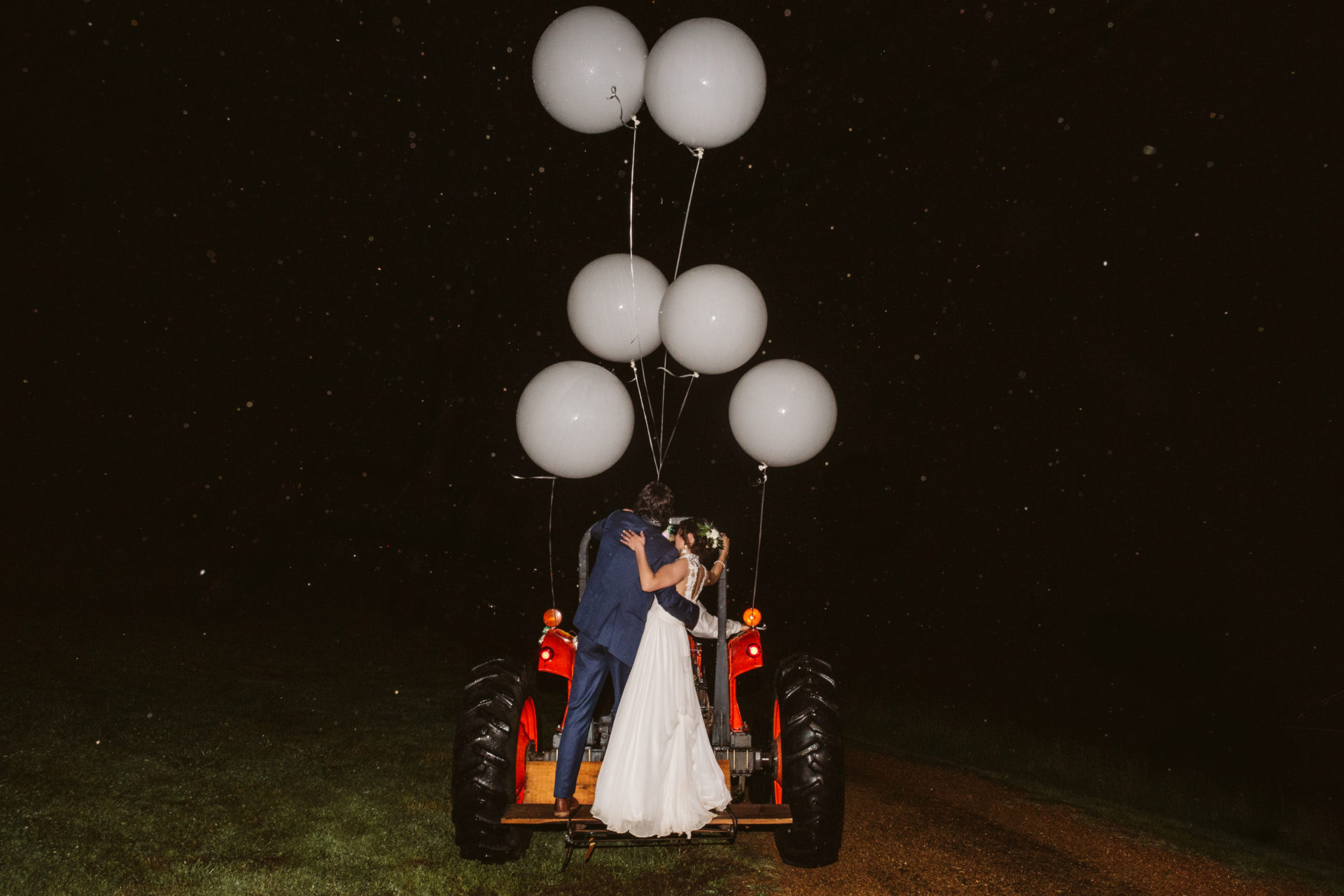 The amazing wedding day vendor team:
Venue: Family farm in Chattanooga, Tennessee
Videography: Jesse R. Hunter
Florals: The Clay Pot
Wedding Dress: Boutique: The Sentimentalist
Dress Designer: Tatyana Merenyuk
Tent: Chattanooga Tent
Wedding Coordinator: Mia + May Events
Ceremony and Cocktail Music: Call Me Spinster
Cake: Sweet Angel Cakes
If you loved this southern farm wedding, you might also love this Chattanooga farm wedding!
Are you planning your own wedding in Tennessee, Georgia, or anywhere in the US?!
I'm Chattanooga based but available for travel, so contact me!