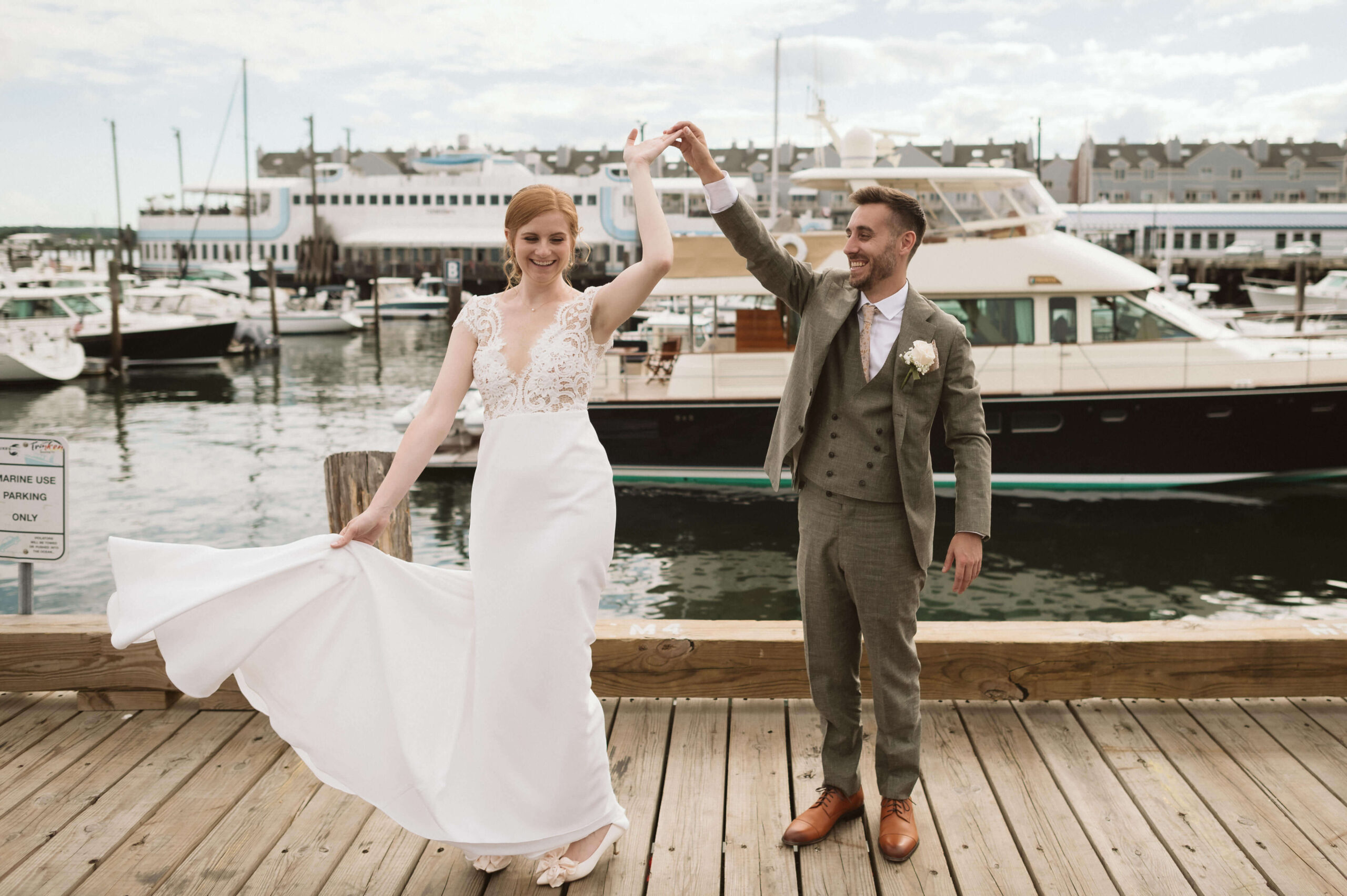 As a traveling wedding photographer, I got the opportunity to head out of the Tennessee heat and embrace historic Portland for Kelsey and Mike's big day. Let me tell you, Portland, Maine definitely checks all the boxes for a coastal New England wedding filled with charm and history. For Kelsey and Mike's wedding, we ventured out to capture their love surrounded by the historic Old Port and, of course, the Portland harbor.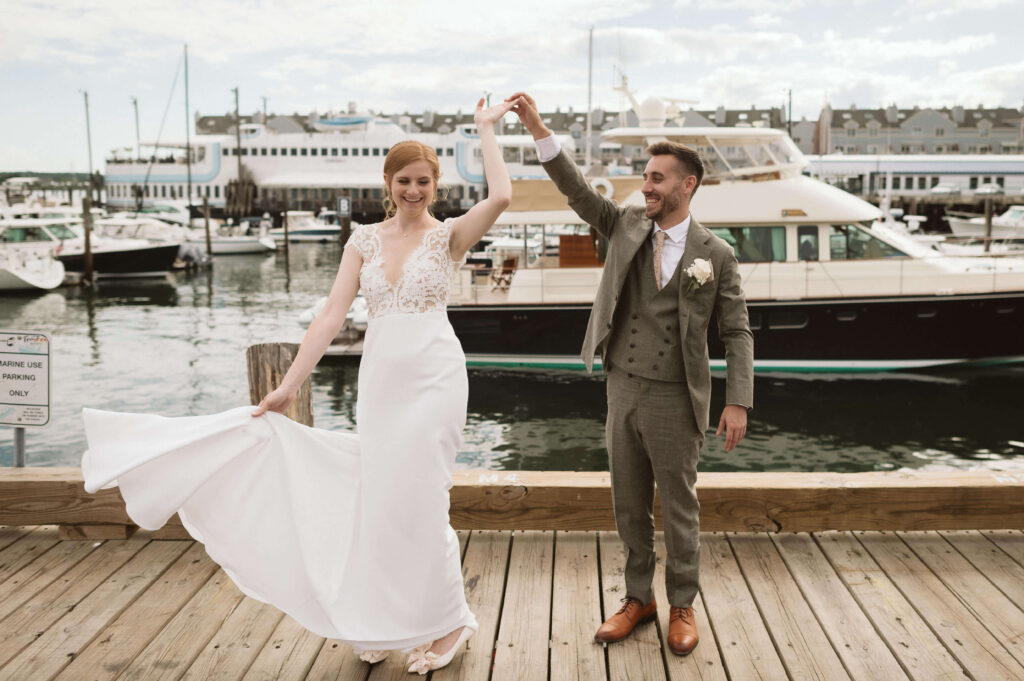 From Camp Counselors to Falling in Love
Kelsey and Mike's love story would make the perfect romantic movie. They first met as camp counselors at a leadership summer camp but their feelings for each other weren't revealed until later. After attending a wedding for a mutual friend from camp, they began talking more and officially started dating the following summer. Now, for their own wedding day, they invited that same camp friend to be the officiant for their ceremony! Talk about full circle! Kelsey and Mike have mentioned how incredibly grateful they are to her for getting married and unknowingly being the start of their own love story.
When it comes to wedding planning, the whole process can be daunting at times. What helped Kelsey and Mike out was to make sure they were planning the day with their priorities in mind. Their biggest priorities were to plan a wedding that would allow them to spend the most time with the people they love and to create a ceremony that felt true to them. Based on how the day turned out, it's safe to say that their mission was accomplished!
For other couples beginning to take the first steps in wedding planning, Kelsey and Mike have some special advice: "When wedding planning starts to feel stressful, picture specific moments you're excited about. For us, it's been imagining reading our vows and our first dance. This helped keep the day in perspective and reminded us that anything 'left' to plan wasn't prioritized for a reason."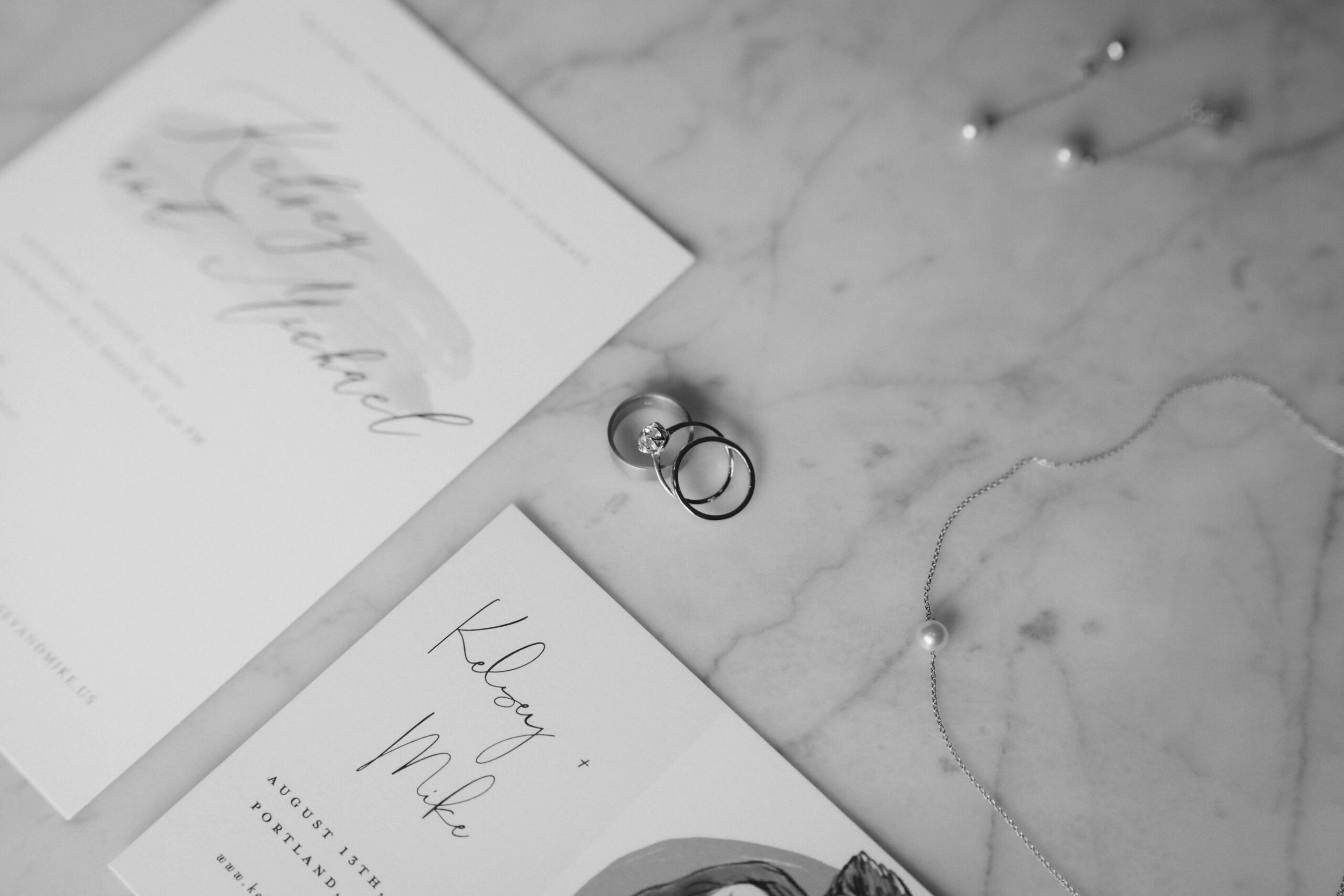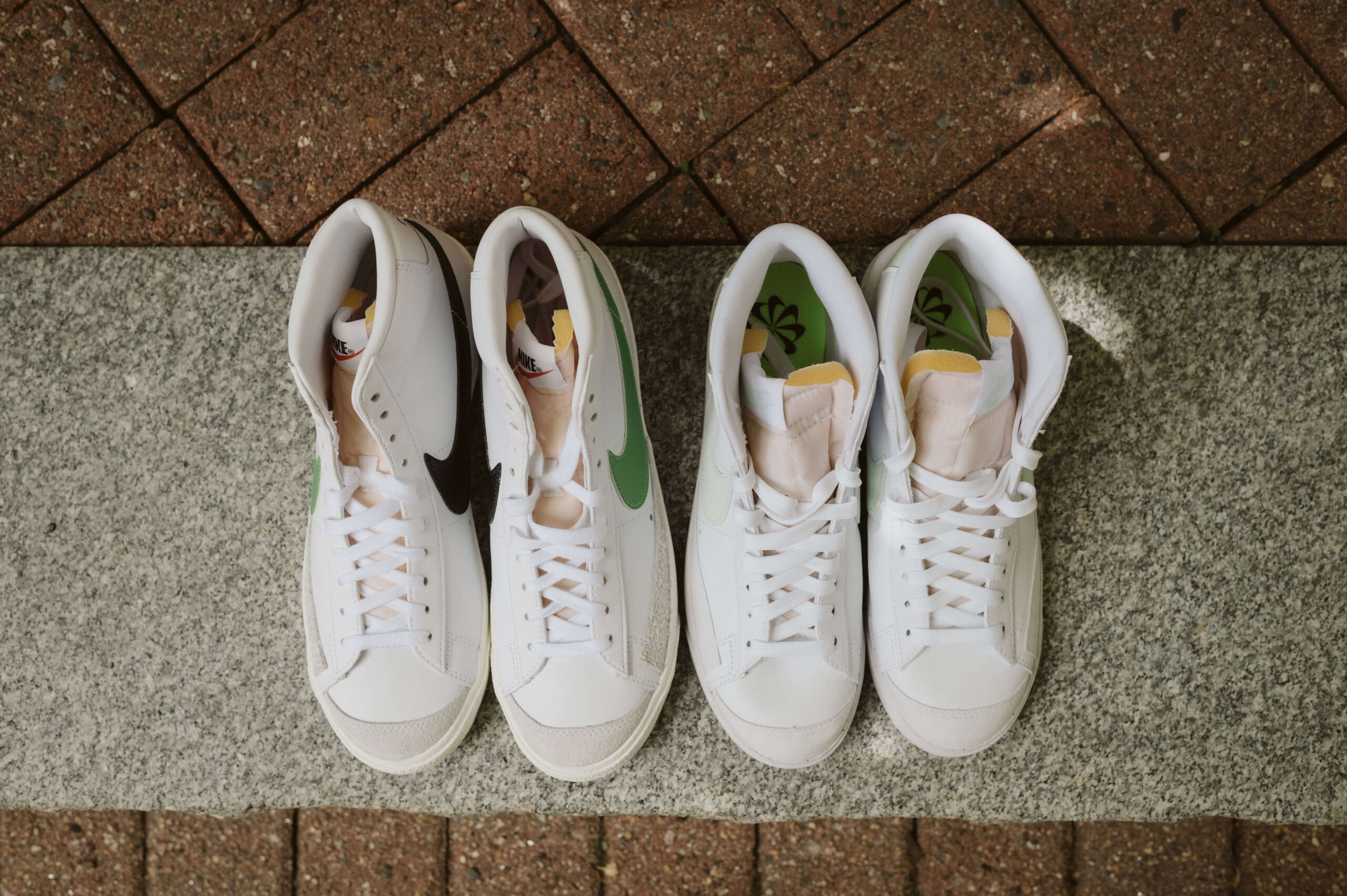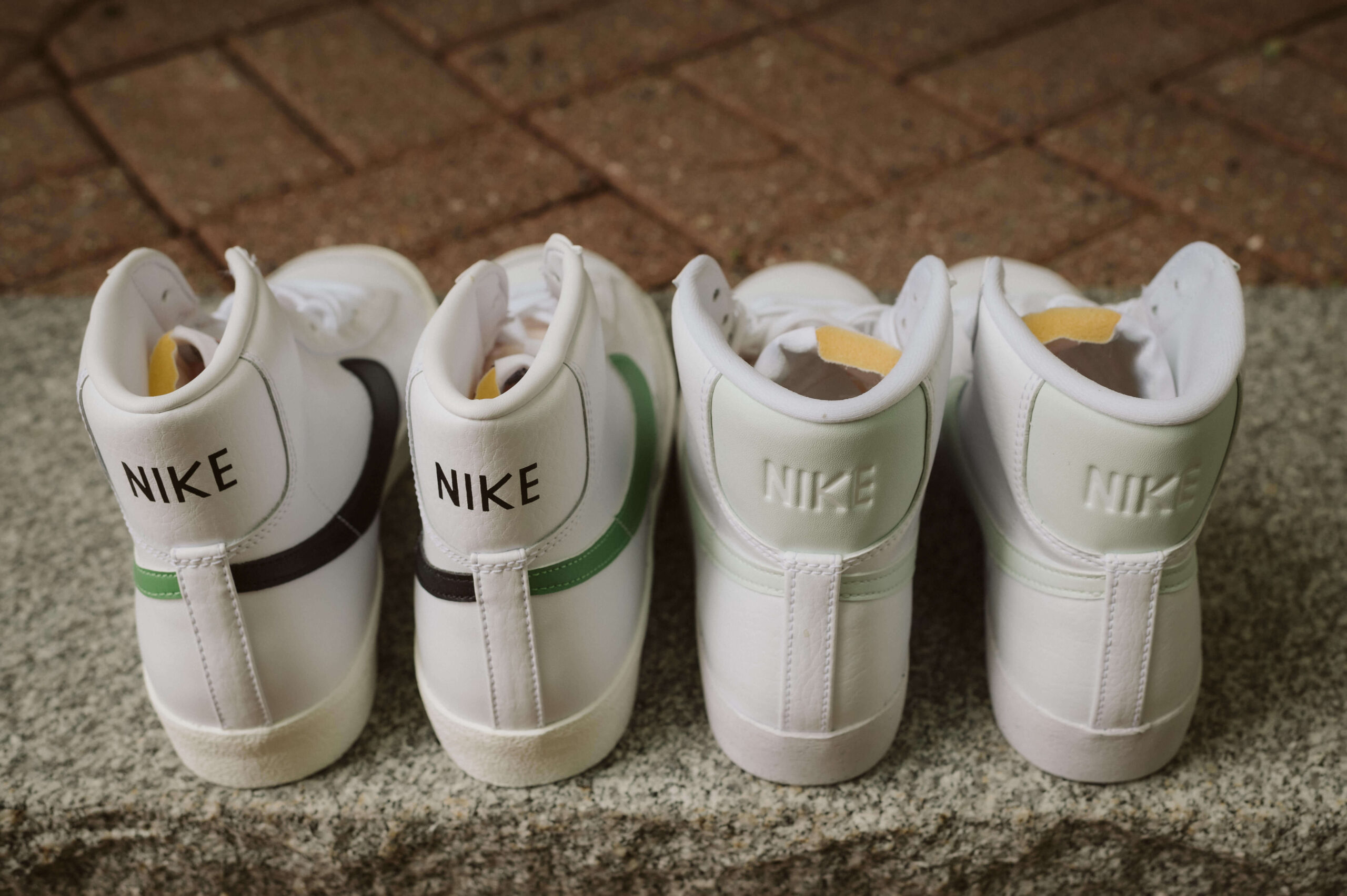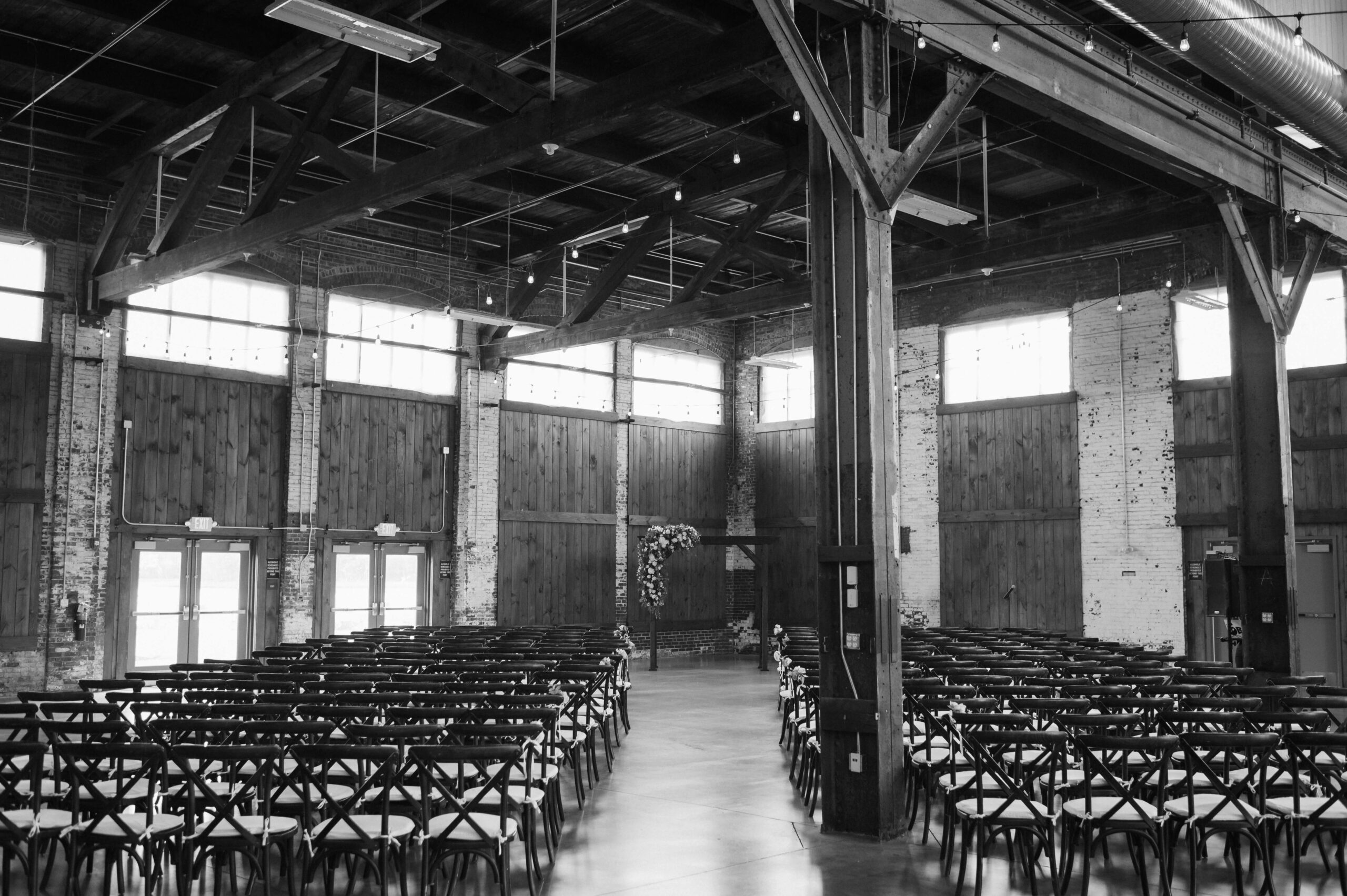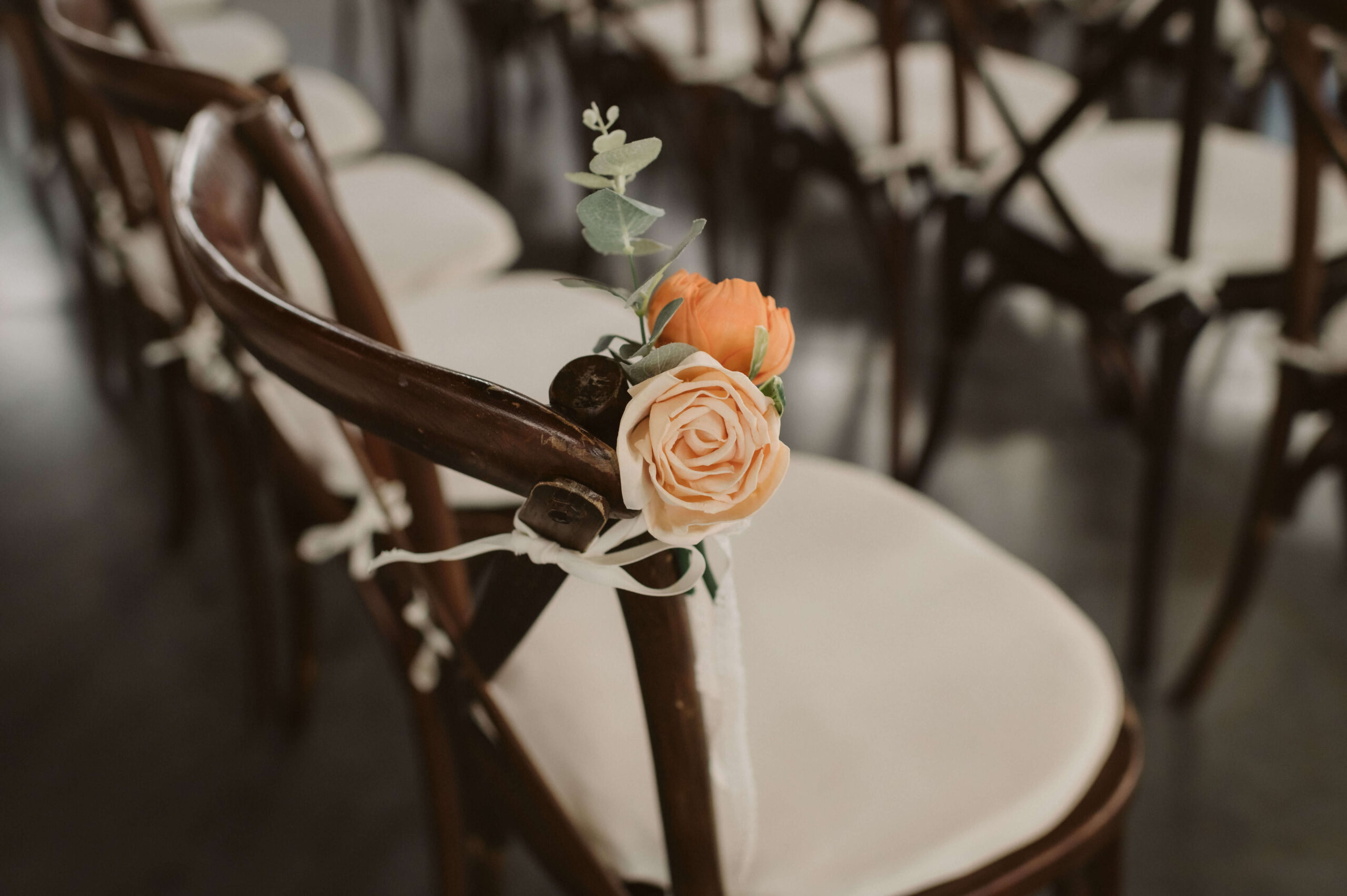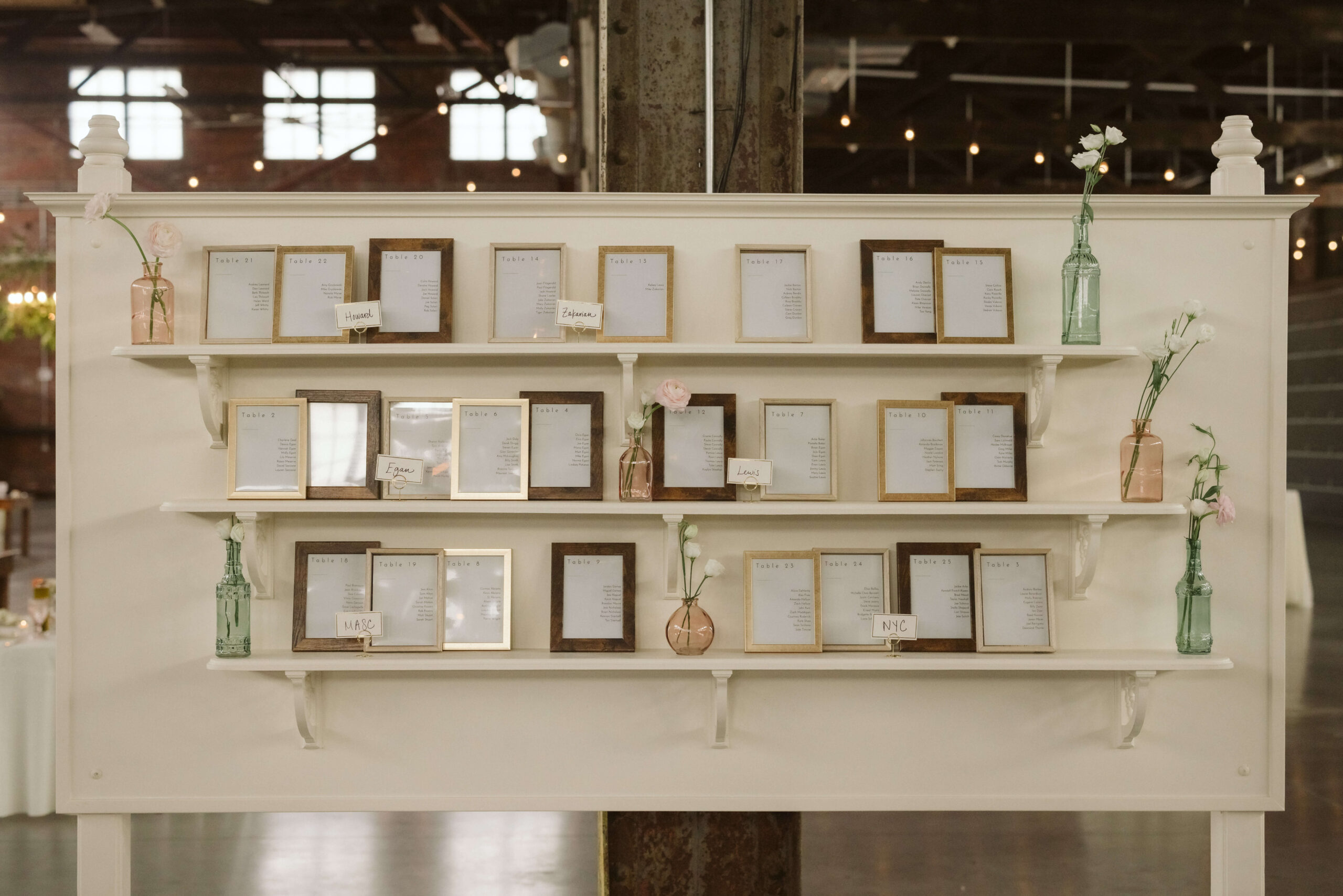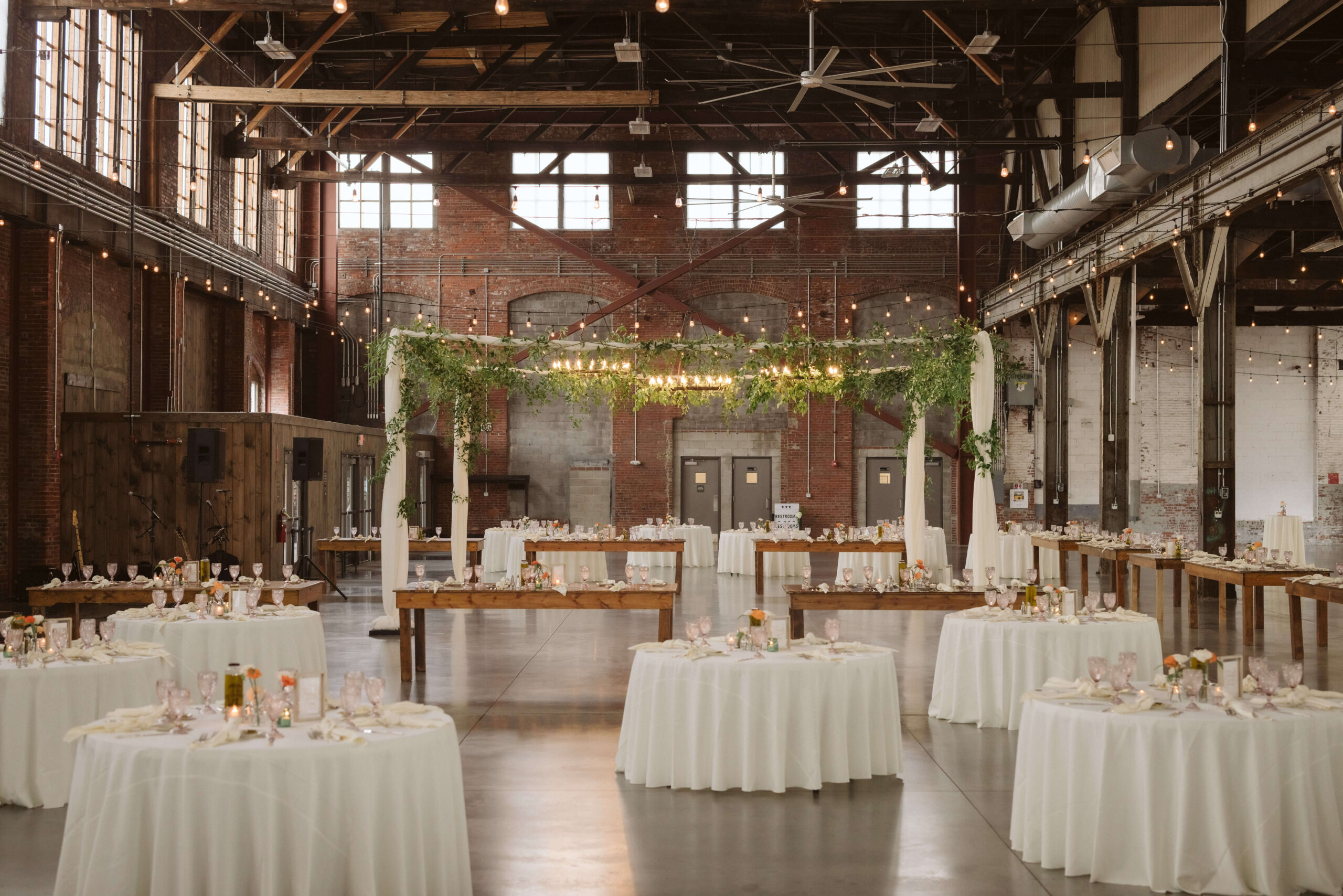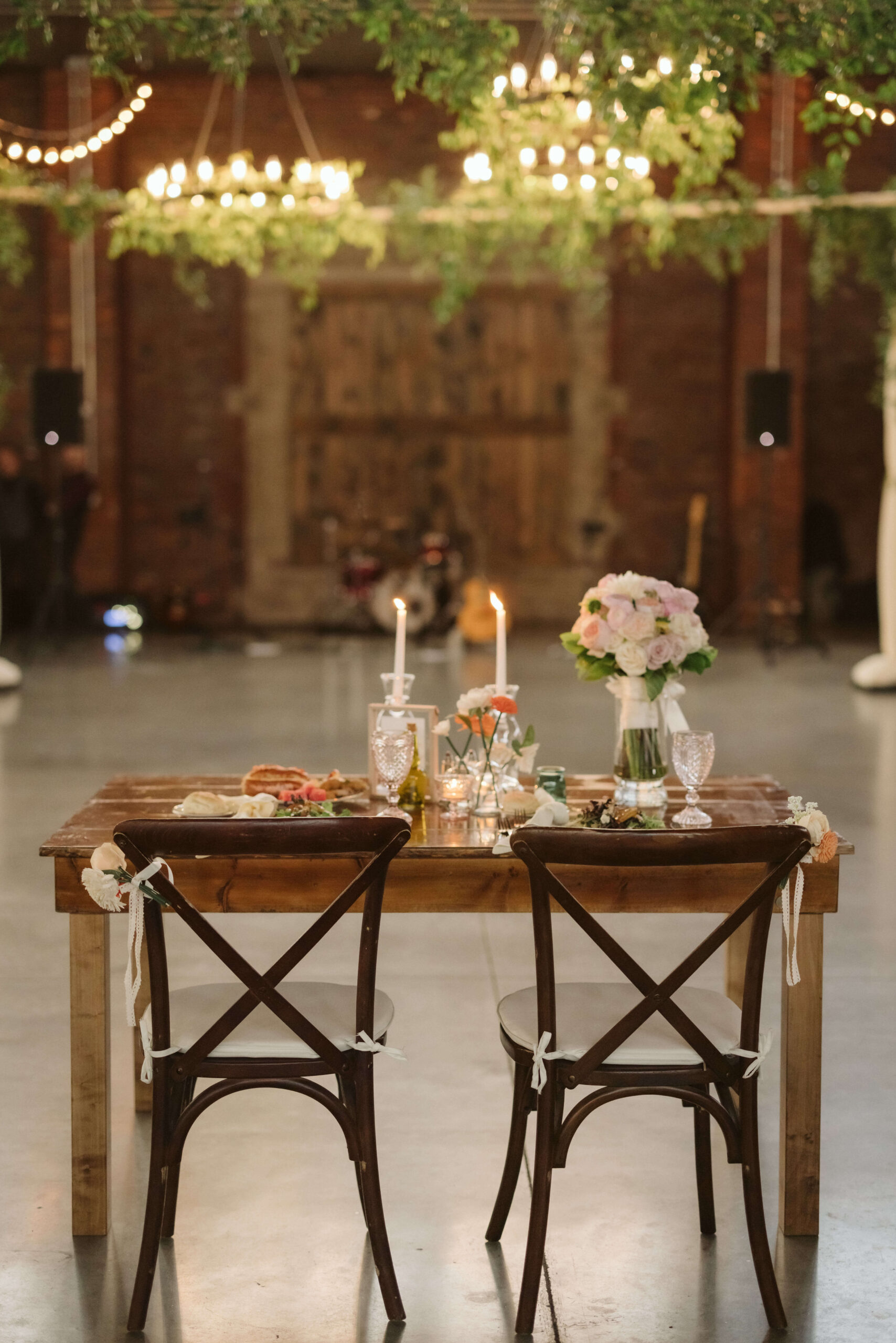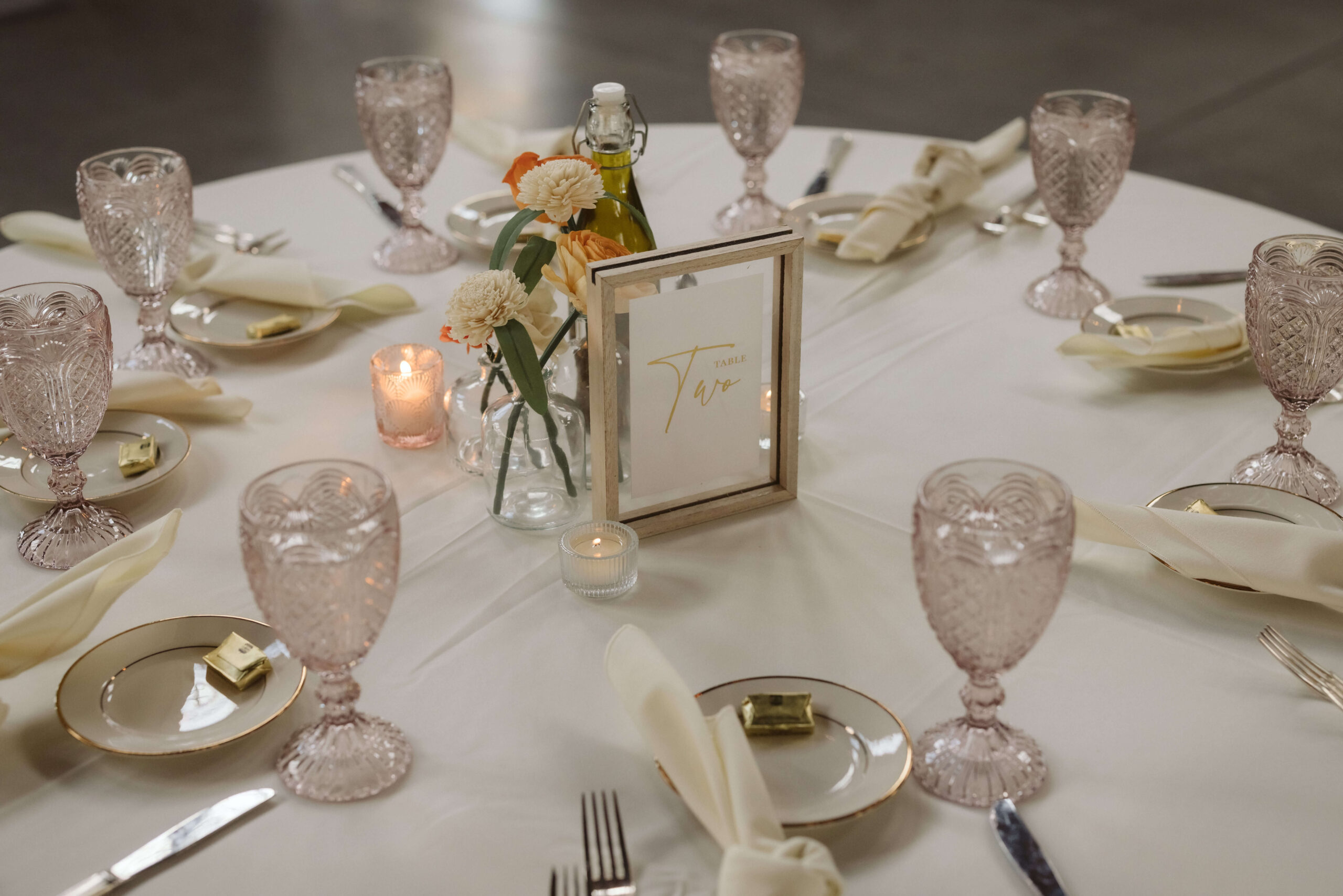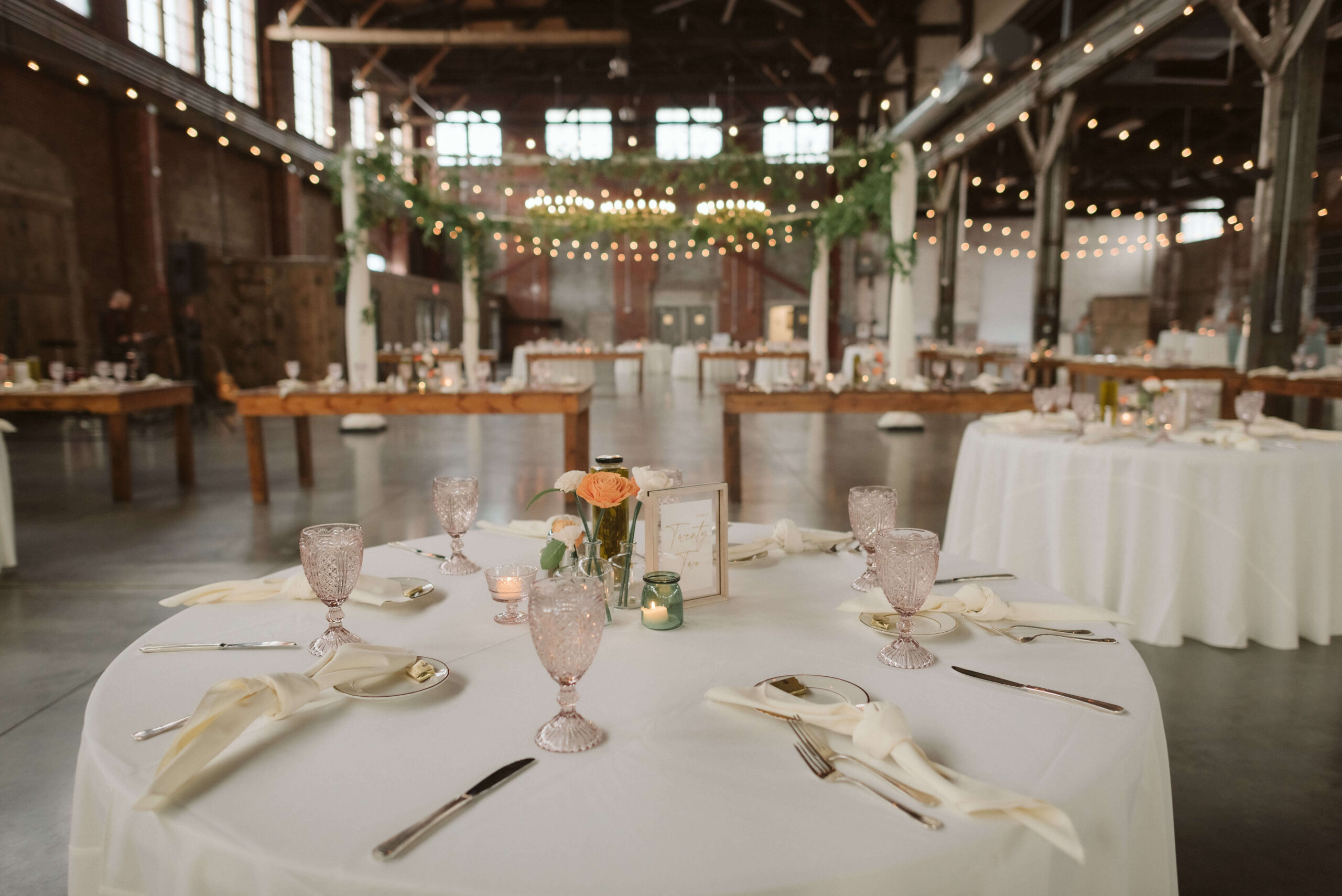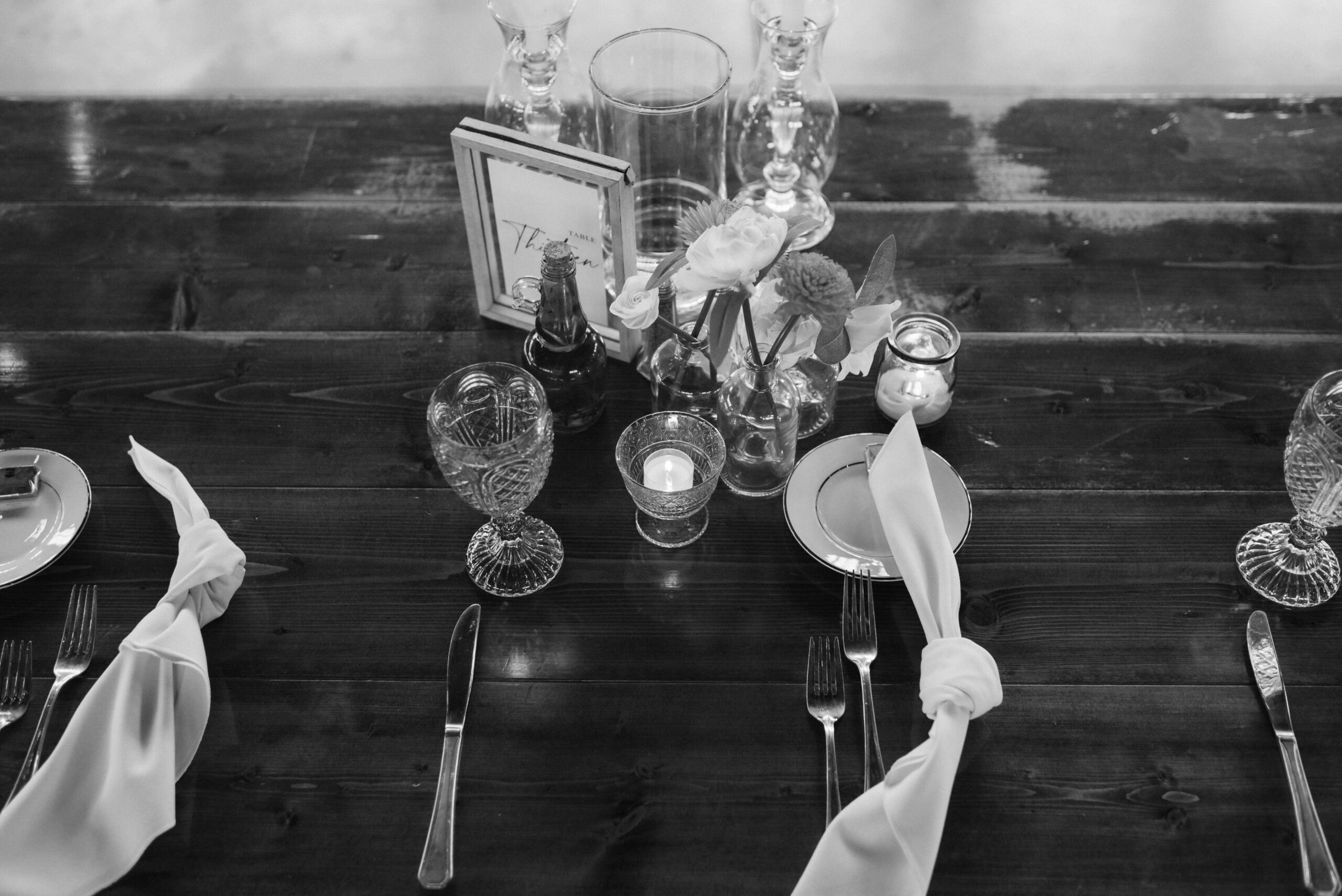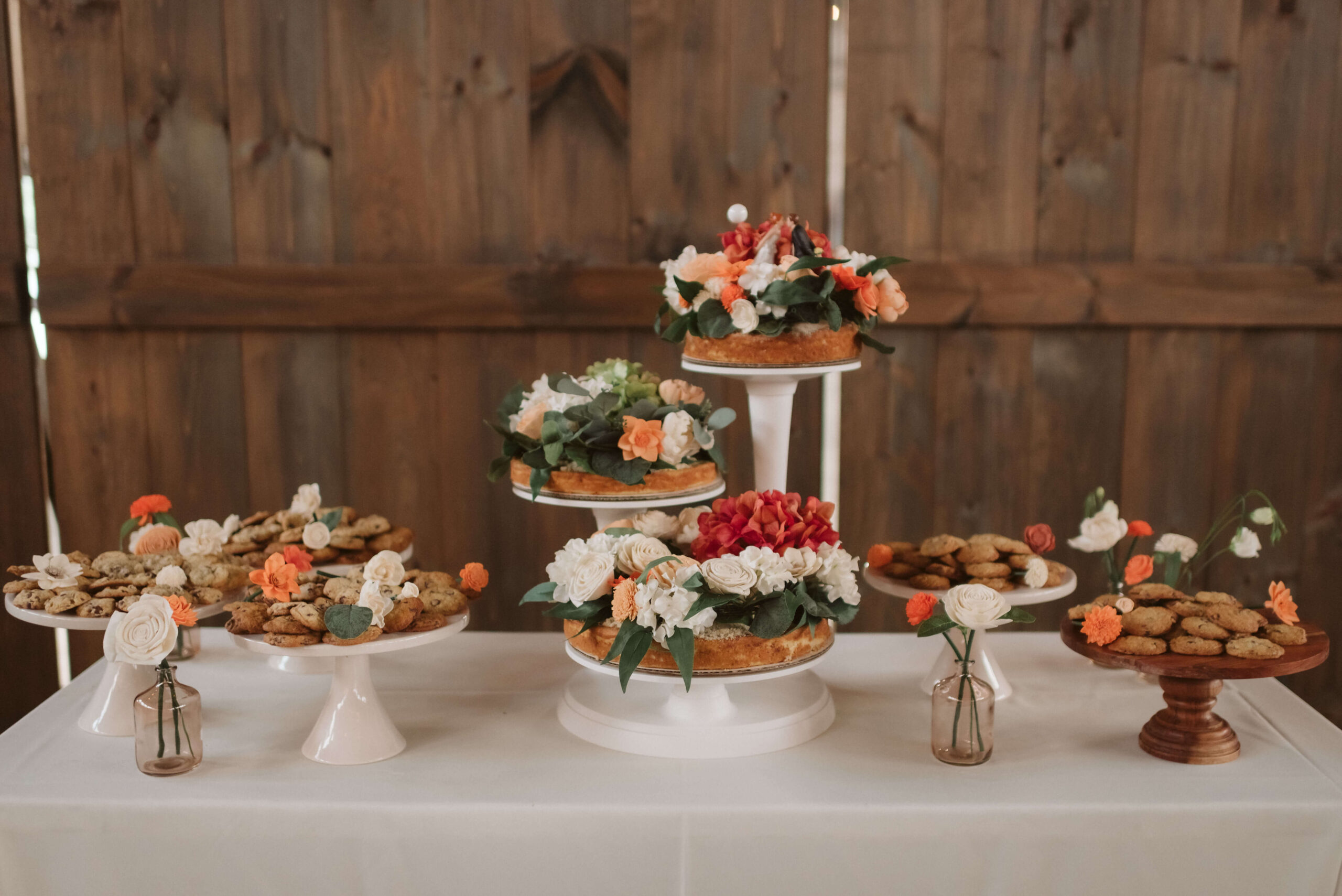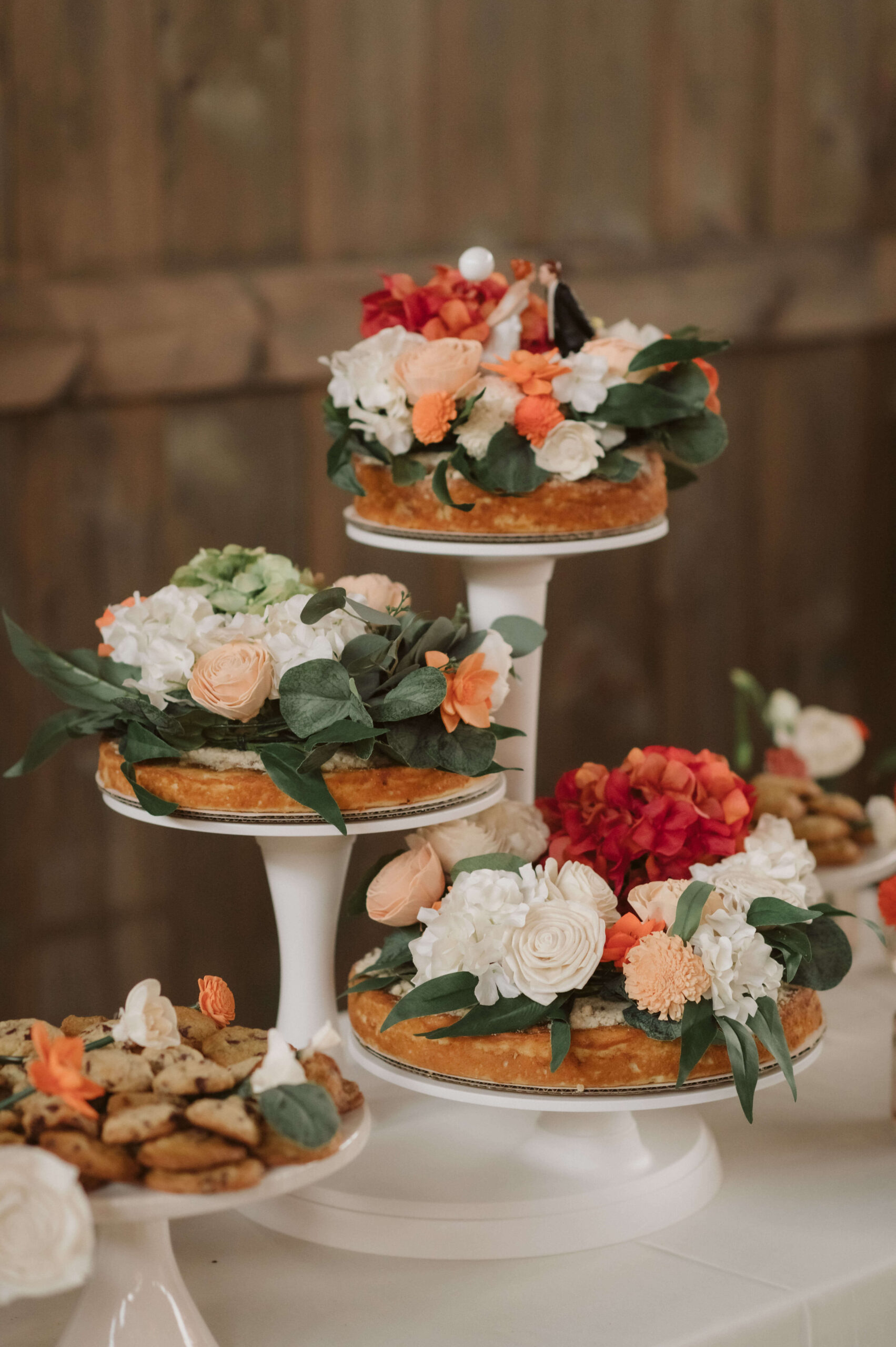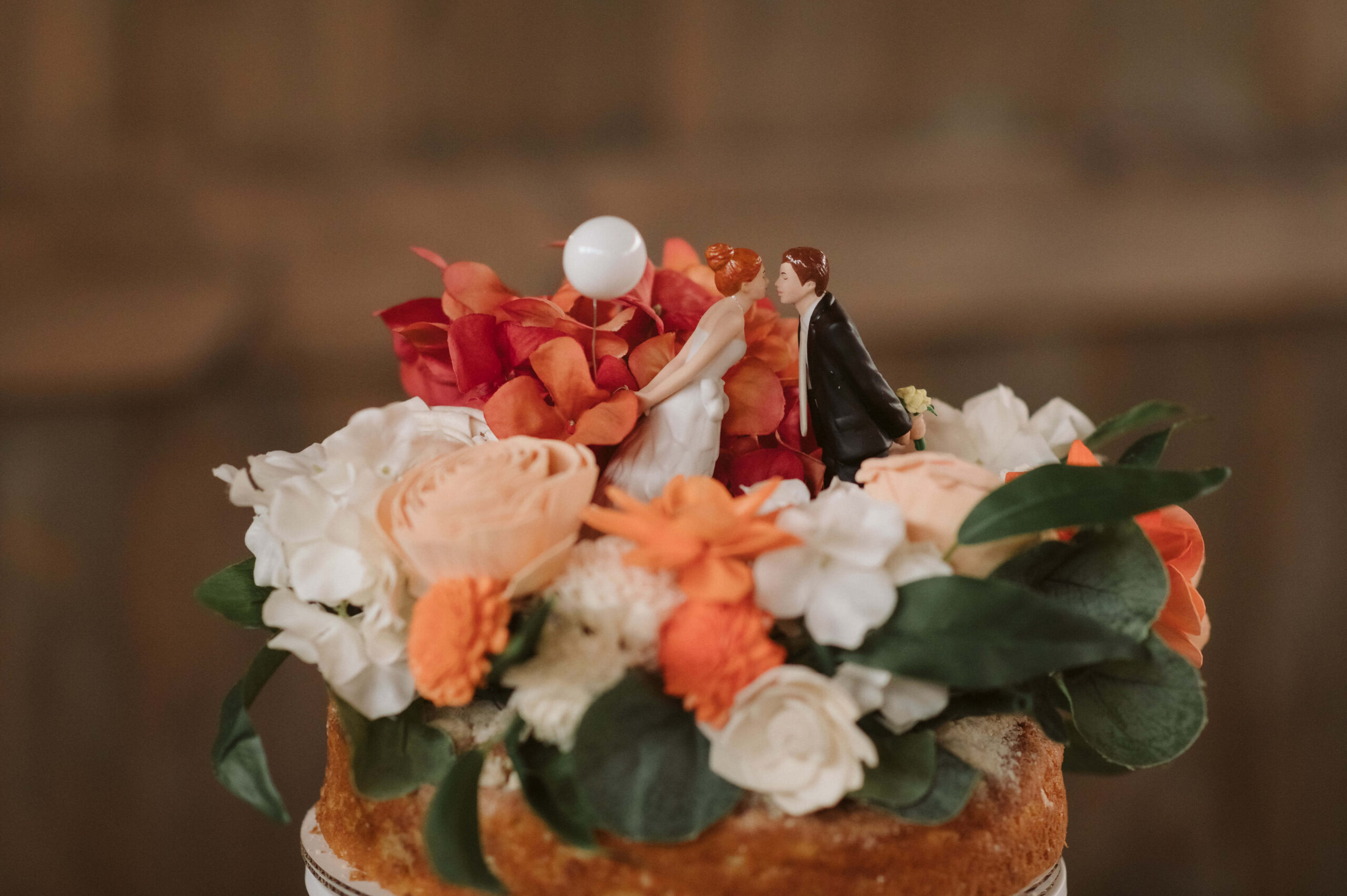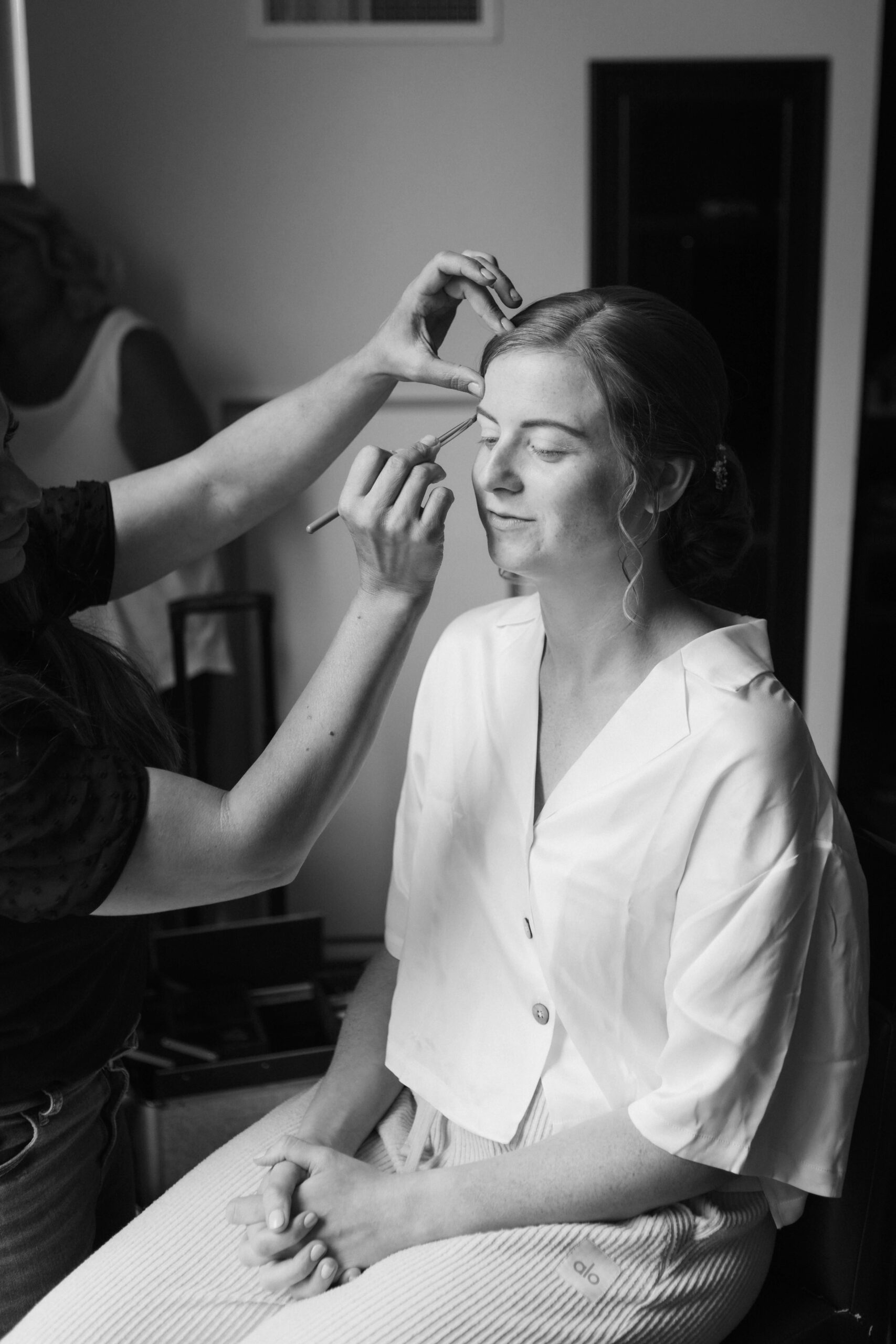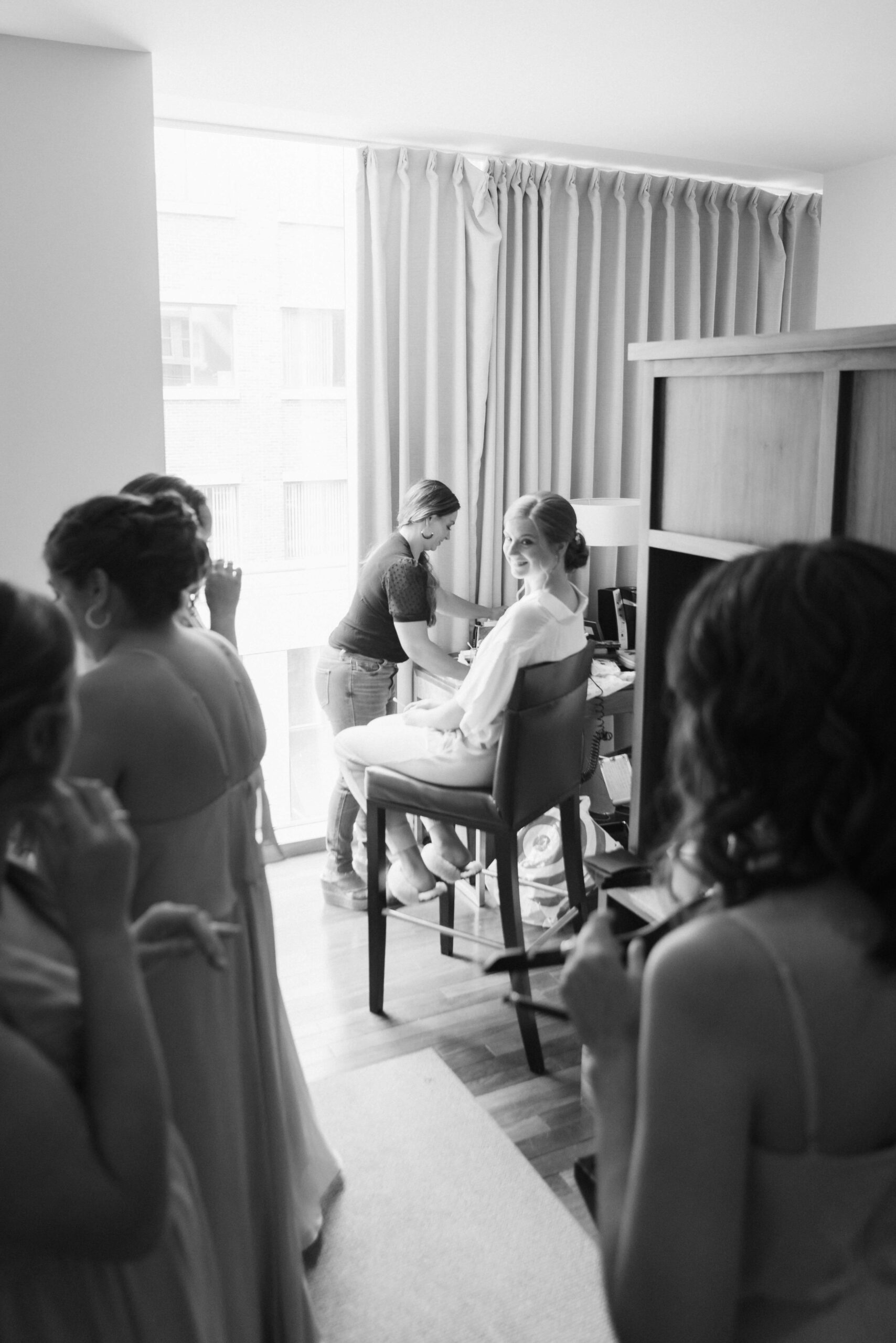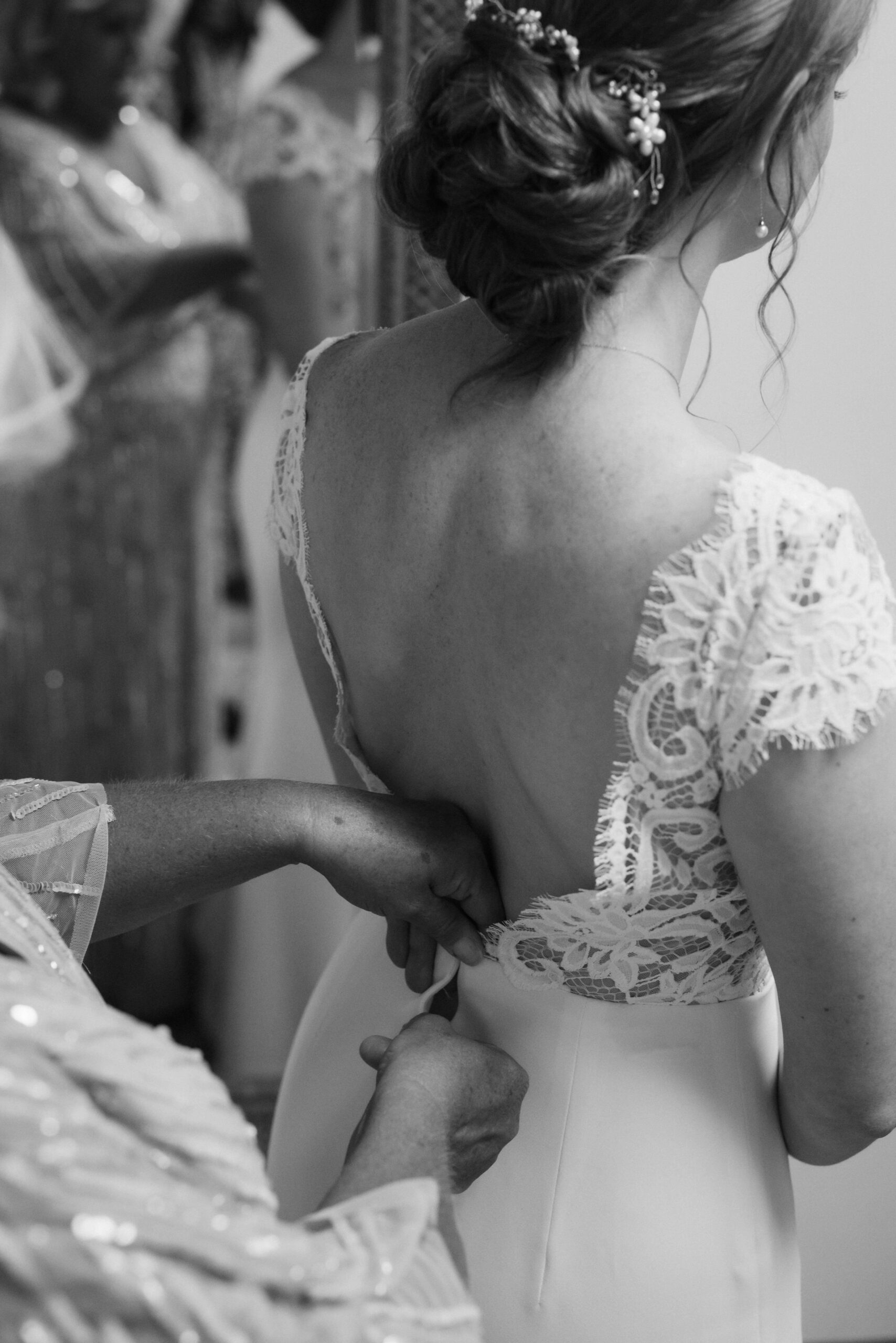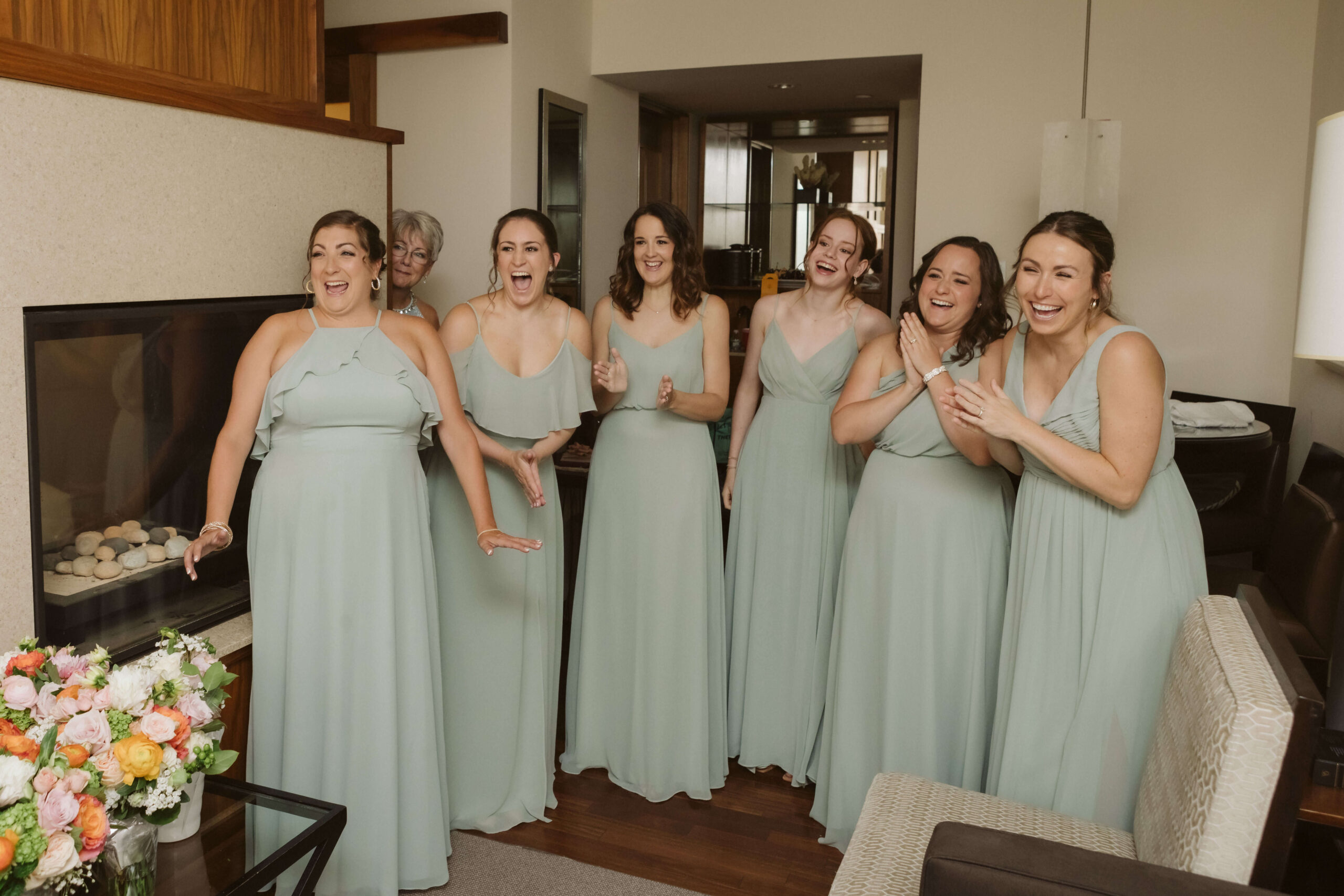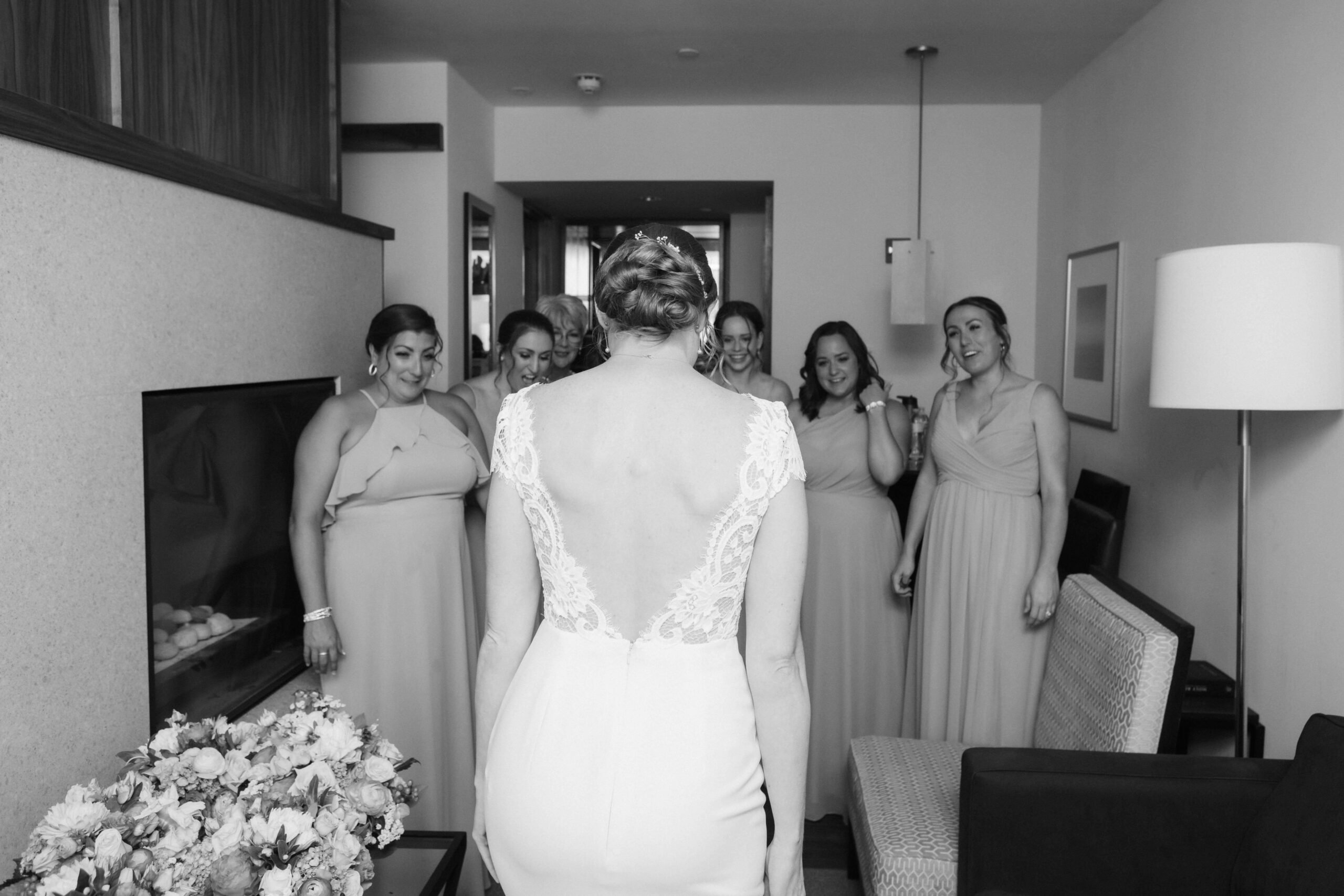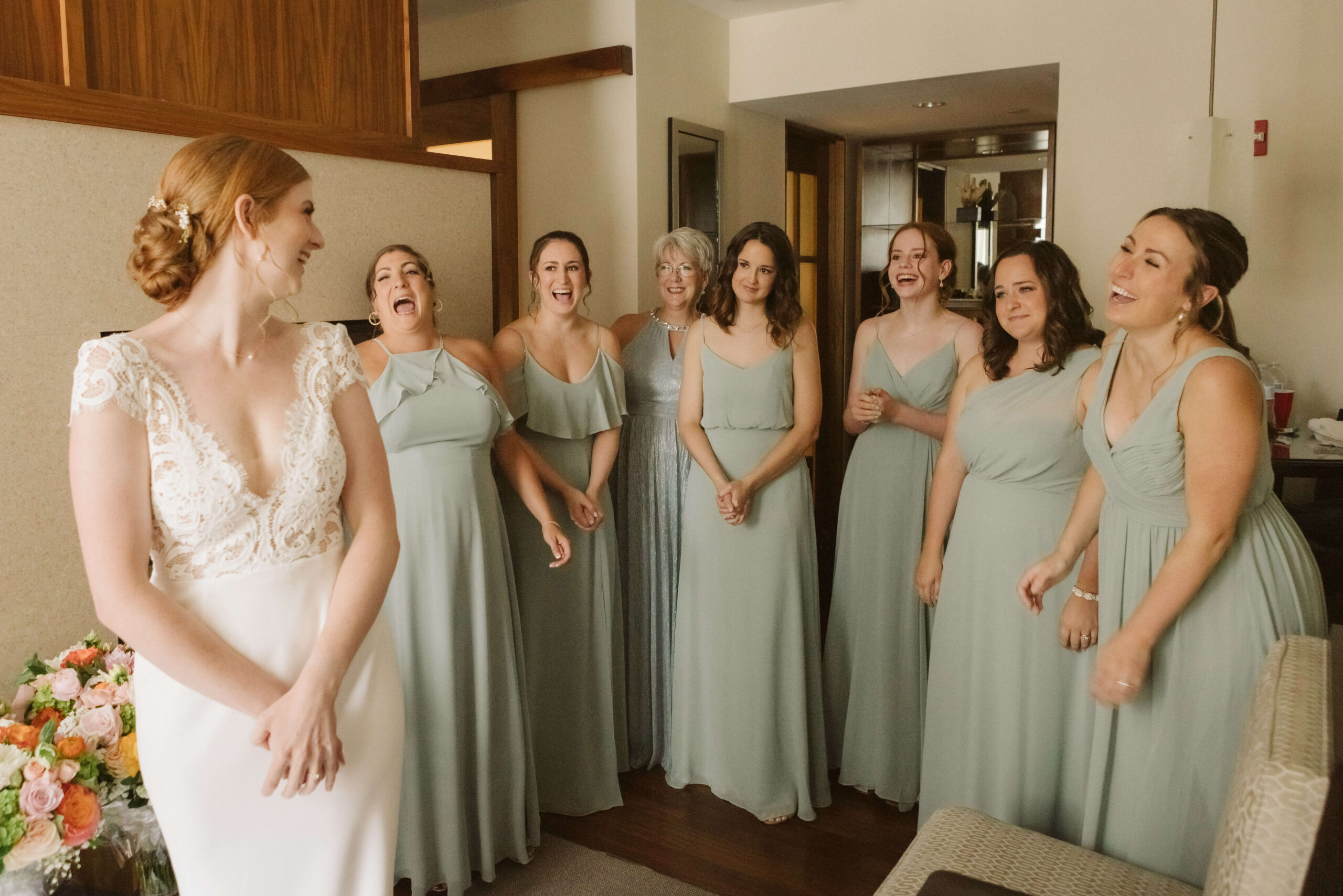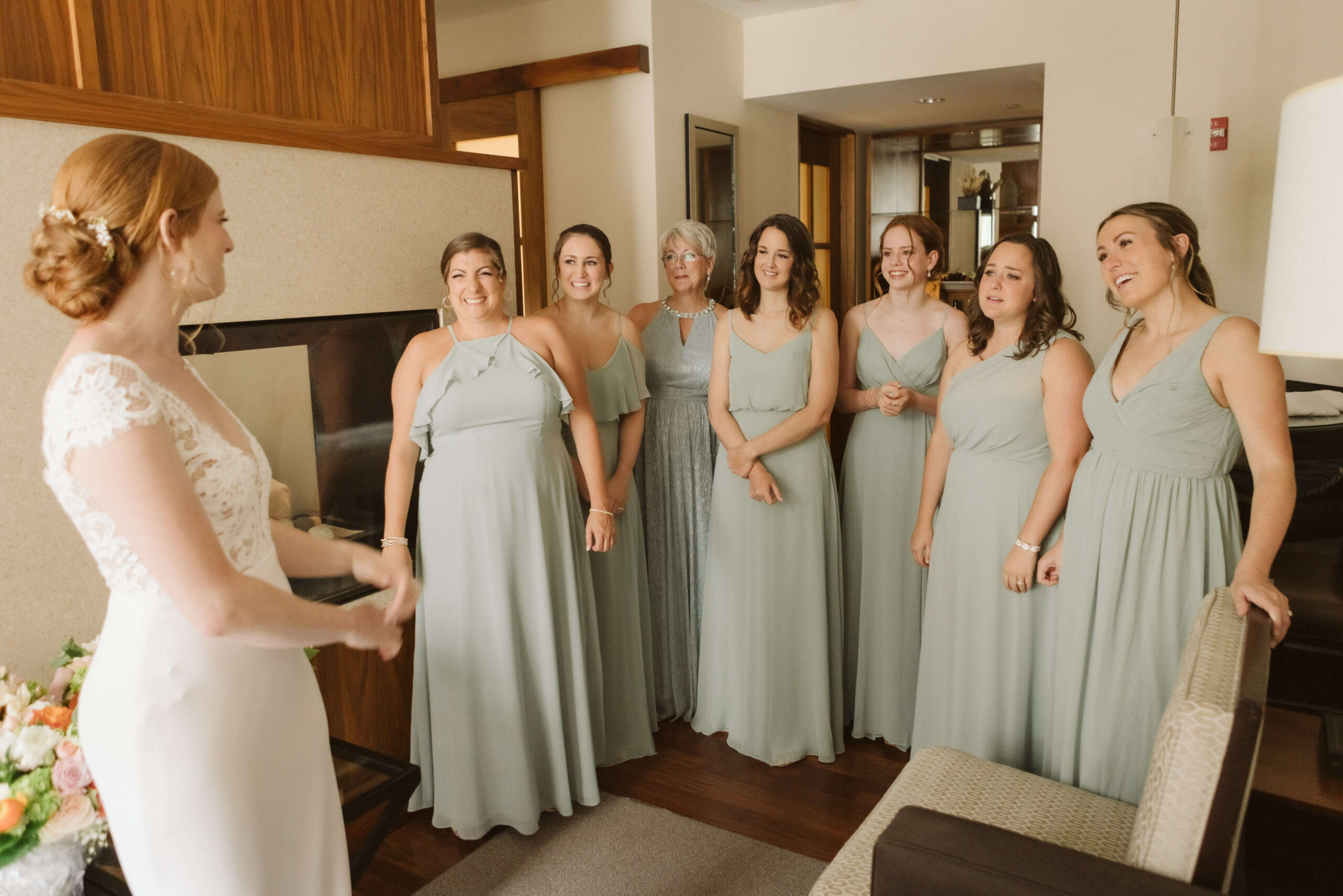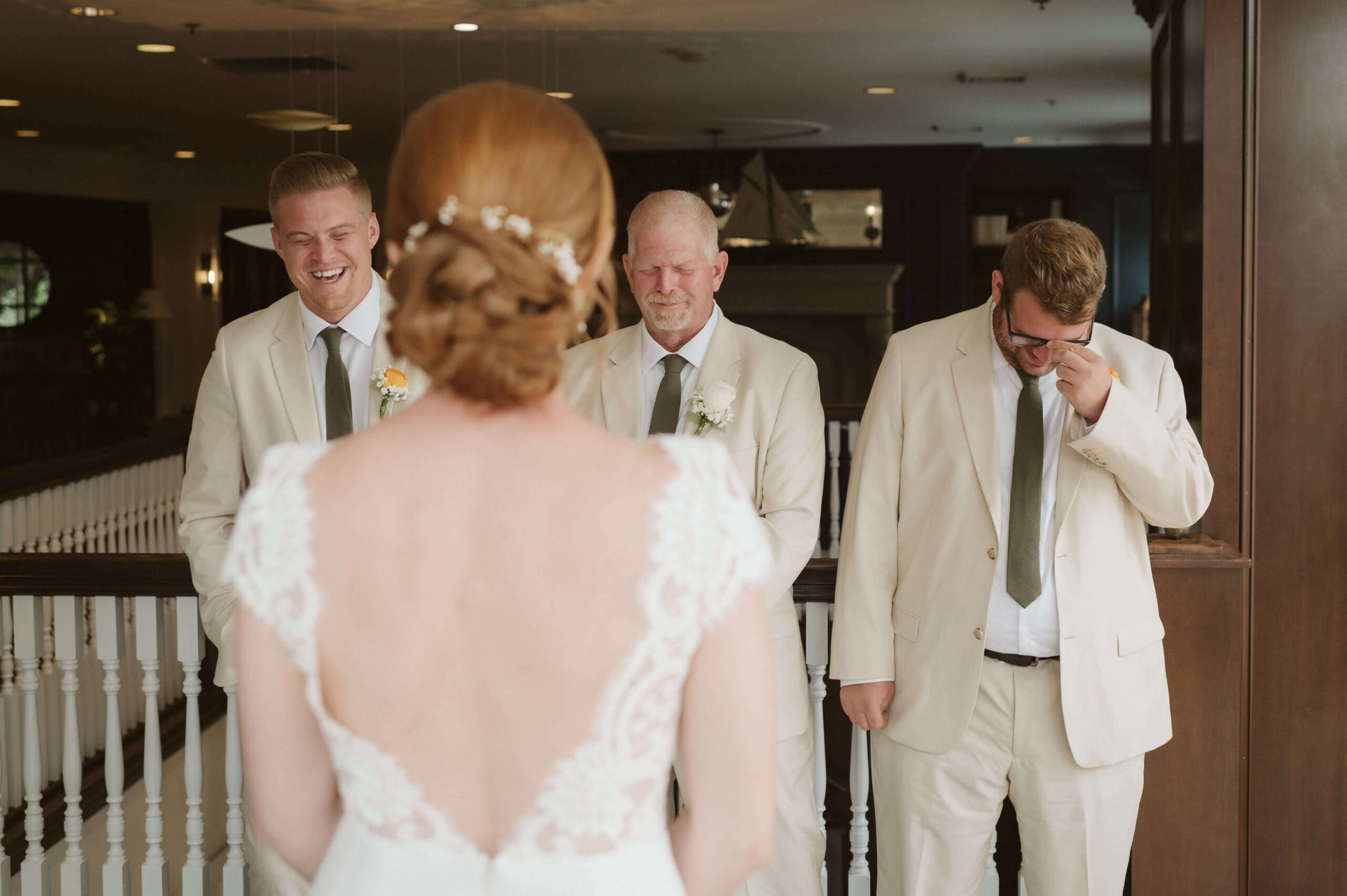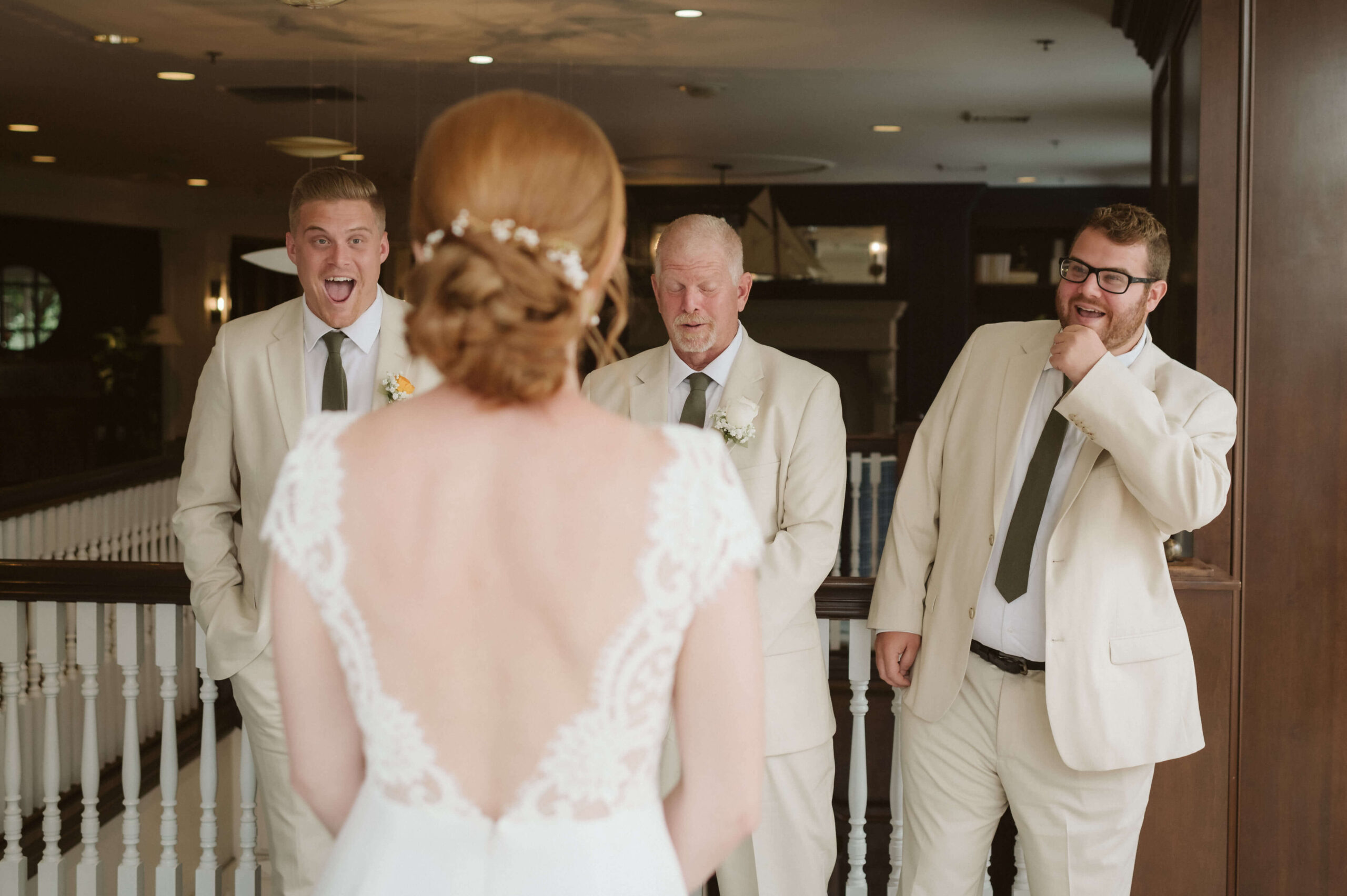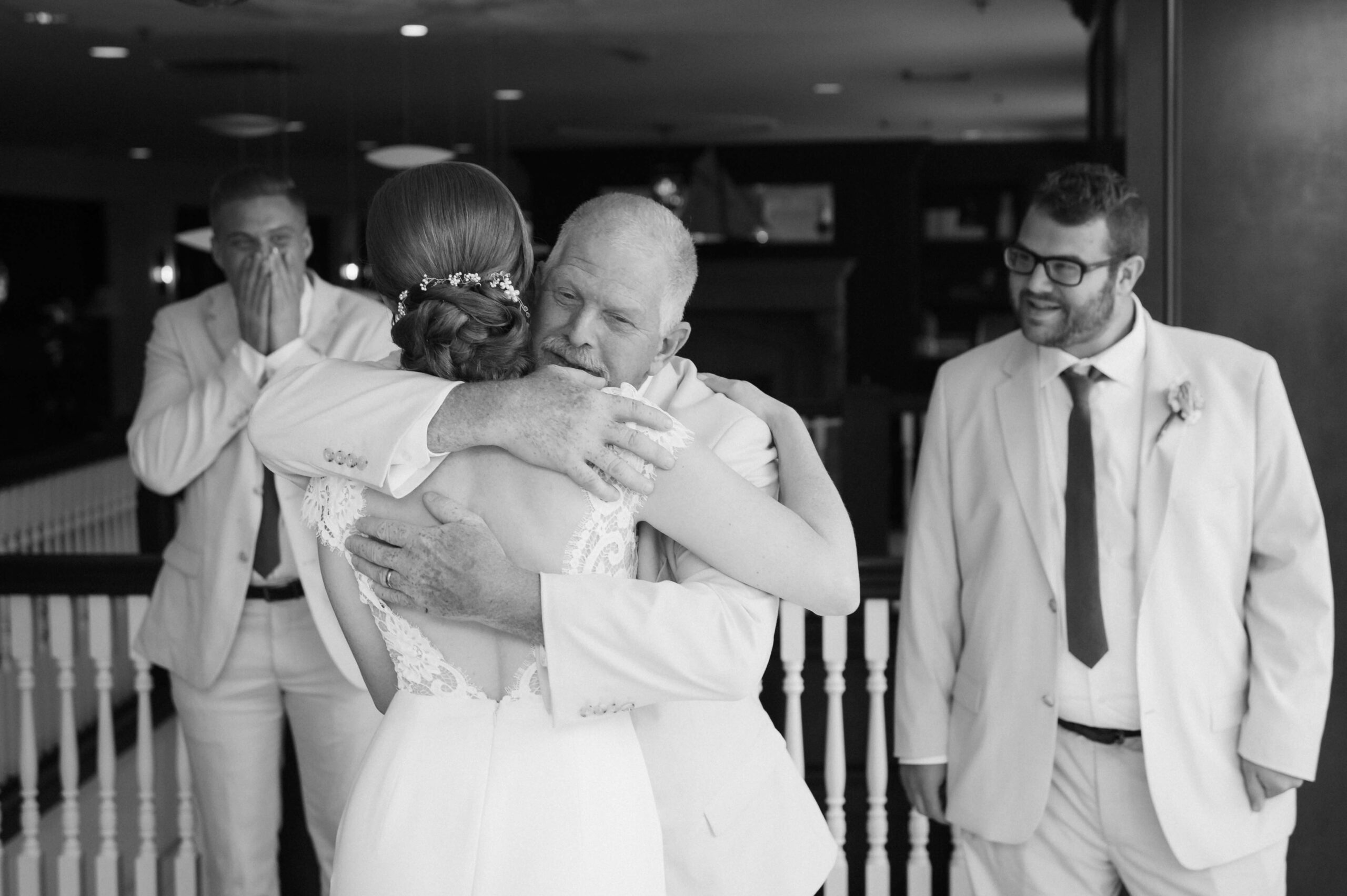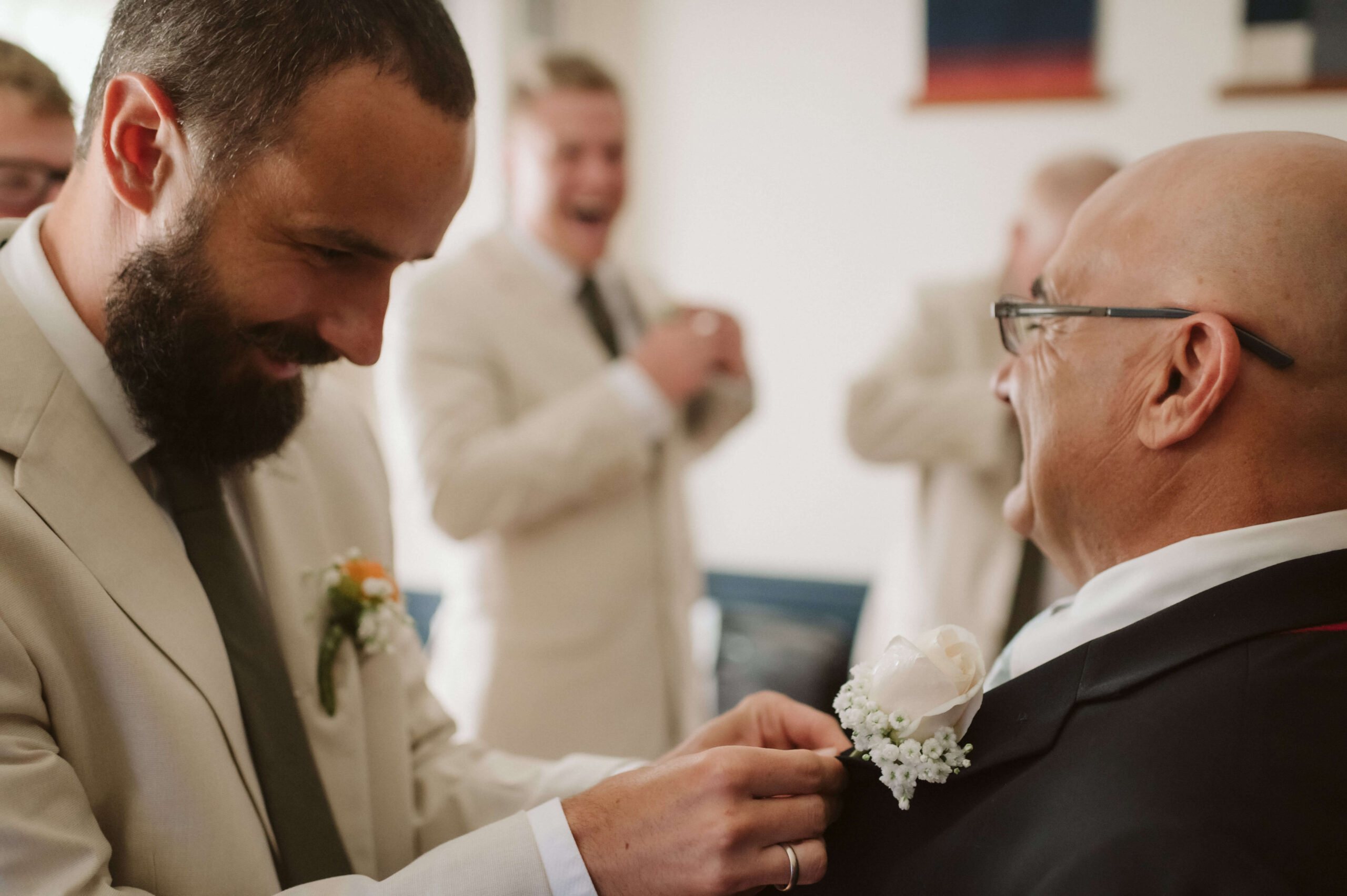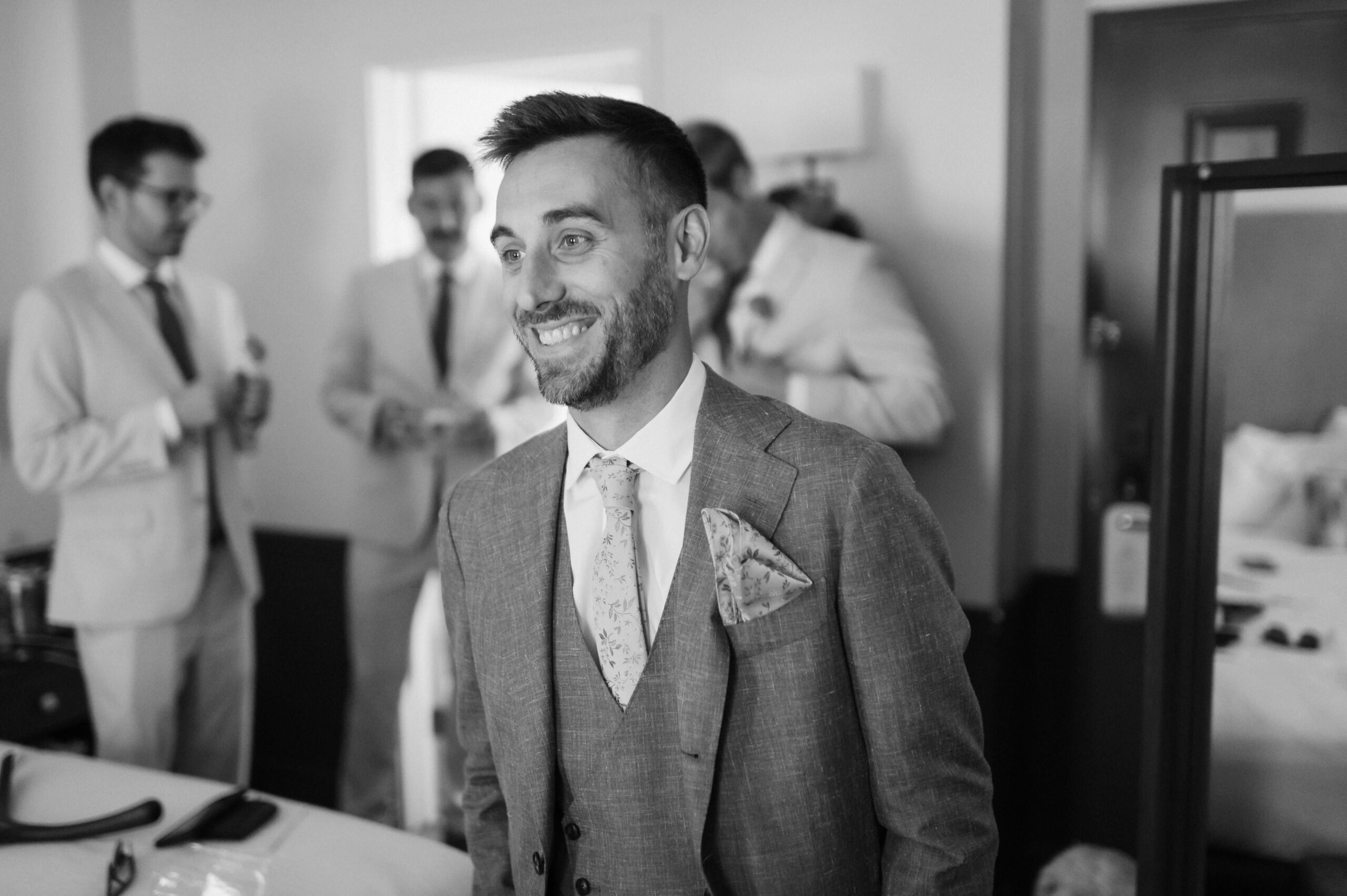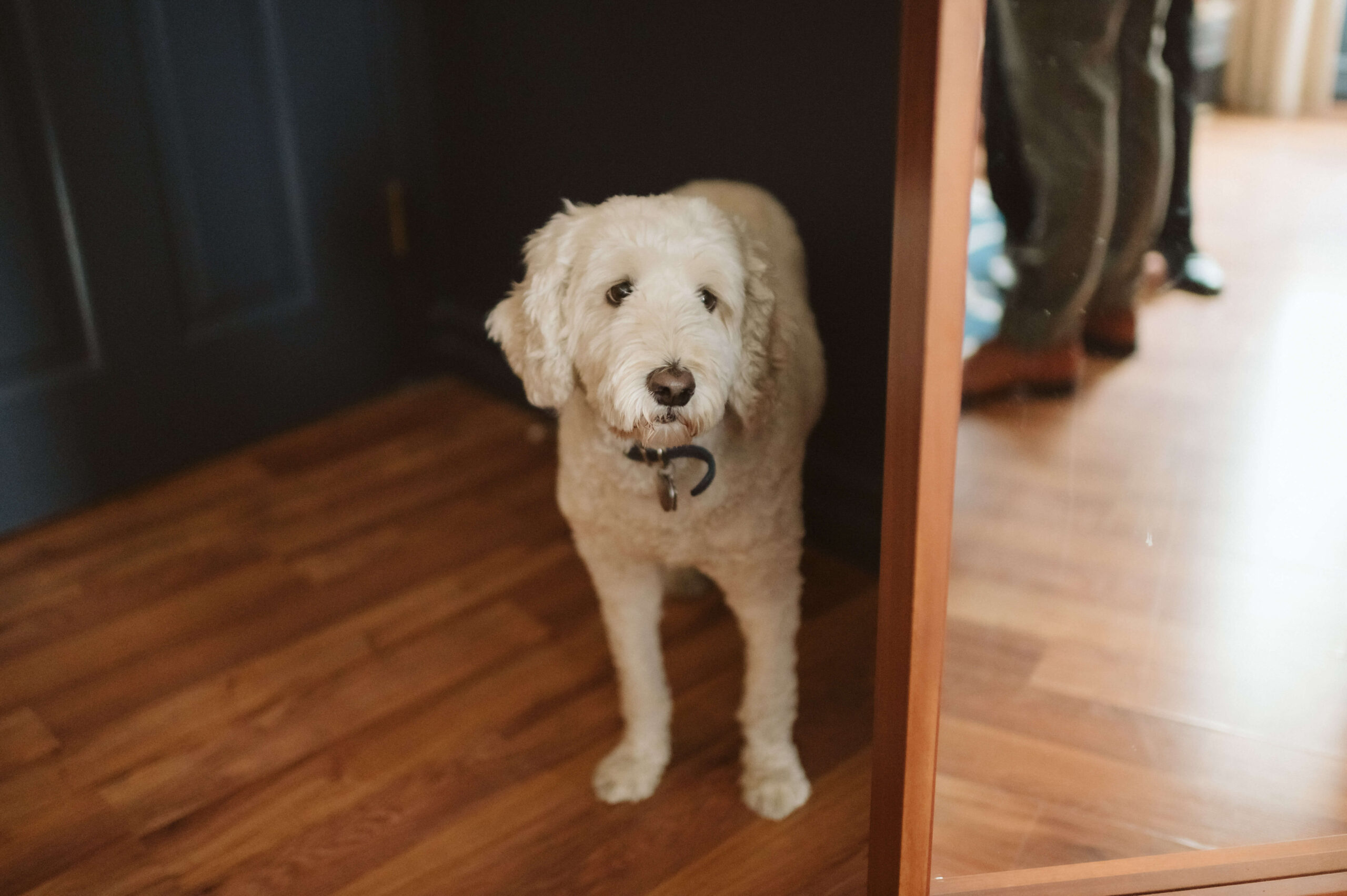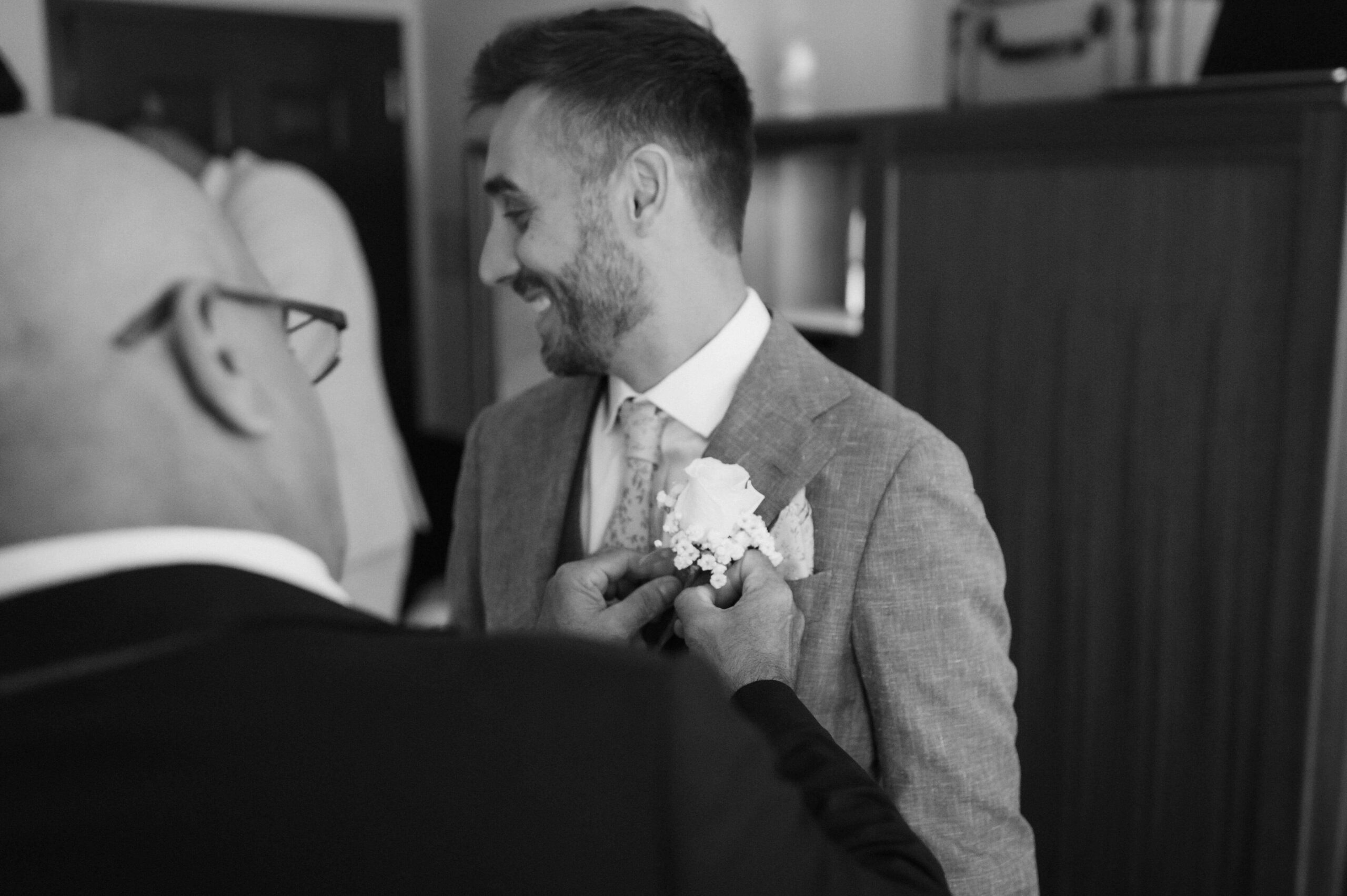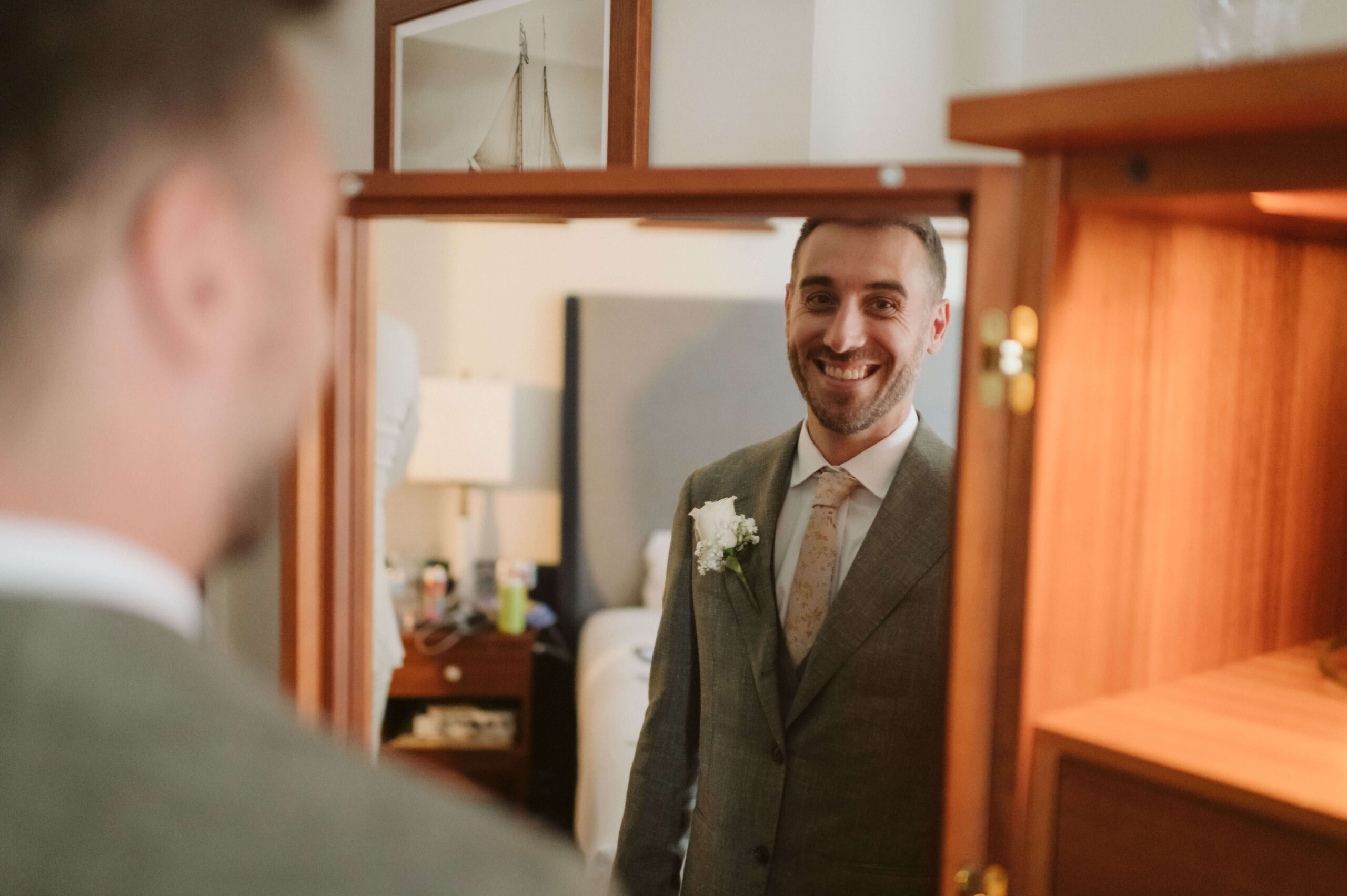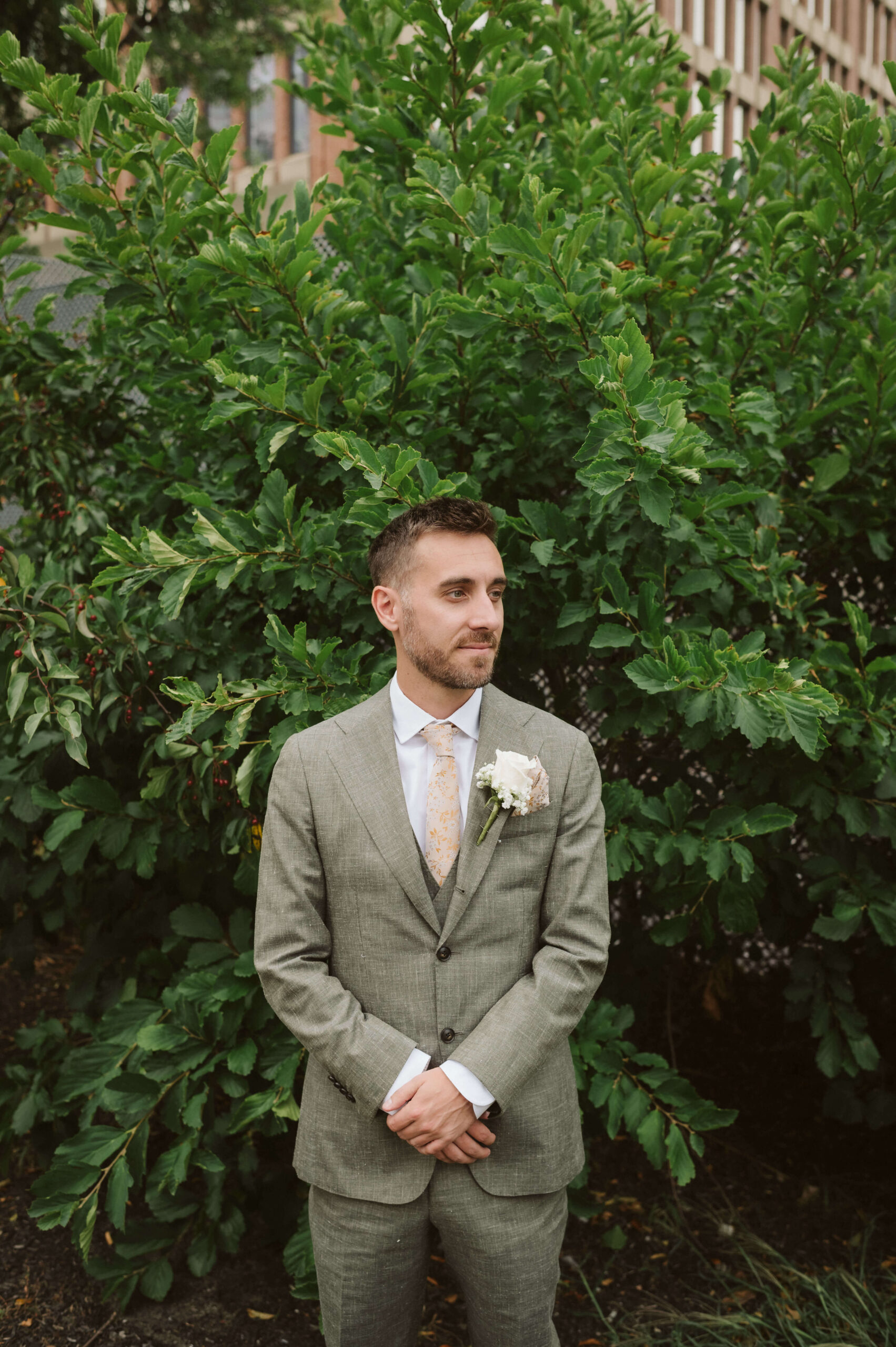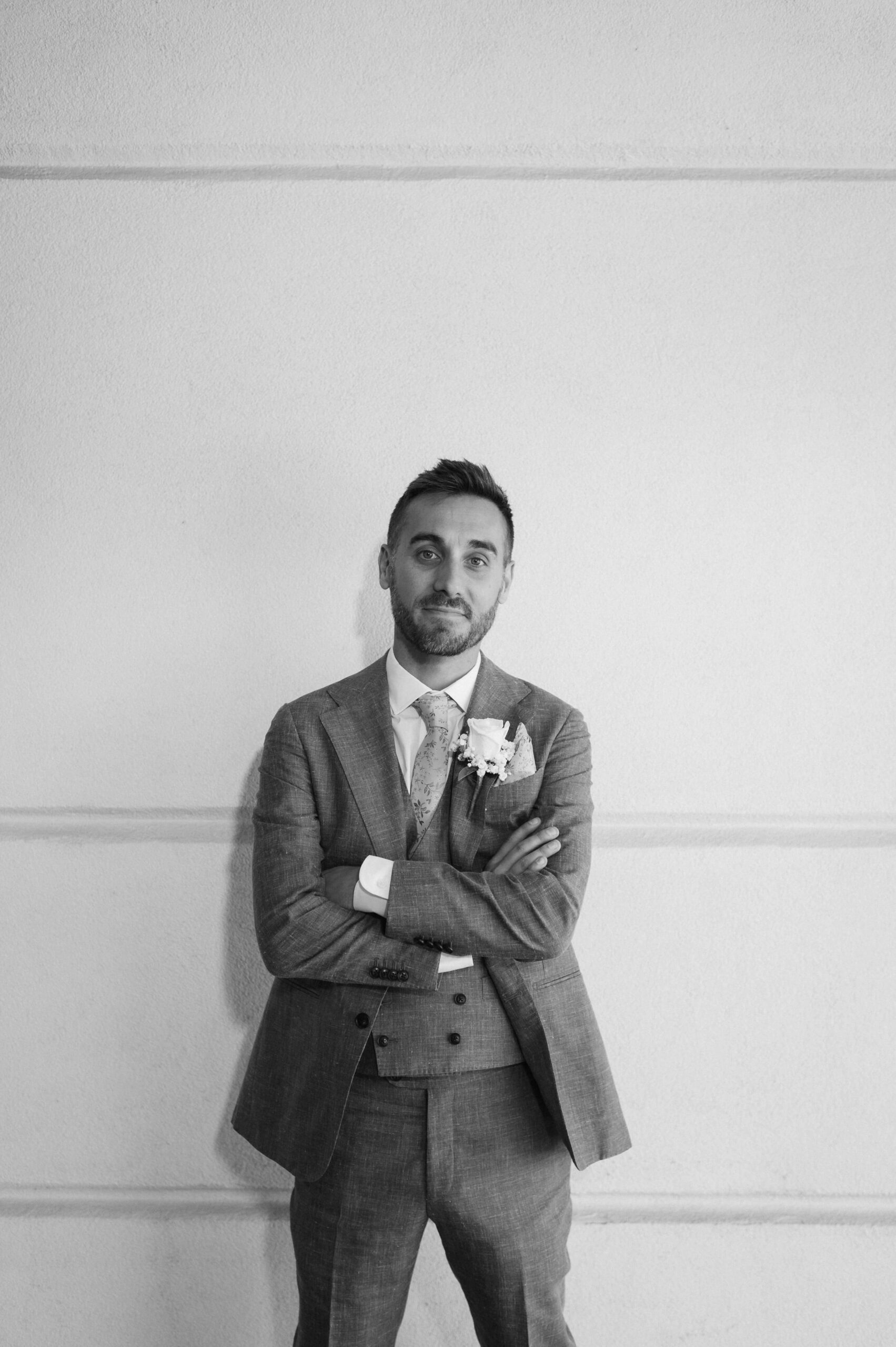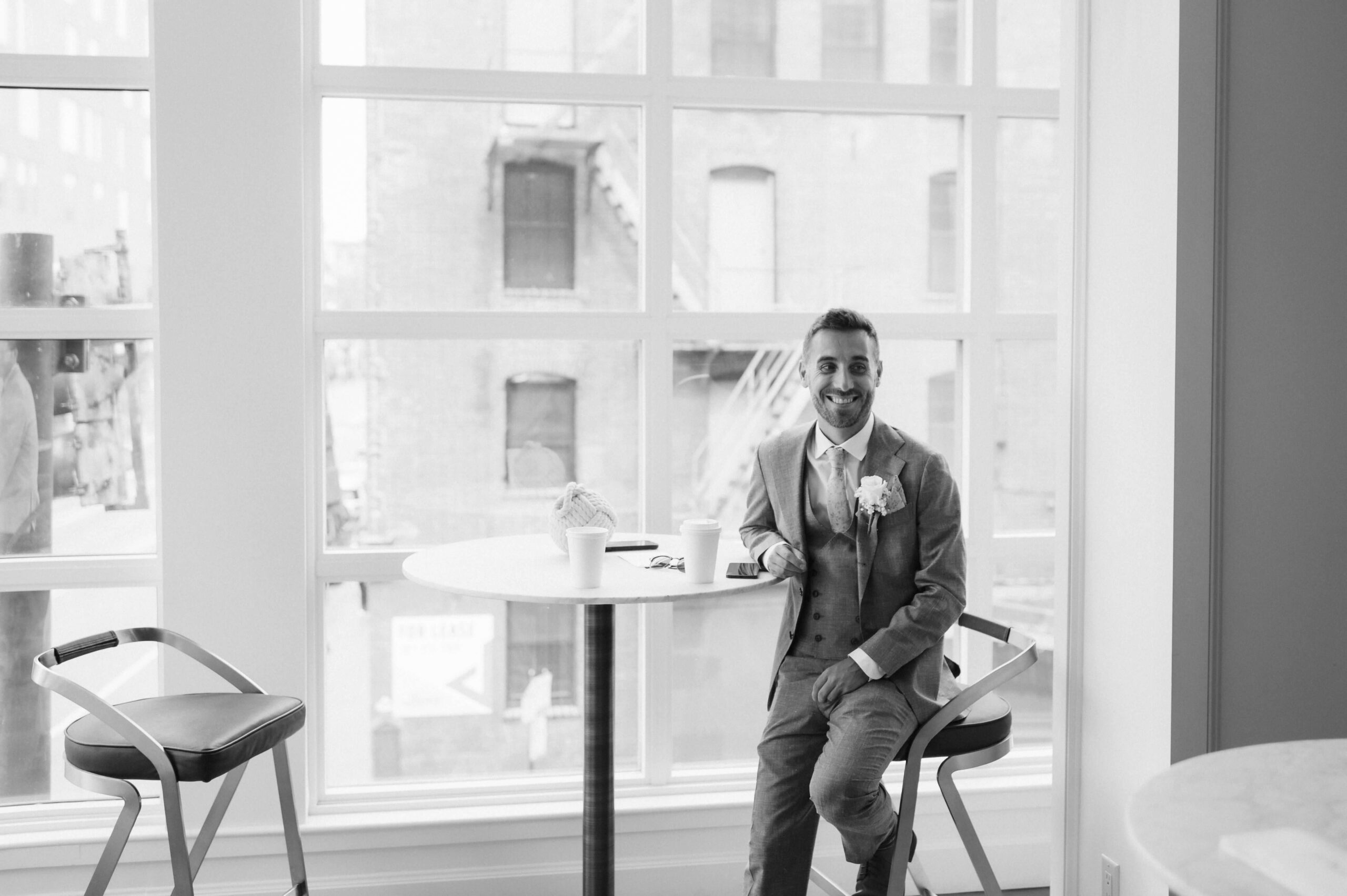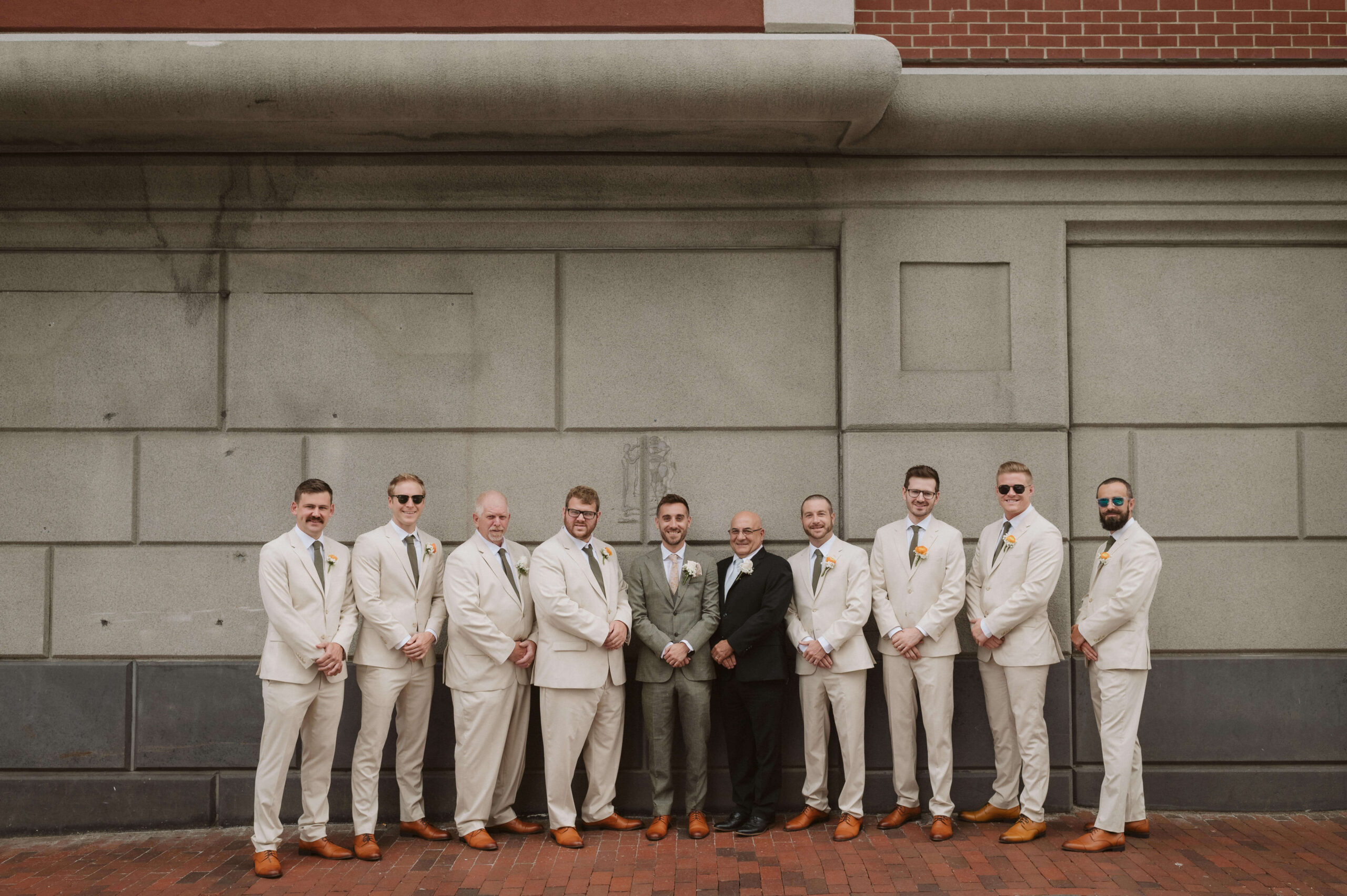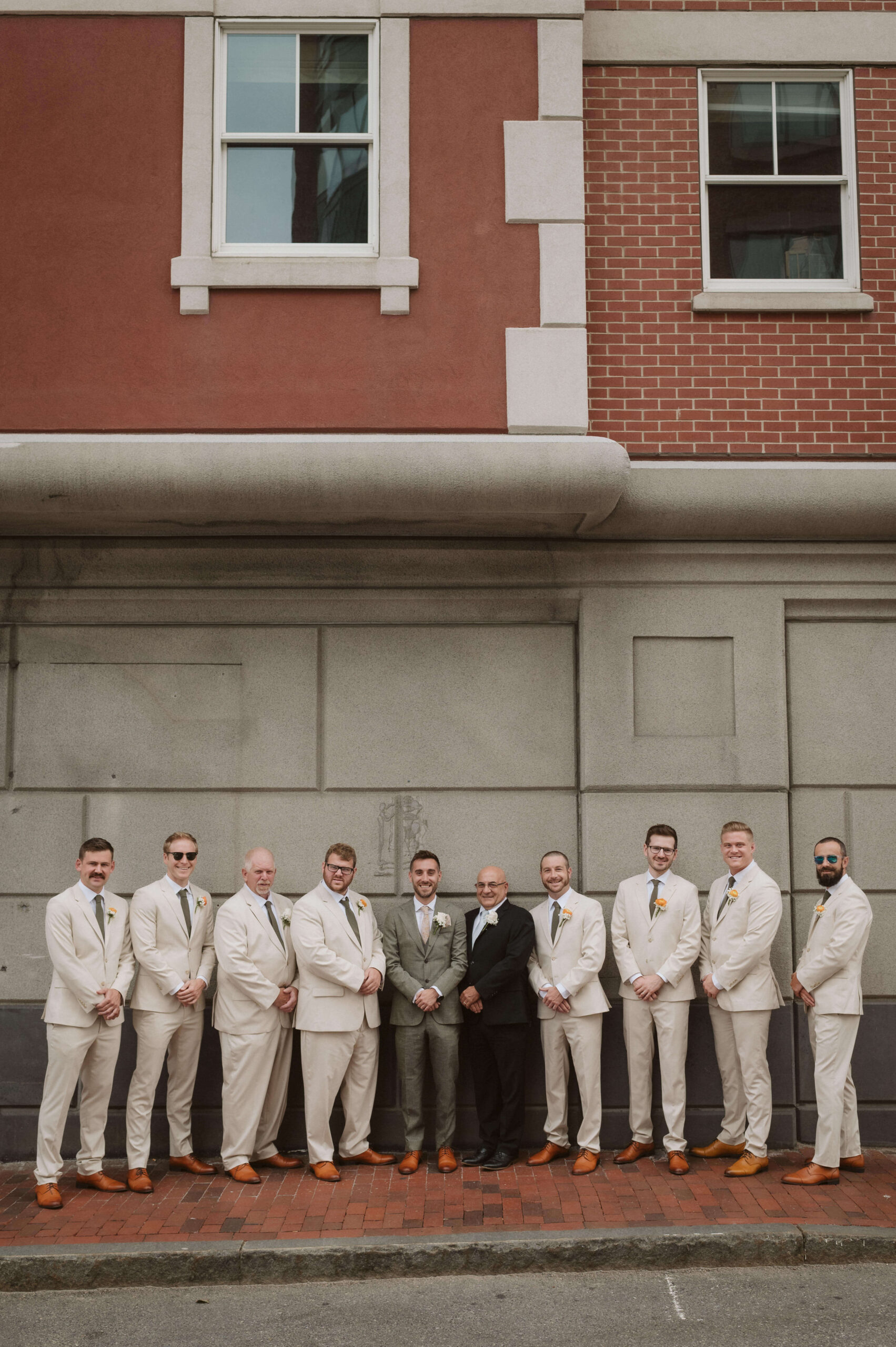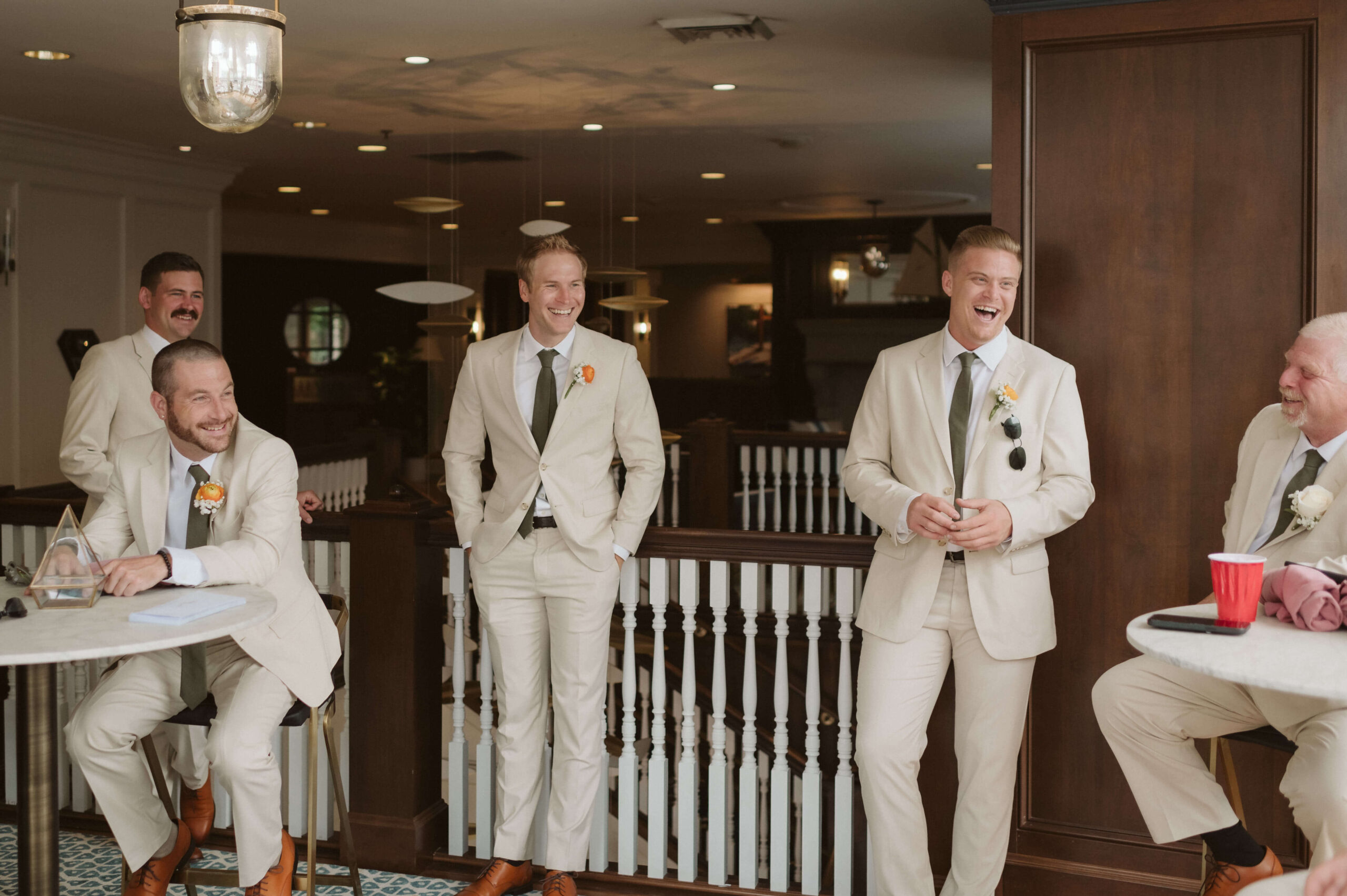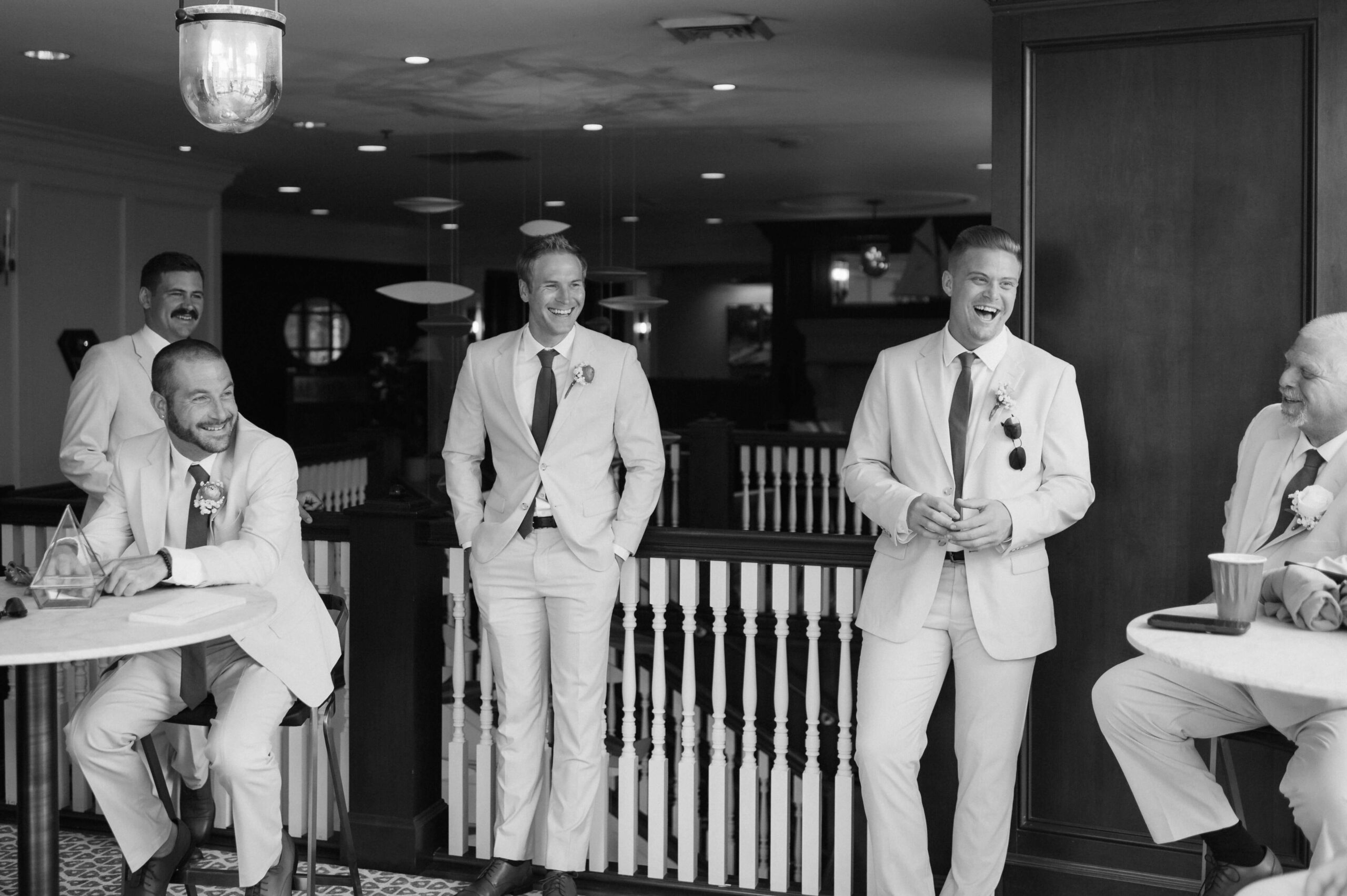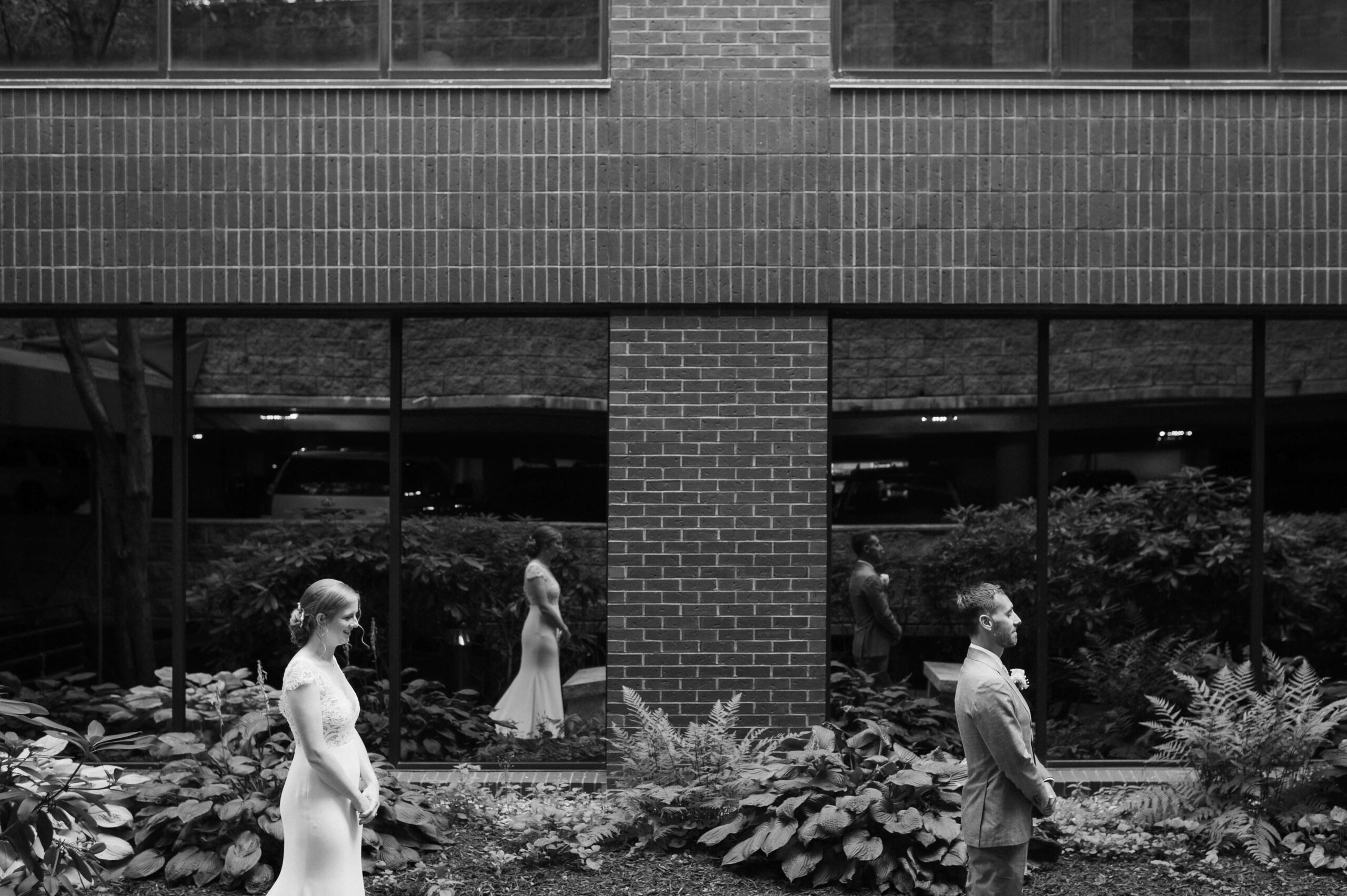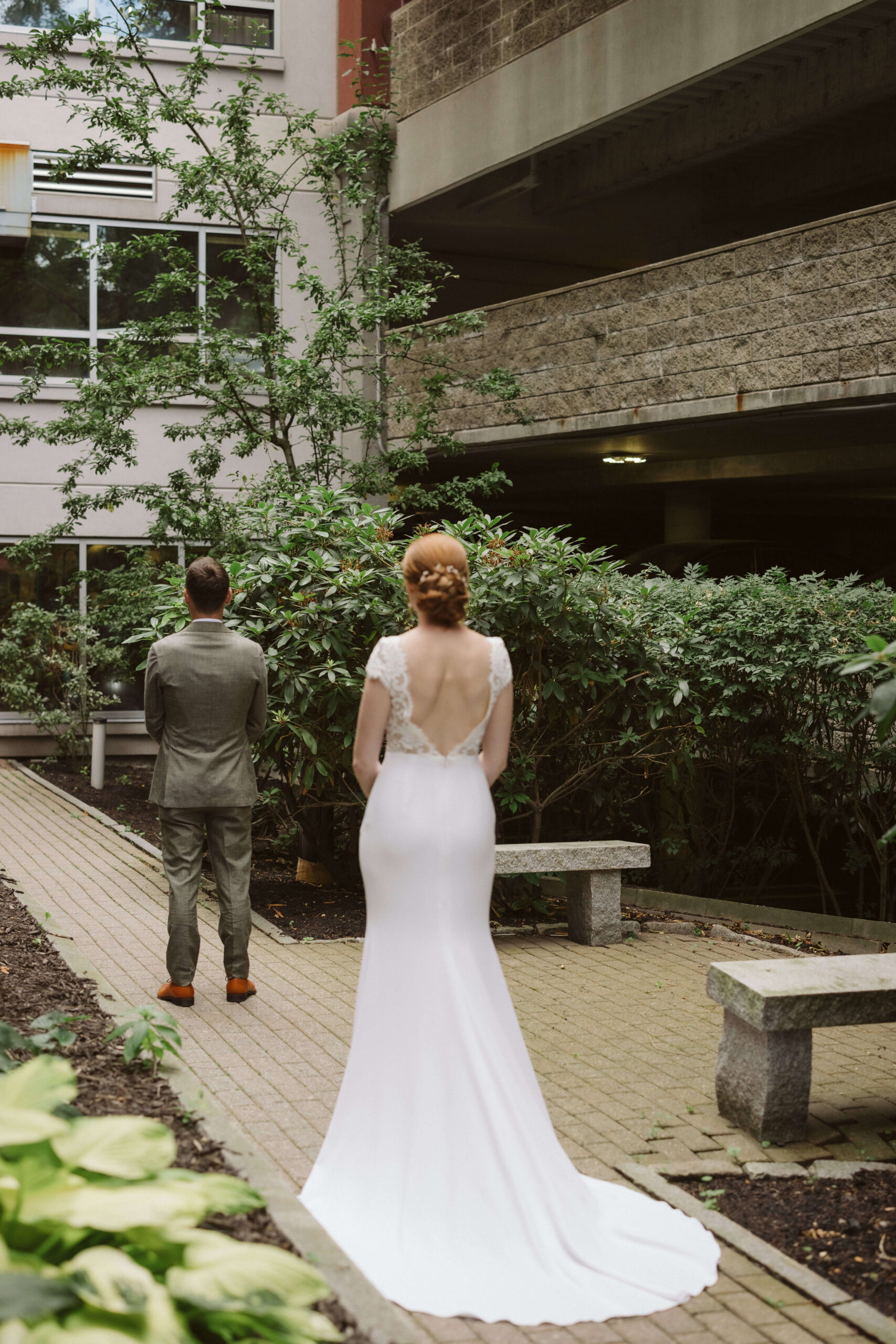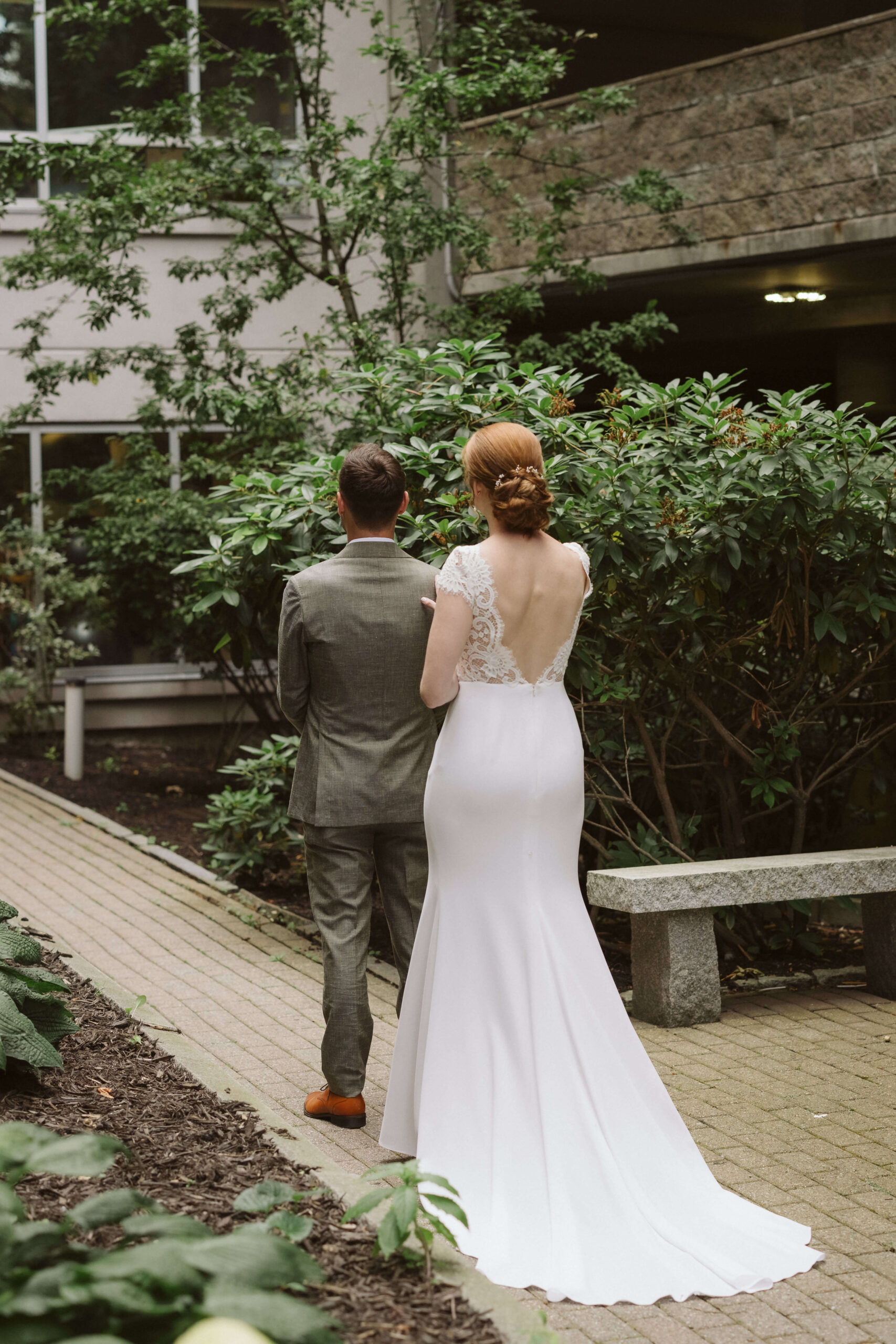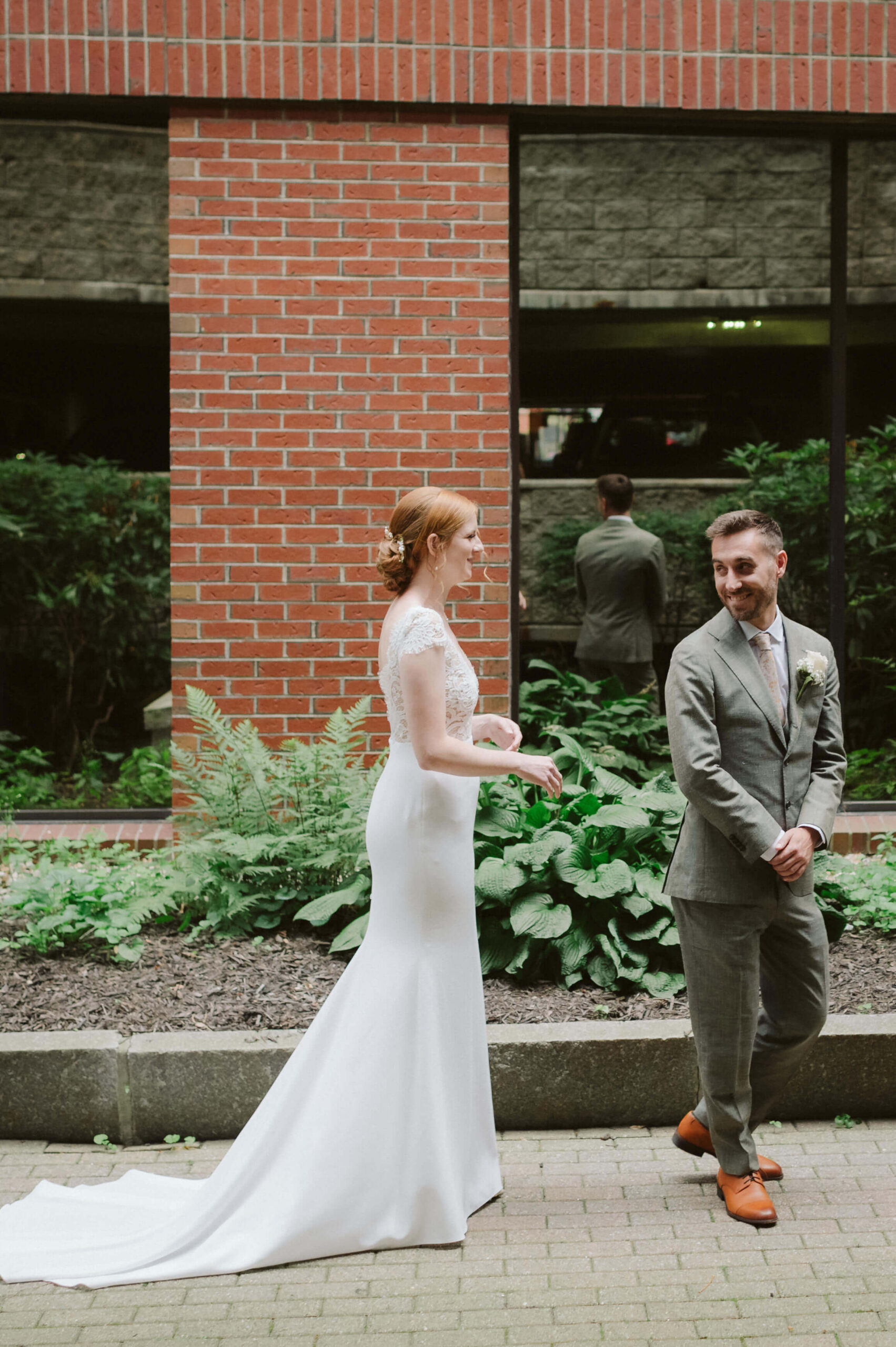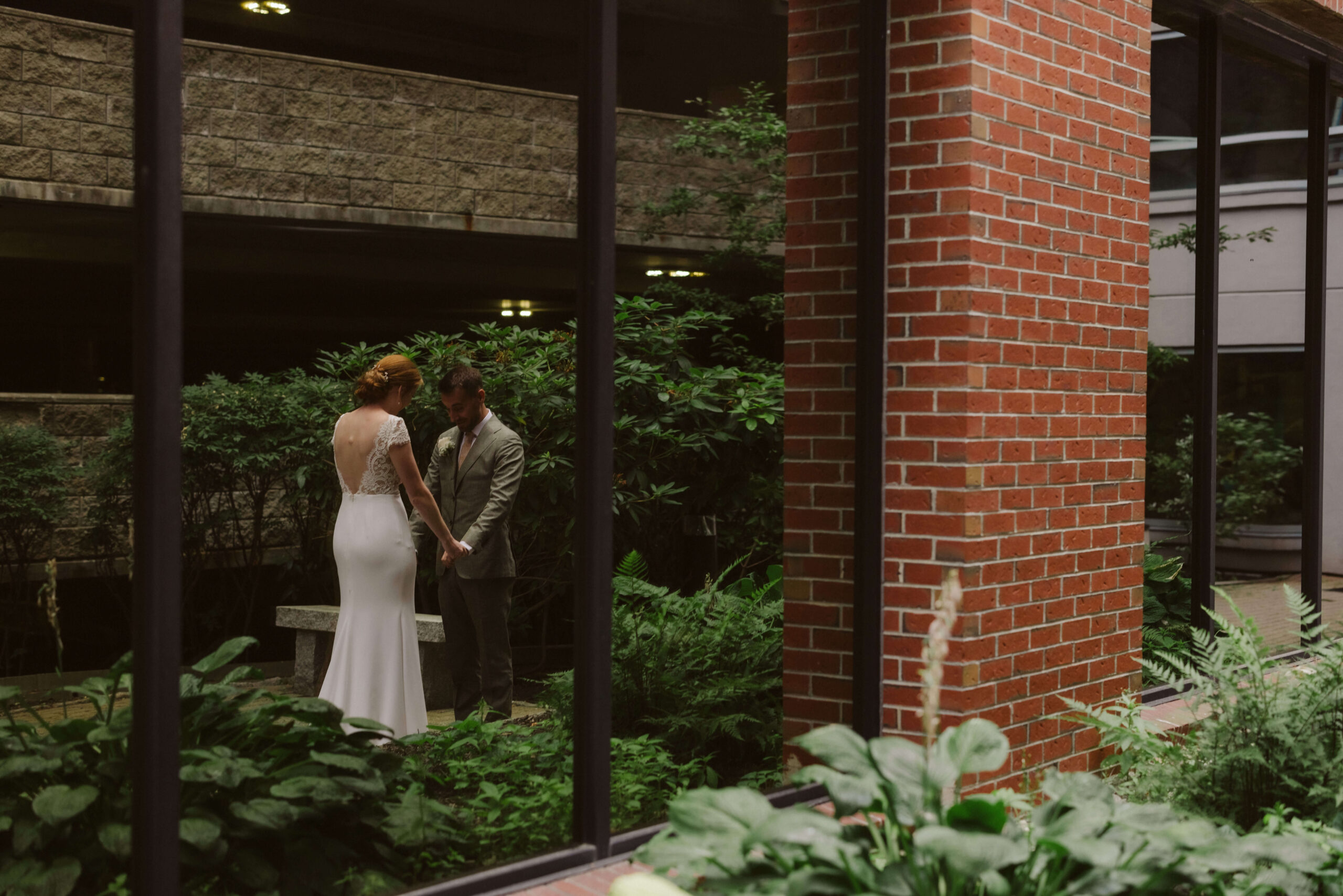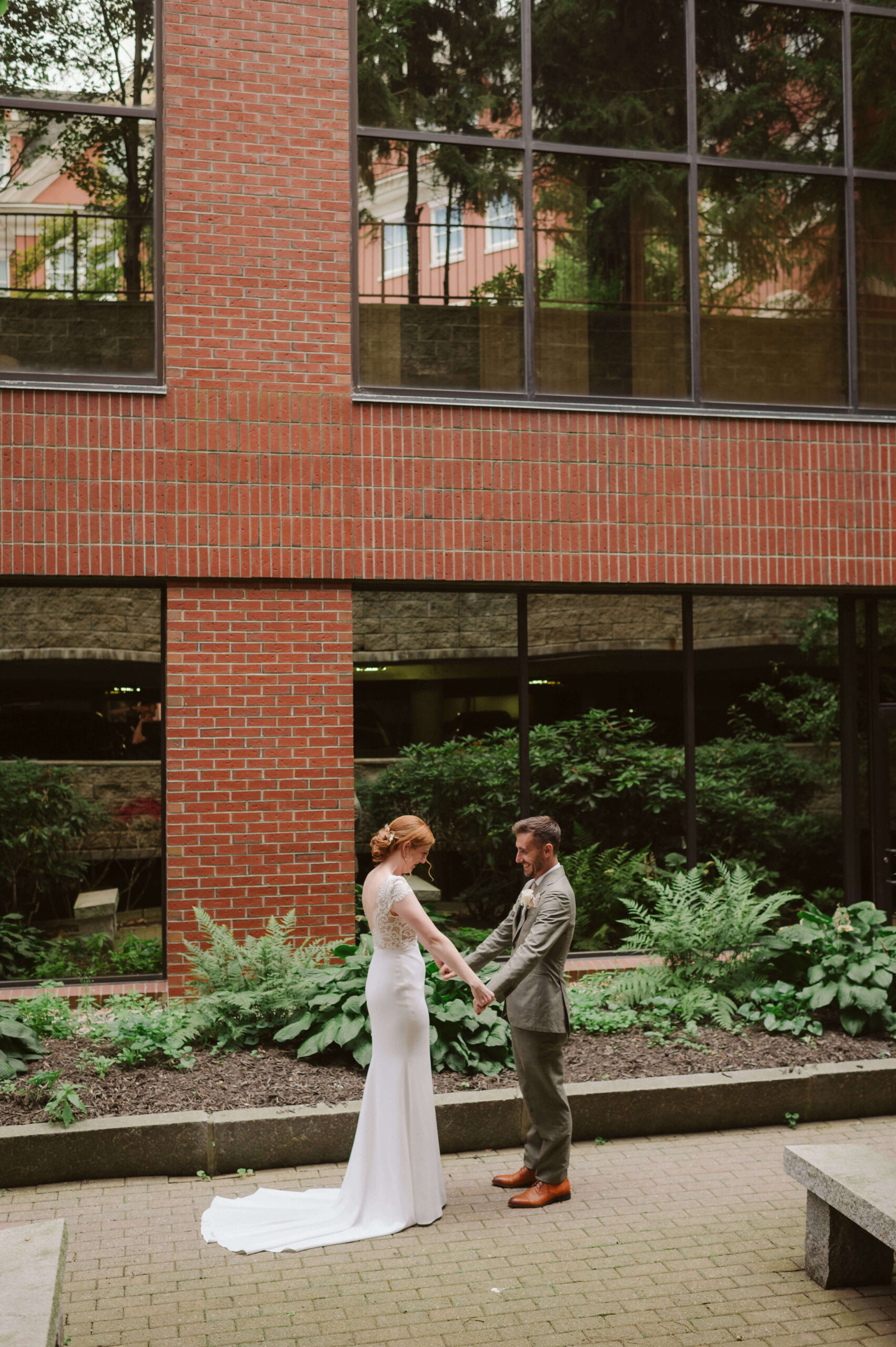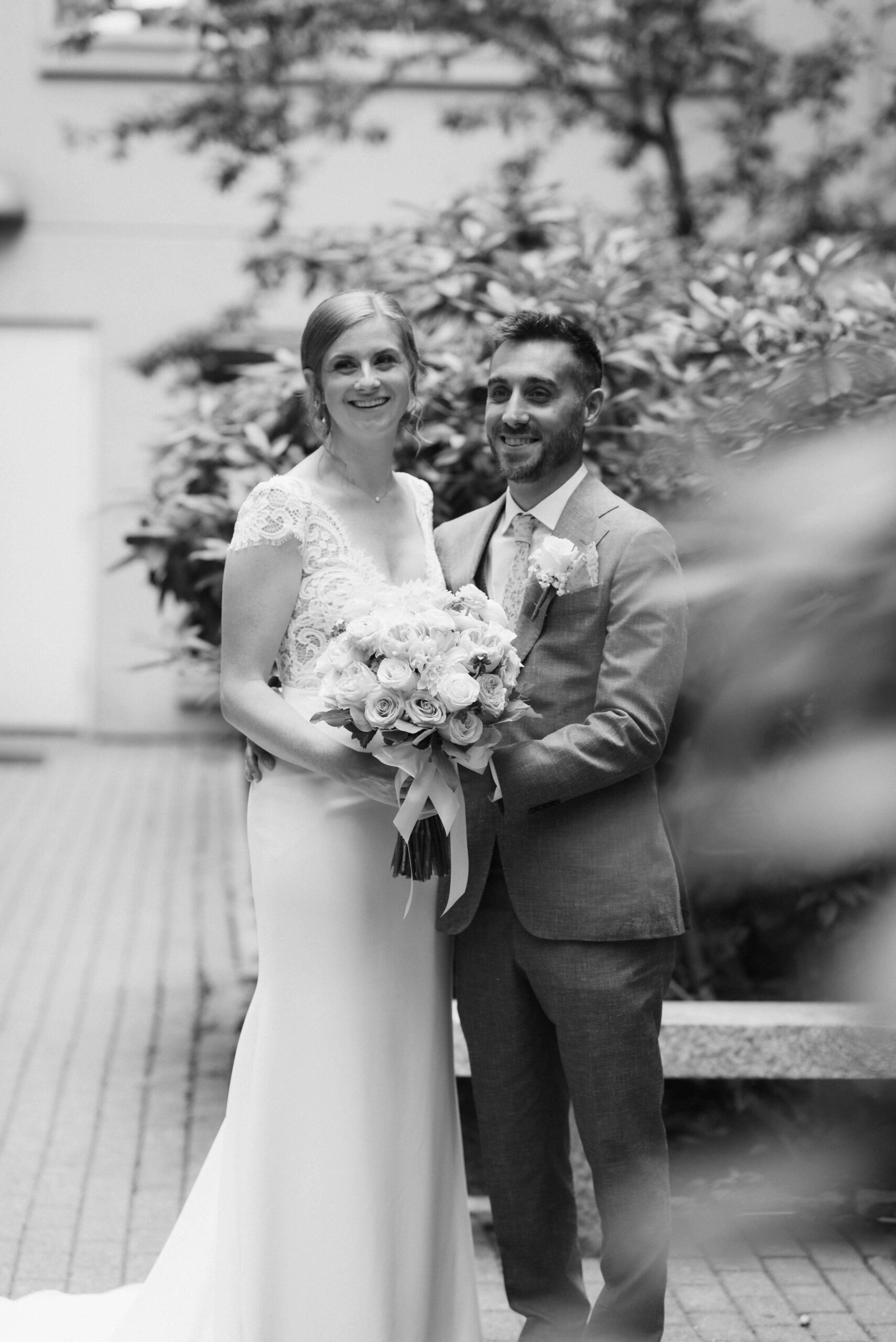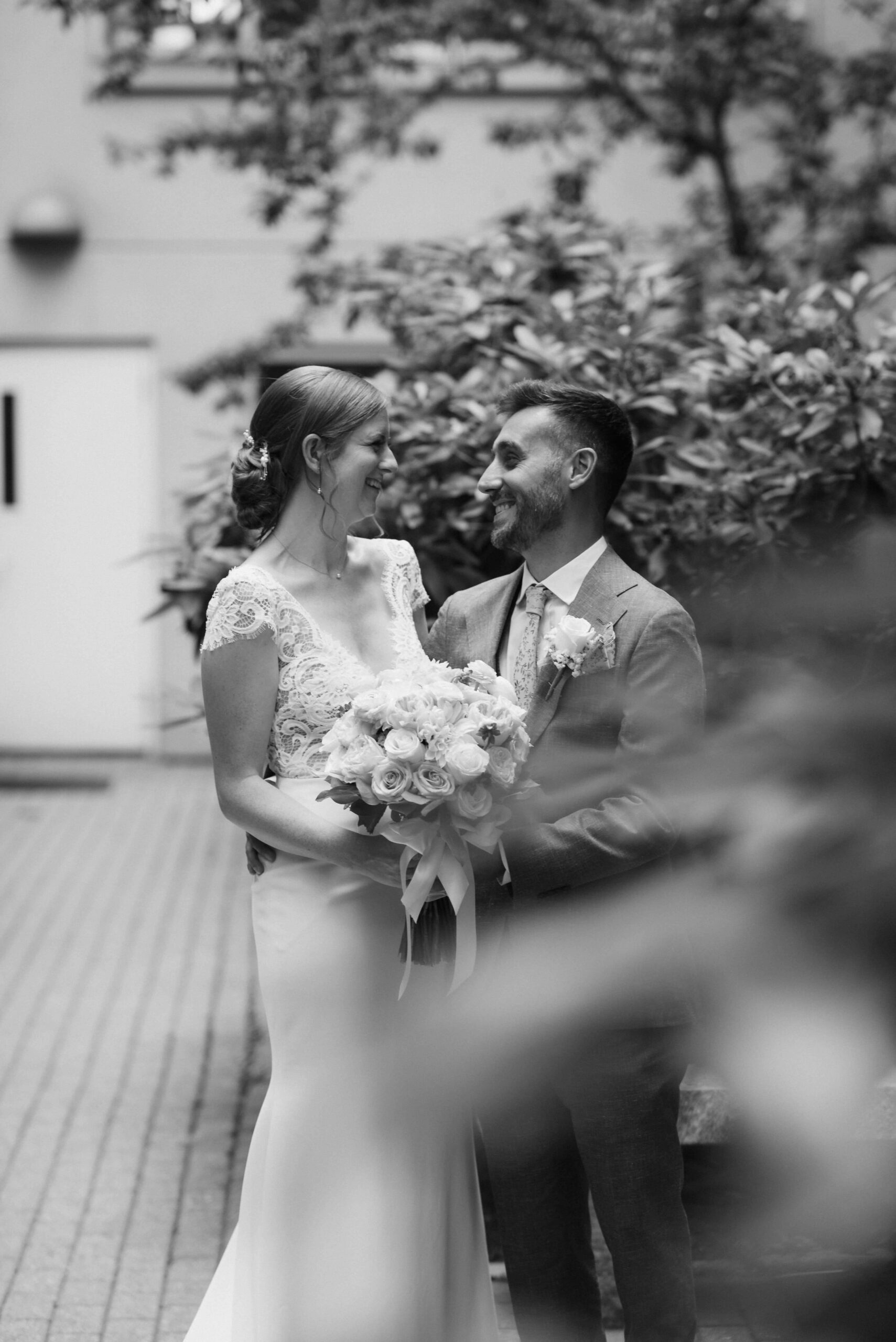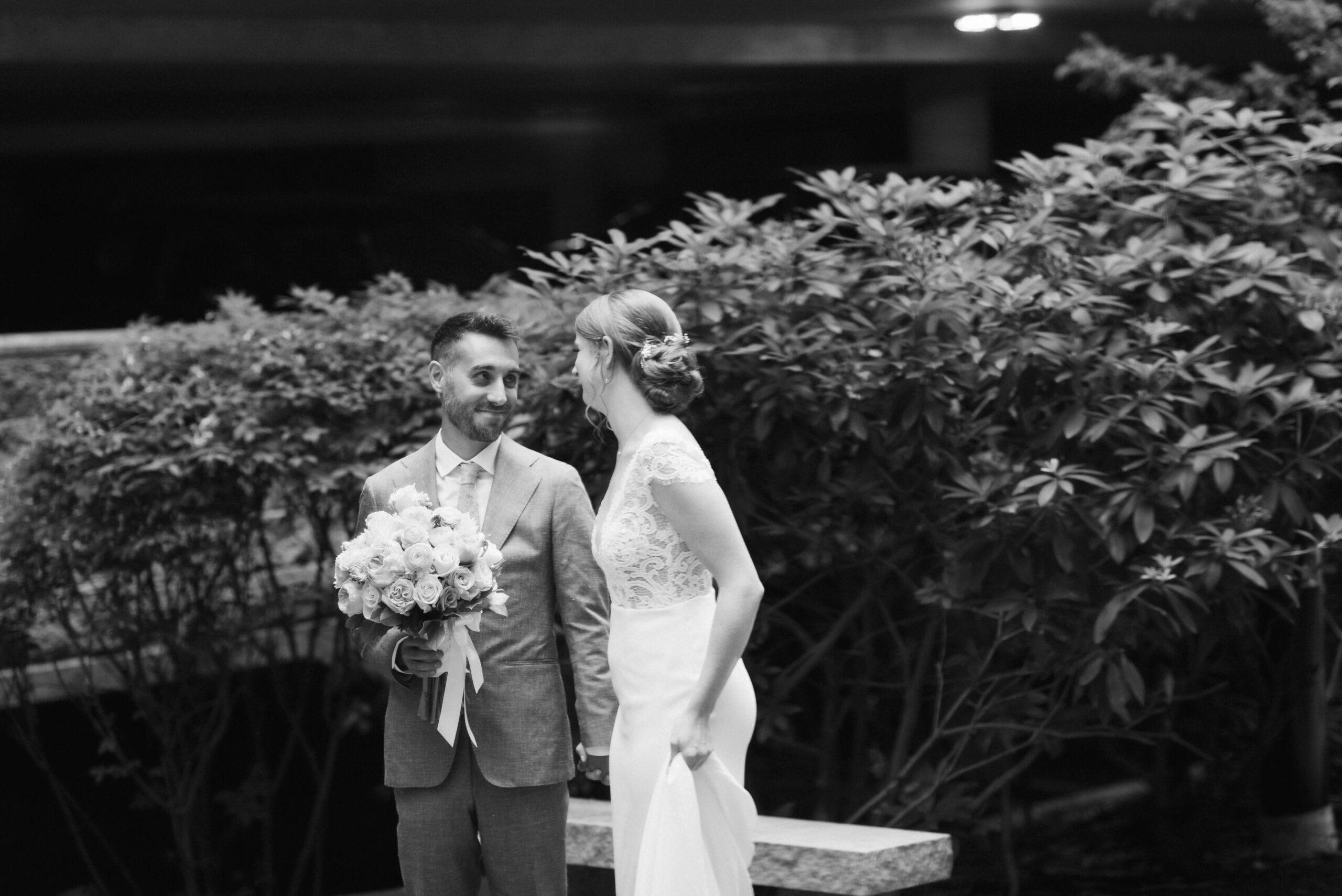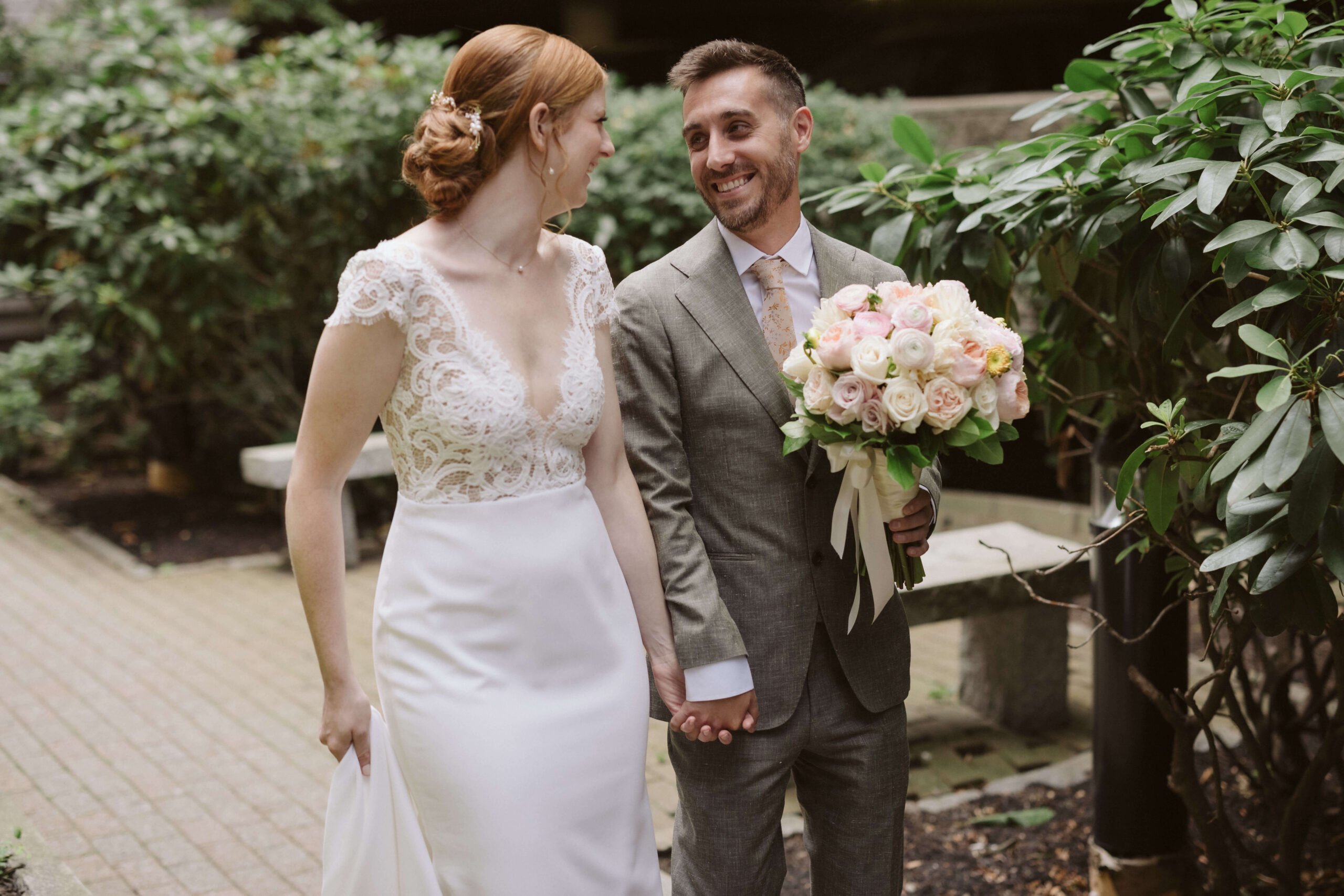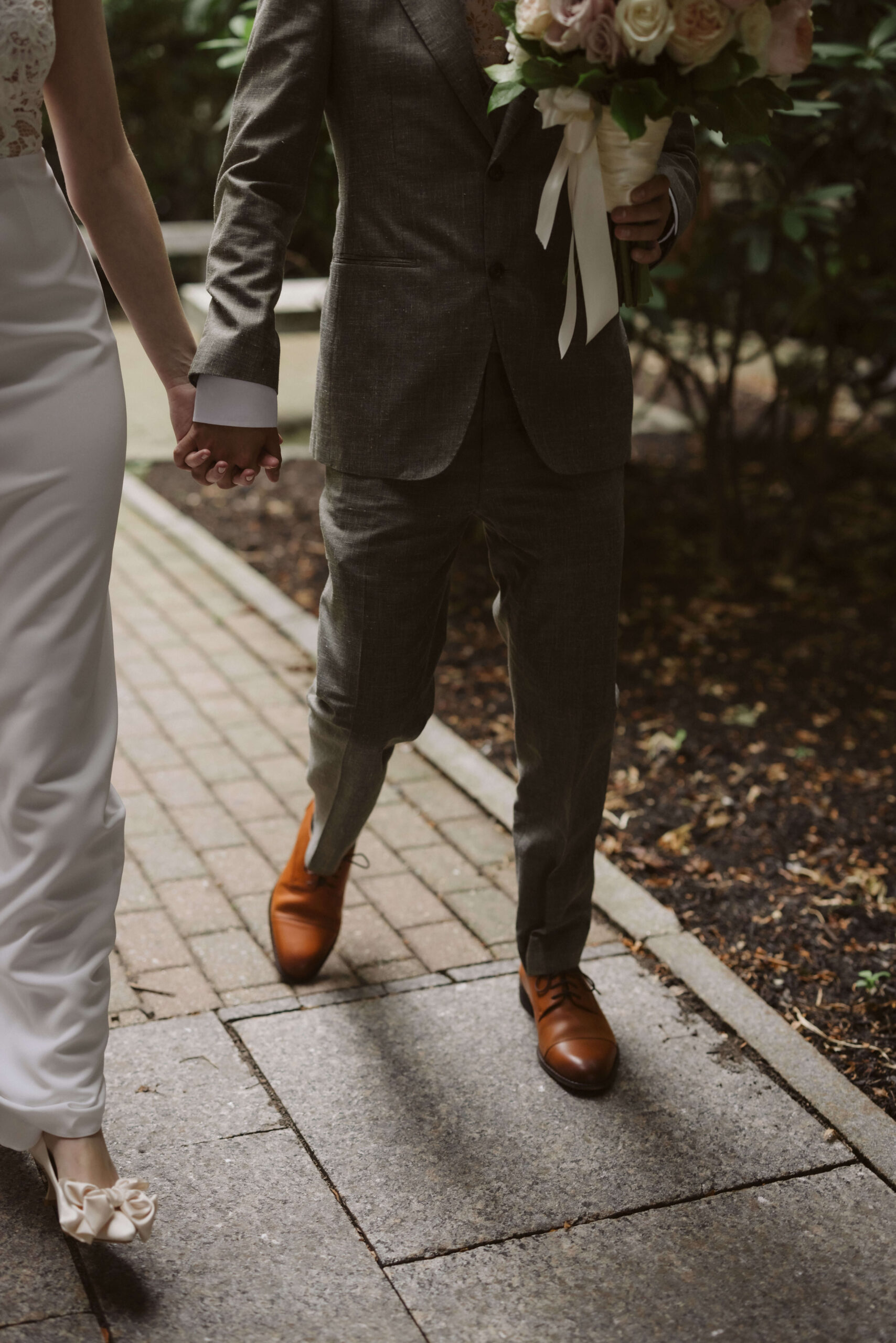 Wedding Day Preparations at the Portland Harbor Hotel
Kelsey and Mike's day started at the Portland Harbor Hotel. At only a ten-minute drive away from their wedding venue and located along the beautiful Portland Harbor, the hotel was the perfect place to start their big day.
While Kelsey and the ladies got ready, Mike and the groomsmen had their photos taken. We took some relaxed shots of them hanging out, with the cutest dog ever crashing the fun. Then, it was on to the ladies.
Kelsey looked beautiful in a timeless wedding dress from Anais Anette. Even more enchanting and sentimental were Kelsey's earrings. They were gifted to her by her mom with a special family connection. The pearls were a gift from Kelsey's aunts when she was little, and the diamonds were from the first pair of earrings her dad bought her mom. What was even more special is that those diamonds later became a part of her mom's original wedding ring.
Before heading out to see Mike for the first time, Kelsey shared an emotional first look with her bridesmaids, as well as with her dad and her brothers. Everyone wanted to be a part of the touching moment on the big day. Then, it was time for Kelsey and Mike's first look. One of my favorite shots from their session was Kelsey looking out of a window down at Mike waiting in the courtyard. It's not a shot that I capture very often but it turned out so sweet and romantic.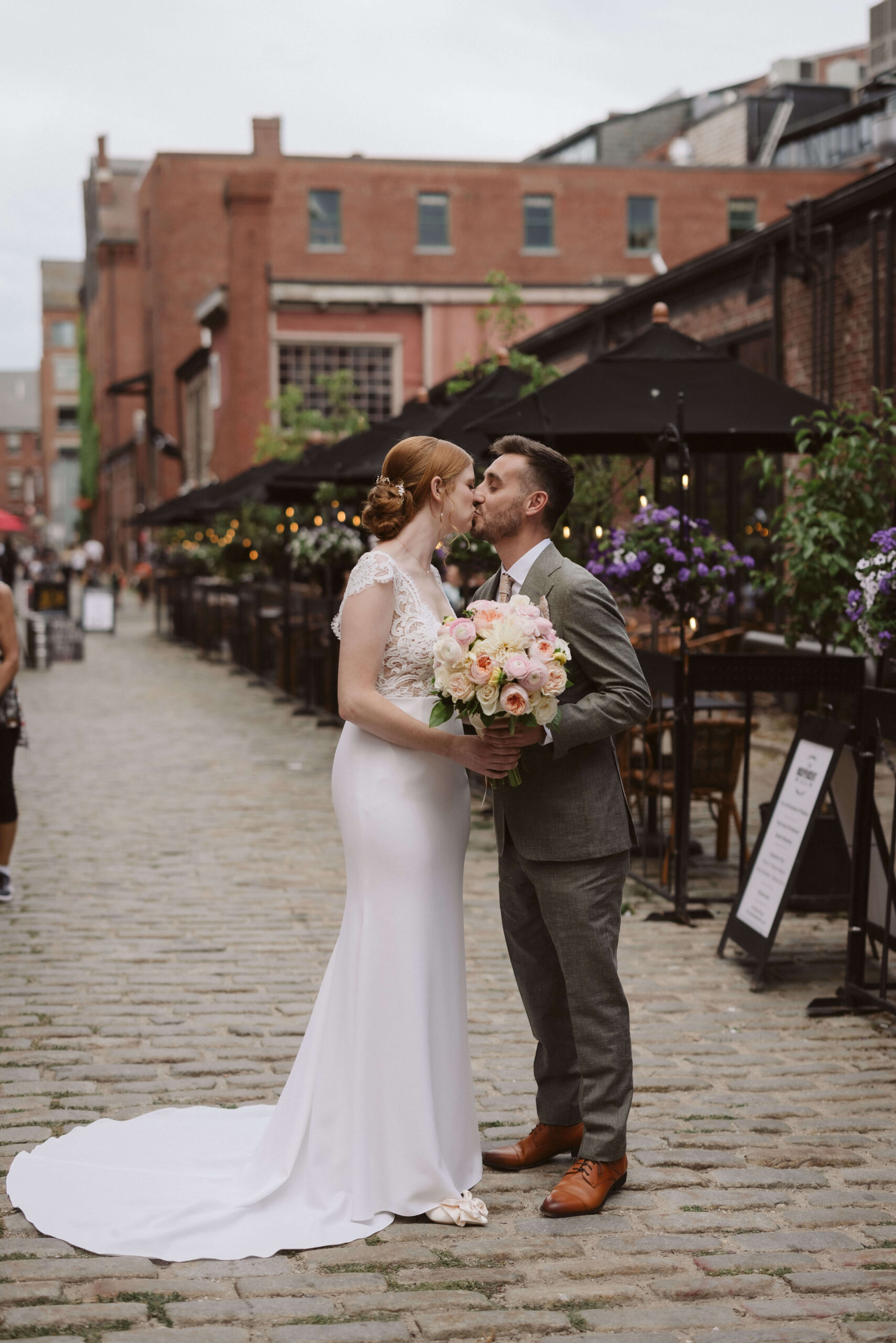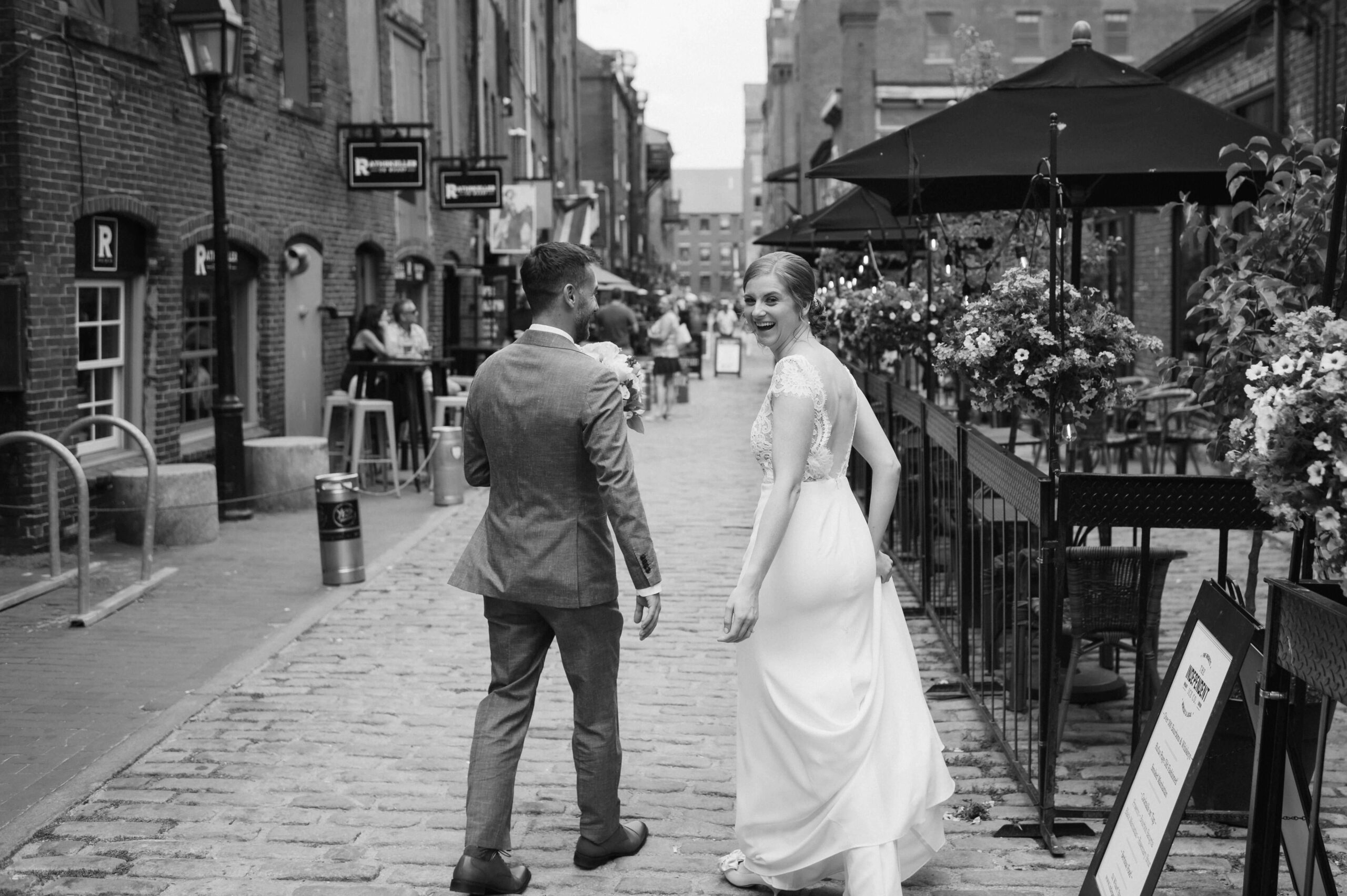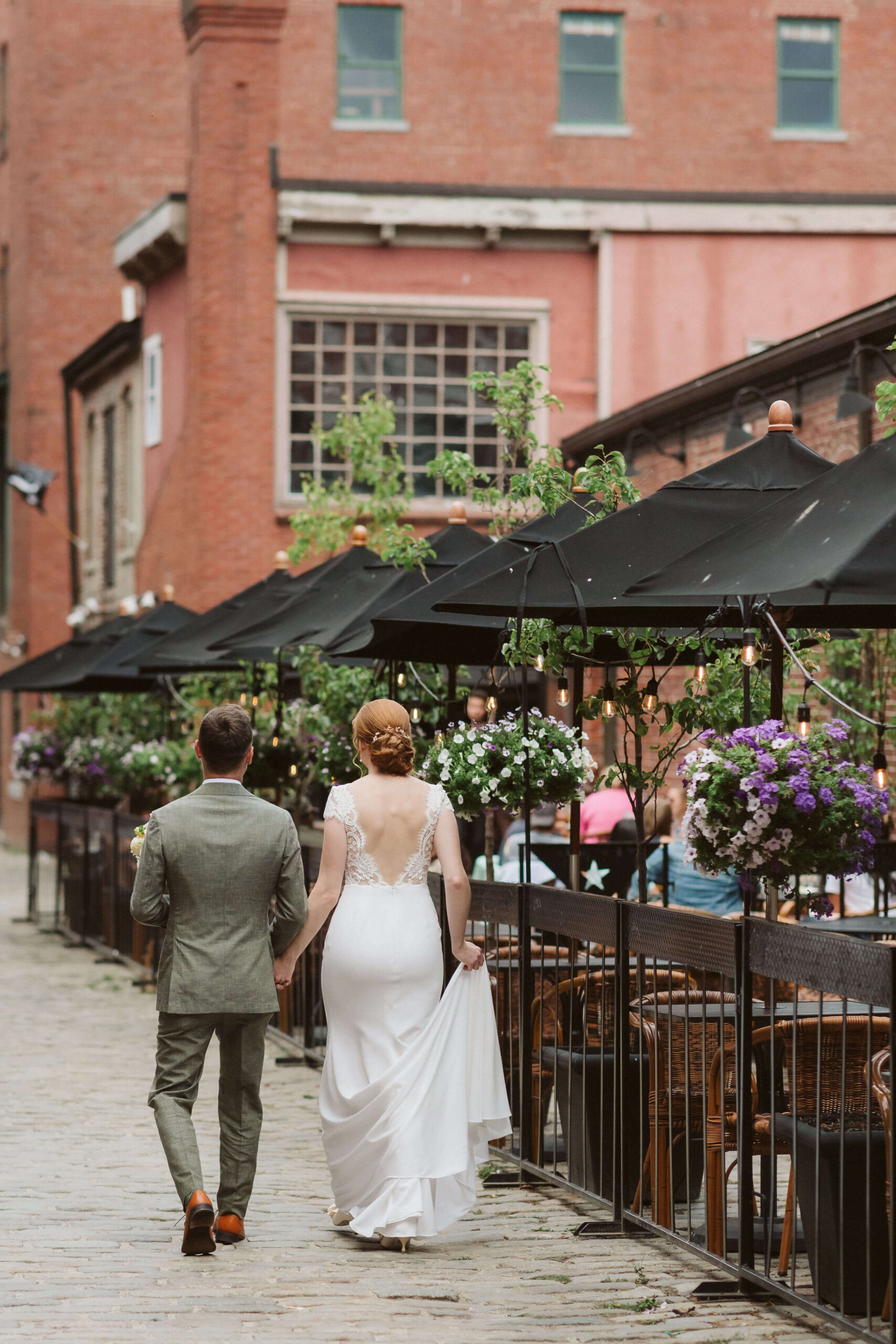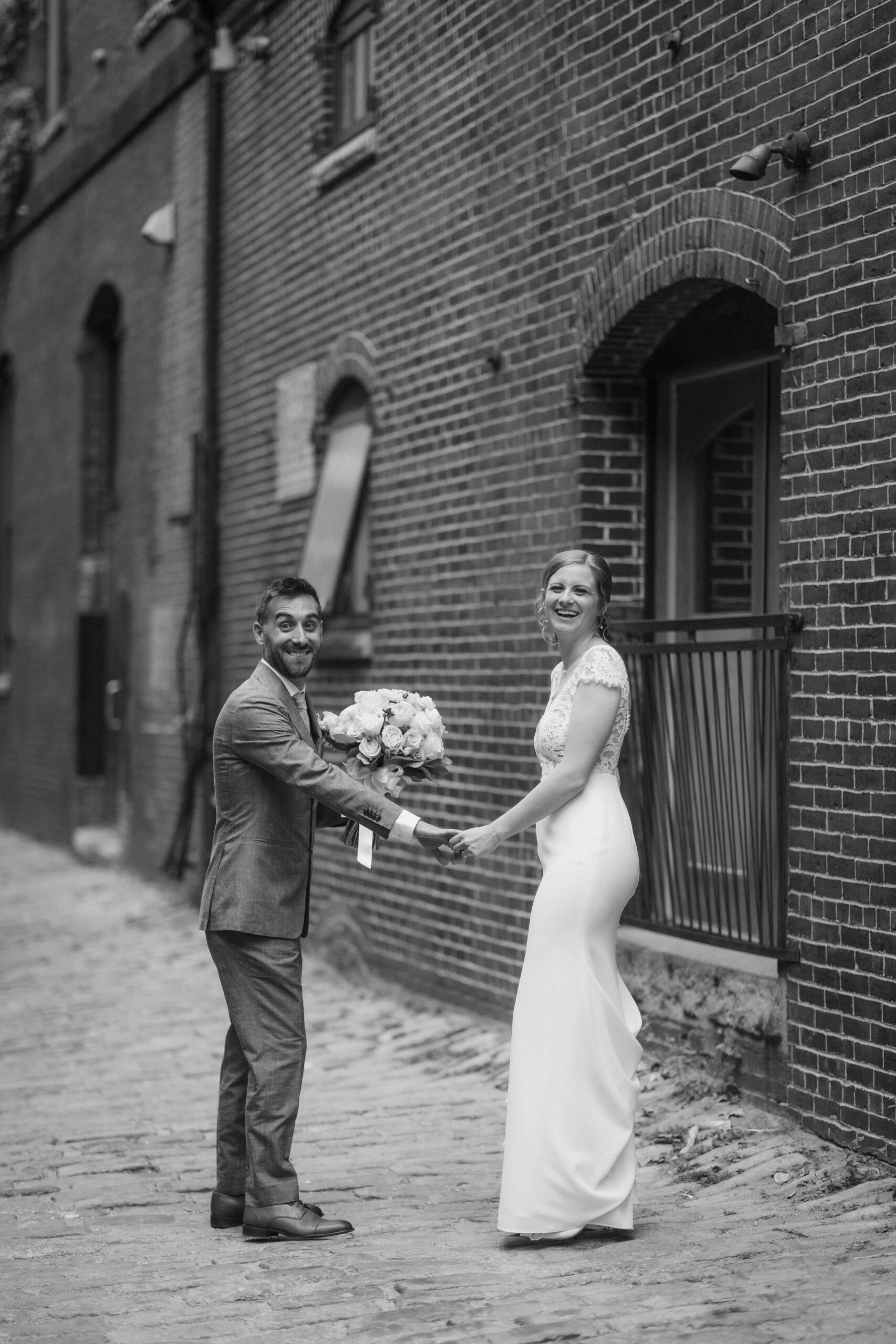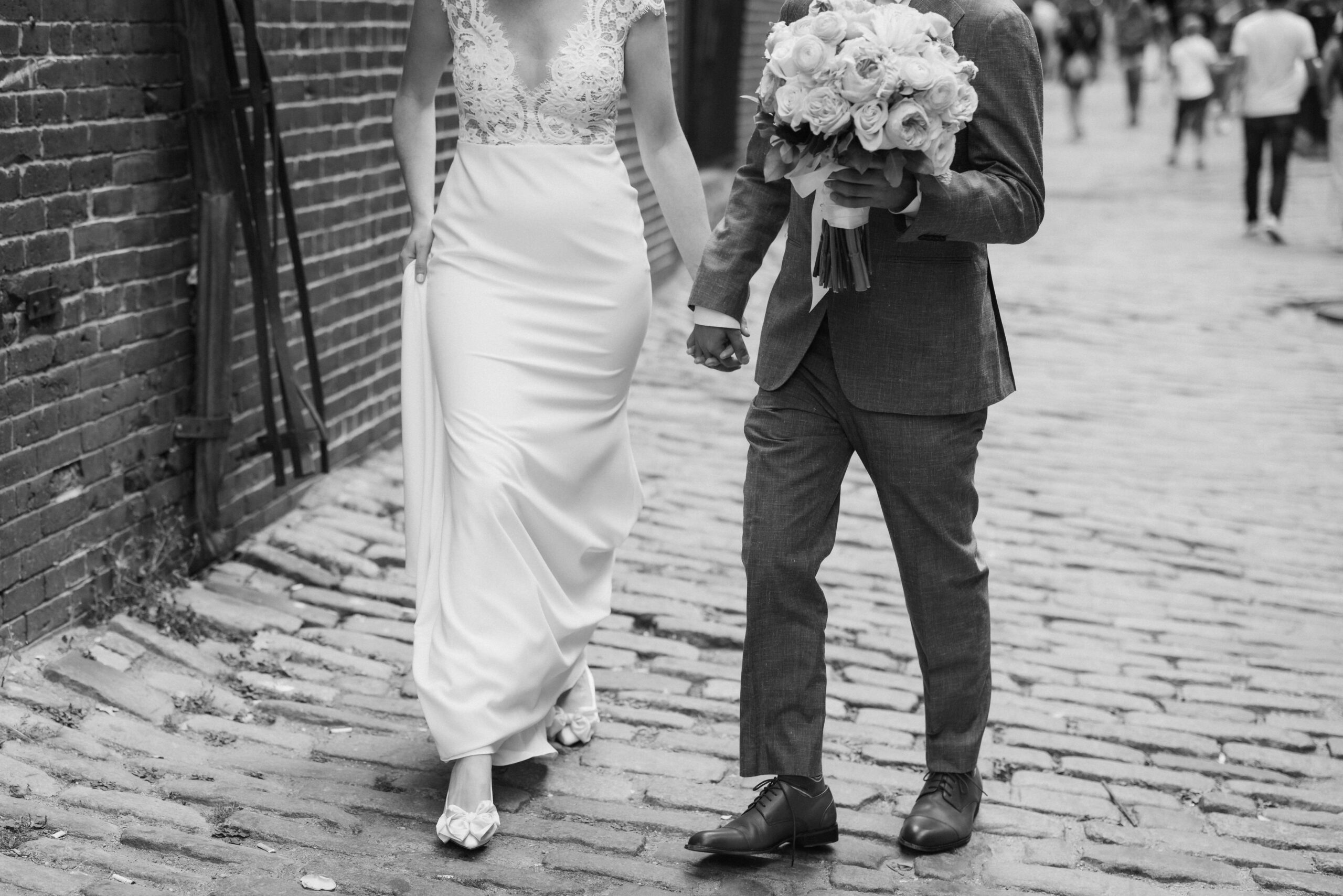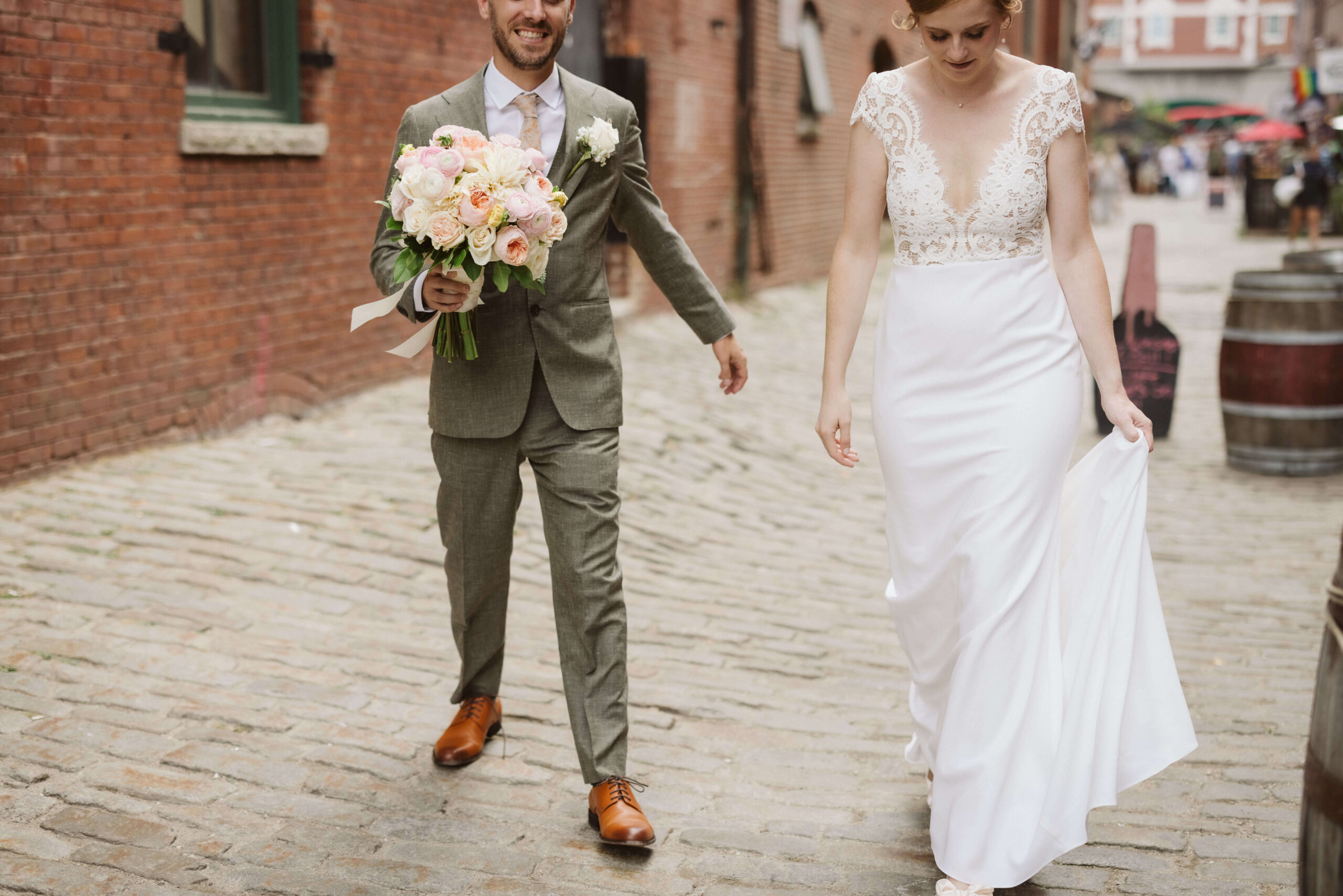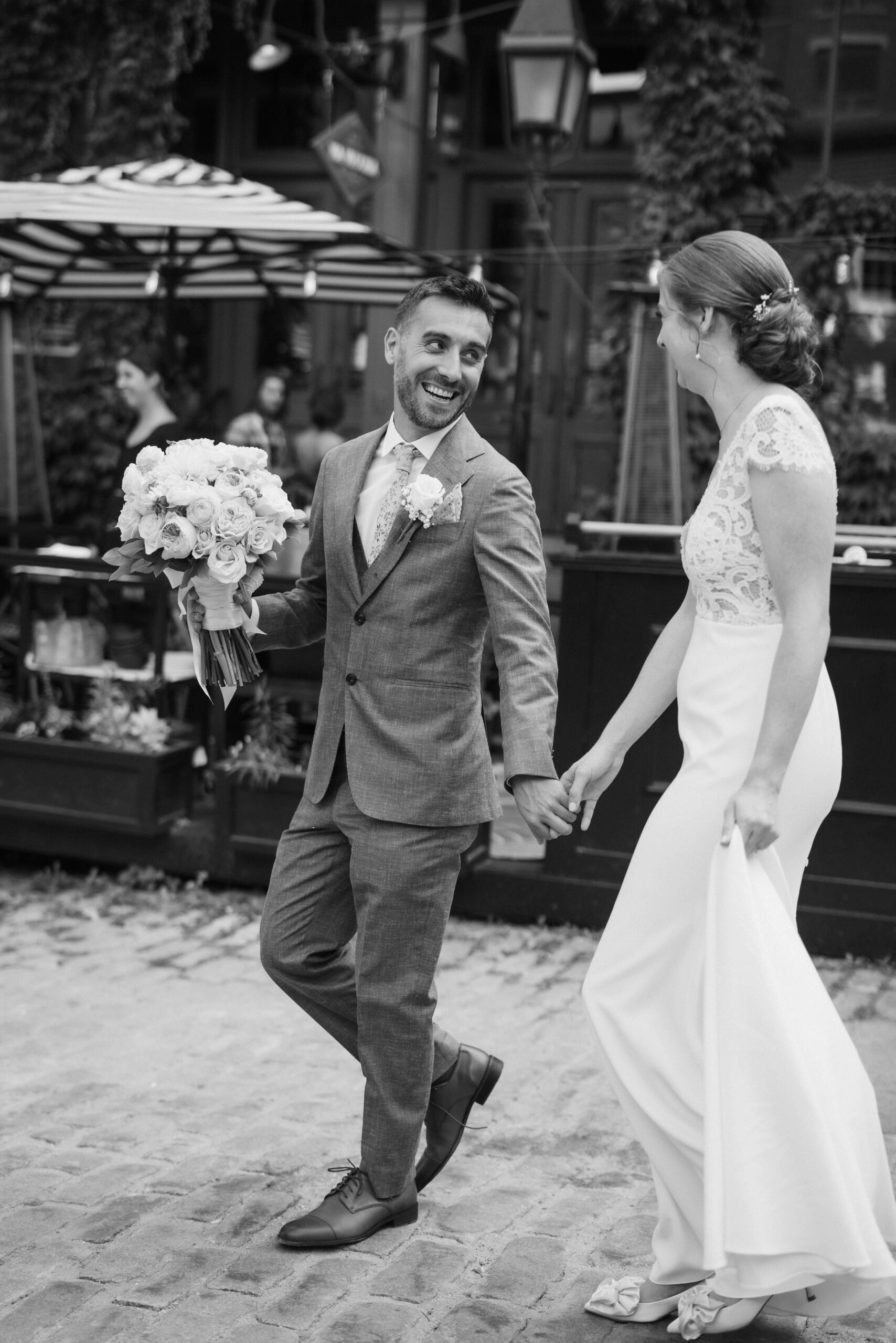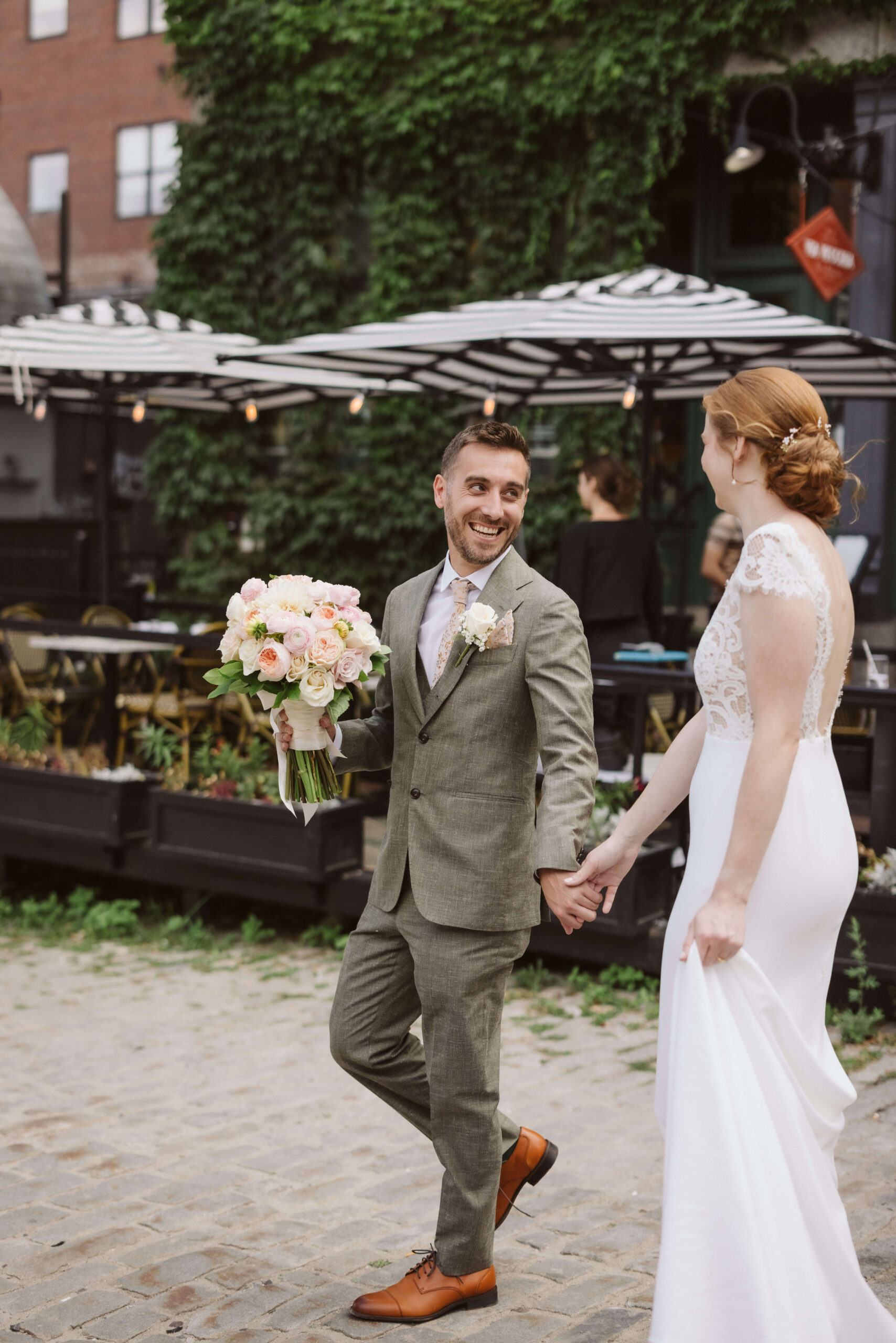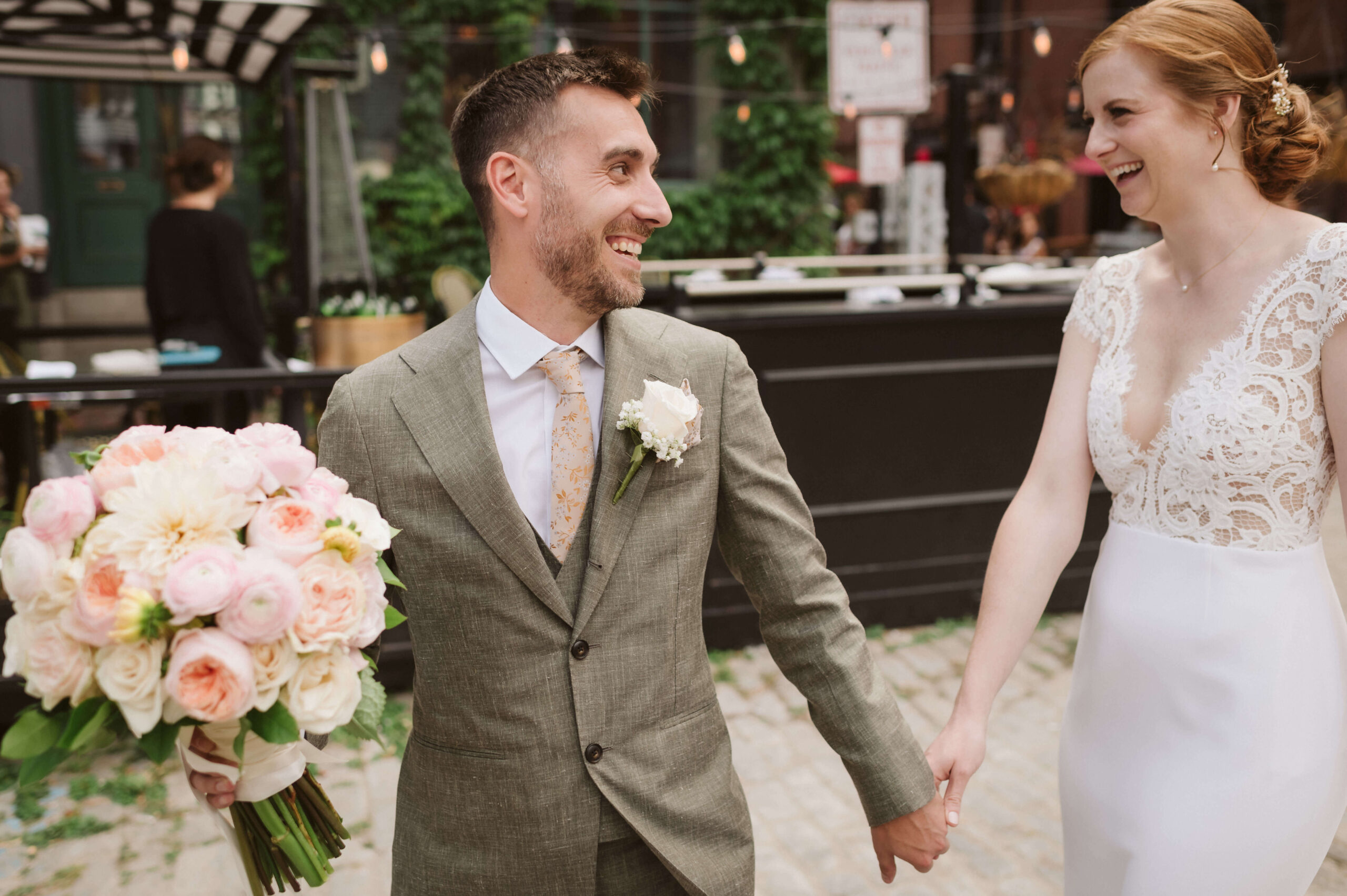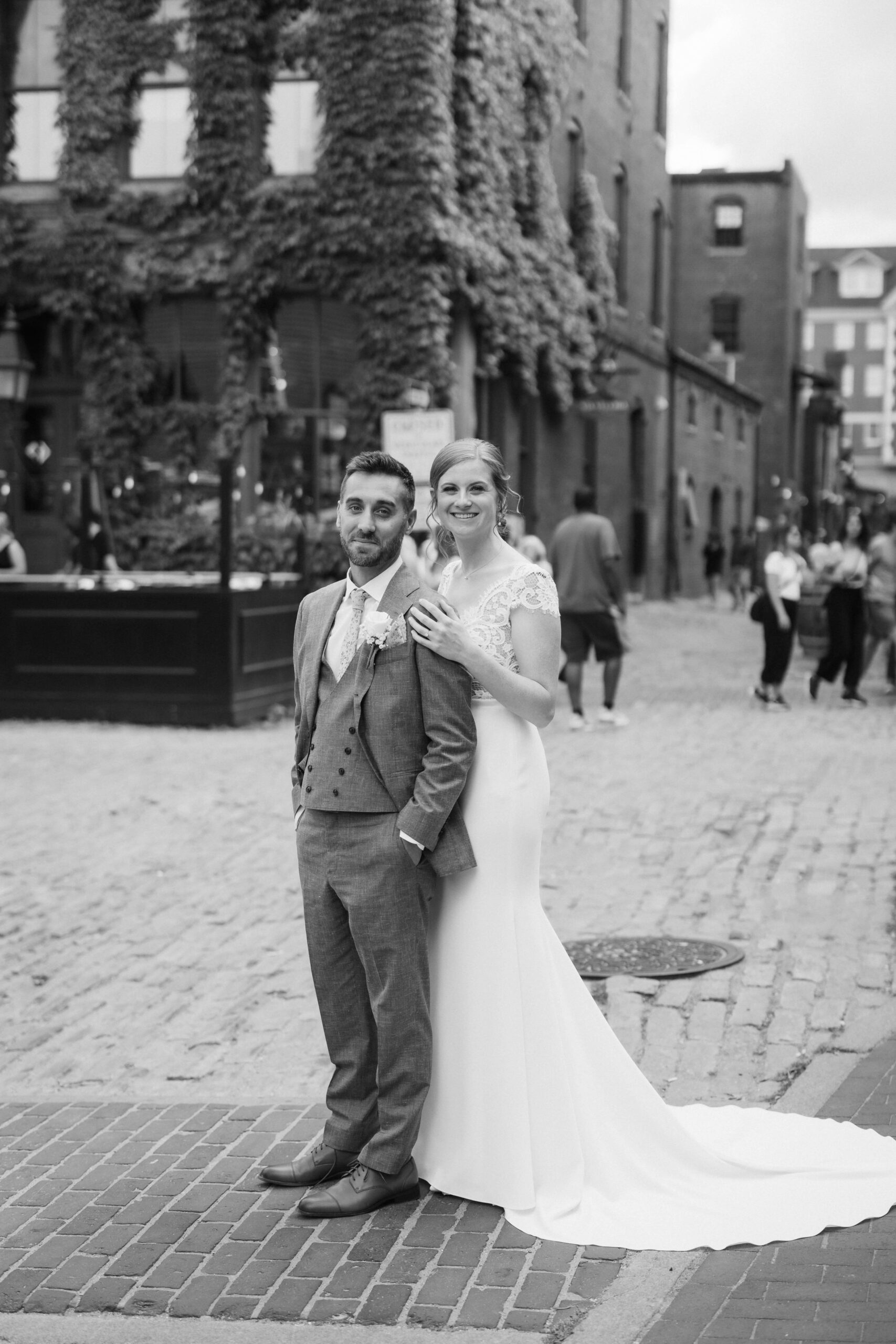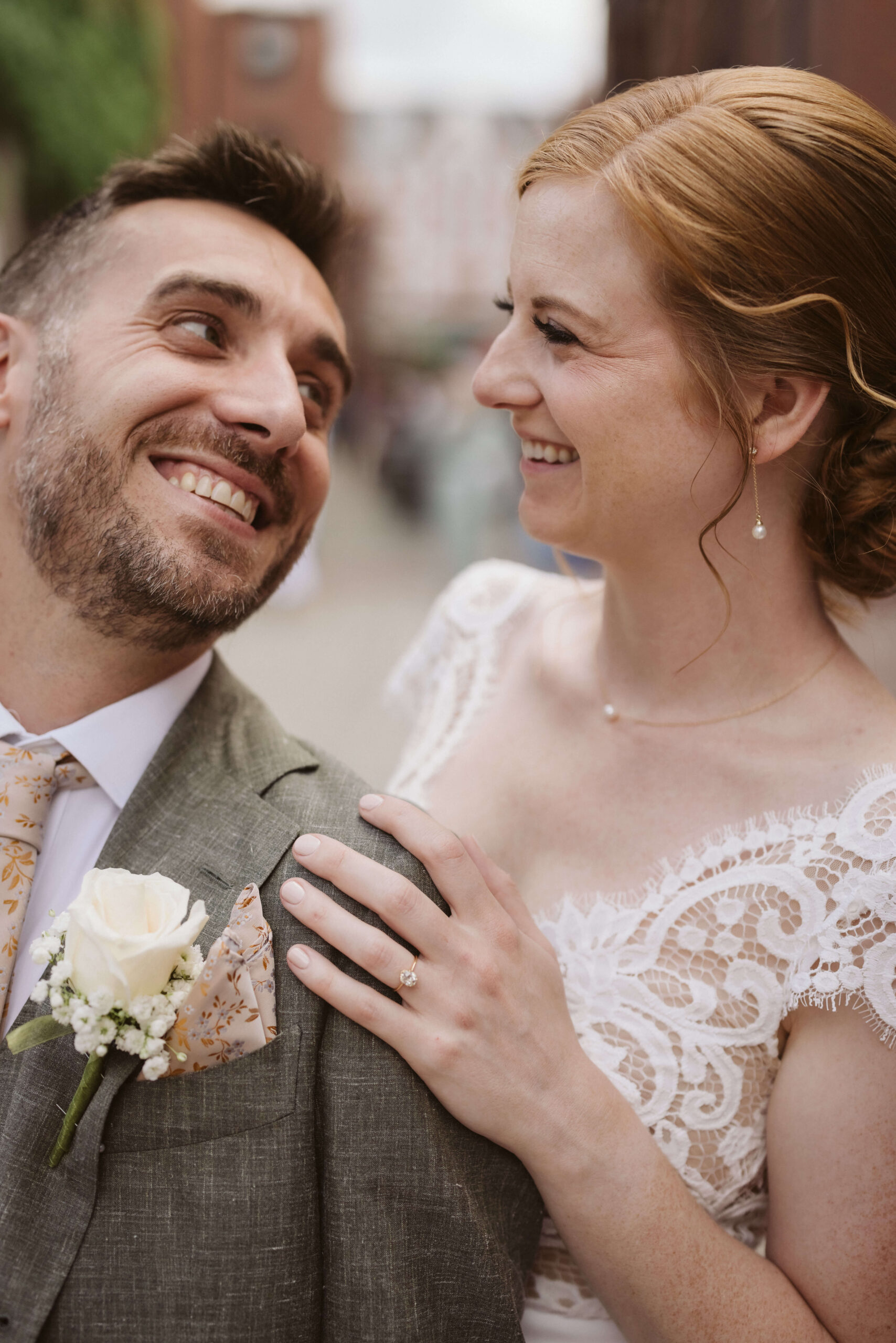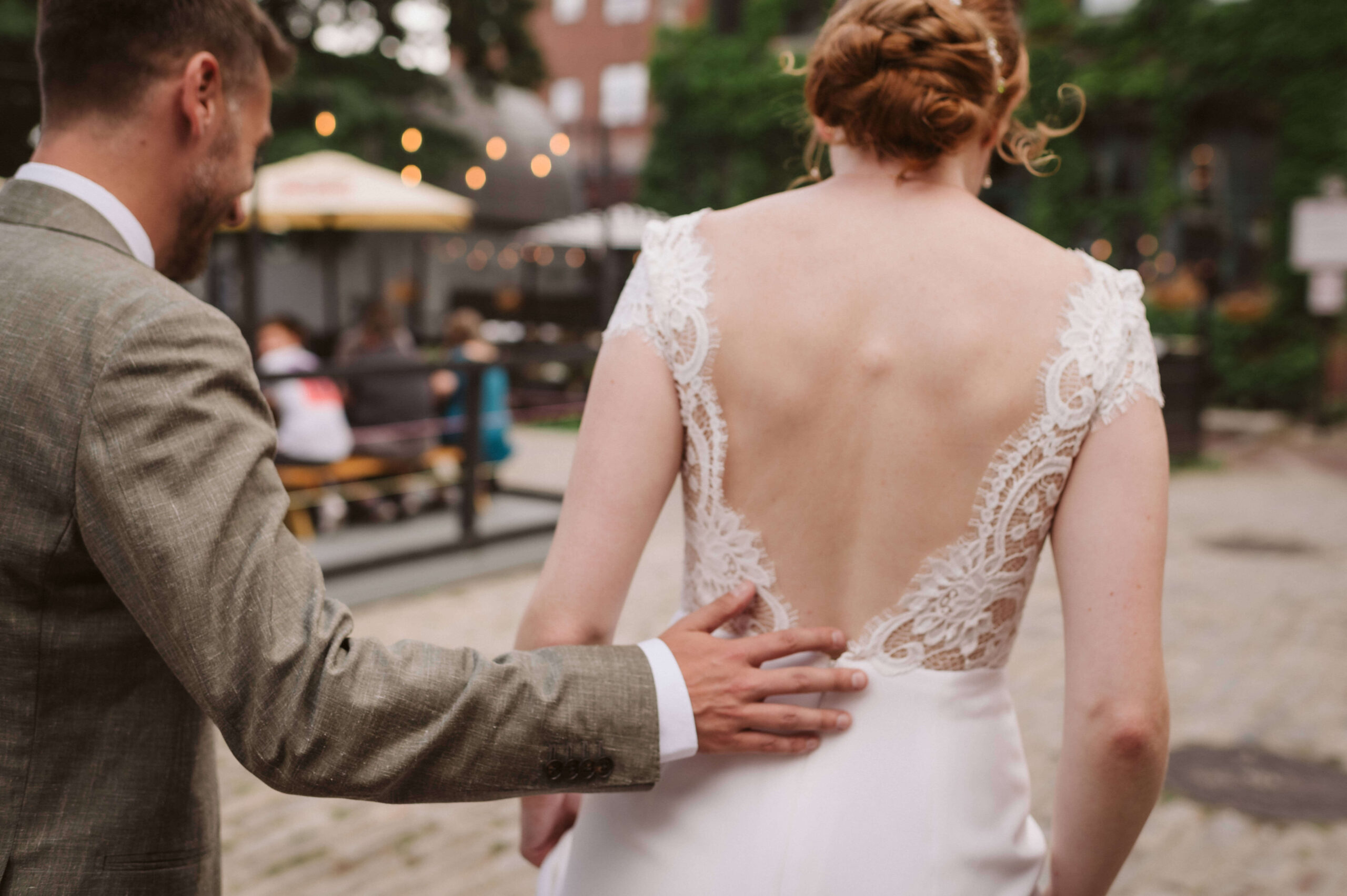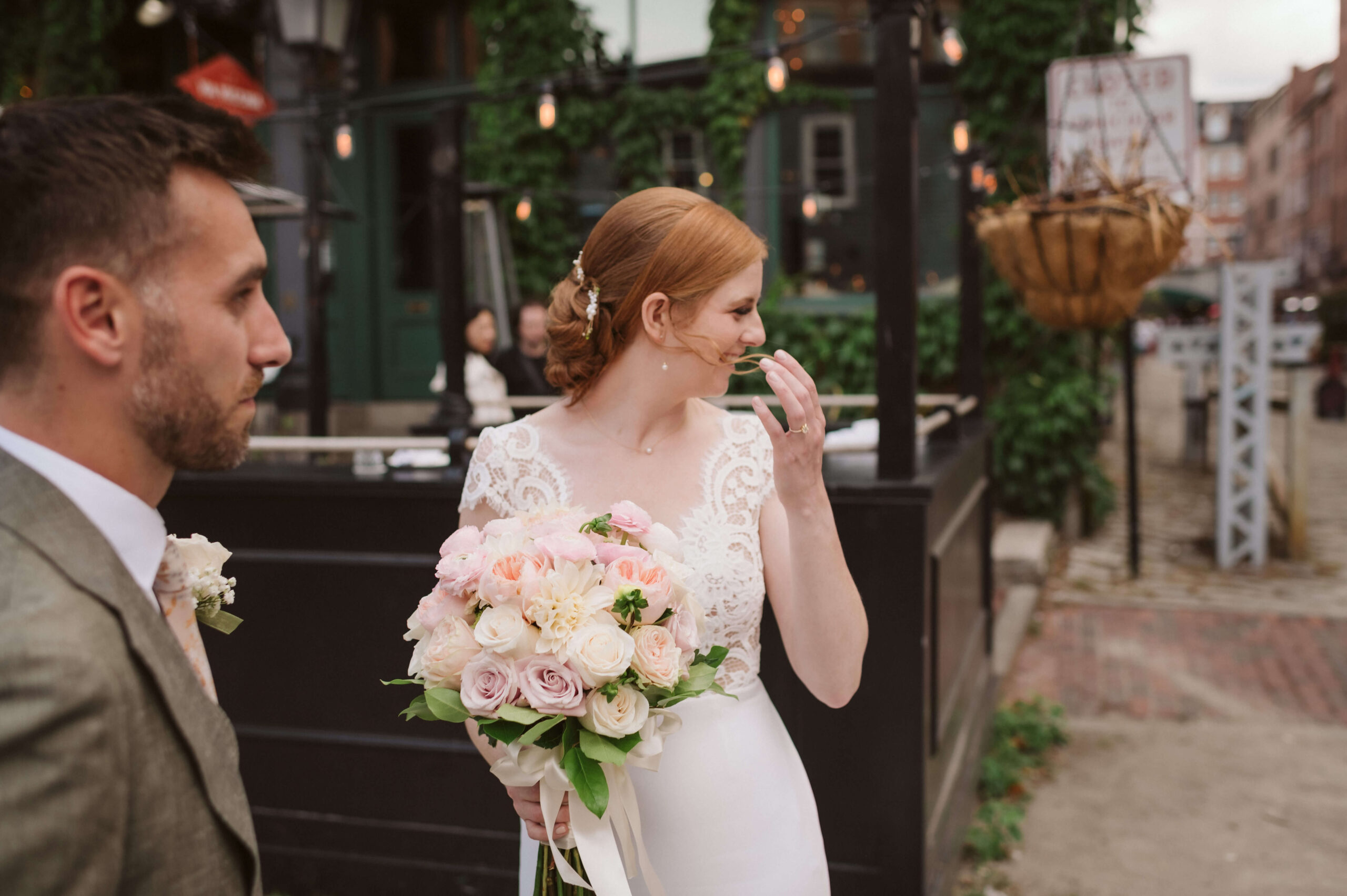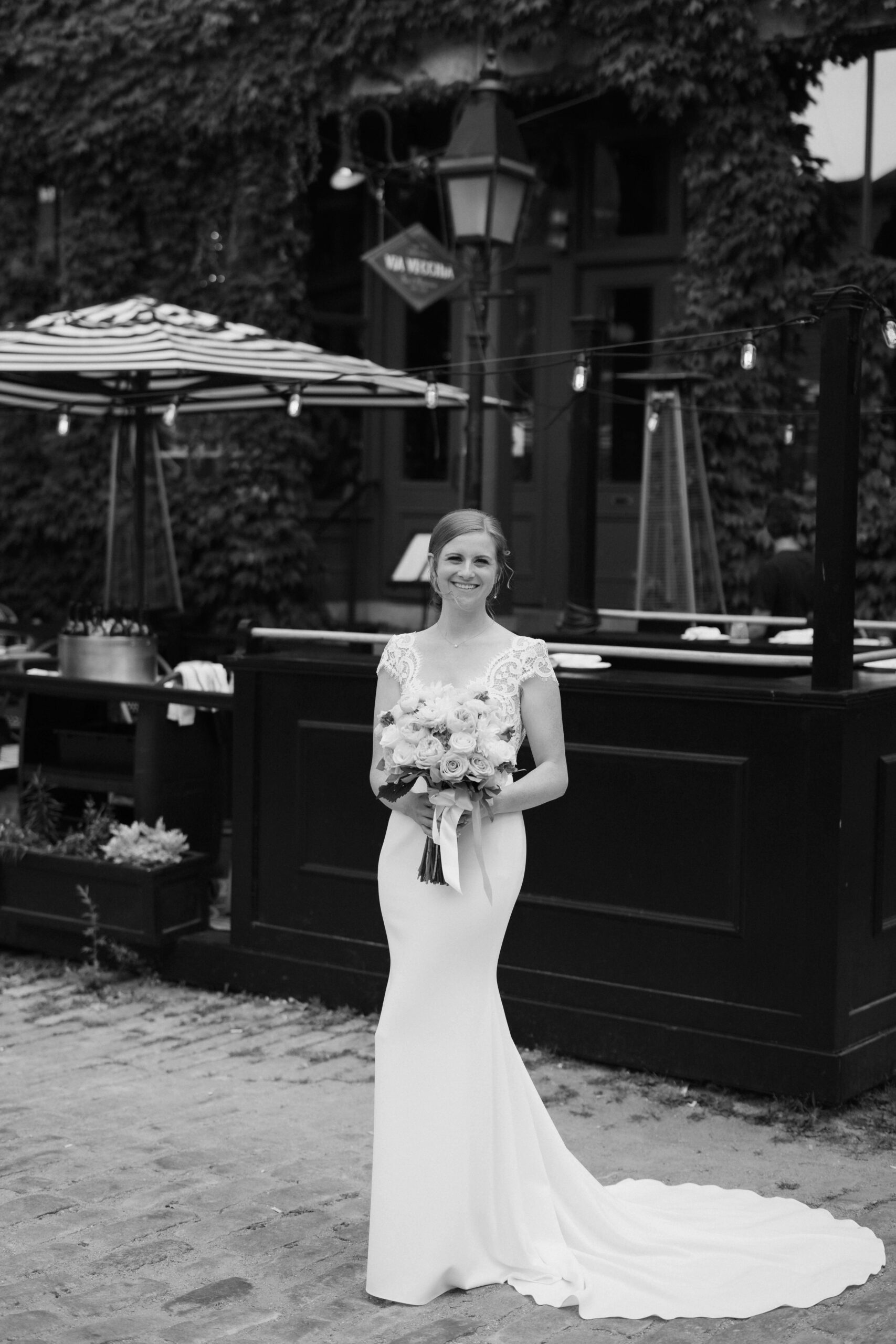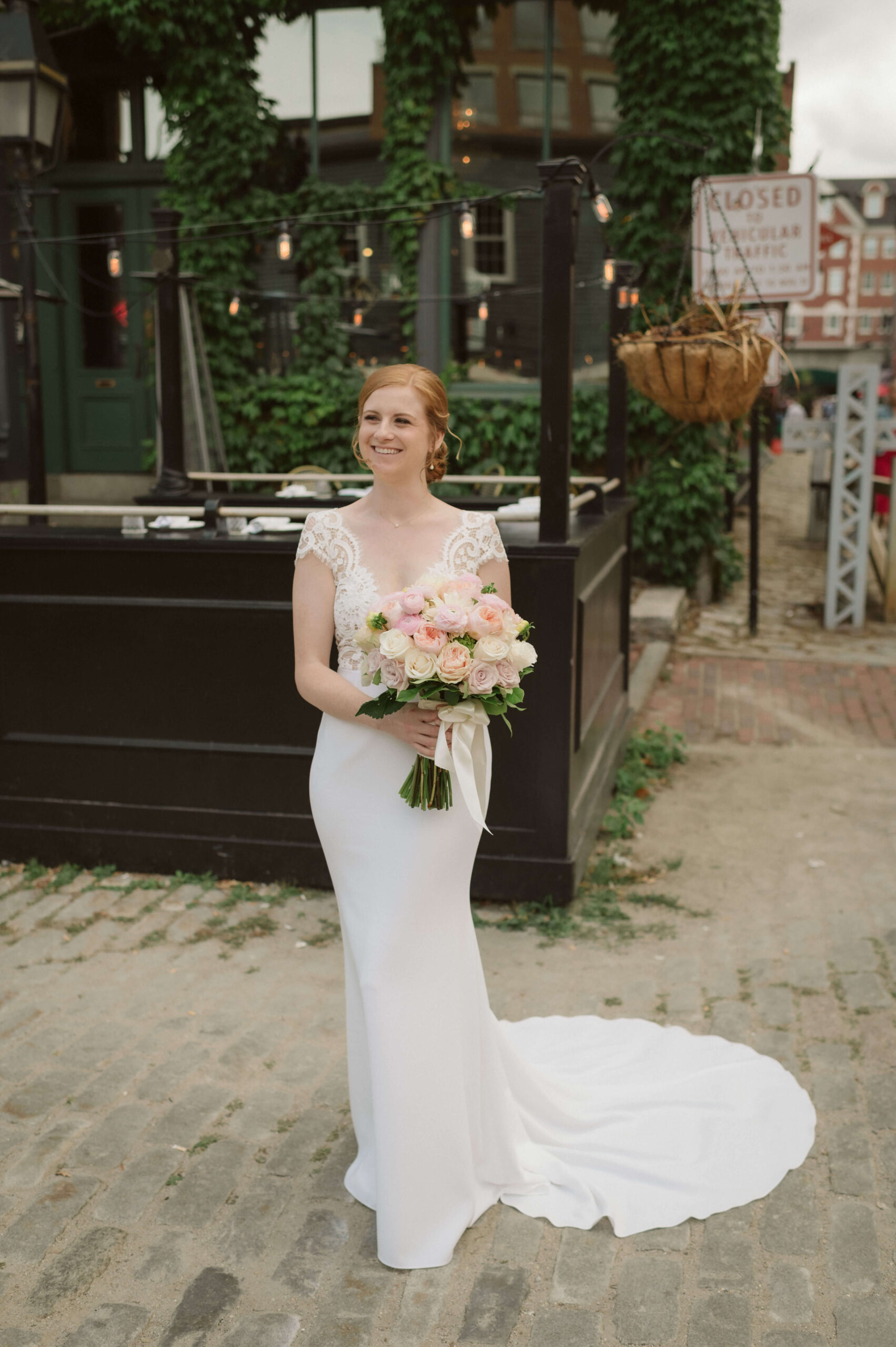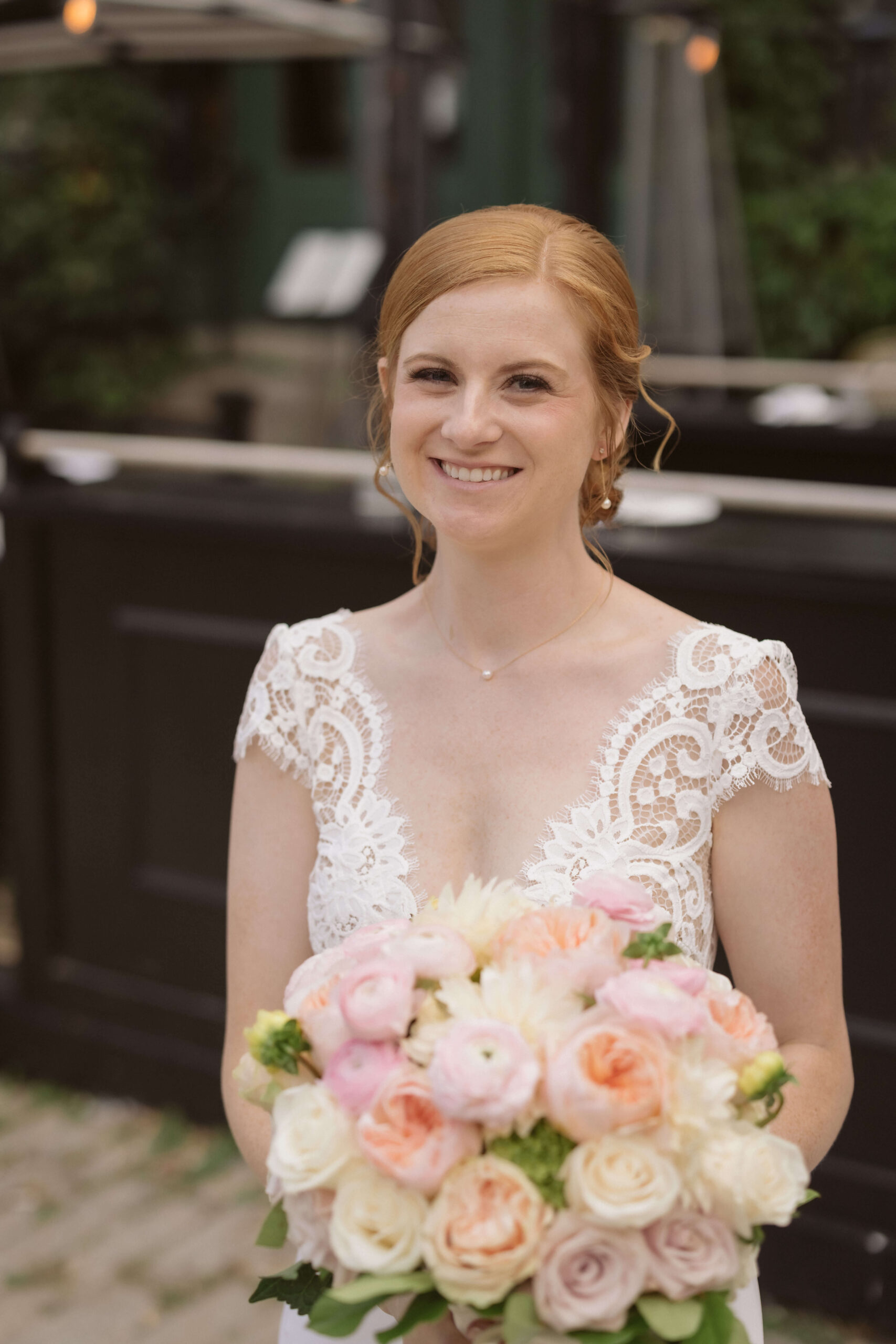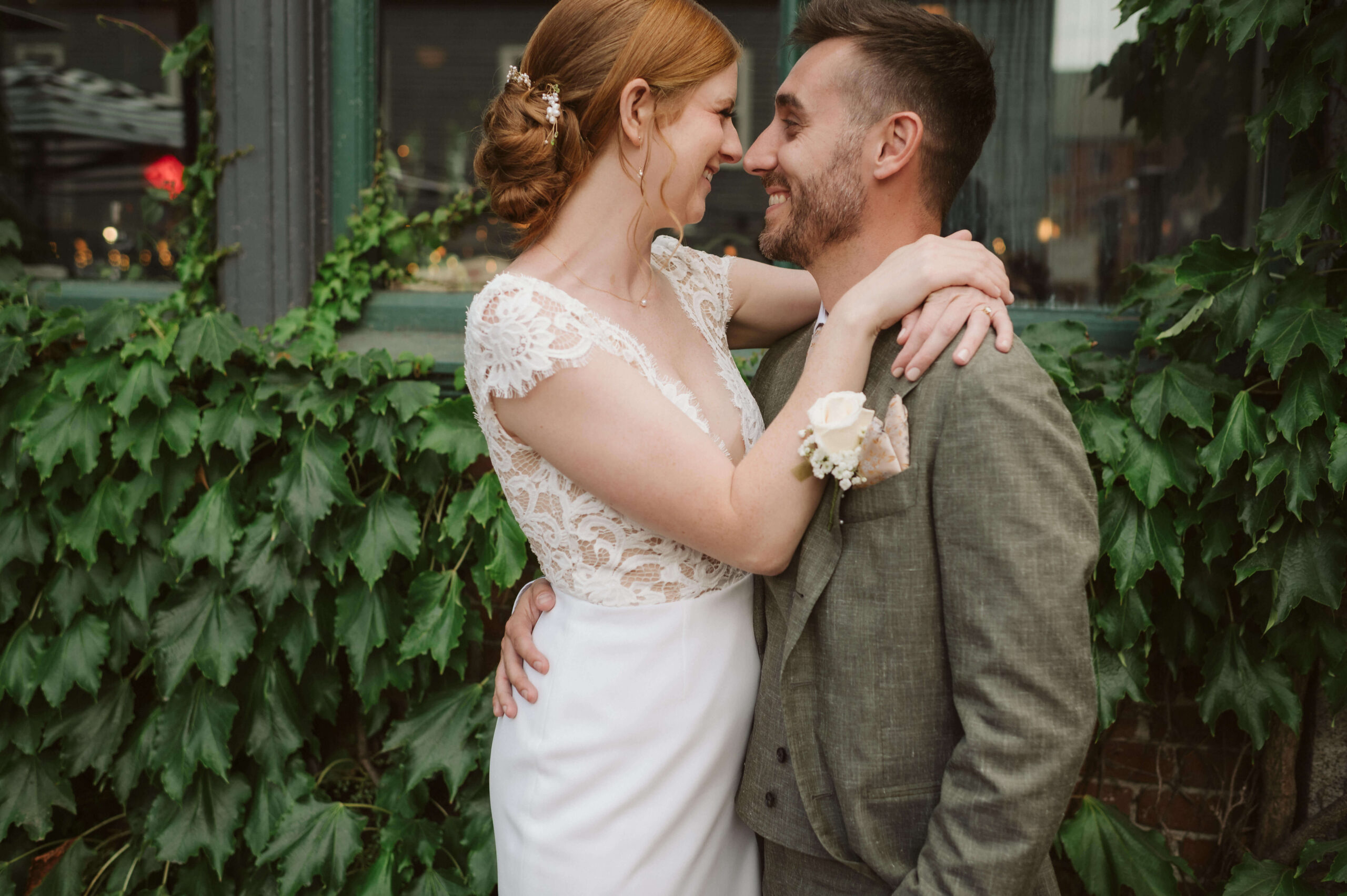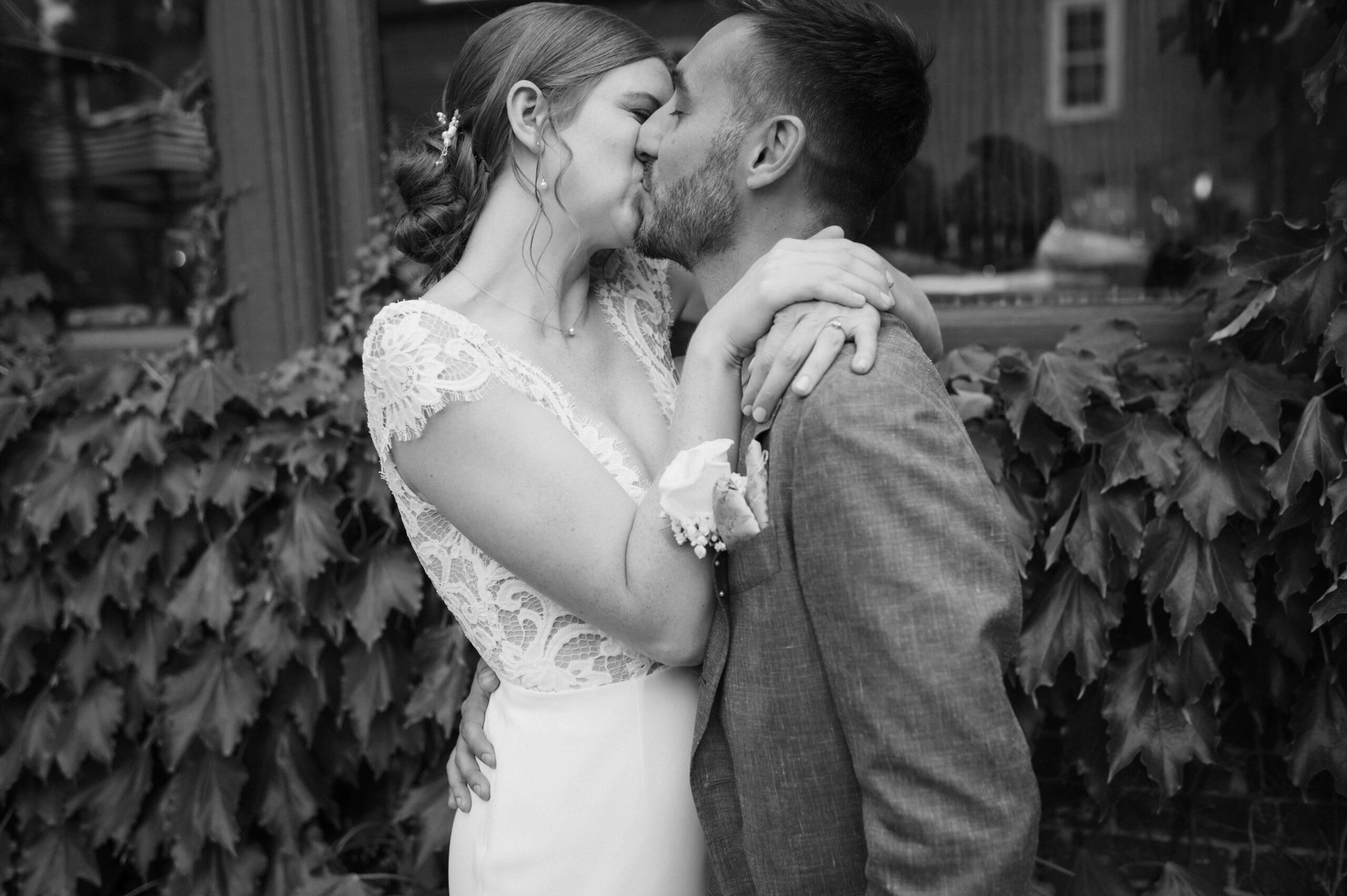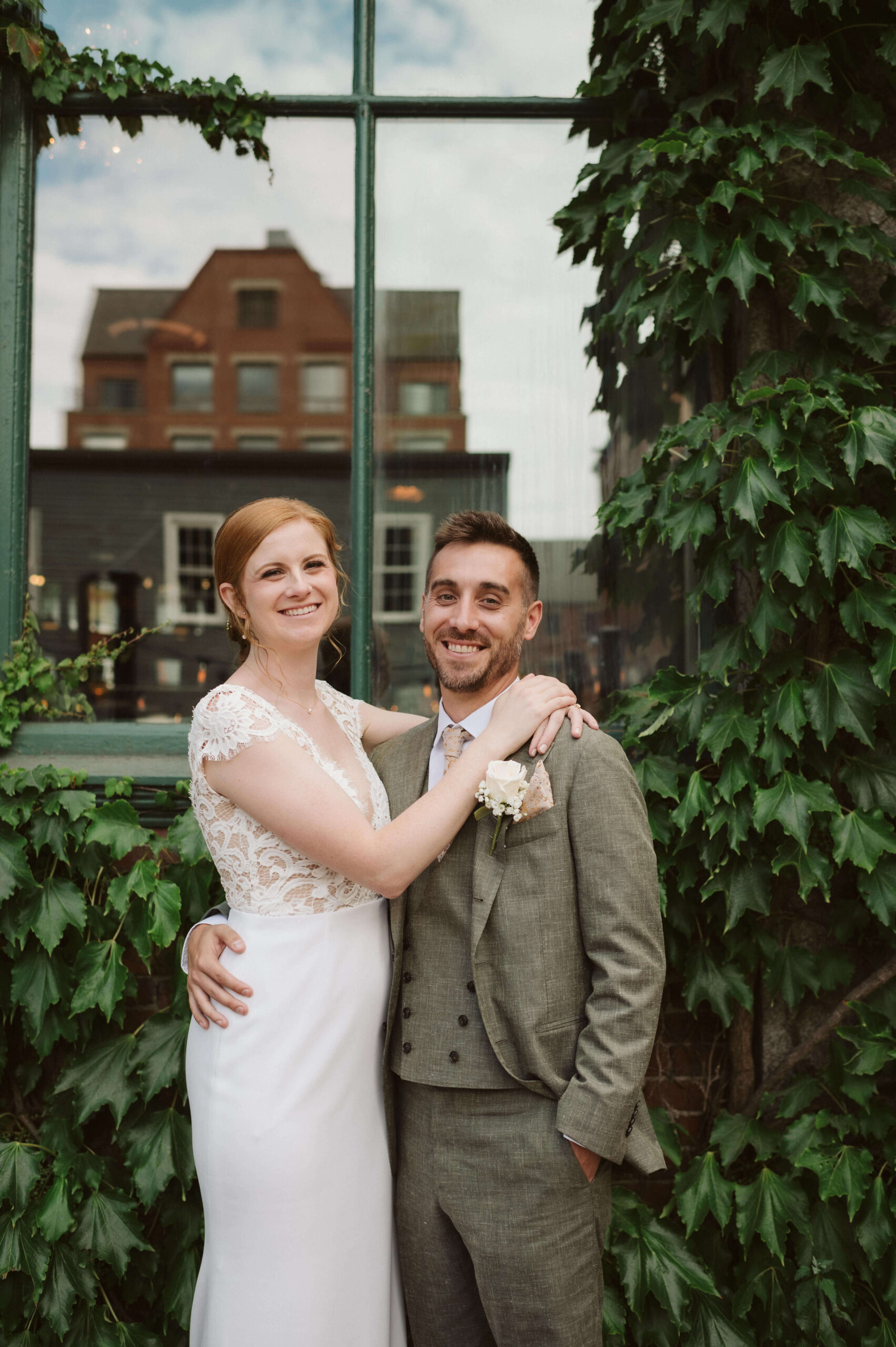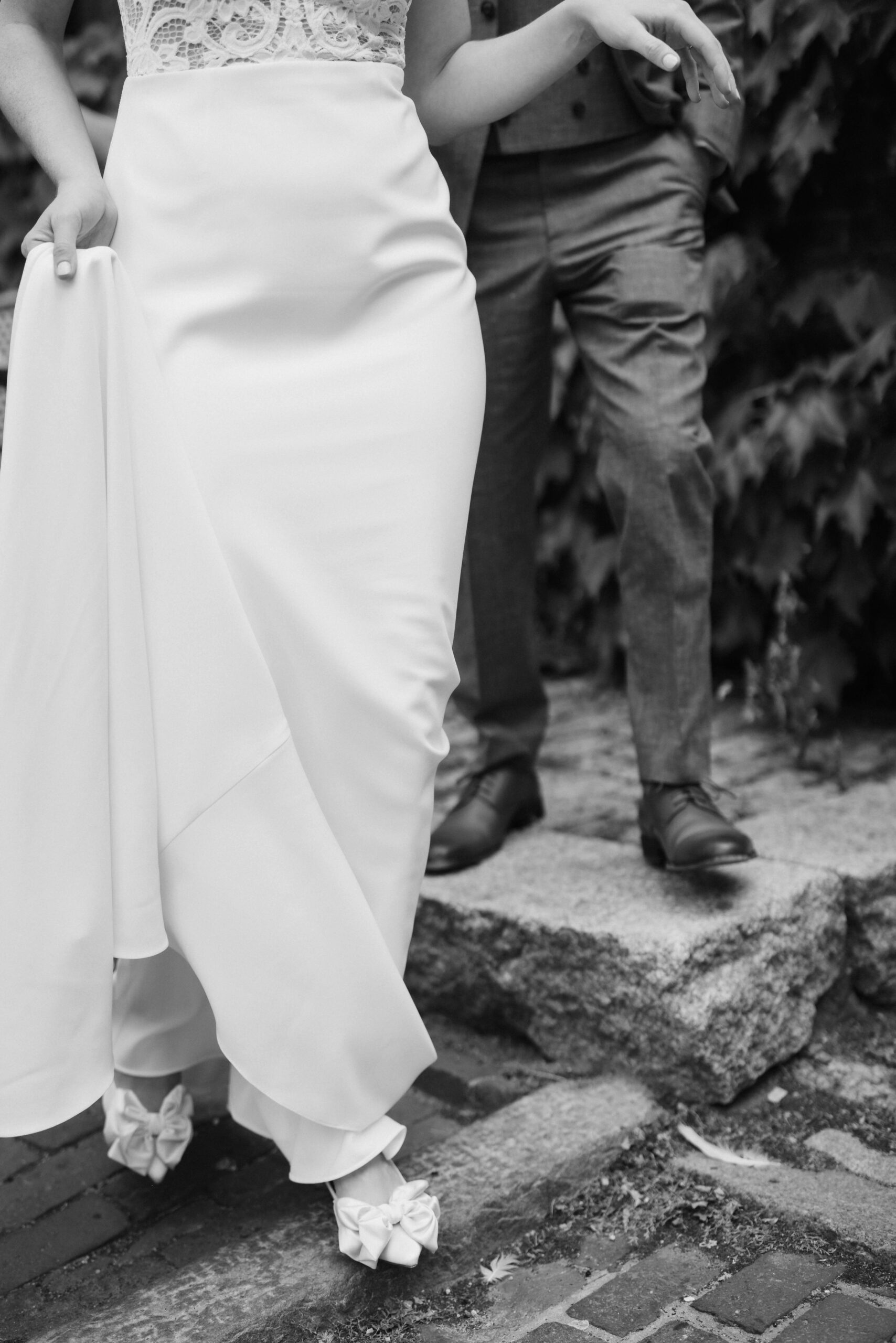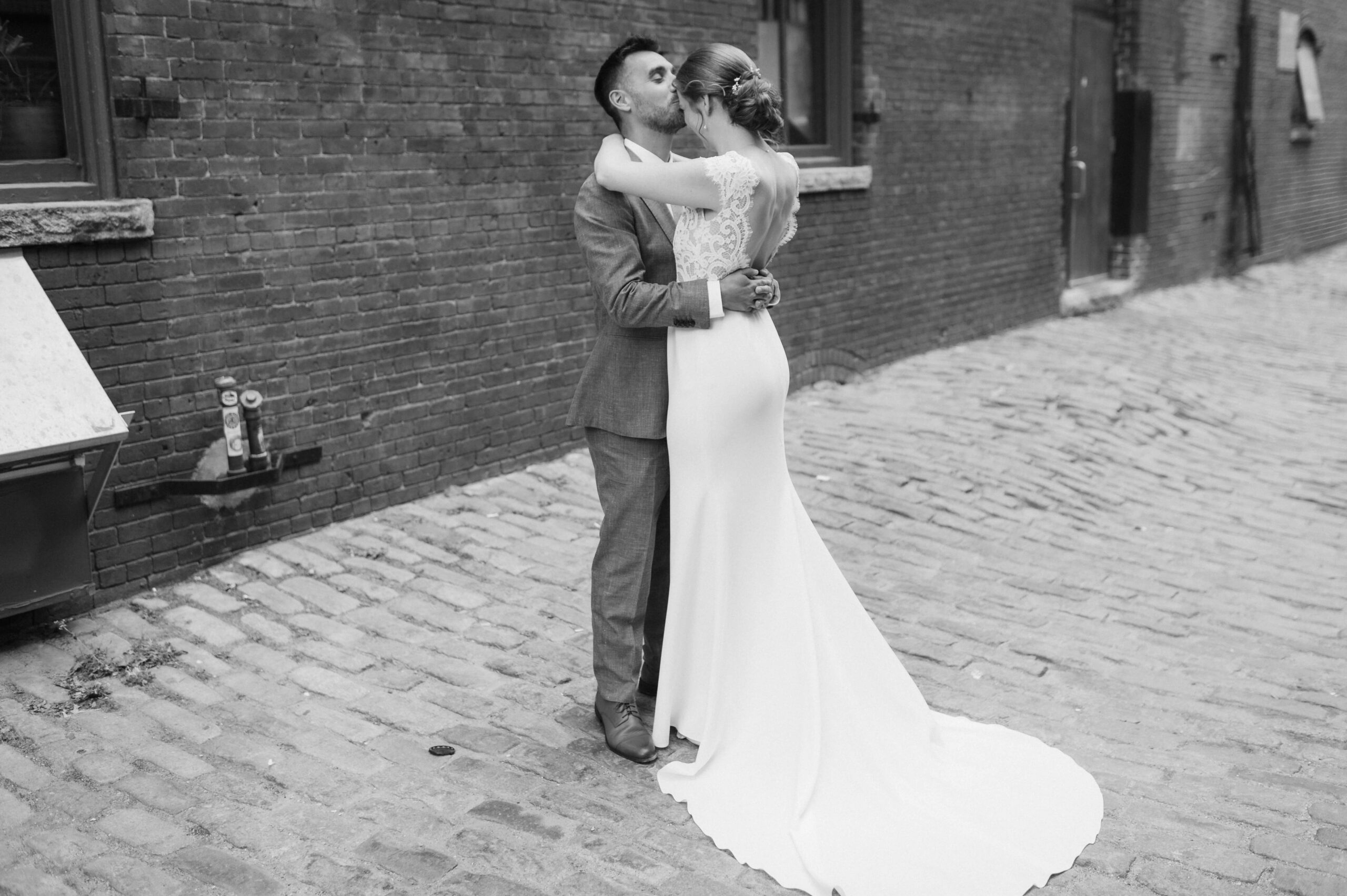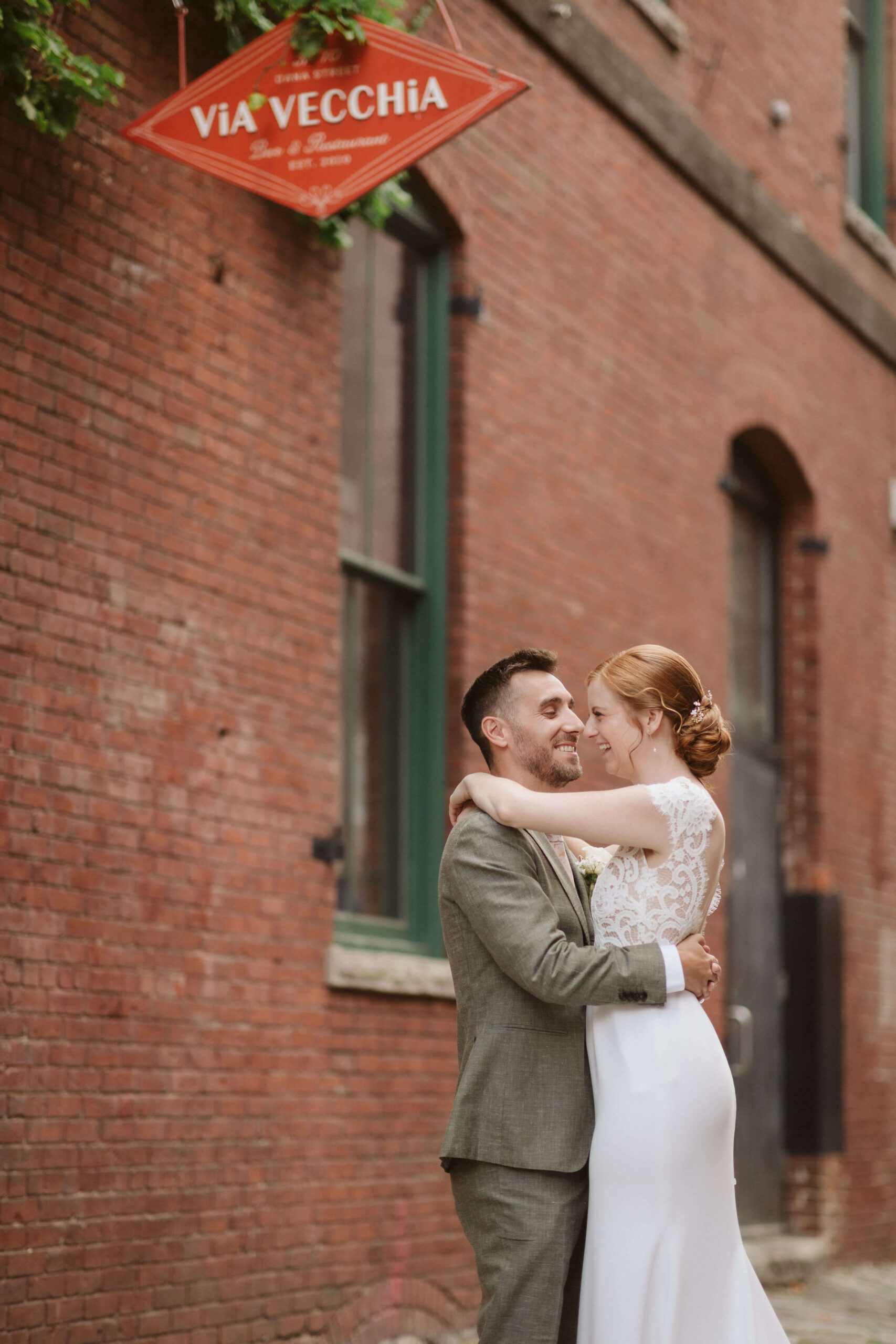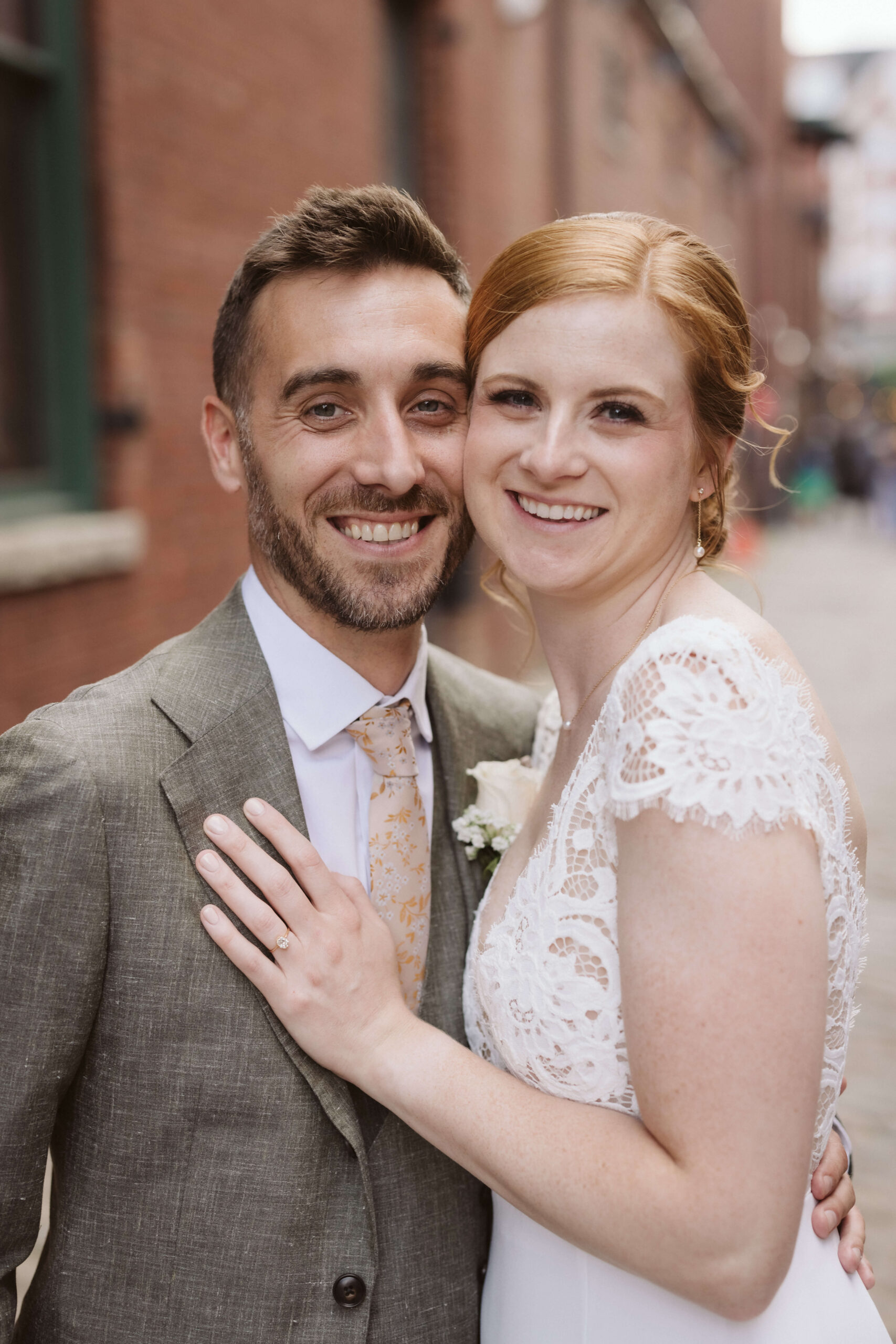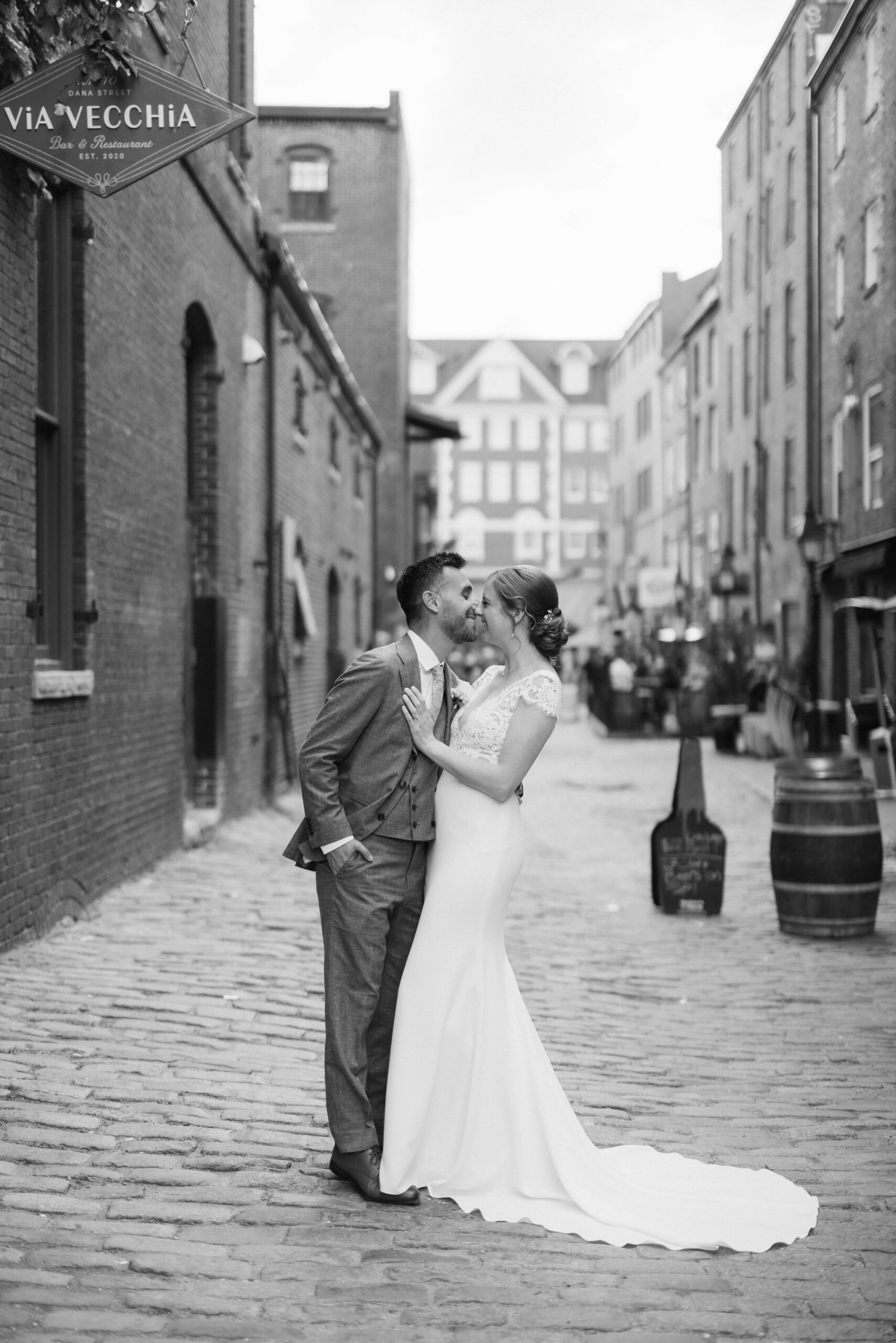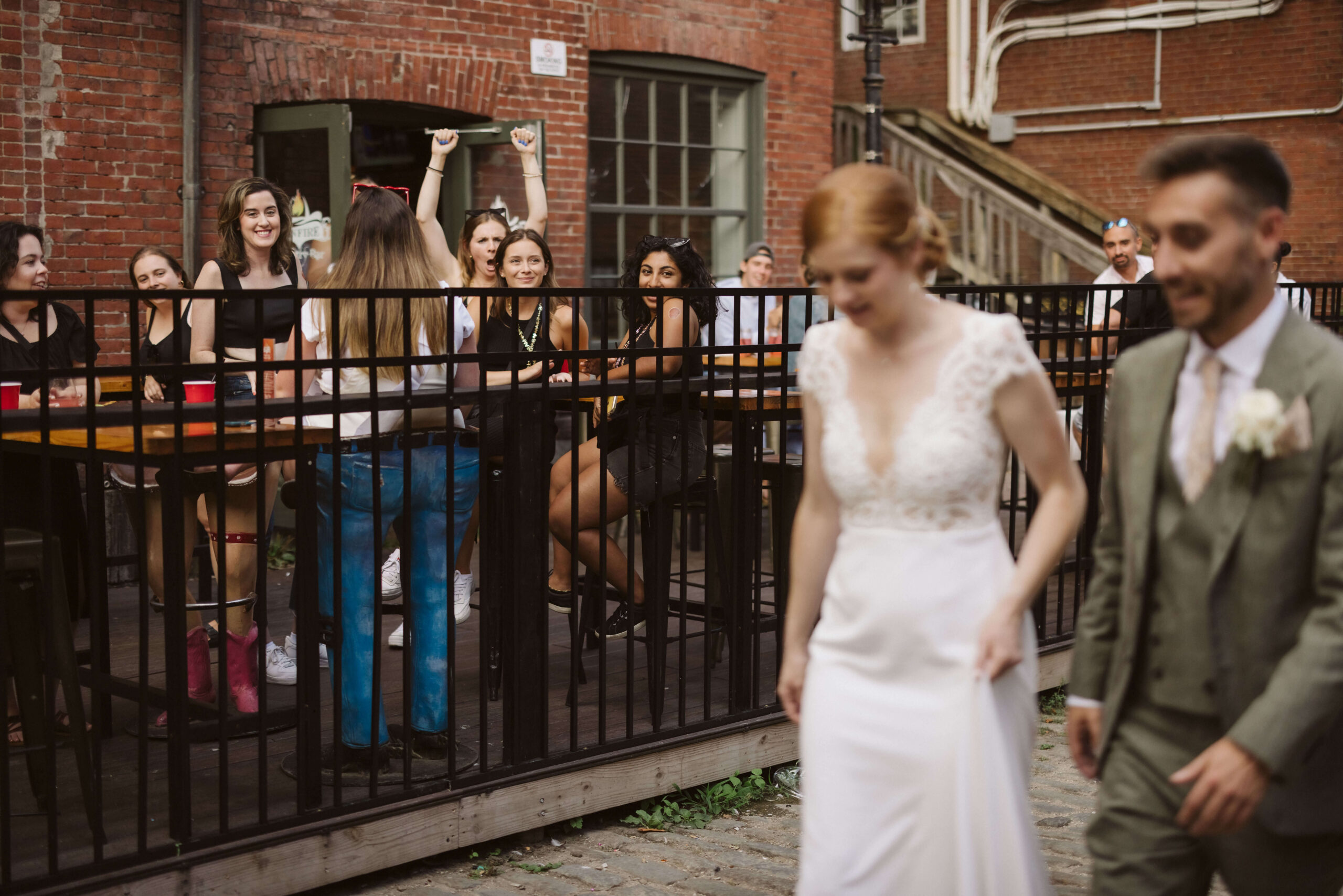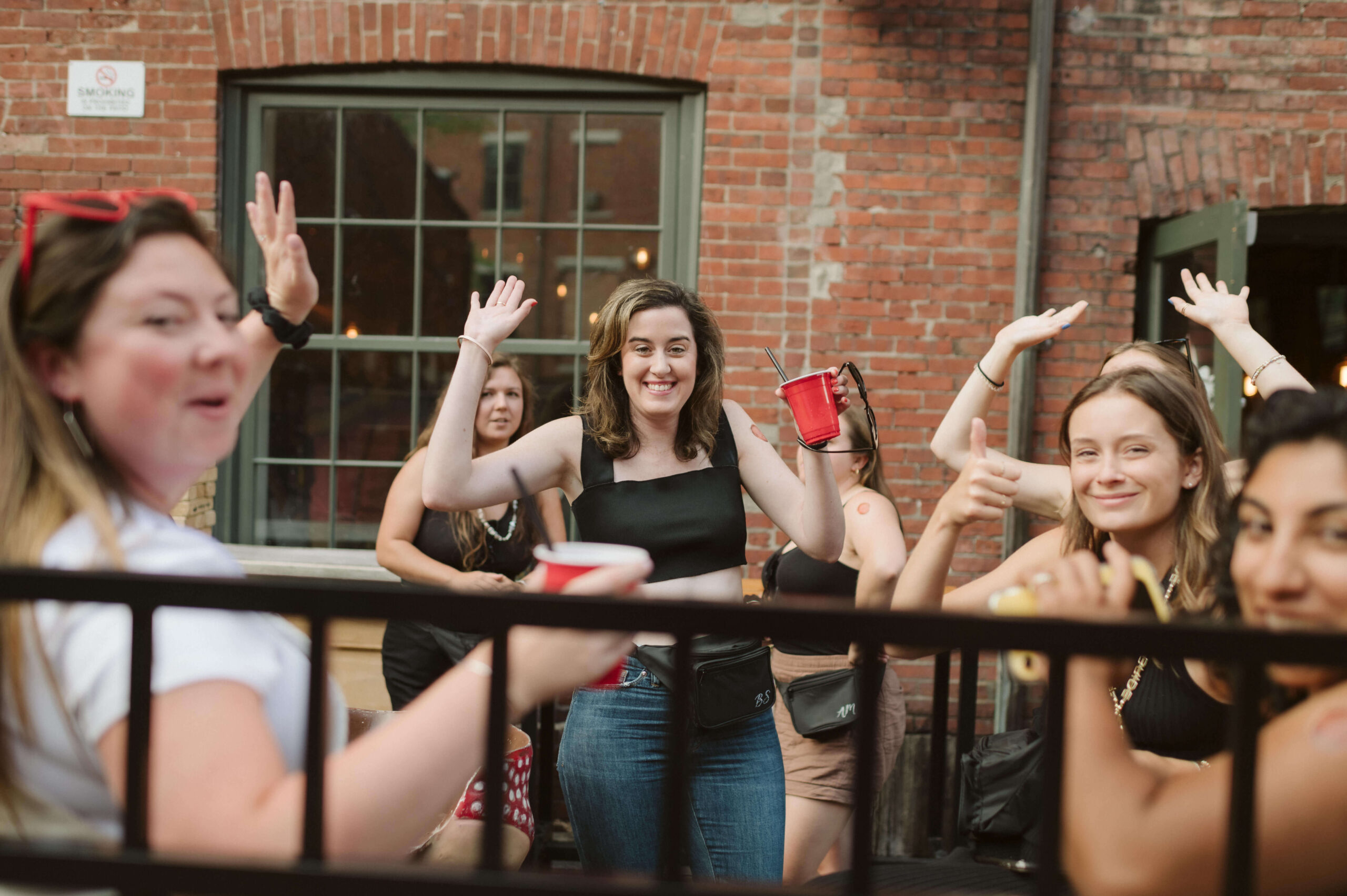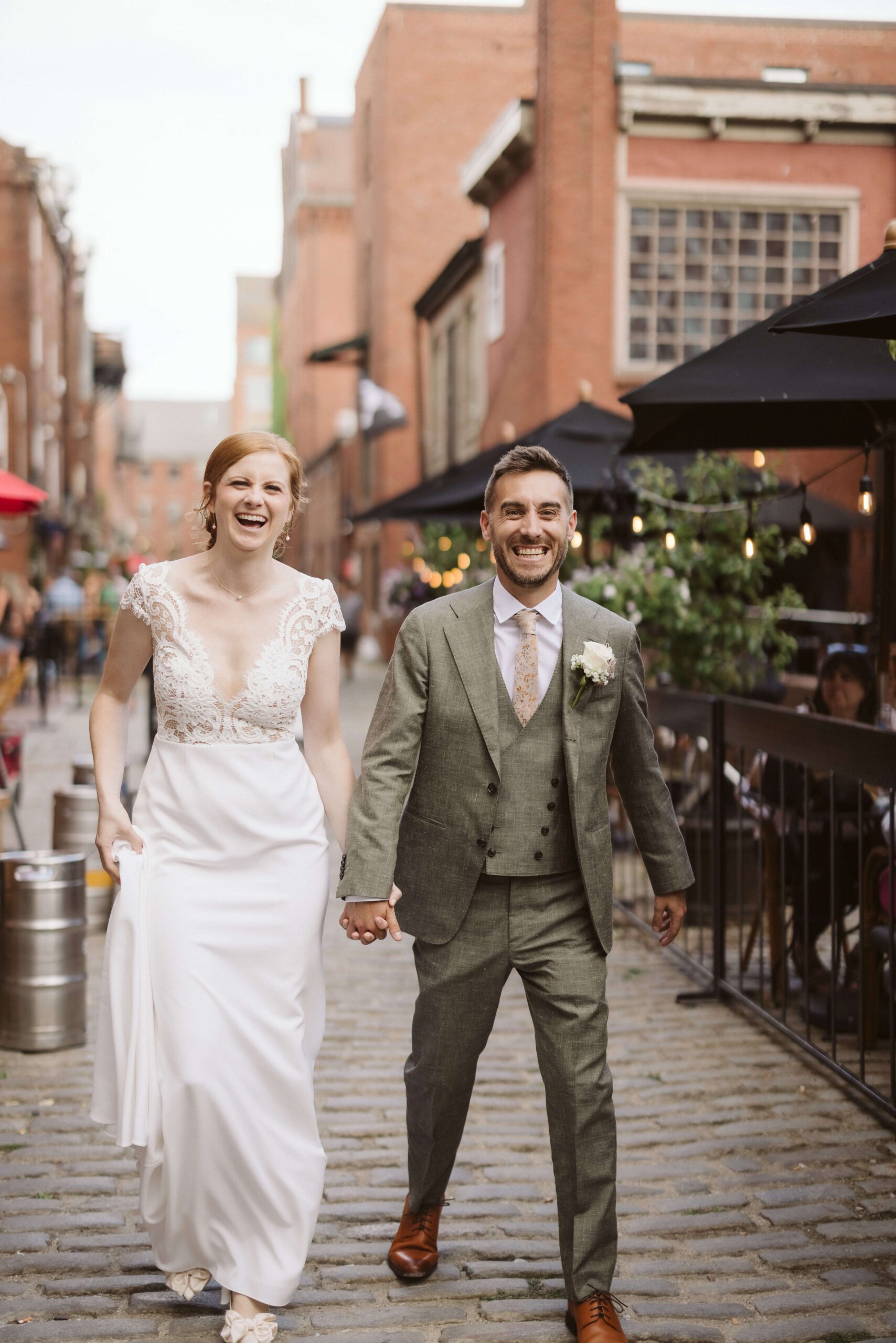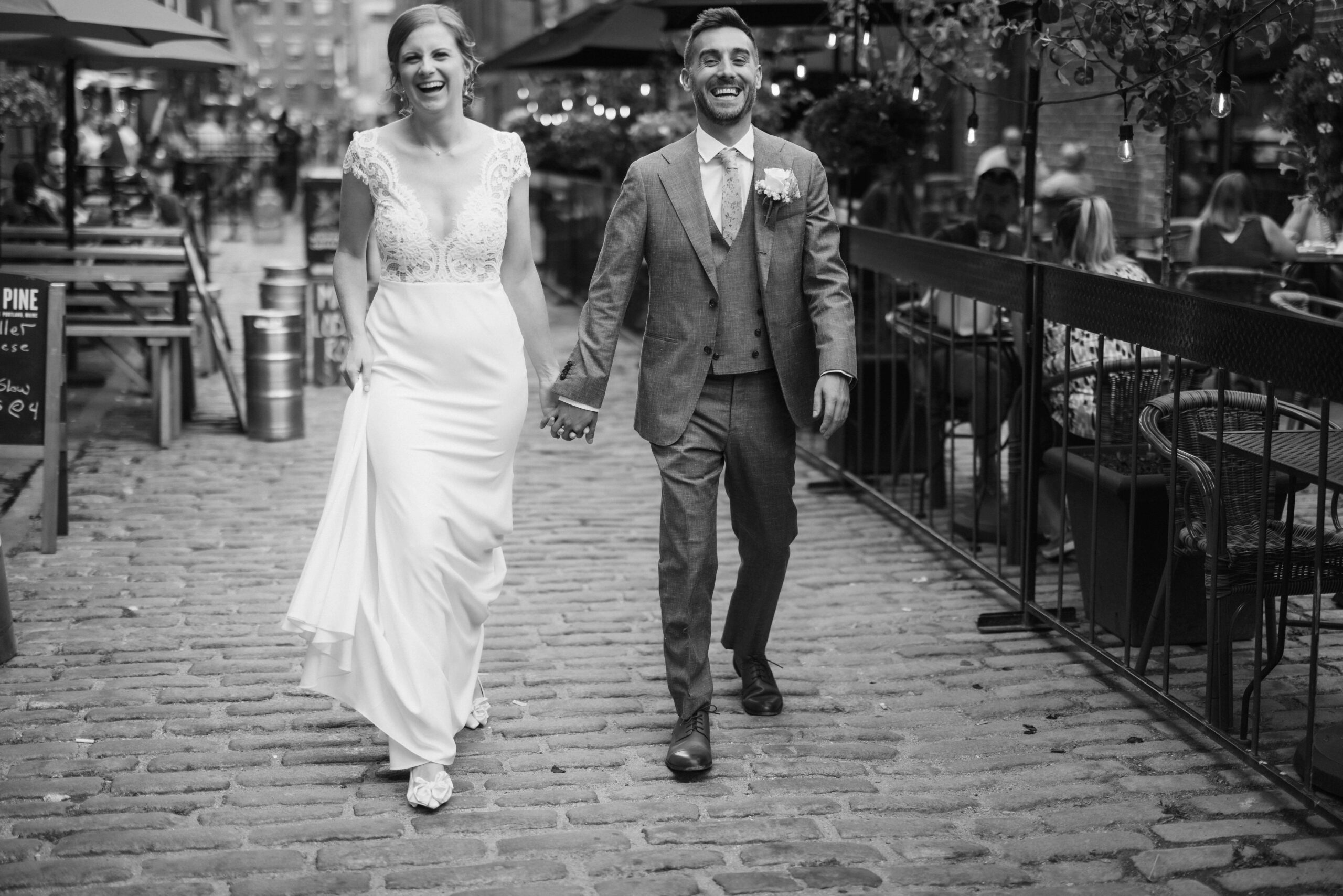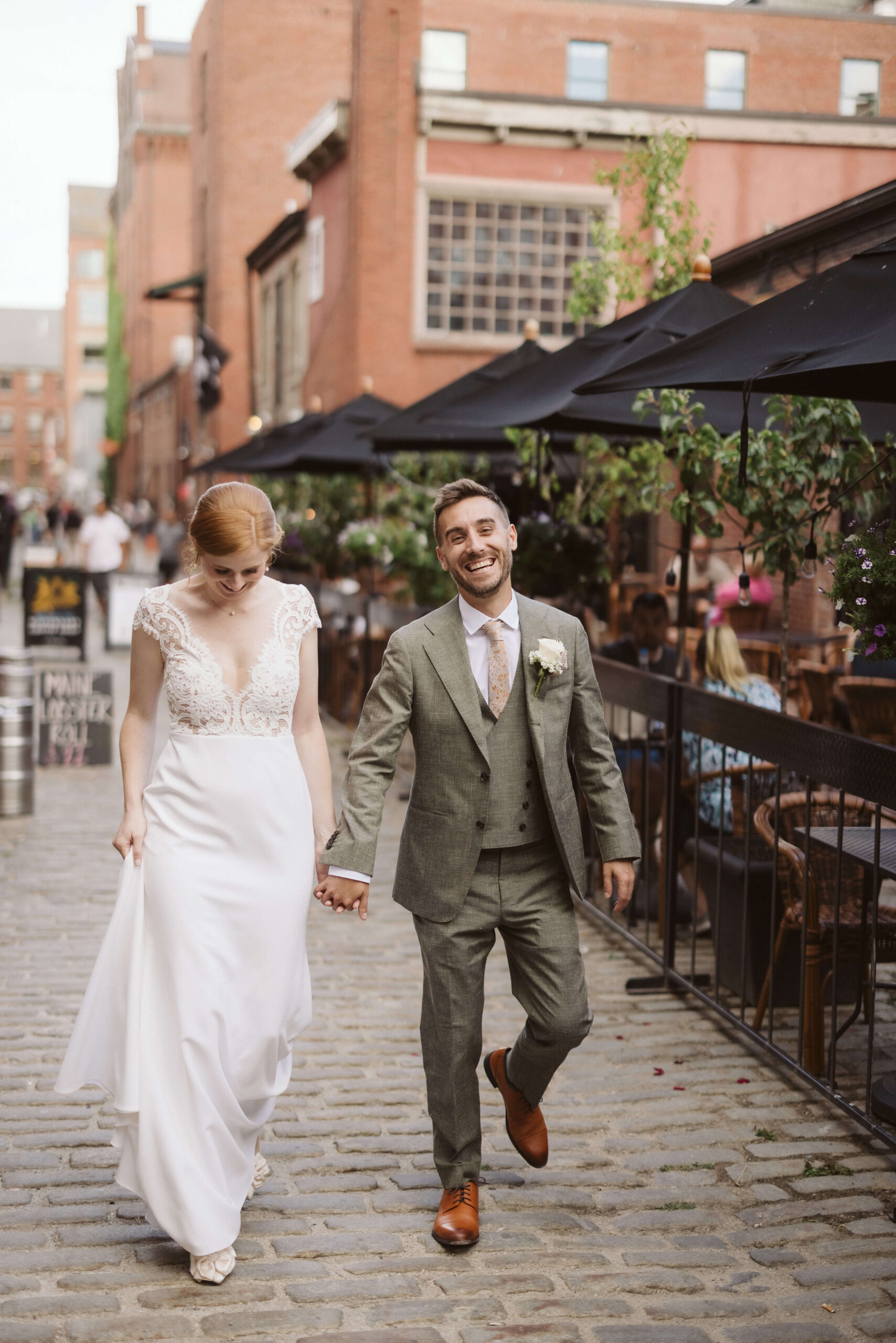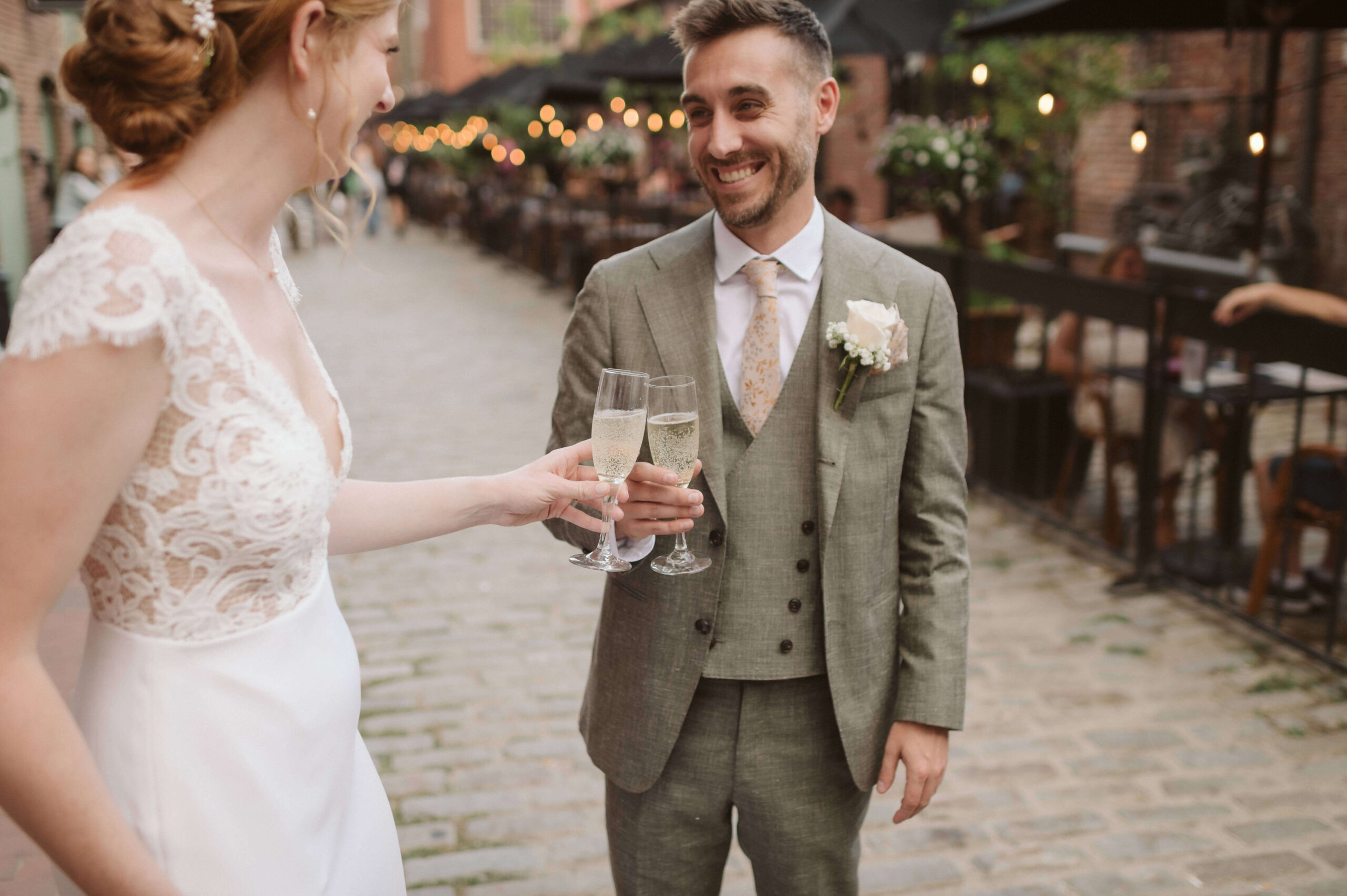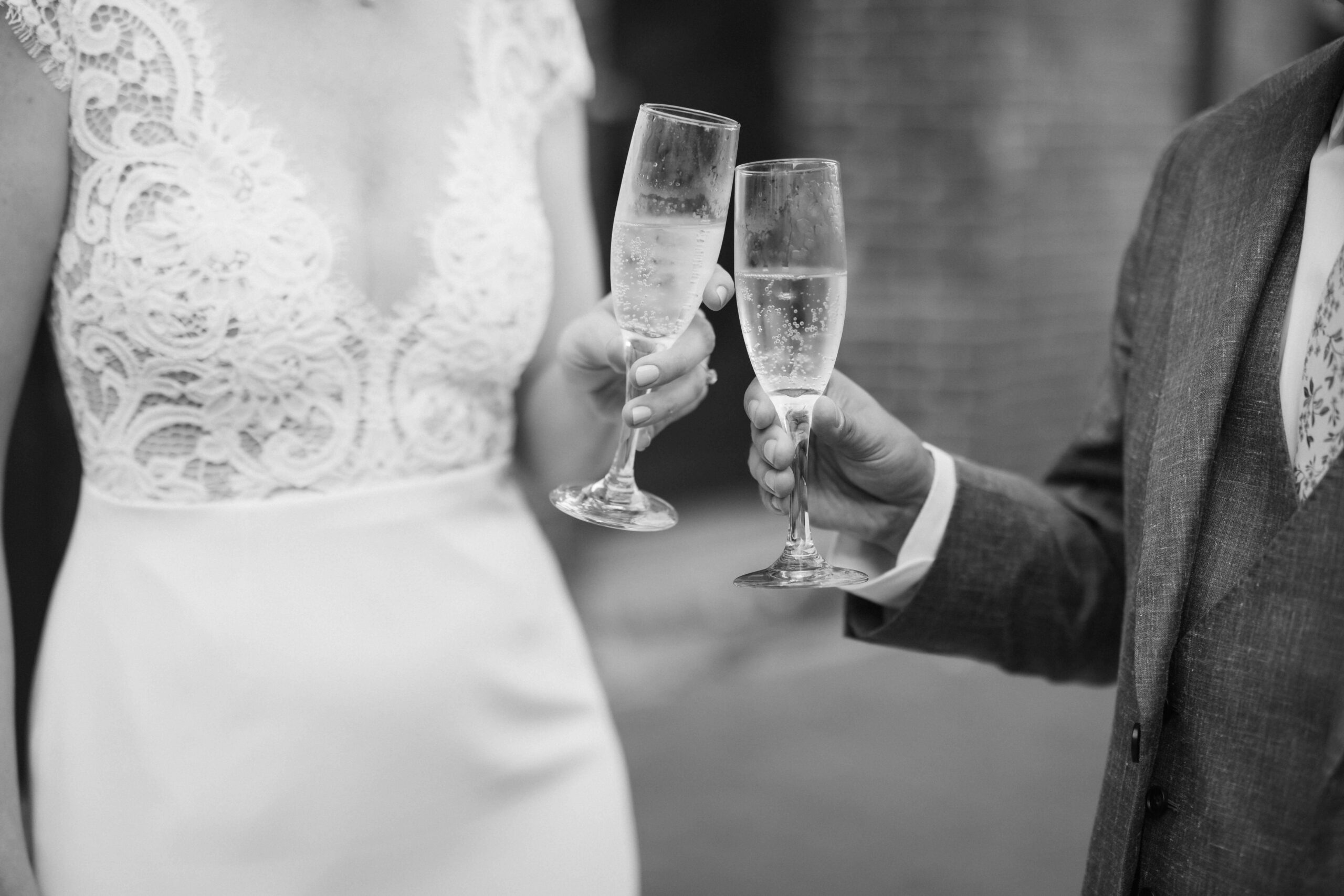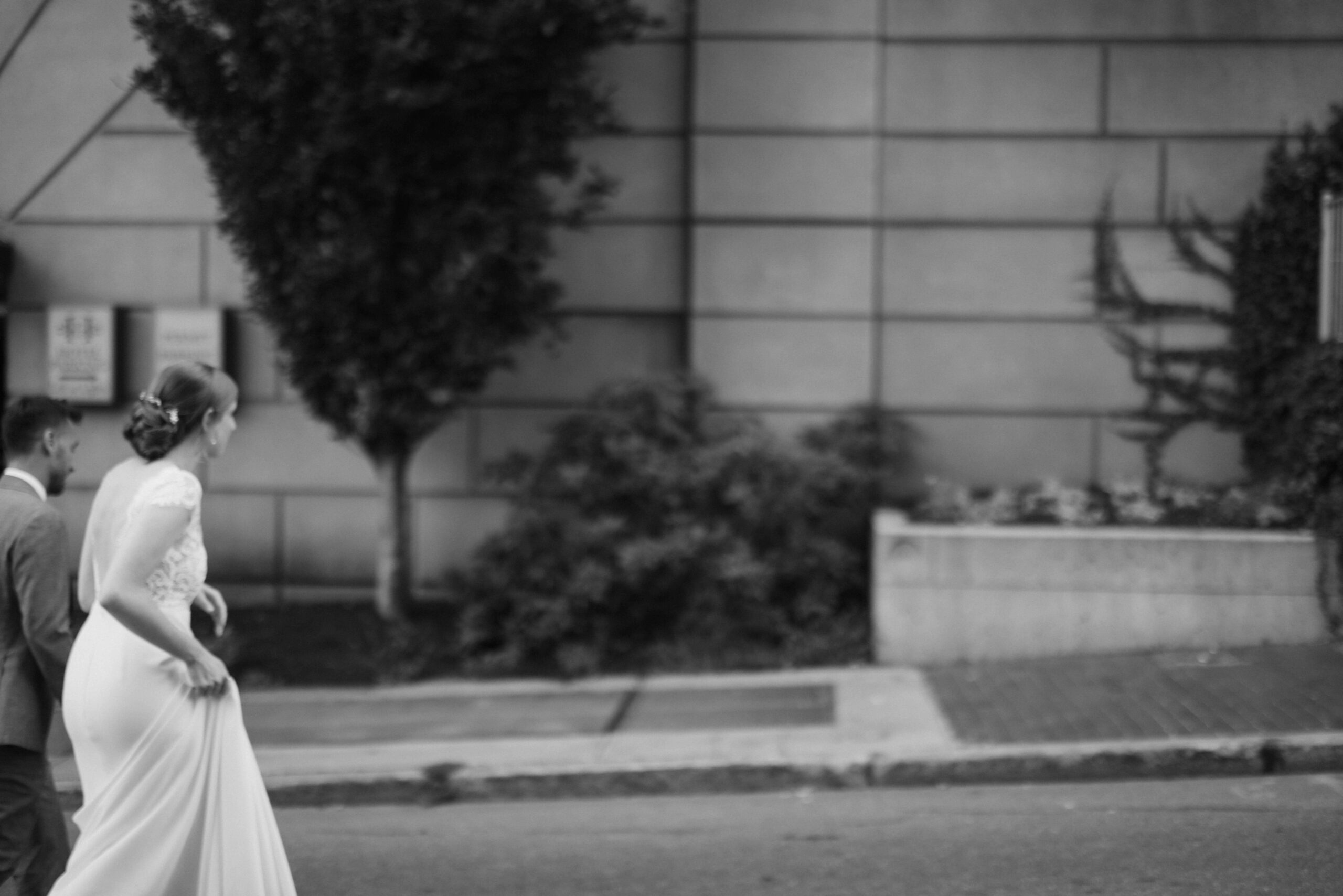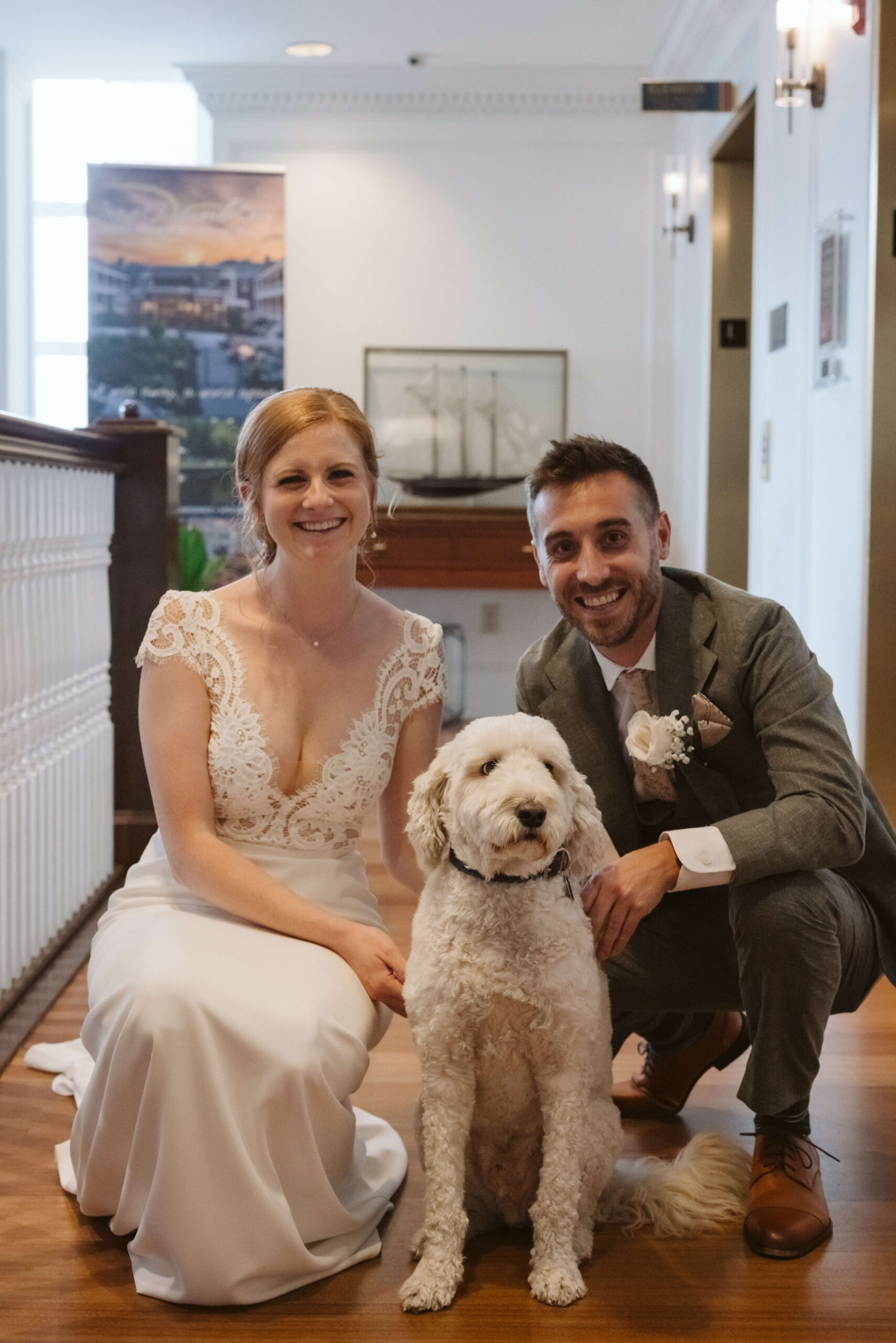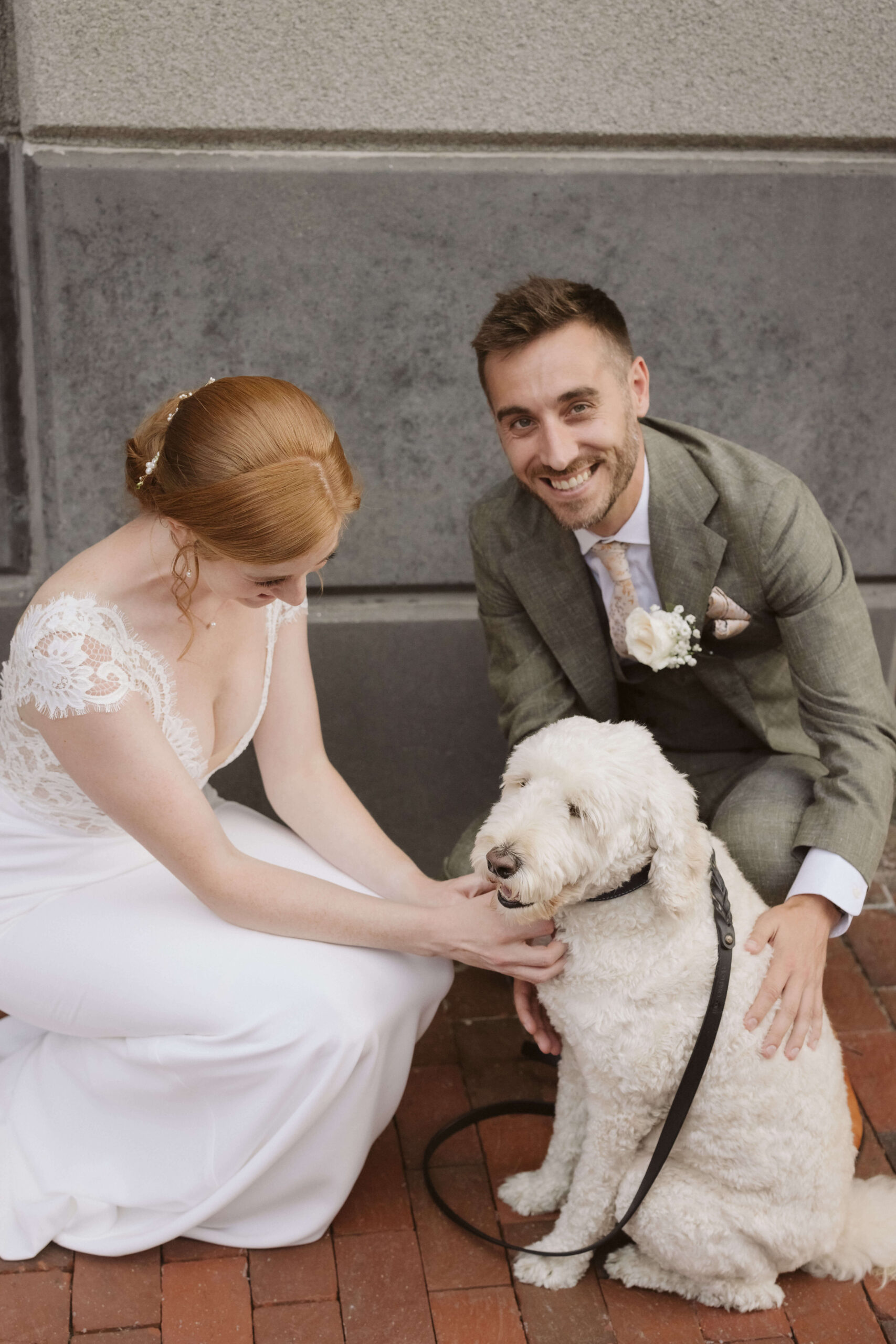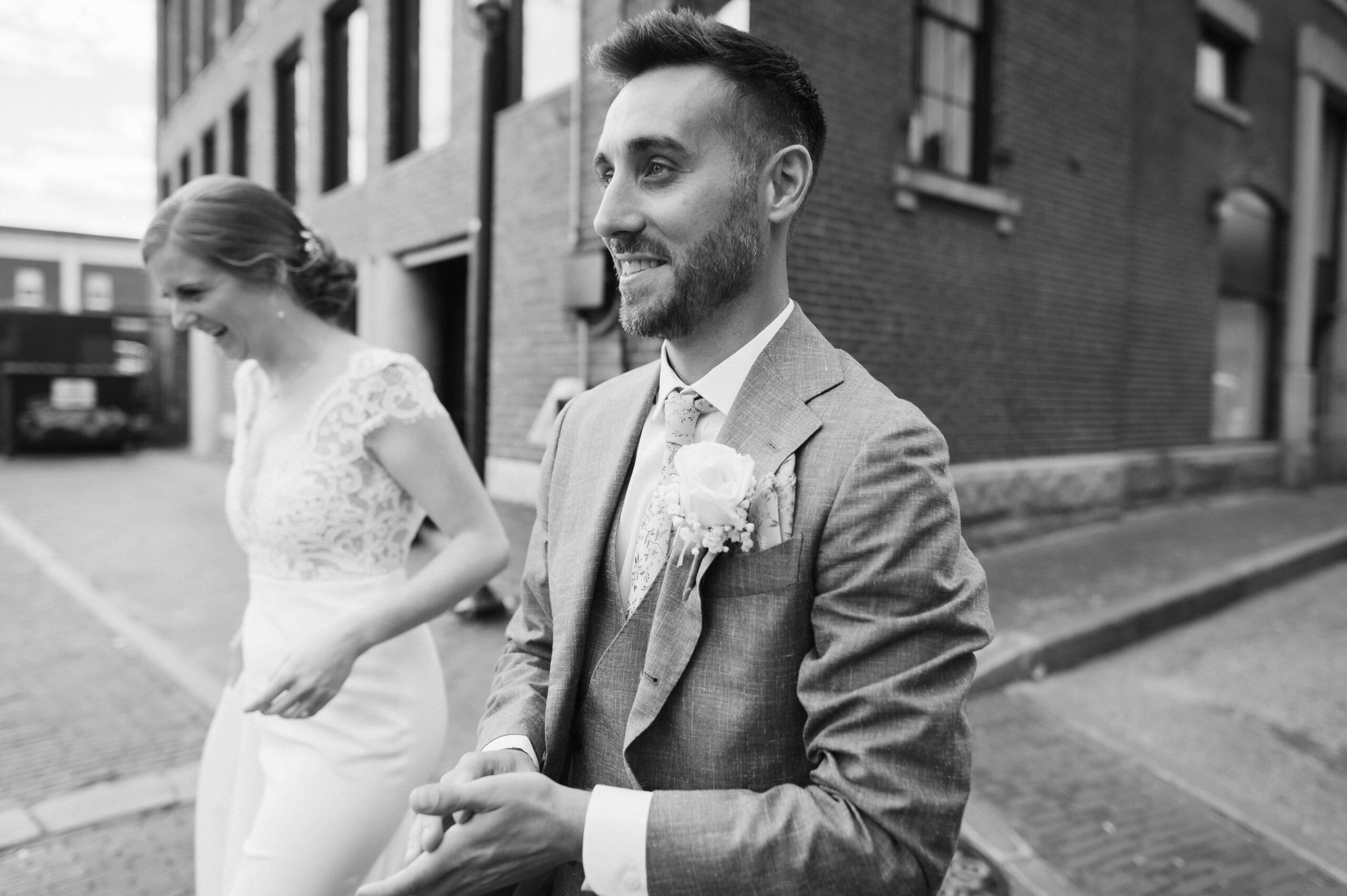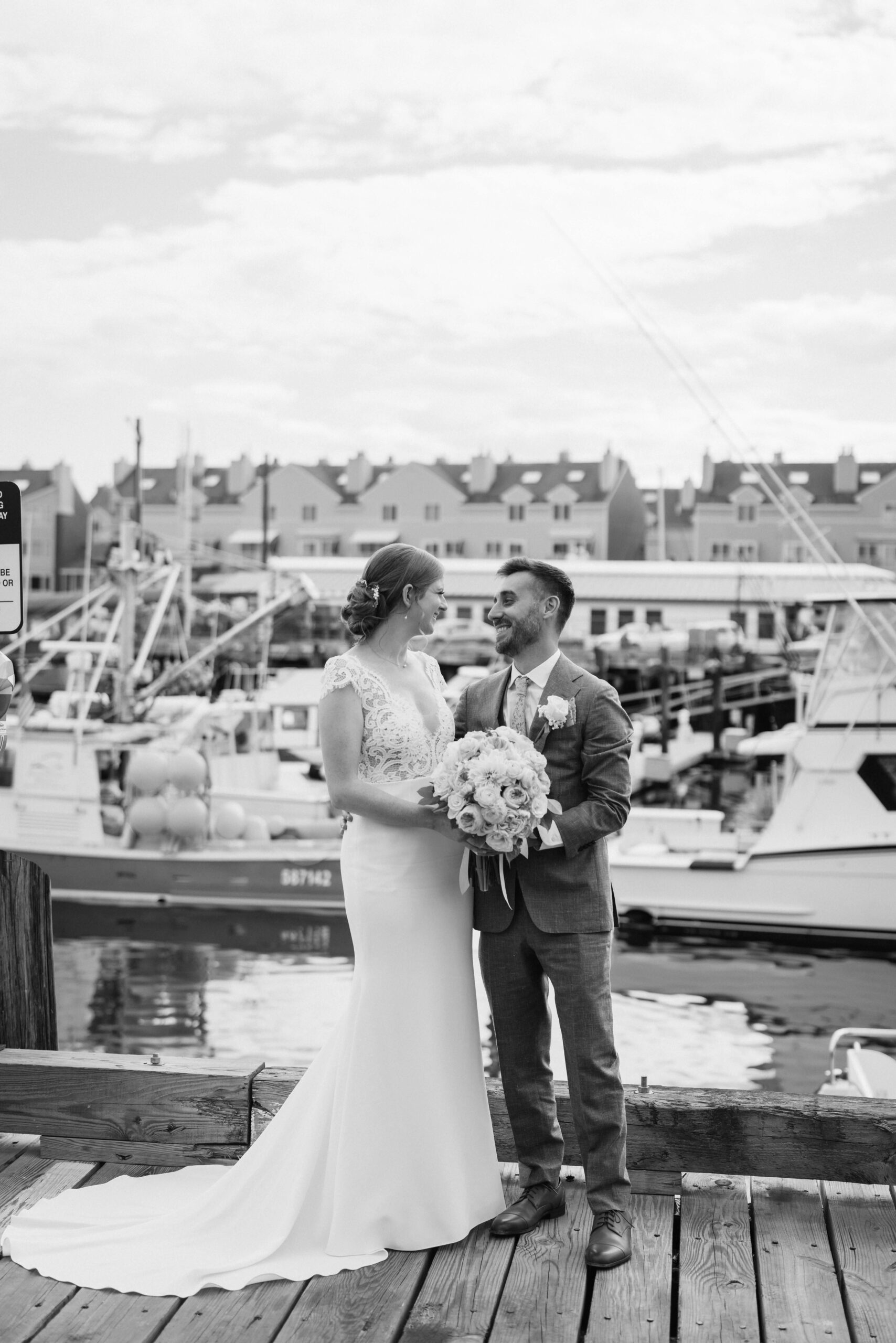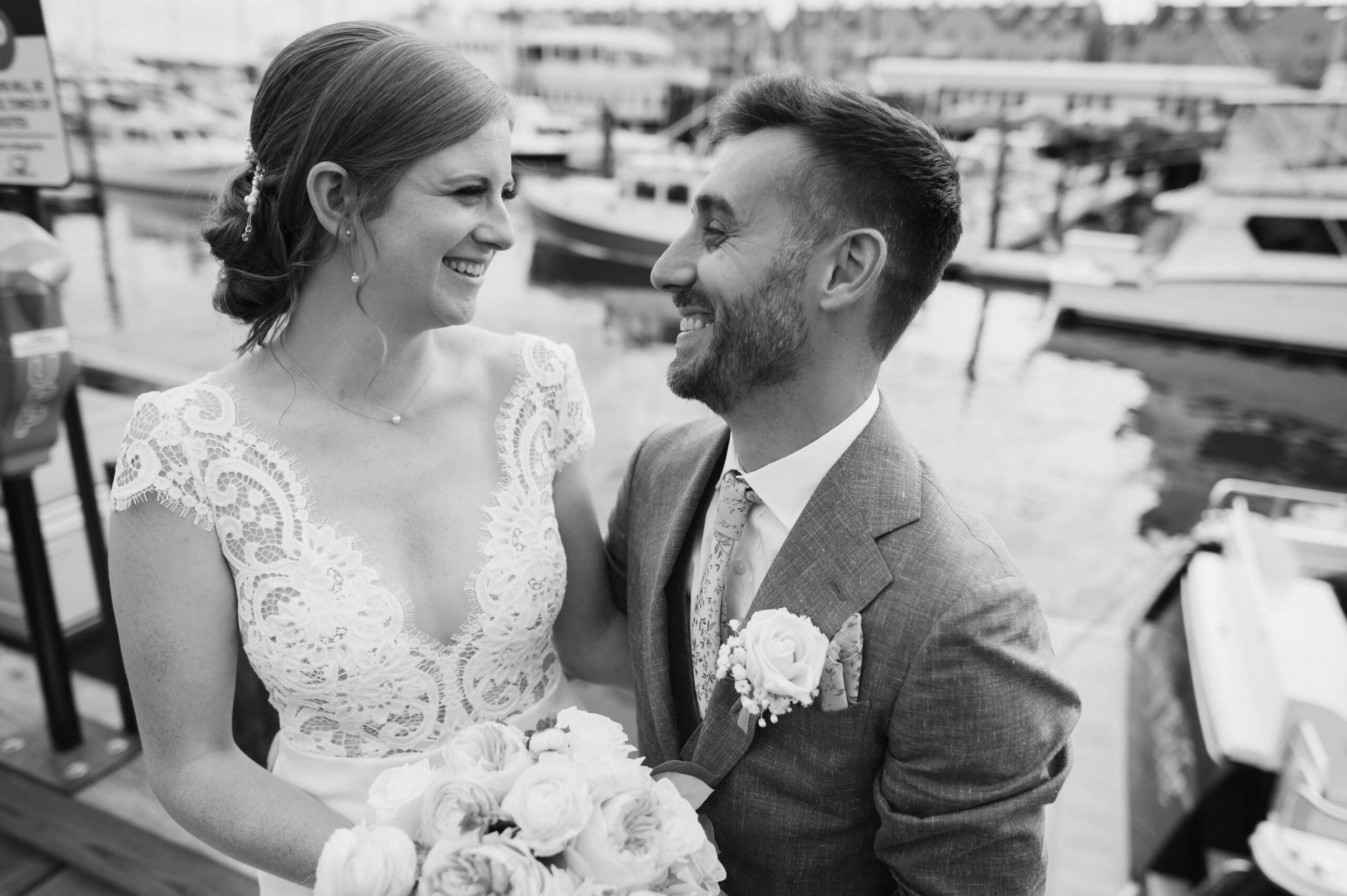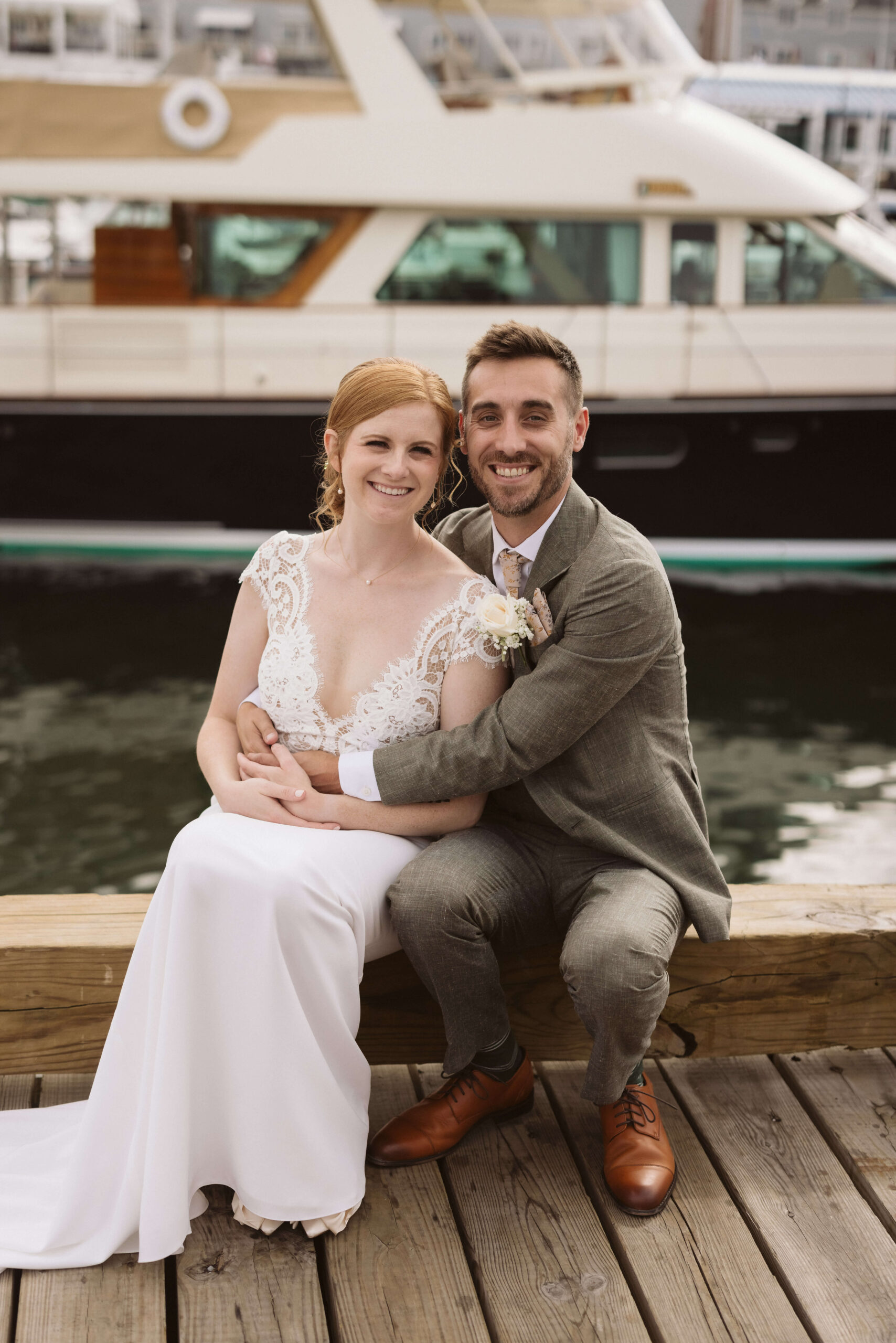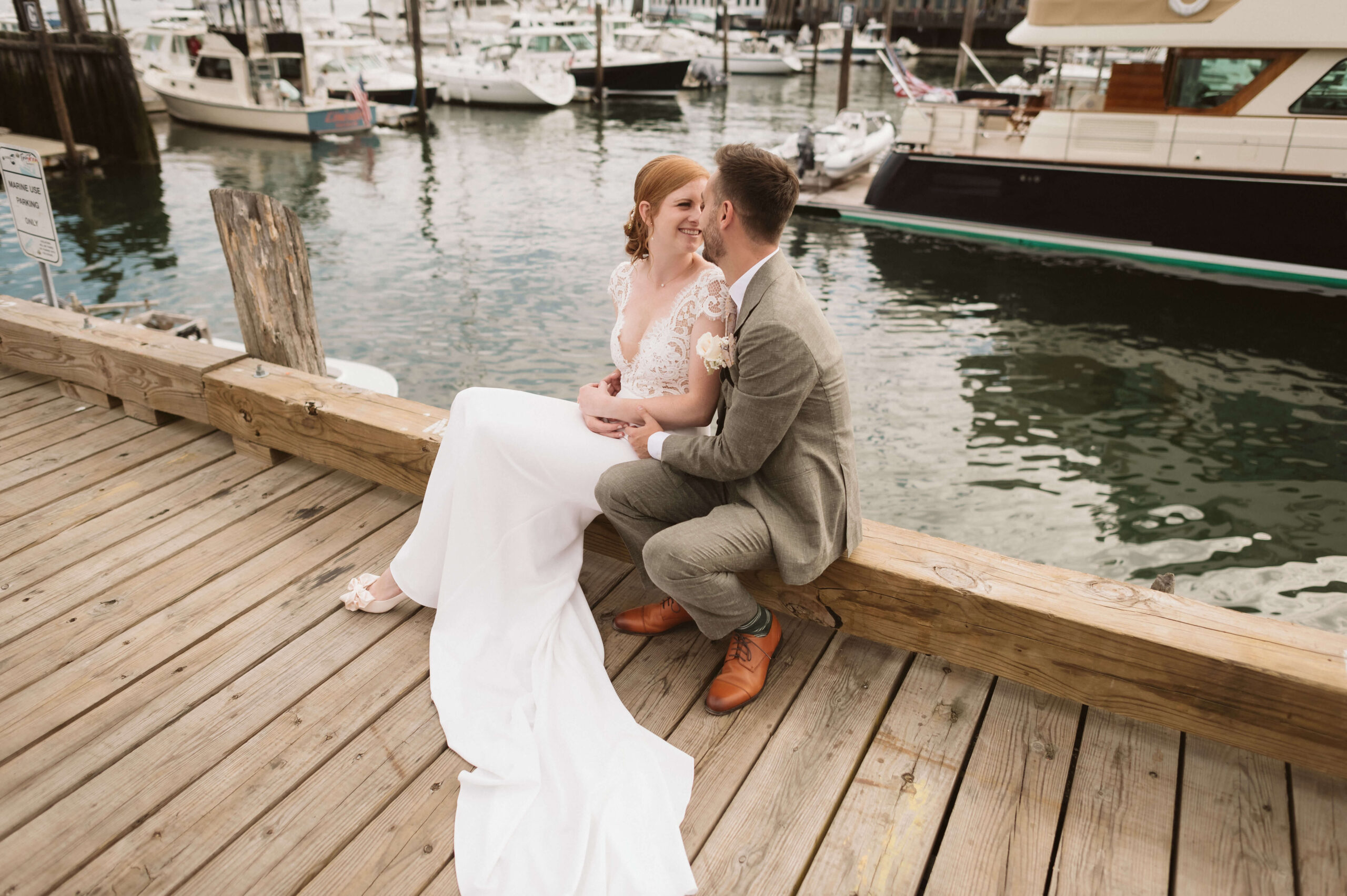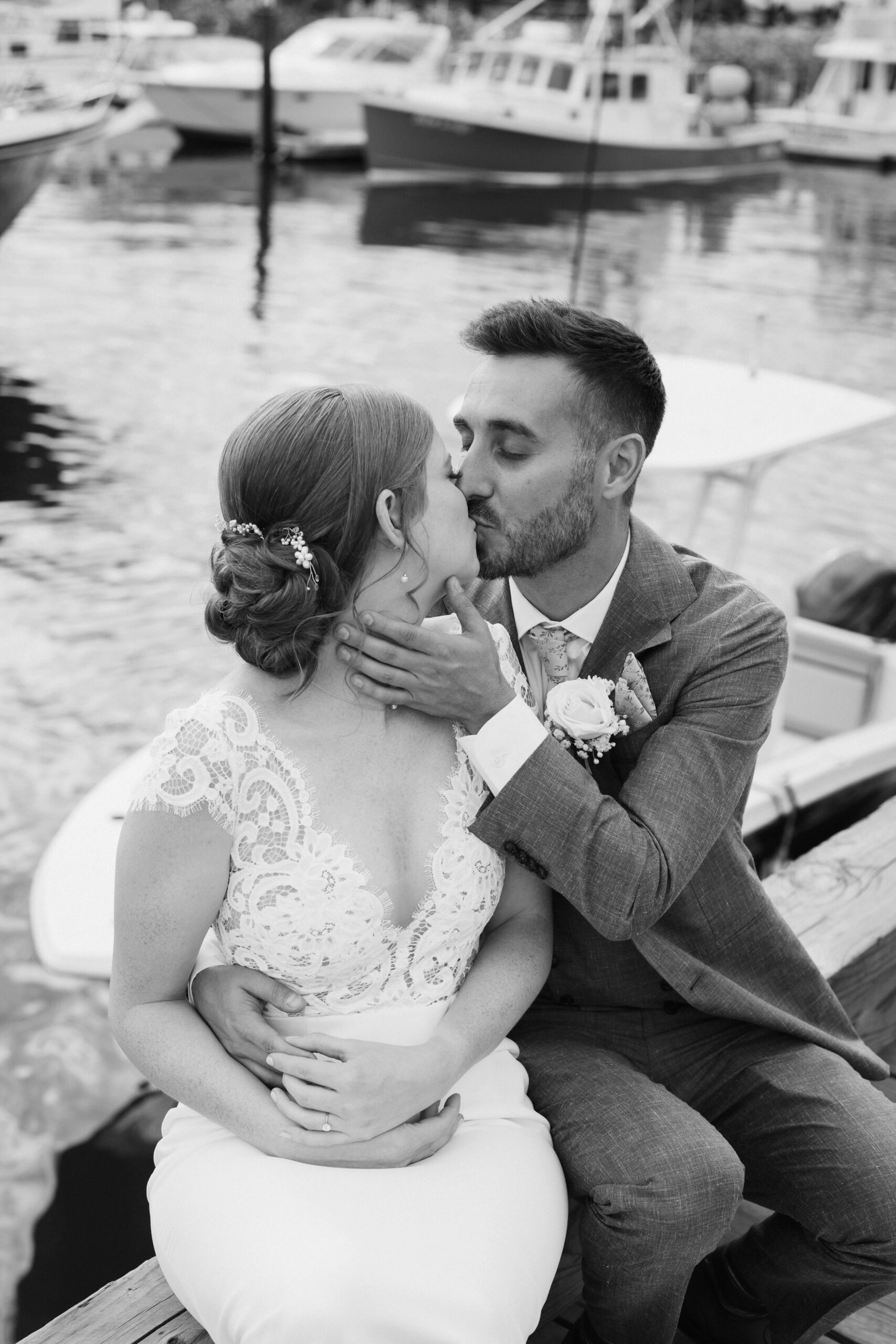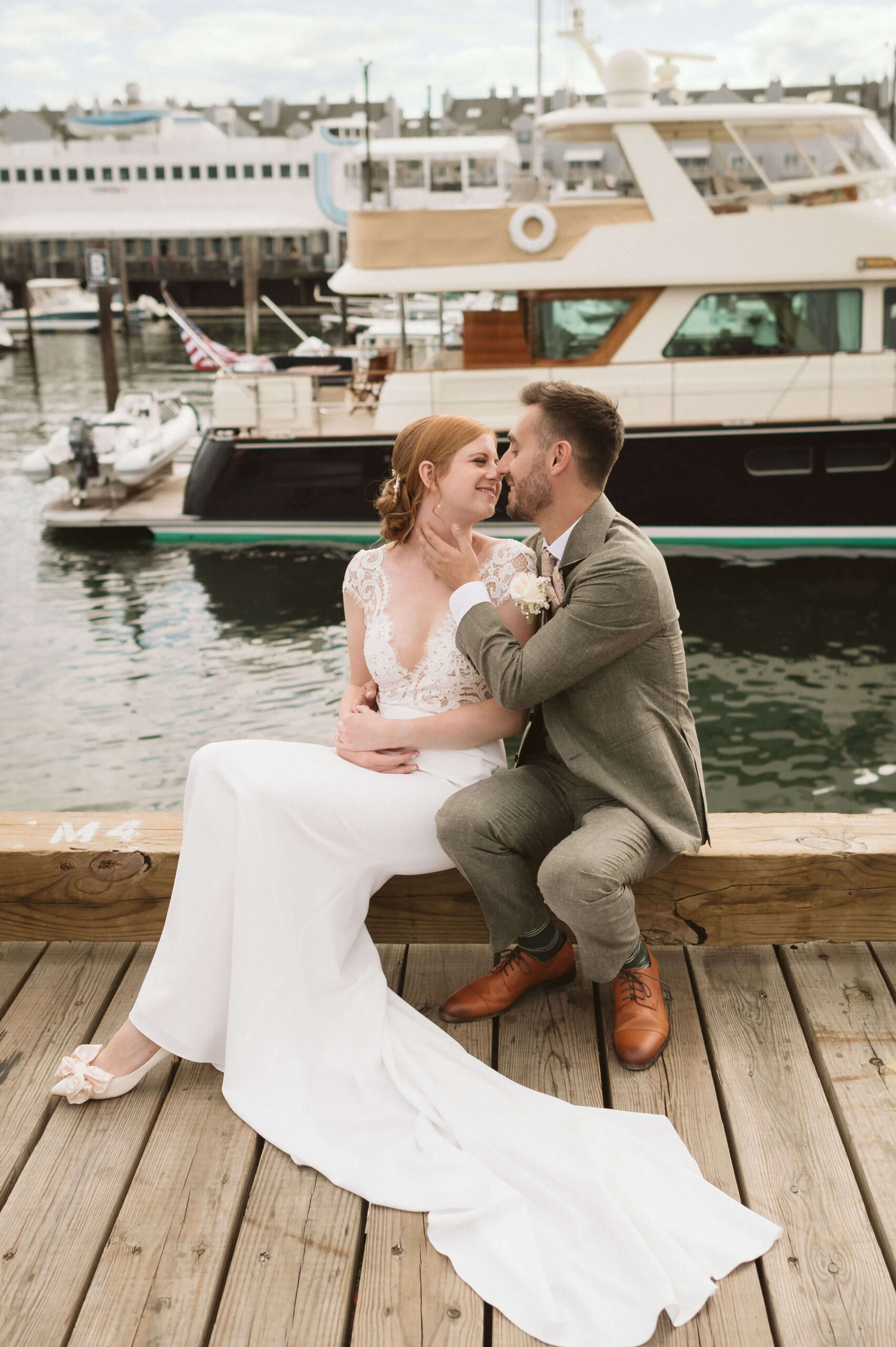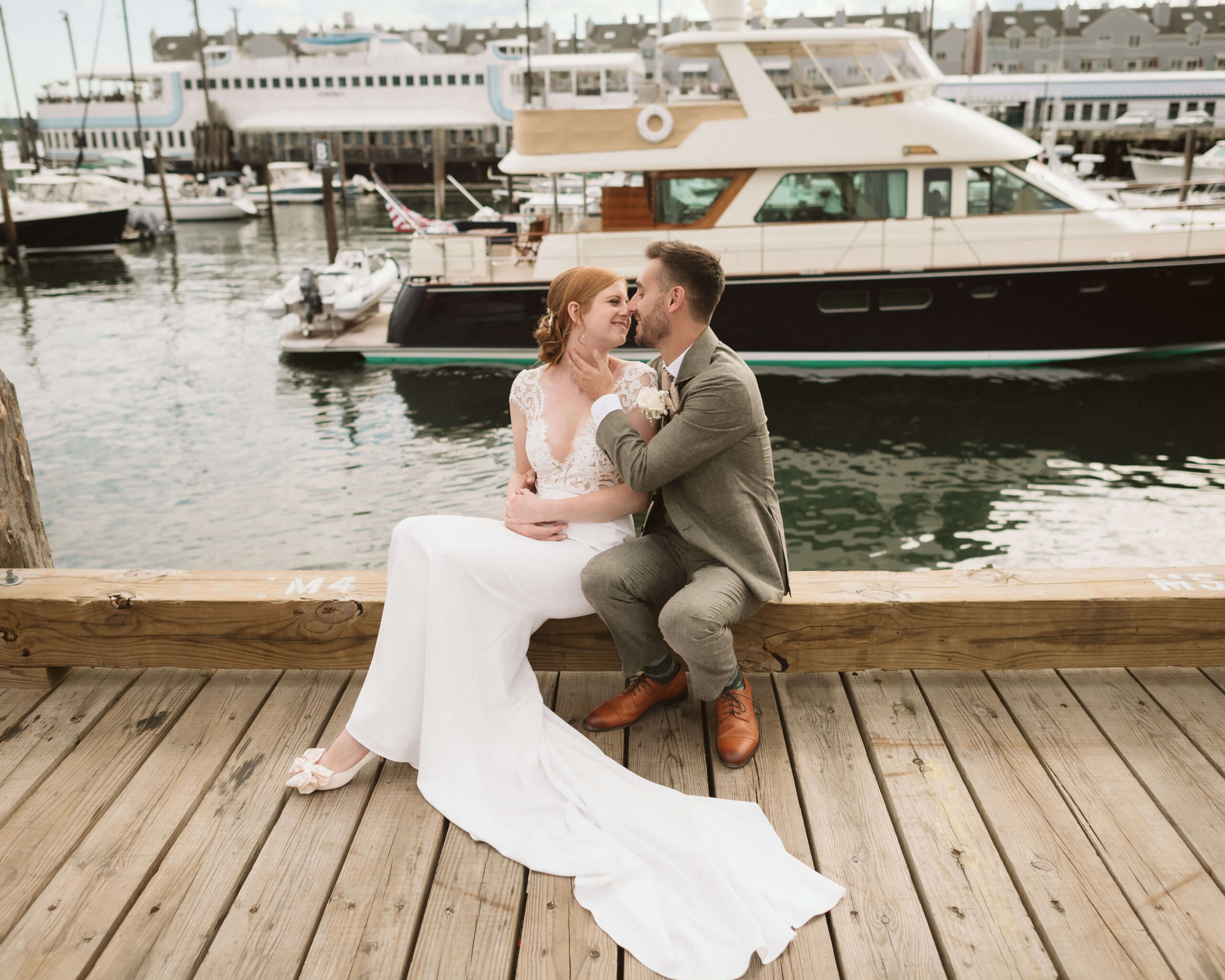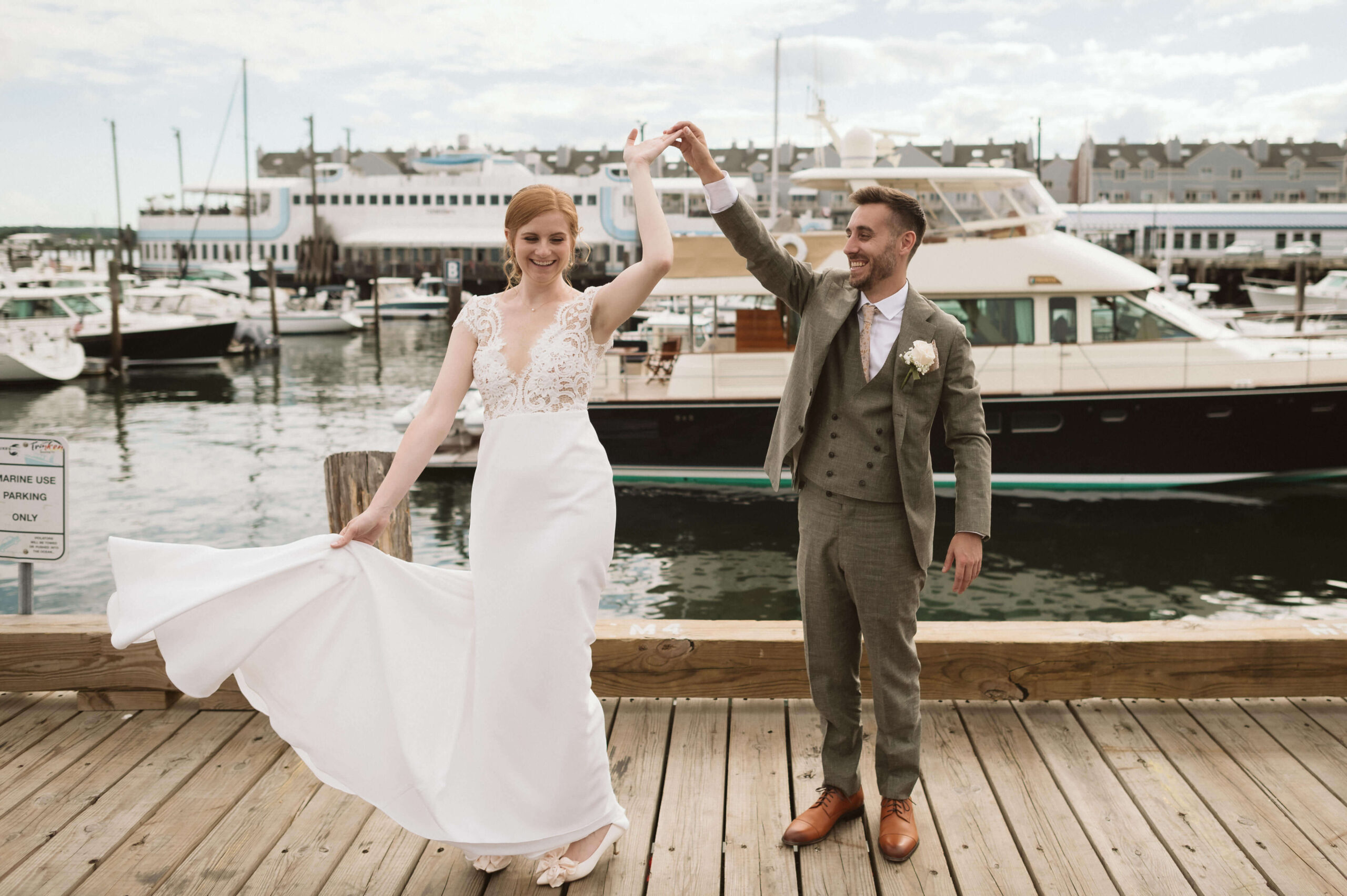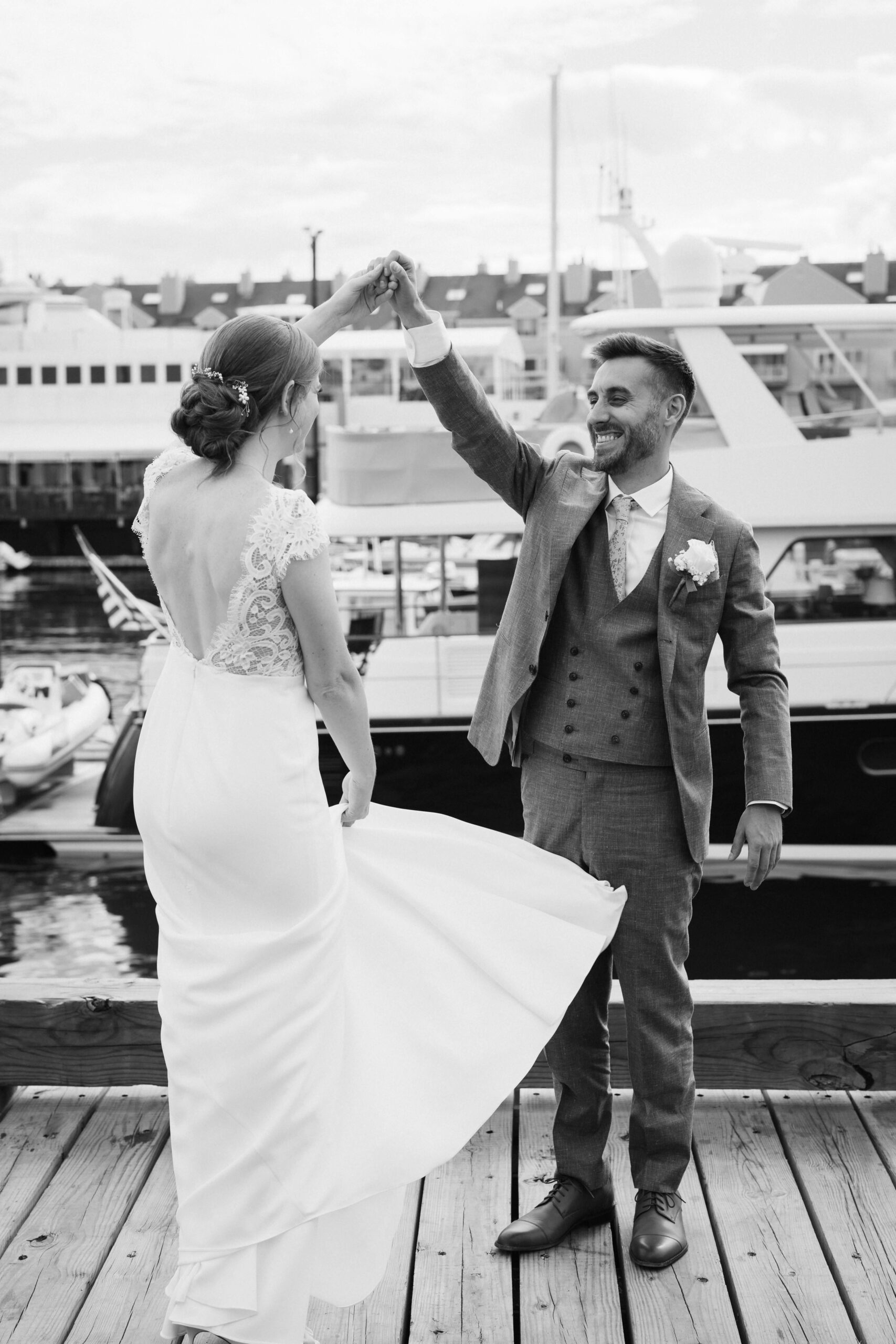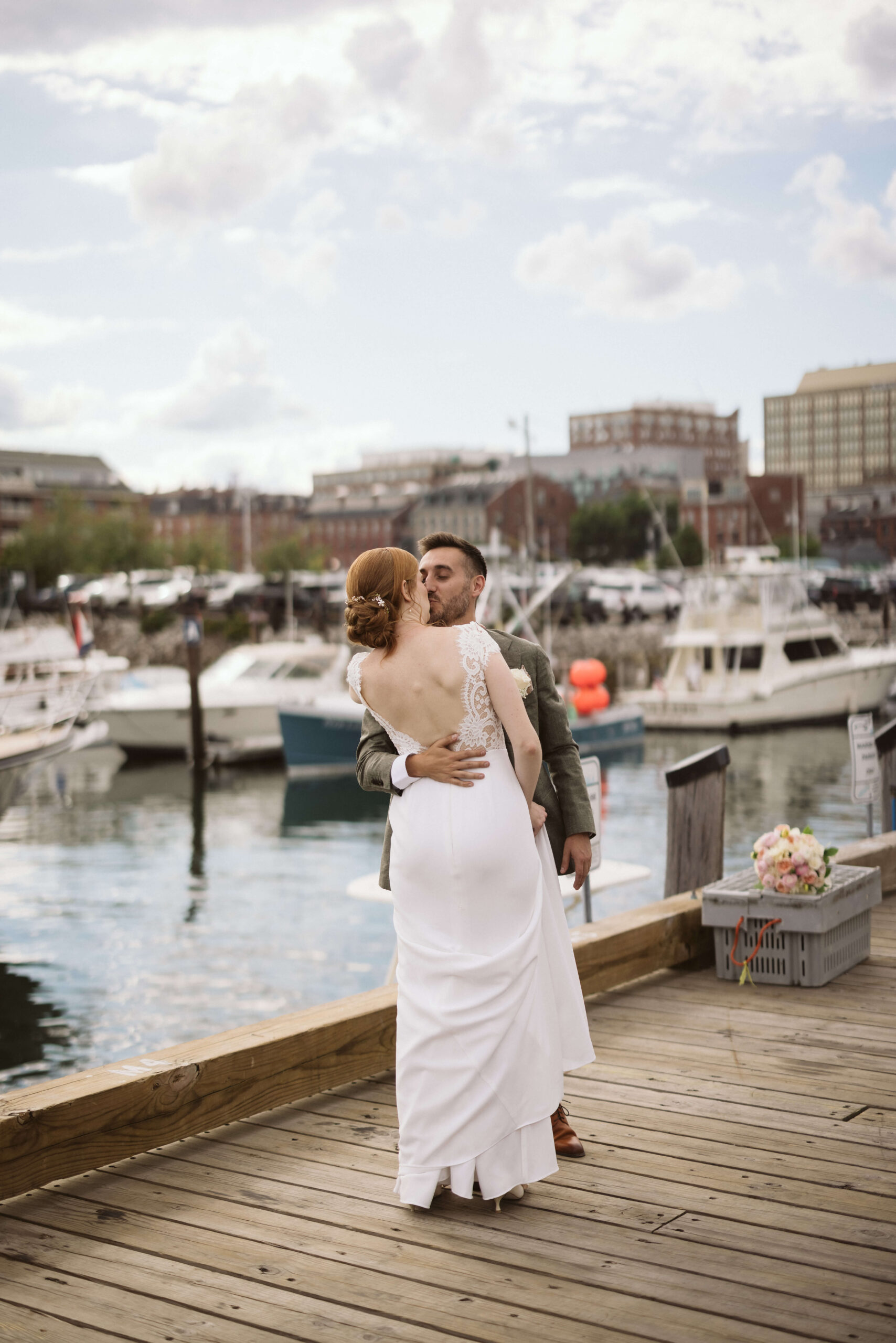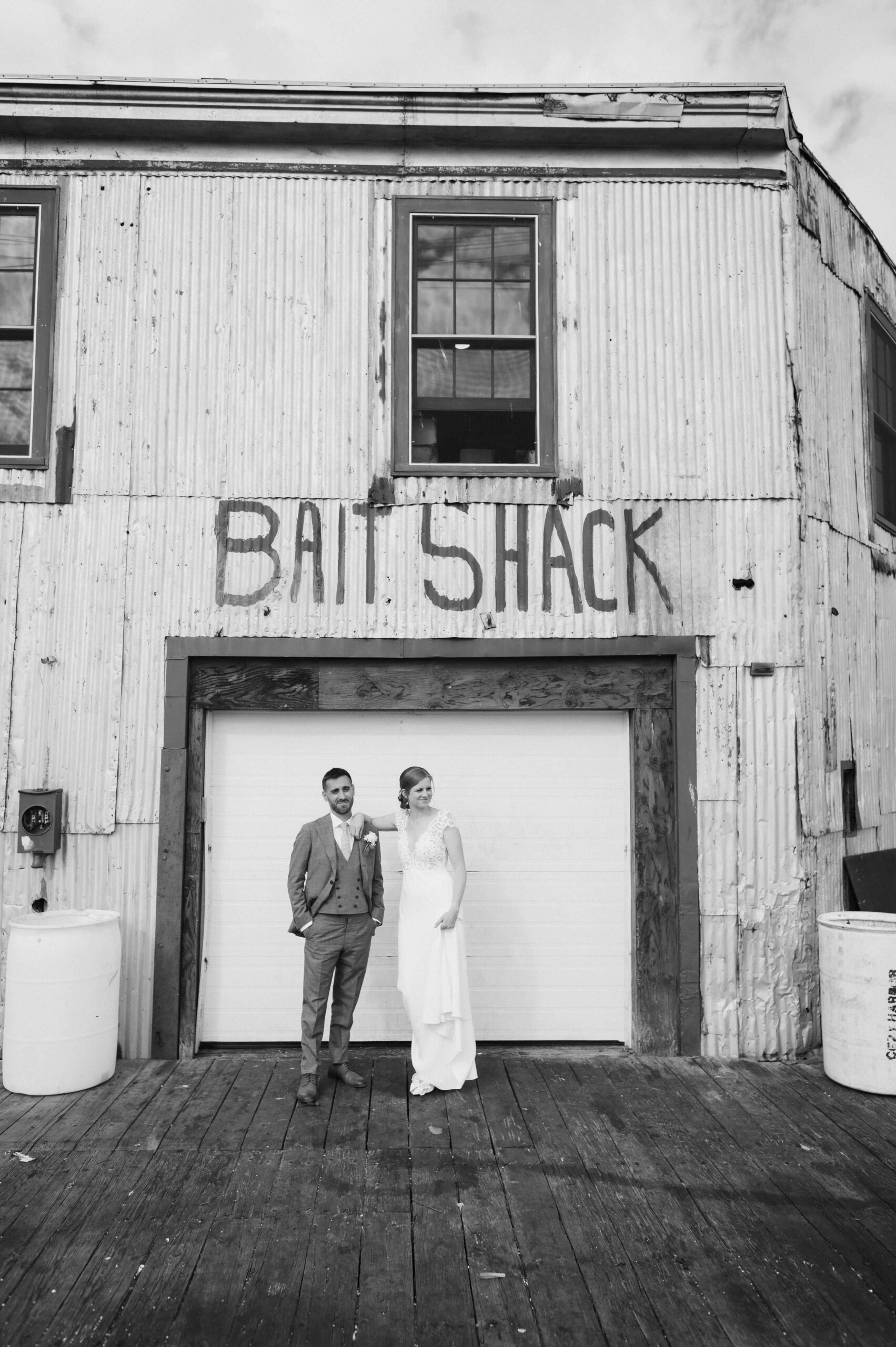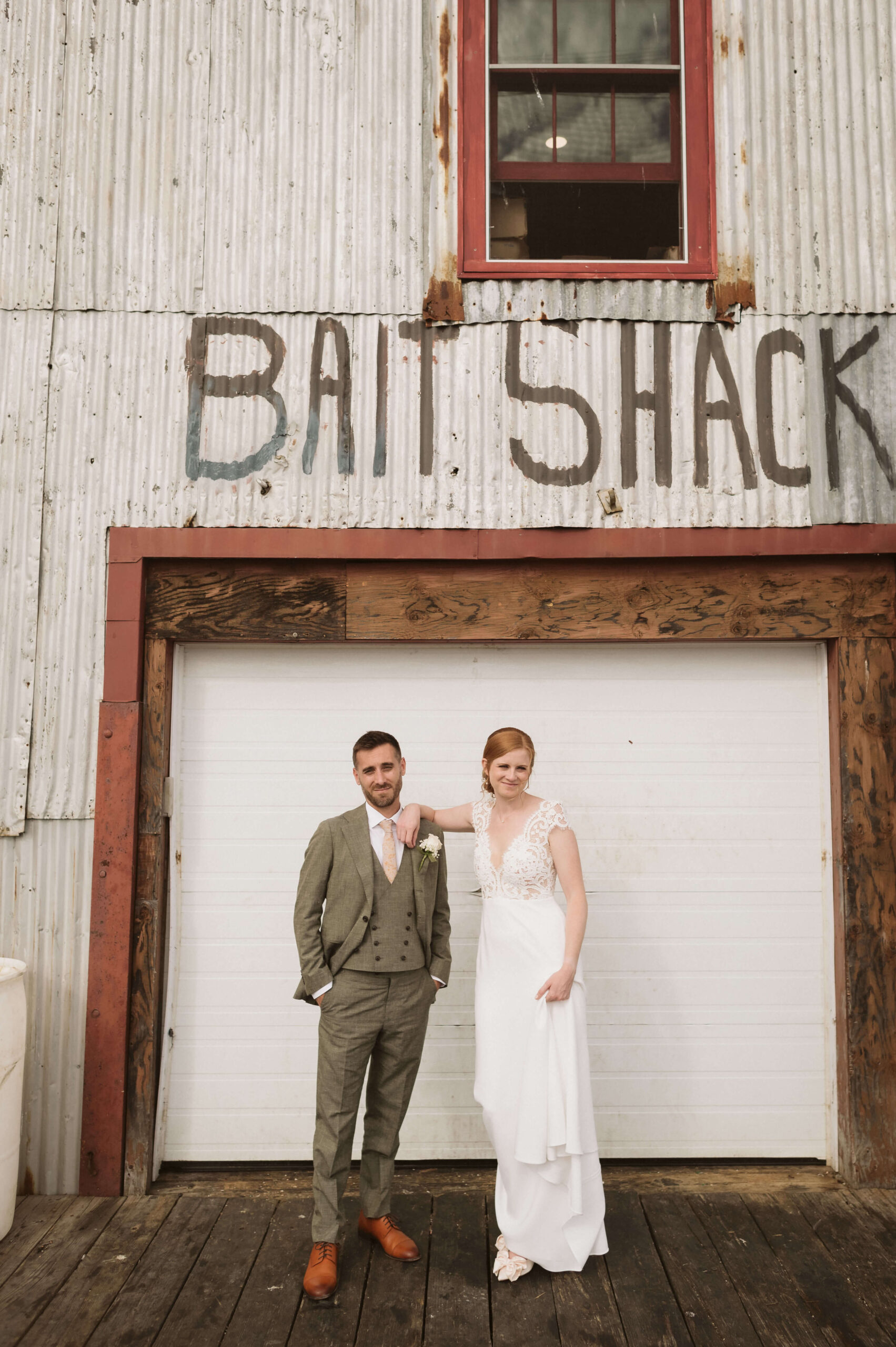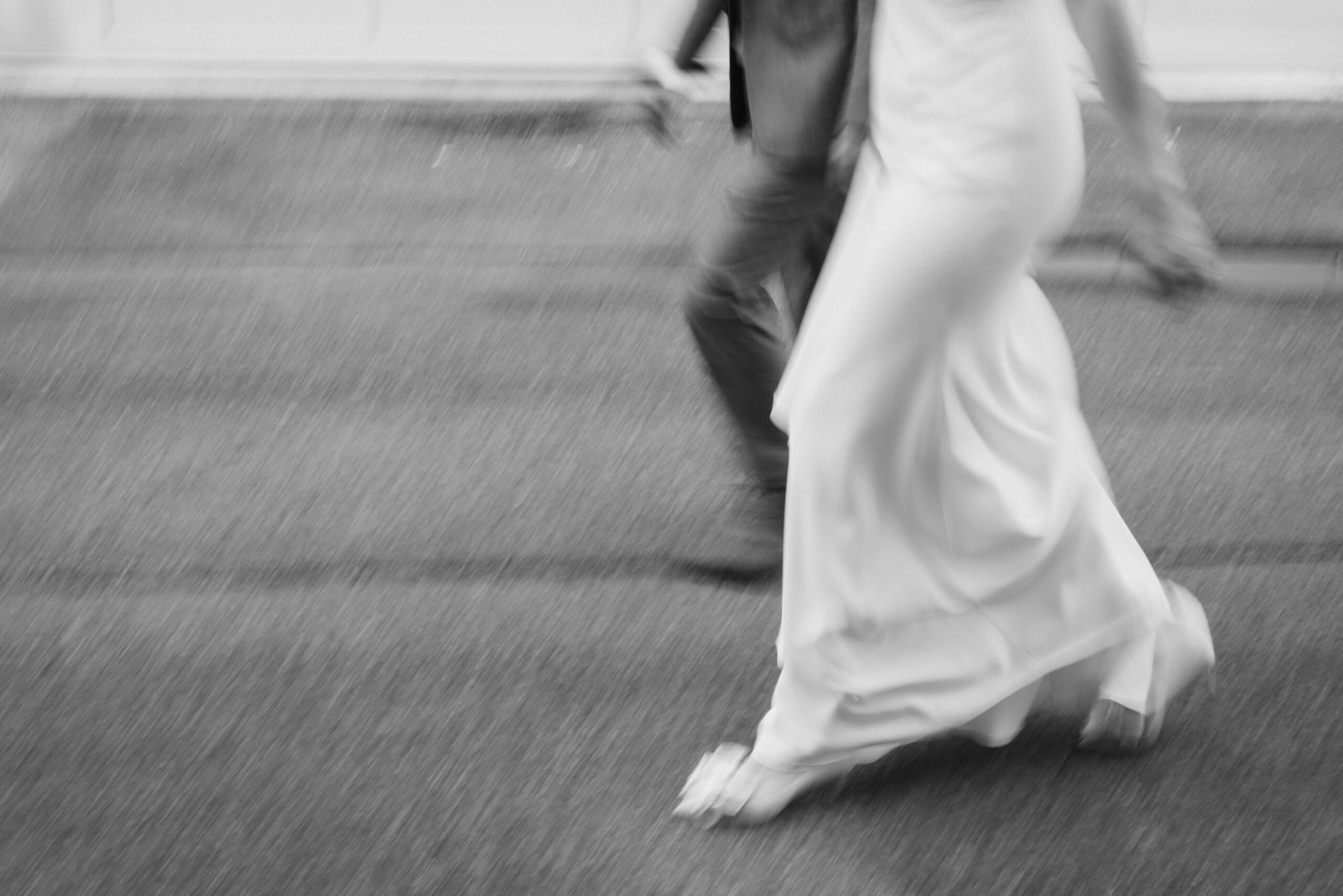 Bride and Groom Photos in Historic Old Port
Your bride and groom photos not only allow you to capture beautiful moments on such a momentous day, but if you're lucky enough to be getting married in a place as picturesque as Portland, they also give you the opportunity to explore charming new locations. In Portland, the Old Port district is a popular destination due to its charming cobblestone streets, 19th-century buildings, and fishing piers. So, of course, we had to head there and make the most of it for Kelsey and Mike's bride and groom photos.
We first took a walk down Wharf Street to capture pictures filled with personality and history. The street is known for its rustic ambiance which can be seen throughout all of Kelsey and Mike's pictures. Since the area is so well-loved, the bars were filled with locals enjoying a sunny afternoon outdoors. When Kelsey and Mike walked by in their wedding outfits, the people jumped up and cheered on the happy couple adding even more excitement and joy to the air.
After our trip down Wharf Street, we took a walk down to the harbor for some shots by the water. No coastal wedding is complete without some pictures with the waves. The water lapping gently against the boats and the sun shining above made for some dazzling shots. Kelsey and Mike's smiles were so contagious, as they posed for photos that will be shared for years to come.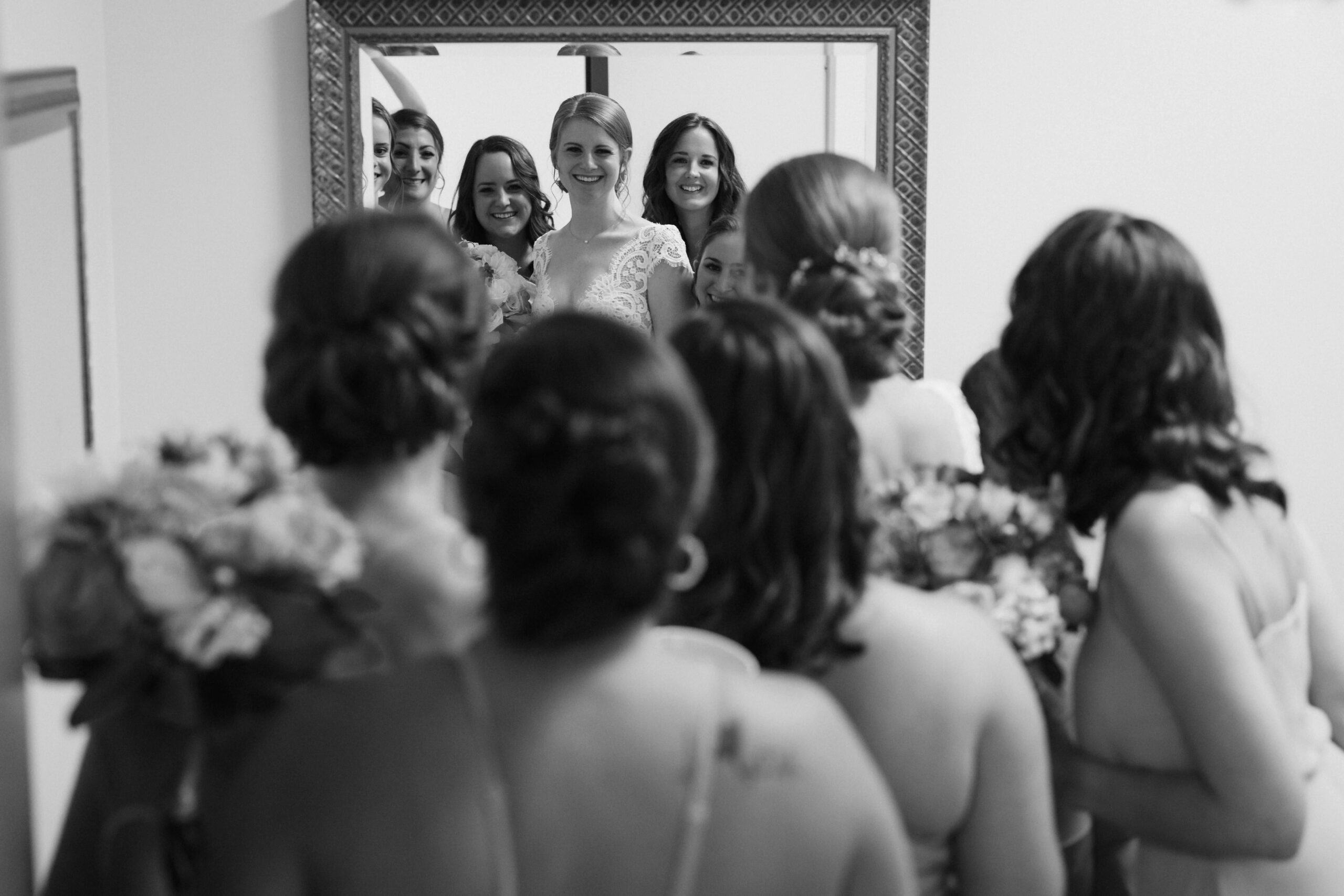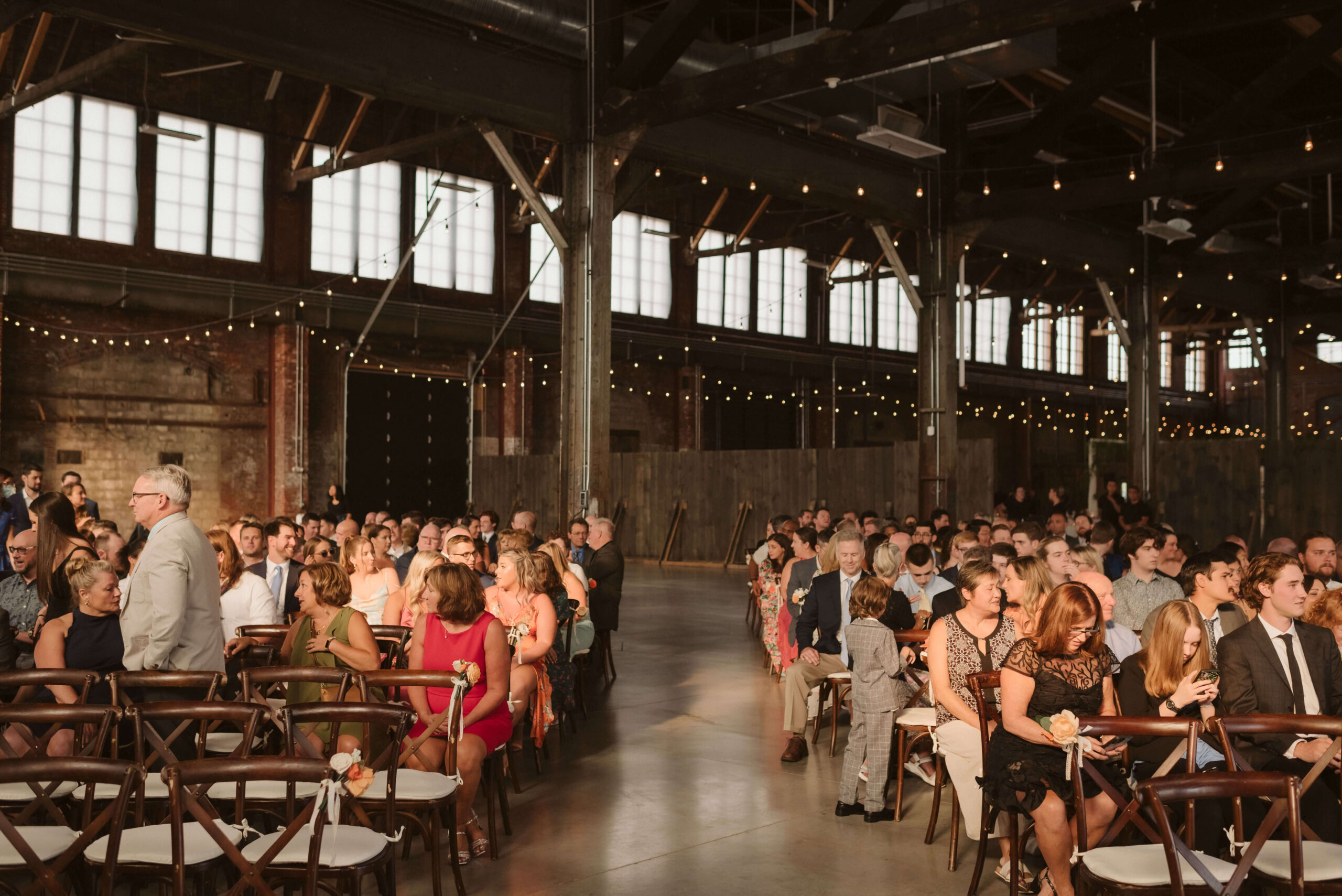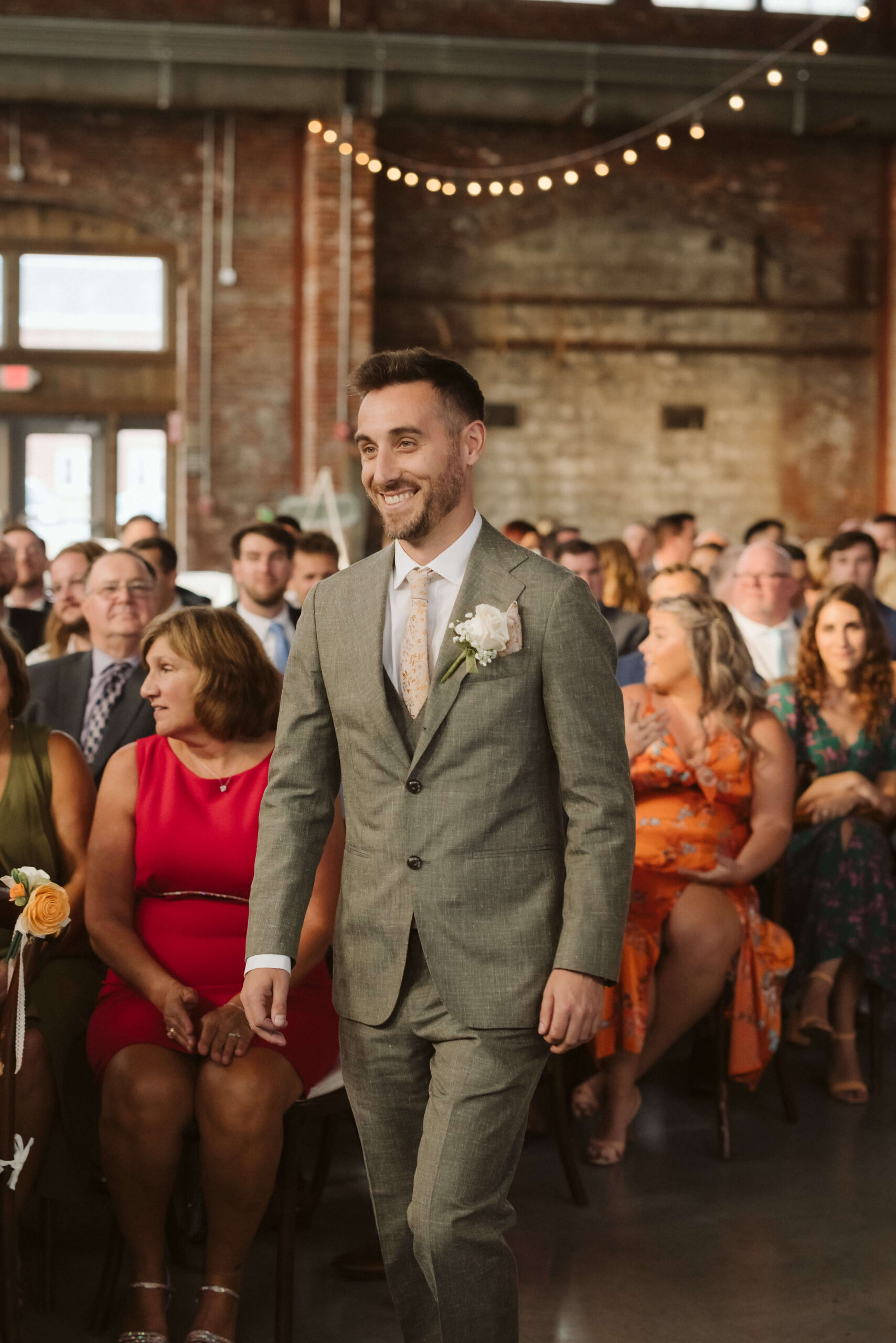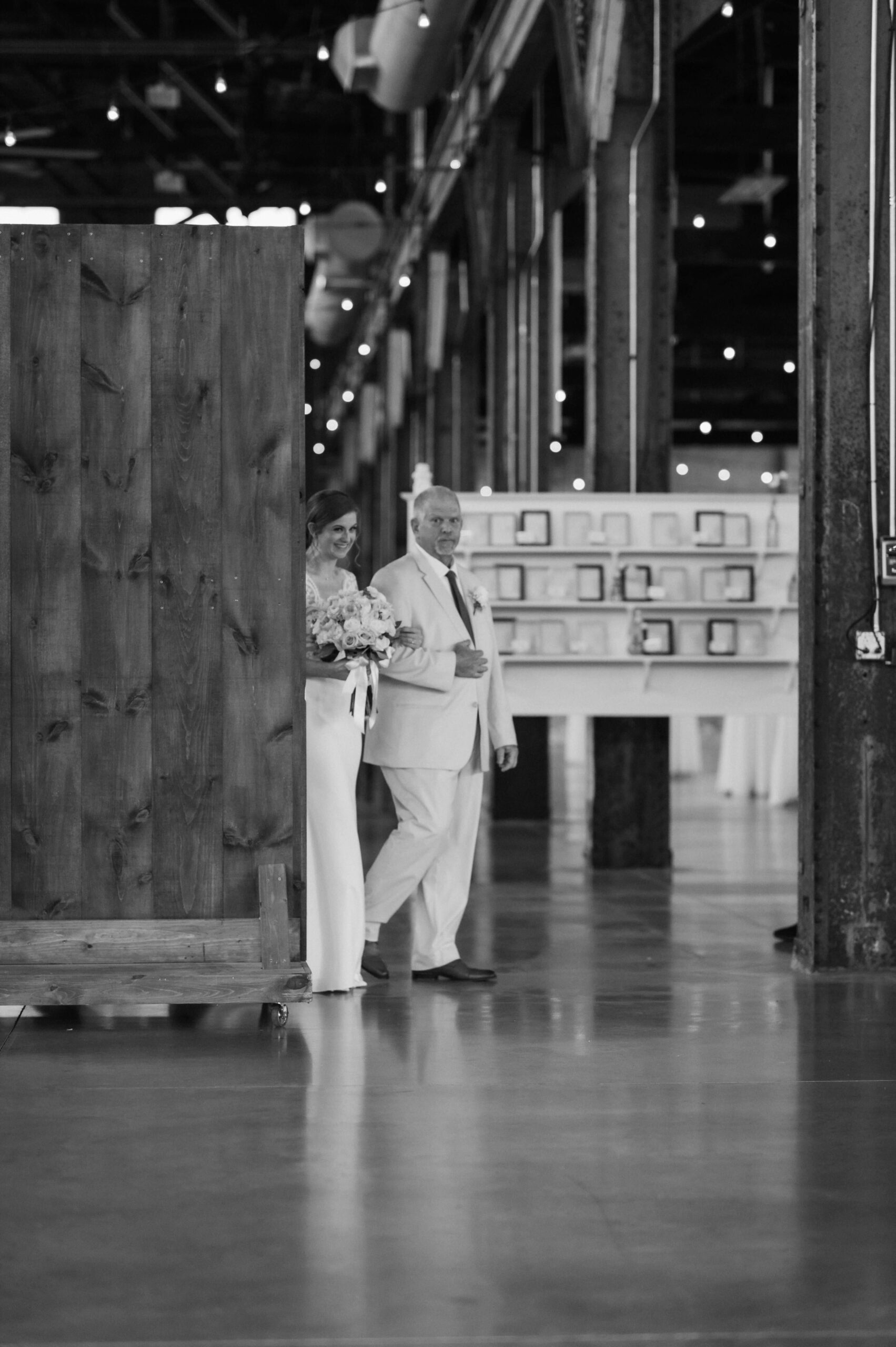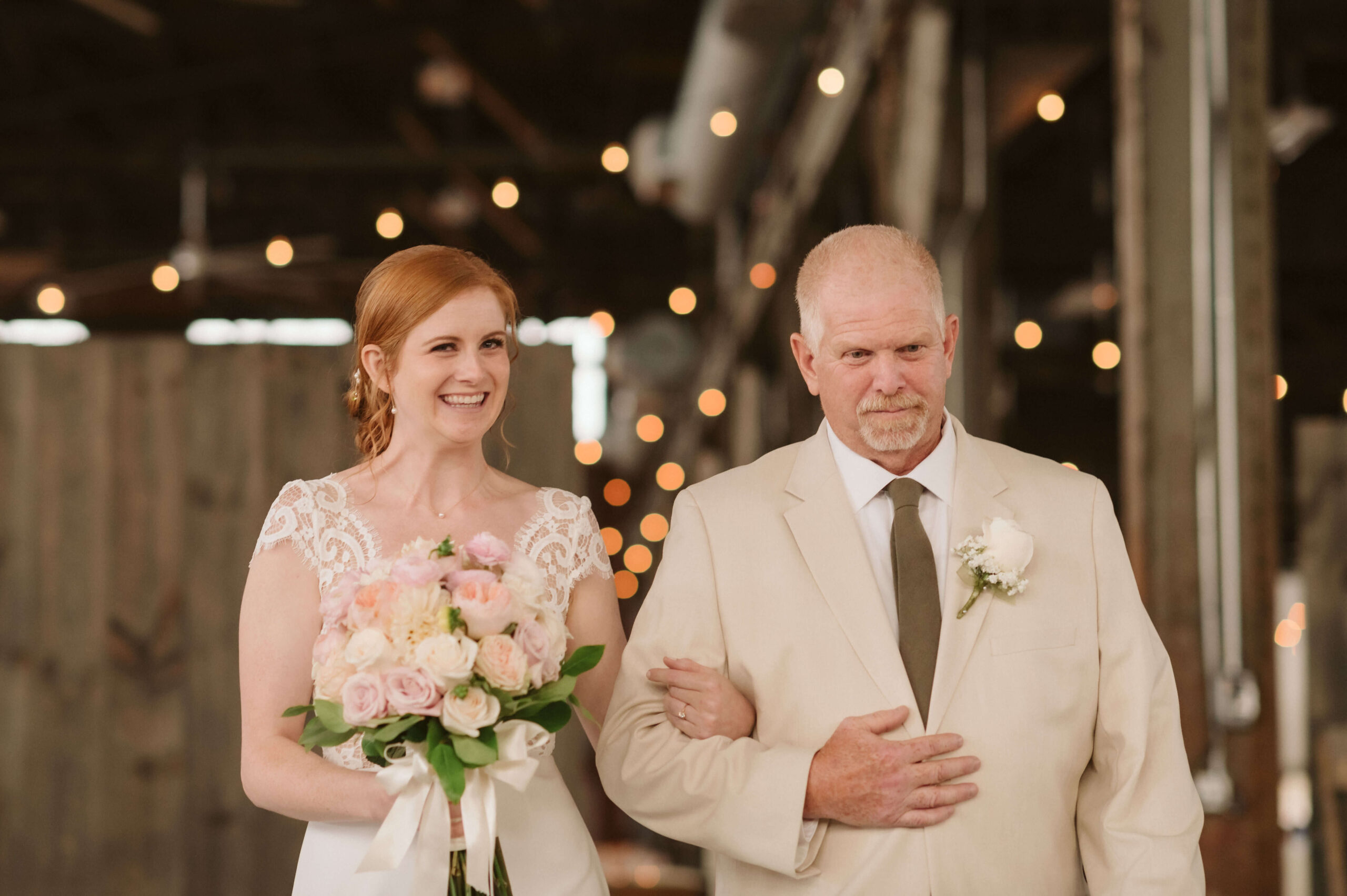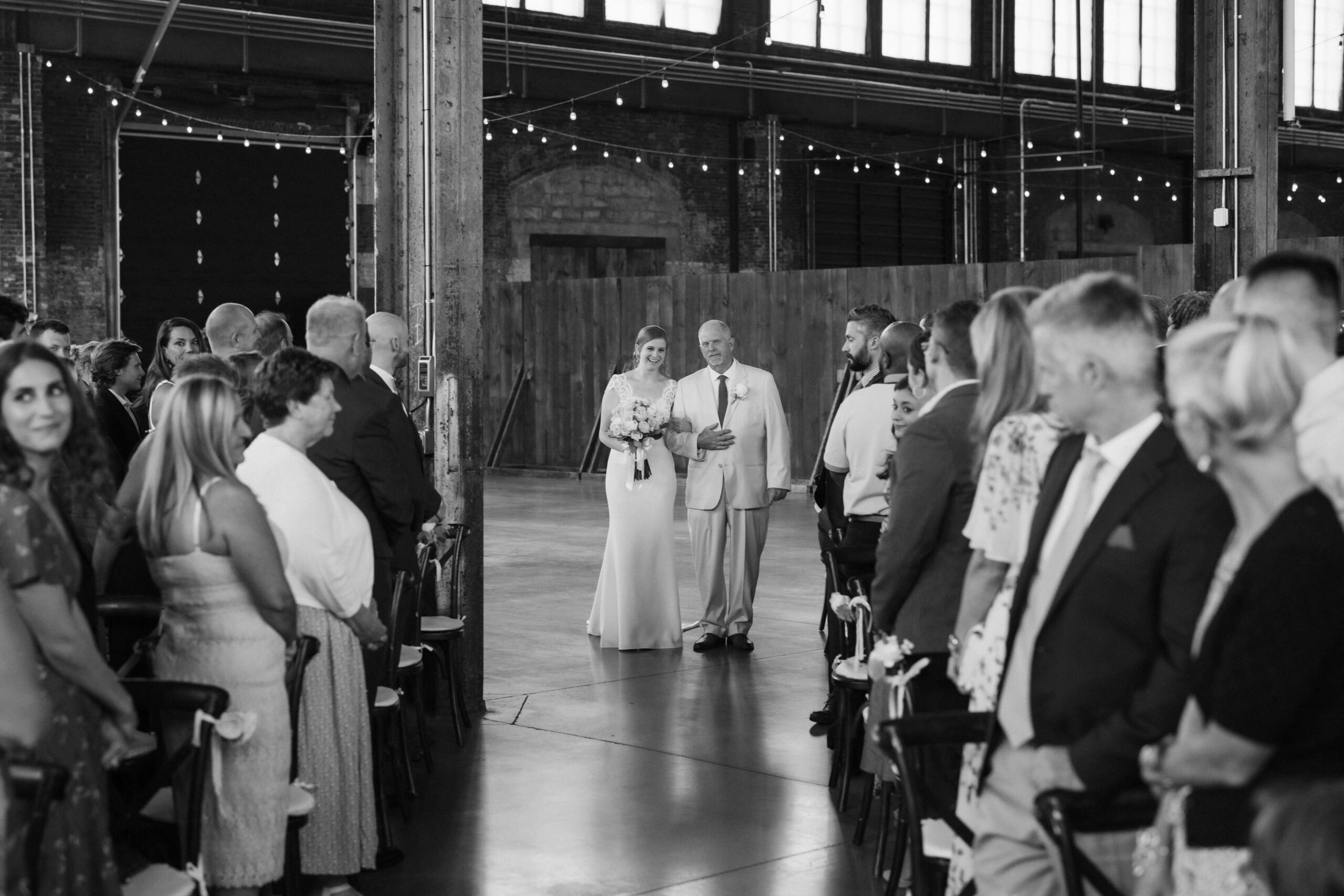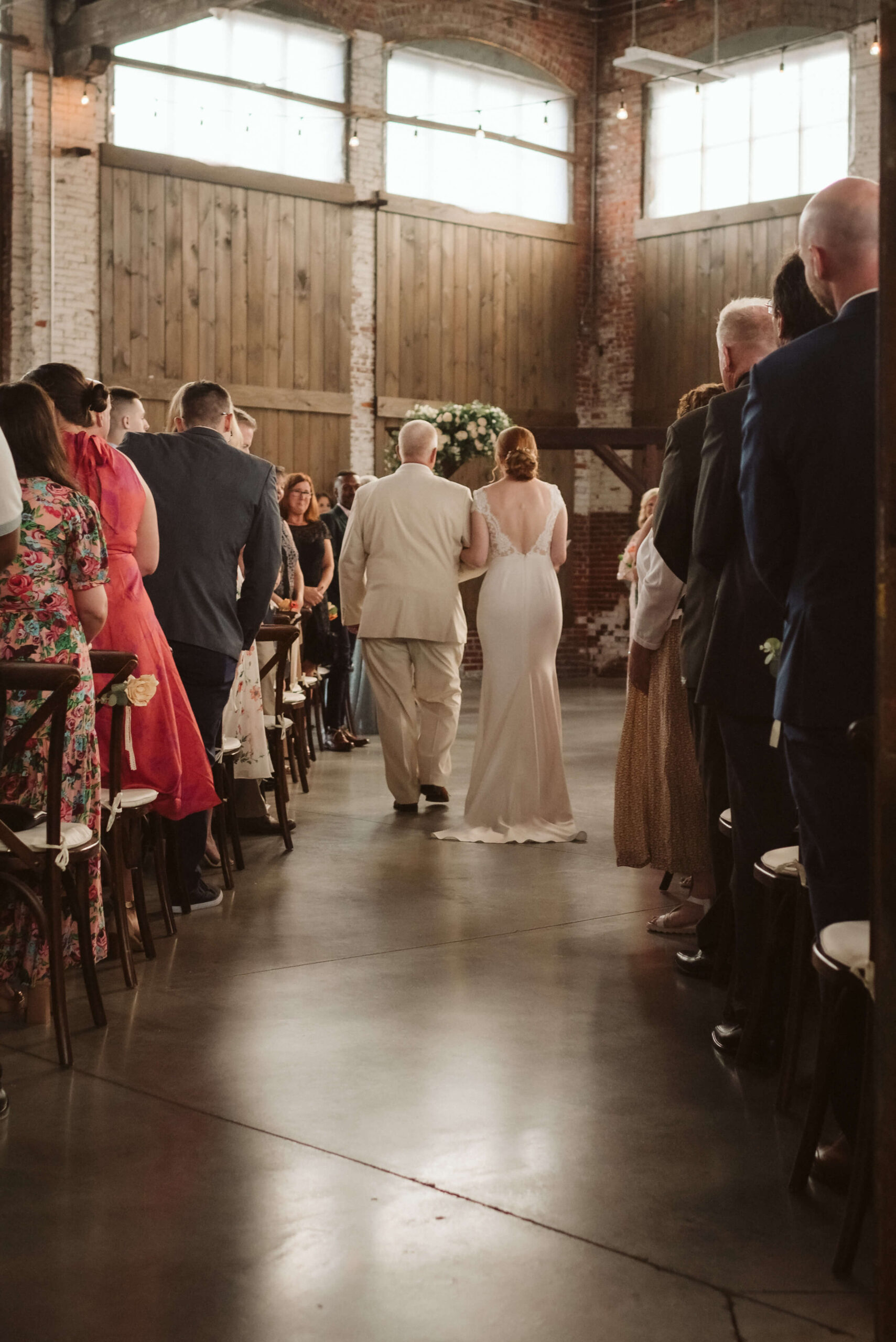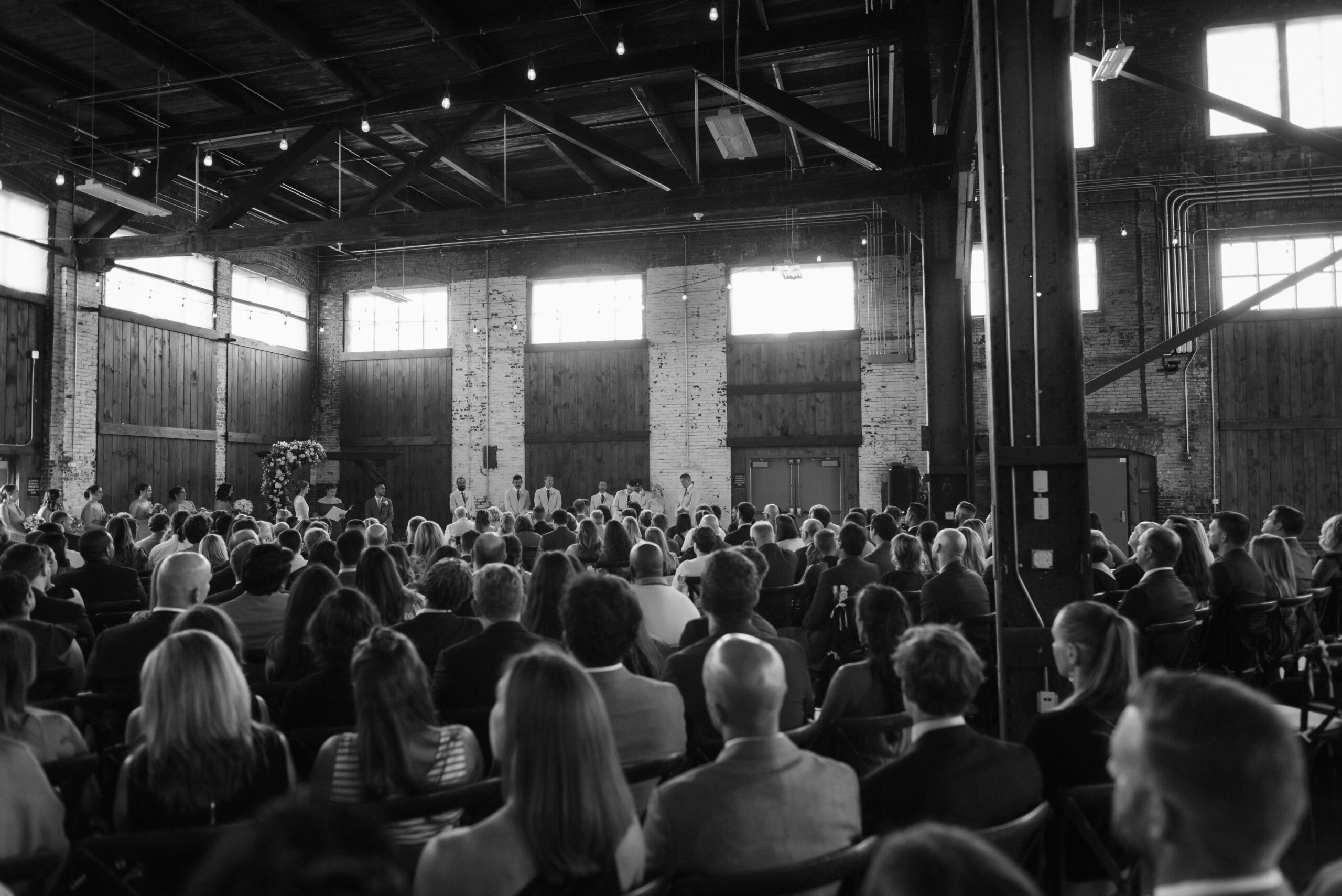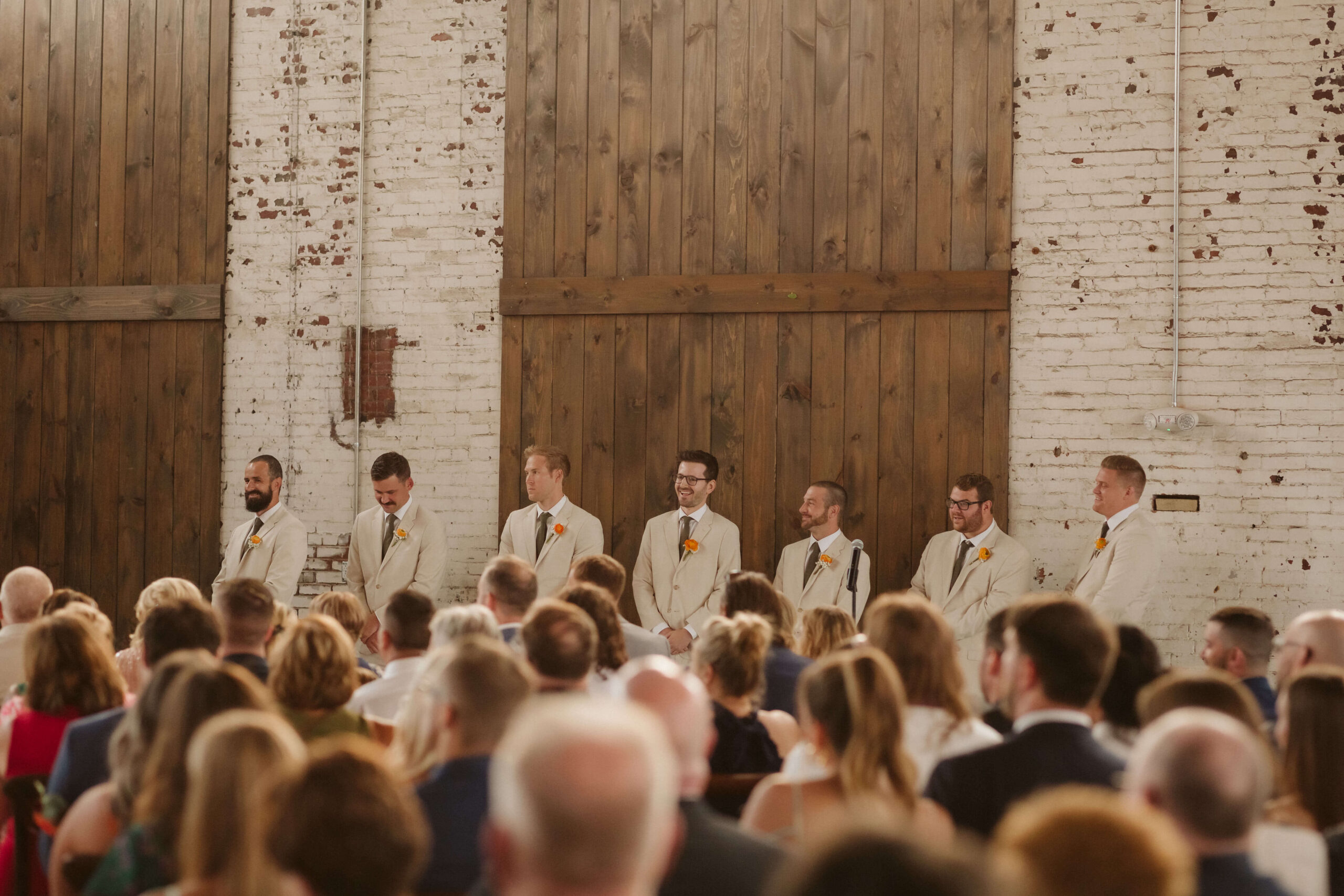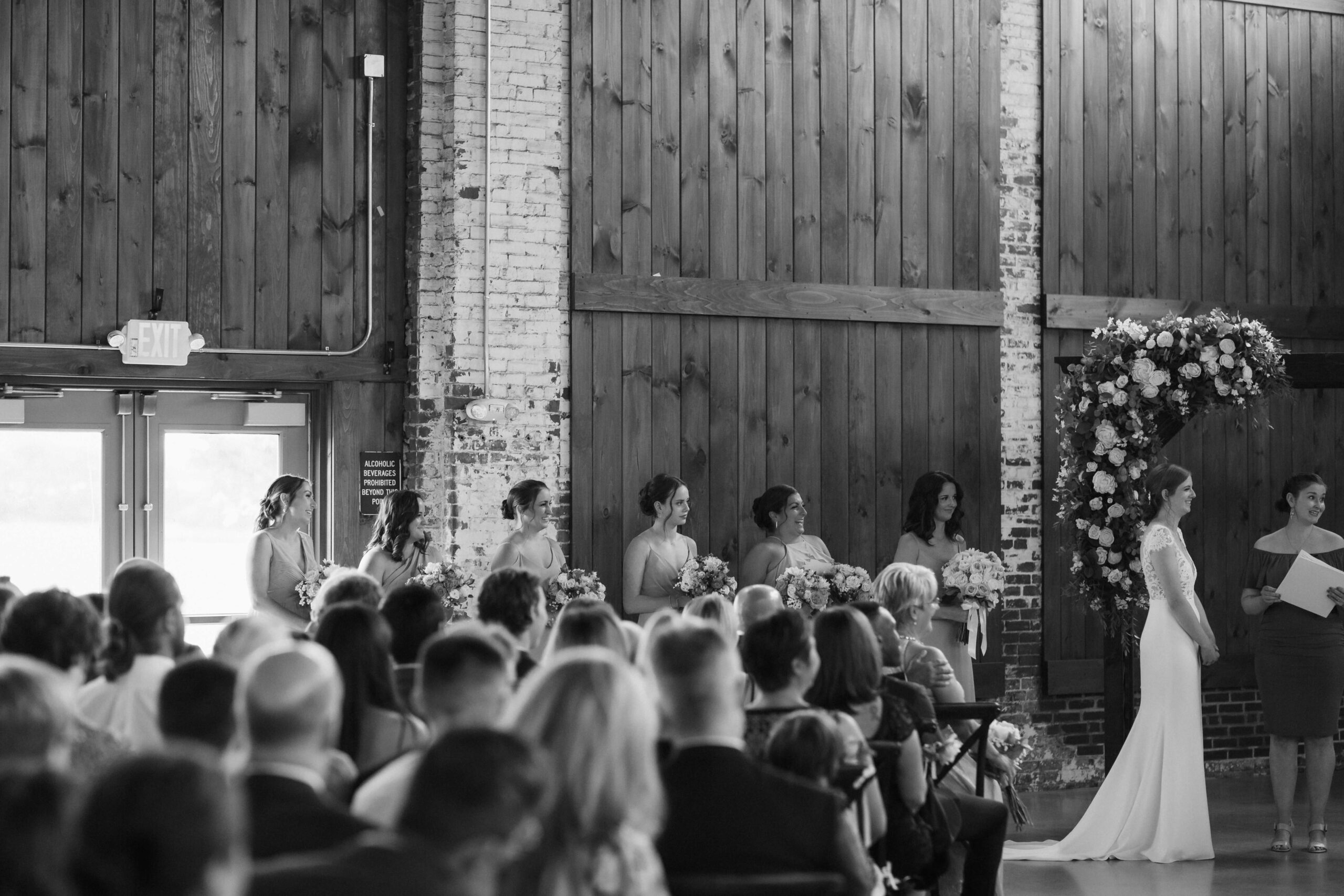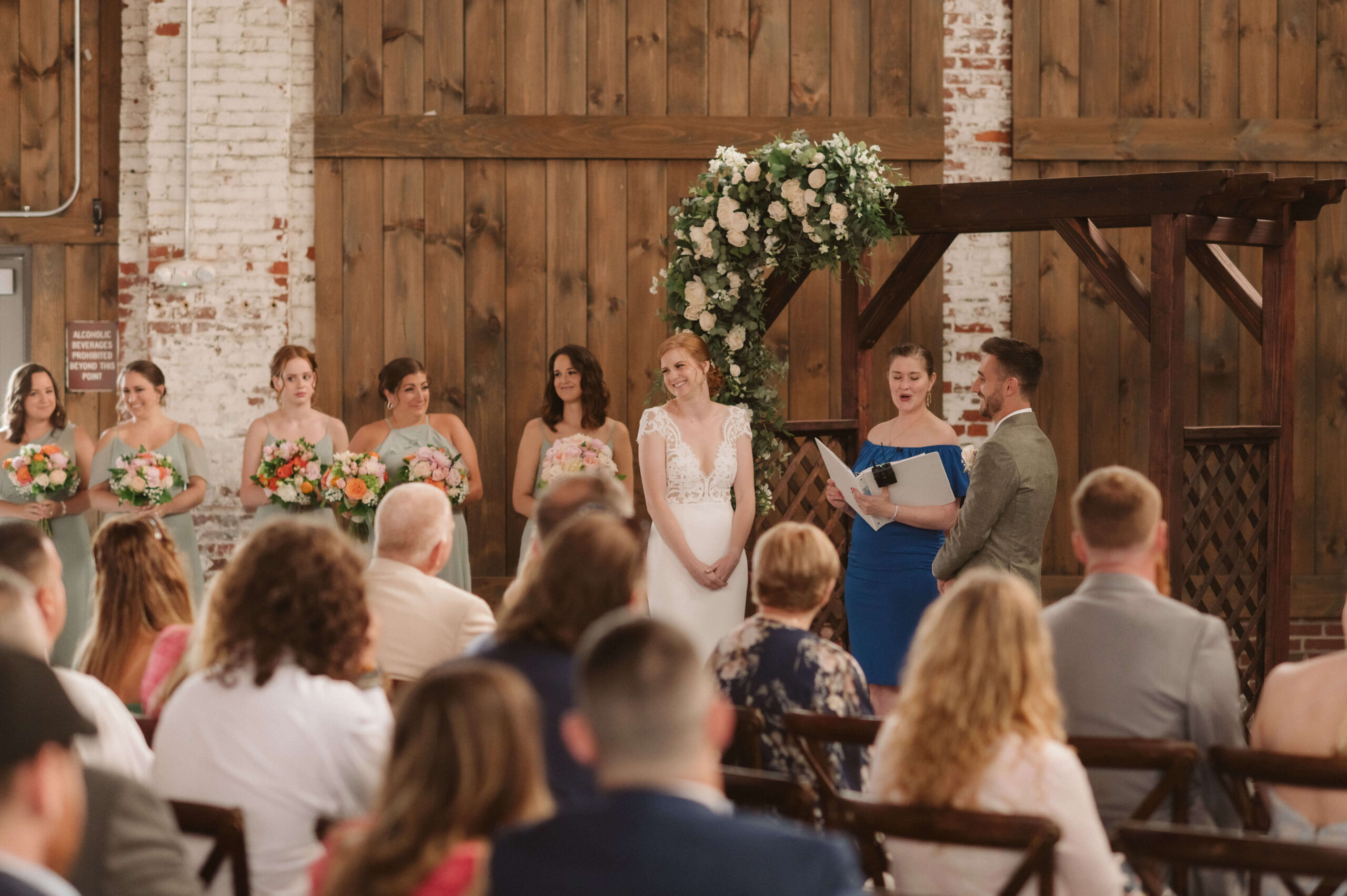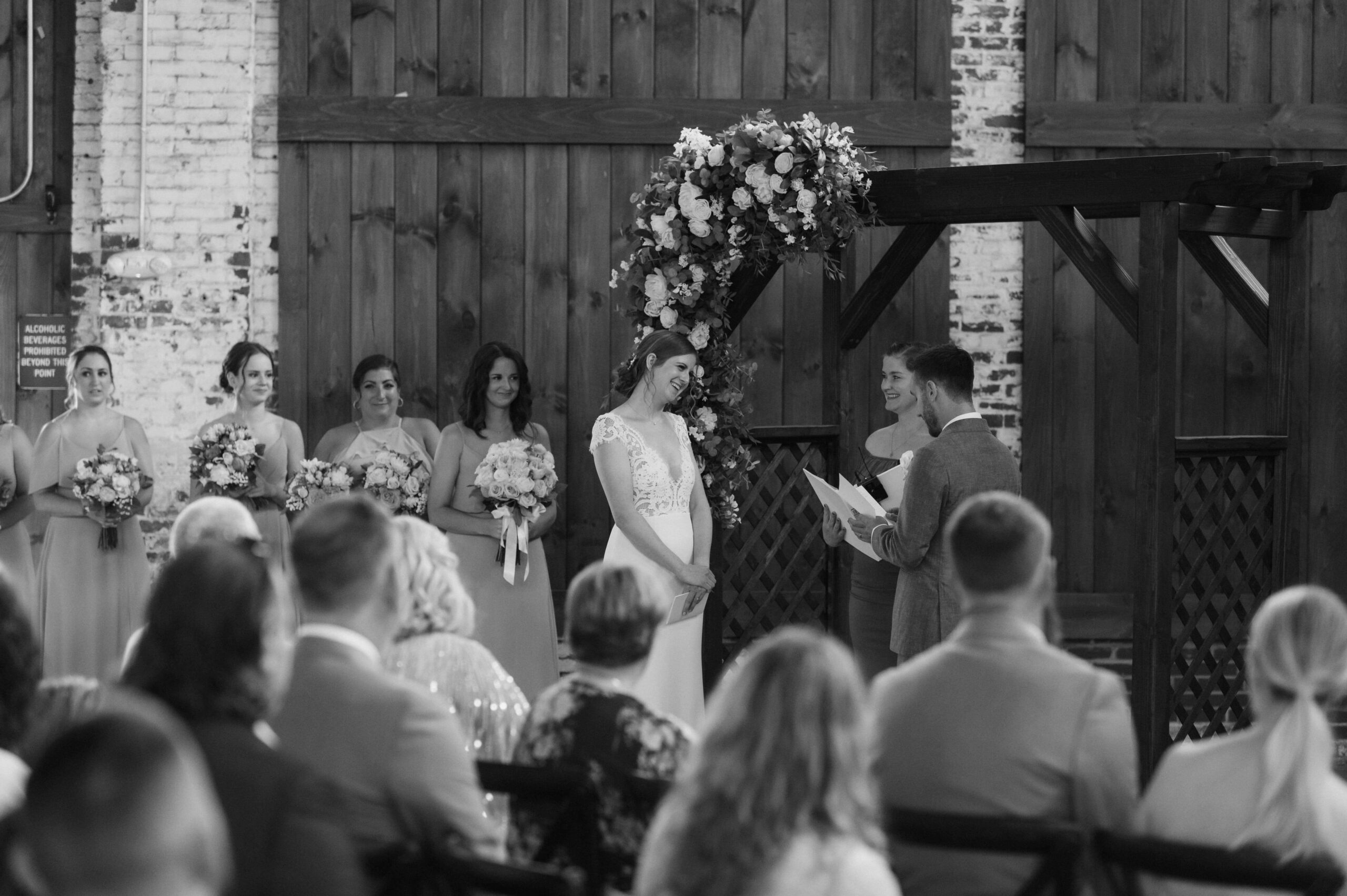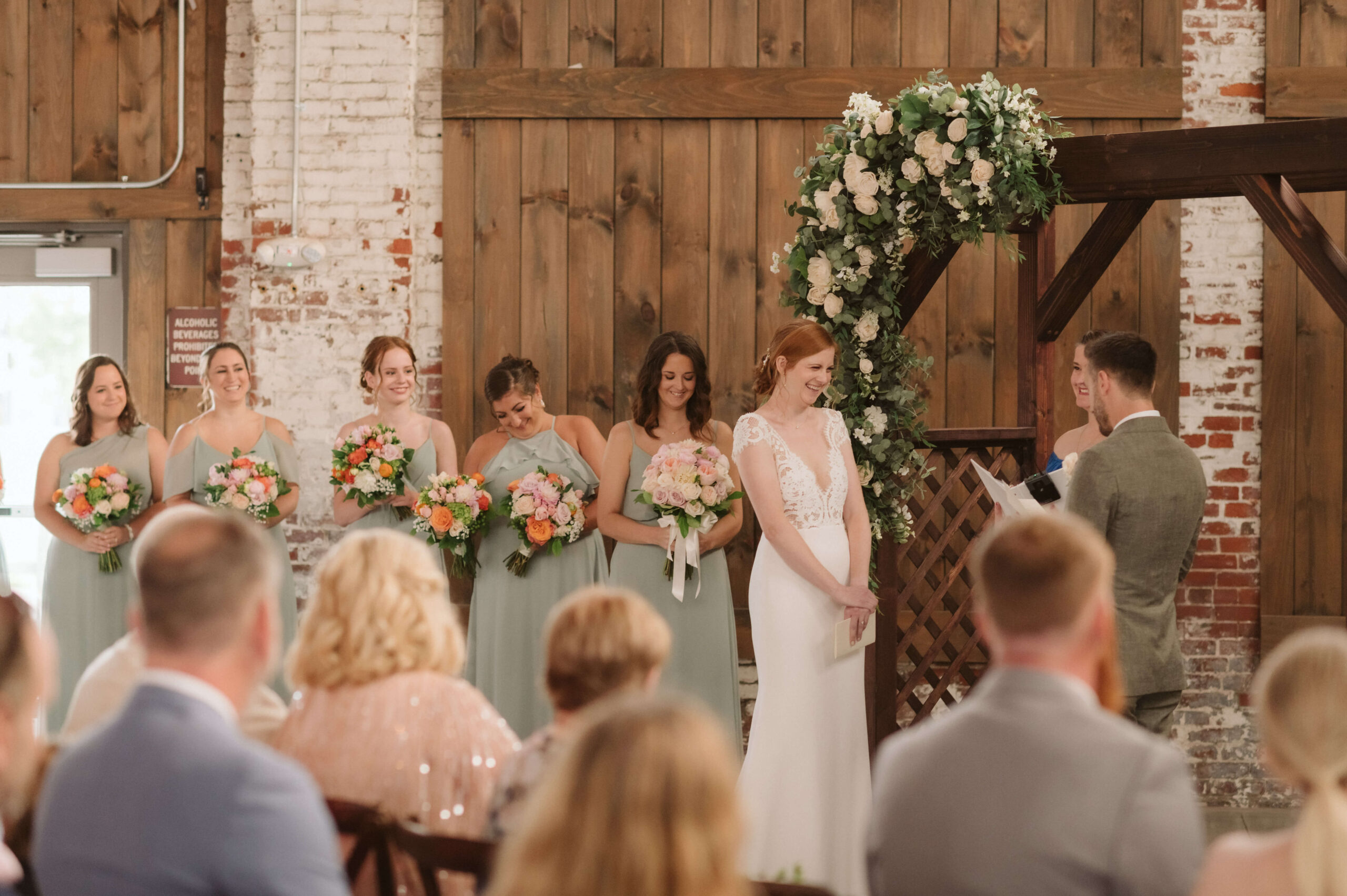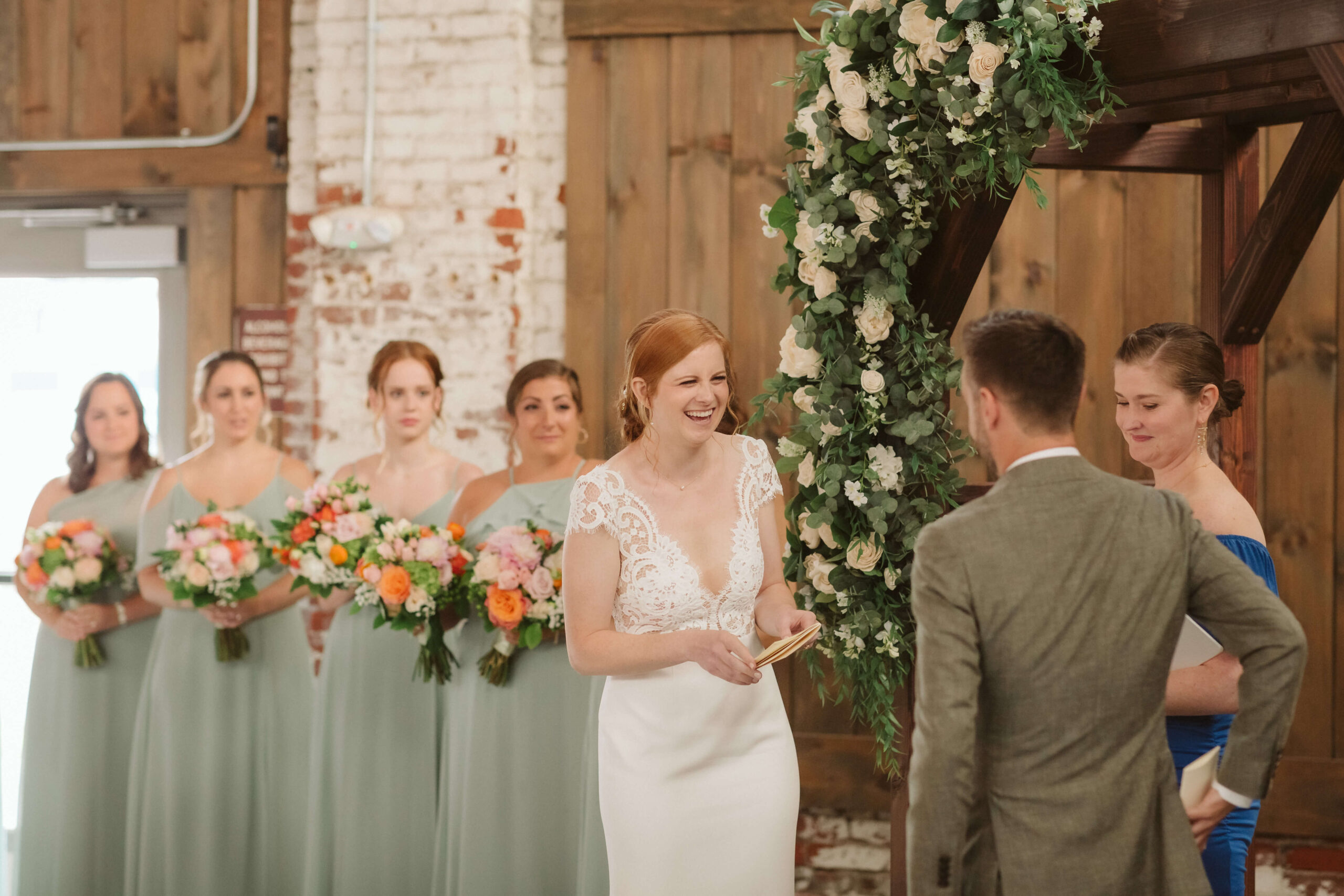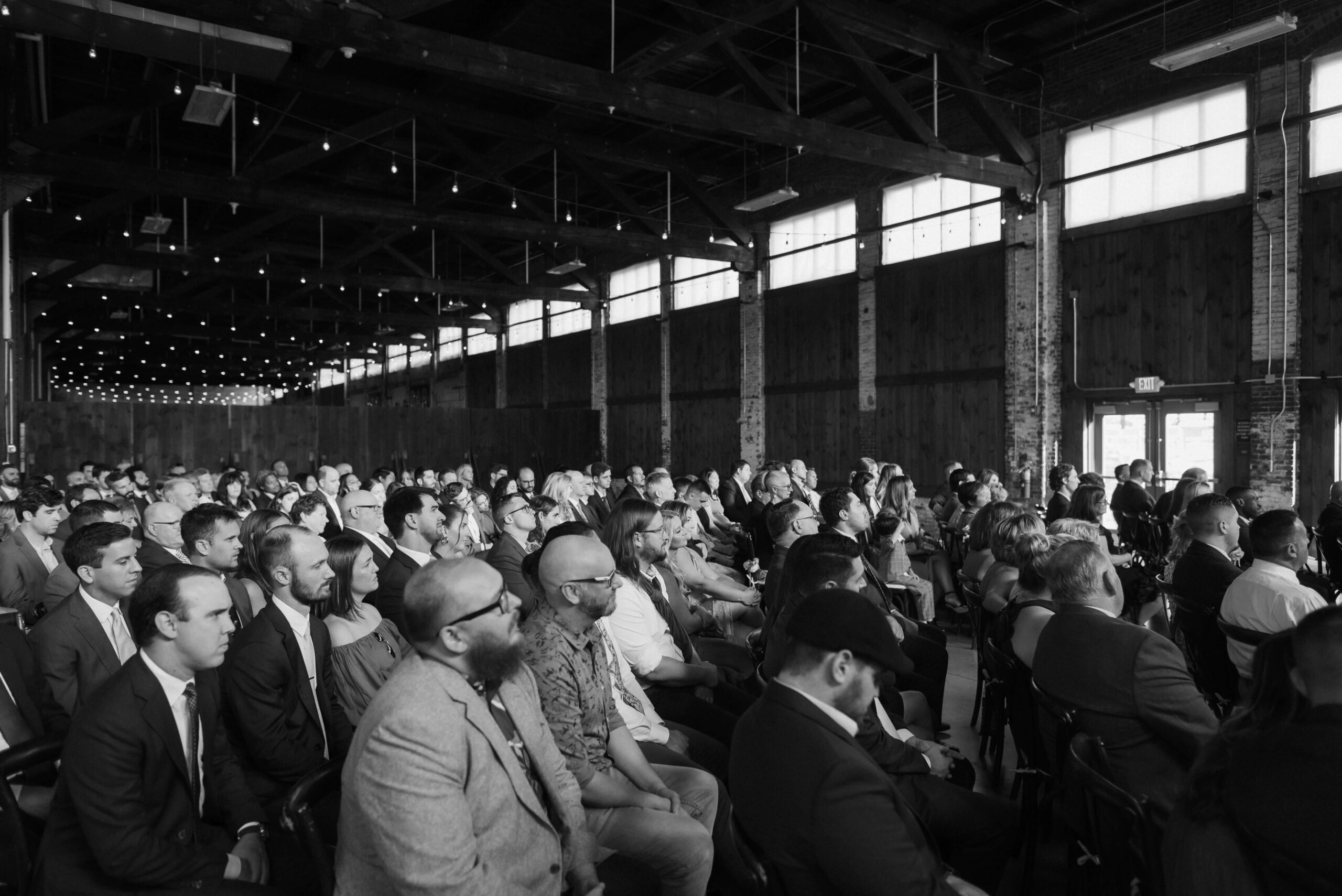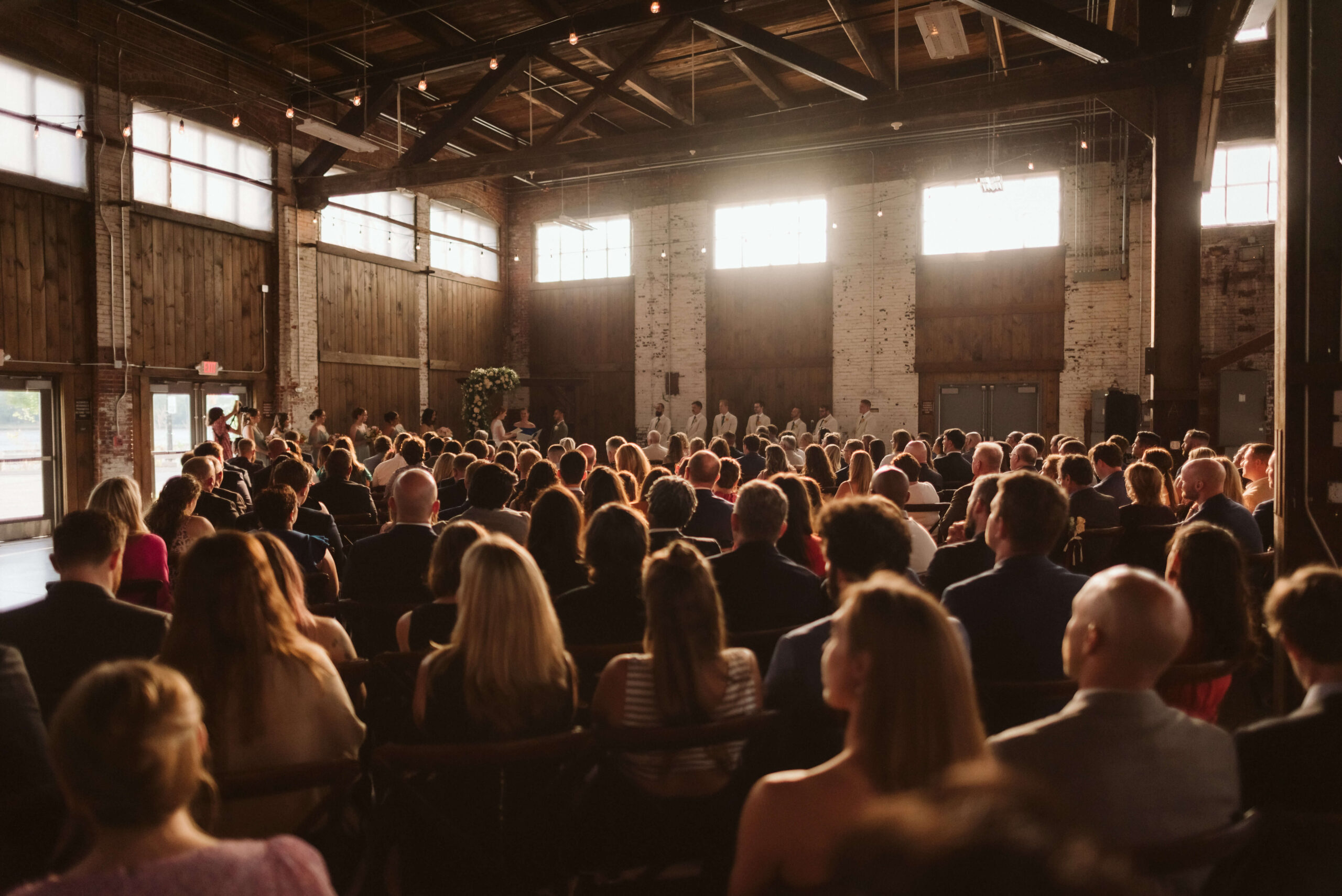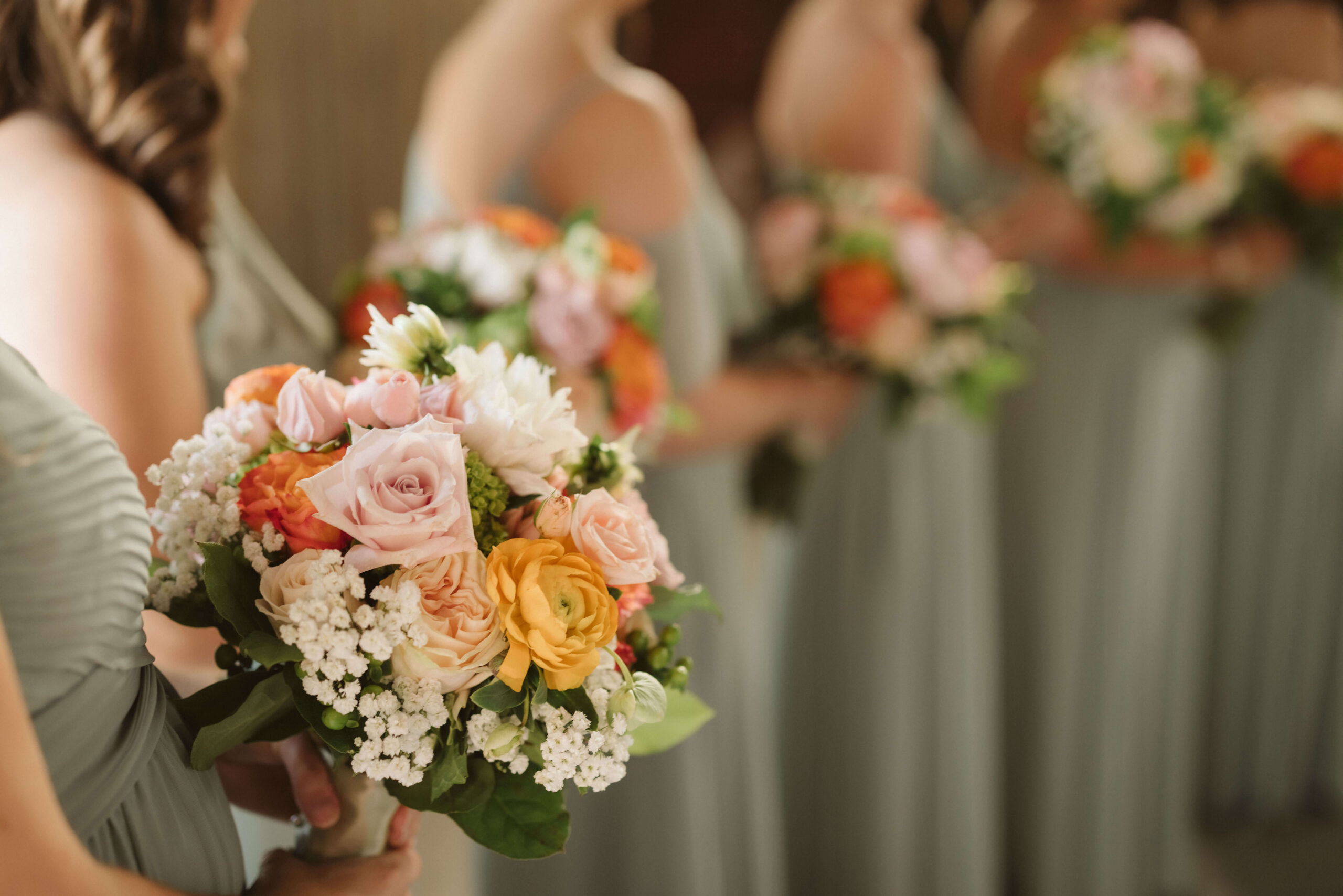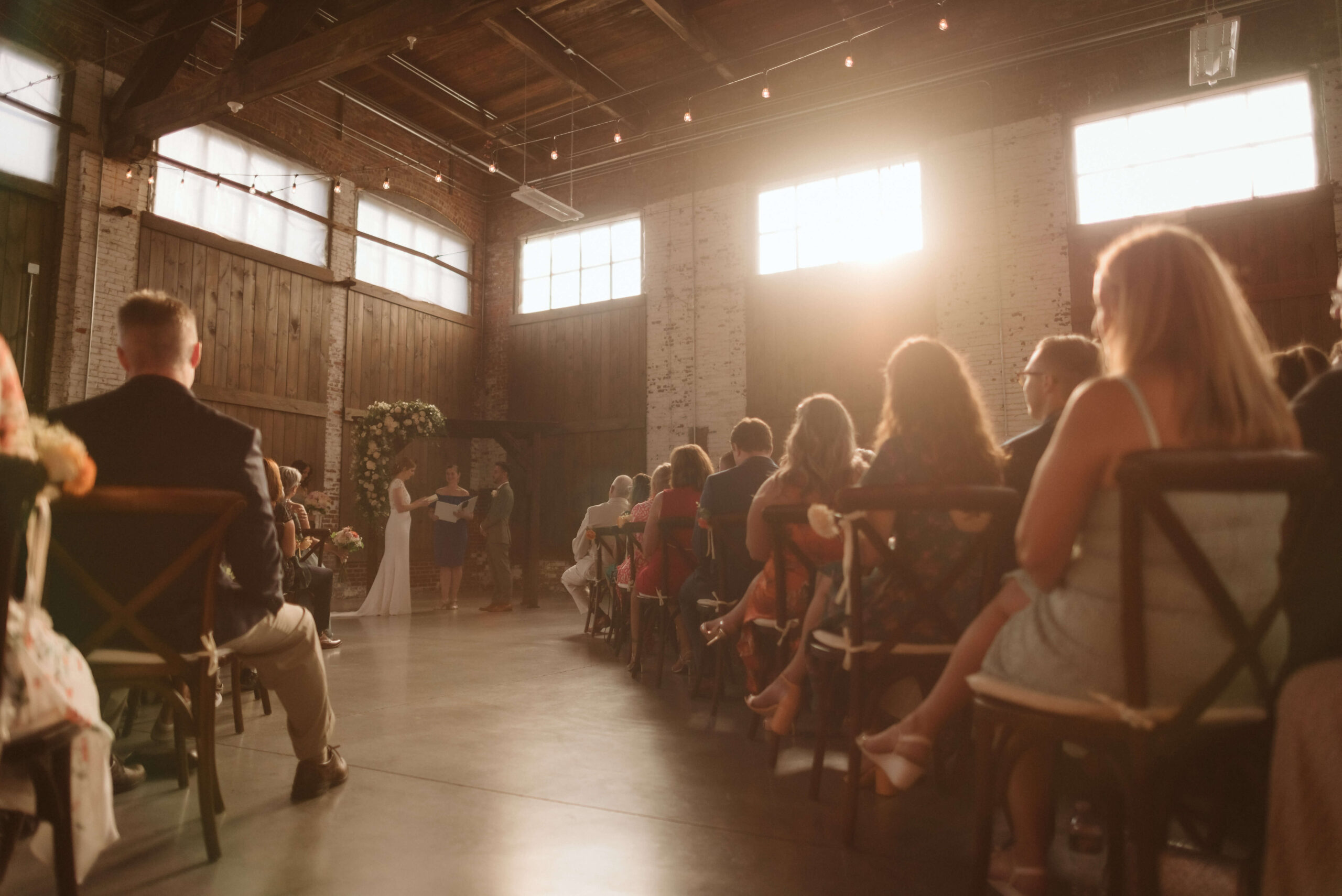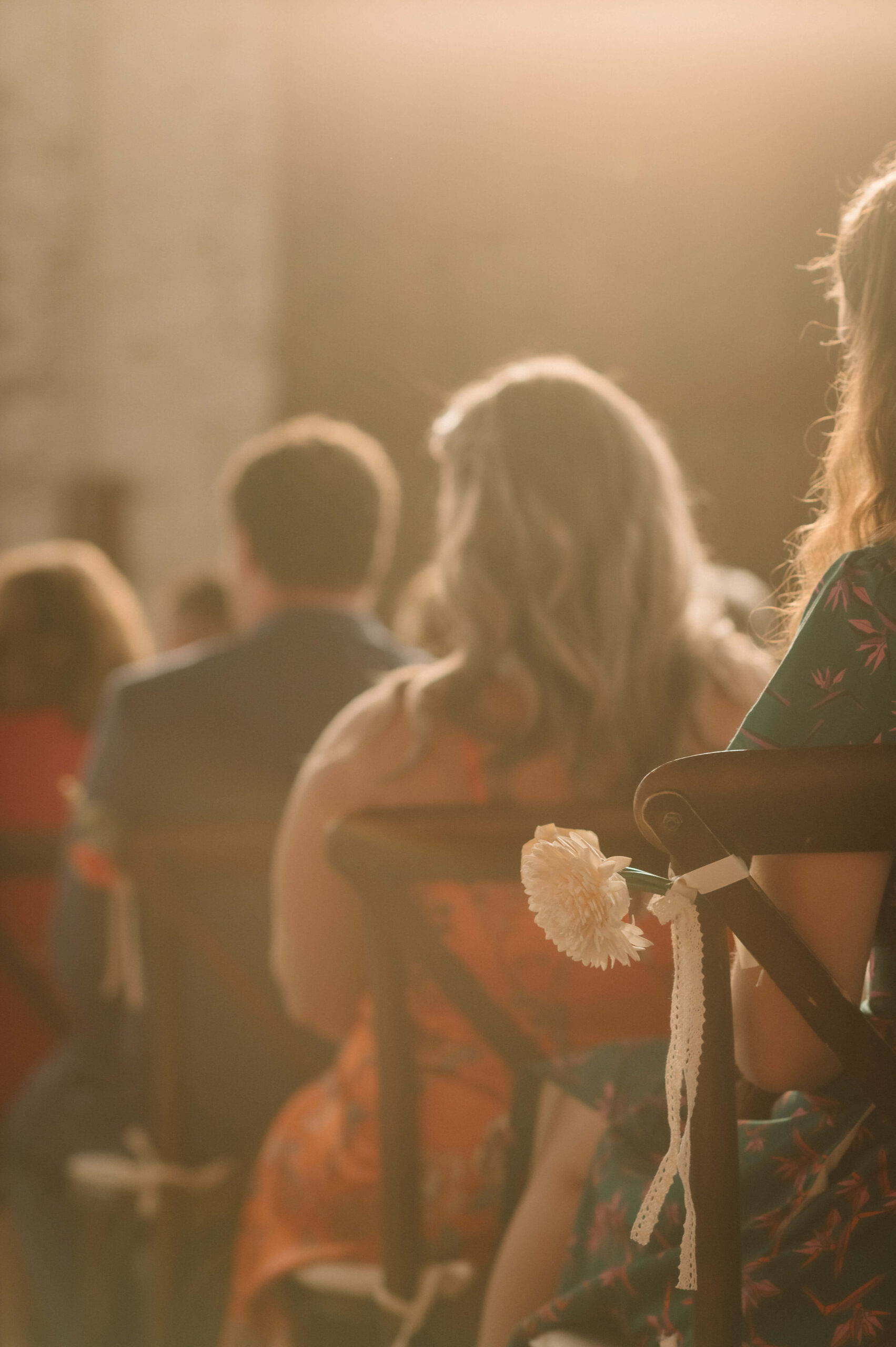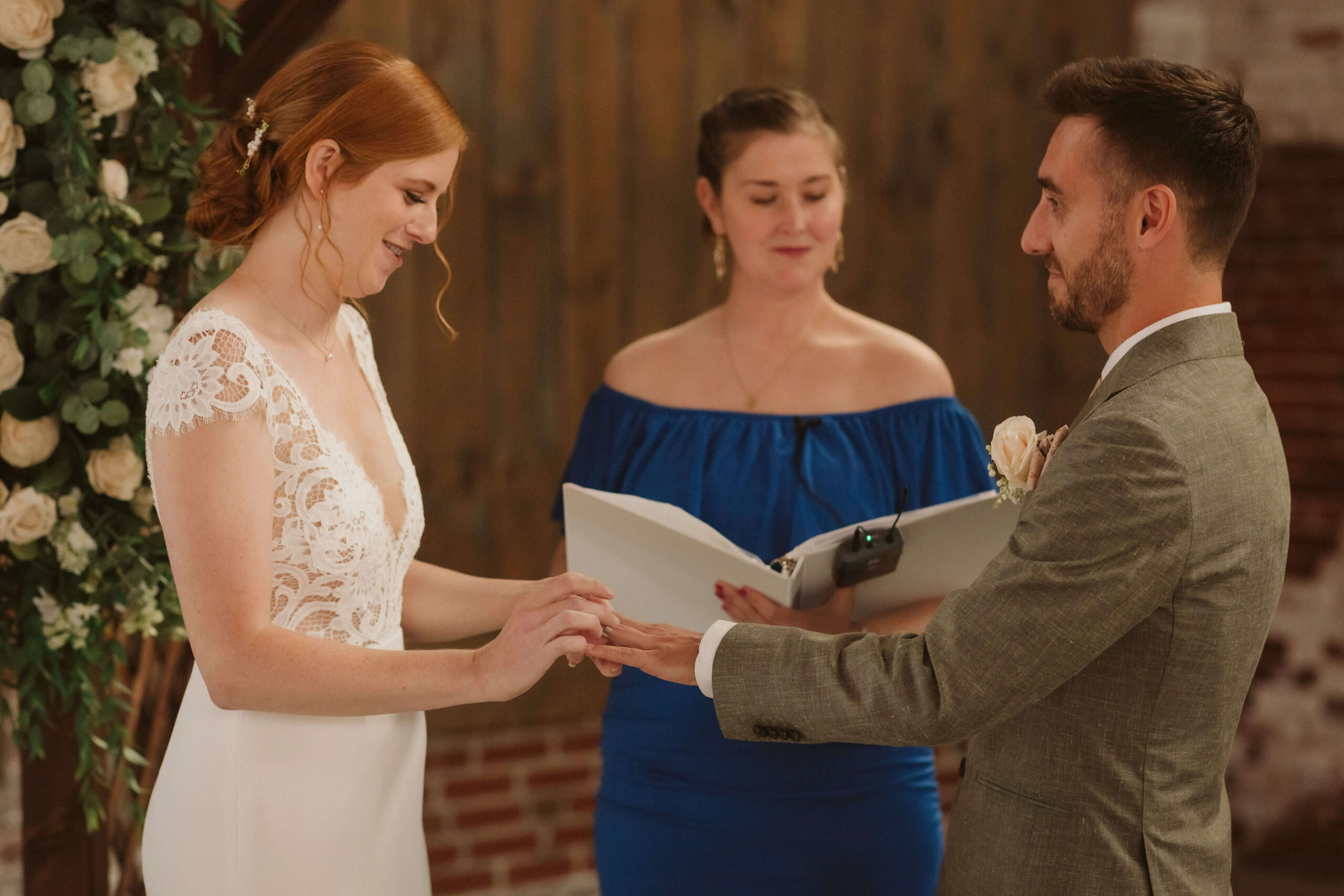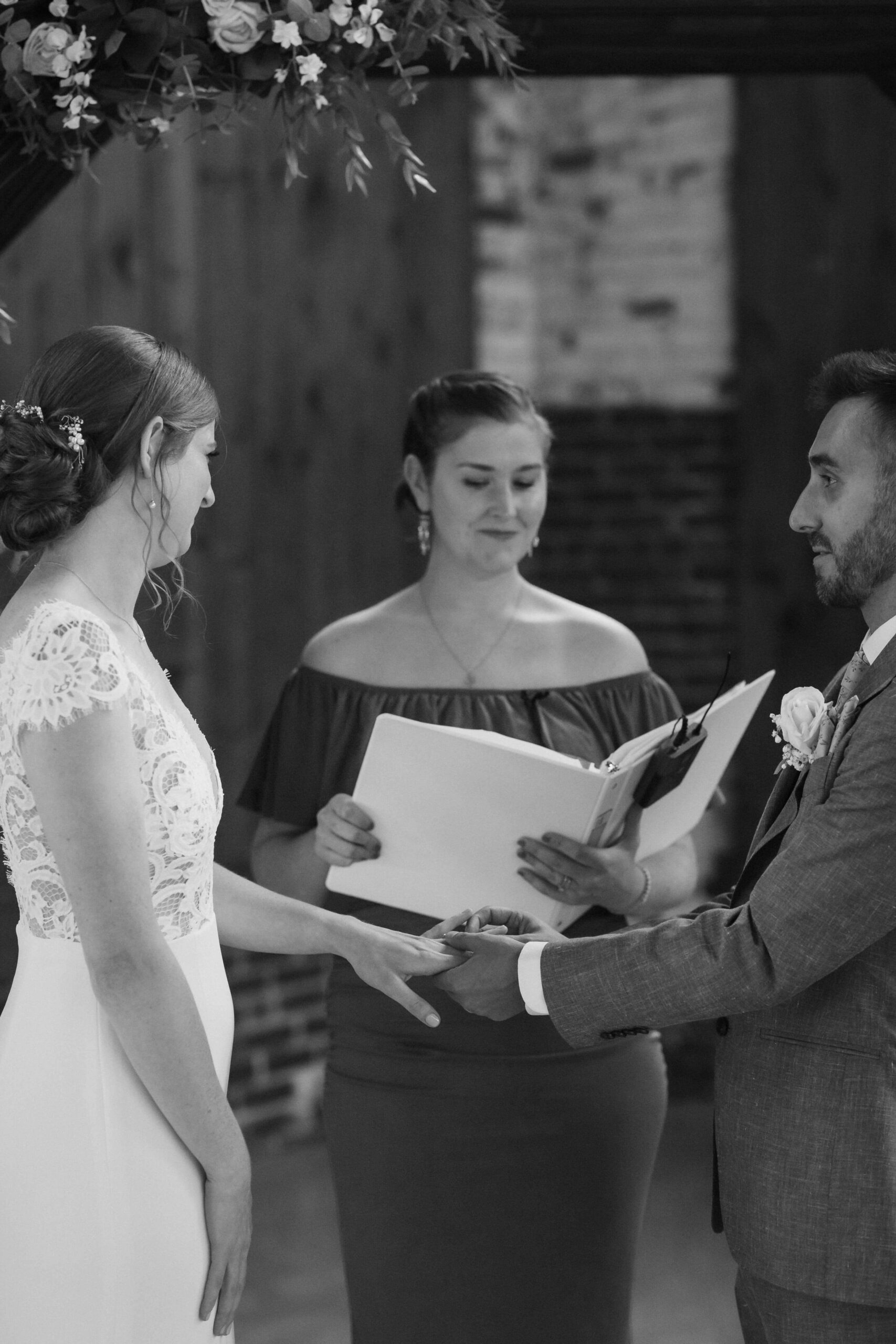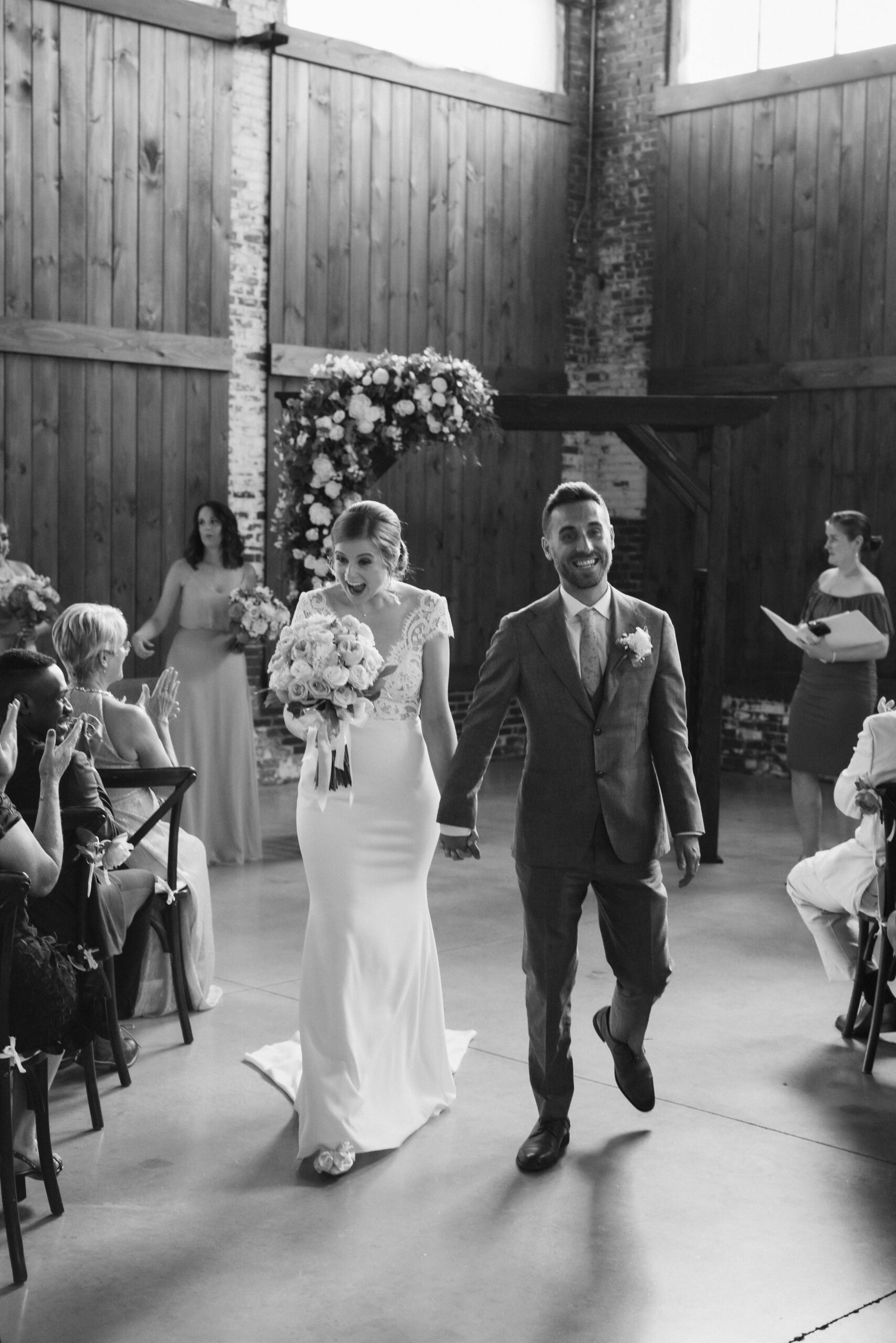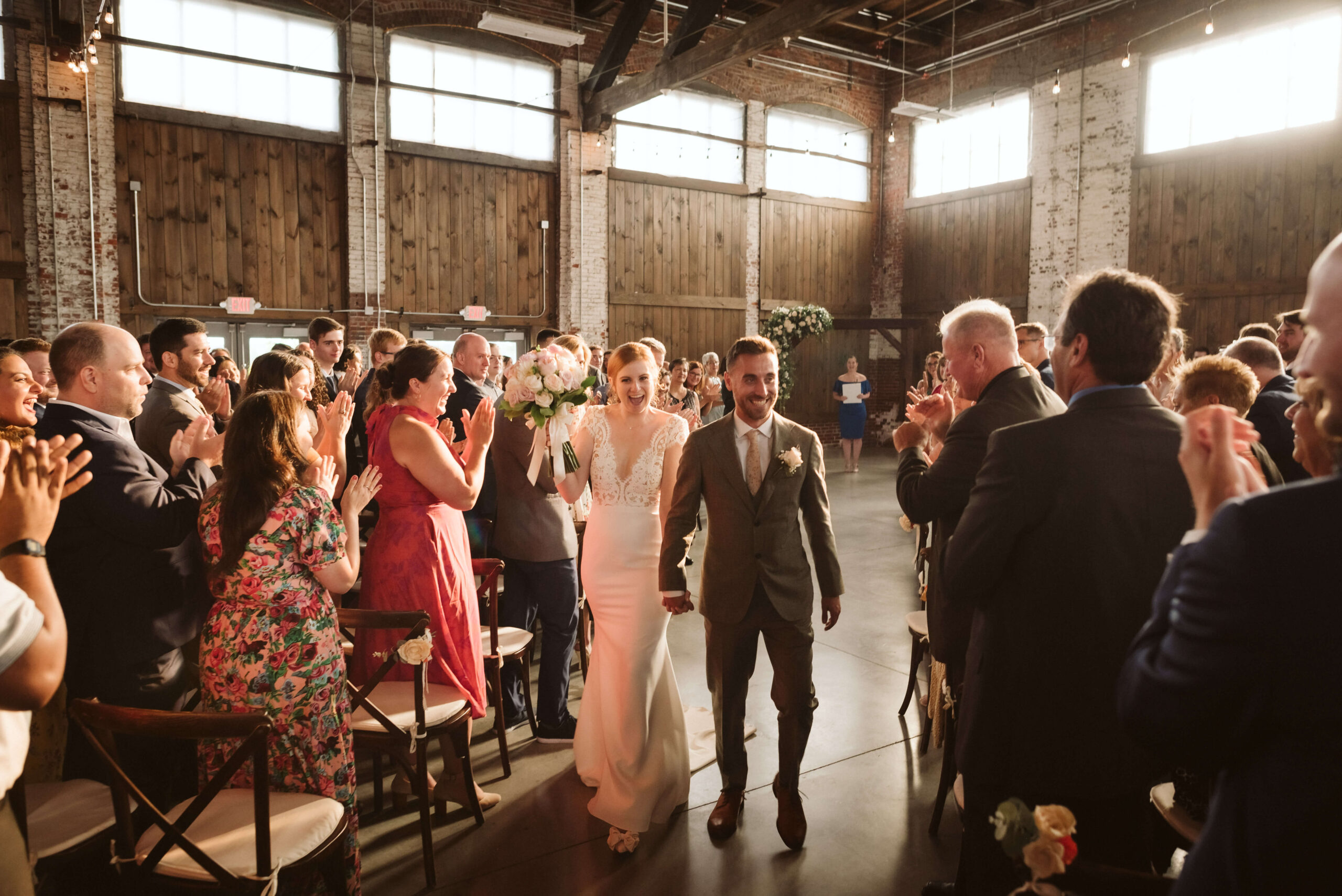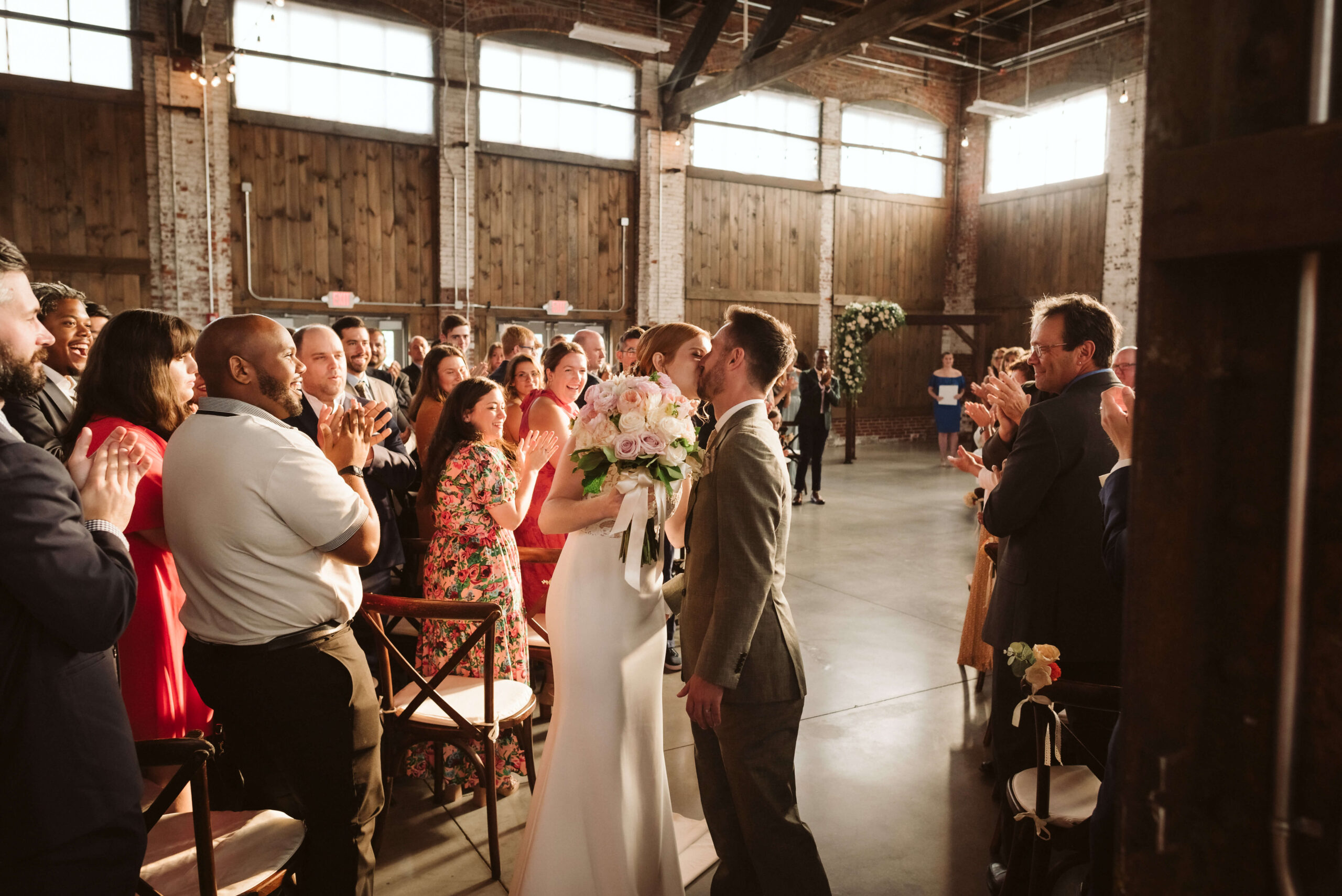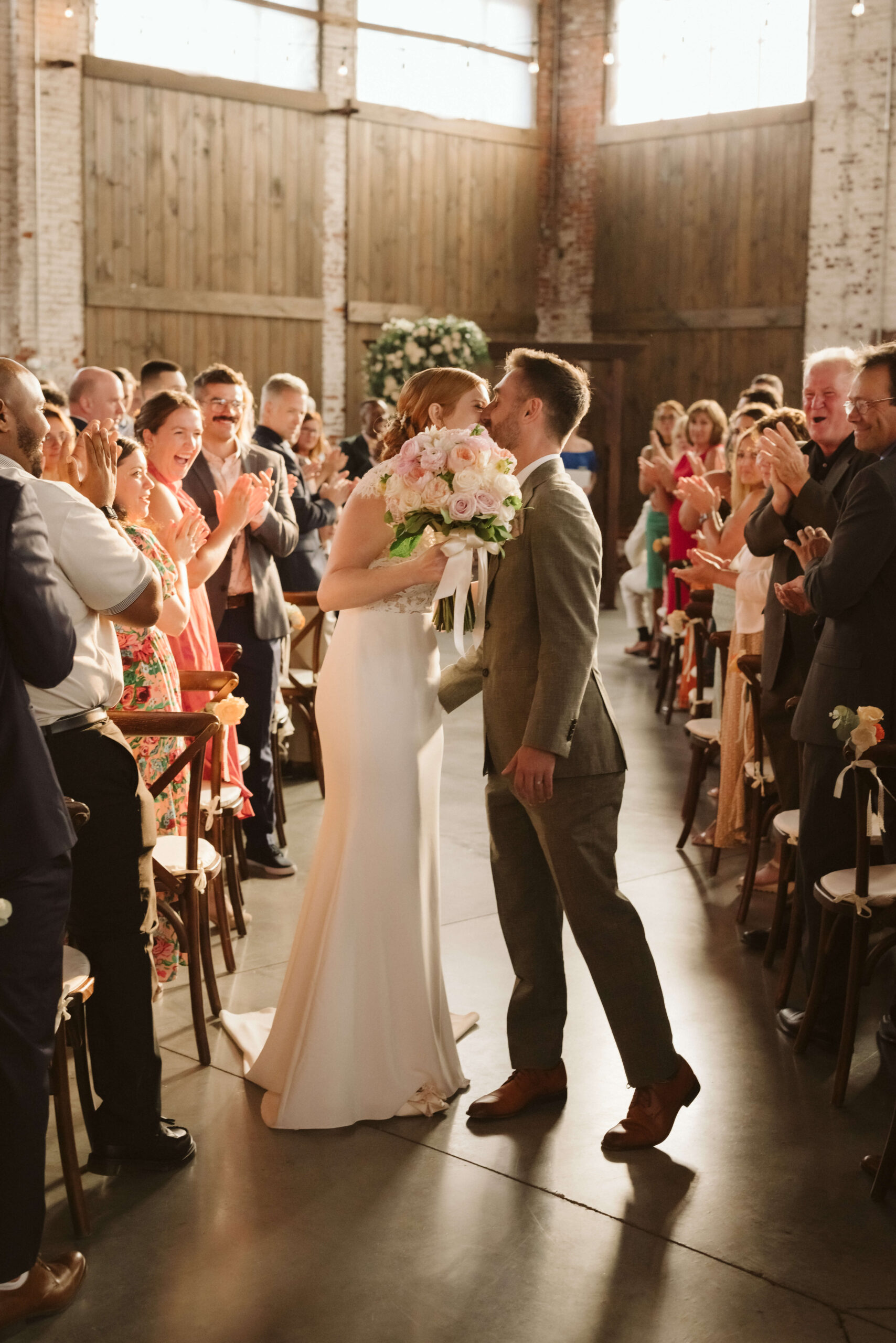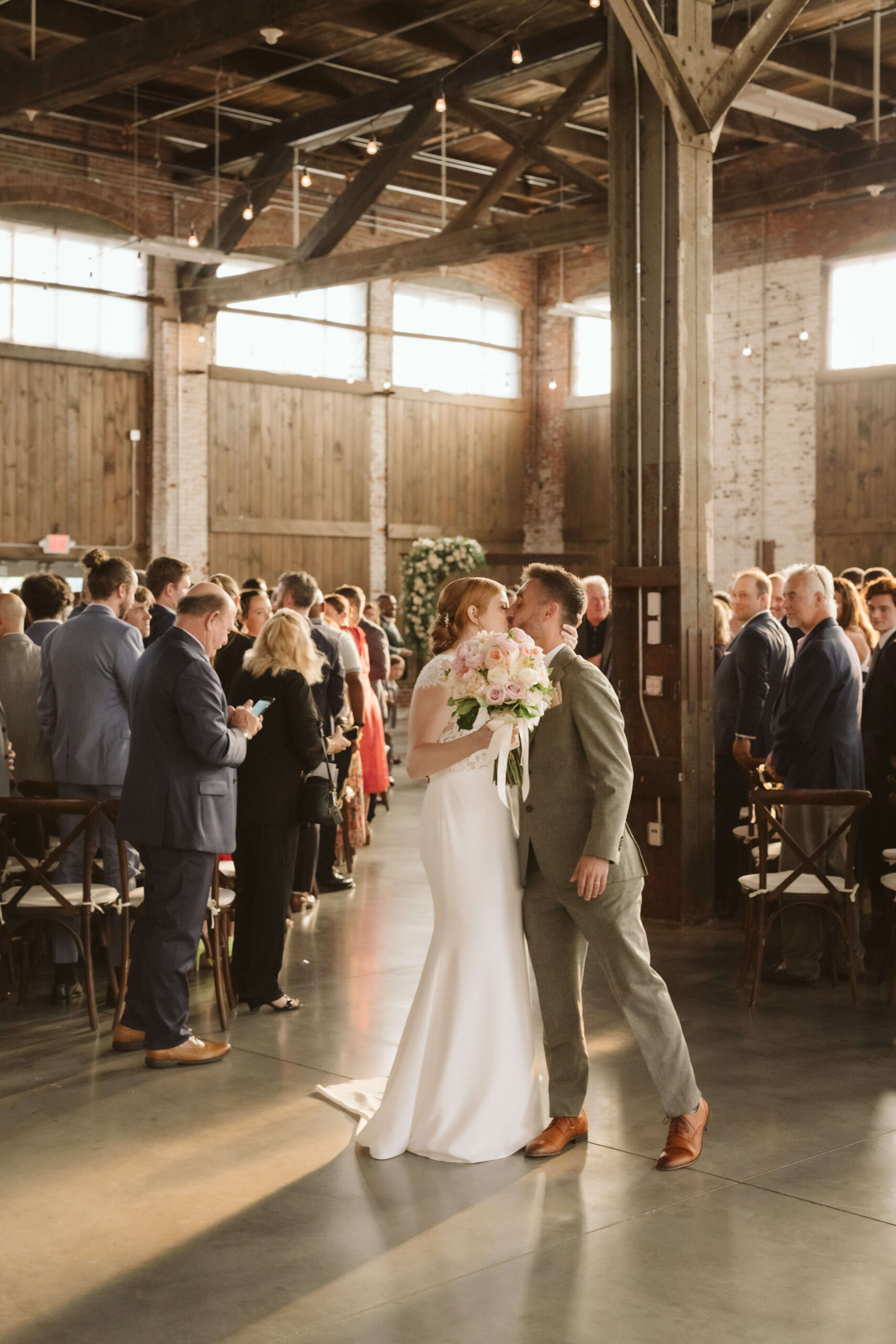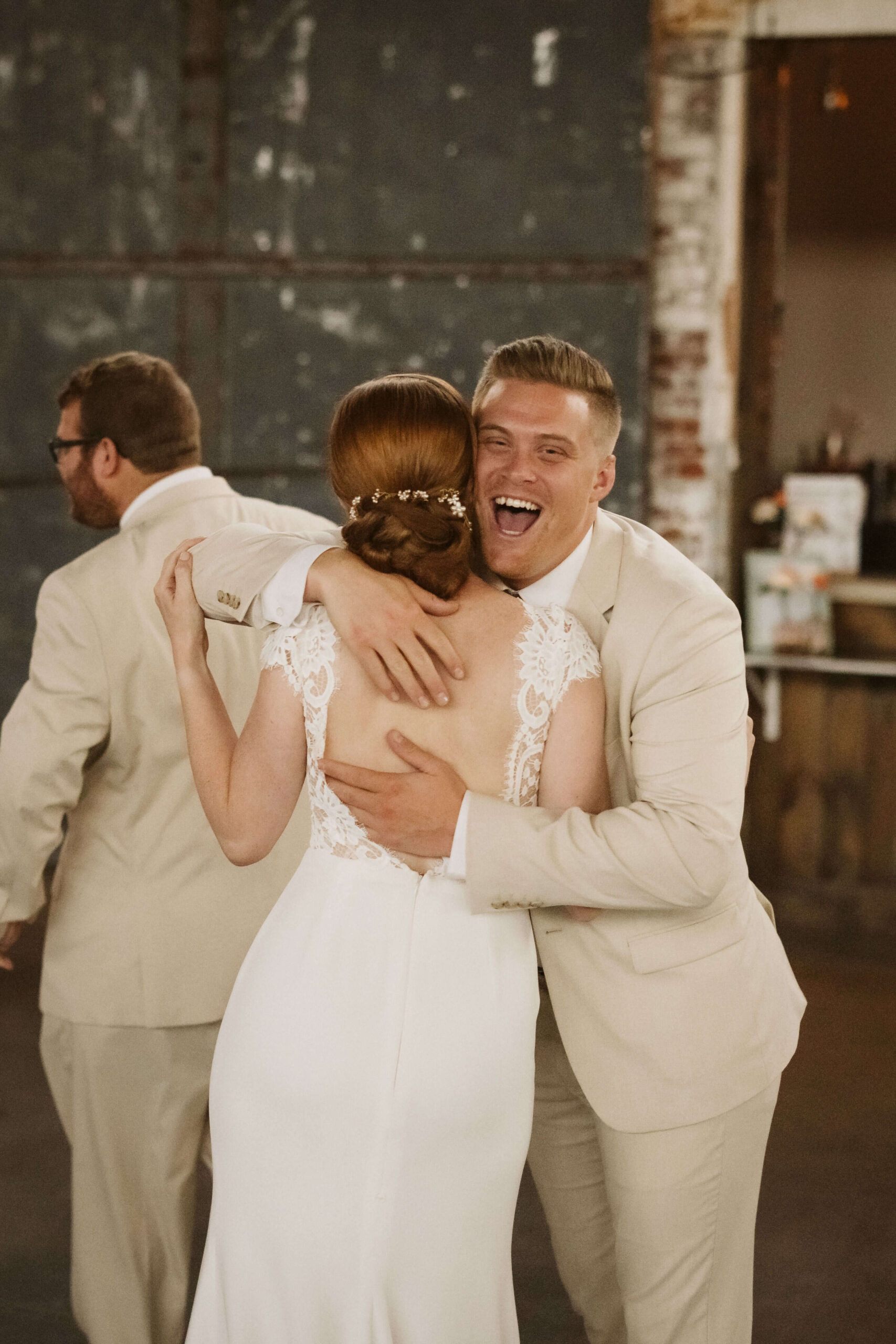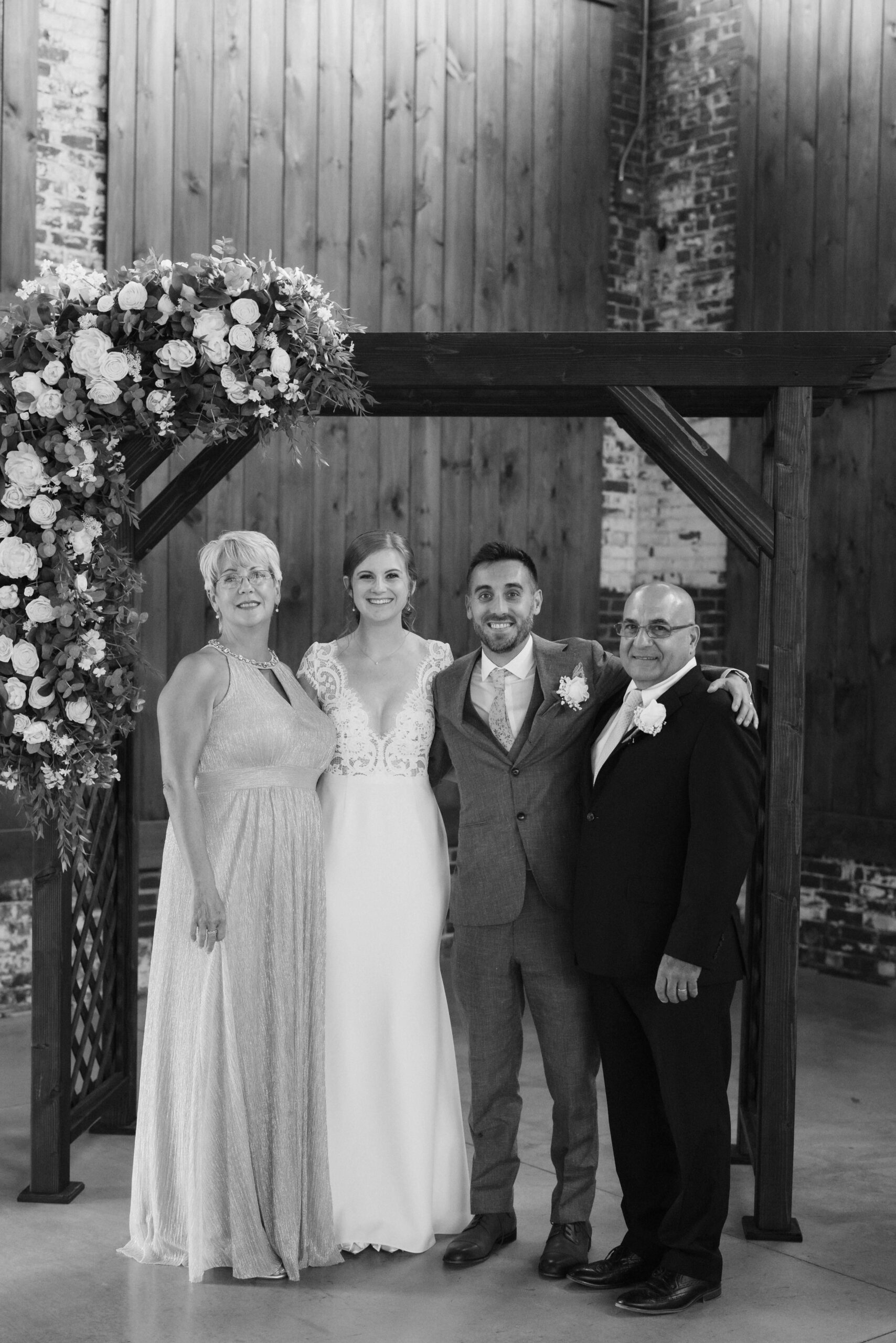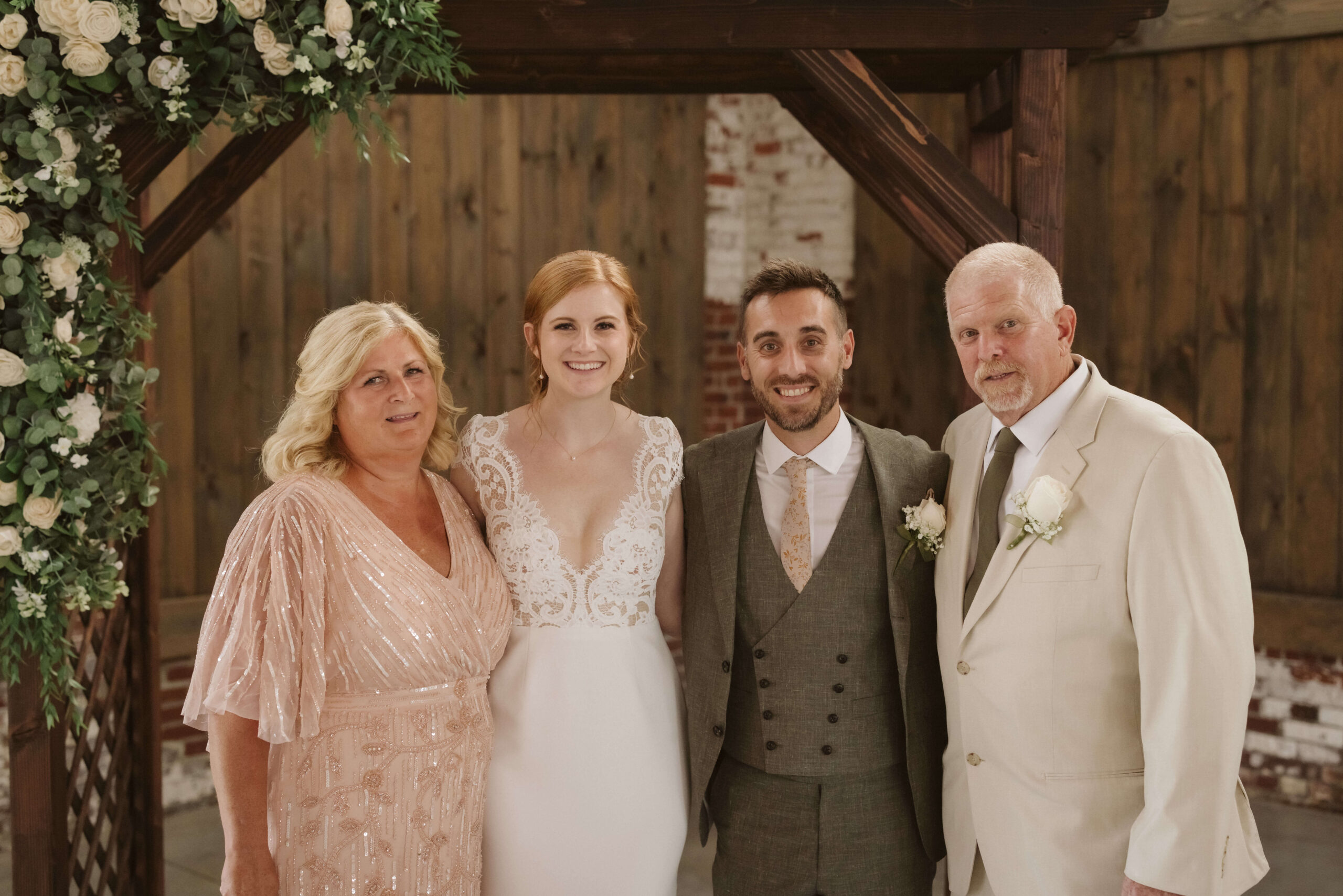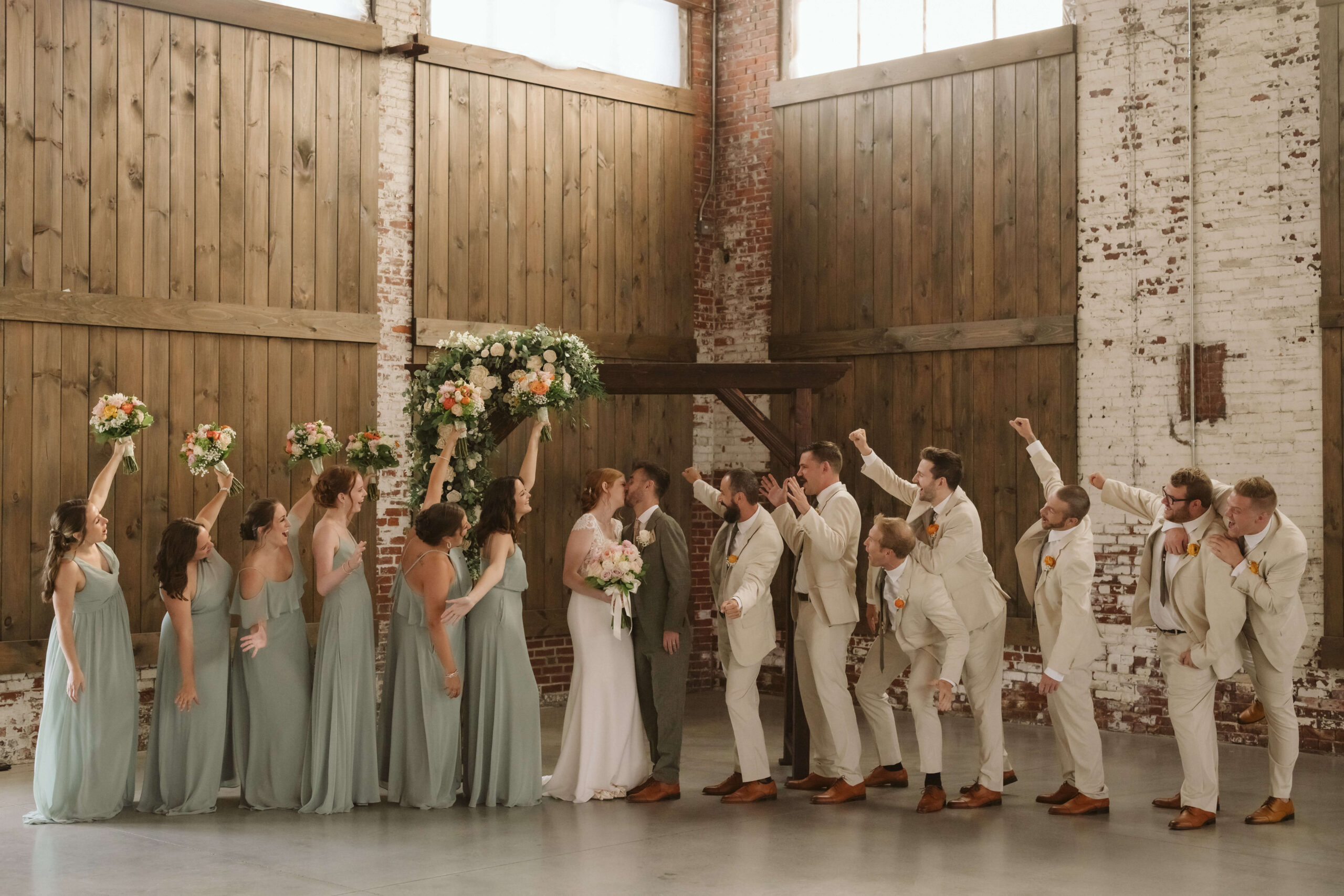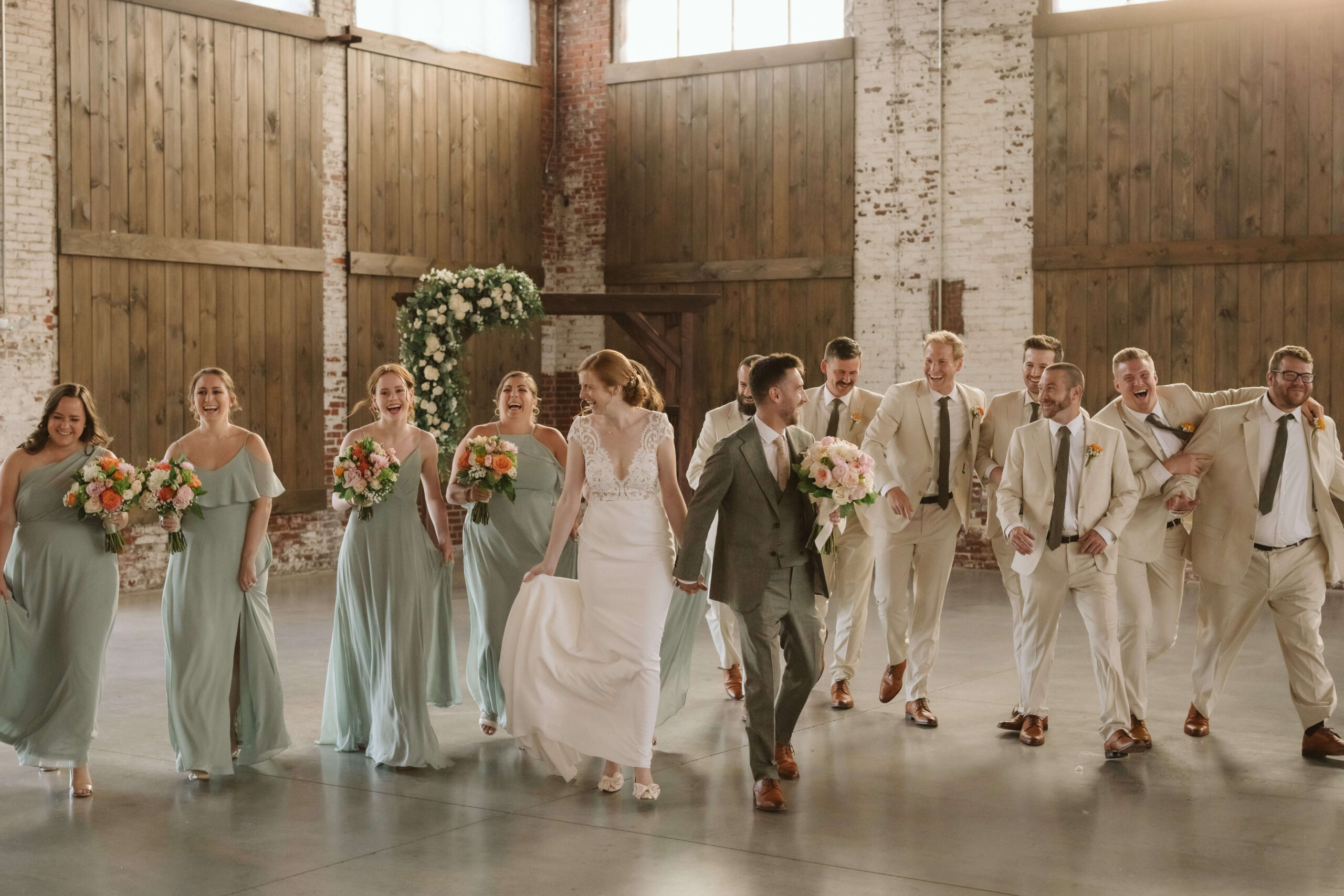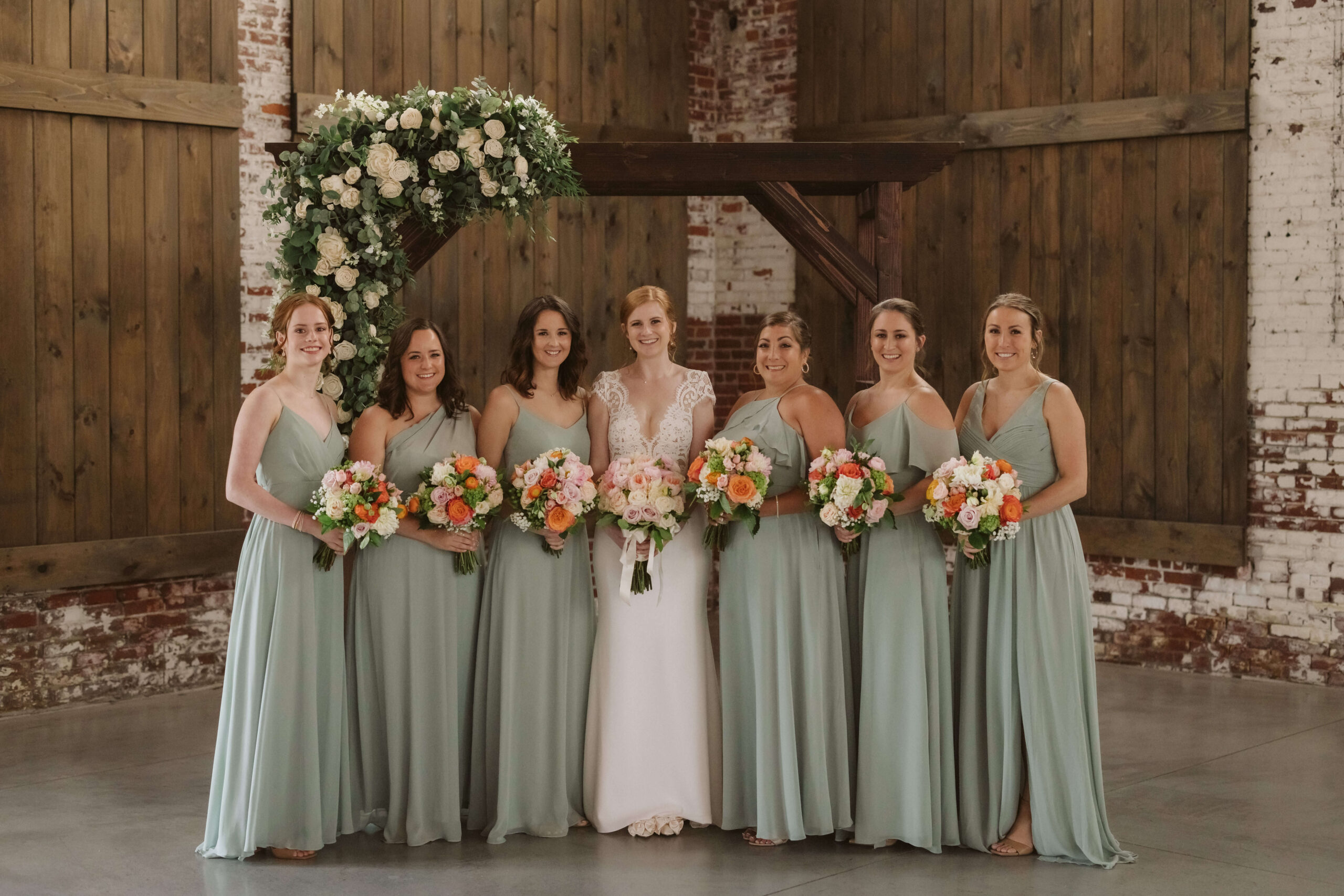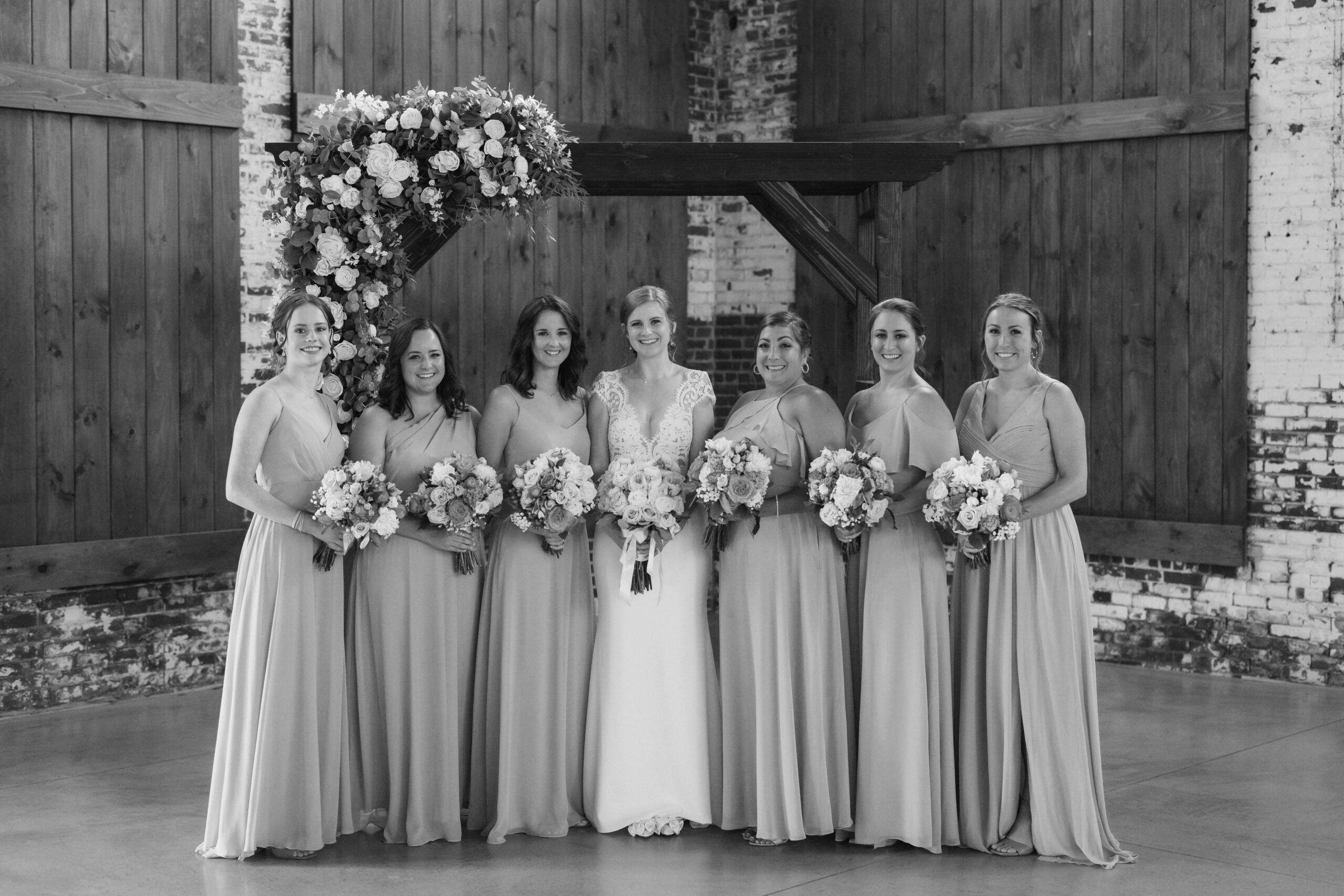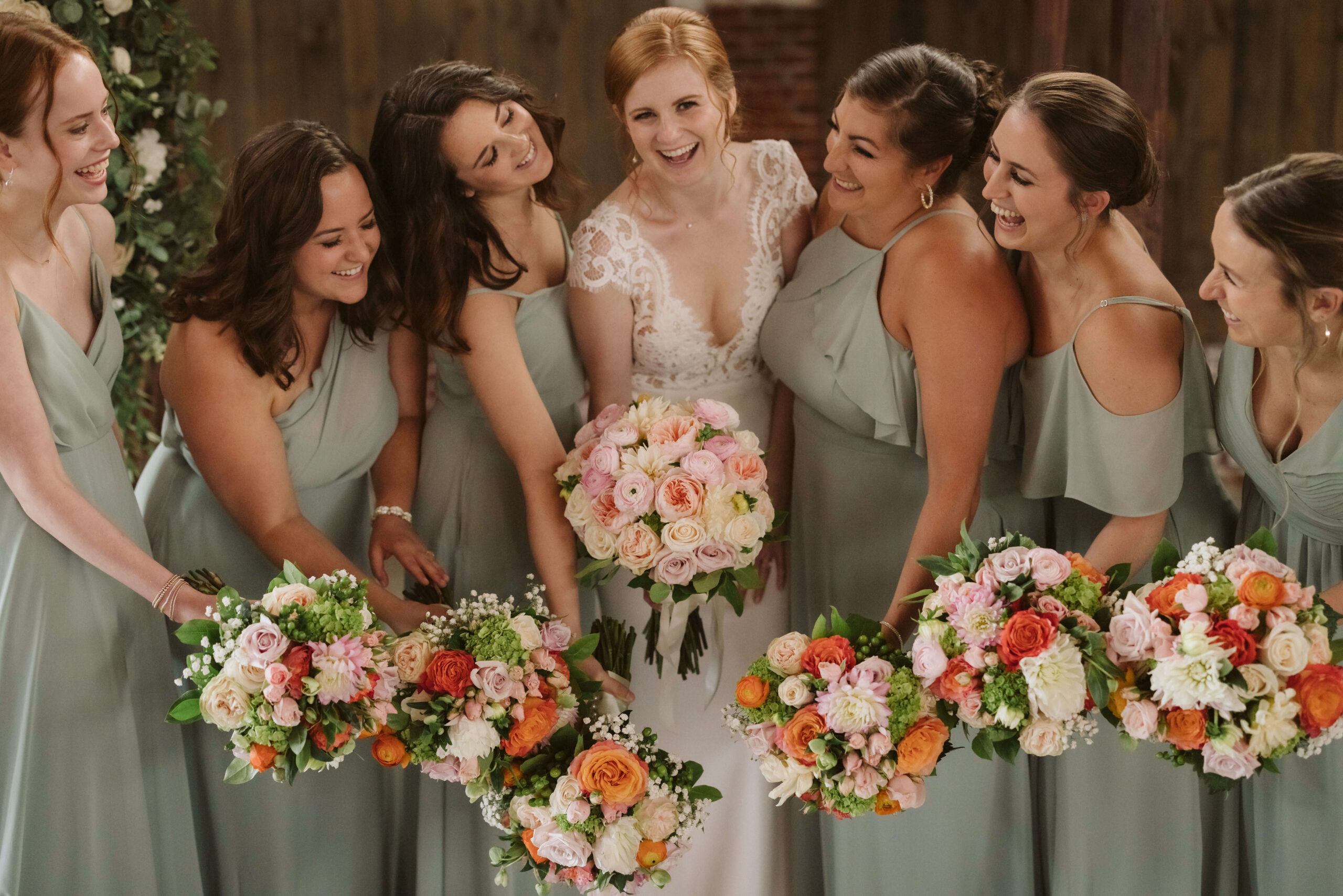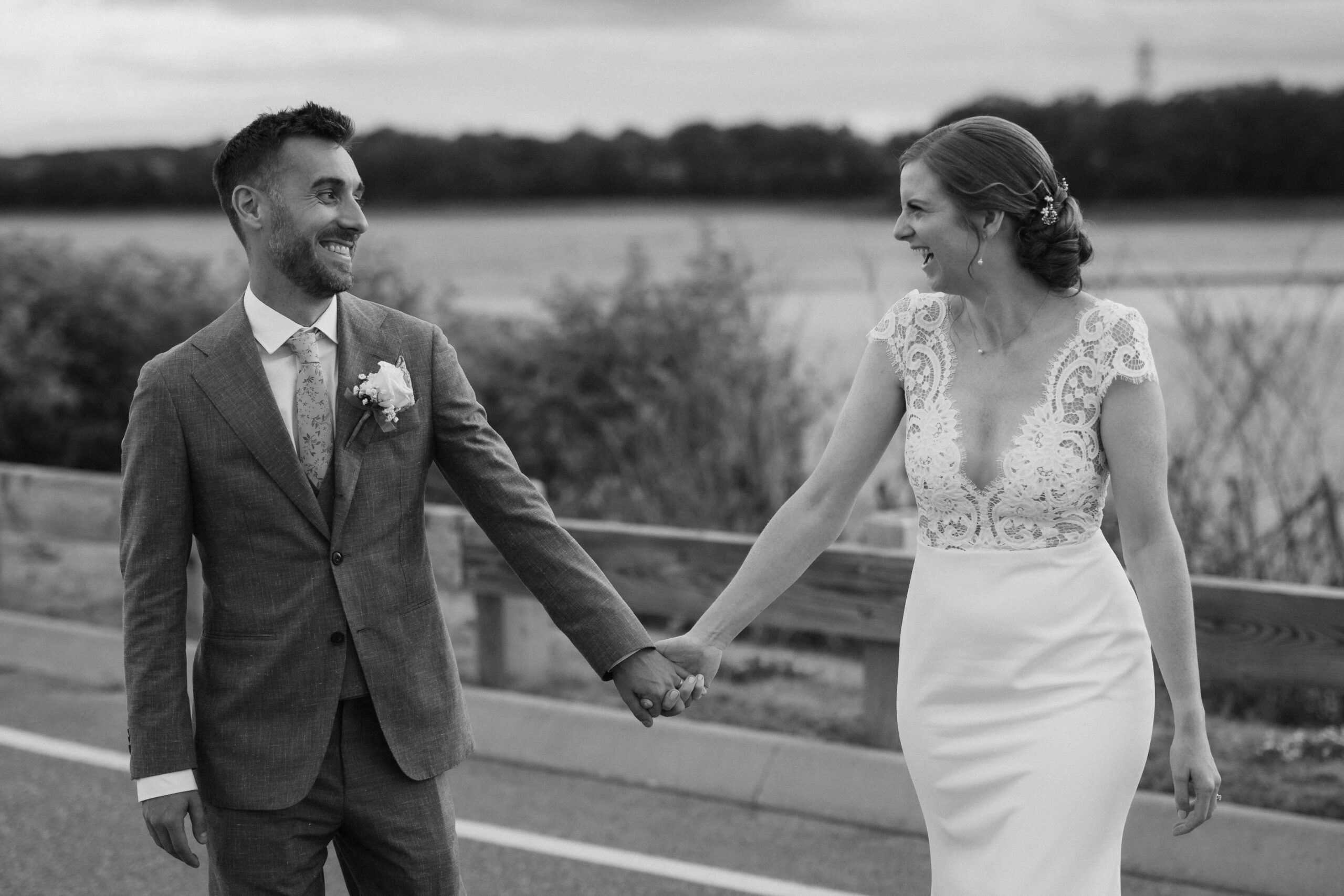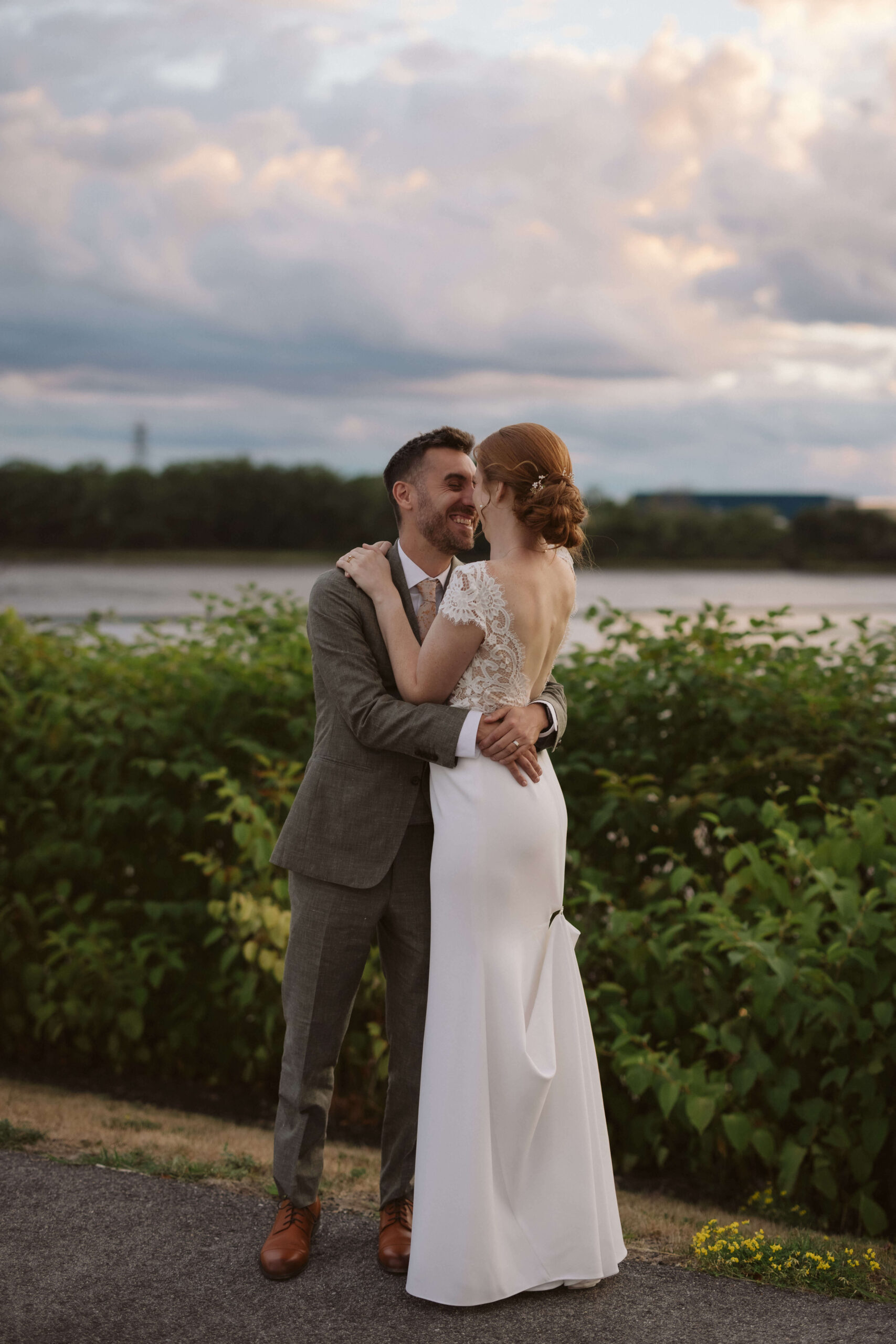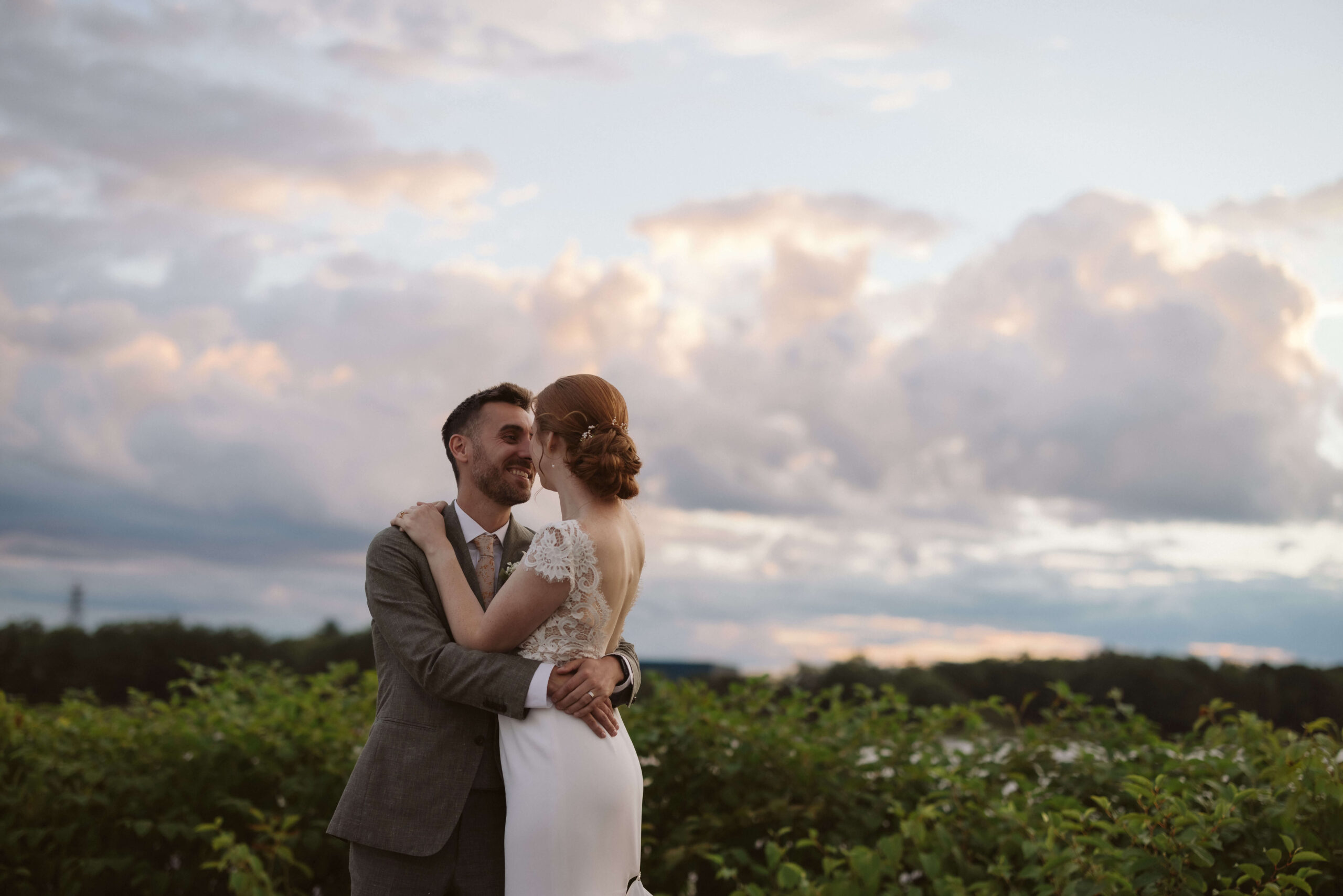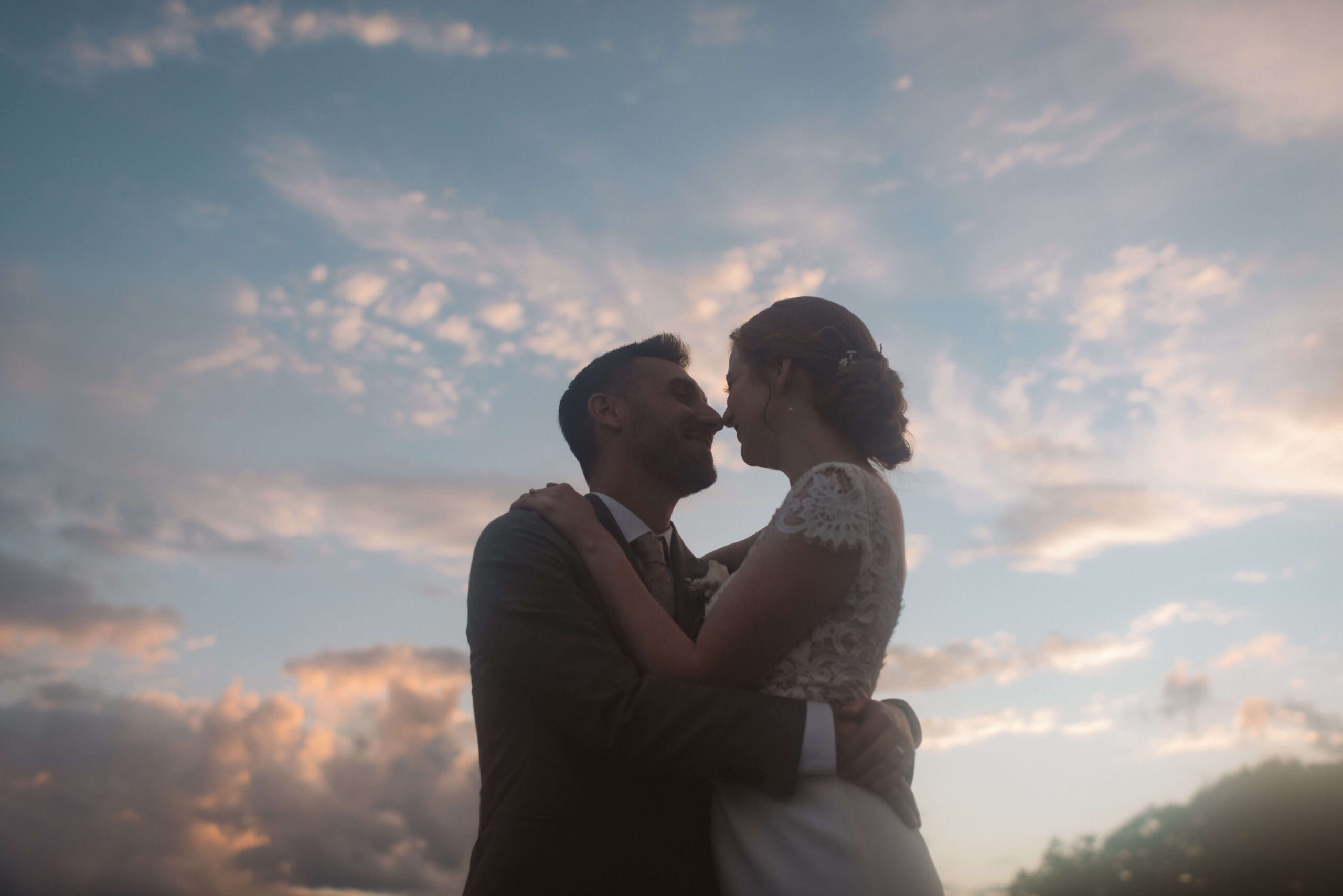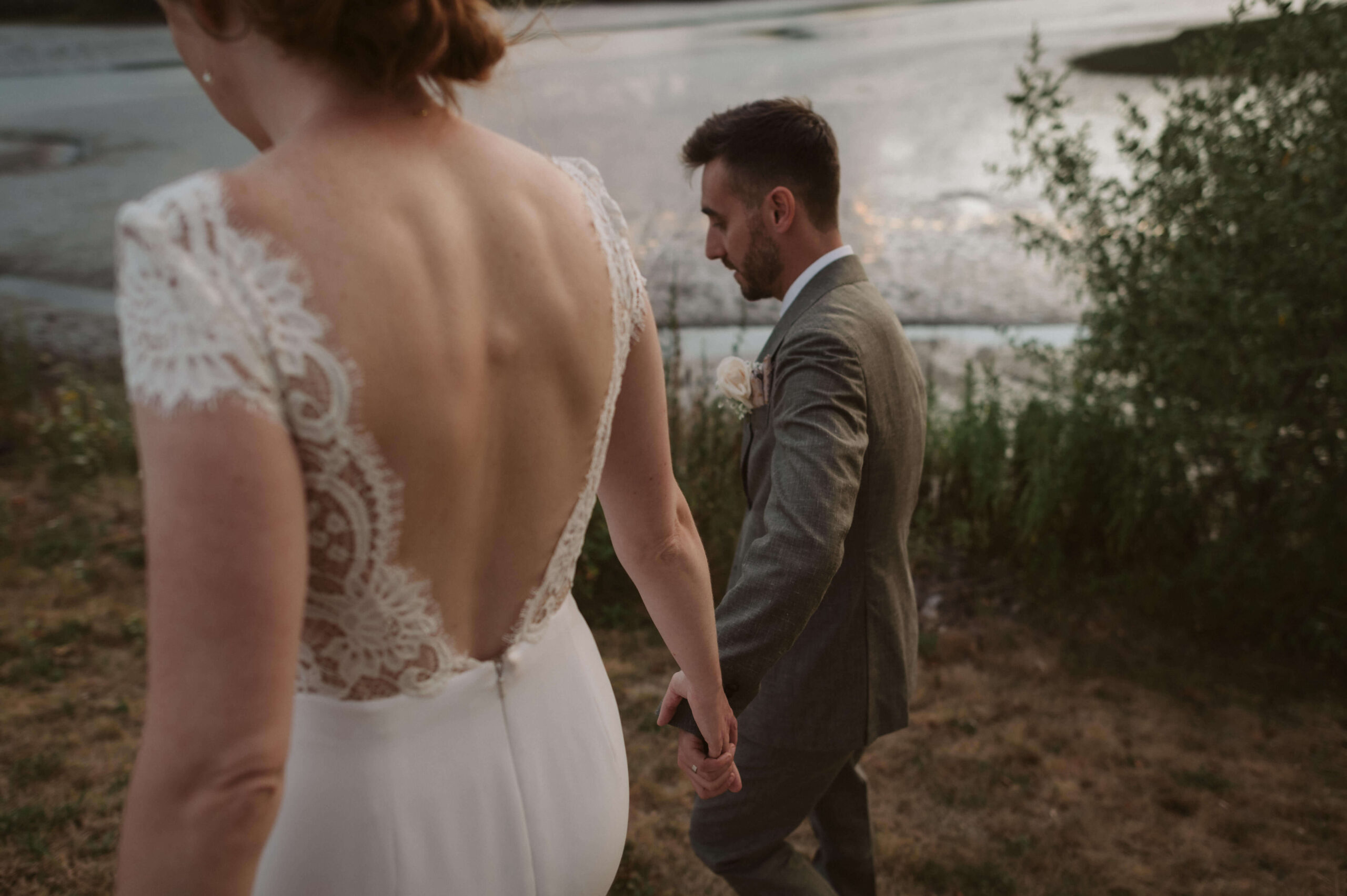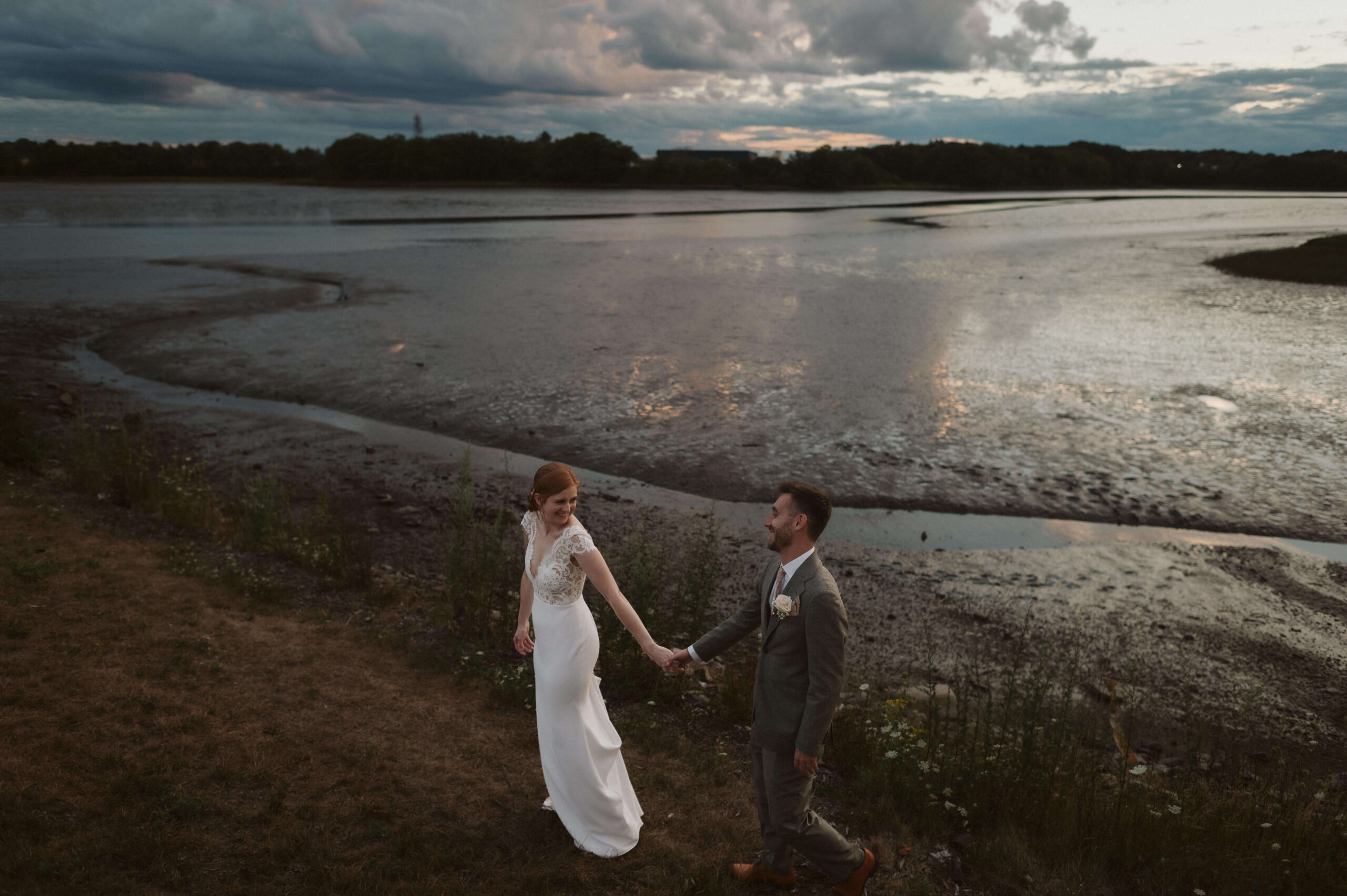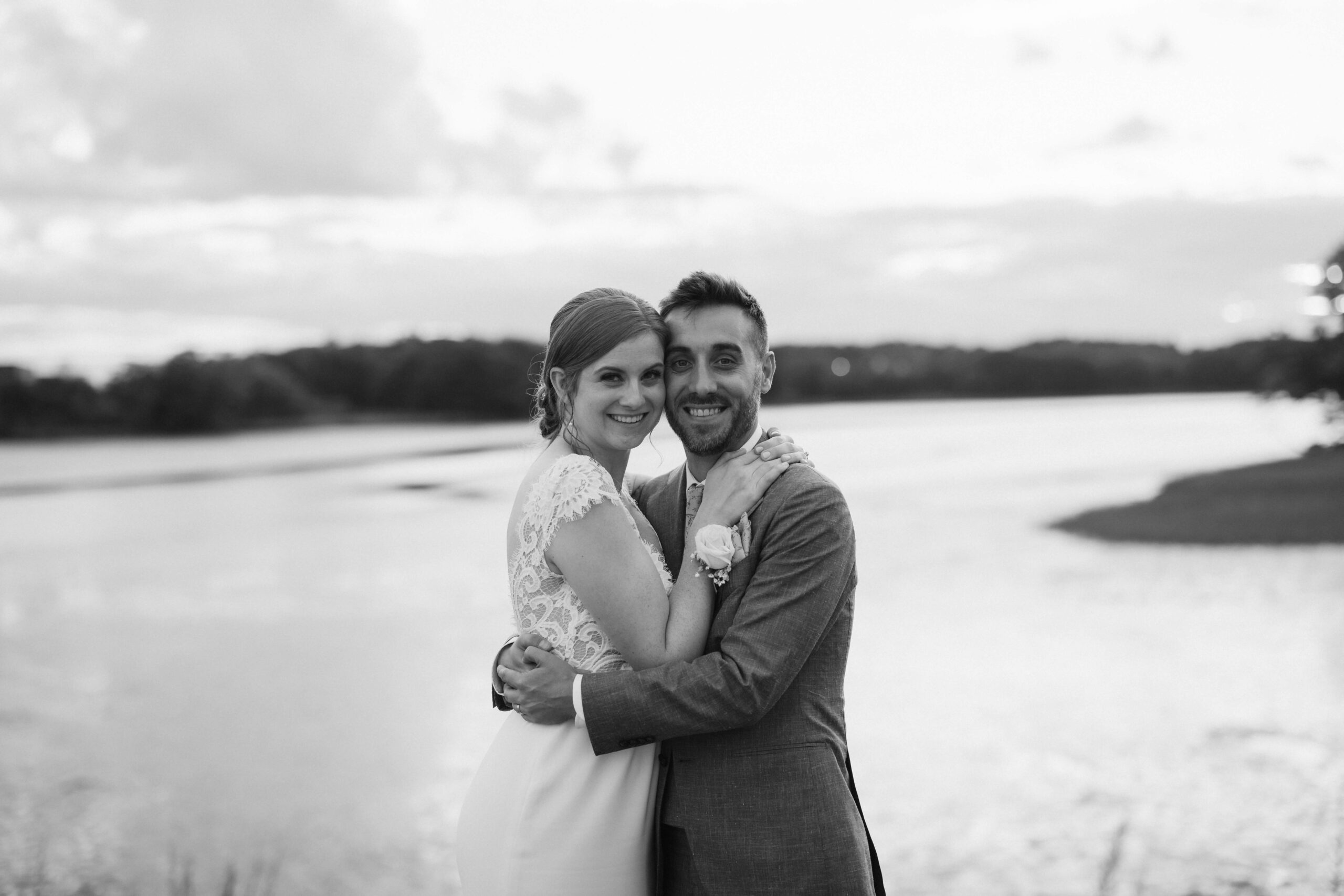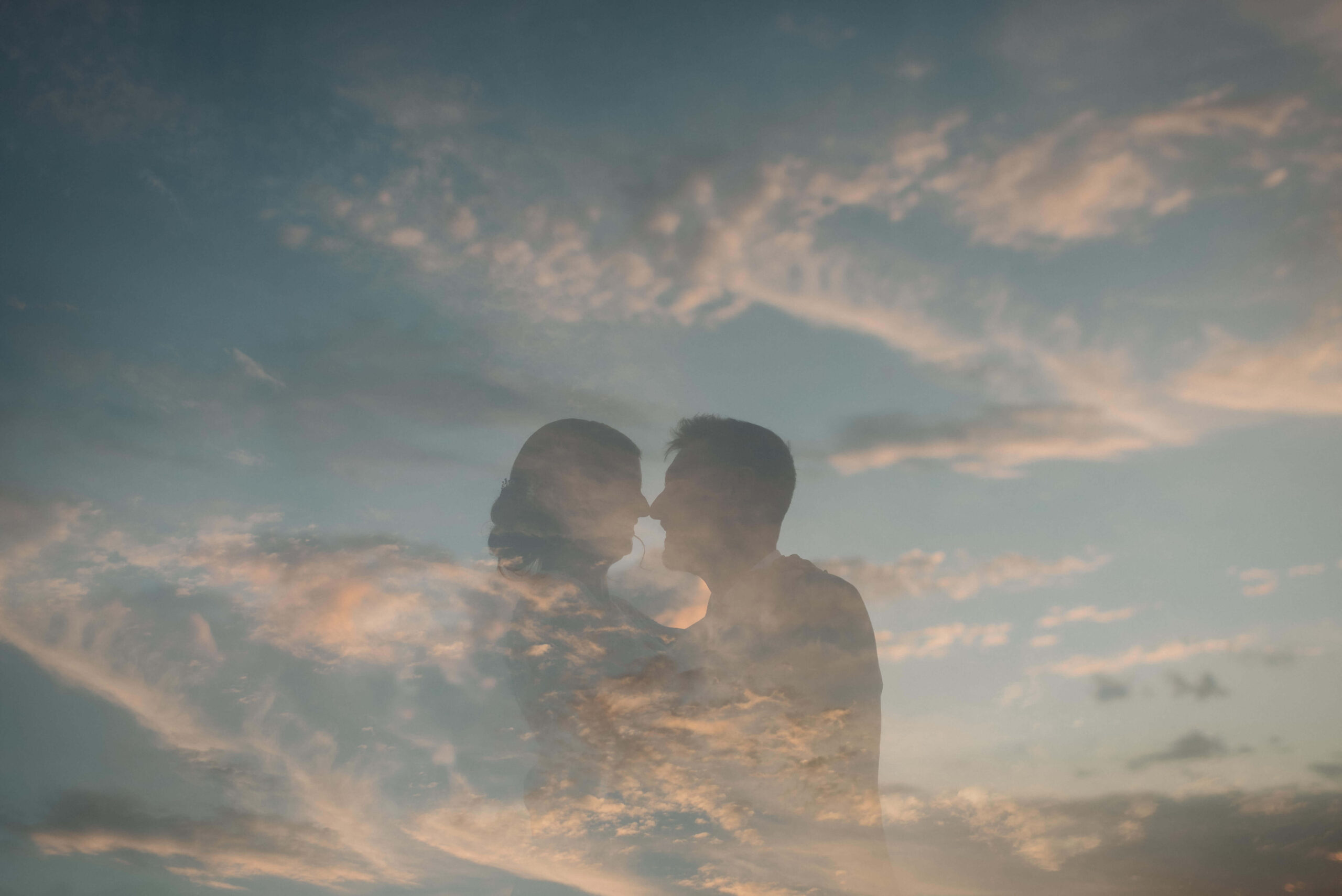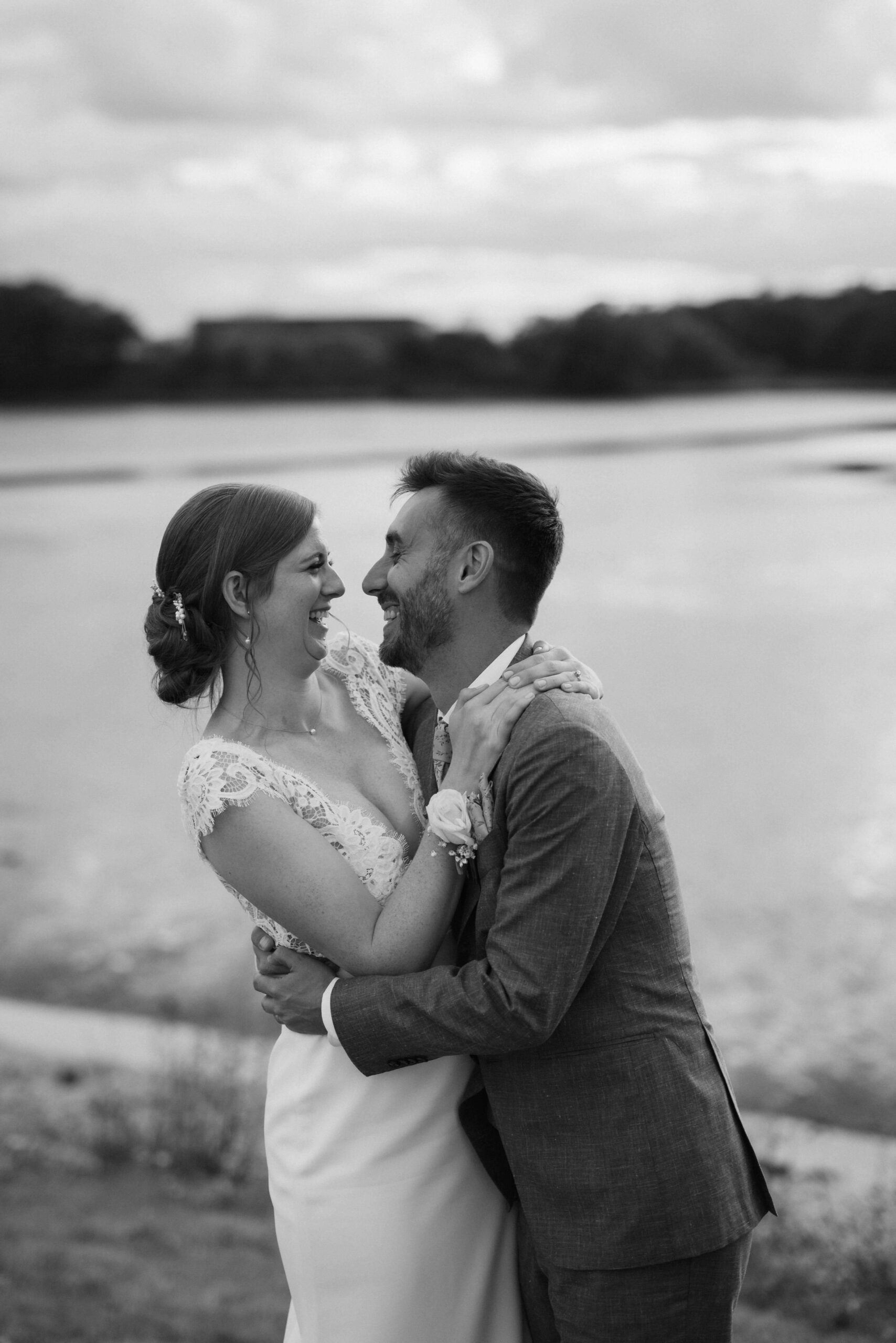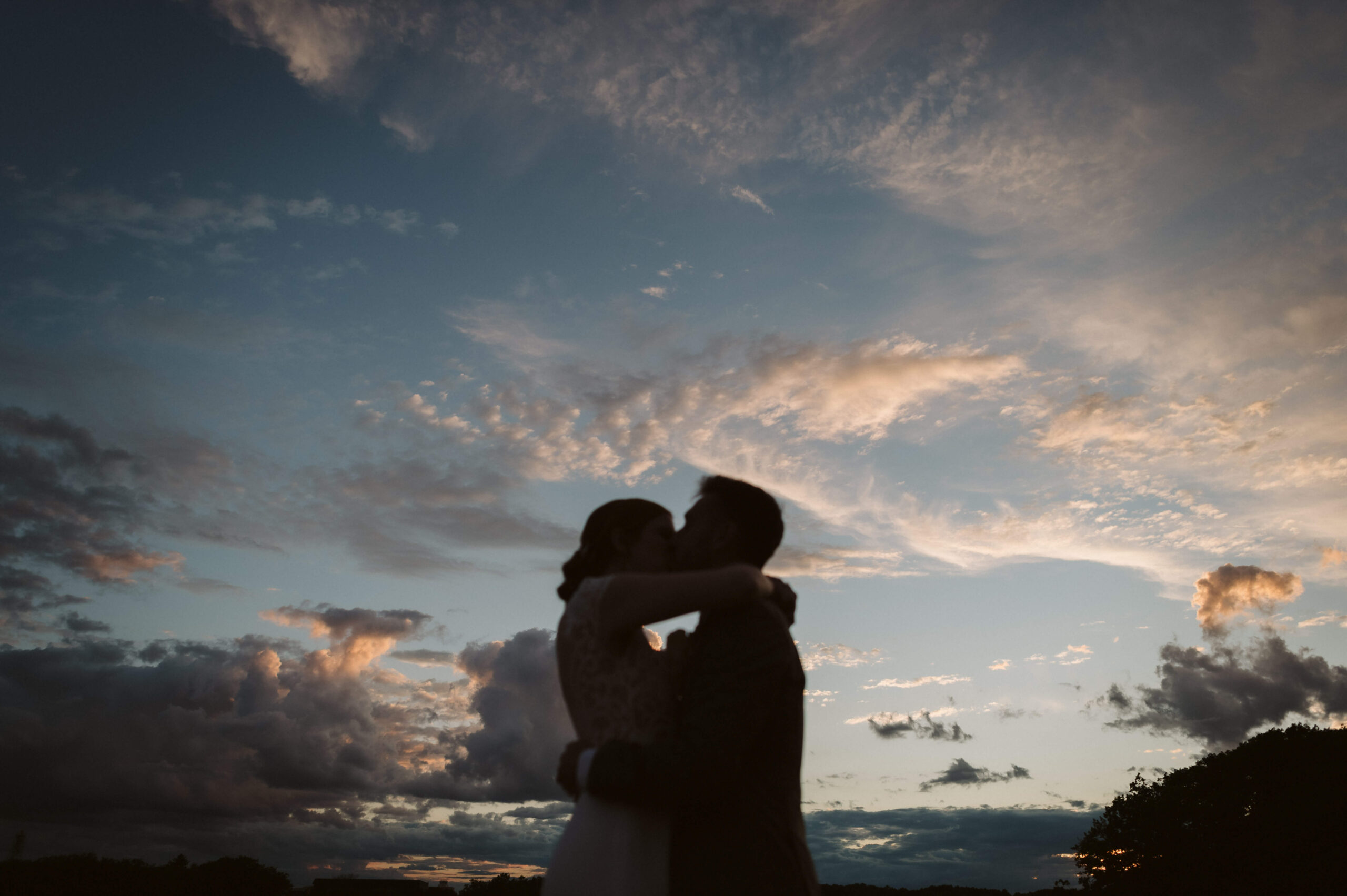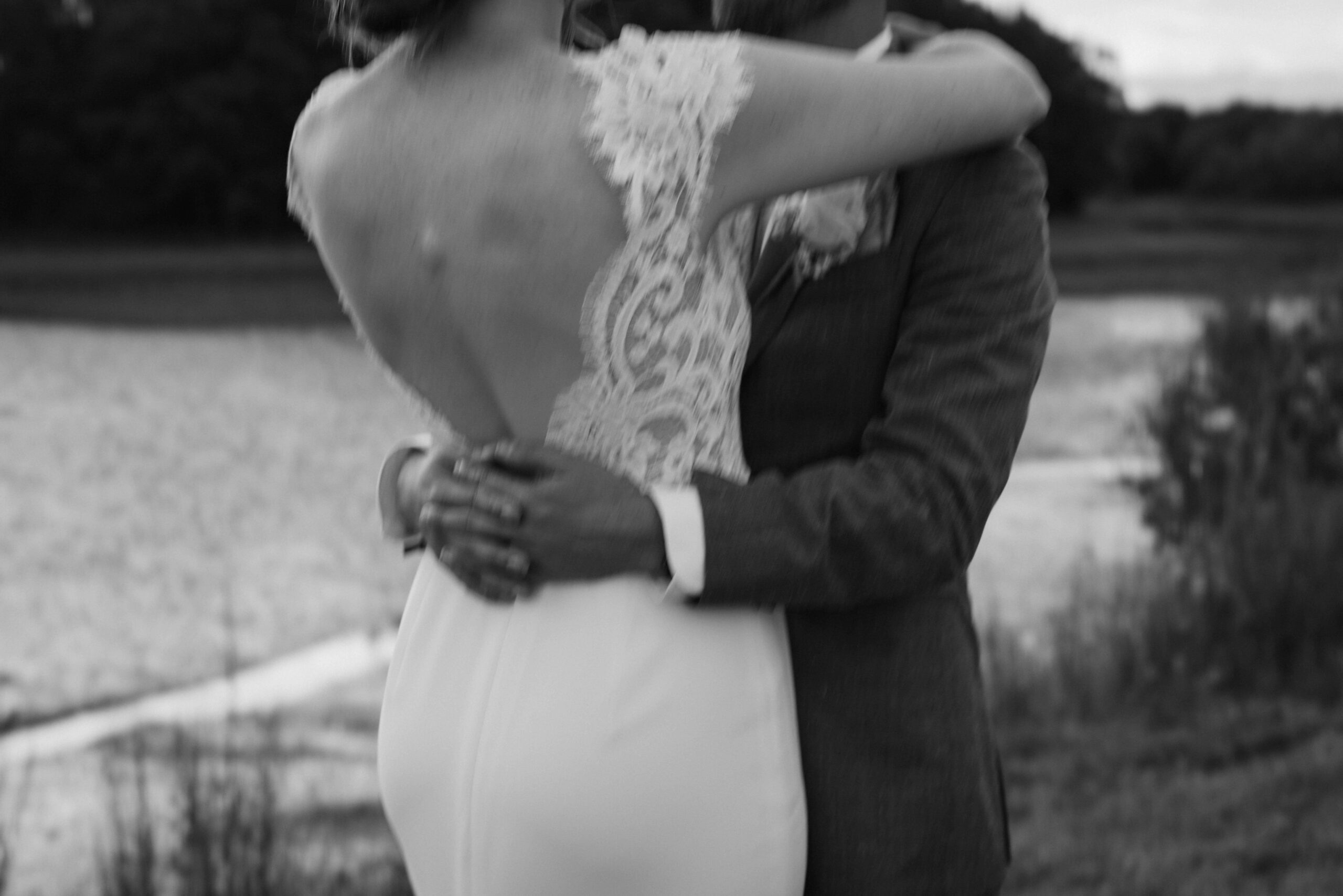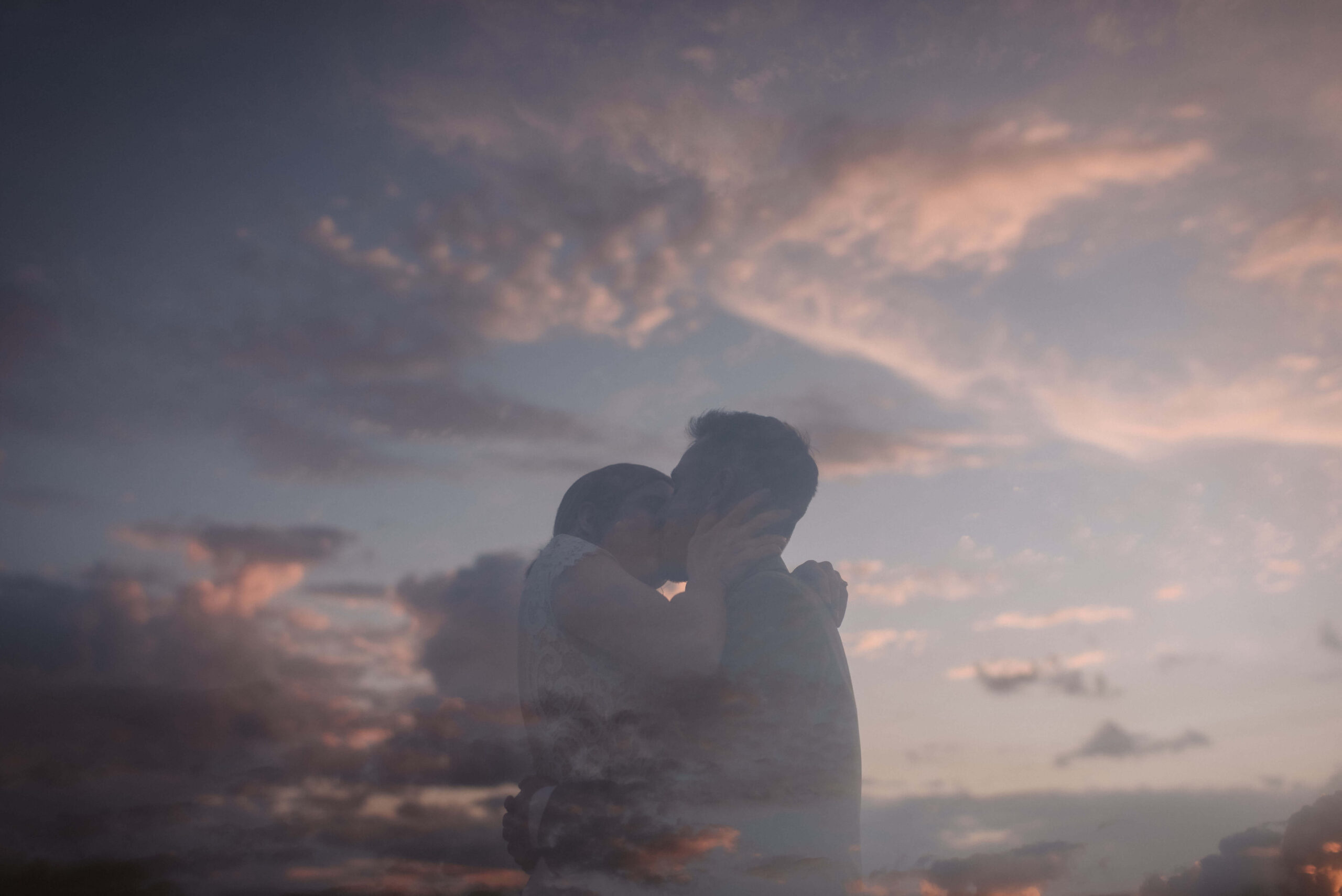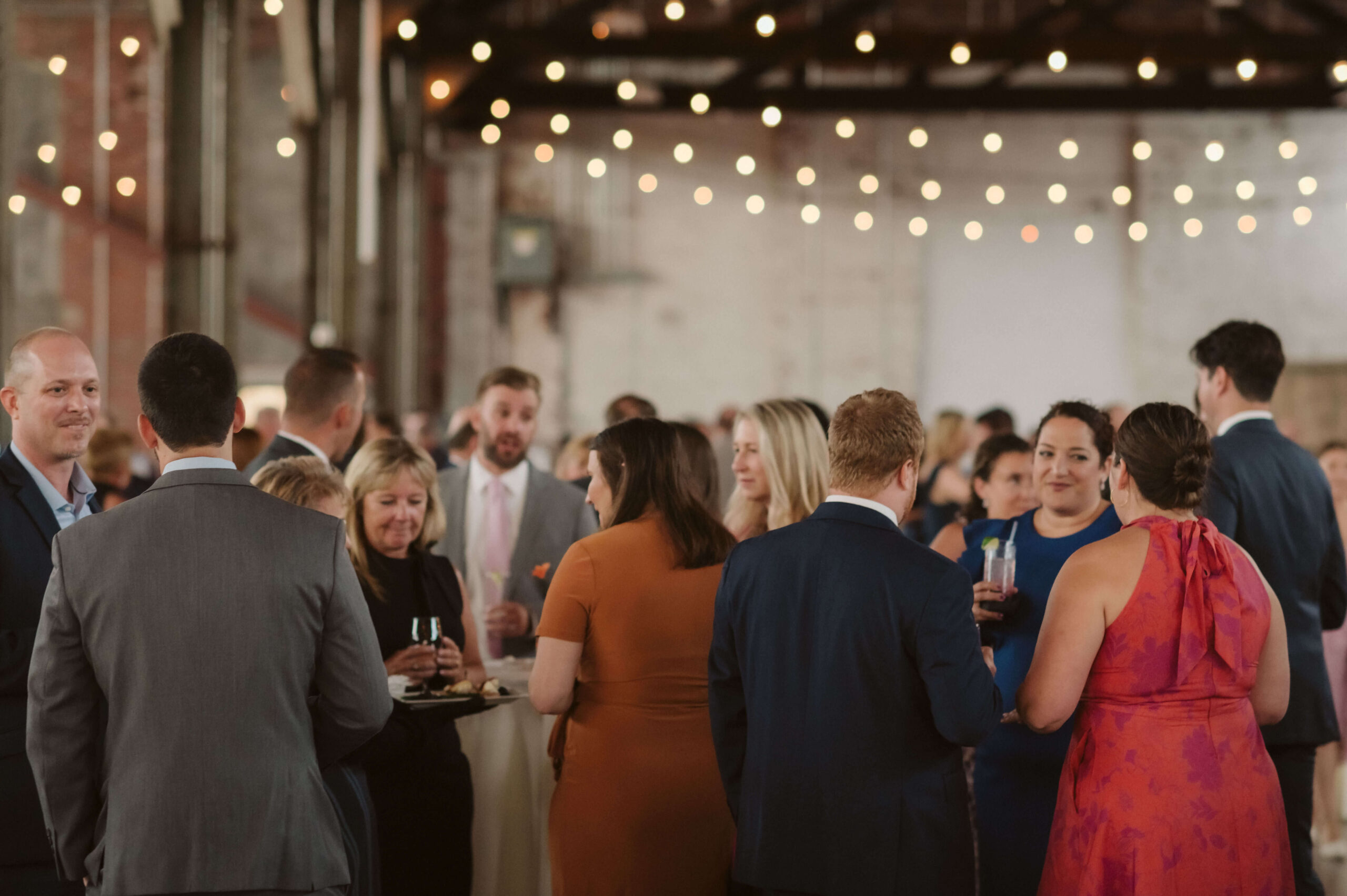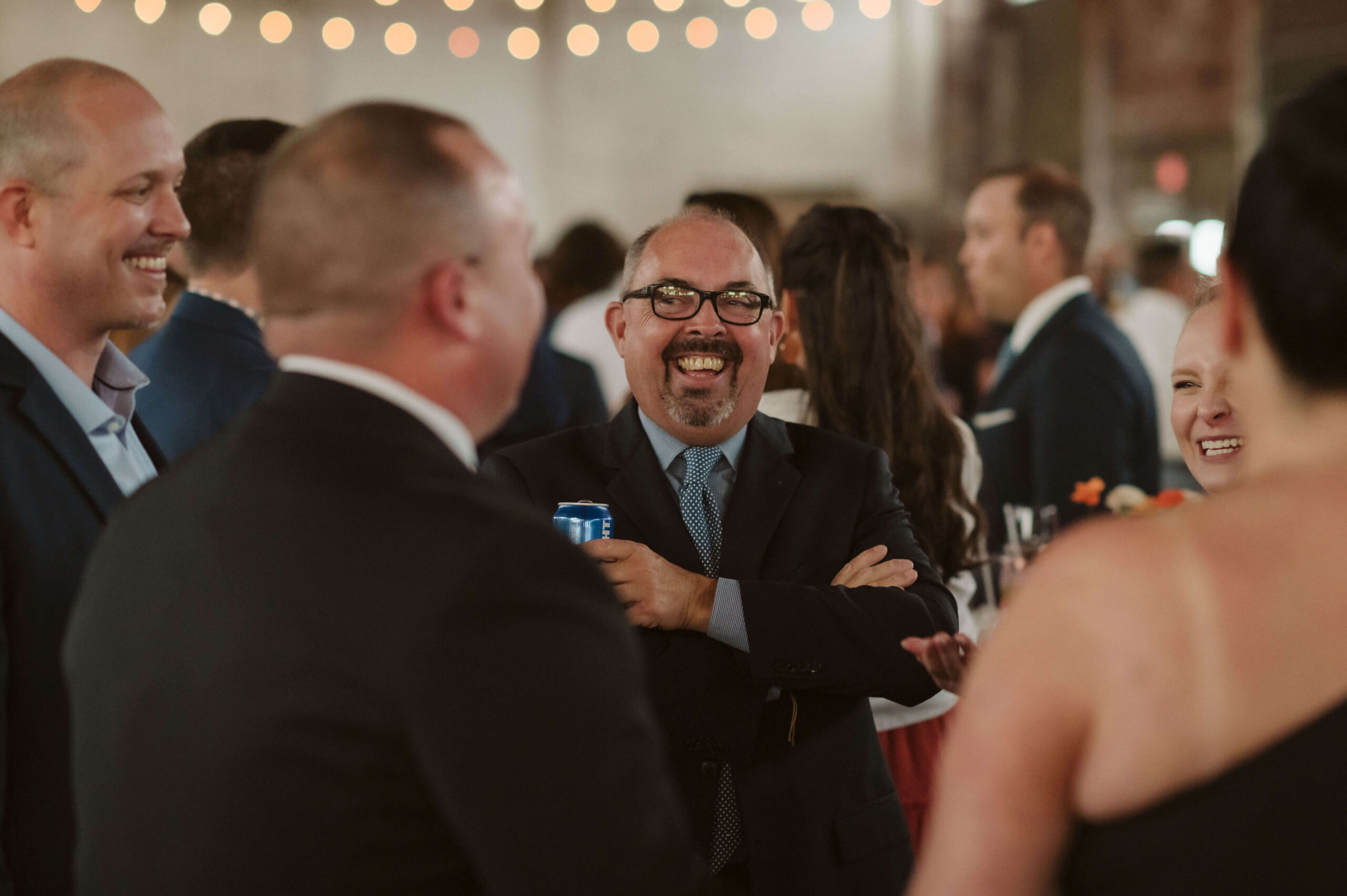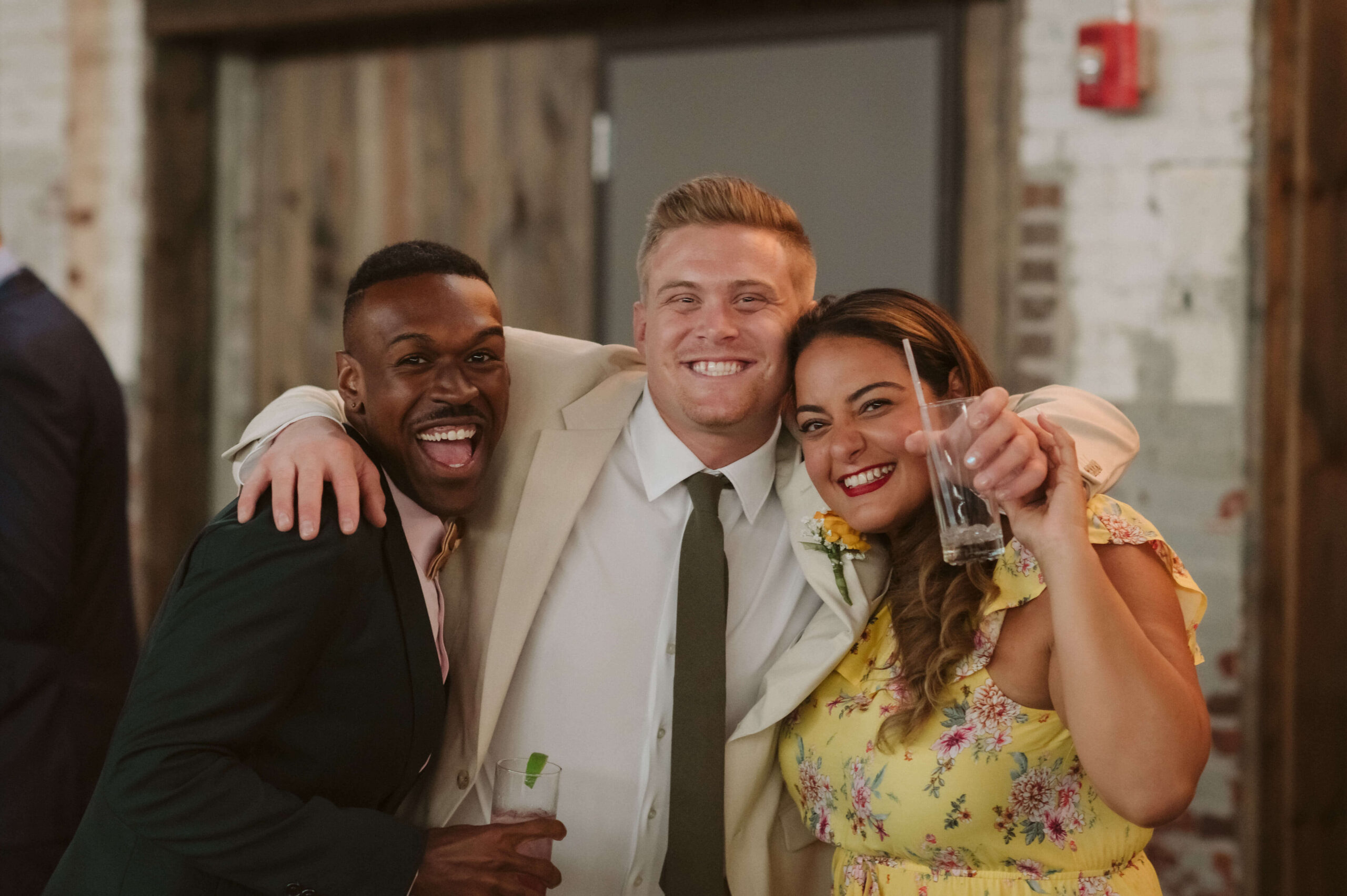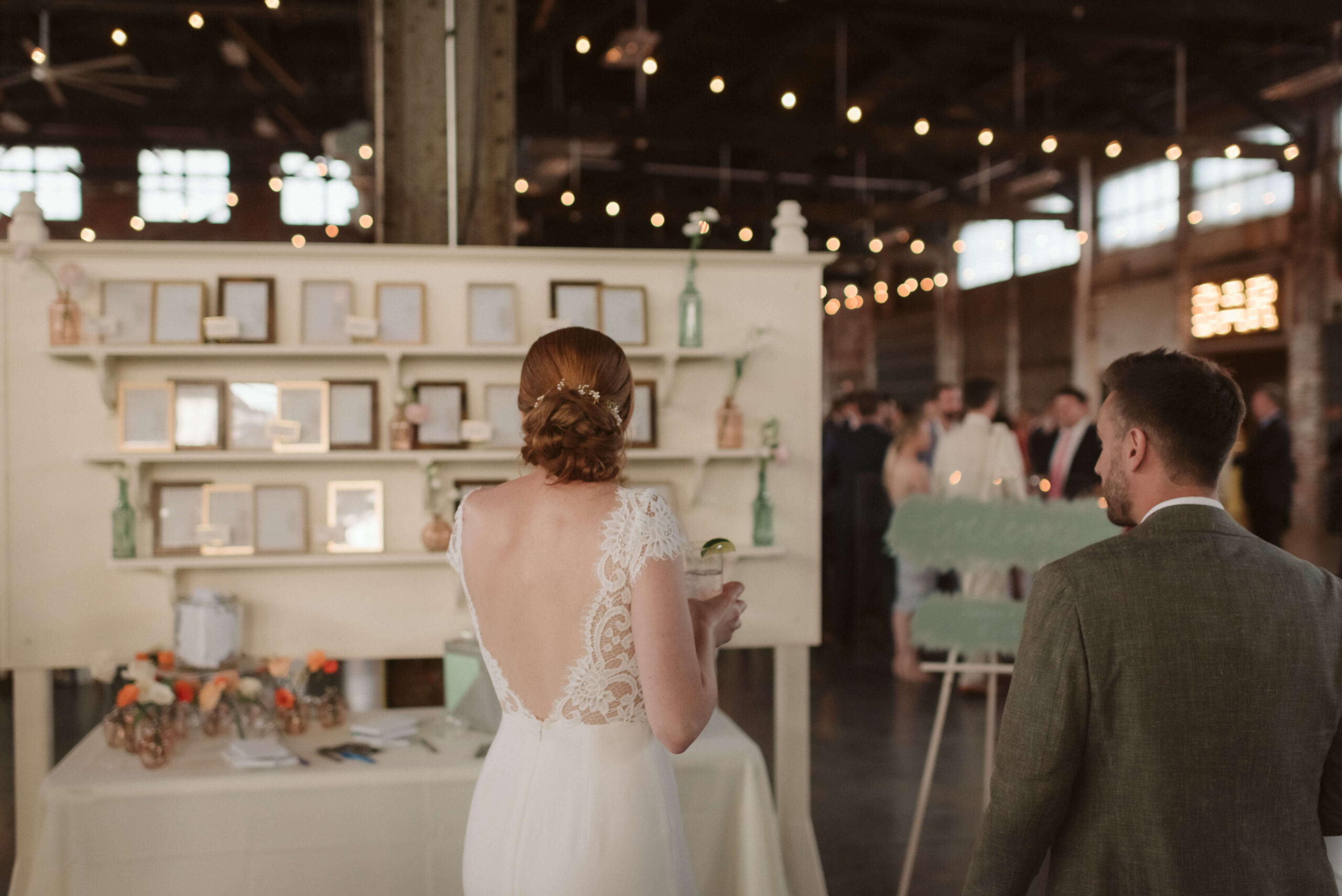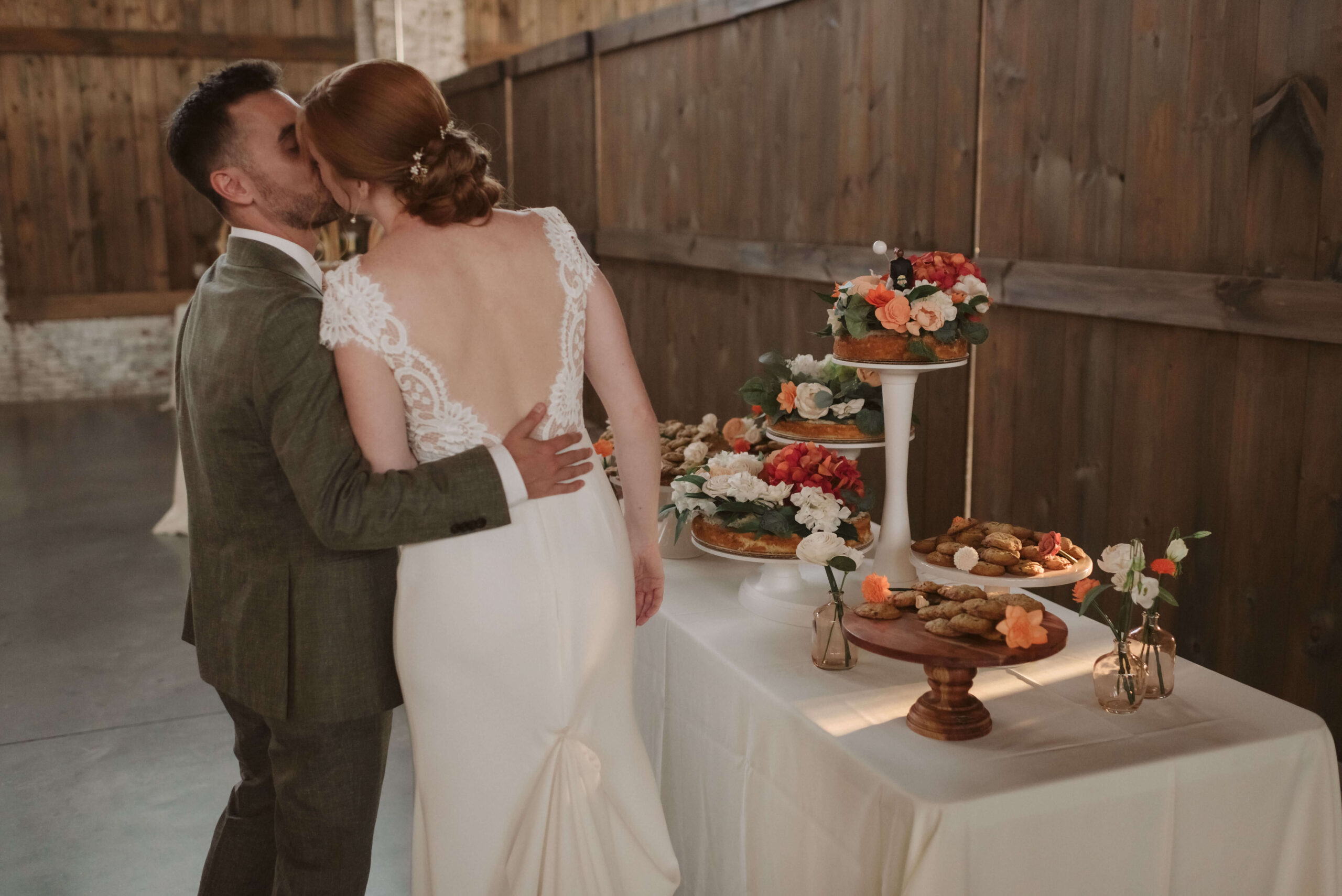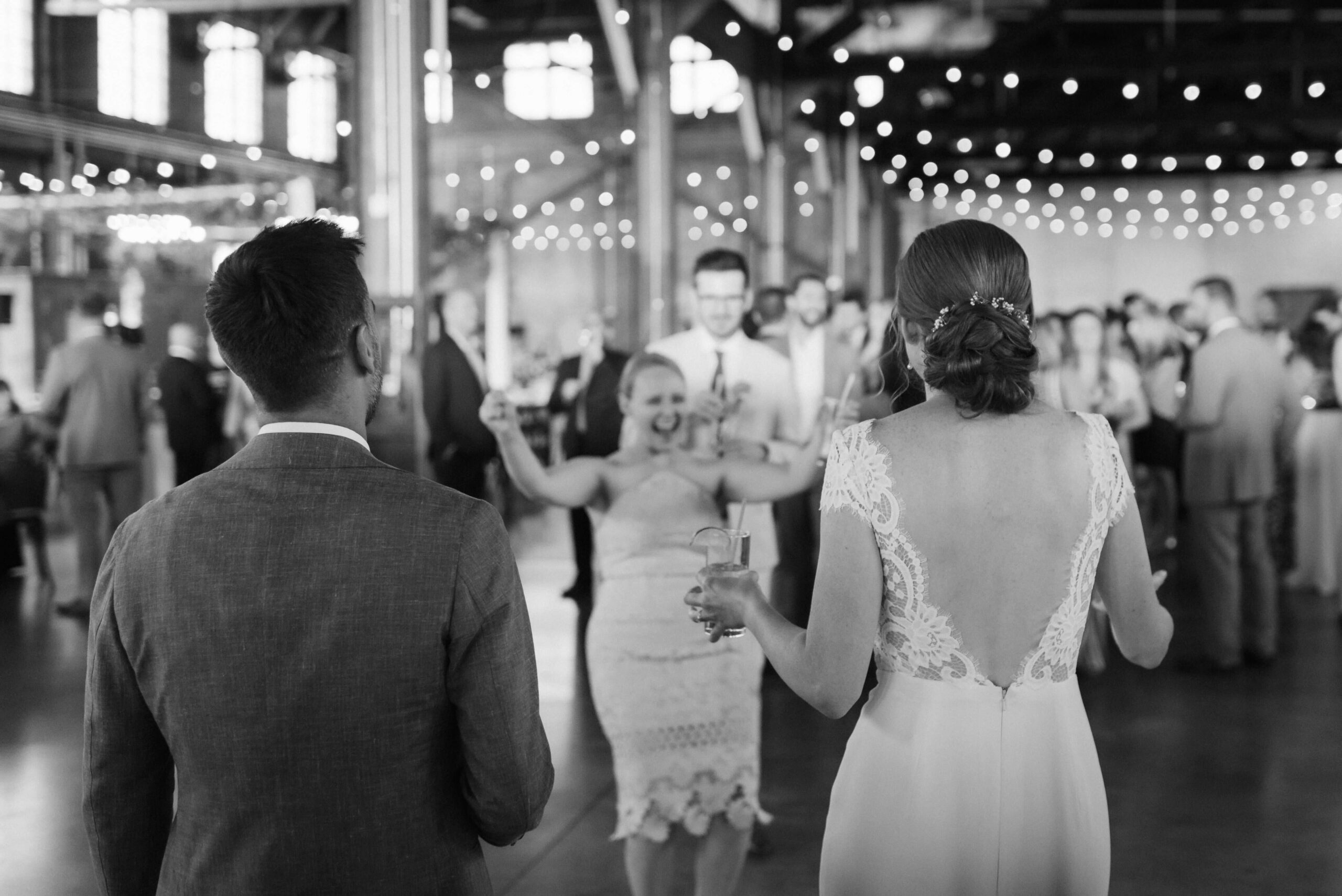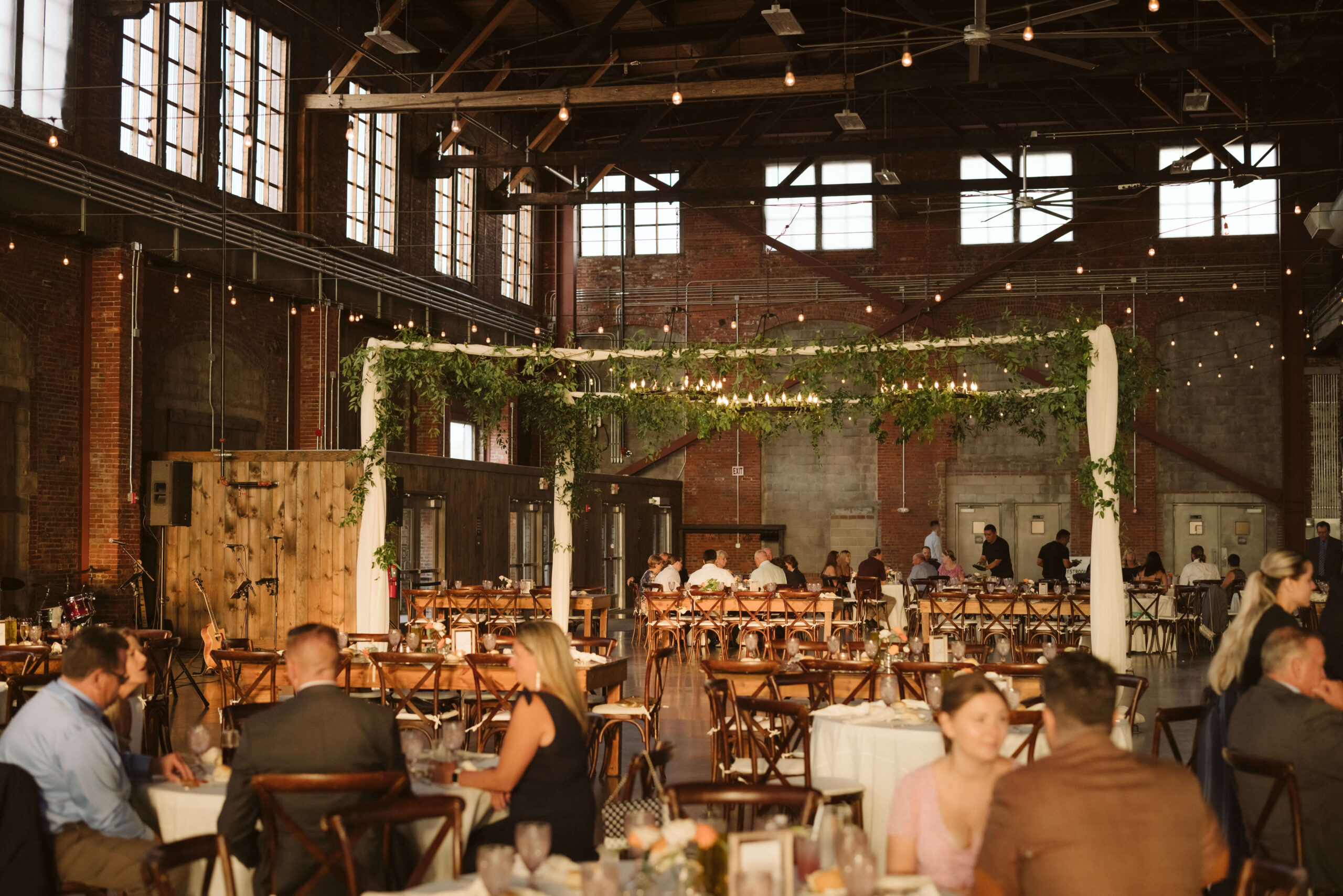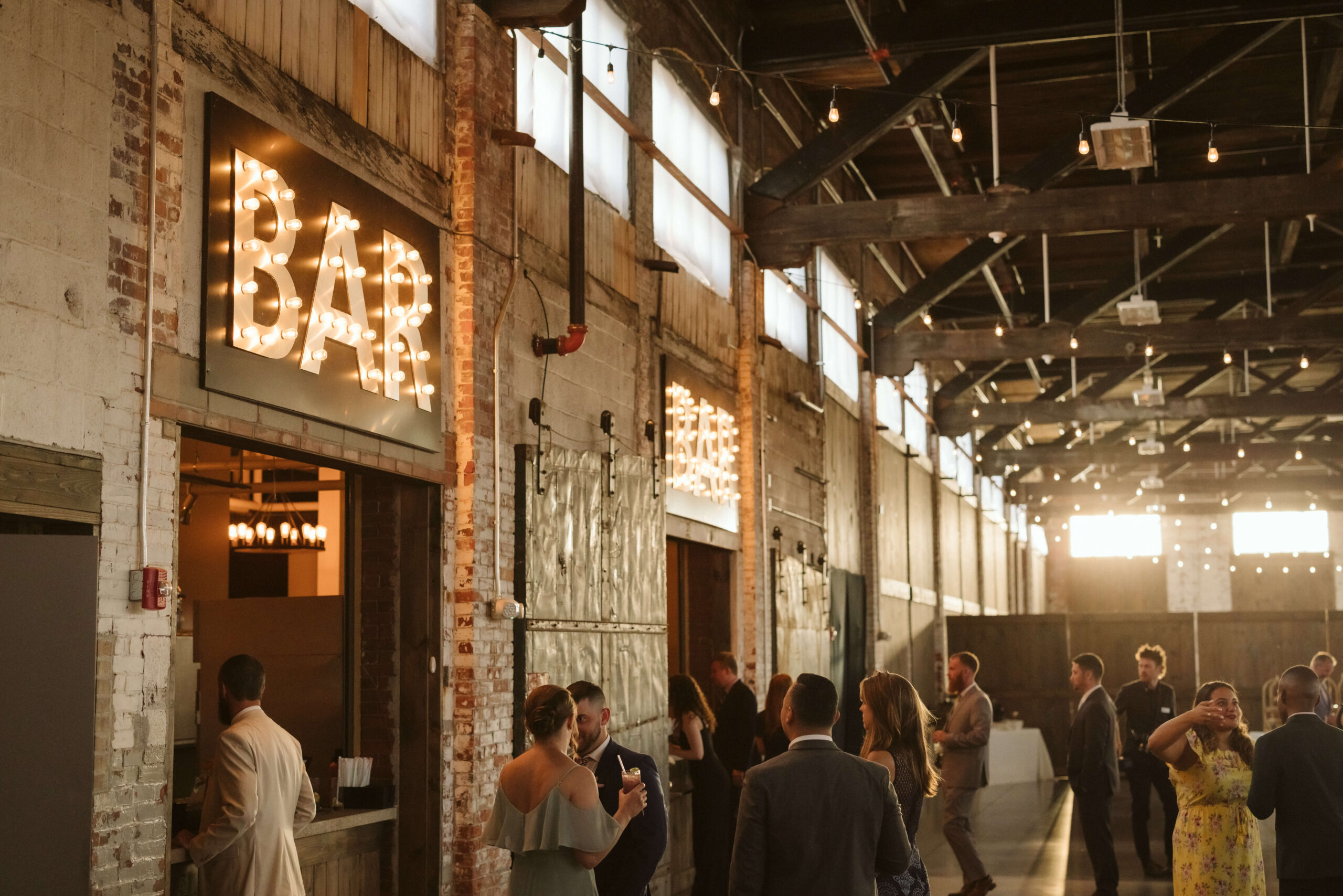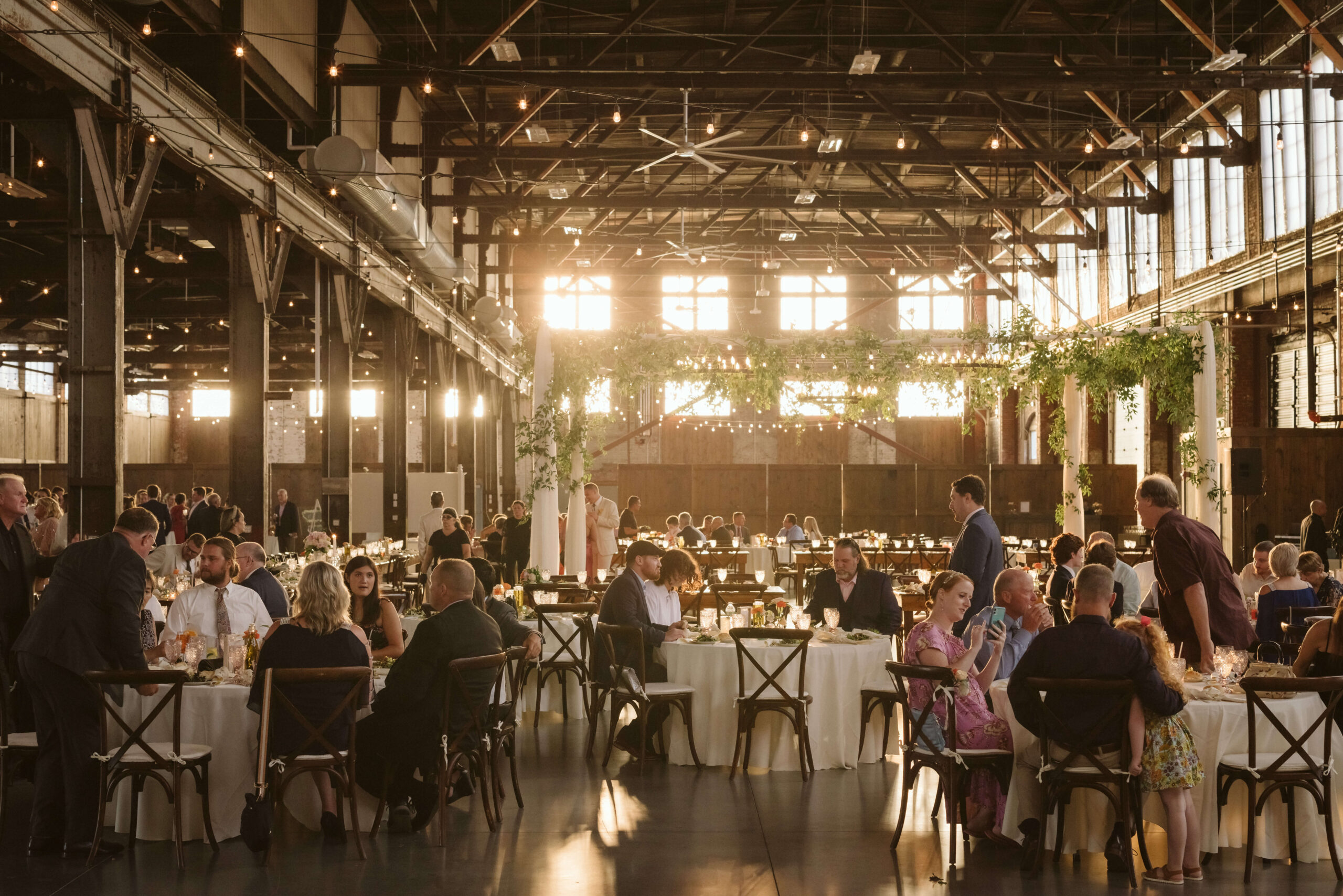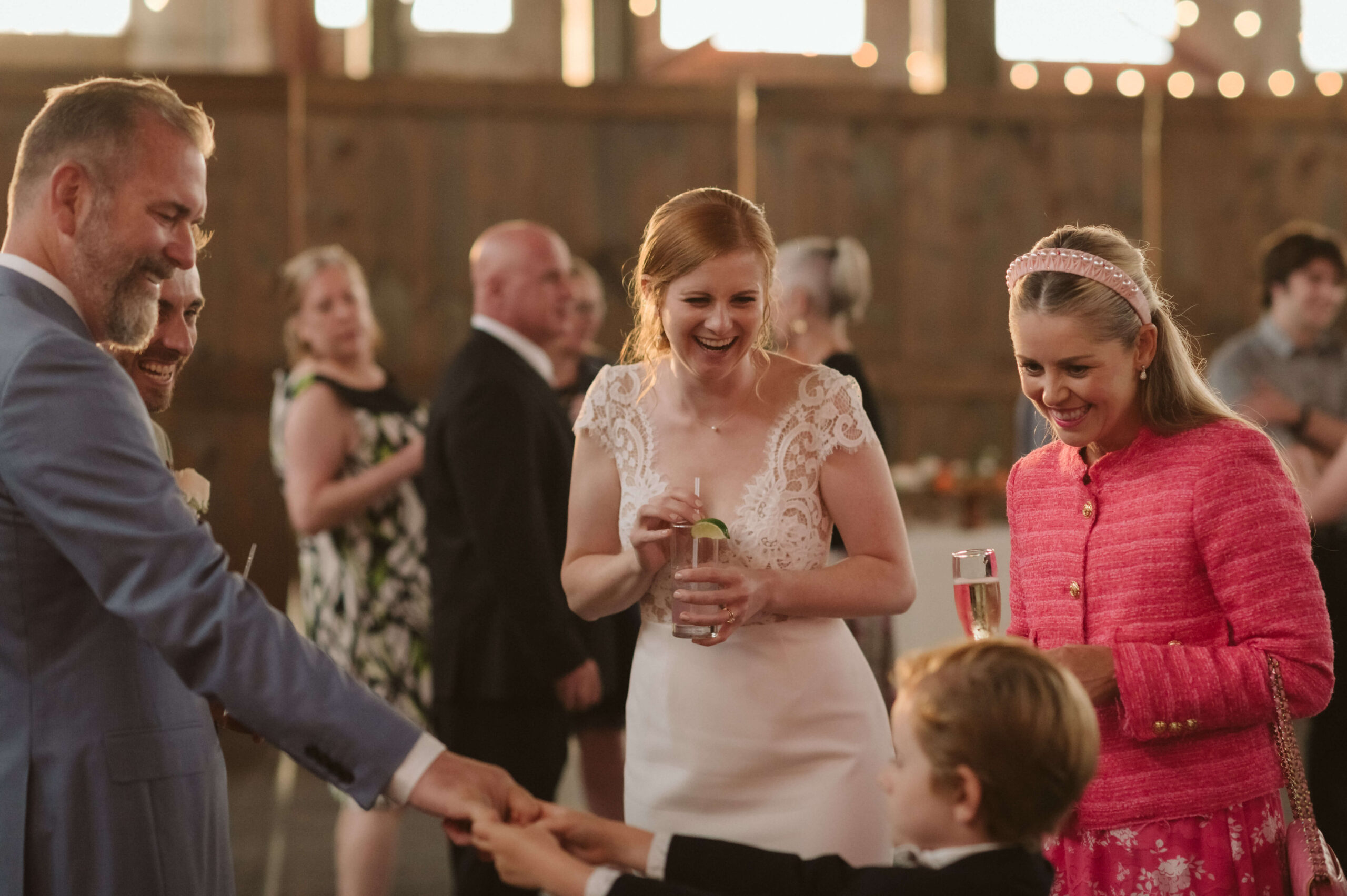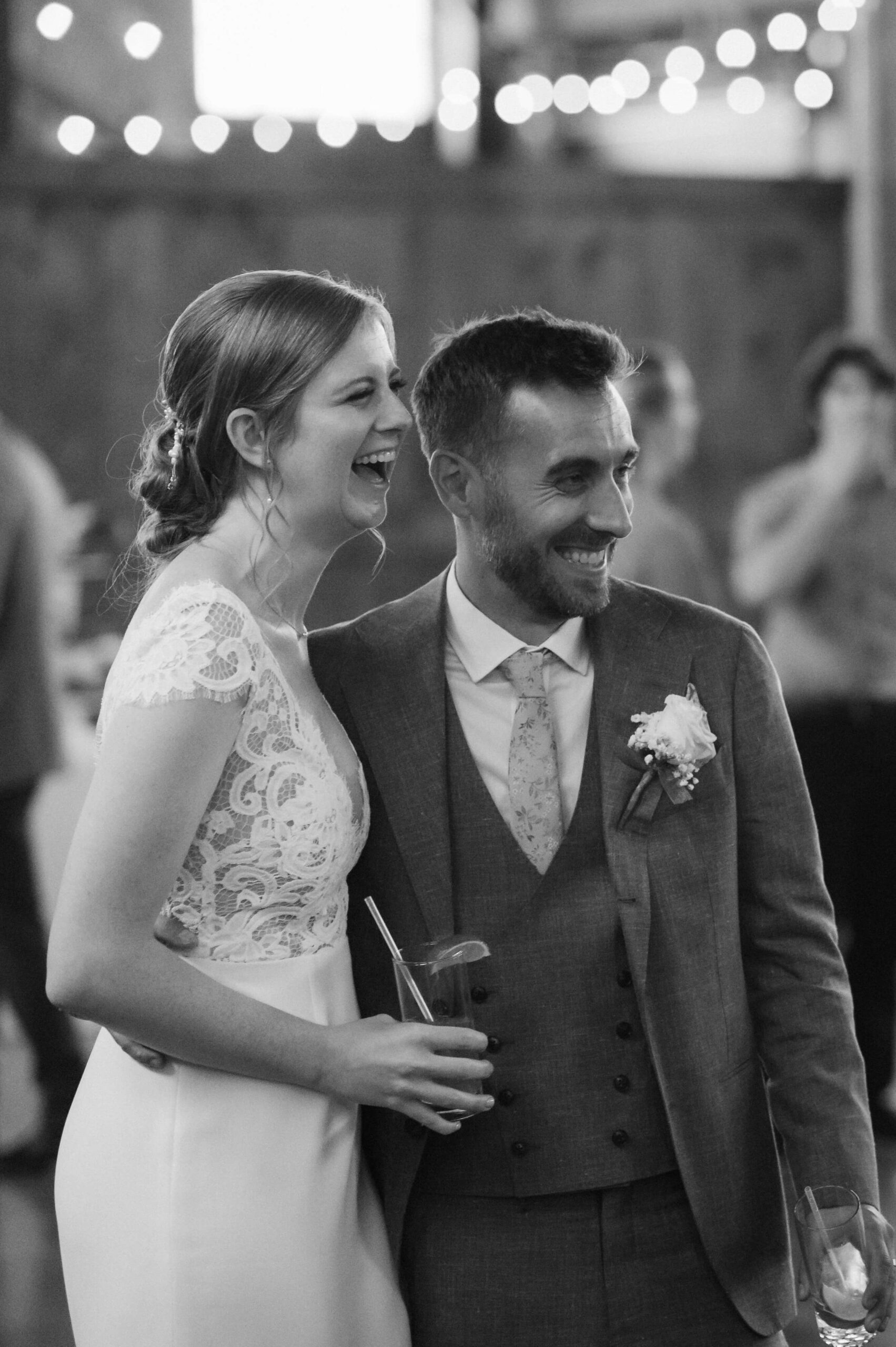 Coastal Wedding at the Brick South Wedding Venue
Next, it was time for Kelsey and Mike's wedding ceremony at Brick South. The Brick South wedding venue is the perfect blank canvas for creating your dream wedding. The venue encompasses 25,000 square feet of event space with brick walls, gleaming concrete floors, and charming wood and steel beams to tie everything together. While the venue's strong industrial architecture creates a striking backdrop for the ceremony, you can opt to add some chic decor to soften the look. With an arbor built by Kelsey's father and decorated with florals chosen by her mom, this is exactly what Kelsey and Mike did to make the venue reflect their personalities and style.
For their ceremony, Kelsey and Mike wanted to ensure that it represented who they truly are. To do just that, an important thing for them was to write their own vows. Pictures aren't the only way to capture a certain moment in time, so with the right words, Kelsey and Mike preserved the important moment forever.
After the ceremony, Kelsey and Mike headed down by the water for some golden hour newlywed pictures. The sun setting in the background created a perfect glow across the water and some dazzling shots. Behind them, you could even see the stage where the band Guster would be performing soon.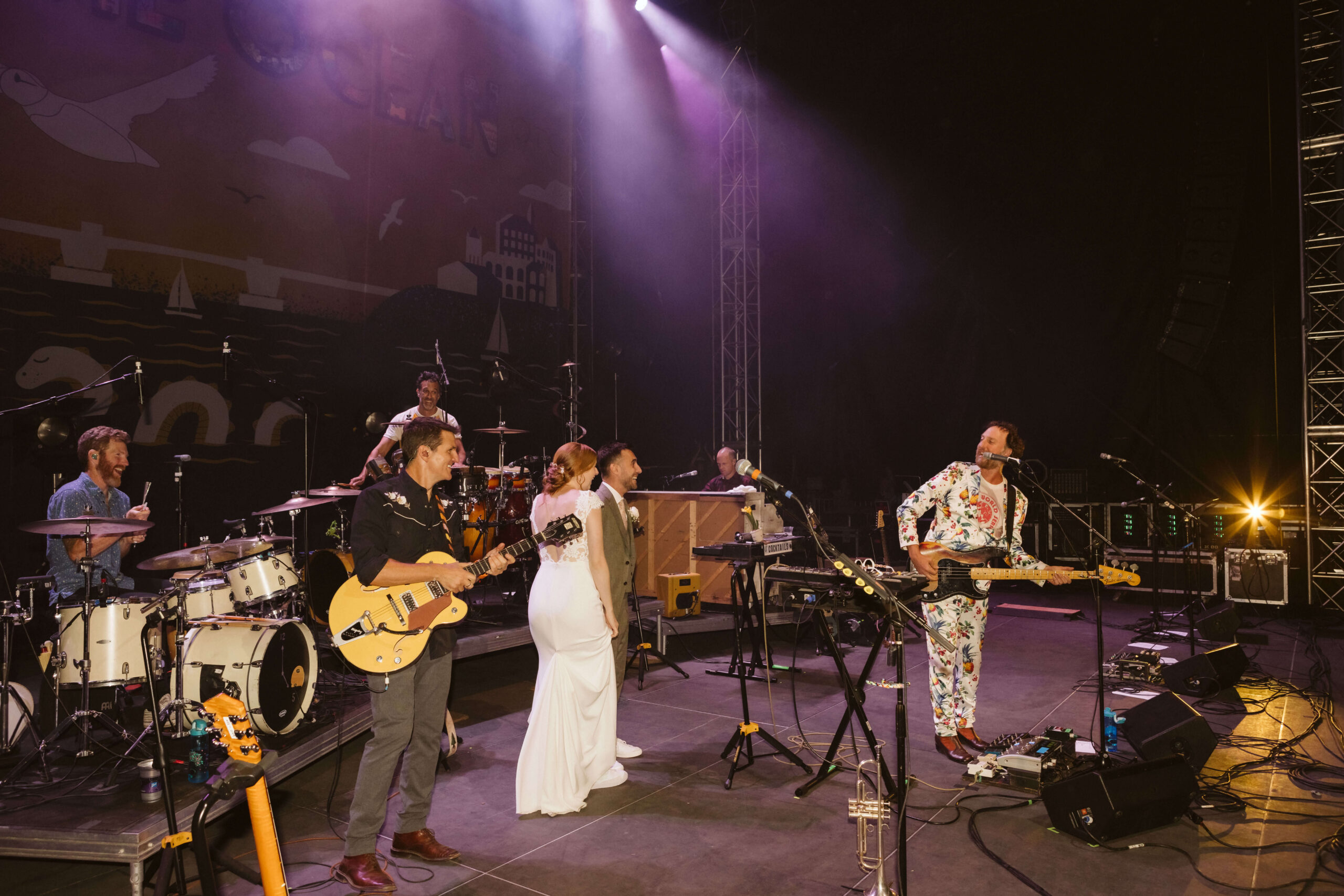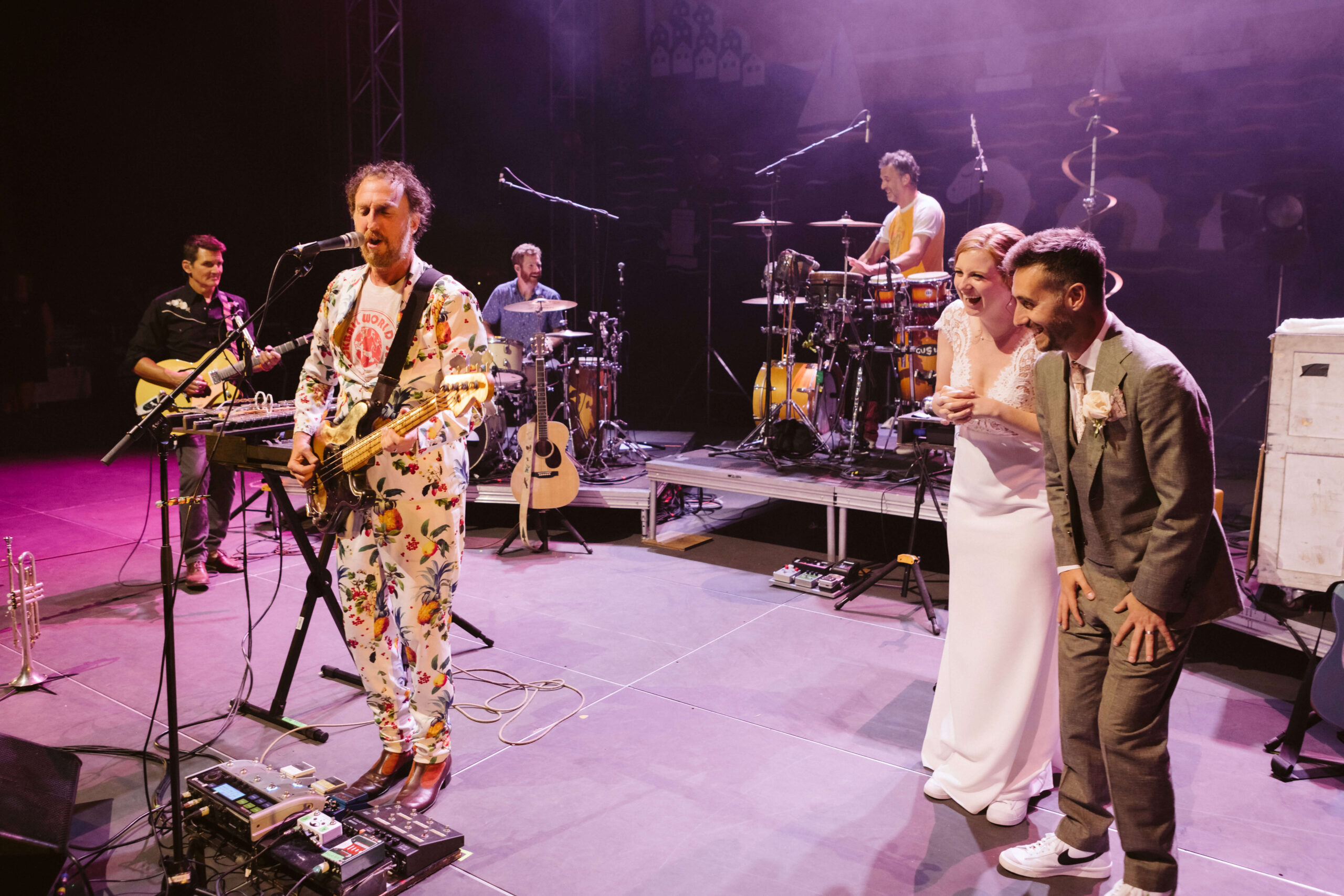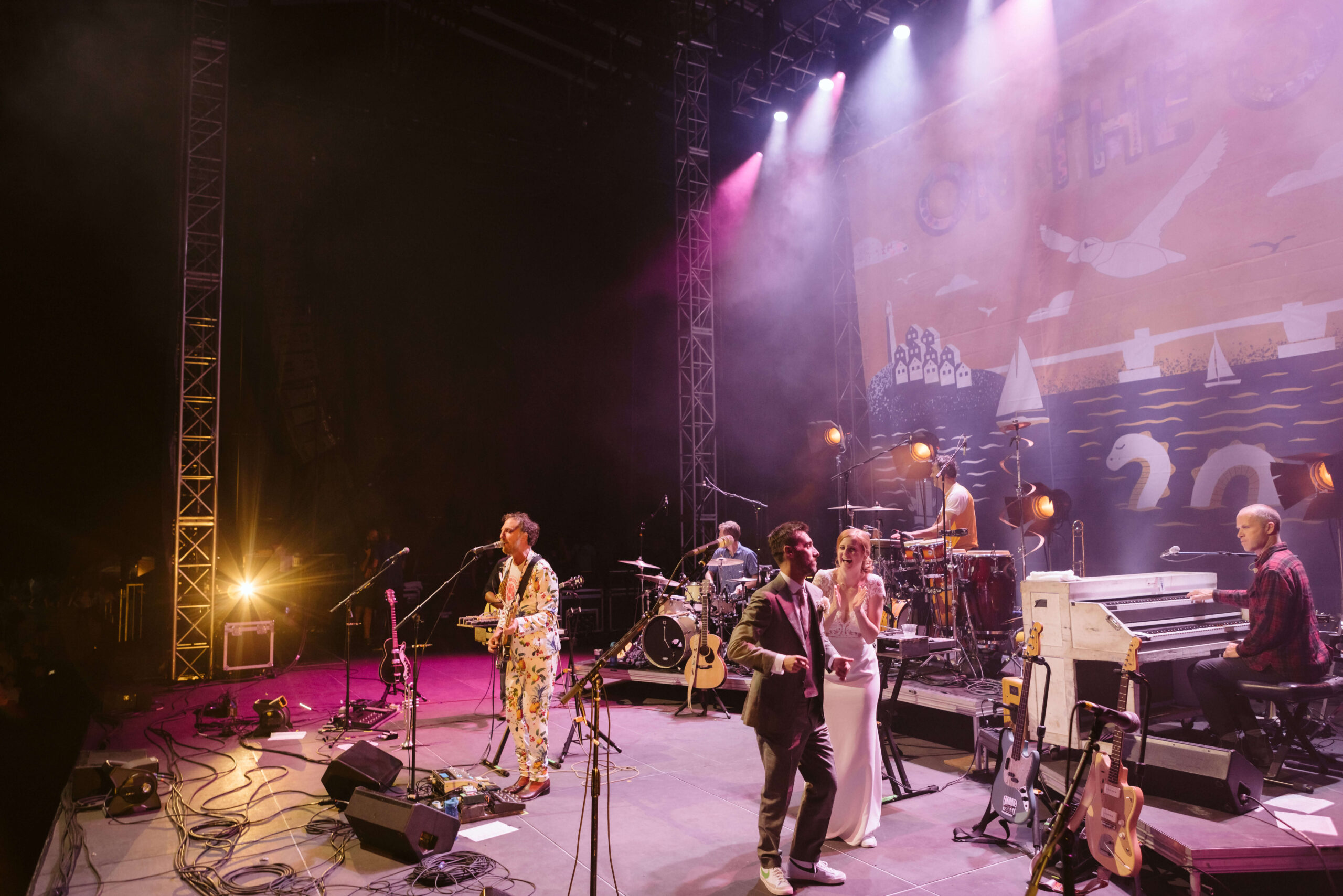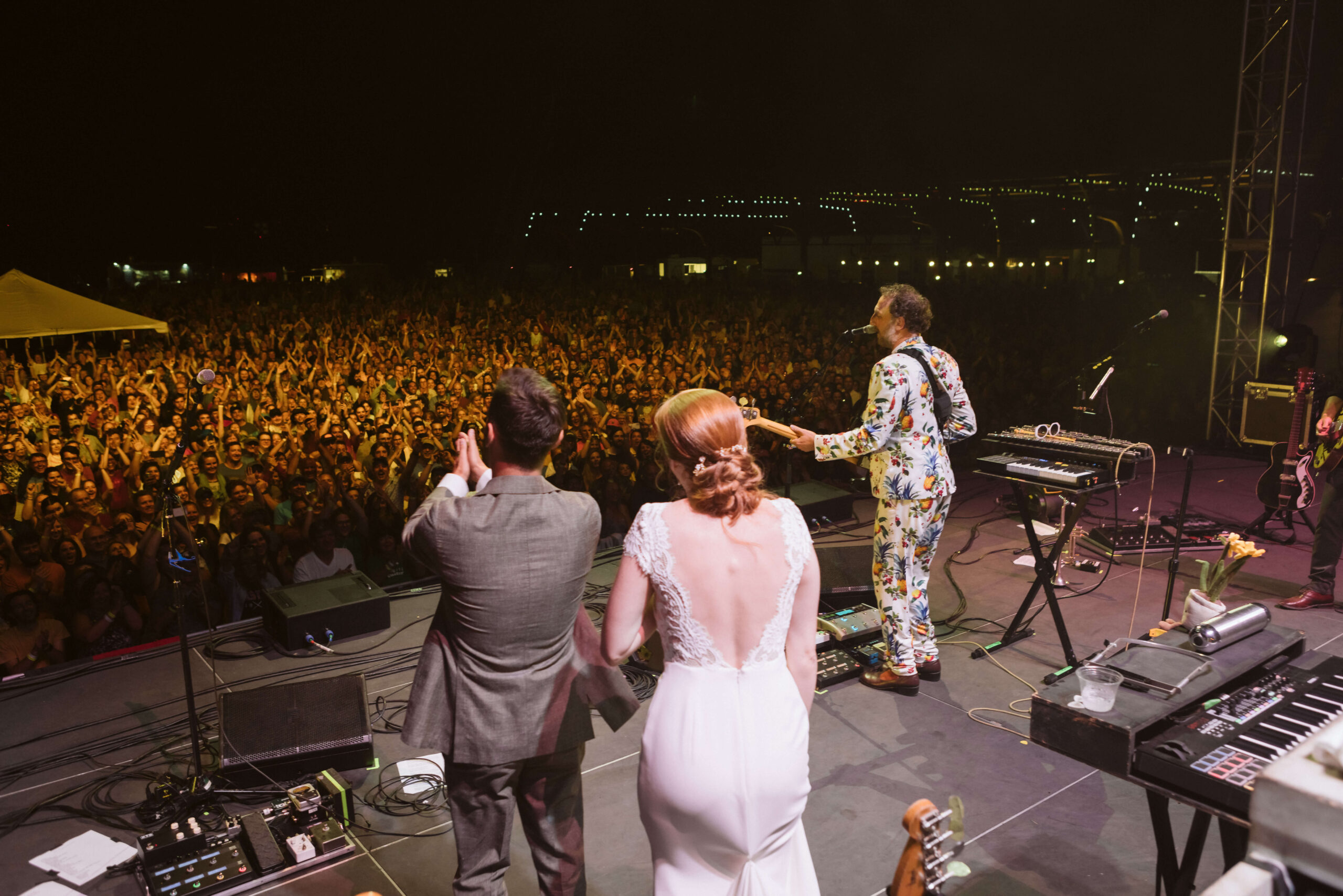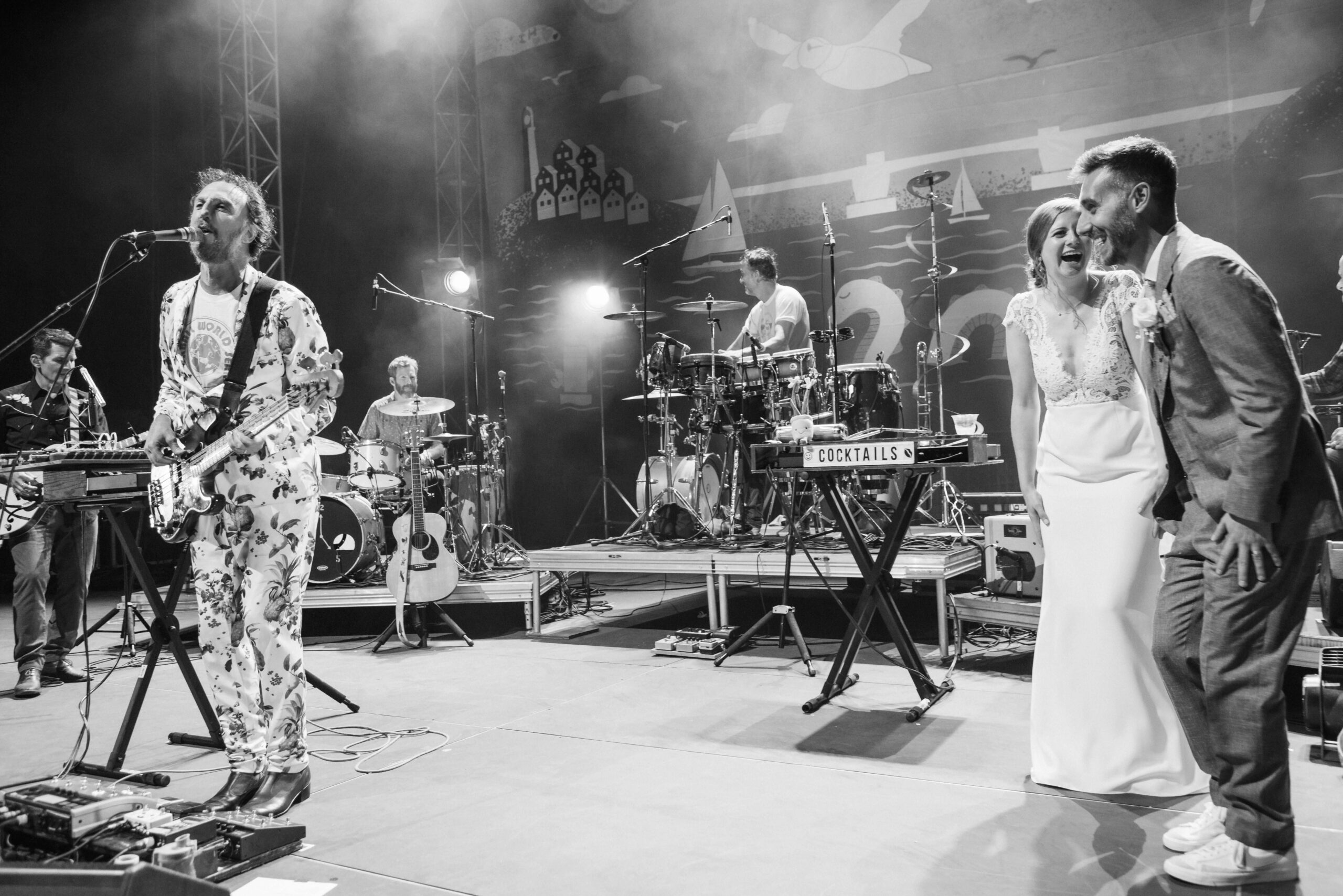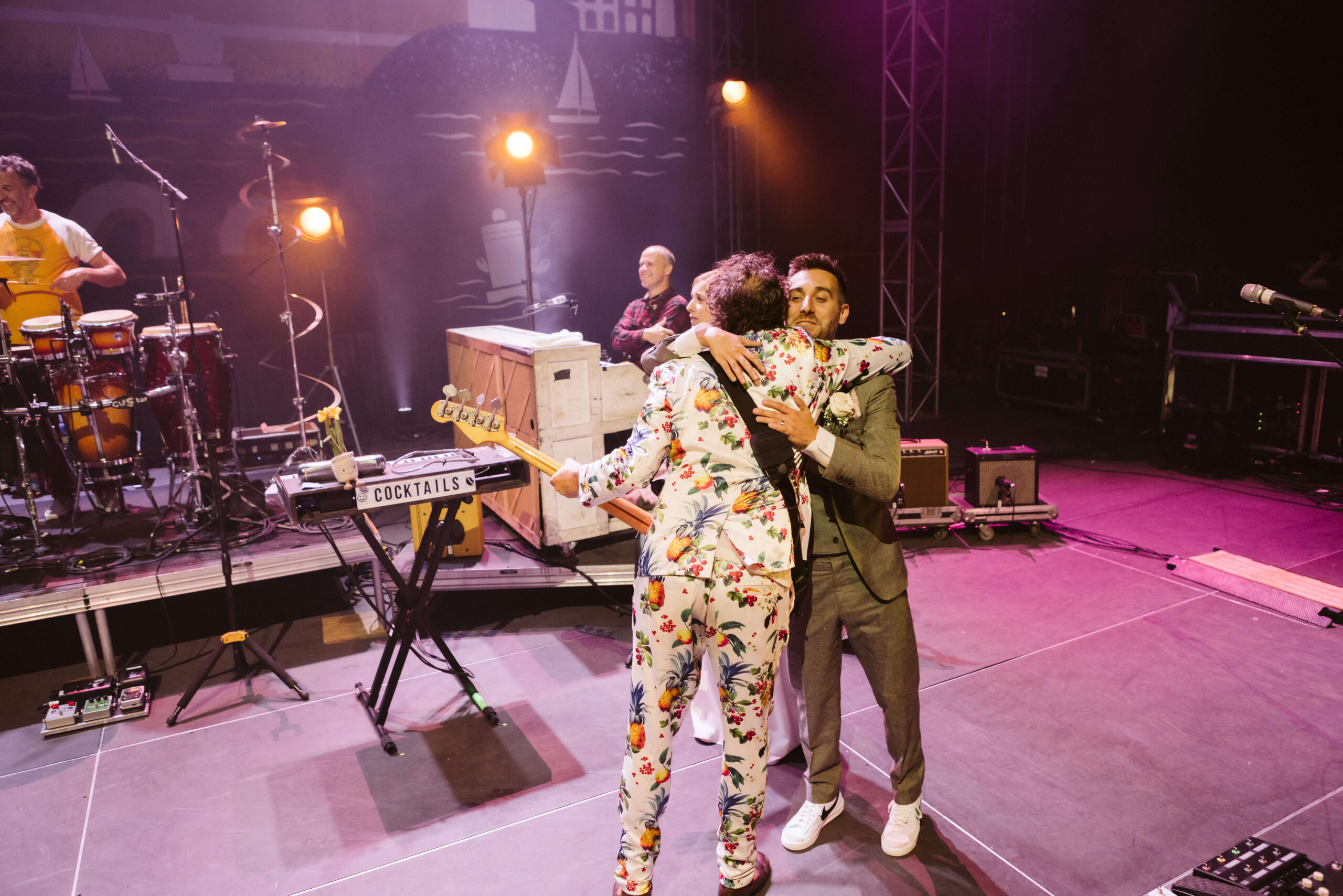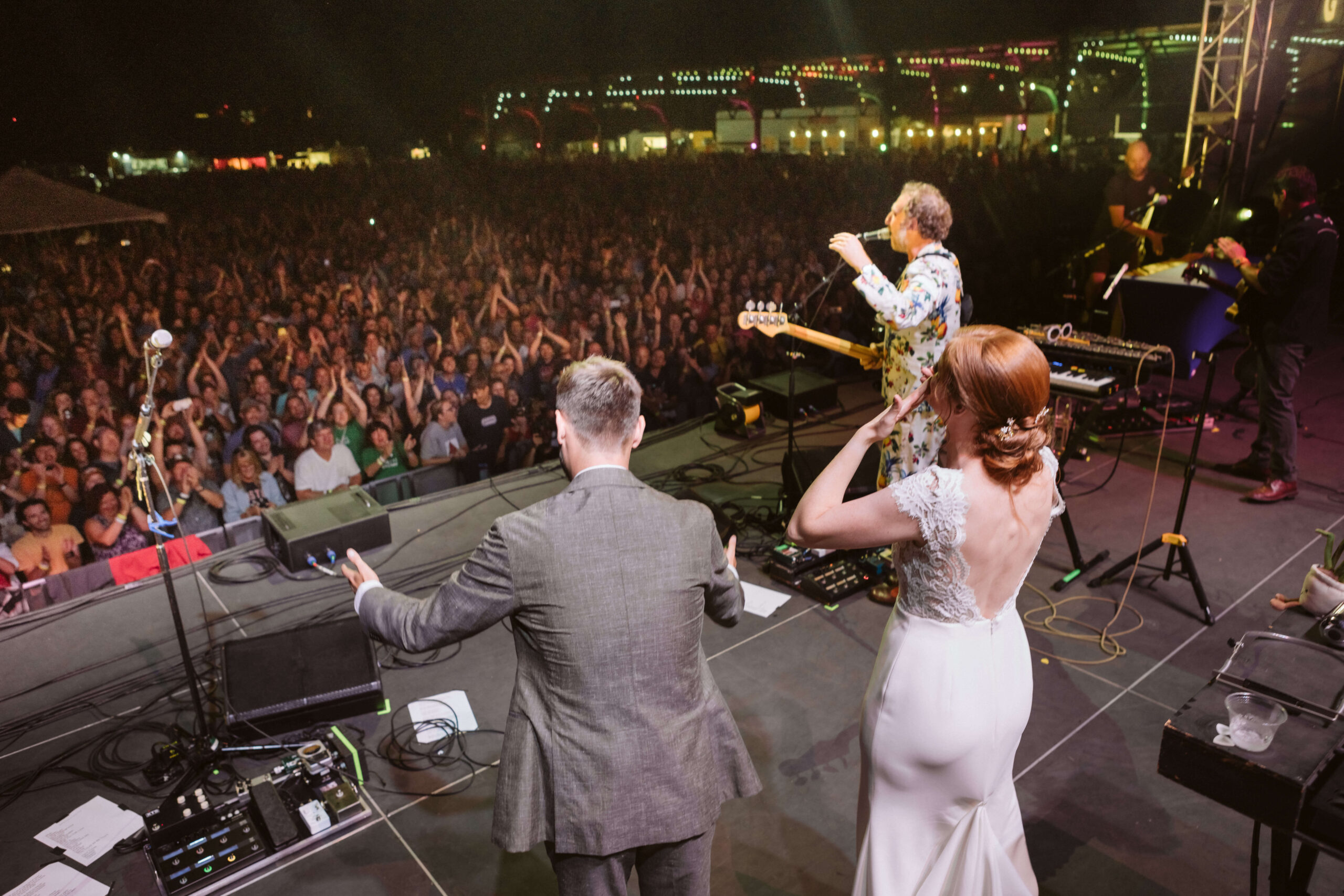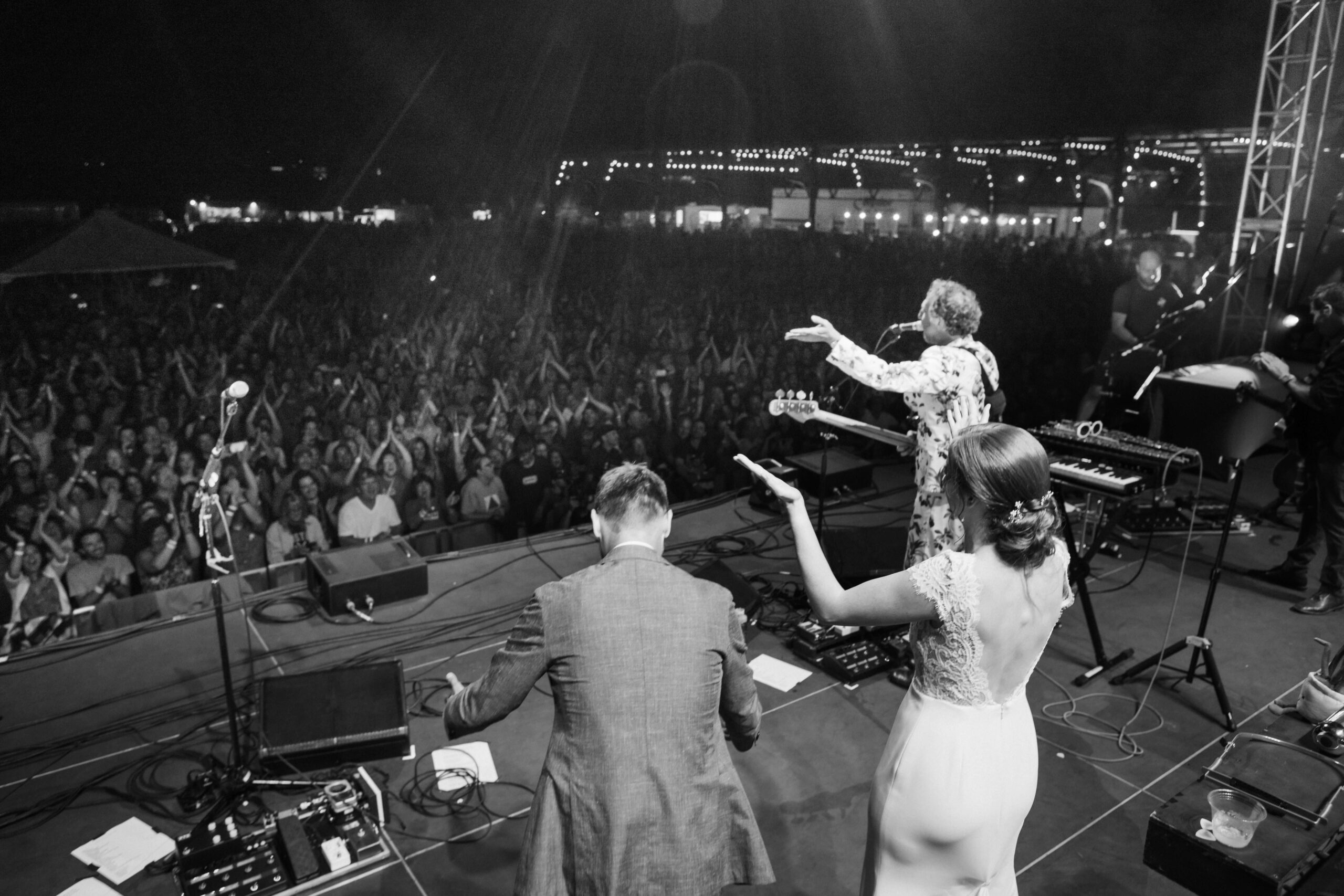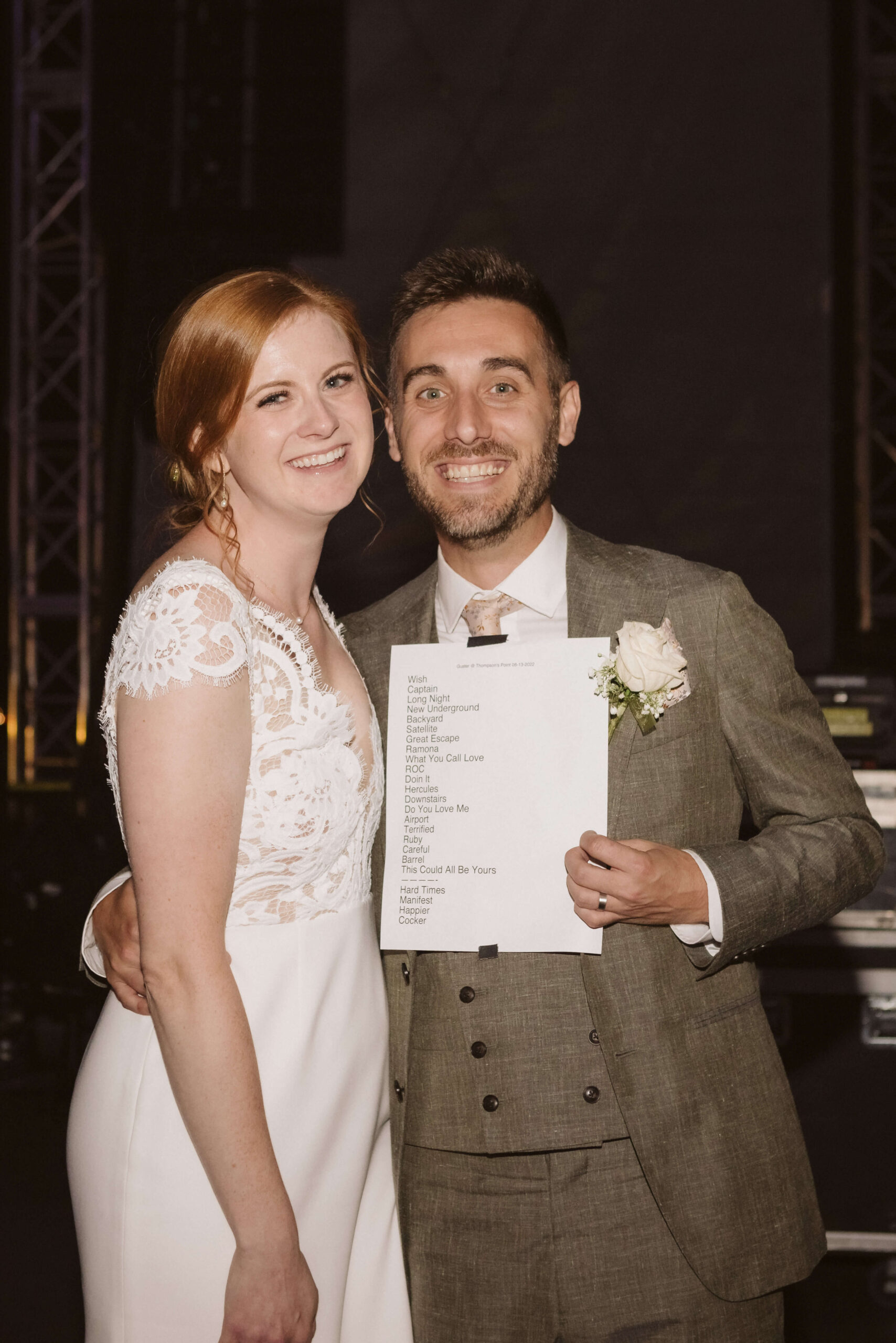 Fun fact: Guster is Mike's favorite band. Thanks to some strings pulled by their wedding coordinator, Kelsey and Mike got to sneak away during their cocktail hour and go backstage to watch a little of the show. However, the real wedding magic happened when the band saw them standing there in their dress and tux and they pulled them on stage! Core wedding day memory for sure!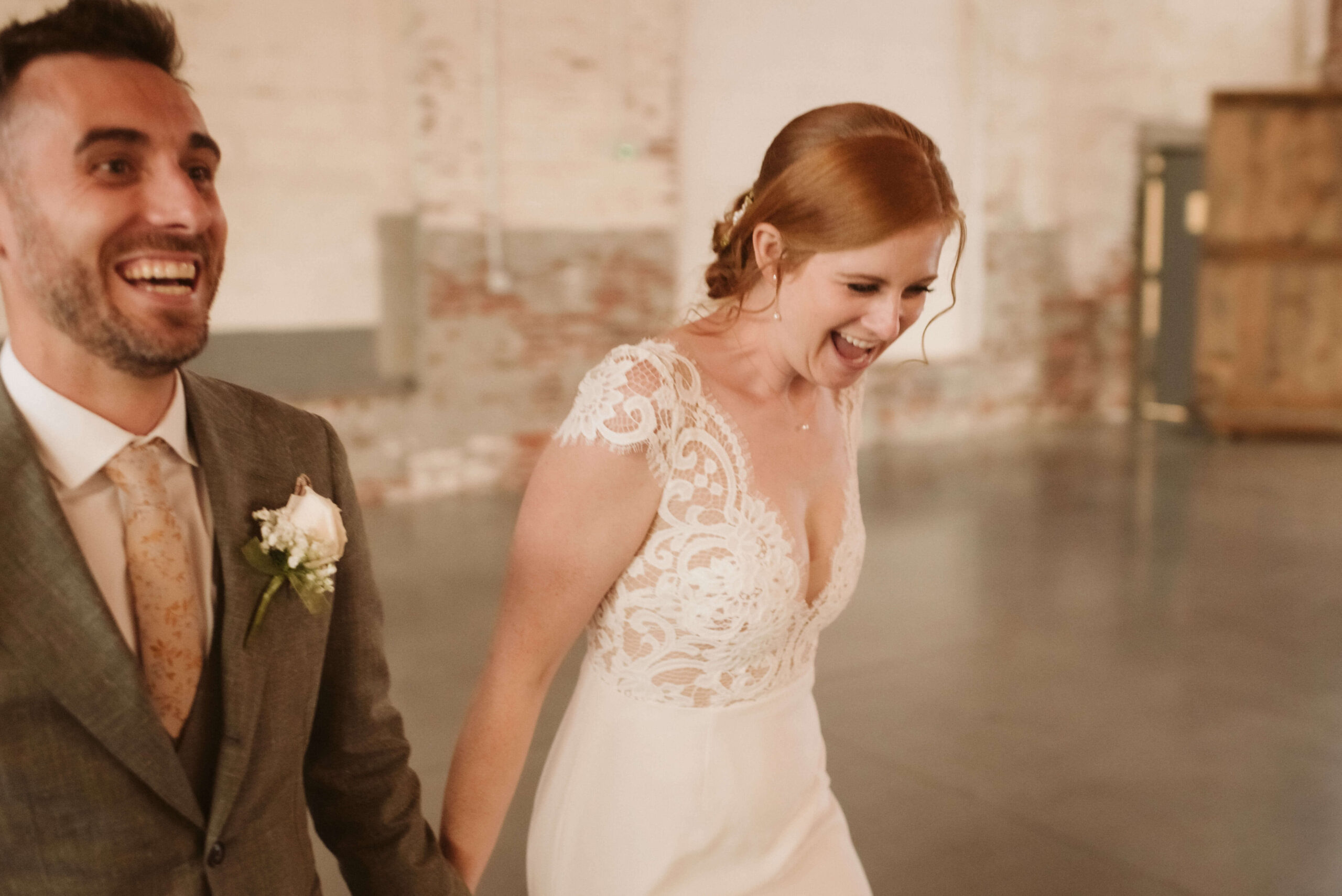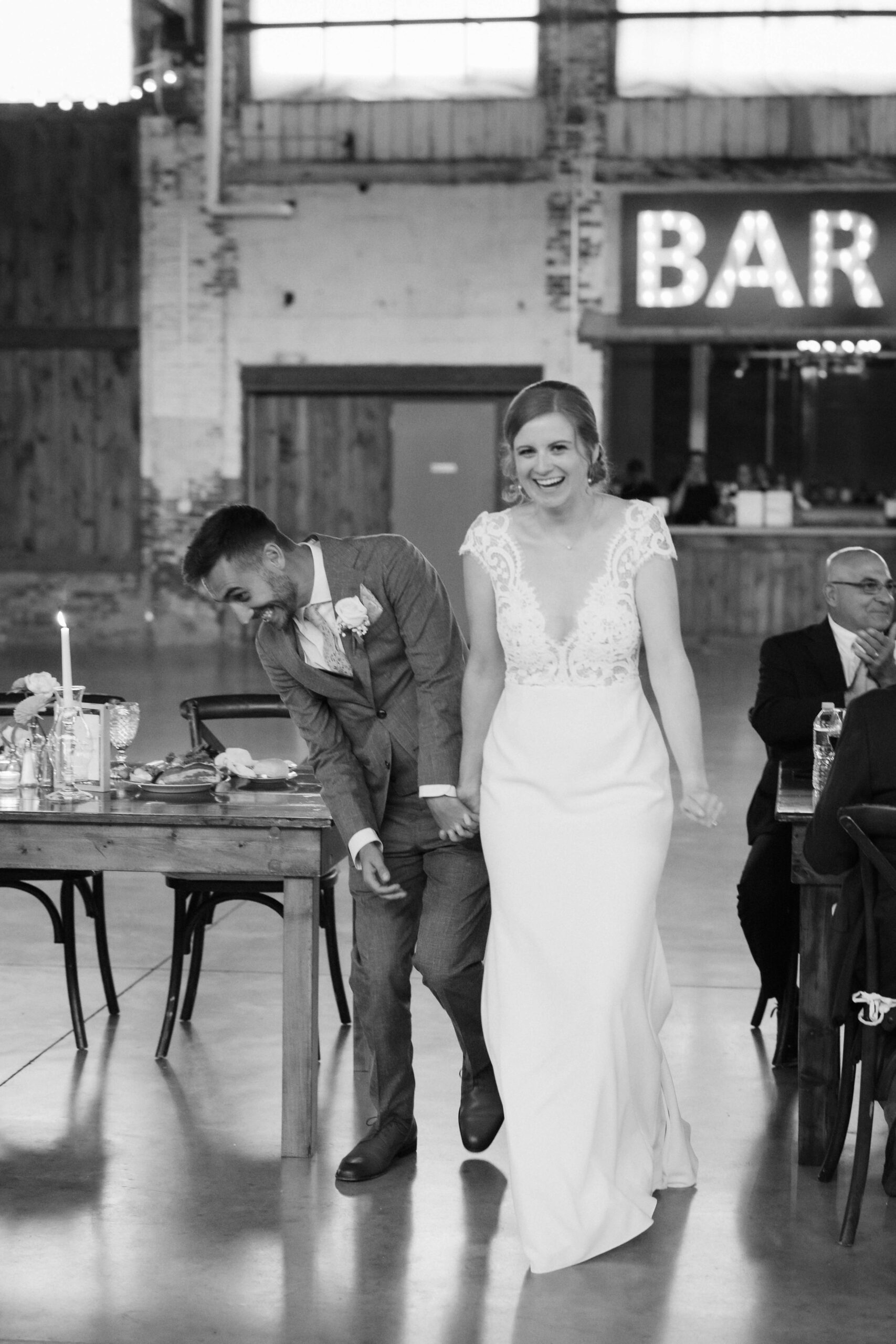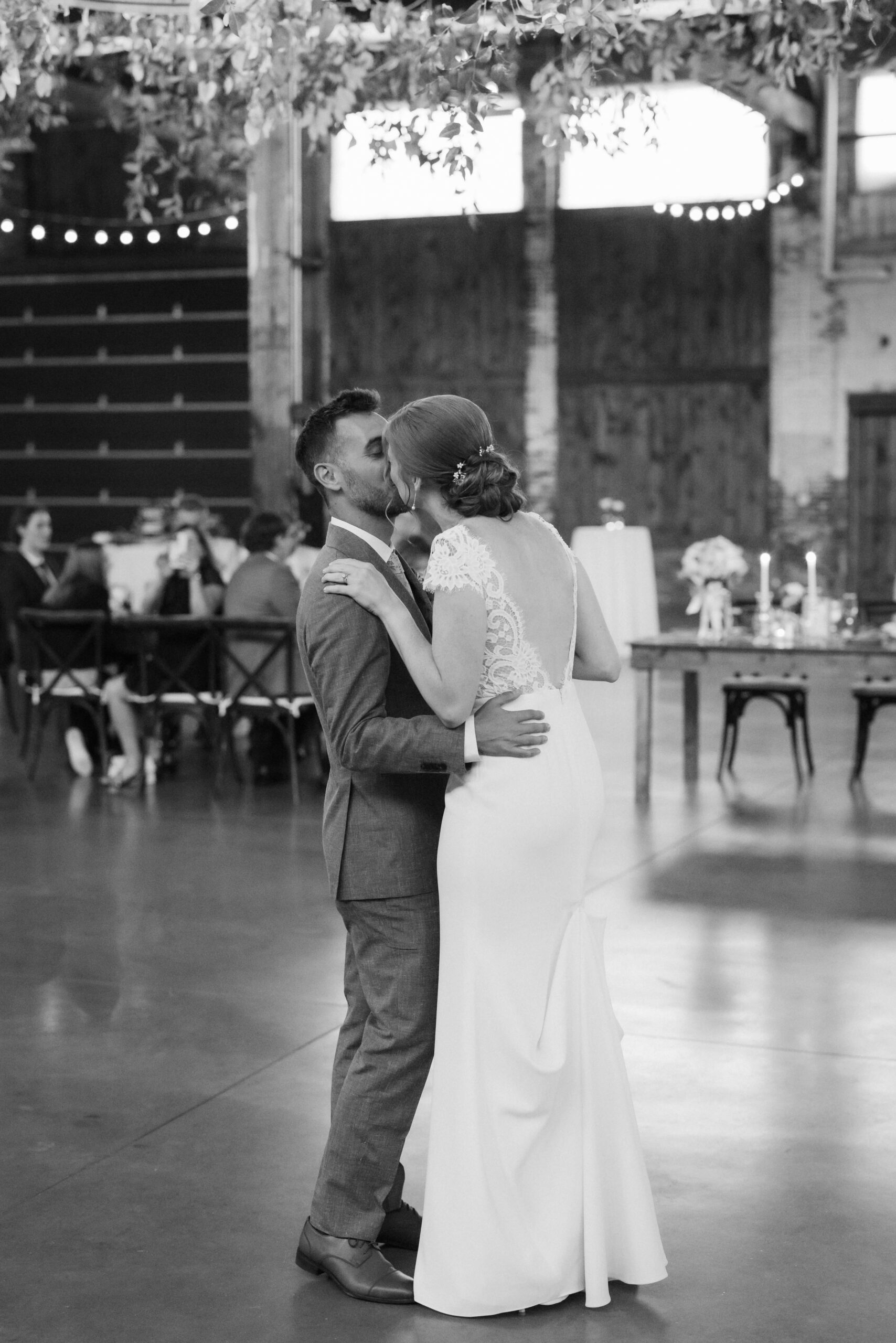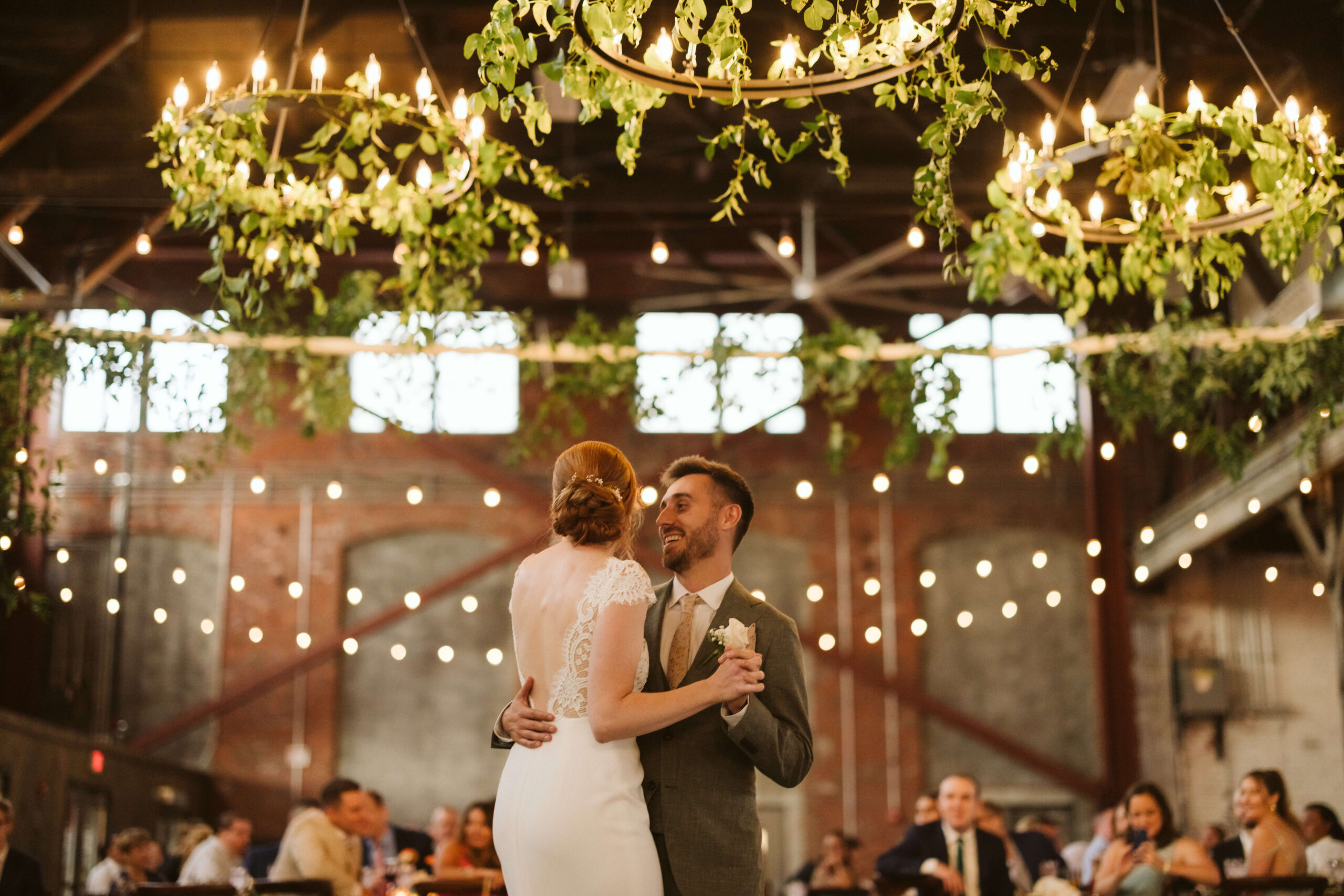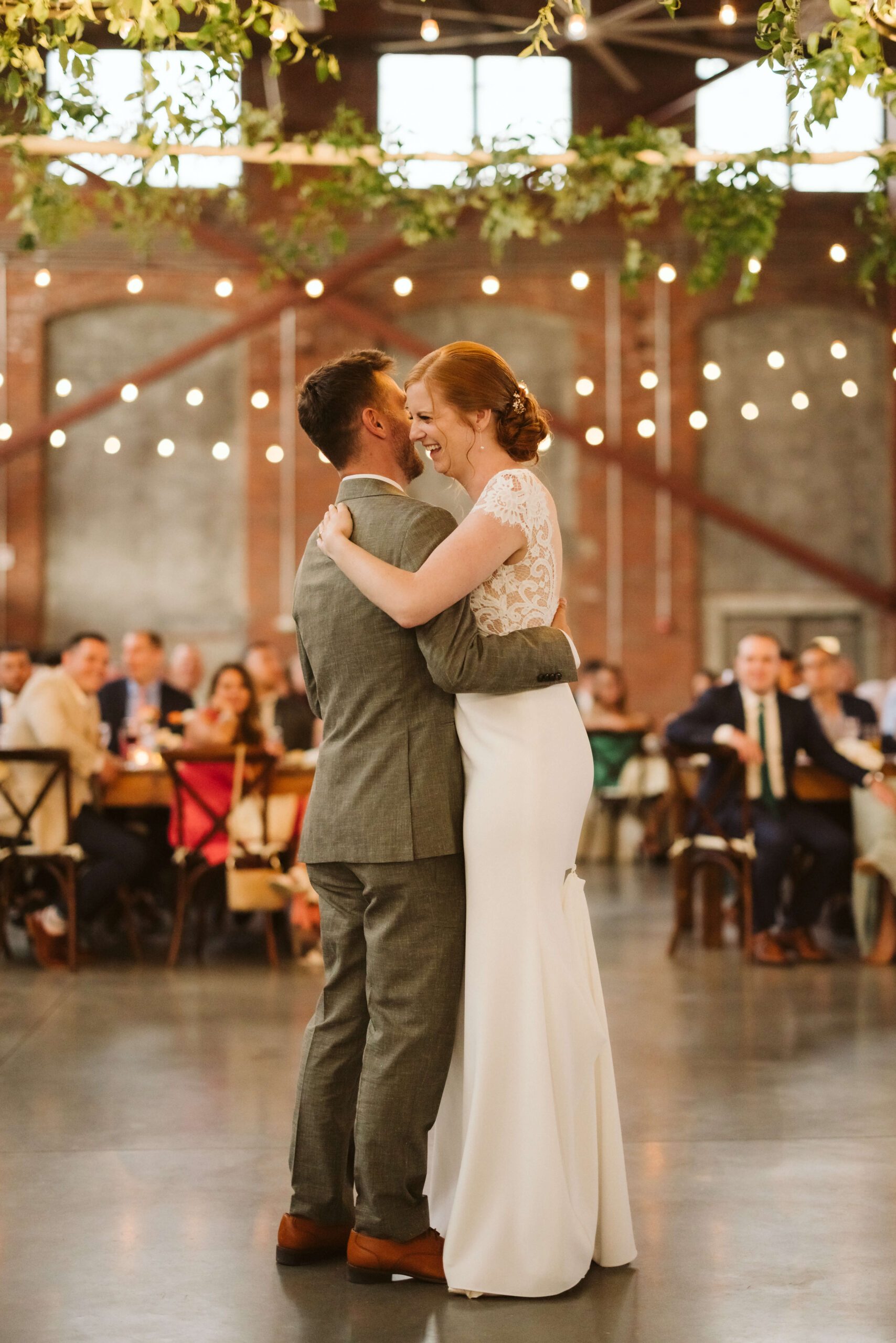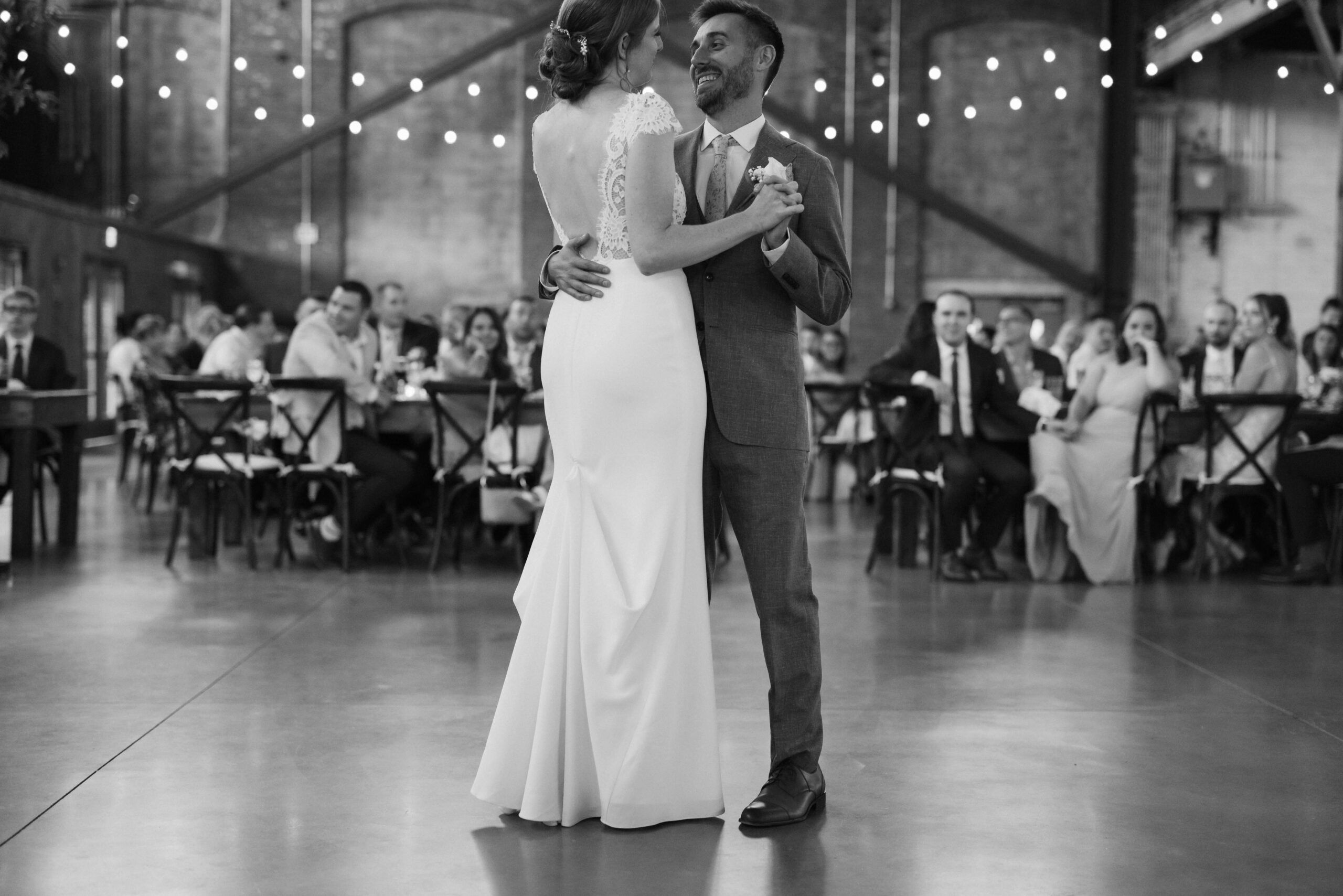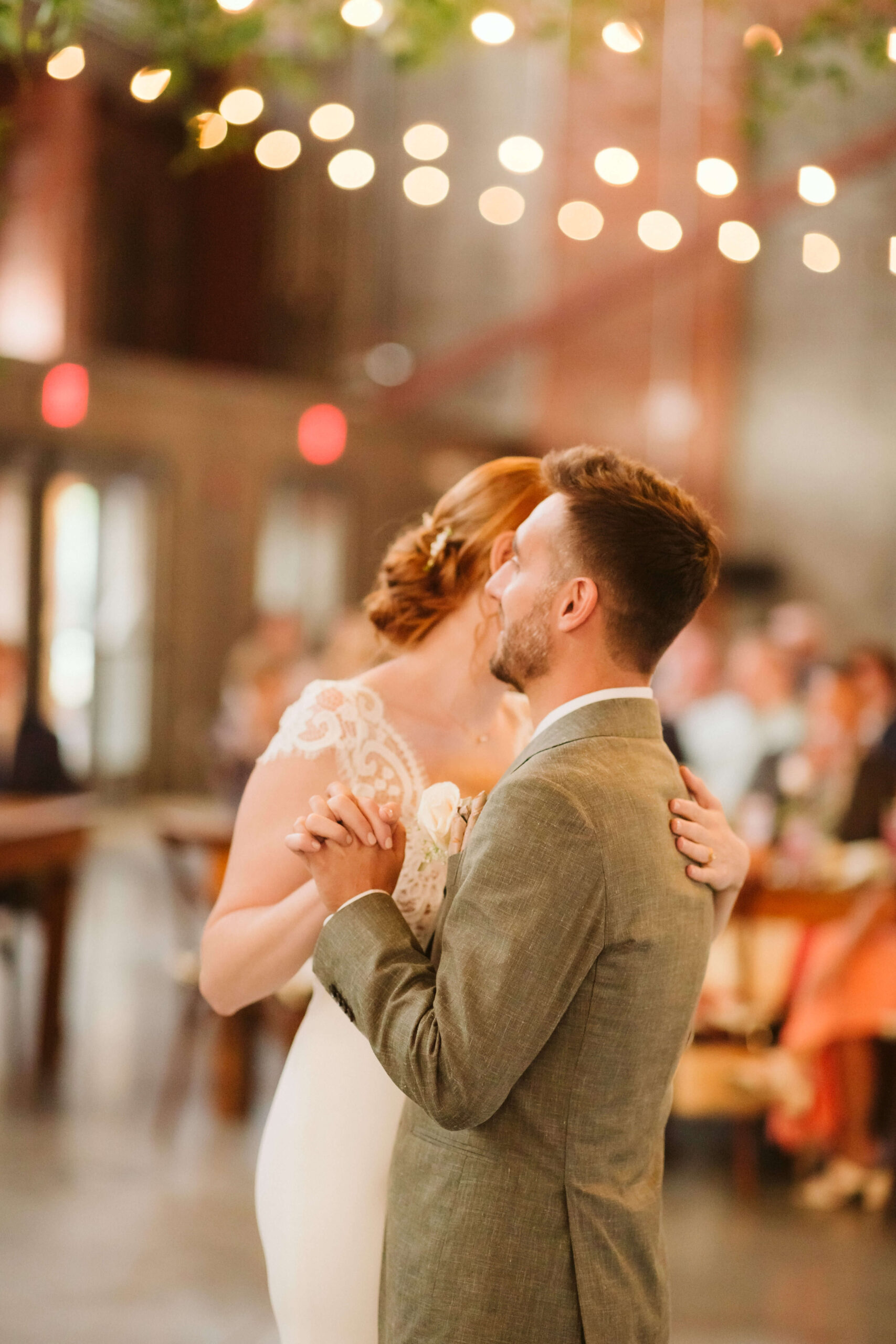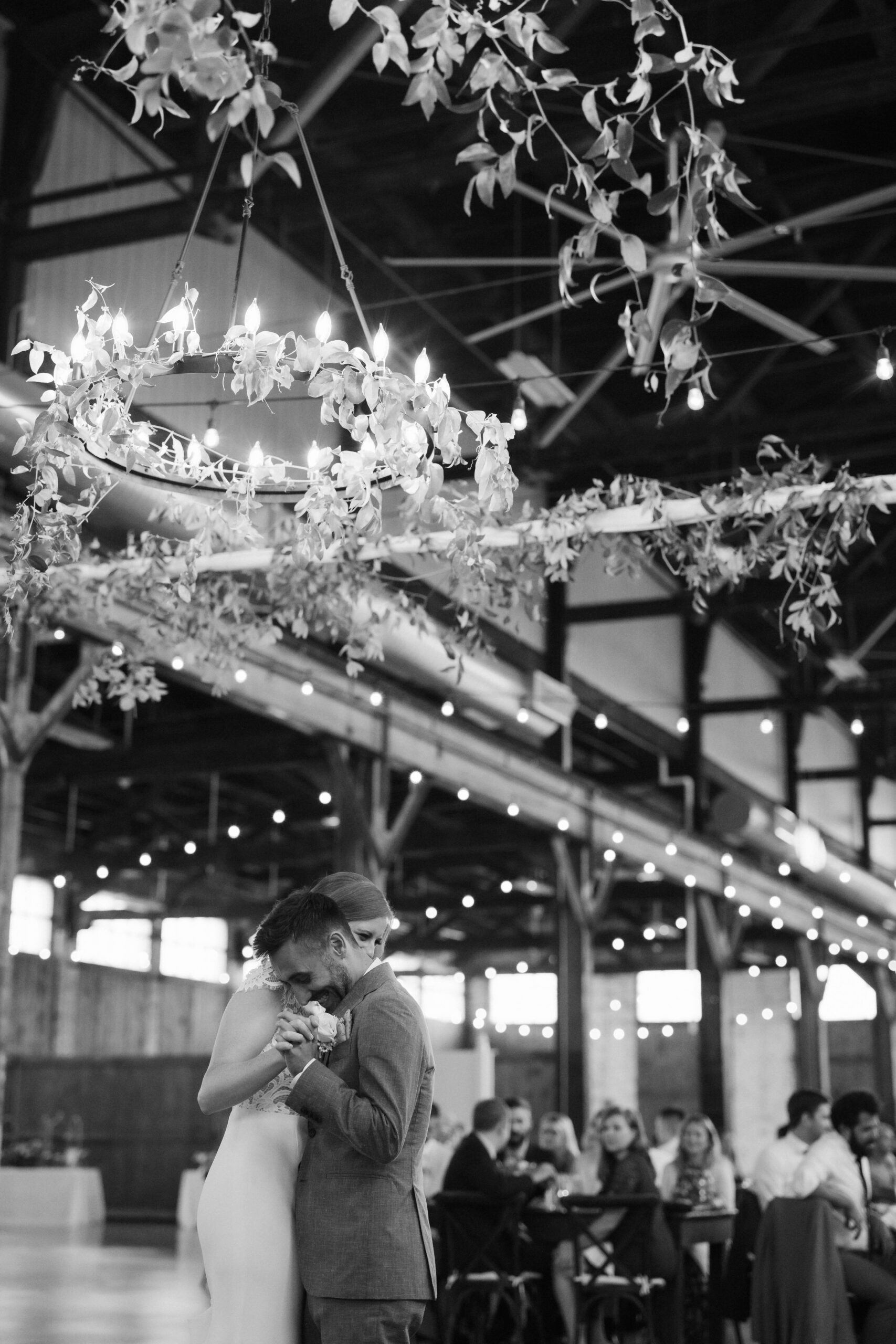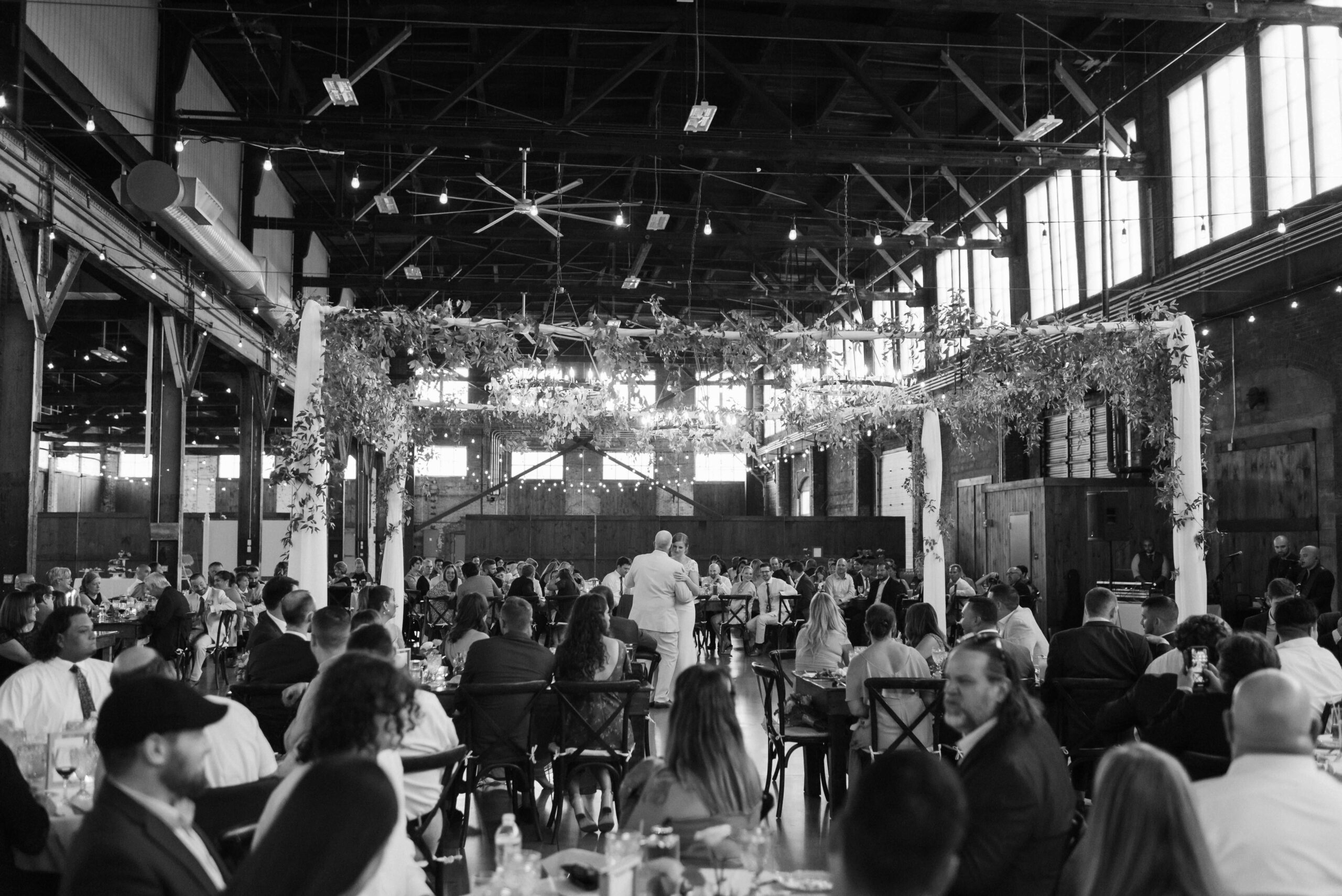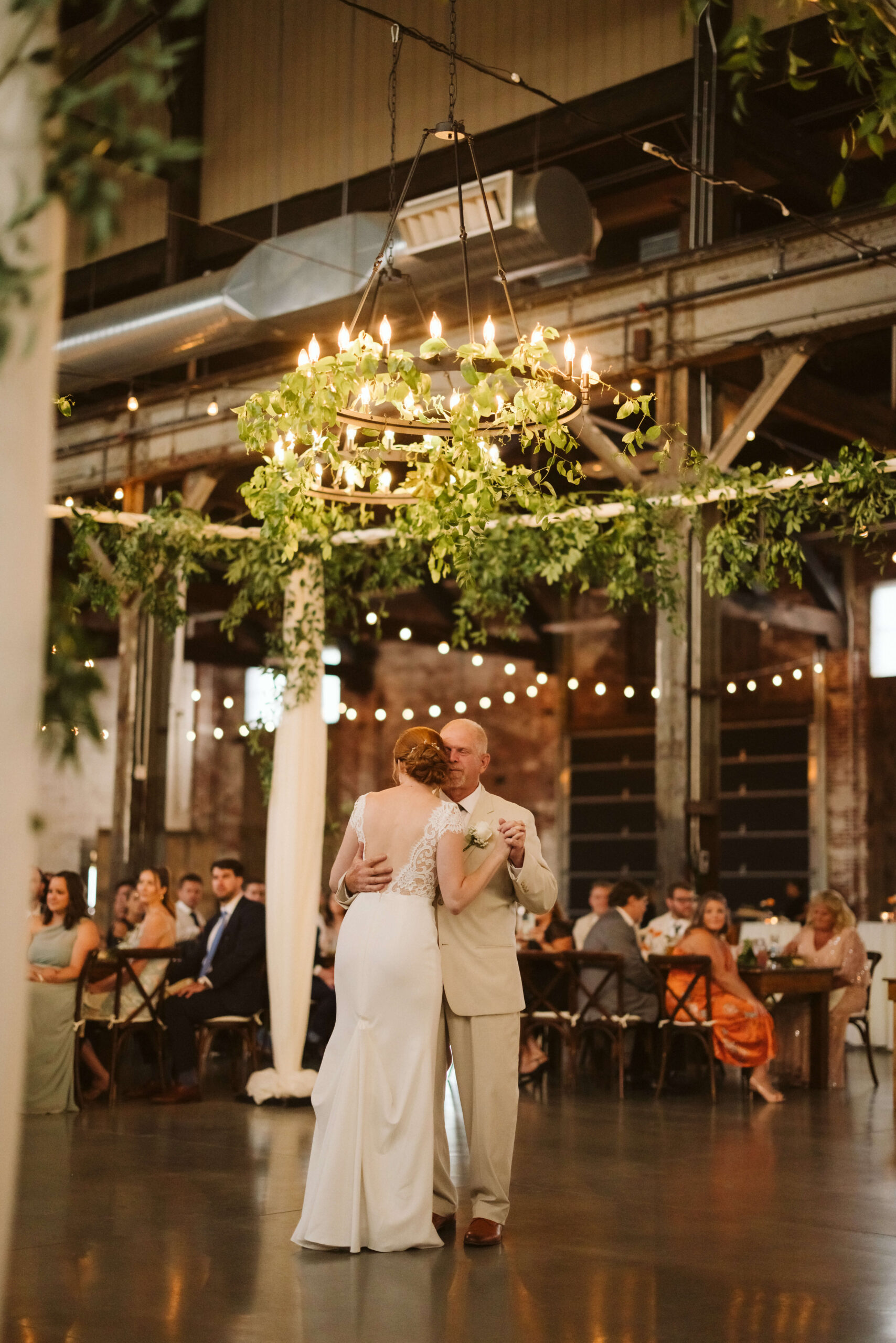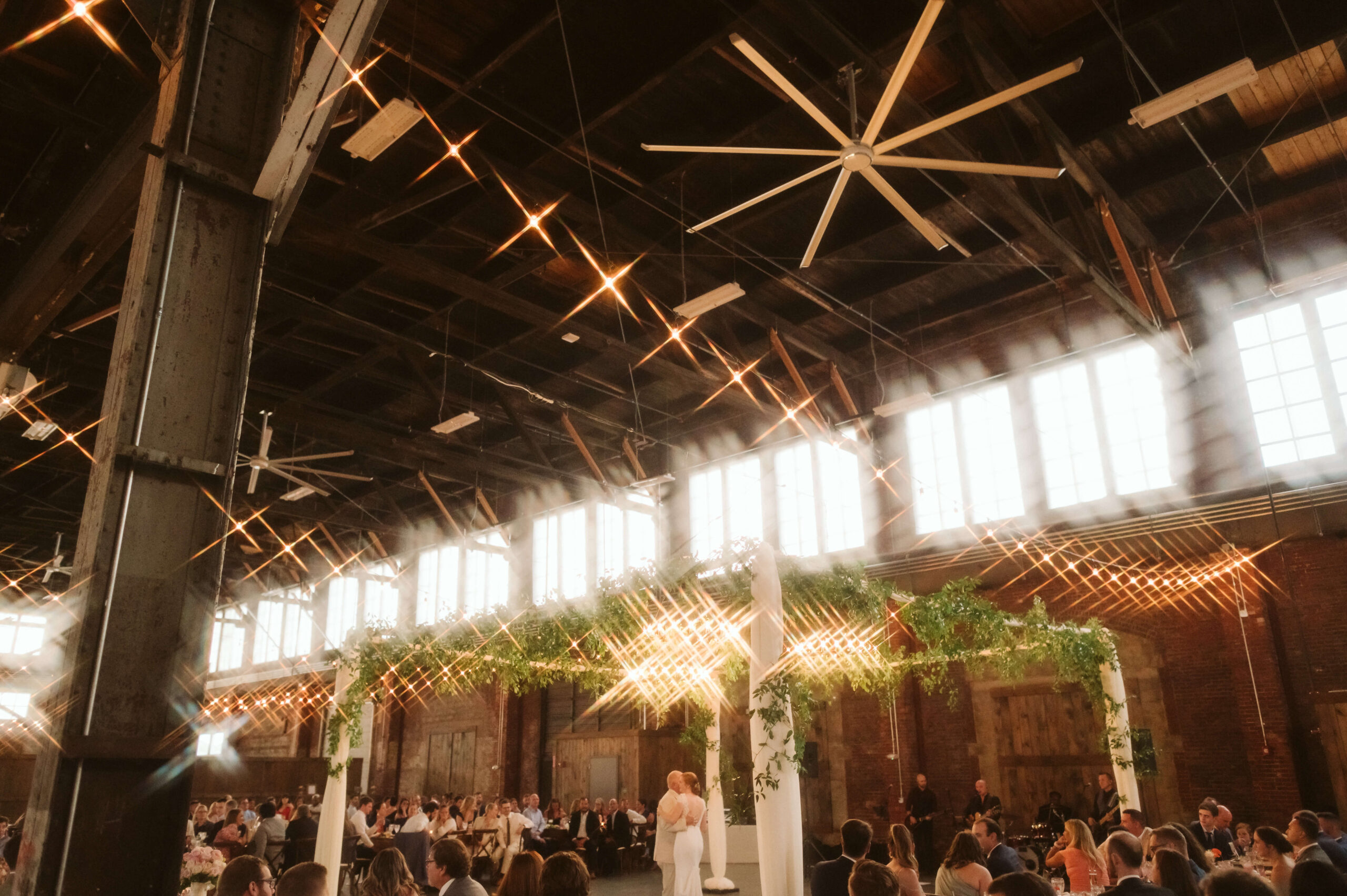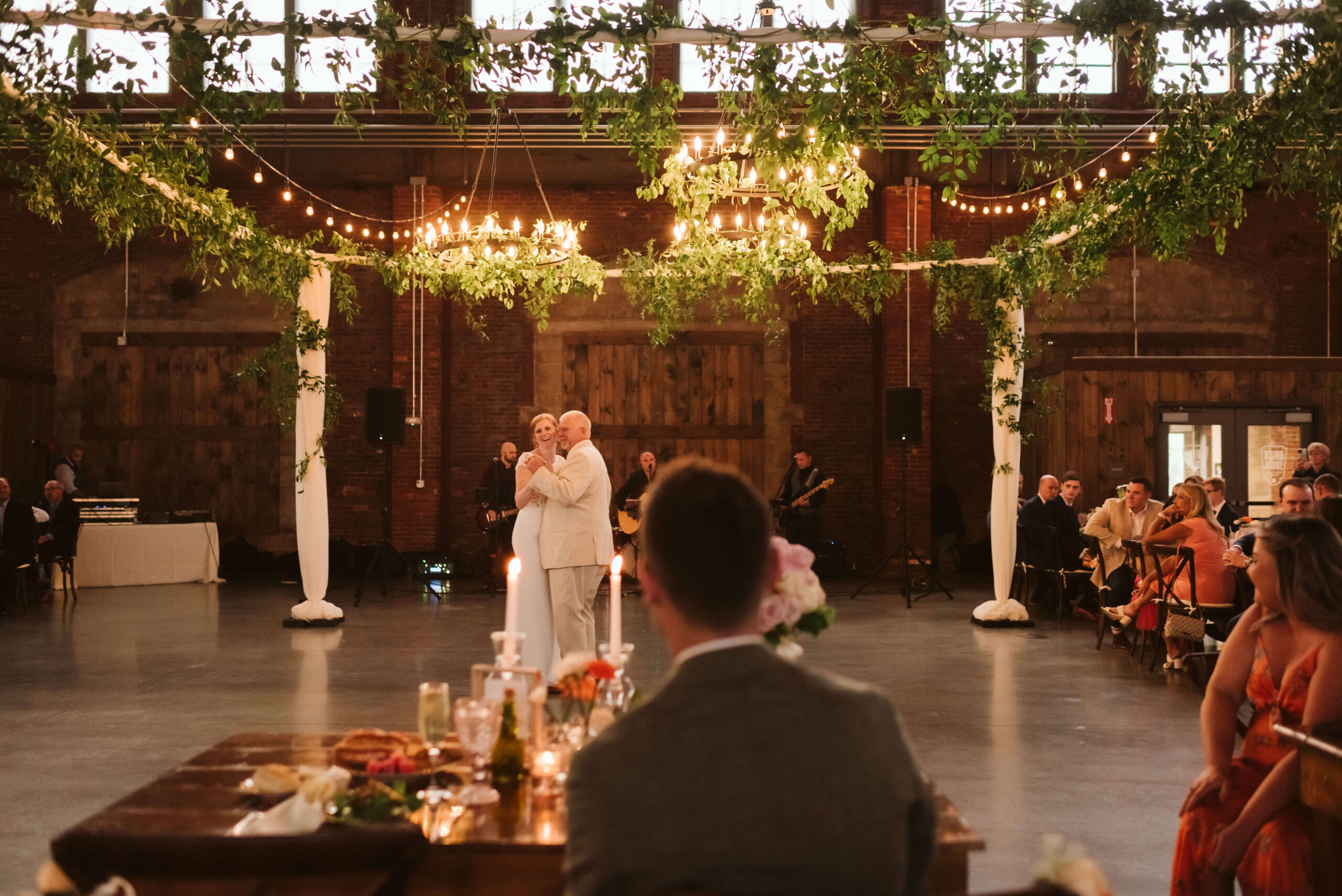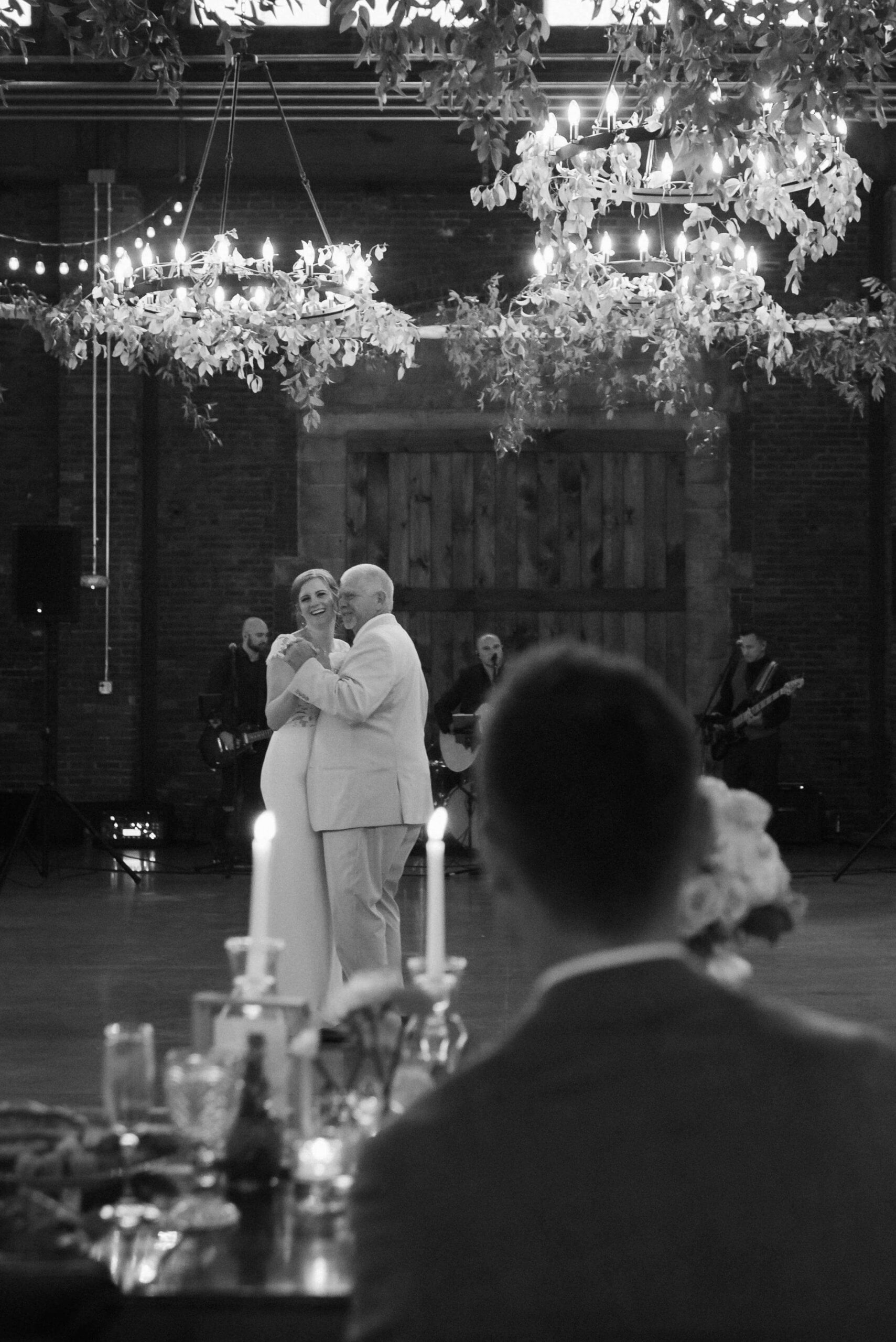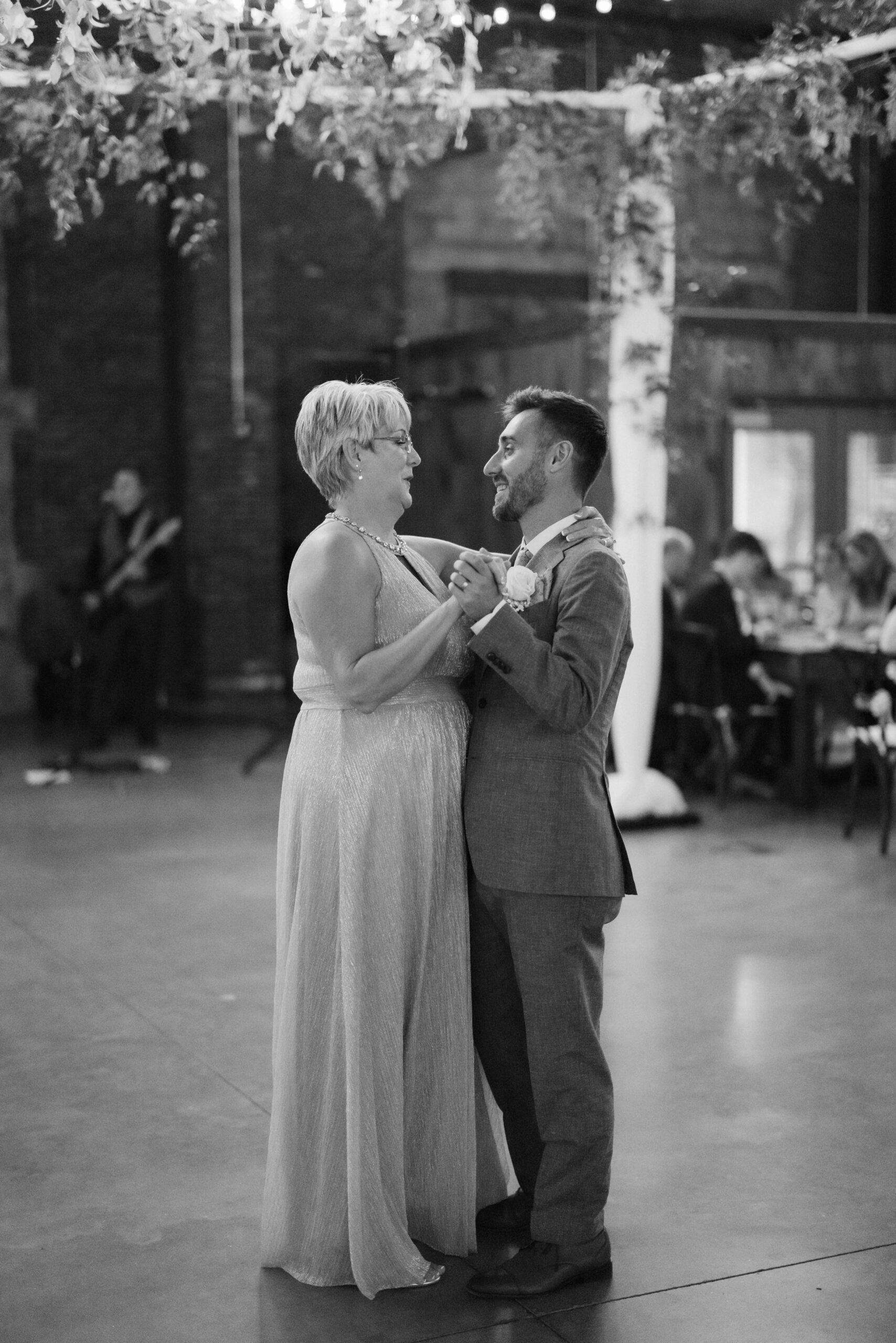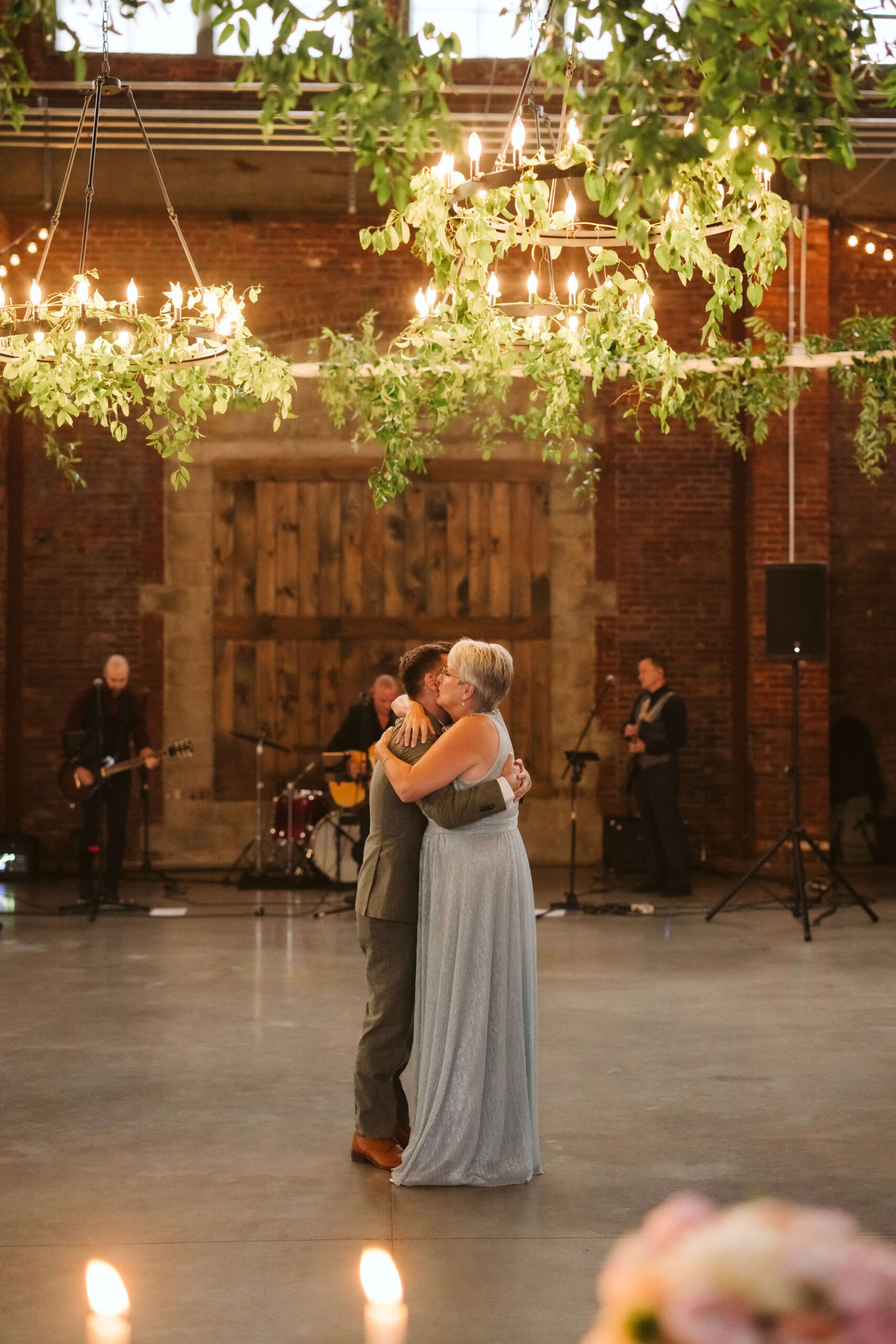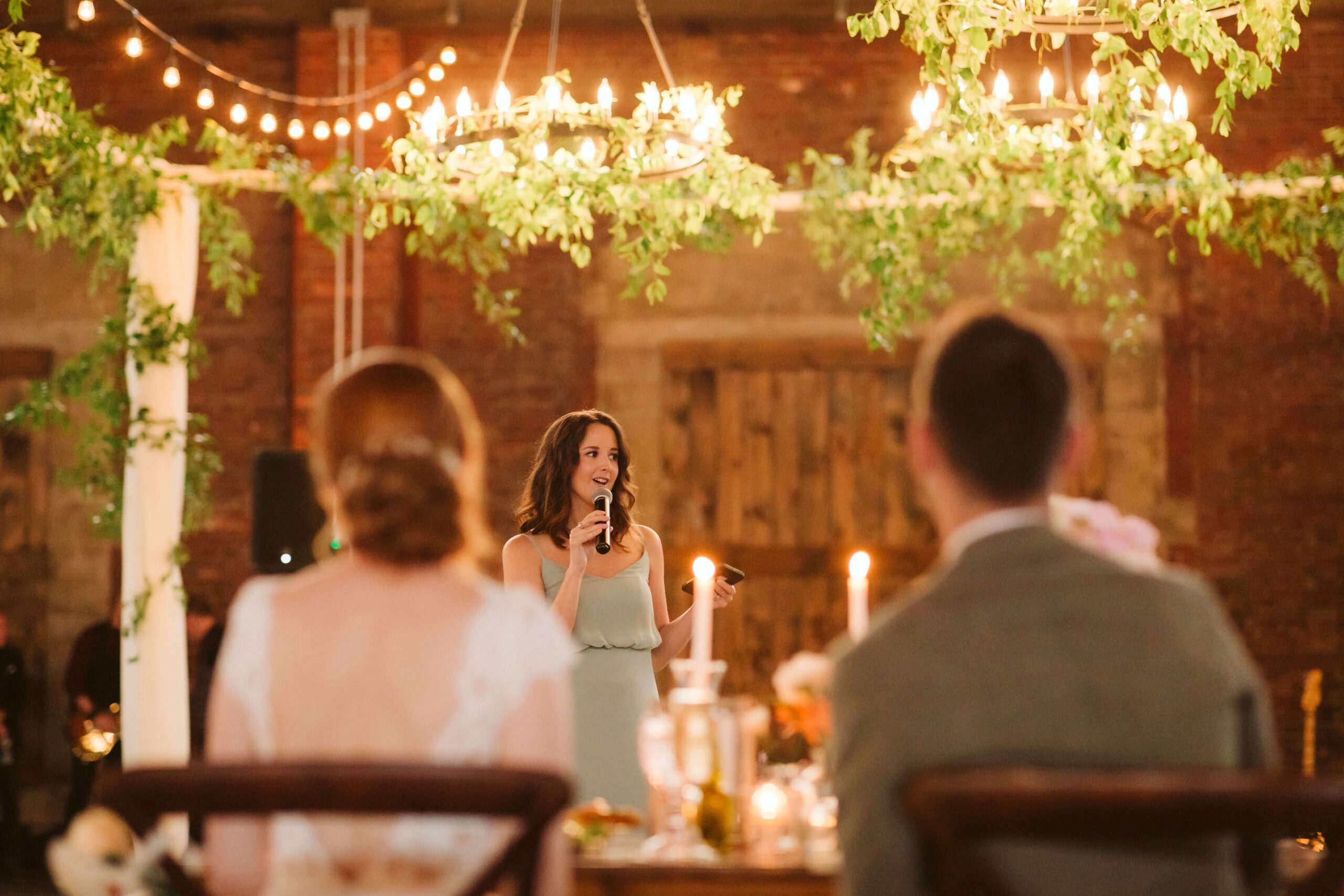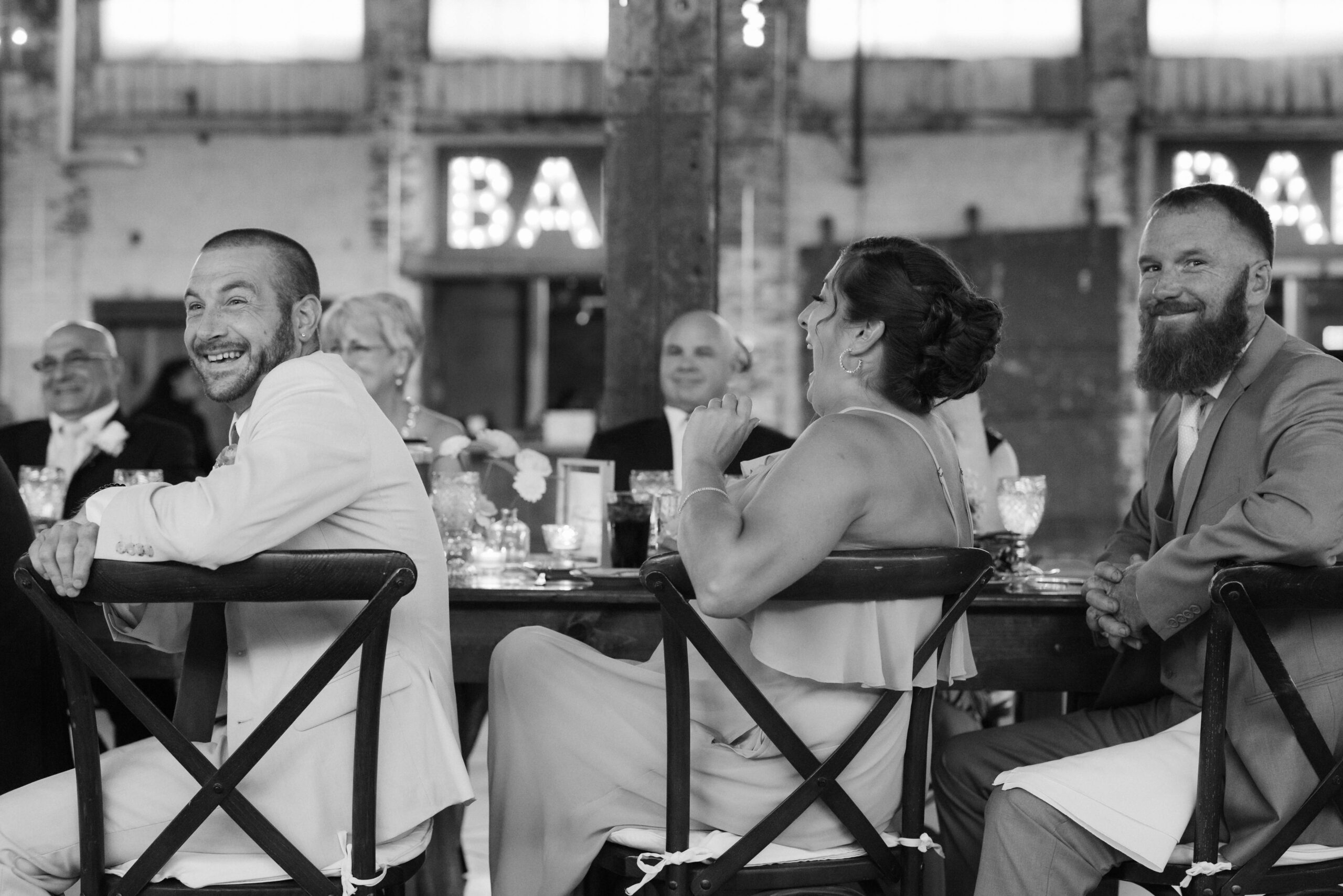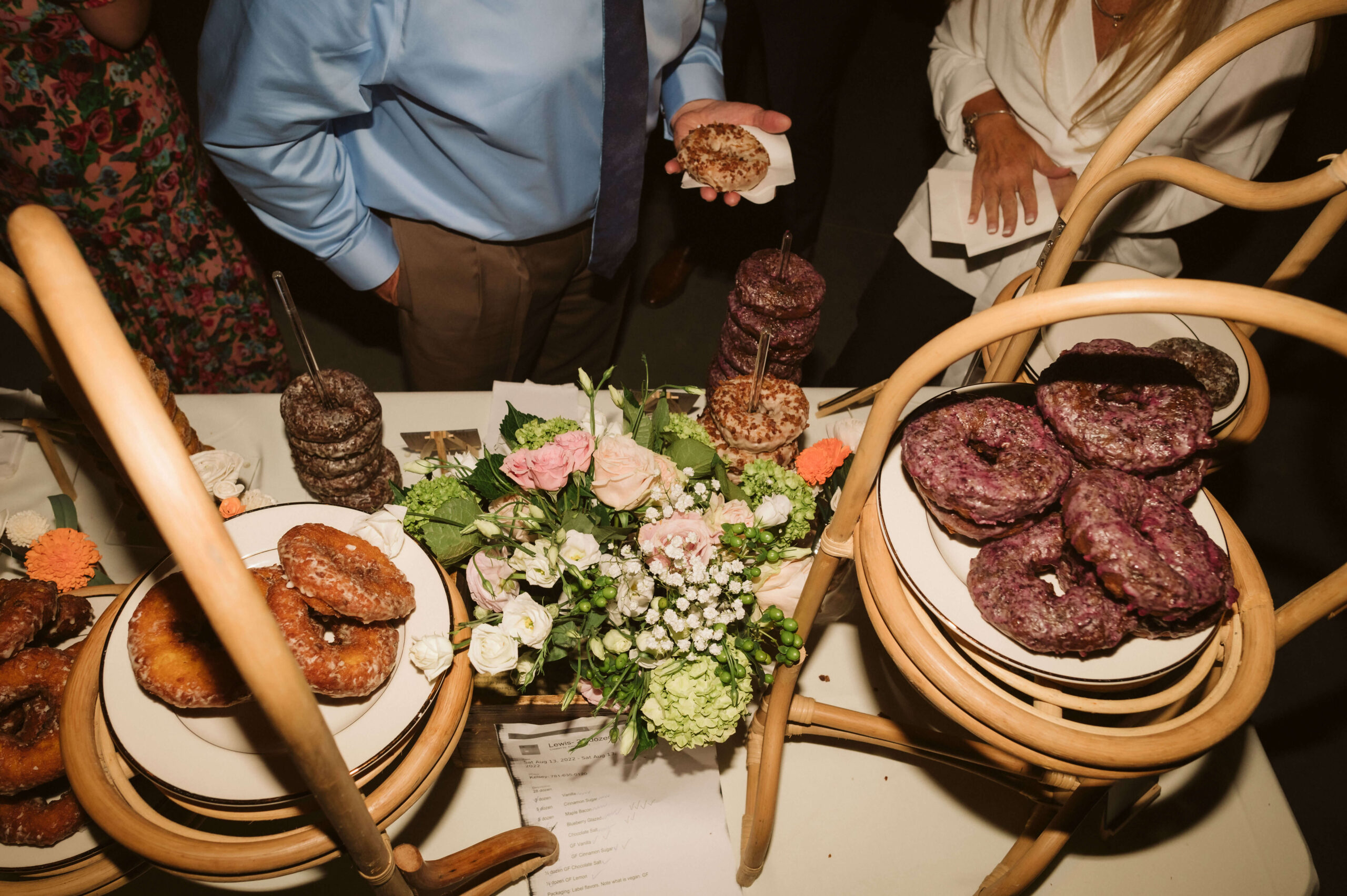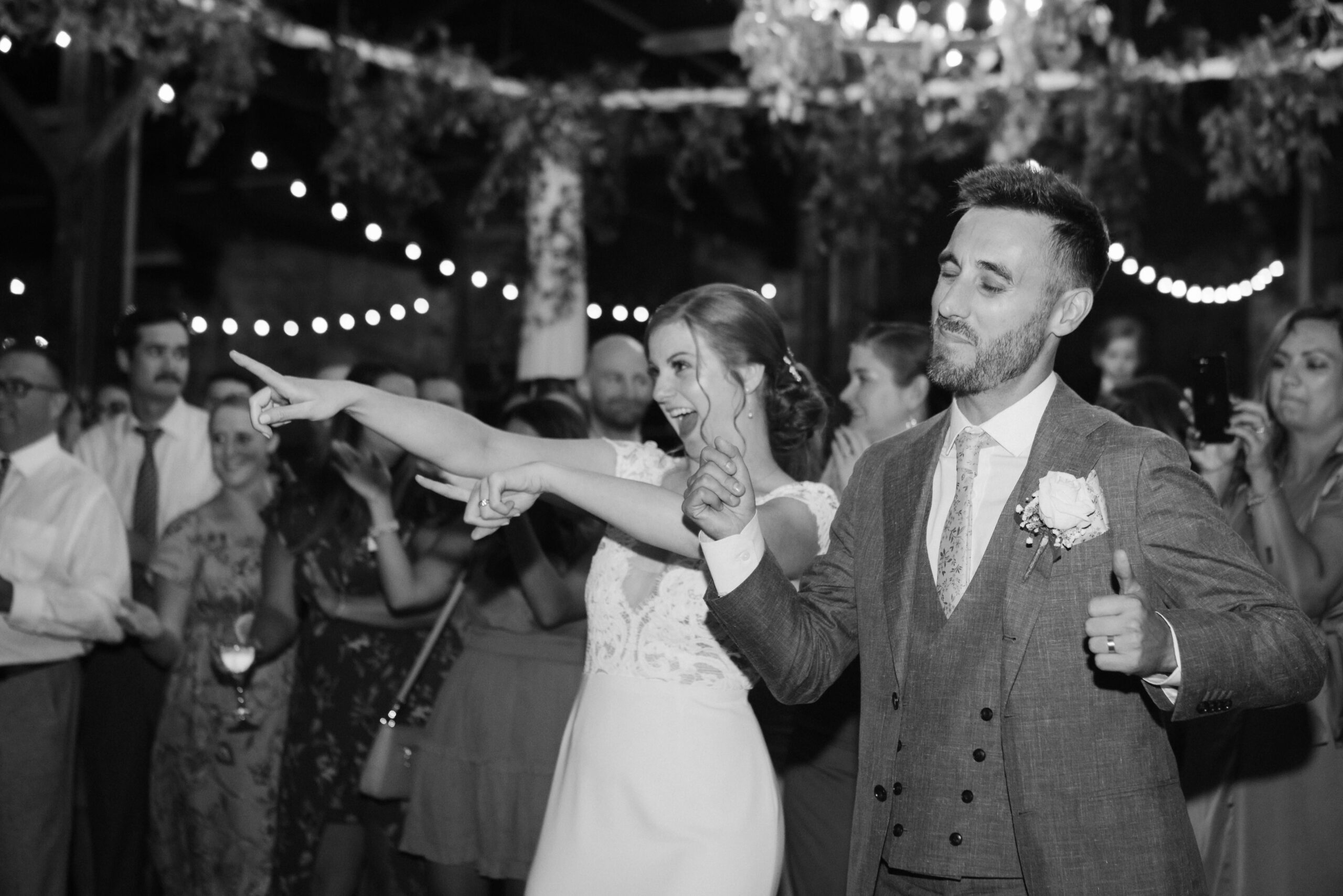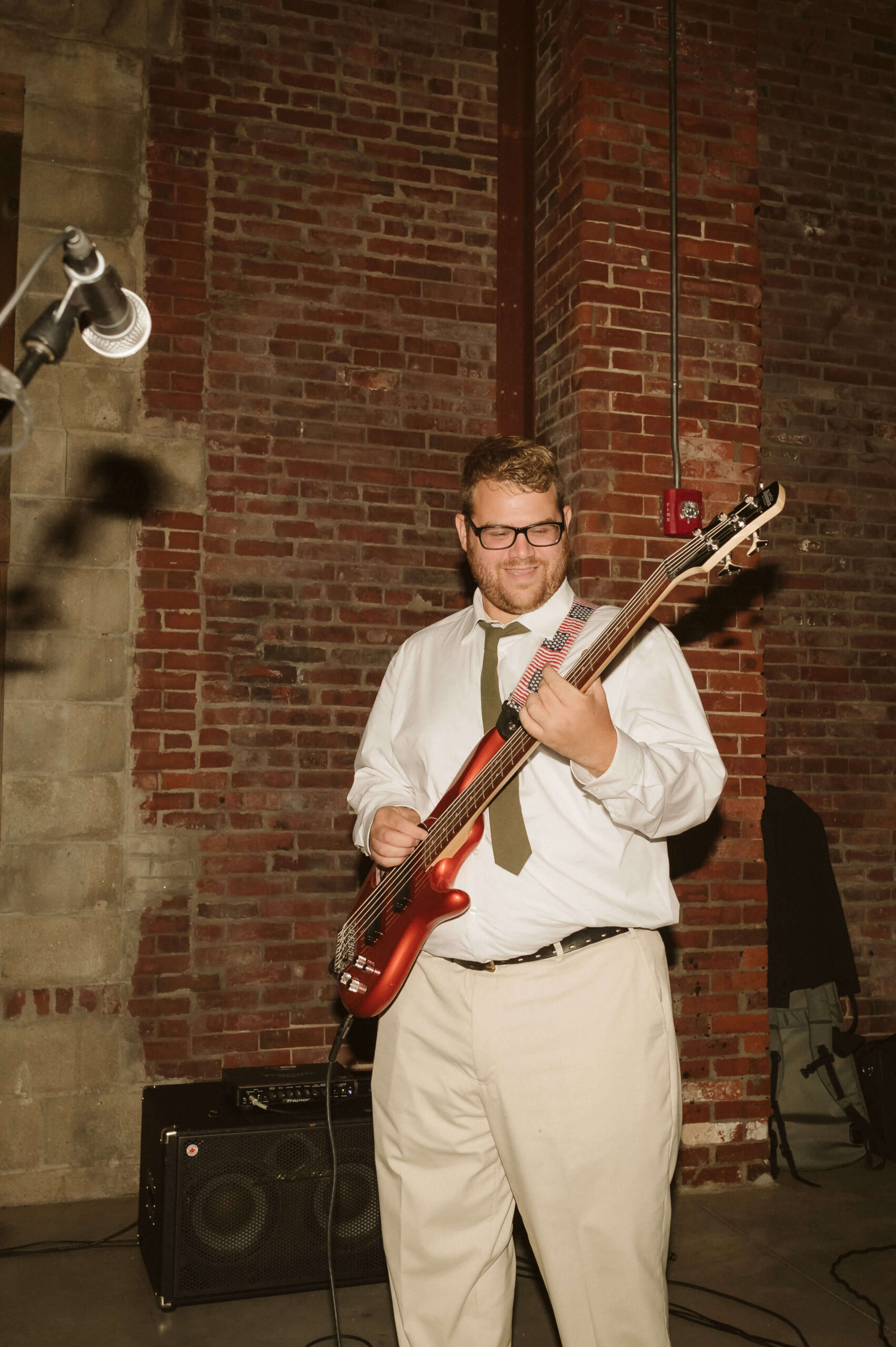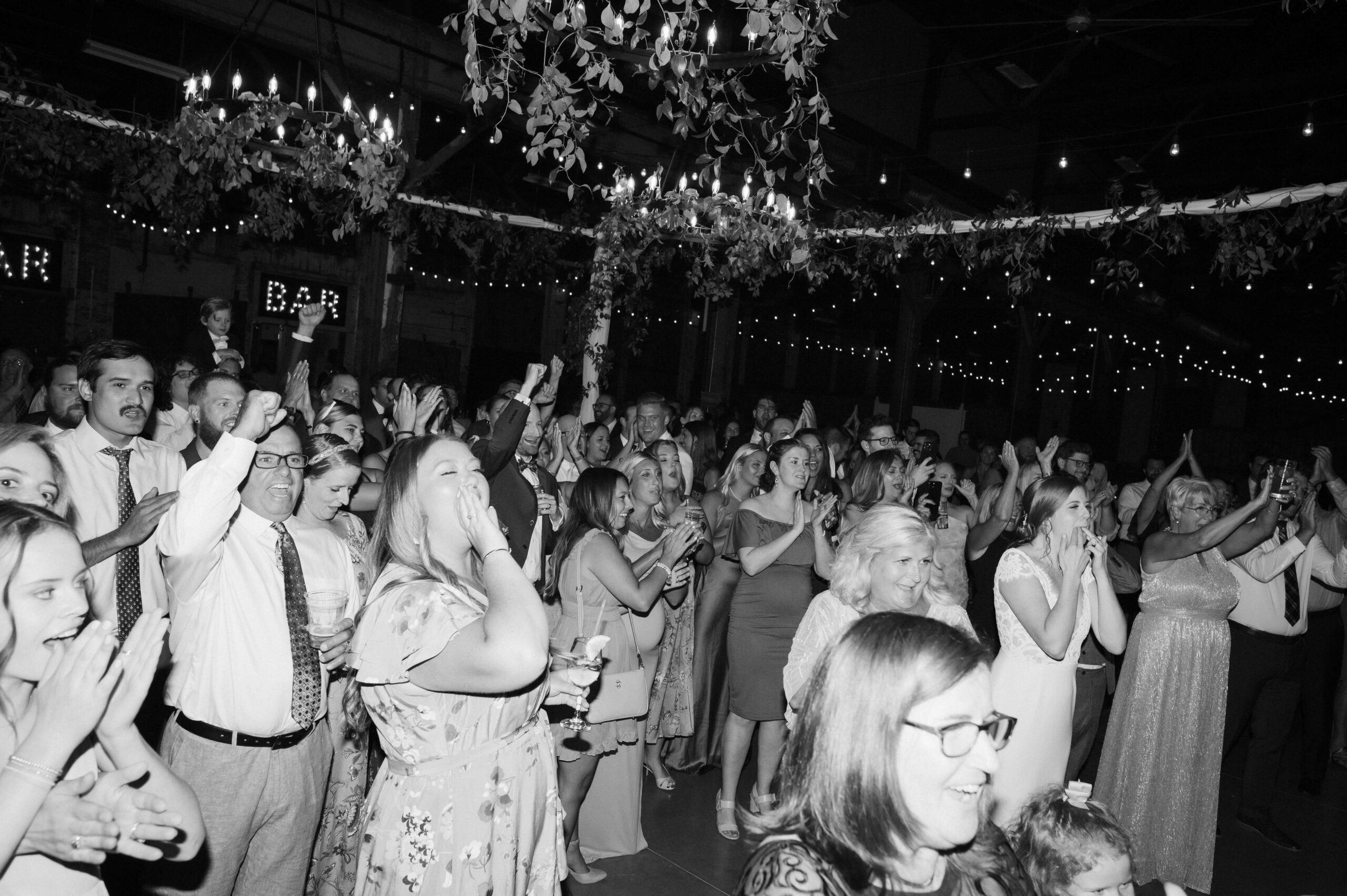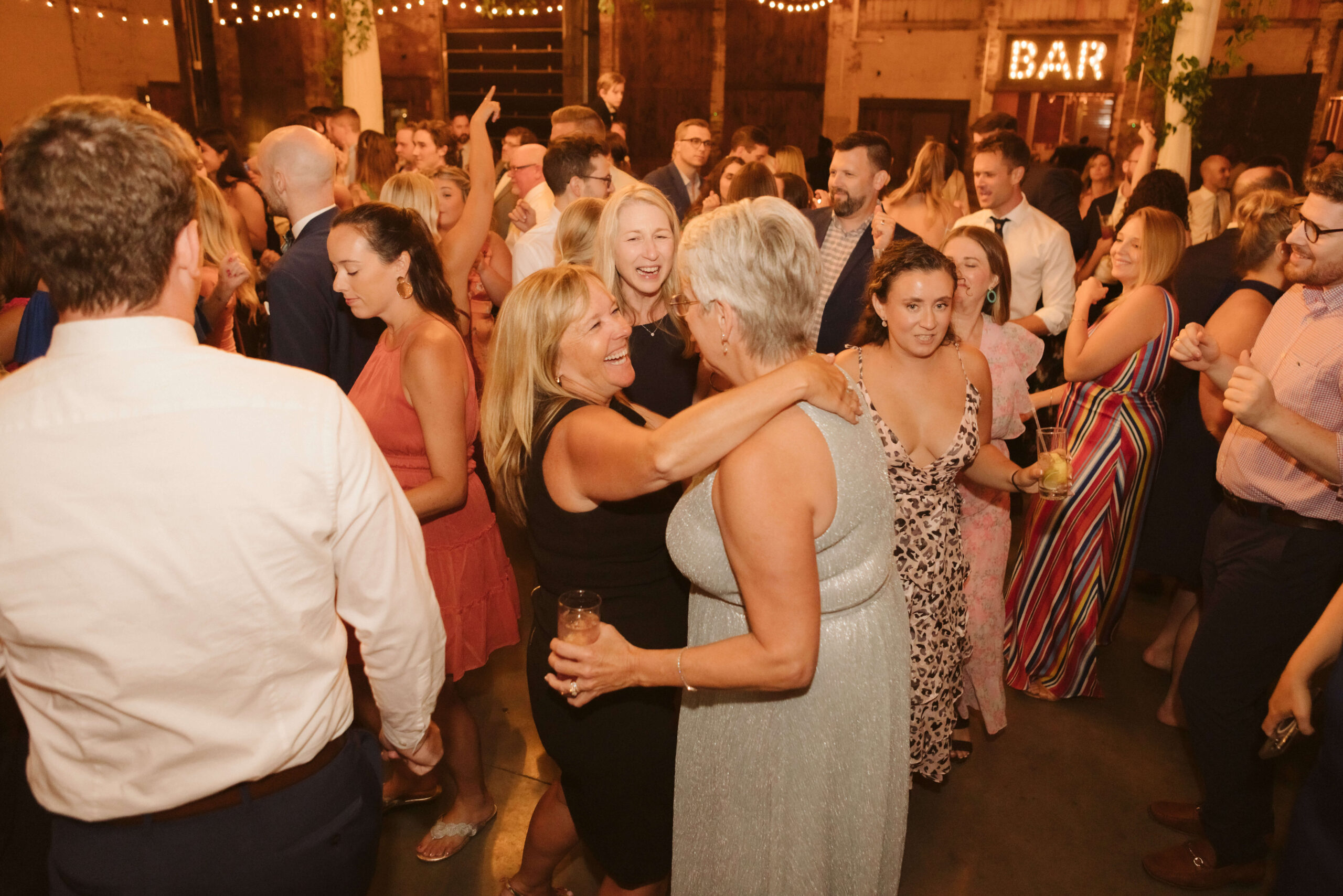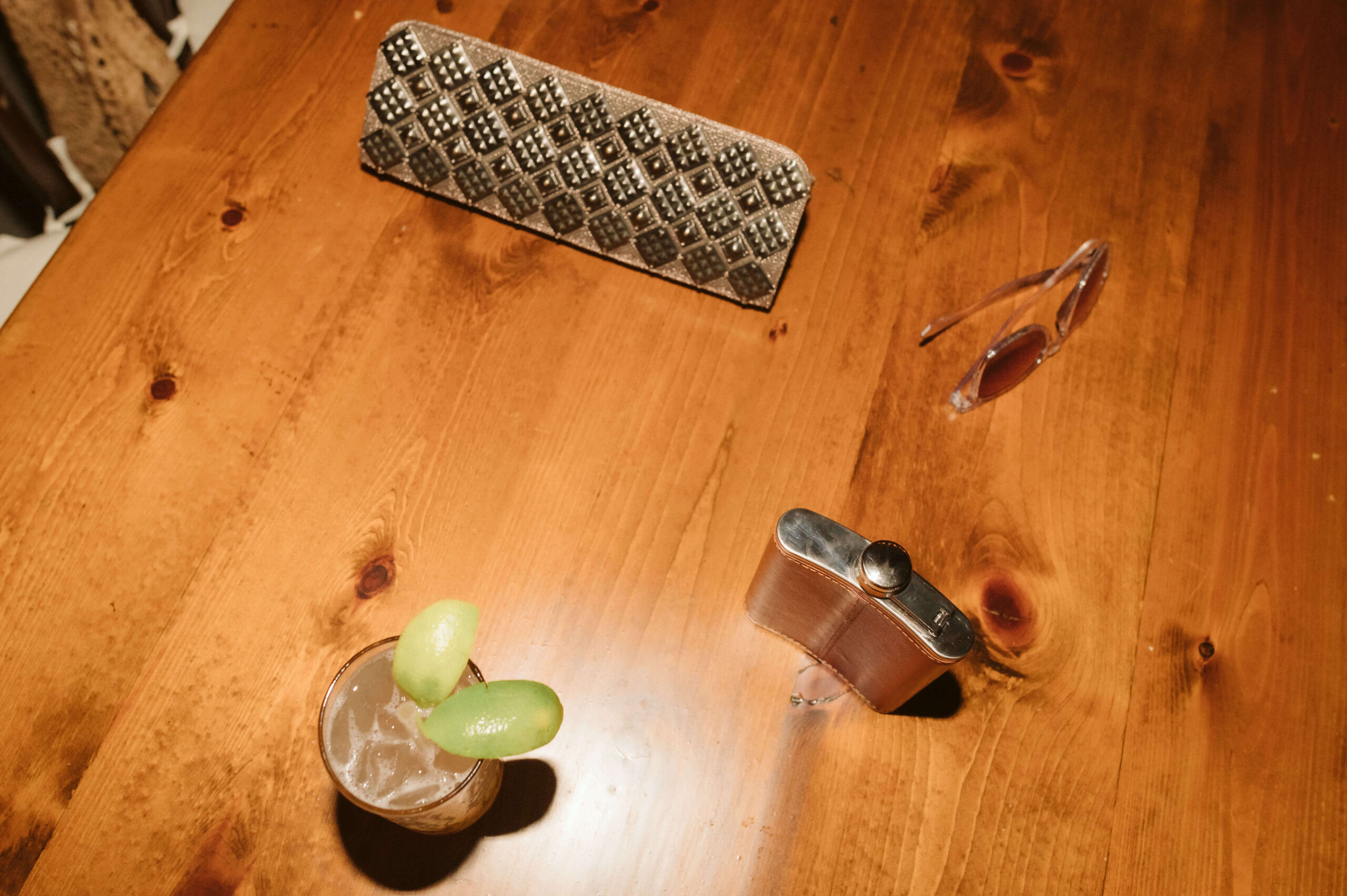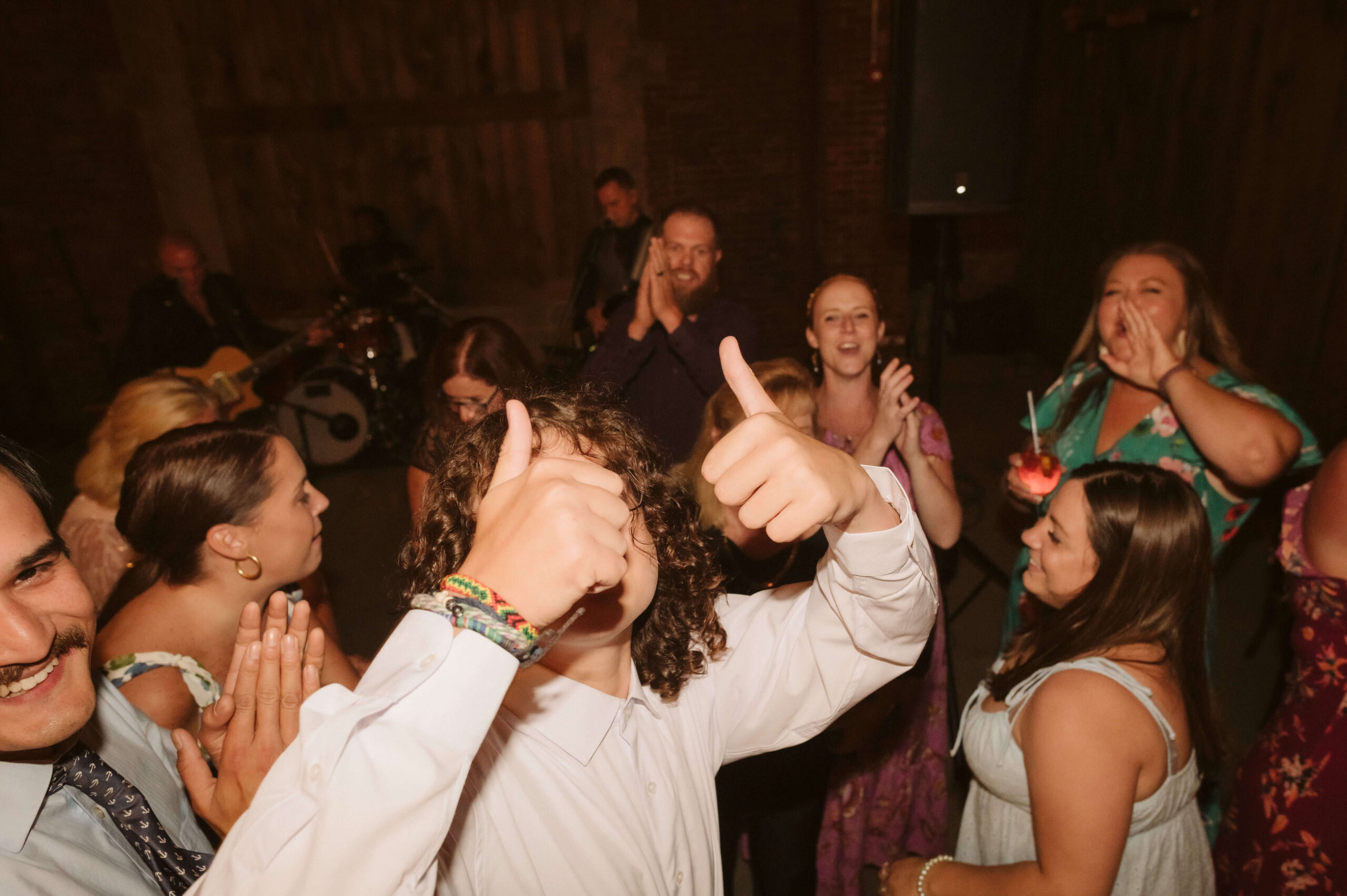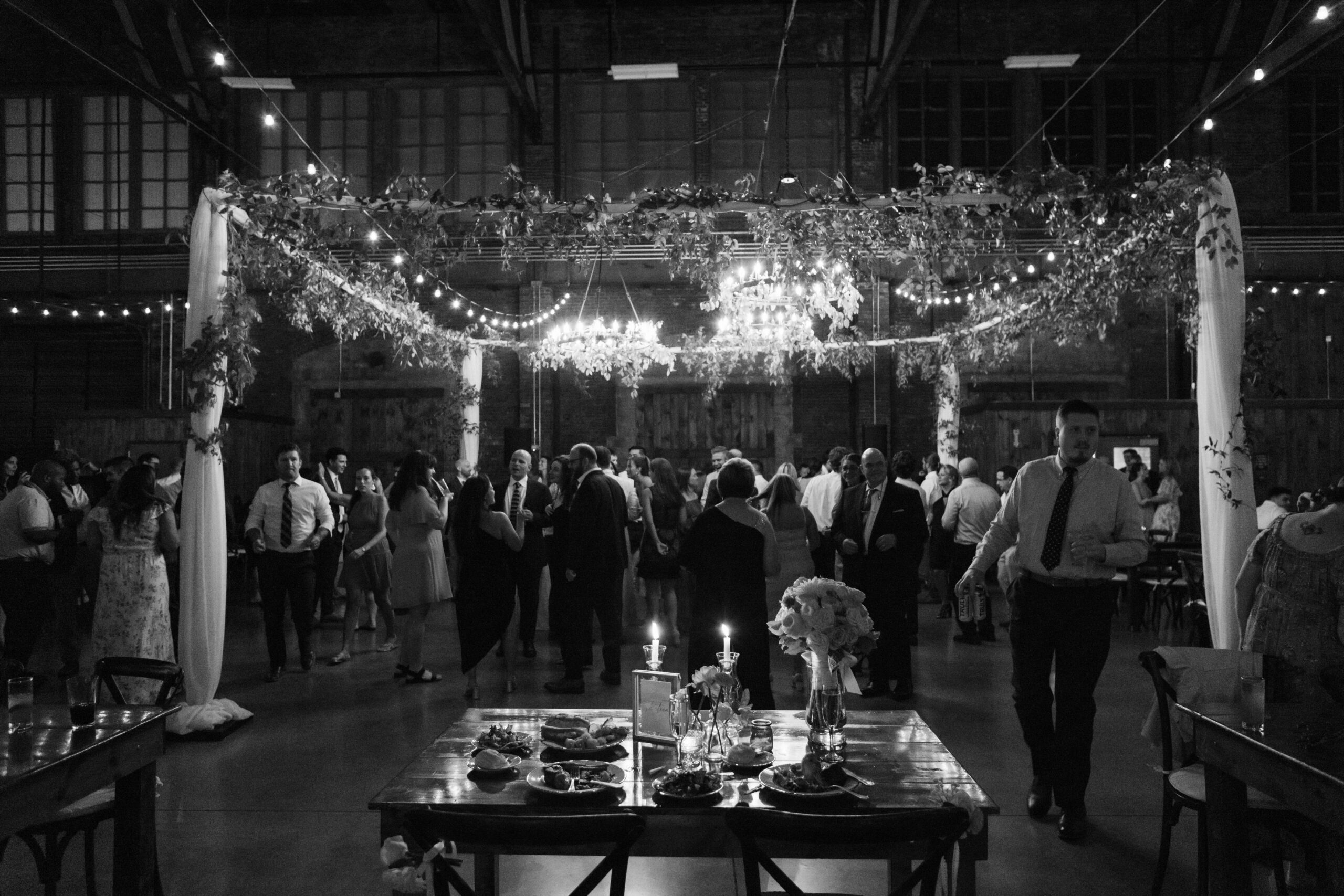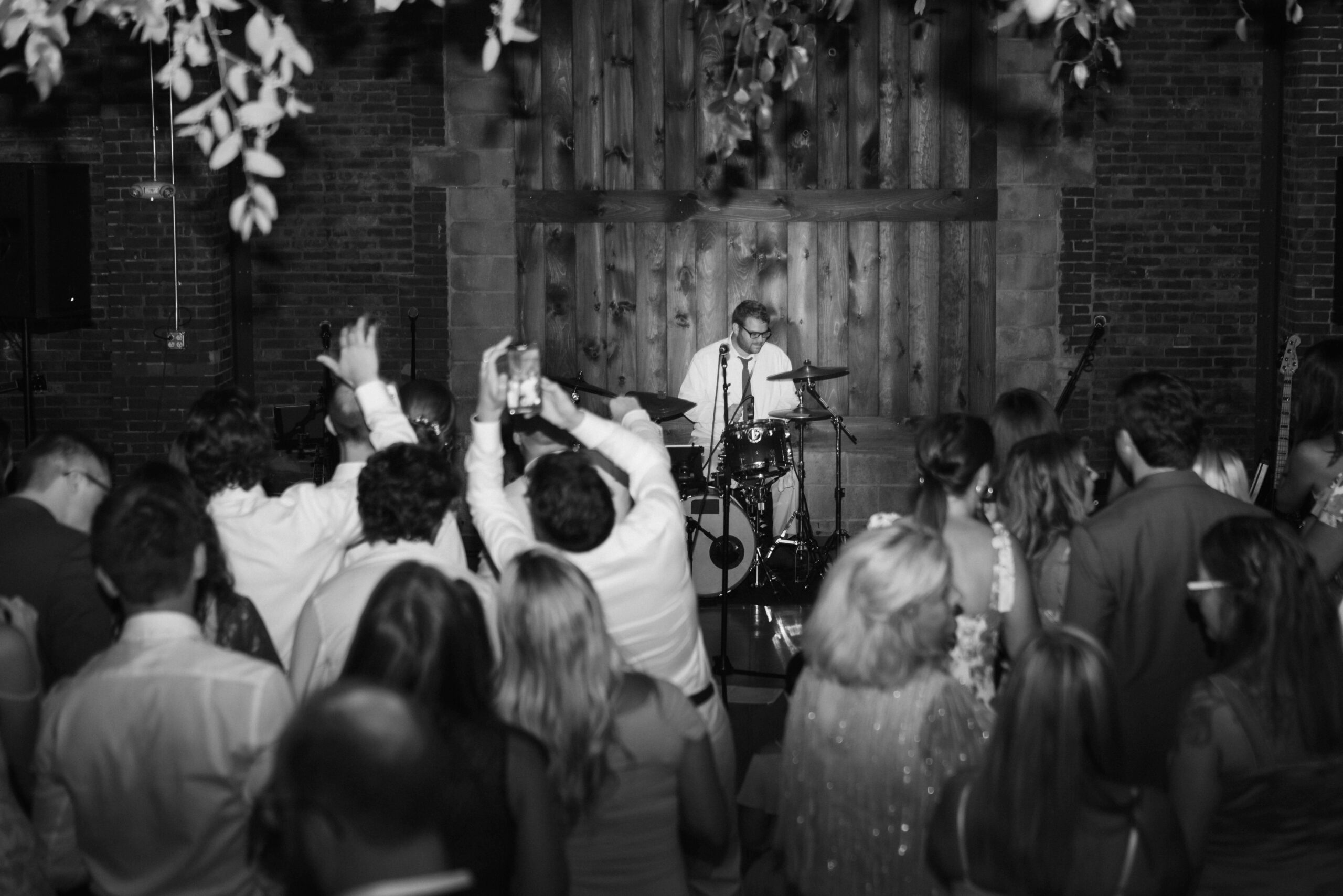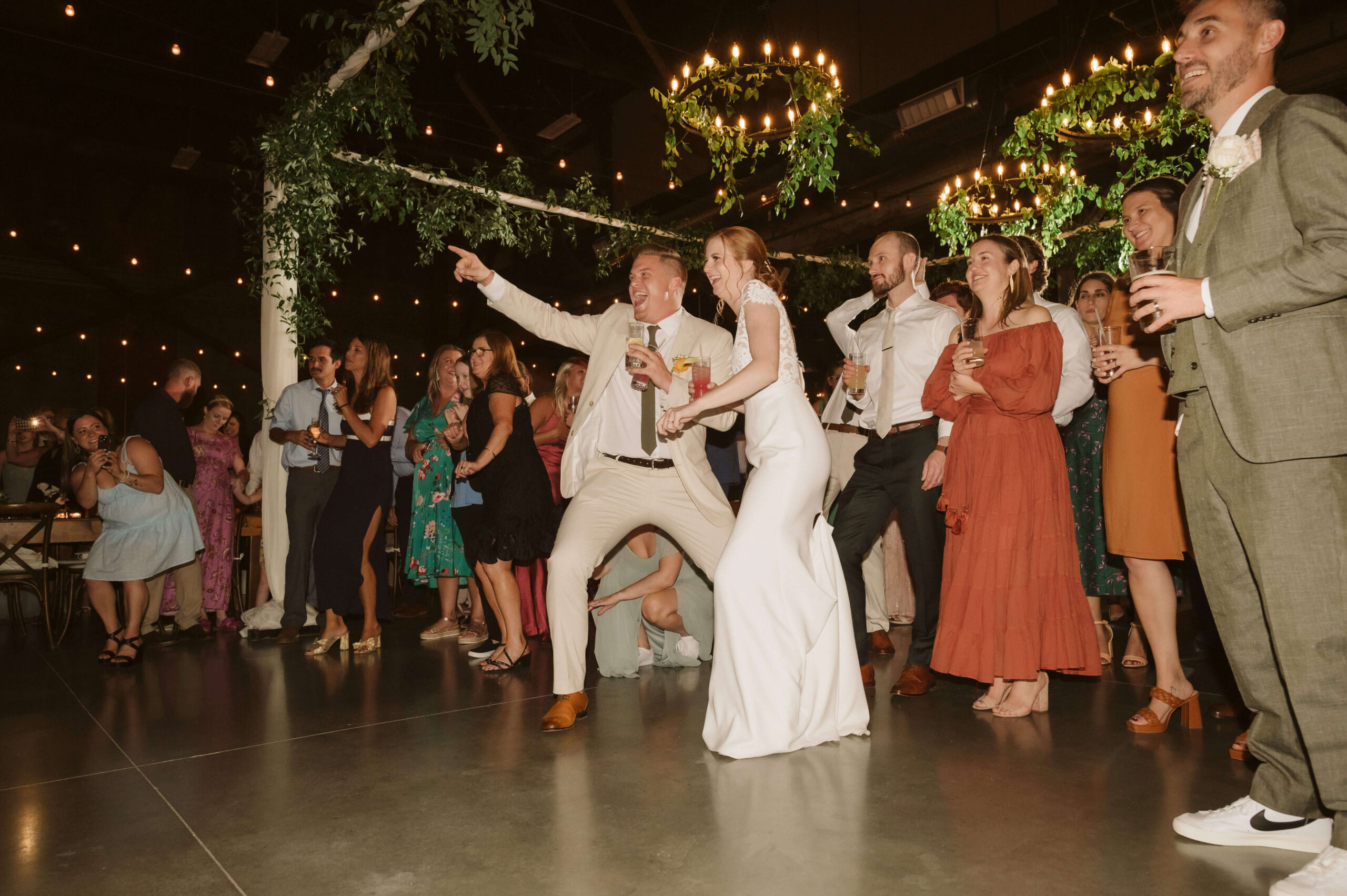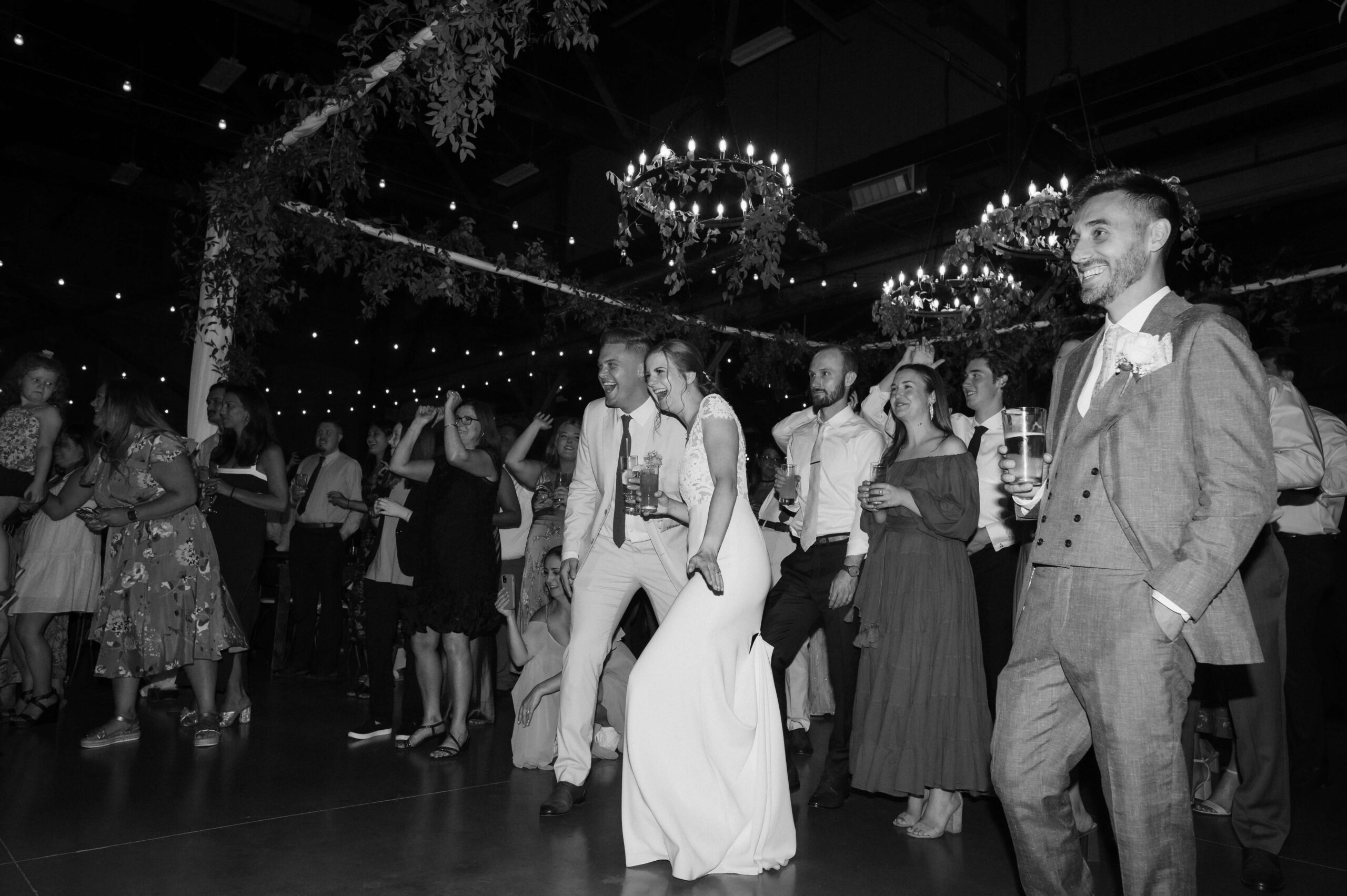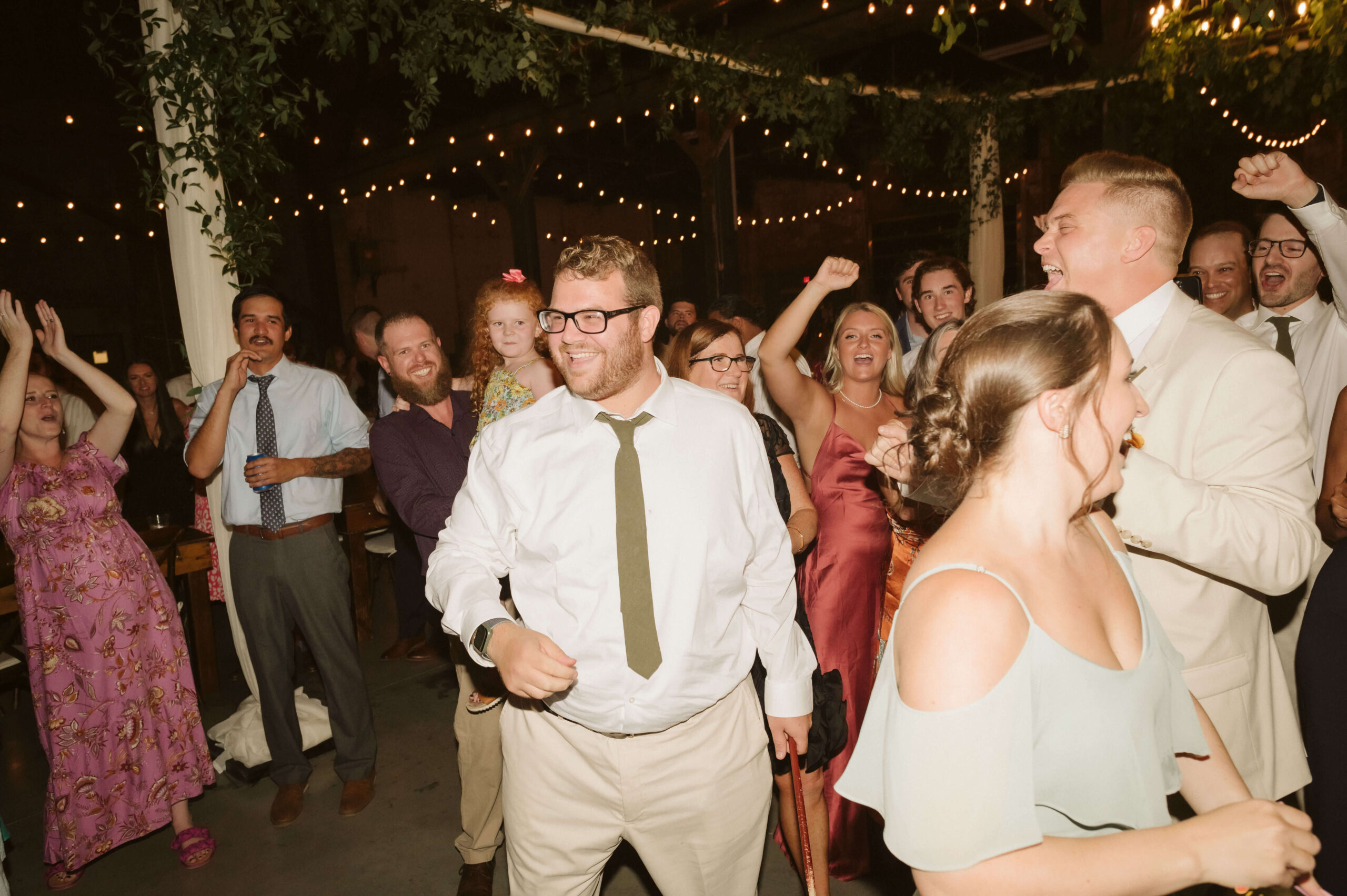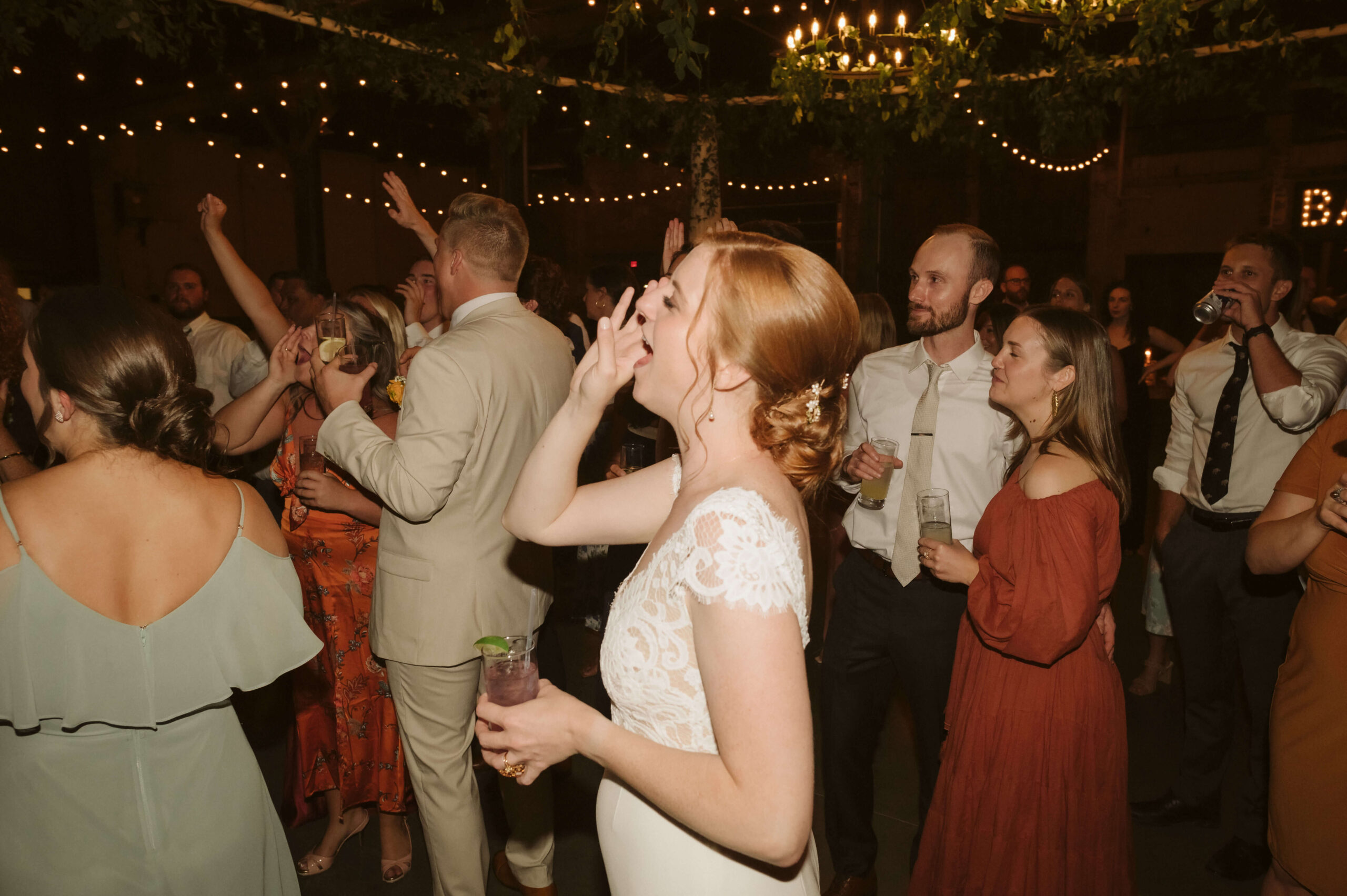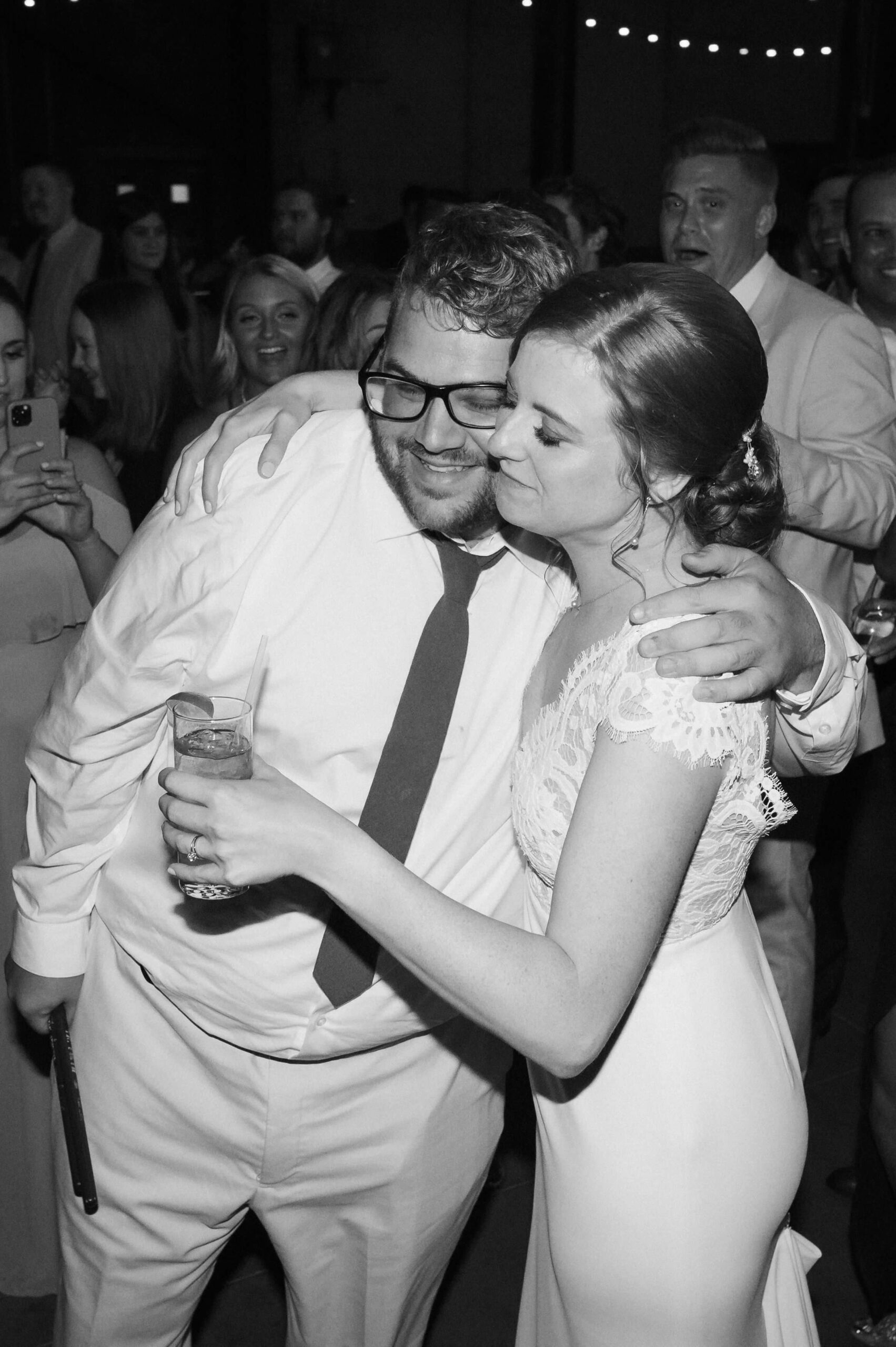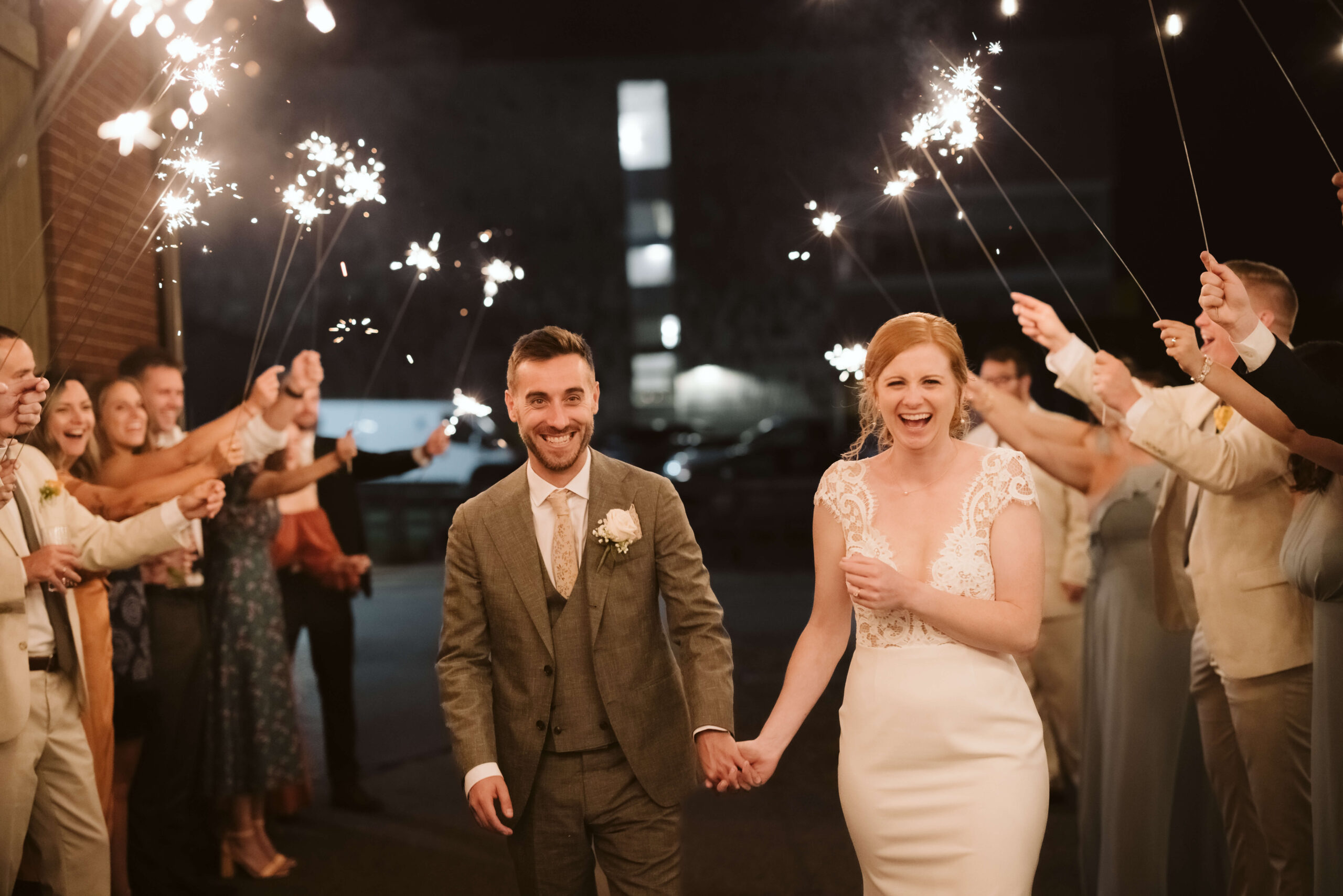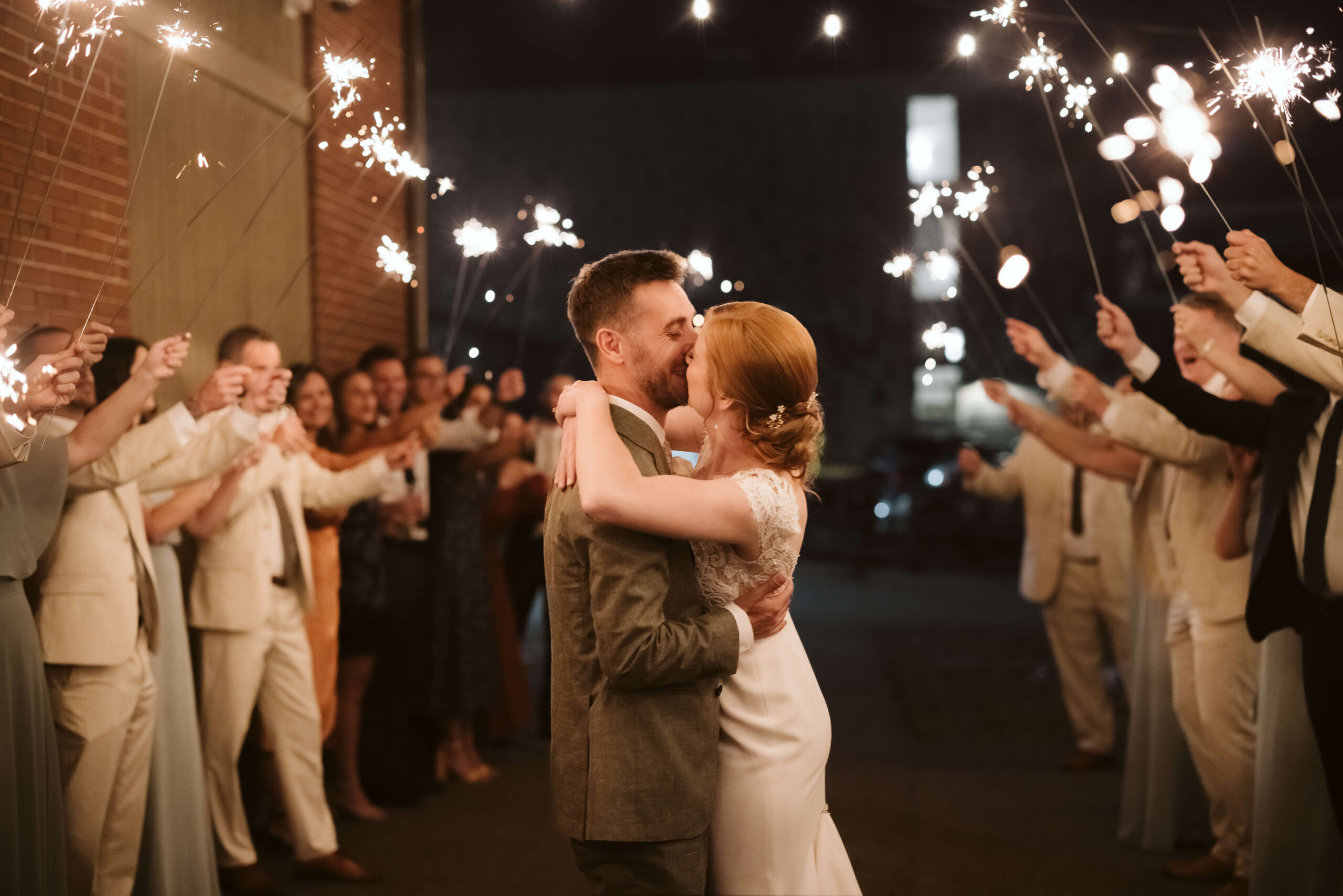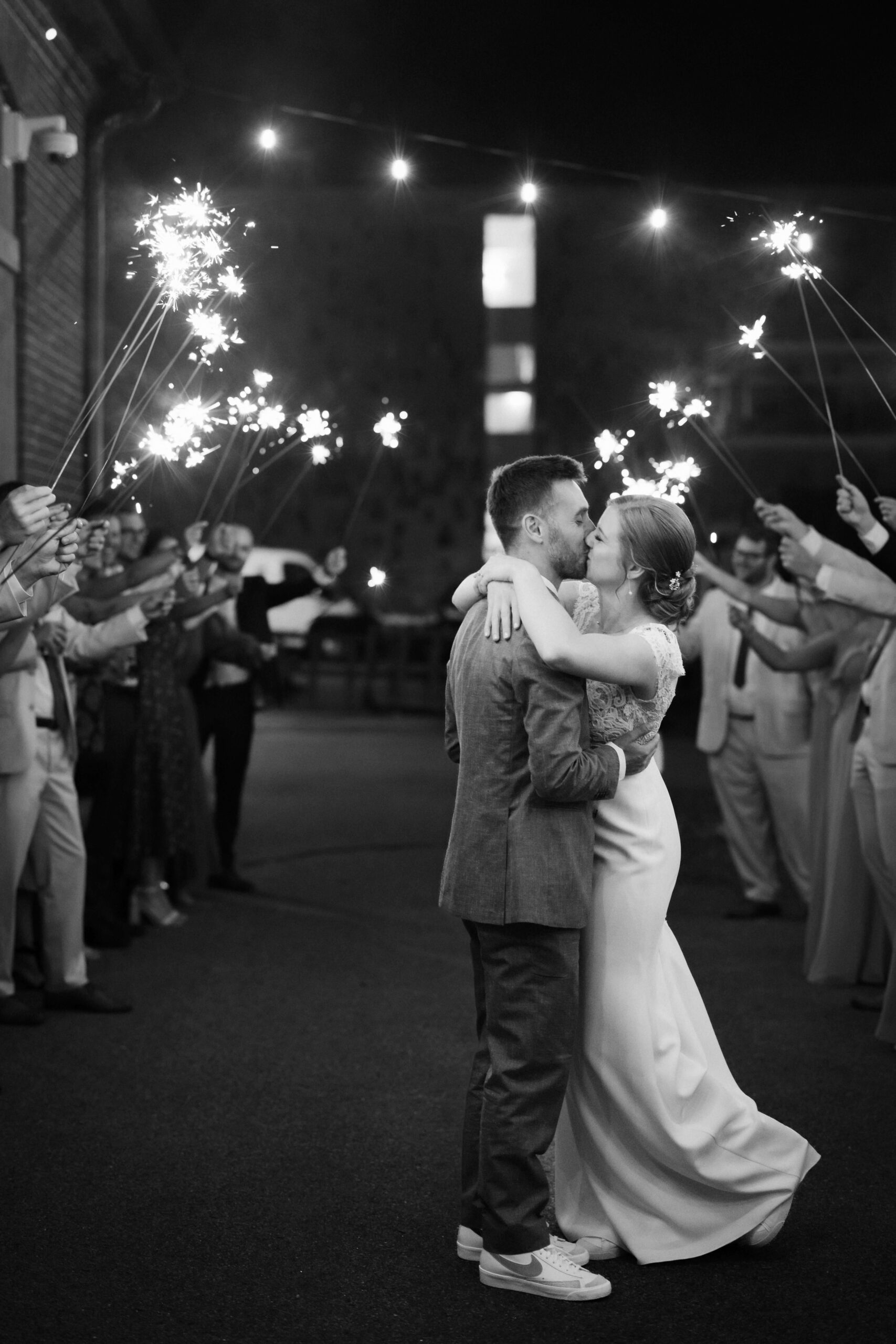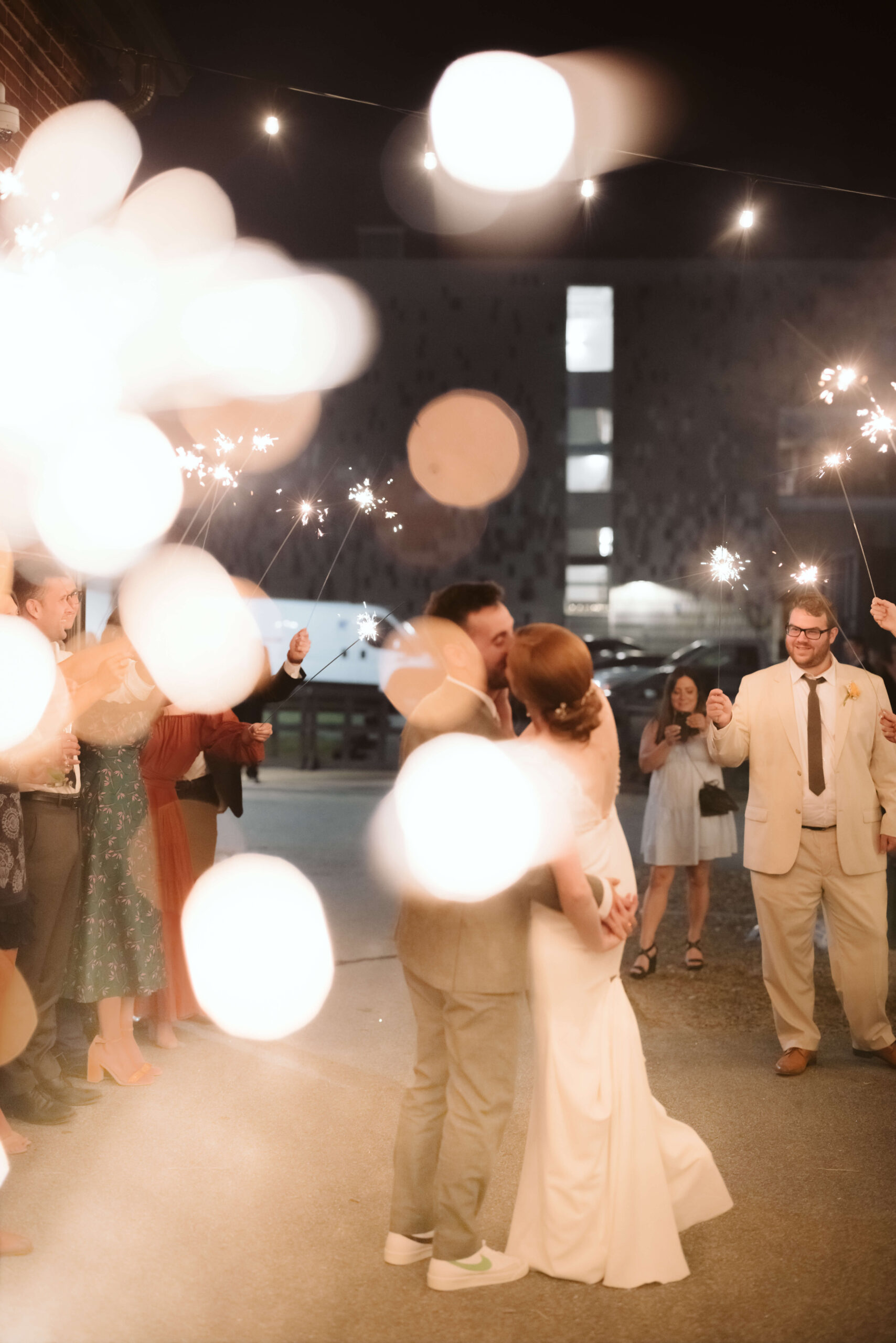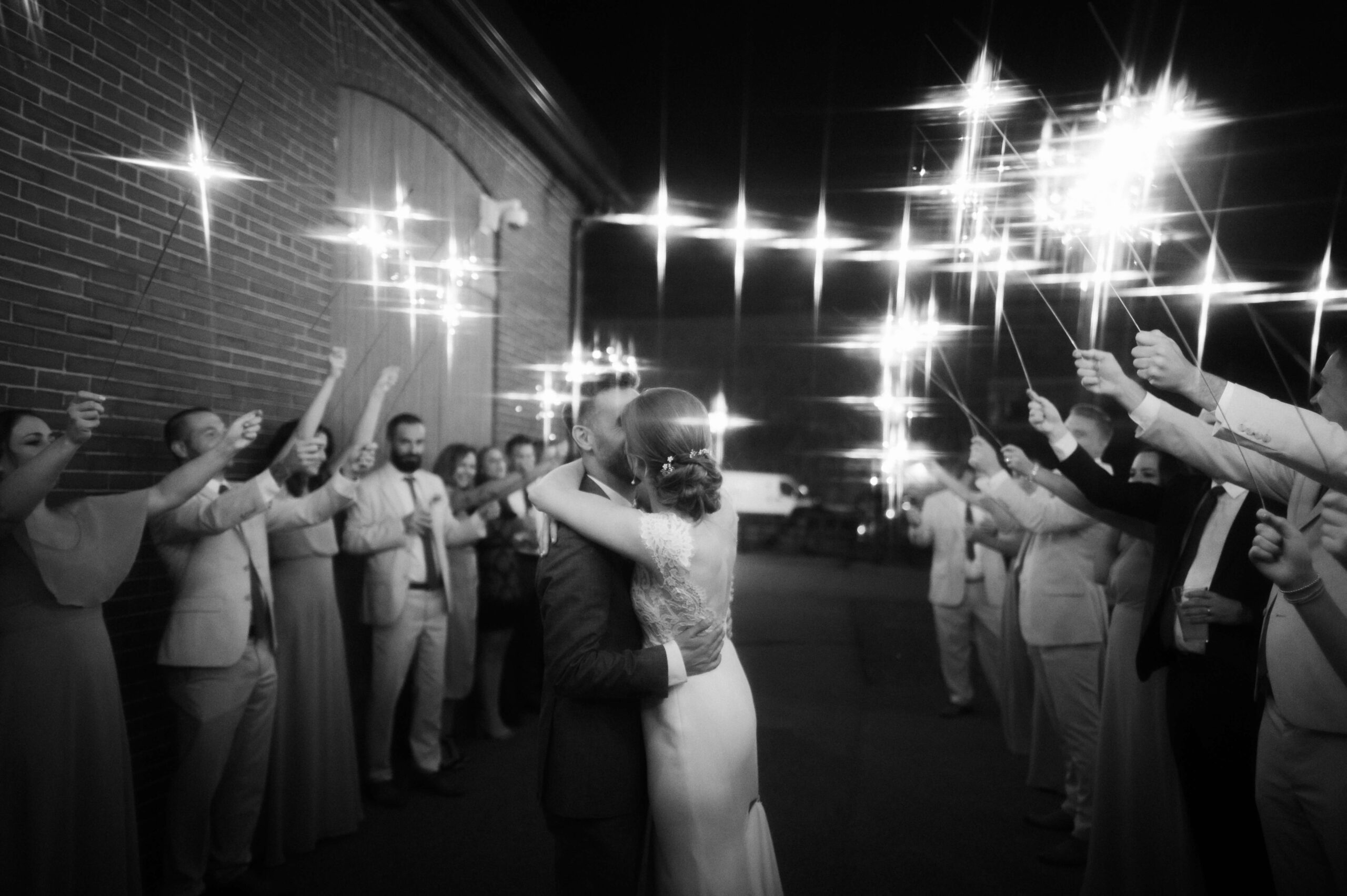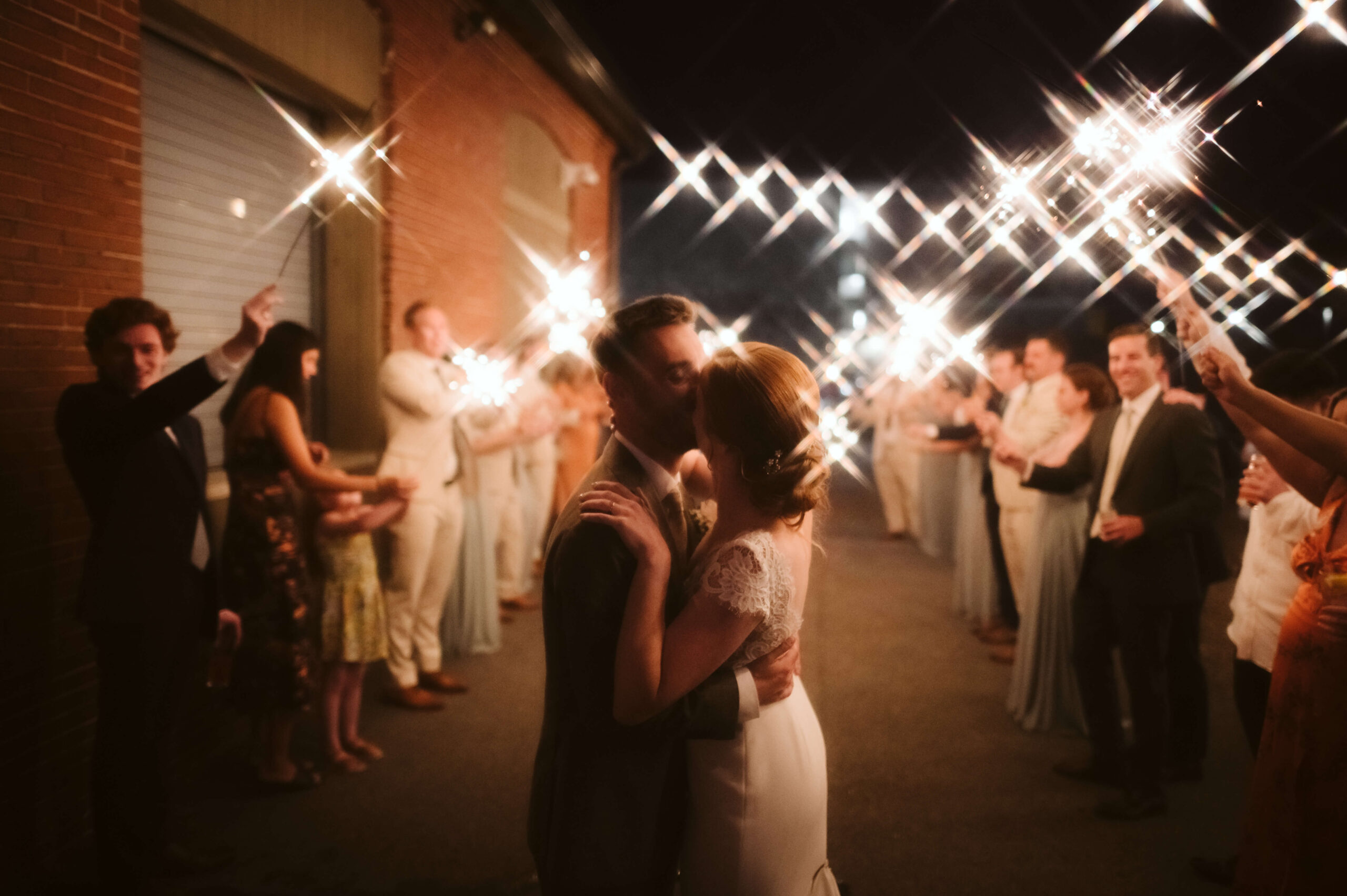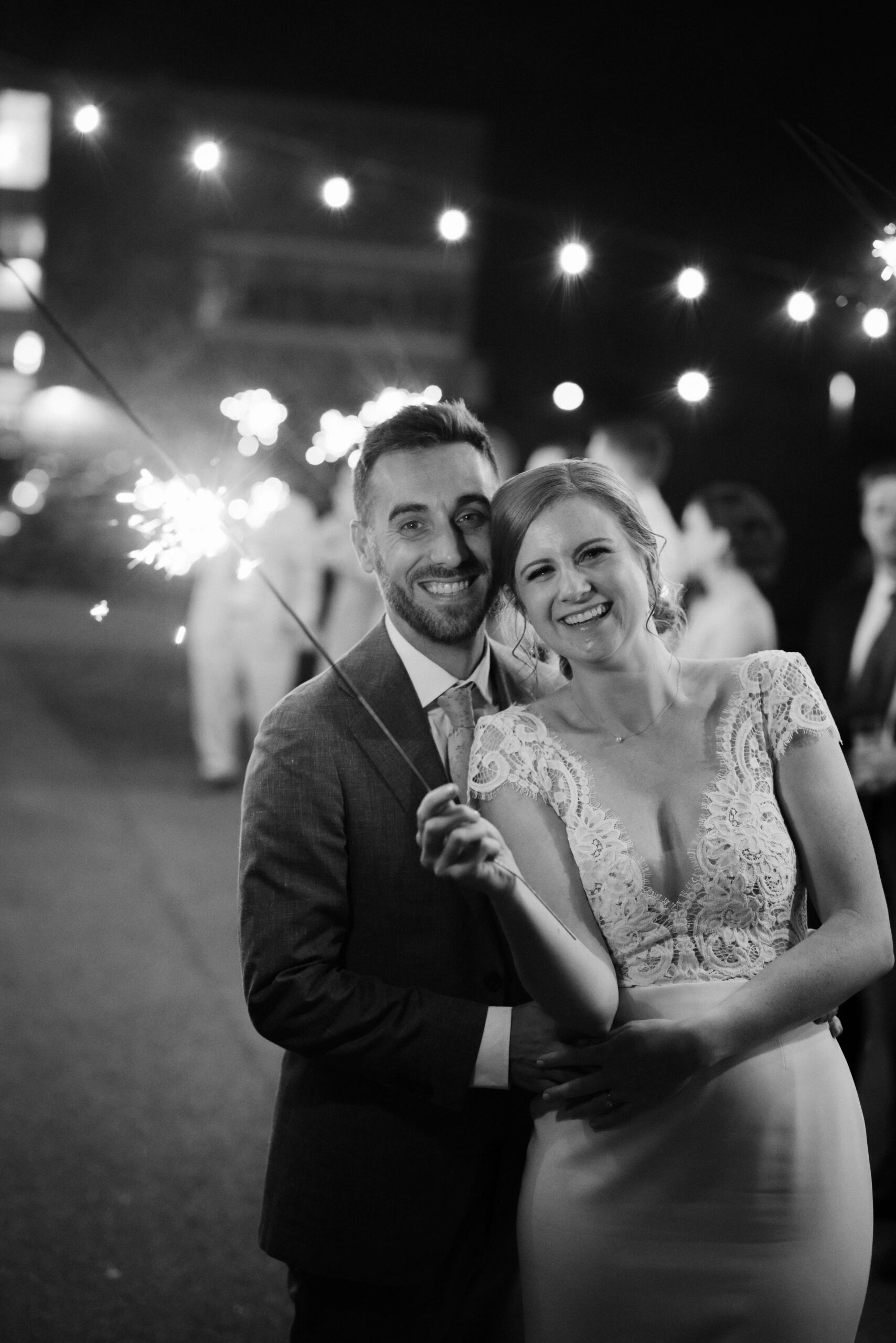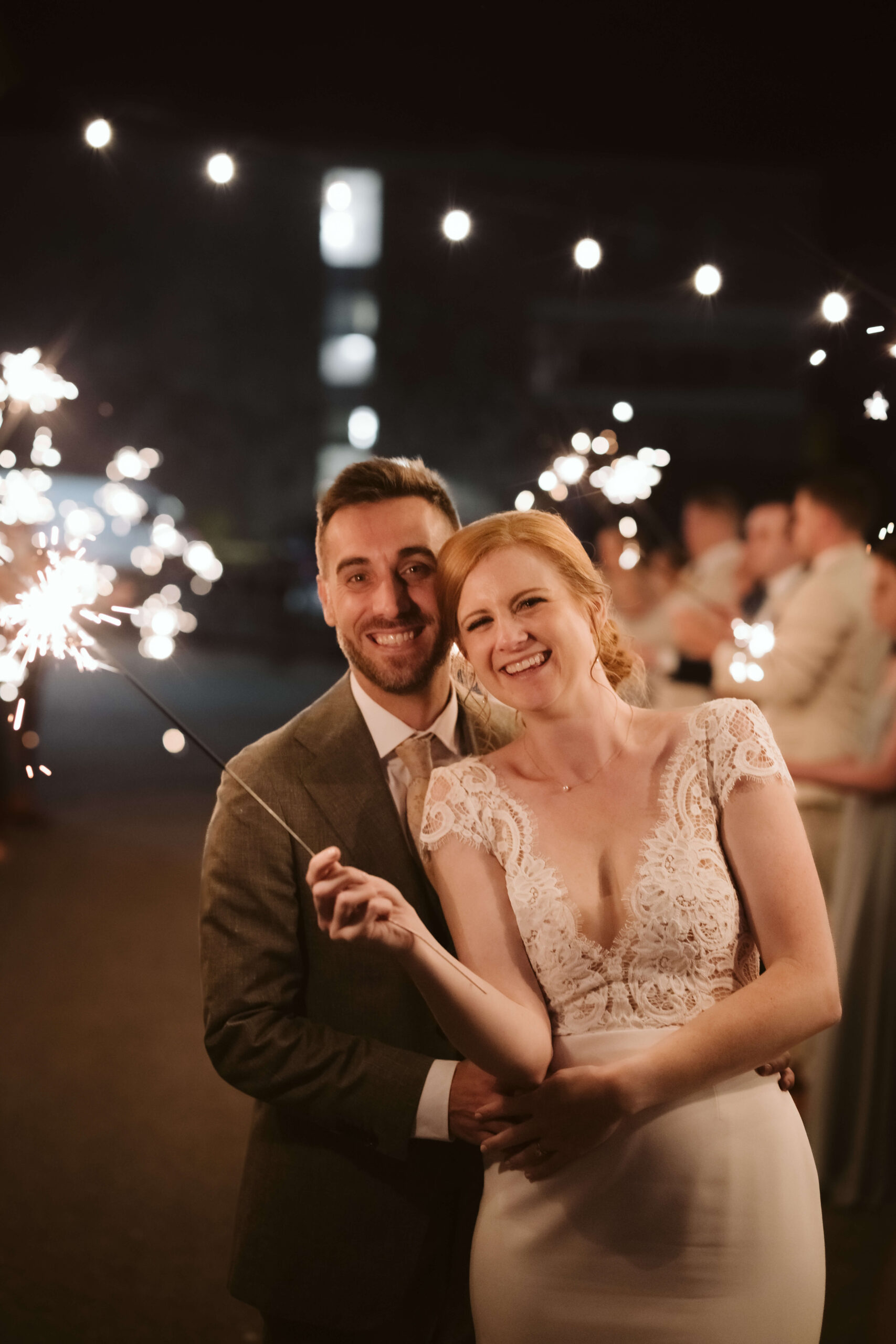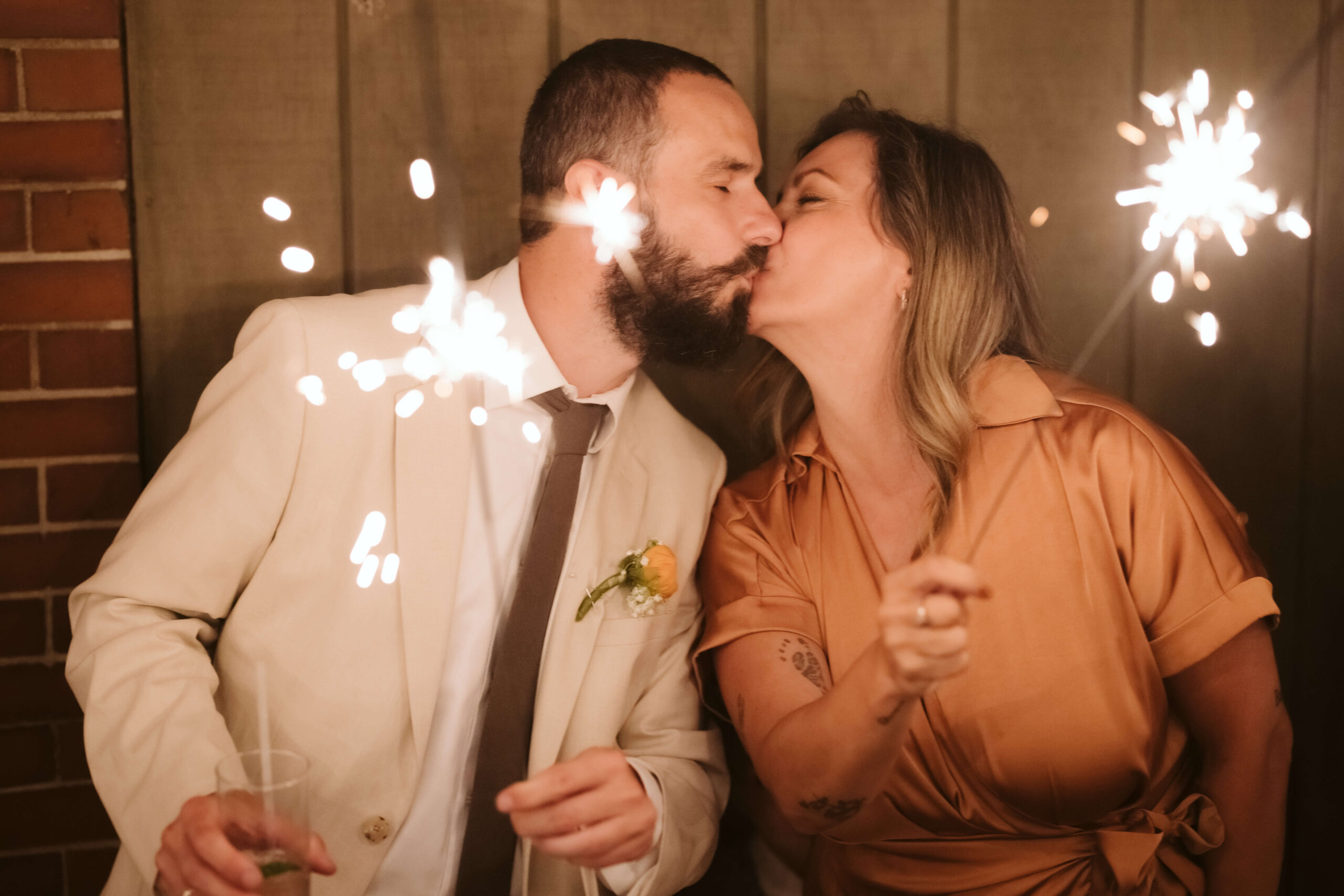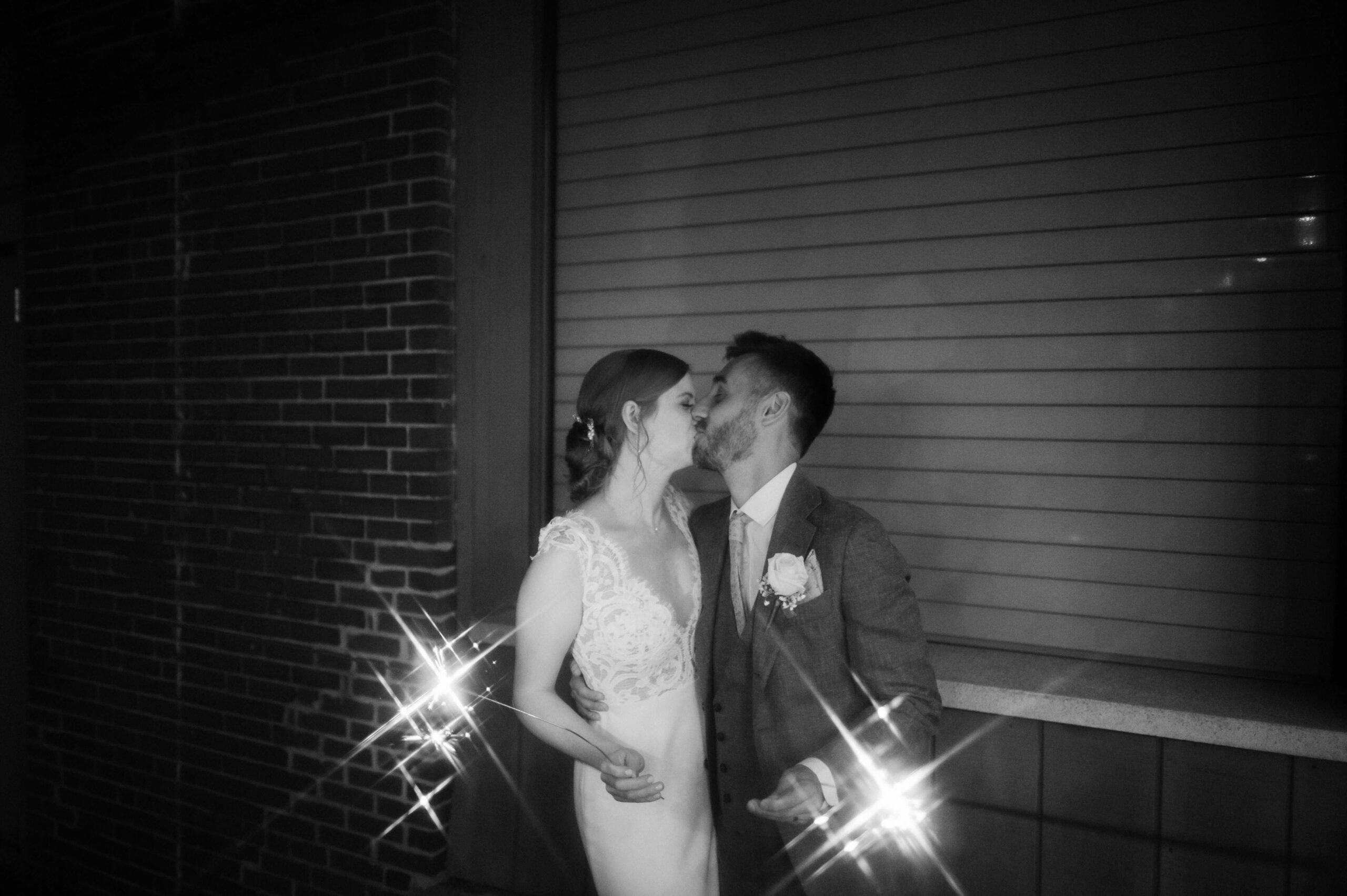 Reception at the Brick South in Portland, Maine
The day's festivities continued at Brick South. For the reception, Kelsey and Mike went for an enchanted garden look with their decor. When we returned from watching the concert, the reception area was beautifully decorated with glittering chandeliers, string lights, and hanging greenery along with many subtle nods to their camp days. I especially loved the huge picture frame wall with seating charts which was a unique way to guide guests to their tables and add a touch of elegance.
During the many sweet dances, heartfelt speeches, and dinner, guests mingled or sat at wooden farm tables adorned with hand-painted wooden flowers made by Kelsey's mom. Kelsey and Mike sat at a sweetheart table at the head of the reception area, which allowed them to have an intimate meal together while still being surrounded by their family and friends. When dessert came around, instead of a traditional wedding cake, donuts from The Holy Donut were a big hit with flavors like maple bacon, cinnamon sugar, and chocolate sea salt.
After dinner, Kelsey, Mike, and their guests hit the dance floor to live music played by the Adam Hanna Band. Many of the music choices came from songs Kelsey and Mike used to listen to during while at camp. Finally, at the end of the night, guests gathered outside to cheer for the newlyweds in a magical sparkler send off.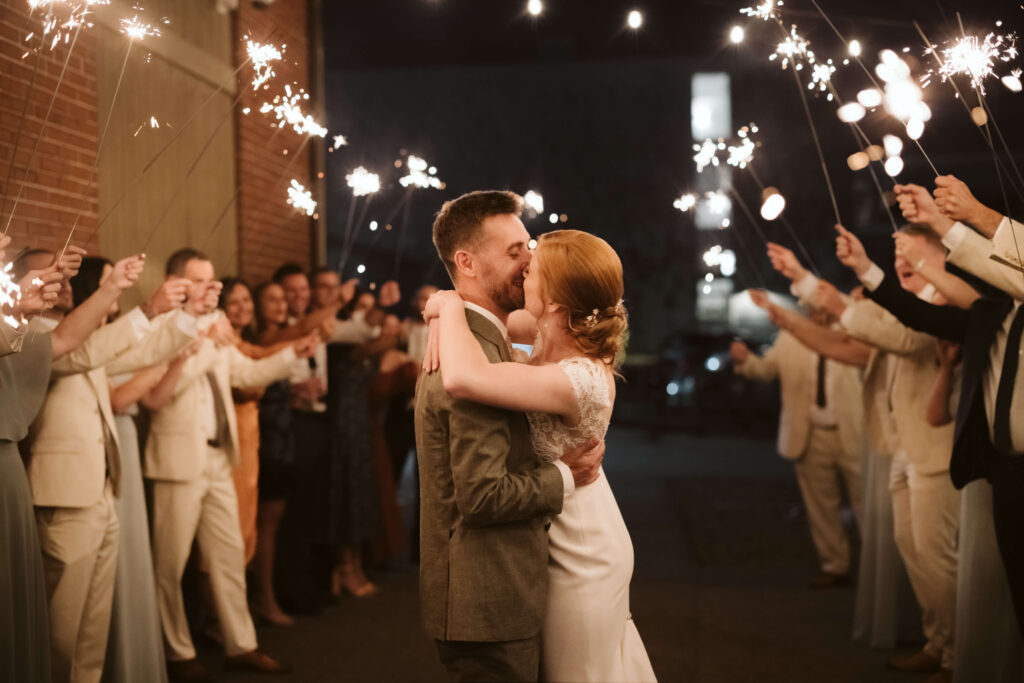 Whether you're near or far, I would love to be a part of your special day. Just send the word and I'll be there!
Hey there! I'm Rachael Crowe of OkCrowe Photography. Even though I'm a Chattanooga-based wedding photographer, I am more than ready to fly out to meet you. I'll be sure all of your most special moments are captured to enjoy forever whether it's for your engagement, elopement, or wedding. Just head over to my contact form and let's start planning!