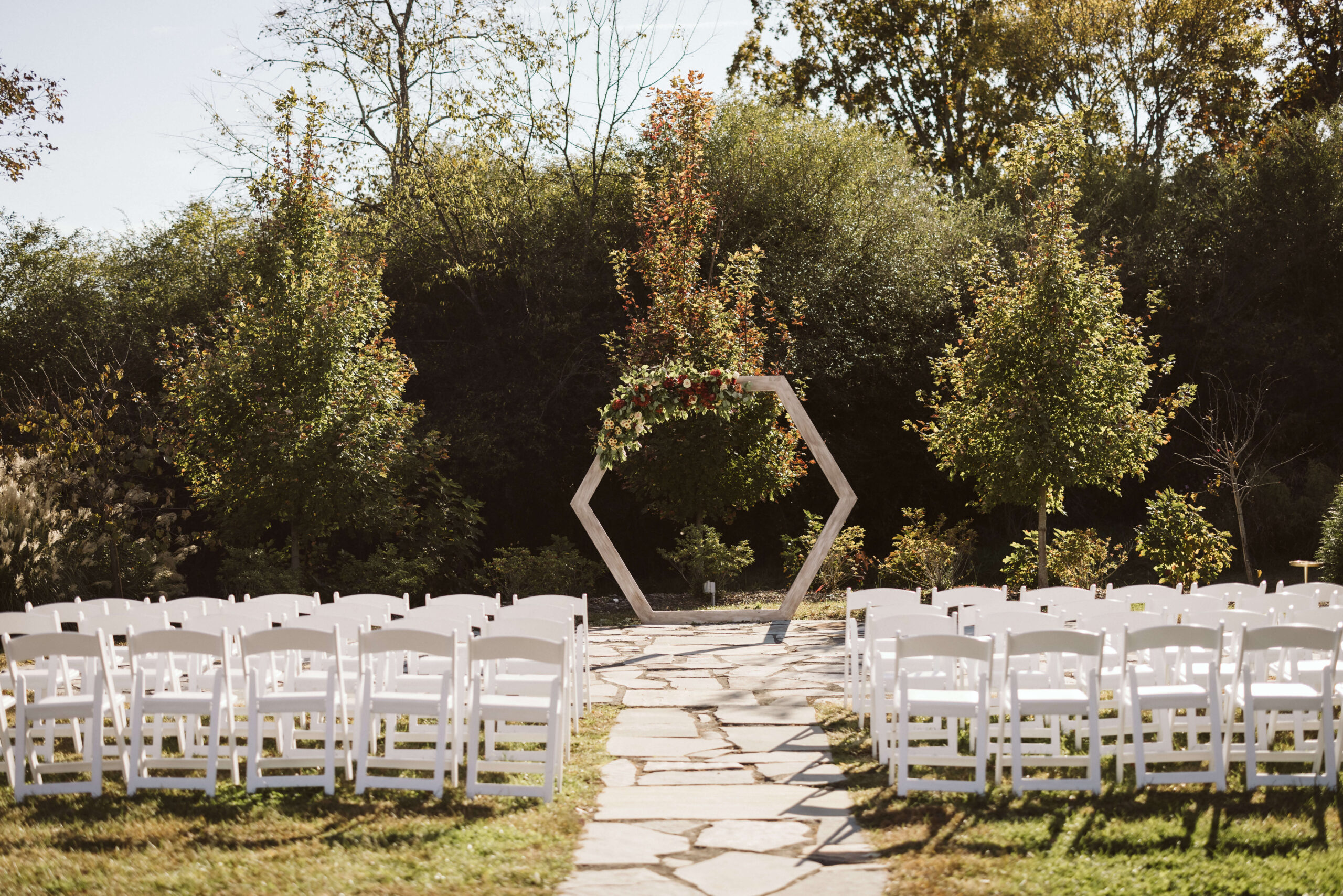 Your wedding day is a big part of your love story. Of course, this means that you'll want to find a venue that helps write your next big chapter. Thankfully, Howe Farms has made finding your dream venue easy with your choice of 6 unique wedding locations on their property.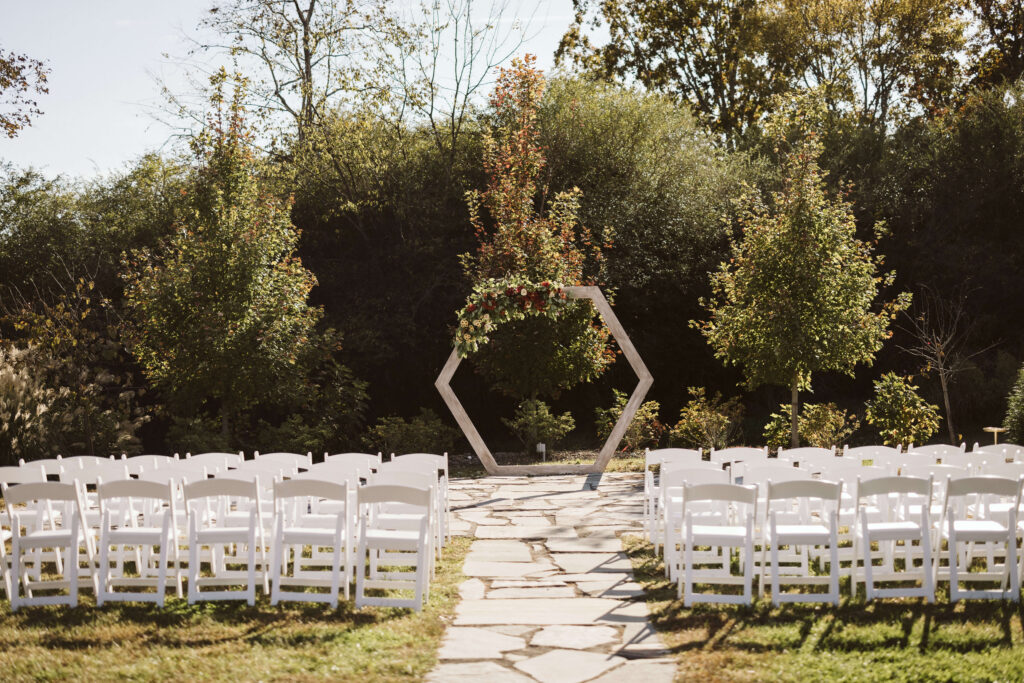 Finding Your Dream Venue at Howe Farms
As a Chattanooga-based wedding photographer, Howe Farms is a popular choice among the couples that I work with, and I've shot weddings at all but two of their venue locations. Just 40 minutes from downtown Chattanooga, Howe Farms offers a variety of wedding experiences without having to travel too far away from the city.
The estate consists of two neighboring properties – Howe Farms and Five Gables – with three boutique locations to choose from in each. With panoramic vistas, sprawling fields, waterfront spaces, and modern accommodations, no matter which of the six venues you choose, you are sure to be in for the breathtaking wedding experience you've always dreamed of.
Founders Don and Talene Howe built each of their six unique locations with the clients in mind. They purposefully curated every design to make sure each one was beautiful and photogenic from every angle. Every detail from the bridal suite to the entryway and even down to the exact window placements was handpicked by them to make sure their couples had everything they could possibly envision on their wedding day.
Weddings at Howe Farms go beyond just beautiful venues. Their wedding packages include both indoor and outdoor ceremony options, a bridal suite and groom's quarters, and 16 hours of venue rental including complete setup and breakdown of their provided linens, tables, and chairs. Couples can also choose from each venue's exclusive décor room and Experience Enhancements add-ons such as venue draping, vintage vehicle rentals, and sparkler fountains to help bring their dream wedding to life. And although weddings are usually seen as the bride's day, every groom and his buddies get access to the Bow Tie Club on each of Howe Farm's two properties. This is an exclusive hangout area just for the guys to relax and enjoy the day before saying I do.
Paired with 8 modern overnight accommodations on site for you and your wedding party (and even your pup!) to stay in, Howe Farms has definitely thought of it all! Now, here's a quick look at each of their 6 boutique wedding venues!
Vineyard Hall
Vineyard Hall is the premier venue on the Howe Farms property. This rustic location is one of the estate's larger venues with space to comfortably accommodate 50 to 400 guests. It's also home to Ceremony Hill or what is lovingly referred to as the "centerpiece of Howe Farms."
Ceremony Hill is Vineyard Hall's outdoor ceremony location. Just imagine walking beneath a wisteria-covered pergola and down the aisle to exchange your vows in front of a 360° view of the surrounding hills and mountains as well as a bird's eye view of the estate's lake. Ceremony Hill is also the best spot to view the sunset and take breathtaking newlywed photos.
After your ceremony, your guests will travel down the hill to the grand reception hall where they'll walk through the huge double doors and into the spacious reception hall. White-washed walls give the space an air of elegance enhanced by the sweeping staircase which is perfect for your grand entrance. The mezzanine level is lined with floor to ceiling windows allowing tons of natural light to filter through for beautiful photos or simply another area for guests to enjoy the reception.
Vineyard Hall's reception space also doubles as an indoor ceremony option. It also is the only venue on Howe Farms that features an outdoor covered awning where you can hold your end-of-the-night send off.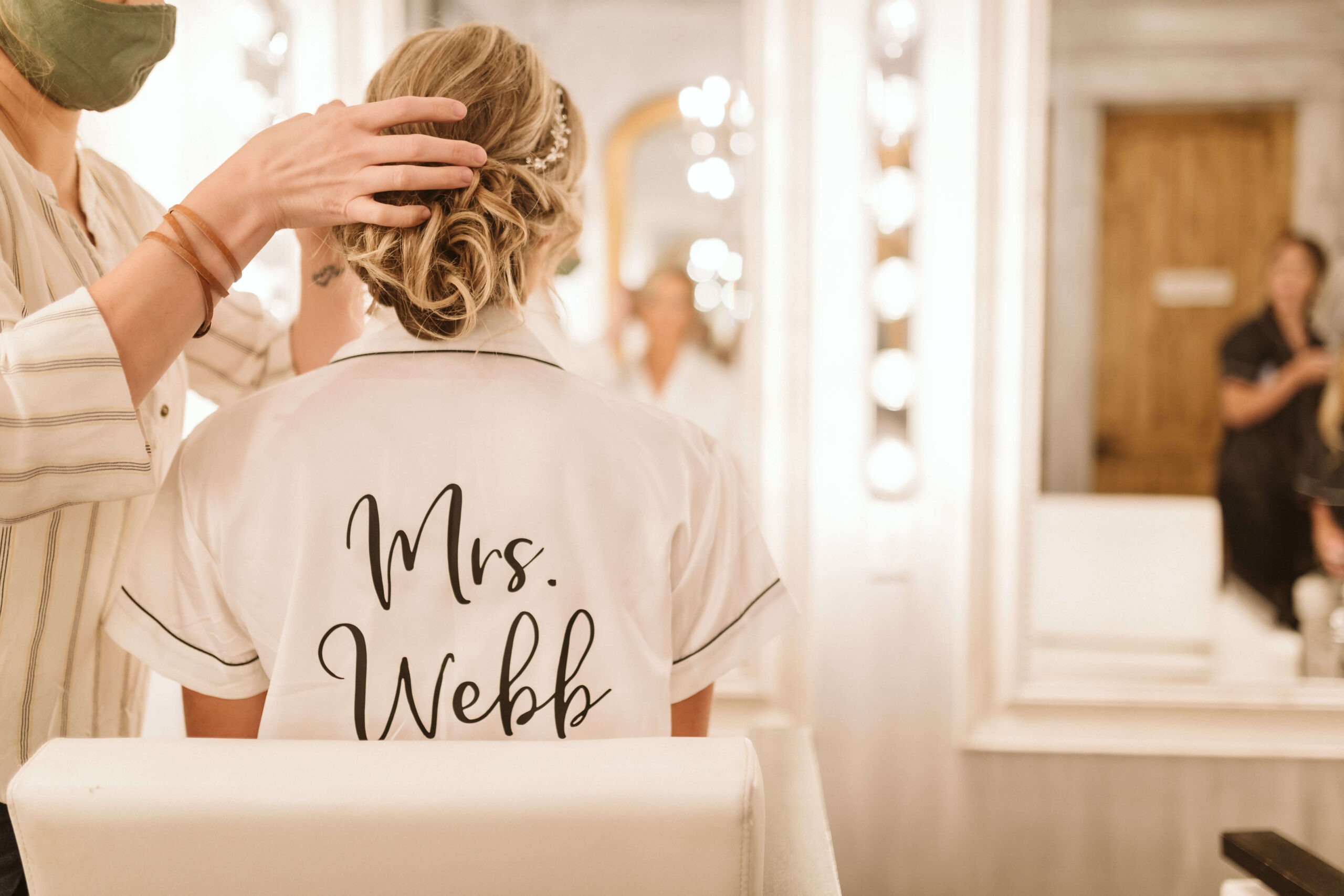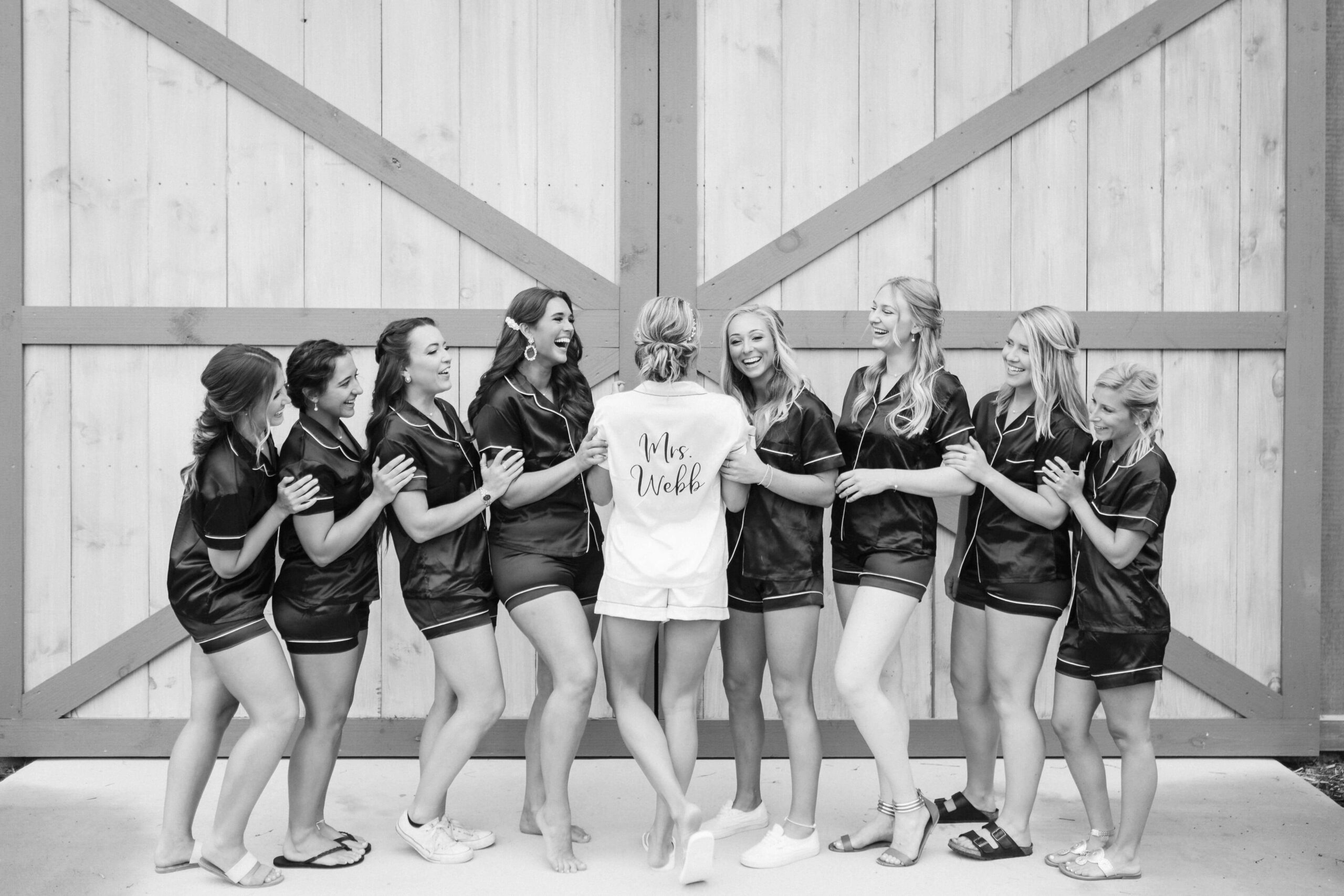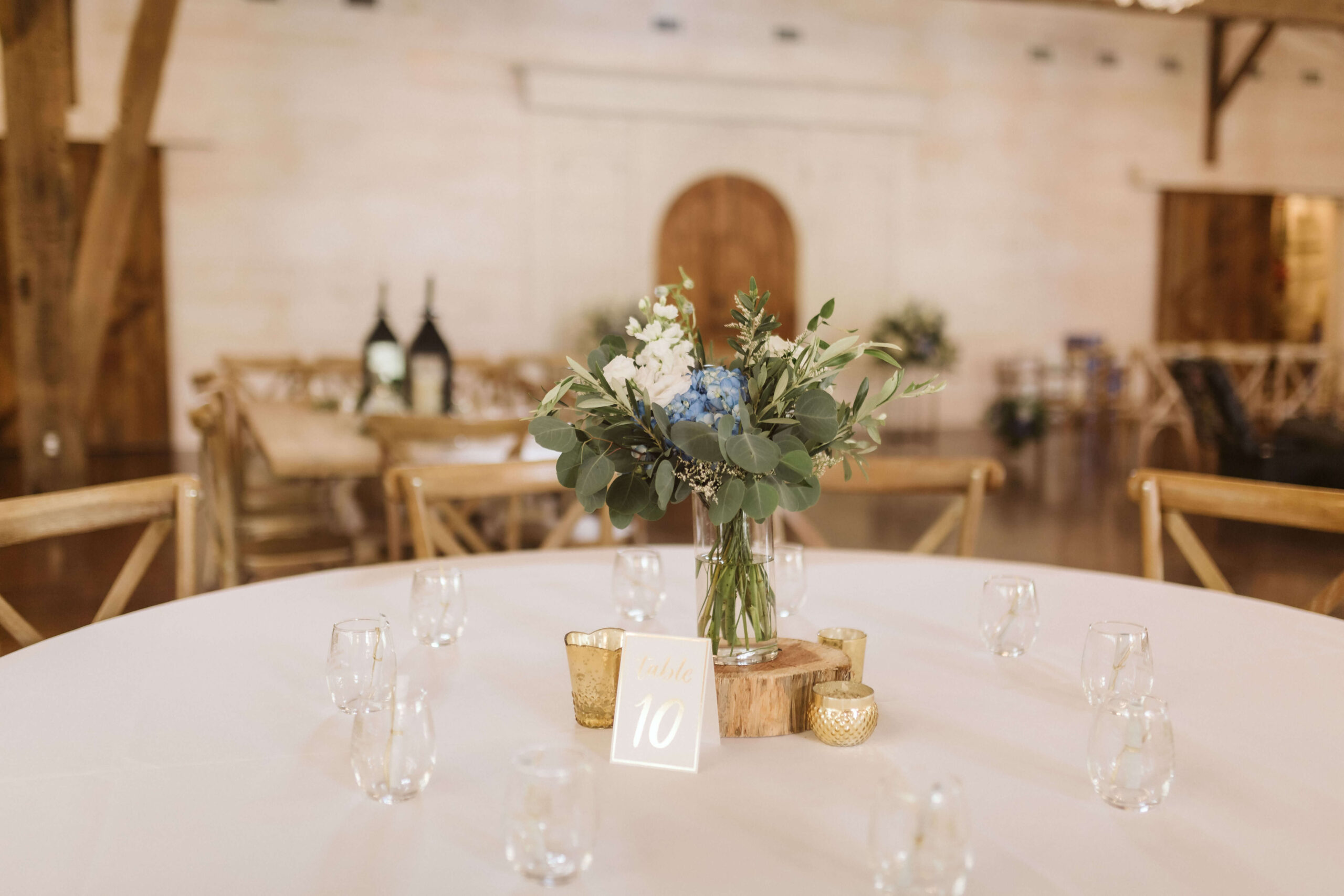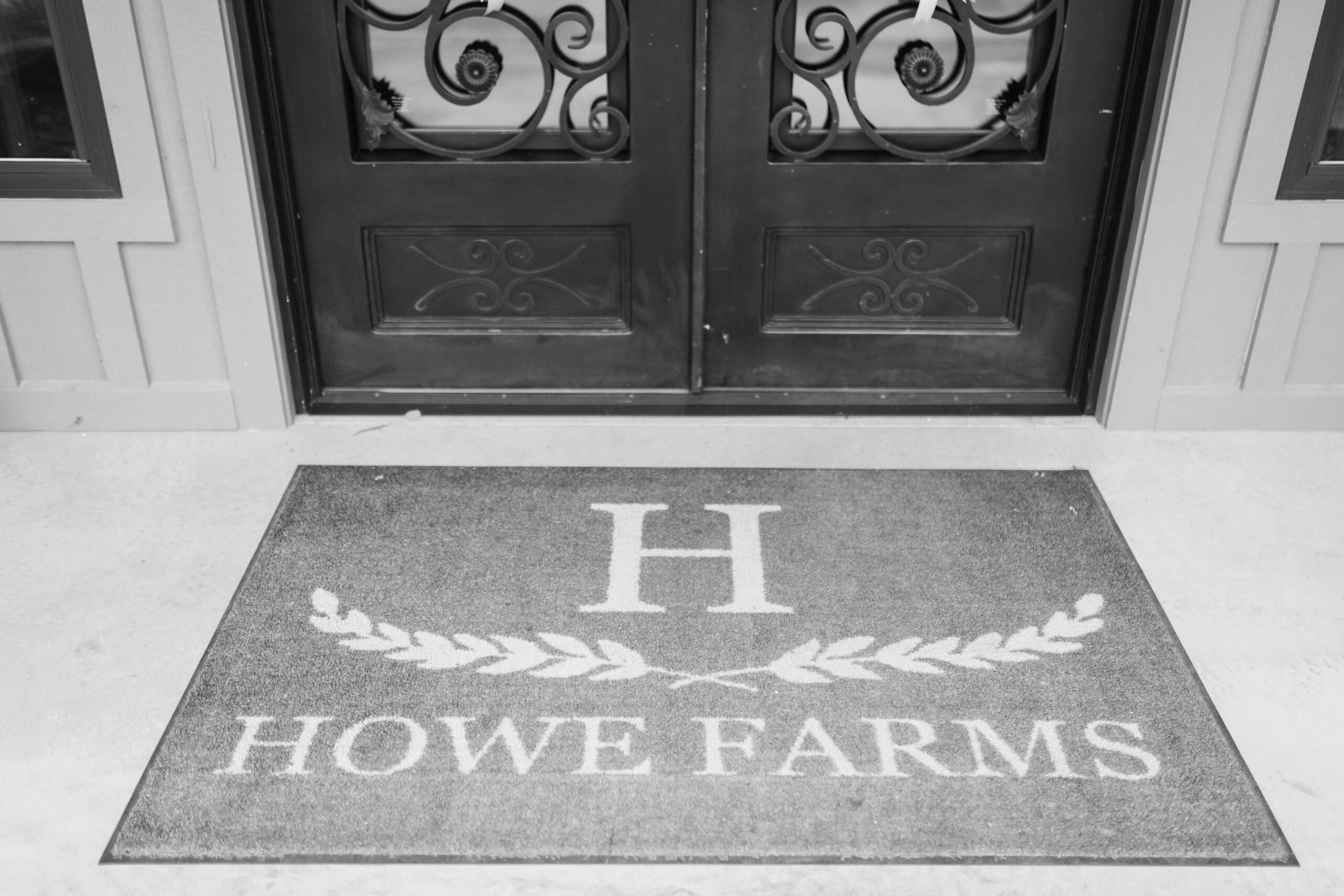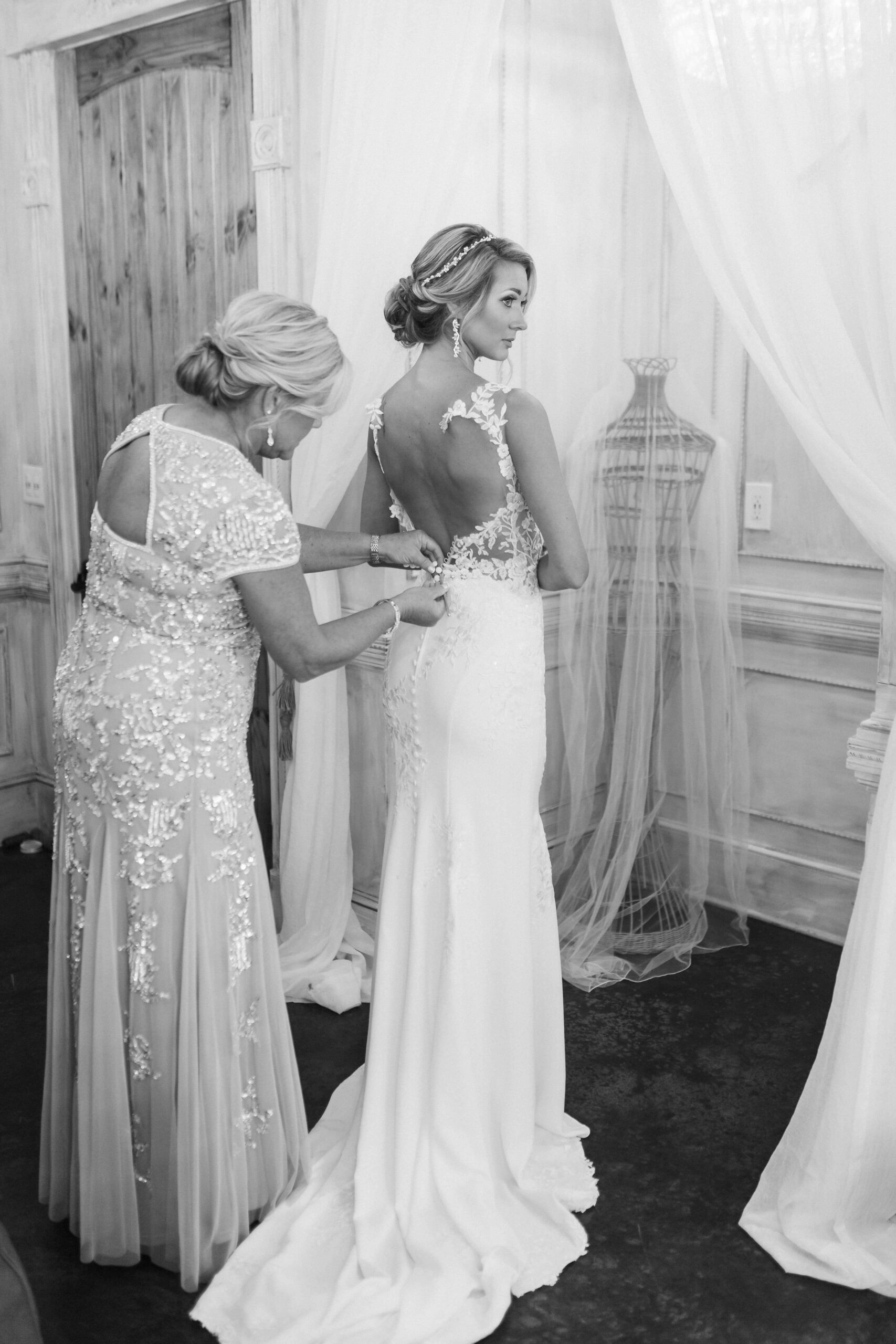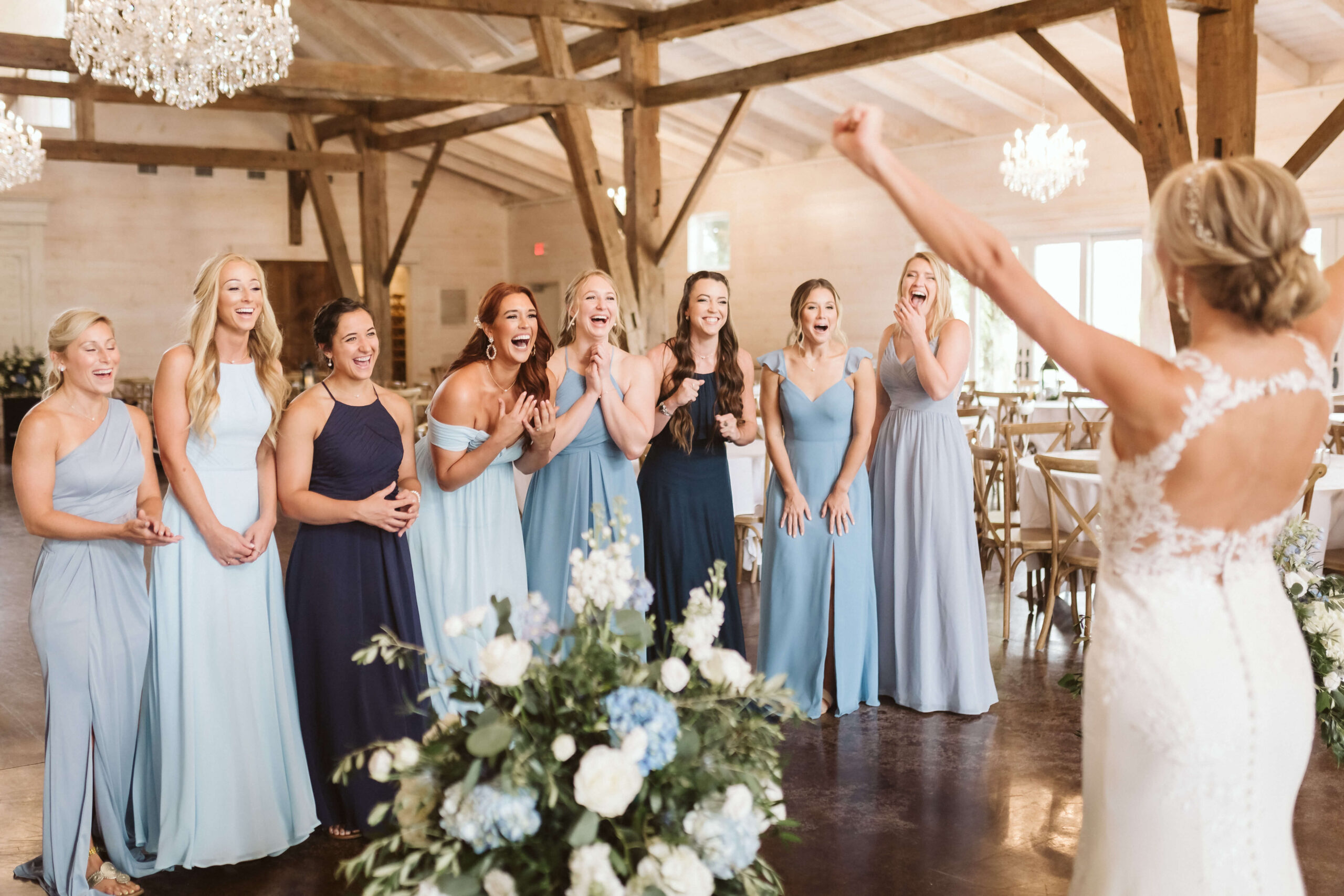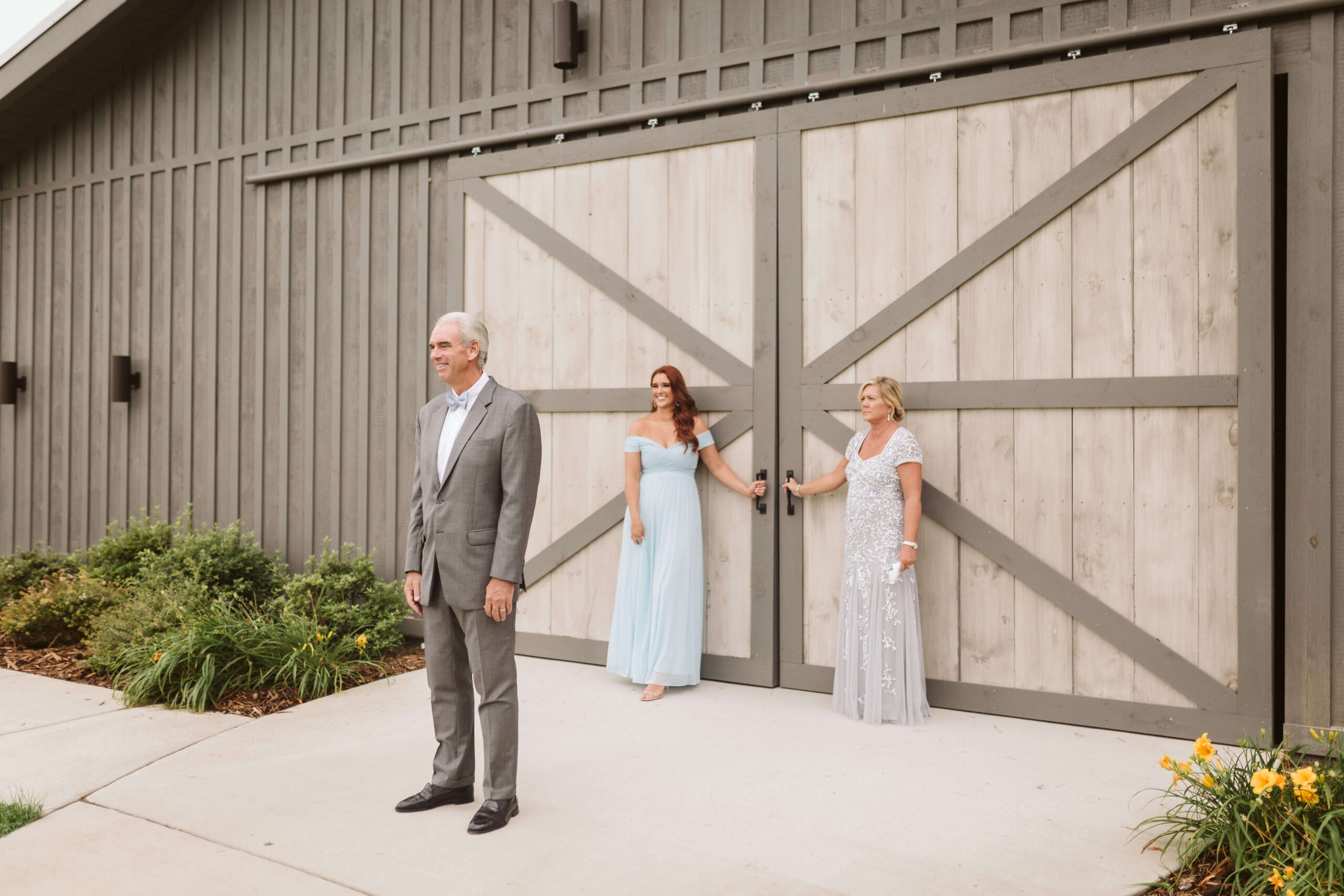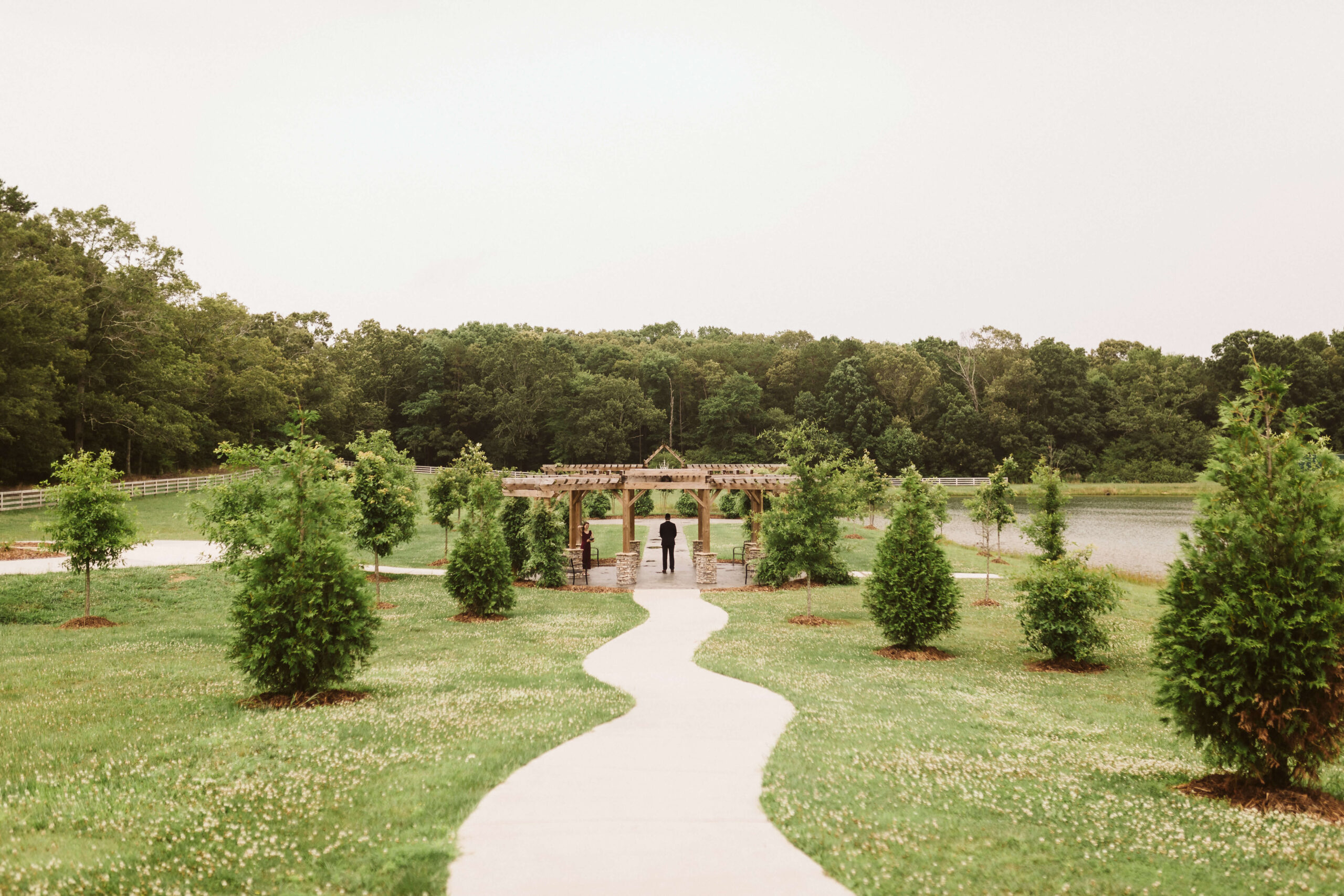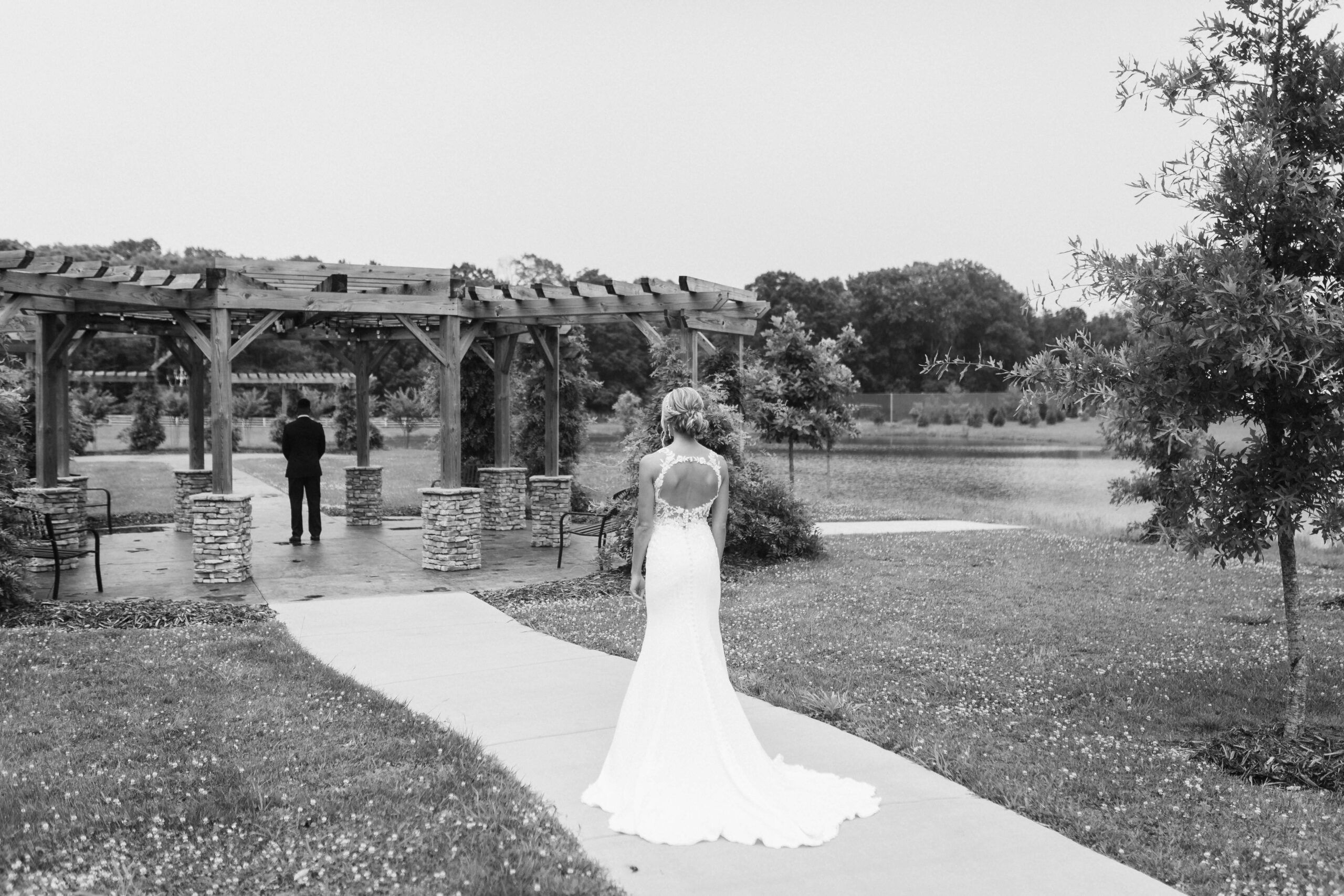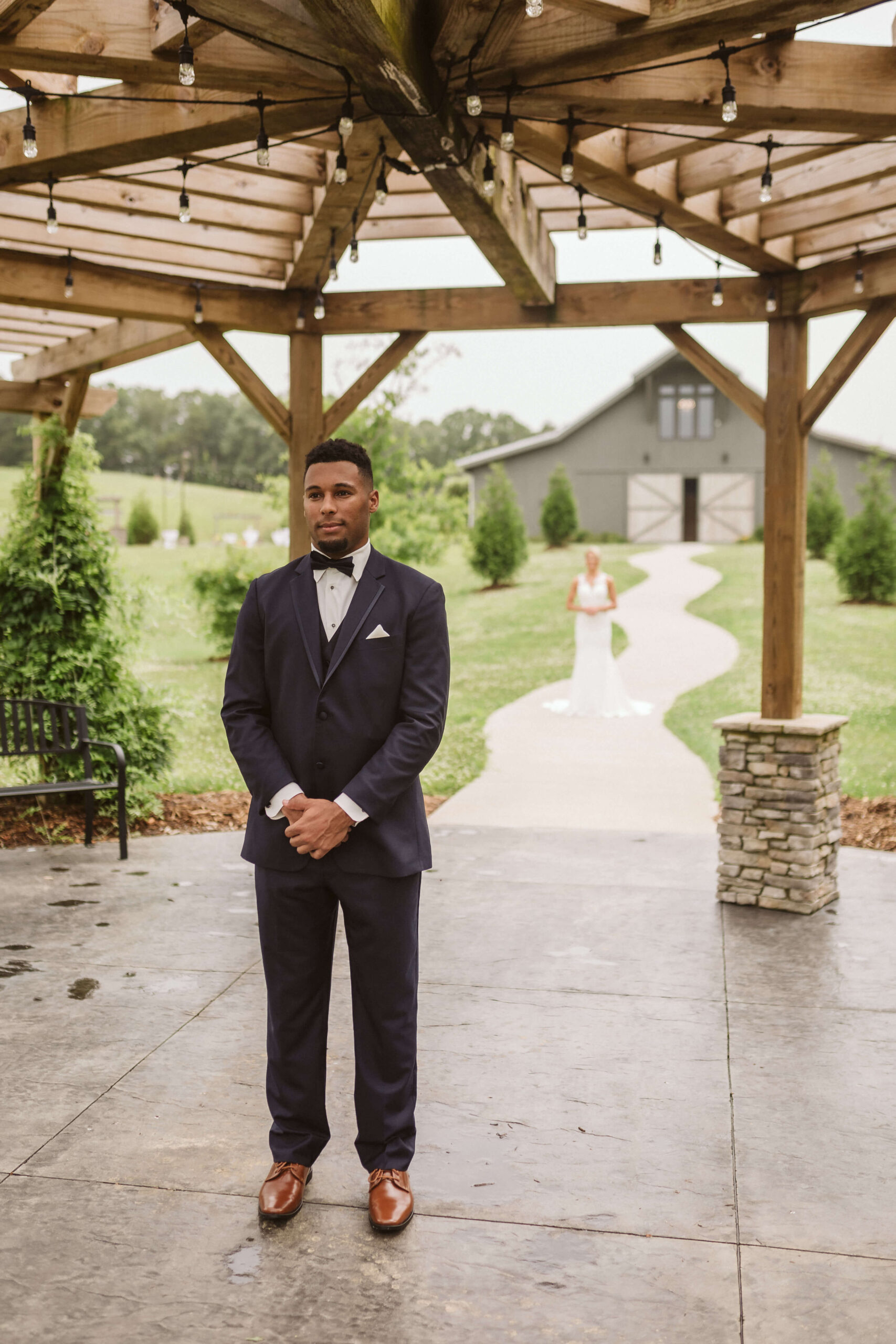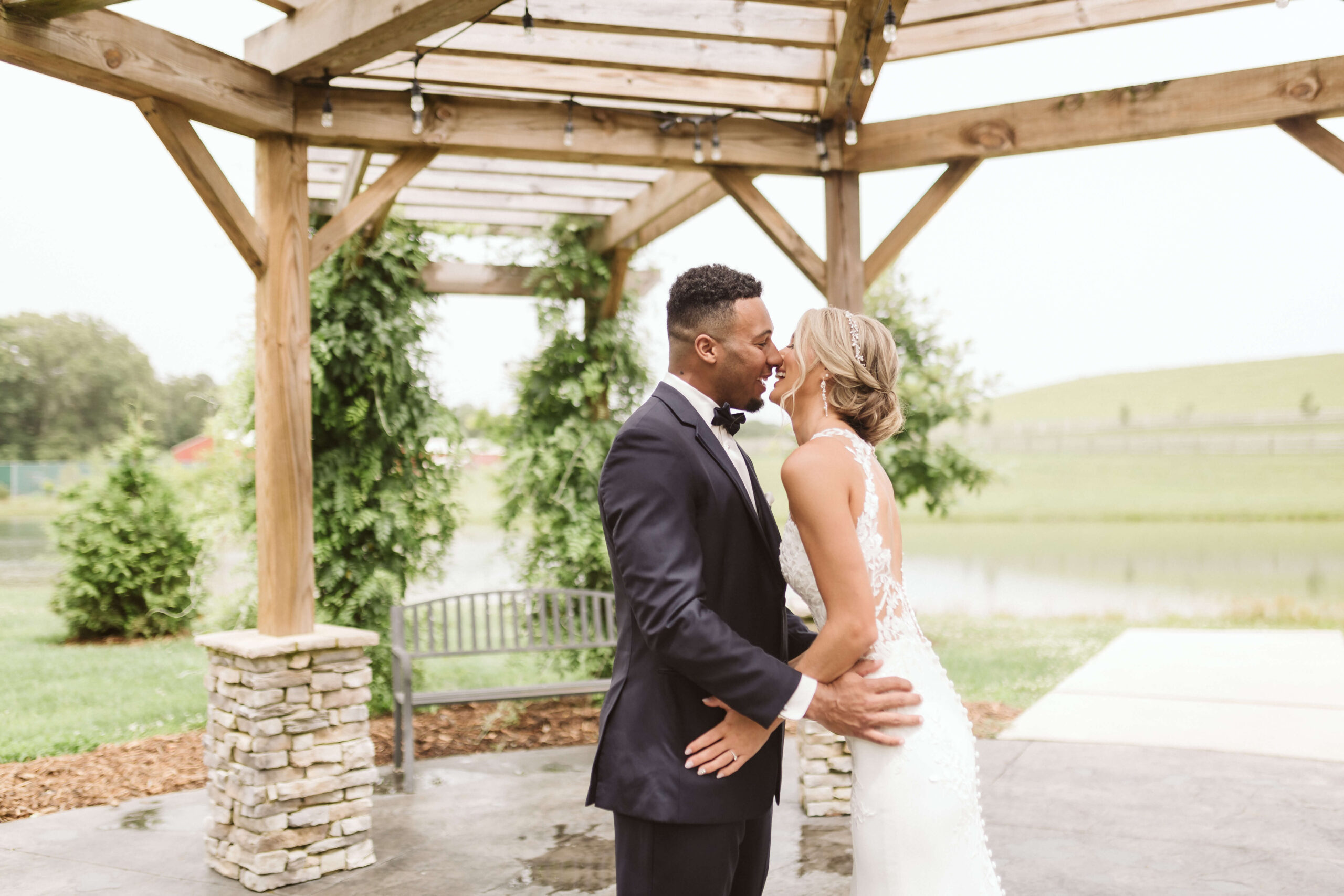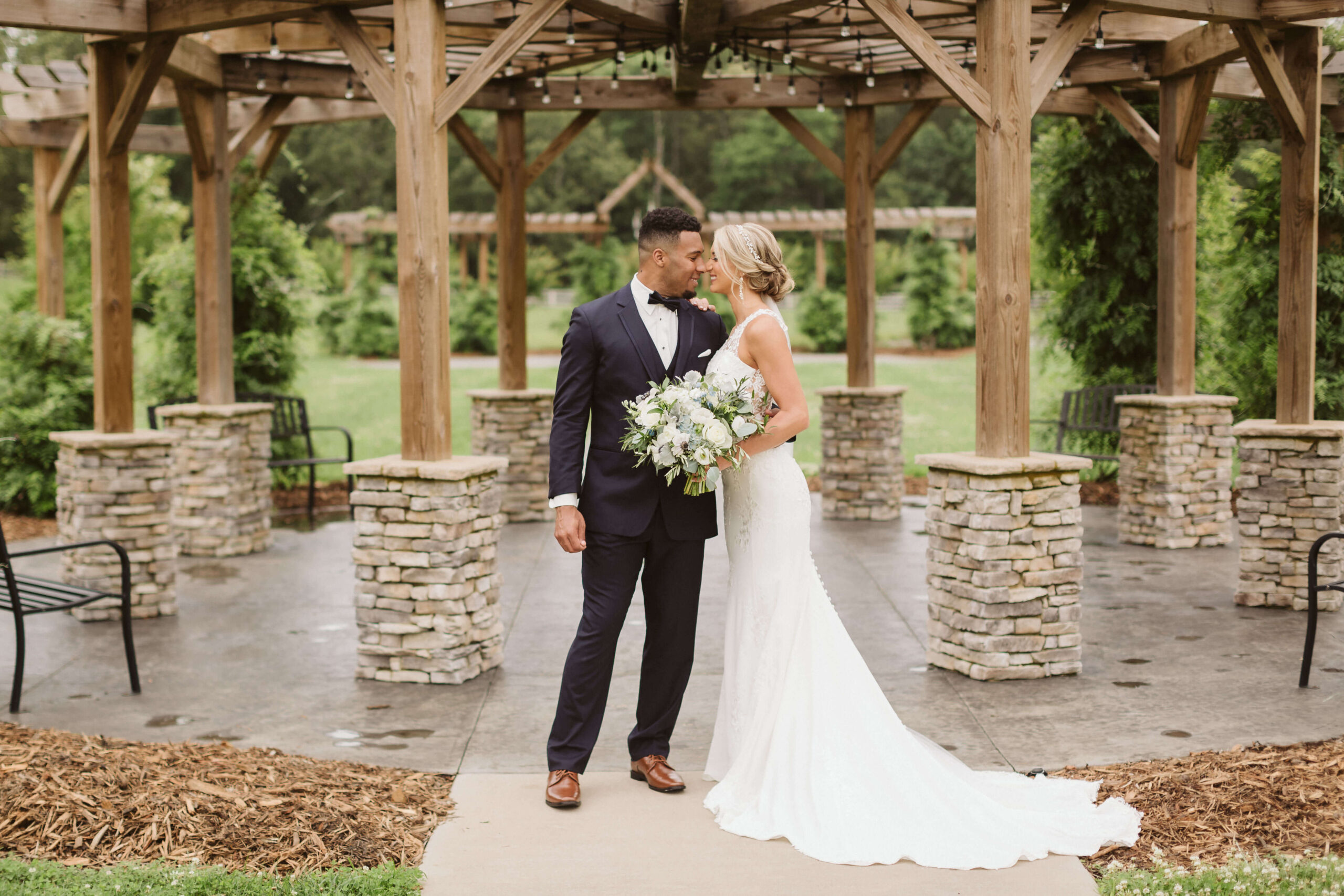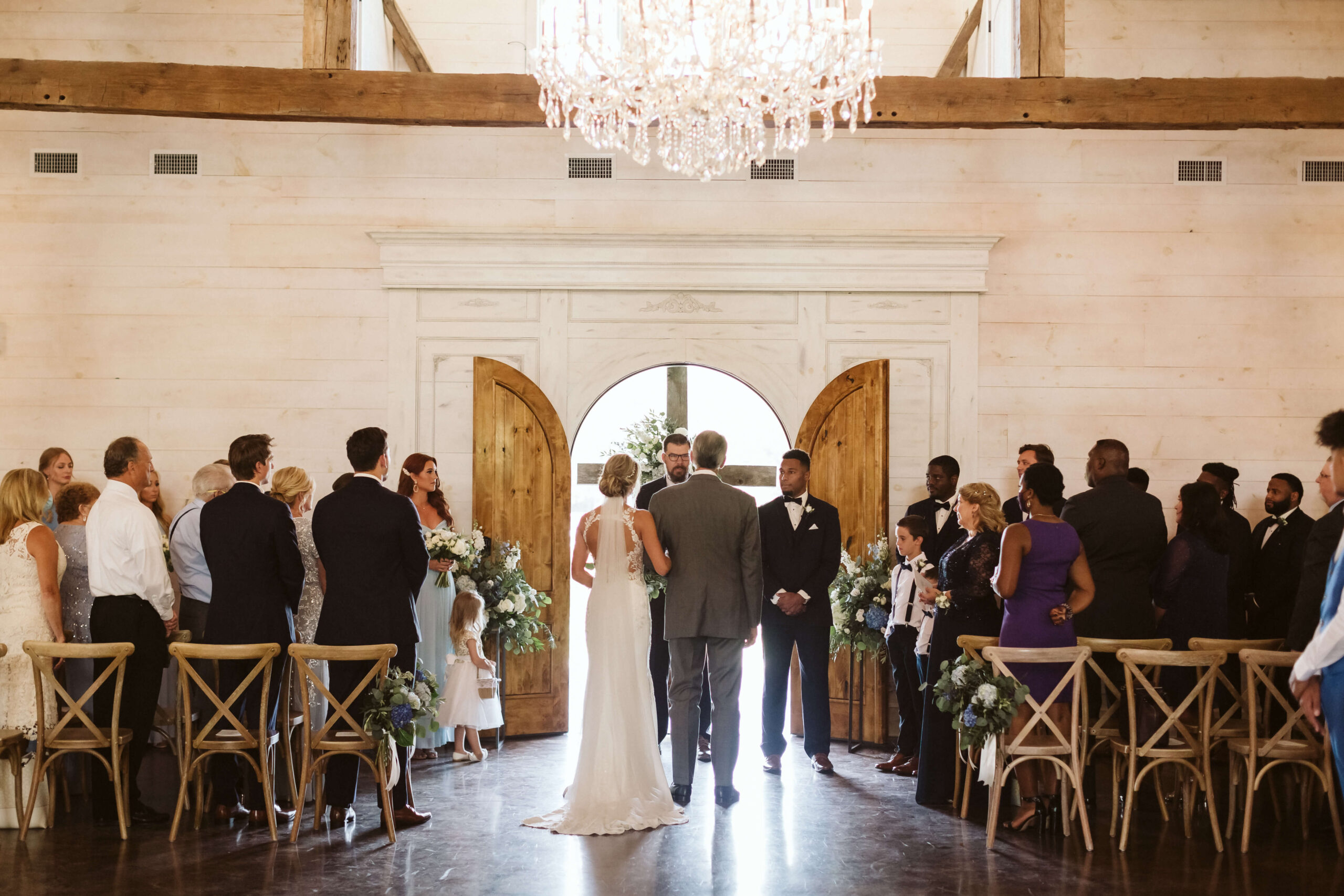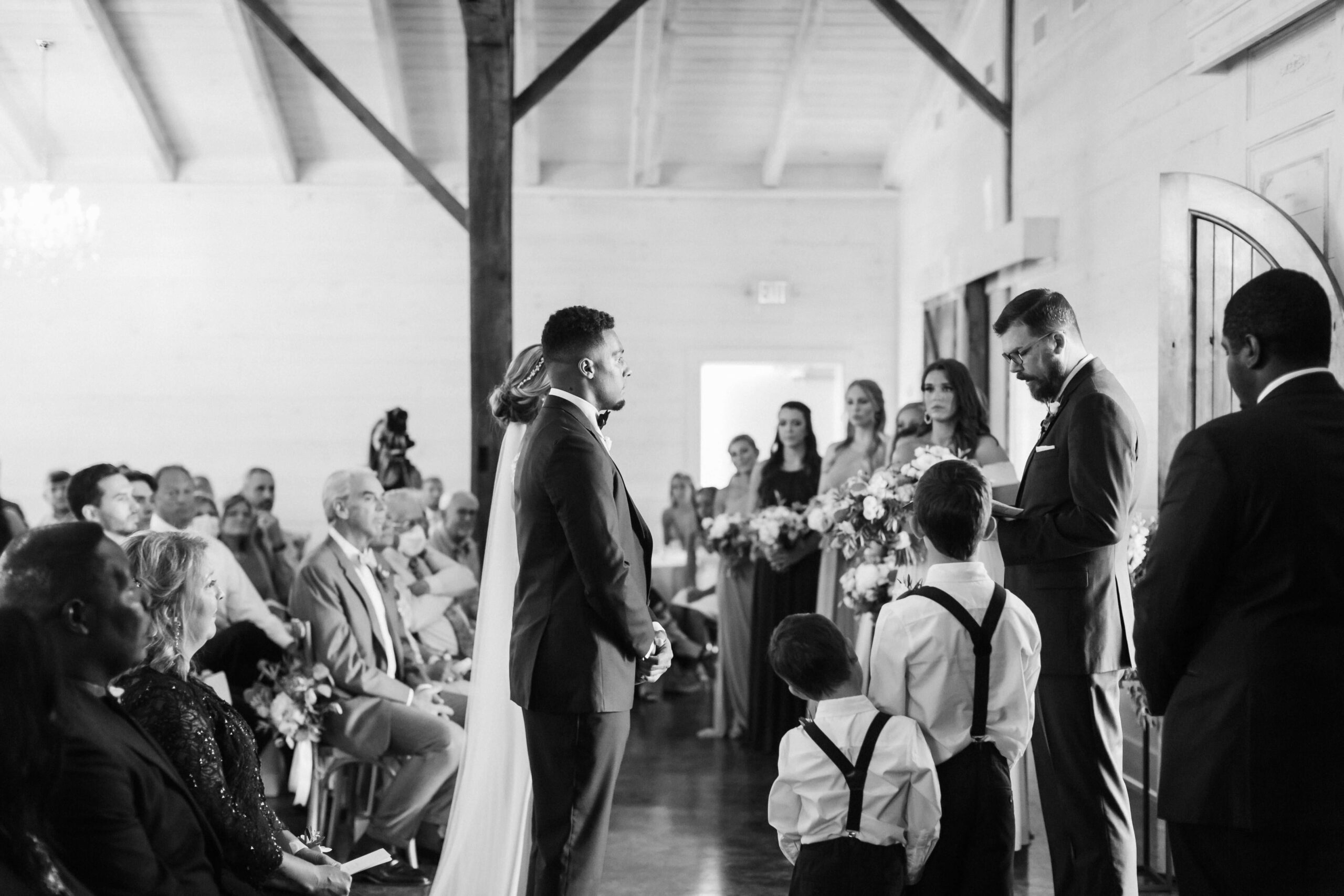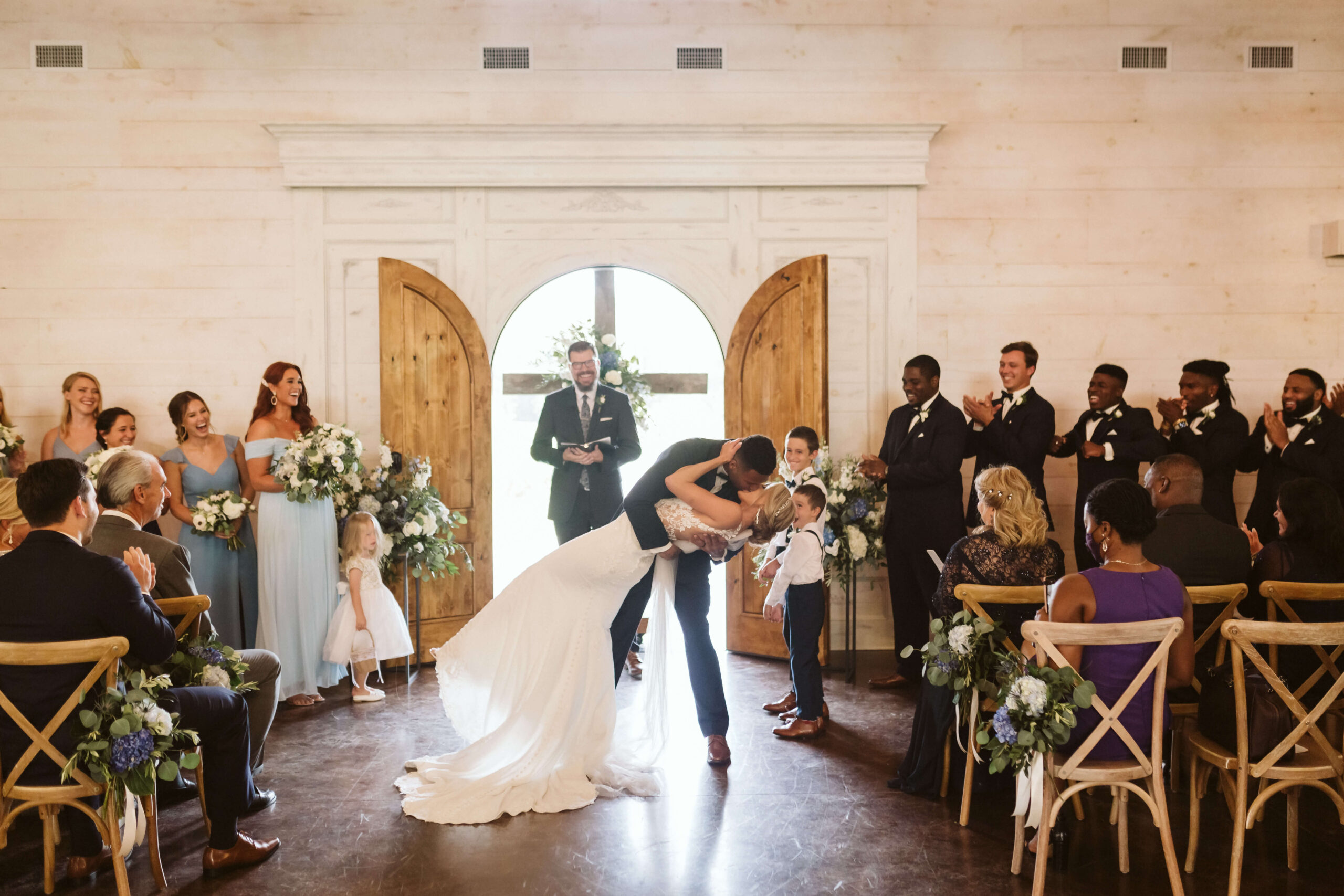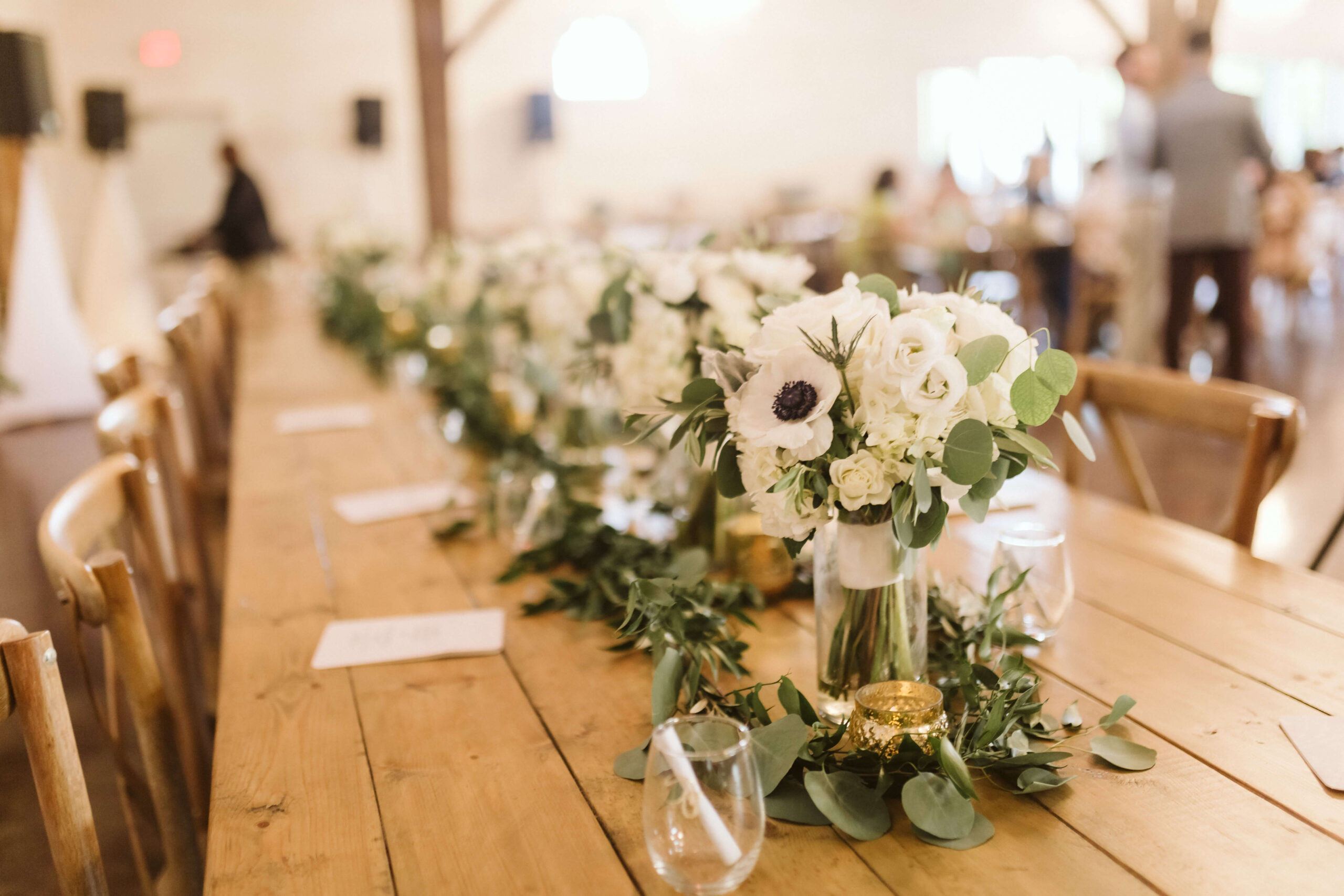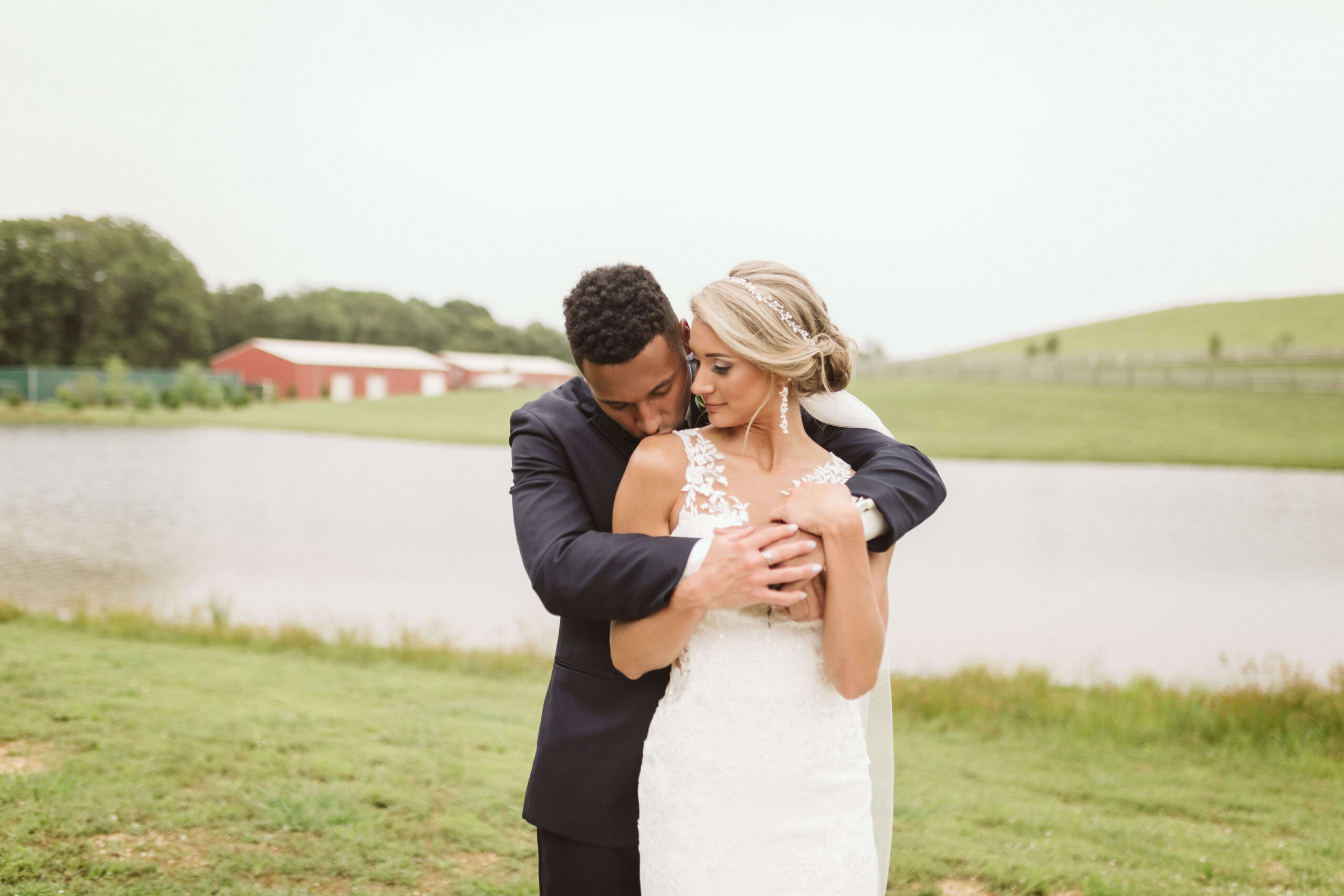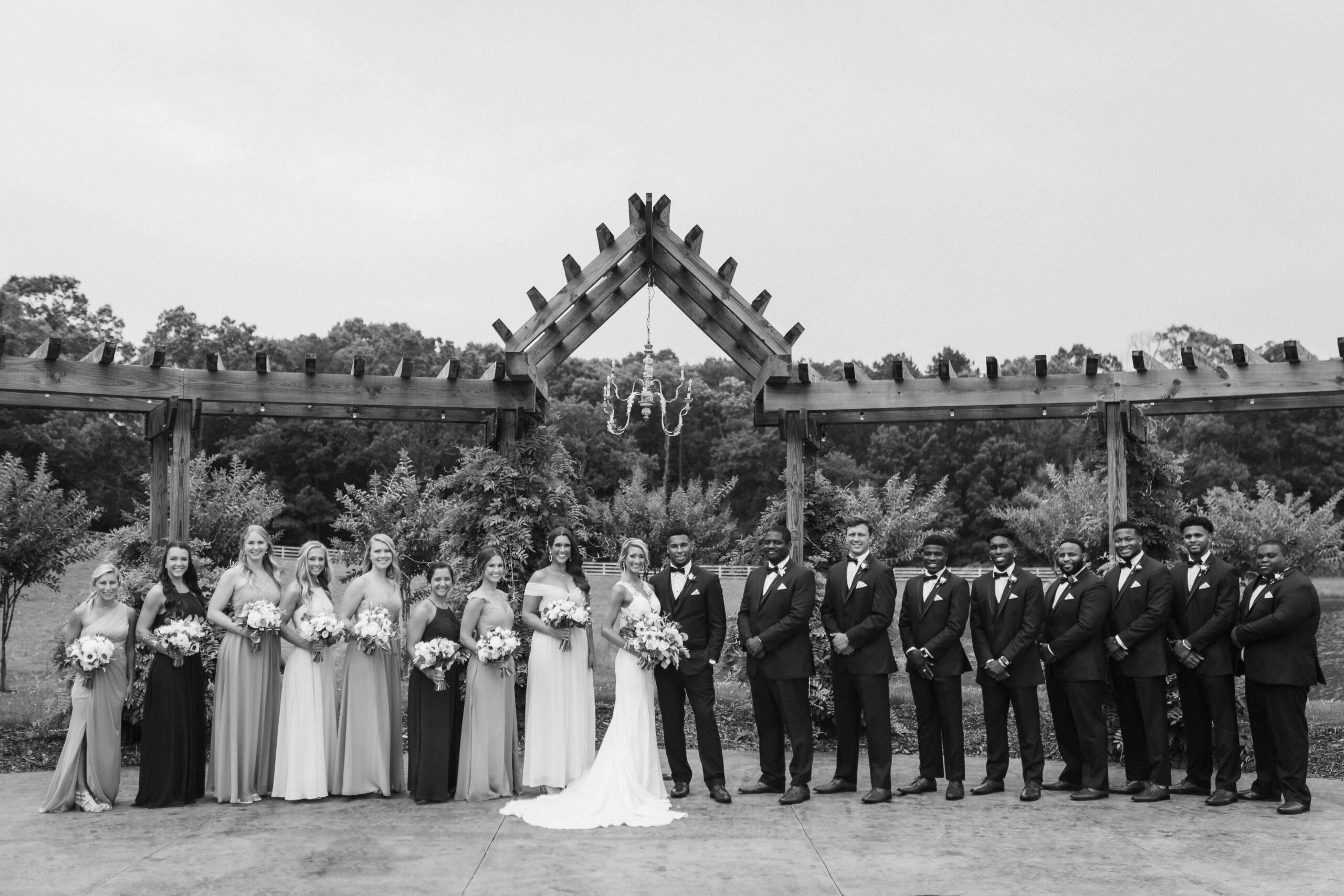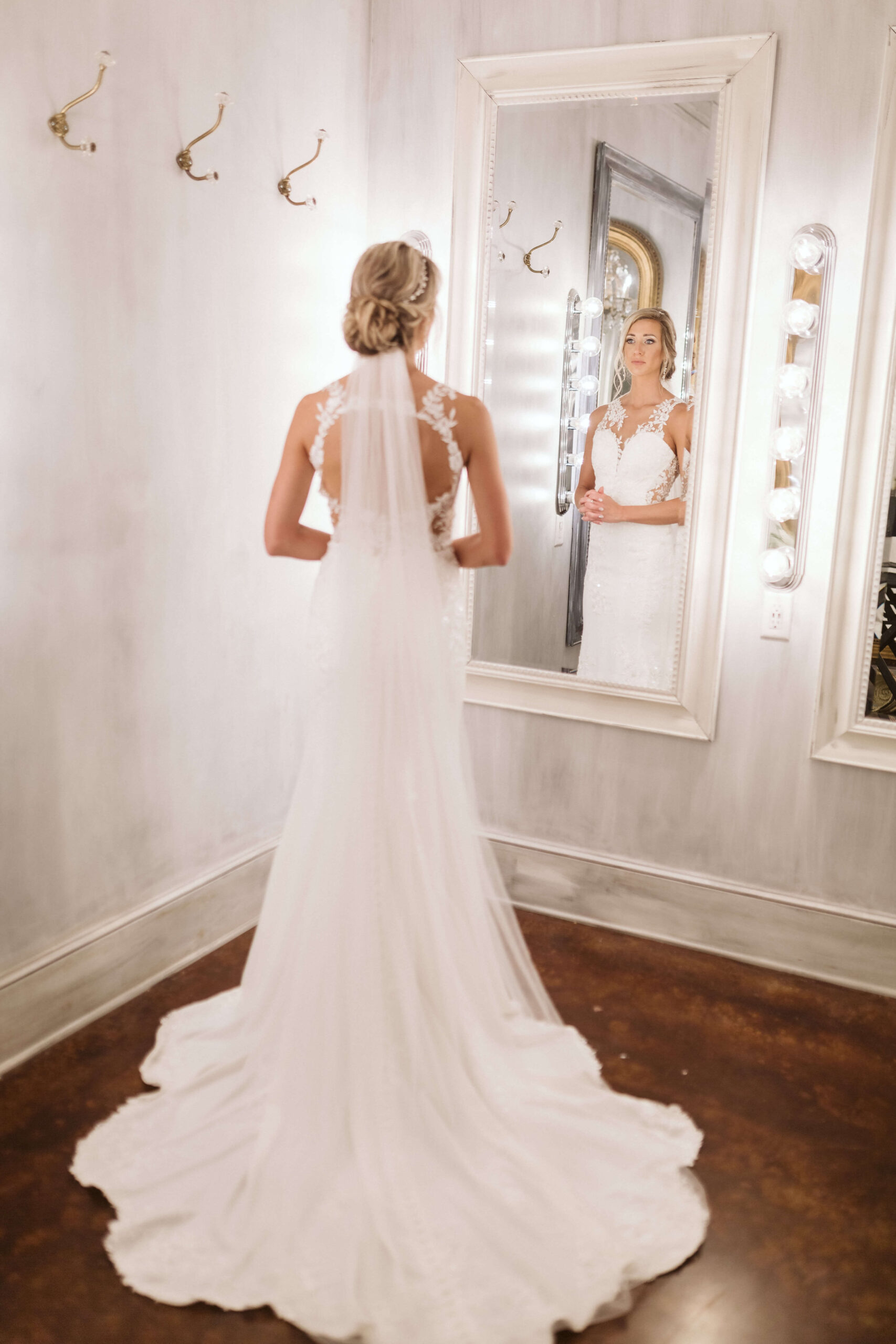 The Apple Barn
Although smaller than Vineyard Hall, the Apple Barn doesn't miss a beat when it comes to rustic elegance. The bride and bridesmaids will start their day off in the elegant bridal suite complete with salon chairs and vanity lighting to make doing hair and makeup easy and comfortable. The bridal suite even has a special nook to display your wedding dress for beautiful pictures. Meanwhile, the guys will be in the groom's quarters that comes stocked with a bar made of the barn's original wood beams and even a massage chair to relax before the big day.
The outdoor ceremony space for the Apple Barn is nestled between a large pond and the forest. It also features Howe Farm's longest aisle! Curving paved pathways wind through a manicured lawn and beneath a rustic pergola leading from the barn all the way down to the large intricate wooden arbor where your ceremony will be held.
The wooden arbor can easily be decorated with florals or lights to match your style and with the lush forest visible just beyond its pillars, it's also the perfect place to take stunning newlywed photos. For more adventurous couples, you can also hop into a canoe for photos on the pond or even go fishing as the pond is always fully stocked!
For receptions or indoor ceremonies, the Apple Barn itself is a magnificent space featuring 400 year old timbers and 15 glittering crystal chandeliers. Just outside of the barn doors is an outdoor patio that's great for cocktail hours or dancing under the stars.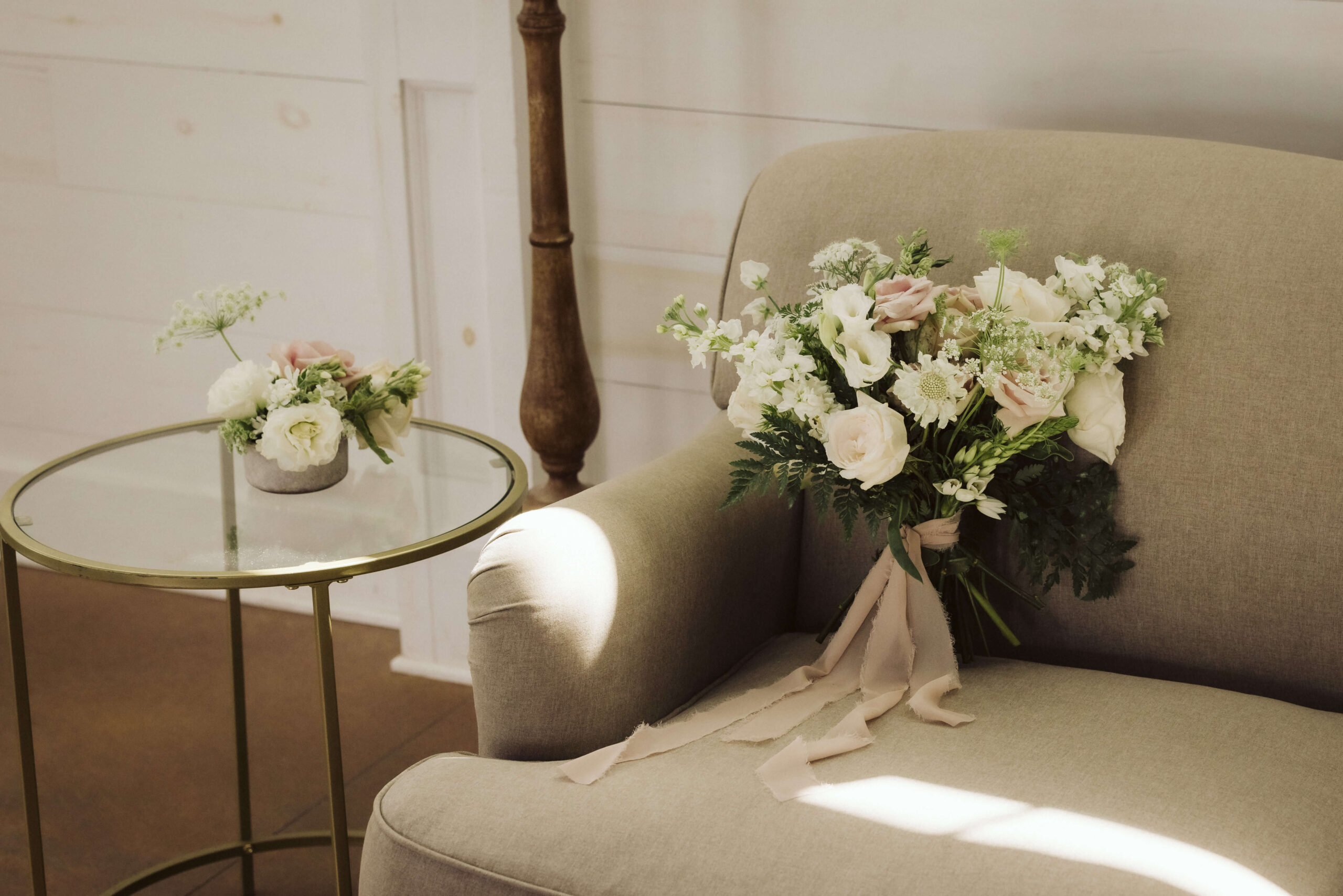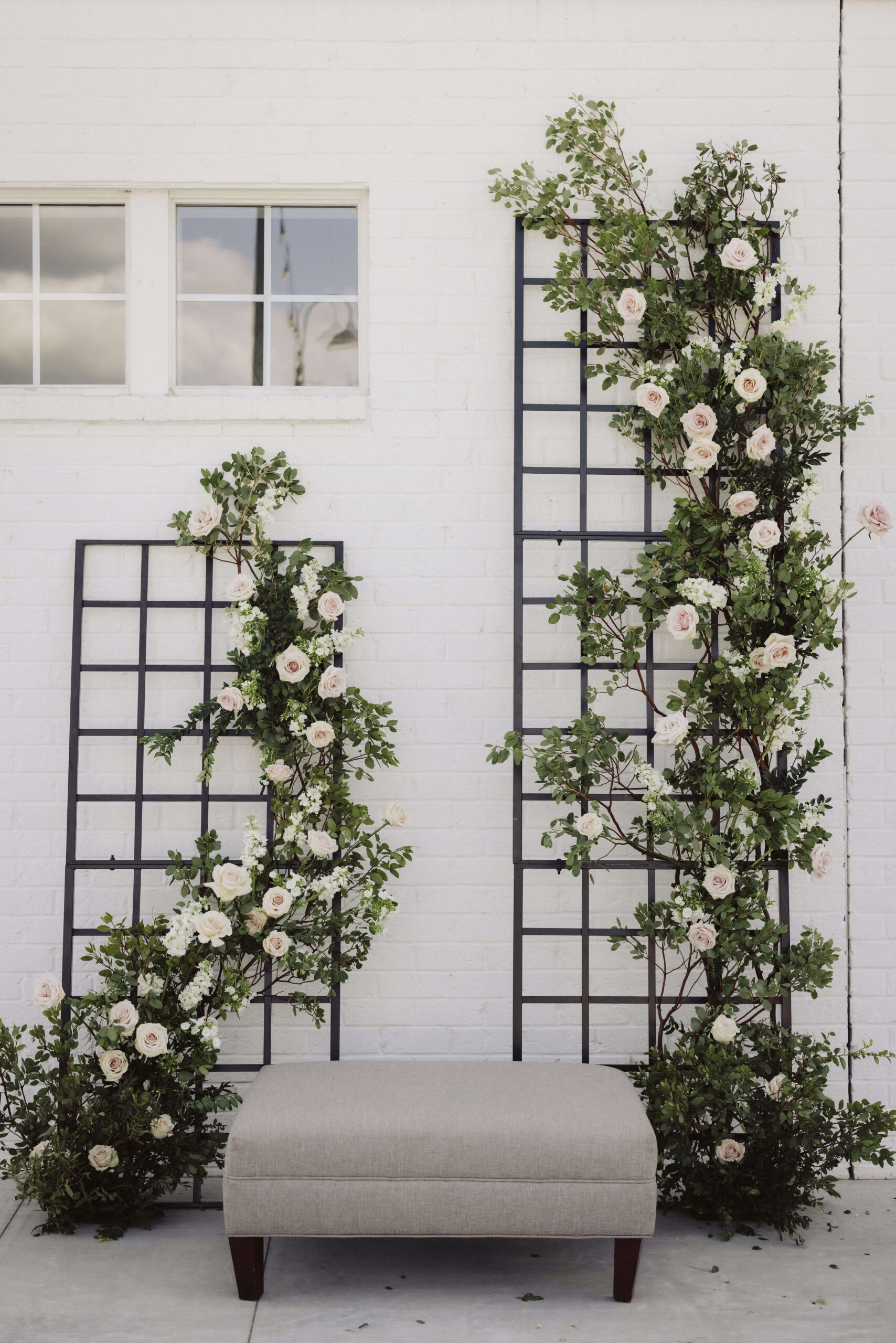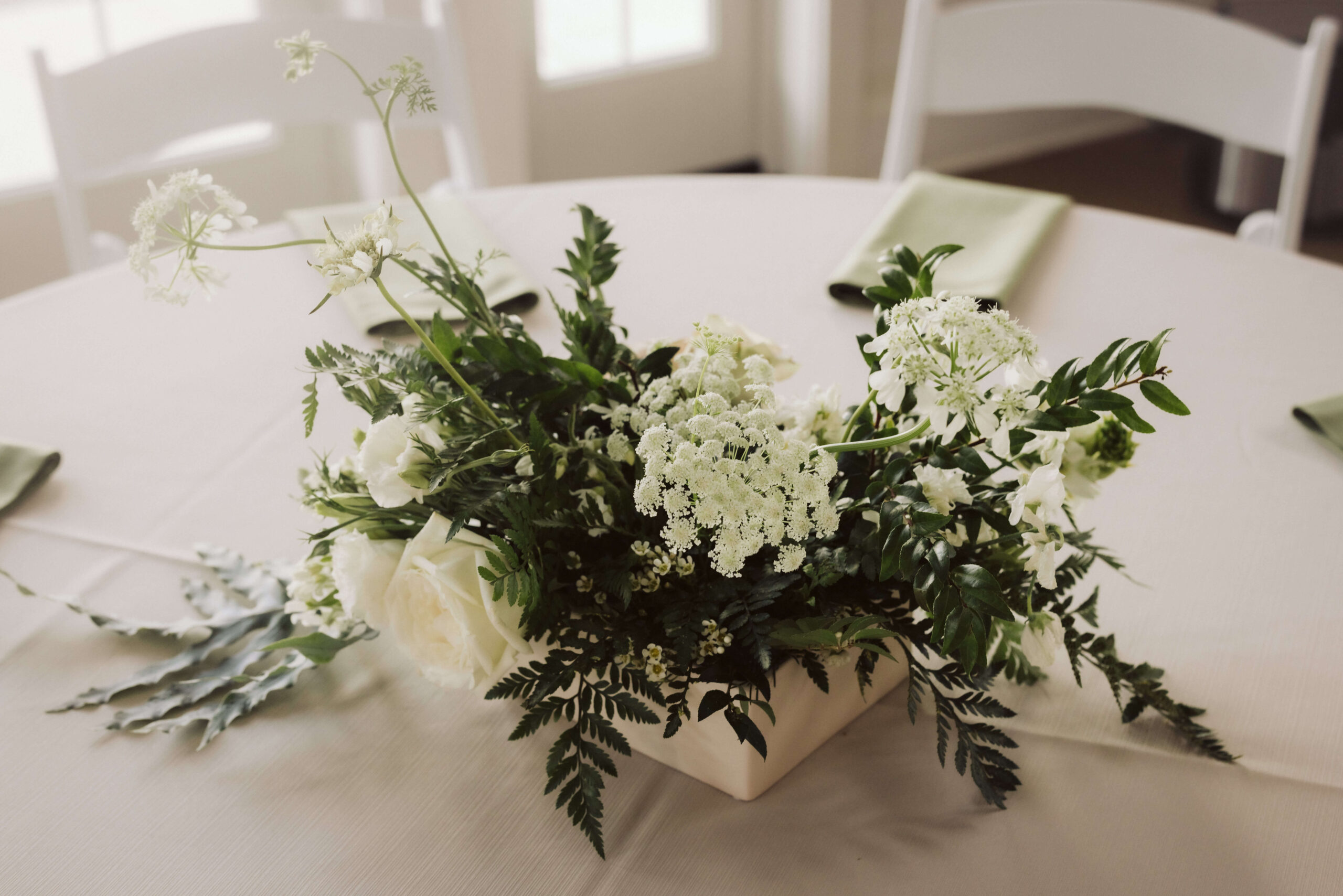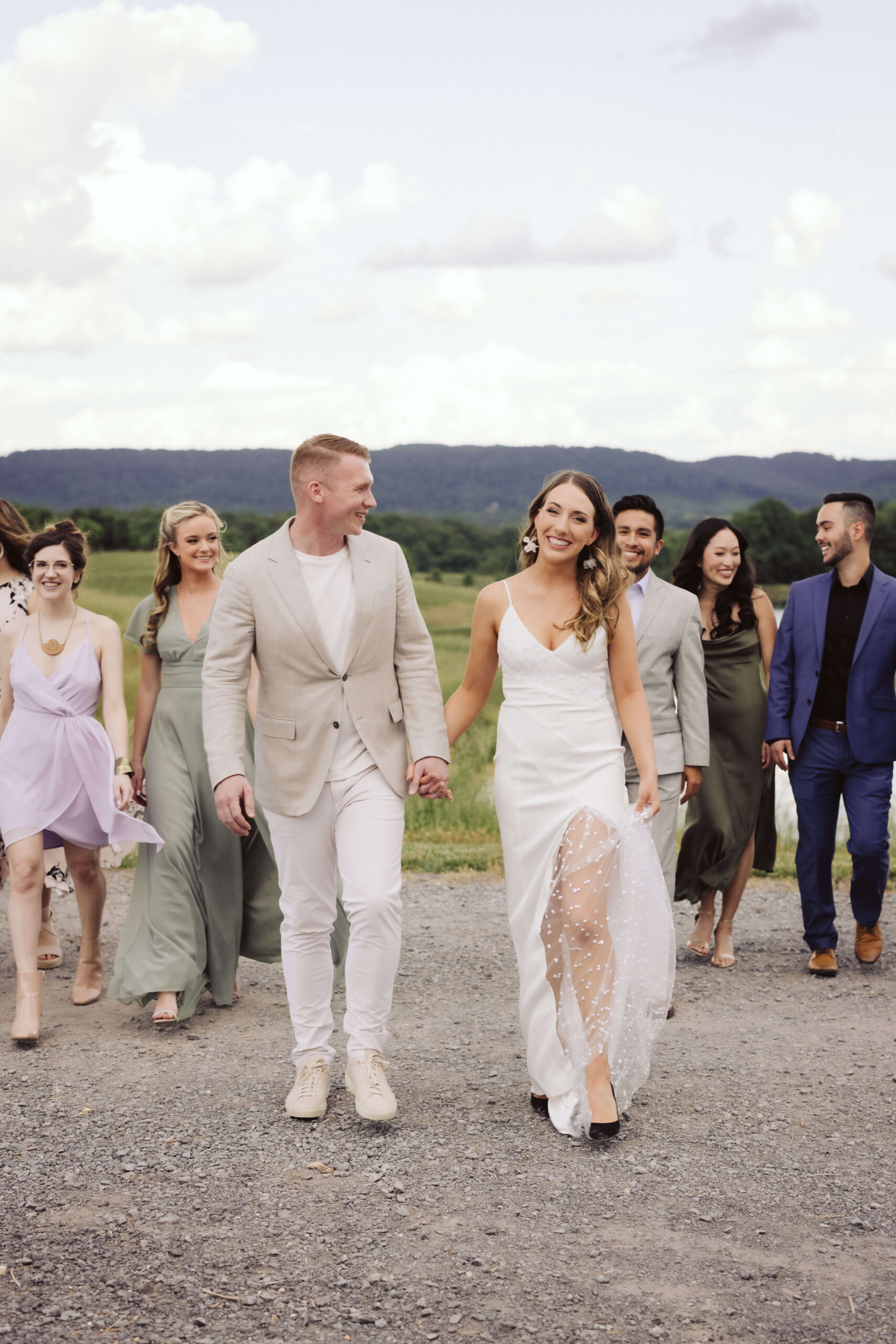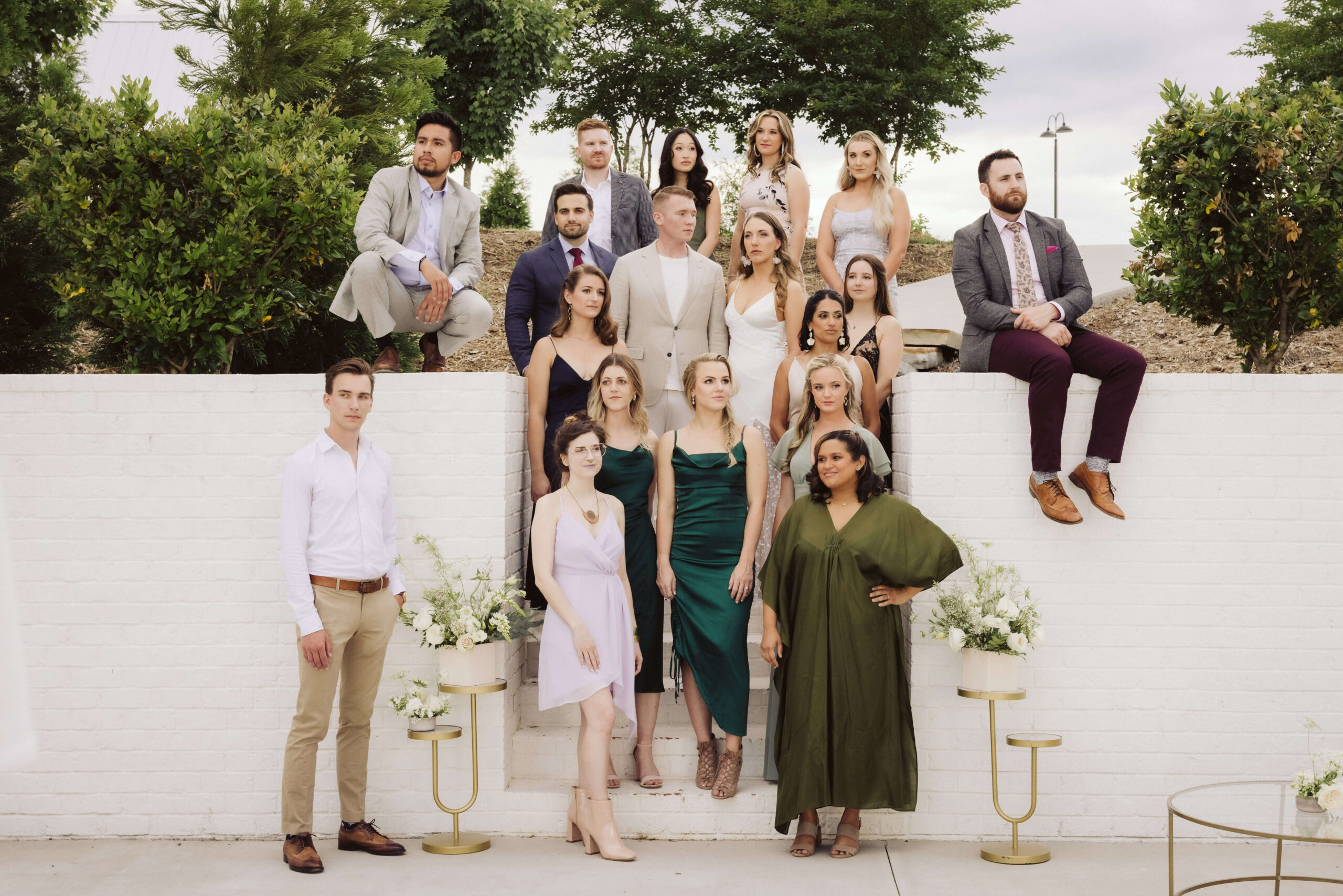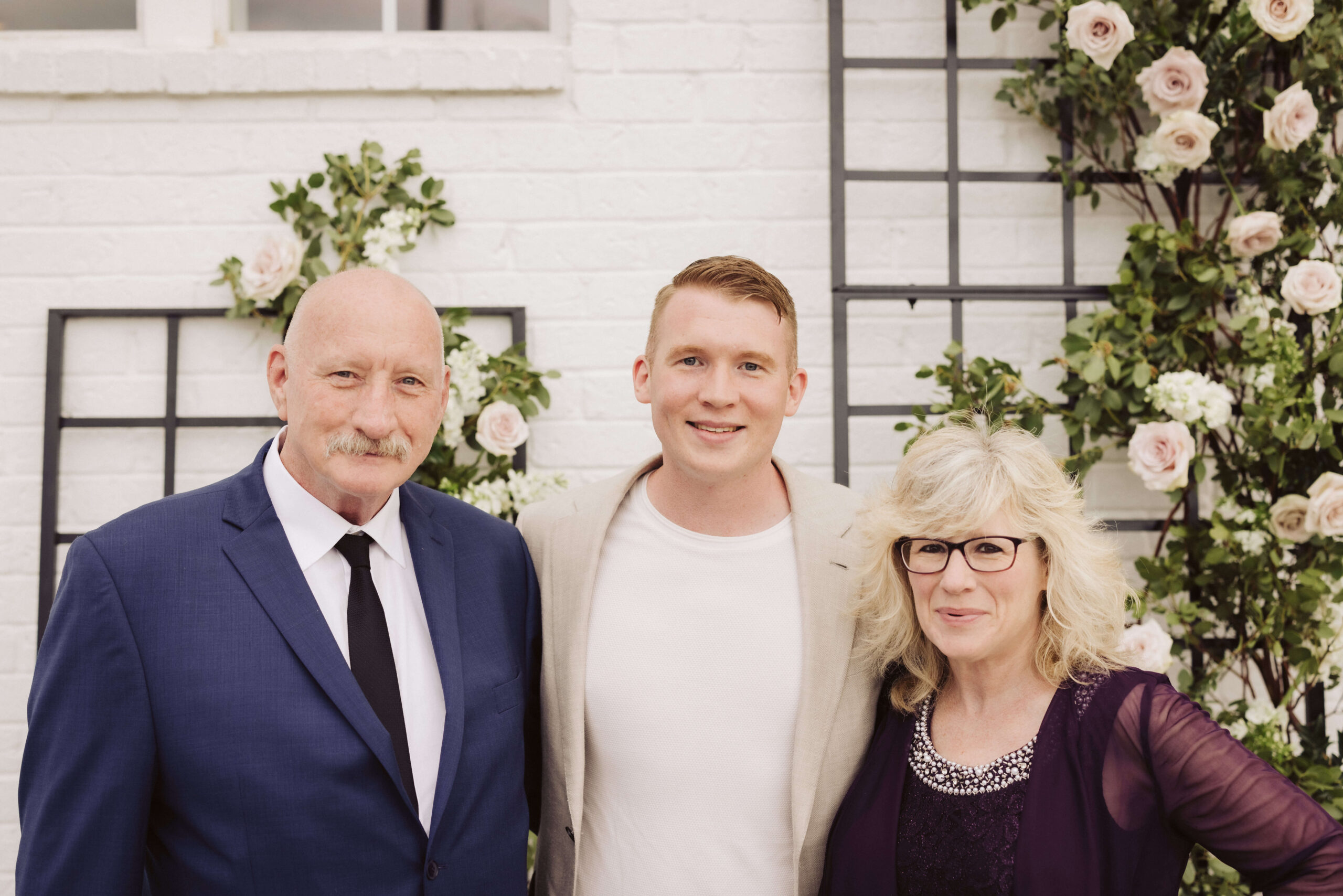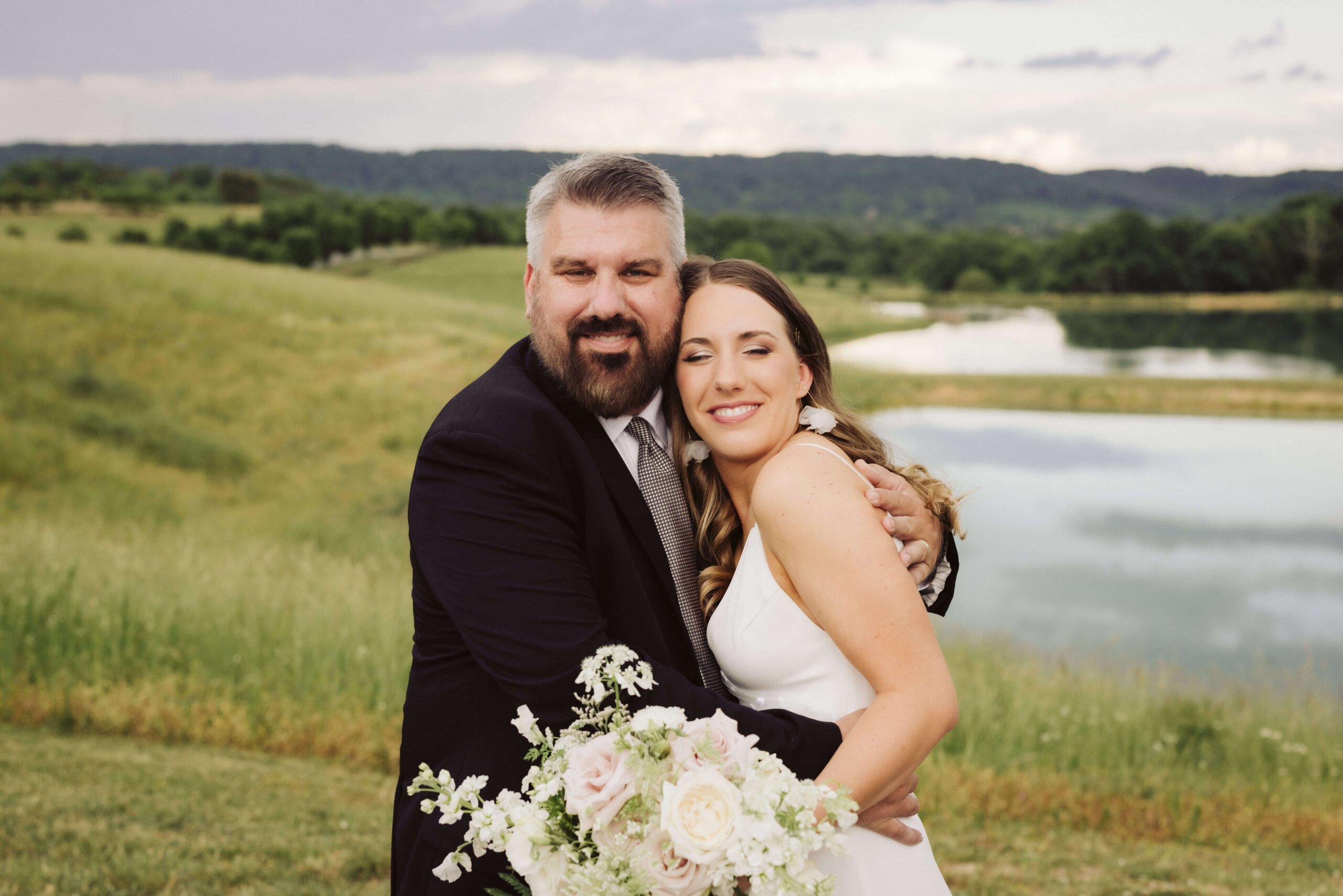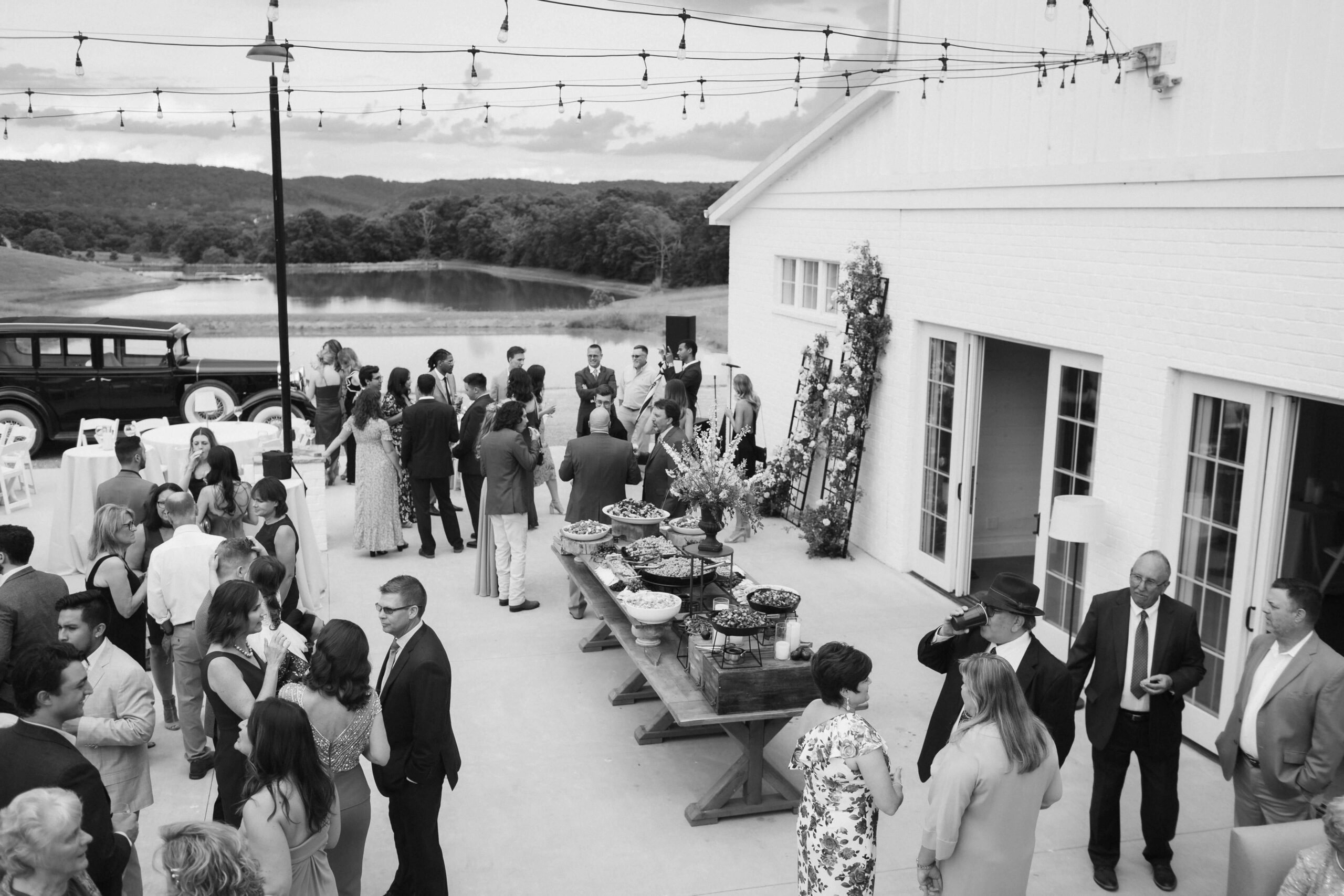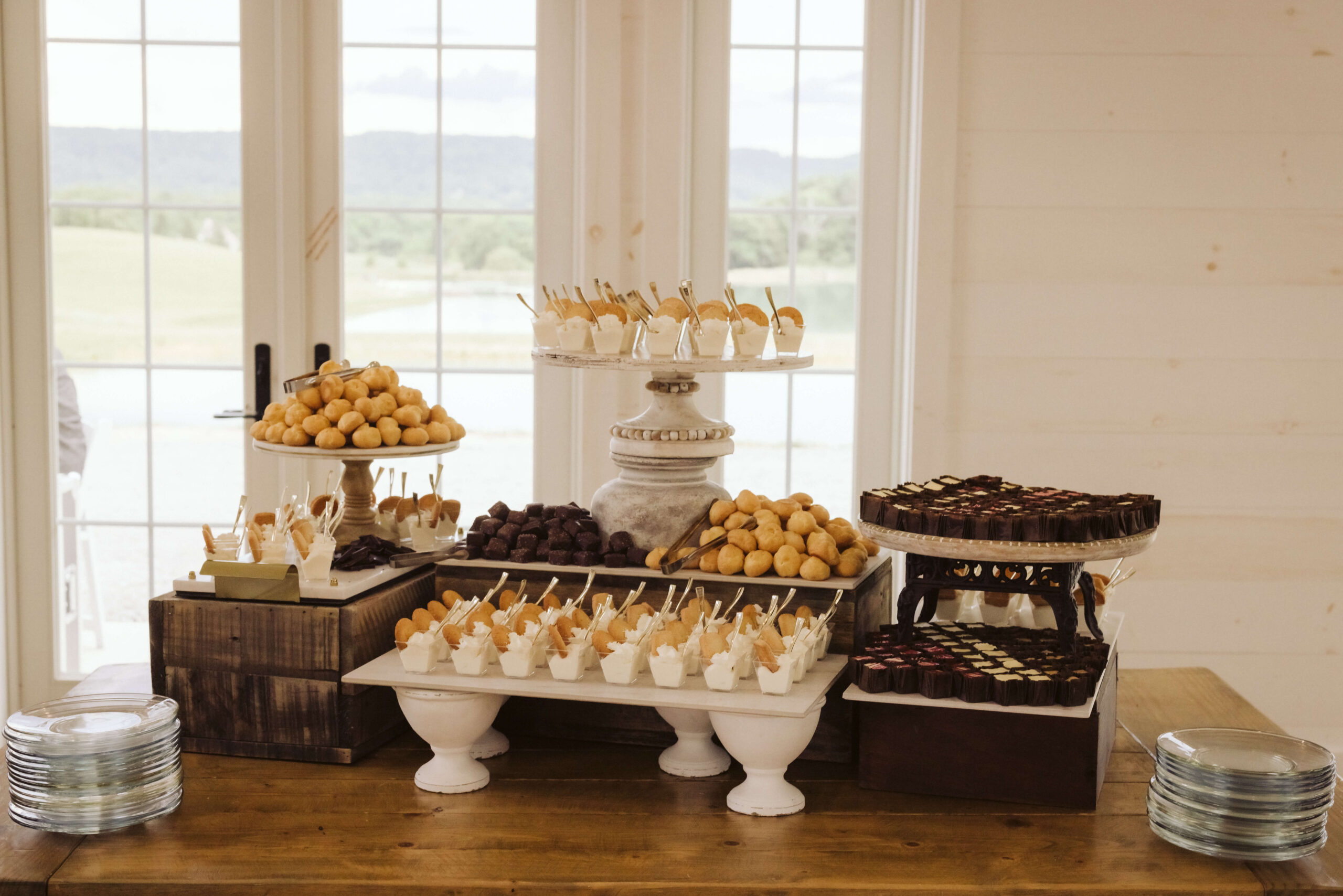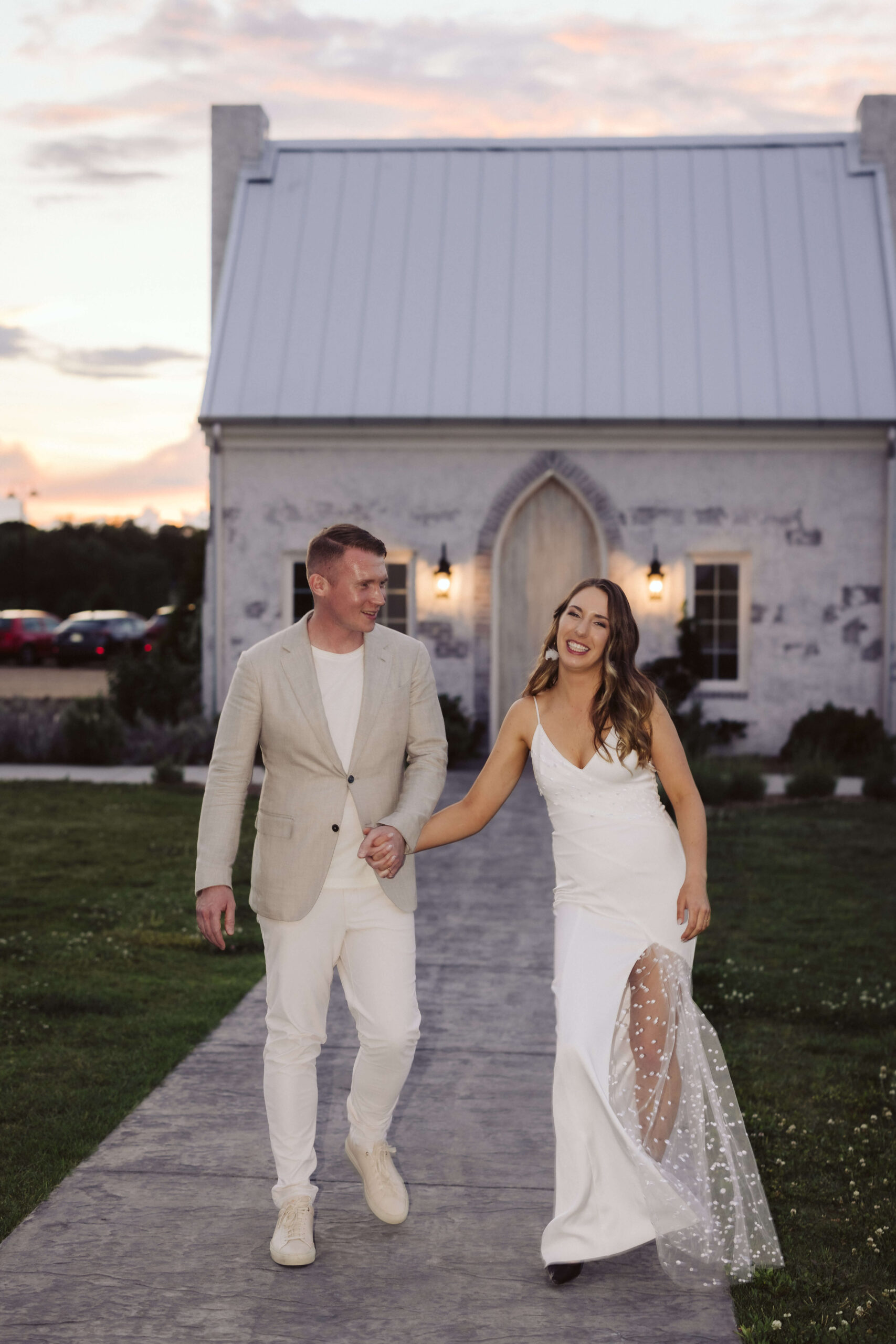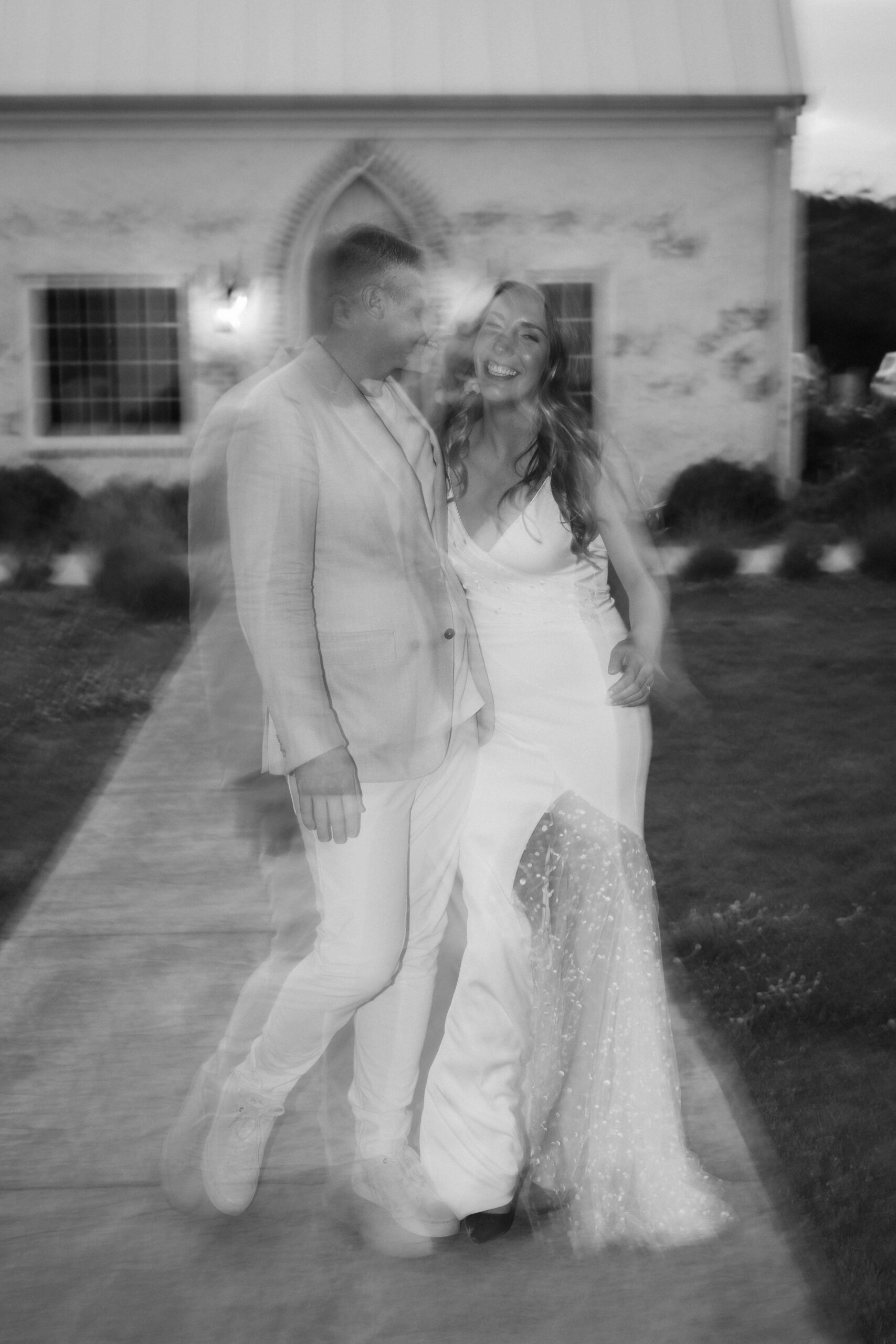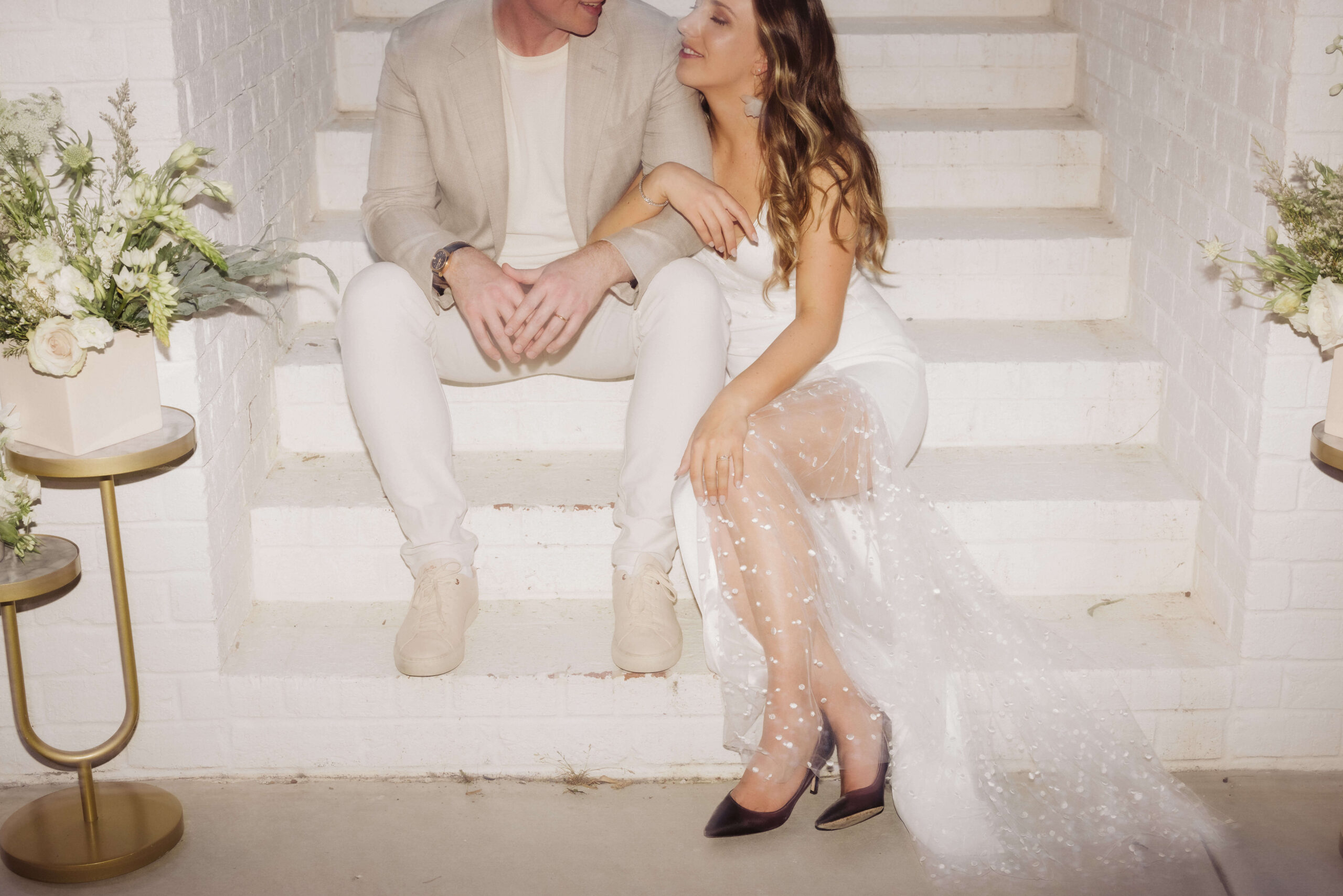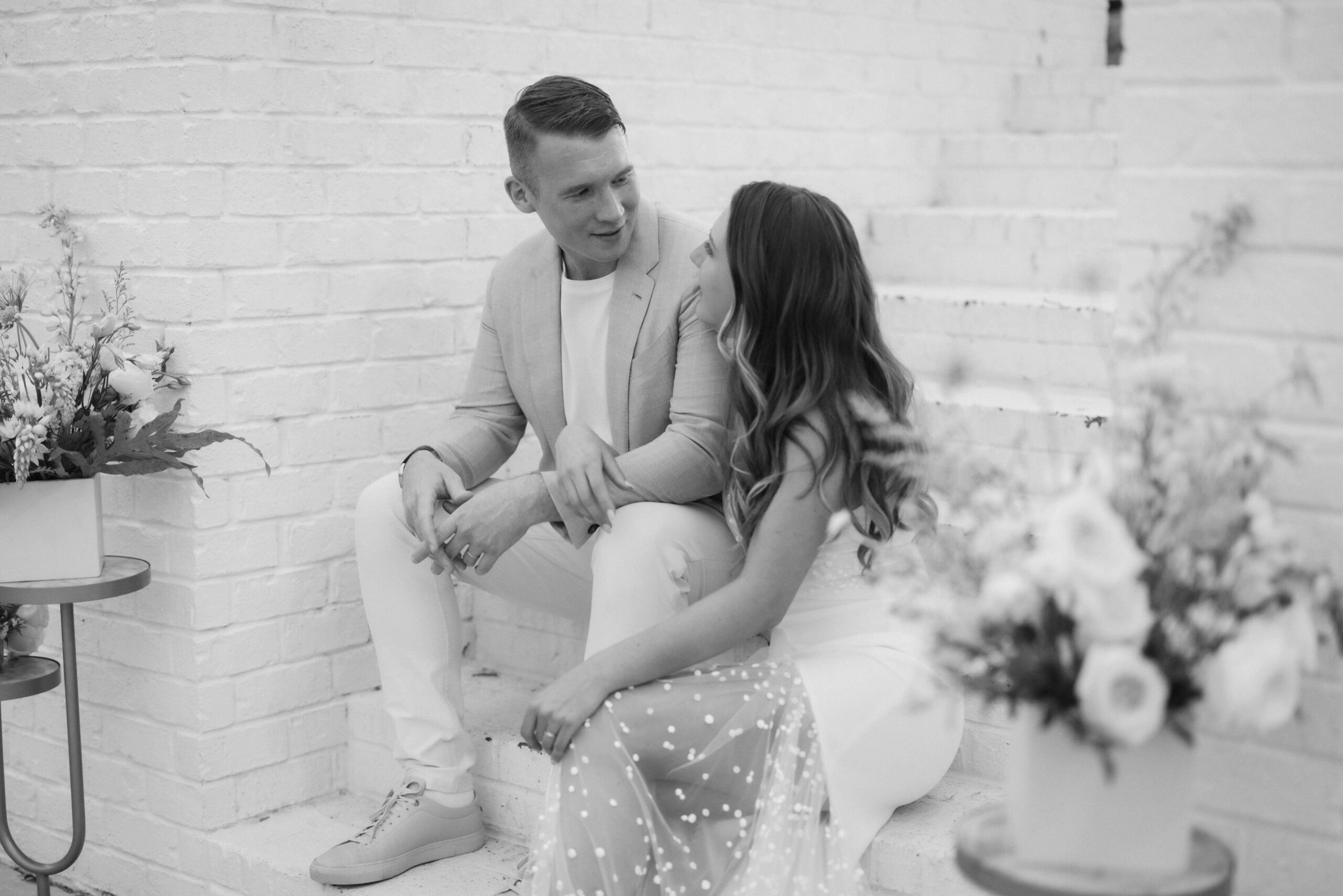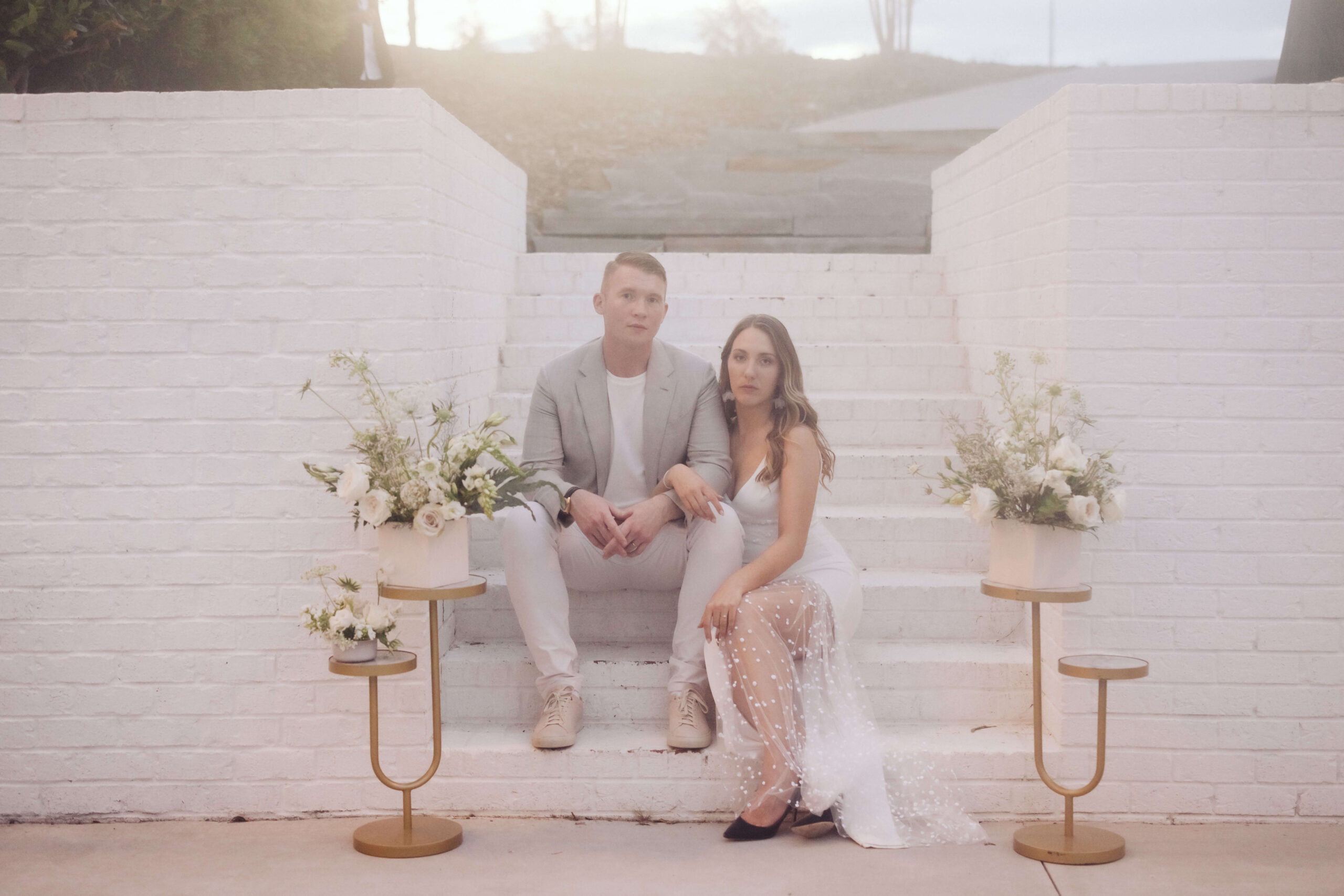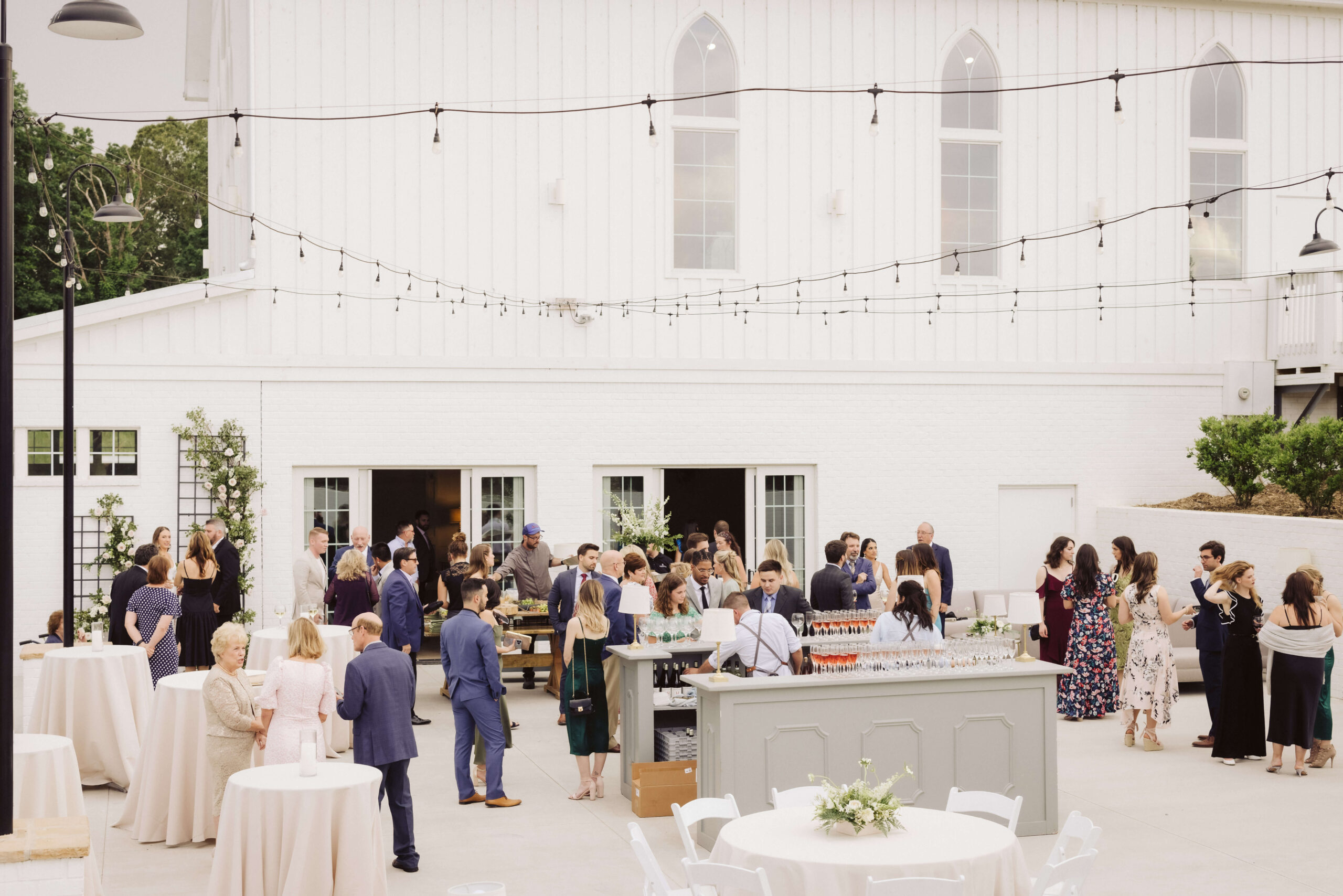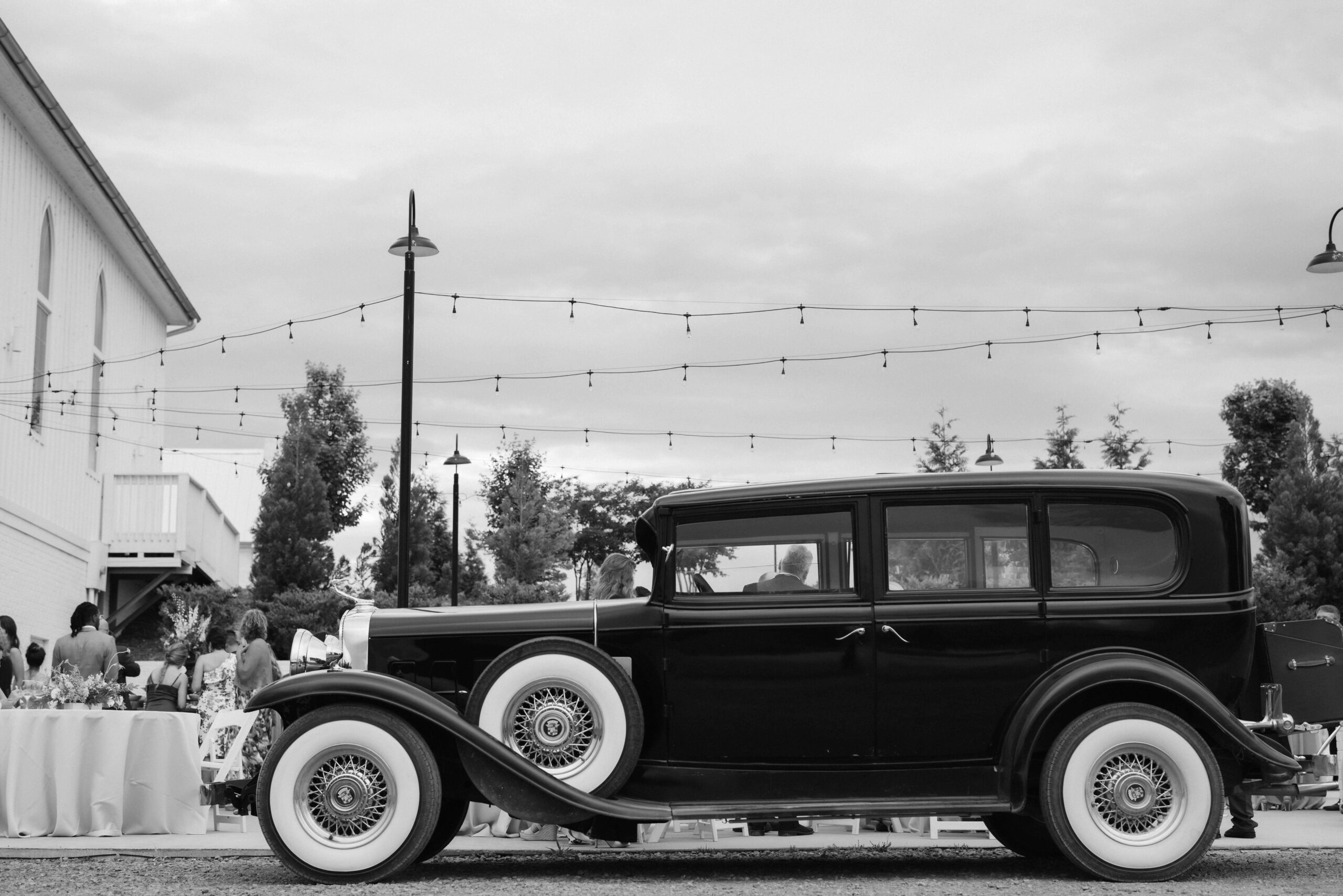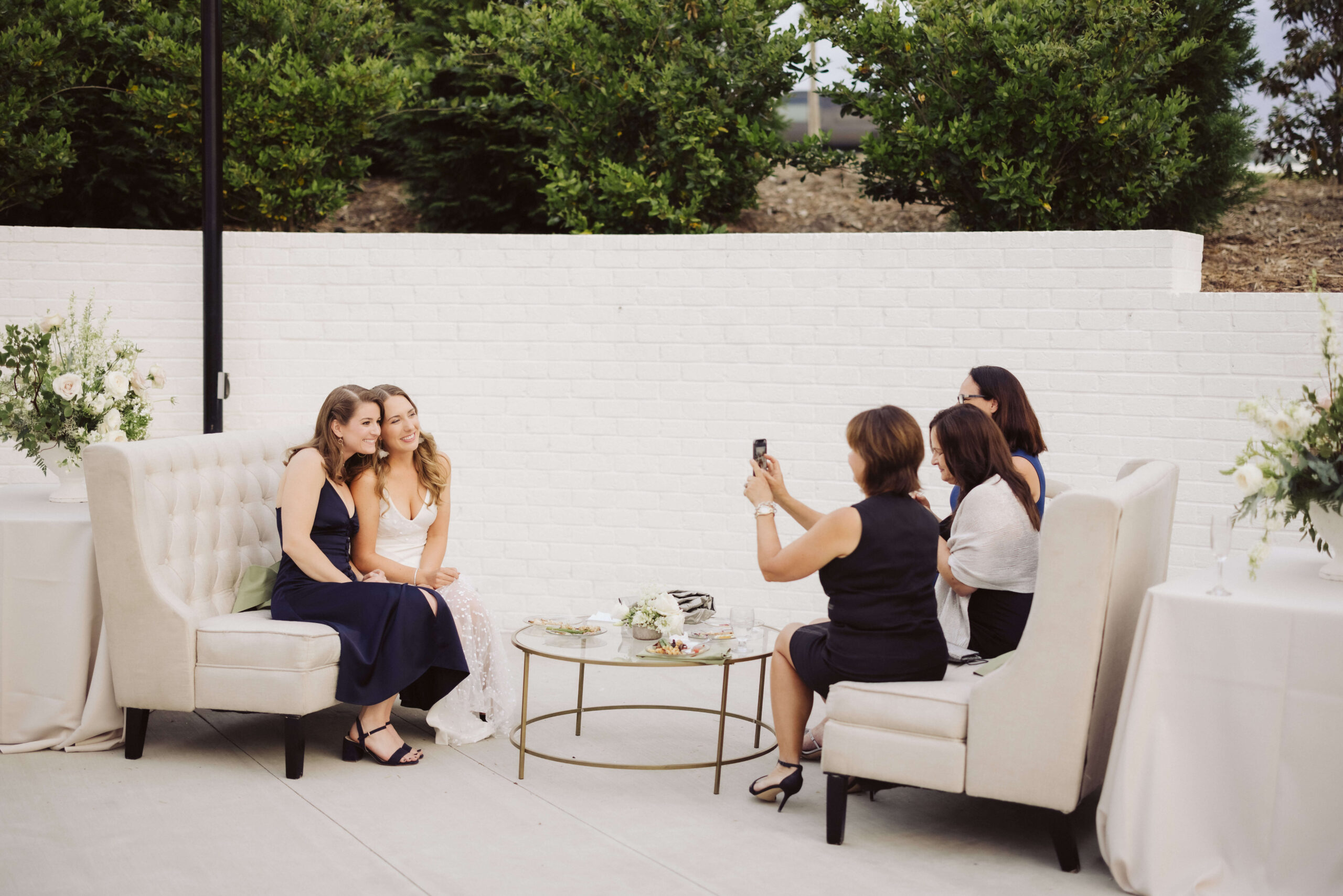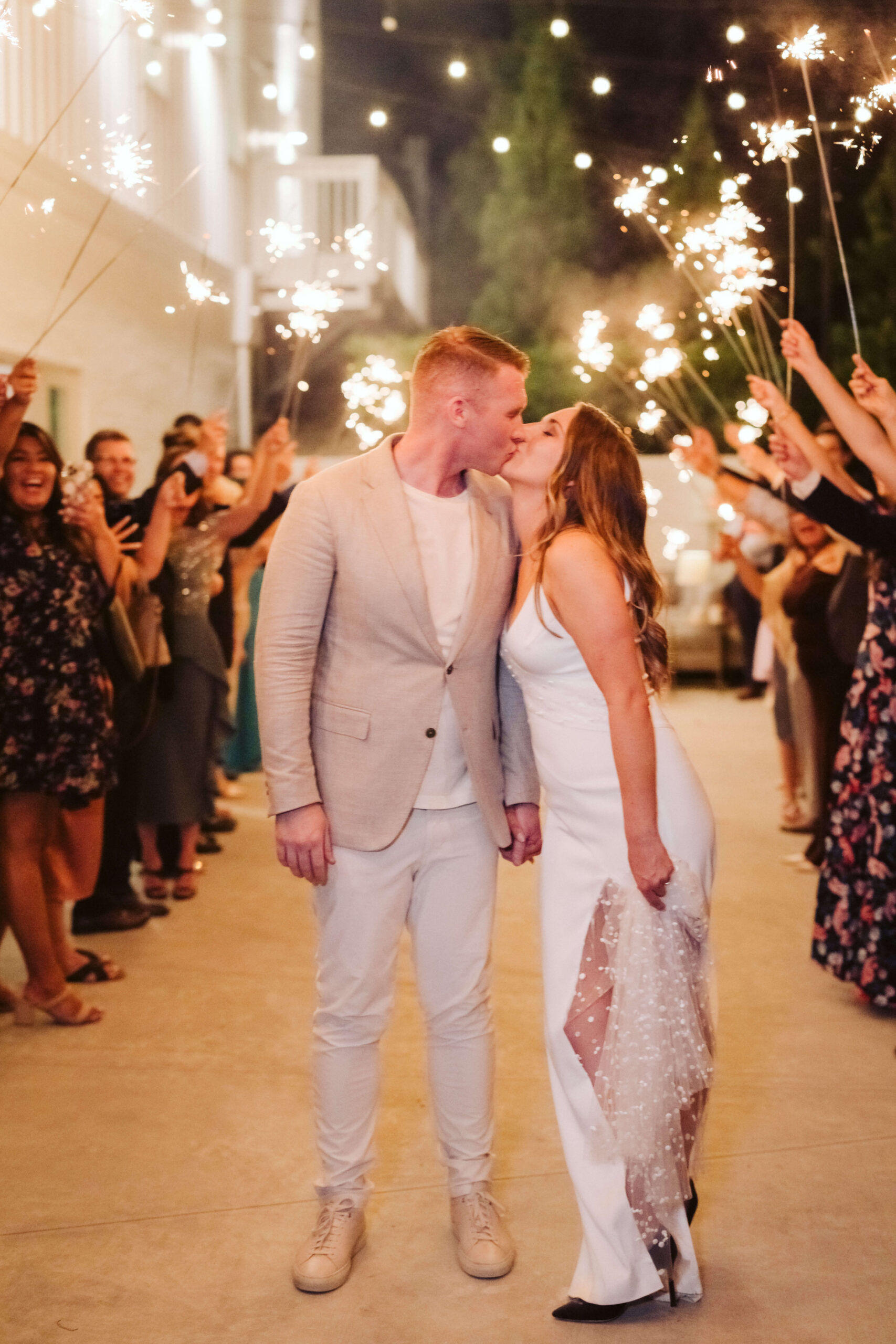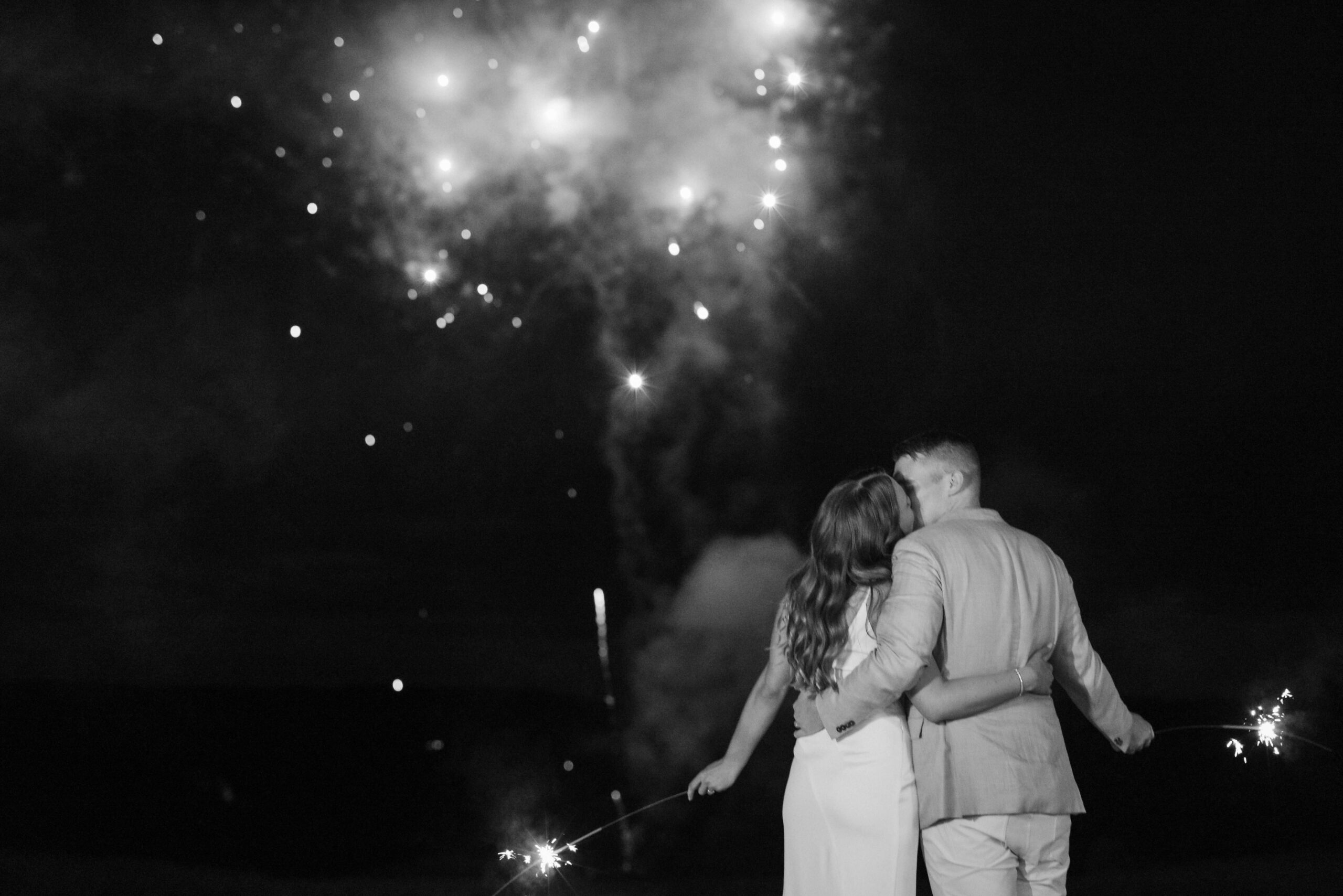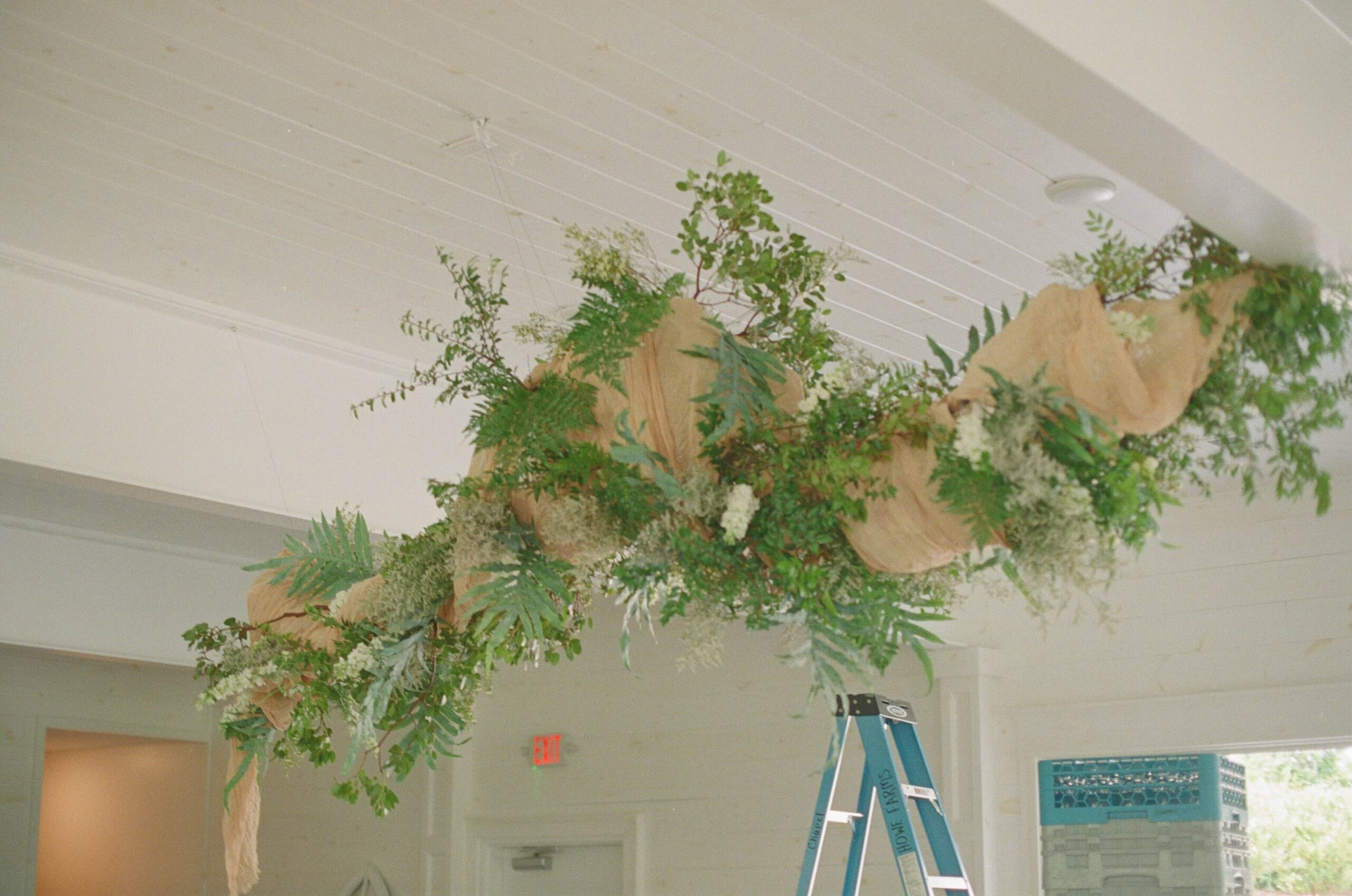 The Highlands Chapel
Perfect for smaller weddings of up to 150 guests, the Highlands Chapel is a quaint little venue that stands tall and timeless surrounded by hills and water views.
As the bride and her ladies get ready for the big day, they'll start their morning in the Chapel's bridal suite. The suite is filled with everything a bride and her bridesmaids could need including grand mirrors and vanity seating. The chapel's steeple even creates a beautiful platform for stunning bridal portraits.
Once everyone is ready, your ceremony can be held either on the chapel's front lawns or inside the sanctuary. Although outdoor ceremonies are beautiful, the Highlands Chapel is mostly chosen for its indoor ceremony space. The interior of the chapel includes traditional features like cathedral windows and vintage pews. However, glistening crystal and iron chandeliers and exposed timber framing against flawless white walls elevate the chapel from traditional to sophisticated and timeless.
After your ceremony, guests can move outside onto the patio for cocktail hour or go directly to the chapel's lower level and into the reception hall. From the indoor reception area, sliding glass doors open onto the patio making it a choice location for the dance floor, photo booth, or even an incredible fireworks send off.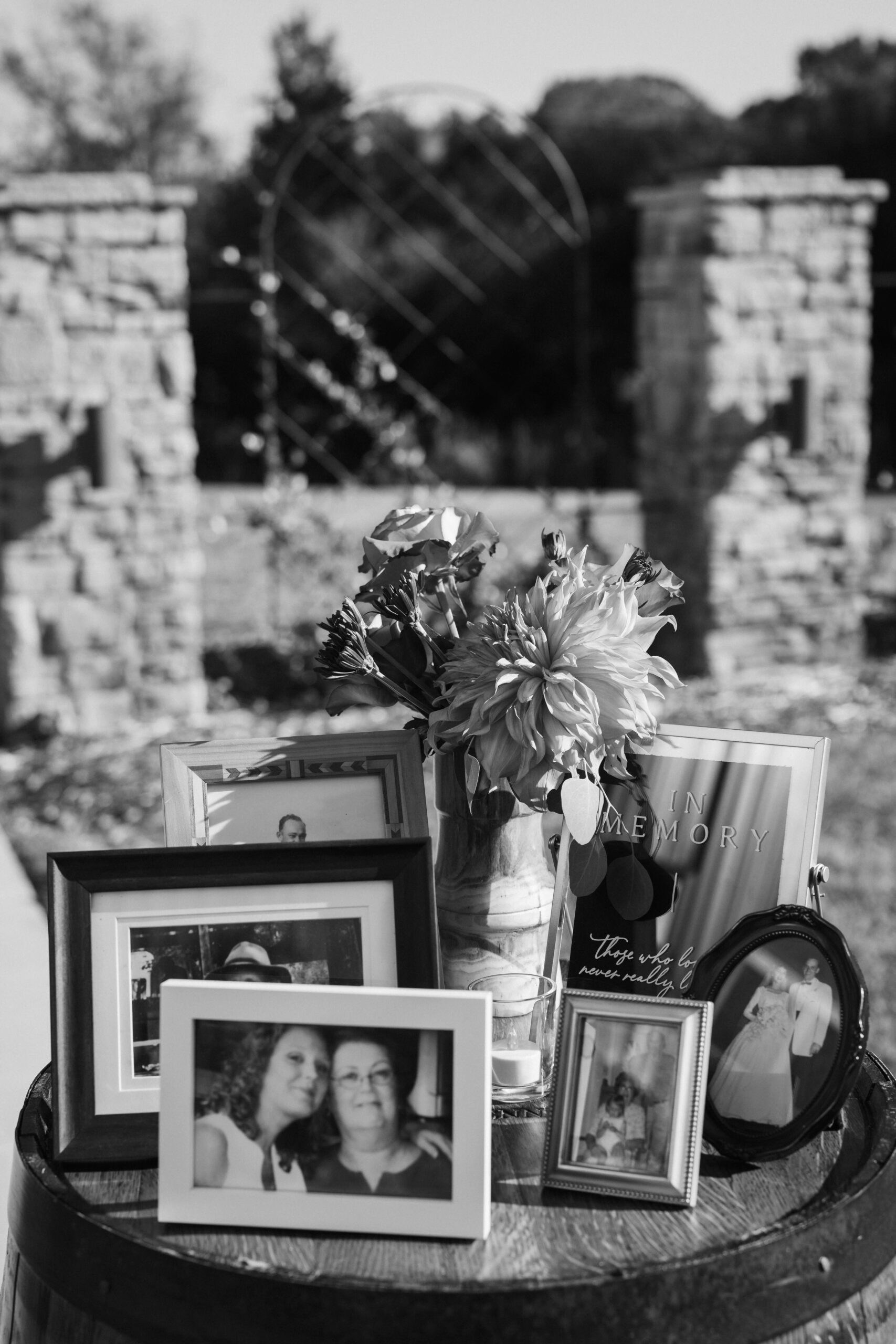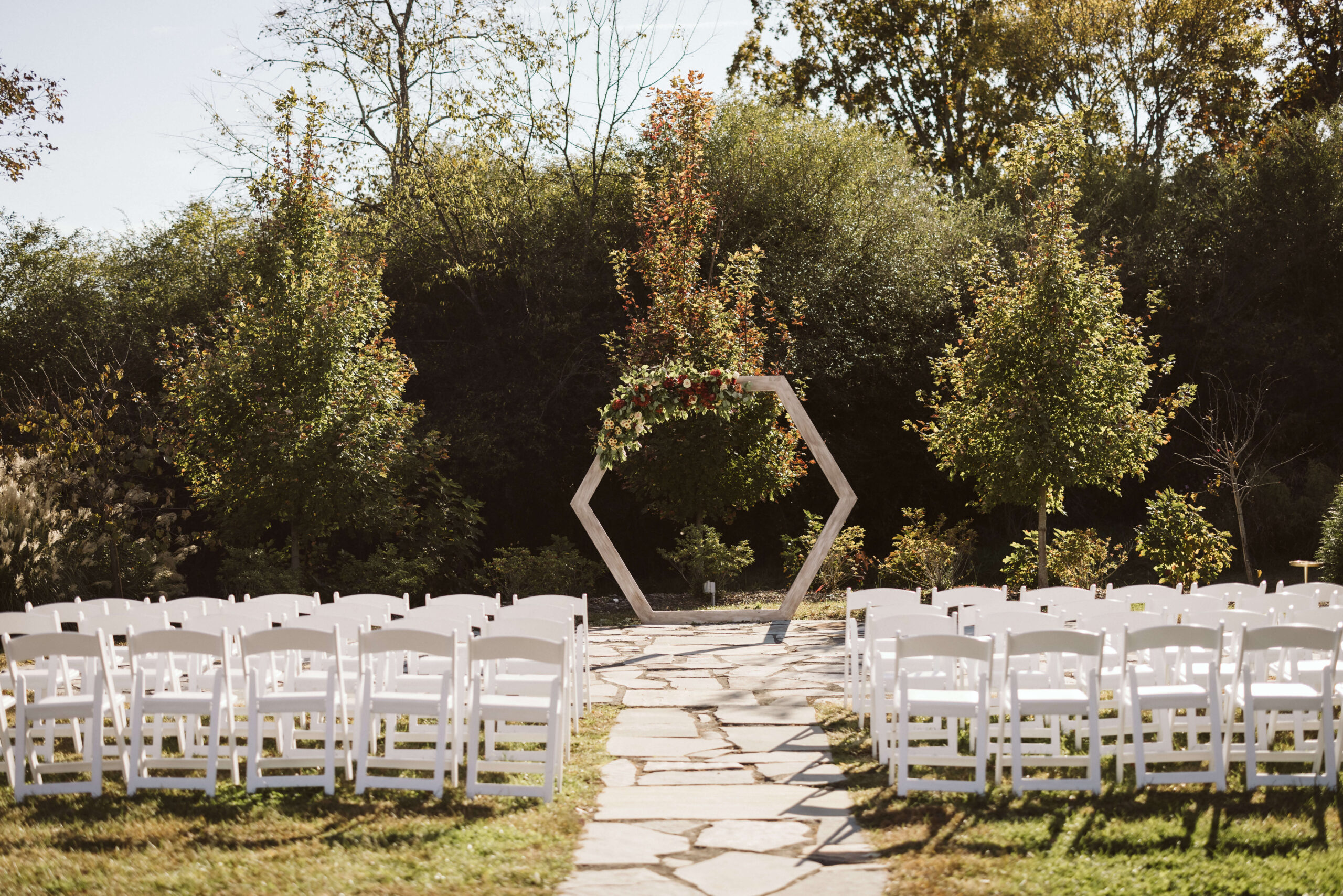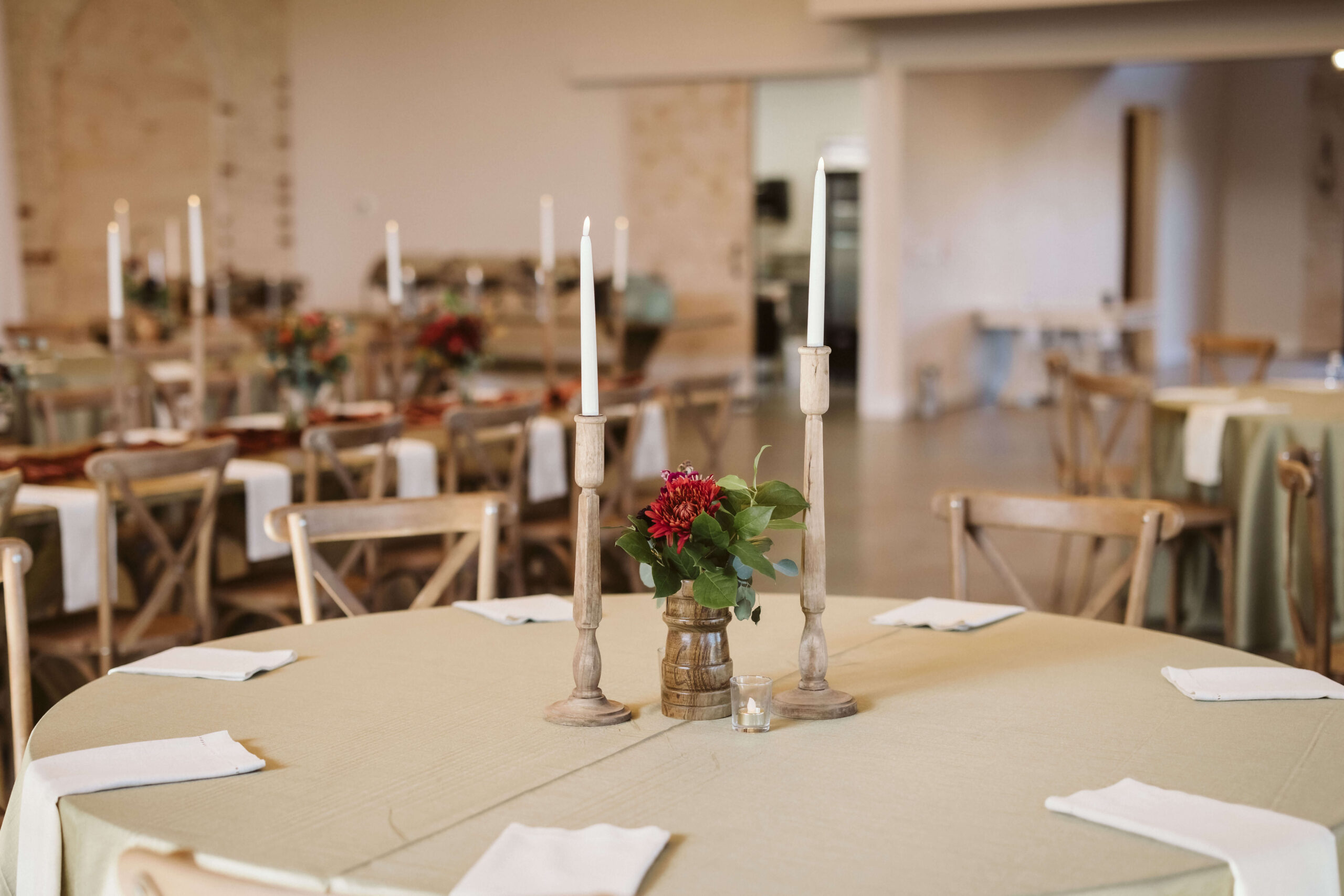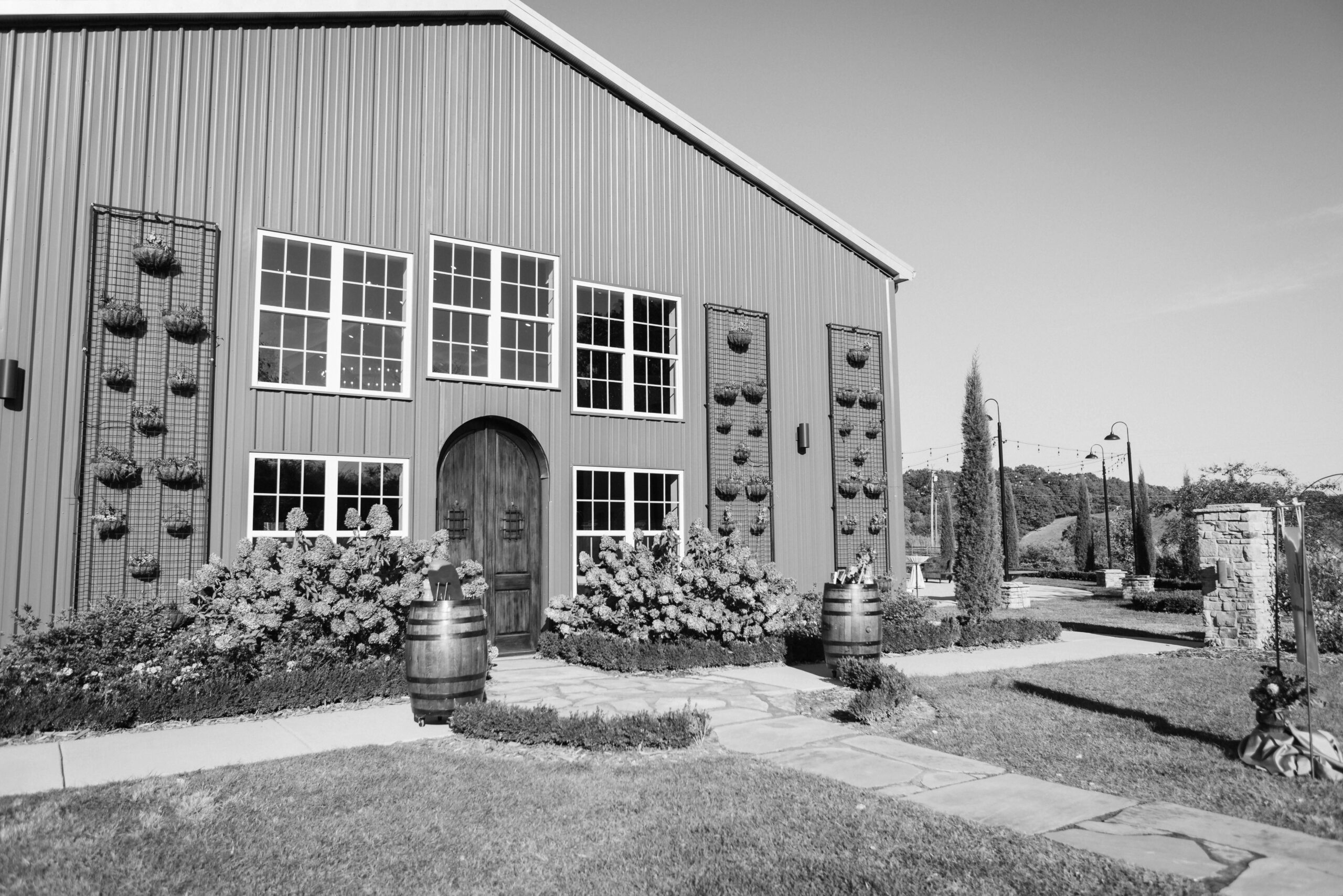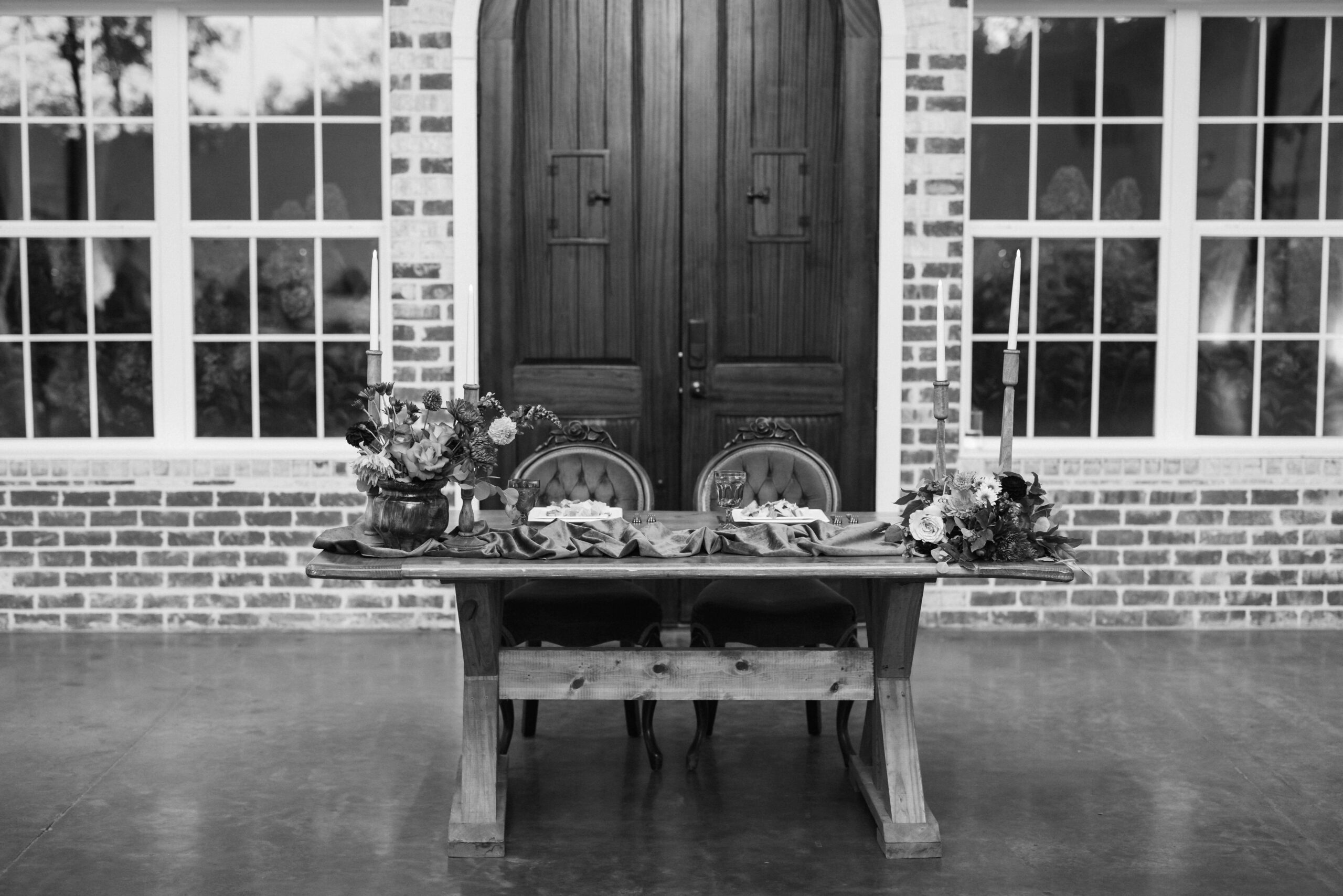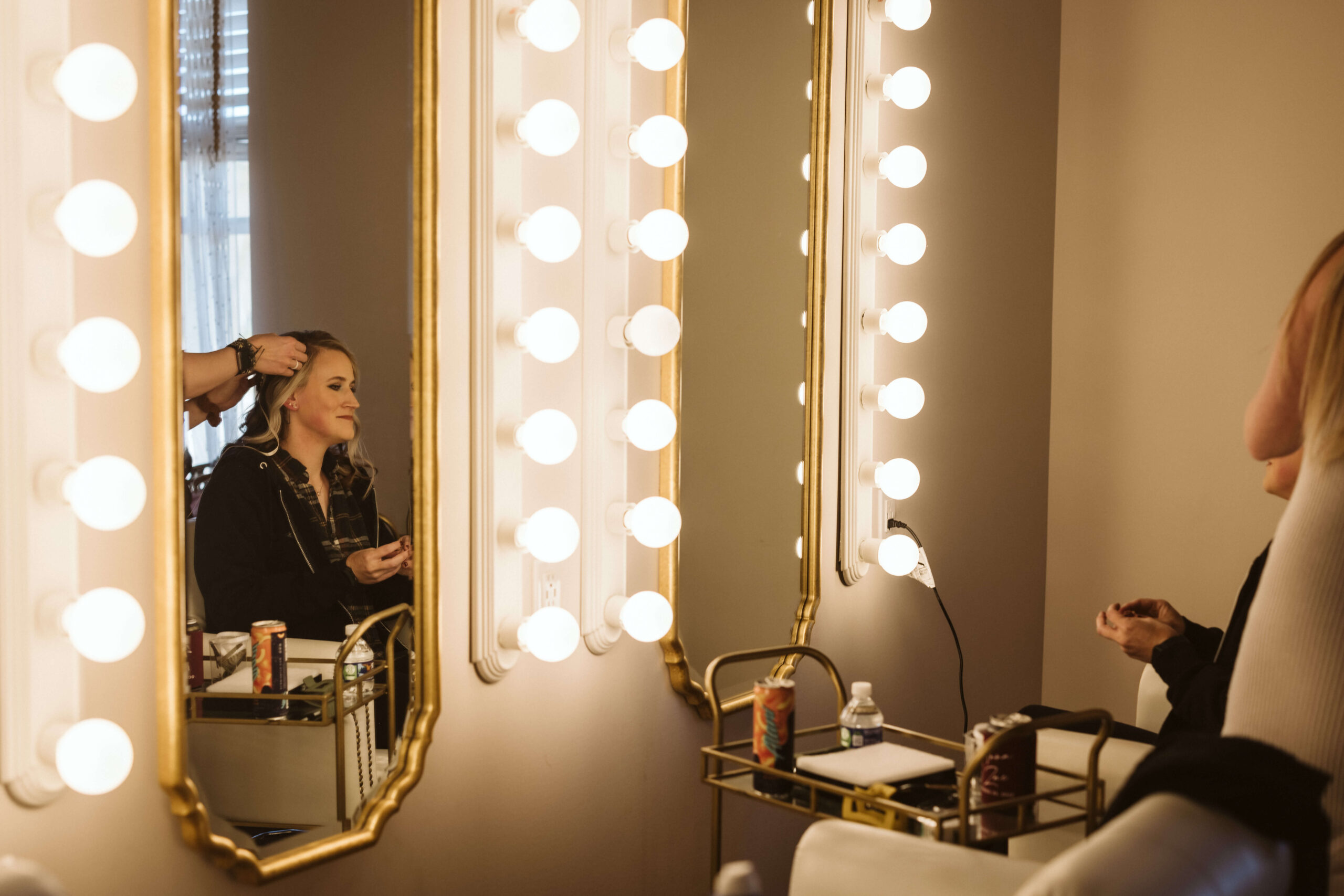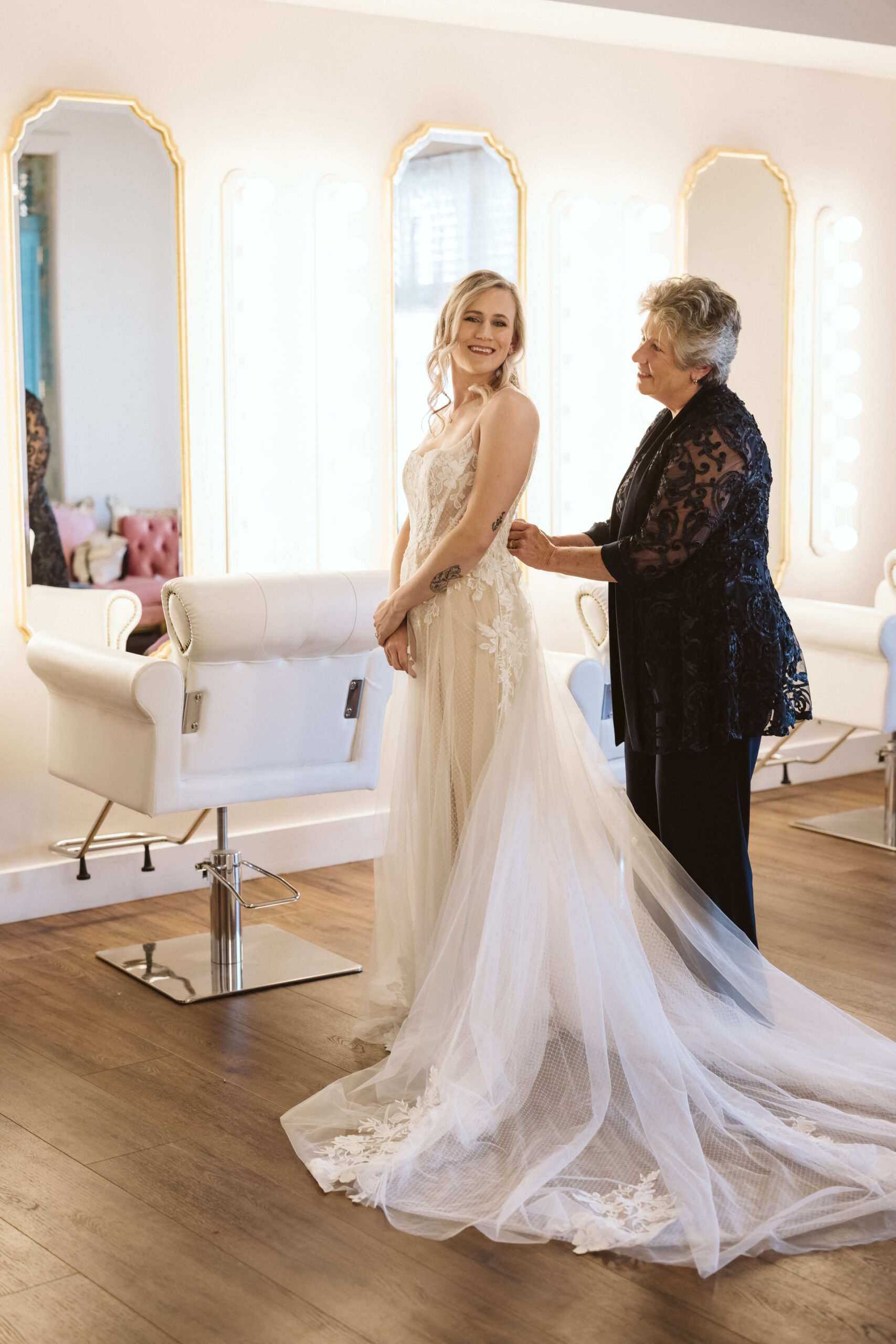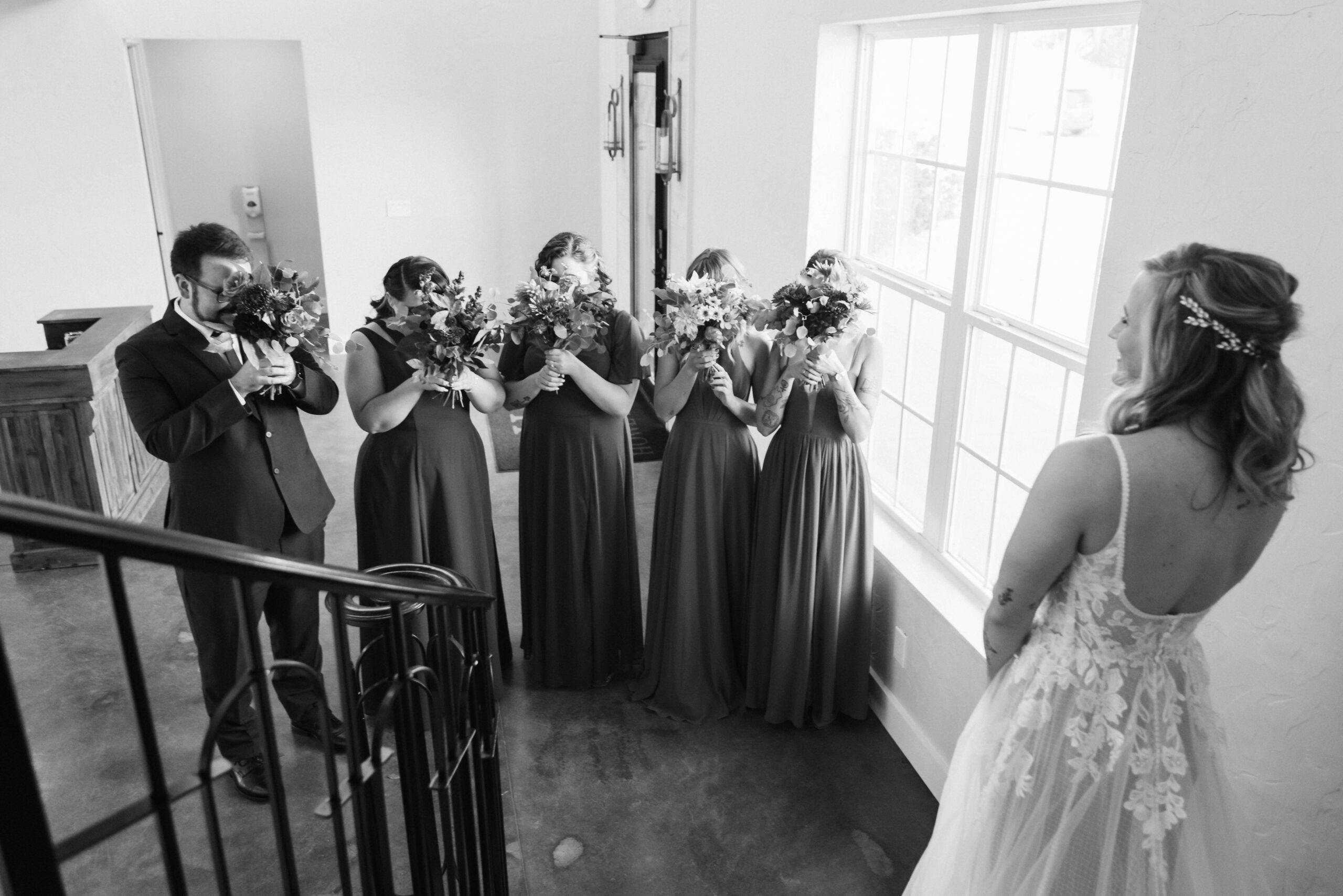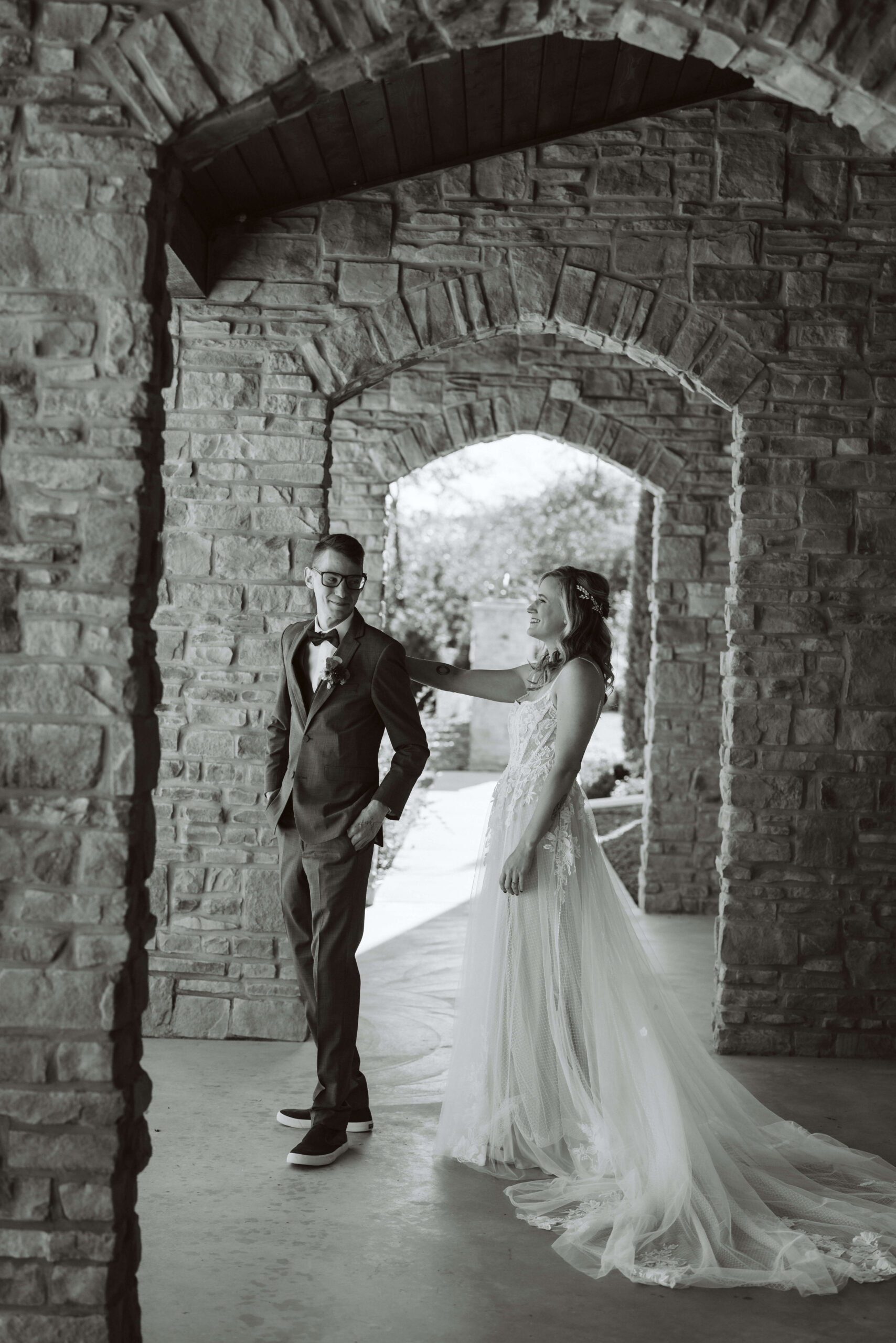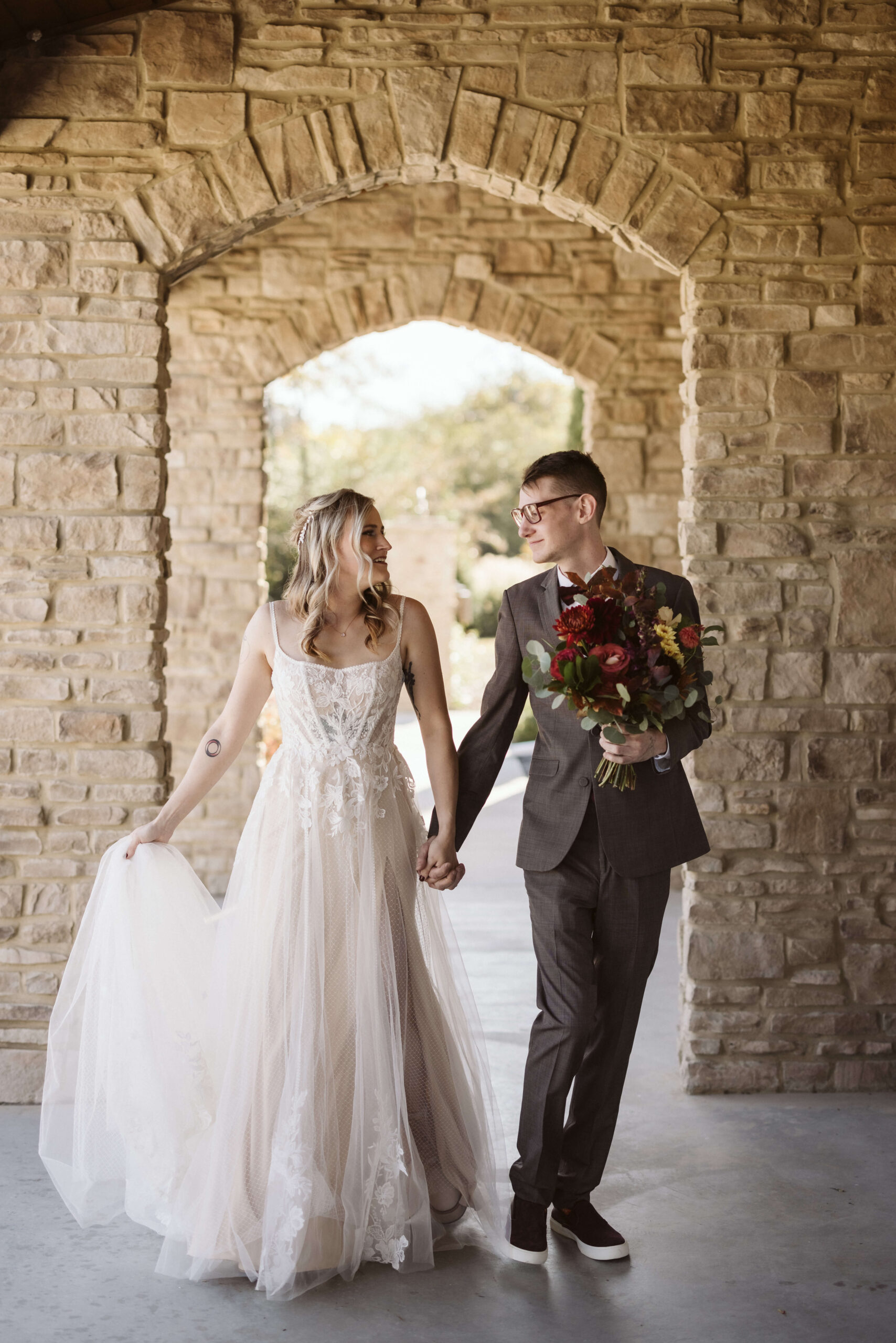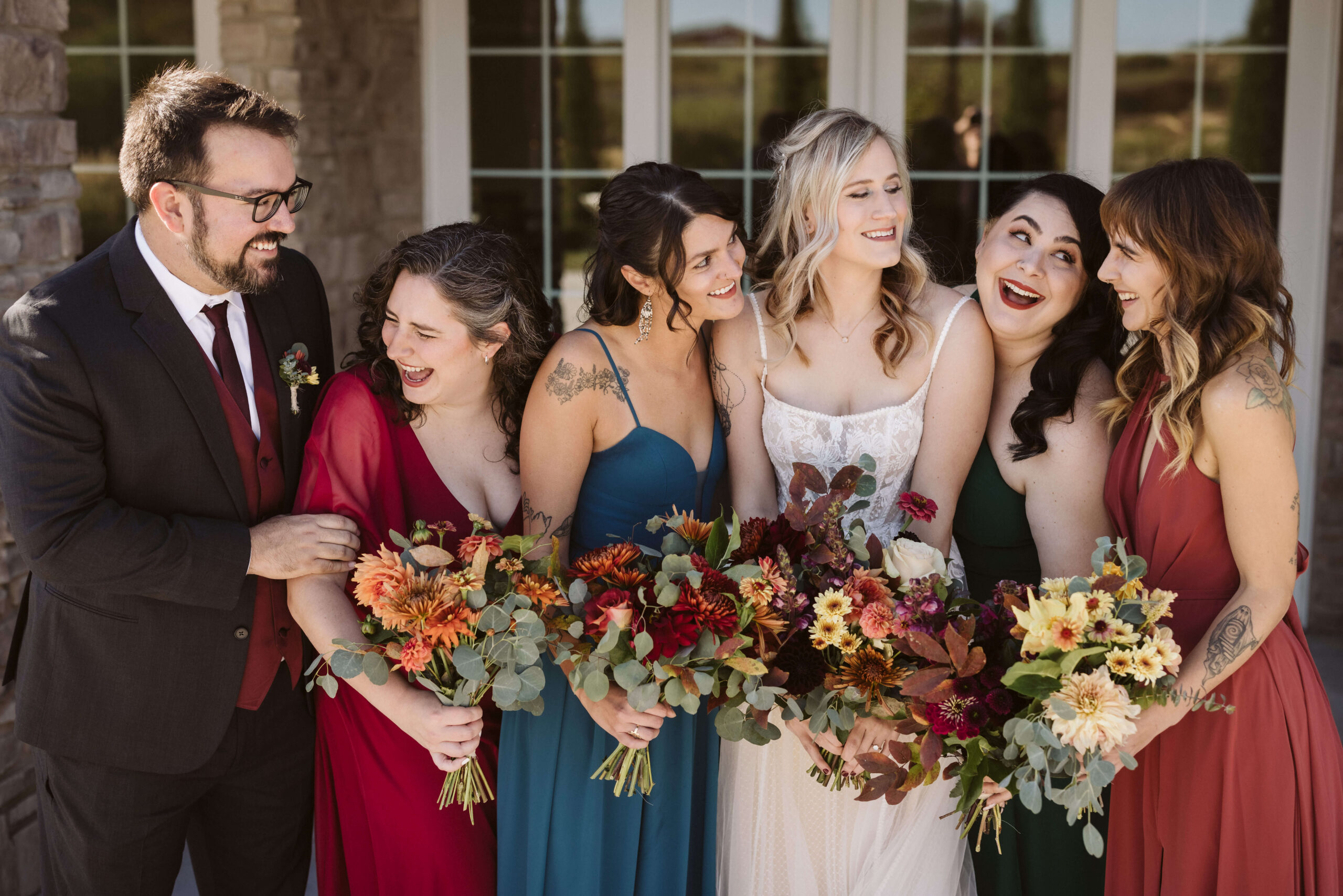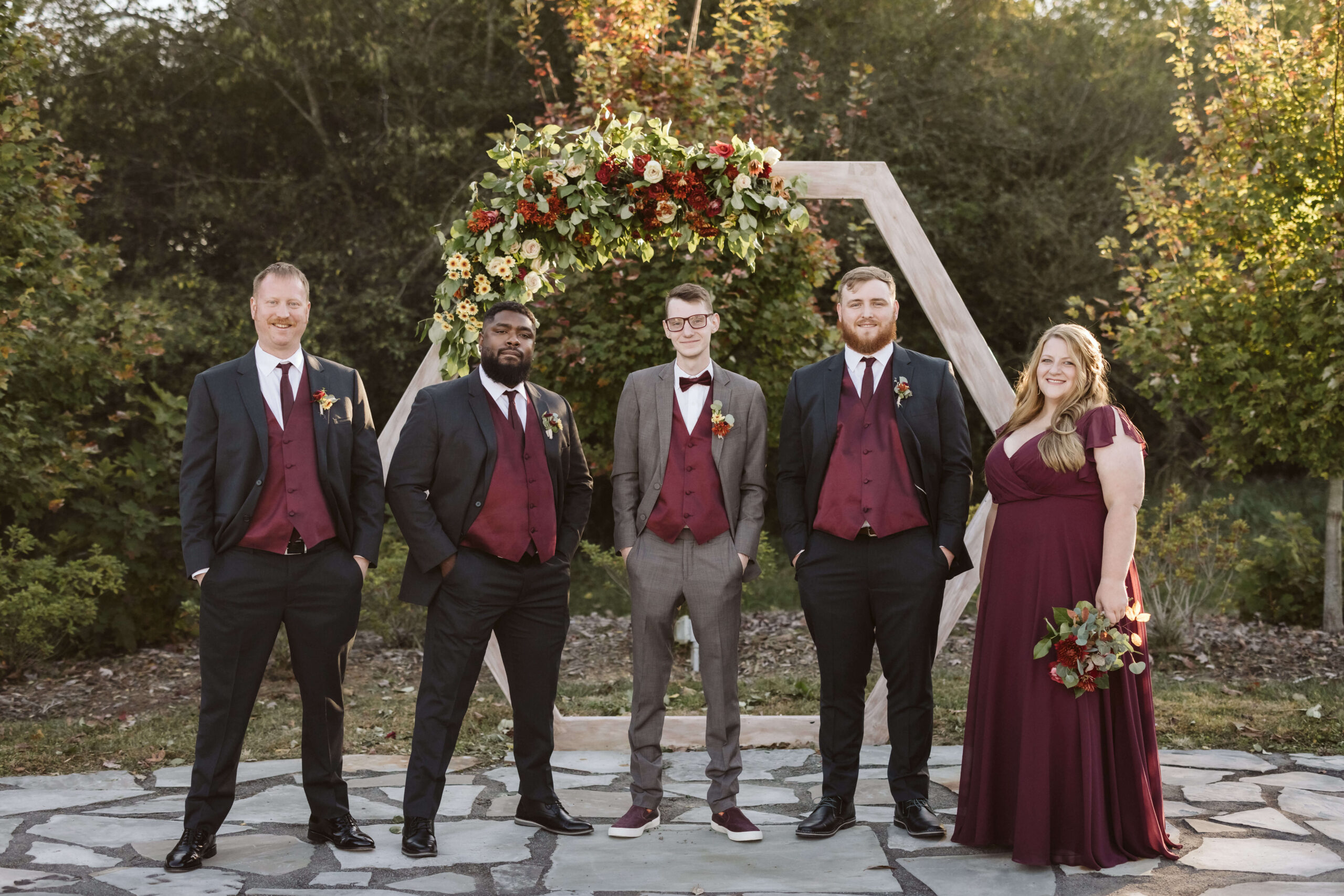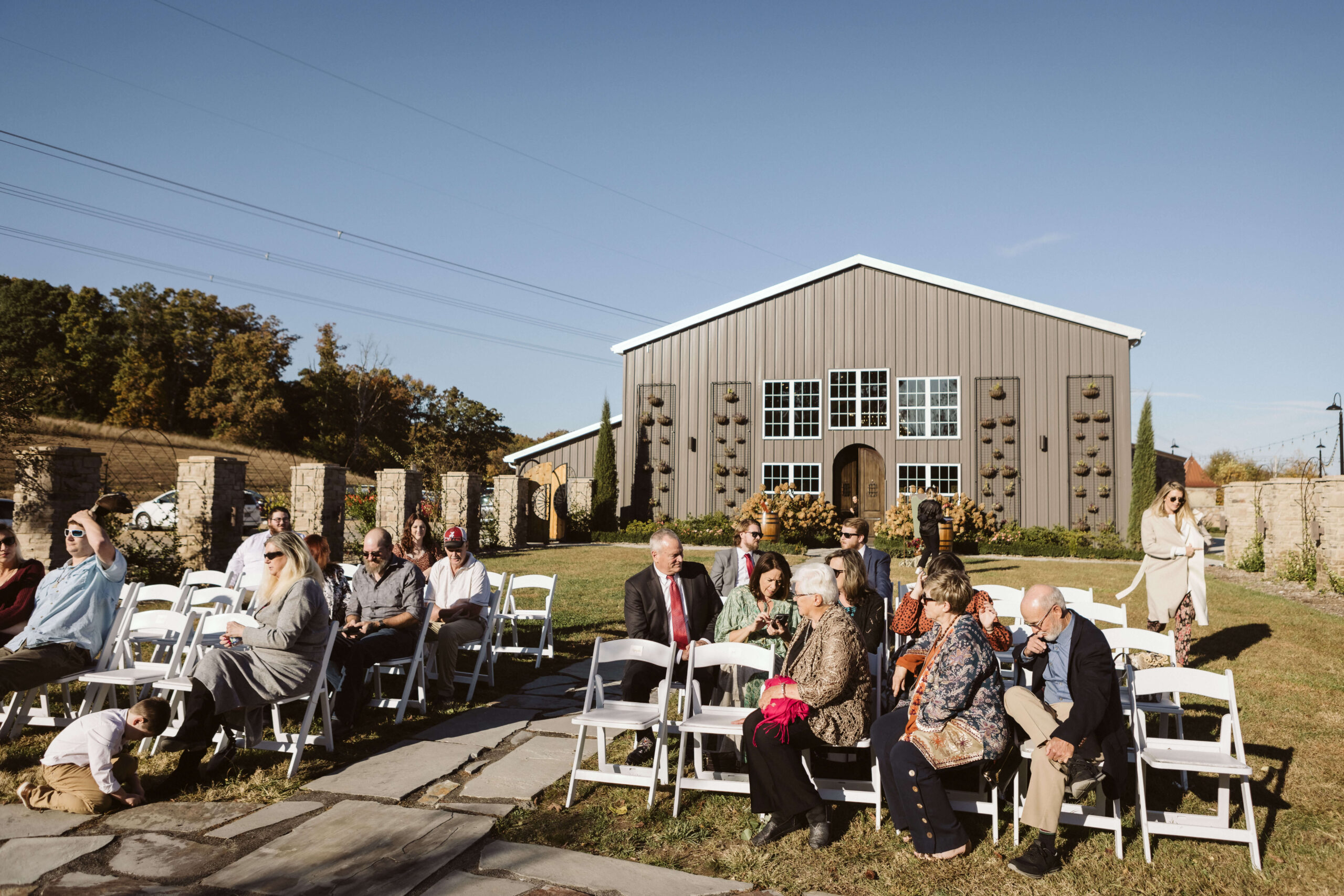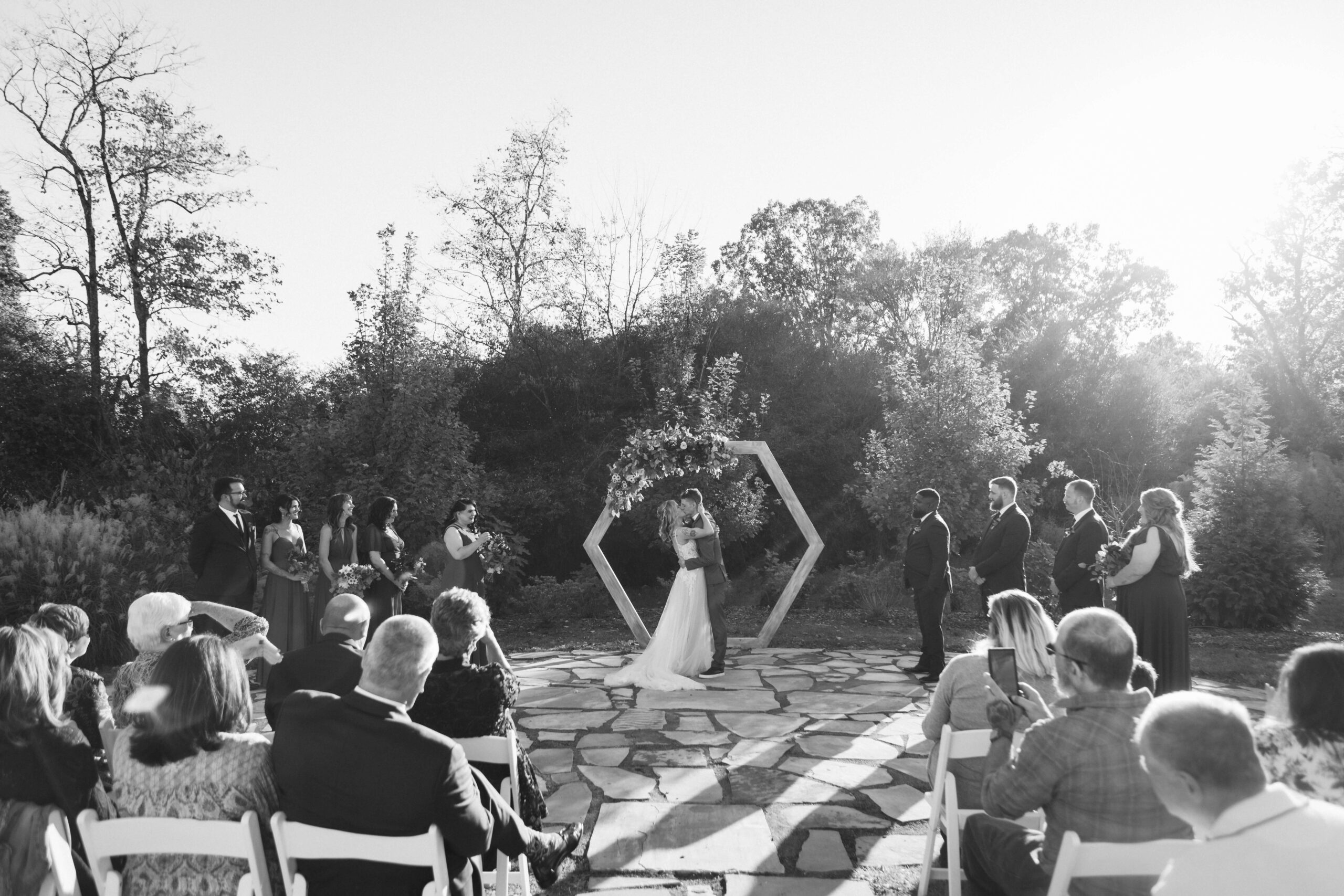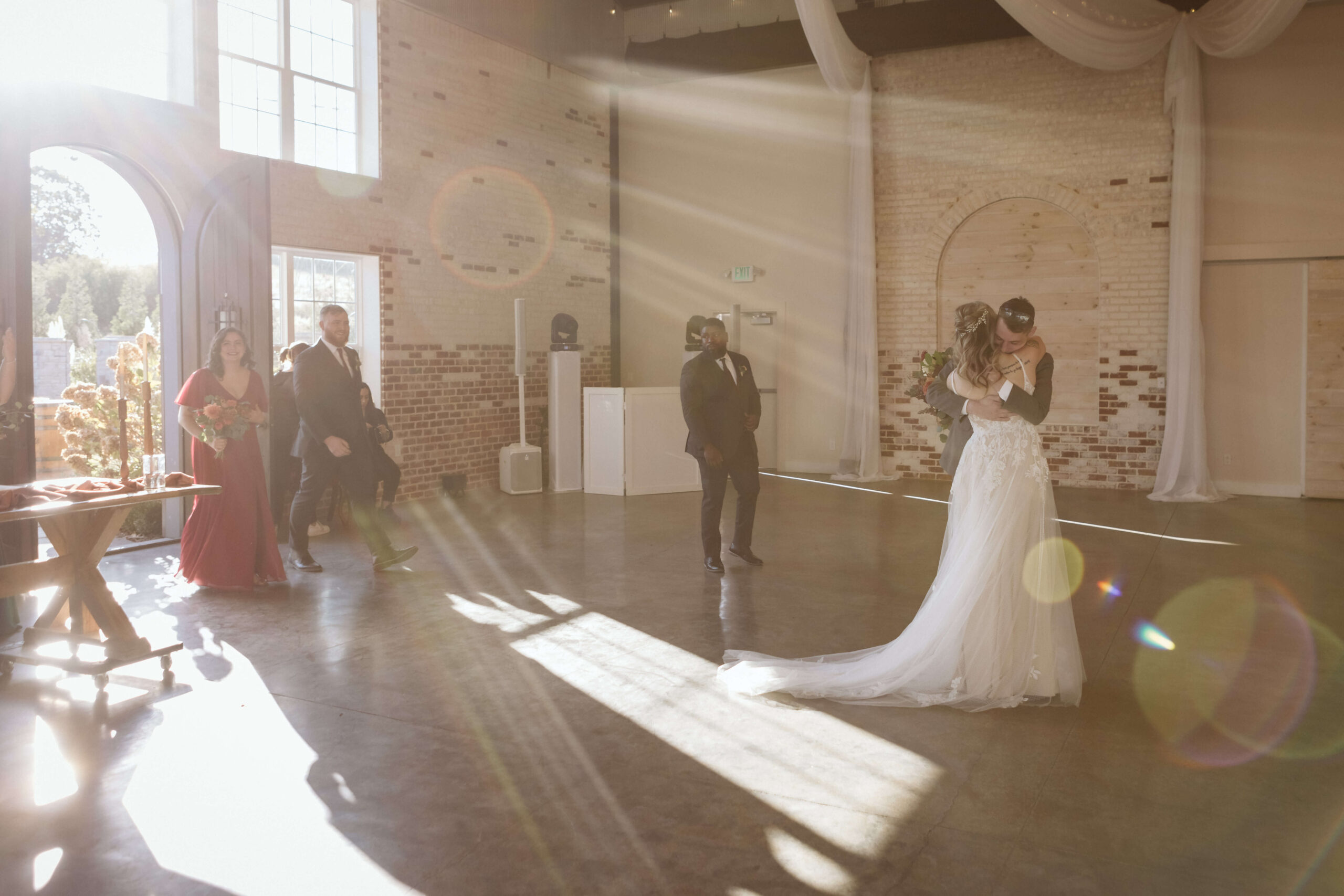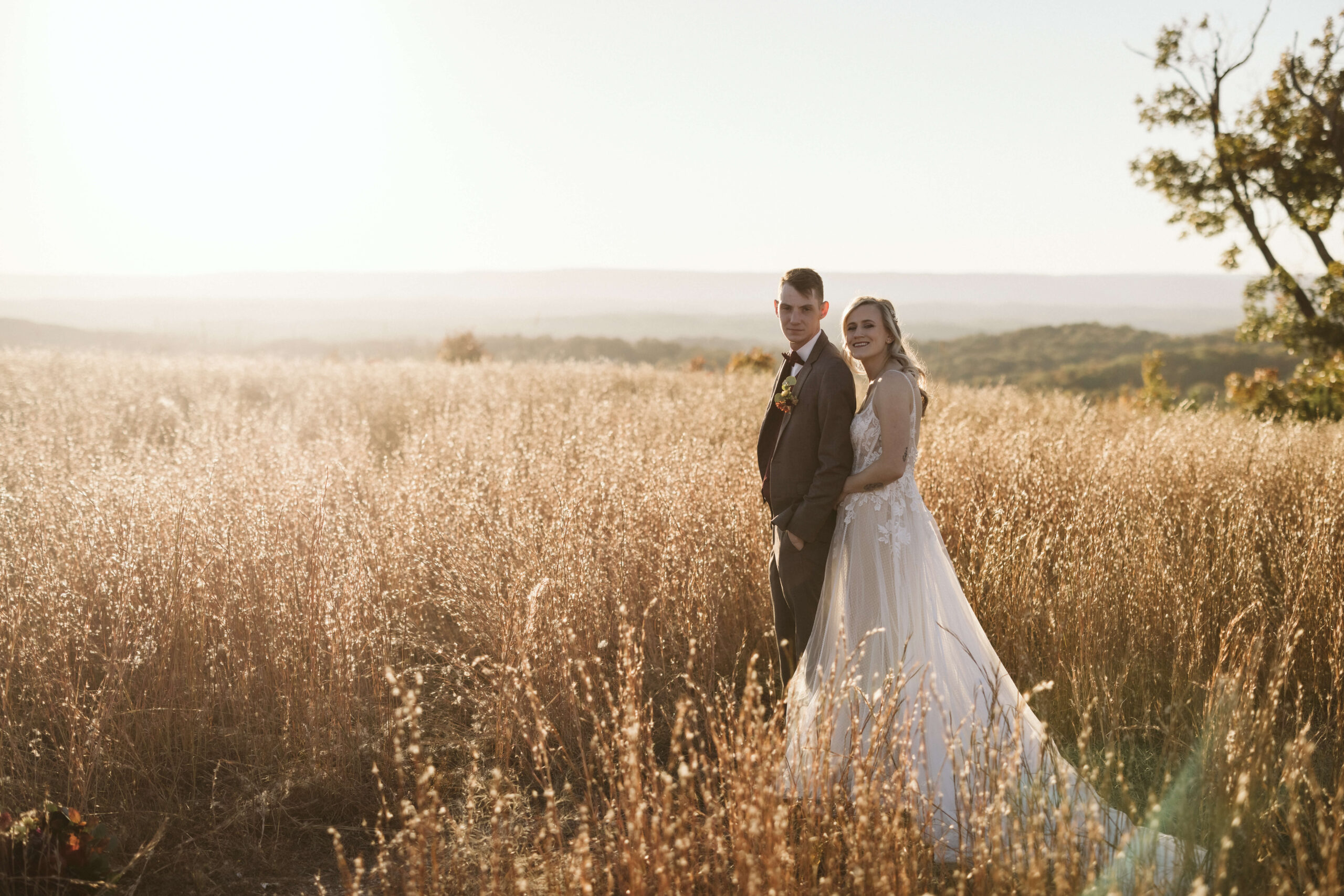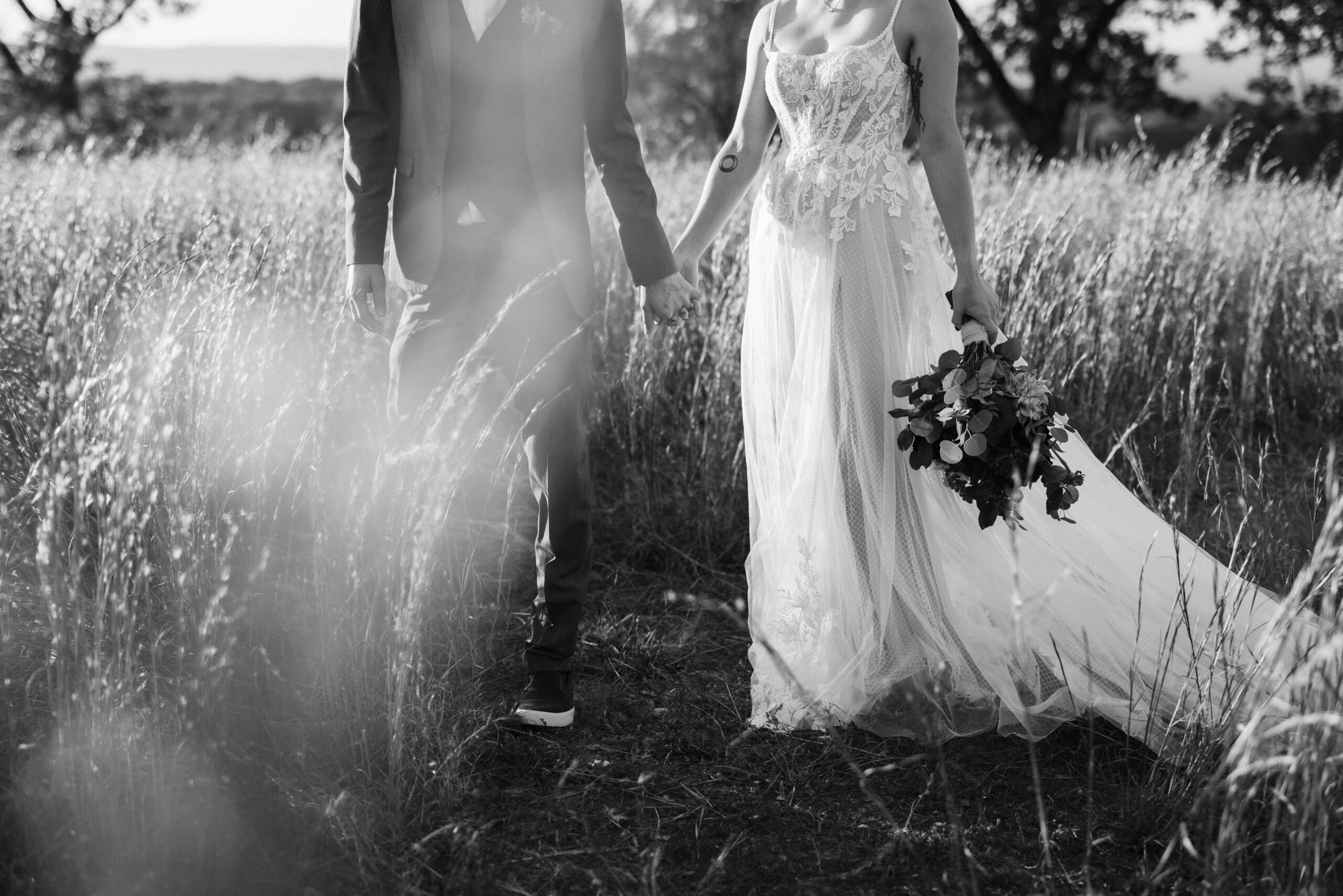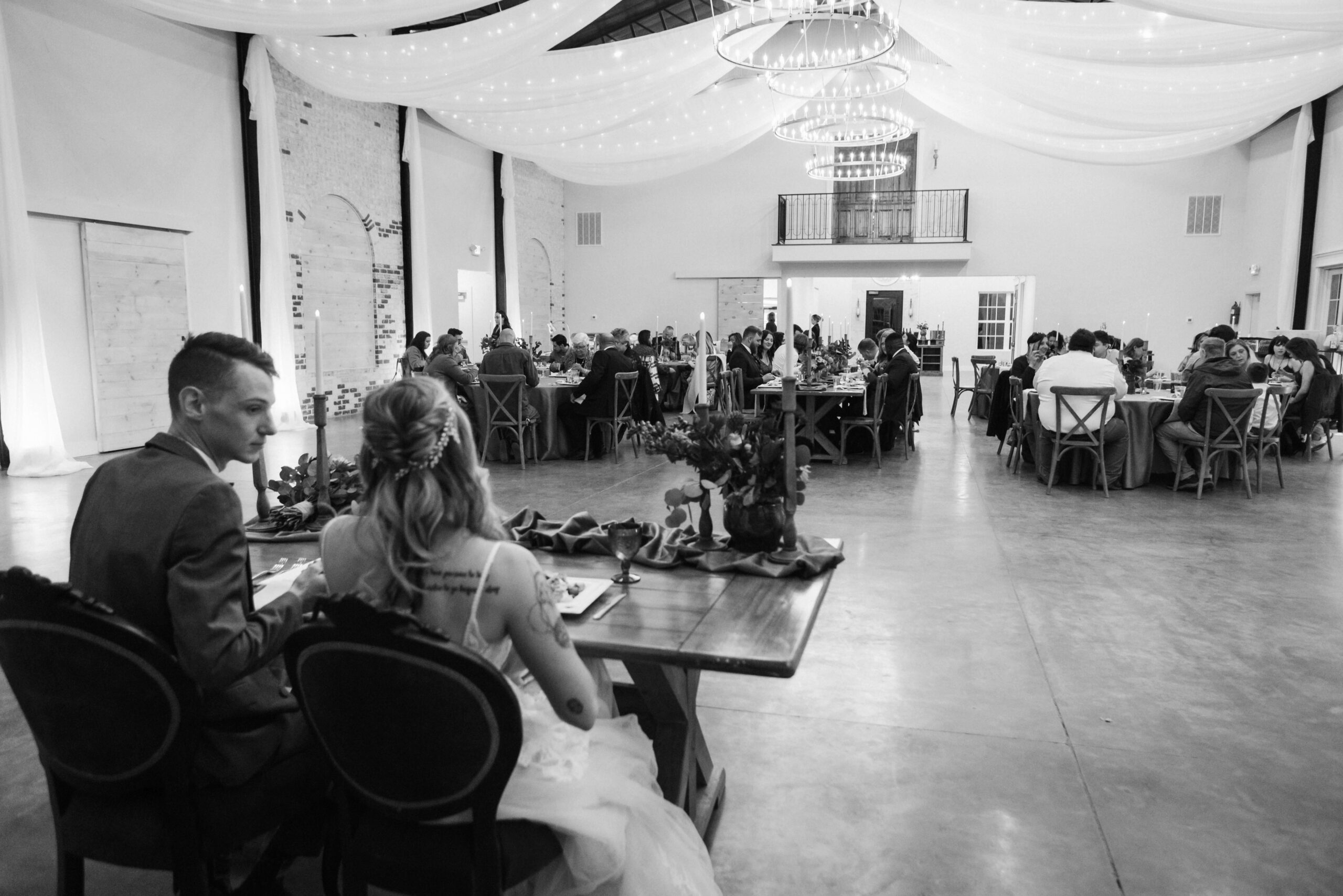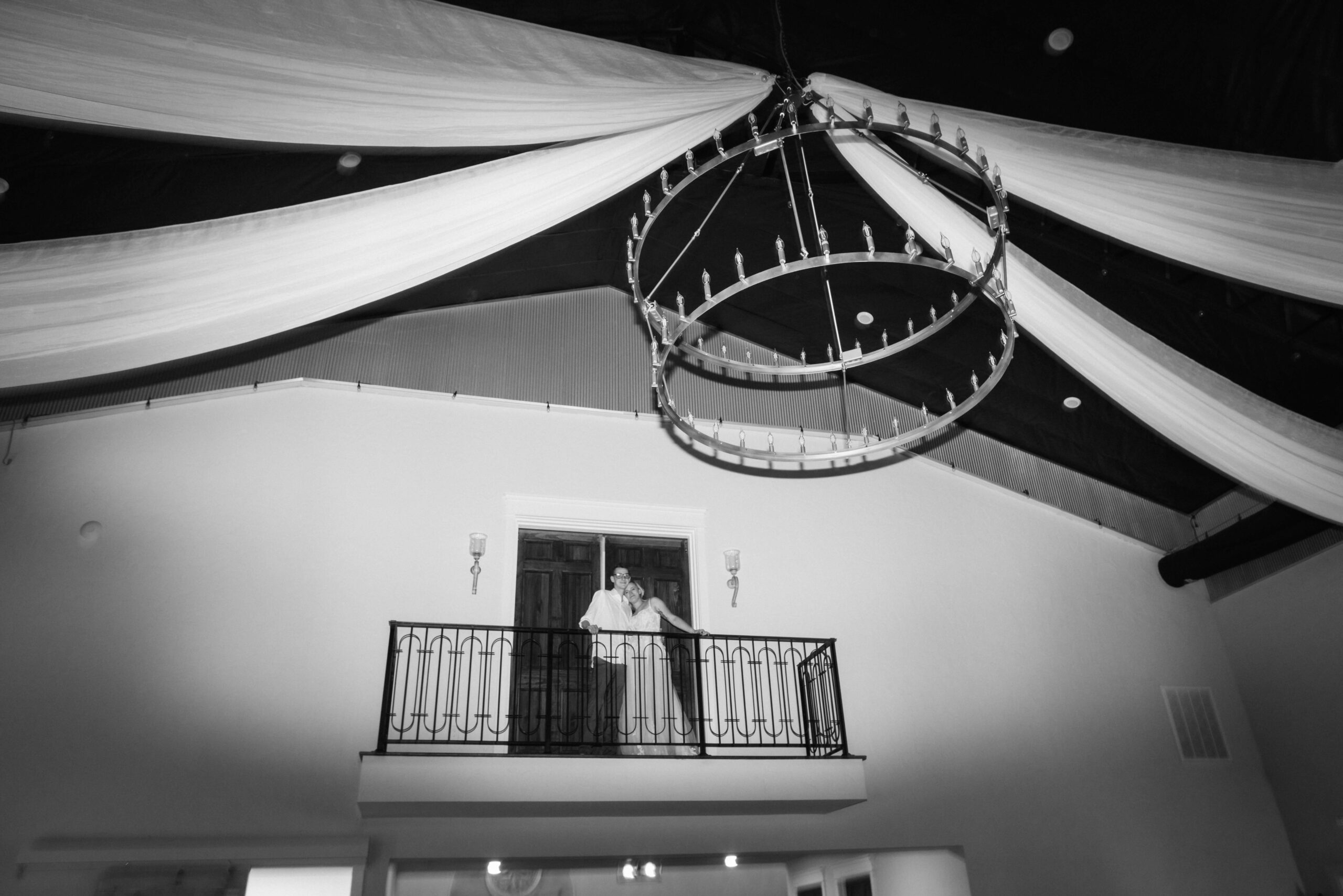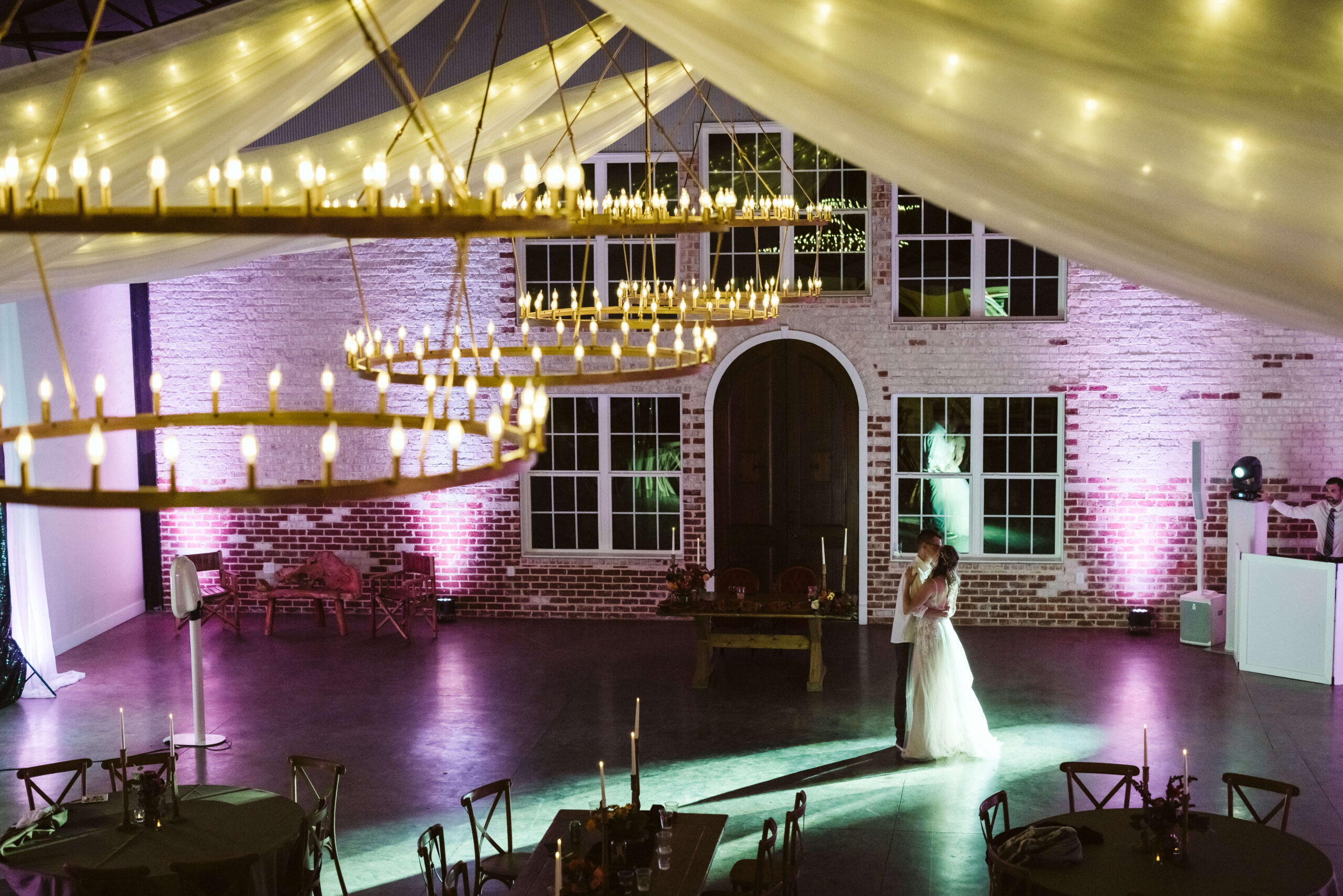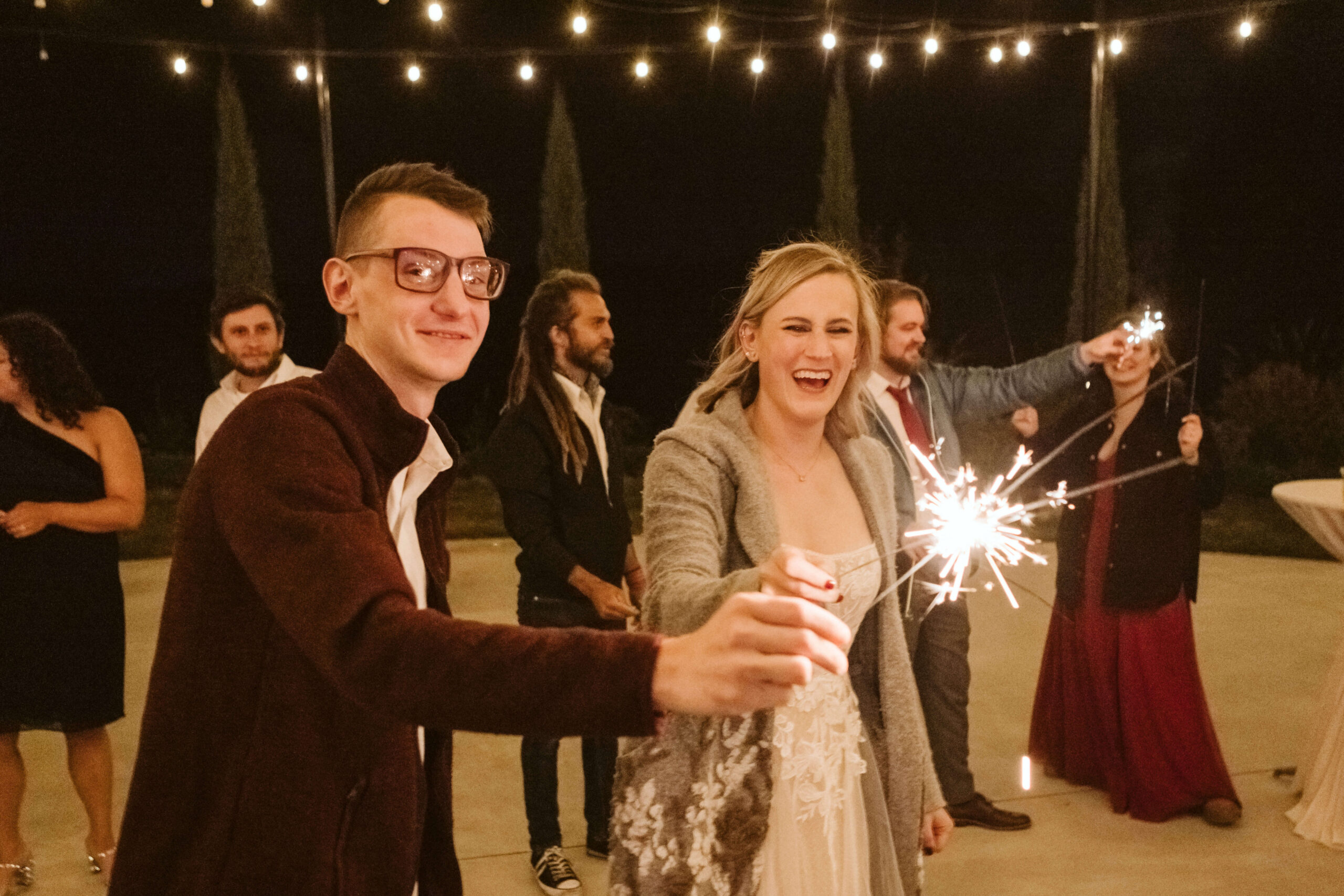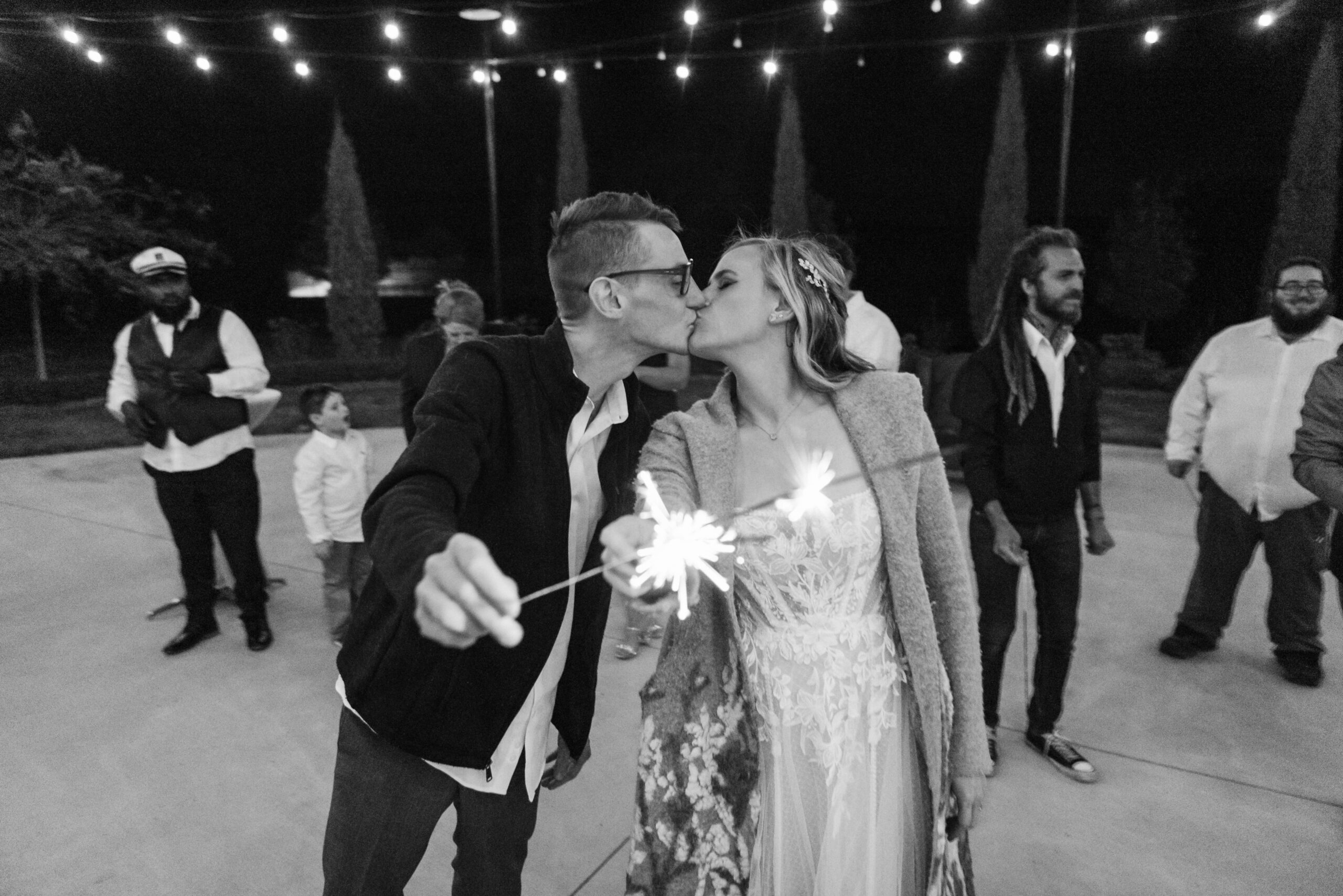 The Loft
For couples with more of an urban style, the Loft at Howe Farm's second property, the Five Gables, is an eclectic blend of a magical garden courtyard contrasted with the industrial indoor reception hall.
Getting ready for the big day at the Loft is definitely an experience that can't be beat. The bridal suite has an upscale salon set up complete with private closets for the bride and her bridesmaids. Meanwhile, the groom's room has a locker room style design for the guys to relax and prepare for the day's events.
Outdoor ceremonies at the Loft are truly a sight to behold. The garden courtyard is enclosed with lush trees and manicured bushes while the paved slate walkway, brick columns, and iron trellises add industrial features. In case of rain, the ceremony can move indoors into the reception hall. Ceremonies and receptions at the Loft are easy to design your dream wedding in. Exposed brick walls are just a blank canvas waiting for you to style.
As you enter the large front doors of the reception hall, you're met by a sweeping staircase with wrought iron and Moroccan accents. Think of making your grand entrance into the reception by walking hand-in-hand with your new spouse down the curved staircase while gold candelabras glisten above.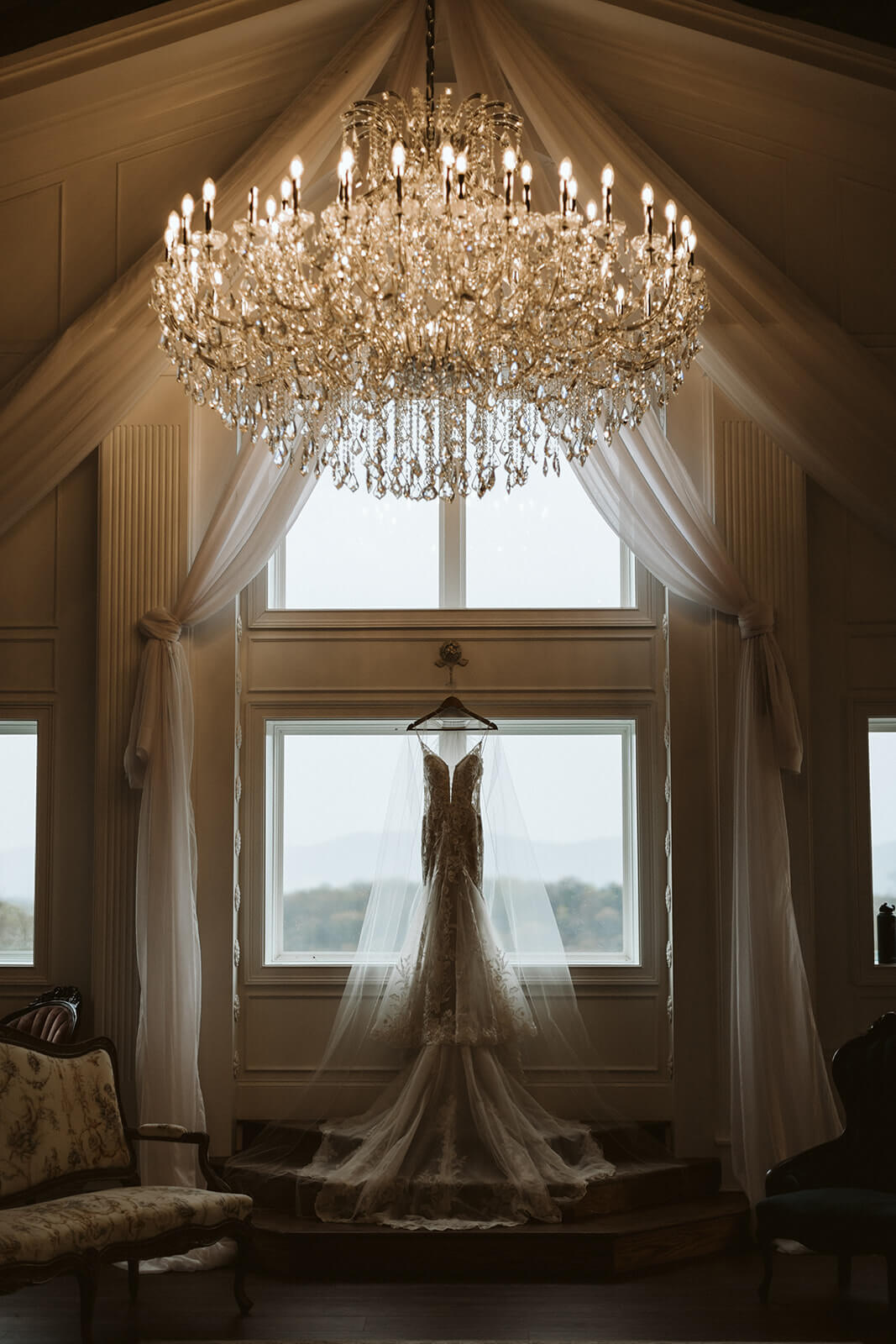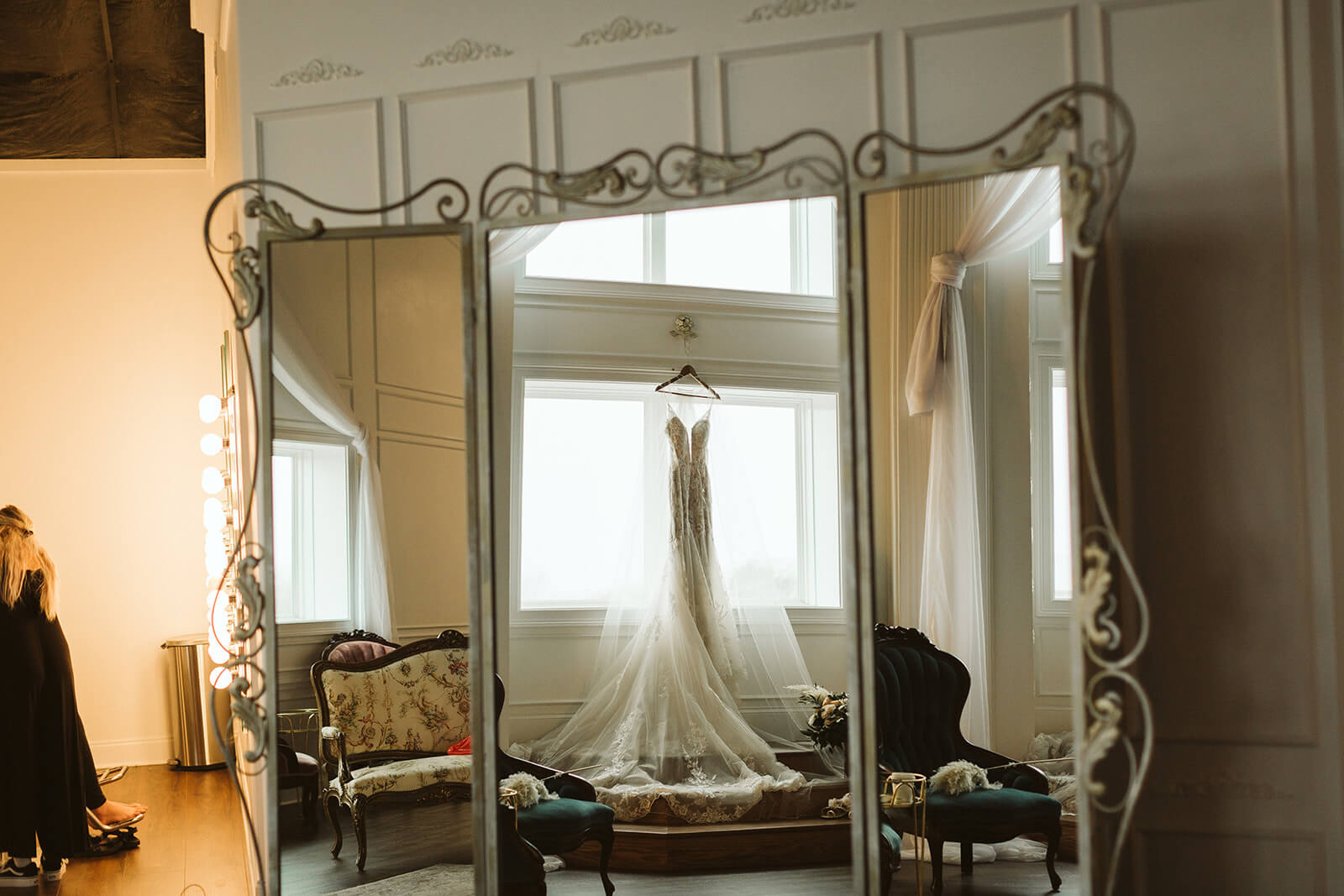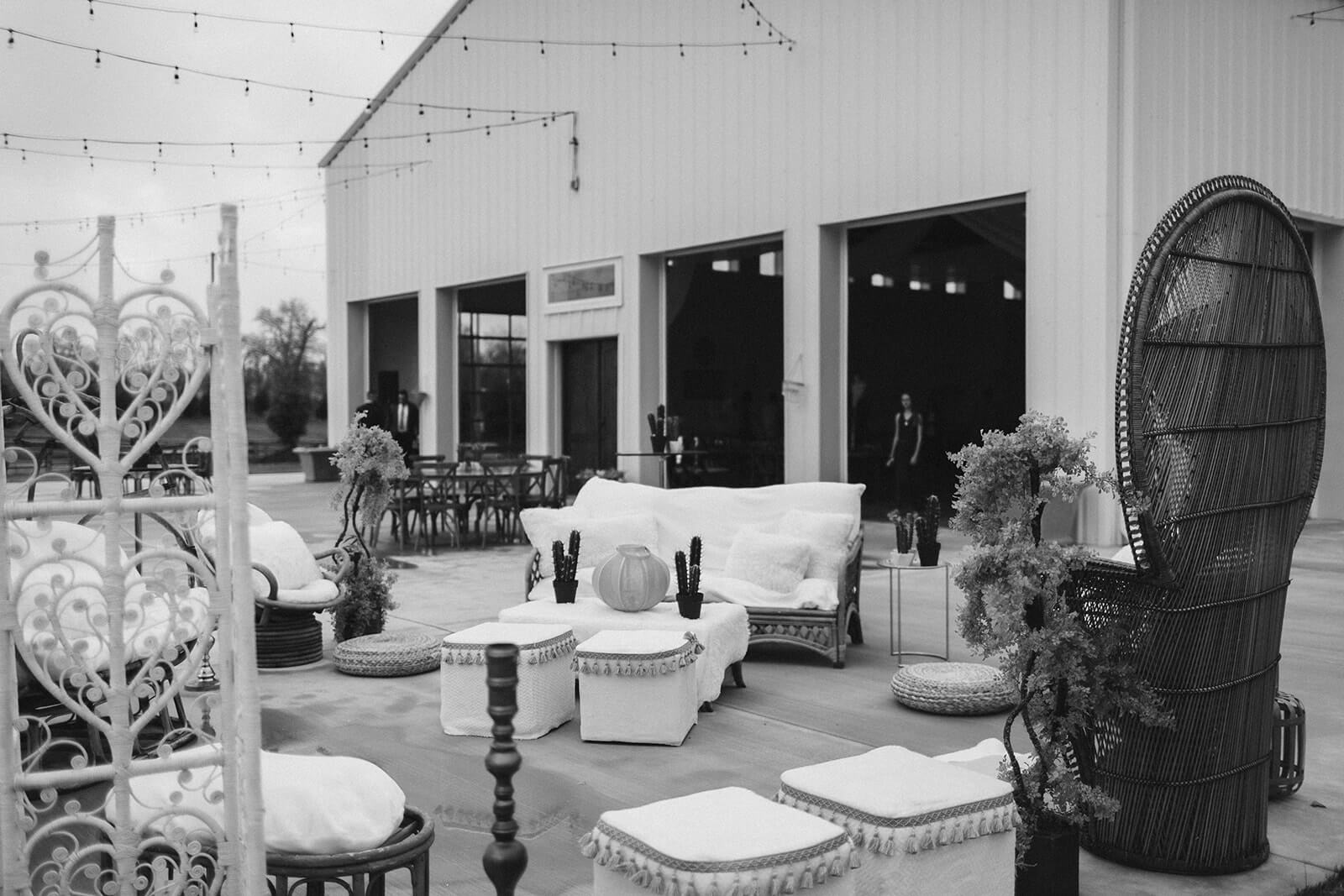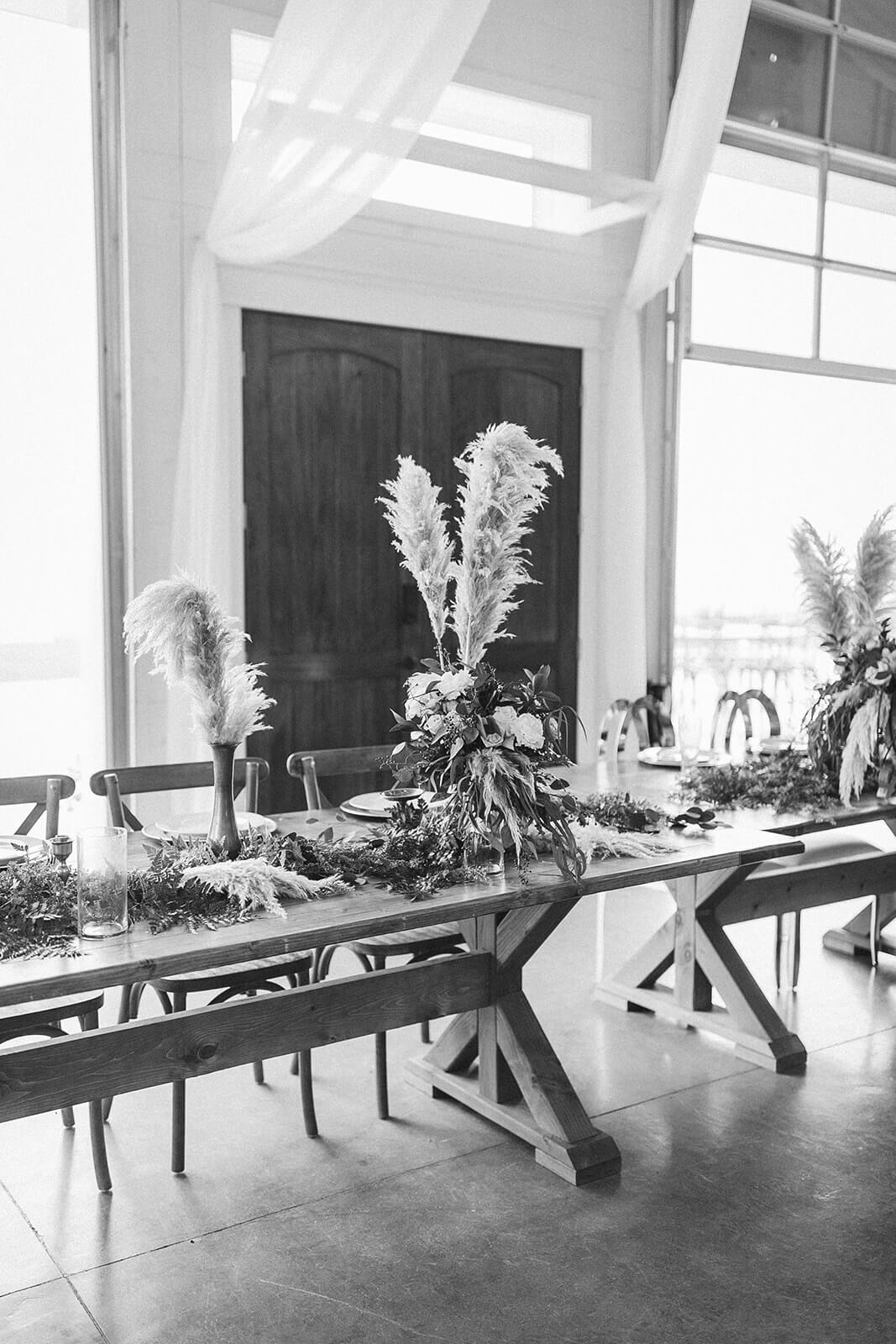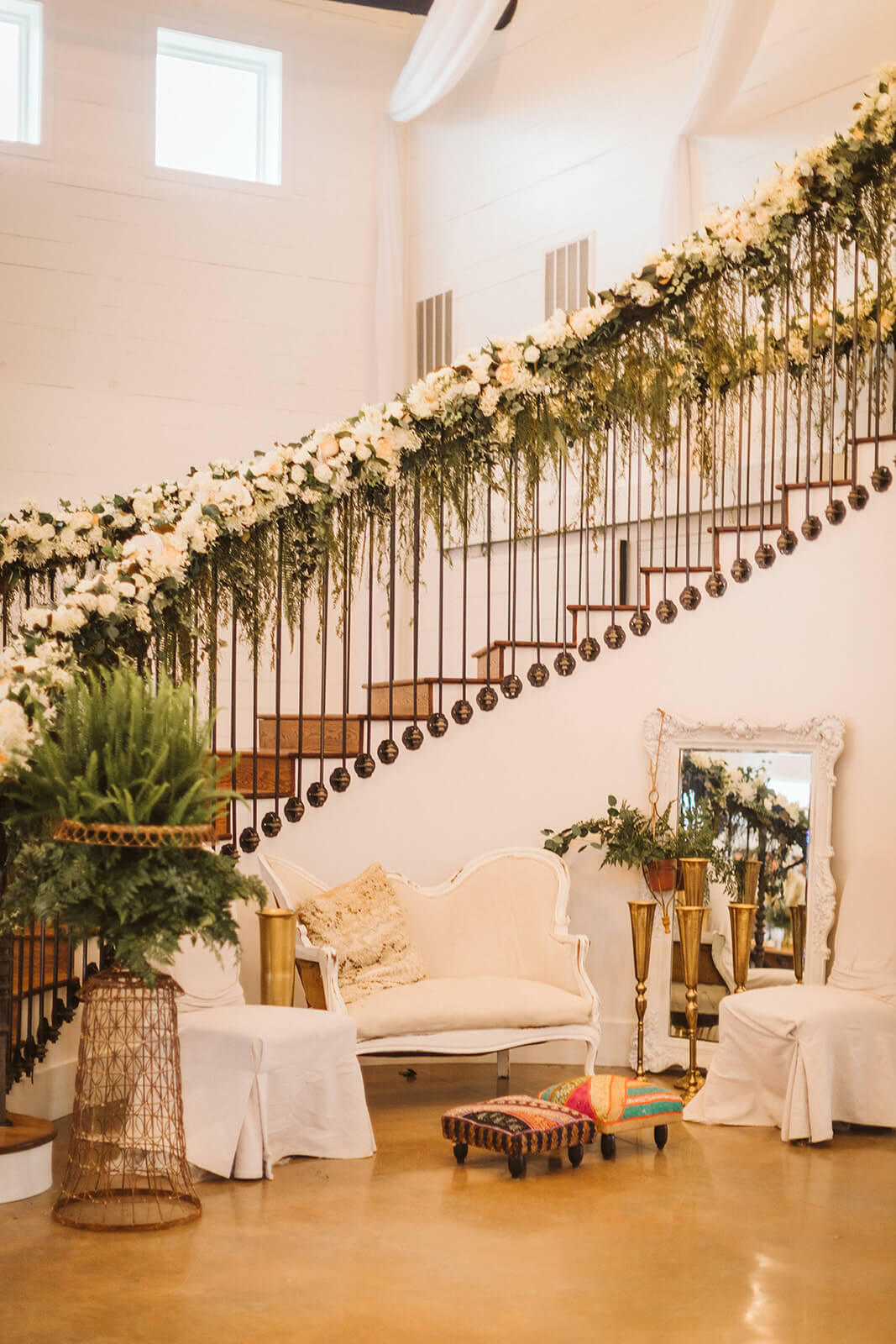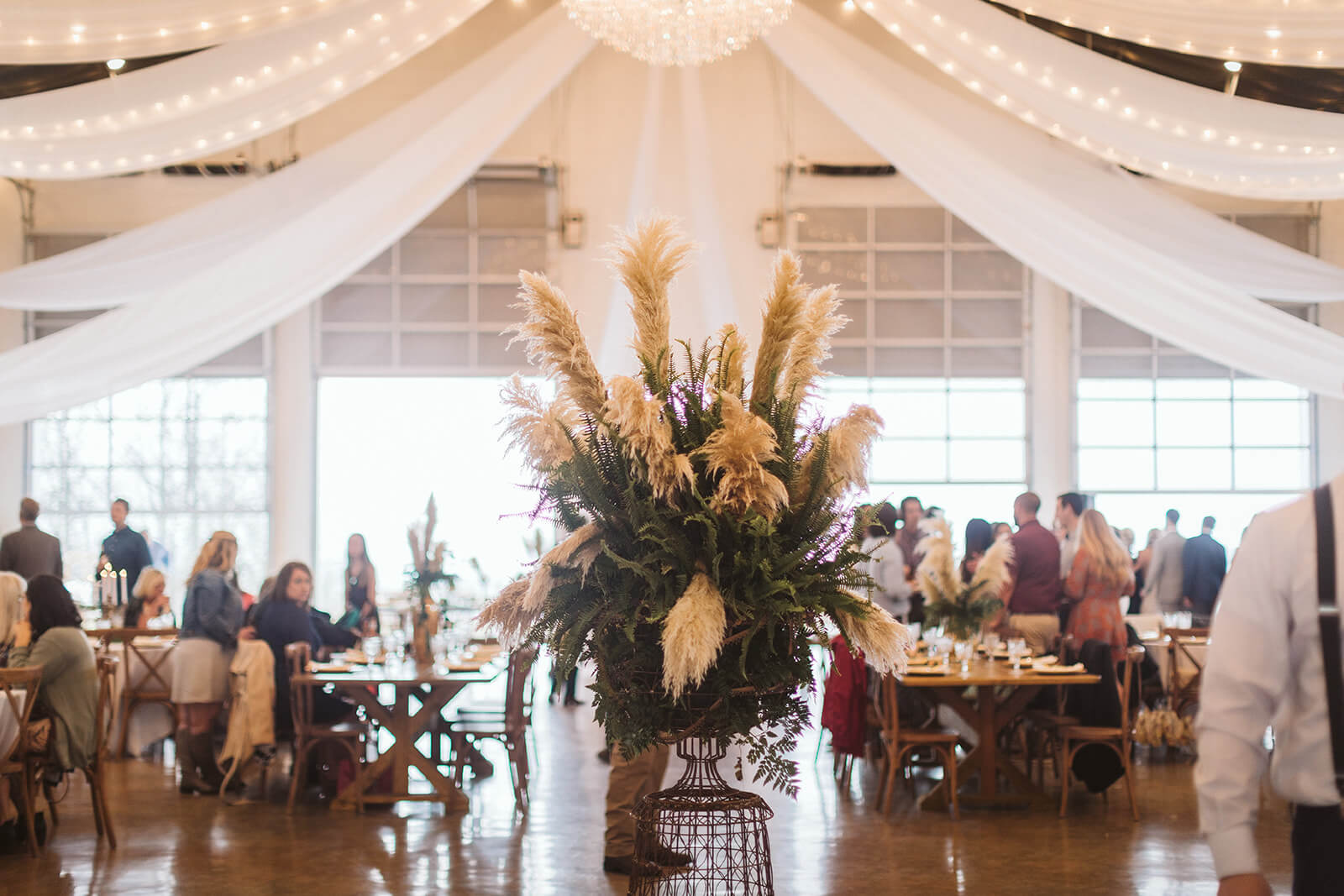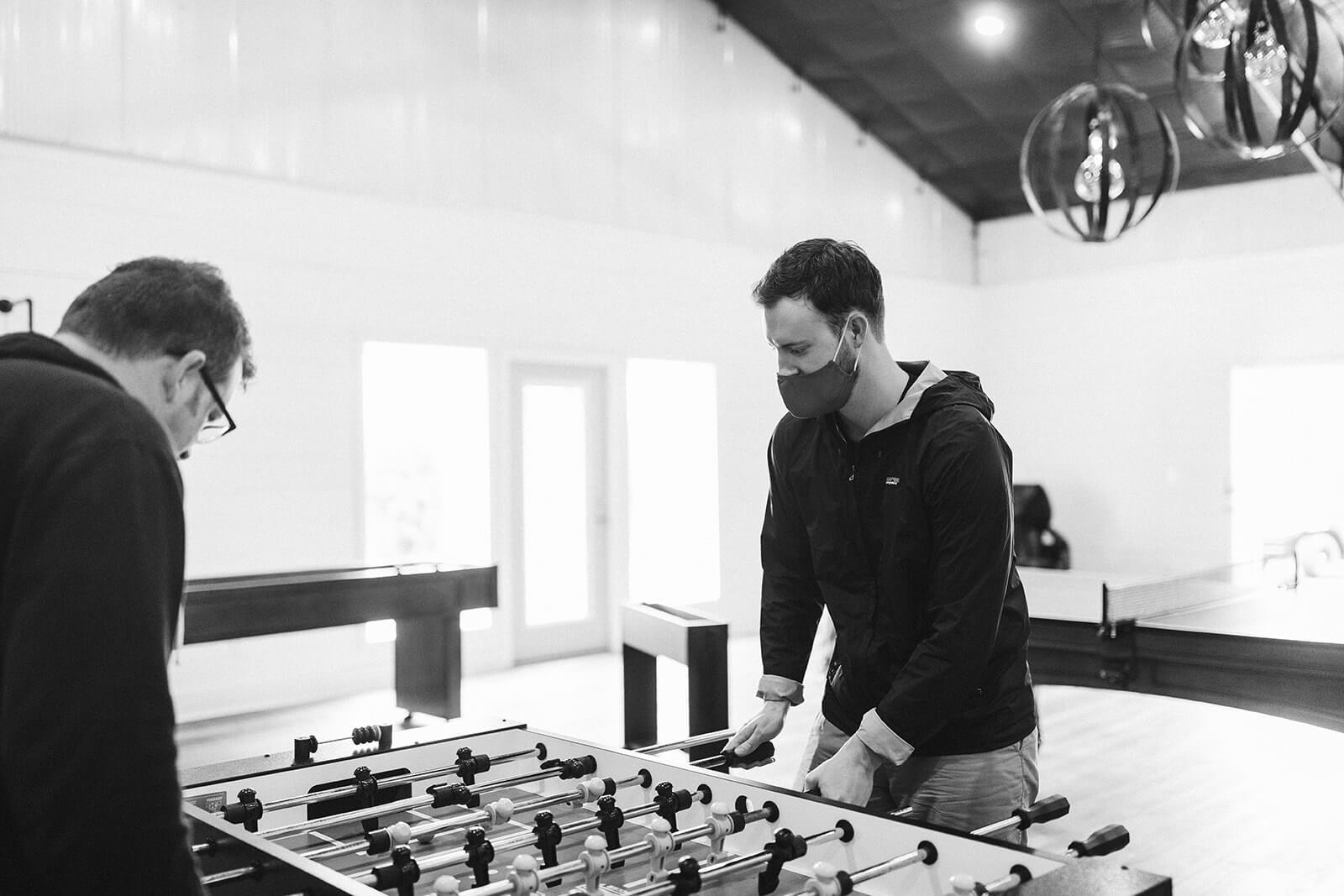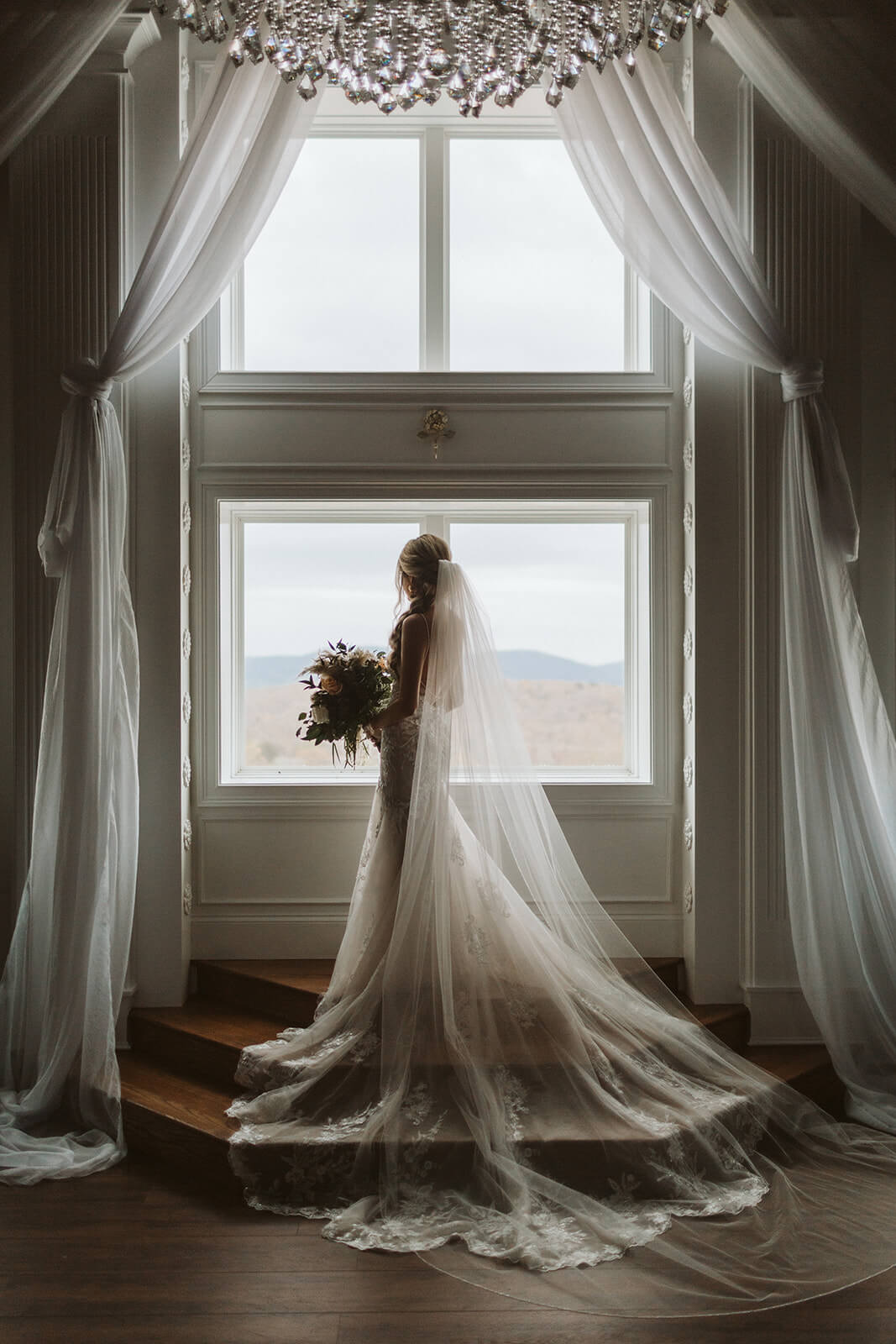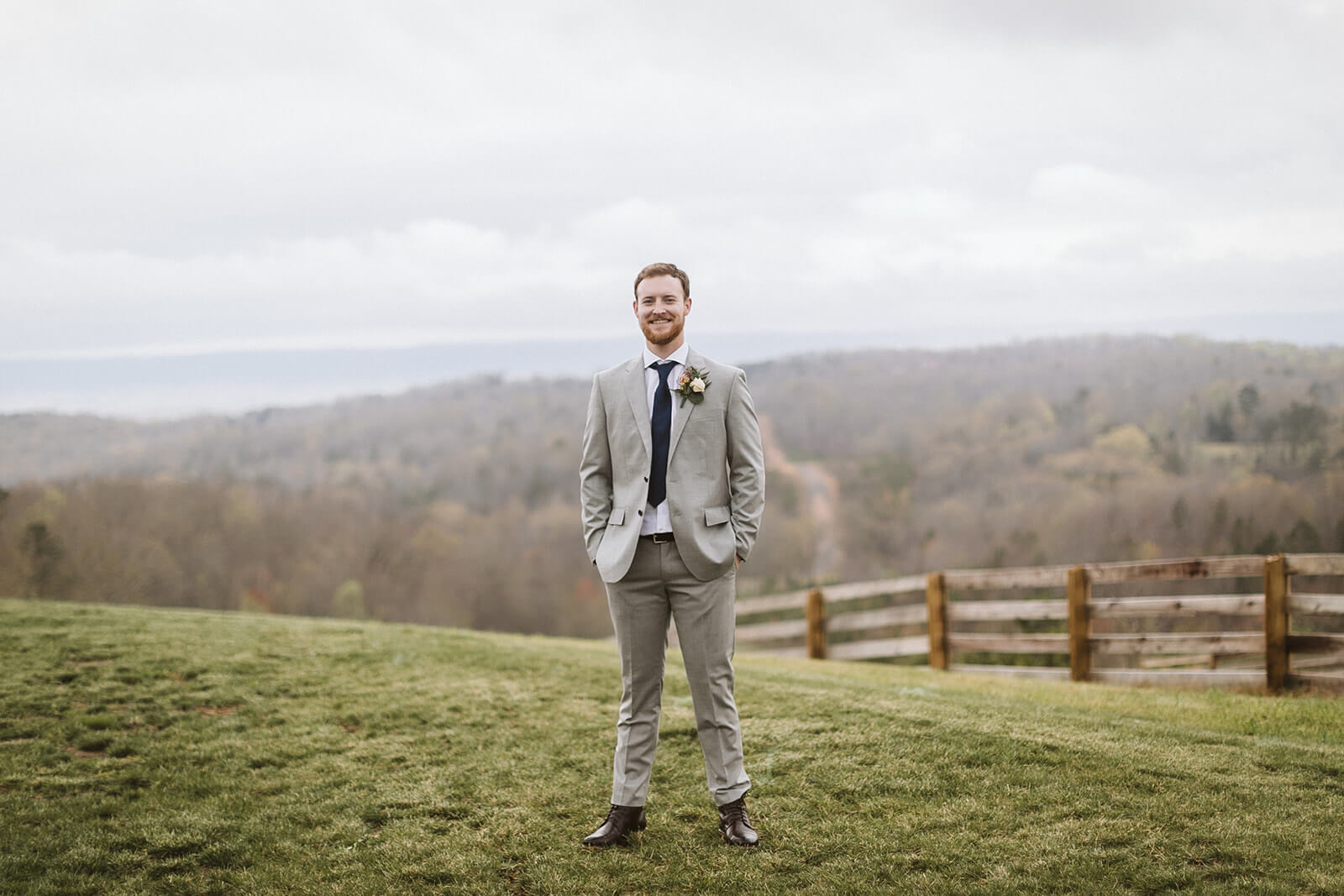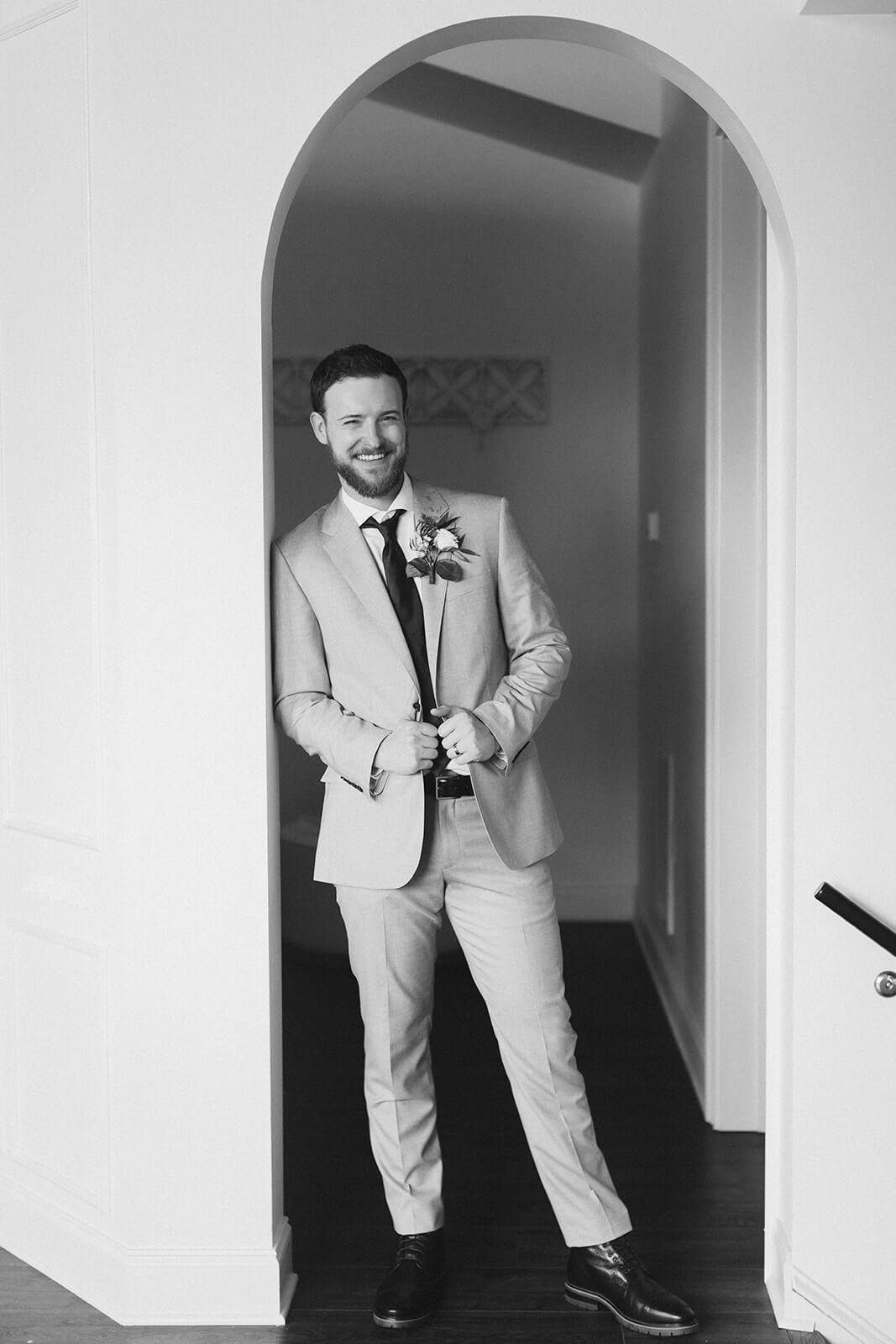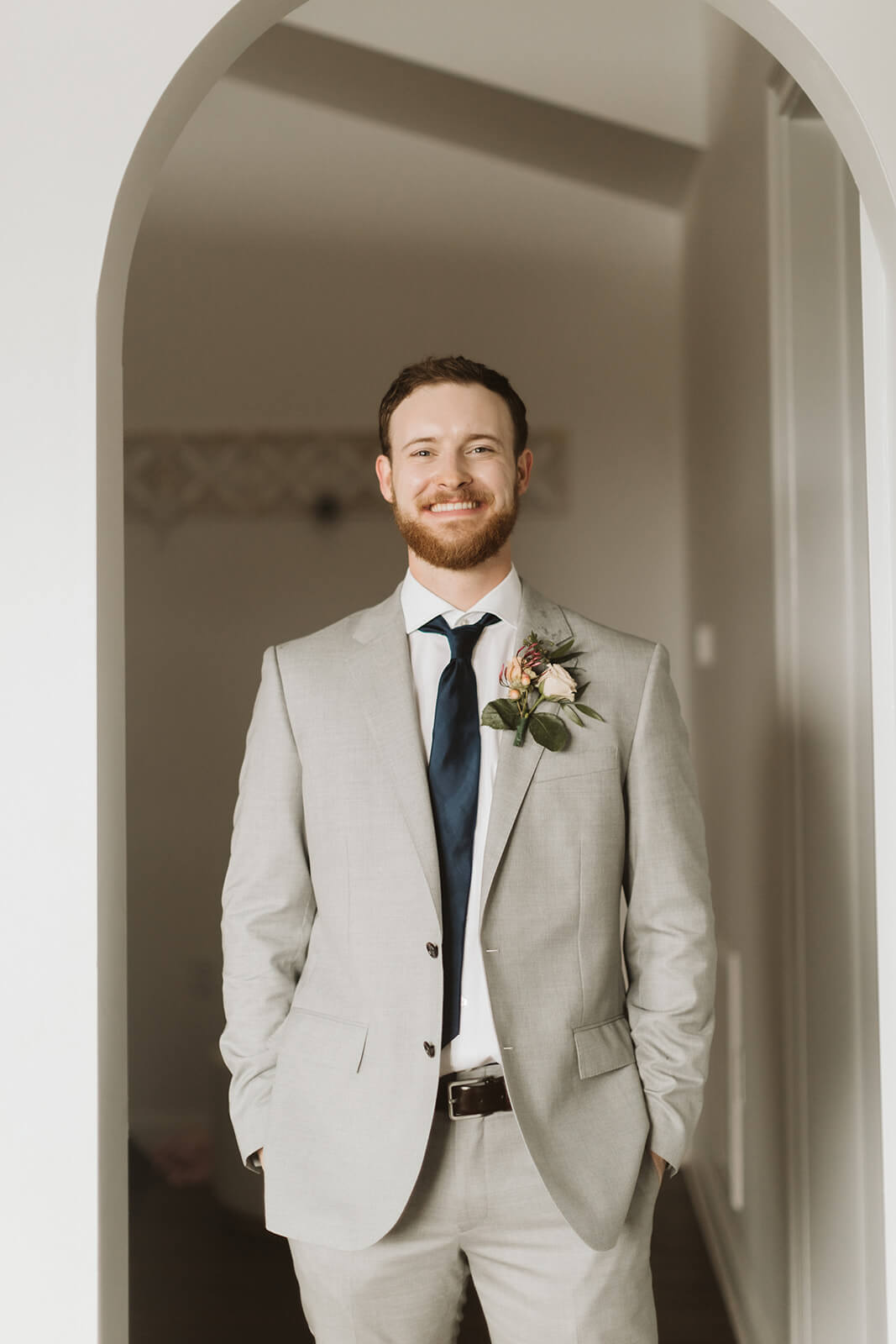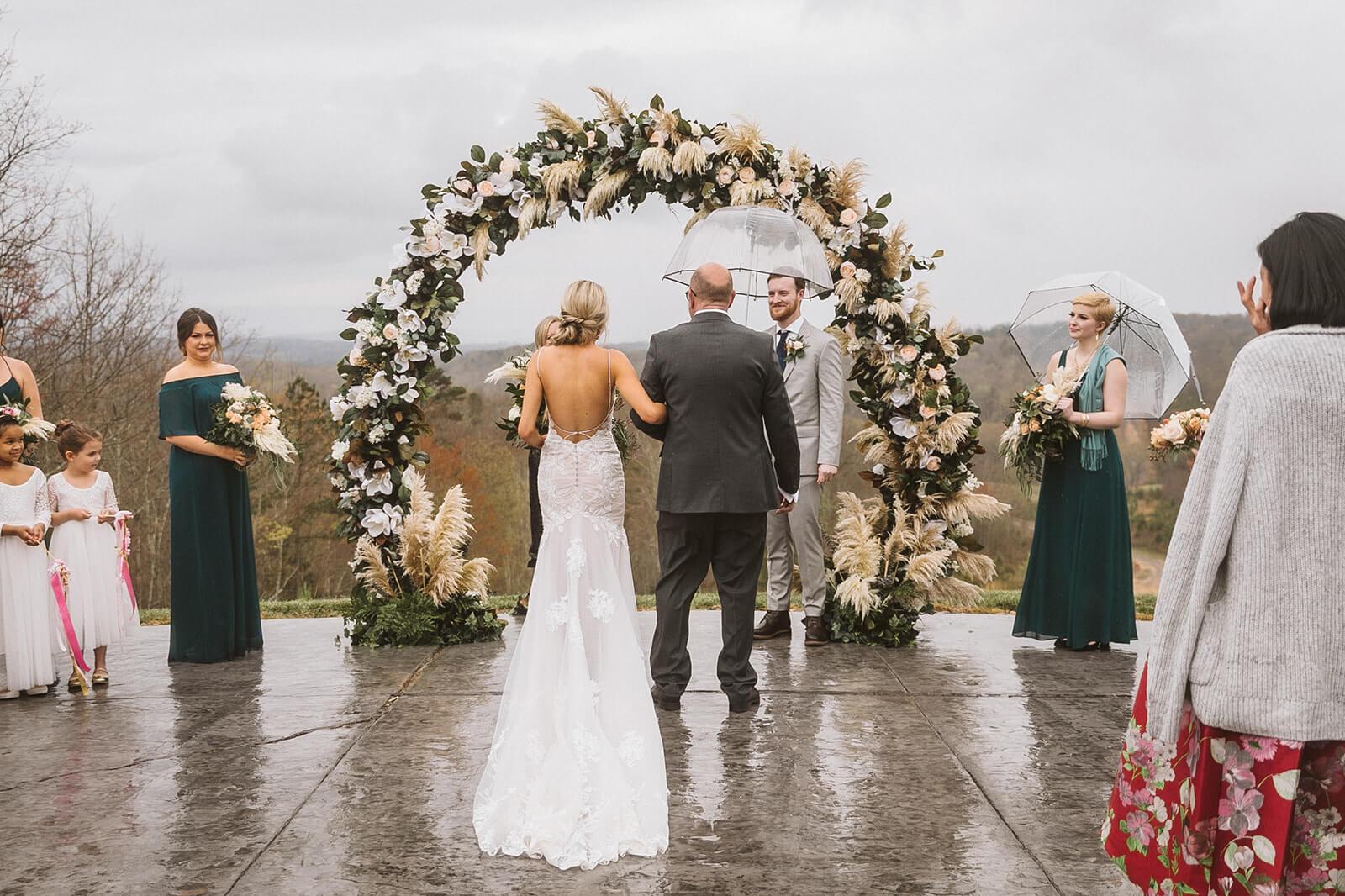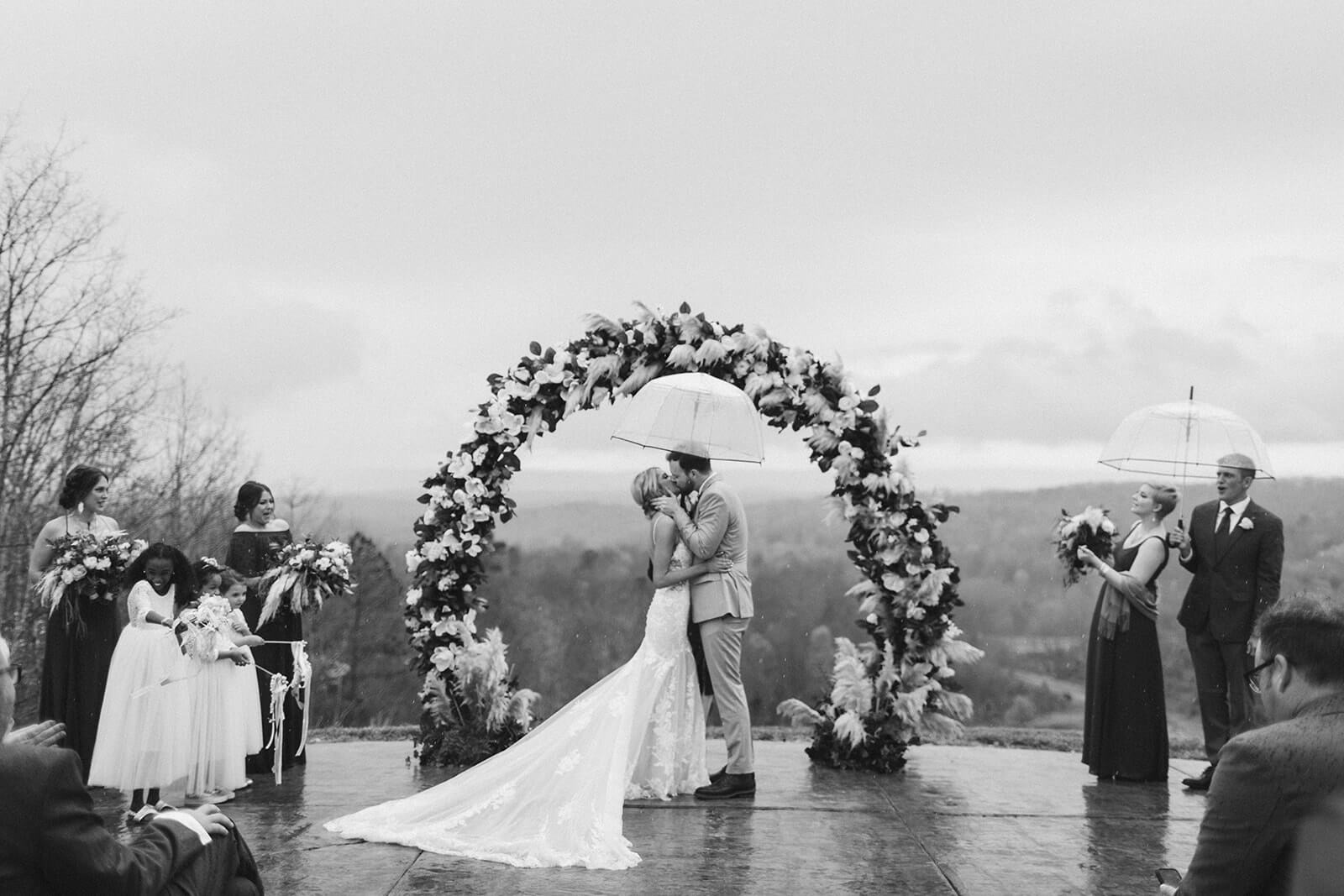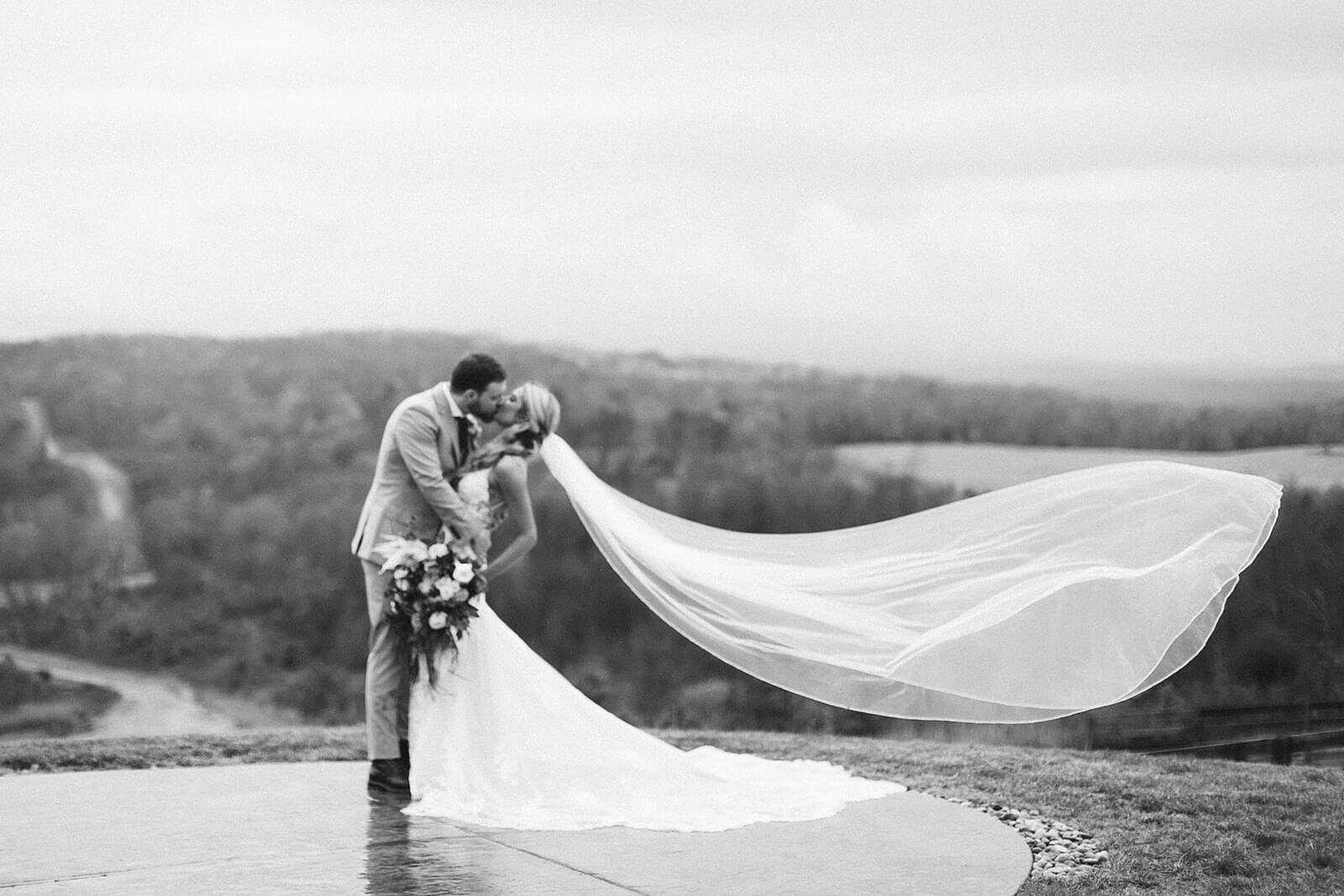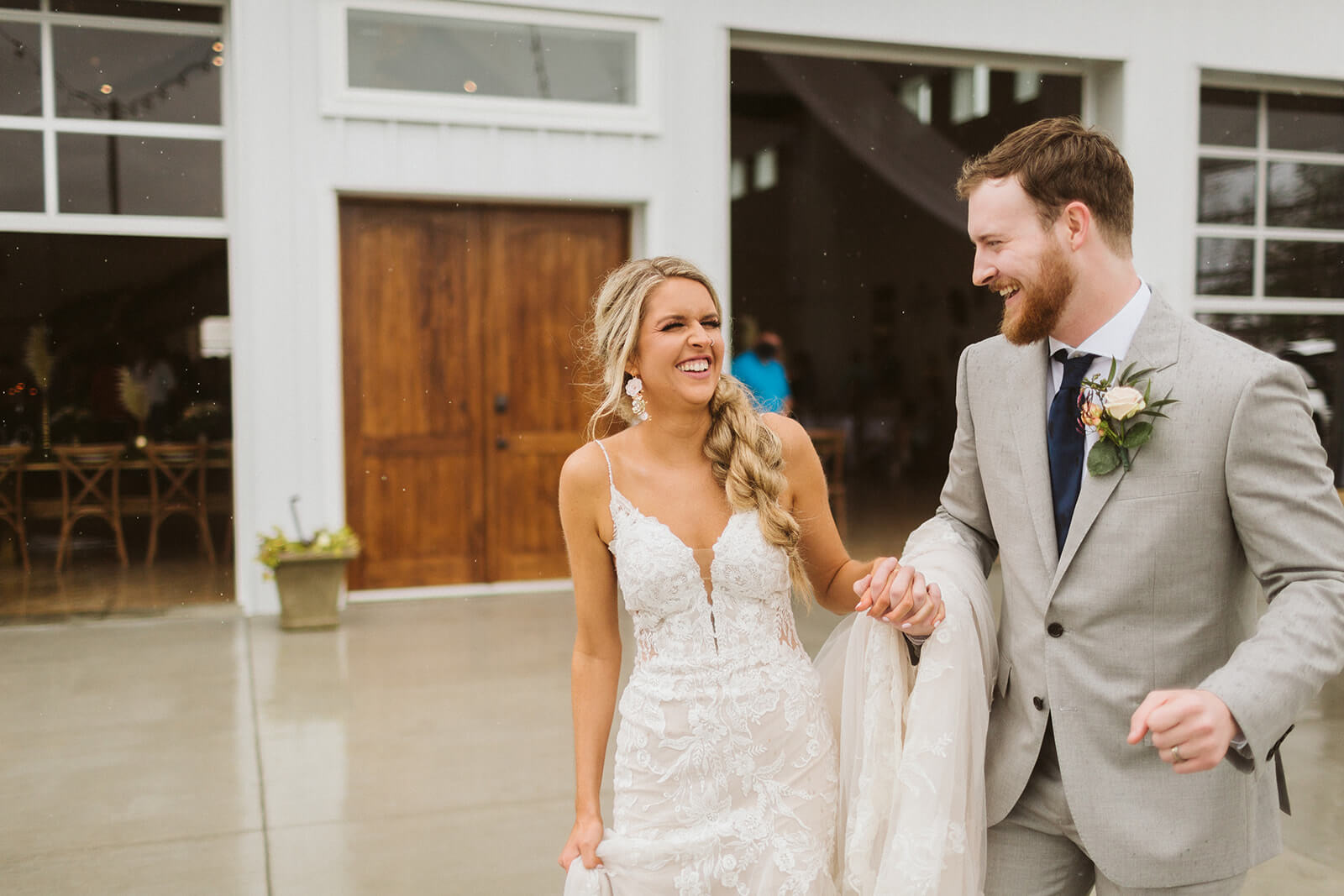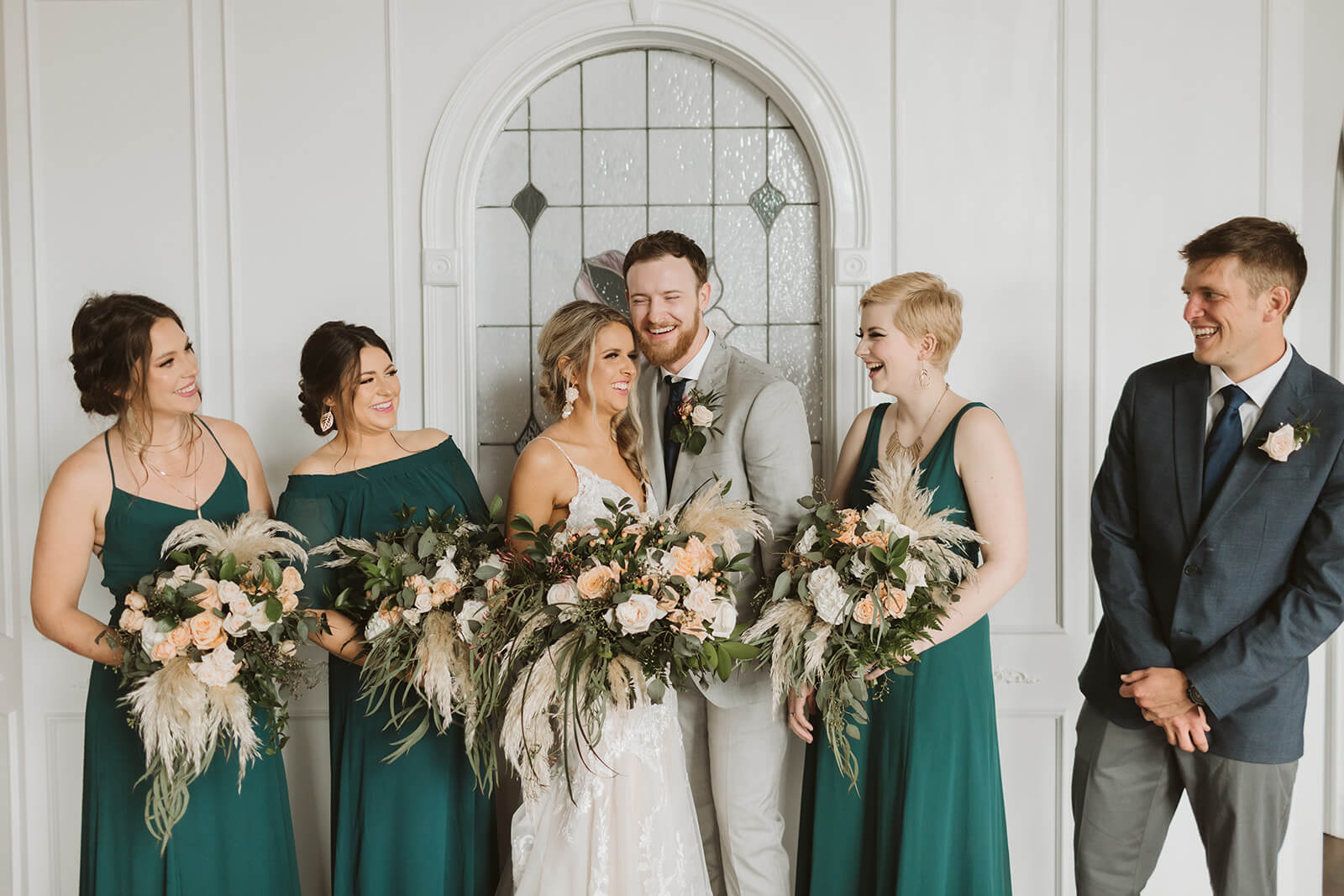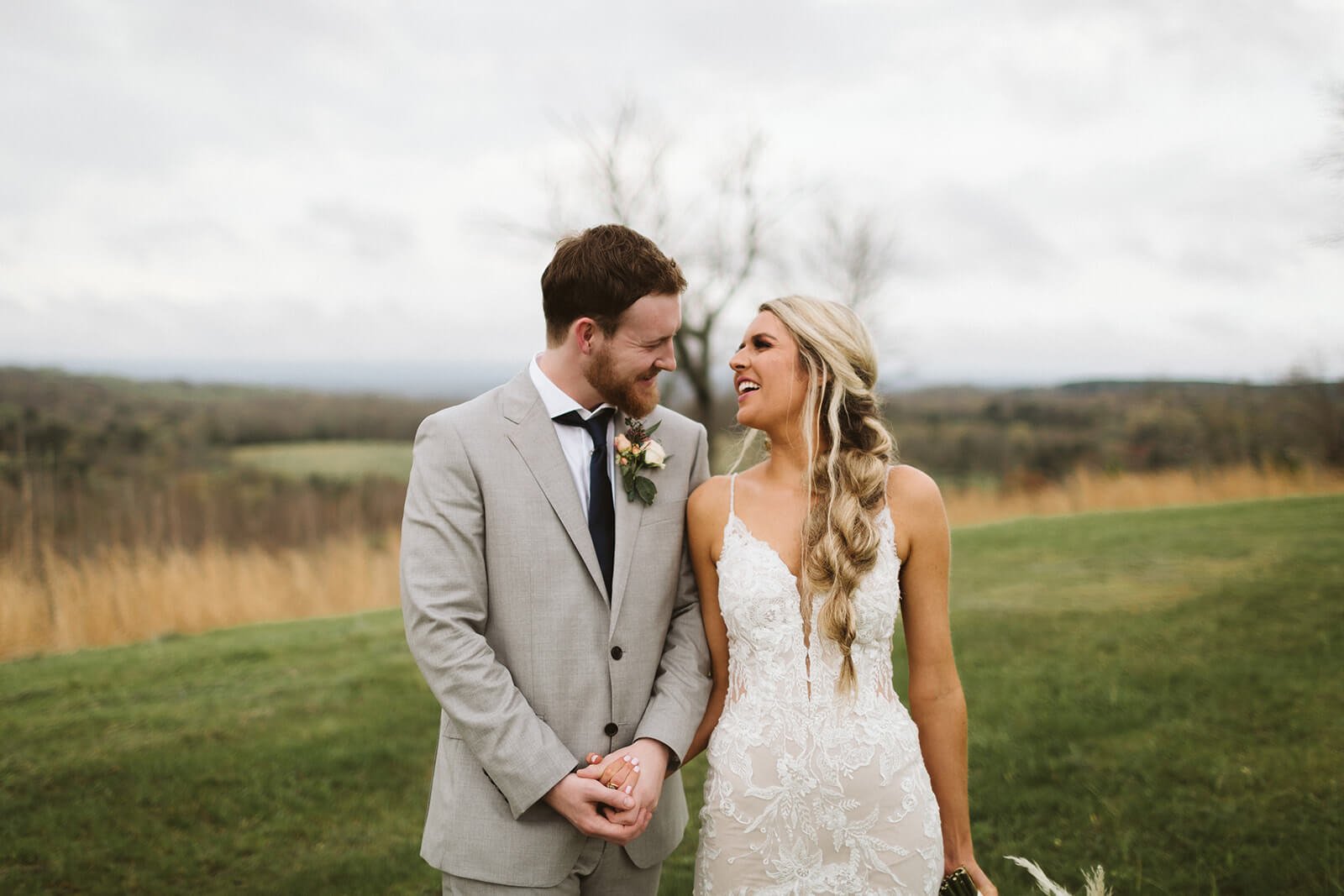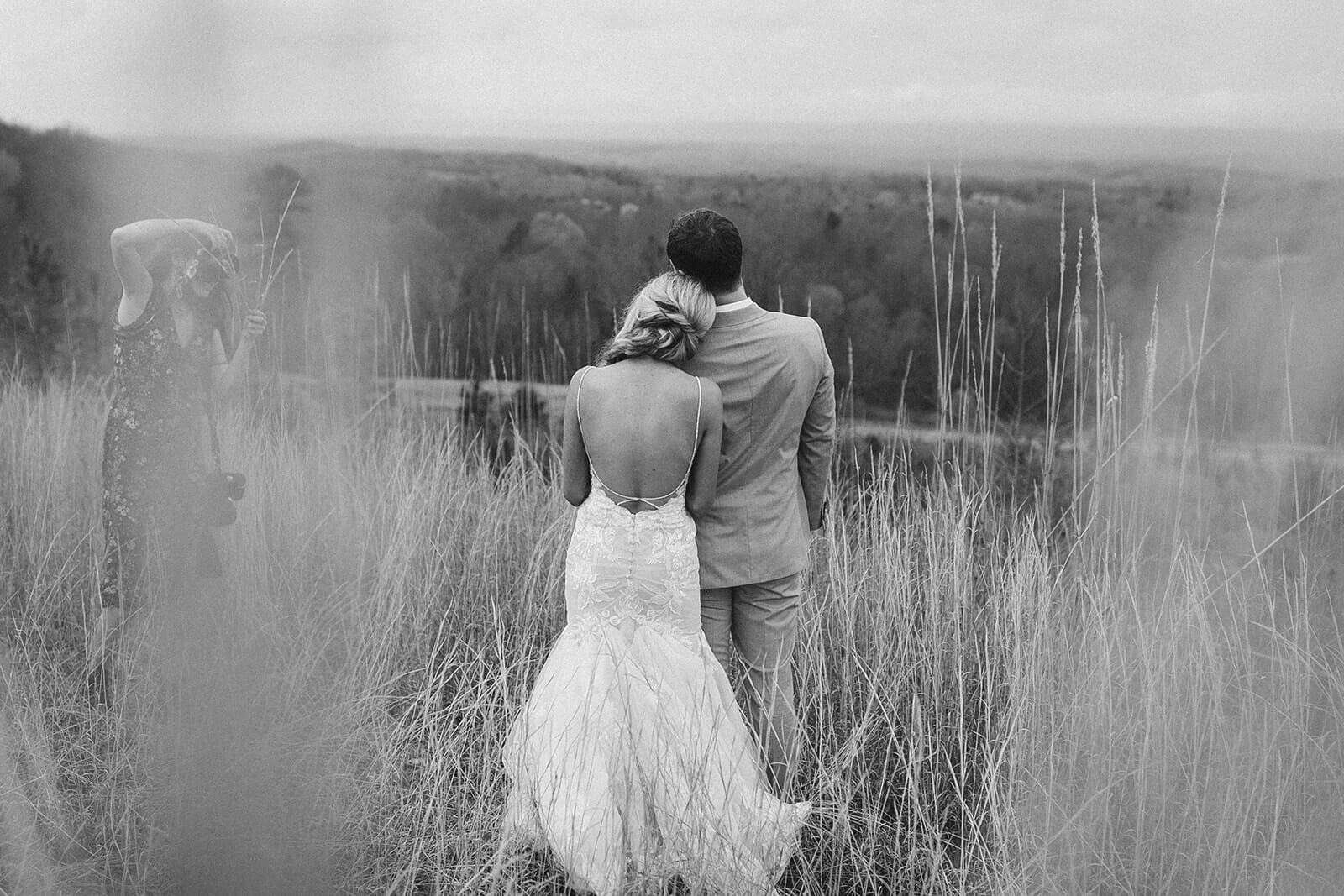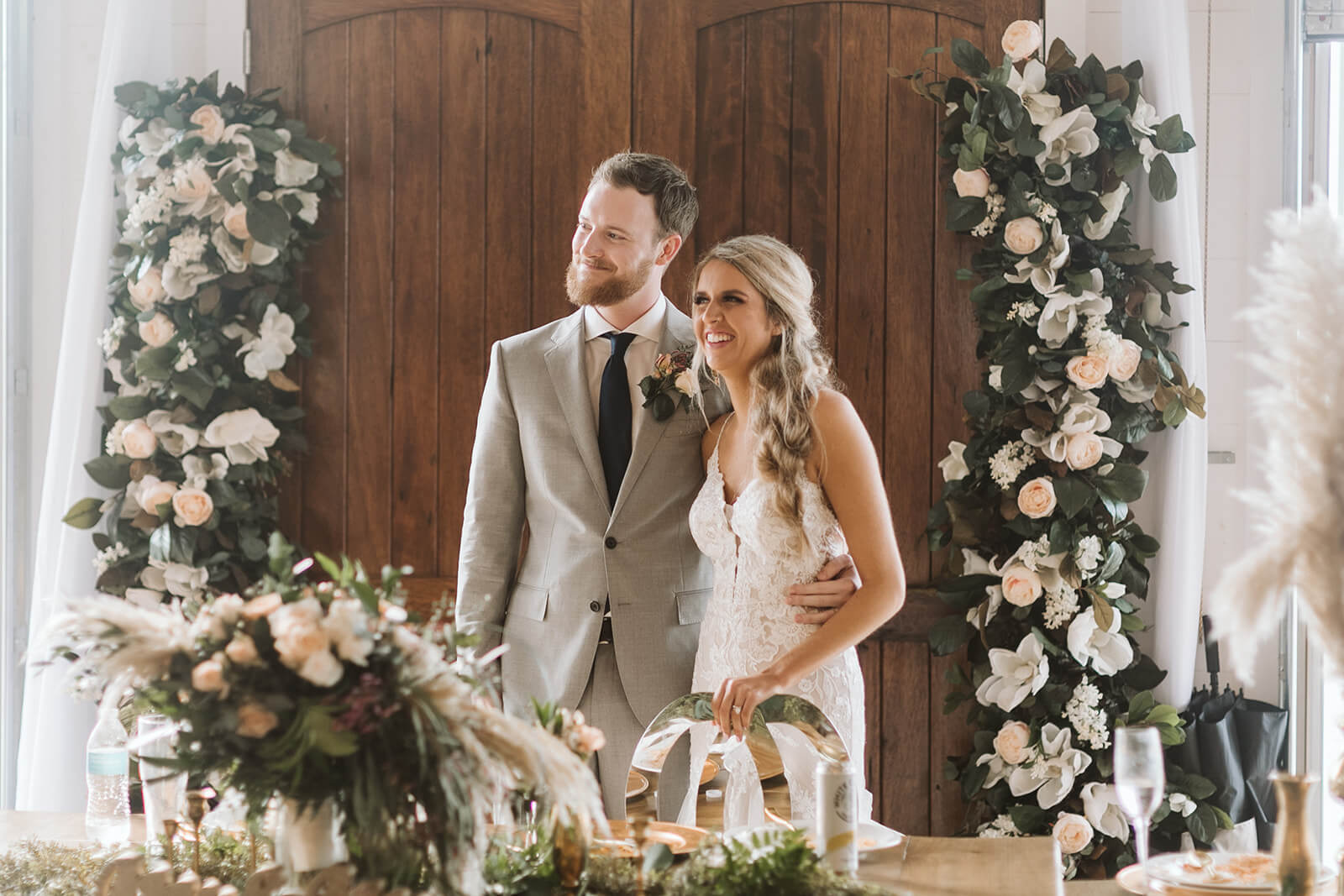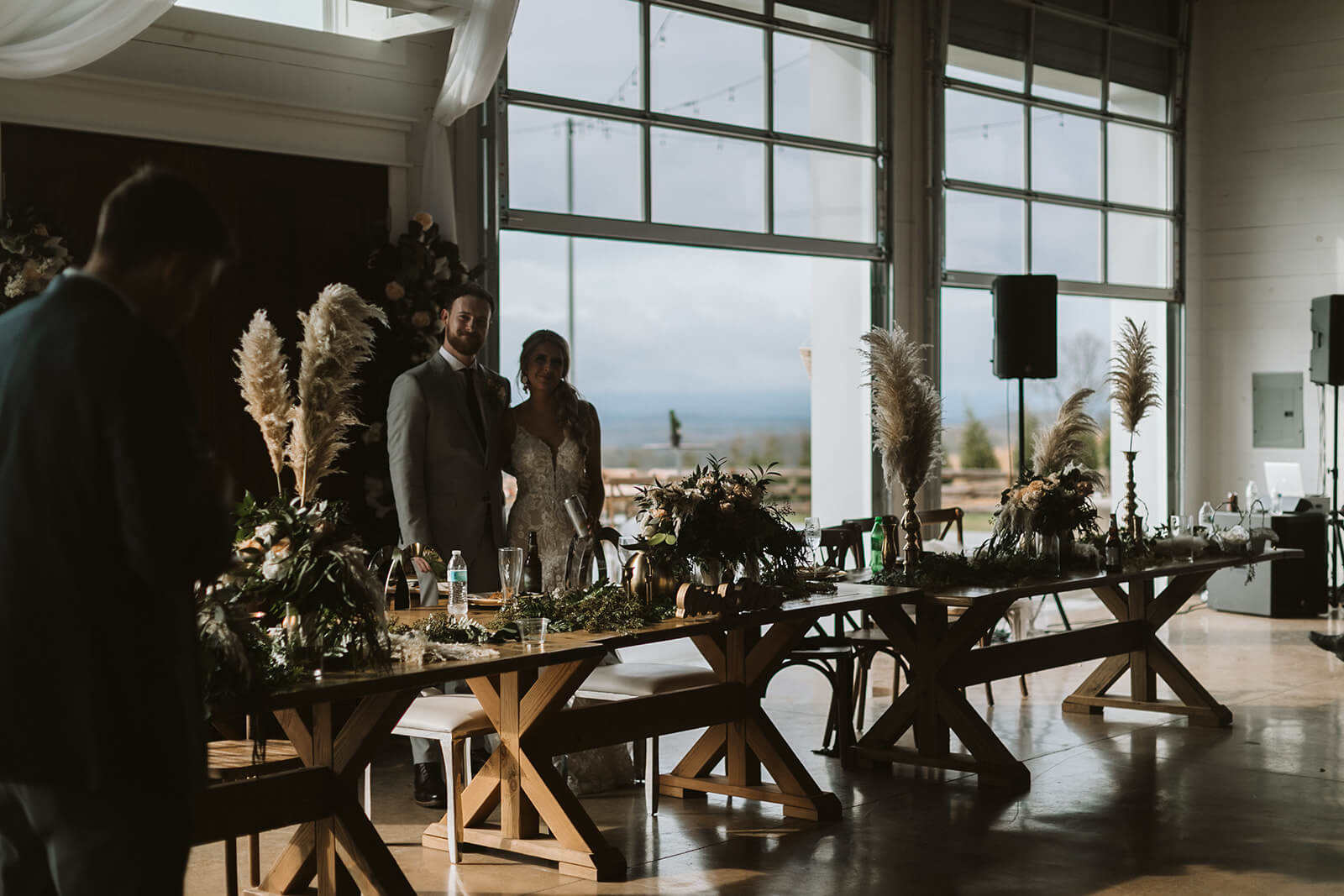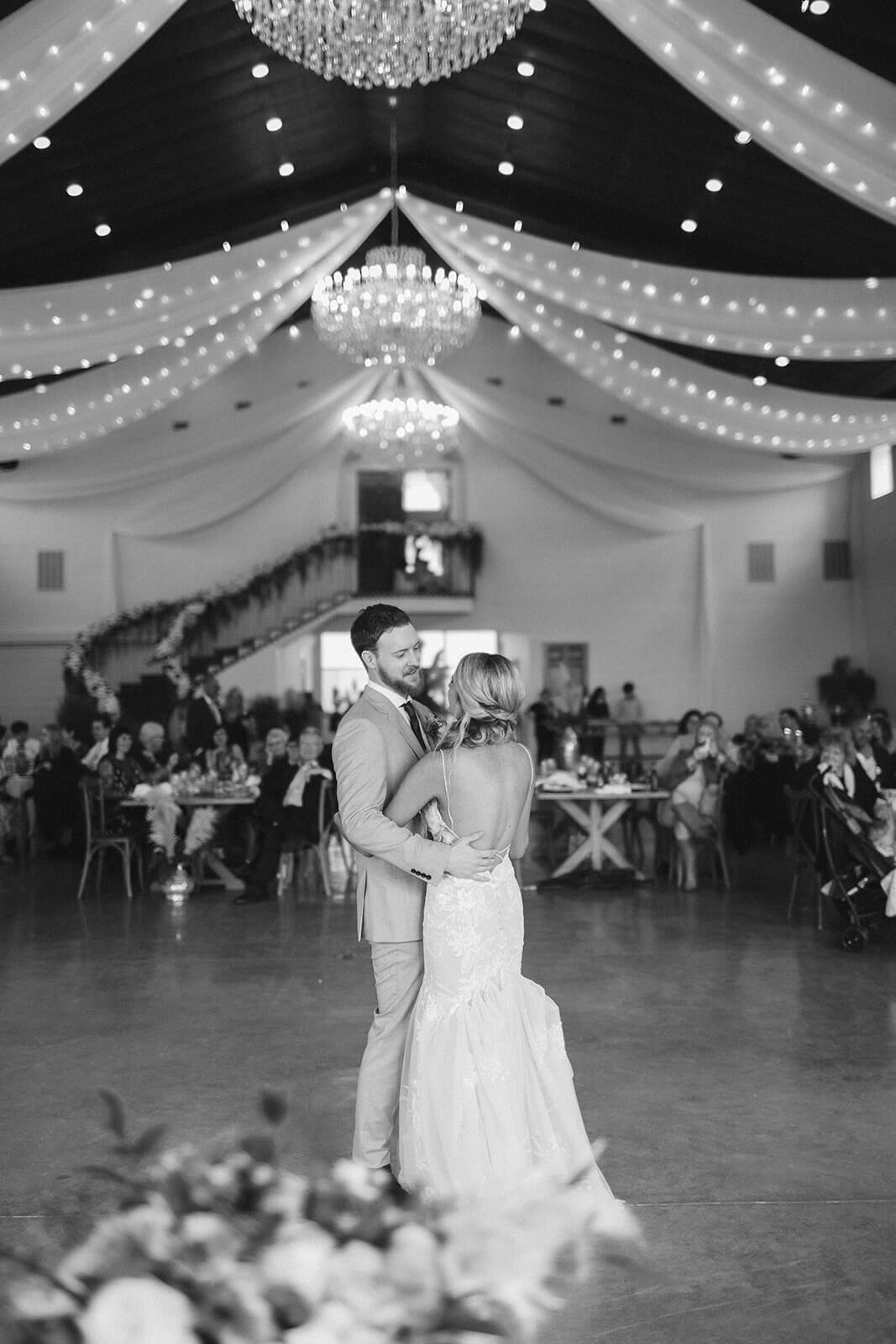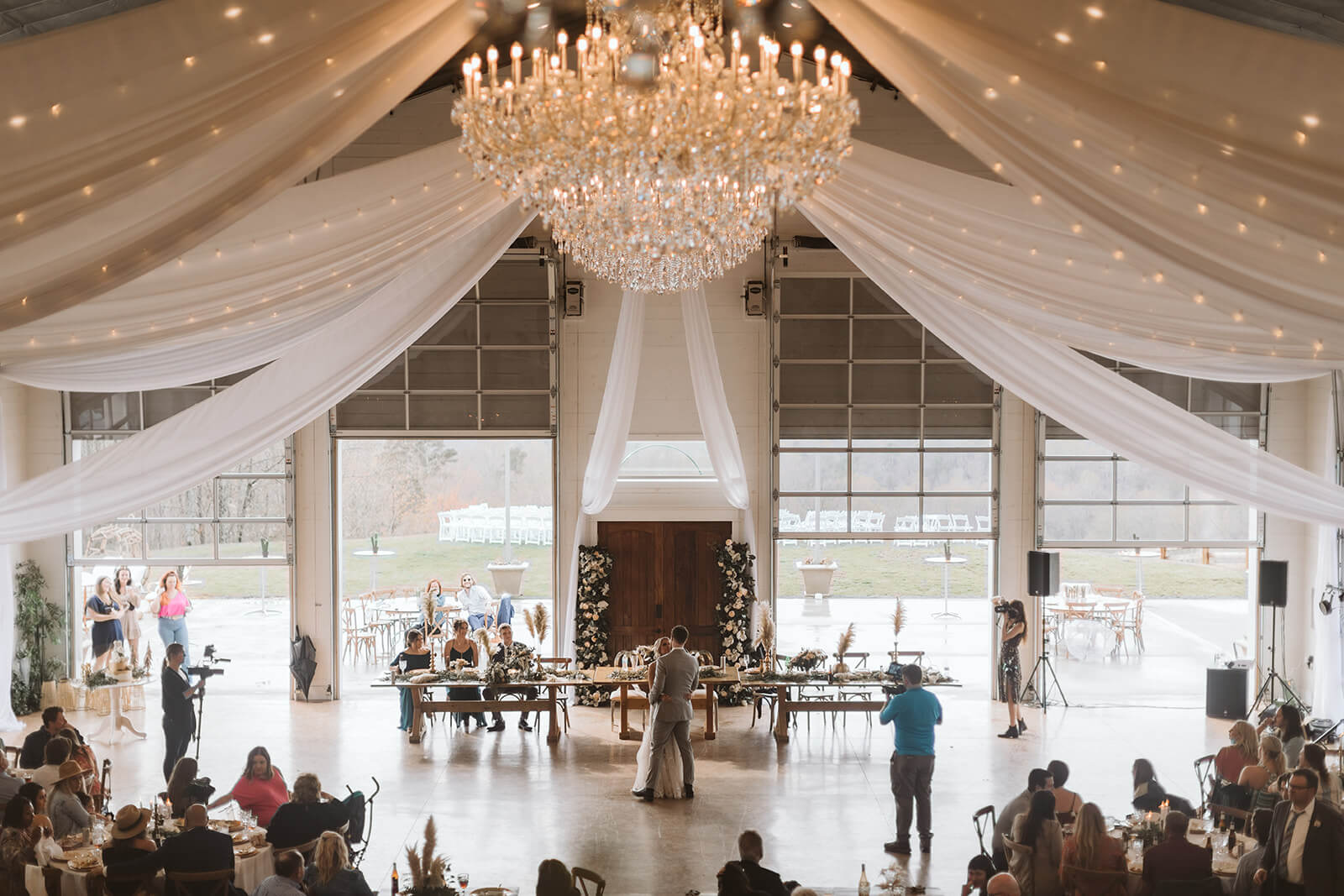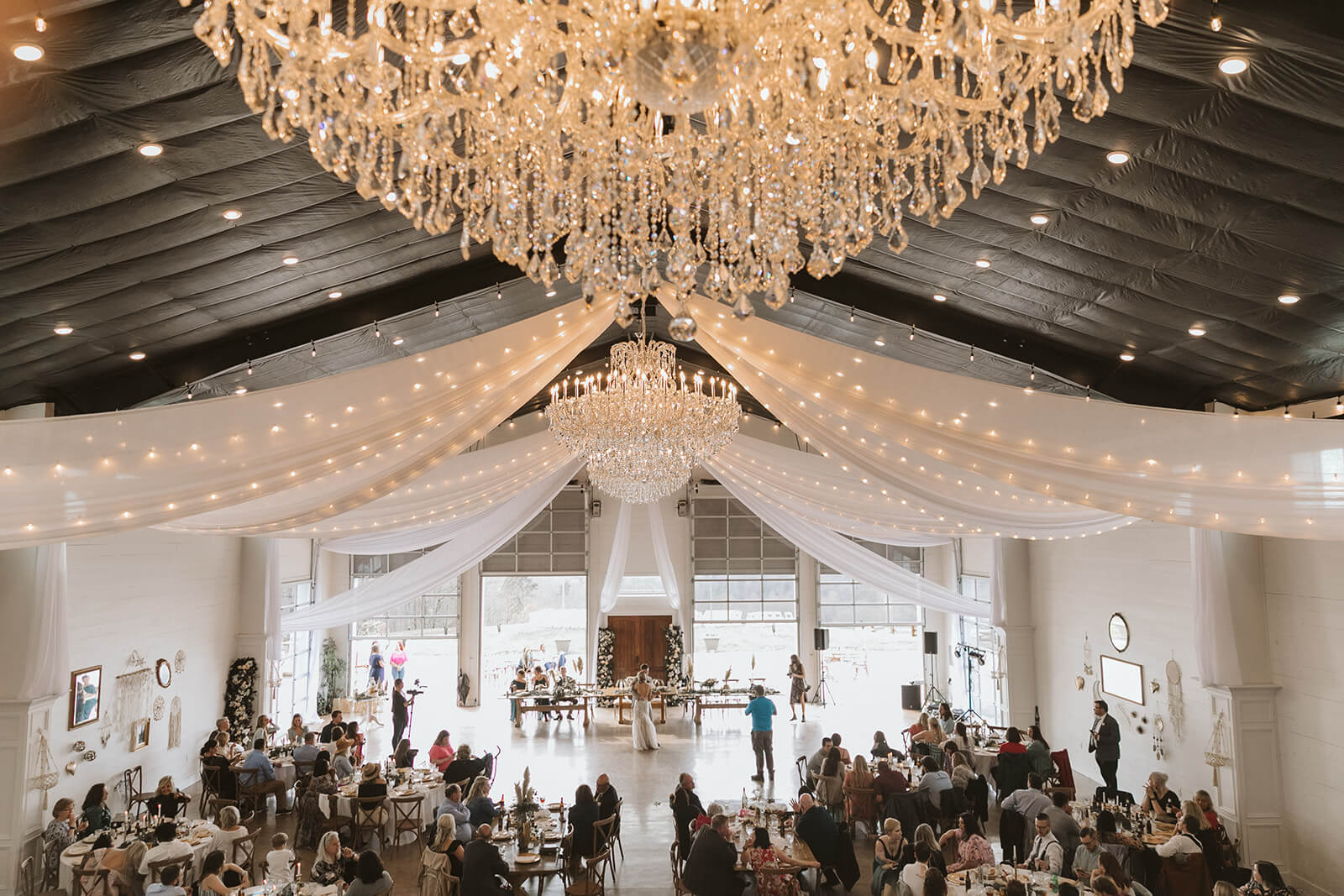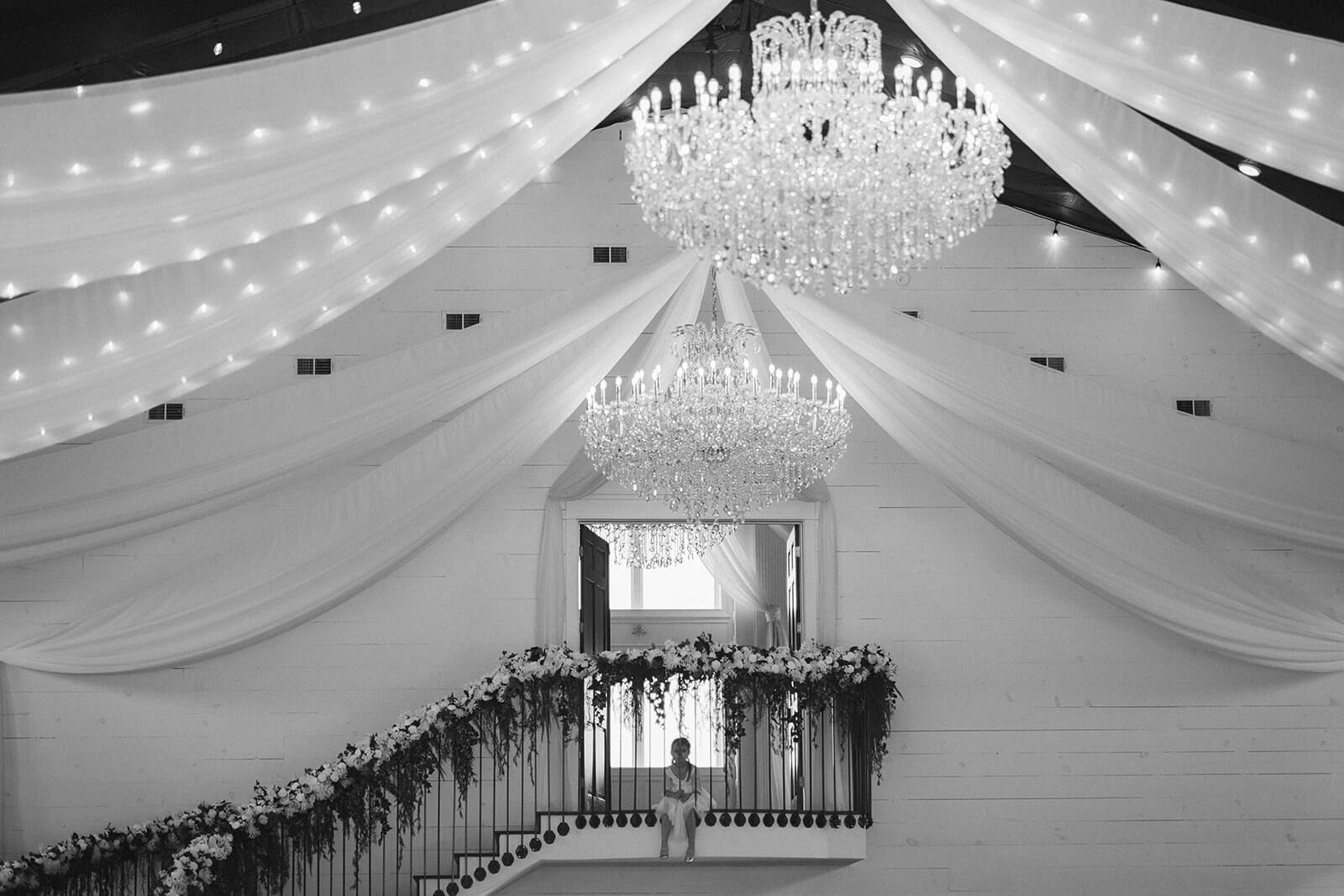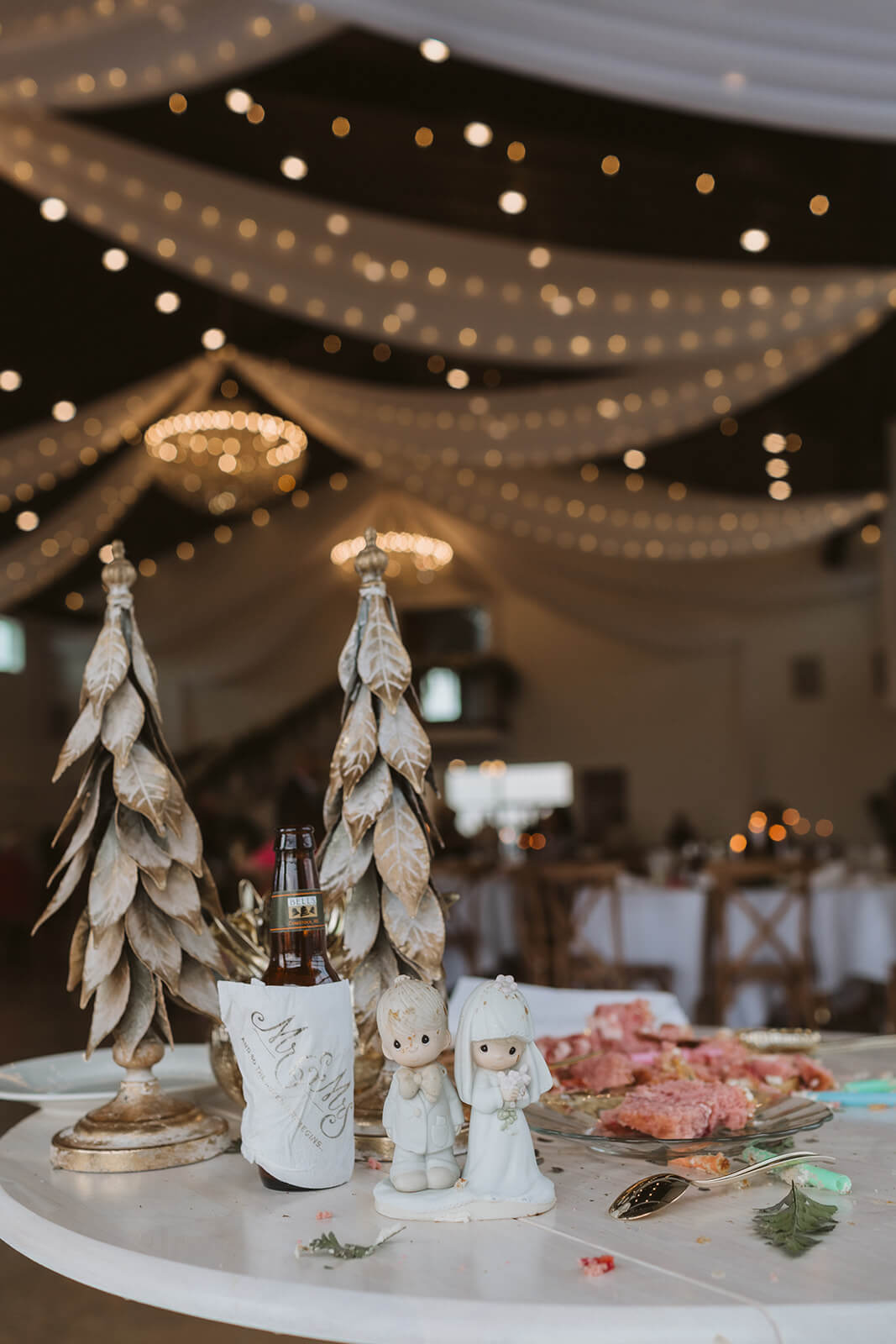 The Pavilion
Couples with larger guest lists of up to 299 will find that the mountainside Pavilion at Five Gables is the perfect venue for them! Outdoor ceremonies at the Pavilion have a wide open space where guests can enjoy a panoramic mountain view overlooking the Tennessee Valley. A paved stone aisle leads directly to the round iron arbor creating a straight line to the horizon with your first kiss as a married couple at the center. If you're interested in having a golden hour photo session, the sun sets beneath the mountains just behind the ceremony arbor and casts the entire area in a lovely golden glow.
As far as getting ready spaces go, the bridal suite and groom's quarters at the Pavilion are the grandest that the entirety of Howe Farms estate has to offer. The bridal suite not only has an area dedicated to getting ready, but also a full lounge, two massage chairs, and a wet bar! Meanwhile, the groom's room has four large mirrors to aid in tying the perfect tie, clothing hooks, wooden benches, and a variety of seating to hang out in.
For receptions, the Pavilion's large reception hall features shining crystal chandeliers and floor to ceiling windows that can rise up for a full view of the mountains and a breath of fresh air. Since the hall also doubles as the Pavilion's indoor ceremony location, the ability to open the windows allows the mountain view to be a key aspect of your wedding even if you say your I Do's indoors.
The Woodlands
Last but certainly not least, the Woodlands is the newest addition to Howe Farm's Five Gables property. This expansive venue features a Tuscan-inspired, Italian-style villa and has tons of old-world charm with every modern luxury you can imagine.
Couples who choose the Woodlands for their wedding start their day in charming bride and groom accommodations. The ladies can enjoy brunch and tea in the bridal suite's built-in solarium overlooking the gardens before moving onto hair and makeup while the guys get ready in the stylish golf-themed groom's quarters complete with its own putting green!
Once both the bride and groom are ready, they can share a lovely first look in the walk-through gardens. While other venues in the Howe Farms estate have lawns or forest backgrounds, the garden is unique solely to the Woodlands. It's a delightful place for portraits or for guests to enjoy the fresh air between events.
Ceremonies at the Woodlands can either take place outside surrounded by stucco pillars and arches crawling with vines and flowers or inside in the fireside room in front of its ornate fireplace. The fireside room is an extension of the indoor reception hall that can be used for an indoor ceremony, a cocktail hour, a dance floor, or more. It's such a versatile little space! Meanwhile, the venue's main reception hall features an all-white interior with intricate iron details in the chandeliers and the spiral staircase.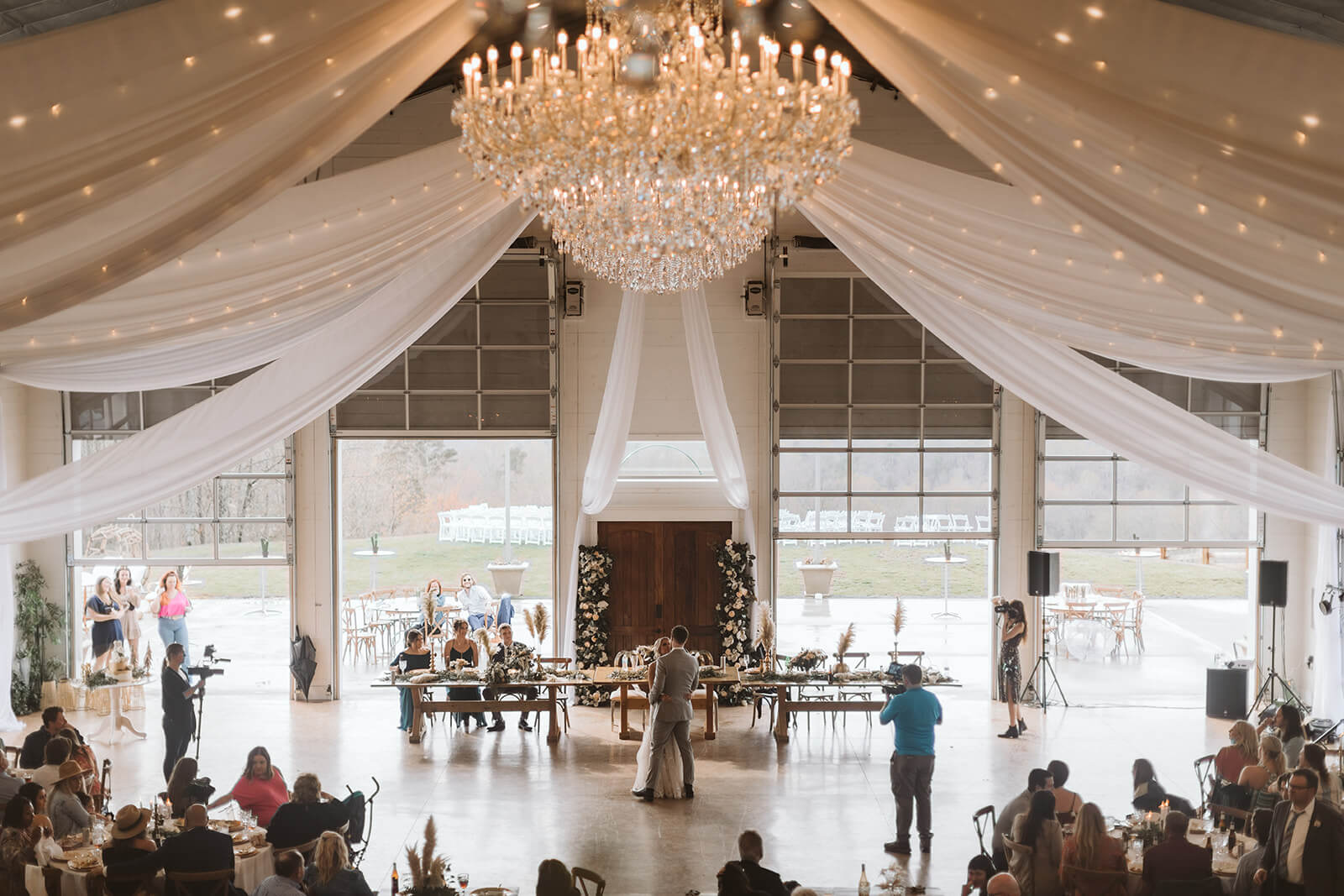 Howe Farms is one of my favorite venues to shoot weddings in and I'd love the chance to photograph your Howe Farms wedding too!
Hey there! I'm Rachael Crowe of OkCrowe Photography! I've done weddings at Howe Farms so many times and each time is different and unique. That's the beauty of these locations! I'd love to photograph a wedding at Howe Farm's newest venues, Vineyard Hall and the Woodlands! If you're planning your special day in one of those or any of Howe Farms' venues, please reach out through my contact form!
Pin this blog for later! ↓