New England checks every box when it comes to a wedding venue with stunning natural landscapes and views. With lush greenery, mild summers, and the ever-present sound of waves crashing along the shoreline, Rhode Island is no exception to this rule. Chinese American couple Zi and Xulei chose the OceanCliff Hotel in Newport for their event. Acres of rolling lawns and spectacular ocean views created a breathtaking backdrop for this couple's big day.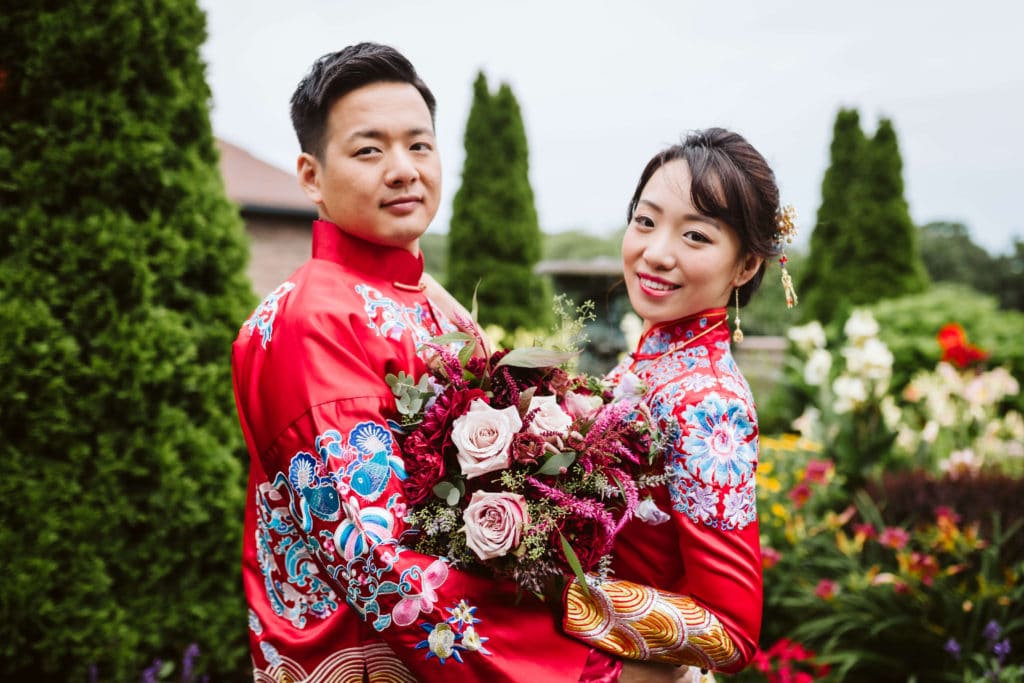 A Two-Part Wedding Extravaganza at the OceanCliff Hotel
Although I'm typically based in Chattanooga, Tennessee, I'm always up for a reason to travel – especially when it's to photograph a beautiful, one-of-a-kind wedding like Zi and Xulei's. For this couple, paying homage to their Chinese heritage and culture was immensely important and to do that, Zi and Xulei chose to do a two-part wedding.
Their day began with getting ready for a full, traditional Chinese tea and bowing ceremony, then changing gears and dressing for an American wedding and reception. This meant fifteen continuous hours of shooting (the longest wedding I've photographed to date), and it couldn't have been more worth it!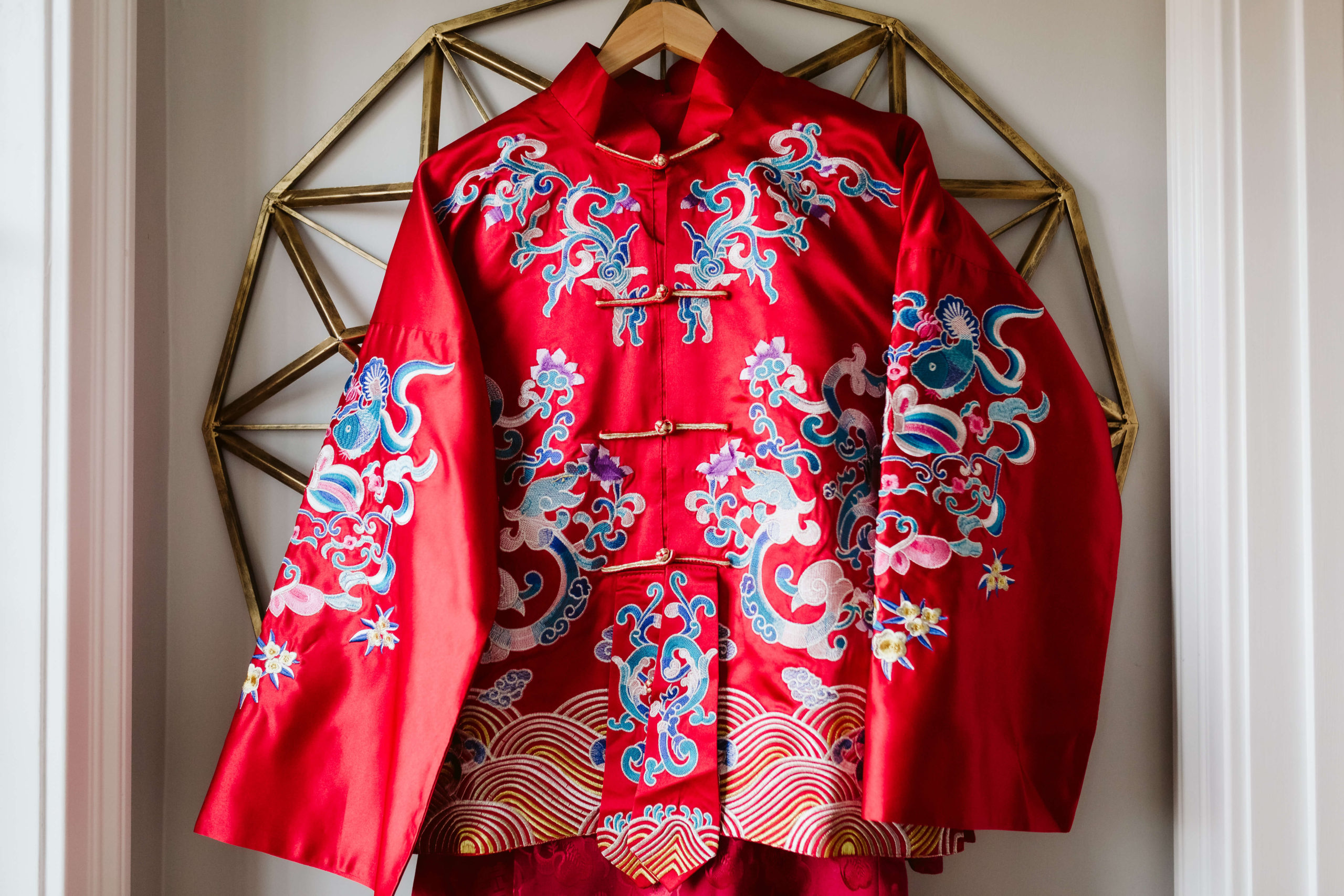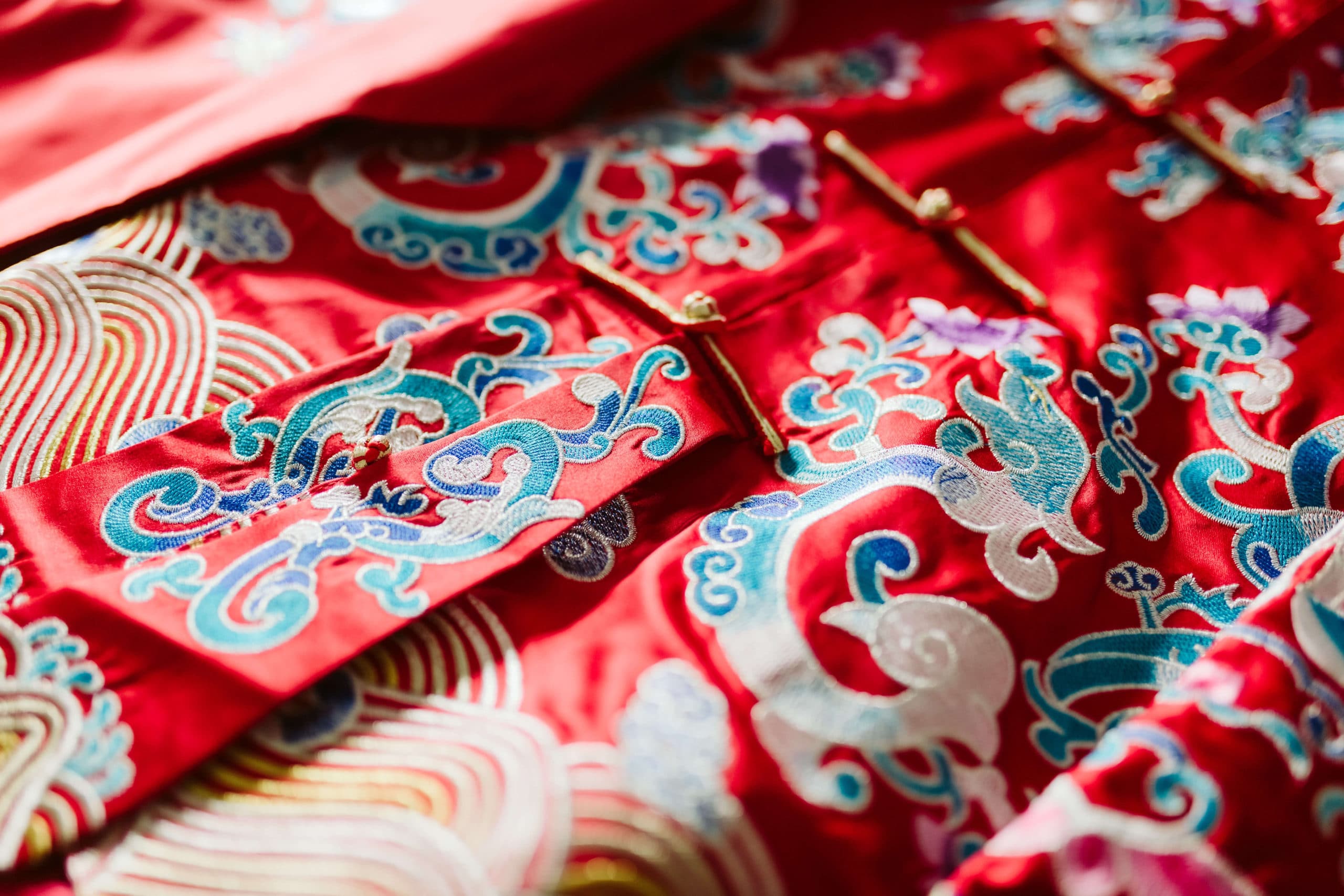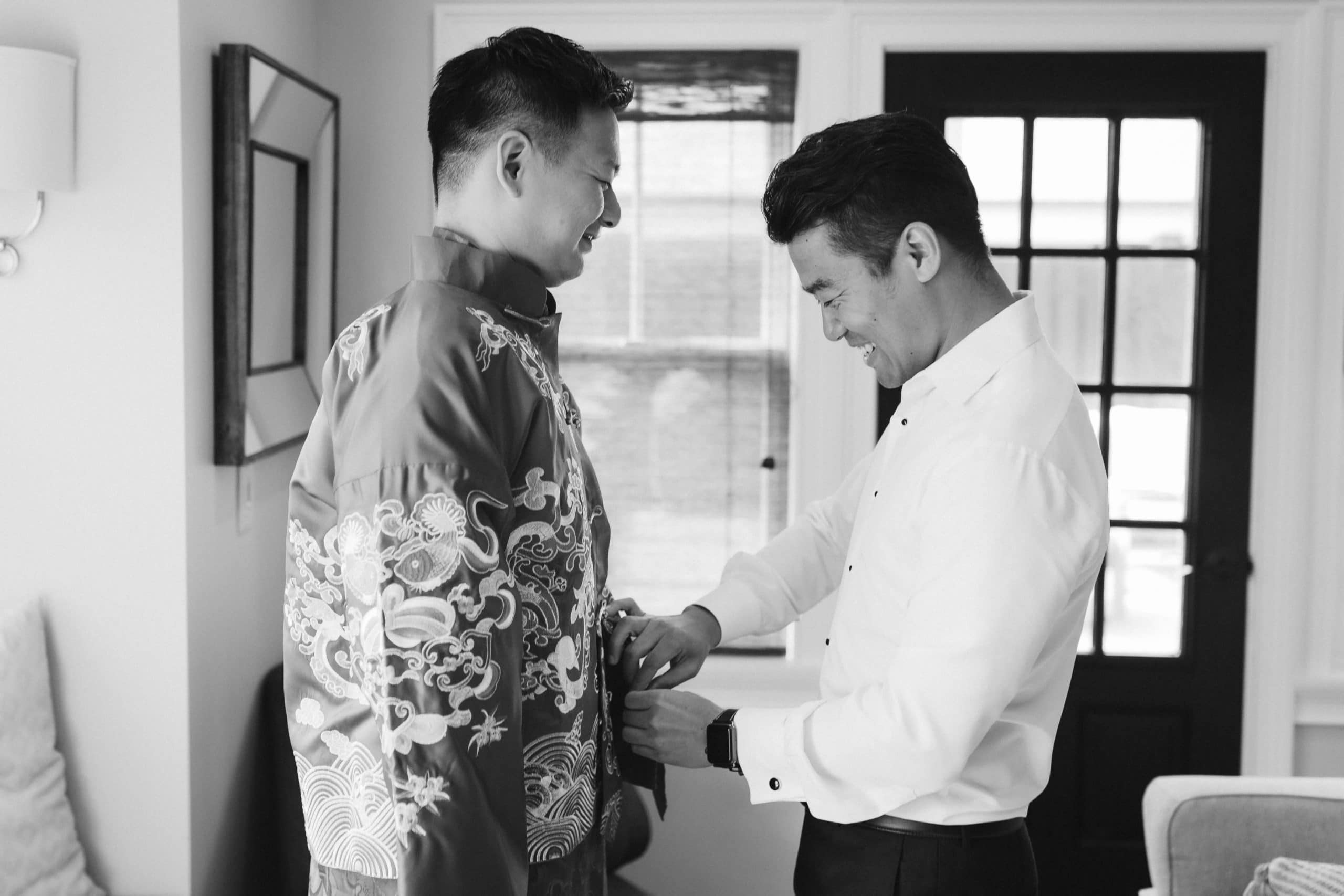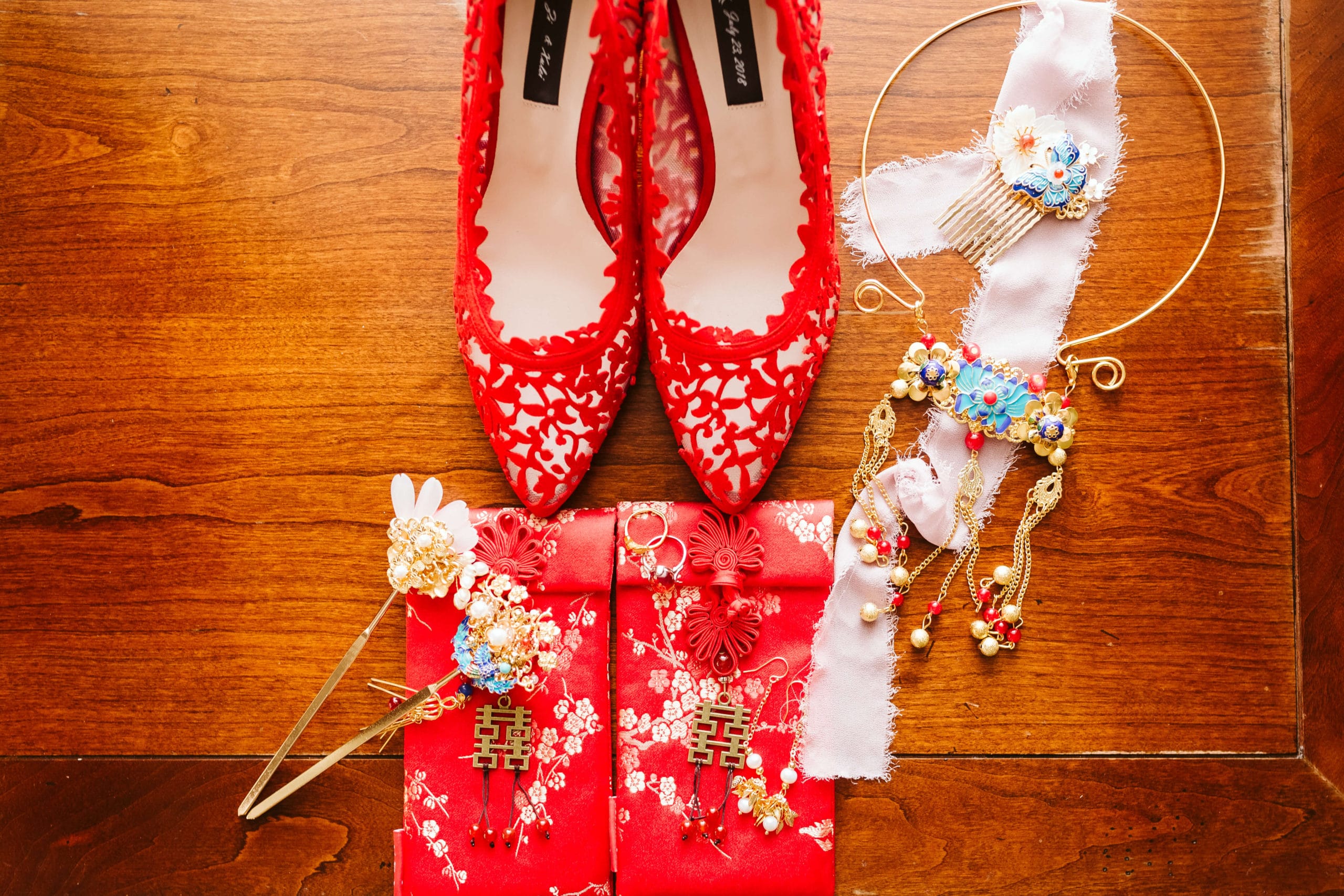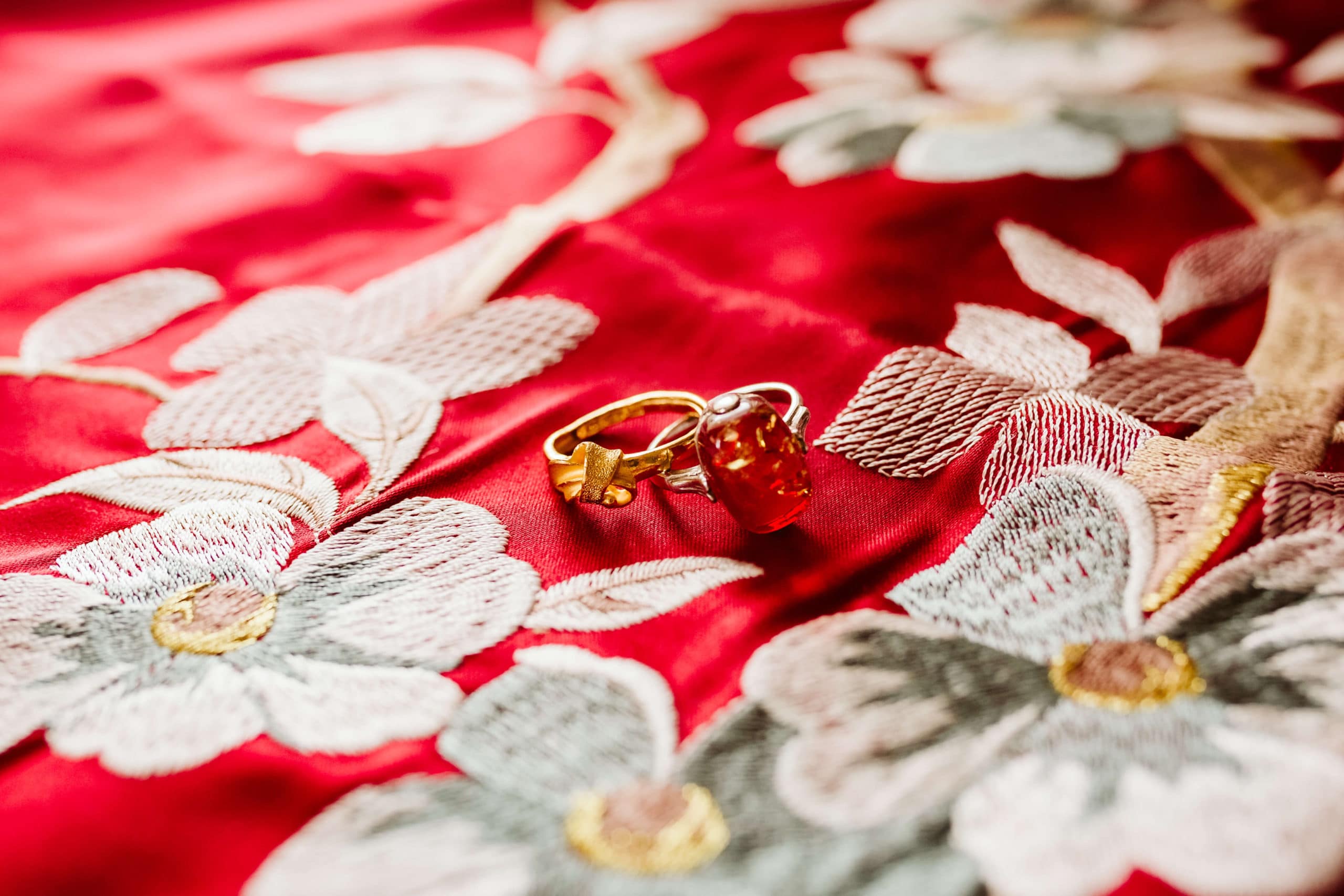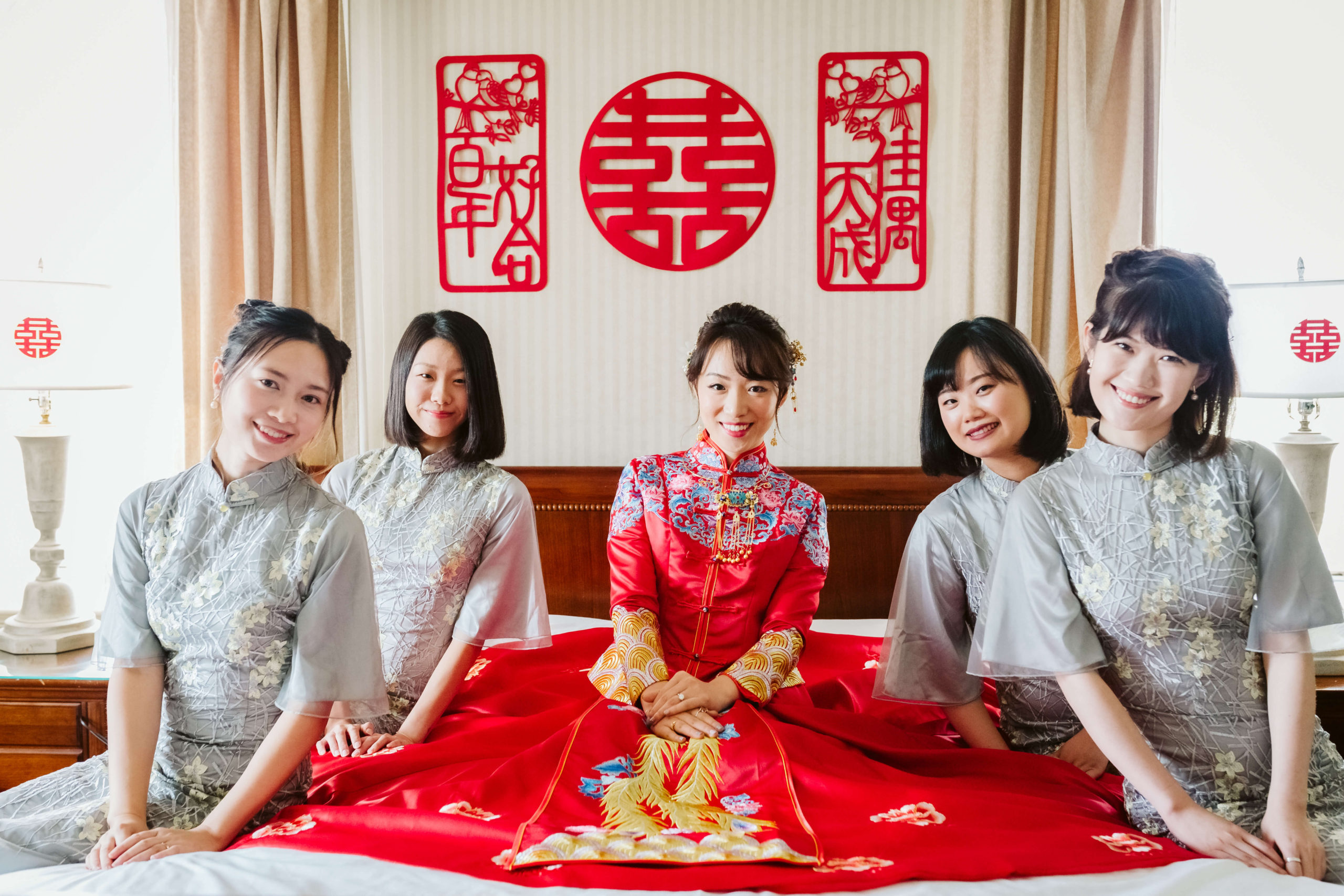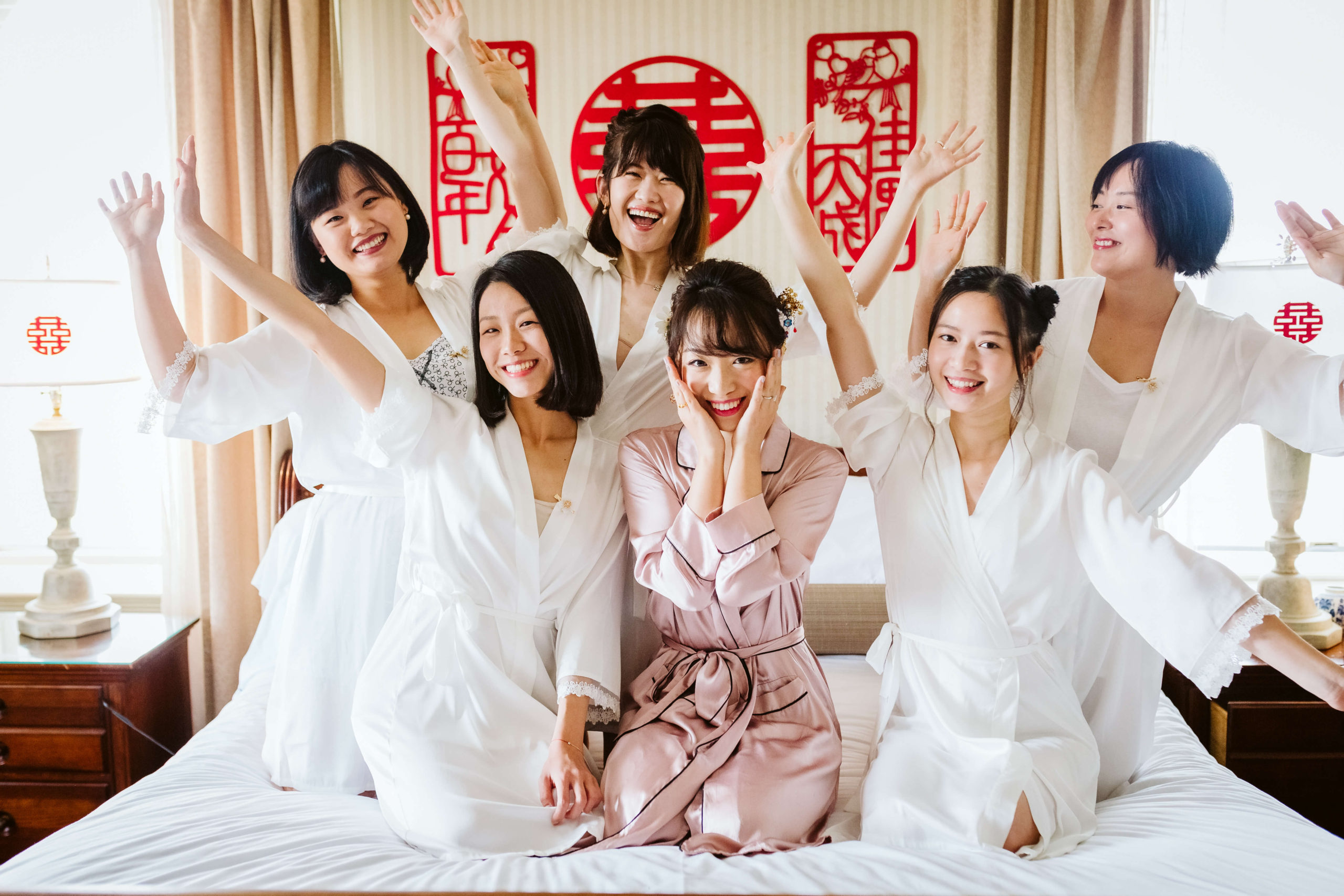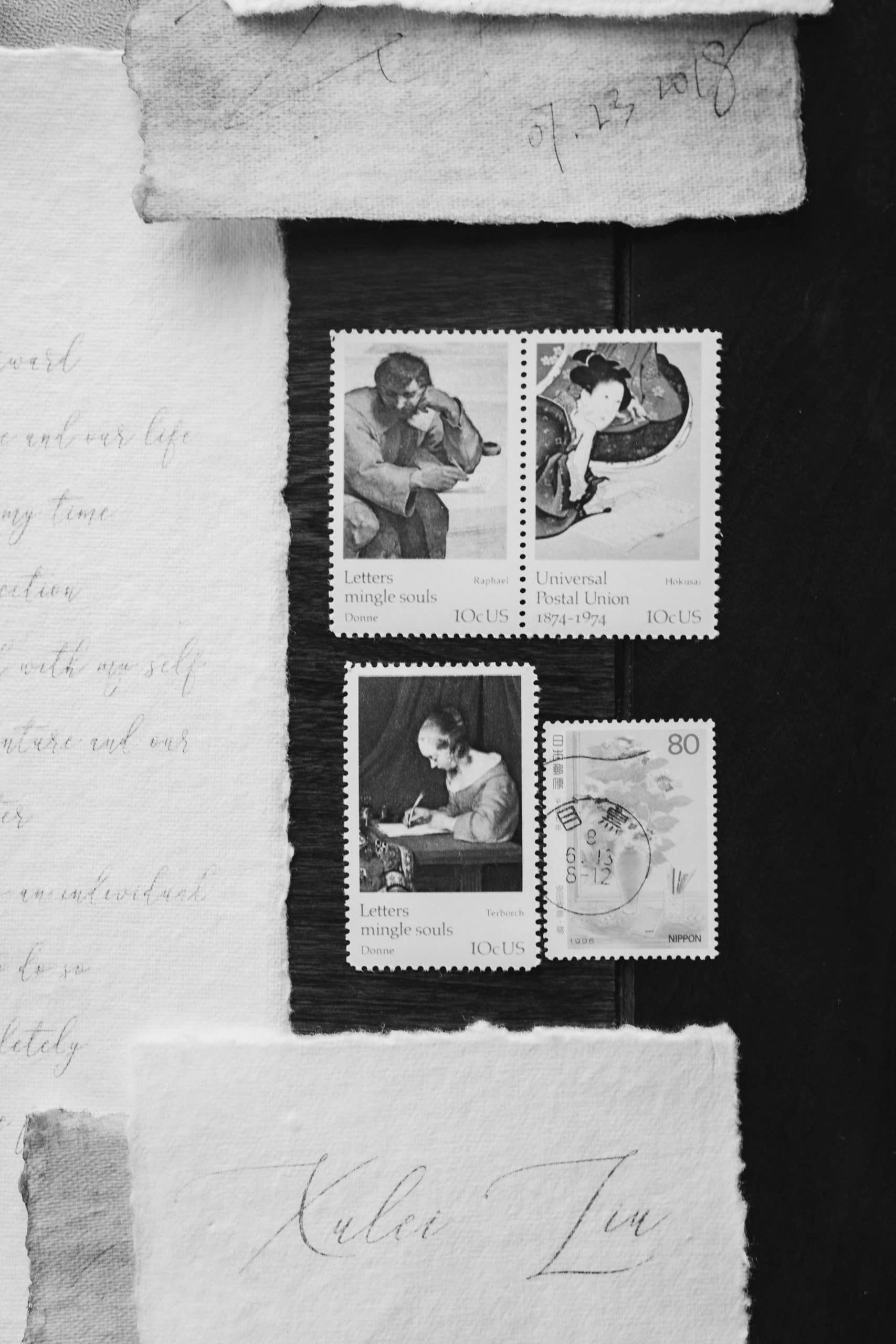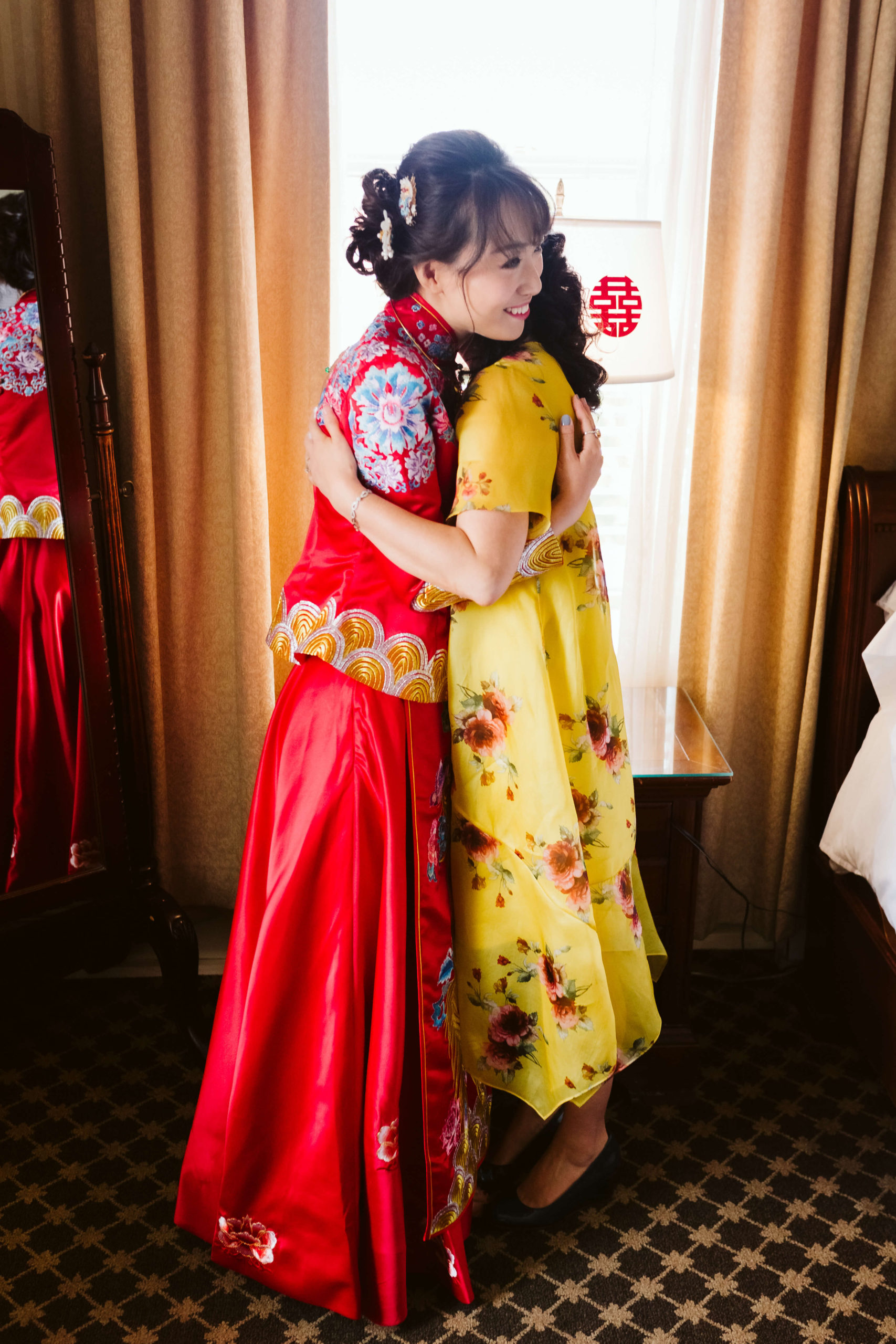 Paying Respects to Their Chinese Heritage
Zi and Xulei tried to incorporate as many cultural aspects into their wedding as possible. Instead of the traditional white that we're used to seeing in weddings, the Chinese wedding tradition is for the bride and groom to wear red and gold. Red is often associated with traits like loyalty, success, fertility, and love, while gold is typically used as an accent color in Chinese weddings to symbolize wealth and good fortune.
Both bride and groom spent the morning getting ready in their separate suites at the OceanCliff Hotel. Xulei donned a traditional red cheongsam, or Chinese tunic suit. It was embroidered with images of dragons, lotuses, and koi fish. Did you know, in Chinese culture, the dragon is a symbol of the Chinese Emperor and of strength and wealth? The lotus is one of China's most significant flowers meaning purity, longevity, and honor, and koi fish are symbols of good fortune and family harmony. I loved the pairing of these three symbols on Xulei's suit.
Zi spent her morning with her bridesmaids getting their hair and make up done. Afterwards, she put on a qipao or the traditional Chinese wedding dress. Much like Xulei's cheongsam, Zi's dress was red with gold accents. However, the main feature of her dress was the large, embroidered gold phoenix spreading its wings over her skirt. The phoenix is typically a symbol of the Empress of China and also represents grace and the renewal of life. The dragon and phoenix are some of the most used symbols in Chinese weddings. When put together, the two mythical creatures signify happiness, love, and prosperity - all perfect symbols to feature for a wedding.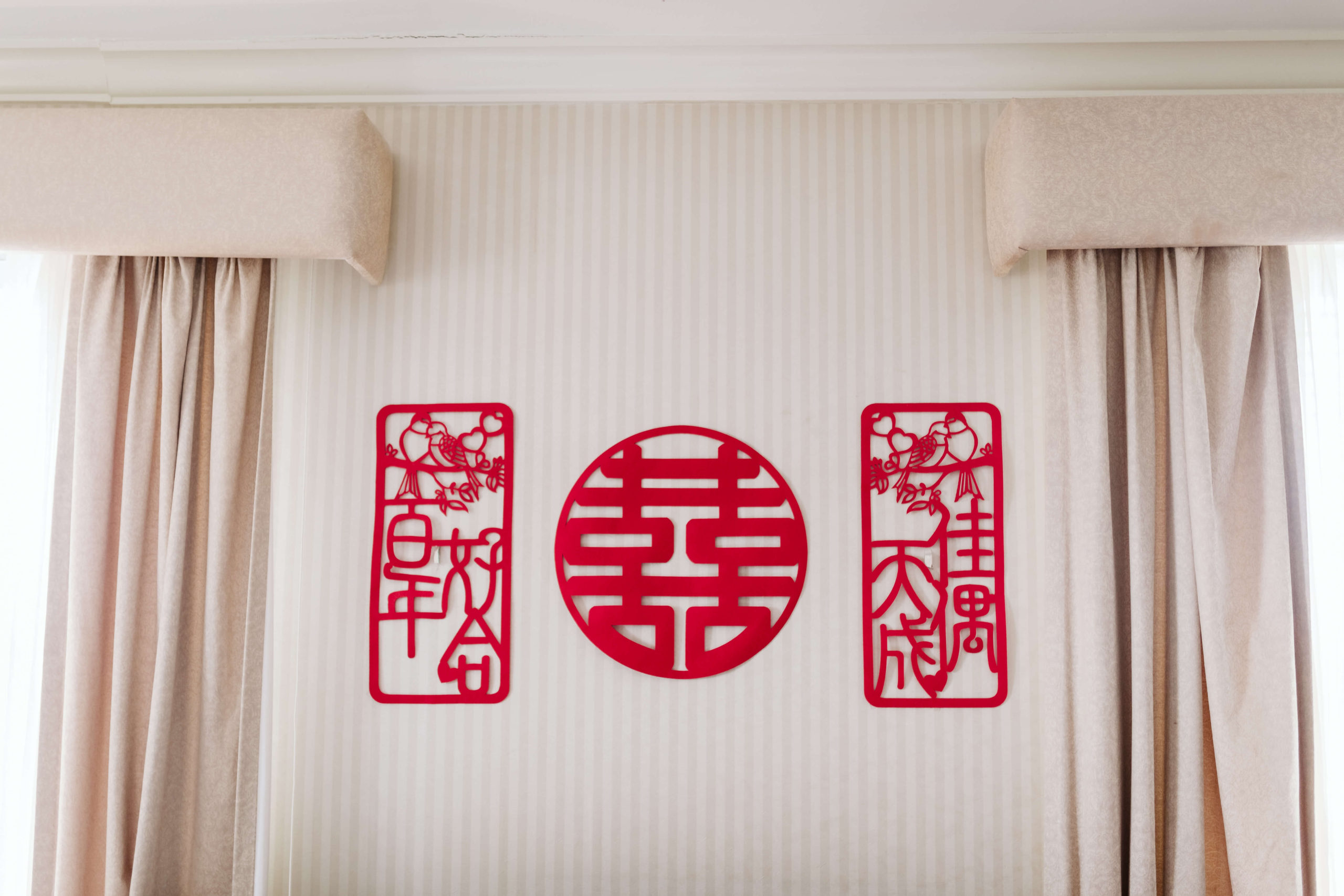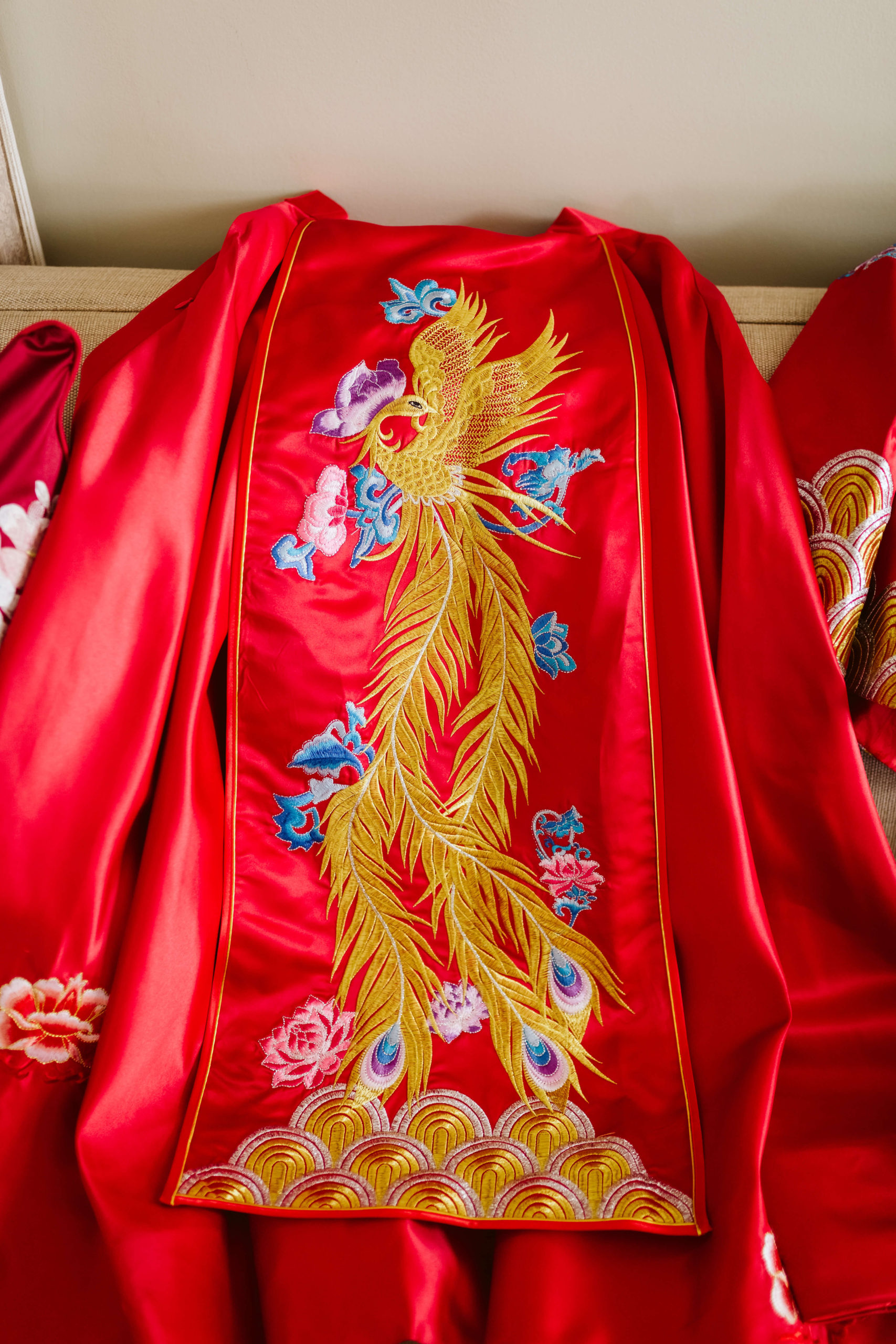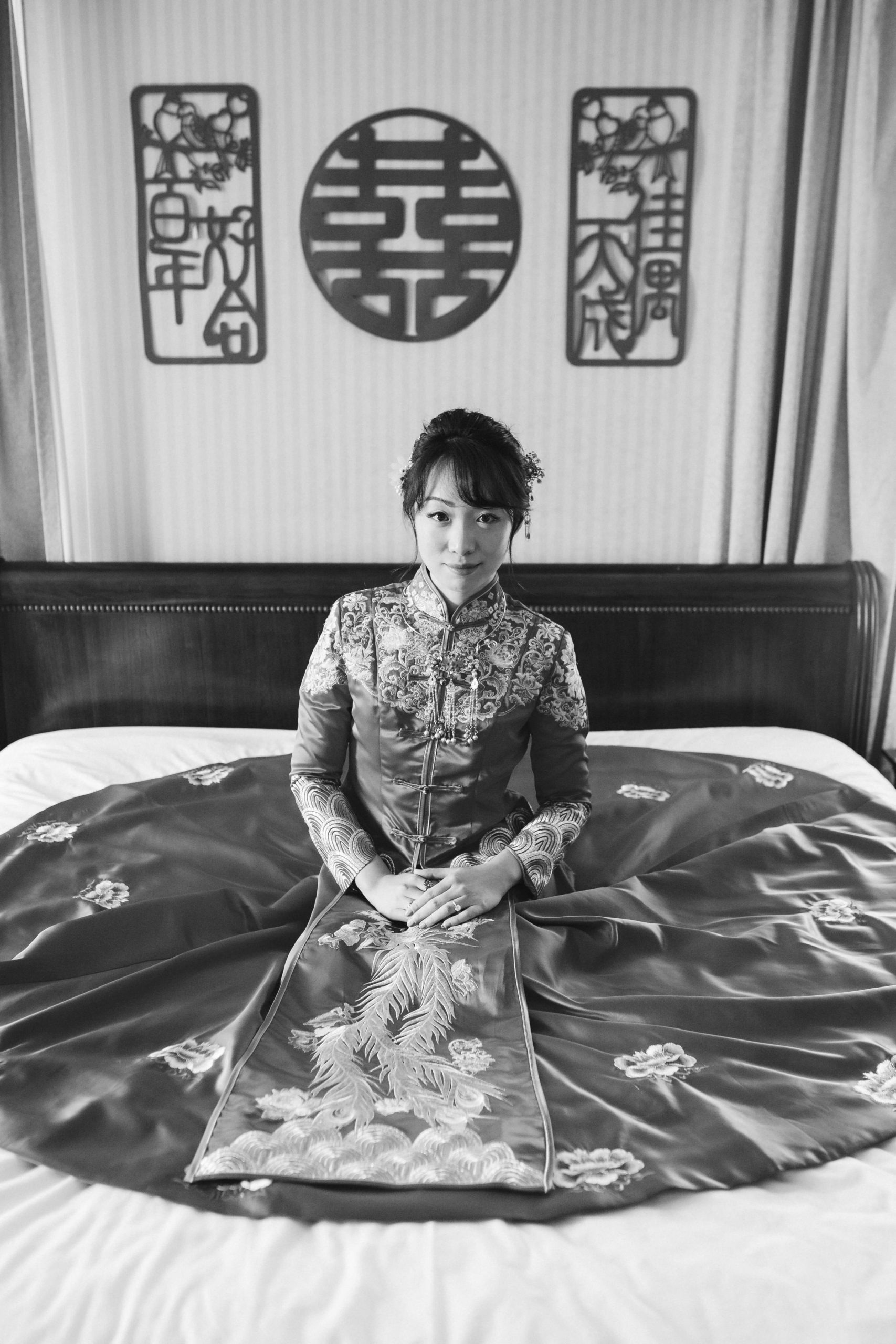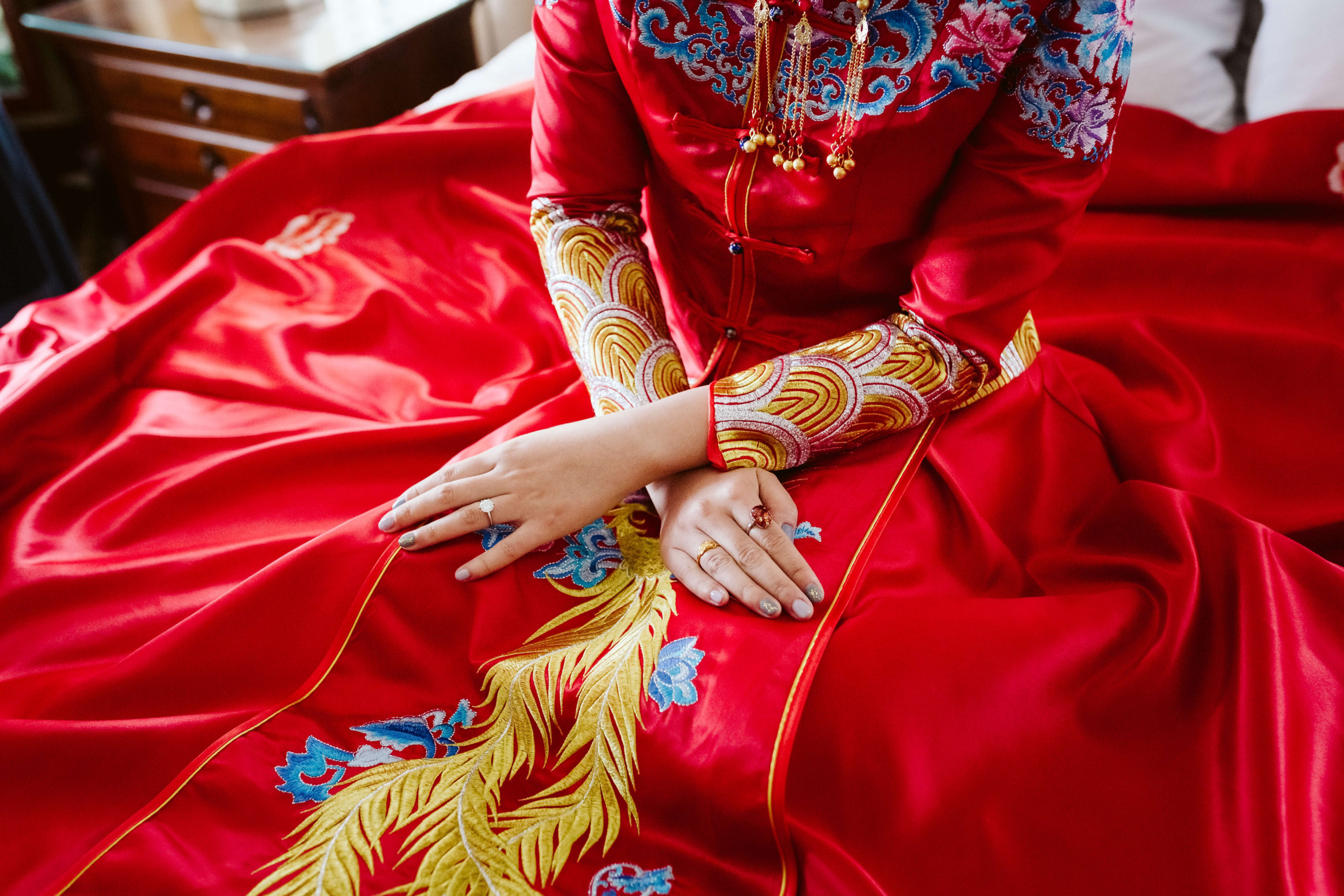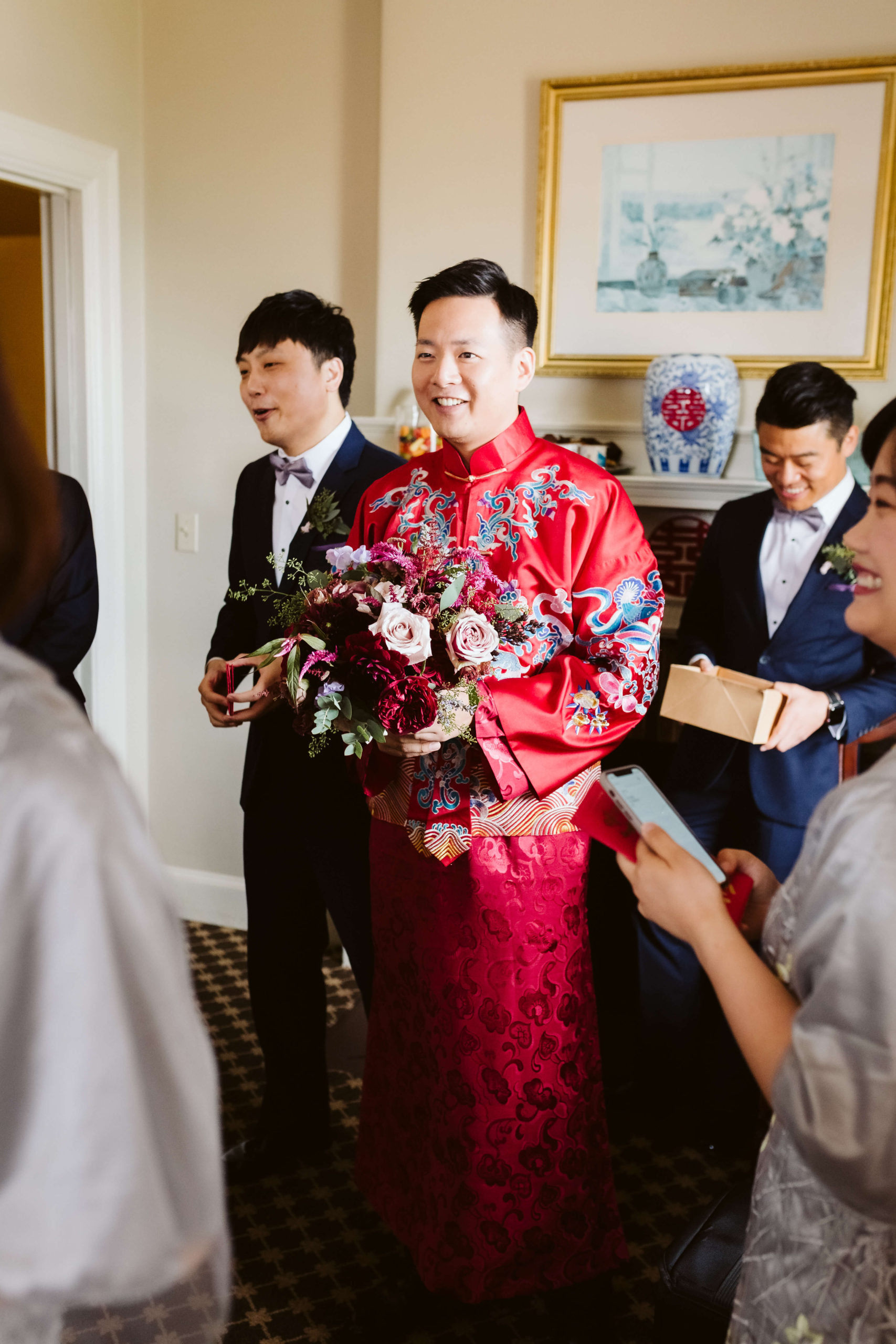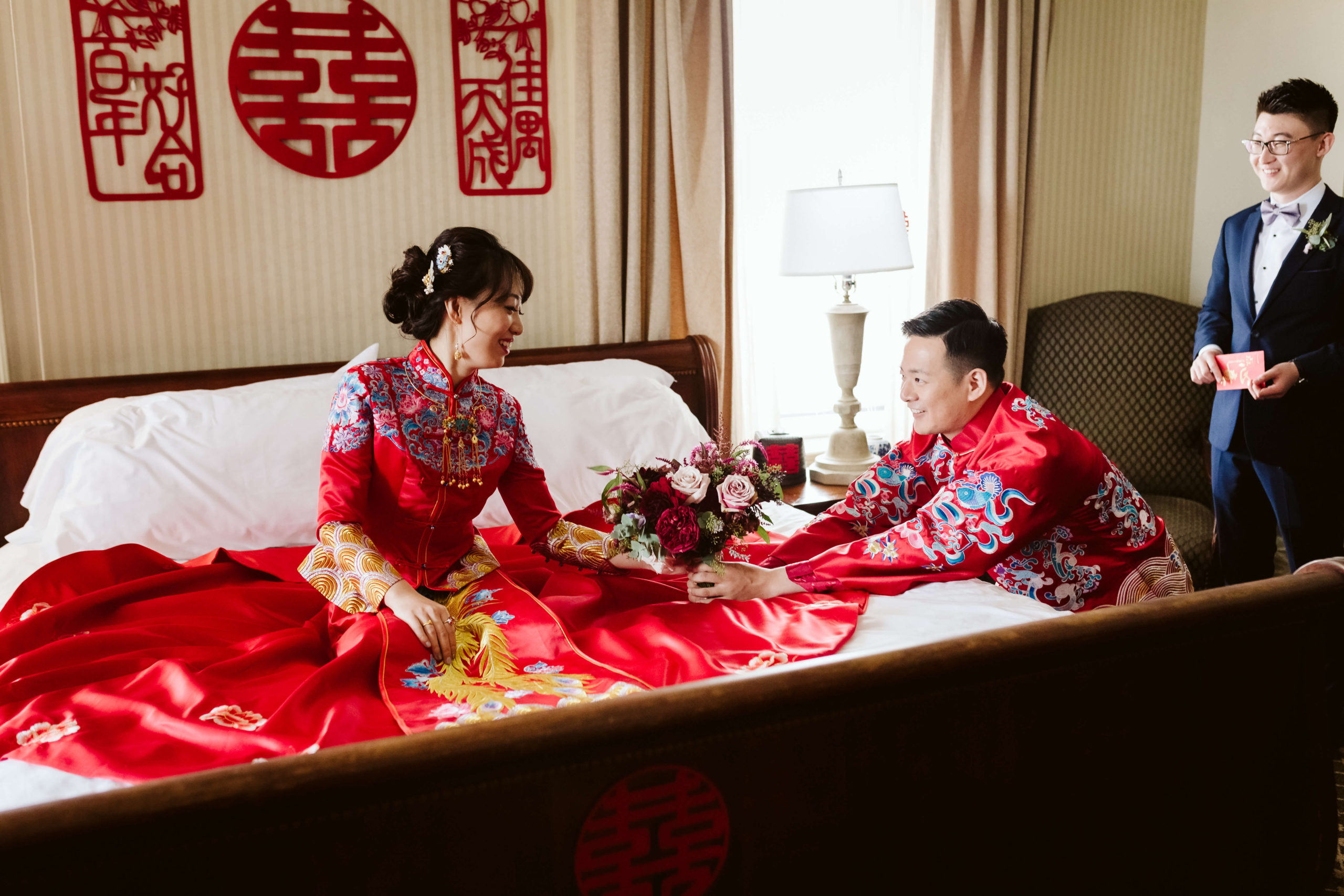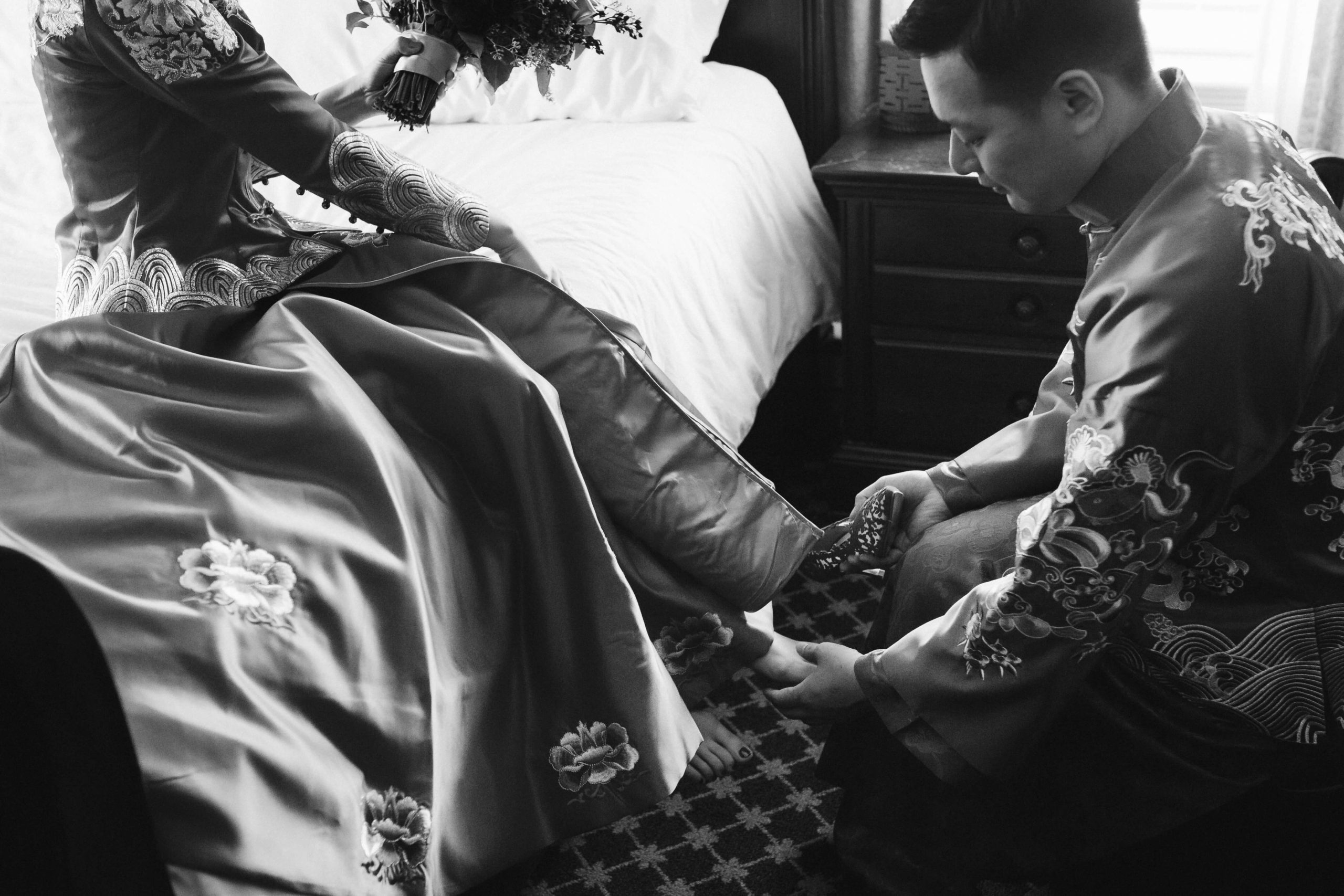 Testing the Groom
One of the fun Chinese wedding traditions that Zi and Xulei included on their big day are the door games or chuangmen. In the past, these games came from the idea that the bride is a prized daughter who is worth so much that her family would not marry her off easily. They were "tests" to prove her future husband's worthiness. However, these have been modernized to be entertaining and often include silly games the bridesmaids make up for the groom to pass in order to get to his bride. The games ended when Xulei found Zi's hidden shoe and put it on her, then escorted her to the tea ceremony.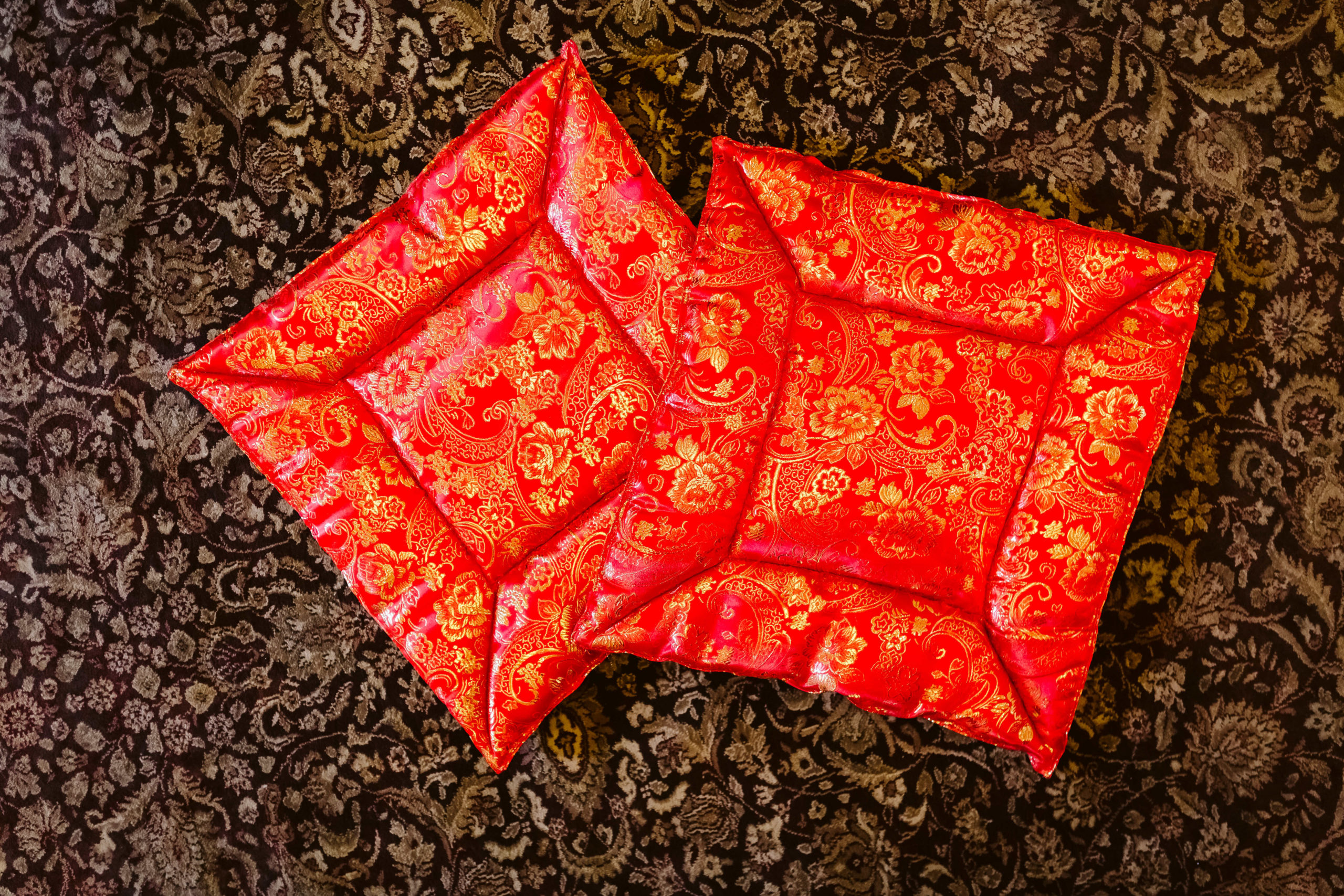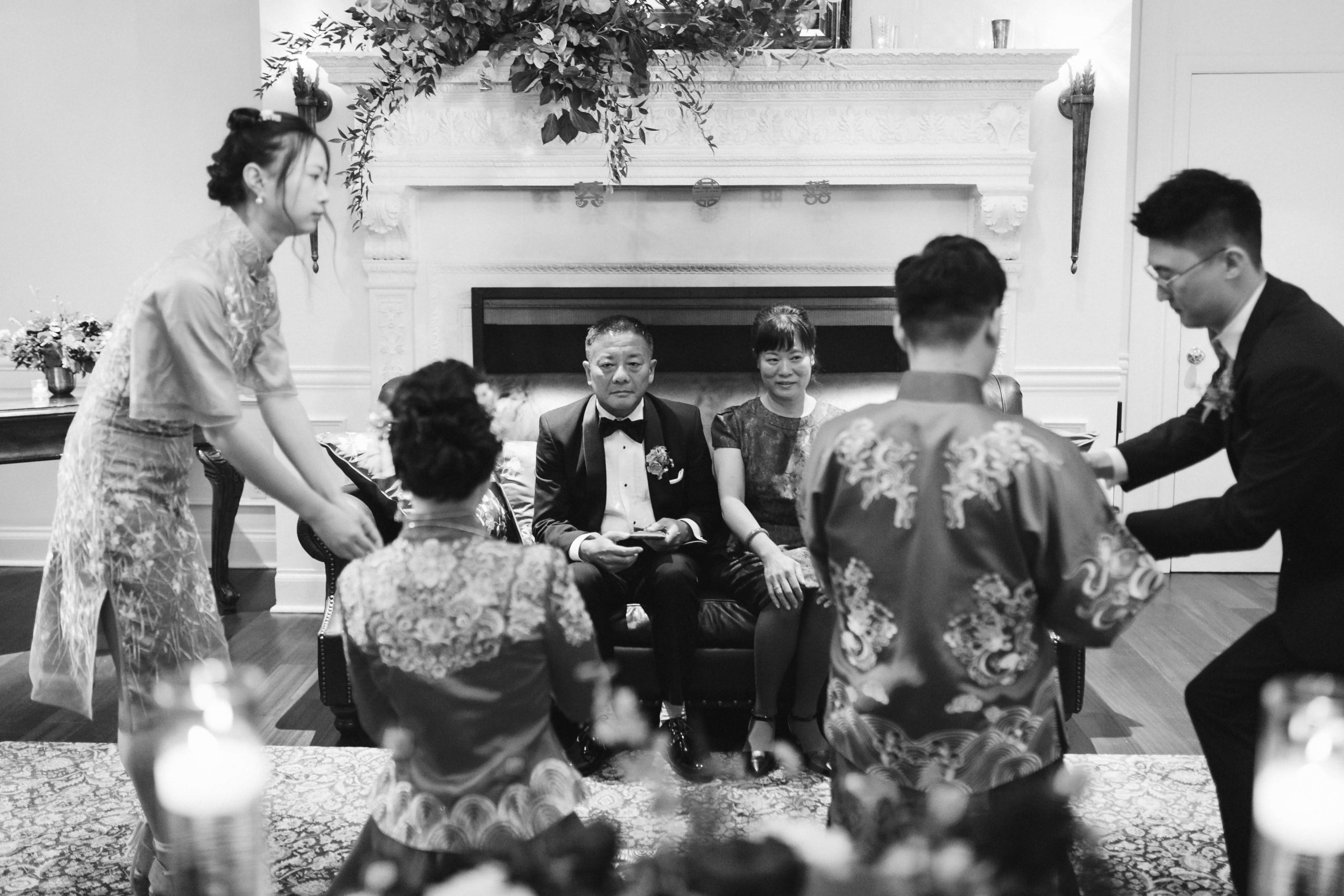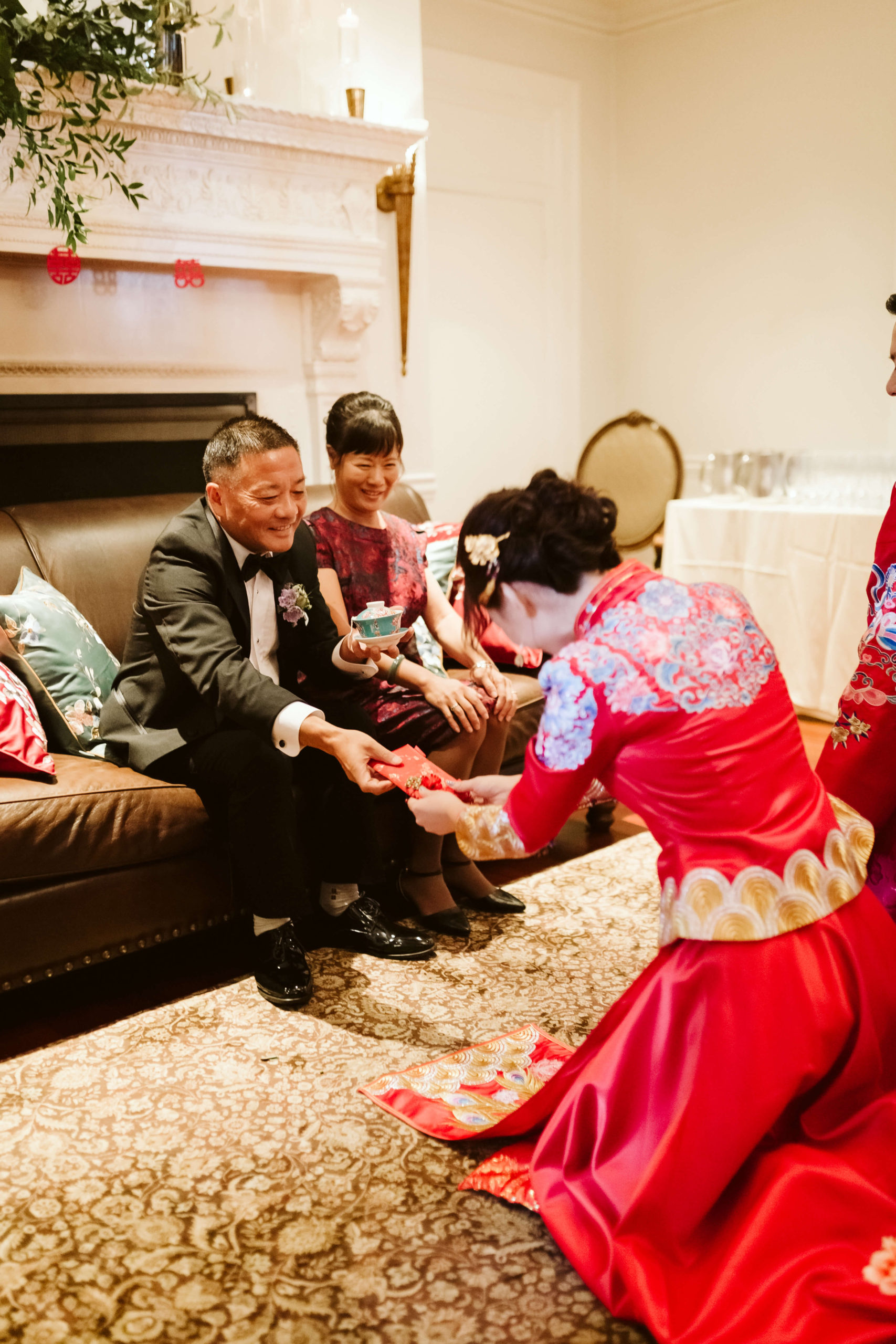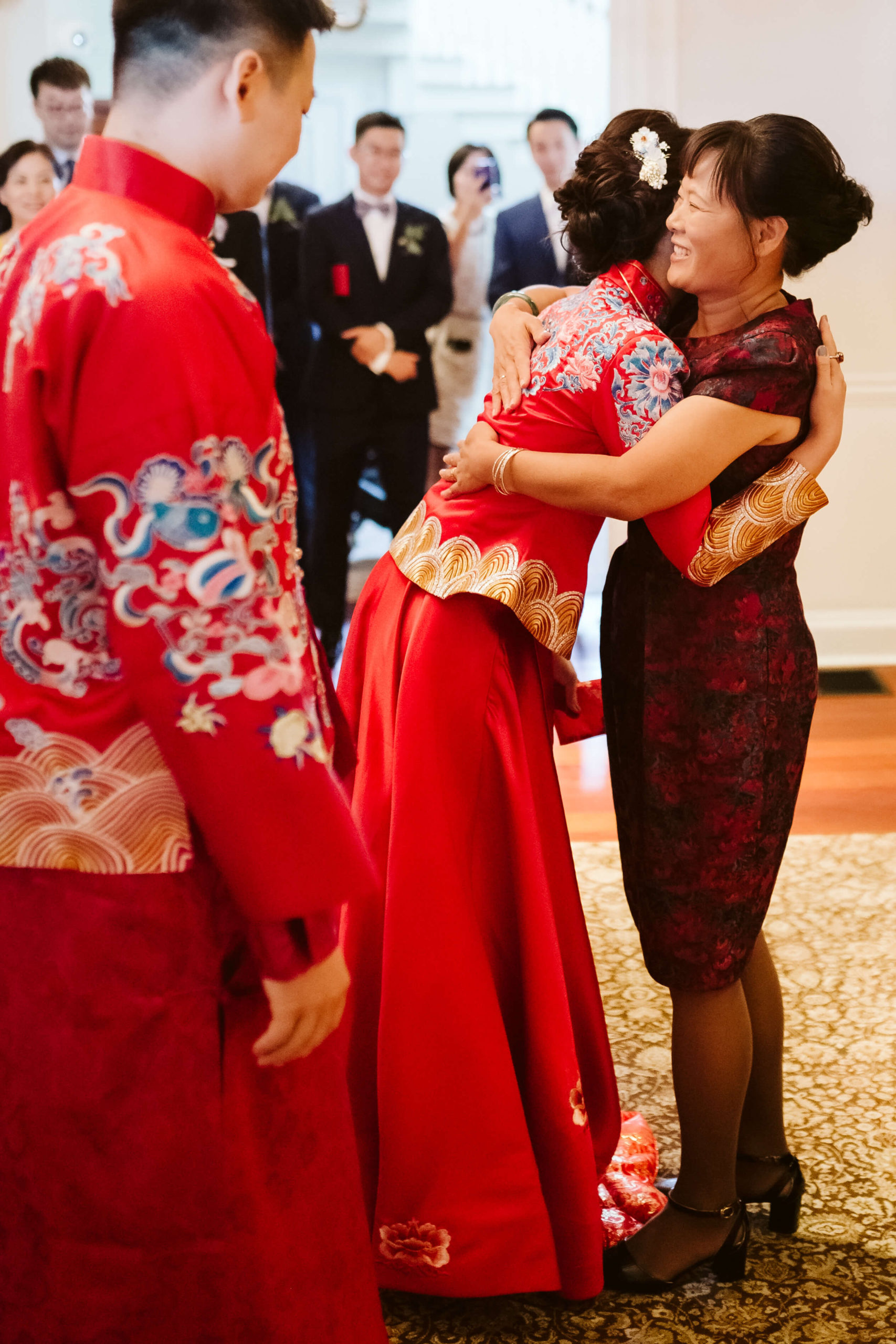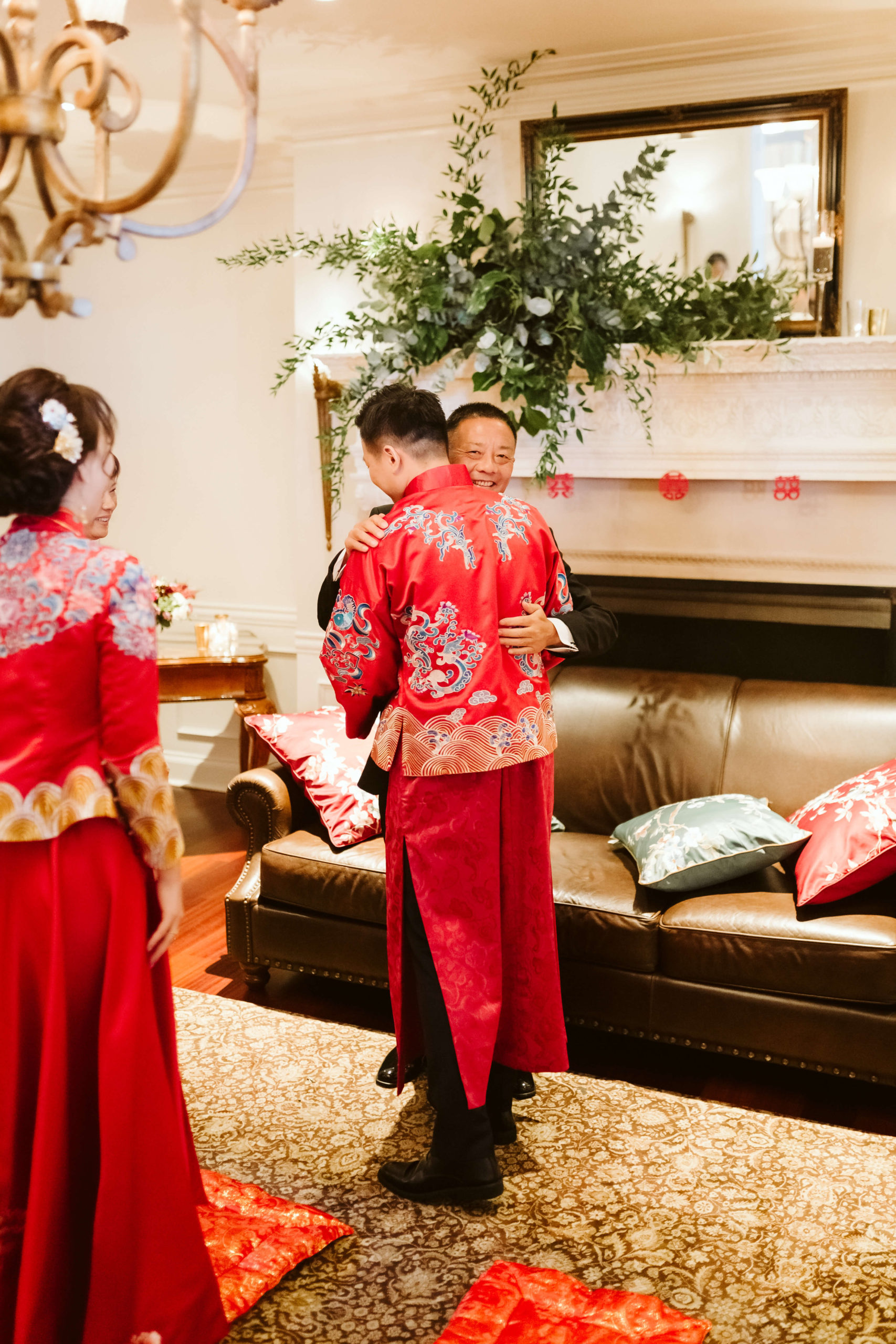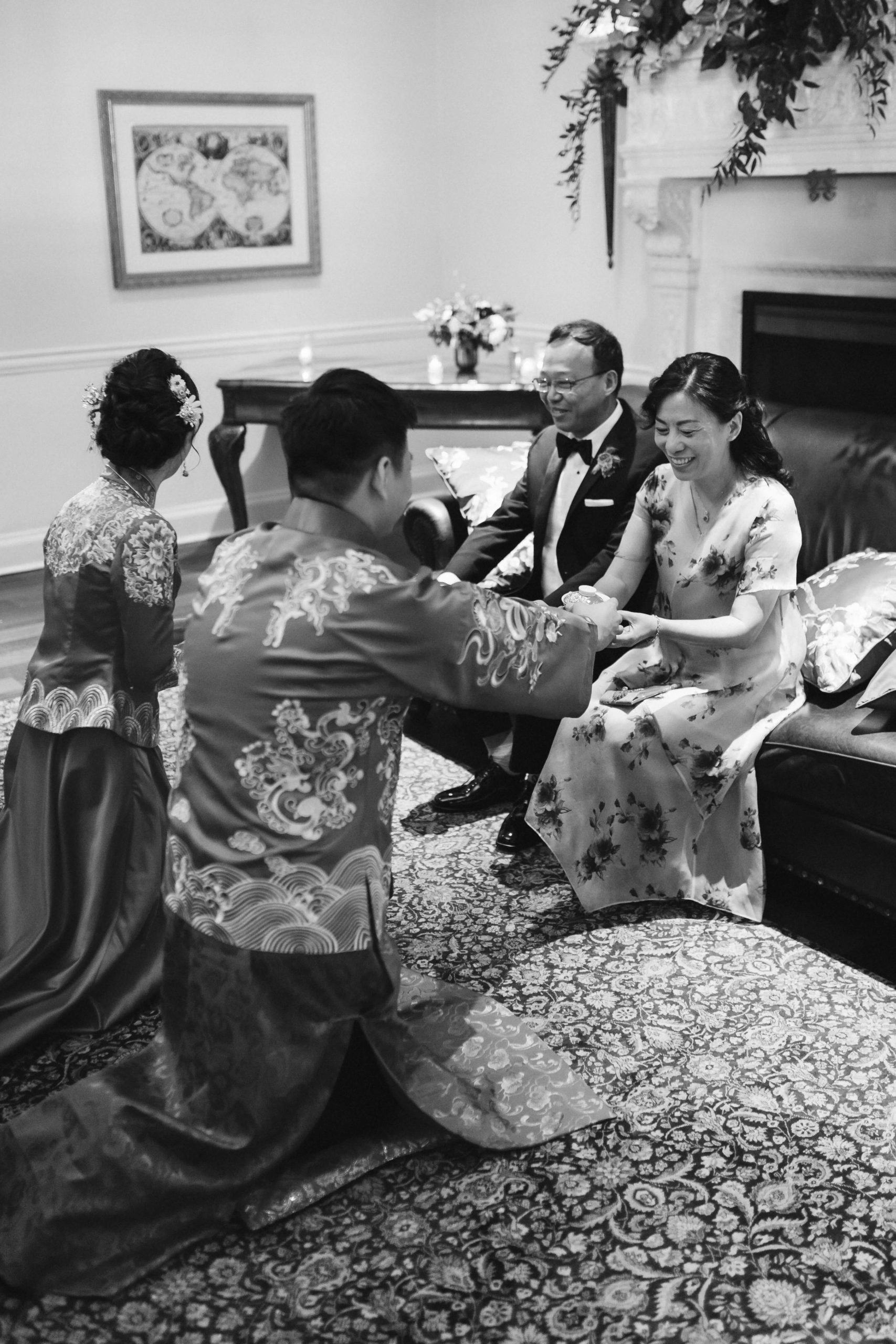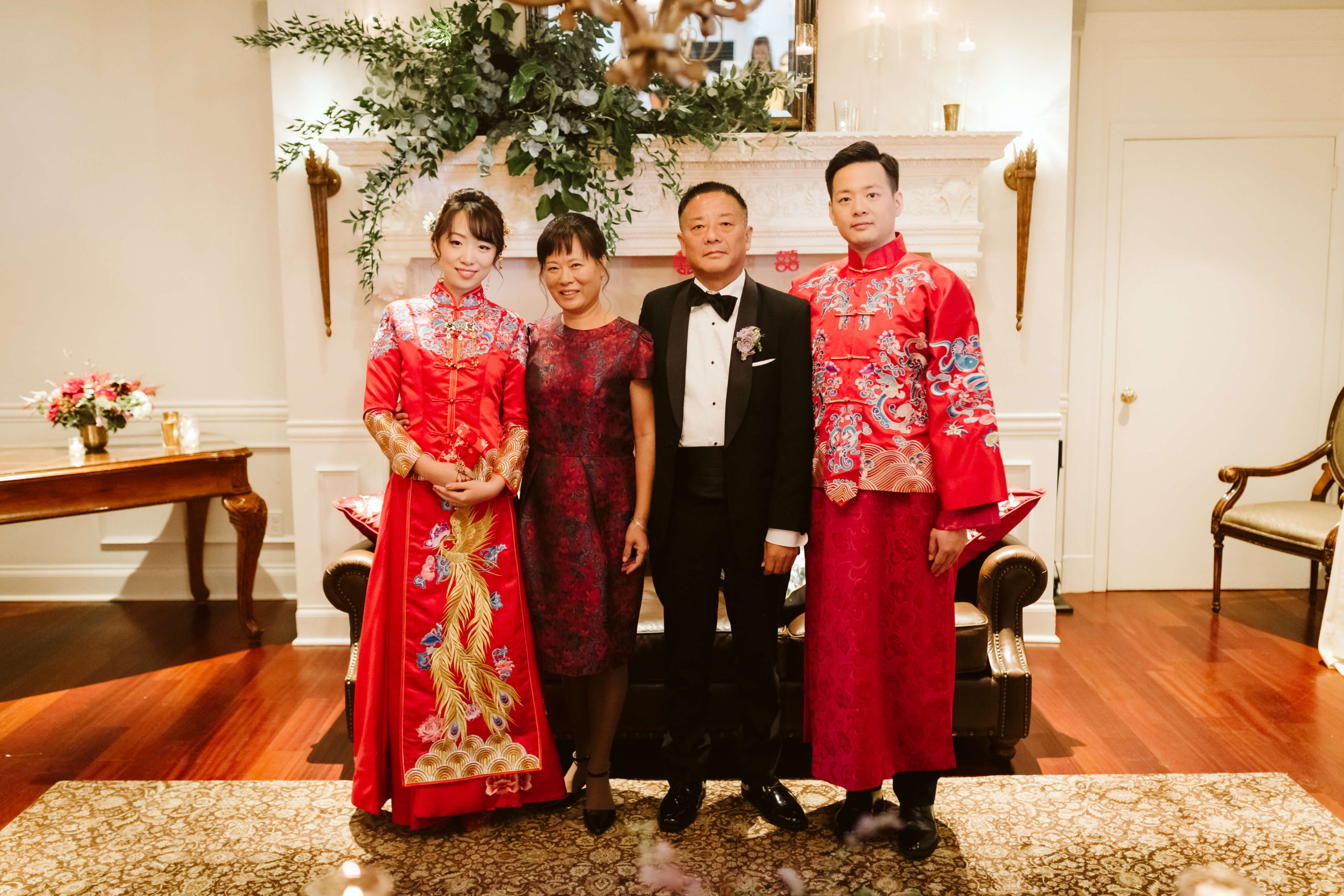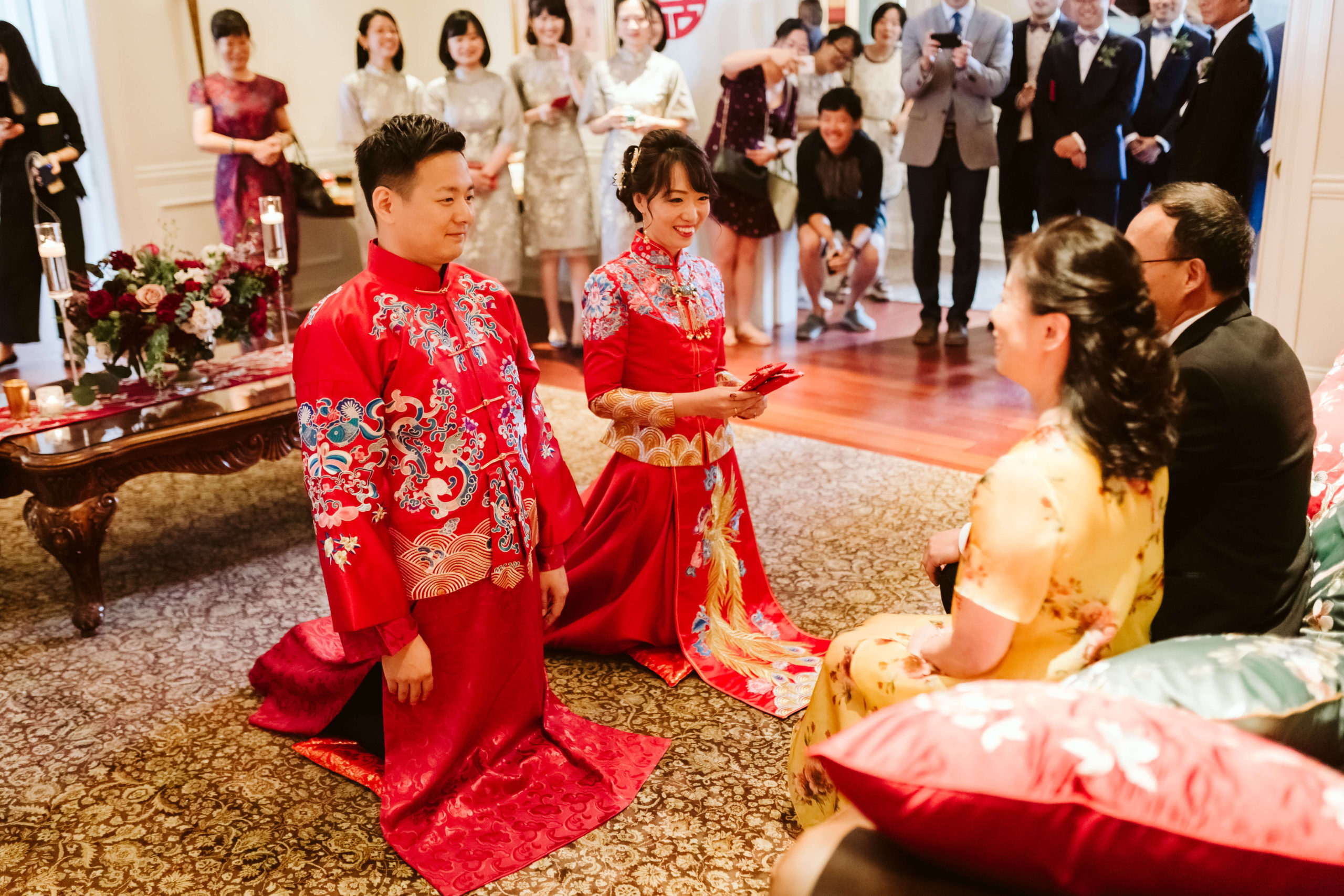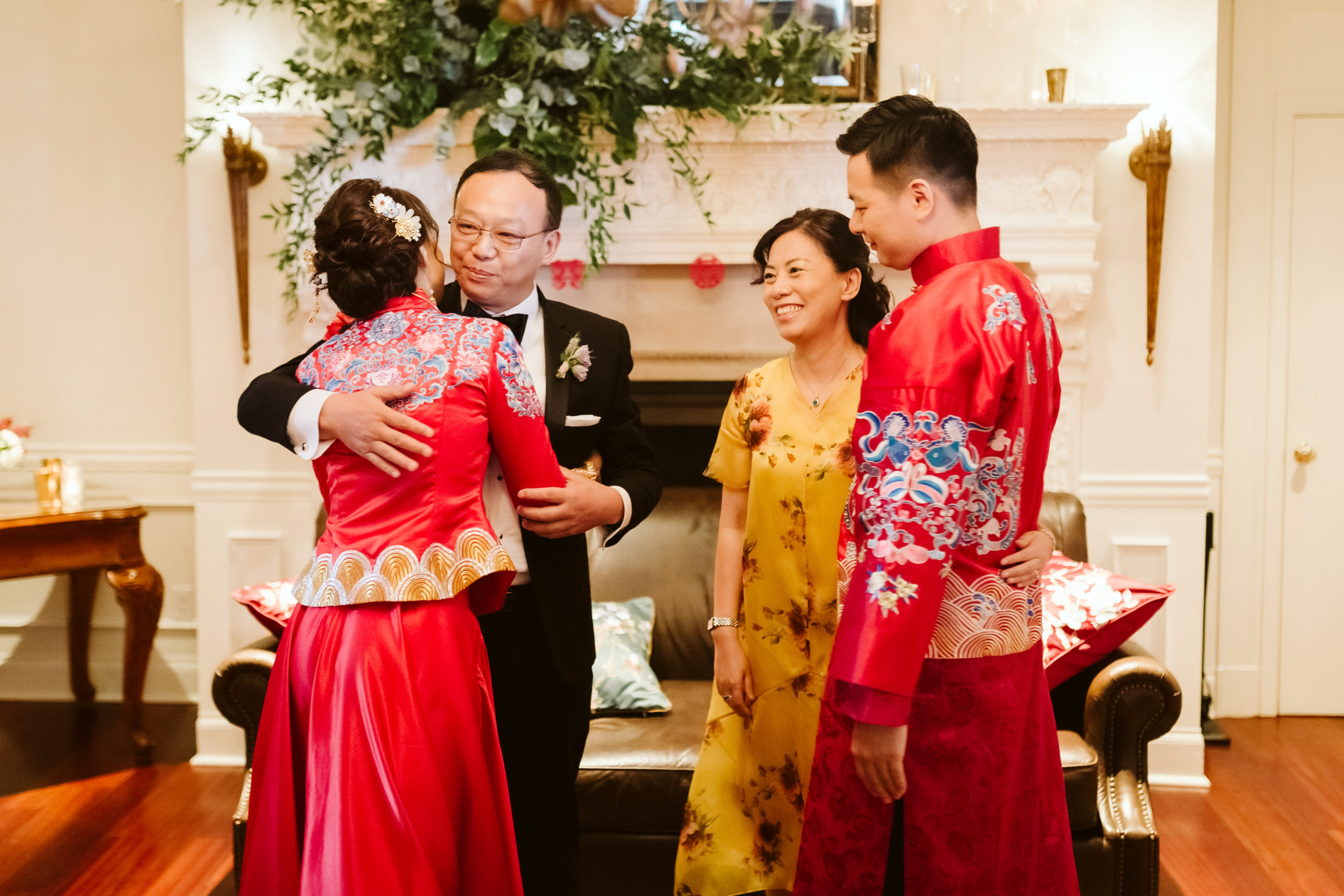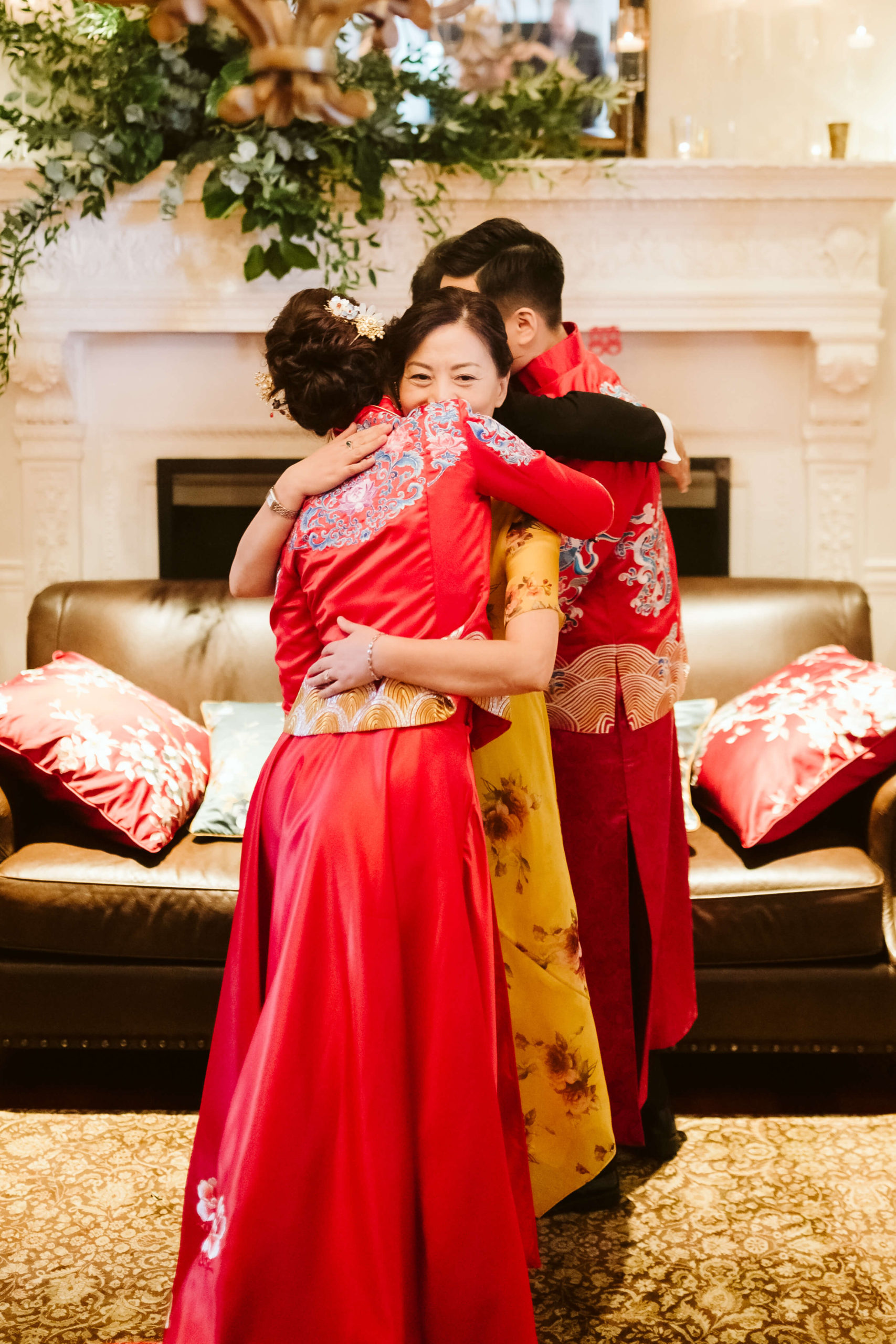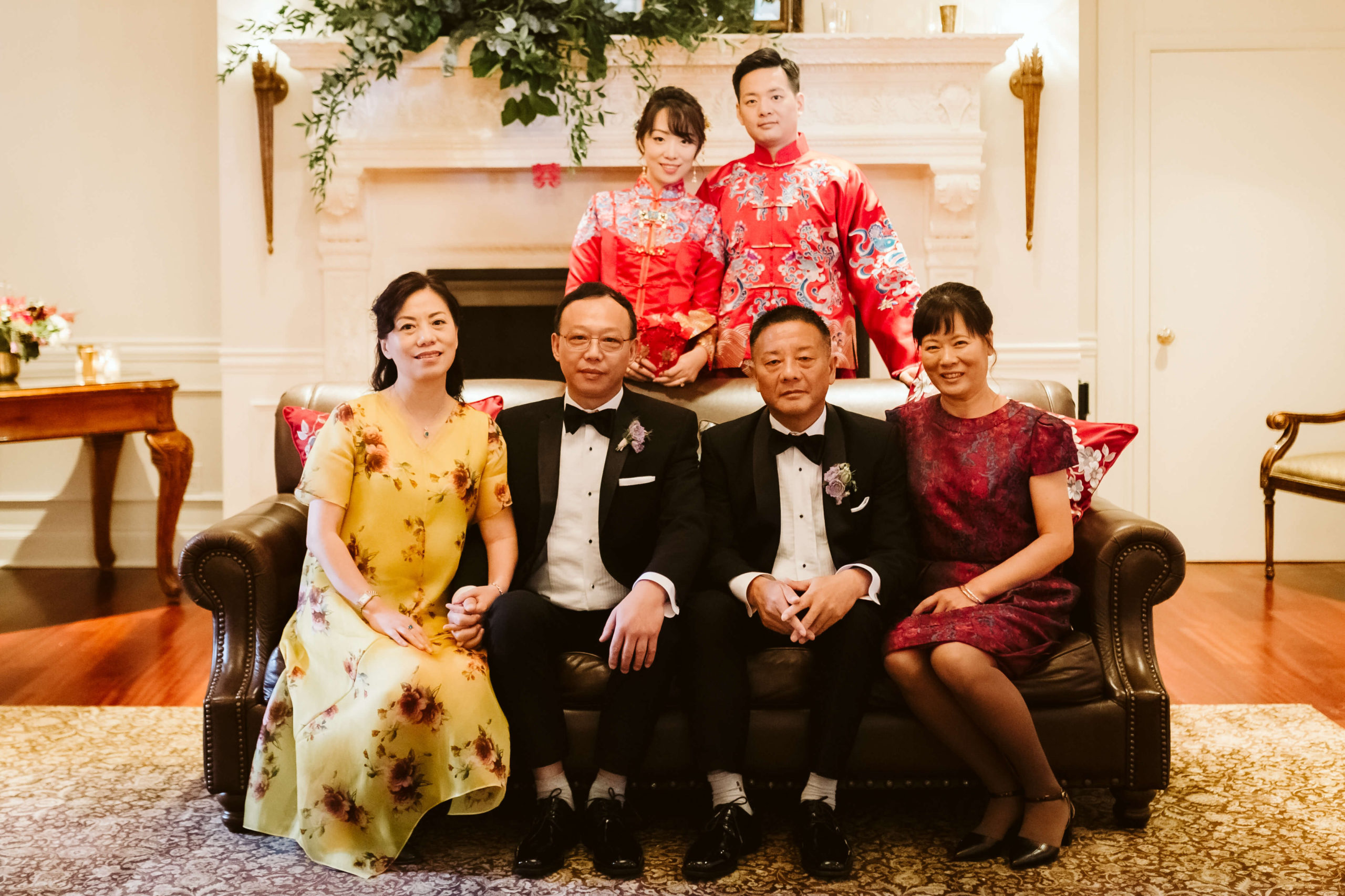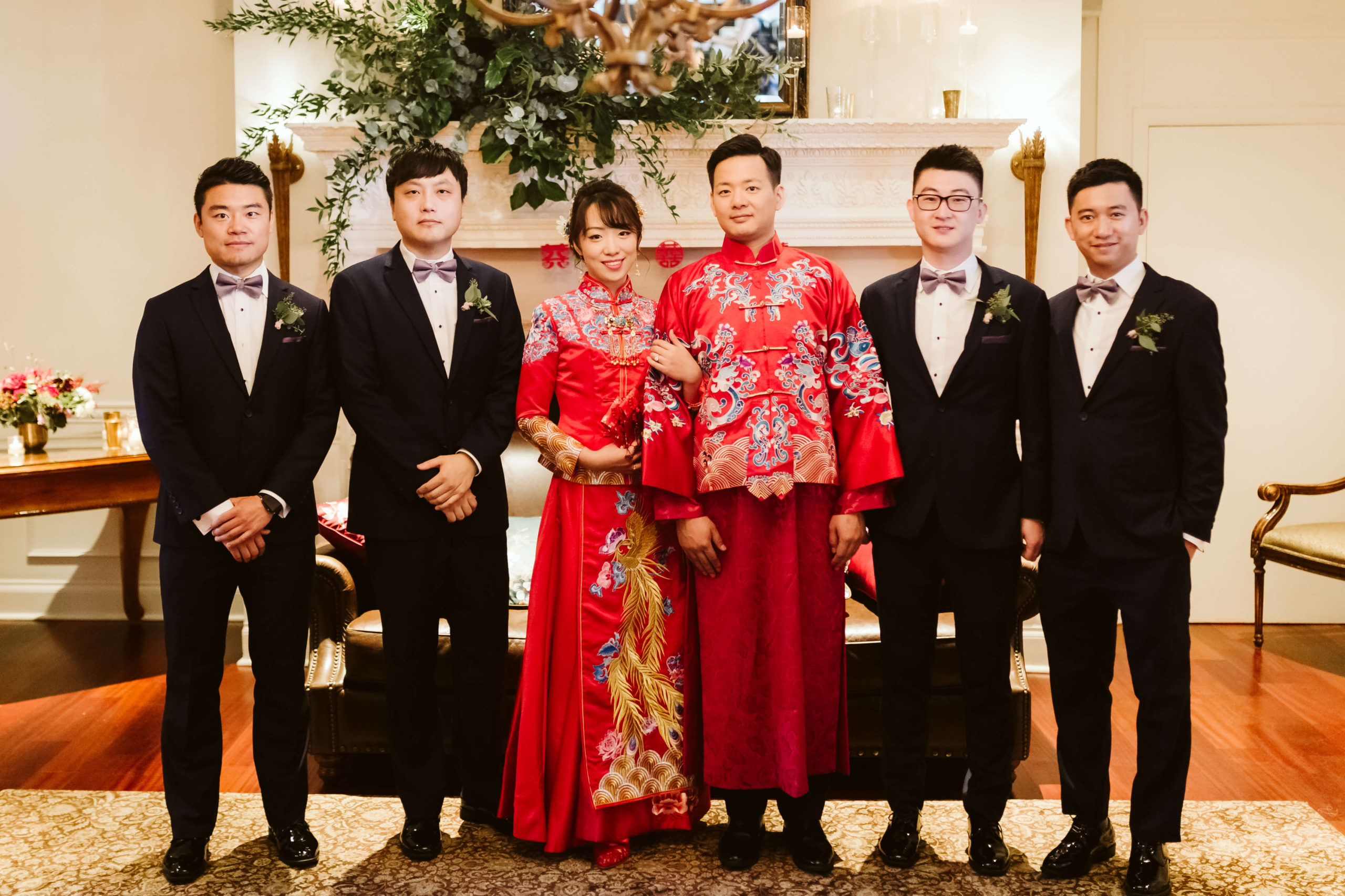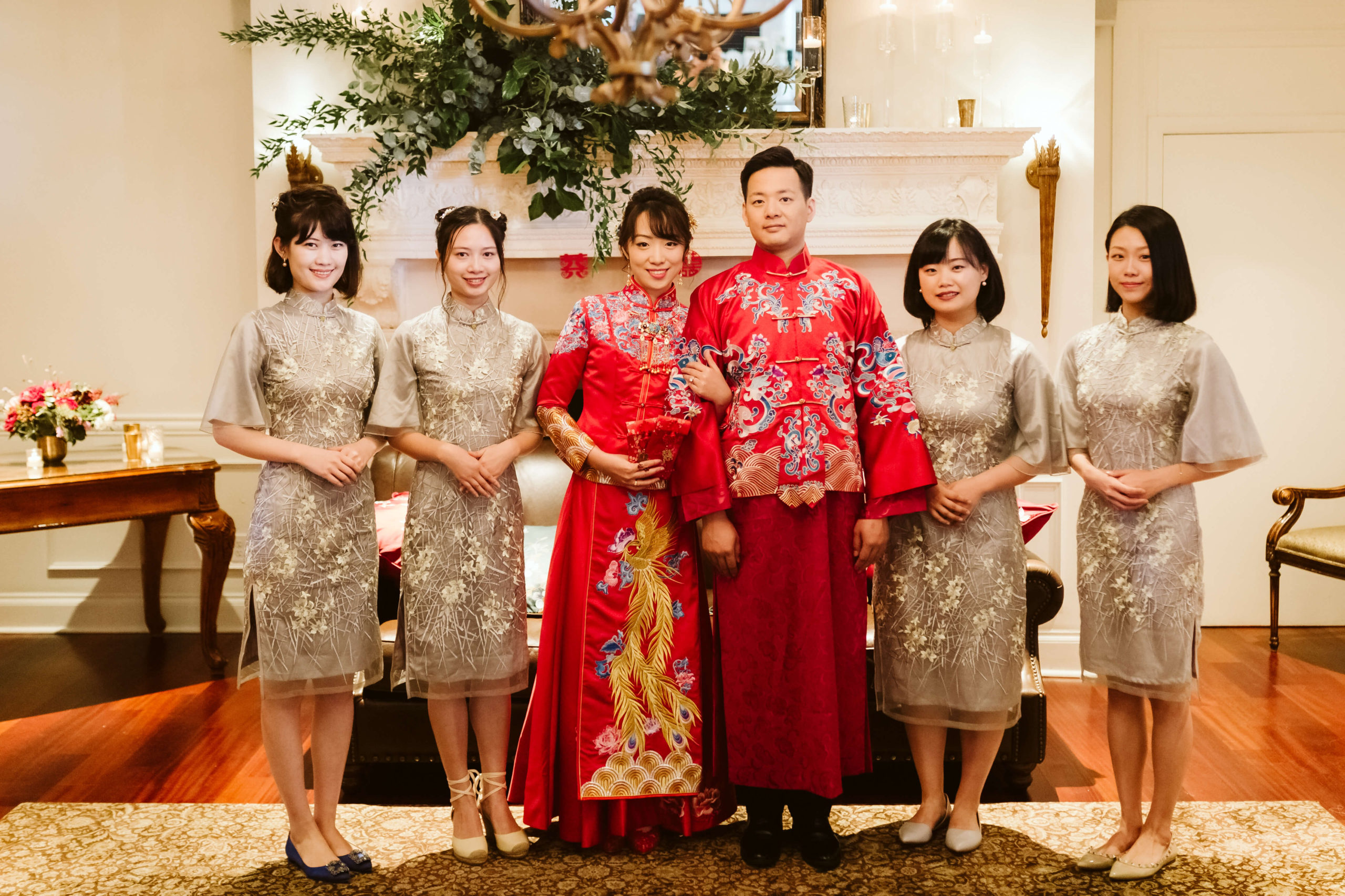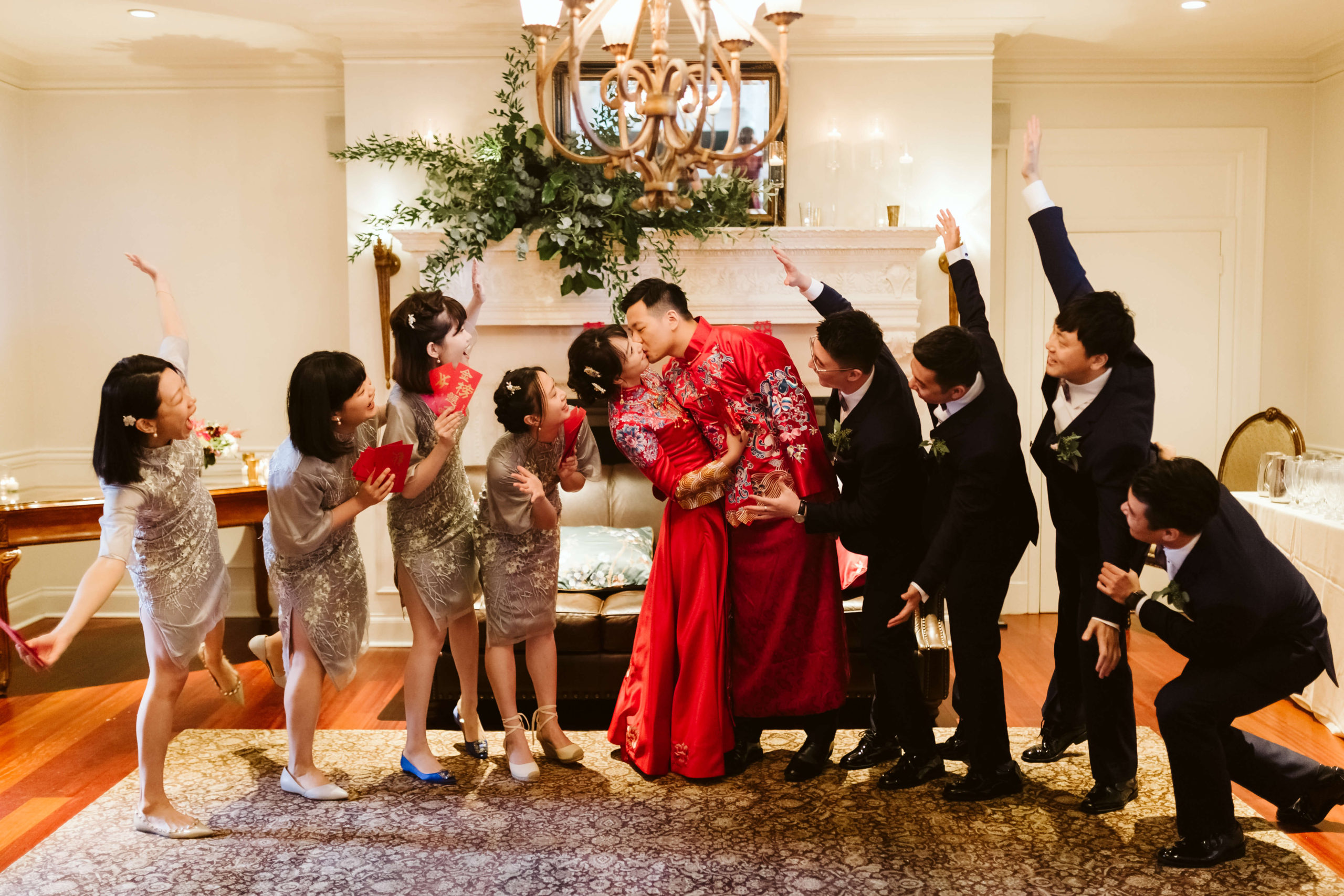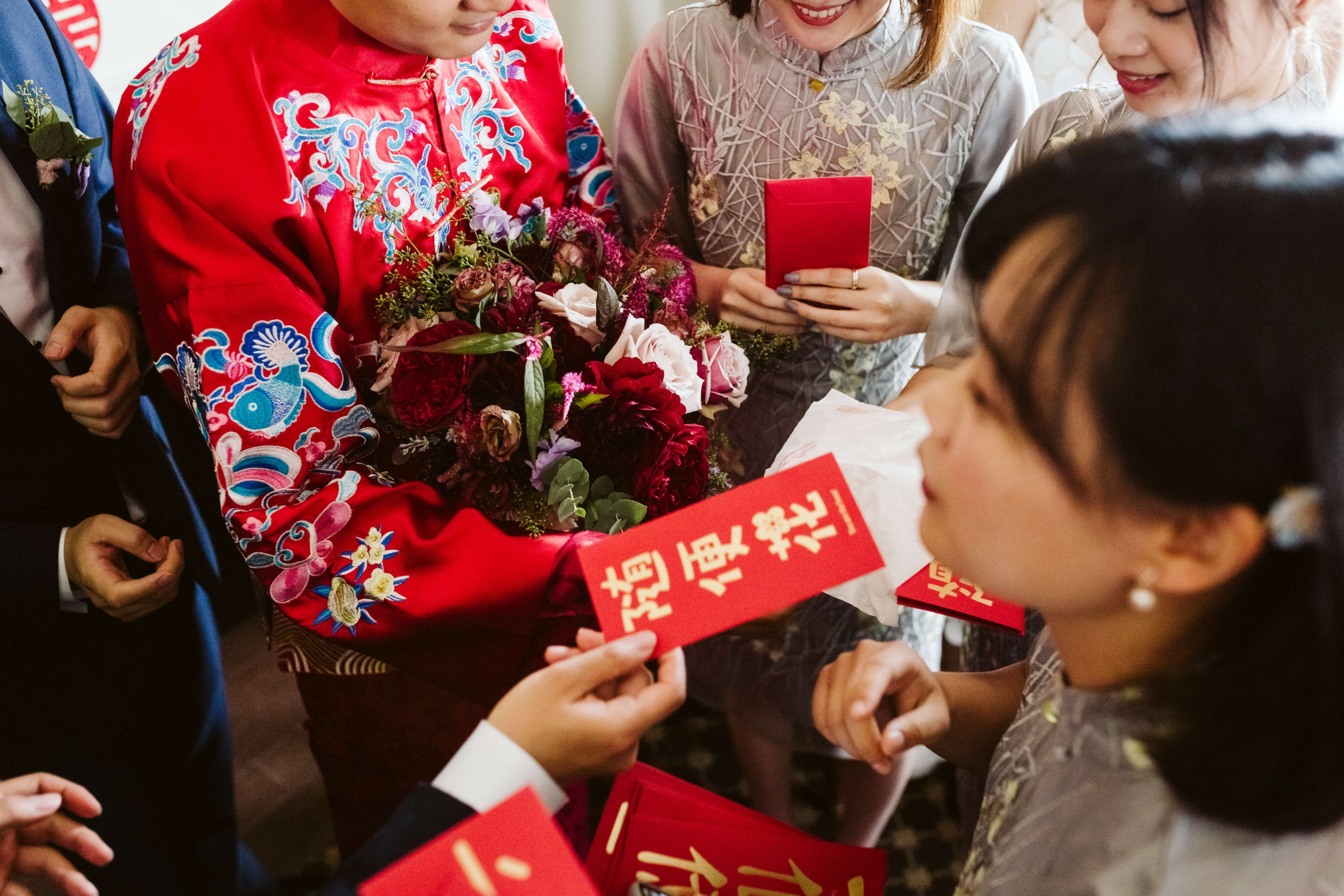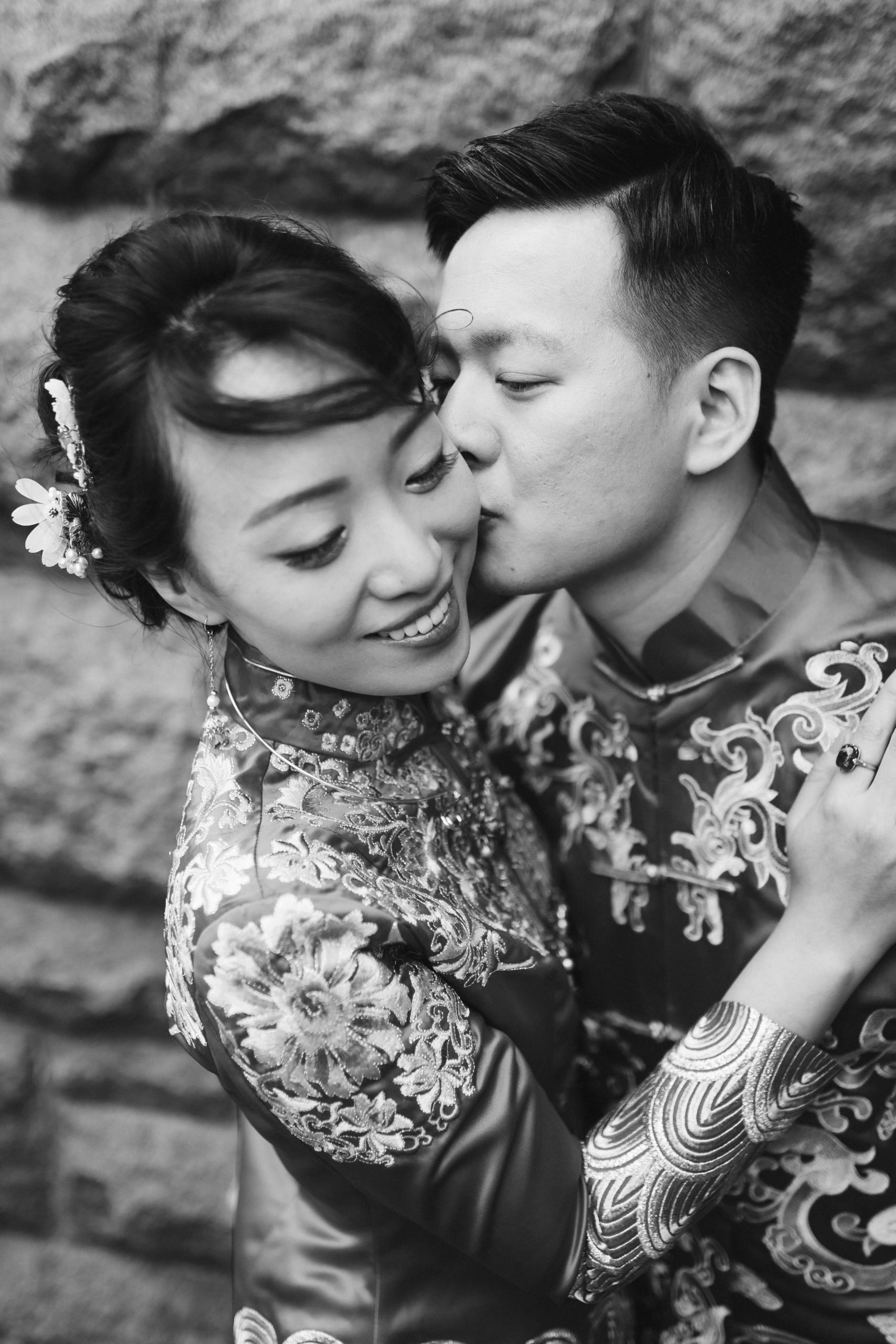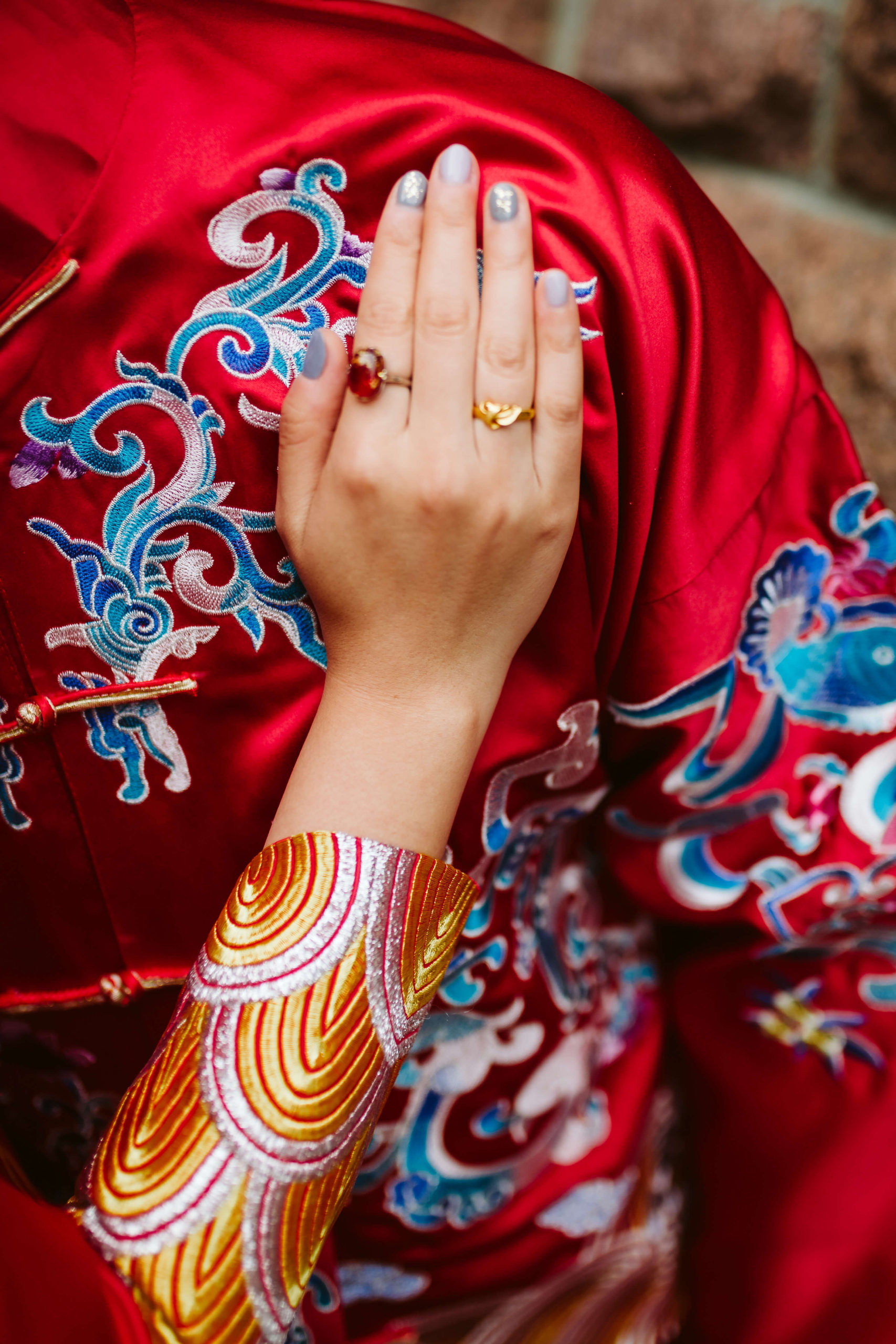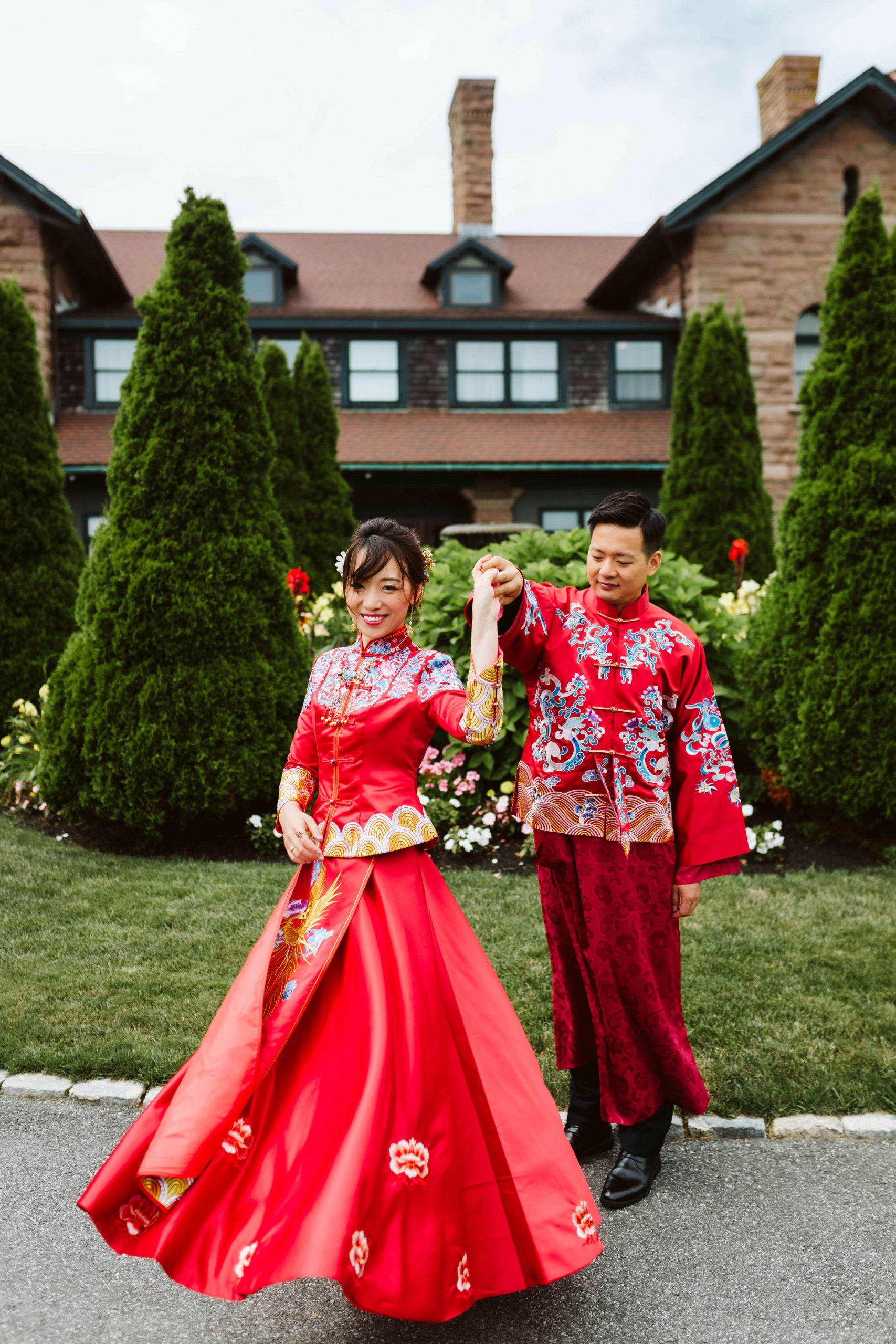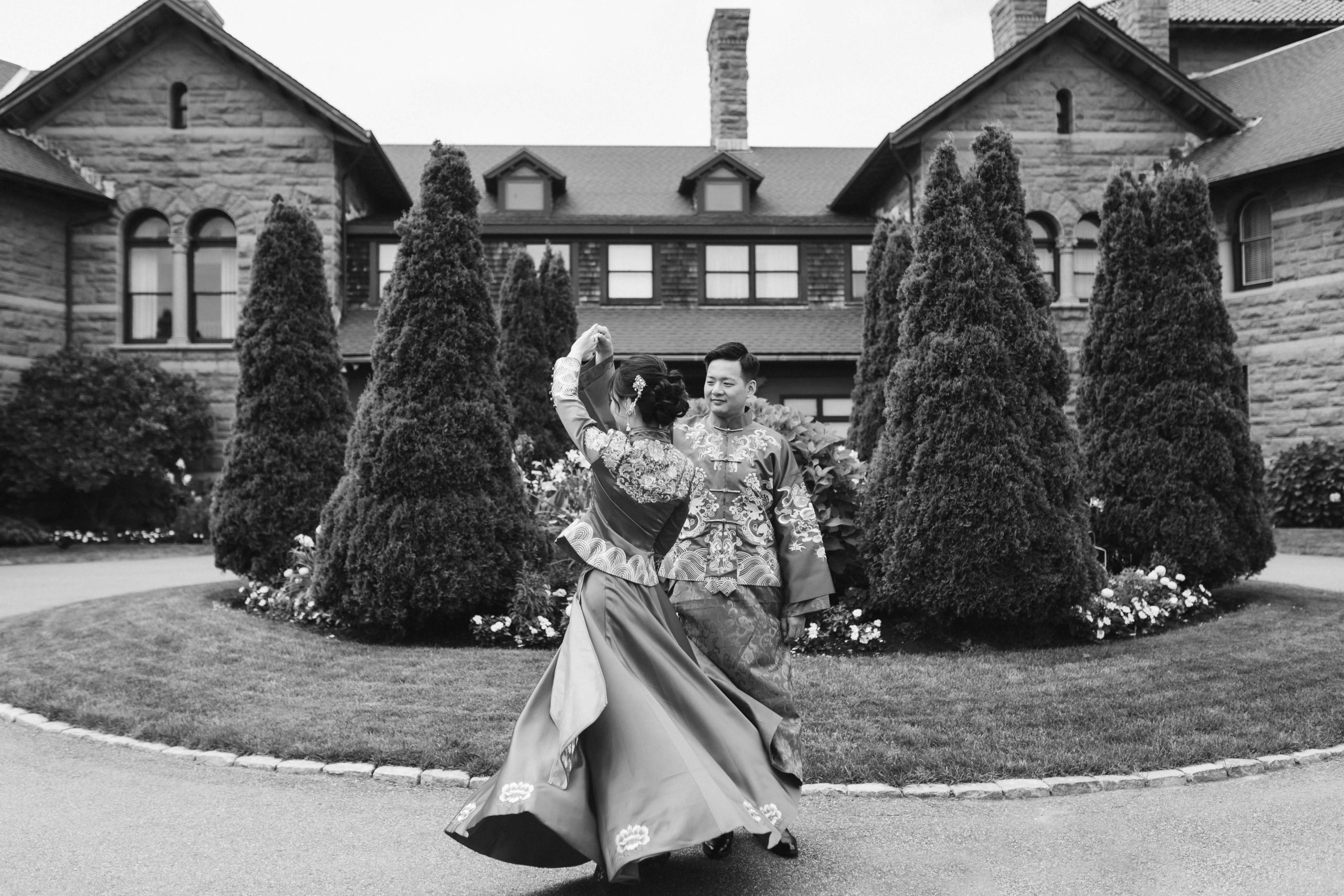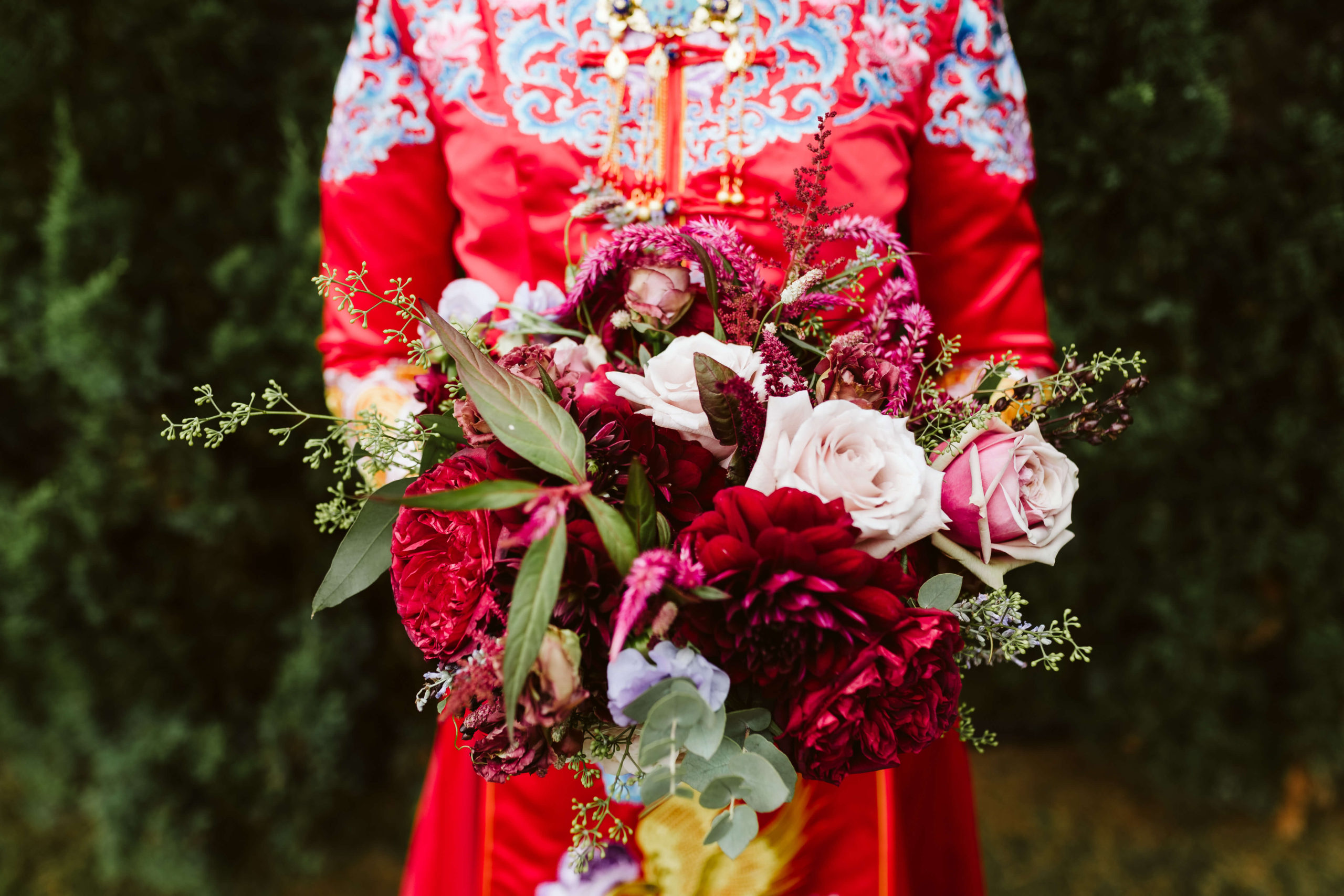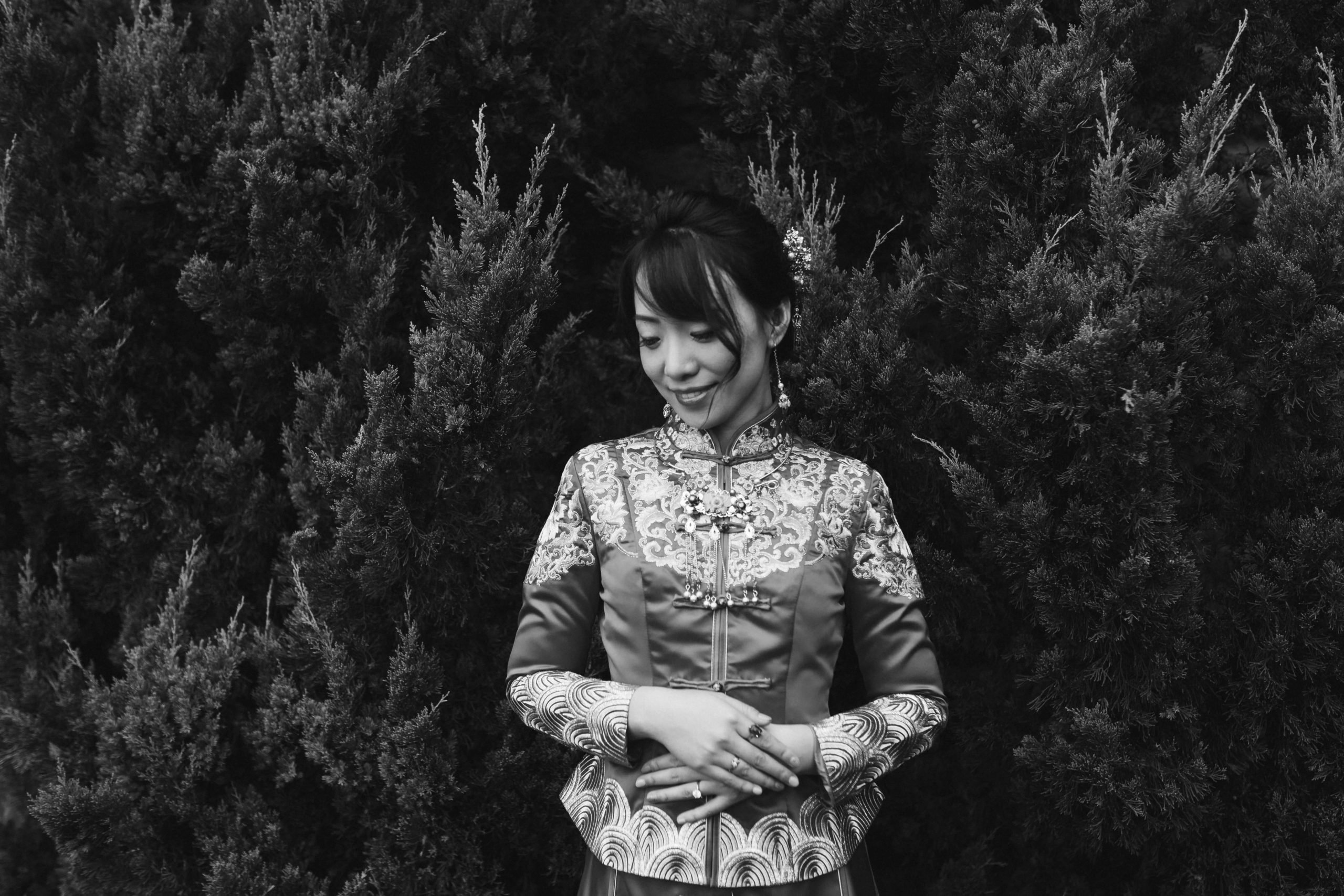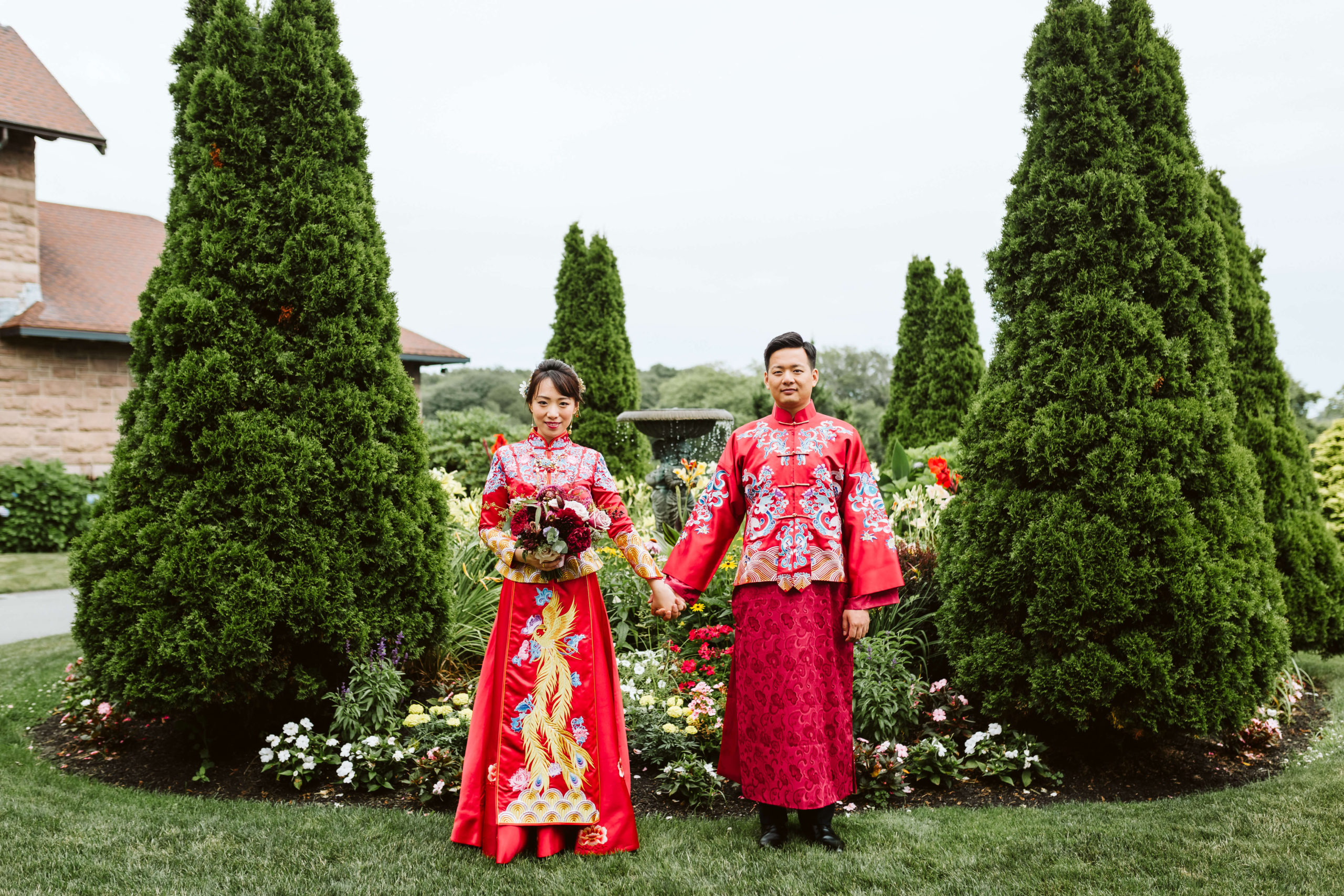 Chinese Tea Ceremony
Their wedding day would not have been complete without partaking in the most significant of Chinese wedding traditions. In front of all their guests, Zi and Xulei knelt before their parents – first Xulei's parents, then Zi's – and offered them cups of tea. Zi's maid of honor and Zulei's best man acted as their attendants in preparing the tea.
By offering tea to parents and, sometimes, to other key relatives such as grandparents, the bride and groom show their gratitude to their family for all of their love, support, and effort in raising them. With the help of their attendants, the couple kneels or bows before their parents with cups of tea and asks them to "please drink the tea." When the tea is accepted and sipped, it symbolizes the welcoming of a new person into their respective families and the union of the two families as one.
After the tea ceremony, Zi and Xulei's parents gifted them with red envelopes or lai see. These envelopes are traditionally filled with money or sometimes jewelry that symbolize the parents' blessing of the couple's new and happy life together. When the tea ceremony is officially over, other family members are welcome to offer the couple with their gifts of lai see.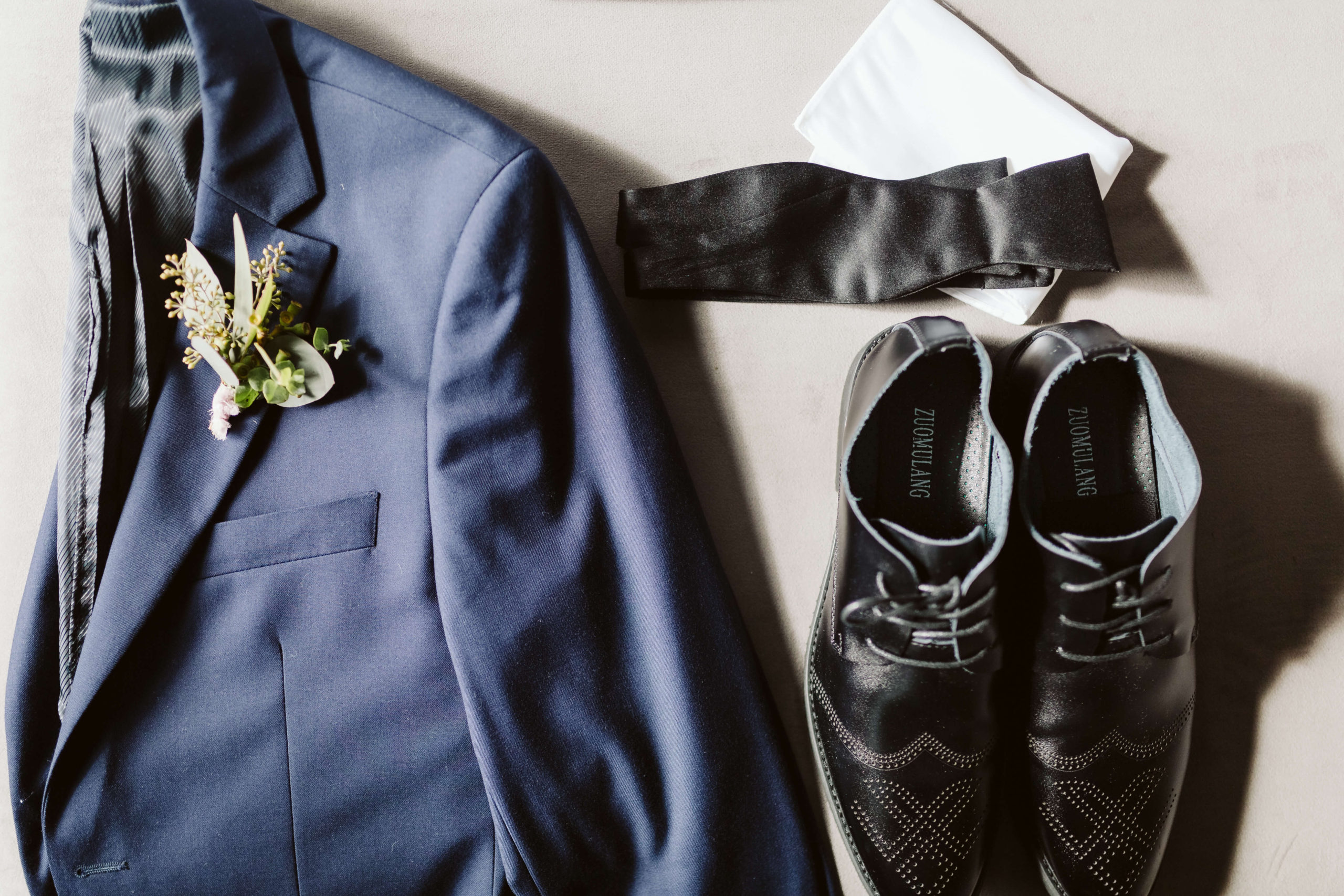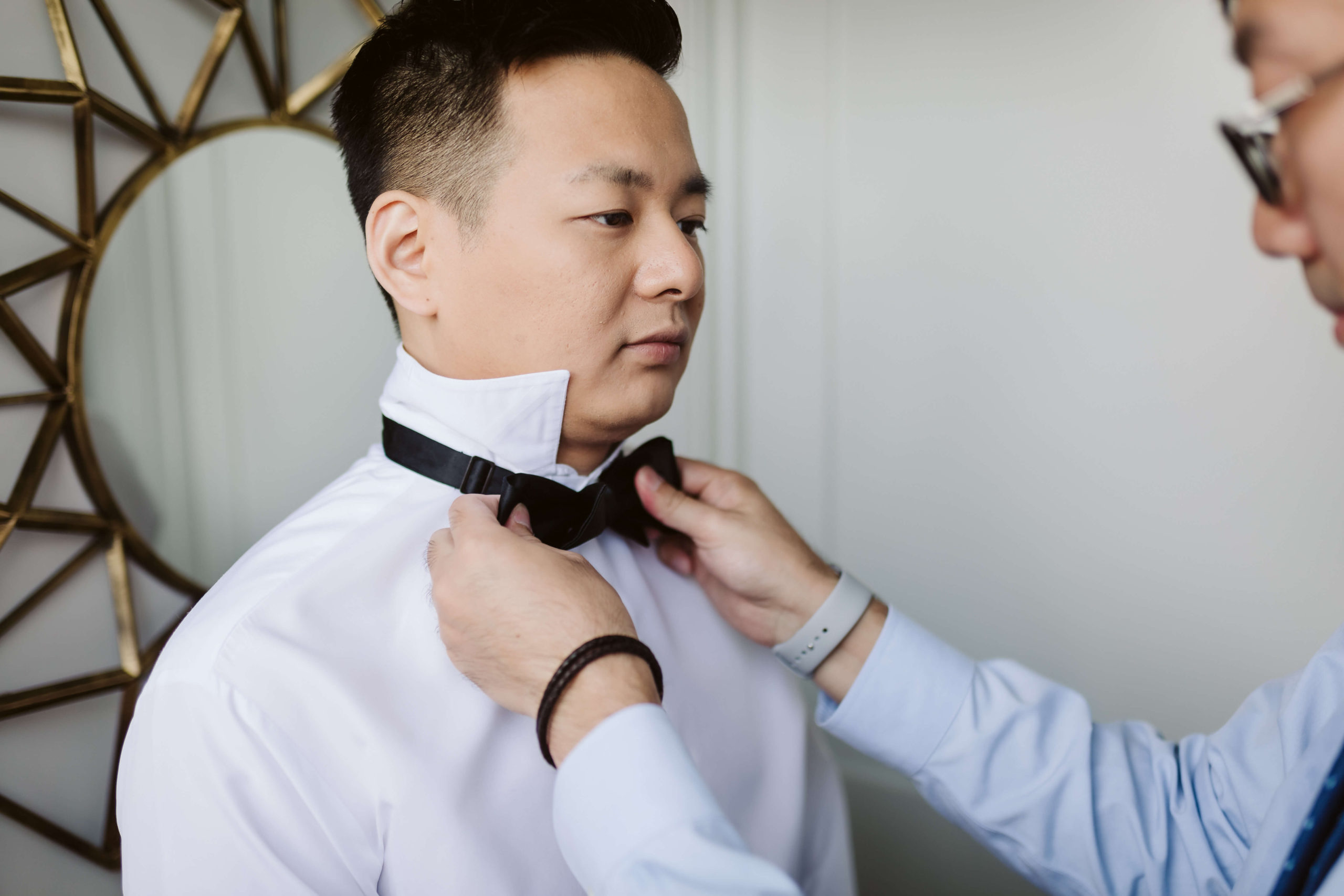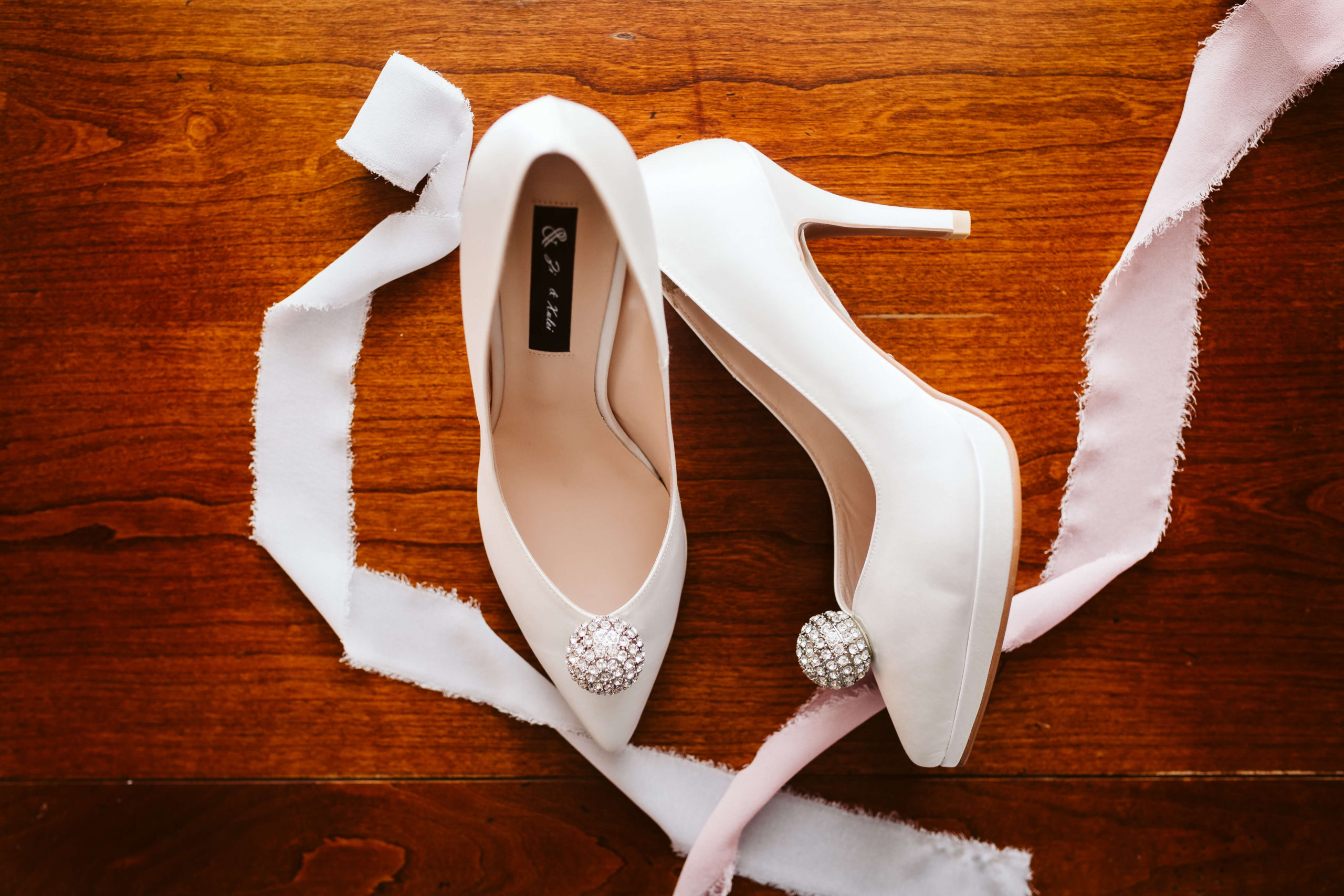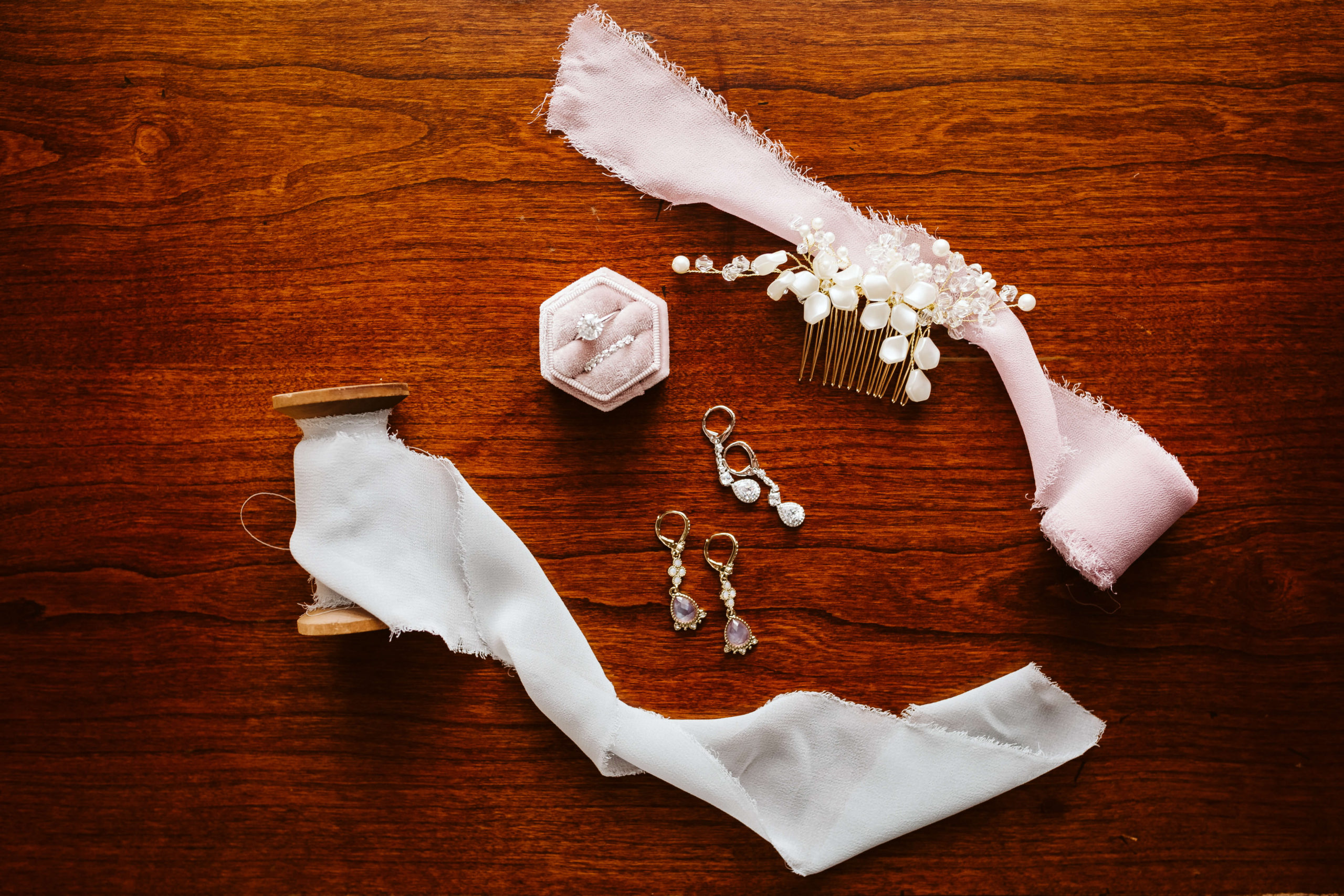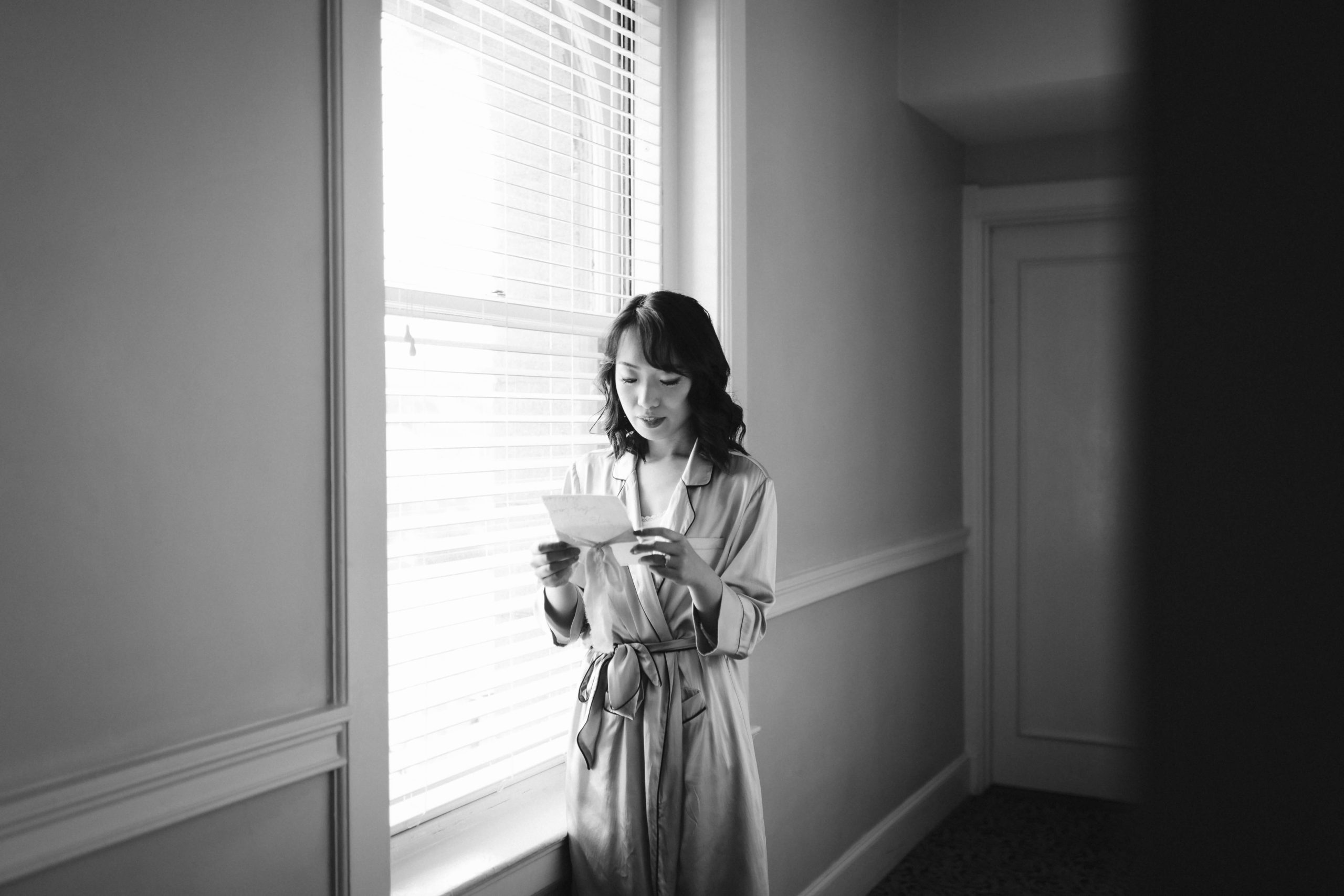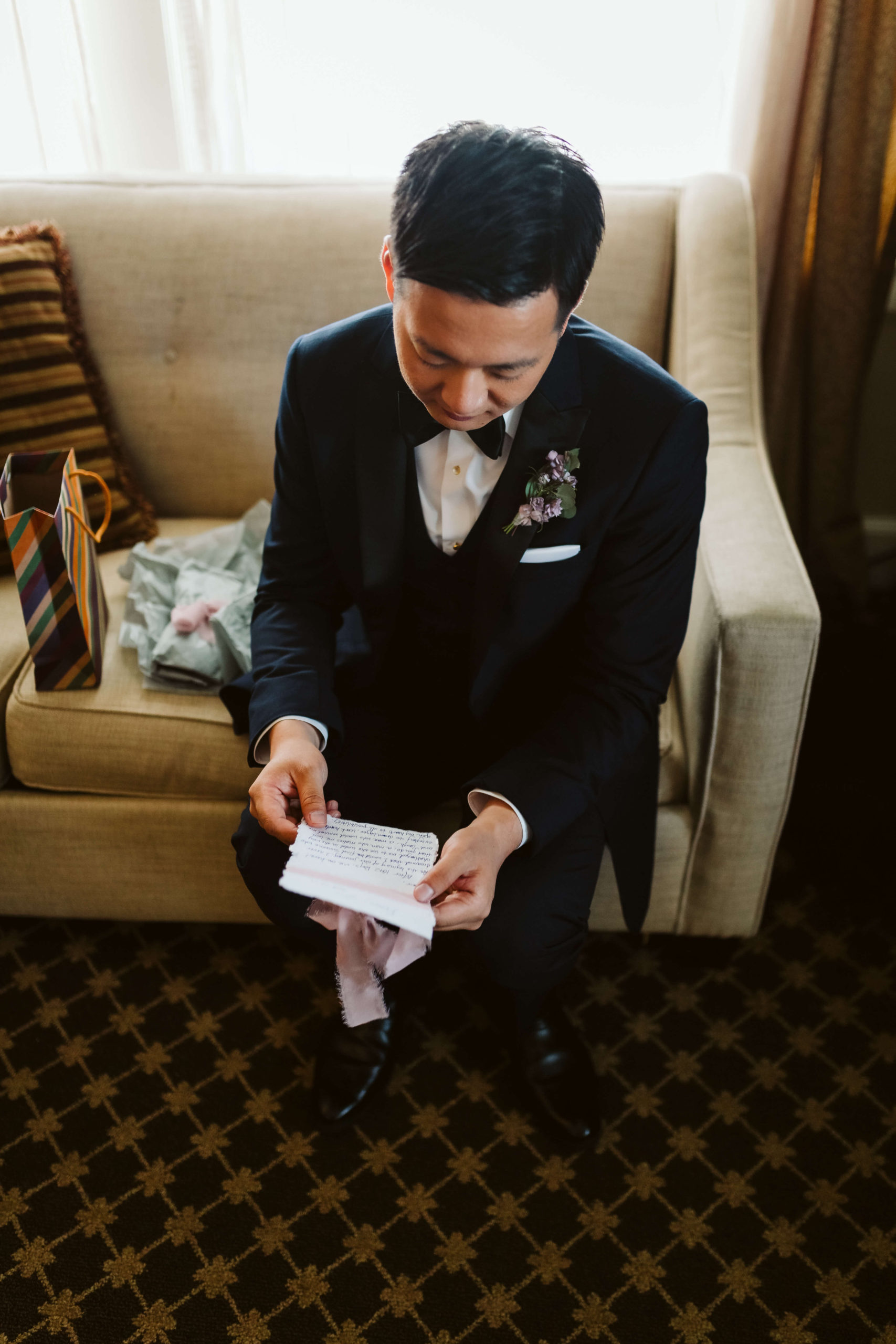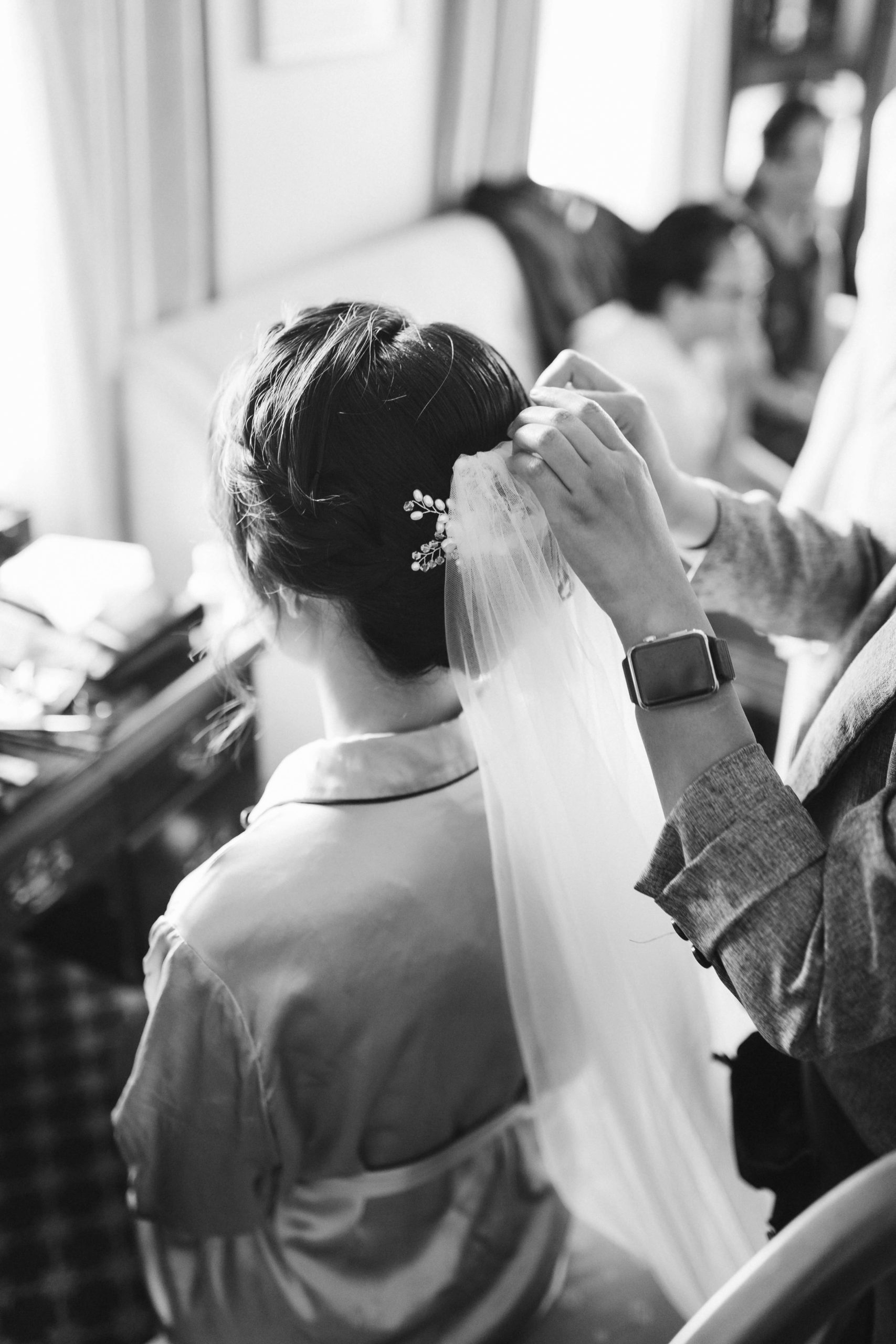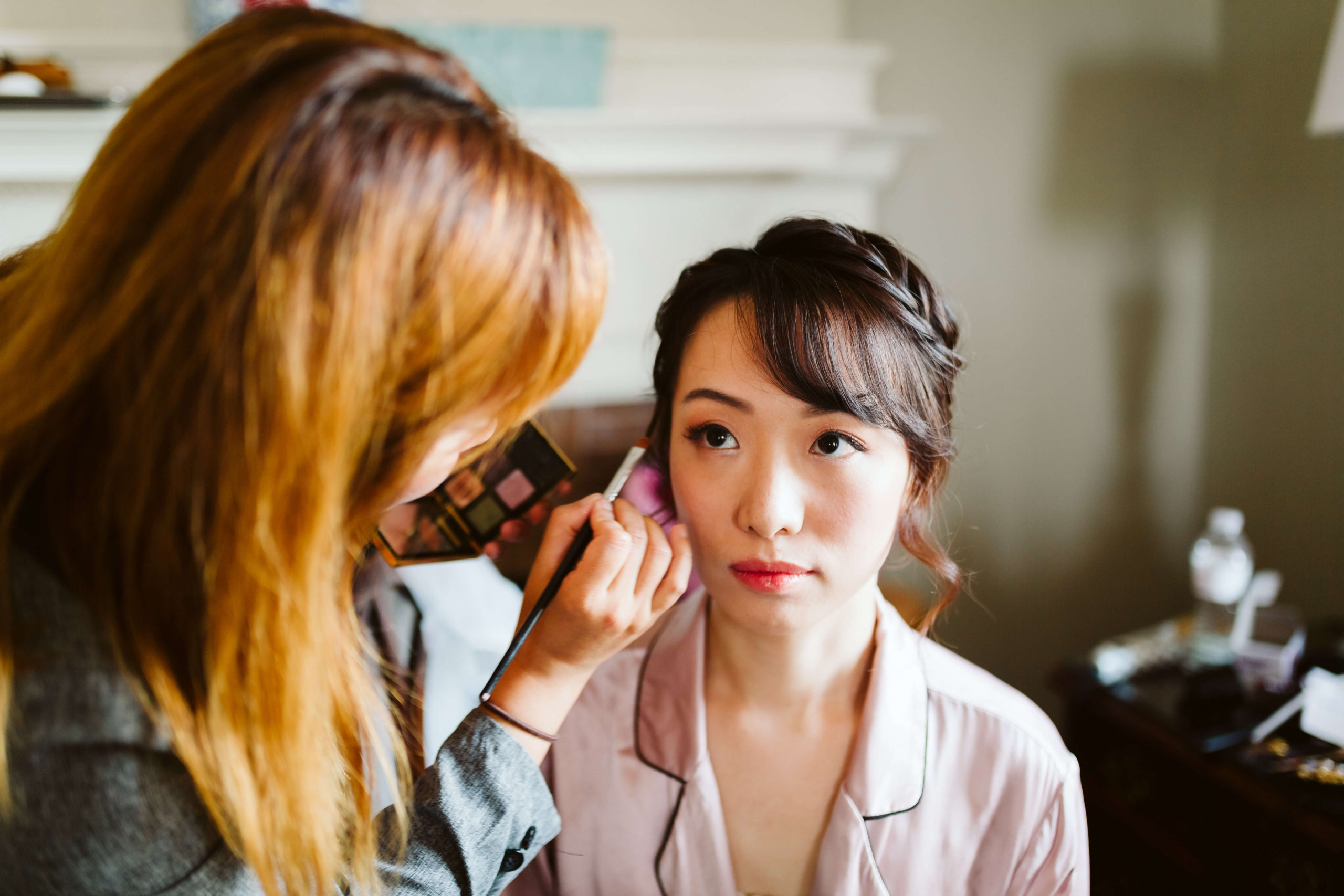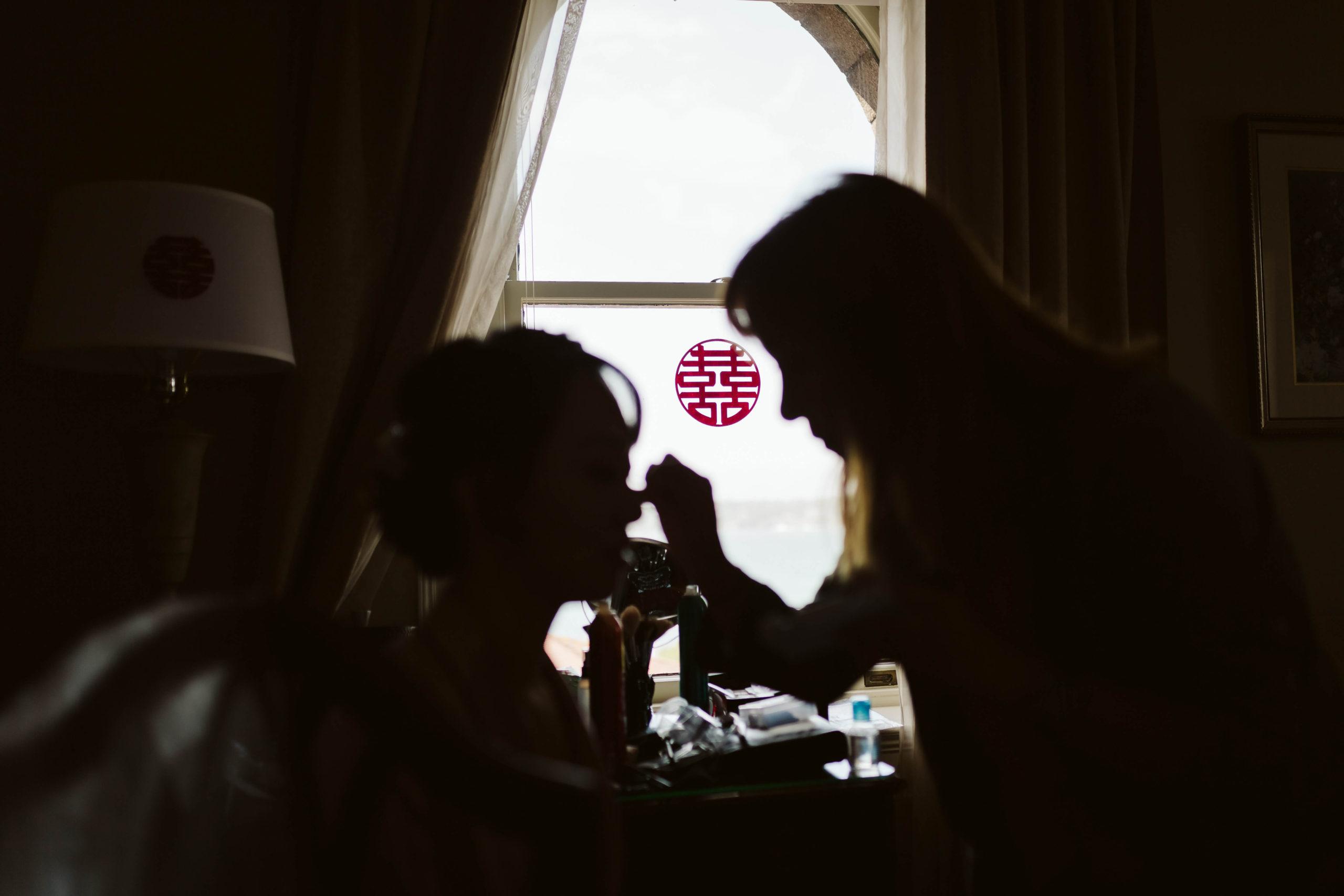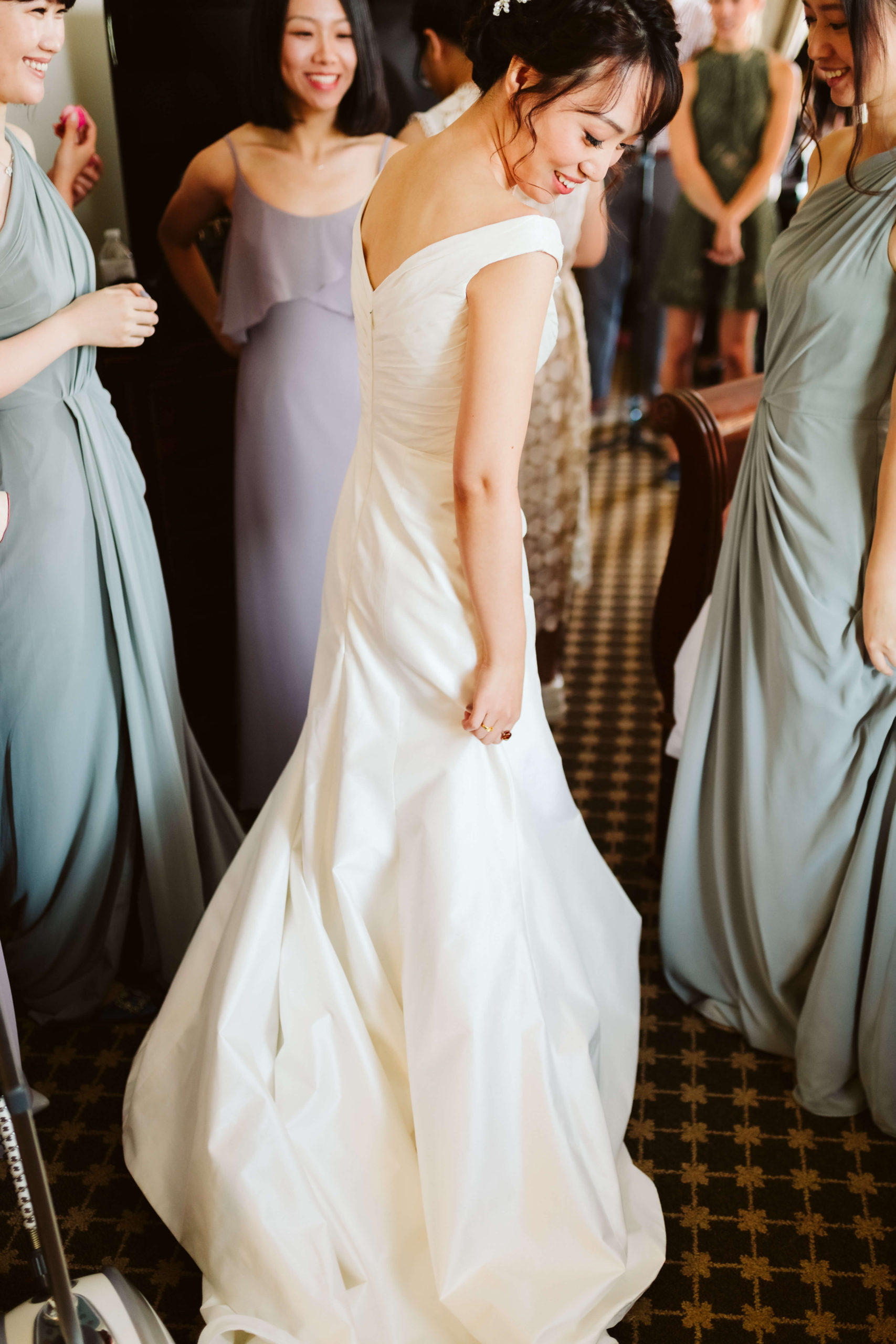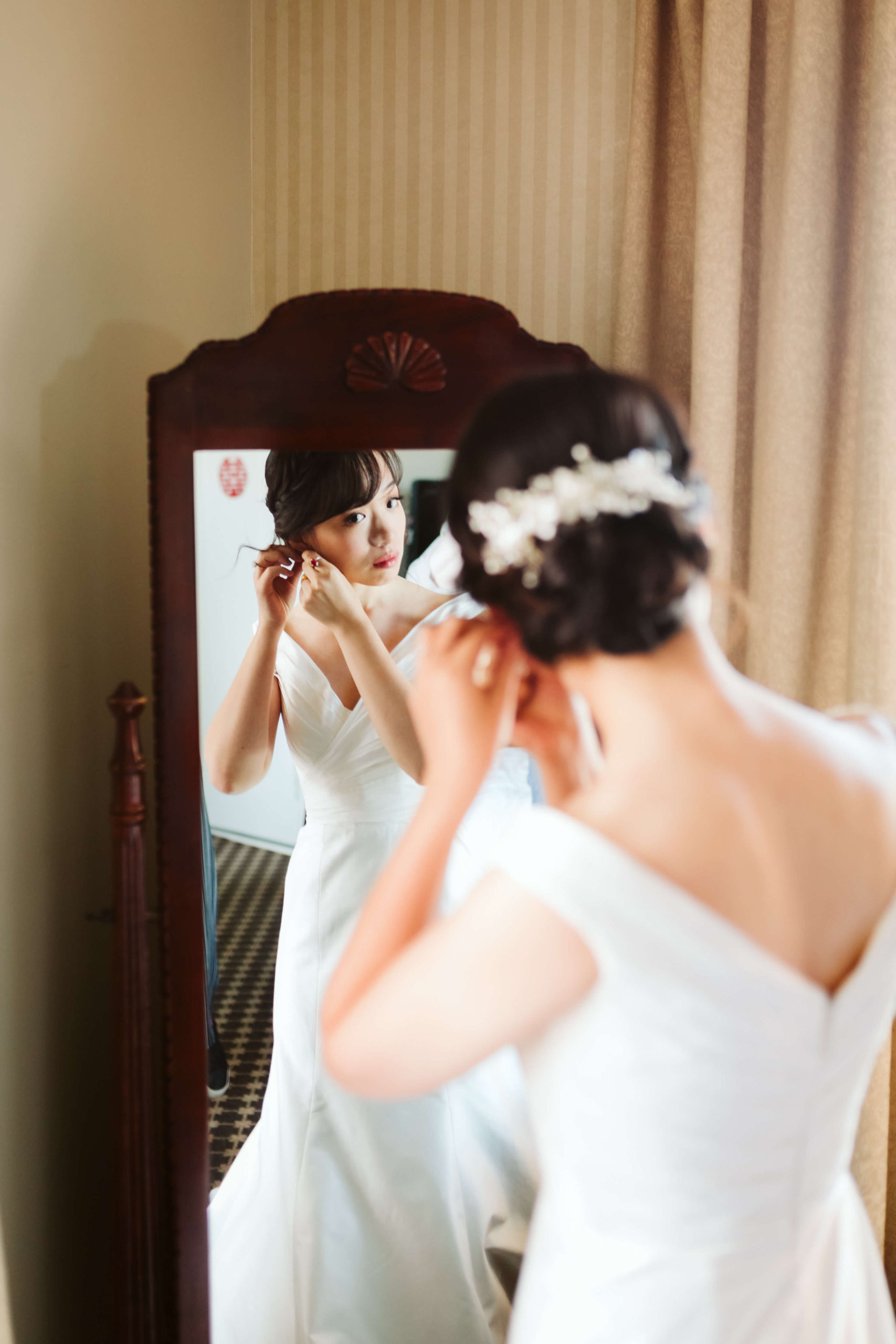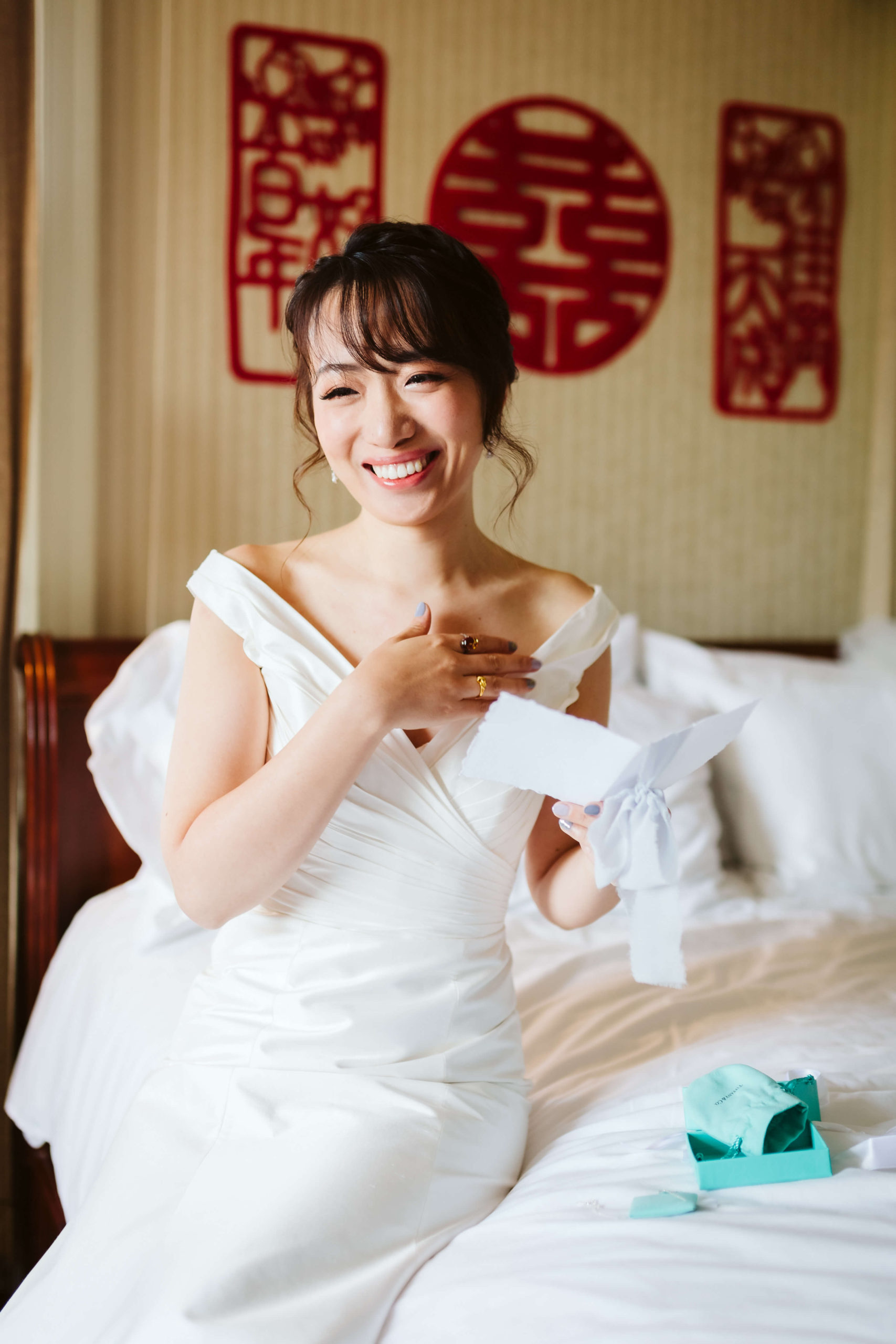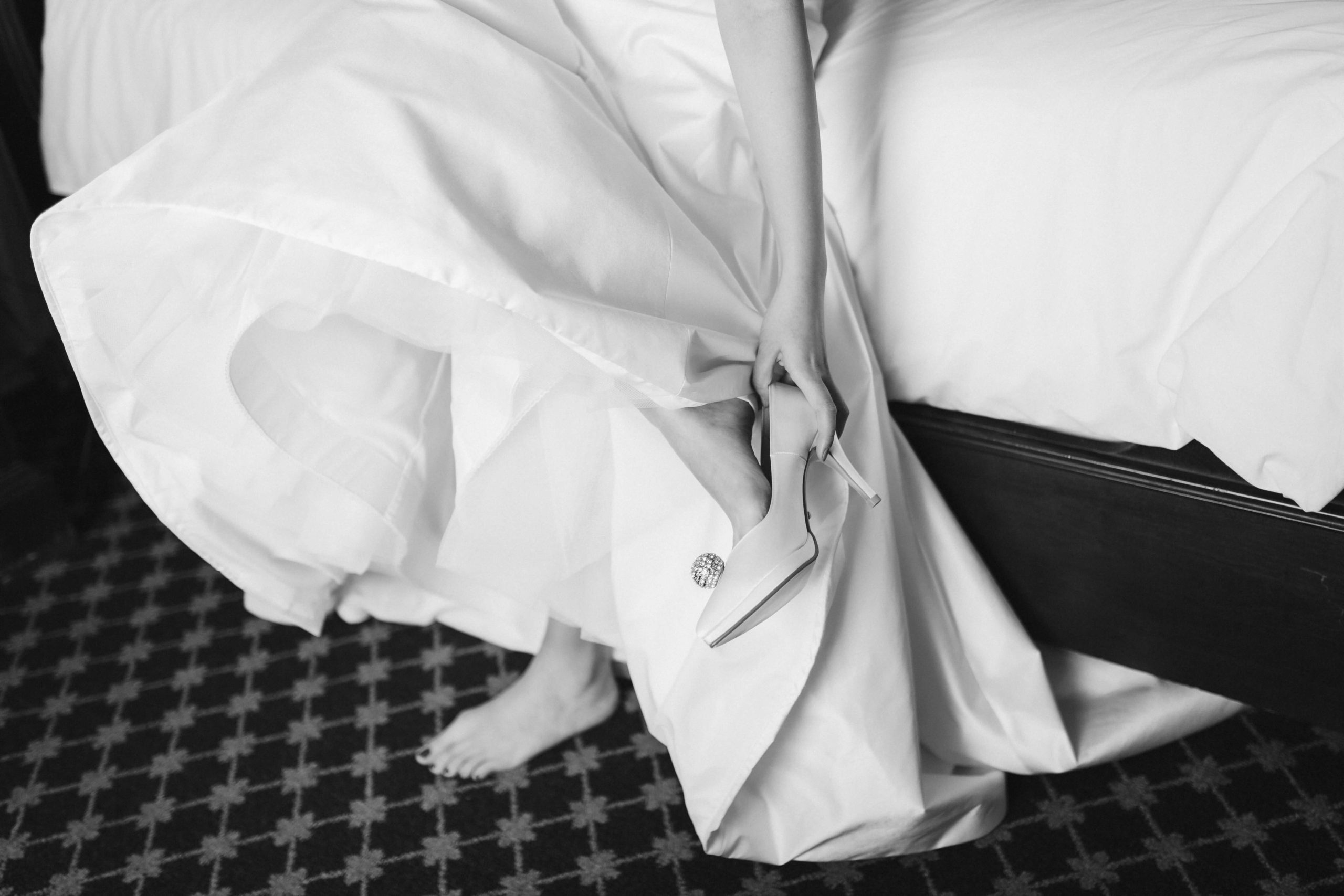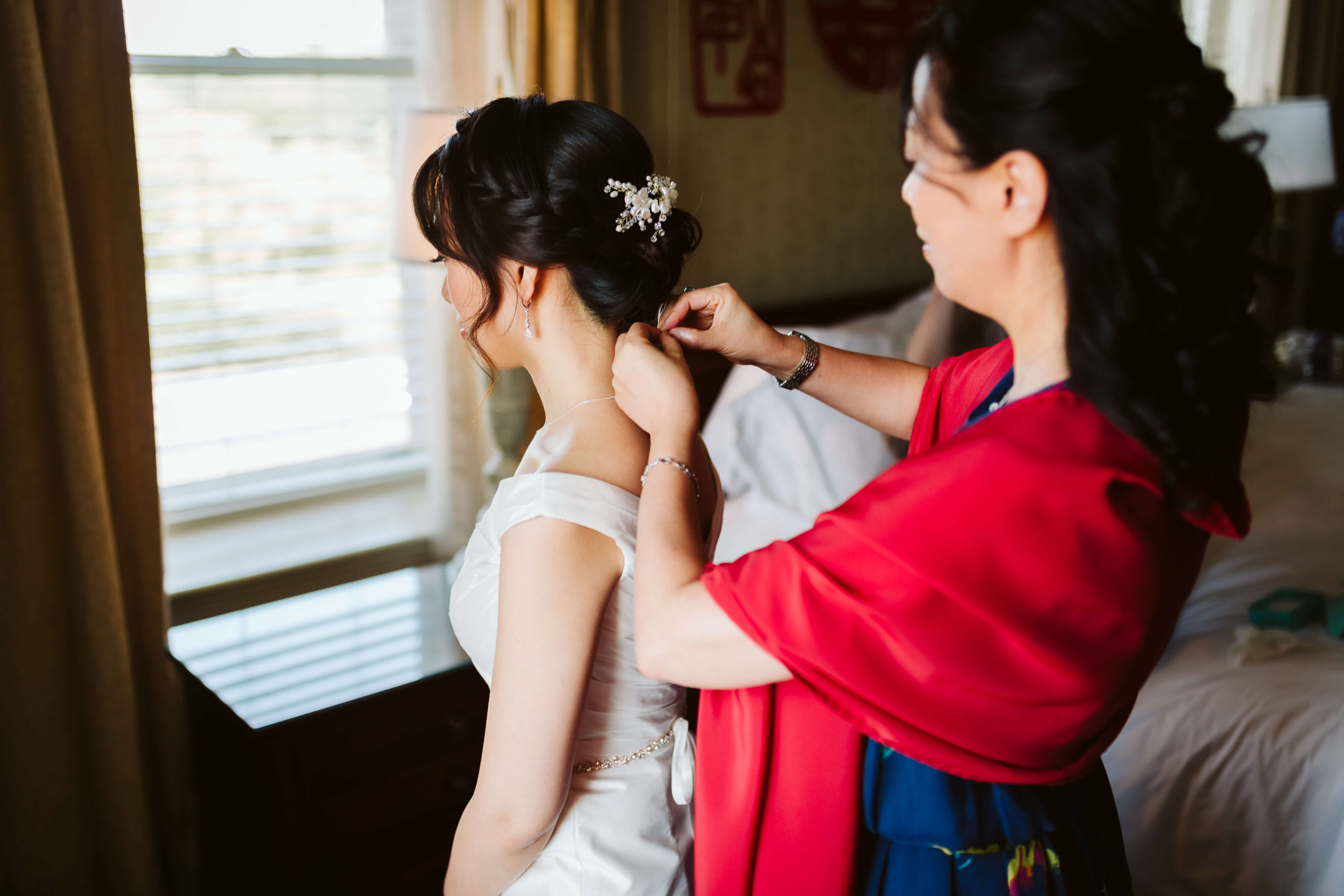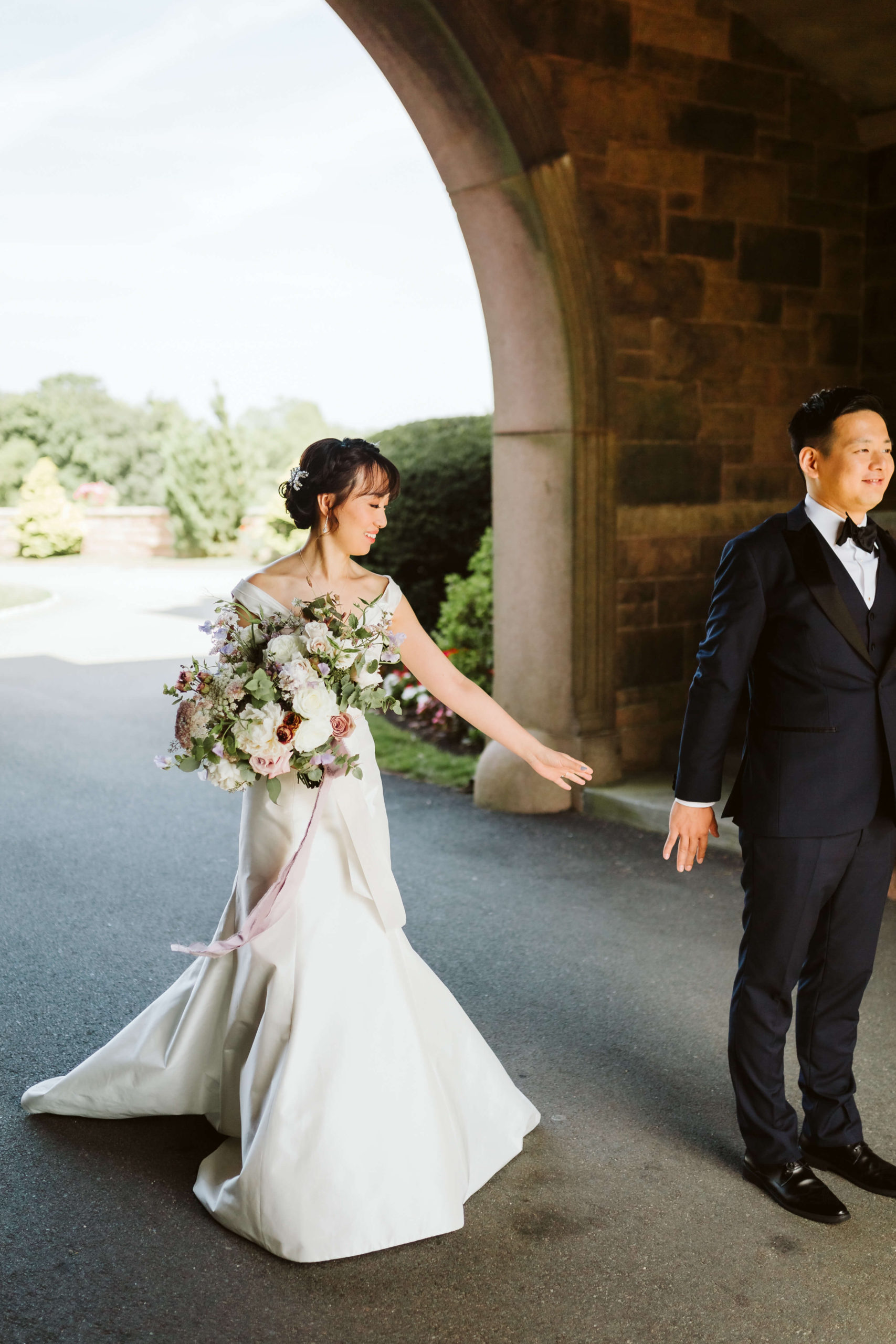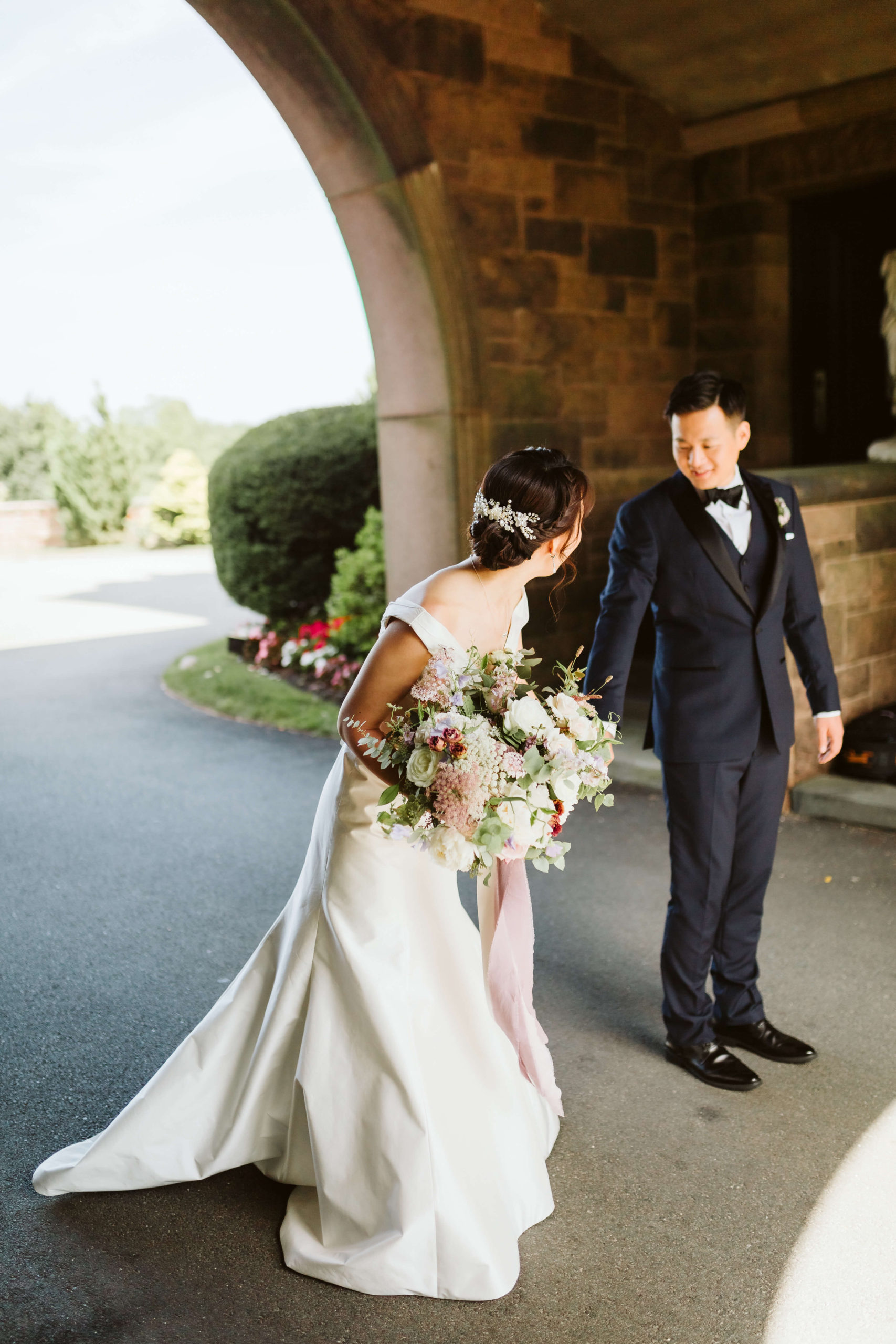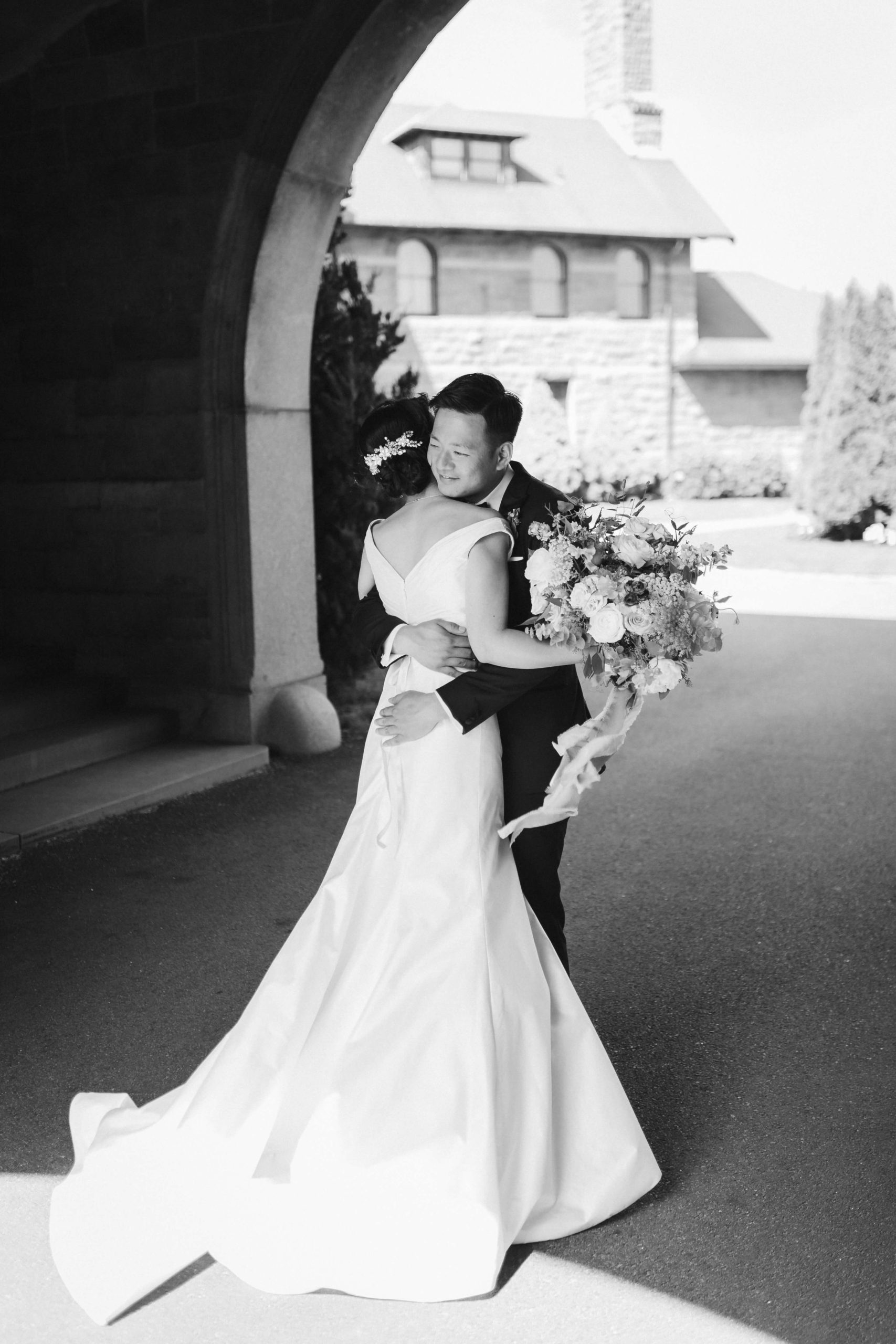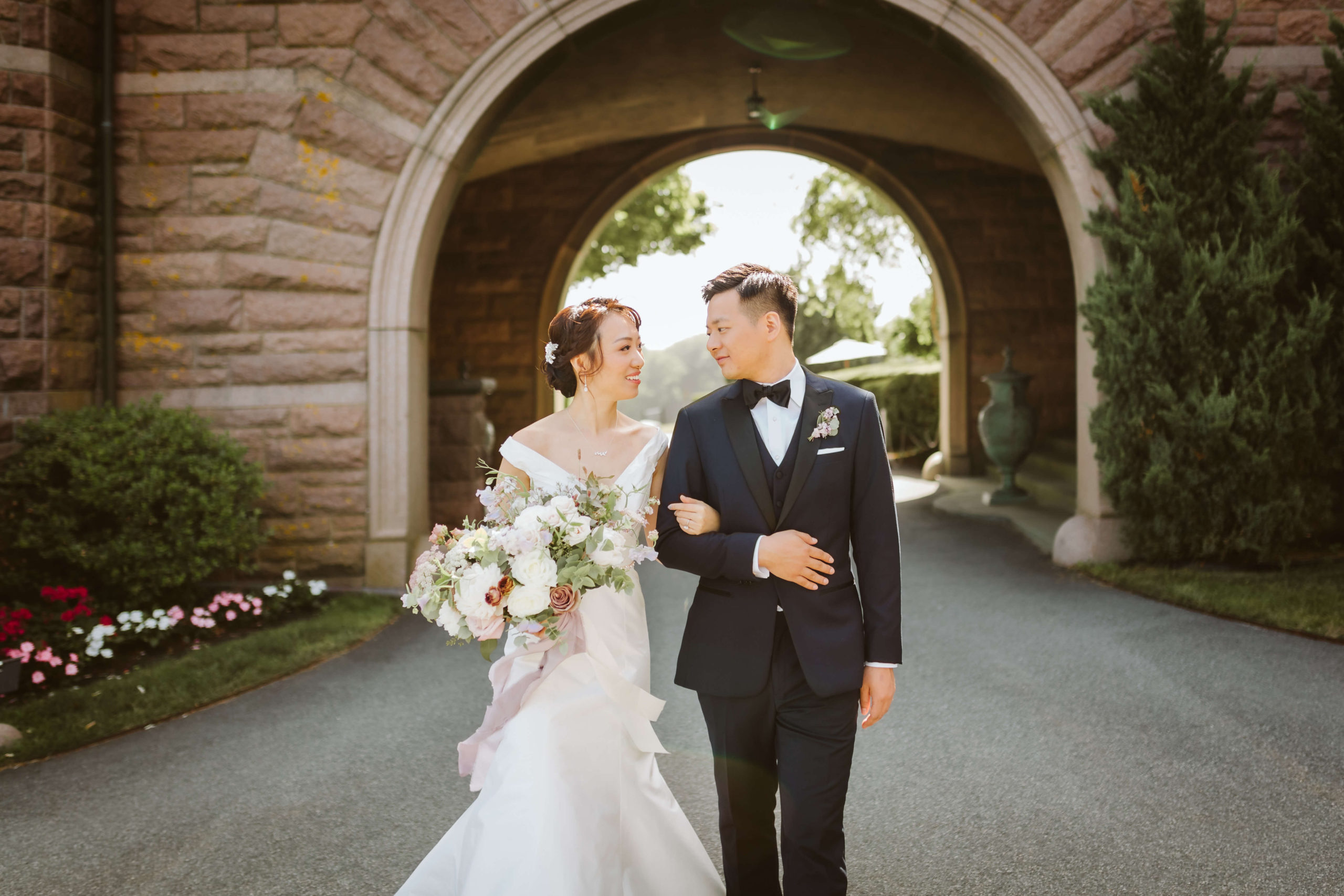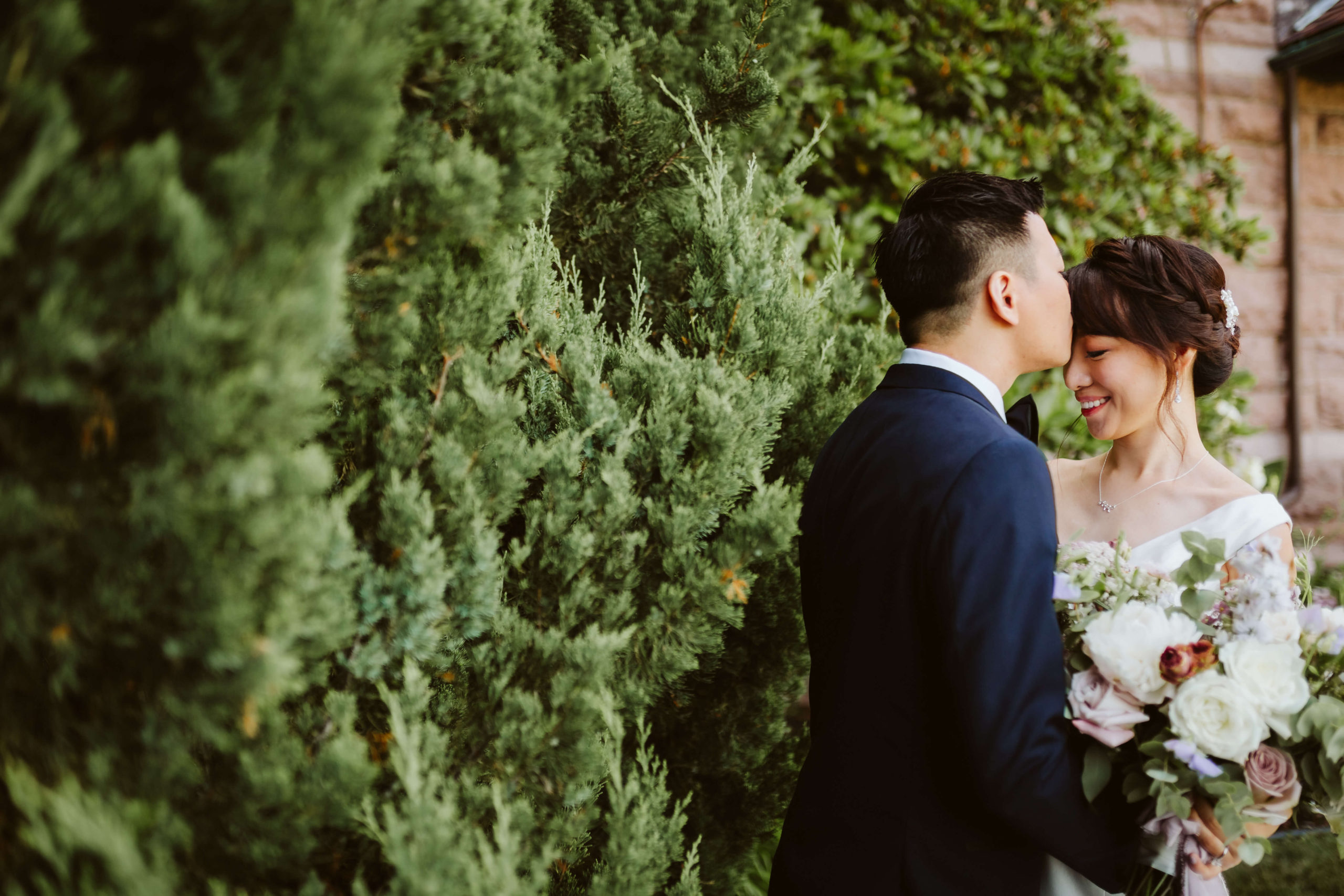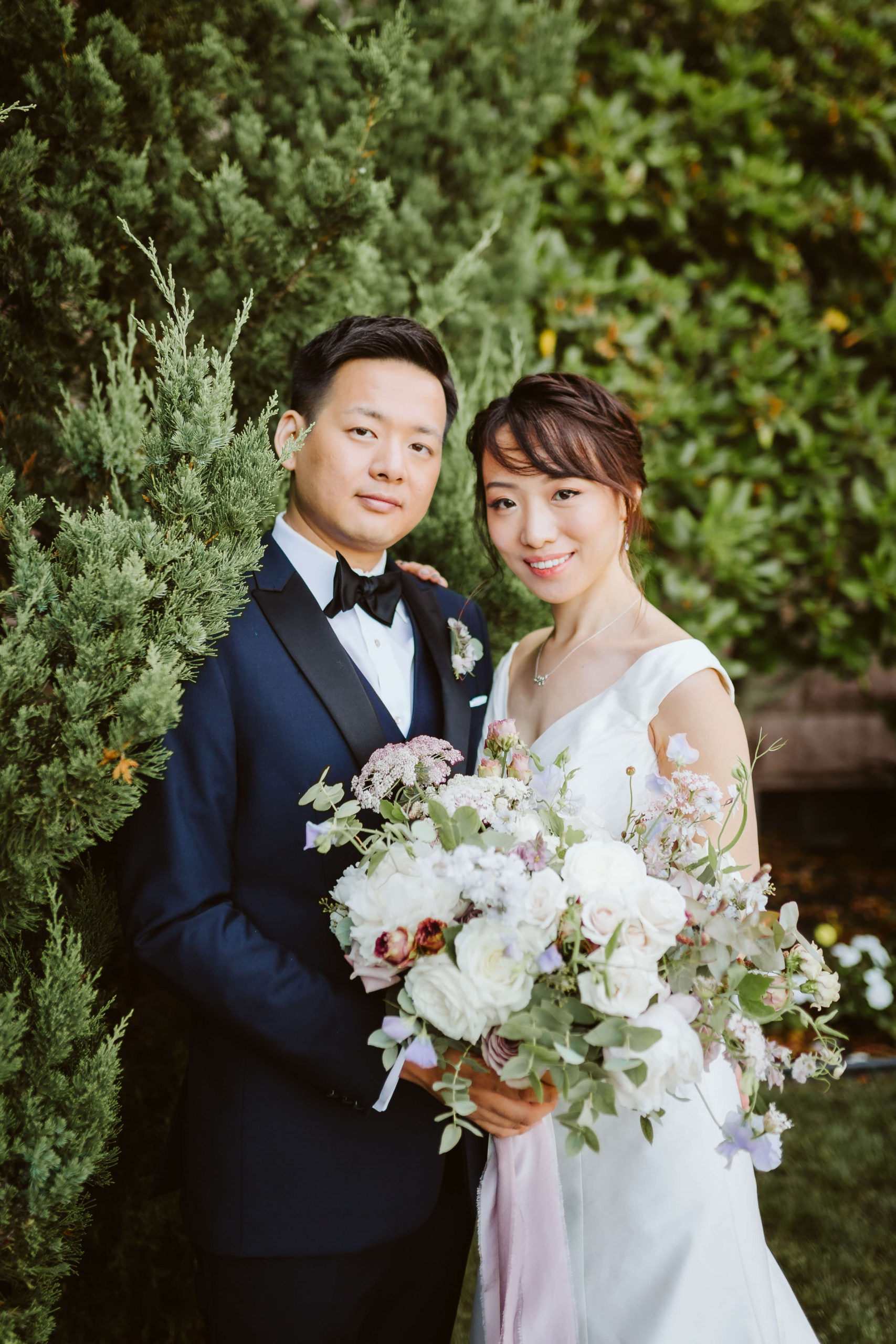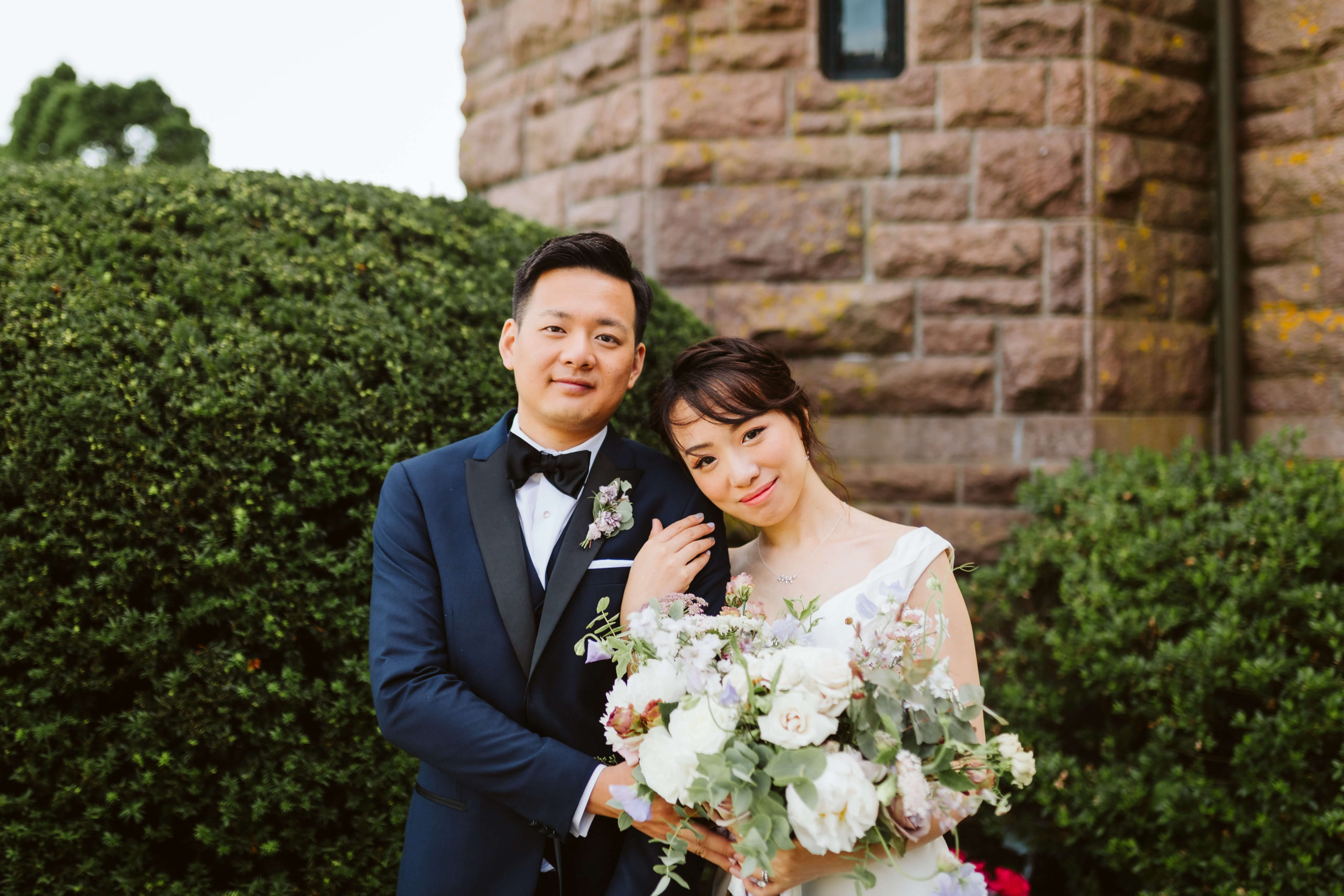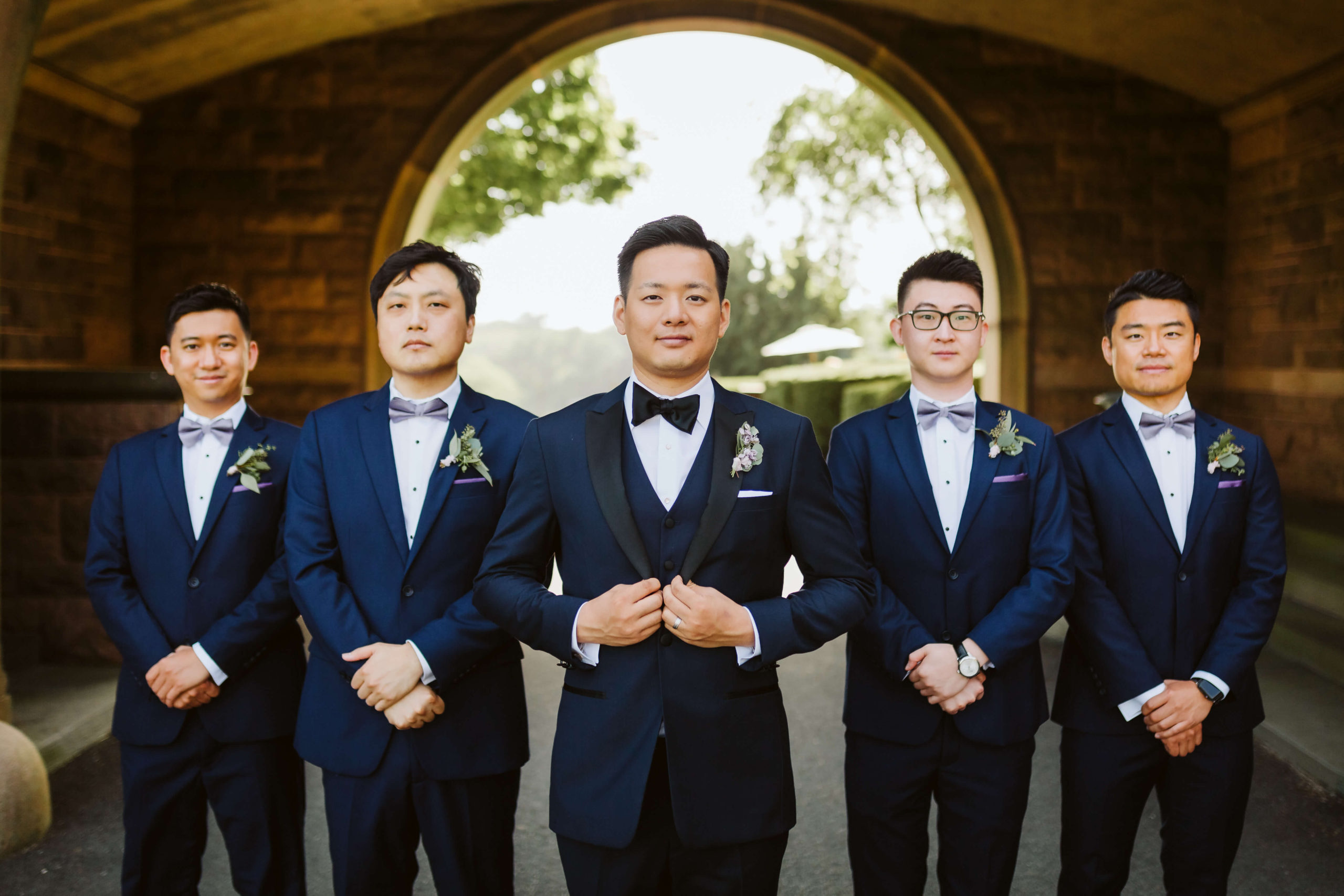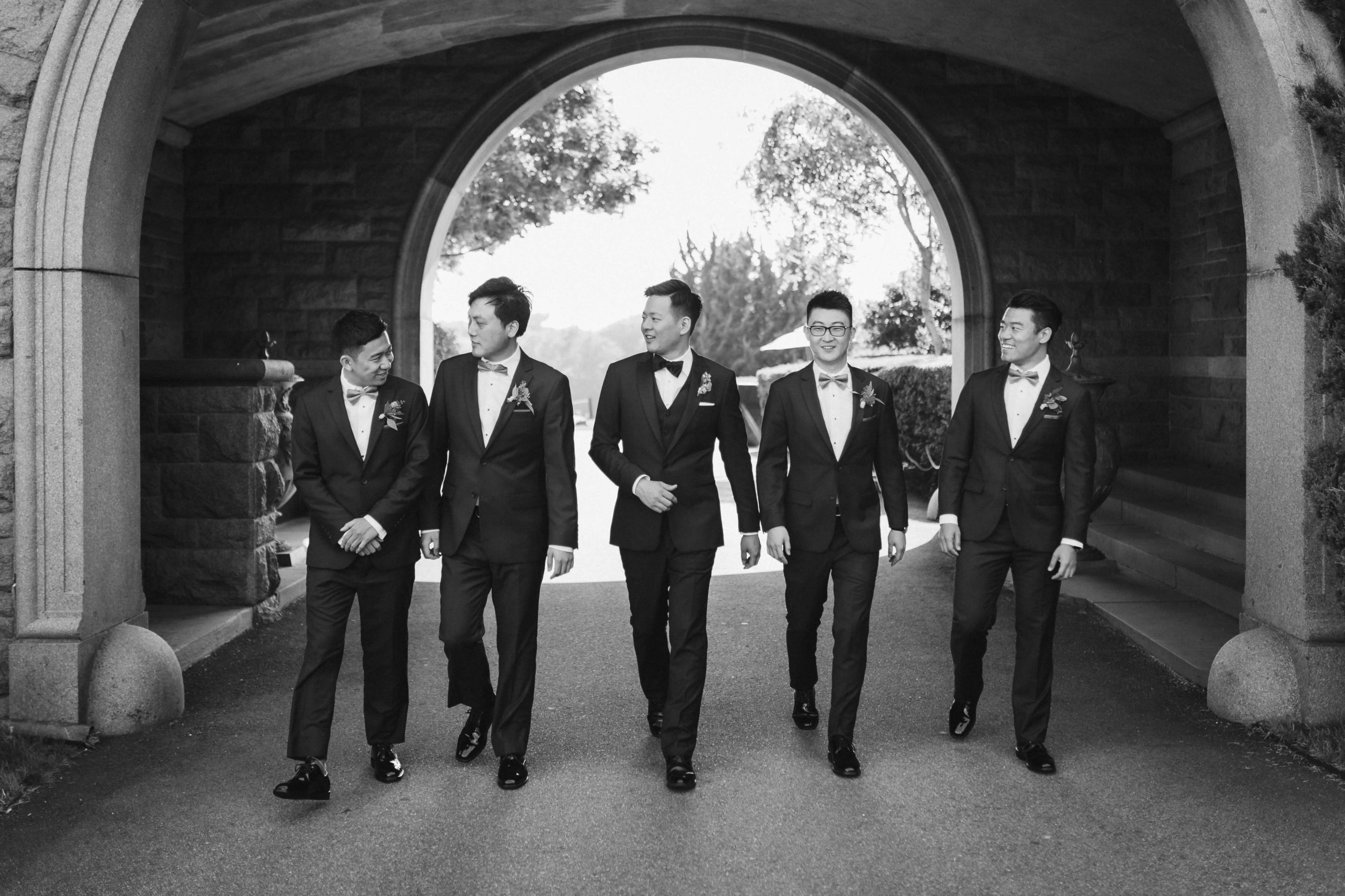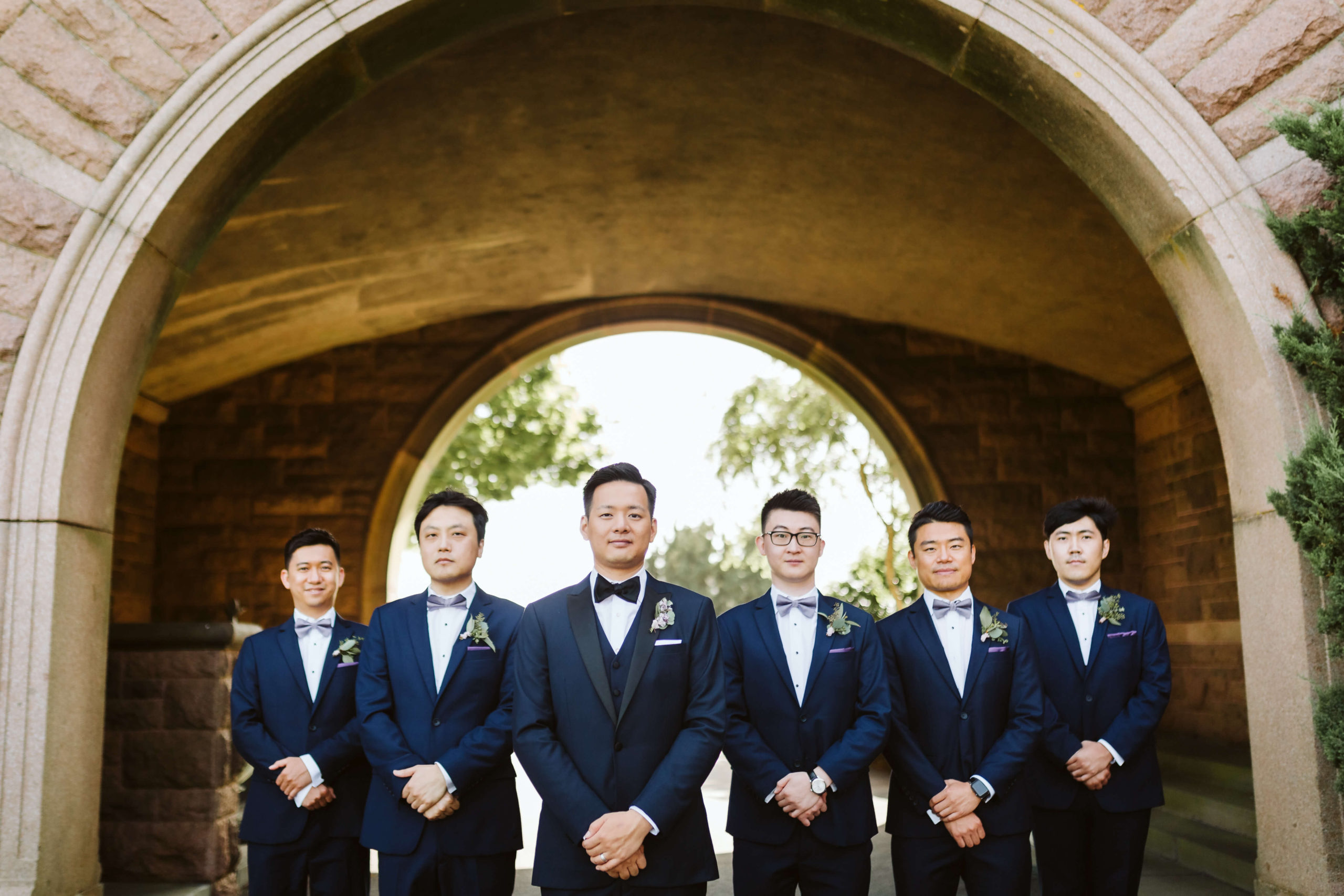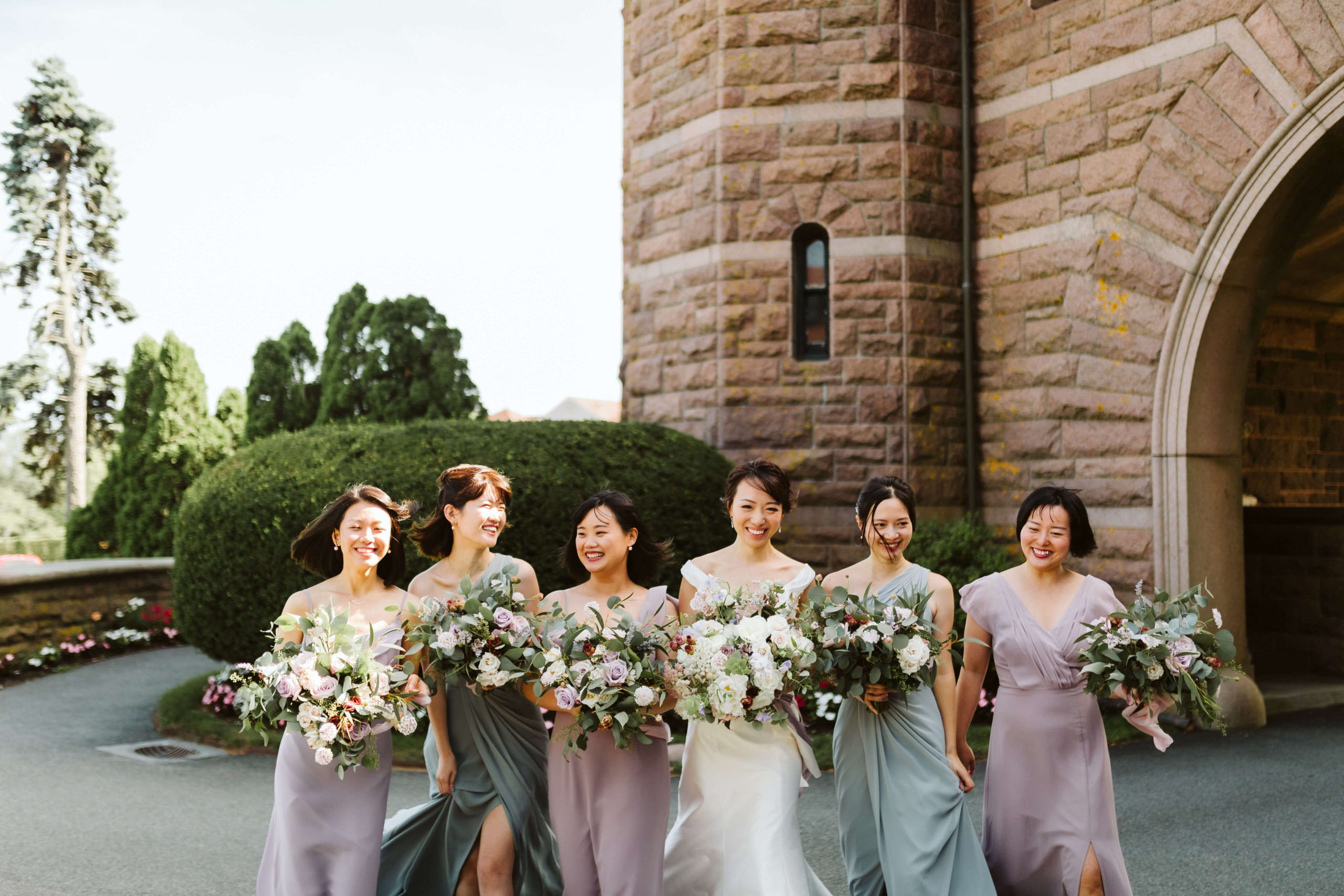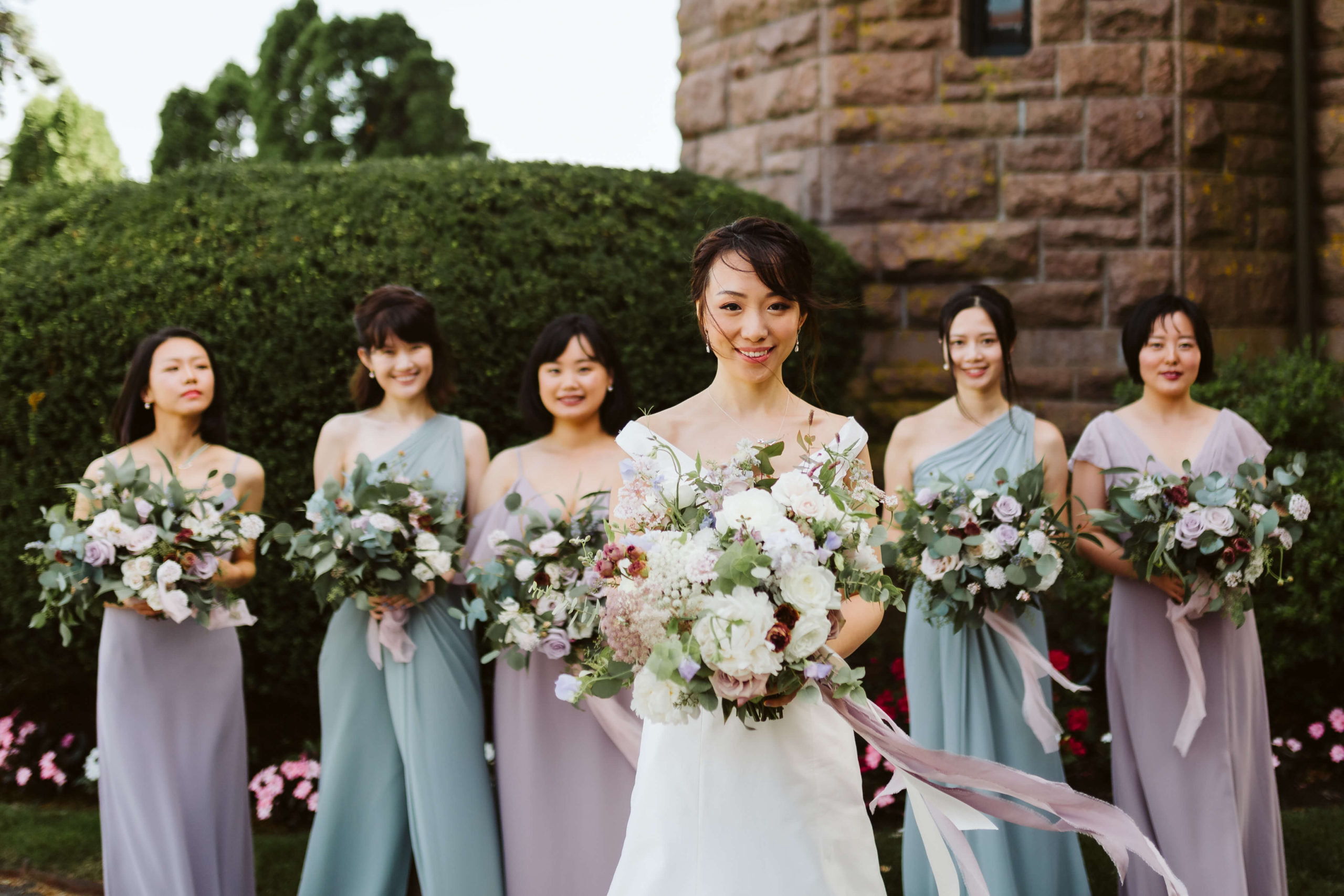 Getting Ready for Round Two
After a quick portrait session in the front gardens at the entrance of the OceanCliff, Zi and Xulei went back to their rooms to prepare for the second part of their celebration. Xulei exchanged his tunic for a stylish, blue-gray tux, and I especially loved the small moment when Xulei's father helped him tie his bowtie. It seems like a right of passage for a father to do this for his son on wedding day.
Zi had her hair quickly redone. She exchanged her lotus flower hair pins for an elegant comb decorated with pearly white flowers. She also took a moment to hand out small gift boxes she had prepared for her bridesmaids filled with personalized presents for each of them, as well as small accessories to wear.
Just before their ceremony, Zi and Xulei each took a moment to read short letters they had written for each other. These were such small and quiet moments on such a busy day, but I love that I was able to capture their expressions as they read each others' loving words.
Once Zi was all dressed in her gorgeous, A-line wedding gown, she headed out to the archway on the hotel grounds leading to the ceremony. There Xulei was waiting for her with his back turned, when she grabbed his hand, and he was able to get a (second) first look at his beautiful bride.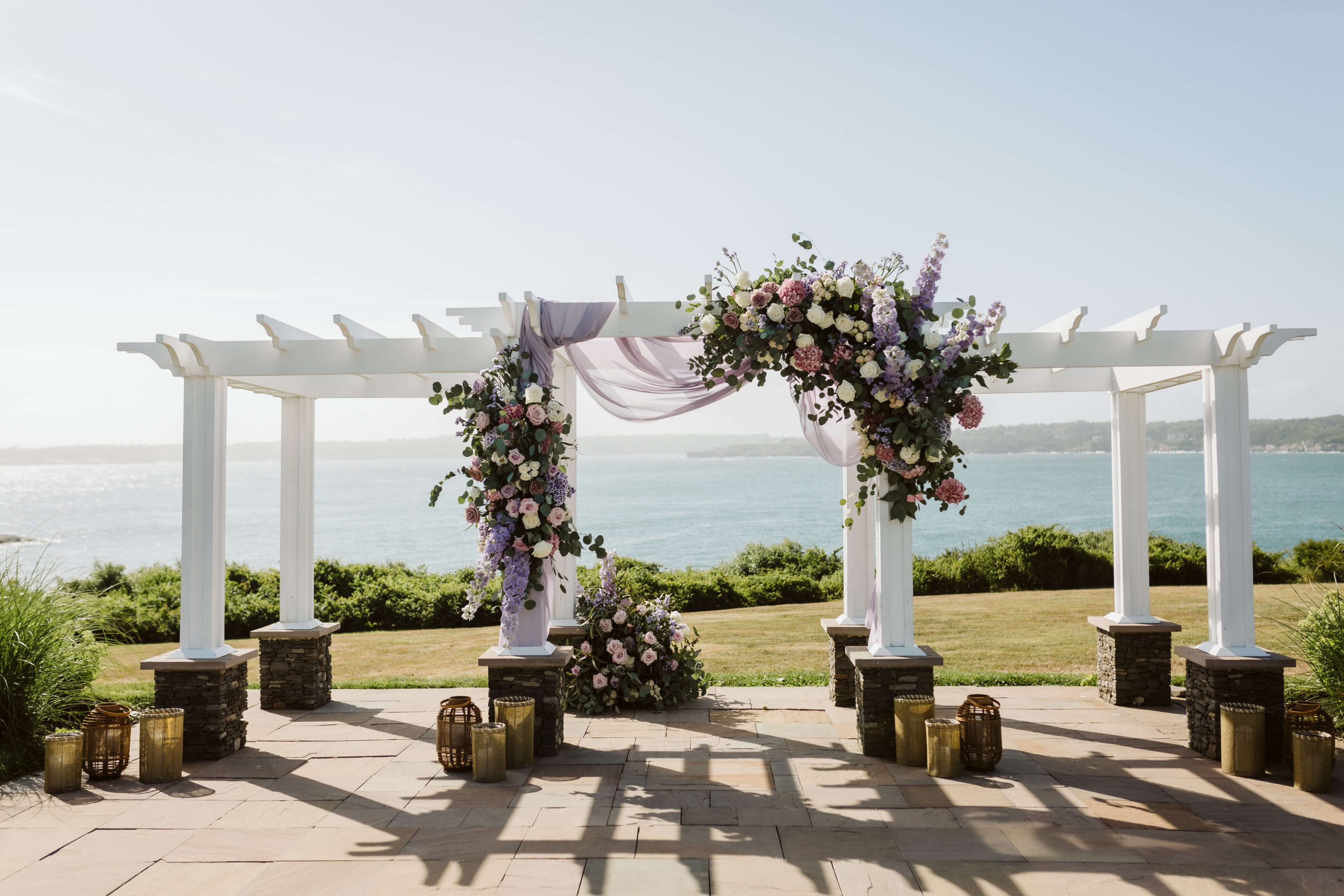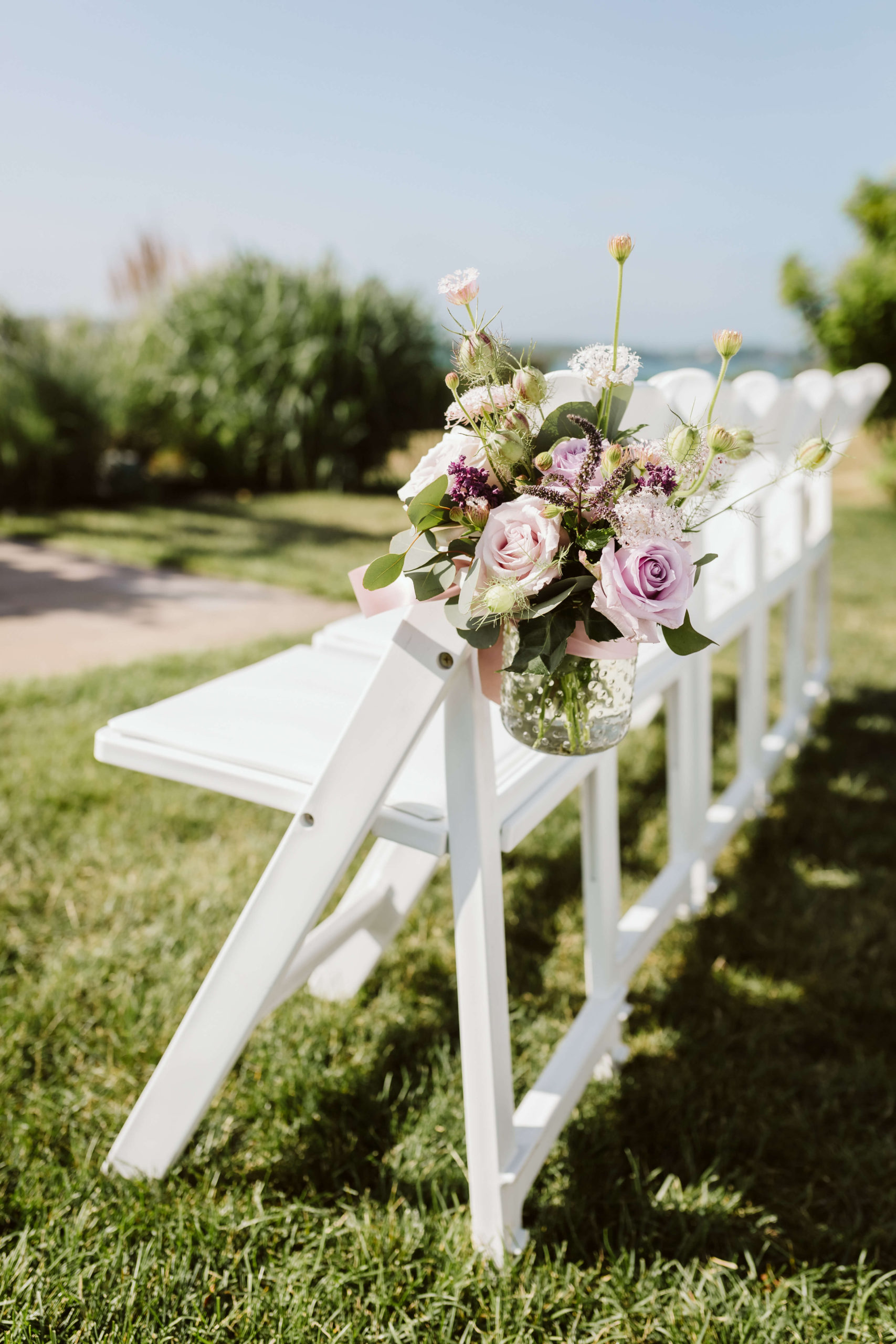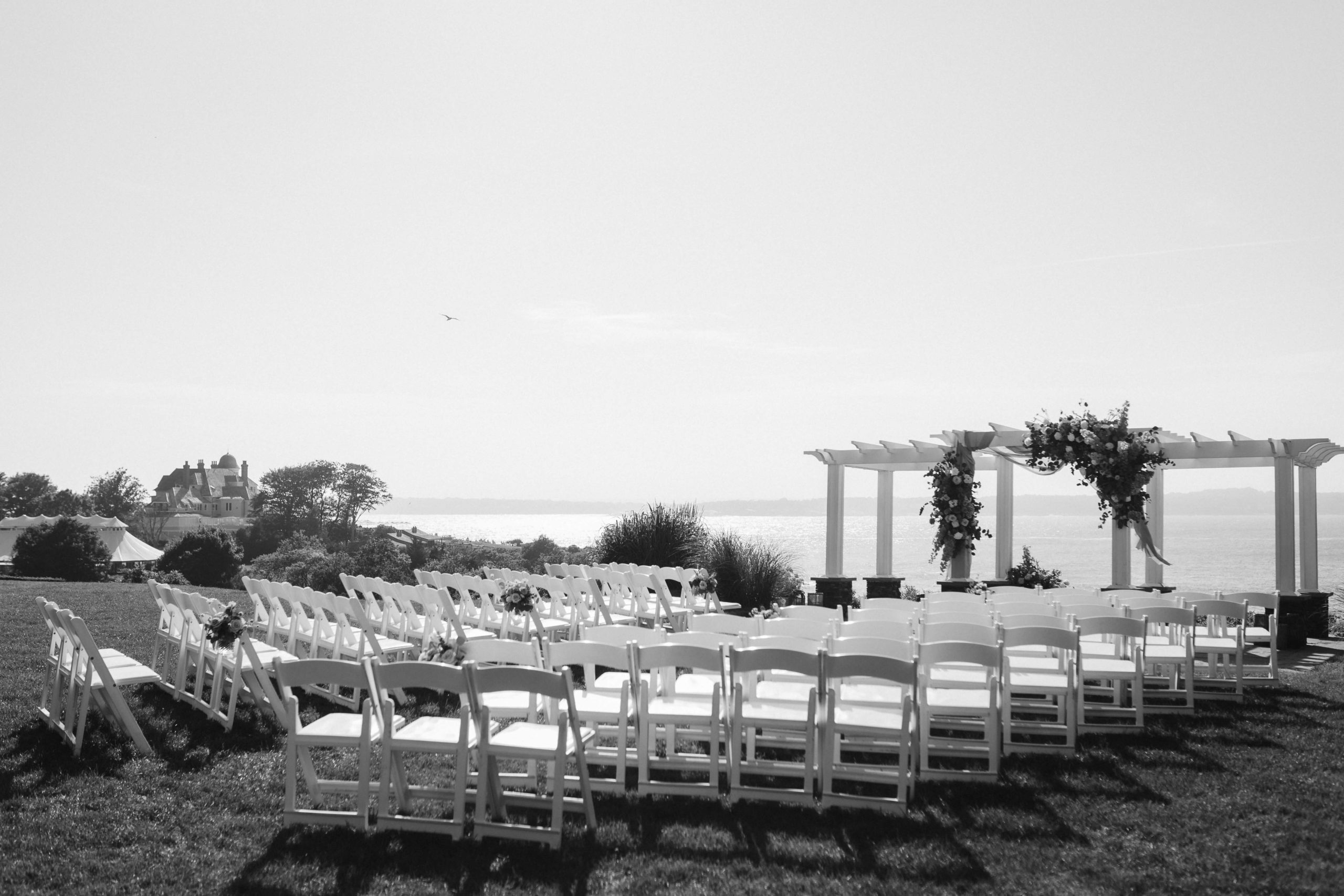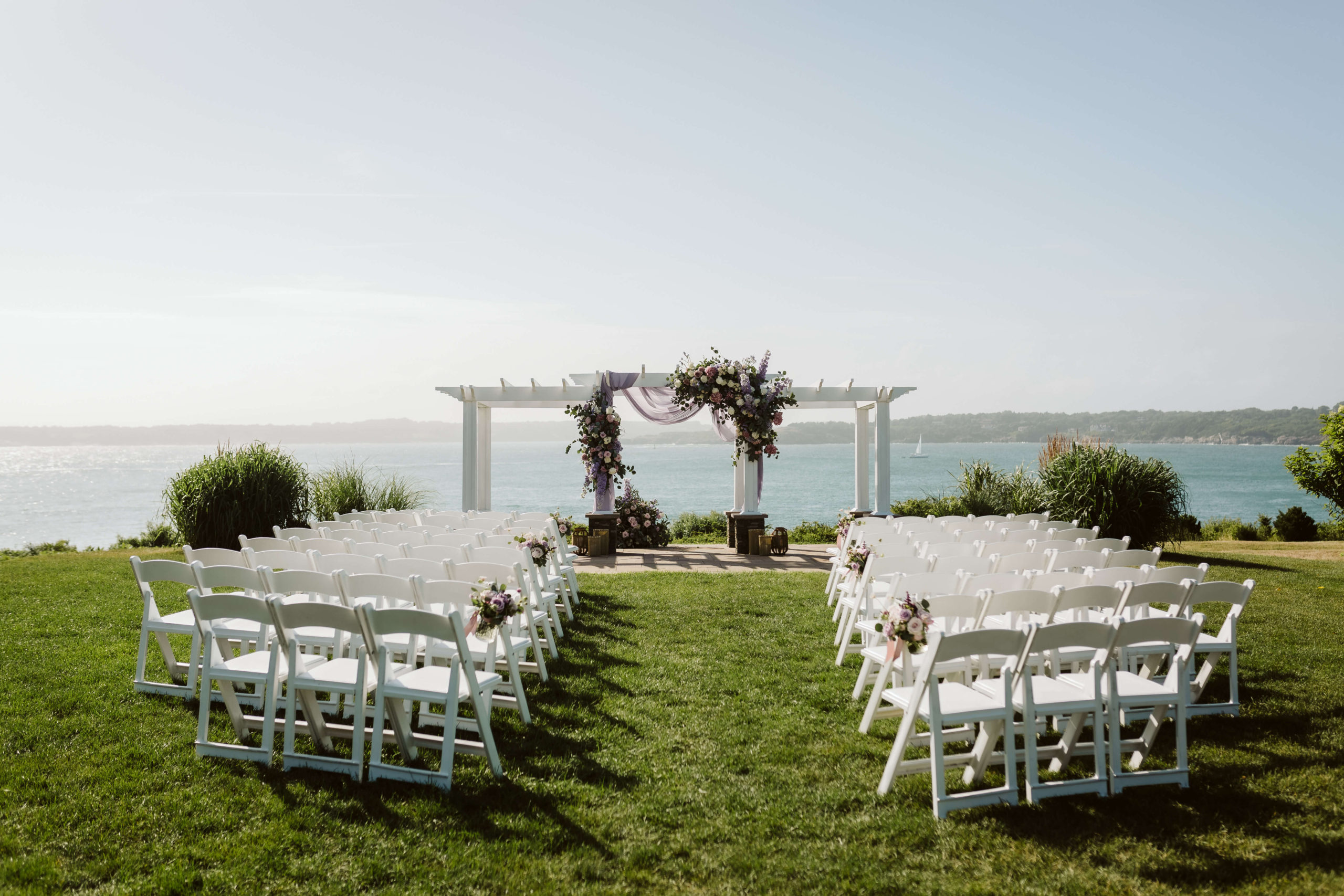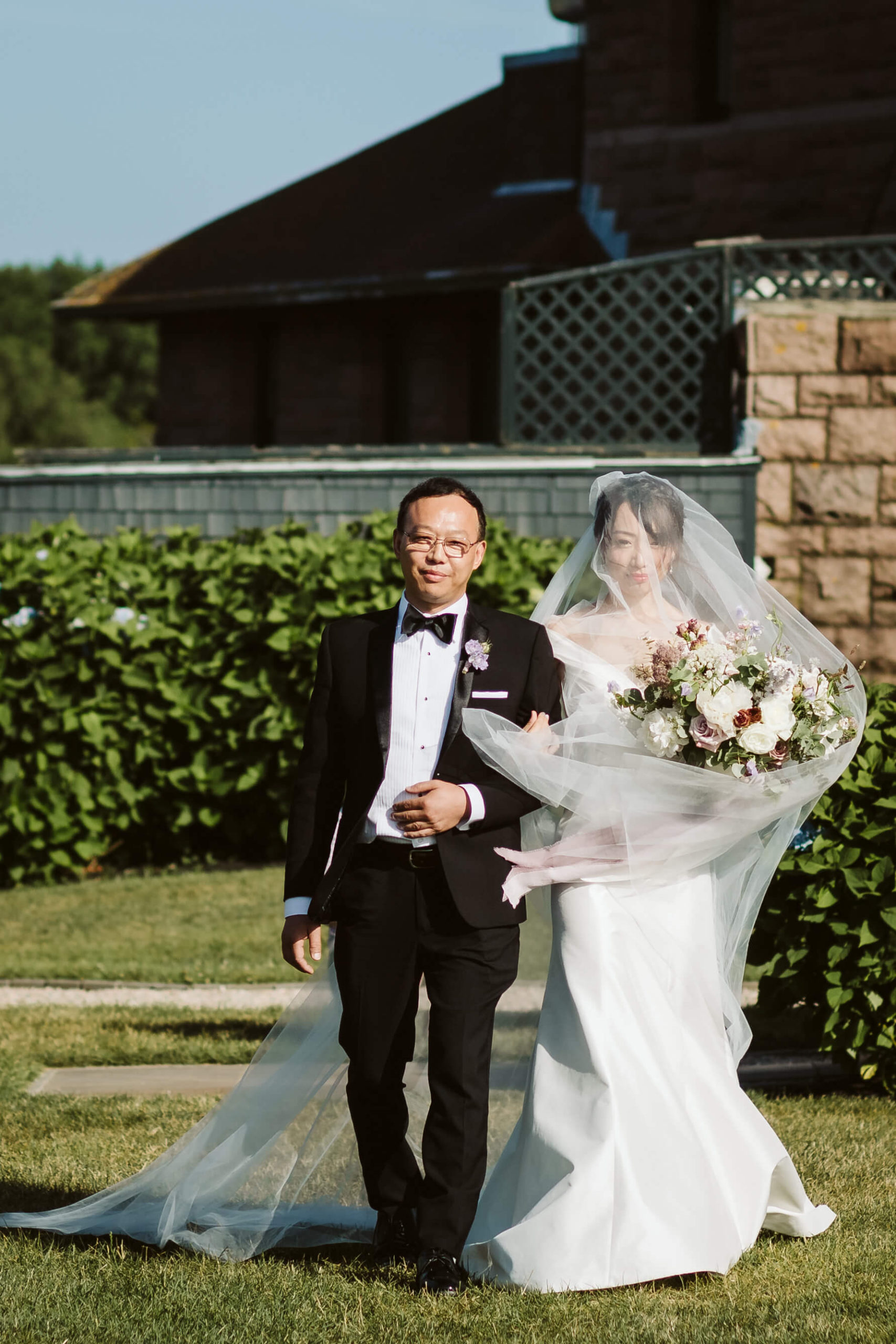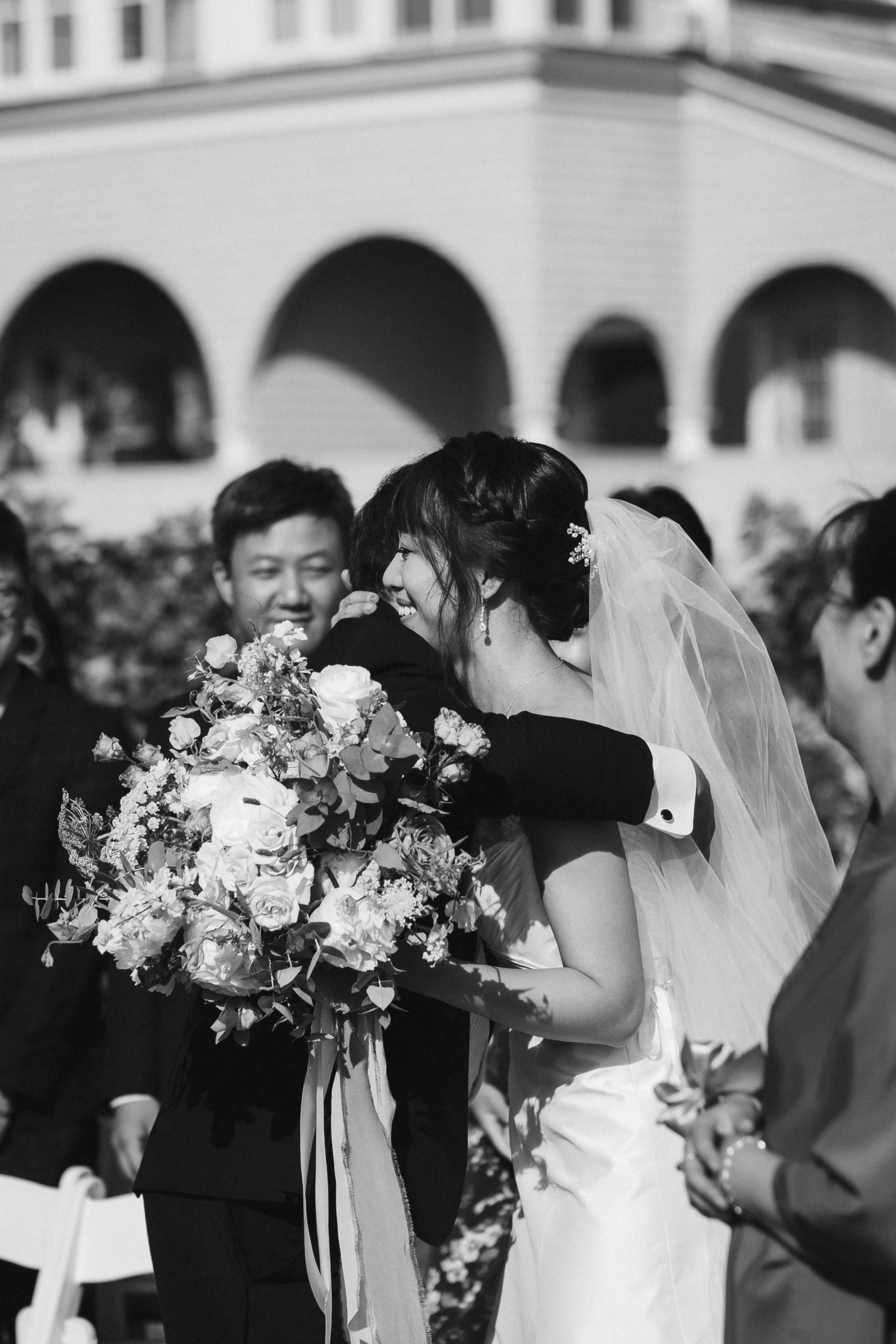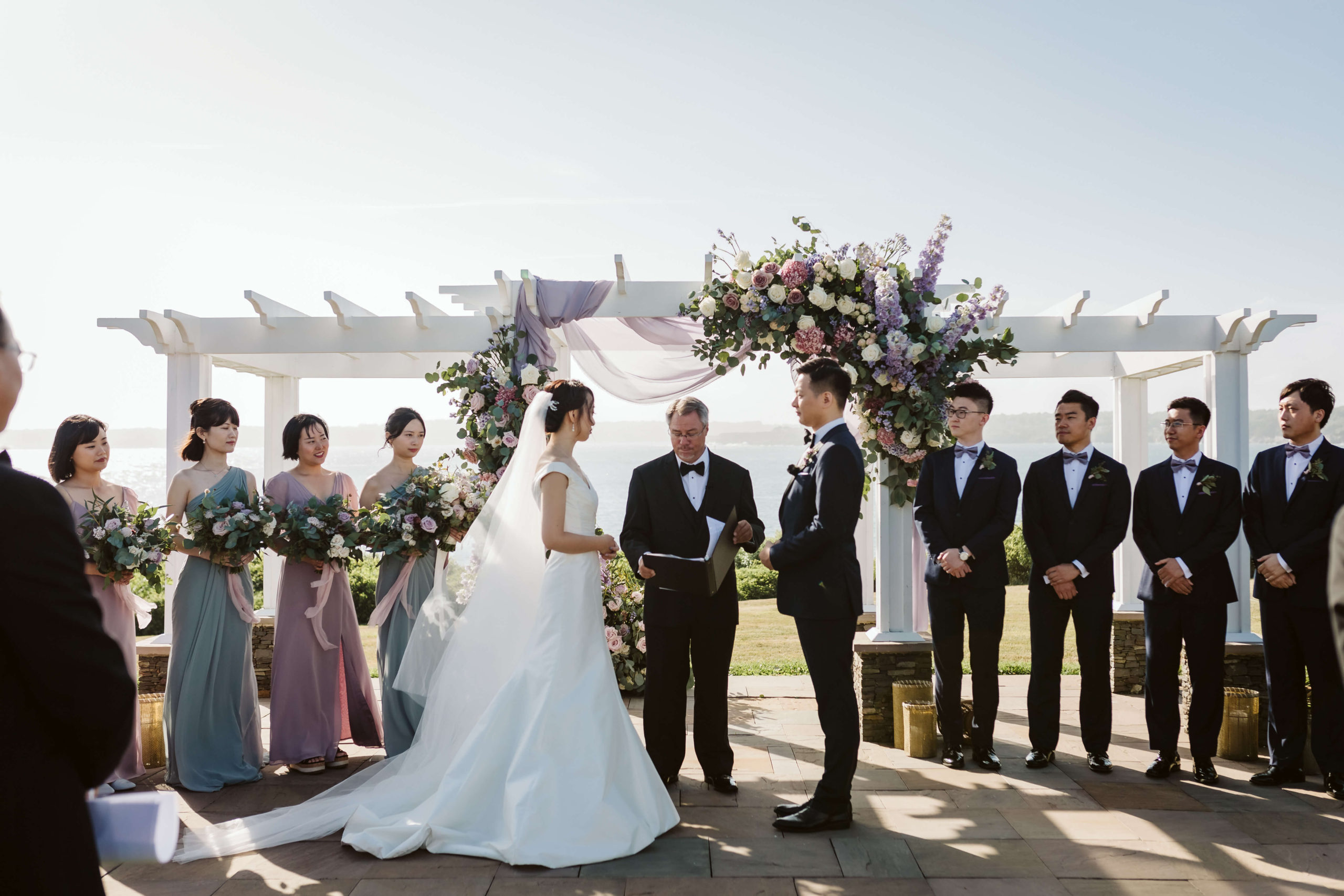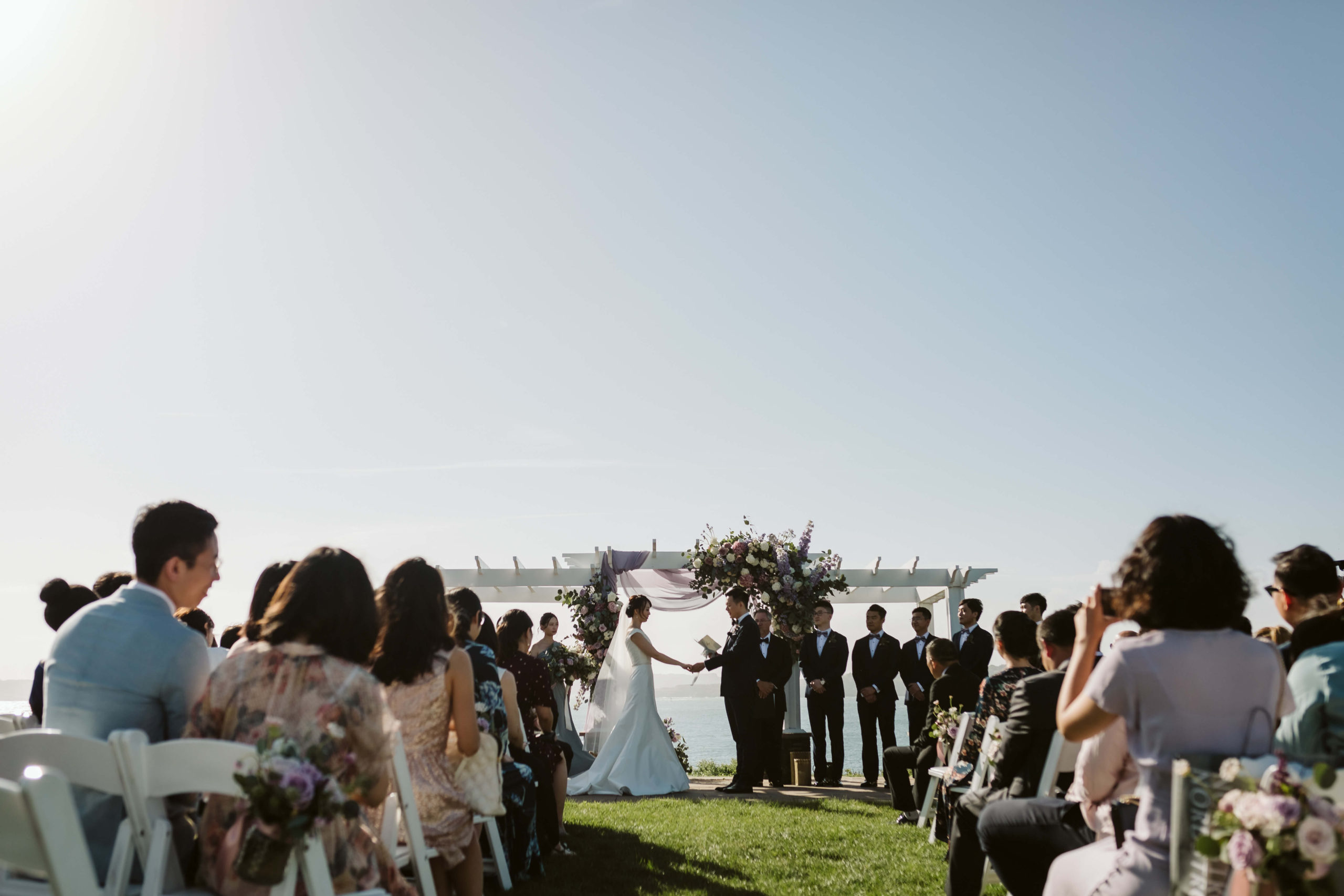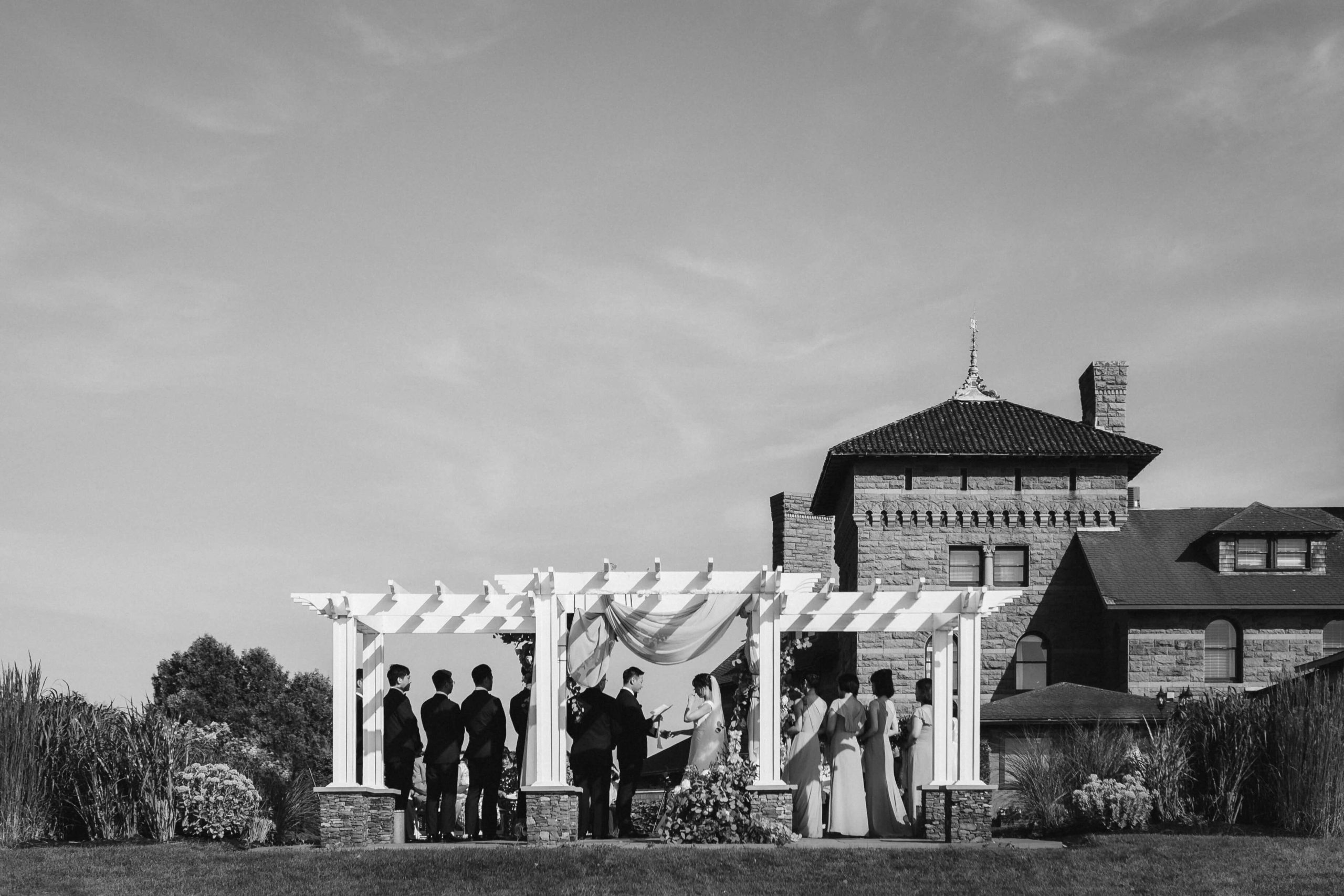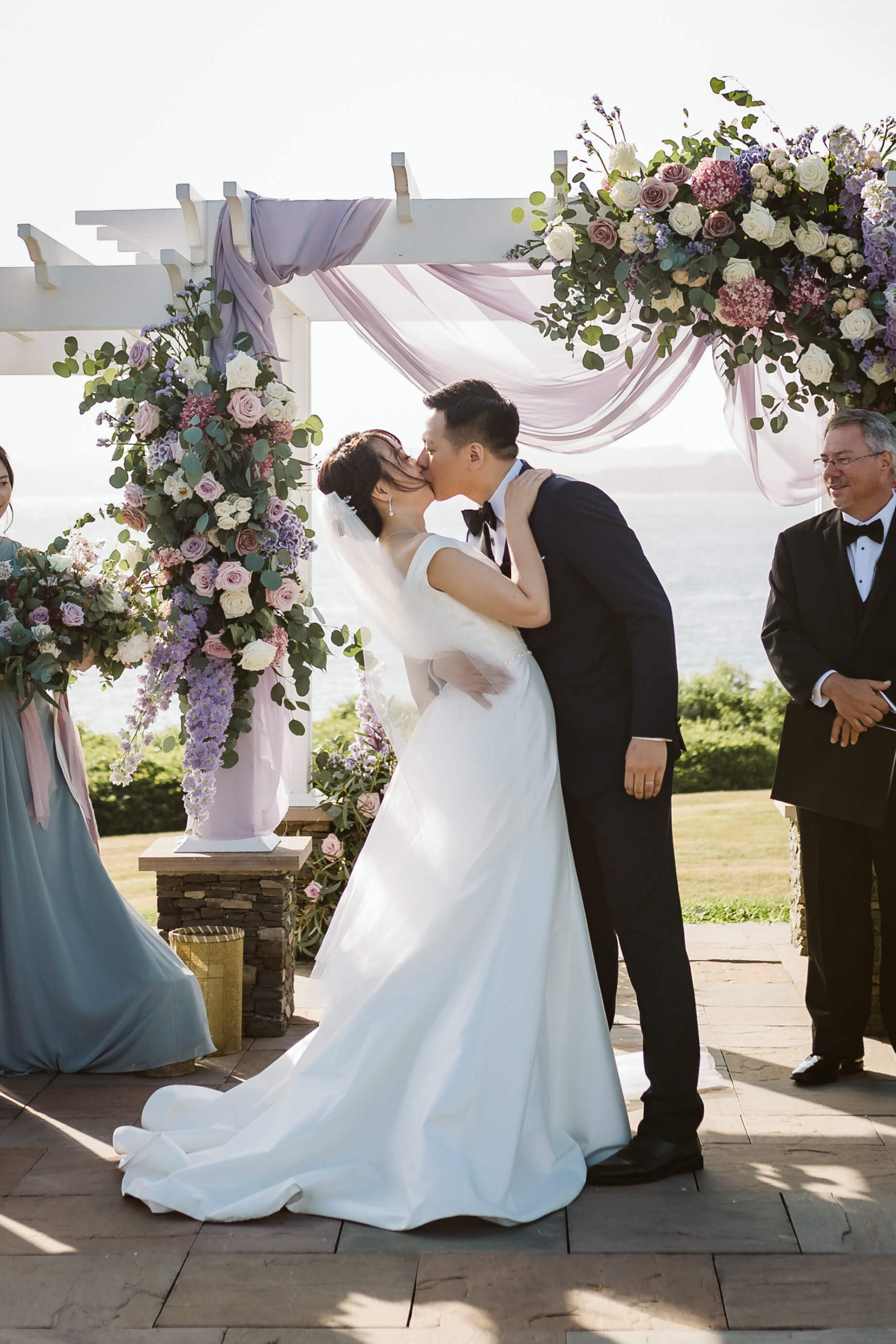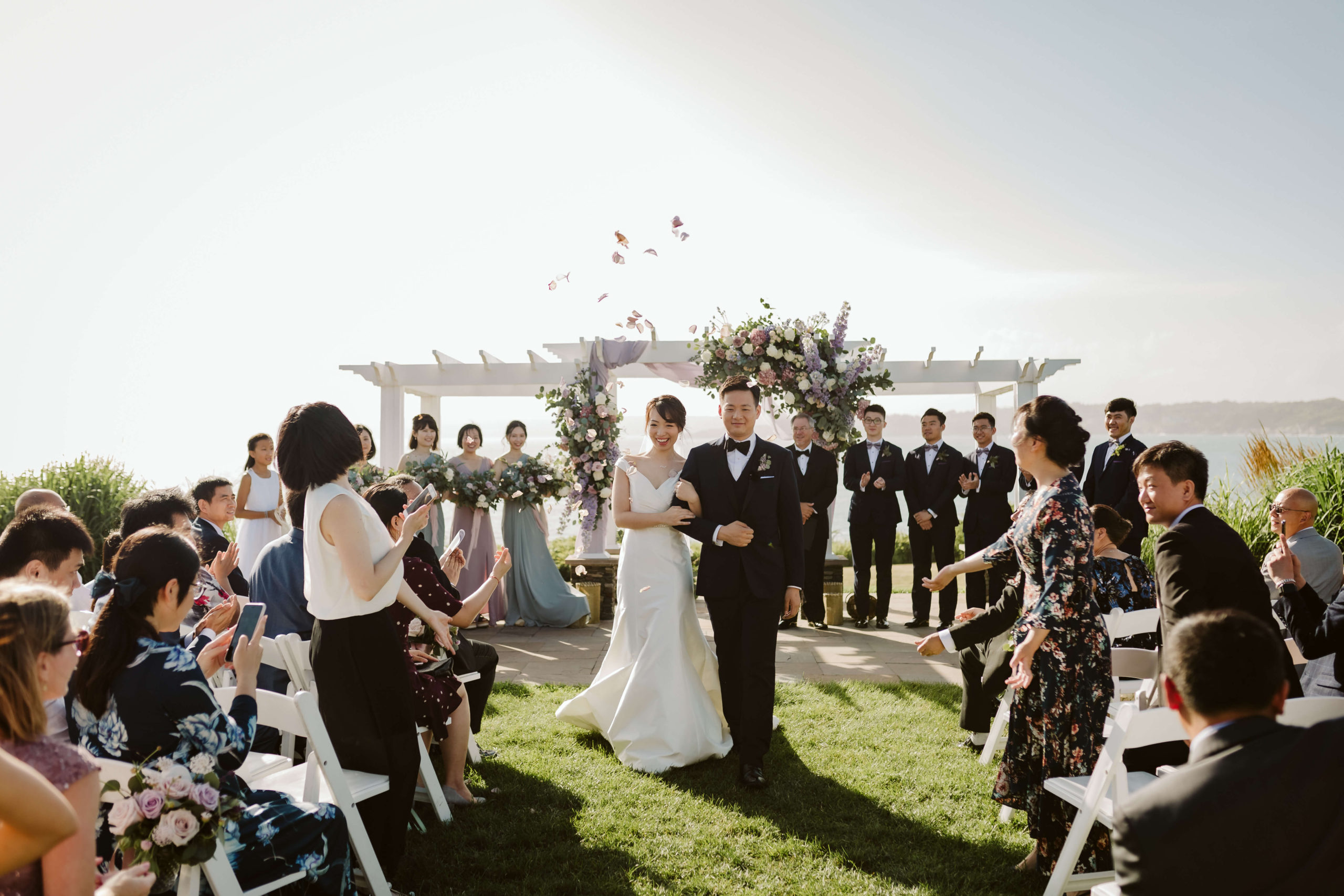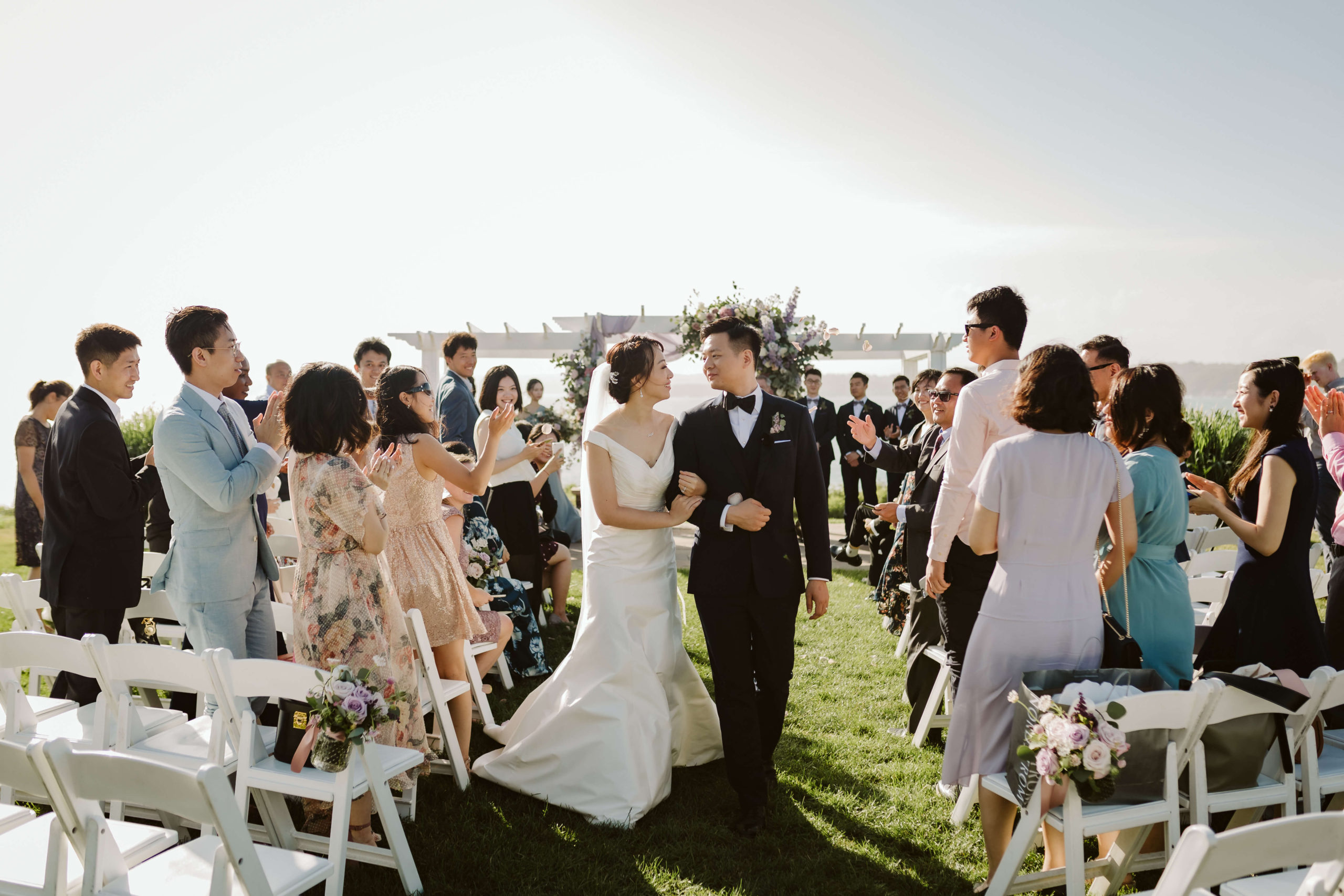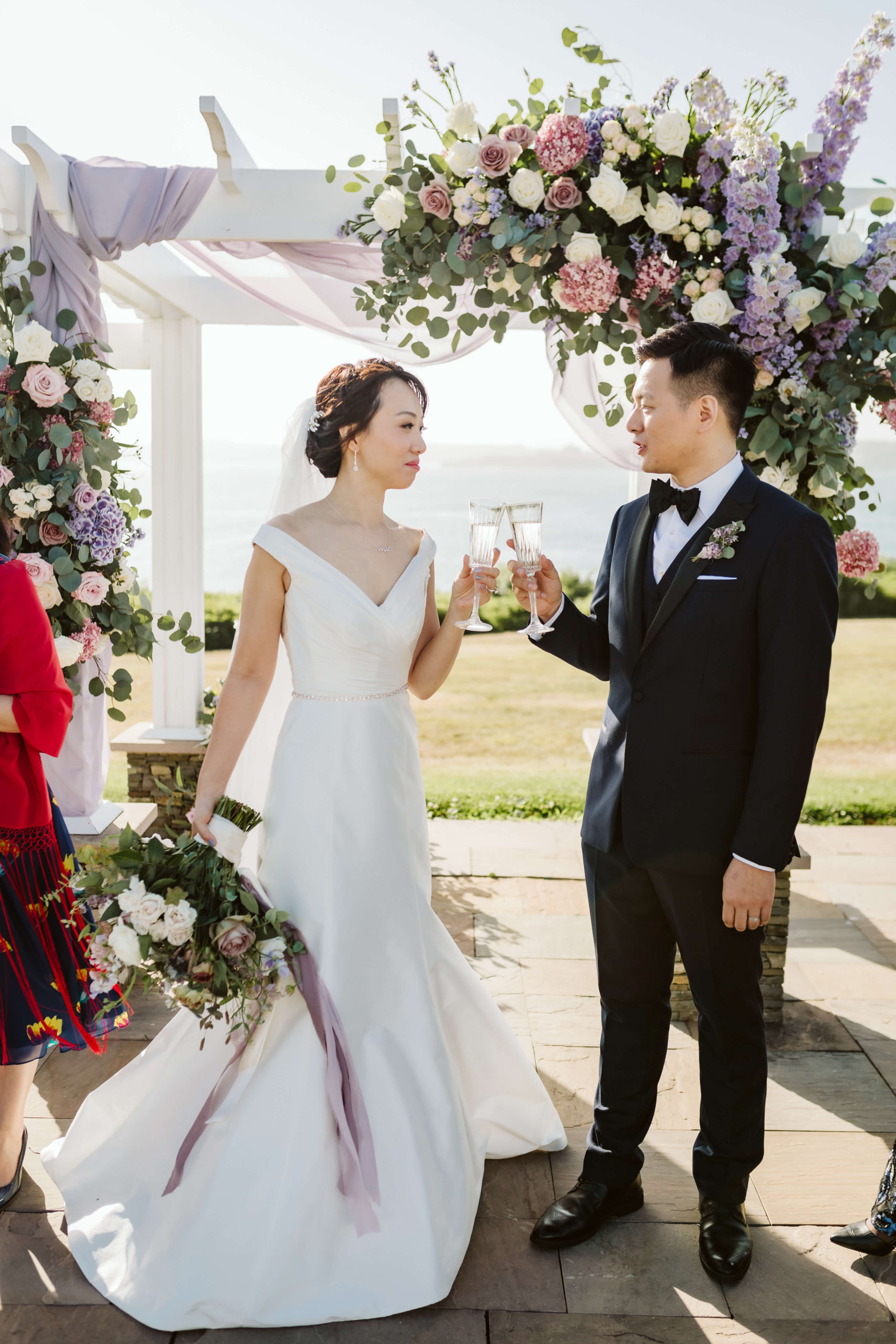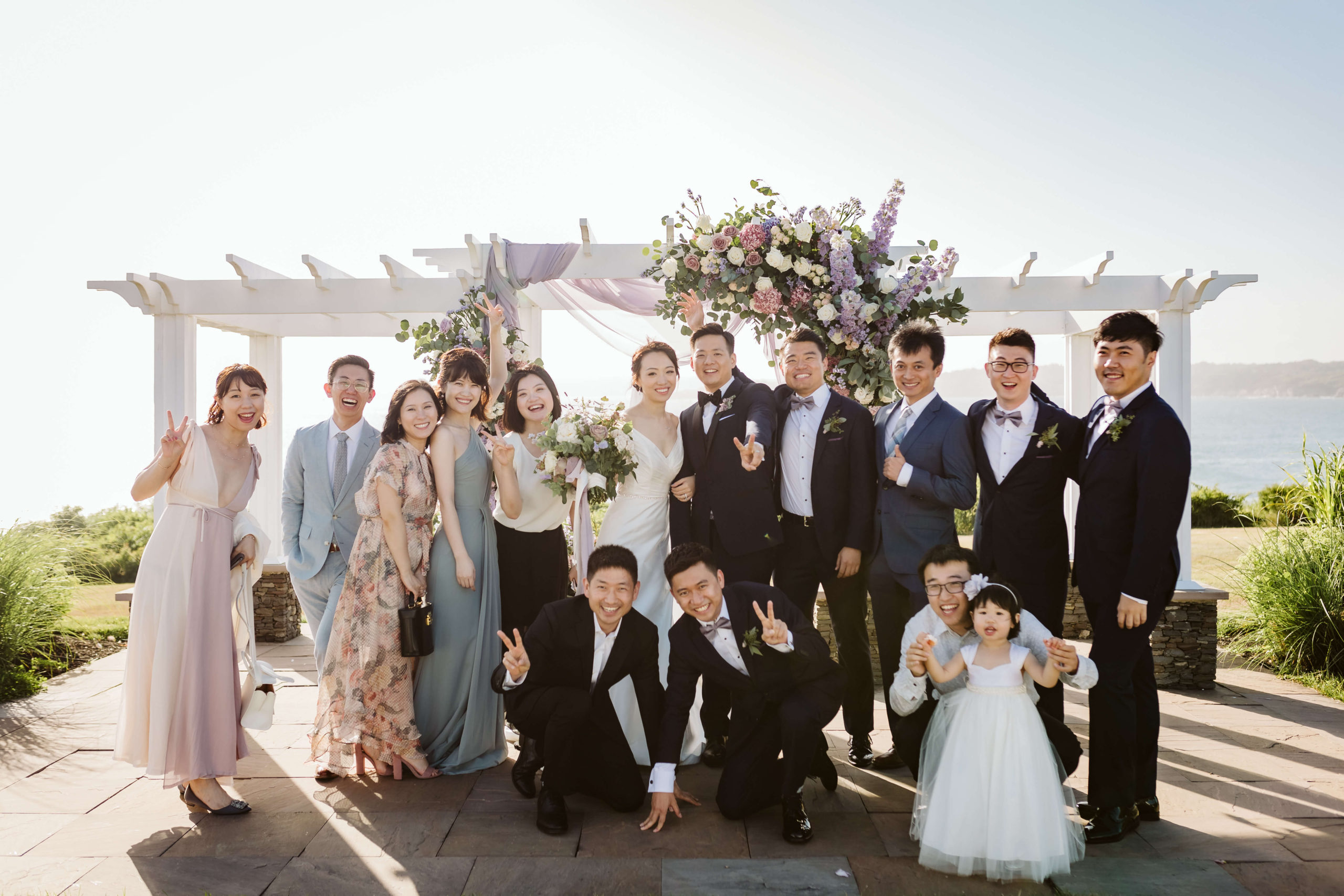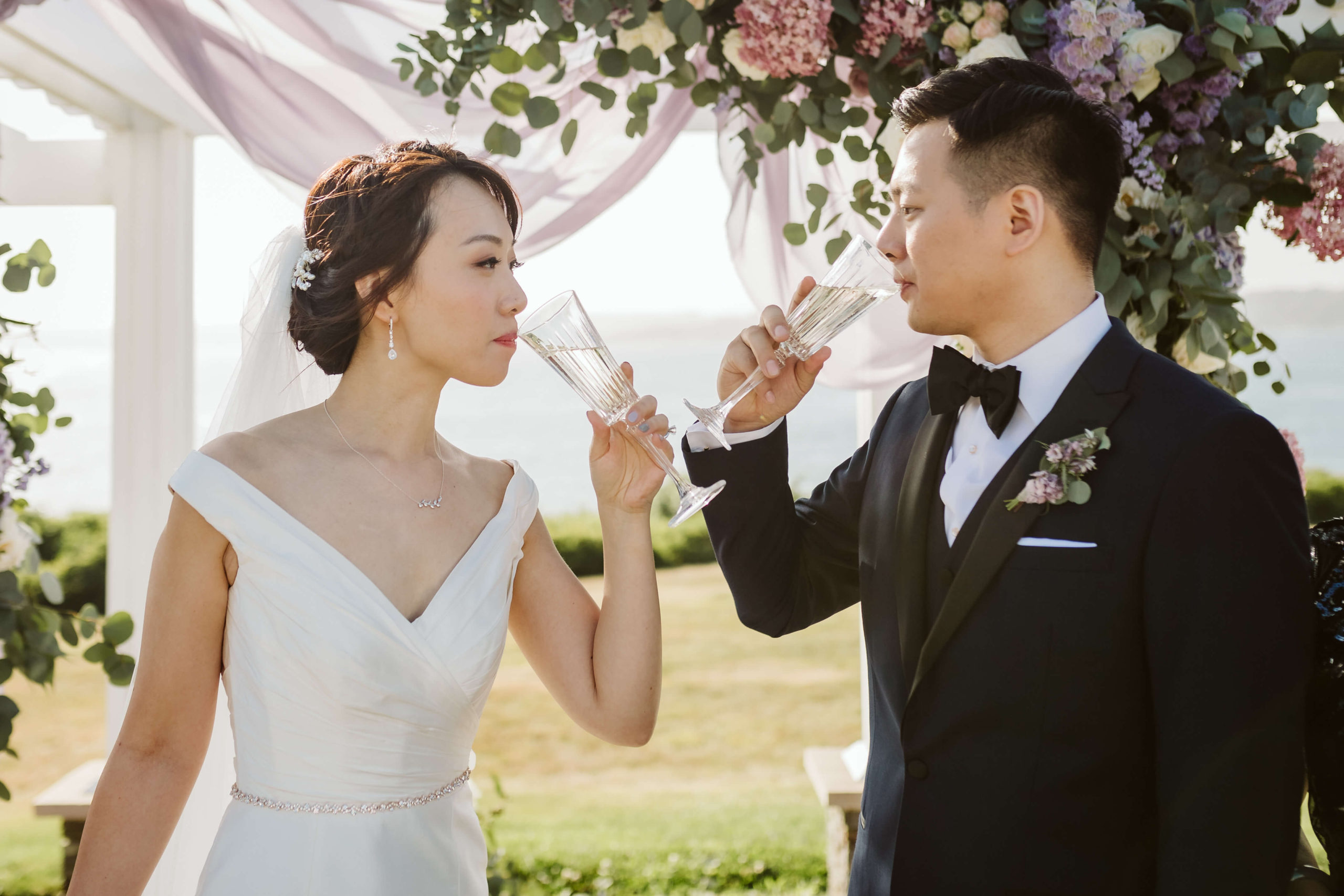 An Elegant Afternoon Ceremony Overlooking Narragansett Bay
There aren't many better views than those offered on the New England coast. Zi and Xulei's ceremony was held right at the edge of the hotel grounds over a spectacular cliffside view of the Narragansett Bay. Small sailboats and the beautiful Rhode Island coastline created an enchanting backdrop as they read their vows and shared their first kiss as husband and wife.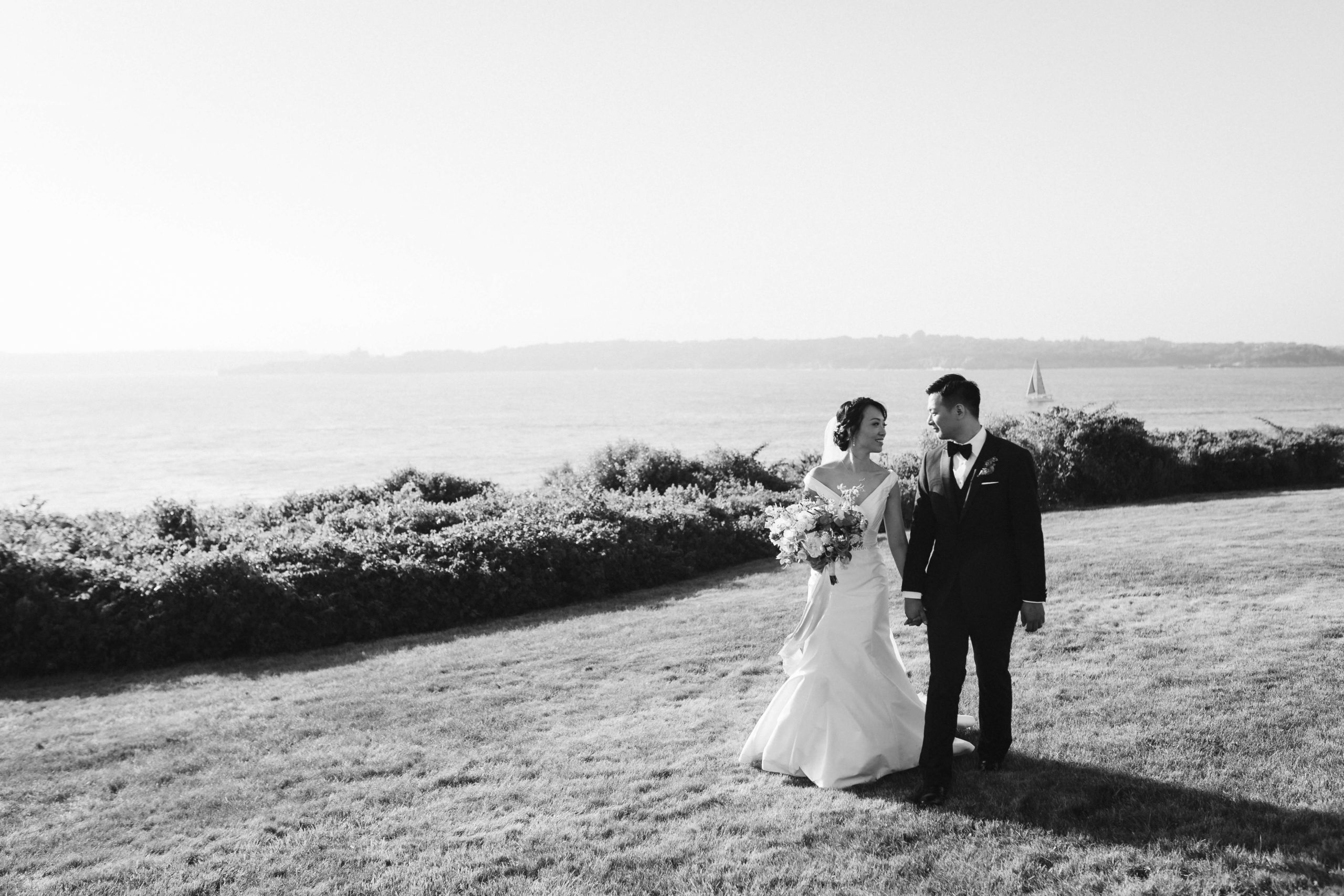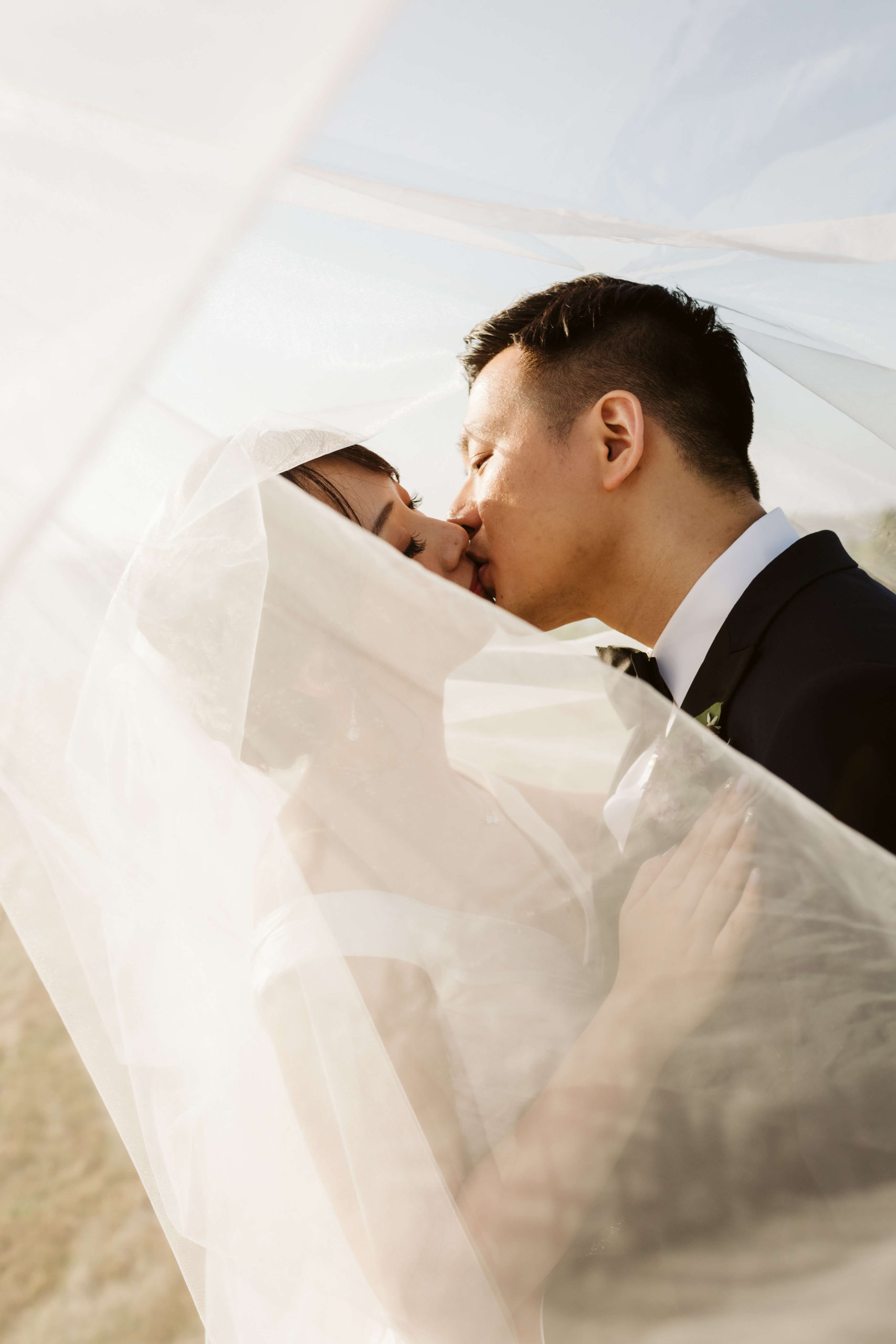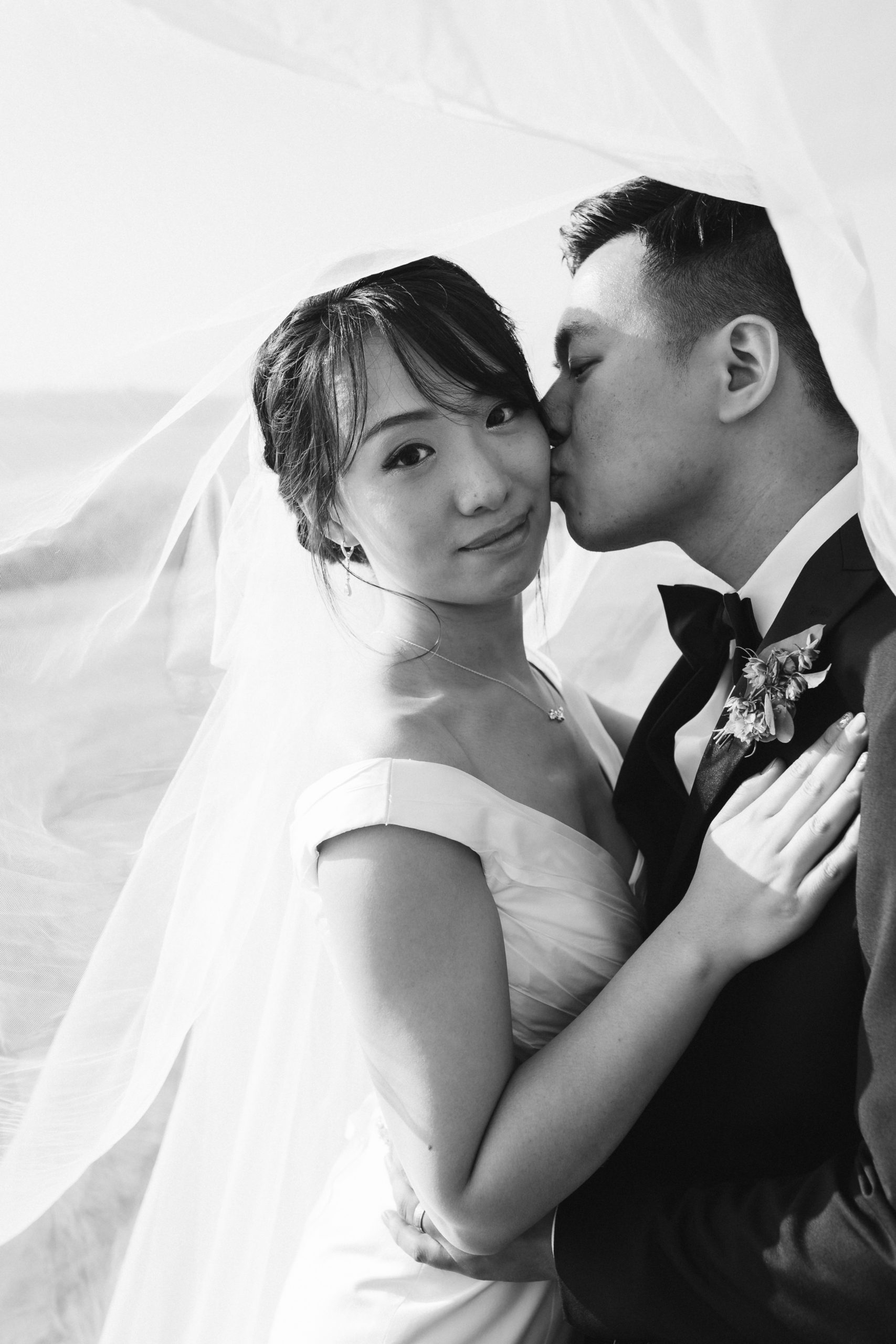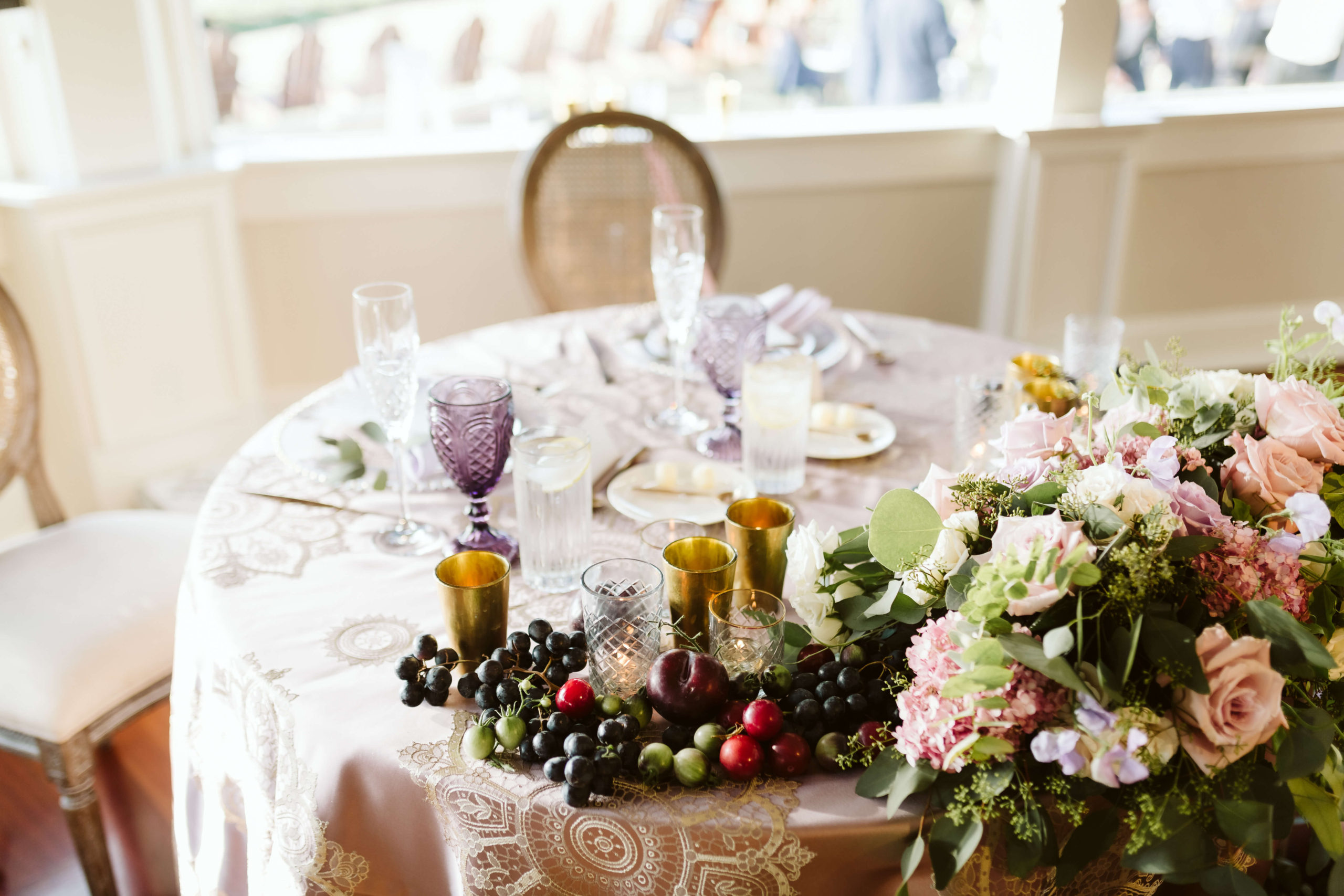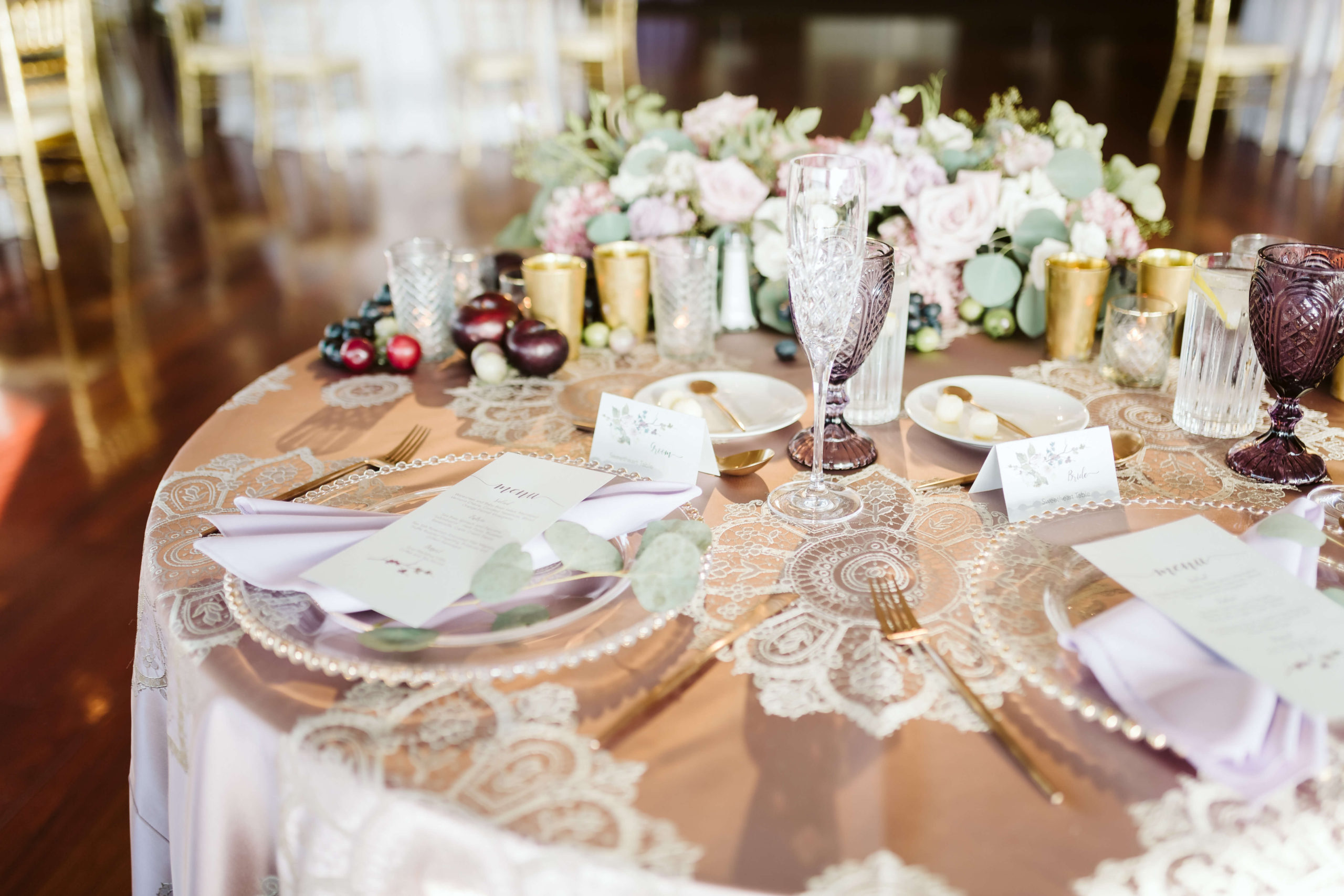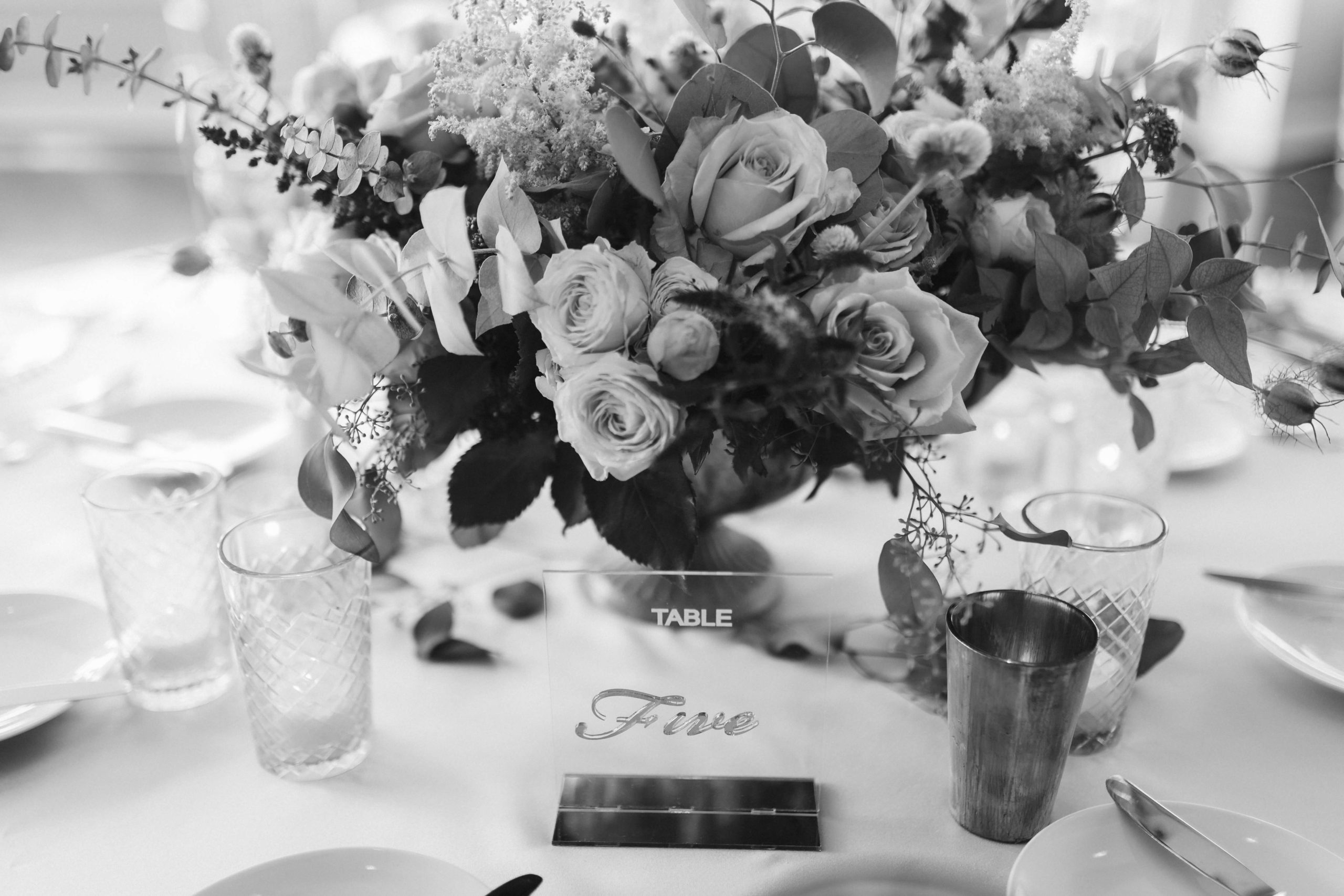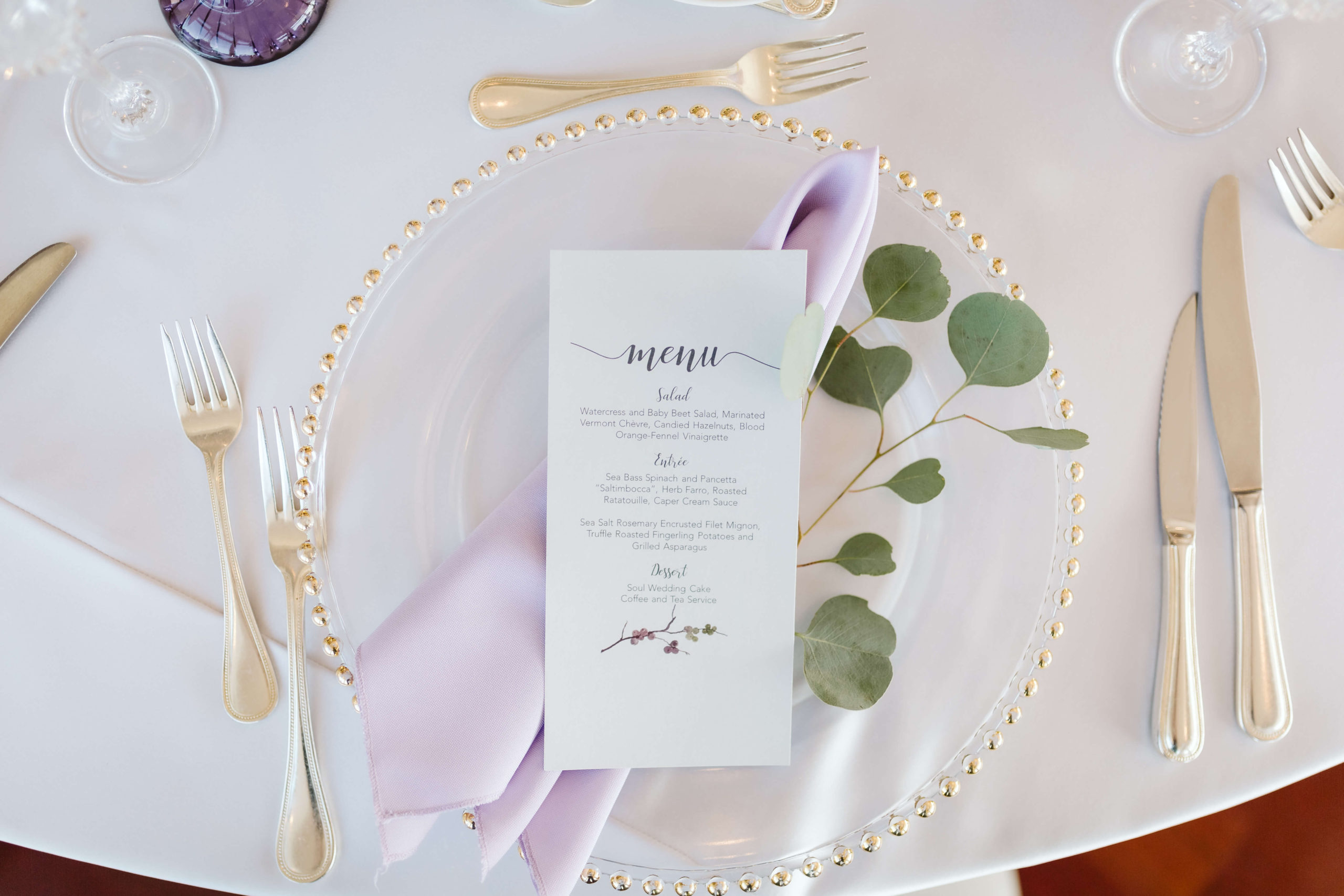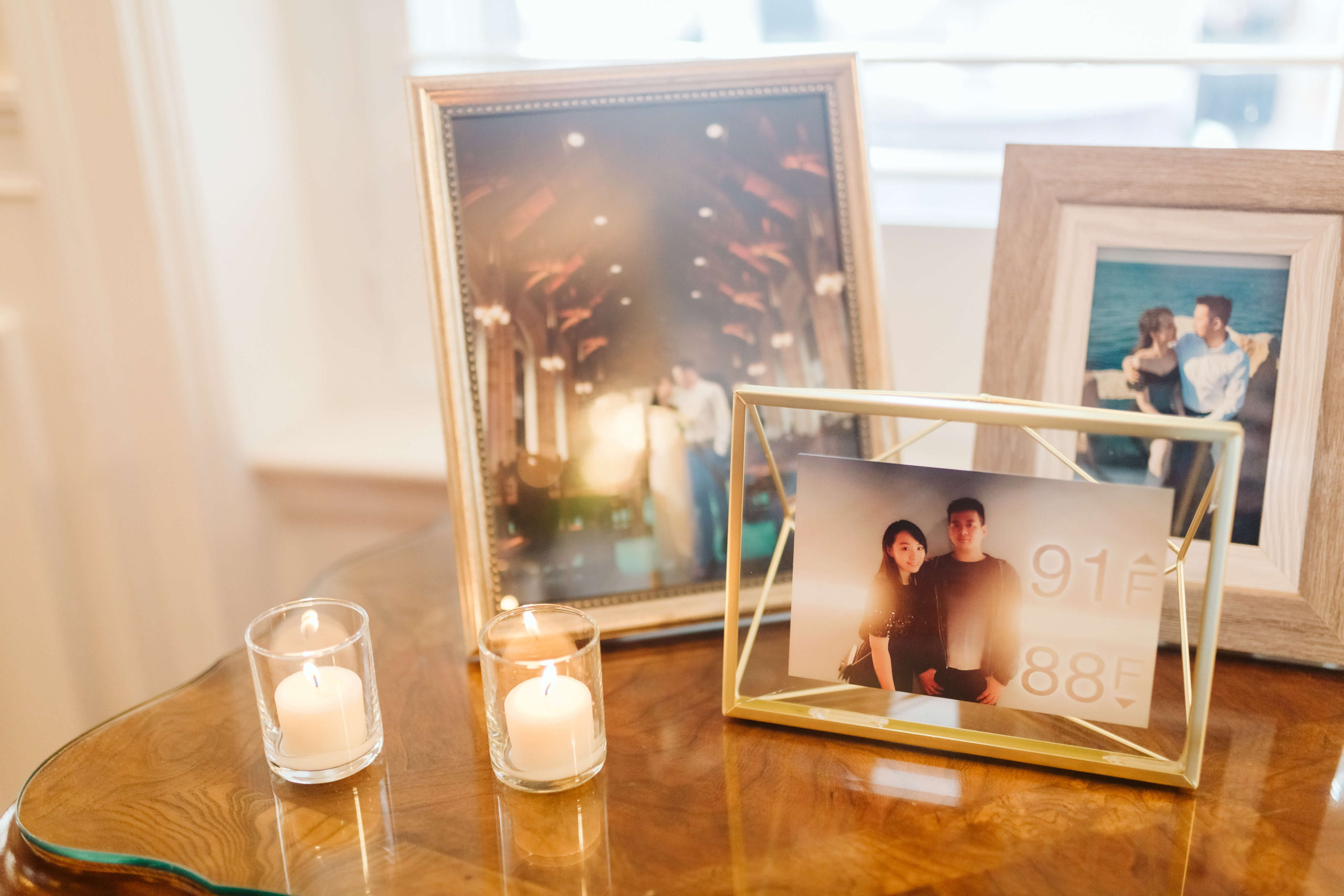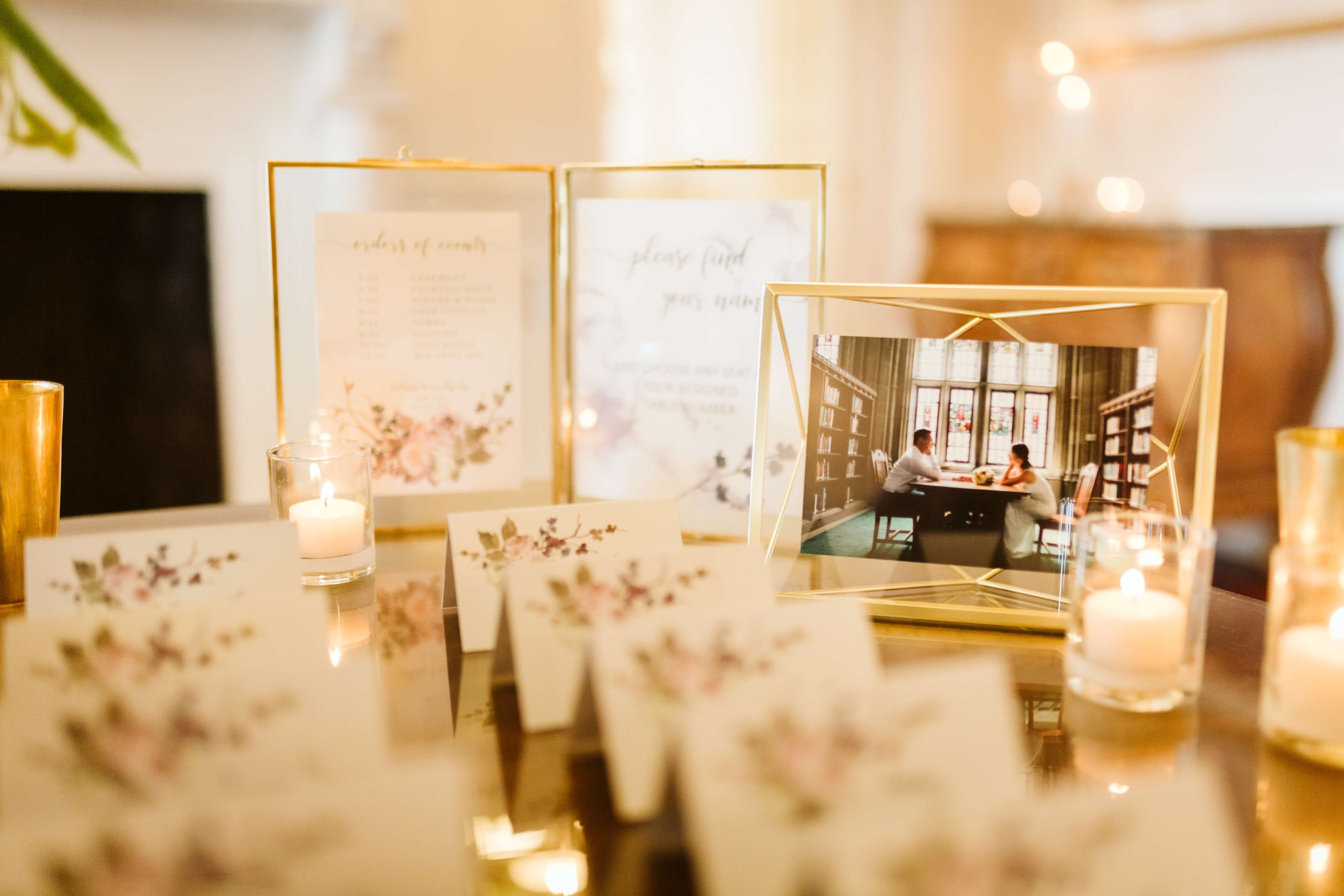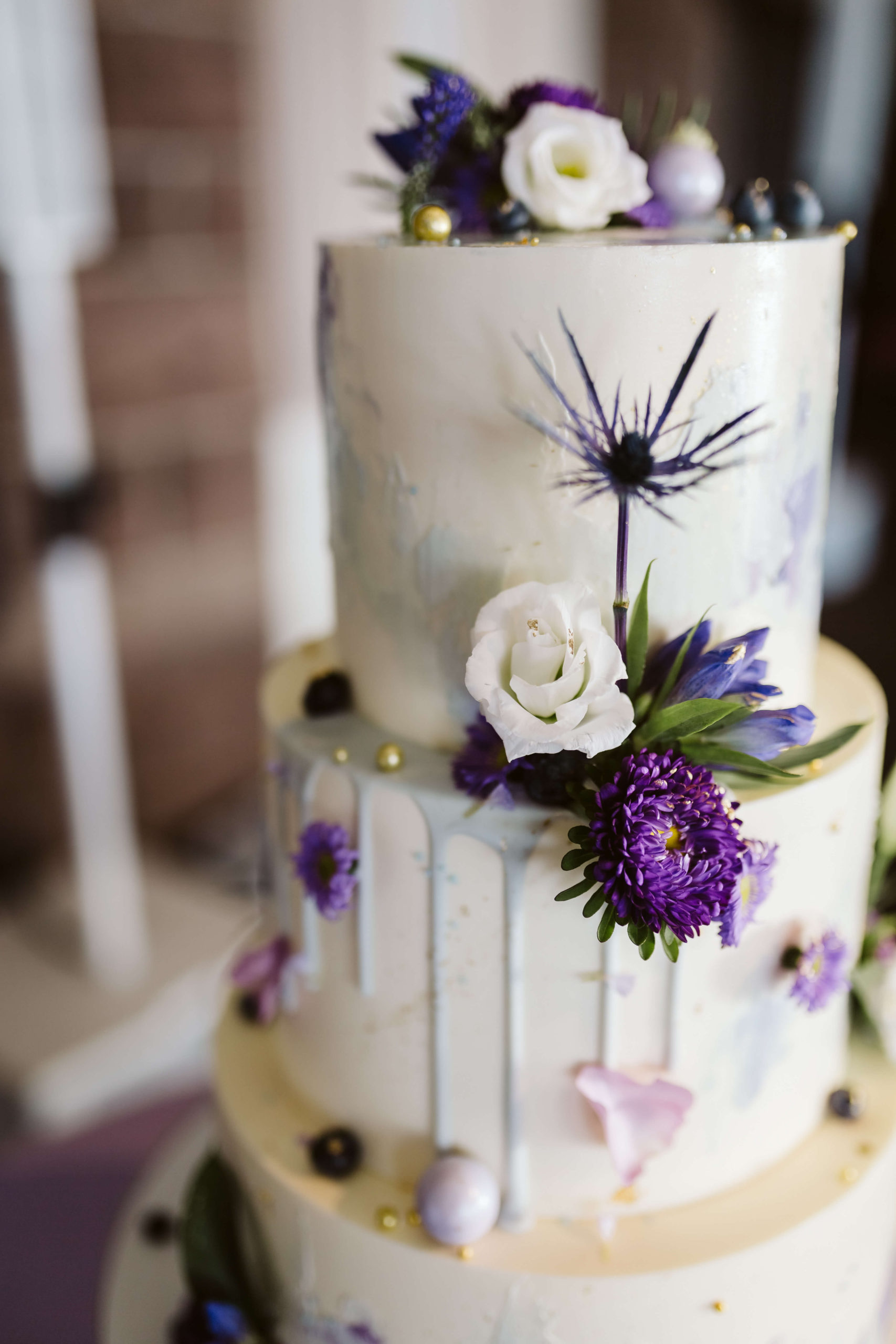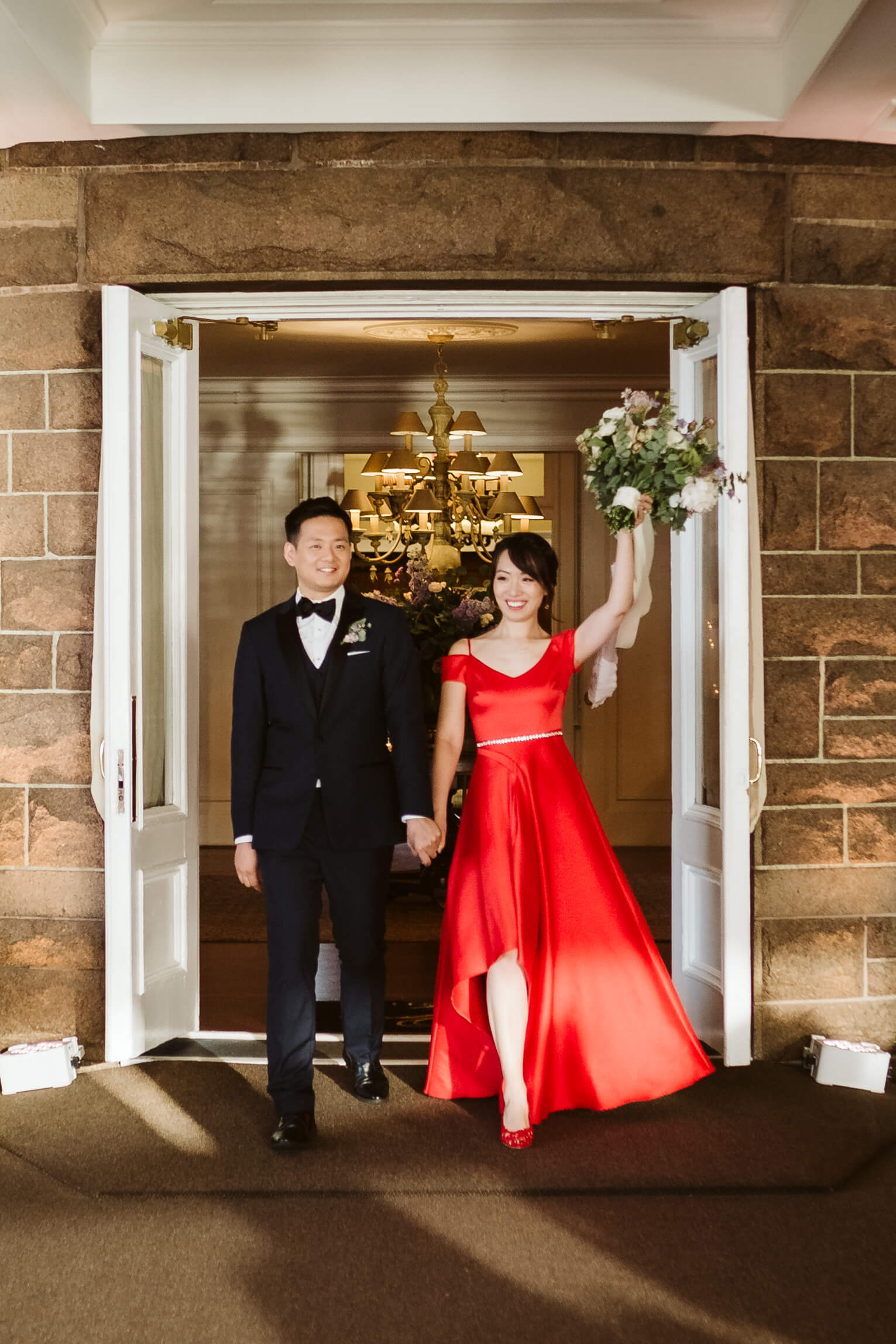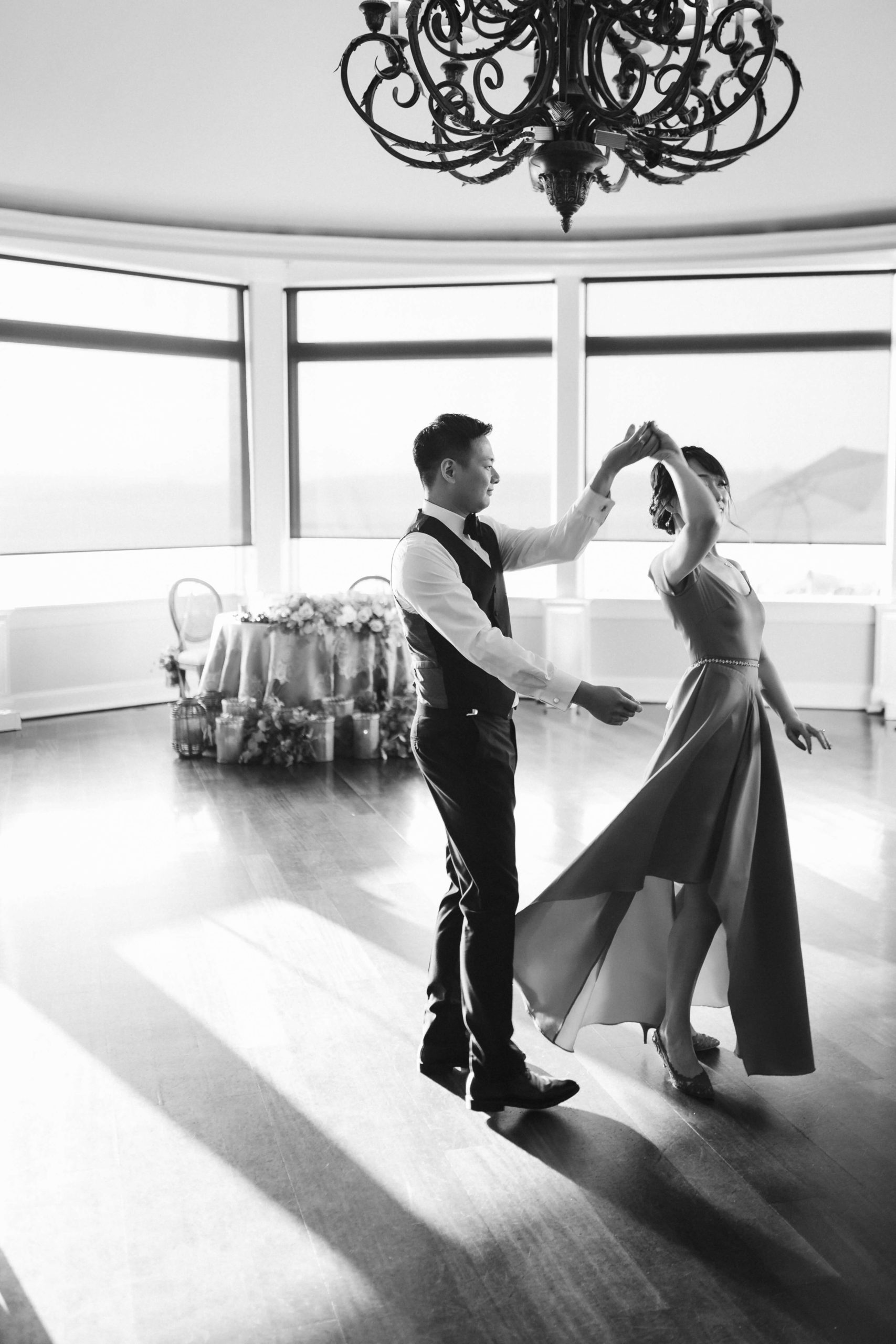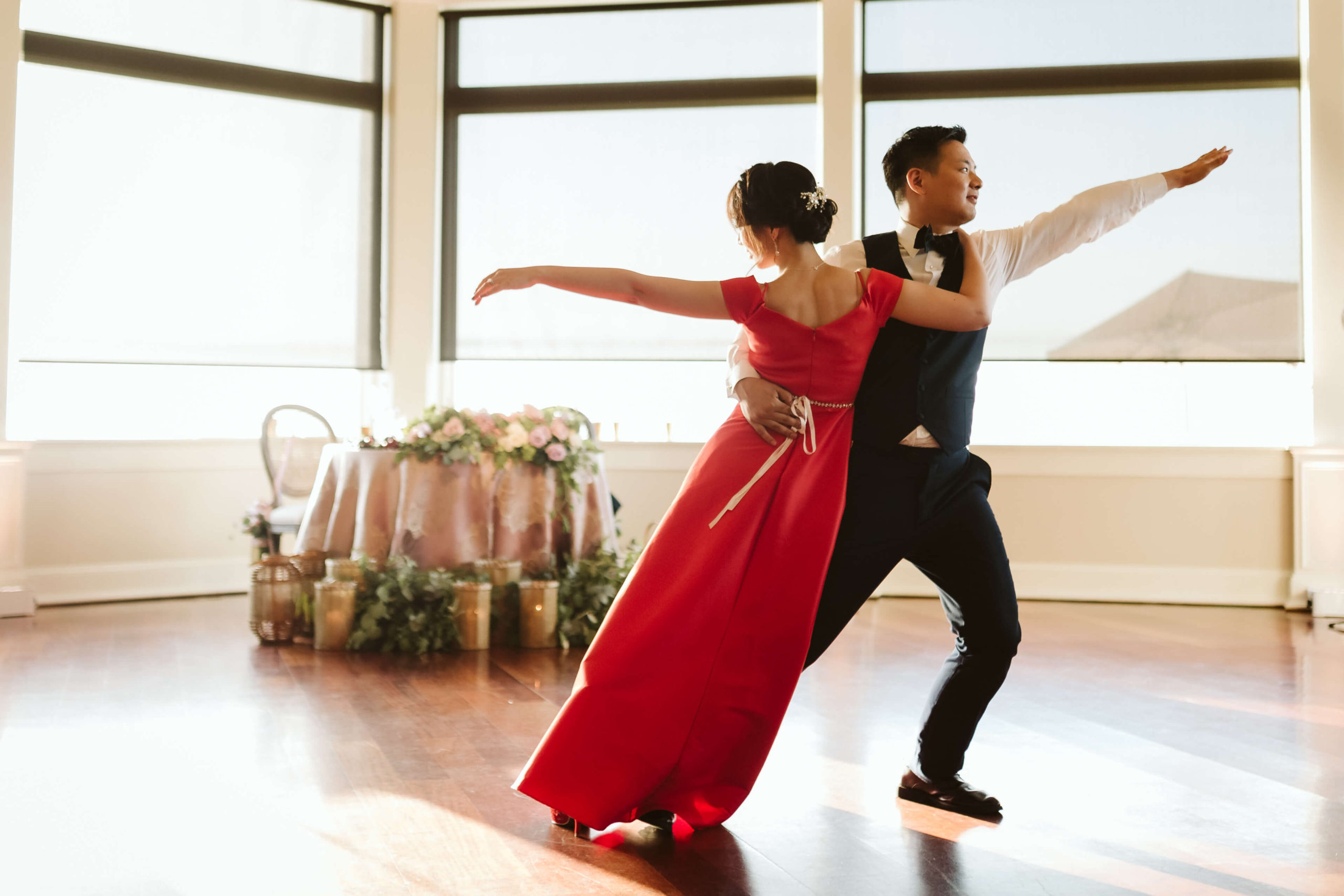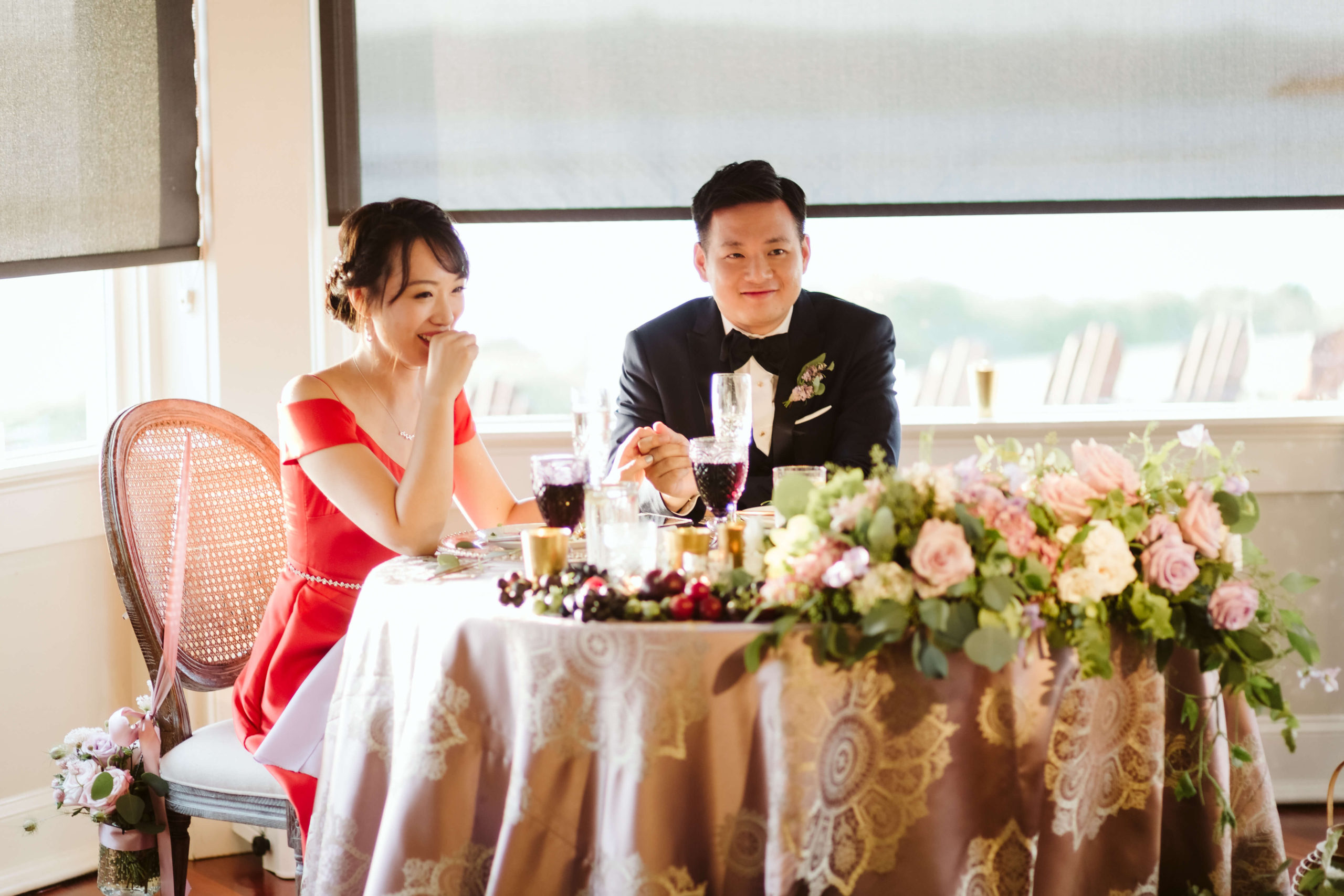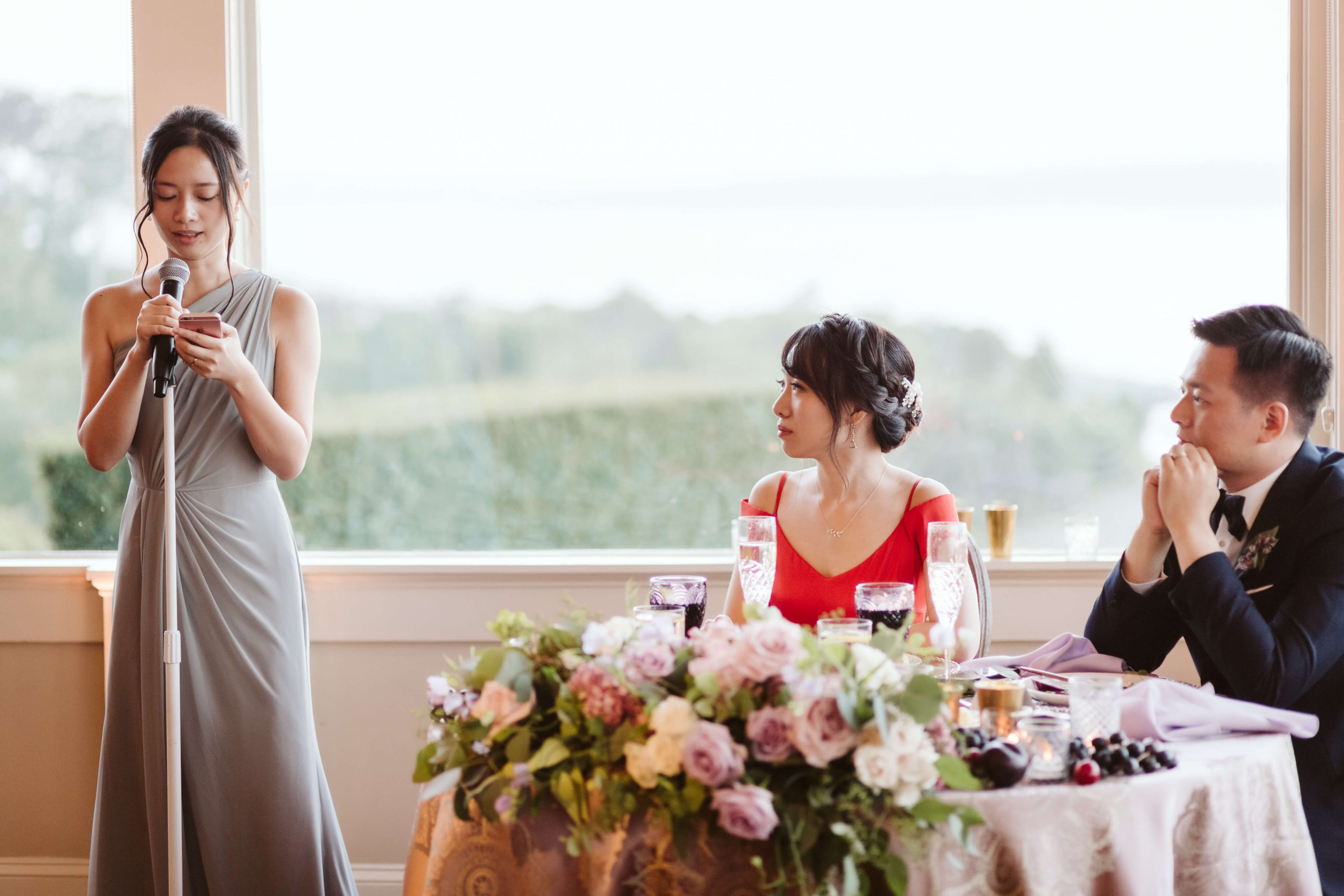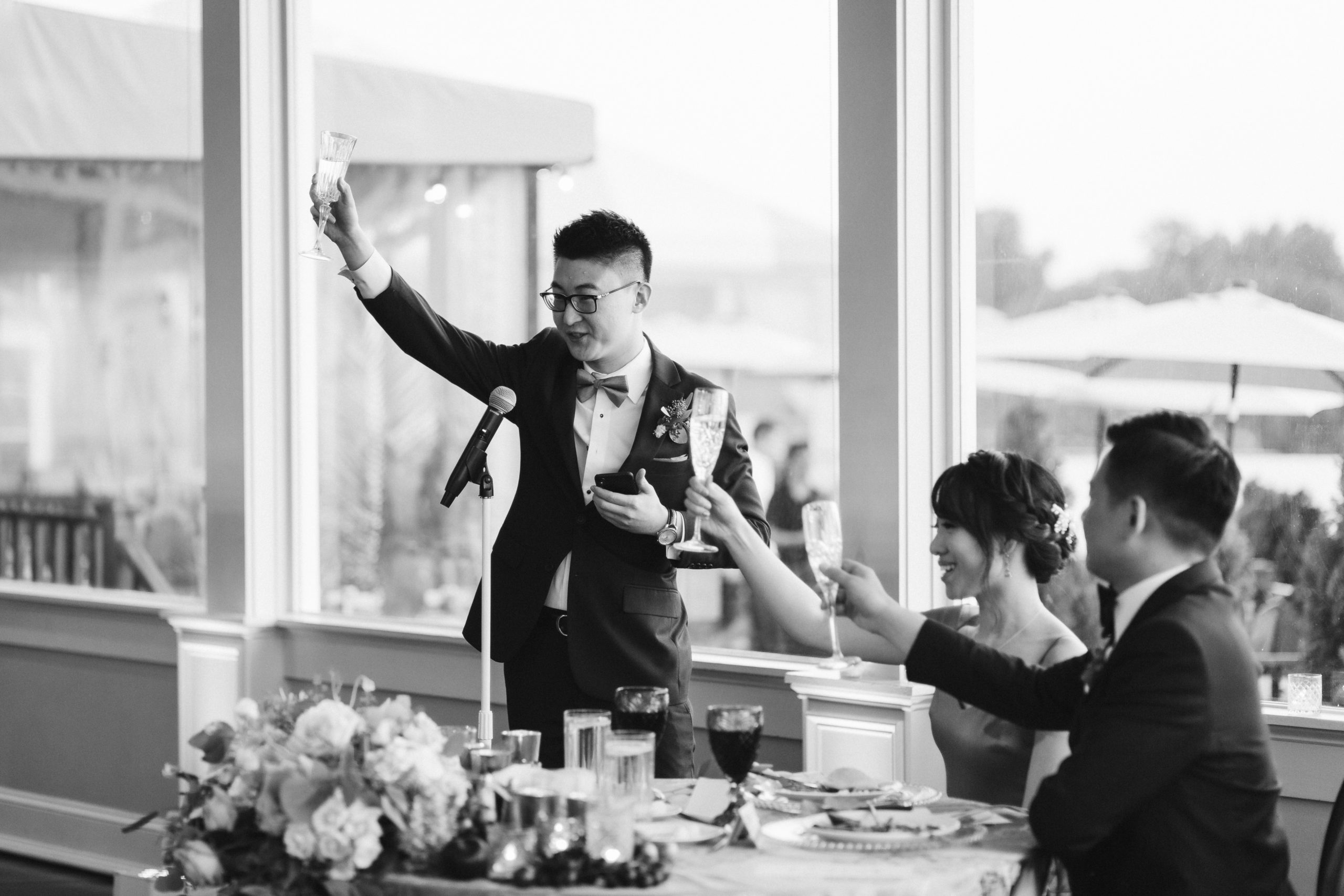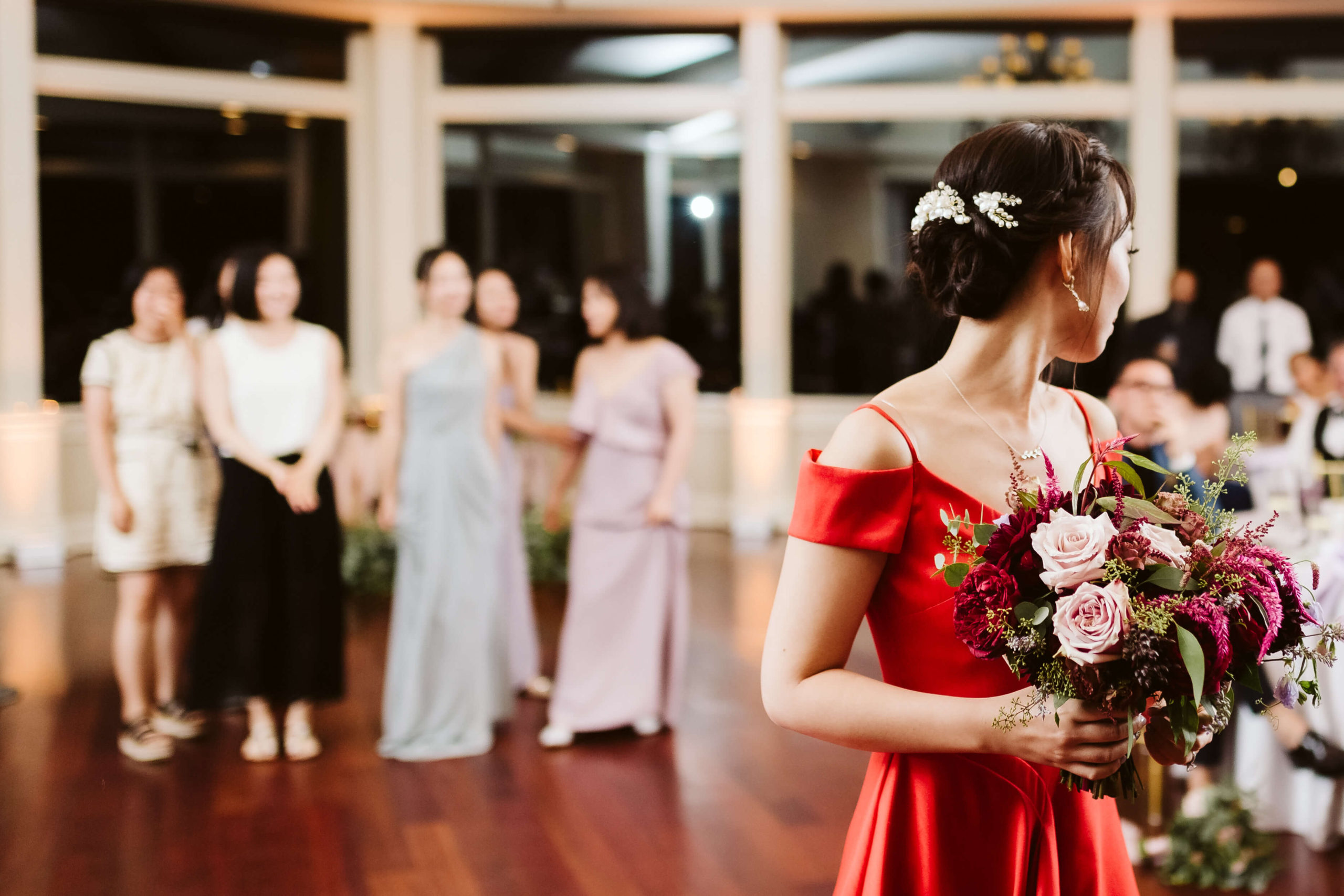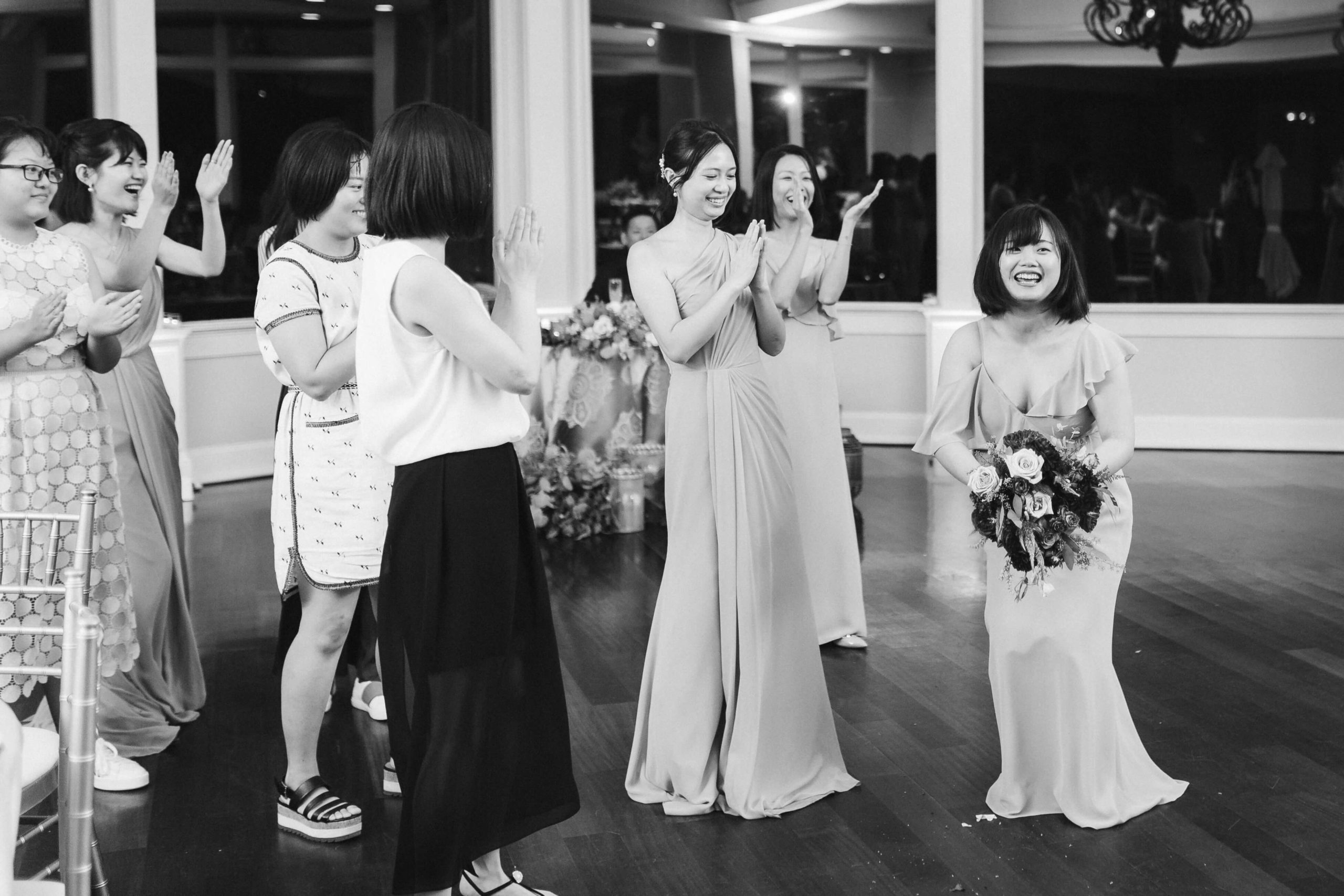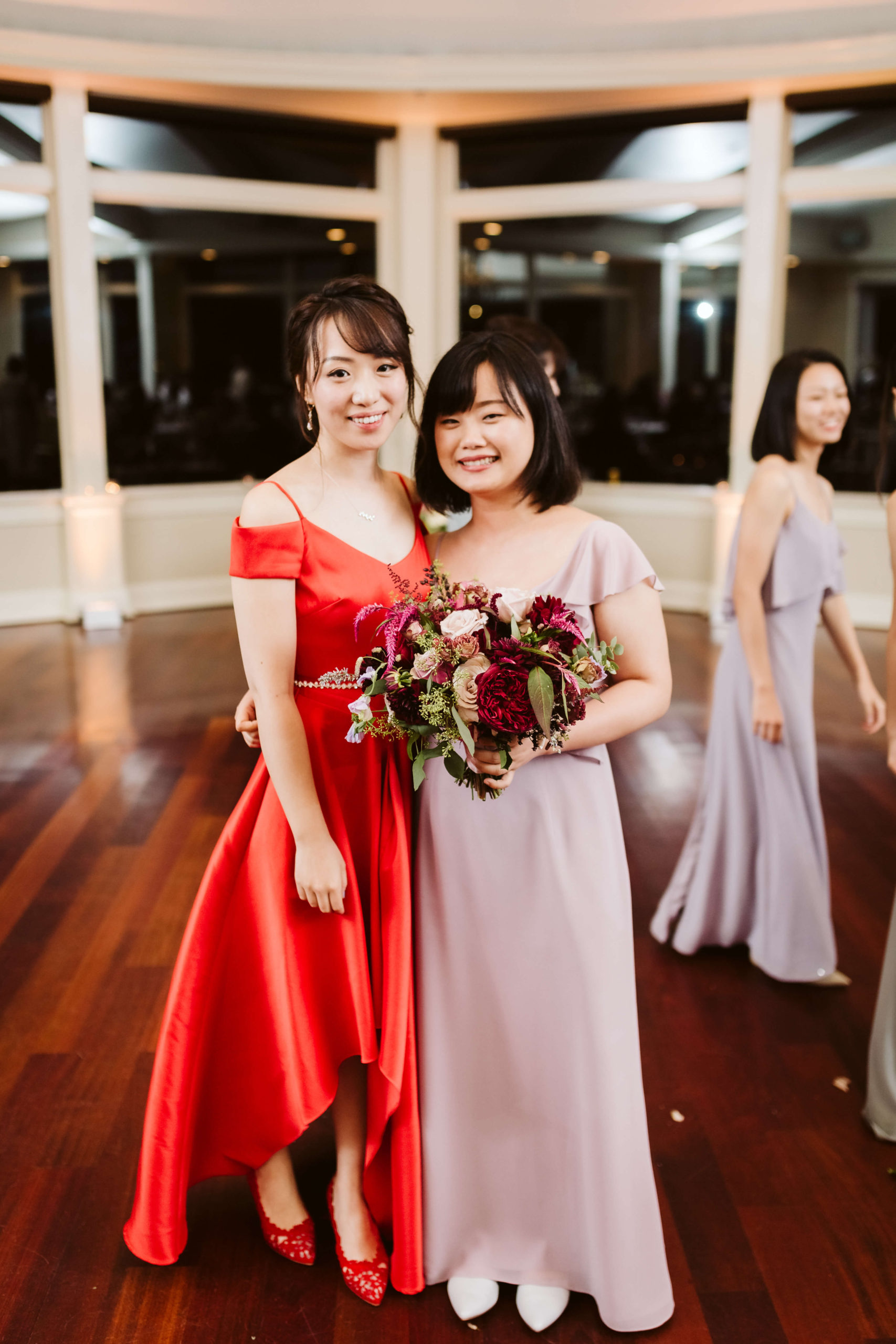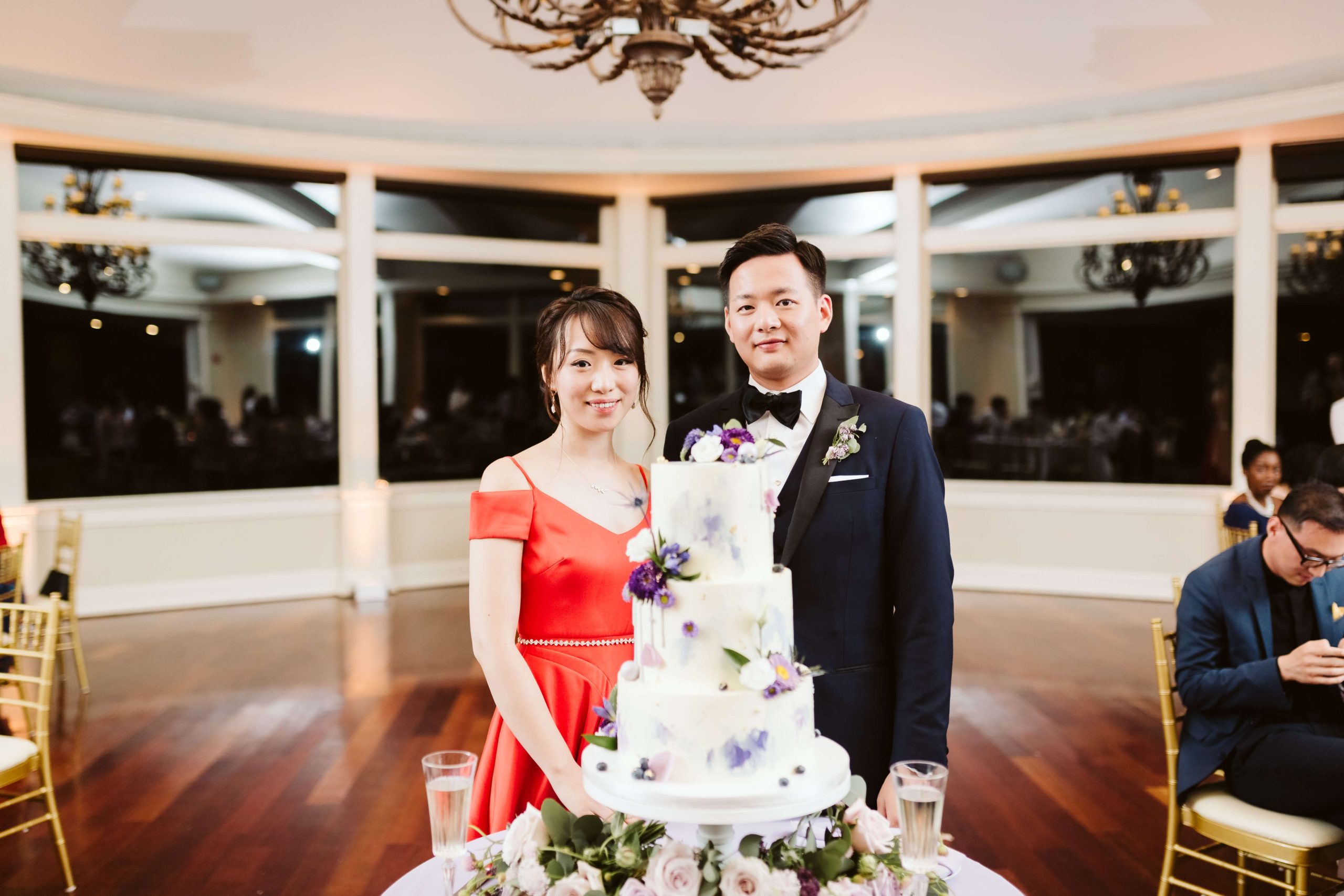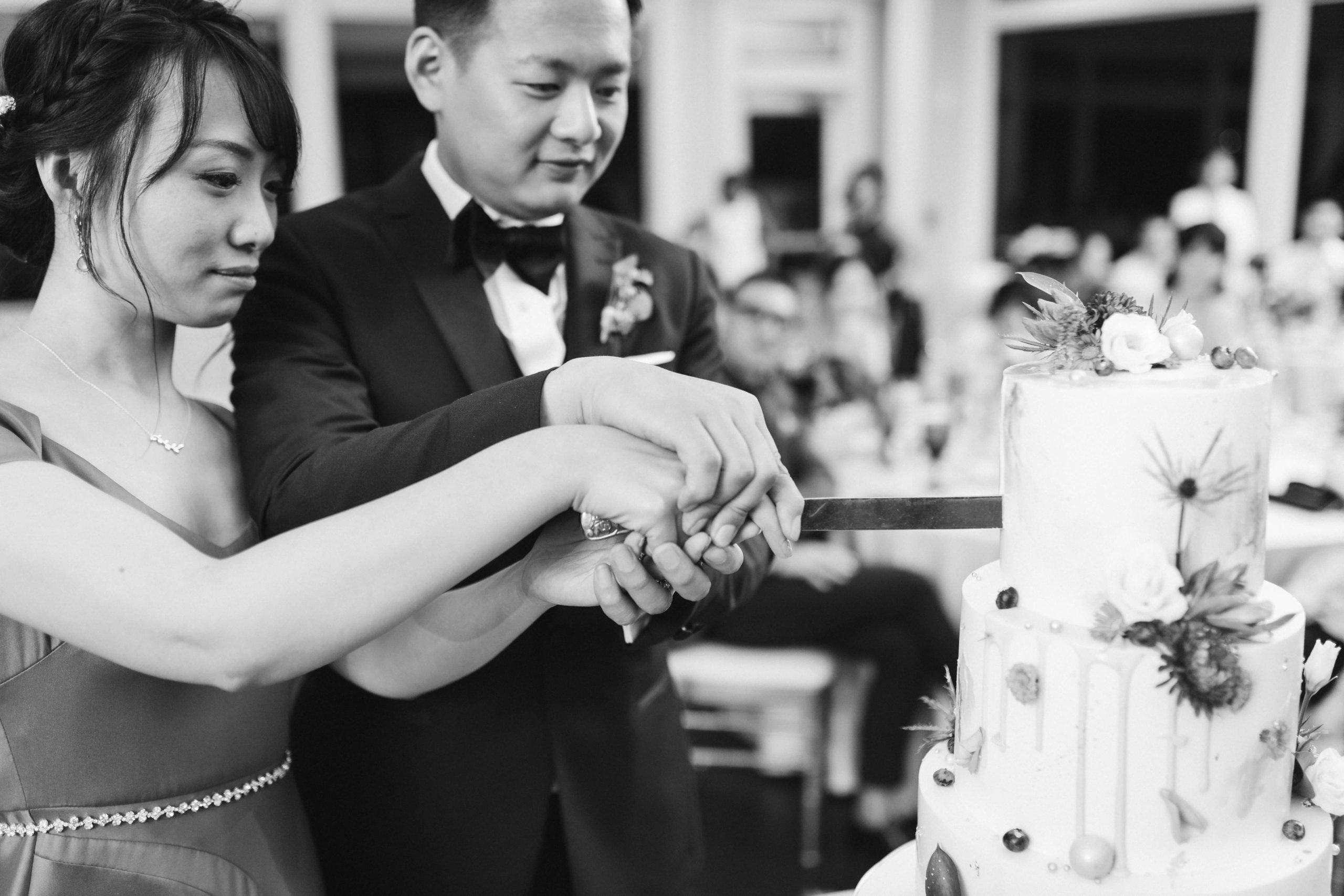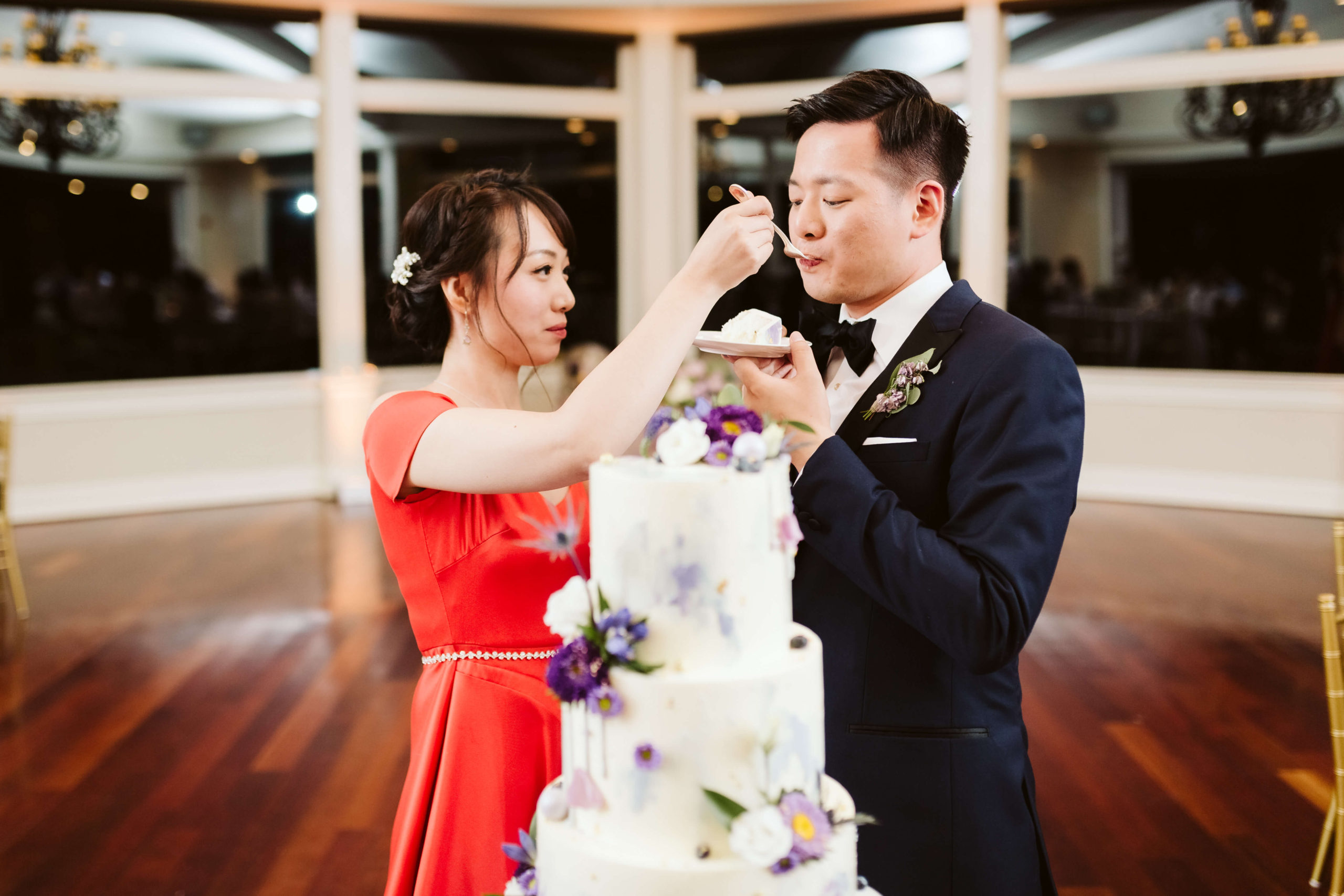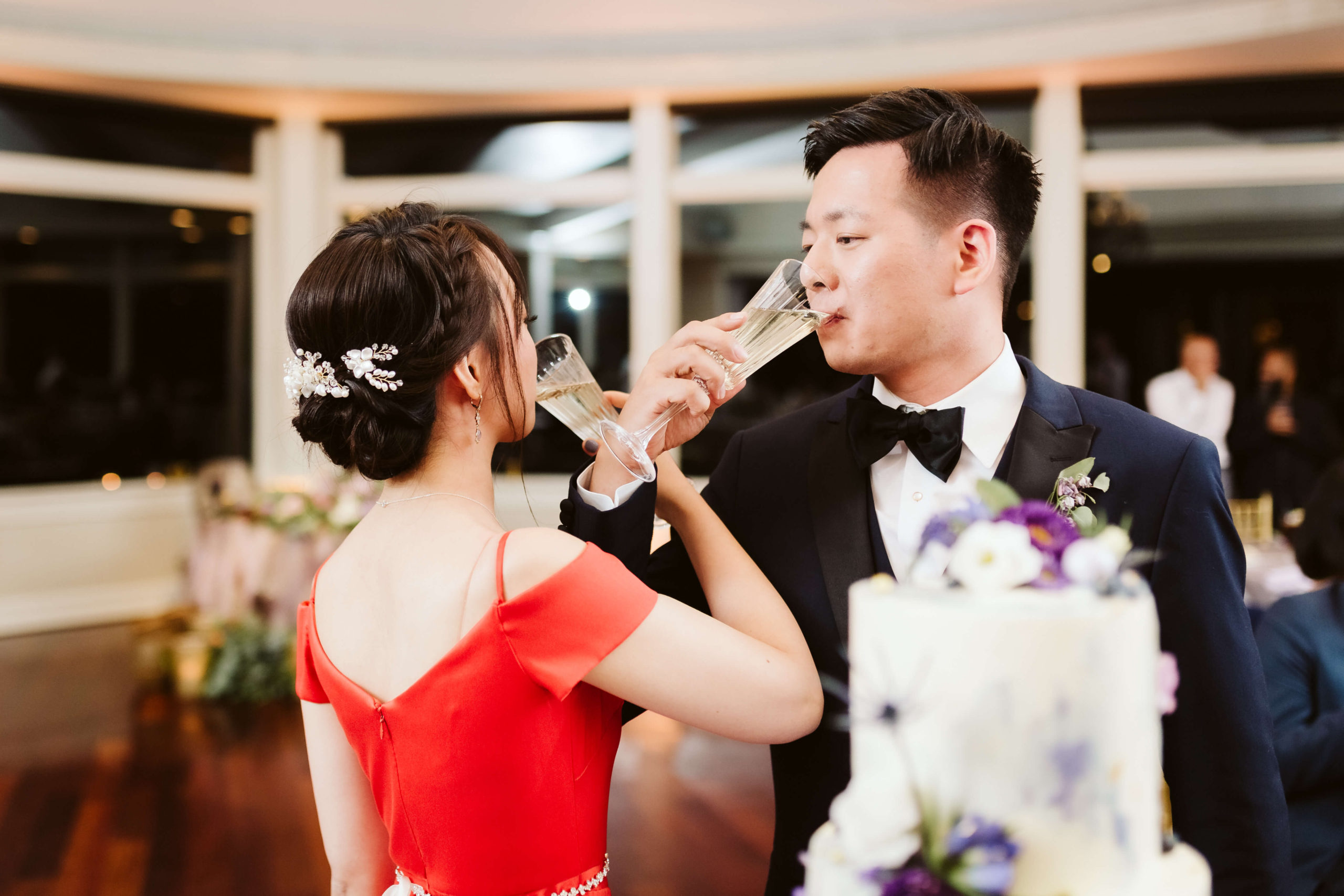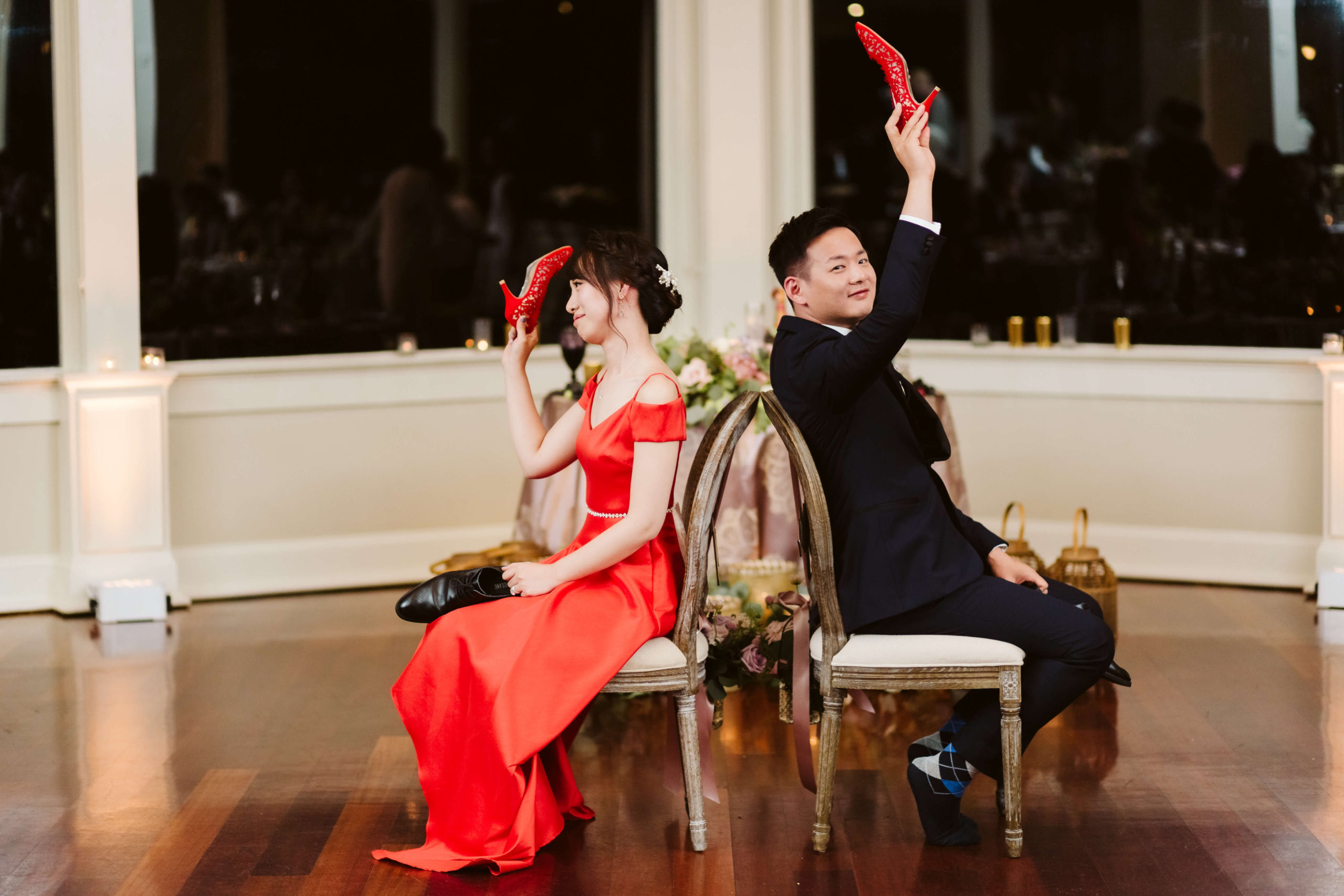 A Reception Full of Surprises and Good Times
After a quick photo session with family and friends and breathtaking portraits together overlooking the coastline, Zi, Xulei, and their guests headed back inside for cocktail hour and a night of dancing.
As a testament to their love of fun and games, the couple made their grand entrance into the reception to the 'World of Warcraft' theme song. Zi surprised everyone when she came back out wearing a vibrant red evening gown – her third outfit change of the day! The gown swirled and flowed freely around her as they shared their first dance. Zi and Xulei surprised everyone once again by having their first dance choreographed. It was an upbeat foxtrot to their favorite rendition of "Fly Me to the Moon." The rest of the night was spent having a blast, celebrating their love and new life together with all of their family and friends.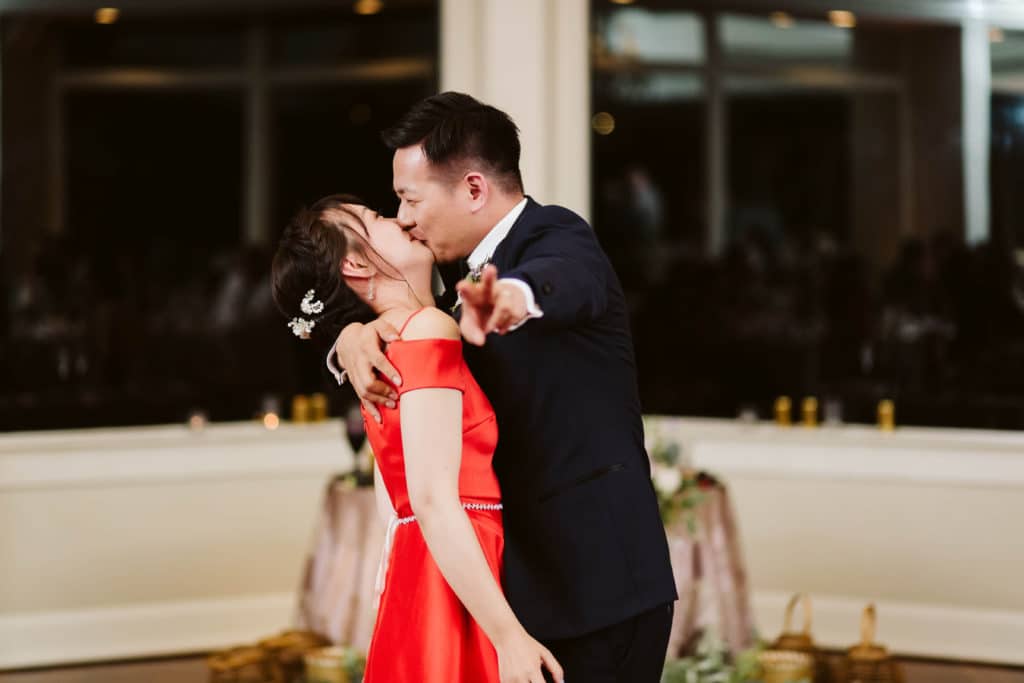 Loving the oceanside vibes of this Rhode Island wedding? I'd love to be part of your special day and help you capture all of the littler moments so they'll last forever.
Hey! I'm Rachael Crowe of OkCrowe Photography. I'm a wedding photographer based in Chattanooga, Tennessee but I've shot weddings all over the US including up and down the New England coast! Just say the word, and I'll be there to capture every moment and do whatever I can to help make your day memorable. If you're on the hunt for a wedding photographer, head to my contact form, and let's get this party started!