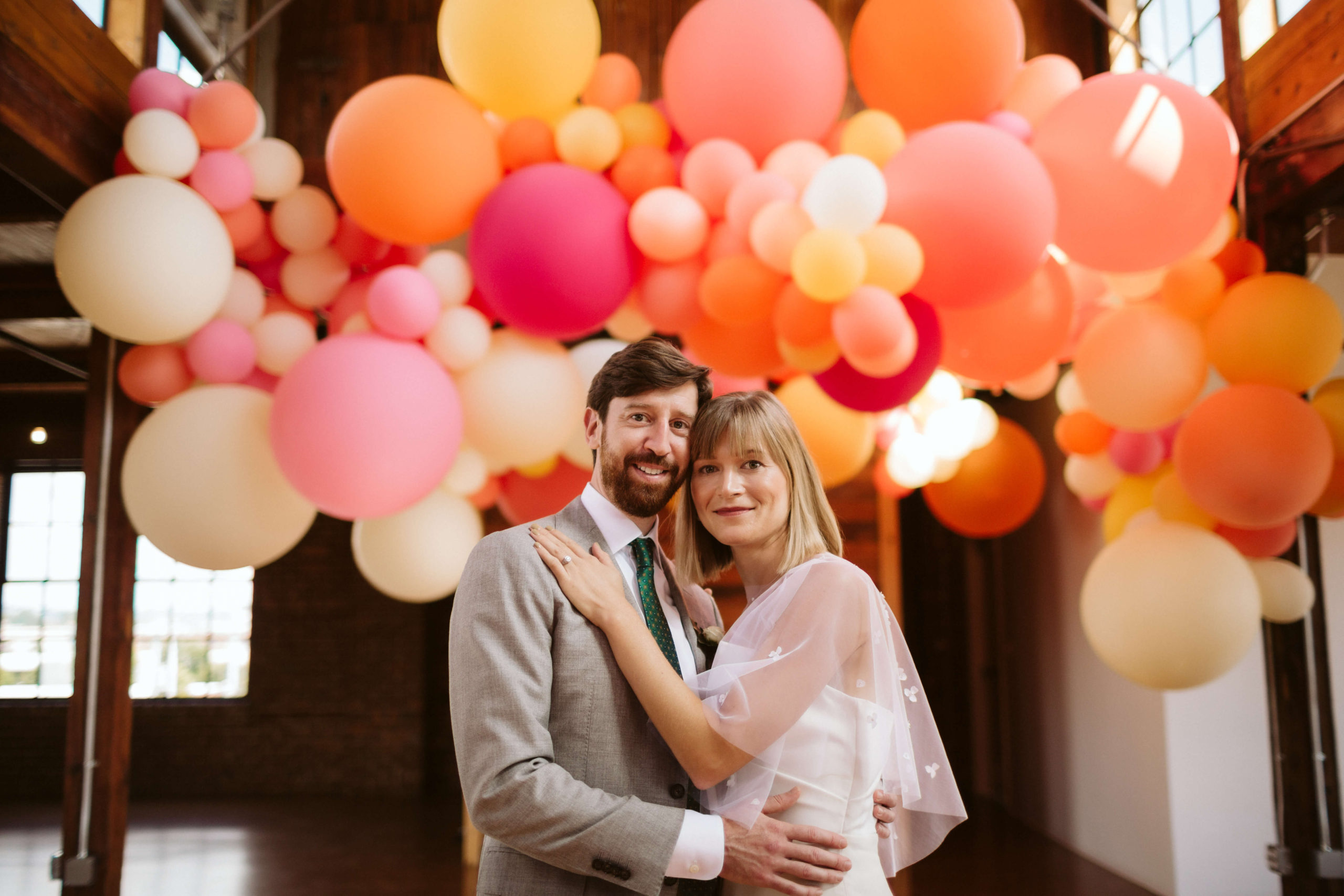 There are so many amazing wedding venues in Chattanooga, with many couples lured in by the rolling mountains, lush forests, and green foliage that looks fantastic any time of the year. However, if you're searching for an edgier, more urban look, Chattanooga's got you covered there, too. The Turnbull Building is one of my favorite locations to photograph weddings, checking all the marks for an urban wedding with modern, industrial chic vibes.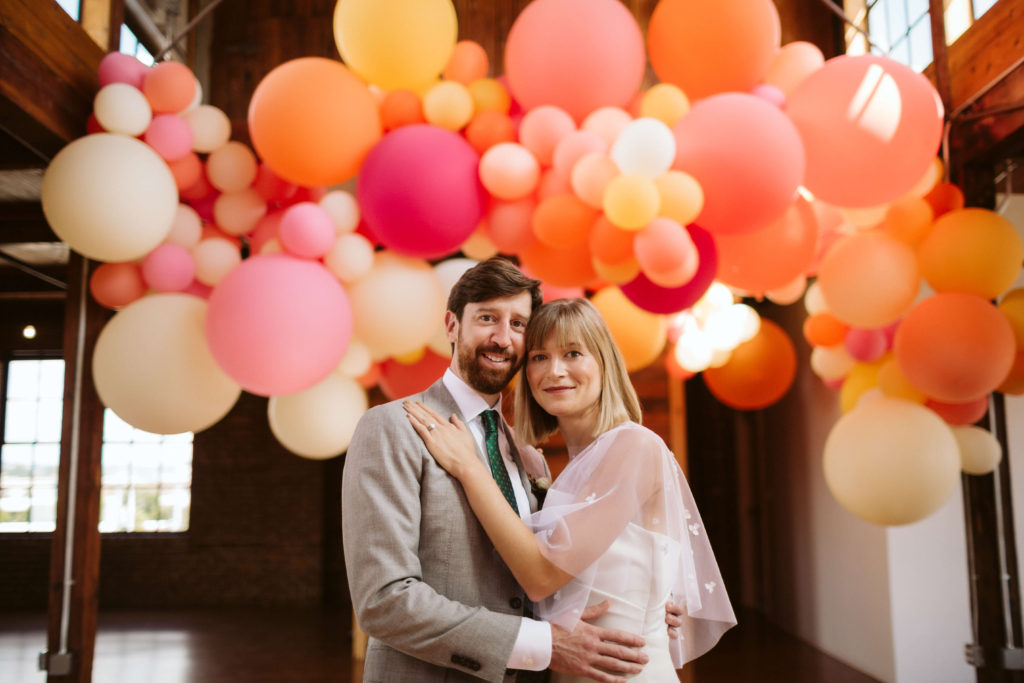 A Simple, Untraditional Wedding in the Turnbull Building
Like many couples in the past few years, Emma and Eddie's original wedding plans were interrupted by COVID. They had to reschedule everything many times, but that wasn't going to stop them from having their big day. With Emma as a native Californian and Eddie with his Midwestern roots, their friends and family would be traveling from all over the states to join their celebration. Emma and Eddie's motto of "don't sweat the small stuff" really came in handy during planning. They prioritized their guests' safety over grand and elaborate wedding plans, and as an extra precaution, made sure everyone had time to get vaccinated or quarantine properly before traveling.
Their wedding date in constant flux, Emma and Eddie leaned heavily on my wedding expertise to help with their planning. When you hire a professional wedding photographer, oftentimes not only are you getting a talented photographer, but you're also hiring an expert well-versed in all things wedding-related. Although Emma's aunt acted as their day-of coordinator, I chimed in with my wedding knowledge to teach them about common wedding practices and help with final decisions for their event.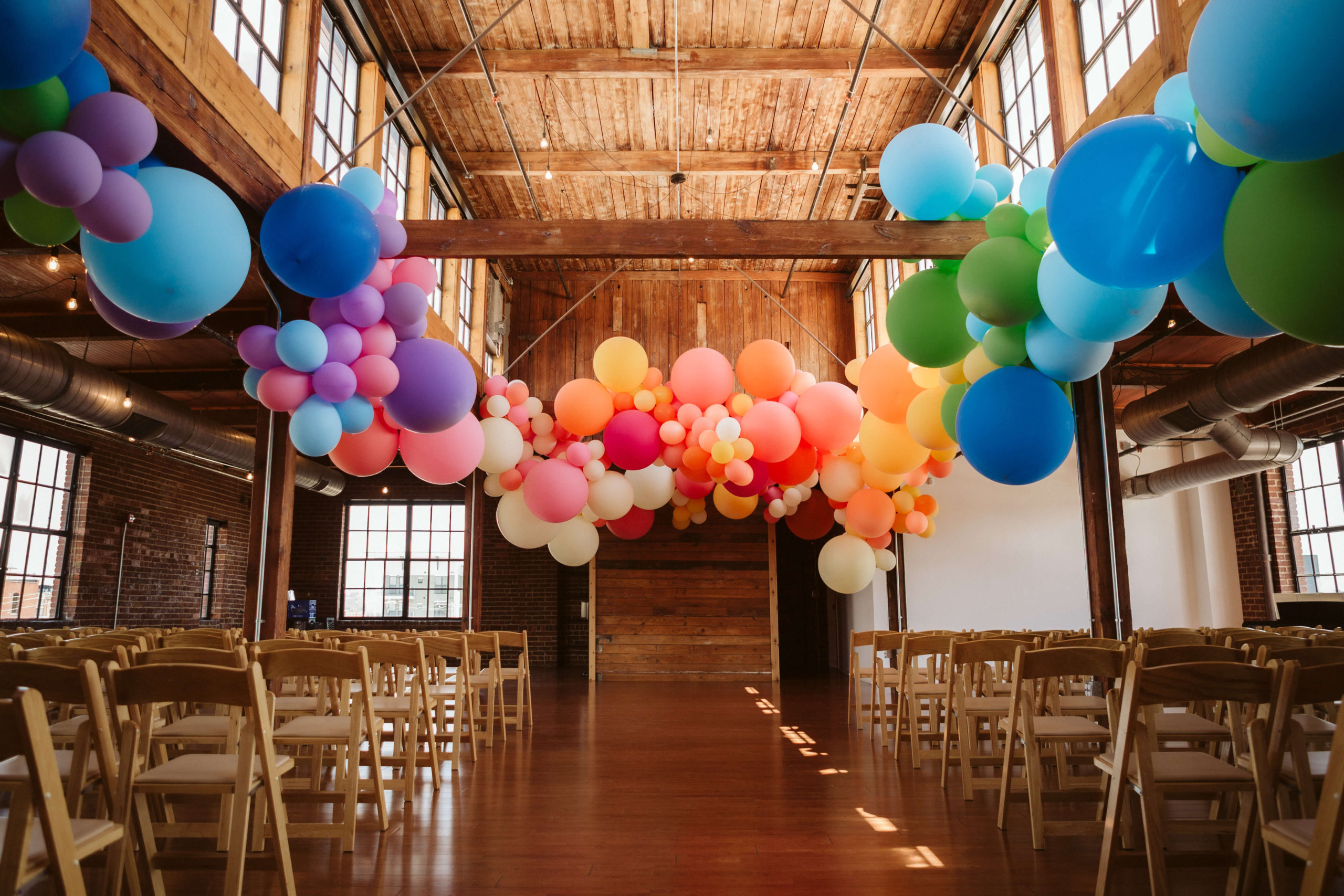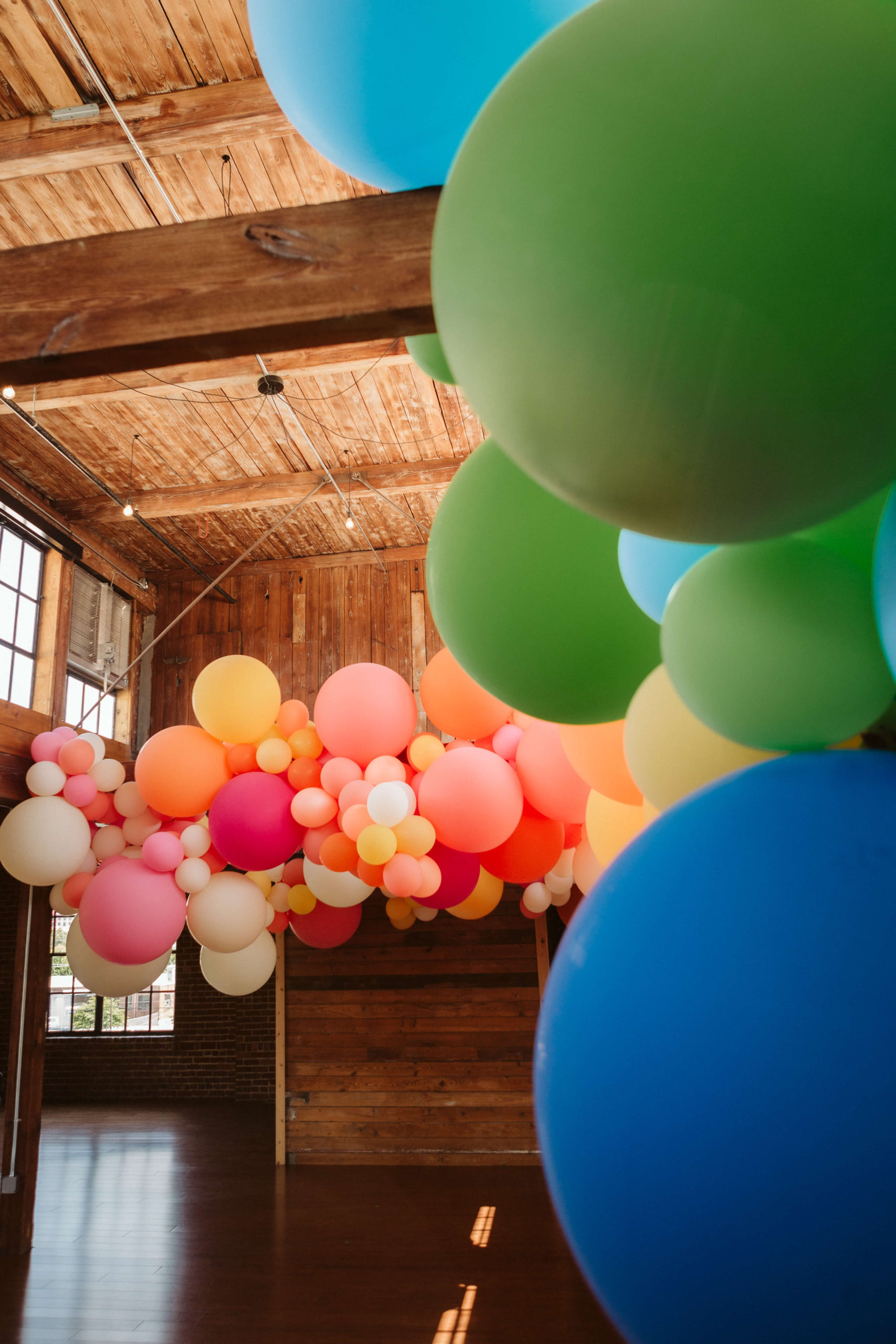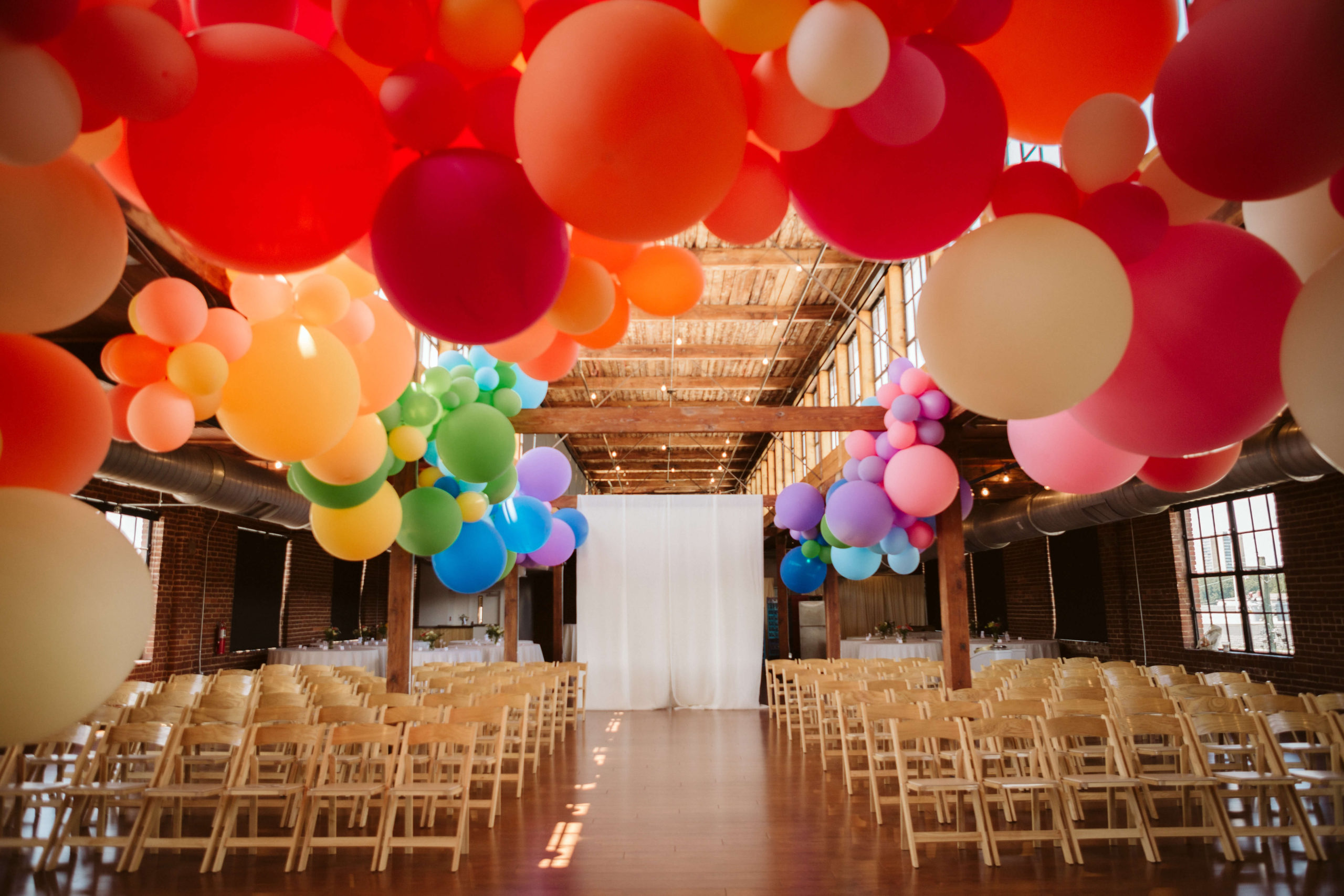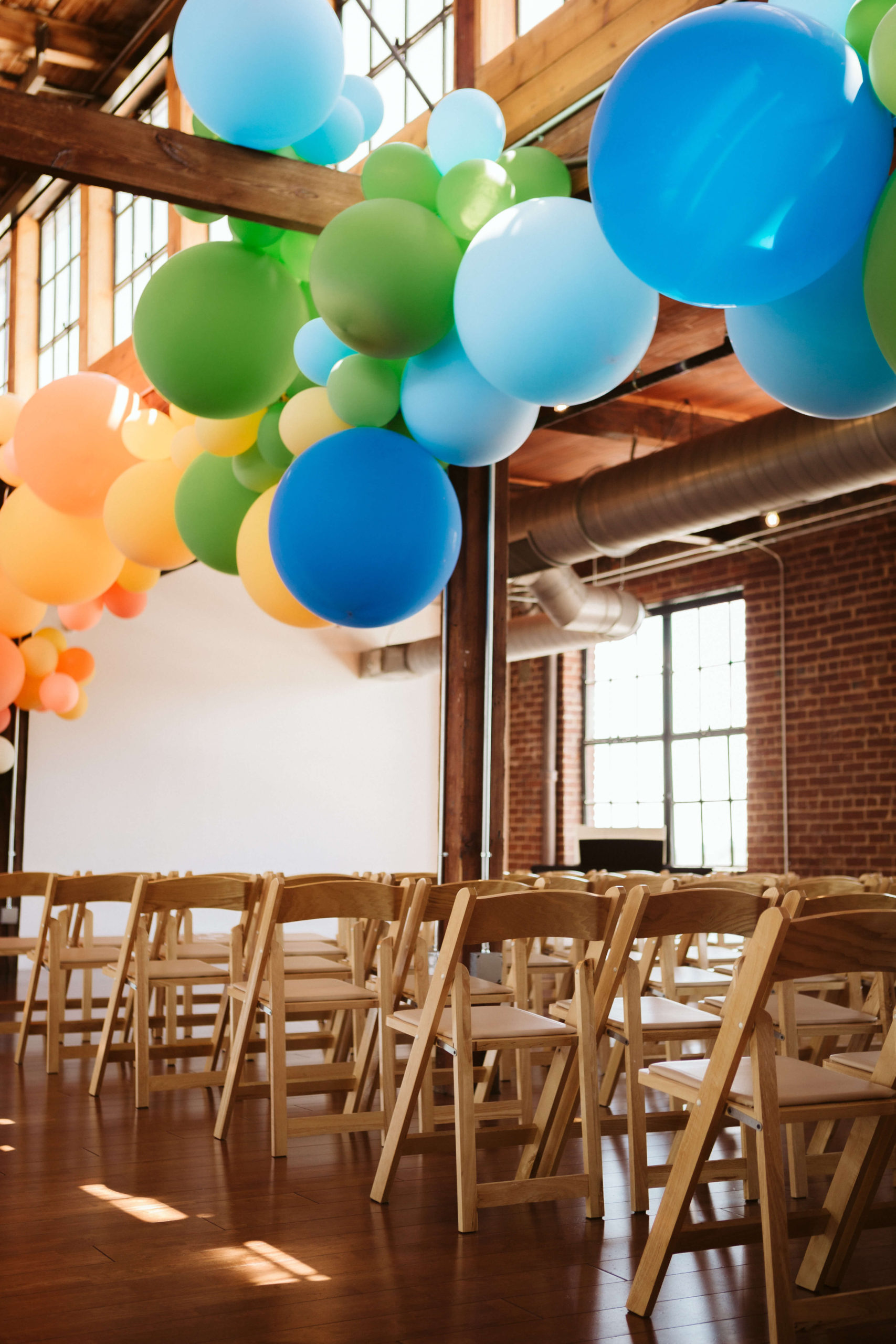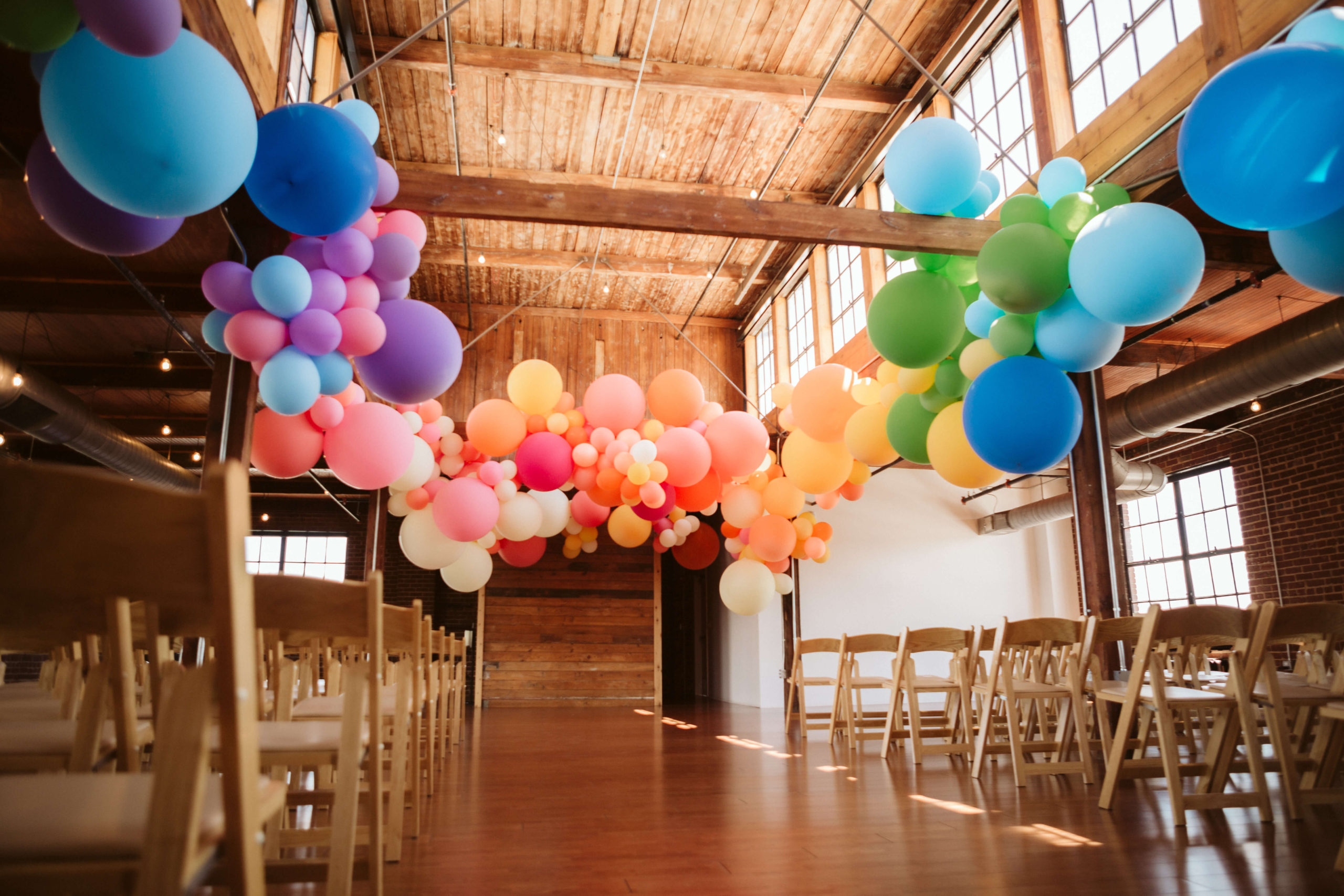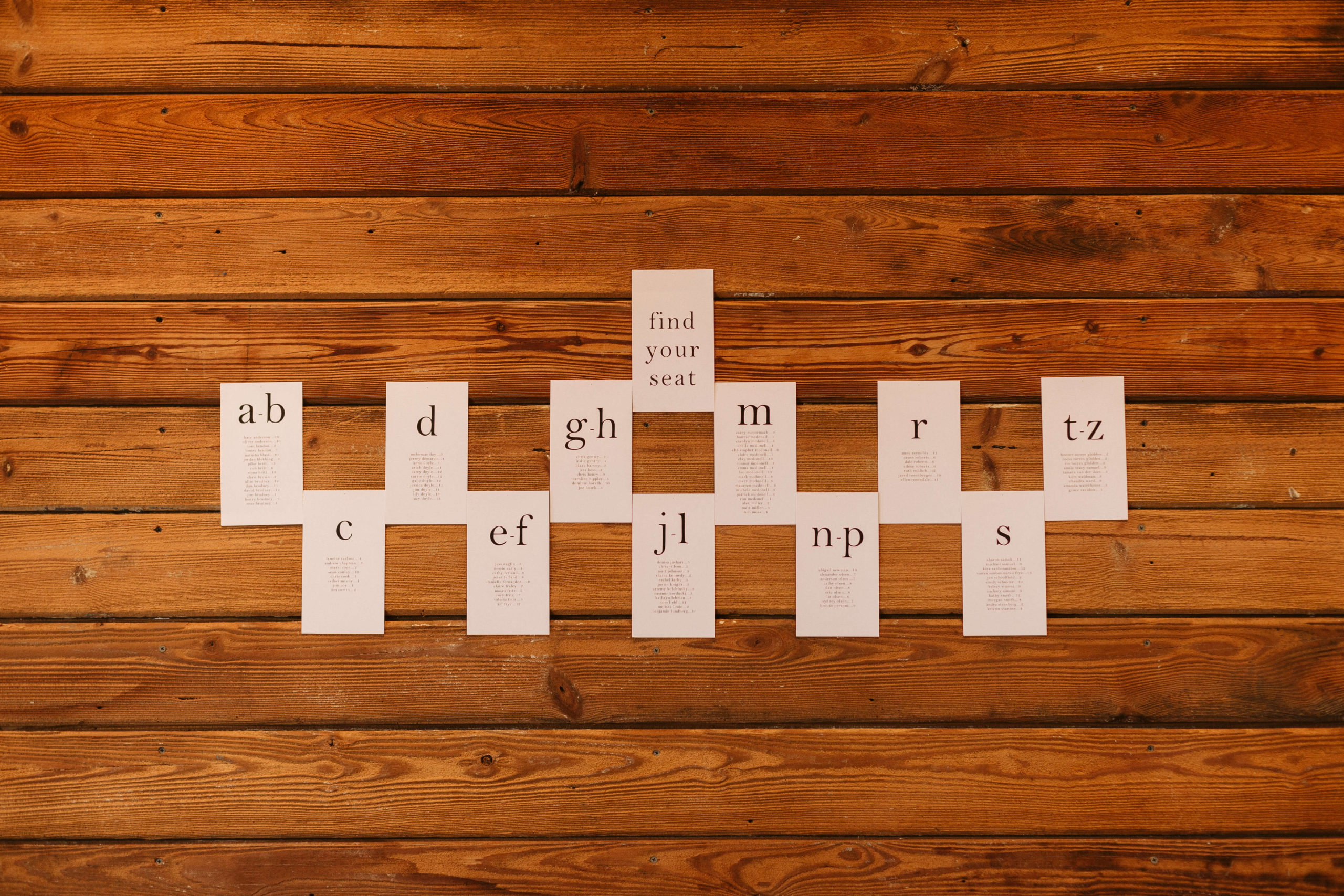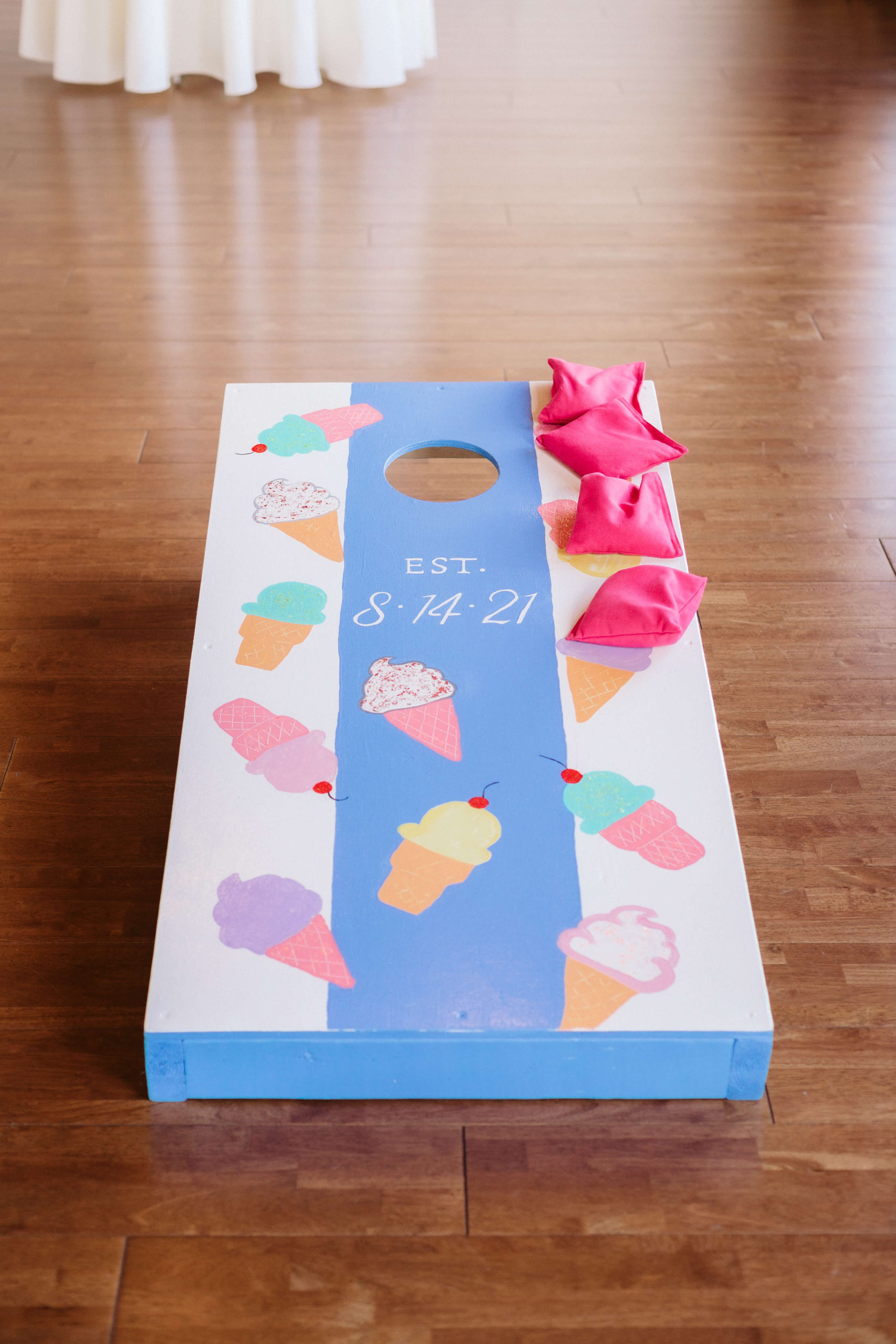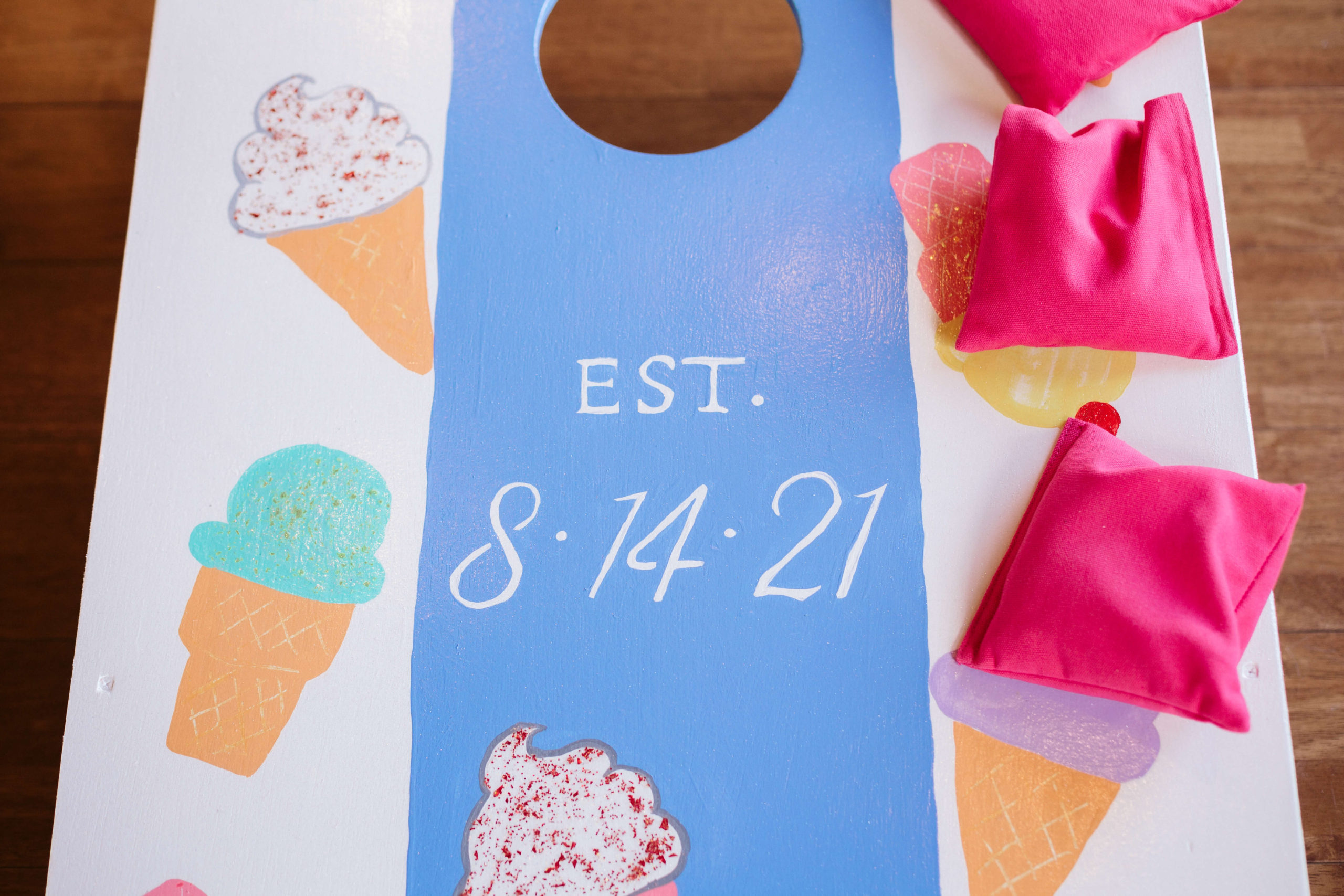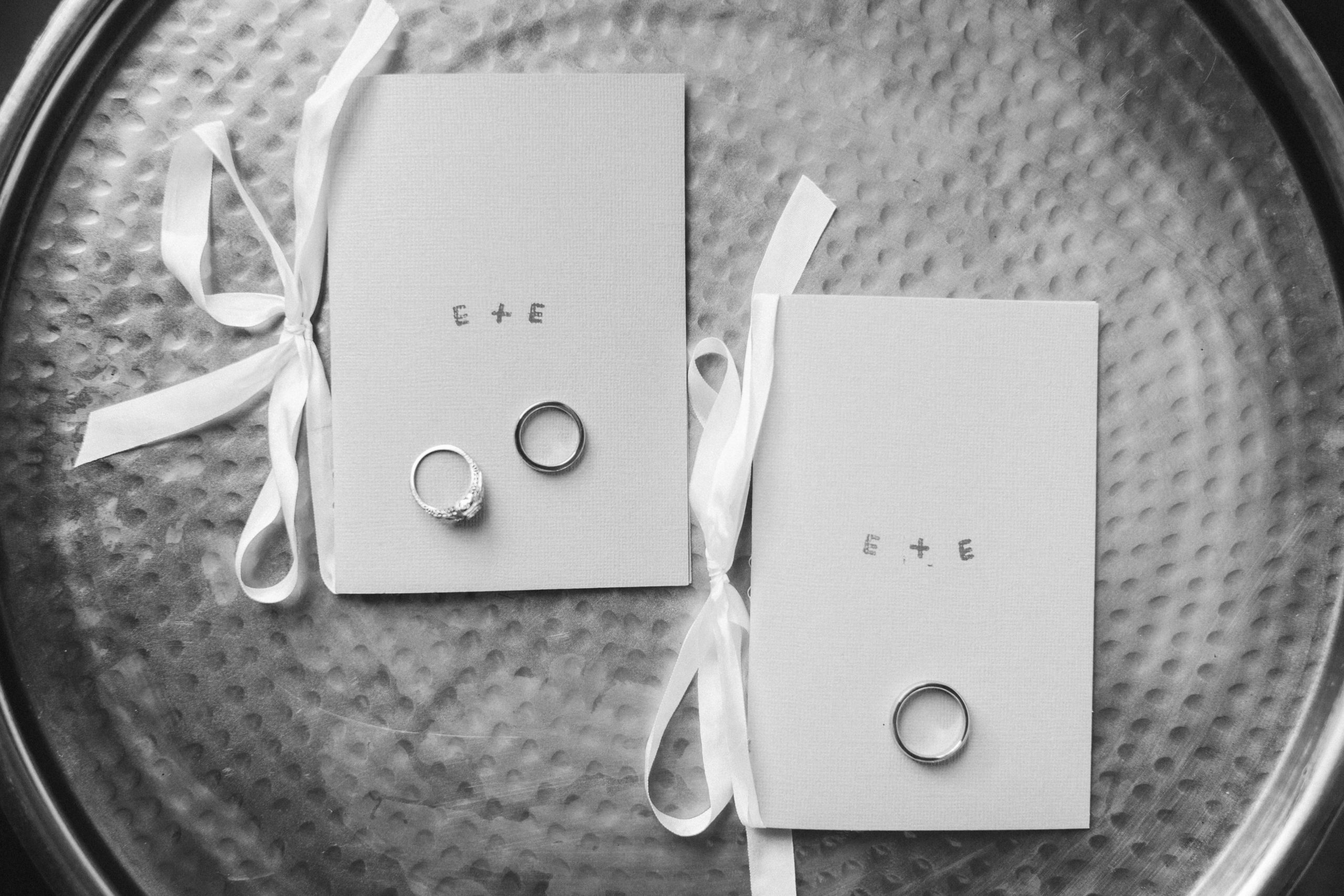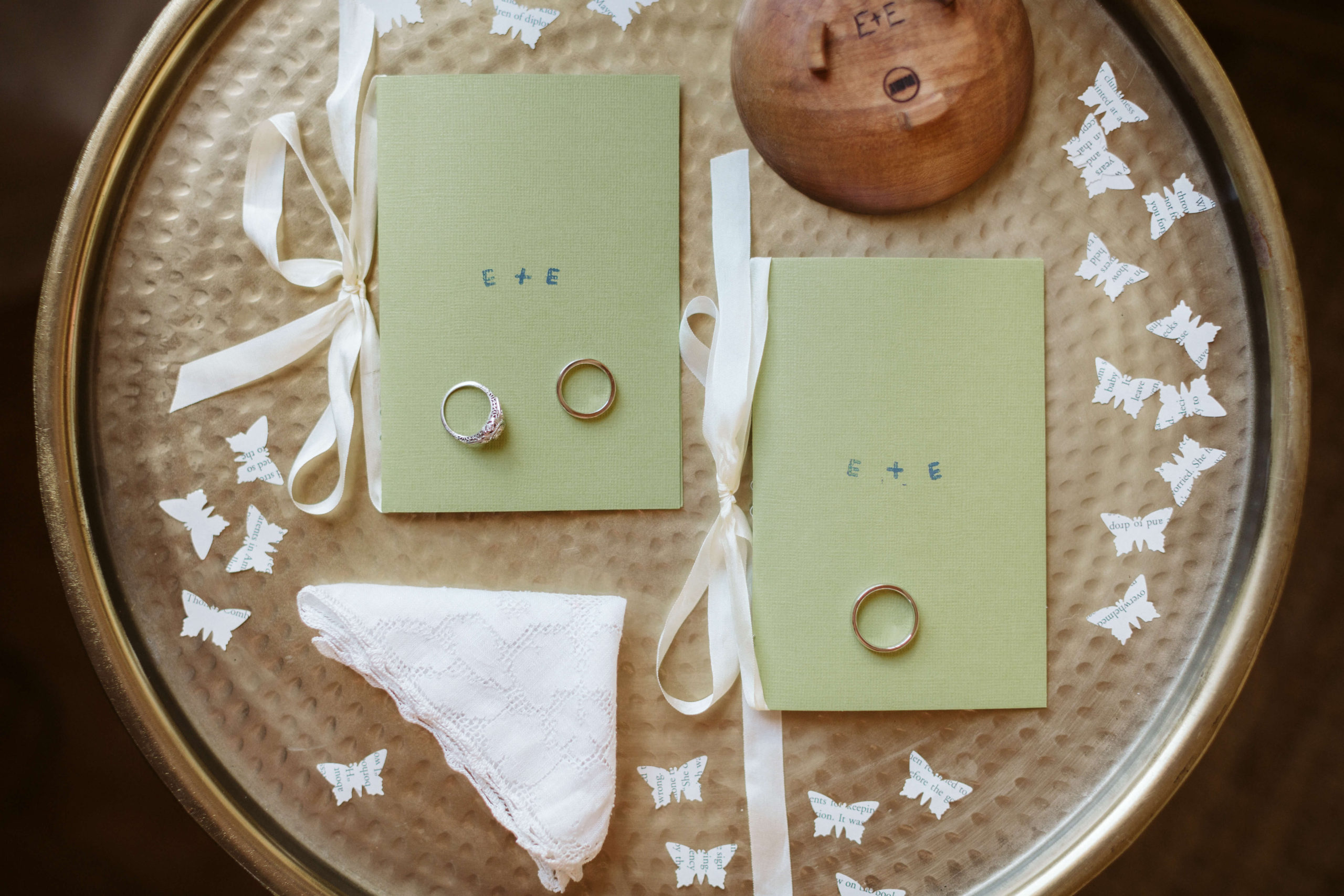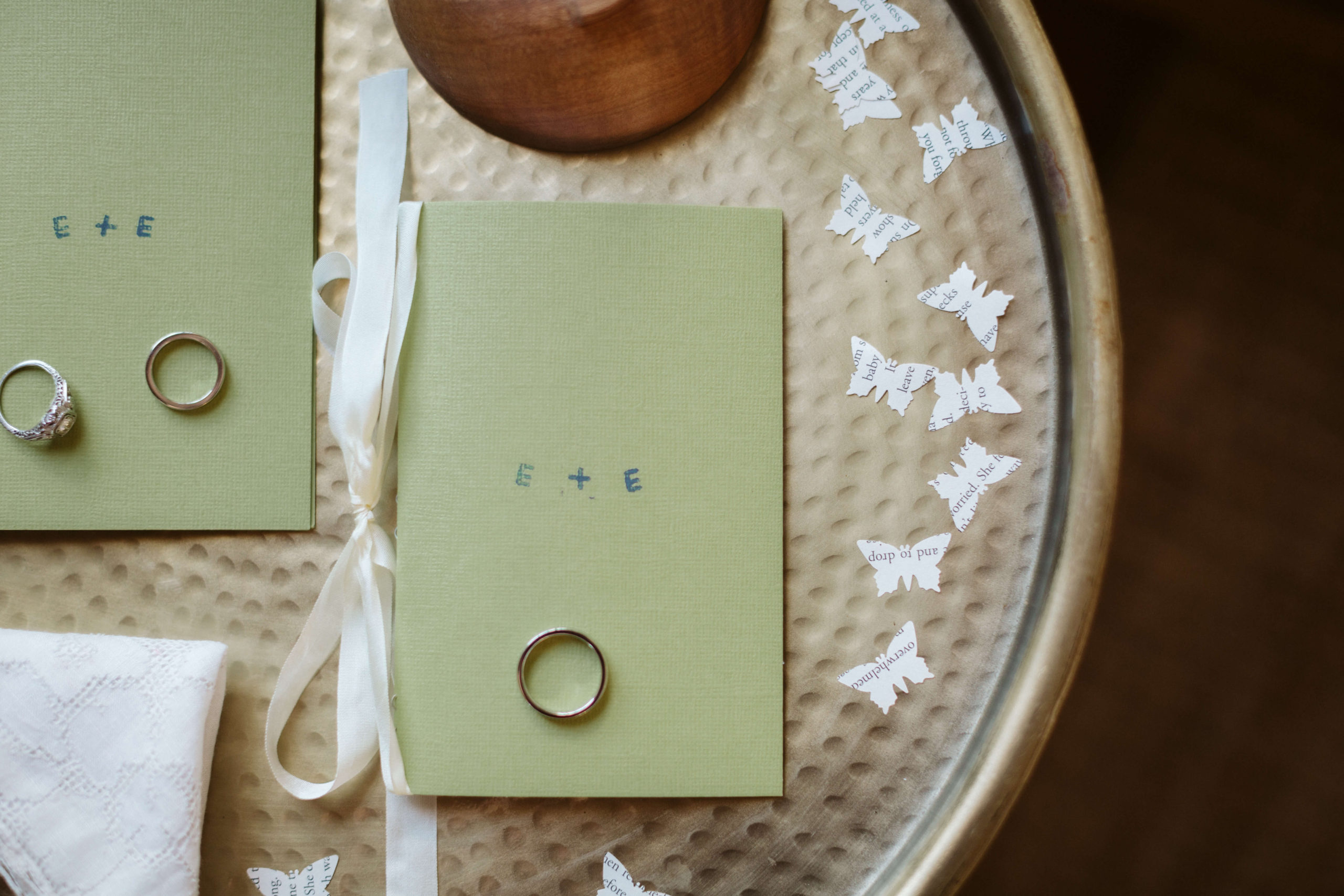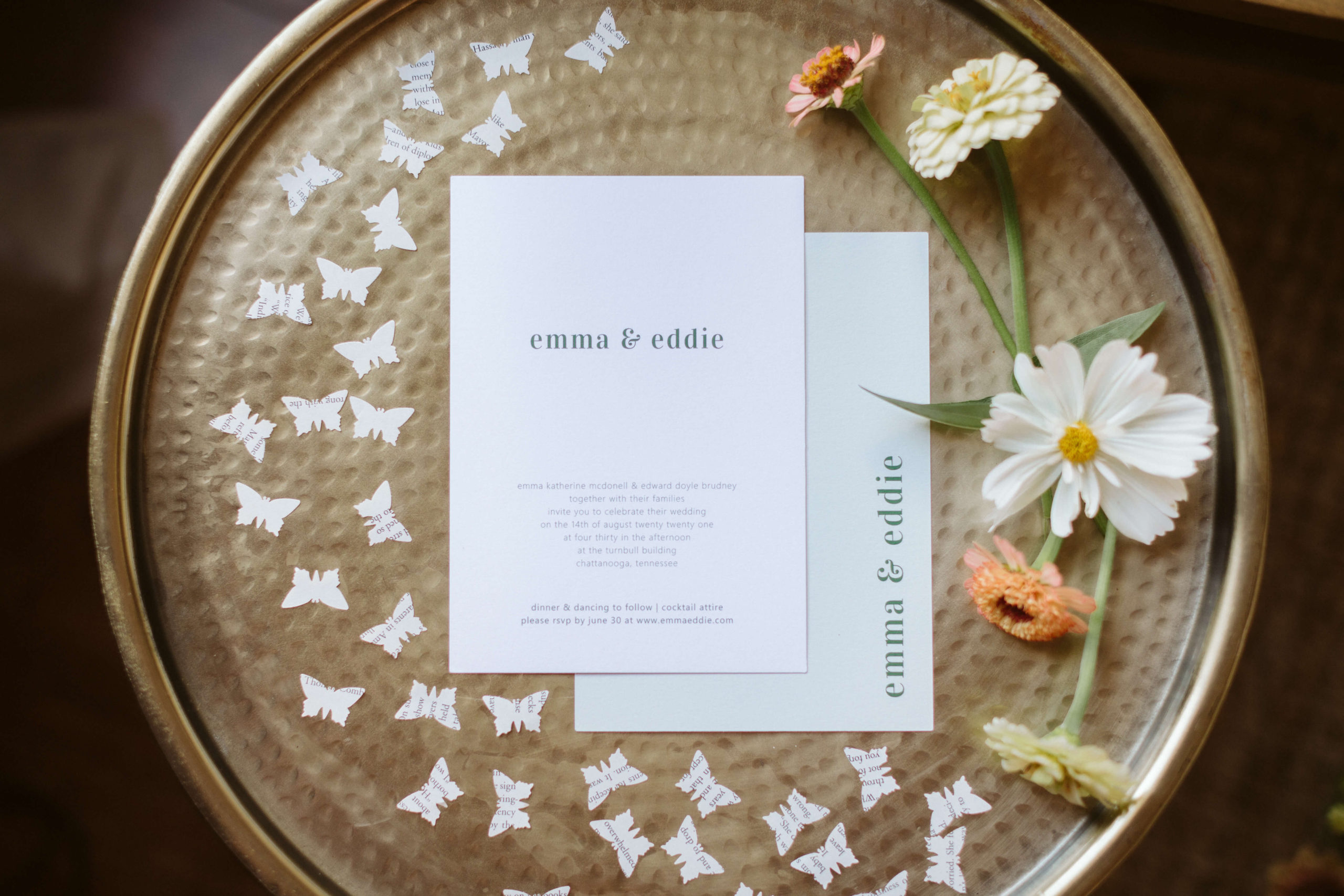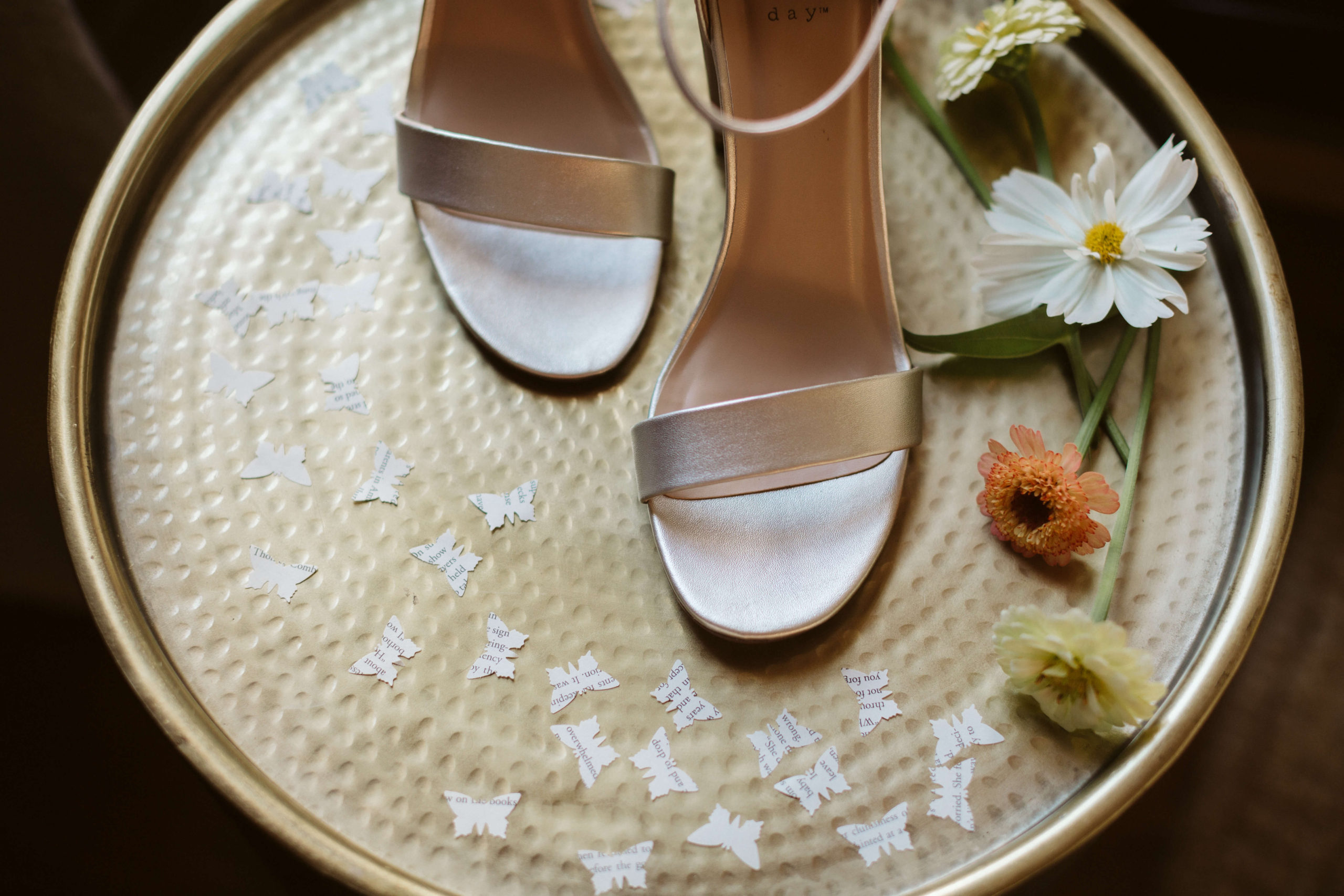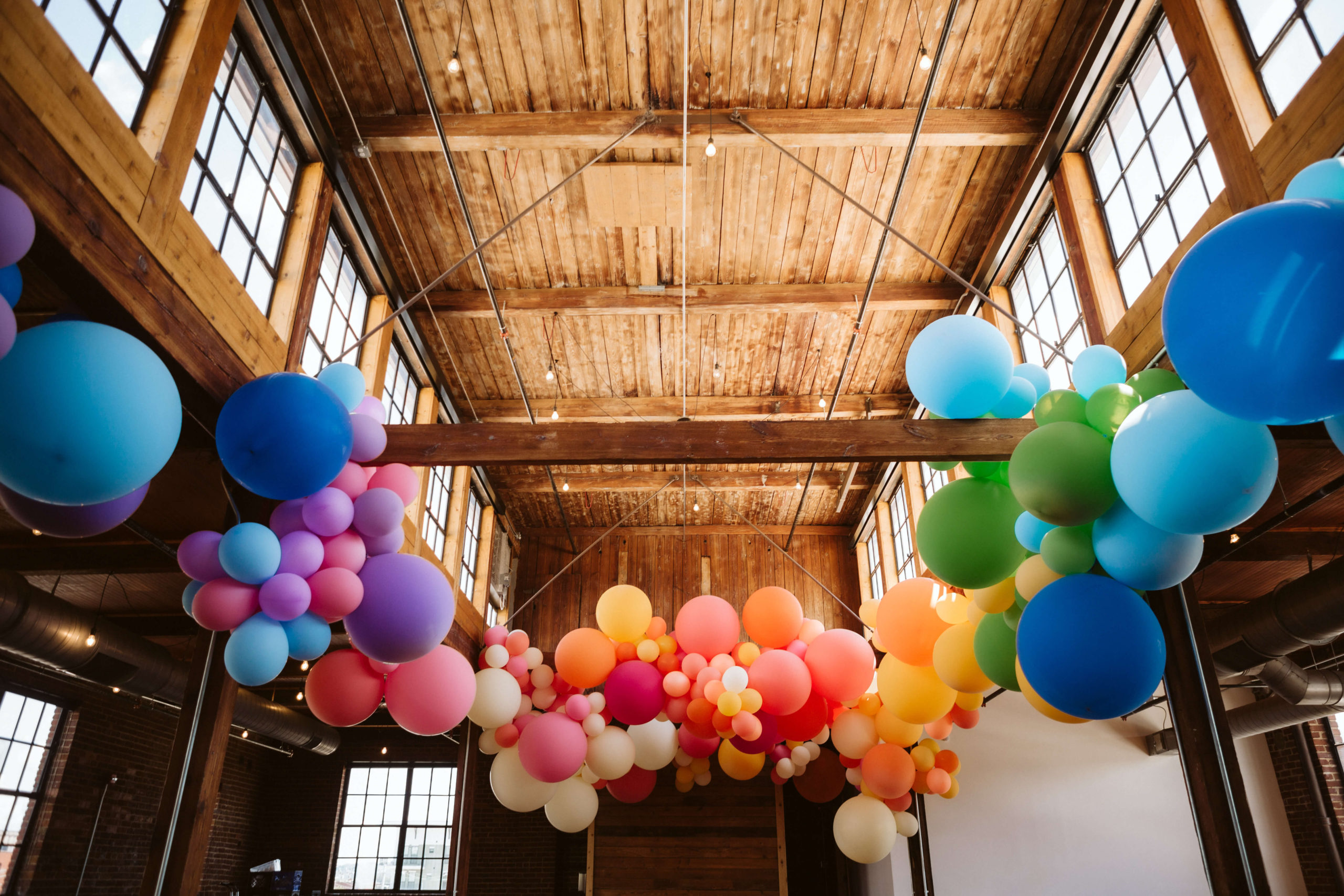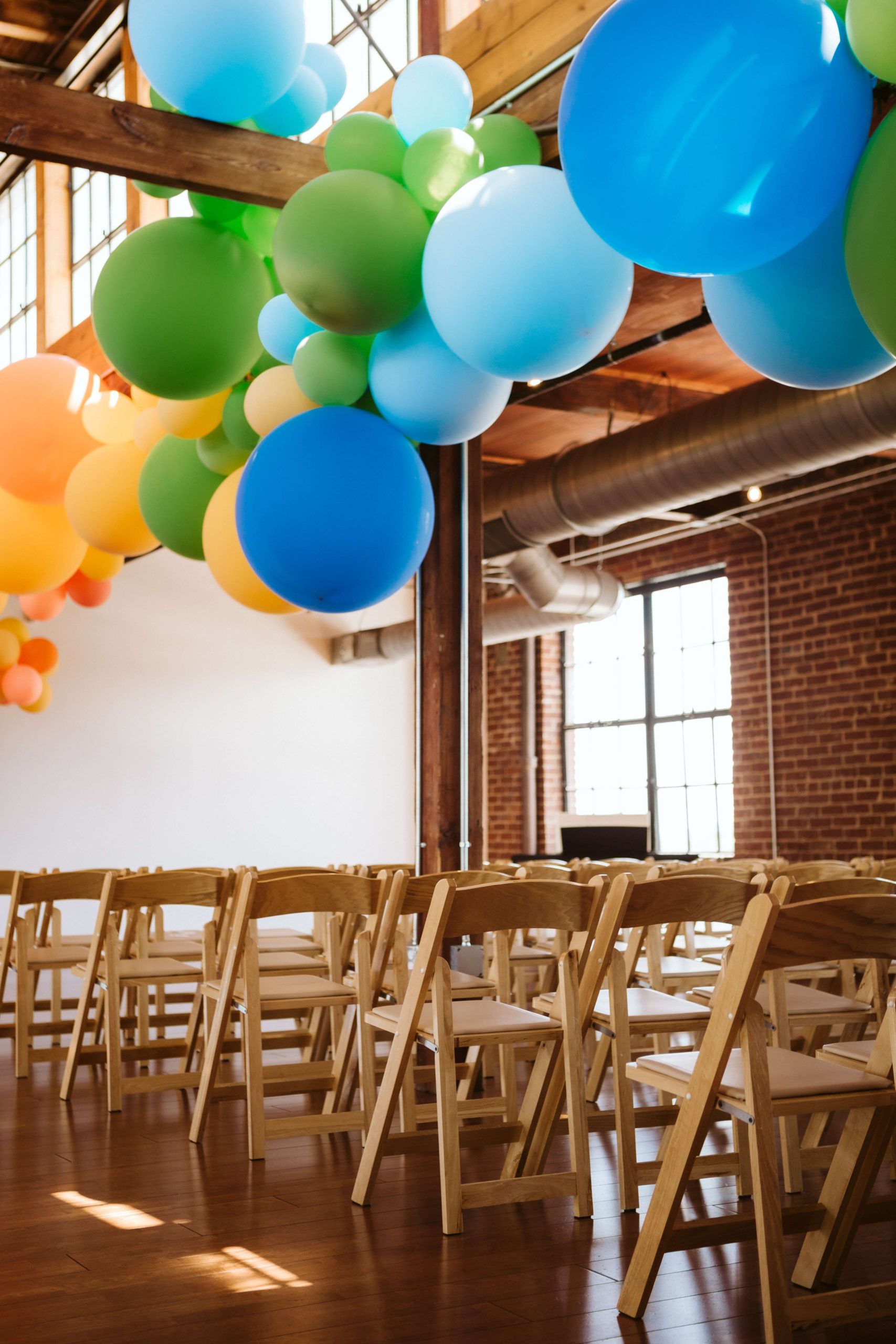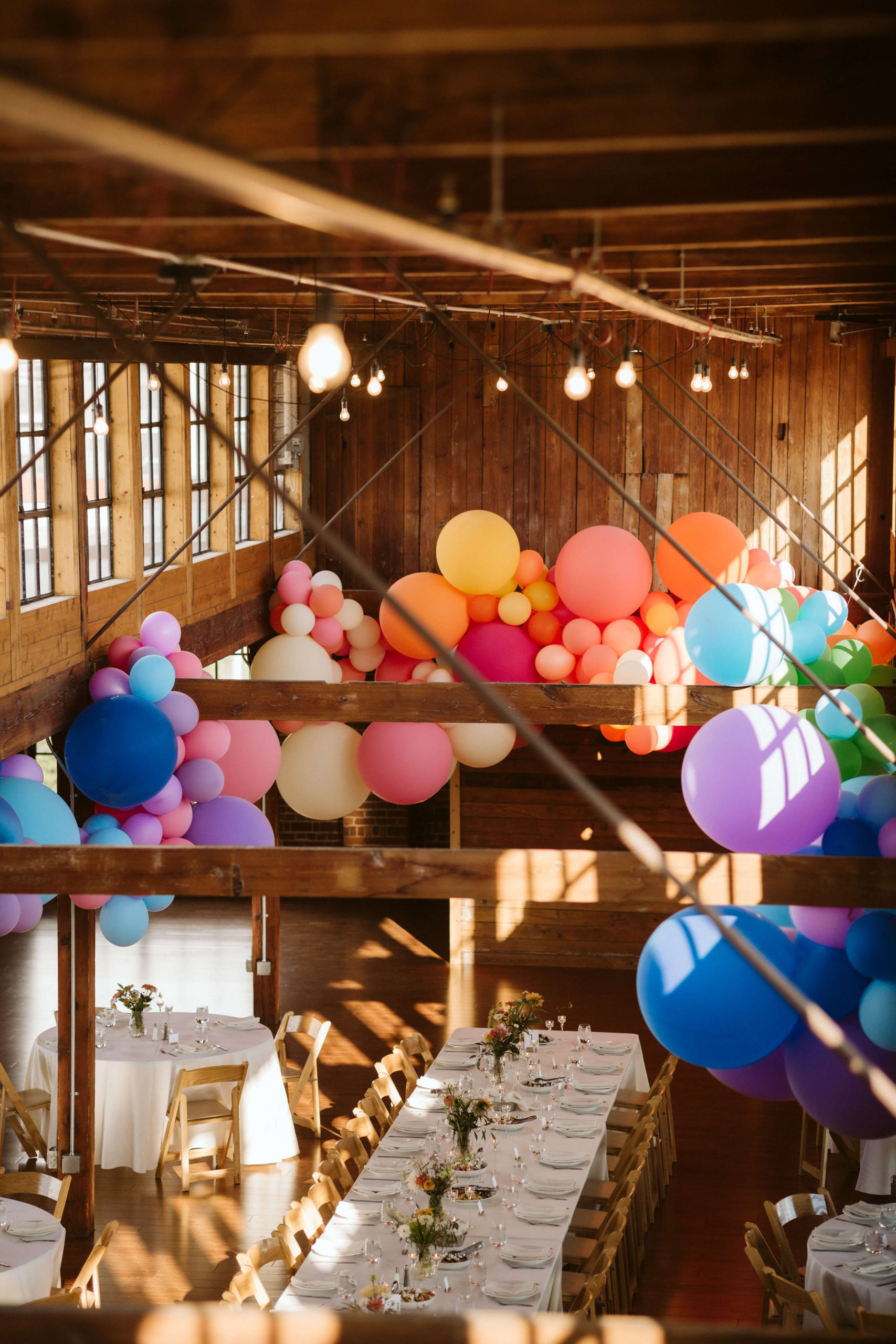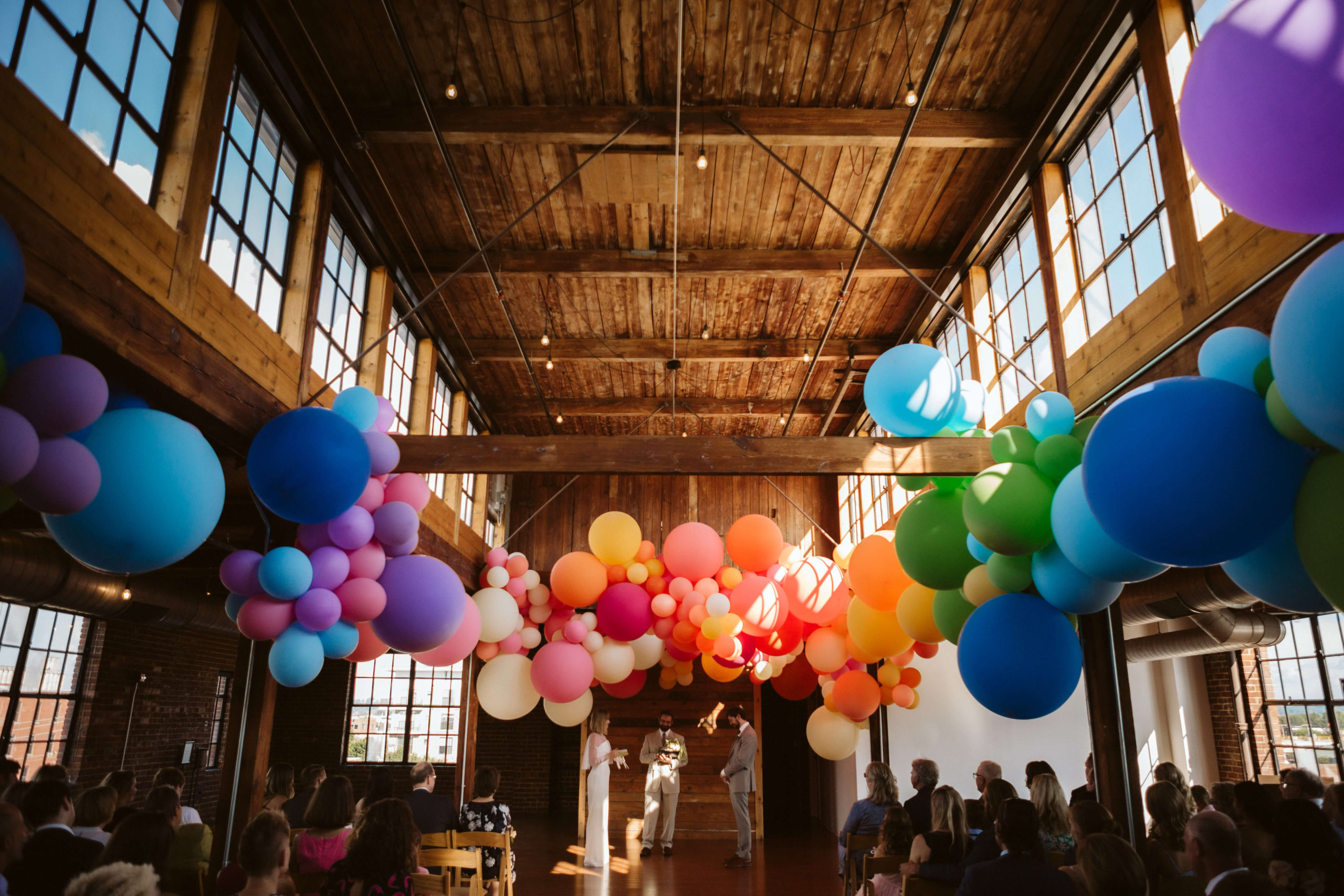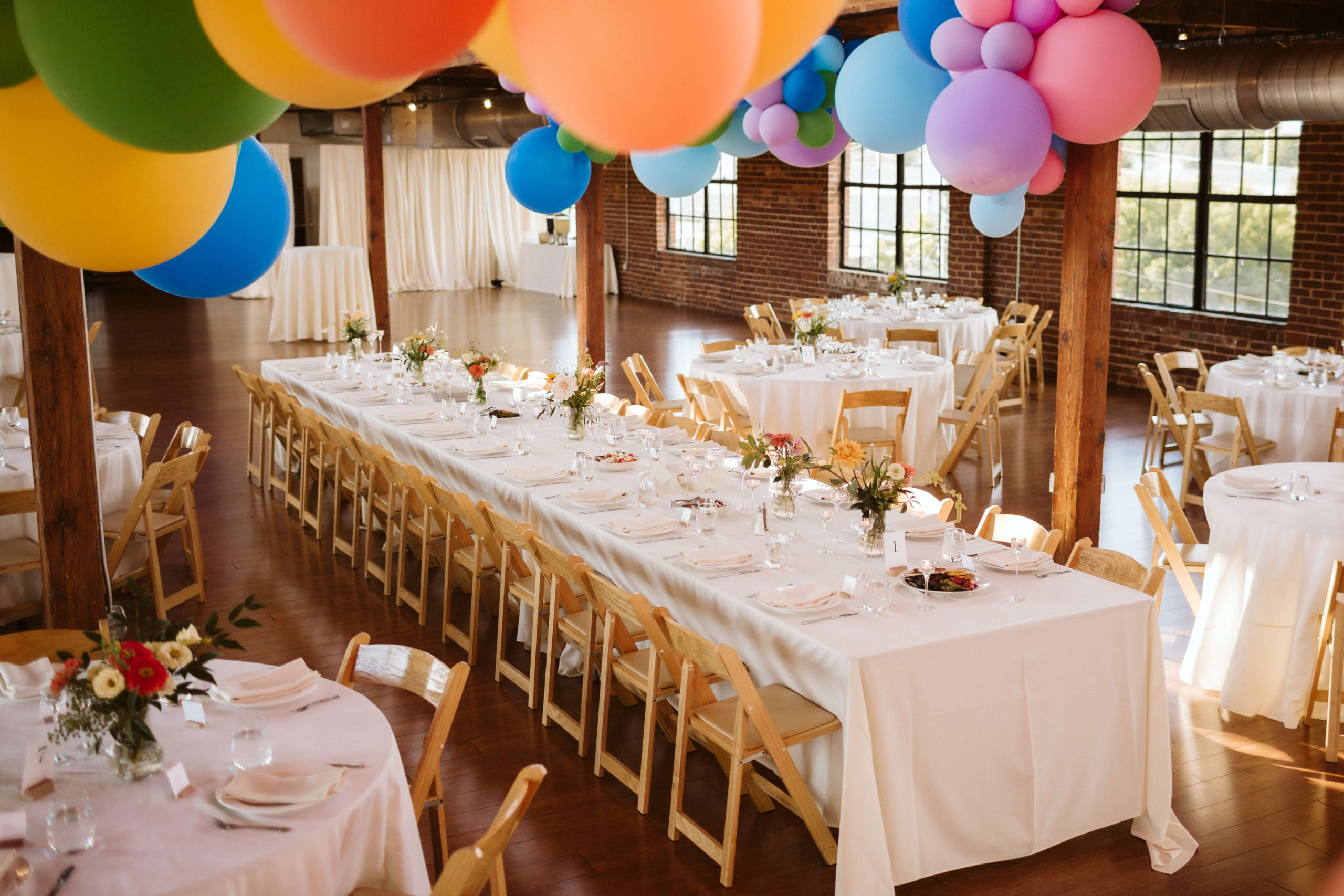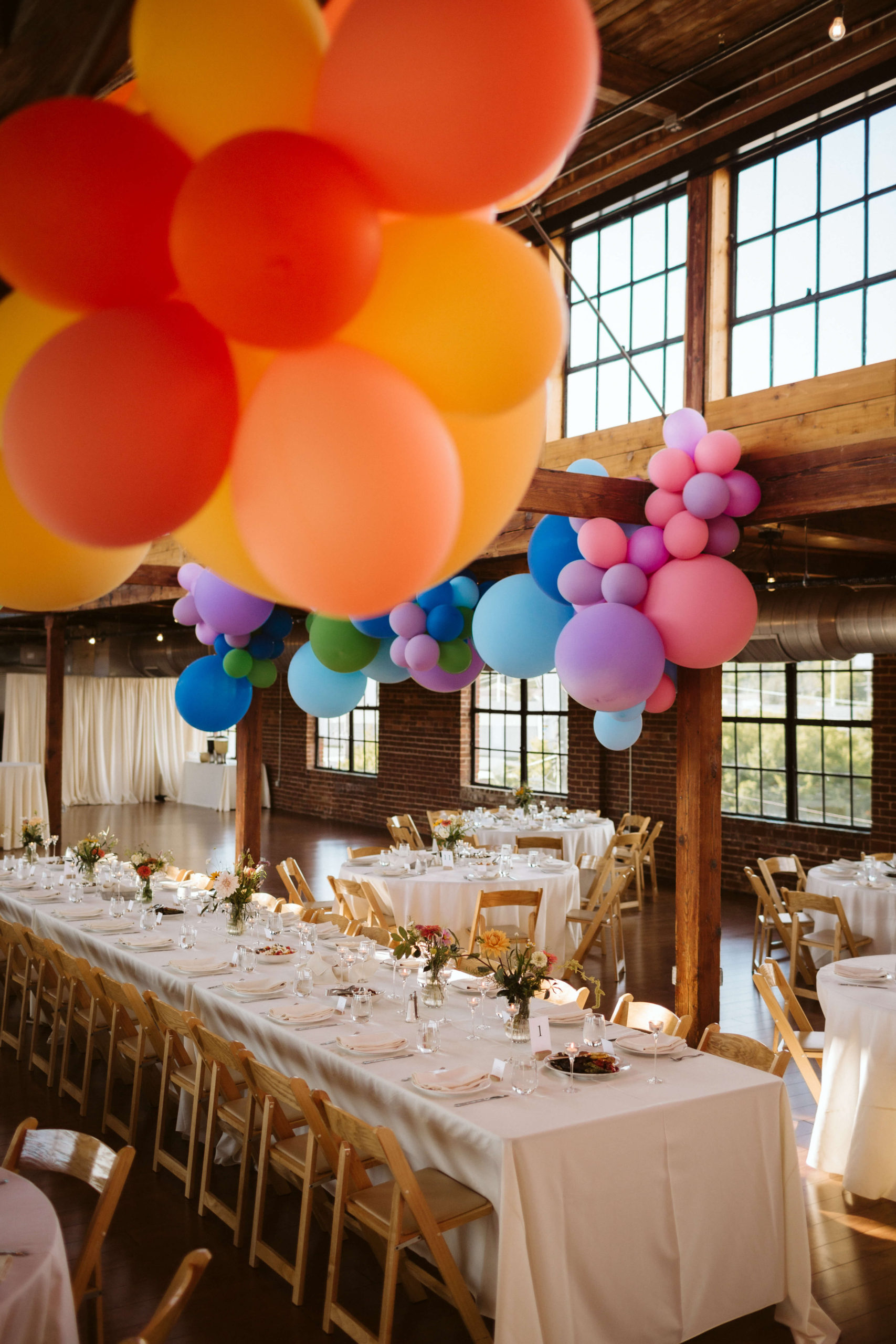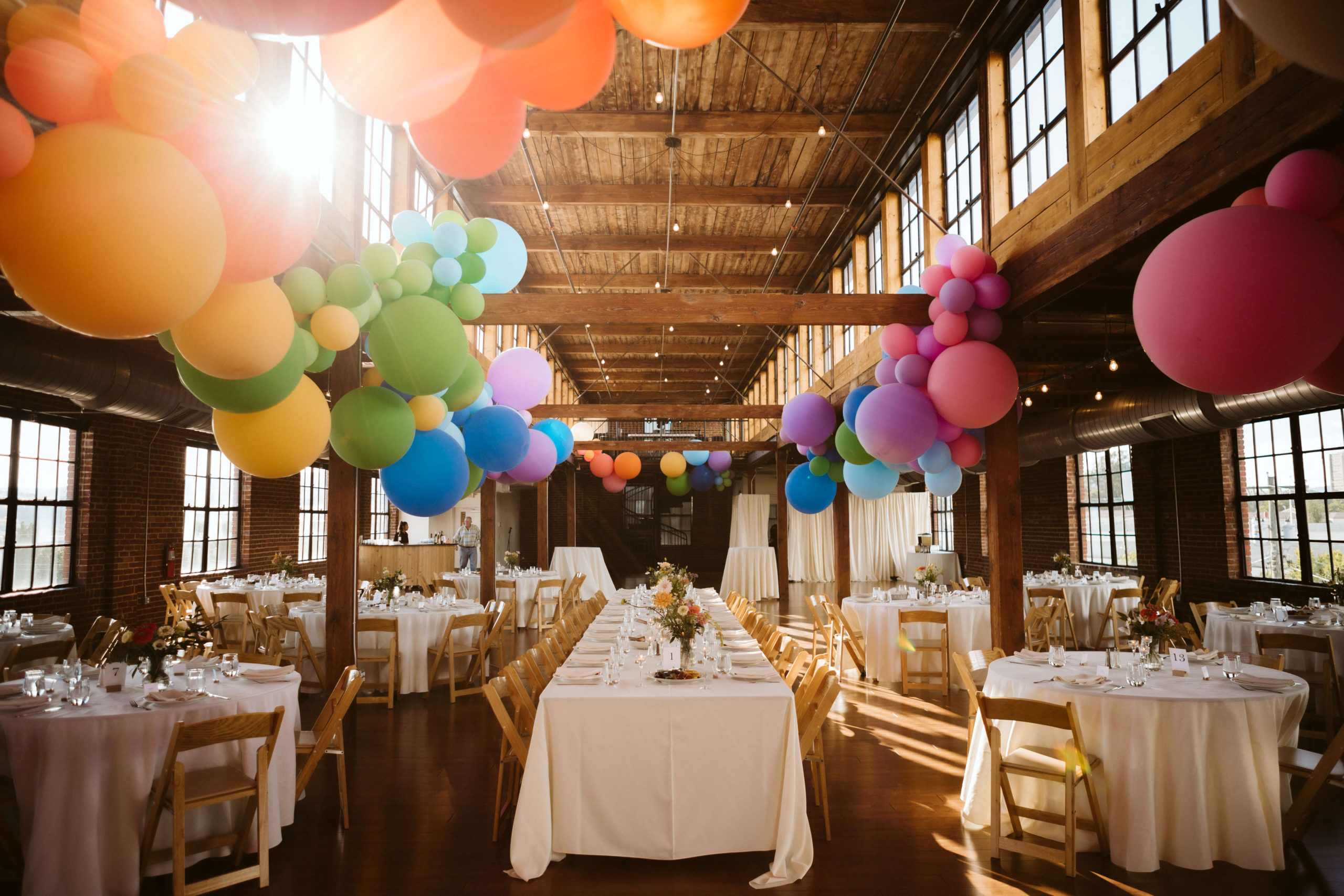 Hosting a Modern Wedding at the Turnbull
The Turnbull Building is located in the heart of downtown Chattanooga between the historic Southside and riverfront, and within the perfect walking distance from hotels, parking lots, and after-party locations. It's one of Chattanooga's buildings on the National Register of Historic Places as it was once the site of the Turnbull Cone and Machine Company. Currently, the venue consists of the third and fourth floors of a restored warehouse loft. With tons of natural light pouring in from huge windows, brand new hardwood floors, exposed brick, and restored original wood beams, it's the perfect venue for a couple looking to host their wedding in a modern location with the vibrant energy of the city around them.
Couples have the option to choose from one or both of the floors of the Turnbull Building for their event – the third floor being close and intimate for smaller parties and the fourth floor being aptly nicknamed the "party floor" to accommodate larger guest lists. For their wedding, Emma and Eddie chose to rent both floors of the Turnbull. This helped to limit the amount of travel their guests had to do once they arrived in Chattanooga. They were able to host their entire wedding from beginning to end right there within the building.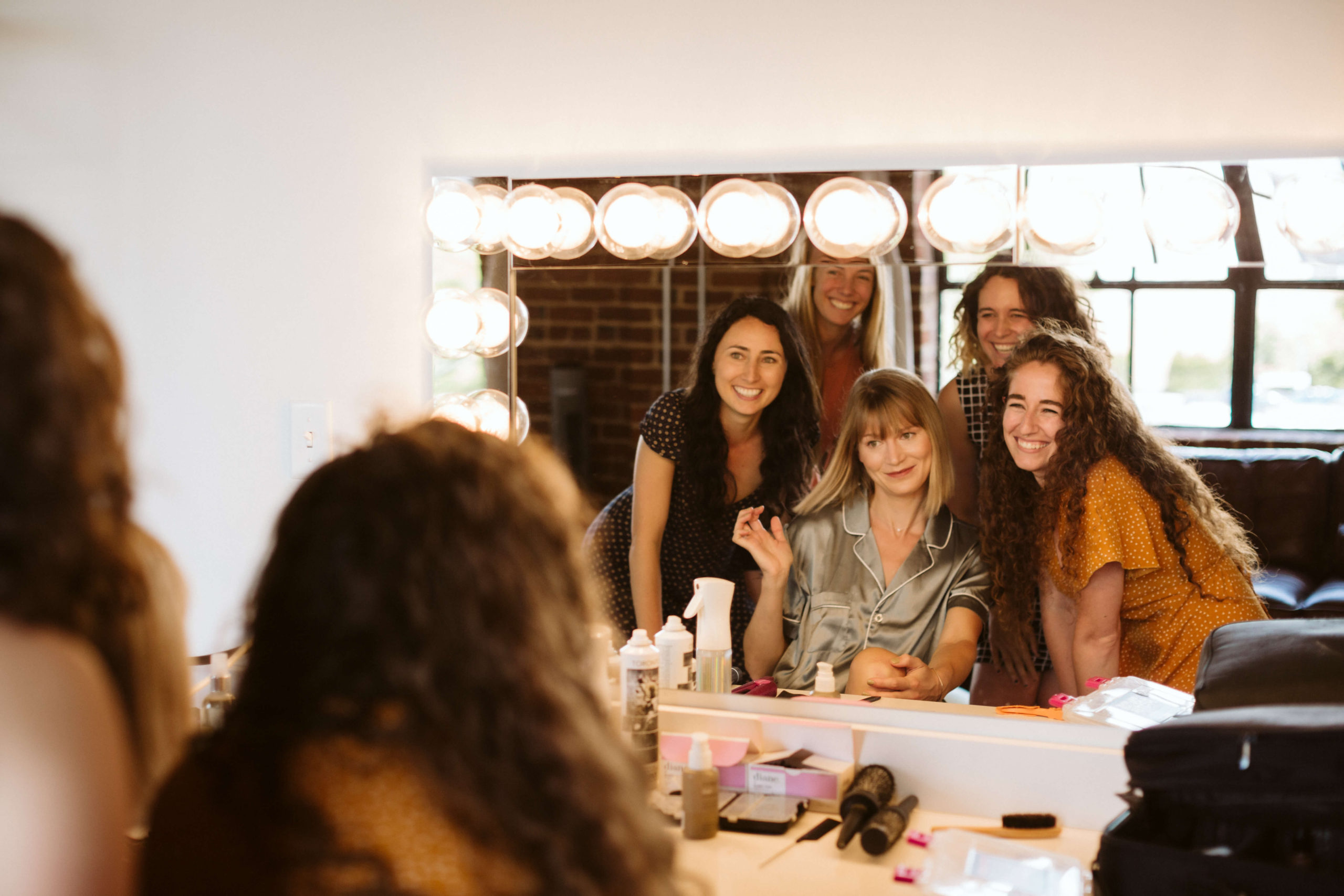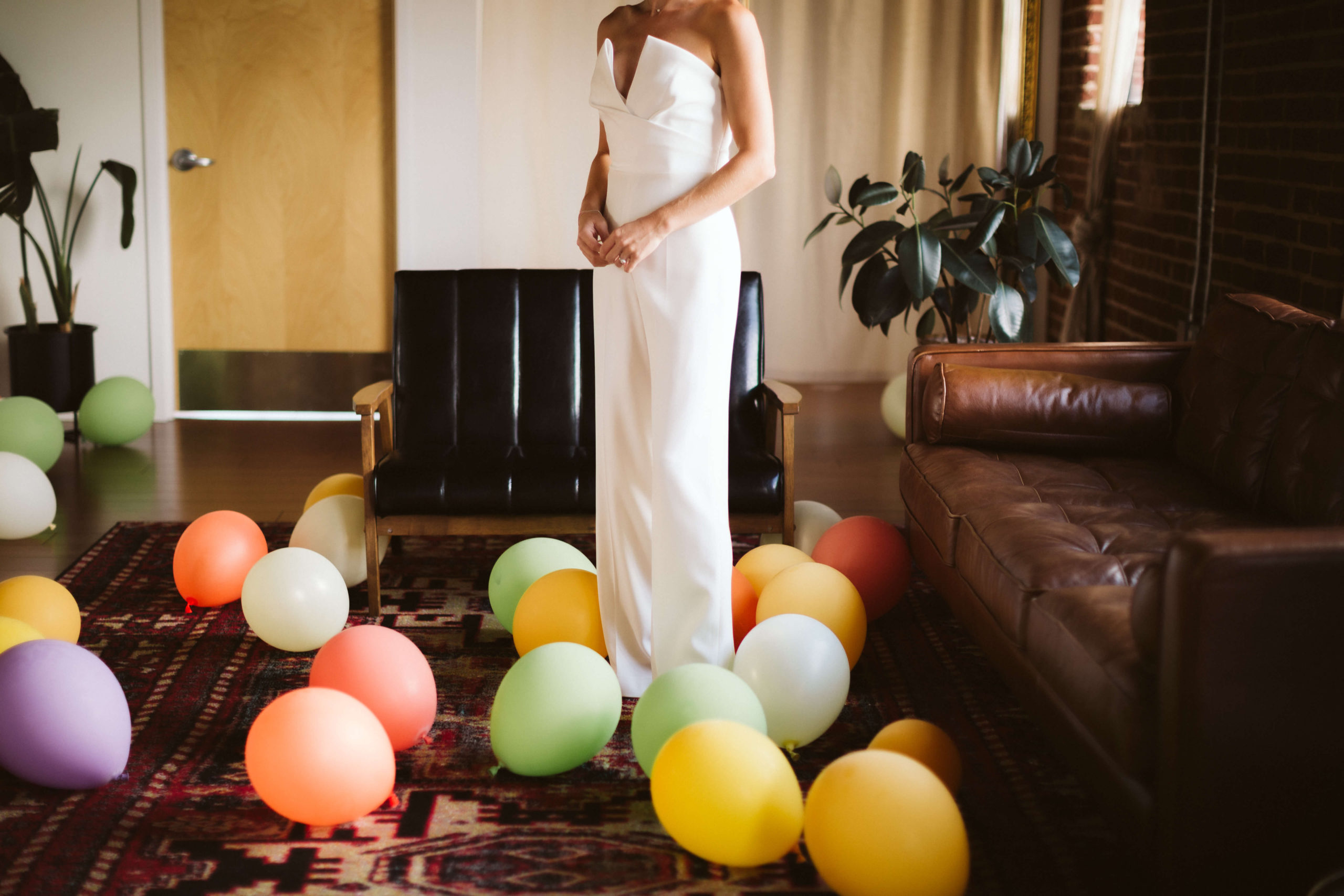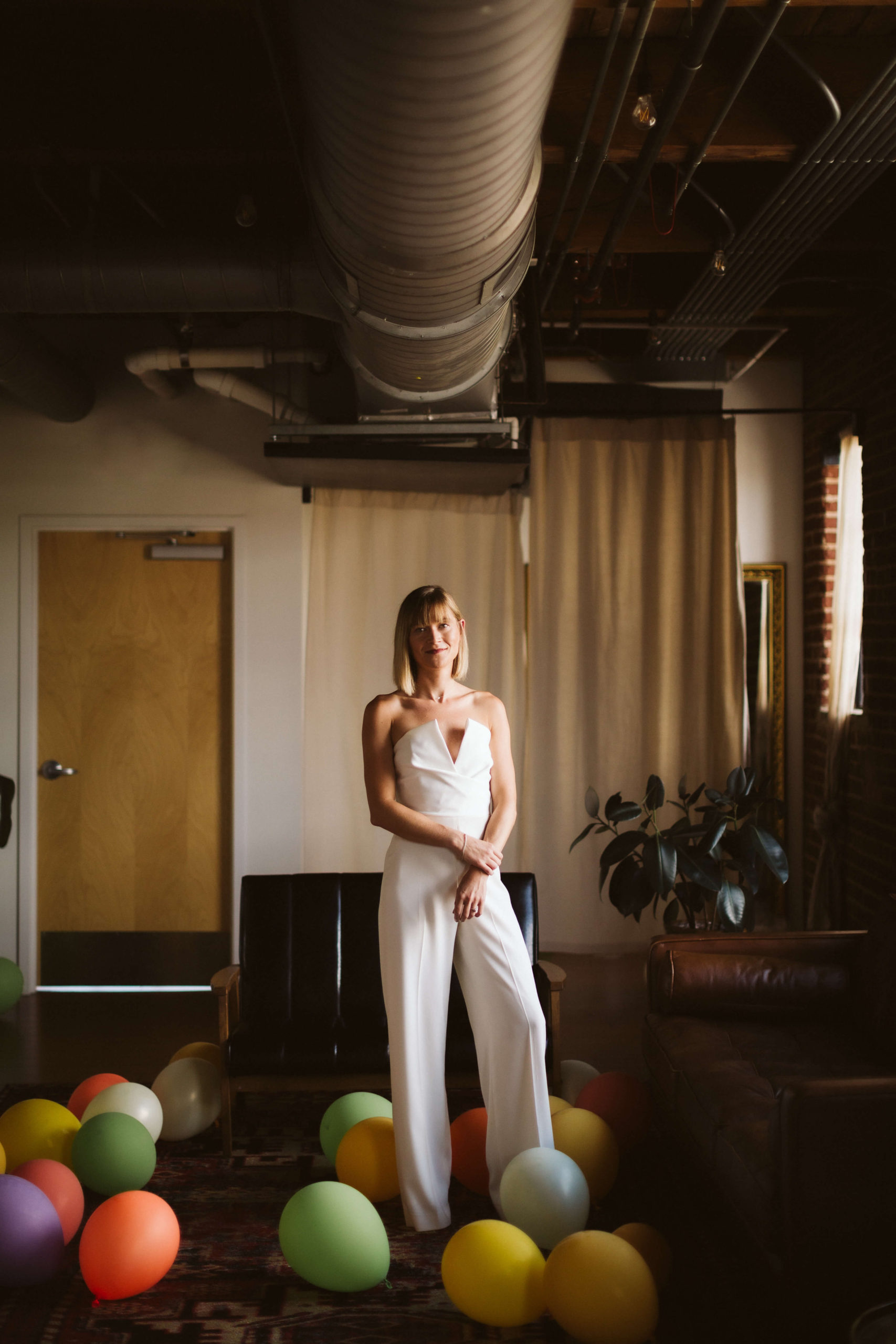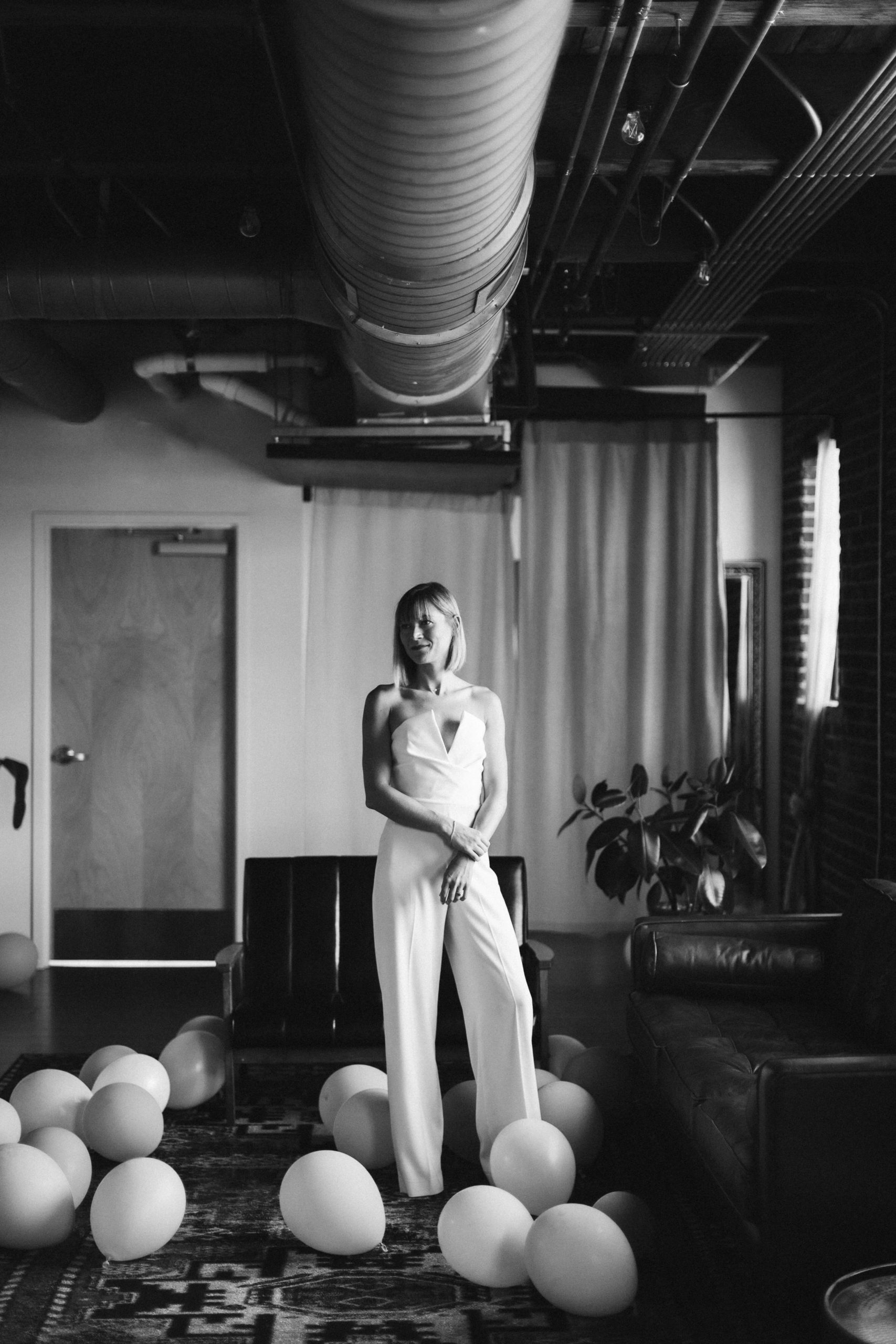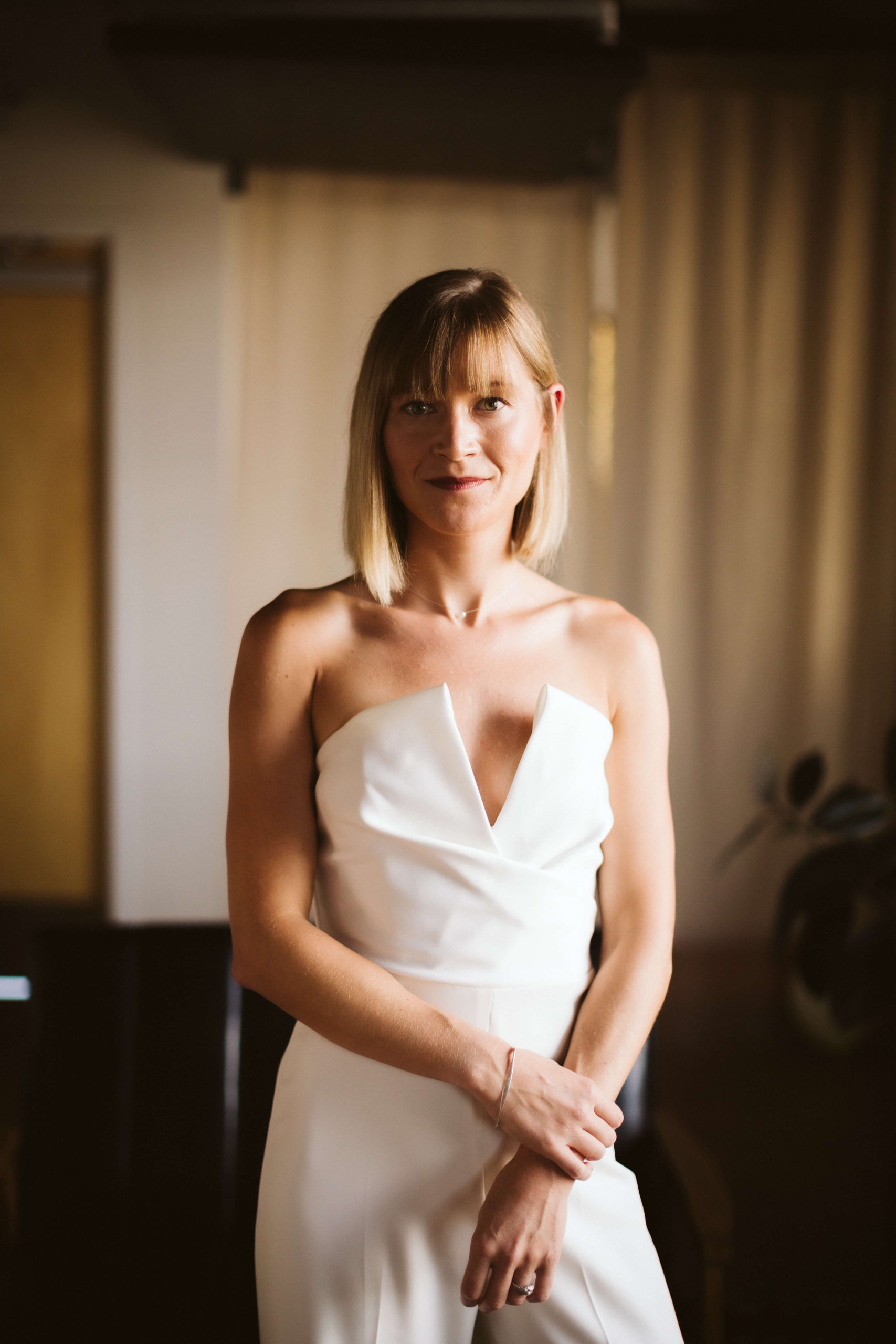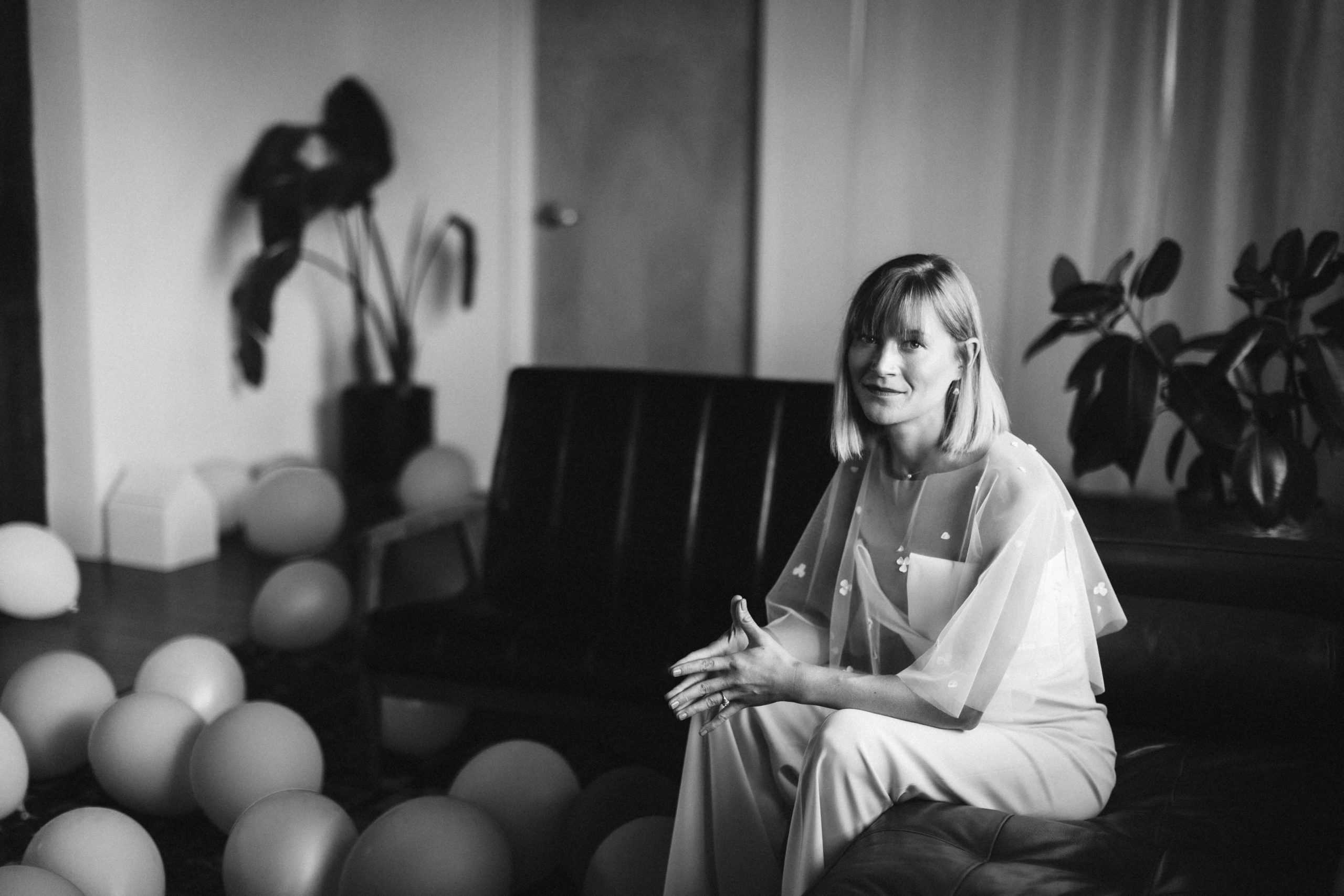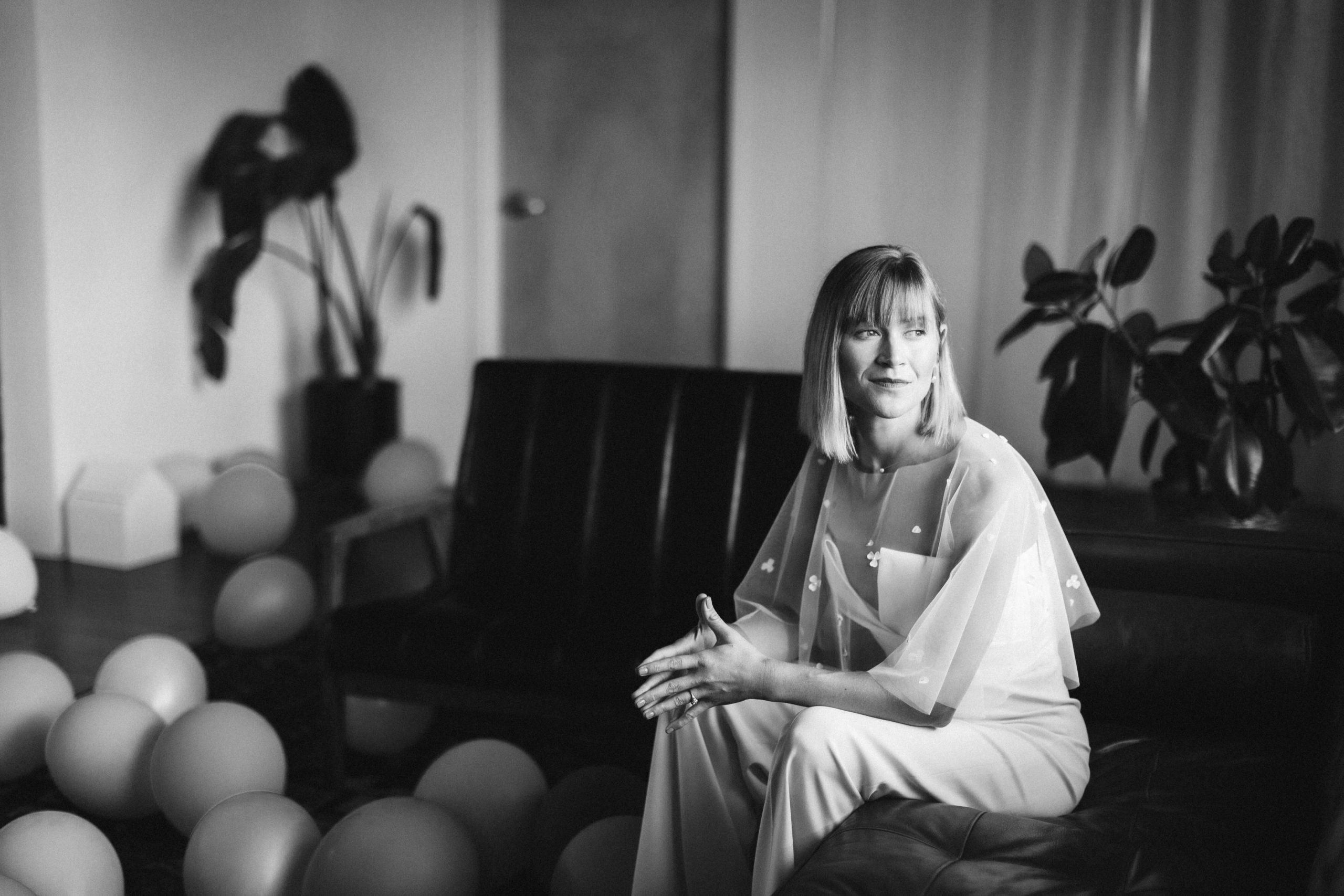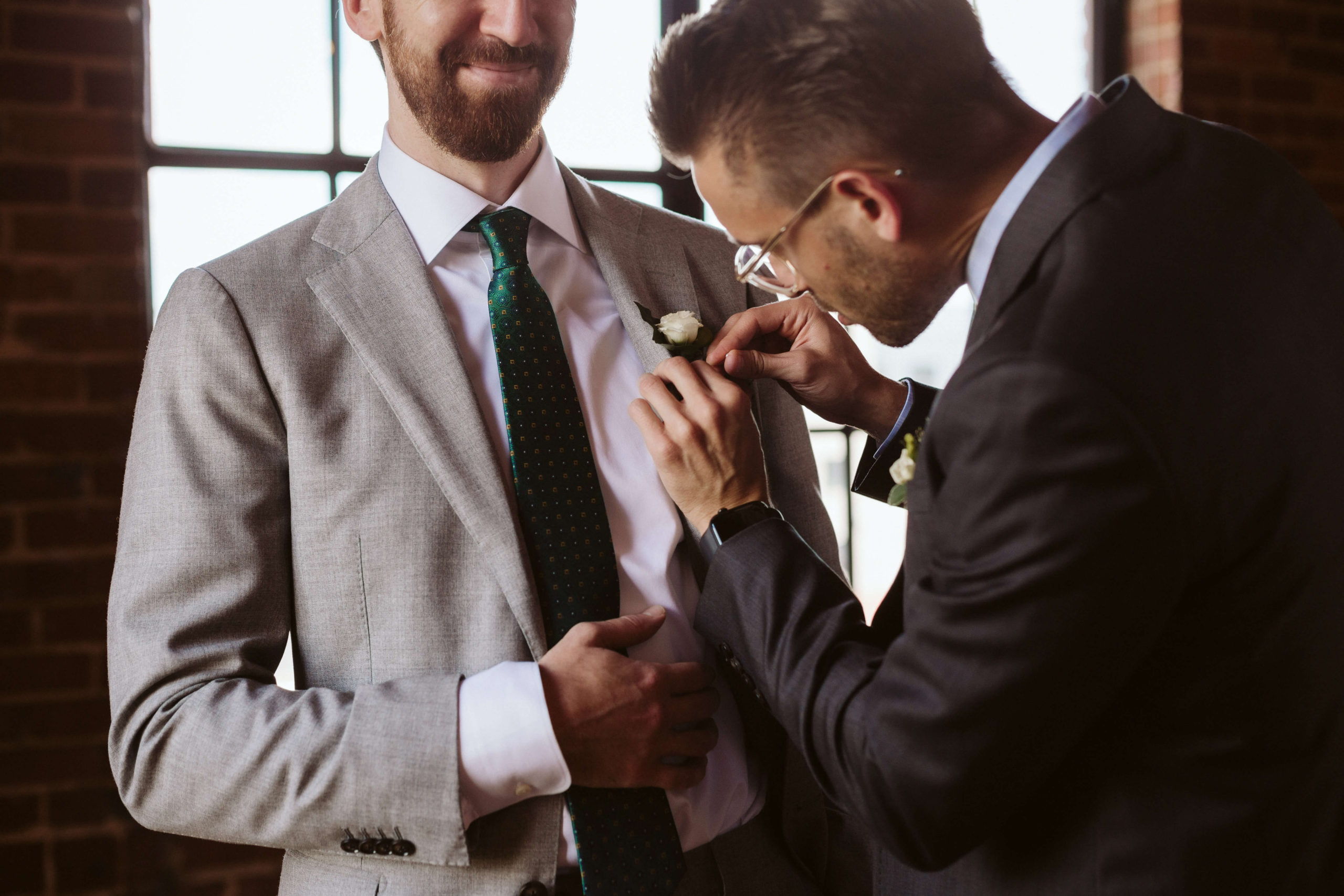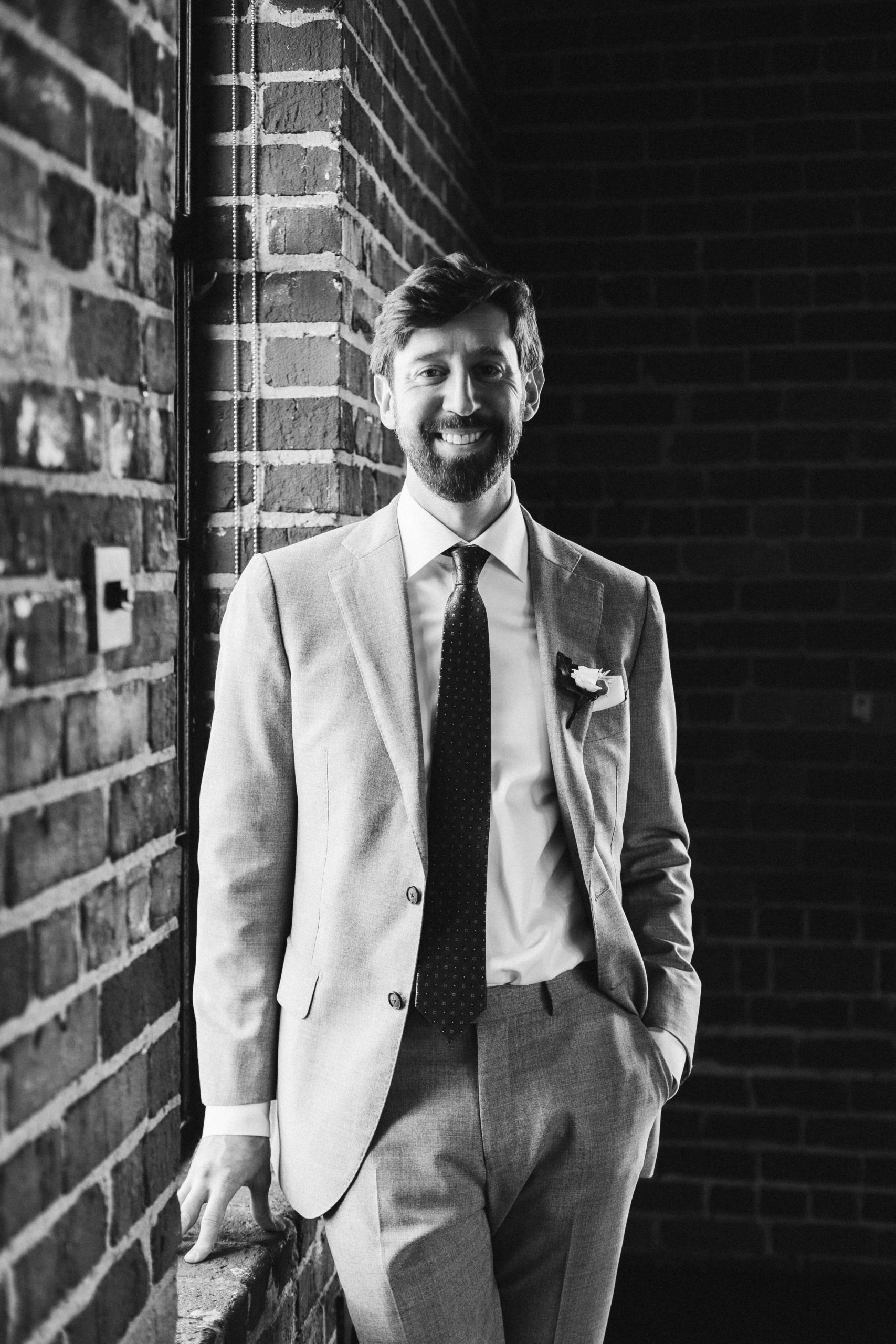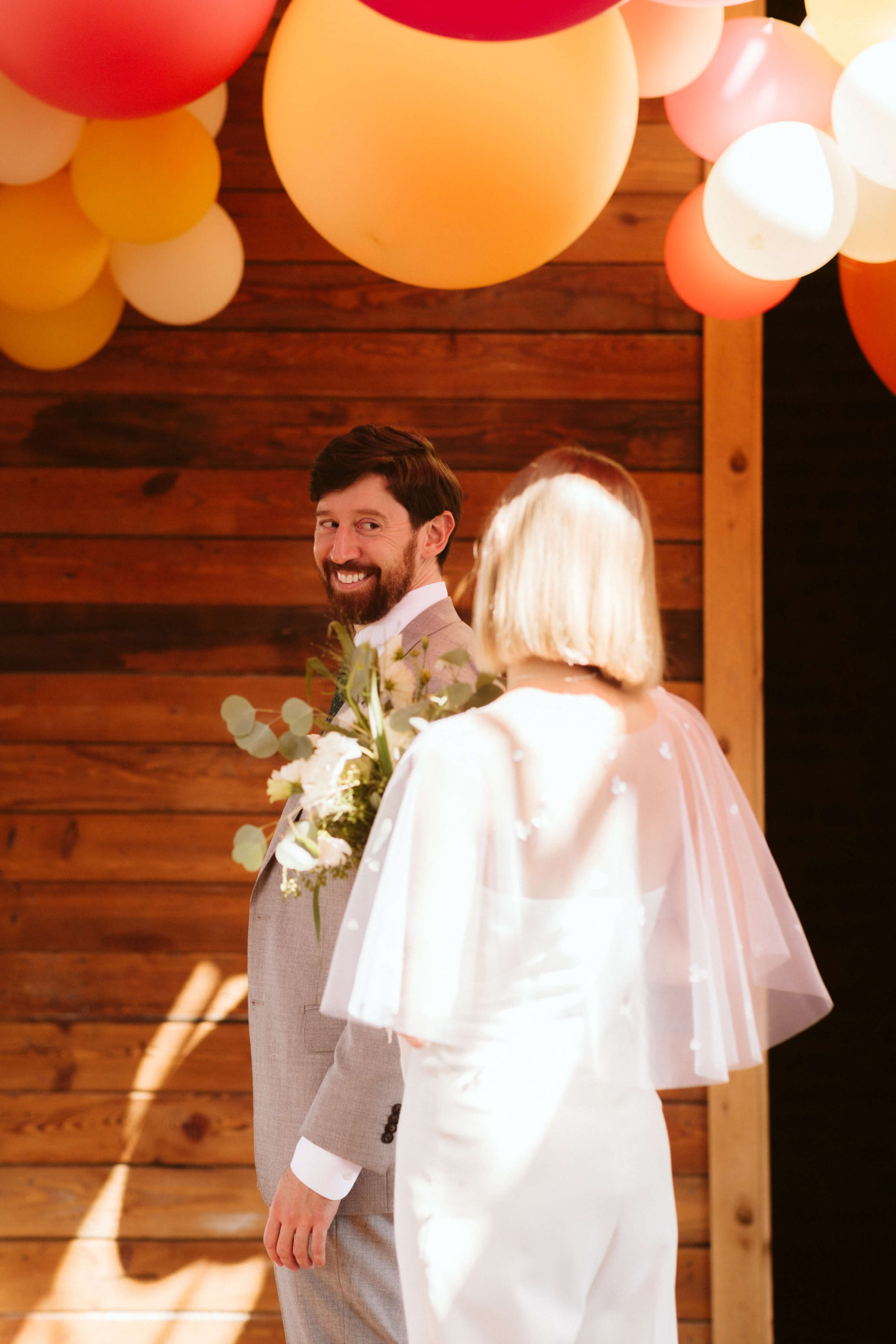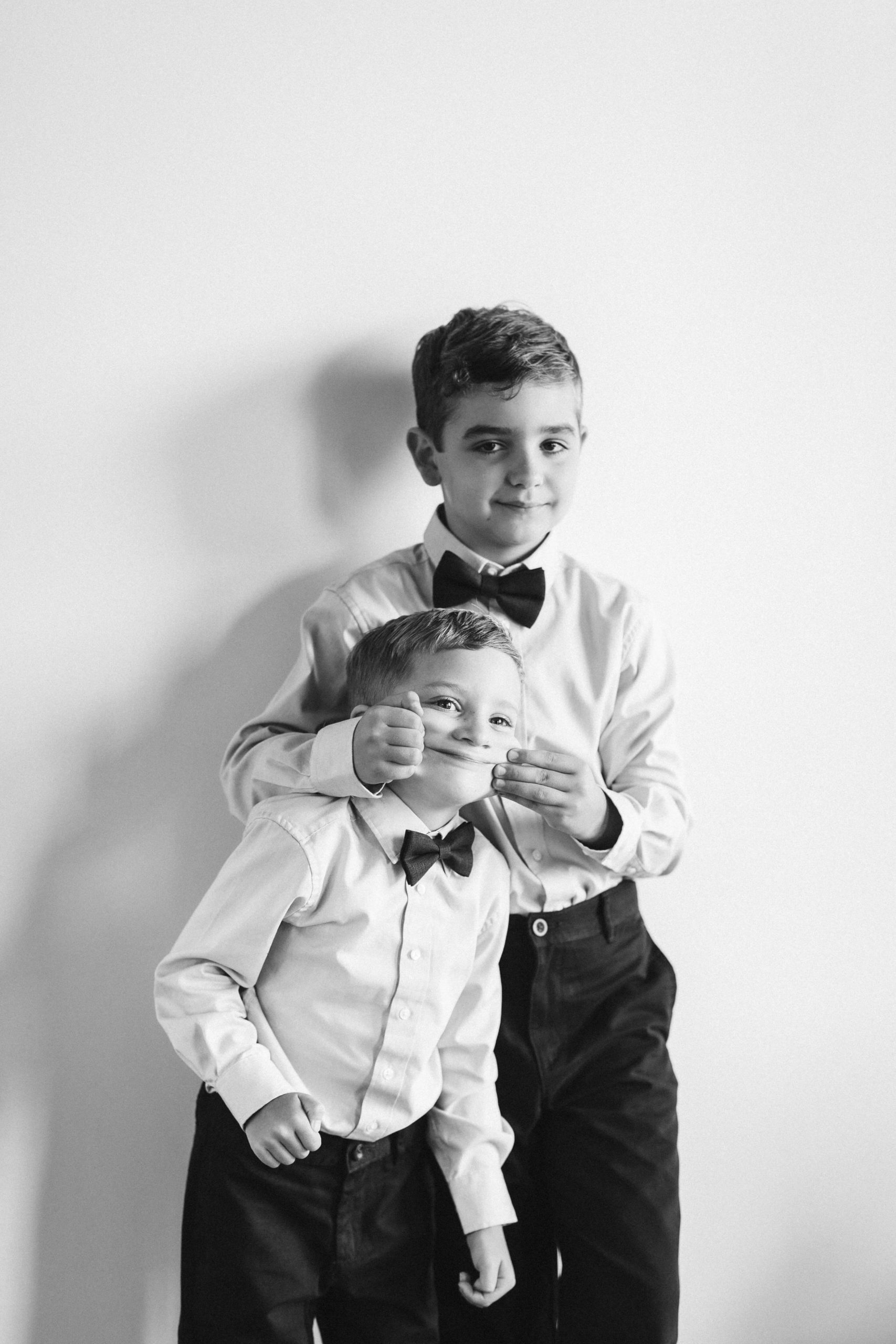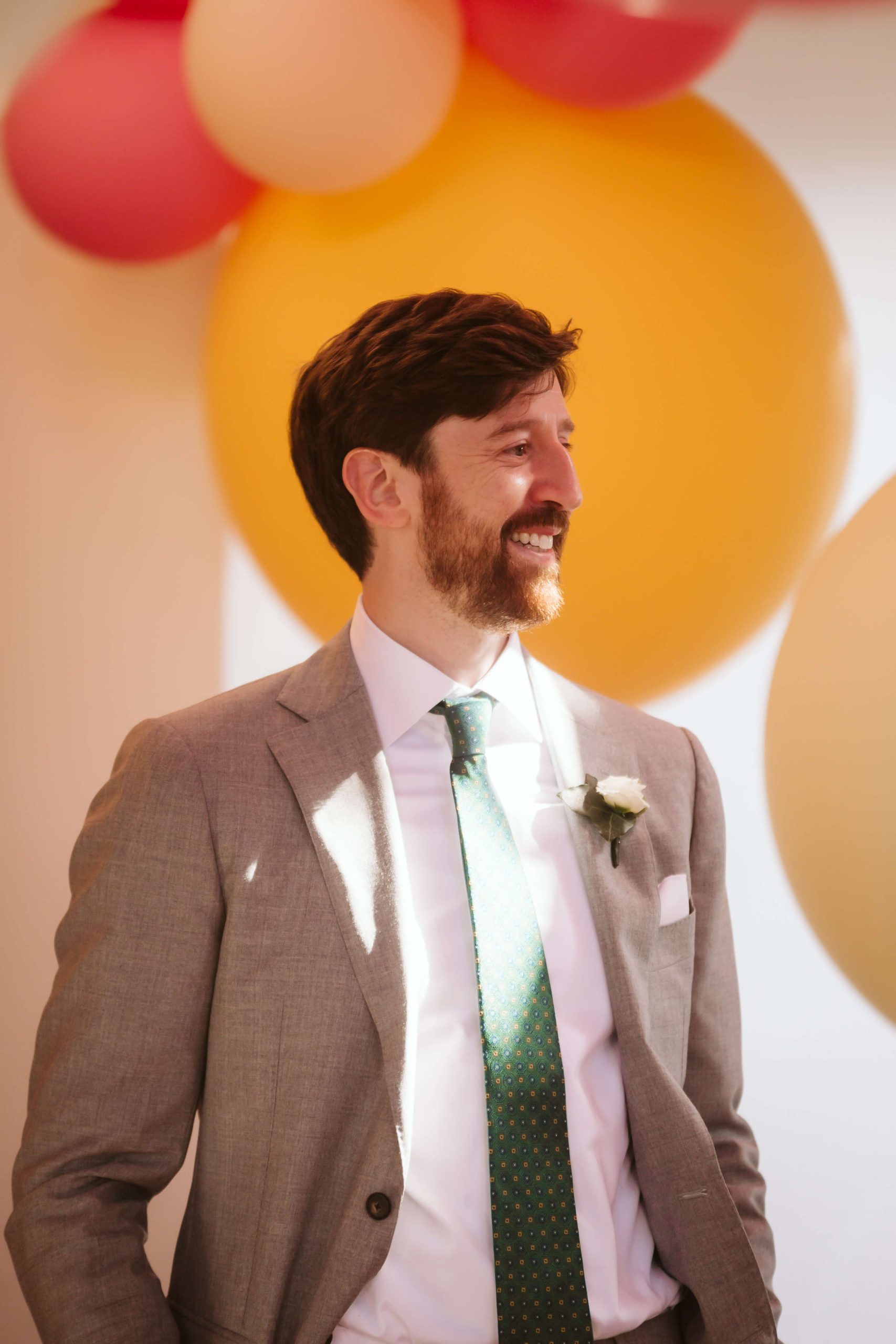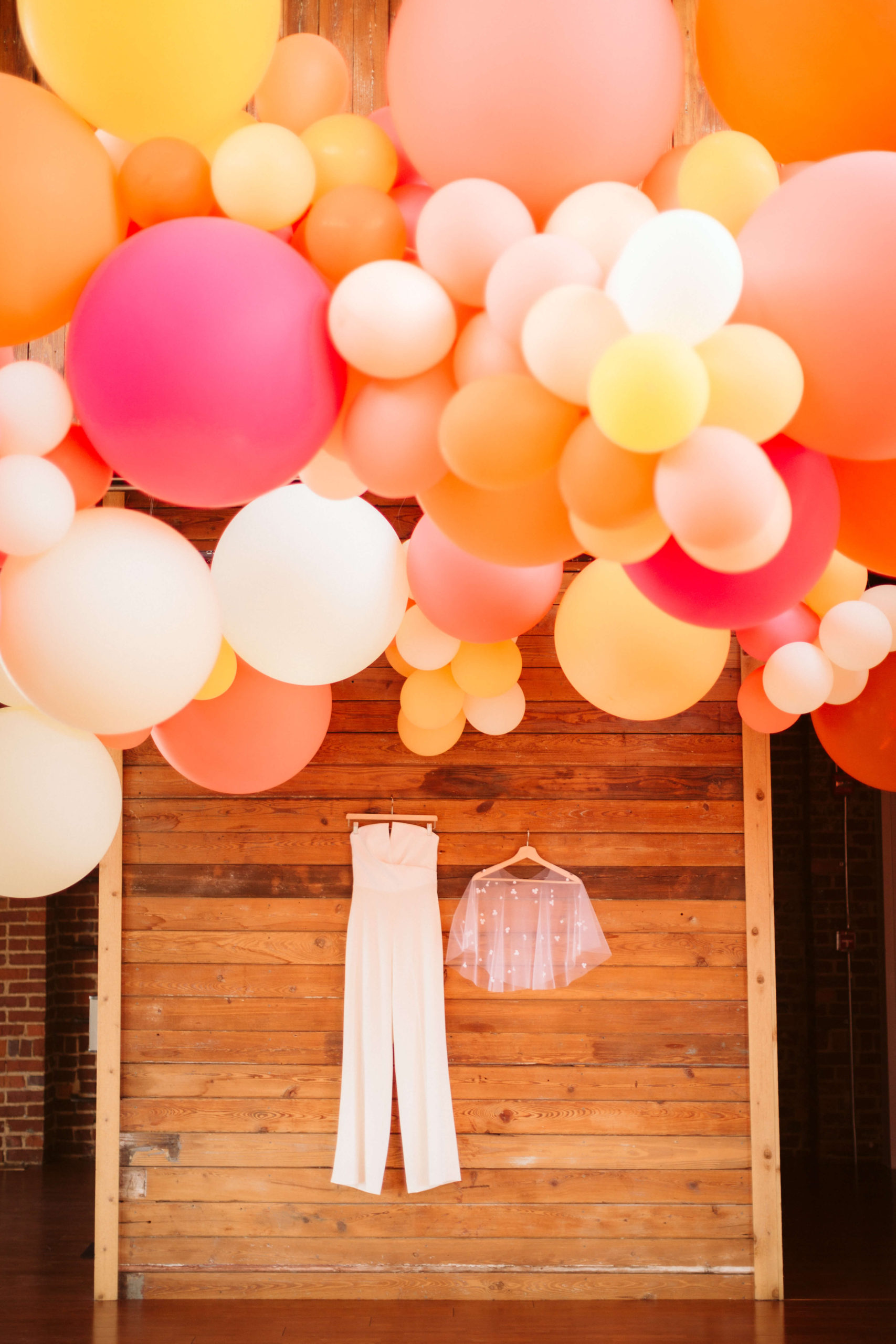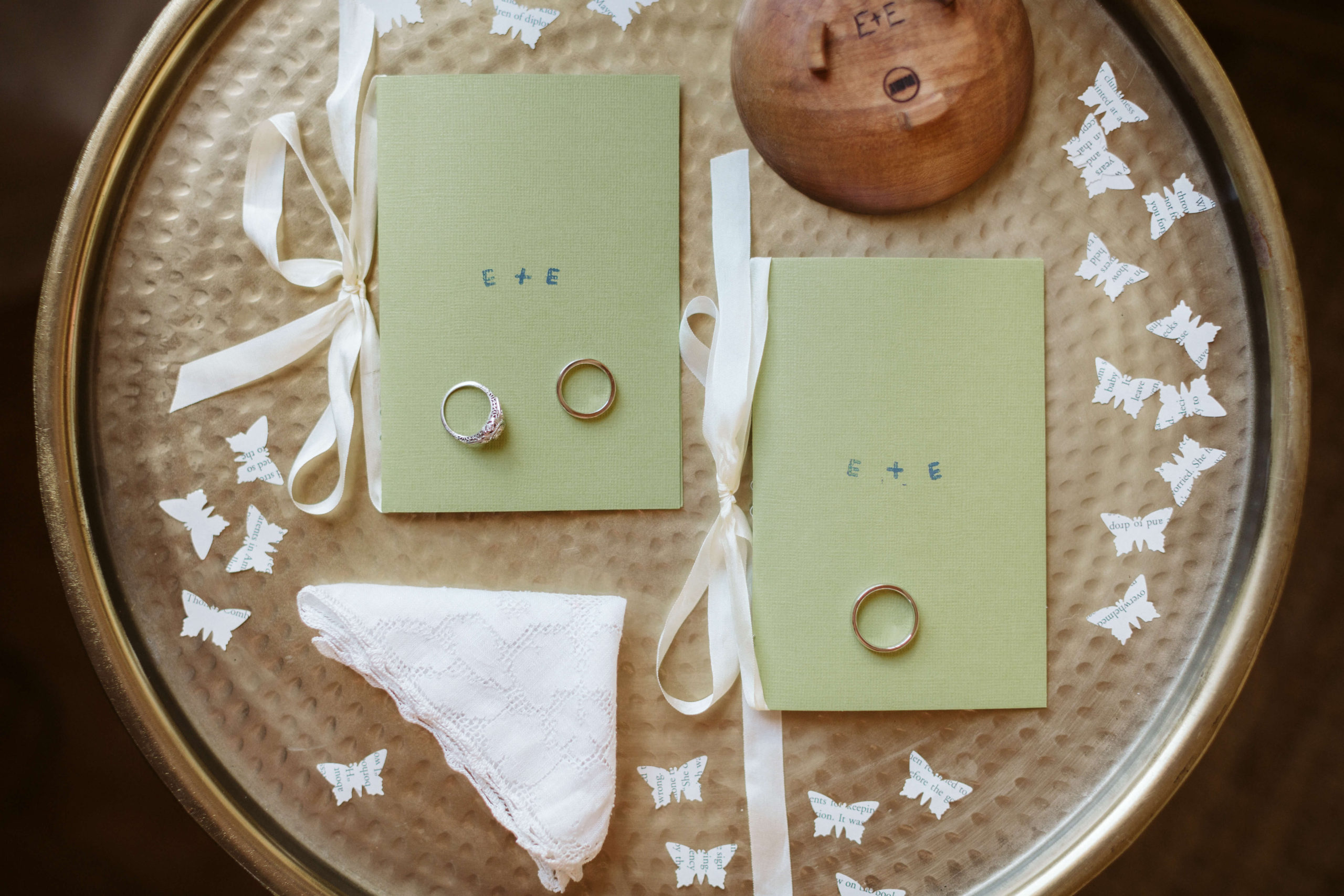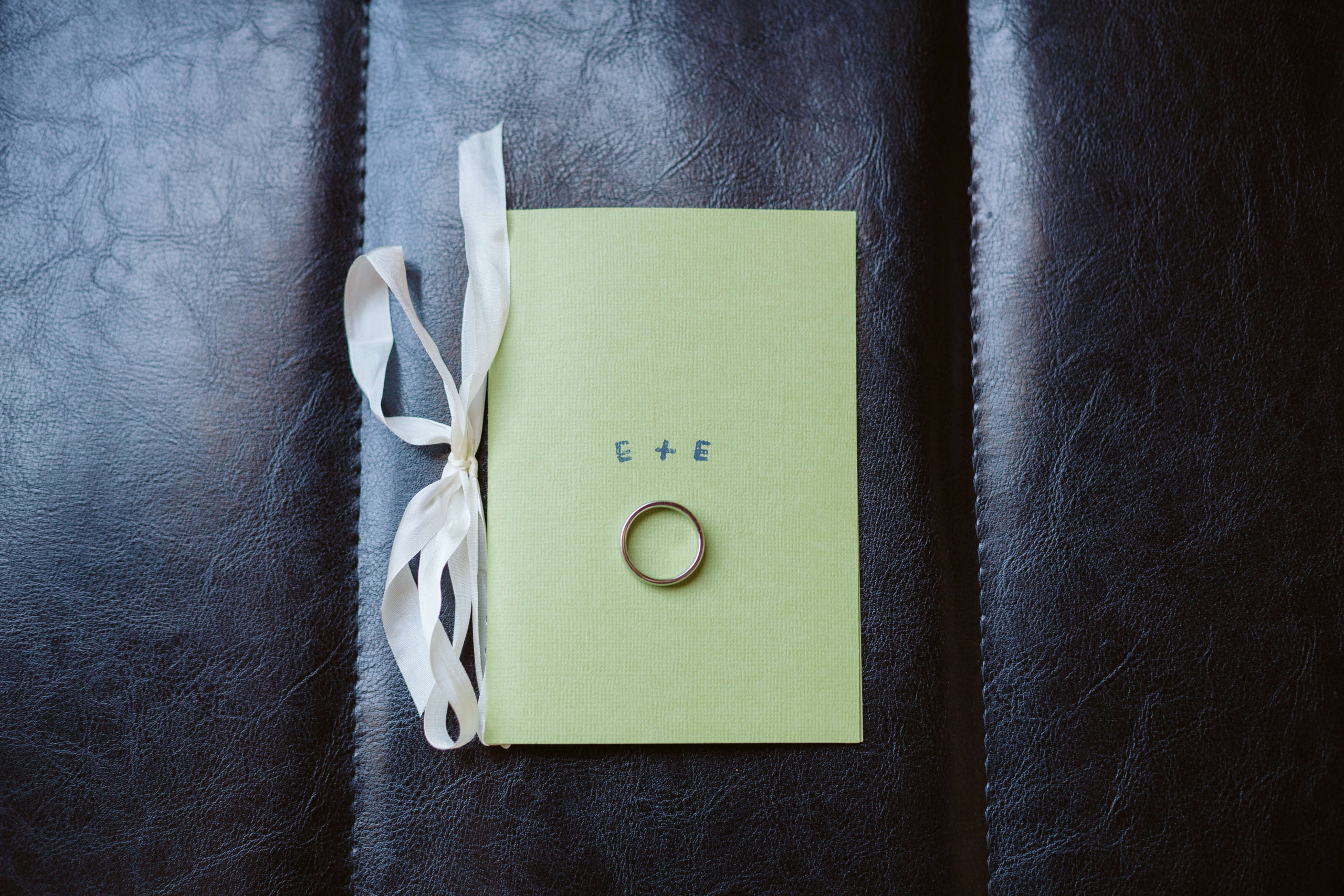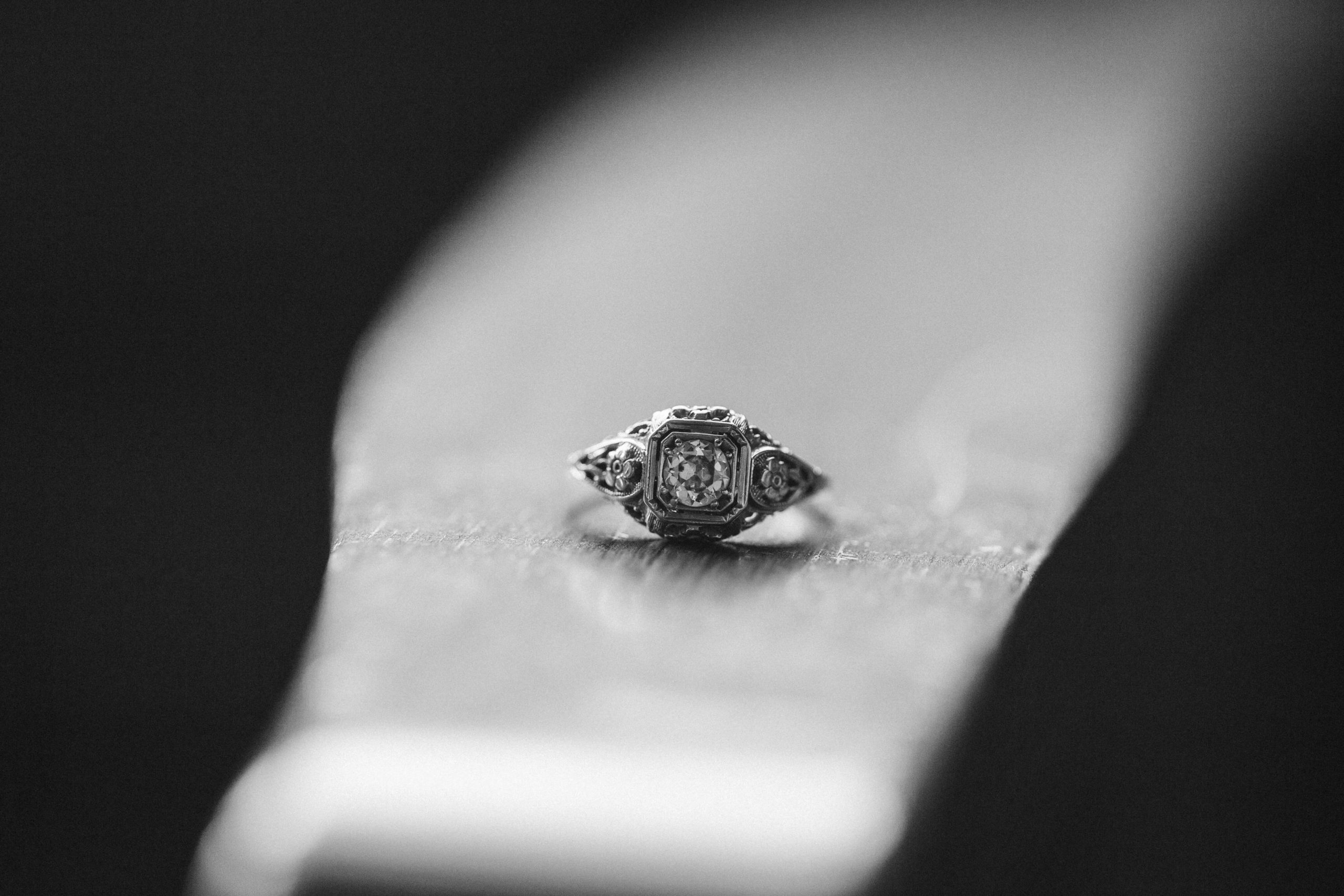 Breaking the Norms for an Untraditional Wedding
Although they broke the normal tradition and chose not to have a formal wedding party, Emma and her close friends and family began their day by getting ready in the Turnbull's large private dressing room. Emma had her hair and makeup done while laughing with her friends and kicking around bunches of loose colorful balloons scattered across the floor of the dressing room. Meanwhile, Eddie and his guys used the fourth floor as their dressing area. They could have gotten ready on the third floor, as well, but erred on the side of caution so the bride and groom didn't accidentally run into each other before their first look!
With both bride and groom ready, Eddie stood at the end of the aisle of what would later be their ceremony space beneath a huge installation of balloons in peach, pink, and white tones. Emma walked down to meet him and when he turned around, he found Emma standing there in a stunning white jumpsuit. Wedding jumpsuits are slowly rising higher and higher in modern wedding trends. They're great for brides who want to break from the tradition or who are just more comfortable wearing pants than an elaborate gown.
Emma was a sight to behold in her bridal jumpsuit. It was a sleeveless creation with a minimal design featuring a deep V neckline that accentuated Emma's collarbone. The jumpsuit hugged her waist before flaring into wide-legged pants. It was a simple and sleek, but striking look that Emma accessorized simply with a sheer white capelet punctuated with tiny white flowers fluttering around her shoulders in-lieu of a traditional veil.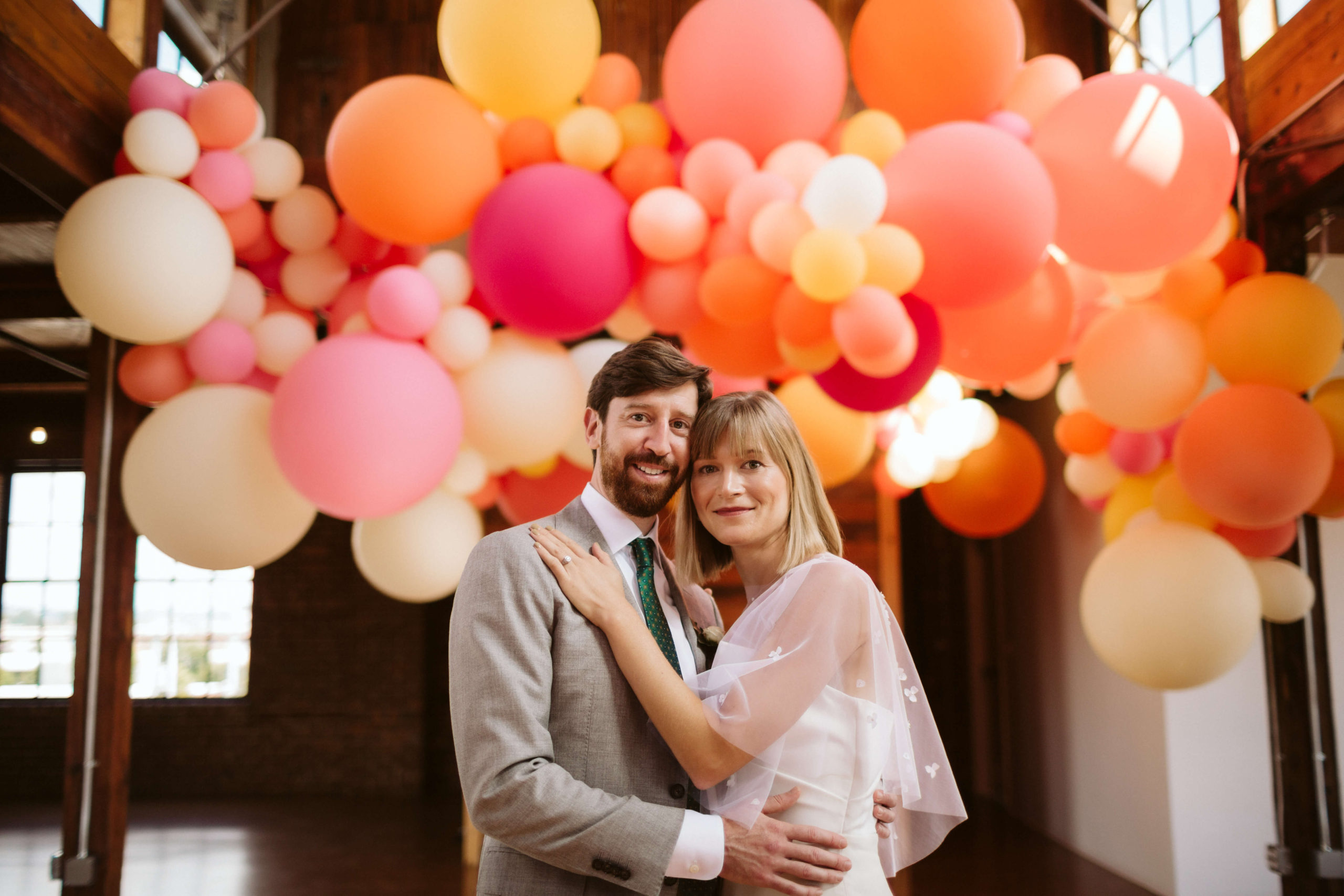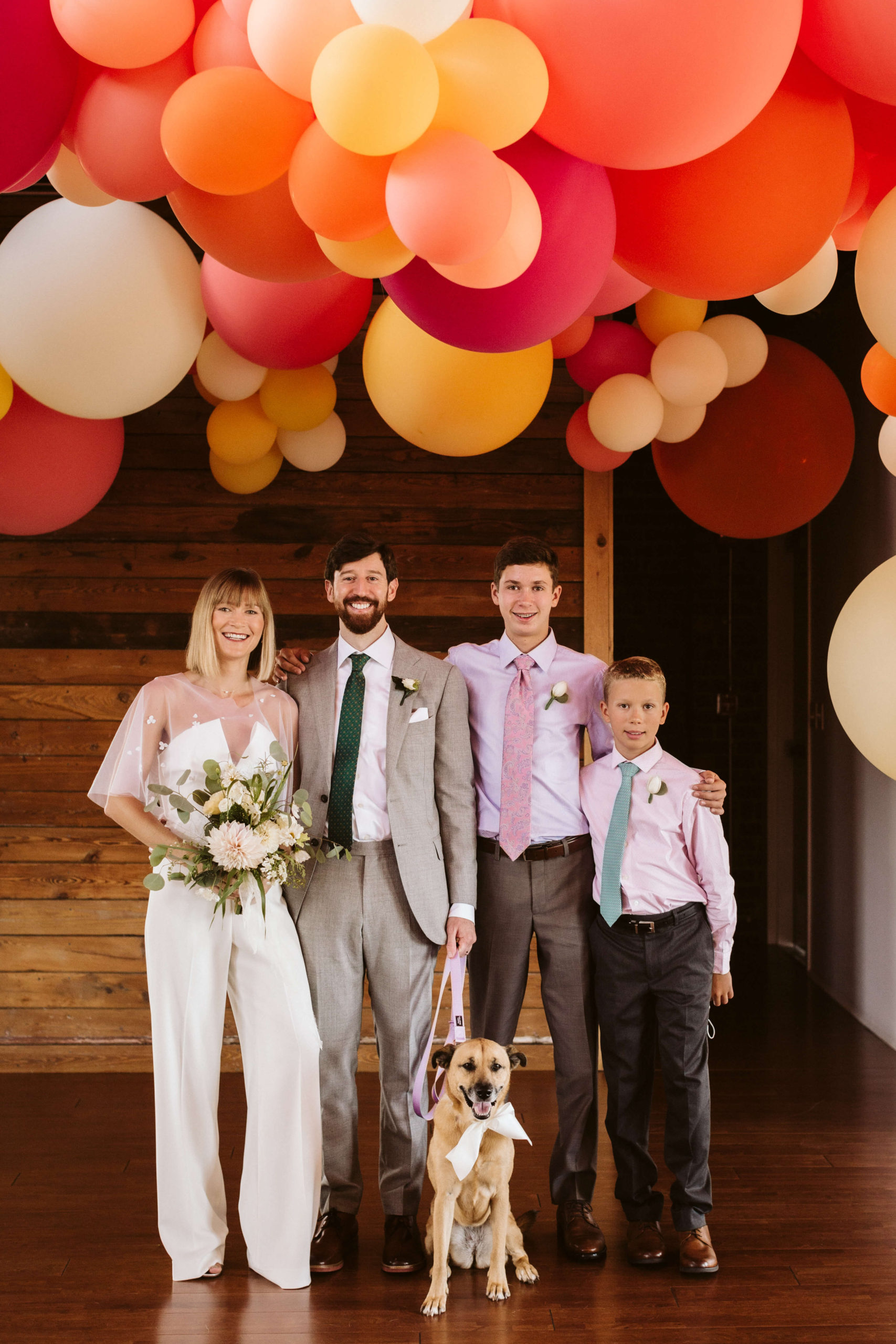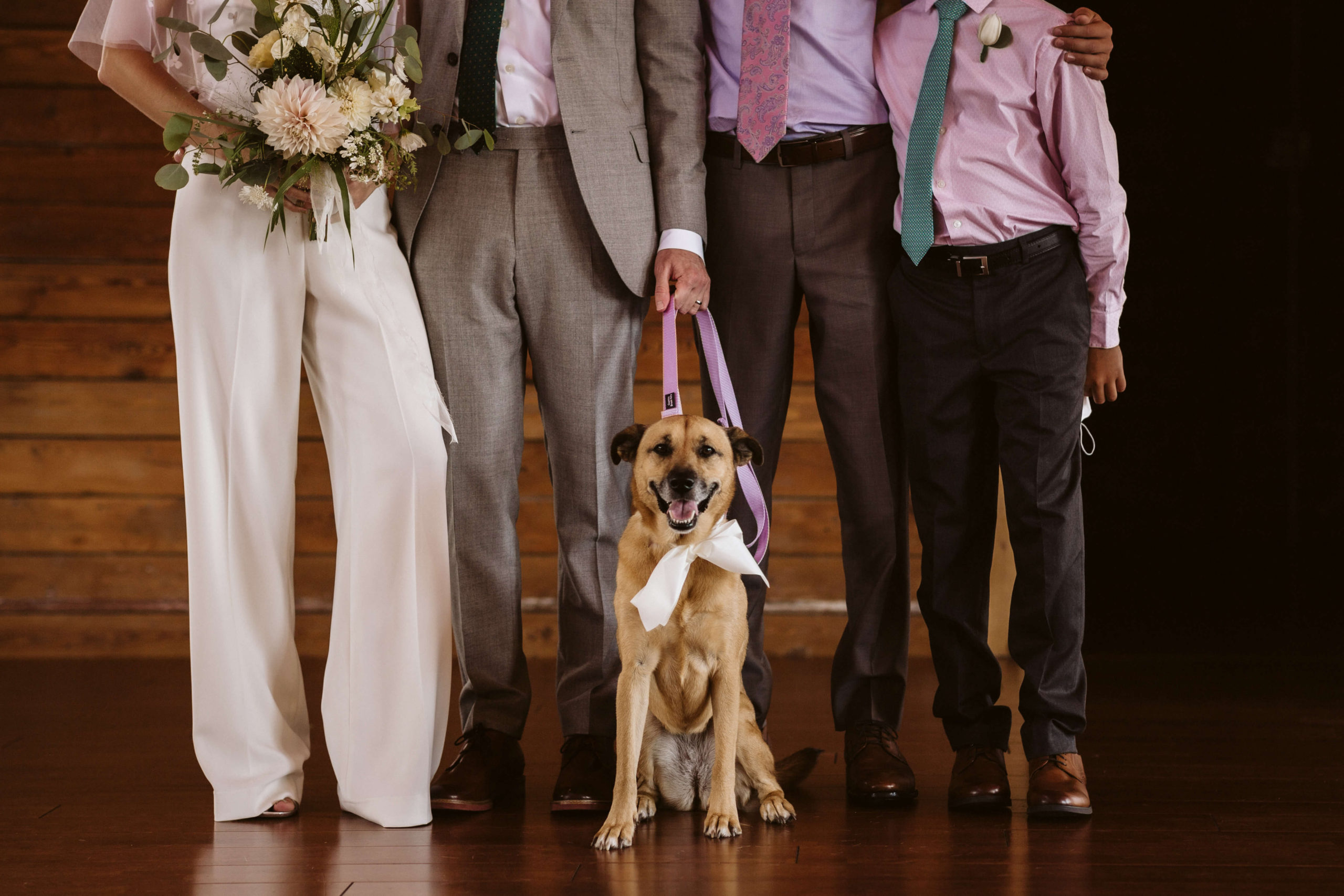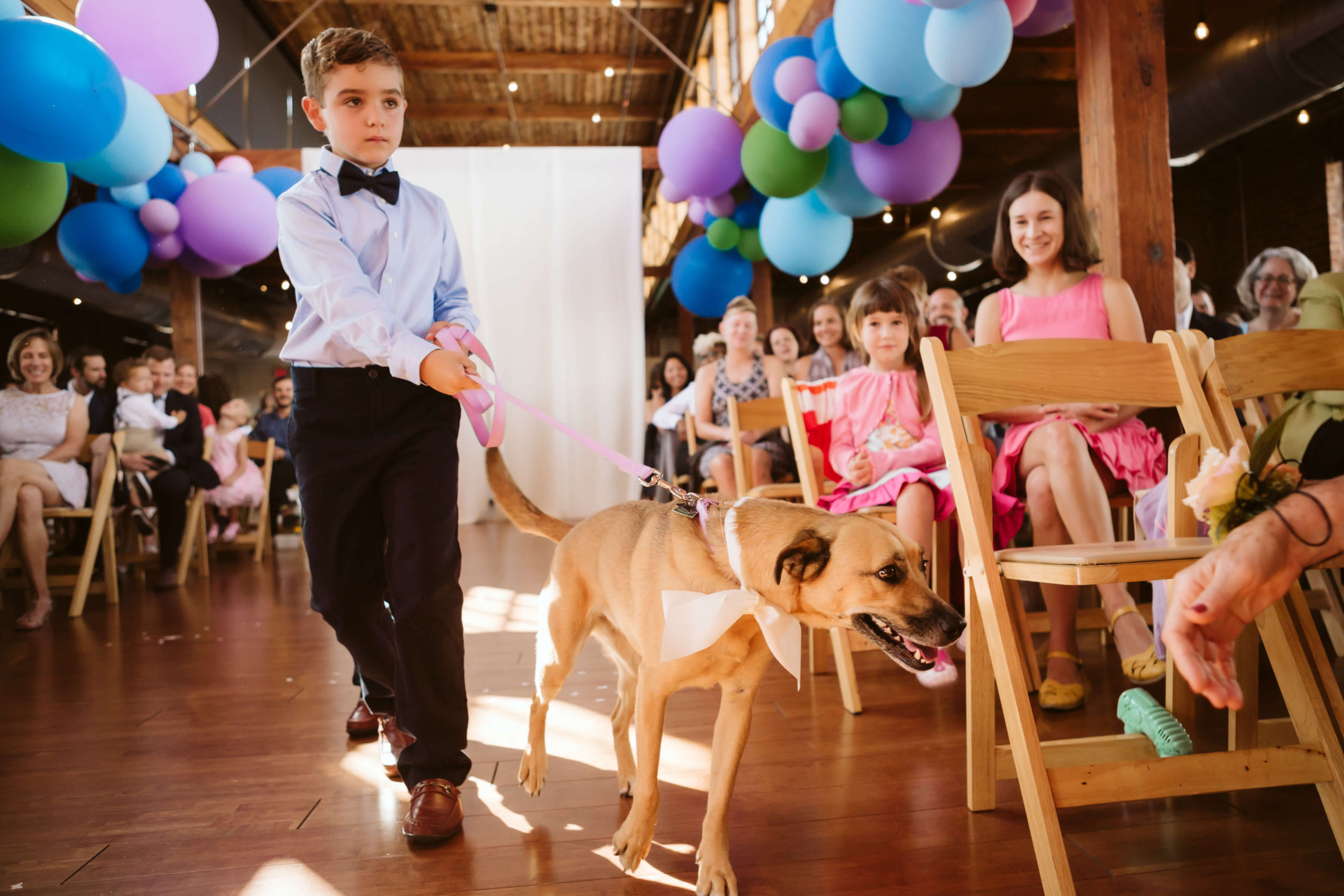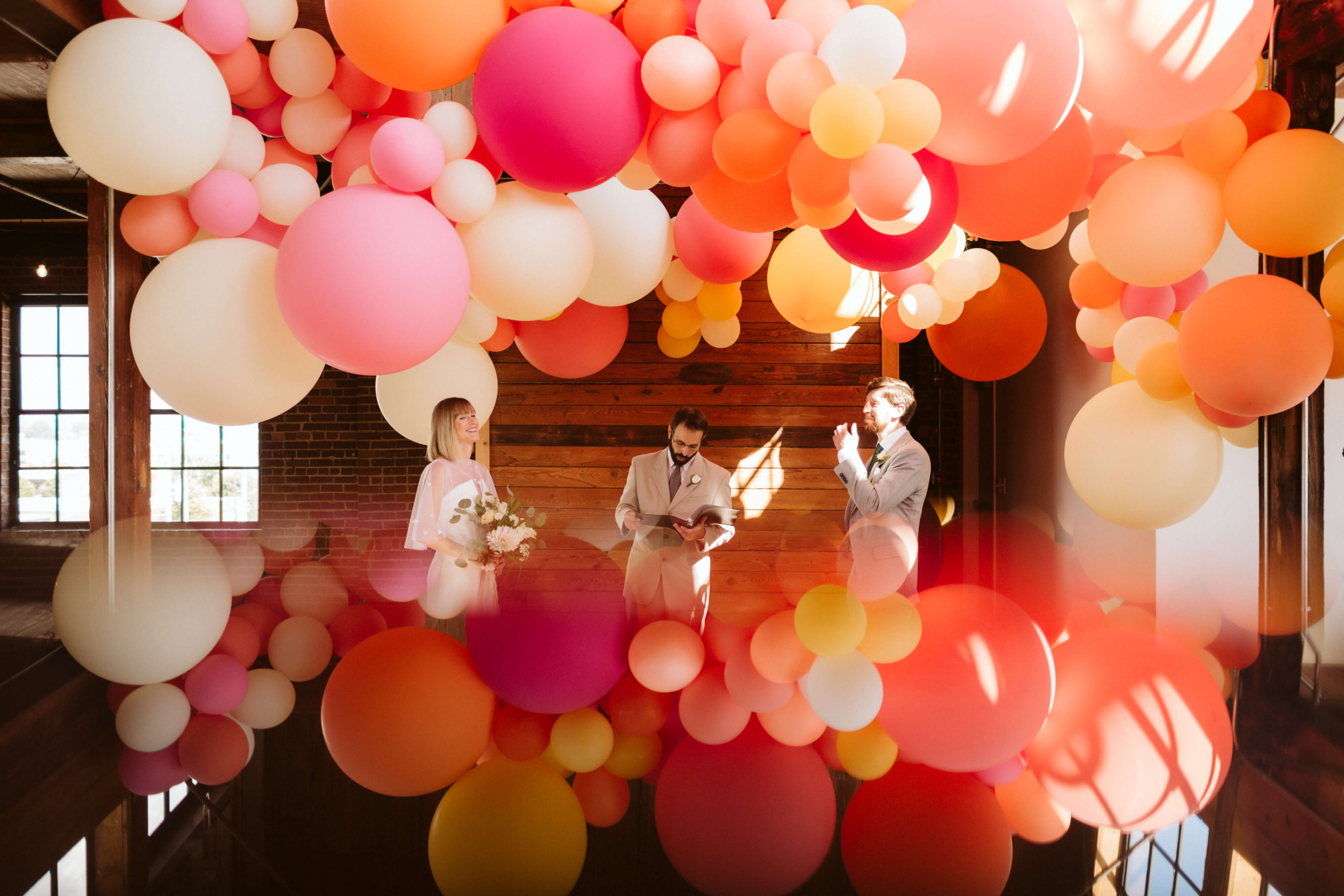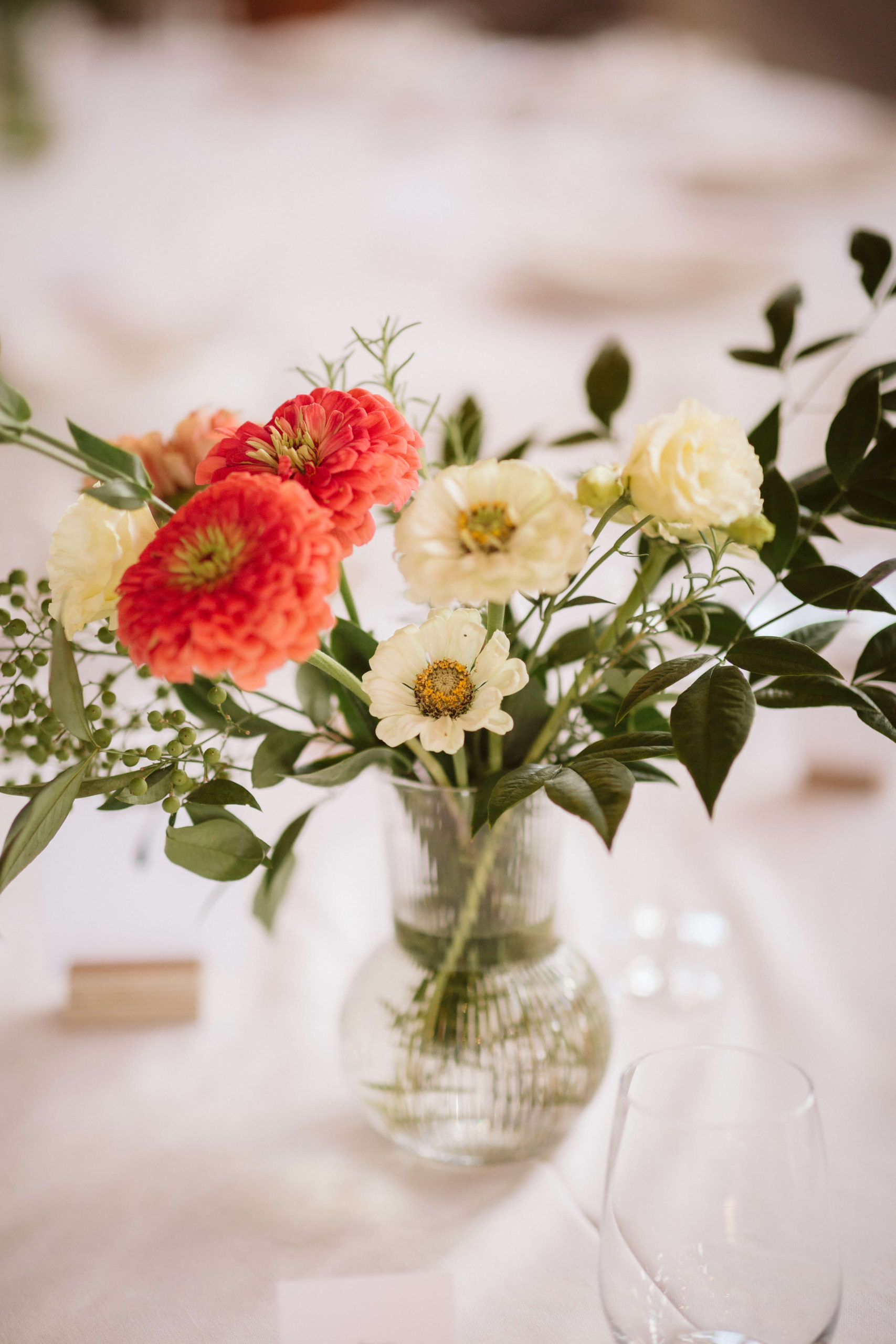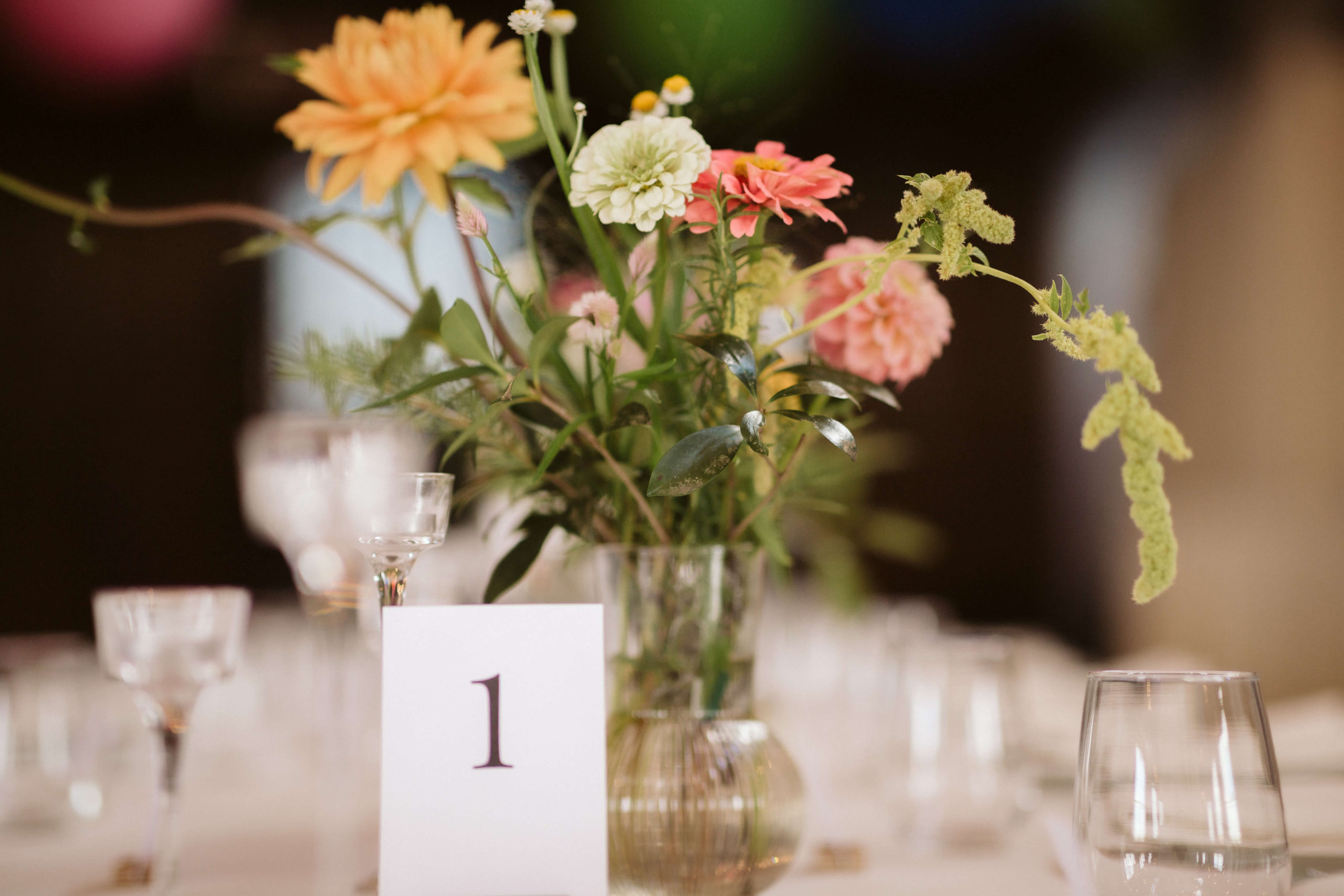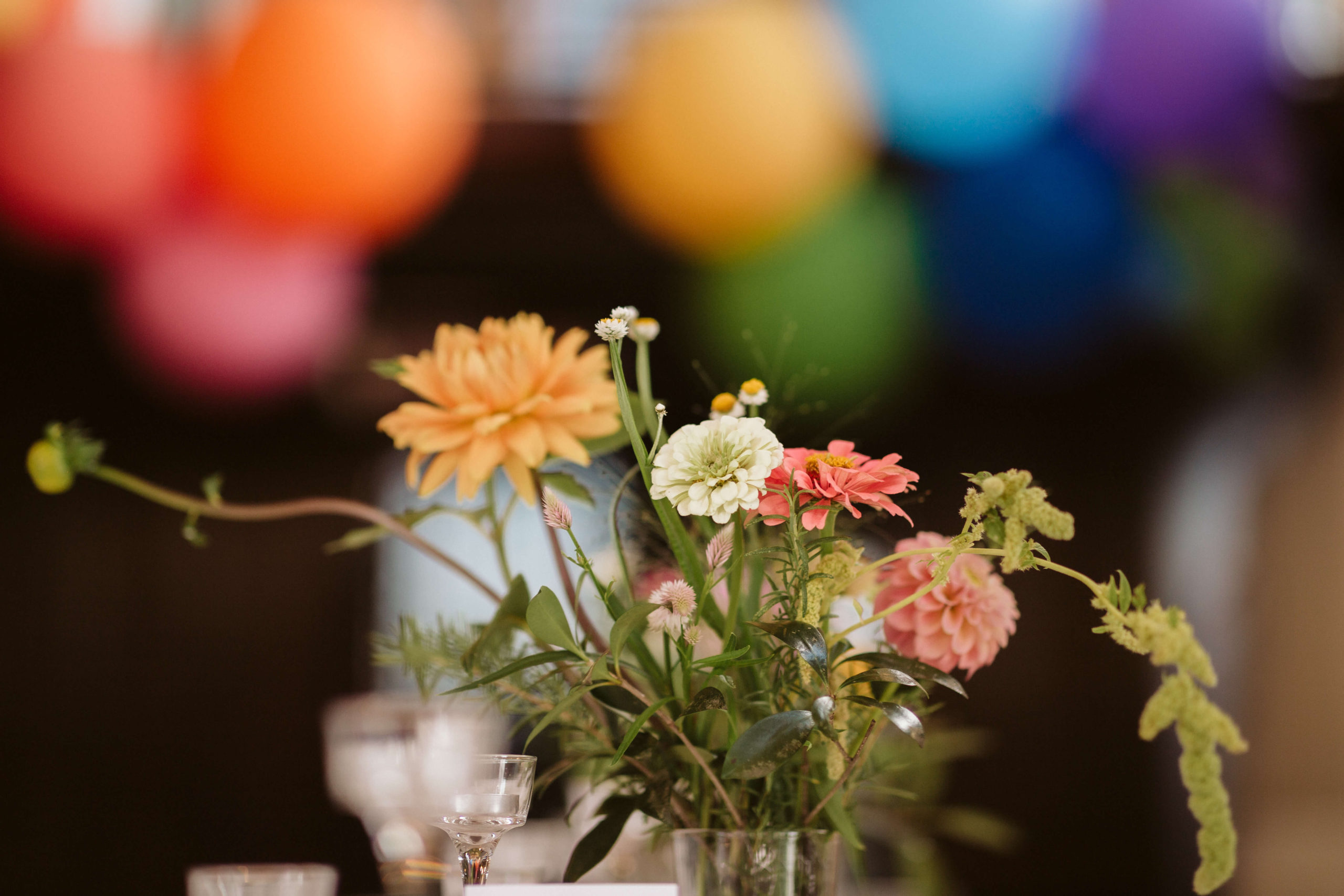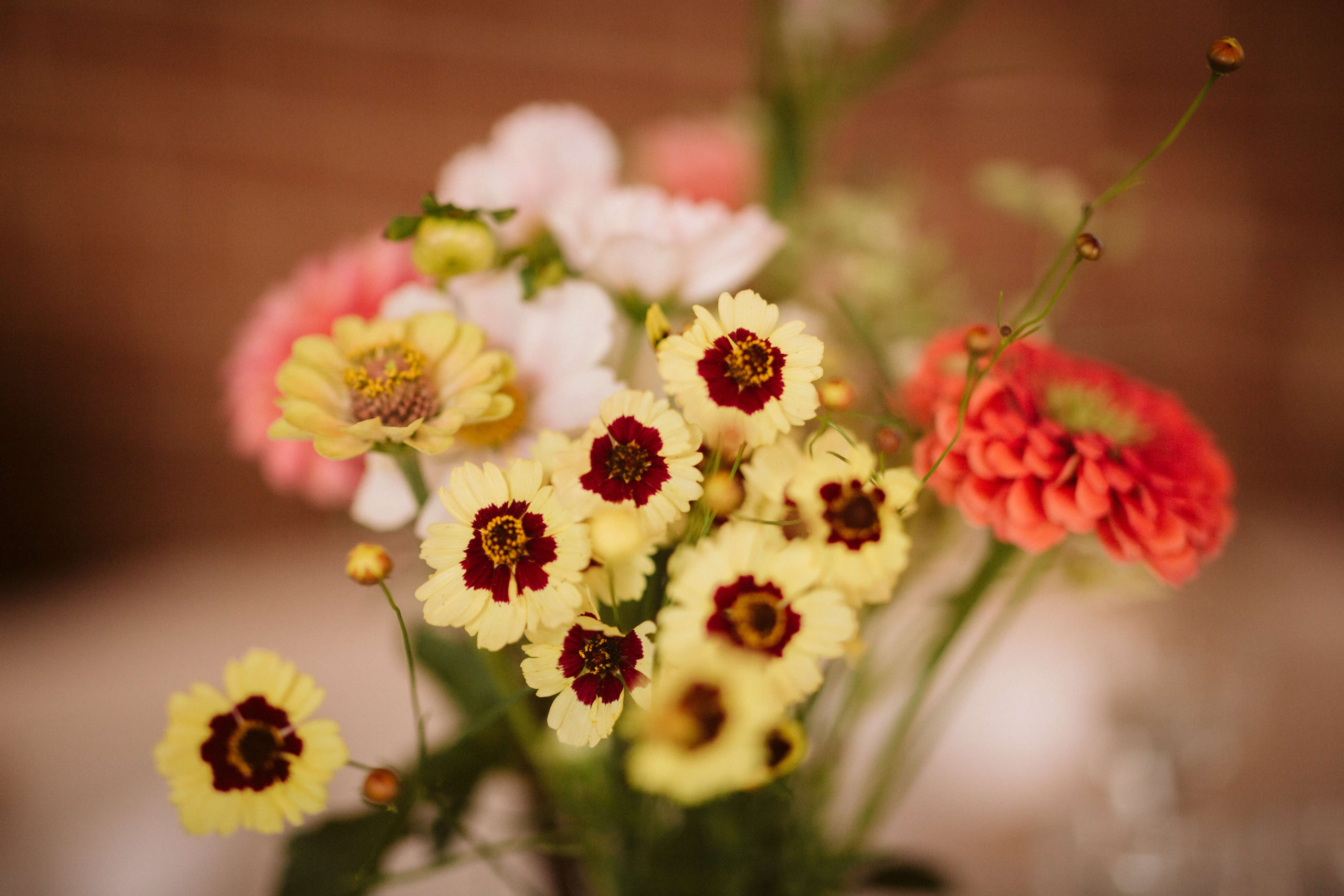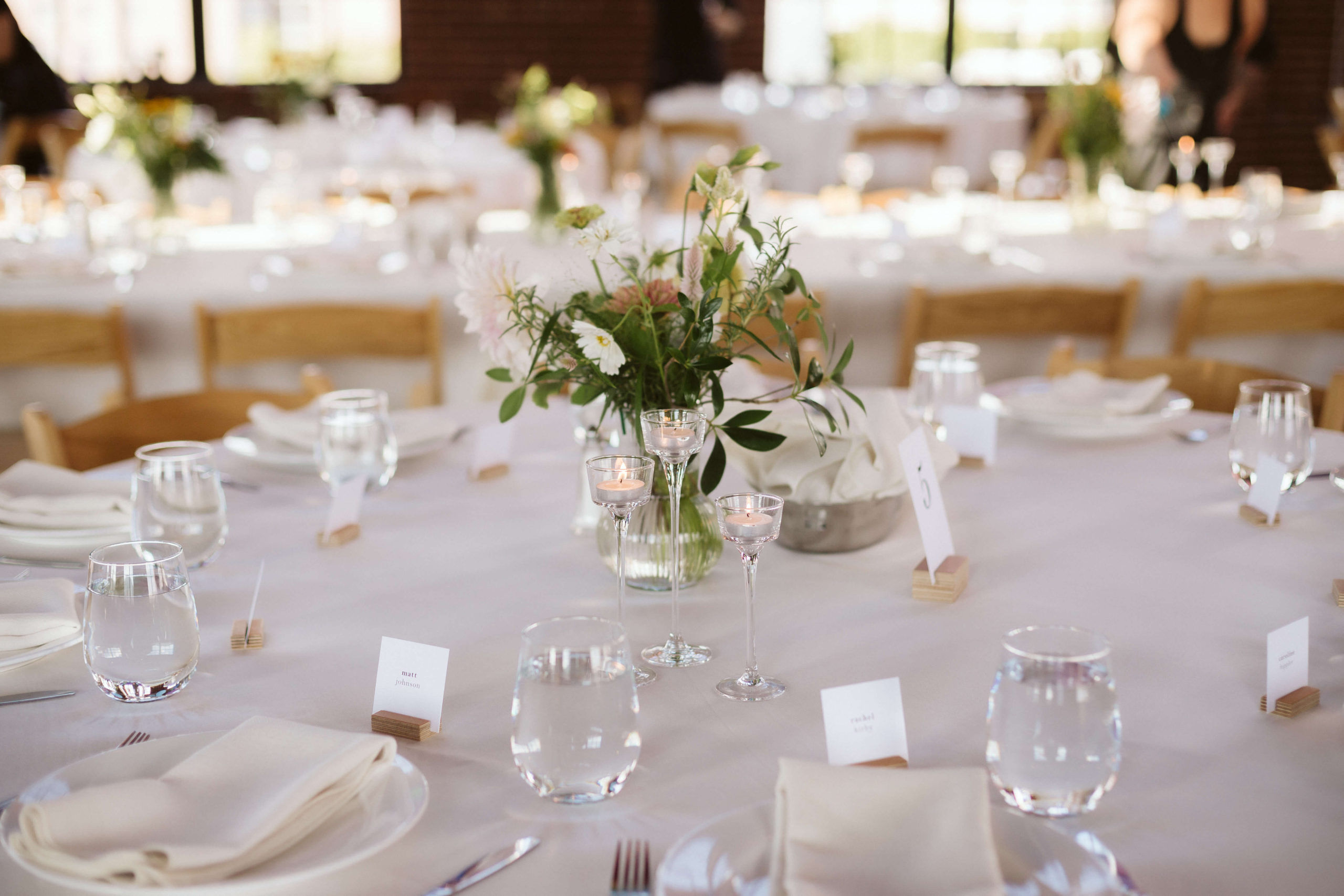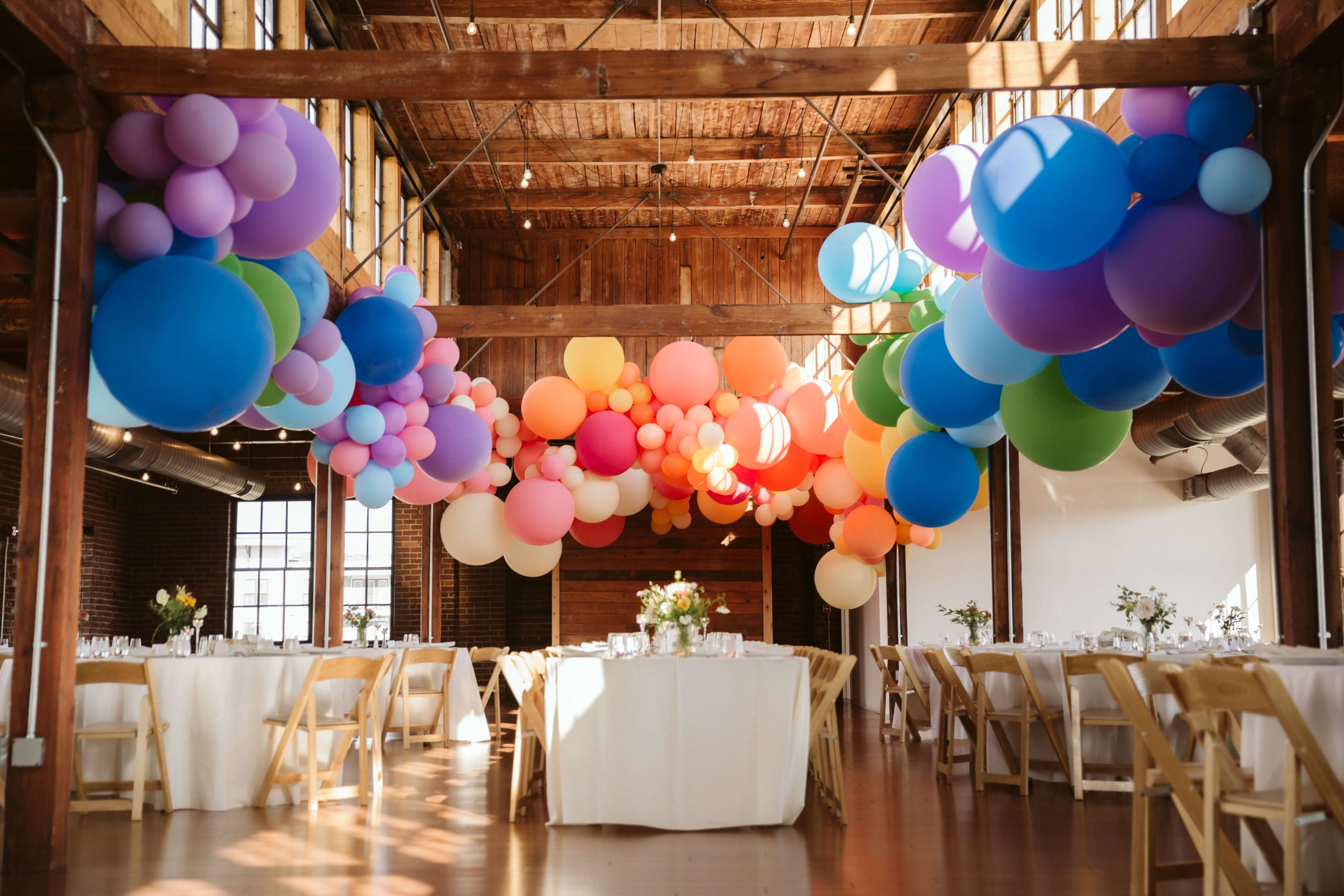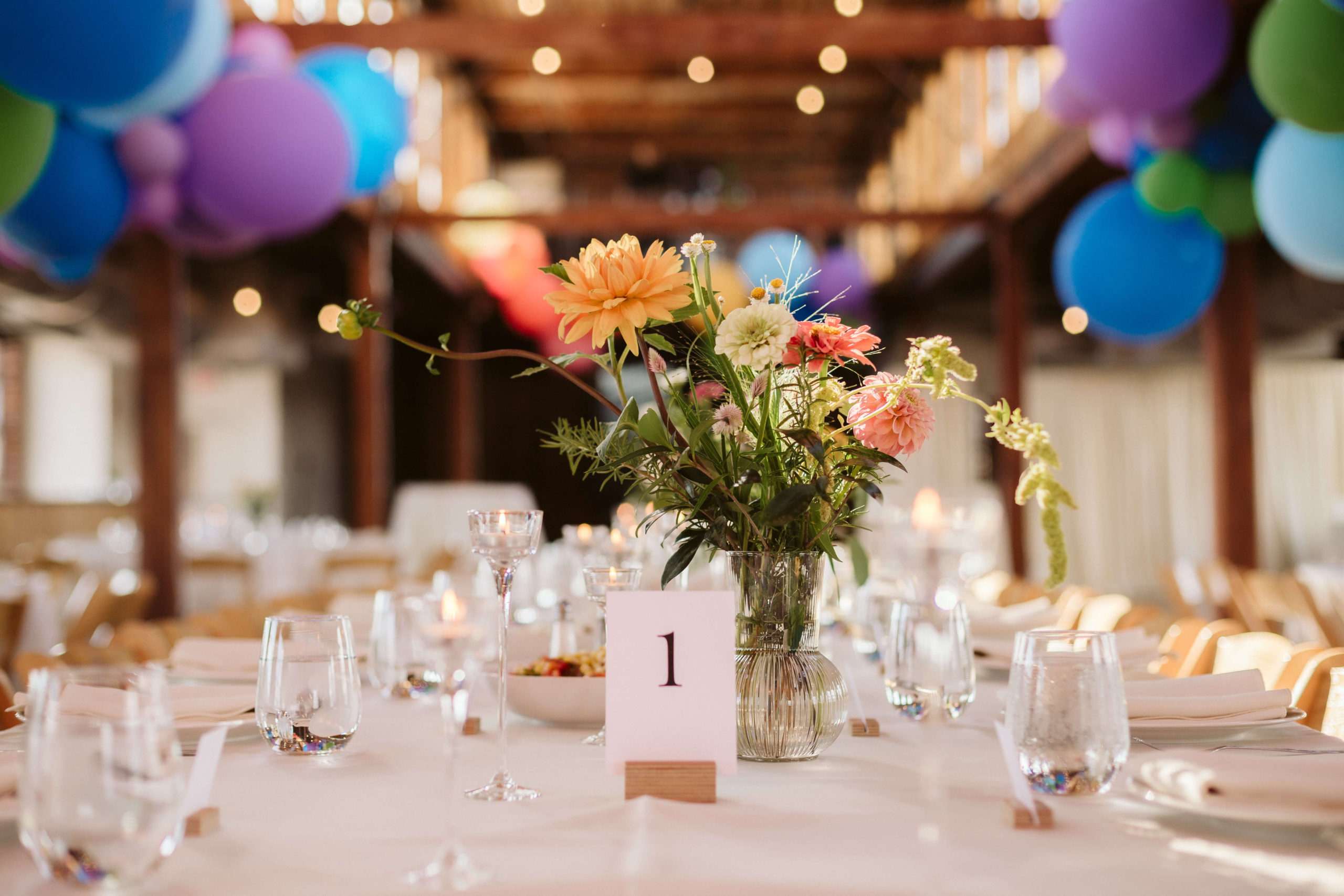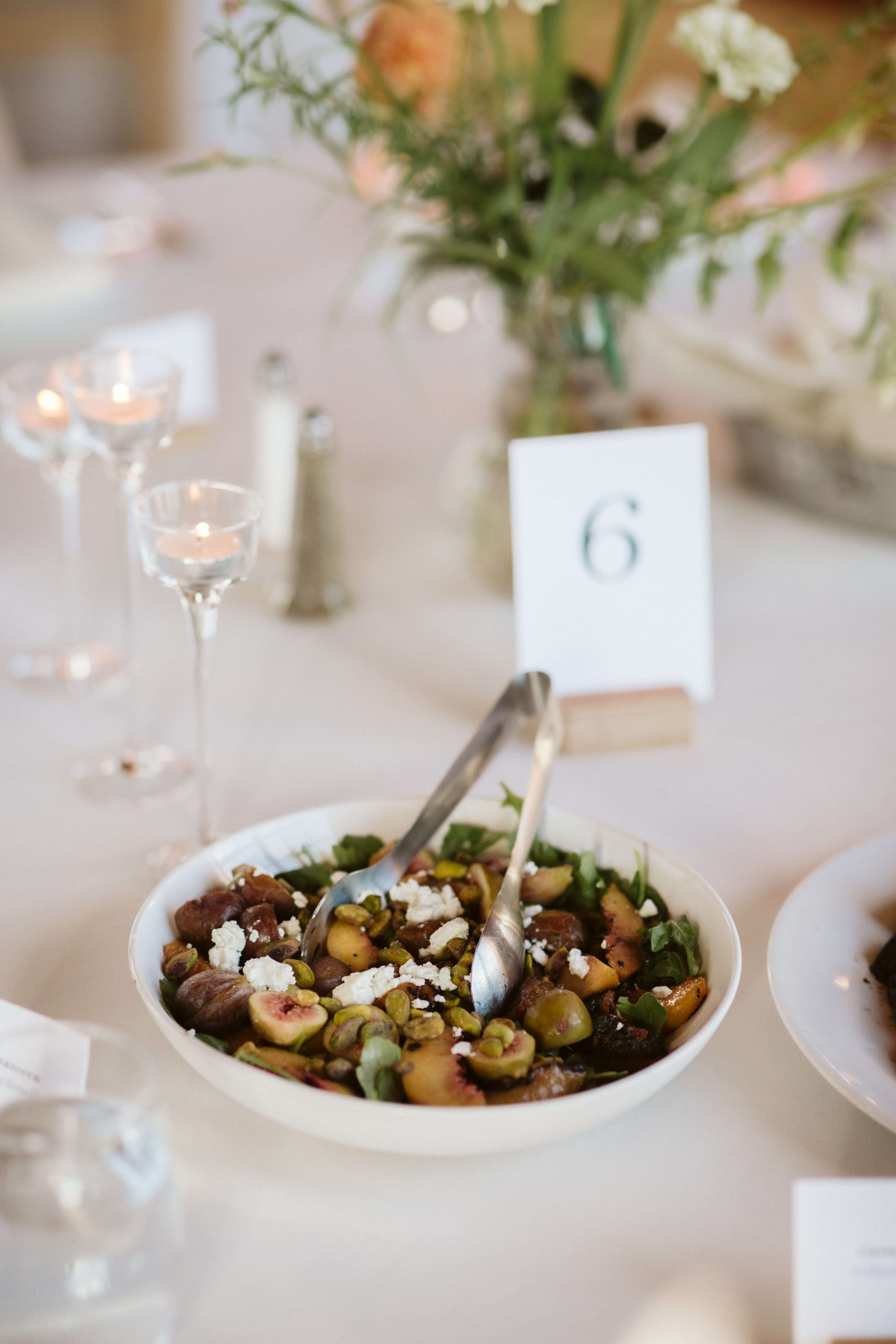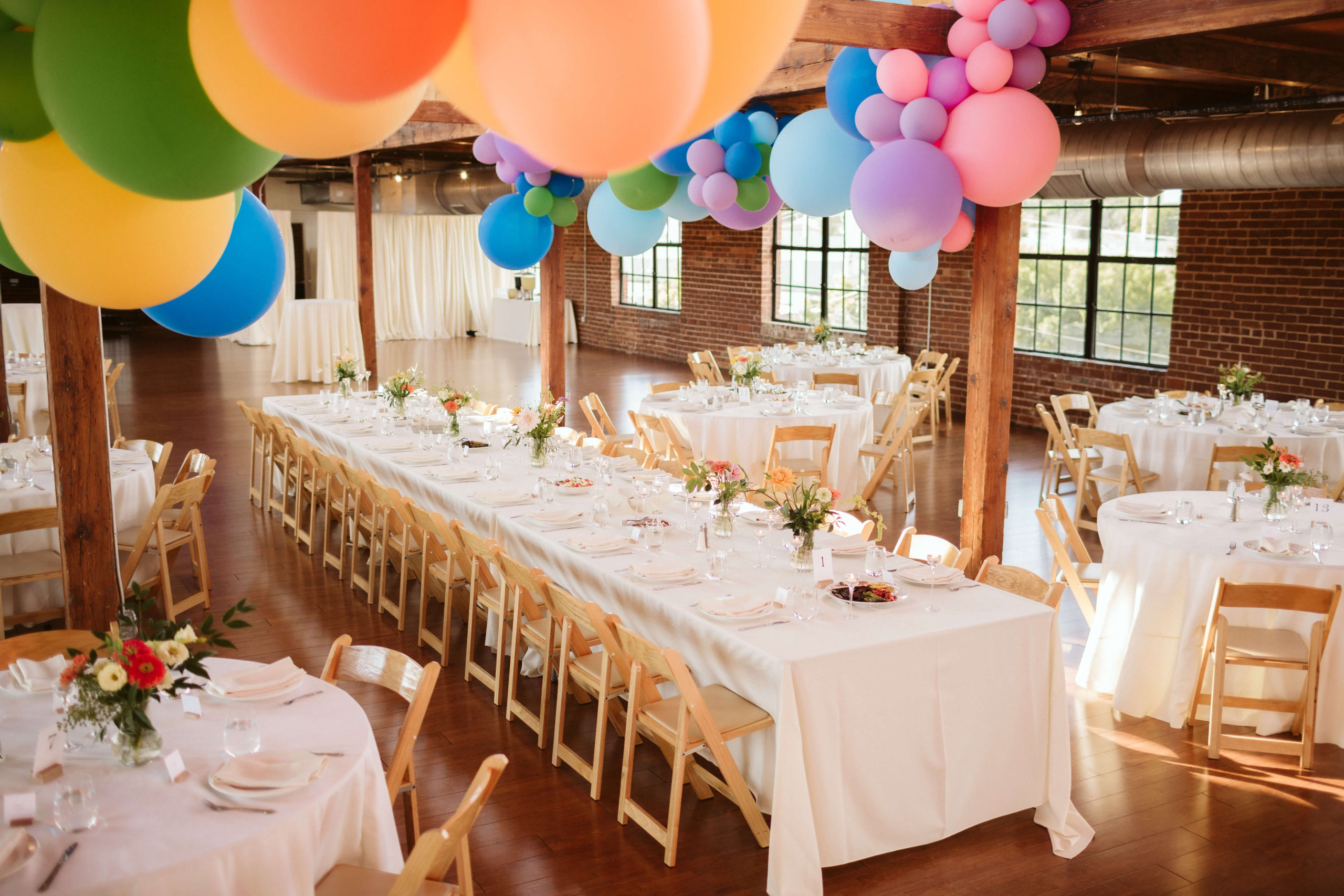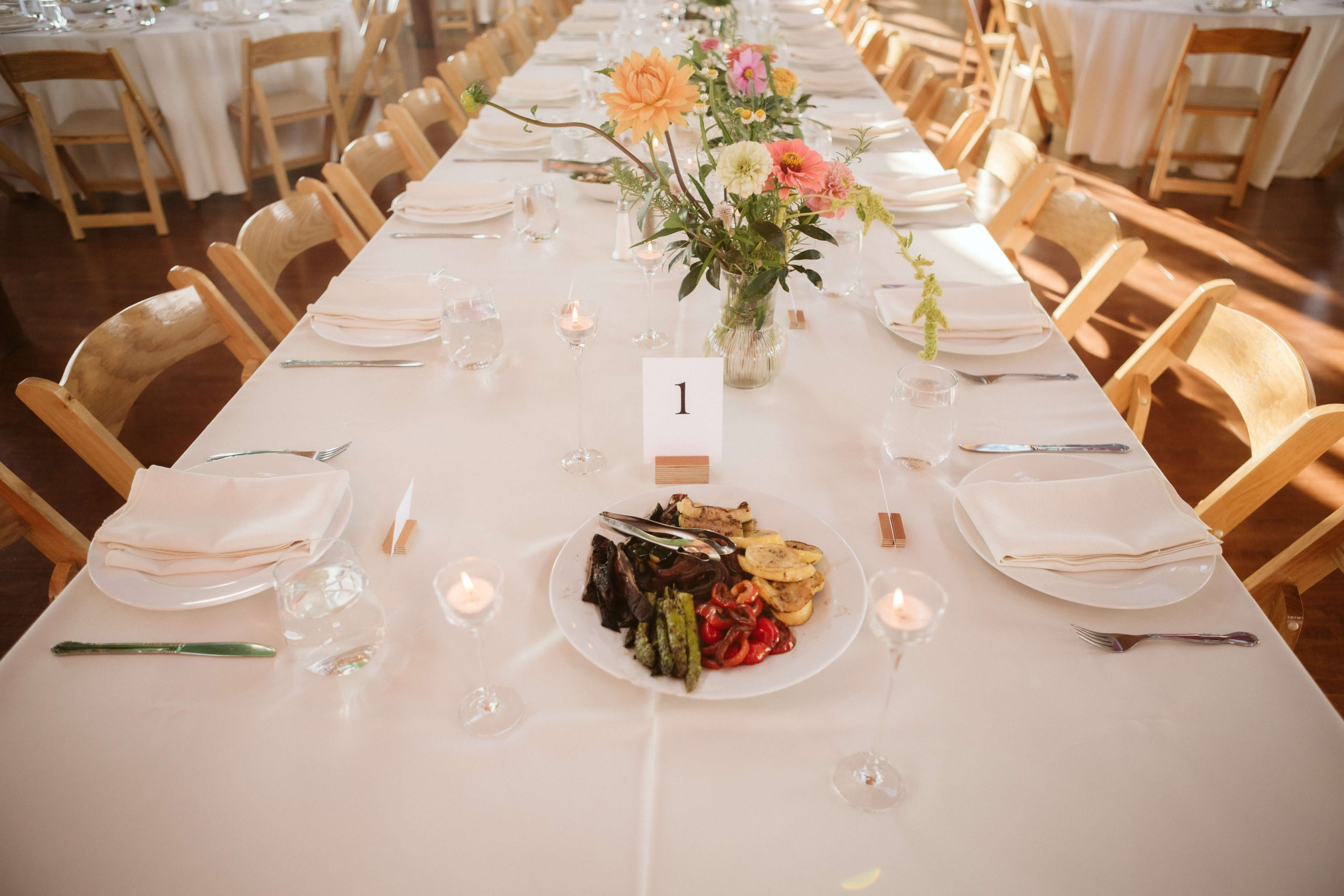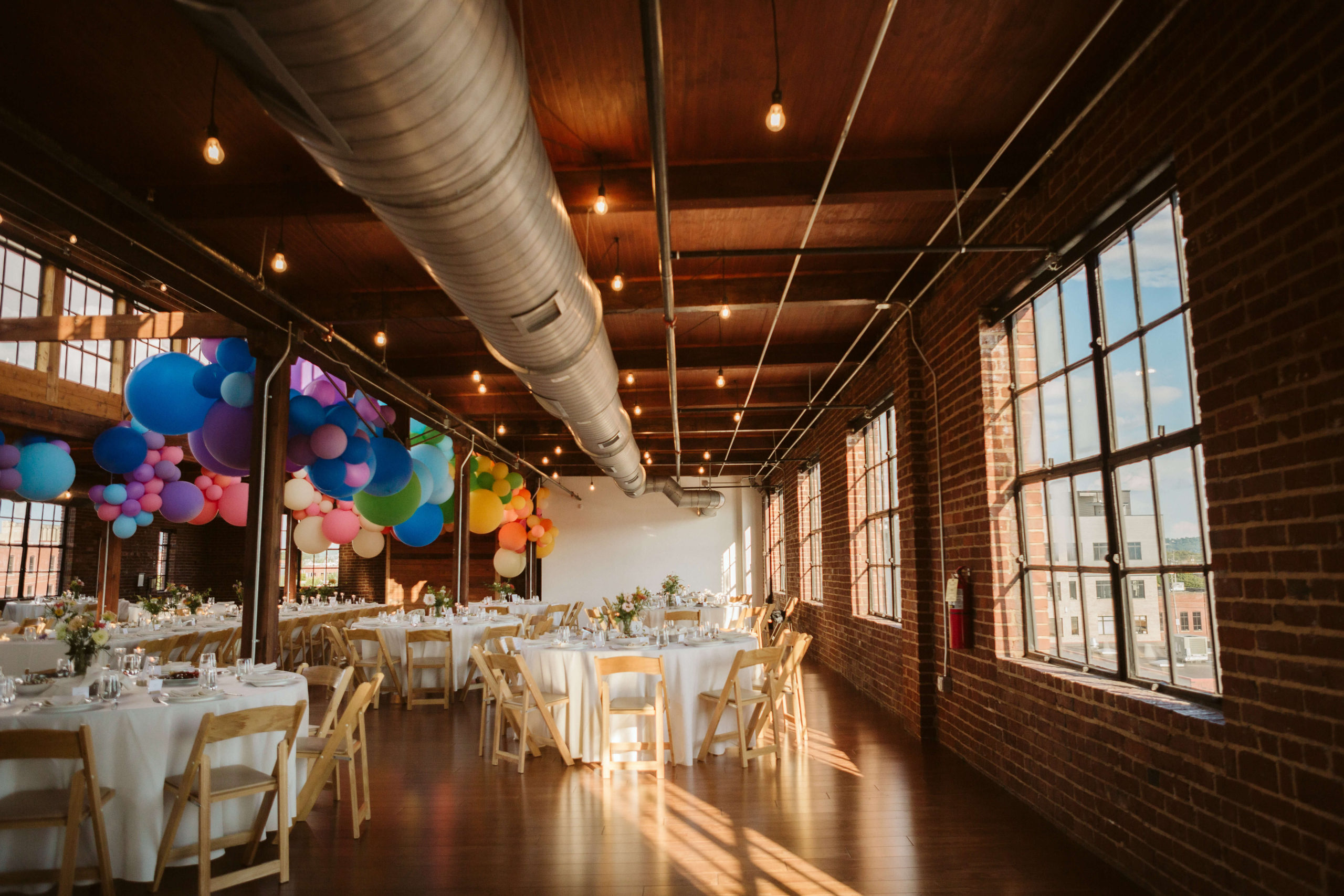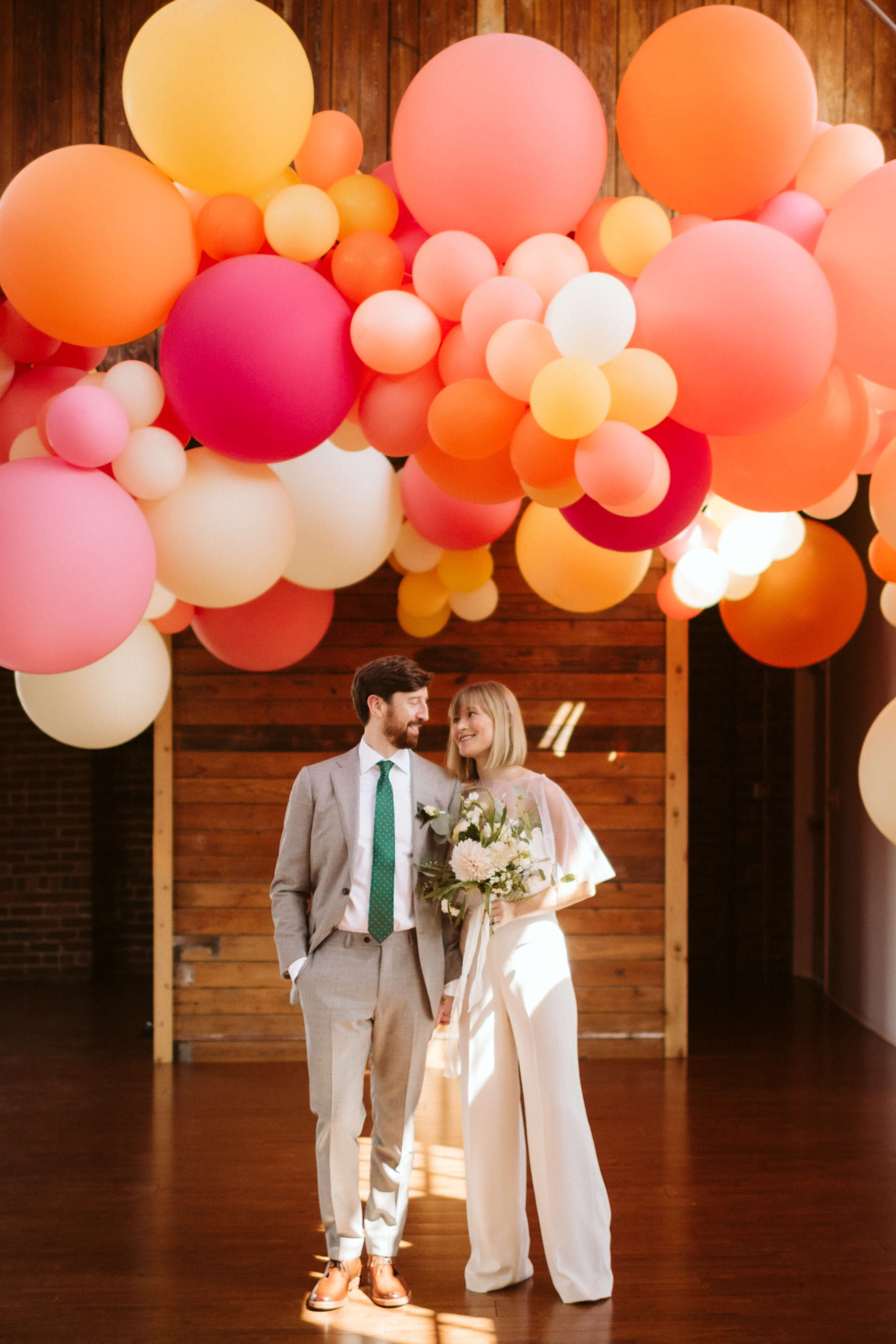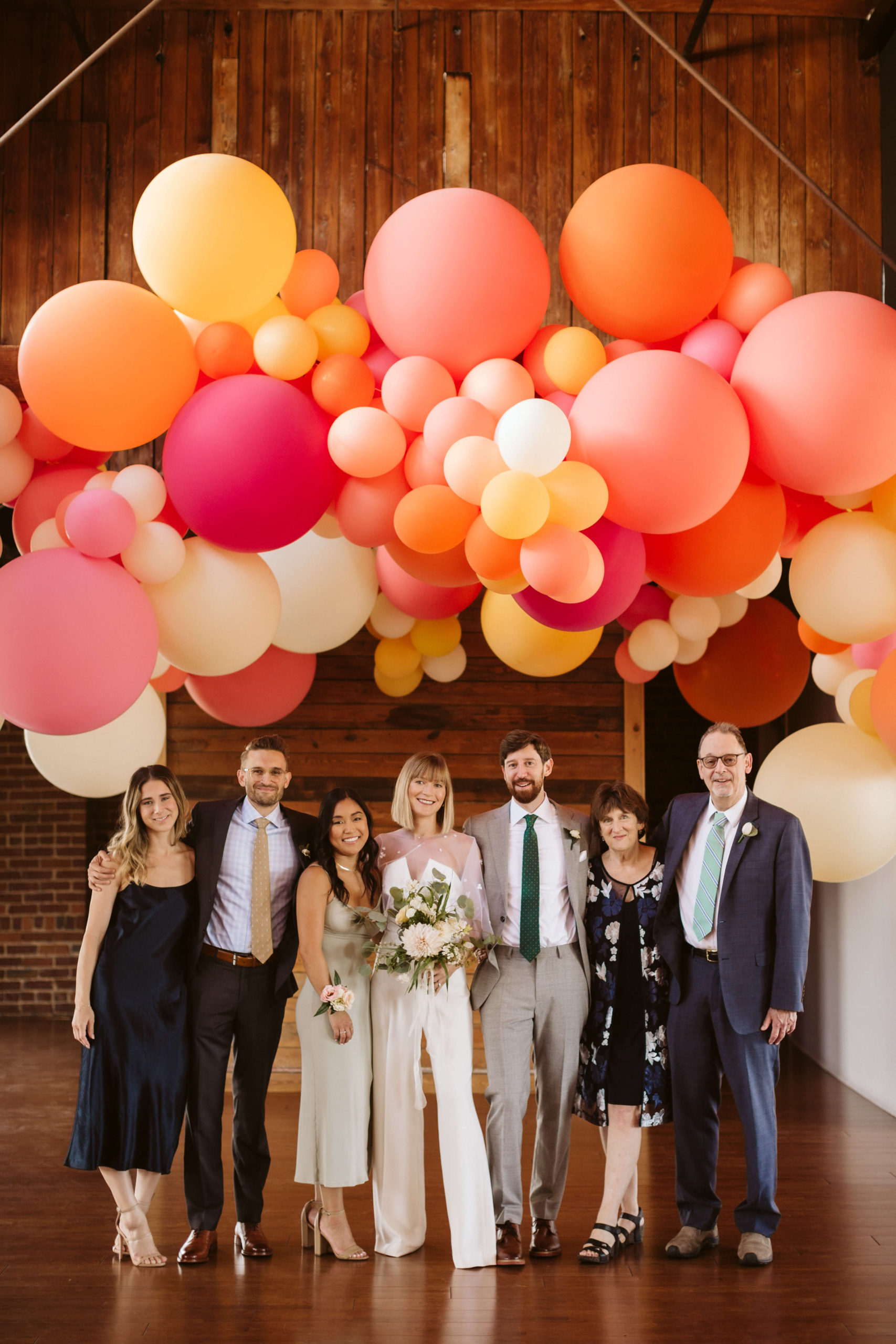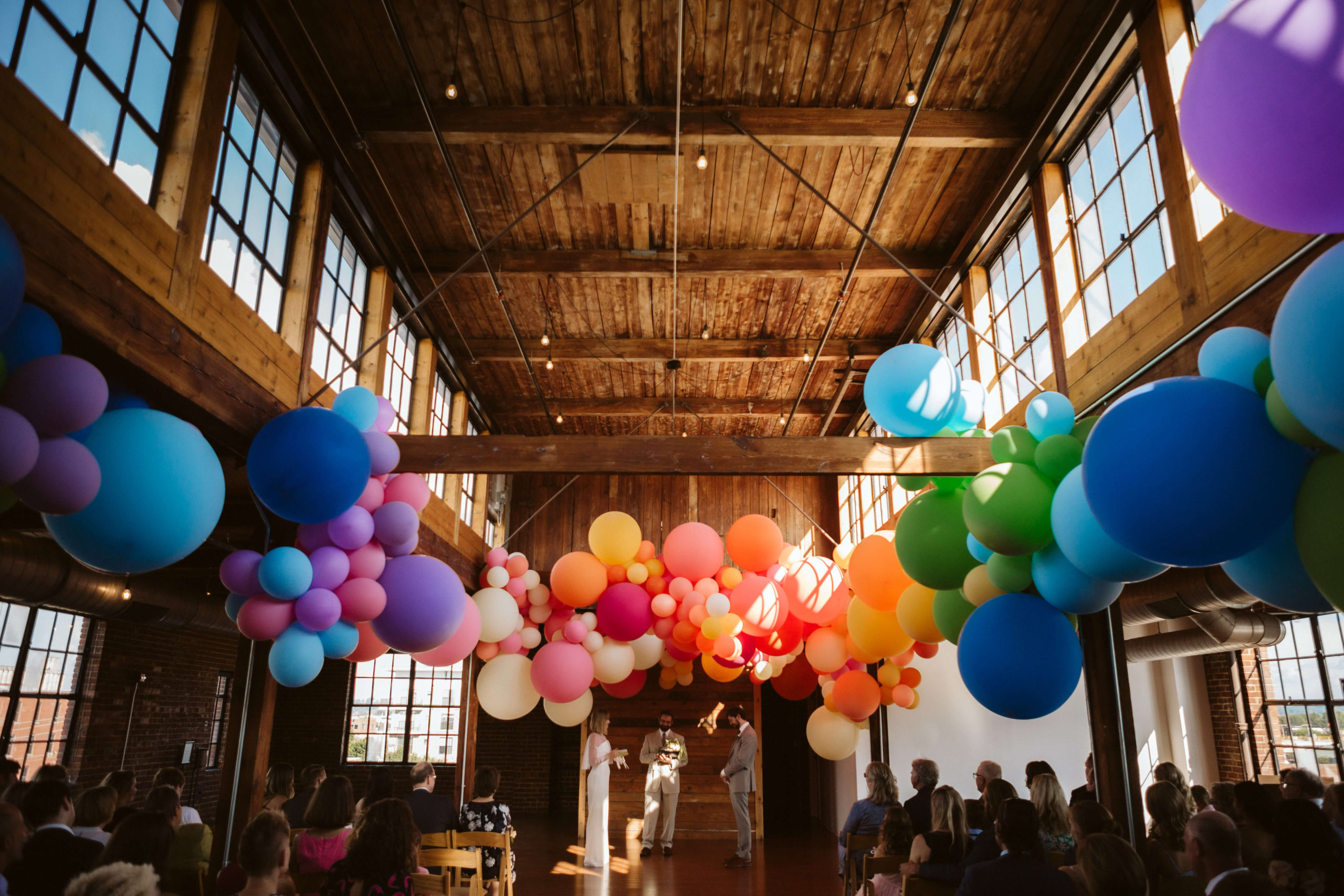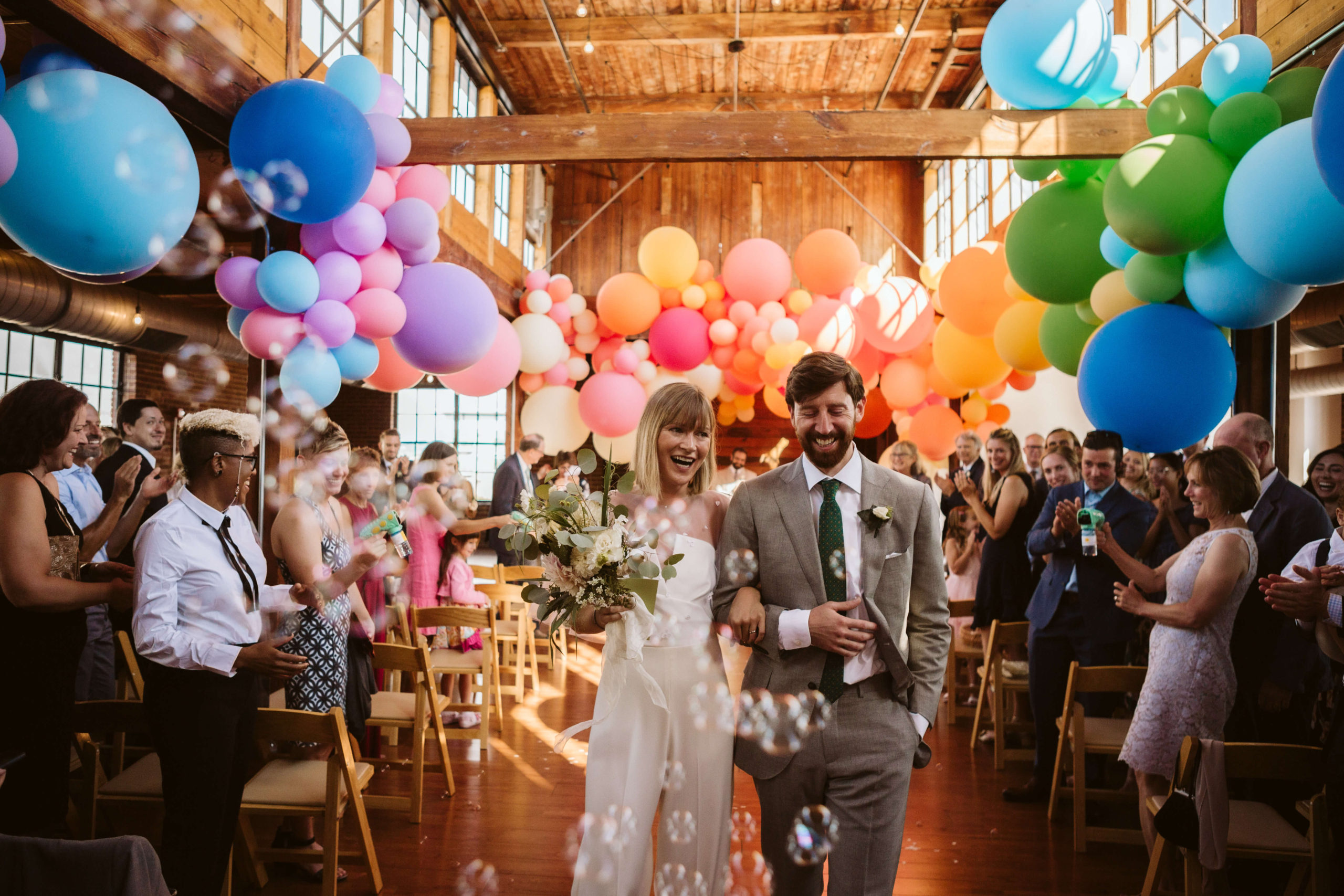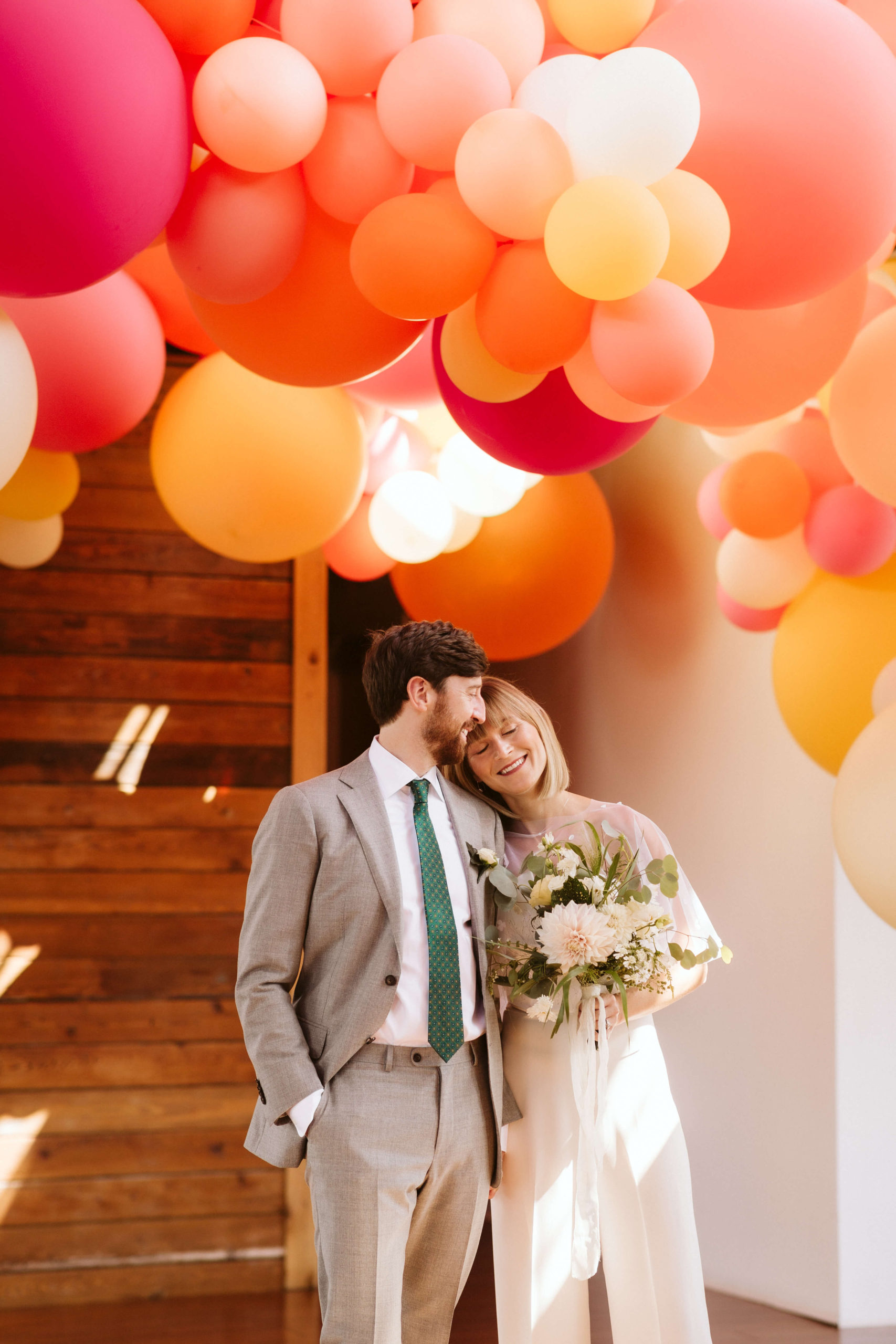 Playing with Colors for a Turnbull Building Wedding
Aside from their guests' safety in traveling to their wedding, another of Emma and Eddie's biggest priorities was their desire for the day to be playful and fun. One of the ways they achieved this was by having local Chattanooga artist Ashley Folkner create a stunning balloon installation that hung from the fourth floor ceiling. From the stairs leading up to the floor all the way to the head of the ceremony space, balloons of all sizes draped across the ceiling beneath the windows and along the central walkway, winding among the rafters, and hanging down the floor-to-ceiling beams. The balloons followed a gorgeous rainbow ombré pattern and went from deep blues and purples to warm and bright shades of peach and pink nearer to the ceremony space. Ashley primarily focuses on set design and large scale art installations now, so if you're looking for a balloon installation like Emma and Eddie's, we recommend reaching out to BlowUp Chattanooga.
The deep, earthy browns and reds of the bricks and wood are the perfect blank canvas for several styles of wedding décor ranging anywhere from minimal to elaborate. For Emma and Eddie's wedding, the bright colors of the balloons juxtaposed perfectly against the industrial exposed brick and hardwood panels of the Turnbull.
After the ceremony, the guests were guided to the third floor for cocktails and hors d'oeuvres while the ceremony space was quickly rearranged to make room for the reception and dance floor. Within half an hour, the wedding staff transformed the fourth floor from ceremony seating to a long, family-style table directly beneath the balloon installation with several smaller tables surrounding it.
For reception décor, Emma and Eddie kept it fairly simple. Small clear vases of wildflowers adorned each table with bright sprigs of color that reflected the colorful balloons above them. Sparkling glass tealight holders and long white tablecloths were the extent of the rest of the decorations for their reception. Overall, the reception had a minimal and classy look that really allowed the colors of the balloons and flowers to shine.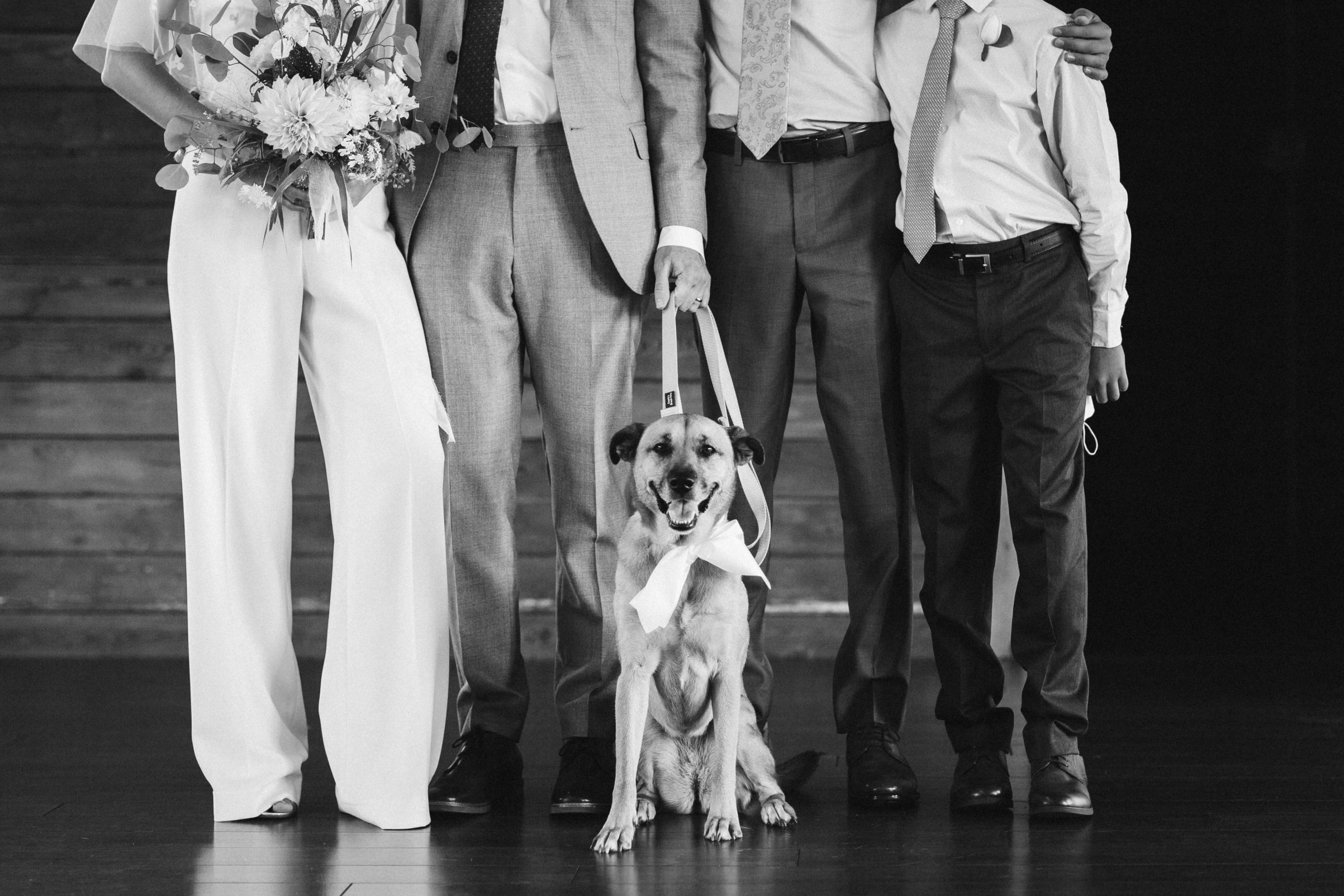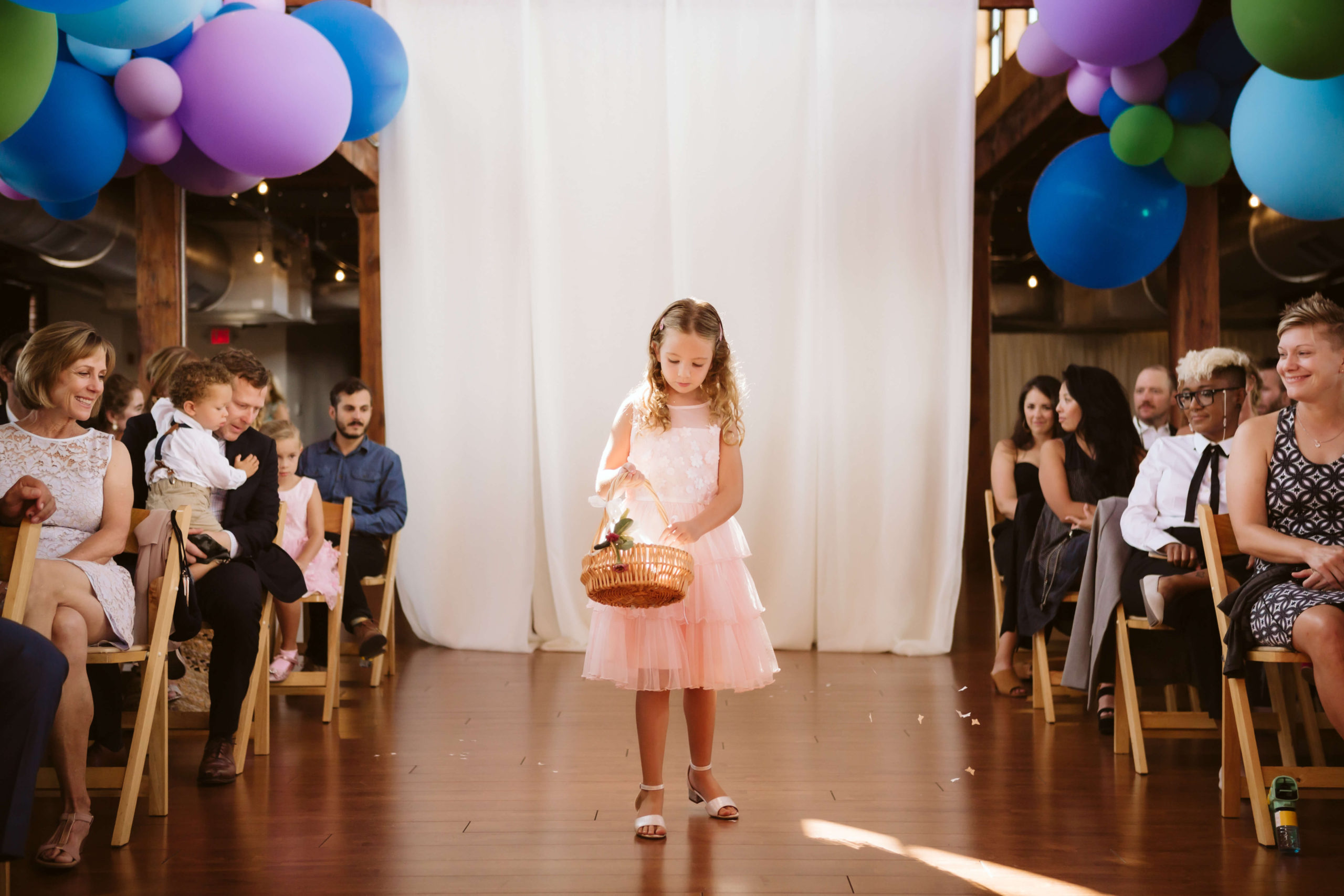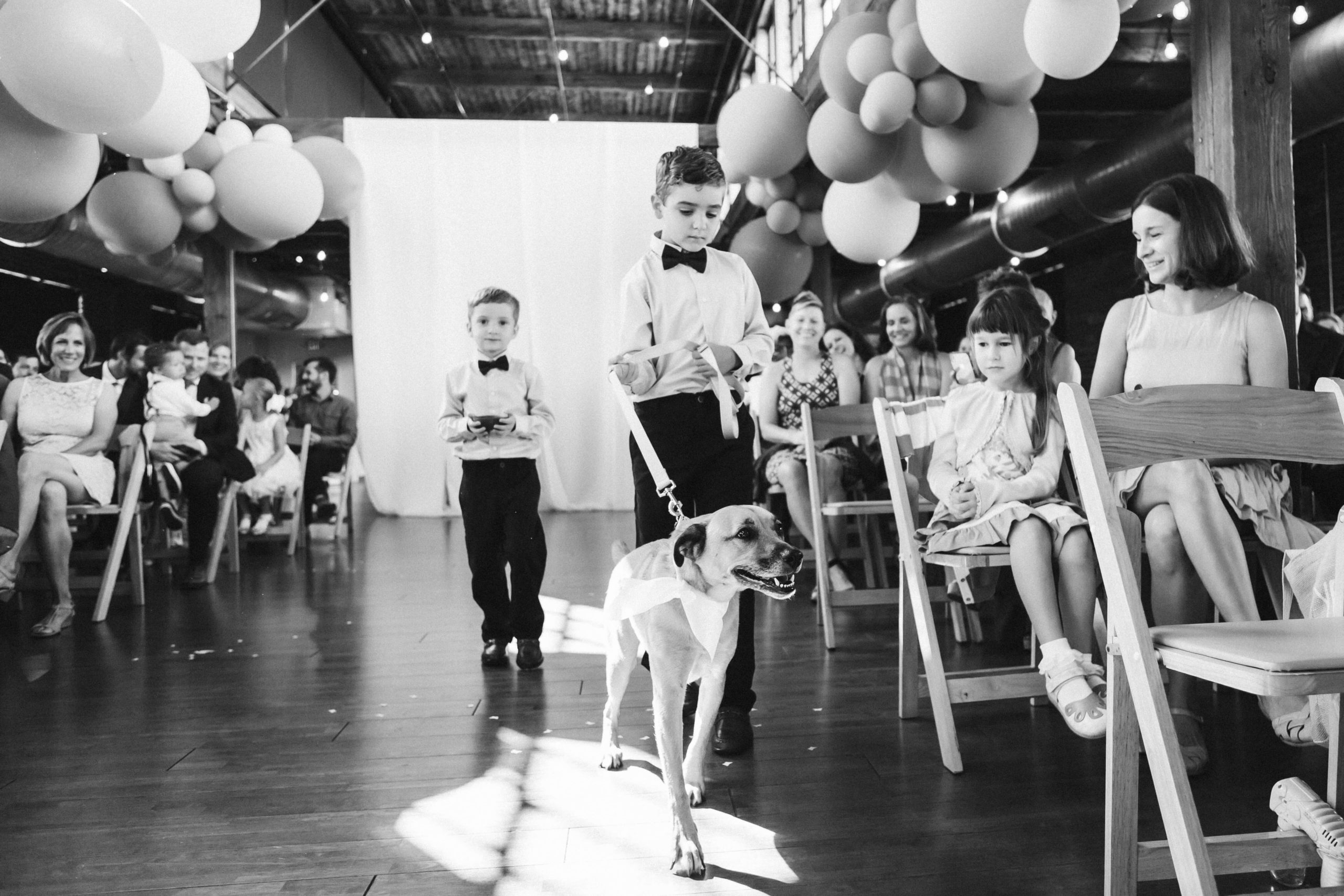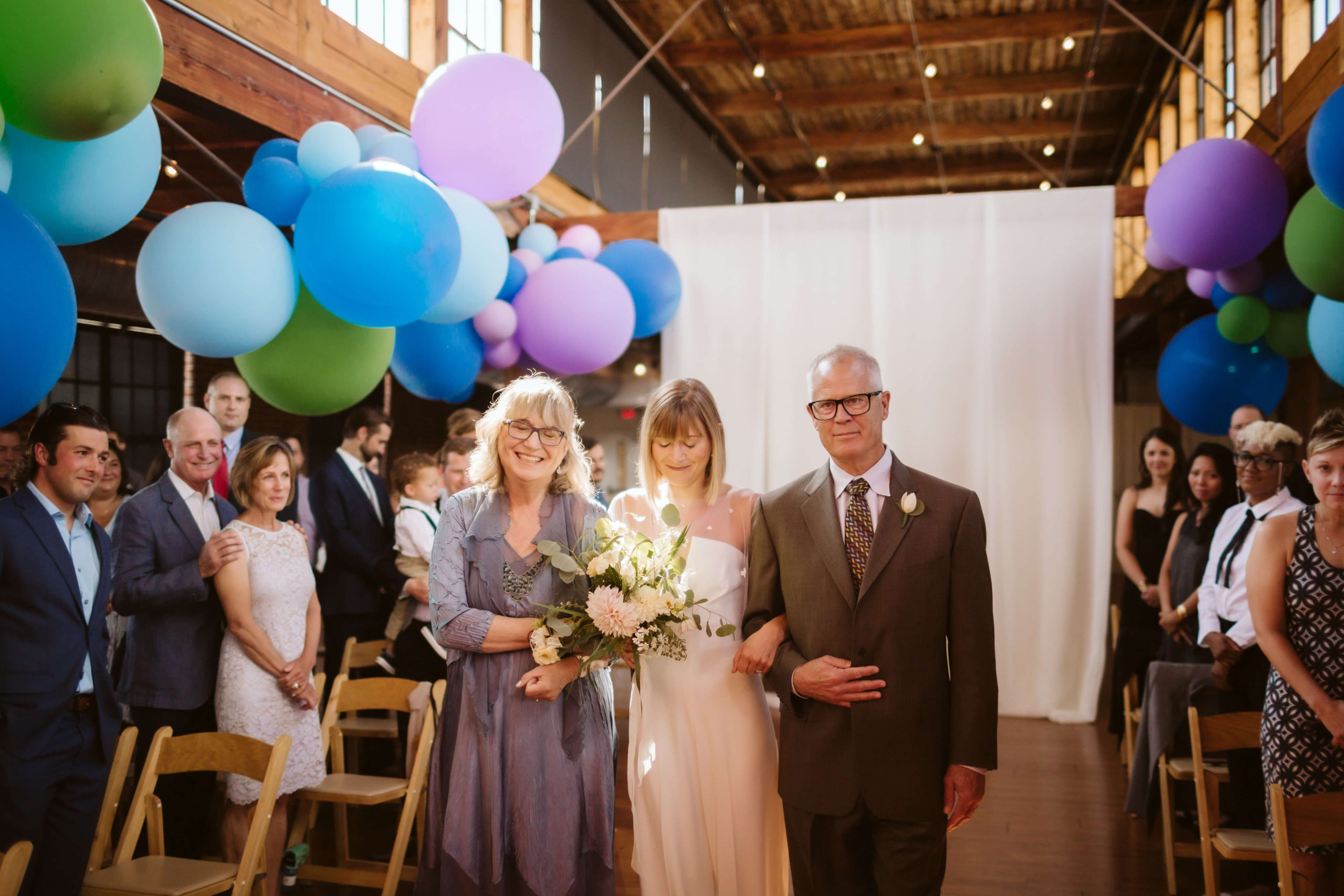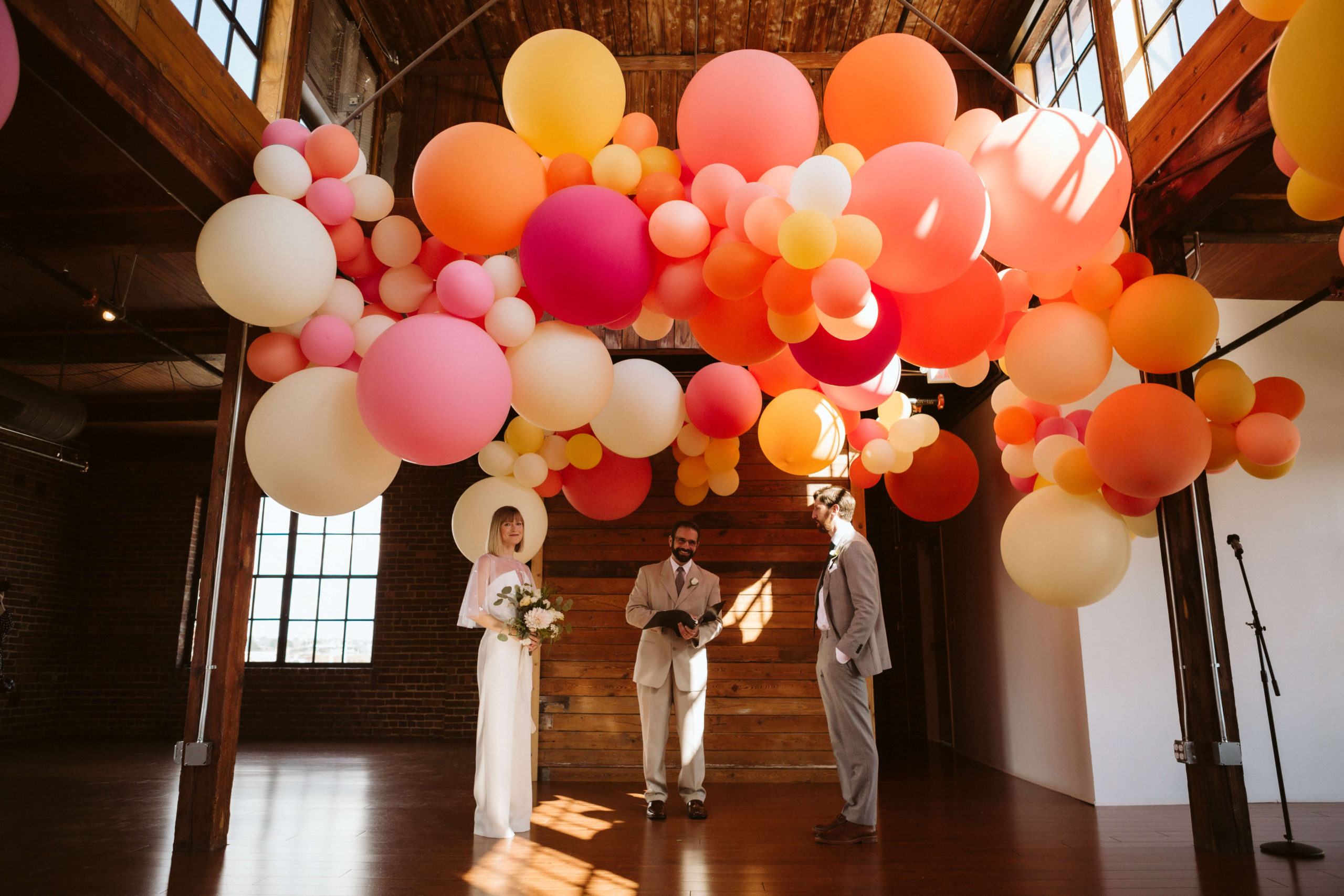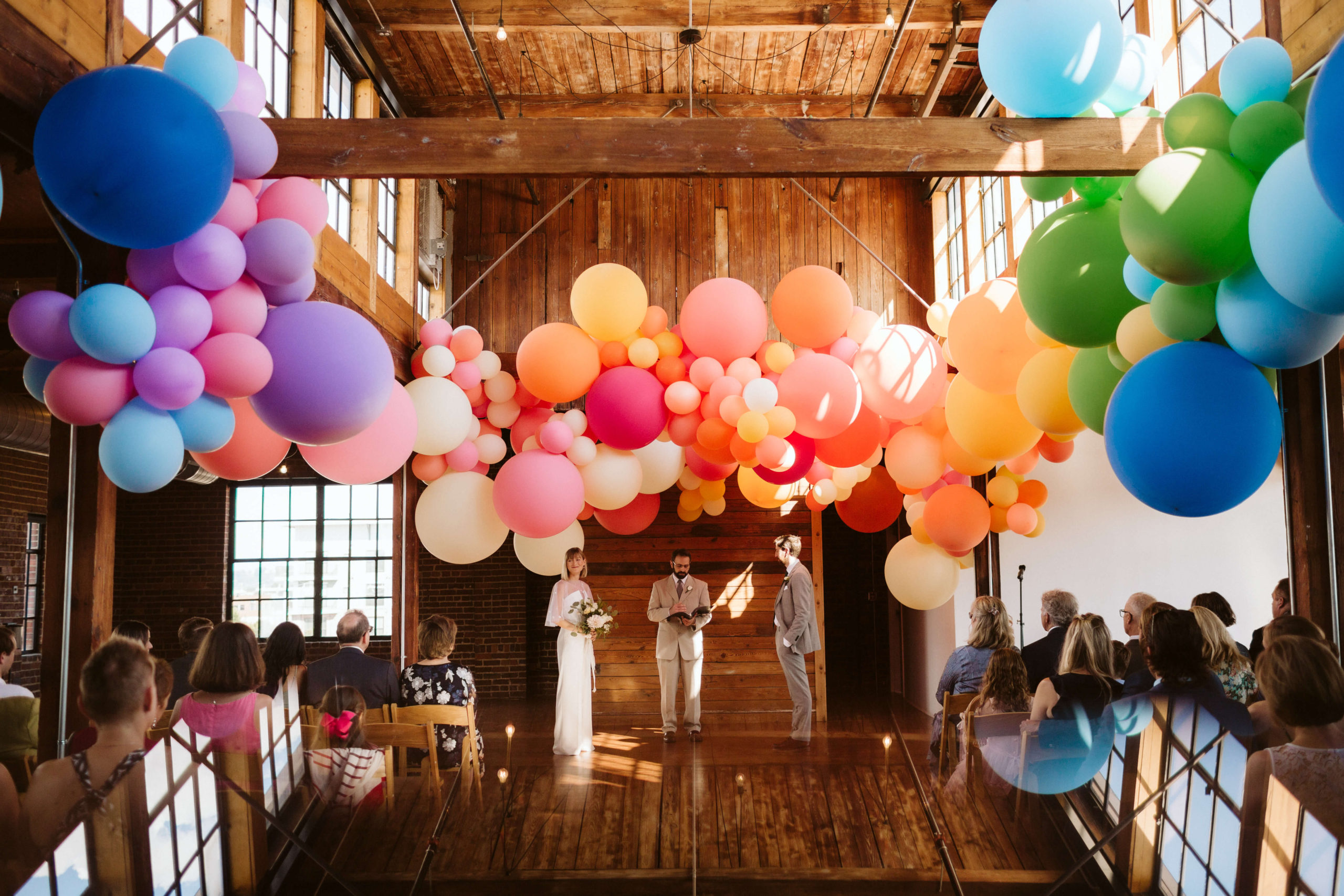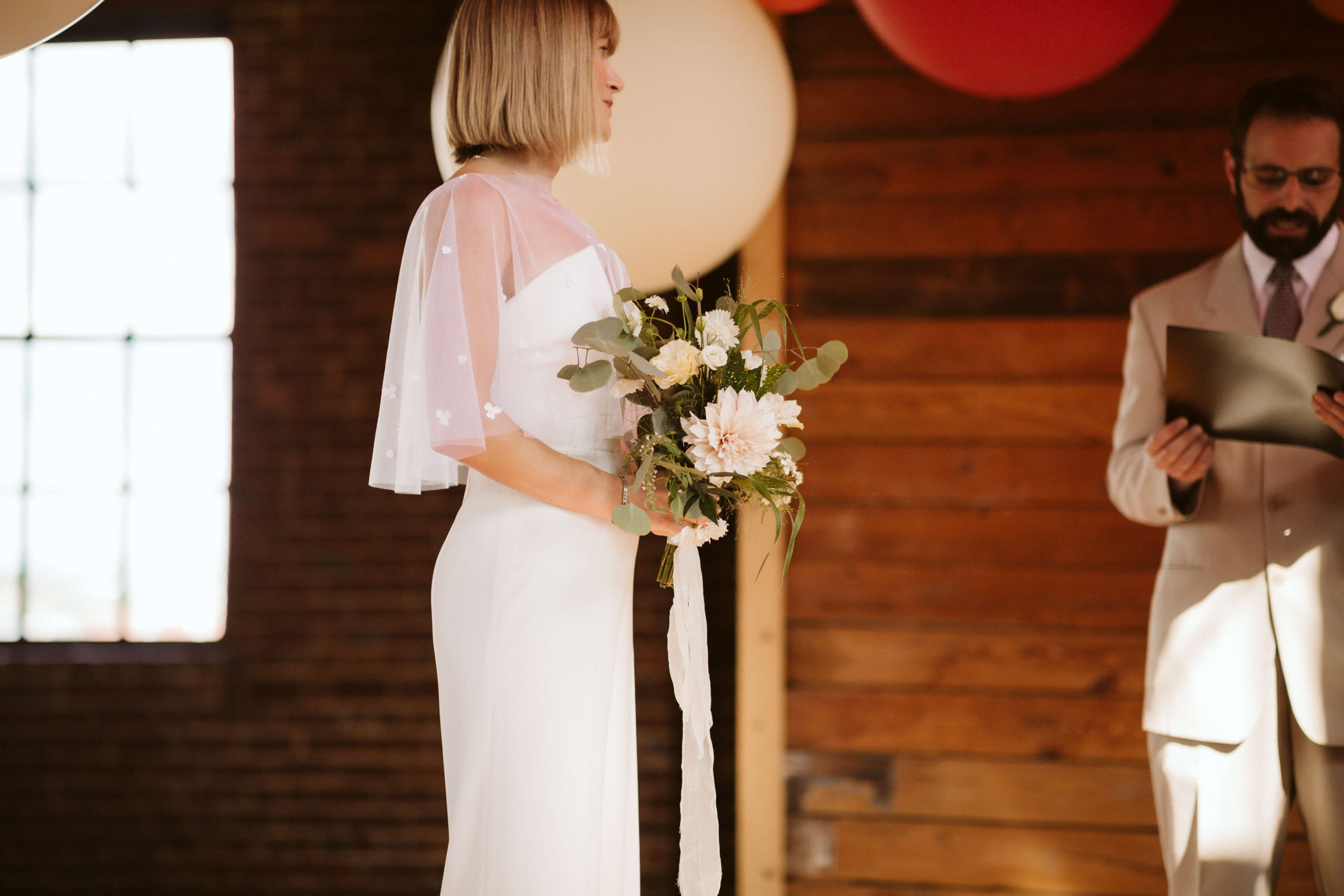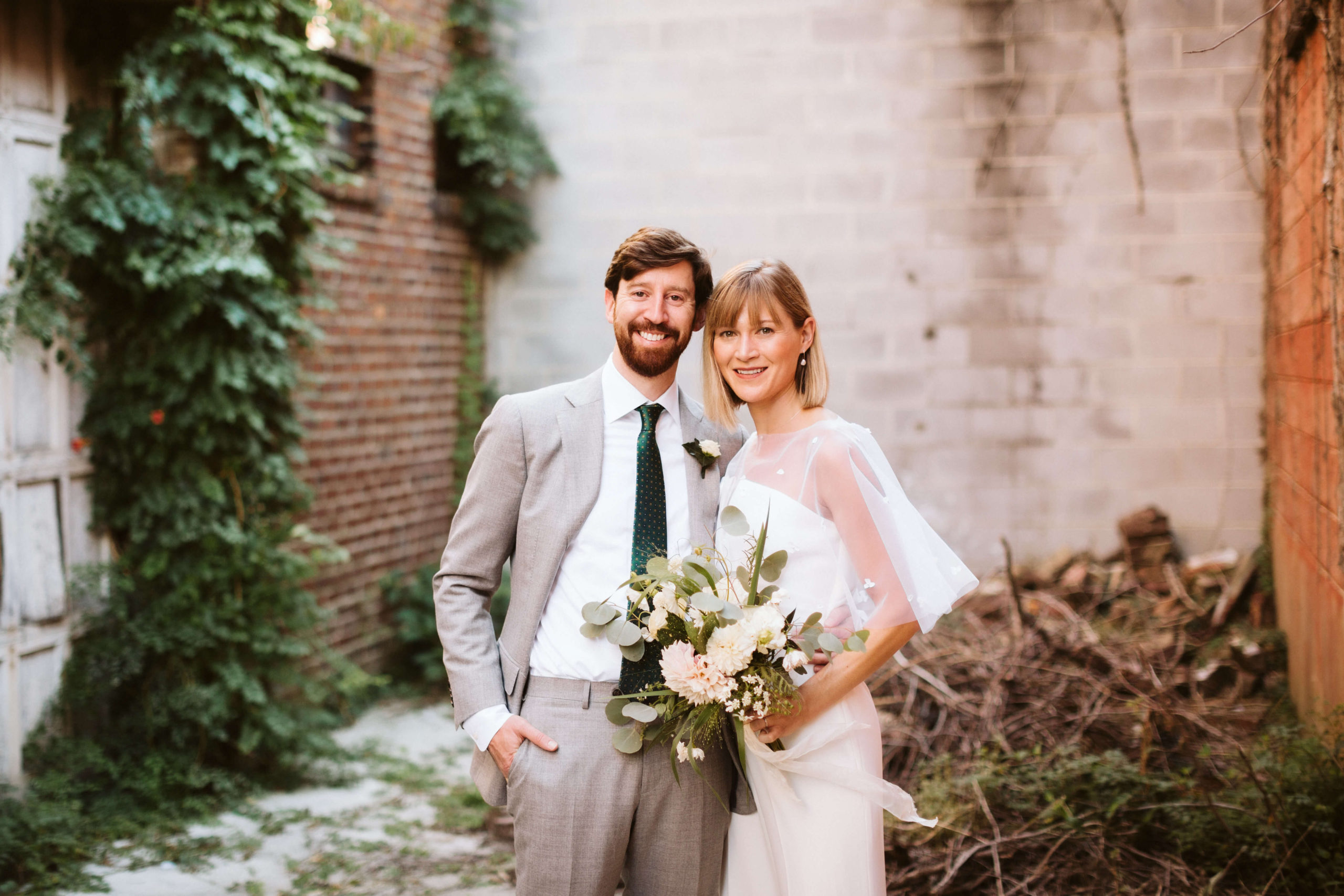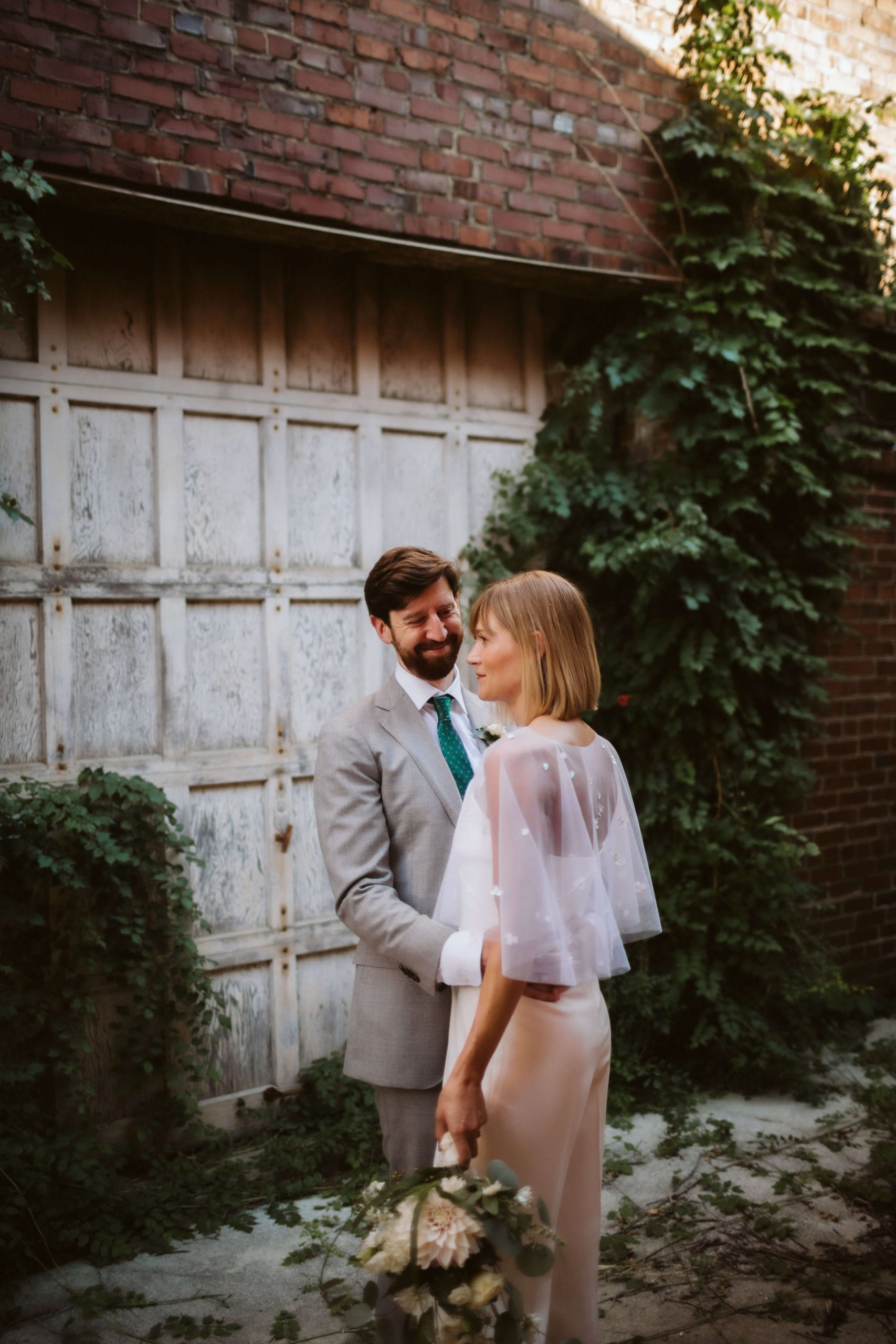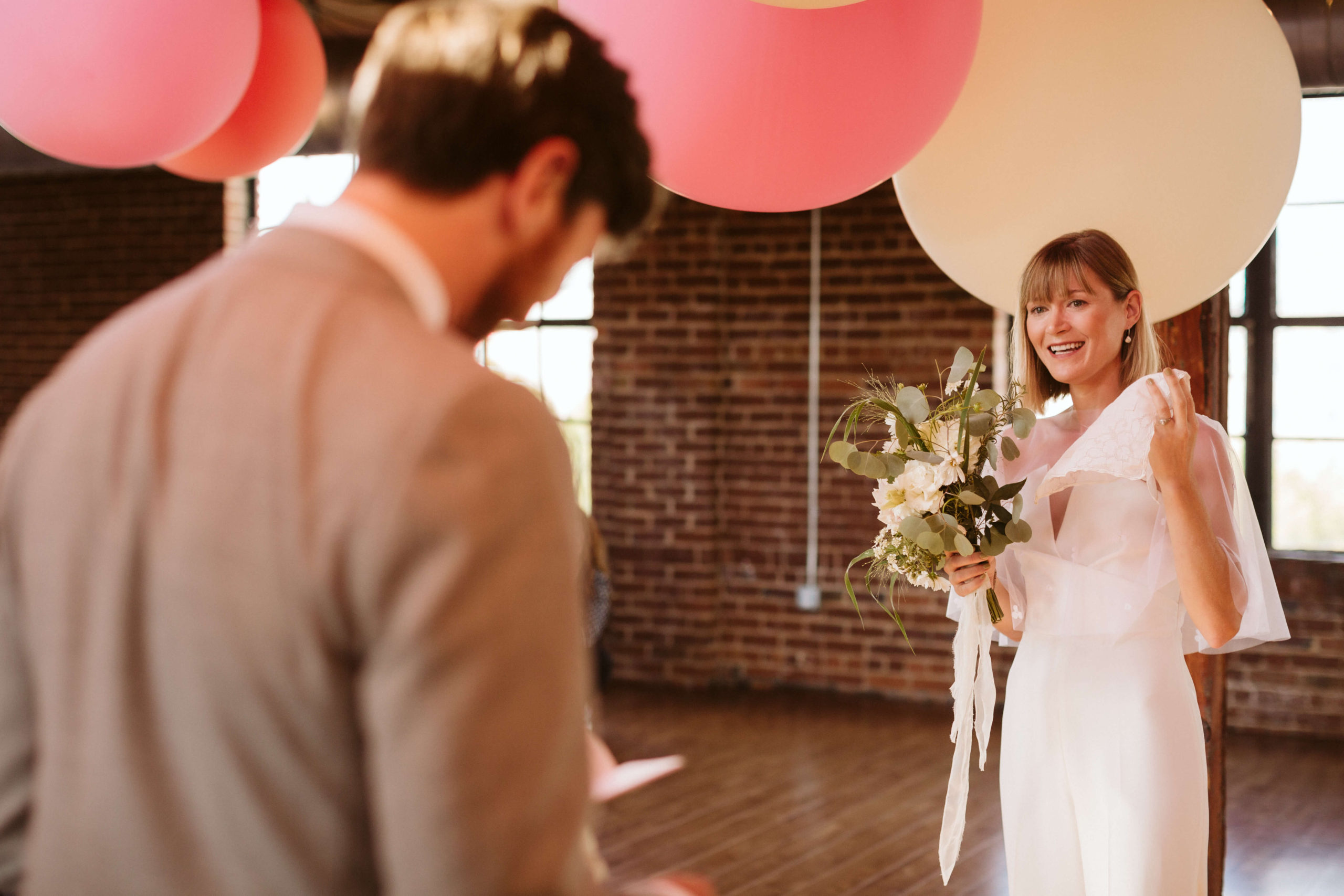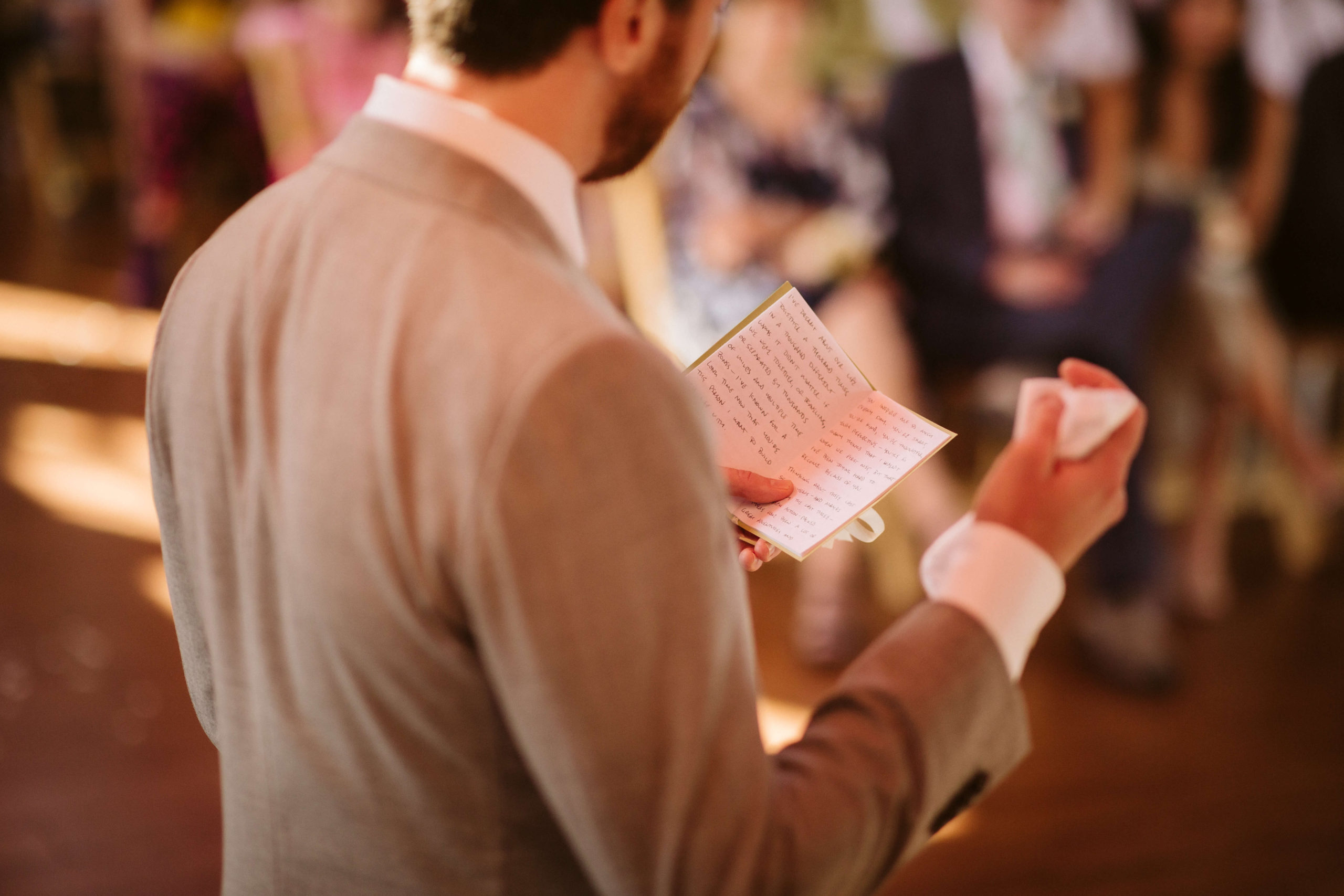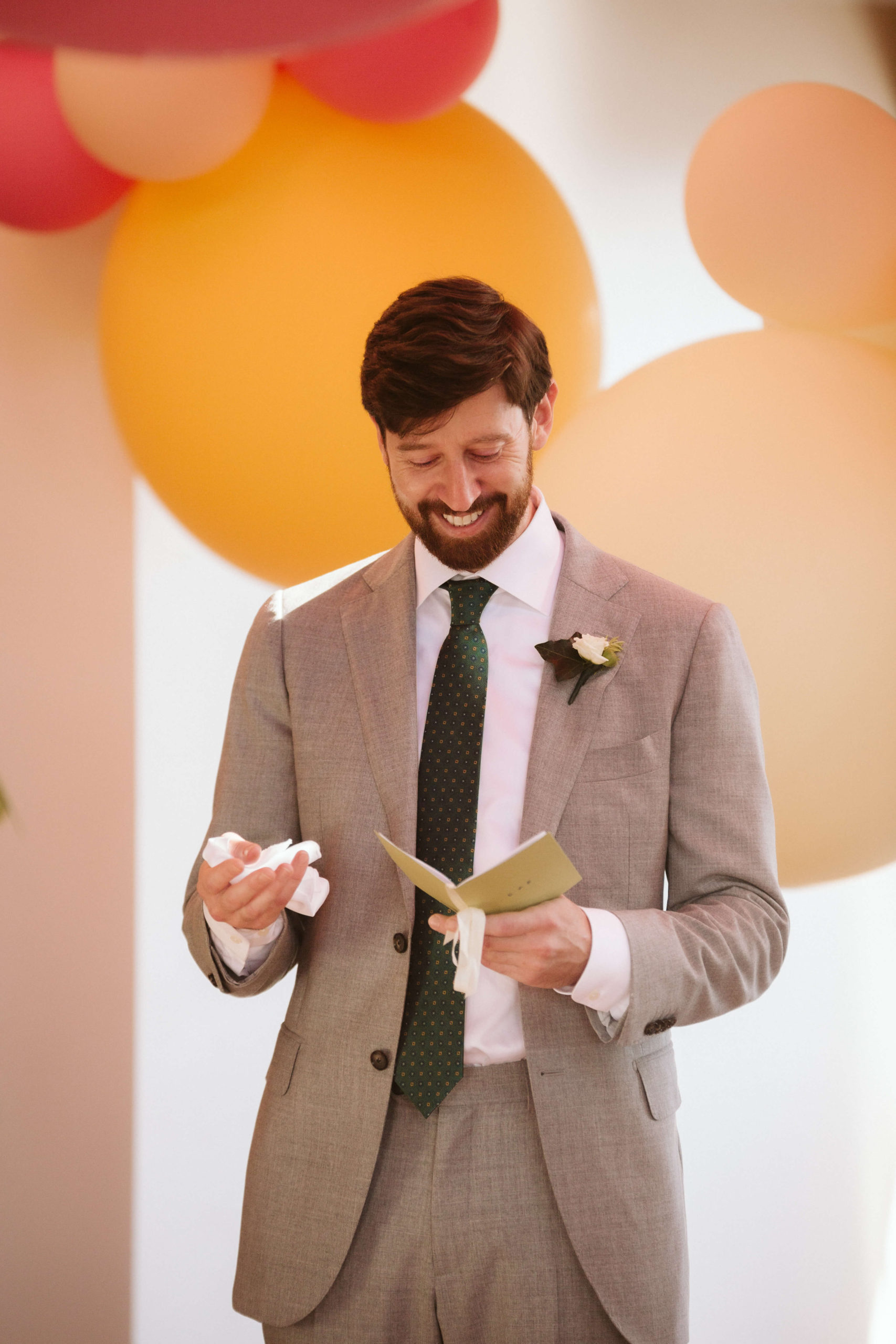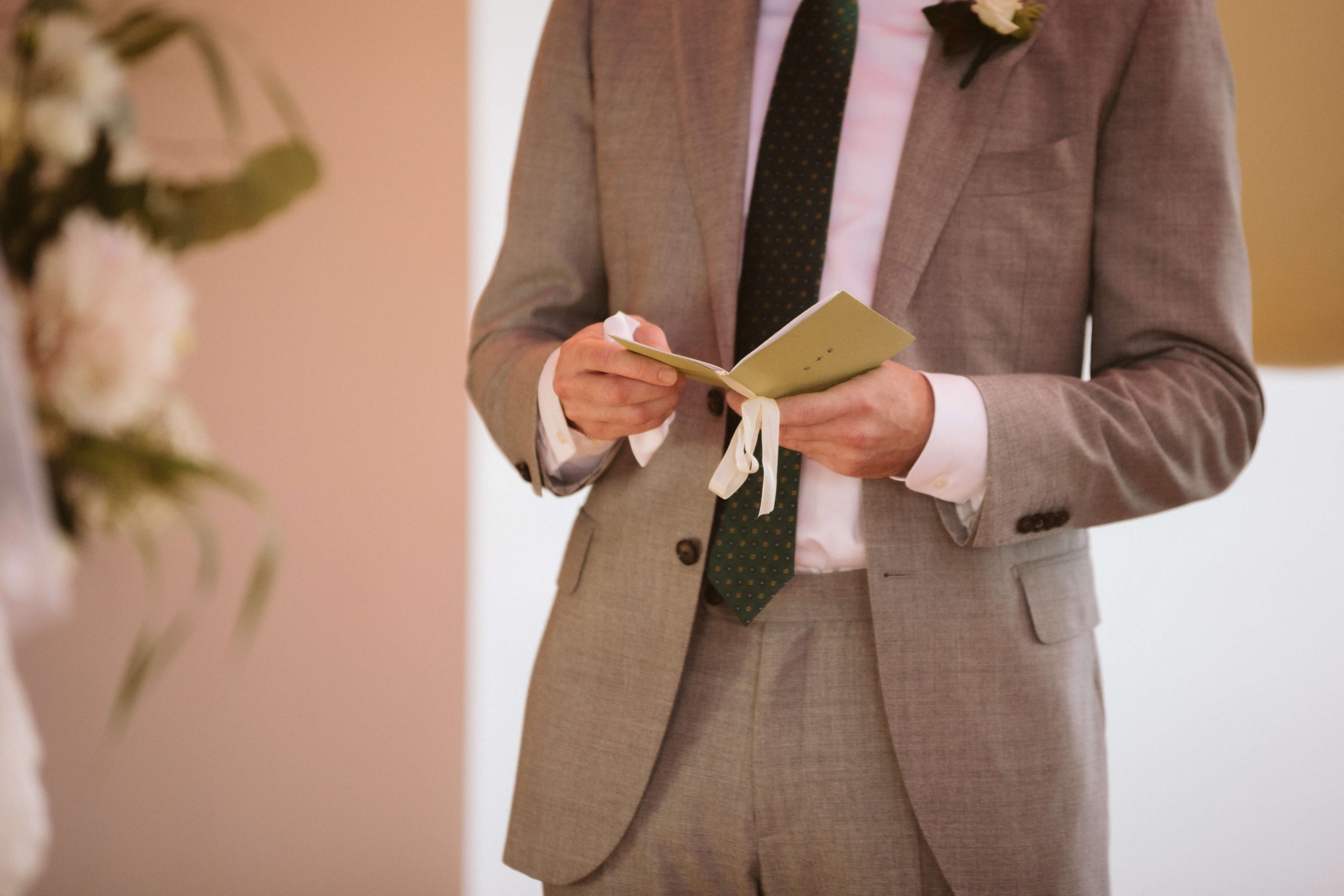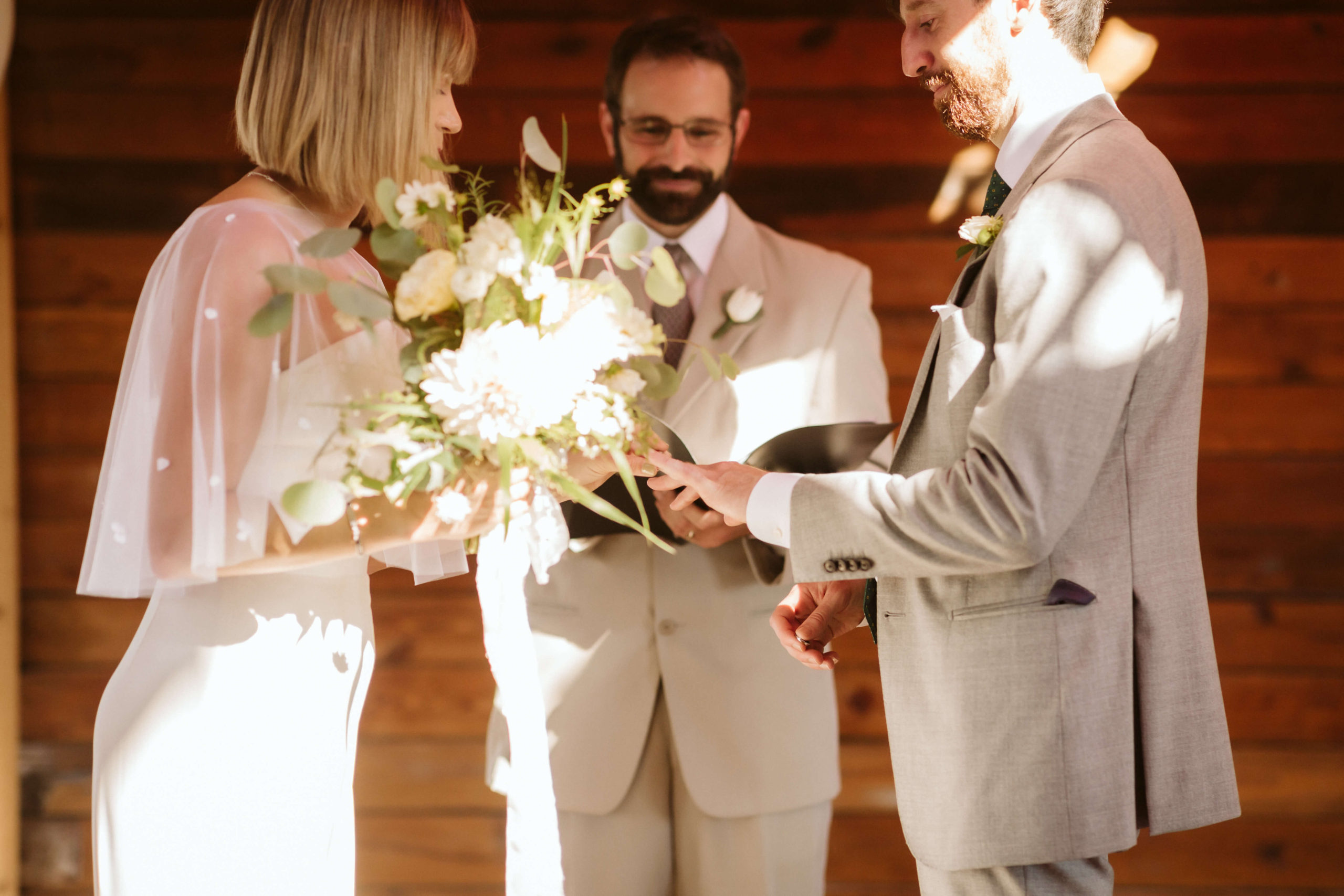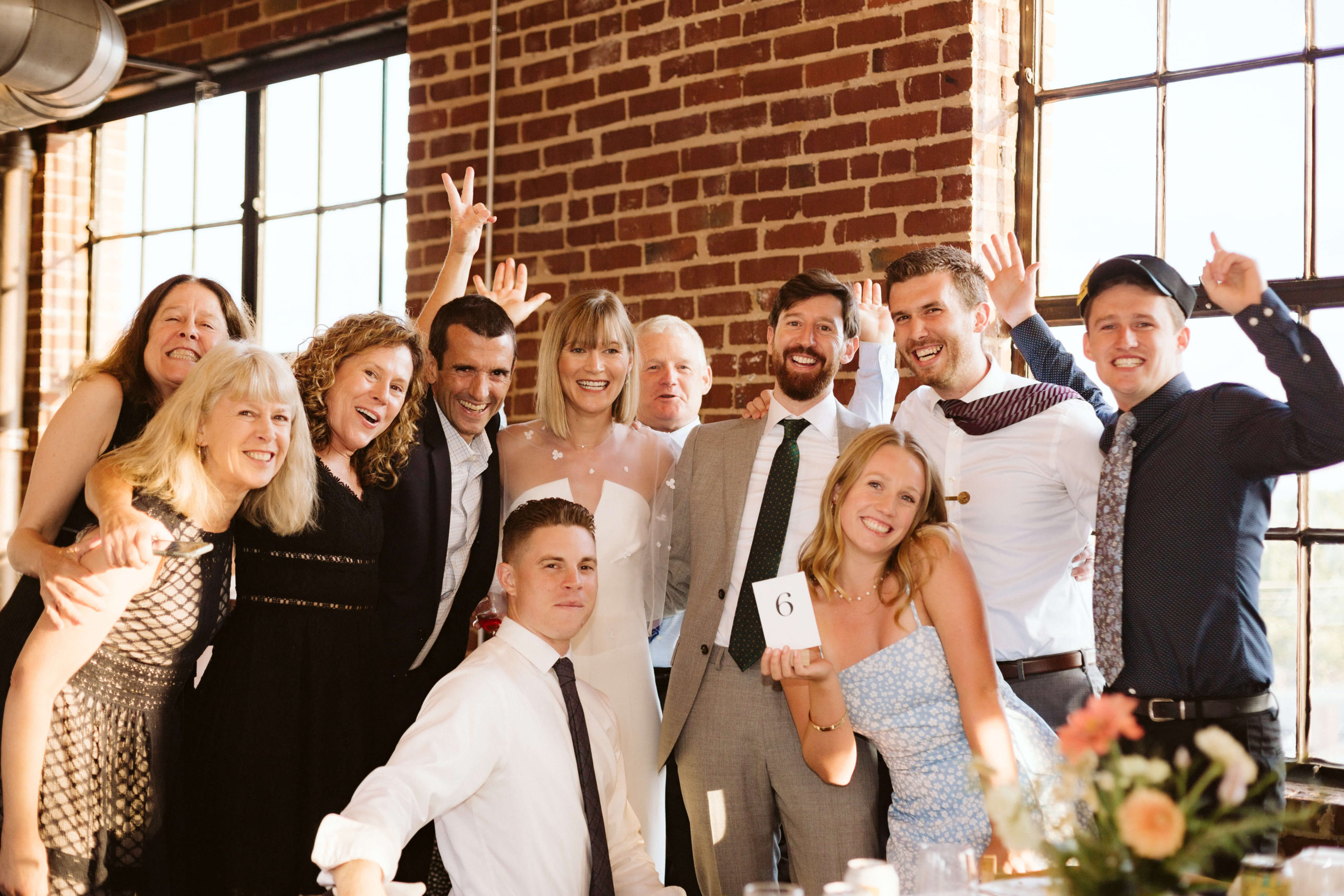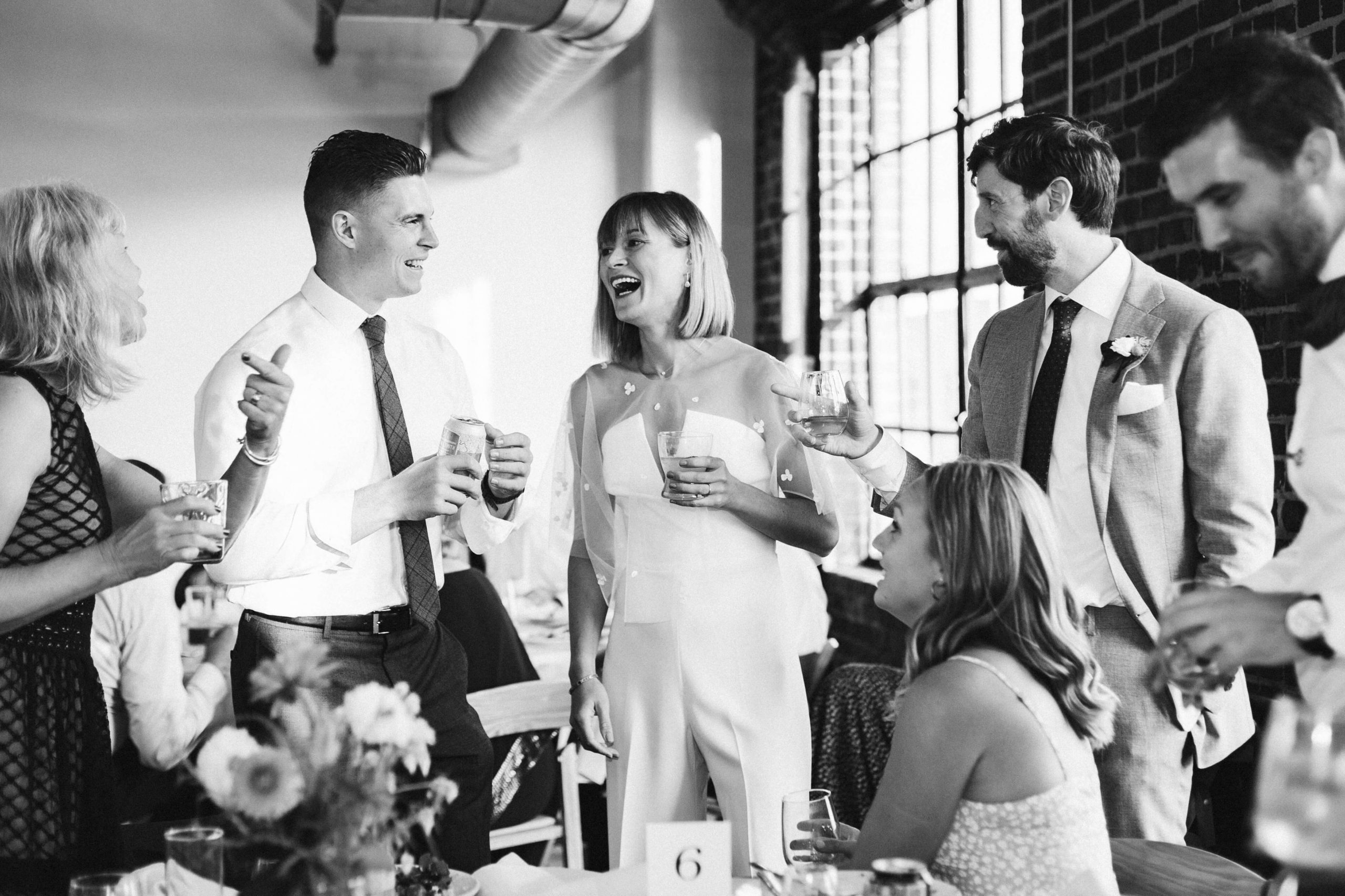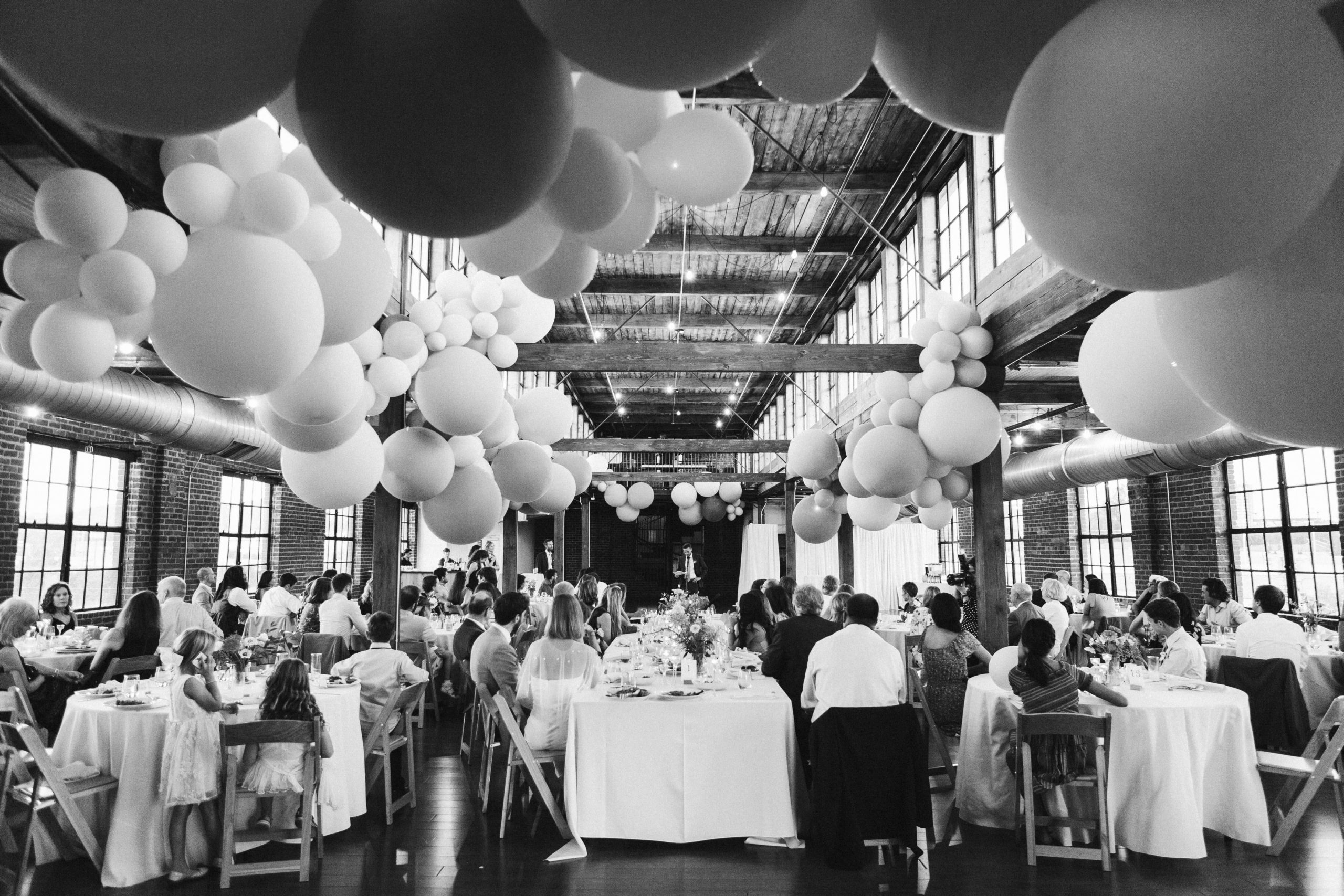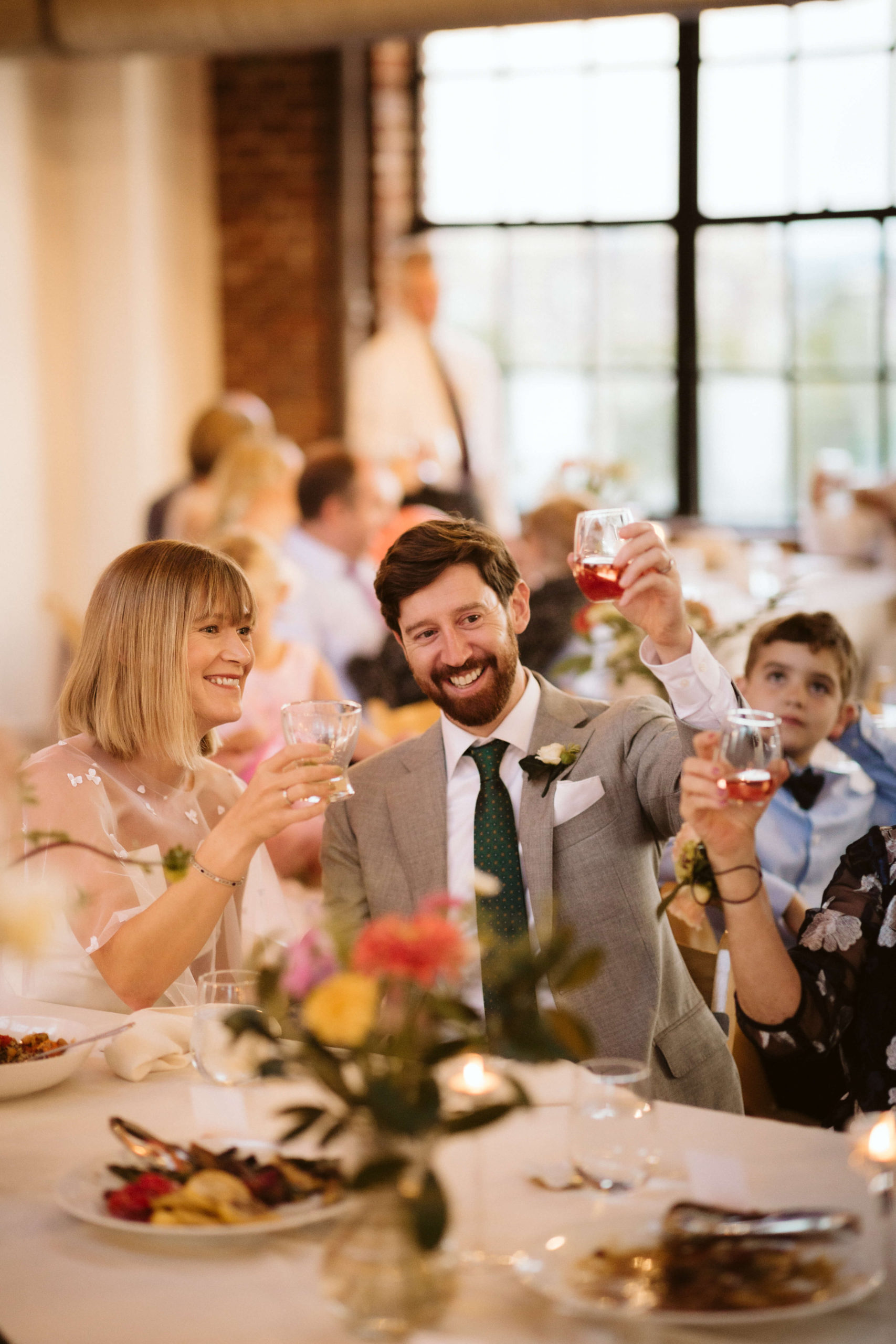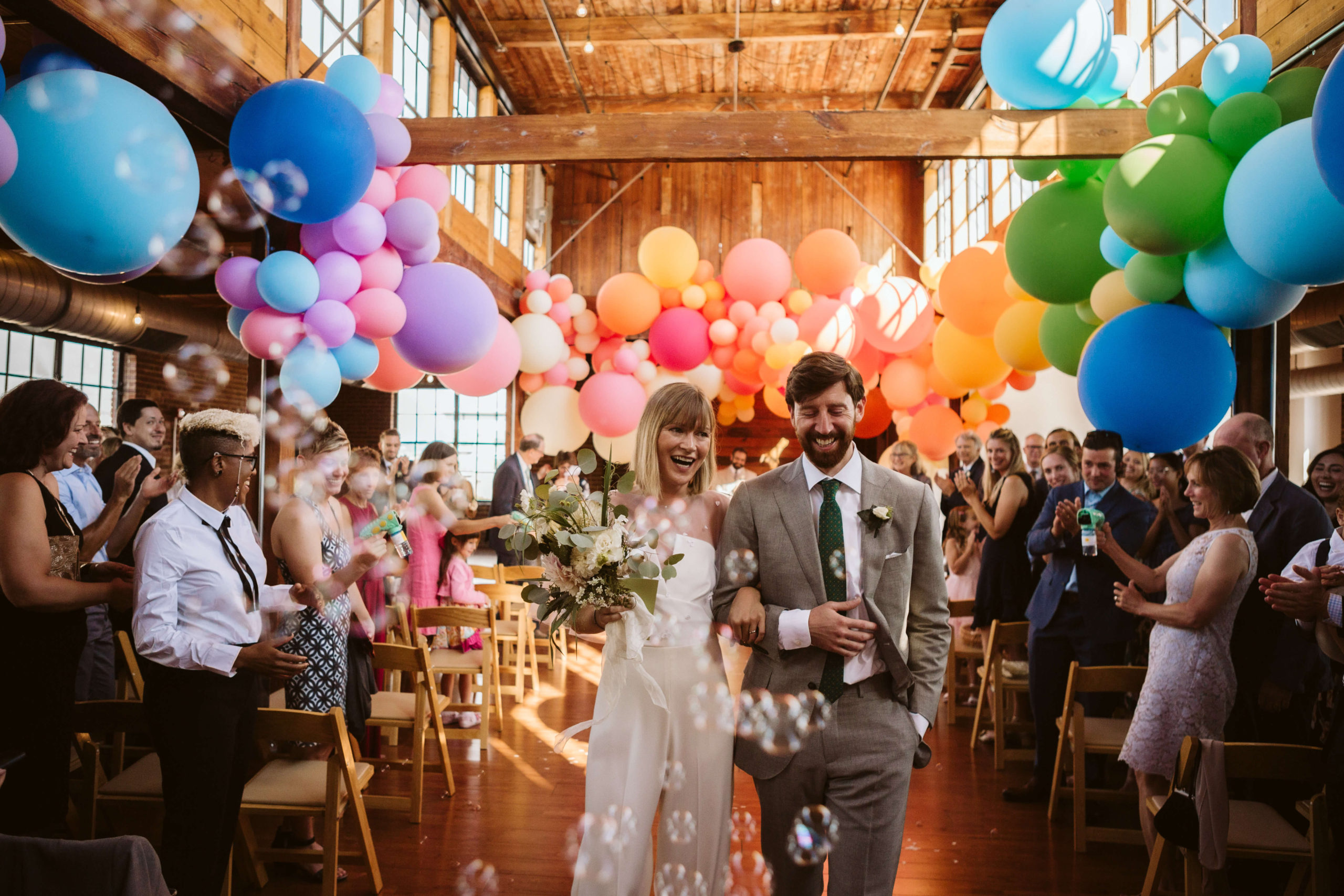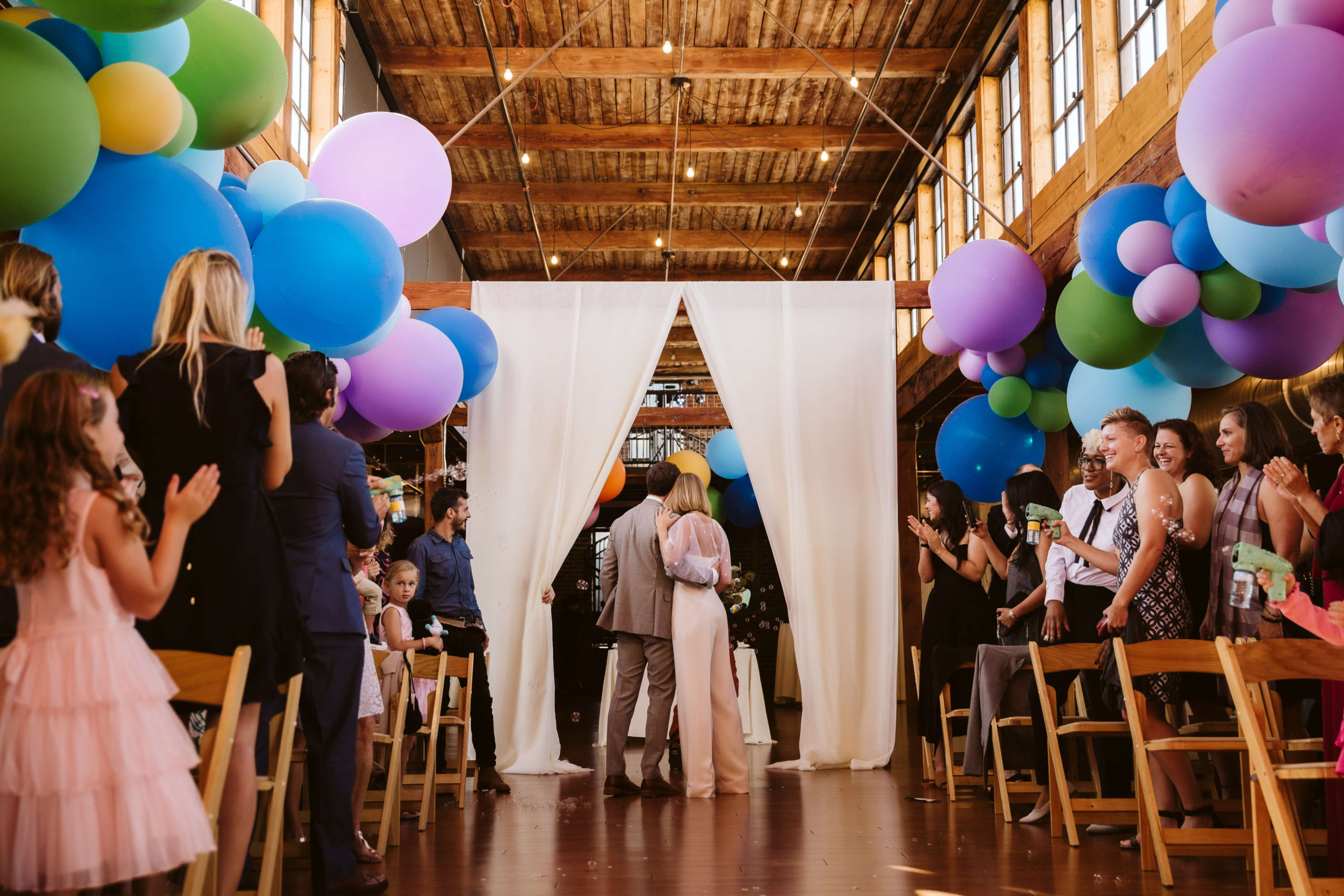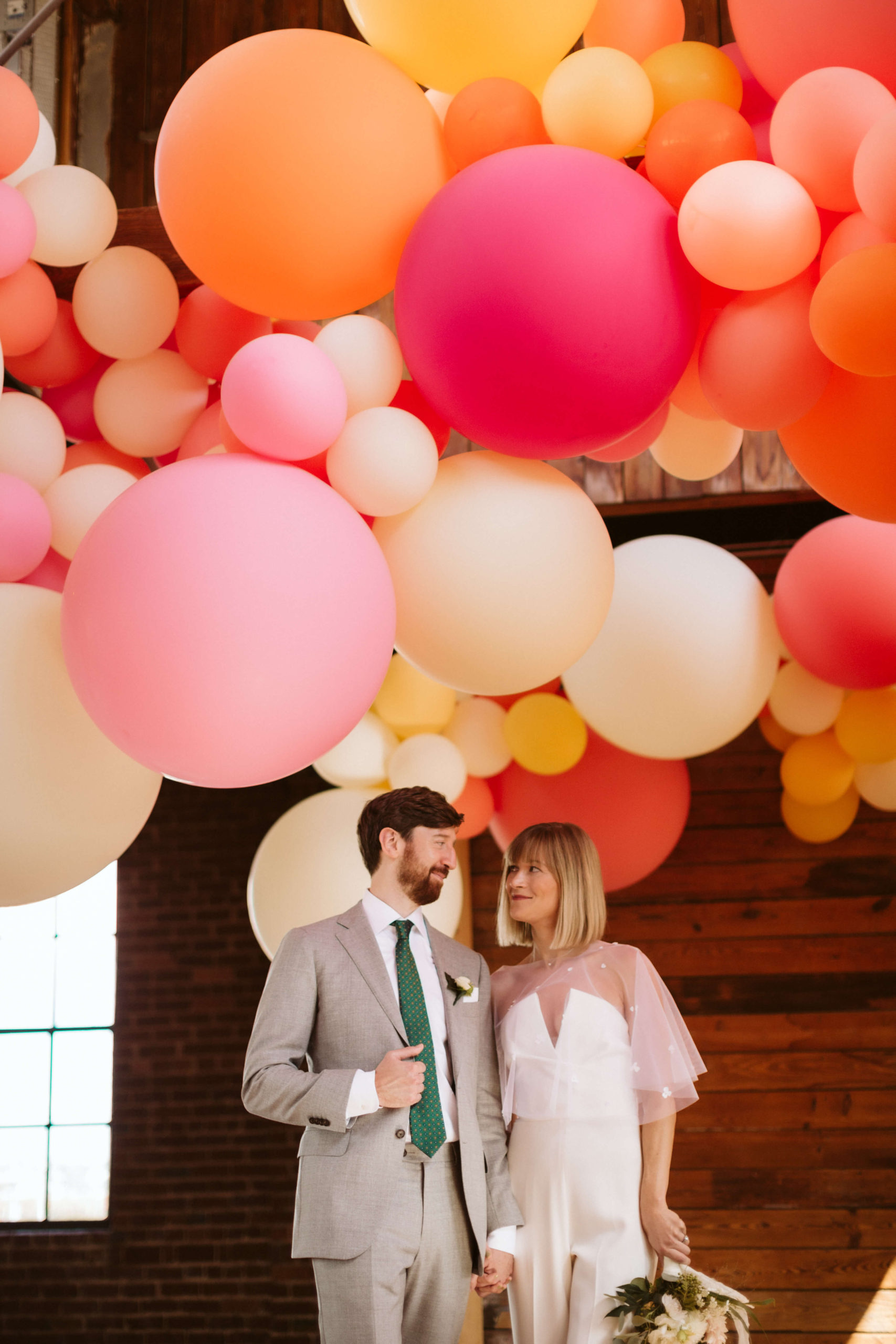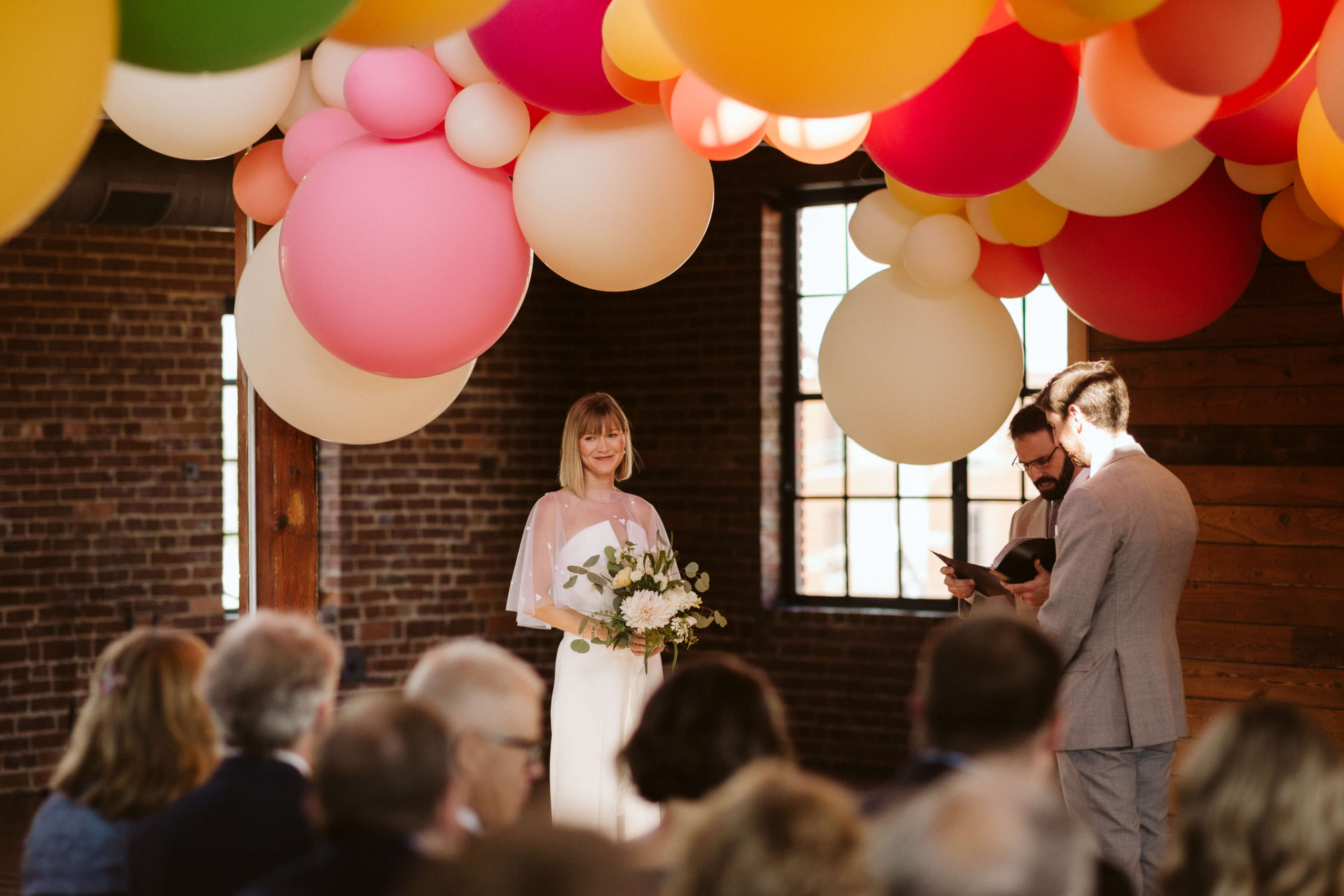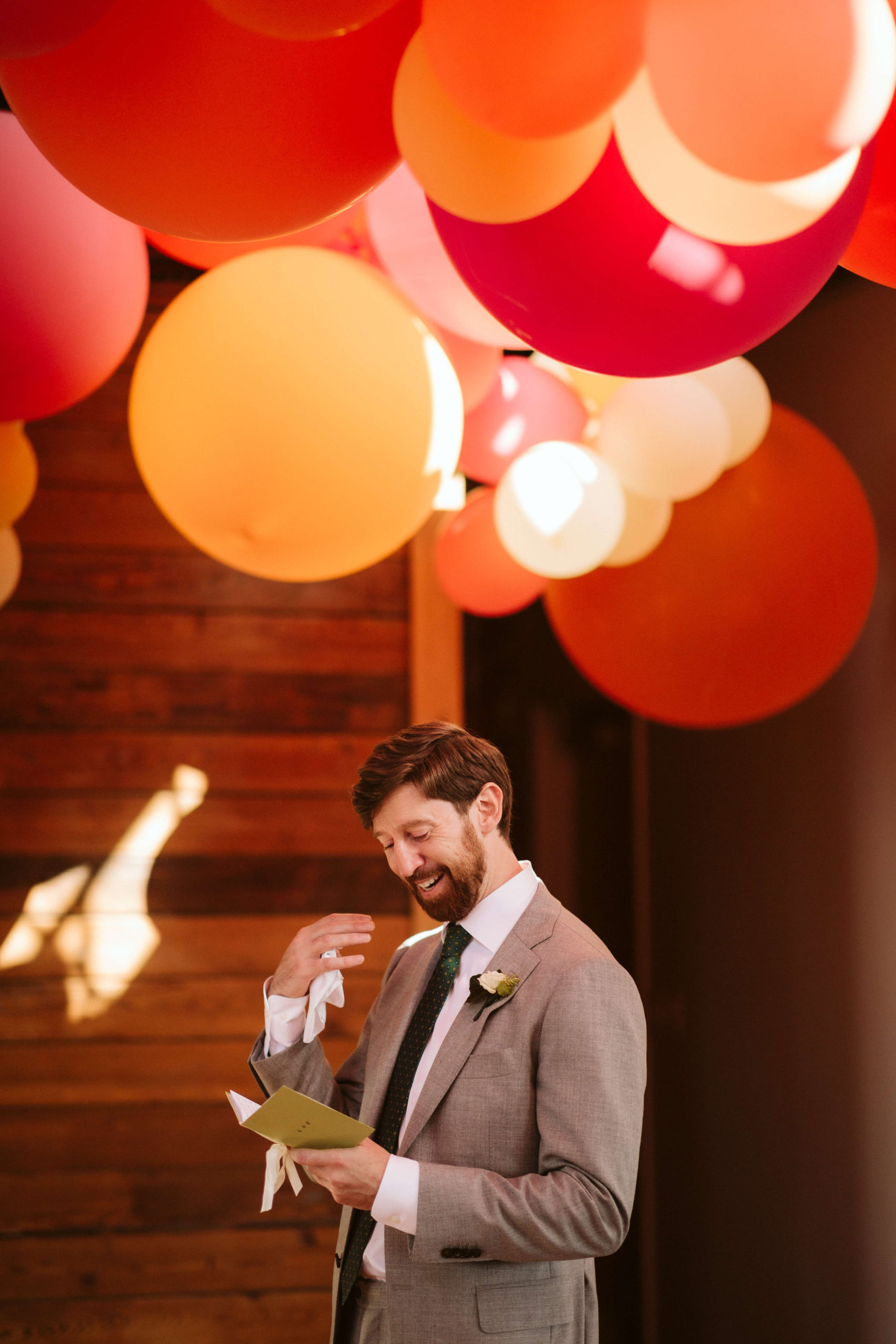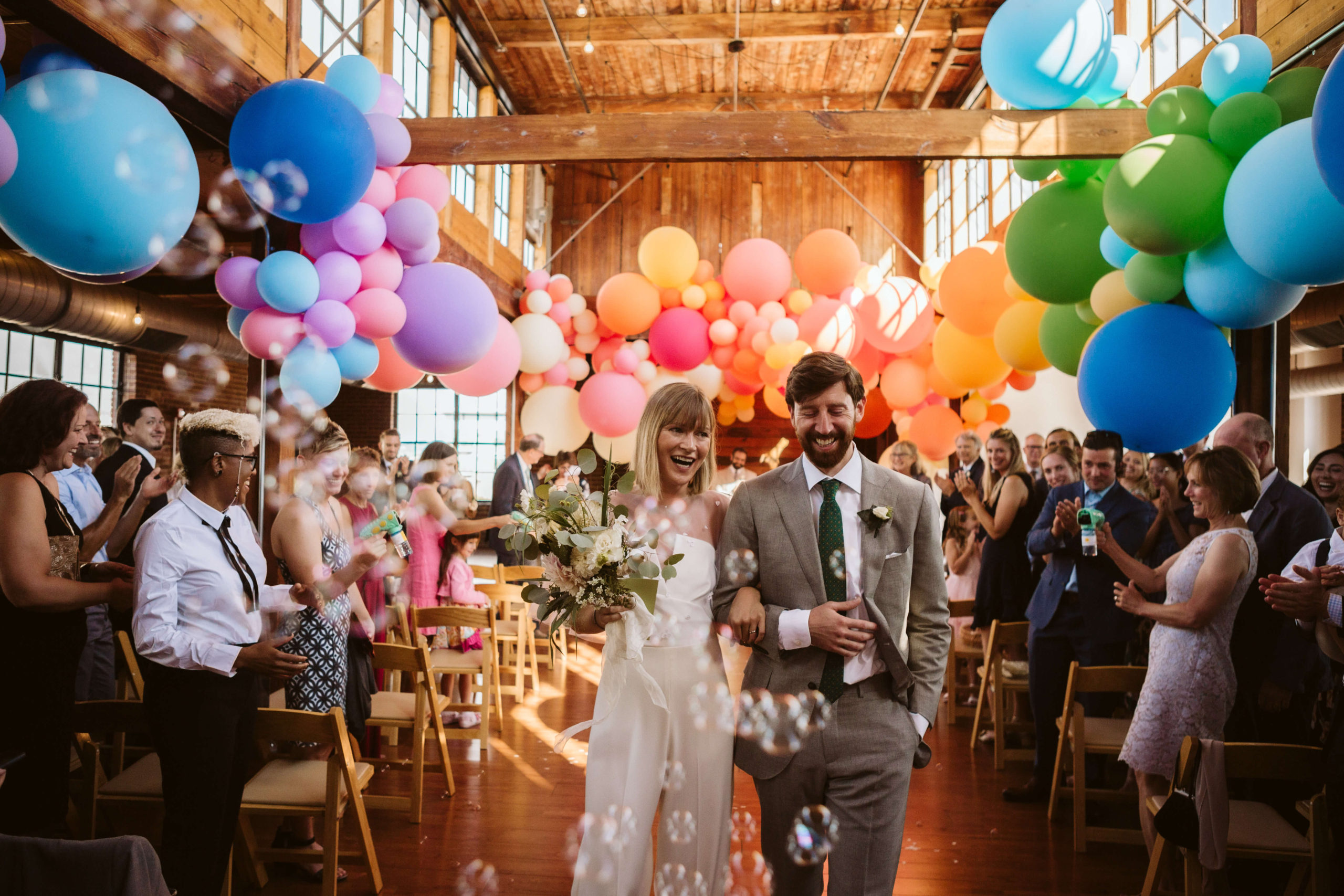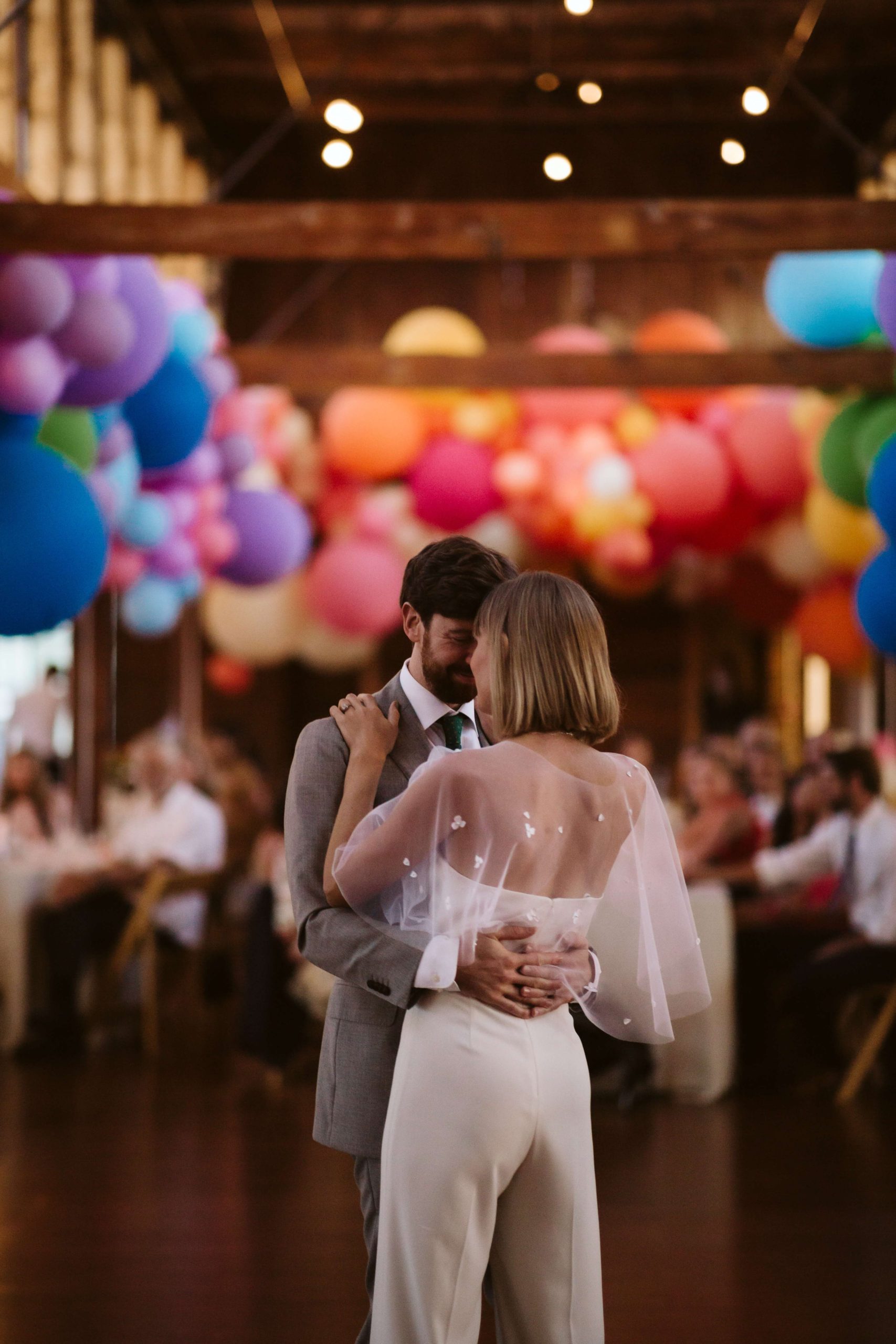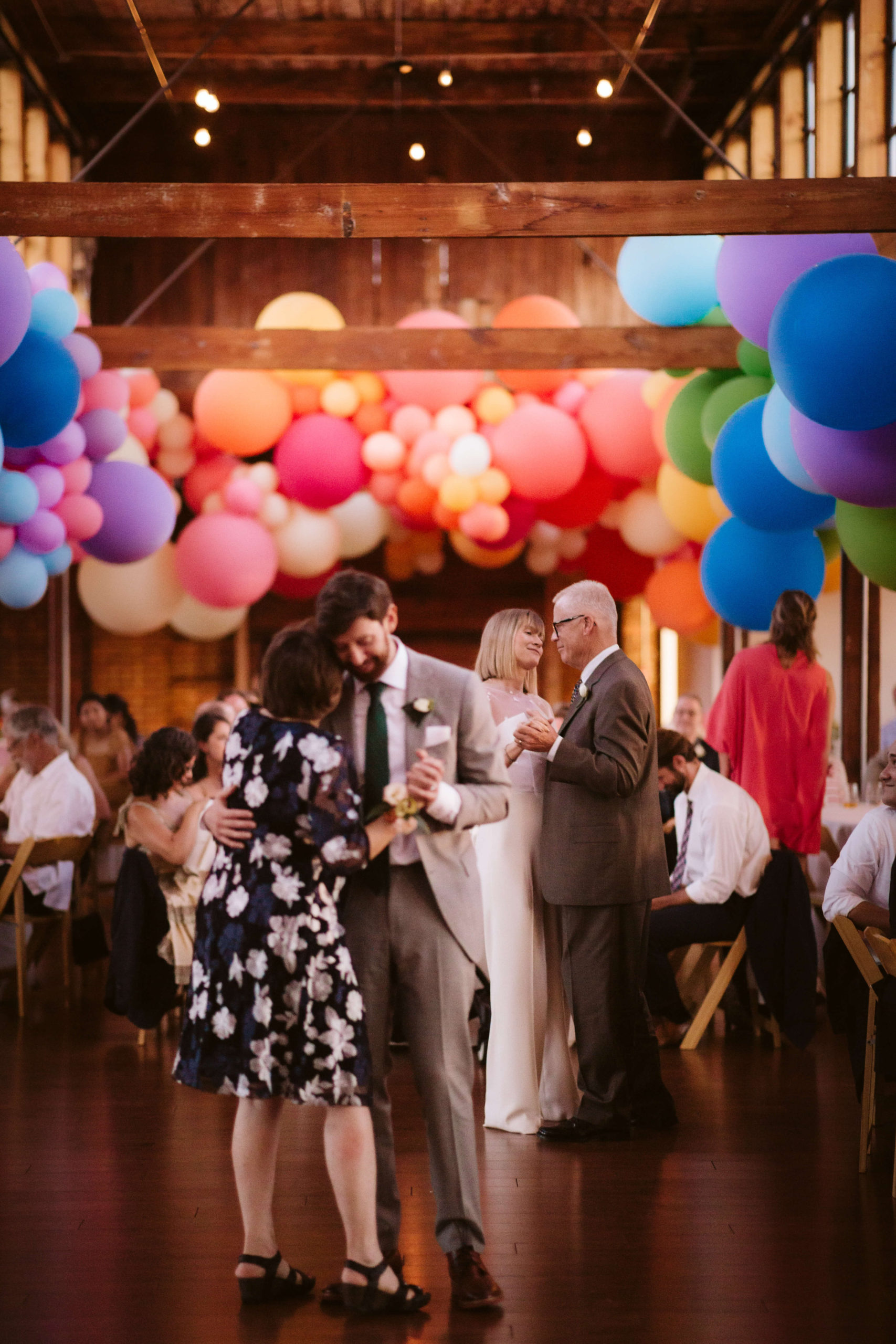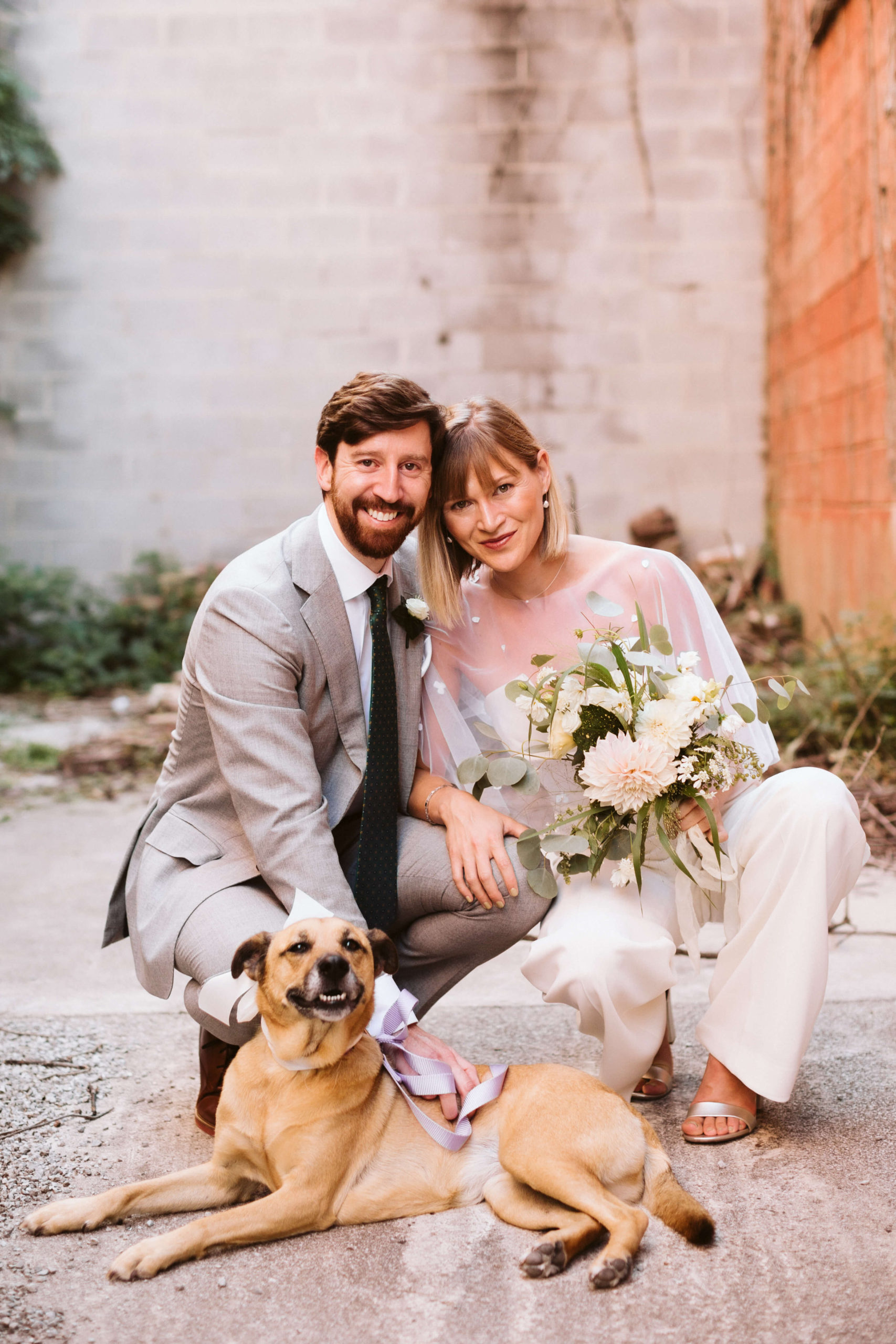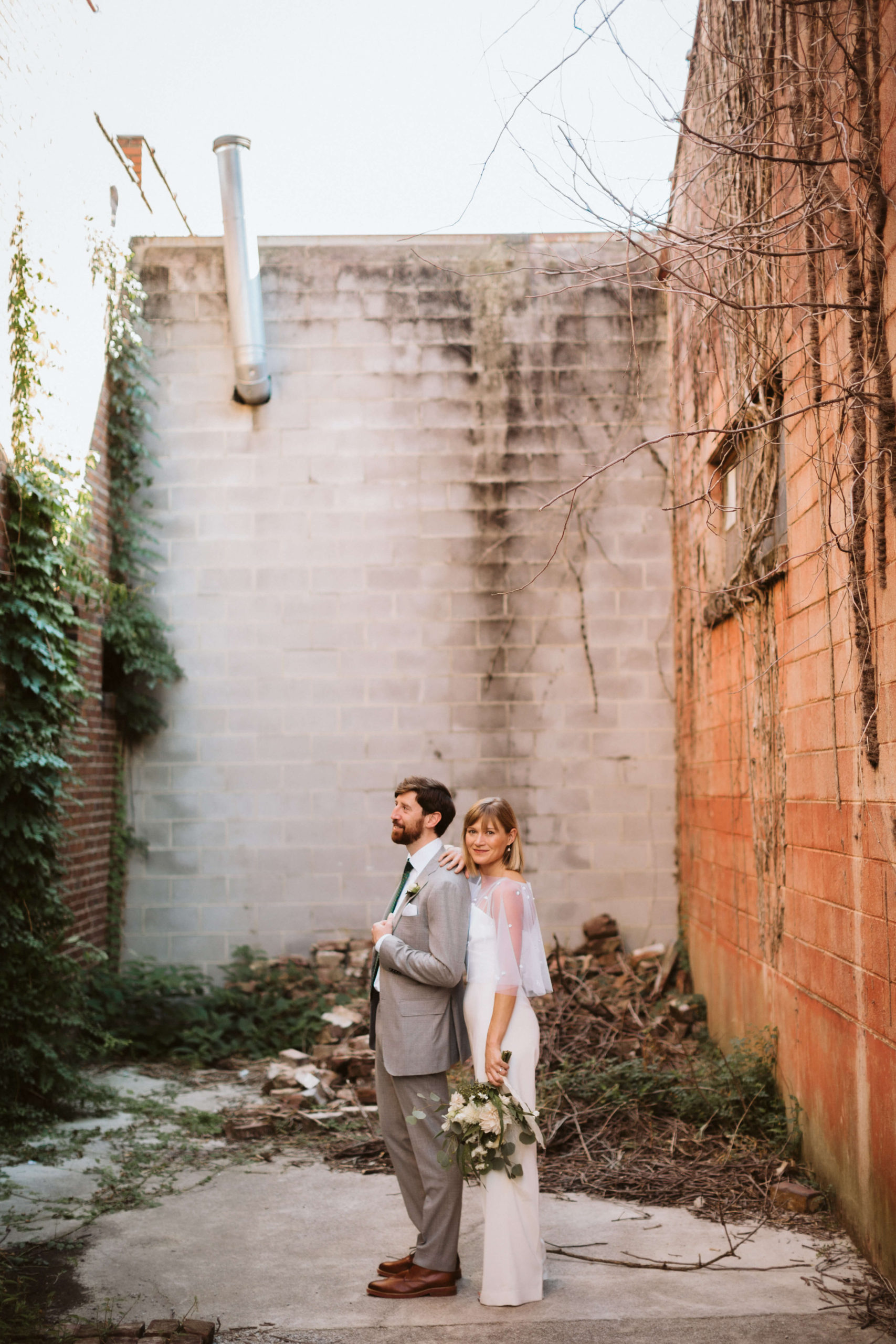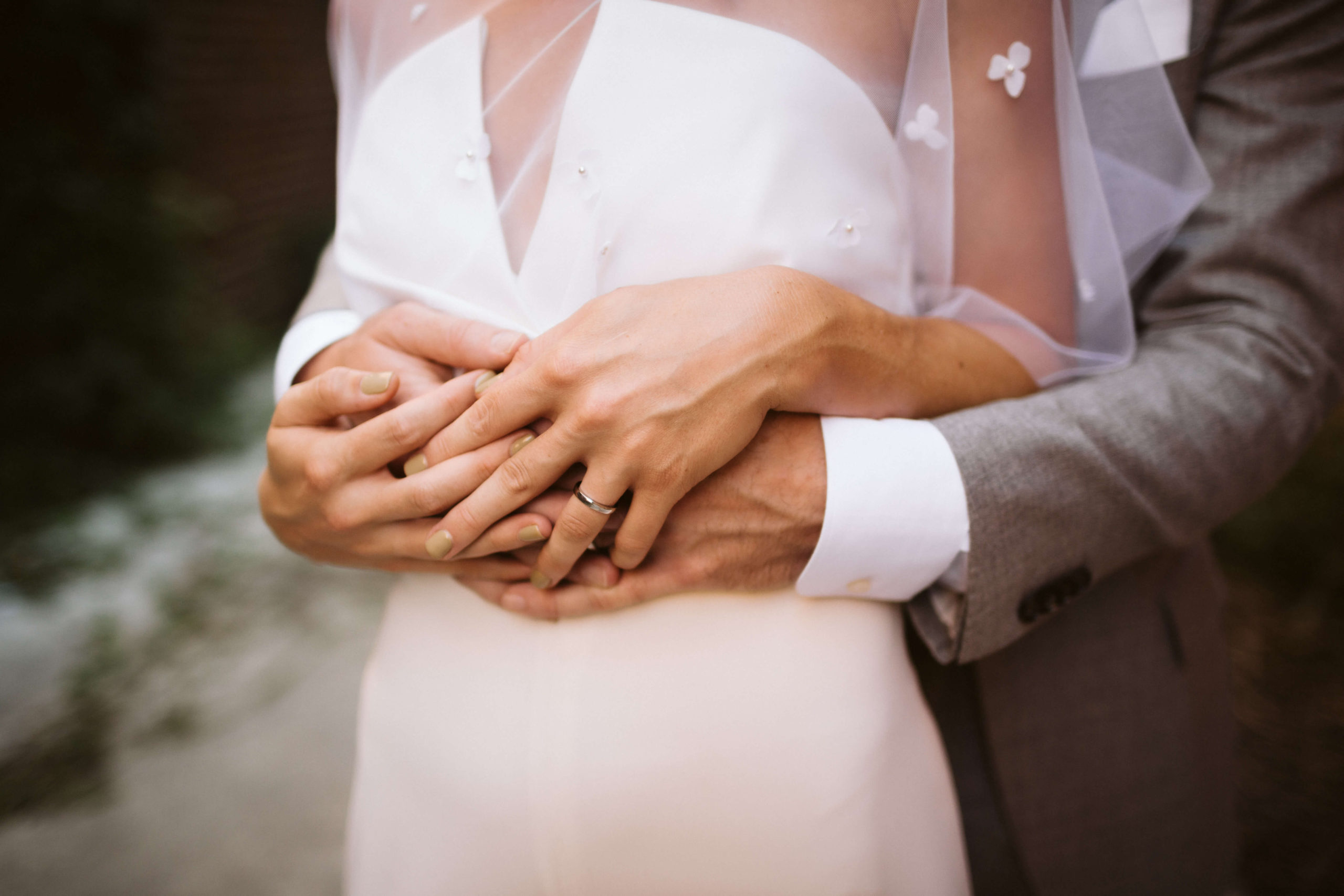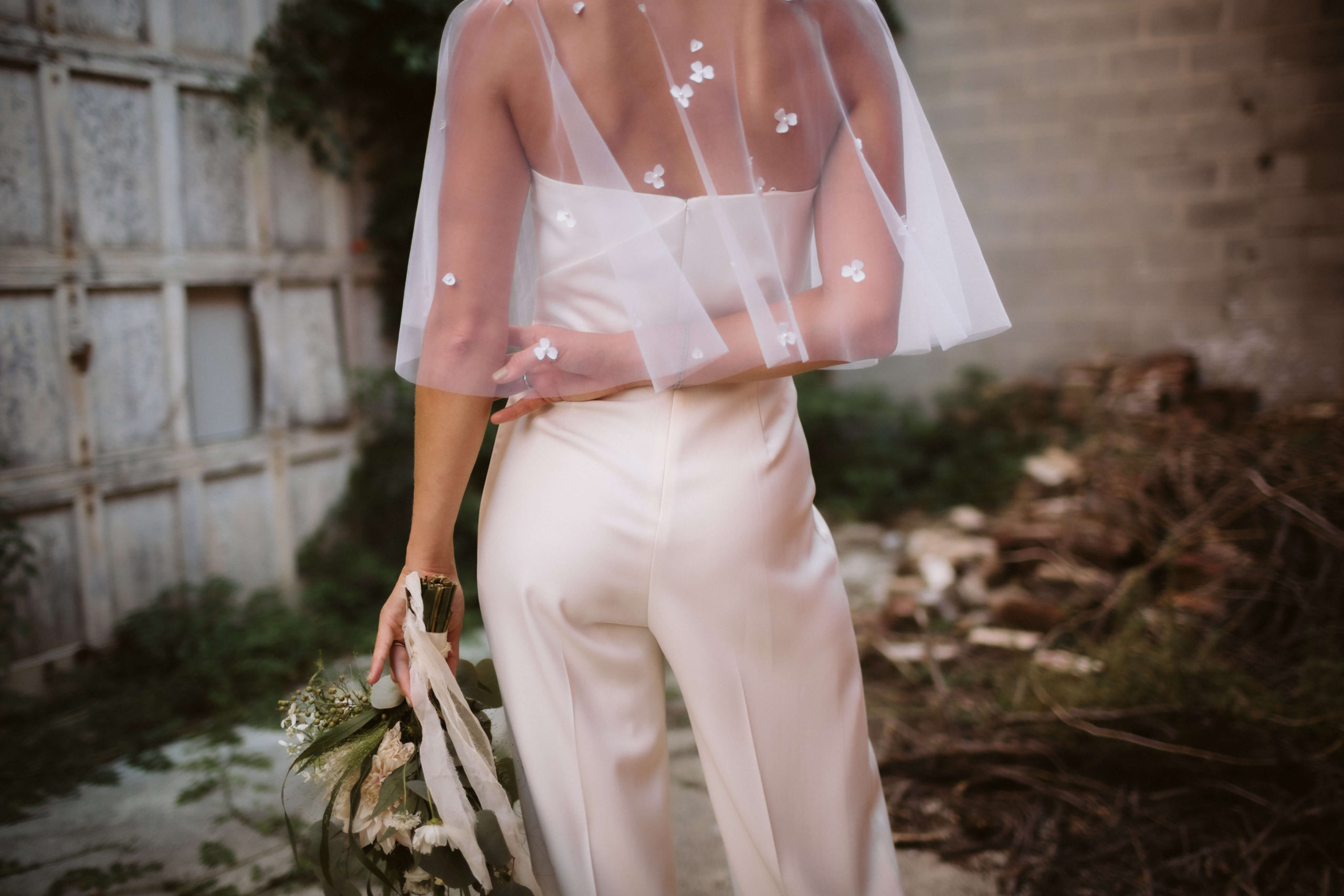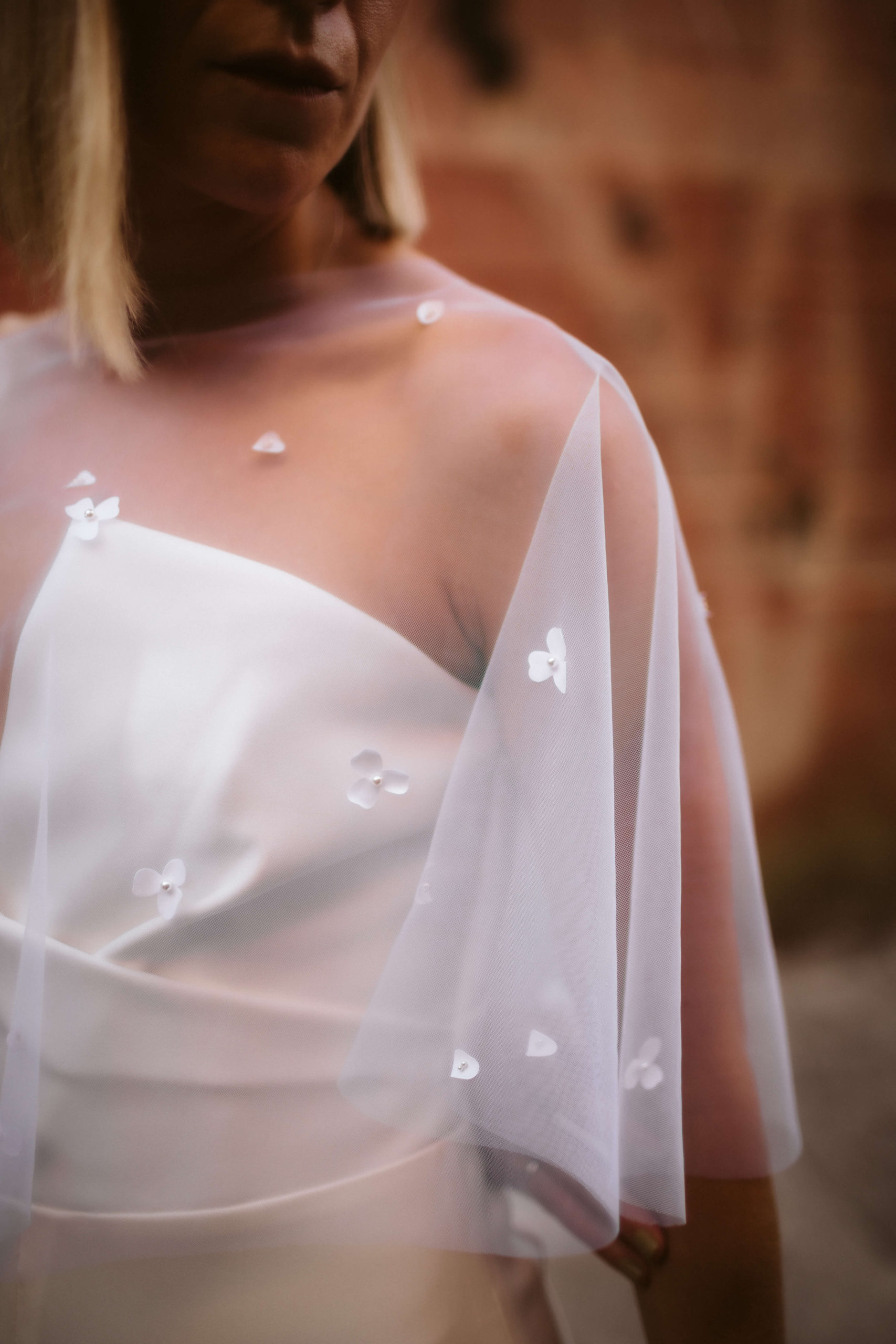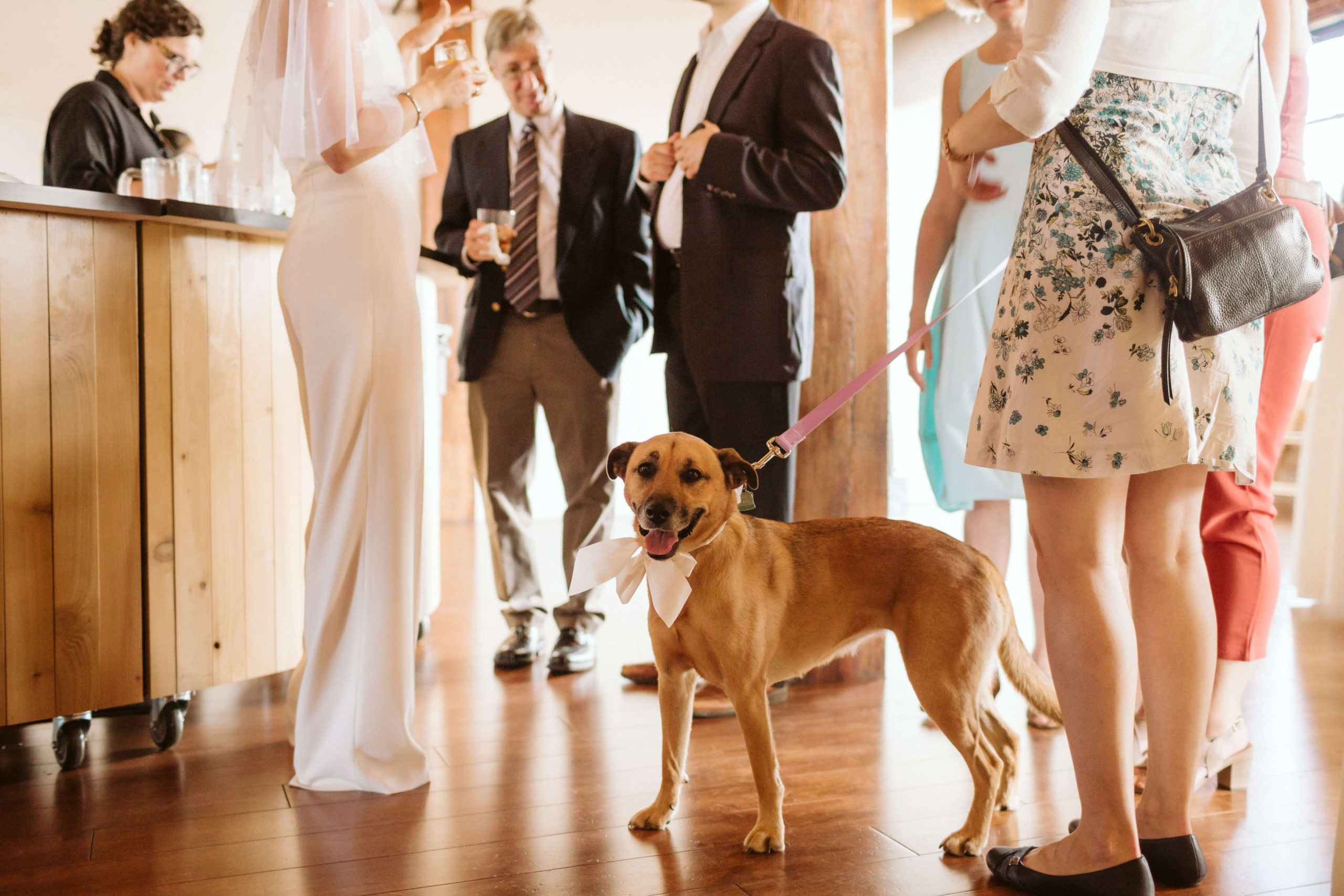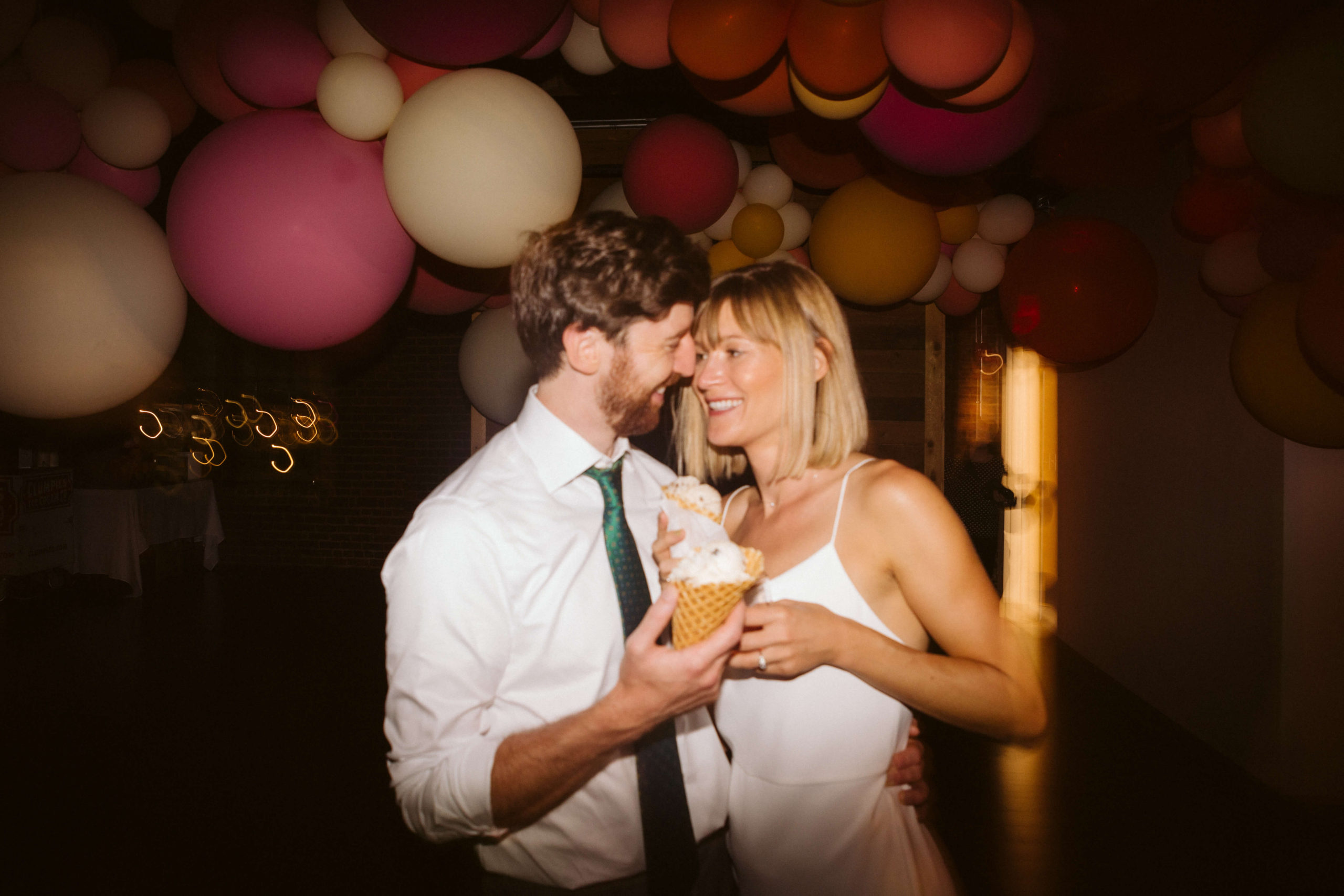 A Fun and Playful Reception at the Turnbull
Between cocktail hour and their reception, Emma and Eddie snuck away to the alley behind the Turnbull for quick newlywed portraits. The alley is filled with vines, old wood, and exposed brick that creates tons of fun textures for photoshoots. The age and history of the Turnbull Building truly shows in this little alley giving their pictures an edgy and modern feel.
Afterward, they retreated back inside and headed directly to the fourth floor to hang out in a small loft above the reception. When their guests were seated, they descended a spiral staircase and made their grand entrance into the reception amidst waves of cheers and applause. Their dinner was bathed in beautiful natural light from the tall windows with gorgeous views of the sunset. During dinner, several of their family and friends rose to toast and give speeches about the couple, offering their warm wishes and congratulations.
As dinner ended, Emma slipped away to change into a simple white gown to dance the rest of the night away. Instead of a traditional wedding cake, Emma and Eddie hired an ice cream cart complete with freshly made, giant waffle cones. They each got a cone of their favorite flavor and mushed it into each other's faces before spending the rest of the night dancing and celebrating with their loved ones.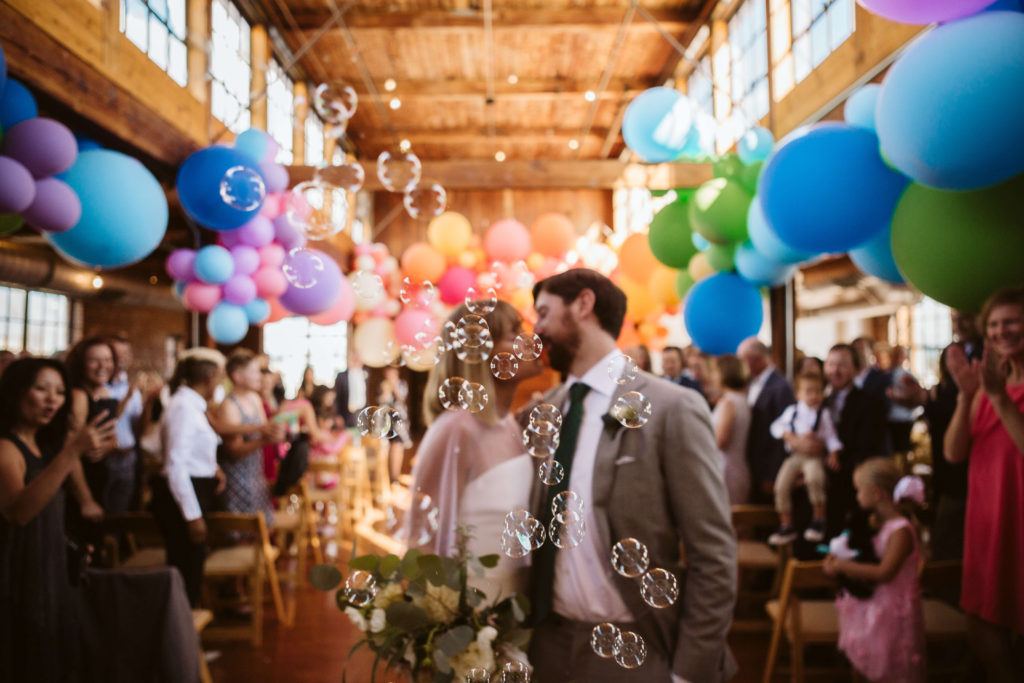 Does a modern, industrial chic wedding speak to you? Let me know! I'd love to be a part of it!
I'm Rachael Crowe of OkCrowe Photography. I'm based right here in Chattanooga and I've shot hundreds of weddings all across the area. If you're hosting a wedding in the Tennessee mountains or in the heart of the city, I'm here to answer any and all of your questions and capture every moment of your big day. If you're on the hunt for a wedding photographer, I would love to chat! Visit my contact form and let's start planning your dream wedding!