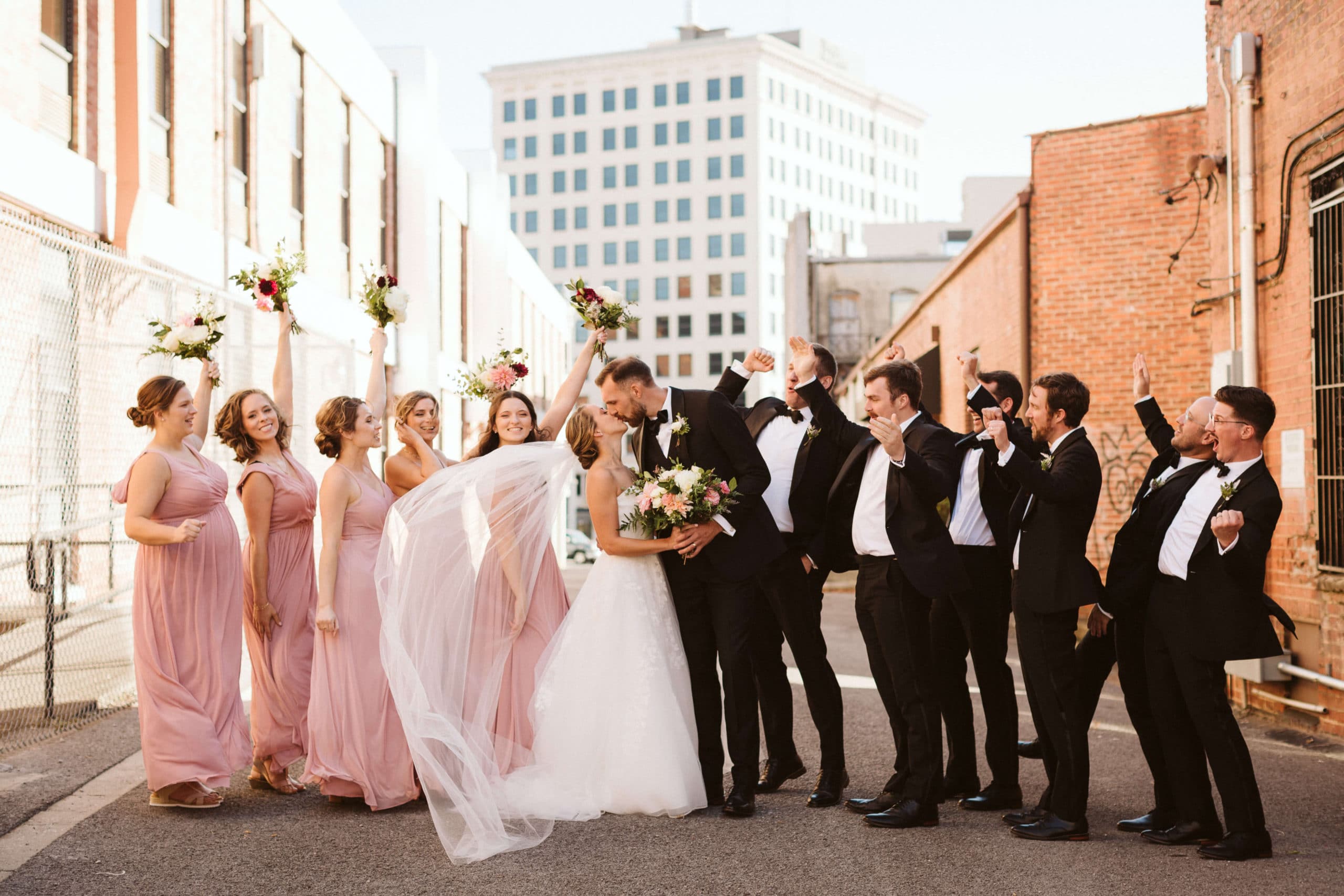 Chattanooga is a great place to get married. As a local photographer, I've had the pleasure of working events at a range of locations unique to this wonderful city, from mountaintops and waterfalls to forest sanctuaries and riverside reception halls. With so many outdoor attractions and breathtaking views, it's easy to be remiss of Chattanooga's urban and more traditional wedding venues equally as picturesque for your upcoming event.
For Andrew + Matty, experiencing downtown Chattanooga with their guests was high on the priority list. "We want everyone's collective memory of the event to be a rousing good time! We are hopeful that guests from both sides of the aisle will get a chance to get to know one another and enjoy our lovely city of Chattanooga," shared Matty, leading up to their big day.Hosting their ceremony at The Basilica of Saints Peter and Paul Catholic Church on 8th Street and reception at The Waterhouse Pavilion at Miller Plaza, Andrew + Matty's guests enjoyed two of the city's best wedding venues while soaking in the downtown scene. Looking for a similar wedding vibe? Go for a scroll through their one-of-kind weekend for some inspiration!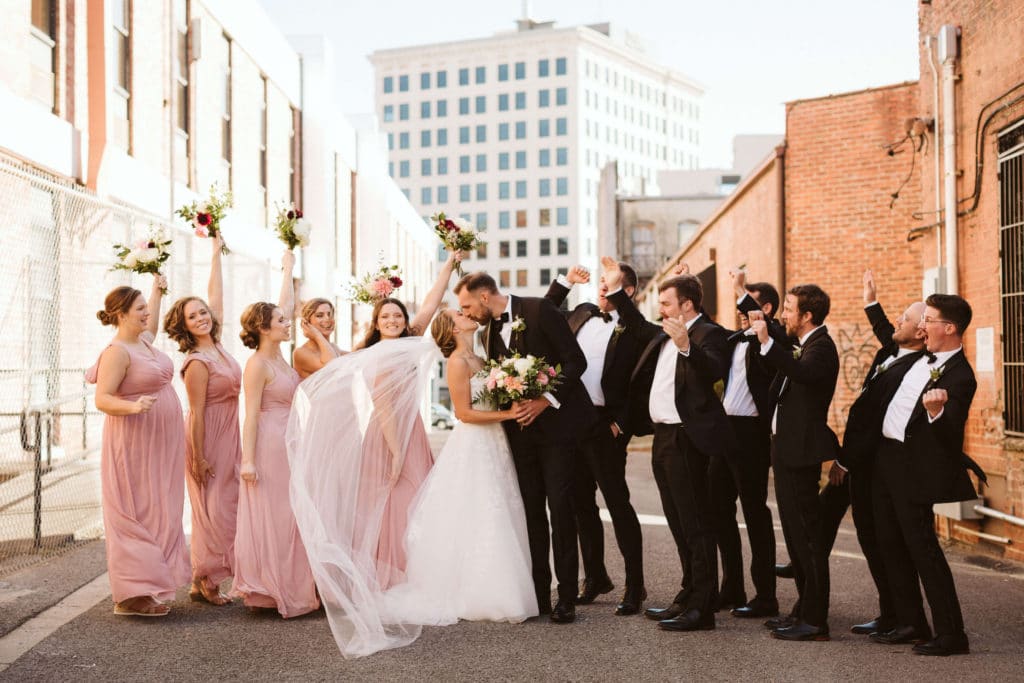 Getting Ready at The Basilica
There's simply nothing like getting ready on wedding day—from what I've heard from my clients, you'll vividly remember it for the rest of your life! With anticipation seemingly at its peak, getting dressed all fancy with your bridal party always builds the excitement to greater heights.
Matty chose to get ready in Varallo Parish Hall, which is connected to their ceremony venue, The Basilica of Saints Peter and Paul. This made for great photos with a backdrop and stunning architecture fitting for our excited, beautiful bride-to-be!
'Detail' photos are some of my favorites to shoot, and many clients like to get jewelry and other sentimental items passed down from family photographed as they are getting ready. Showing these photos to your loved ones at a later date makes for yet another sweet moment to look forward to down the road. Matty's engagement ring was passed down from her mother, and her other jewelry accessories belonged to her great-grandmother.
Andrew and his groomsmen arrived at the venue in style—by party bus!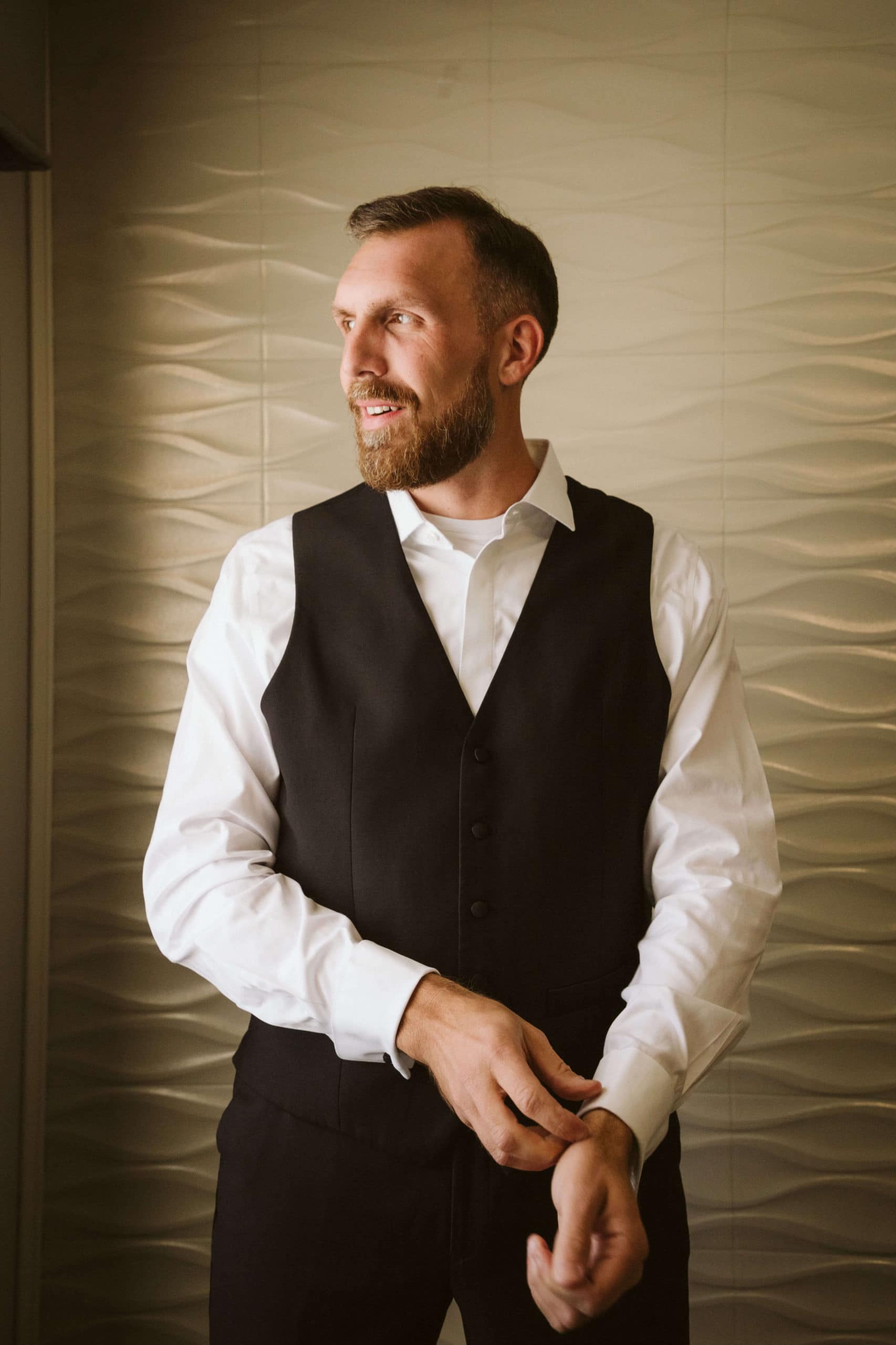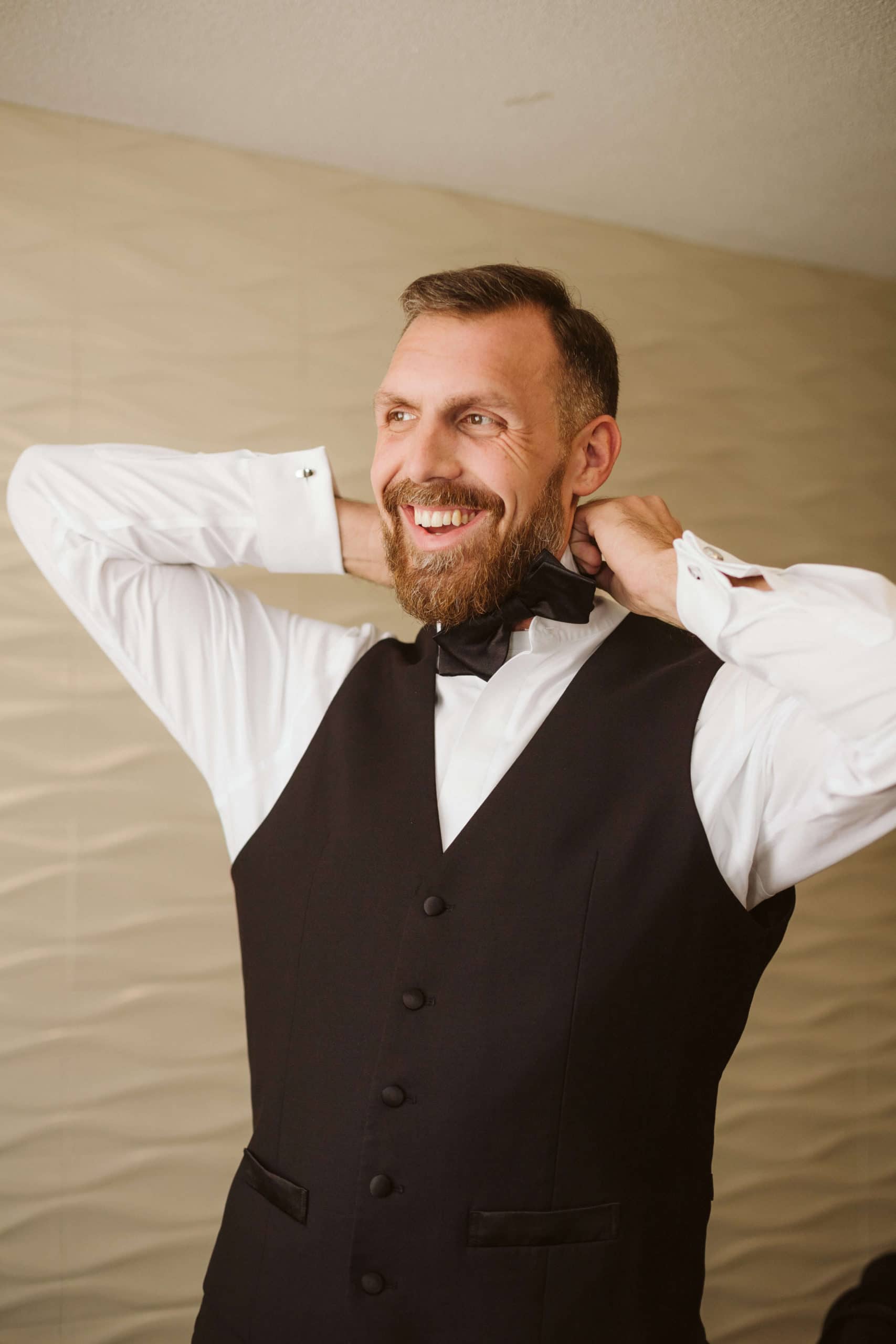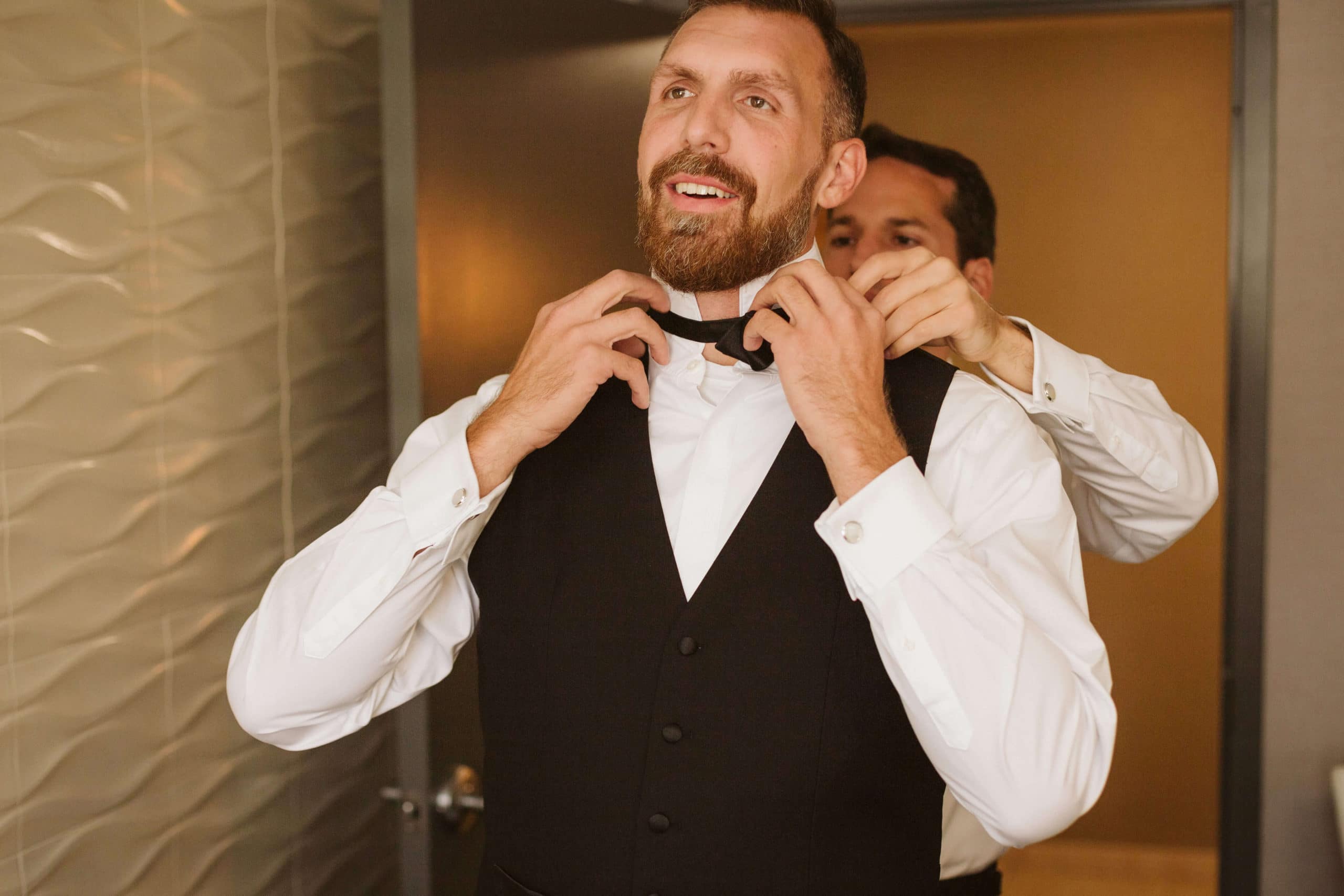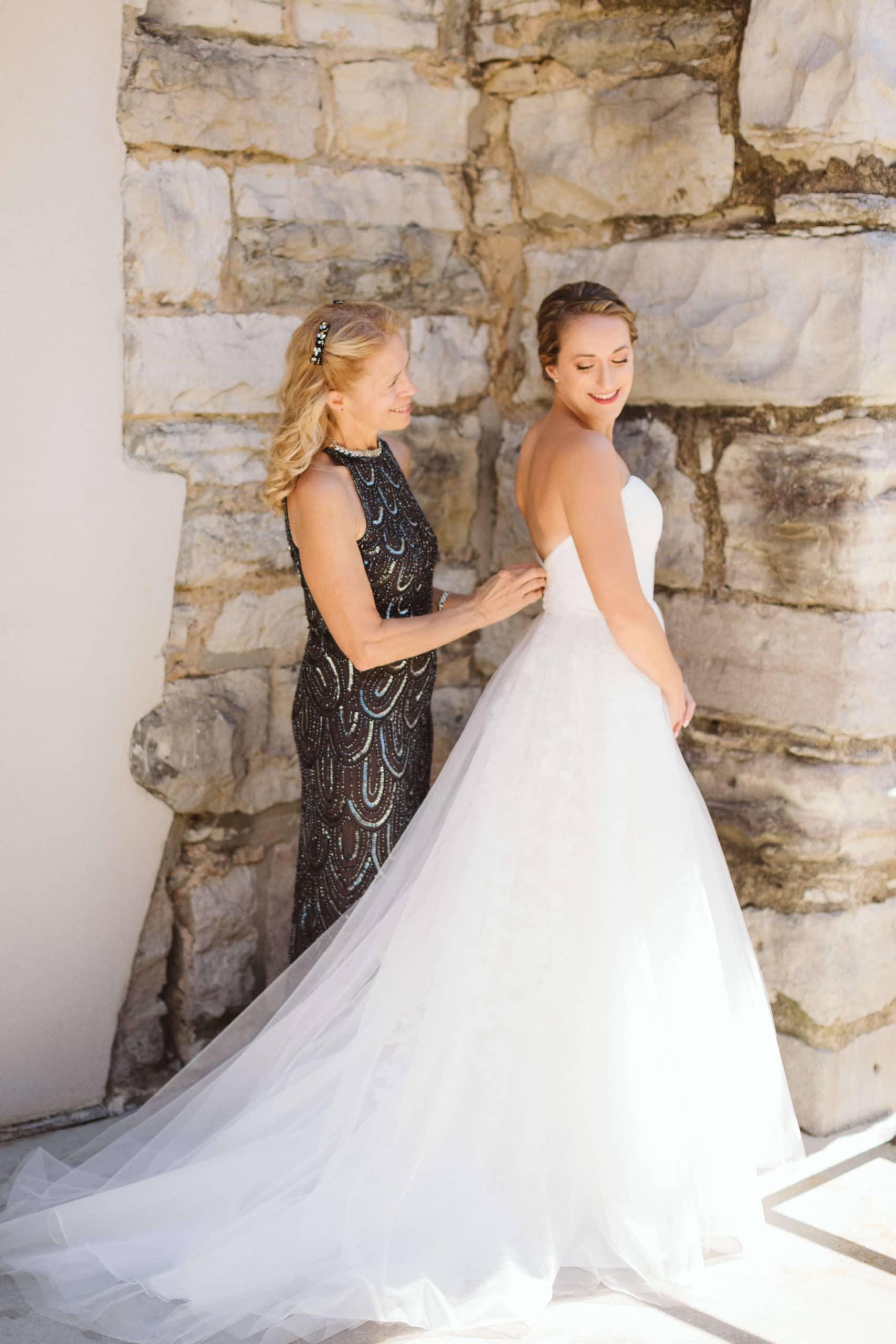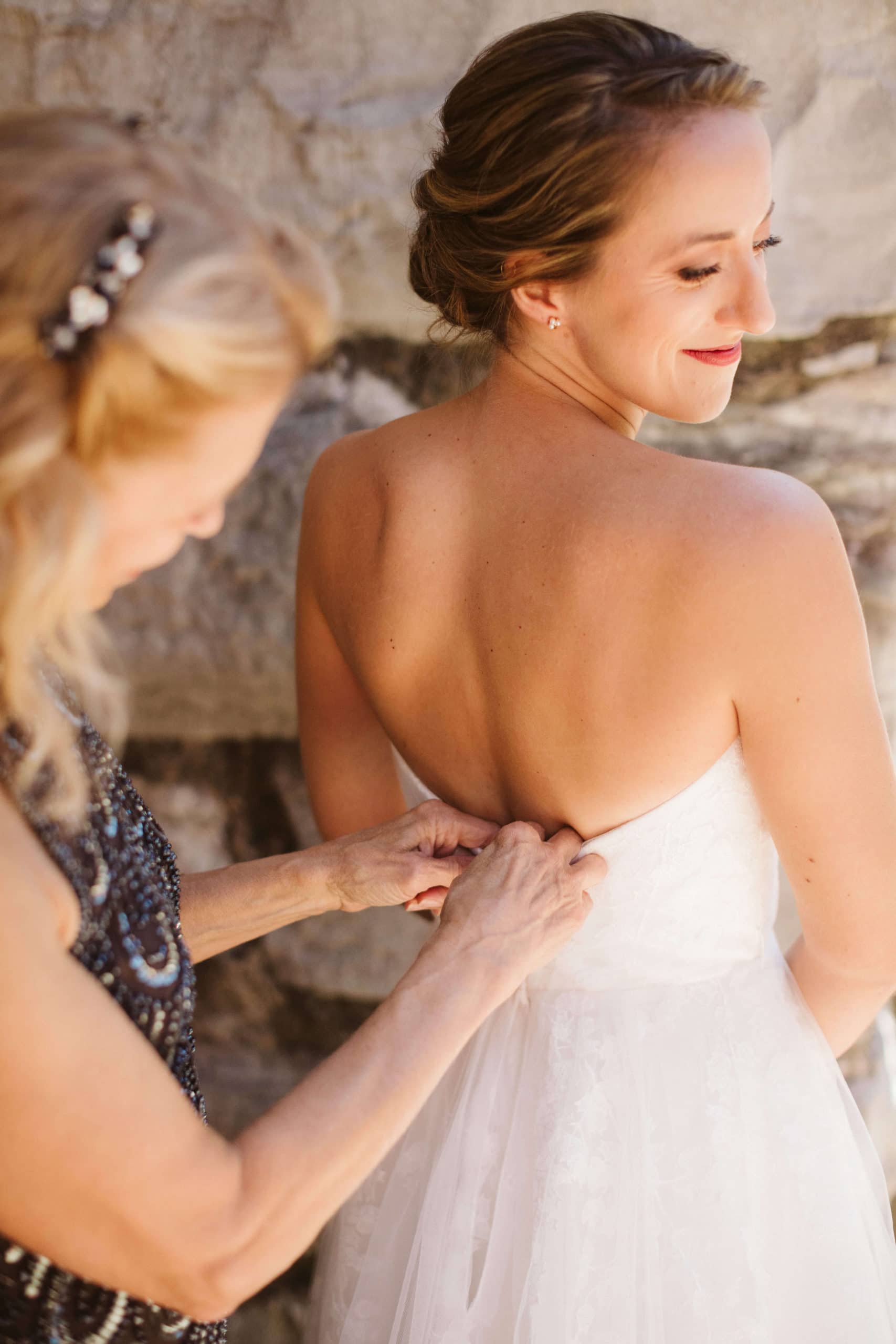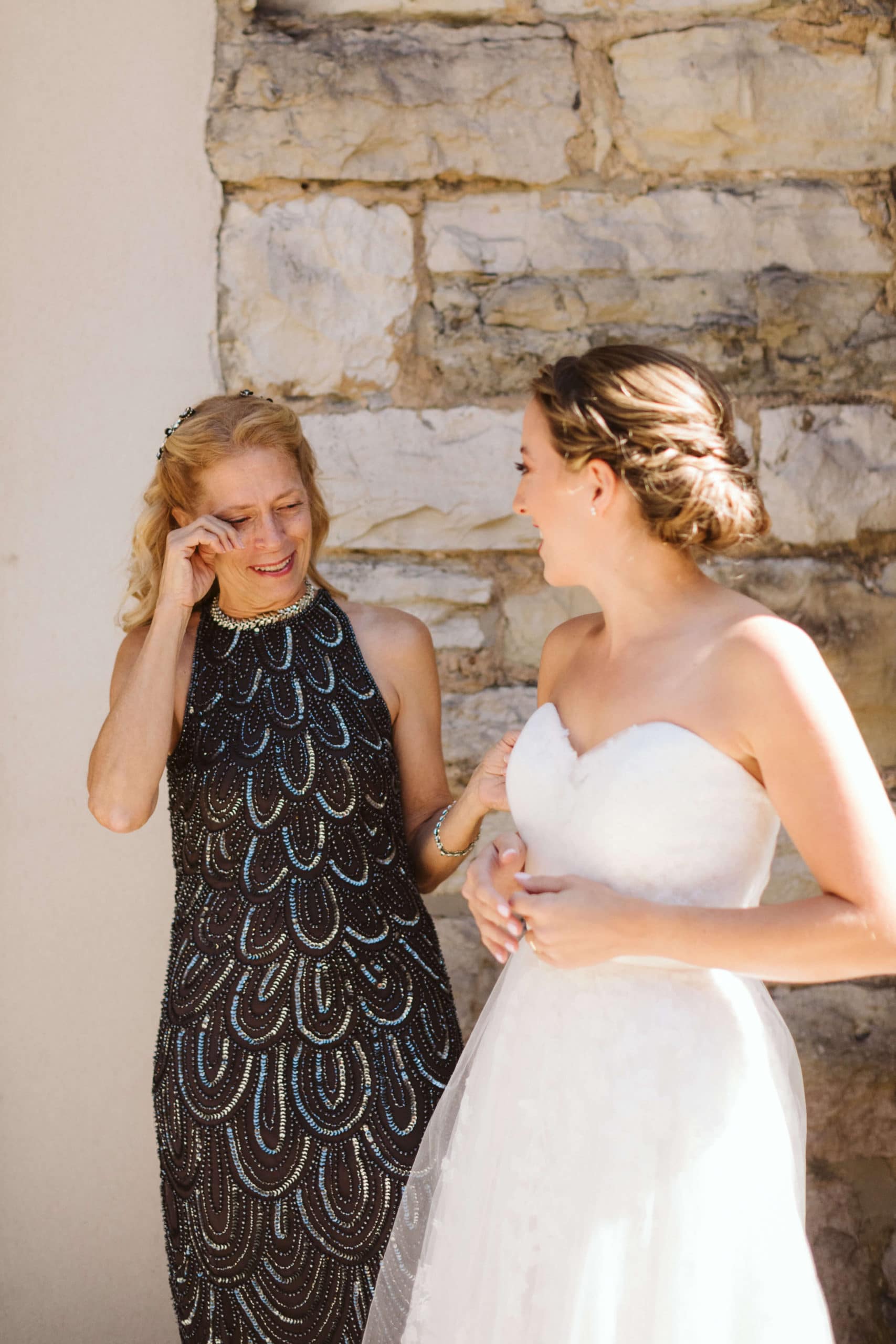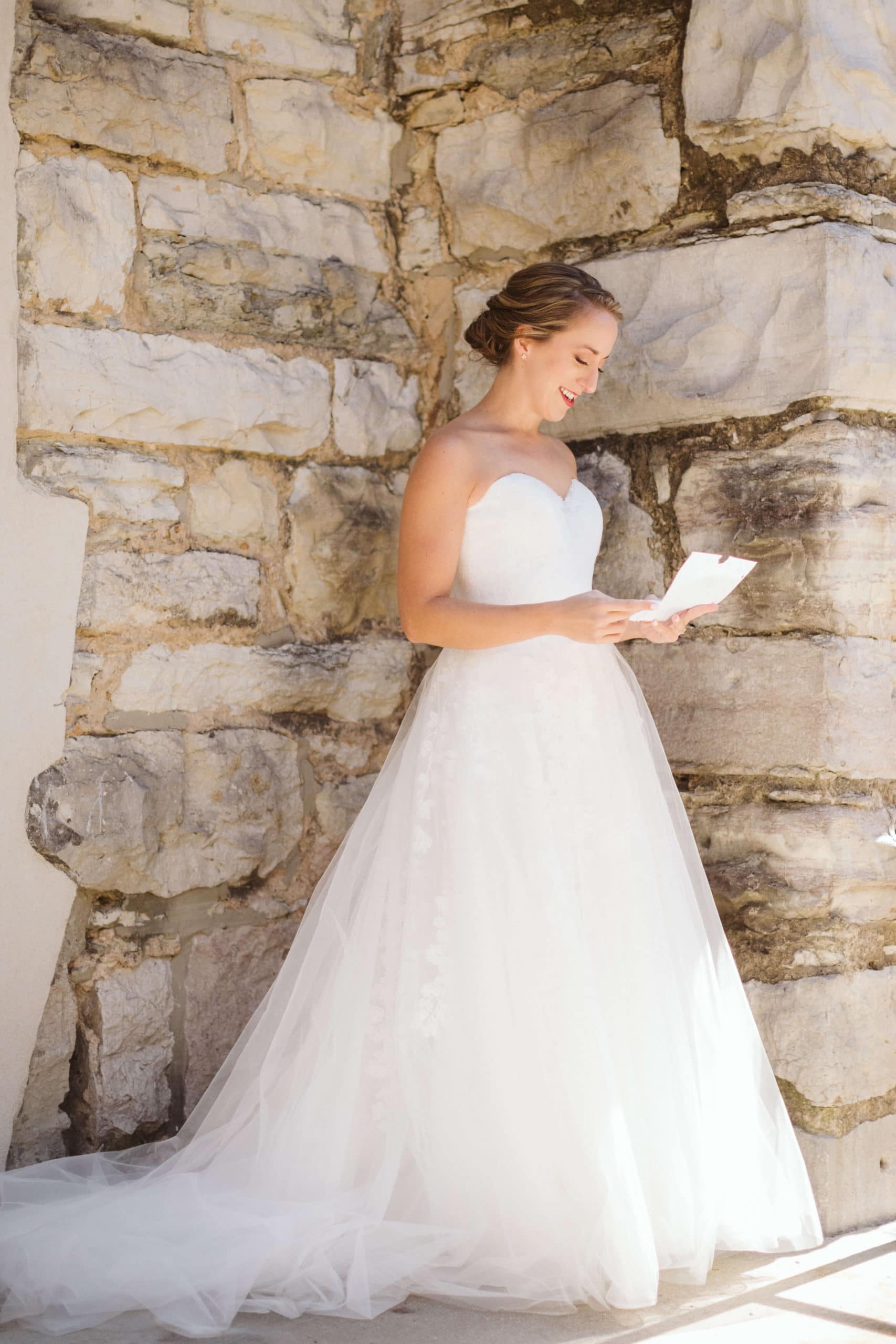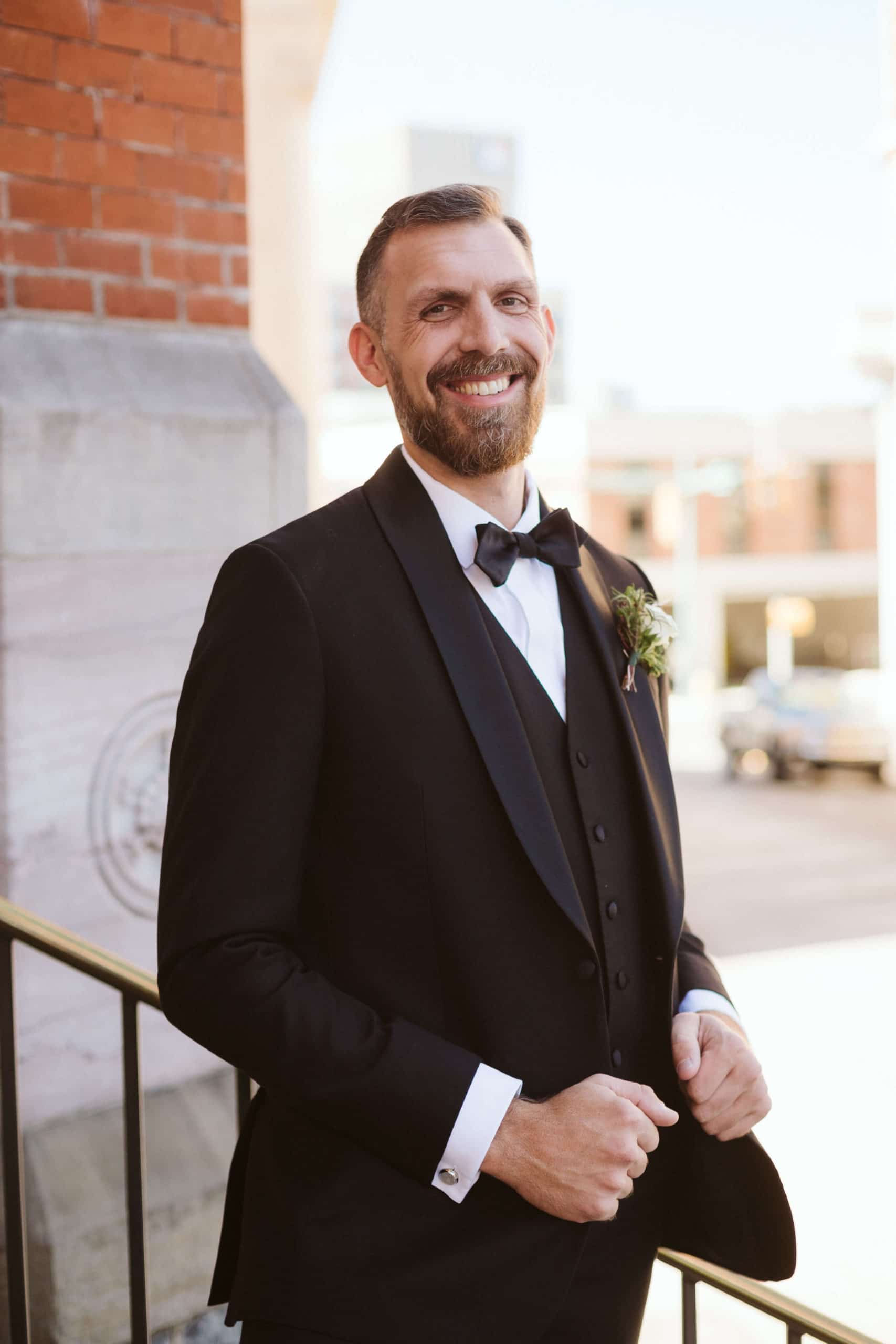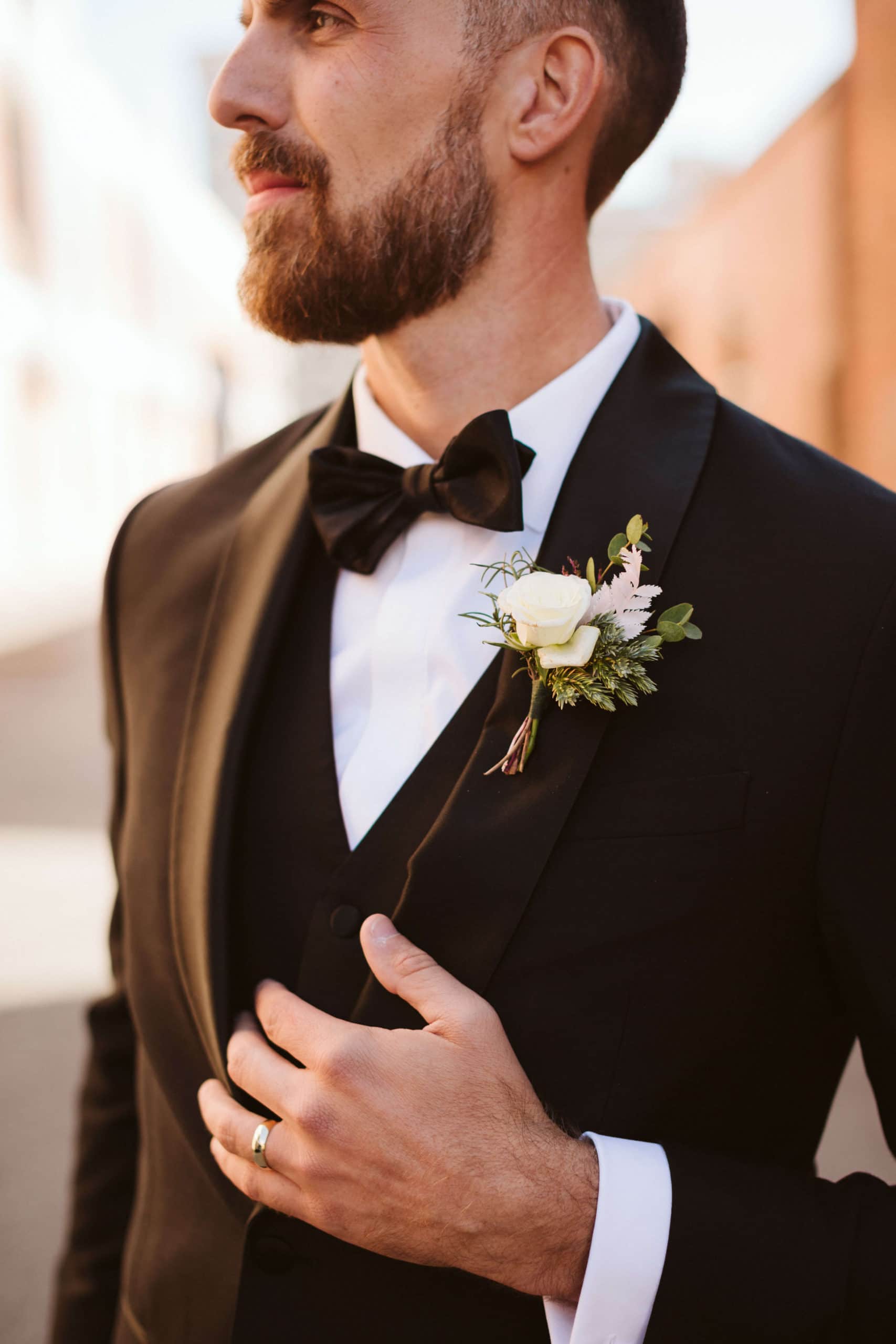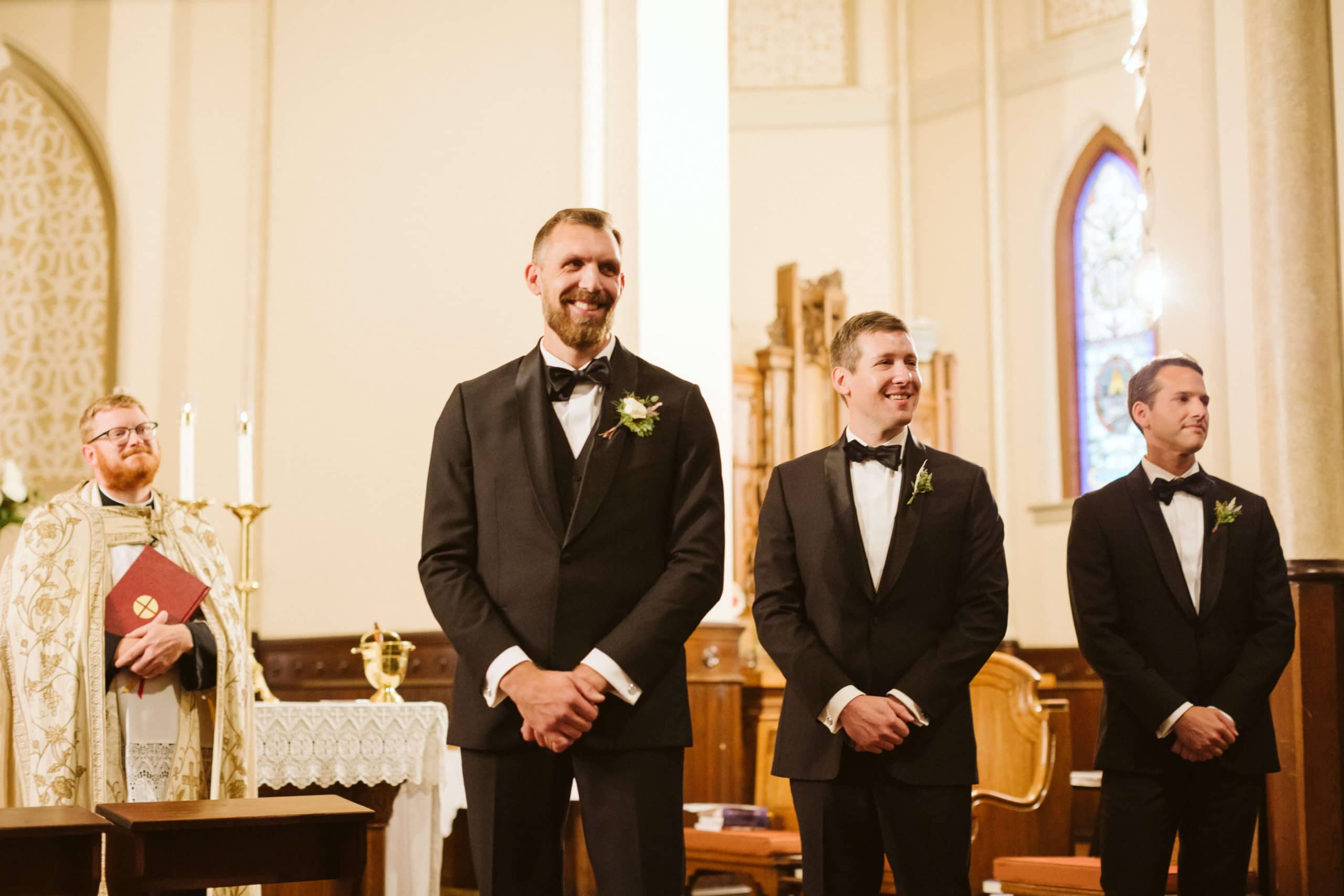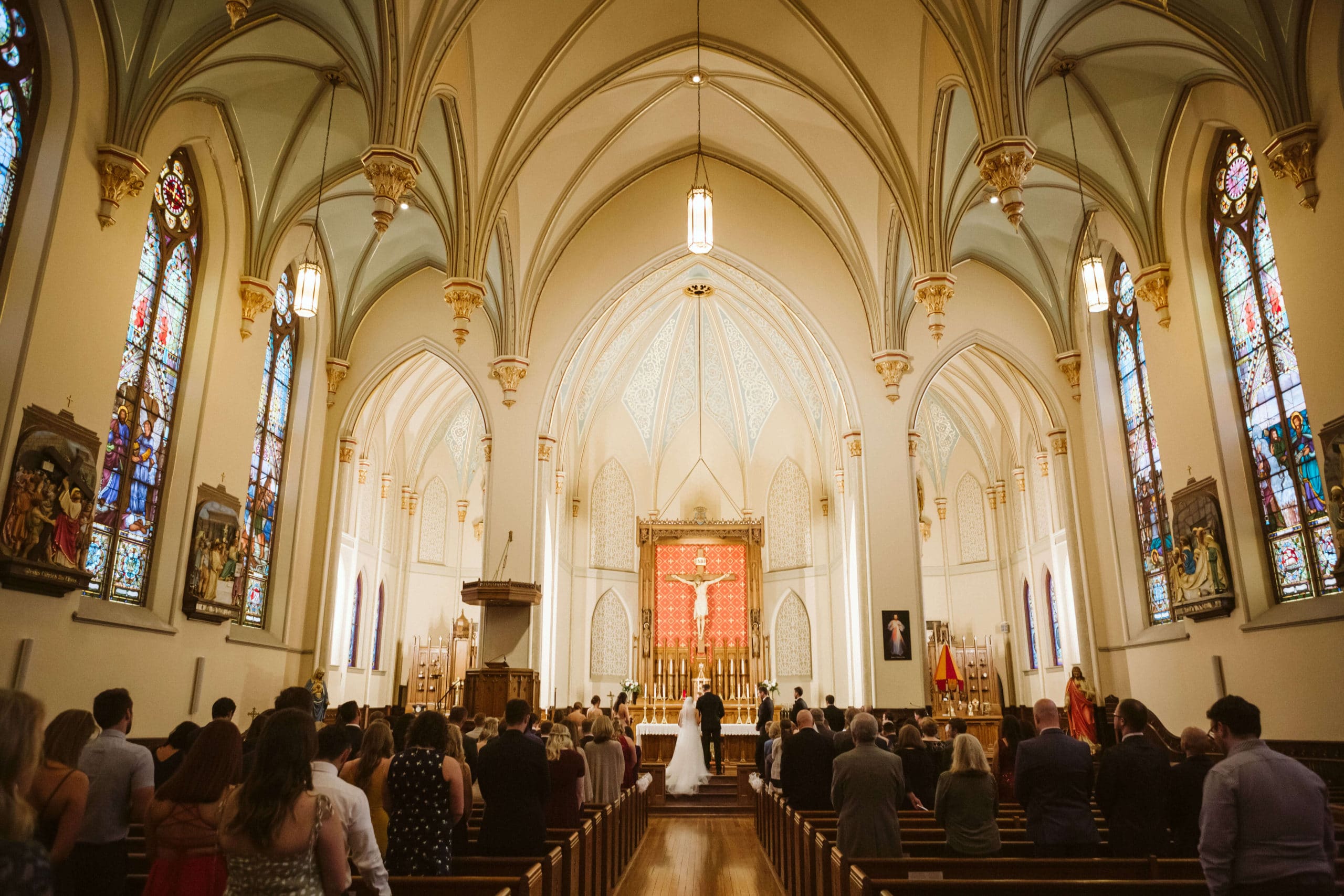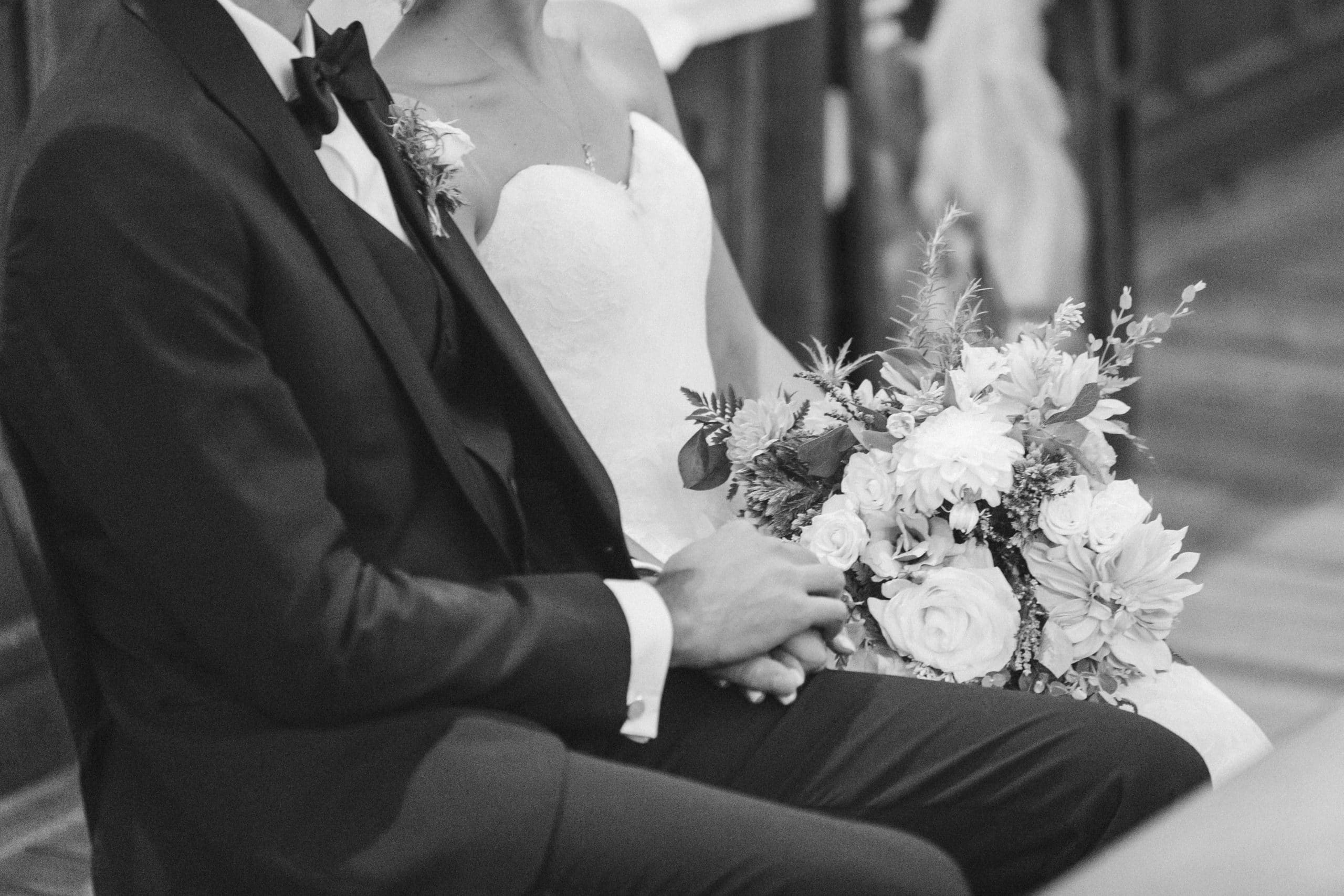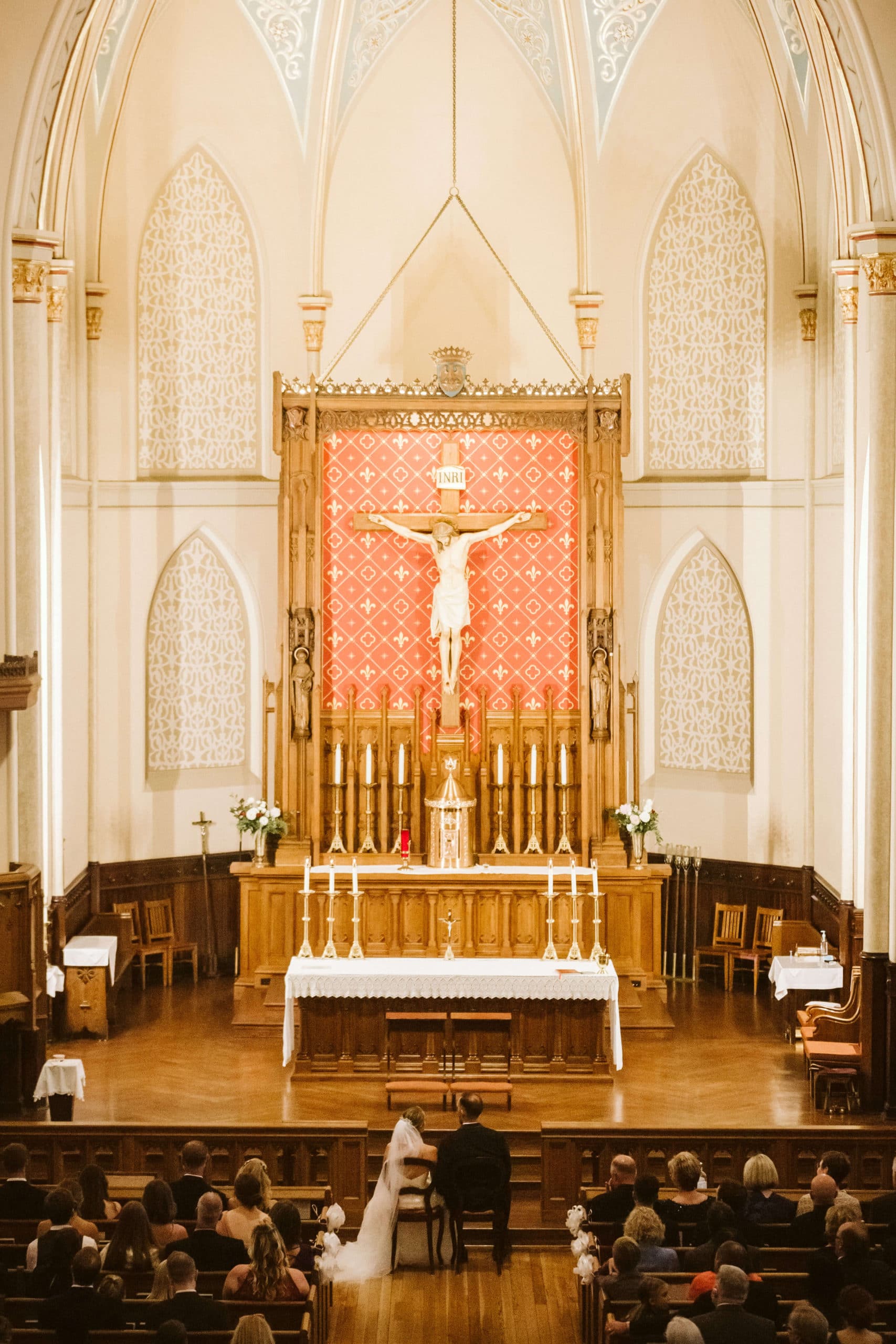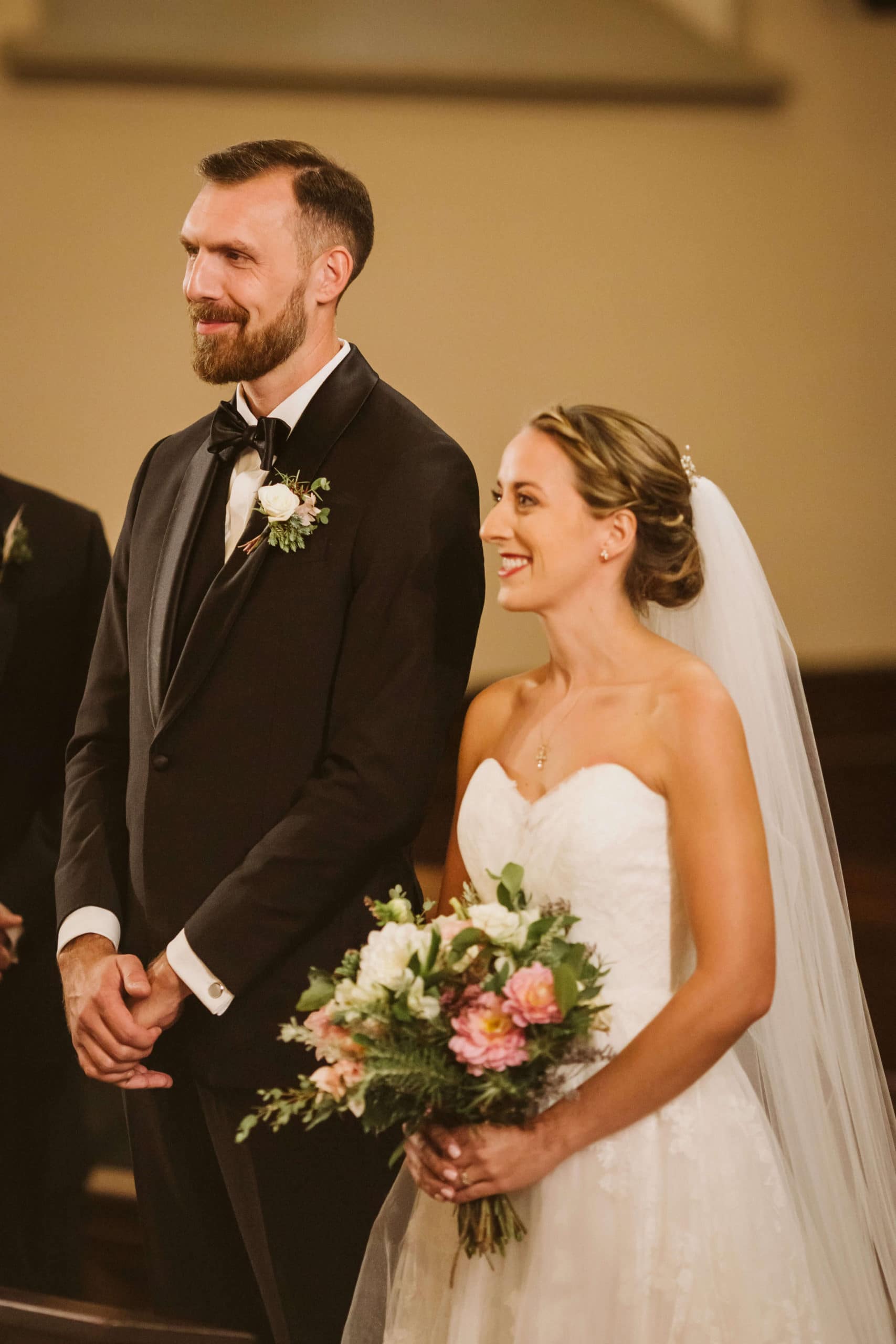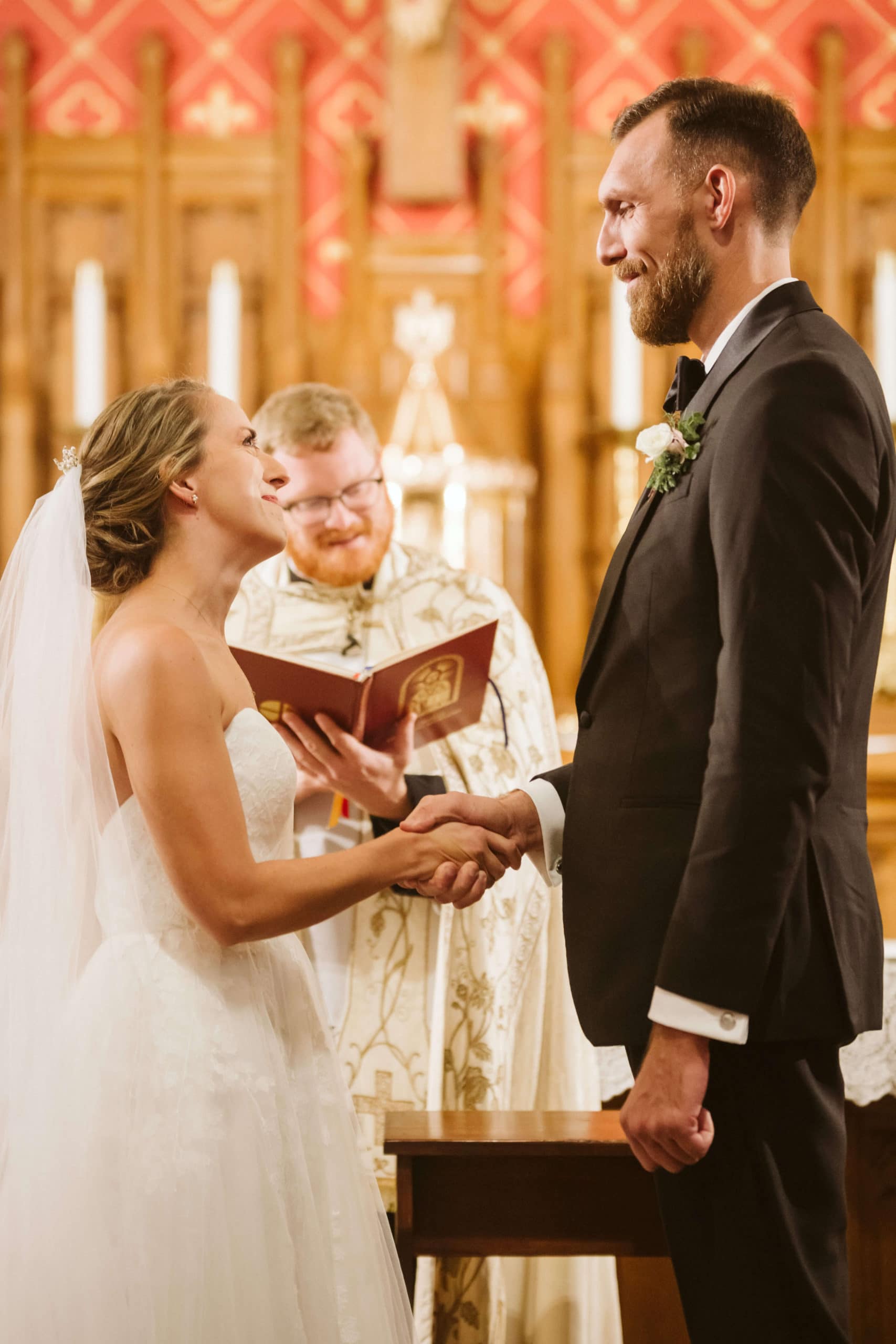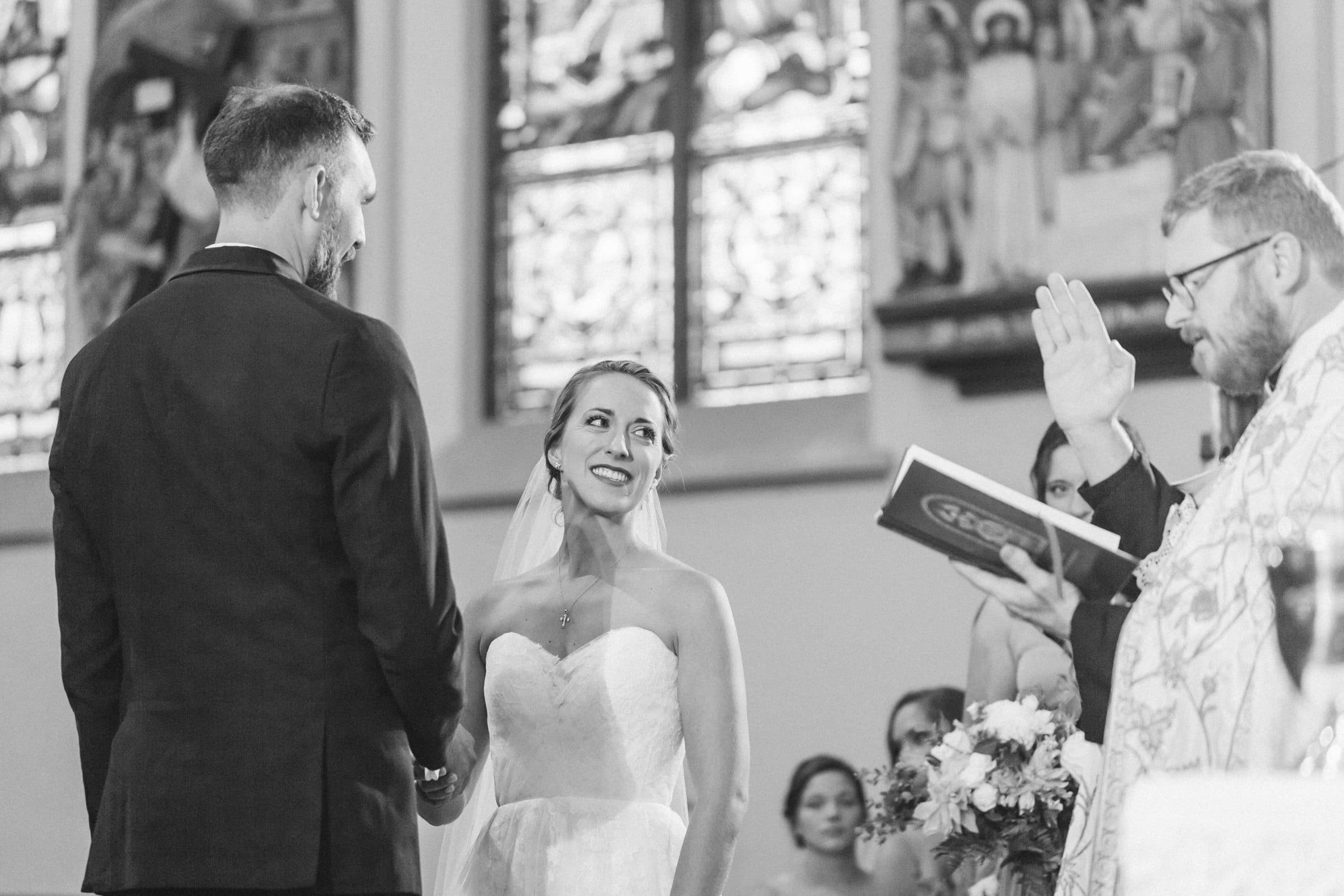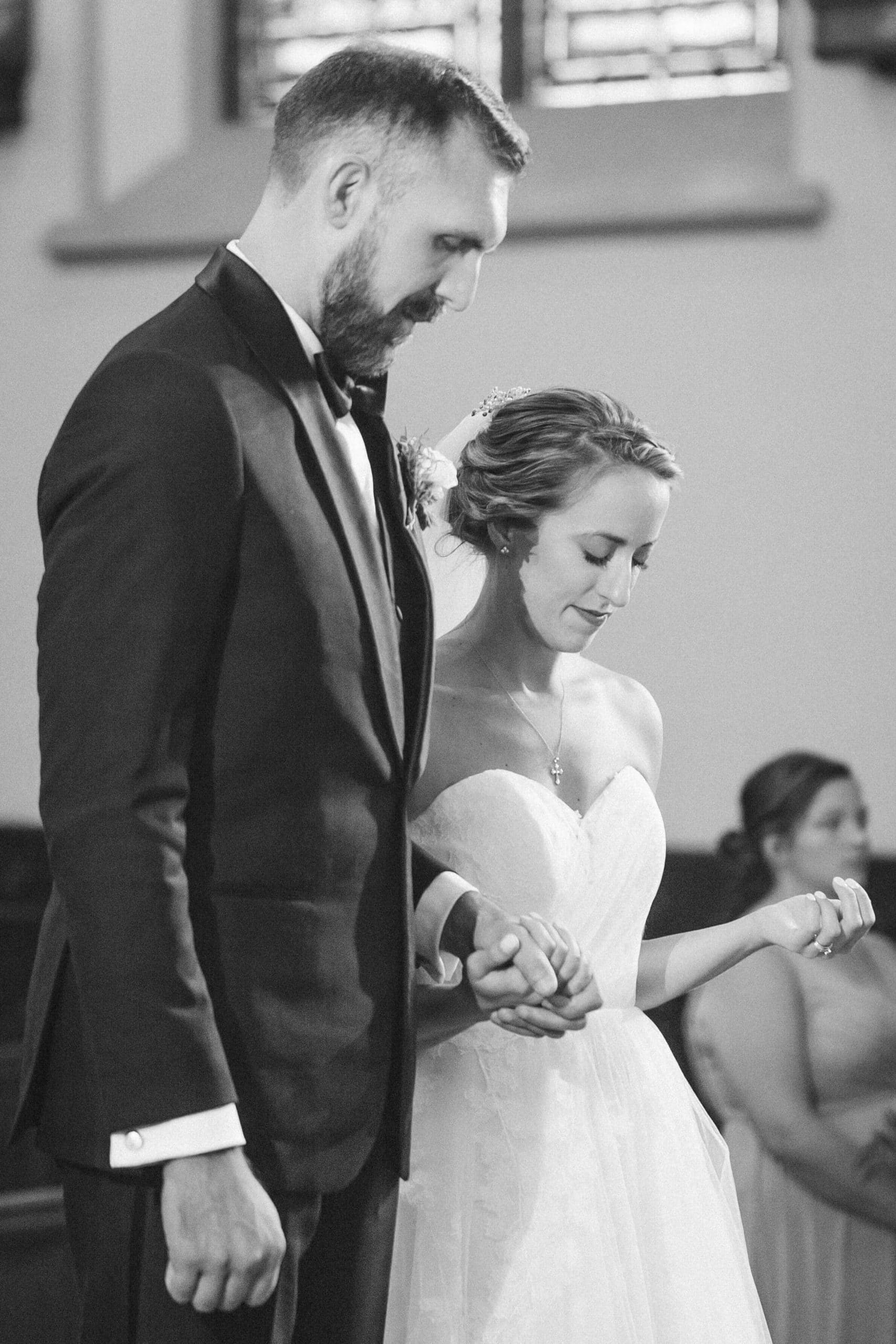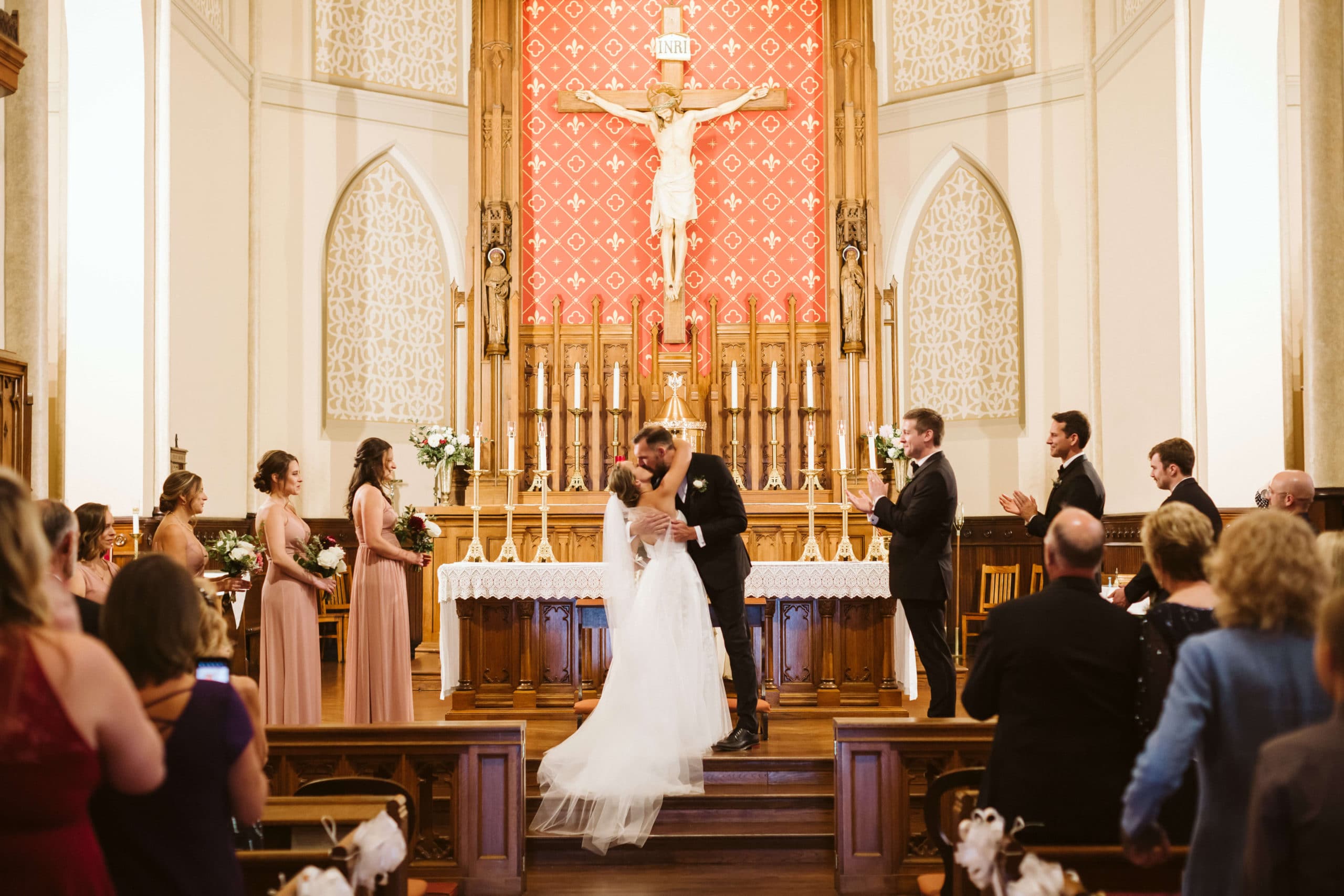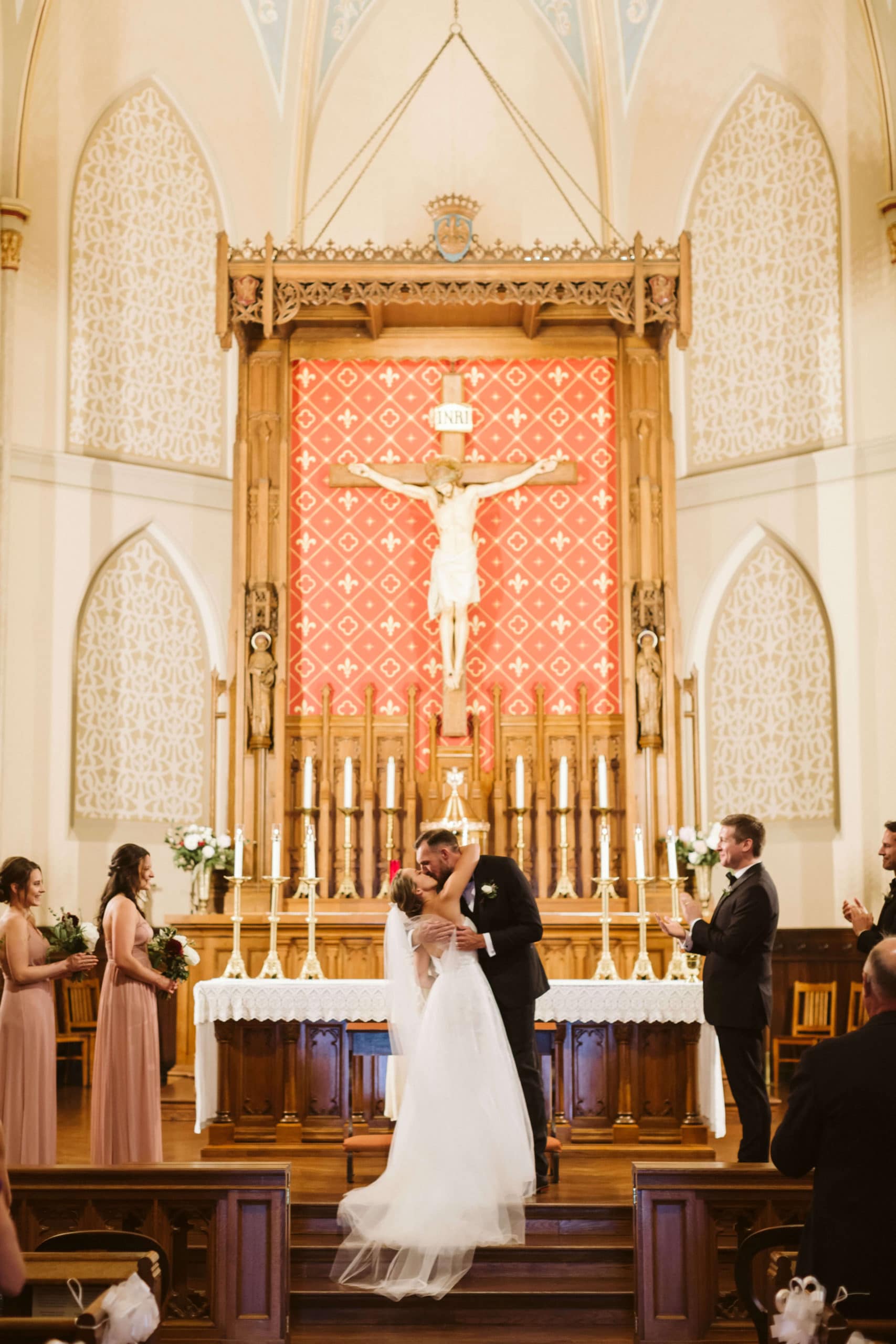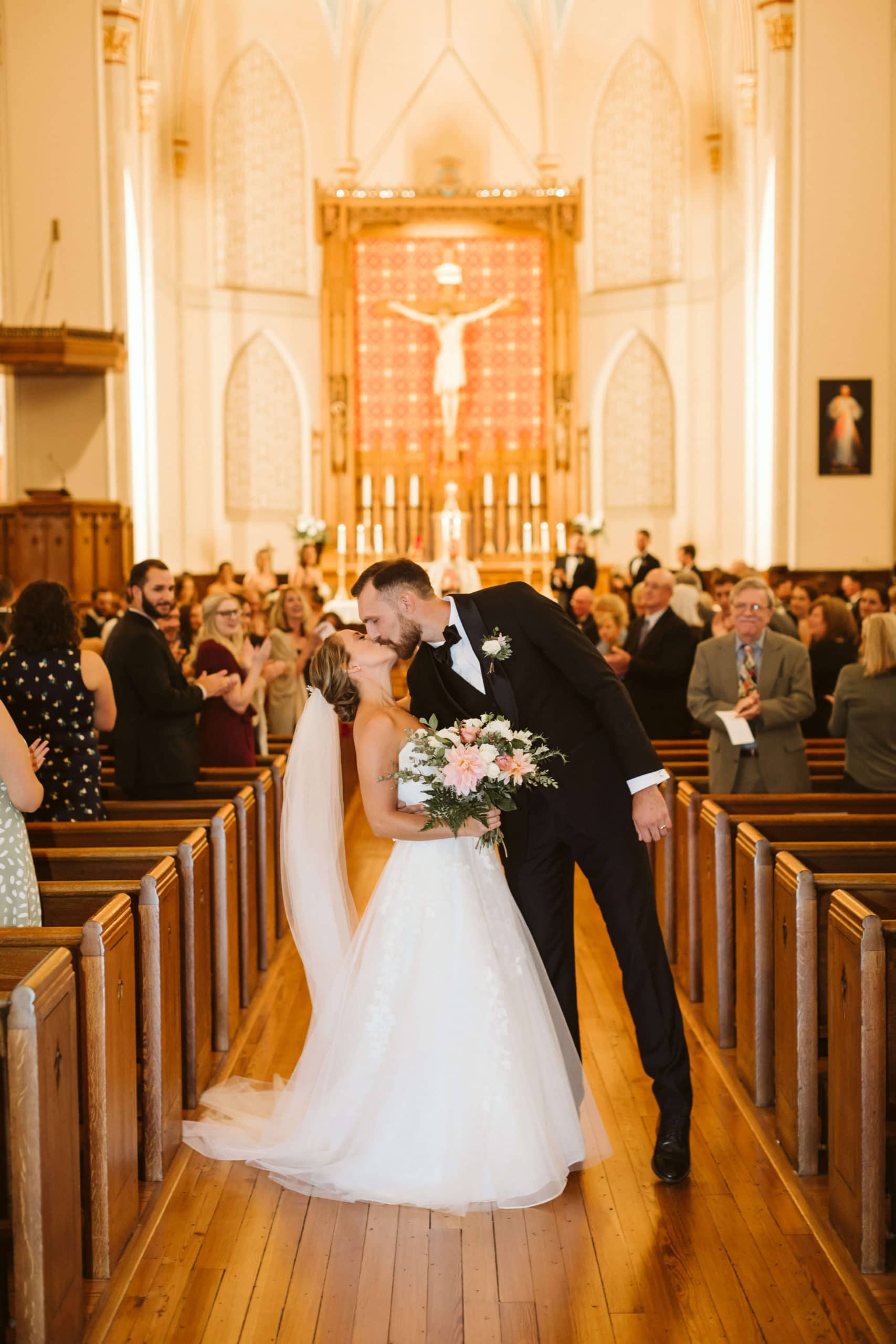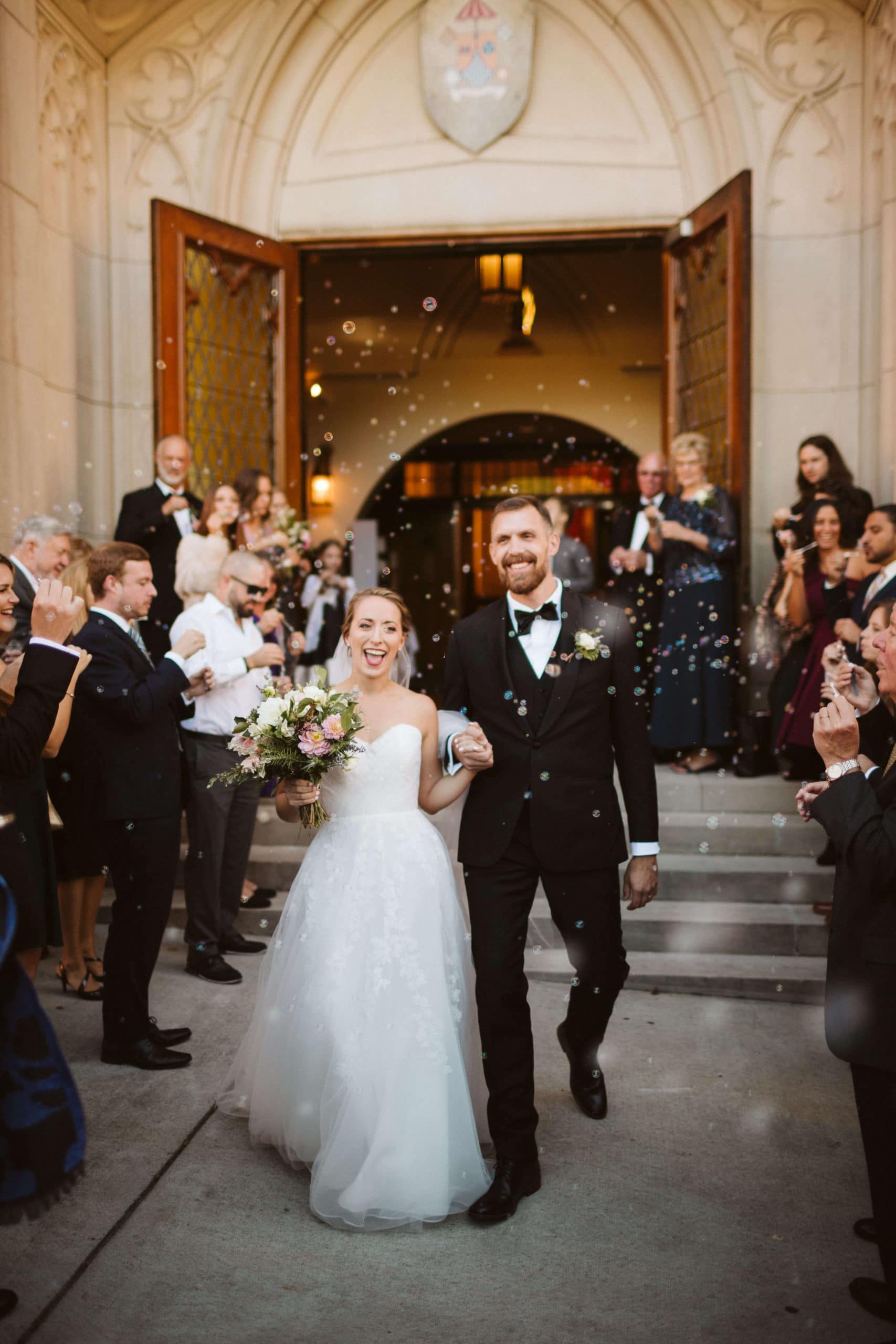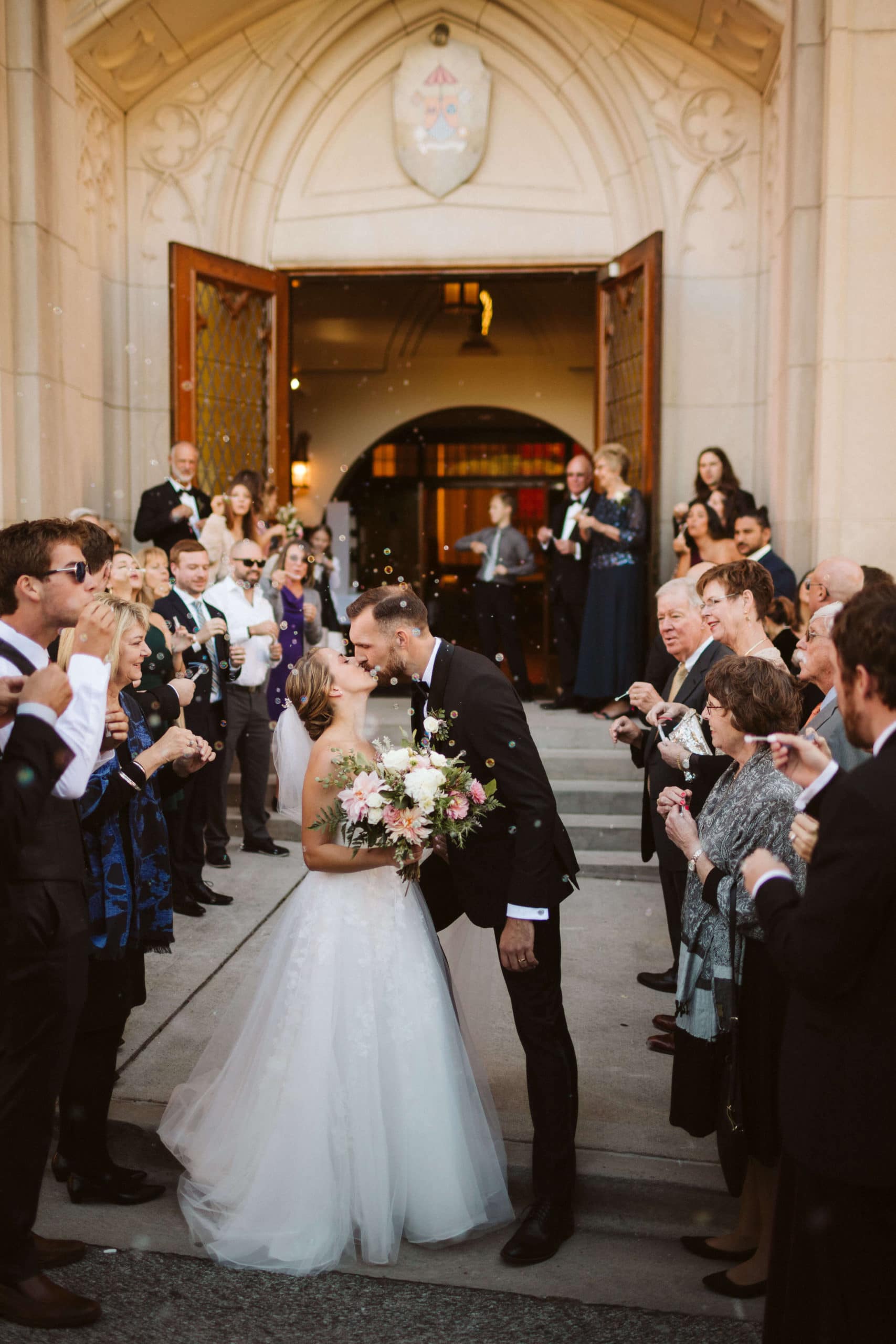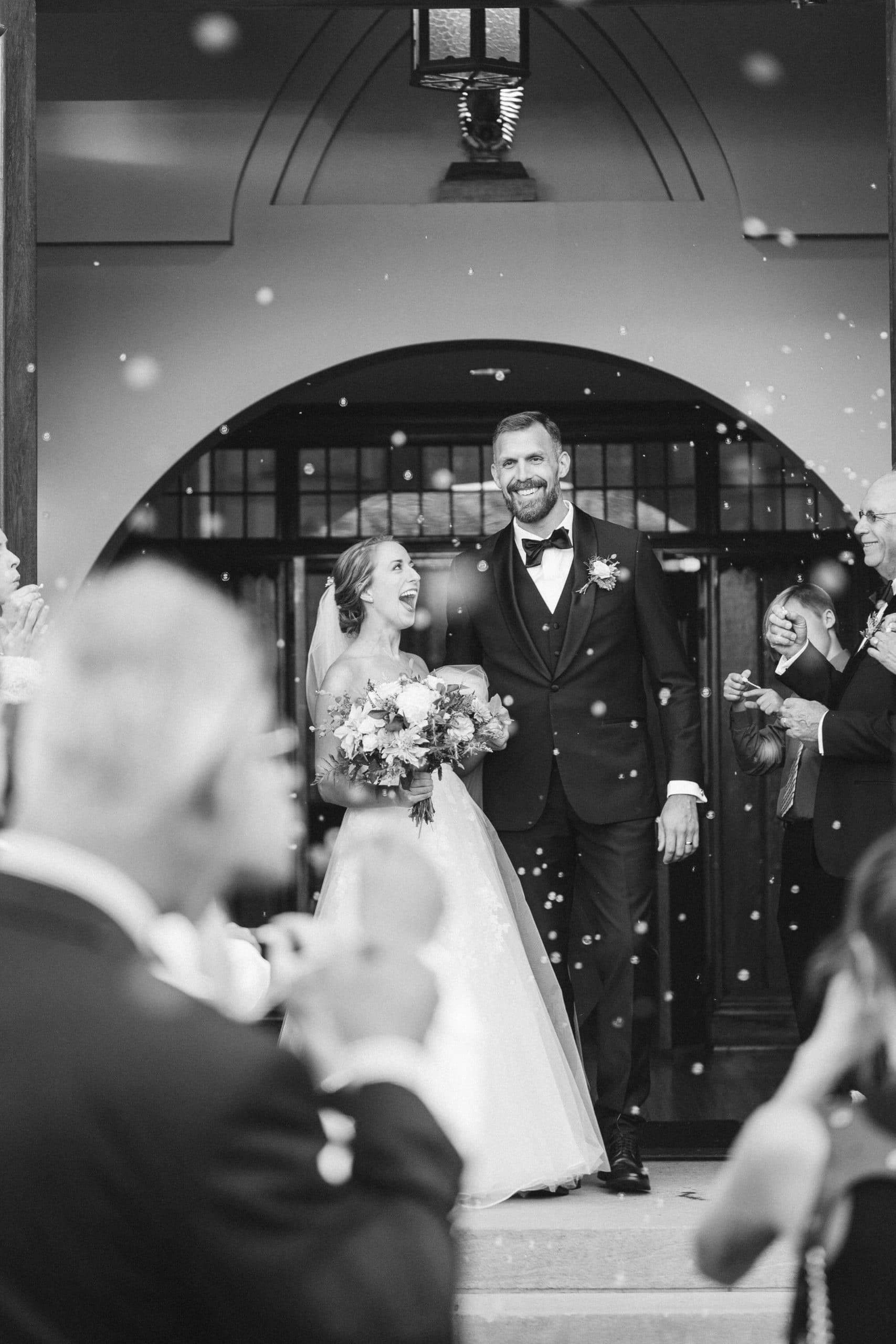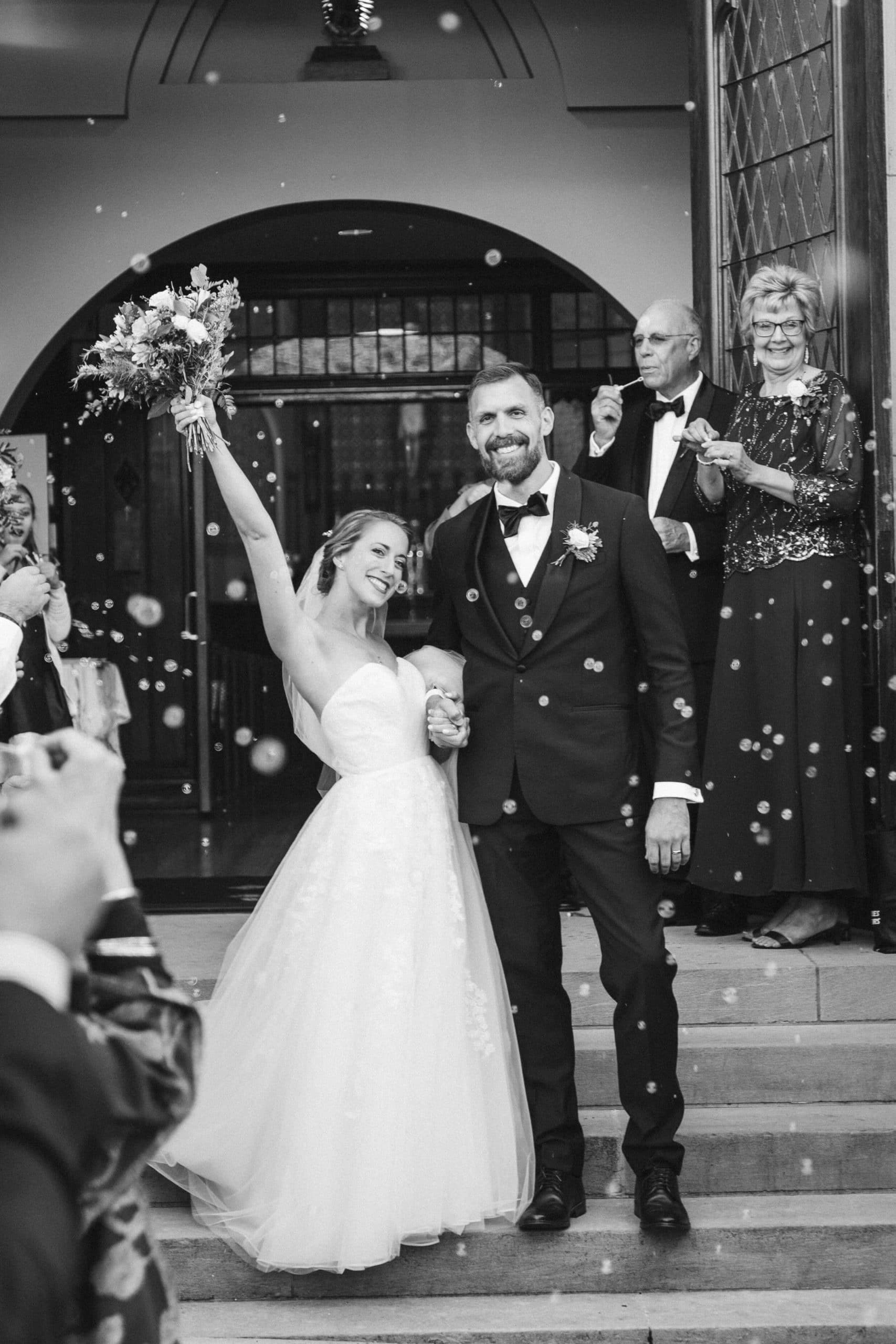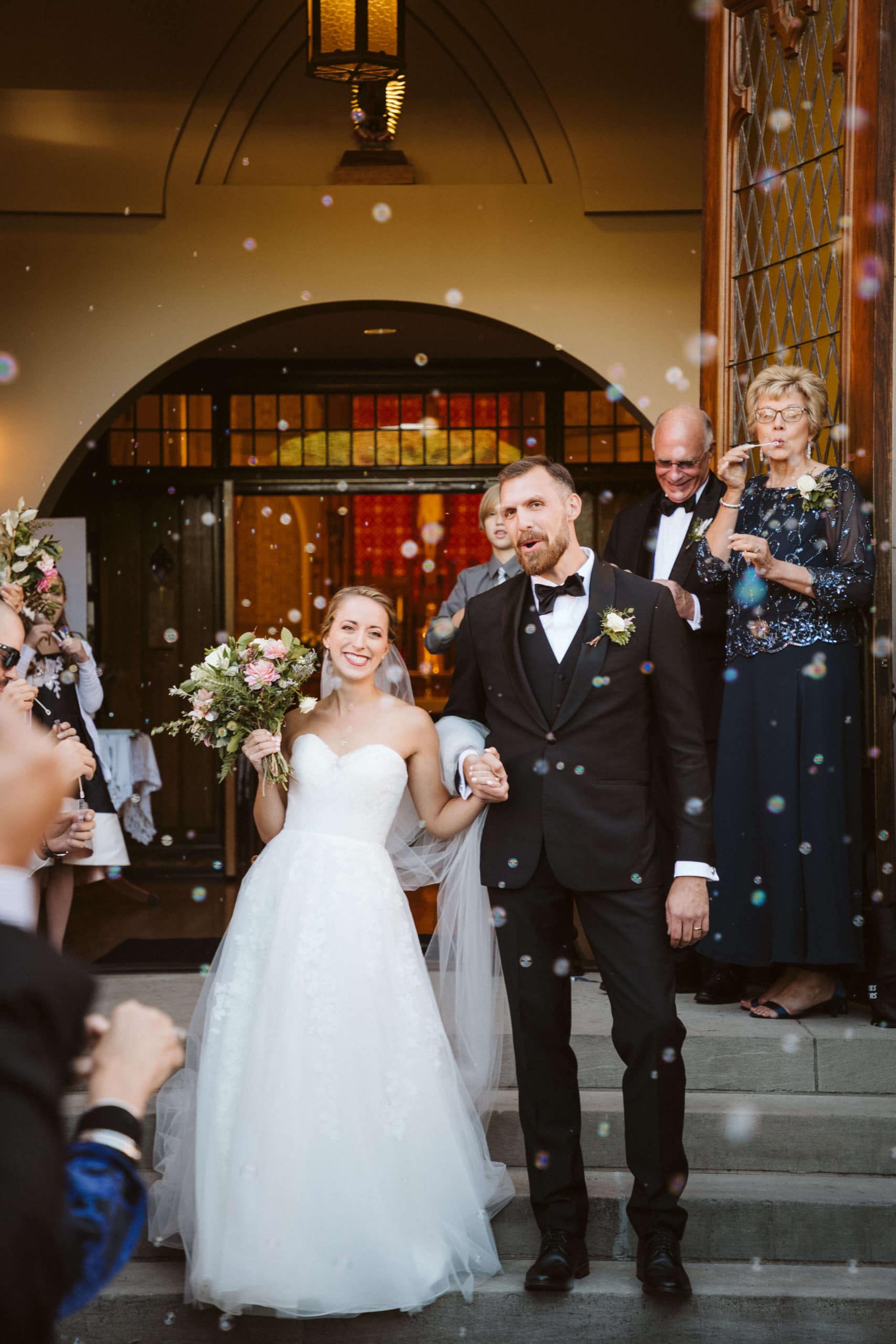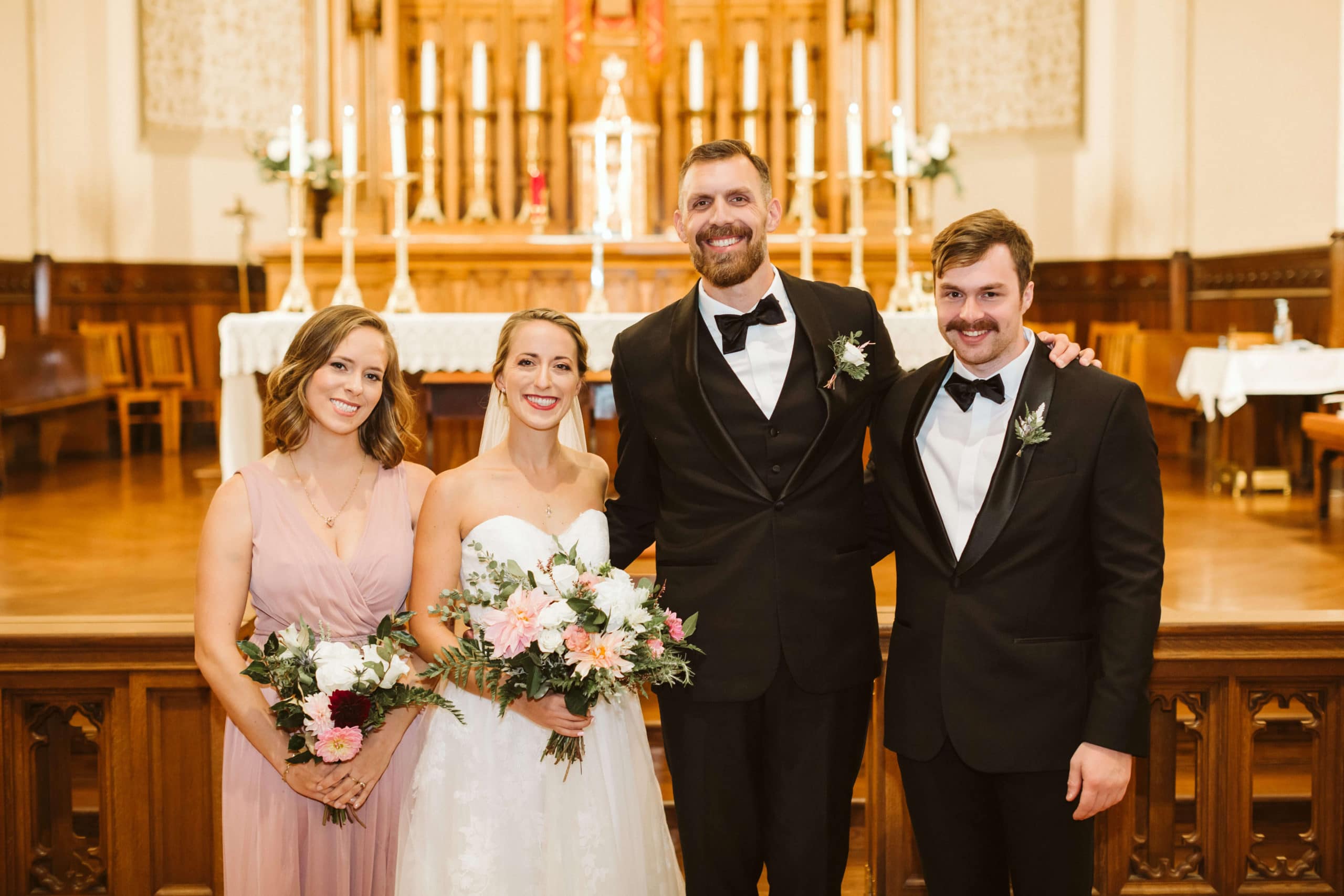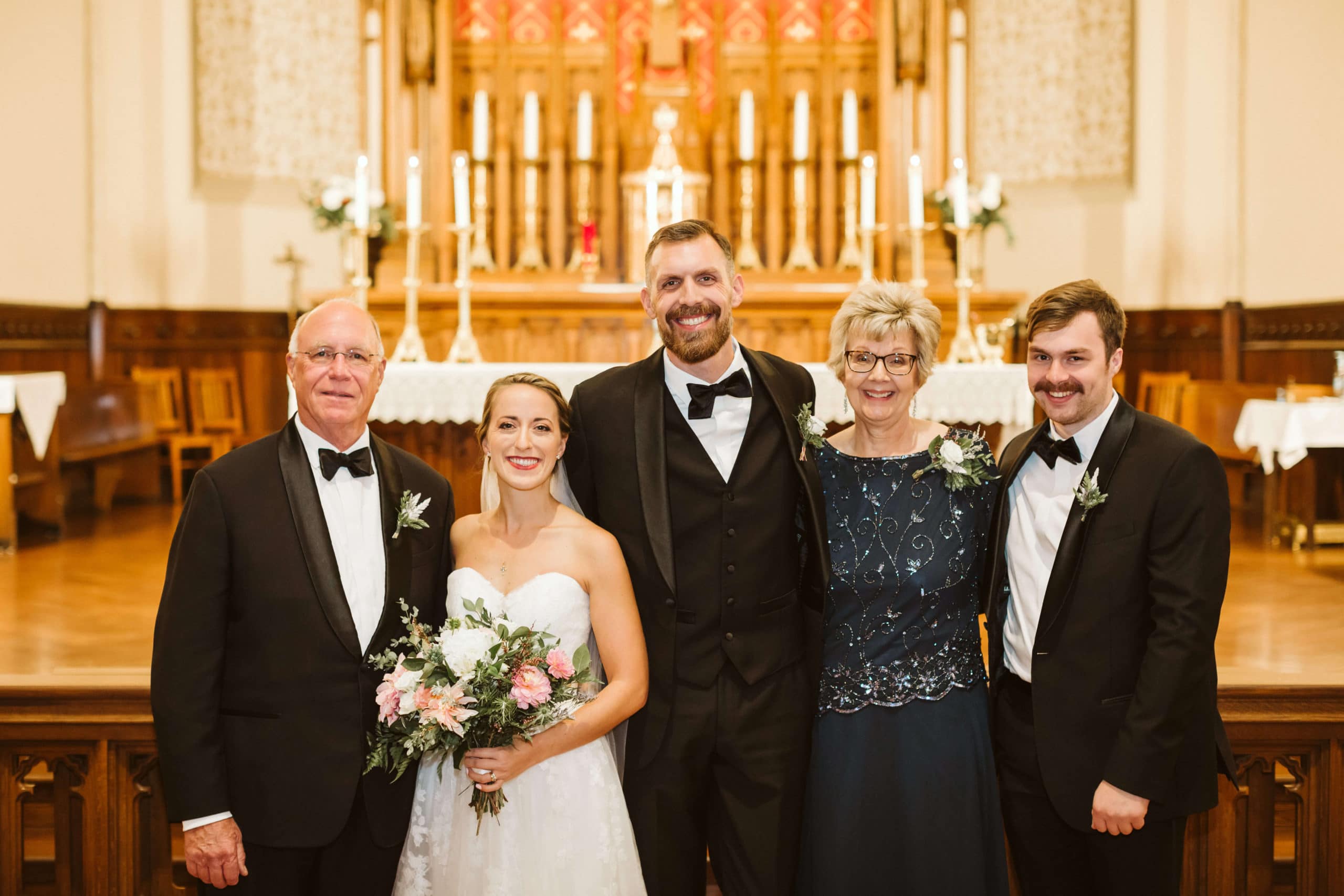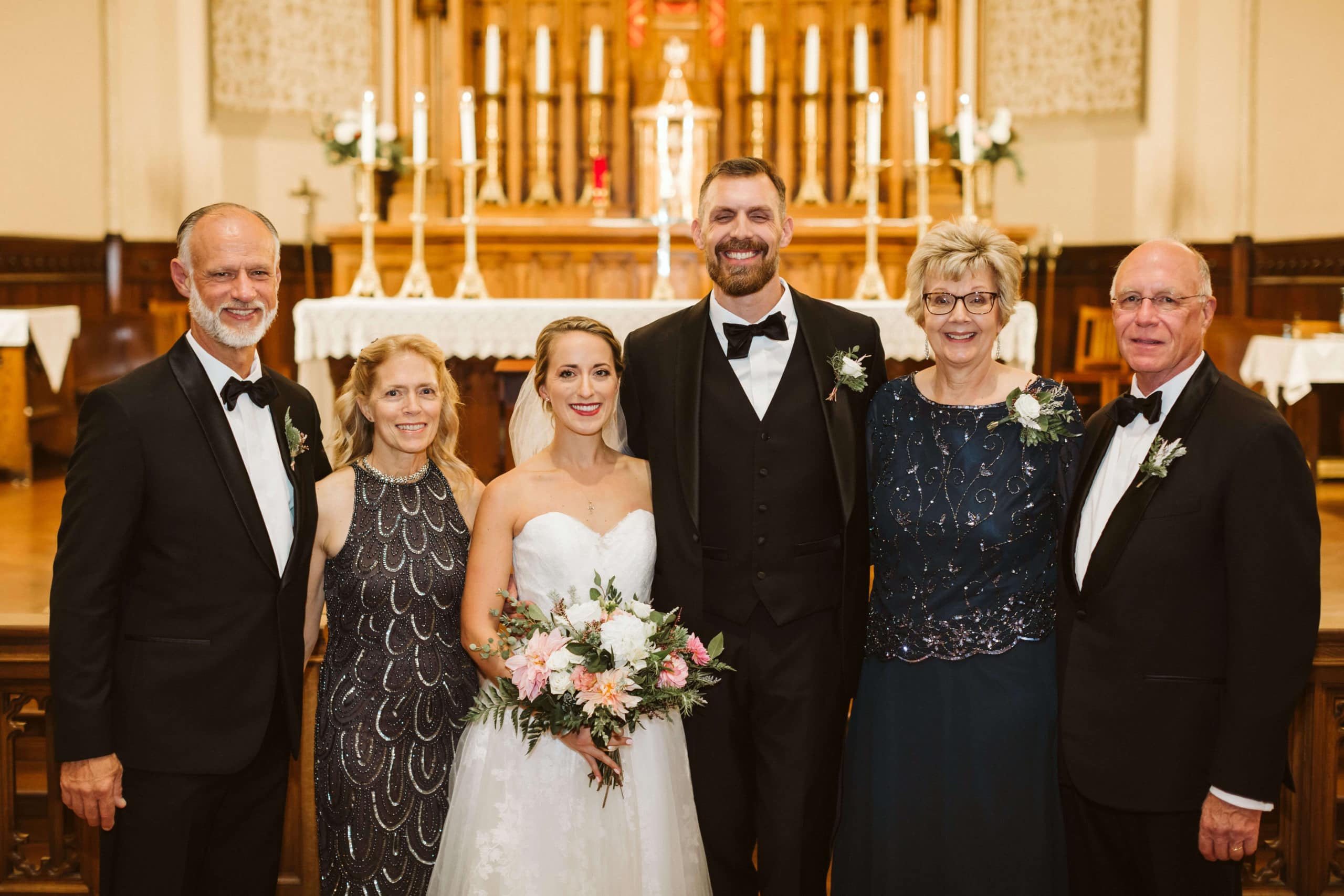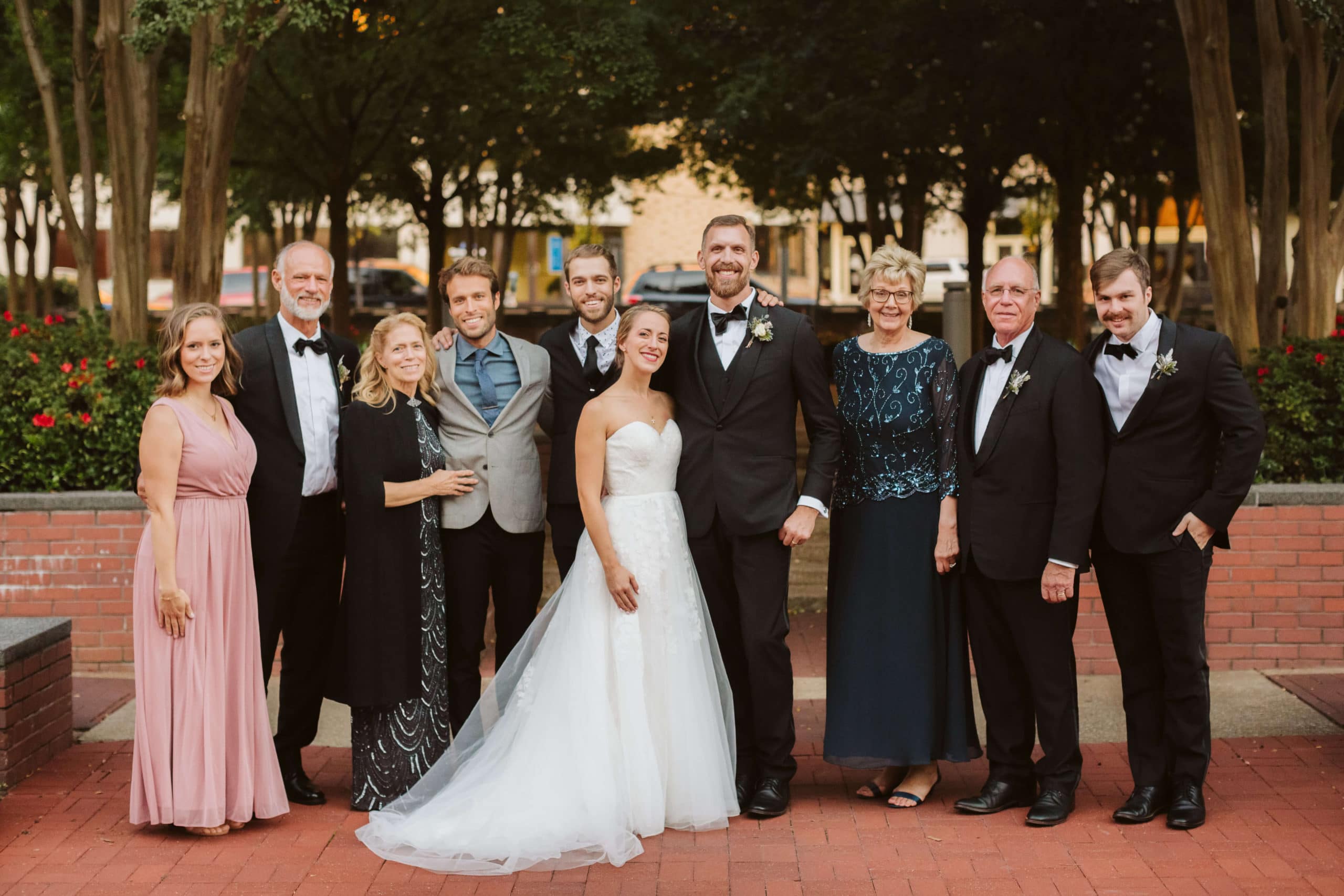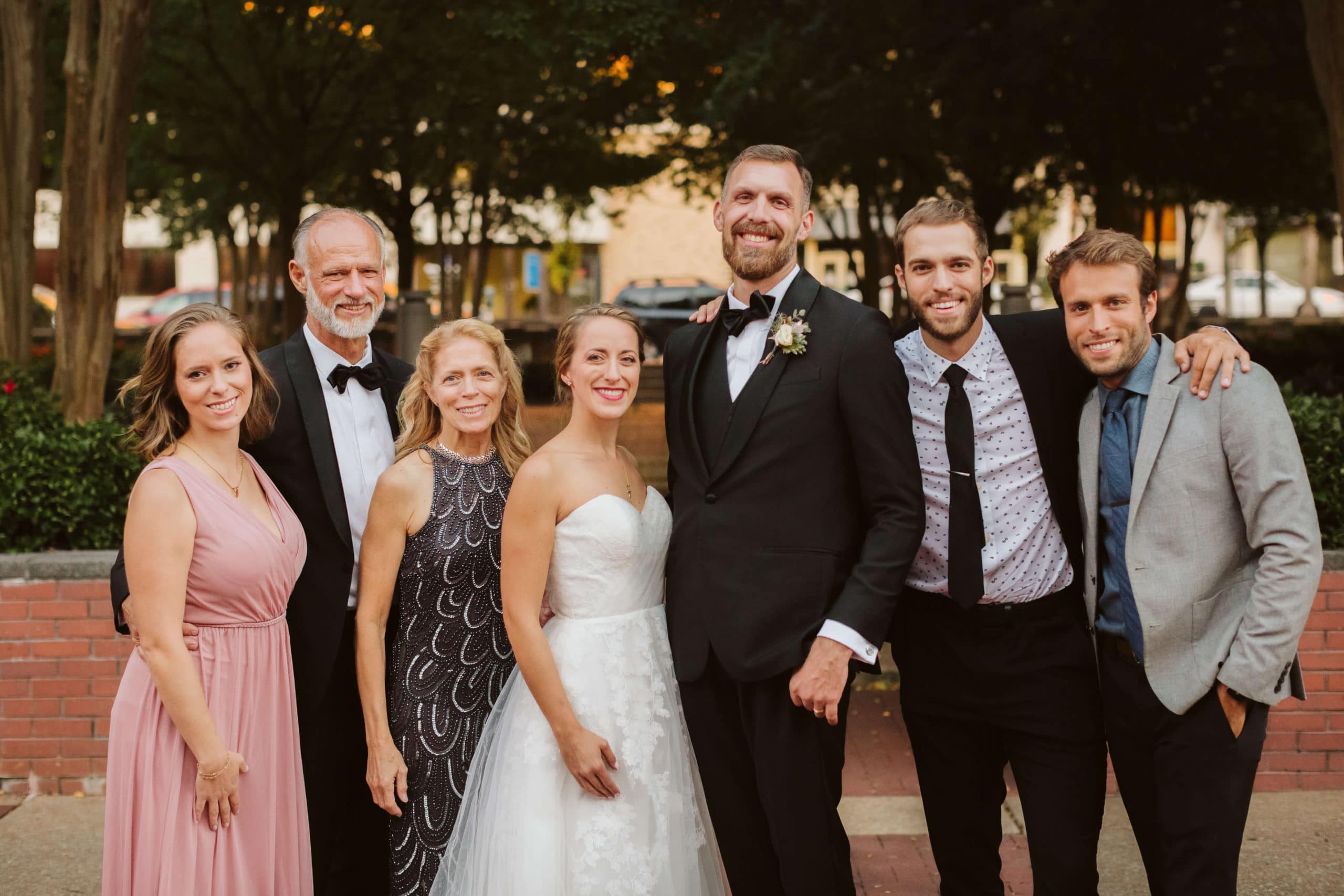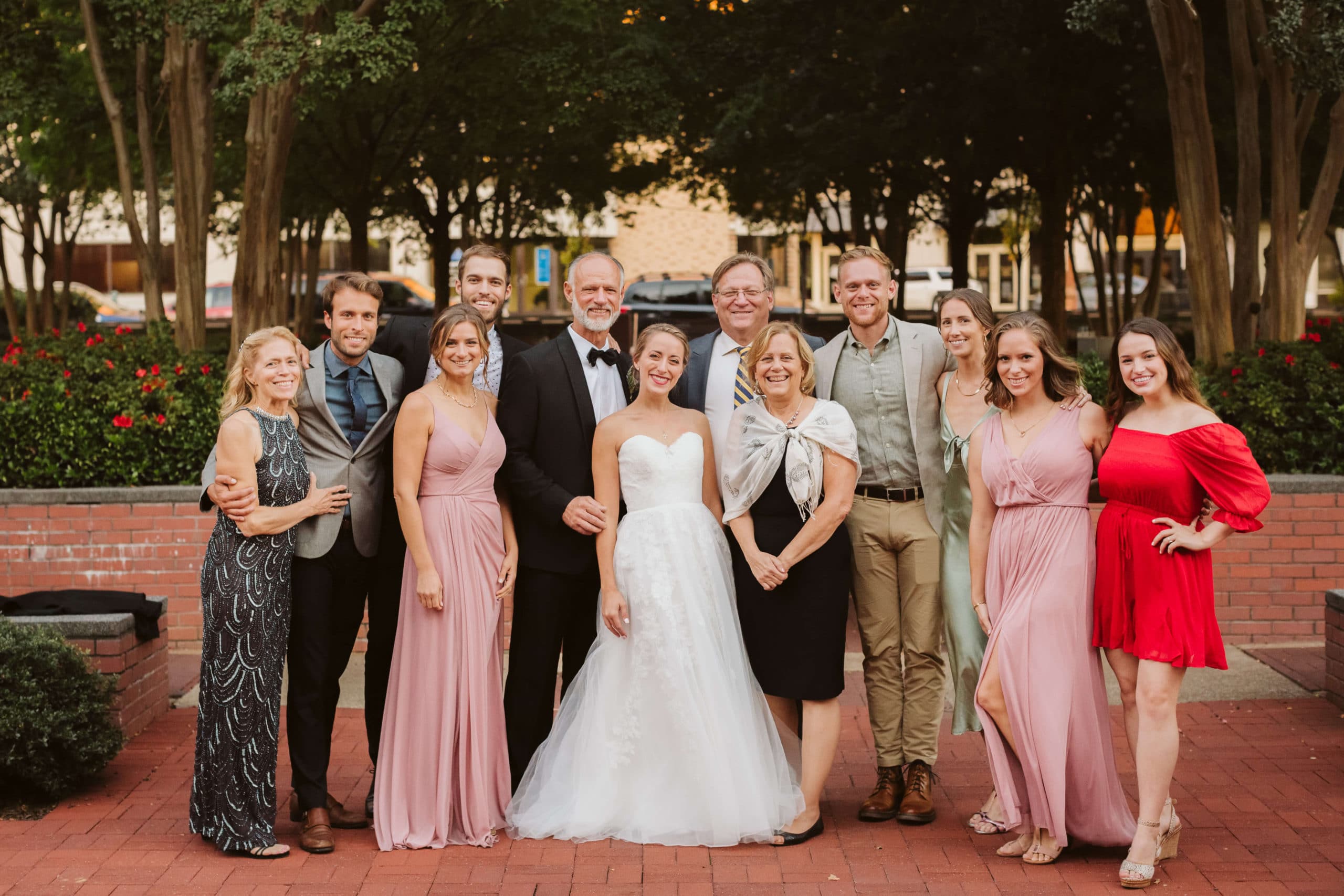 Ceremony in the Sanctuary
I'll let the interior of The Basilica speak for itself; the grandeur of the sanctuary's massive stained-glass windows, locally prized pipe organ, and hand-carved reredos alone are sure to take your breath away.
One perk of hosting your reception at a different location than your ceremony is that you can do a ceremony send-off, too! Matty + Andrew's guests showered the couple with bubbles as they exited The Basilica's front doors and made their way down the steps—such a great way to get the guests amped for the party!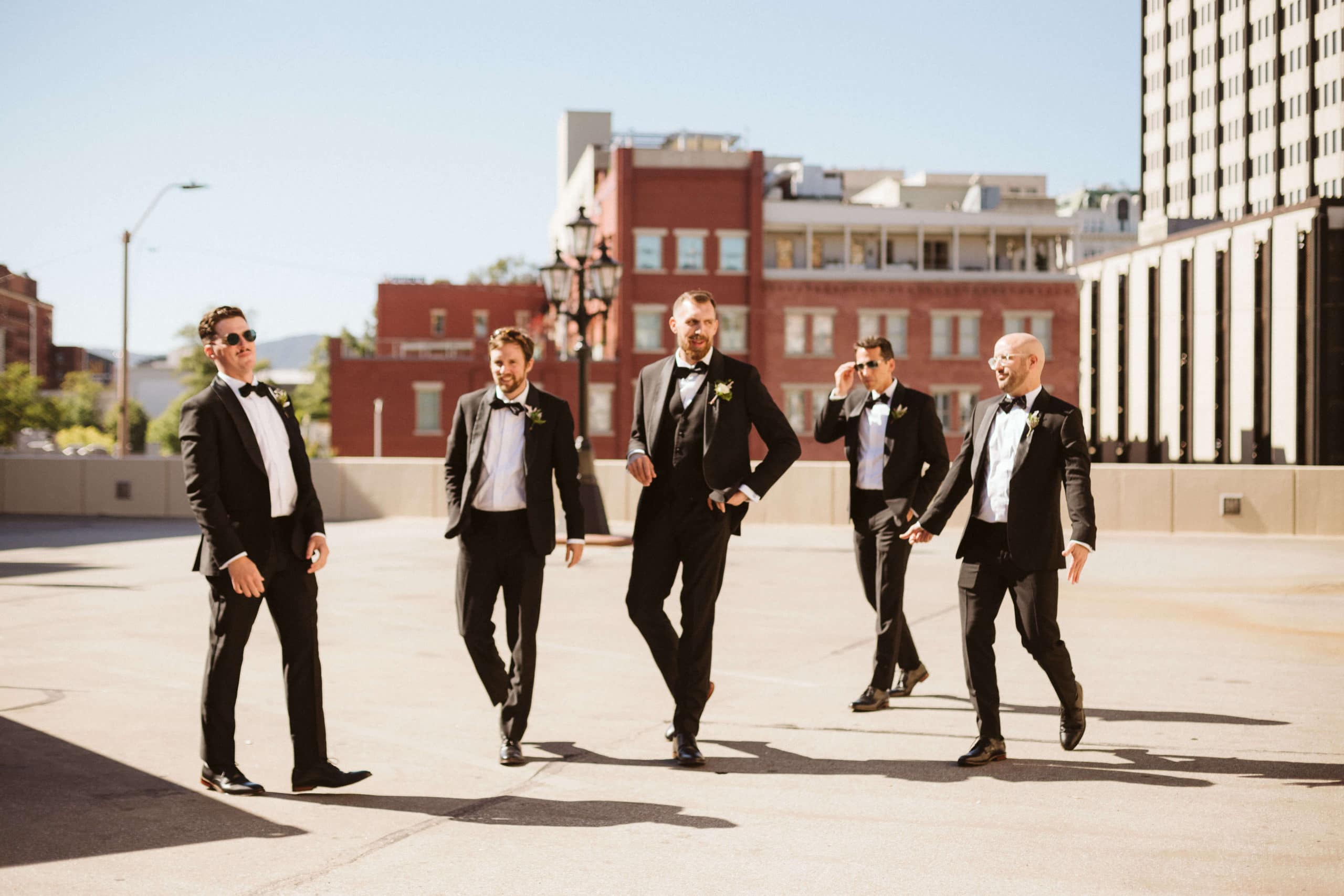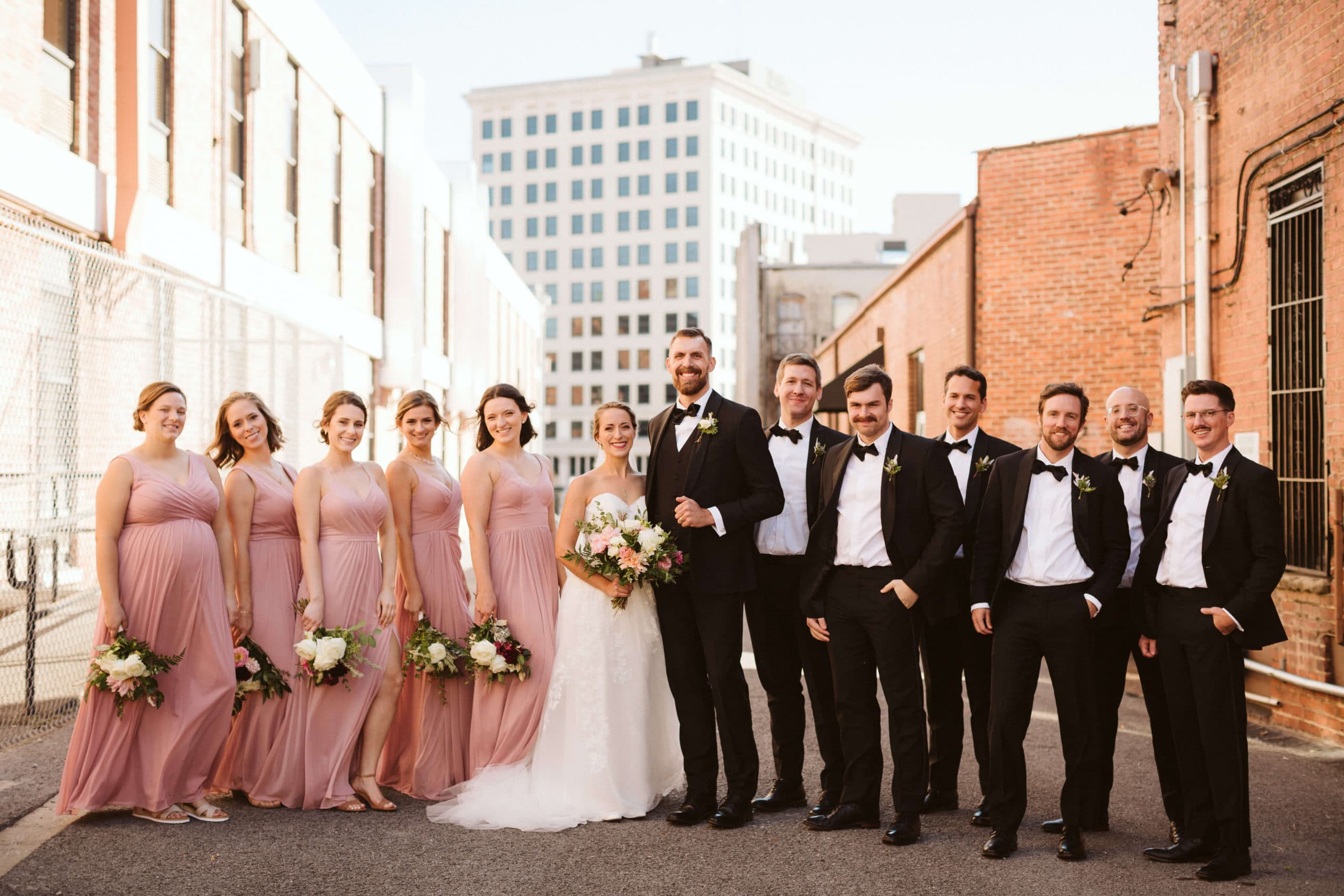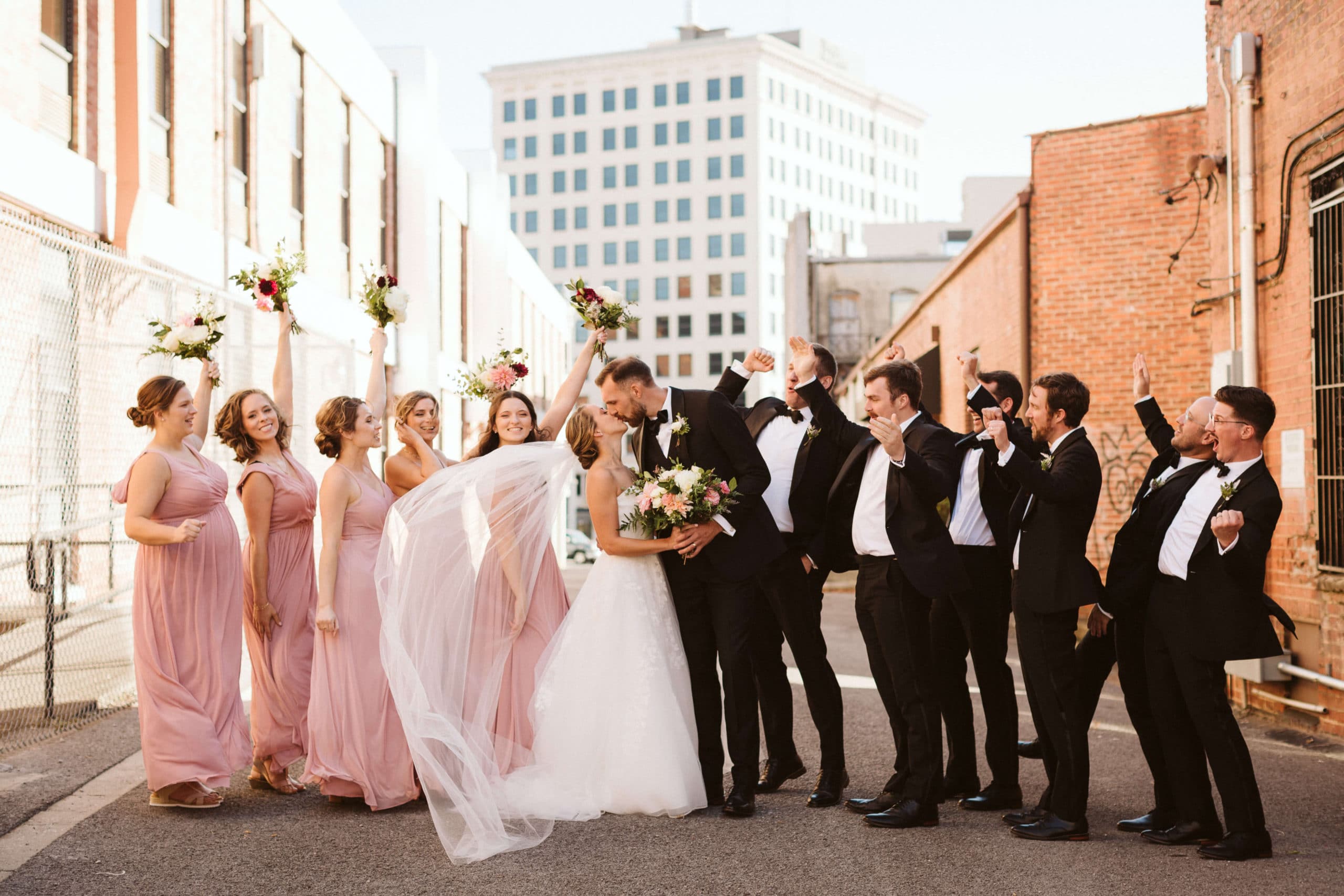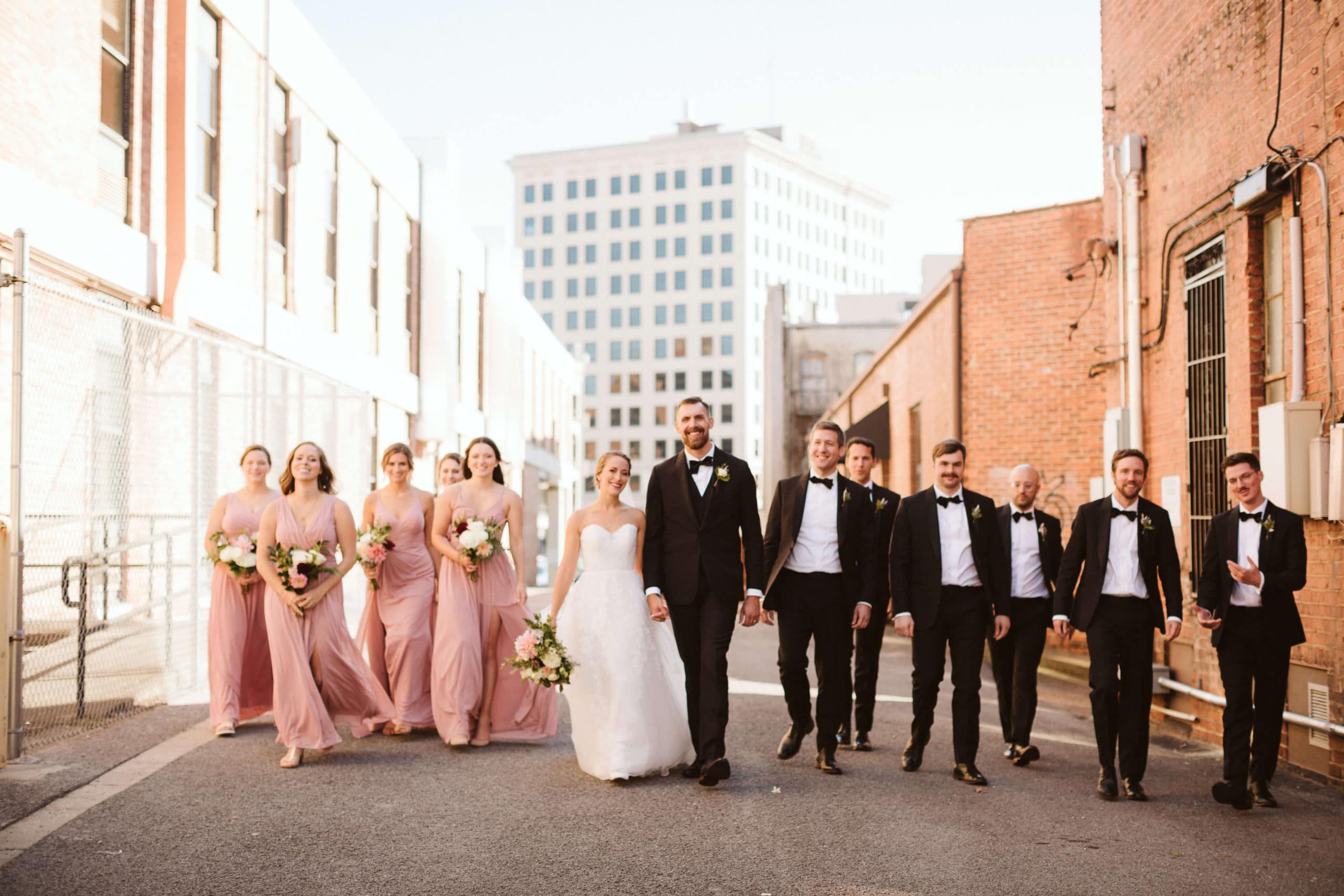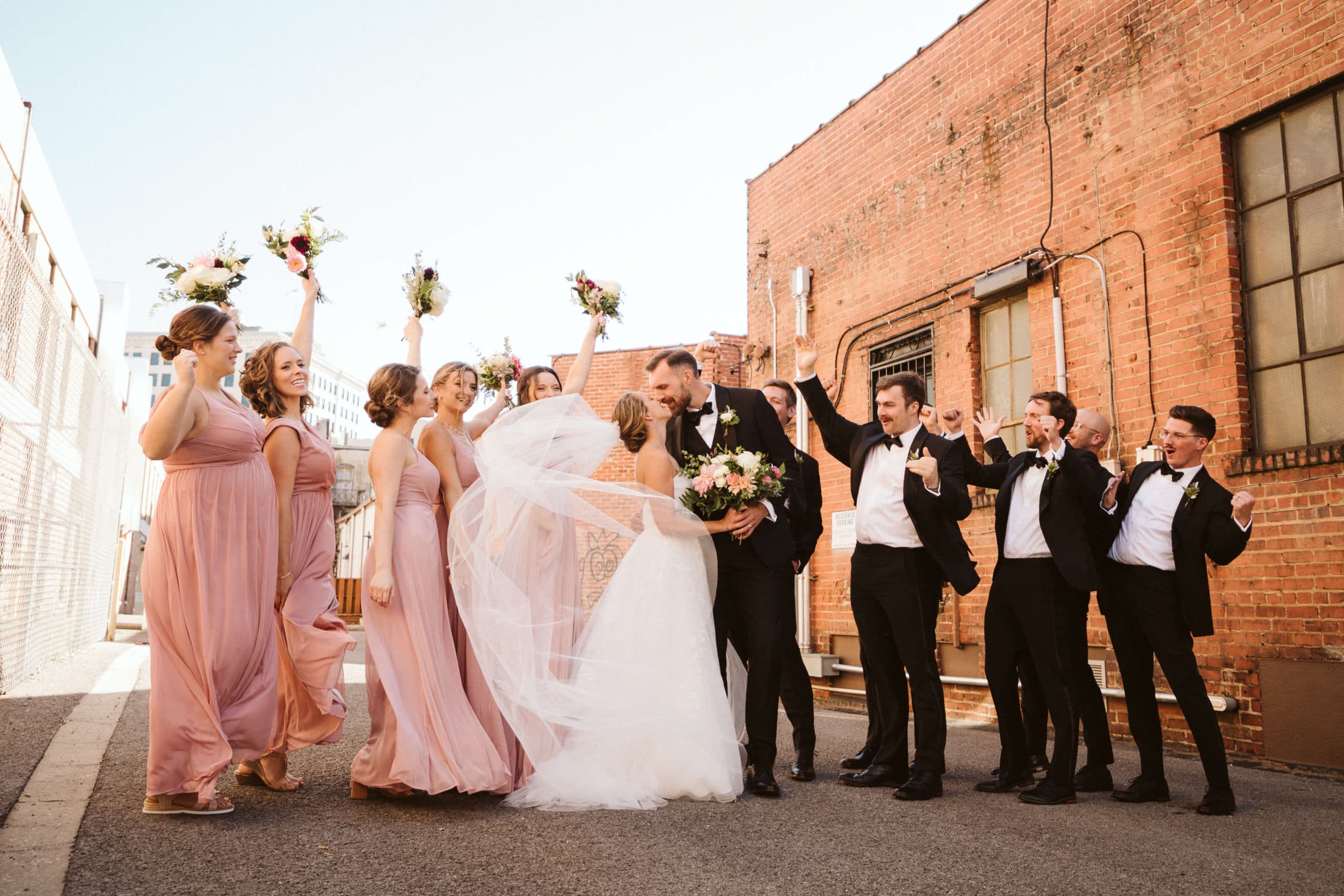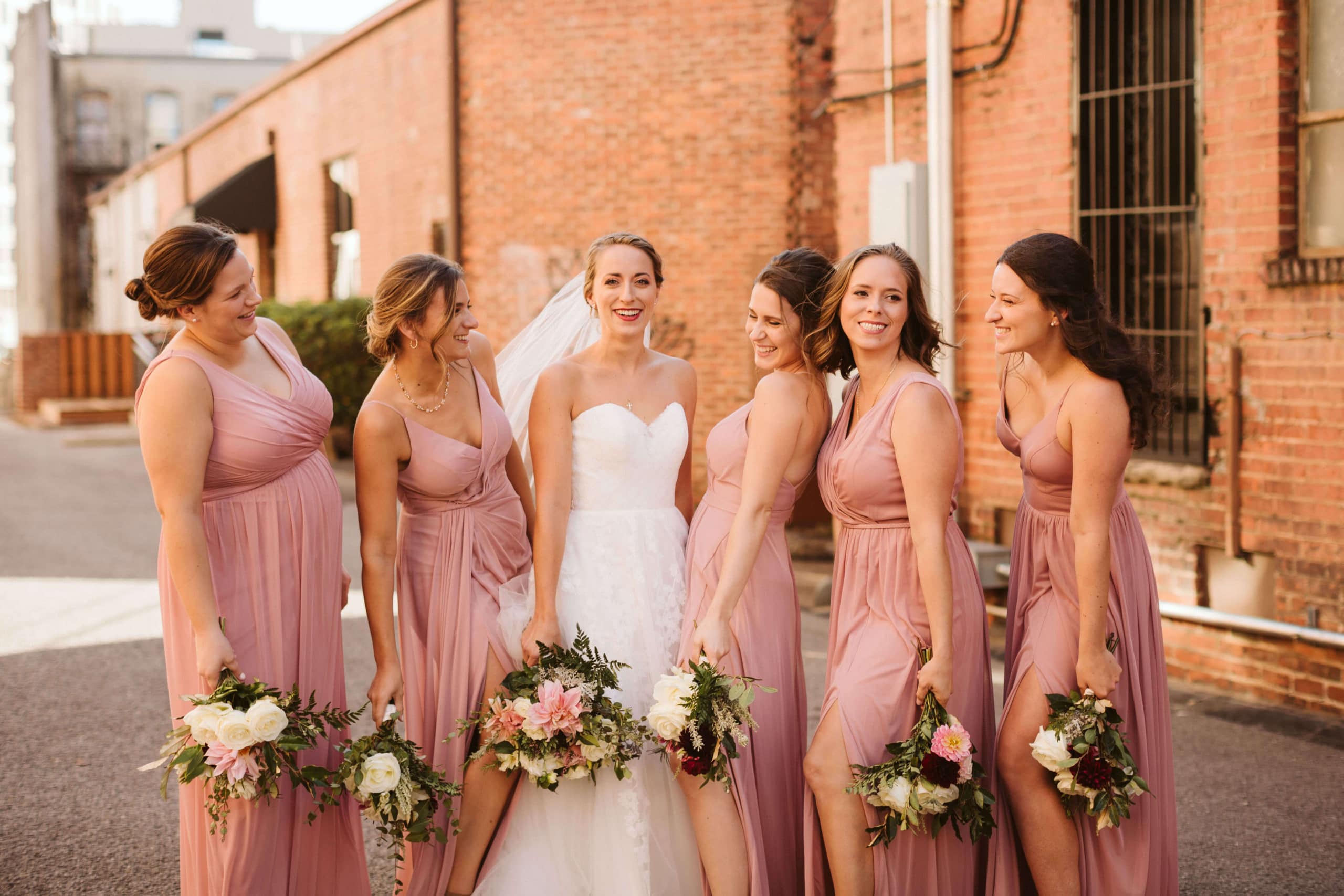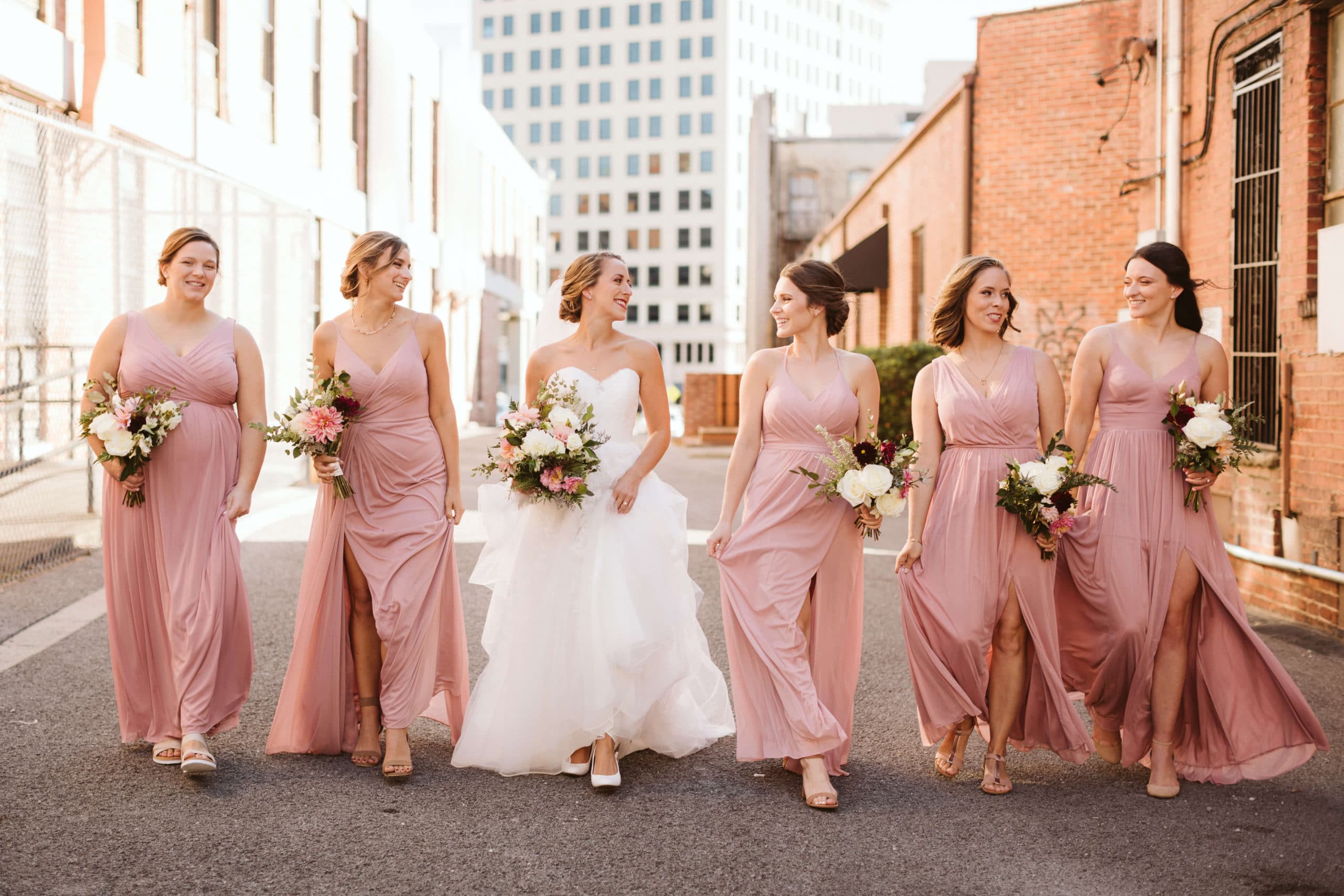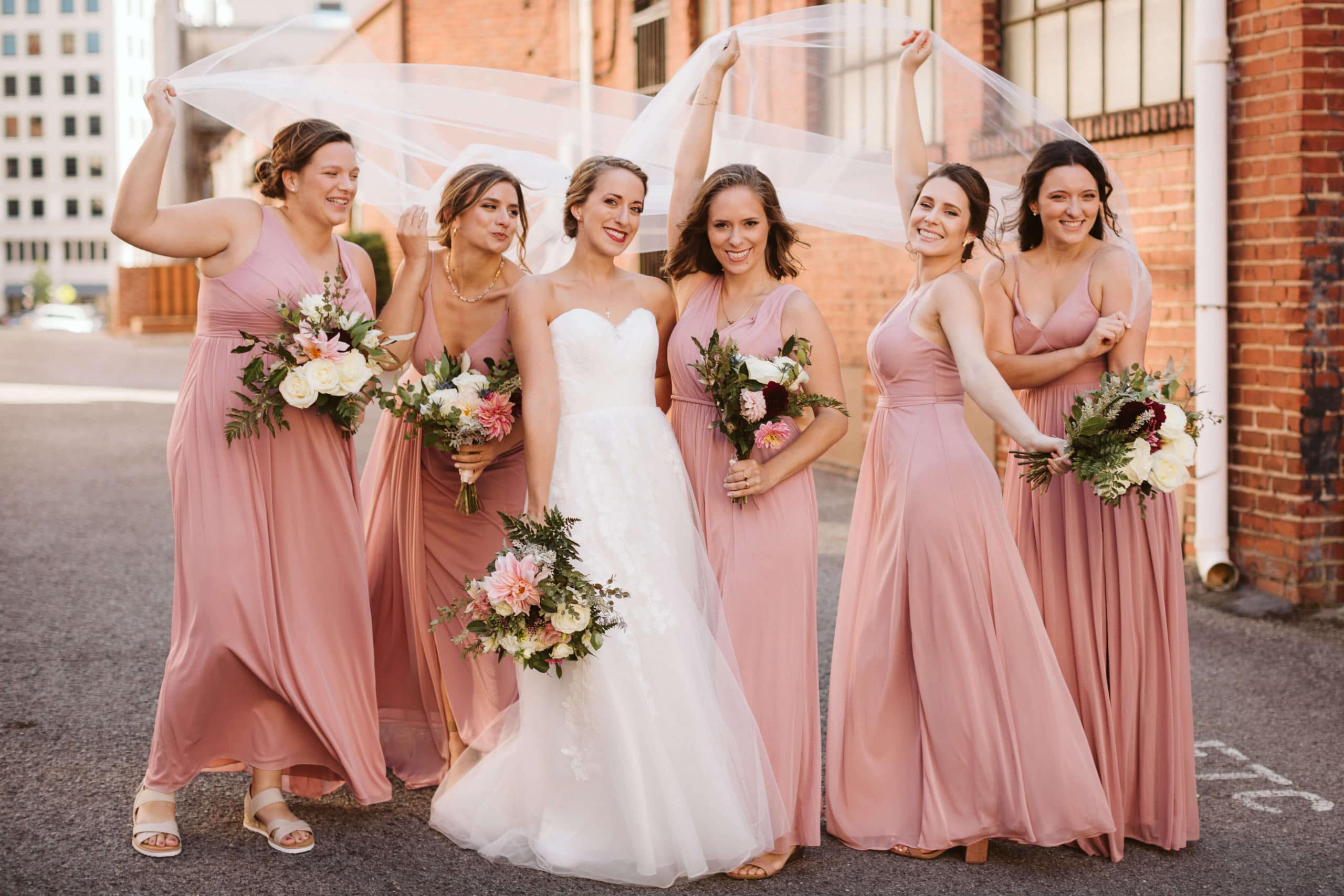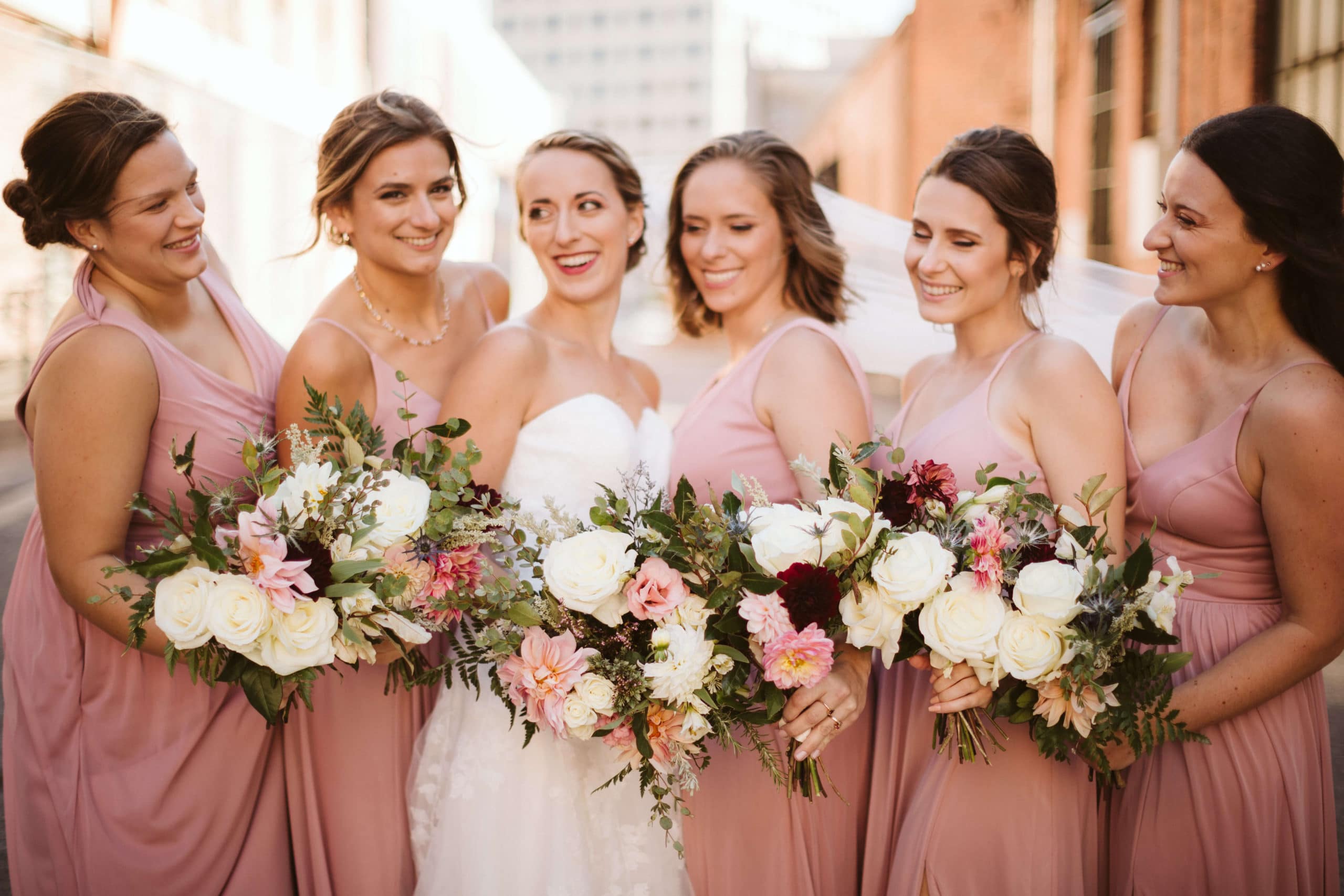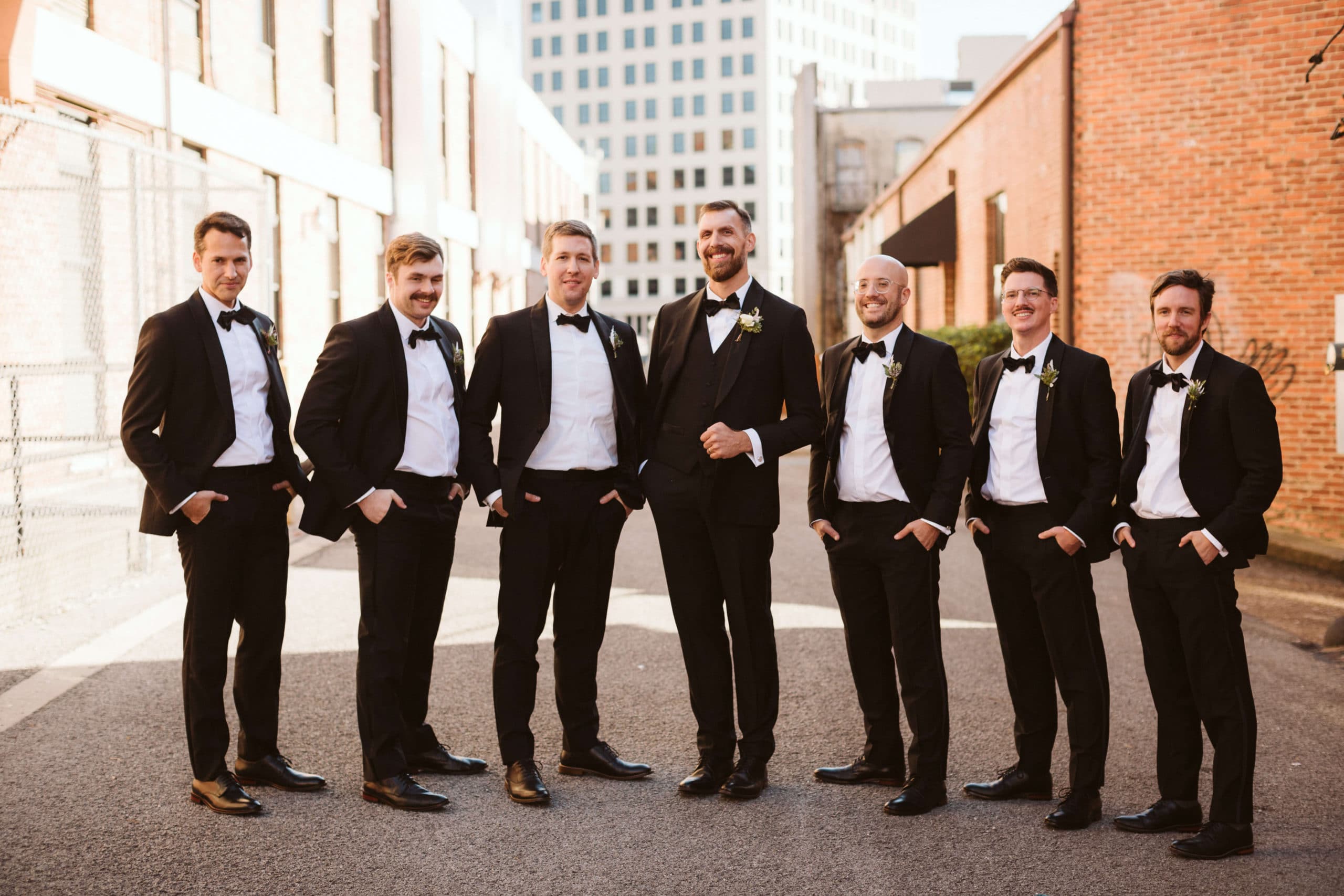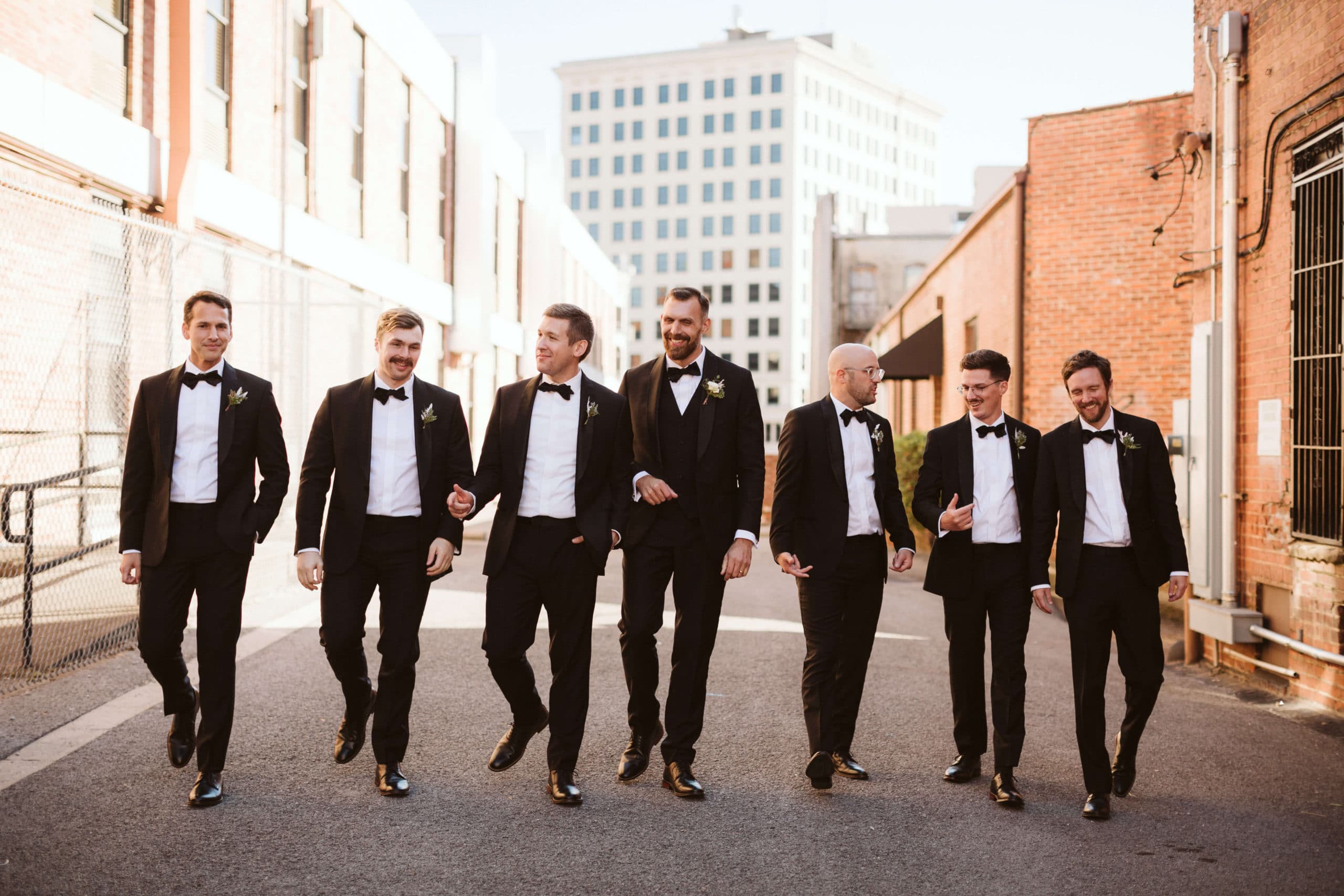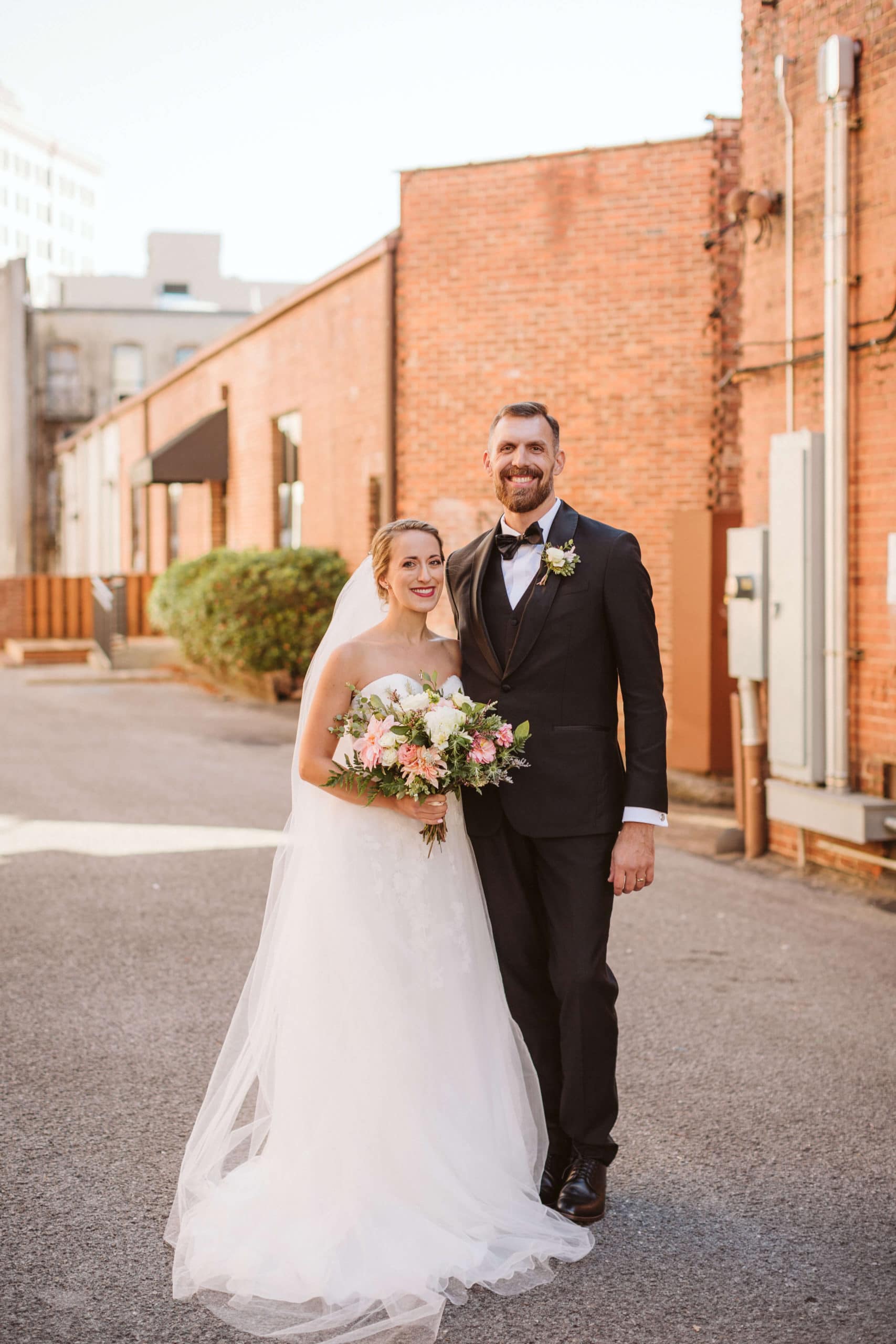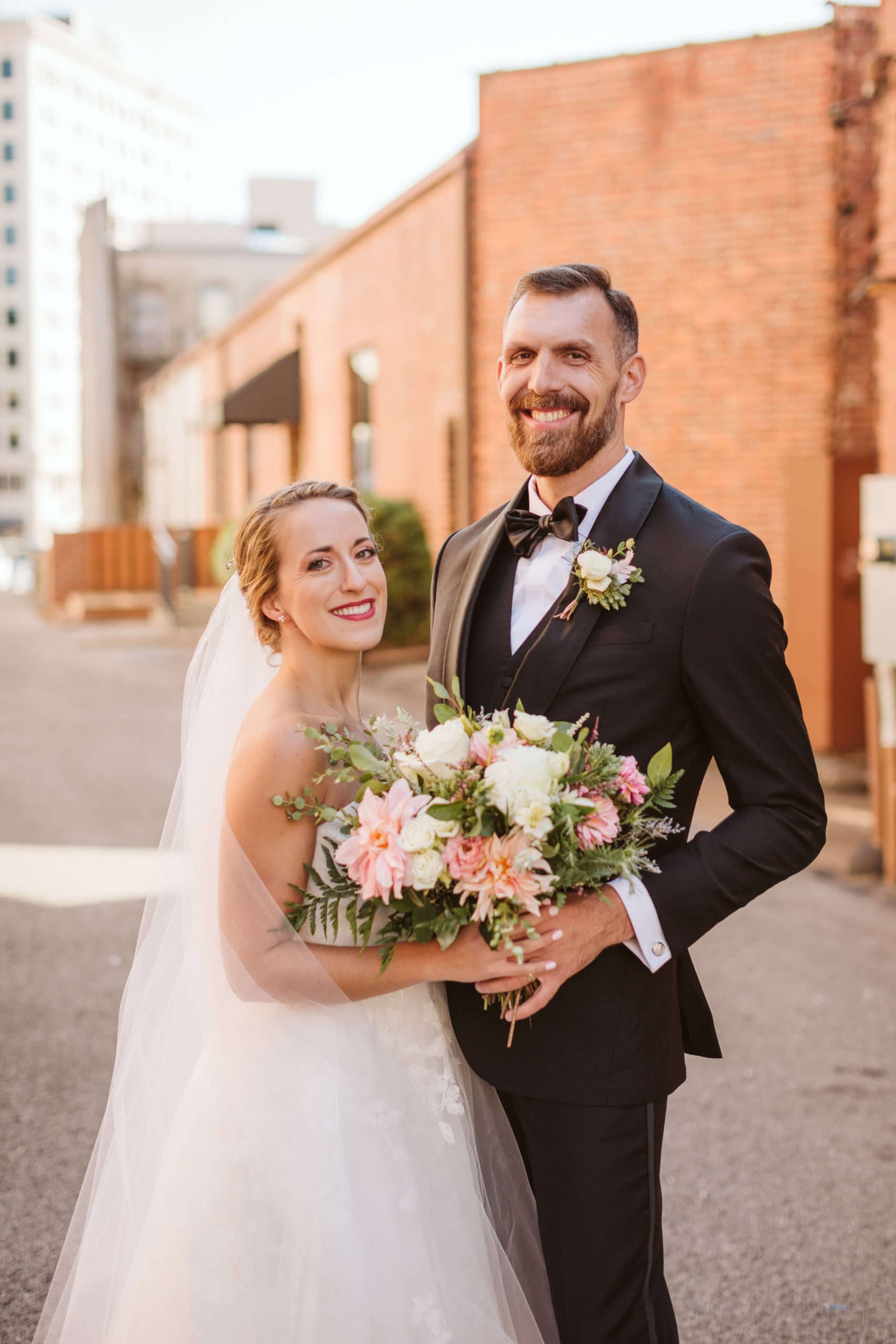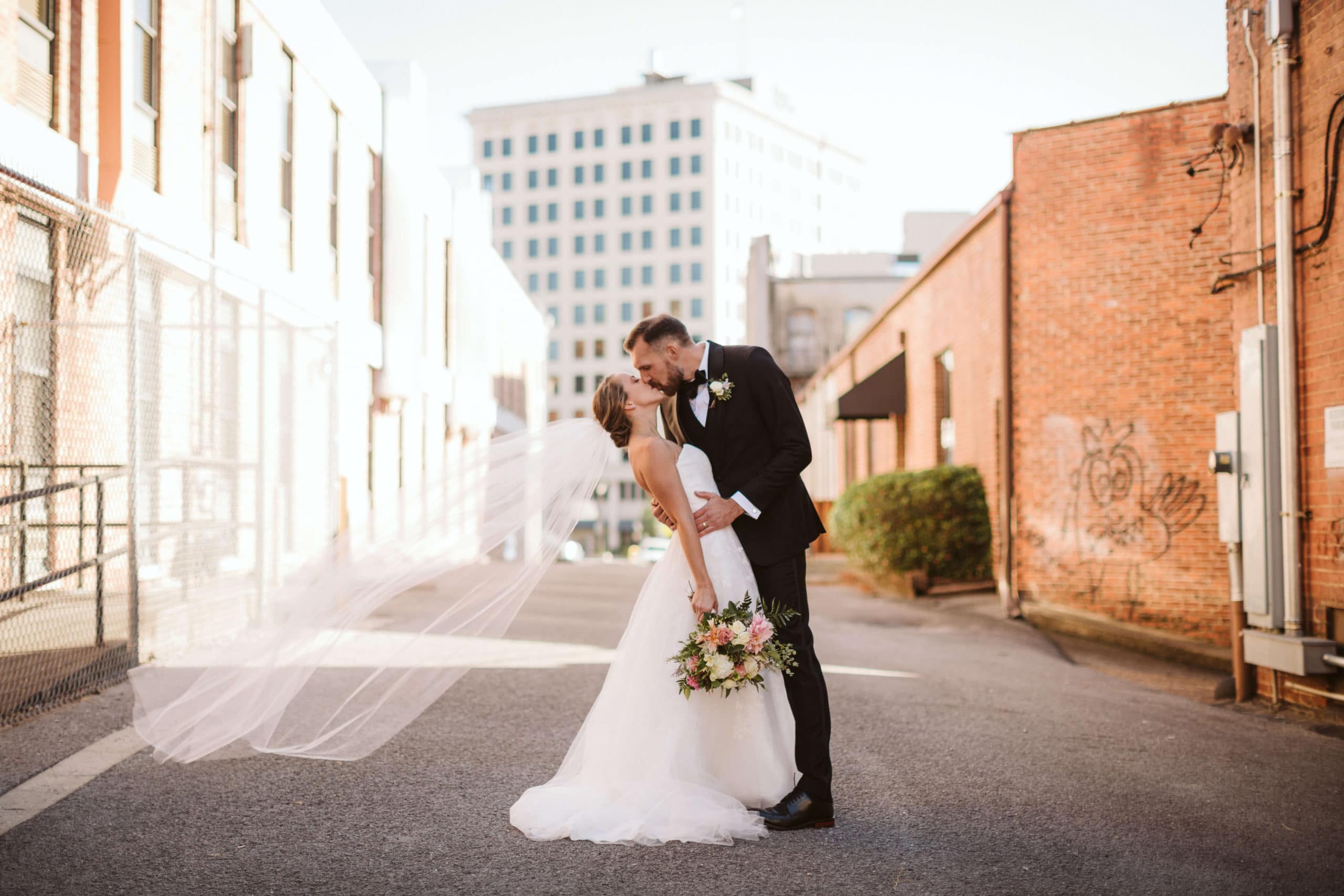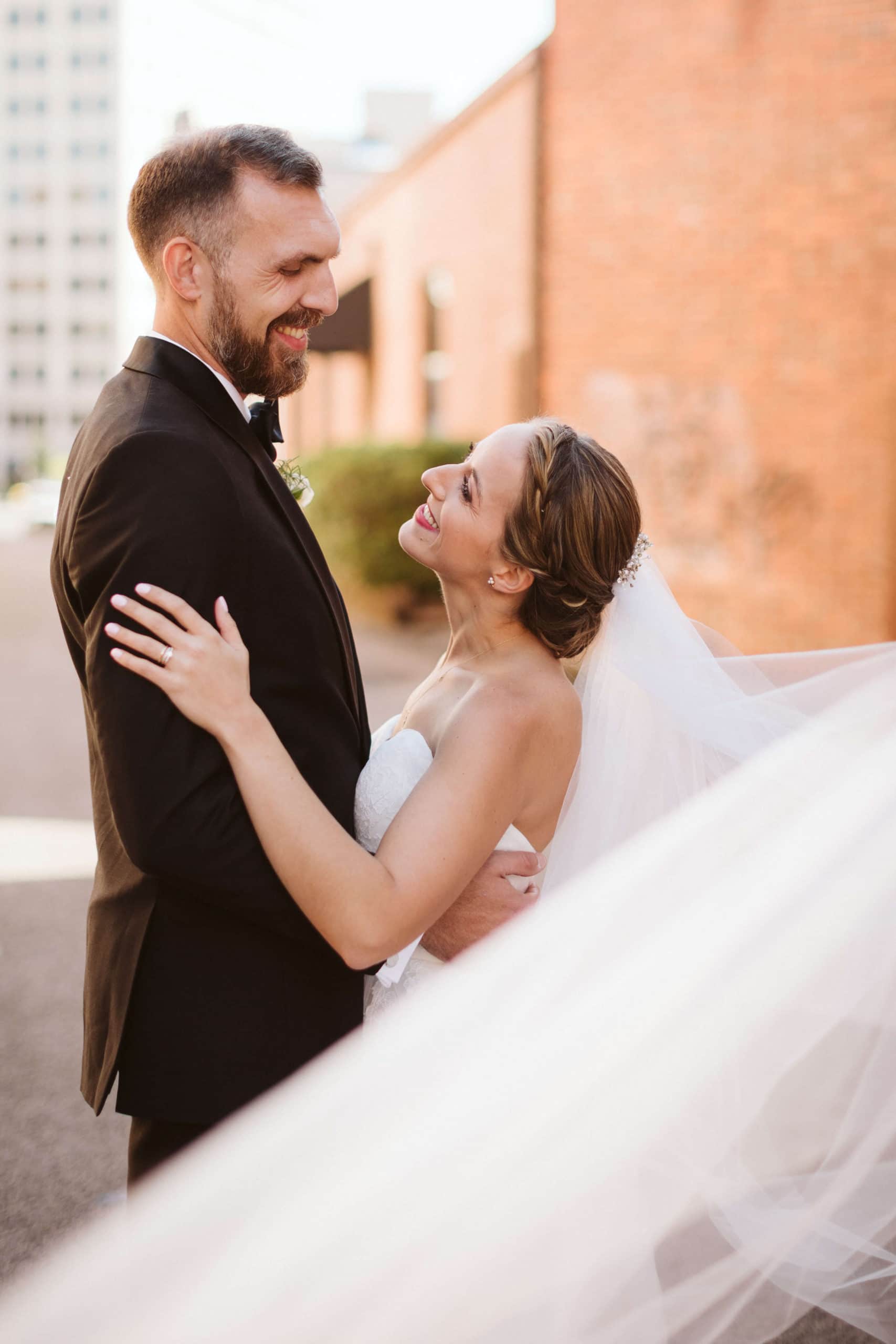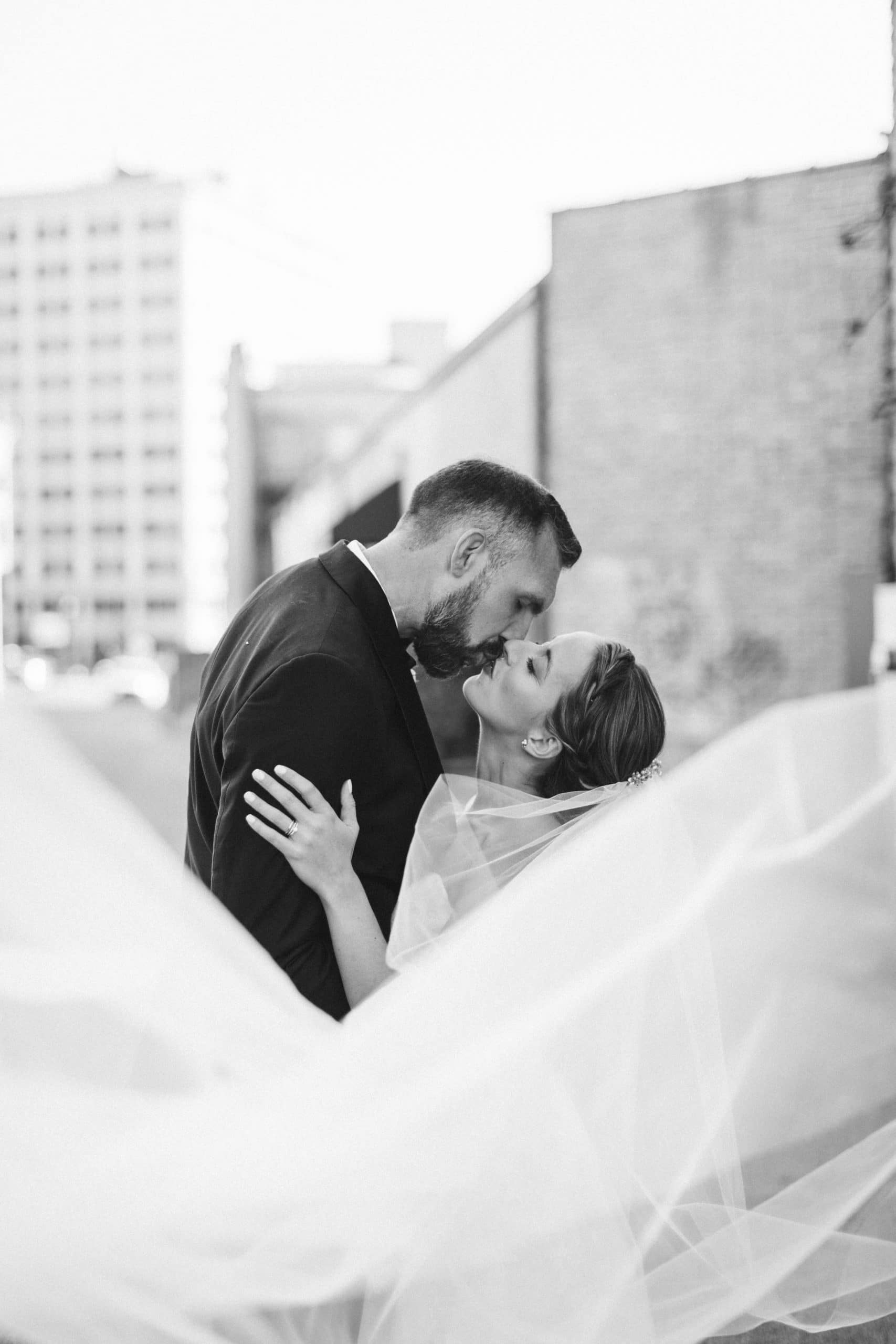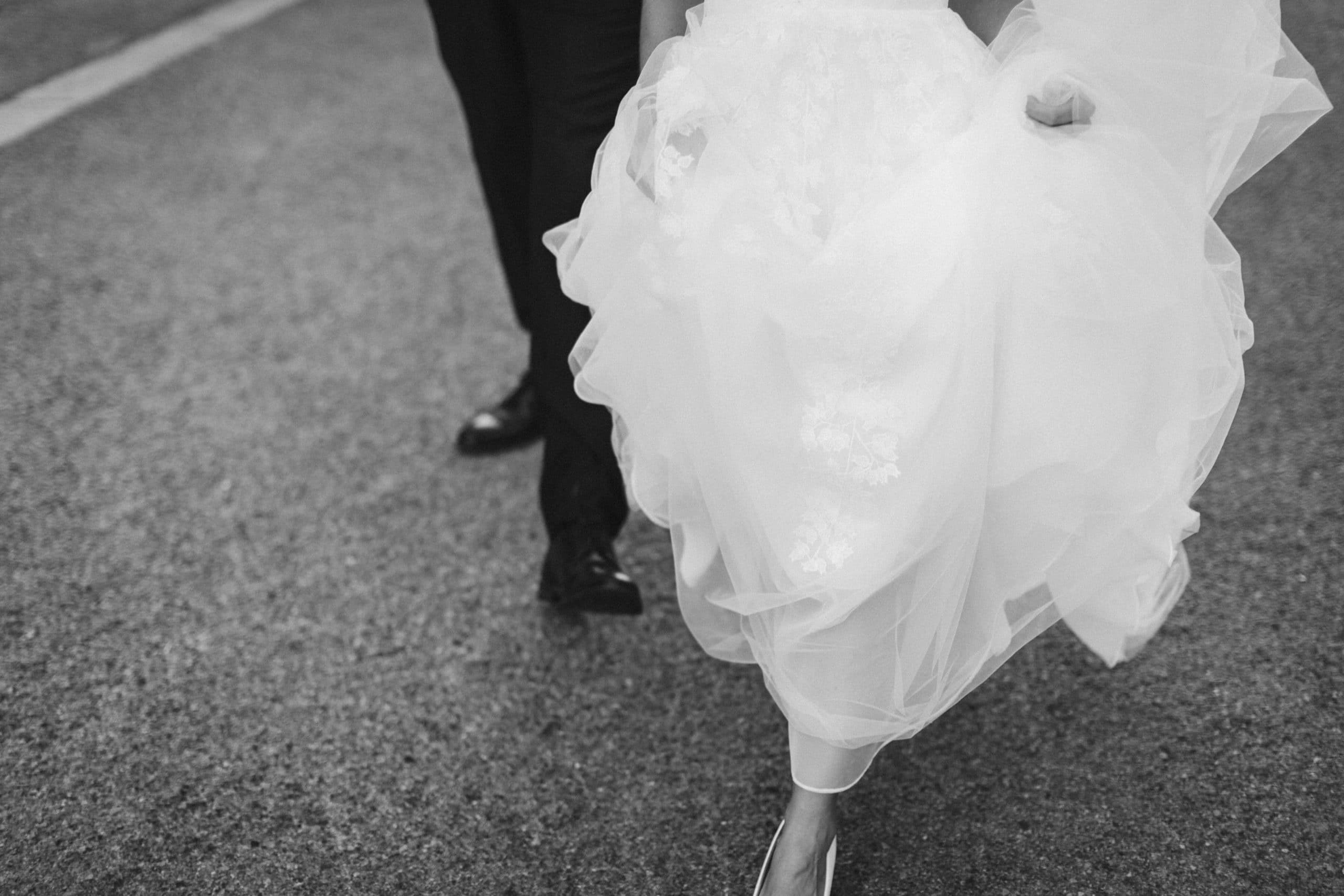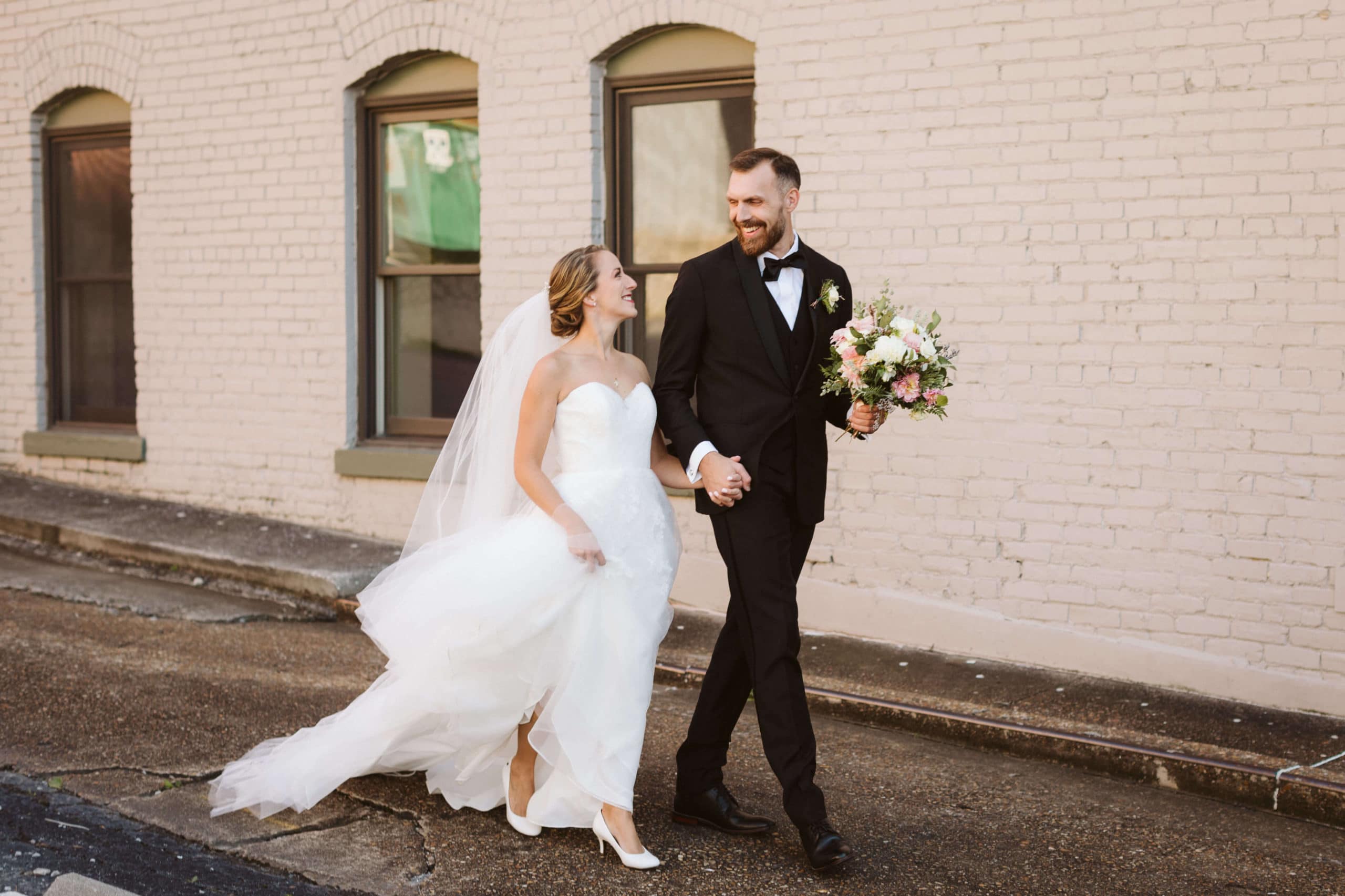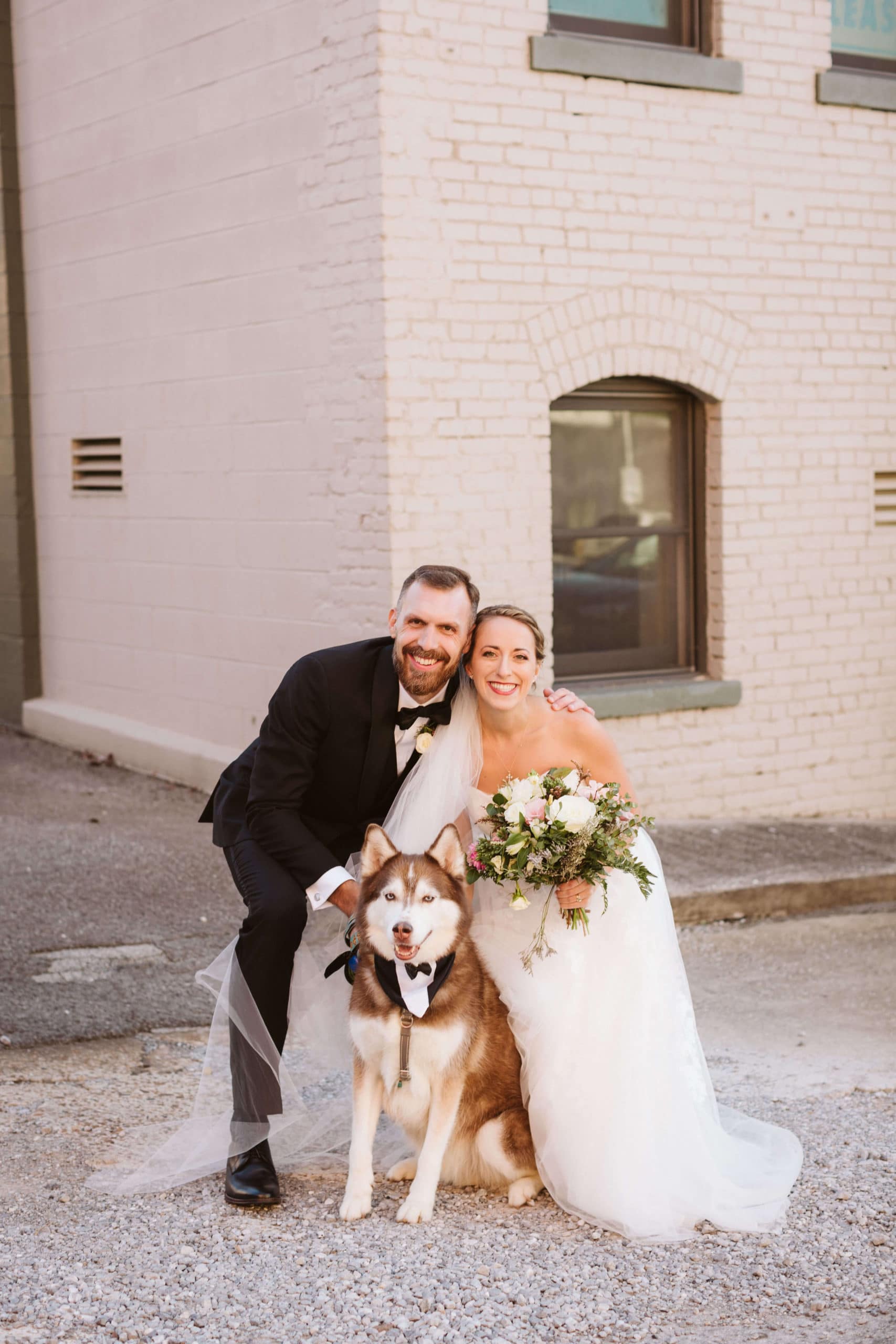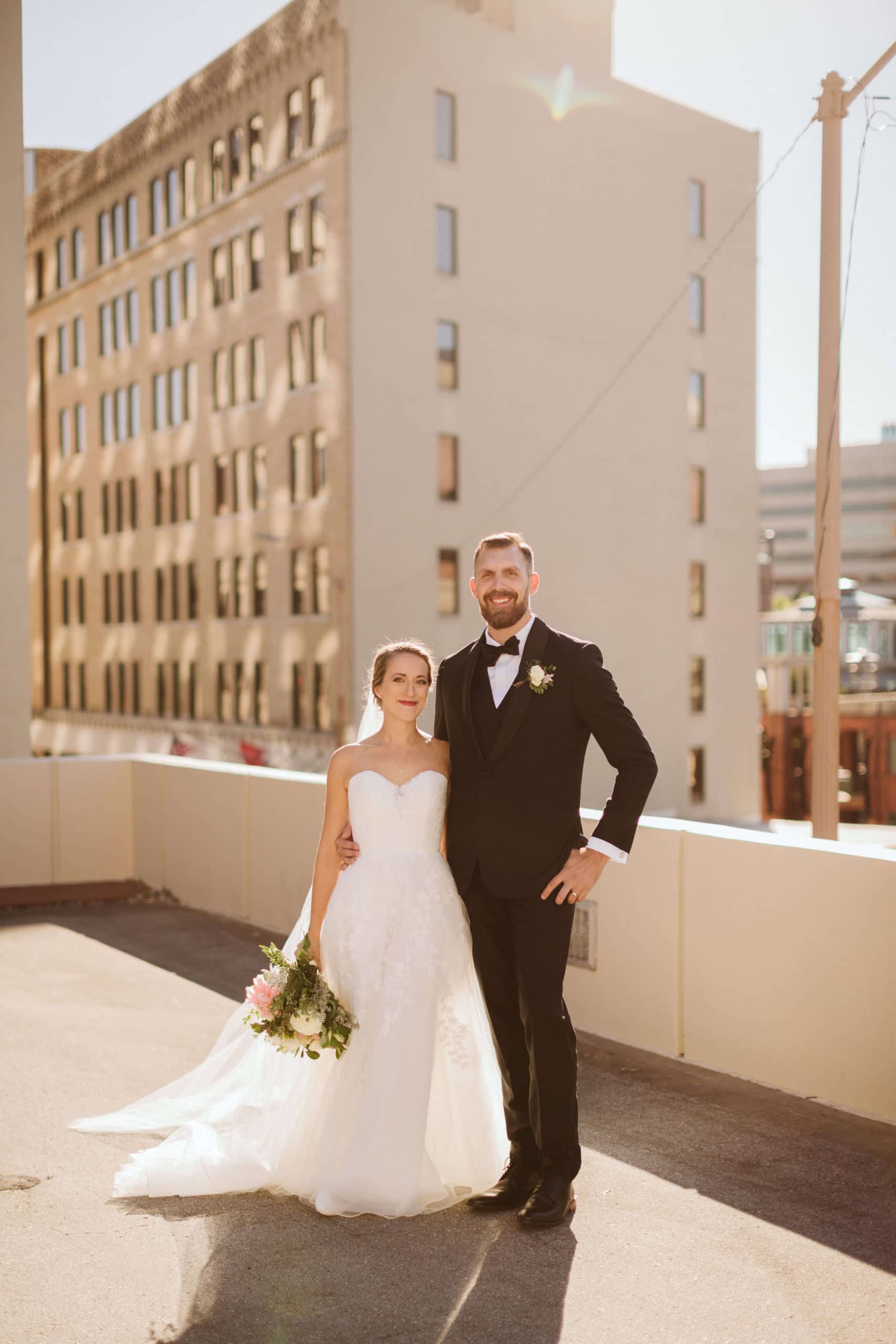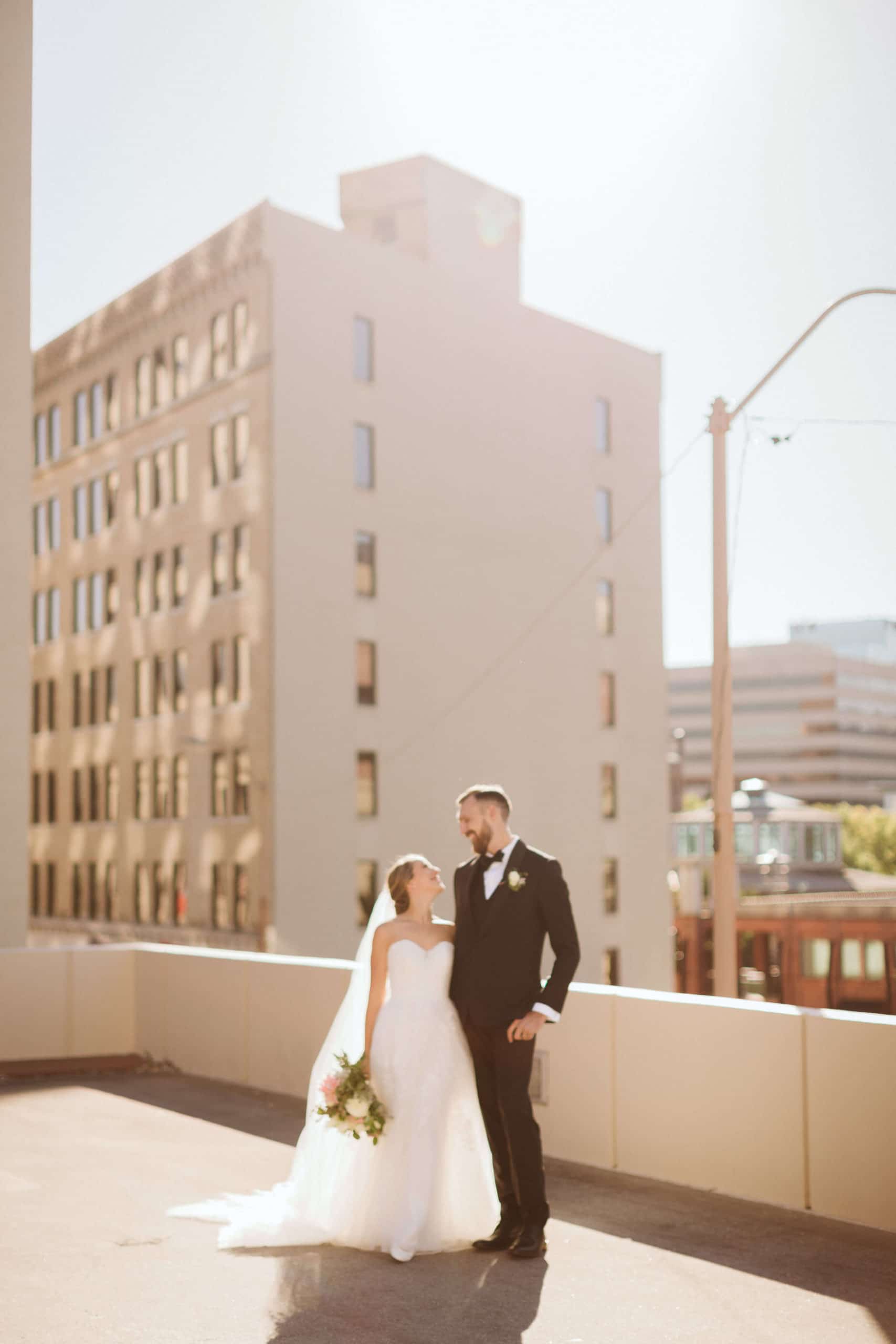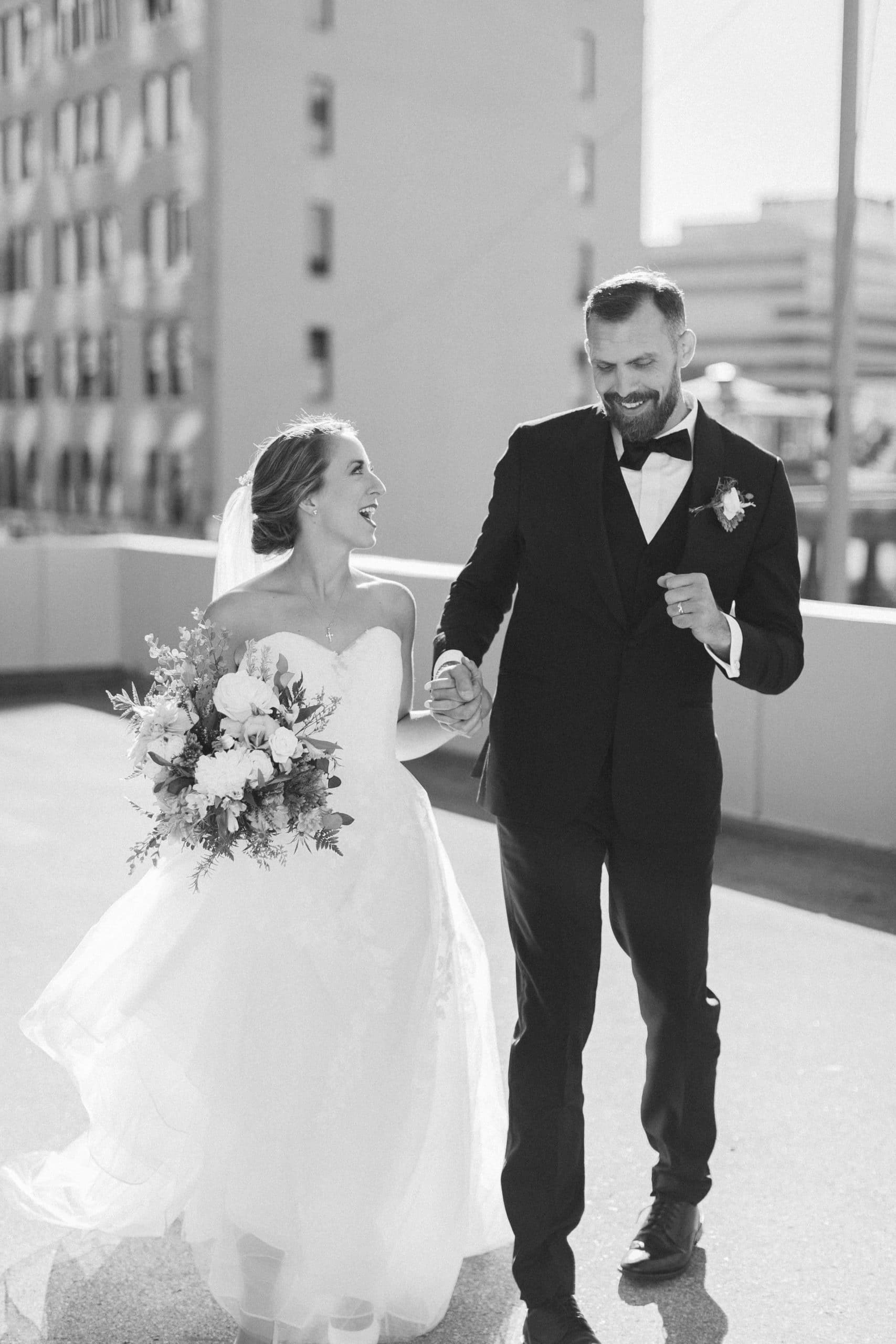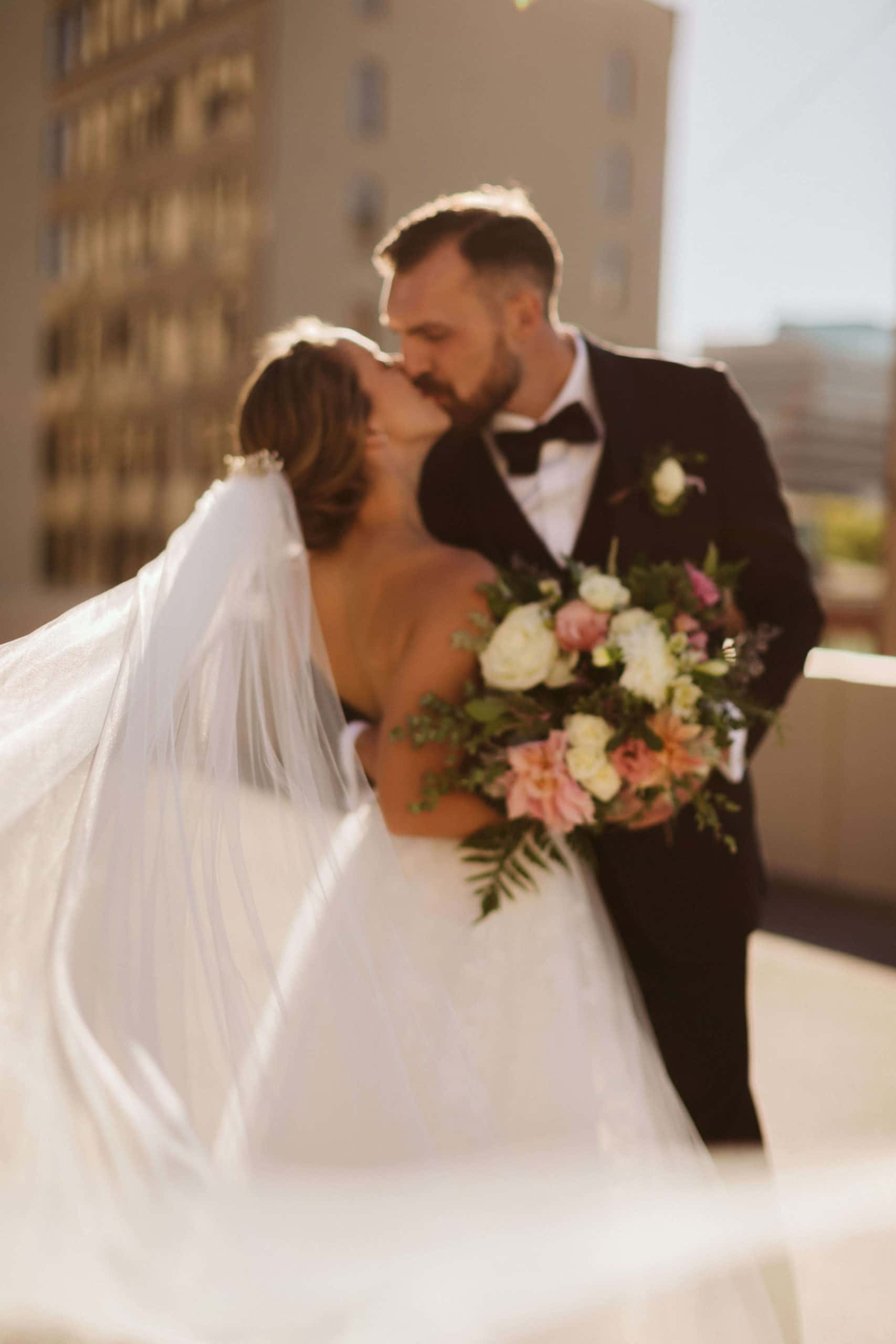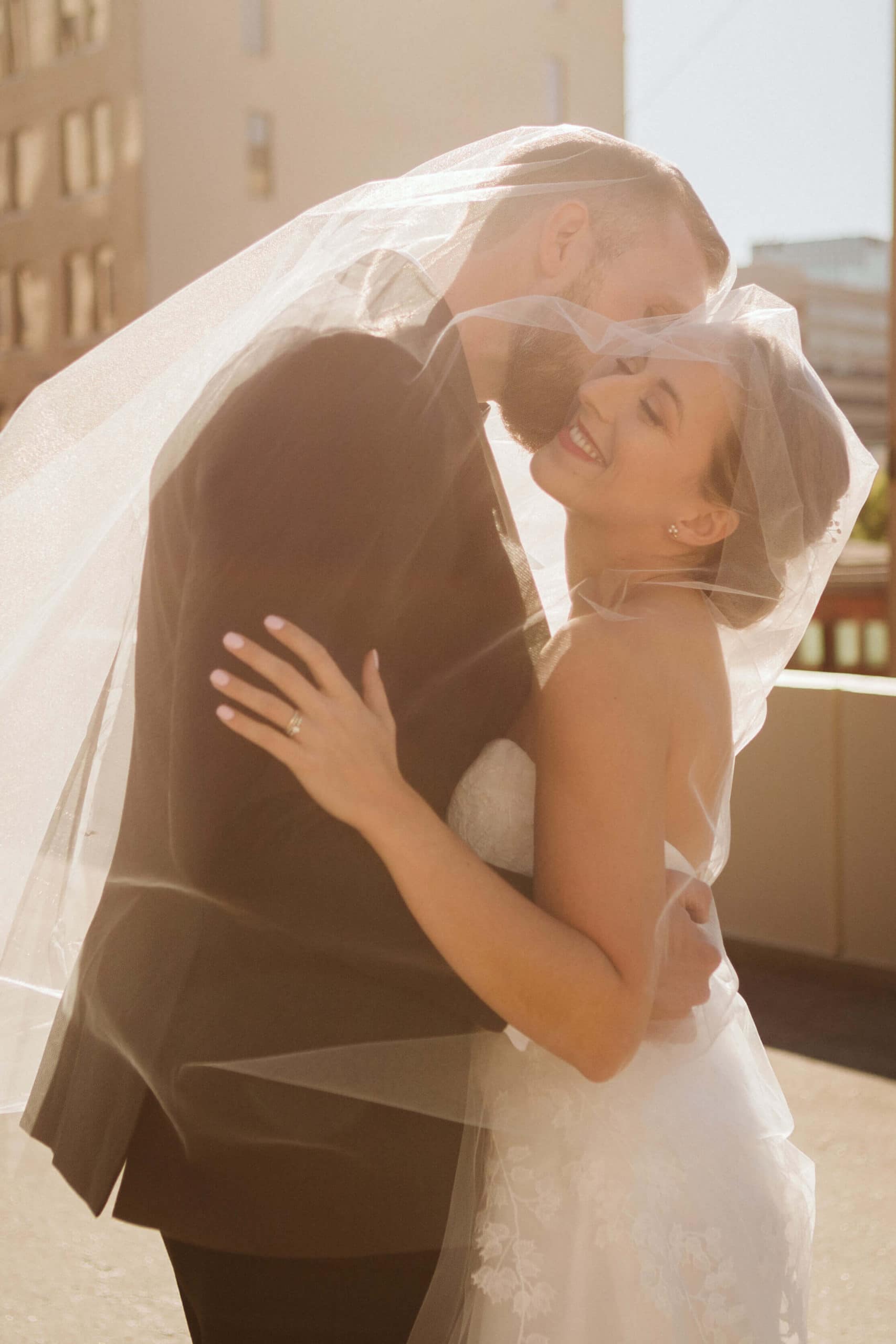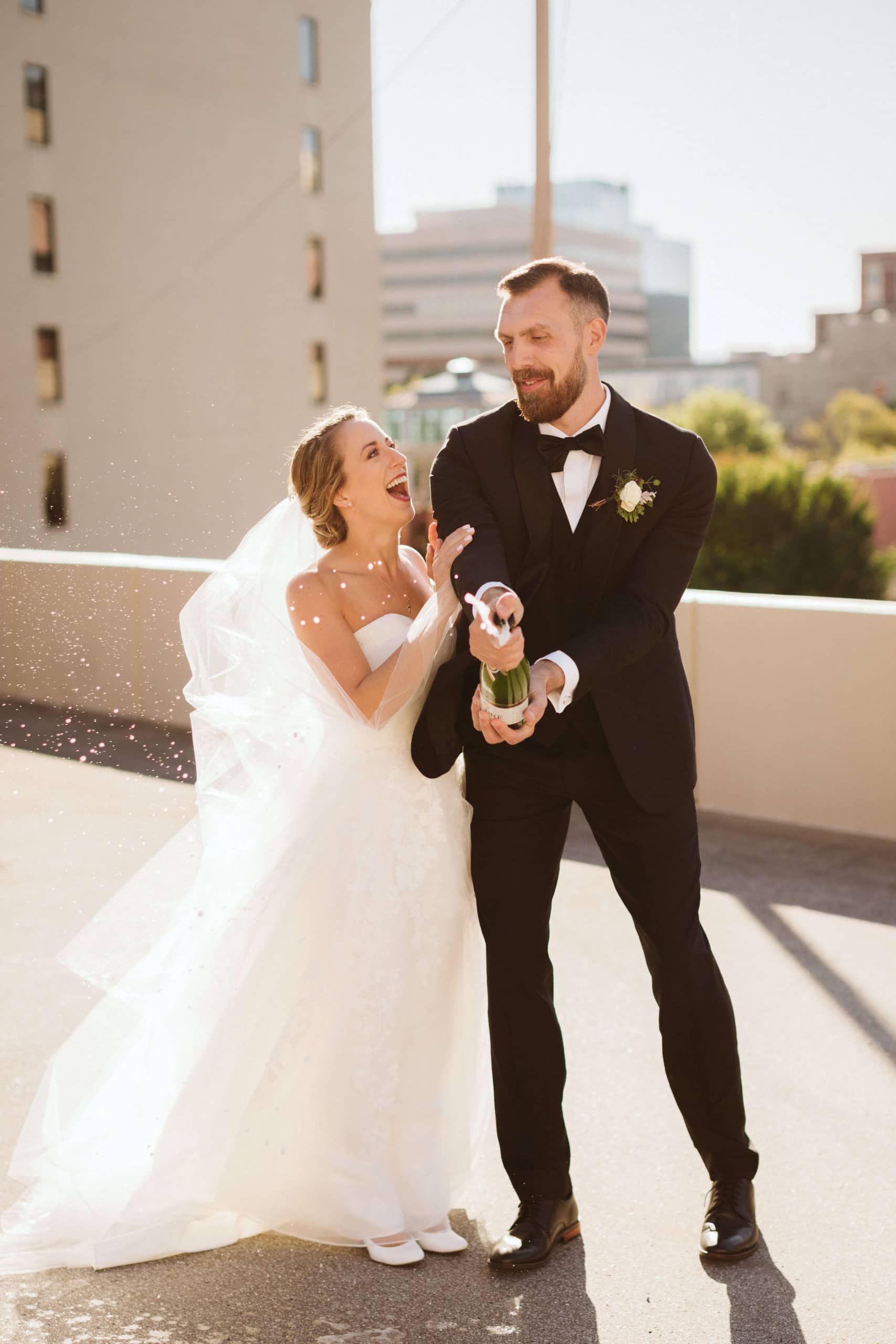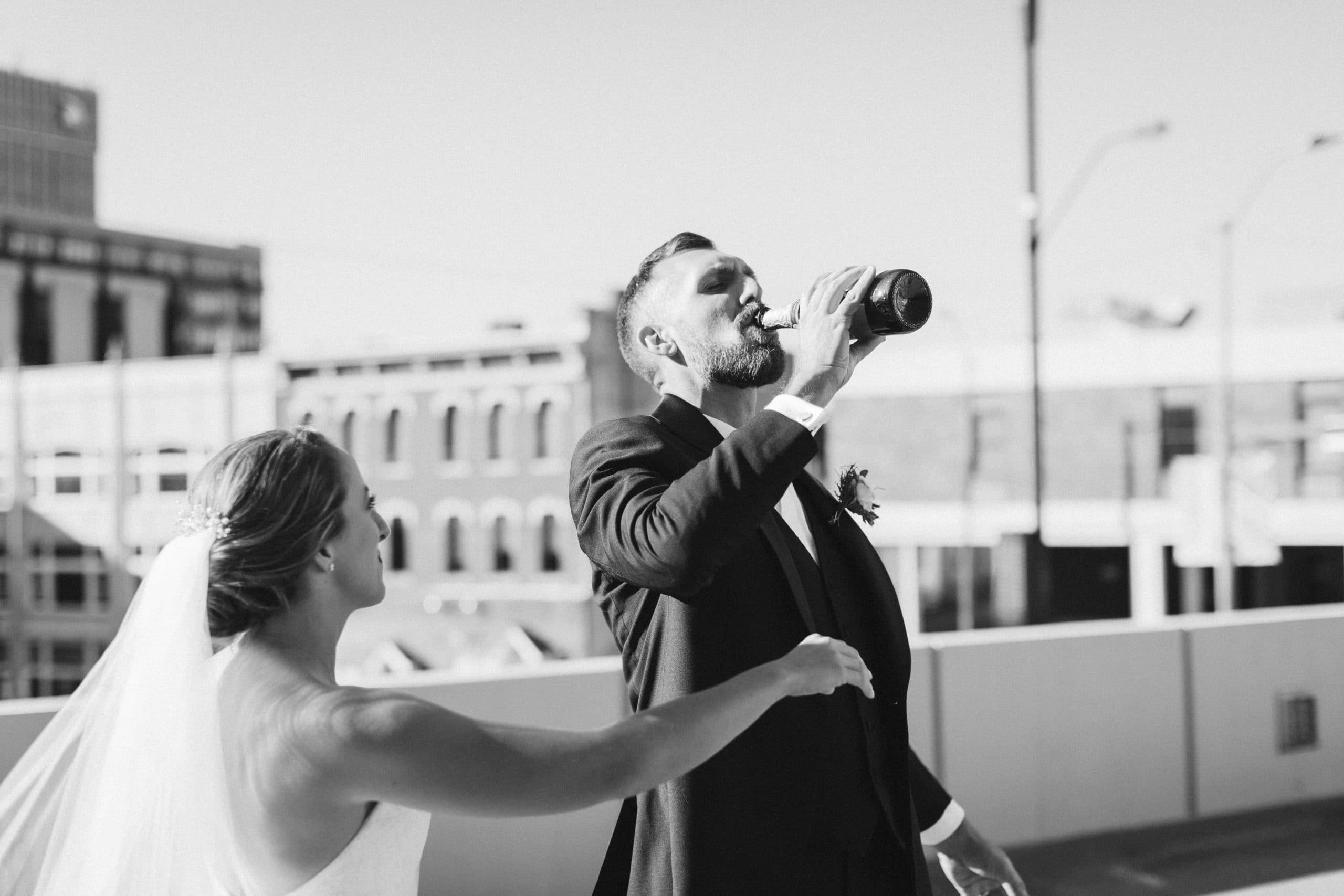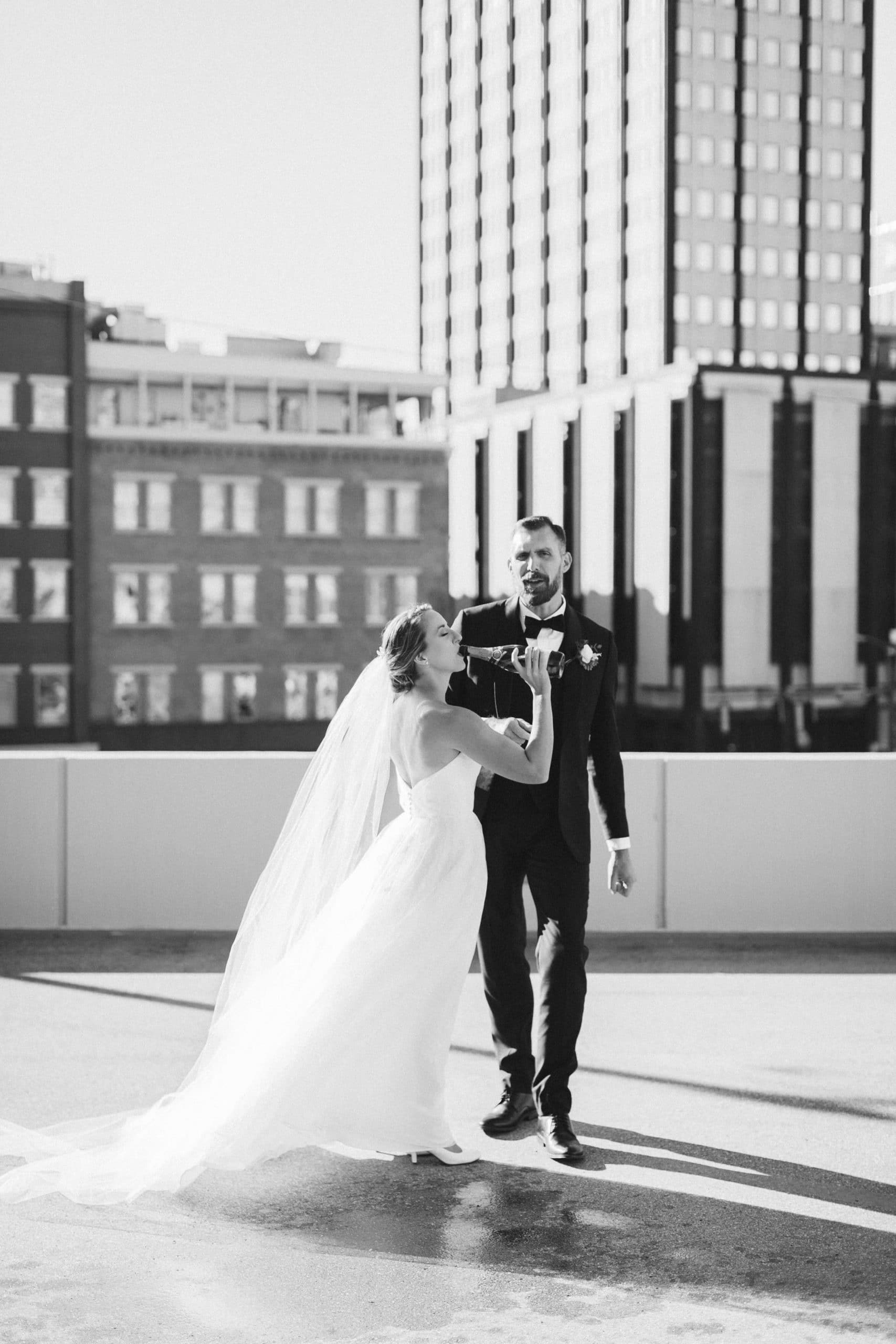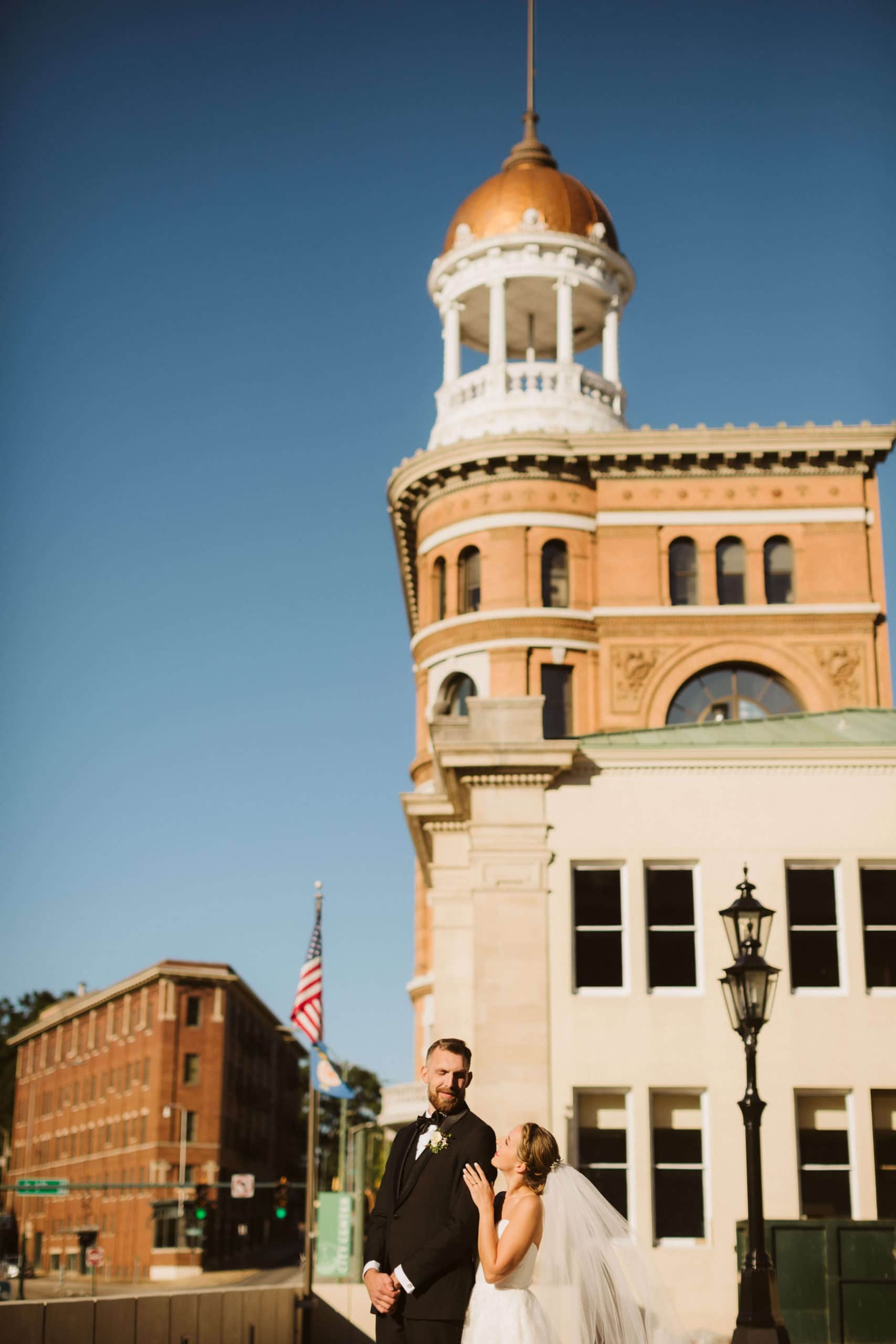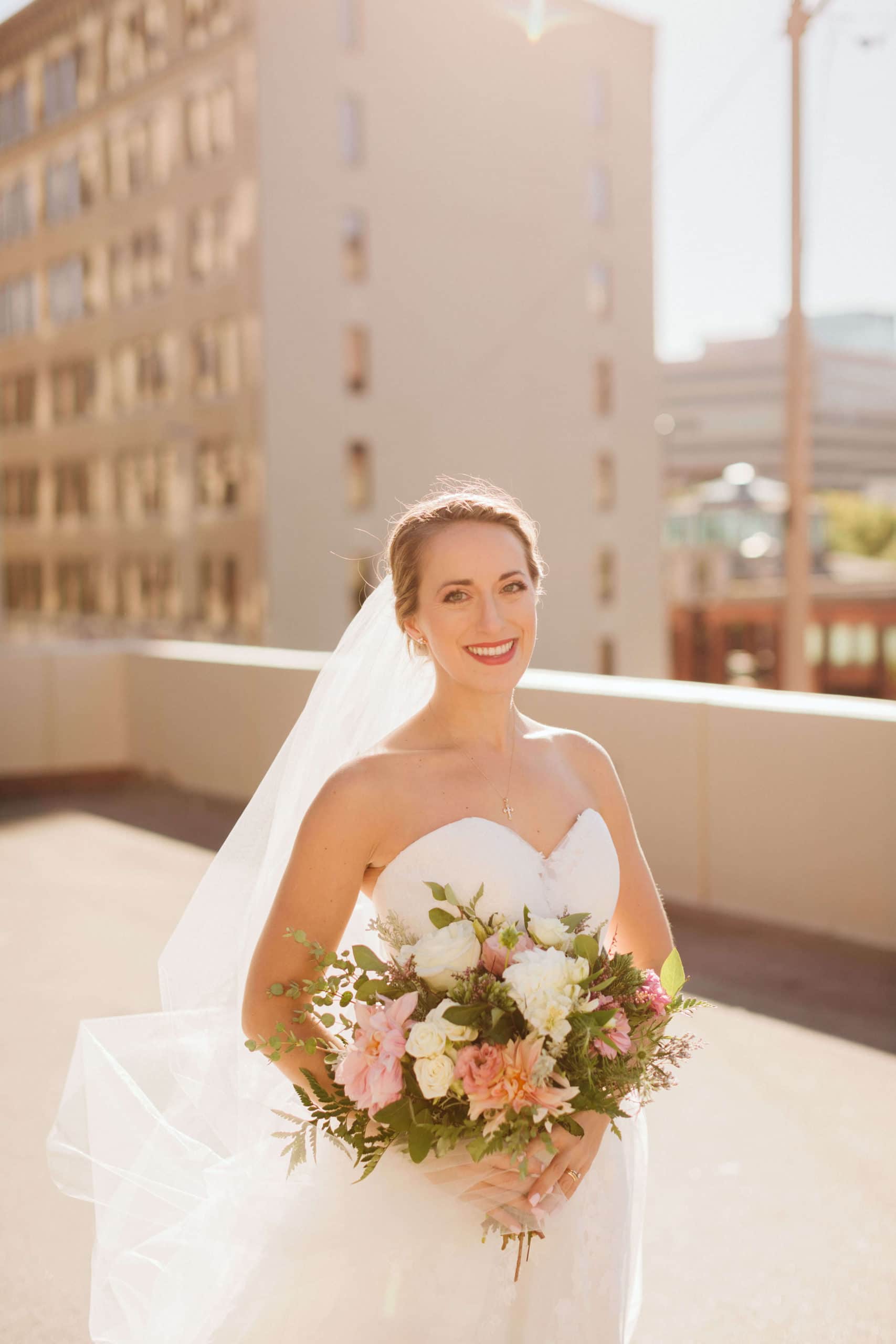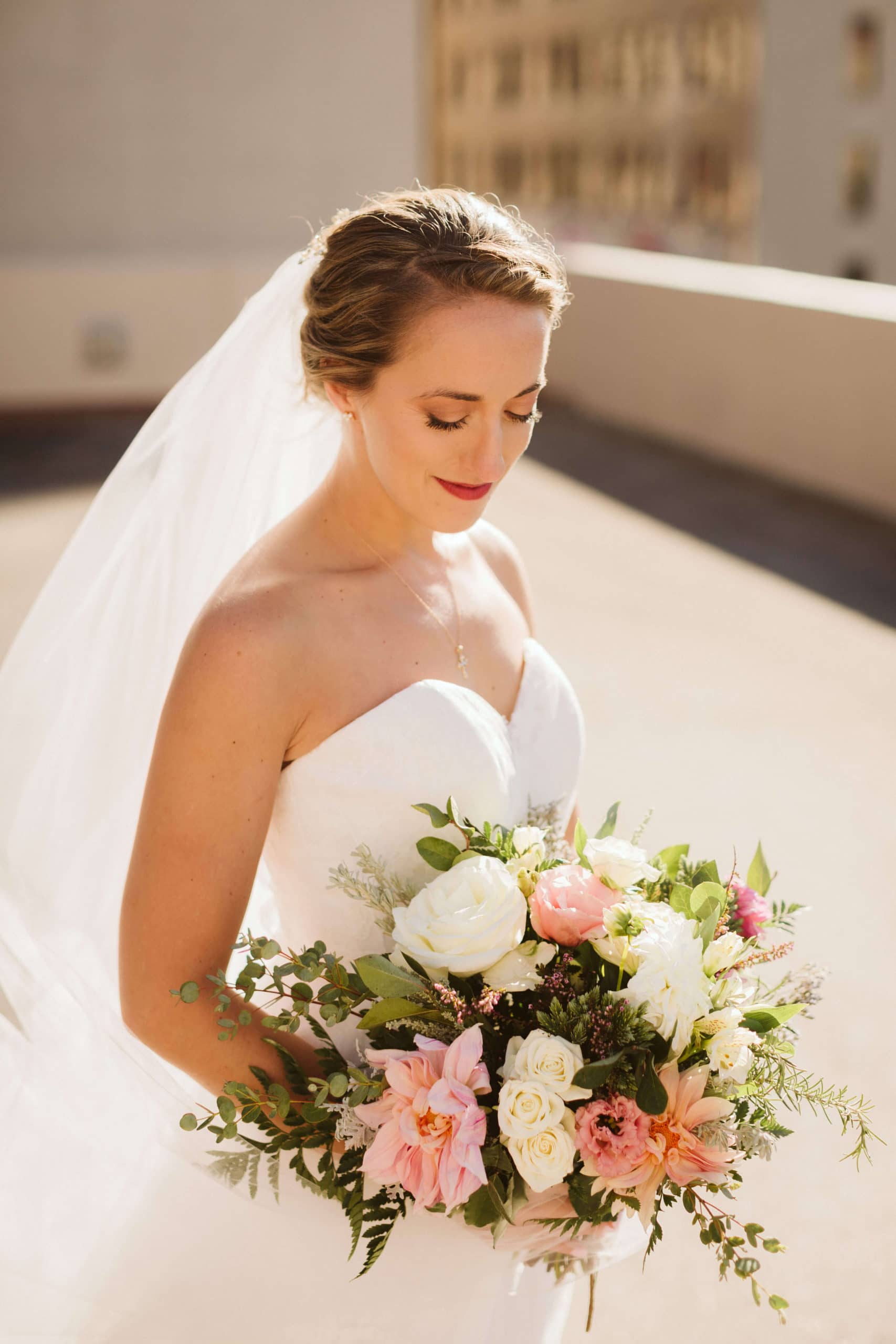 Reception at the Waterhouse Pavilion
The bridal party began celebrating early with a ride to the reception in a party bus! If you haven't heard of the Waterhouse Pavilion, it's one of Chattanooga's most spacious urban venues (holding up to 300 guests) located at Miller Plaza in the heart of downtown. When renting the Pavilion, you and your guests have access to the entire plaza with its wide promenades and elevated stage. The interior features high ceilings, twinkling bistro lights, heated floors, and a full kitchen for catering.
Speaking of catering, take notice of the cookie table. Having realized their connection by sharing VR goggles in a STEM workshop, it hardly surprised me that, adorably, Matty + Andrew baked every one of those cookies themselves!
Having started the party with bubbles, the couple ended the night with sparklers on the way to their getaway car.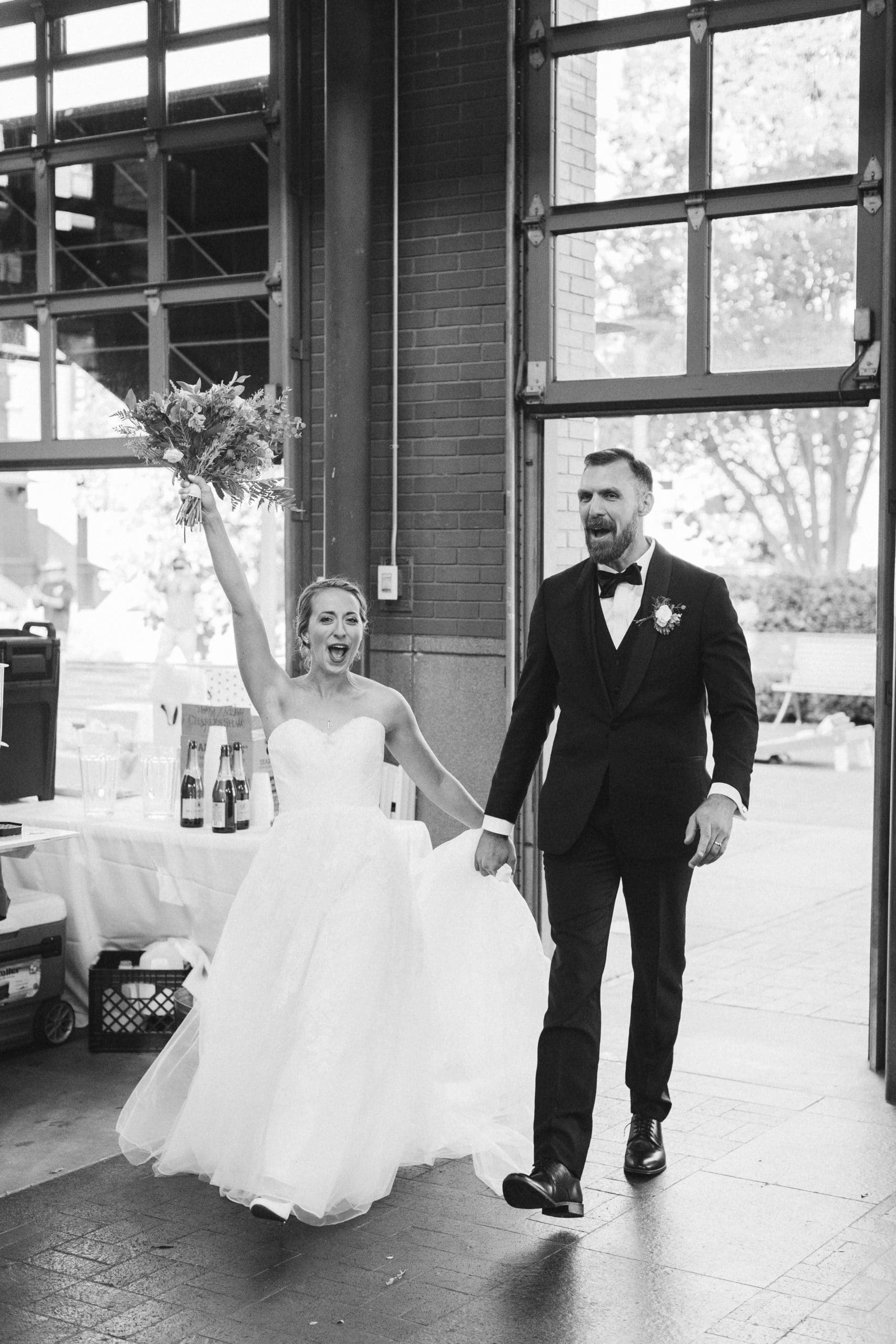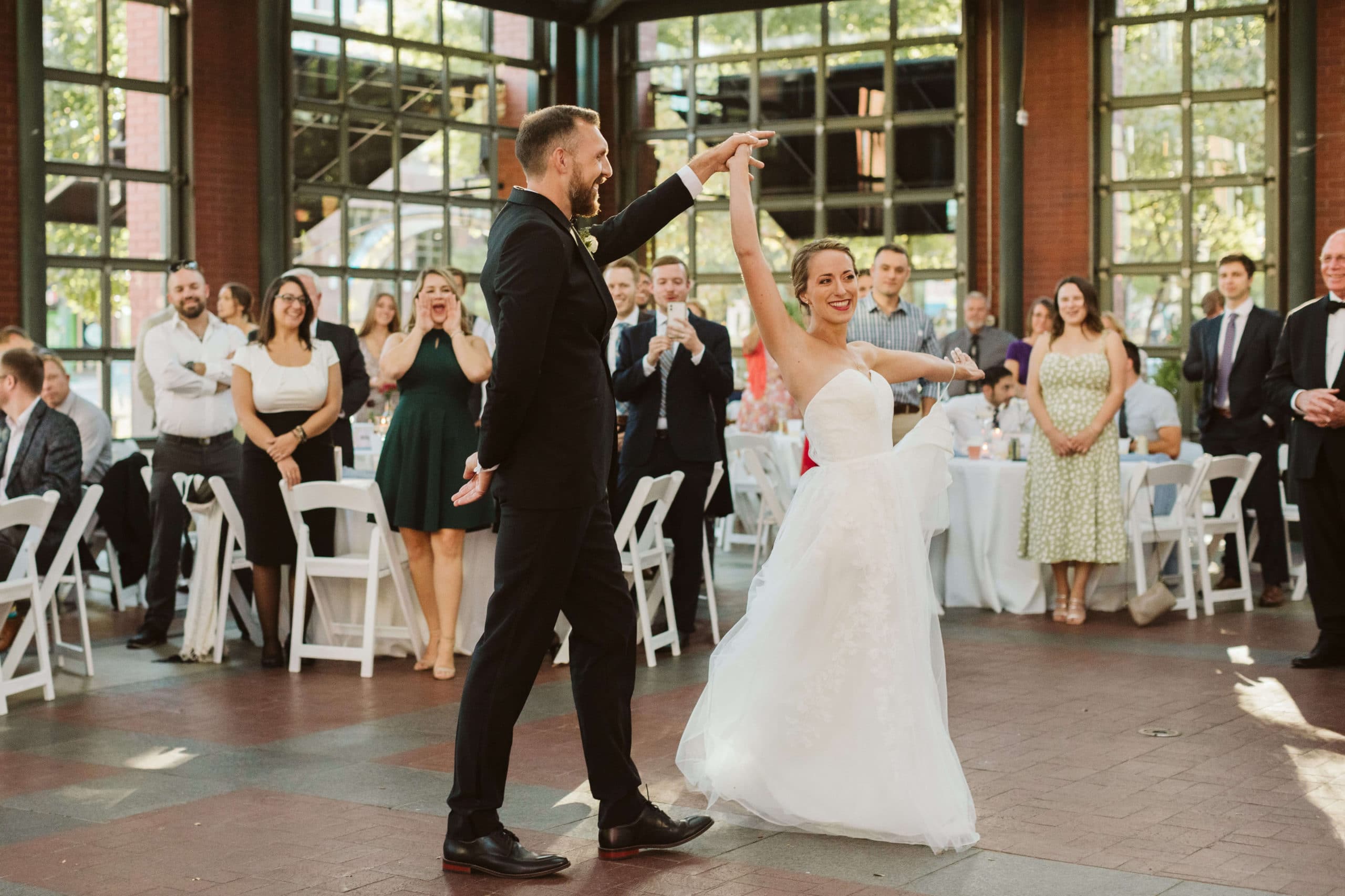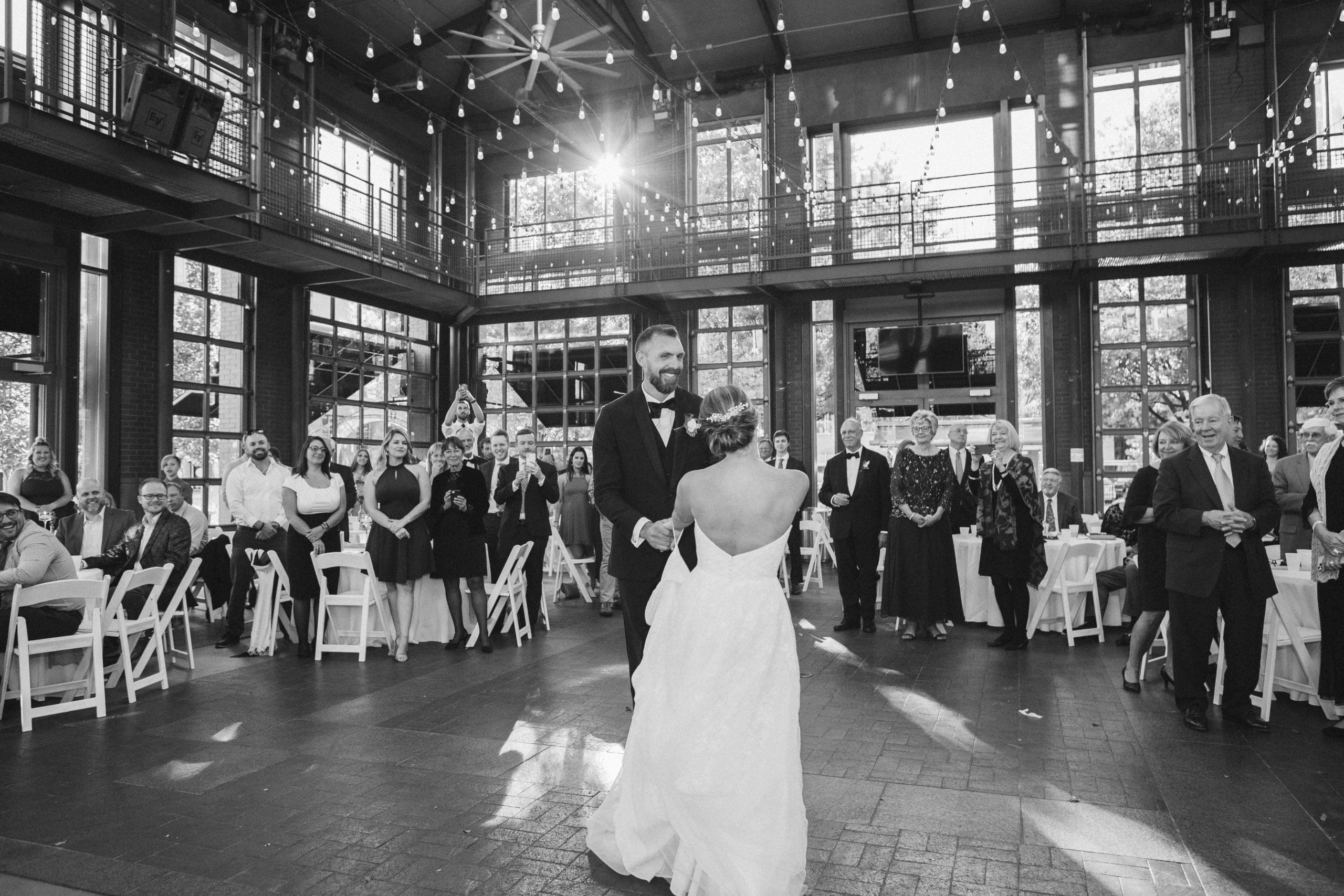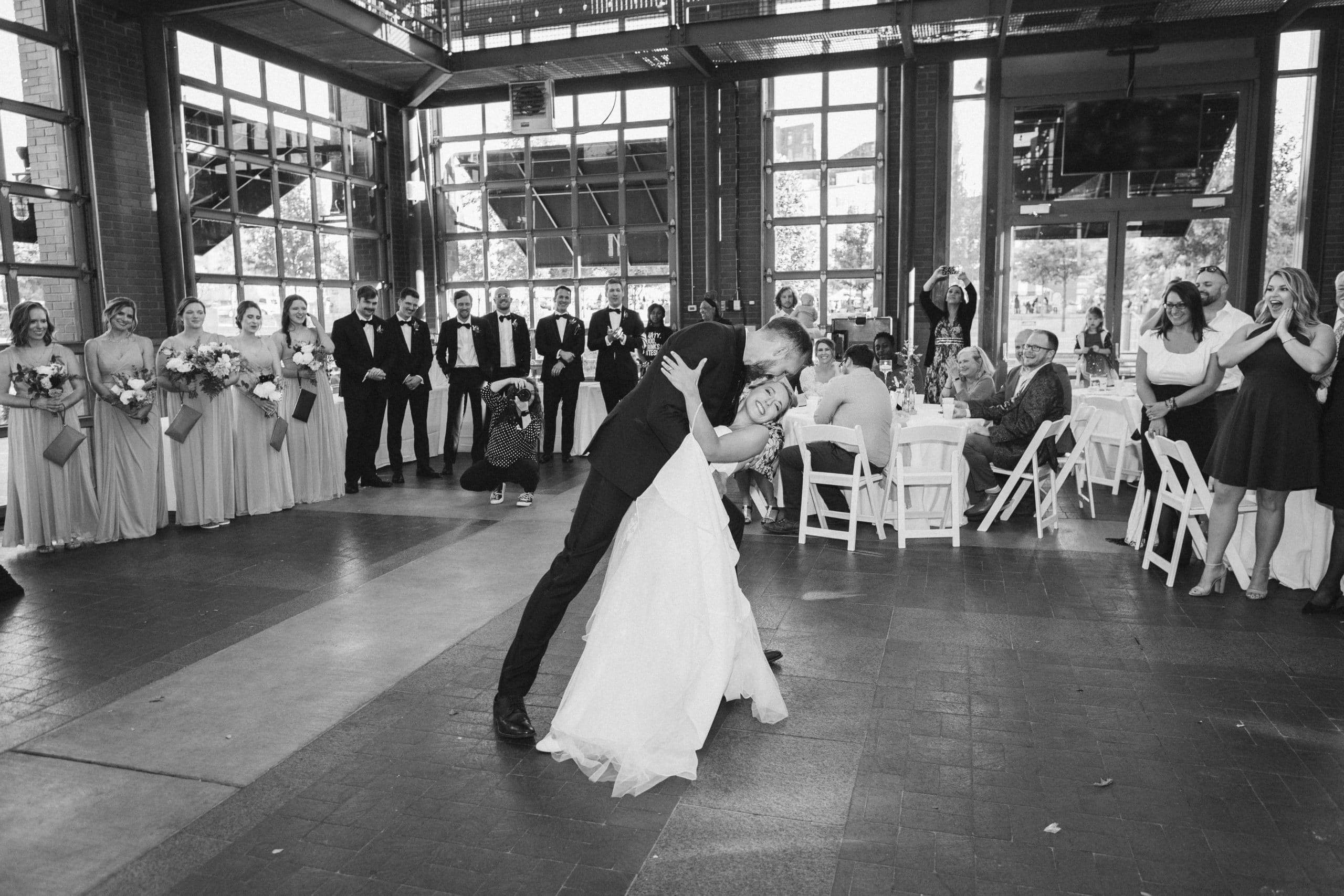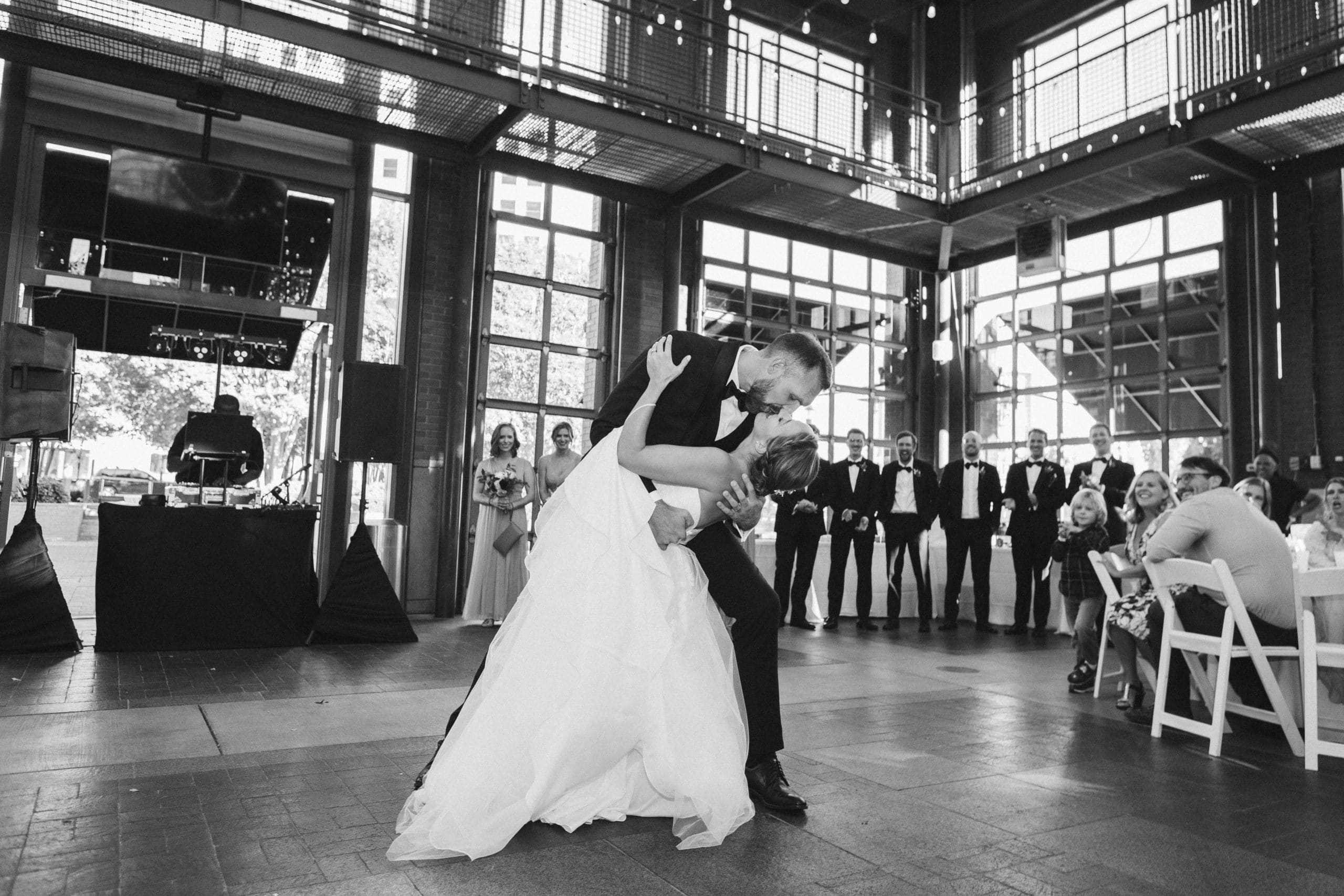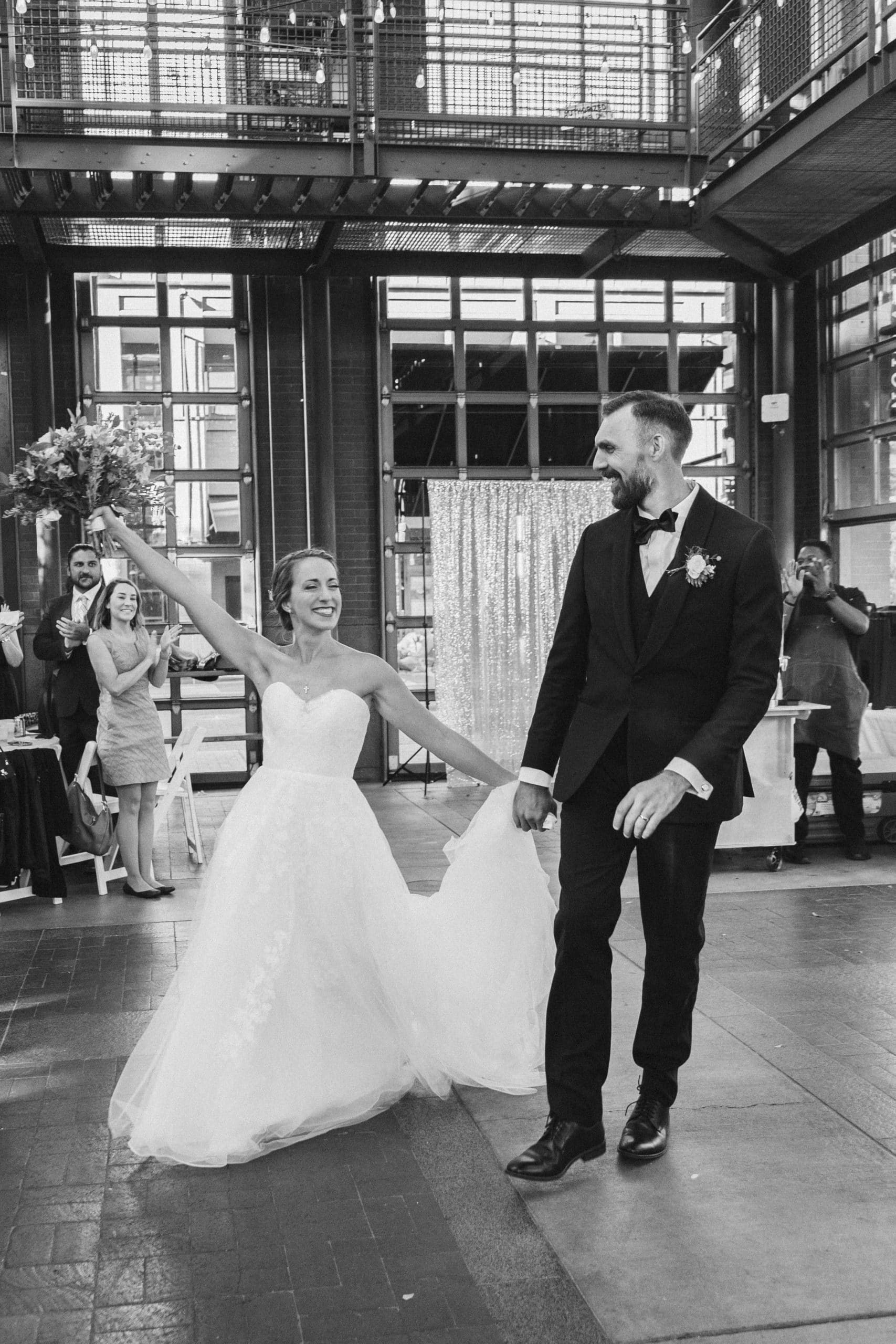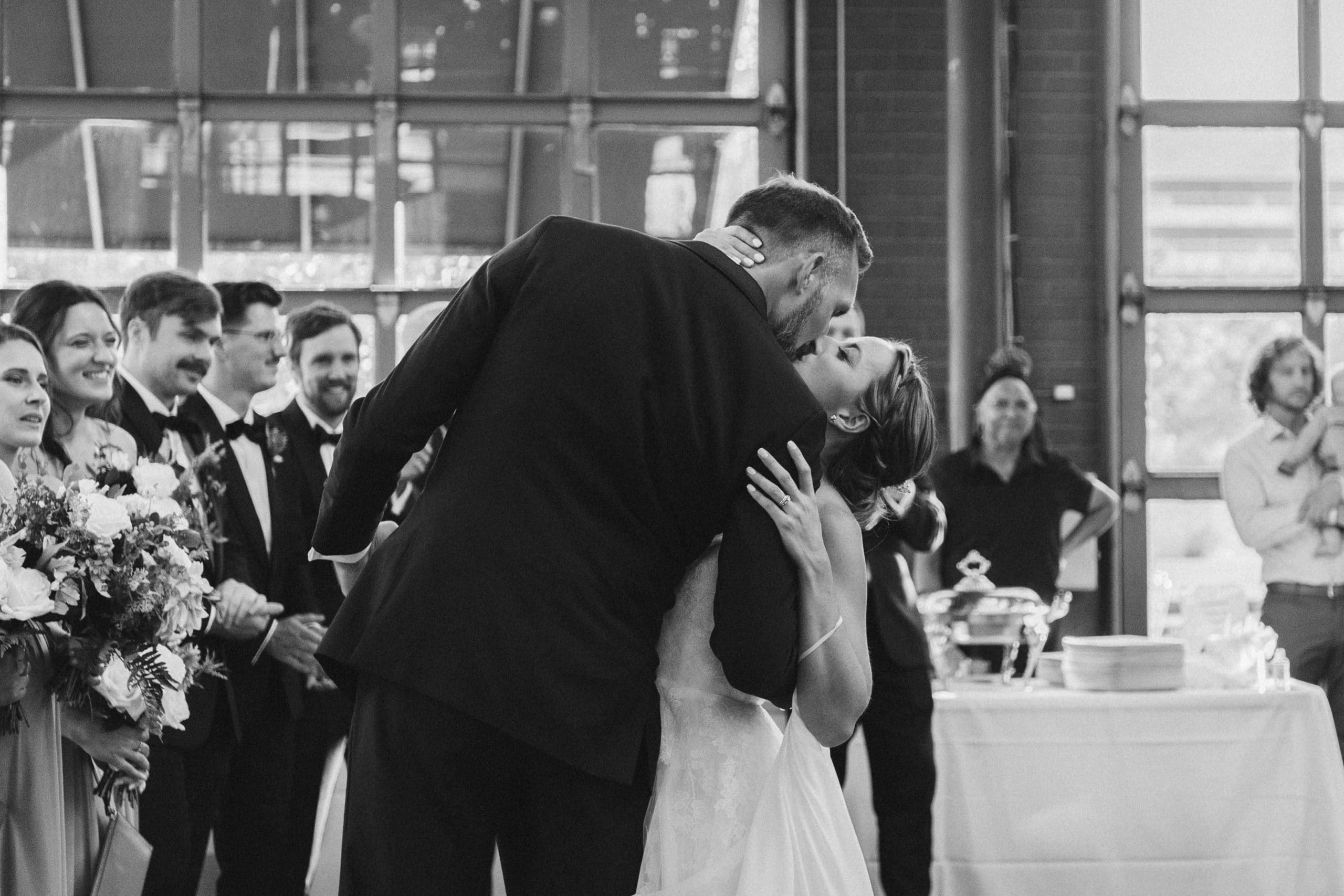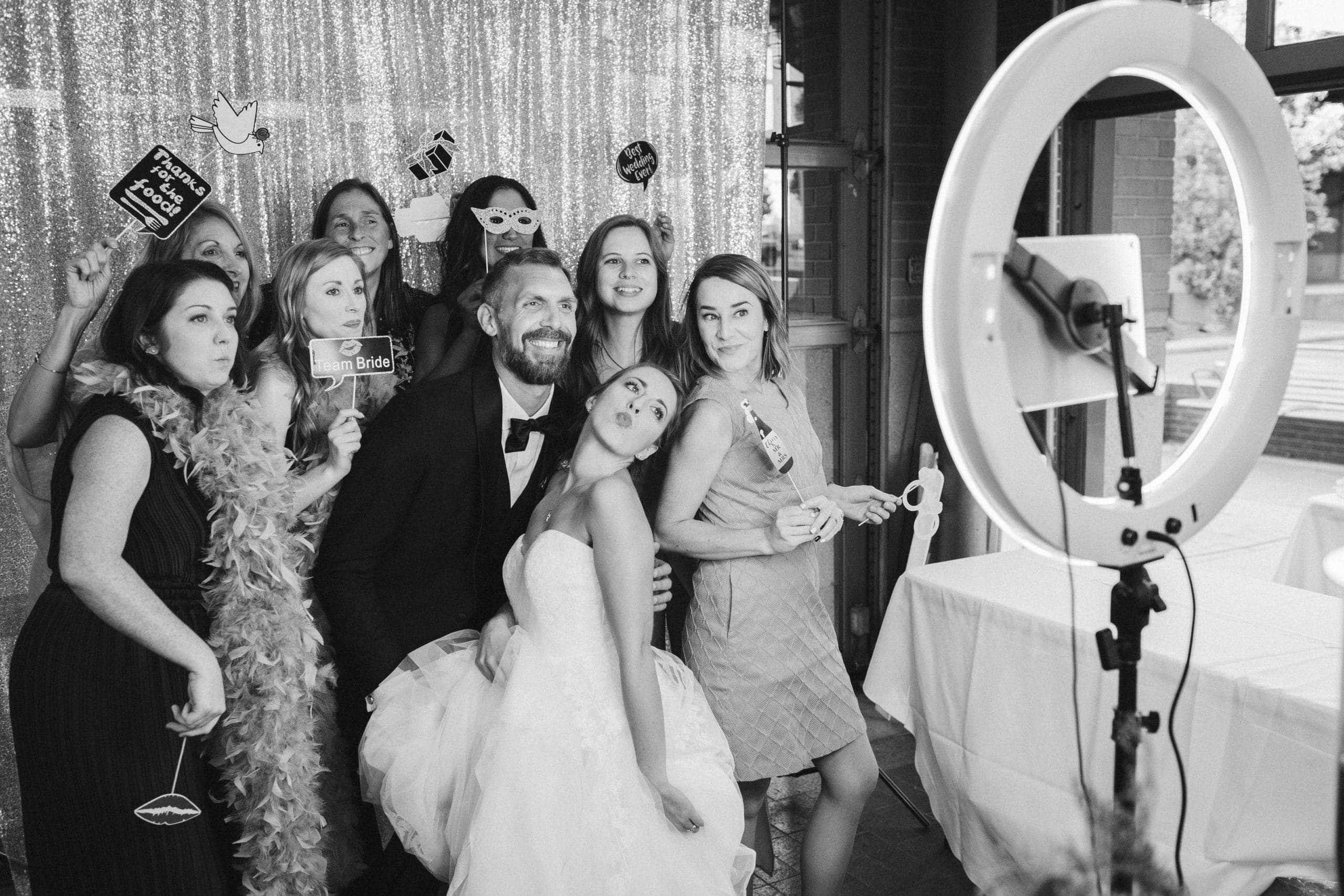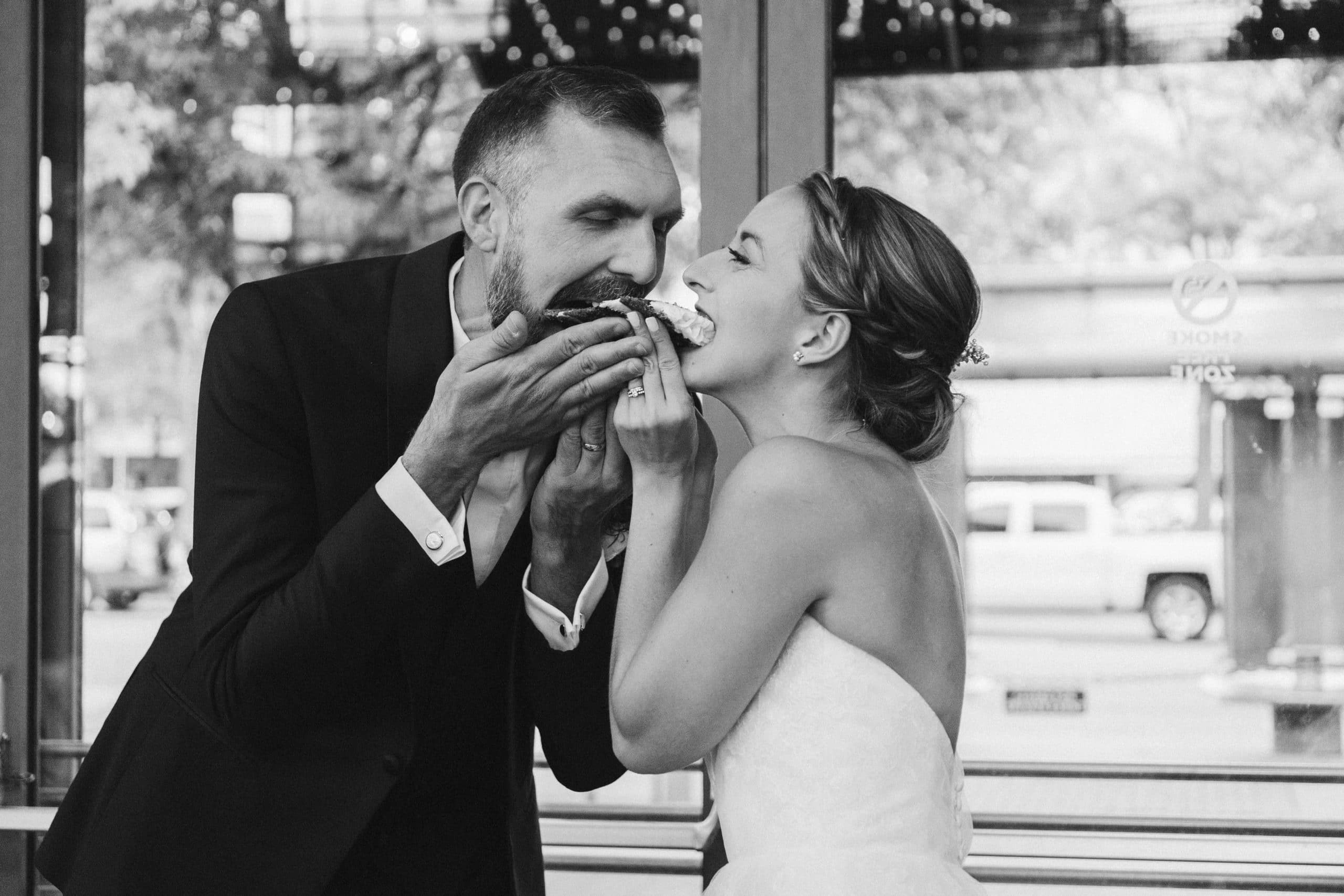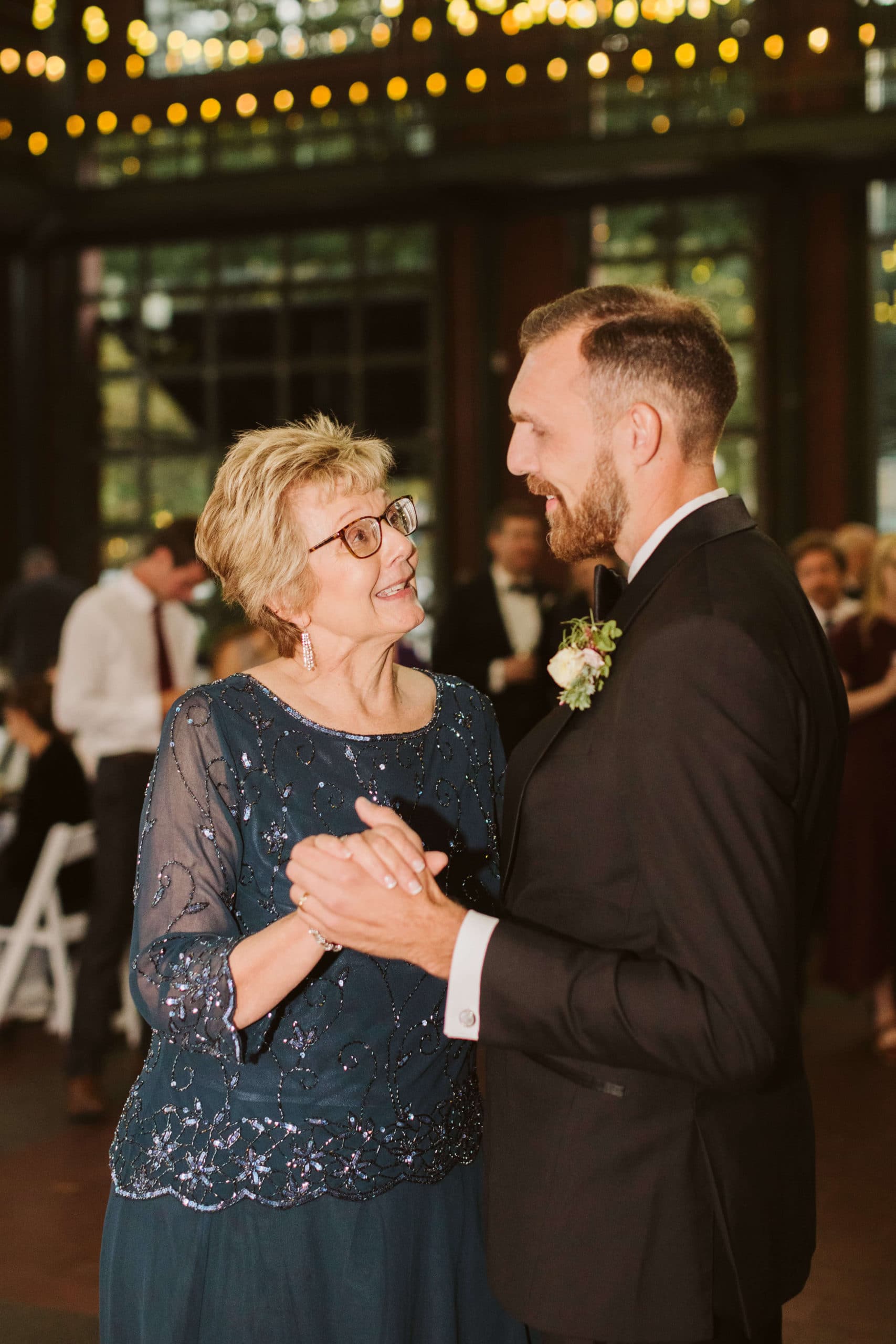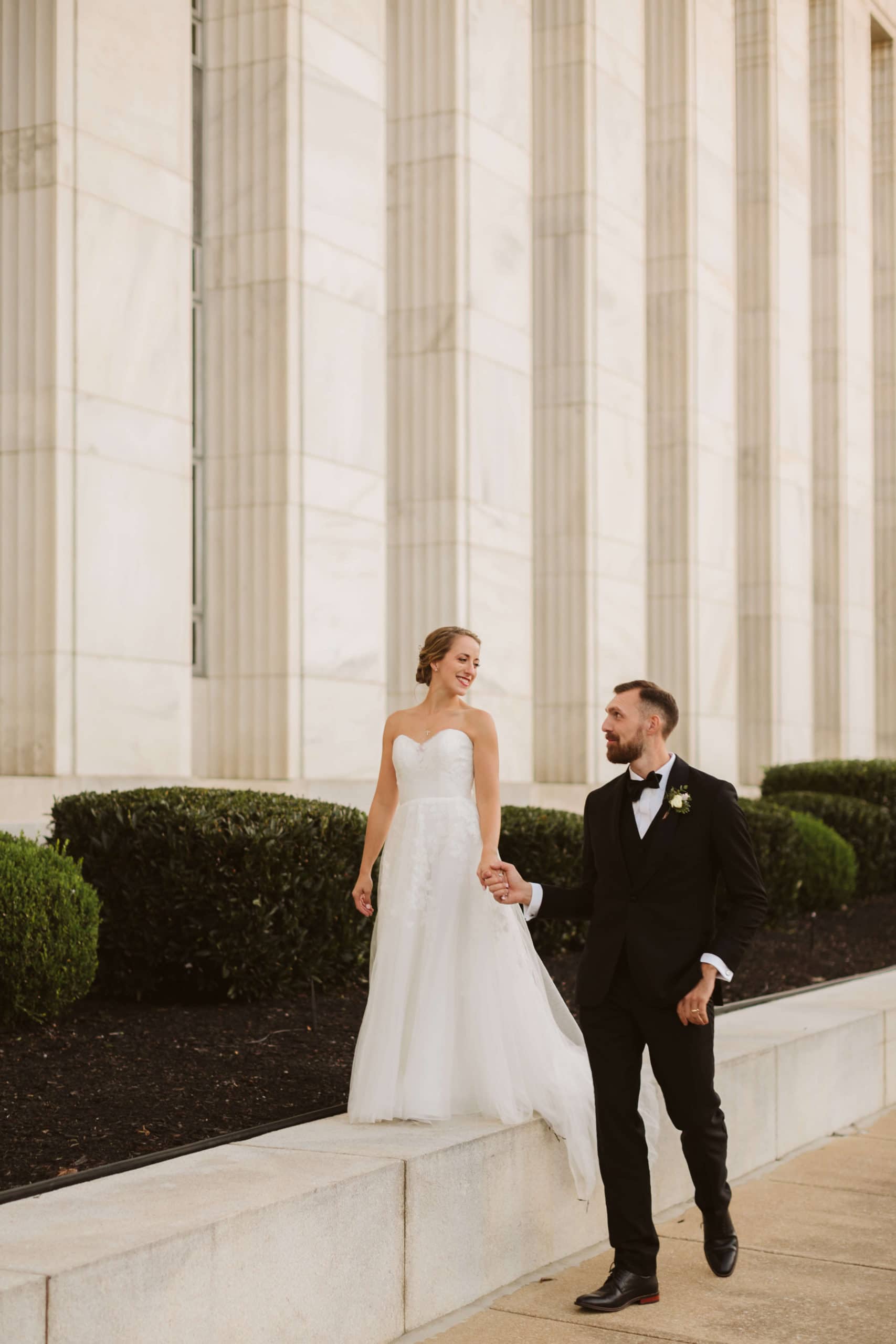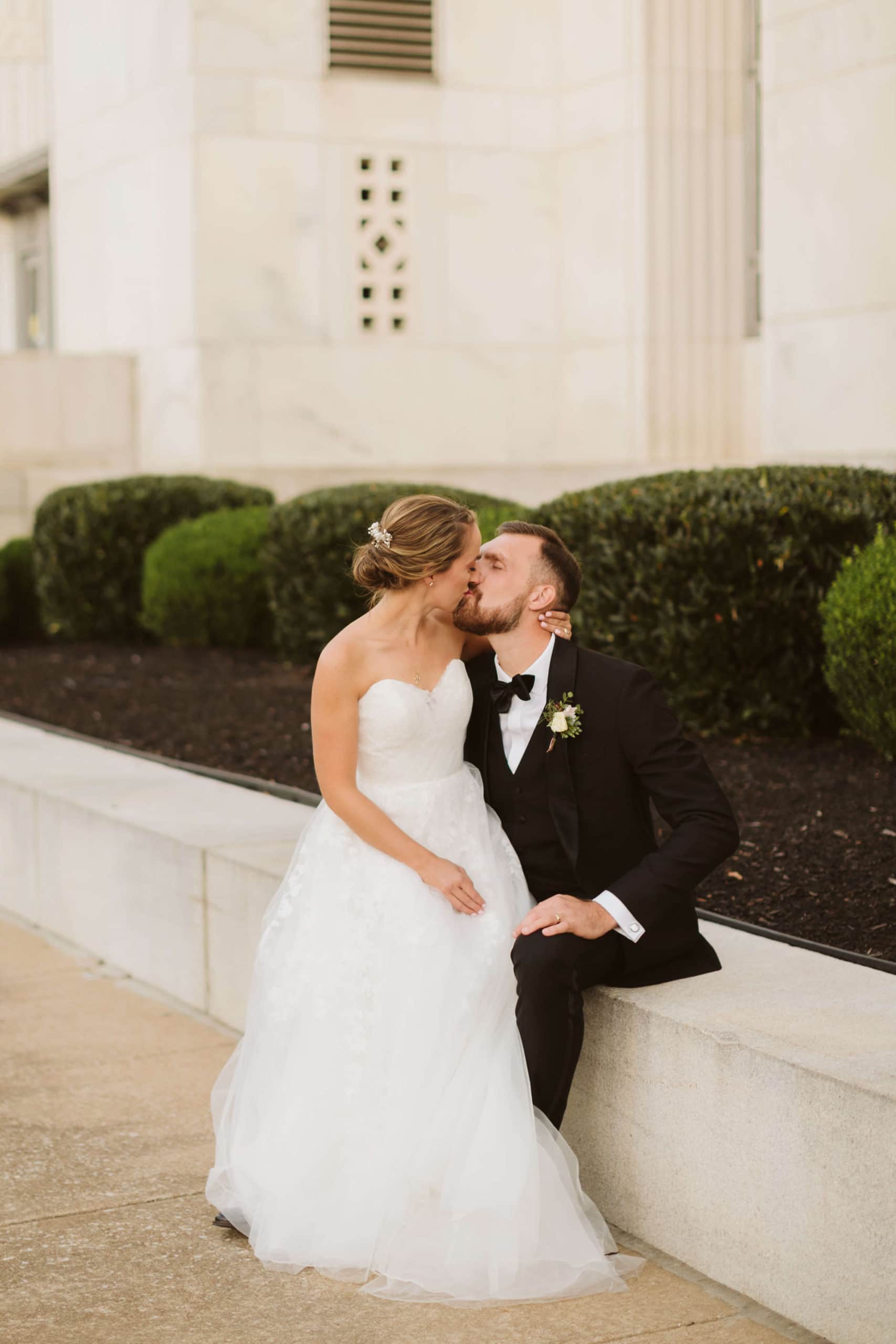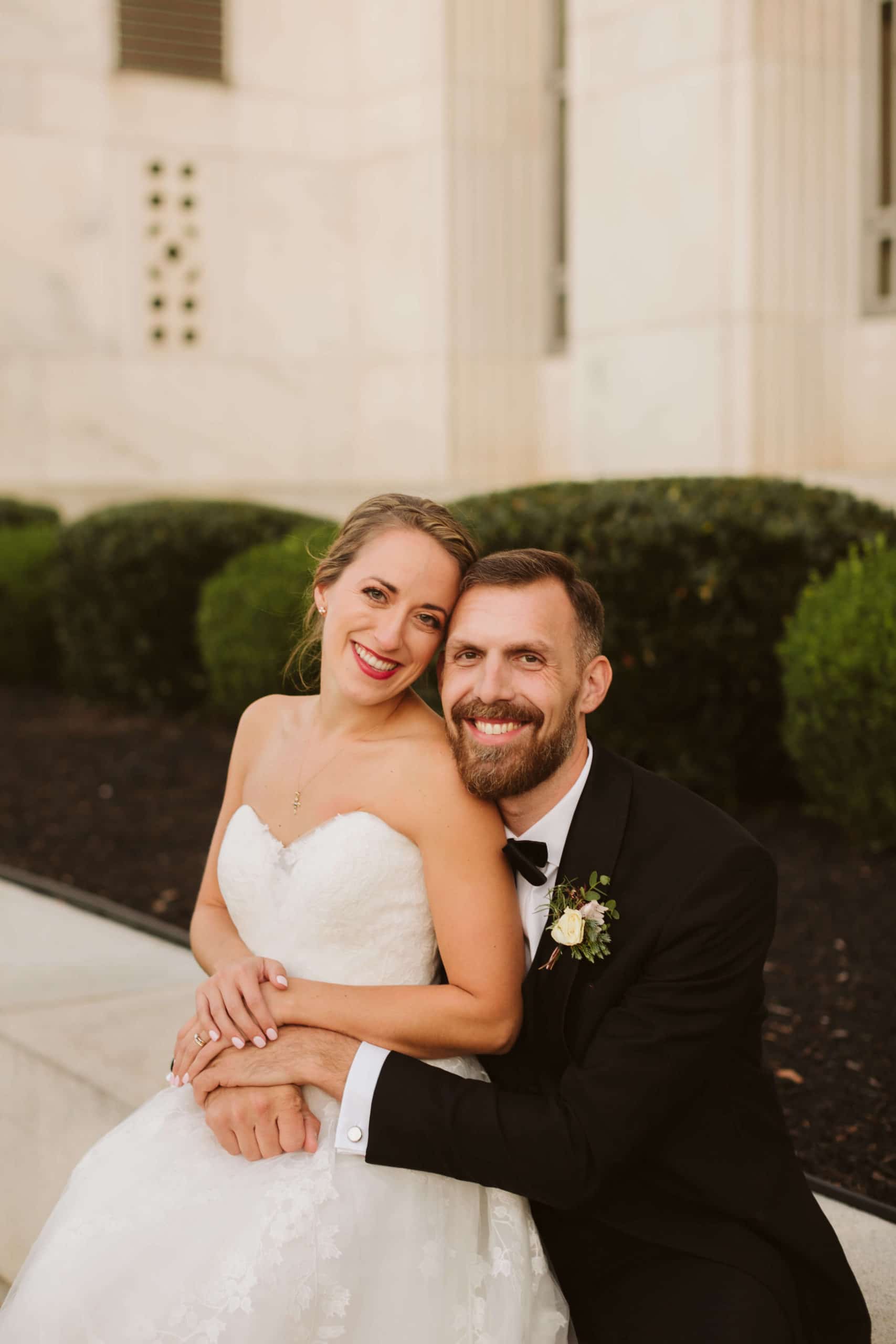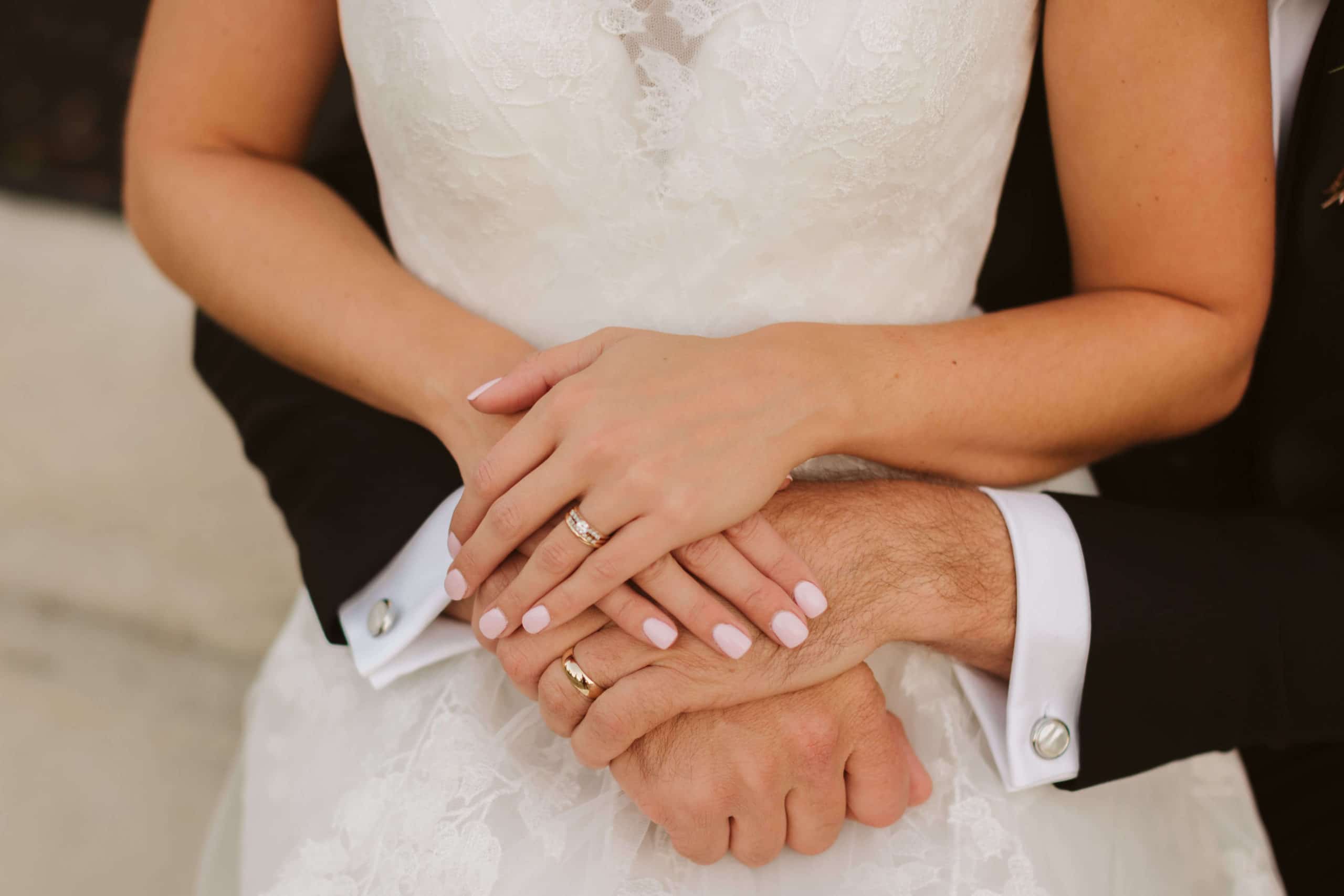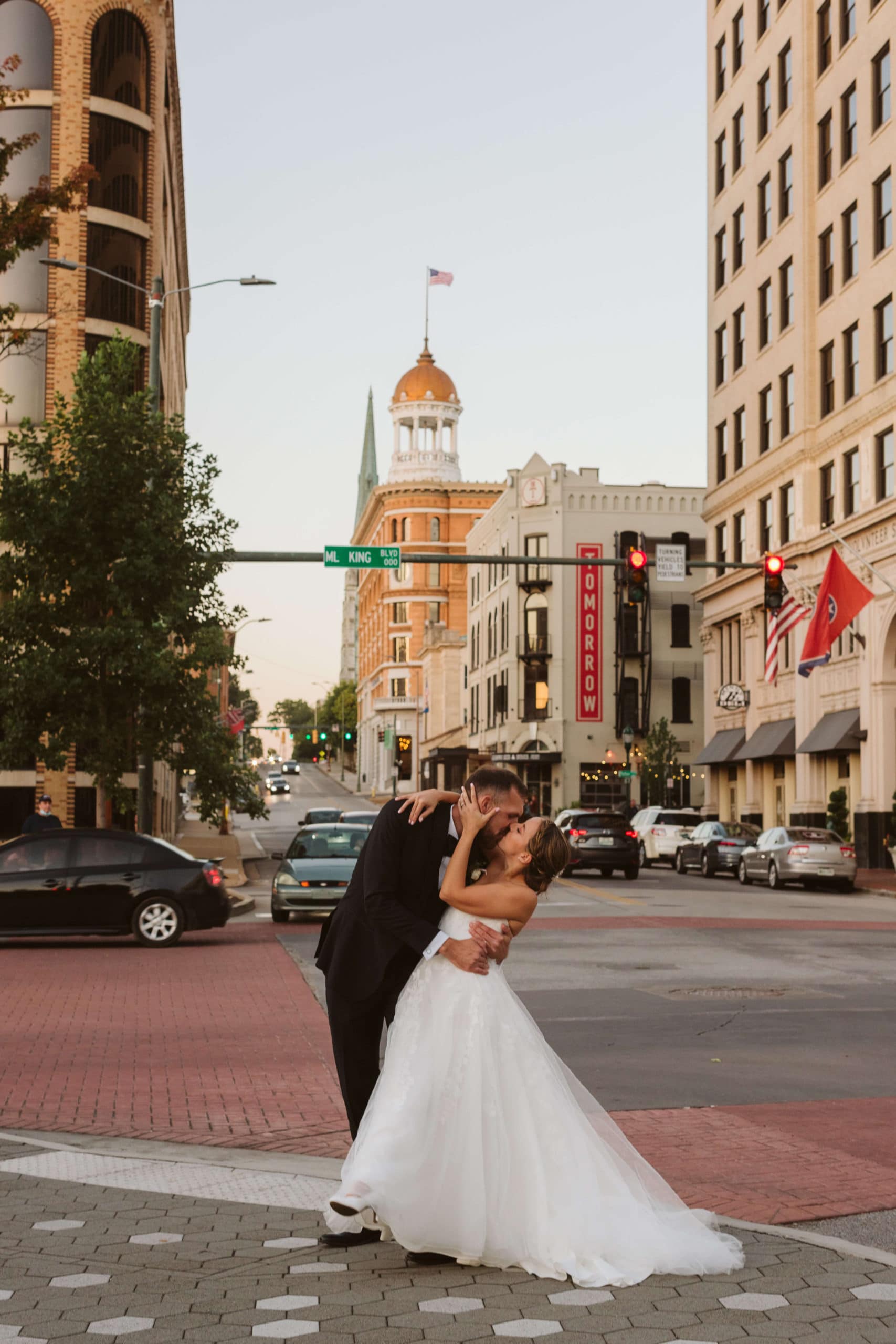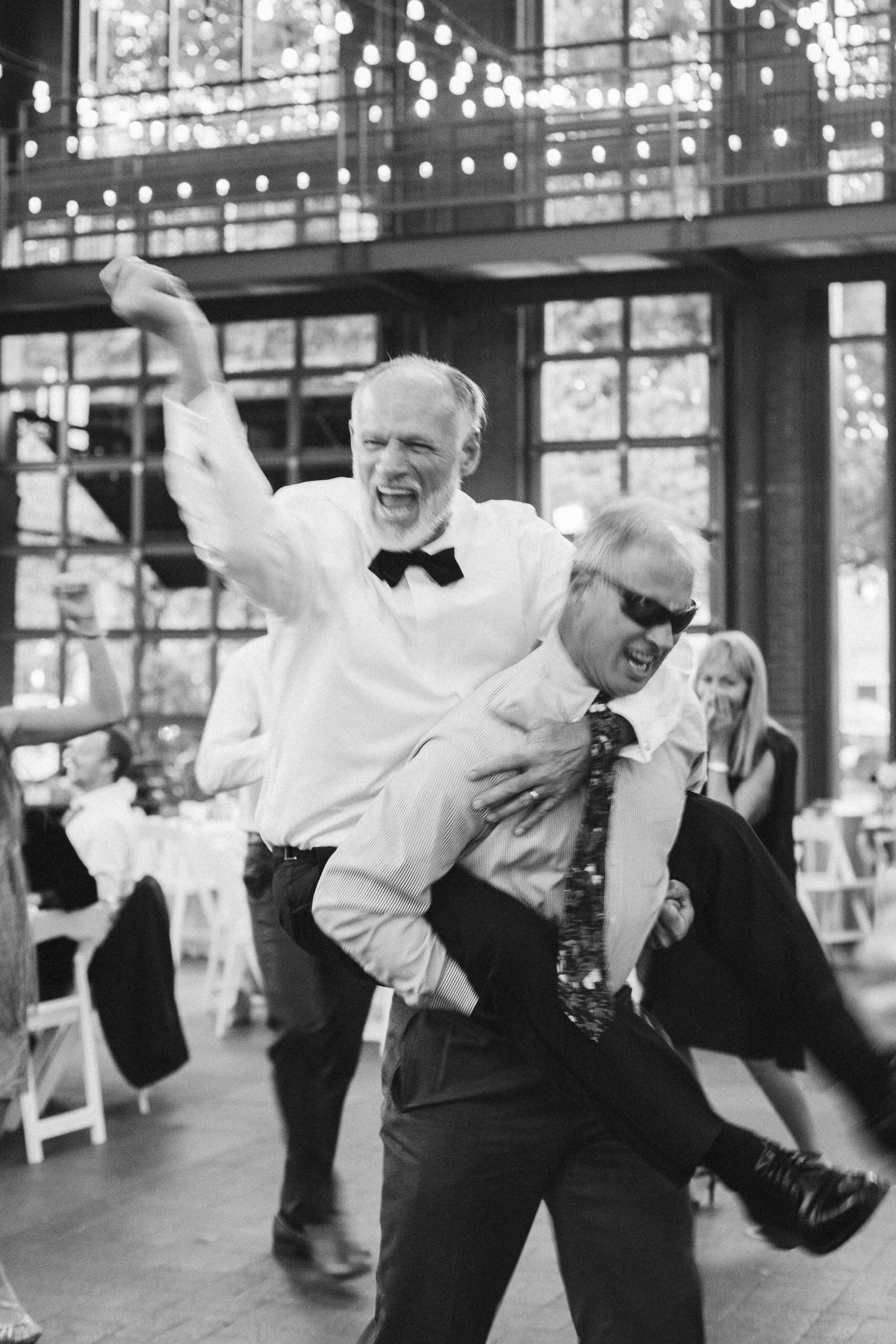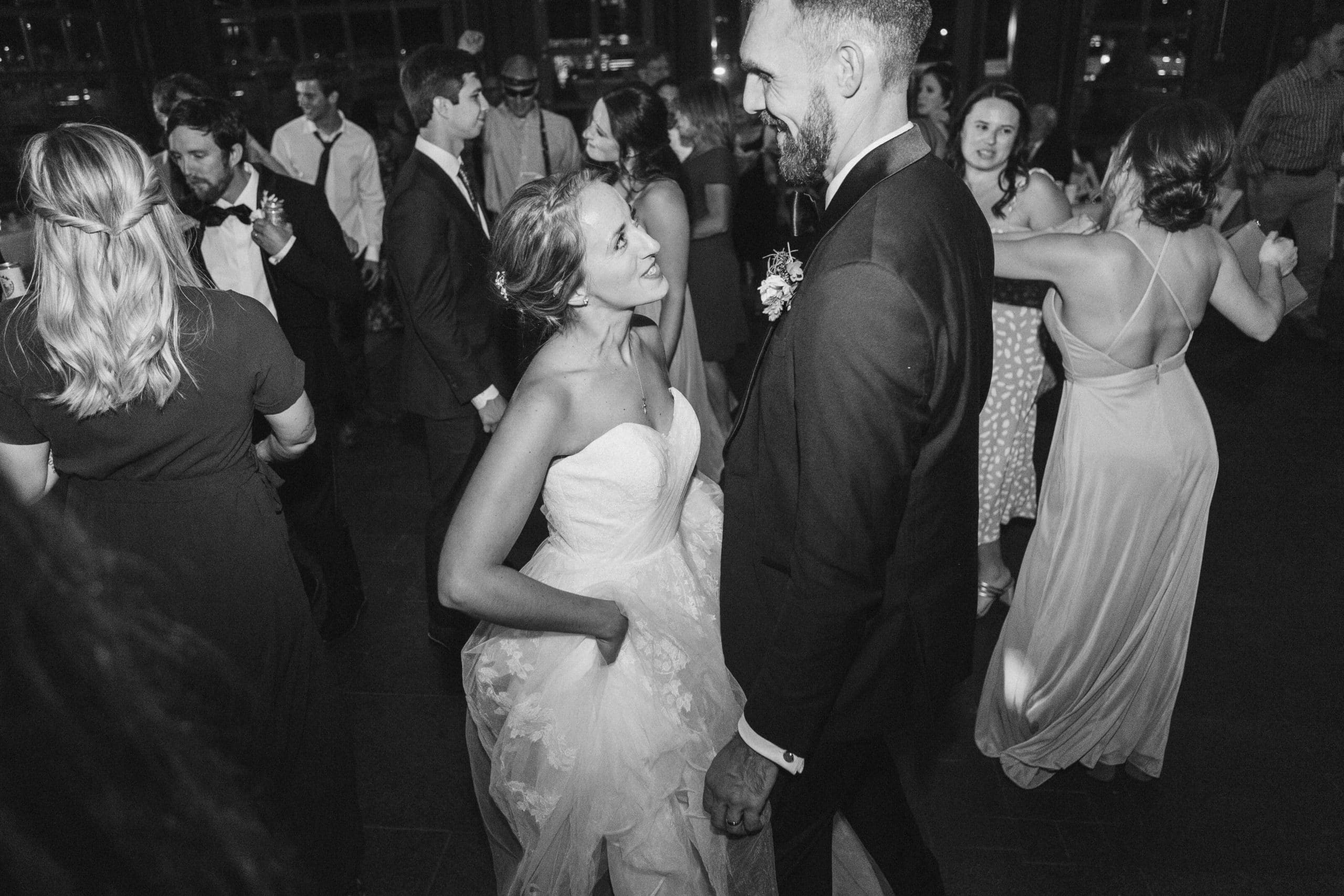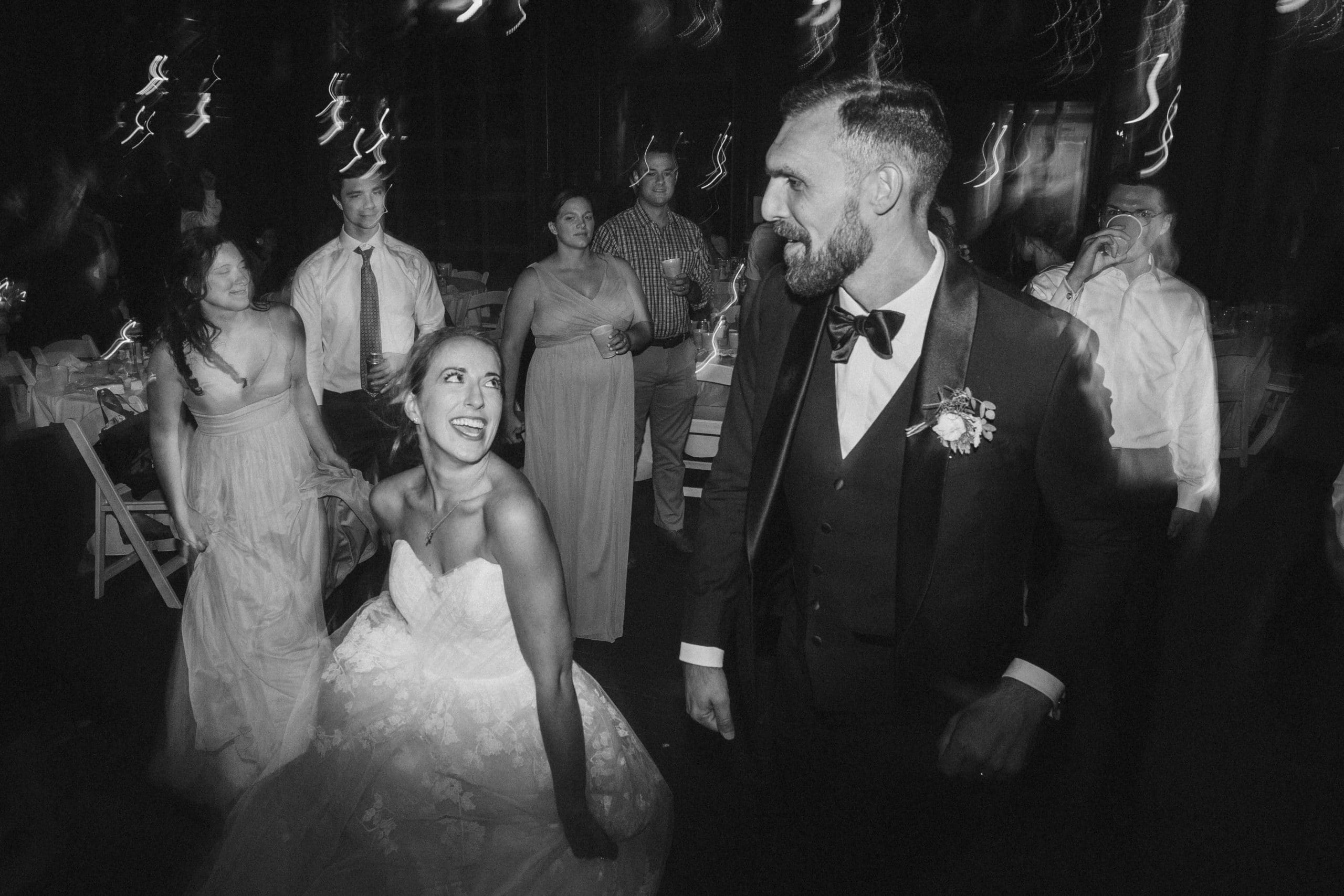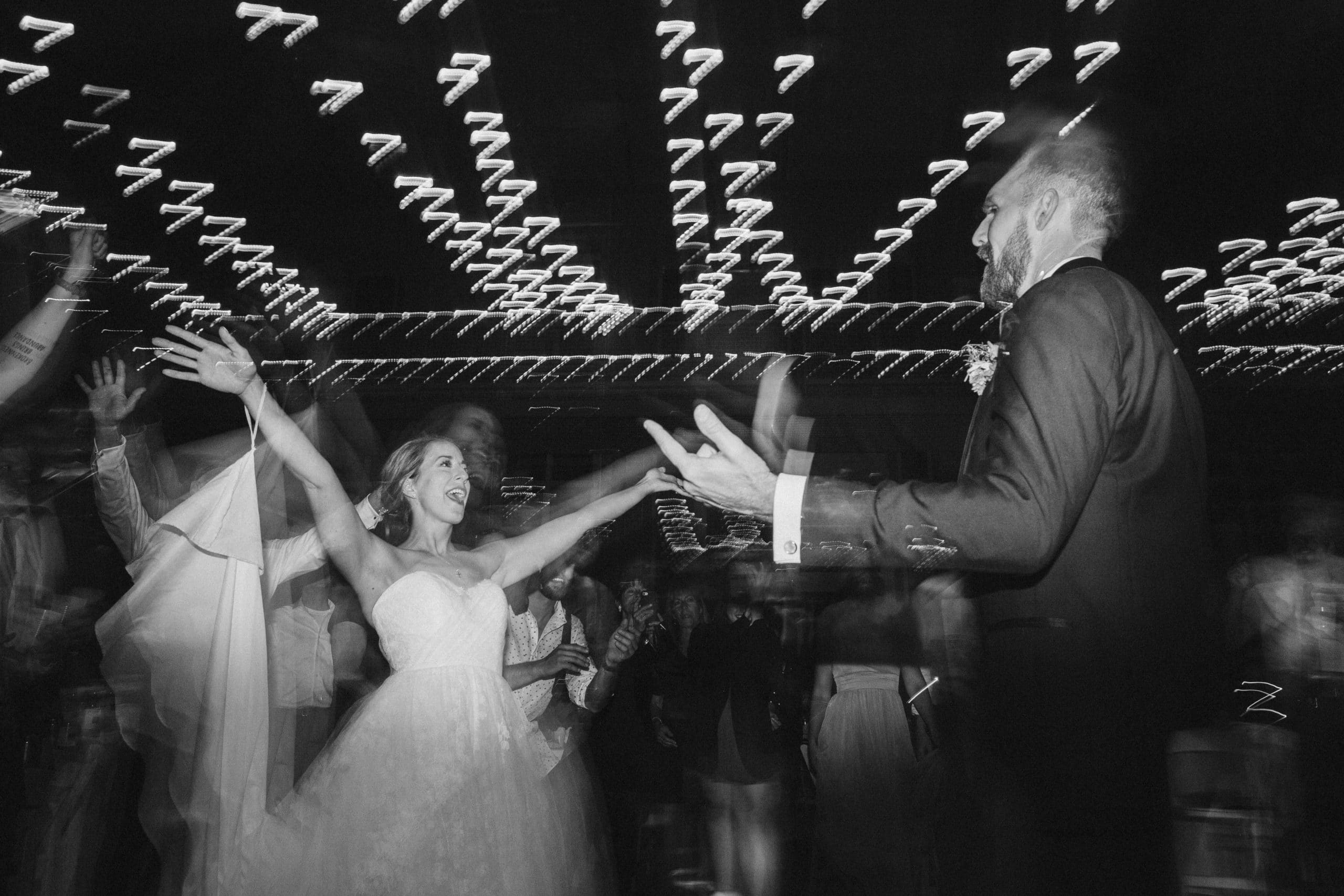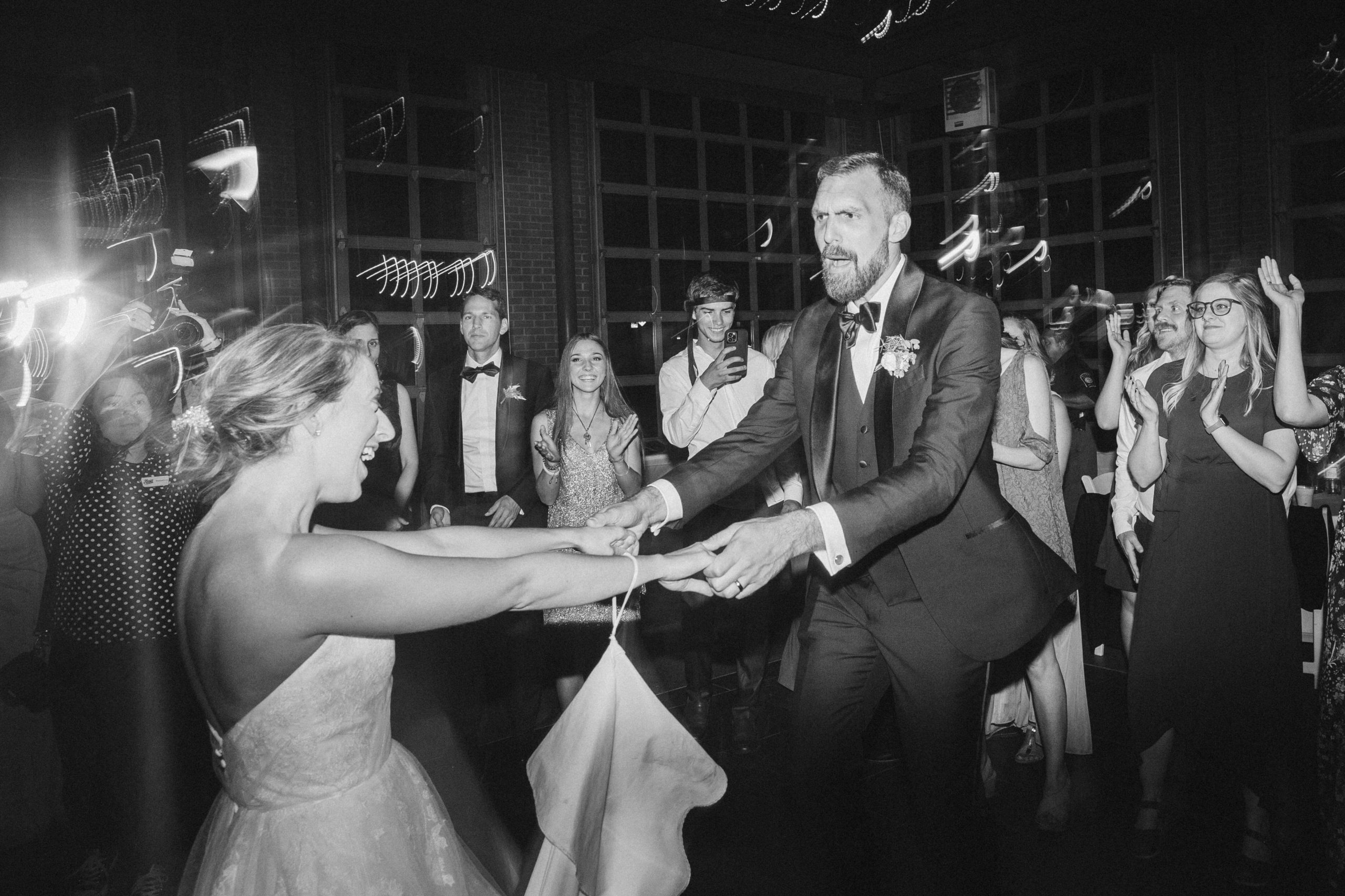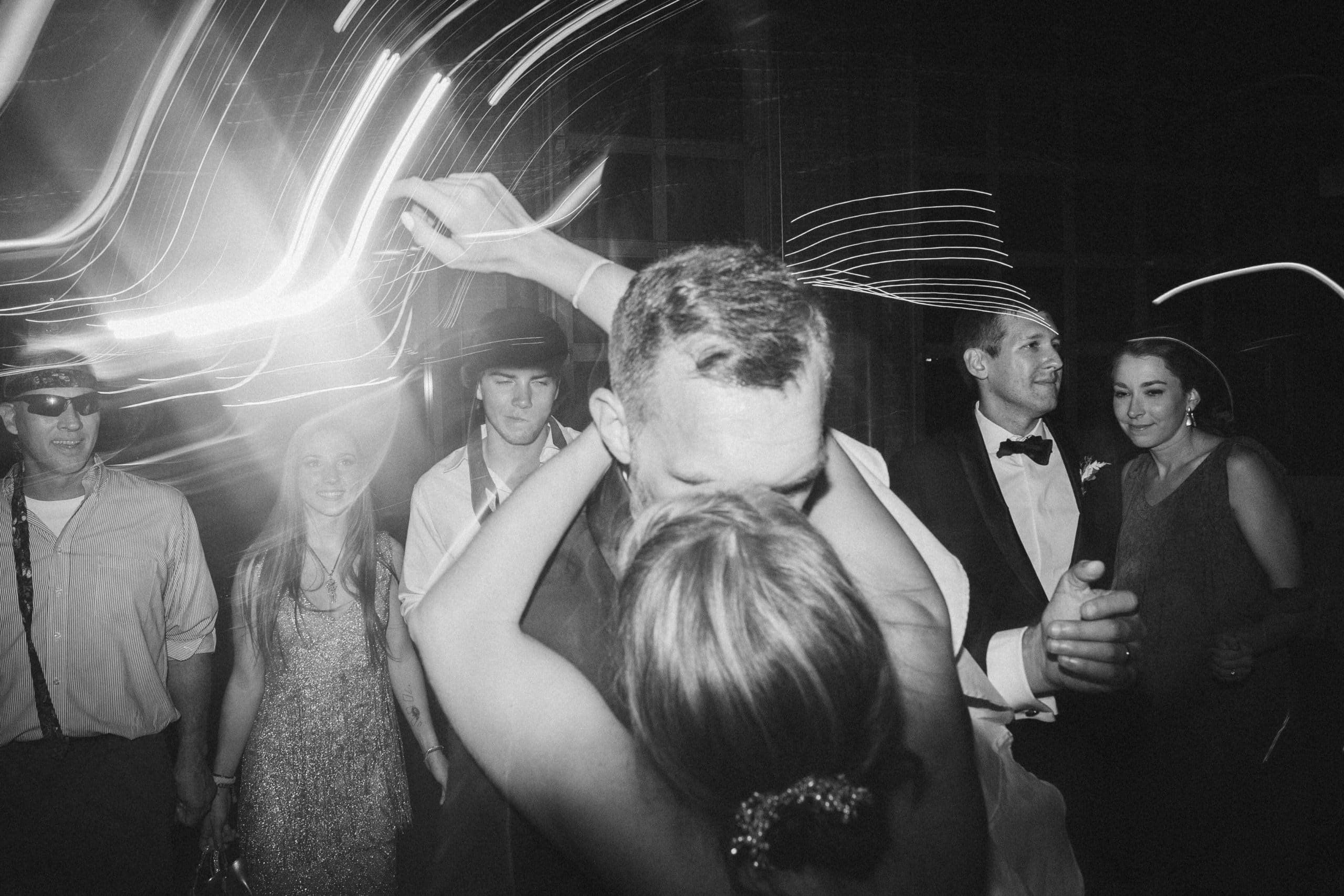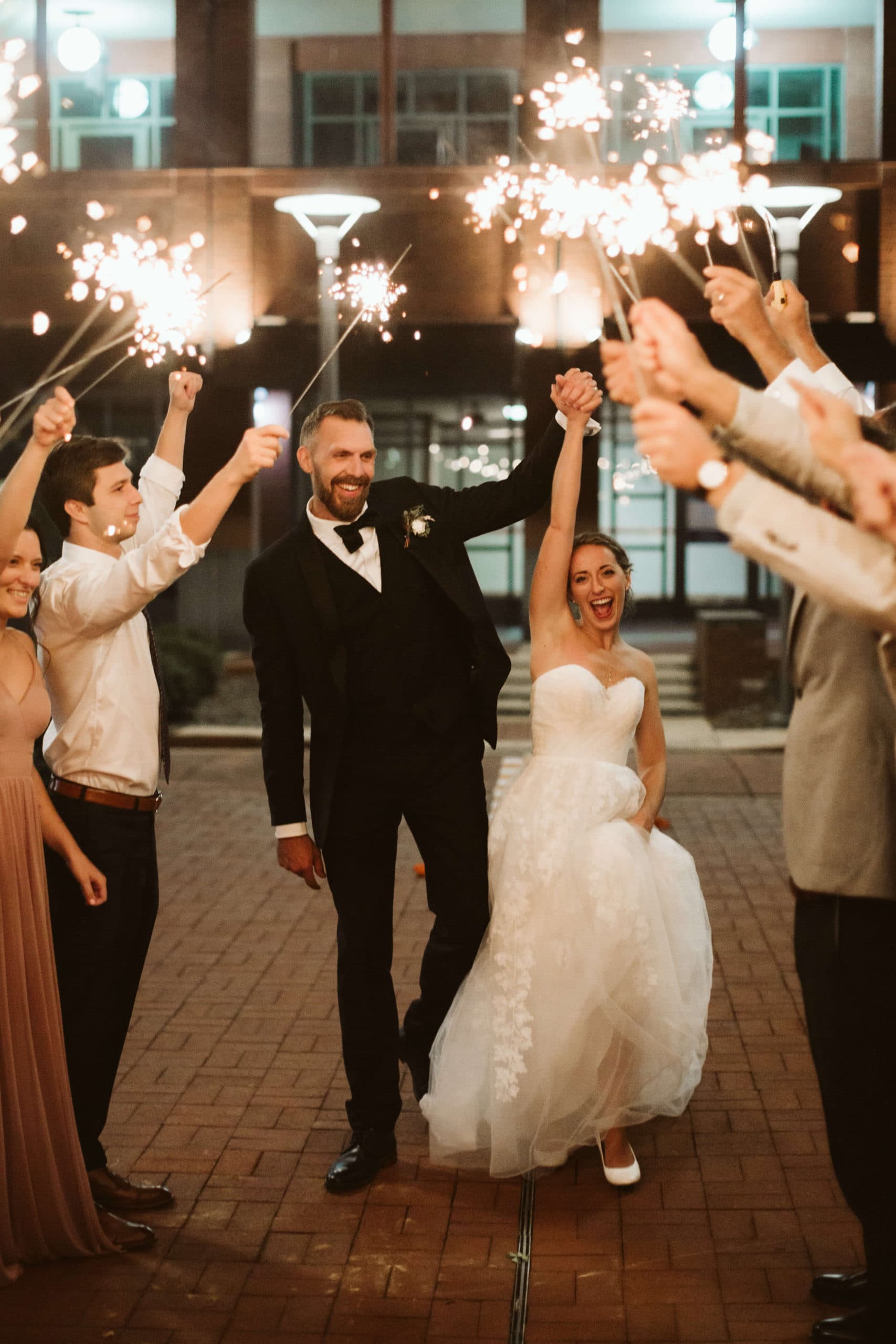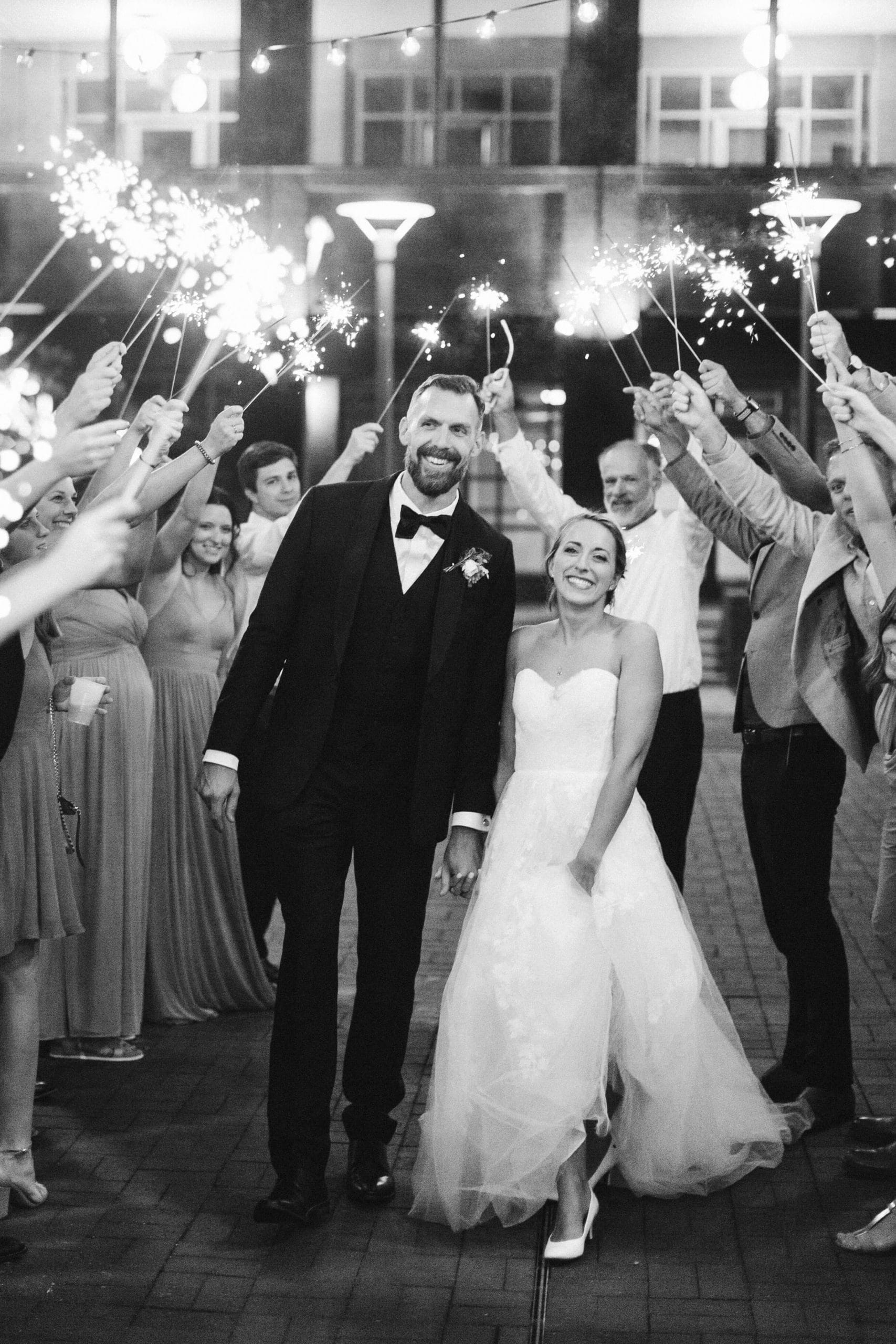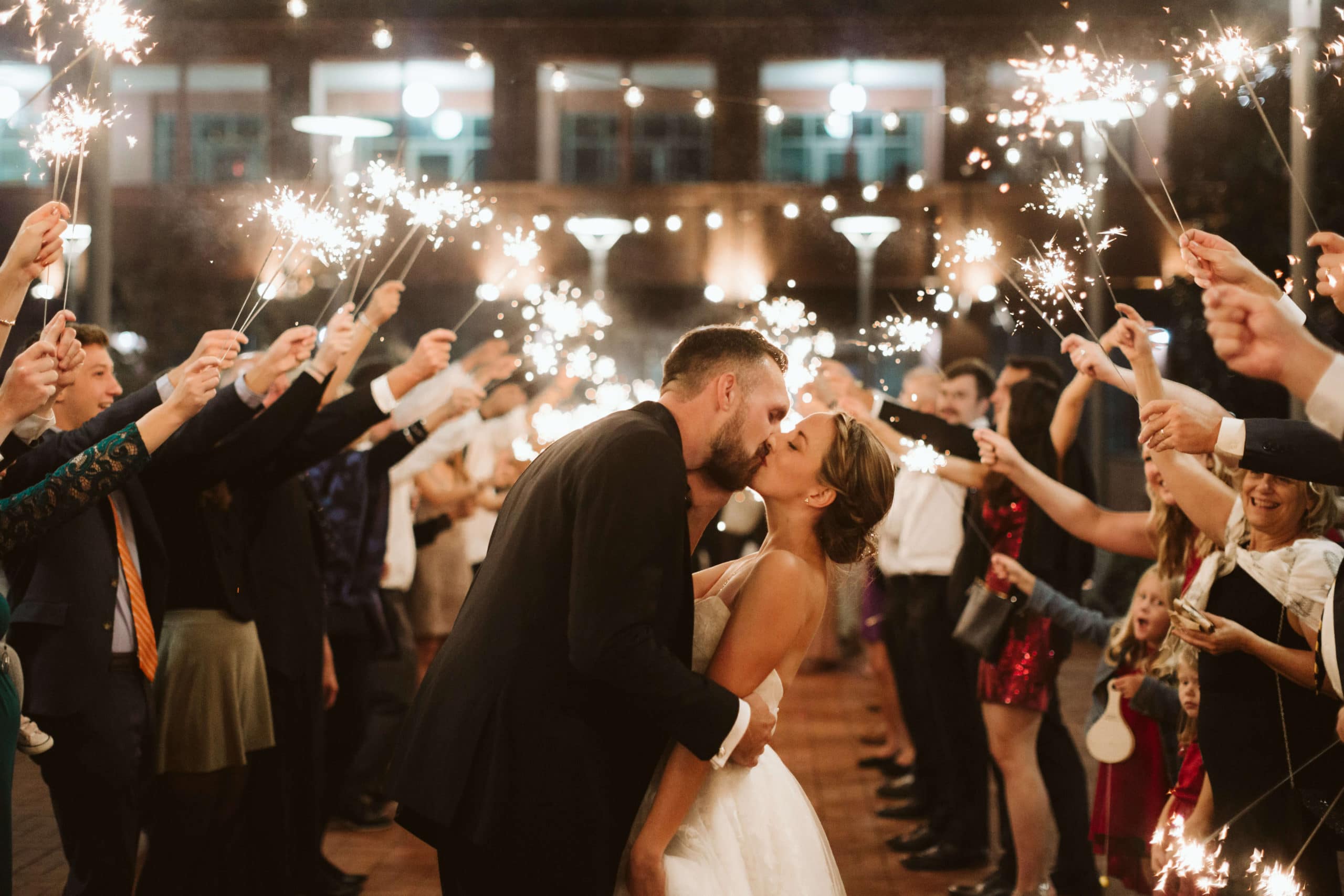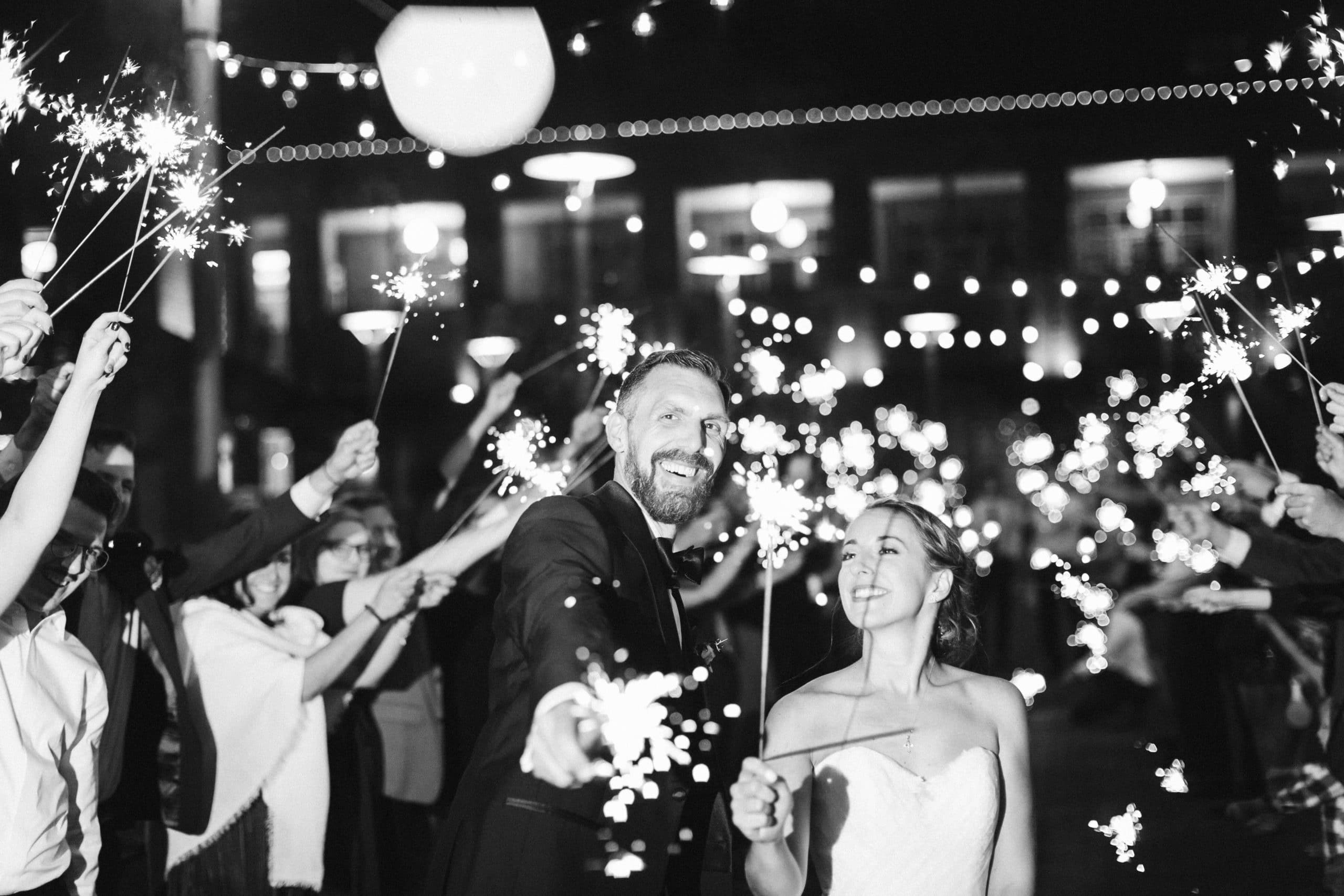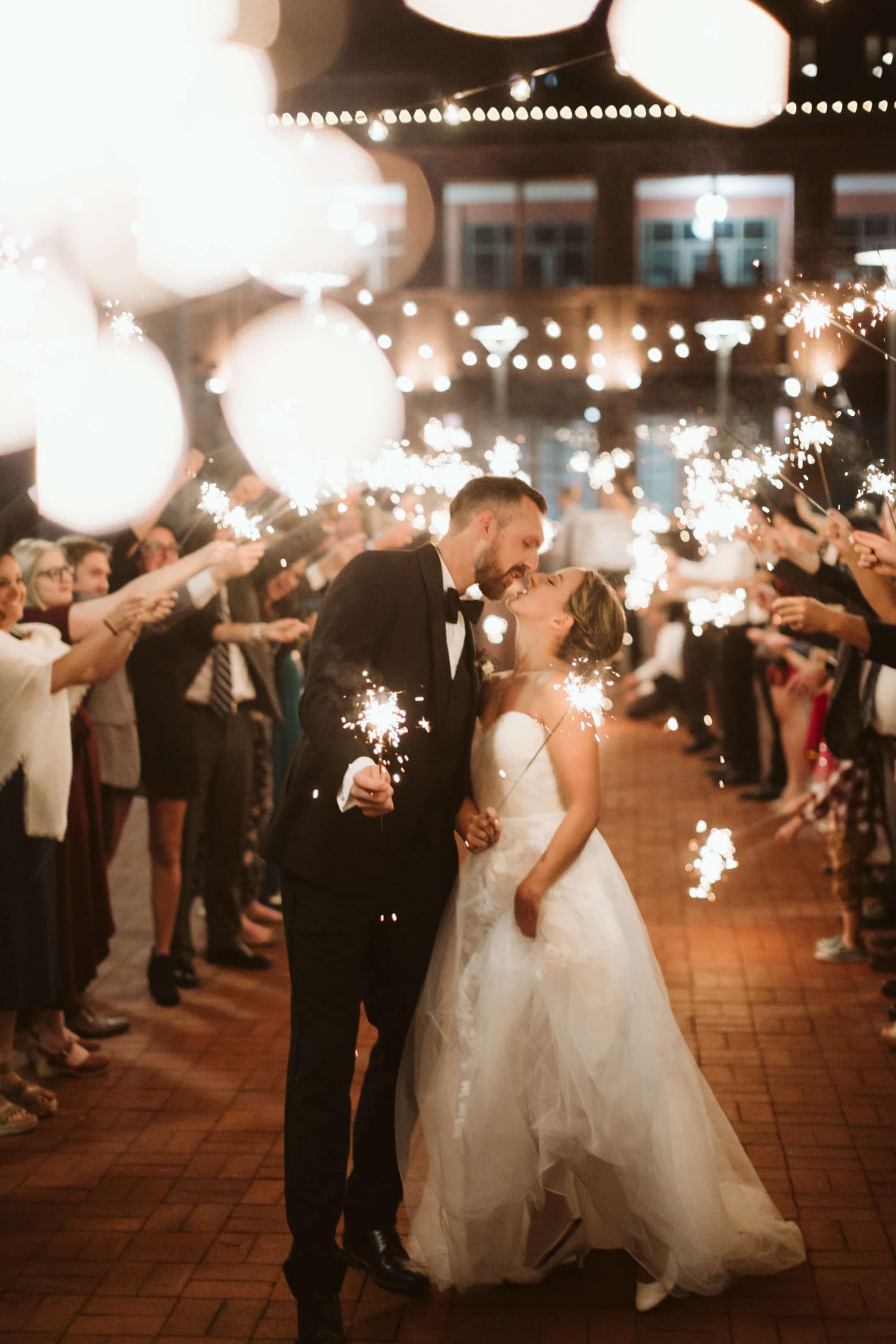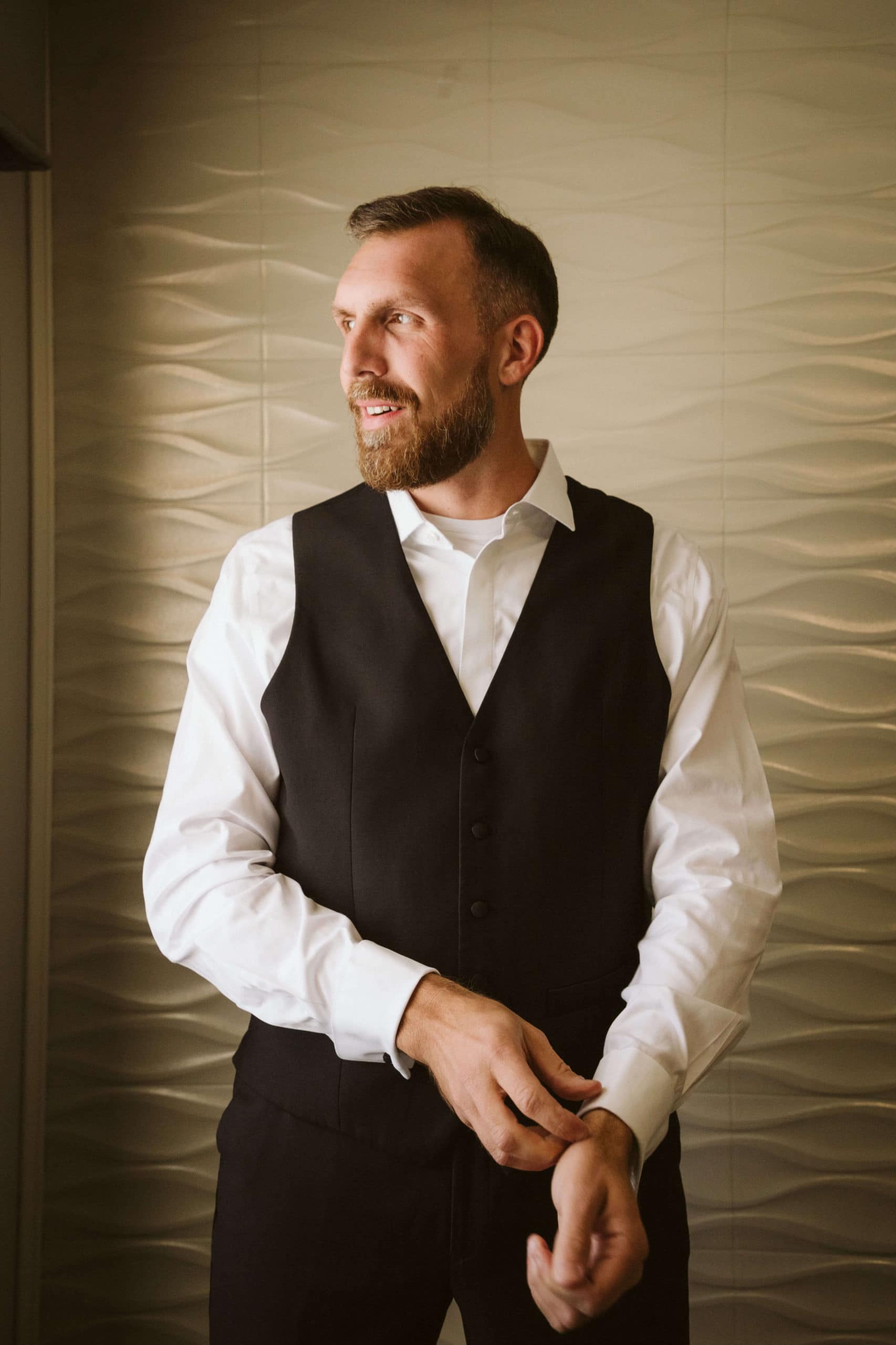 A Tip from the Bride
Matty kept it short and sweet when giving advice to future couples getting ready to tie the knot: "Go ahead, splurge for the wedding planner. You're worth it. (Disclaimer: planning a wedding without one is hard!)"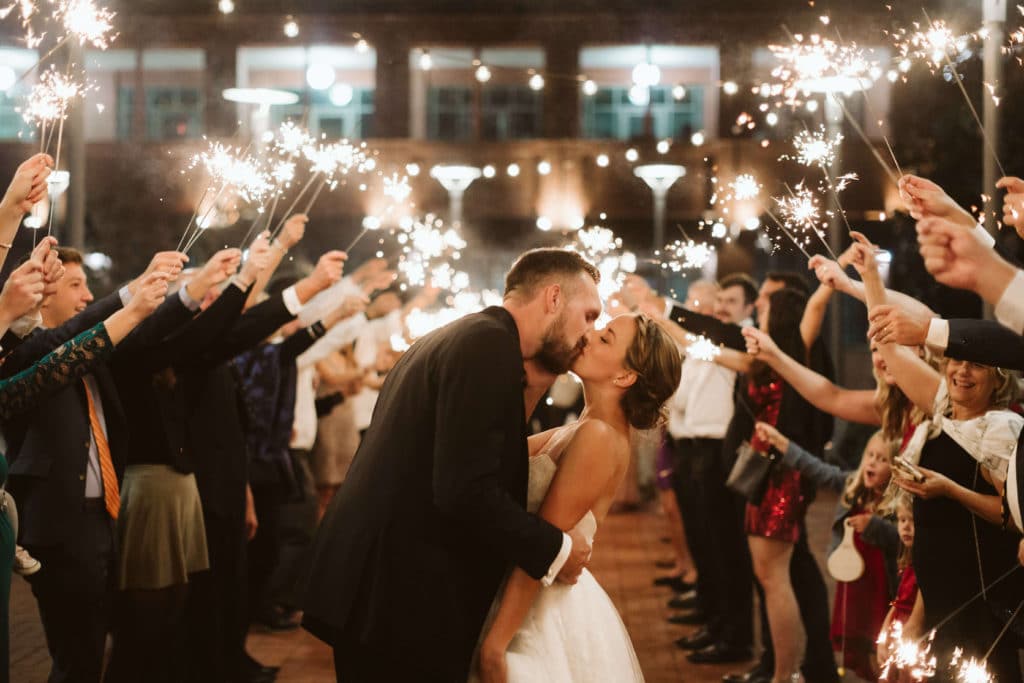 Andrew + Matty, y'all were so much fun to work with. I can't wait to document more of your precious moments down the road and wish you only happiness on your journey together!