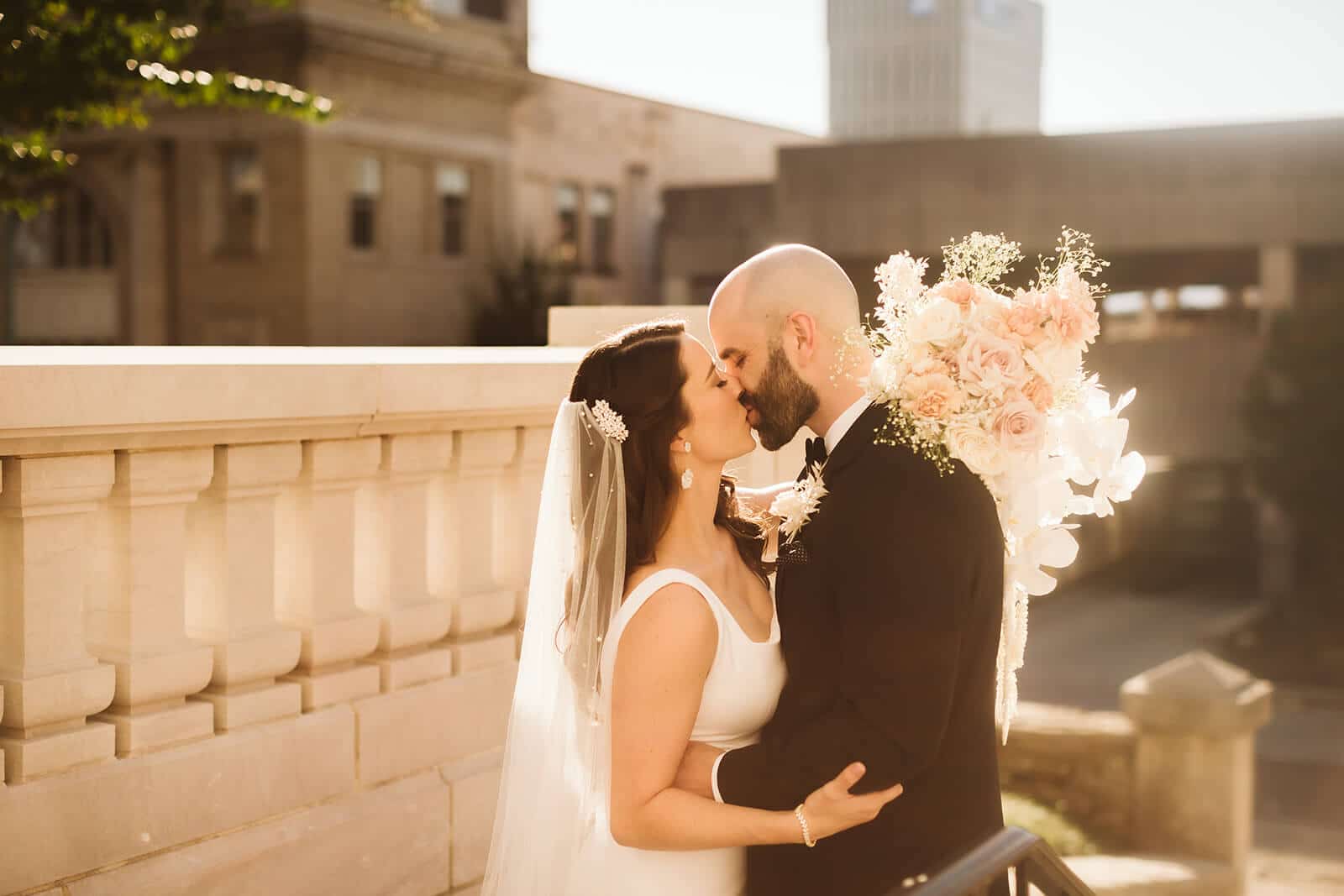 As a Chattanooga native, I absolutely love my city. Sure, the mountain views are gorgeous but there is something about the energy of Chattanooga that is equally as captivating. As a wedding photographer based in Chattanooga, I've shot numerous weddings all over this amazing city and each one has been exceptional in its own way. However, it's always exciting when a new wedding venue pops up. The Common House is one of Chattanooga's newer urban venues located in the Southside Historic District for couples searching for a wedding with a more modern feel.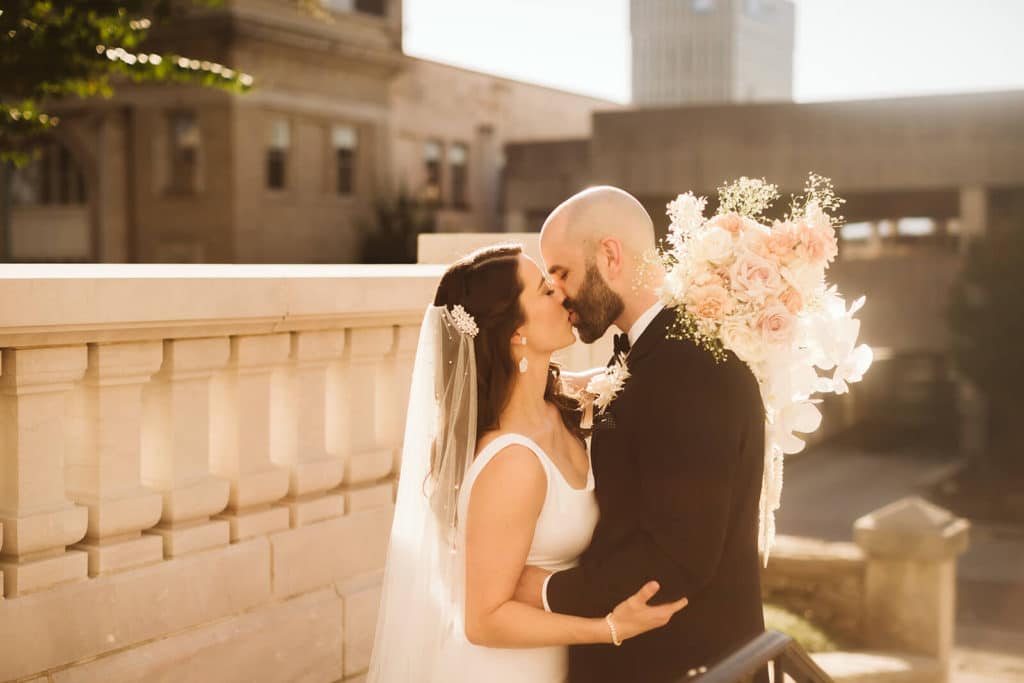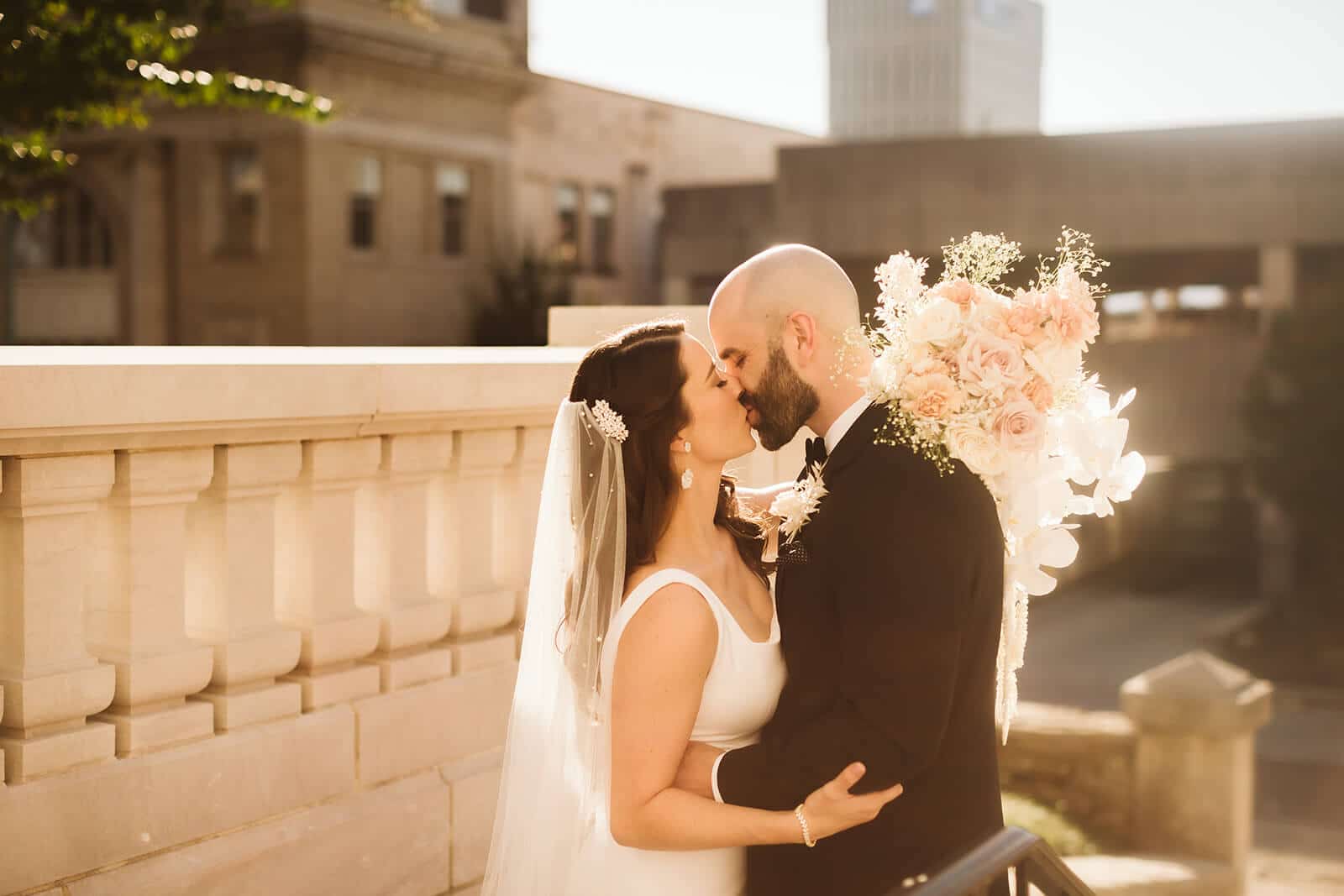 A Stroke of Fate
Taylor and Brien's story begins with Taylor living in Los Angeles as an ICU nurse and Chattanooga-native Brien visiting LA with his college buddies for vacation. The night they met almost didn't happen as Taylor was completely exhausted from a twelve hour shift in the ICU. However, the stars were shining down upon them as one of Taylor's friends - who happened to have gone to the same college as Brien's friends - convinced Taylor to come out to hang with her old college buddies. Although Taylor was hesitant to spend the night with people she had never met before, as soon as she set eyes on Brien and his amazing dance moves, her fate was sealed.
Almost three years later, the two traveled to Boise, Idaho for a work conference with Brien's company. After the conference, Brien took Taylor out for what she thought was a hike through the Idaho mountains. However, in their taxi that was taking them to the "hiking trail," Taylor found an envelope with maps of Grand Teton and Yellowstone National Parks. Brien had planted the envelope in the taxi and when Taylor found it, he exclaimed. "We're going to Jackson Hole!"
Visiting the parks and Jackson Hole was high on their travel bucket list. Taylor was so surprised by this turn of events but even more surprised the next day when Brien dropped down on one knee after their hike to Delta Lake just below Grand Teton. The setting was stunningly beautiful for Brien's surprise proposal and, of course, Taylor answered with a resounding, "Yes!".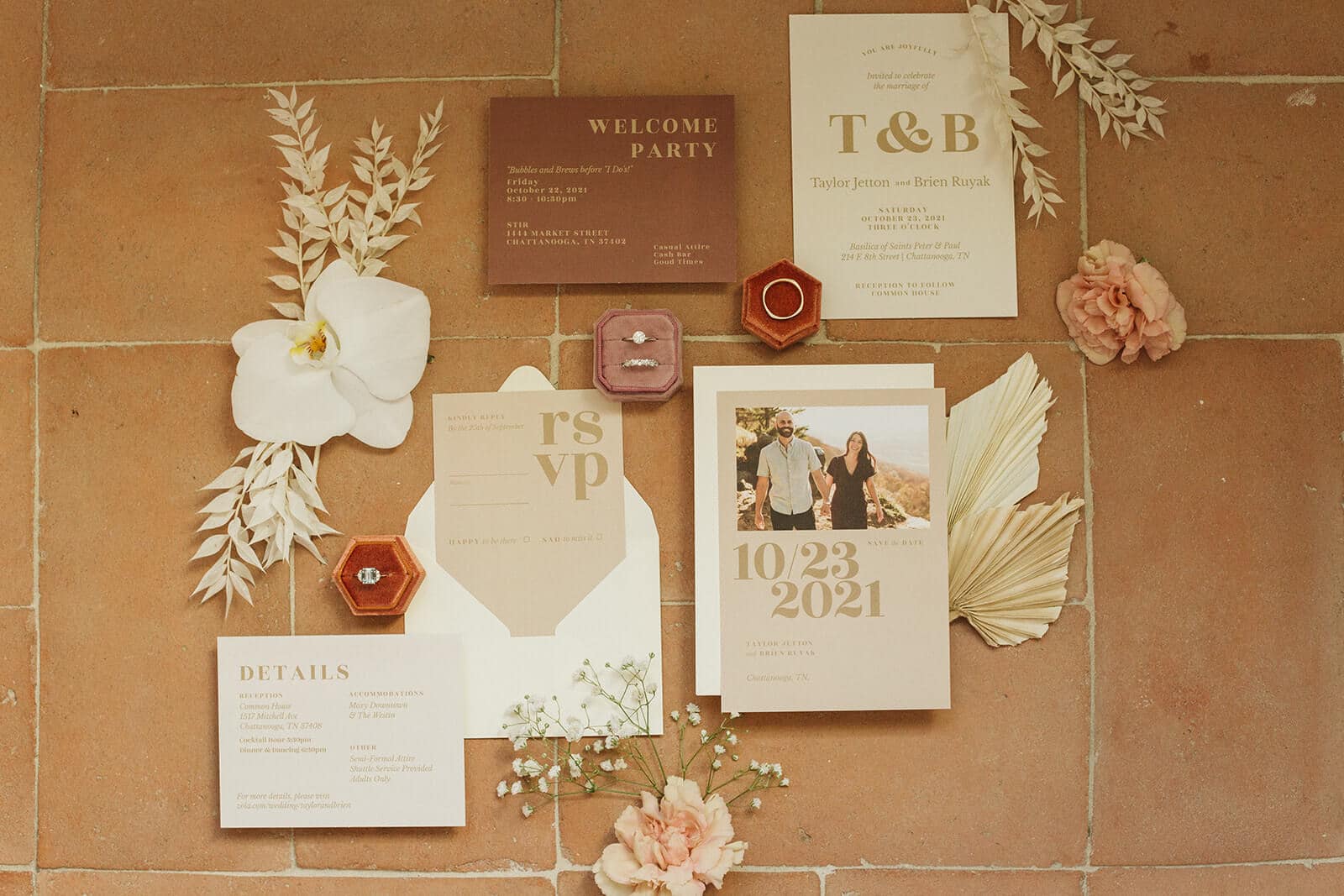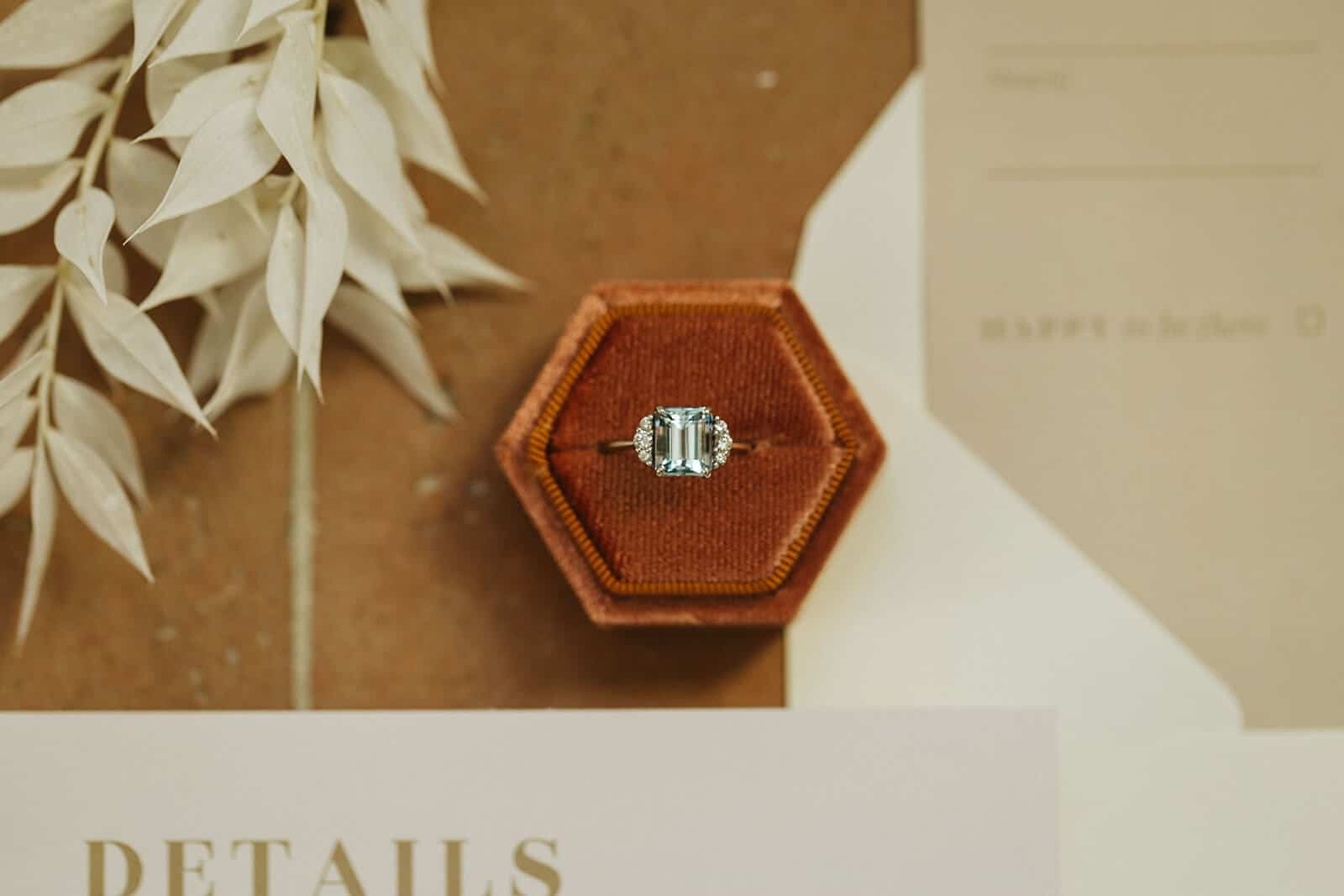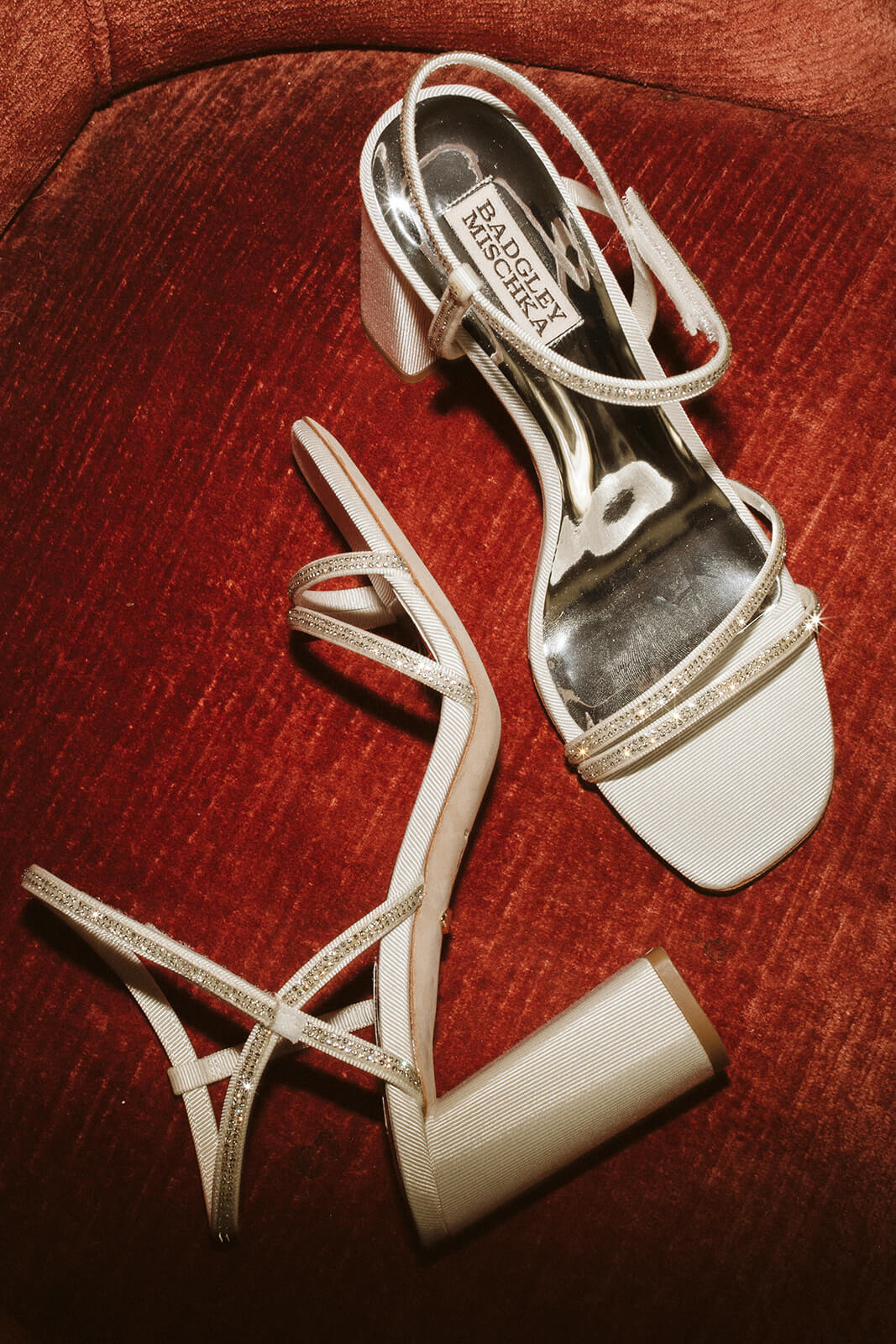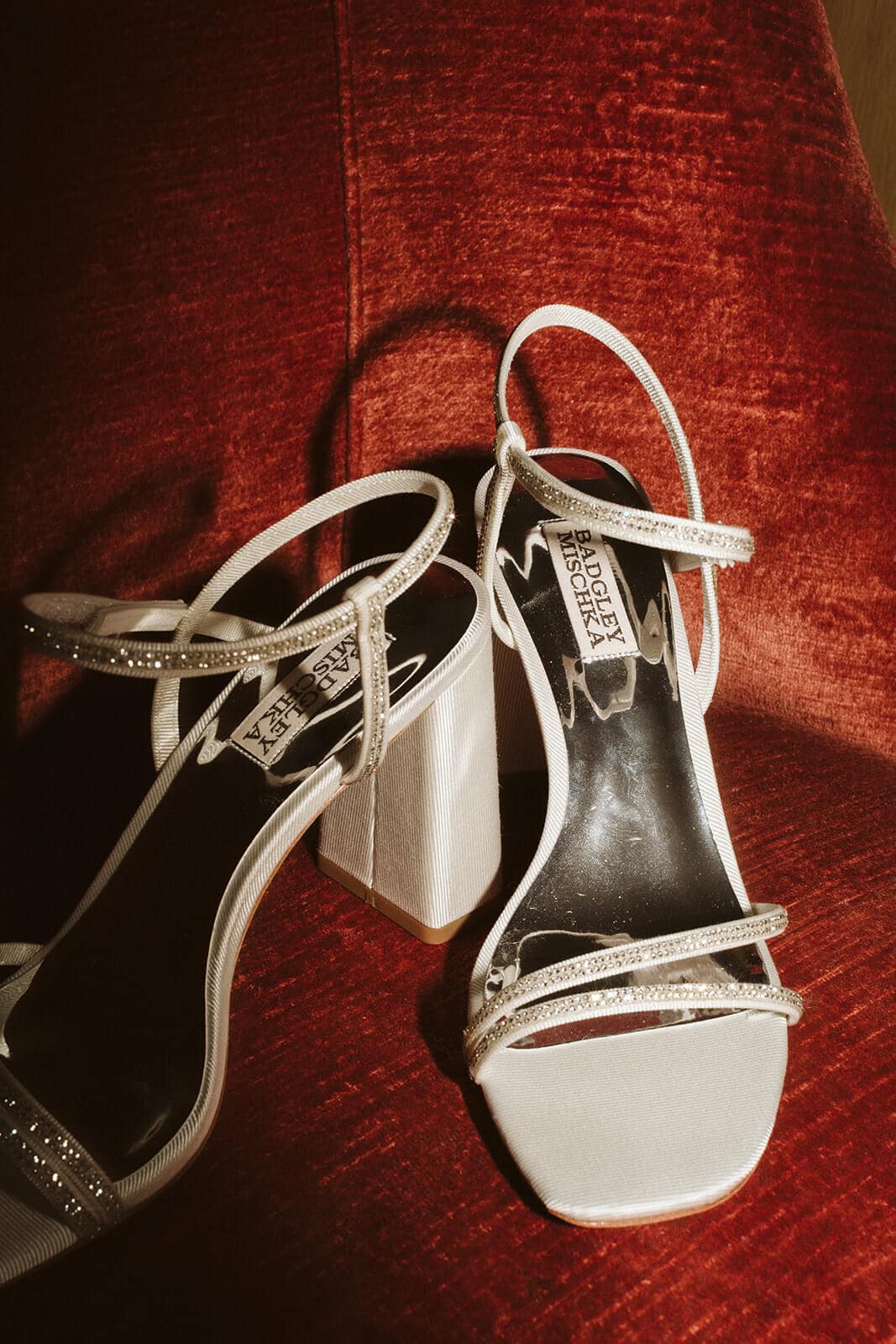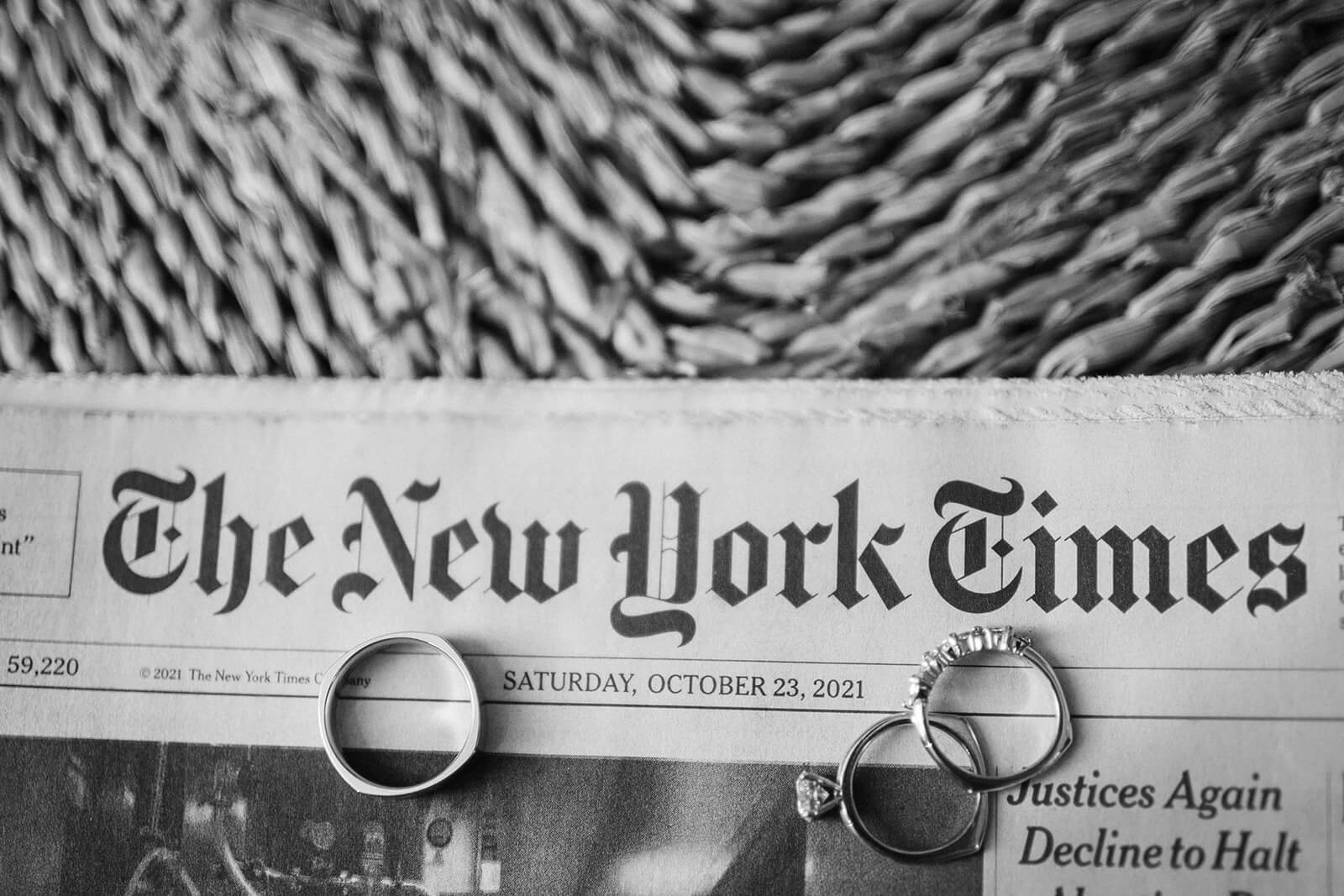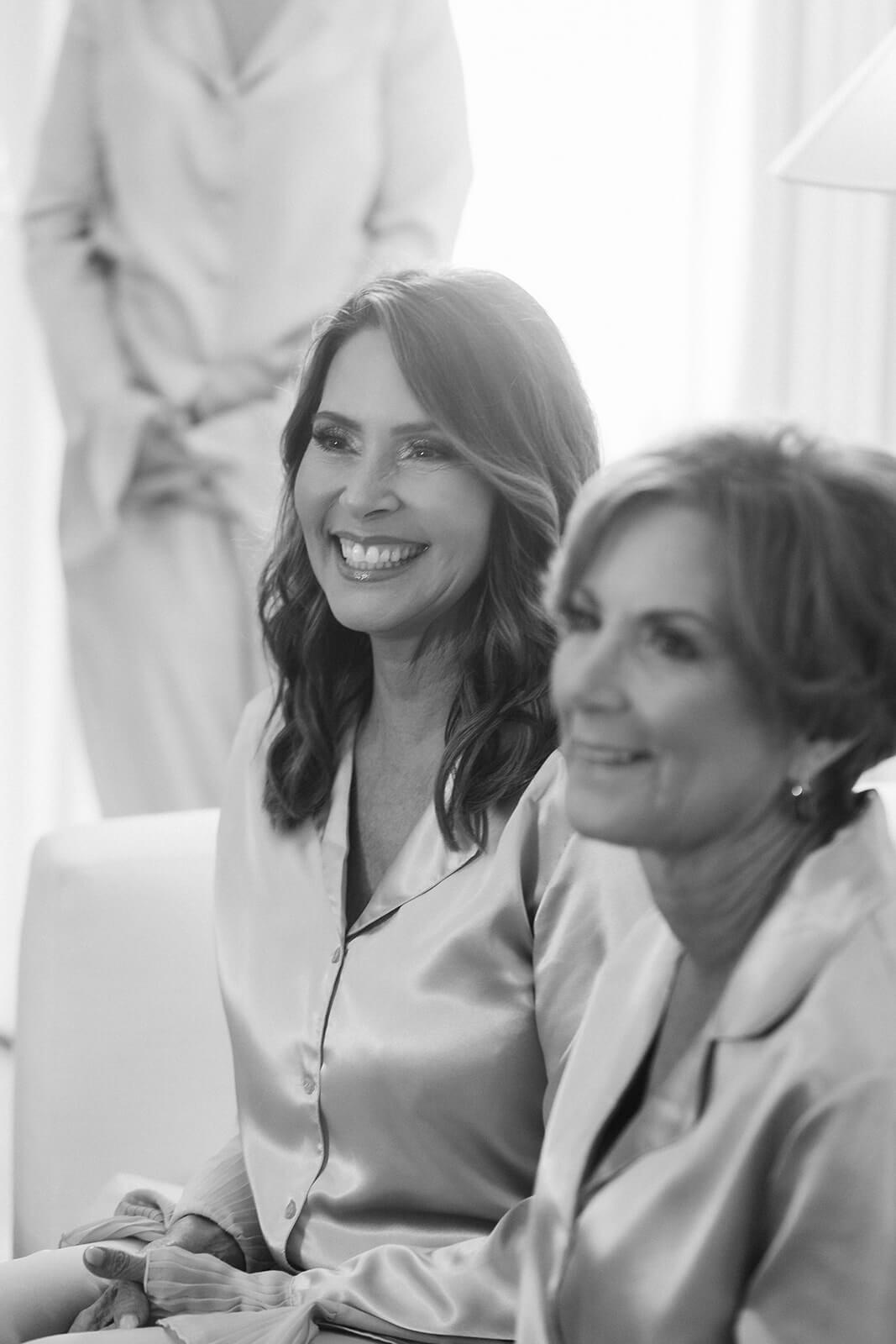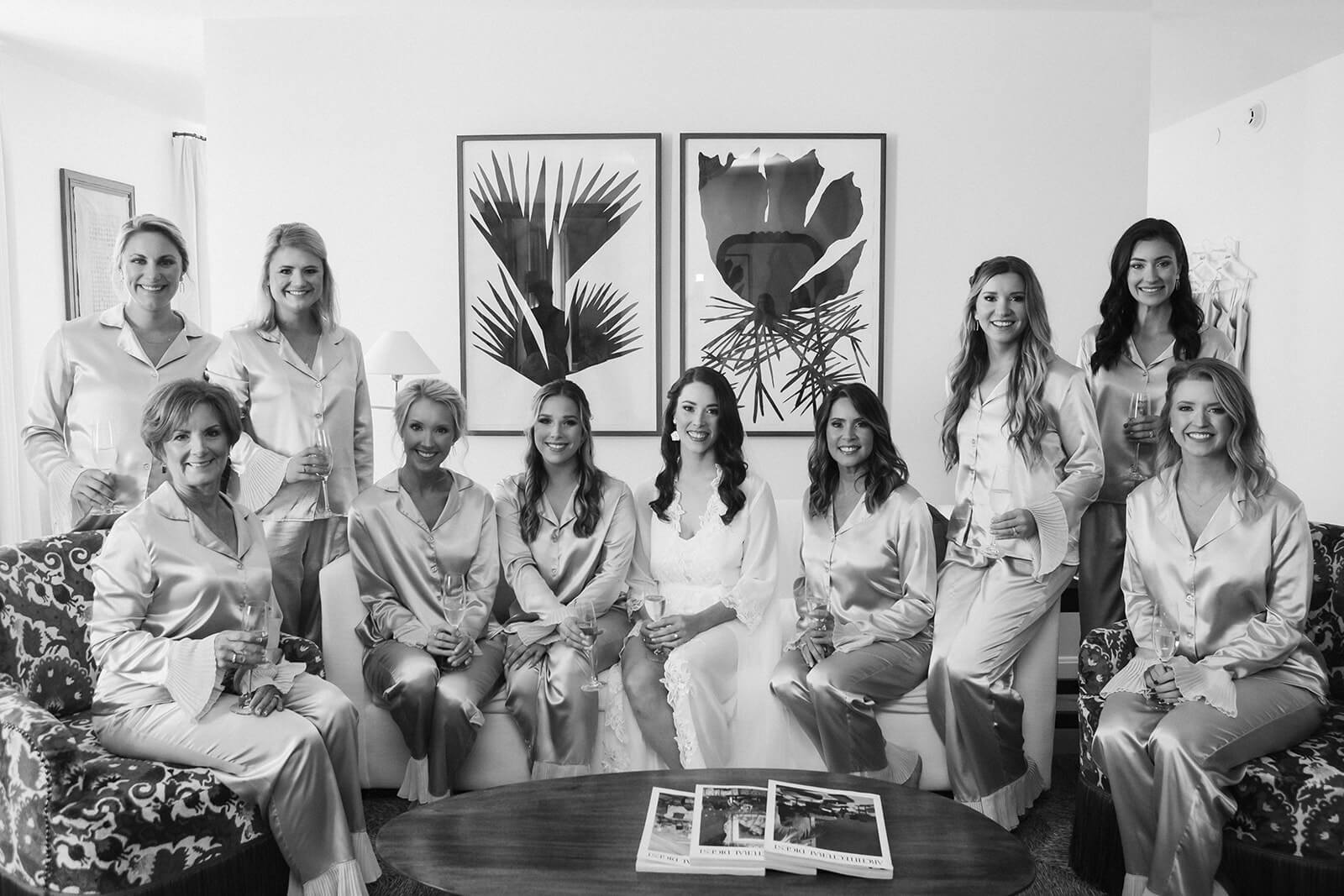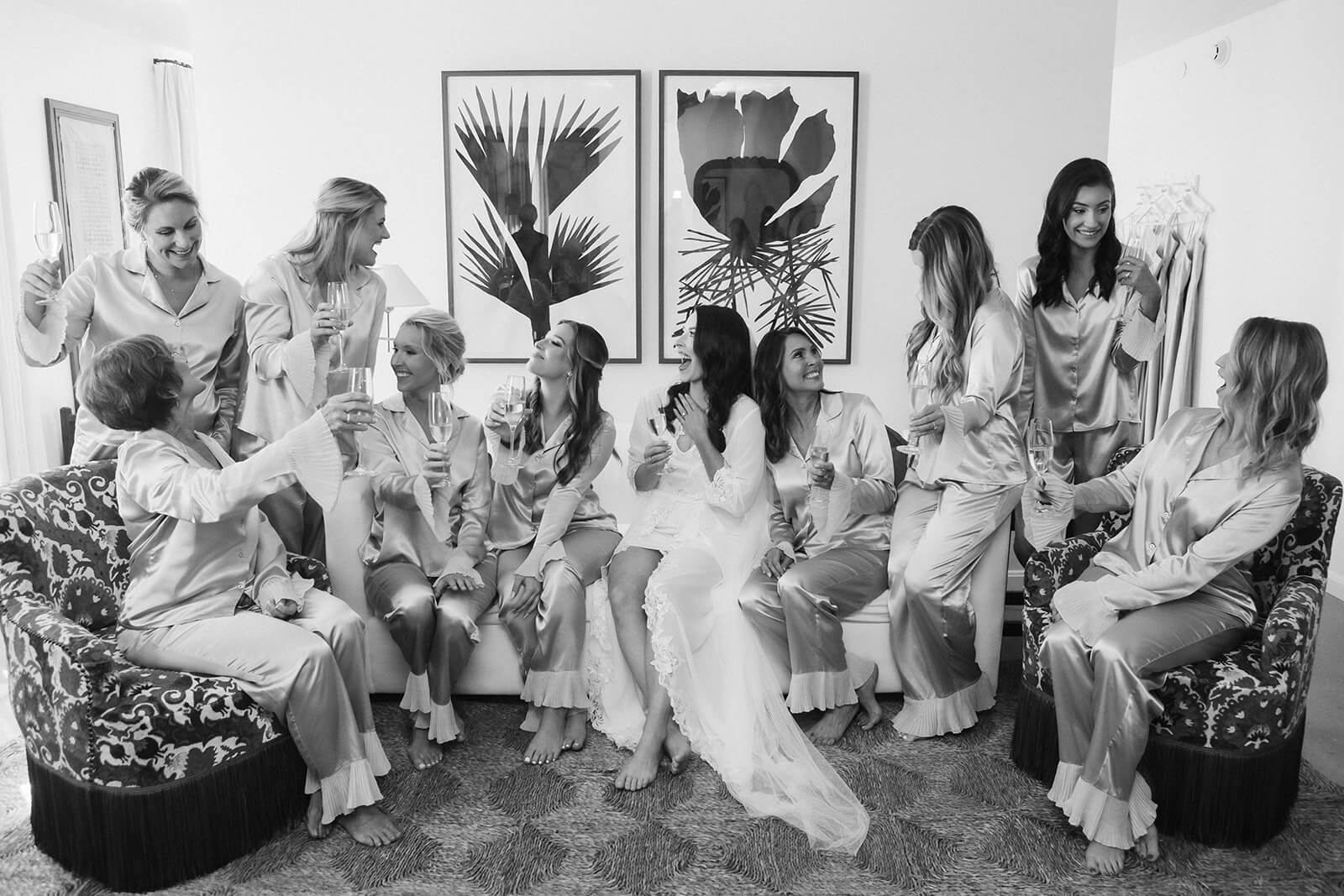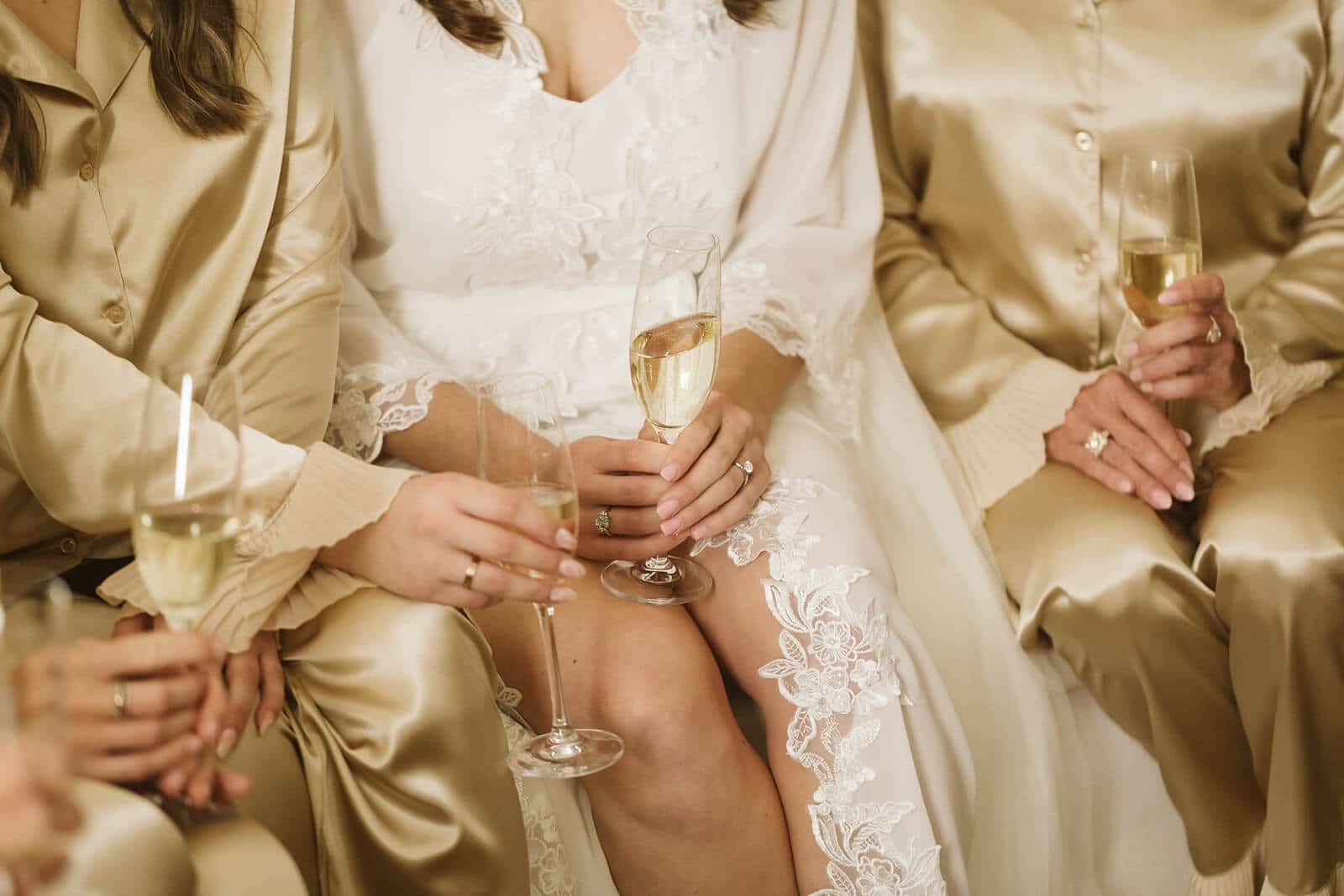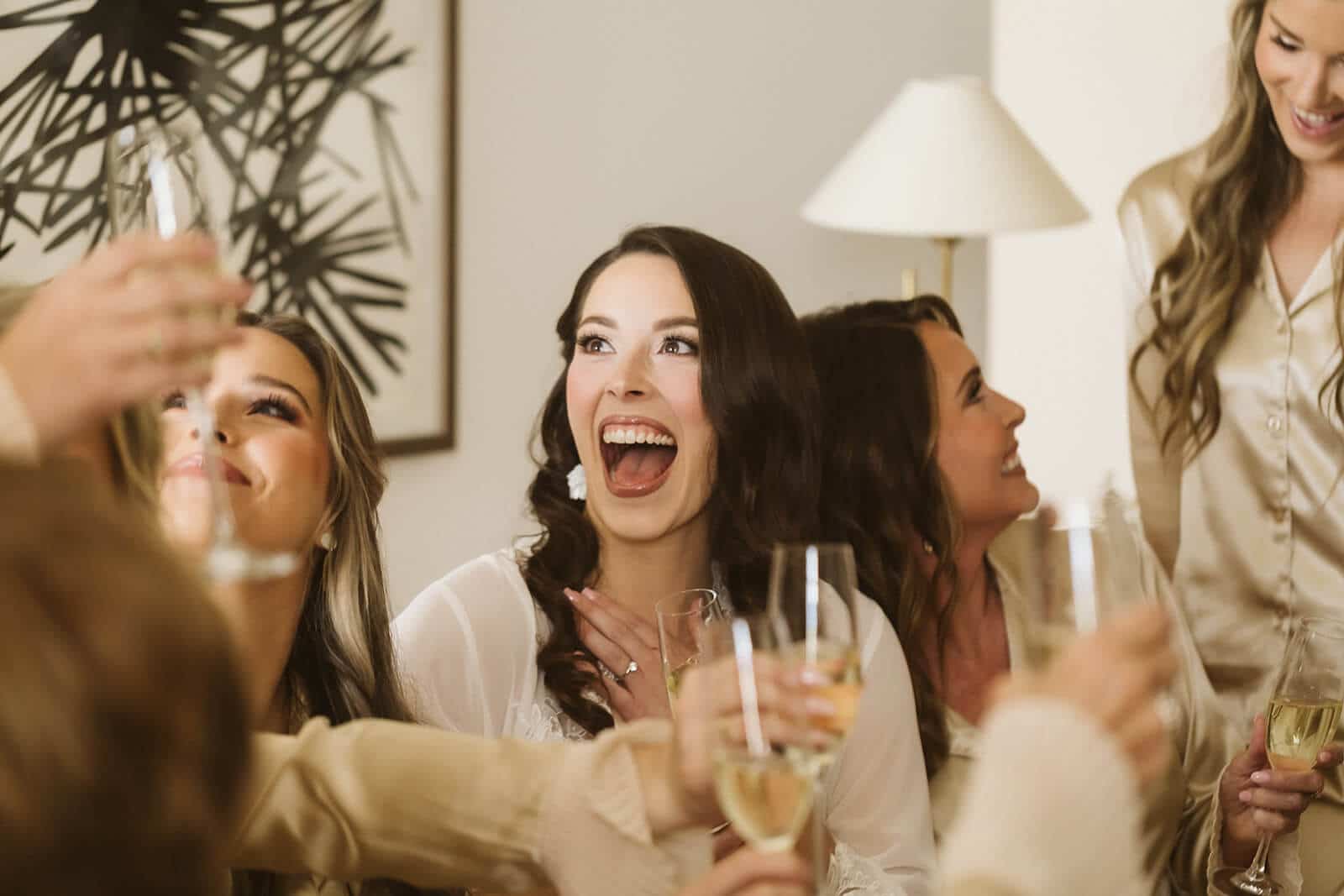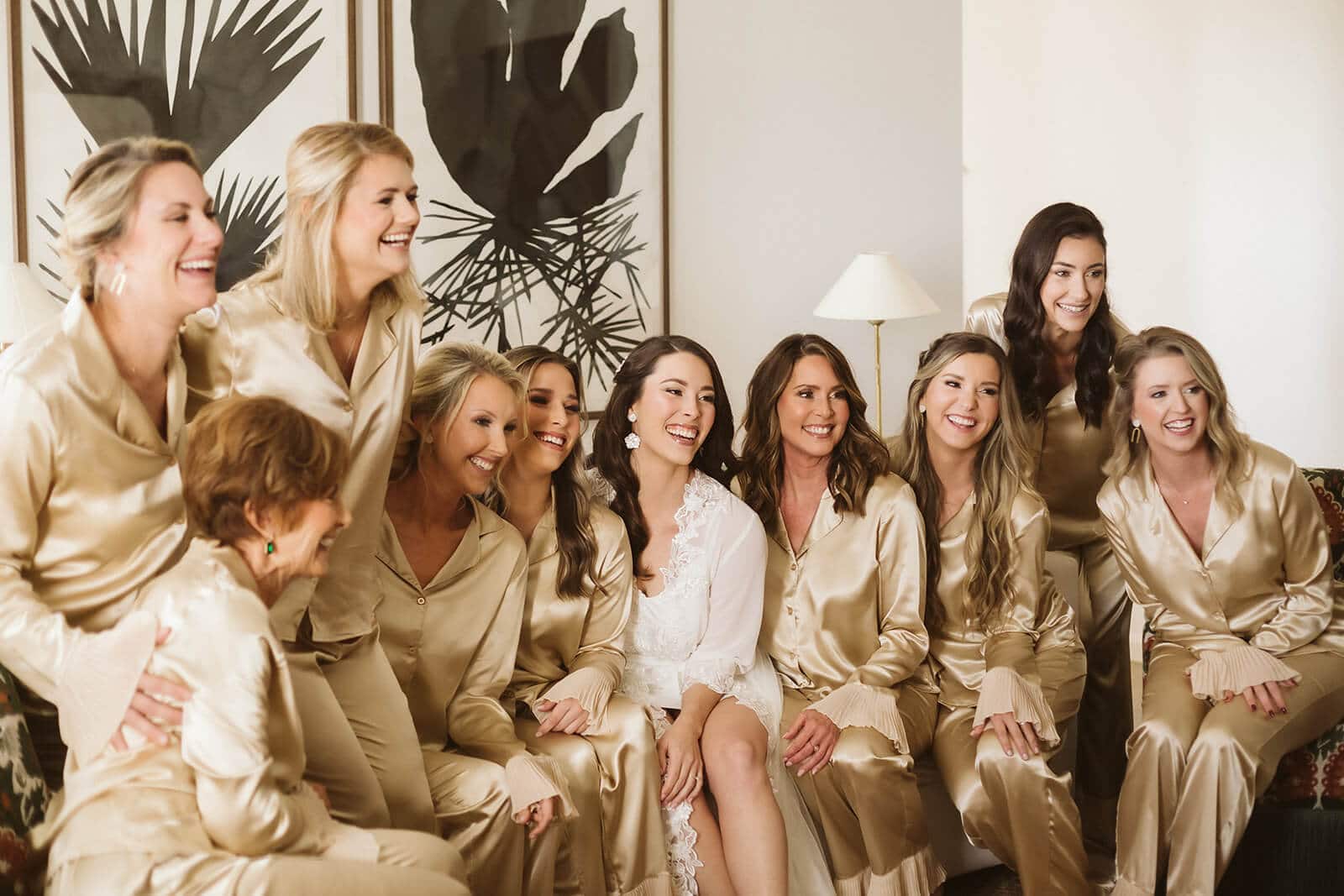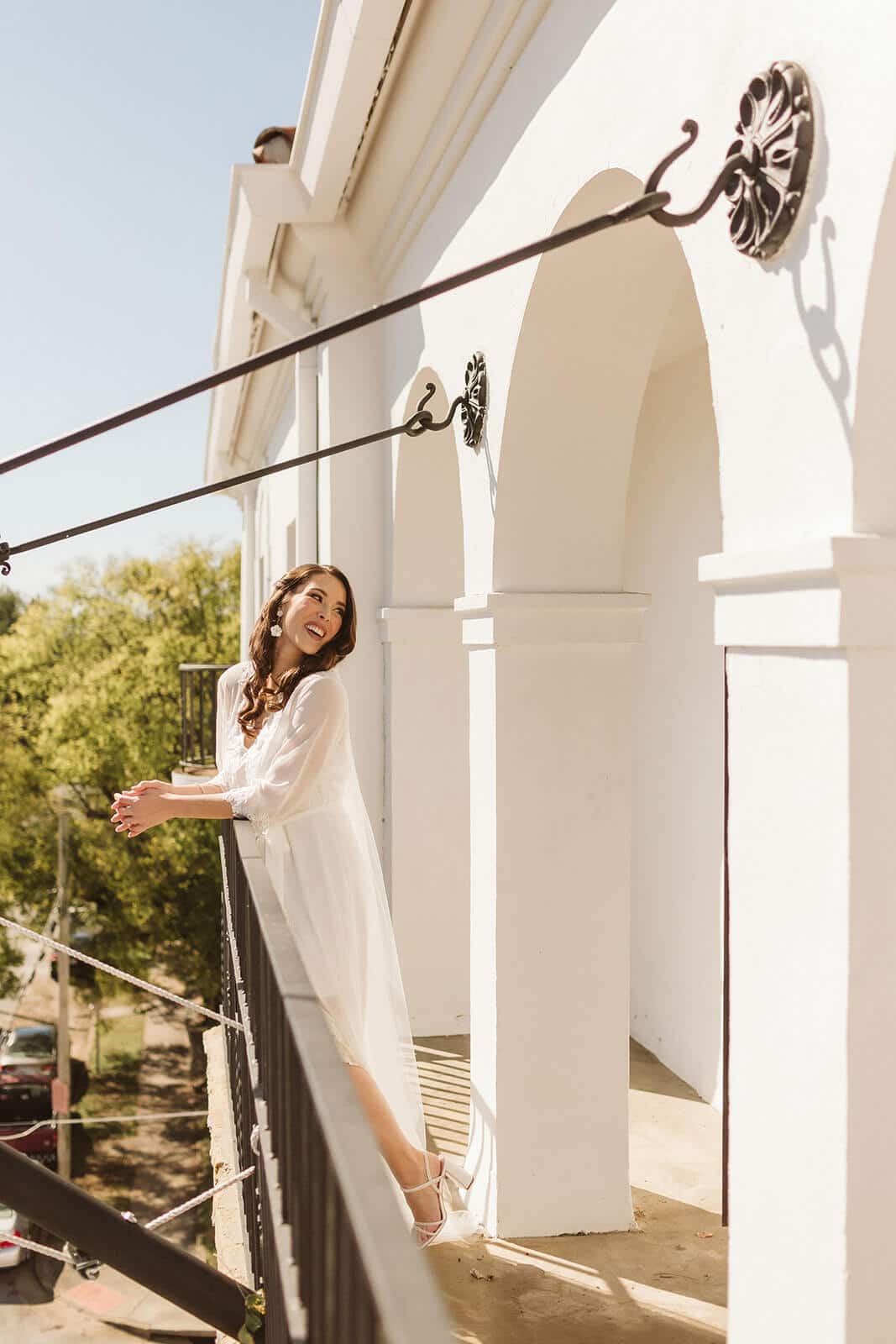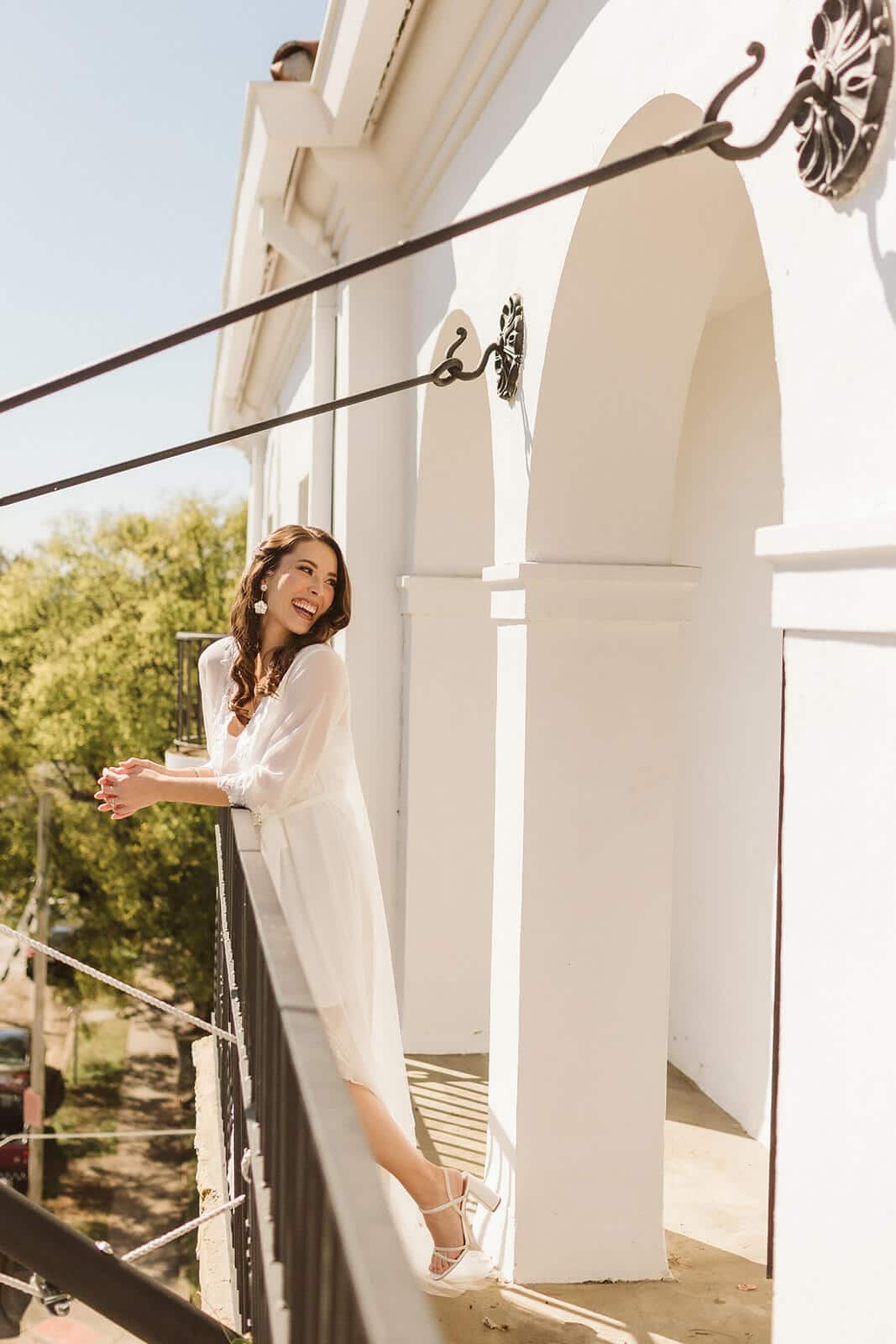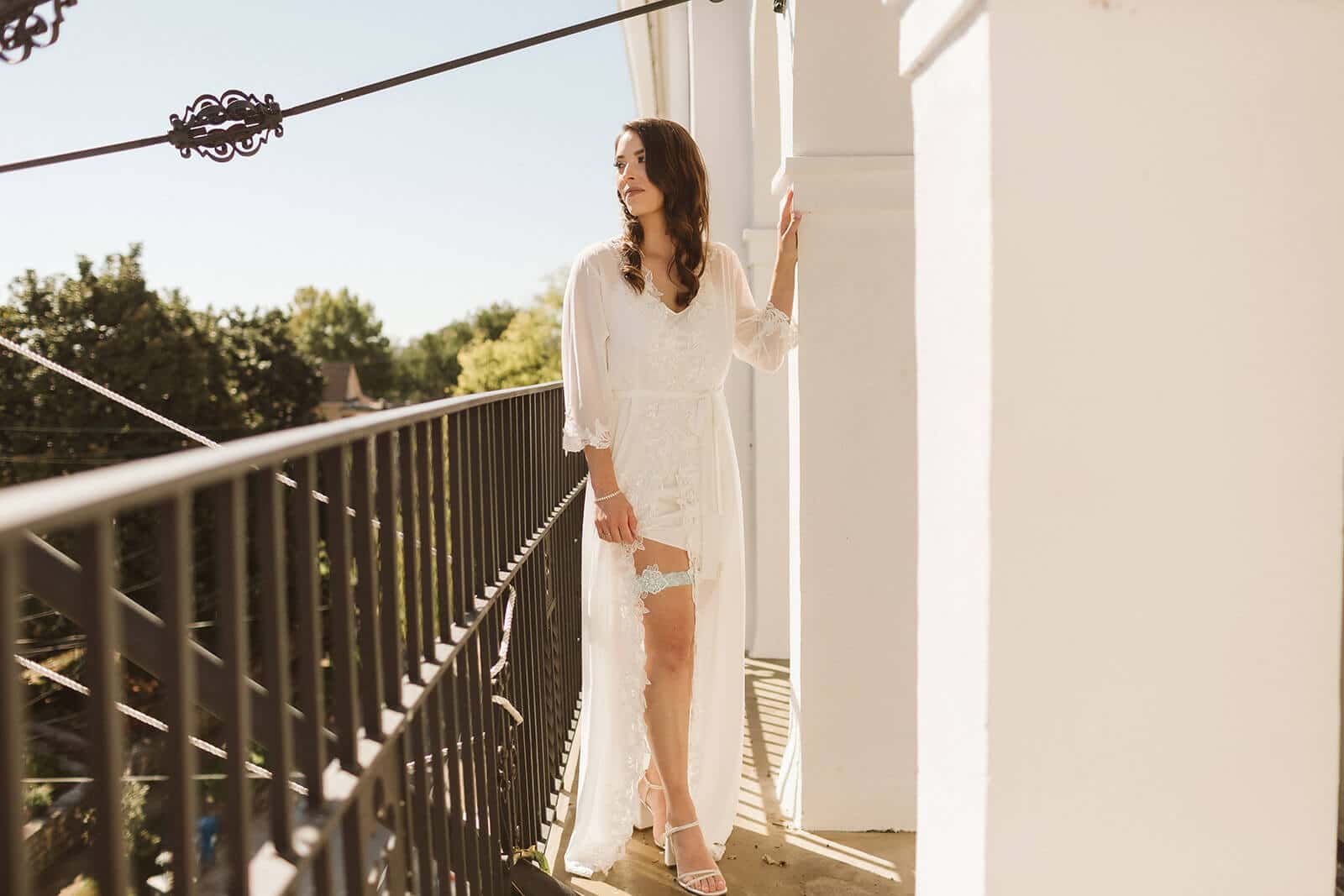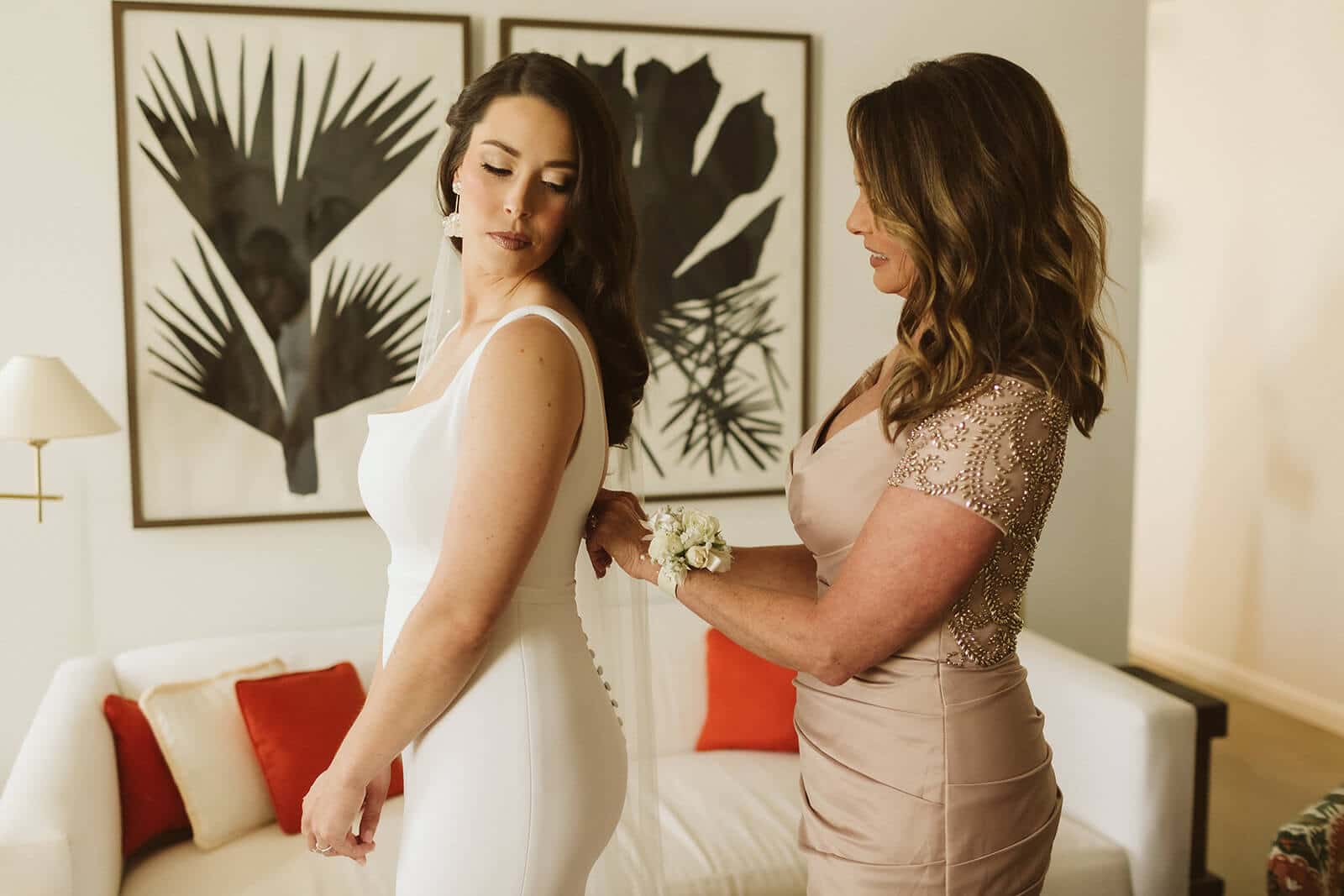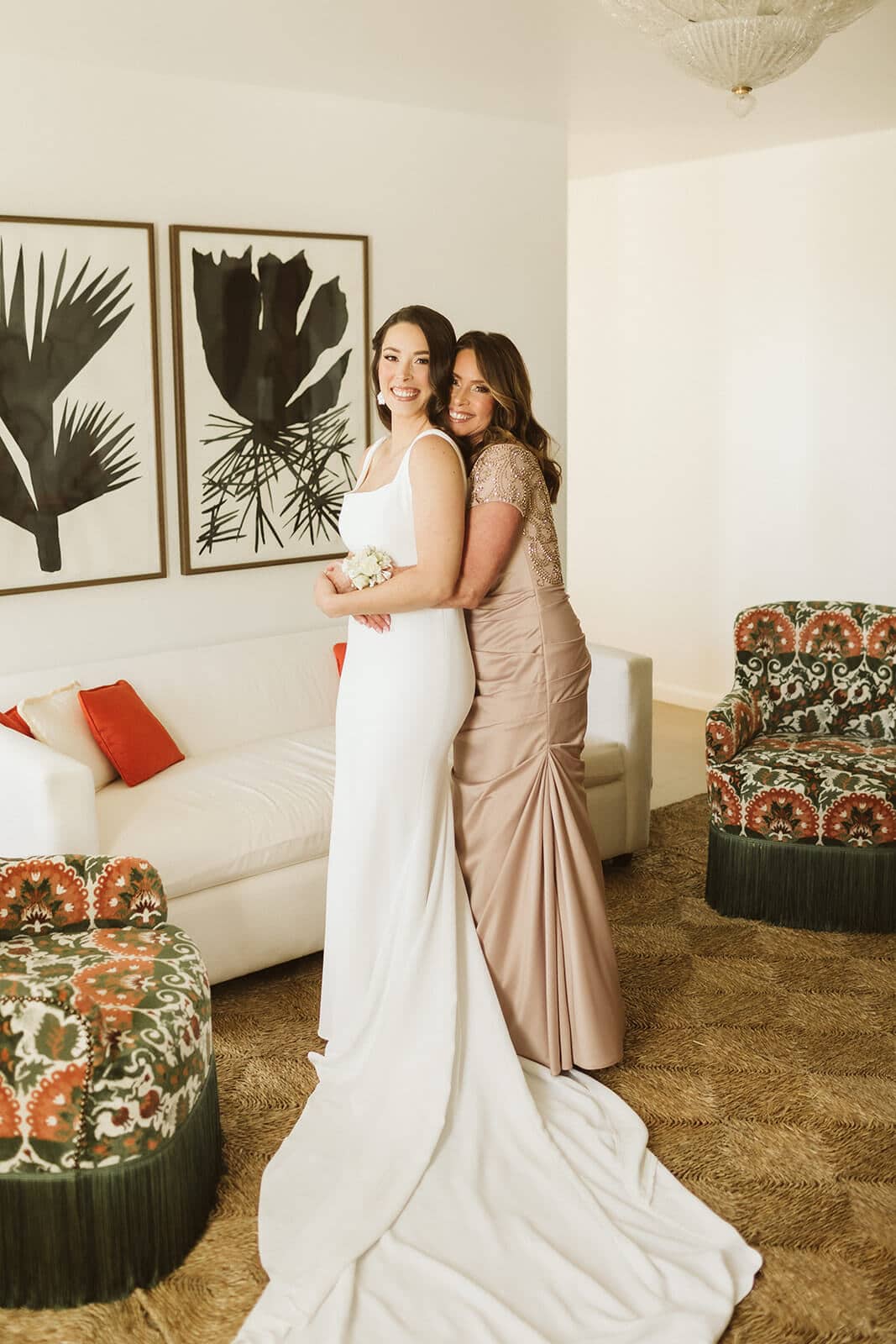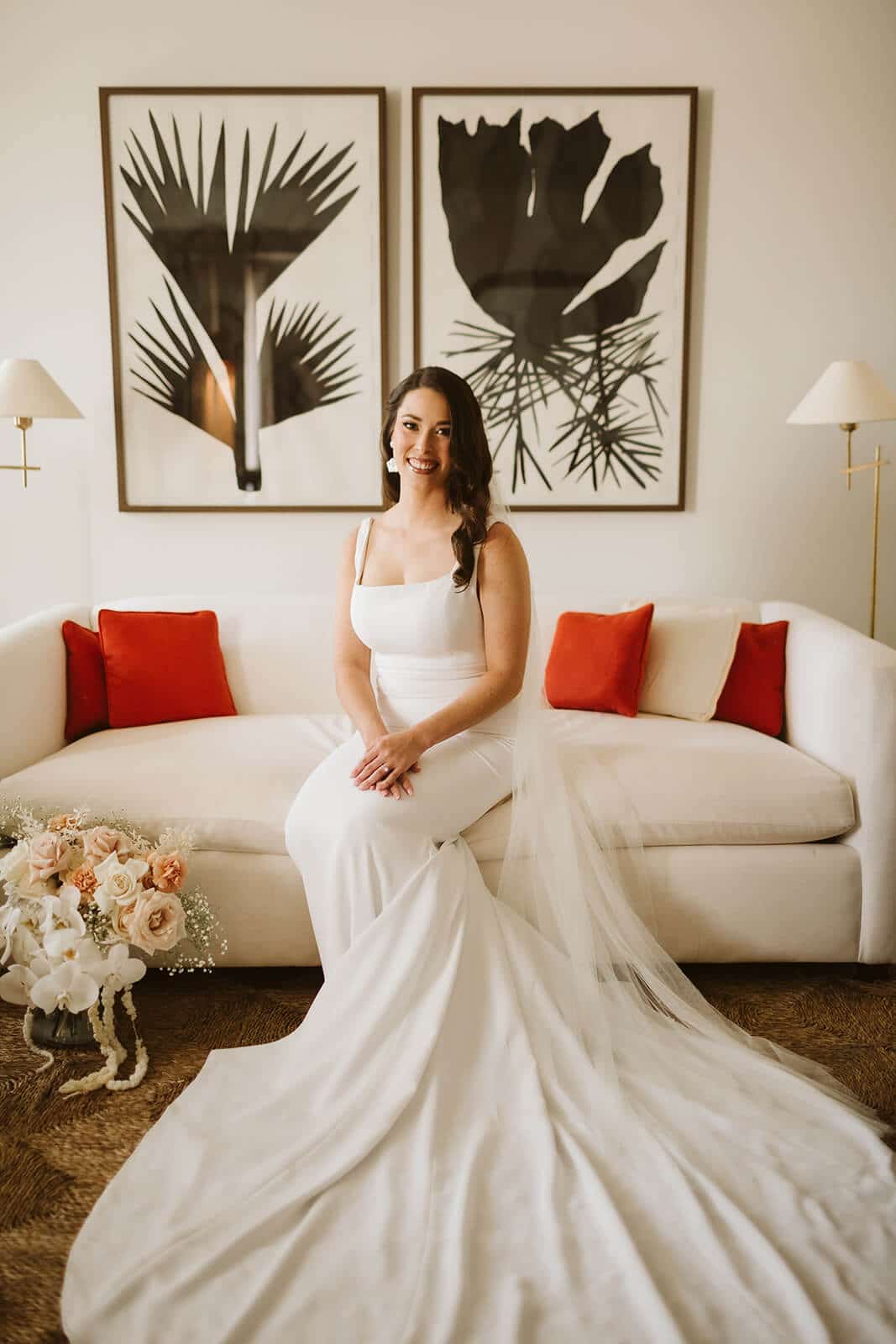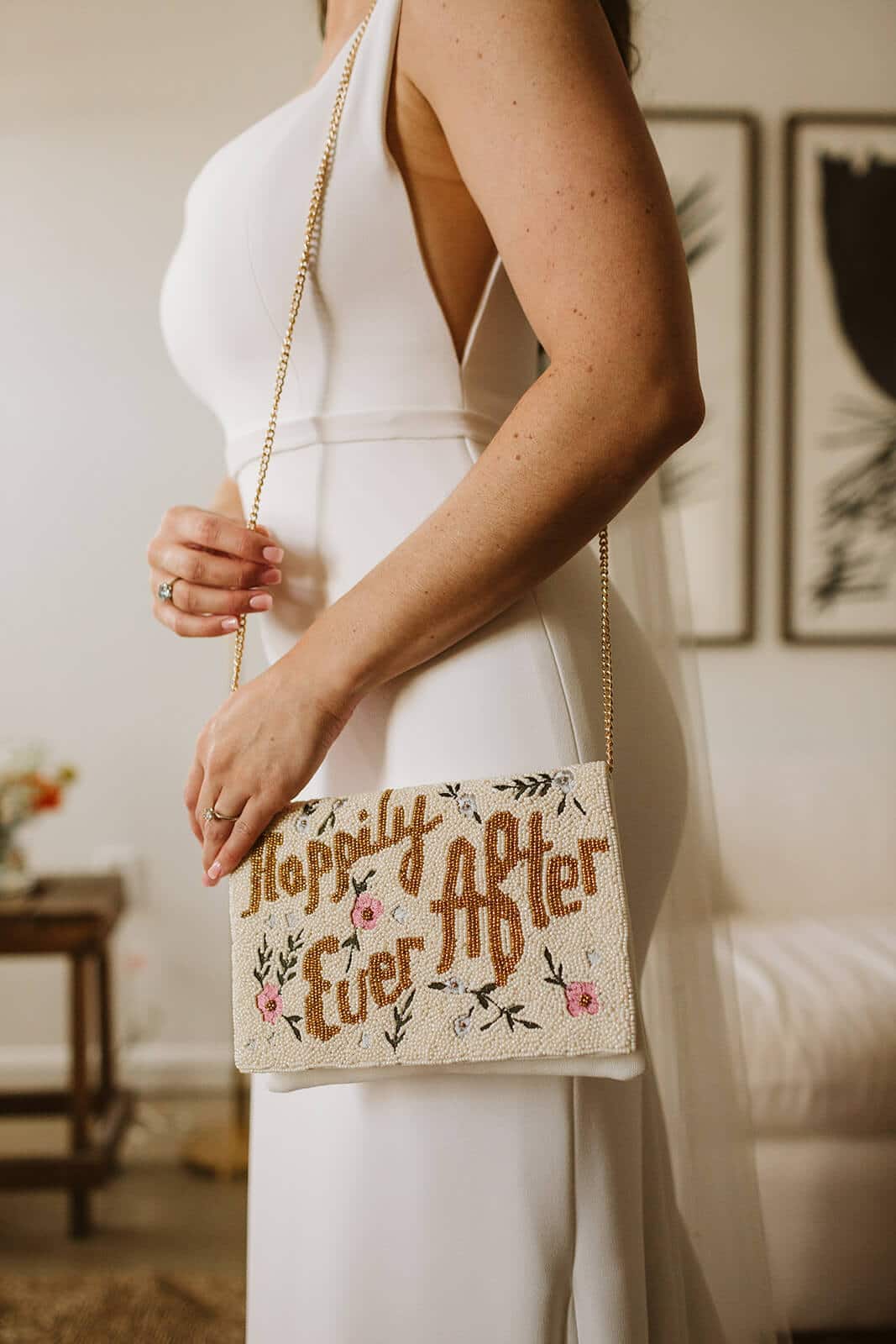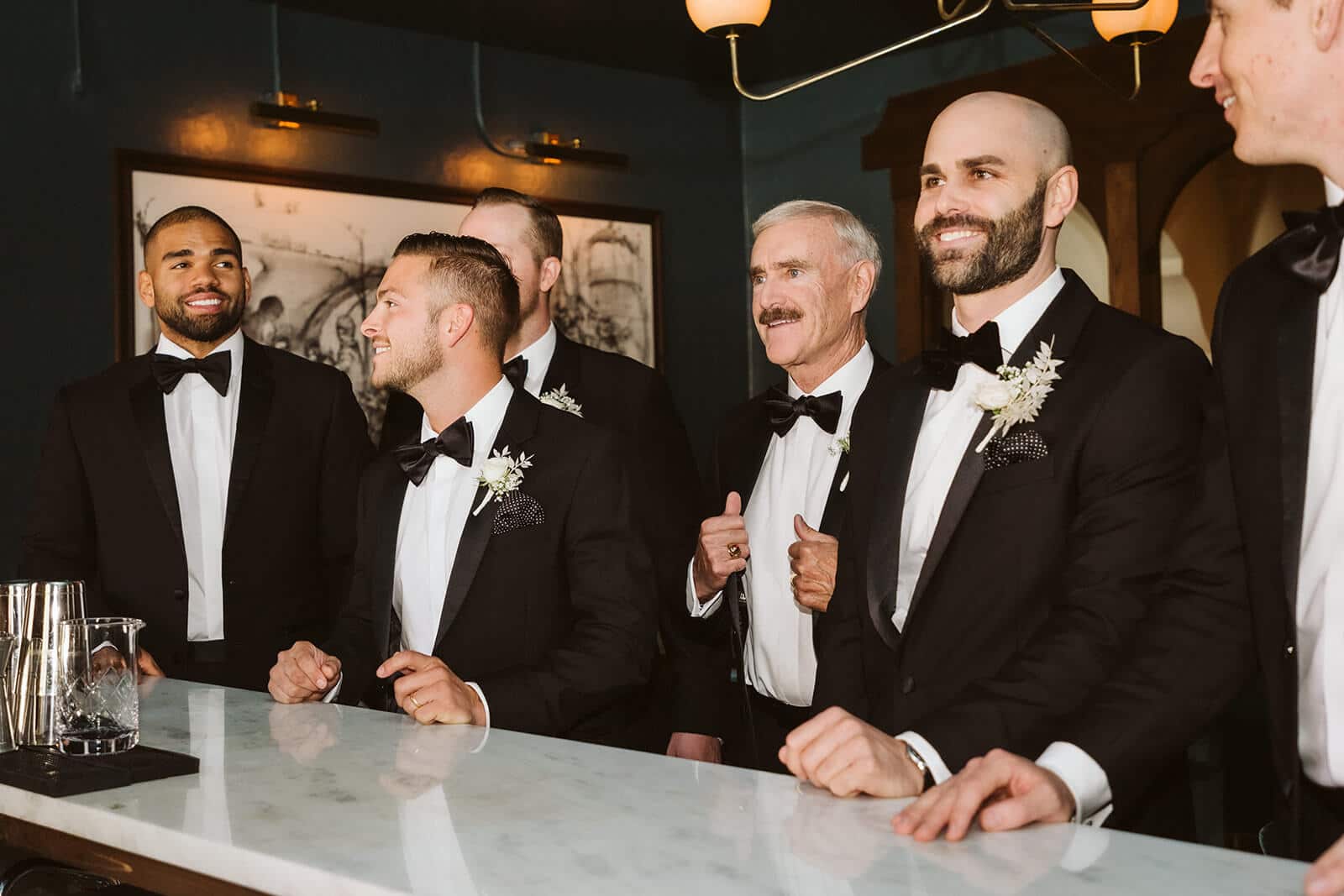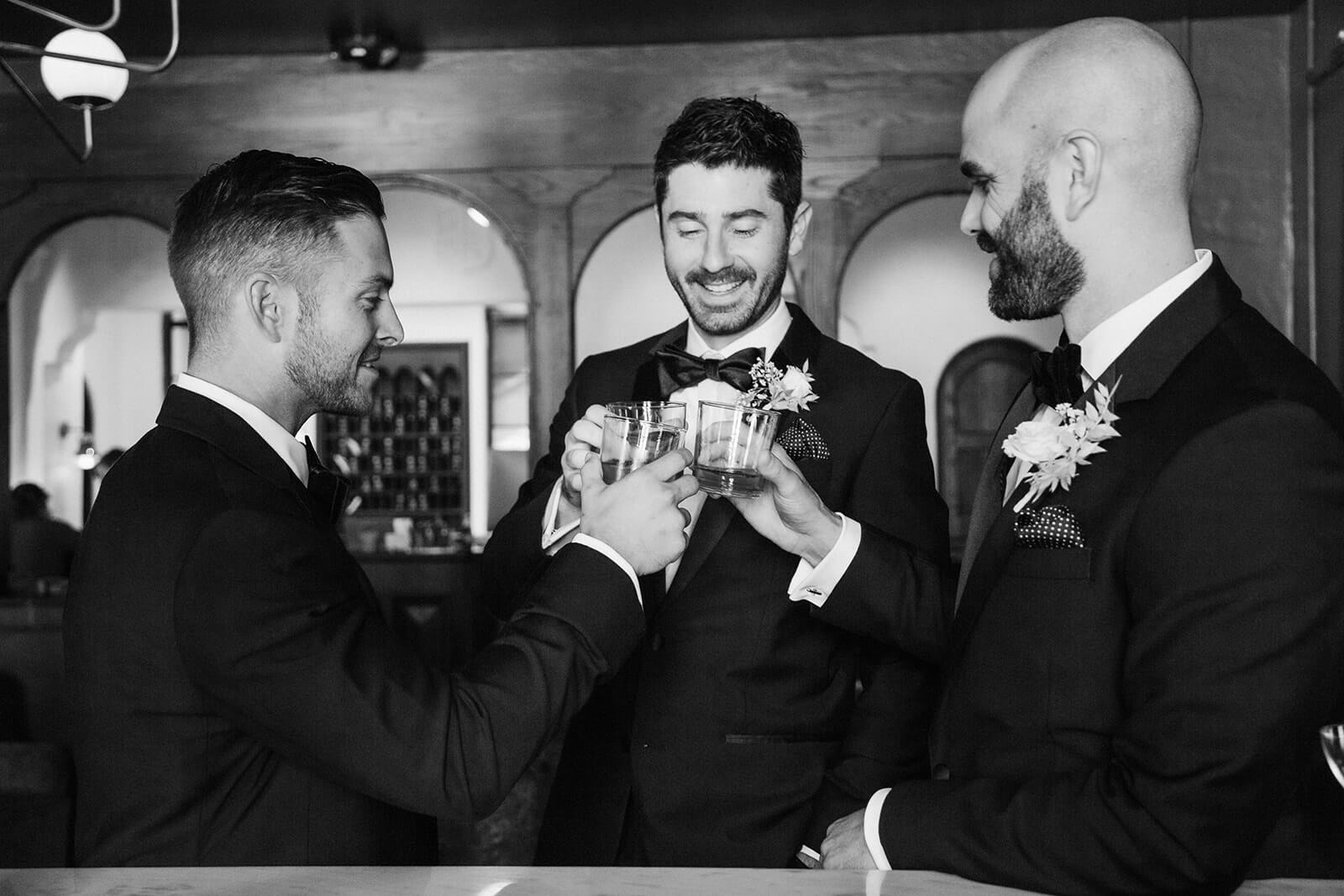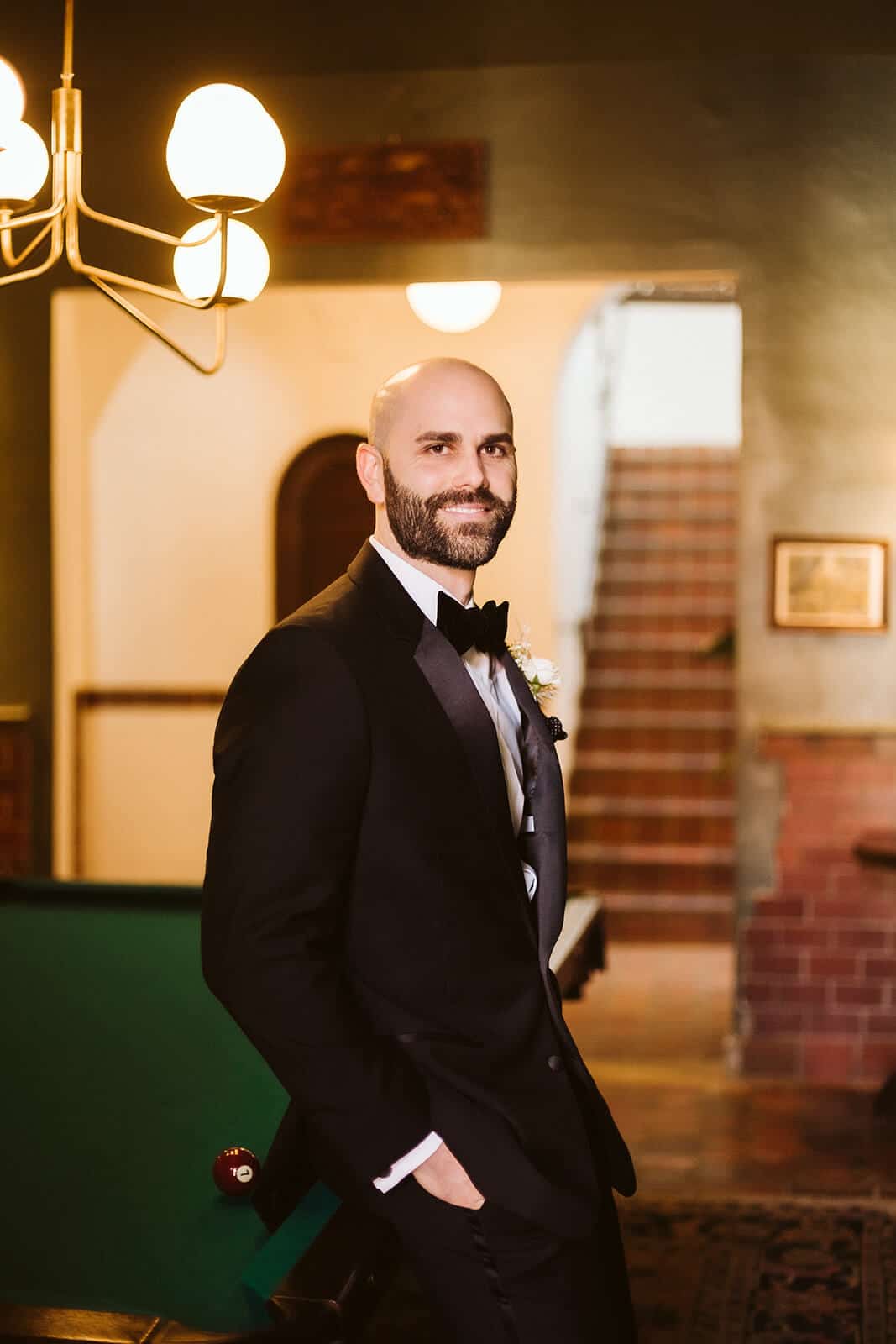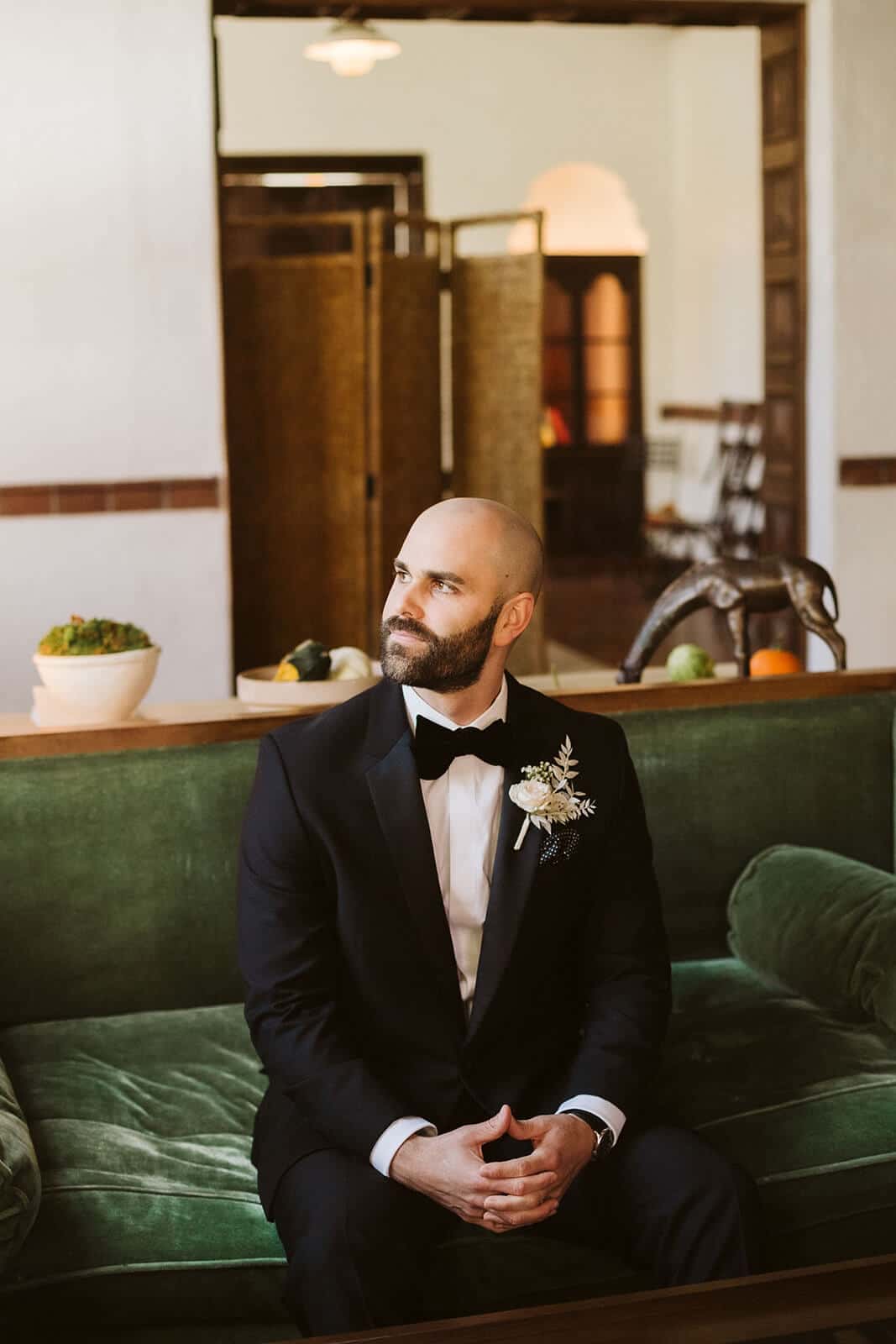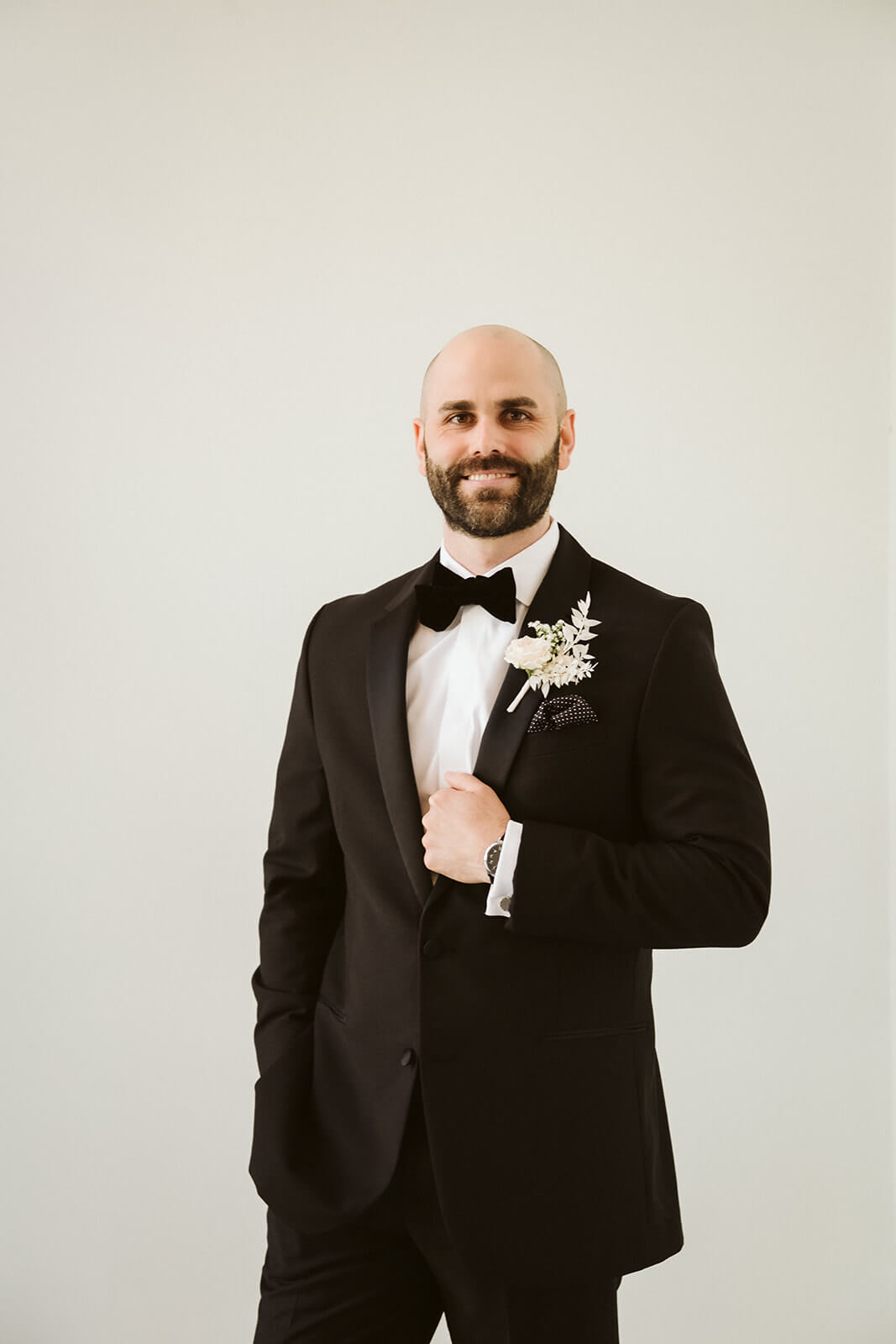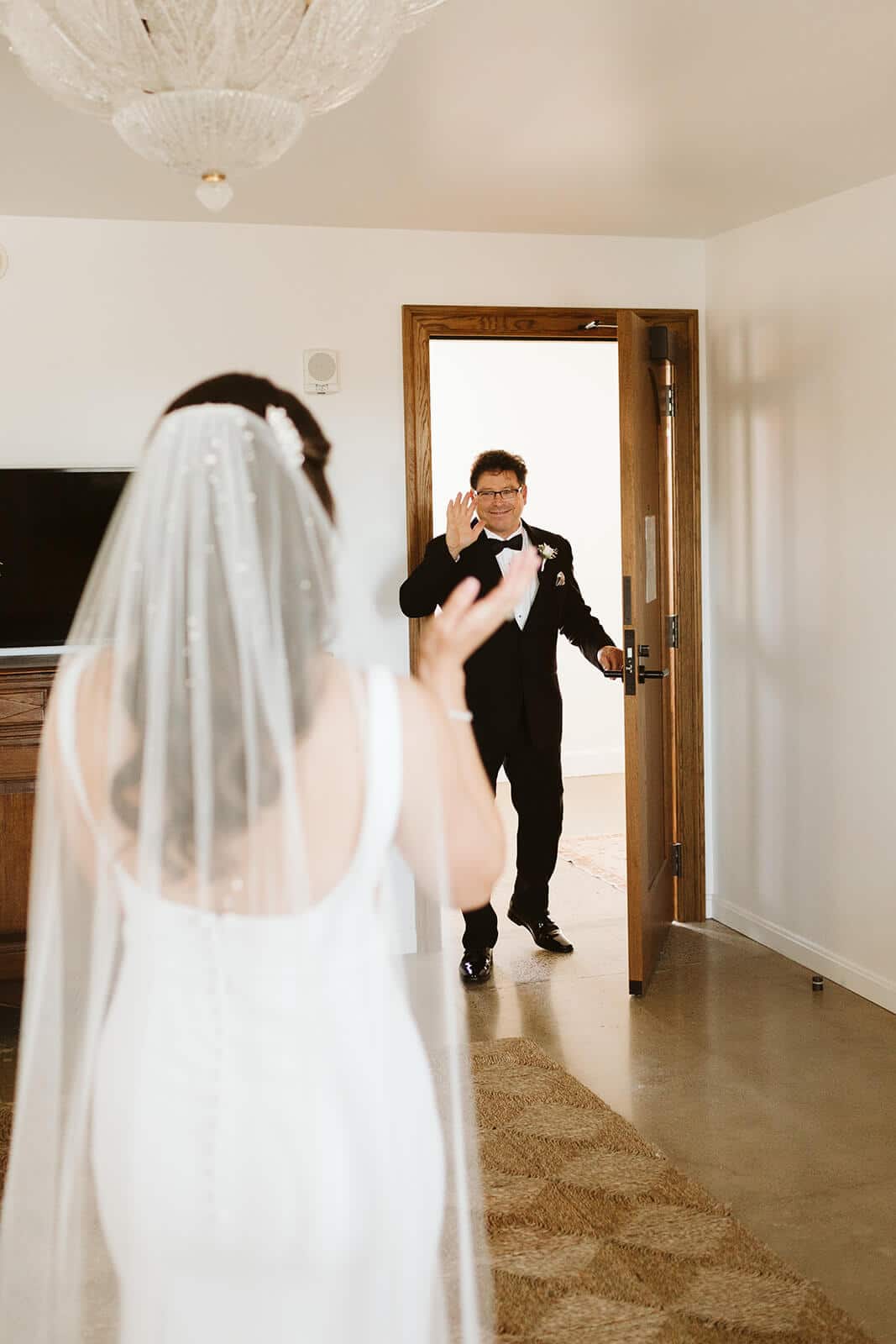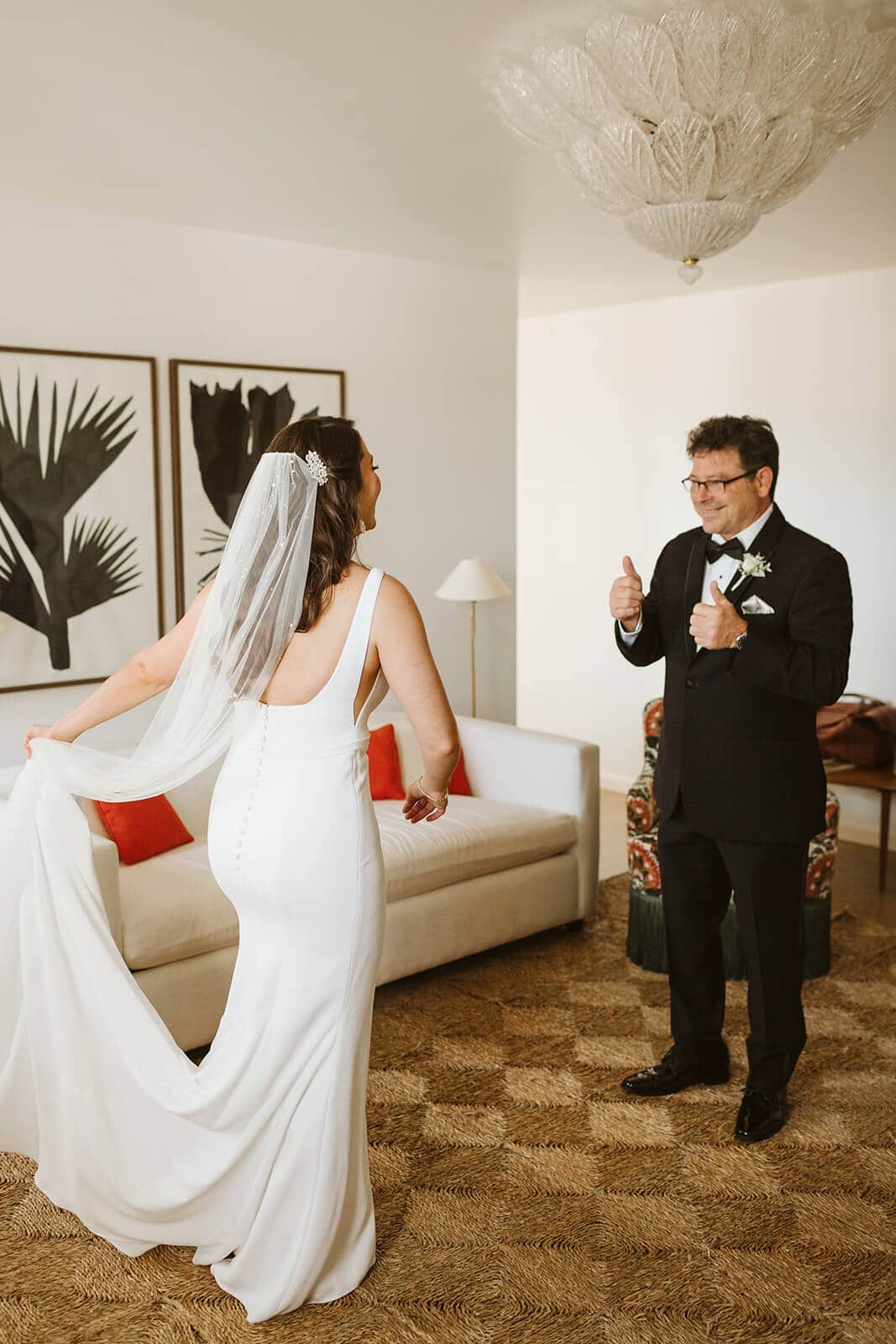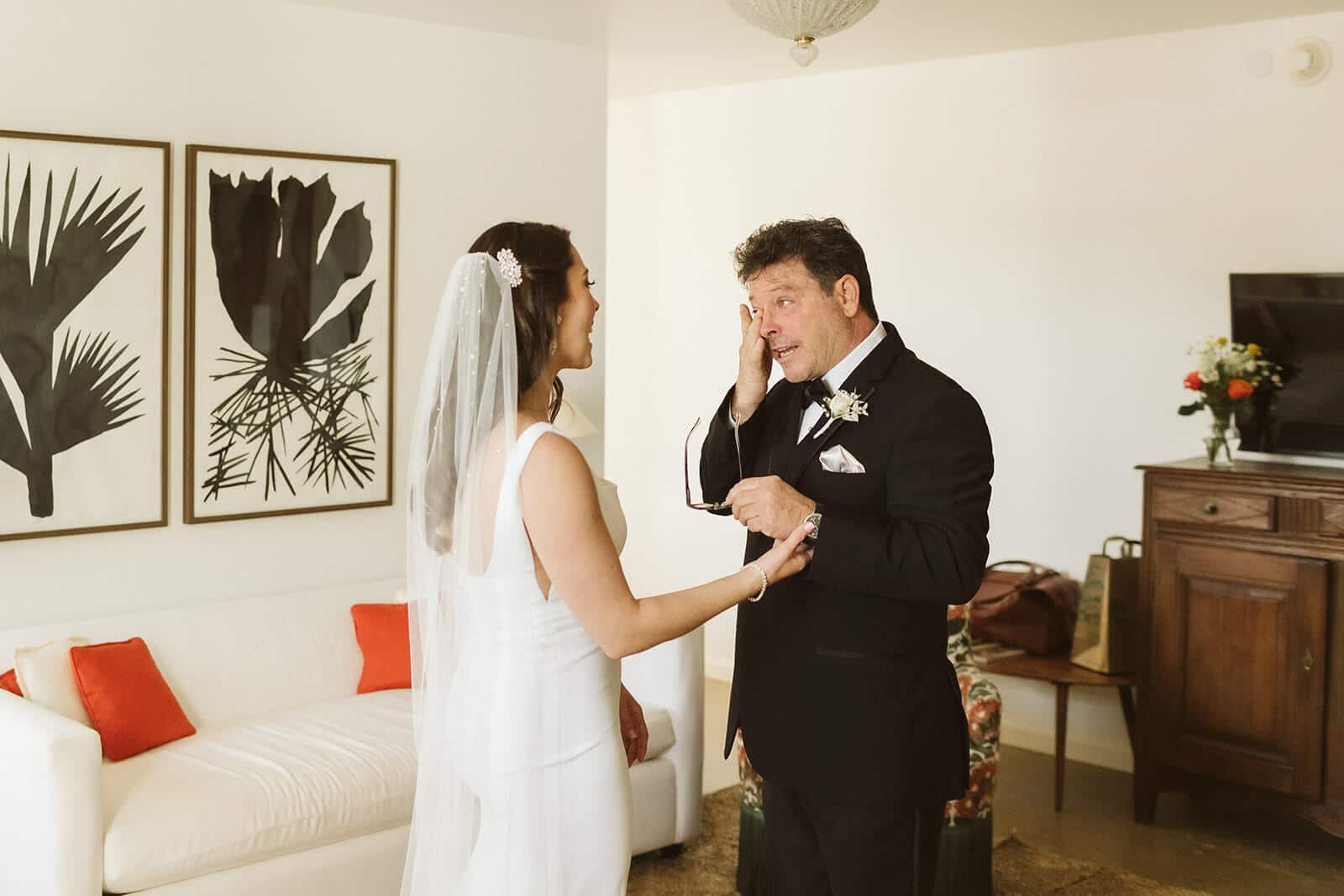 Getting Ready in Style at the Common House
When Taylor and Brien reached out to me to photograph their wedding at the Common House, I was onboard almost immediately. Their wedding was one of the first ones I ever shot in the Common House. Photographing in new venues is always a fun and exciting experience for me.
Our photography session began in the bridal suite with Taylor and her bridesmaids getting ready in the bridal suite. Taylor and the girls had had an early morning with their hair and makeup styling beginning at 7am. The Common House's staff kept them fed and hydrated with platters of coffee, pastries, and mimosas for breakfast and chicken salad for lunch from their in-house restaurant.
By the time I knocked on the door to the bridal suite, the ladies were already ready for the first of many photos we would be taking throughout the day. There were smiles aplenty to be seen throughout the cozy bridal suite. I was able to capture adorable pictures of the girls in their matching gold silk pajamas and Taylor in her gorgeous lace bridal dressing gown. After Taylor's mom helped zip her daughter into her stunning wedding dress, Taylor shared a sweet heartfelt first look with her father.
Meanwhile, as I was upstairs with the ladies, my associate photographer was downstairs in the billiards room capturing photos of Brien and his groomsmen. The guys arrived at the Common House dressed and ready to go for the big day. My second photographer took plenty of playful pictures of them having fun and shooting a few rounds of pool while they waited for the day to really begin.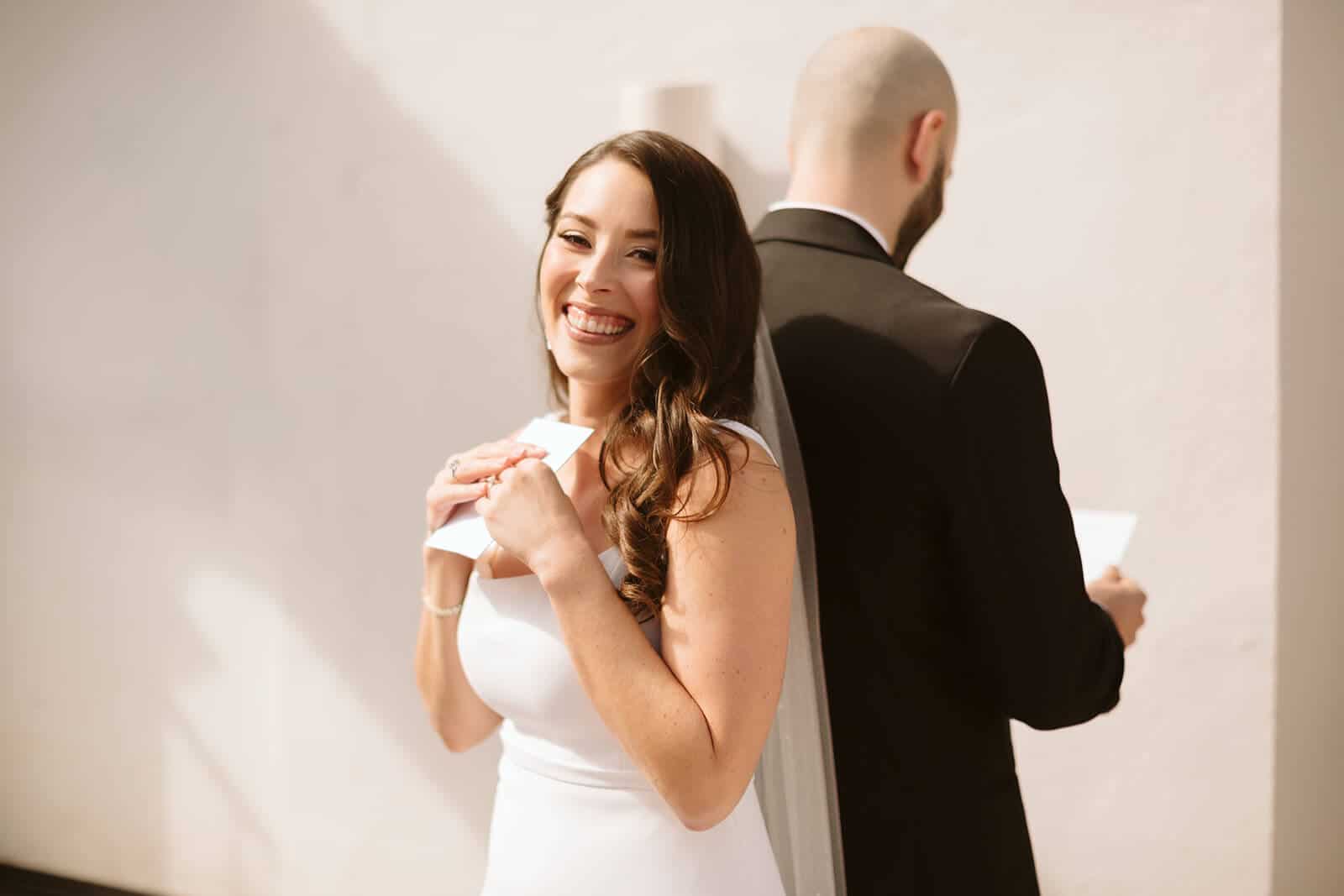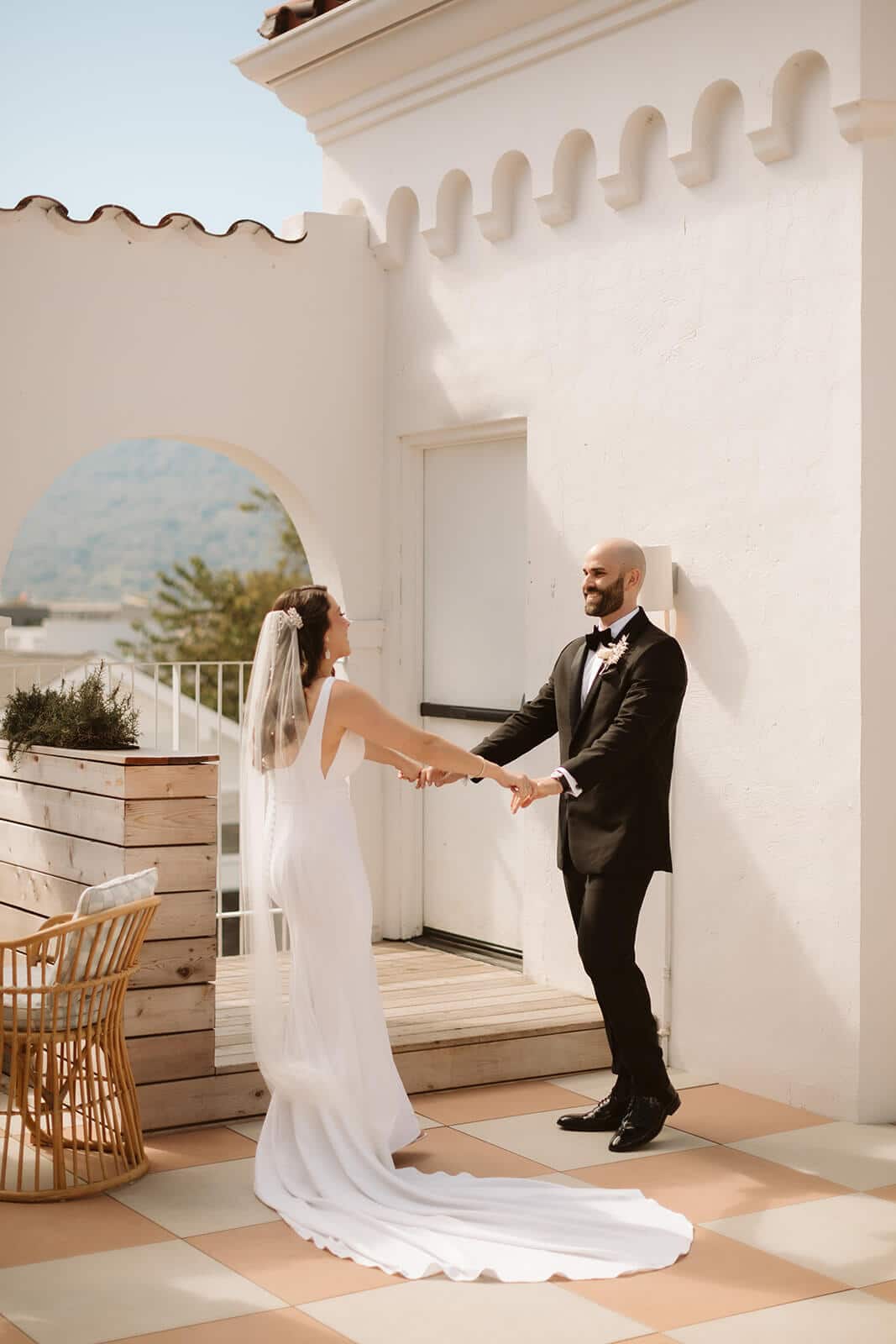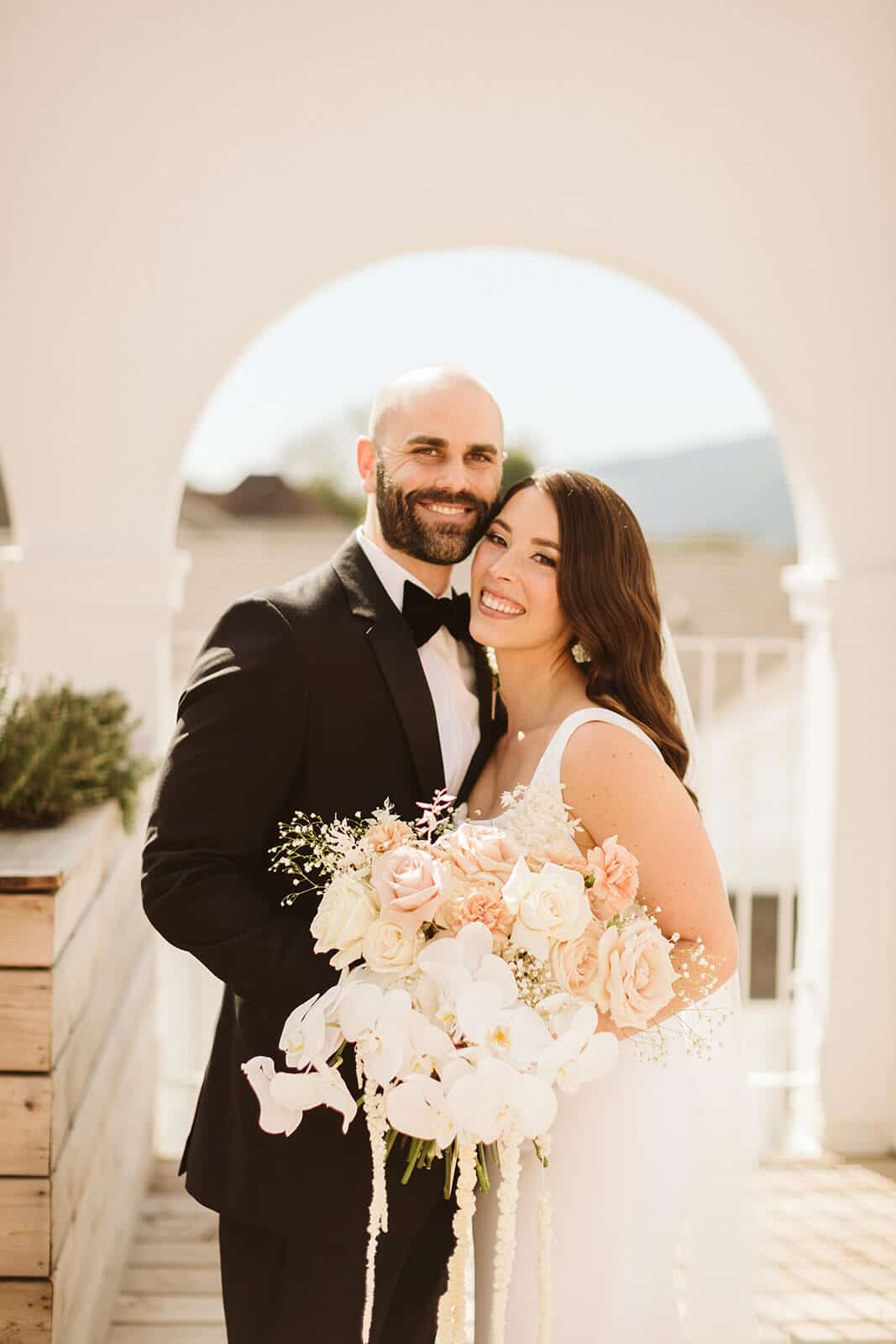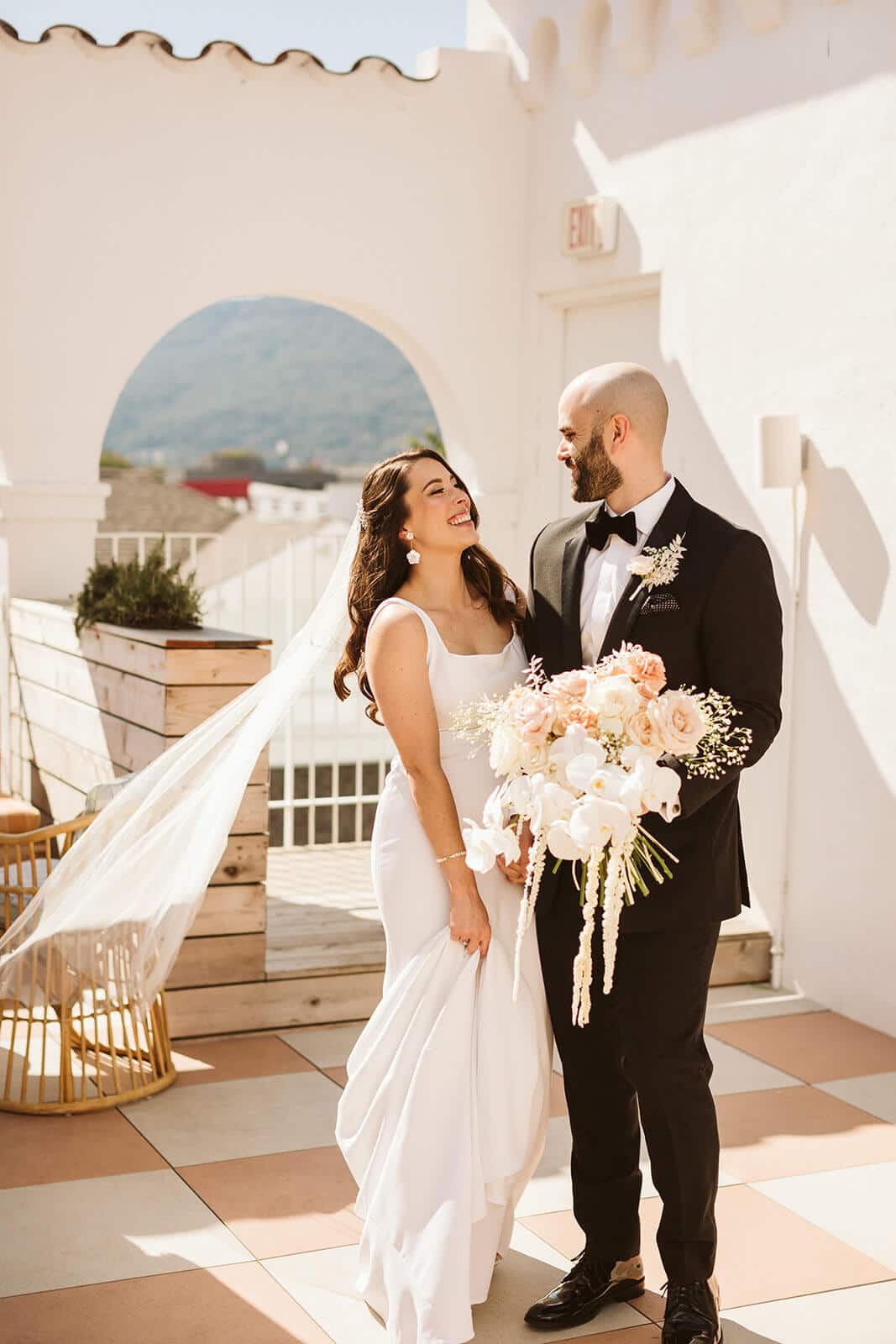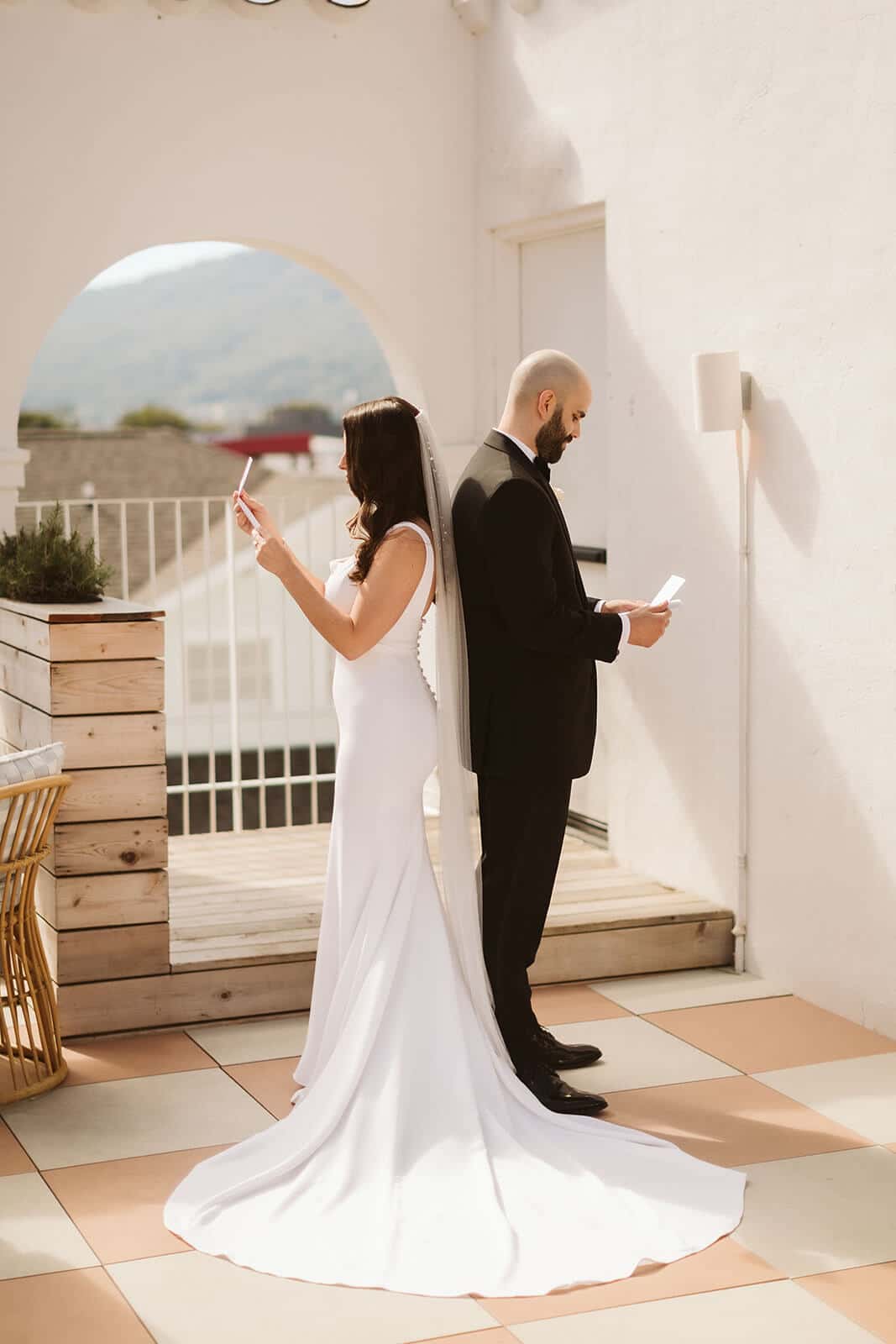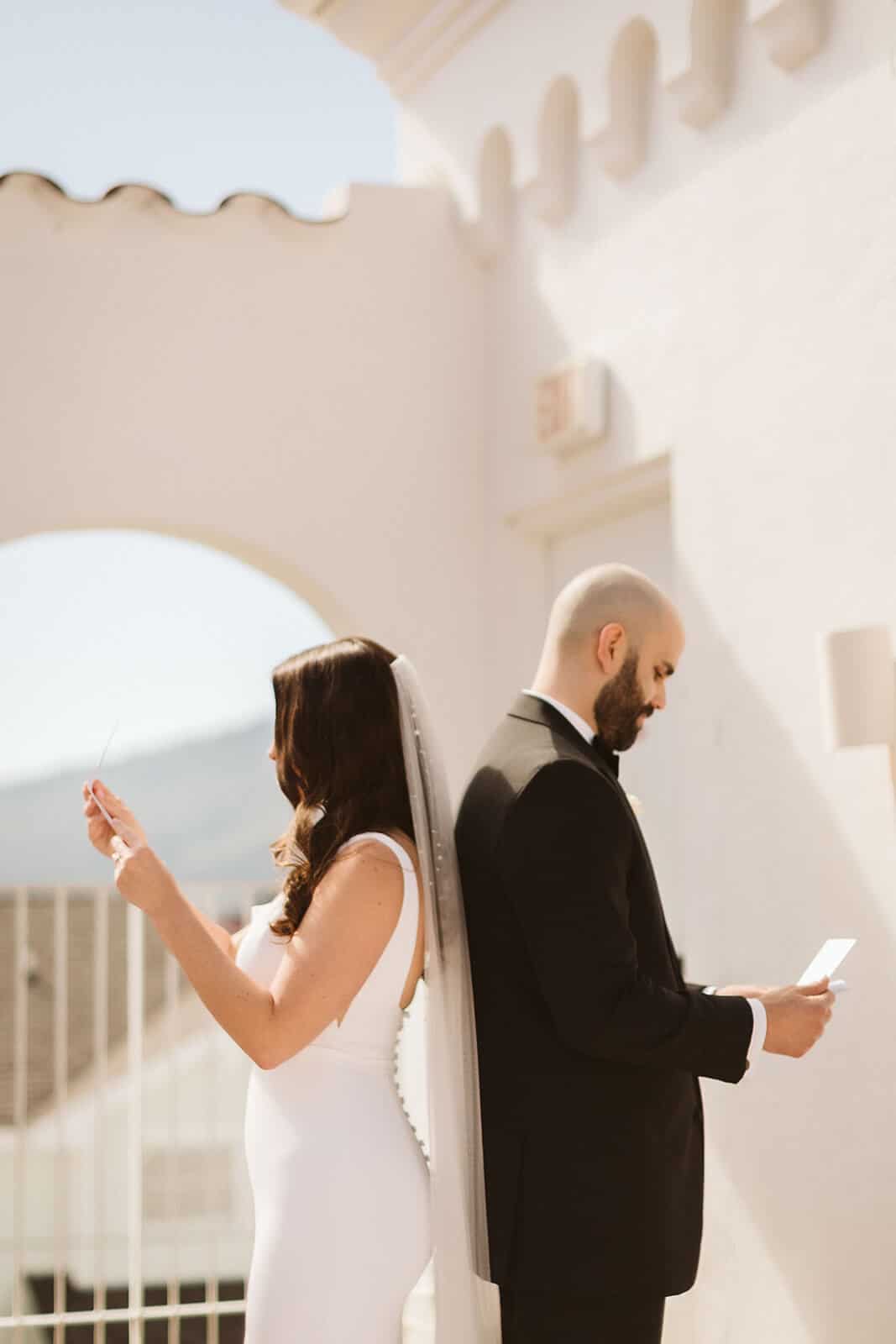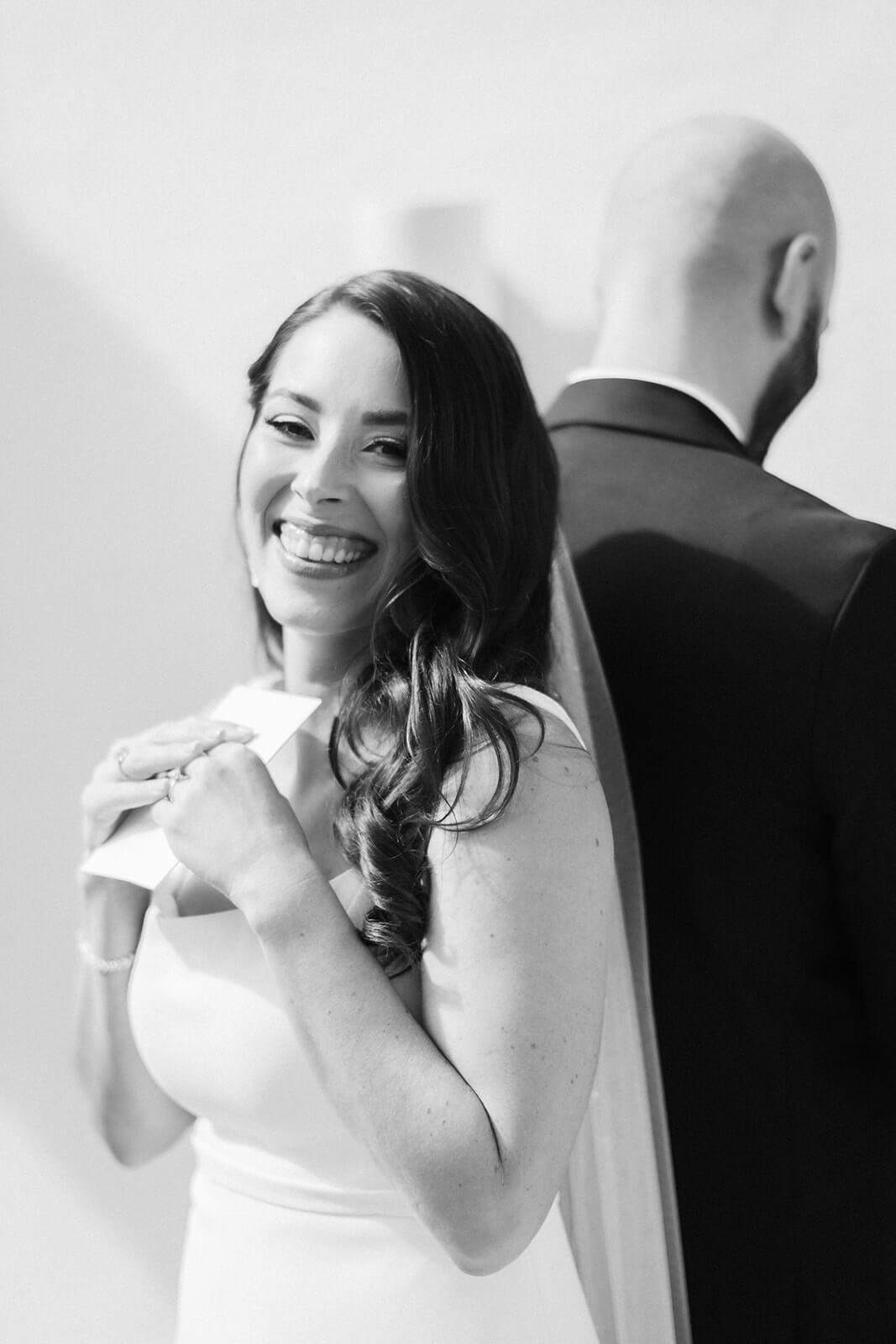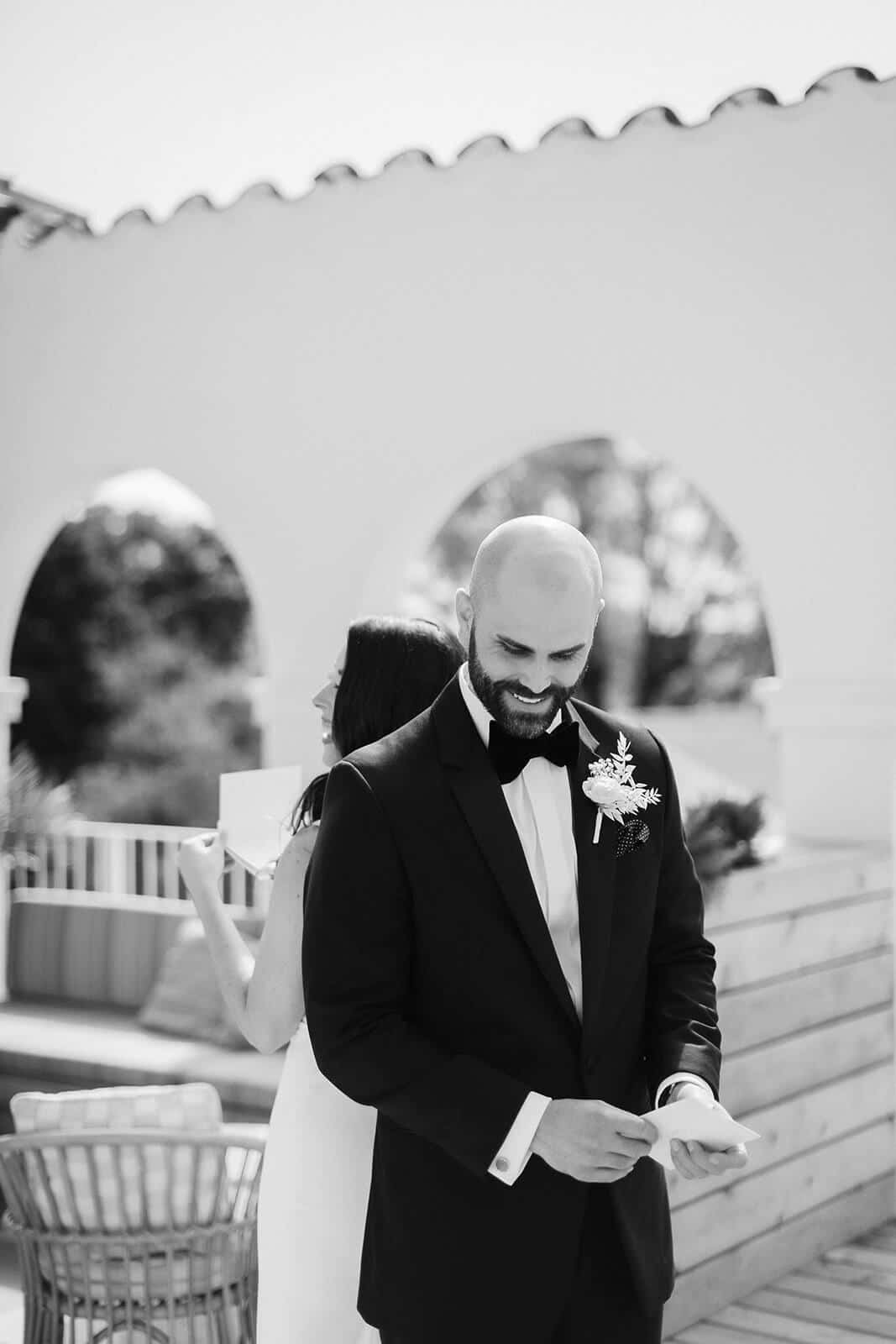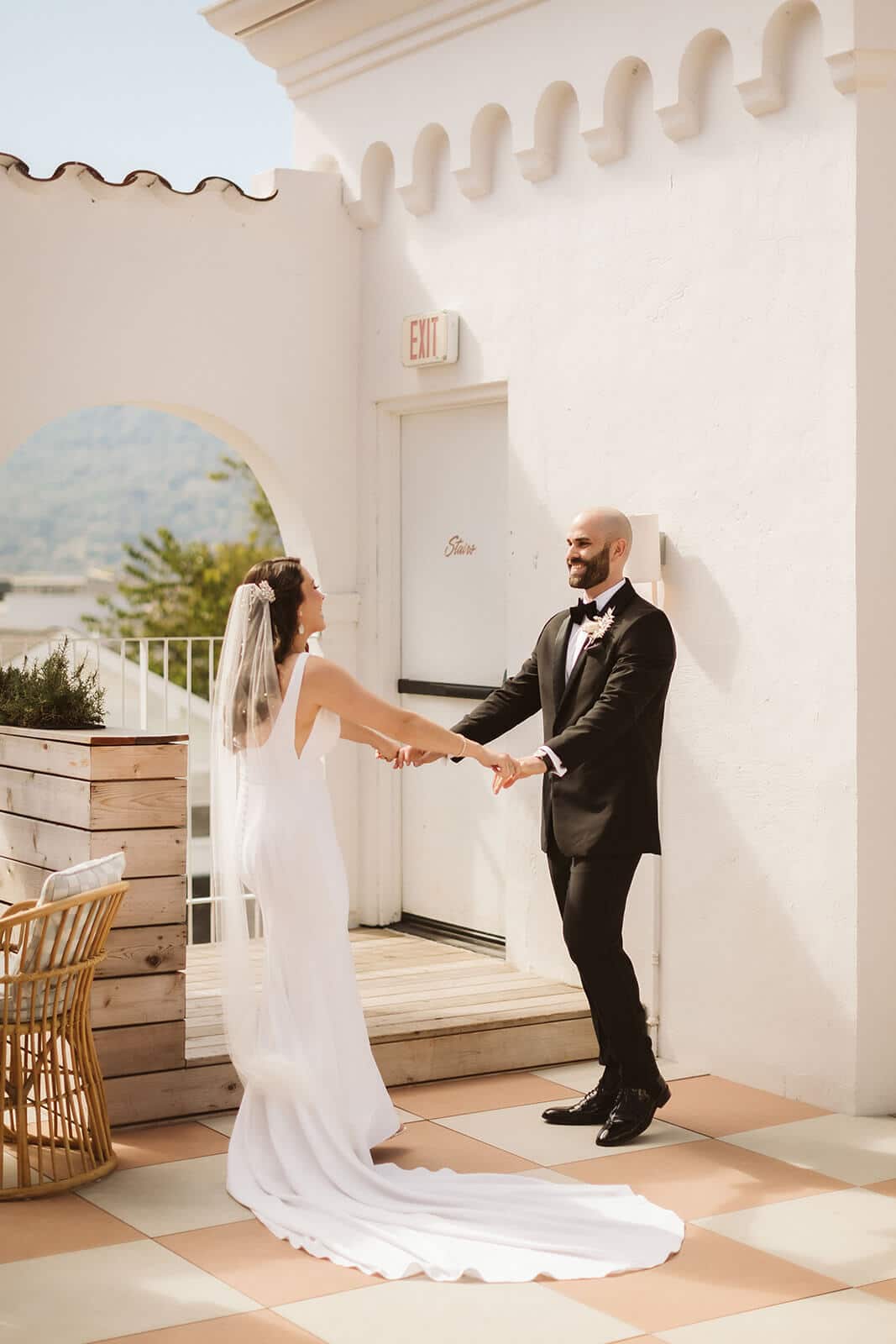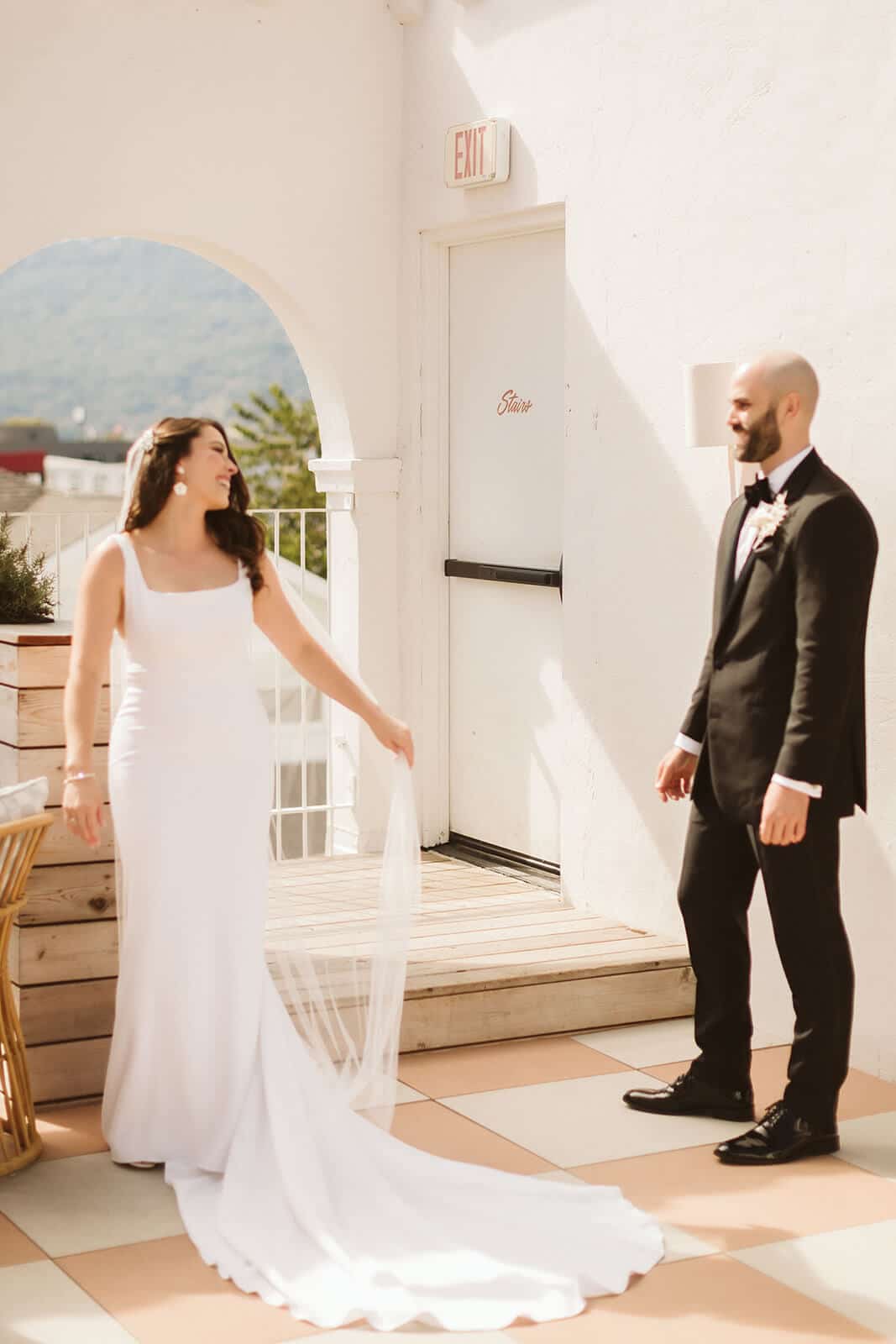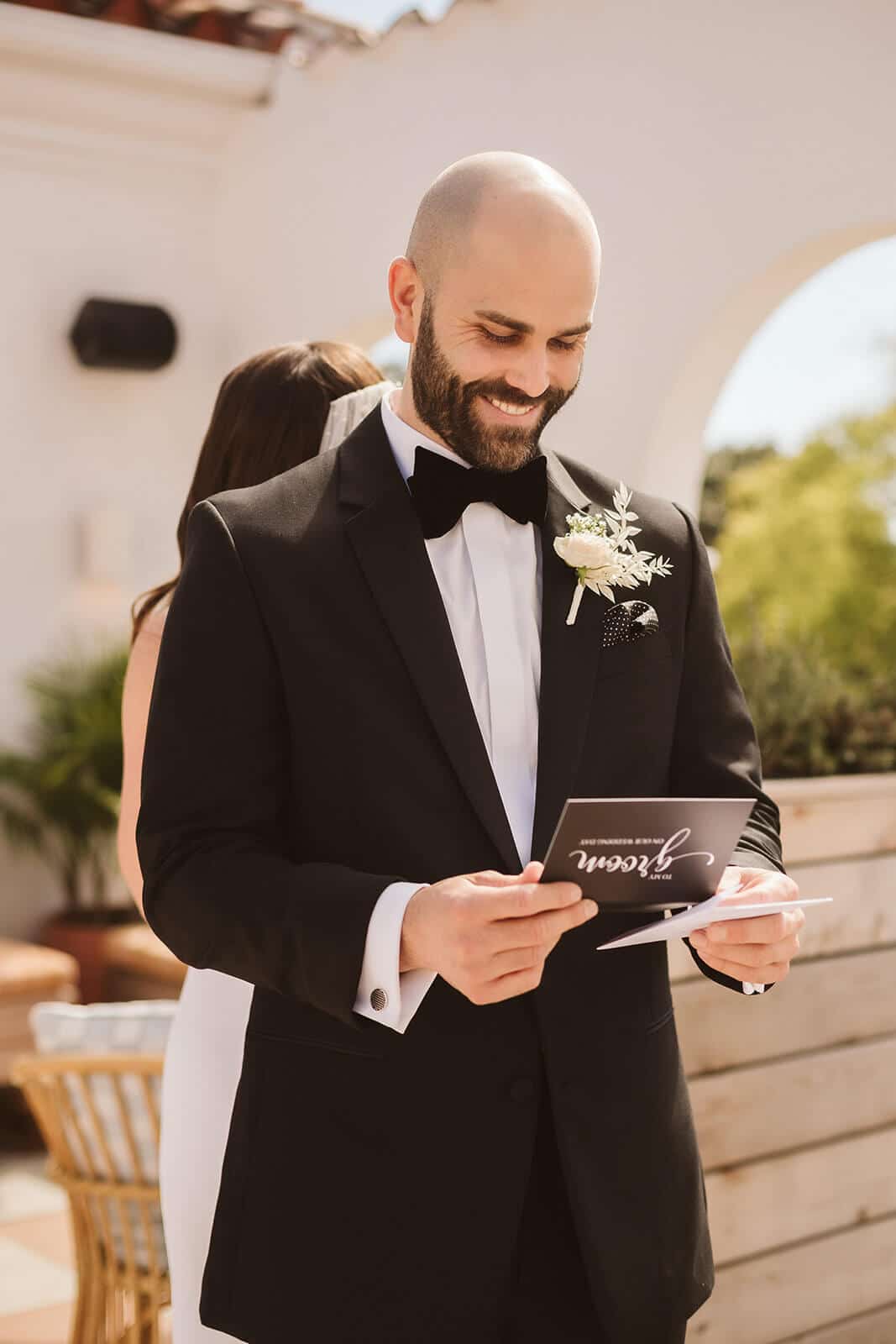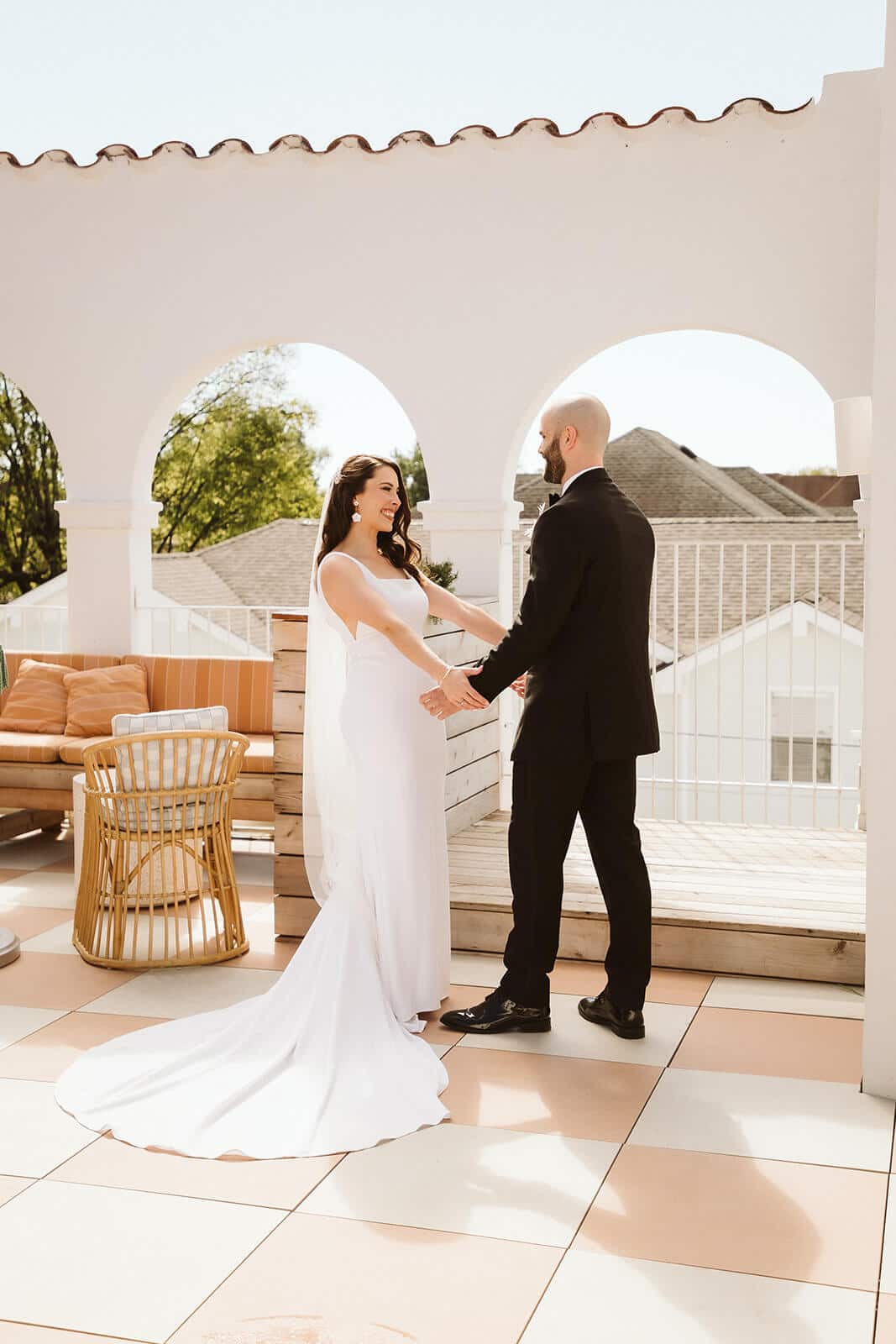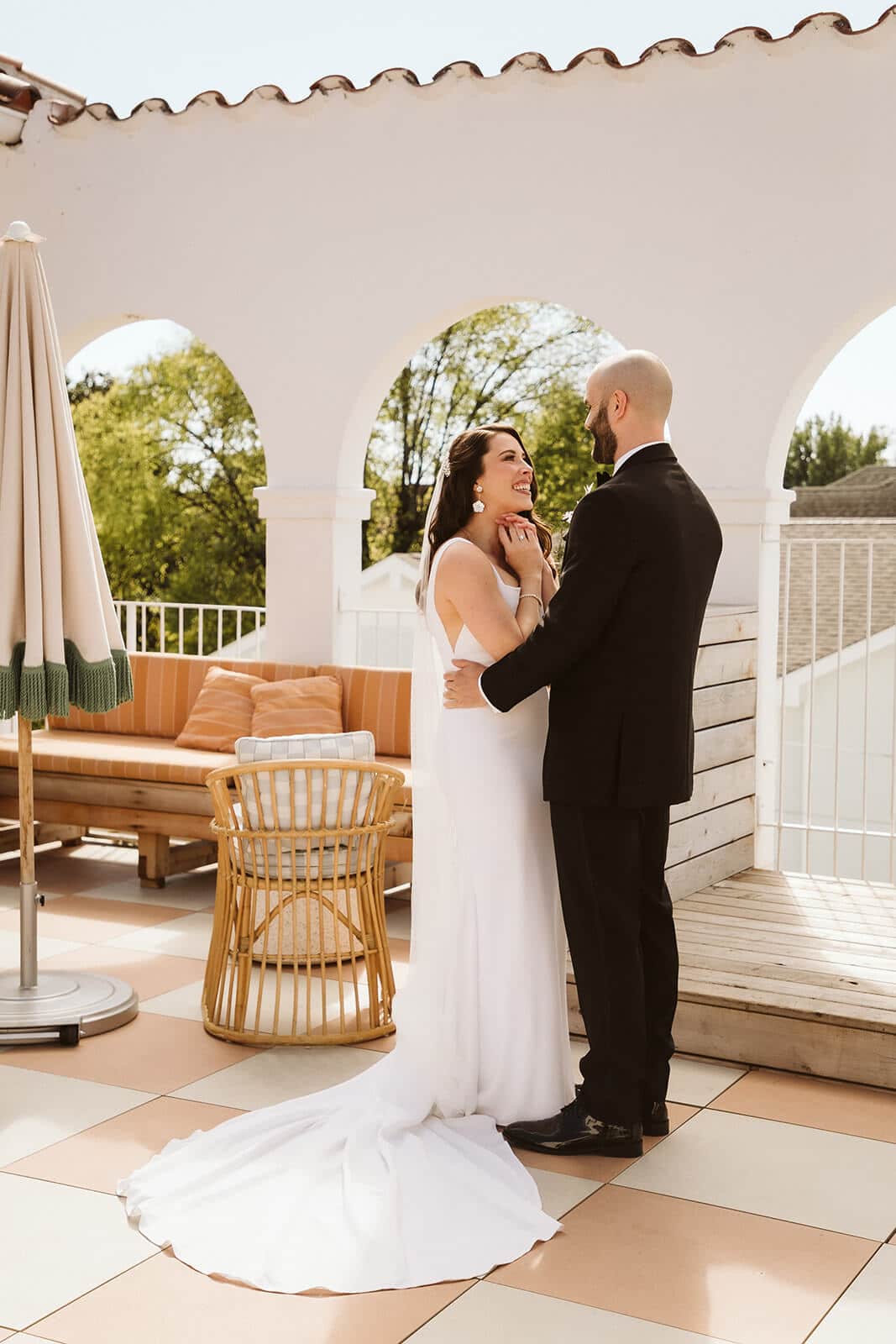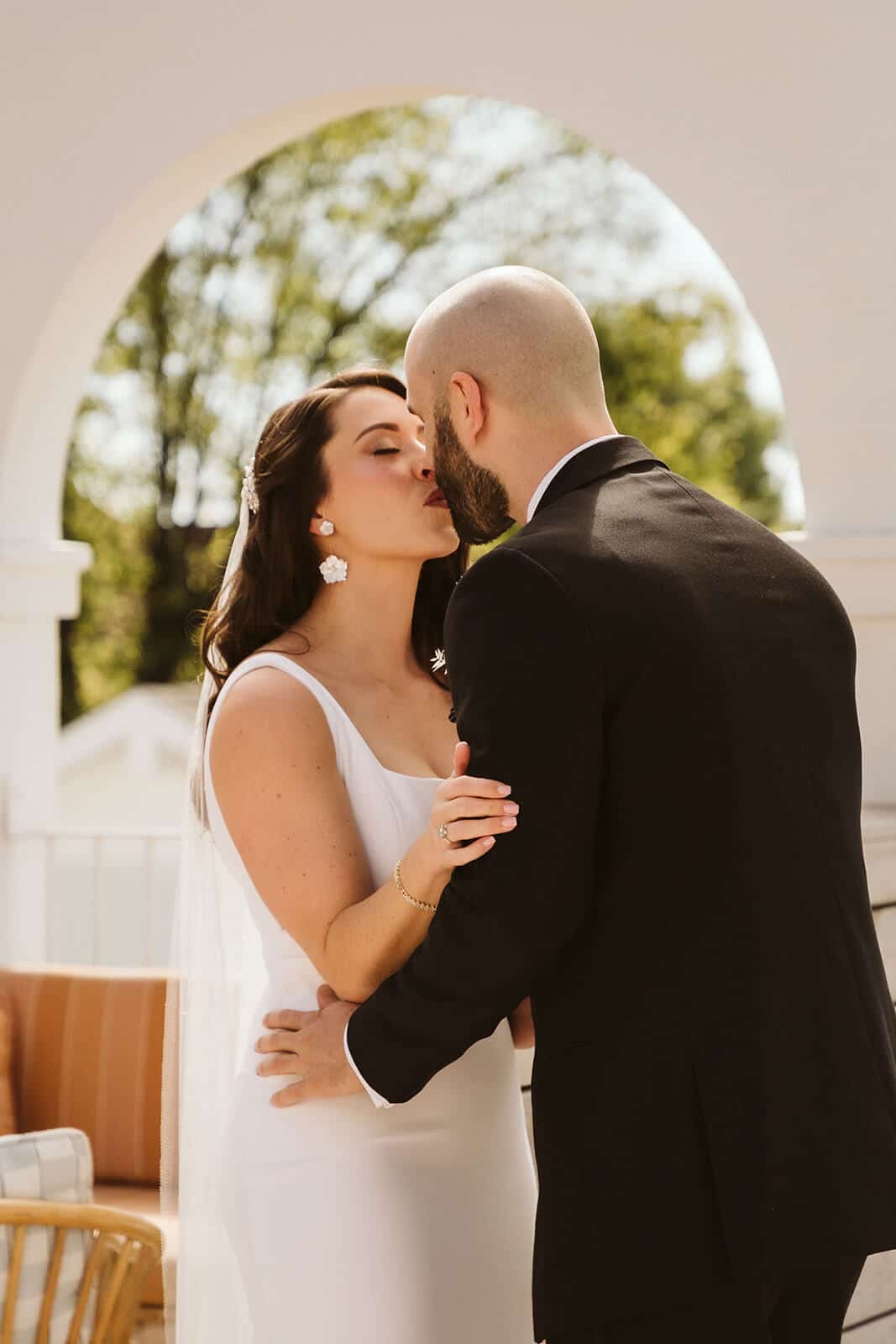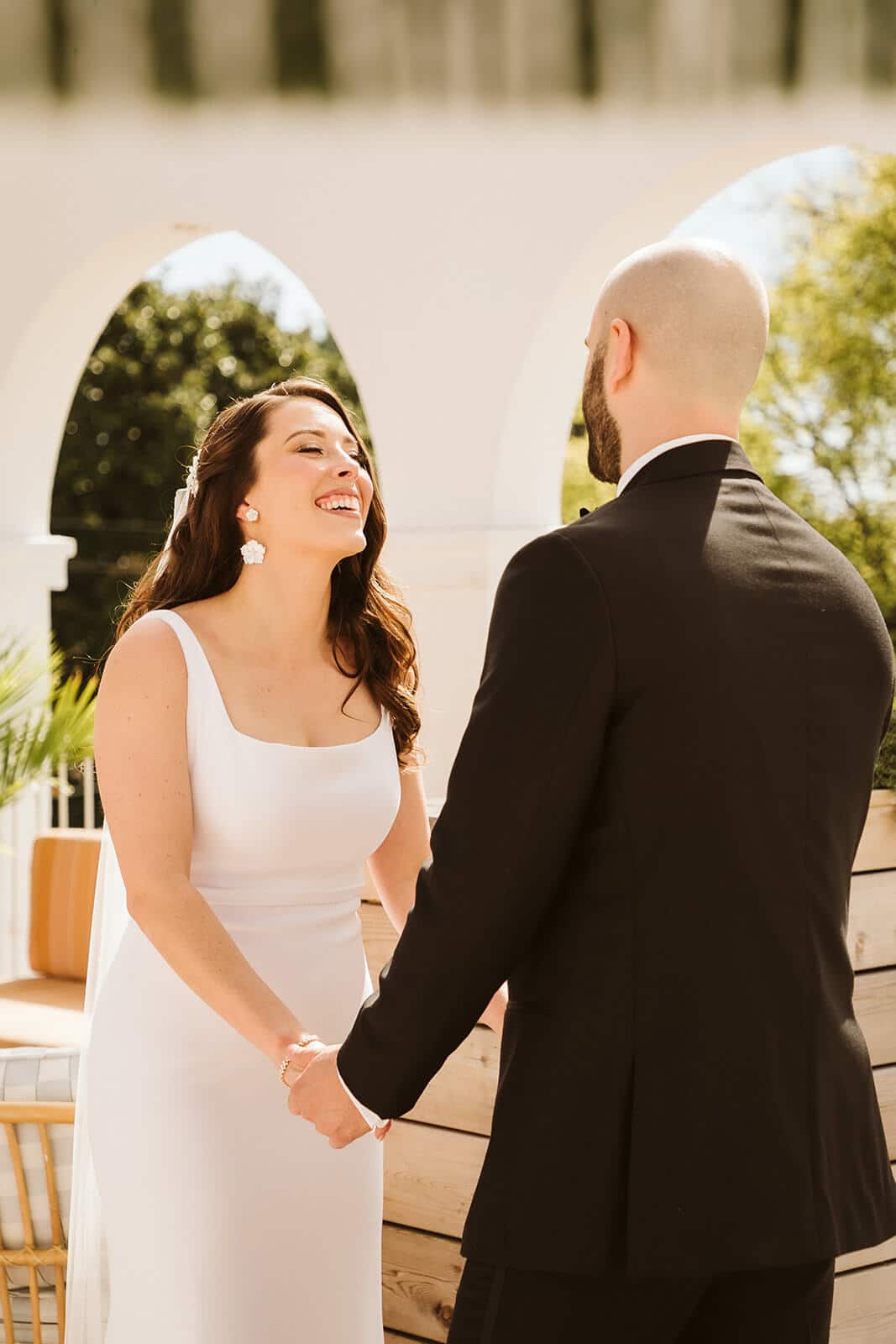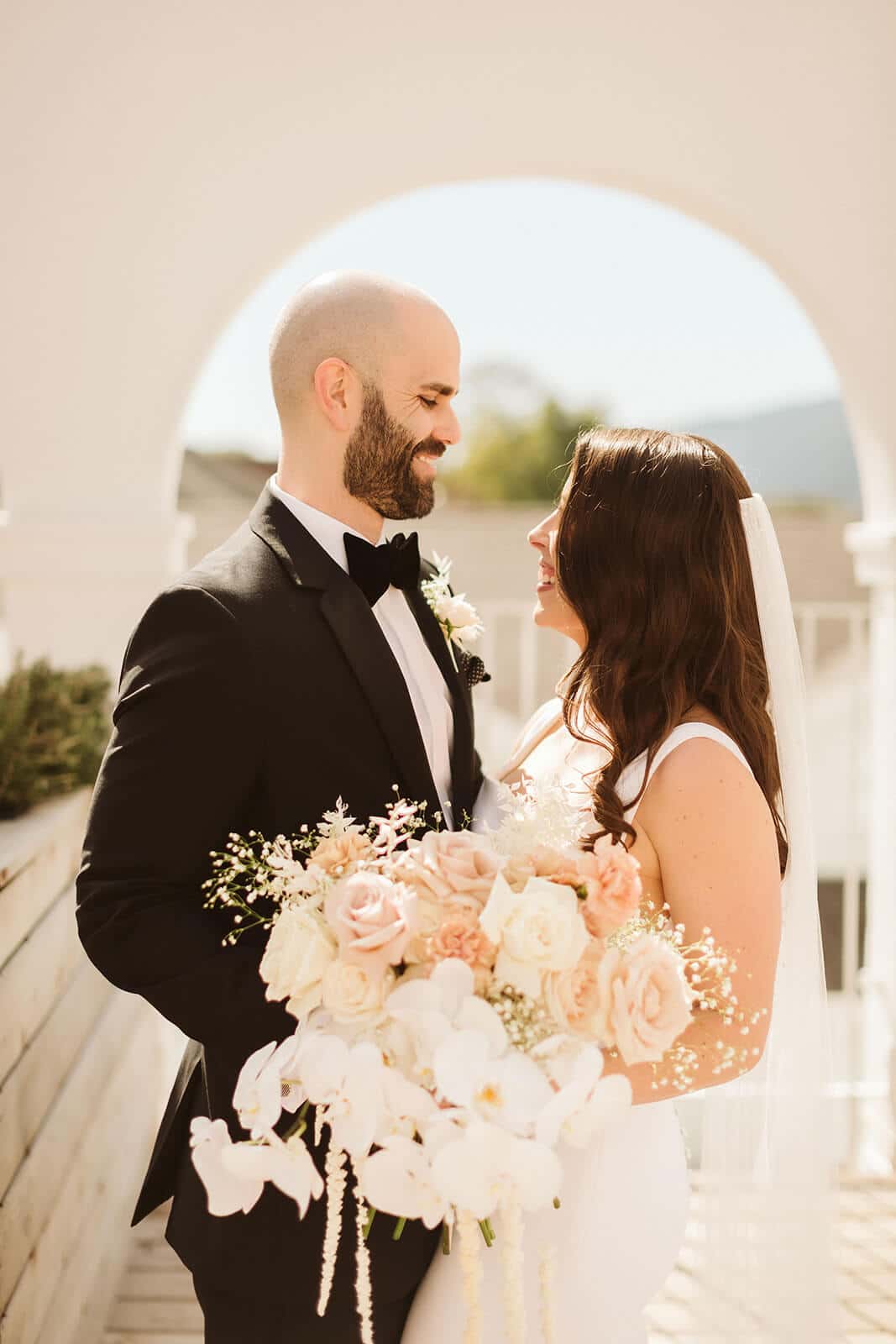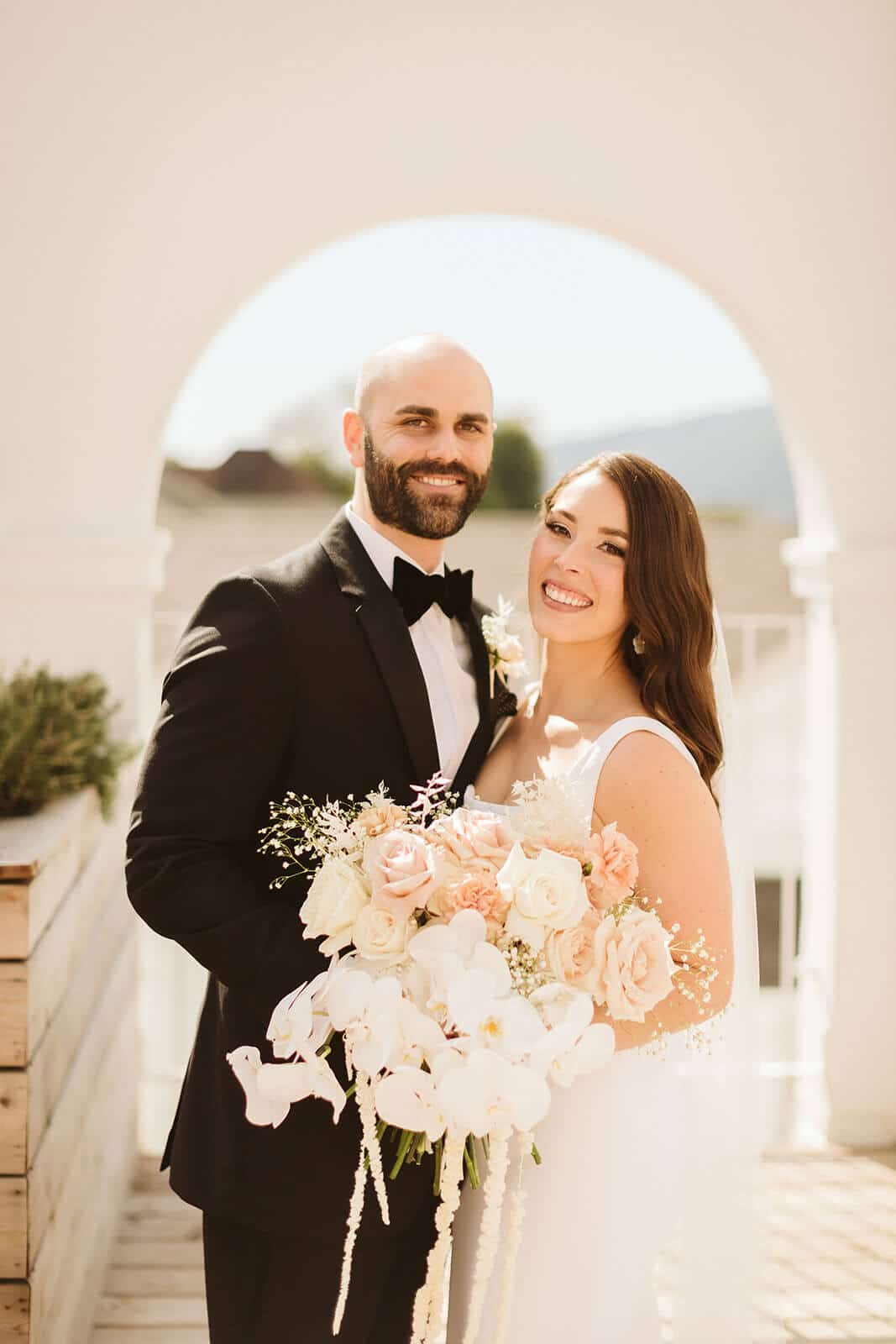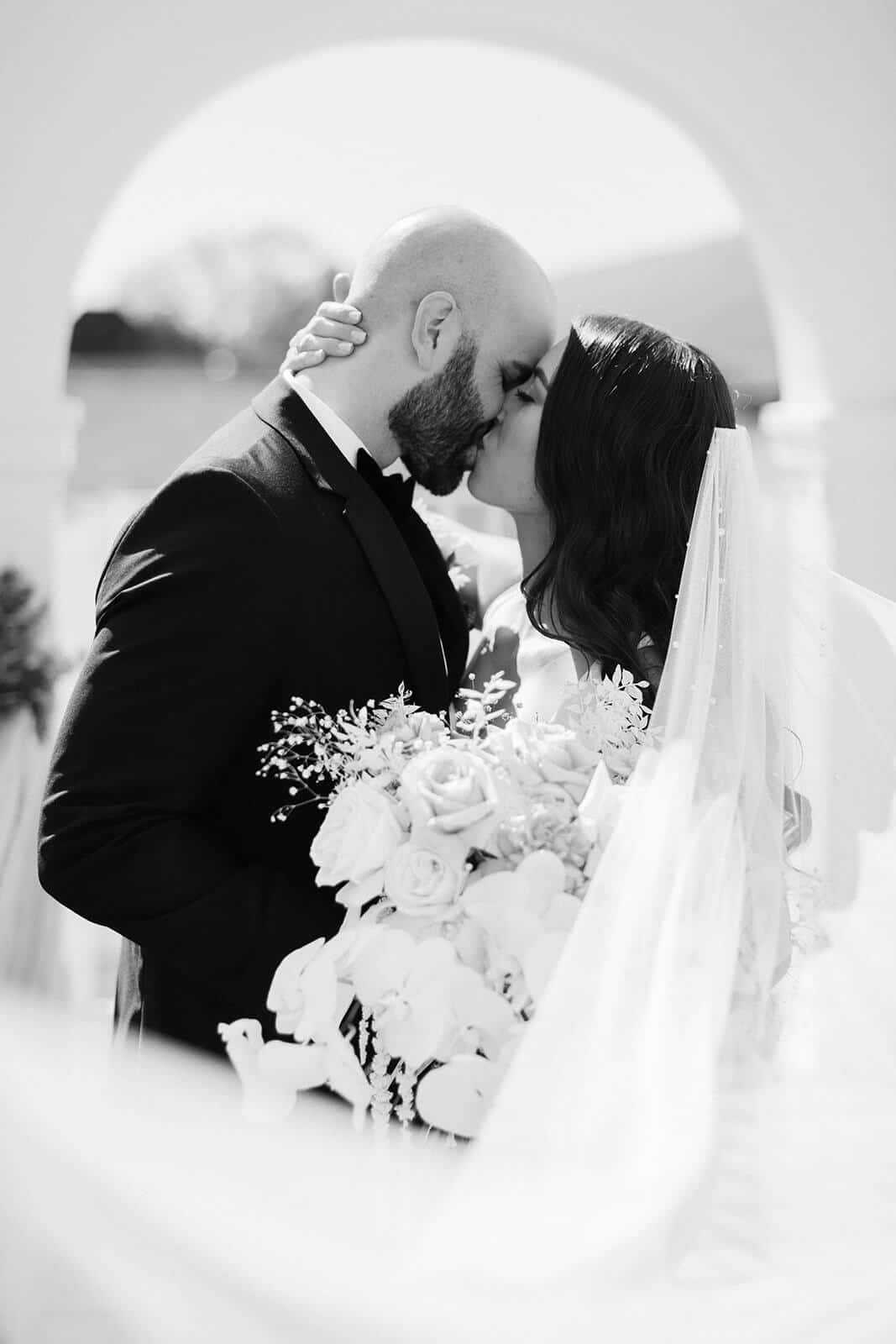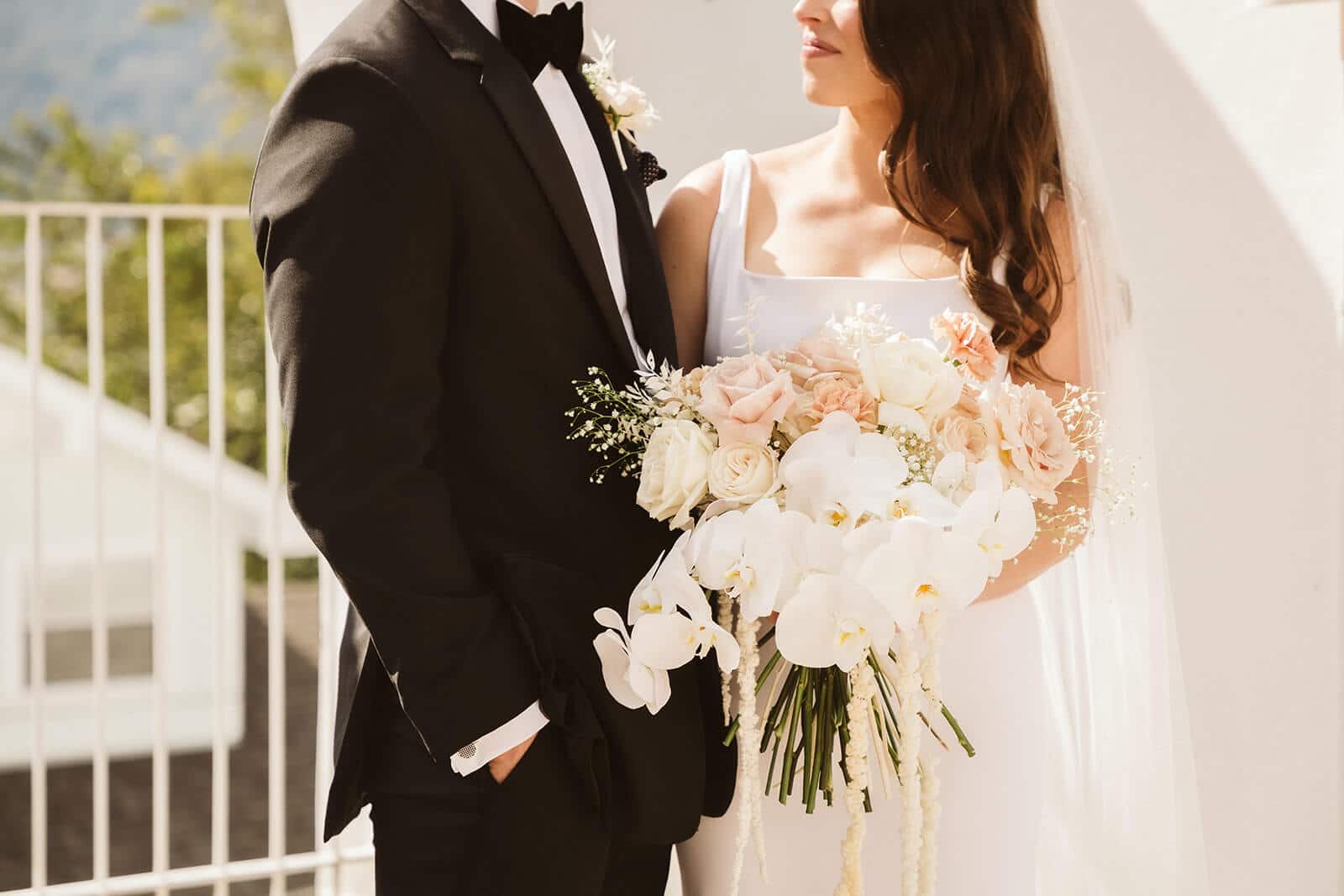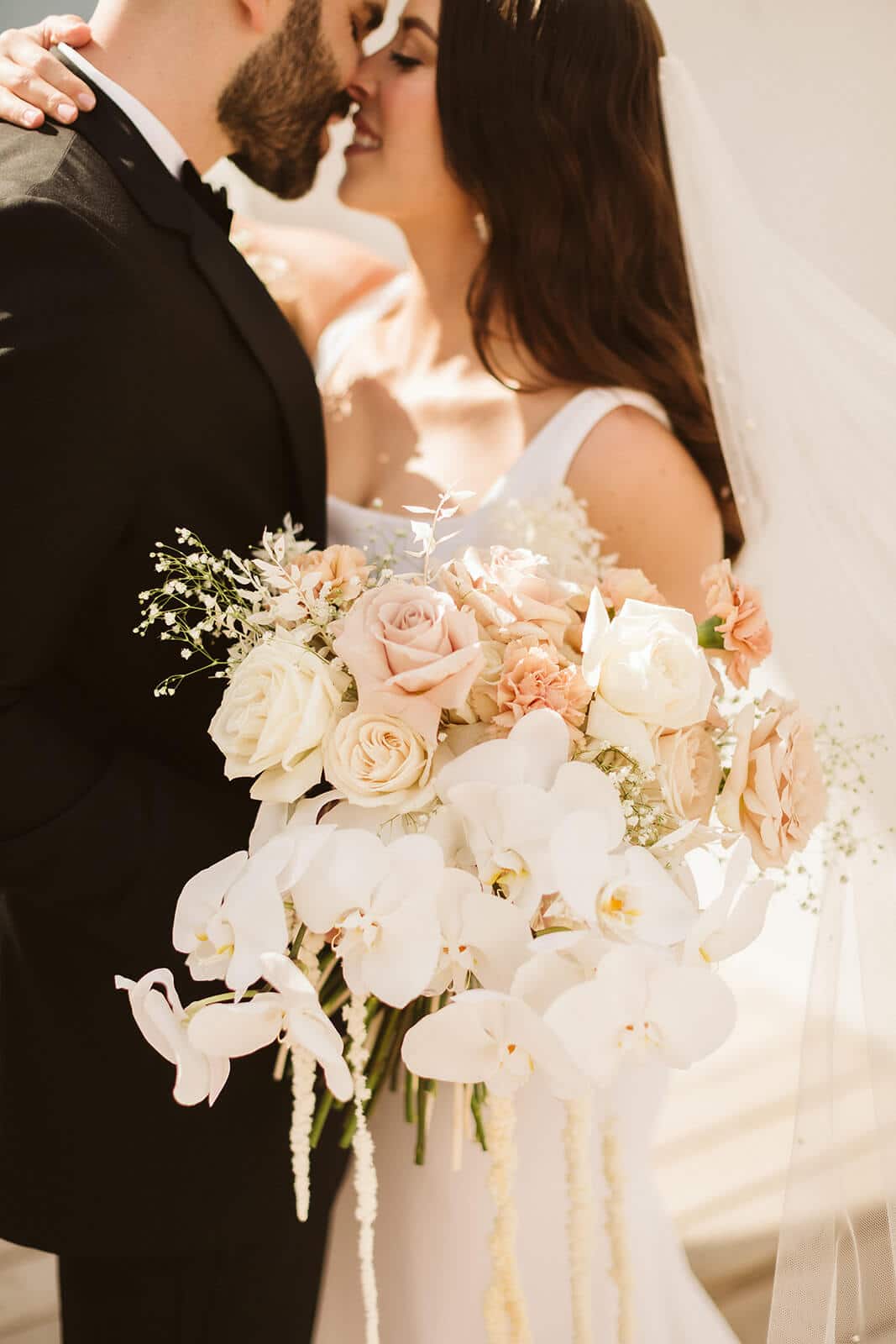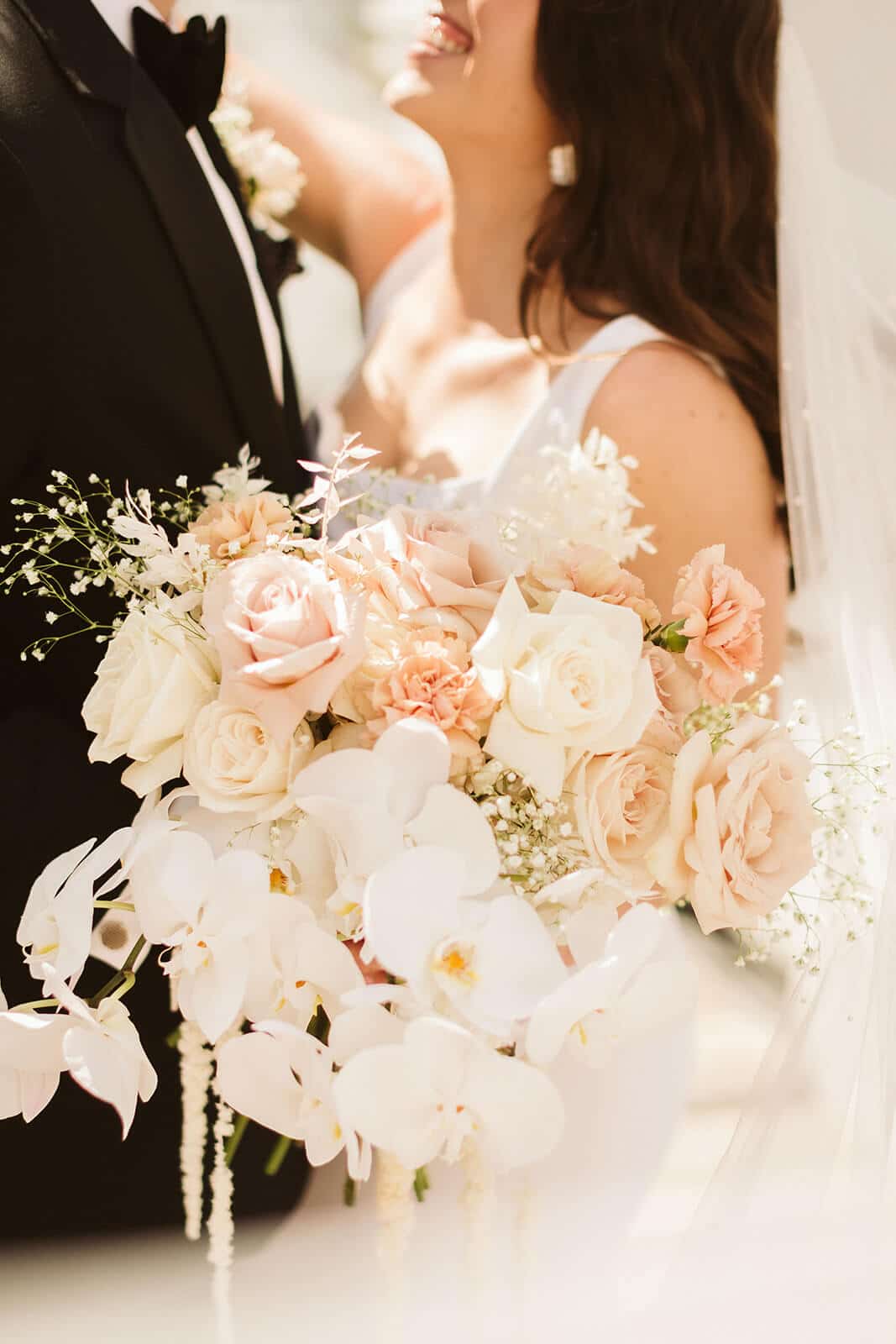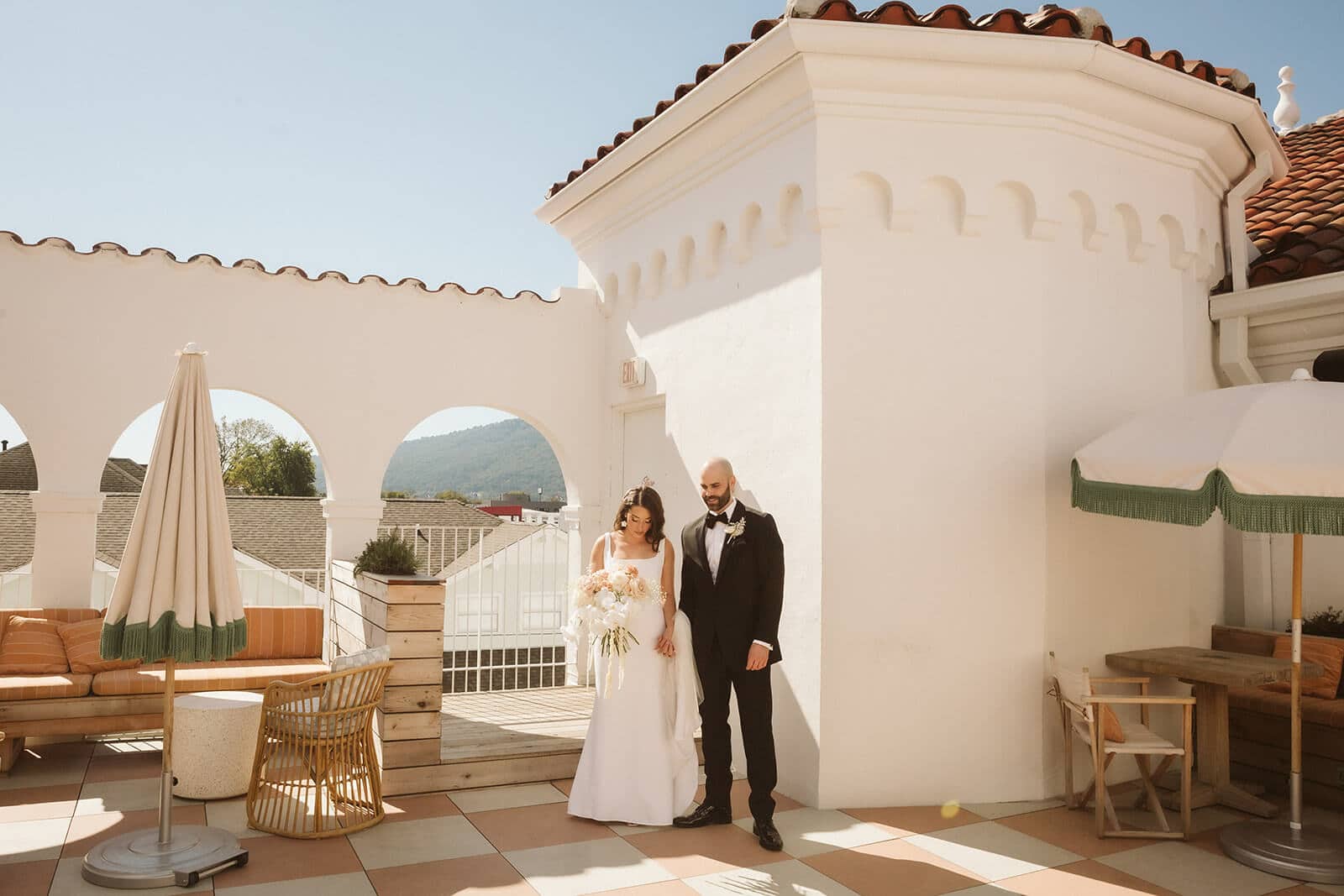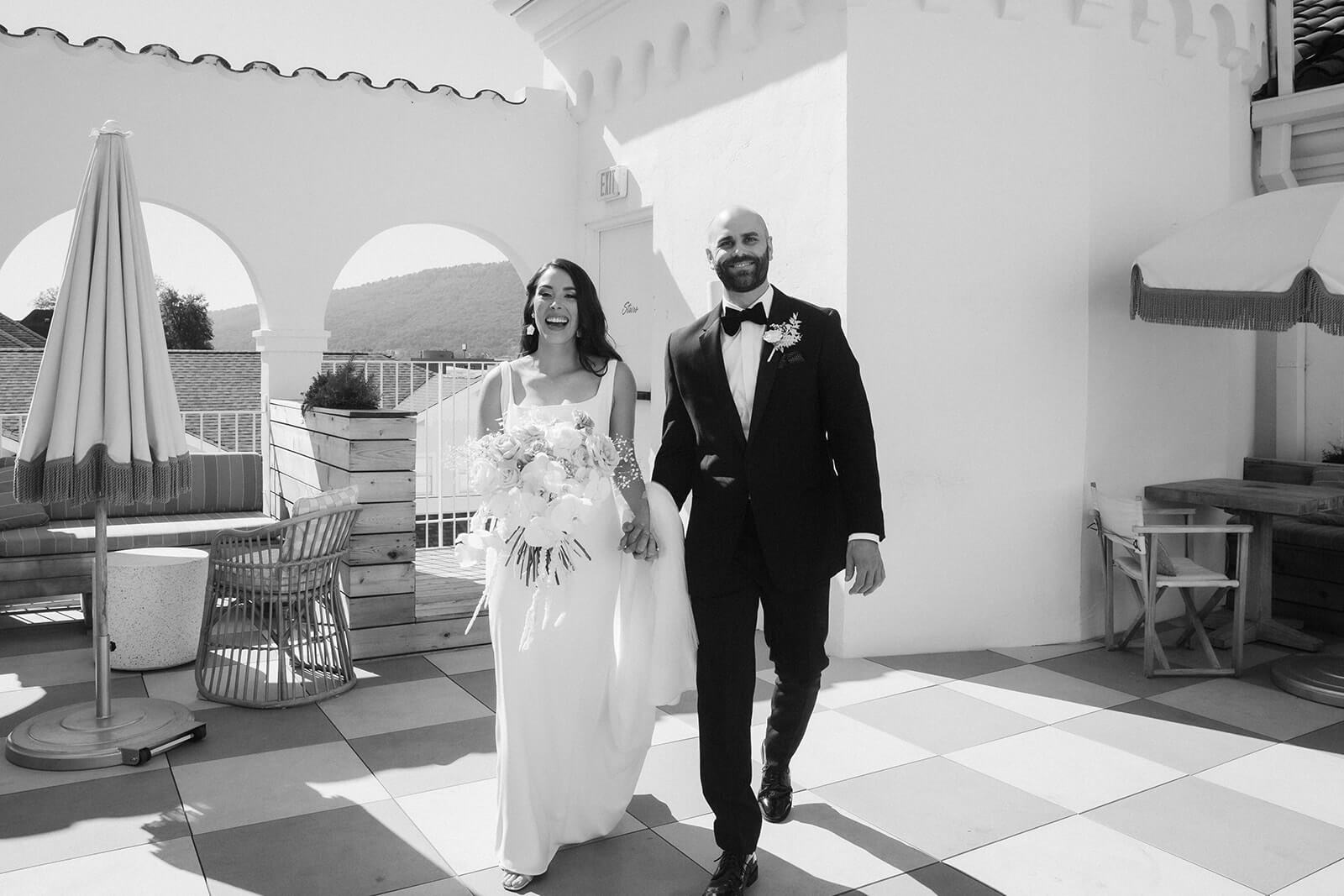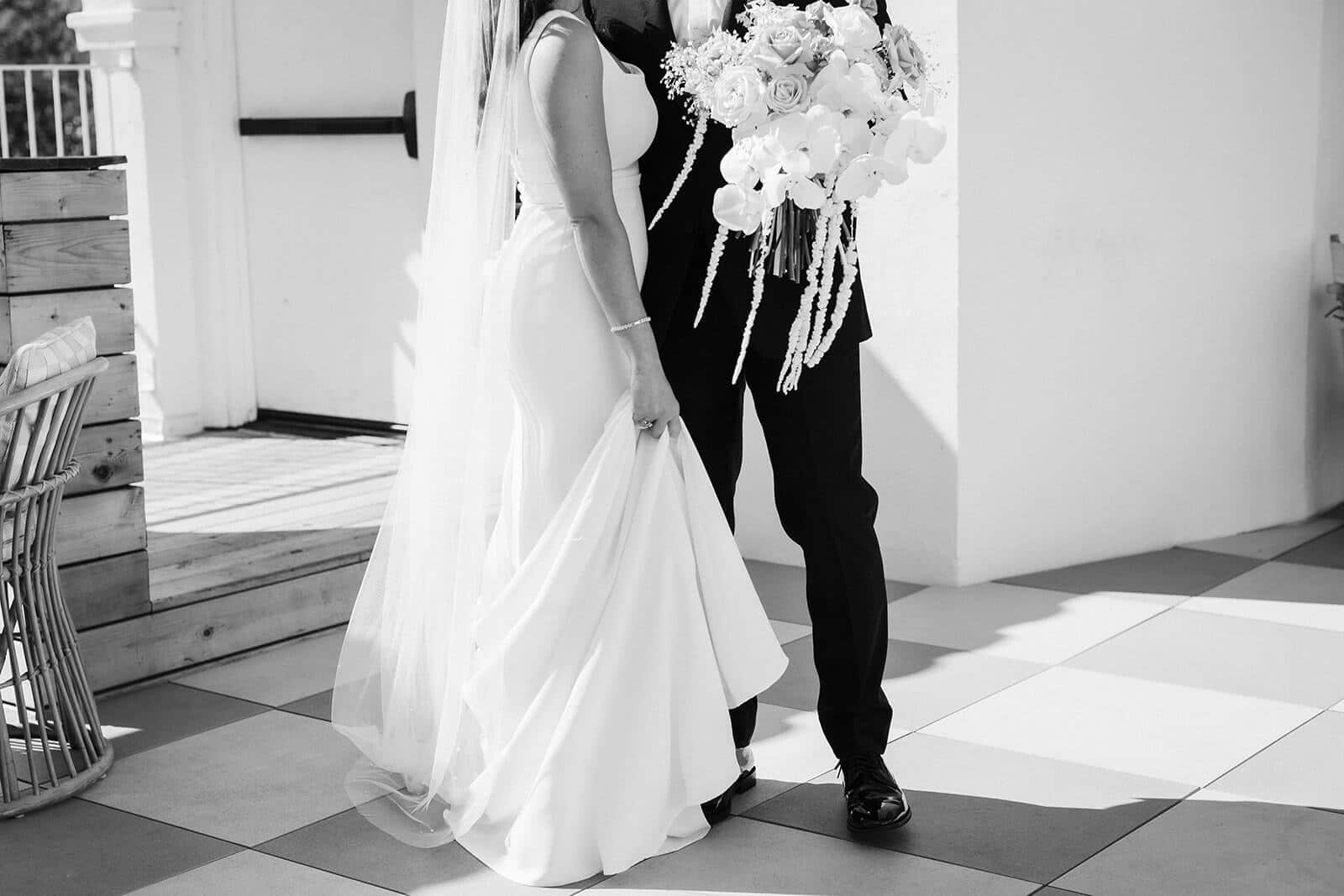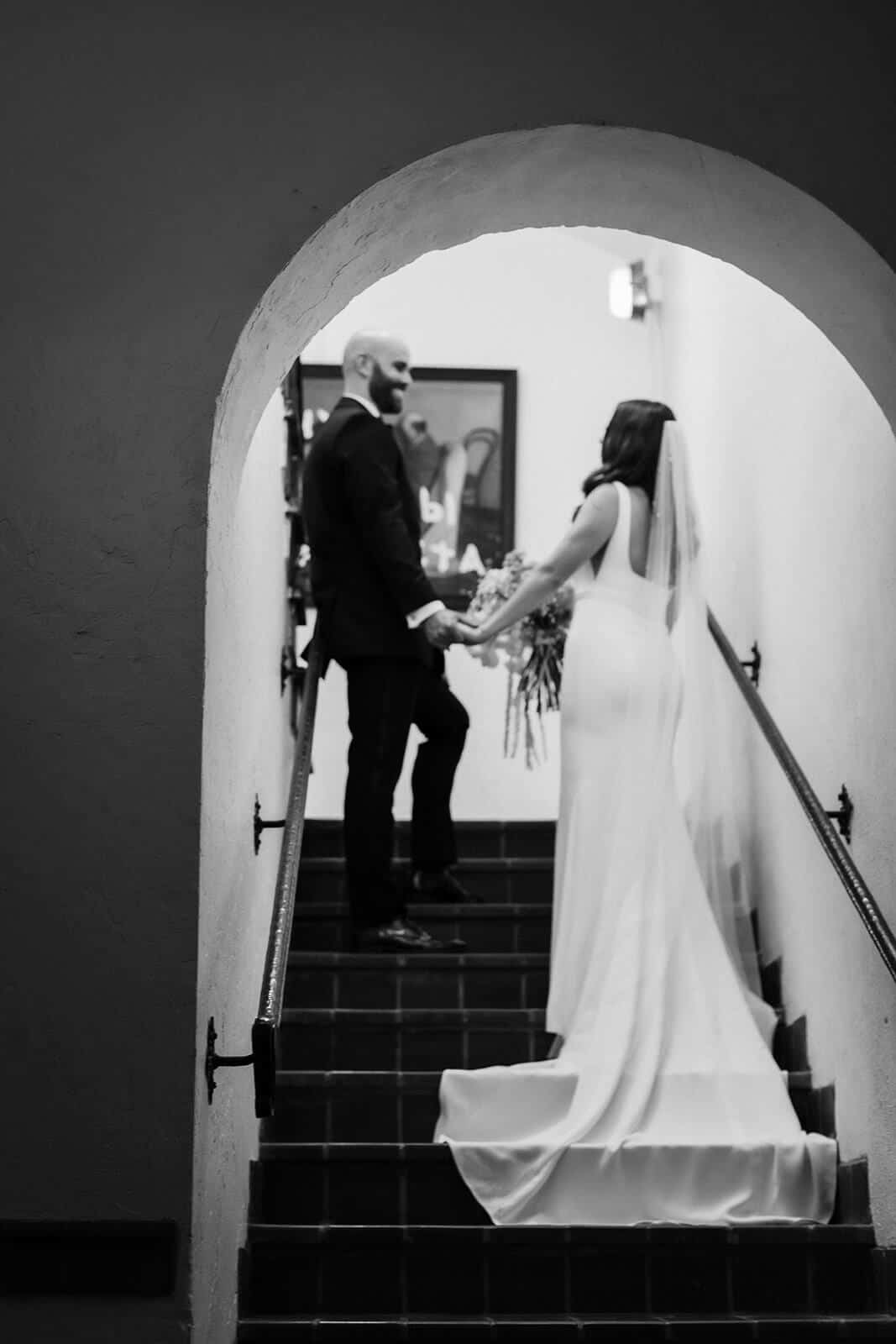 An Intimate First Look on the Terrace
Once everyone was dressed and ready, the shuttles began arriving to take the wedding party and Taylor and Brien's immediate family to the church where their ceremony would take place. During that time, I was on the terrace with Taylor and Brien for their first look.
The weather could not have been any more perfect for this wedding. The rooftop terrace was surrounded with blue skies and sunshine. Brien arrived on the terrace first and I directed him to stand with his back facing the entrance as Taylor made her way up the stairs. Before they turned to see each other for the first time, the two stood back to back and read private love letters they had written to each other the night before.
It's always so special when couples write notes to each other to read before their wedding. Many couples take for granted that they know how the other feels on the morning of their big day. However, these special little letters could do wonders for settling last-minute nerves and solidify their love for each other before the exchange of vows.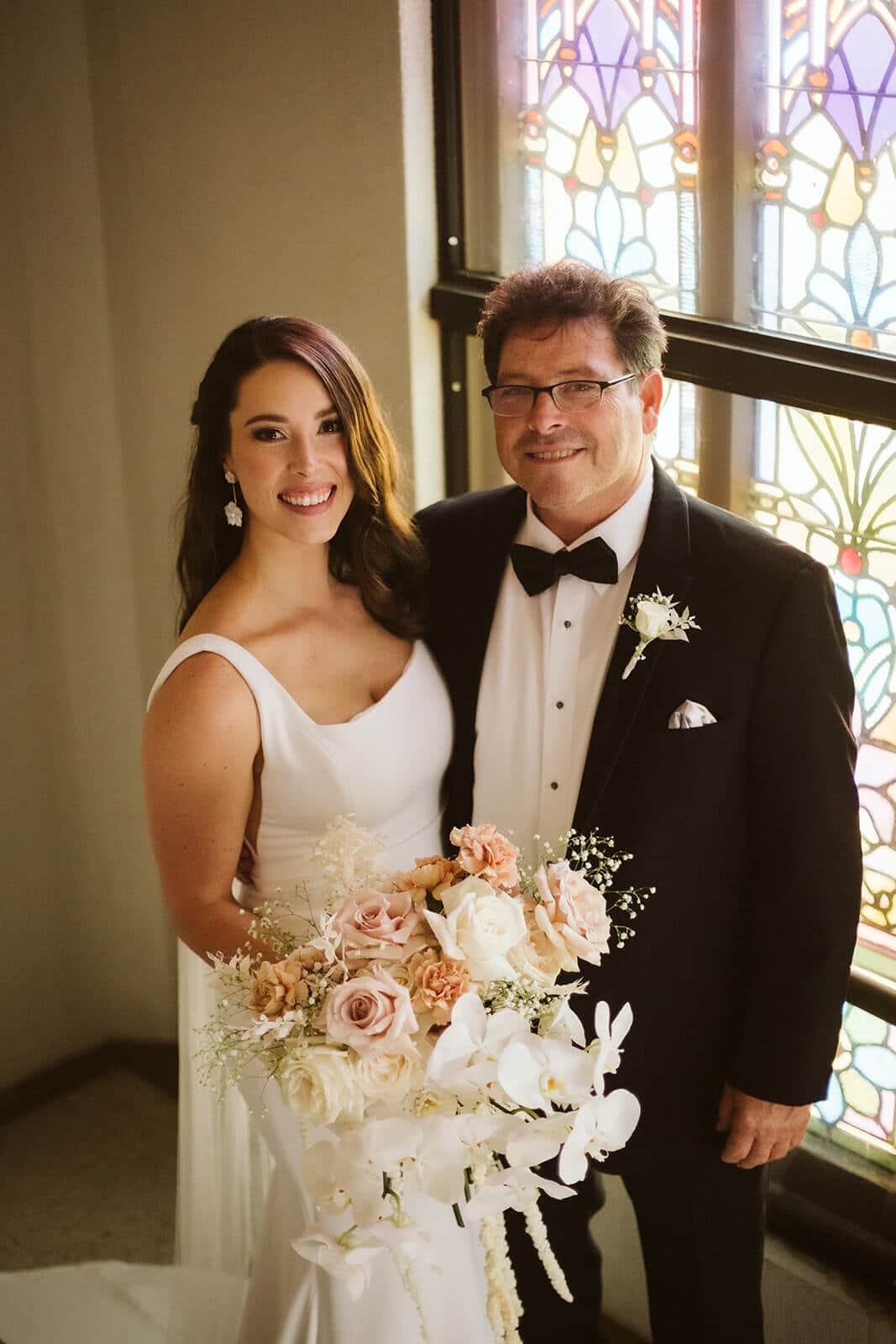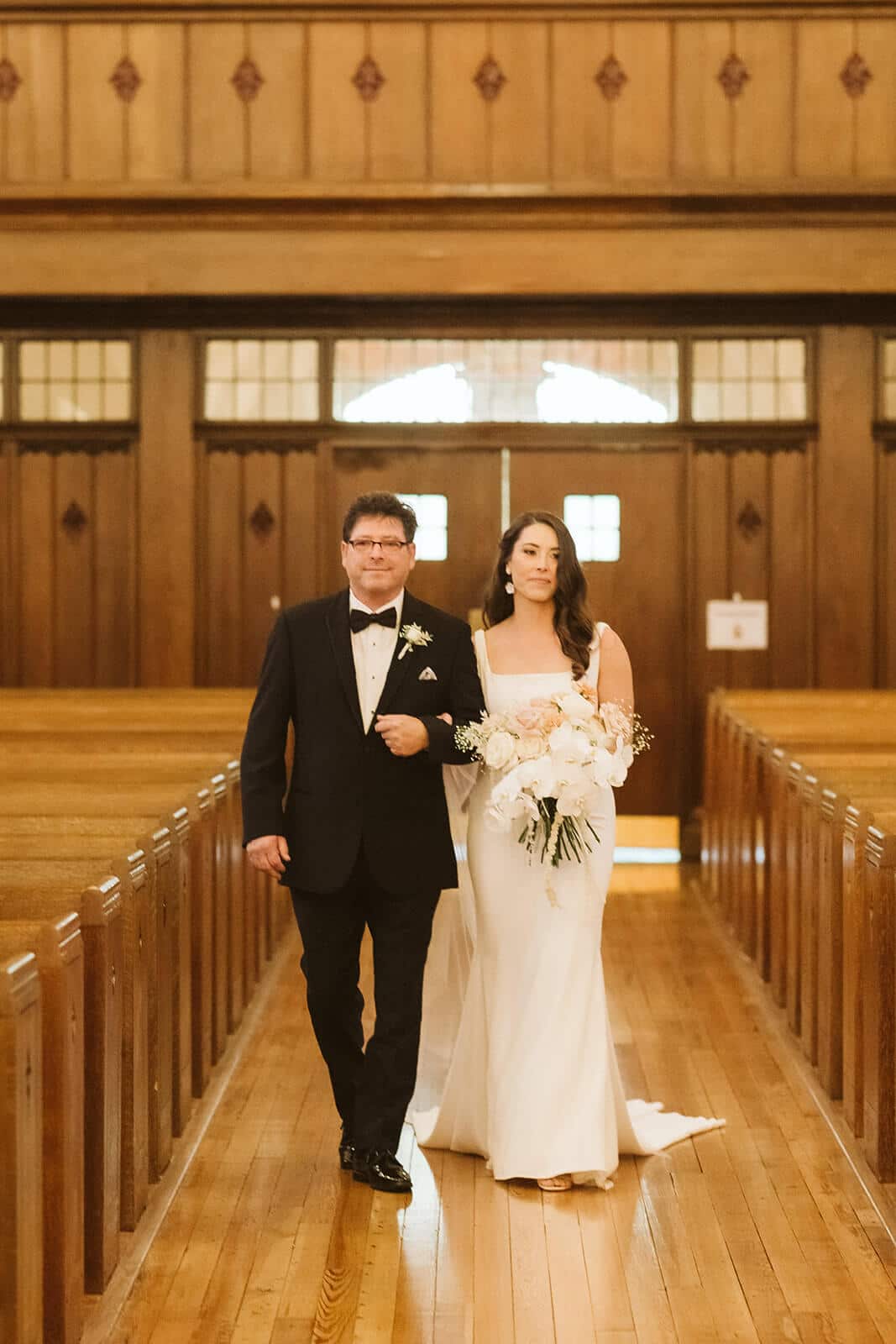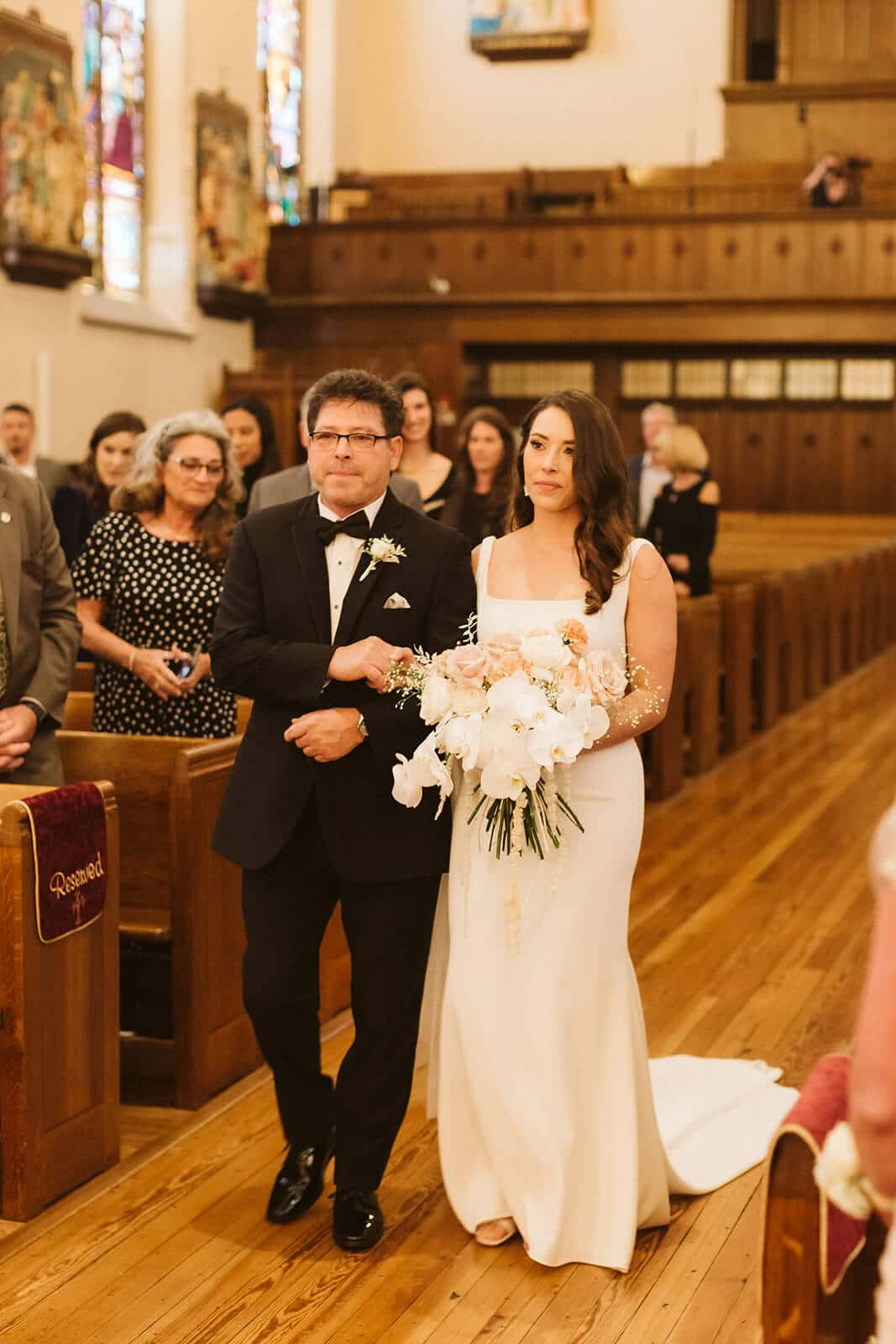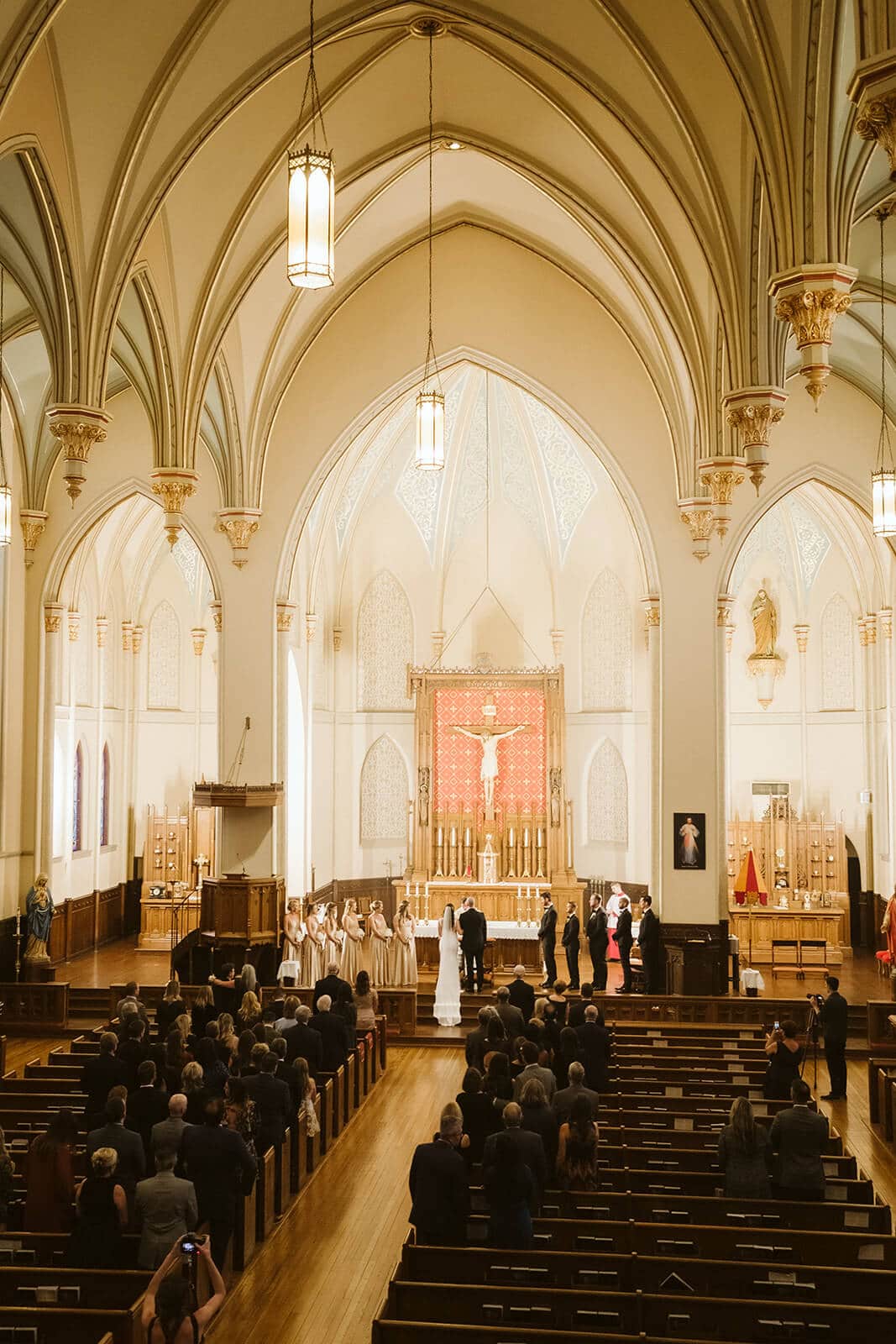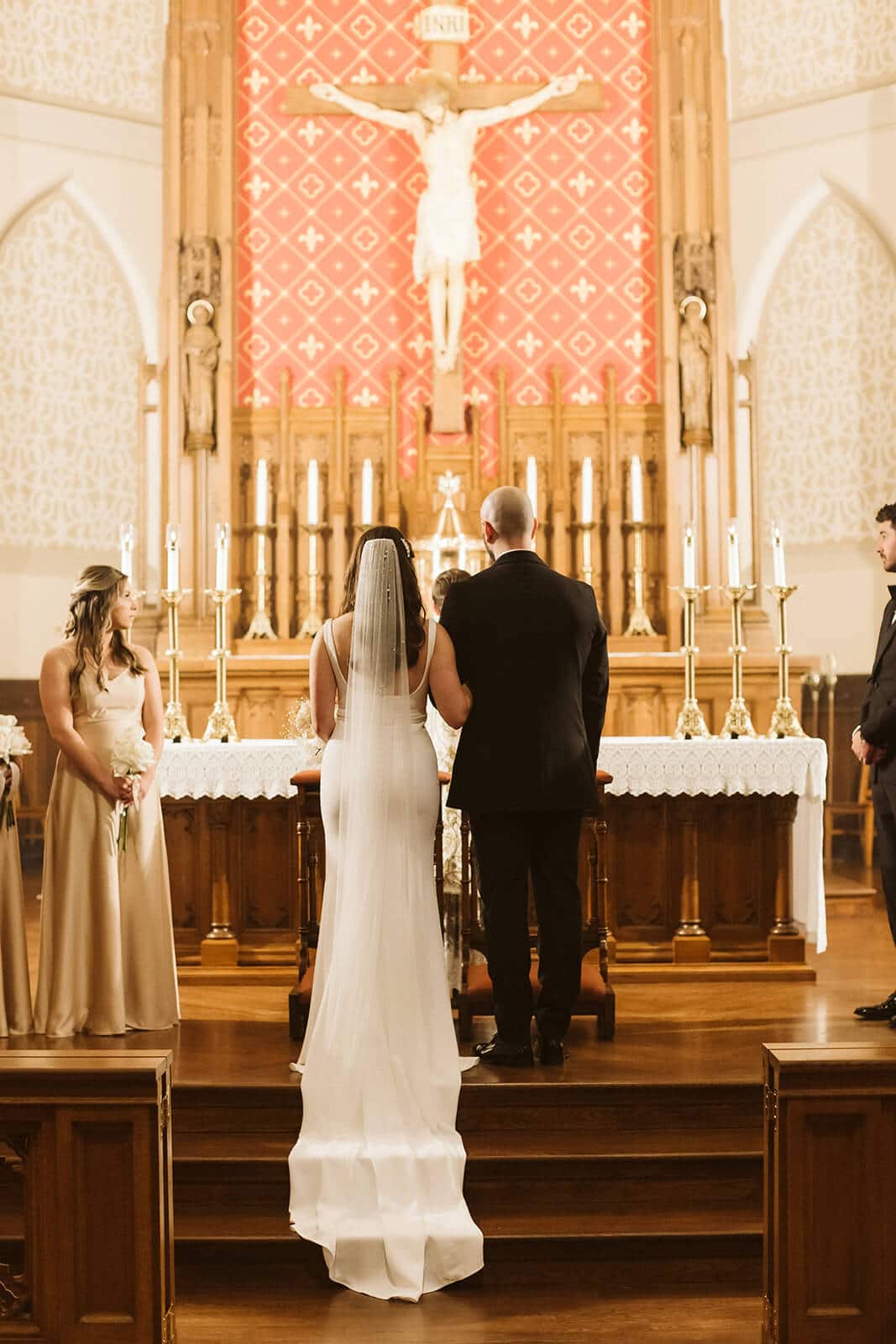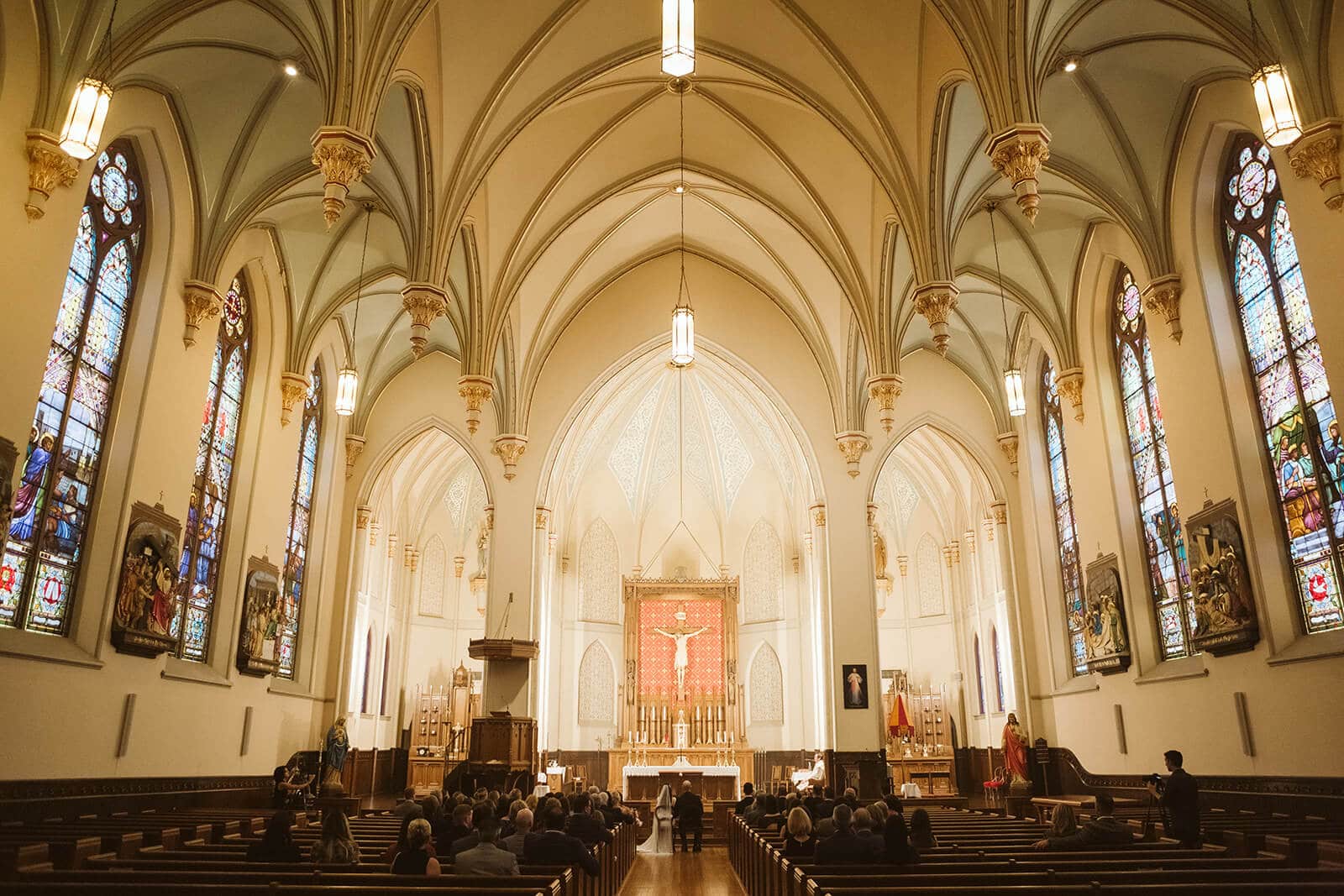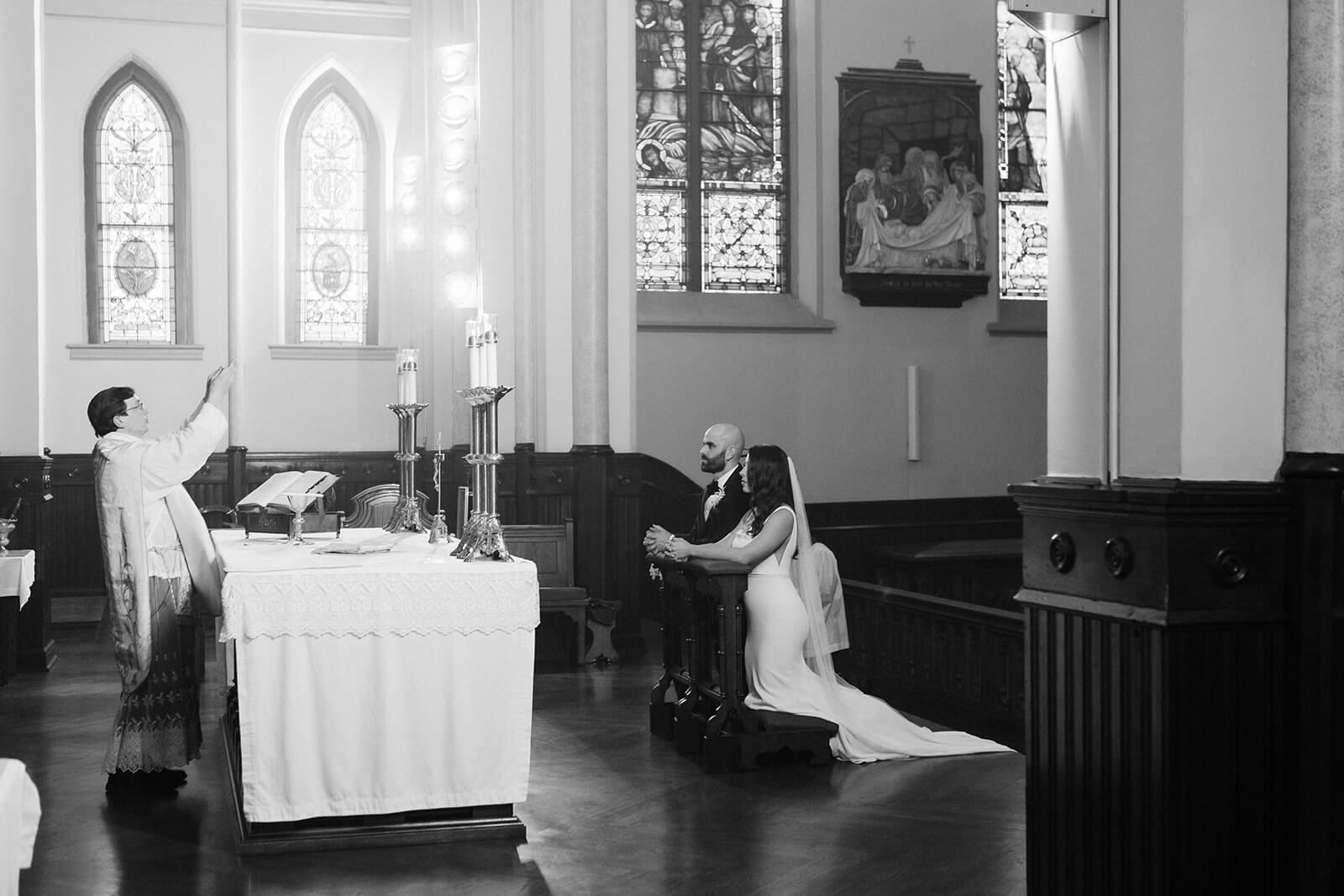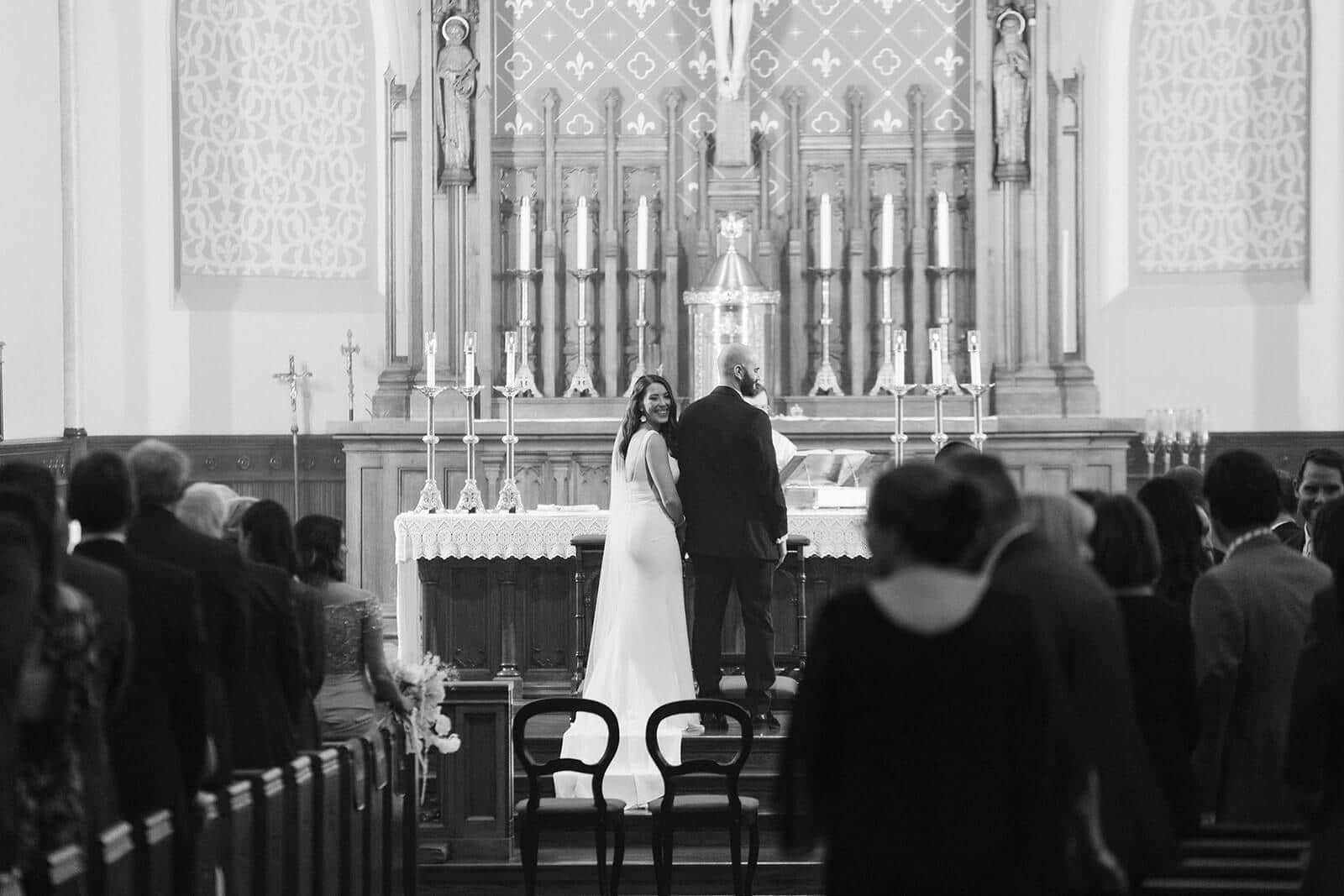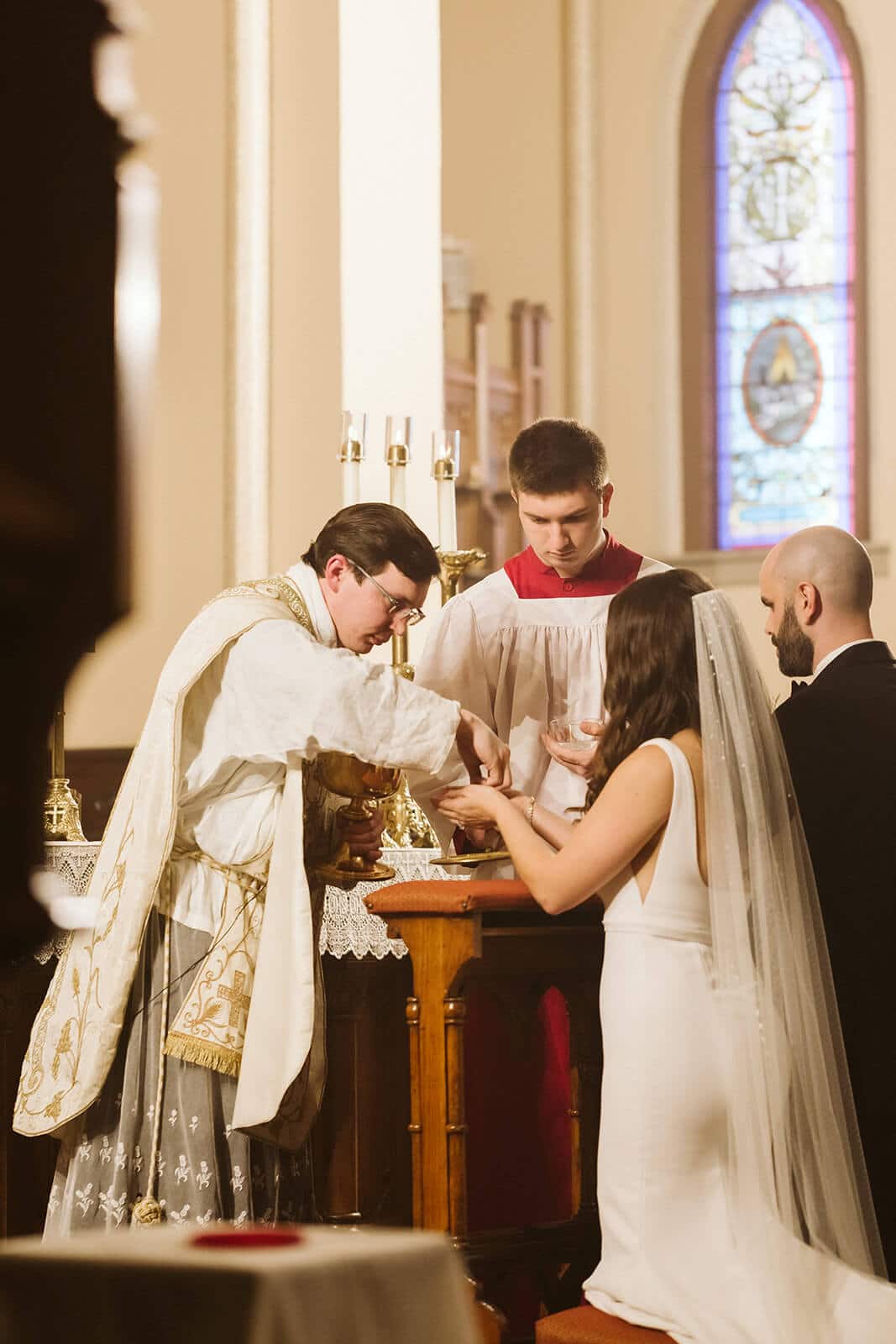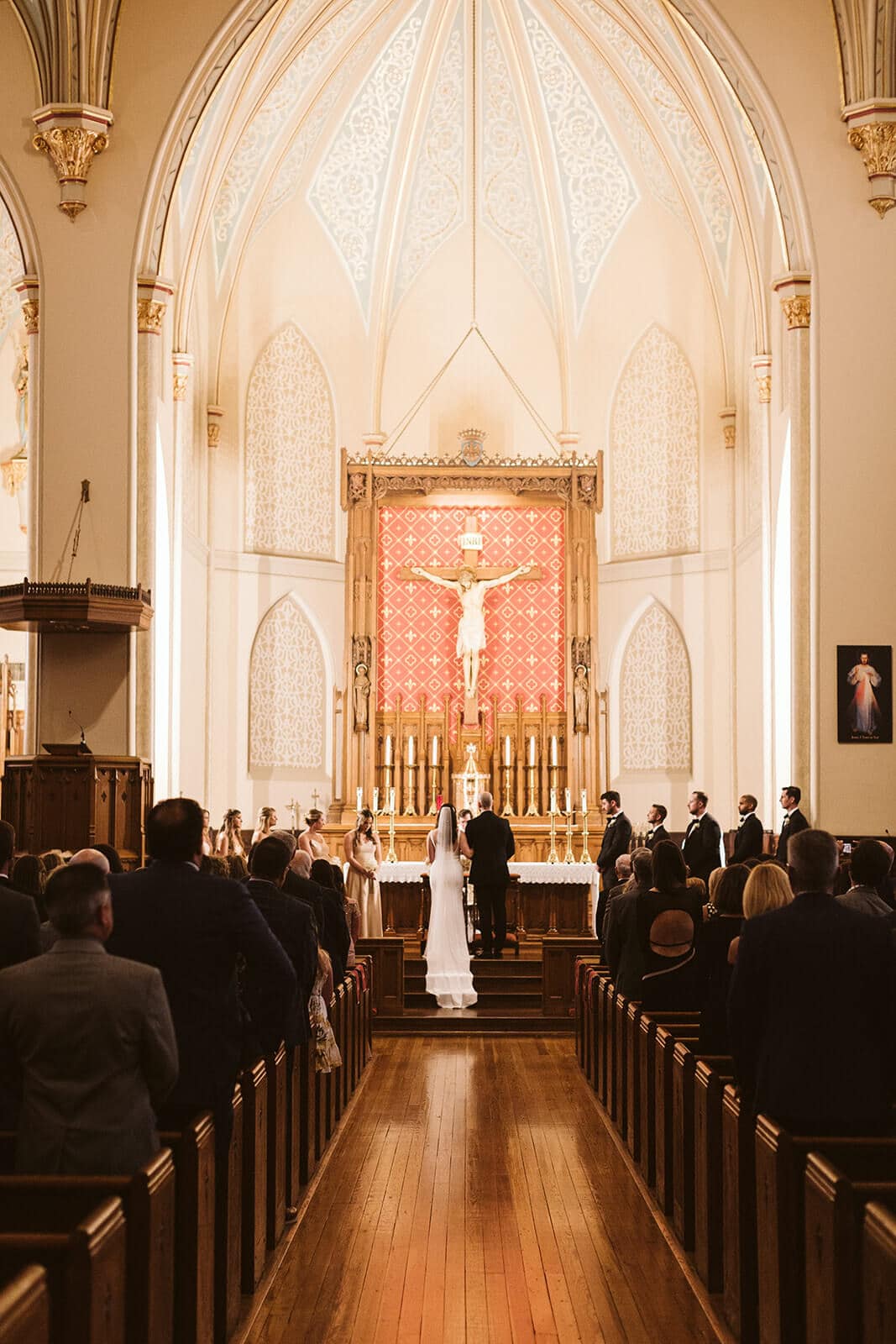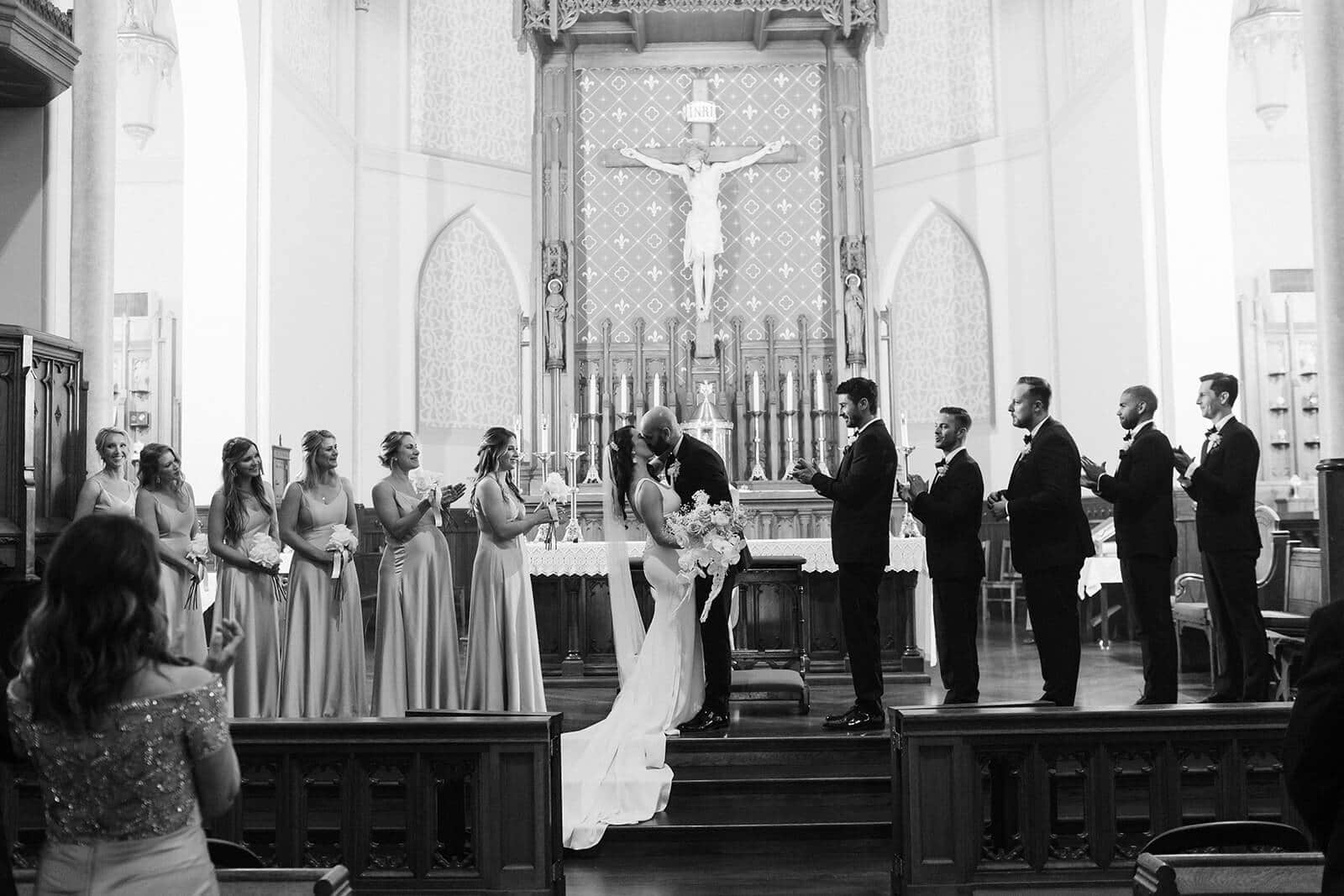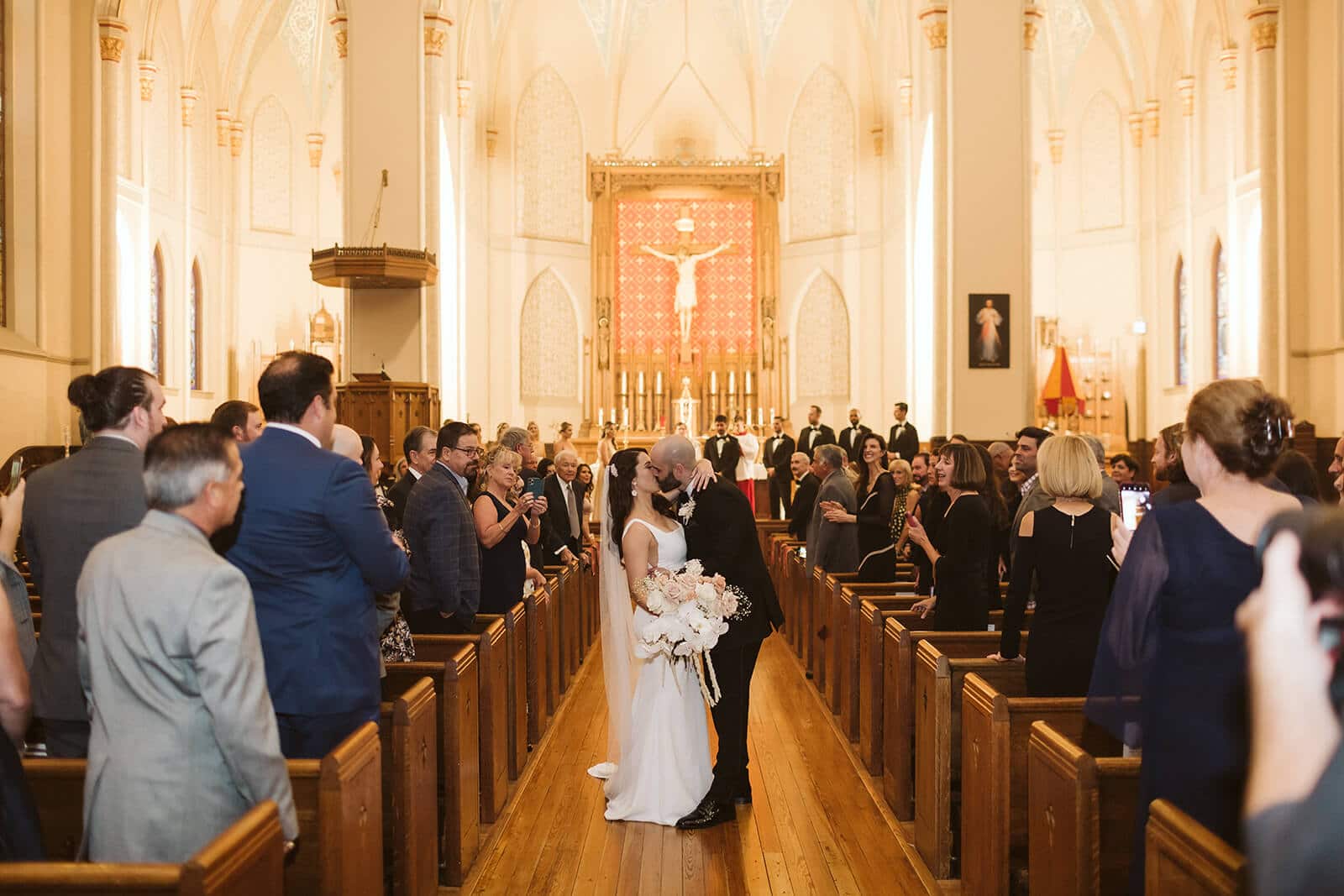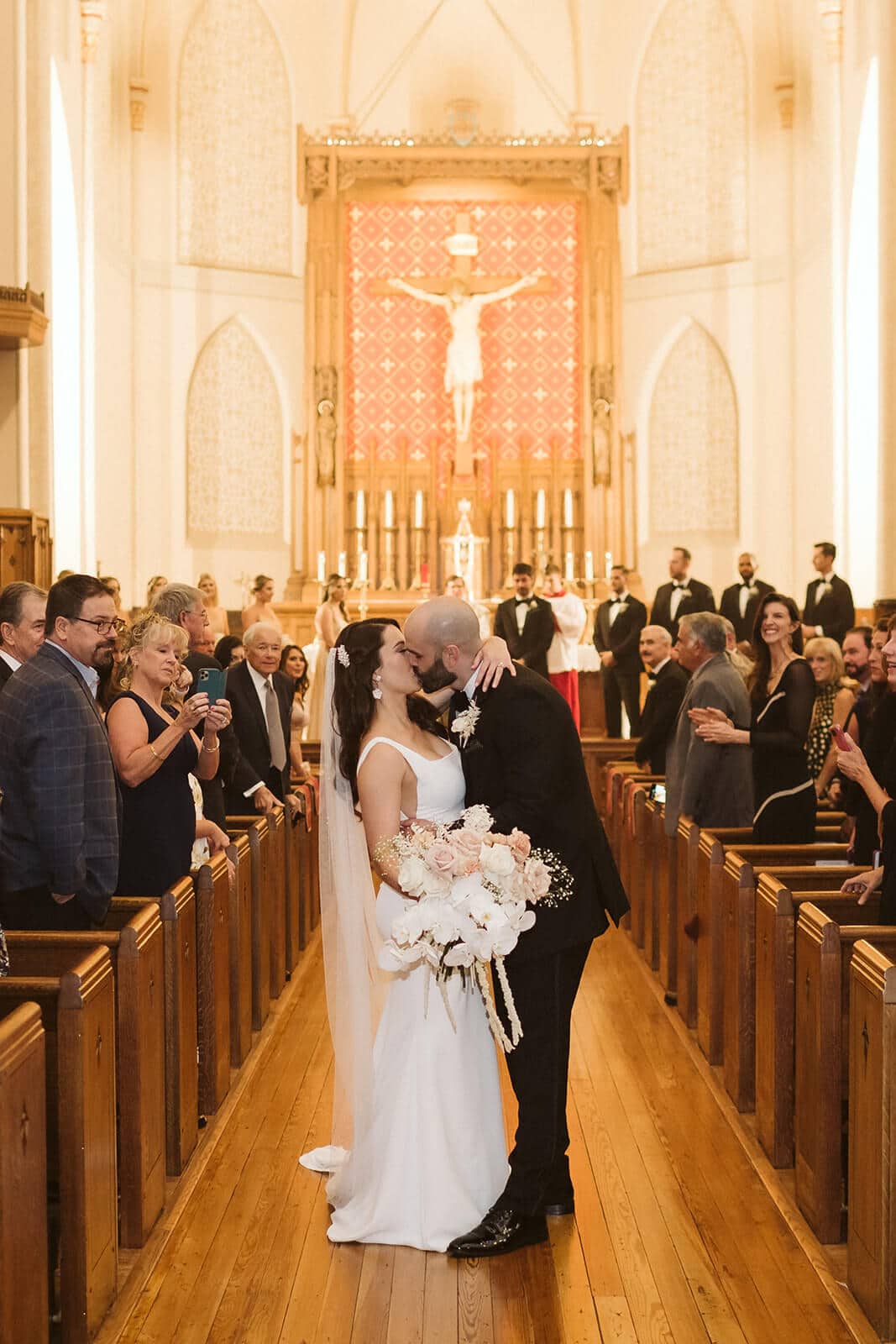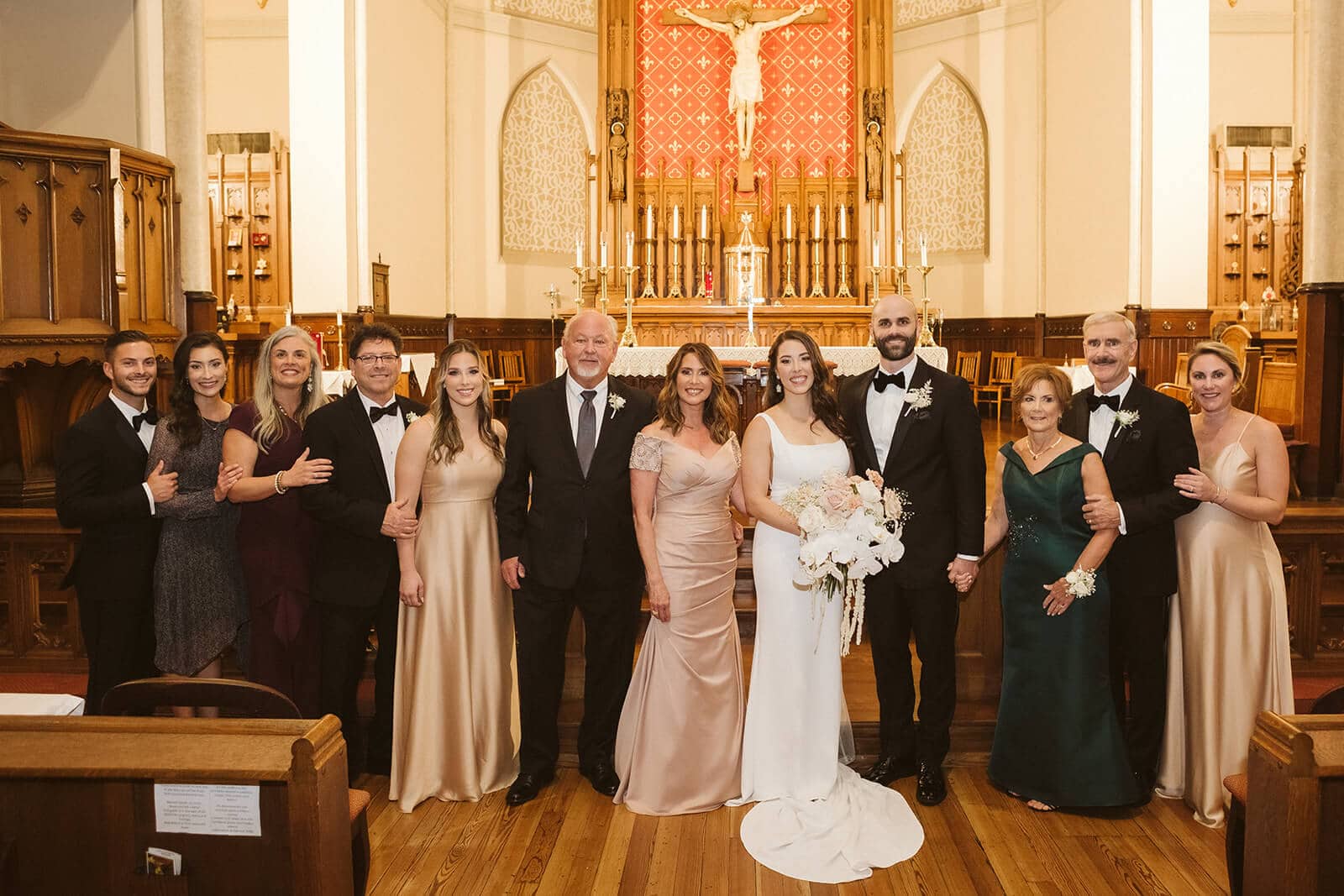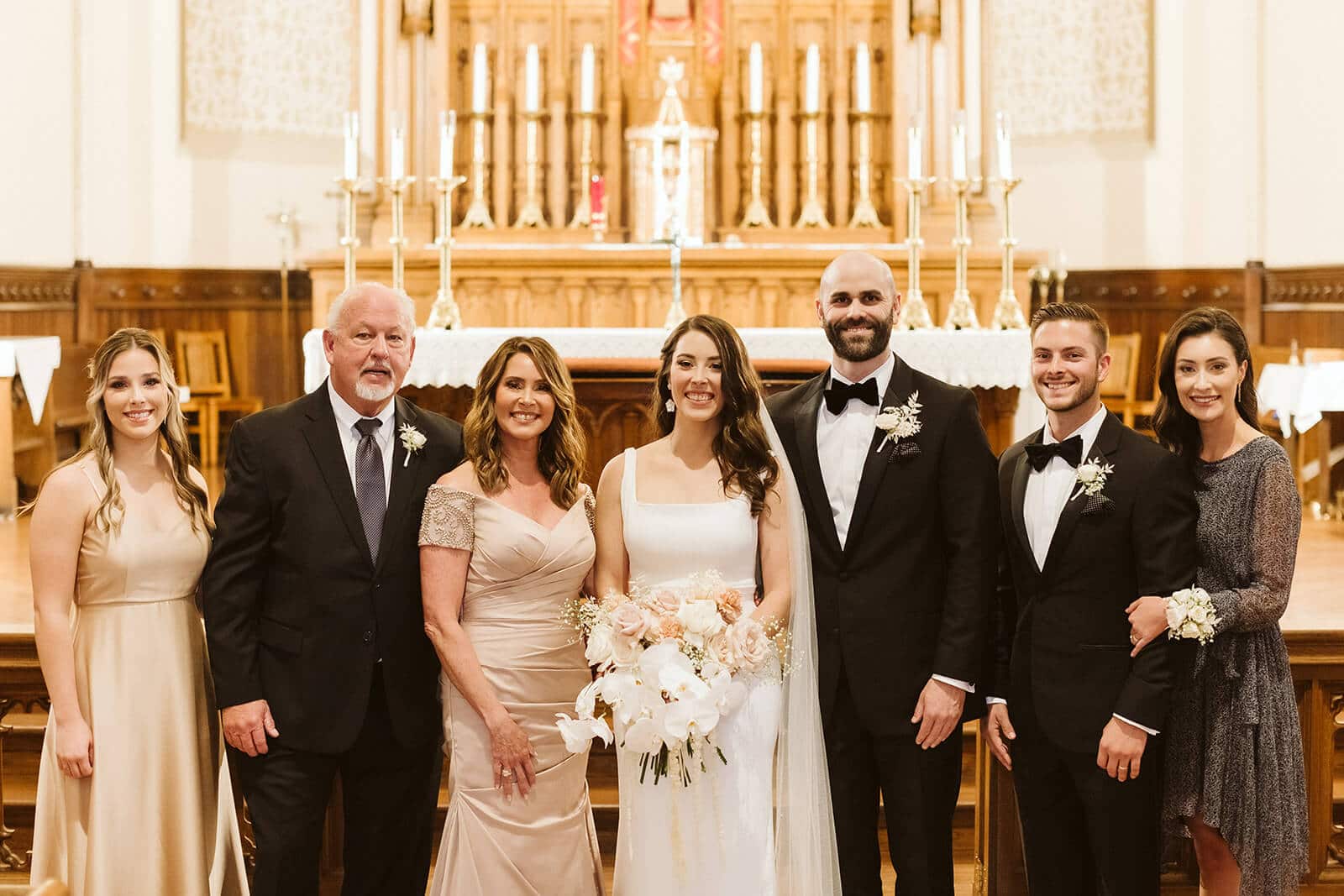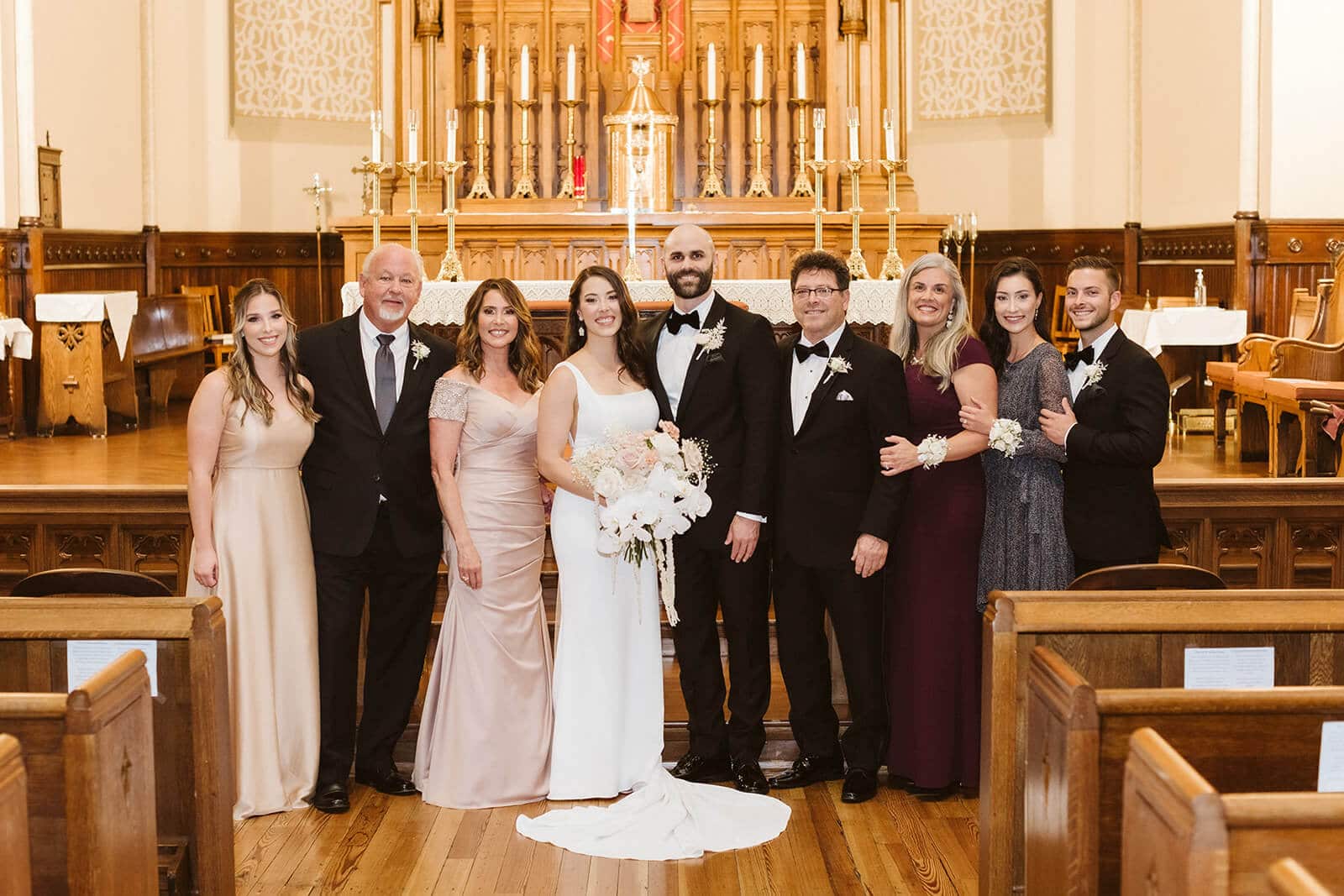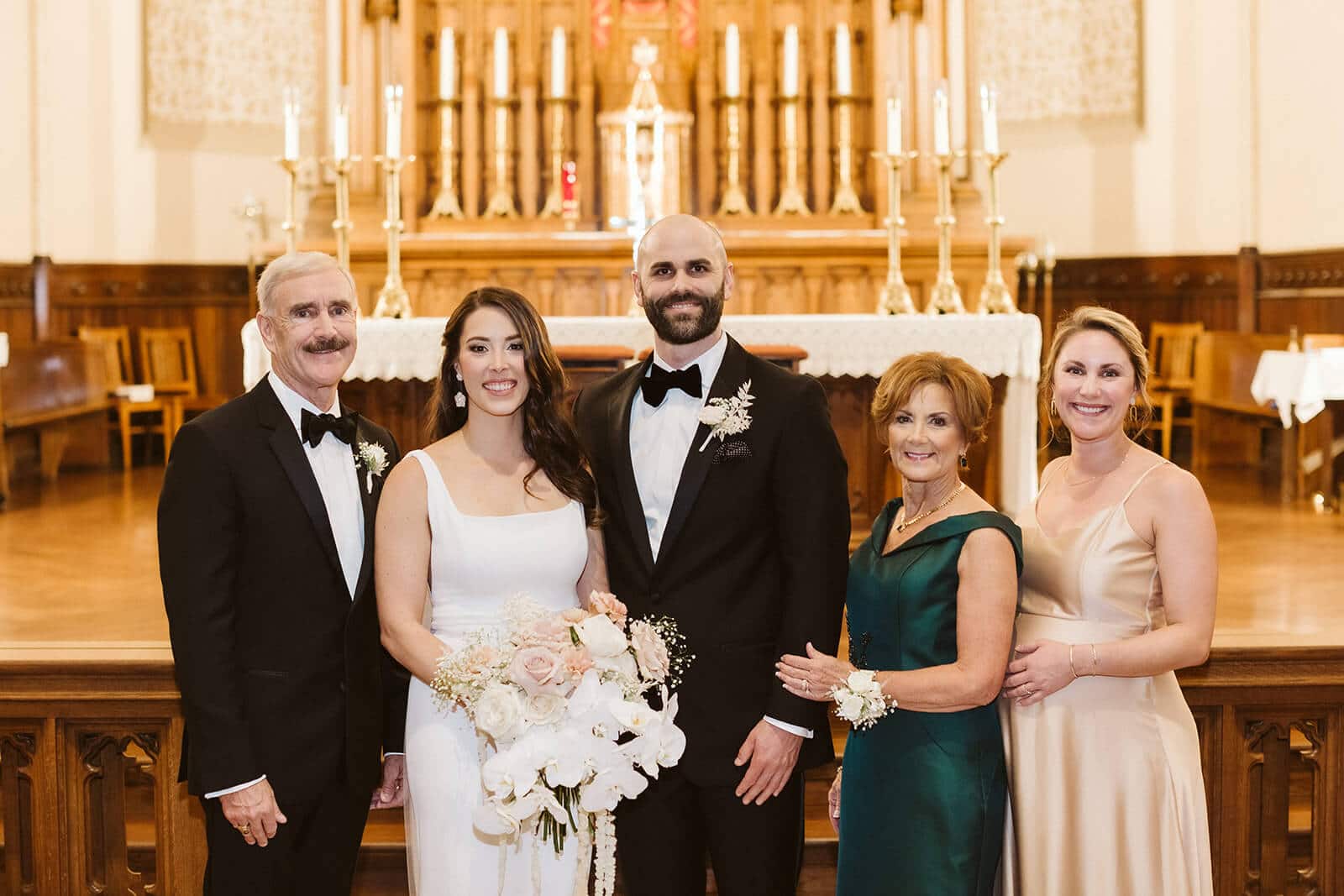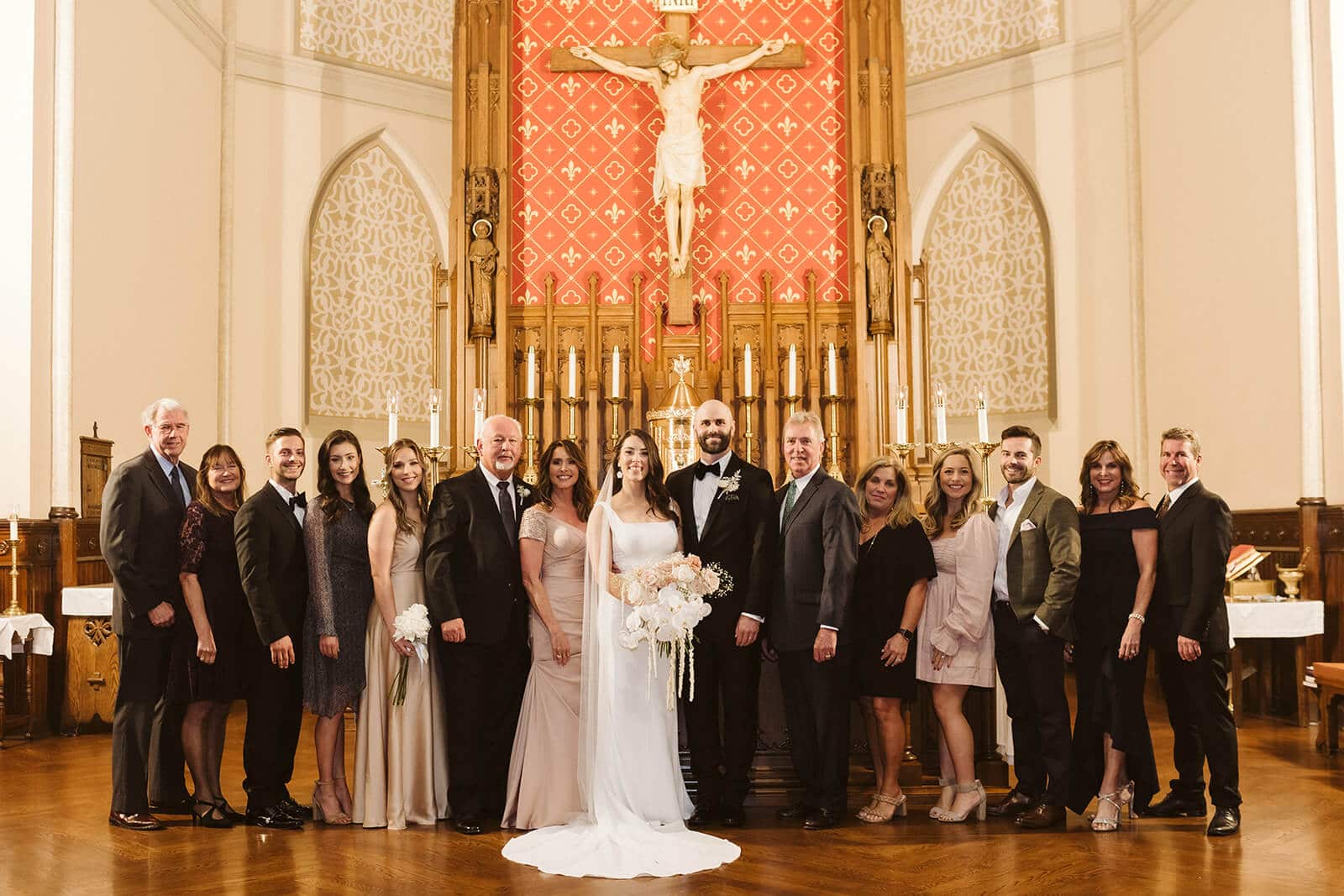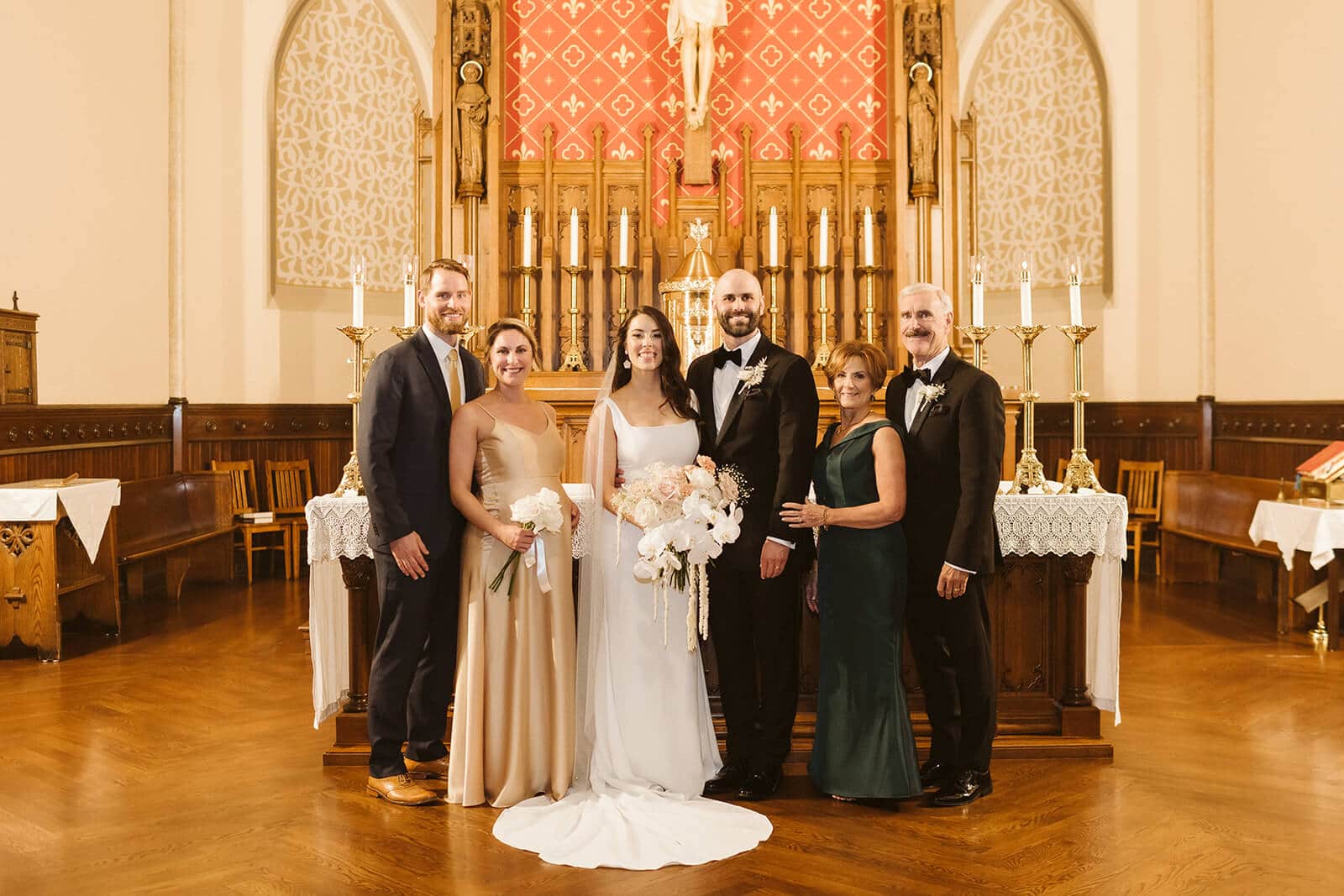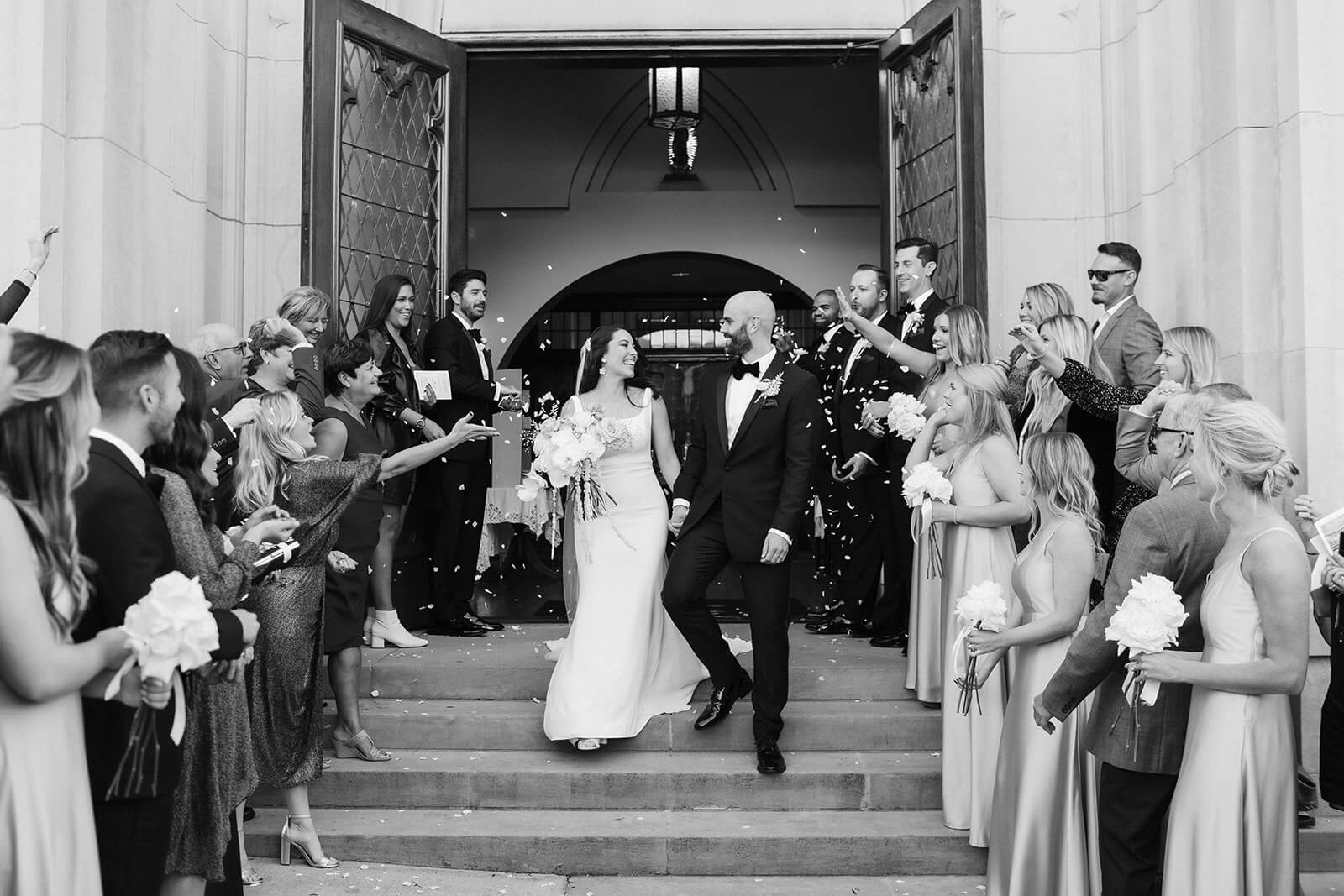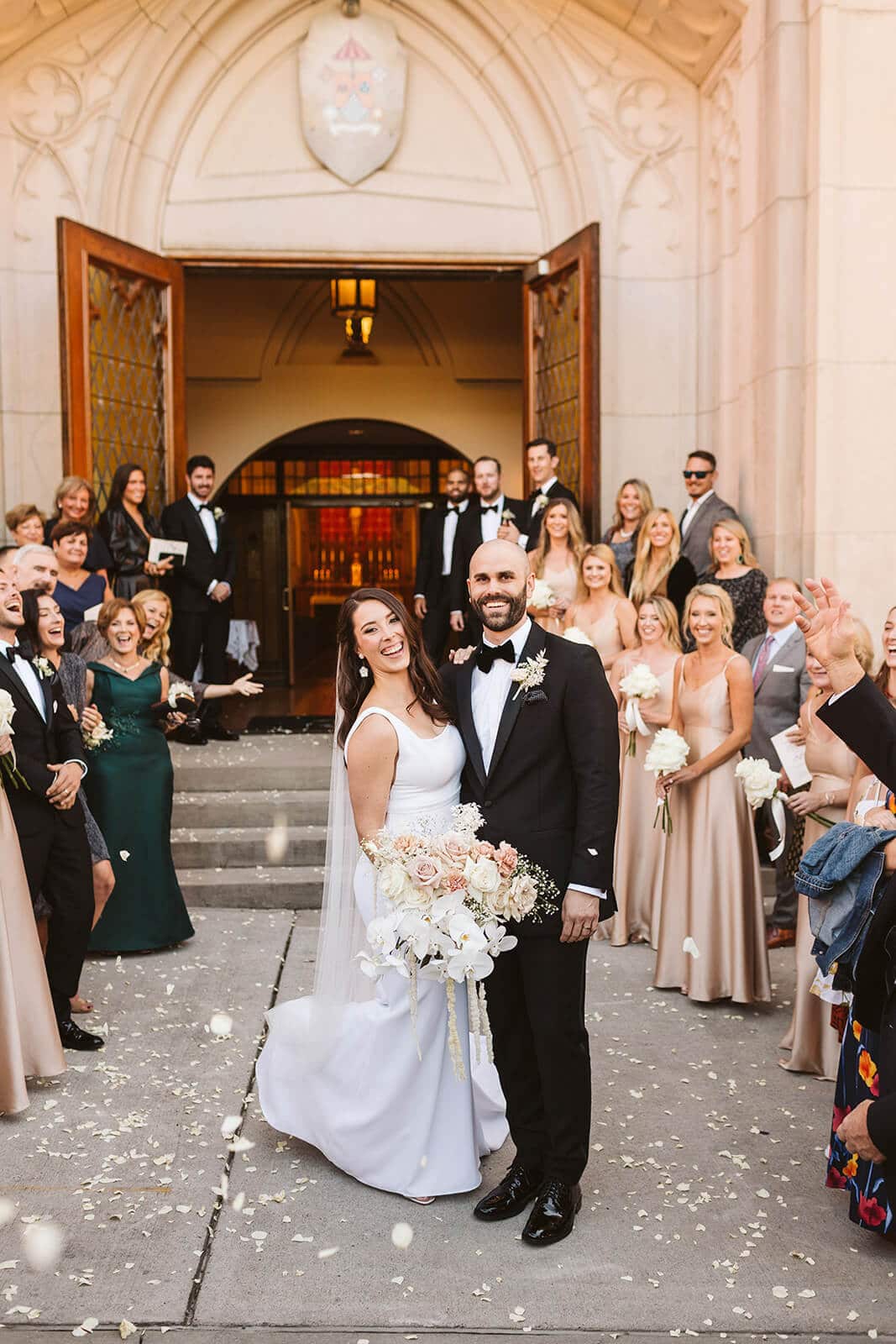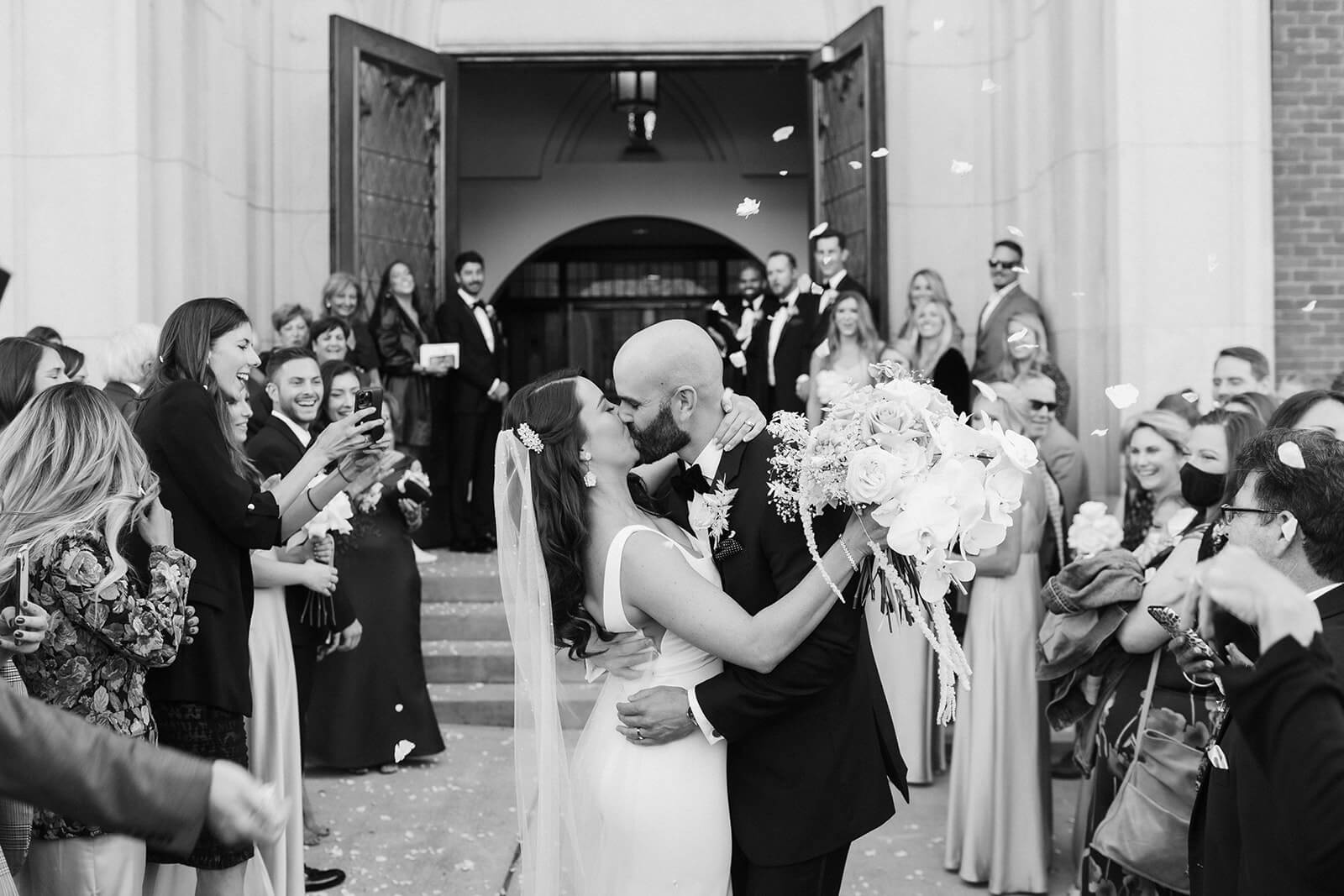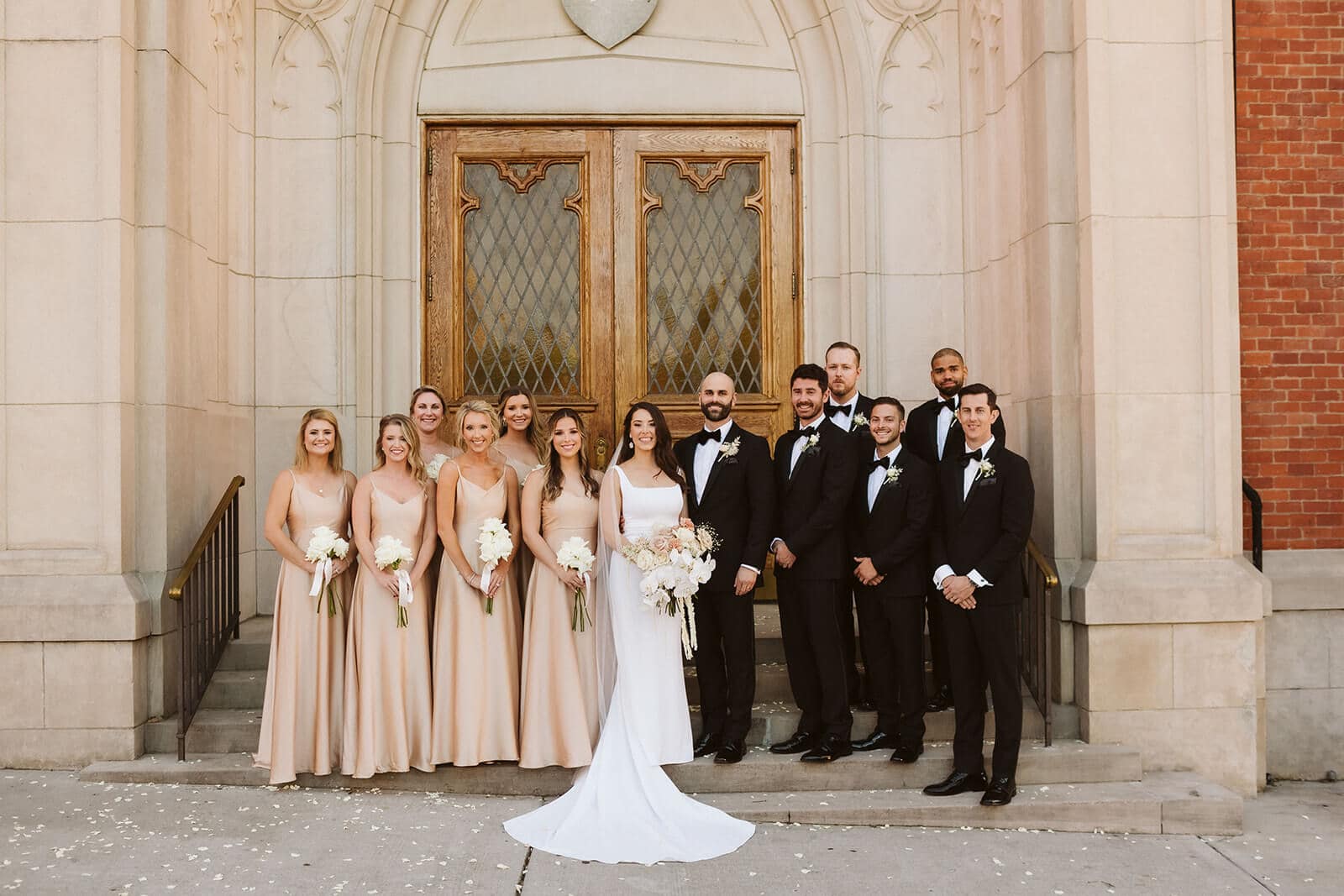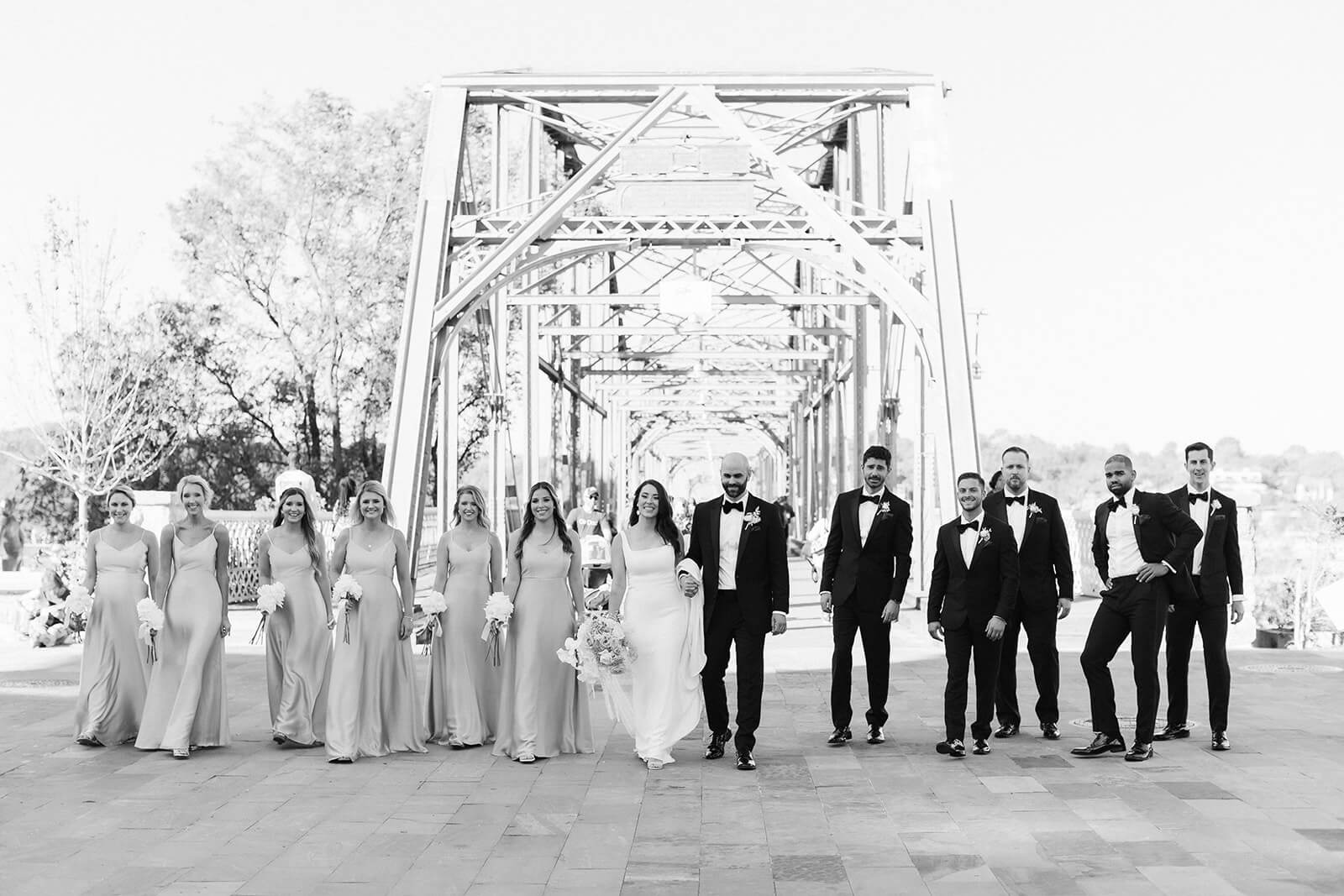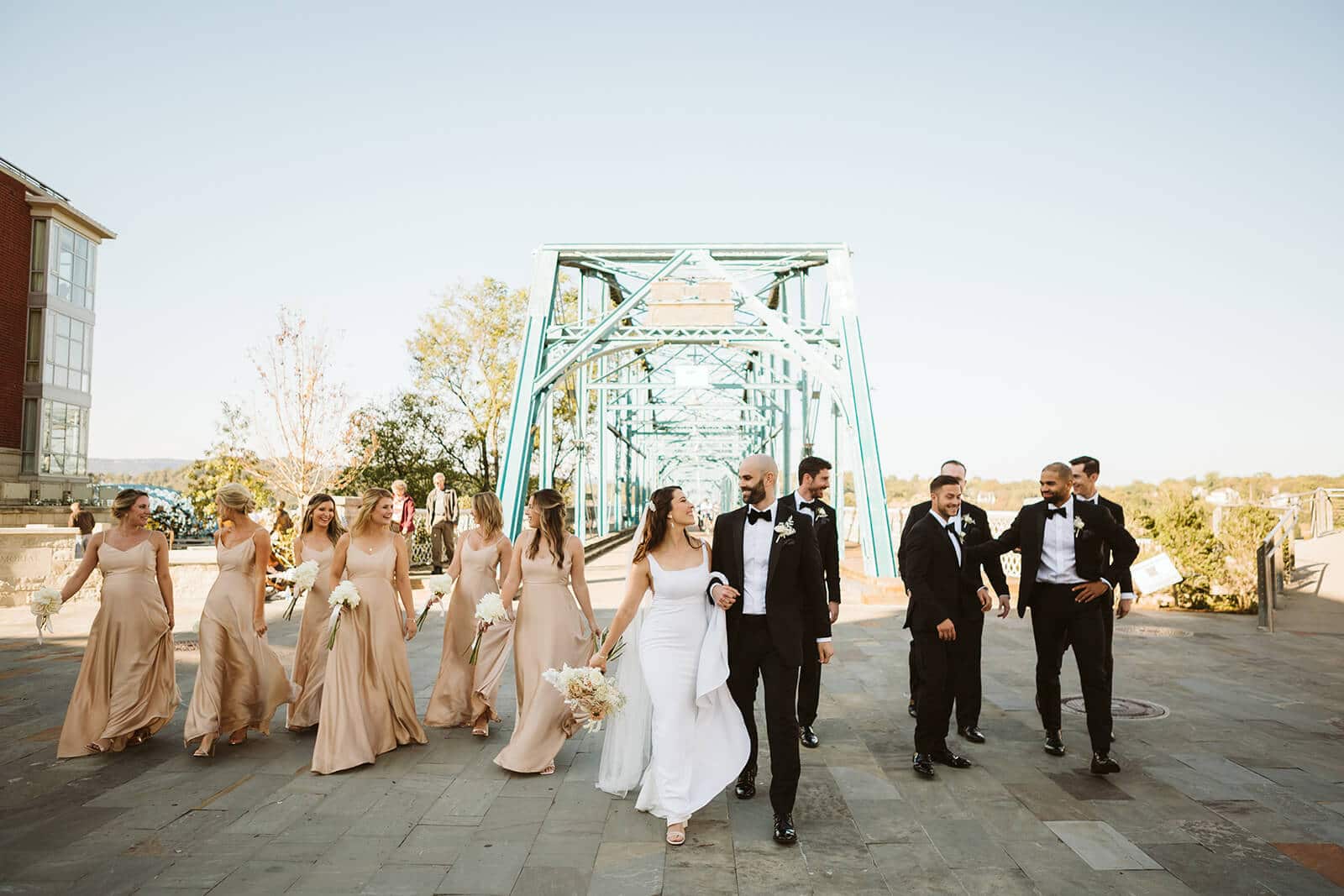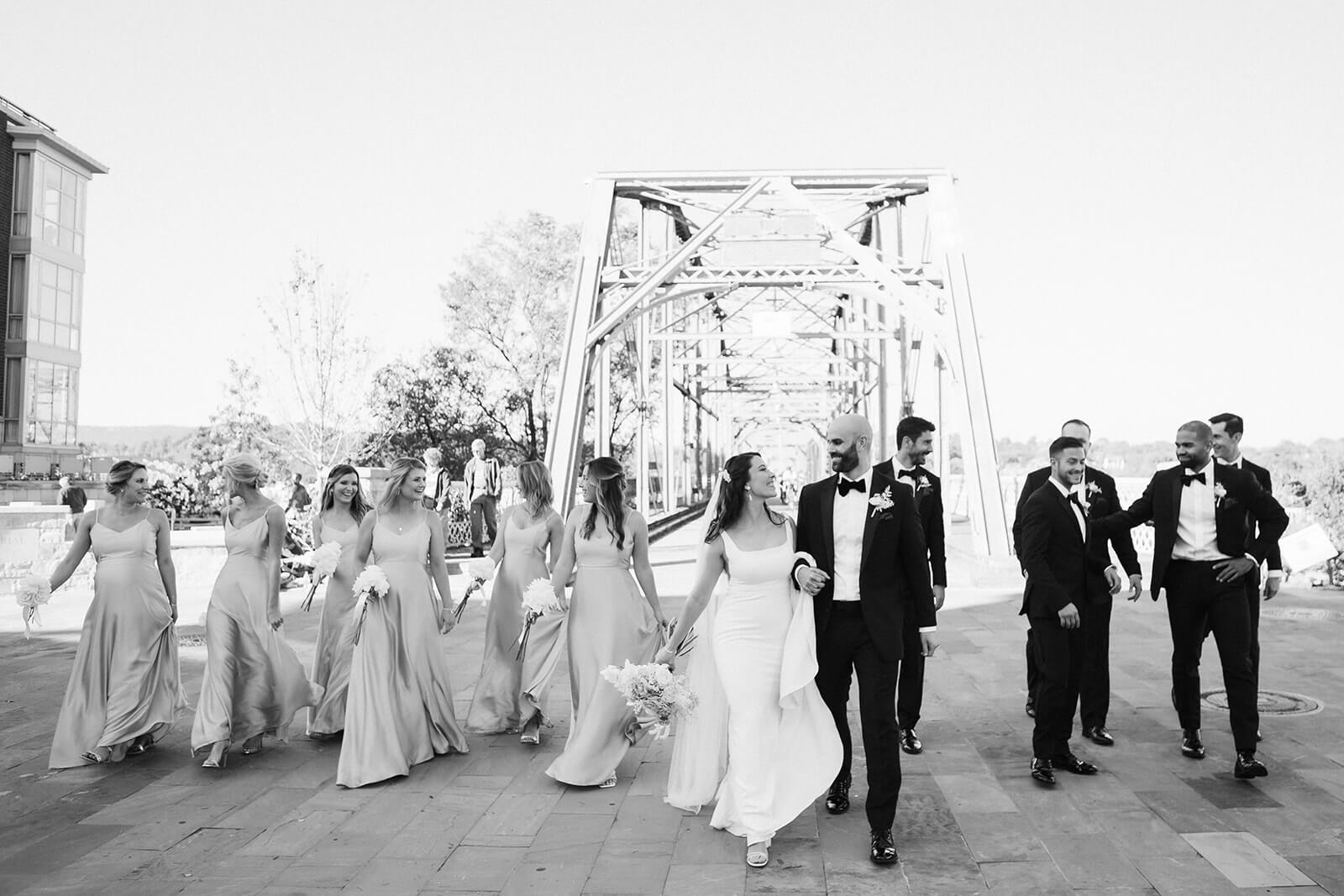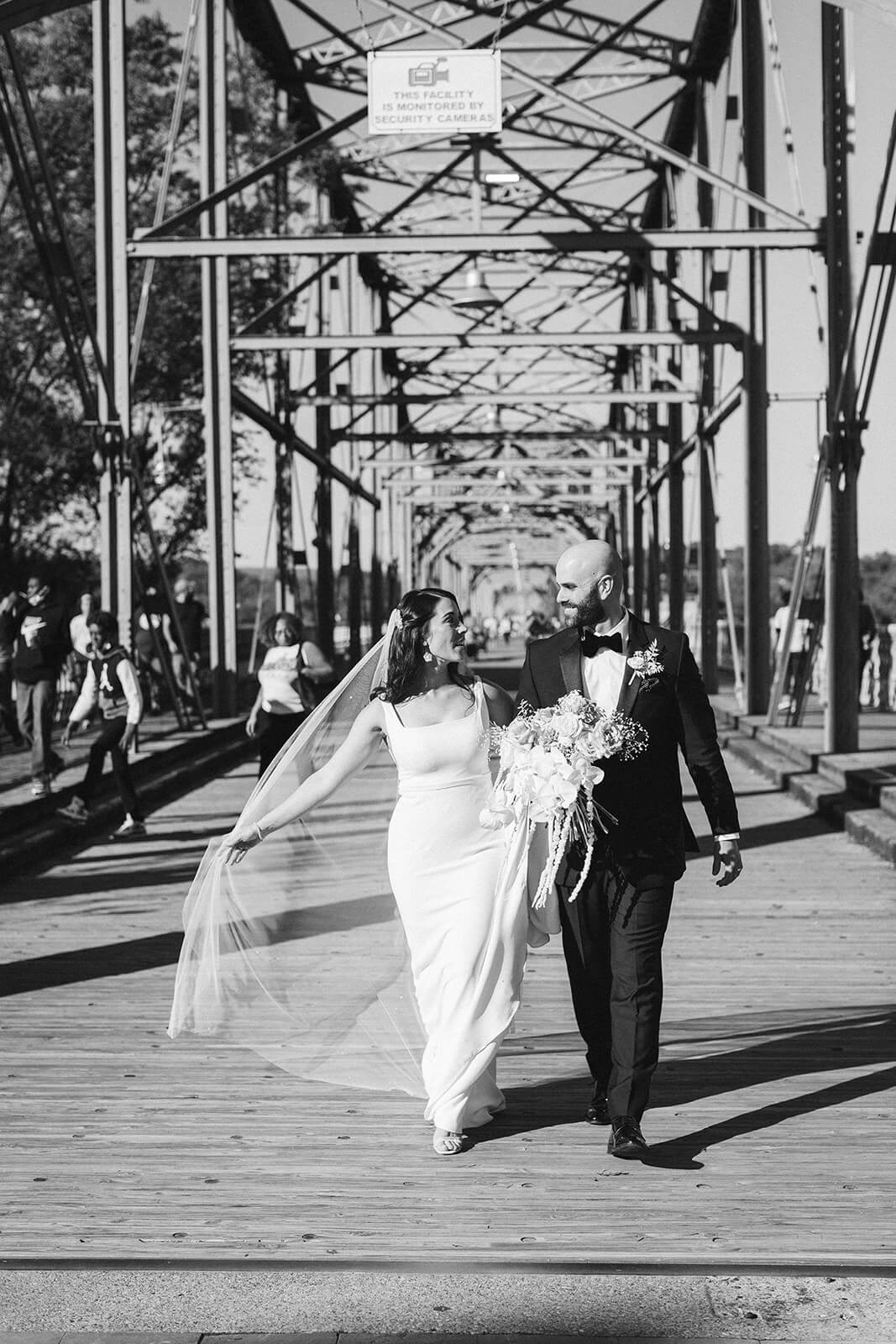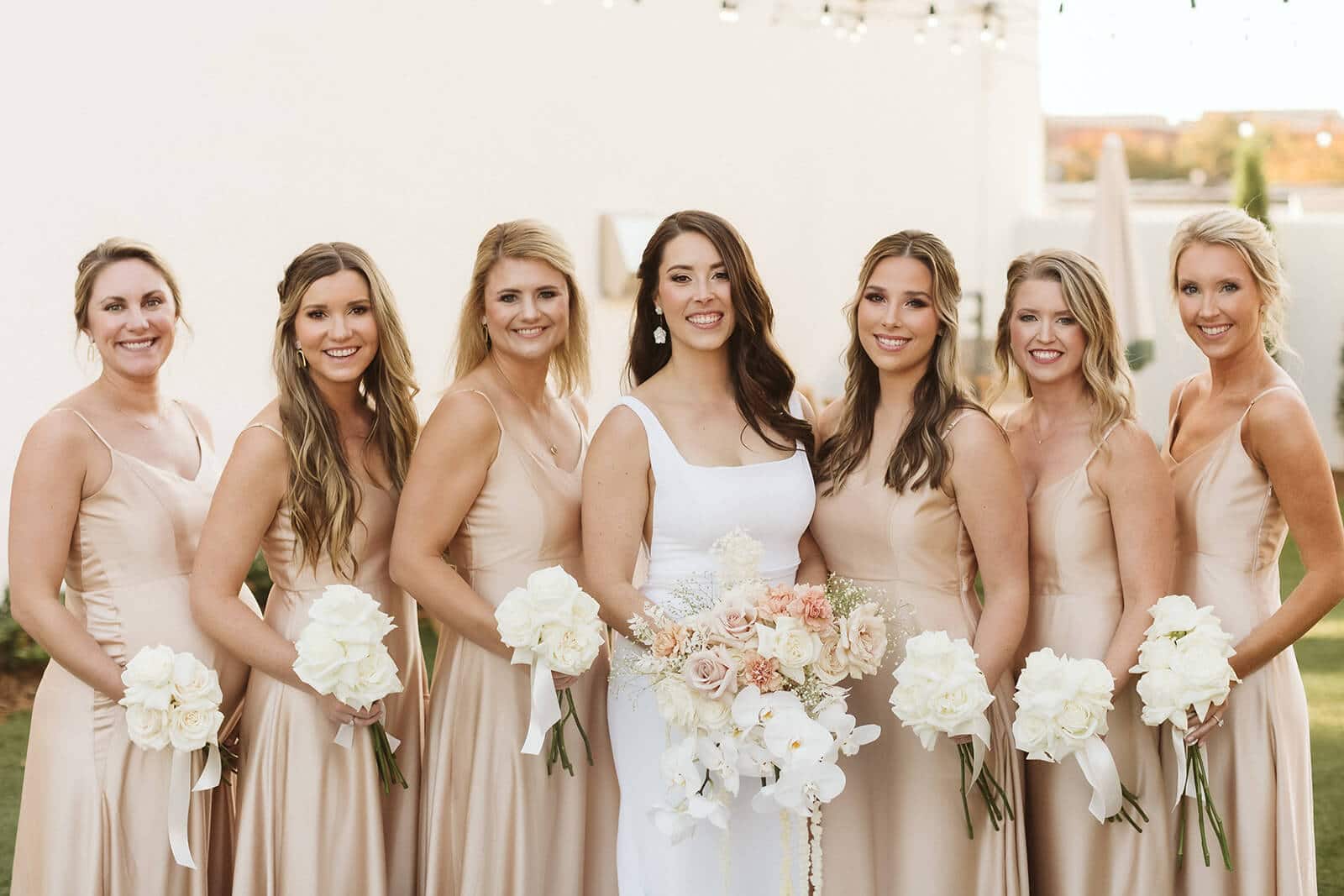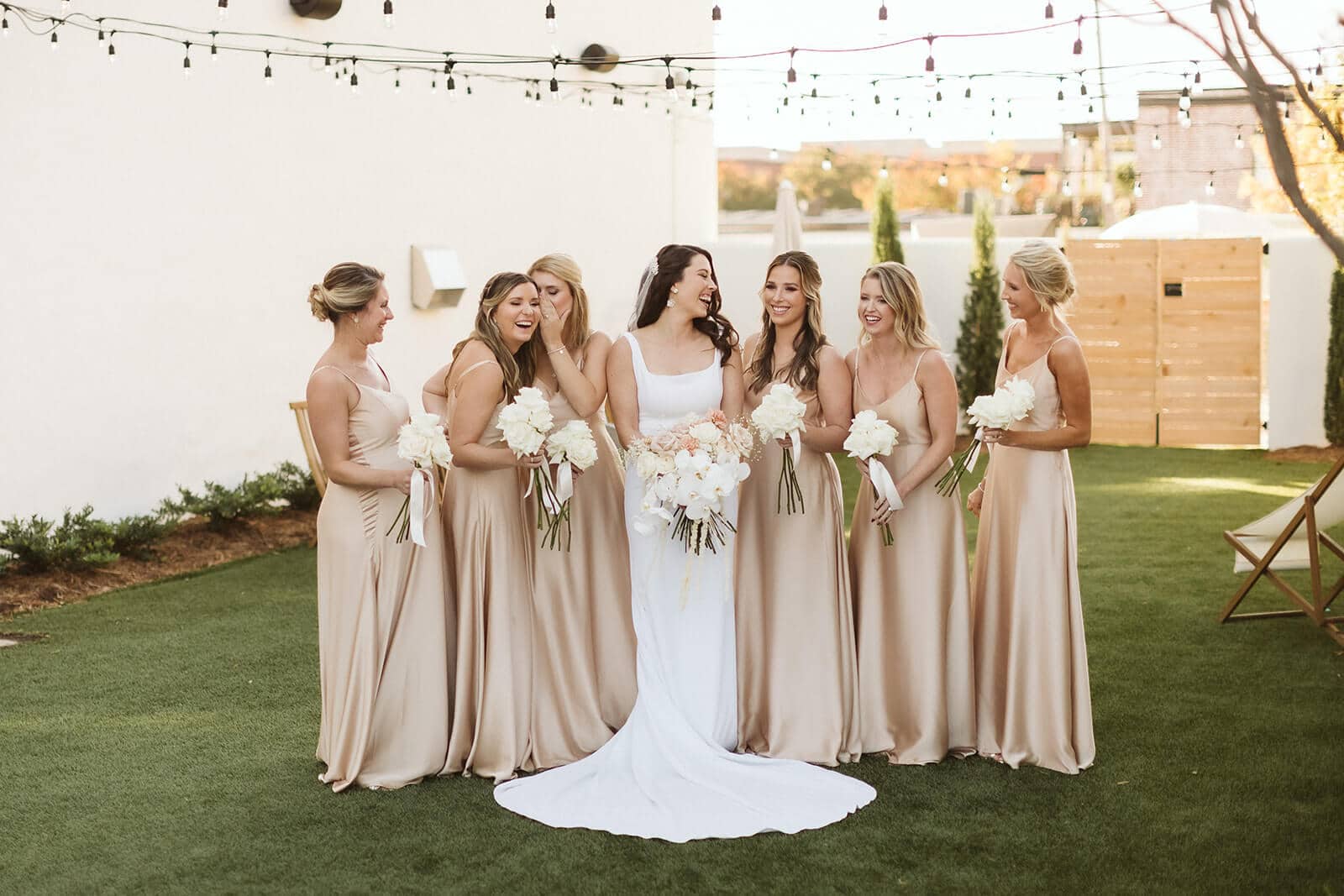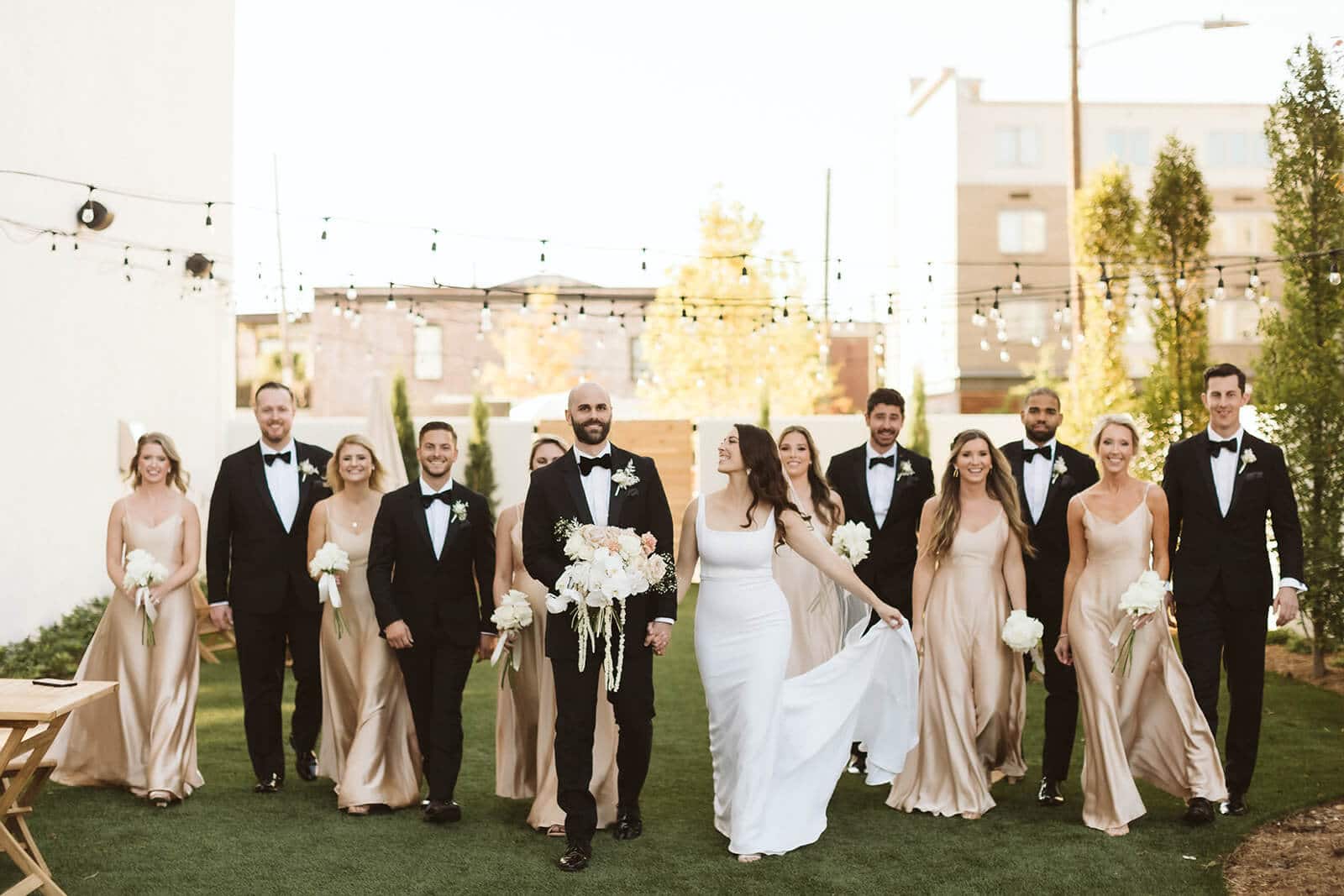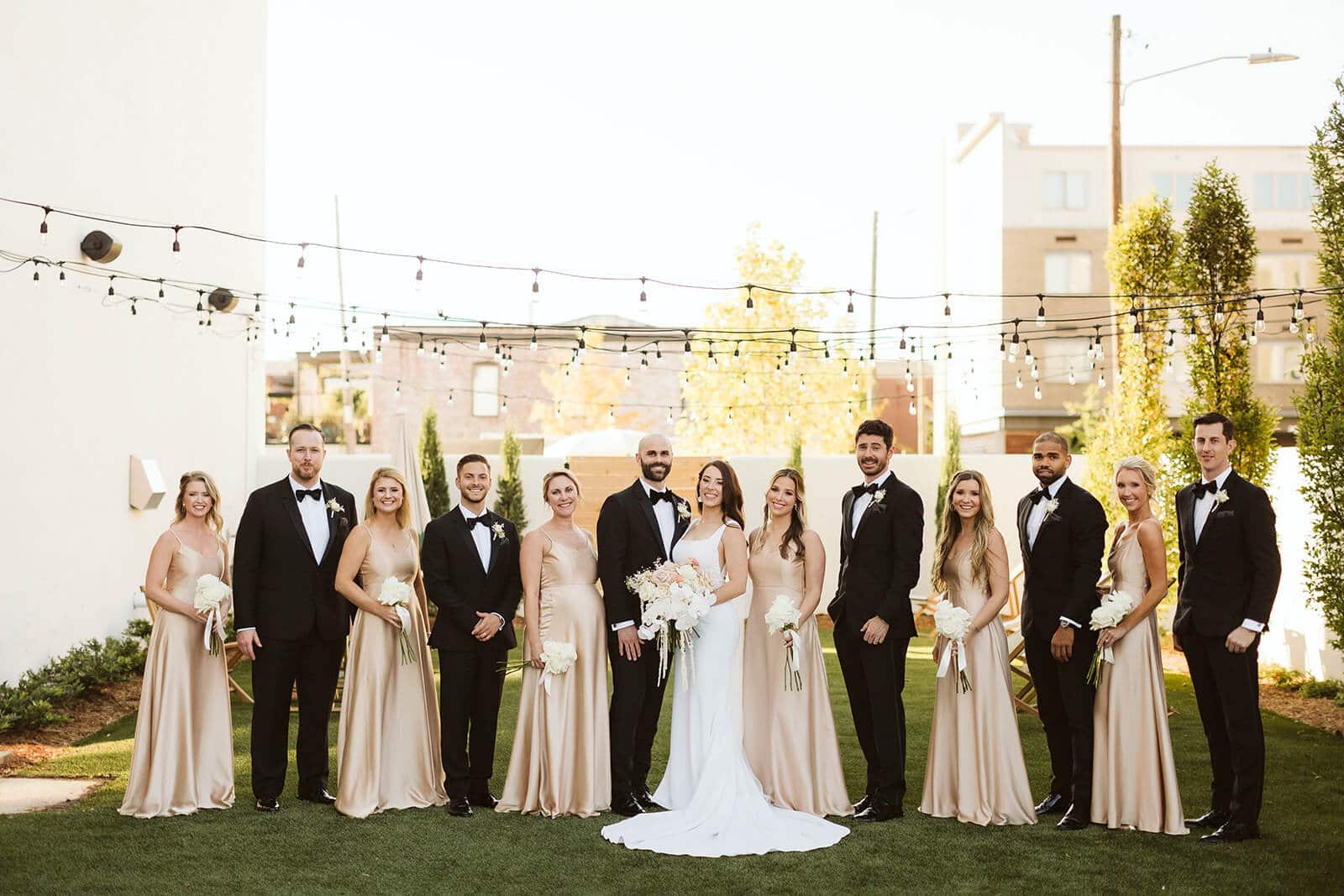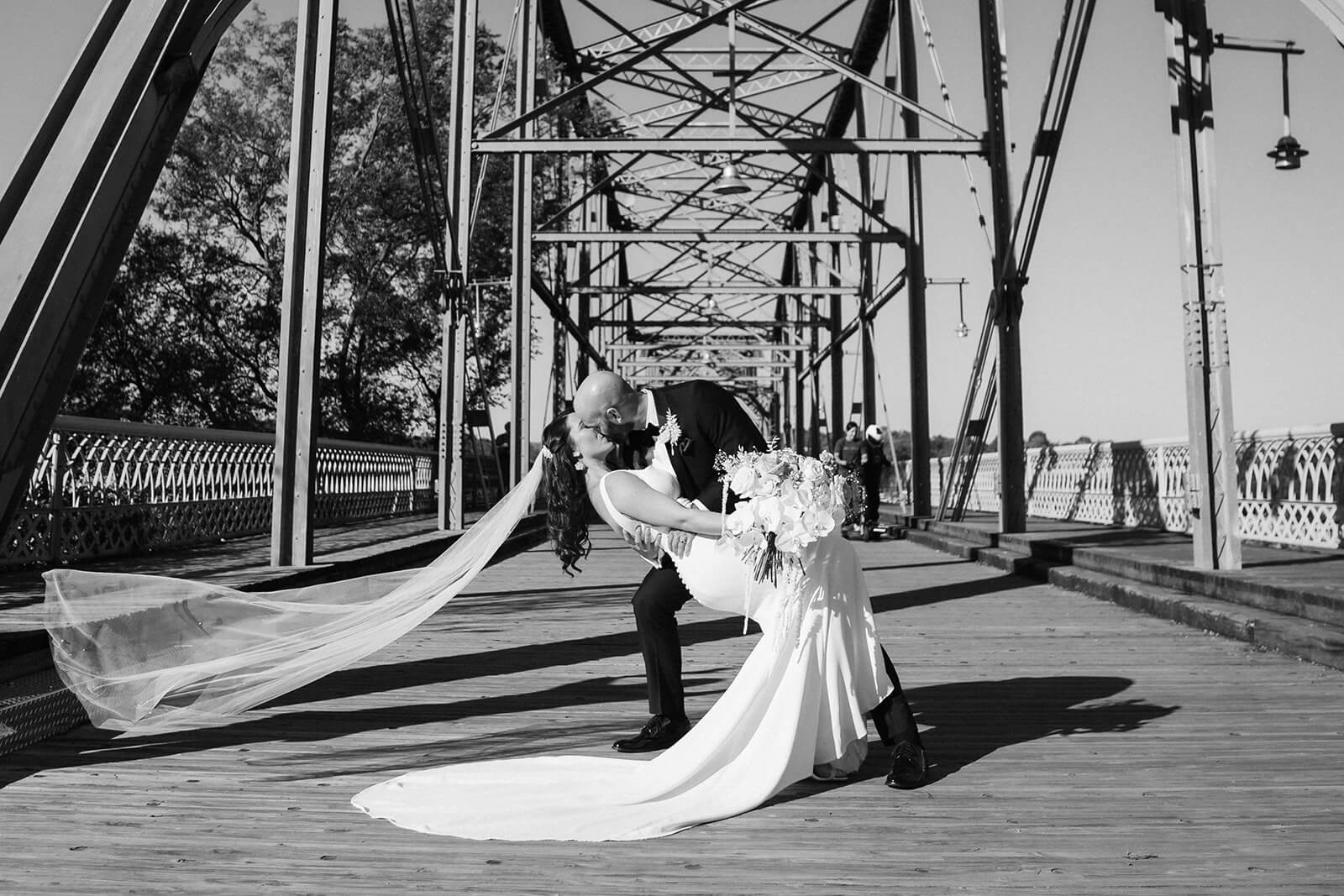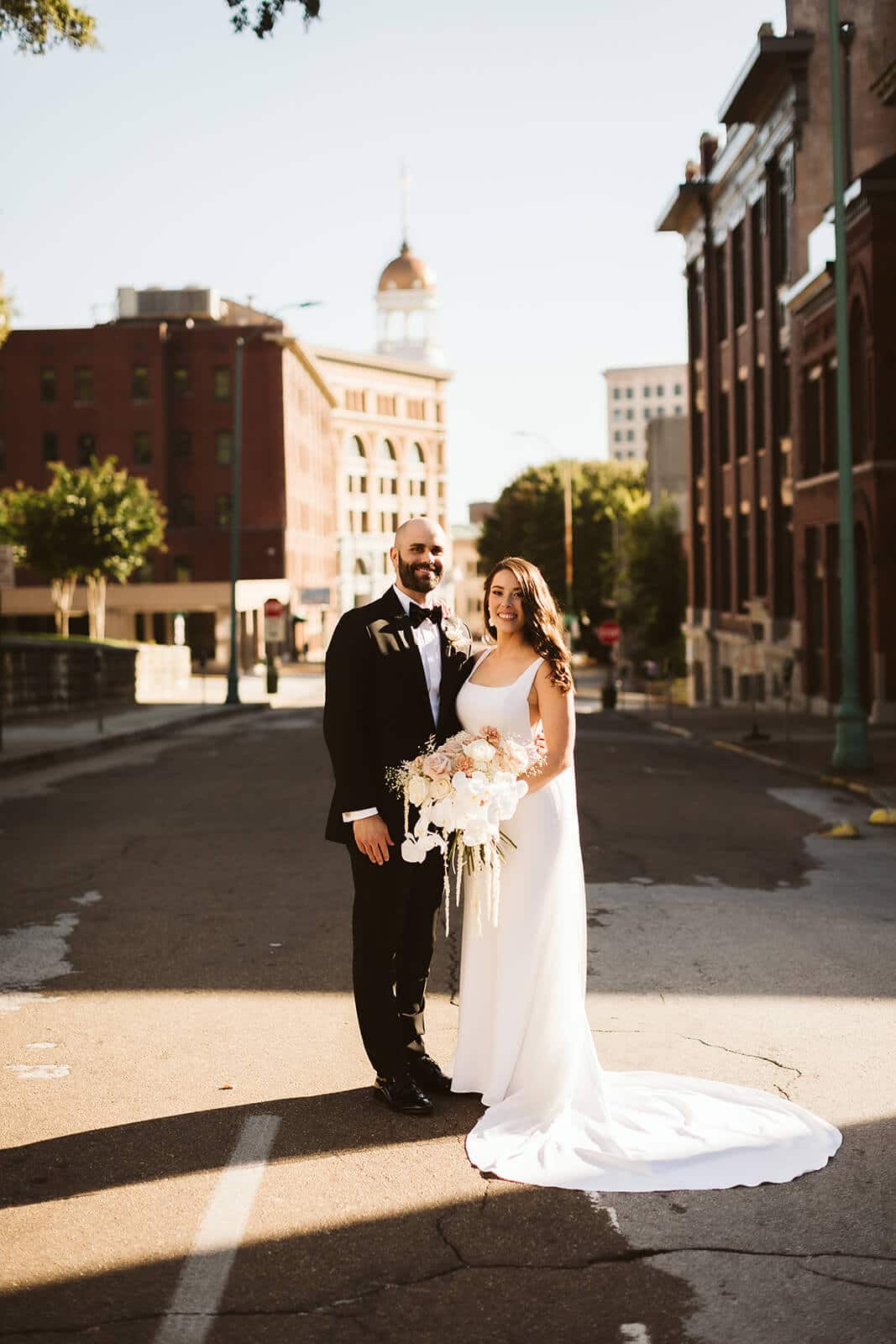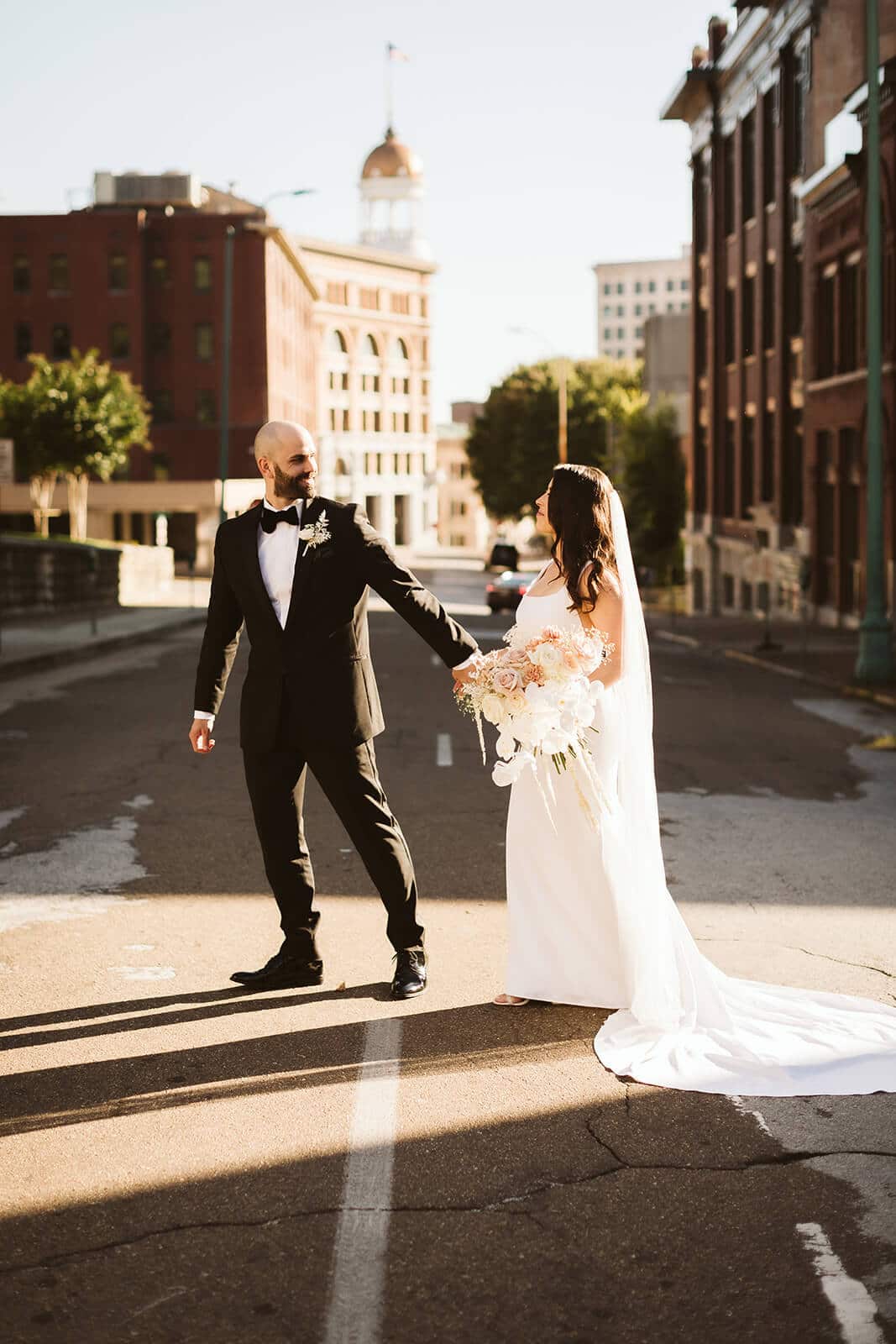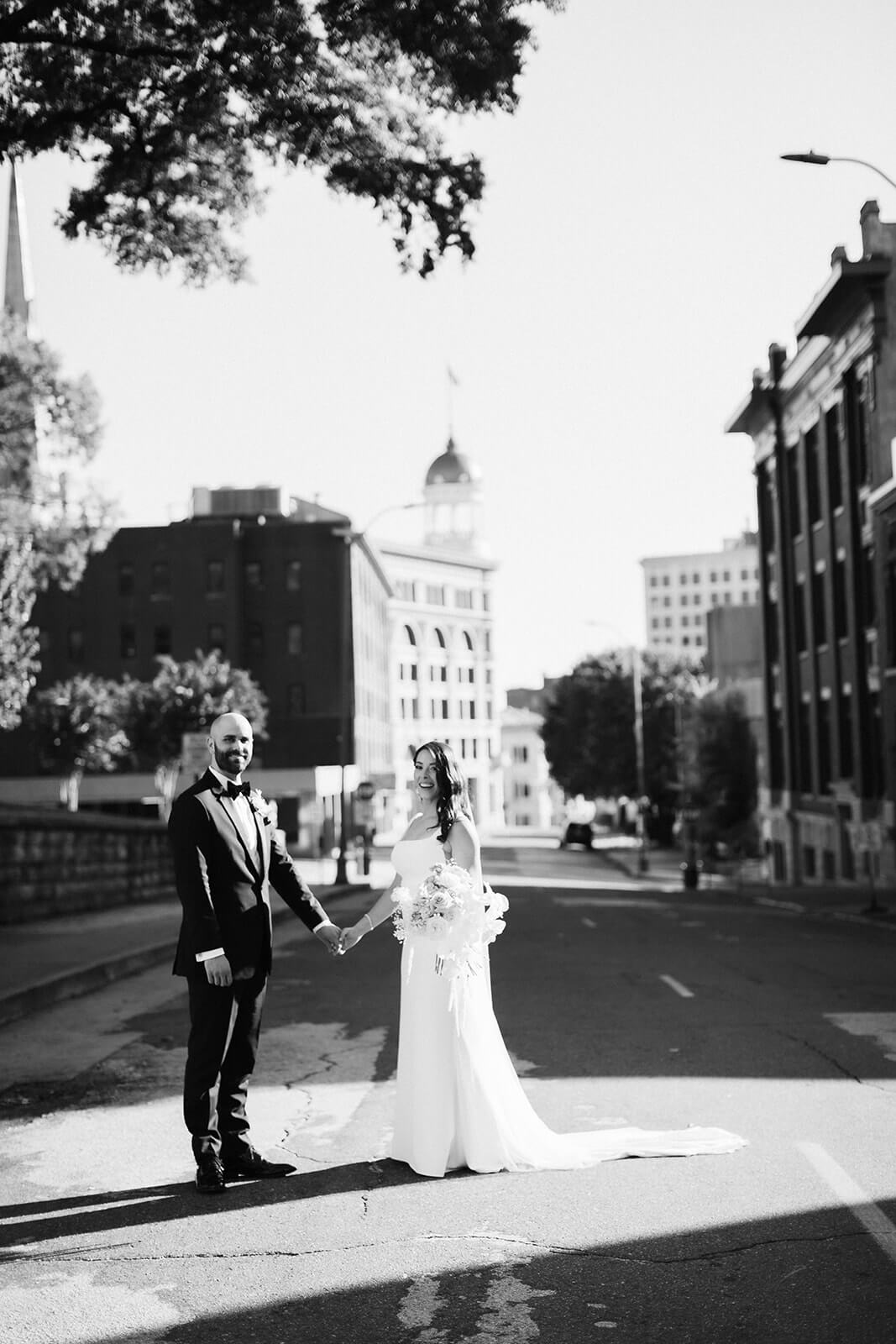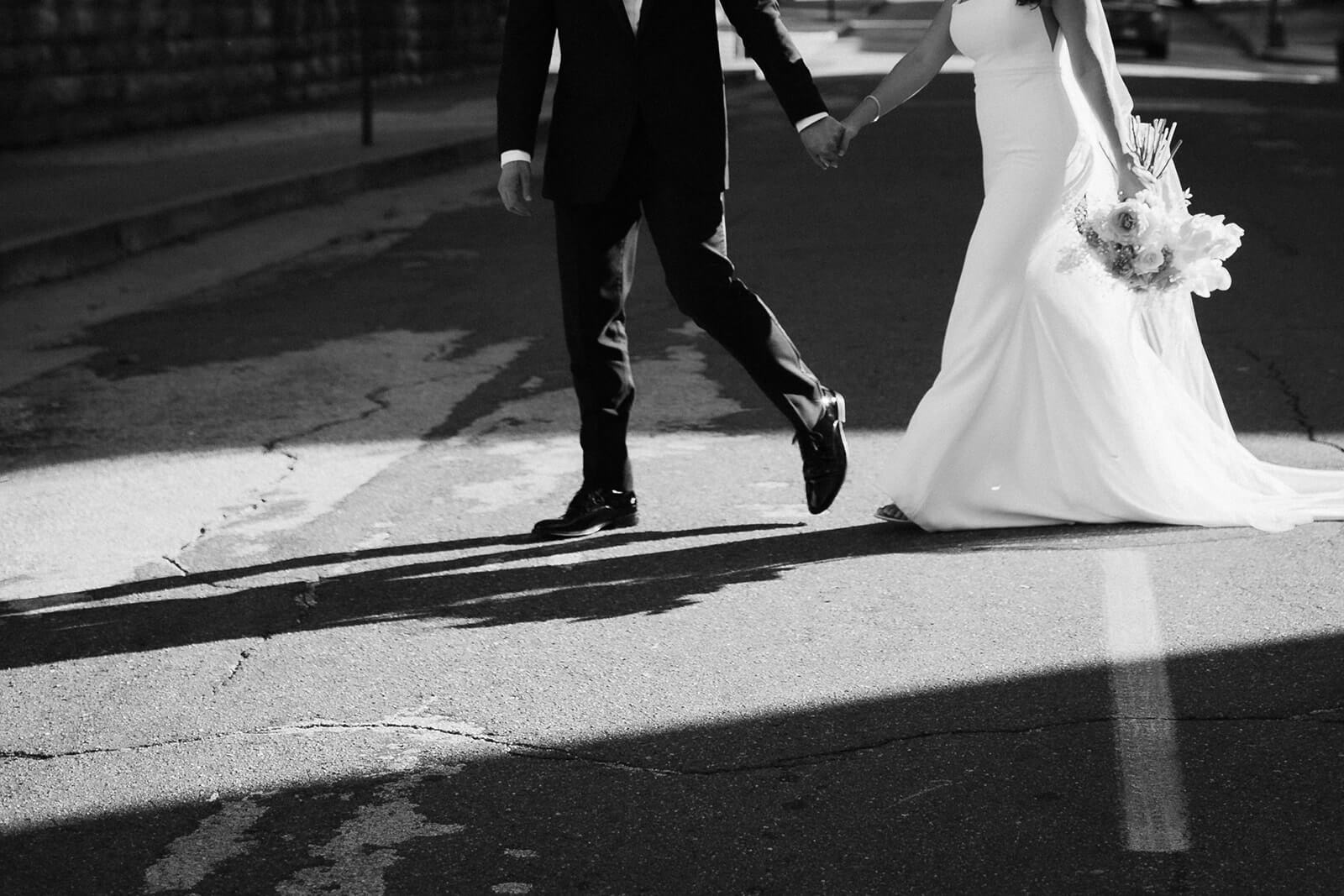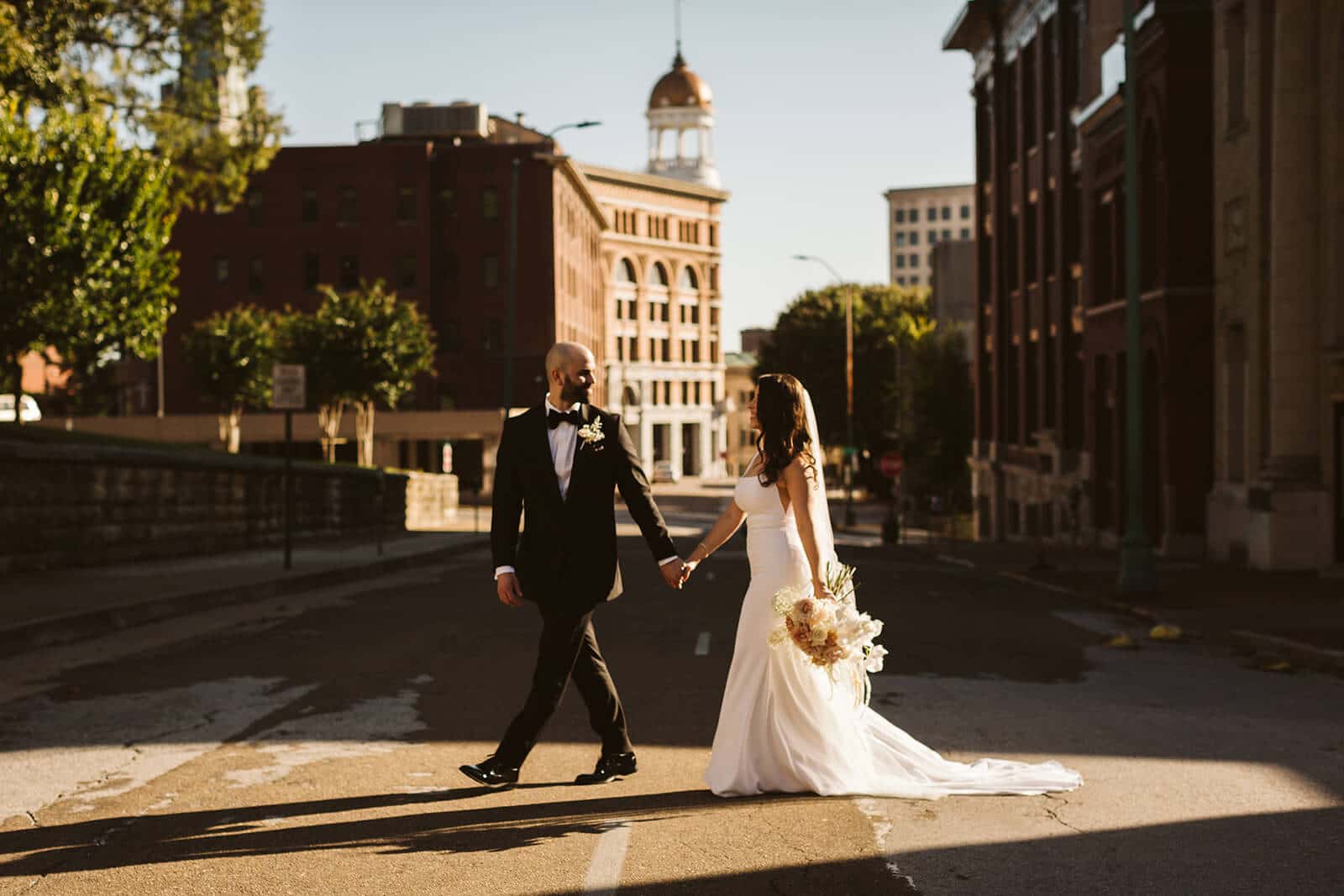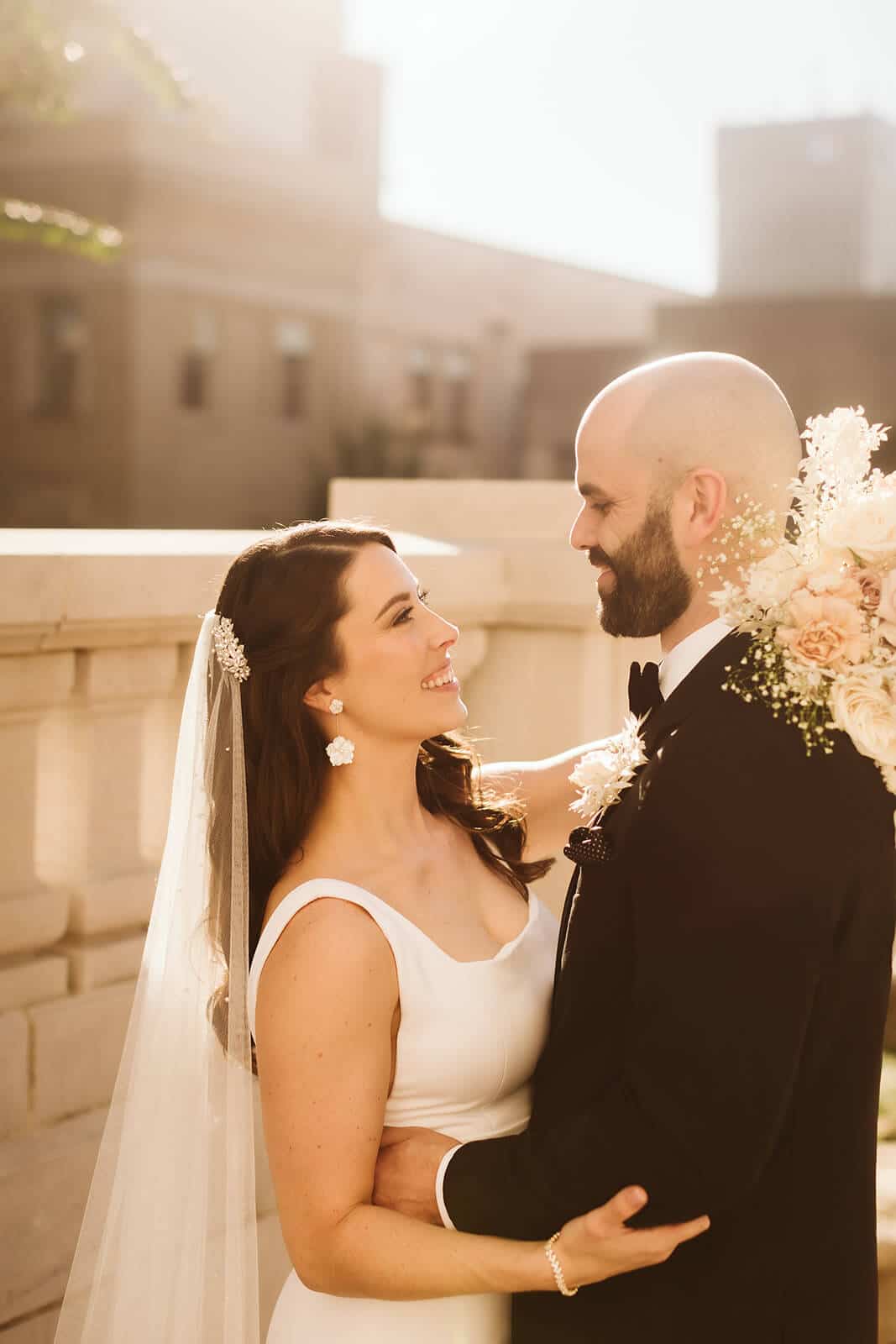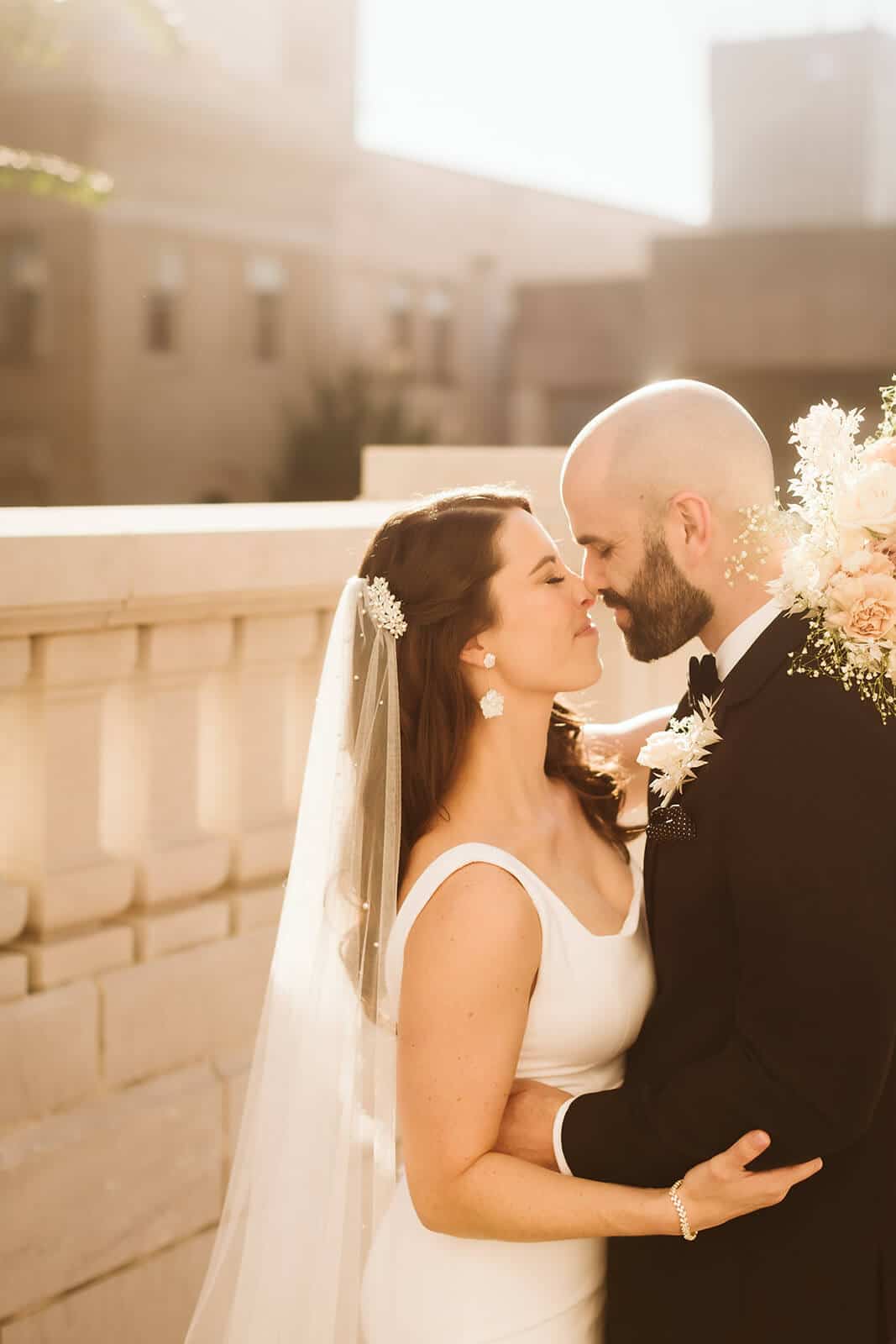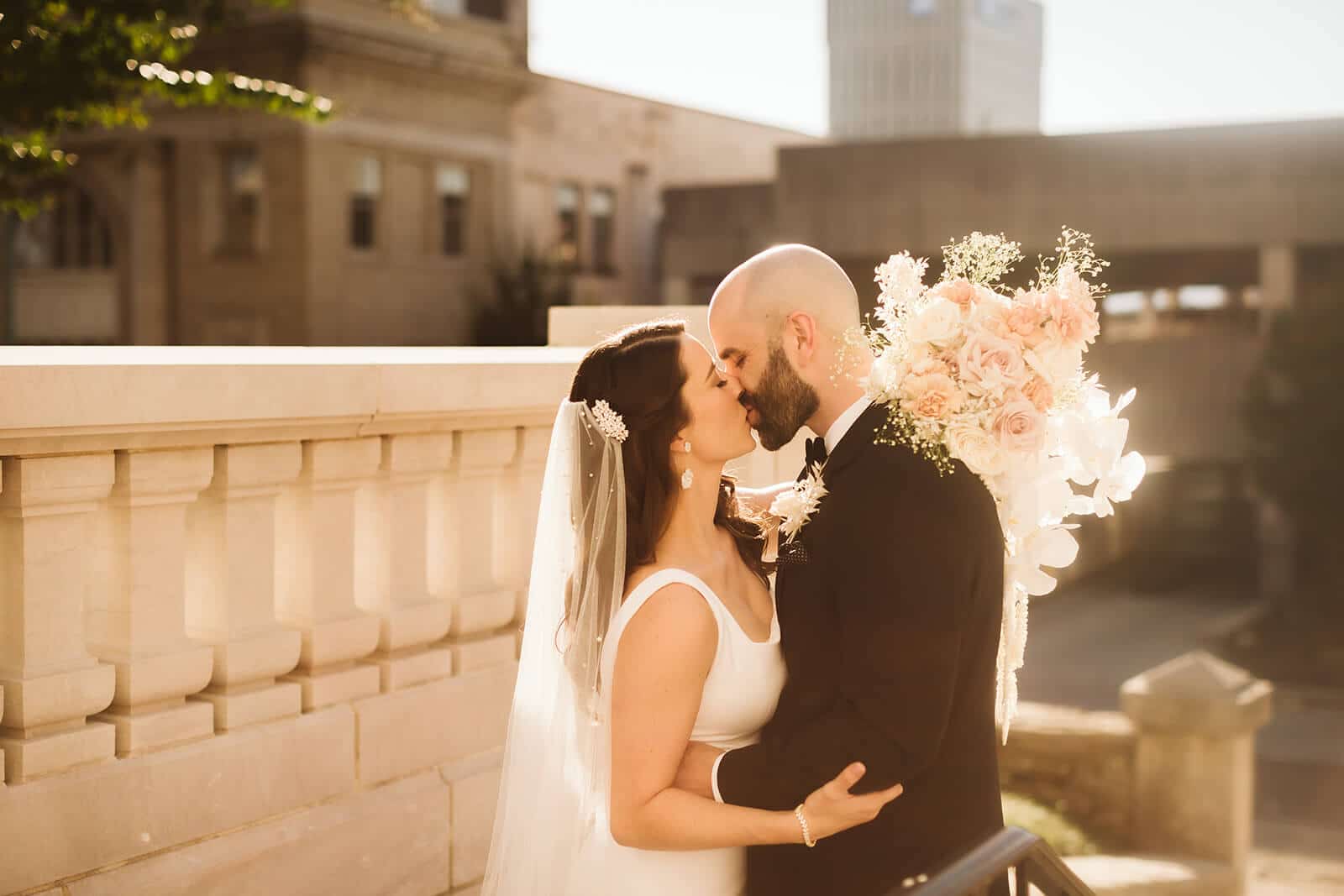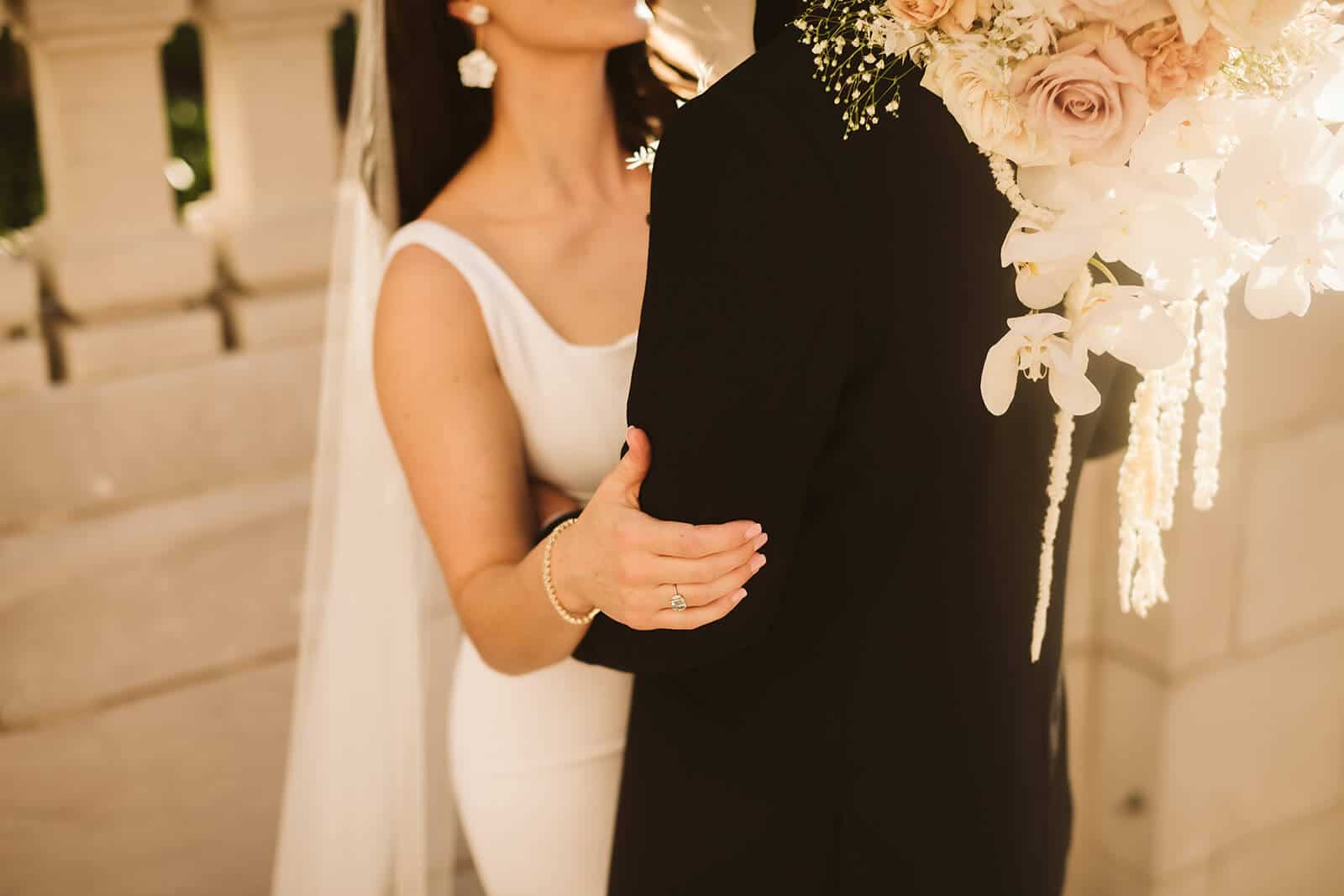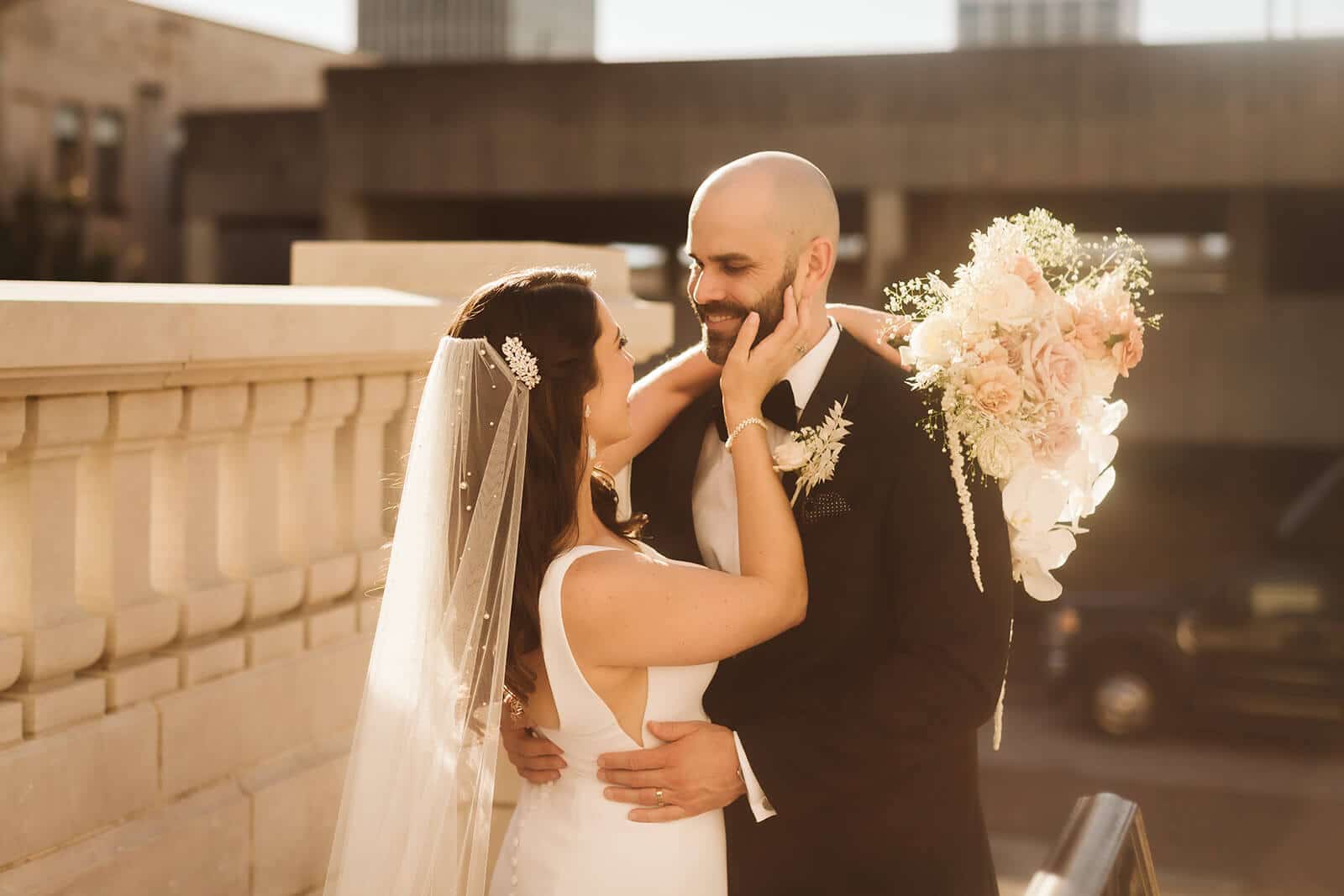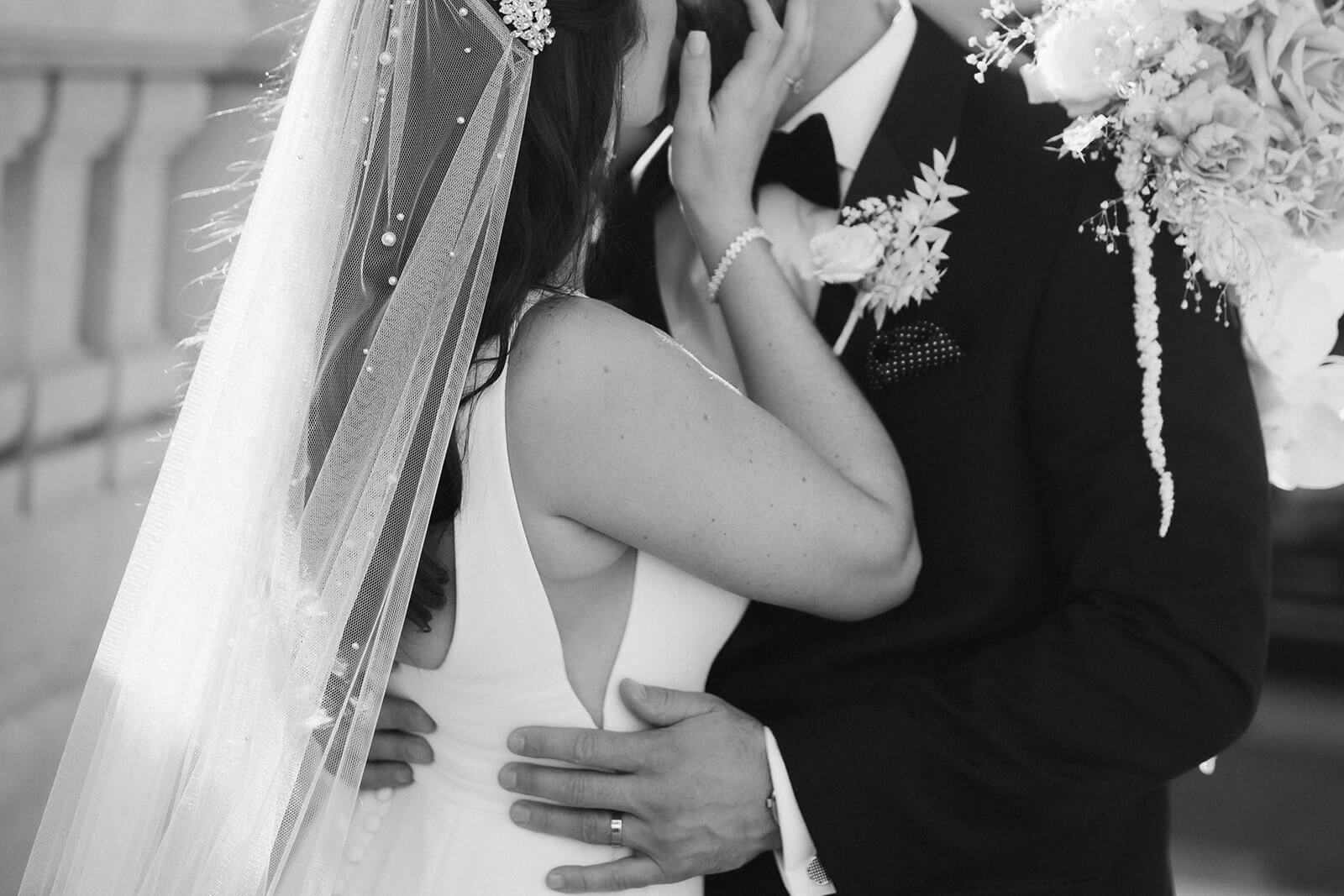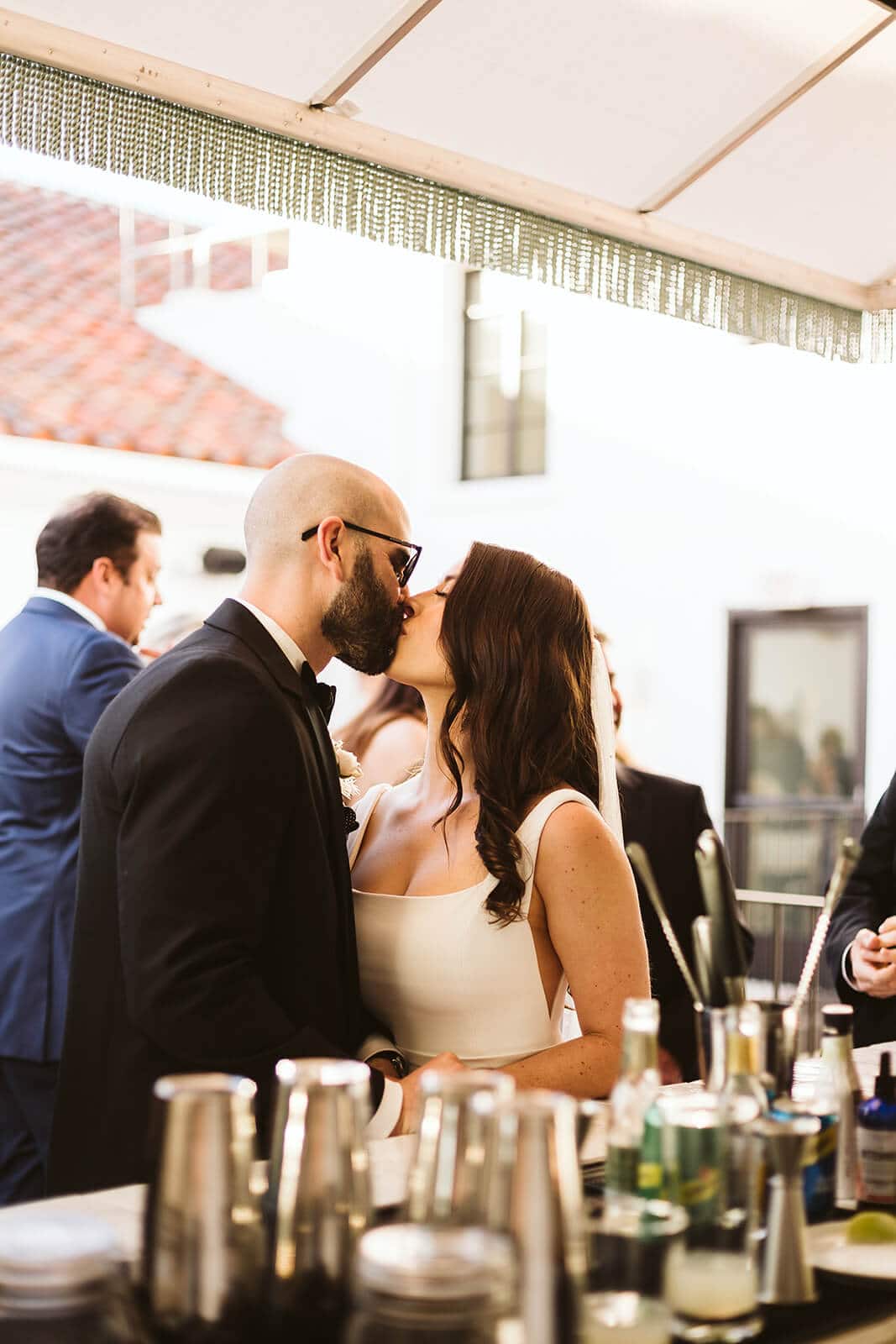 Wedding Ceremony at the Basilica of Saints Peter and Paul
Taylor and Brien's wedding ceremony was held in the Basilica of Saints Peter and Paul just a few minutes away from the Common House. With the basilica being so close and with the morning running so smoothly, the wedding party and family arrived over an hour before the ceremony was planned to start. This meant that we were able to get all of the family photos that were on Taylor and Brien's shot list.
One of the great things that Taylor and Brien did during their wedding planning was to hire Mia + May Events to be their planner and coordinator. I've worked with Danielle, the founder of Mia + May, before and every time I do, I am just astounded at the depth and detail she puts into her event coordination.
If you're an engaged couple looking to hire a wedding coordinator, I highly suggest Danielle and her associates. Just be aware that she only takes a limited number of weddings per year so she is able to fully focus on the weddings she's hired to work on. Beginning from the bridal breakfast the night before all the way to the morning after the wedding, Danielle's event timeline included every facet of information needed at specific points of each day. She even included reminders like 'bridesmaids carry their bouquets to the church' and 'confirm we have the rings.'
After family portraits were taken the Taylor, Brien, and their wedding party remained on the lower level of the basilica while guests started to arrive. Once all were seated, Taylor walked down the aisle with her father under the stunning Gothic-style domed ceilings to Brien where they finally said their I Do's in a traditional church ceremony. When the ceremony was over, Taylor and Brien walked through the front doors of the basilica with their family and friends standing on either side of the stairs and walkway showering them with flower petals in a lovely send off.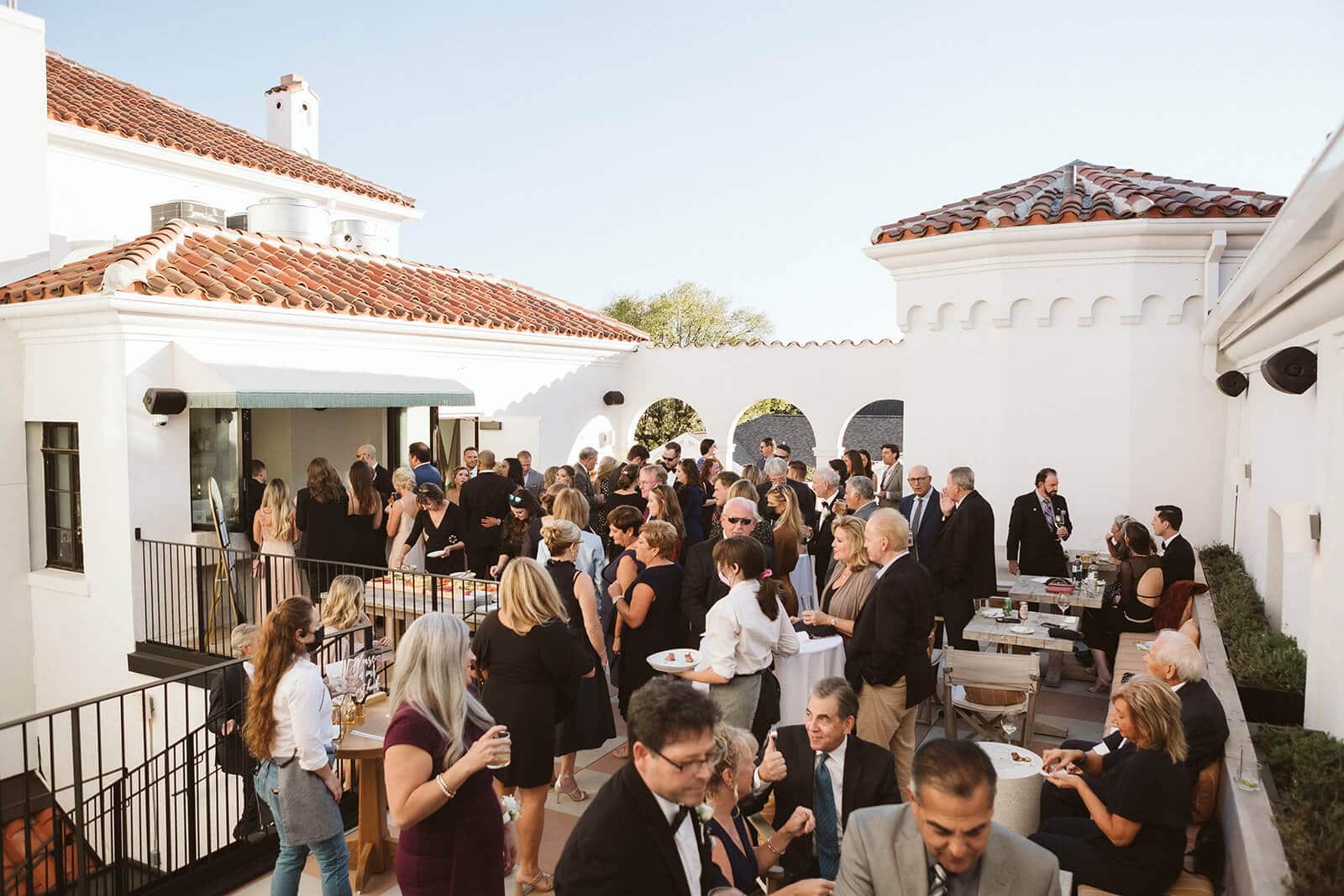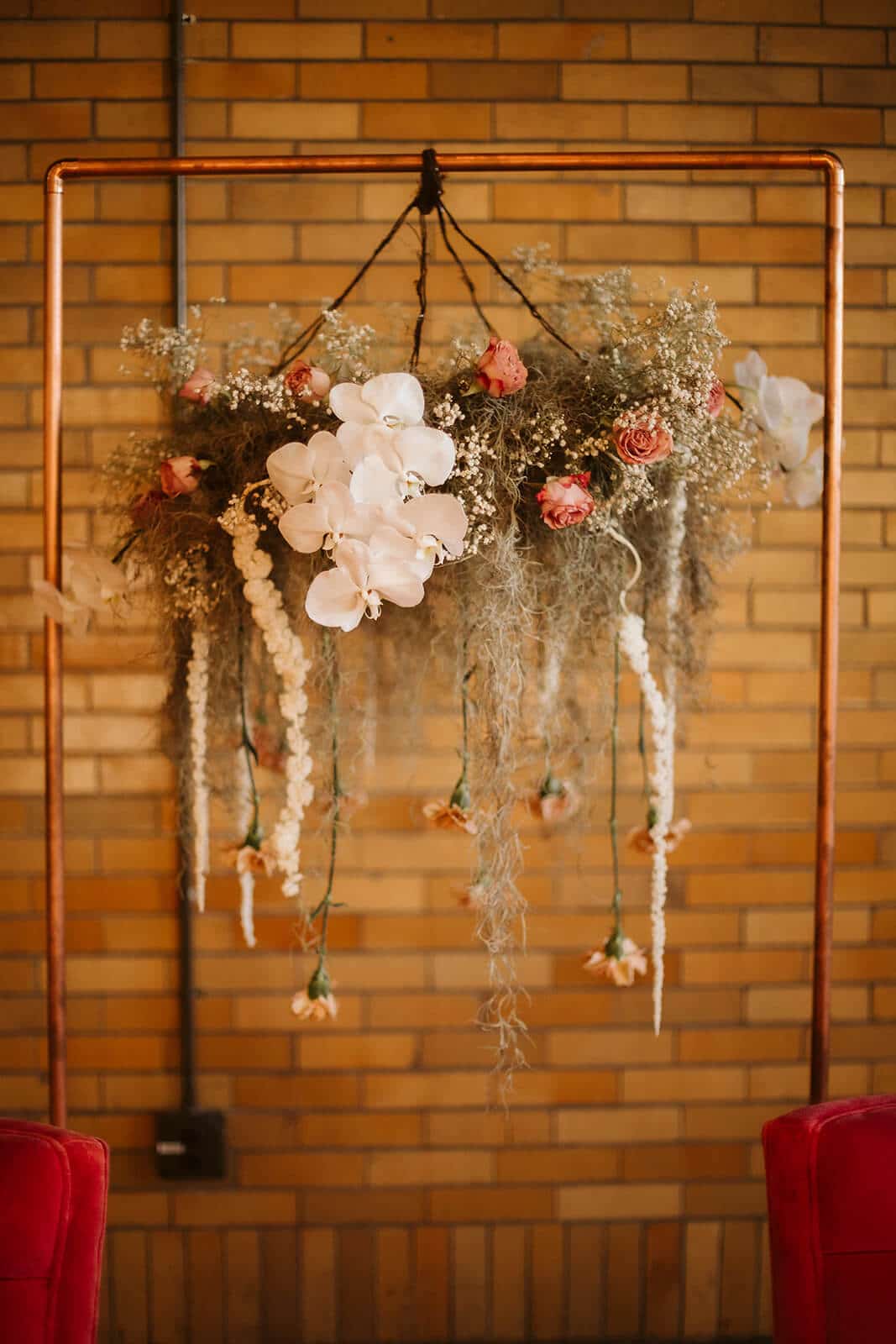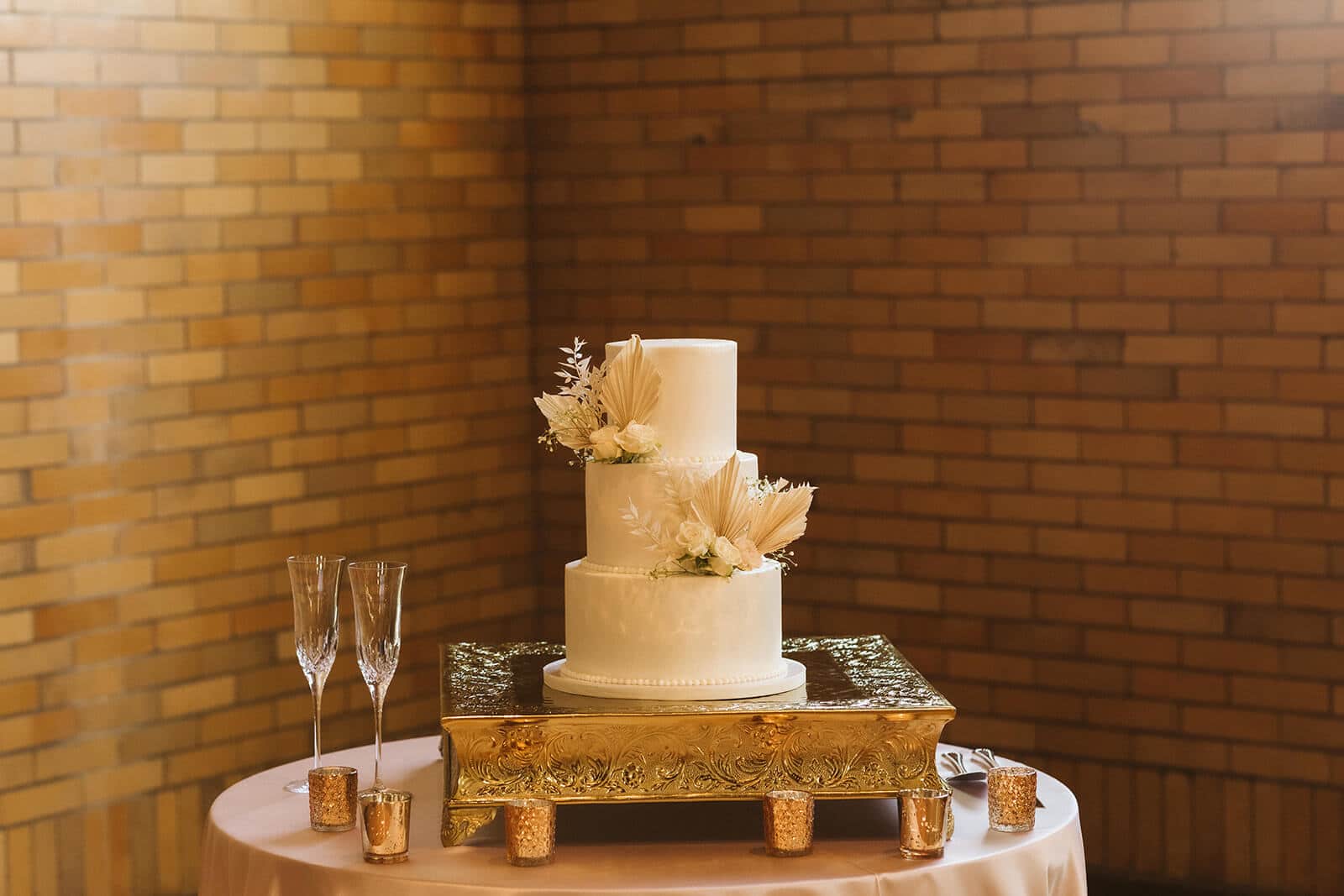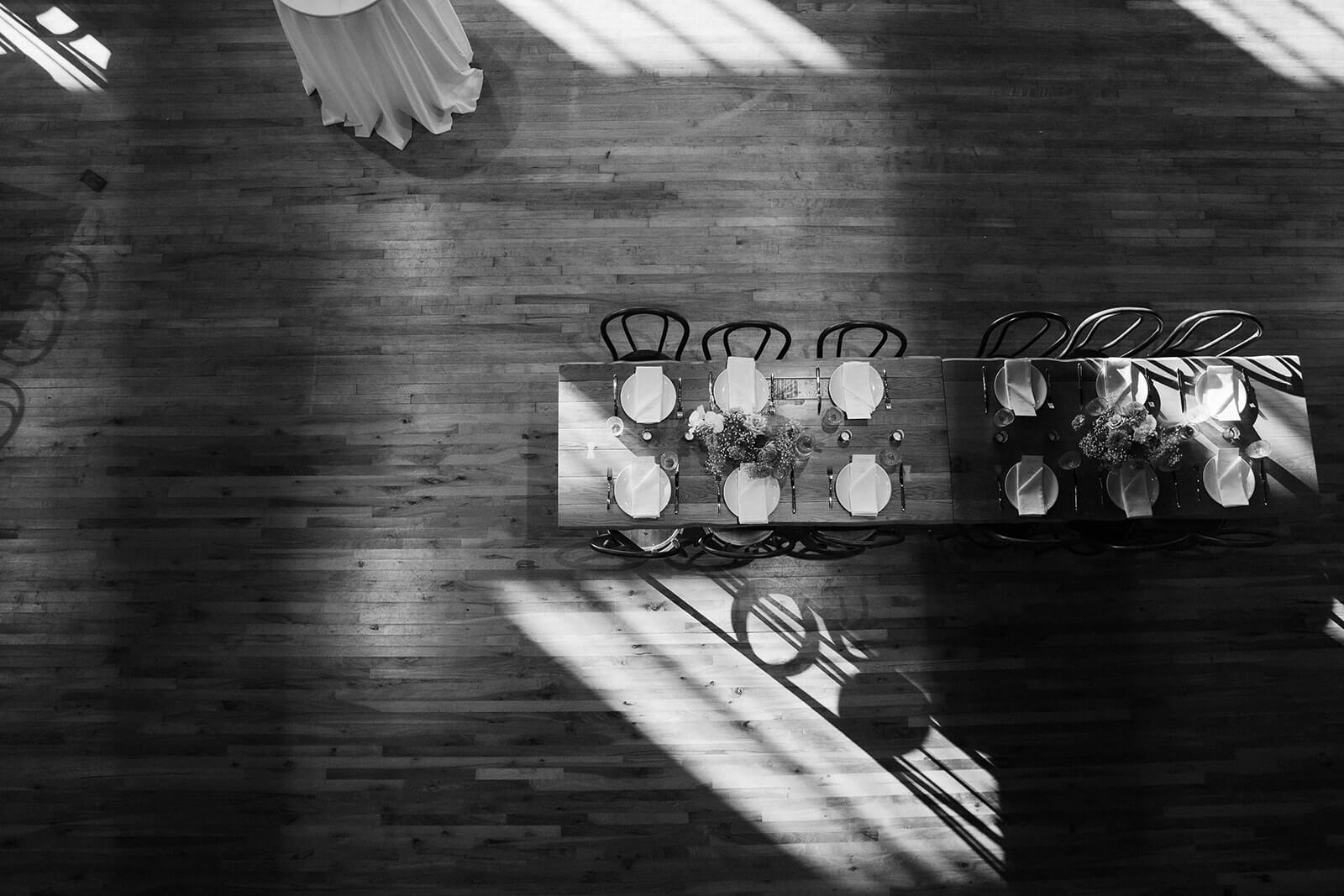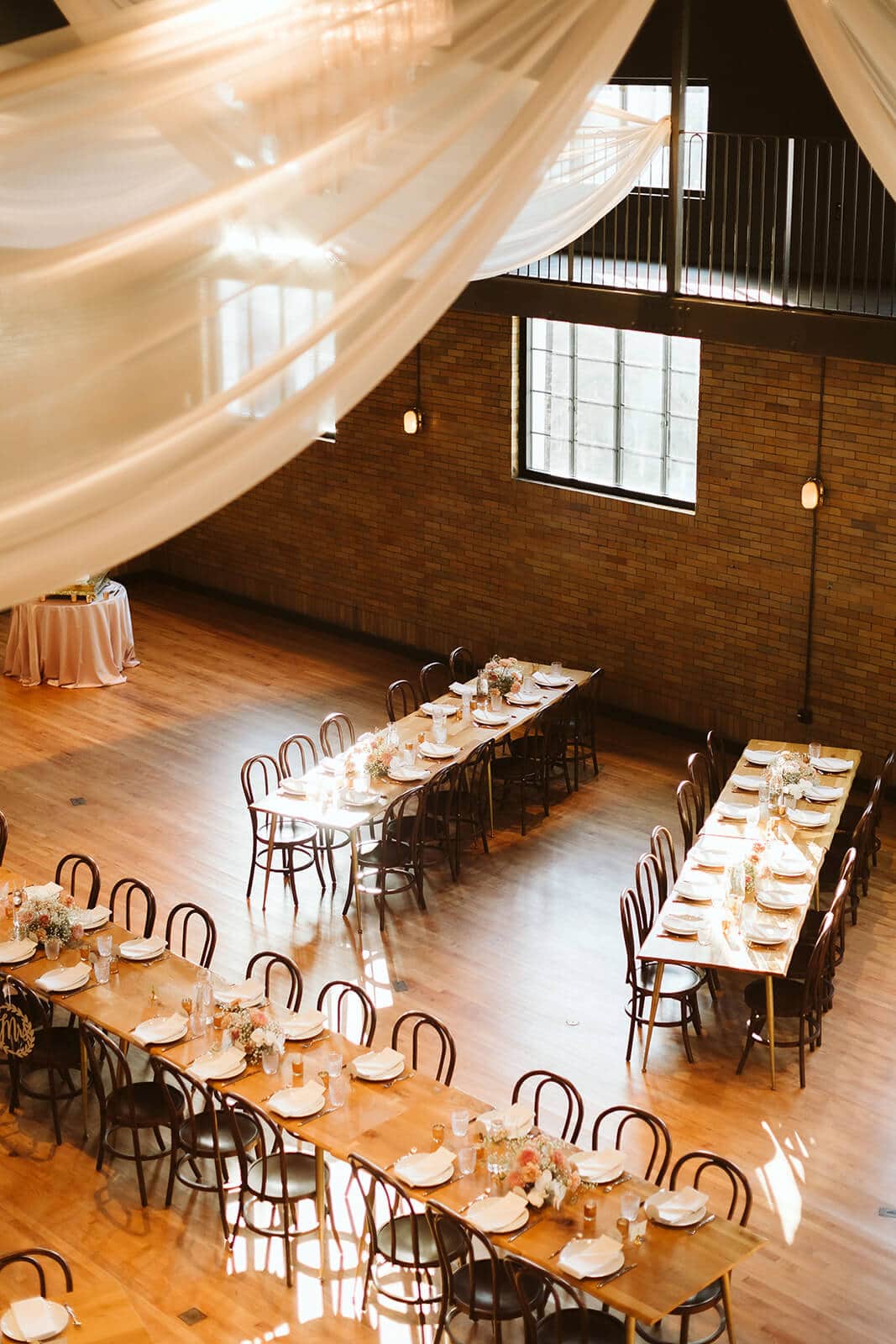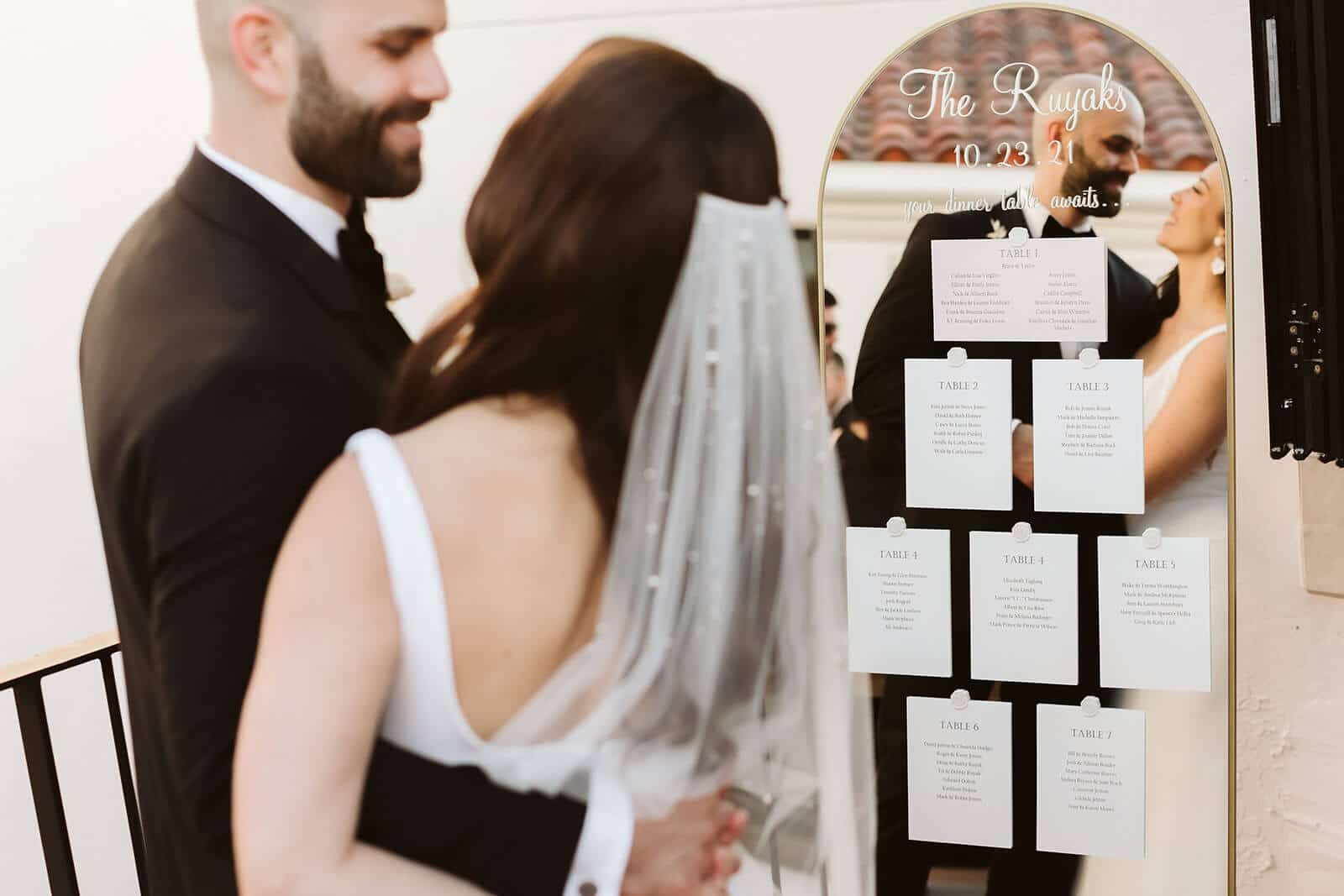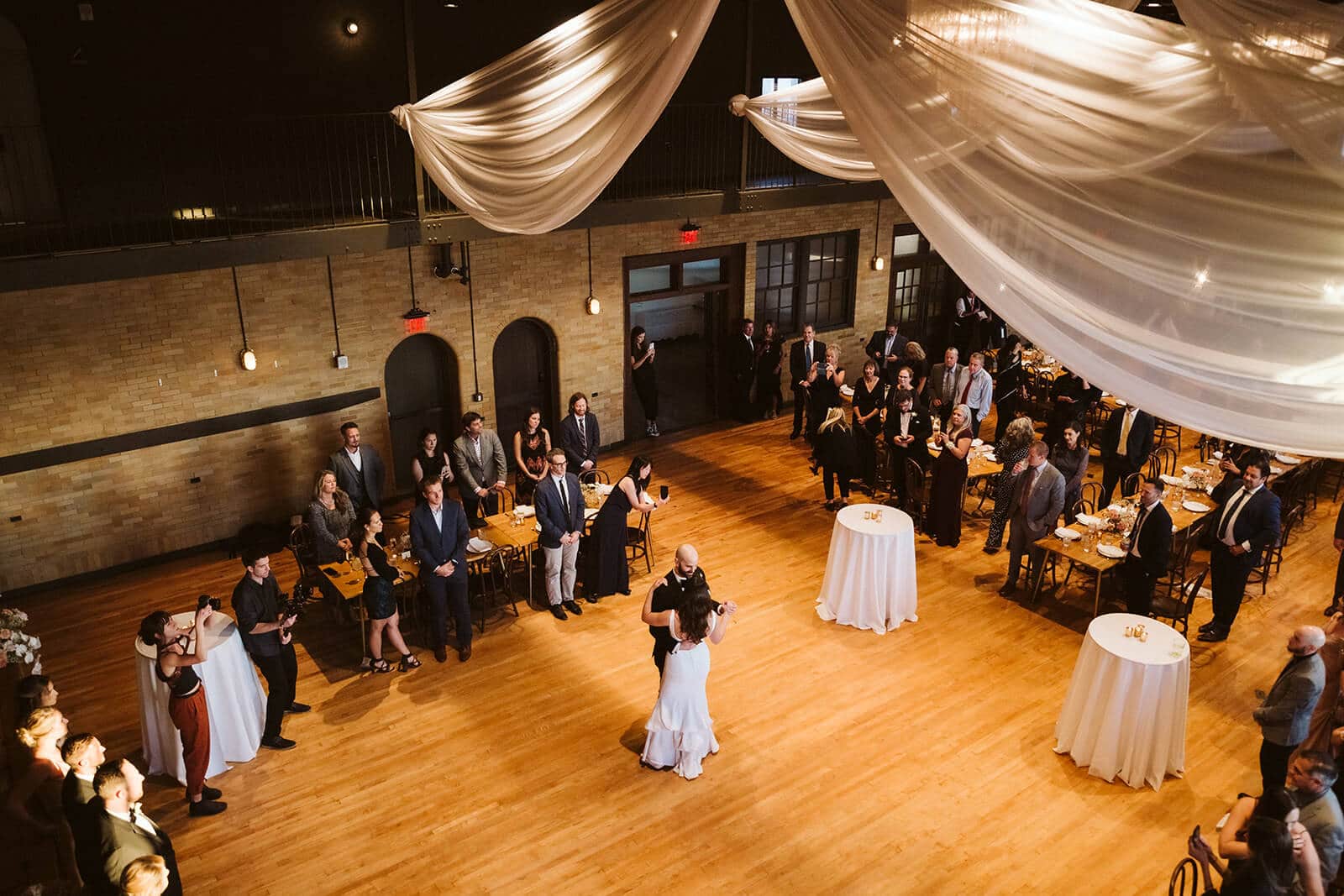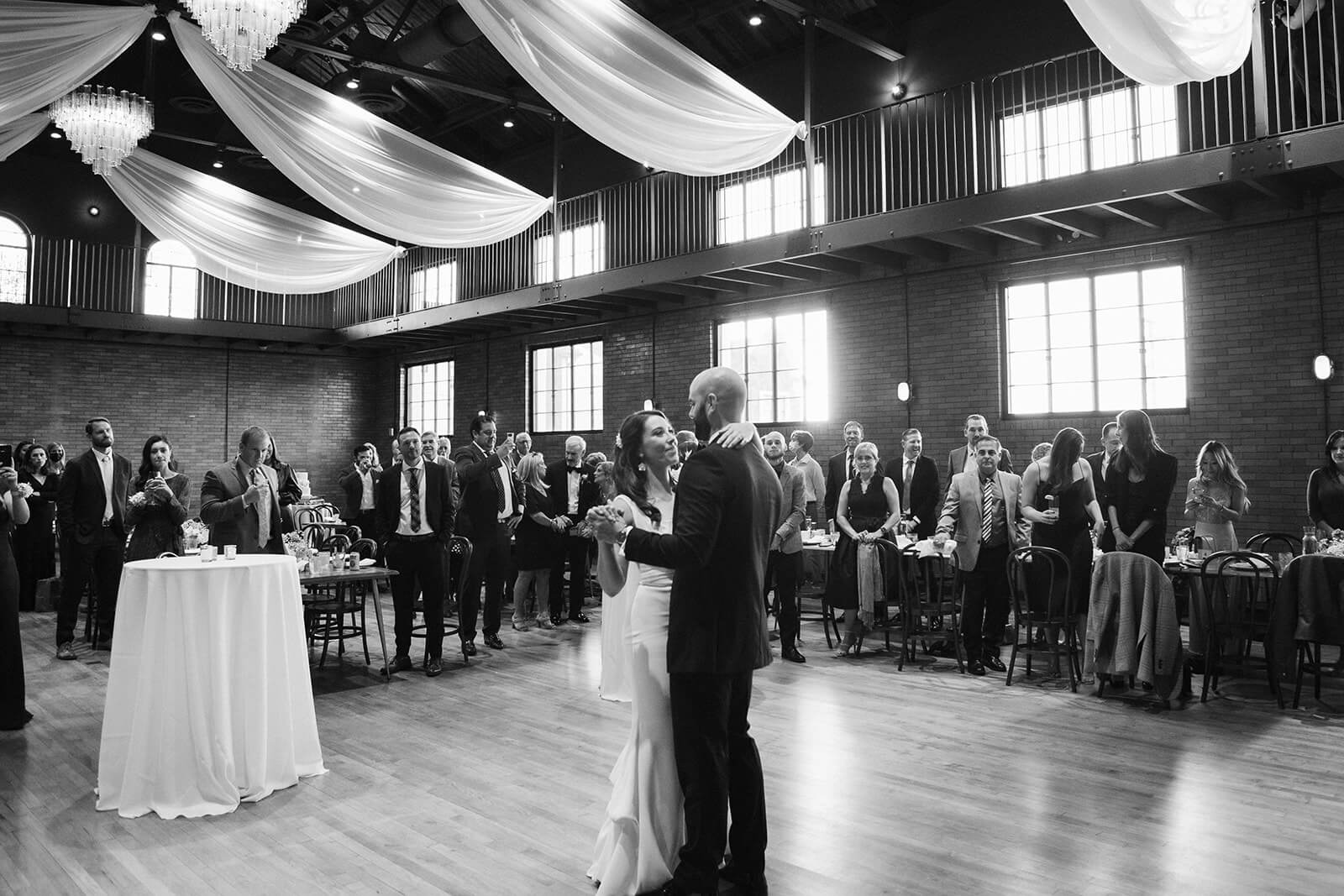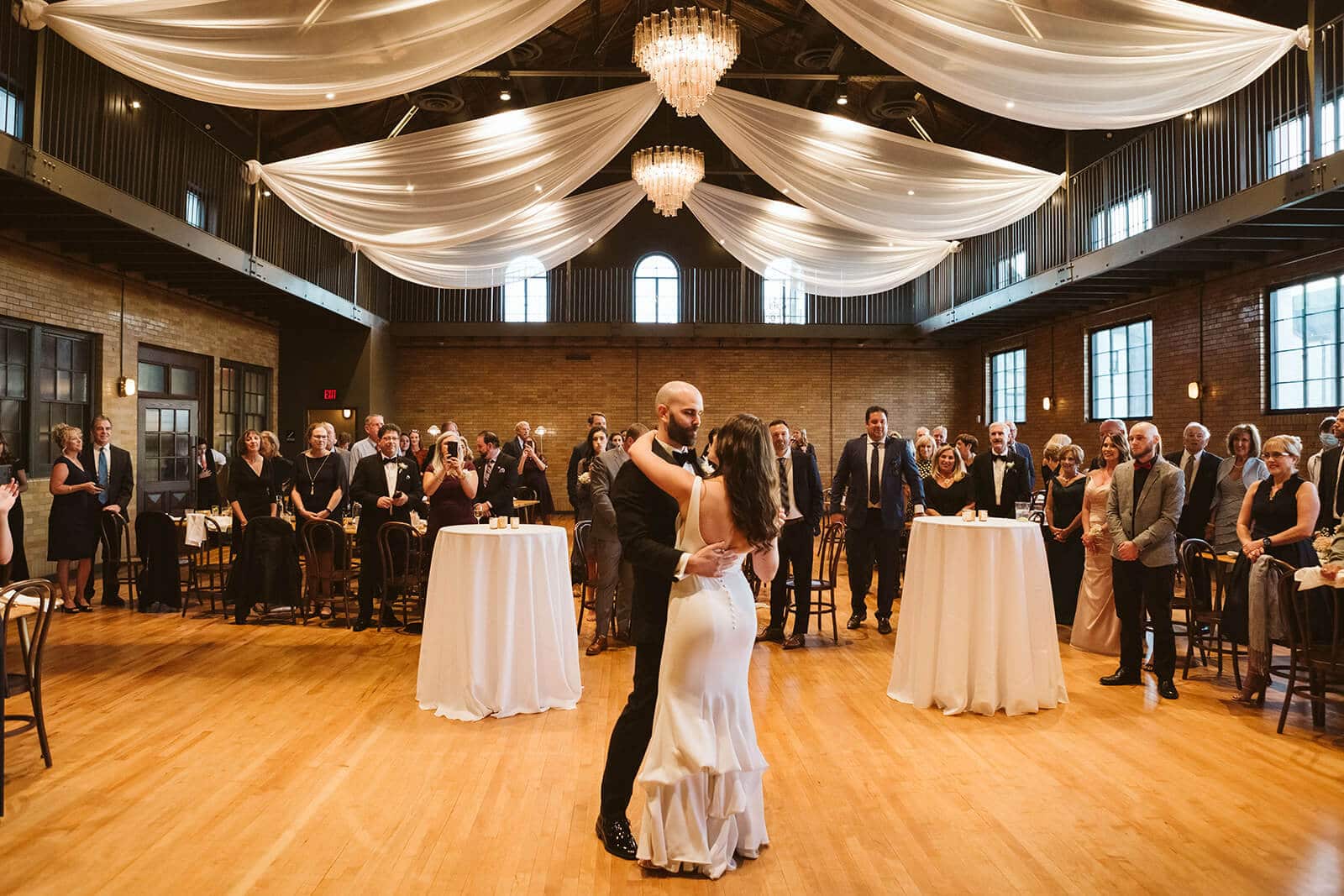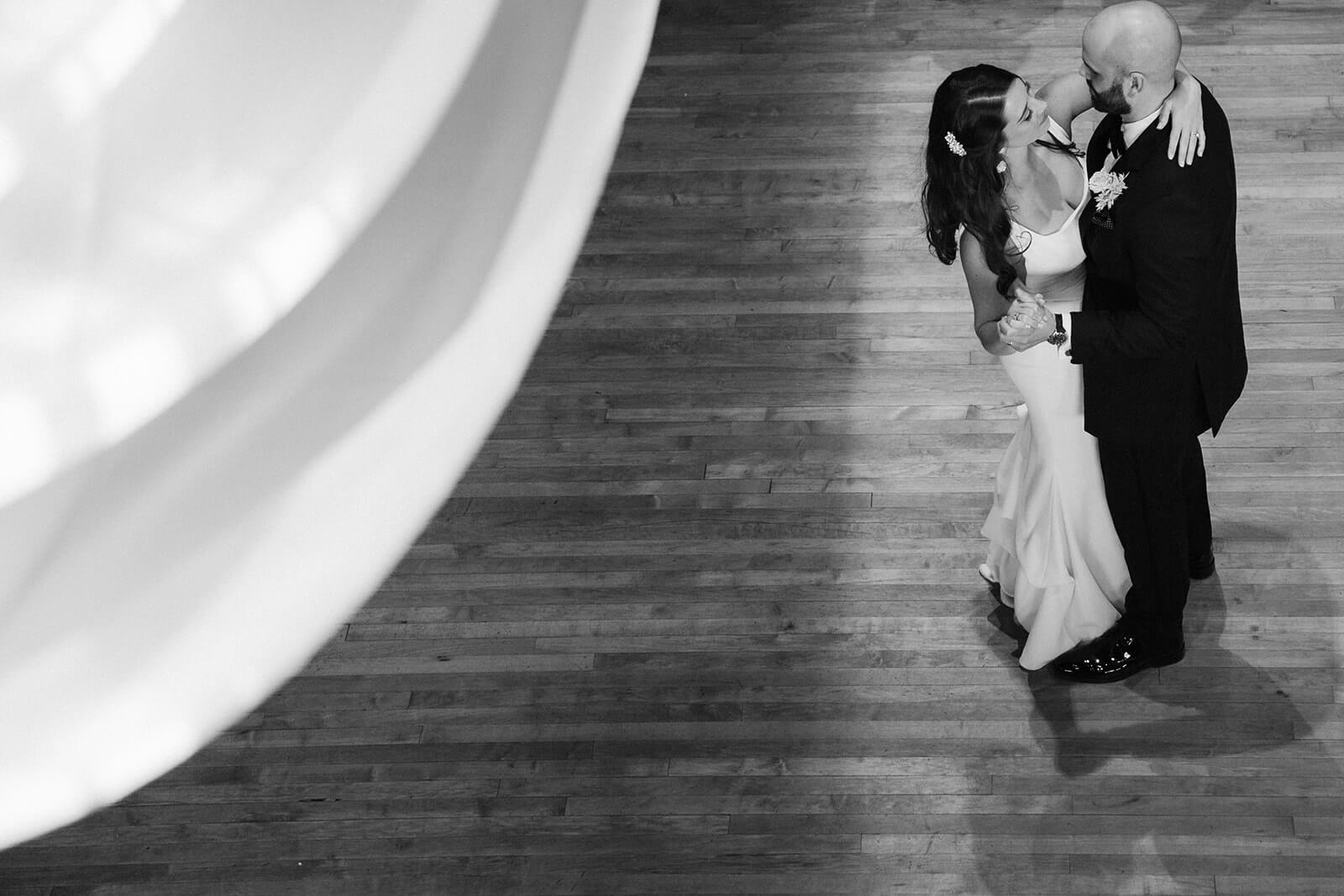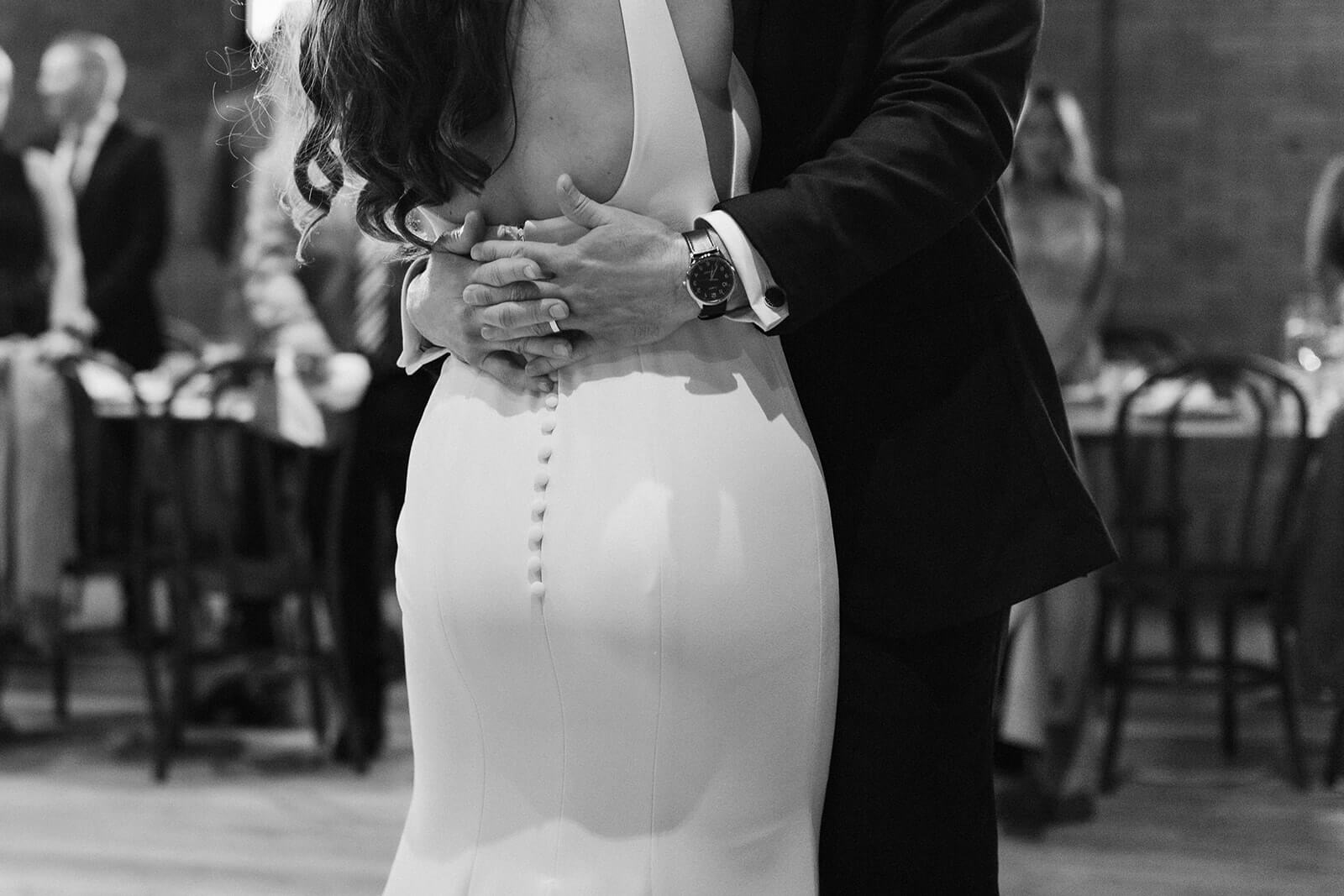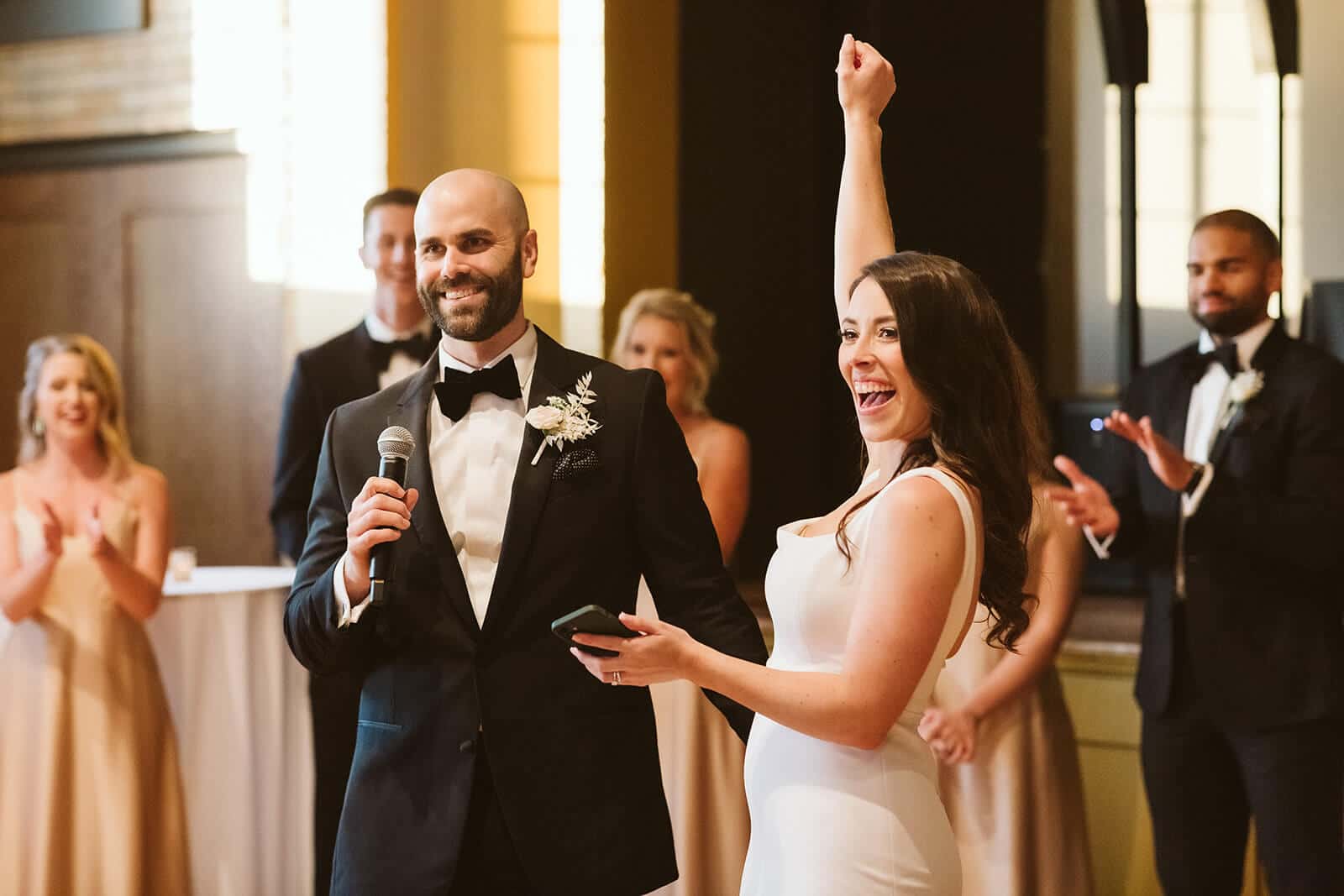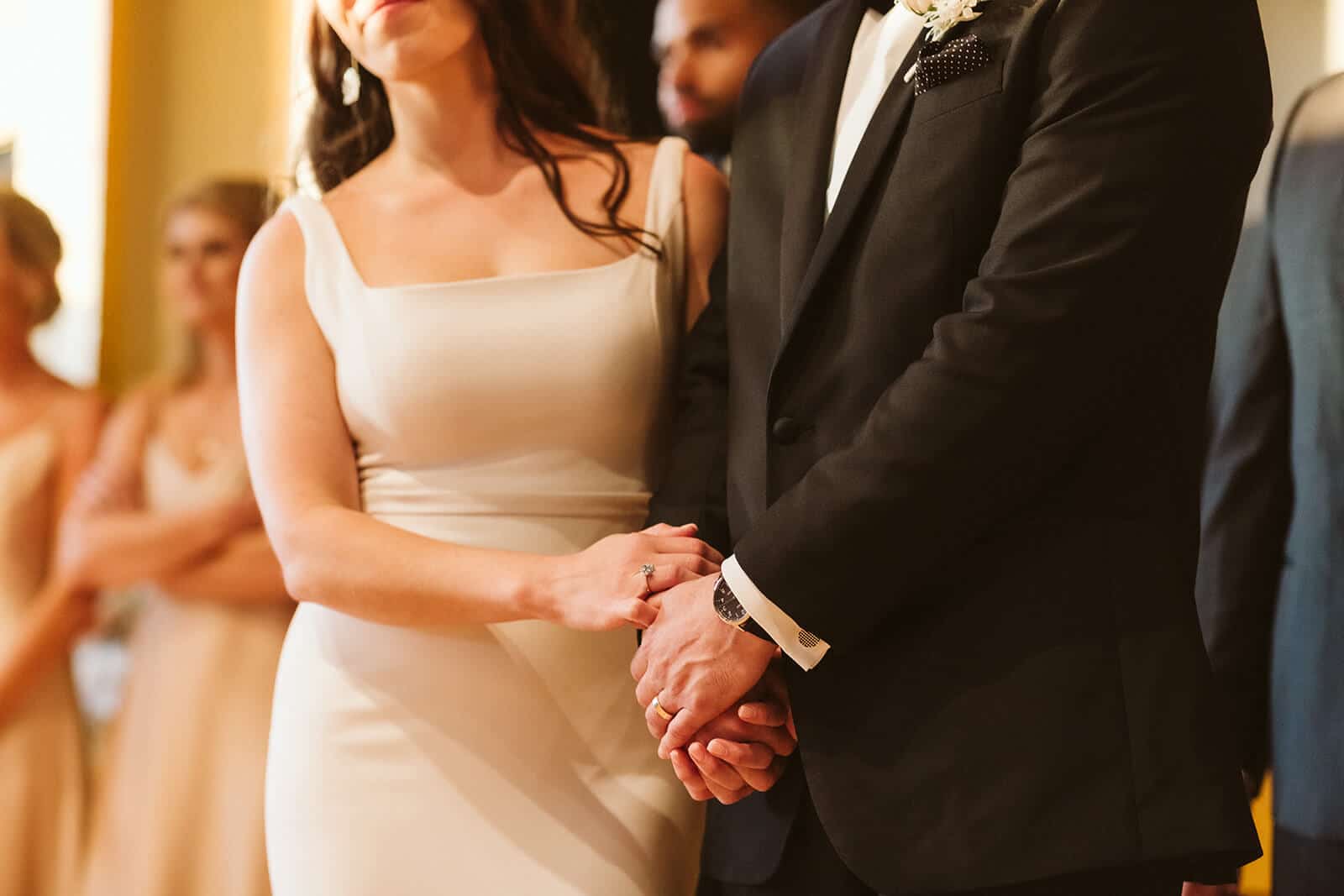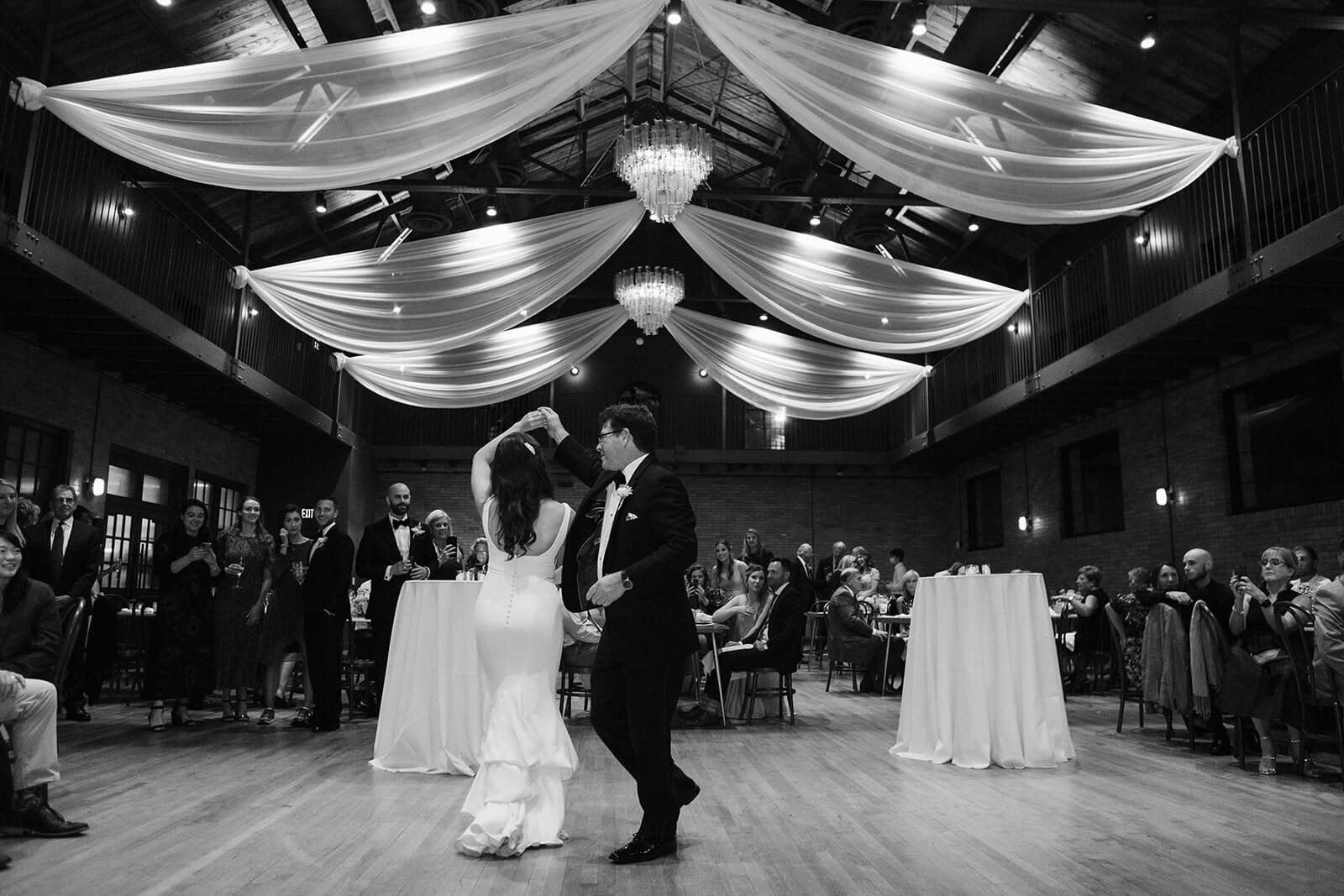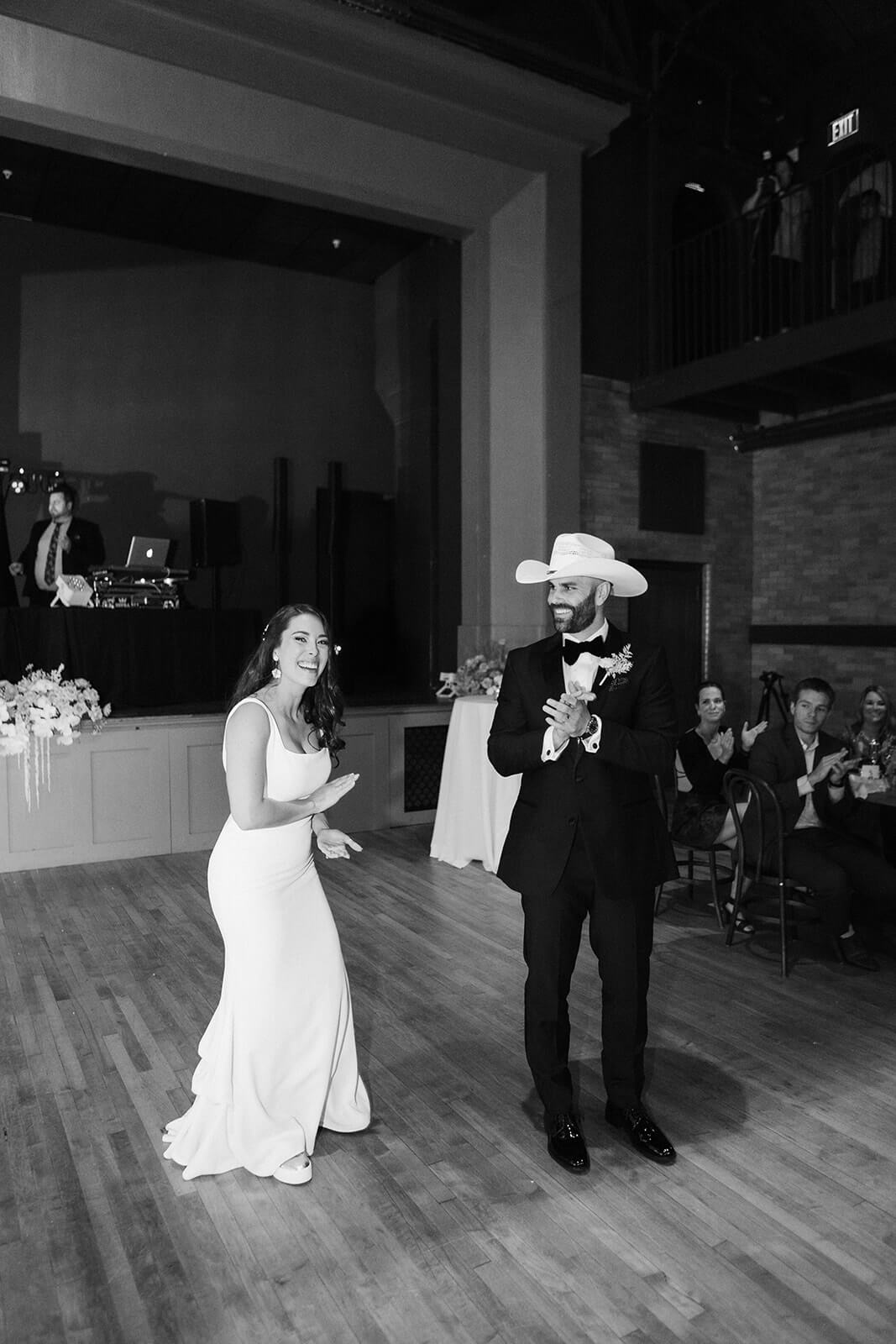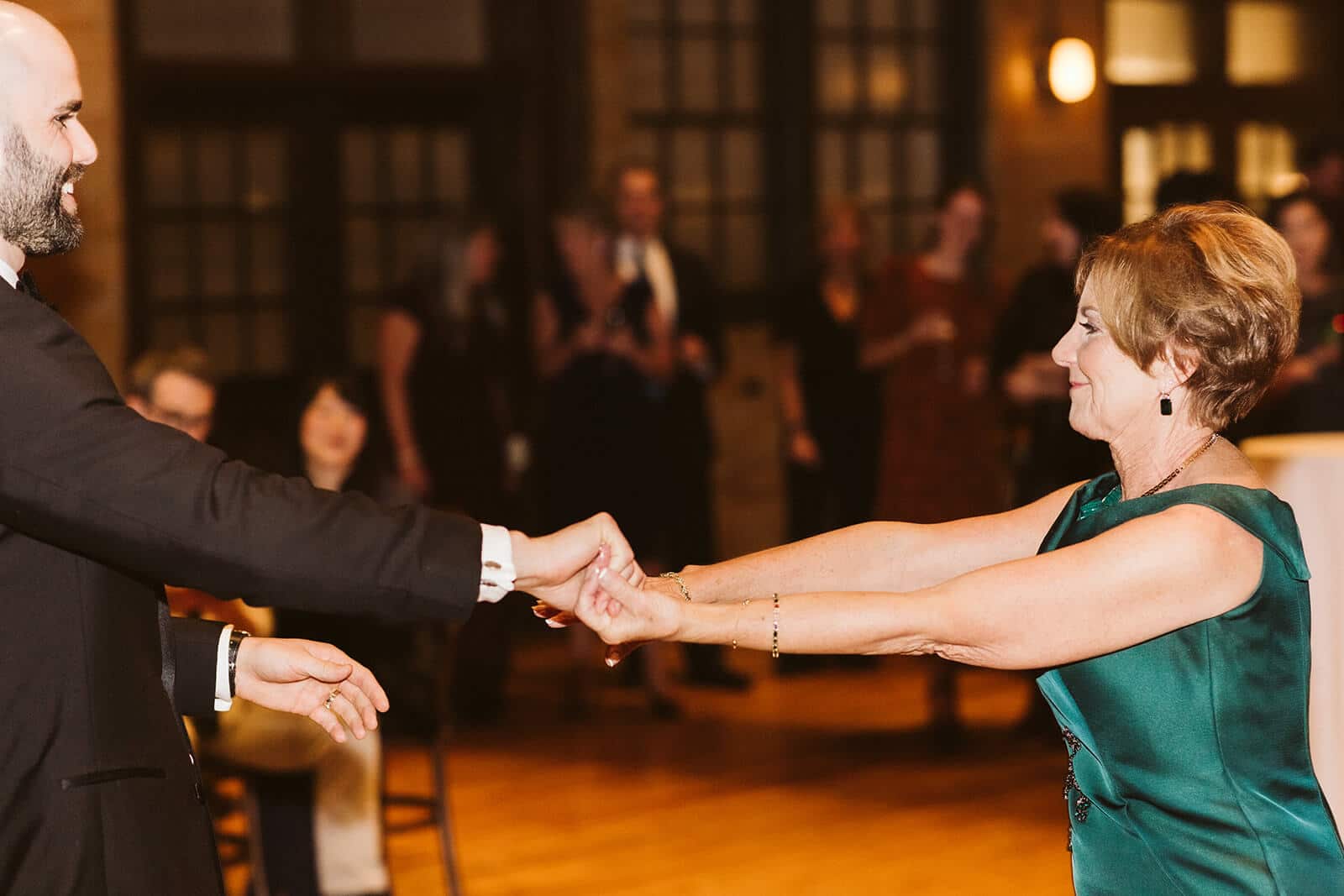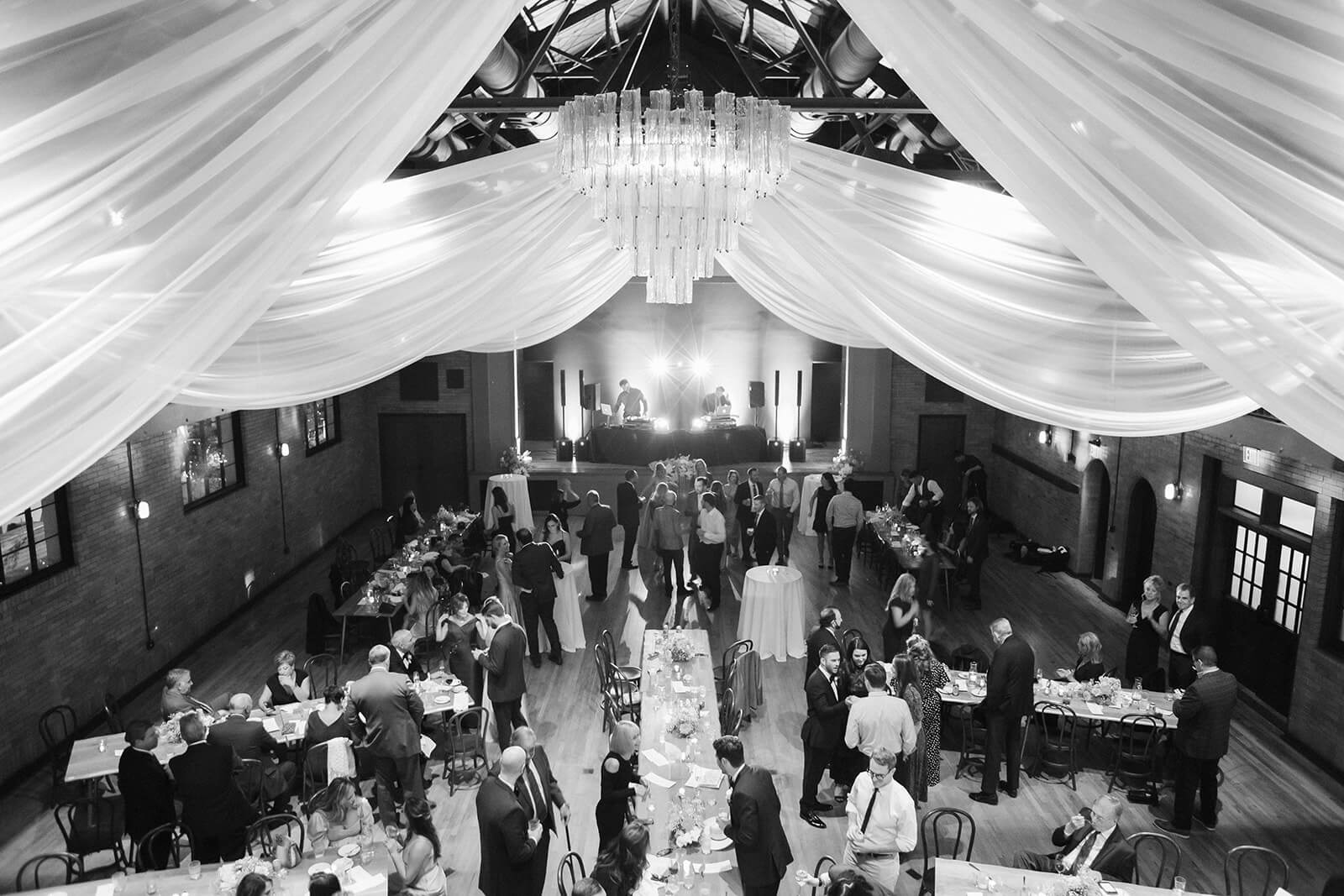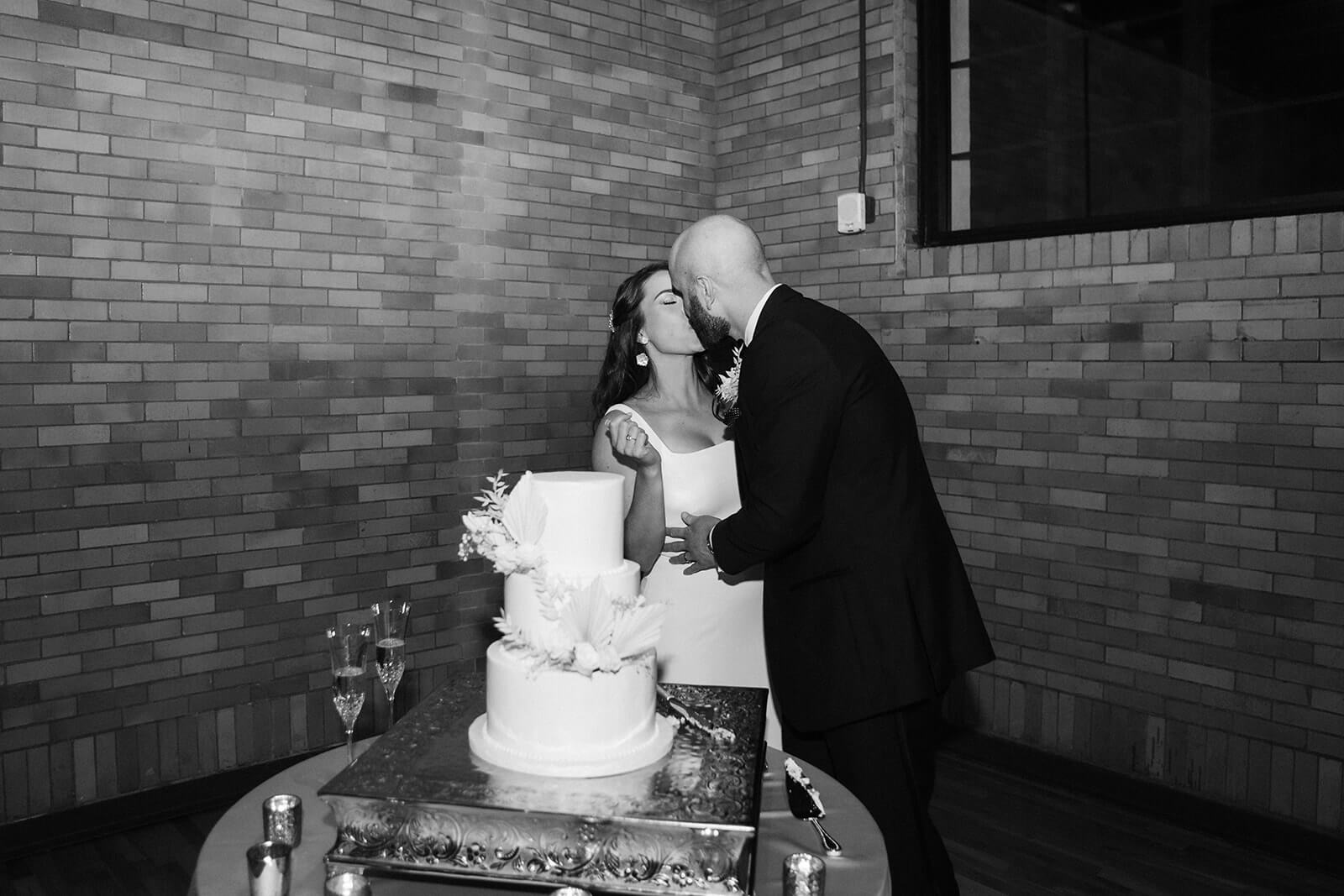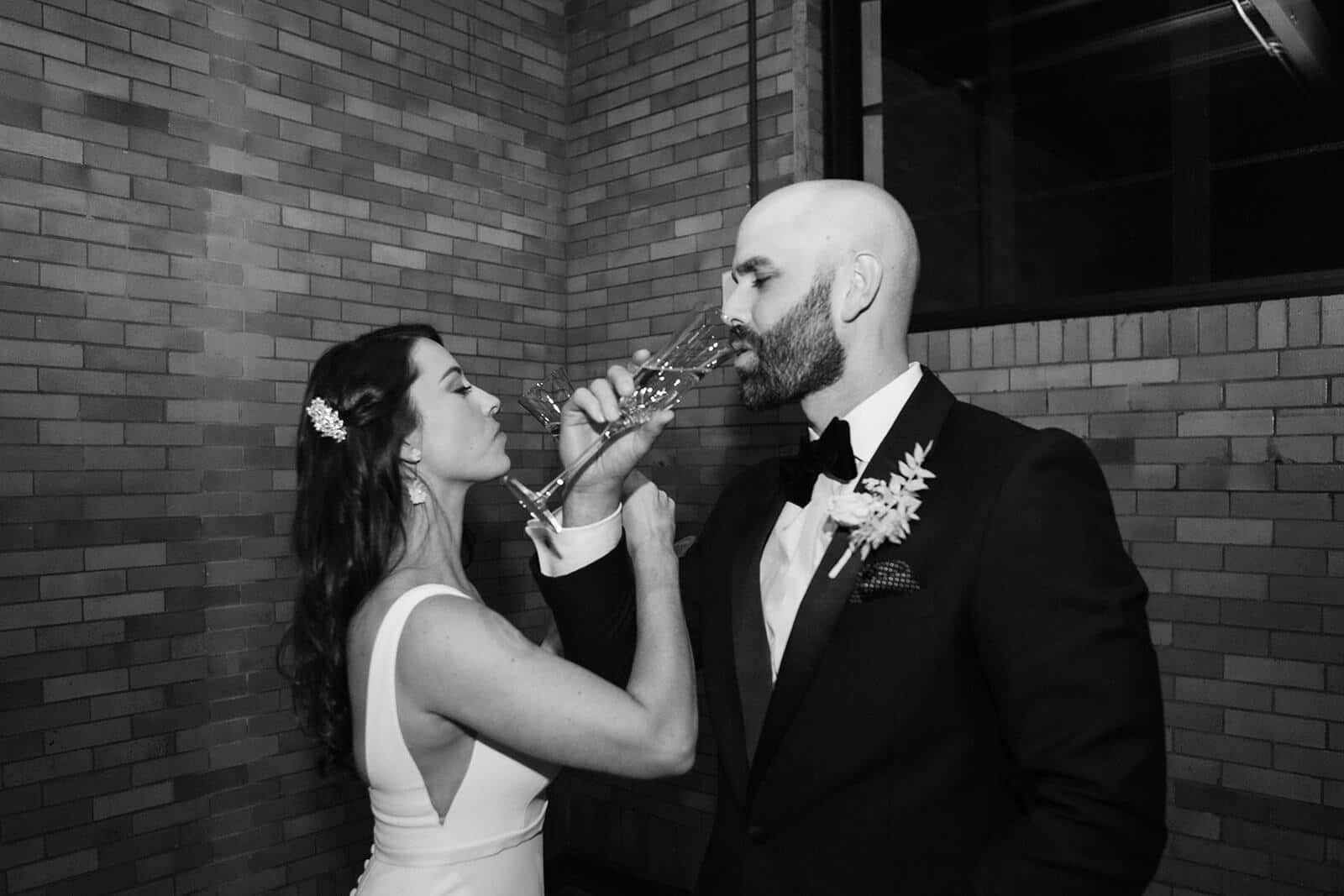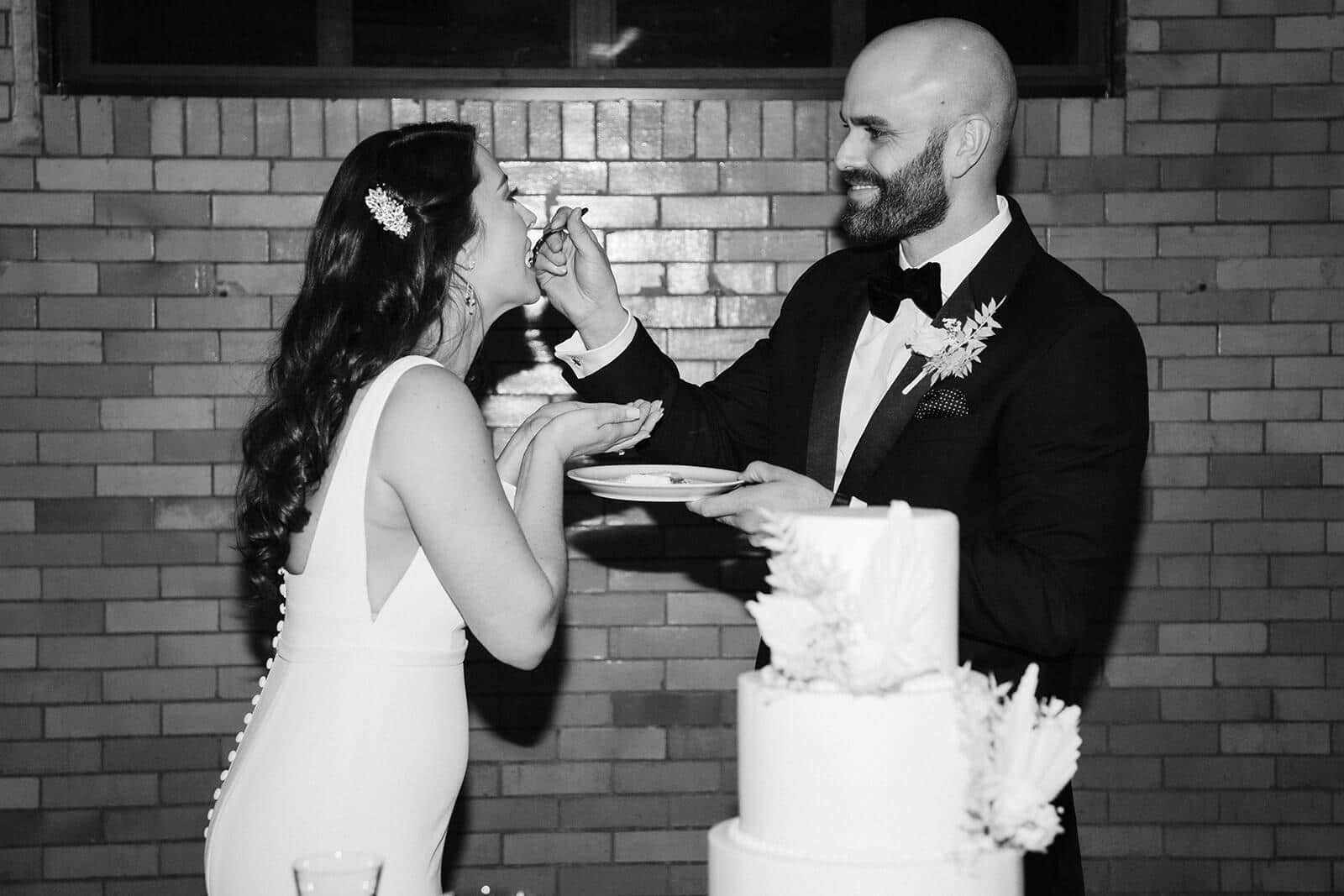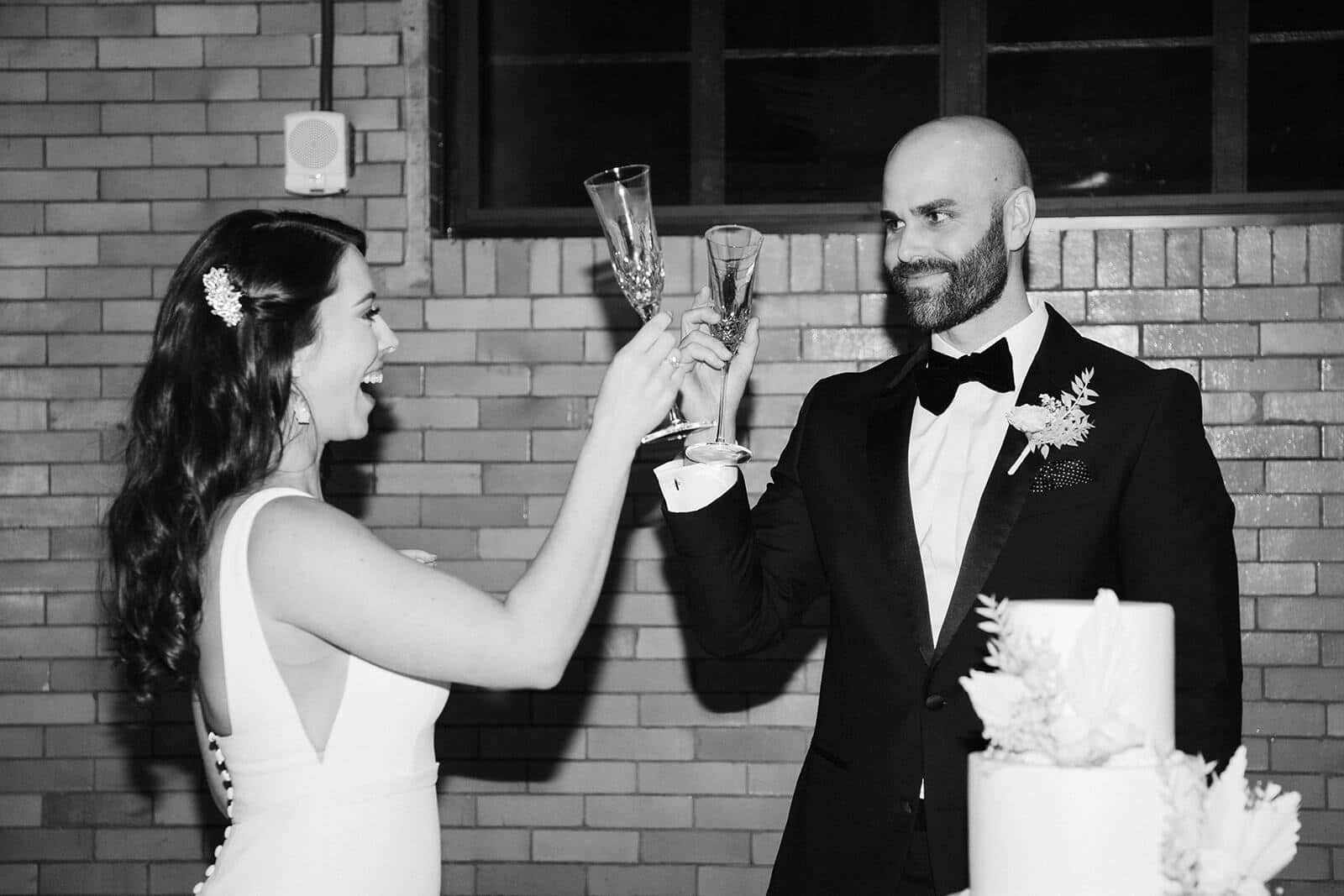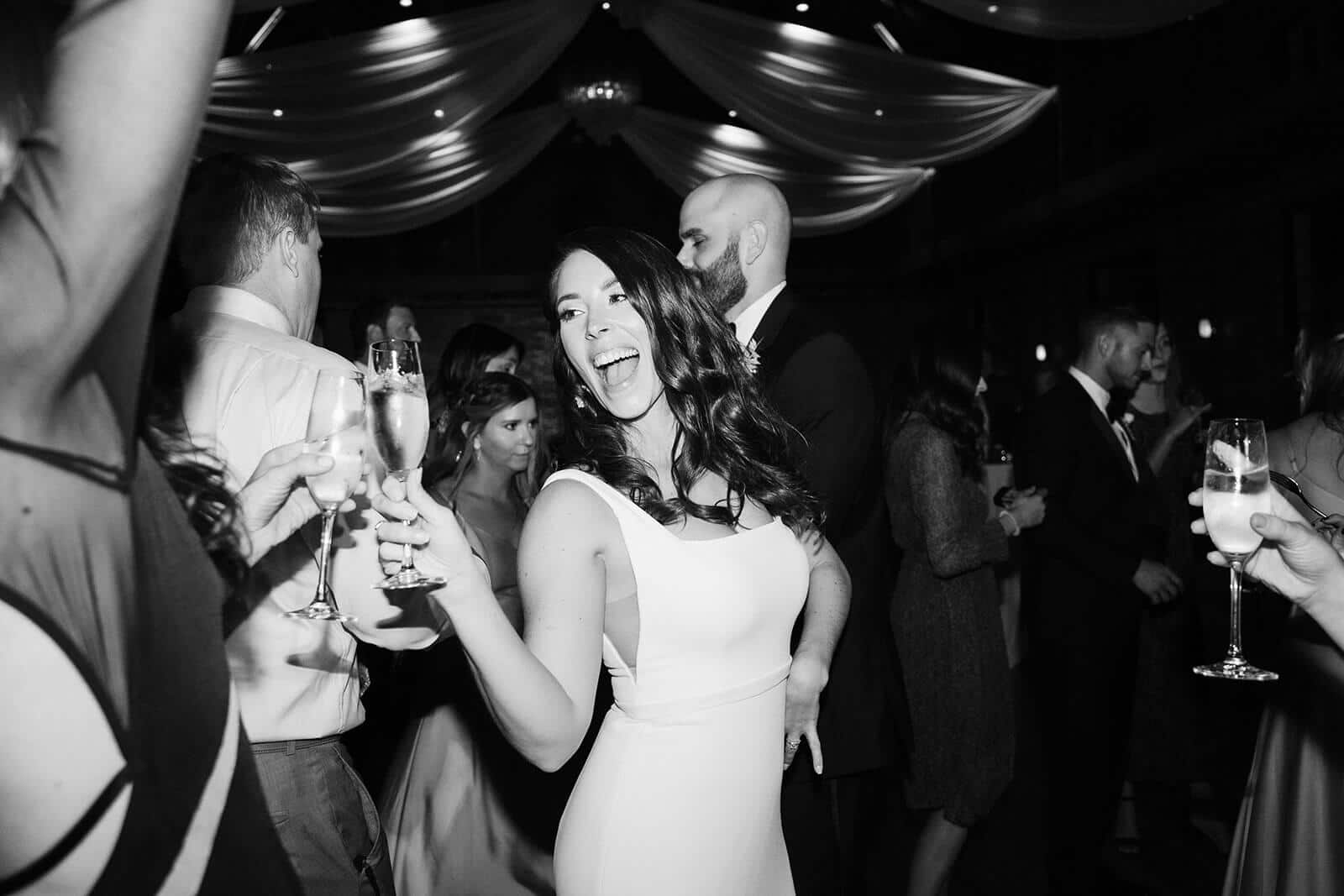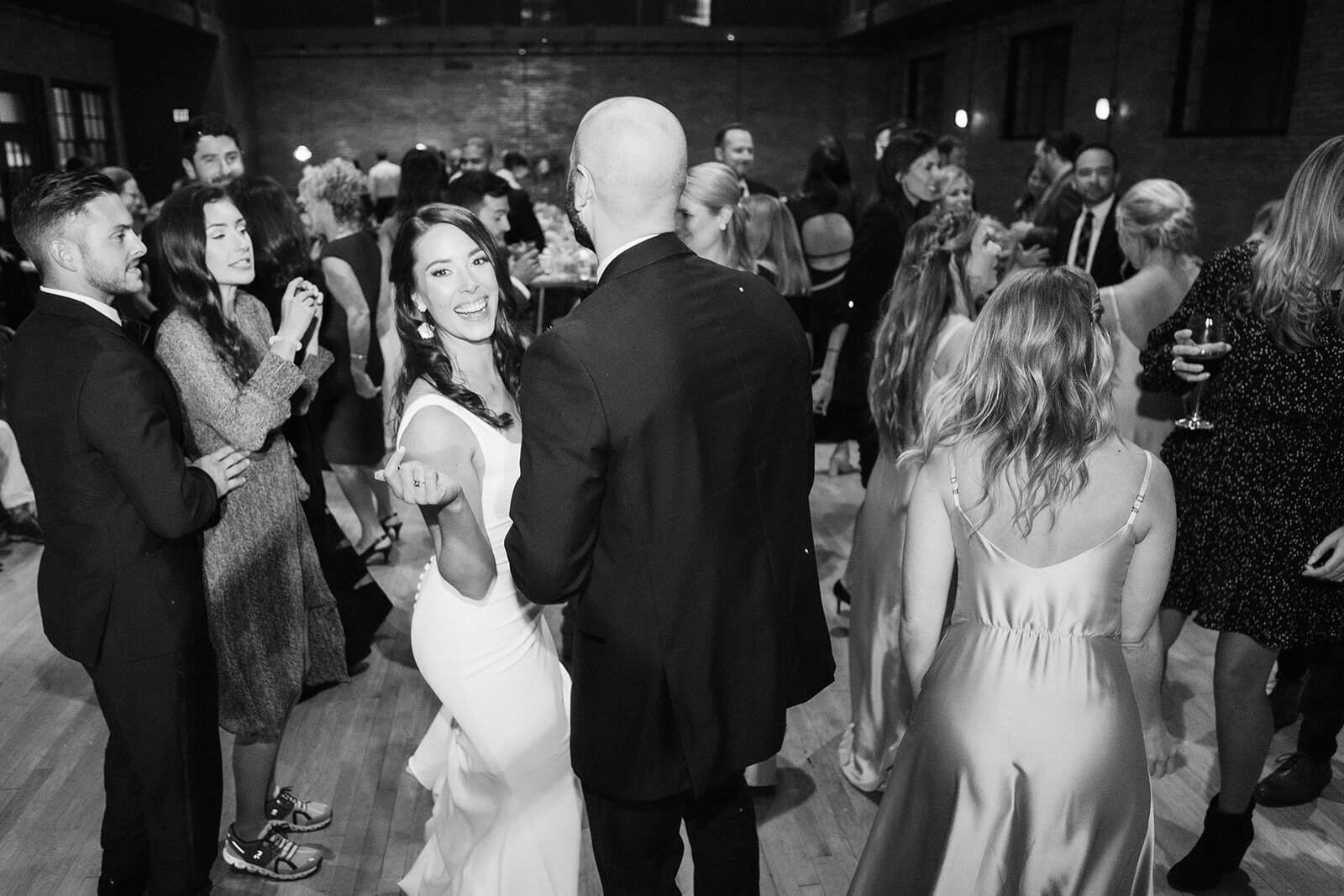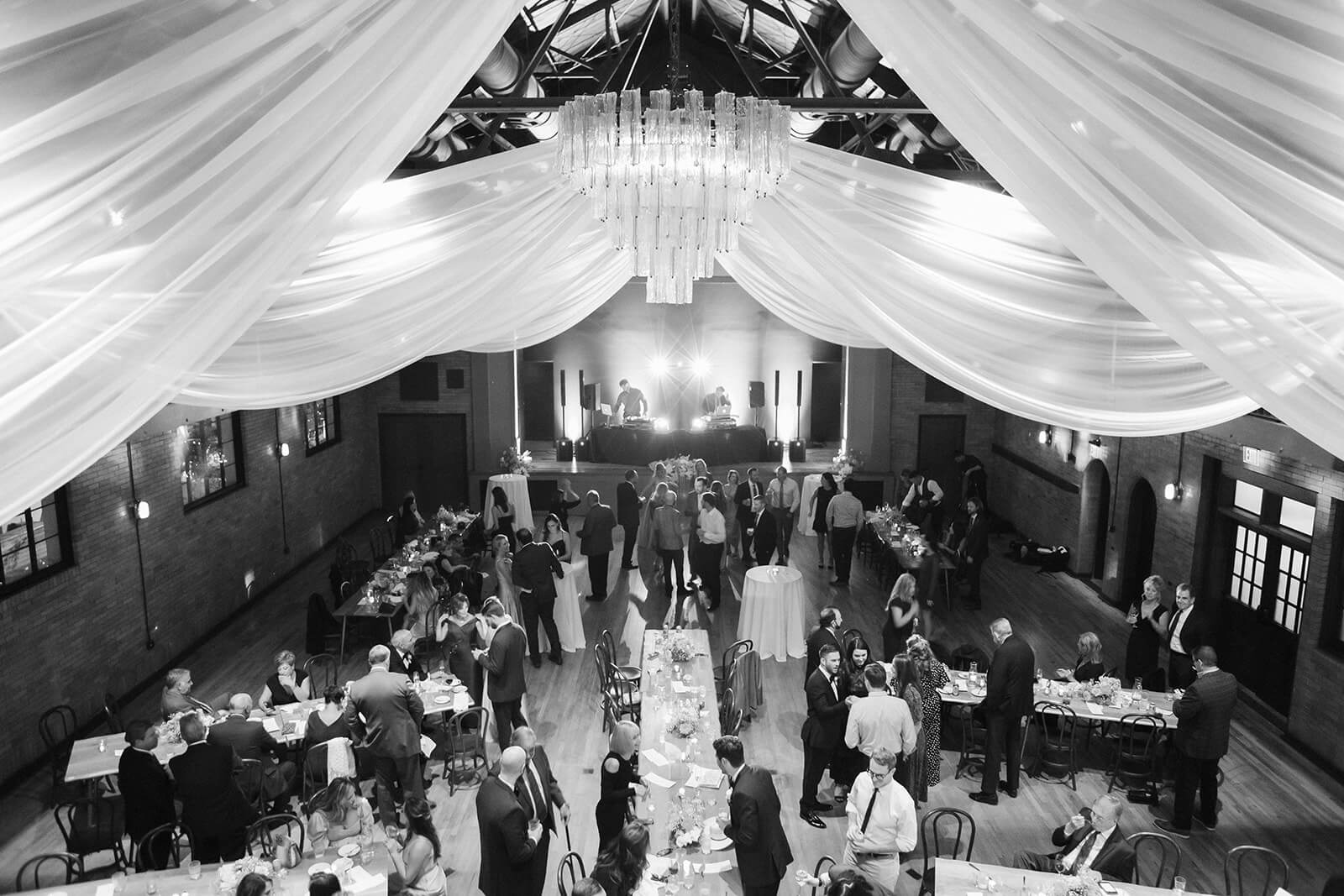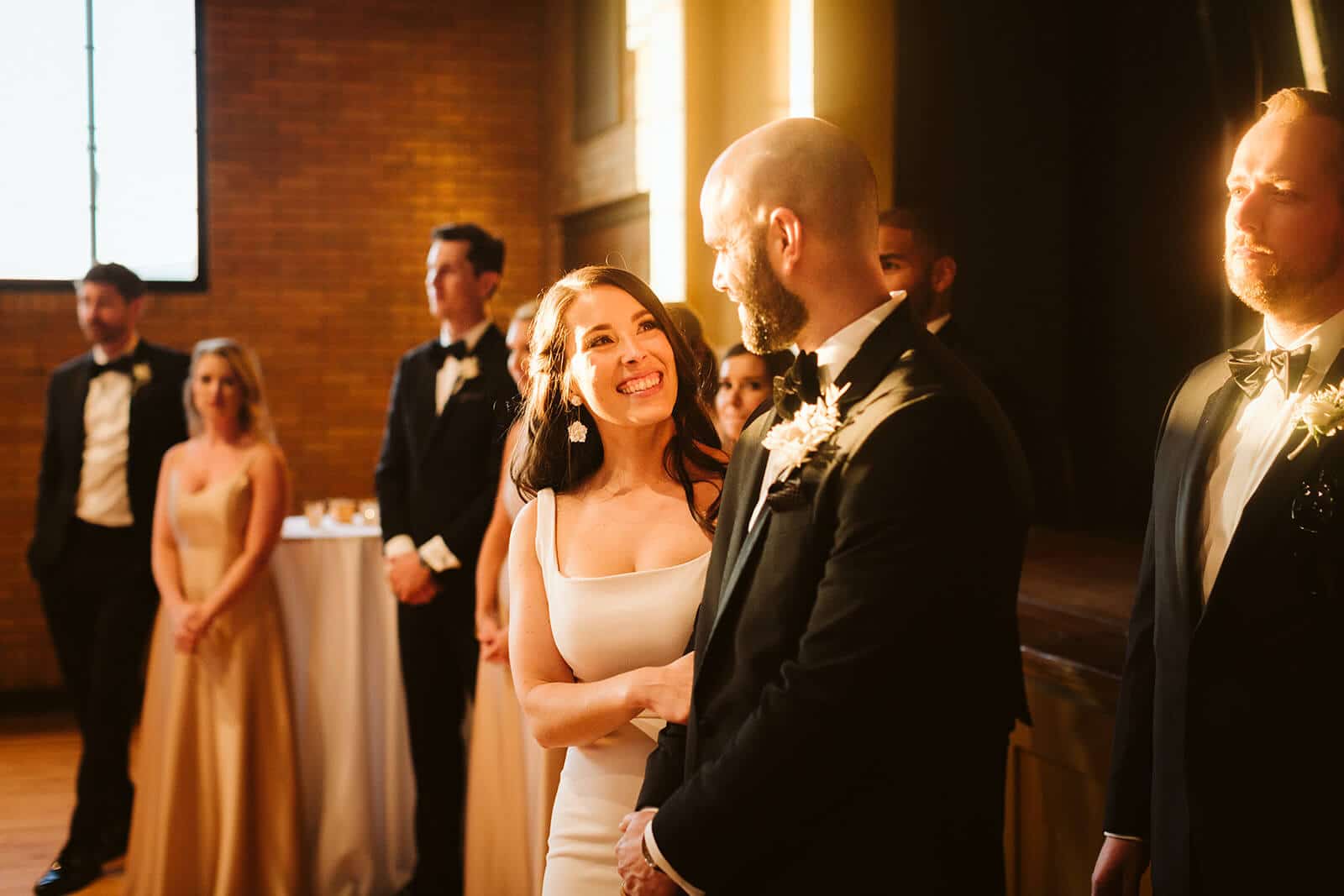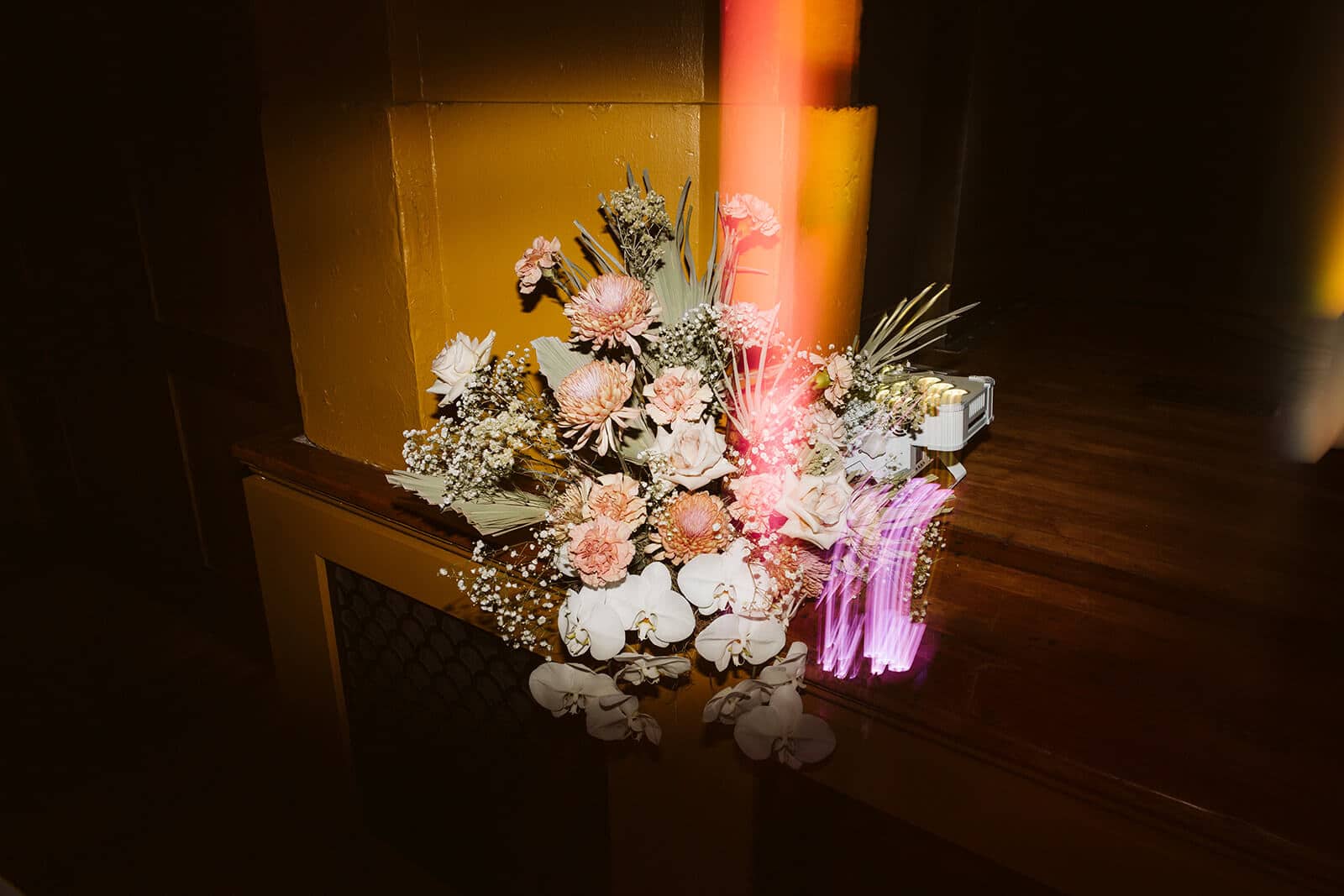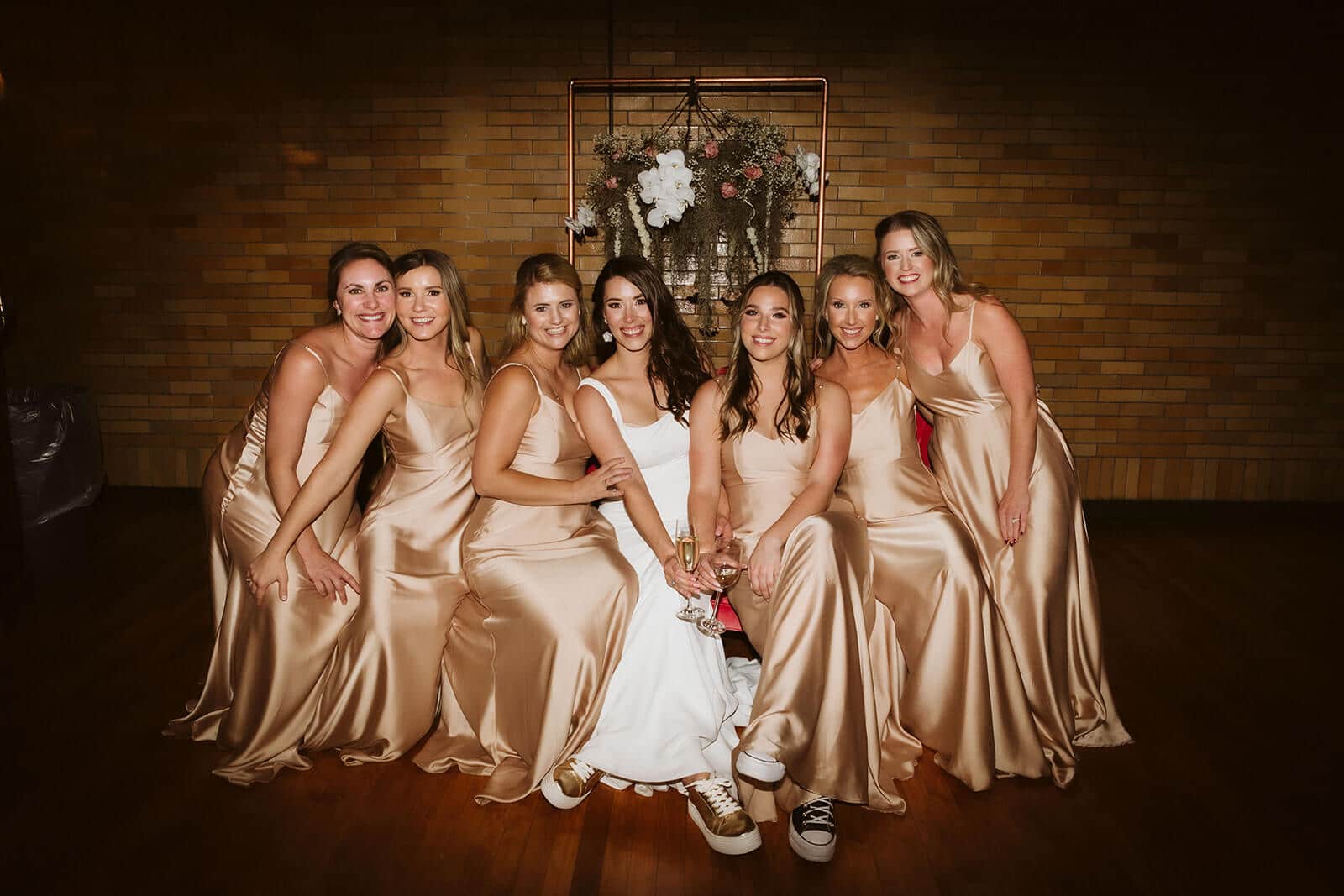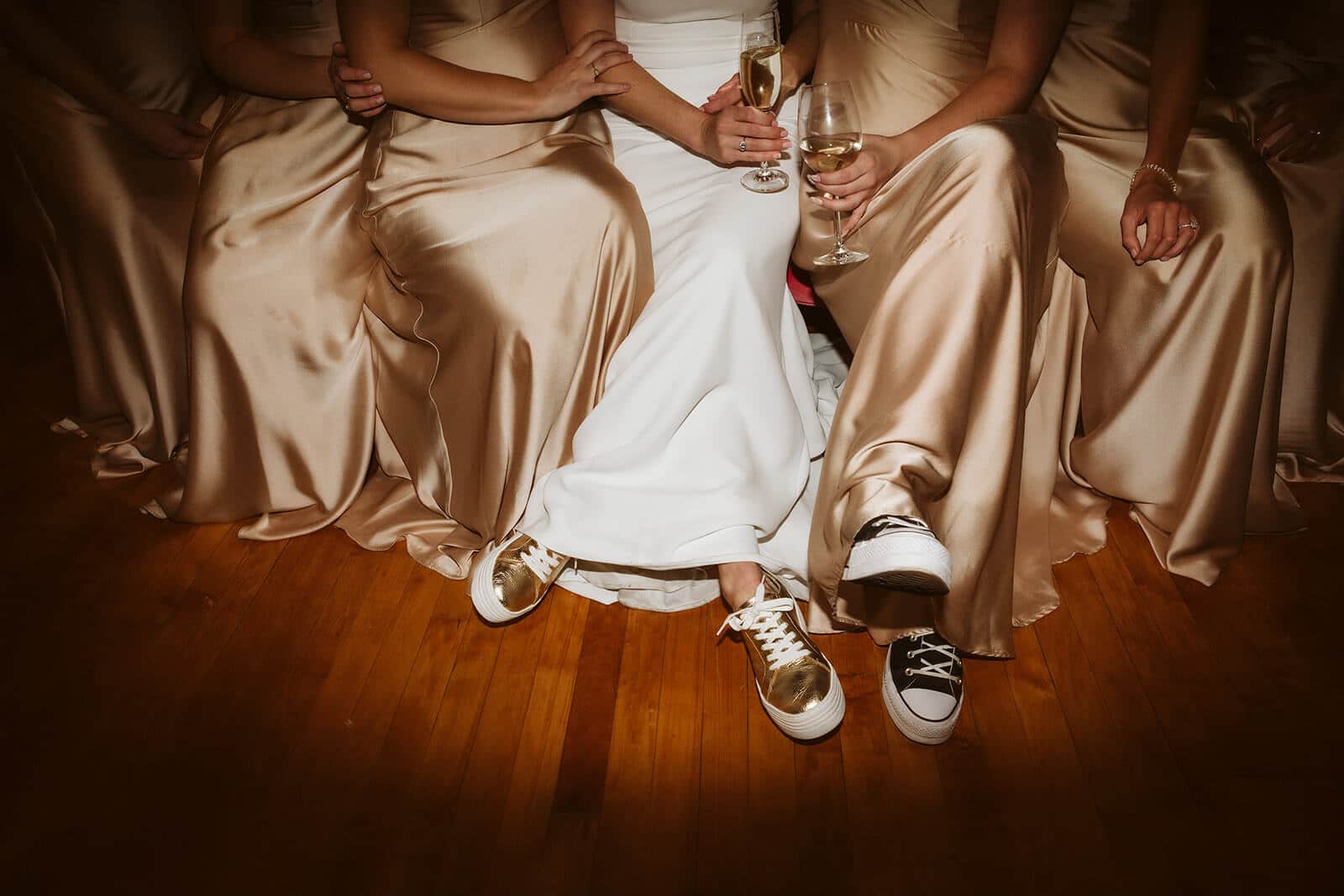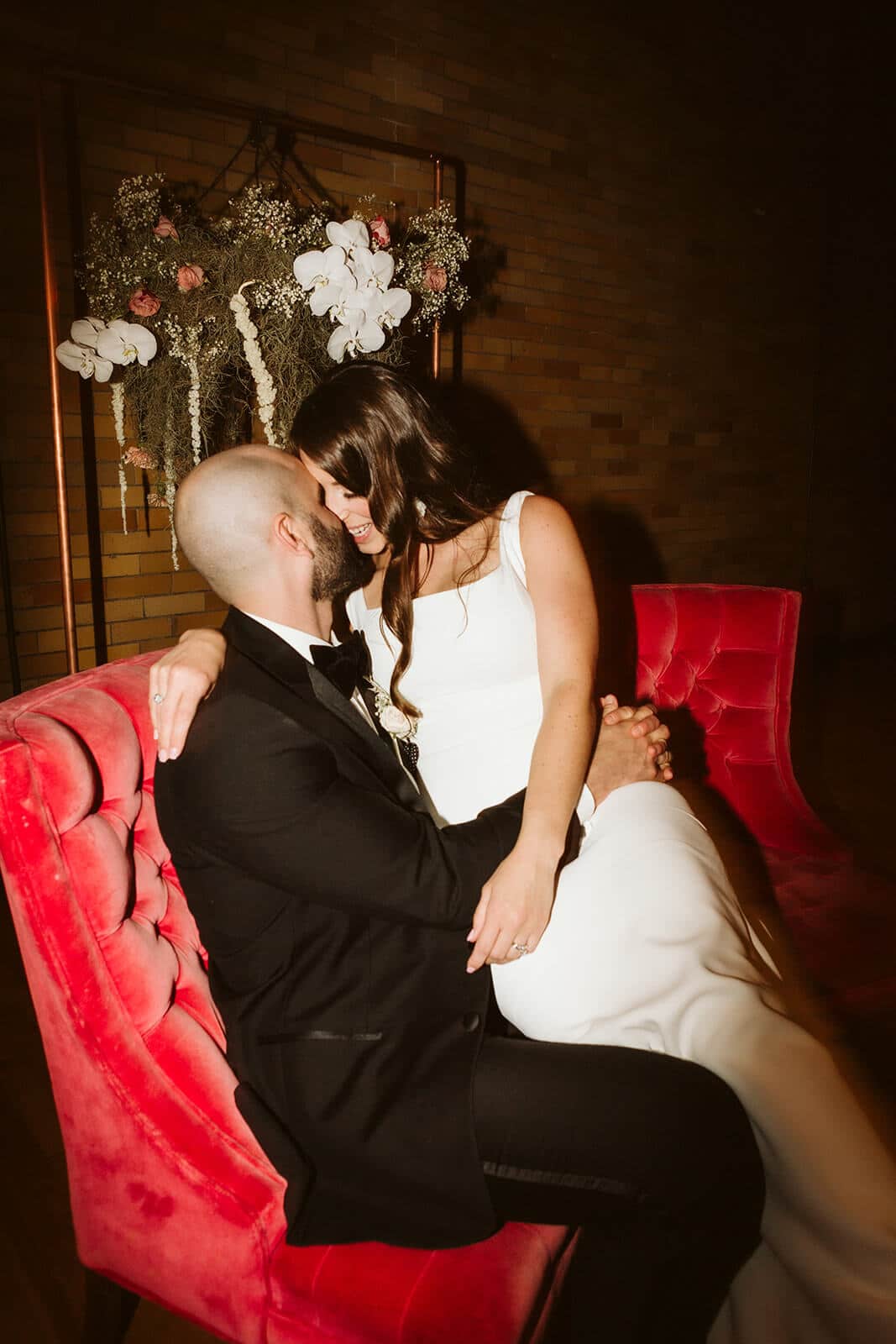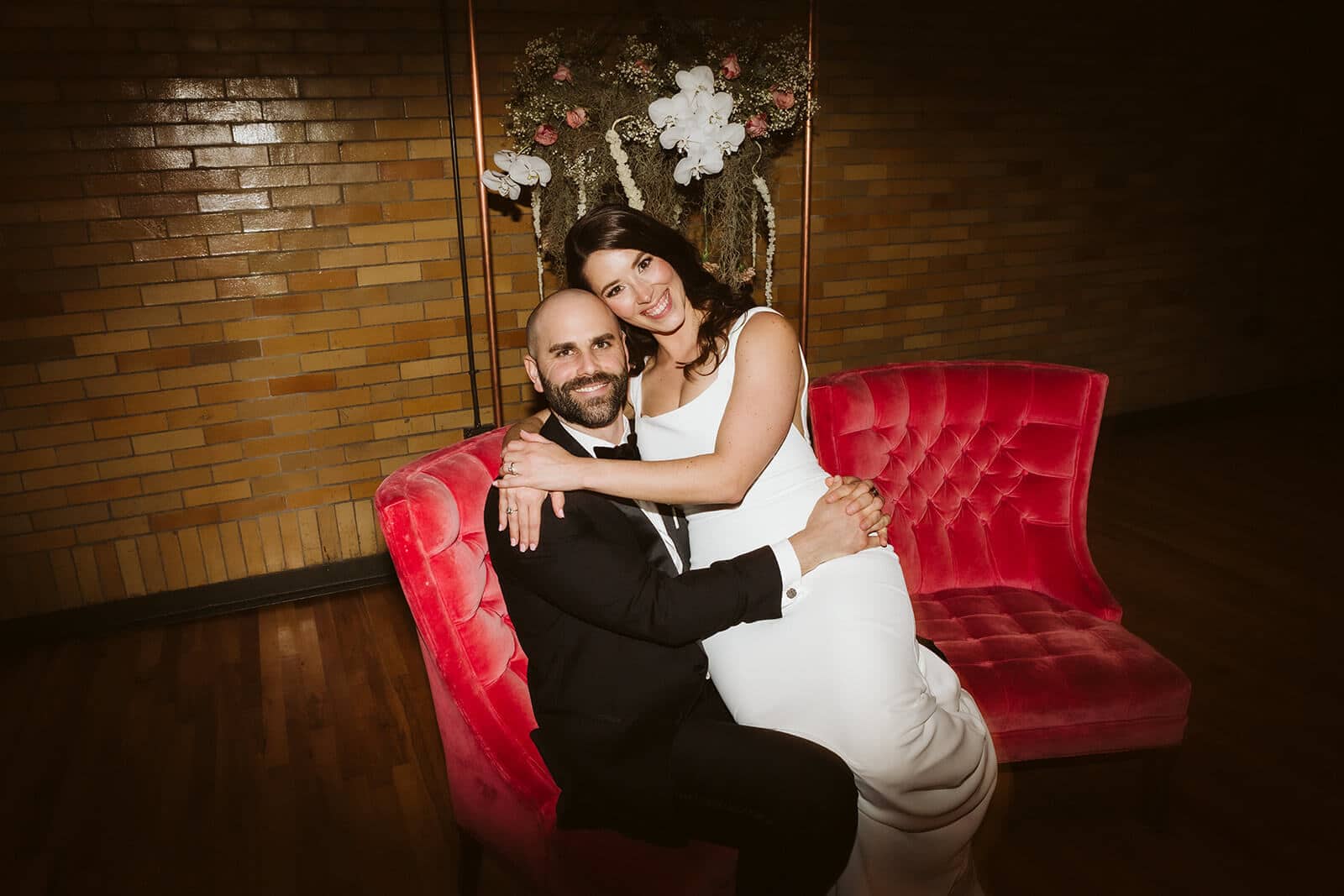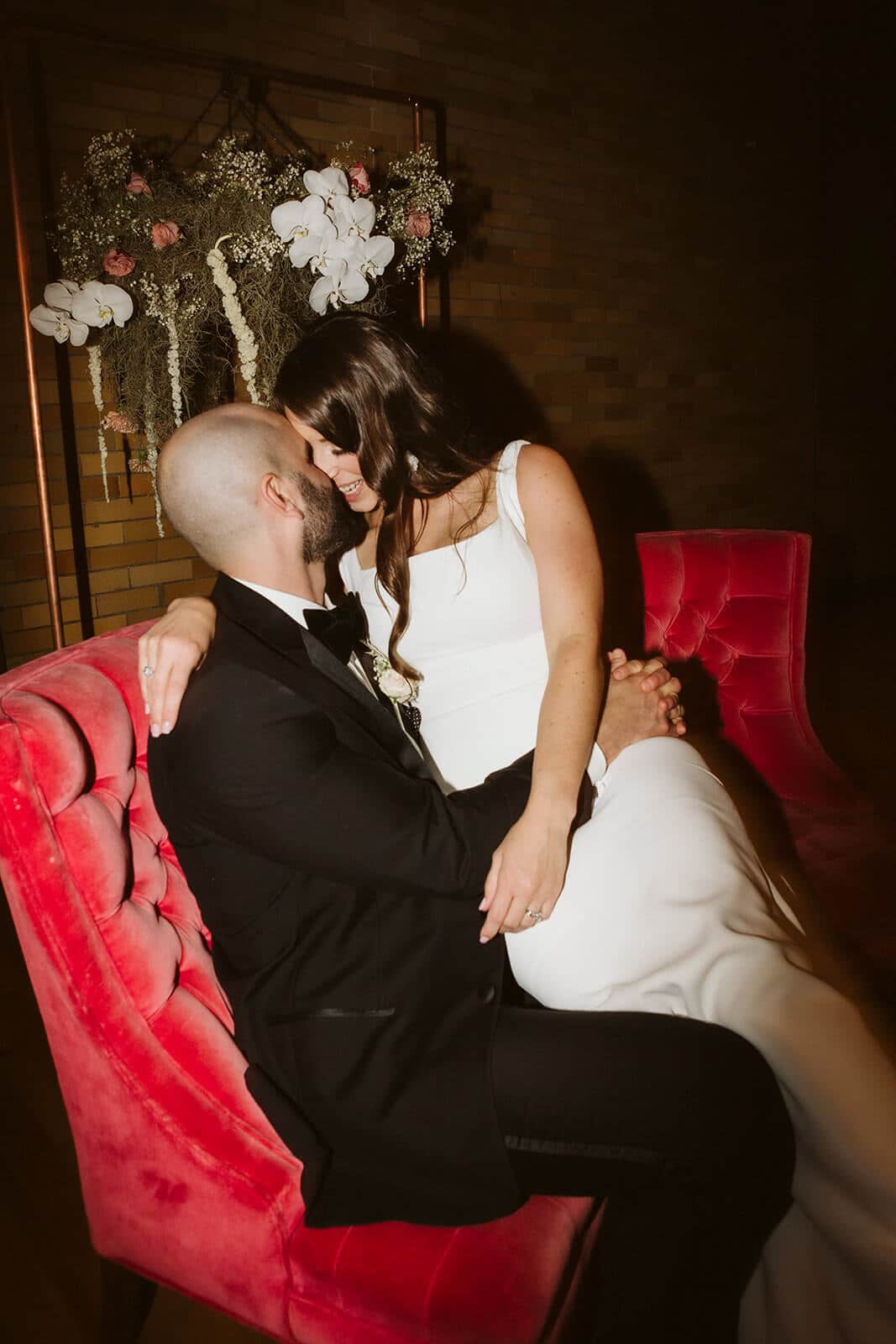 A Glamorous Reception in the Common House's Ruby Hall
While their guests were making their way back to the Common House for the cocktail hour and reception, I stayed back with the wedding party to take some photos outside the dome of the basilica. We made our way slowly back to the Common House stopping at a few prime photo locations in Chattanooga like the Market Street Bridge to capture their beloved city. When we finally arrived at the Common House, I borrowed Taylor and Brien for a little while longer to get those always-cherished newlywed shots around the grounds of the Common House before they made their grand entrance to their glamorous reception.
Weddings at the Common House are always grand events no matter how big or small they are. Although it's a social club at its heart, anyone can rent out this stunning venue for their wedding or event. For engaged couples looking for an urban industrial but classy and modern vibe for their wedding day, the Common House is the perfect choice. This former YMCA has all of the amenities of a modern venue while sleek décor and vintage furniture lend to its unique atmosphere. Plus, with wedding packages that include just about everything you could possibly hope for, there's no chance to go wrong by choosing the Common House as your wedding venue.
Taylor and Brien chose to hold their reception in the Common House's flagship venue space, Ruby Hall. They enjoyed a delicious family-style dinner from in-house catering before cutting their fabulous wedding cake from Sweet Angel Cakes.
Taylor and Brien's reception was full of love and laughter. Everyone had a great time with plenty of delicious food to eat and a huge dance floor to dance the night away. And of course, Brien had the chance to show off those killer dance moves that made Taylor fall in love with him to begin with.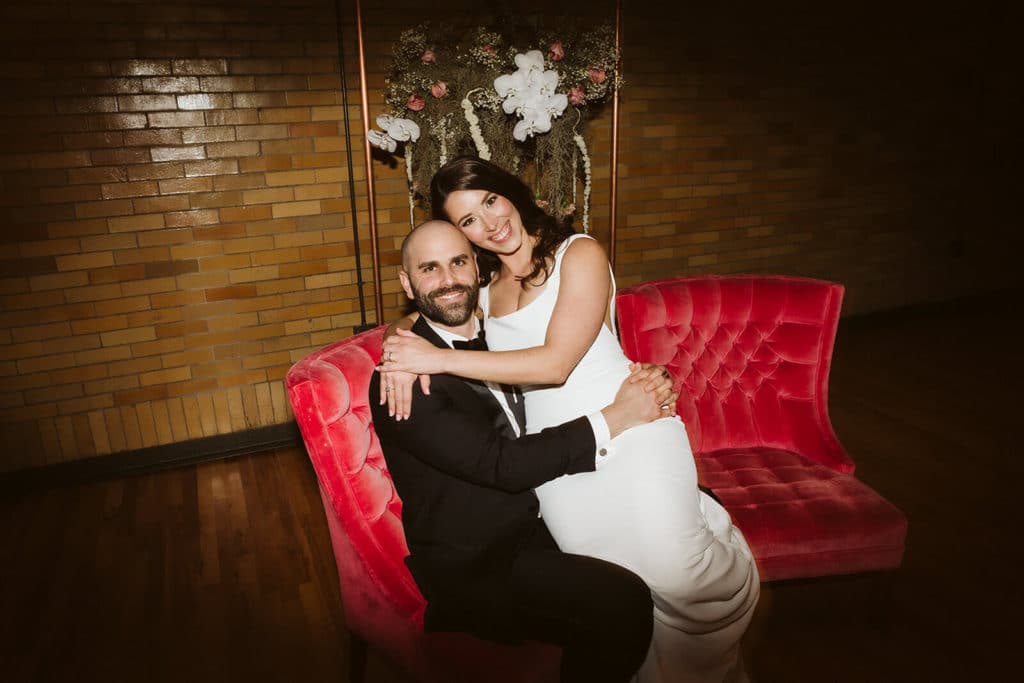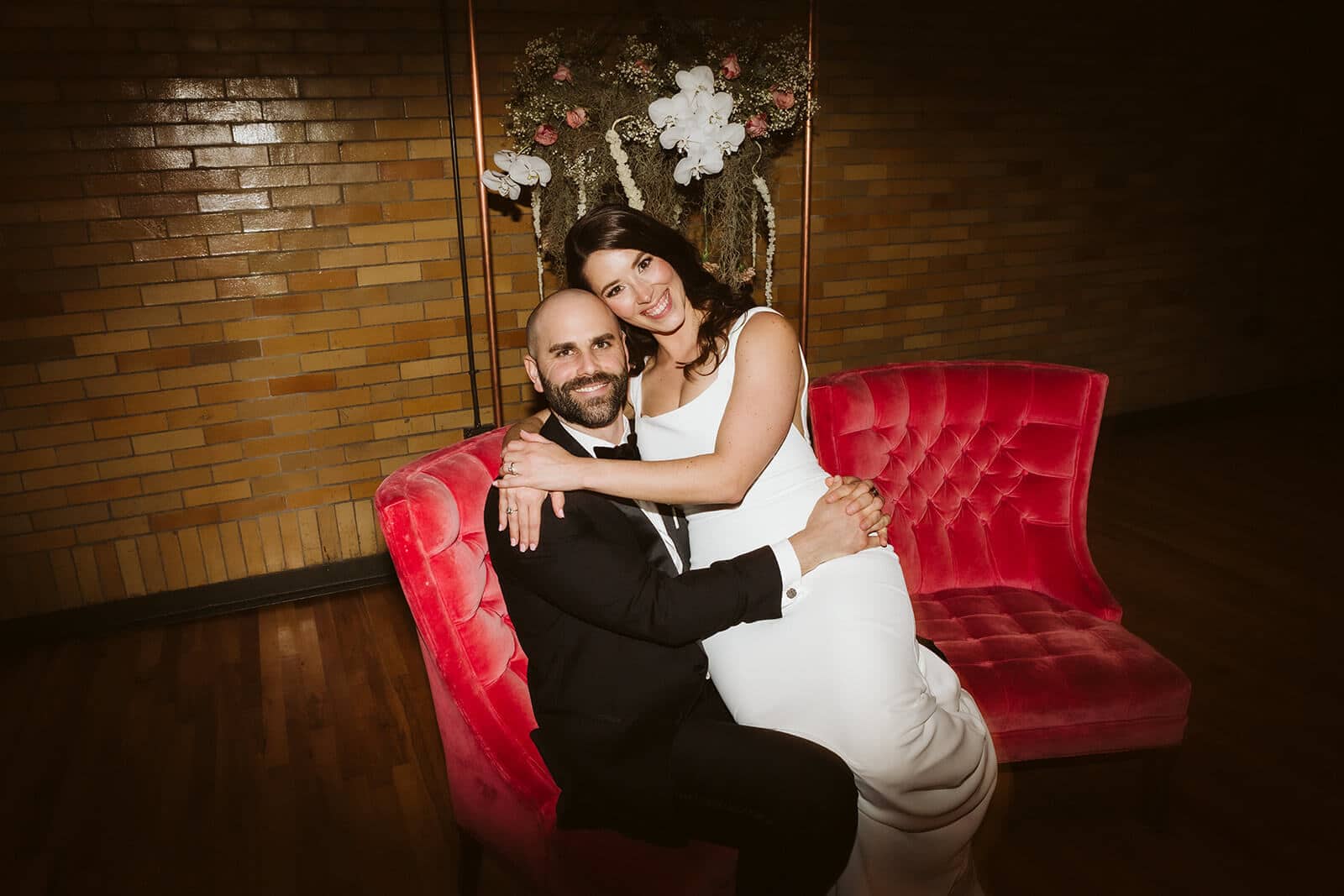 Are you in the Chattanooga area and planning your wedding? I would be honored to be there for your big day!
Hey y'all! I'm Rachael Crowe of OkCrowe Photography. I'm a wedding photographer based right here in Chattanooga but I've shot weddings all over the US including New York and the New England coast! Just say the word, and I'll be there to capture every moment and do whatever I can to help make your day memorable. If you're on the hunt for a wedding photographer, visit my contact form, and let's get this party started!