Finding a venue that meets all of the criteria for your perfect wedding can be truly a daunting task. Whether you're aiming for a more industrial or urban vibe or a picturesque fairytale atmosphere the options are endless. In the Chattanooga area alone, there are so many wonderful venues to host any style wedding. One venue that is sure to hit all of your checklist items is Howe Farms located just outside of Chattanooga in Georgetown, Tennessee.
Of Love and Coffee
The funny thing about falling in love is that you never know when it will happen. It could be love at first sight or you may suddenly be hit with it while sitting with your best friend who you've known for years. For Miranda and Tyler, it was the latter option.
In a movie-worthy meet-cute moment, Miranda and Tyler met when Tyler was working as a barista in a local coffee shop. Miranda walked in and Tyler took her order: a chai latte, her usual, go-to fave. Although Miranda had had many chai lattes in the past, there was something different about this particular one. Maybe the ingredients were just really fresh that day or maybe it was because Tyler had made it. Nevertheless, it was the best one she had ever tasted.
Not long afterward, the two unintentionally ended up studying abroad in Spain together. They spent nine months in the small city of Sagunto in the suburbs of Valencia on the Mediterranean coast. It was here in this small, but beautiful city that they became close friends.
Their friendship continued when they came back to the States. Even with Tyler beginning his first full-time job and Miranda starting her first year at university, they spent many nights up late just chatting and met up for coffee several times. It wasn't until almost a year had passed when they finally decided that being just friends wasn't enough and had their first real date. Just two years later, they did a joint engagement and proposed to each other as they sat by the lake behind Miranda's house with their favorite song playing and a shooting star soaring above them.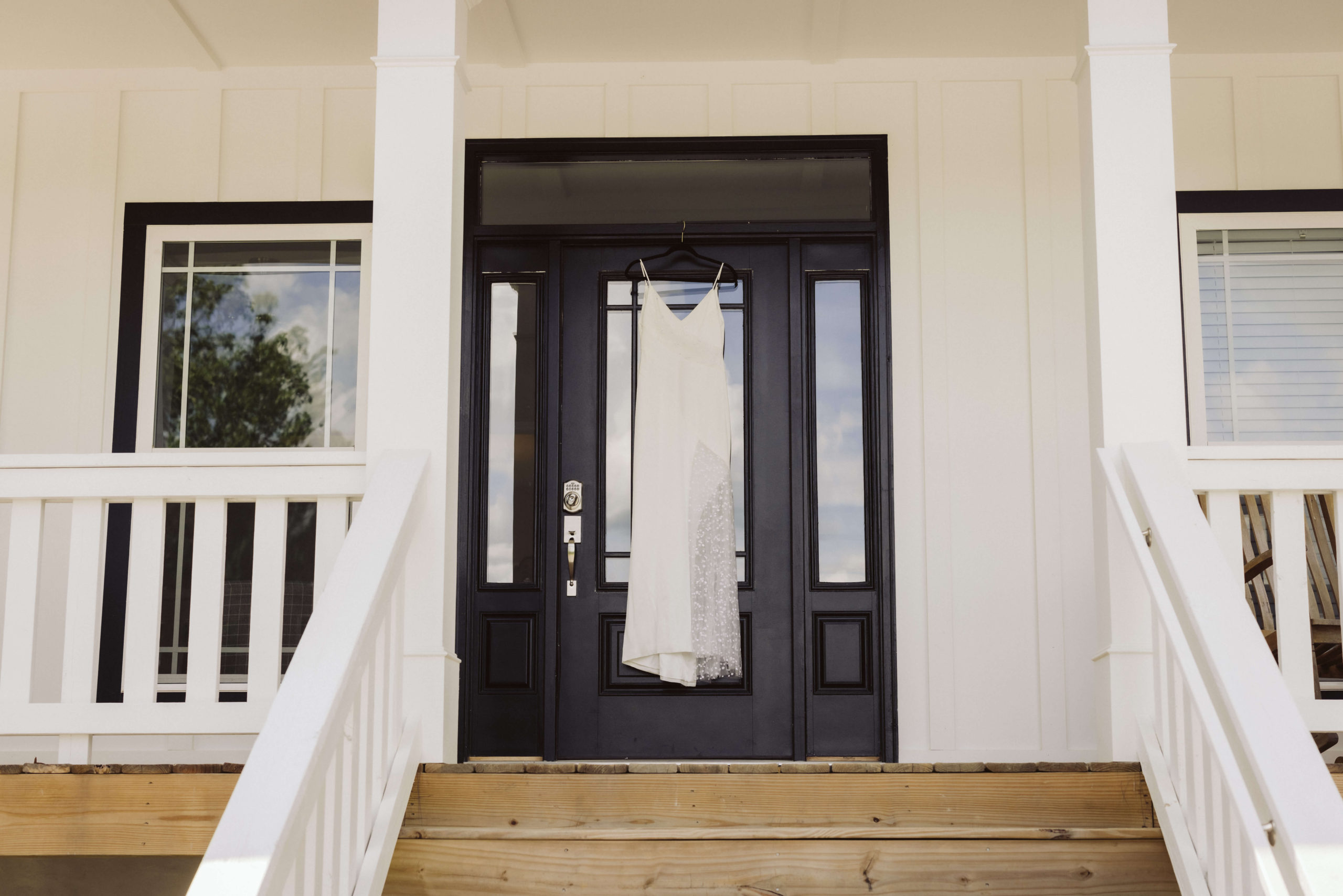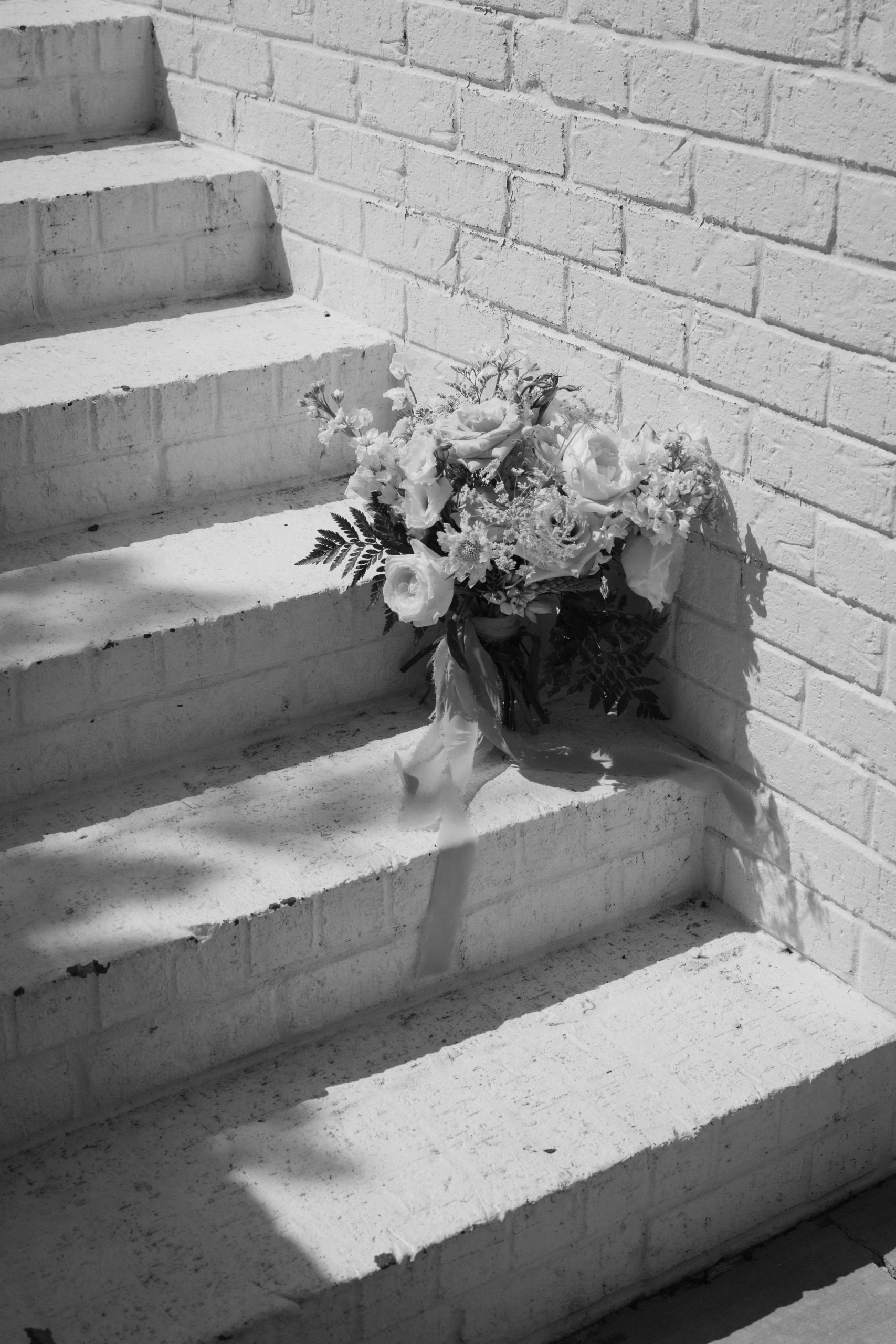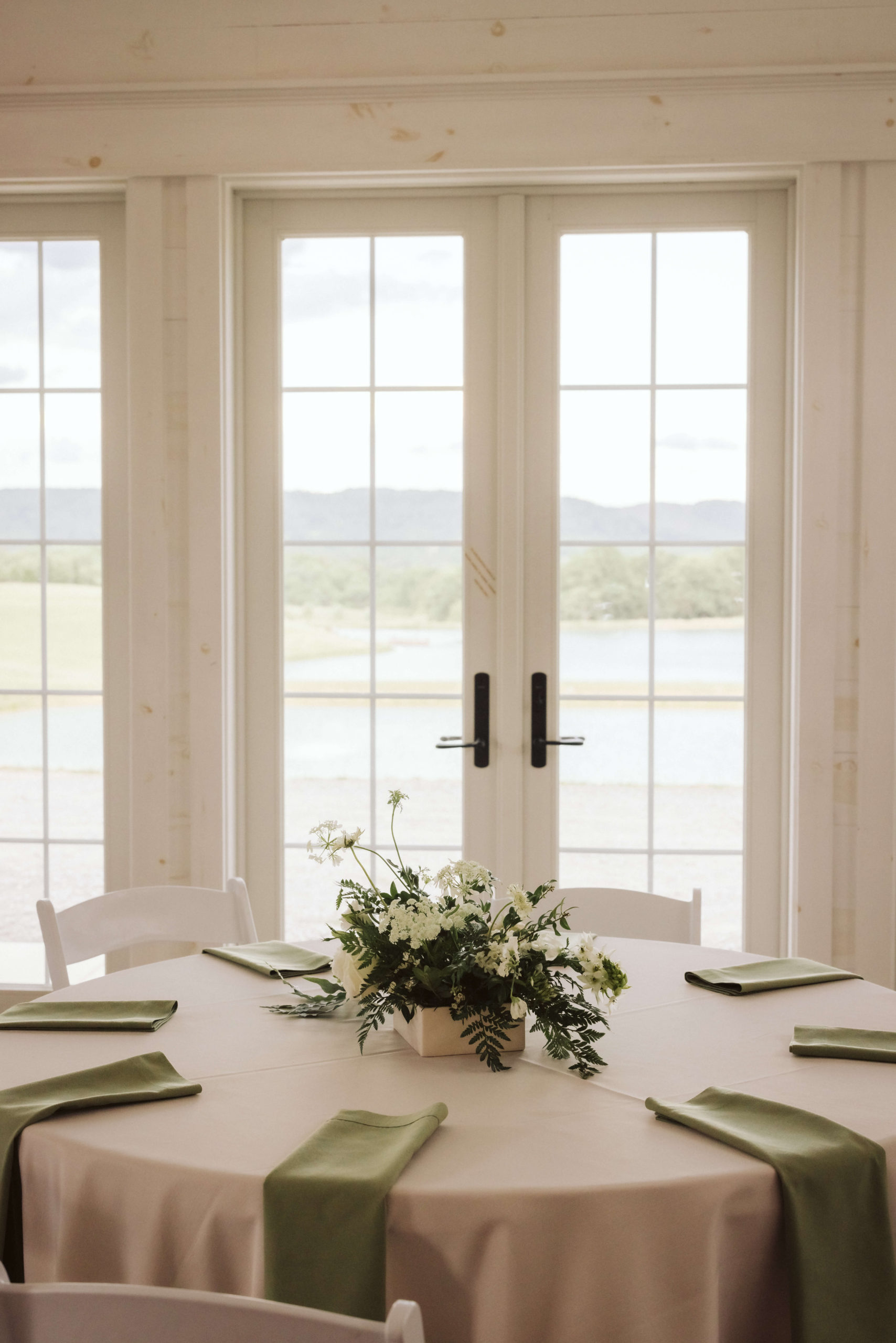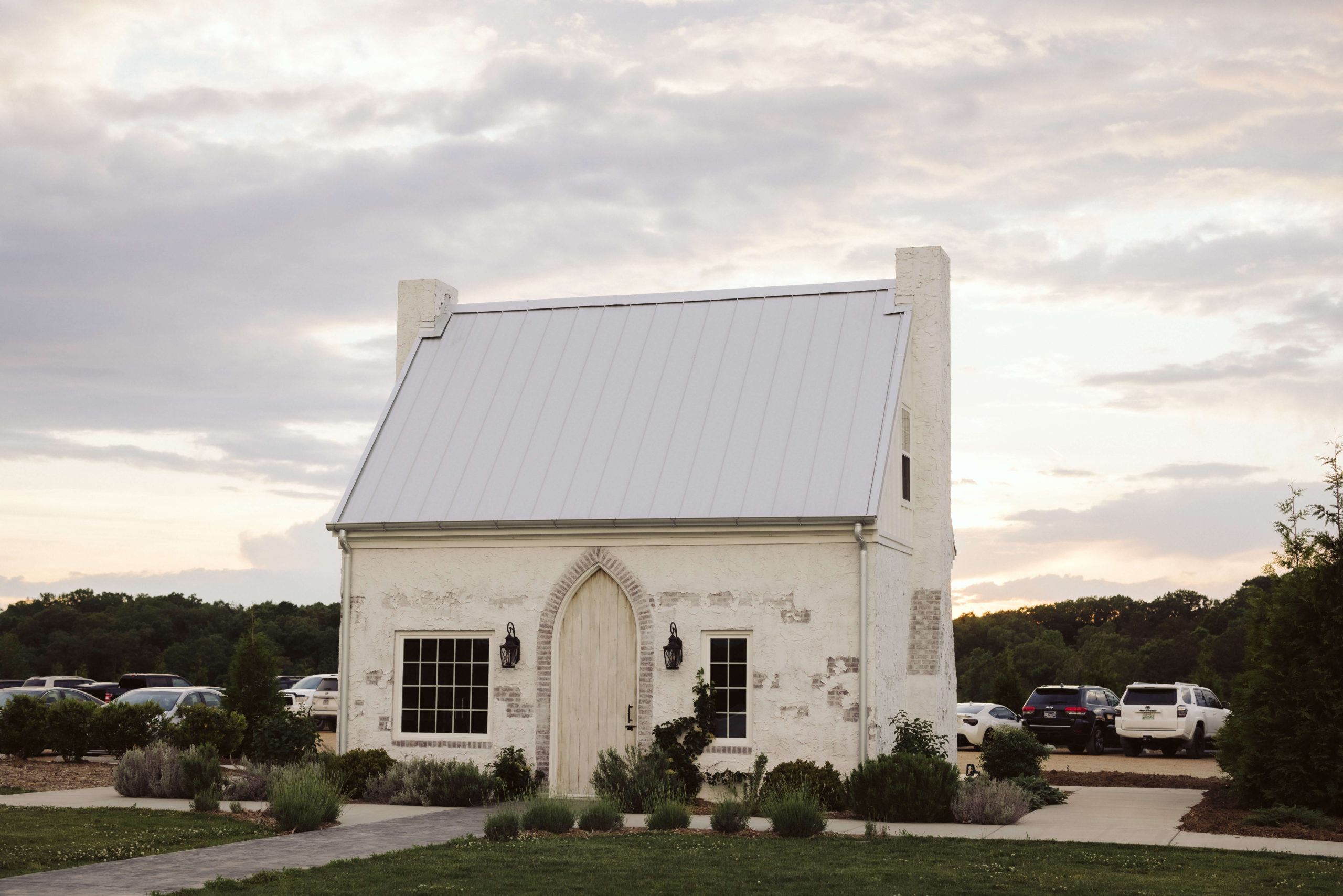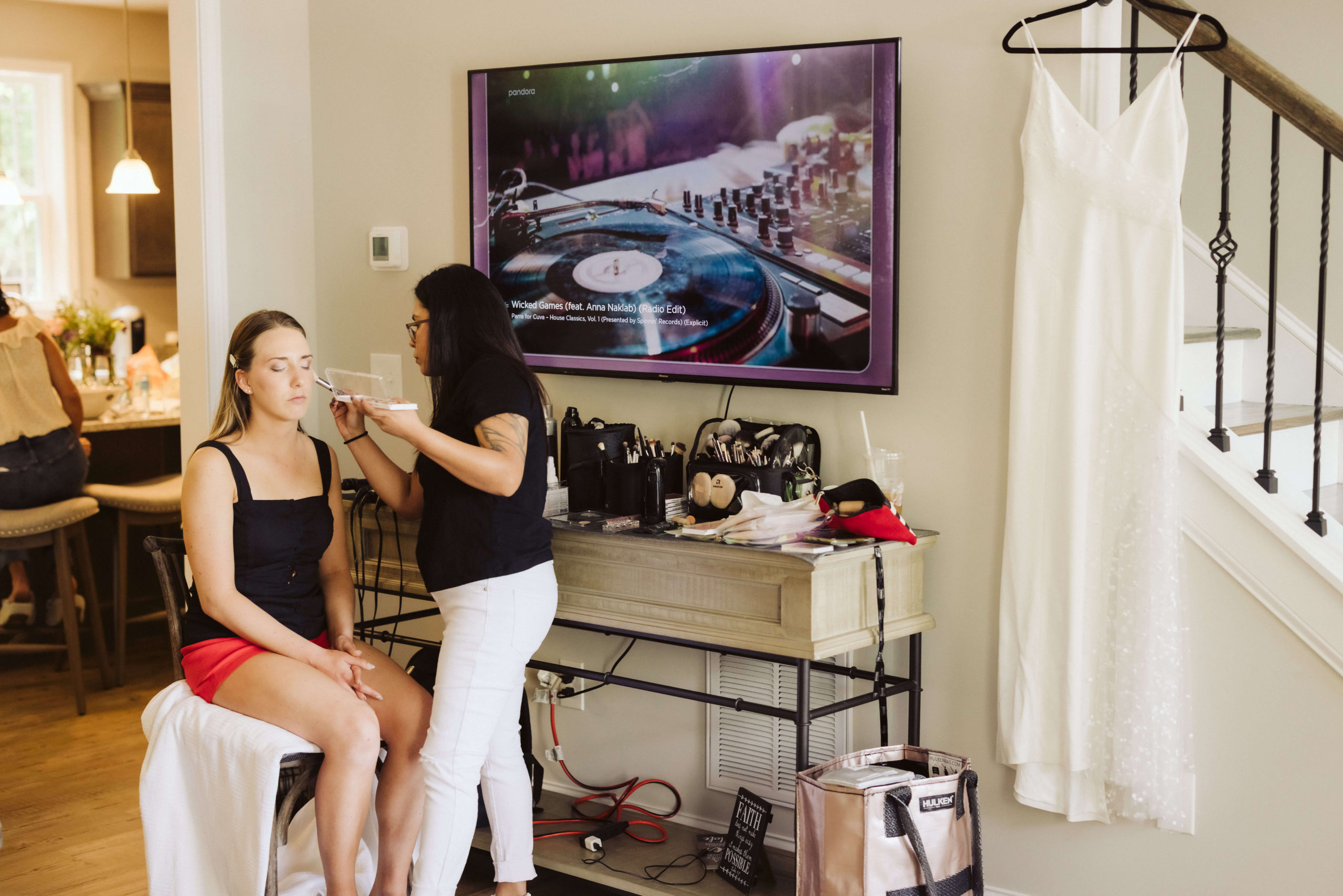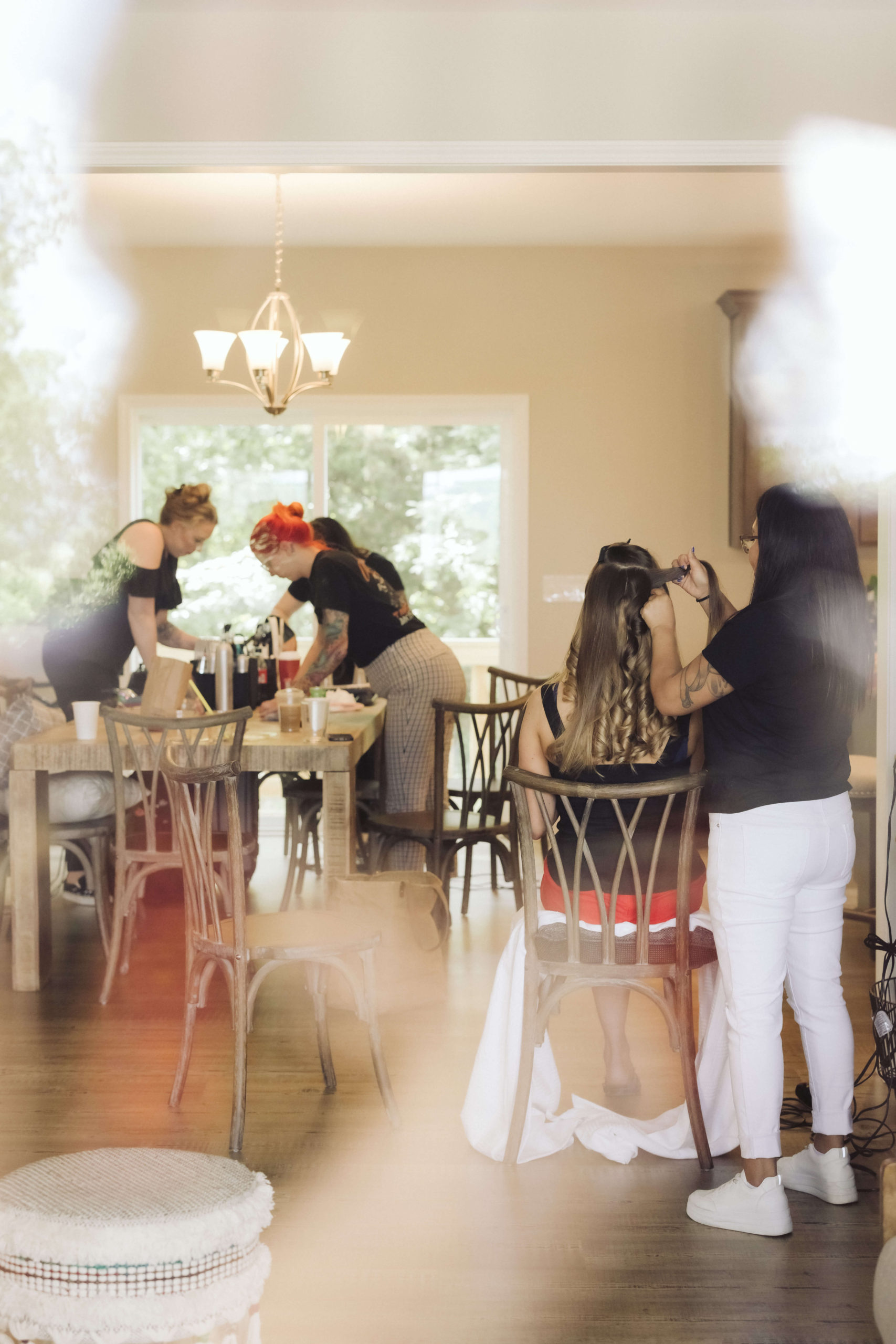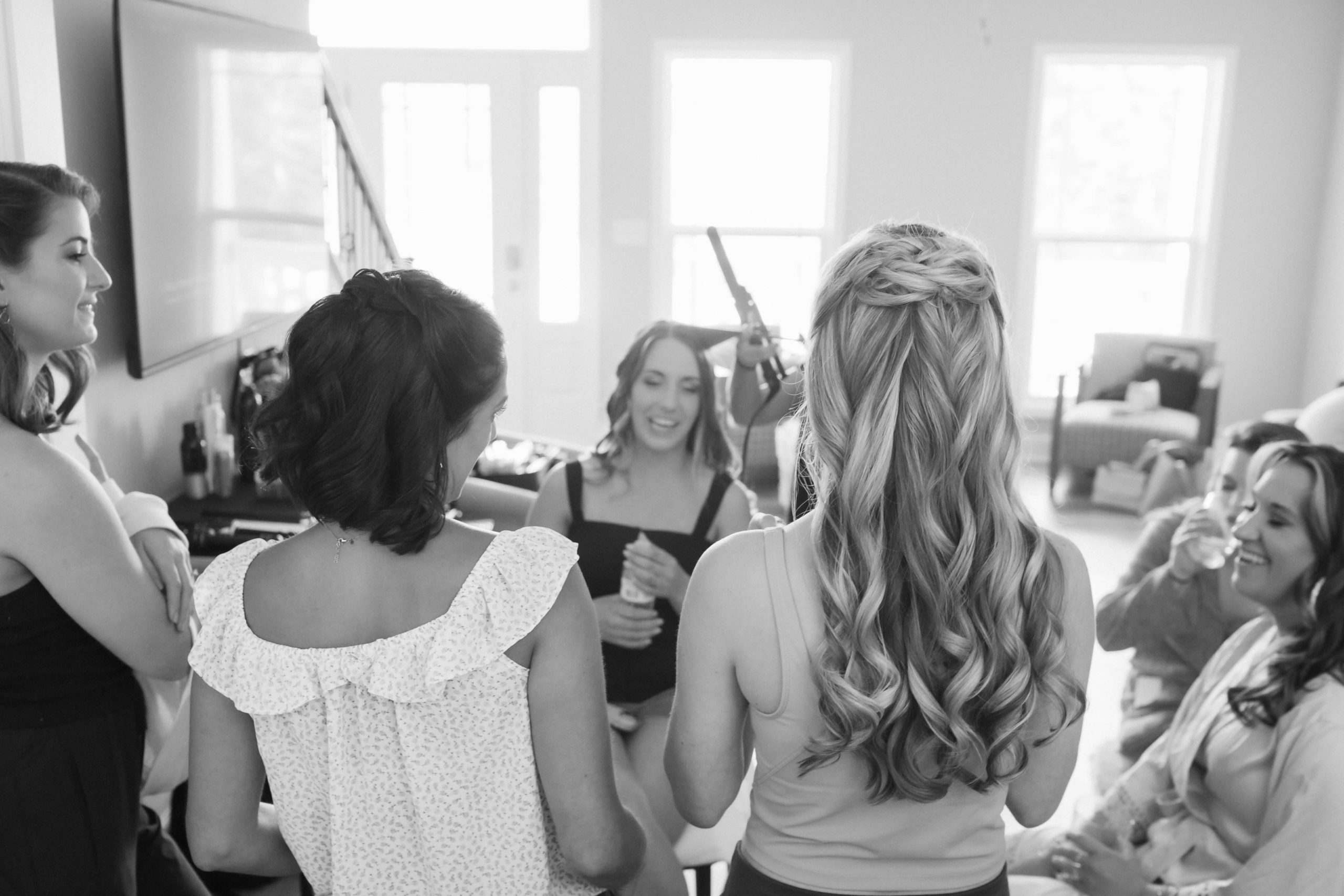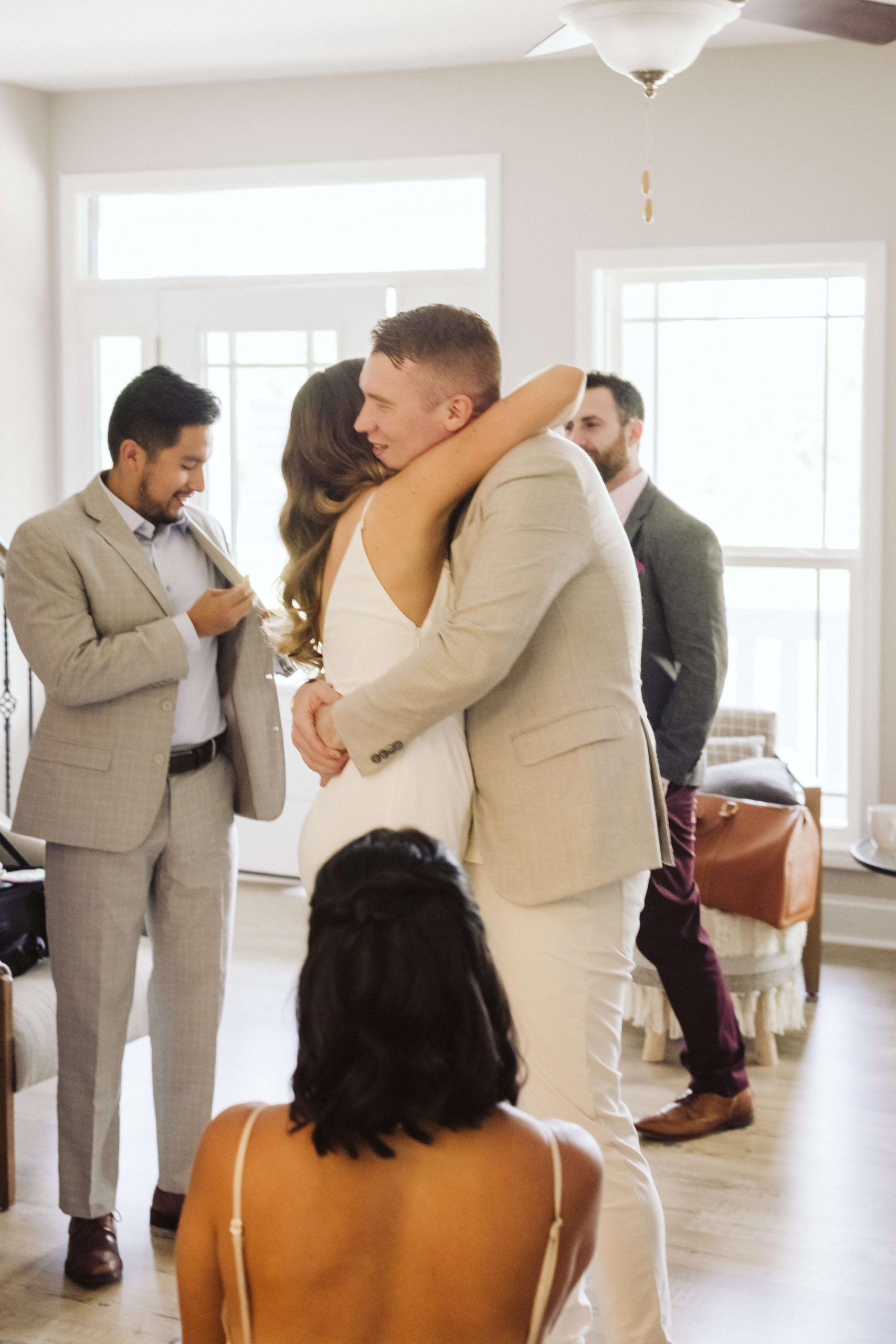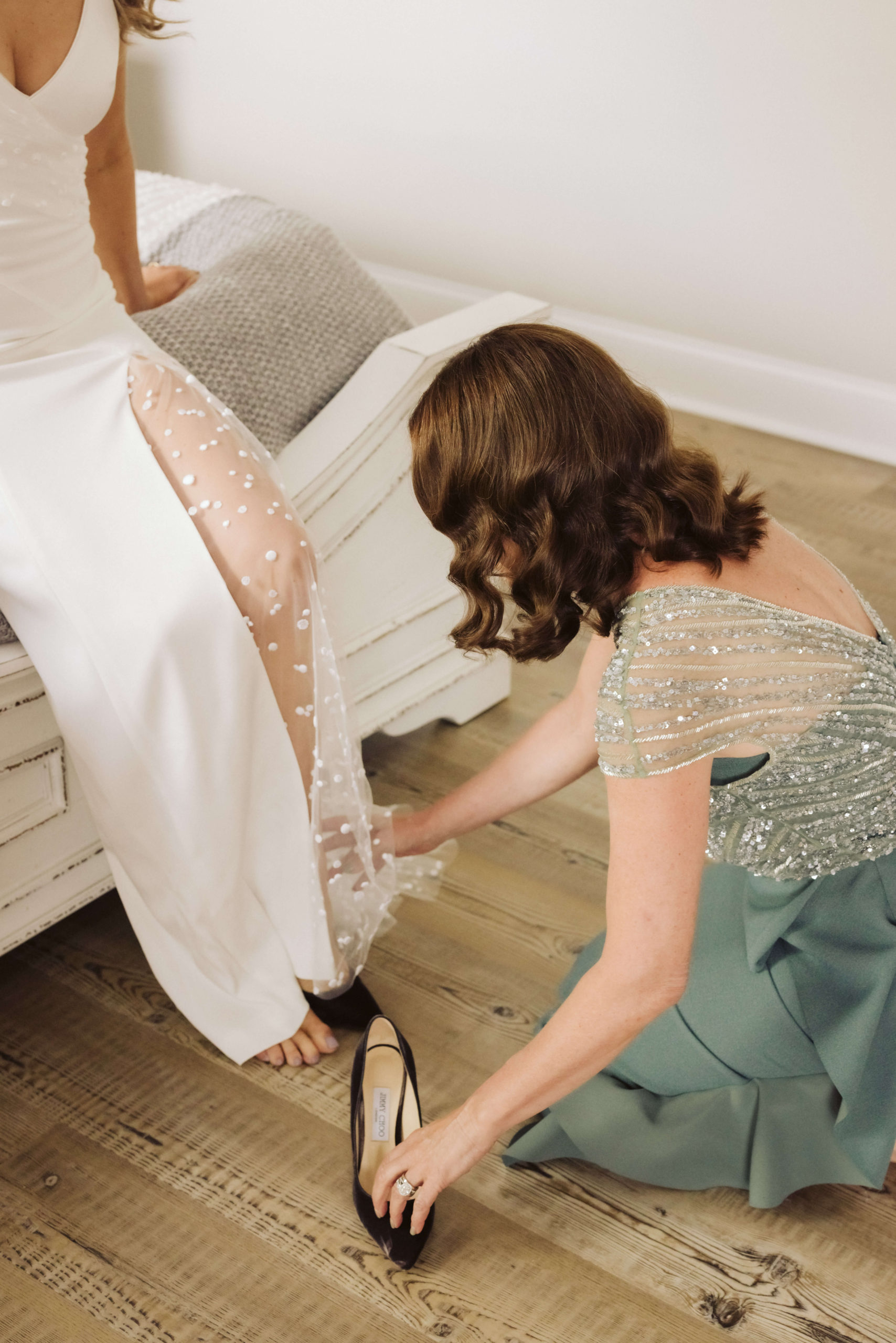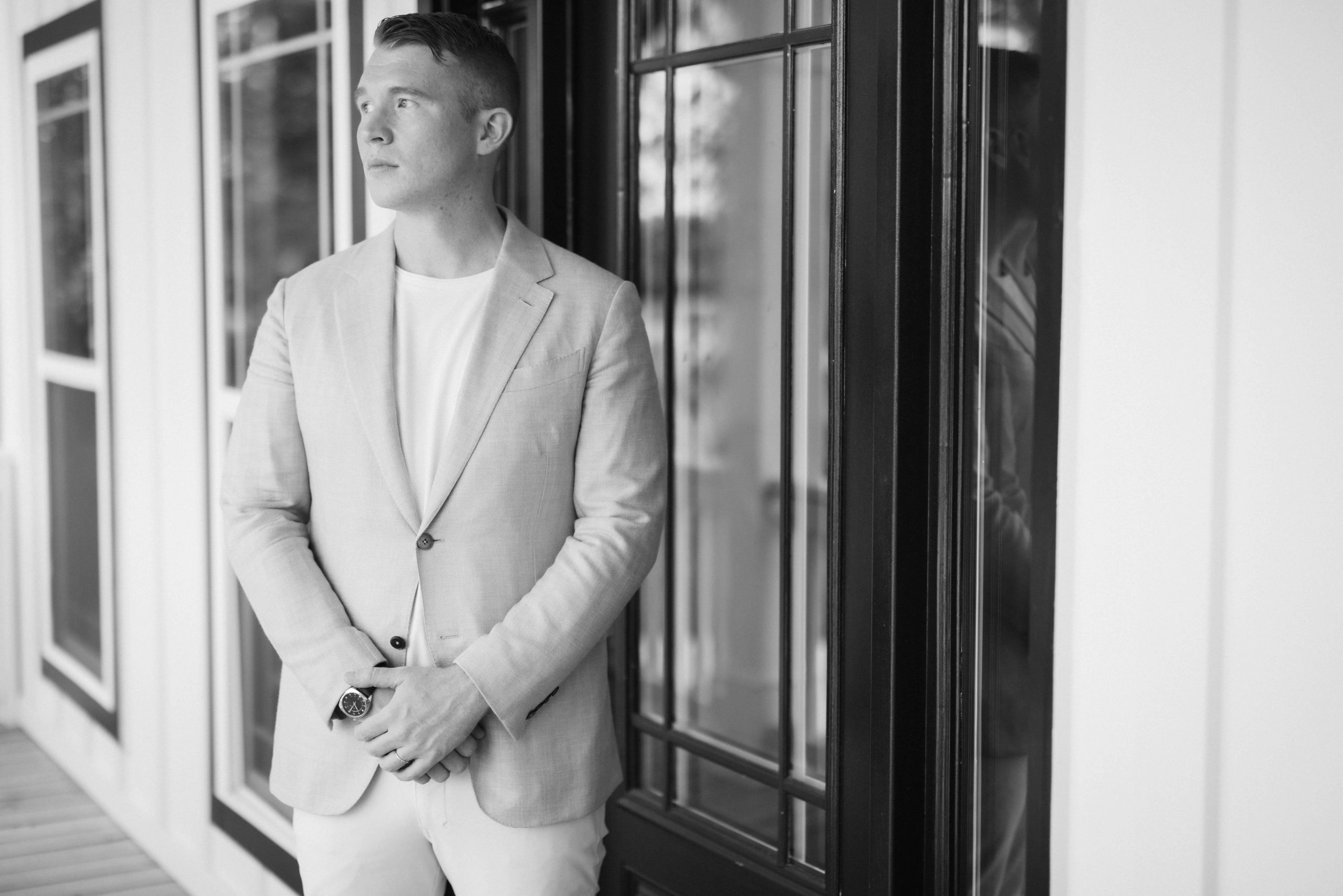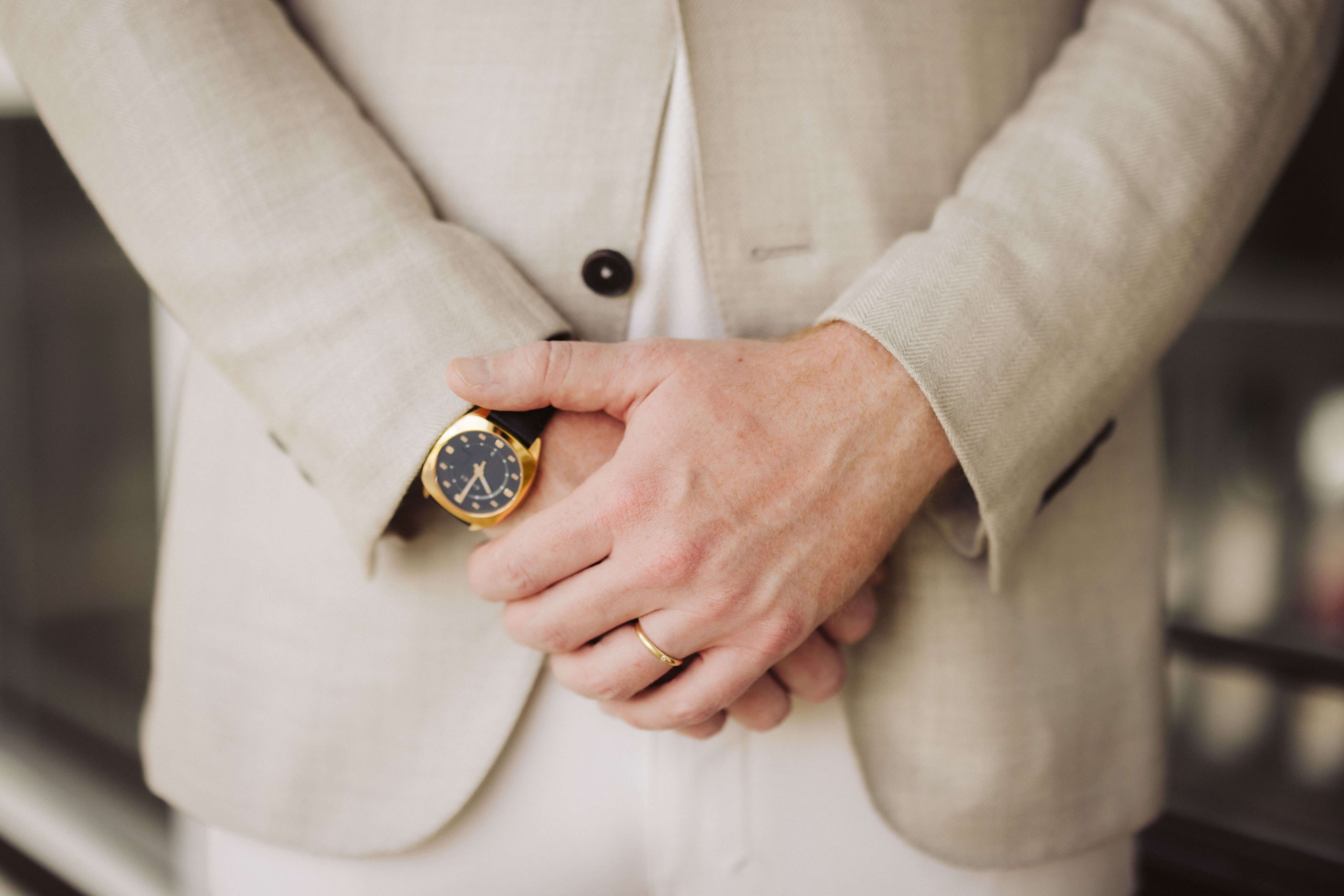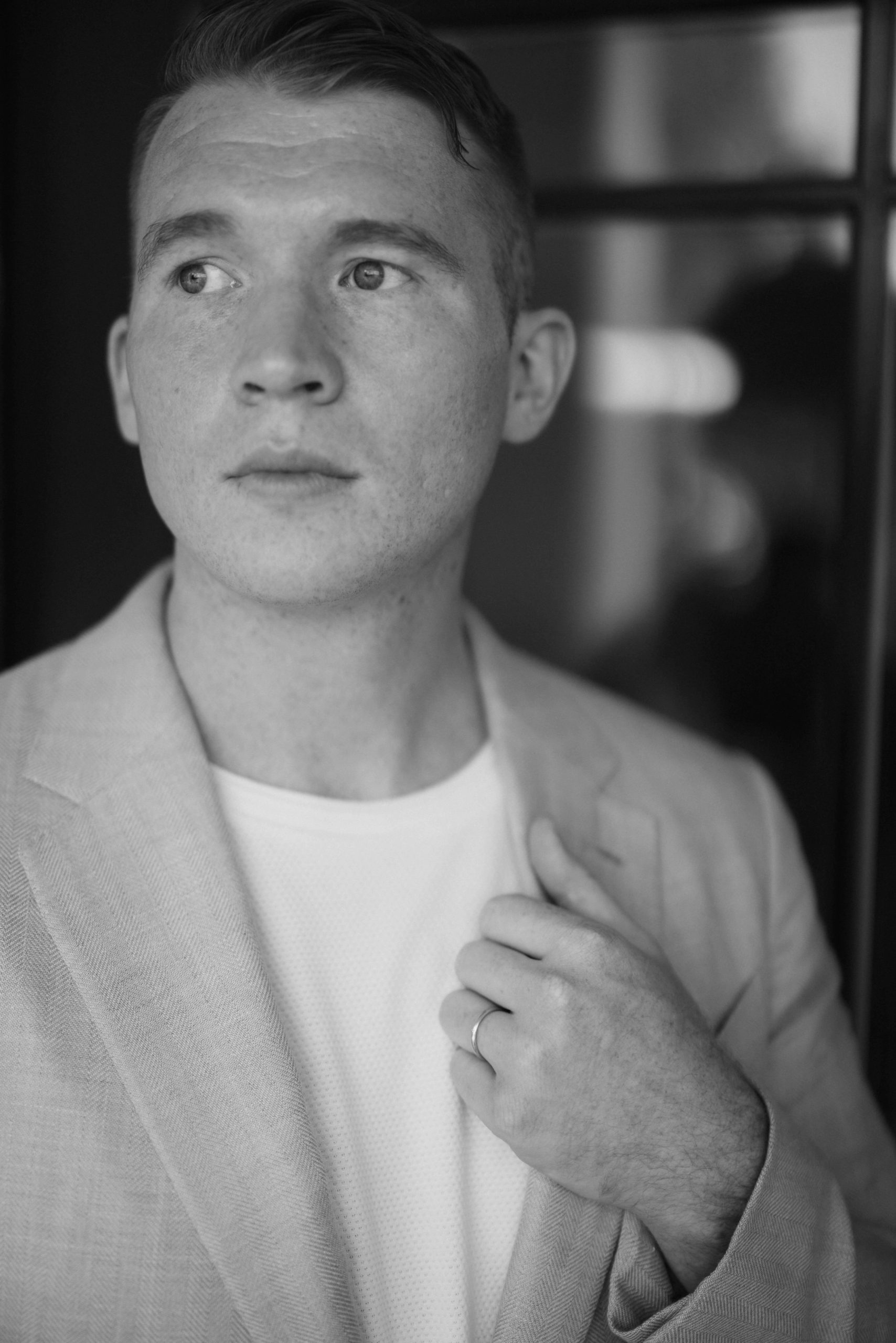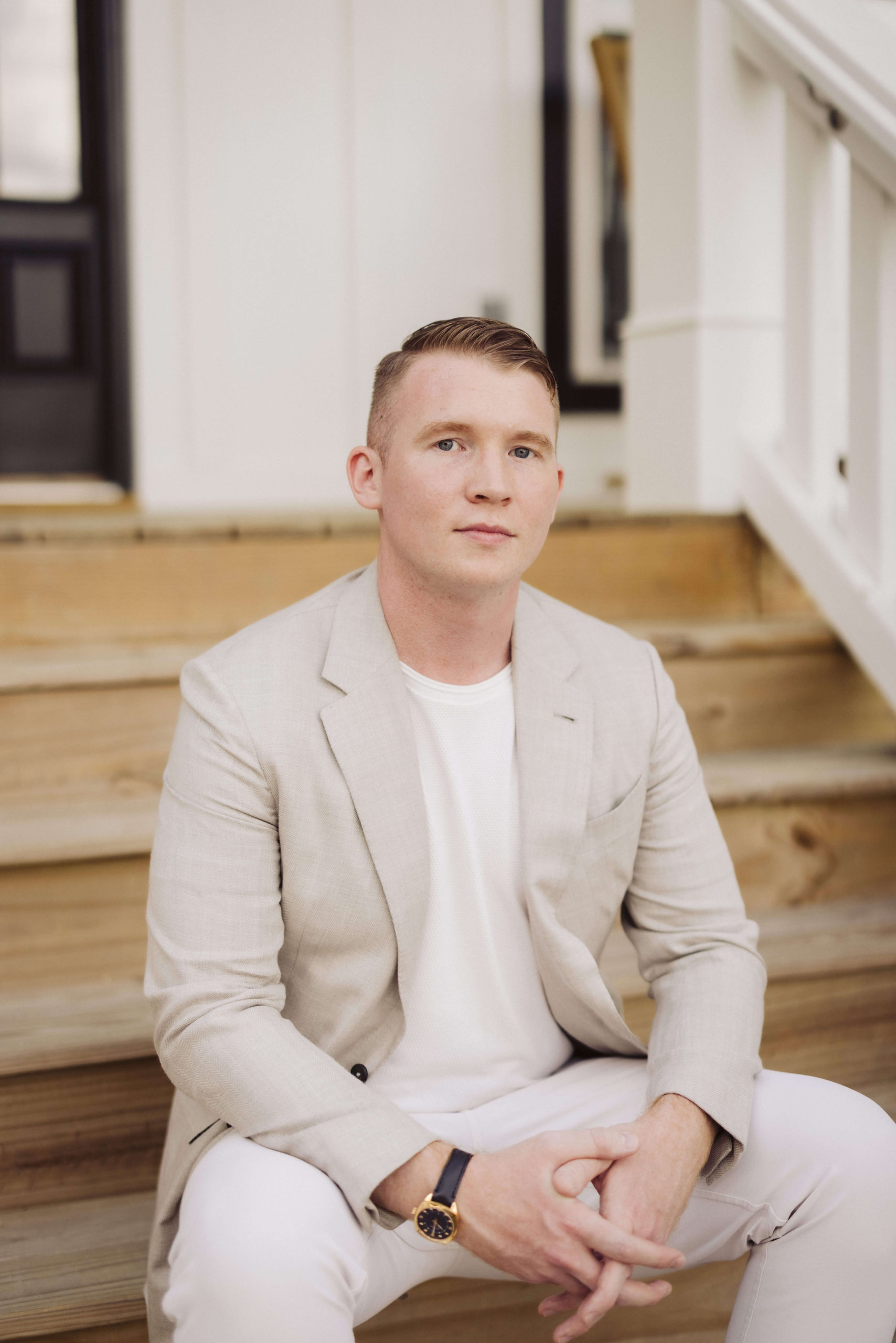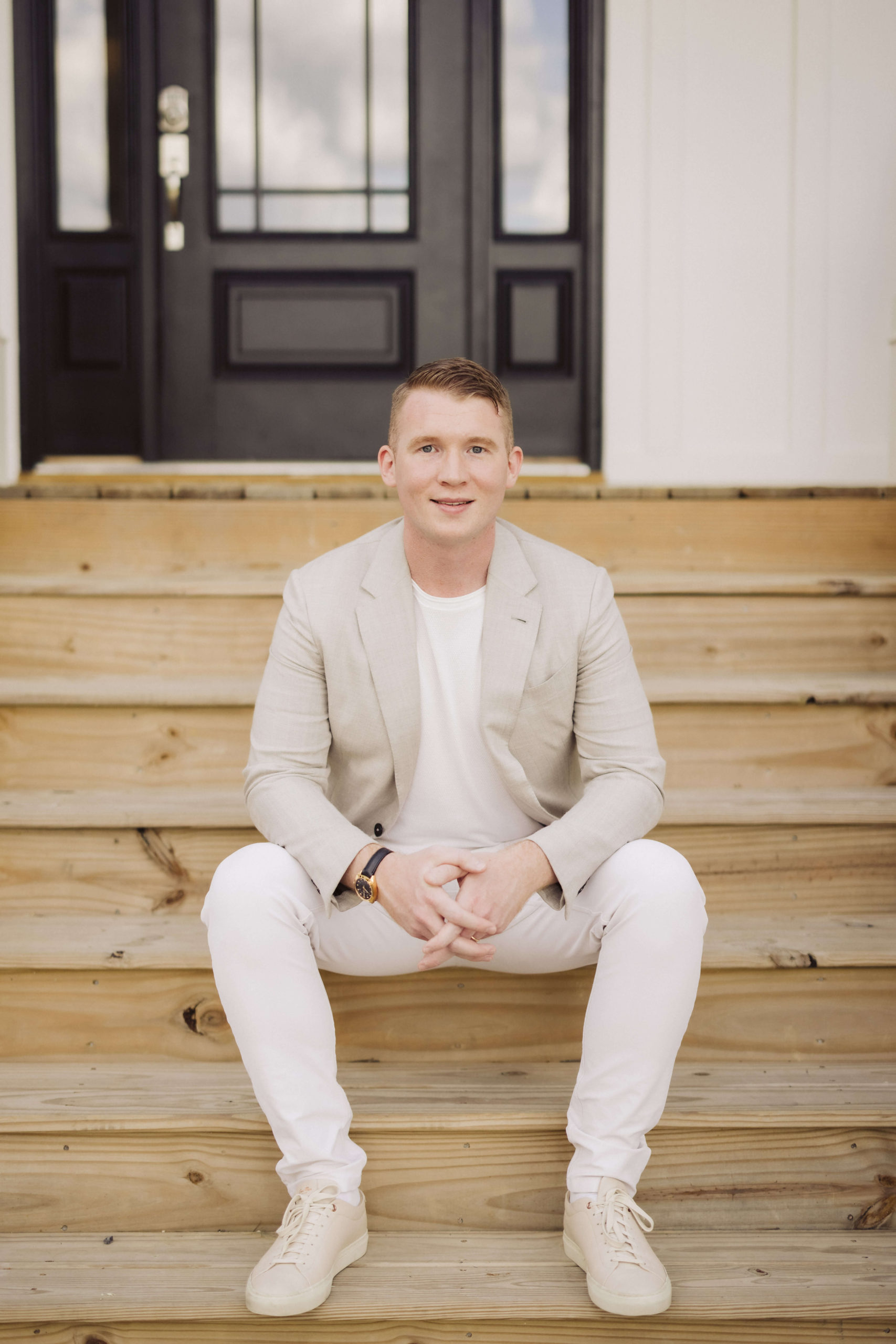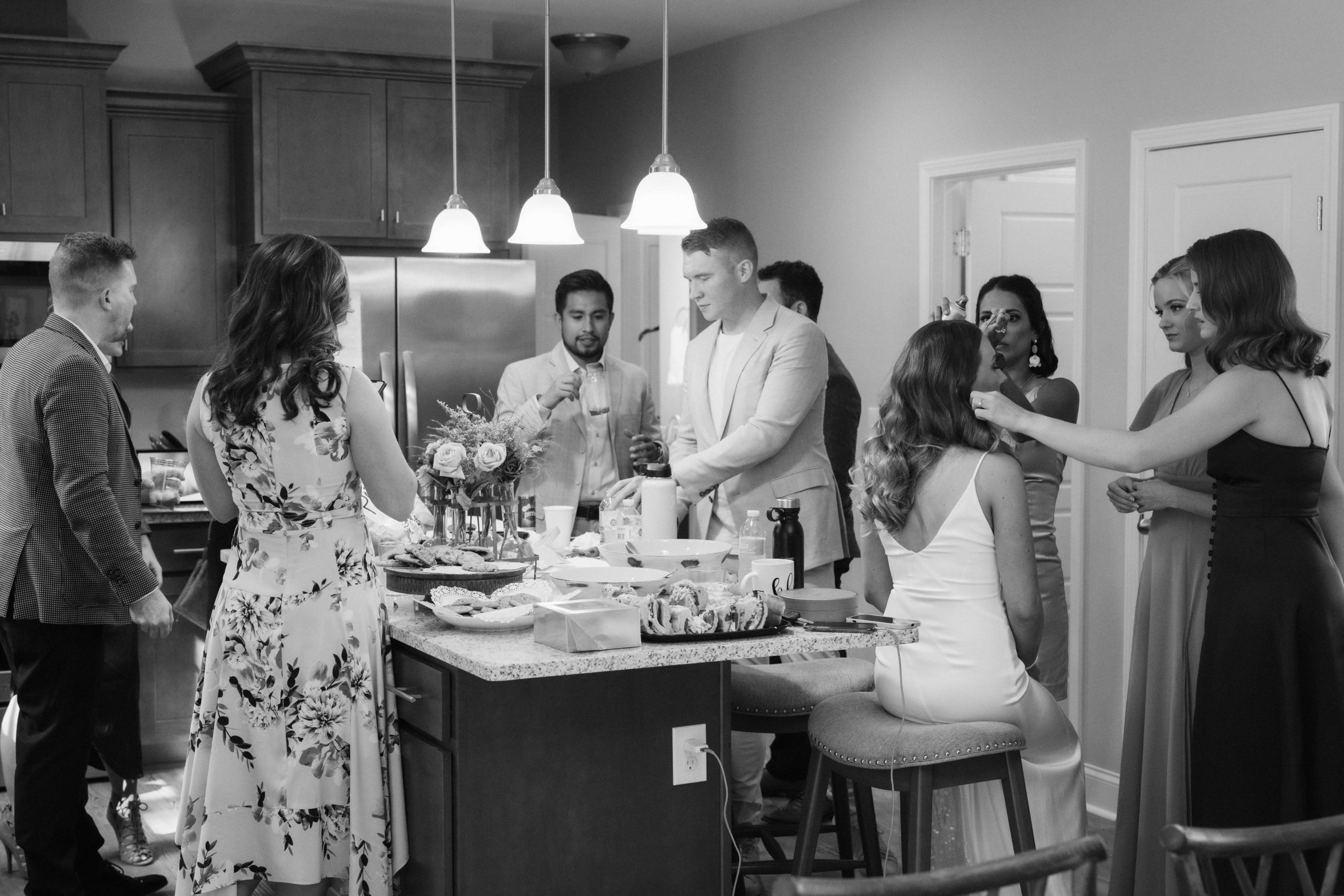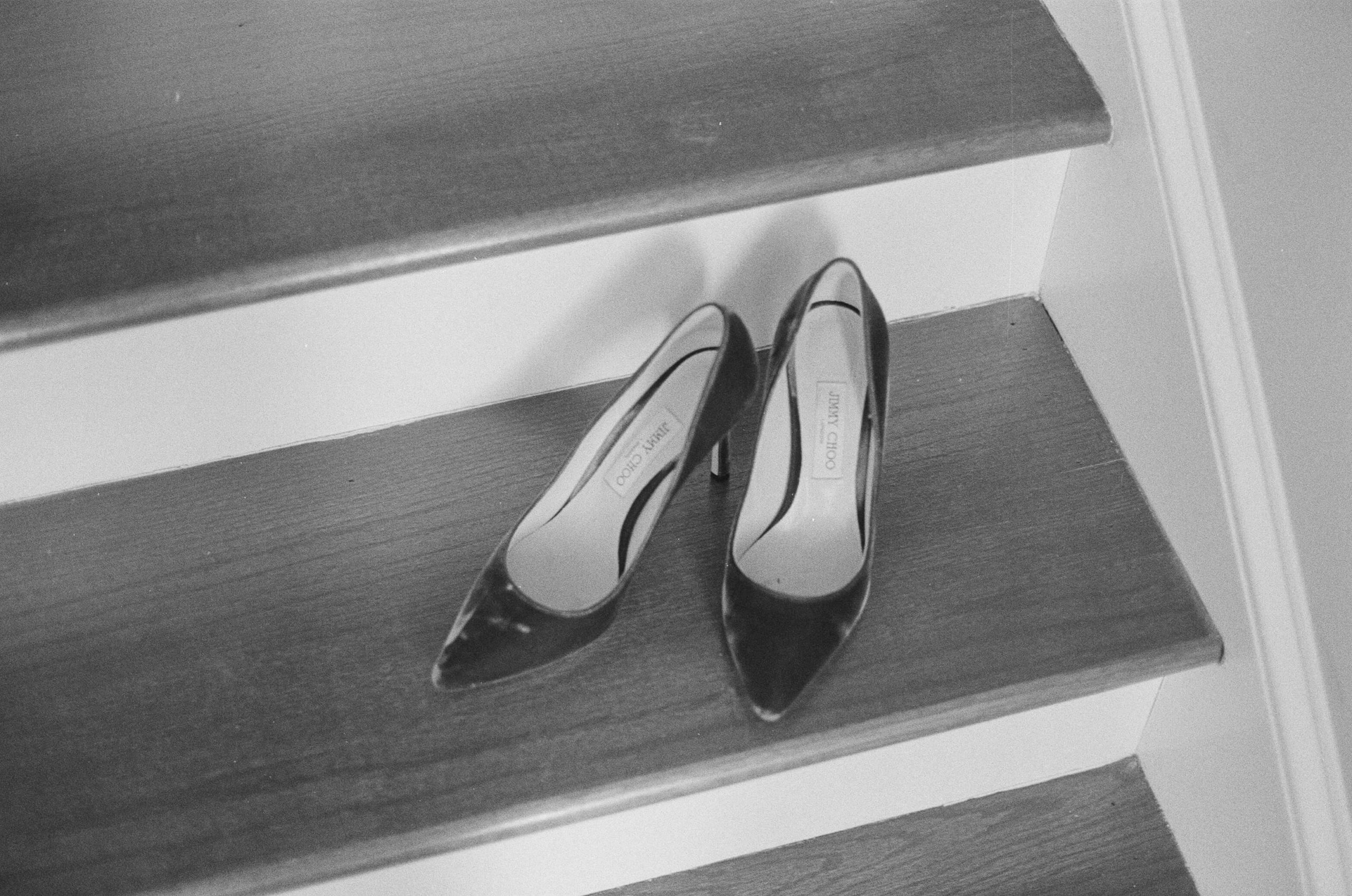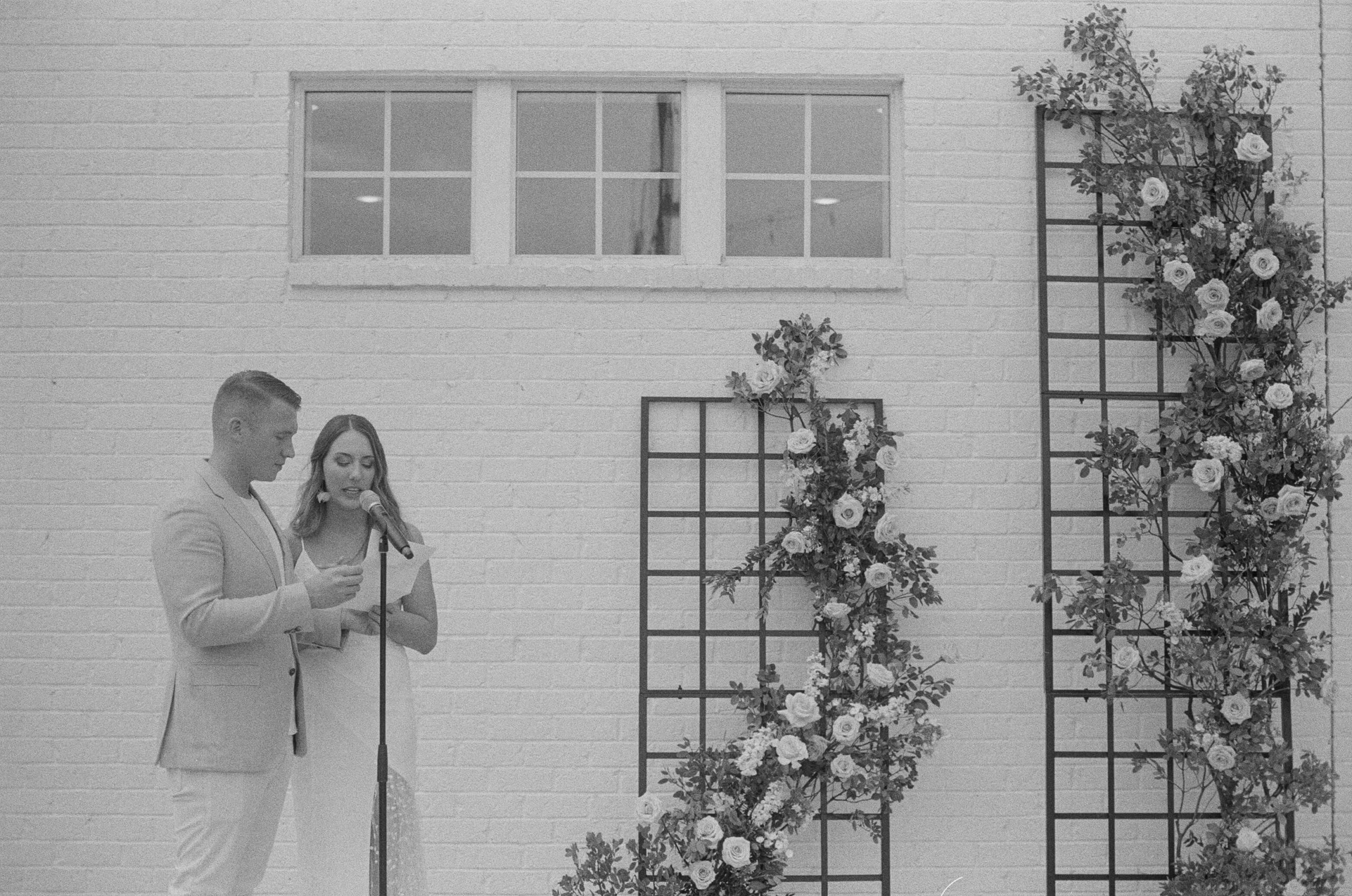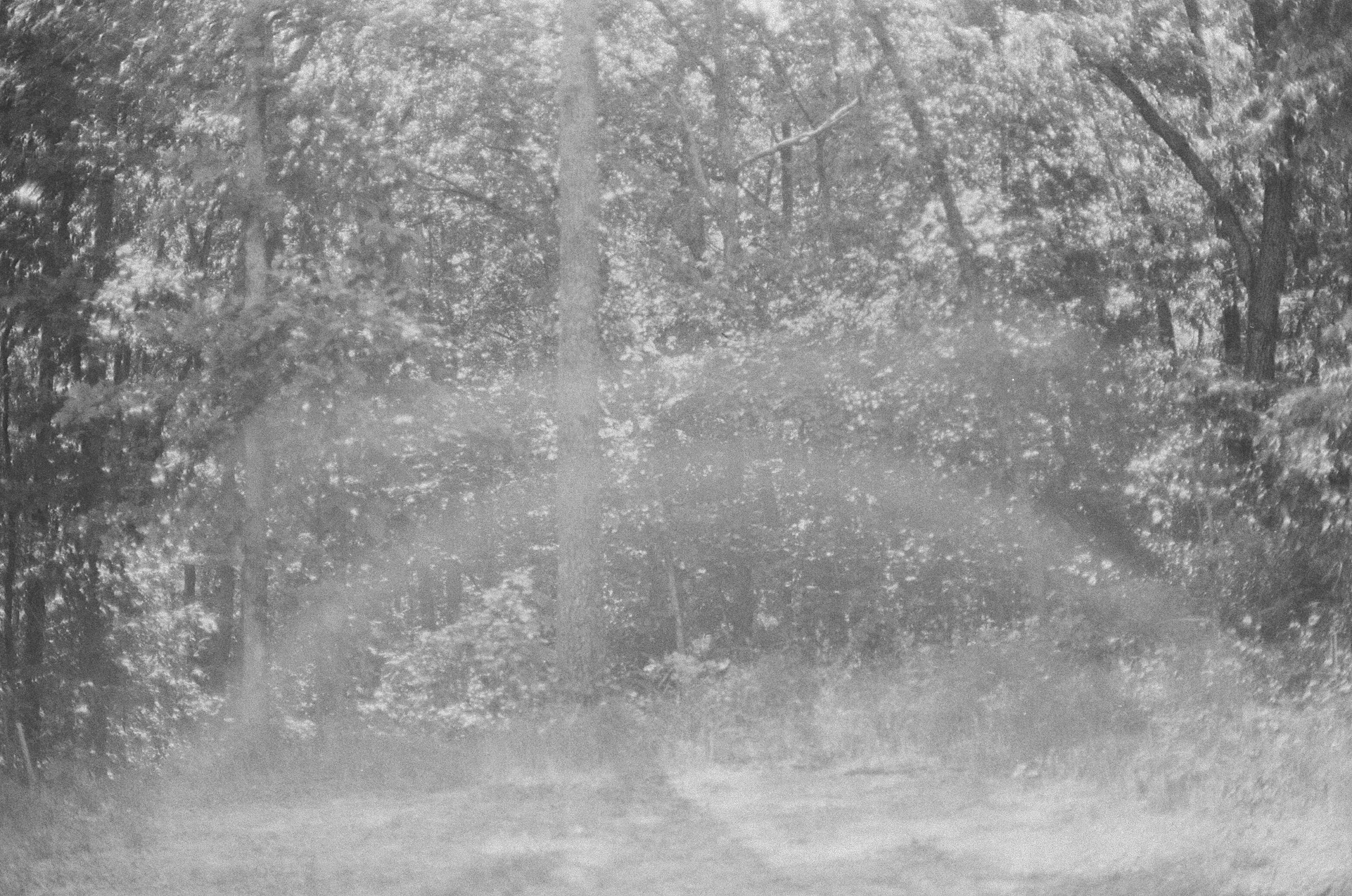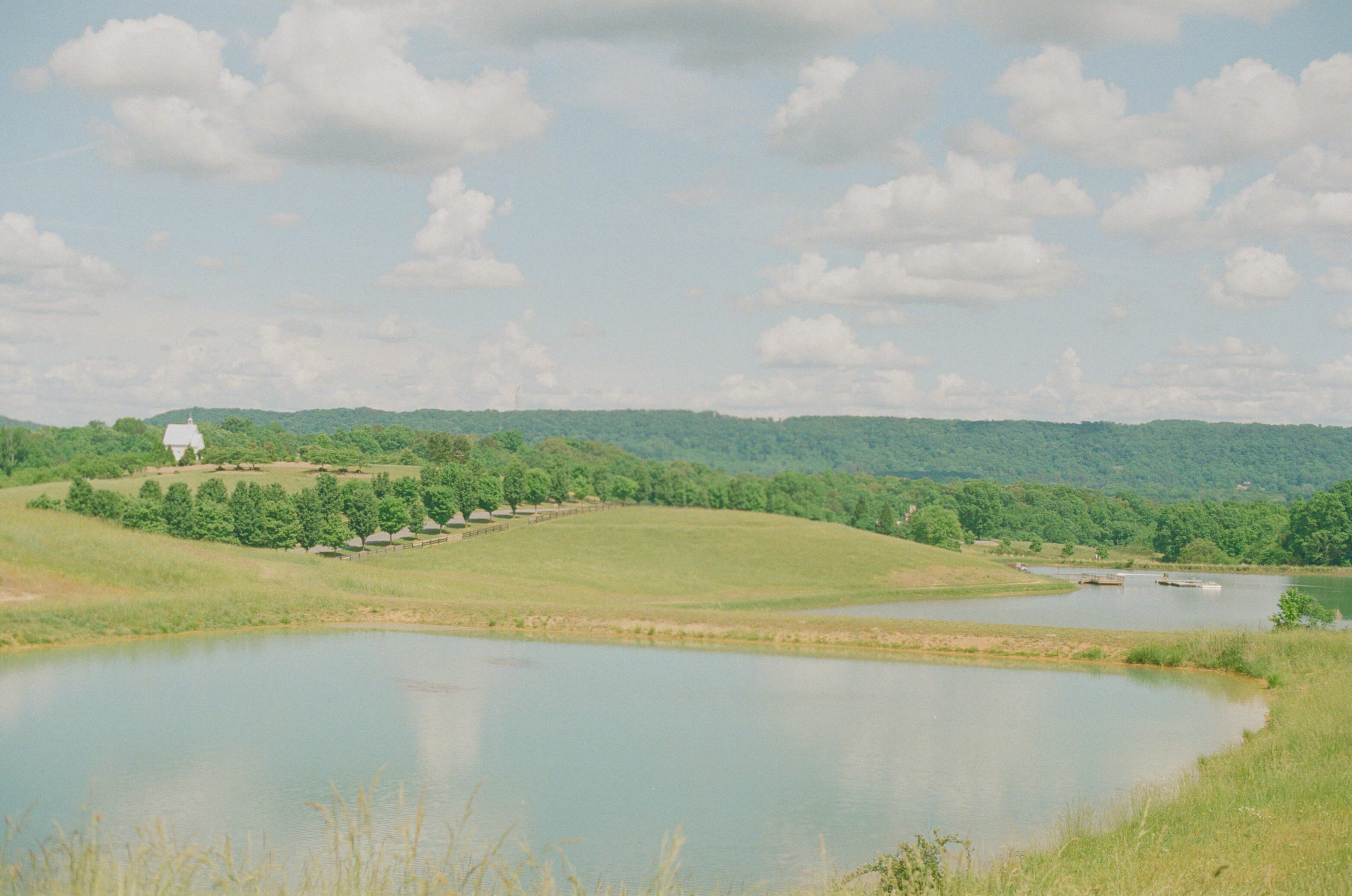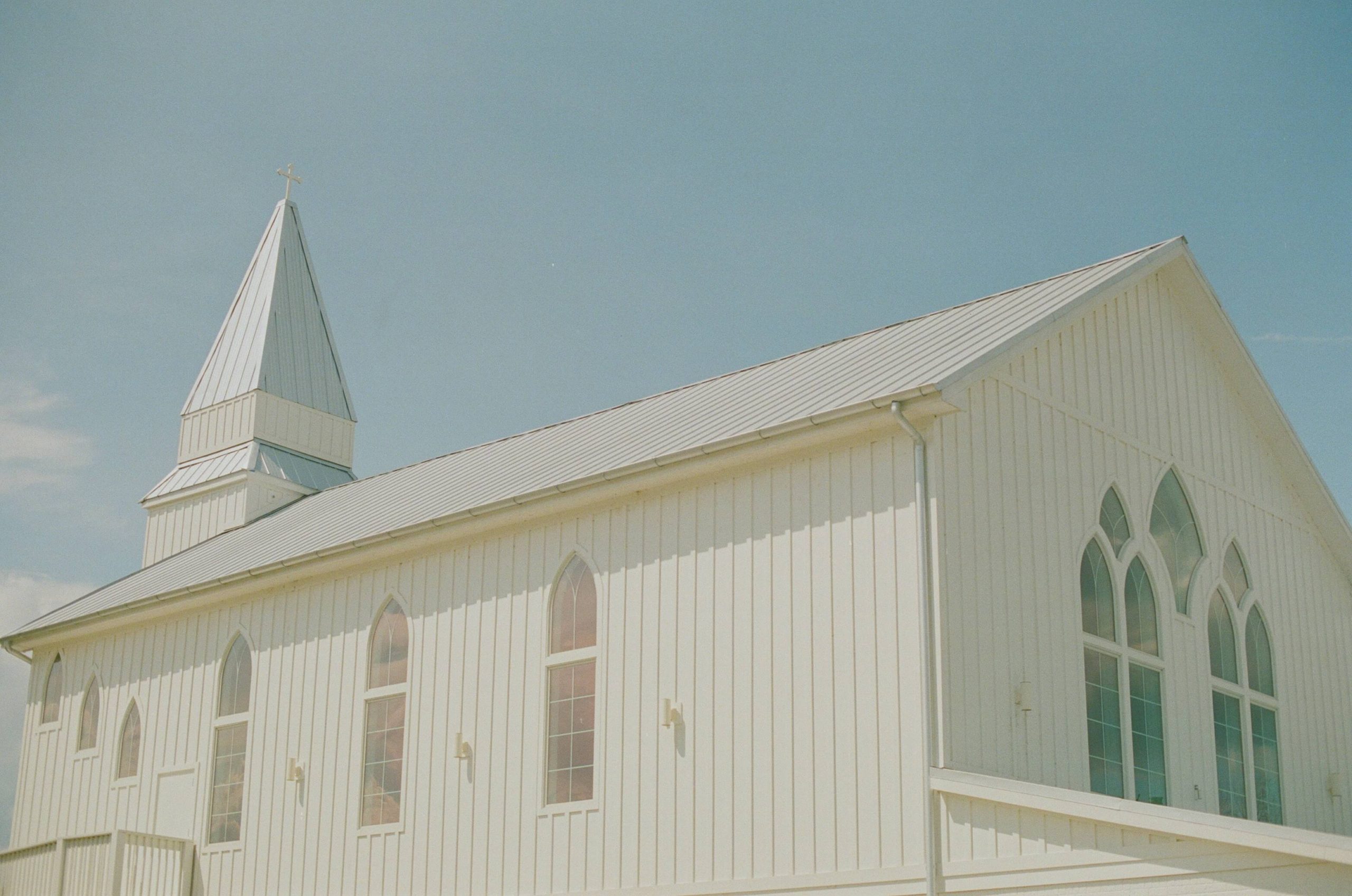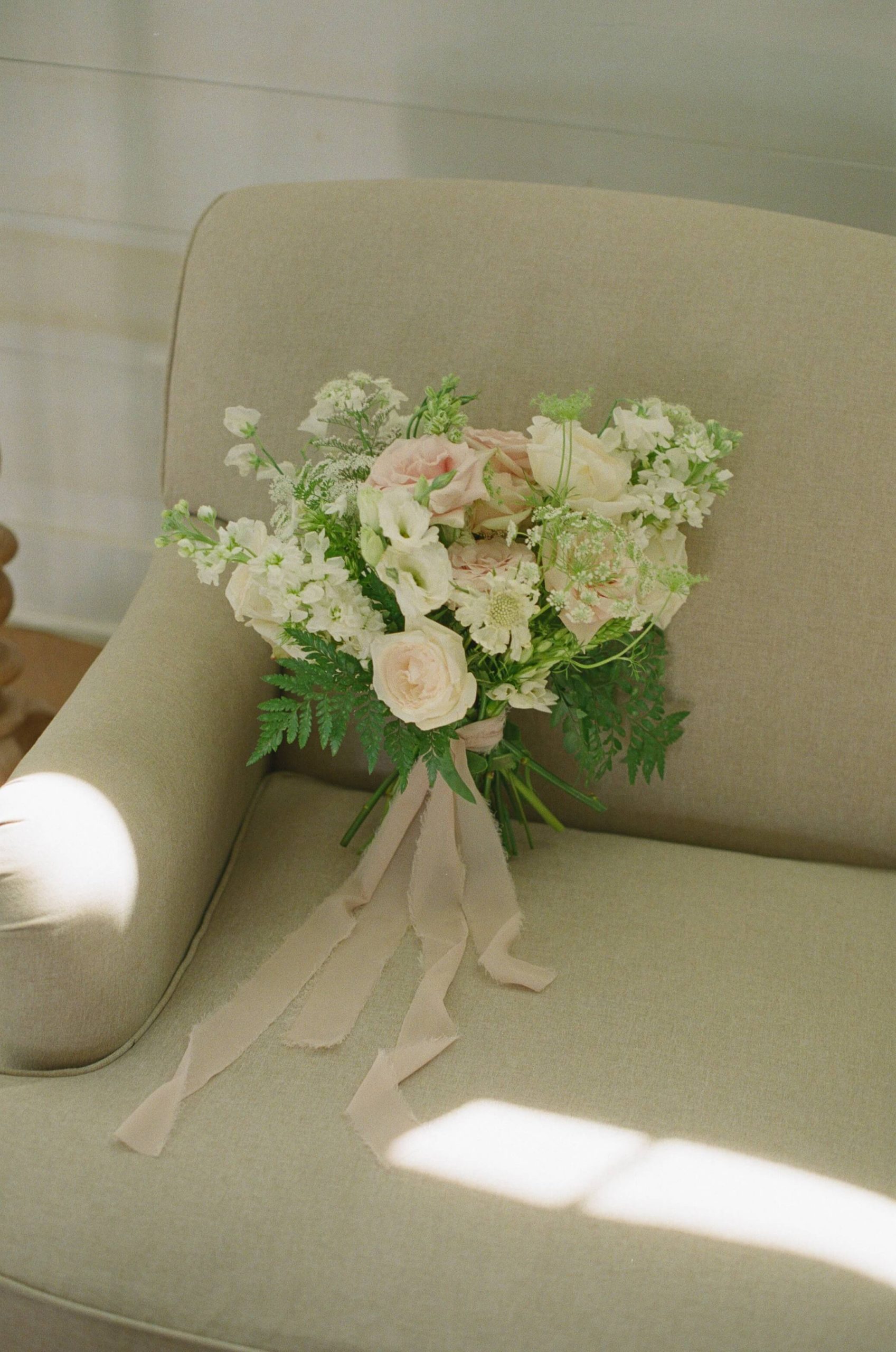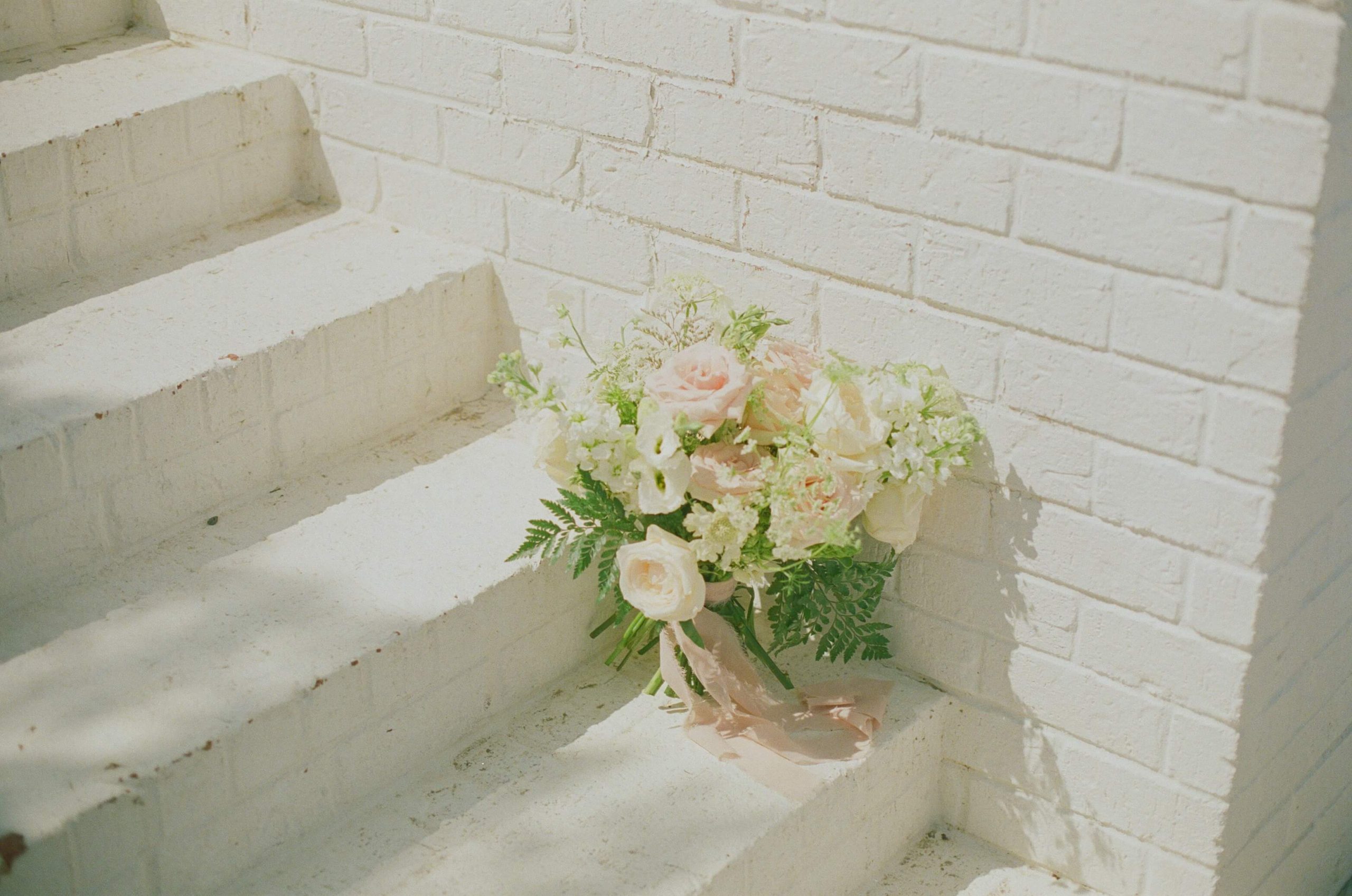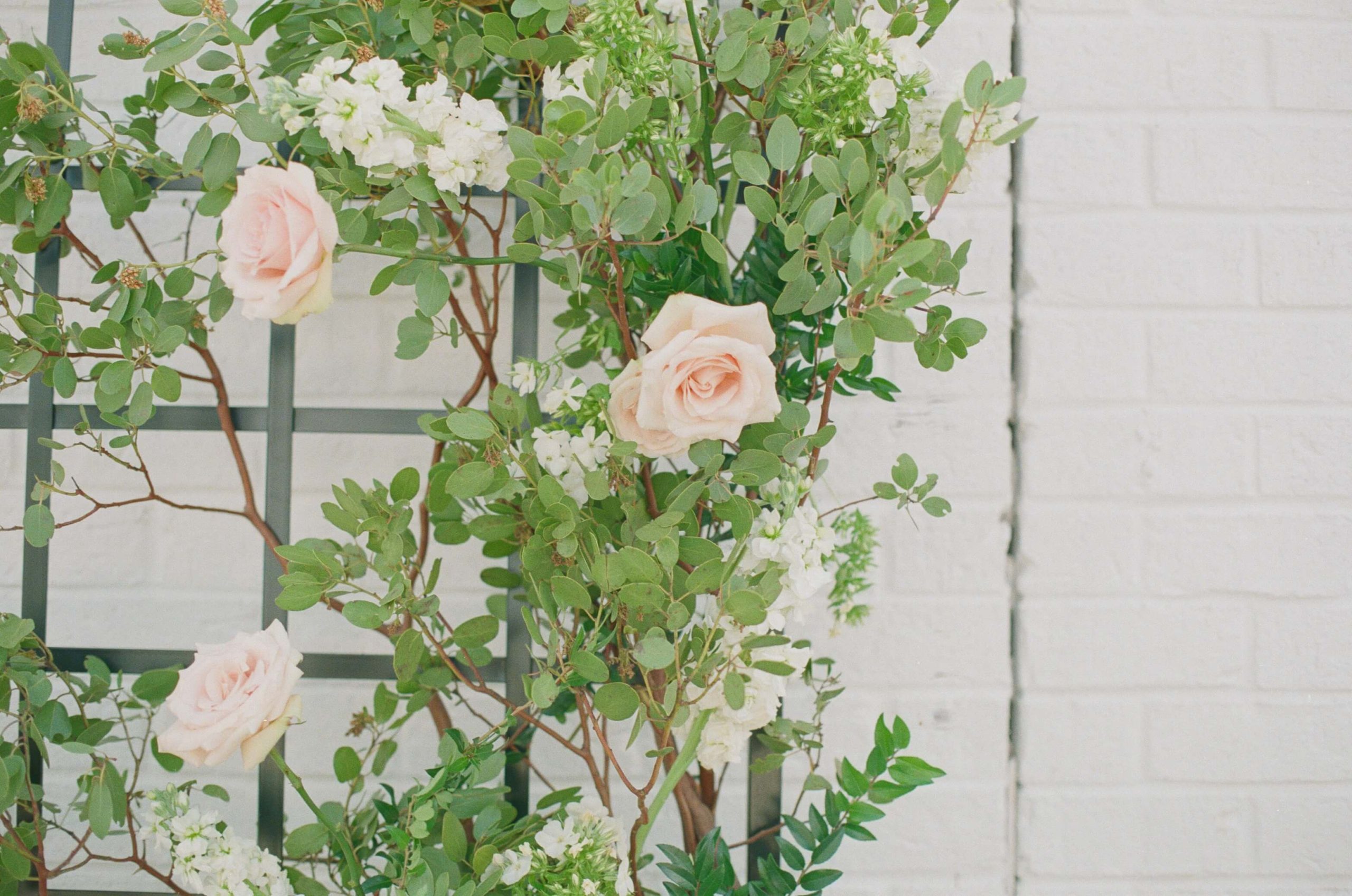 A Boutique Wedding Experience at Howe Farms
When Miranda and Tyler became engaged, they had just moved back to Tennessee from where they were living in Detroit because of the COVID pandemic. They wanted to be able to quarantine safely with family and friends nearby just to be safe. With so many travel bans and restrictions in place, they were married in a small, intimate ceremony with only their immediate family and their wedding party in attendance. However, now in order to celebrate with all of their friends and loved ones who weren't able to be there on their big day, they chose to have a huge first anniversary celebration at Howe Farms.
For couples in the Chattanooga area, Howe Farms offers a boutique wedding experience like no other. The Howe family turned 350 acres of land into six separate and unique wedding venue locations to match just about any couple's particular tastes and style. Every venue option offers a luxurious wedding experience with perfectly curated designs ranging from industrial to traditional to bohemian in each individual space. Not to mention each of the six venues comes with stunning panoramic views of wide open fields, waterfront scenery, or mountain backgrounds that are simply a wedding photographer's dream.
The team at Howe Farms prides themselves in making sure their couples' wedding journey with them is as stress-free and seamless as possible. They do this with their extensive wedding package that includes the 16-hour venue rental with indoor and outdoor ceremony and reception options, access to the bride and groom suites for getting ready, setup and breakdown of tables and chairs with provided linens, and exclusive access to their décor room to pick and choose the perfect details for your wedding day at no extra cost! You can even rent vintage vehicles to end your wedding day in style. Plus, as an extra bonus, if you want your animals at your wedding, whether that's a horse-drawn carriage or your beloved dog as your ring bearer, the entire site is animal-friendly!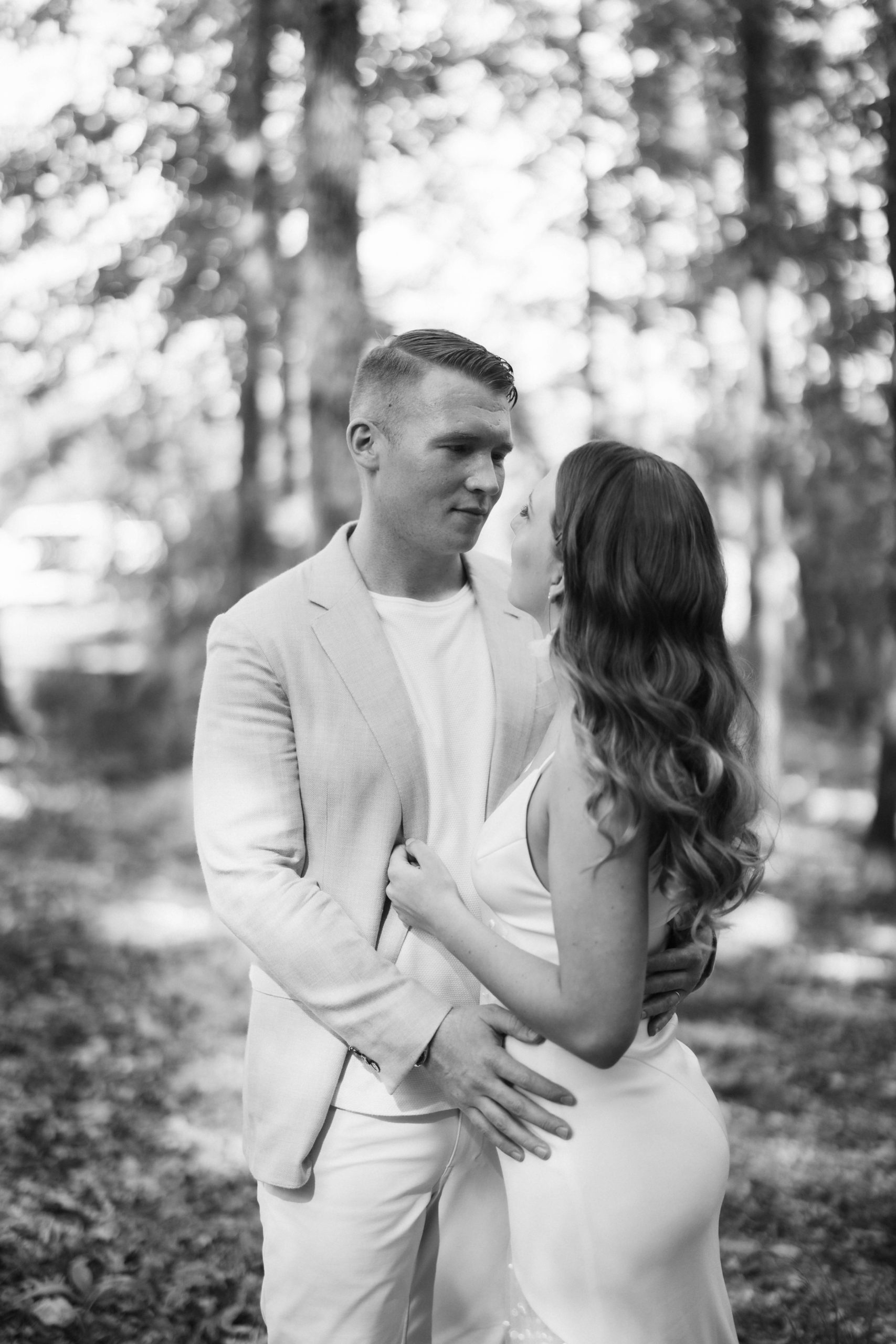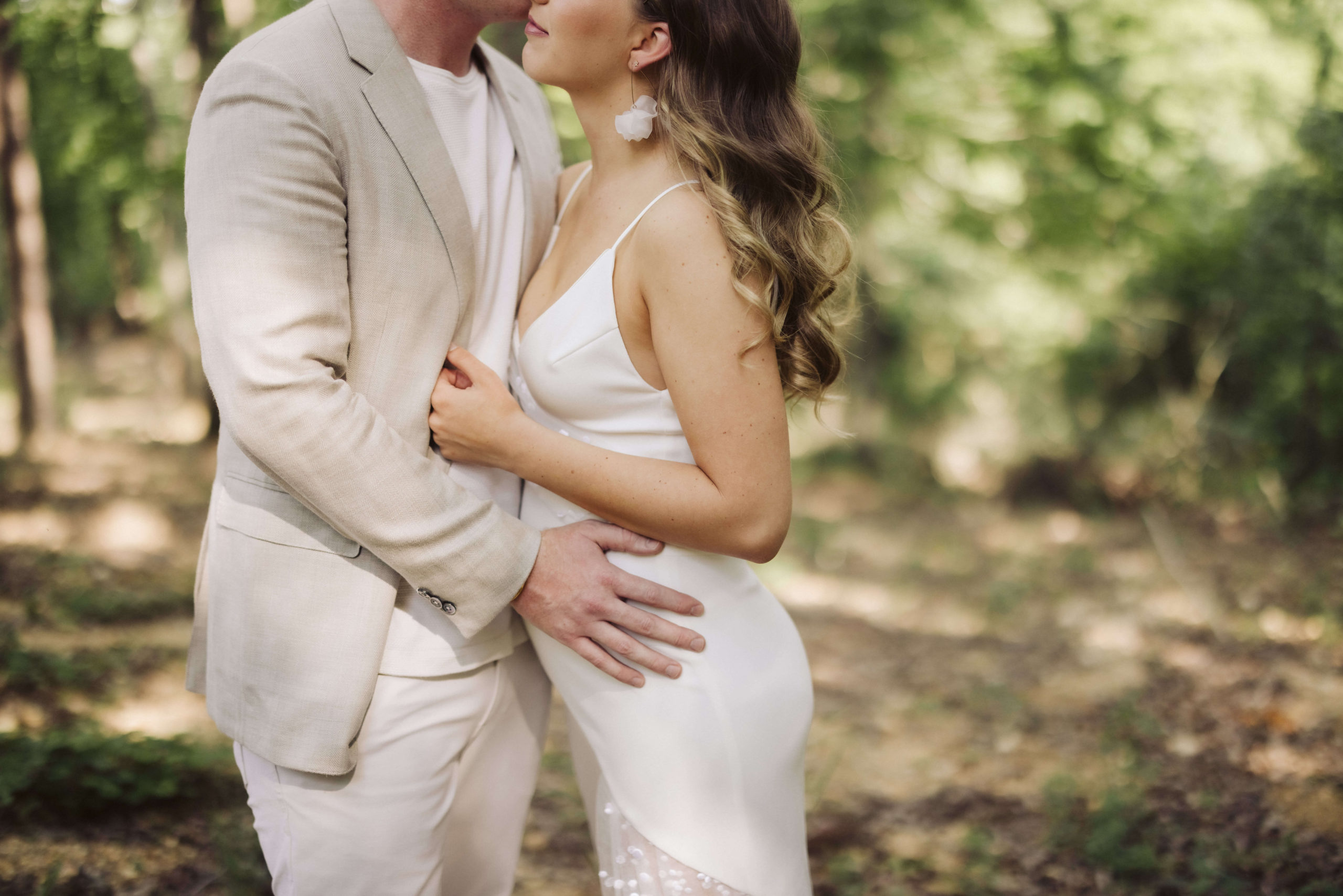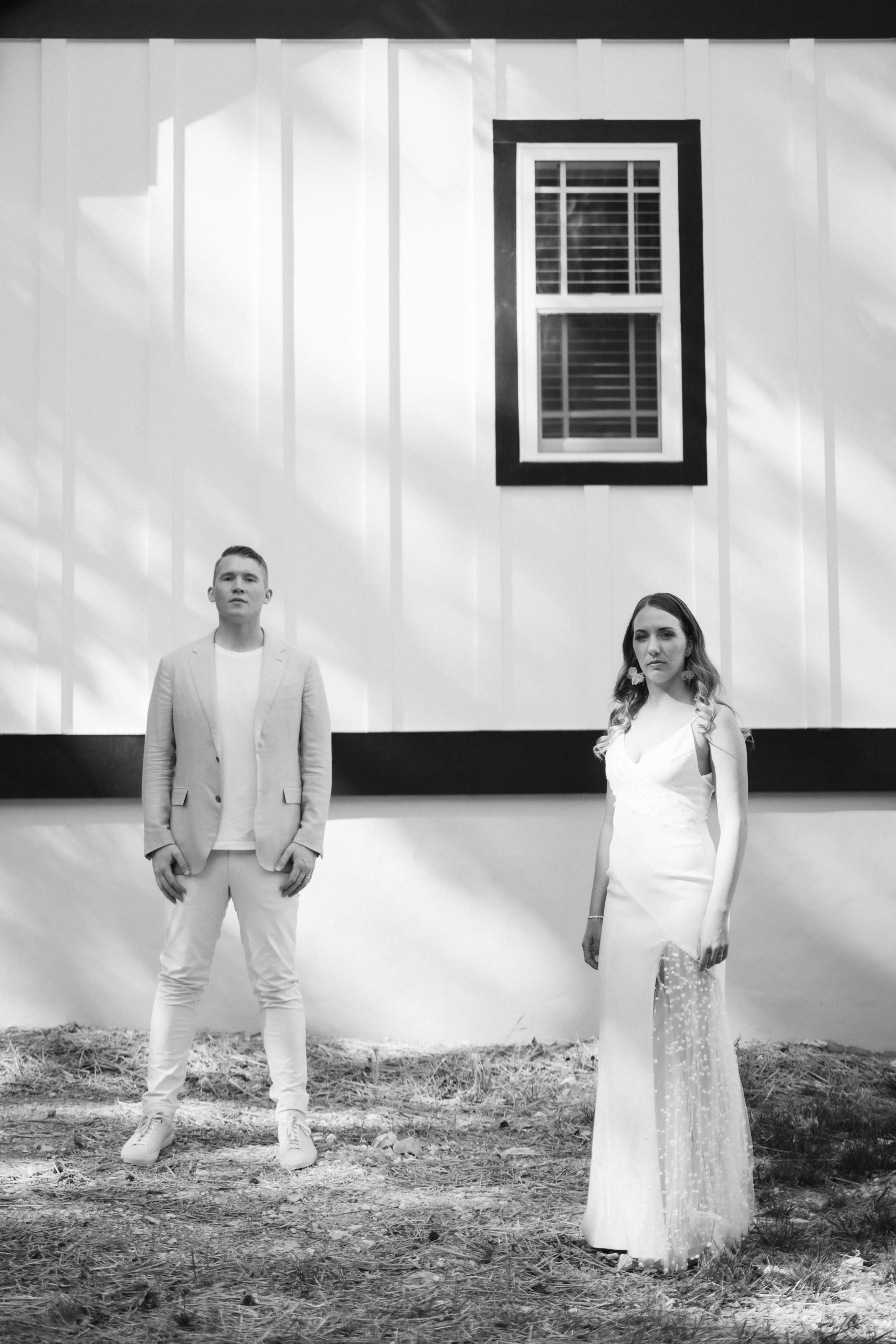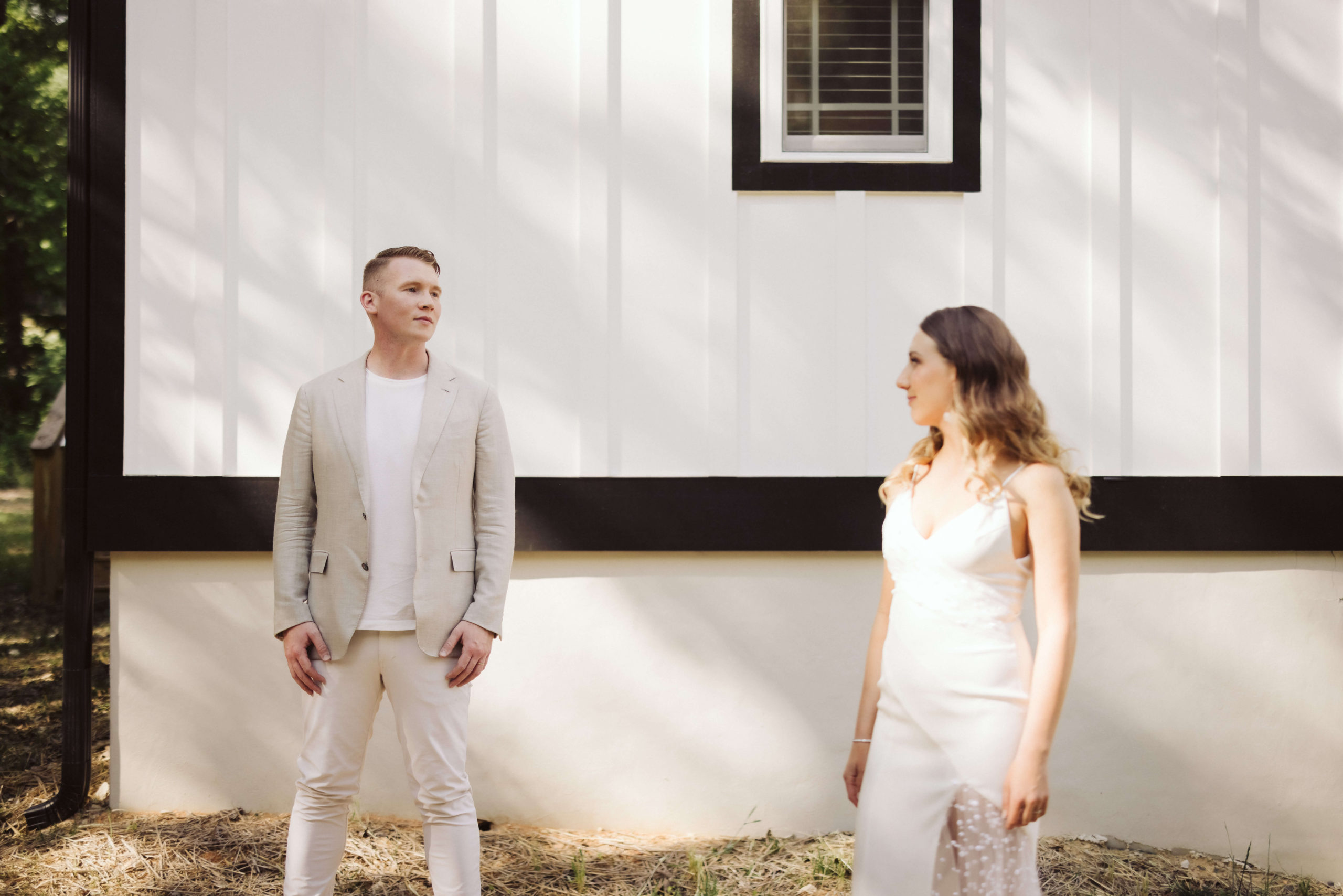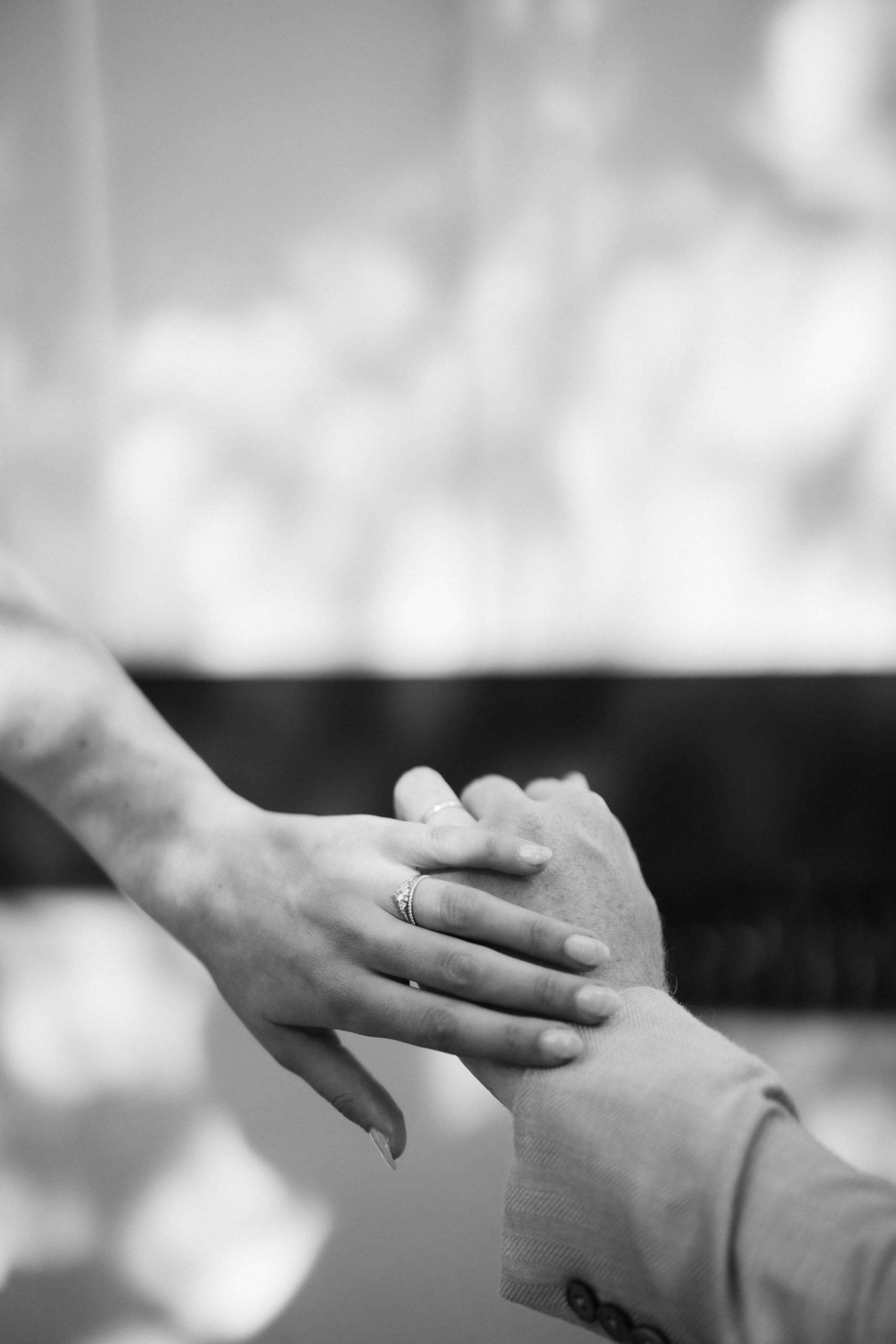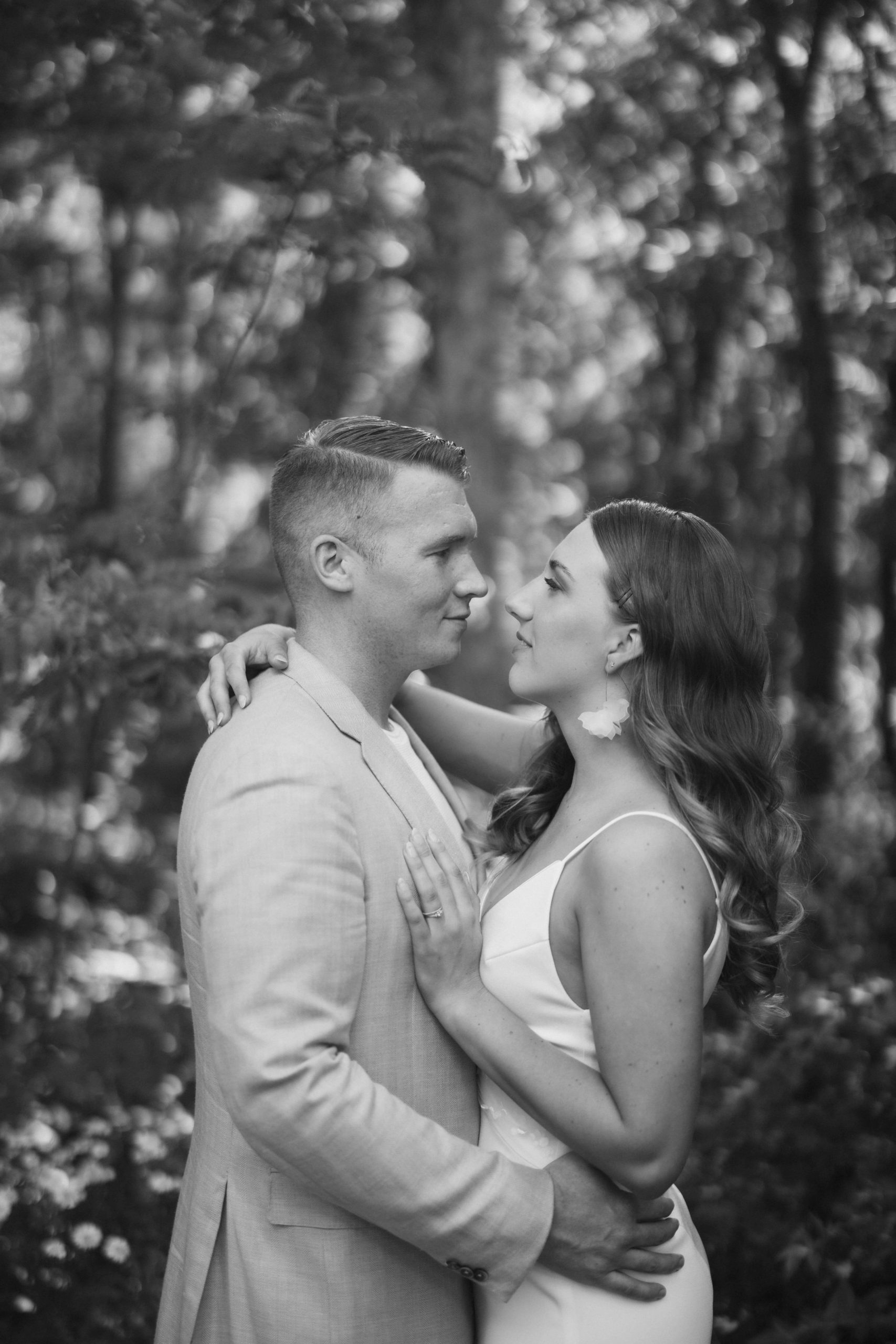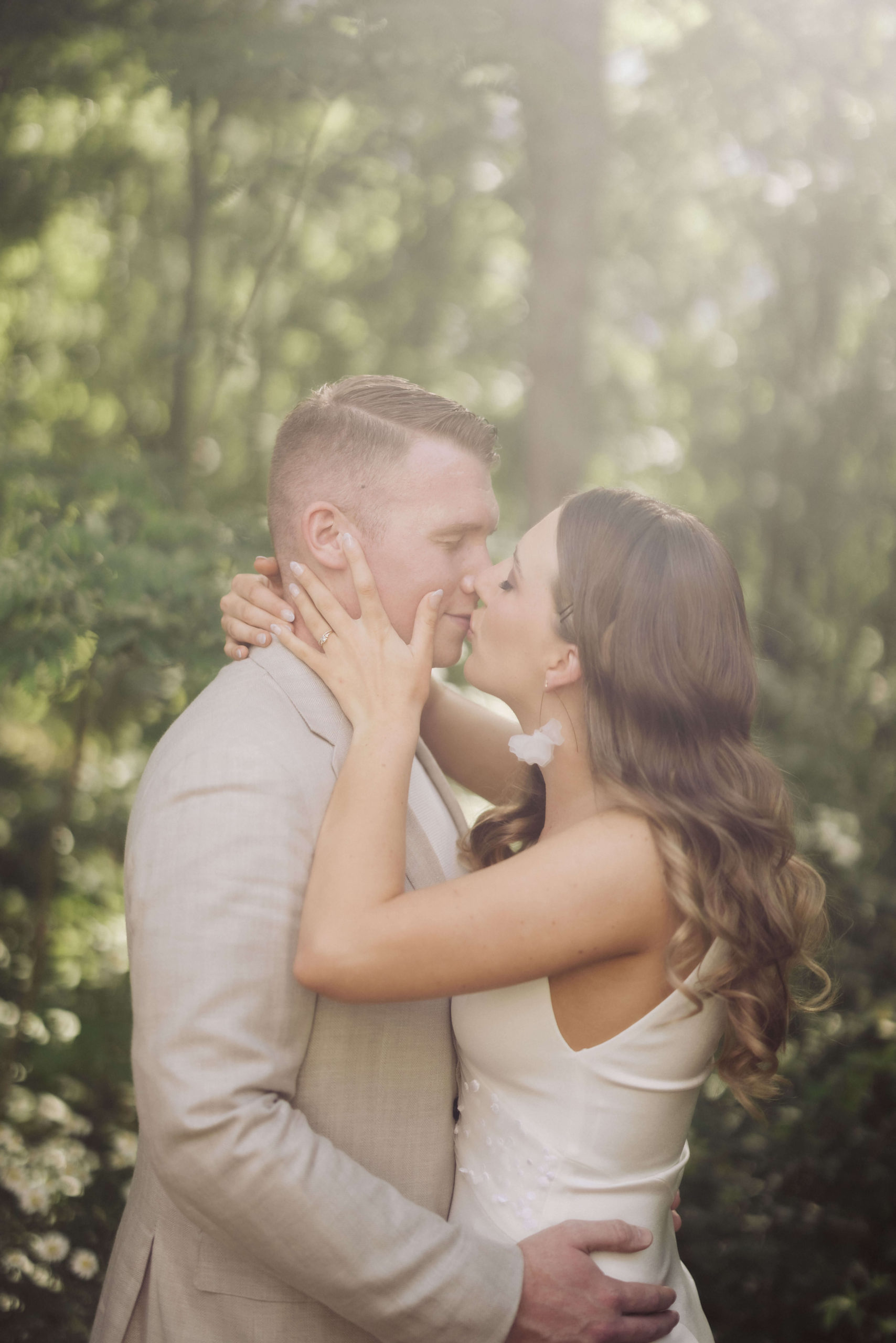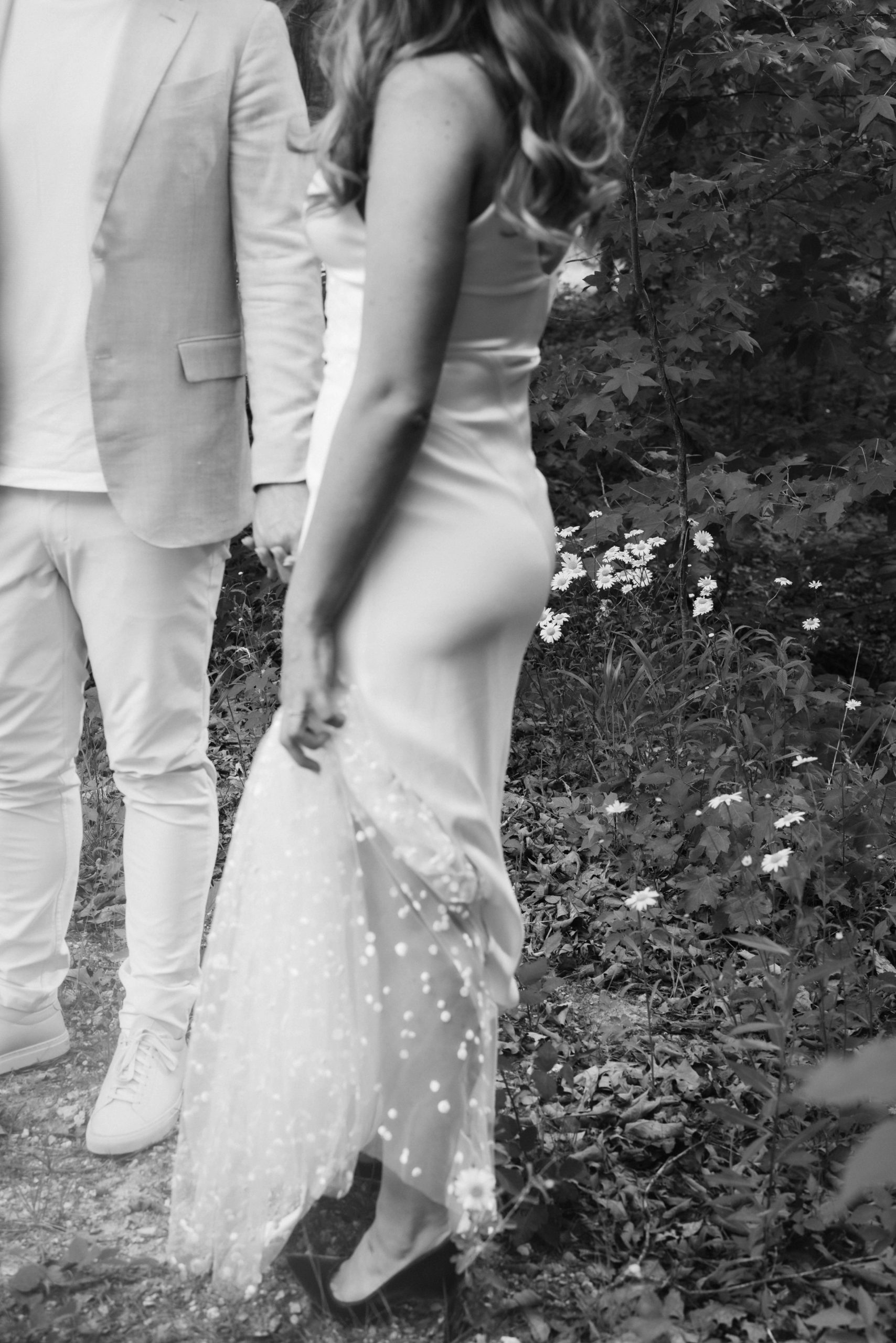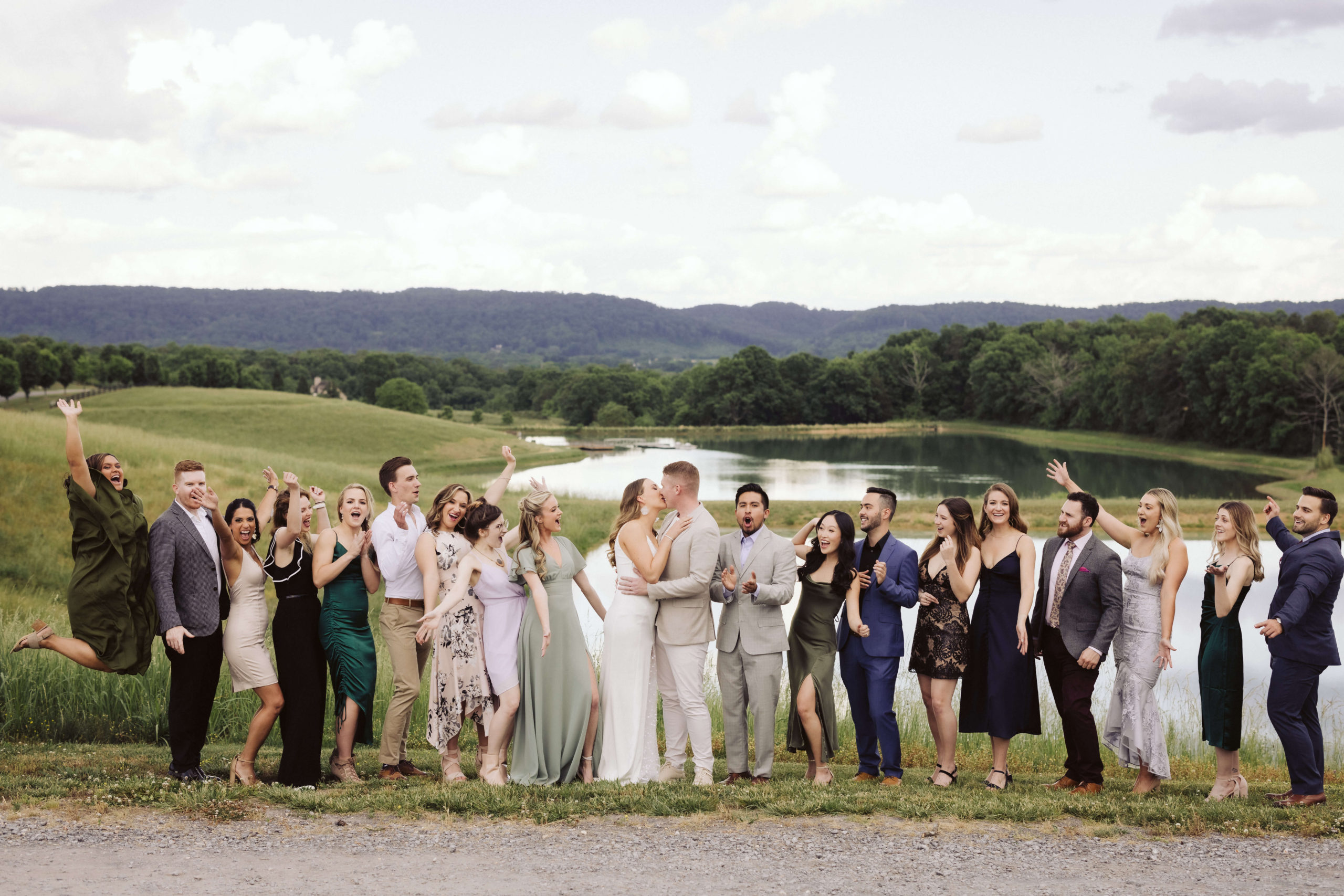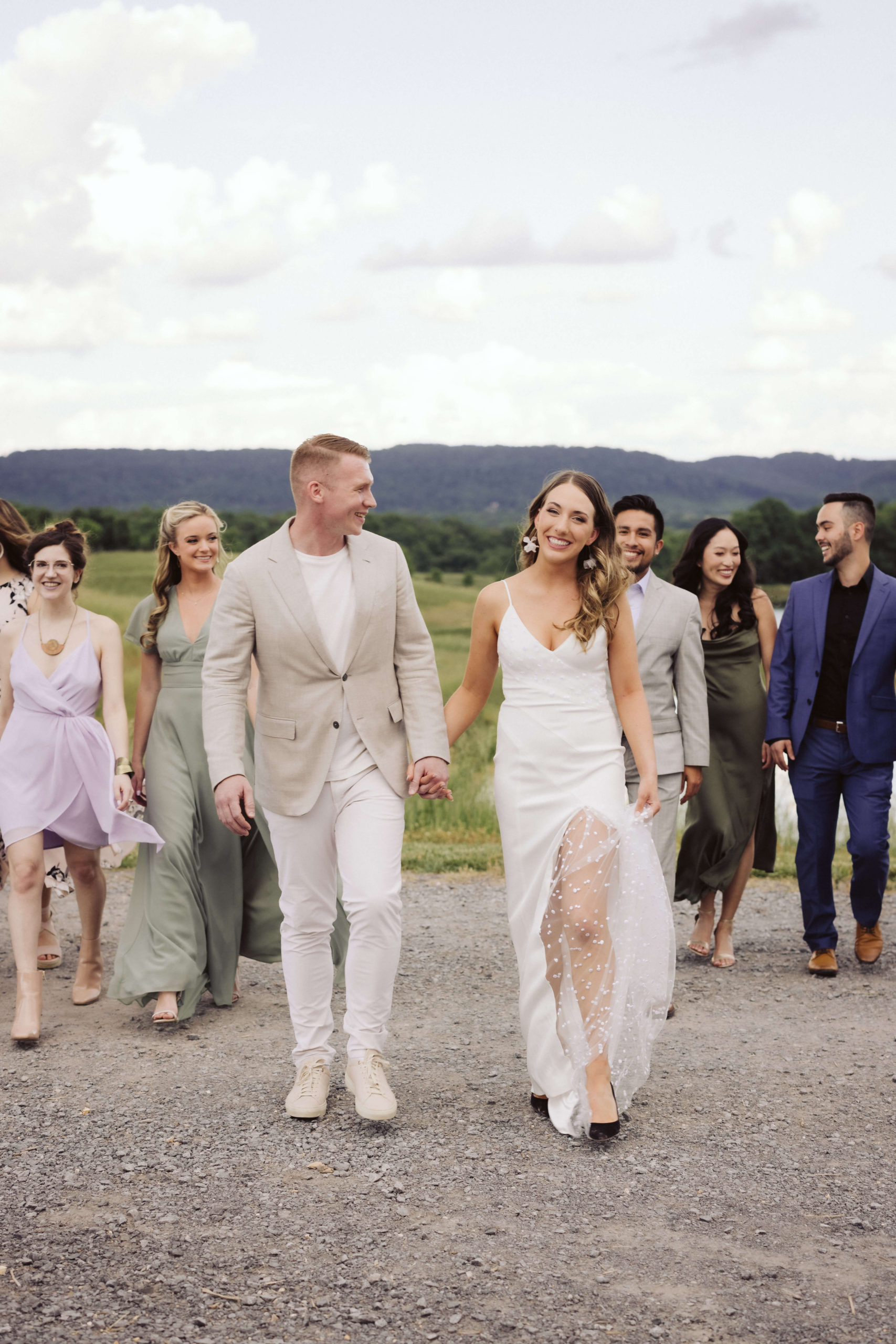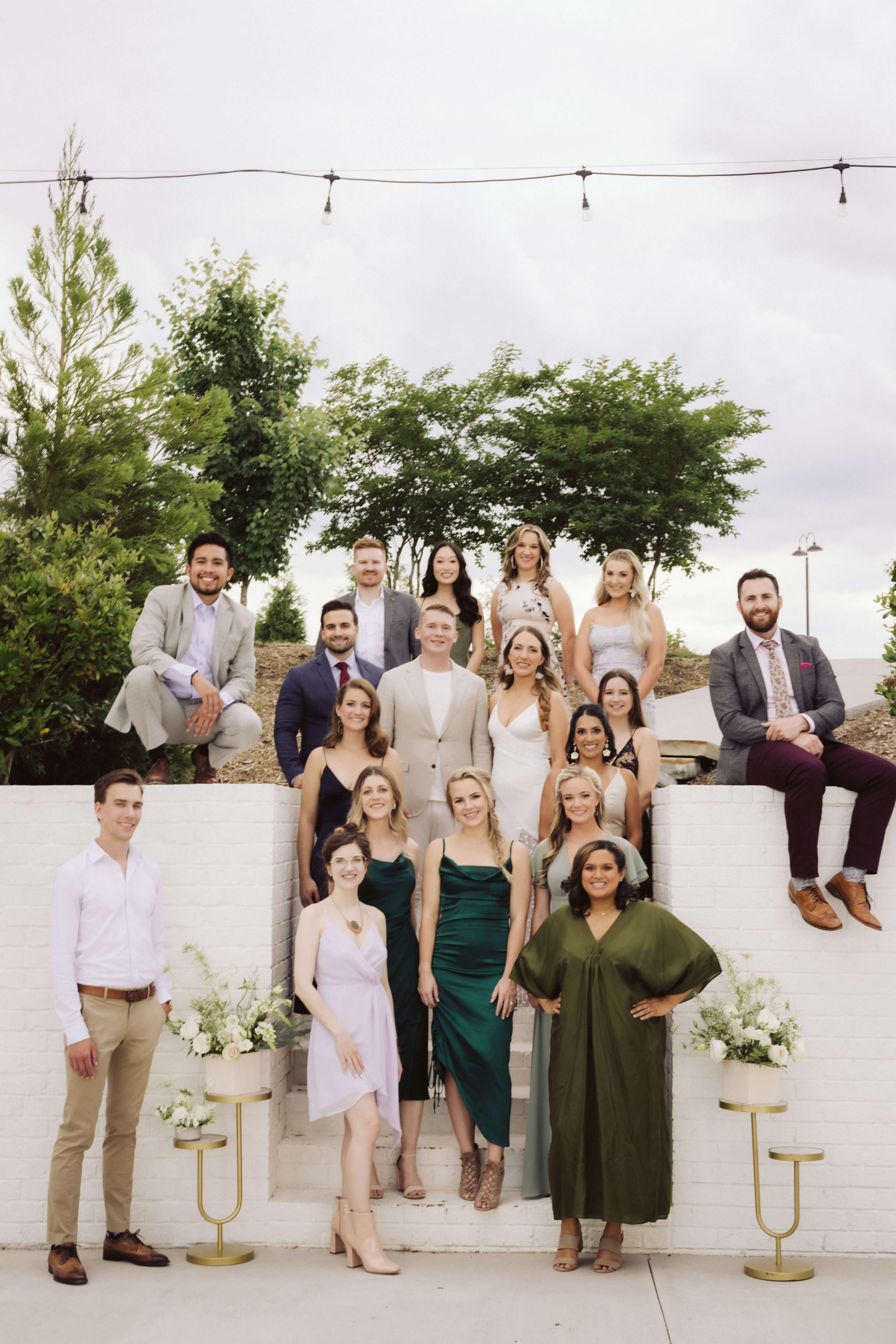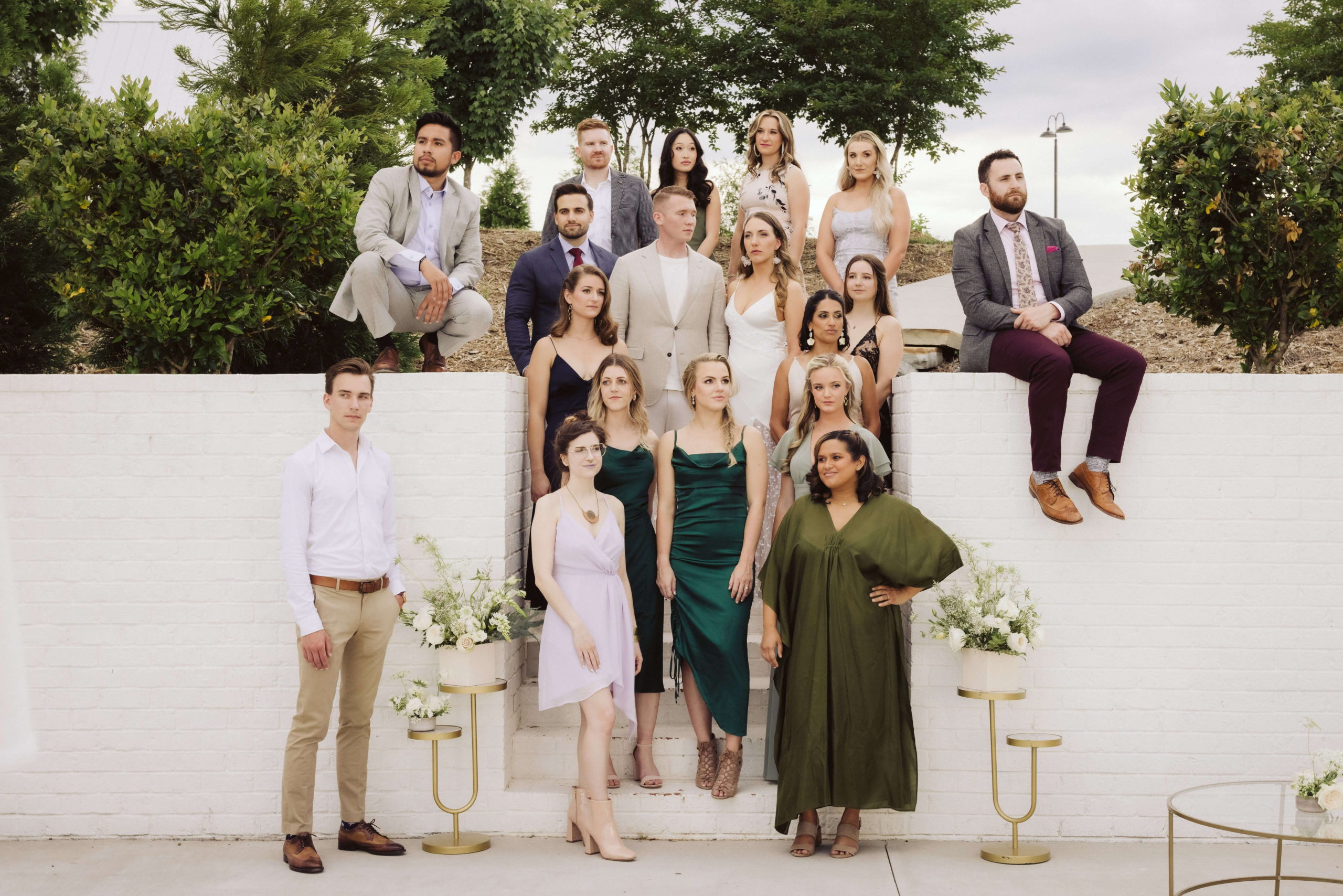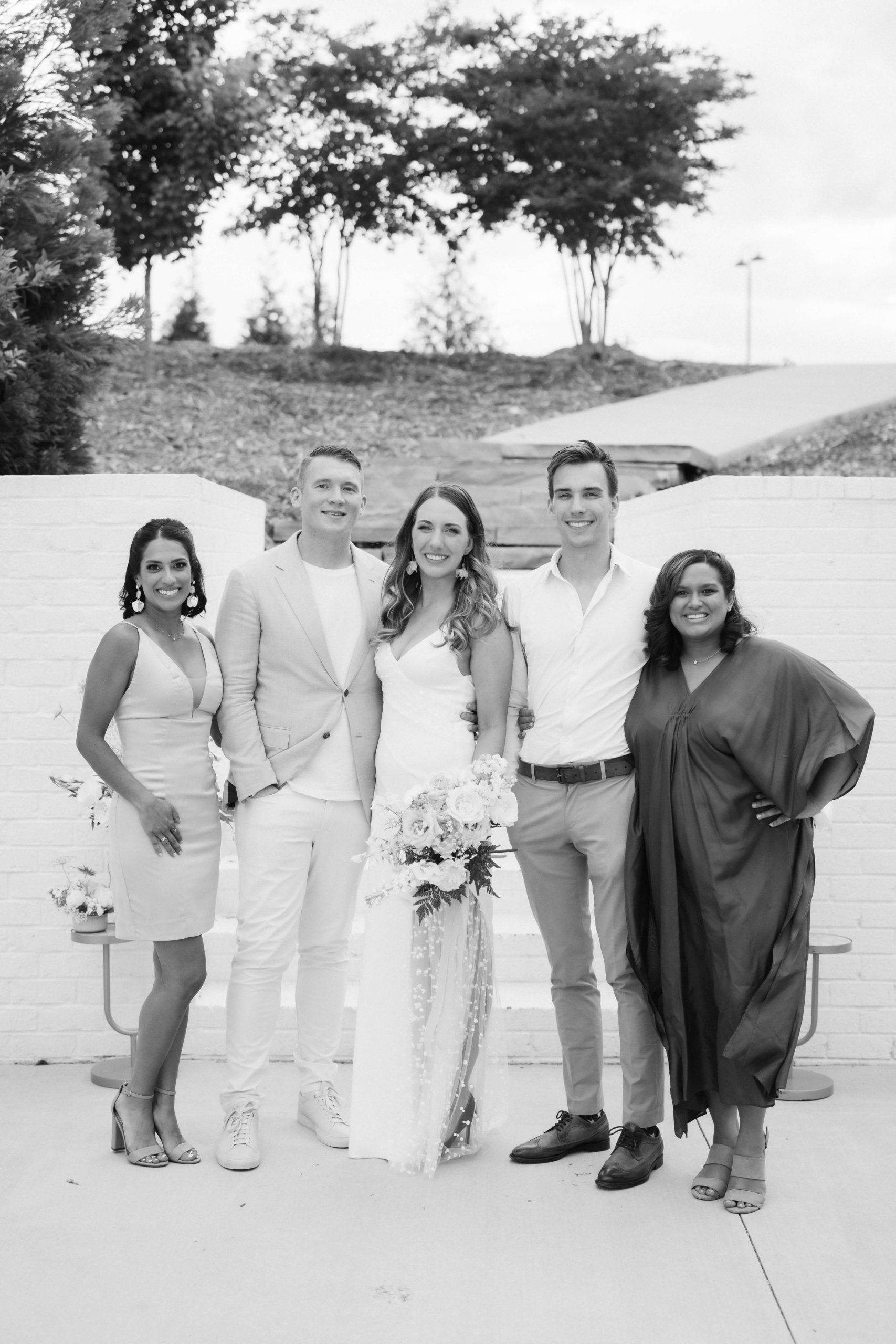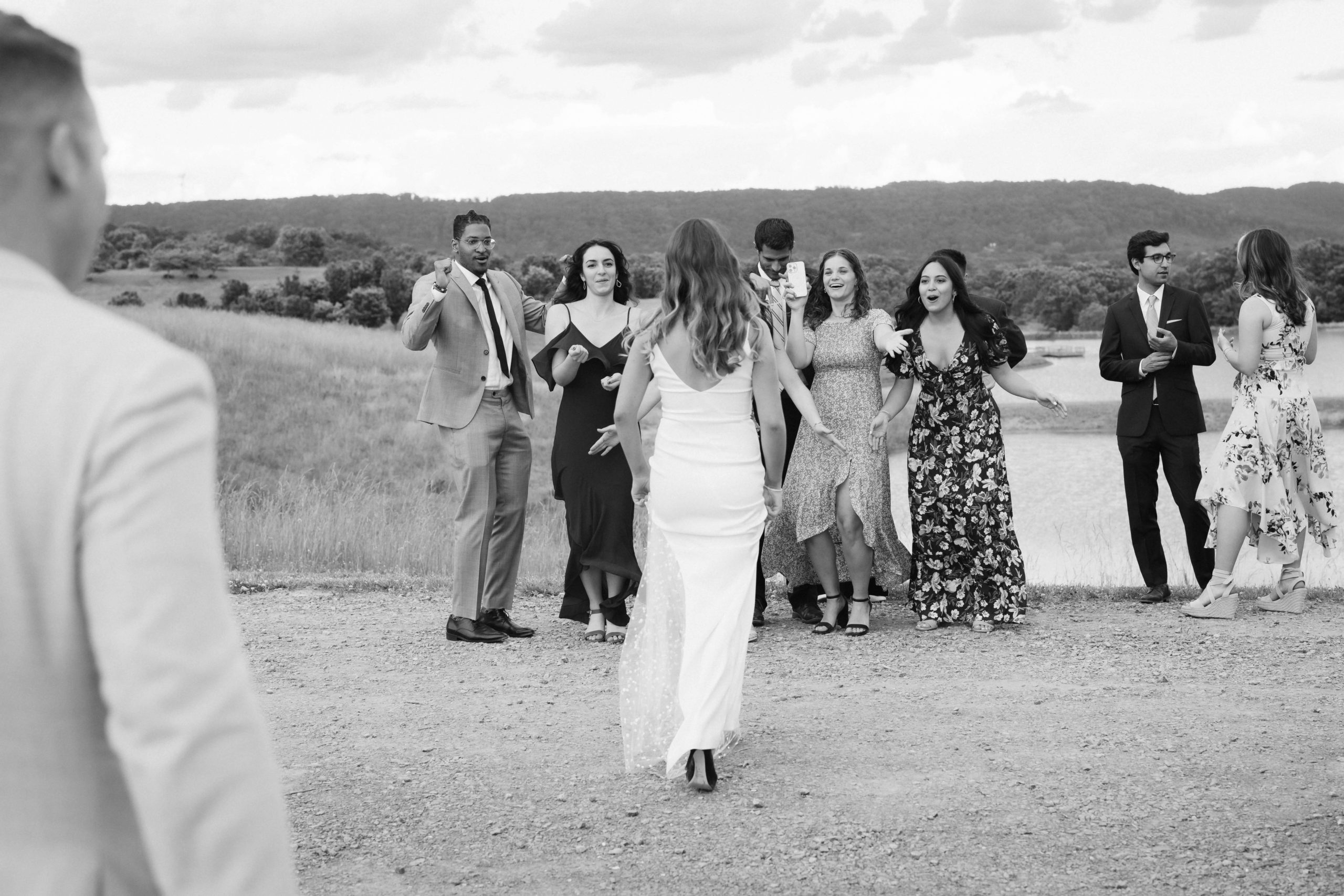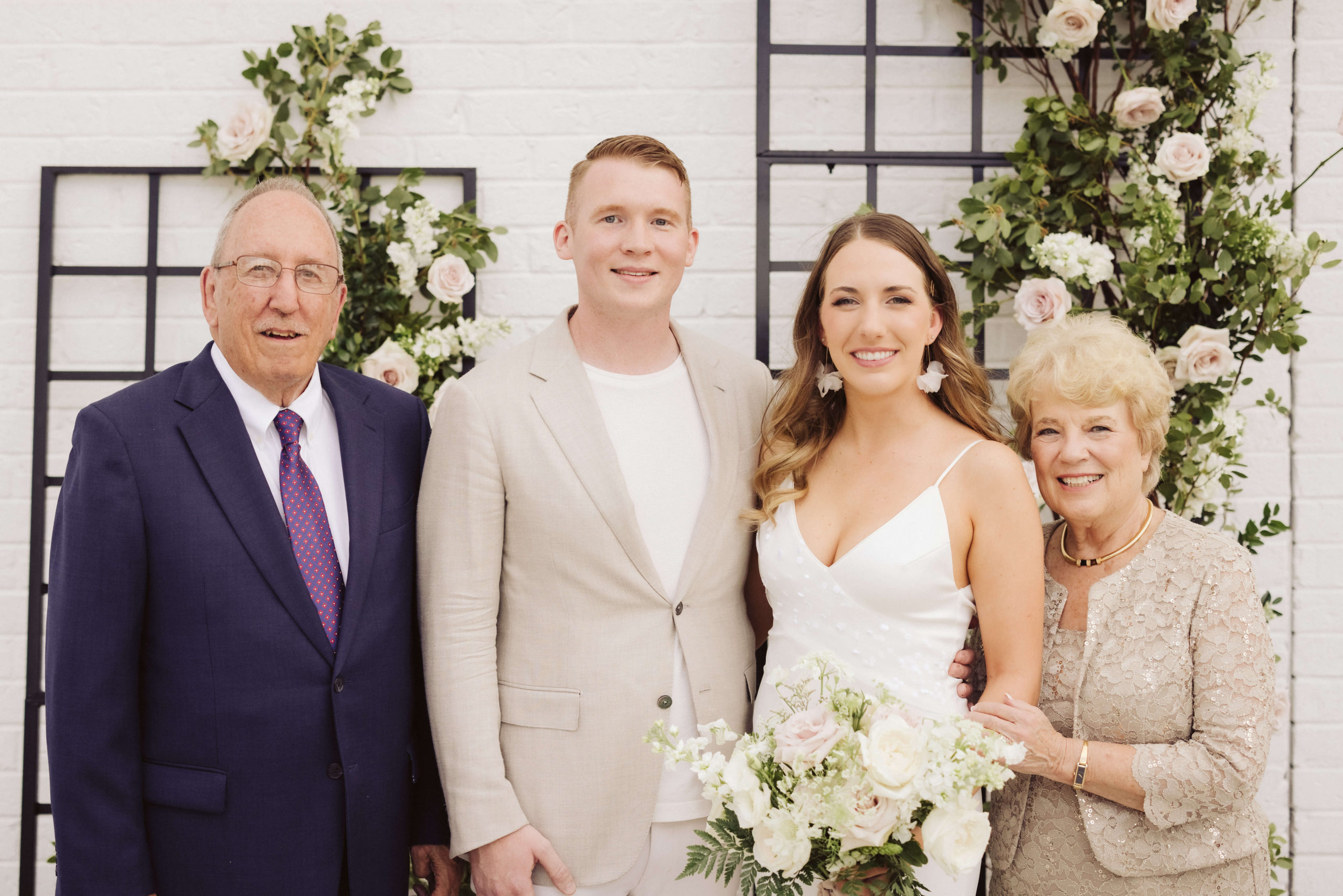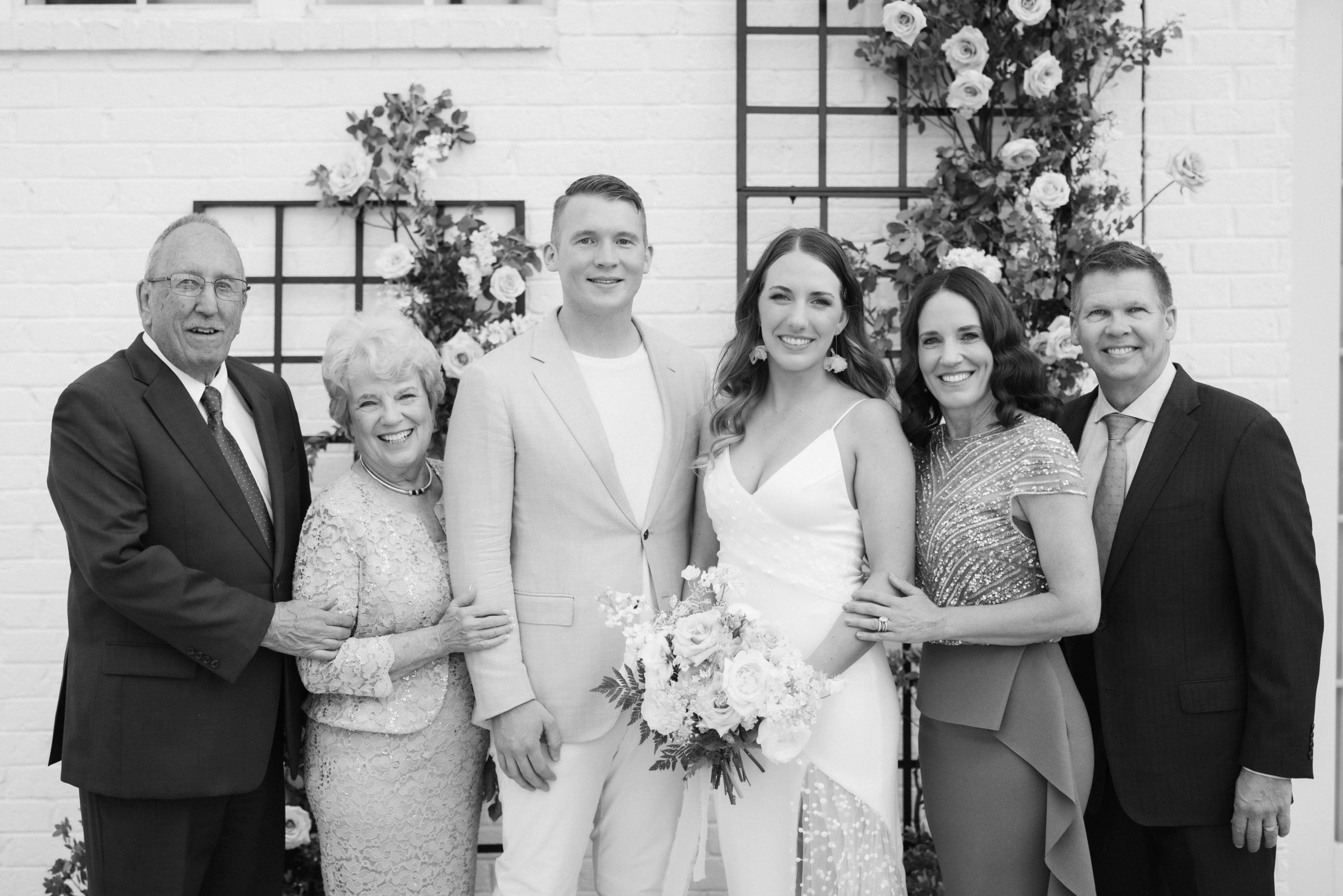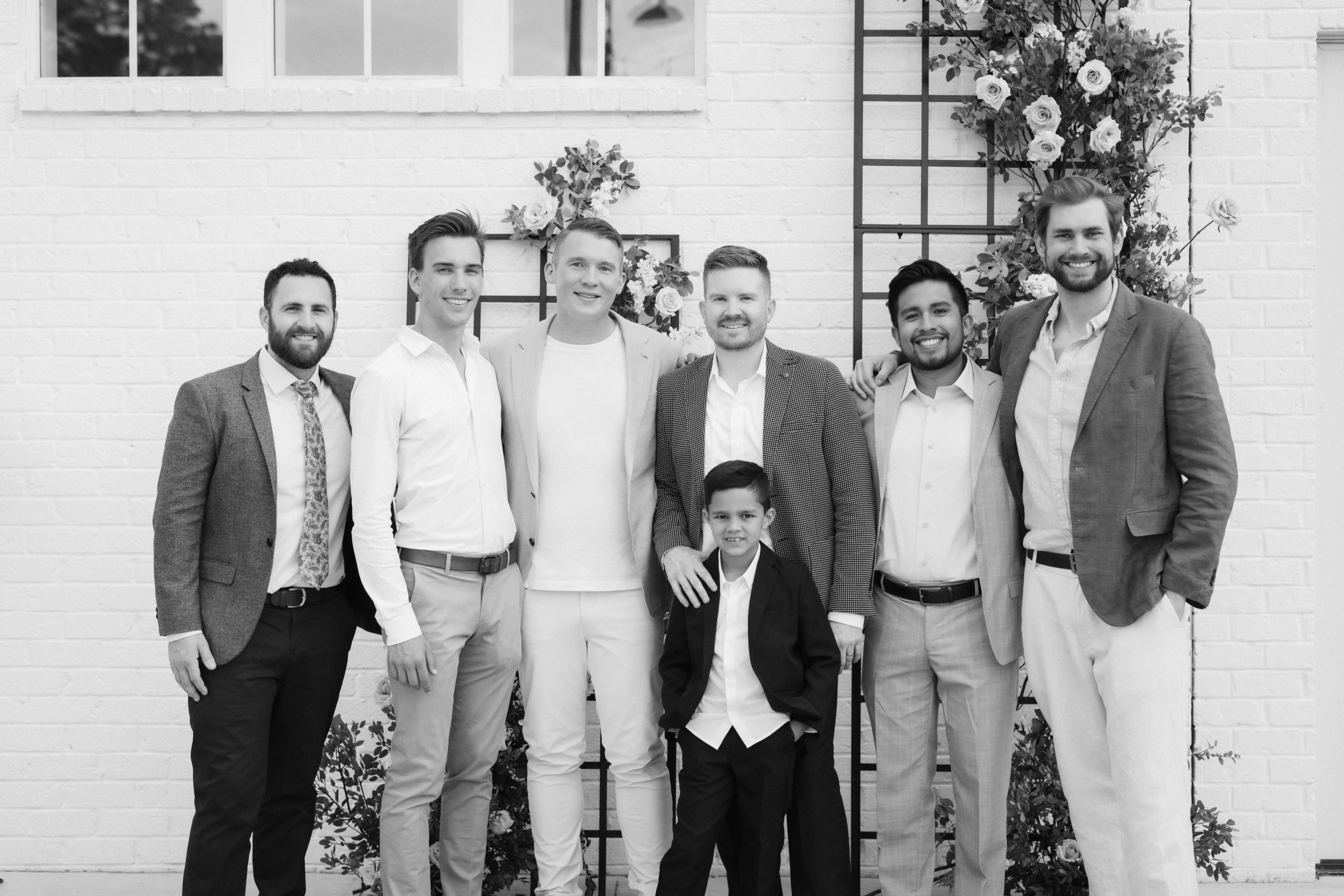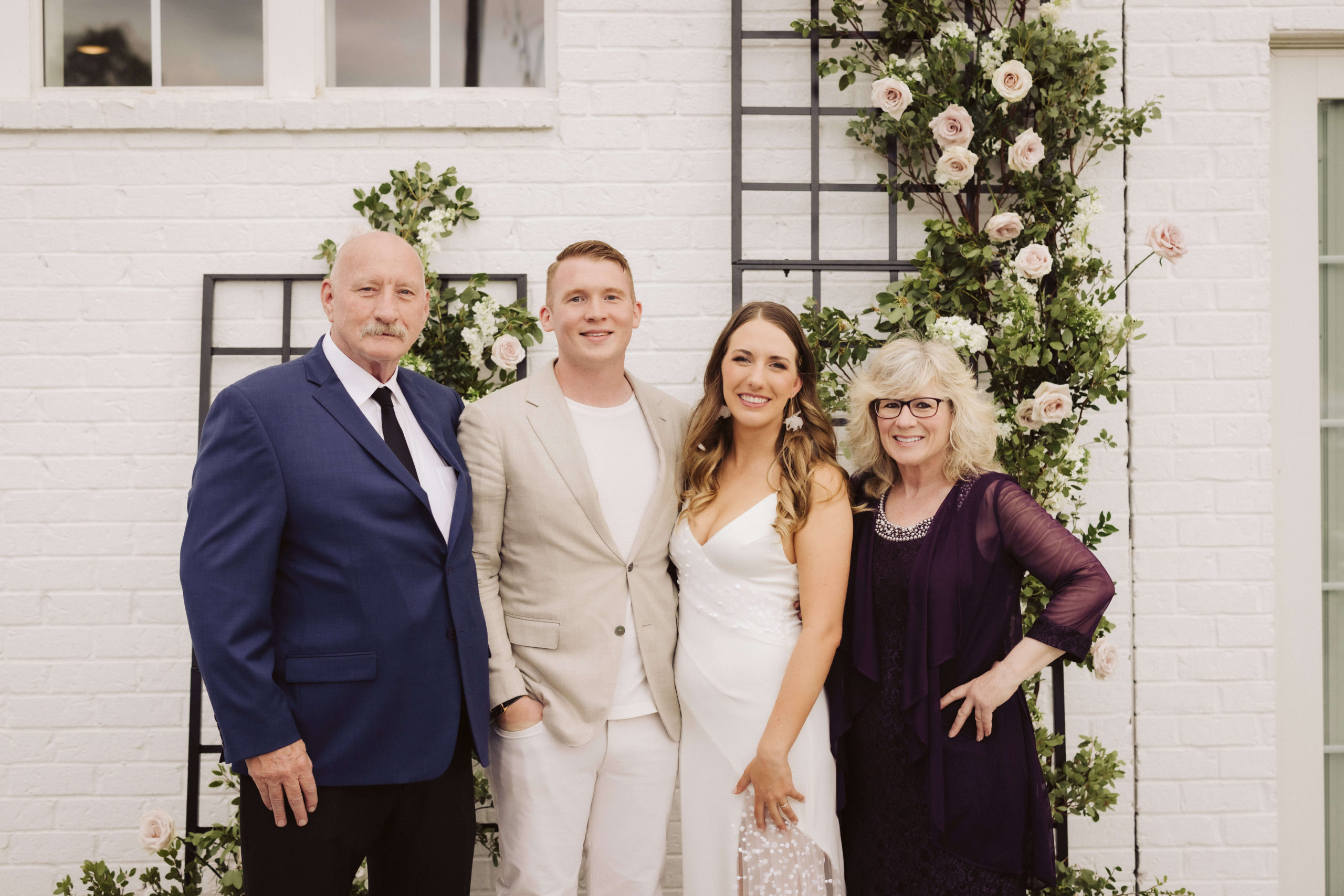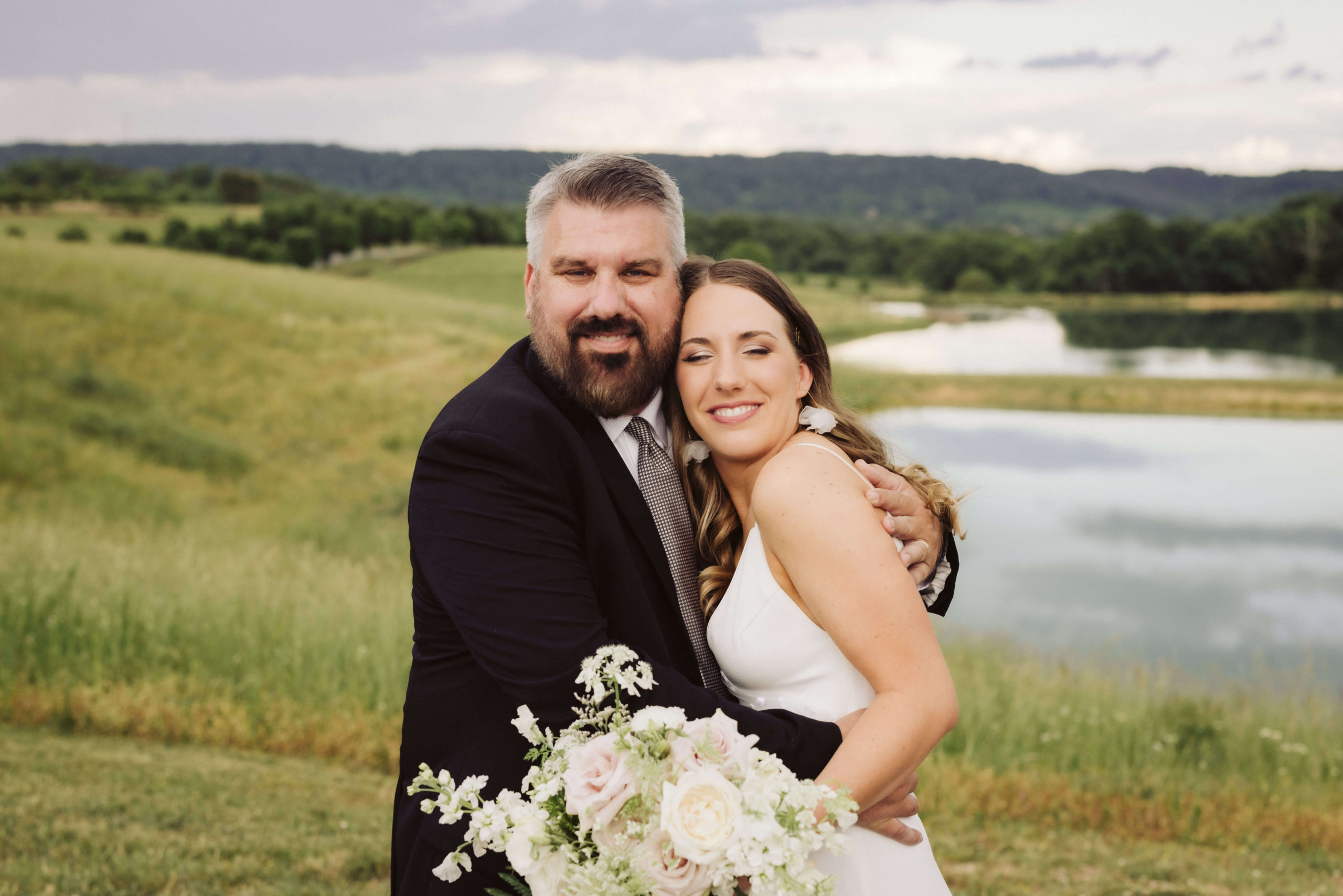 Choosing Editorial Styled Wedding Photography
Whenever a couple contacts me for photography whether it's for their wedding or a big event like Miranda and Tyler's anniversary celebration, part of my process is to keep in touch with the couple all throughout their planning stages until the big day. During one of our conversations, I asked if they had any special photography requests. Normally, this is when couples specify particular shots that they want to make sure they get, like detail shots of heirloom jewelry or with a particular family member. However, Miranda and Tyler simply said they just wanted "fun, creative, editorial-style shots."
There are a few different styles of wedding photography from traditional with classic poses and clean lines to documentary which focuses more on storytelling and organic candids. Editorial wedding photography, however, is what you see when you open the pages of chic wedding magazines. It's a style of photography that's fashionable and can be bold and elegant. It often focuses on capturing artful and dramatic shots in a timeless manner.
By asking for editorial-style shots, Miranda and Tyler gave me the freedom to get a little creative during their photography. Throughout the day, we did a good mix of photojournalistic shoots for times like when they were getting ready to really capture the natural emotions as they happened, then leaned towards a more editorial style for their afternoon and sunset portrait sessions. This even gave me the opening to pull out my 35mm film camera to get really intricate detail shots of the venue. Shooting with film is a great way to force yourself to slow down and really think about and compose a shot before taking it unlike with digital photography where several shots can be taken in a matter of seconds and edited to perfection later.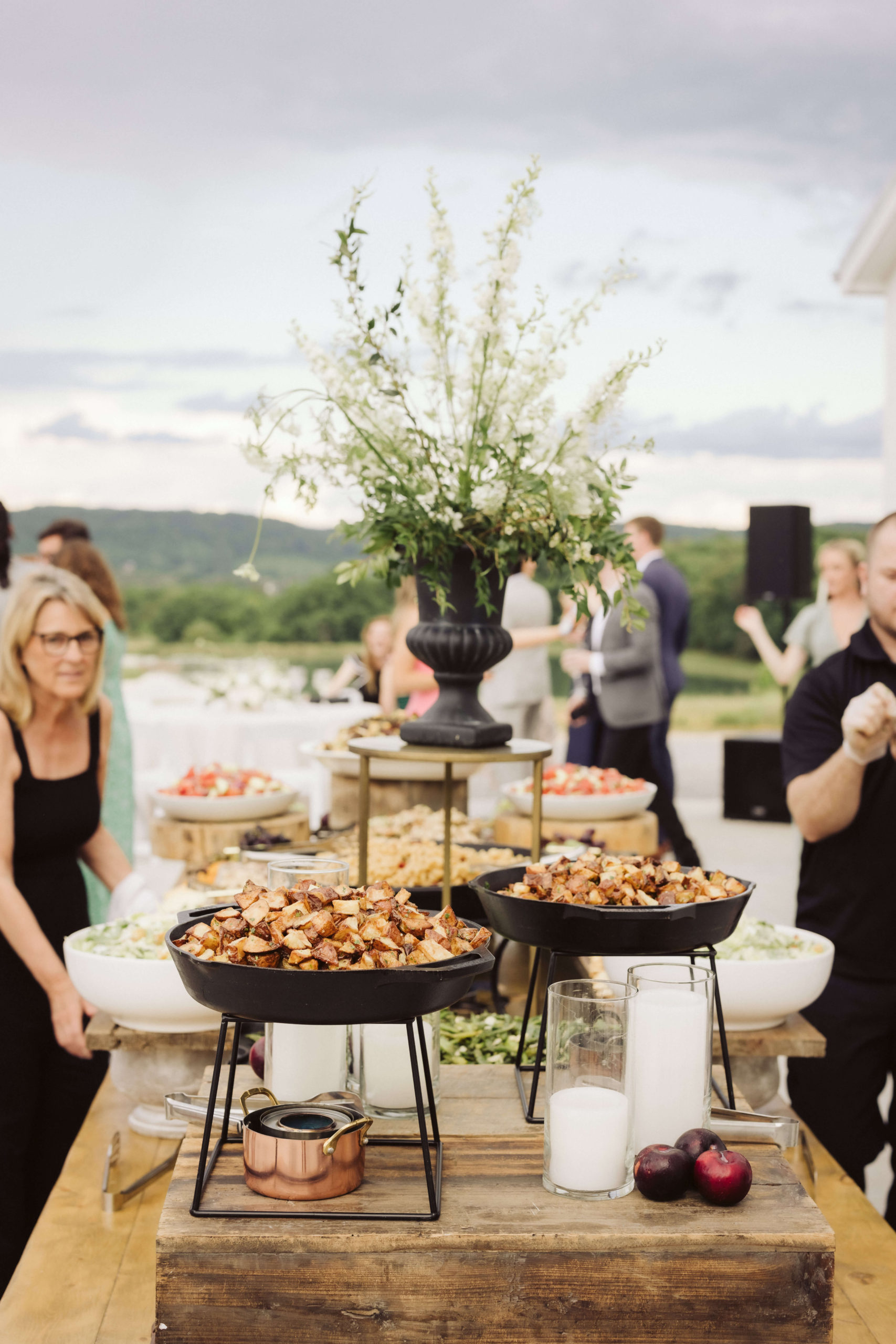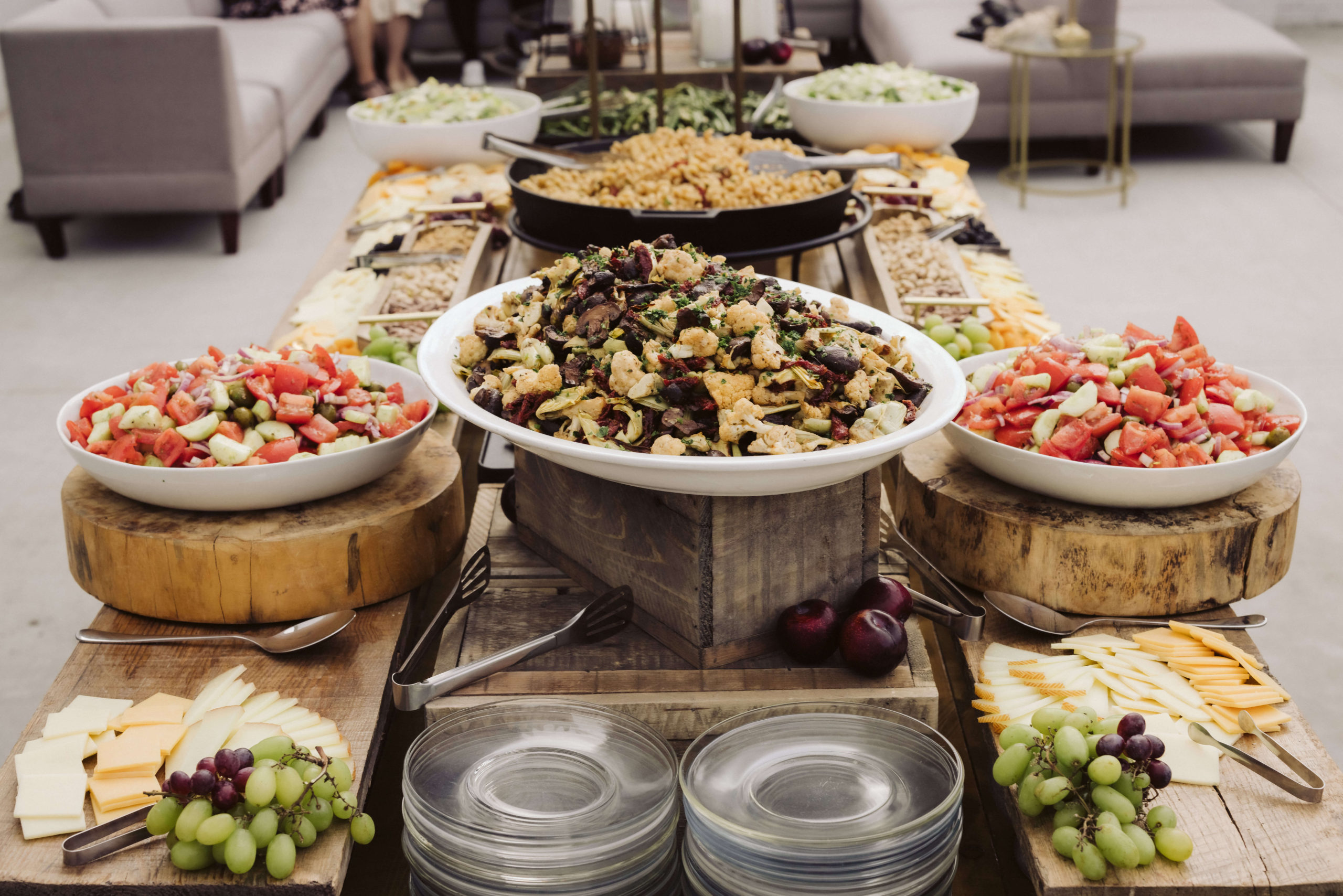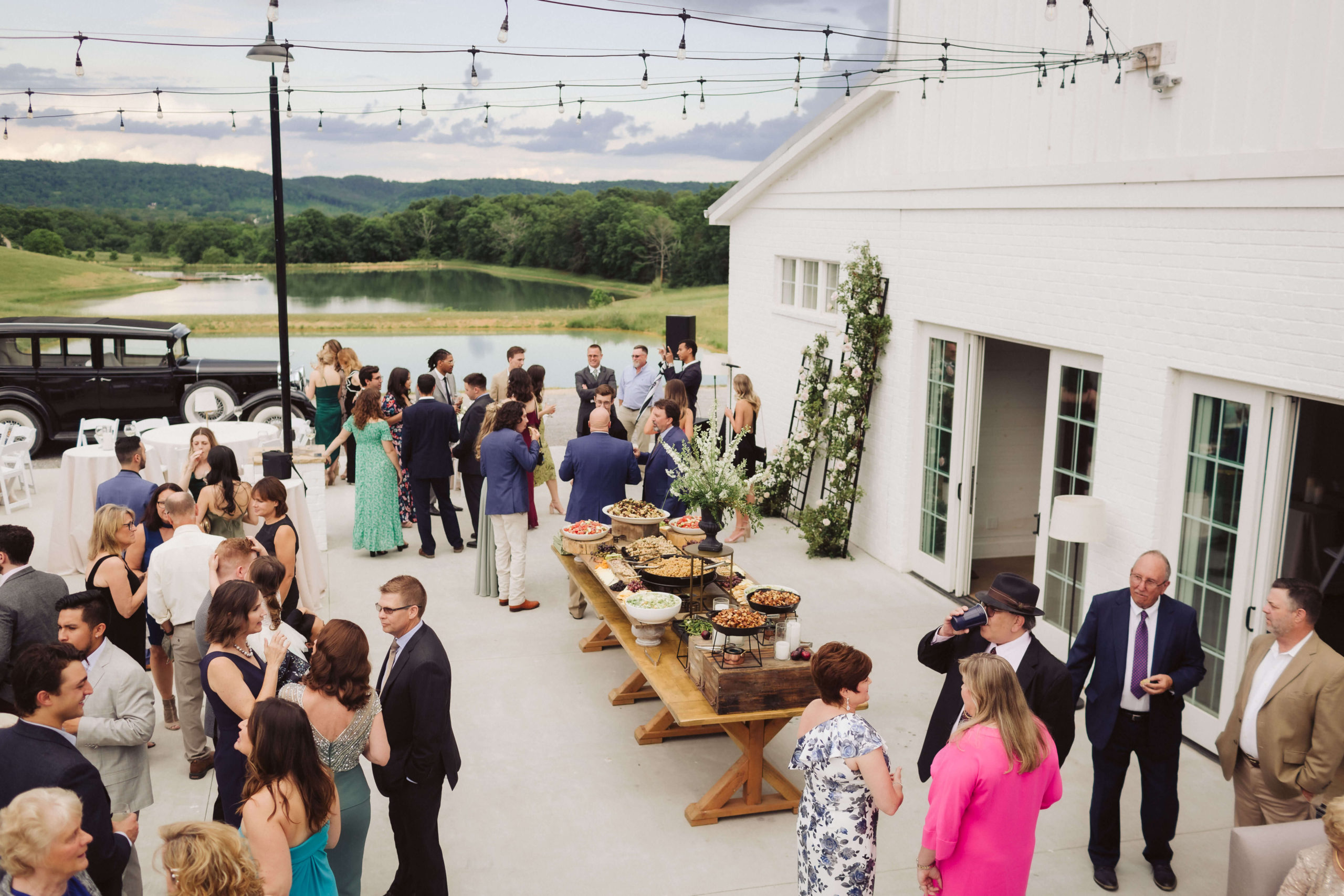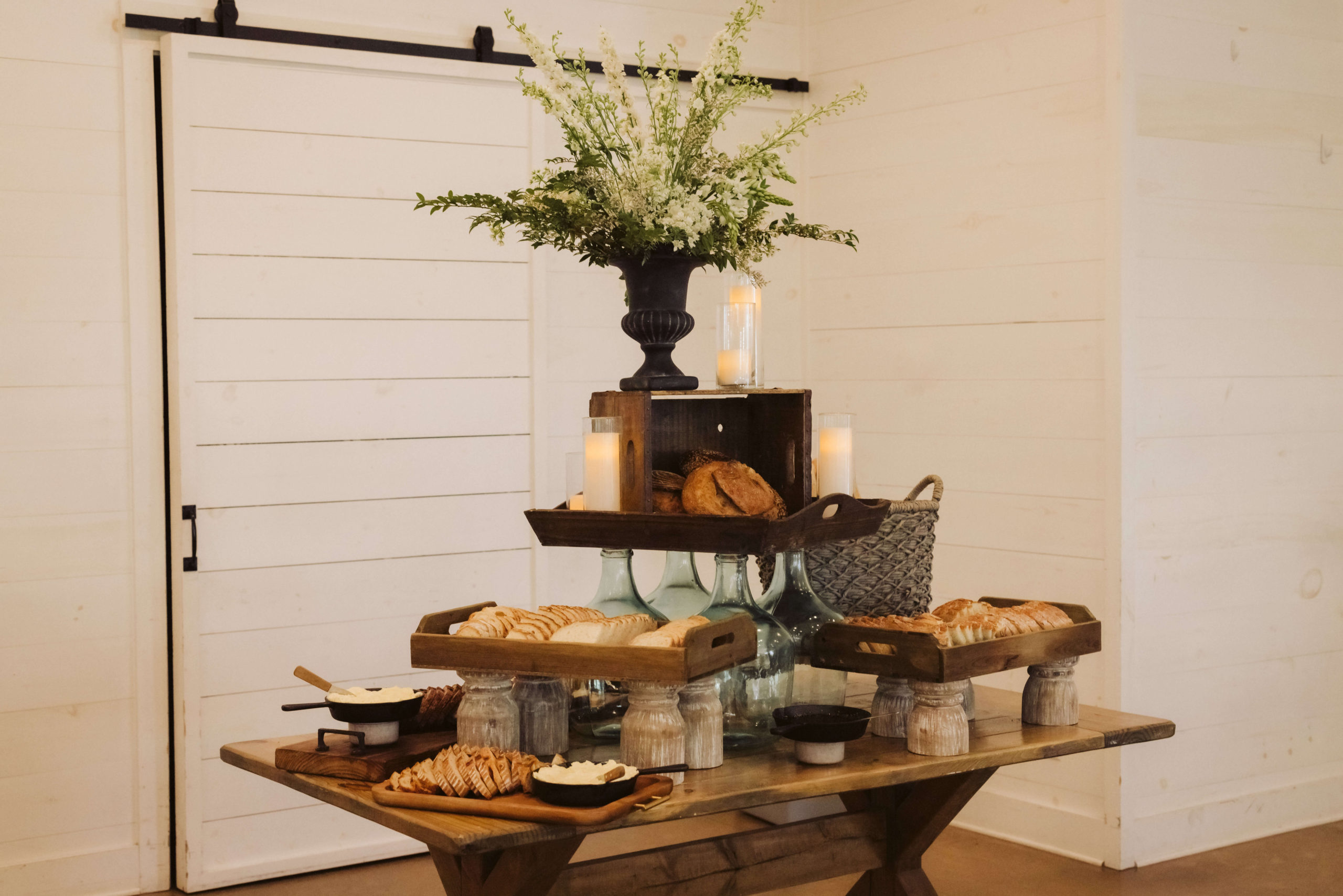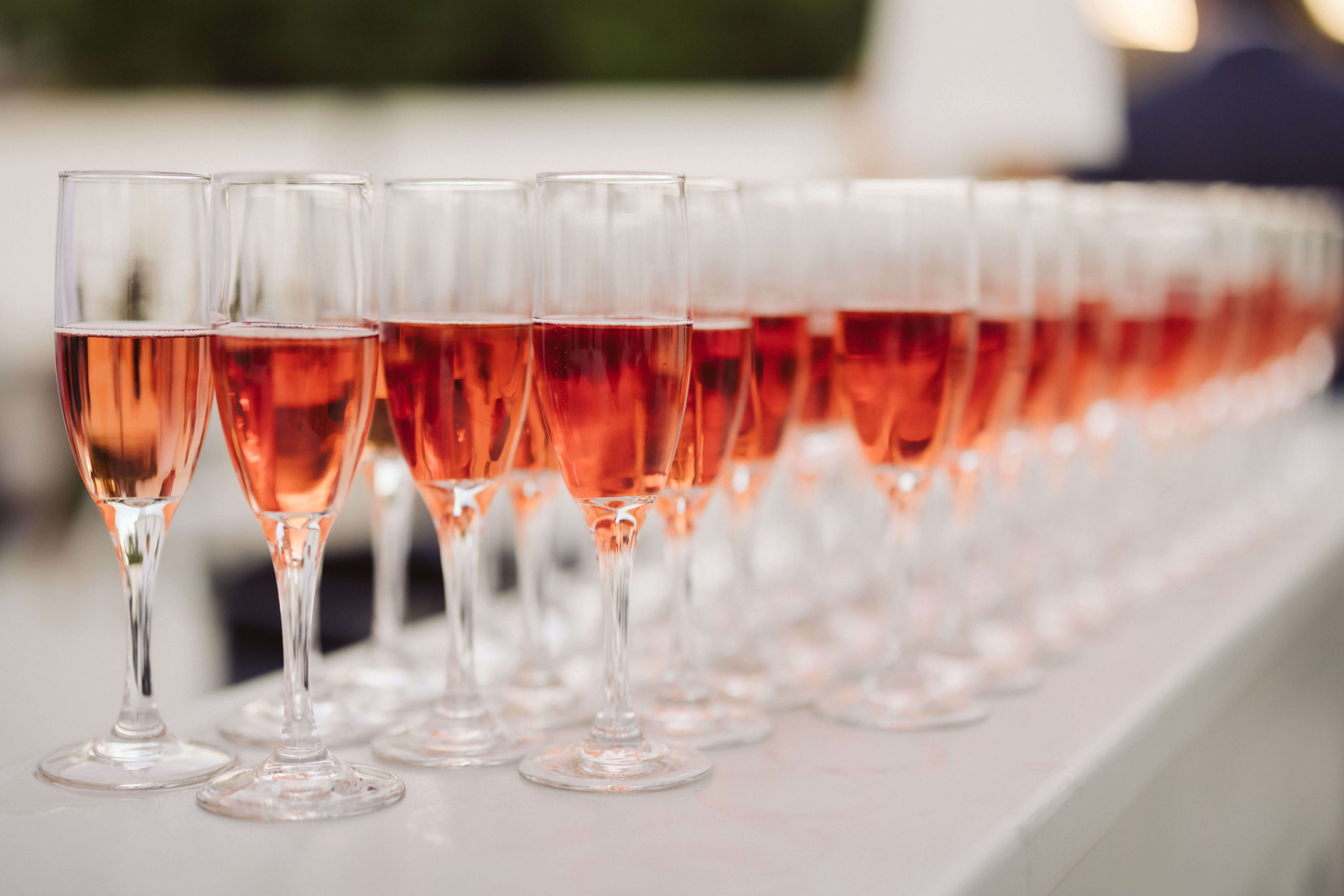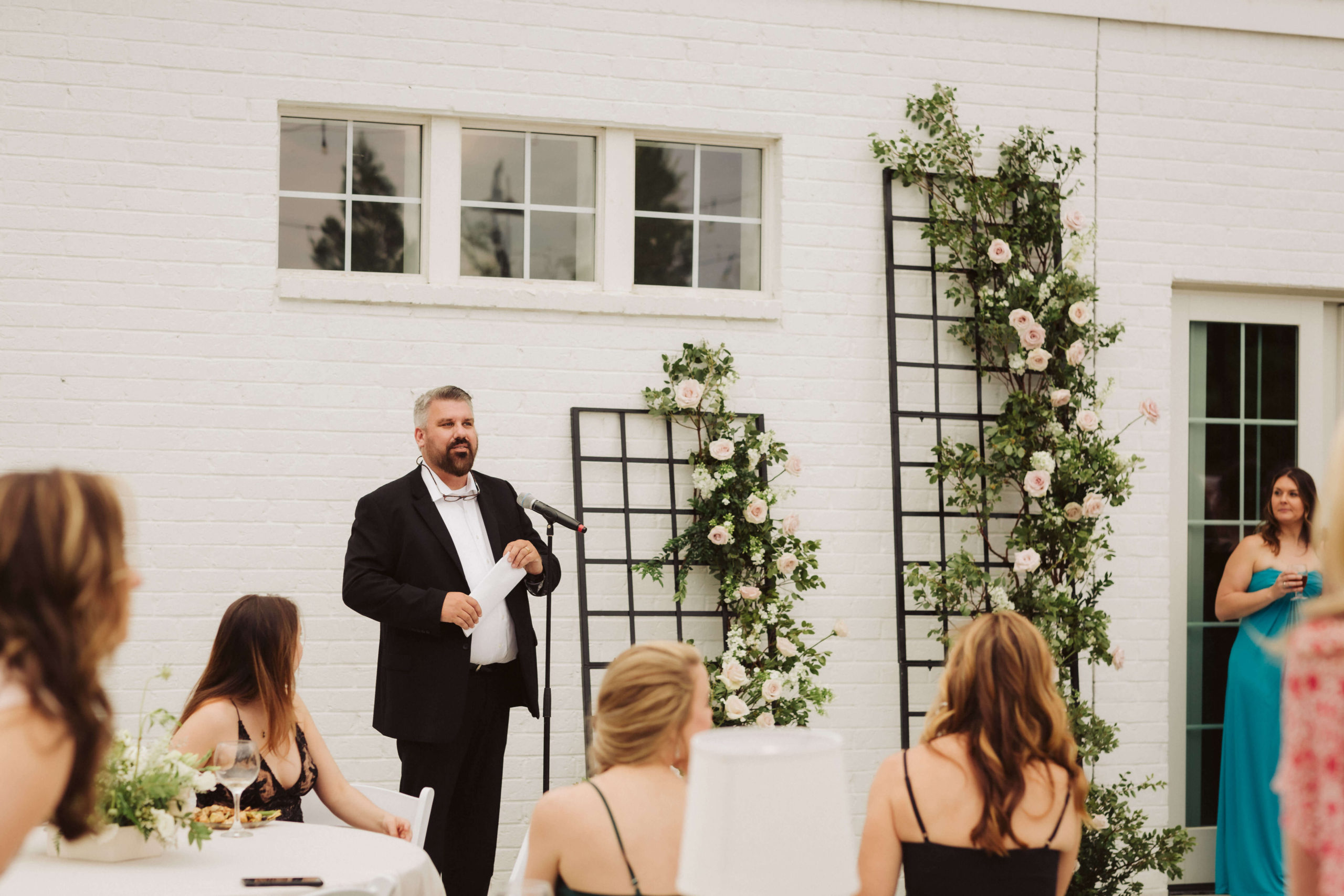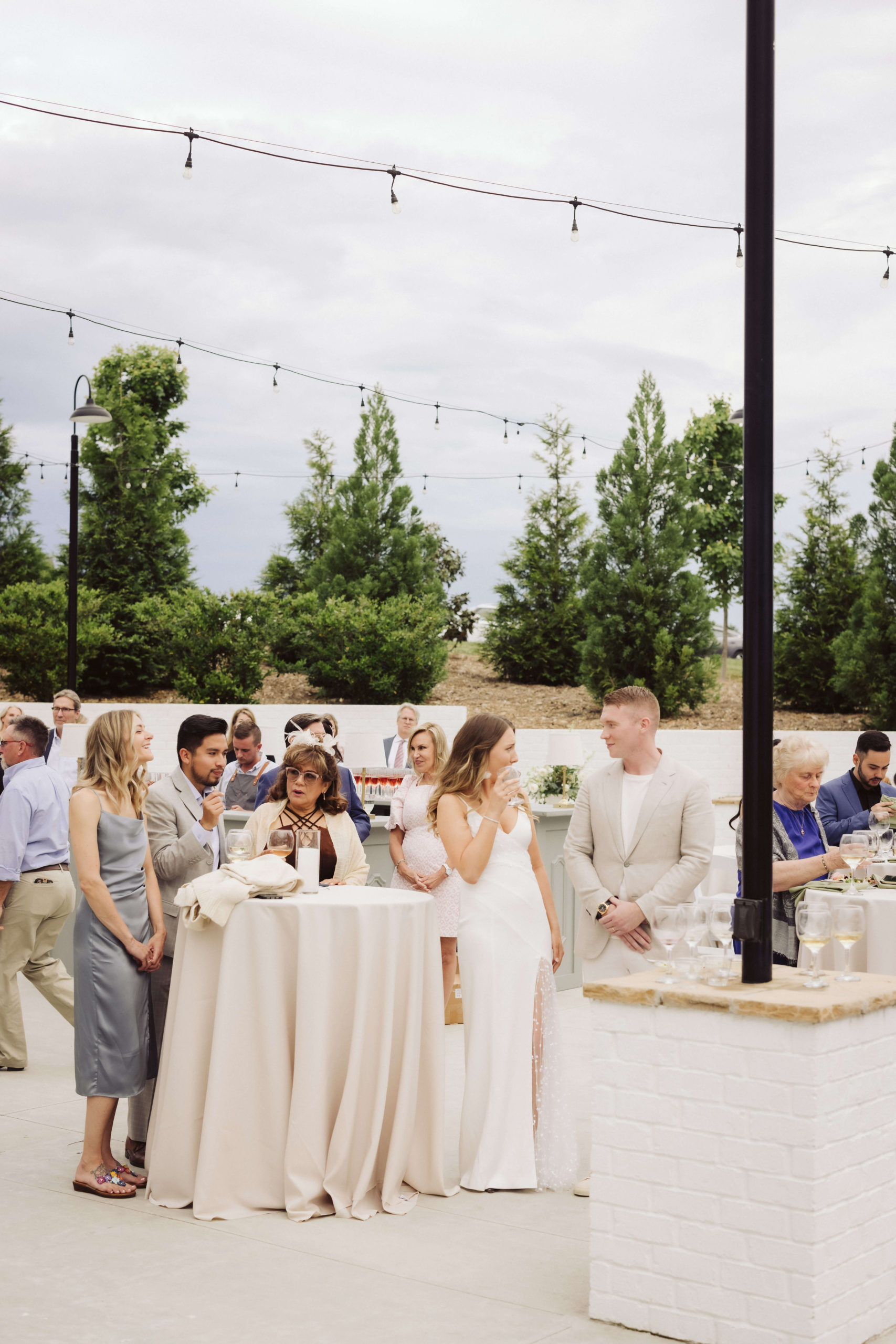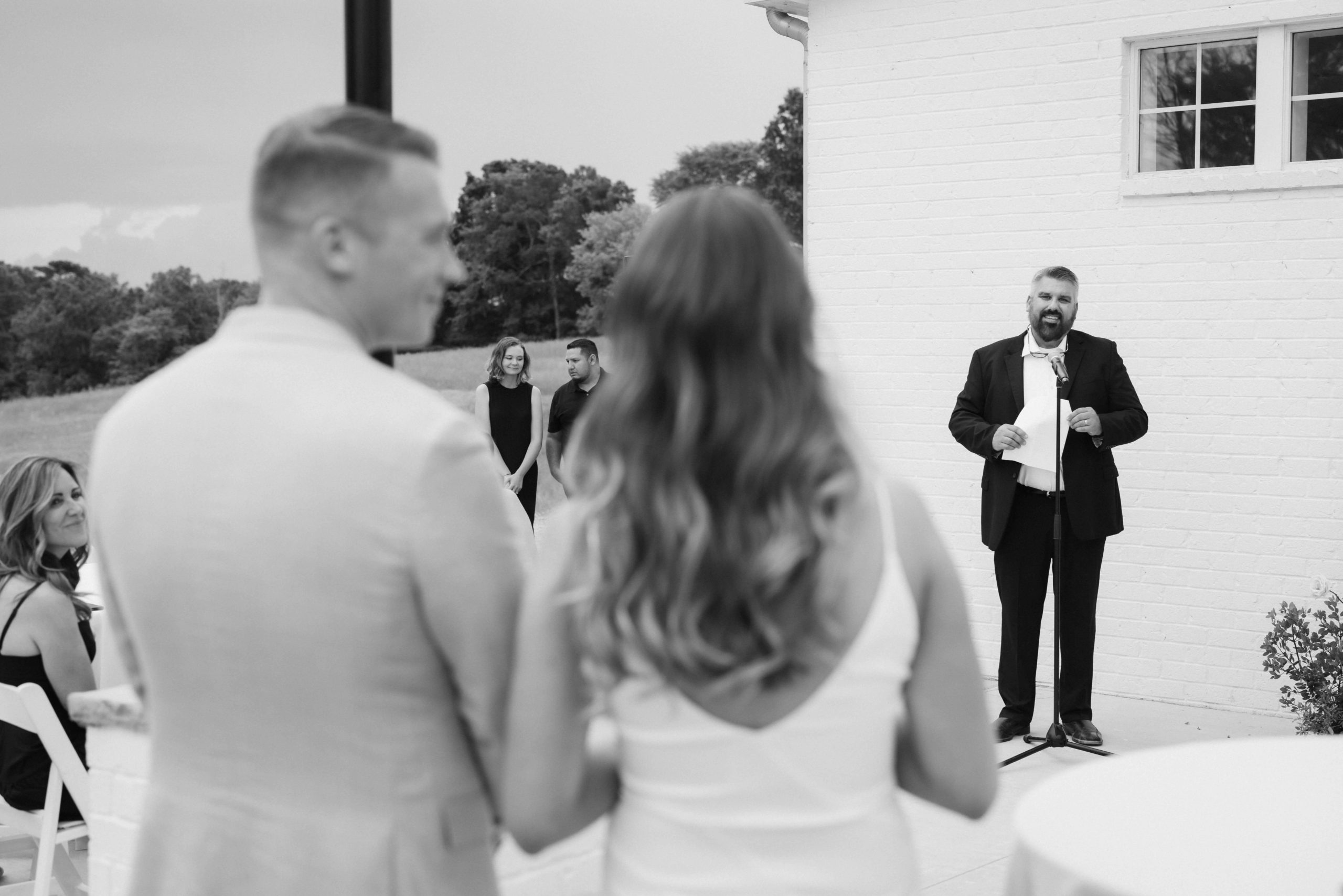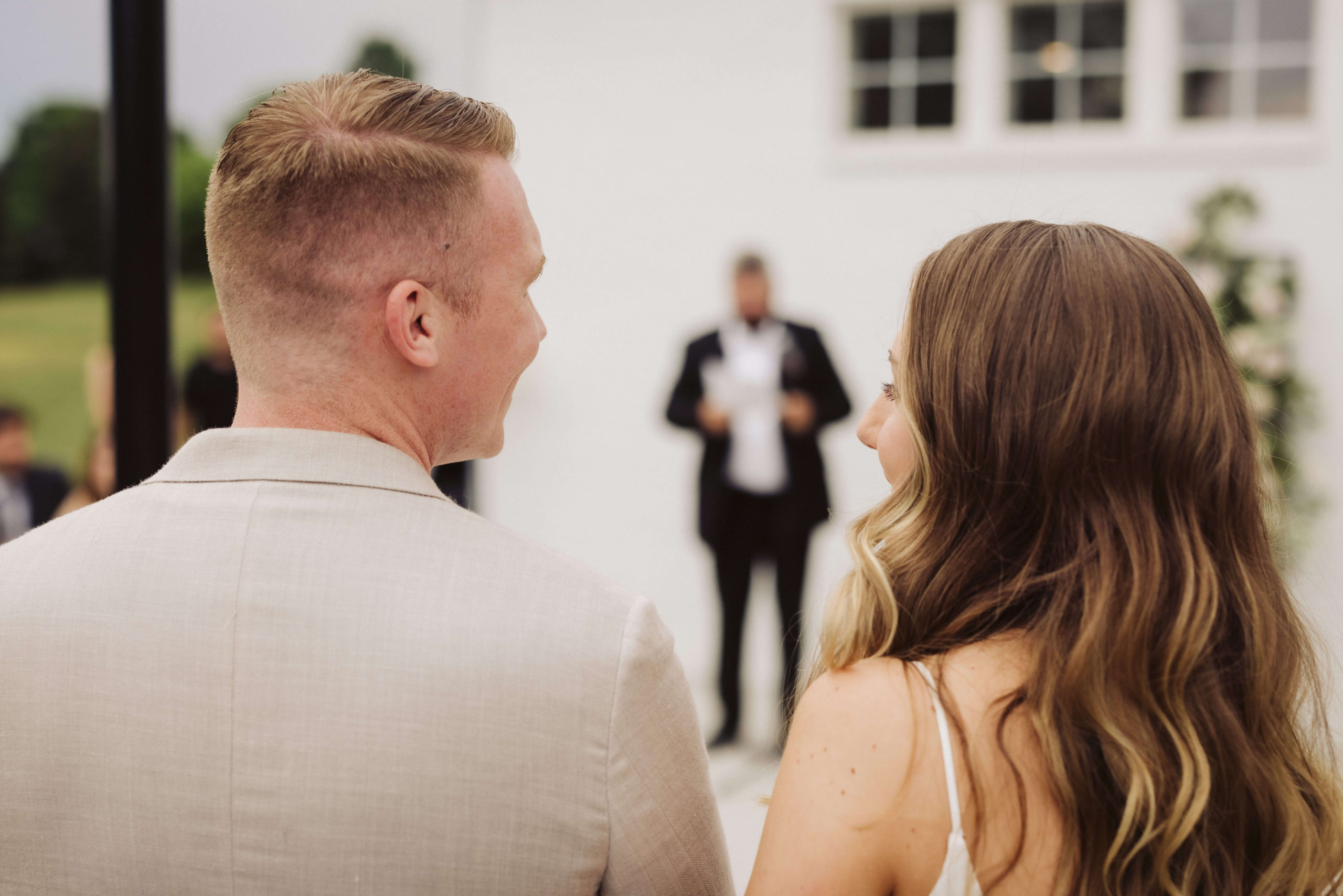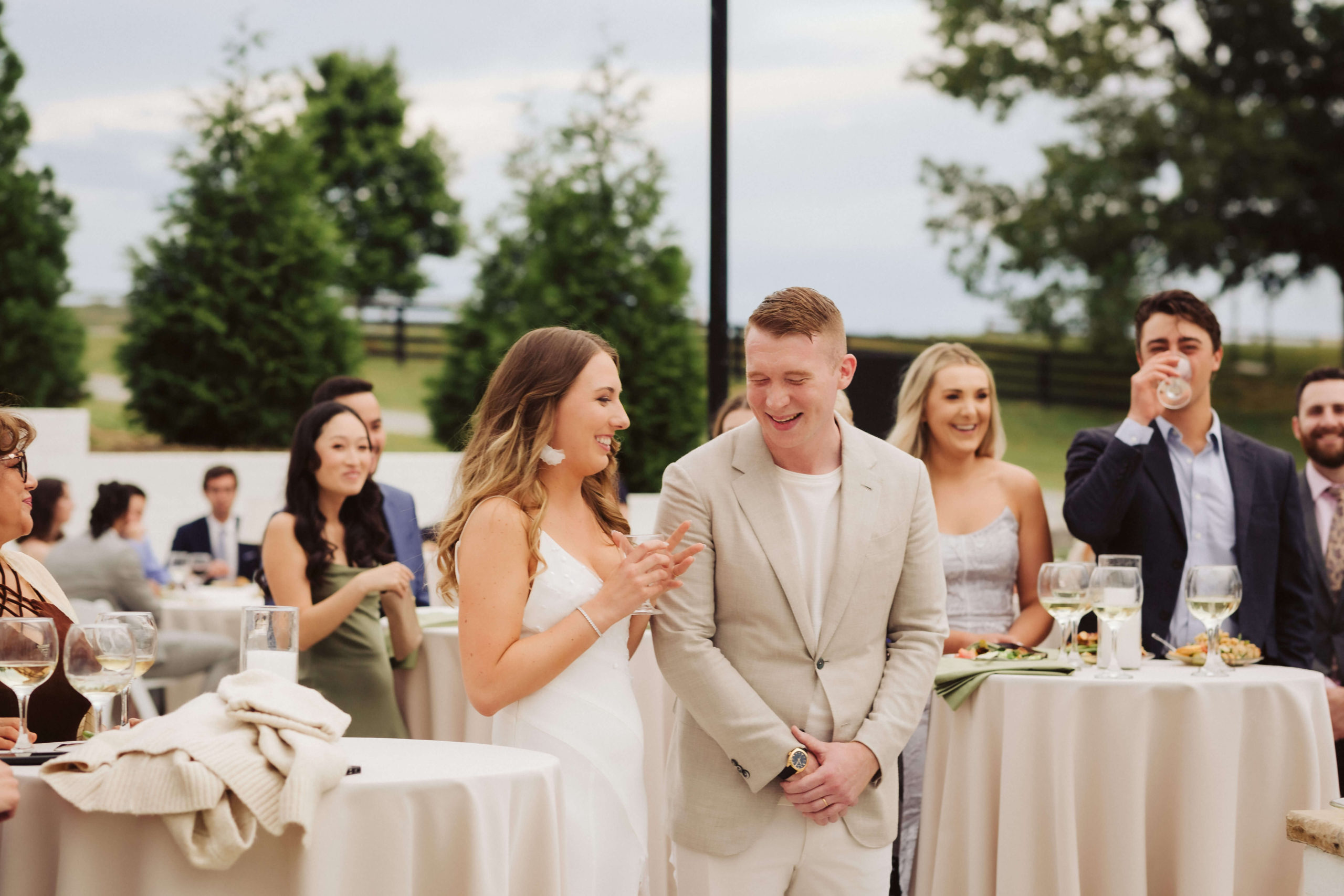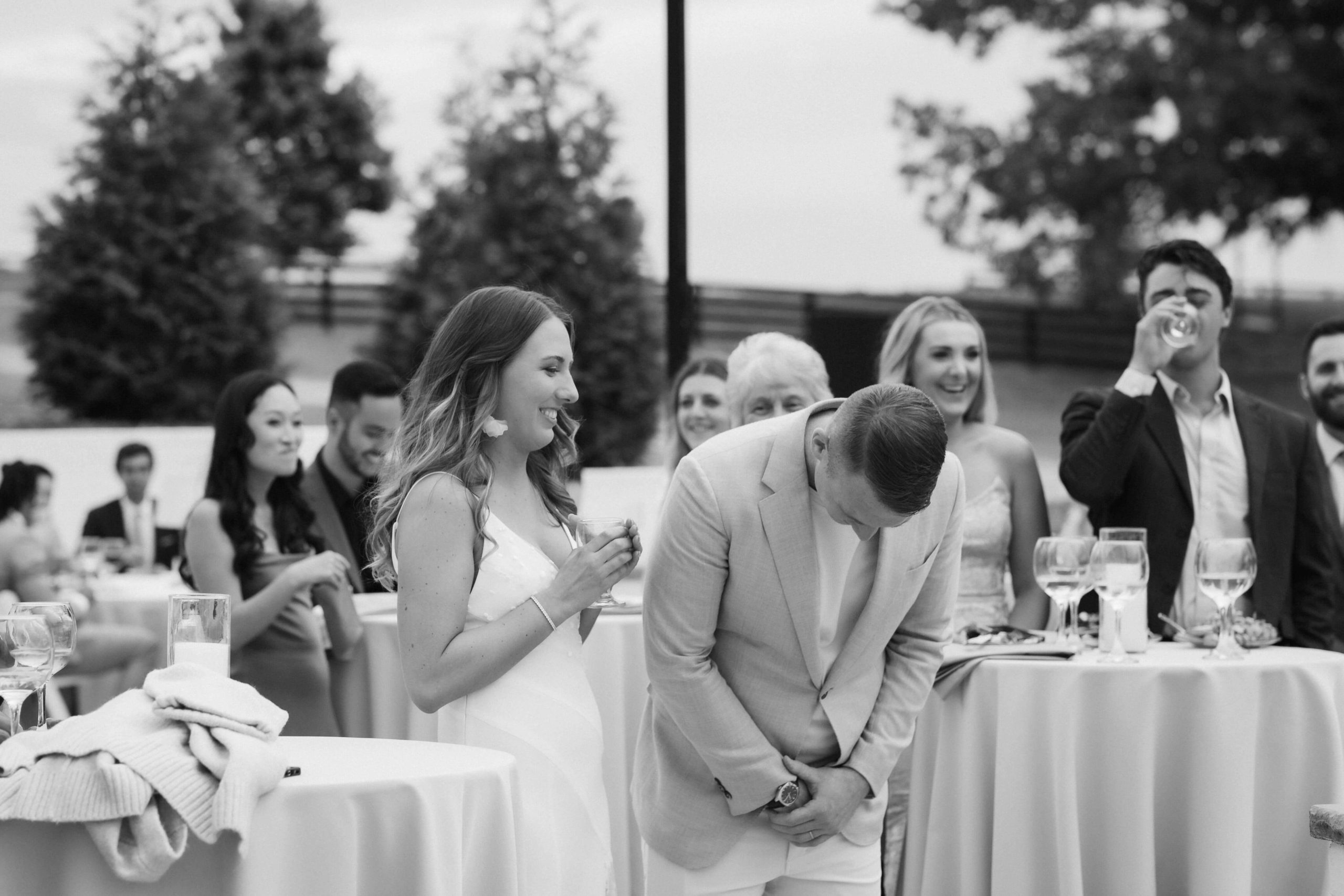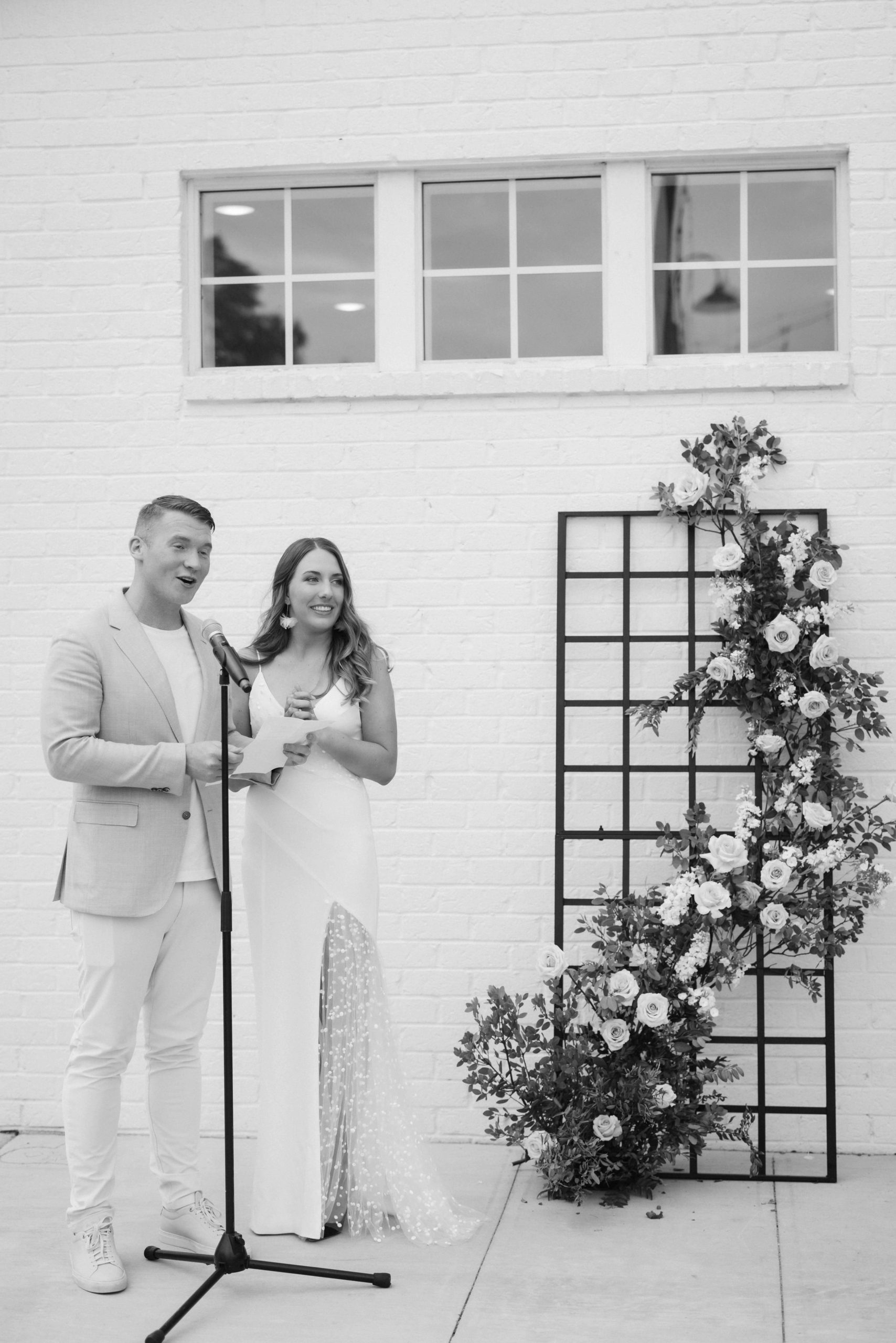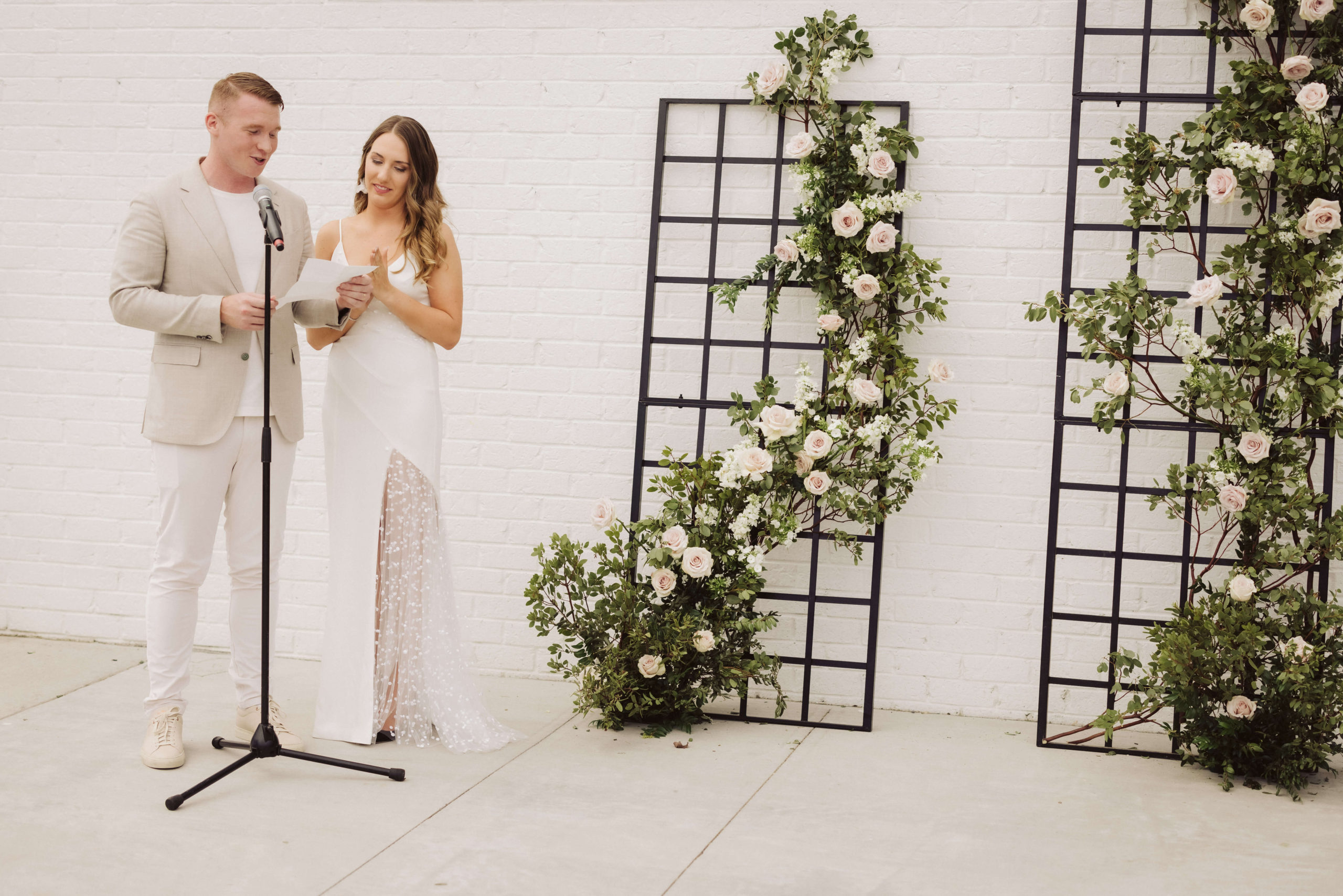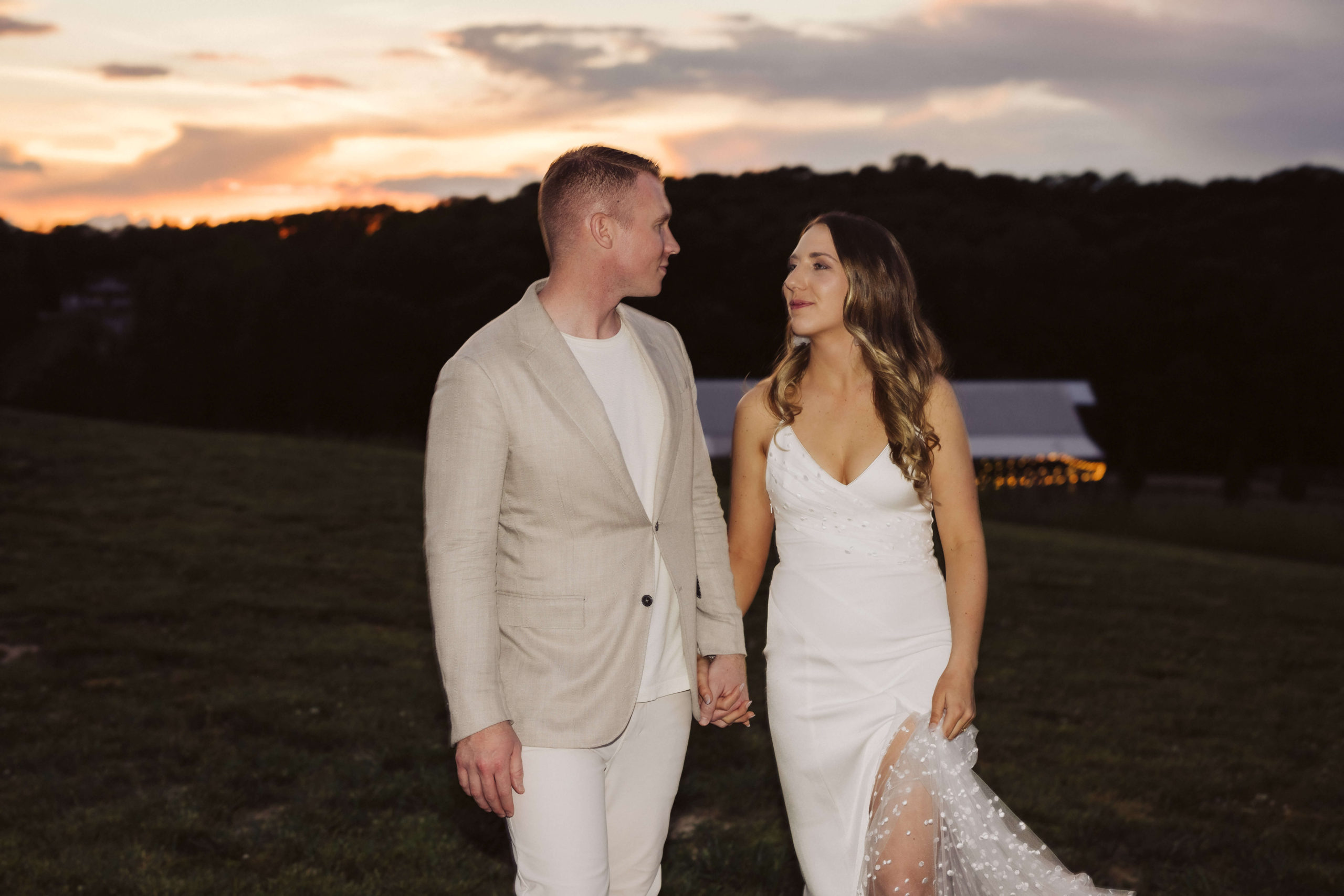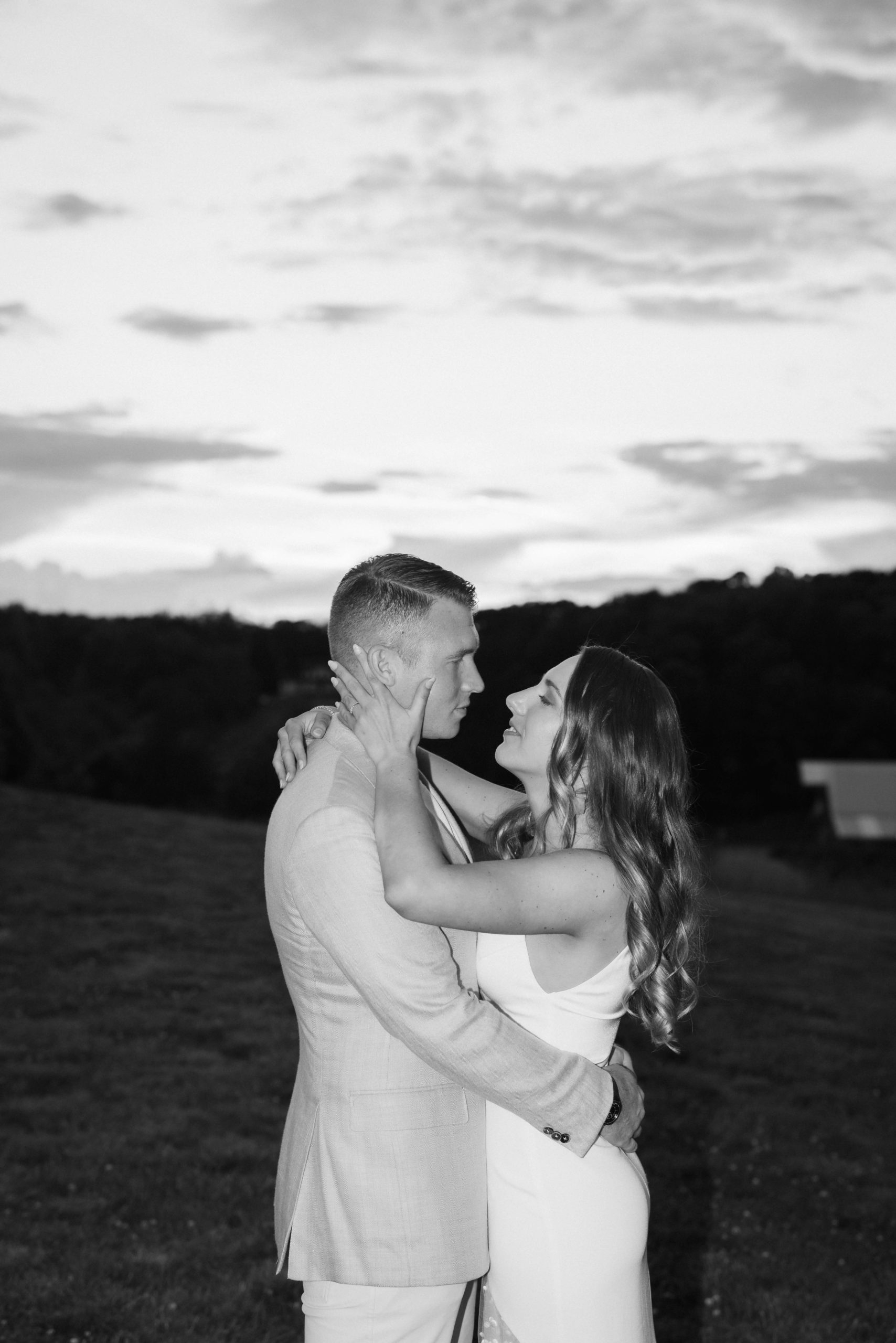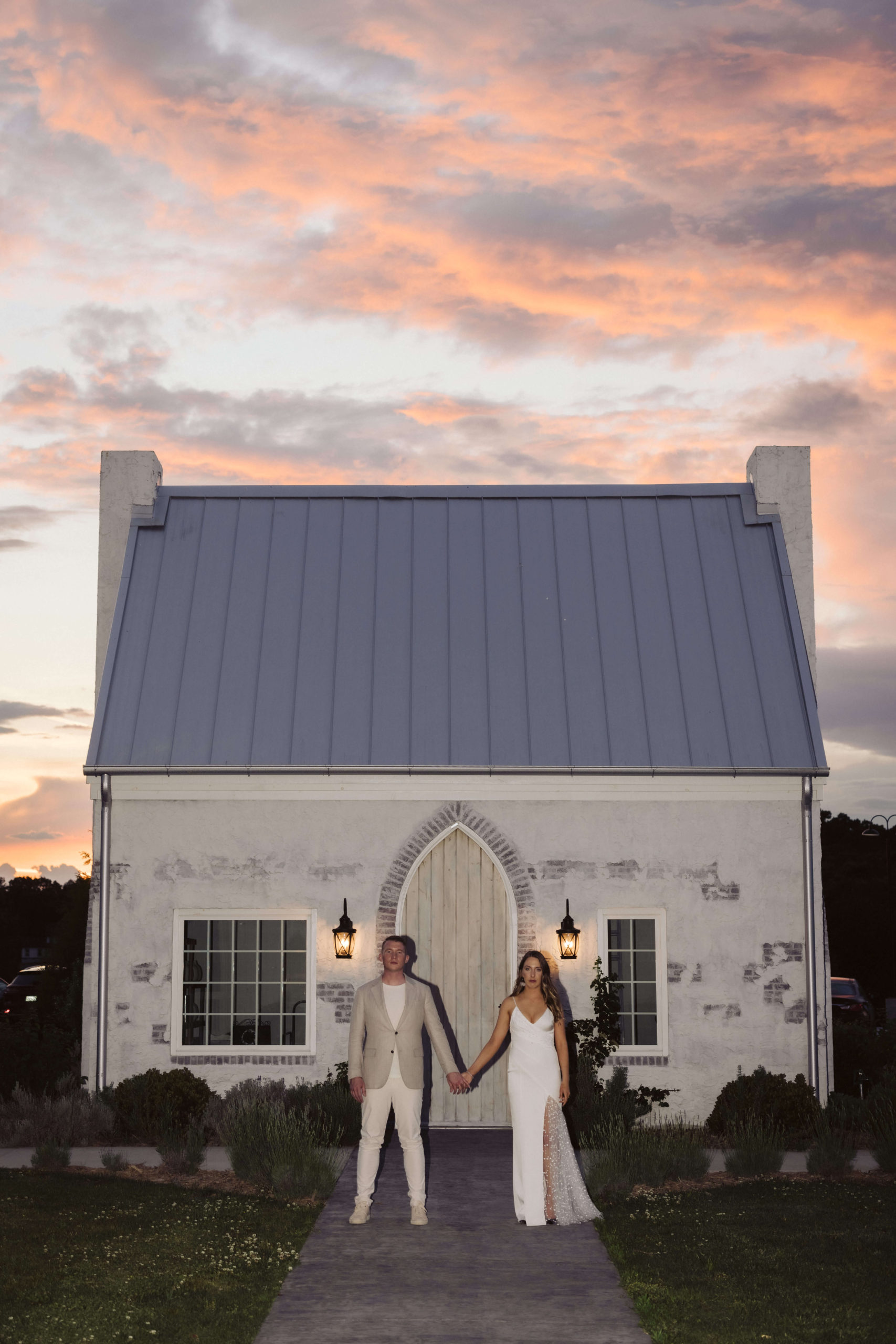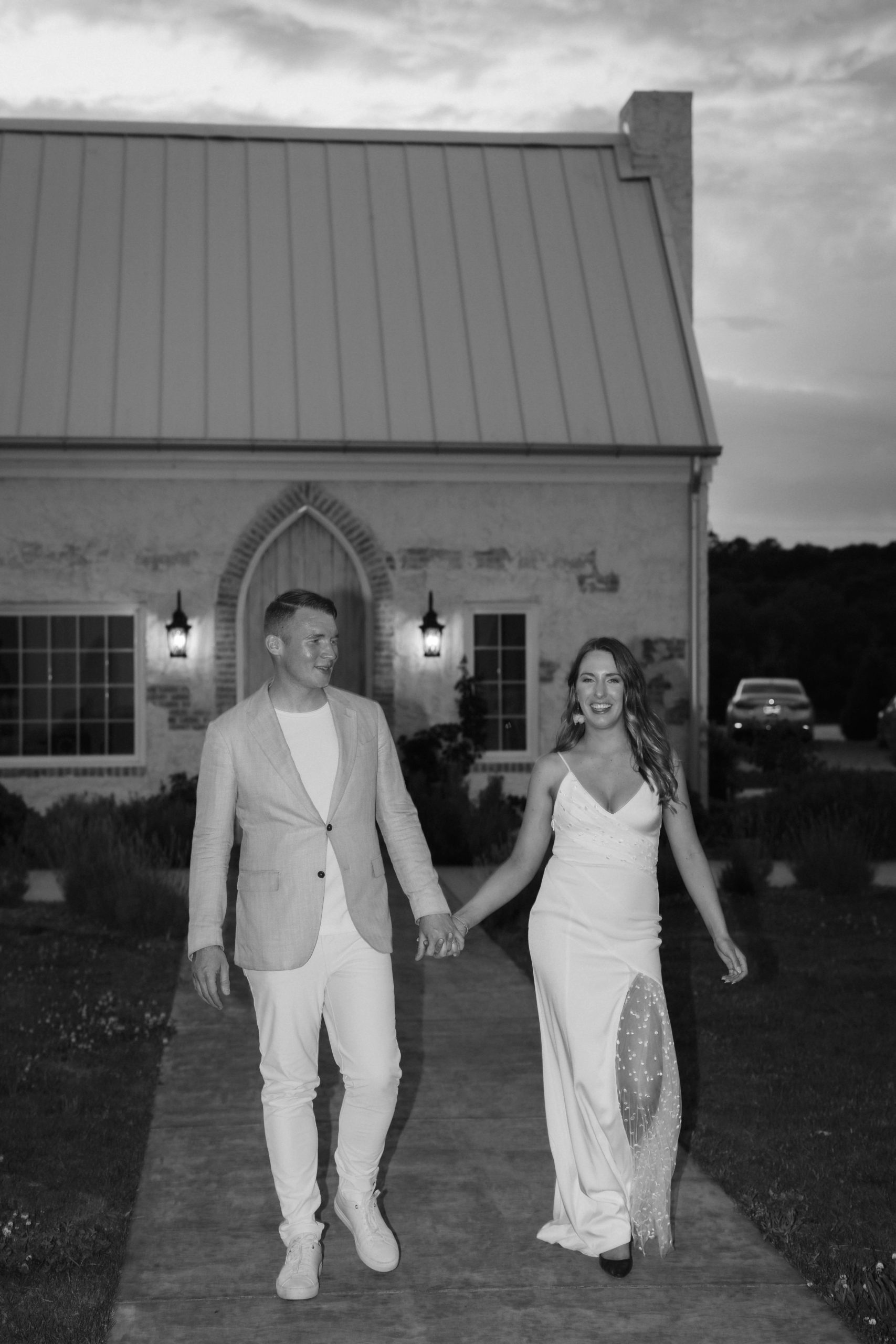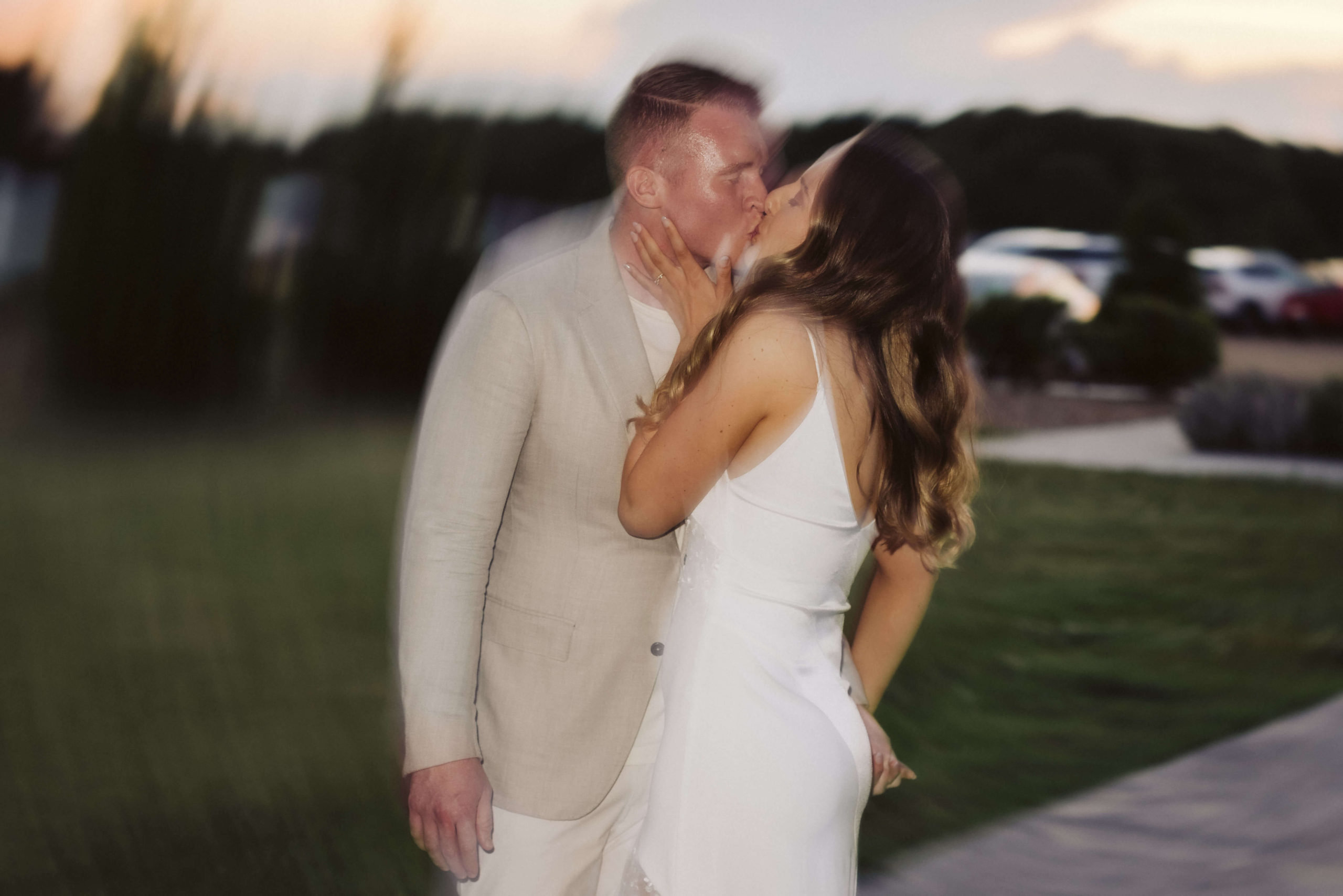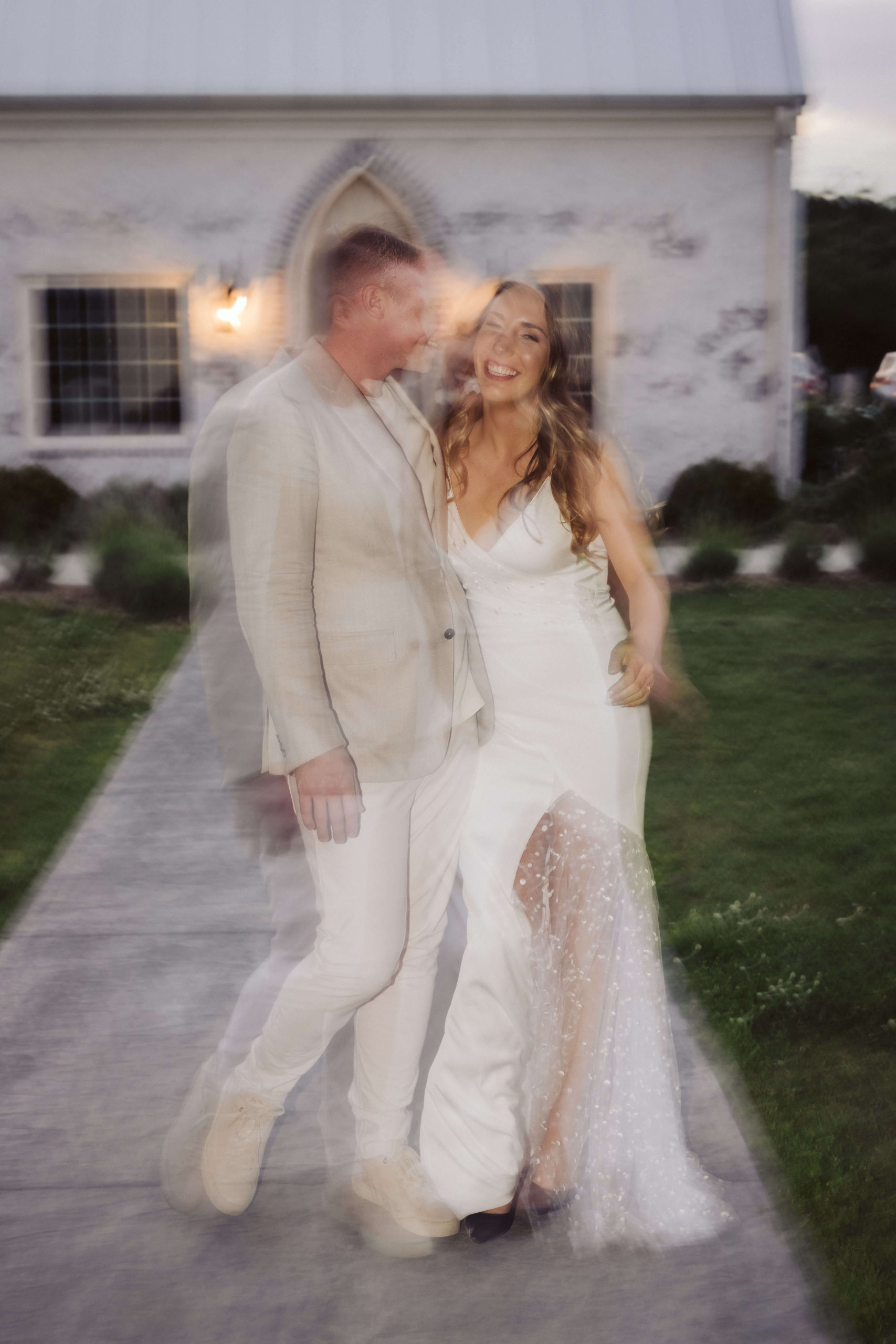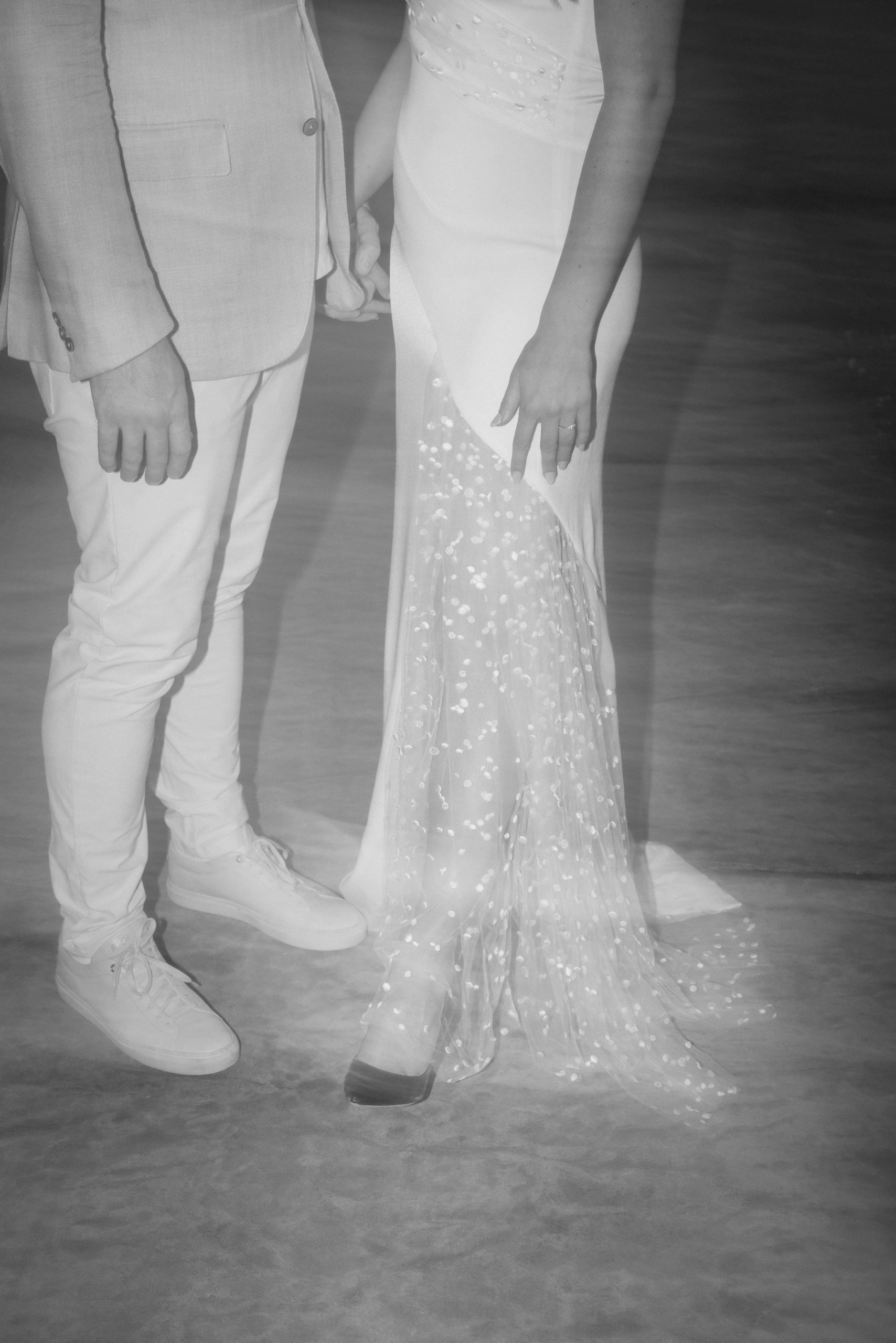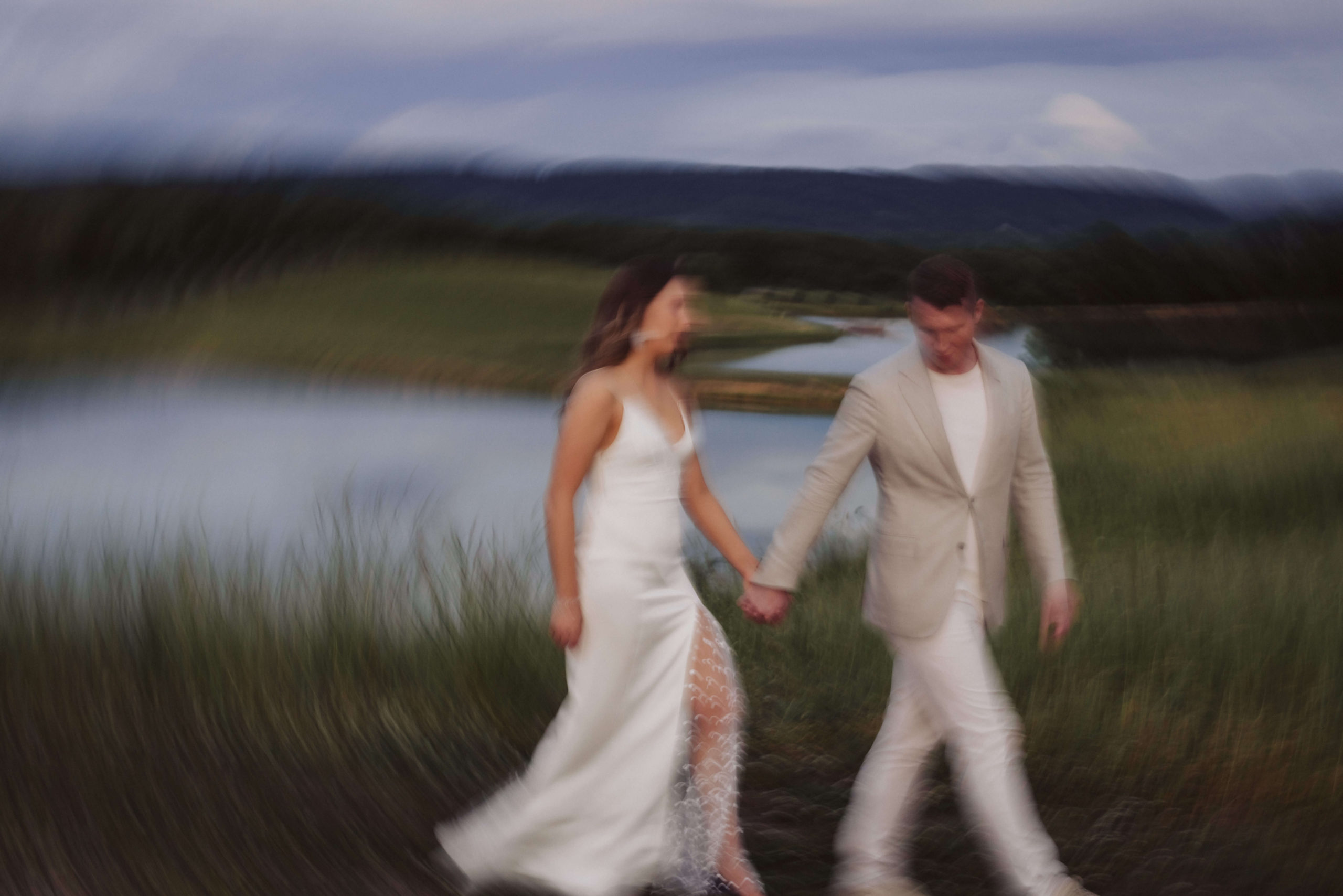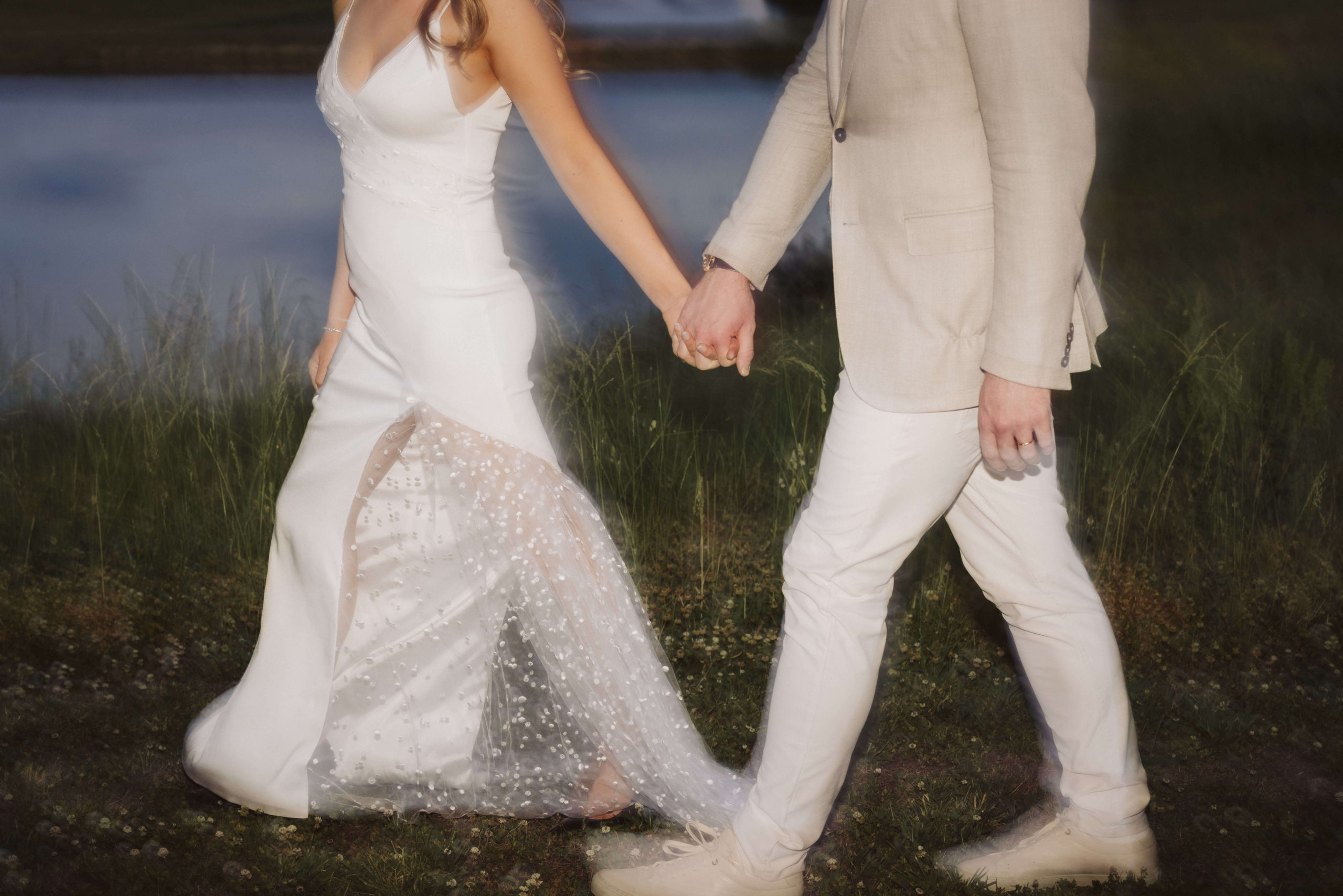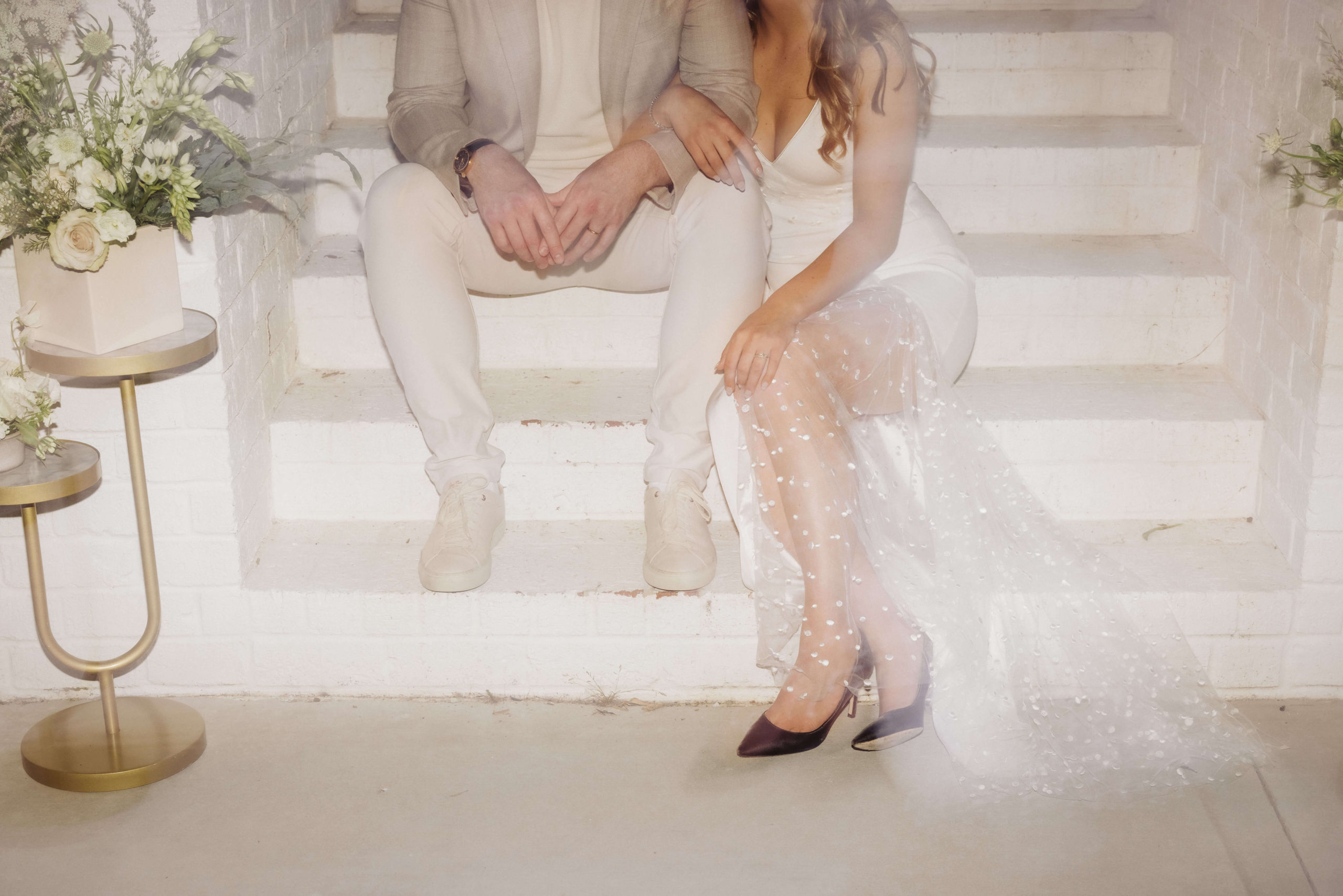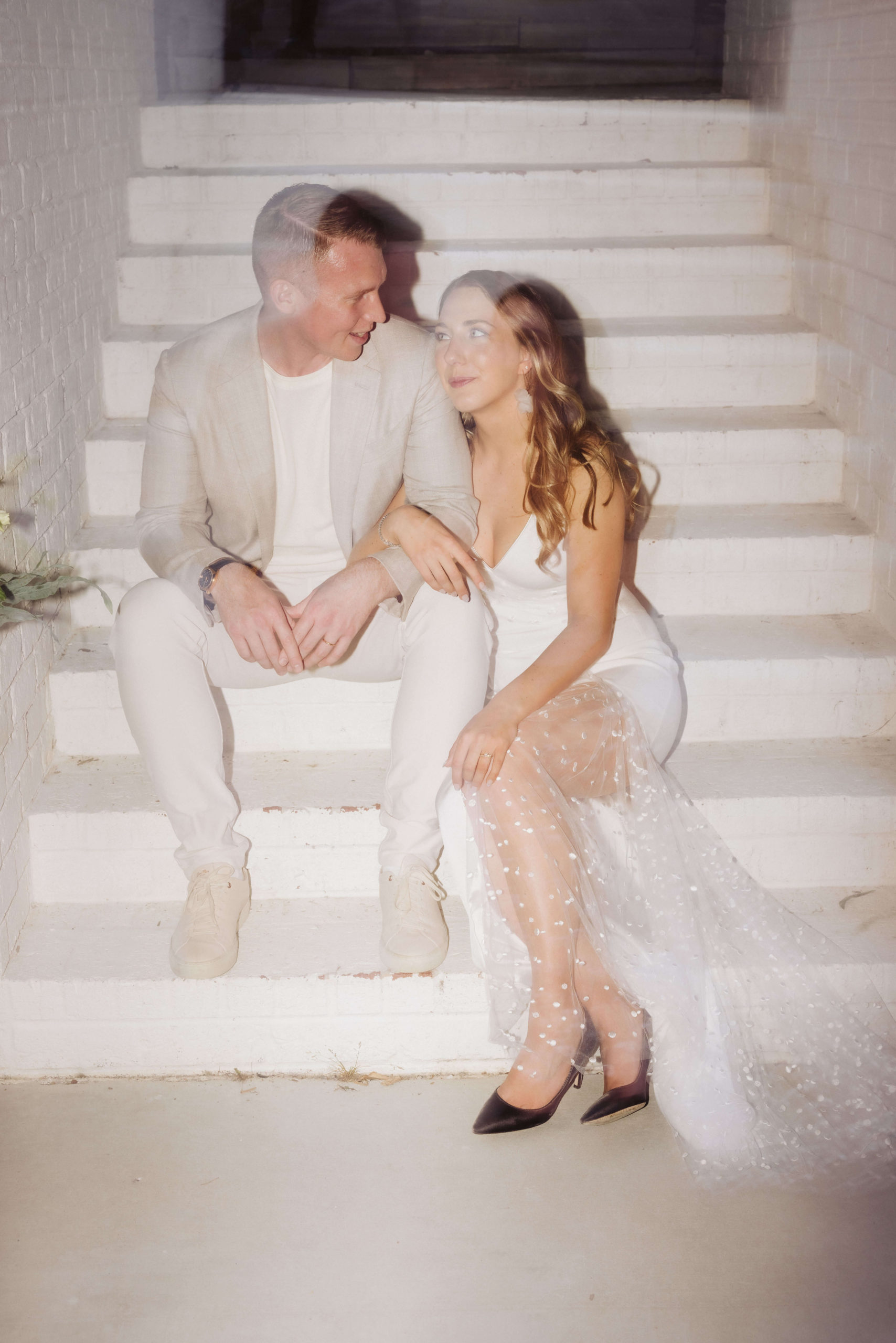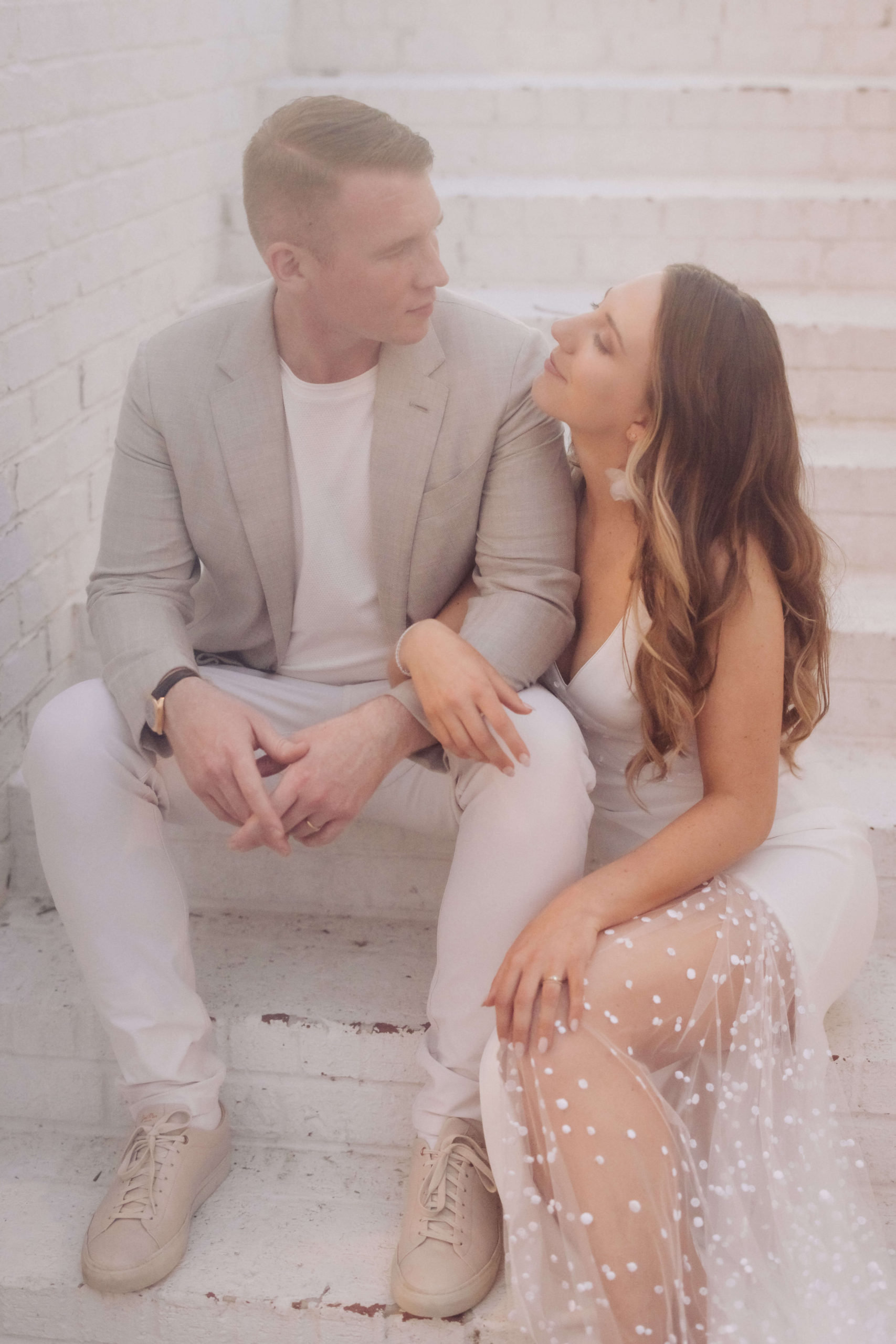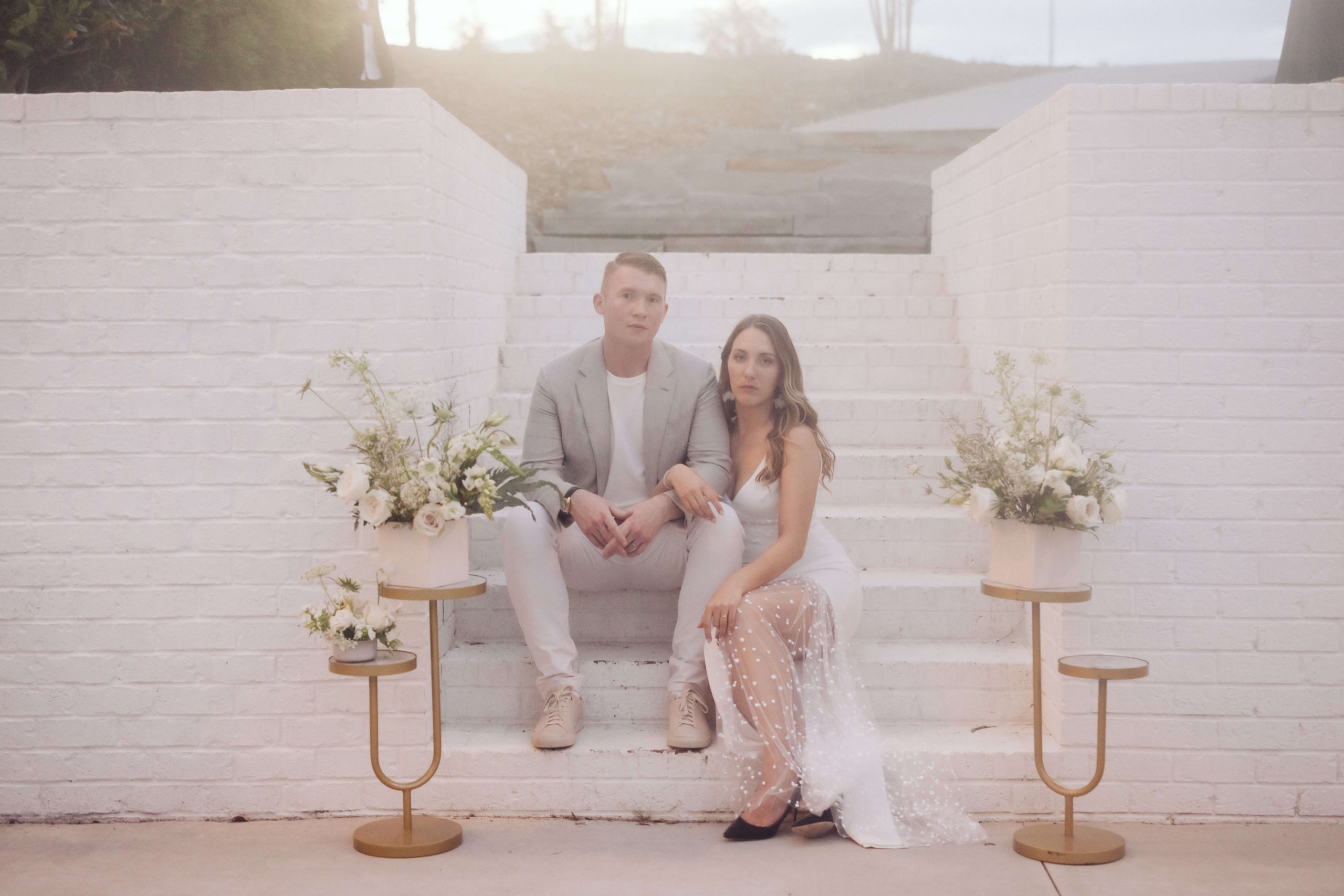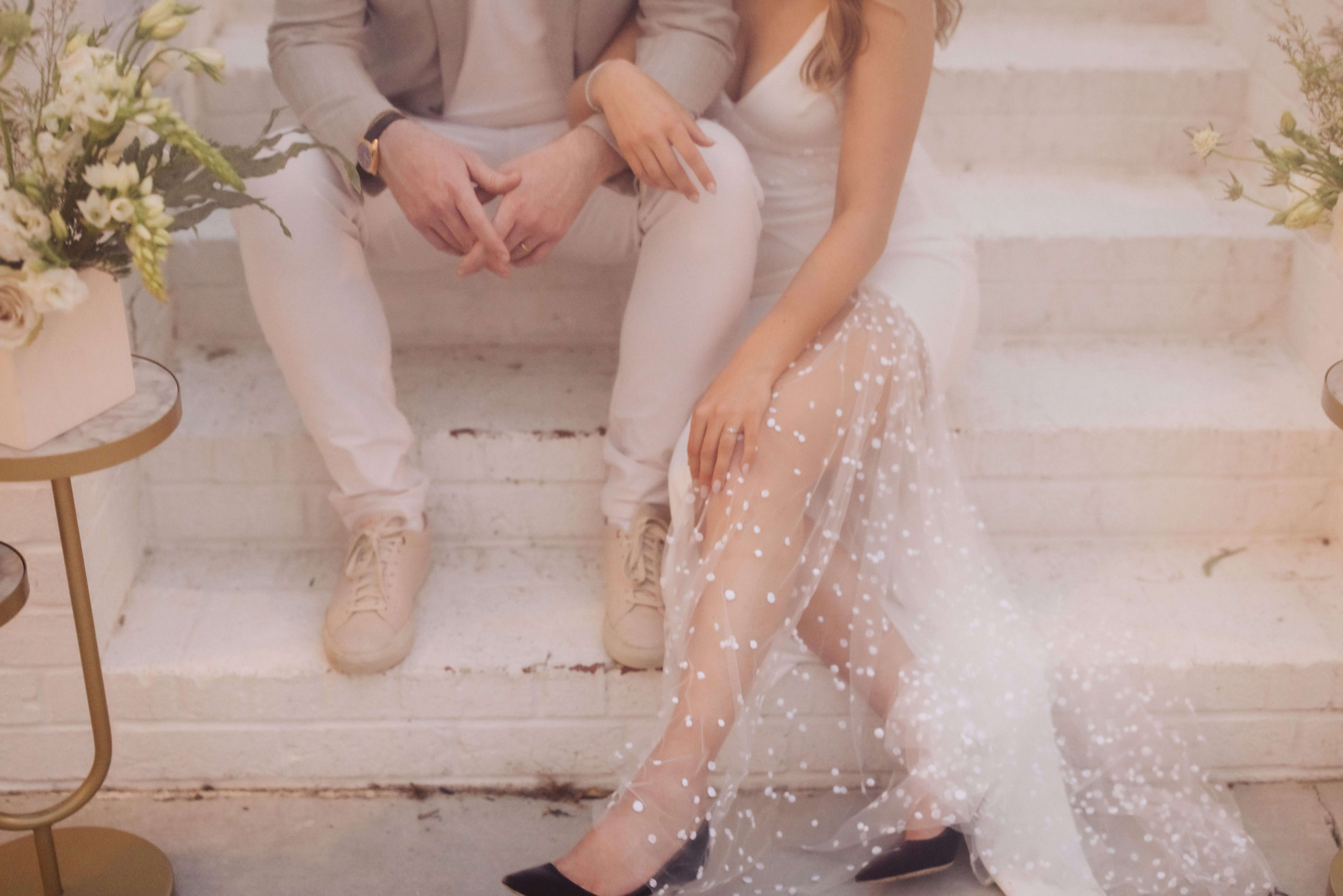 Celebrating Love with Family and Friends
Because they had been married for a year already, Miranda and Tyler weren't worried about the usual wedding traditions such as remaining separate until the ceremony or having a first look. Instead, Miranda and her bridal party stayed overnight in the Marolles House, one of the many lodging options Howe Farms has on location. Lodging options are available as an add on to any wedding package or for guests traveling in for your wedding.
The Marolles House is one of the mid-sized options Howe Farms has available and sleeps up to 16 guests comfortably. Other options can fit up to 27 guests which would be perfect for extended family that travels in for your wedding.
We began our photography session with Miranda, her mother, and her bridesmaids getting ready with hair and makeup by Angelica Chrysler Beauty. Meanwhile, Tyler donned his jacket and khakis and he and the guys planned to all meet up at the Marolles house once they were all ready to go. By the time they arrived at the house, the ladies were just doing their finishing touches and Miranda was already dressed in her gorgeous white wedding gown. The simple sheath-styled wedding dress complemented Tyler's slightly more casual look while still maintaining the elegant air of a wedding gown.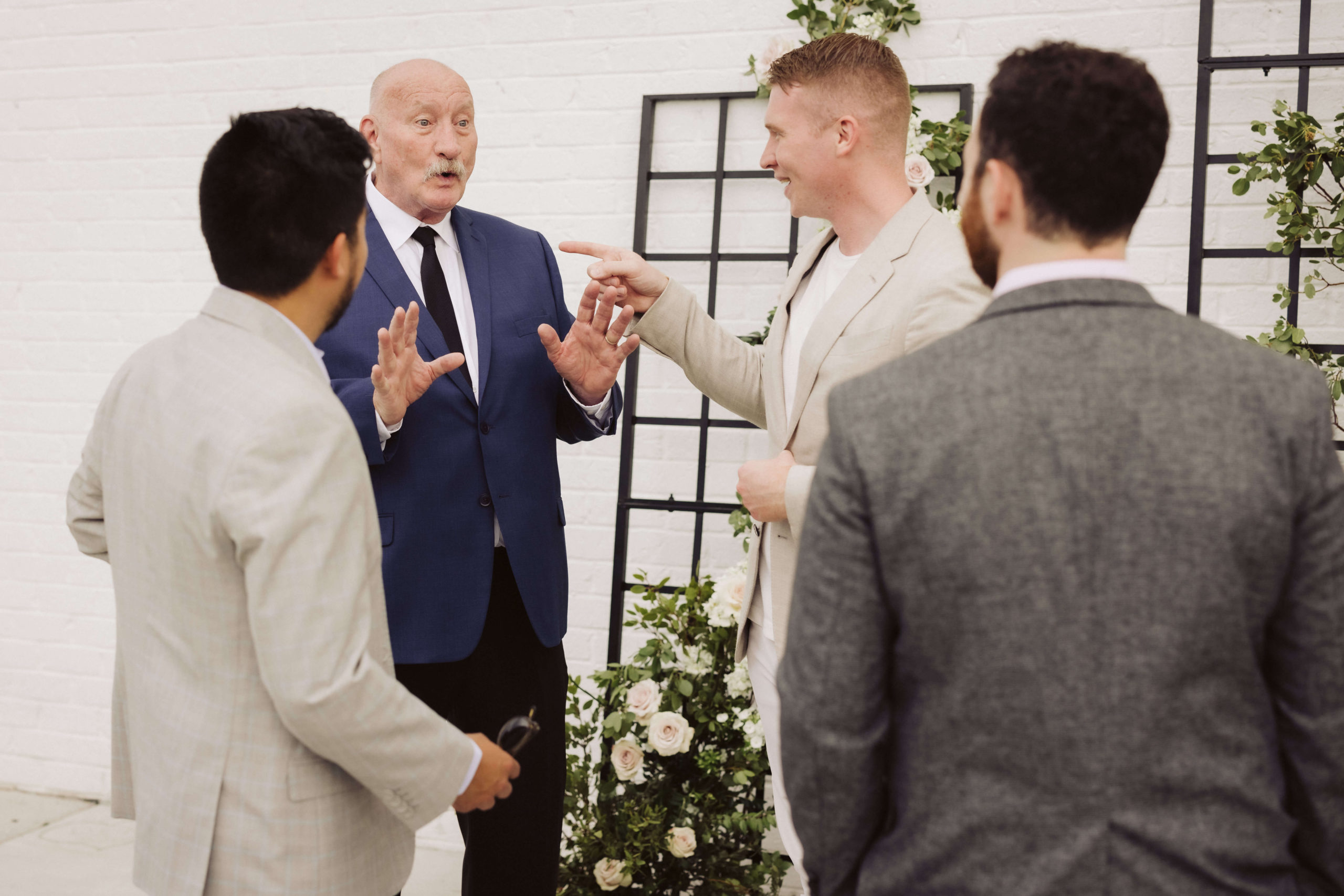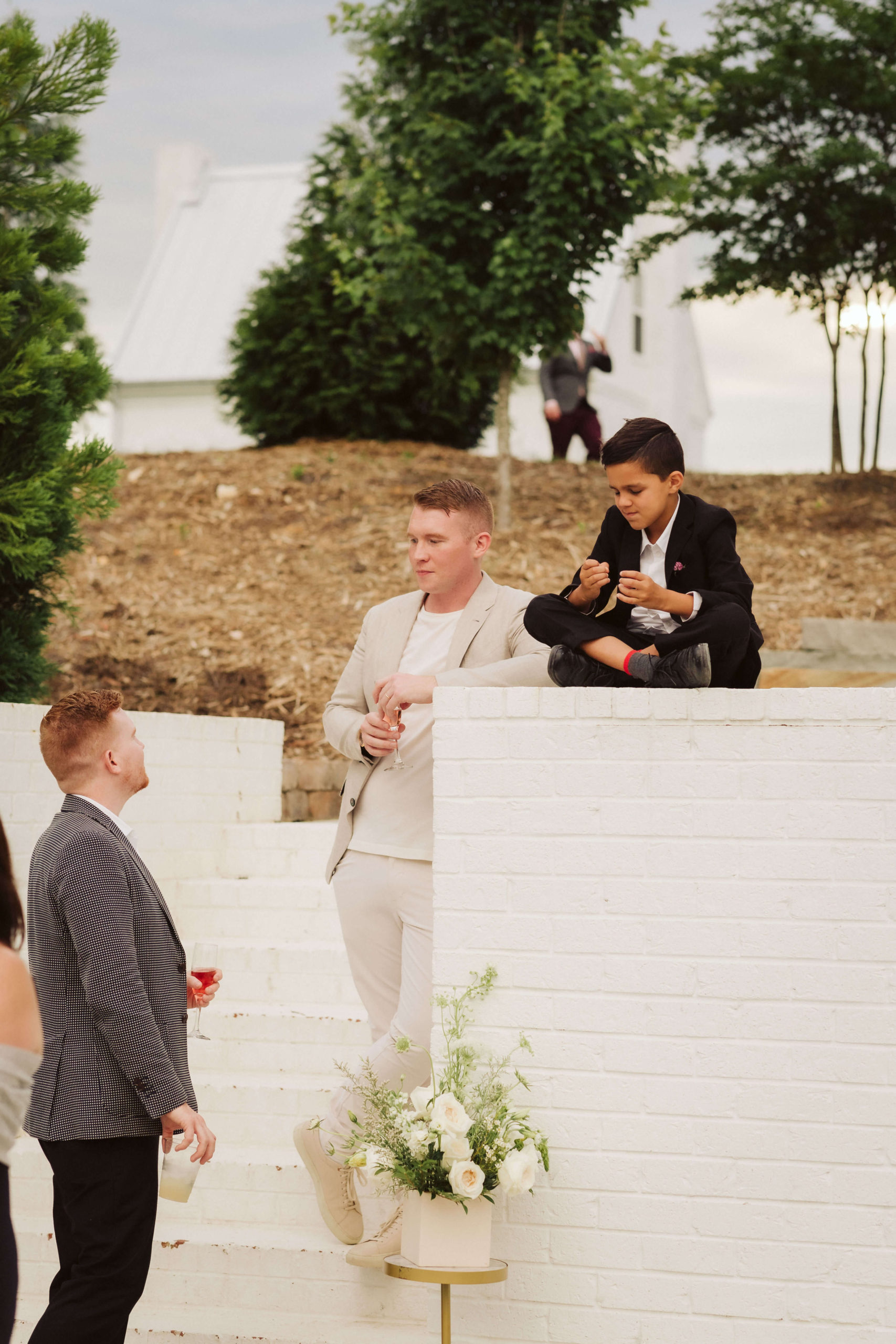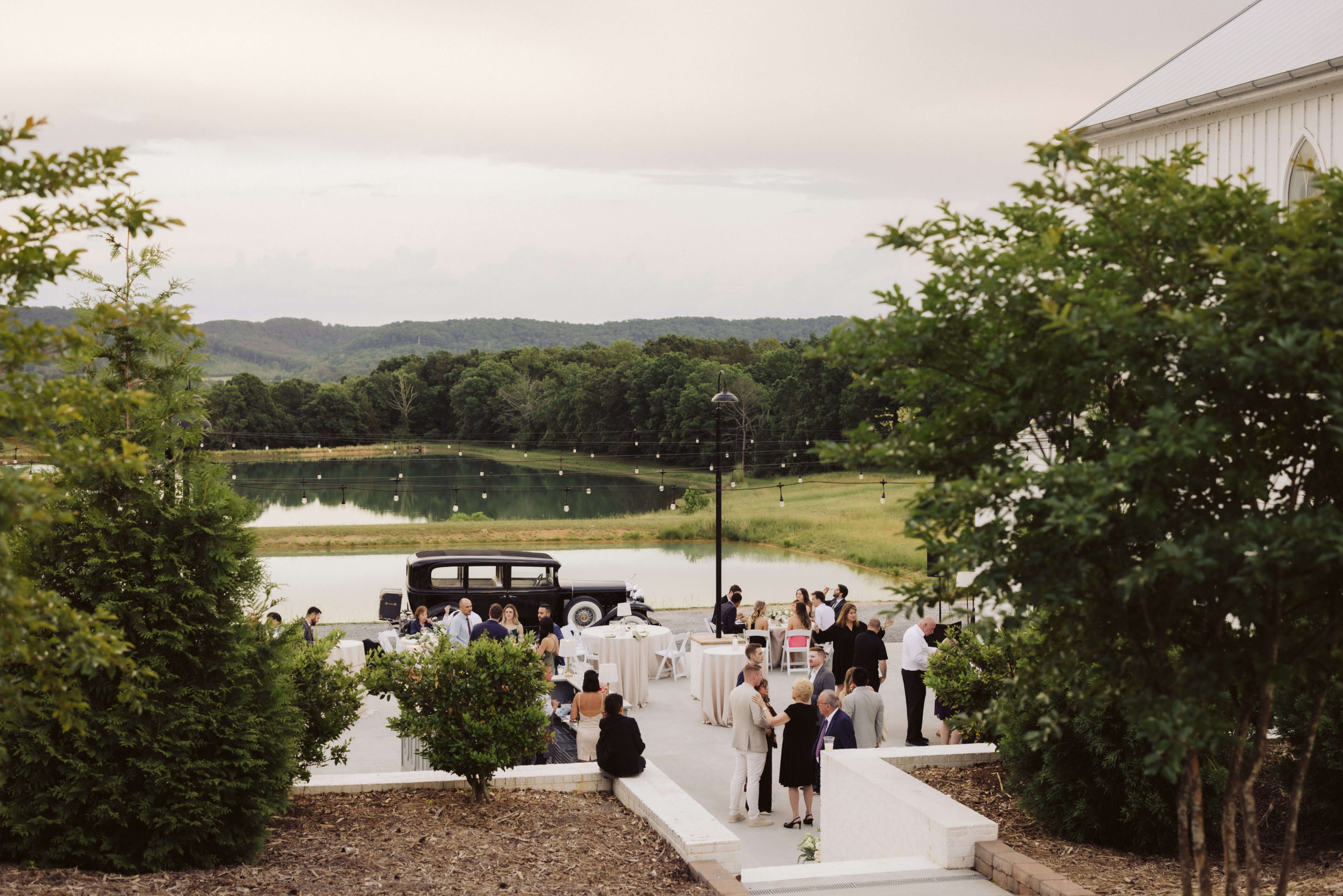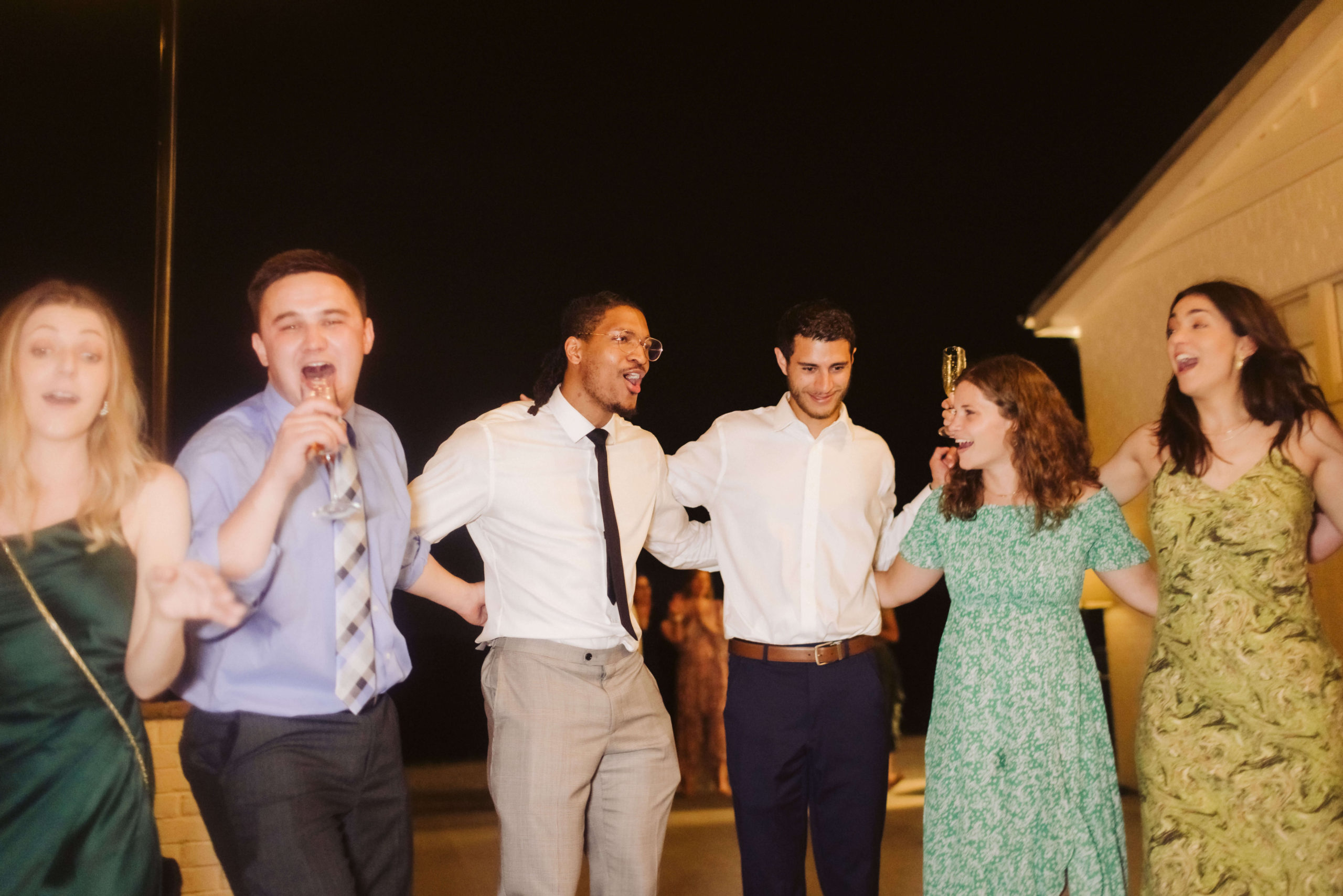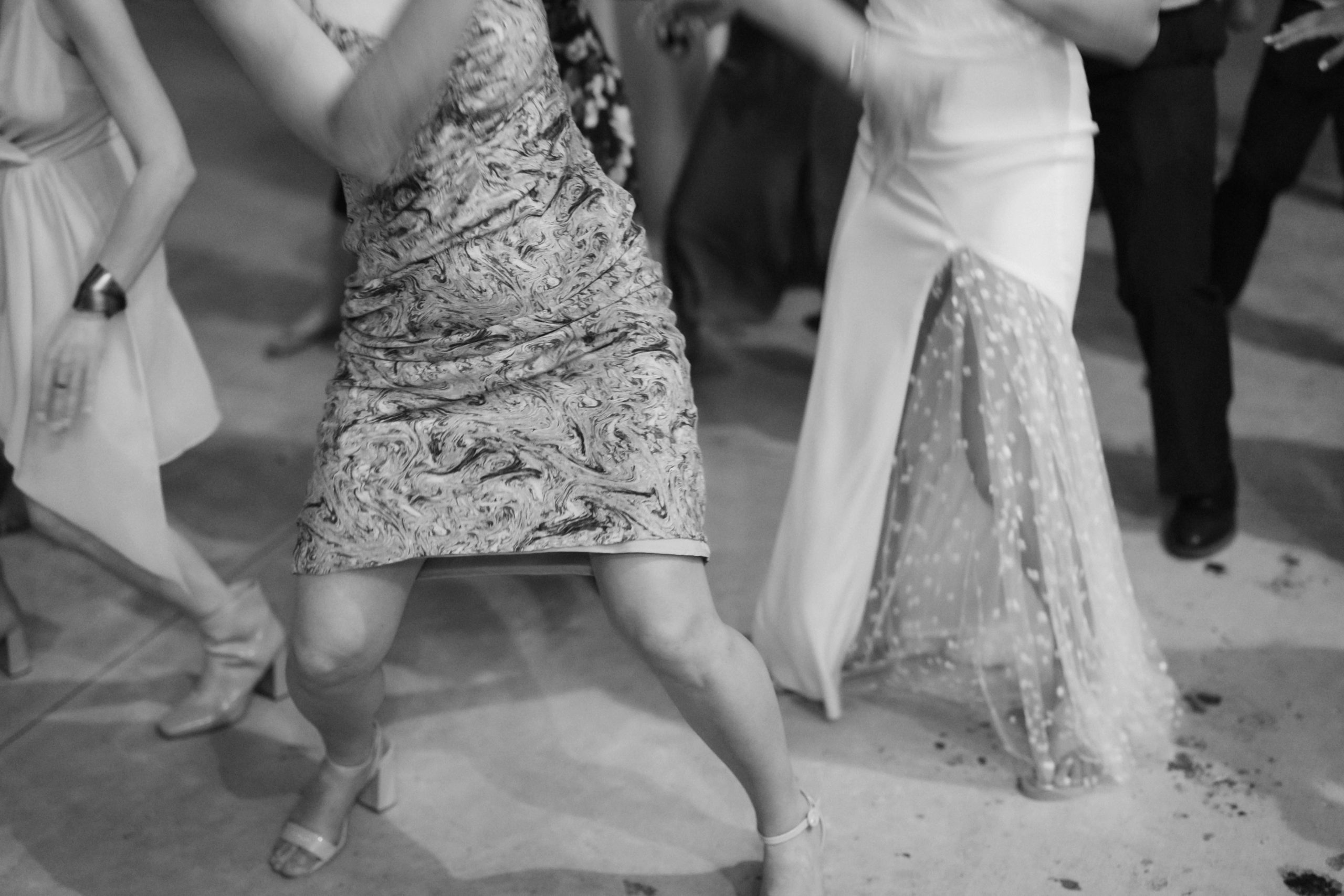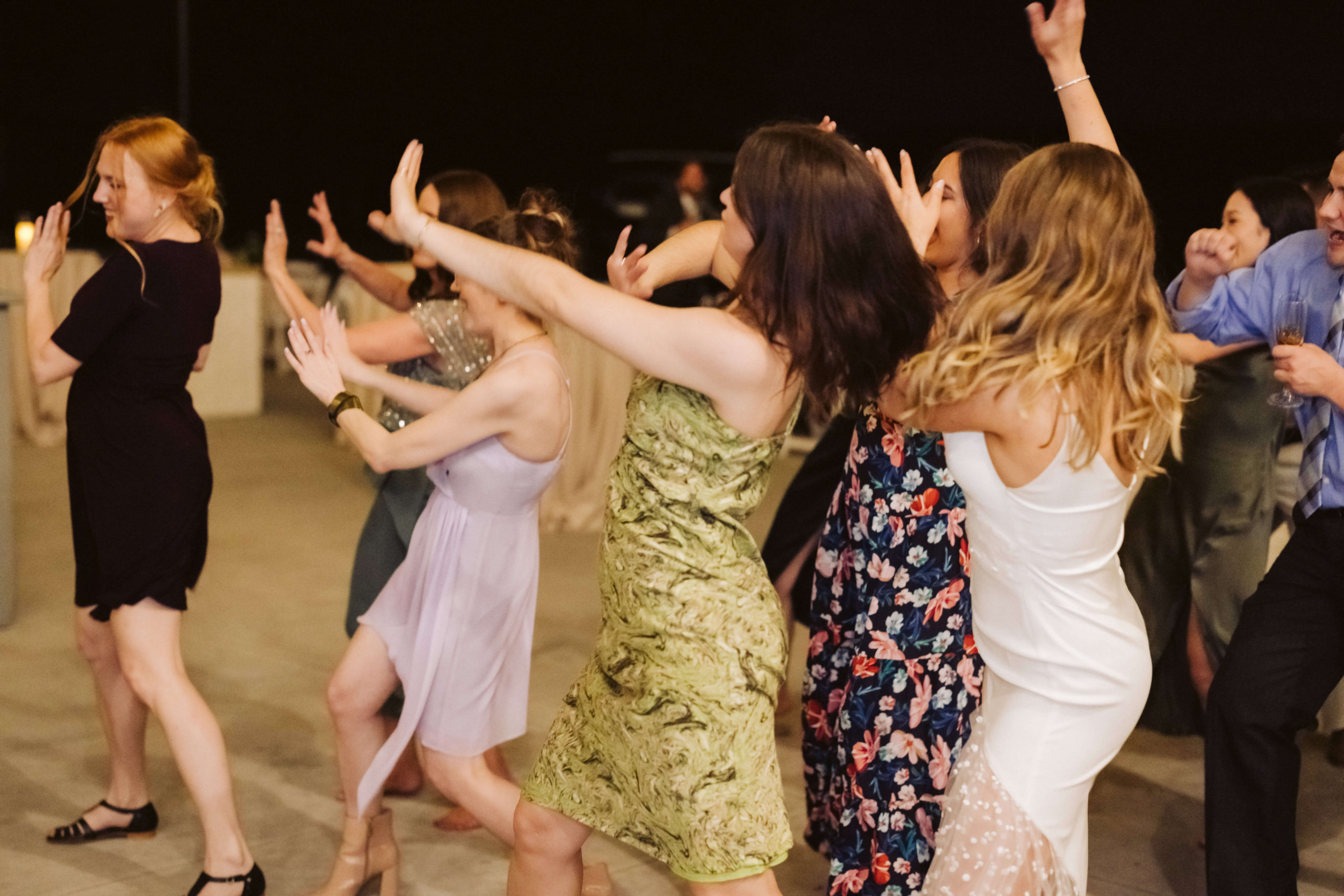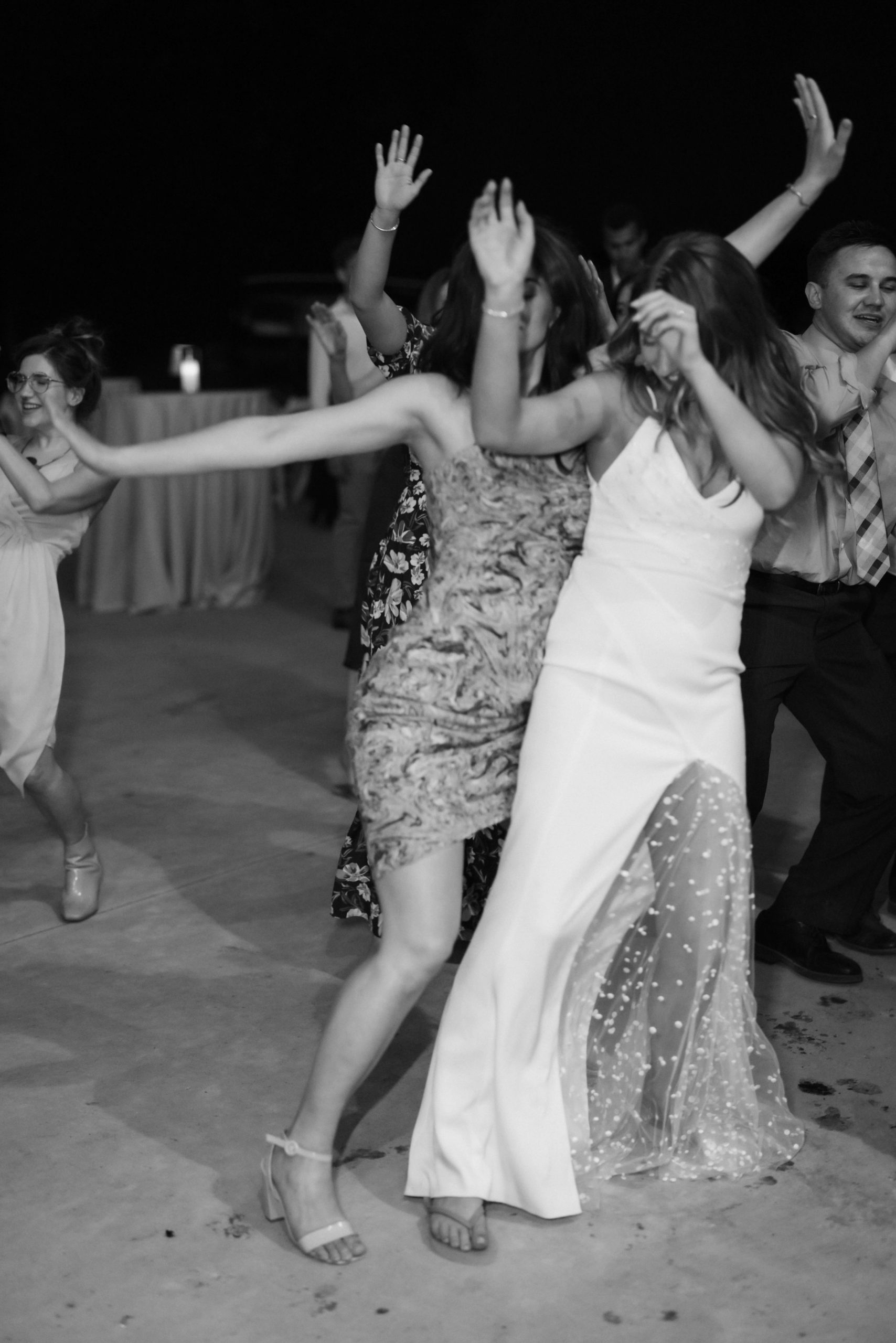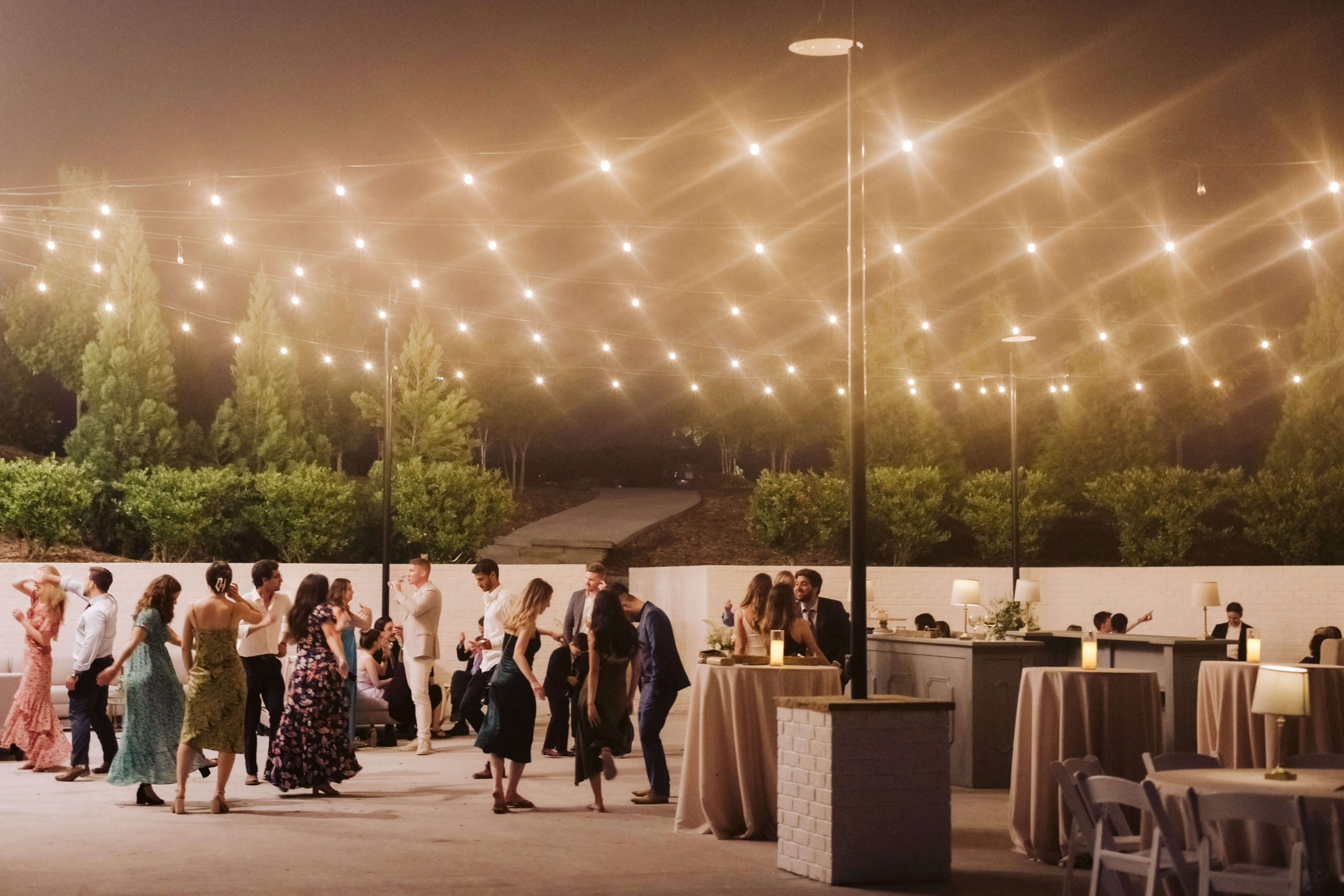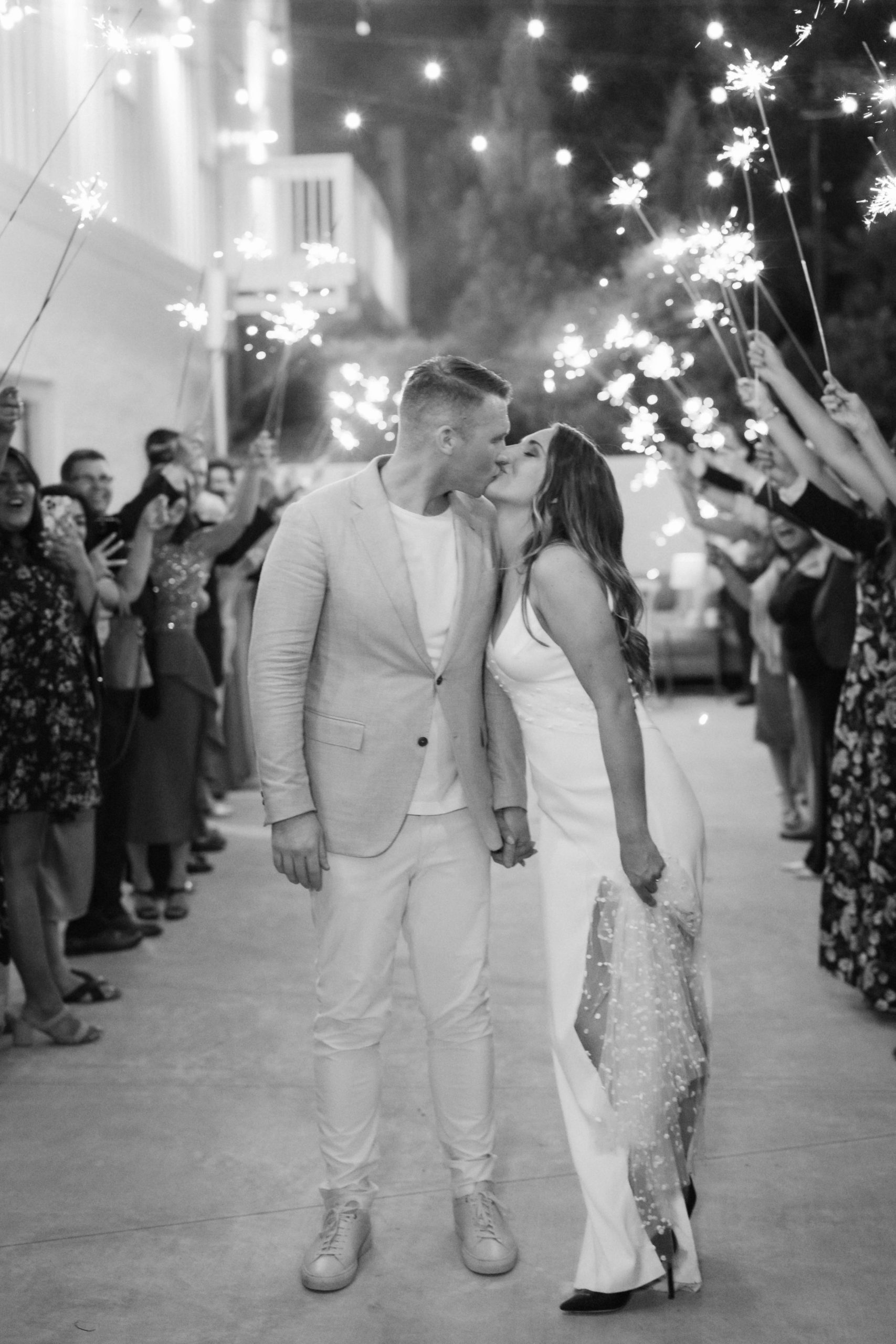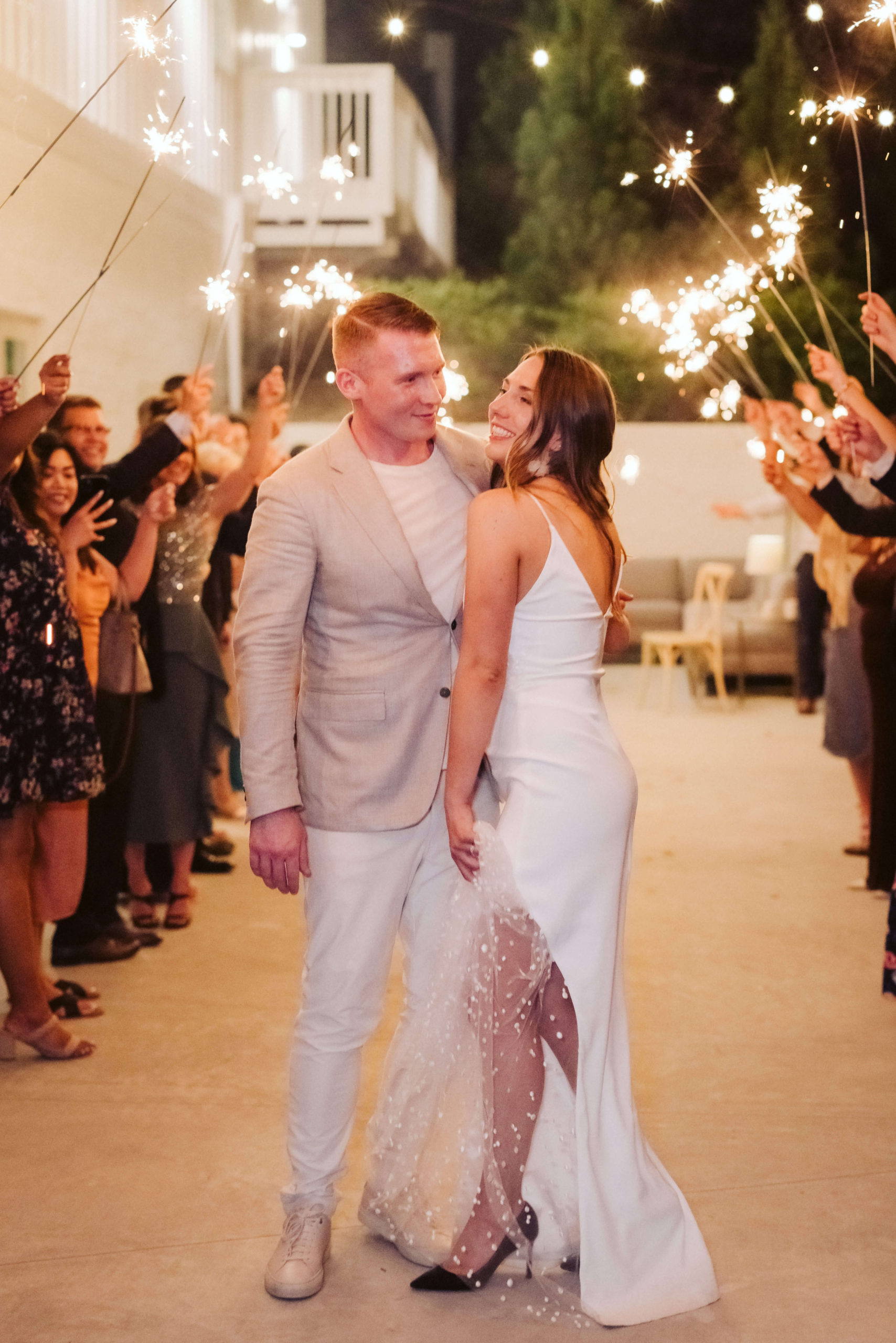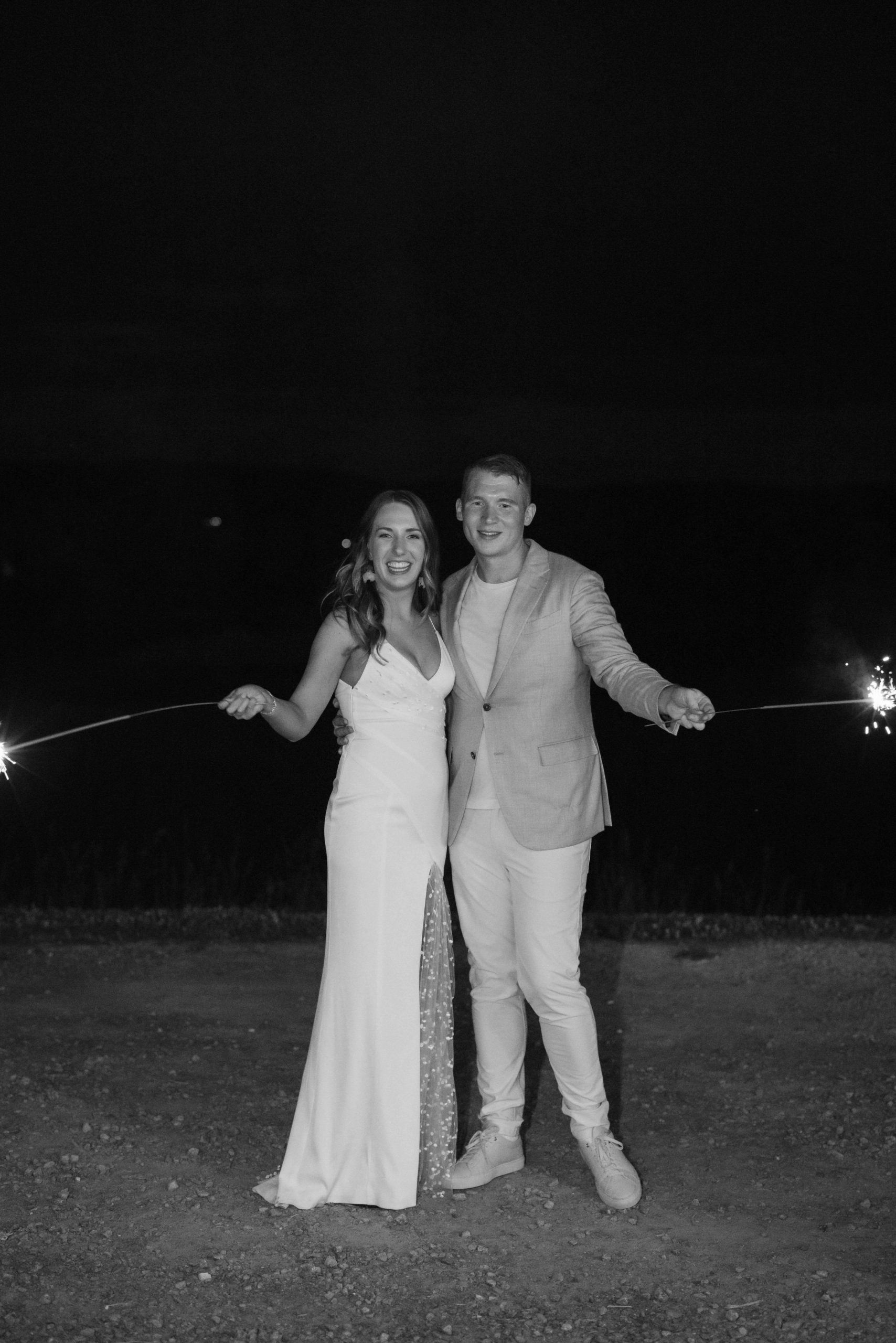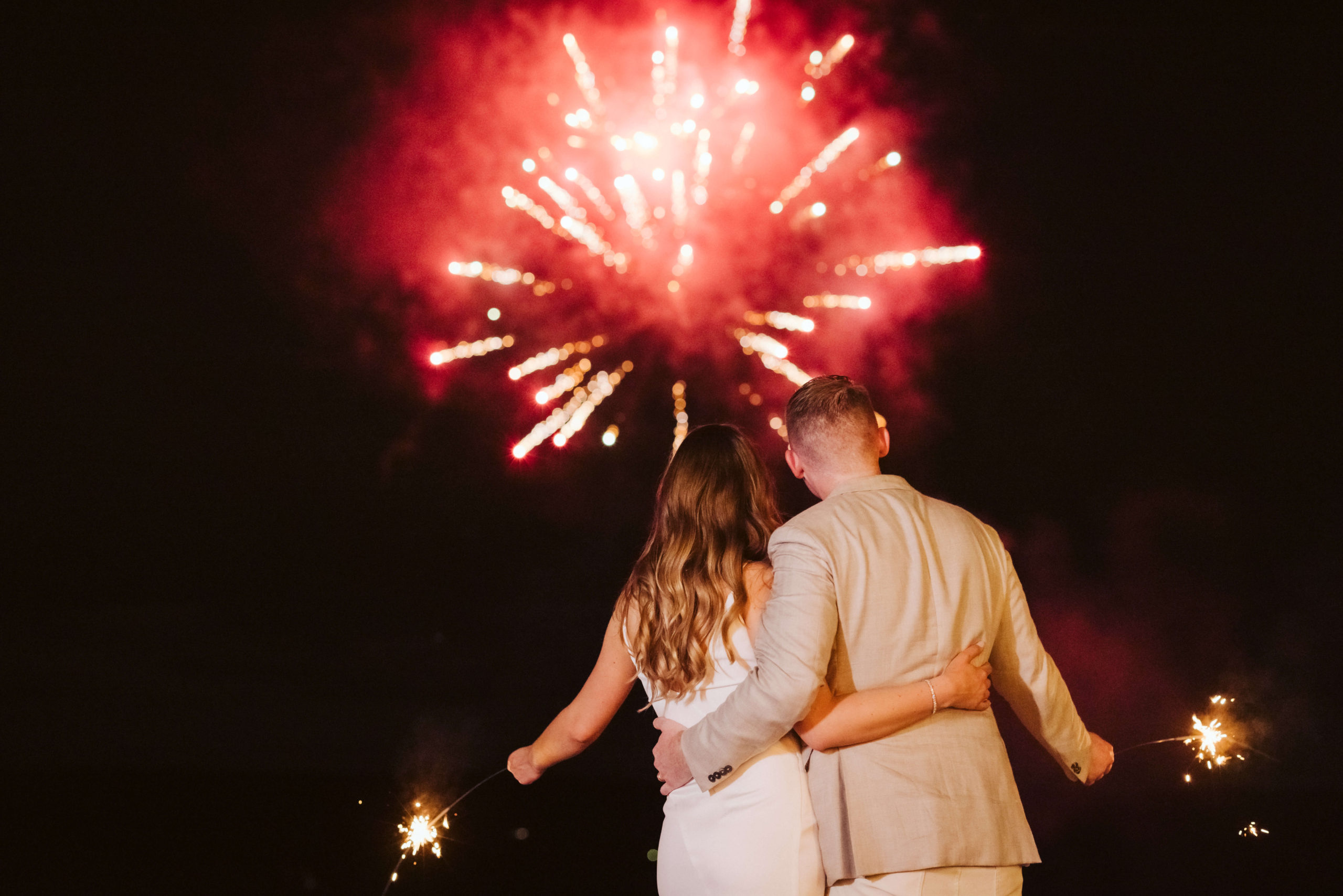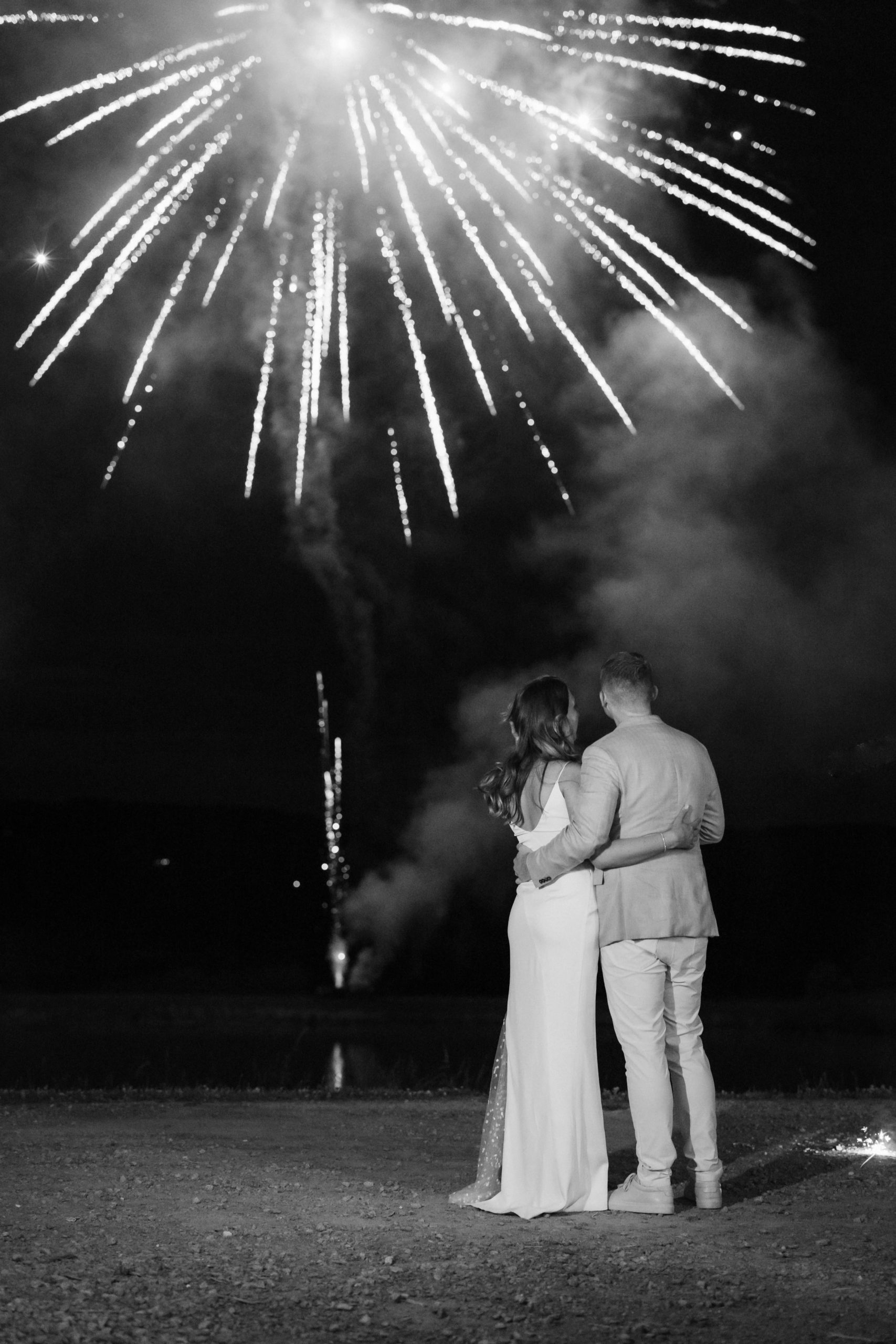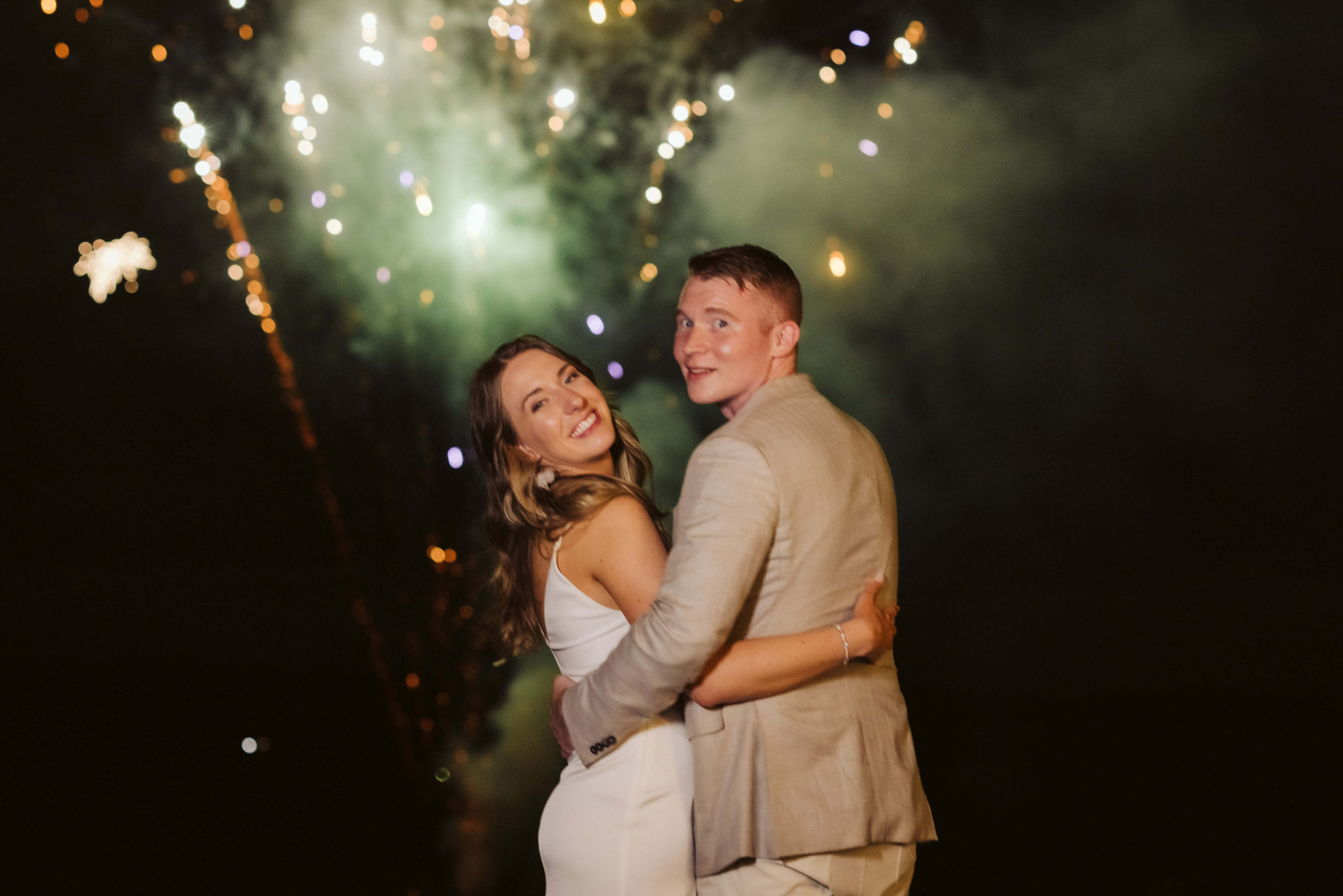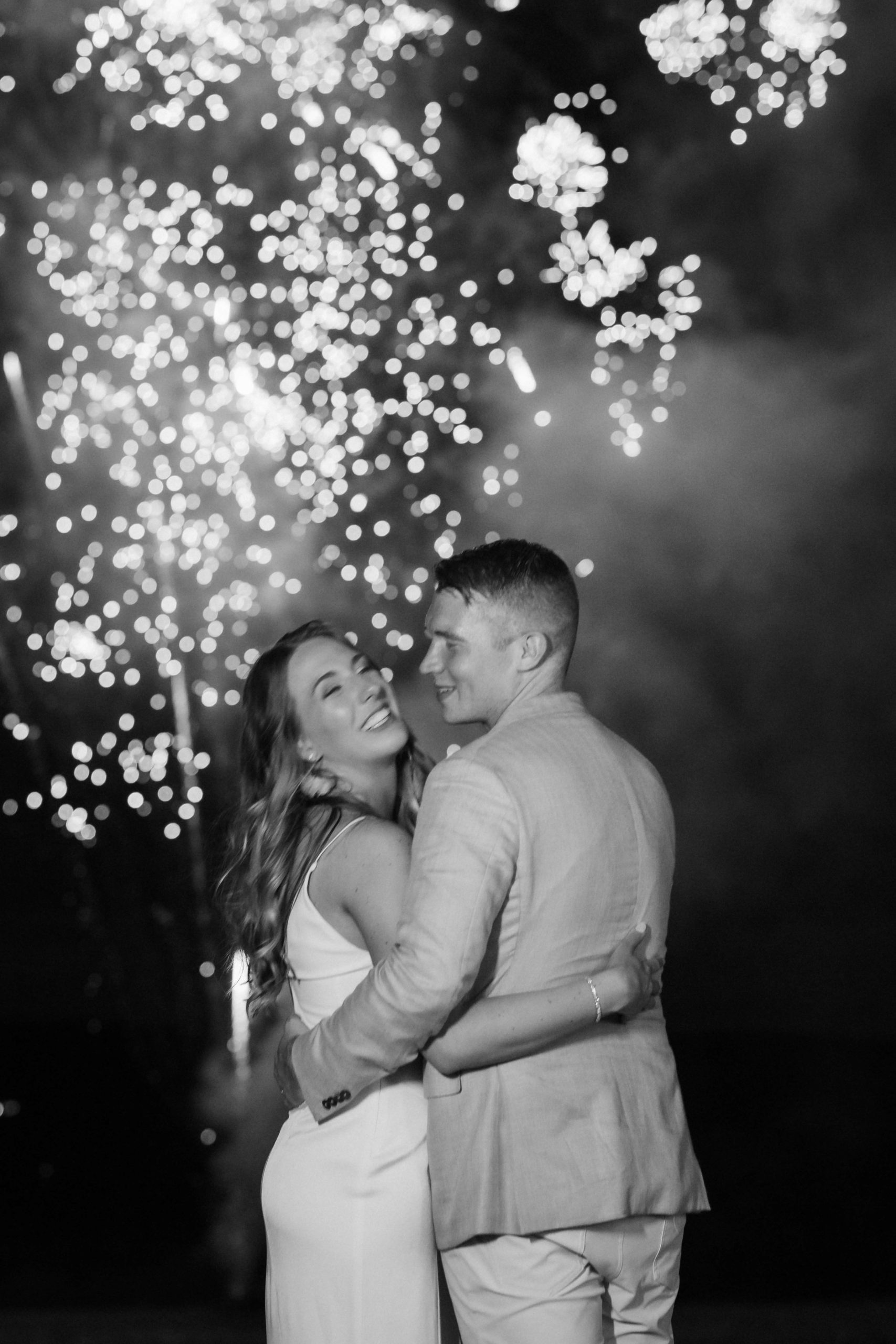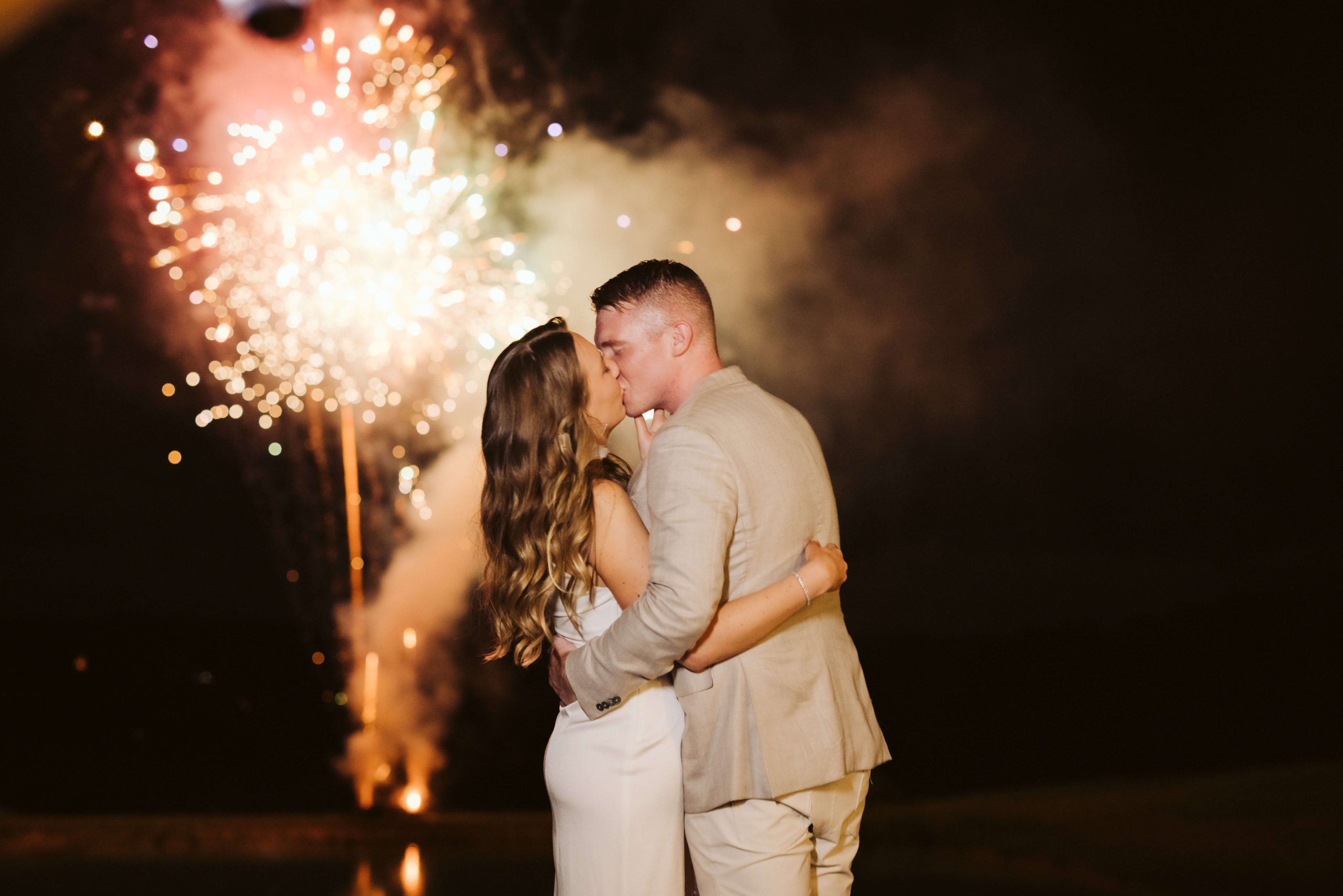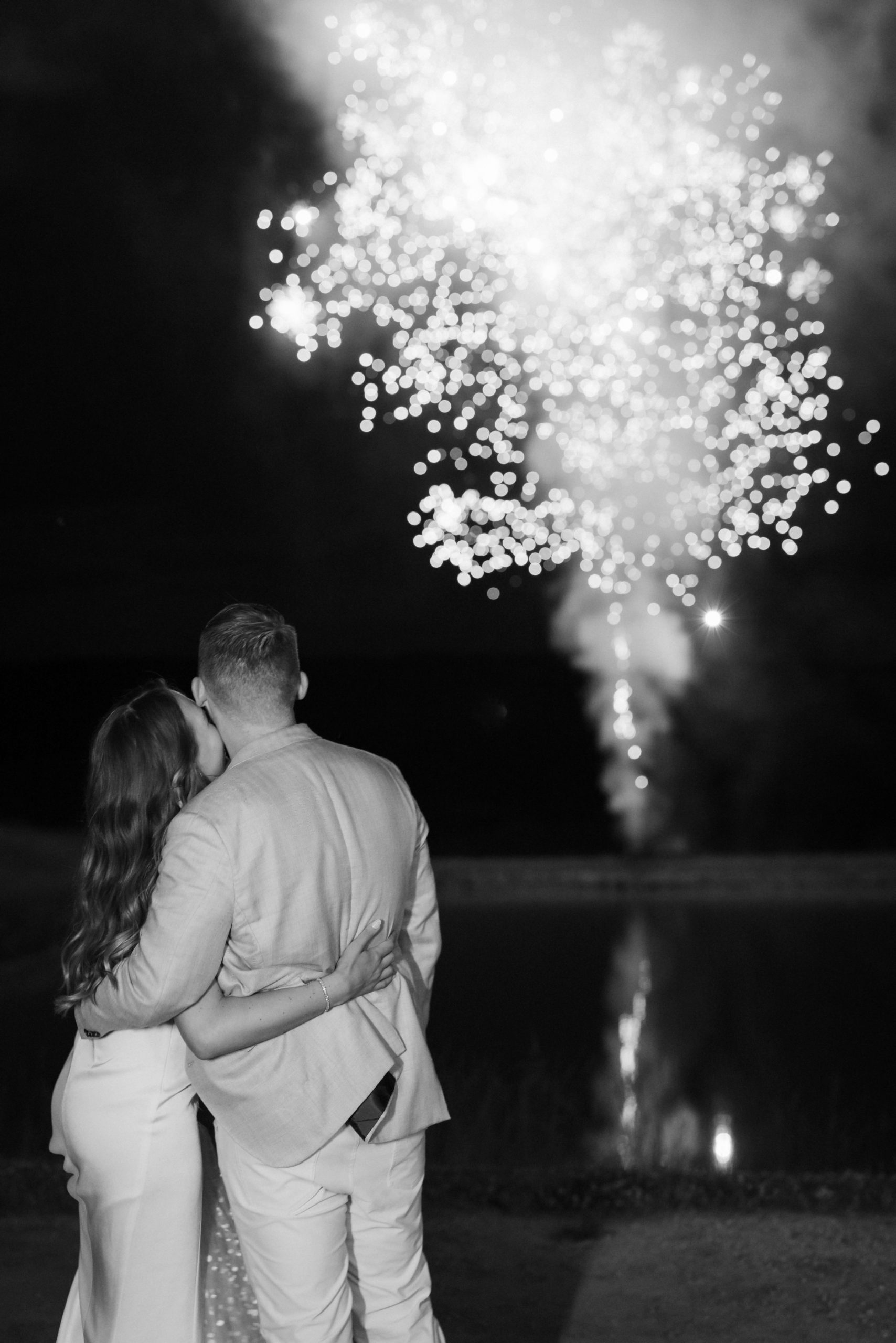 Outdoor Anniversary Dinner on the Highlands Chapel Patio
After Tyler arrived, we slipped away from all of the commotion in the Marolles House to capture some simple anniversary portraits. Miranda, Tyler, and I headed to a little wooded area of the farm grounds where the natural lighting was perfect for their portrait shoot. The light poked in through a dappling of green leaves creating a beautiful backdrop for Miranda and Tyler's portrait session. Their arms were almost always wrapped around one another as they embraced under the canopy of leaves and you could just feel the love that was emanating off of them as the camera clicked away capturing it all.
Once their anniversary photo session was complete, we rejoined the others at the Highlands Chapel where the rest of the celebration would be held. The Highlands Chapel is one of Howe Farms' smaller venues with a maximum of 150 guests, but where it lacks in head count, it makes up for in elegance. On the outdoor patio and by the lake just beyond the patio walls, Miranda and Tyler made sure to take photos with all of their loved ones who came out to celebrate with them. It was important to them to capture the memories with all of the people who hadn't been able to join them the year before when they said their I do's.
To make sure their celebration went as smoothly as possible, Miranda and Tyler hired Ramblewood Events. Not only does Ramblewood Events do planning but they also do vendor coordination, floral and décor design, day of styling and coordination, and event execution. They did a fantastic job setting up the mouth-watering buffet tables and bar area on the patio for dinner. While guests were eating, in lieu of a wedding ceremony, select friends and family of Miranda and Tyler got up to give a speech for the happy couple and wished them well on their journey together.
As the sun began to set, Miranda and Tyler slipped away from their guests one last time to take advantage of the reddish-orange hues staining the clouds as the sun sank below the horizon. Once everyone had eaten, the patio was transformed into an open air dancefloor where the couple danced the night away beneath twinkling bistro lighting and surrounded by everyone they loved. Finally, the night ended with sparklers and a huge fireworks display just like the shooting star that soared across the sky the night they got engaged.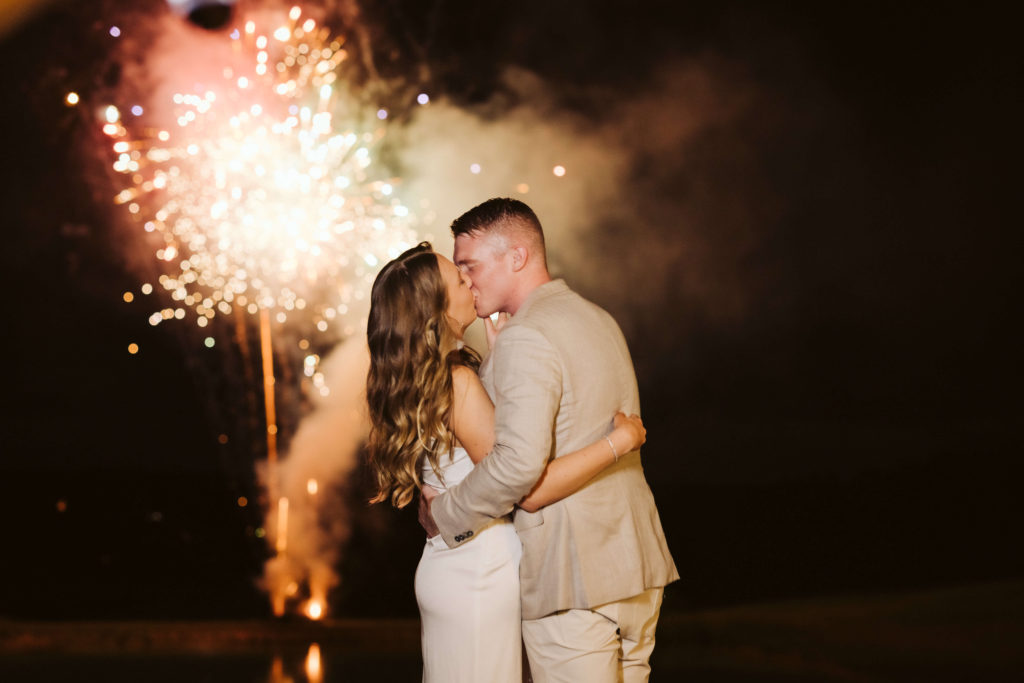 Will wedding bells be ringing in your future? Whether it's for a wedding or to celebrate a milestone anniversary like Miranda and Tyler, I'd love to be there for you!
Hey y'all! I'm Rachael Crowe of OkCrowe Photography. I'm based right here in Chattanooga but no matter where you are, I'm more than willing to hop on a plane and travel to you. I've shot hundreds of weddings, elopements, and events here in Tennessee and beyond. If you're looking for a photographer for your big event, fill out my contact form and let's get planning!