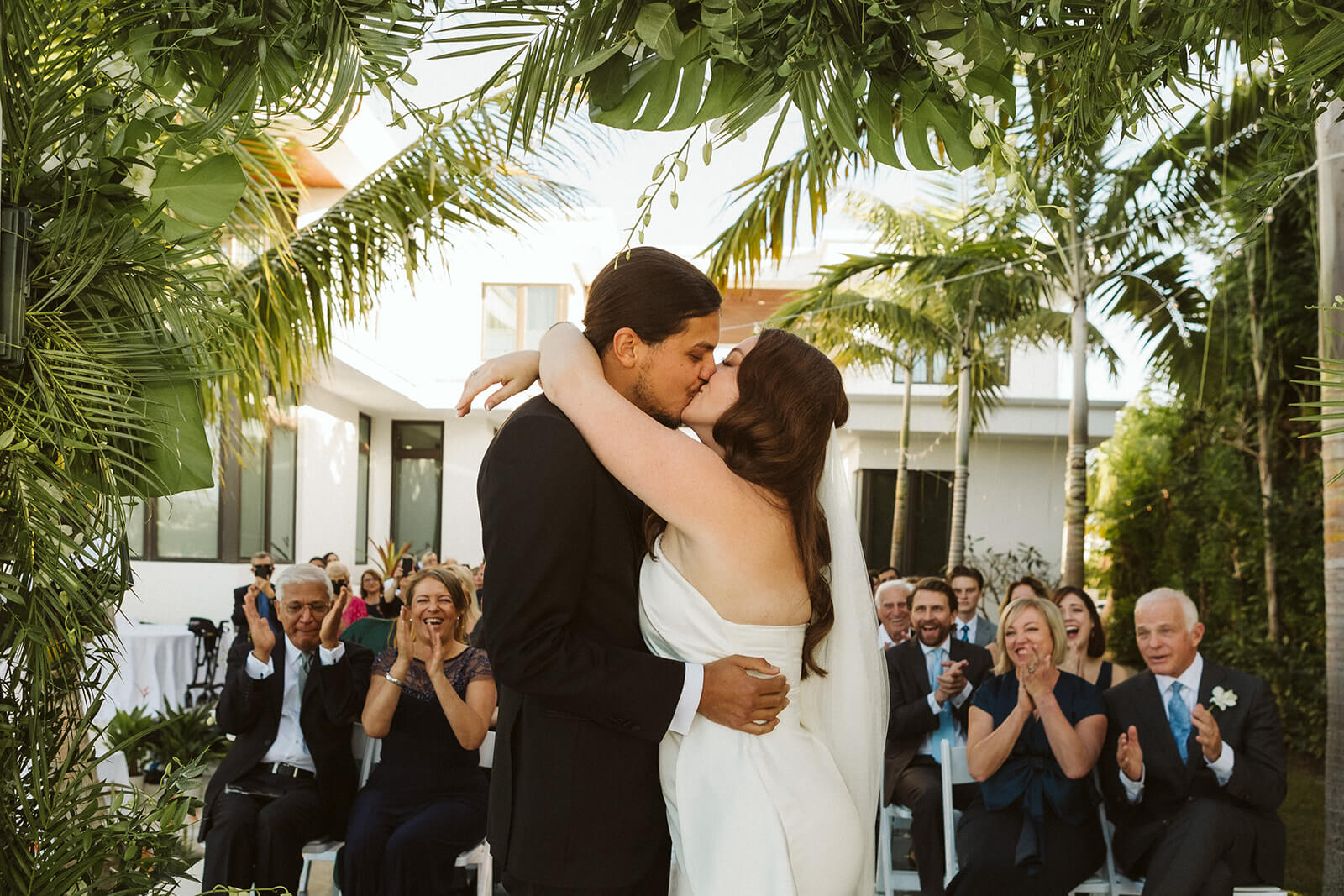 I've said it before and I'll say it again: Sarasota, Florida is my favorite place outside of Chattanooga to shoot weddings. It doesn't get much better than gorgeous waterfront weddings beneath the warm sun with the sea breeze blowing gently around you. I was so excited when Sarah and Sebastian reached out to me to do both photography and videography for their wedding. It was such a unique event capture as the two had transformed Sarah's parents' waterfront backyard into an upscale wedding venue.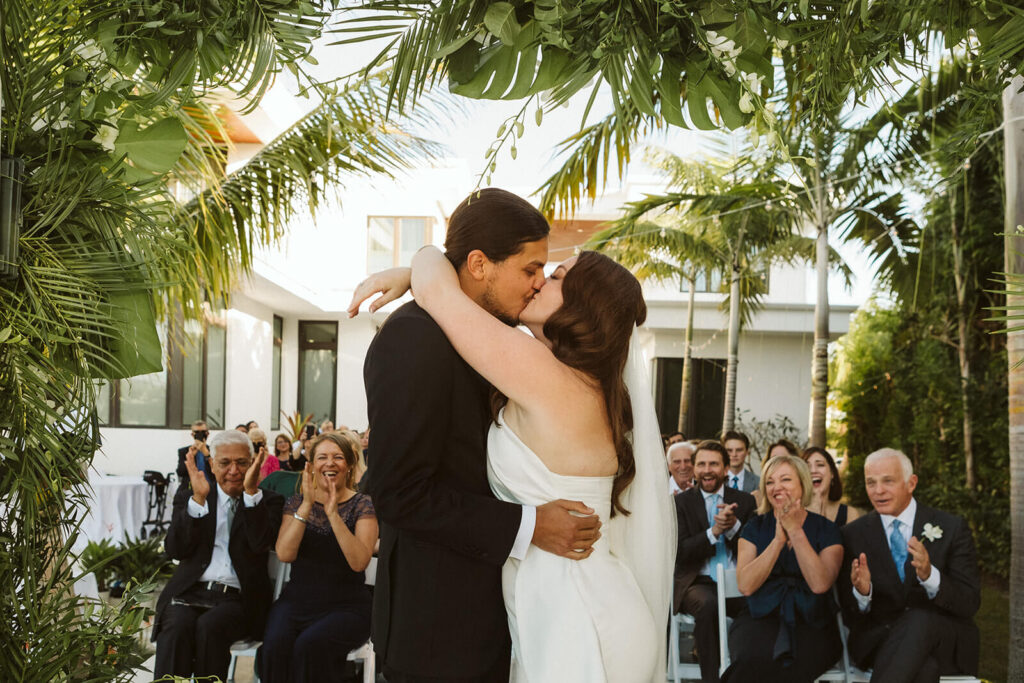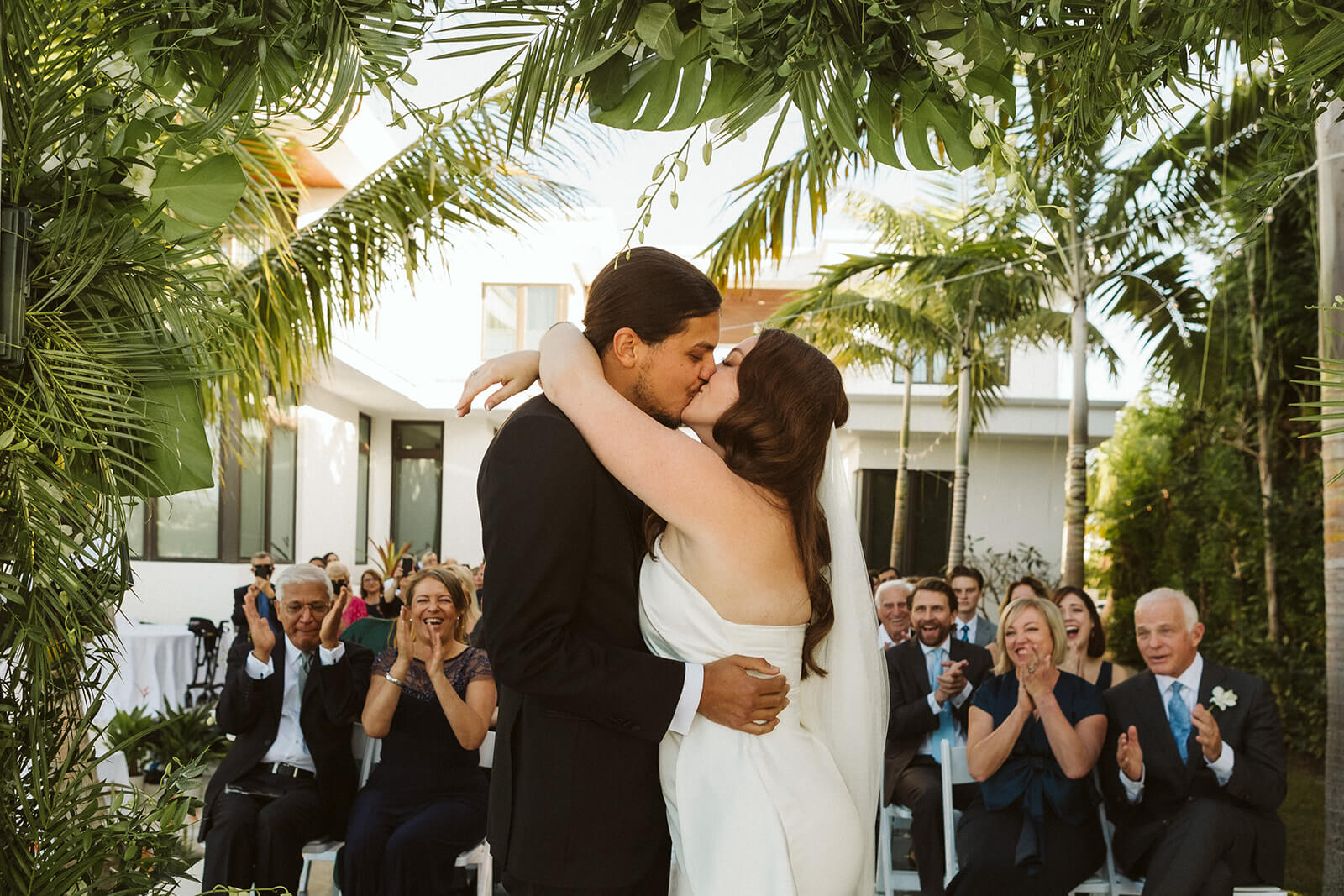 Planning a Dream Wedding at Home
A typical wedding venue can't capture the particular joy and sentimentality in the same way hosting your wedding on a family property that you know and love does. While it may require some extra planning, you're sure to have a space that is perfectly you. Sarah and Sebastian have been in each other's lives since way back in middle school. While they kept in touch with each for years, they didn't start dating until after college when they reconnected at the Sarasota Film Festival. They wanted their wedding to be held in a place that had special meaning to them and, of course, what place could be more special than the bride-to-be's parents' home?
Sarah's parents' home was already a stunning waterfront property. However, for their wedding, the couple transformed the home and backyard into a waterfront oasis perfect for an upscale wedding. The beach house was already a magnificent sight made up of modern architecture and luxuriously tall glass windows to let in all of the bright Florida sunlight. Making use of this expansive waterfront property meant that all of the major events of the day could all take place in one location. Less traveling meant that there was more time to really capture every special moment of the day to the fullest extent.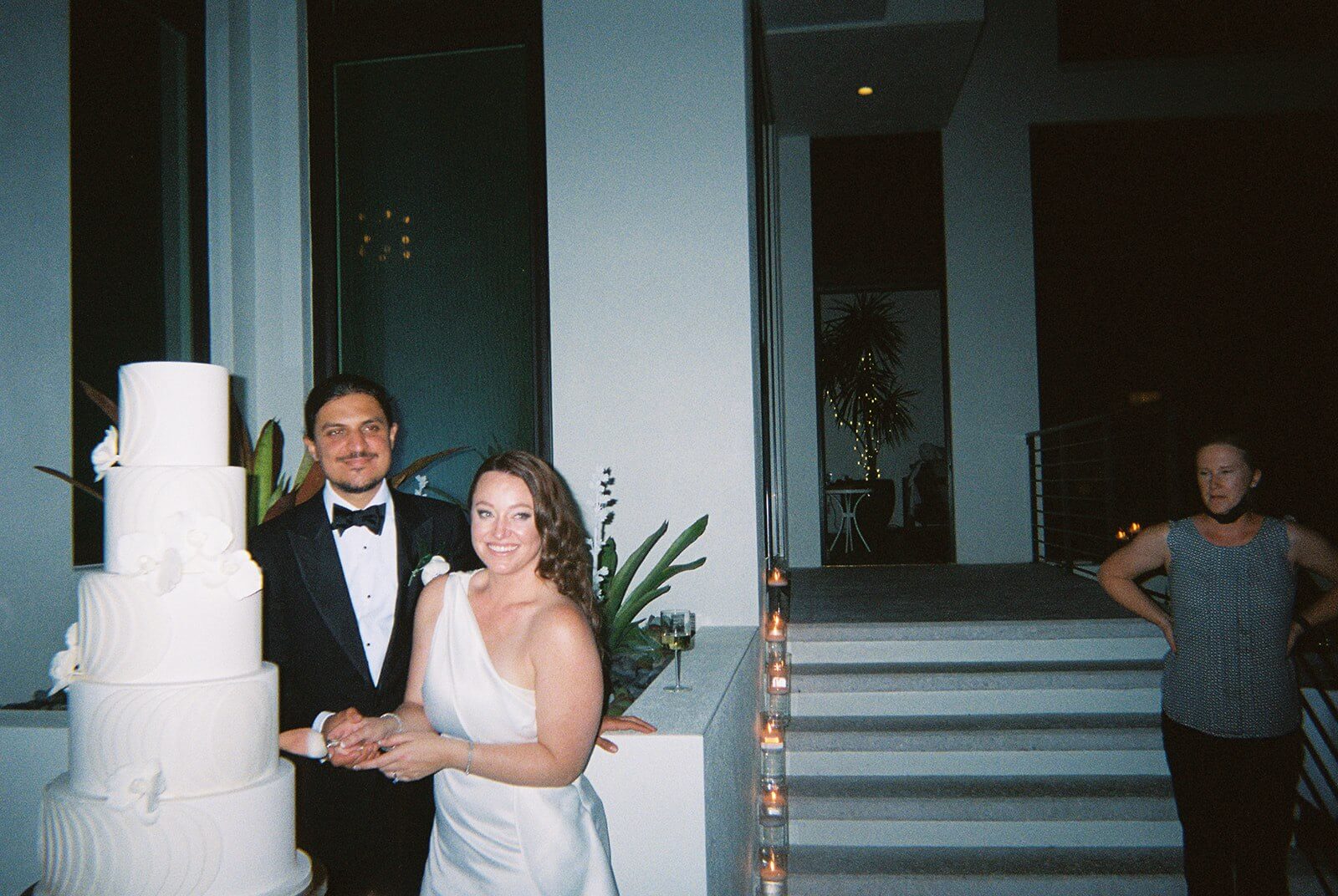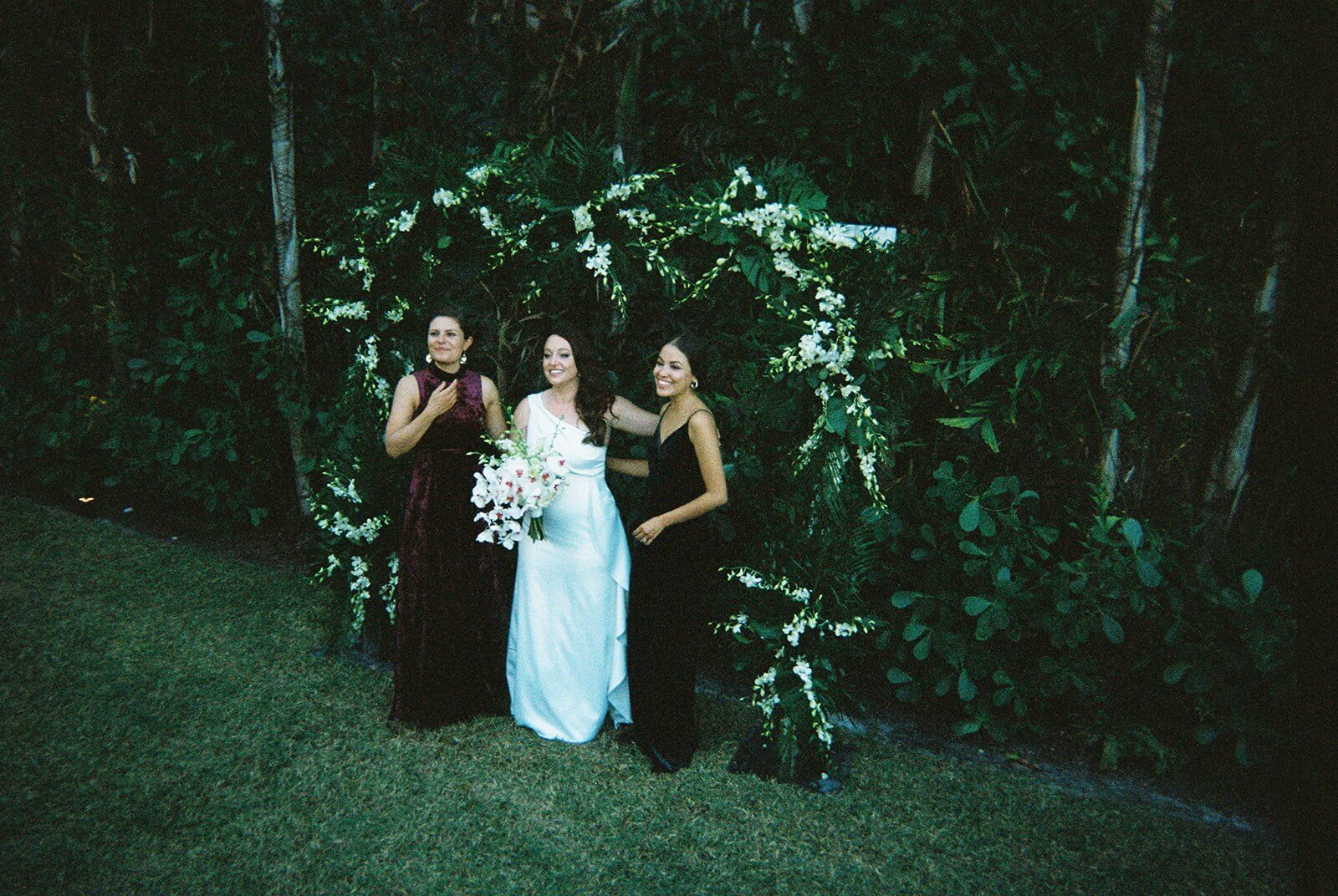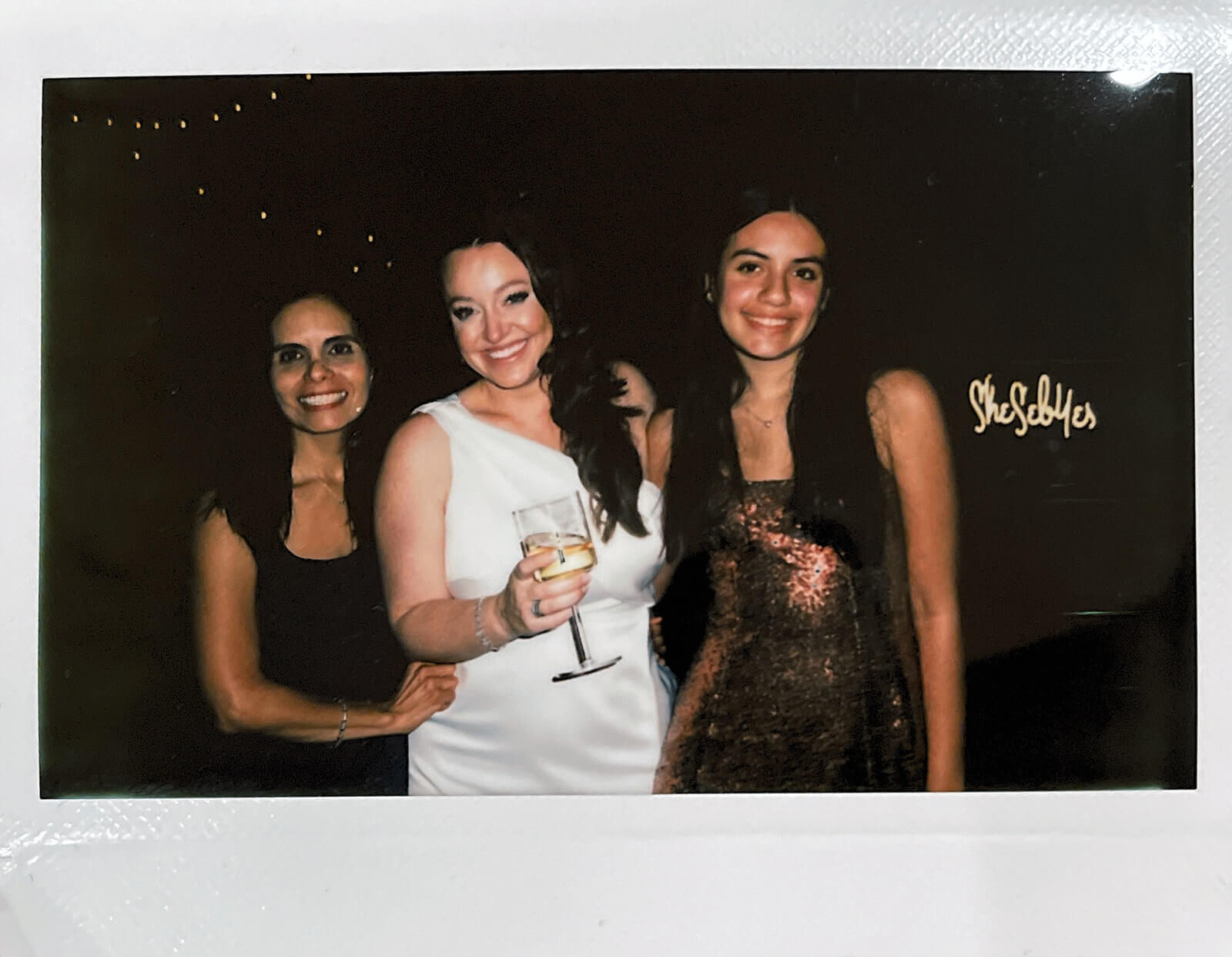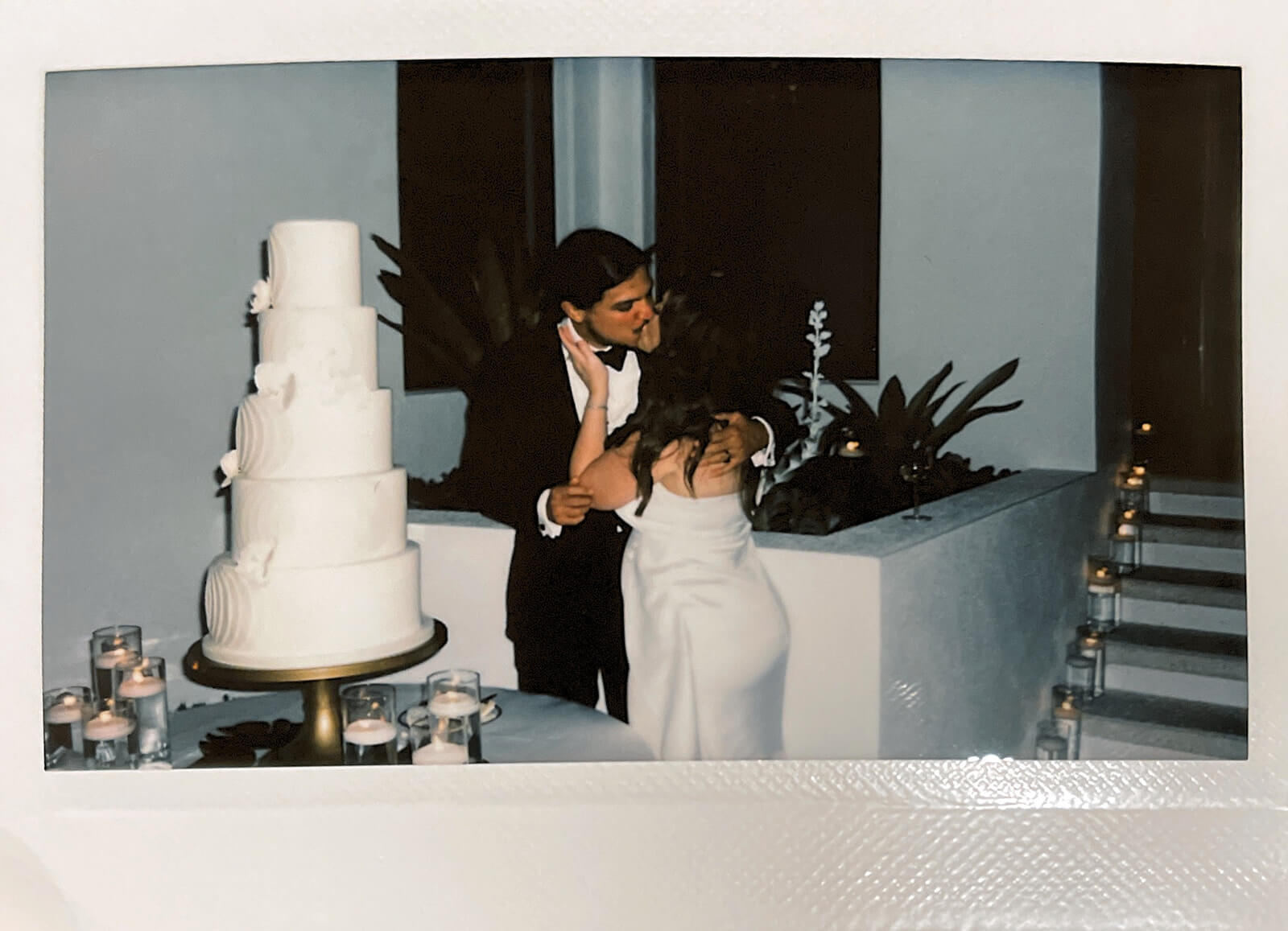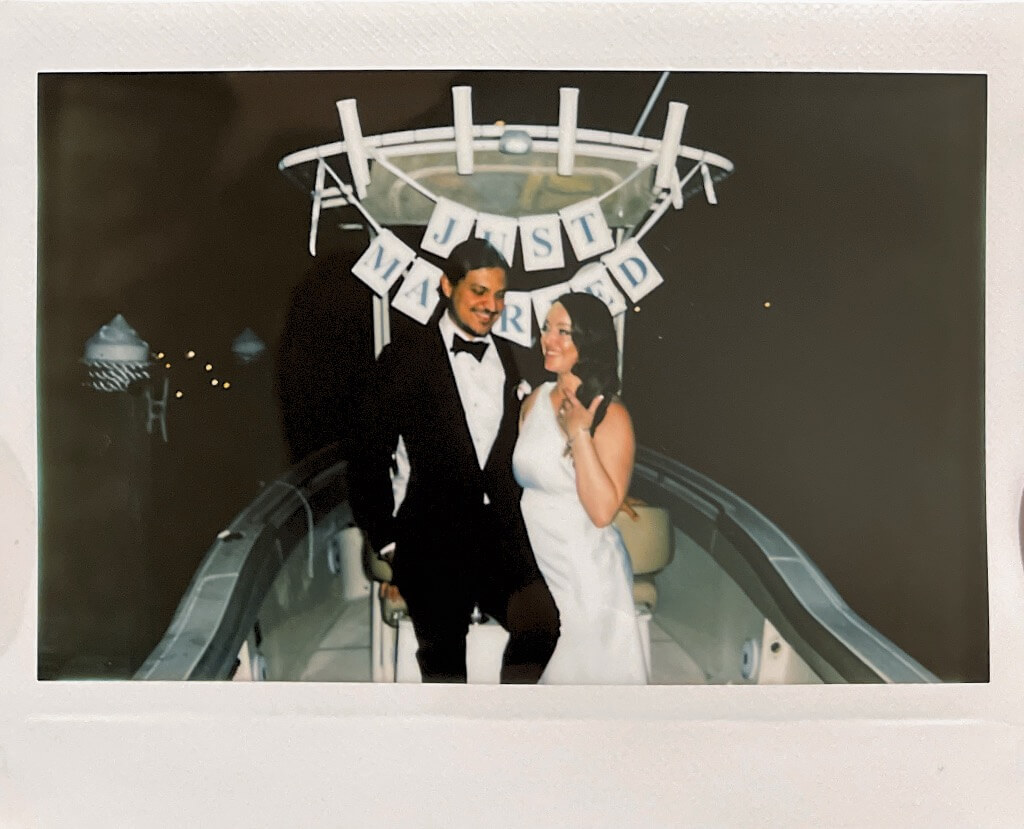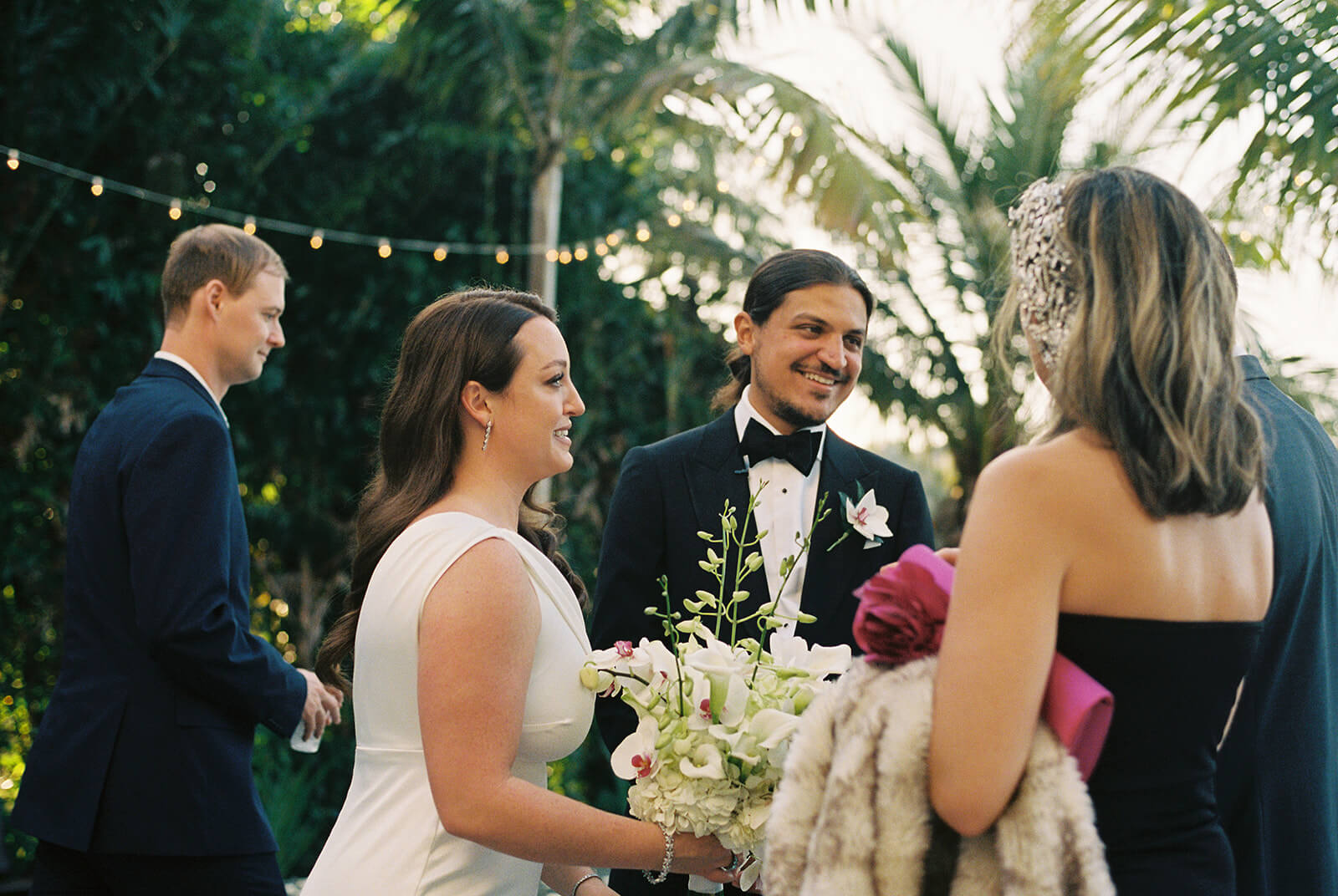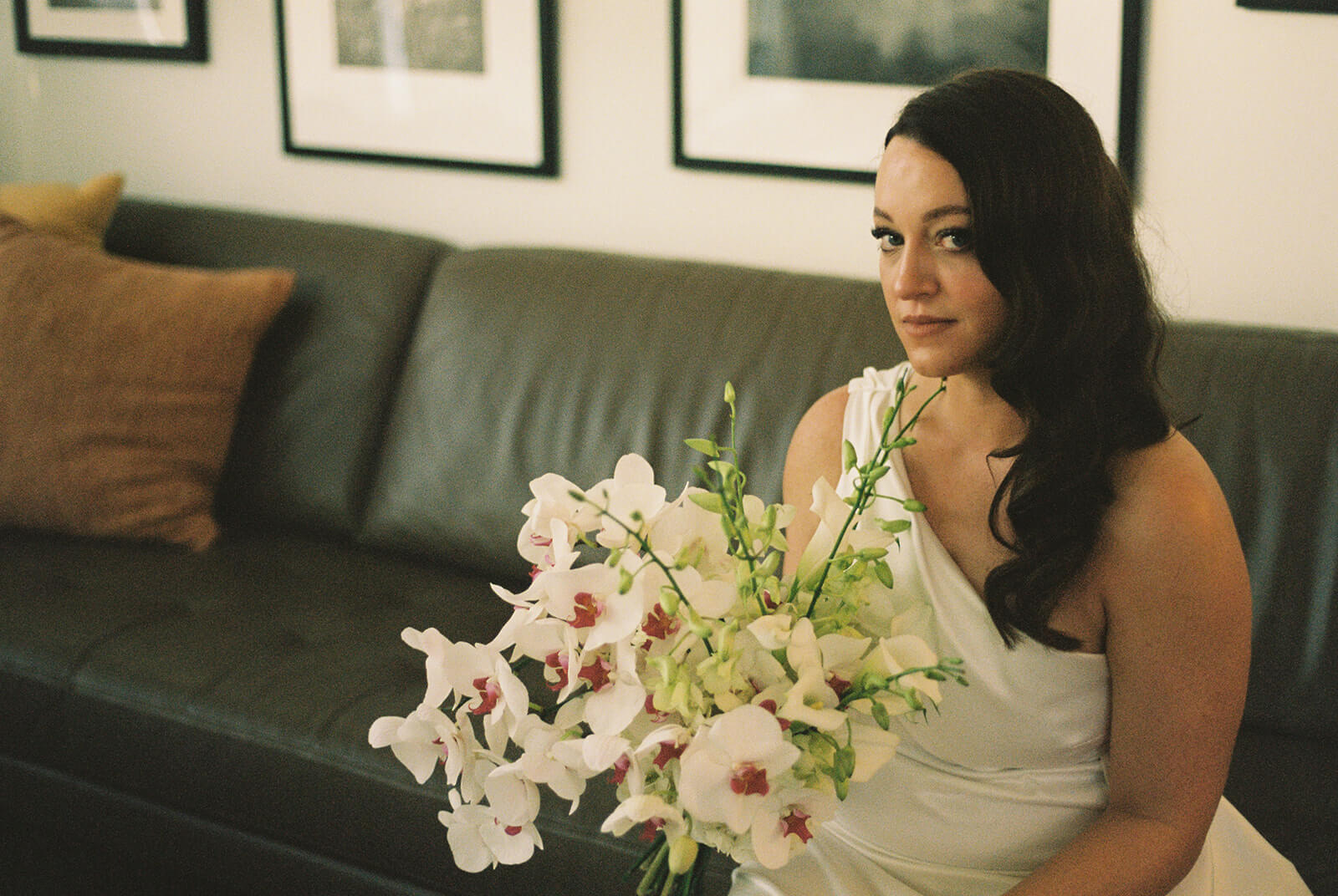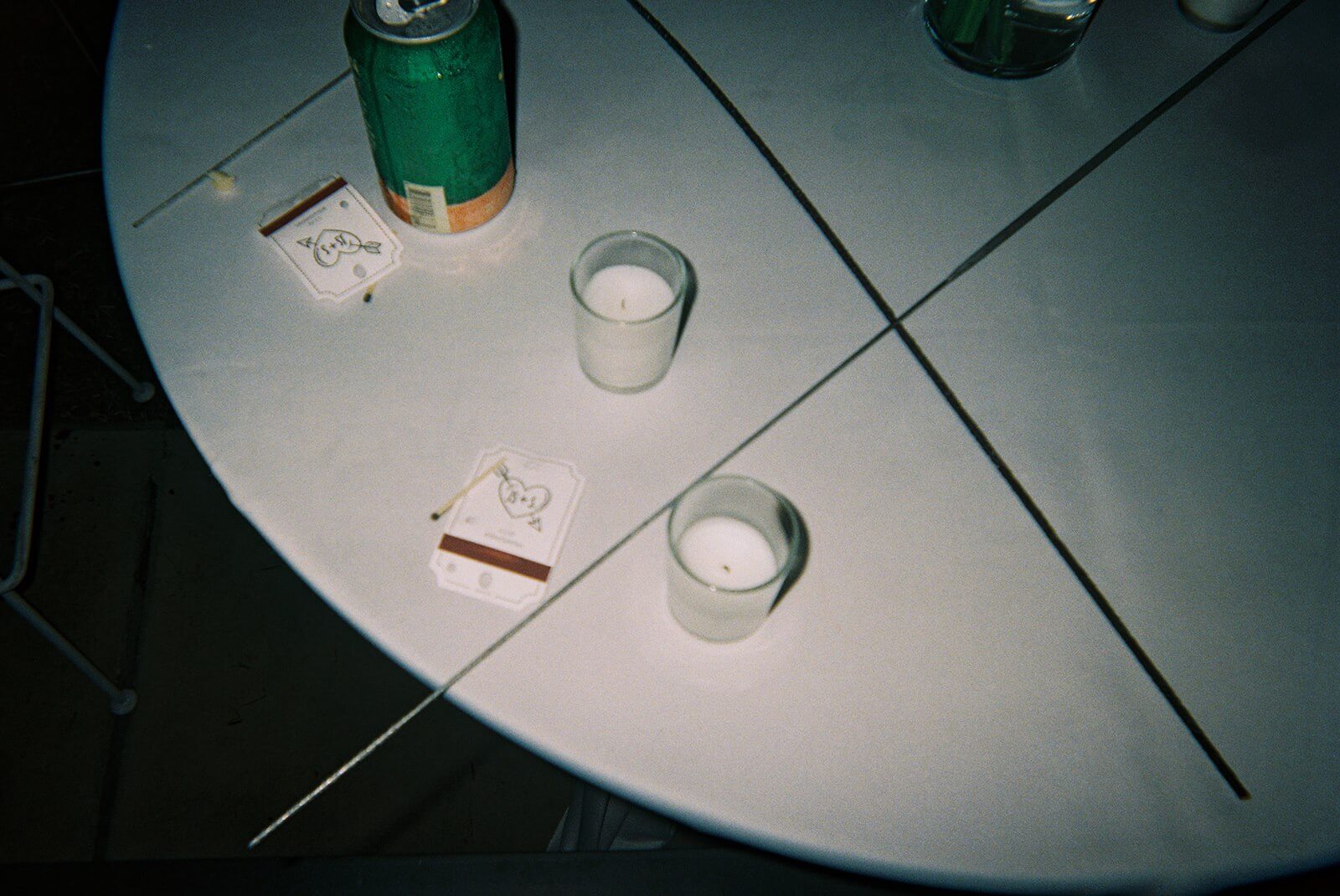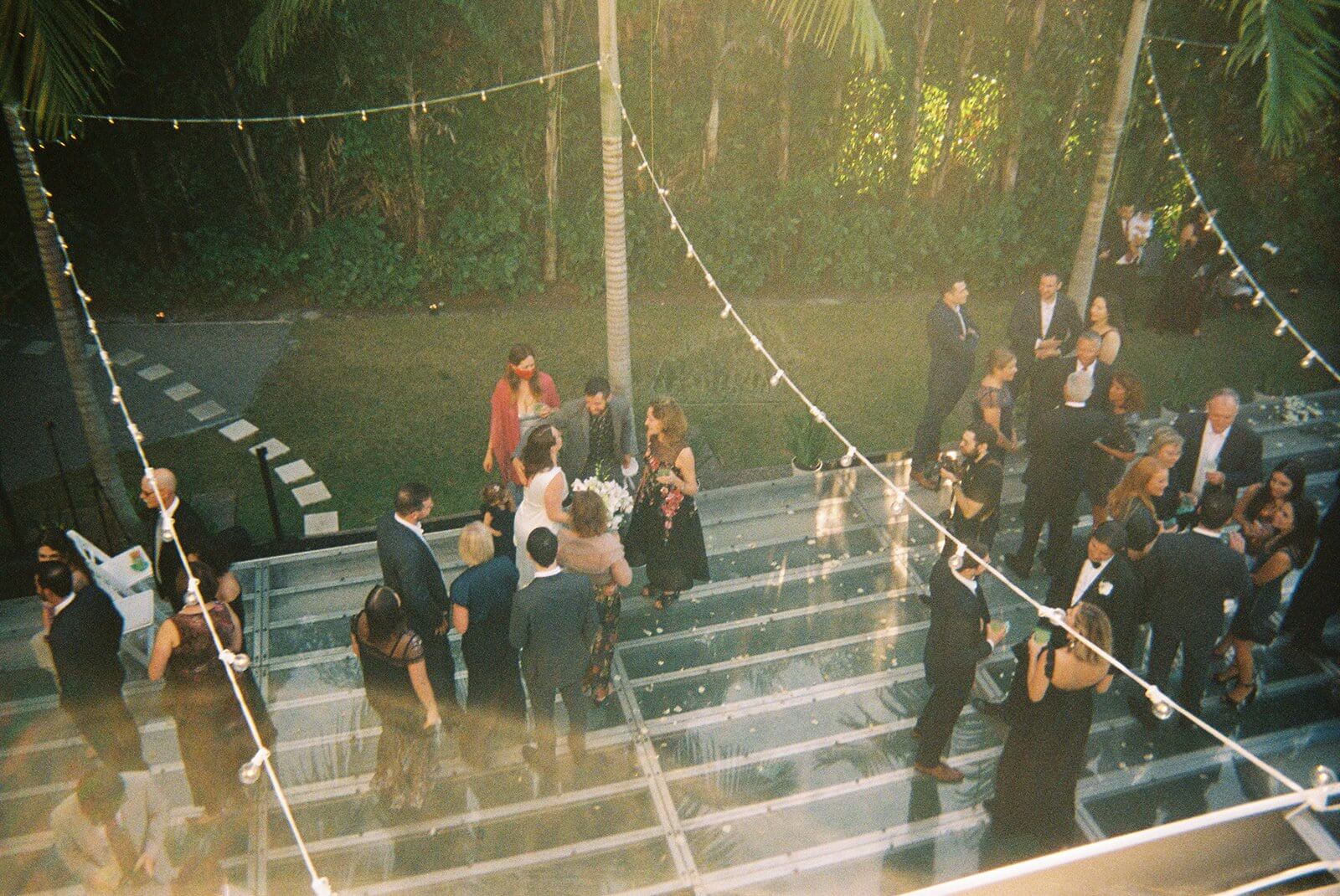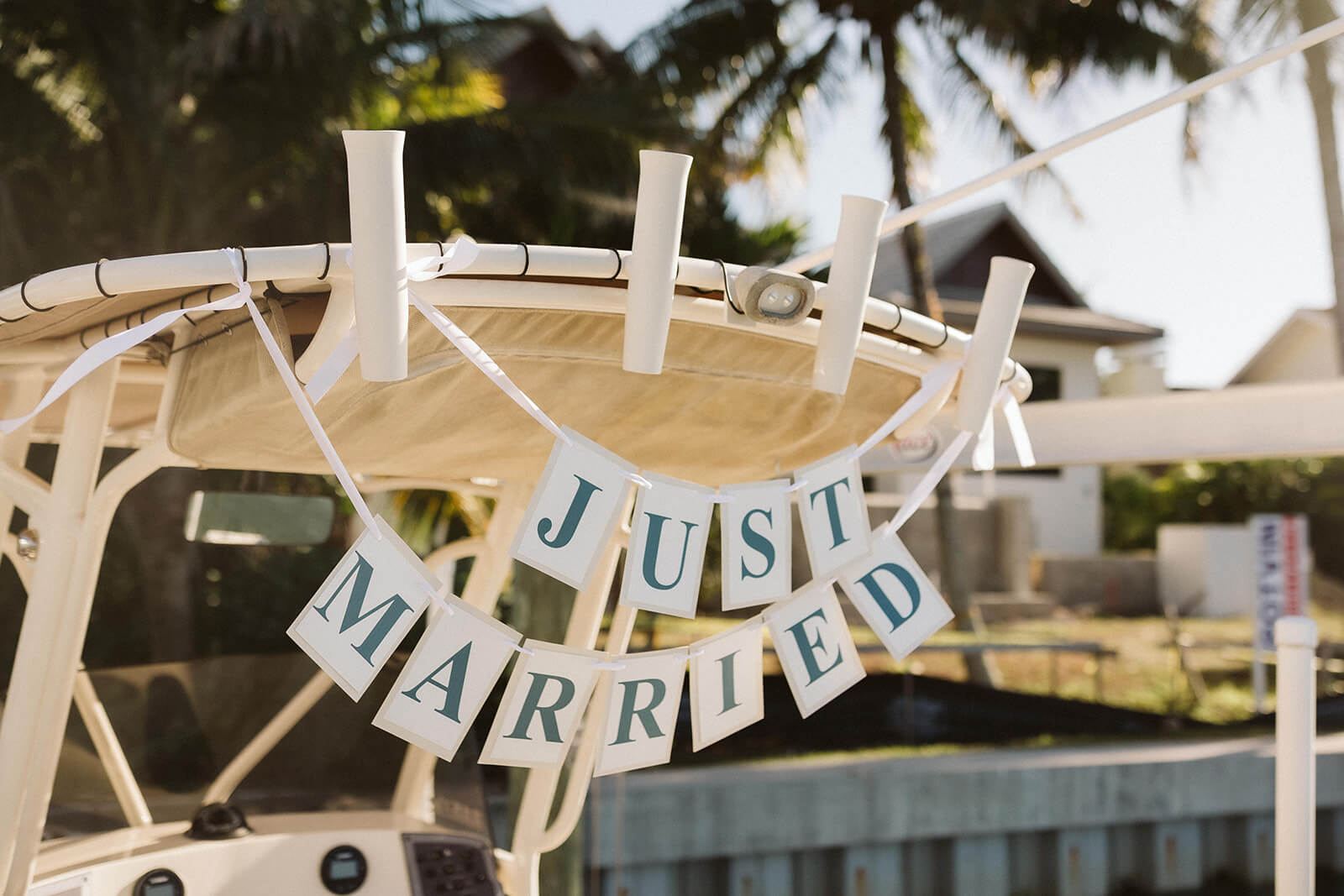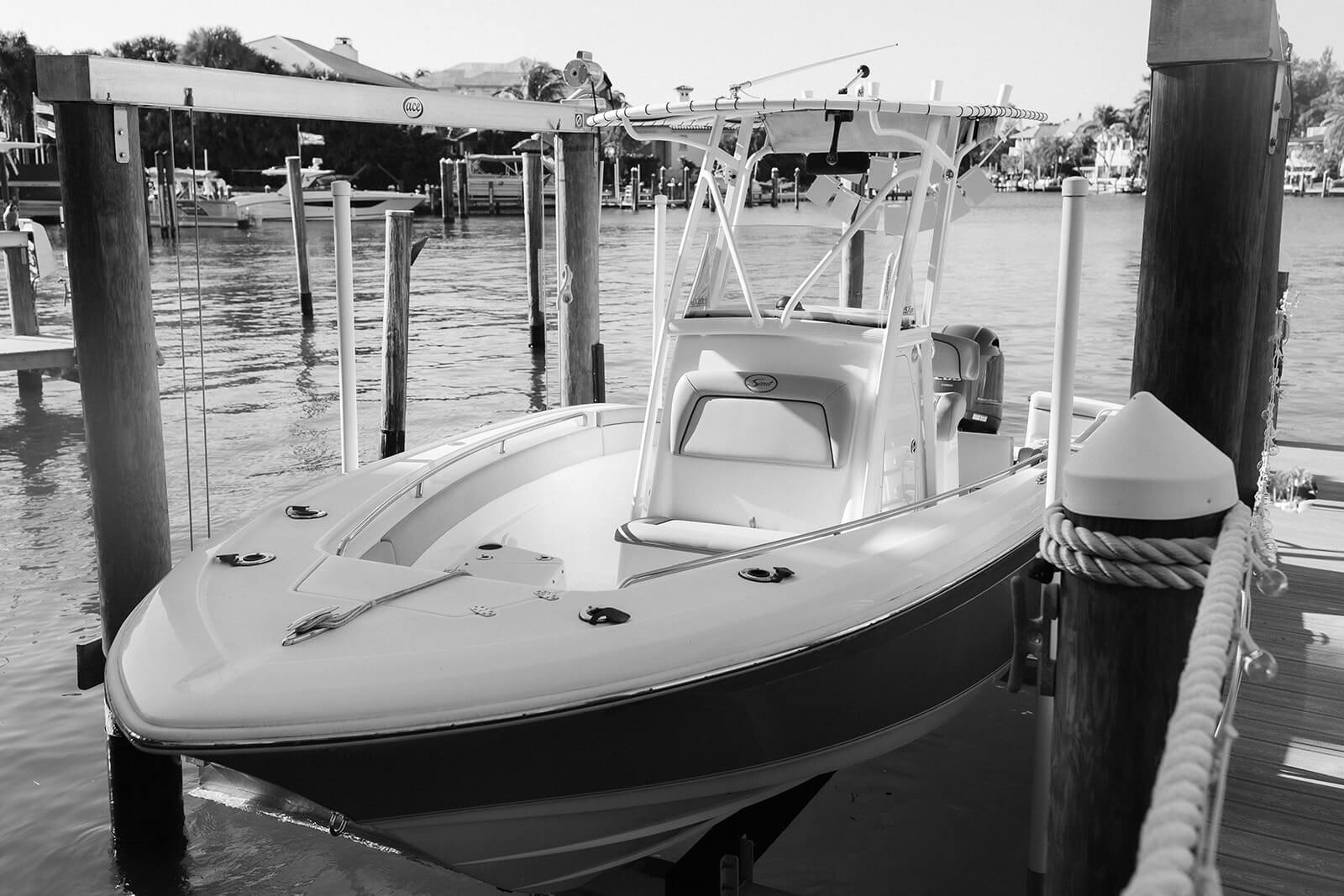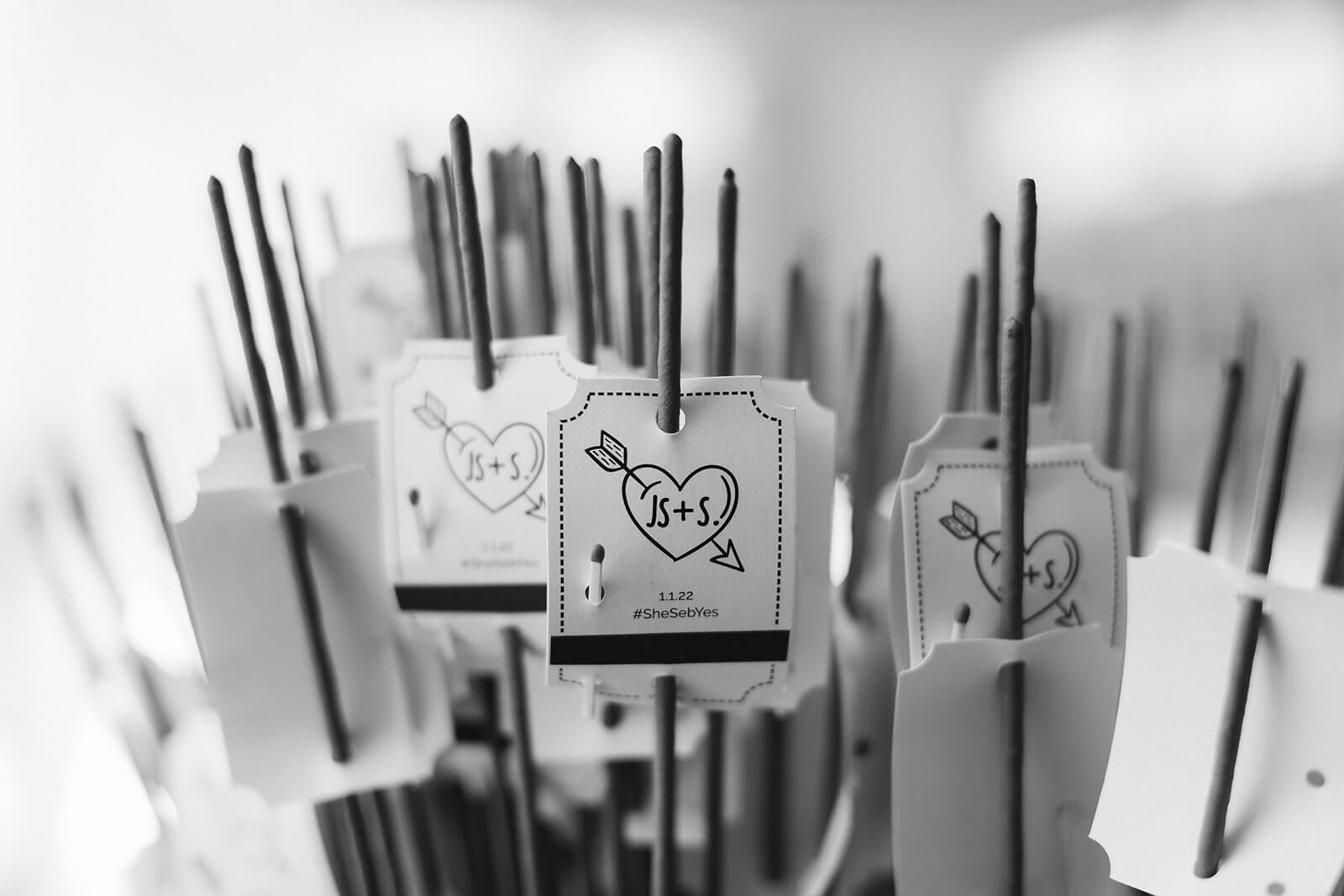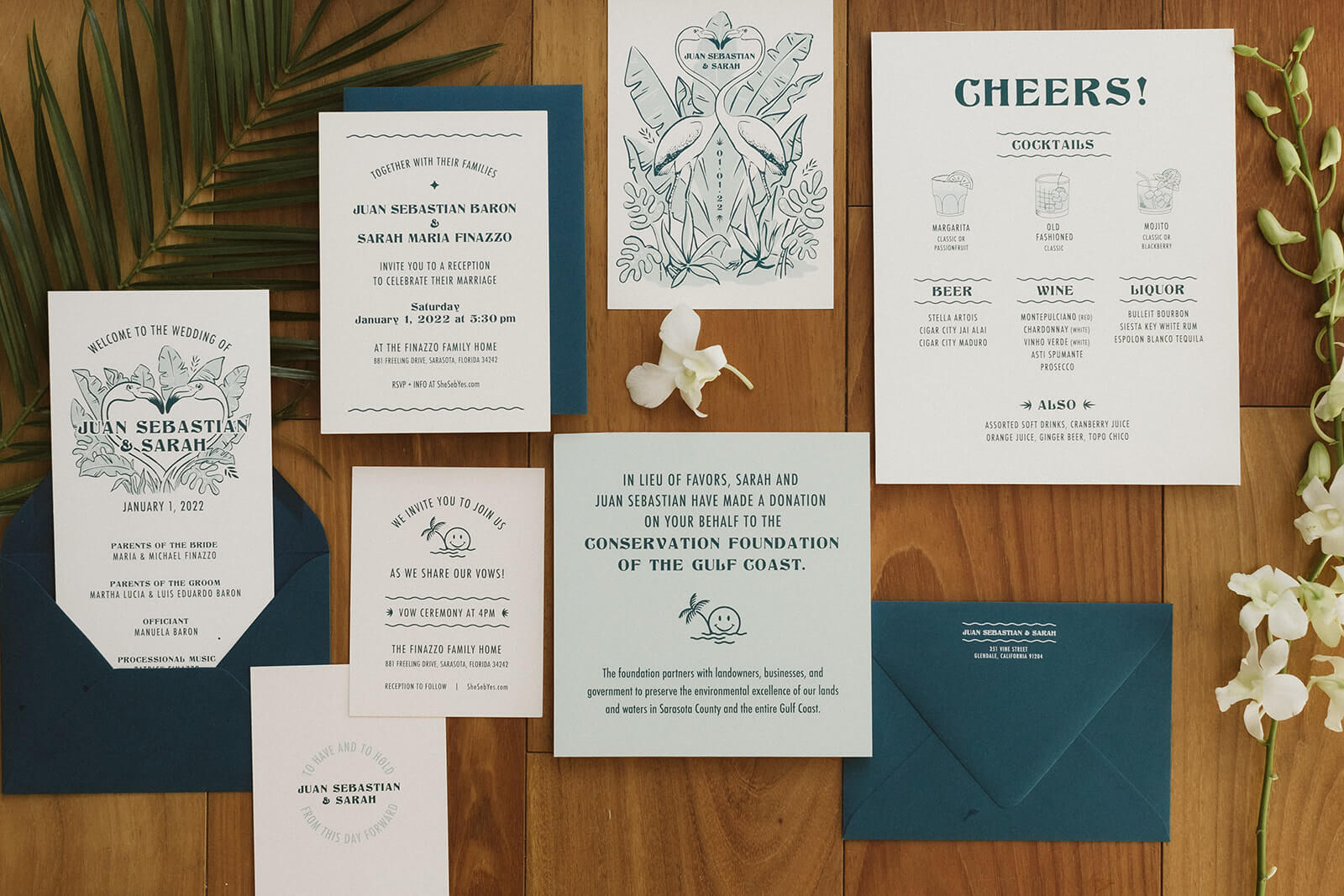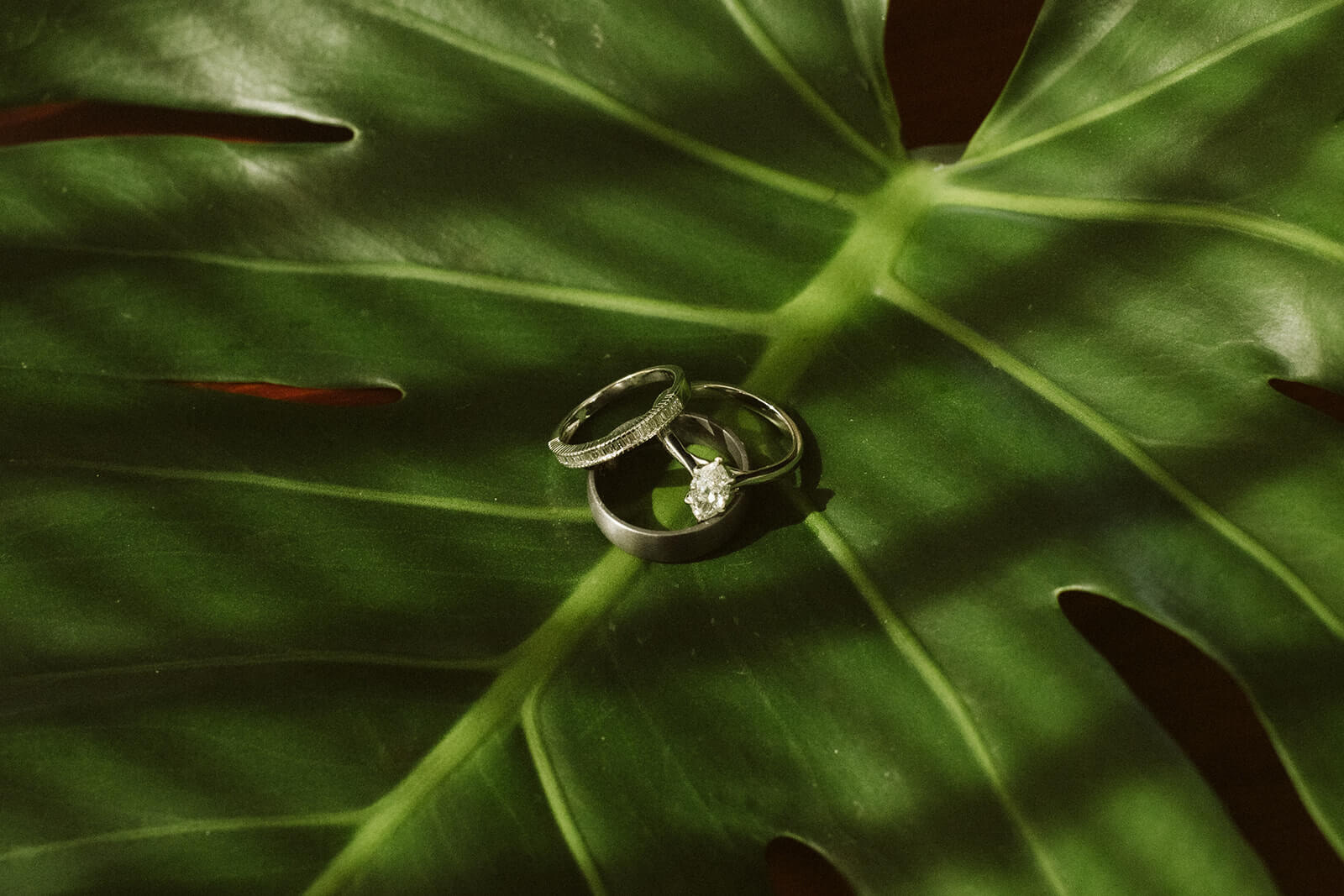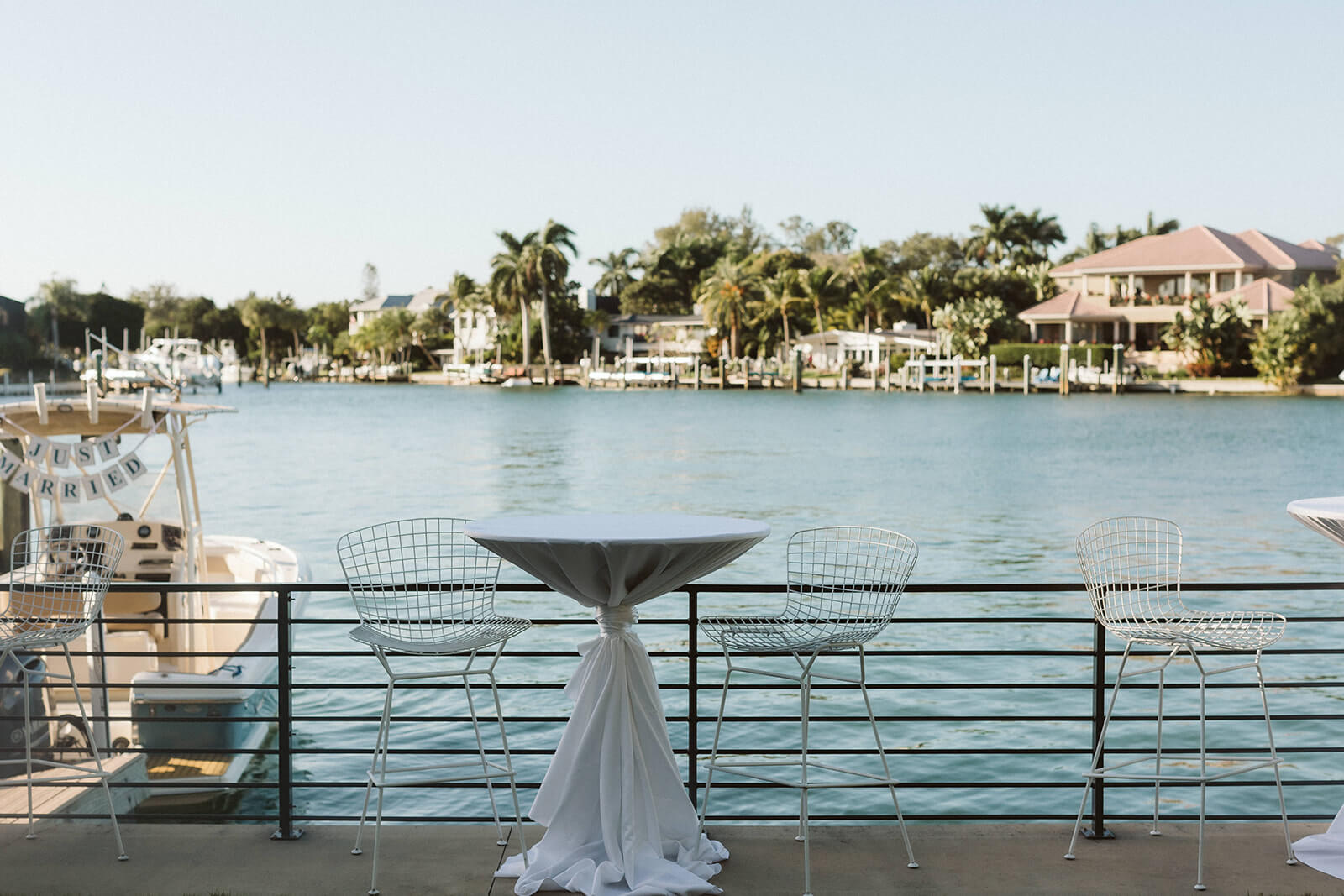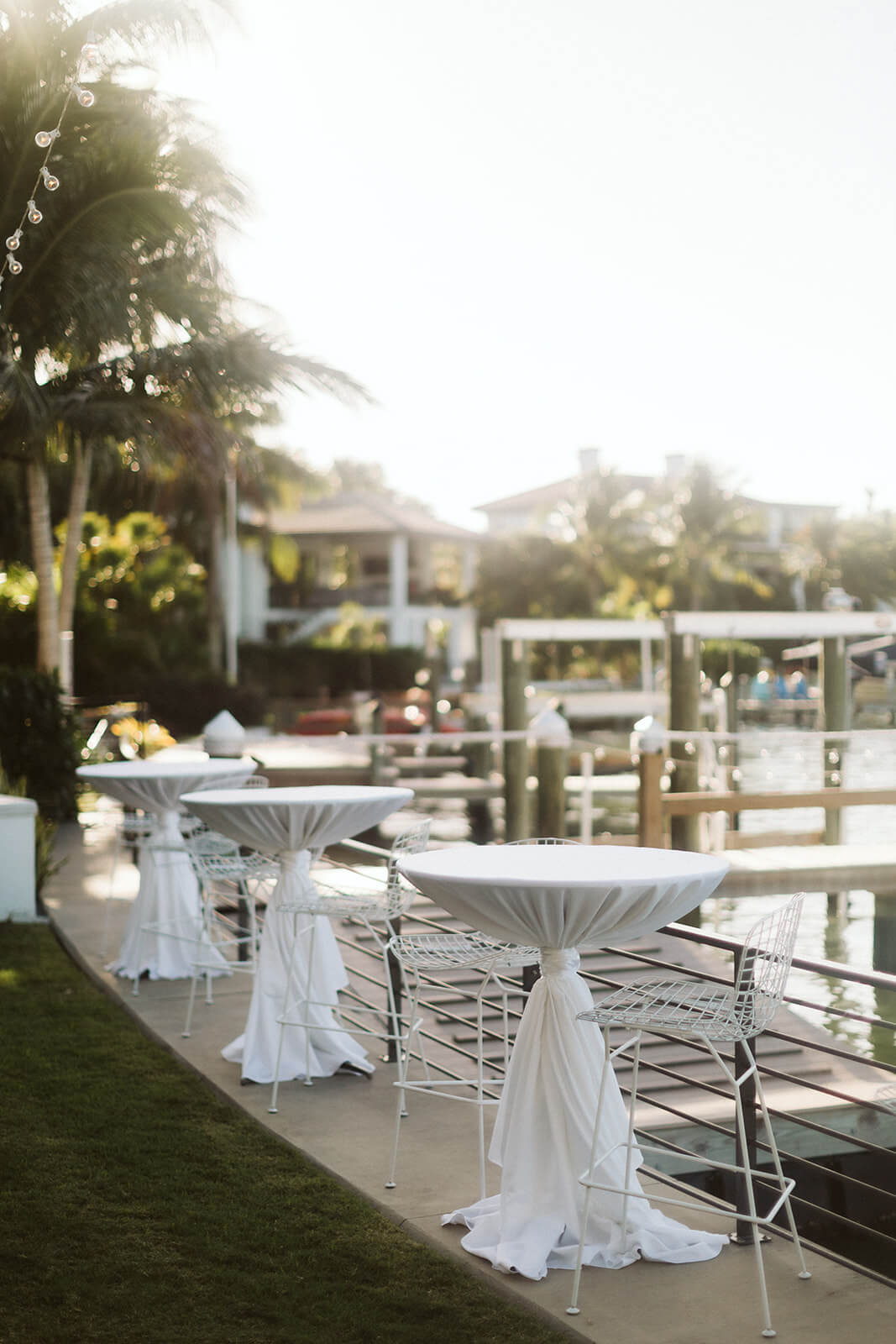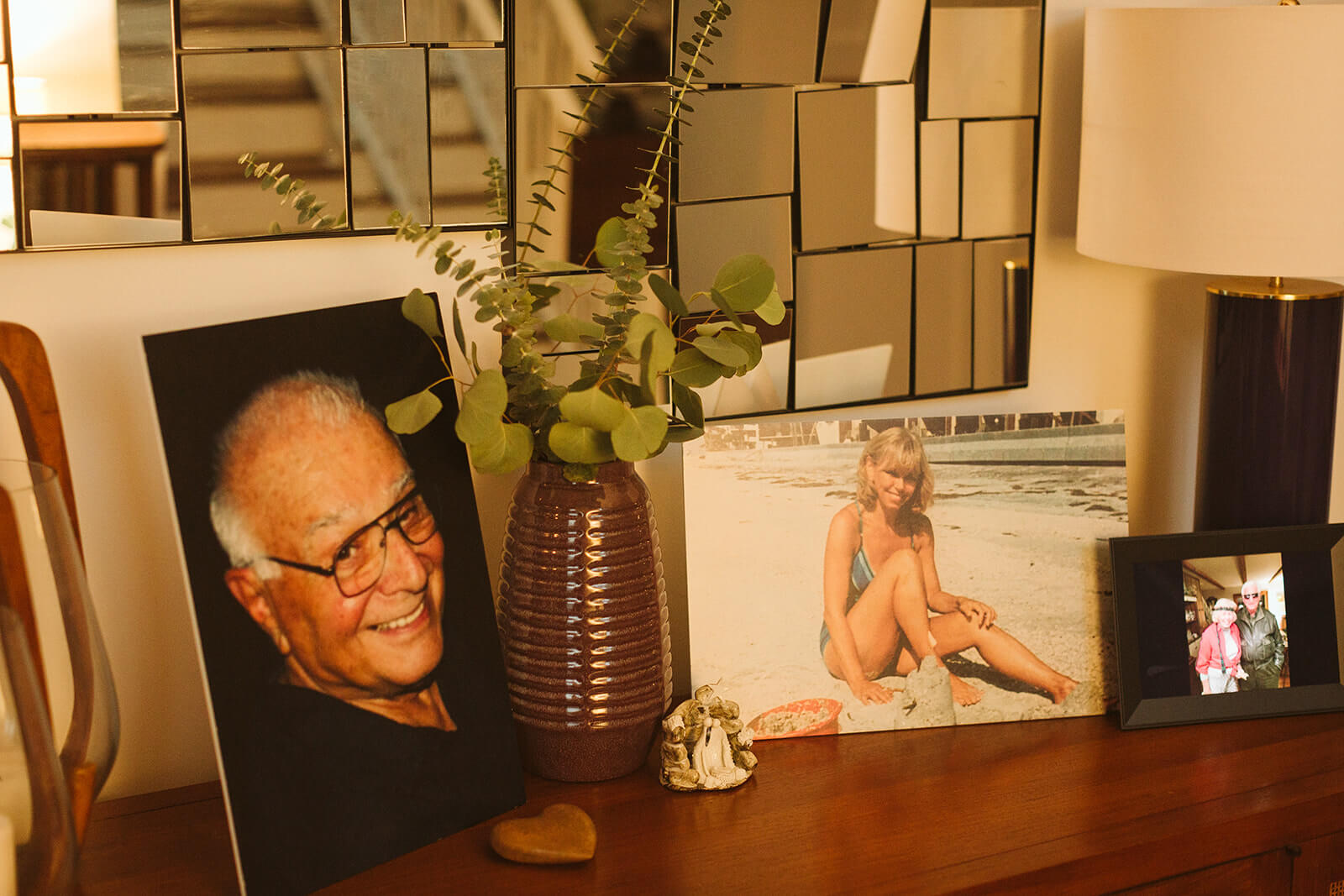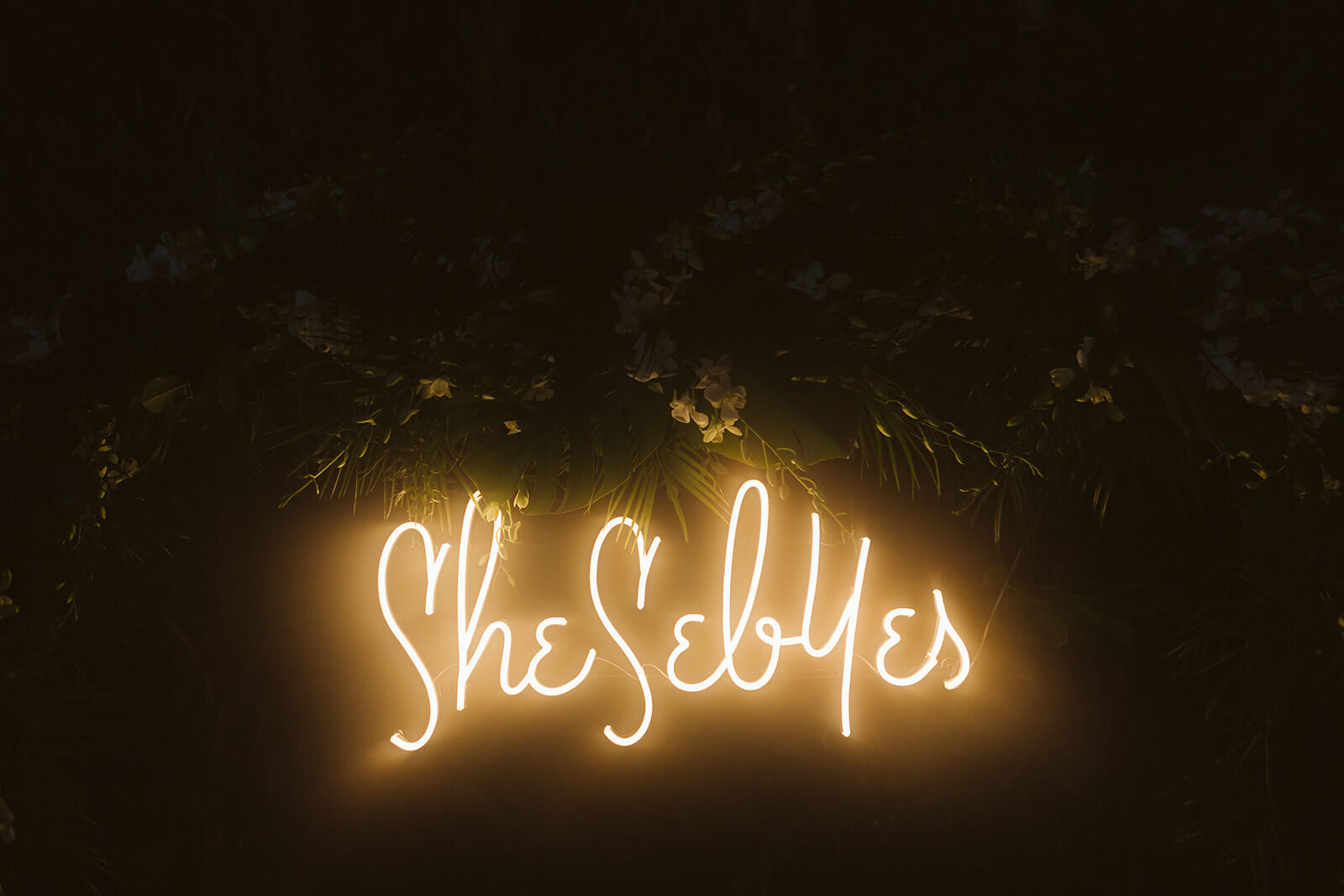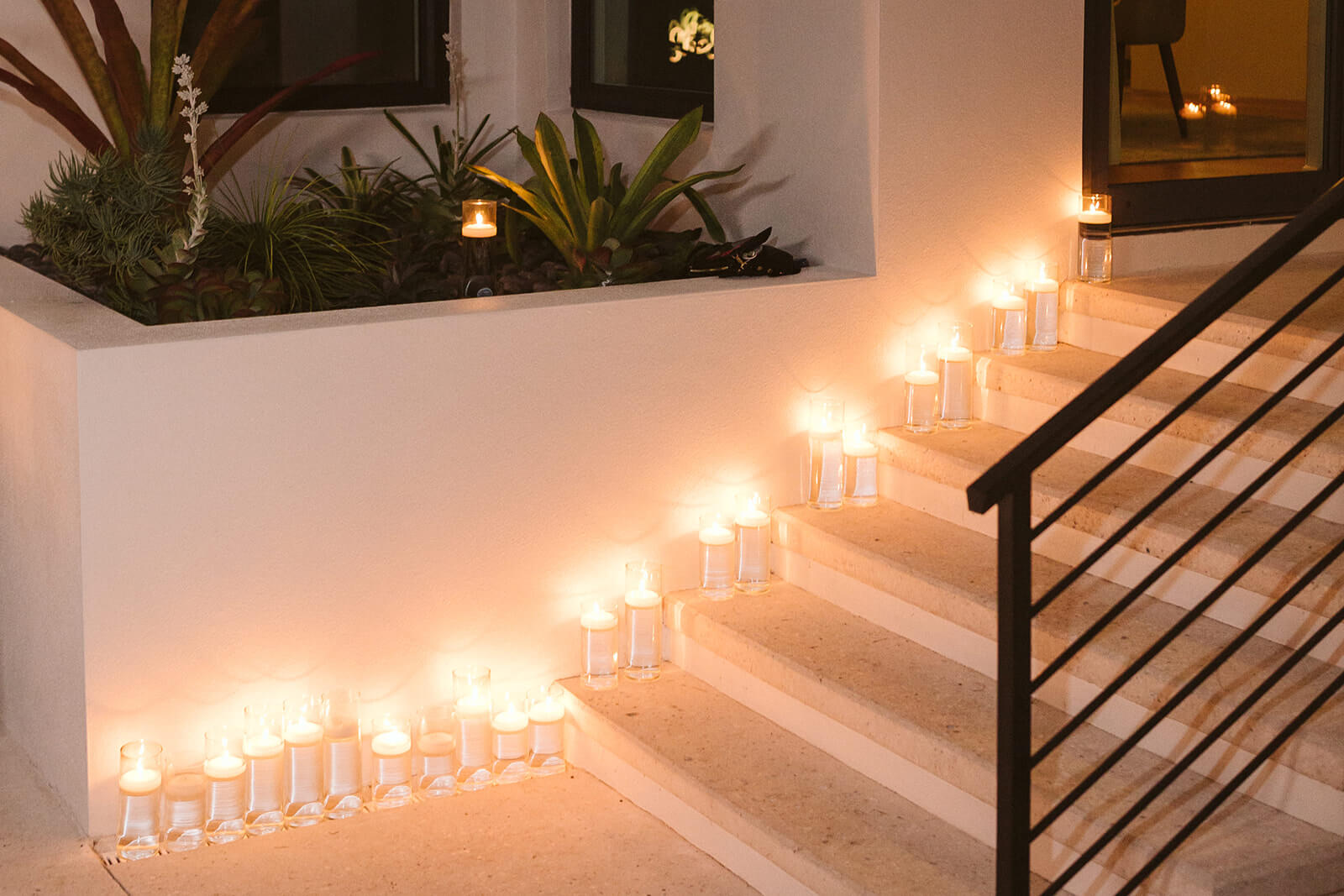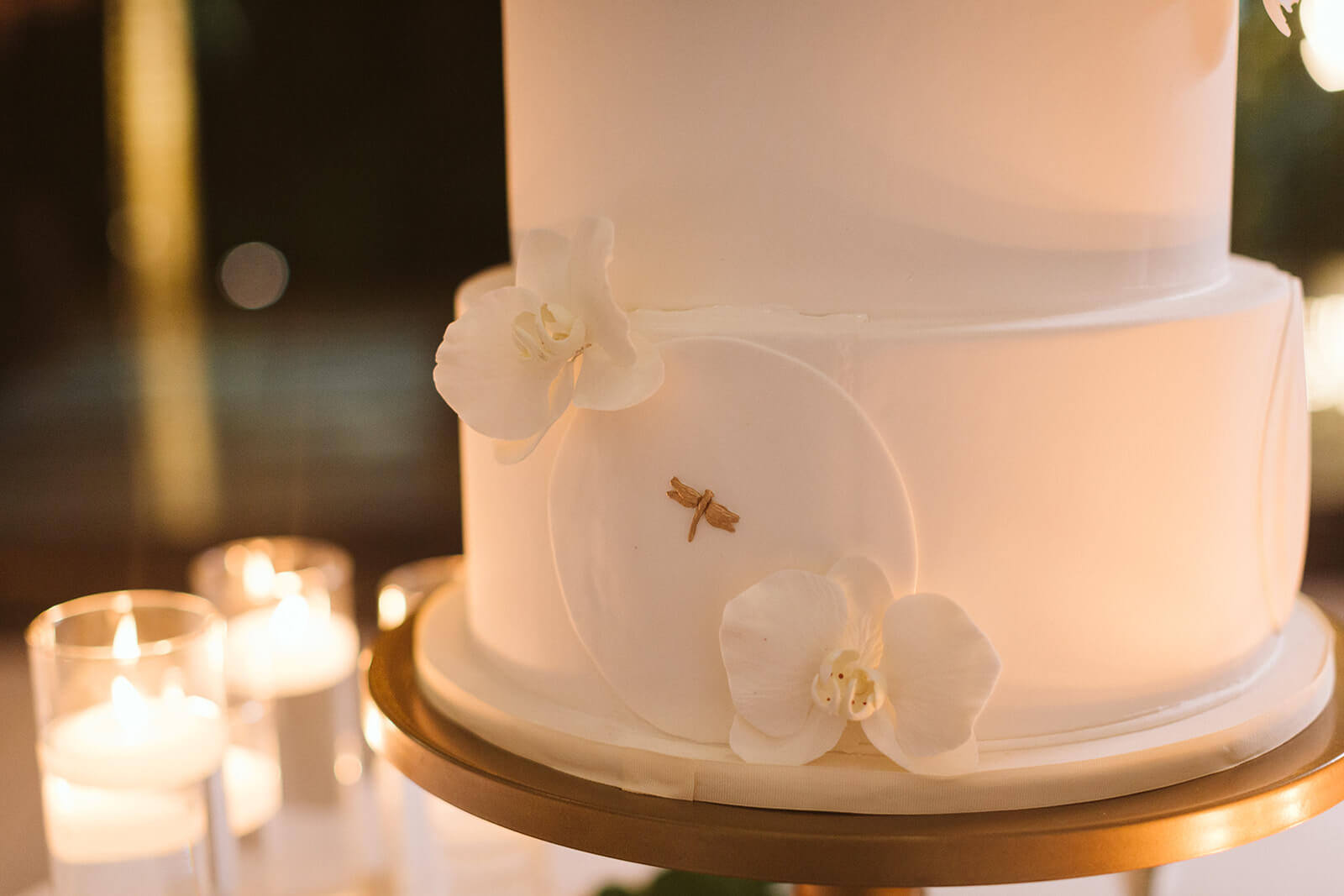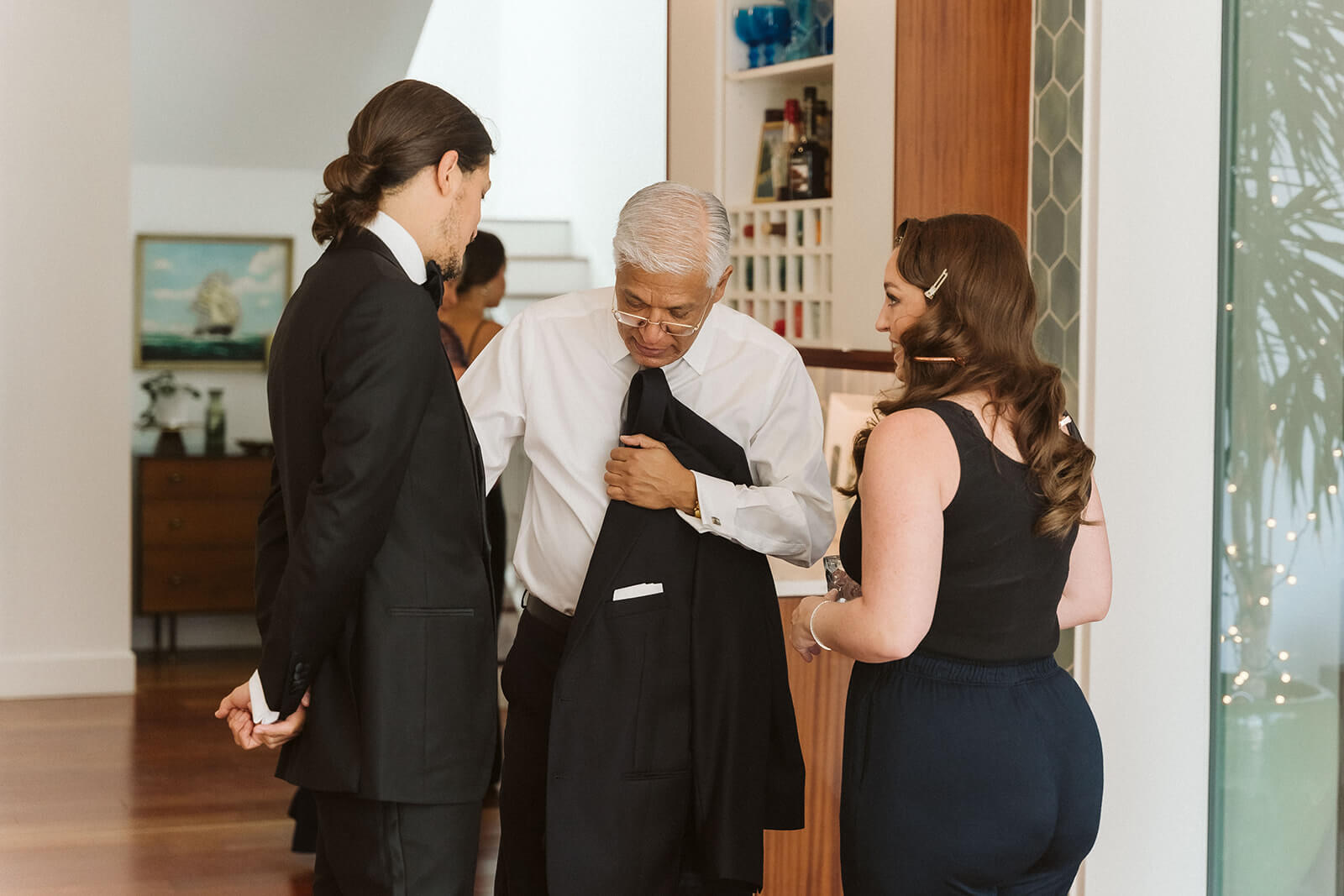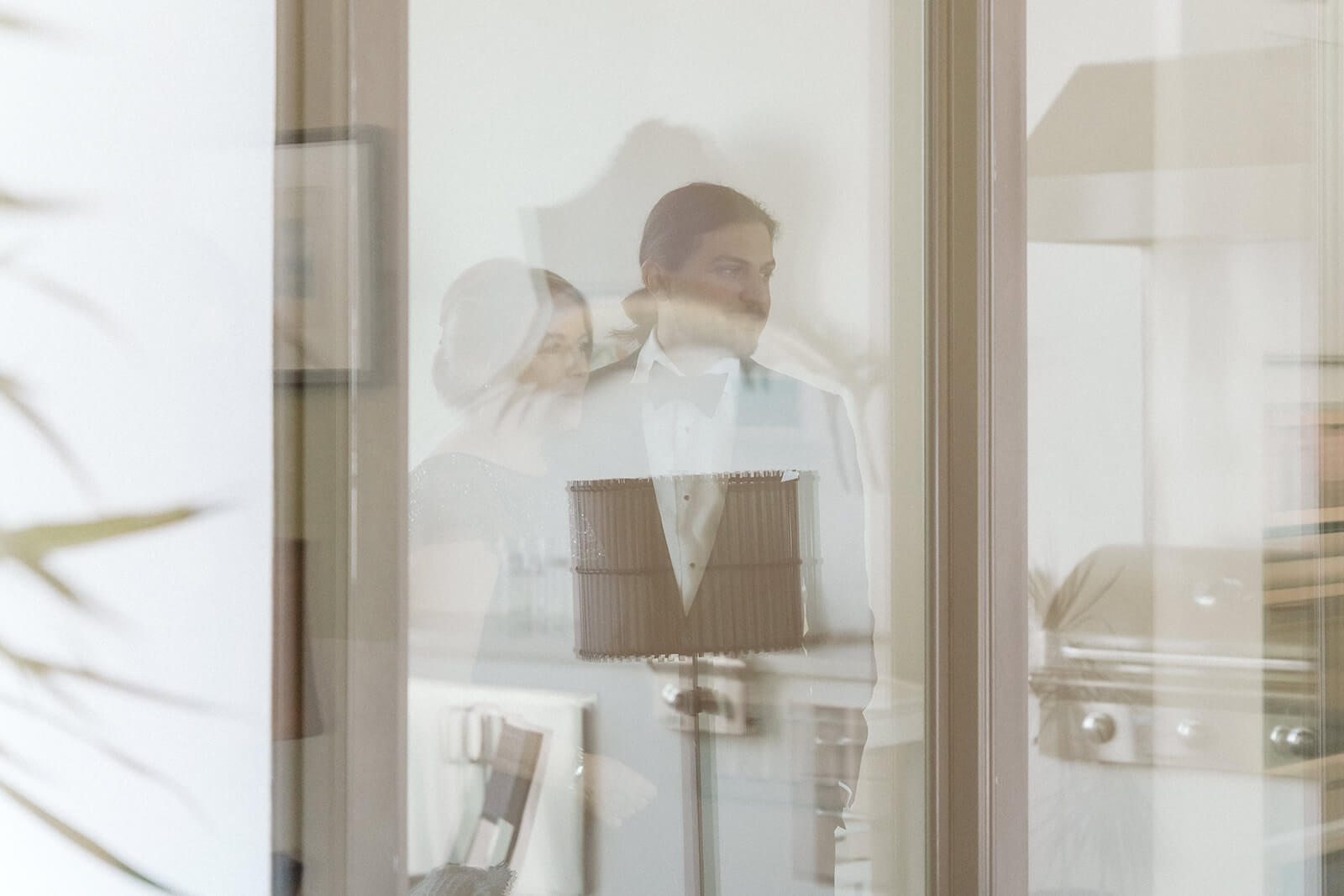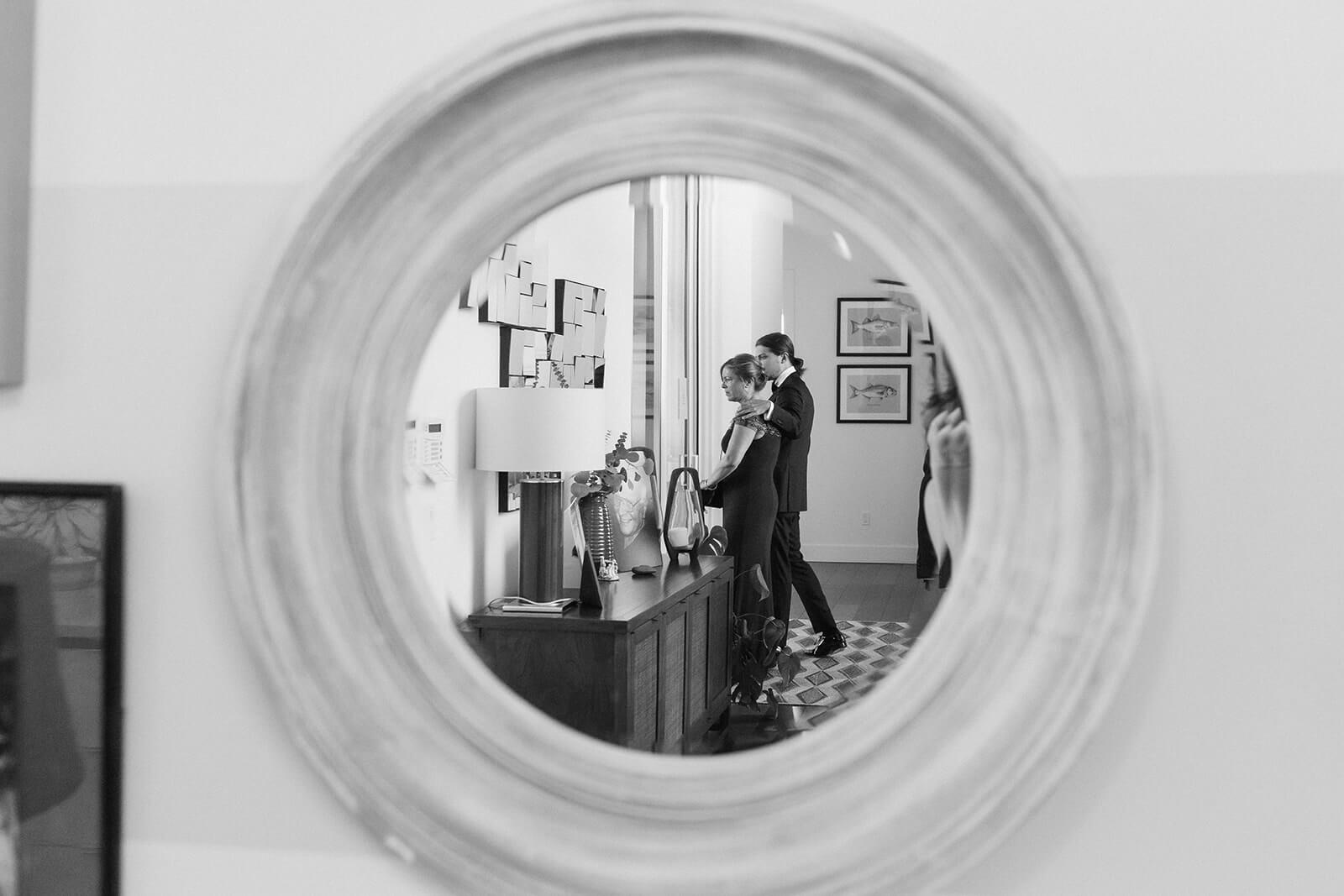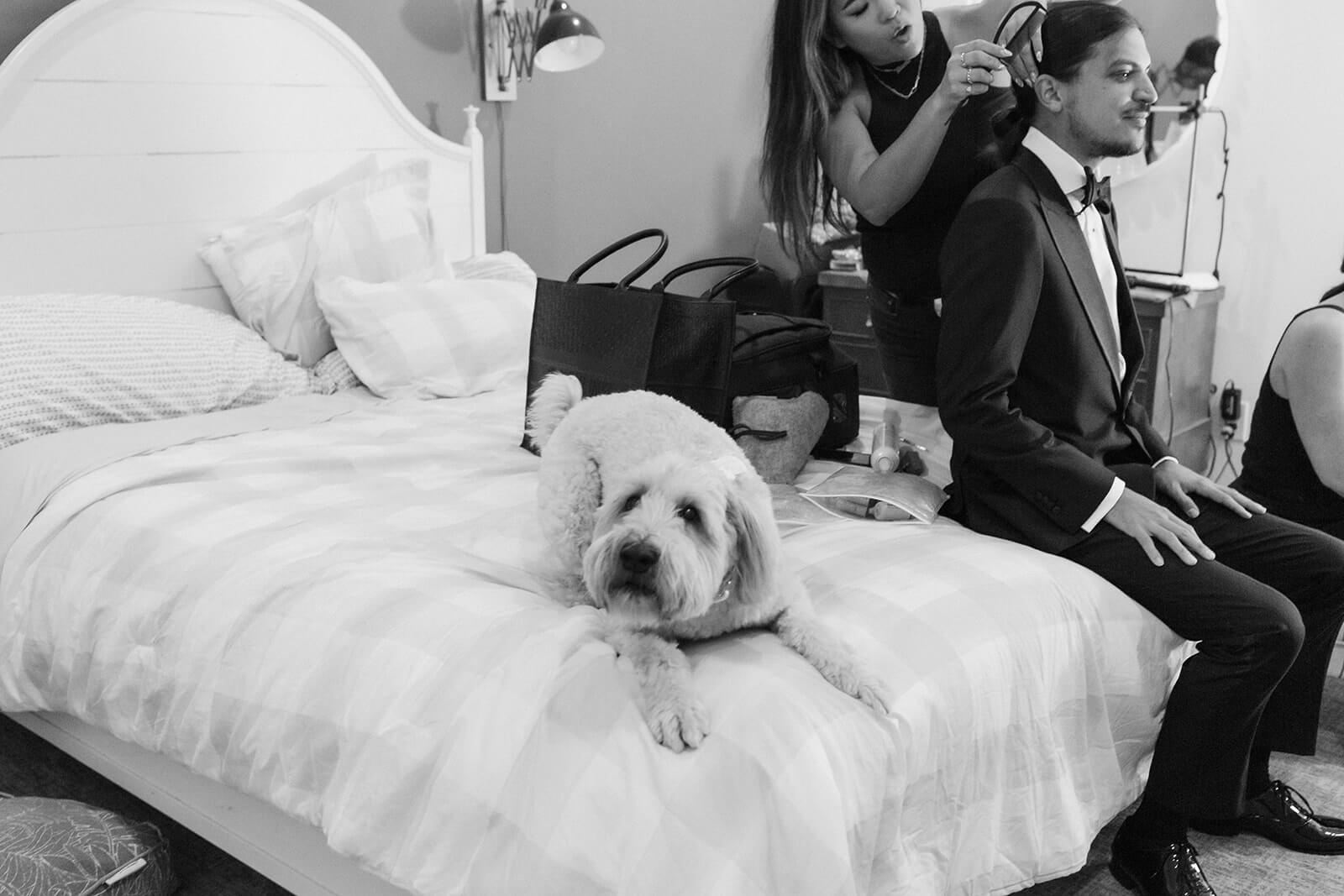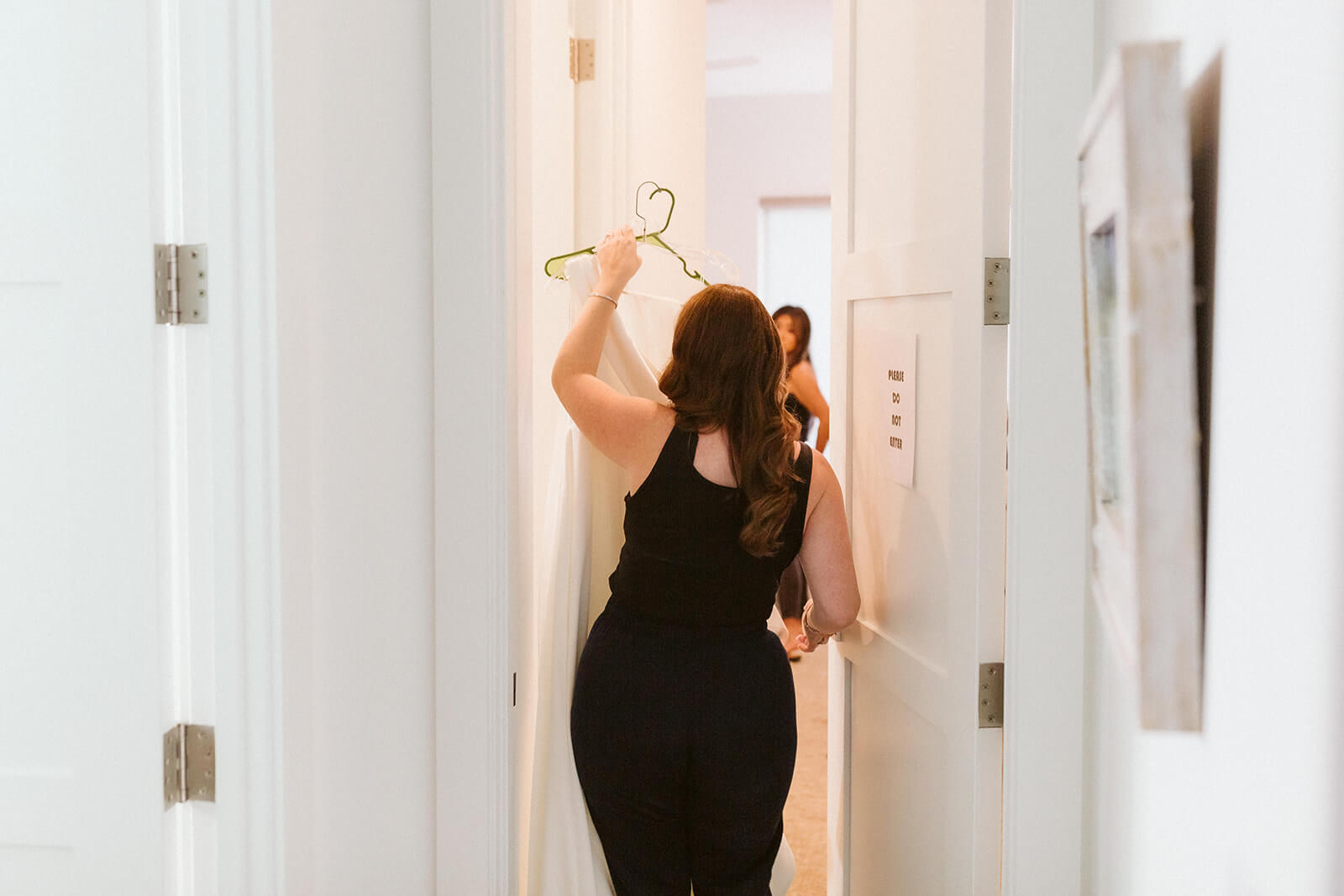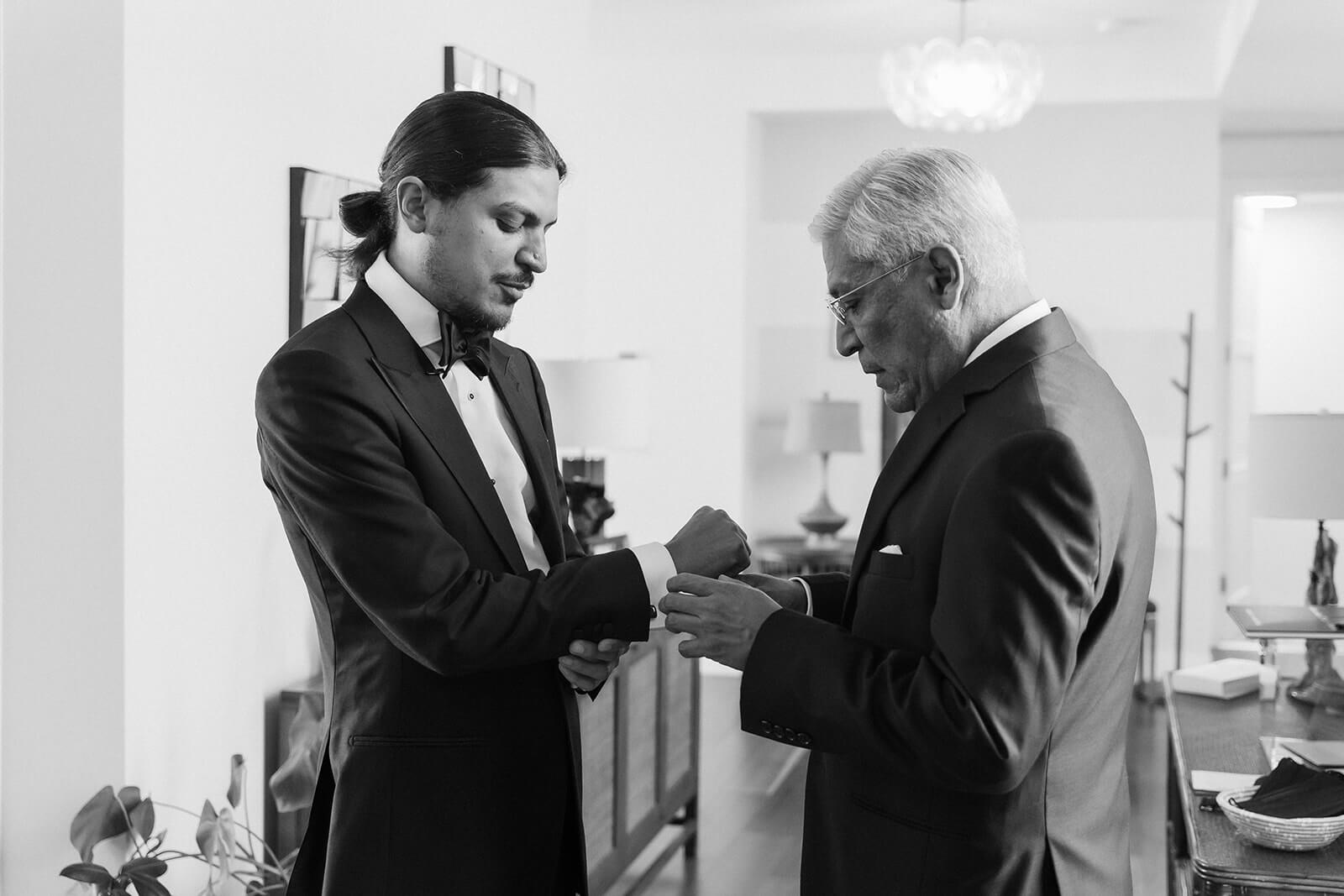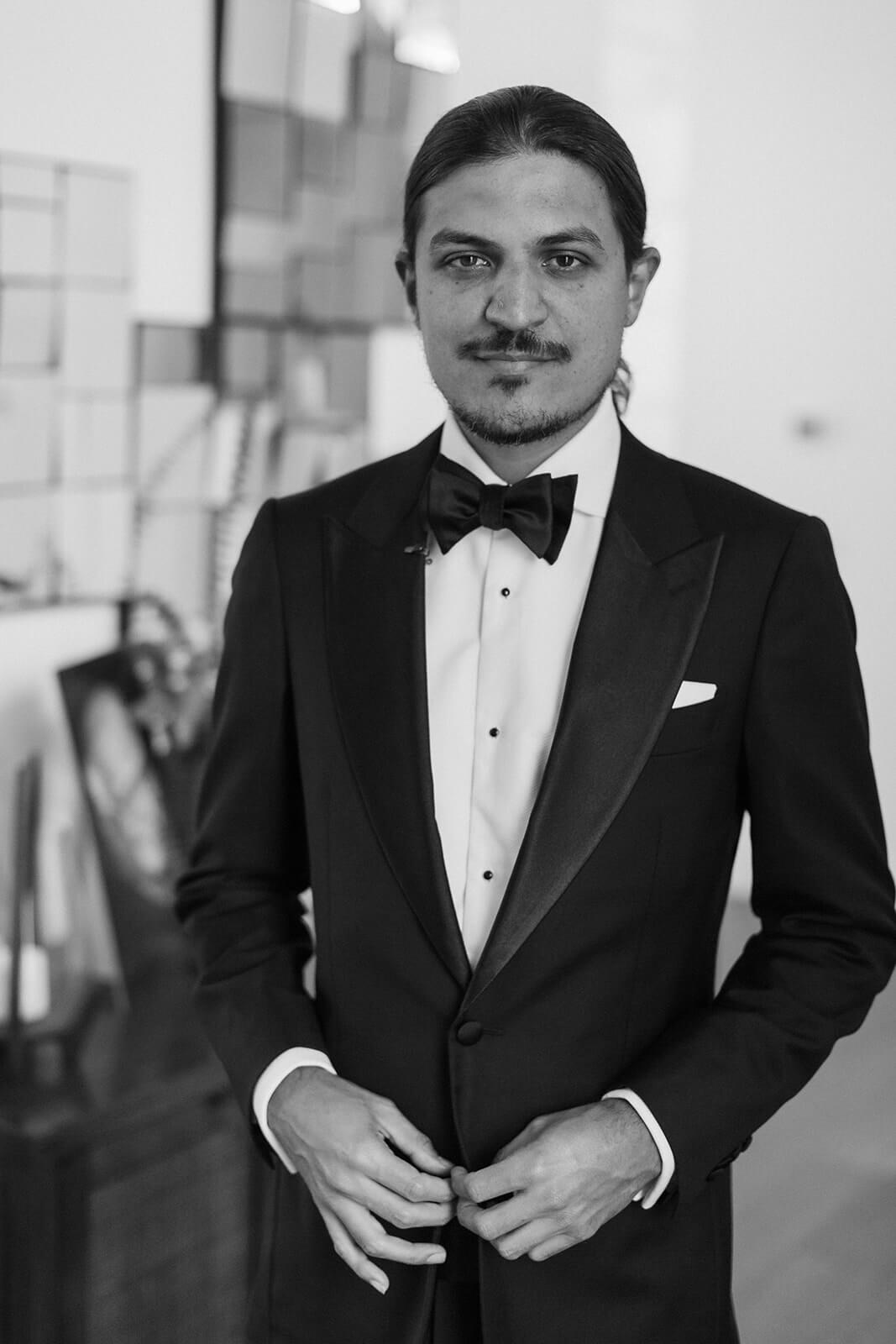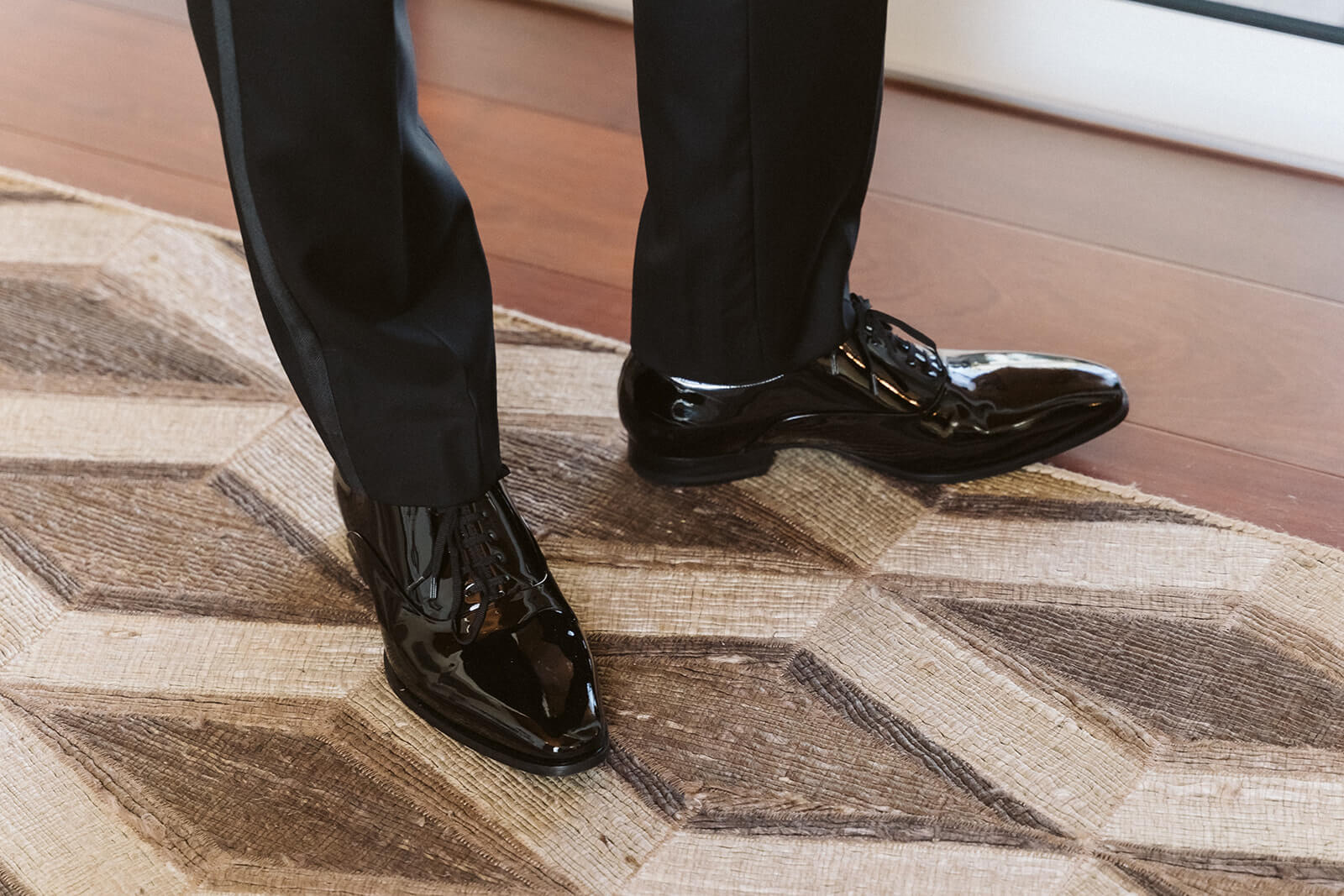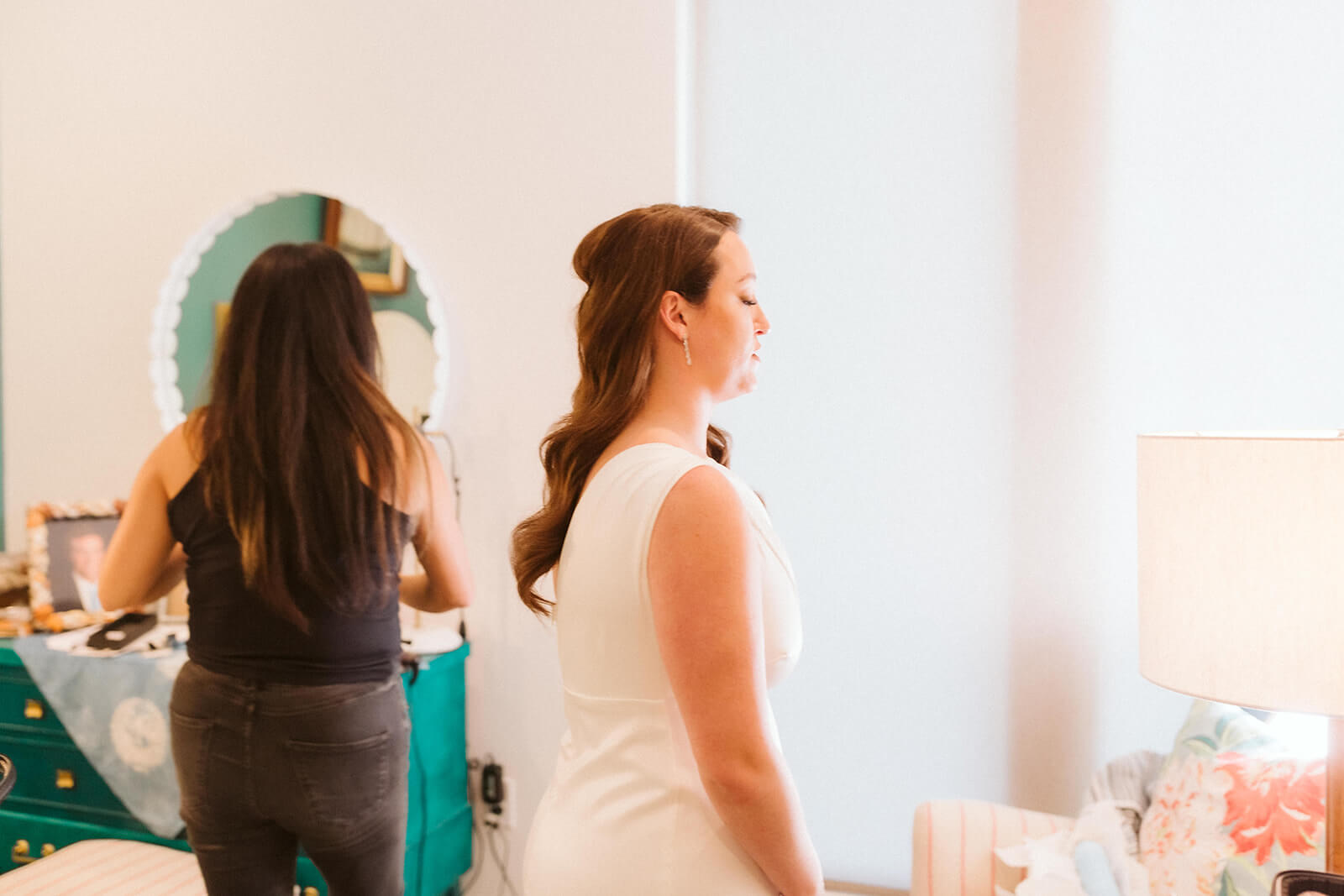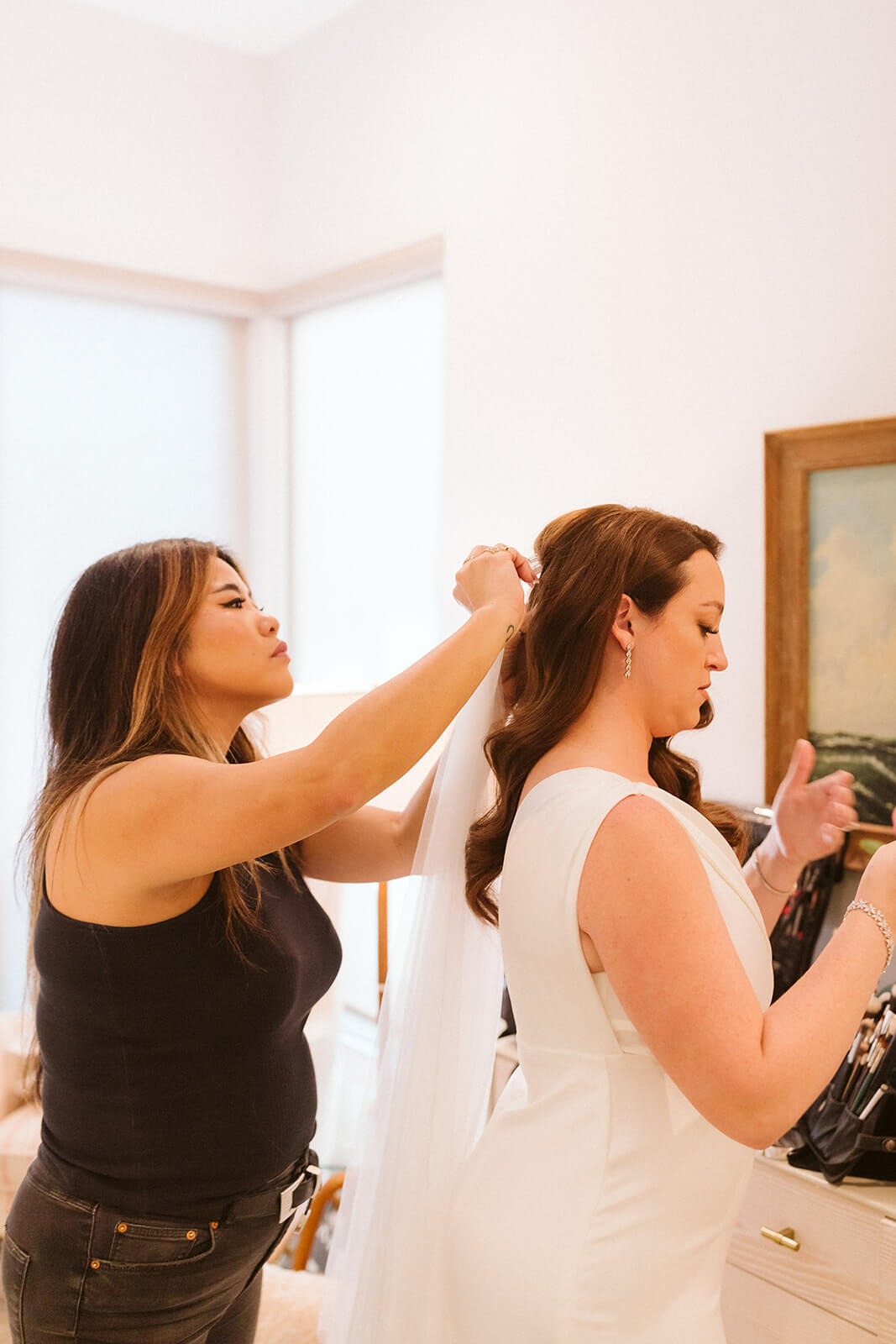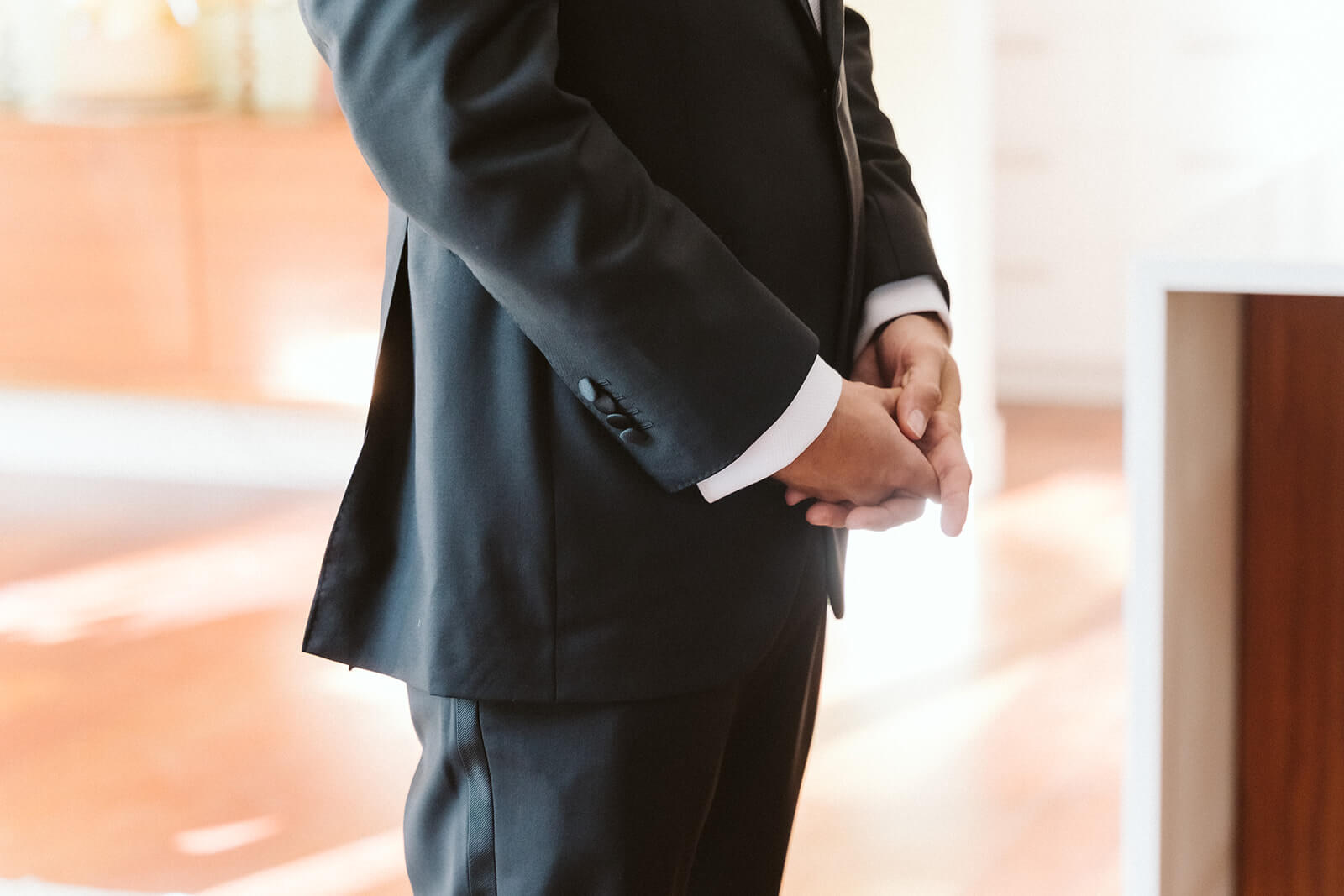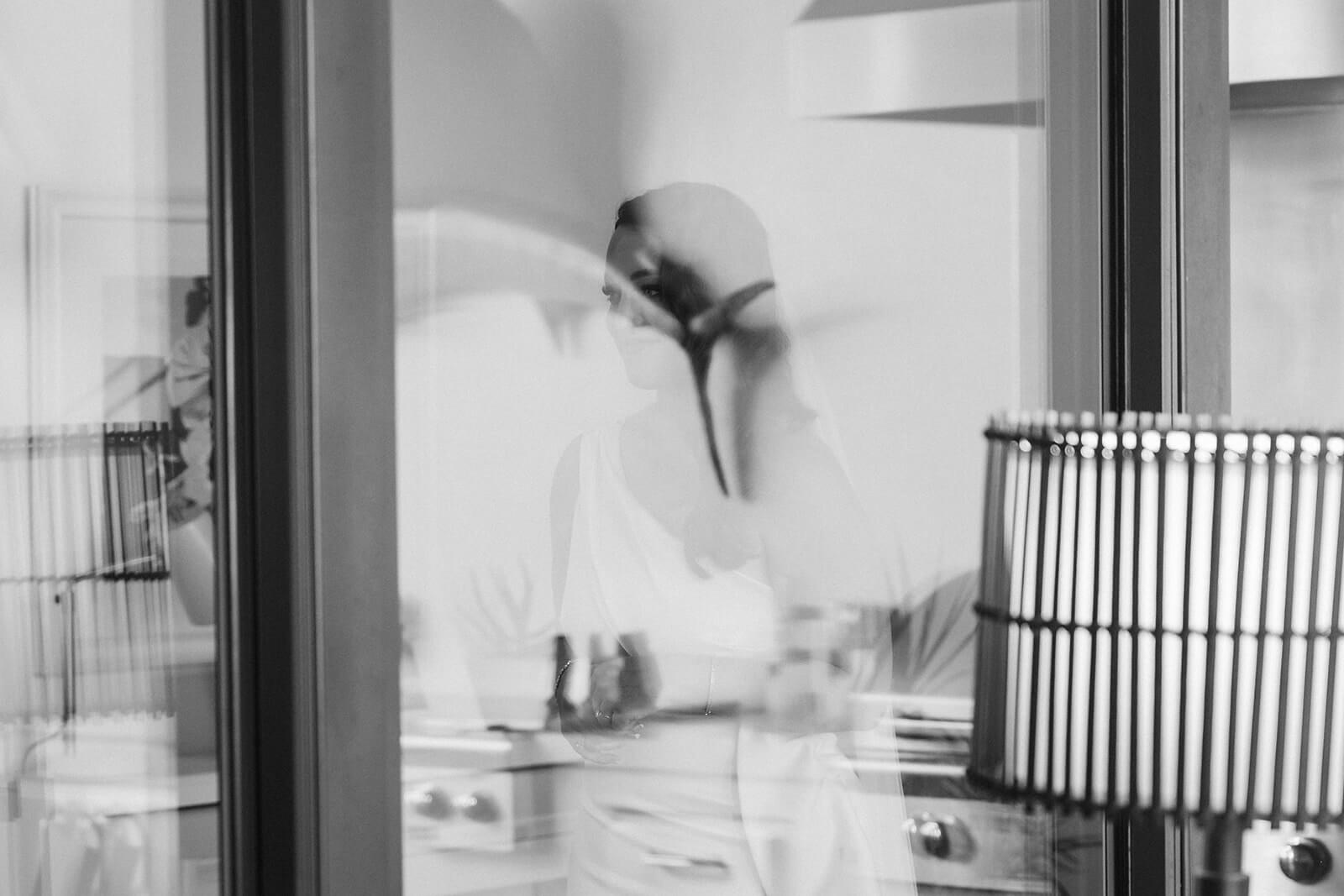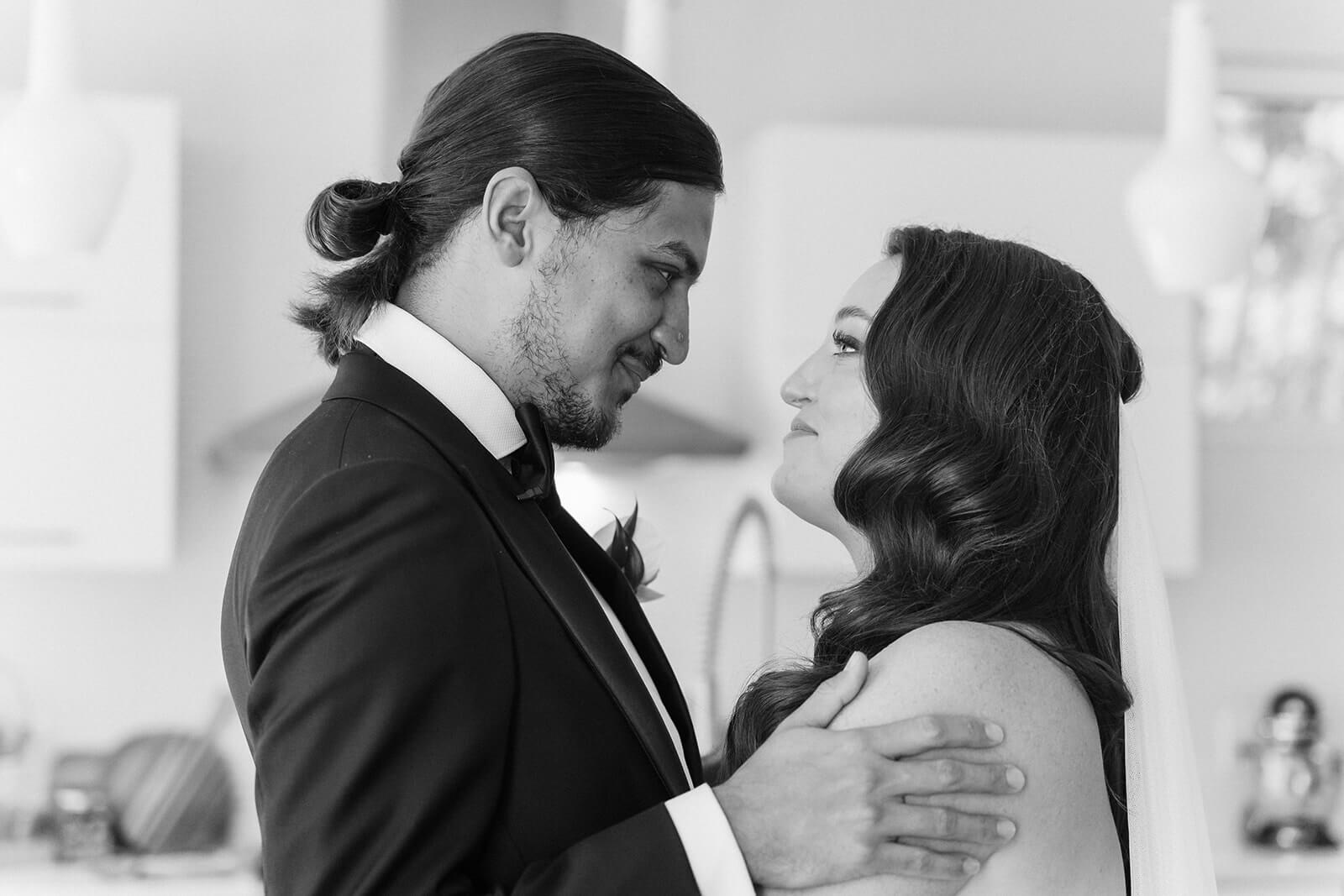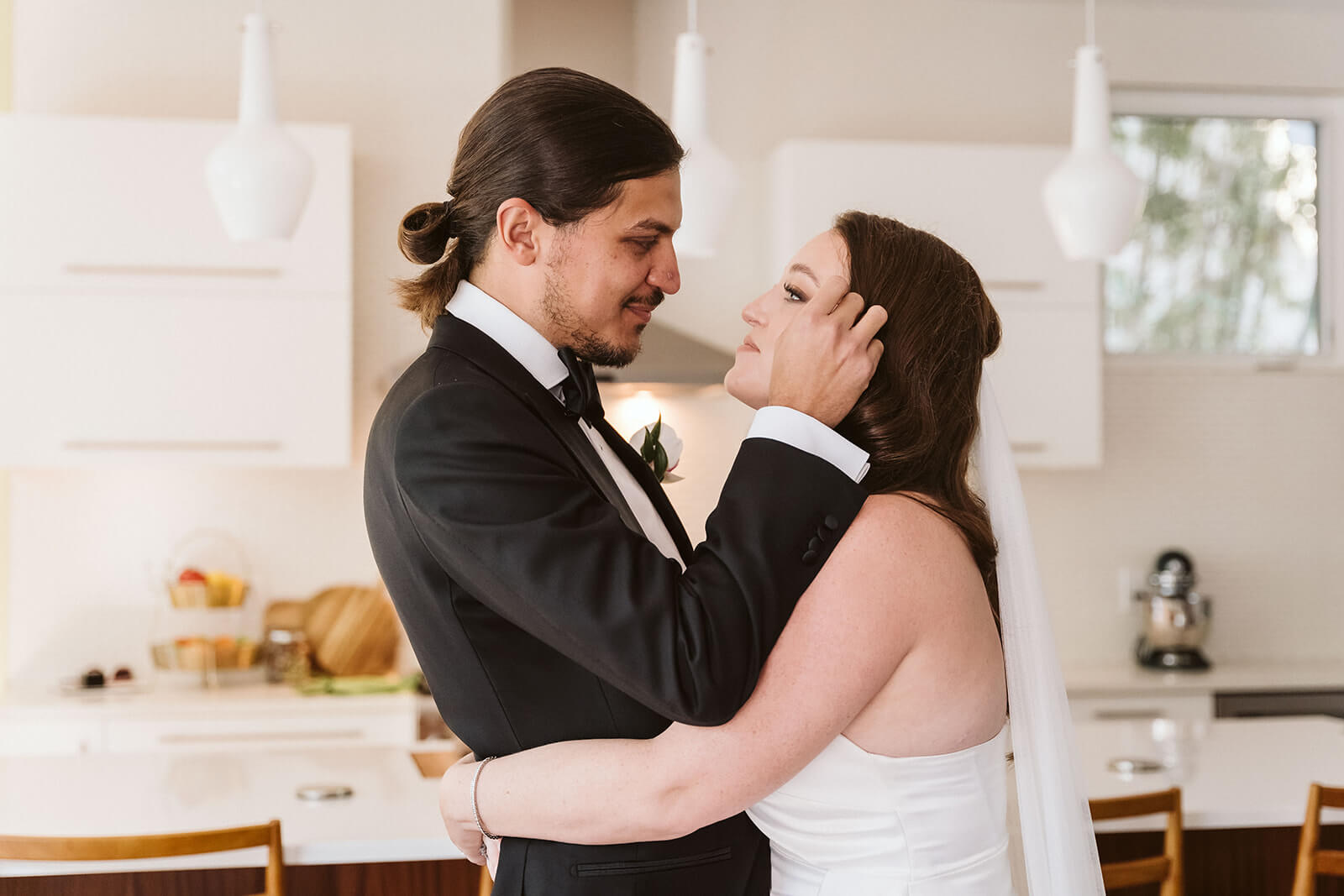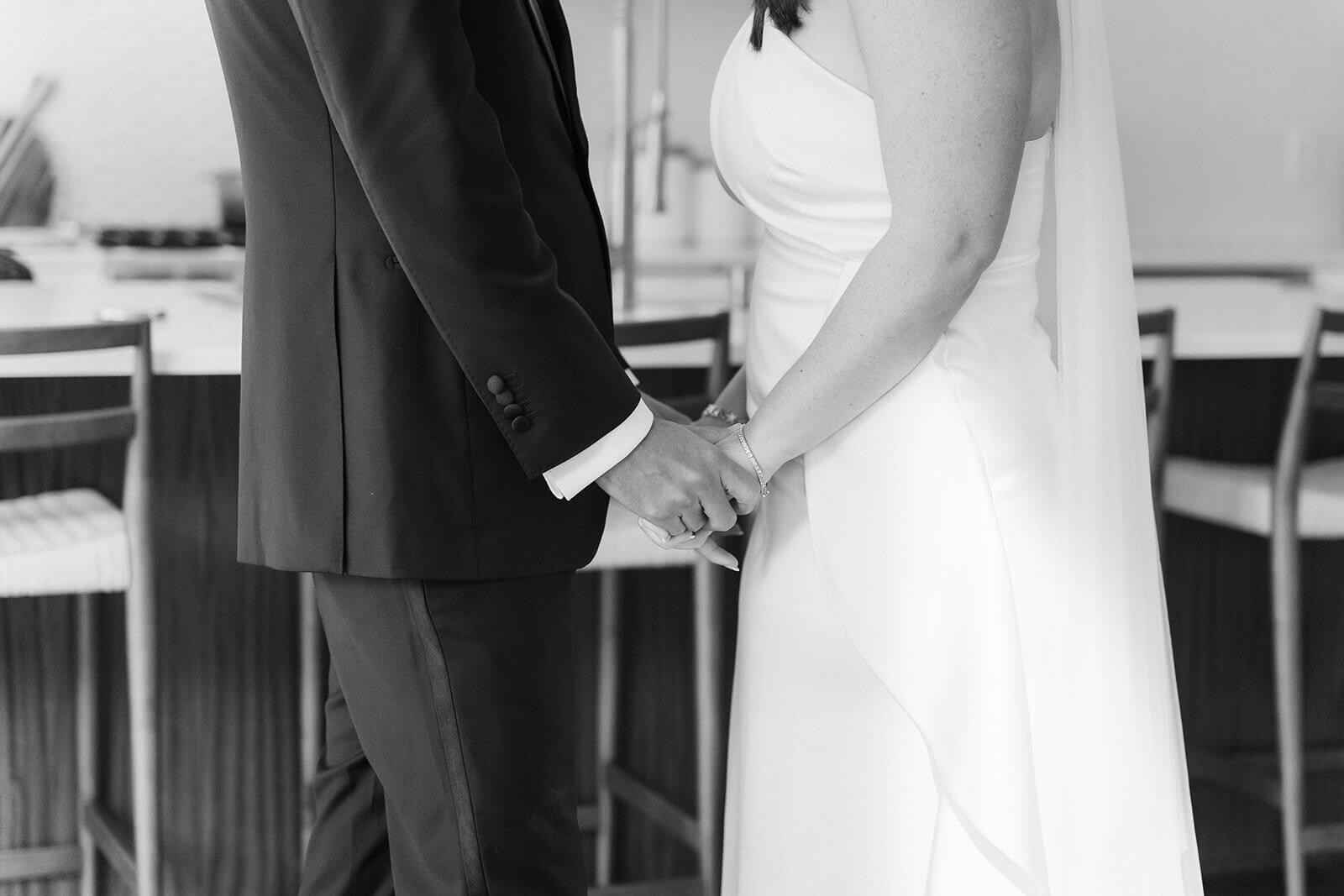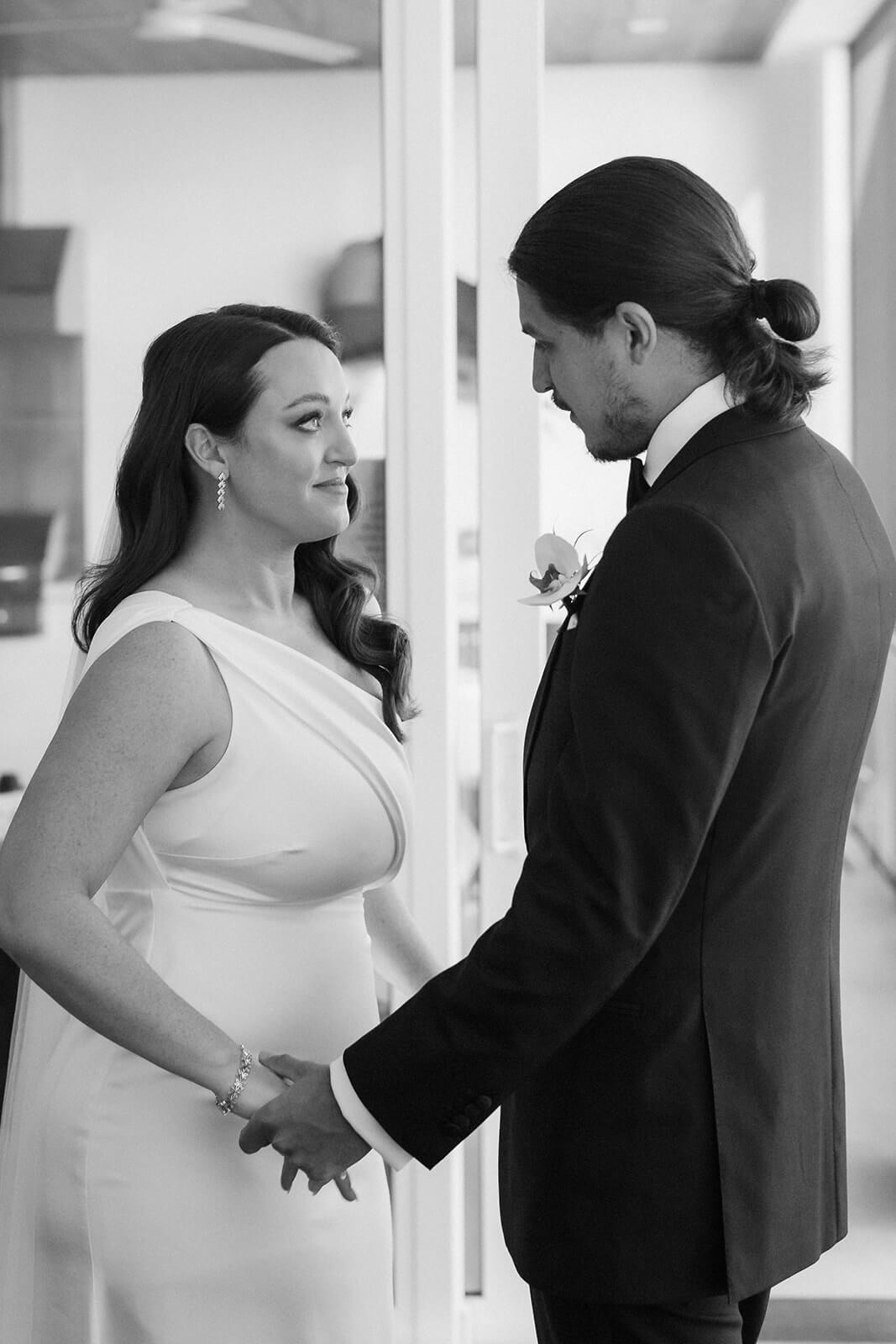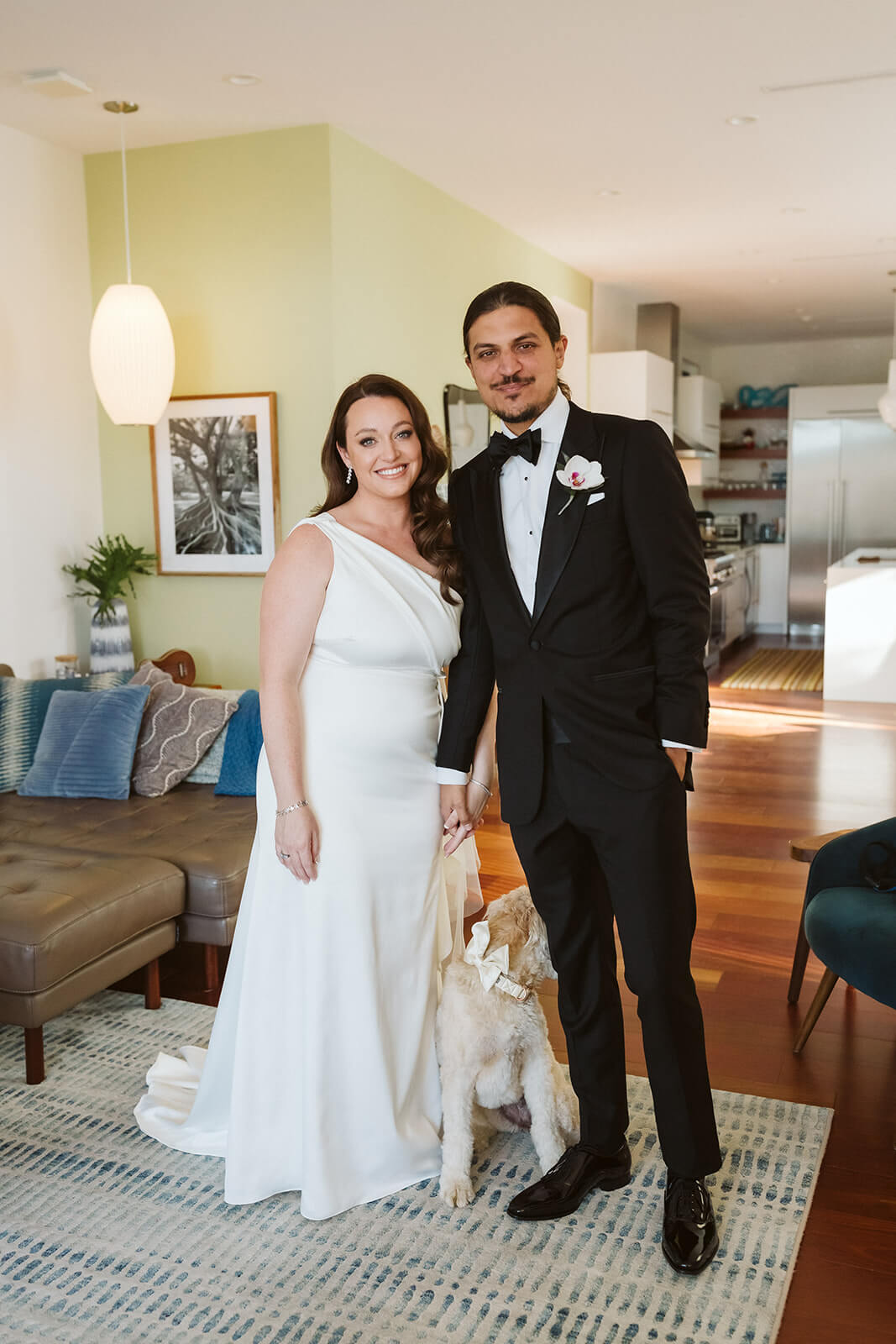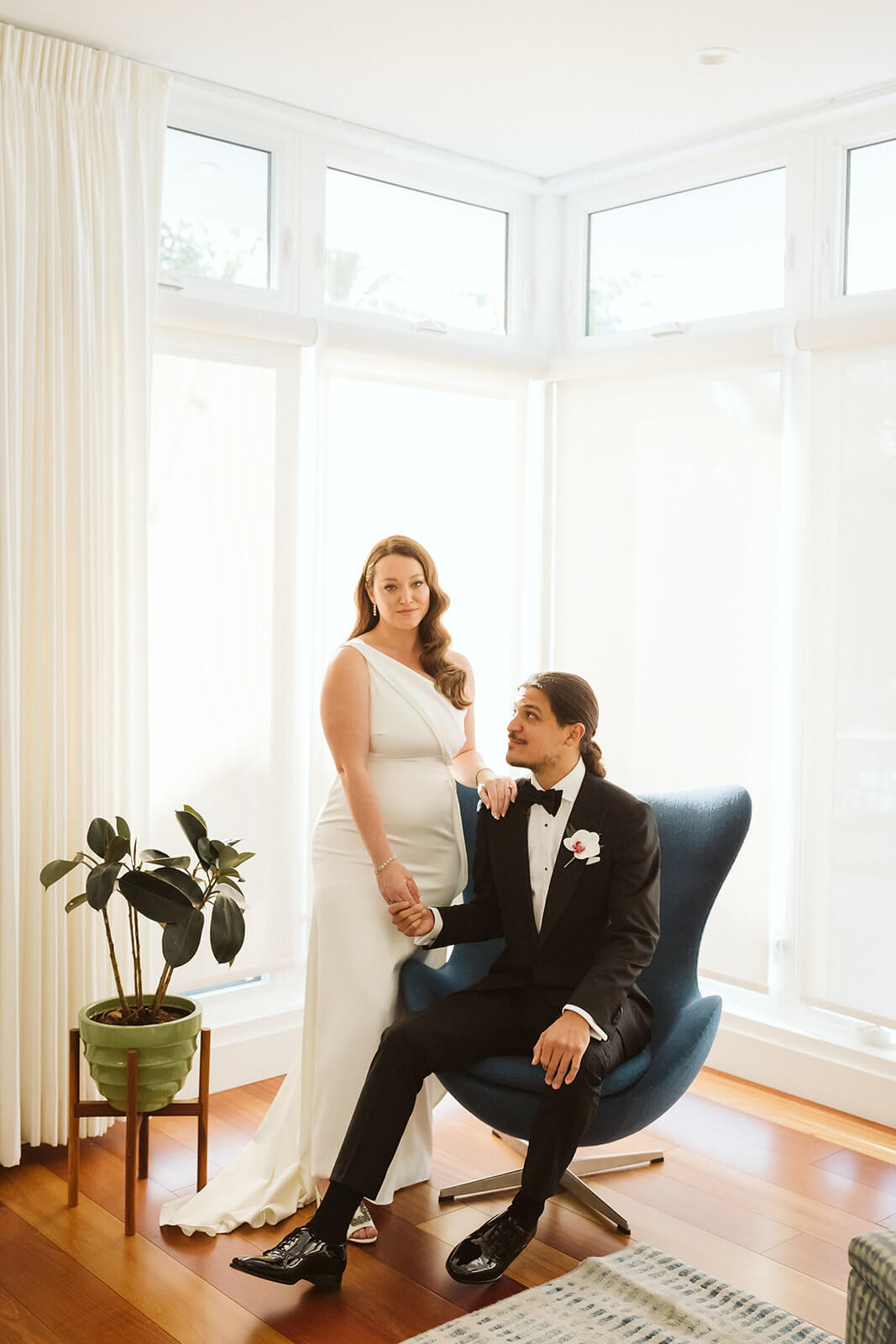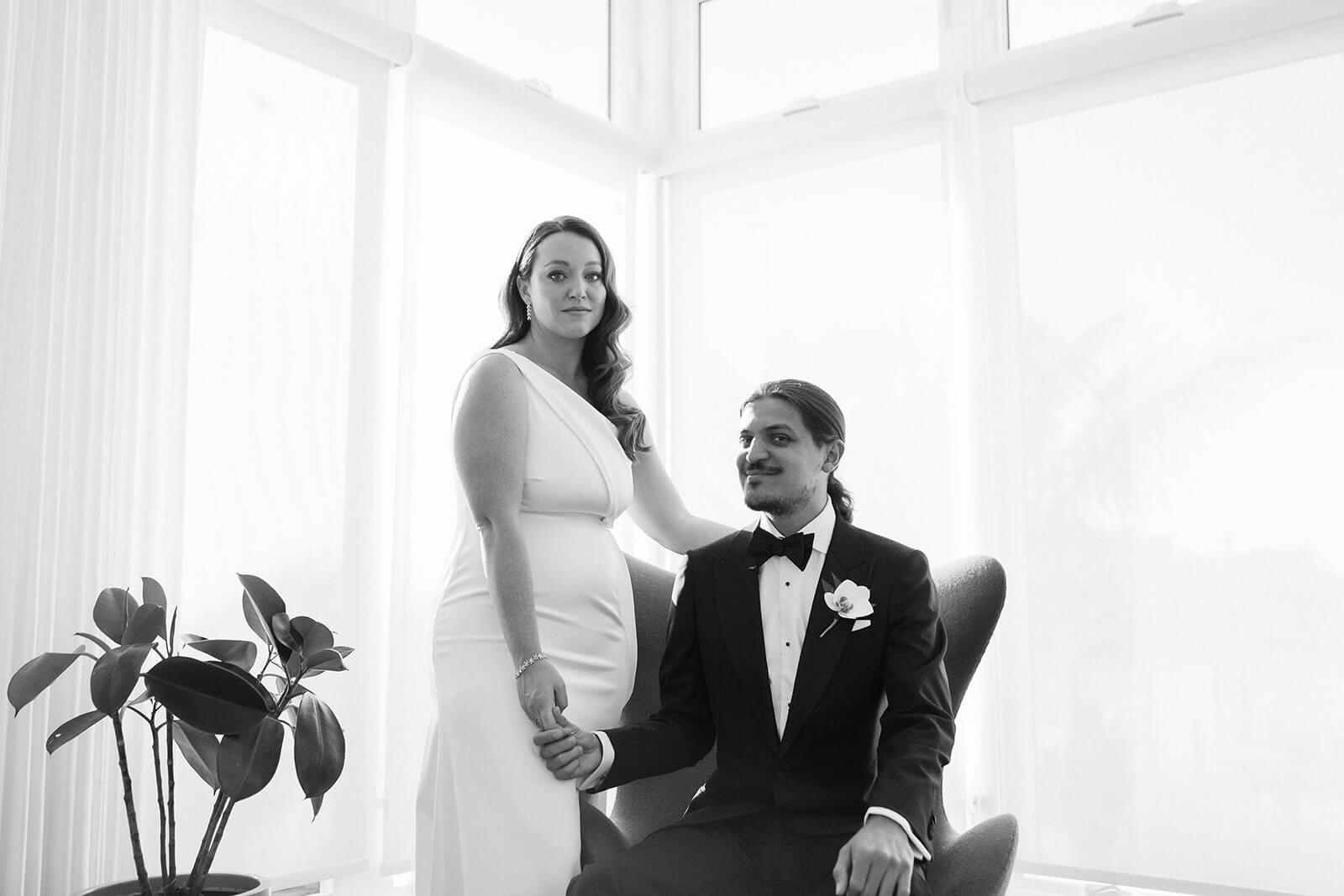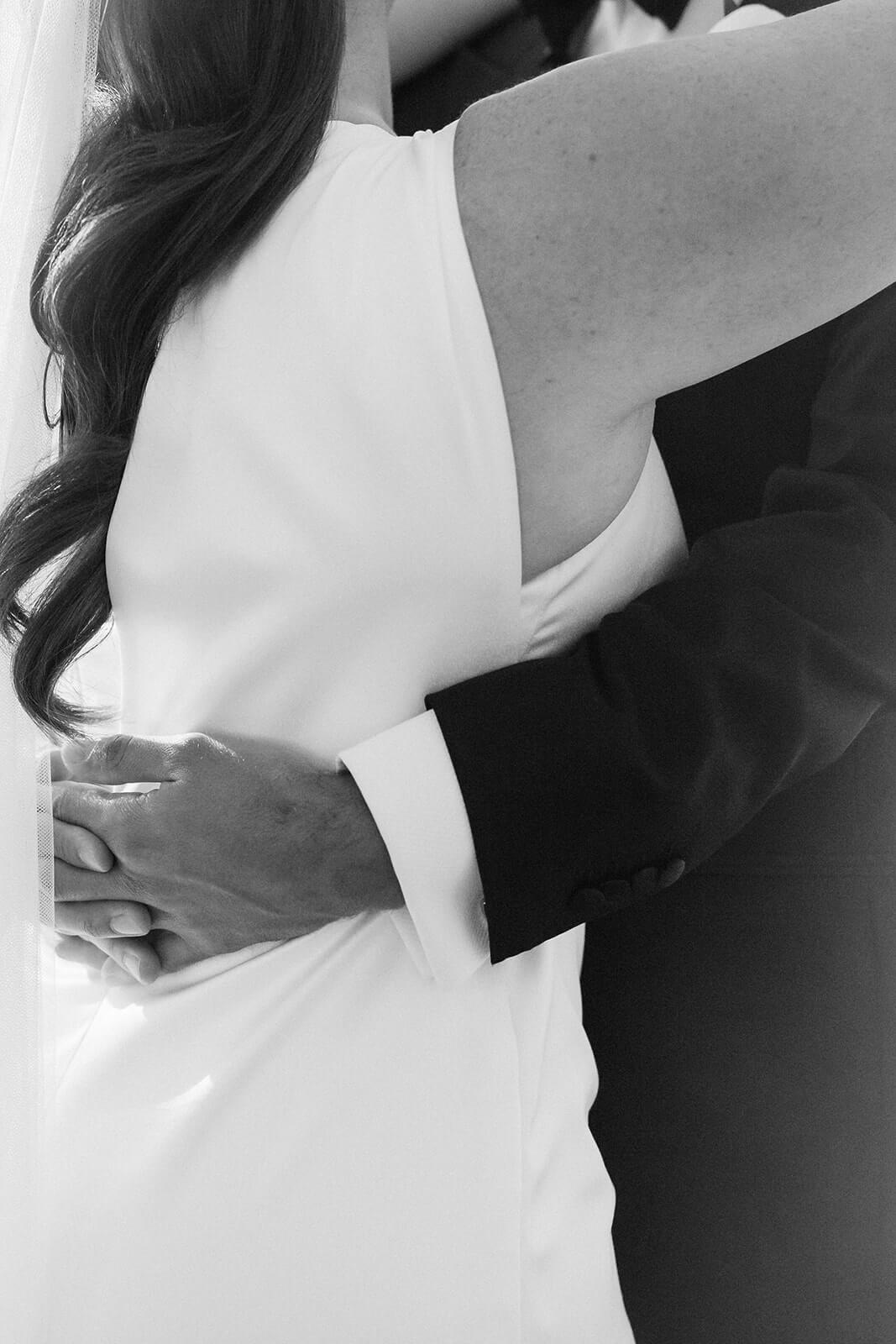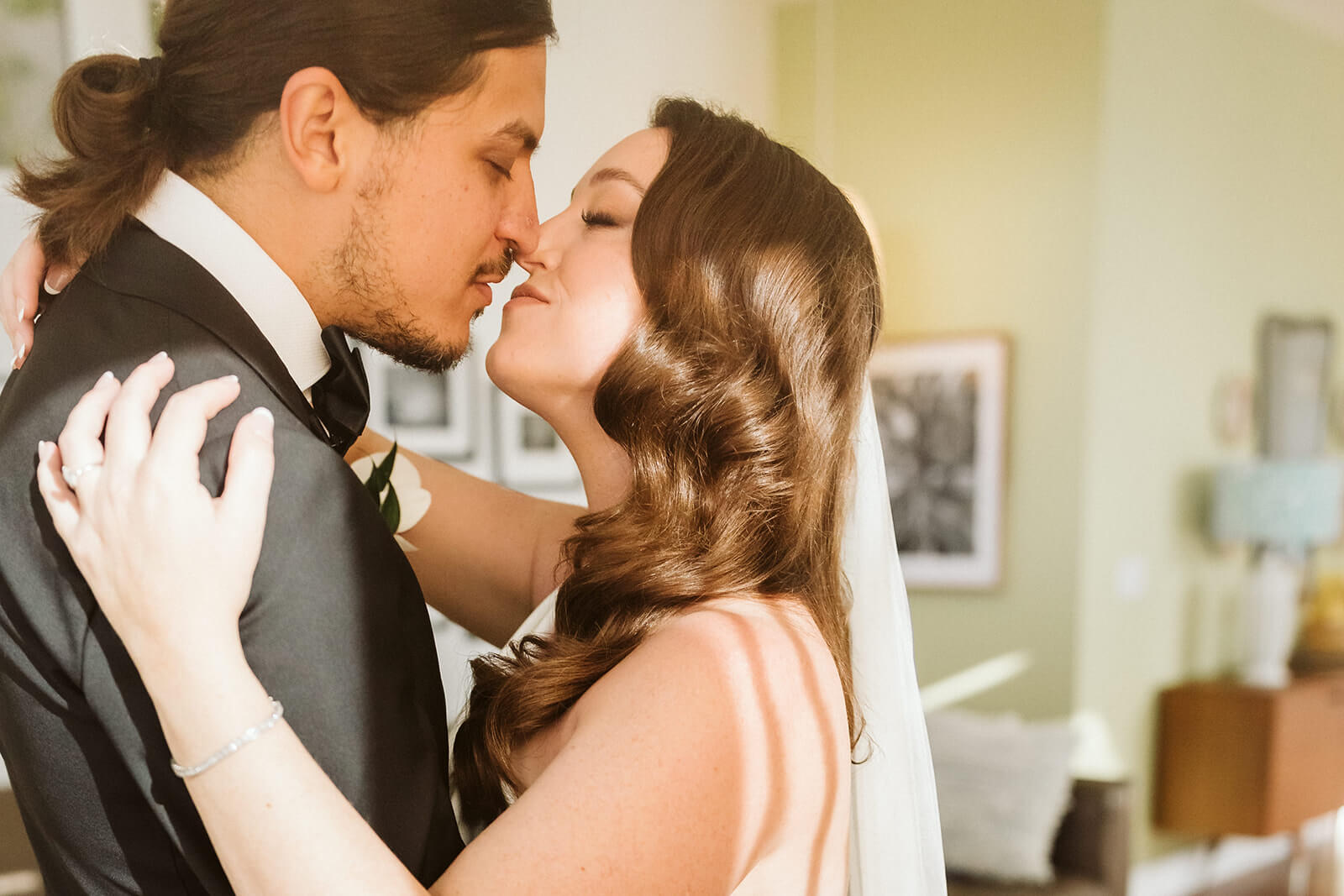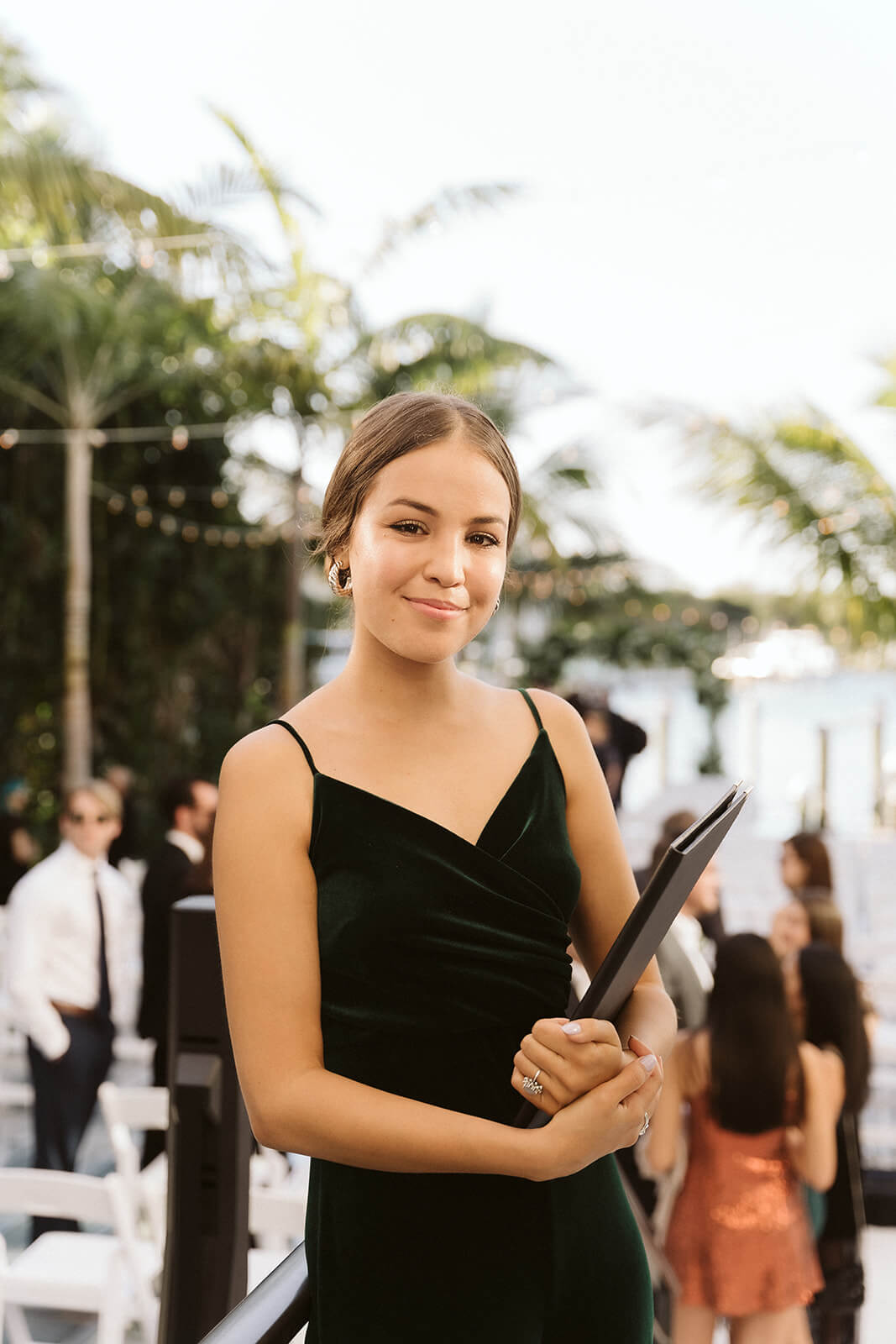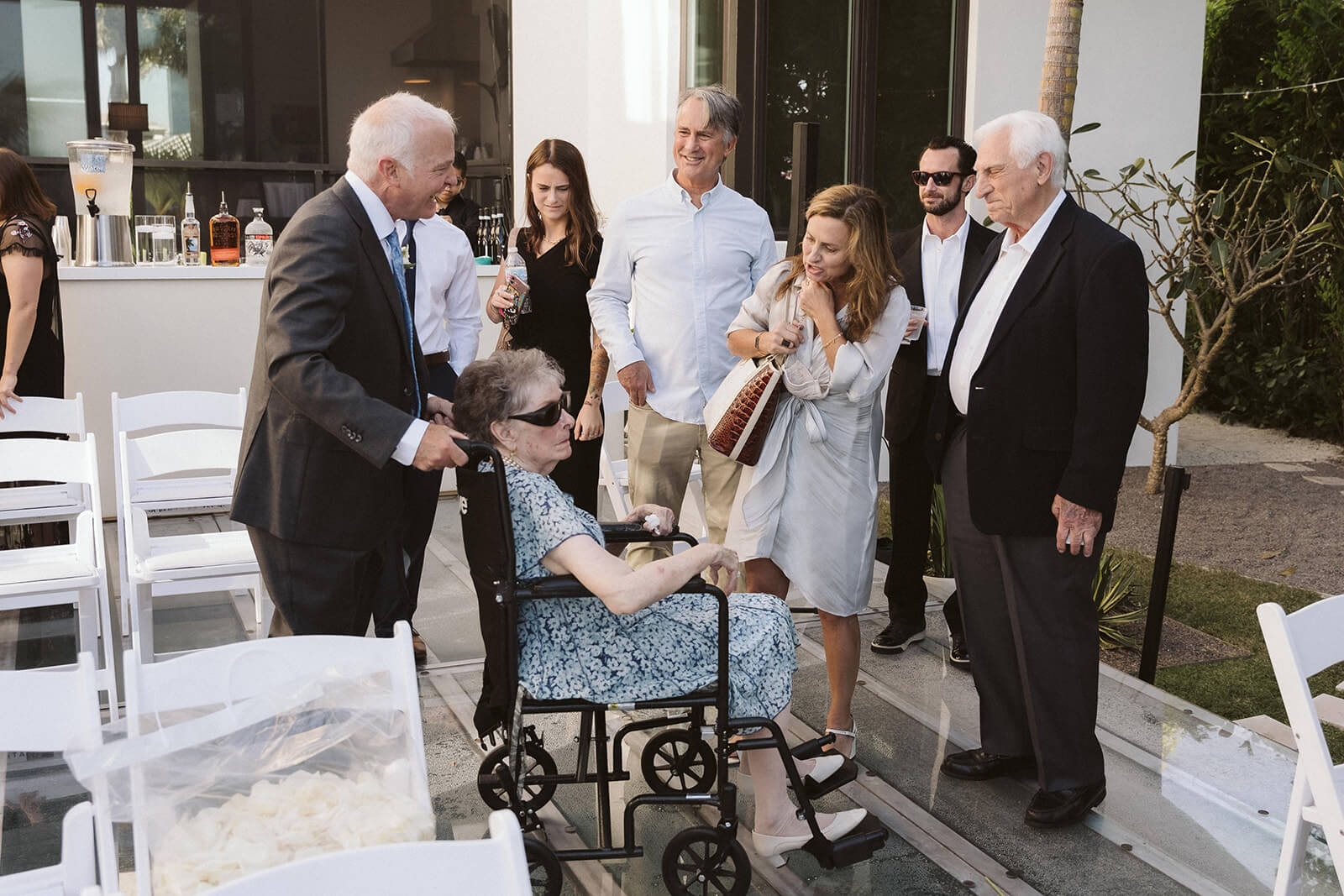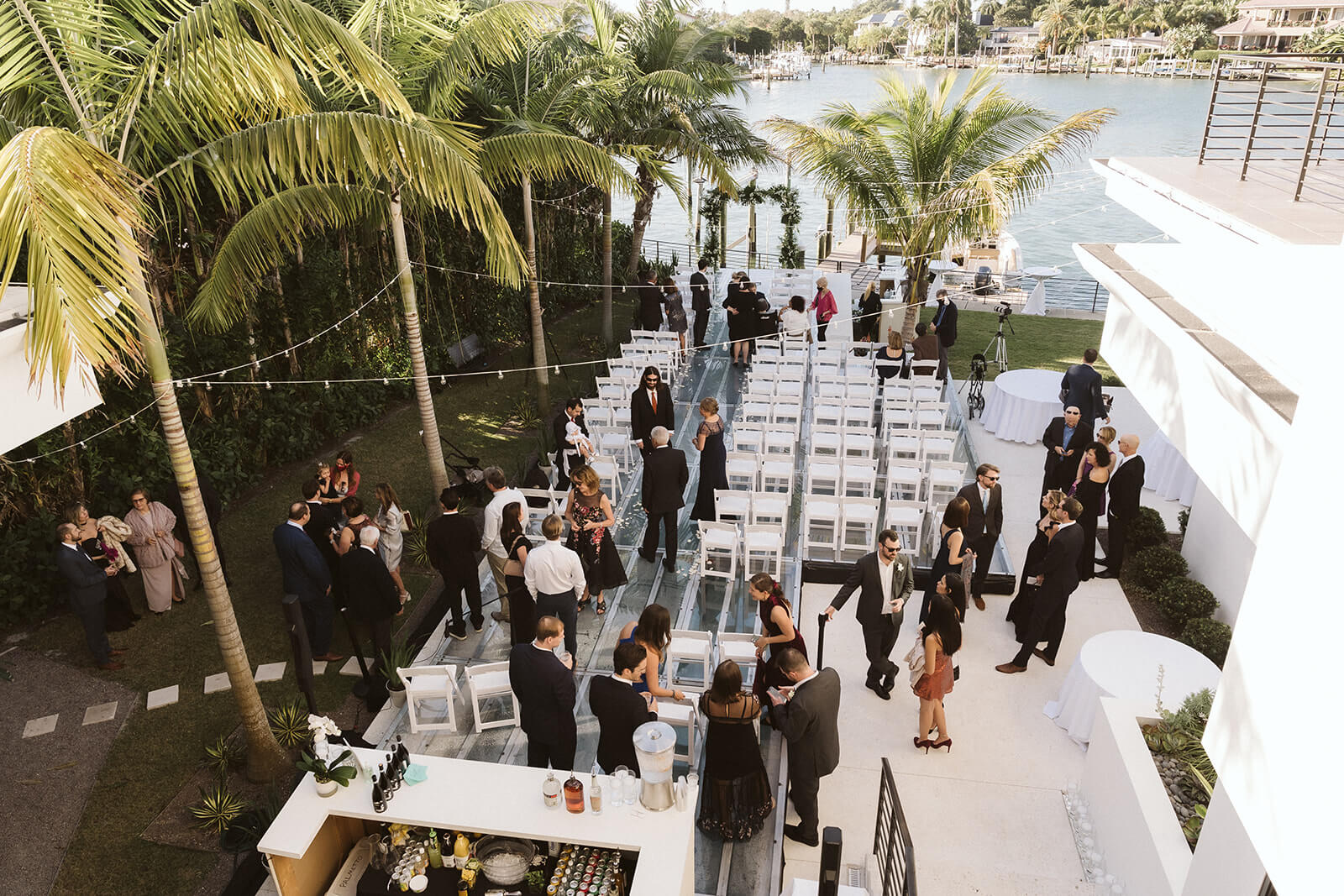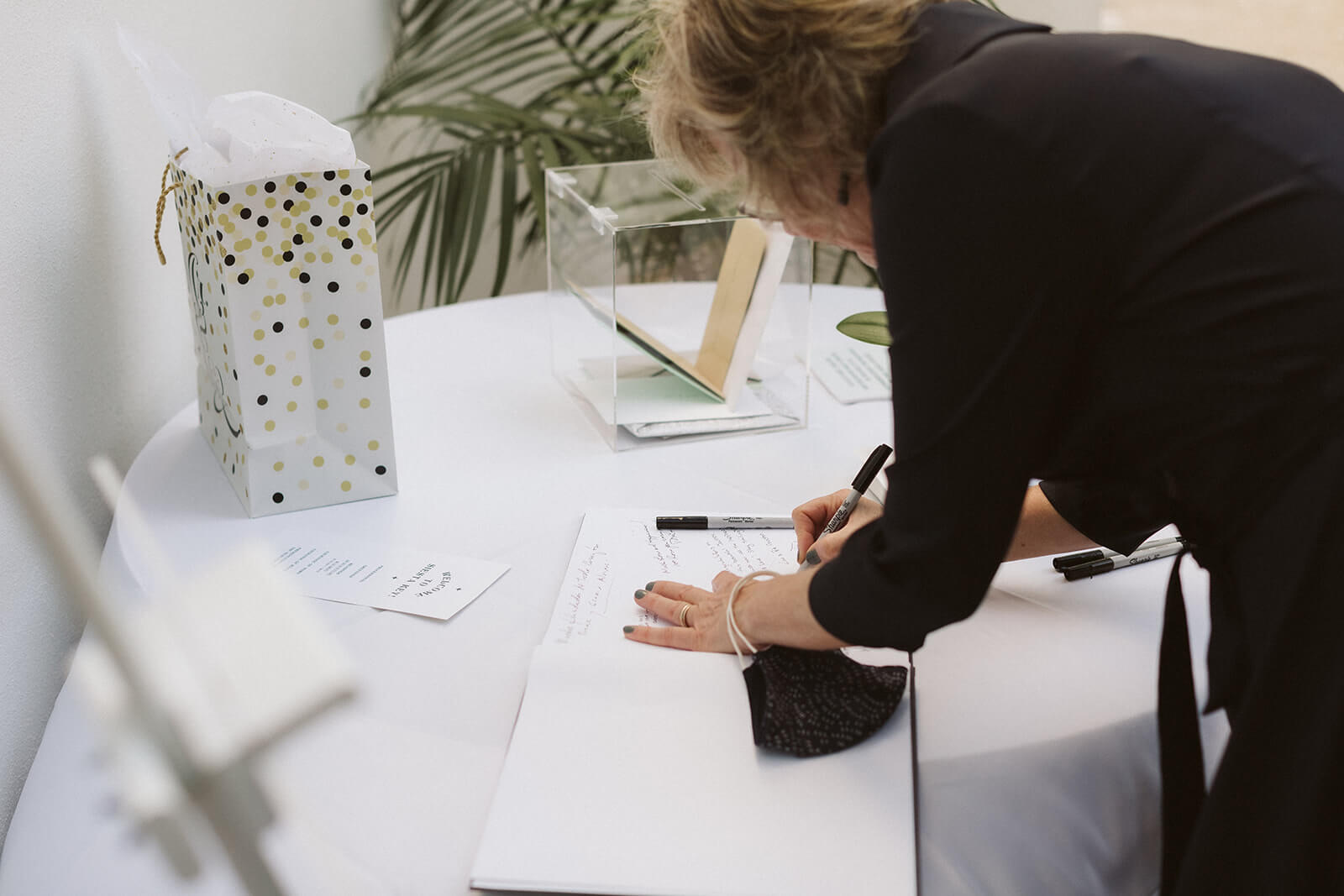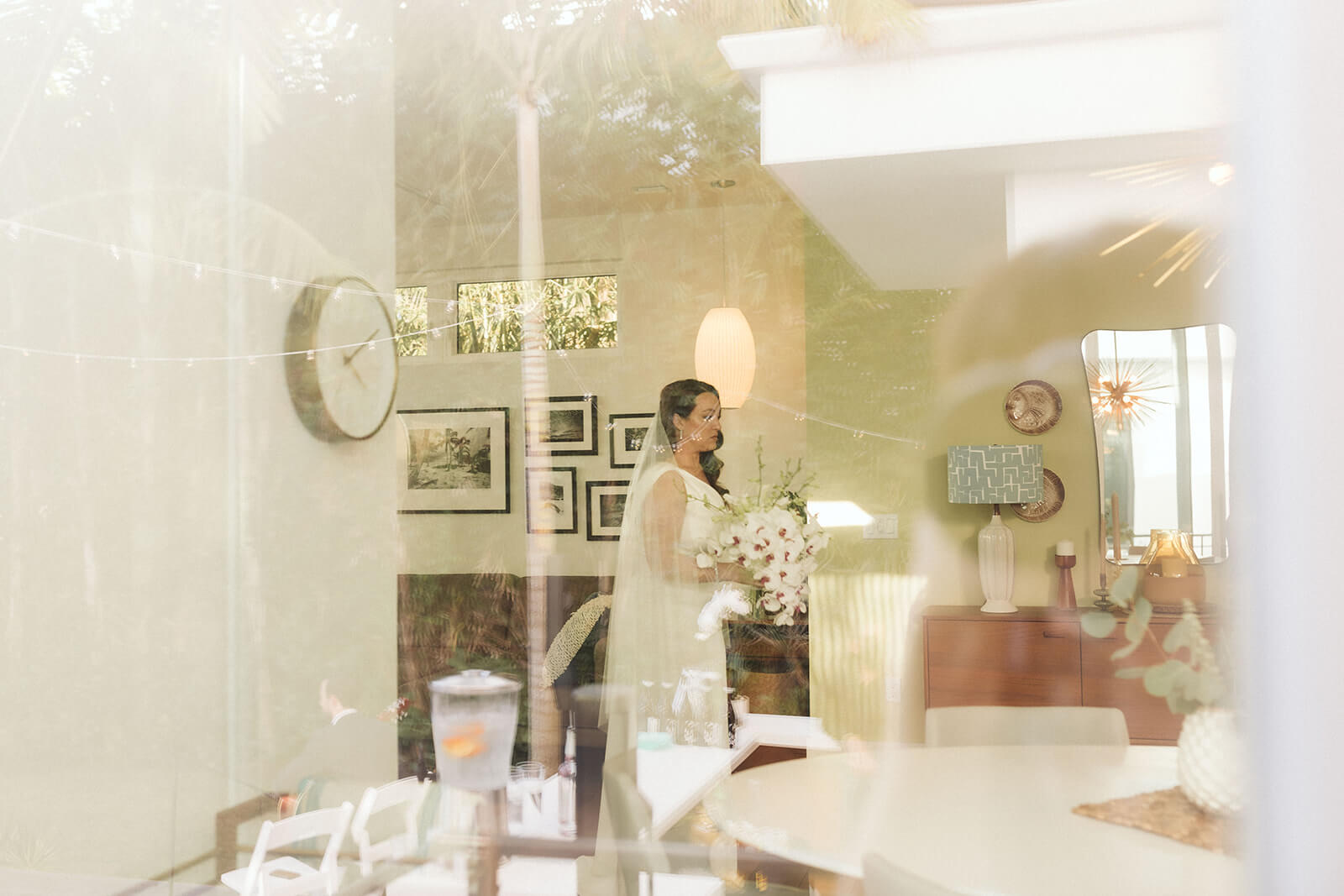 Transforming the Backyard into an Event Venue
Something that truly impressed me about this wedding was the way the couple used the spaces of the house to create a seamless flow of events. Whether inside or outside, there wasn't a spot on the property they didn't incorporate into their day somehow. Starting with getting ready in separate rooms of the house then moving right into their first look in the large open concept living and dining area, they truly made the most of the space that was available to them.
The overall wedding decor was elegant yet minimal to let the house, the pristine landscaping, and the view off the dock speak for themselves. Because the majority of the day's events were going to be held outside, to make the most of the narrow backyard, the bride had a cover specially created to go over the long swimming pool that led straight to the dock. Instead of planning around the pool, Sarah designed a custom plexiglass floor to serve as their ceremony aisle, which later transformed into a dance floor illuminated by the pool lights during the reception.
Sarah and Sebastian's ceremony was held directly over the pool with chairs set up on either side. A solo guitarist was accompanied by the sounds of swaying palm trees and waves lapping against the dock as the two made their way one by one down the aisle joined only by their parents and their adorable flower girl. Their sweet ceremony was officiated by Sebastian's sister and they said their I do's beneath a beautiful floral arbor facing the water.
Afterward, the newlyweds and their guests moved to the patio off to the side of the pool for cocktail hour while the folks from So Staged Event Design dismantled the ceremony space and transformed it into their reception area.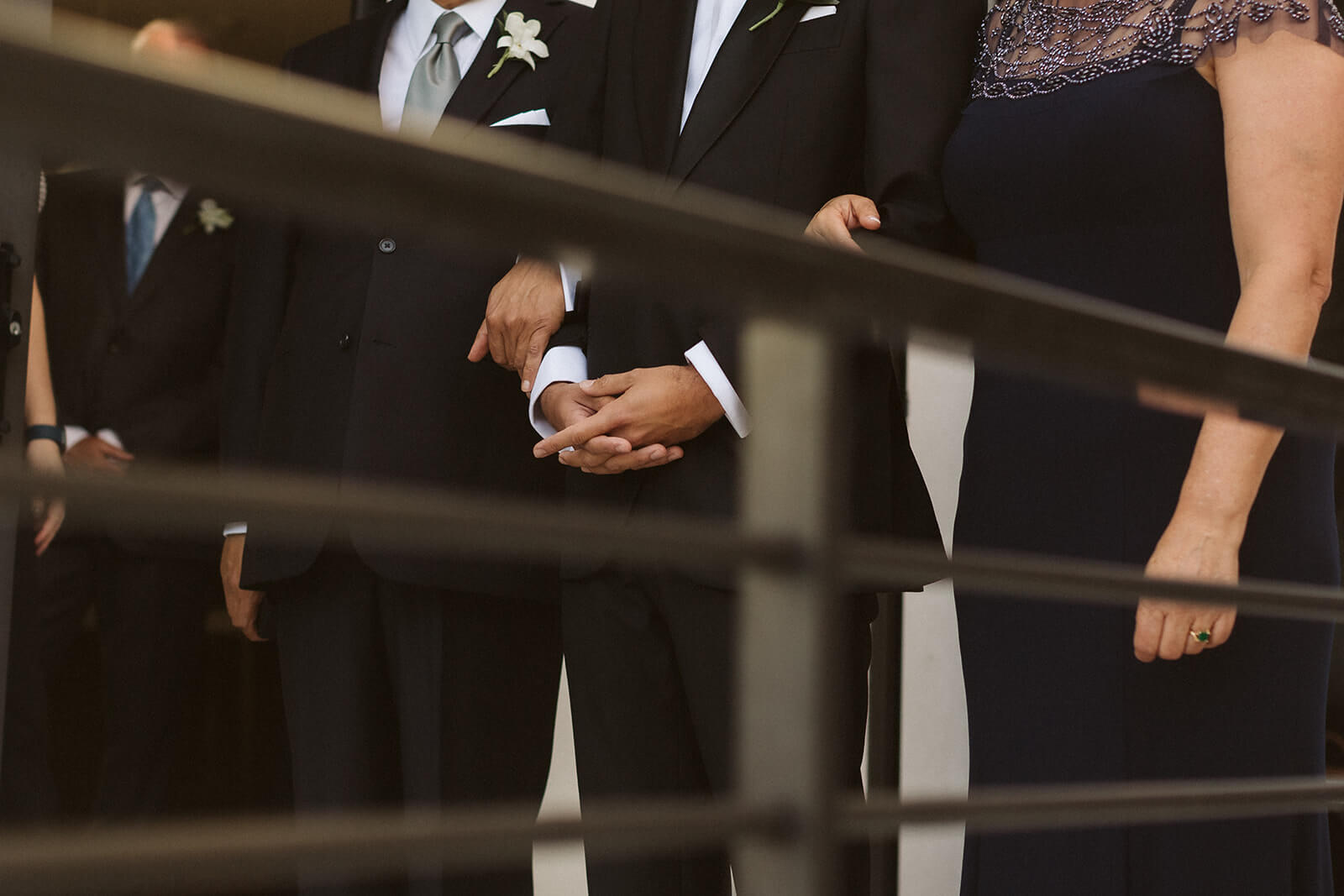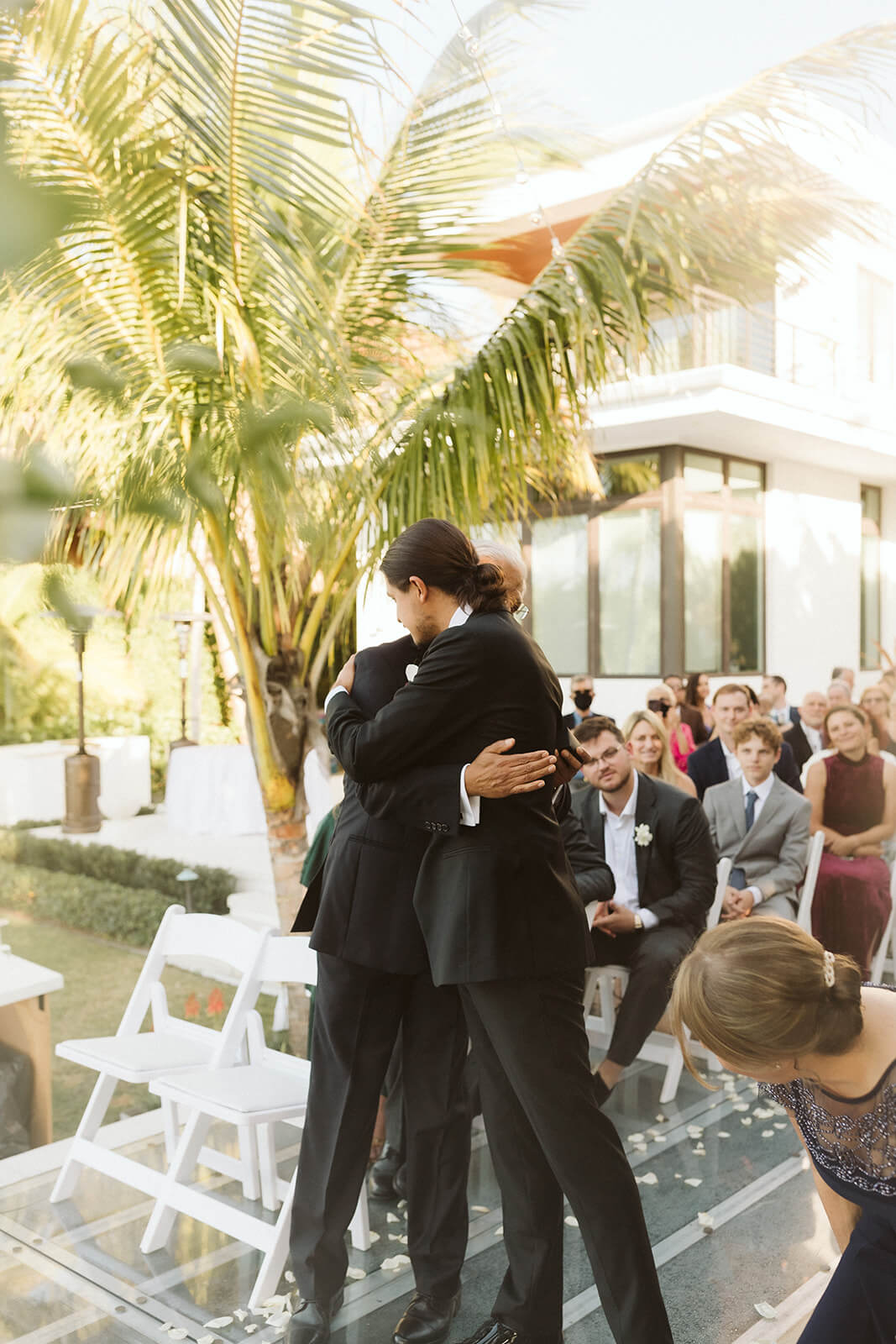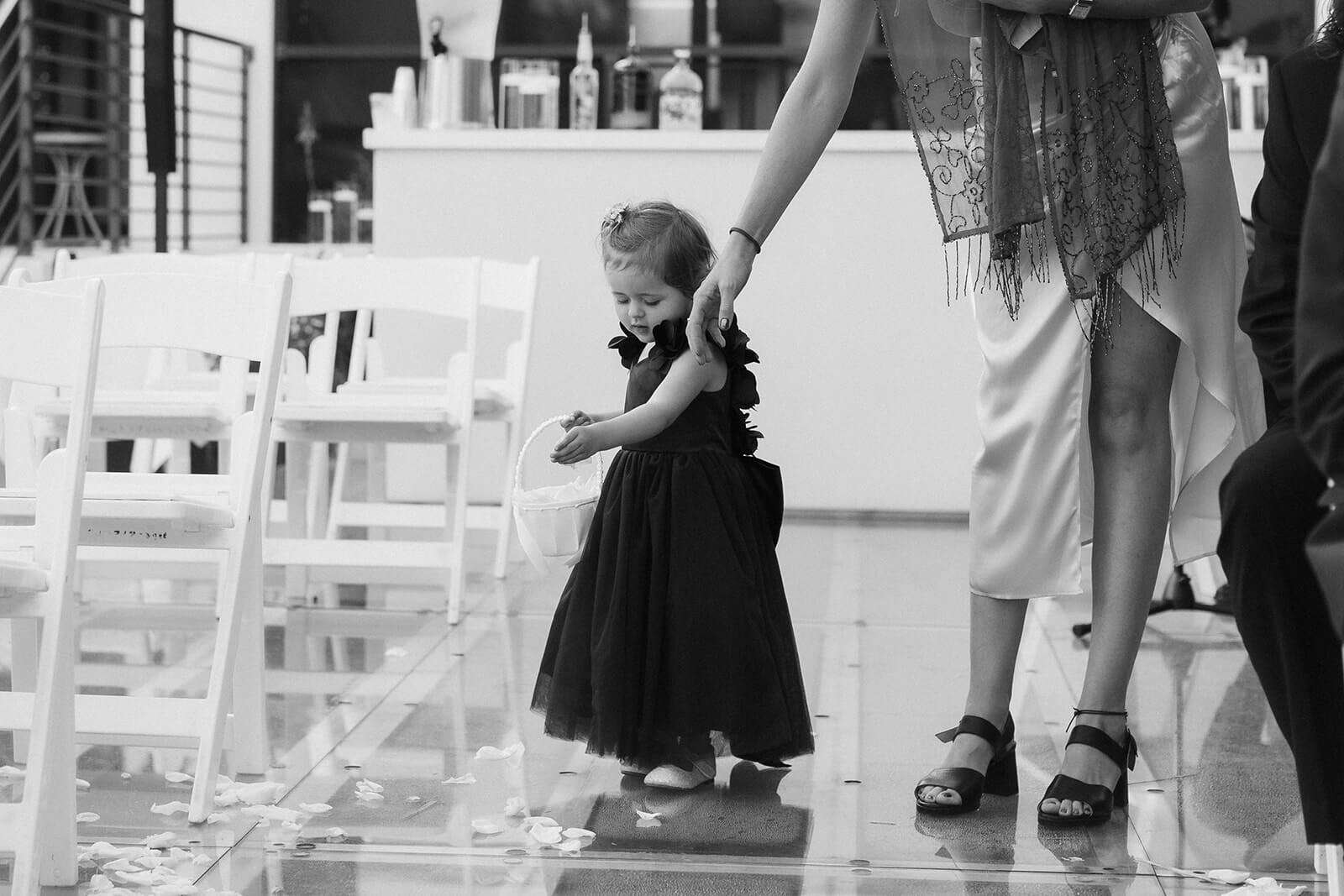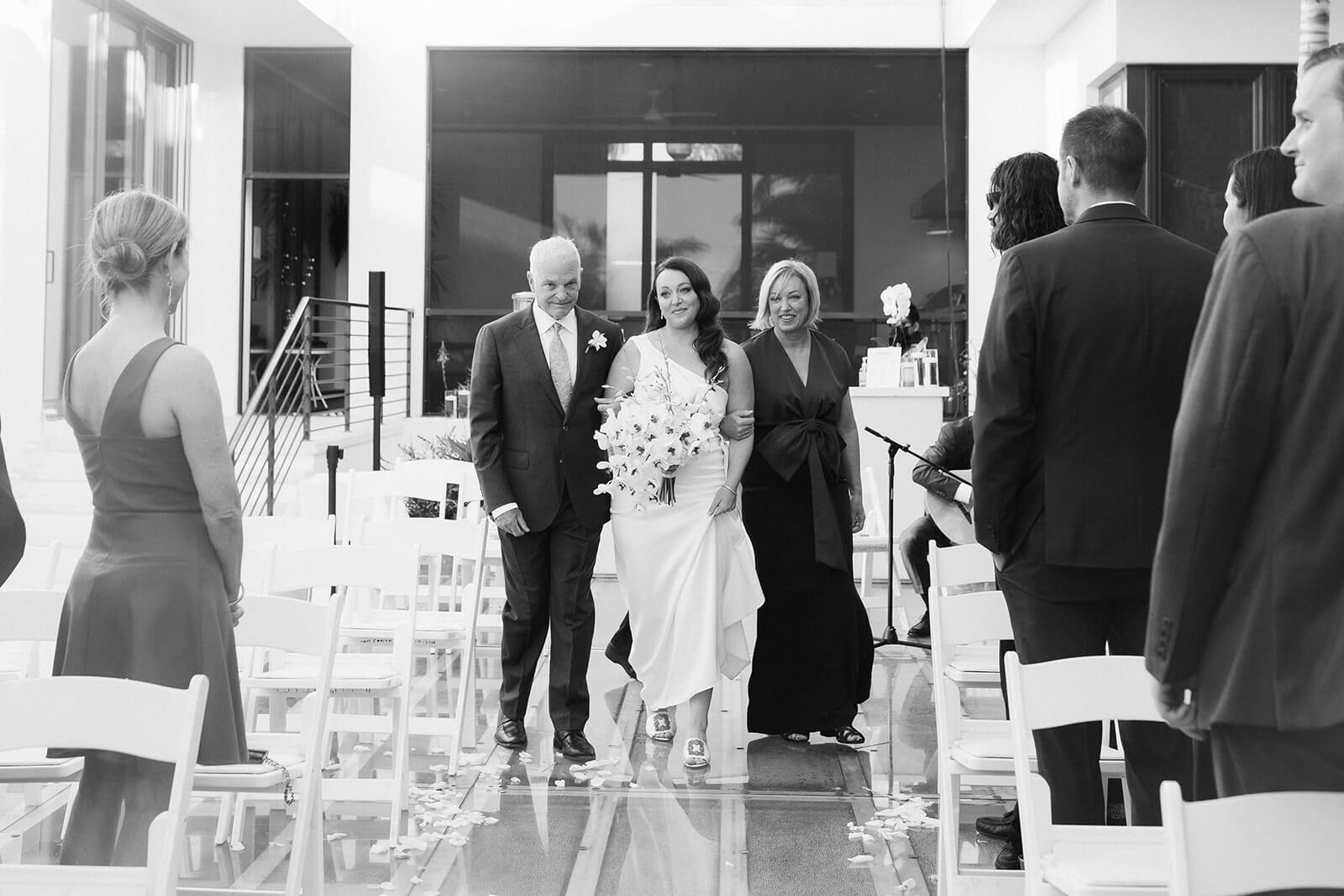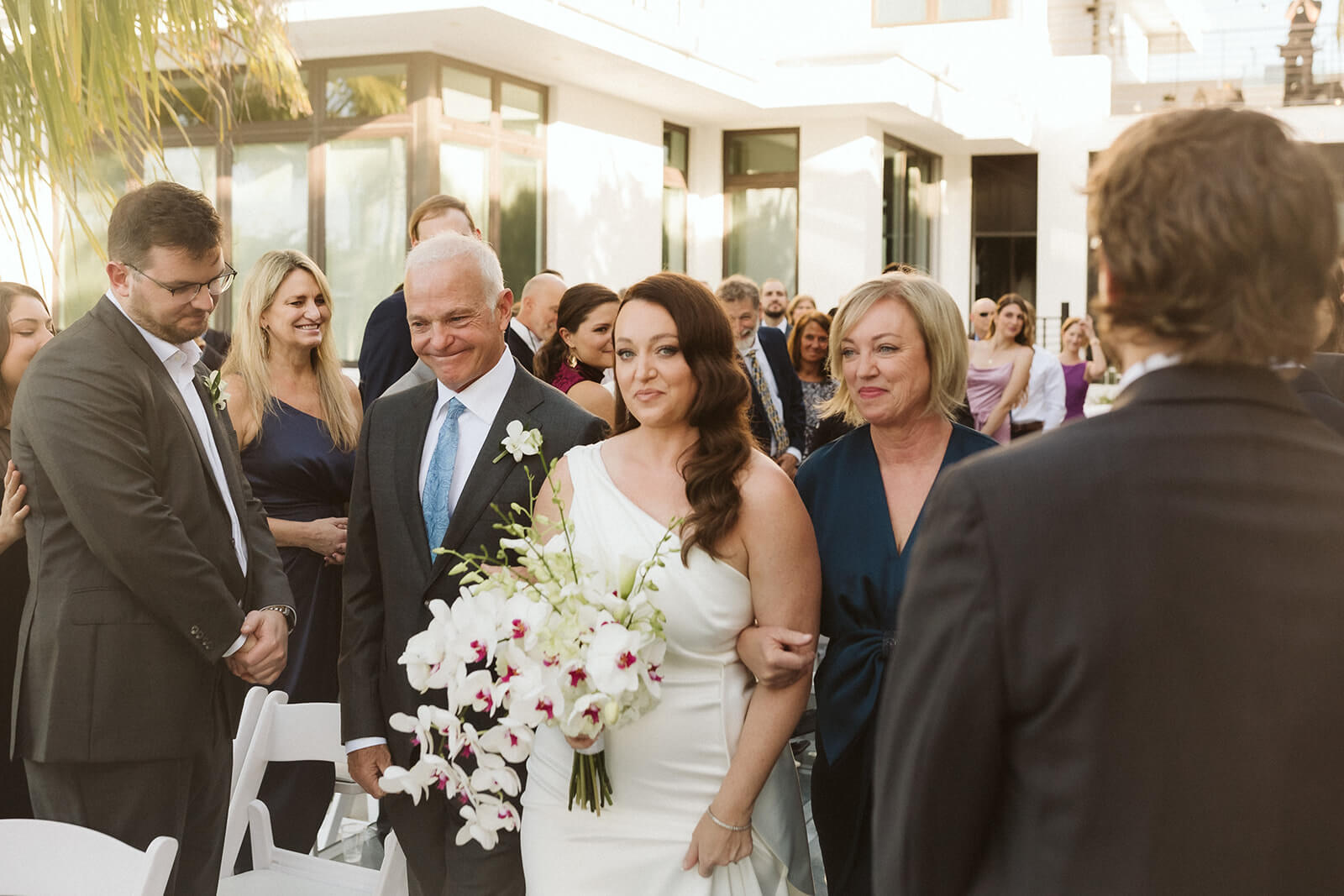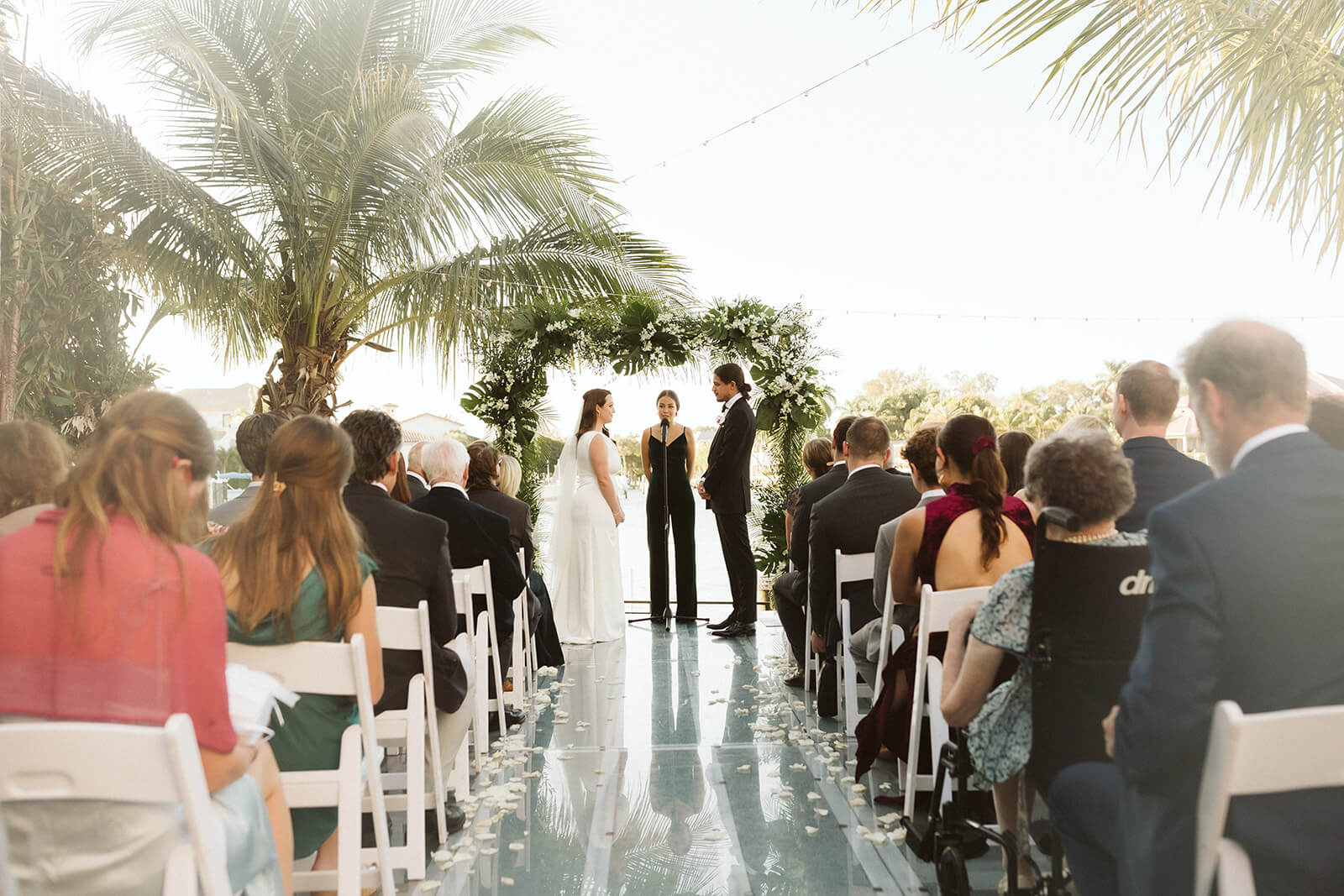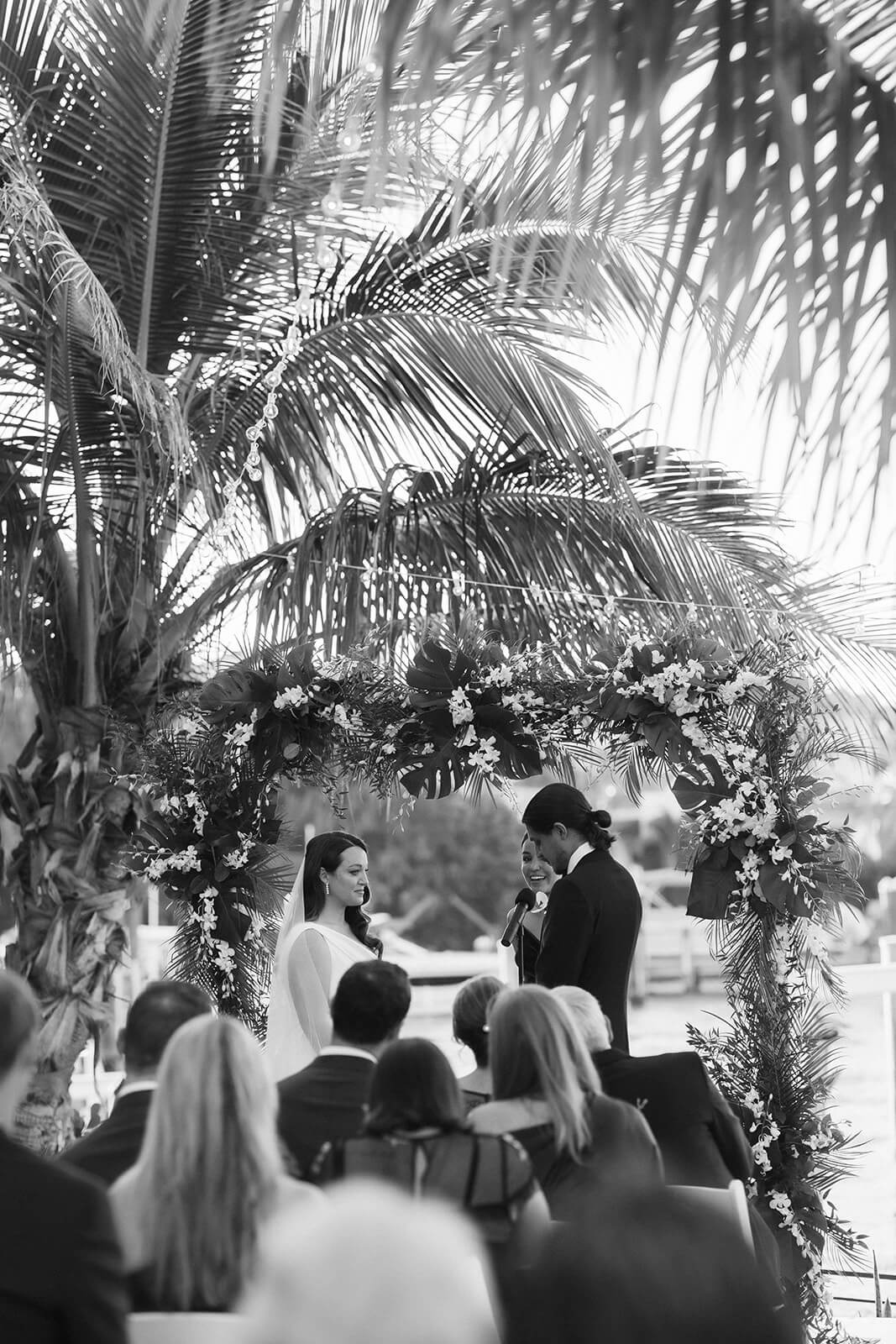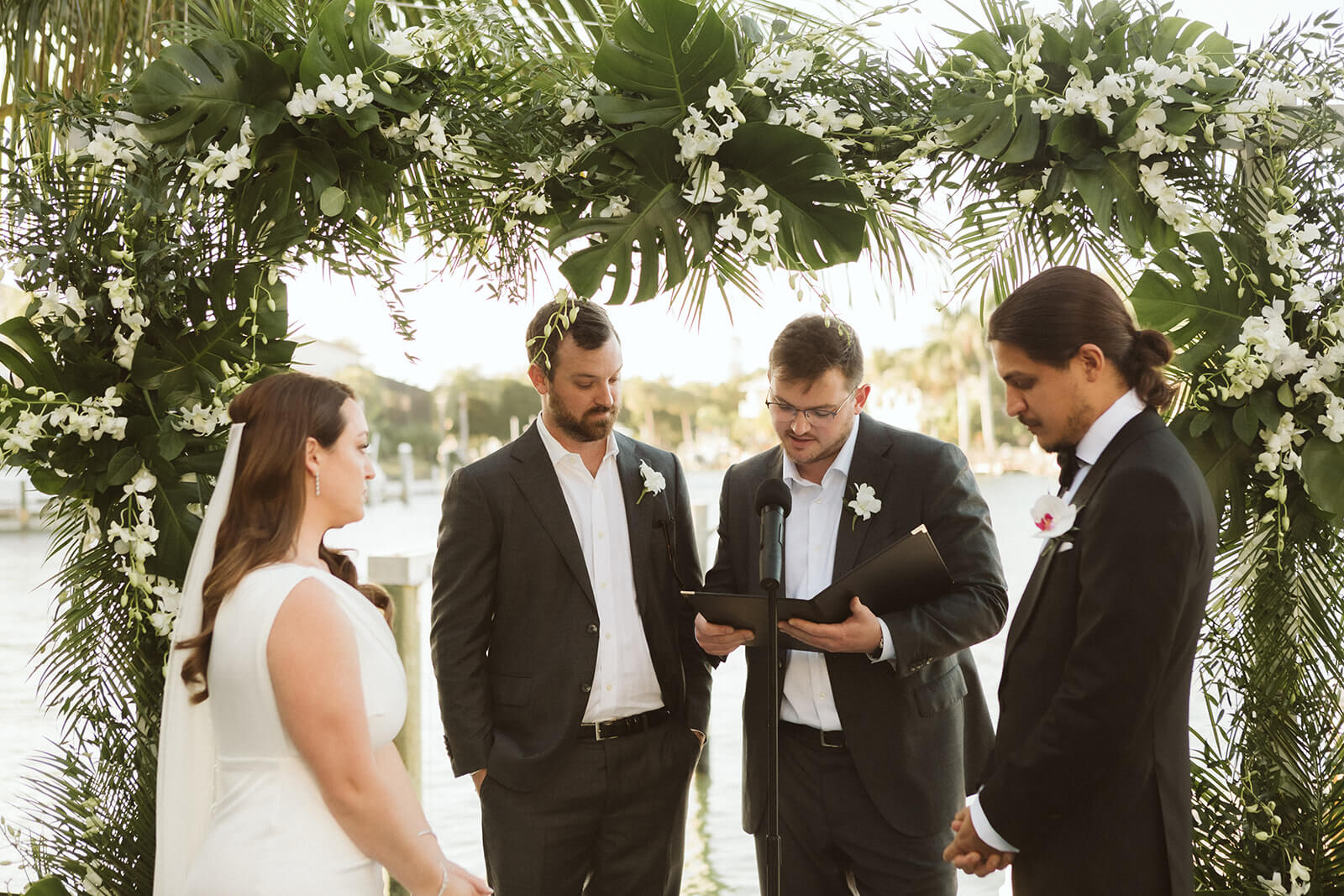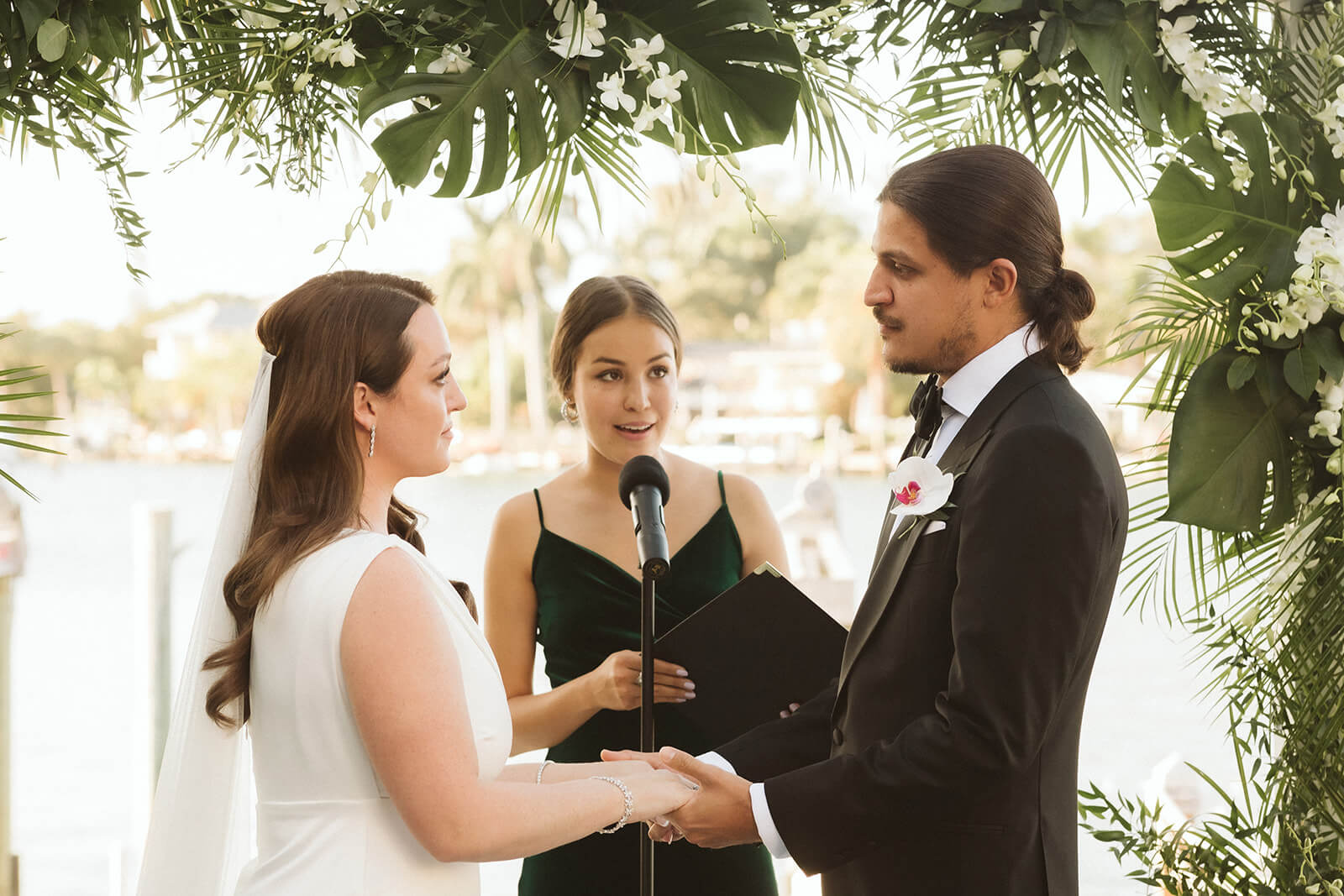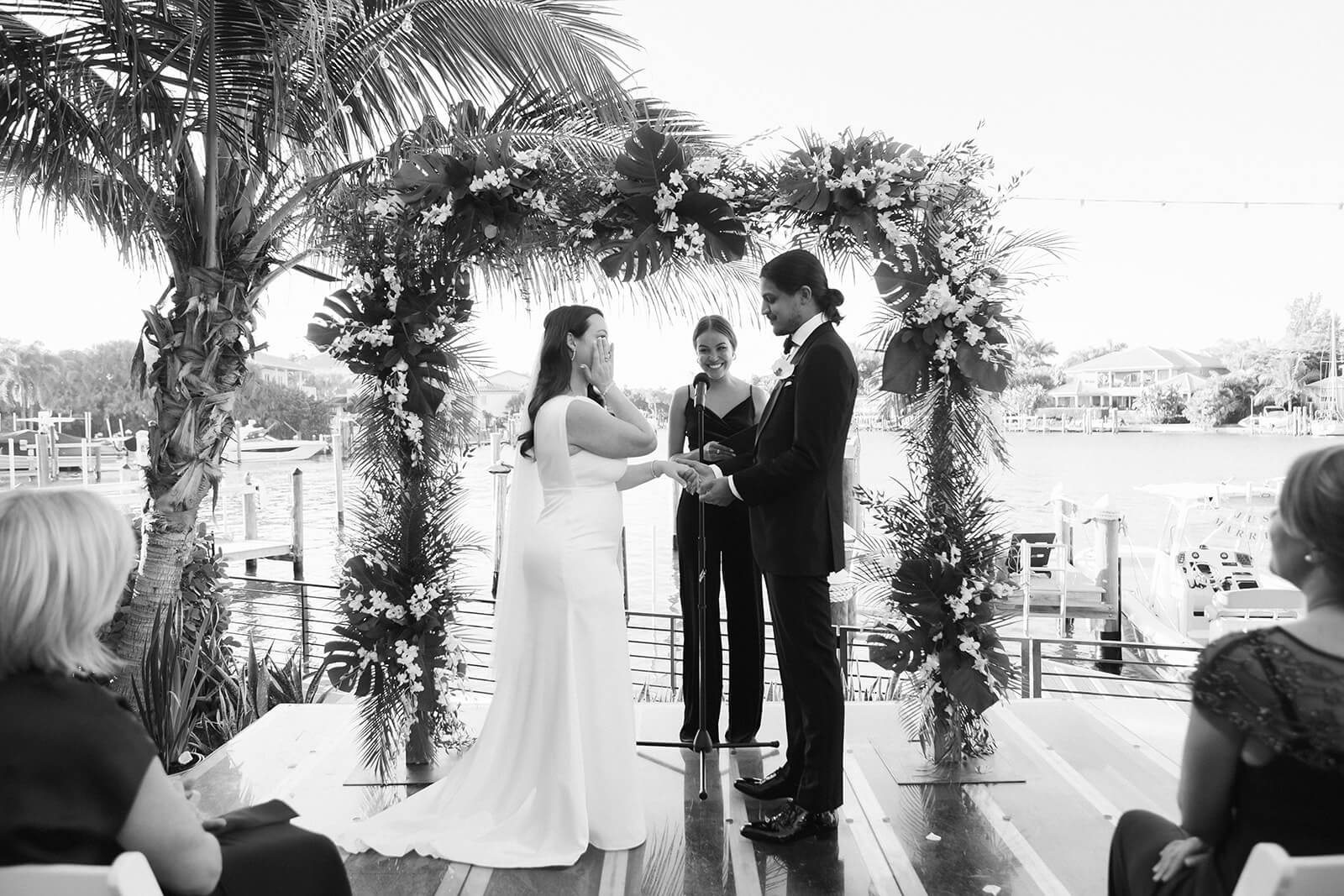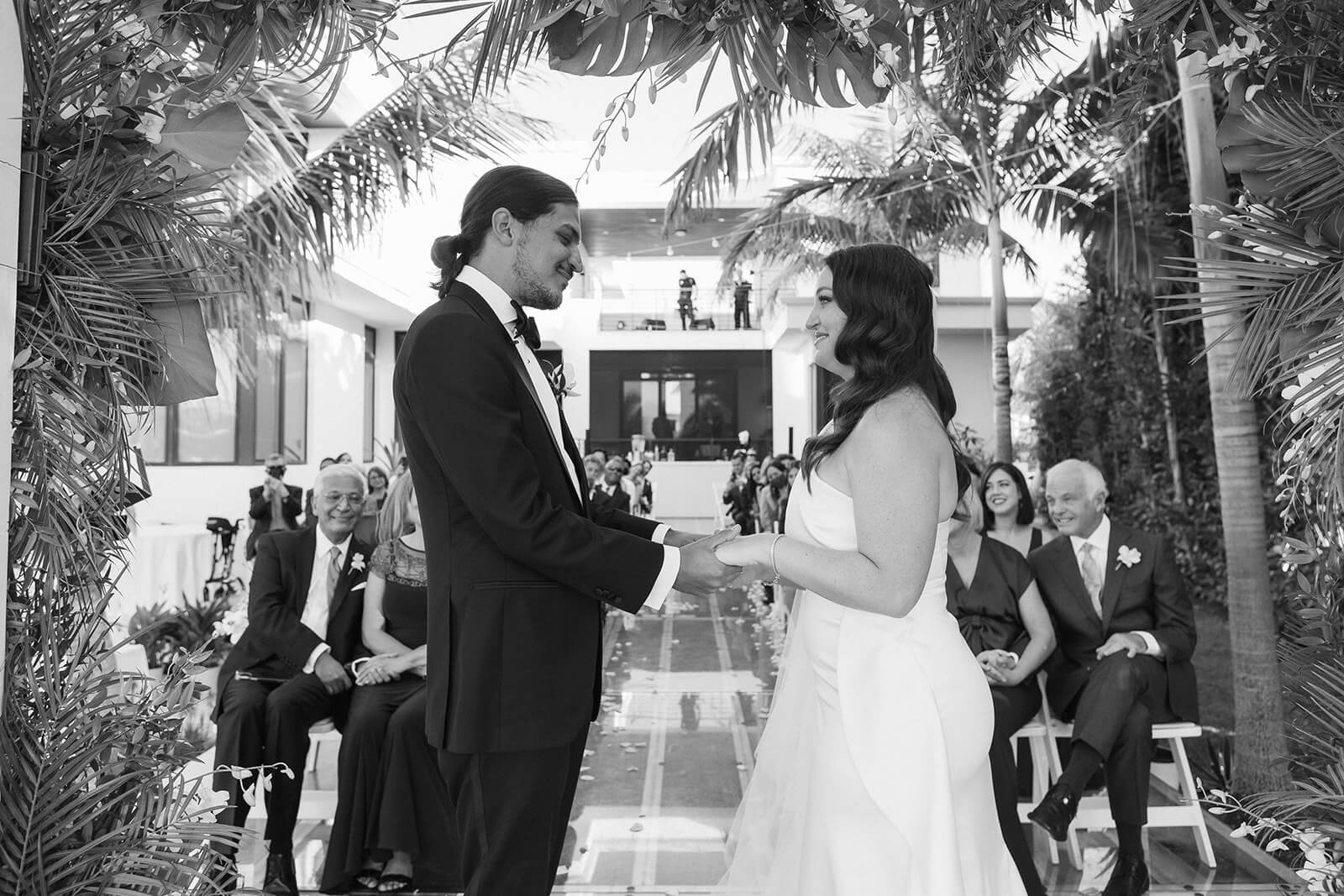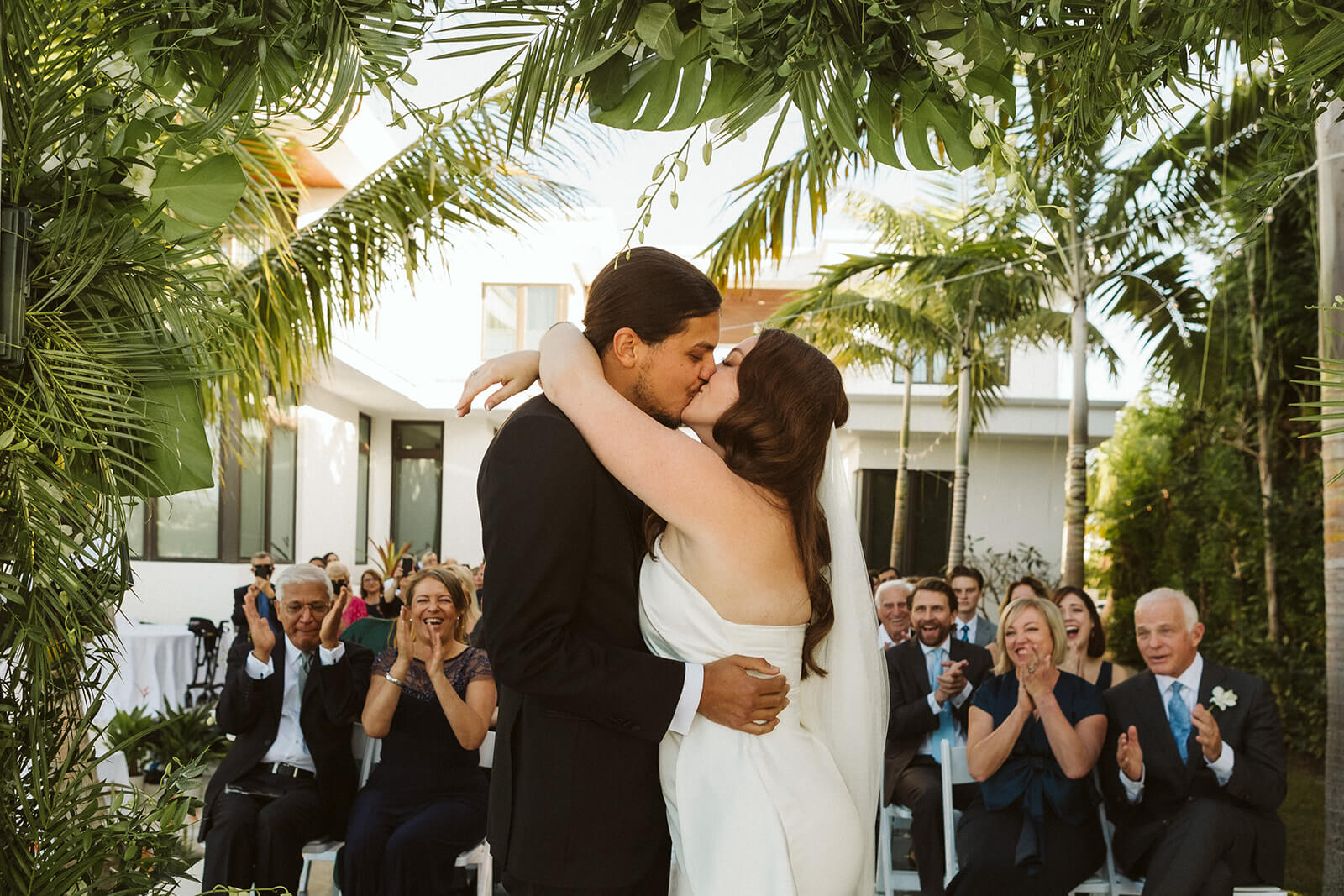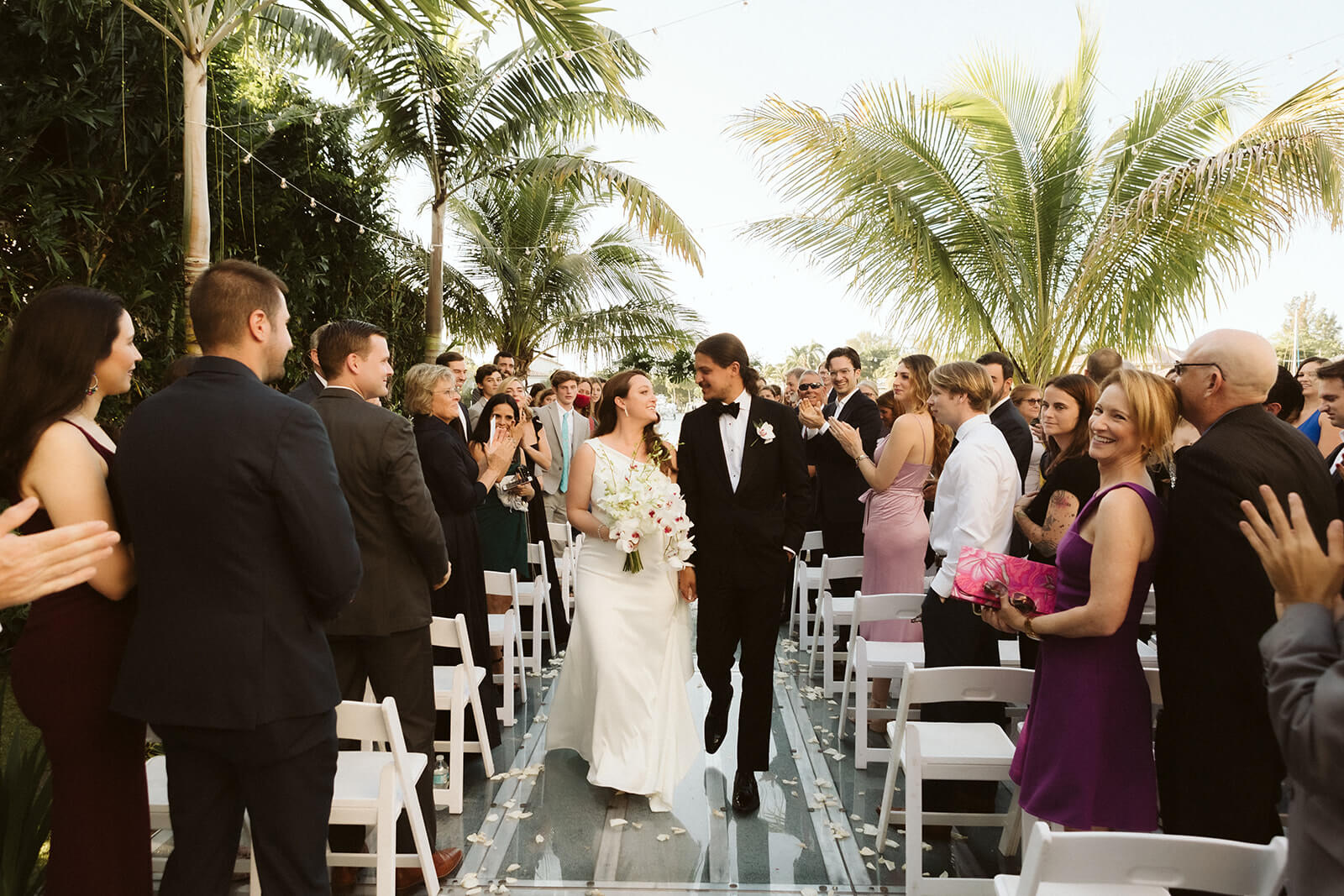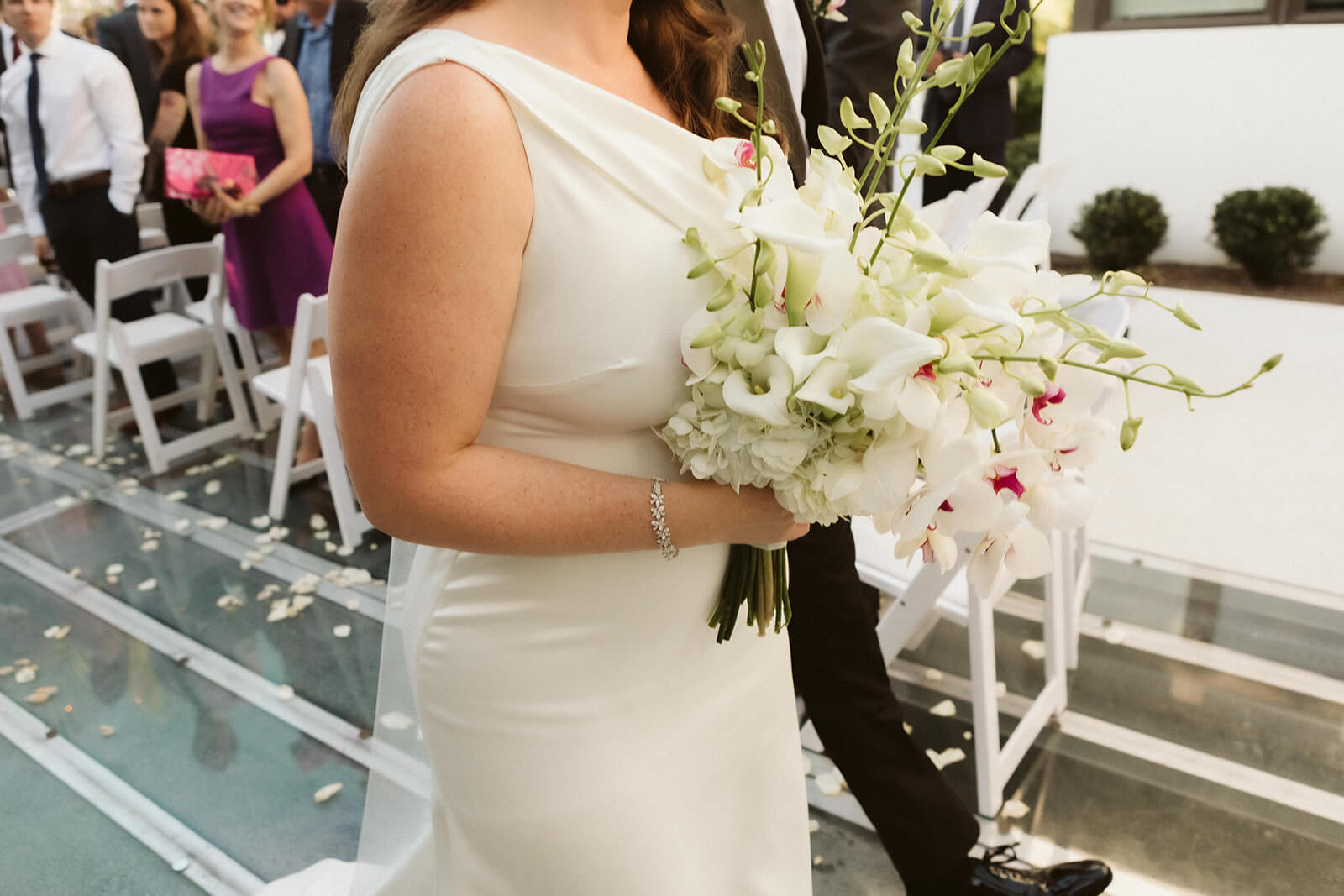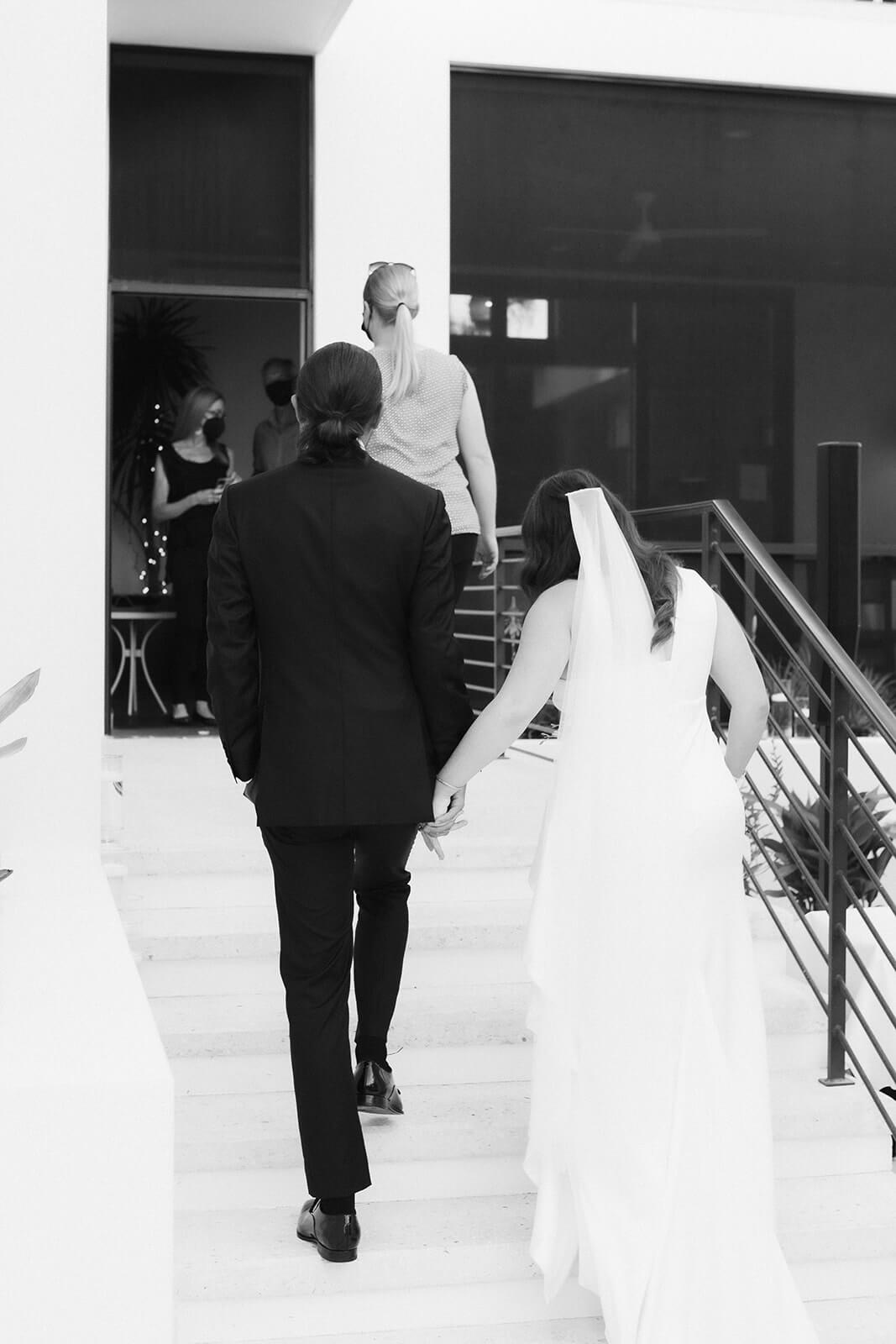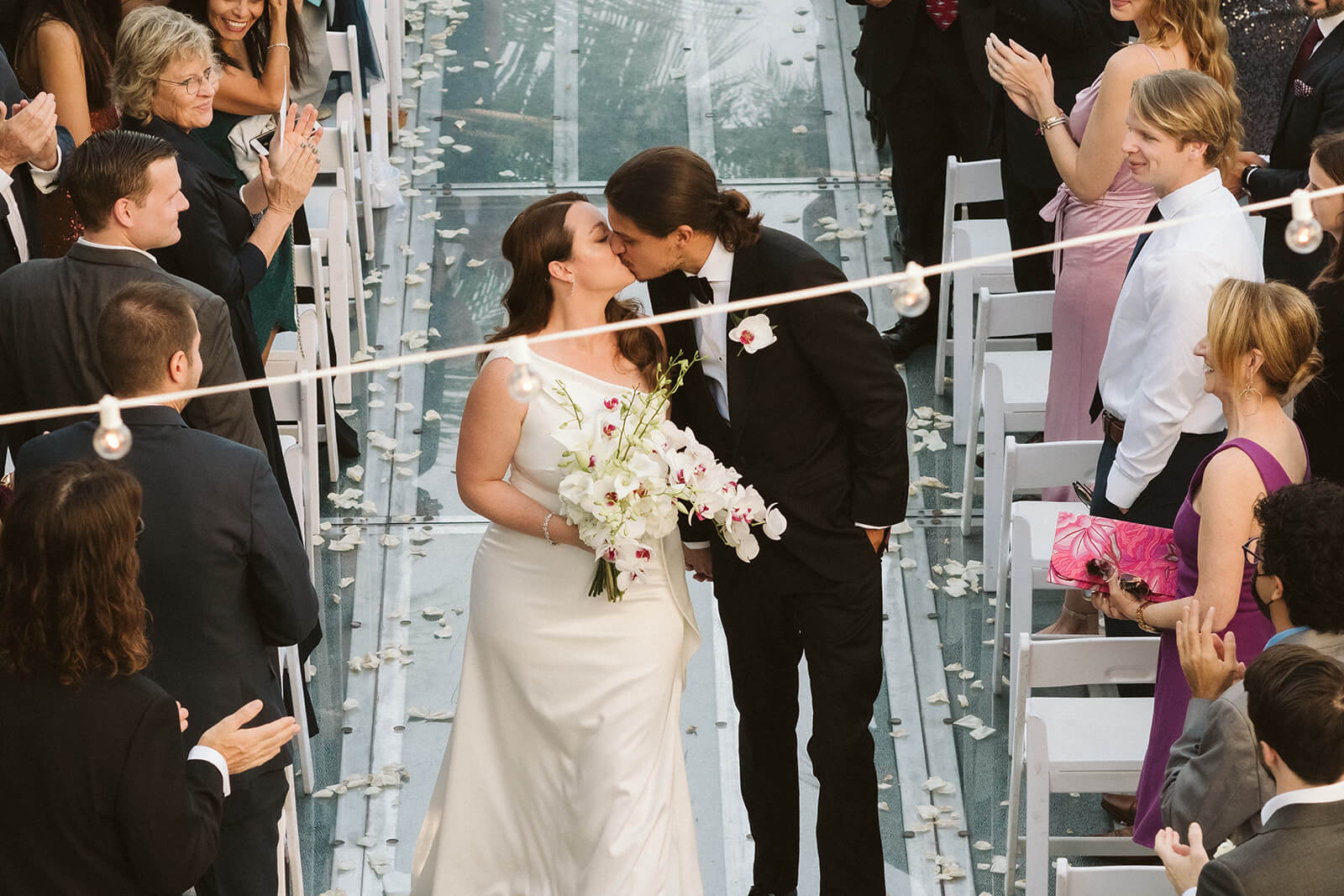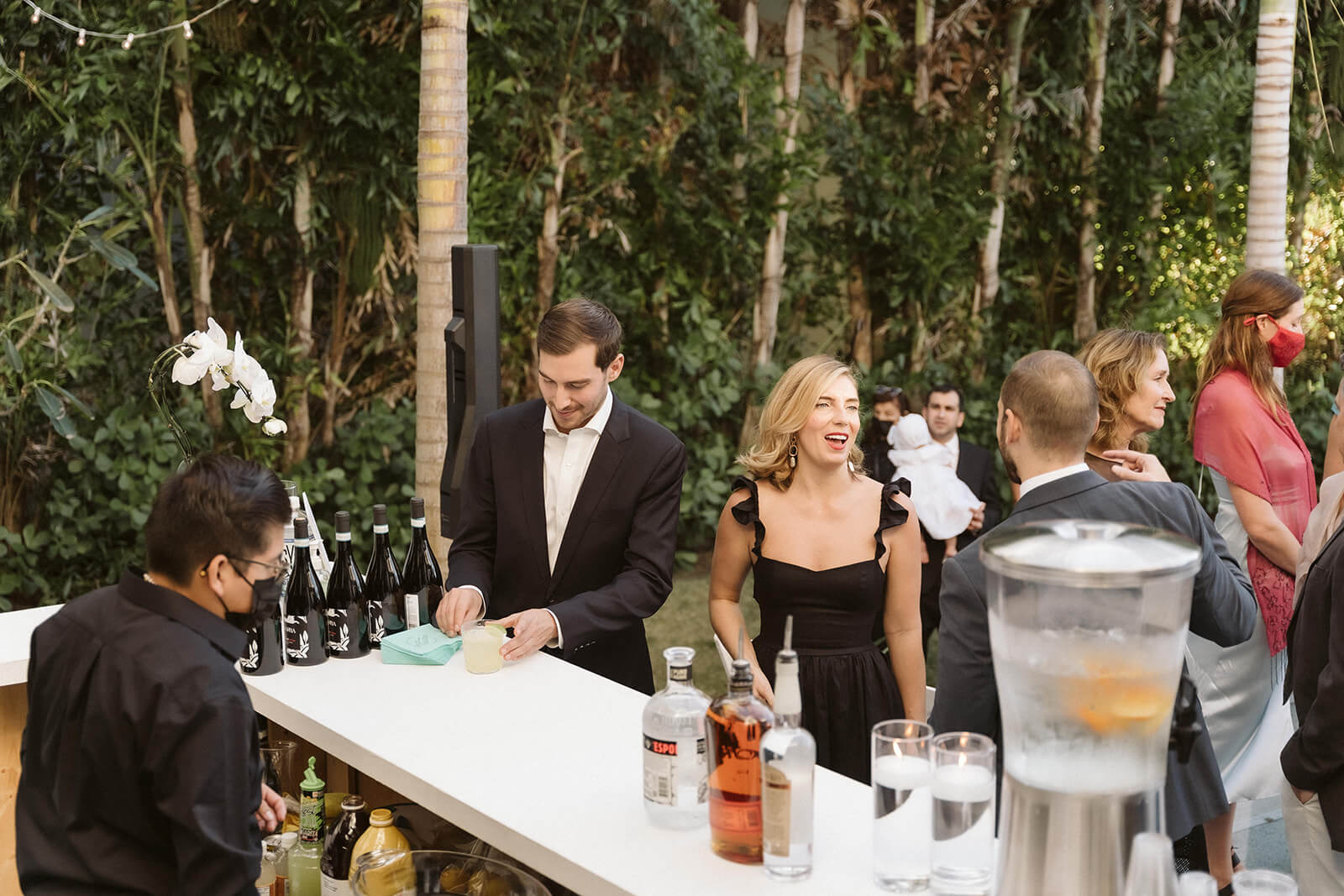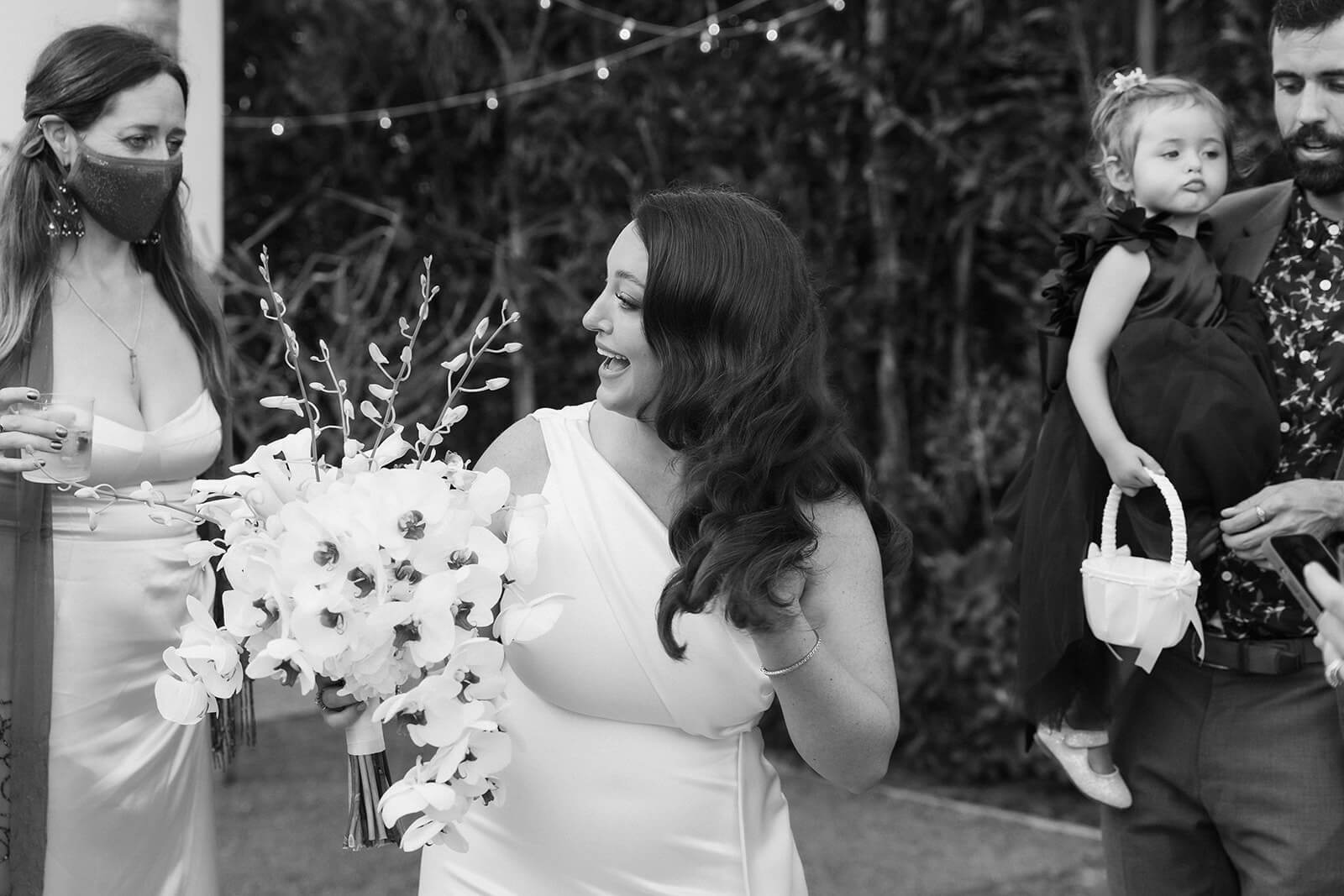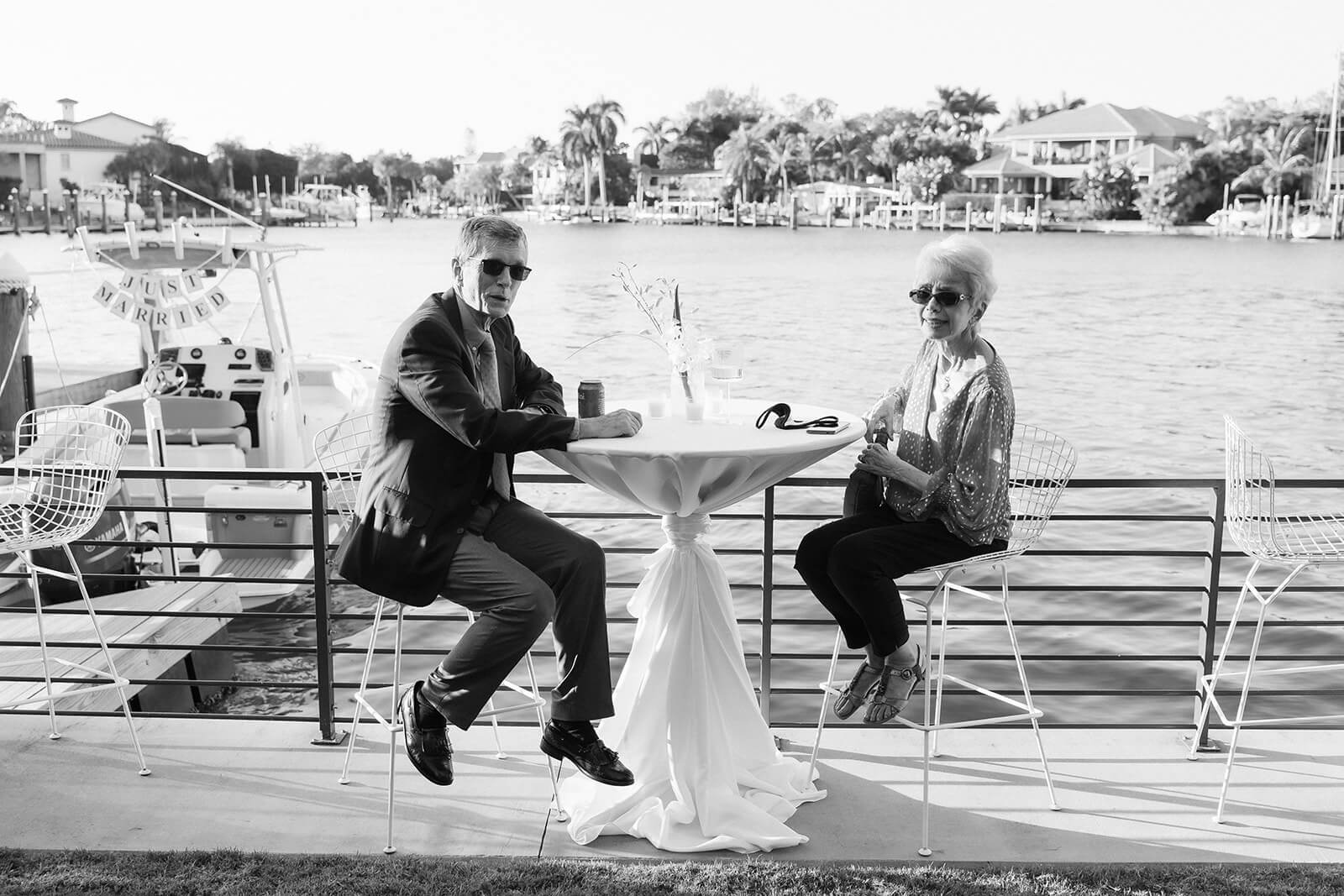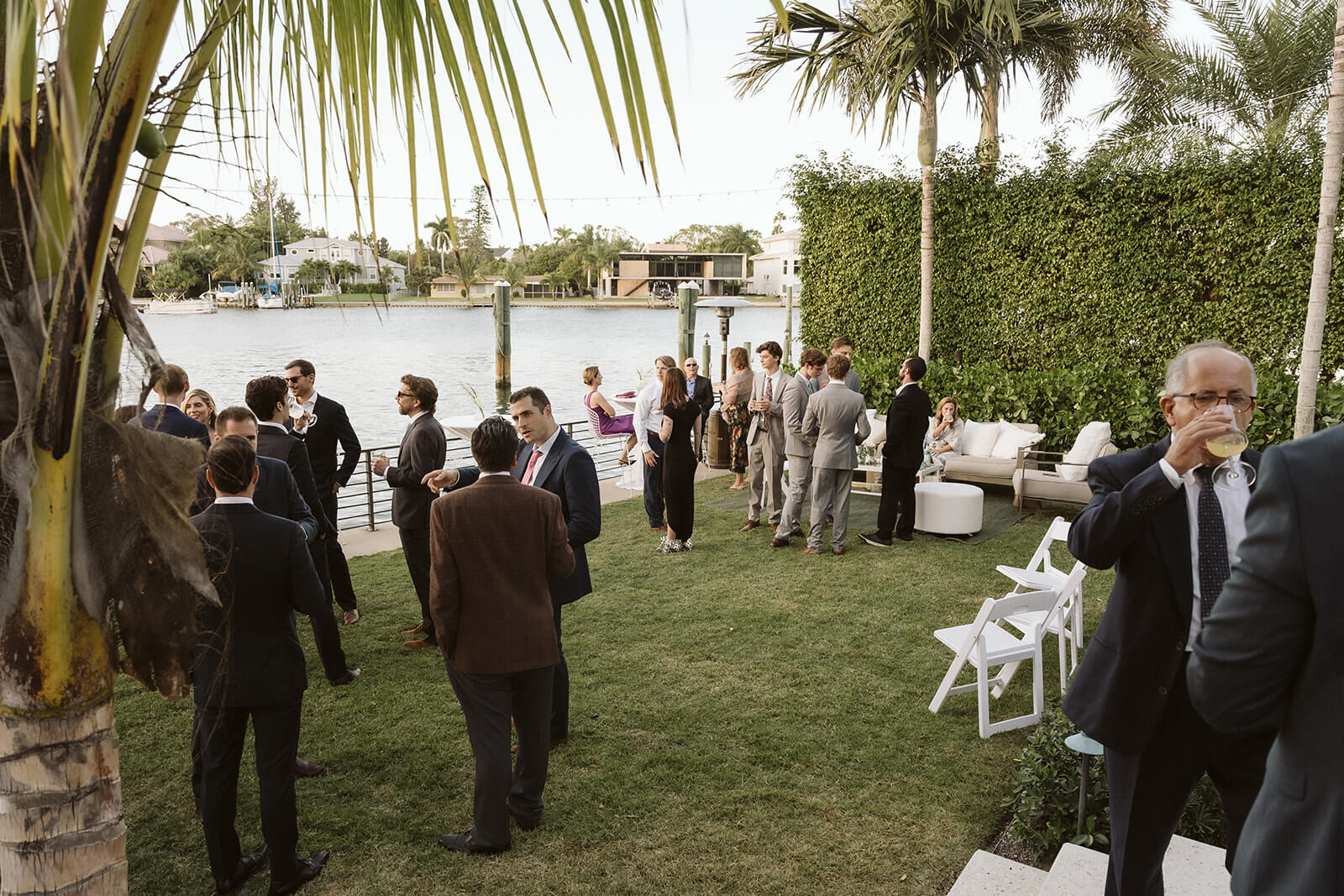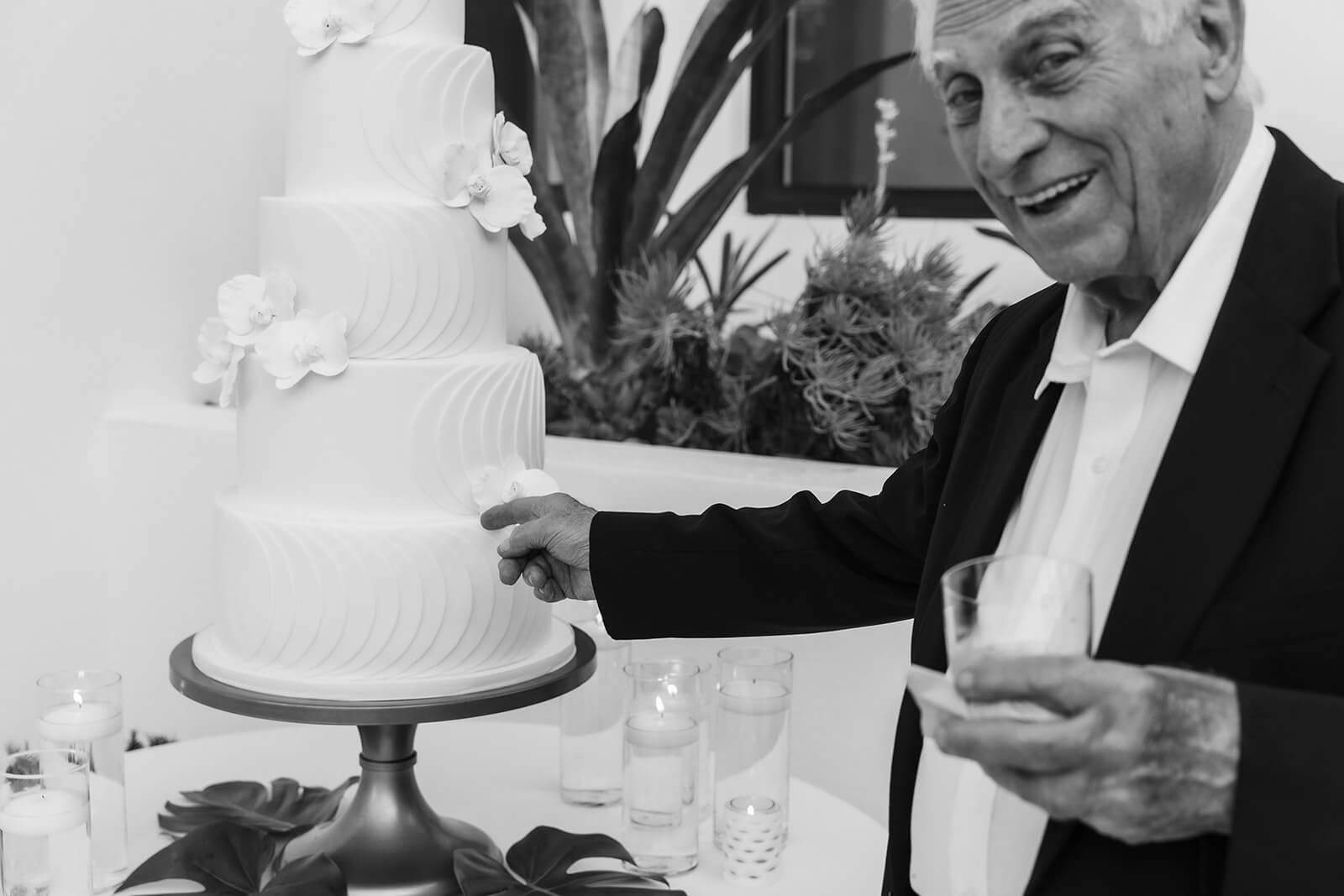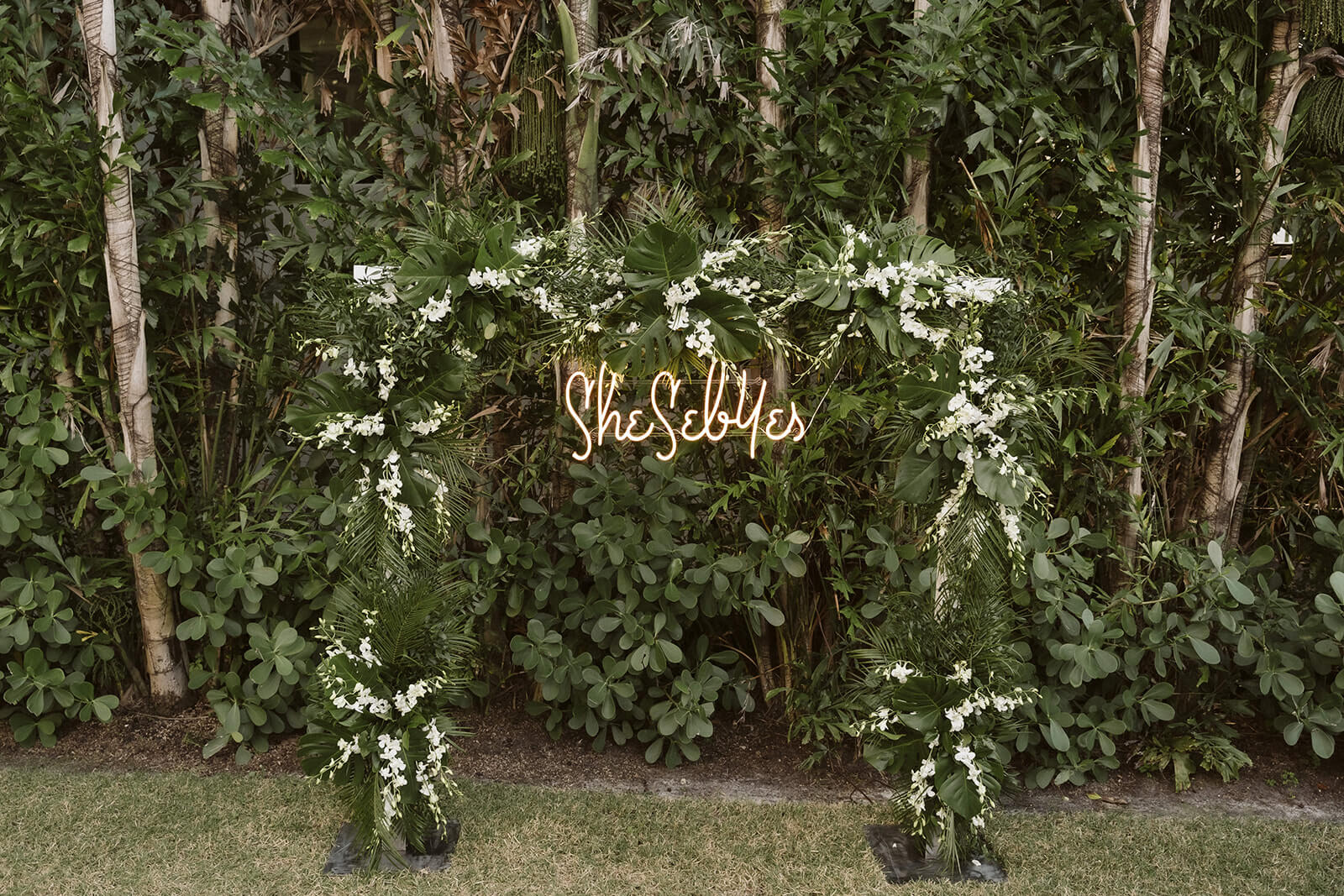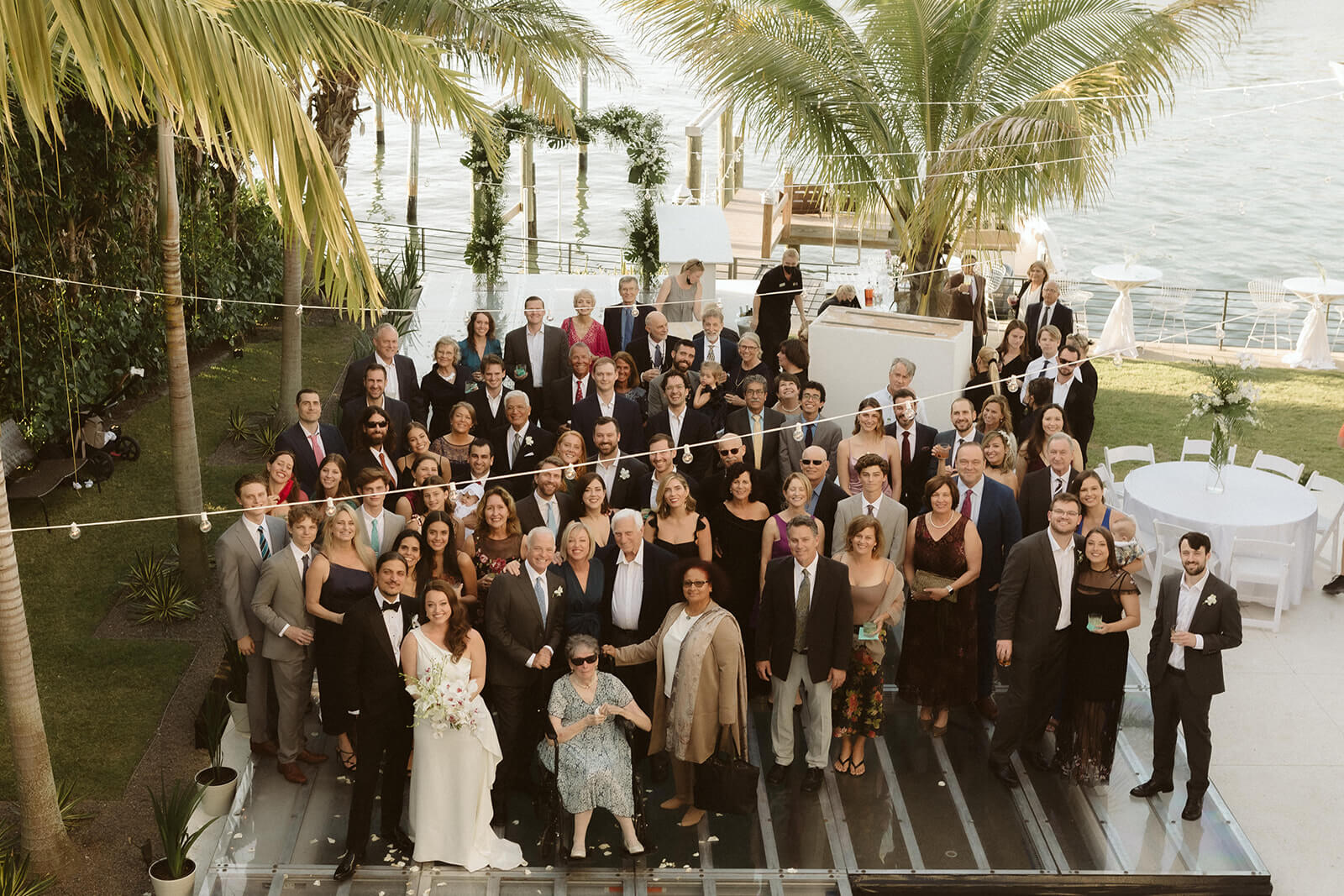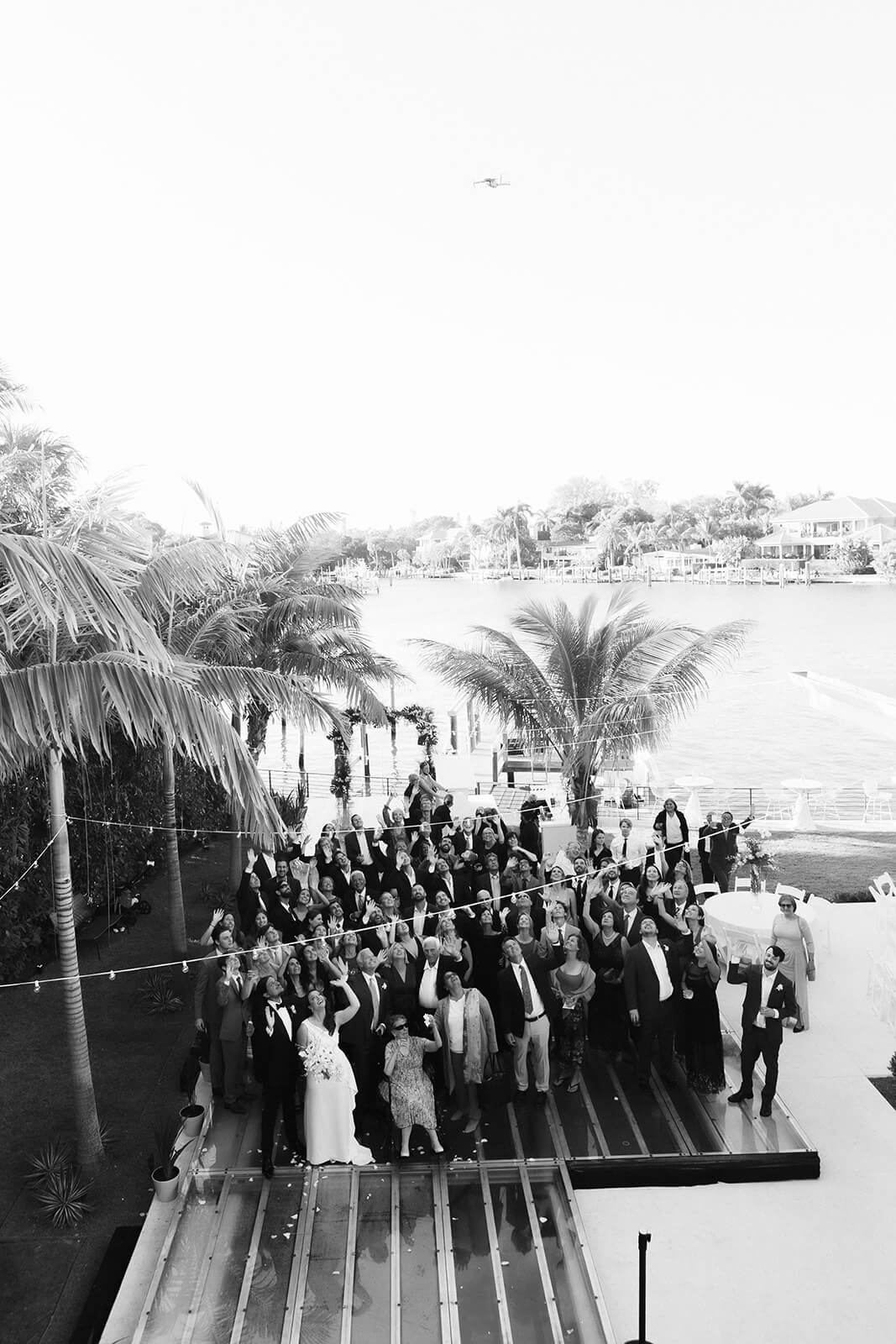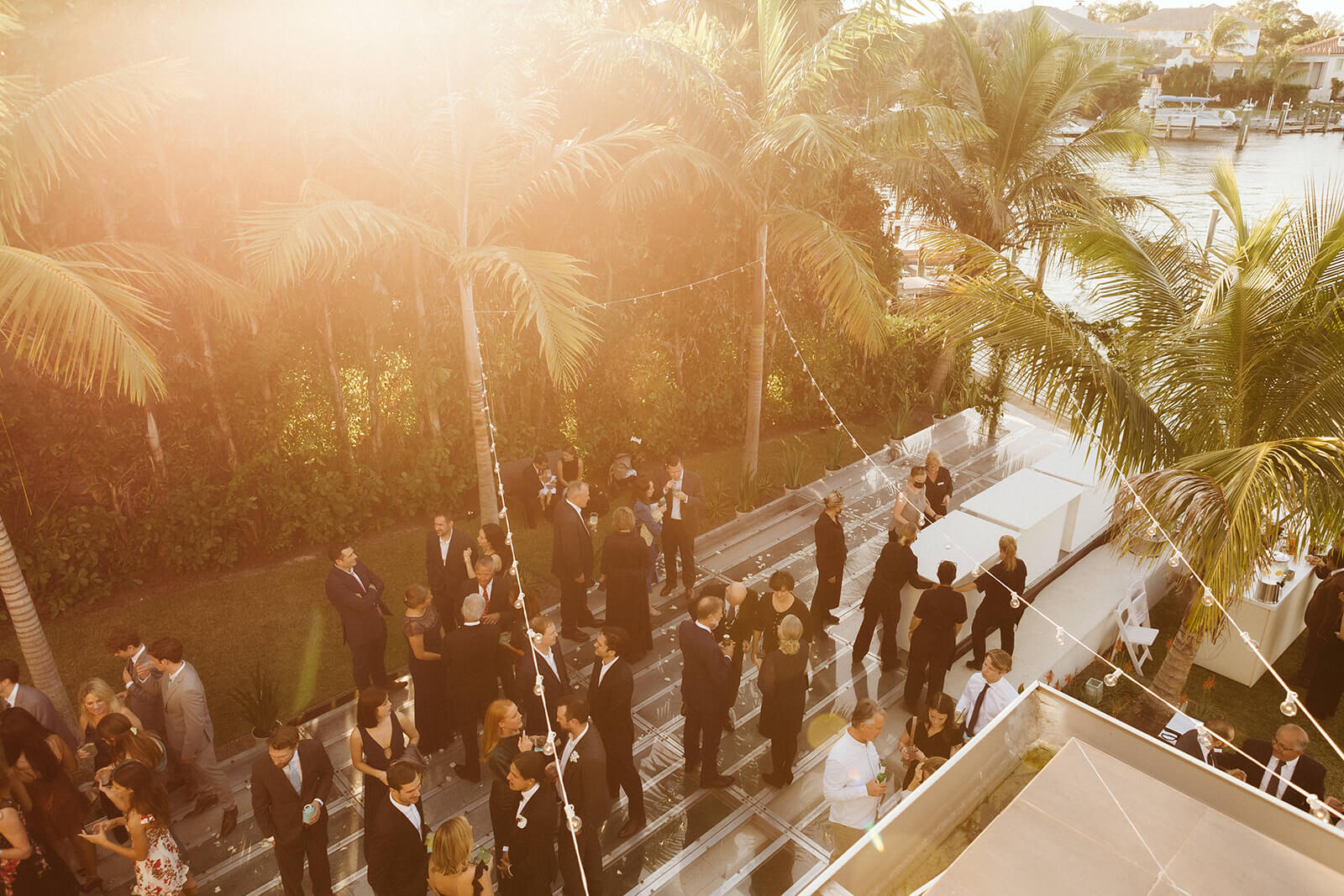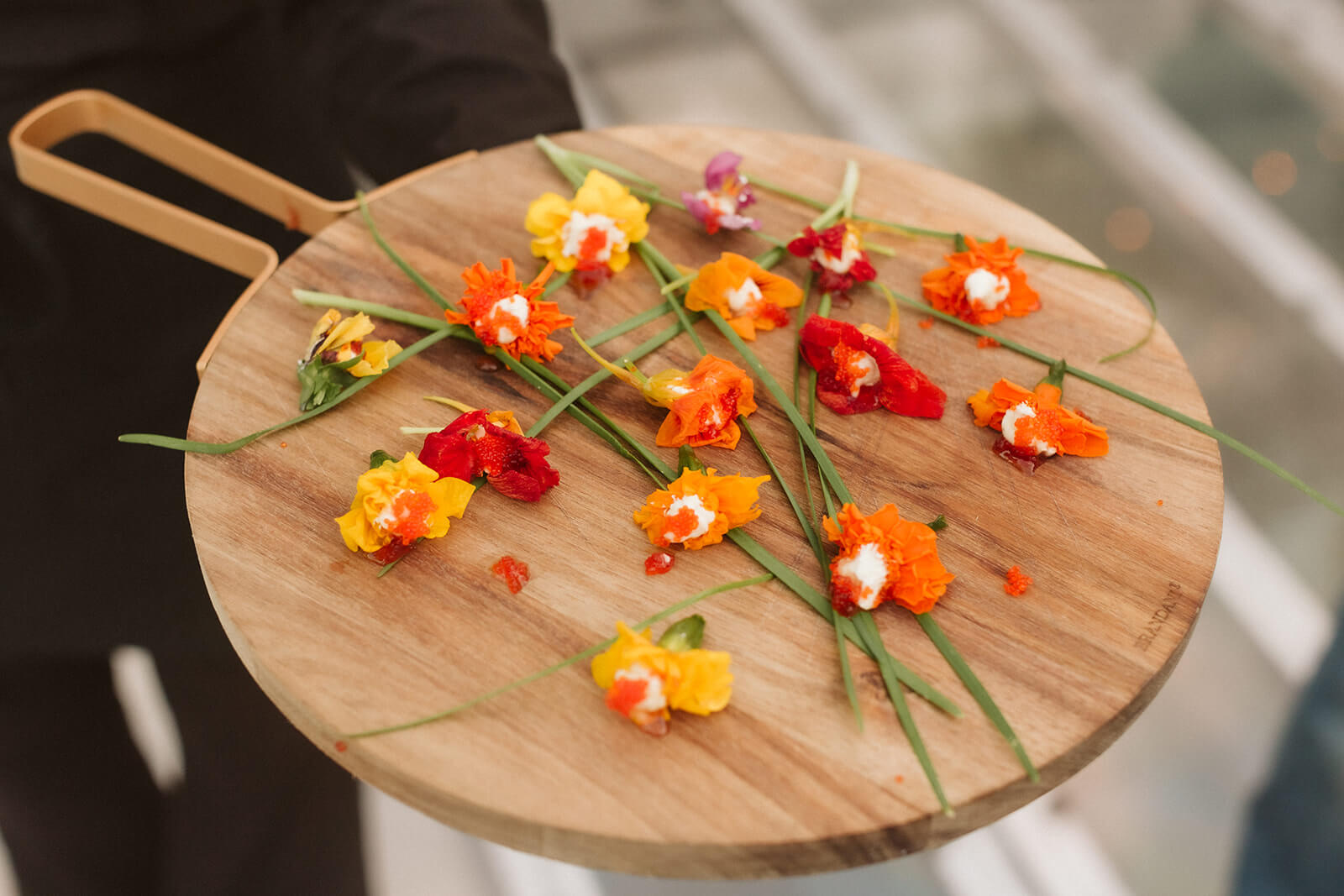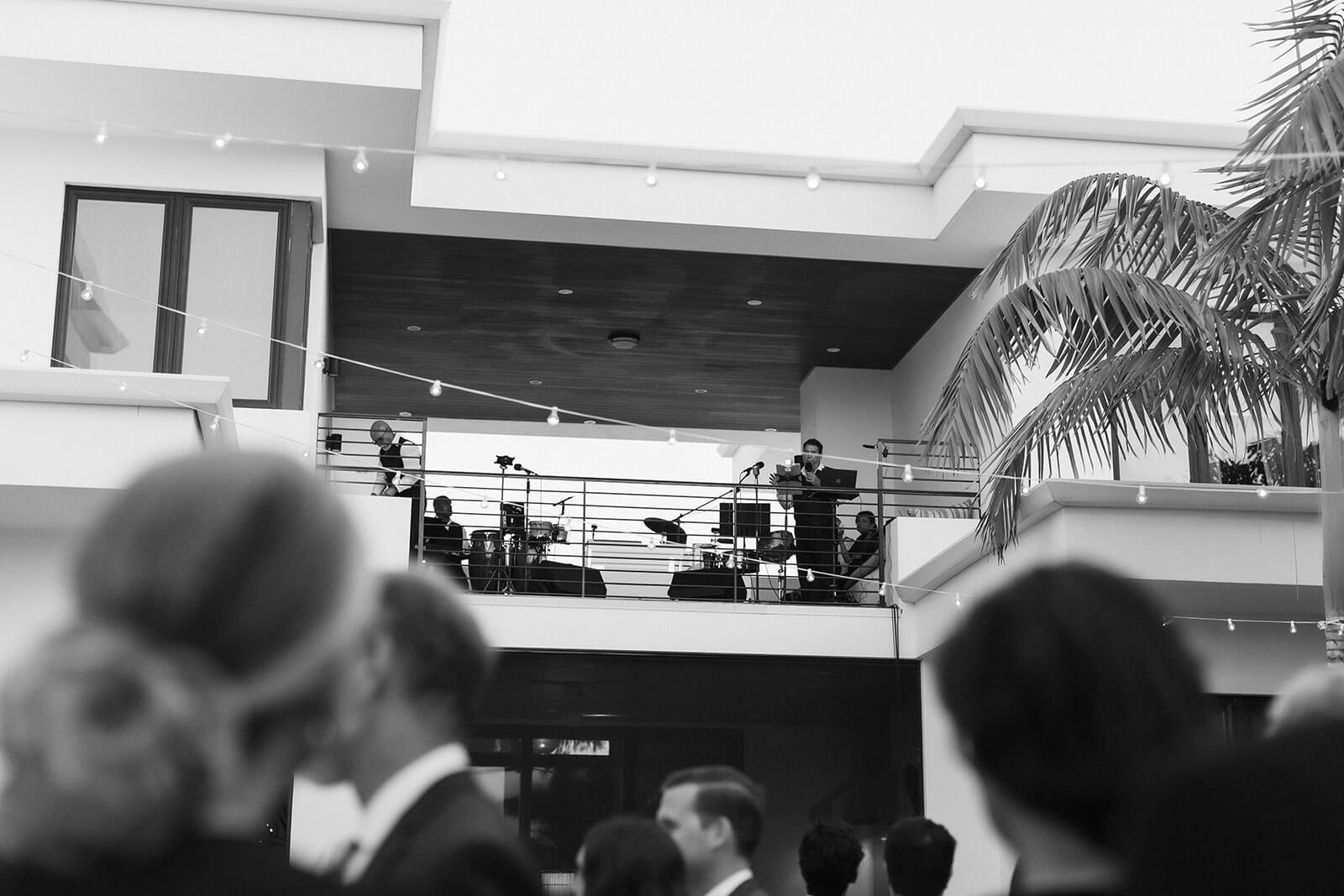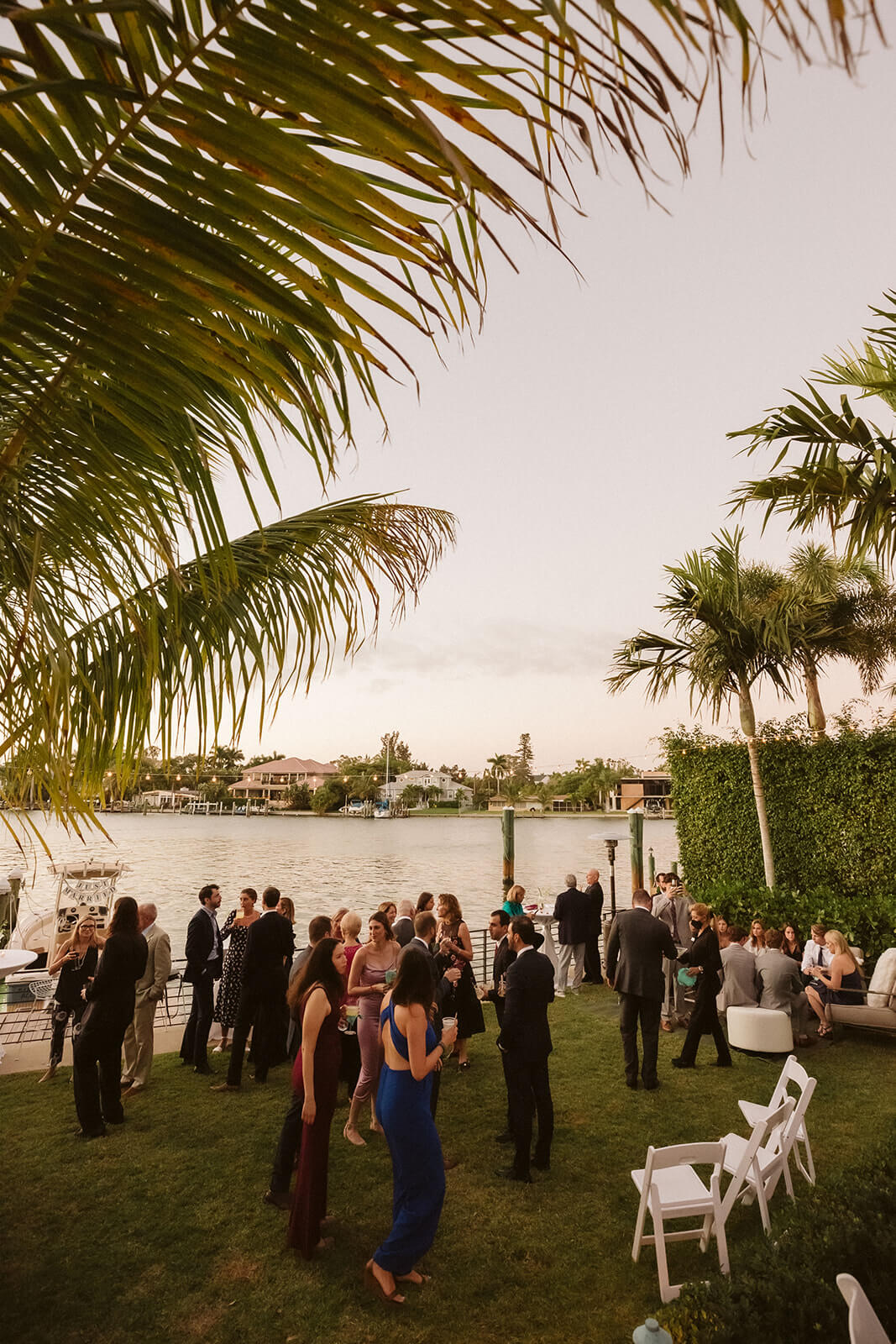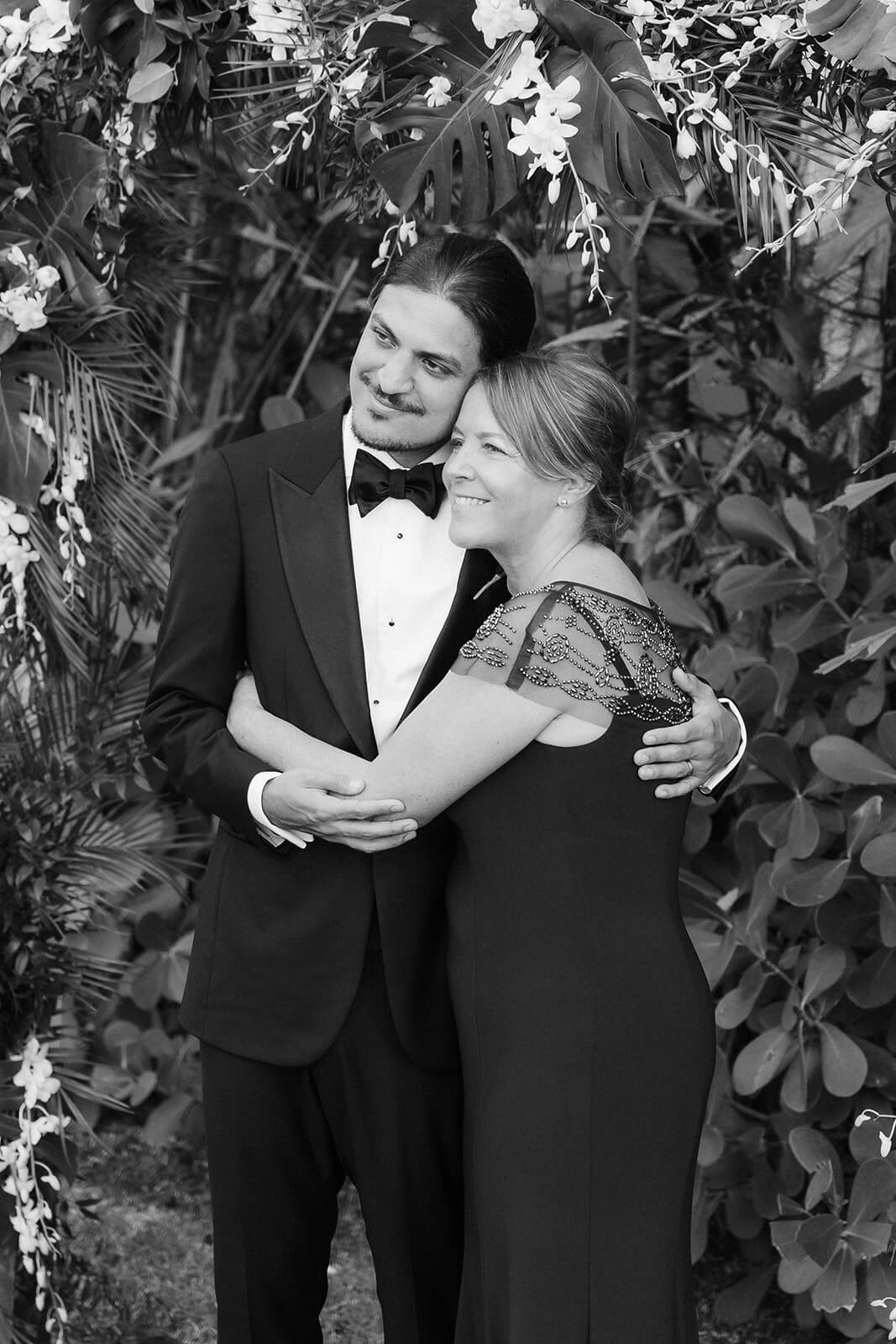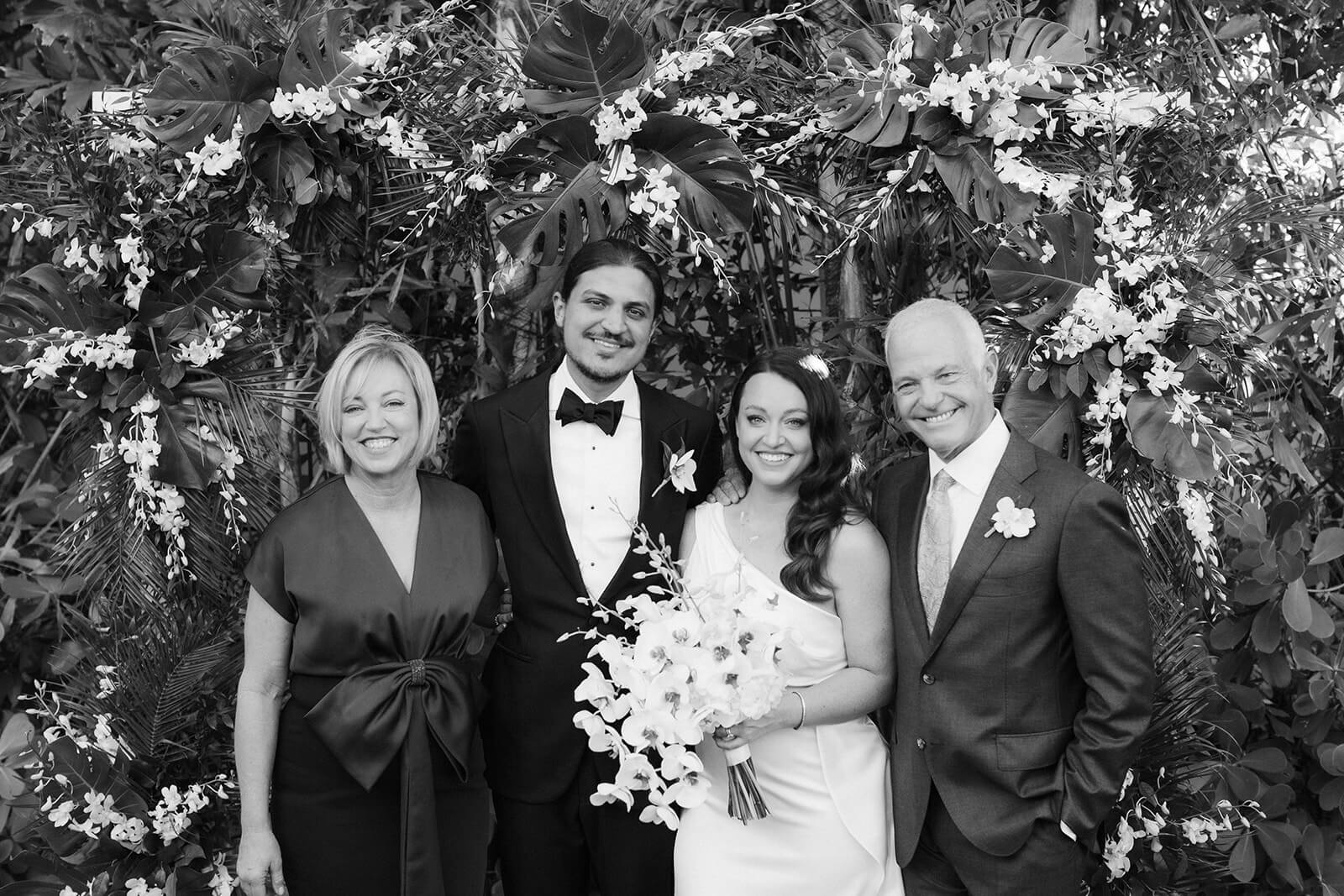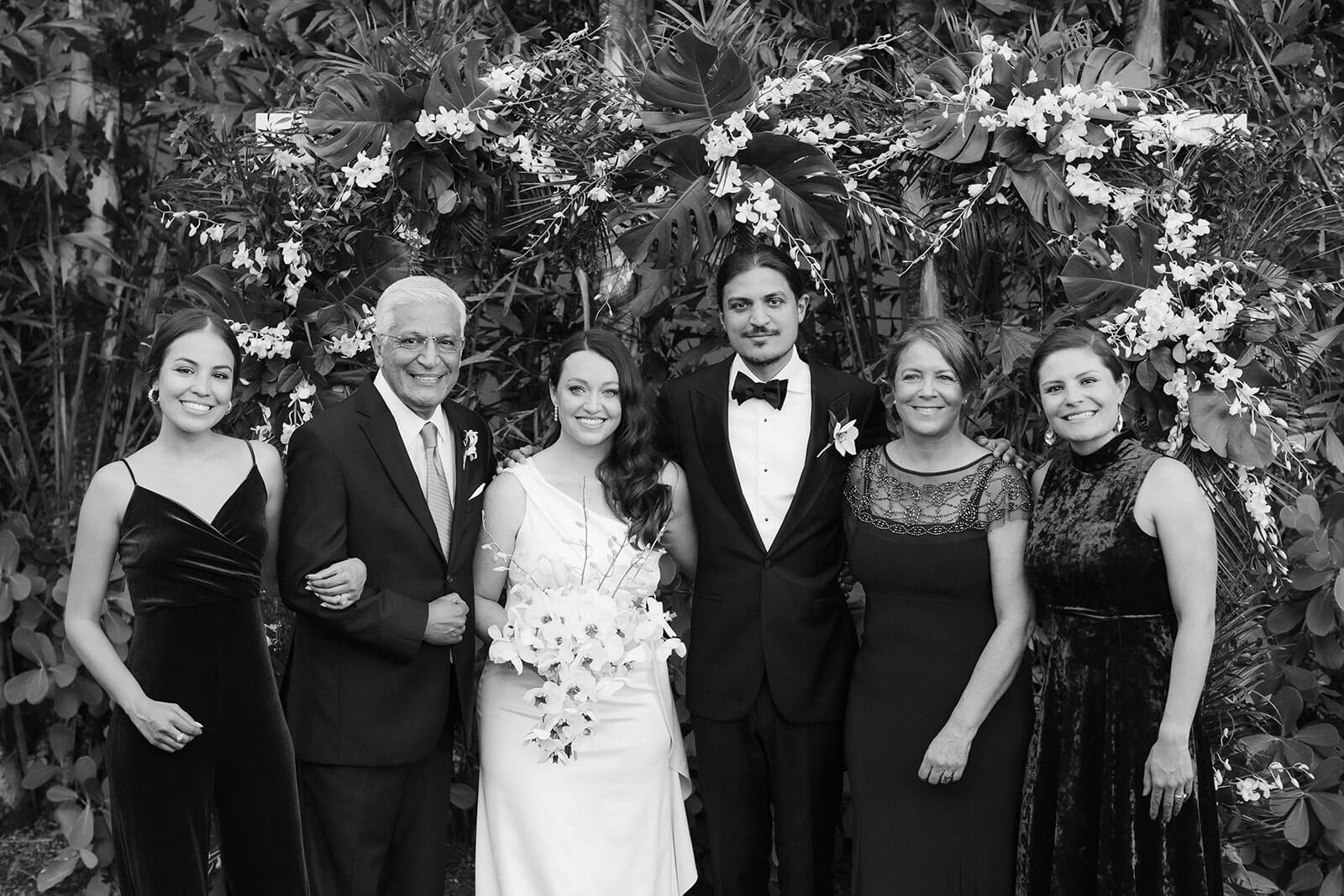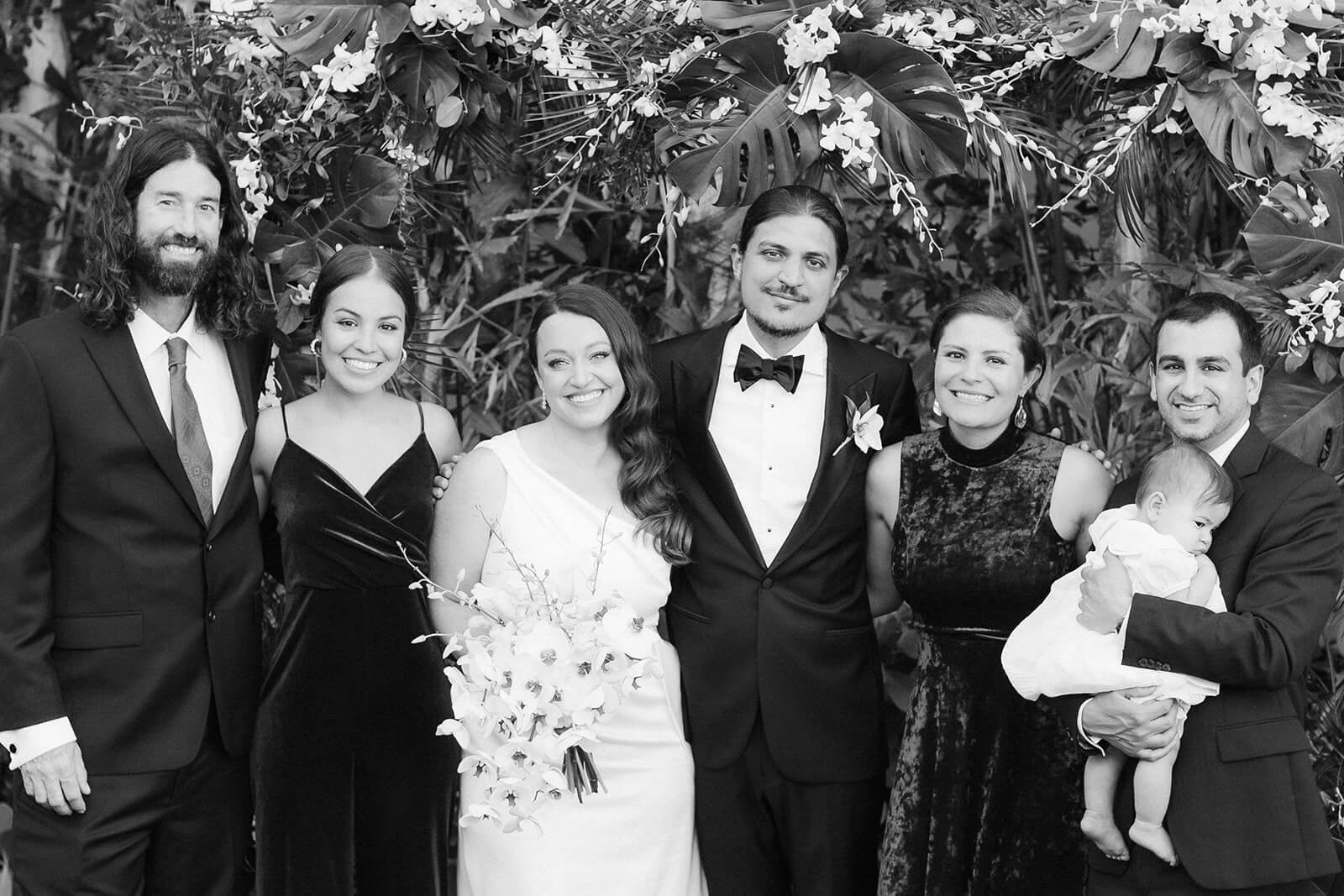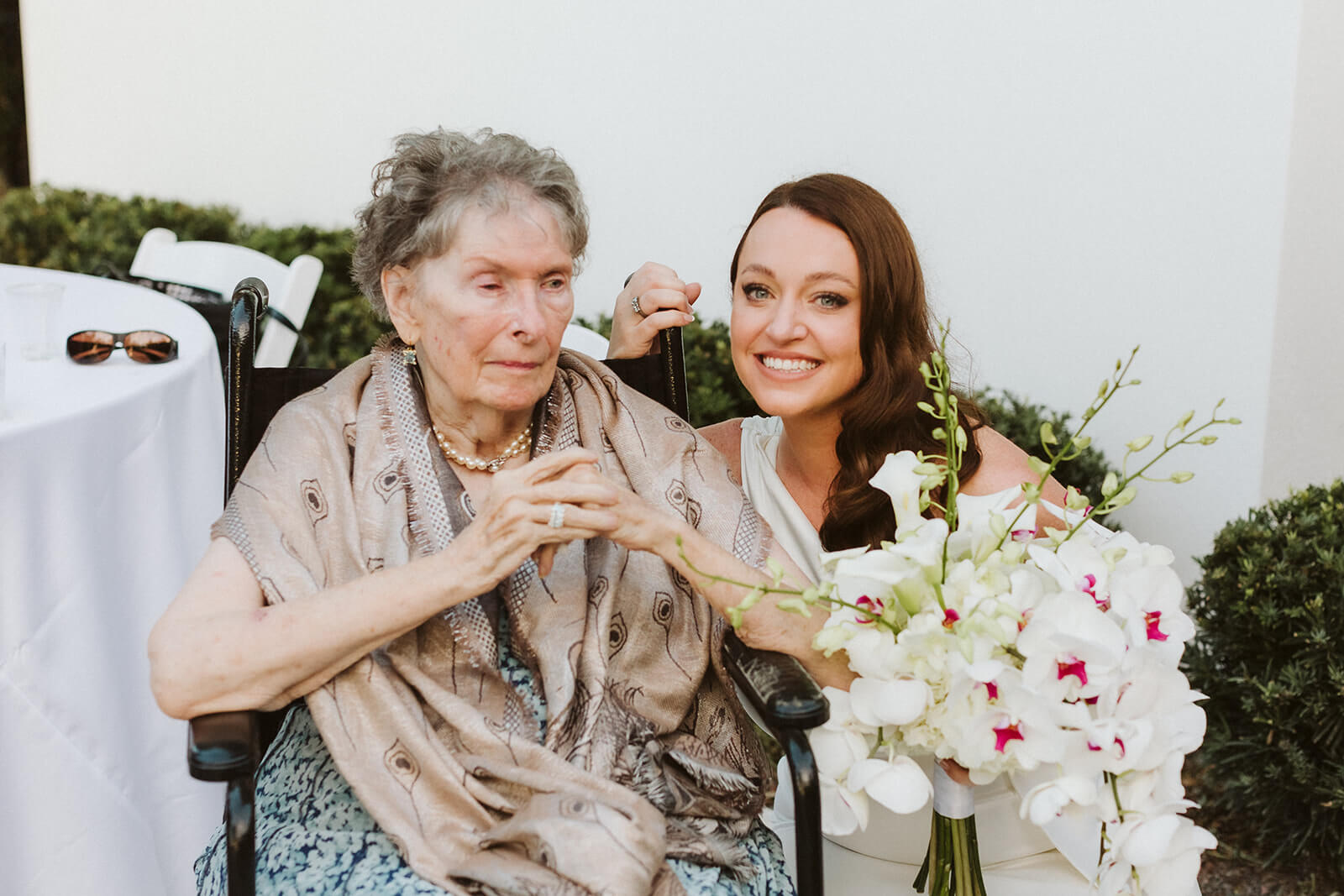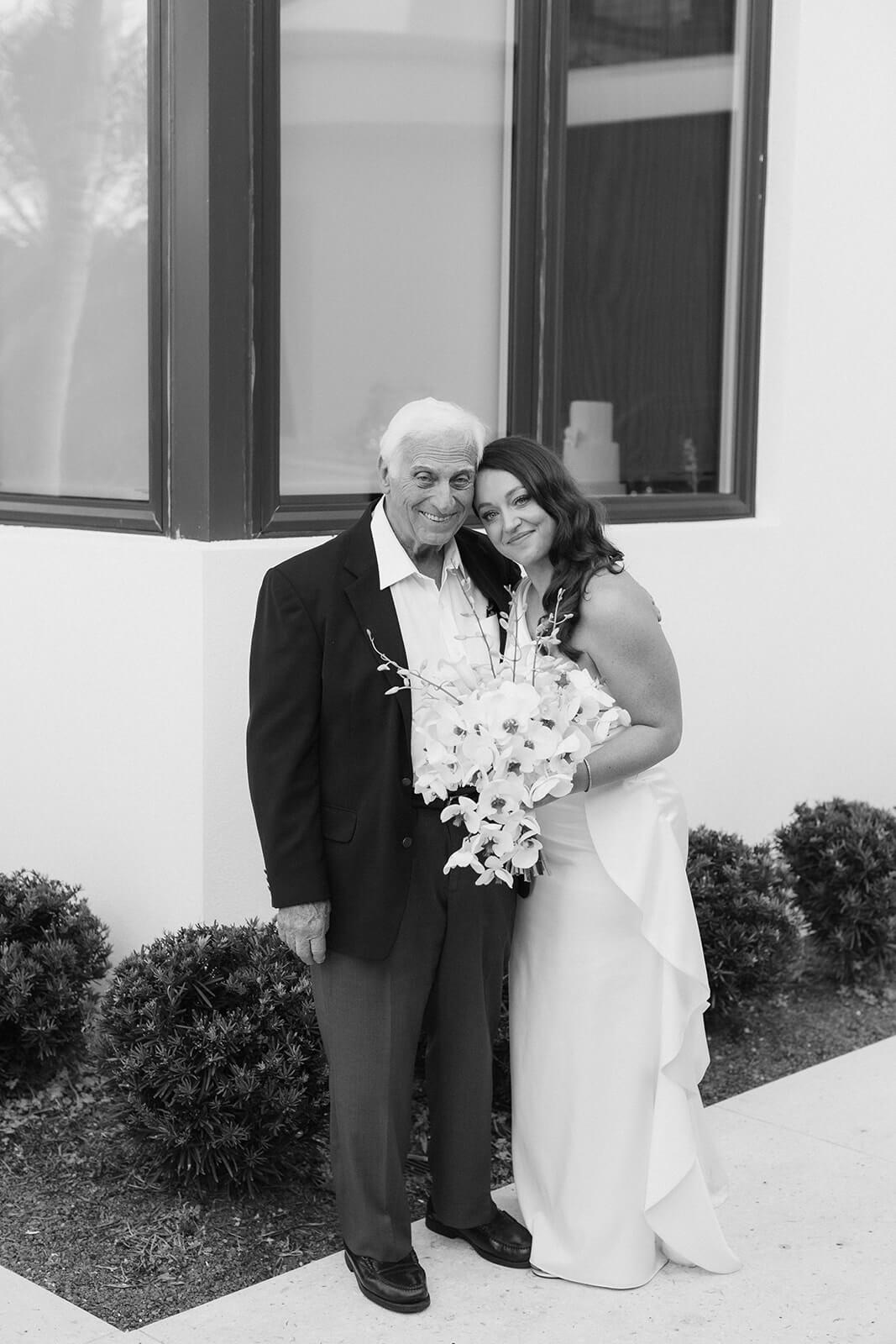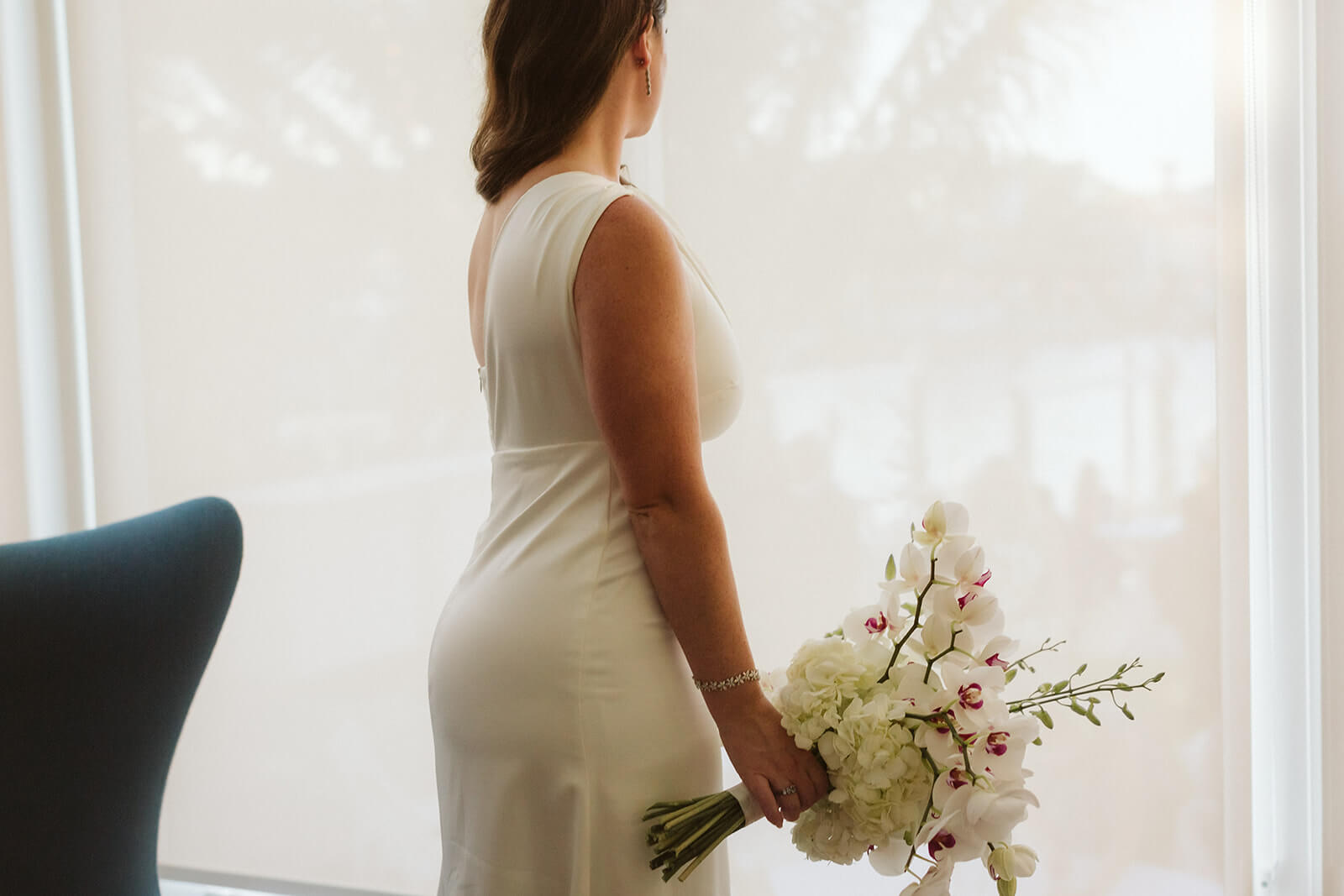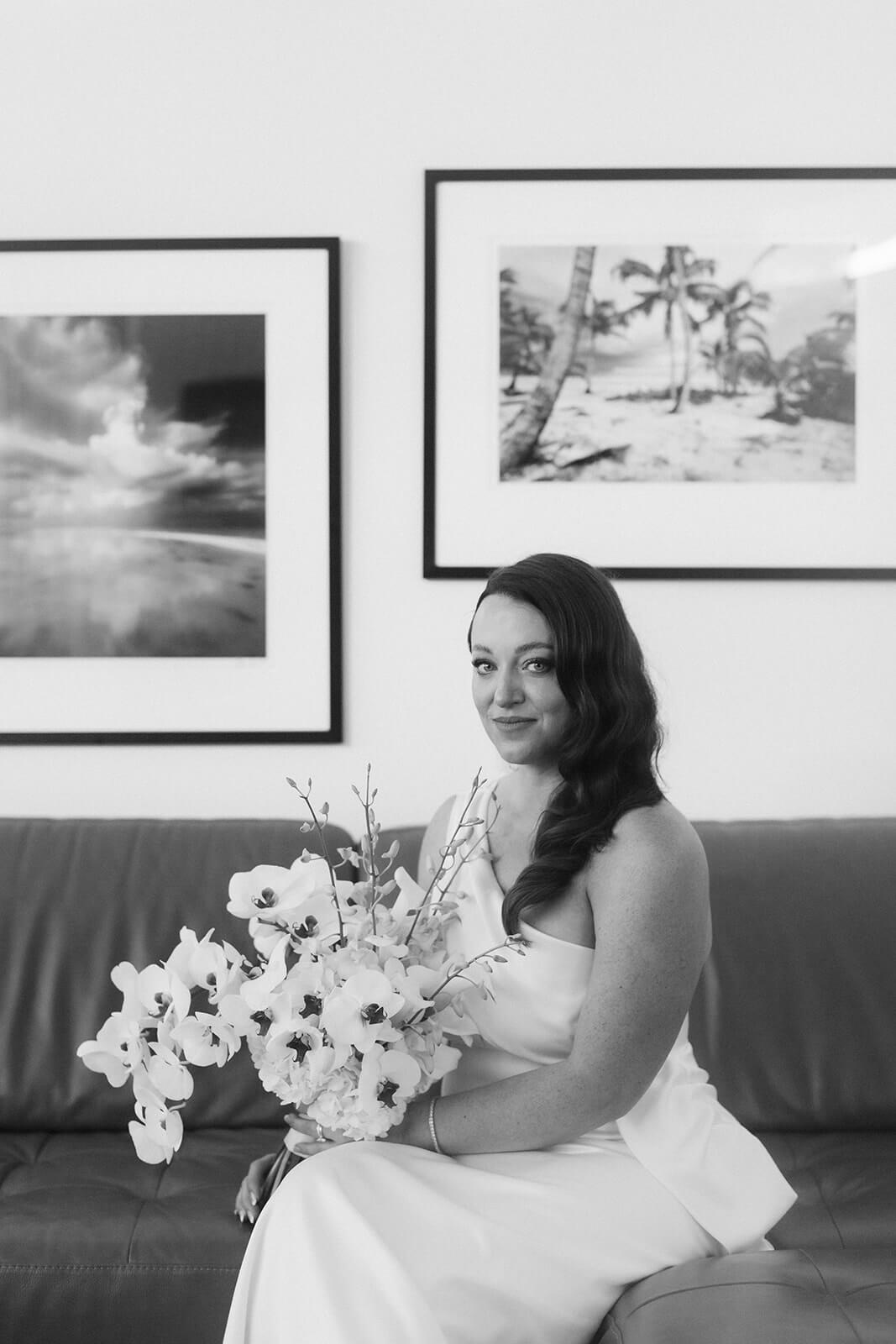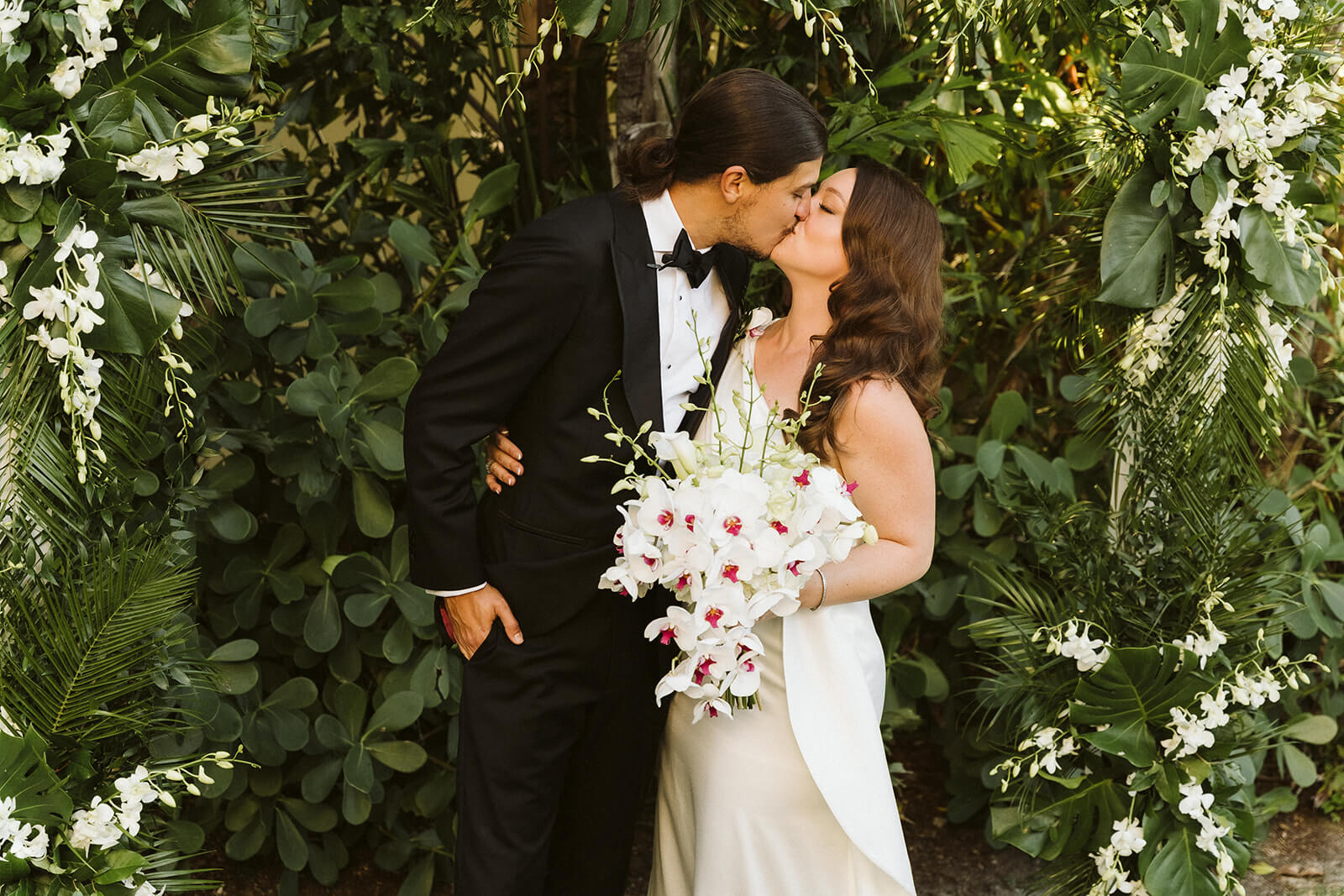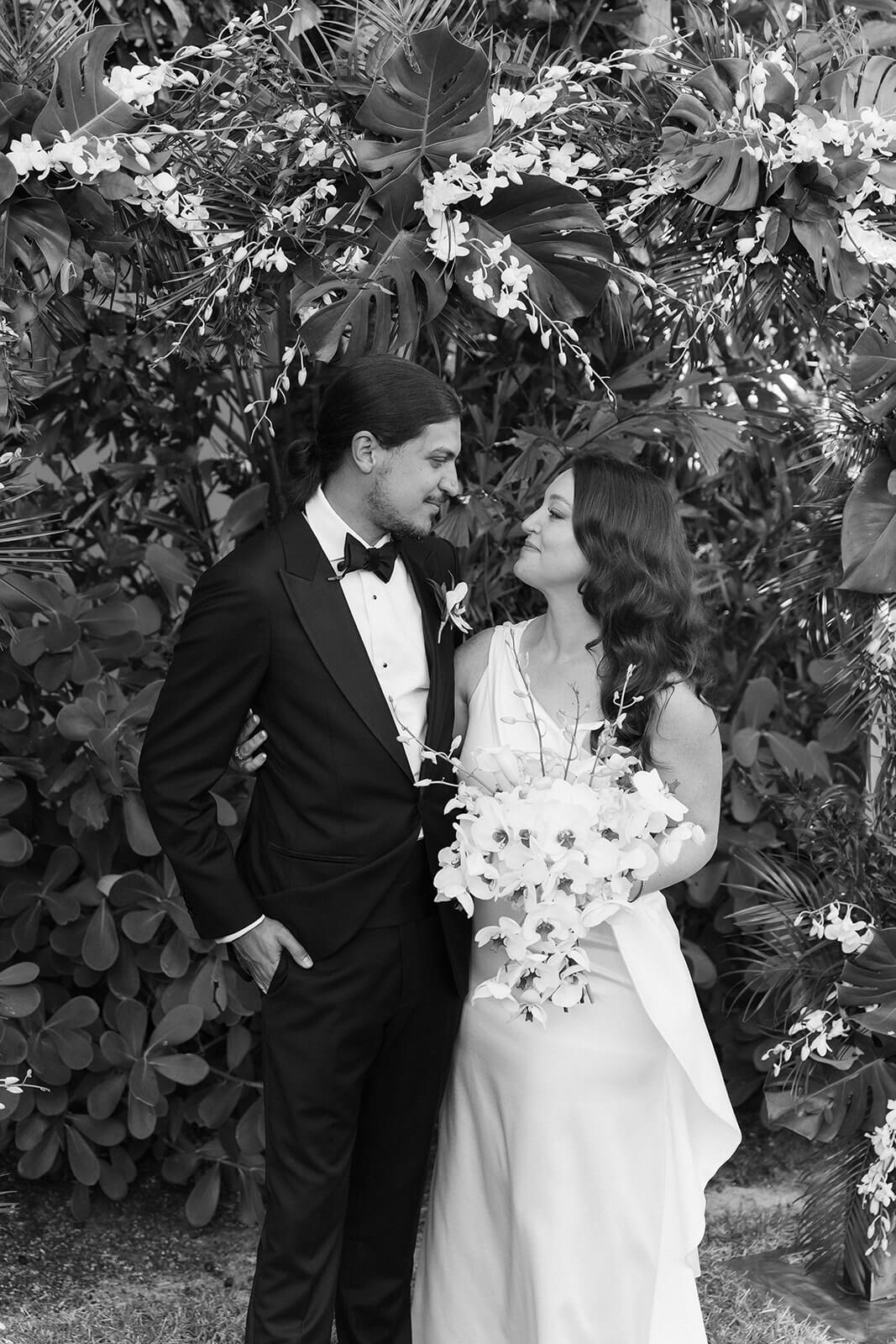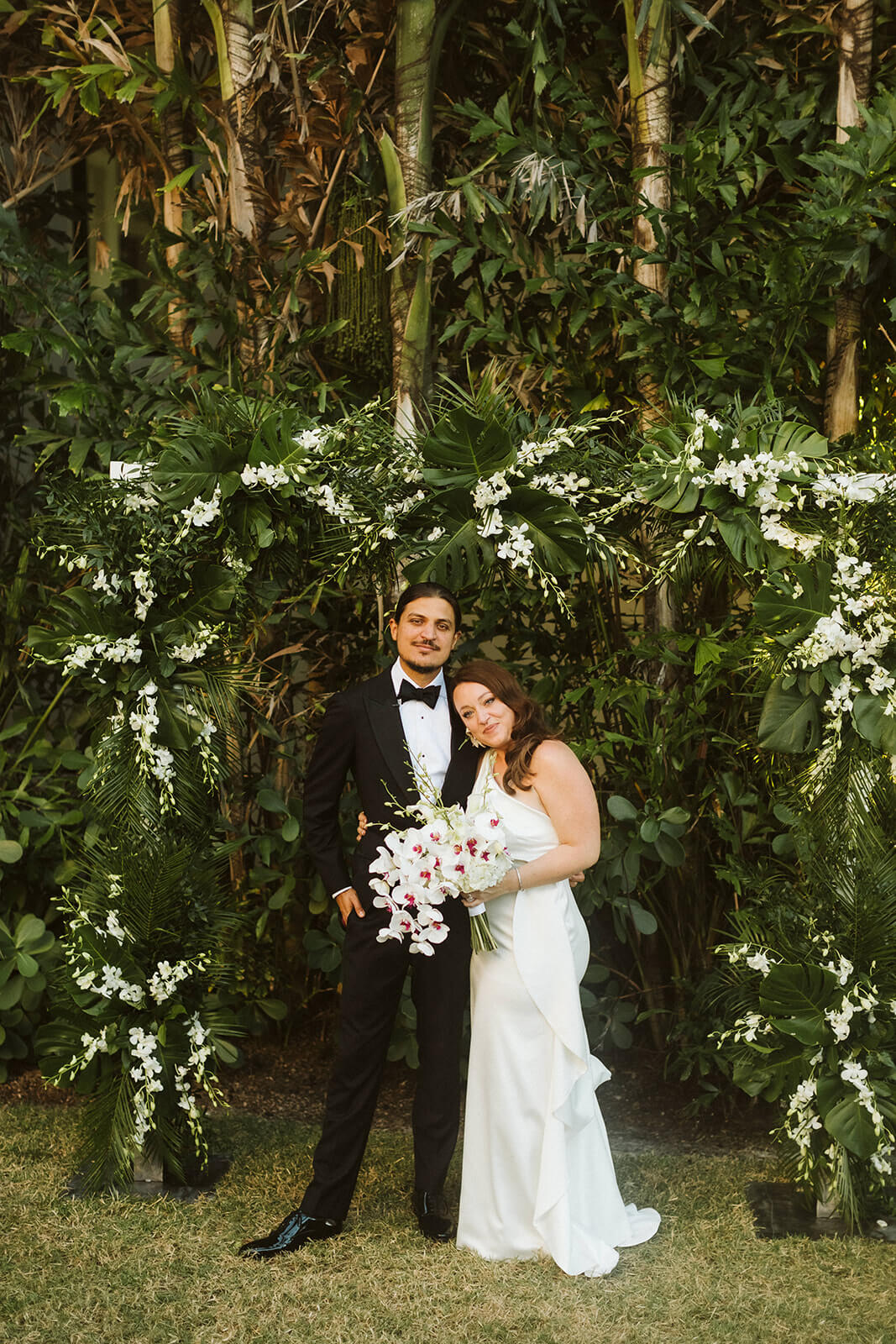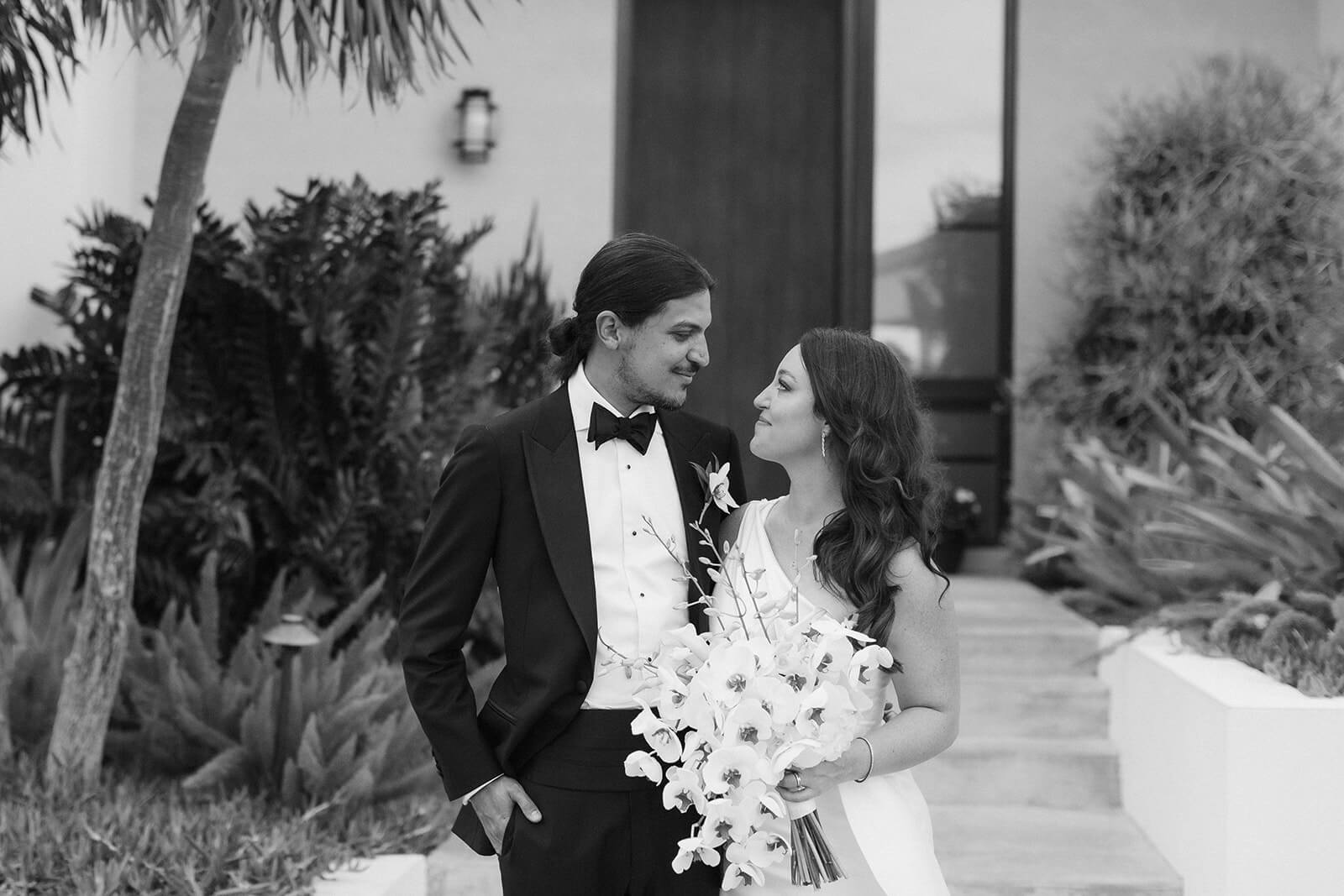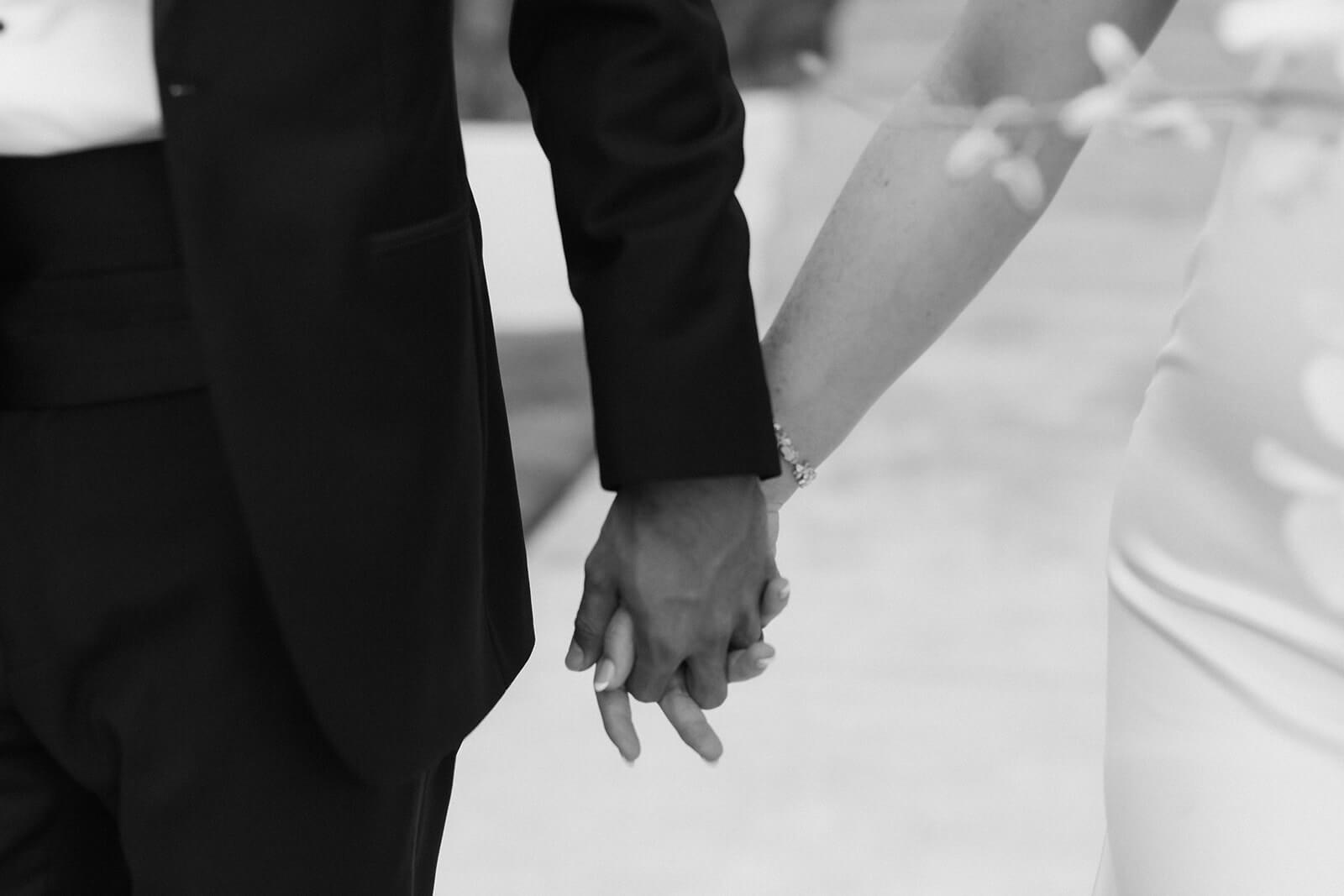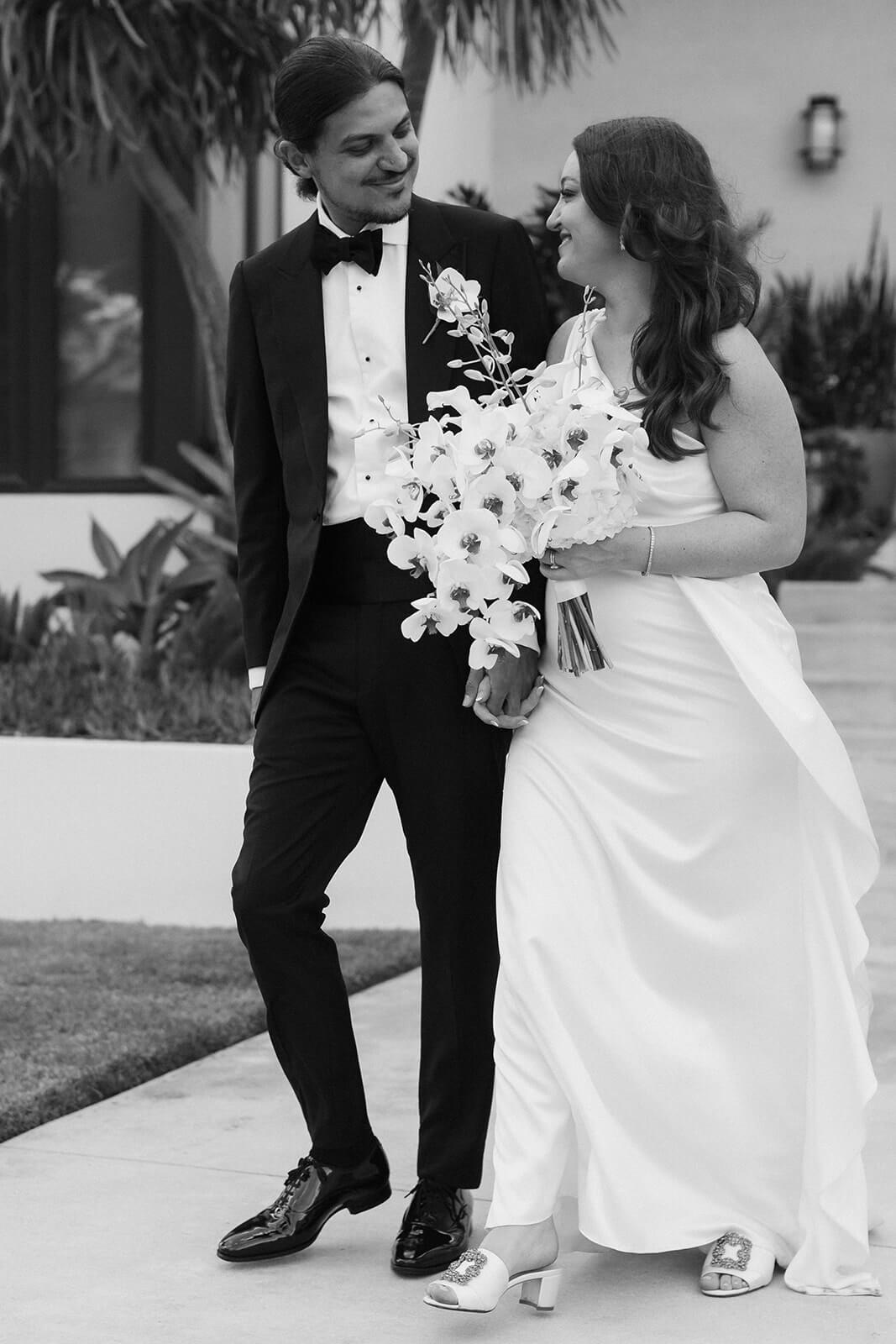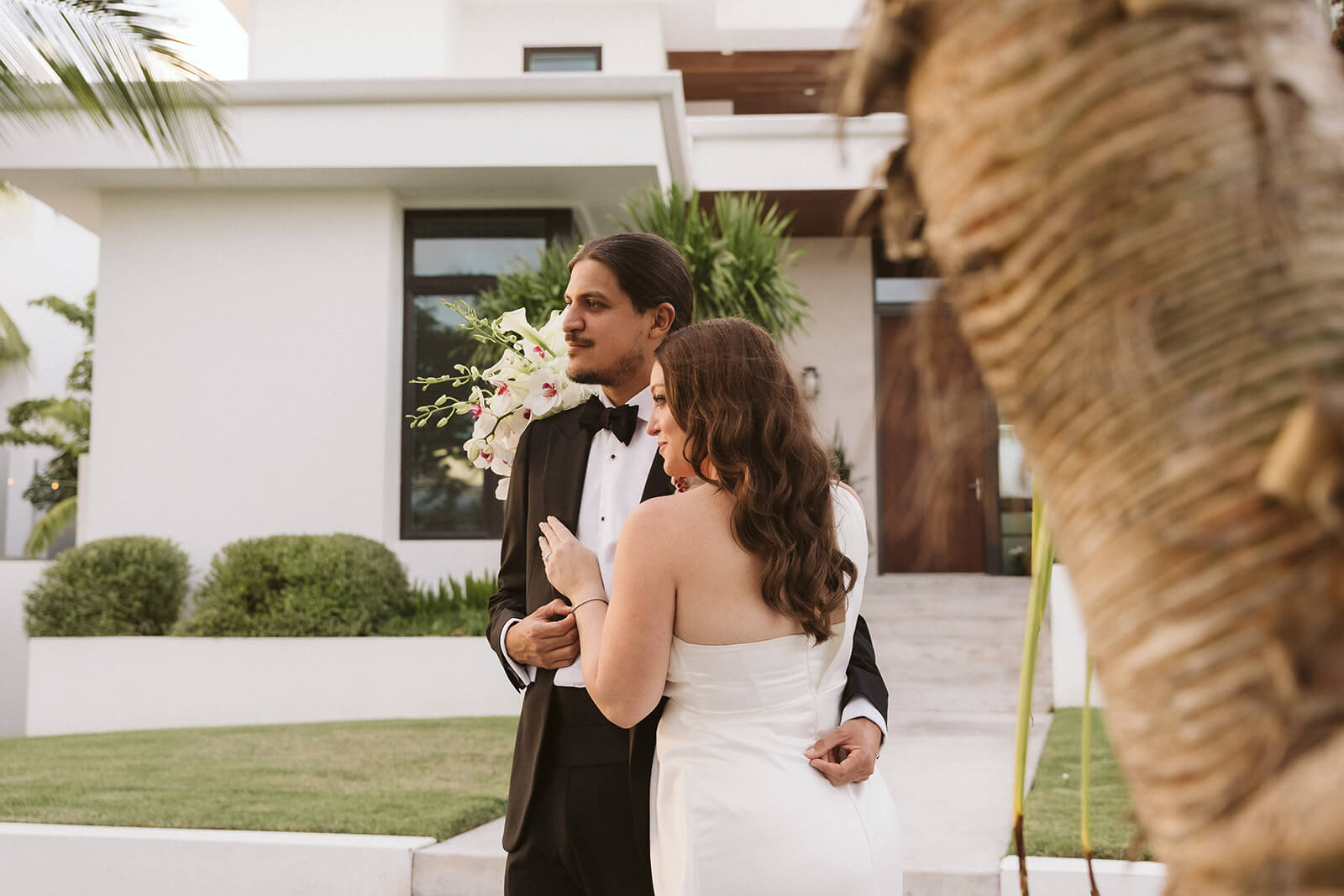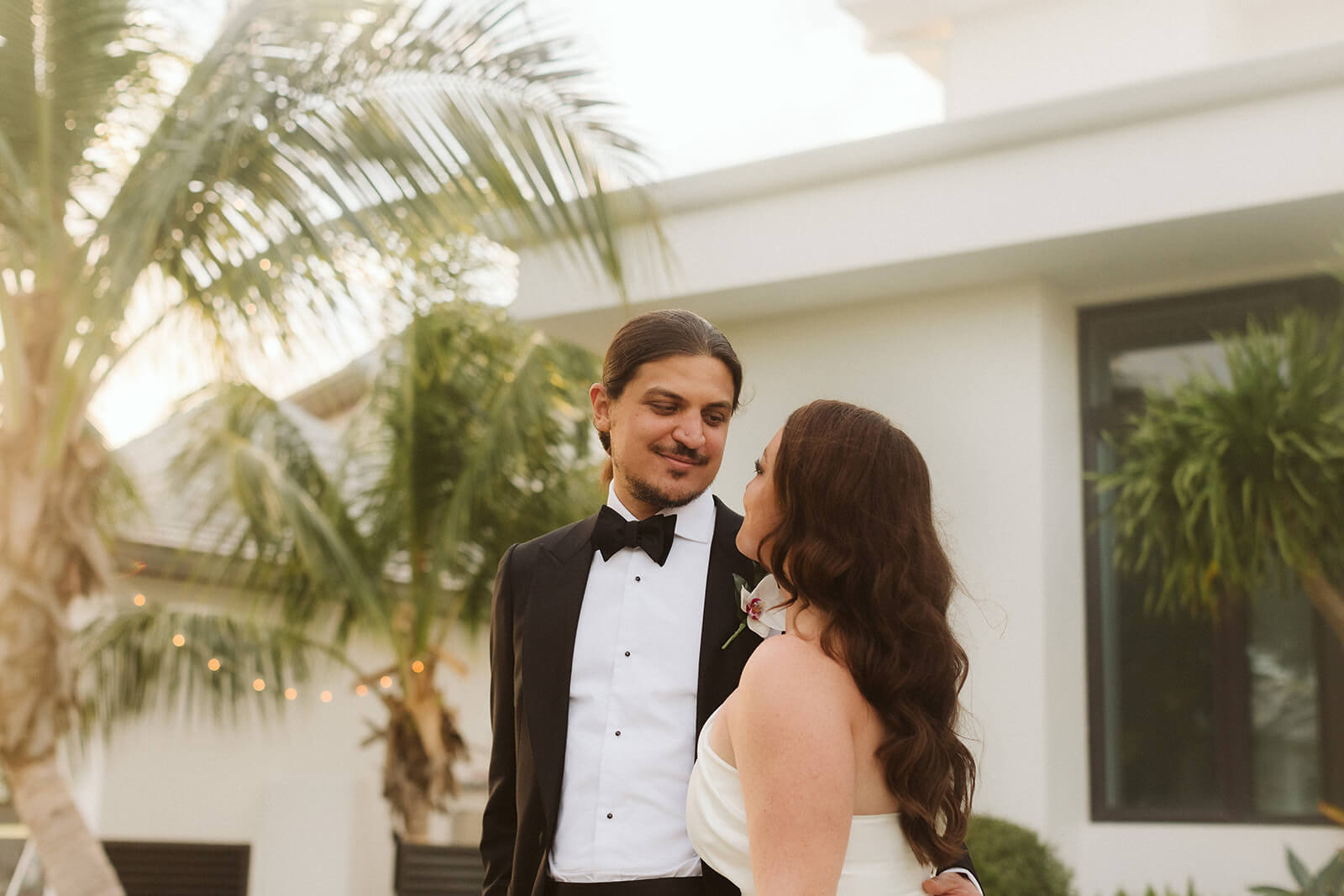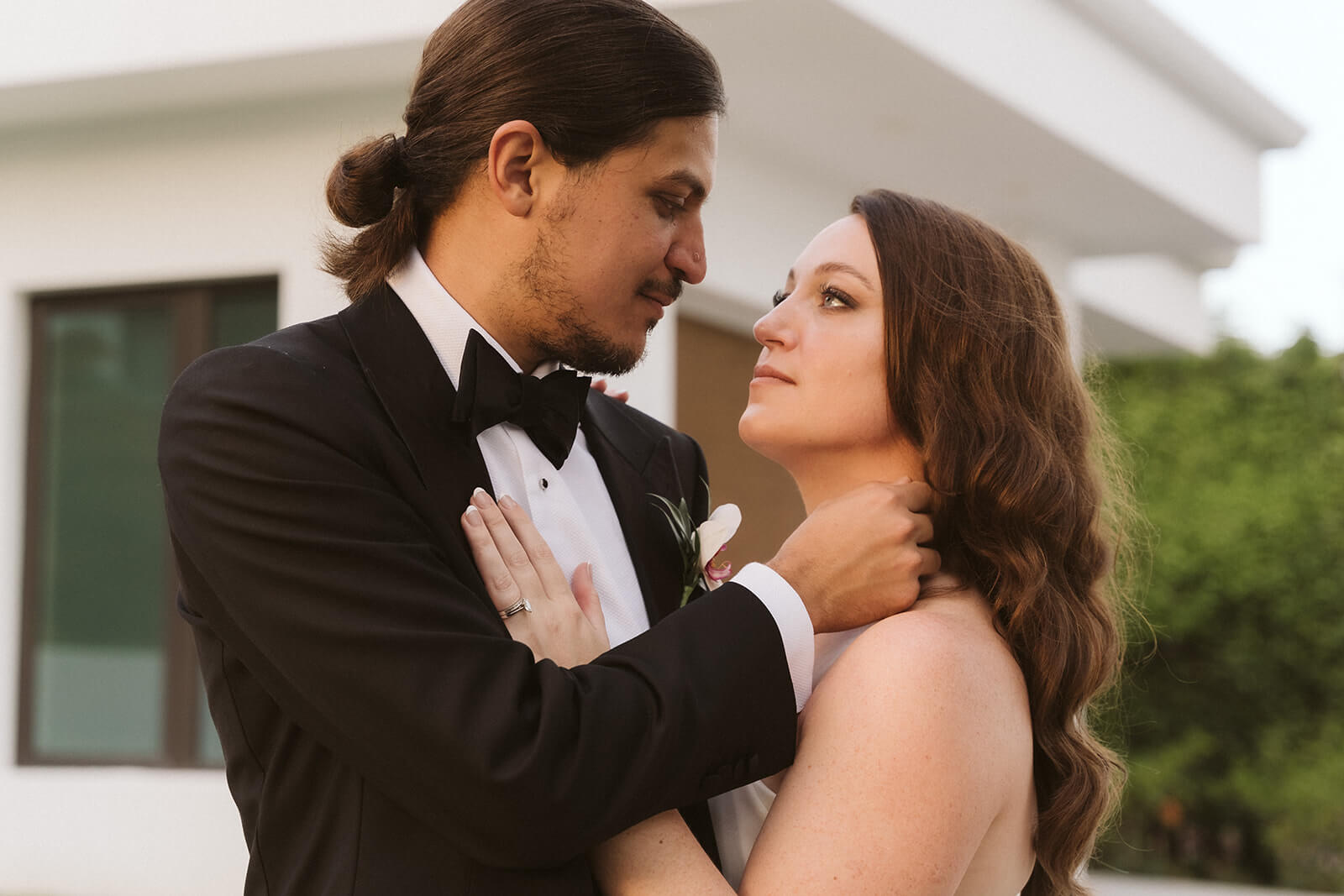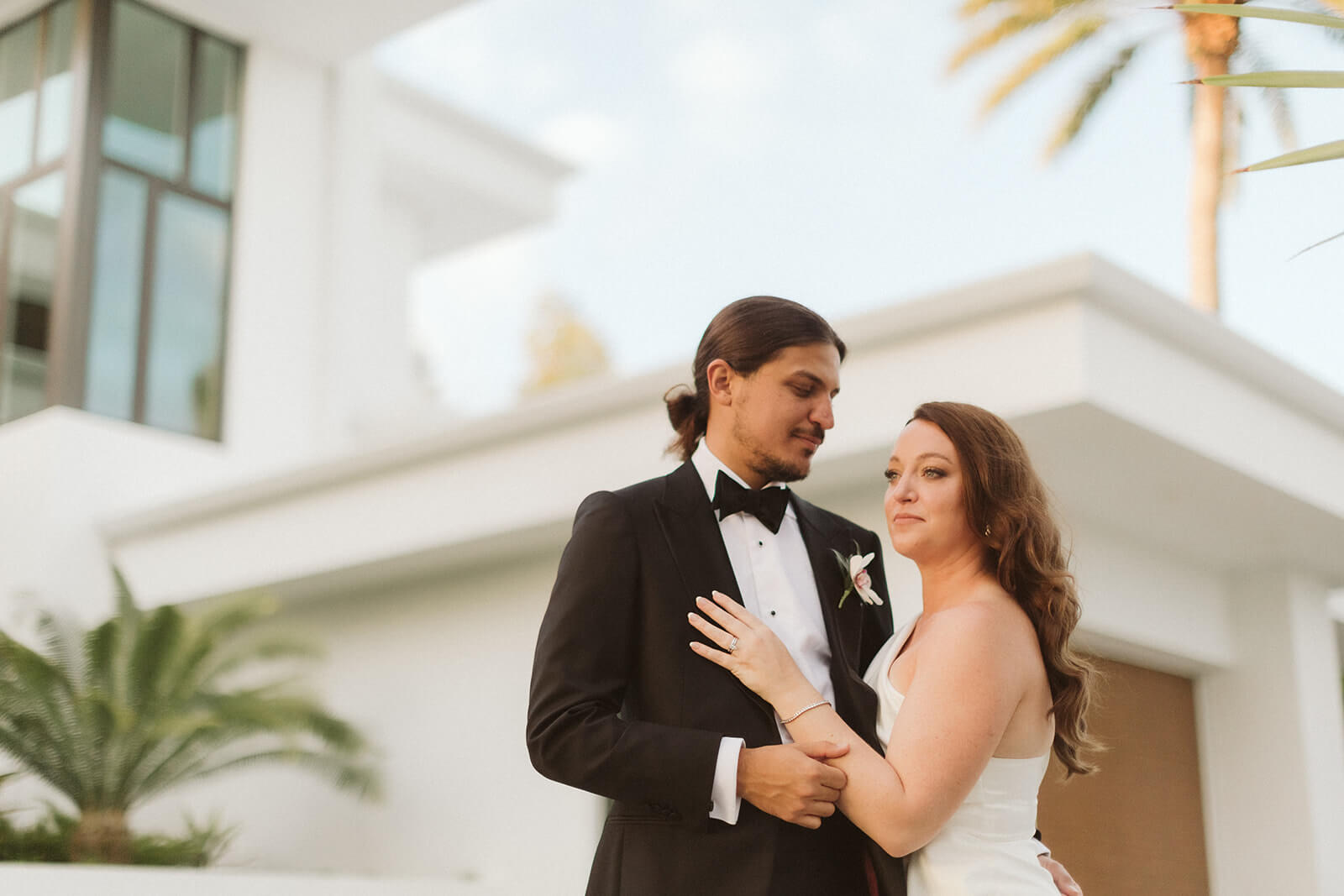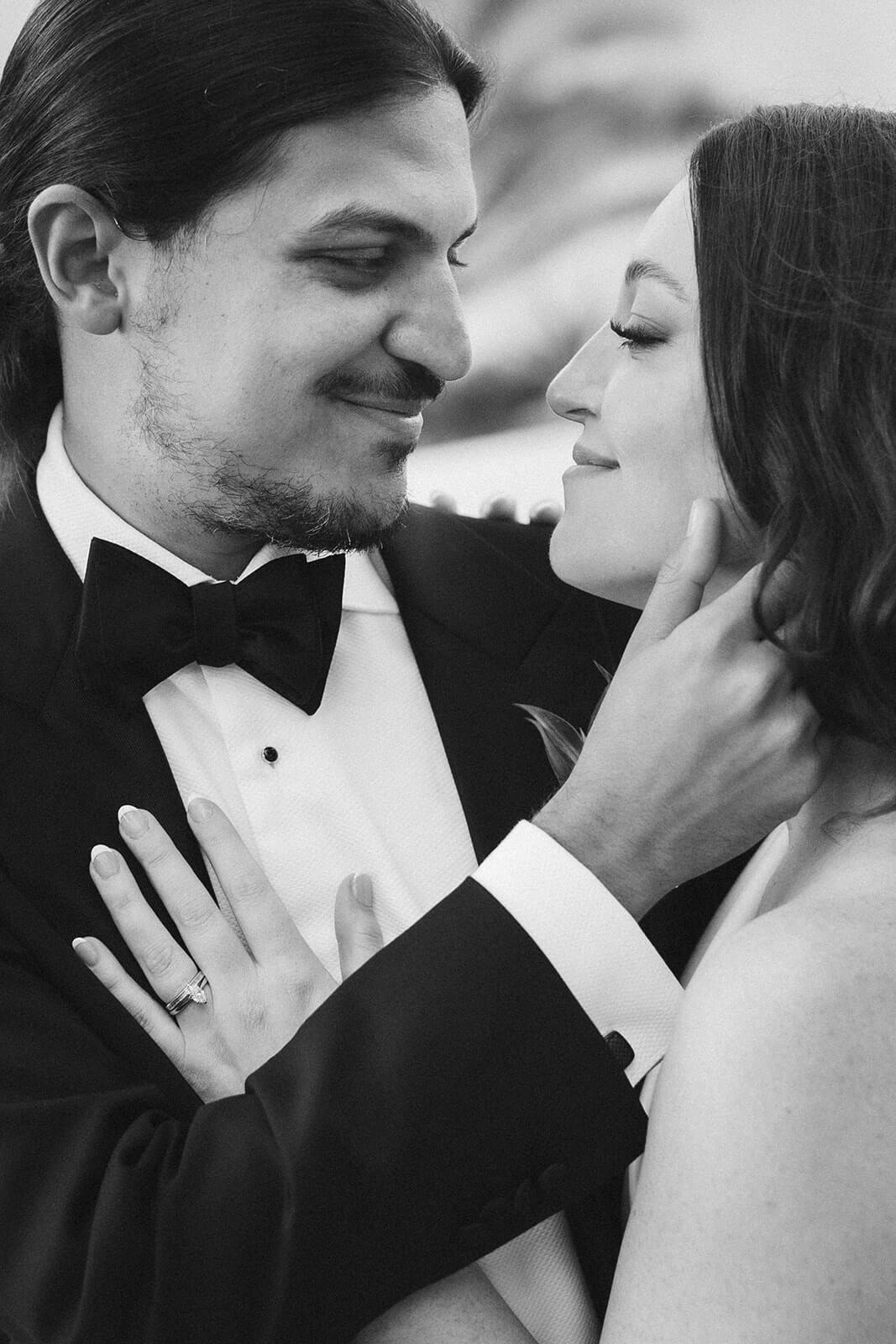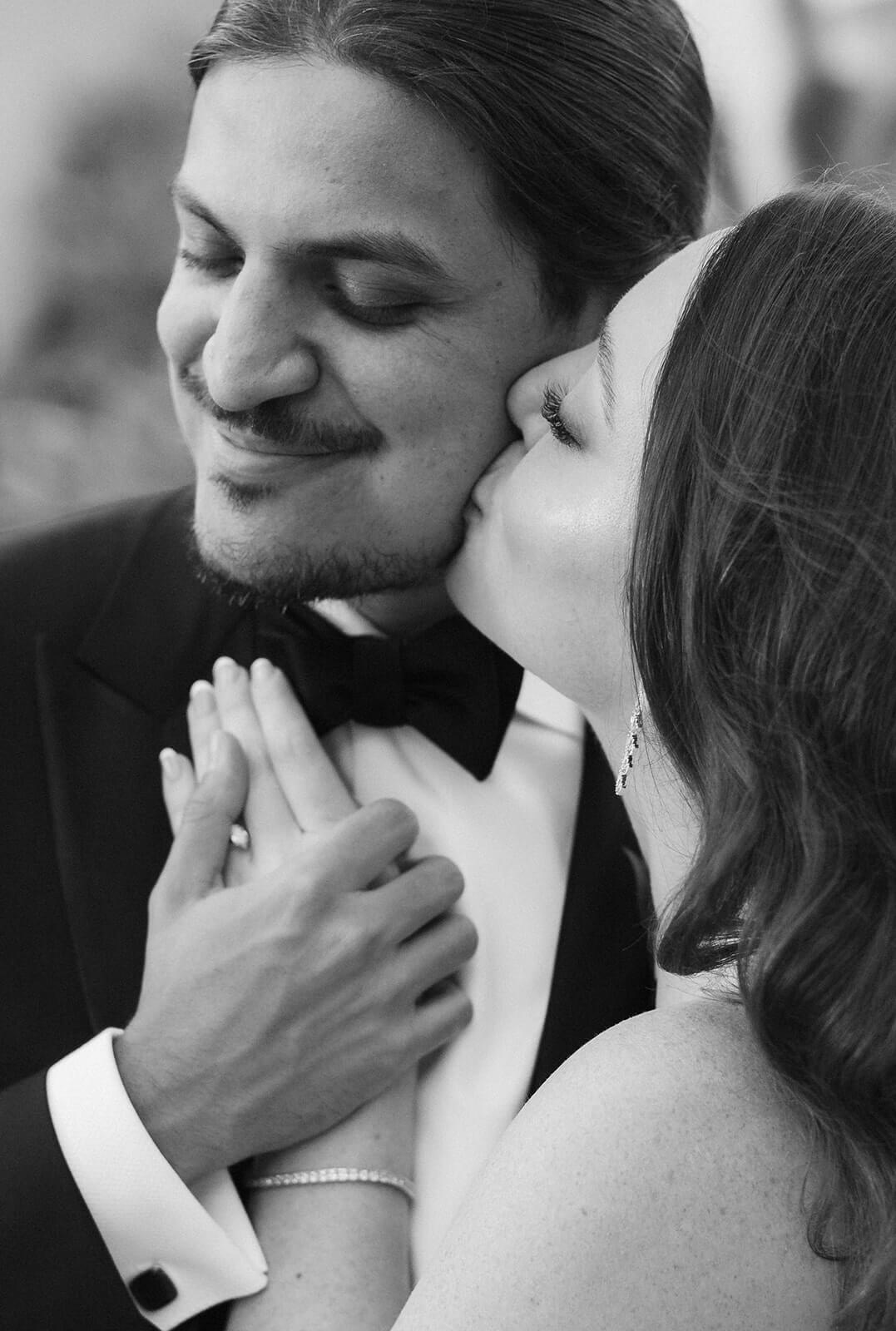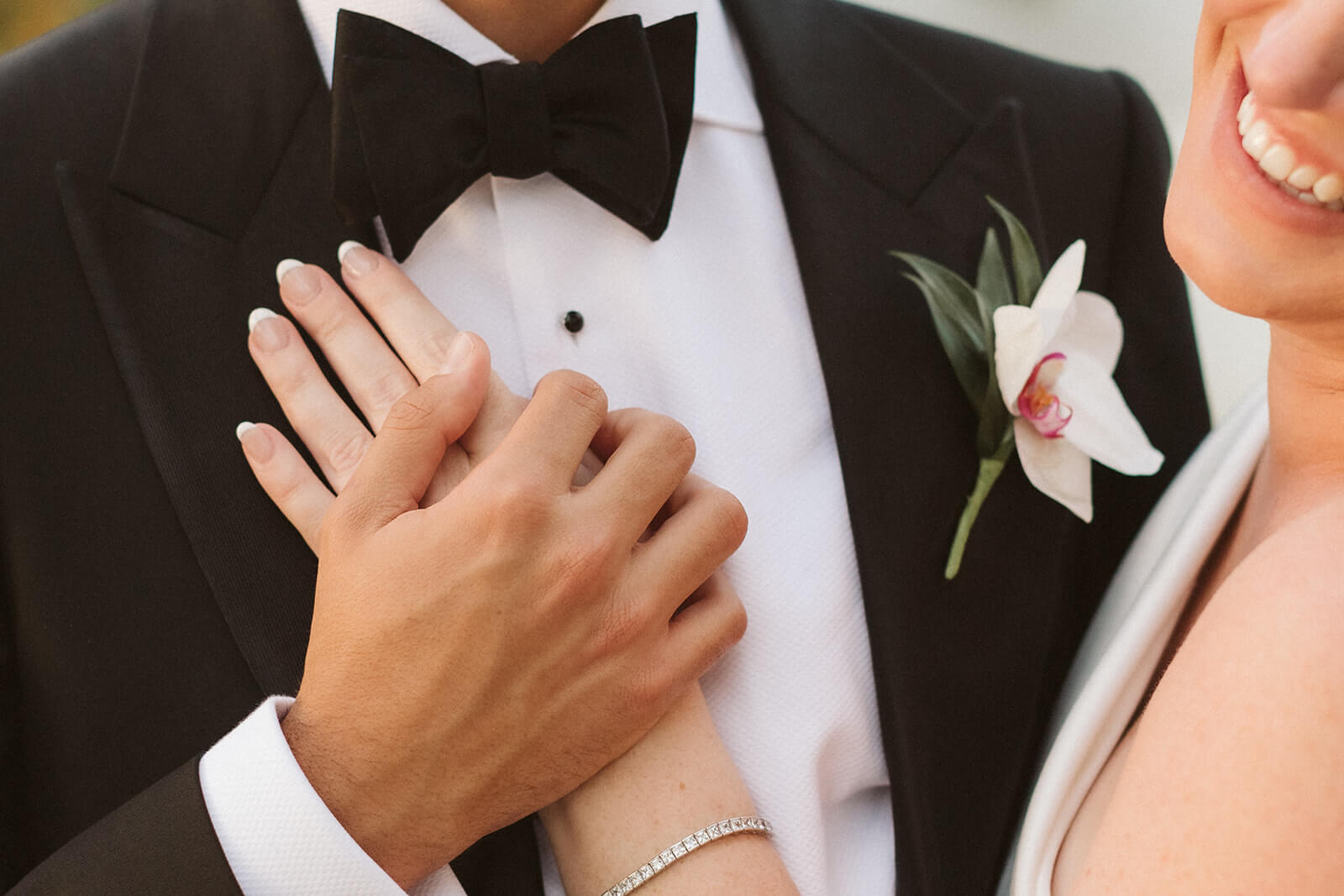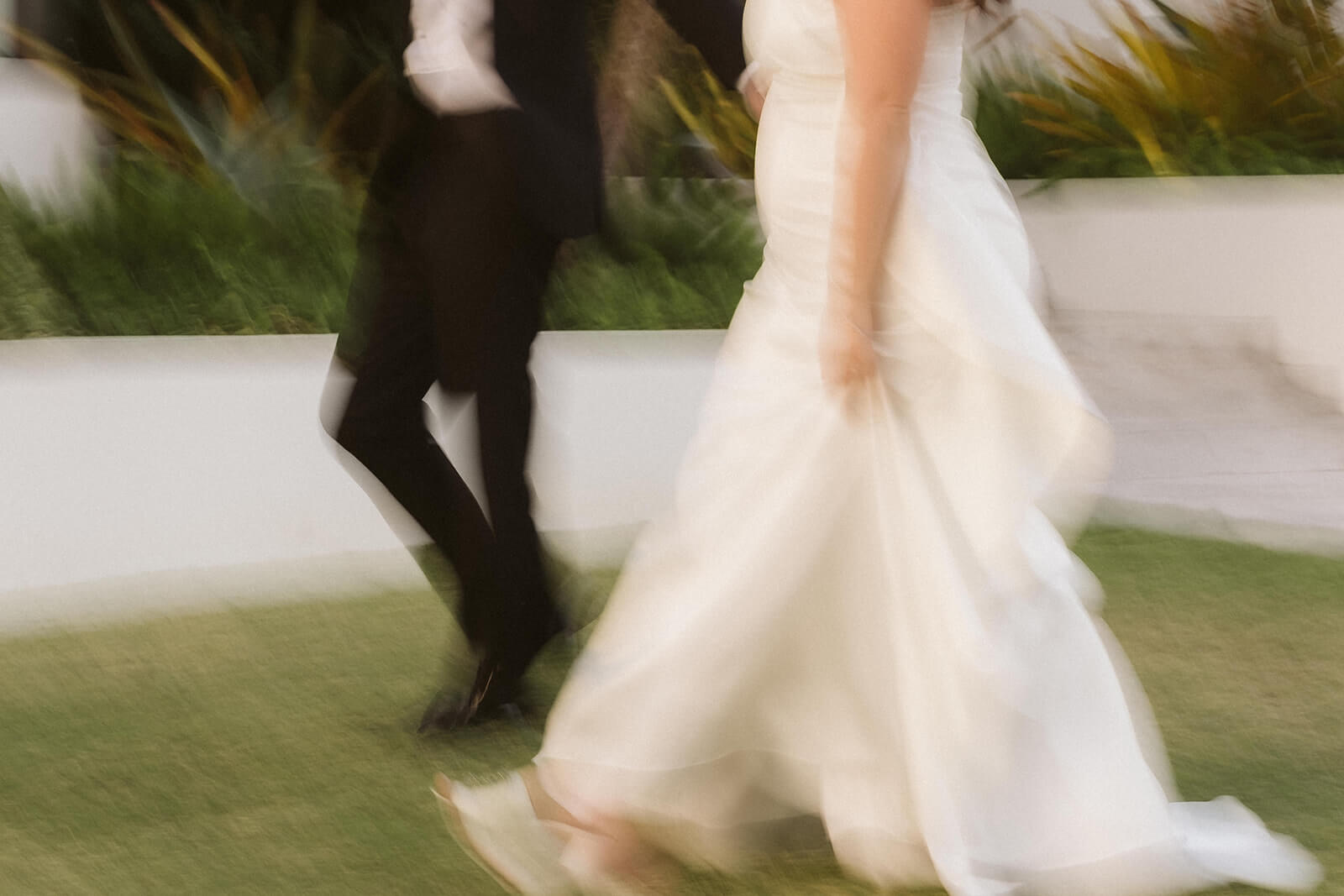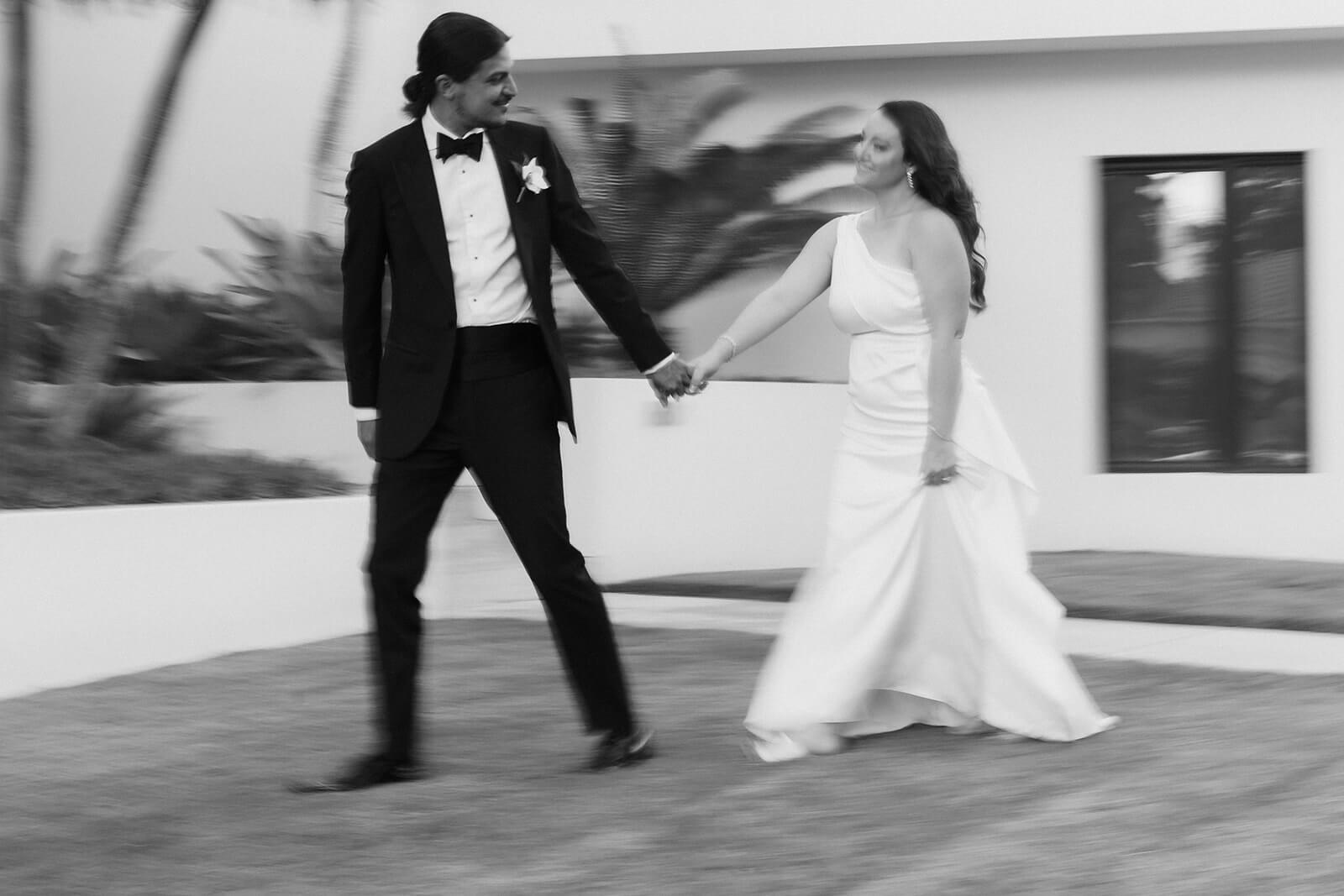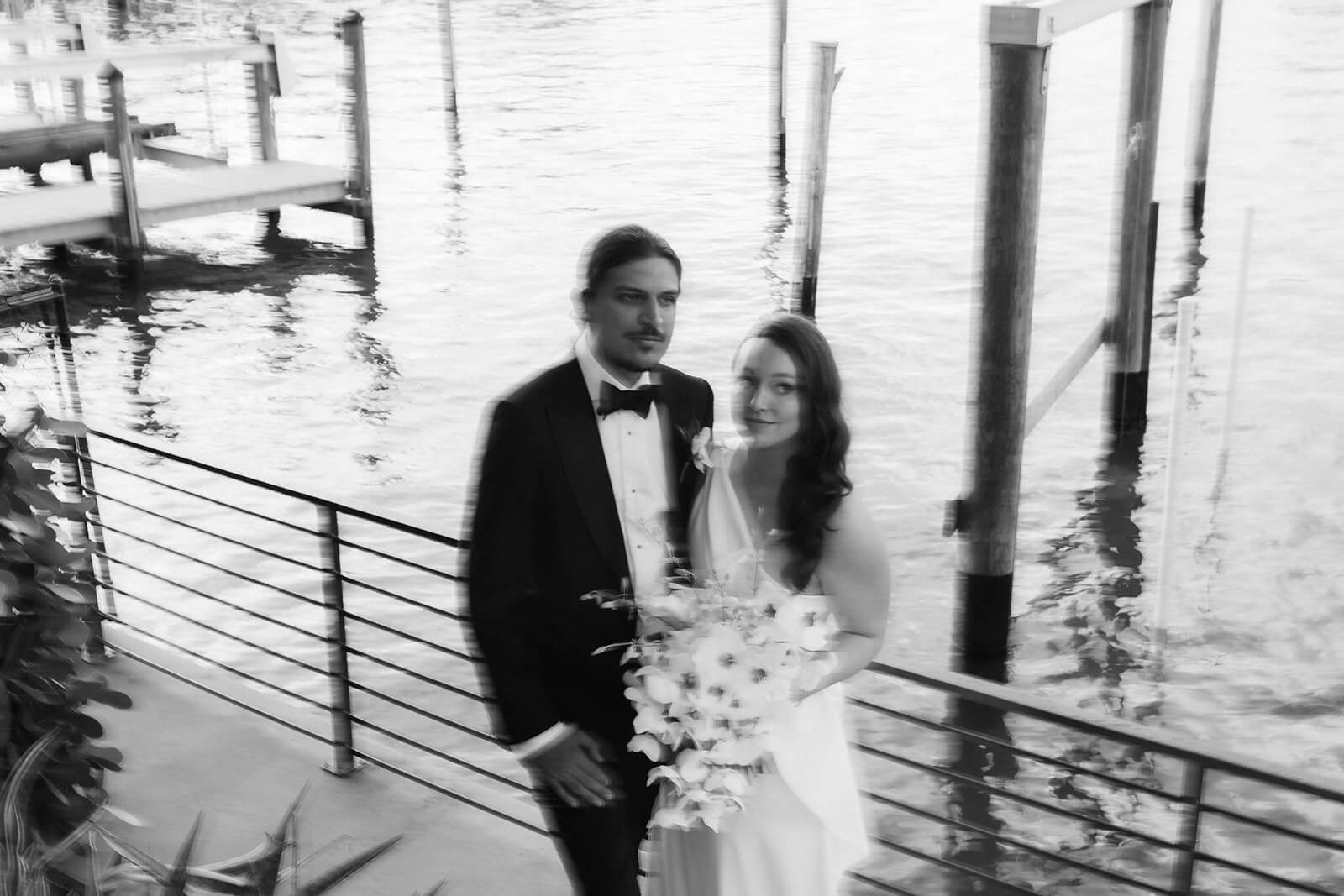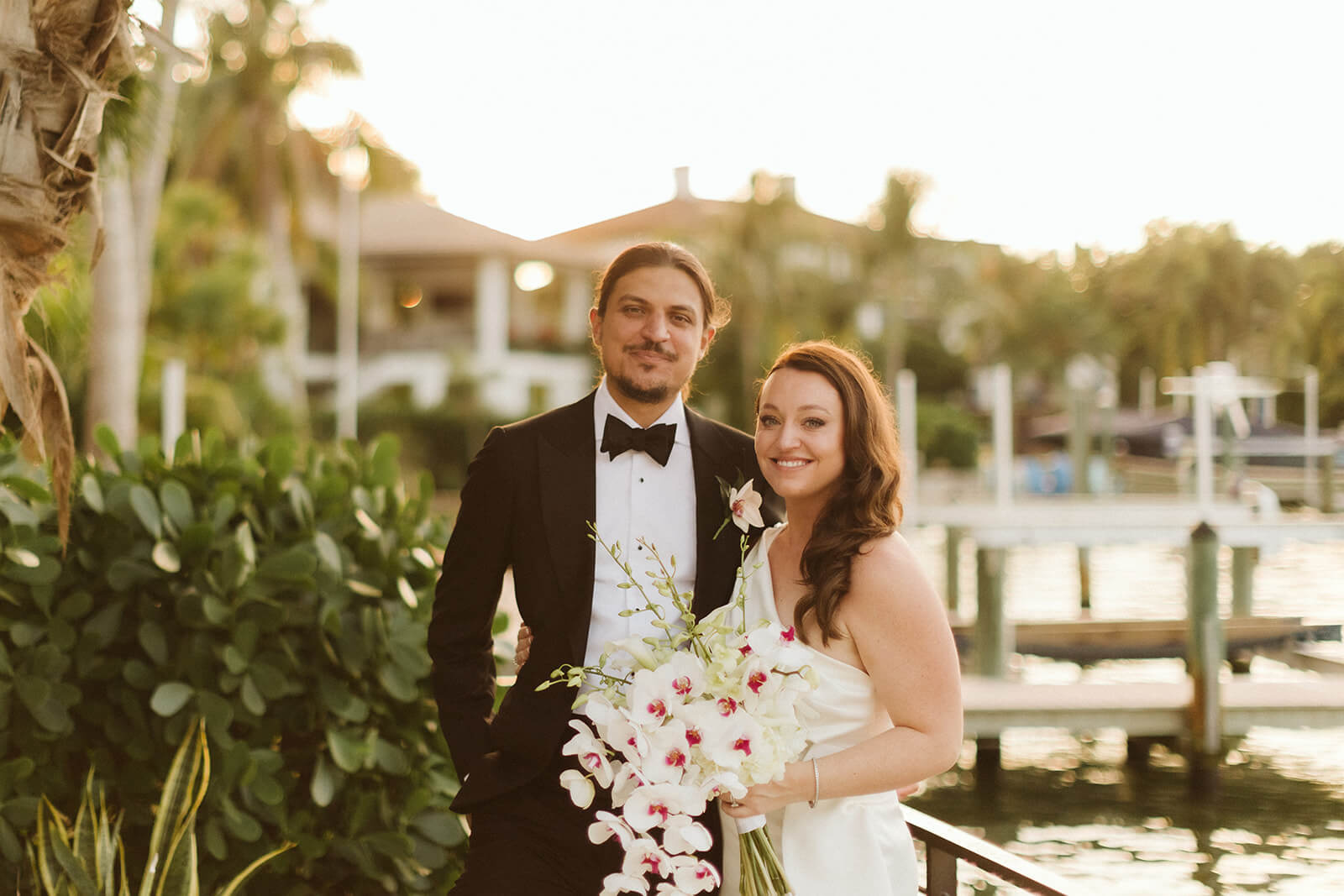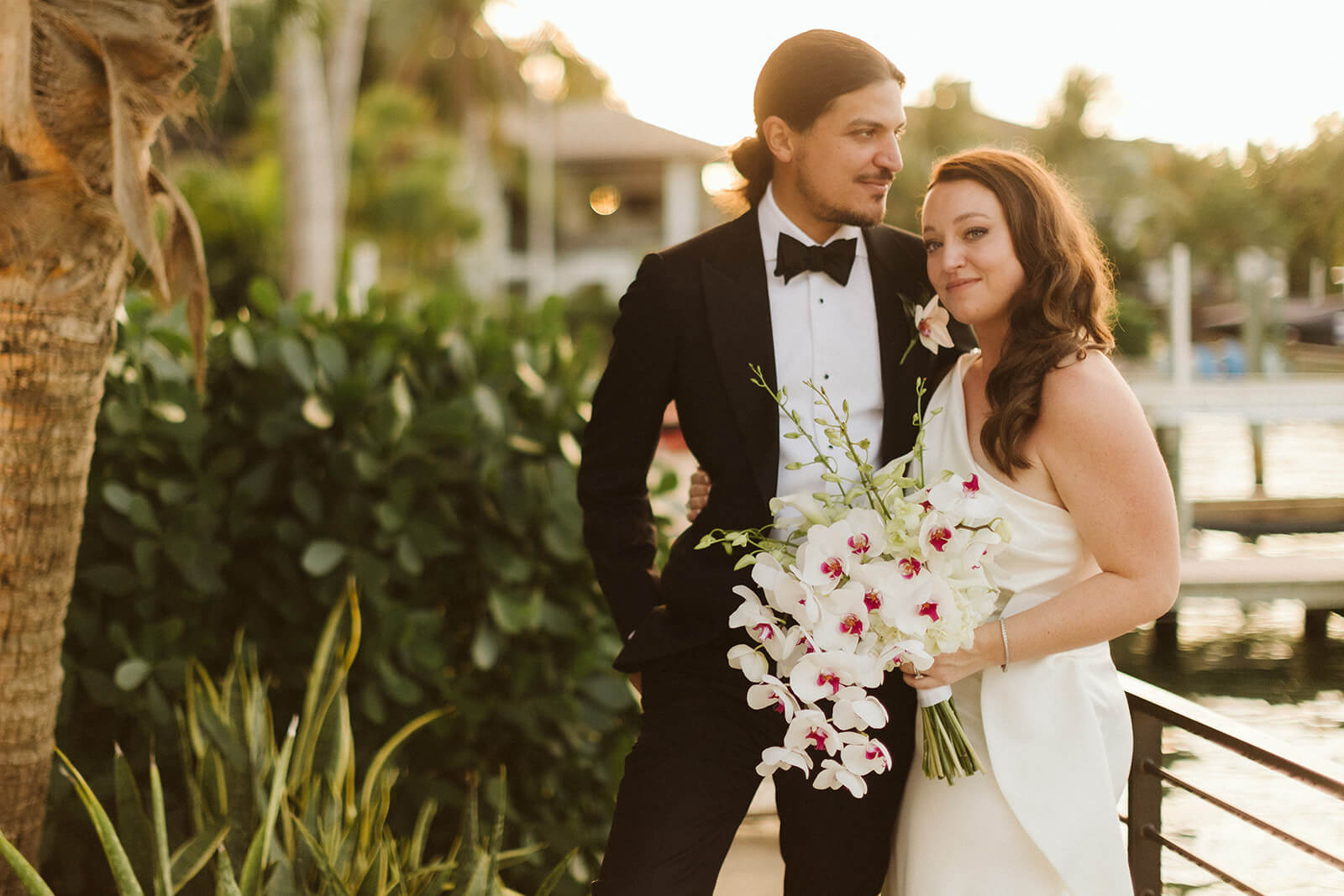 Wedding Photography without Limits
The biggest benefit of having an oceanfront wedding hosted in your backyard is that the photography possibilities are endless when it comes to a location as beautiful as this! And there are no limitations when your wedding is being held on your property! Right from the start of the day, we made use of the many nooks and crannies that the house offered. After their ceremony, the hot Sarasota sun couldn't stop us from heading outside for newlywed shots to take advantage of the variety of different backgrounds featuring the beautiful landscaping and the nearby docks.
Since the ceremony and reception took place at Sarah's parents' home, we were able to use our drone to capture the coolest overhead group photos during cocktail hour. Some venues don't allow drone usage due to aerial laws and limits, so getting married in your backyard allows you to have total reign over the ways you can record your wedding day. Drone photography is perfect for capturing unique angles and breathtaking landscapes and it's already included in certain OkCrowe photography packages. Otherwise, drone use can always be added on at an hourly rate.
Because we weren't rushing between event locations, we were able to take the dreamiest newlywed photos. As the sun was going down, we took sunset photos and continued shooting into blue hour. Many couples are already familiar with golden hour shots for their newlywed portraits. This is the period of time just before sunset when the sky is washed in a warm soft glow creating the perfect lighting for romantic photos. However, wedding photos look equally stunning during the lesser known blue hour. If golden hour is the time just before sunset, blue hour is the period of time just after sunset when the sun sits just below the horizon and the sky and lighting becomes washed in a deep purple and orange tones. We headed up to the rooftop balcony for Sarah and Sebastian's blue hour shots where we captured sweet moments between the couple in front of breathtaking bird's eye views.
The Benefits of a Videographer on Your Wedding Day
Not all couples choose to invest in videography during their wedding. However, video captures all those special moments in ways that photography can't. For years to come, it will allow you to hear your husband laugh, watch your dad tear up as you share your father-daughter dance, or relive your niece running down the aisle as your flower girl.
The magic of a video is never truly cherished until down the line when all you have to do is press play and the happiest moment of your life is before your eyes once more. Memories become fuzzy and your wedding day can often go by in a blur. But, when you have a videographer by your side, you won't have to worry about missing out or forgetting any of these moments. Your wedding video will fully capture them for you to relive forever.
Here at OkCrowe we offer videography packages to suit your every need that you can add onto your wedding photography for a combined photo and video experience! All of our video packages include professional audio and coverage and digital sound enhancement to fully capture your ceremony and any speeches. After your wedding, a 30-second teaser video will be delivered a week later in both landscape and vertical formats to easily share across all your social media accounts. Then, a few weeks later, you'll receive a fully edited digital movie that captures the essence and joy and love that encompassed your wedding day.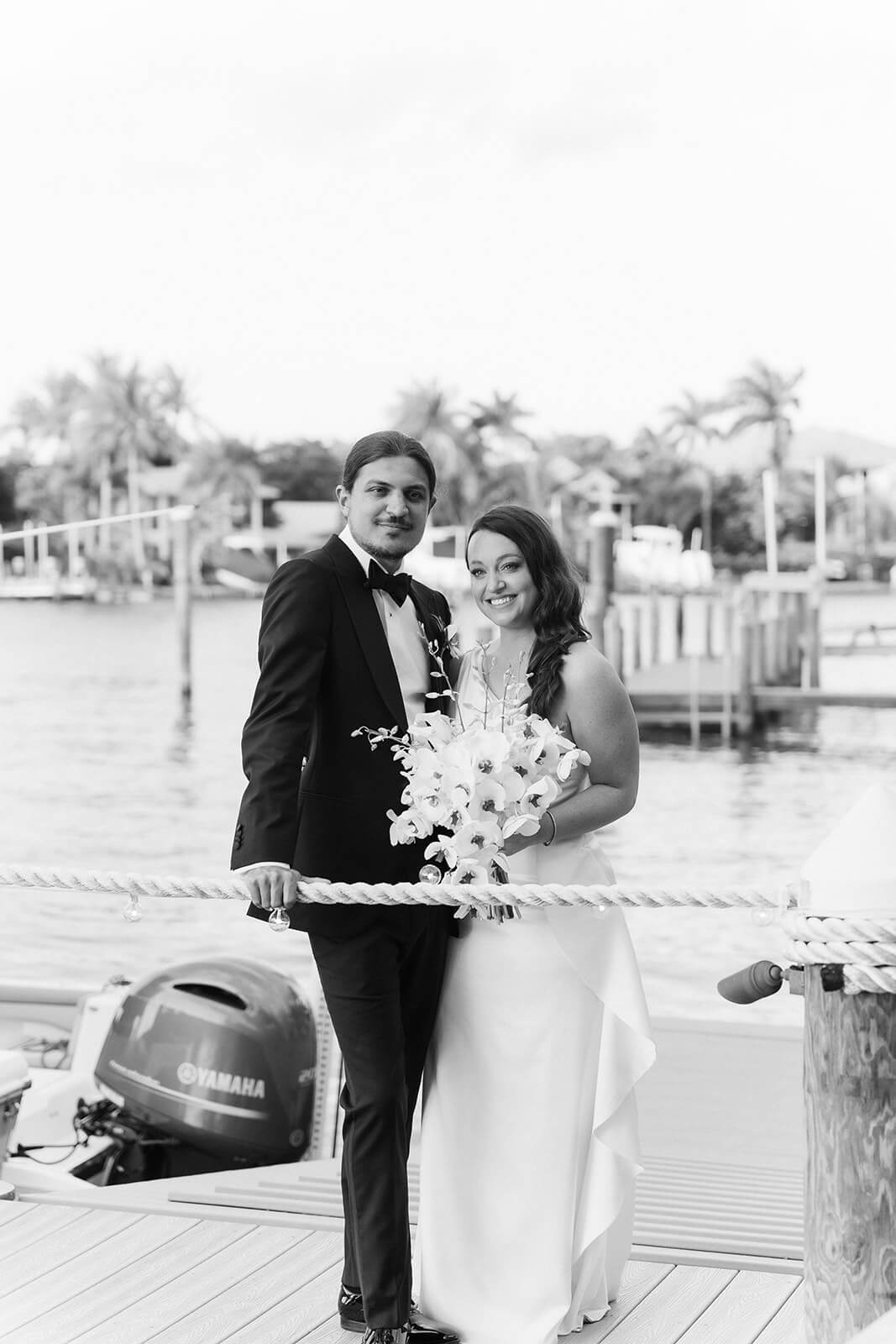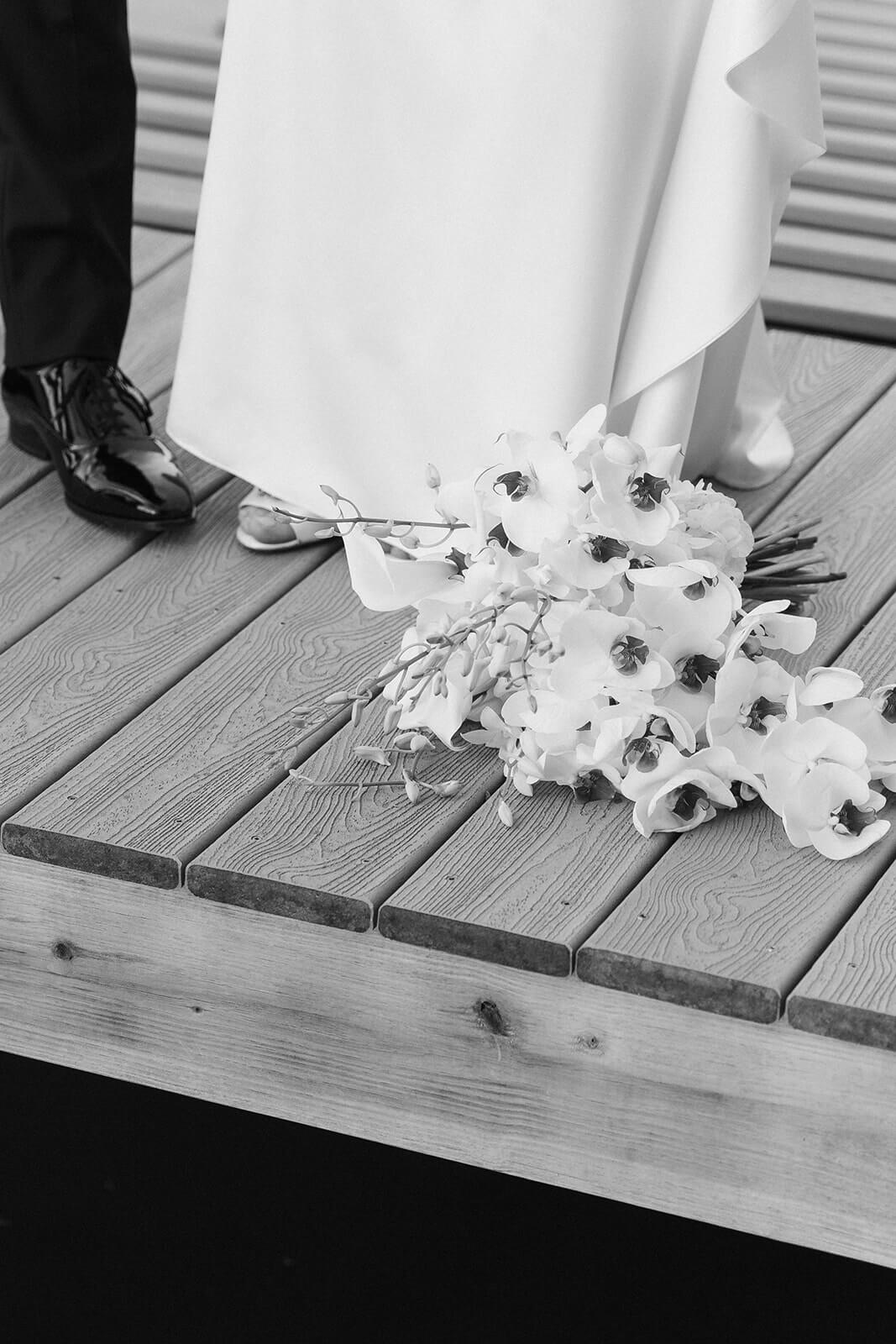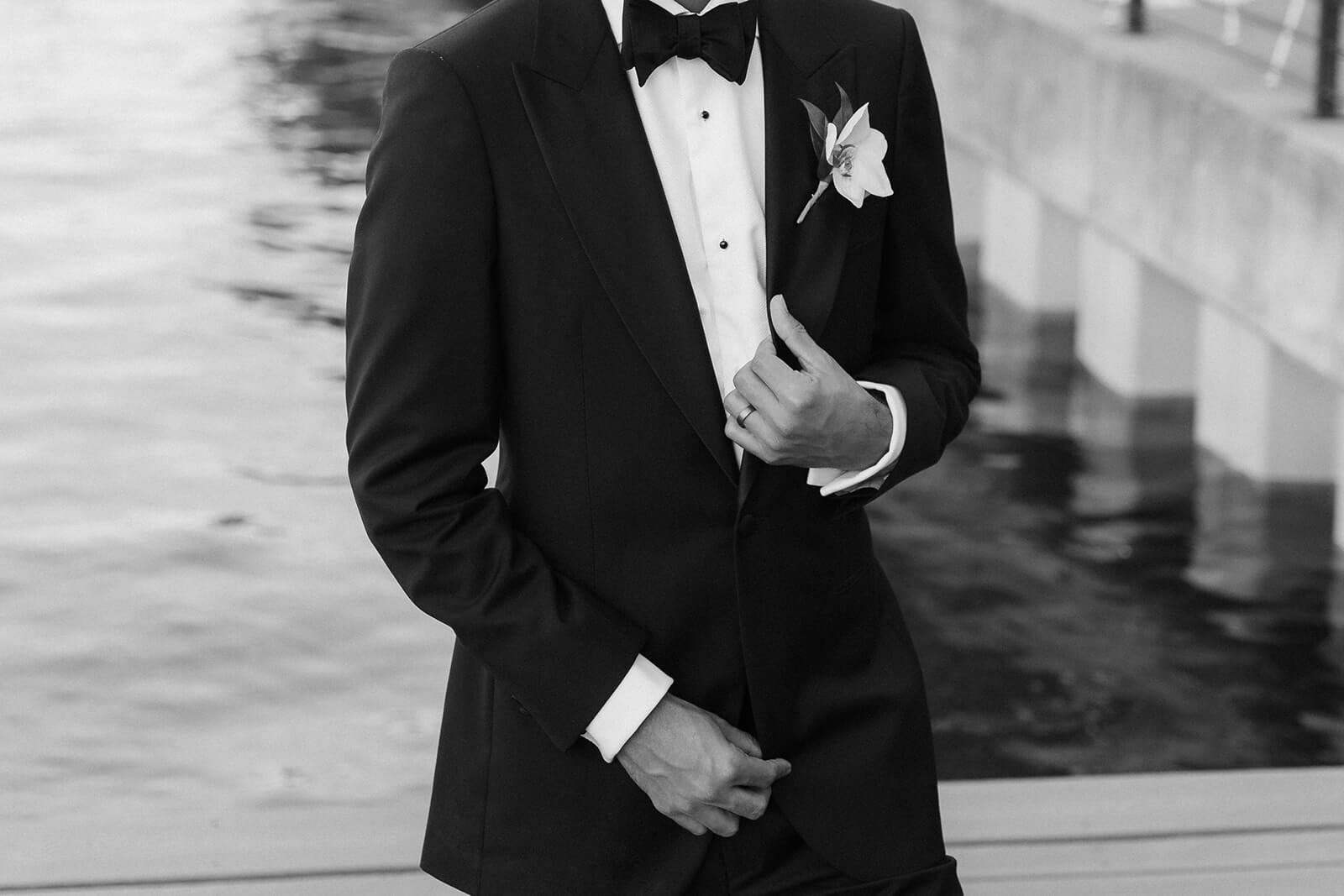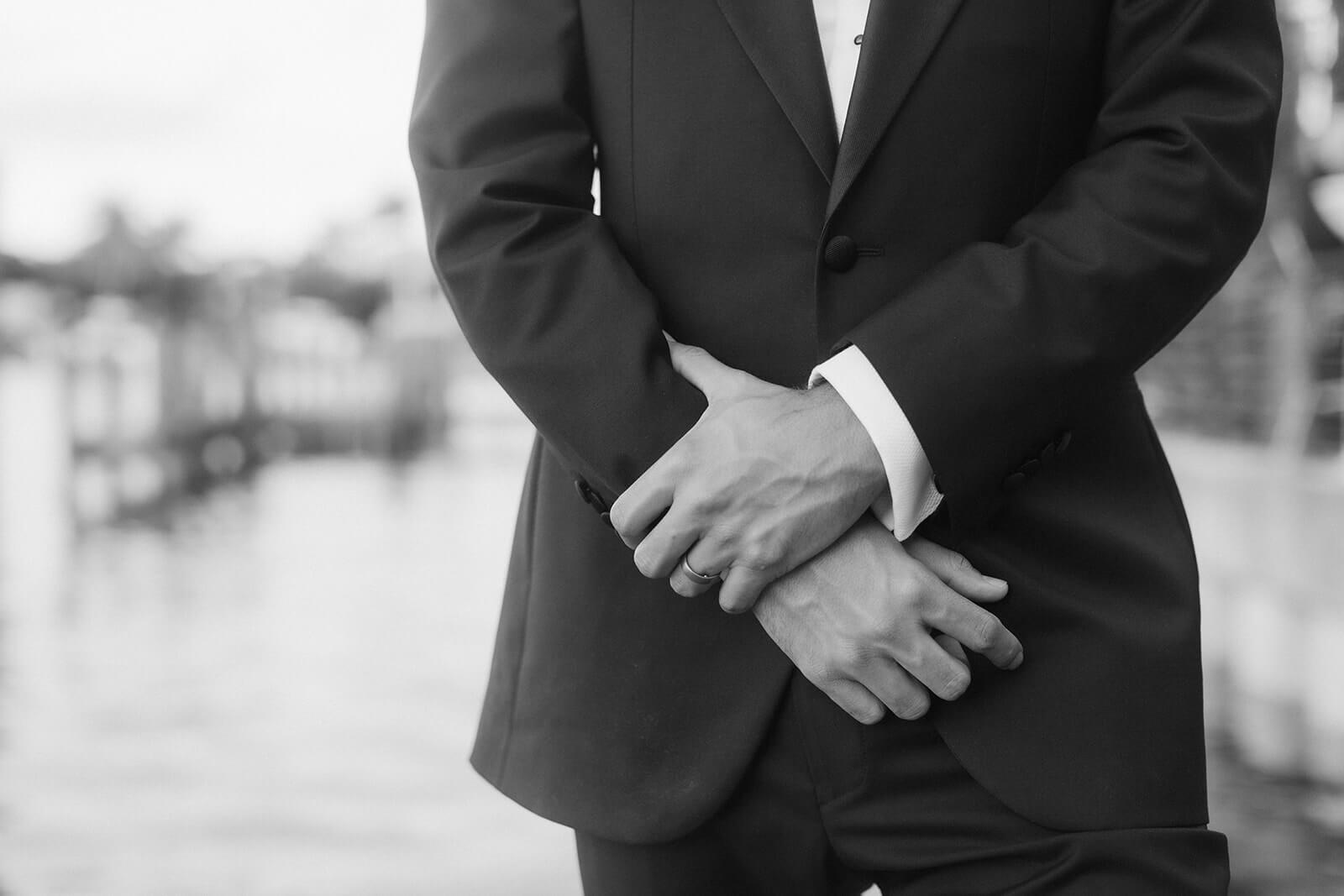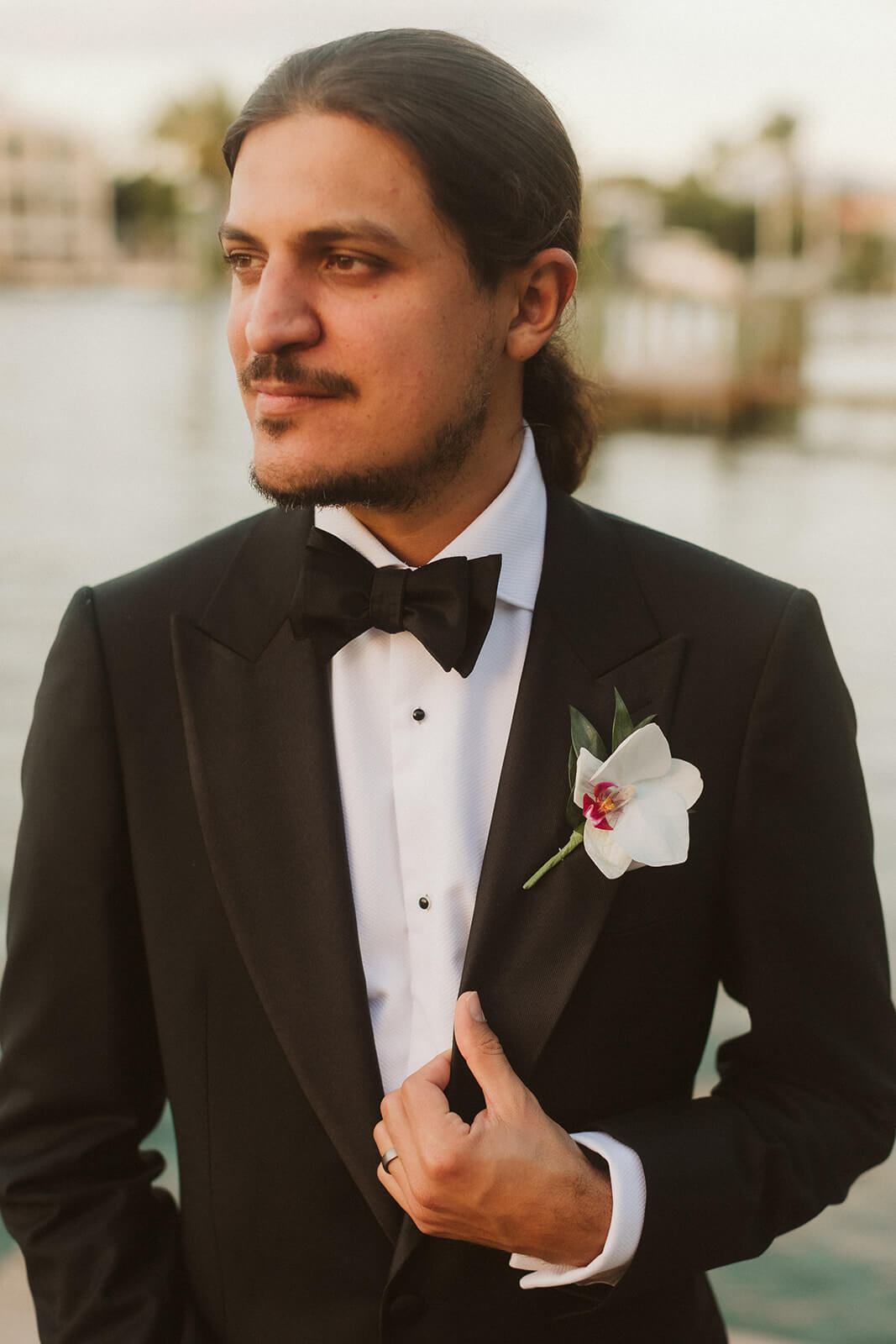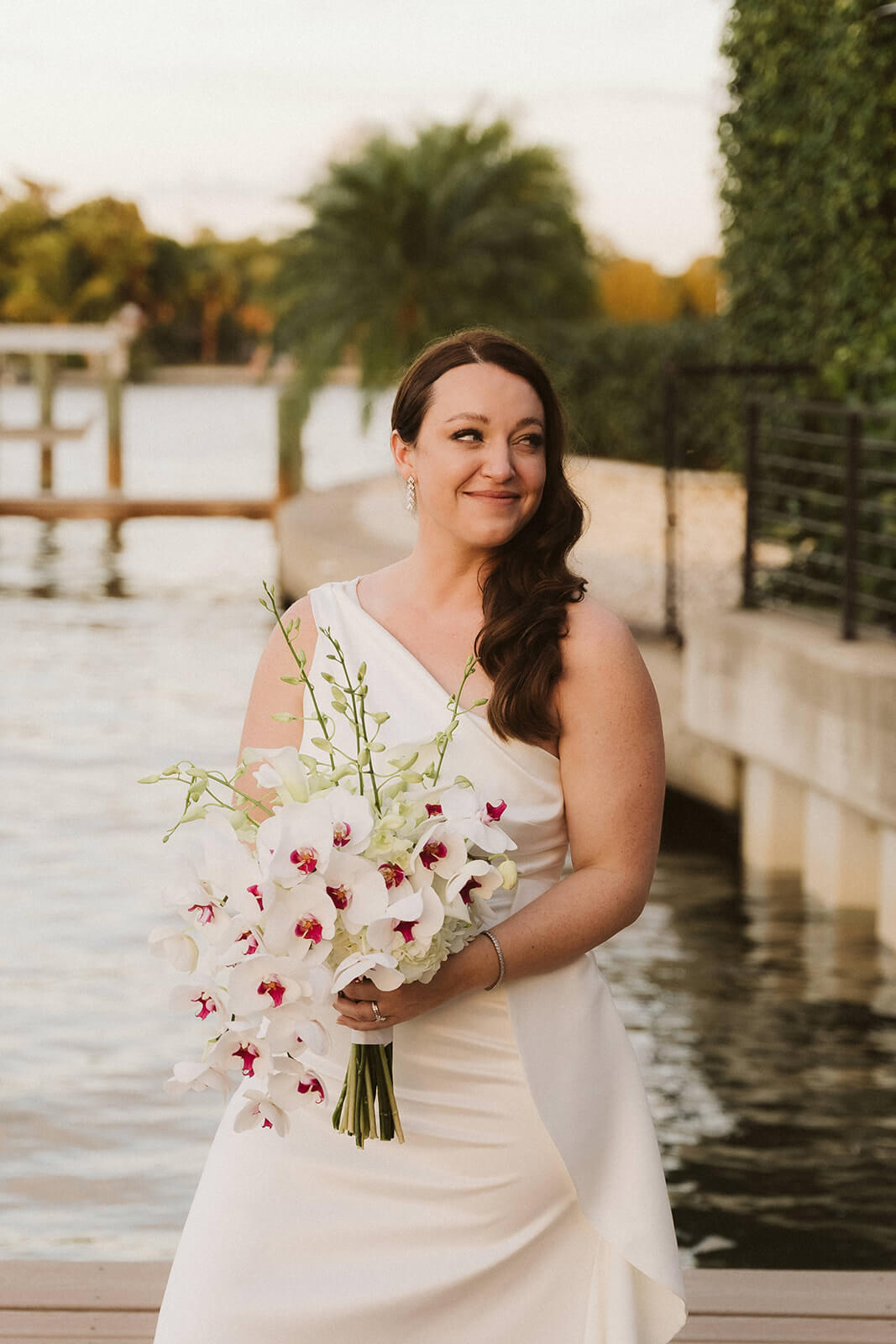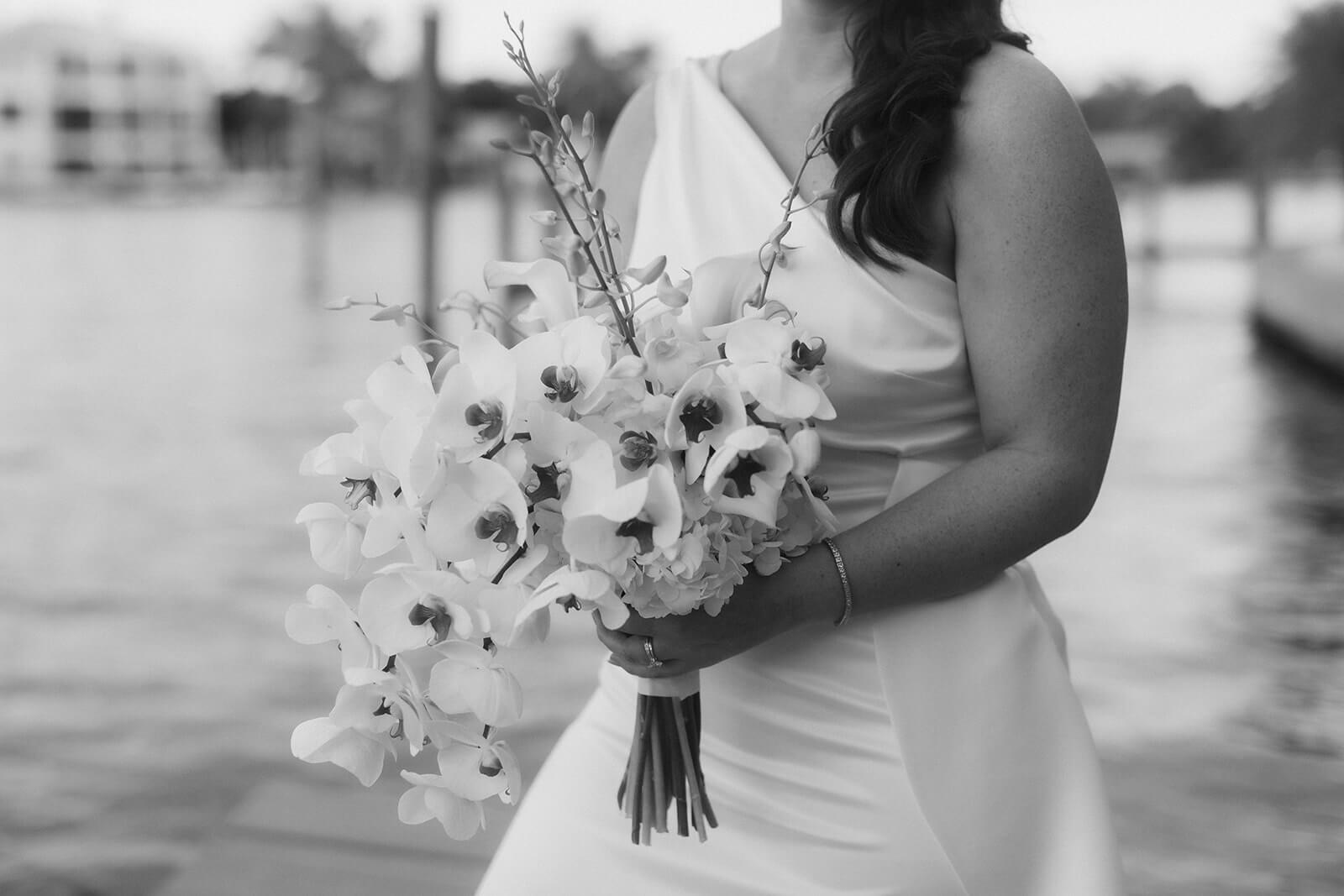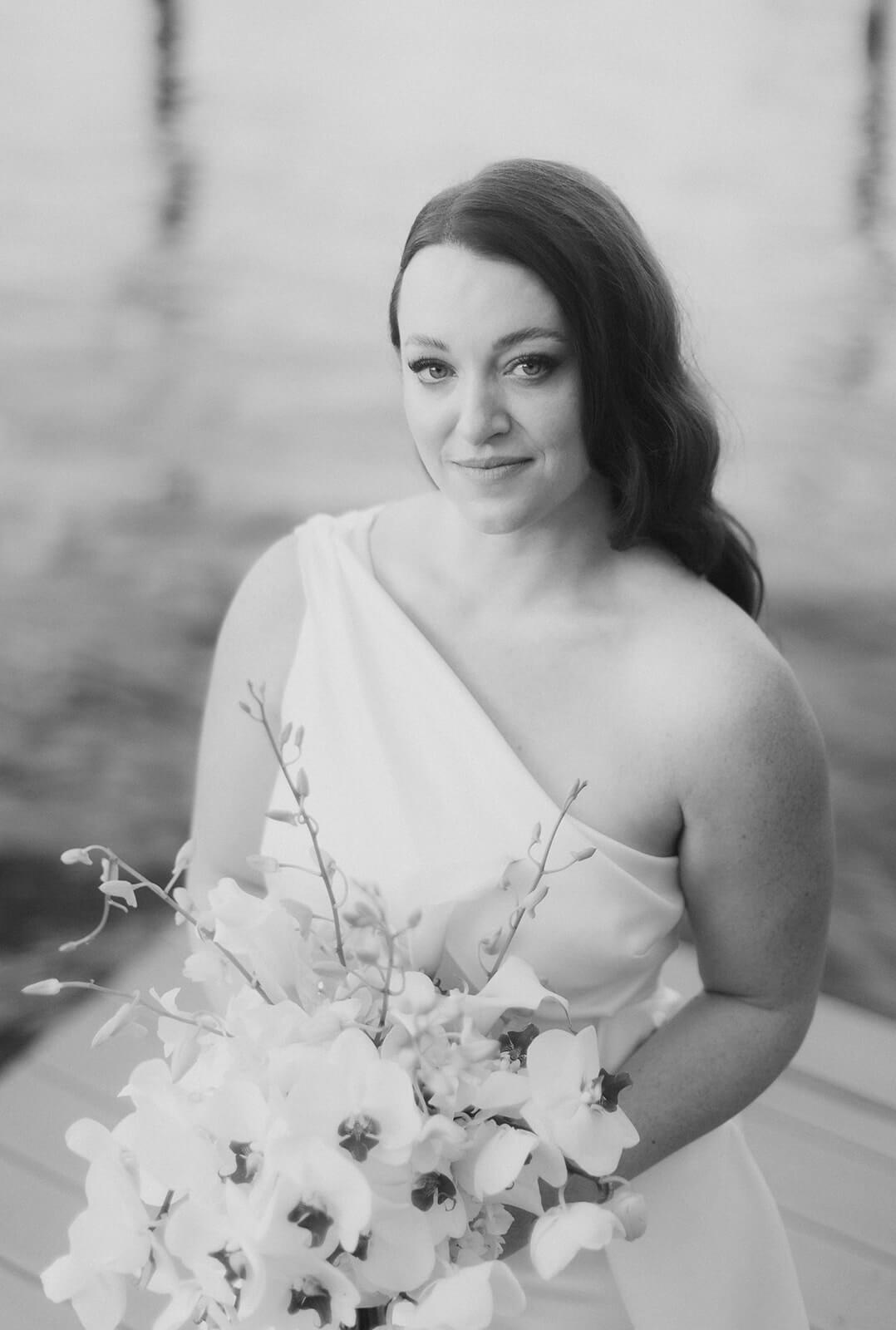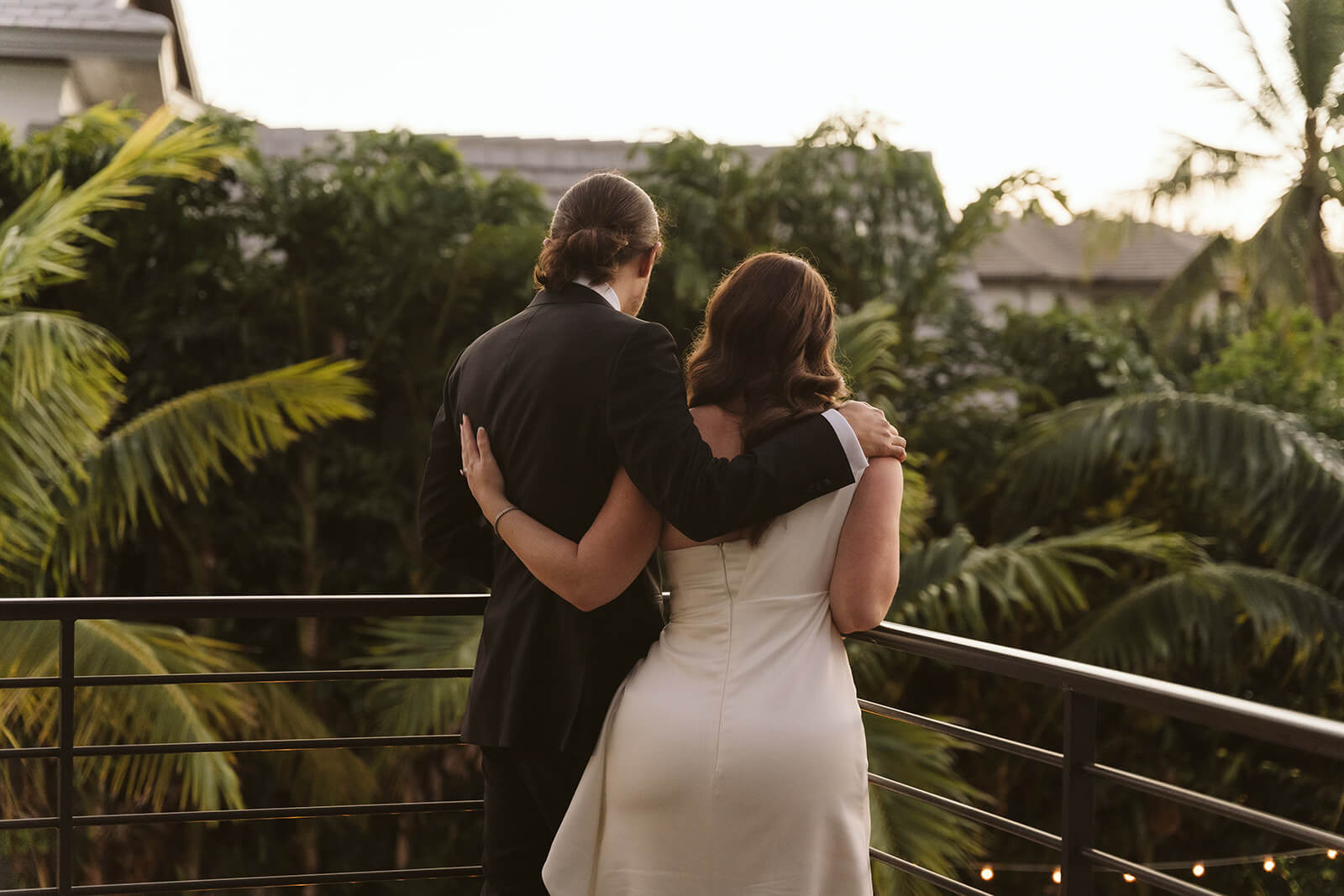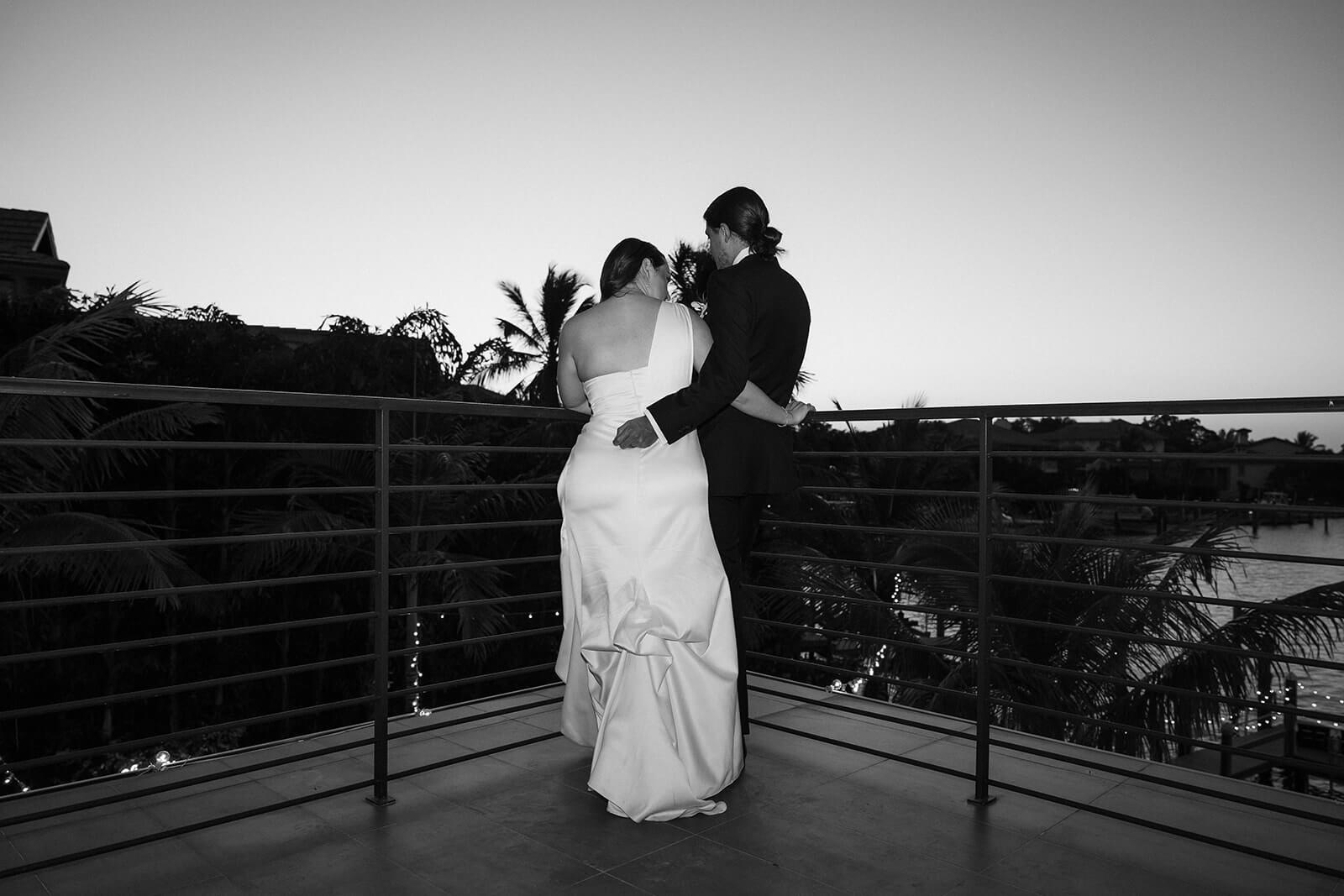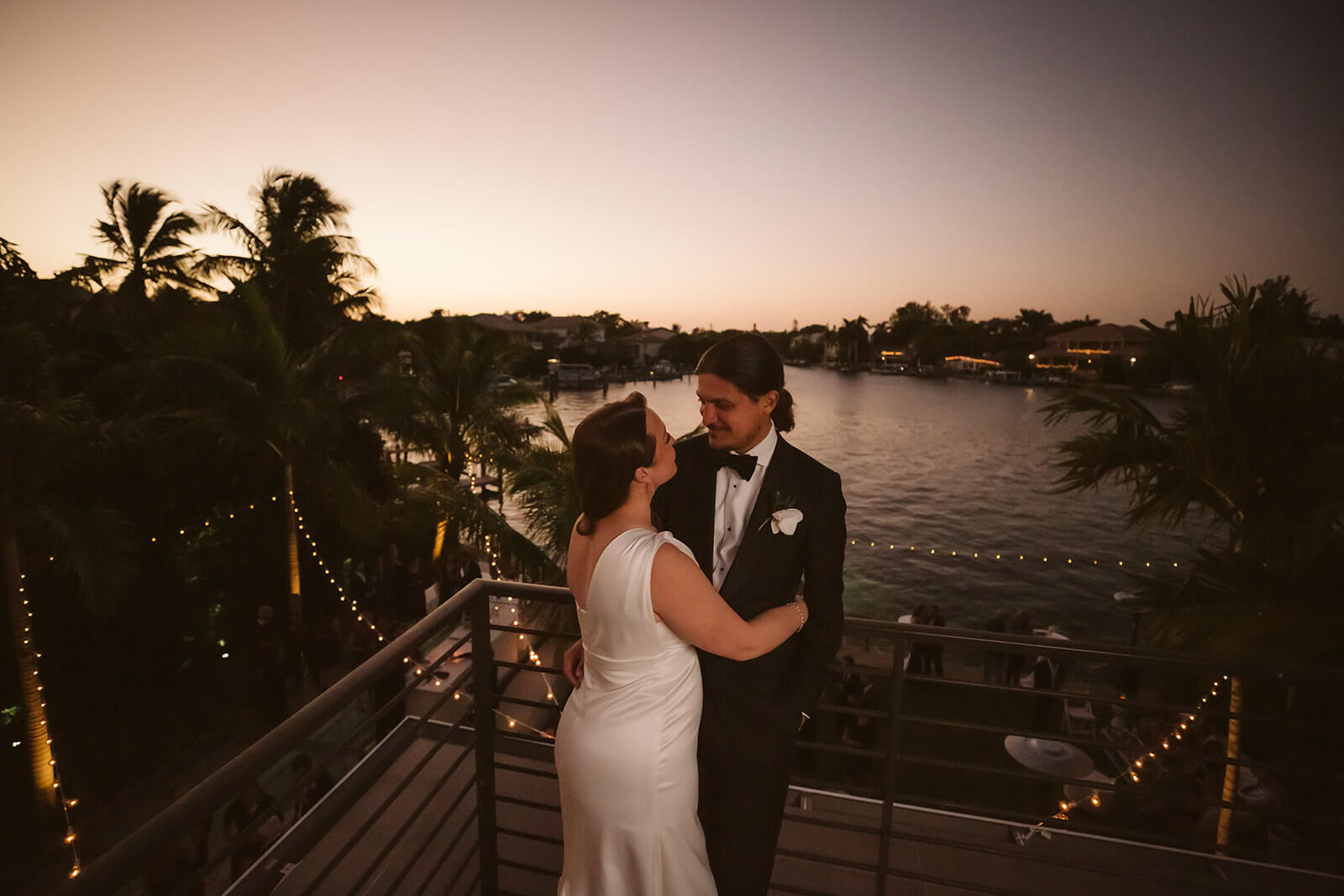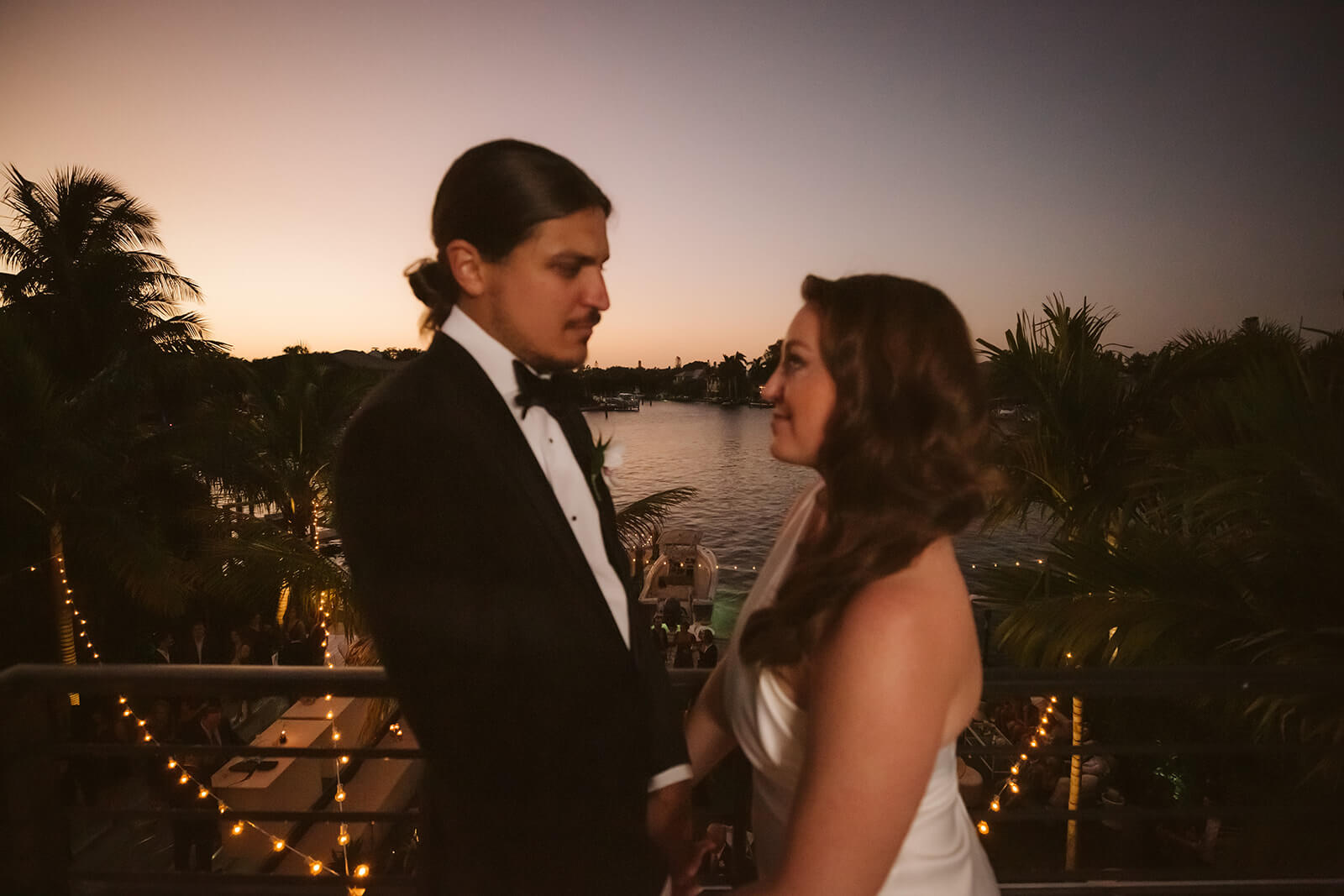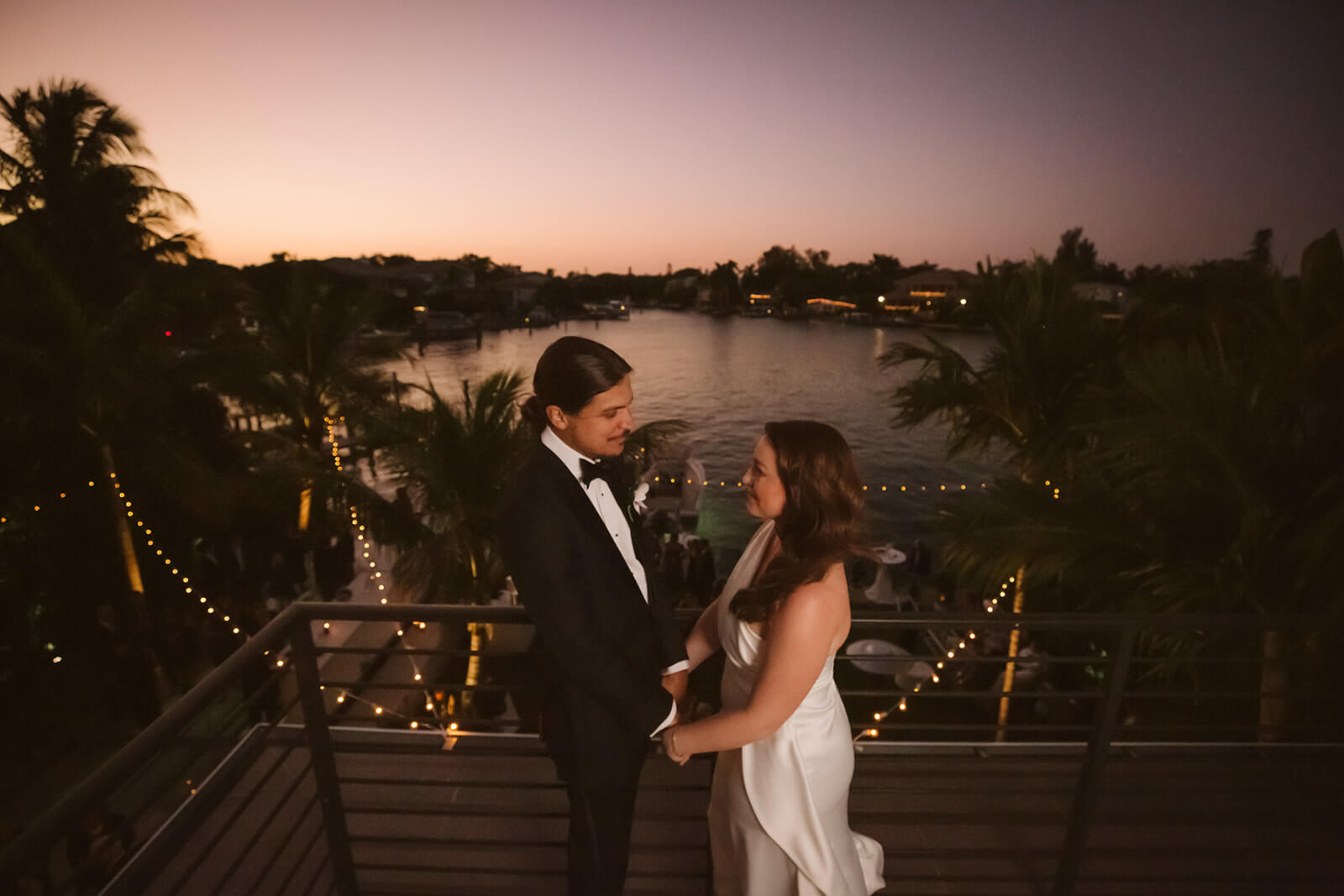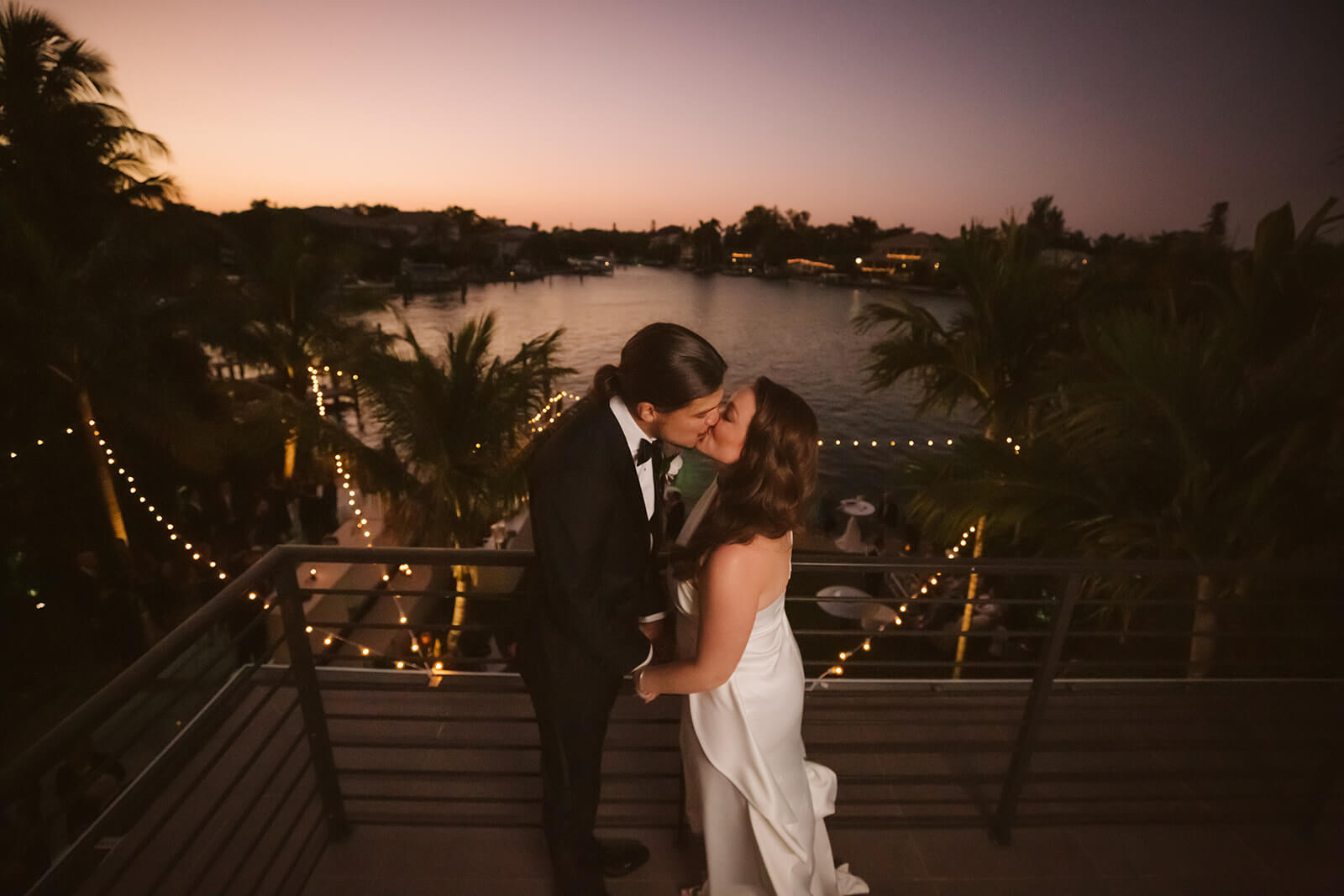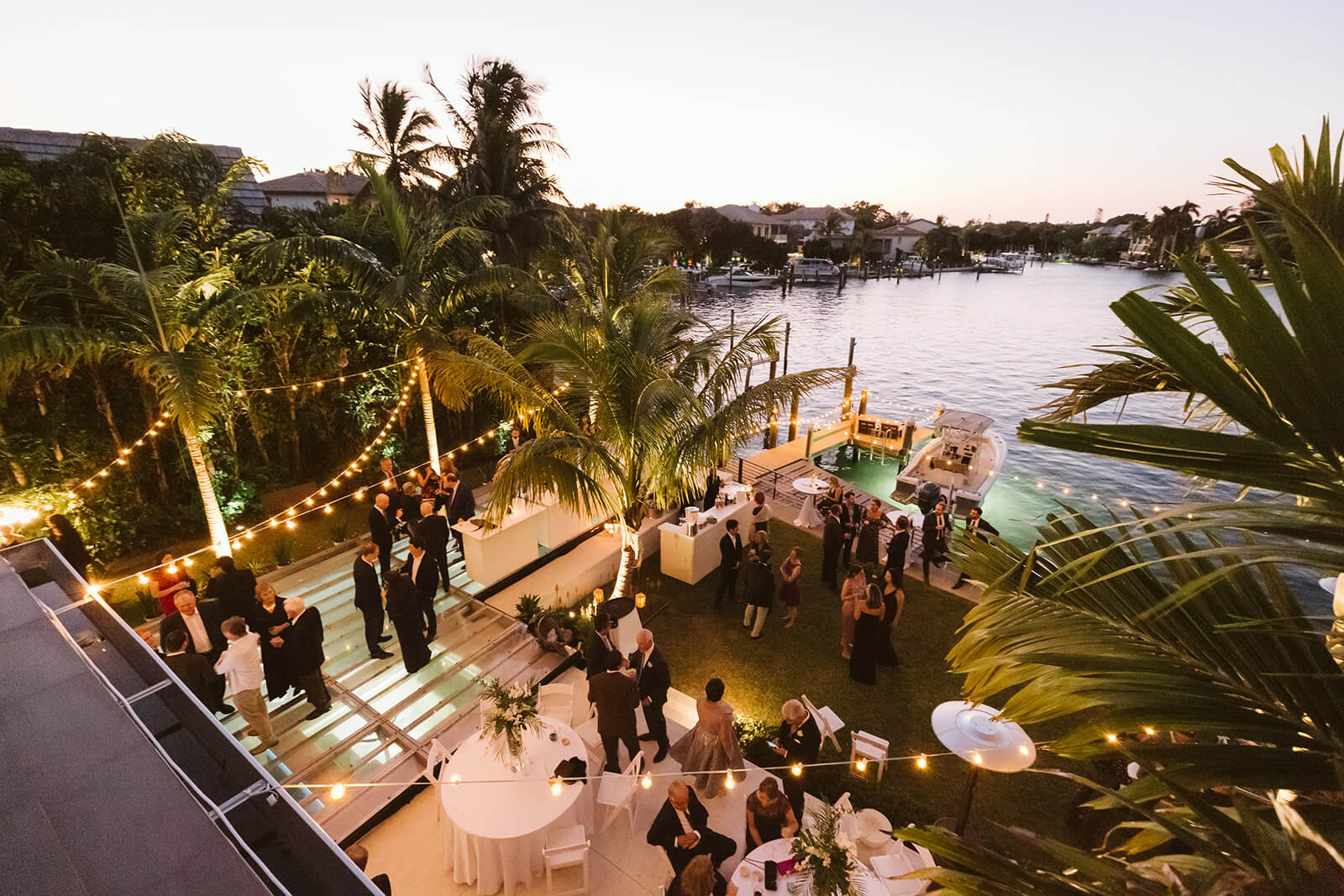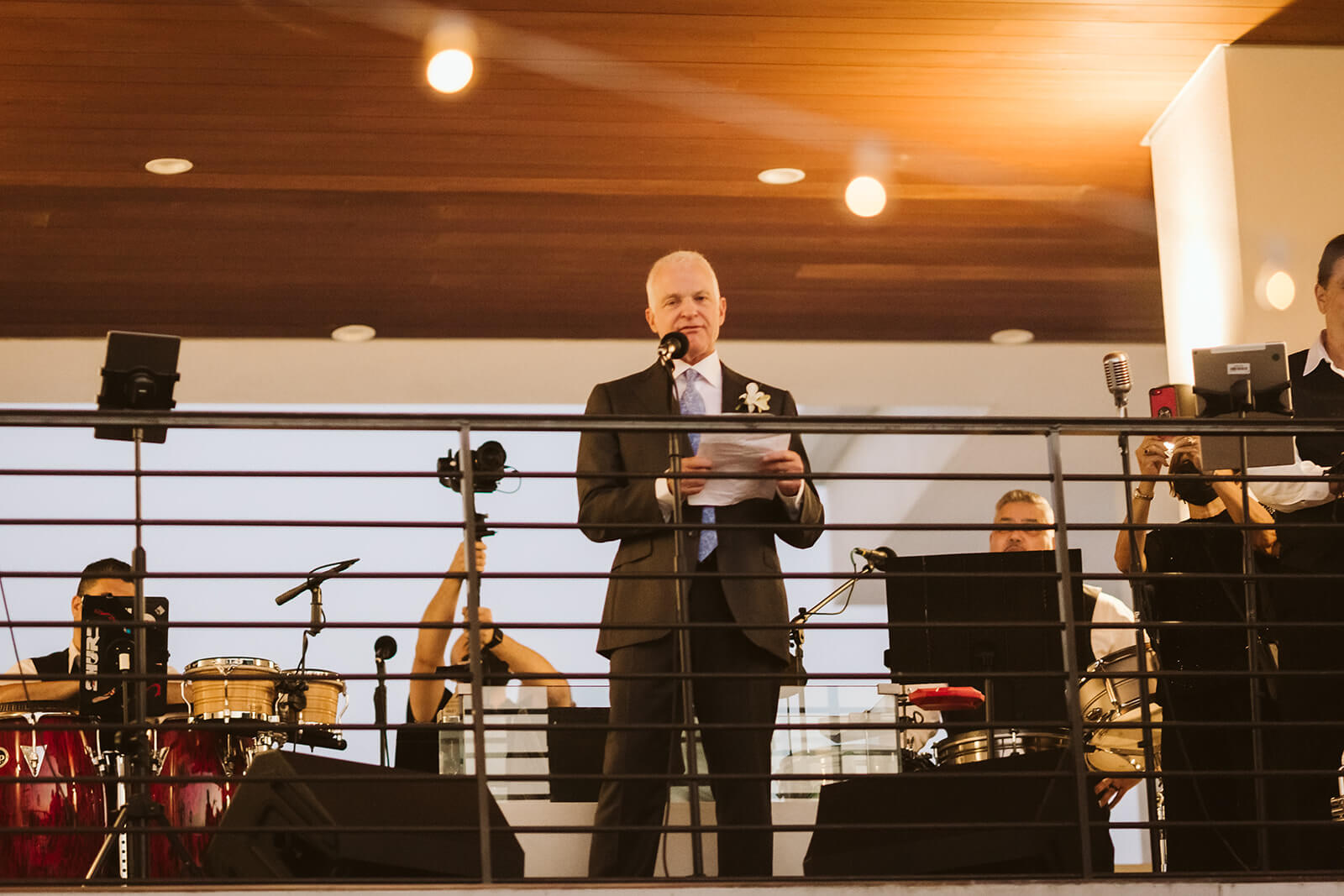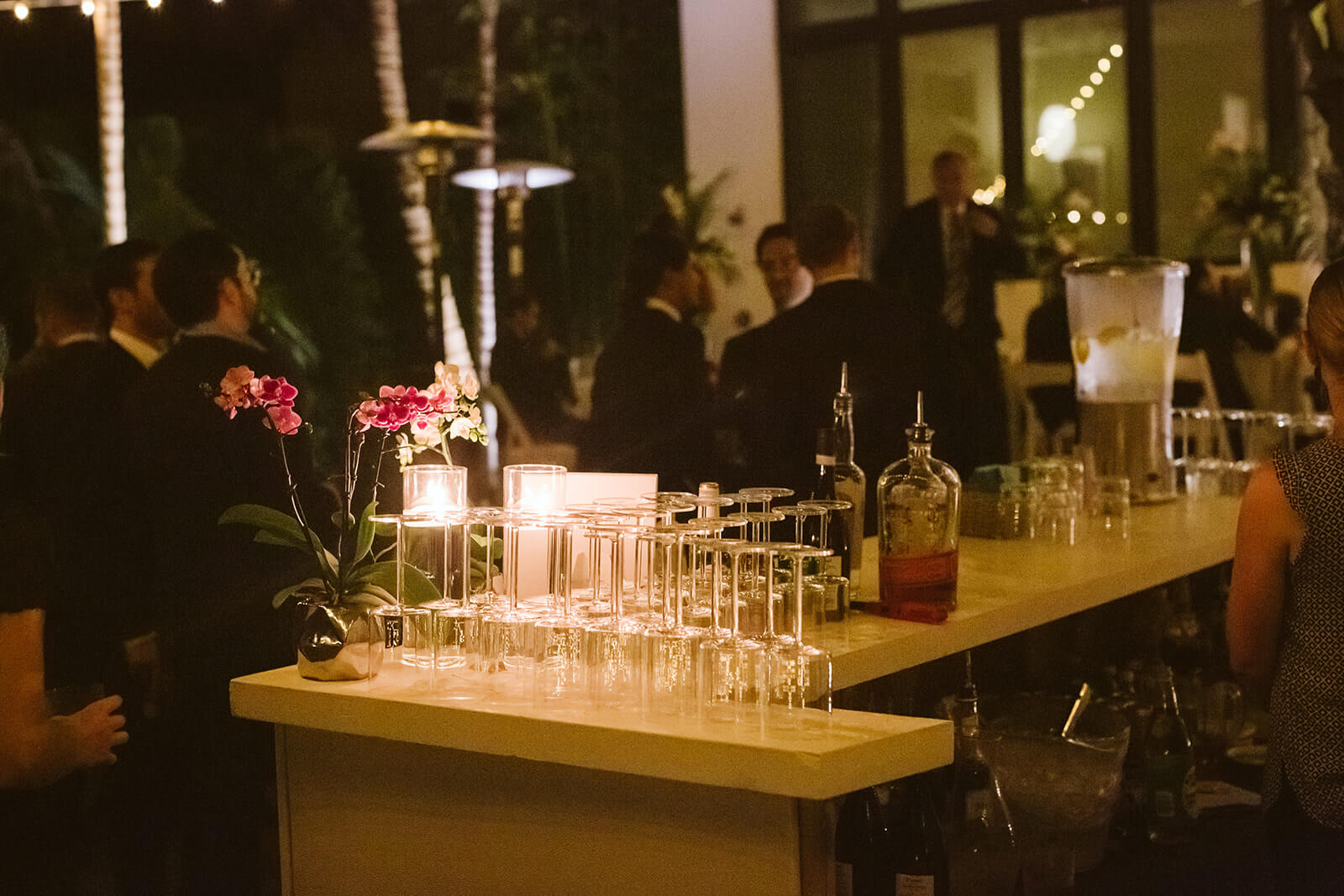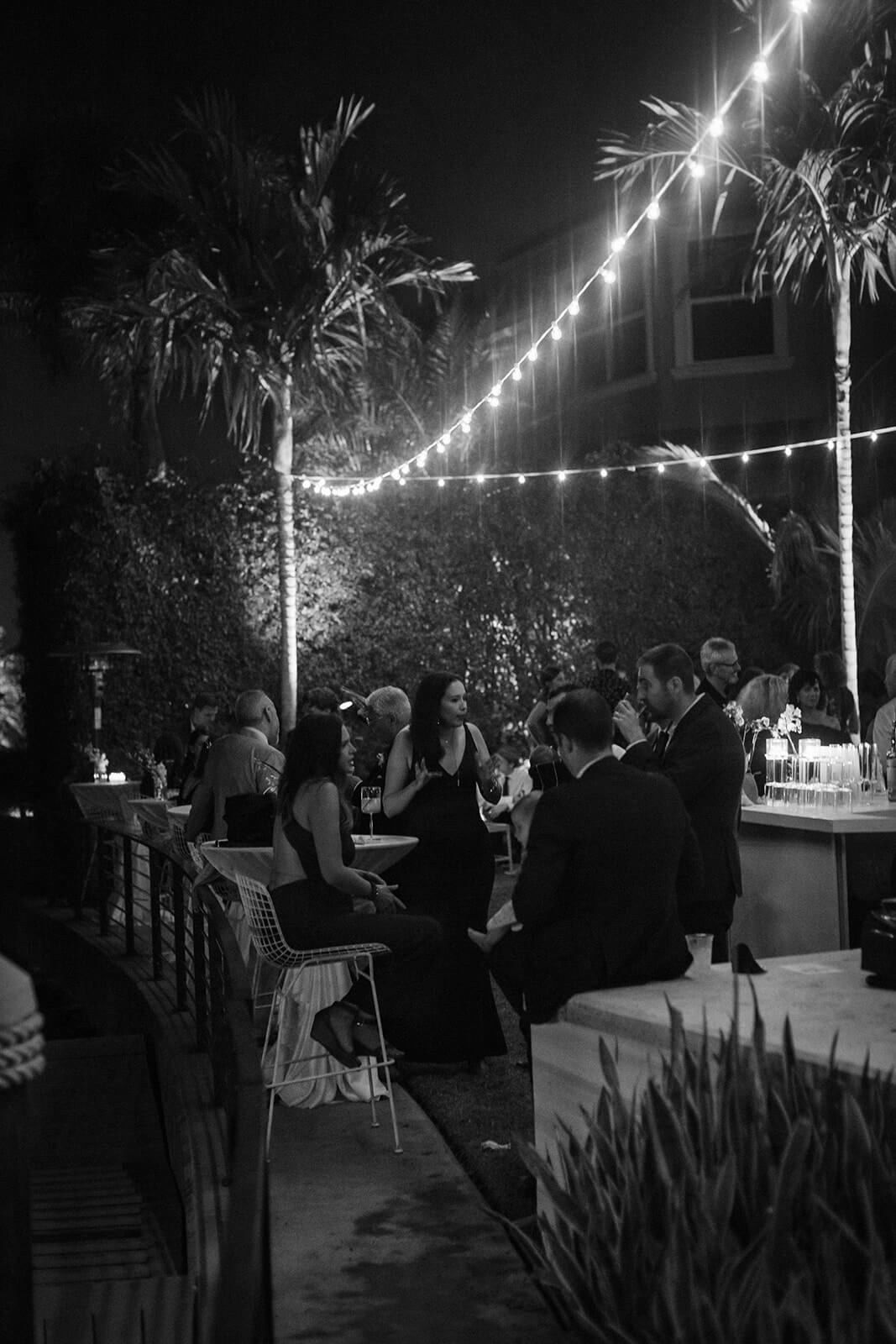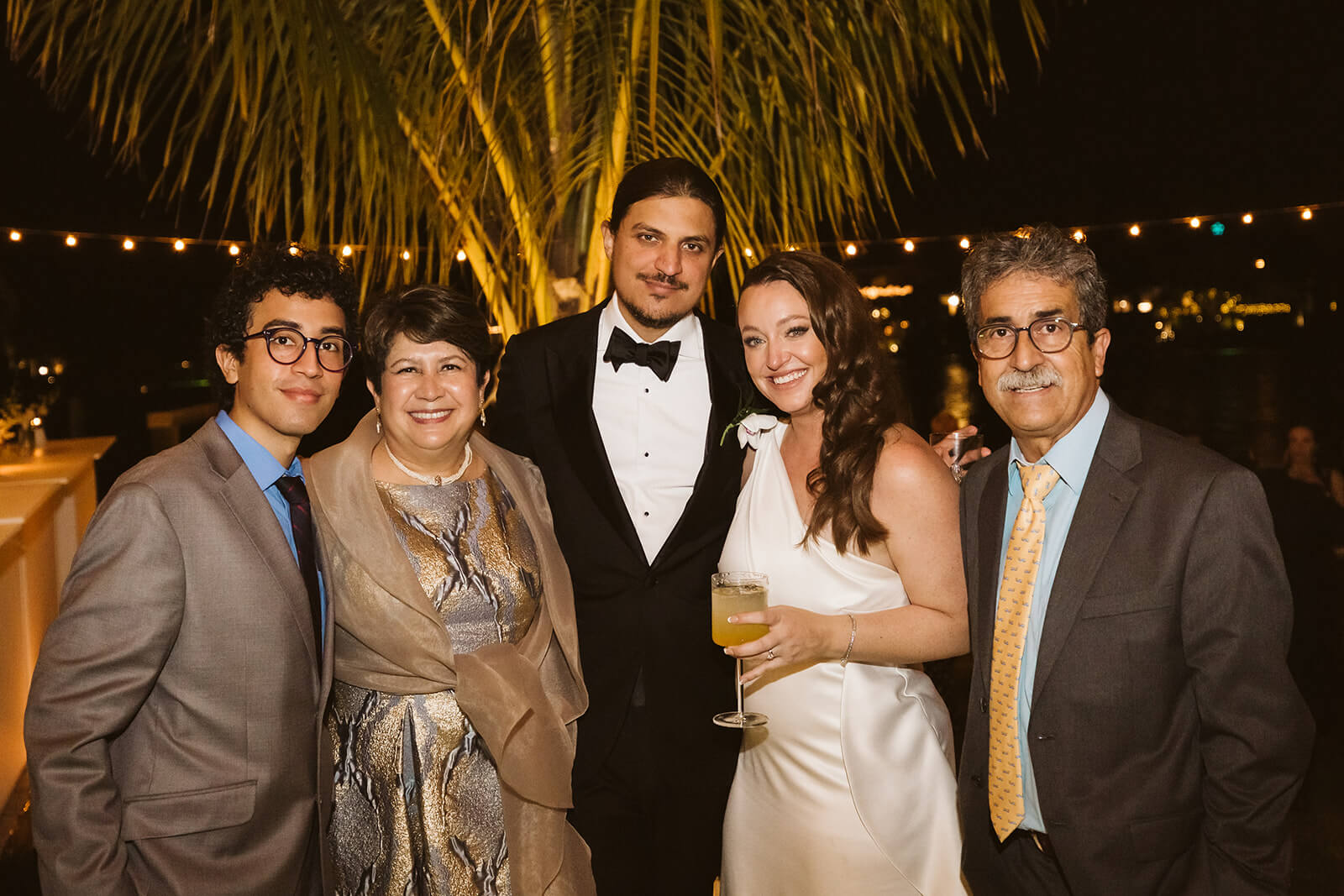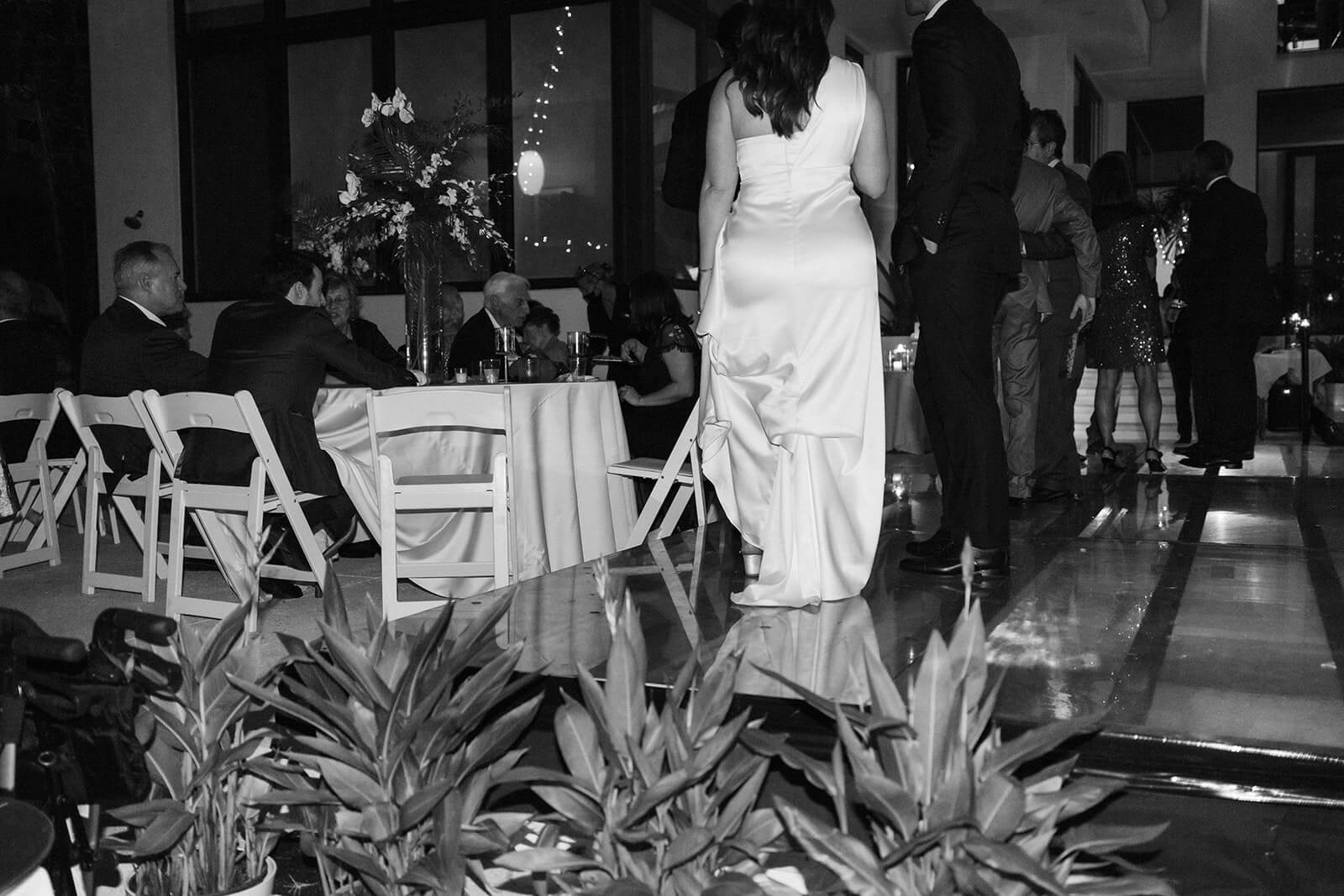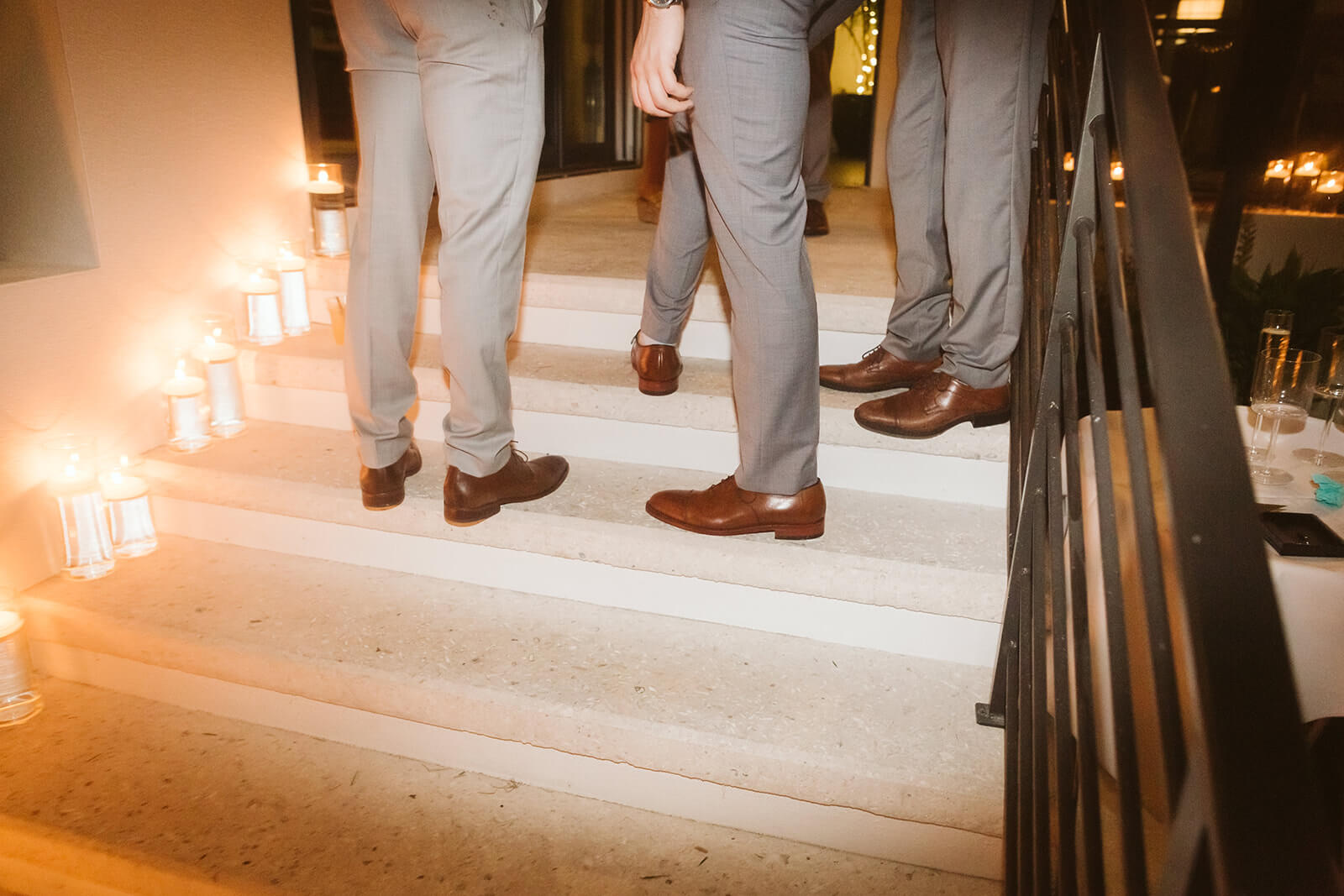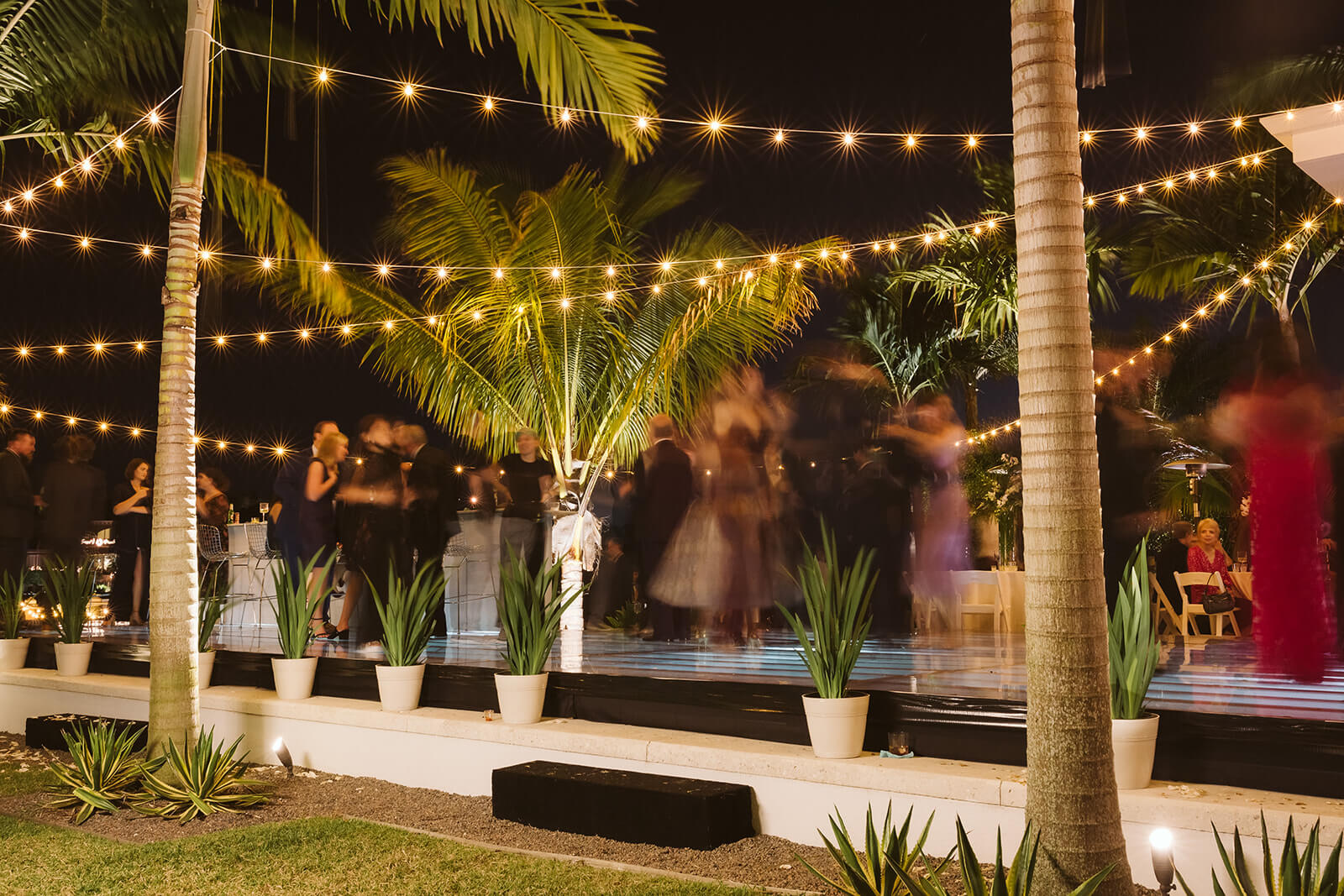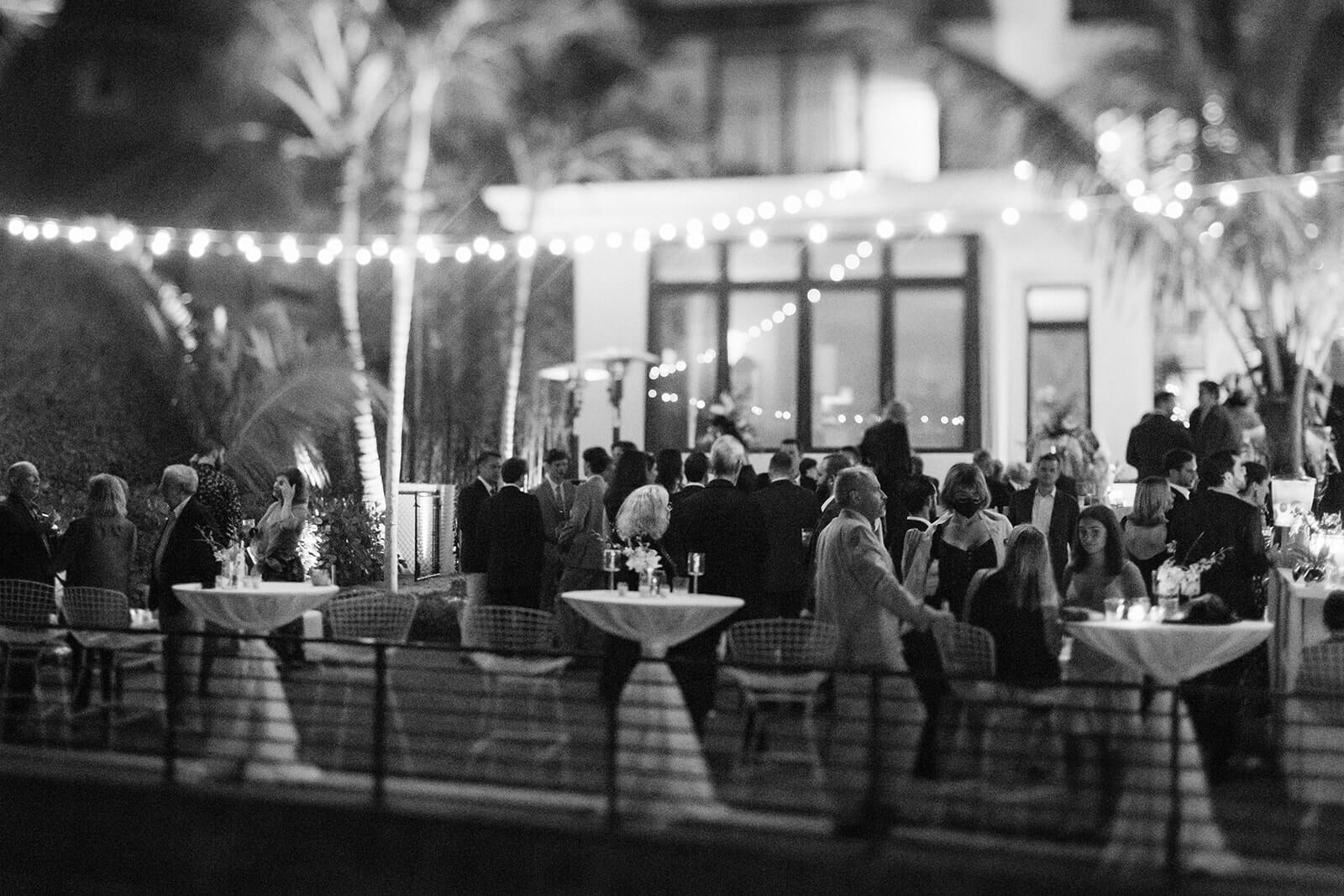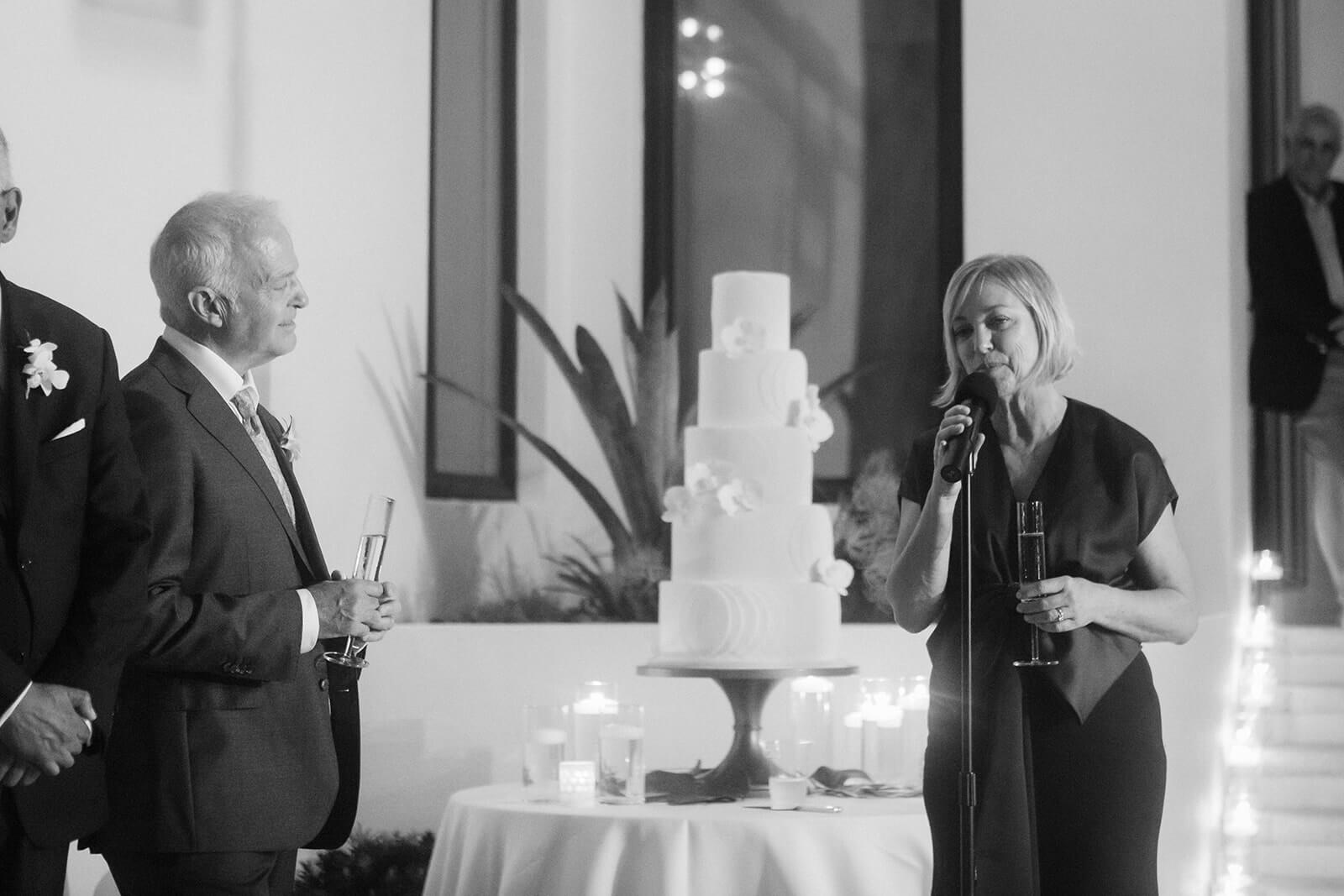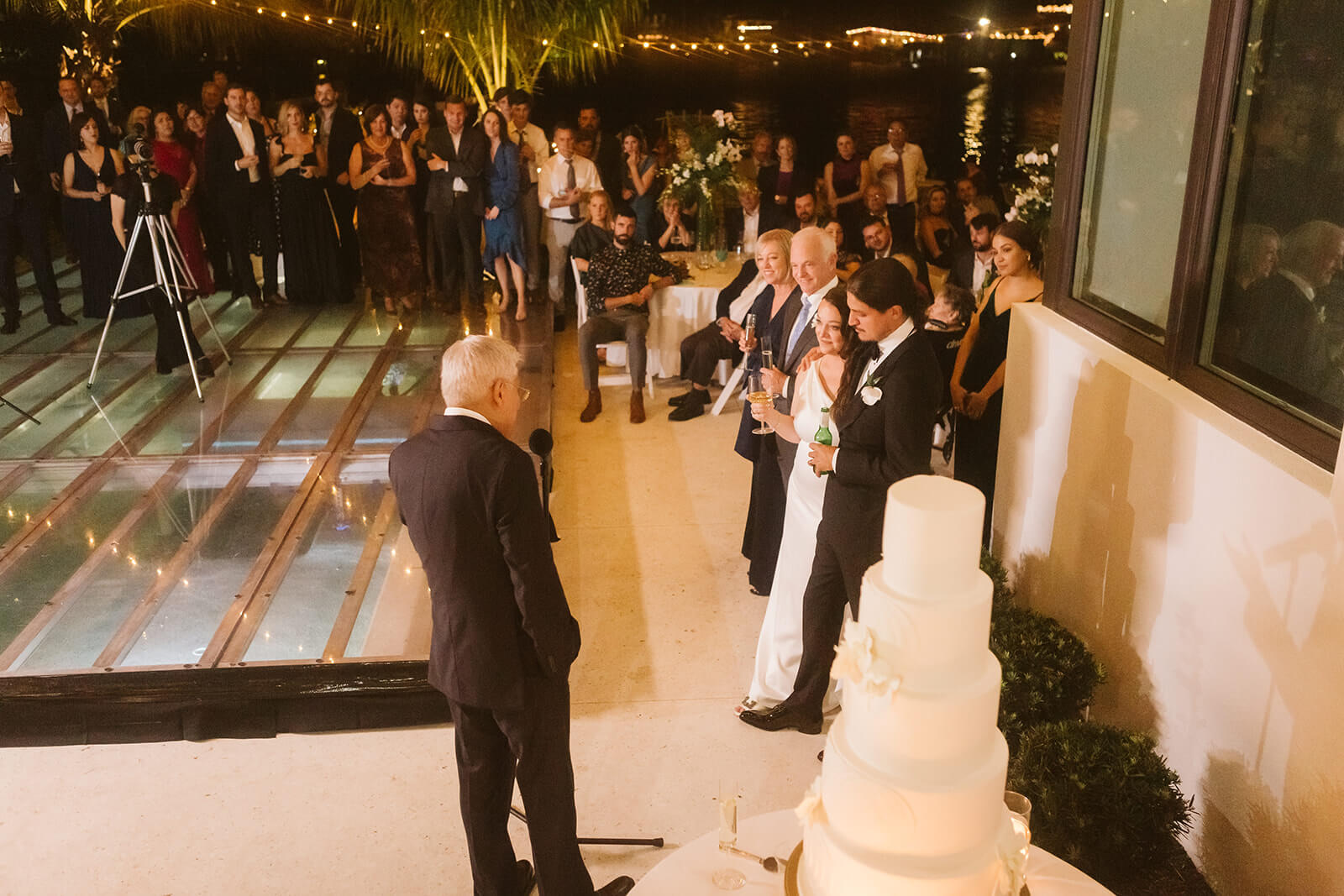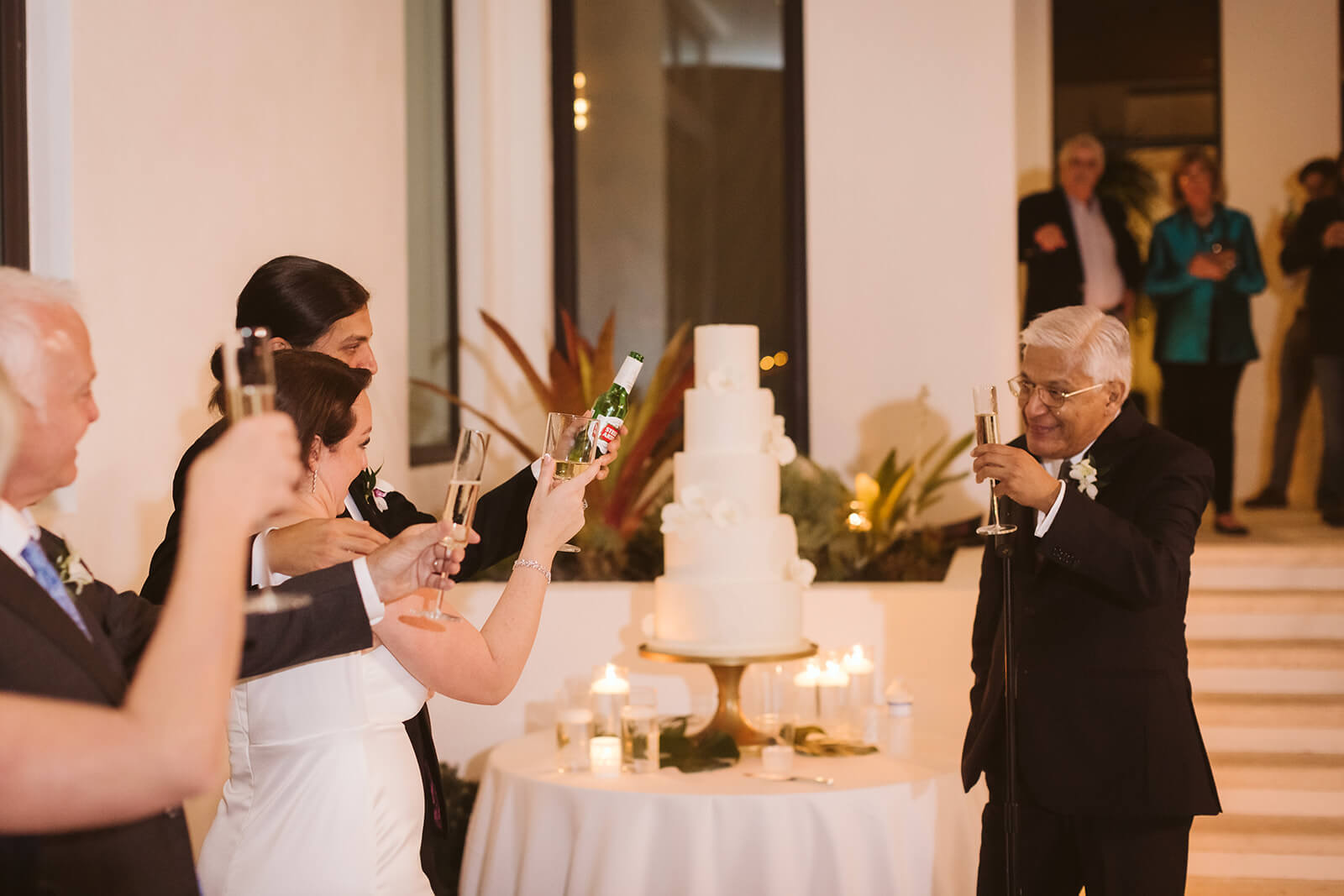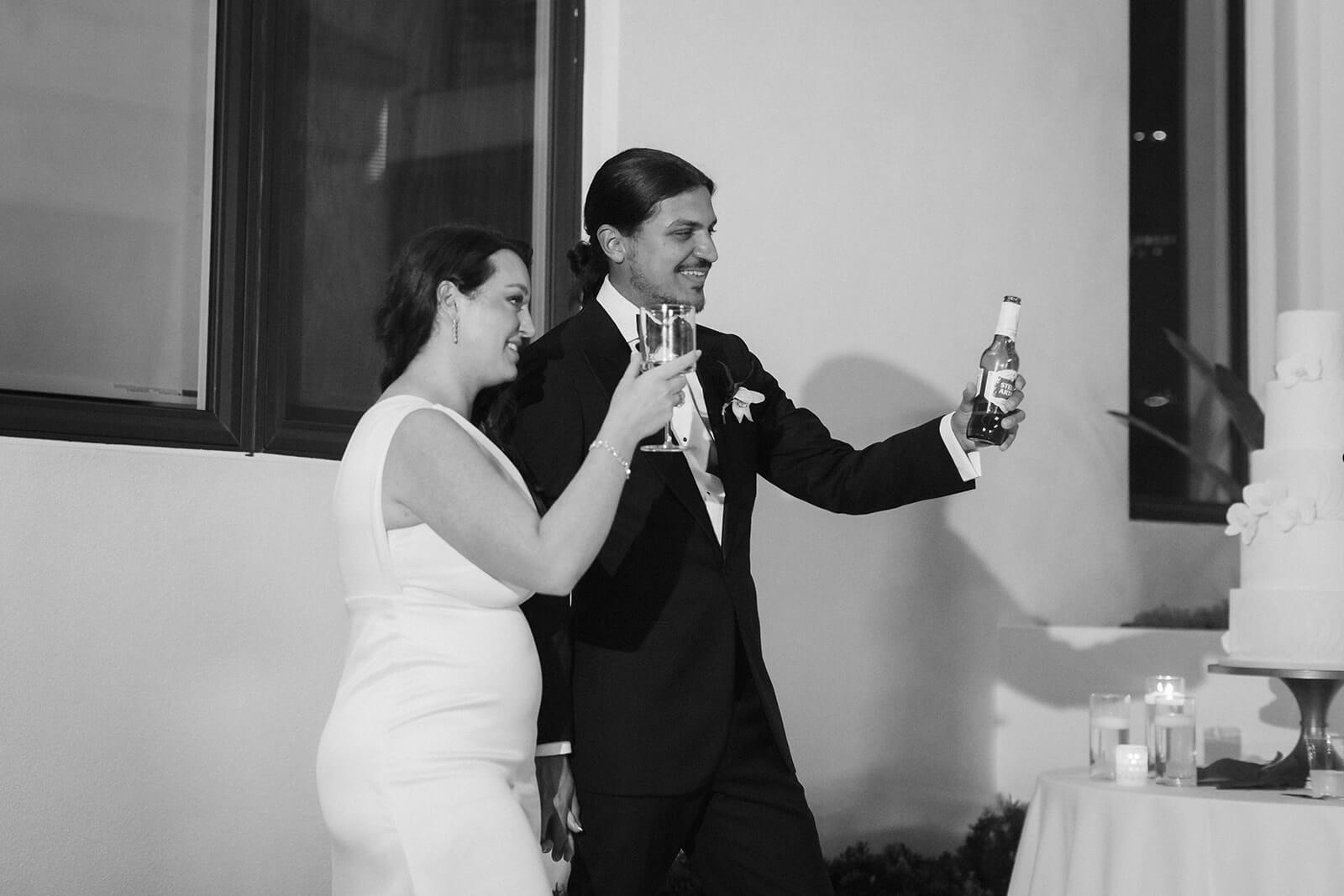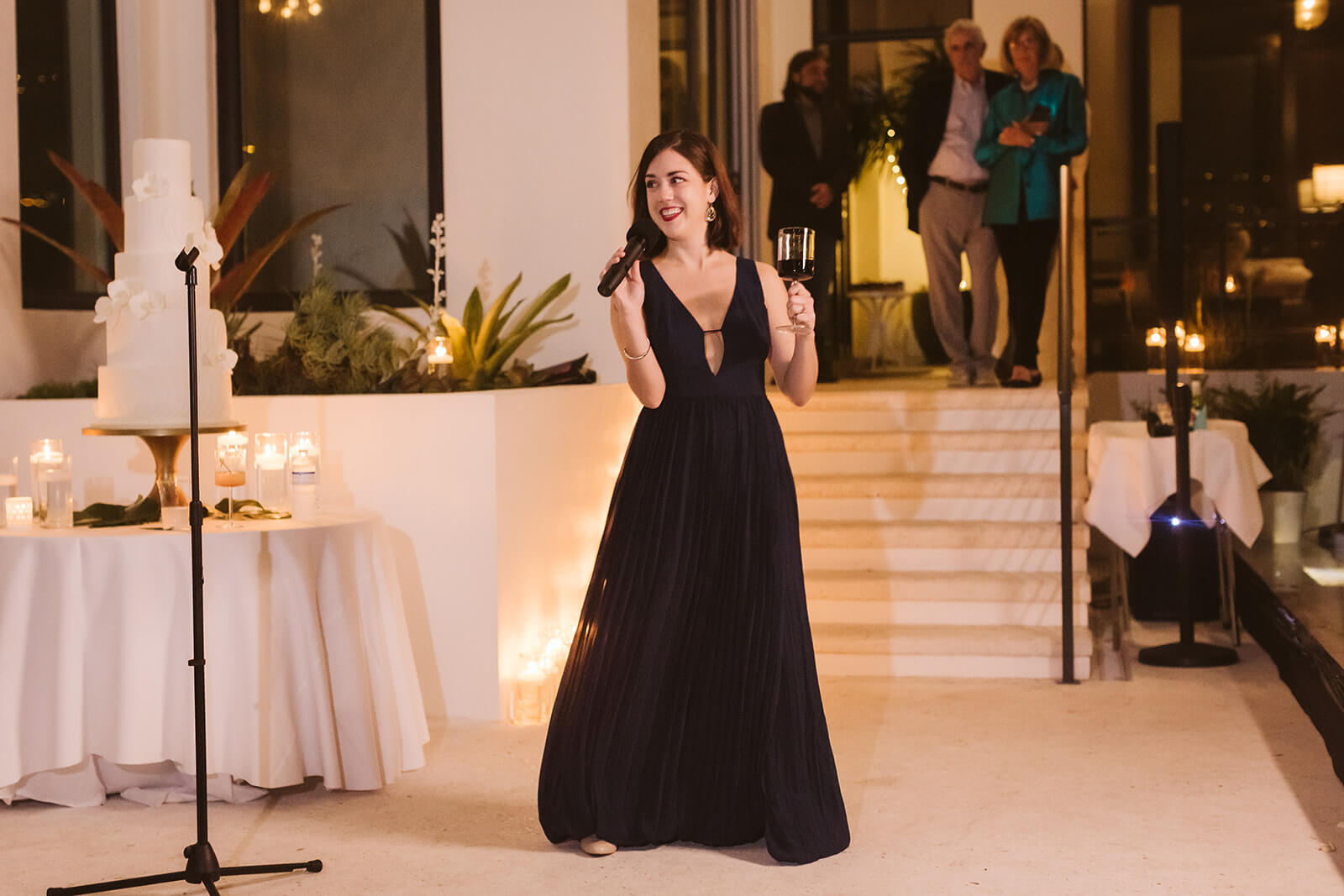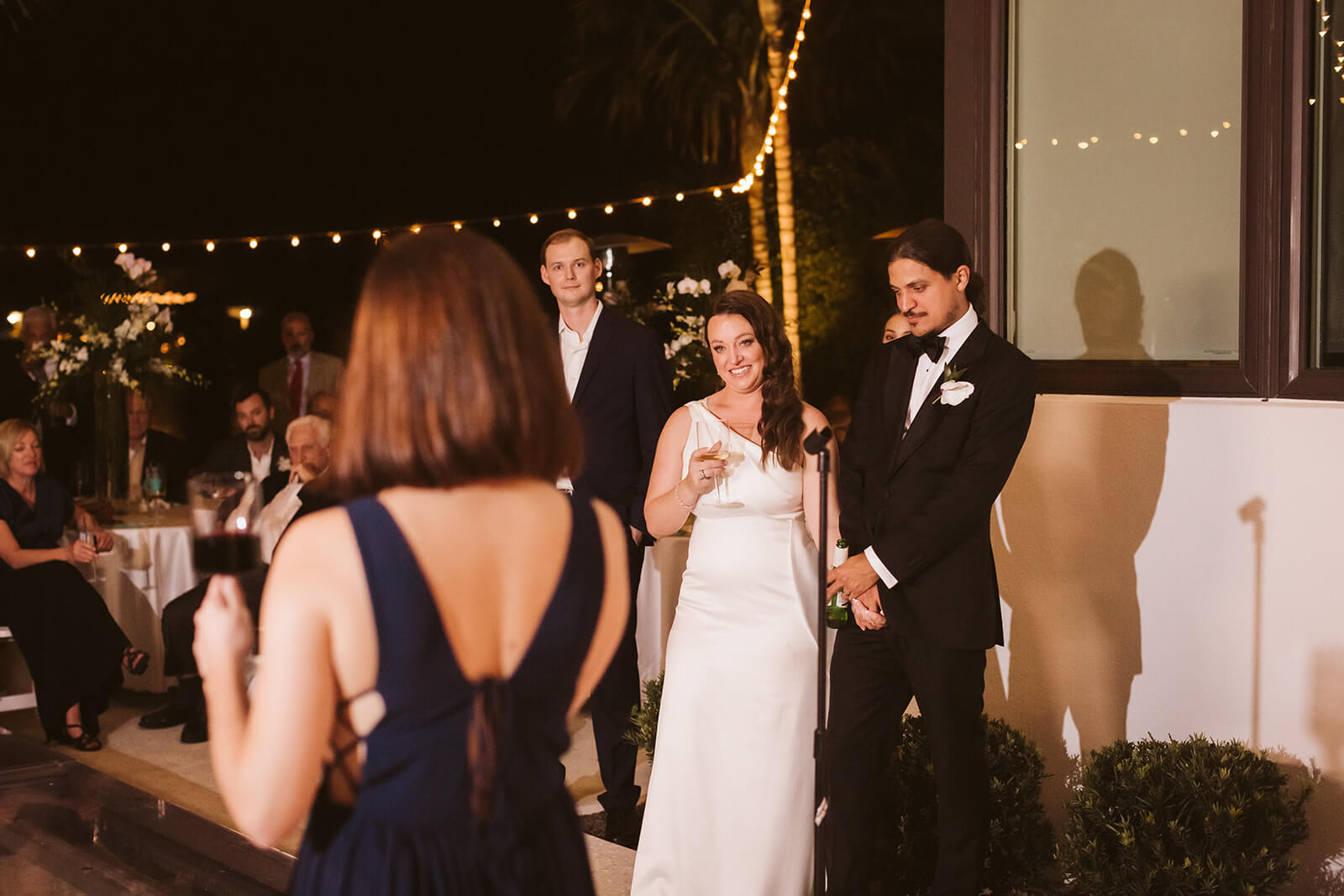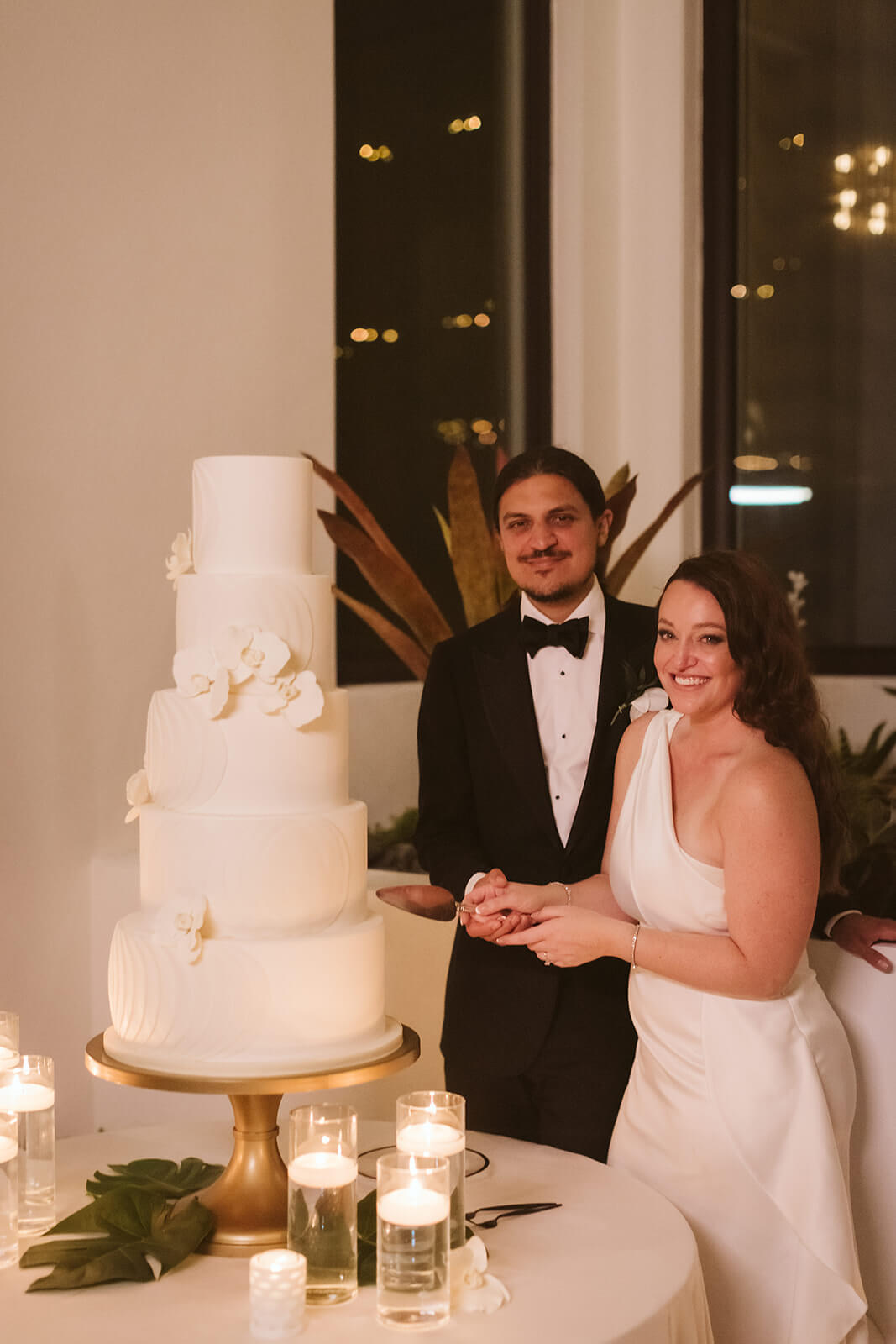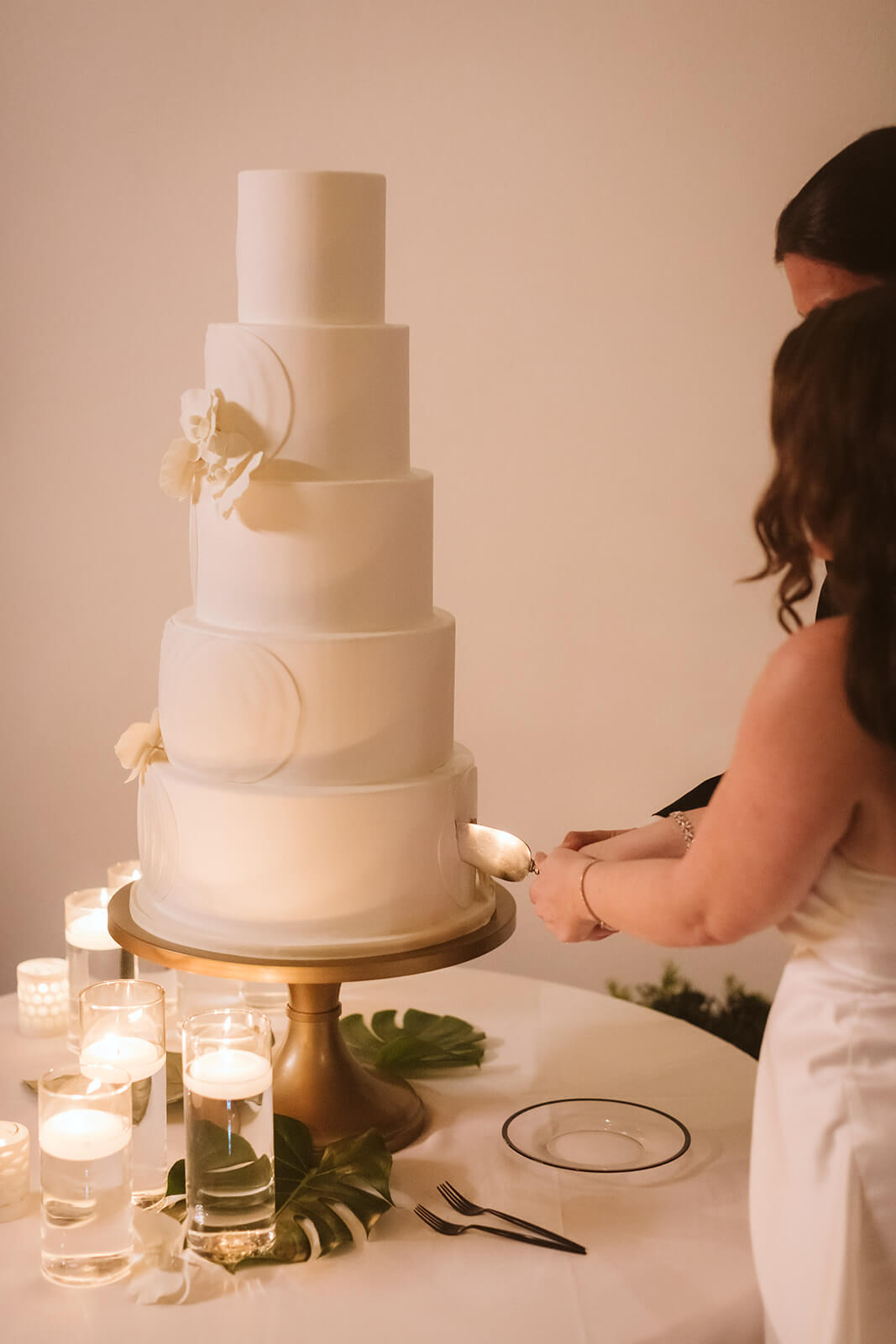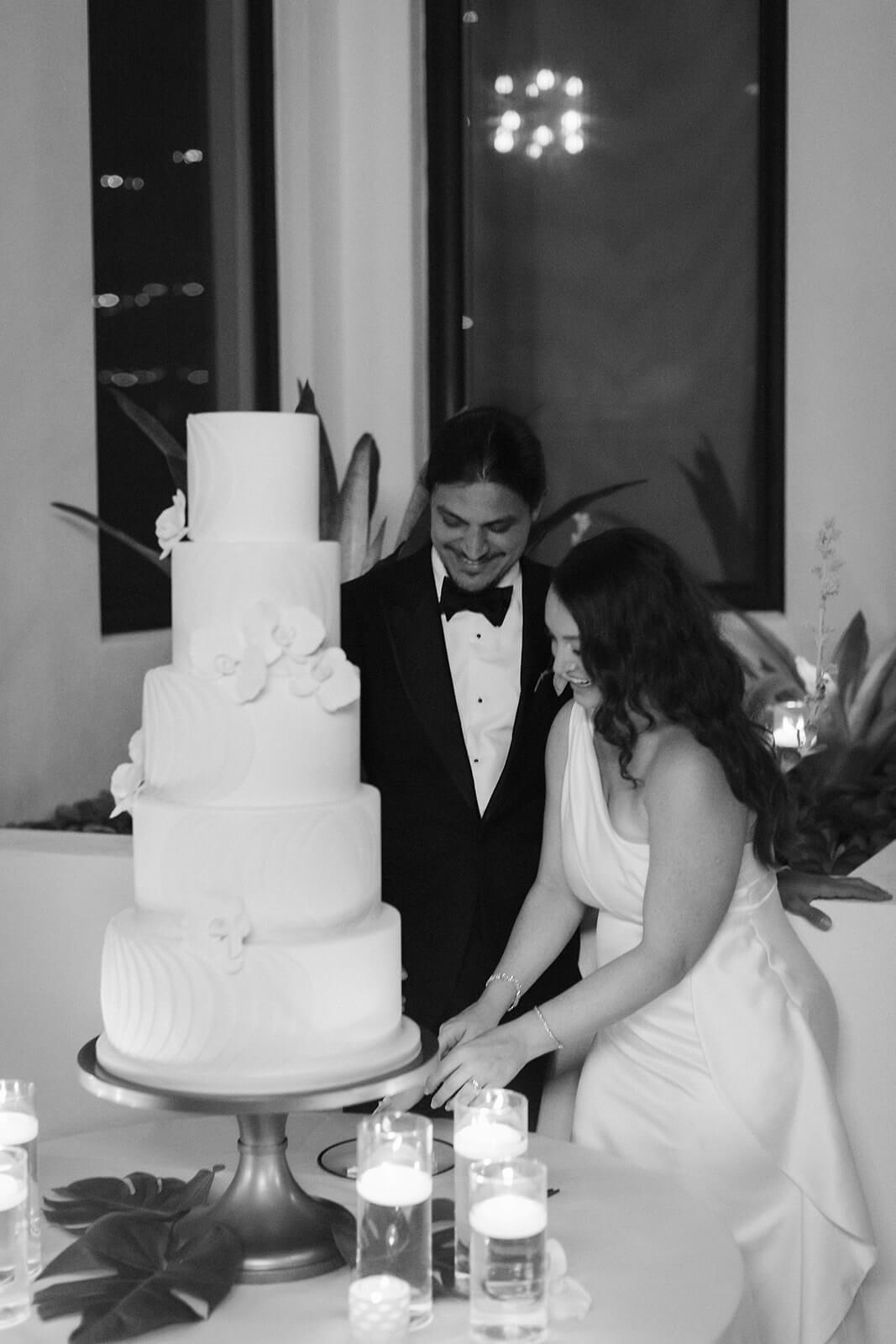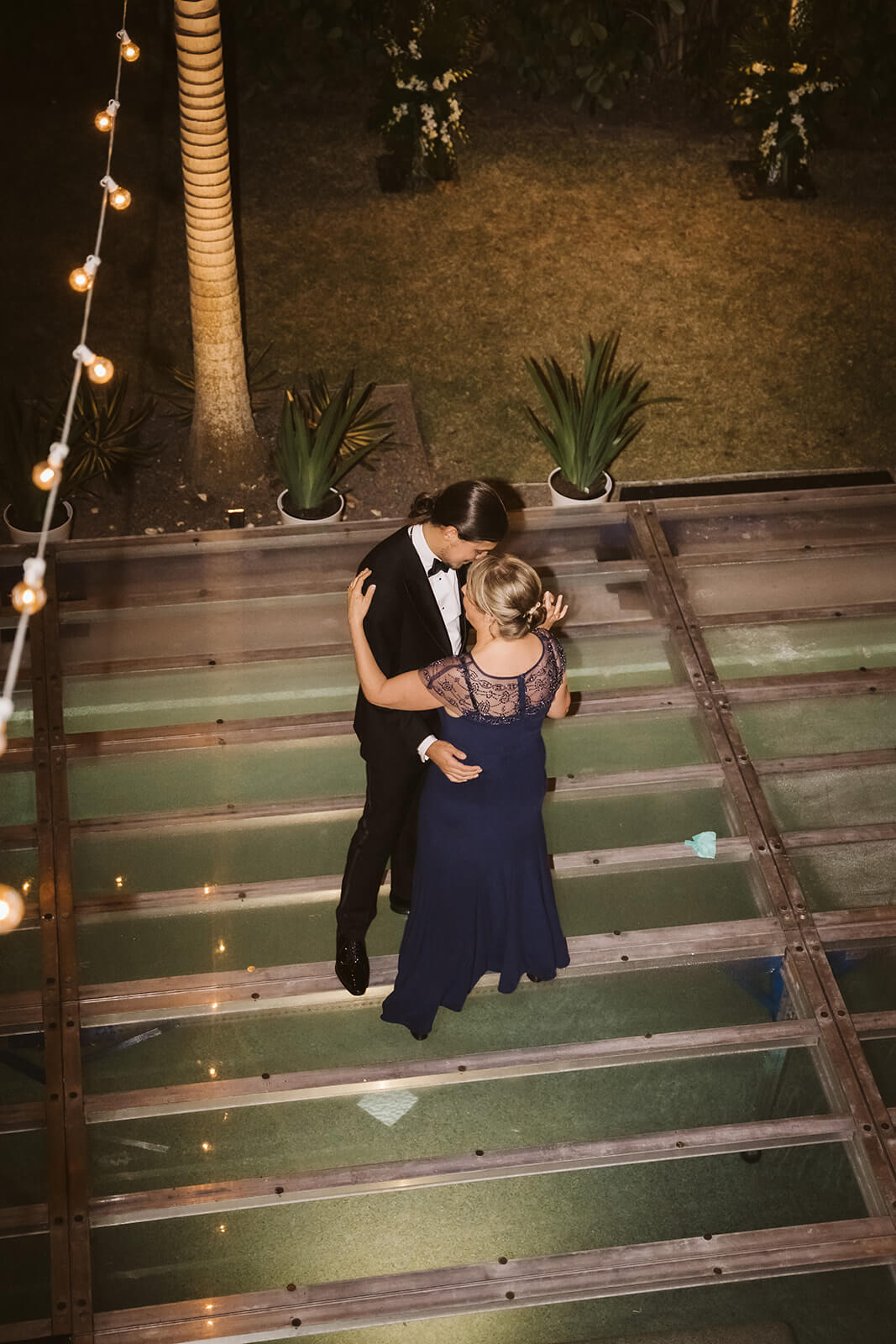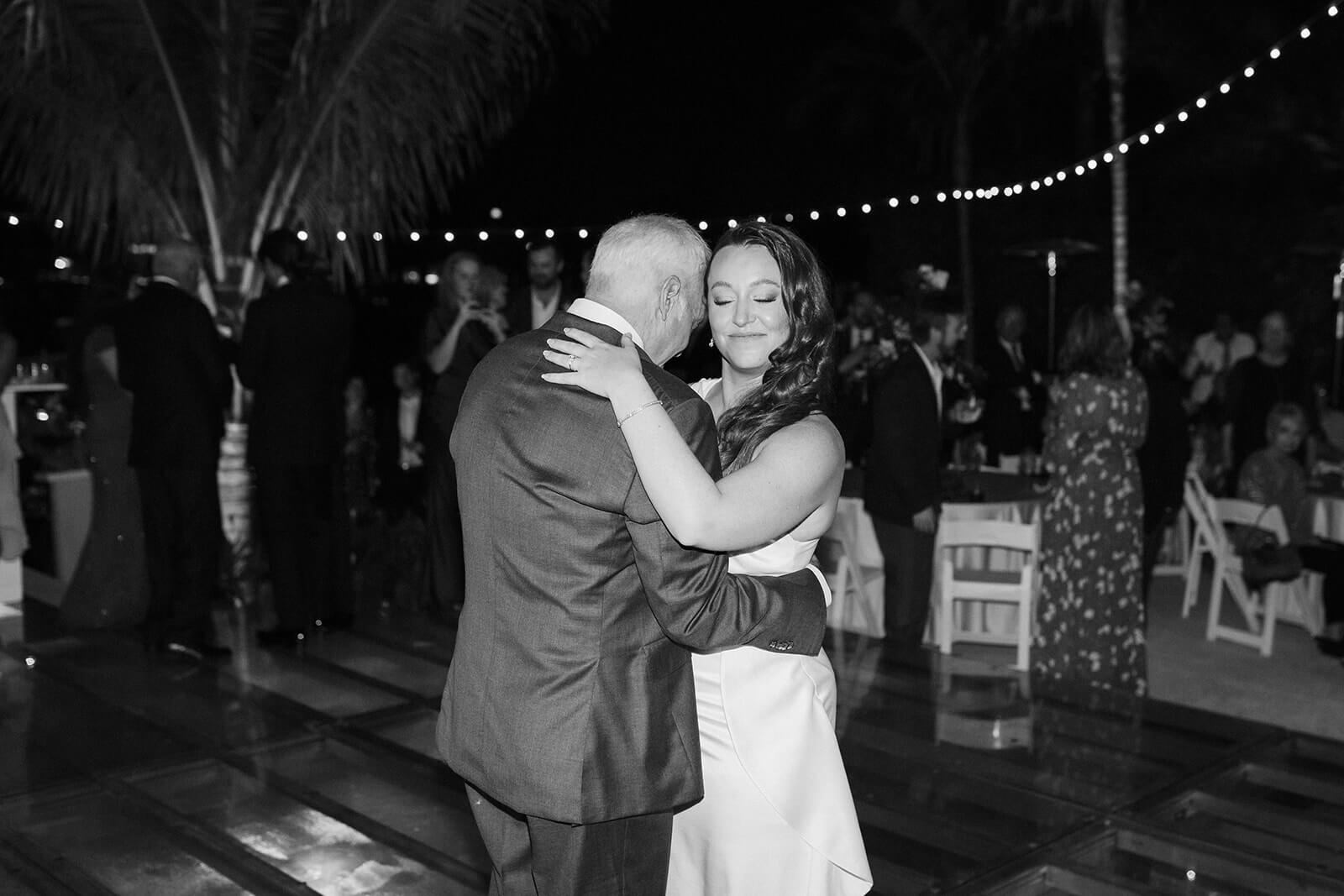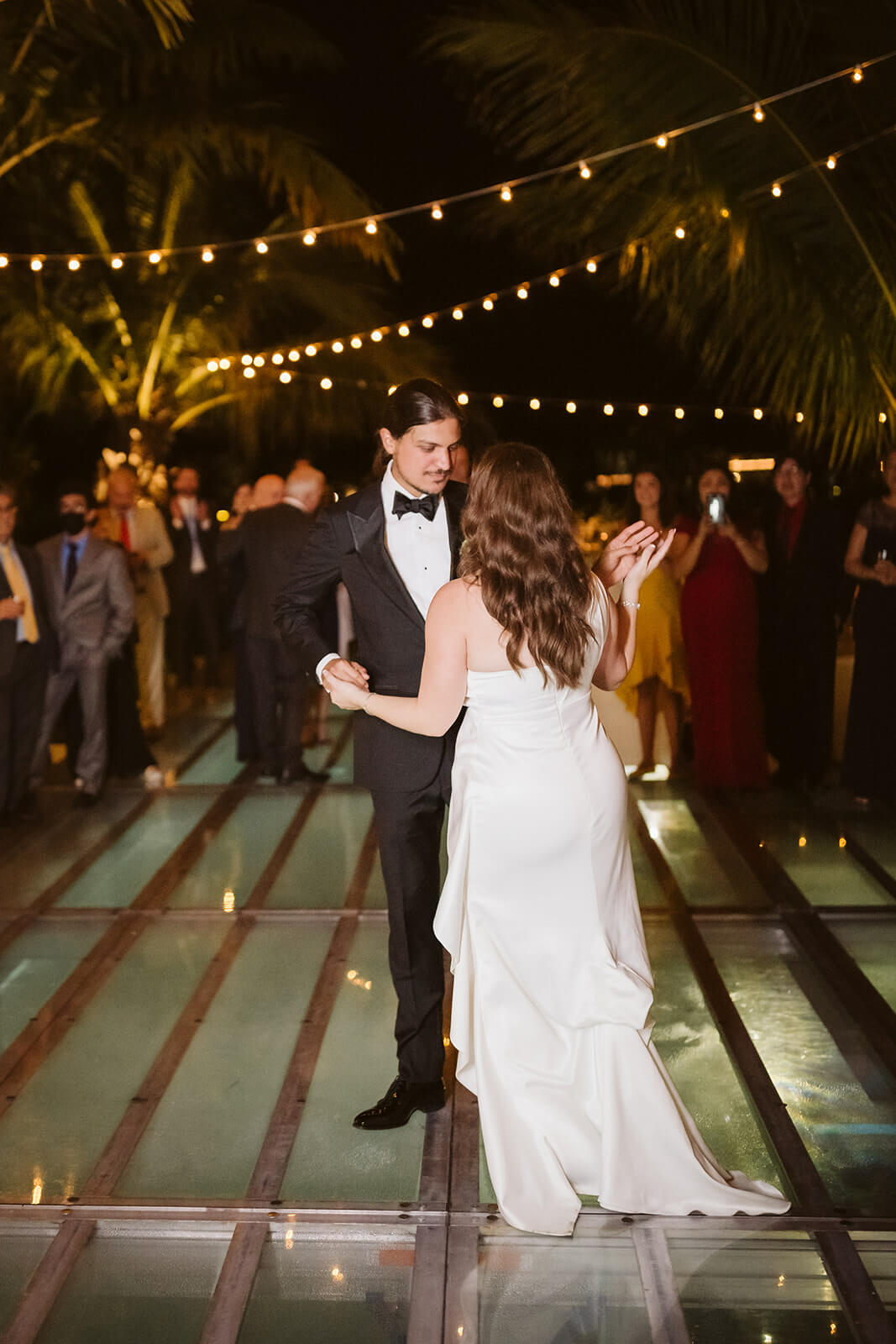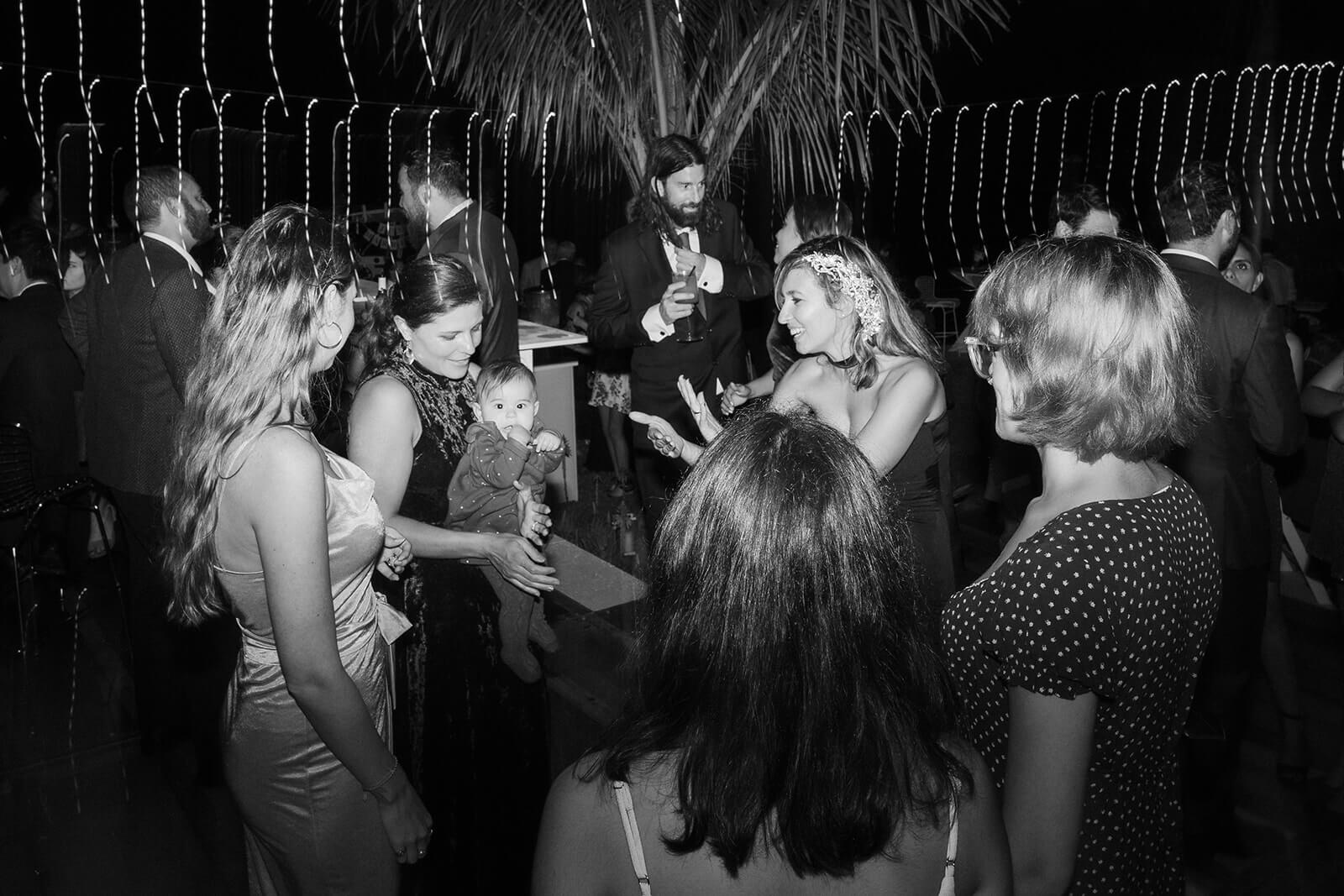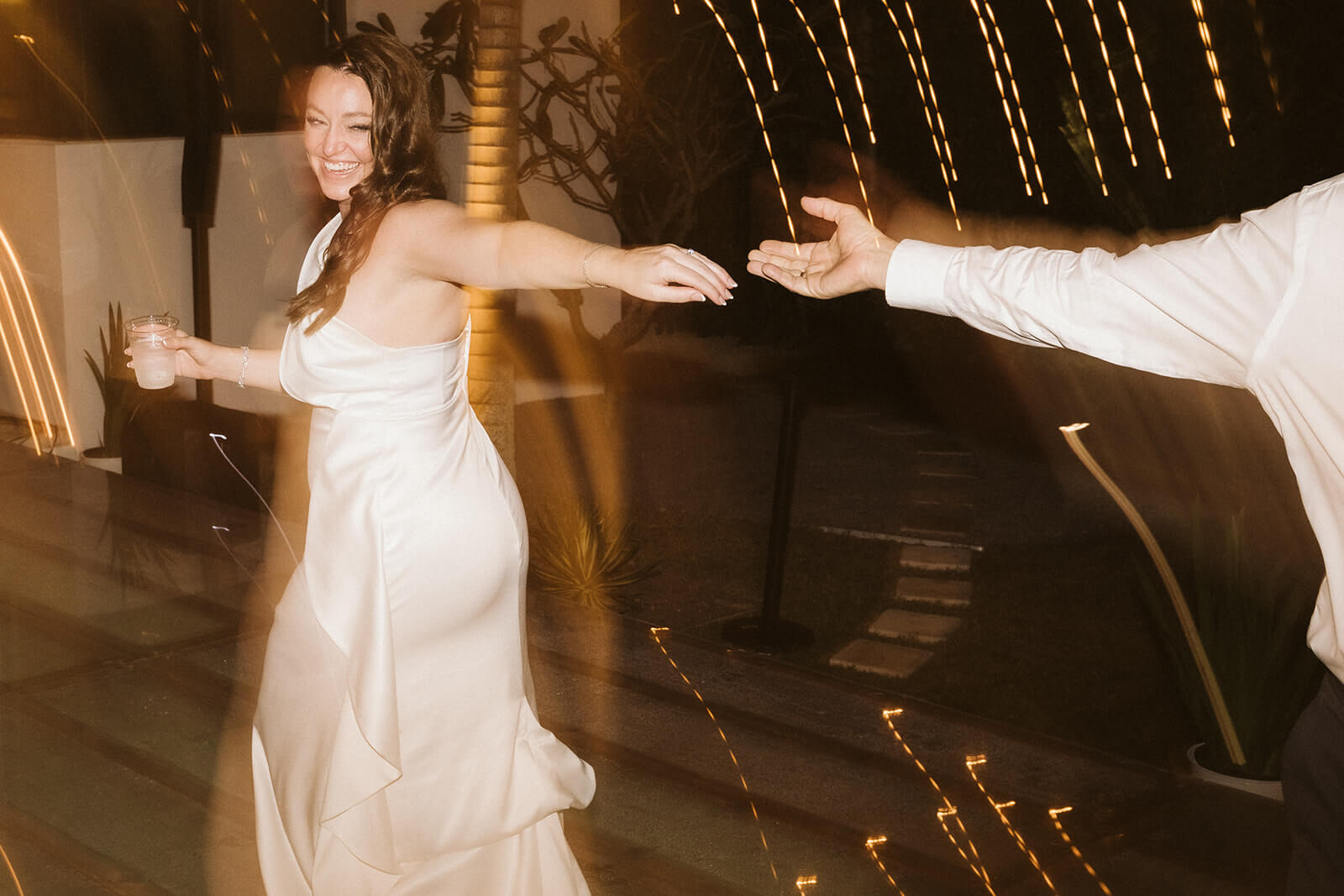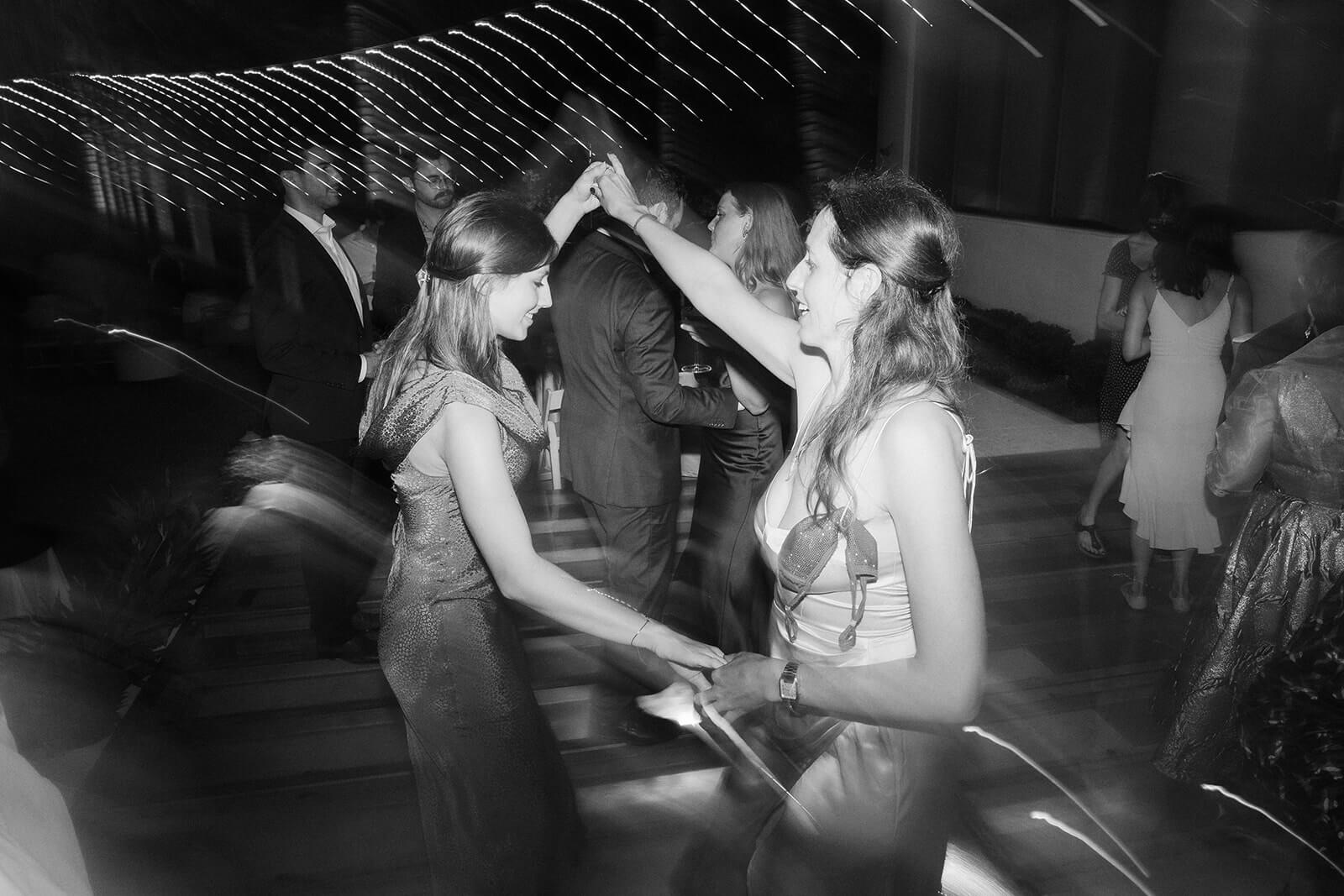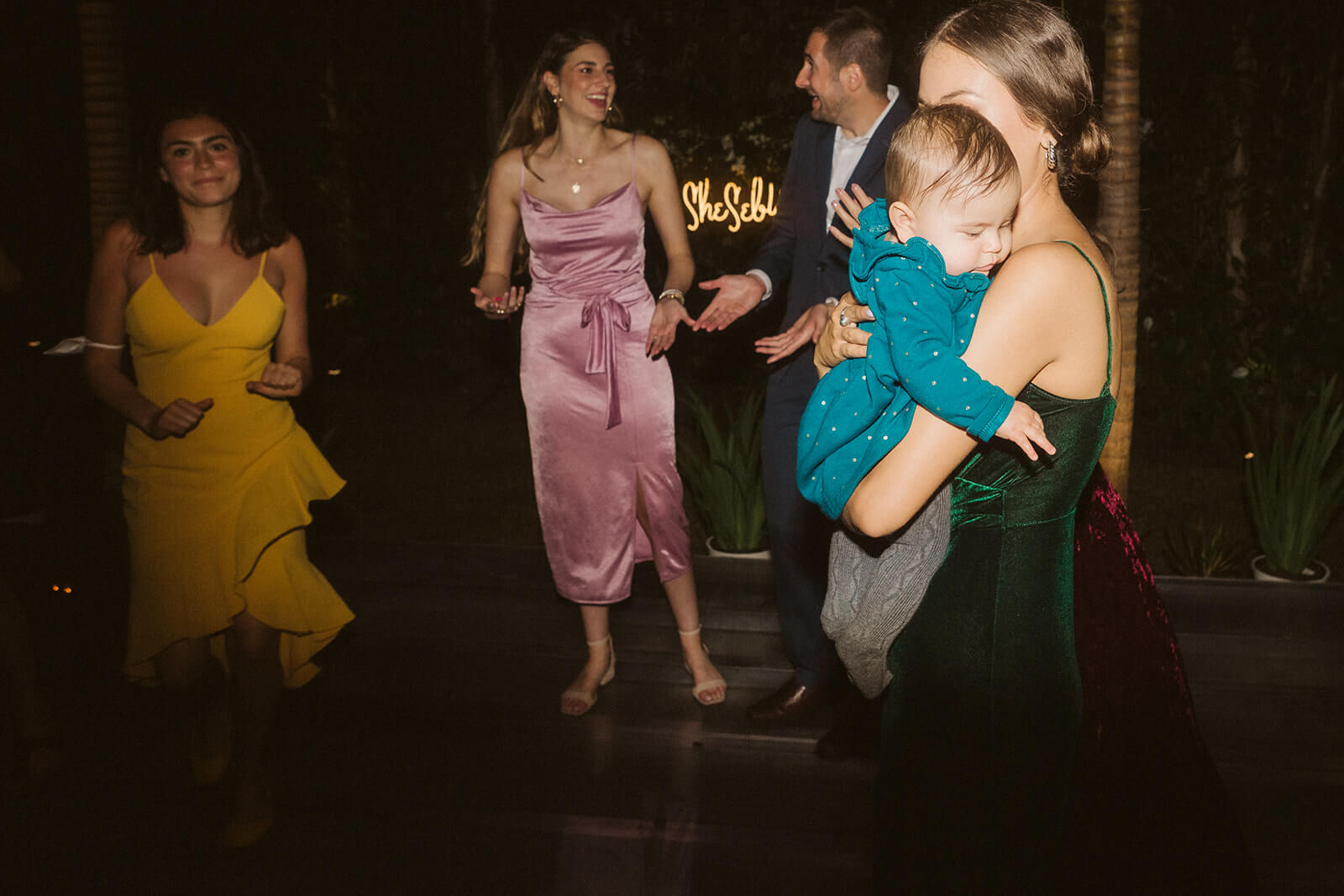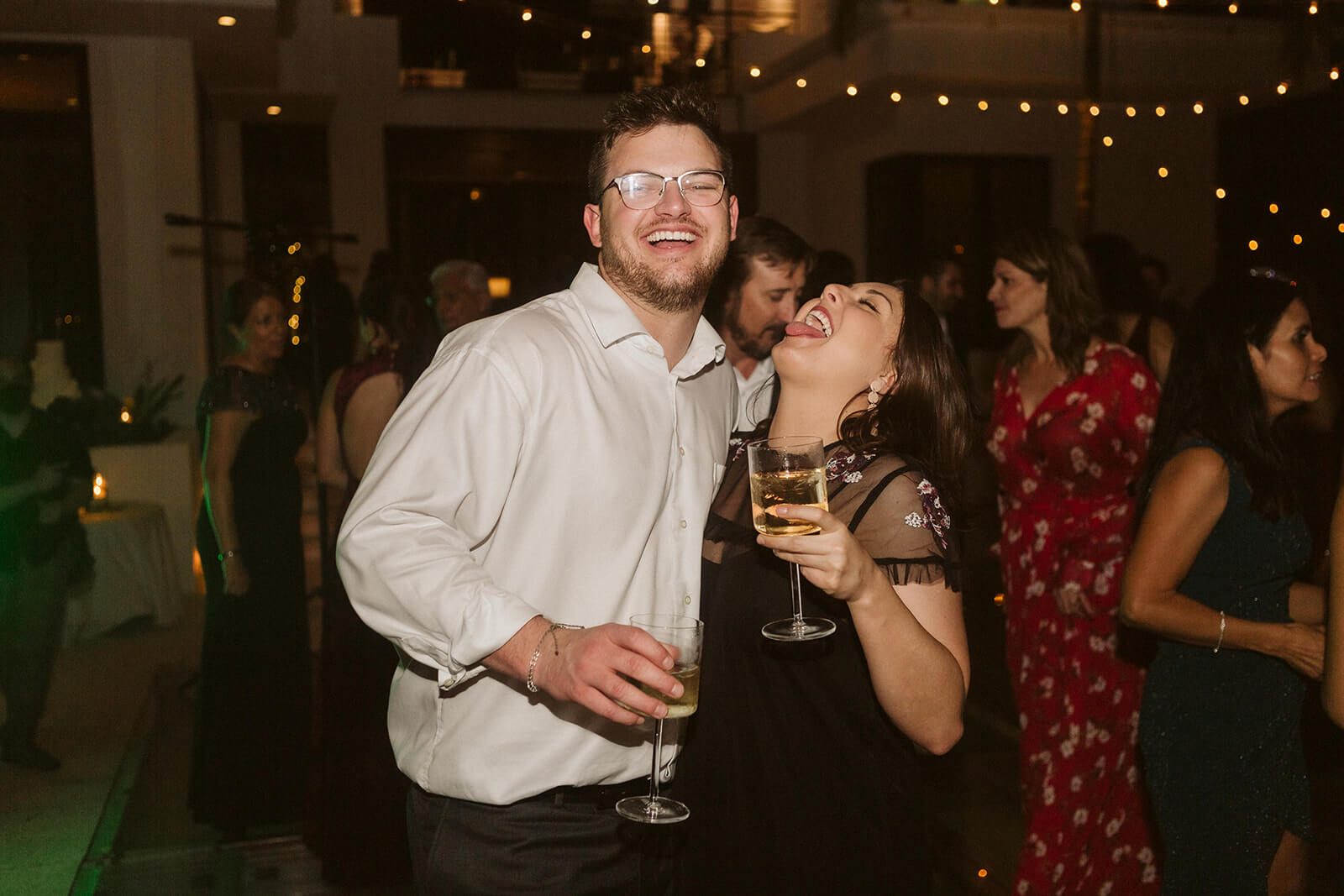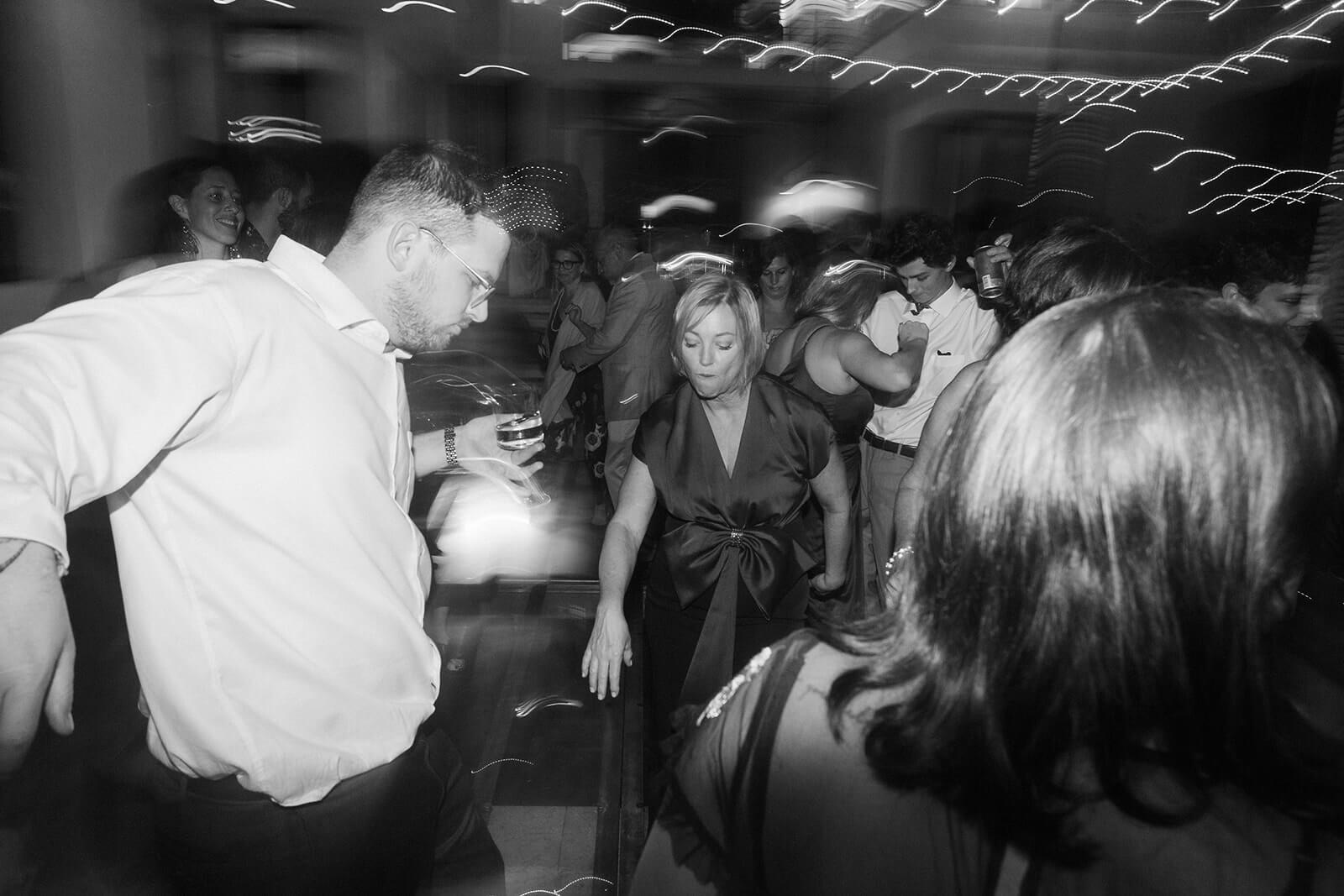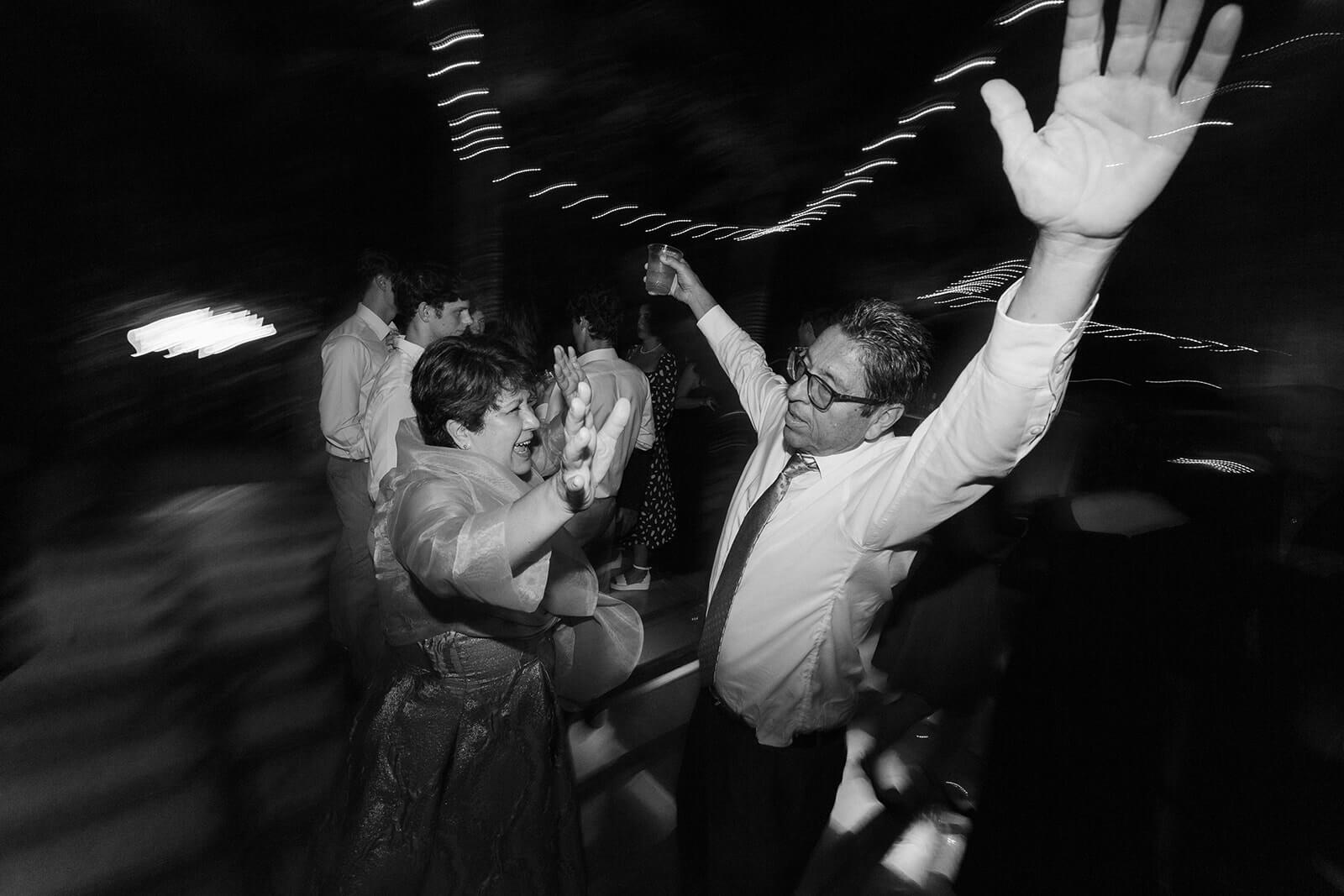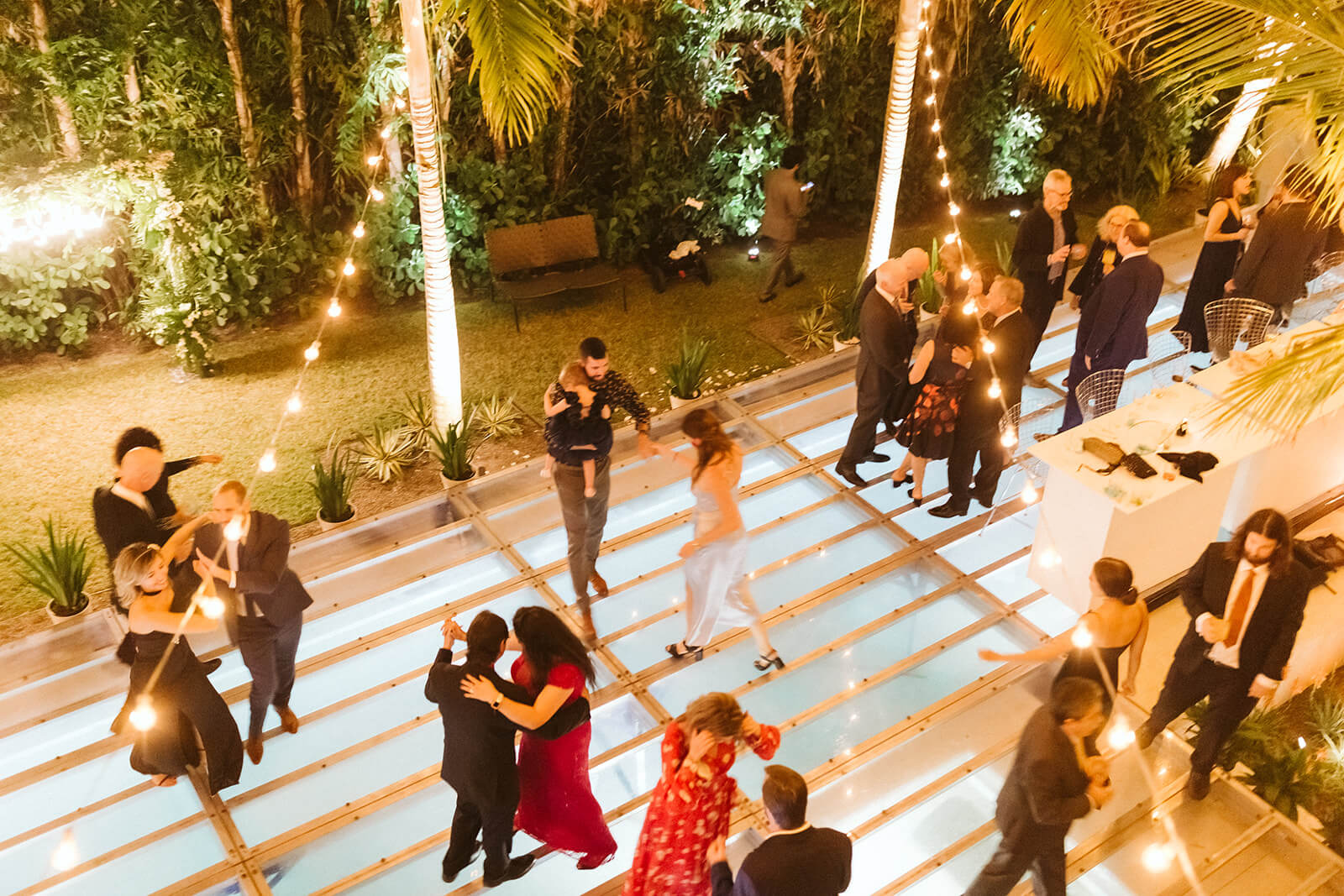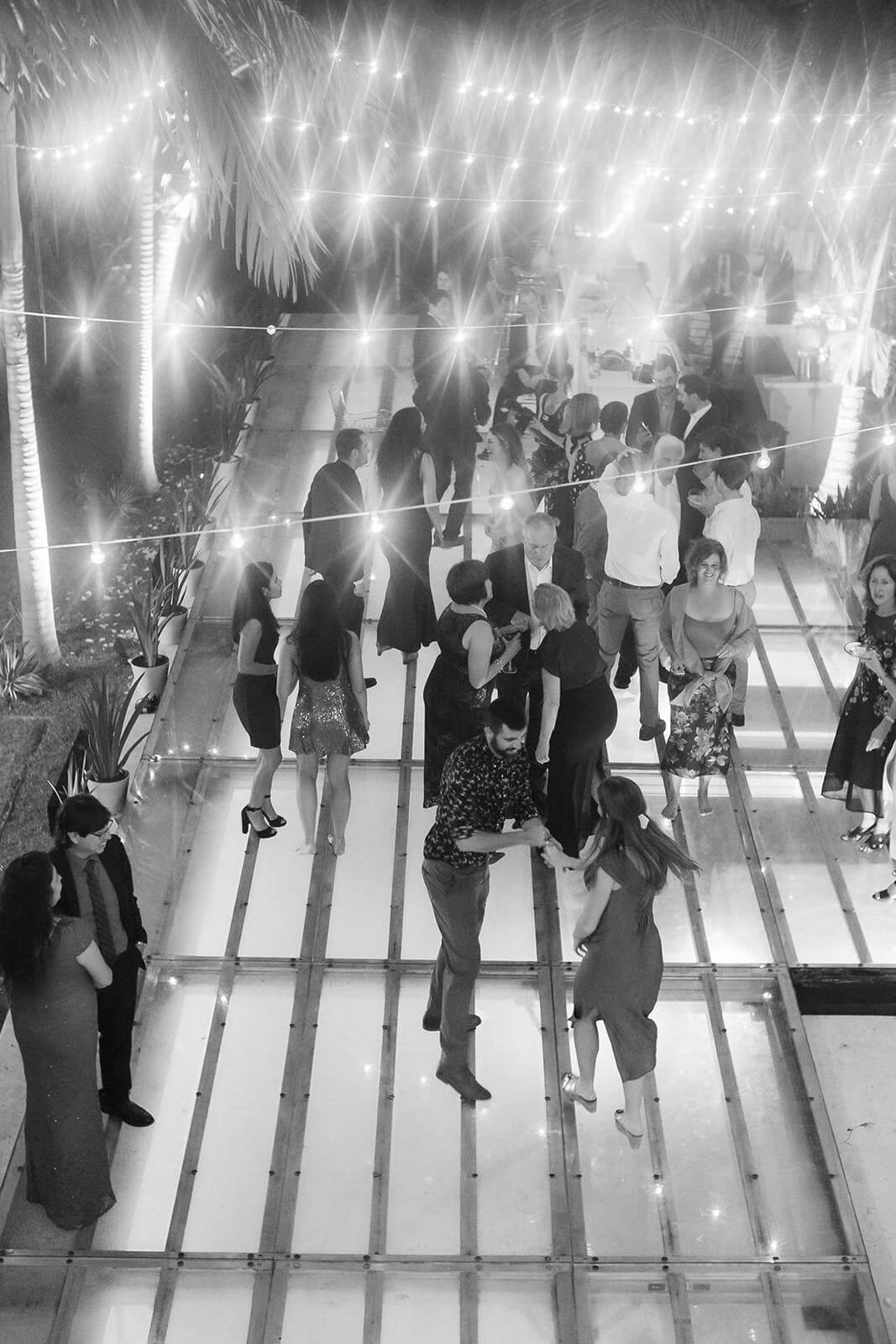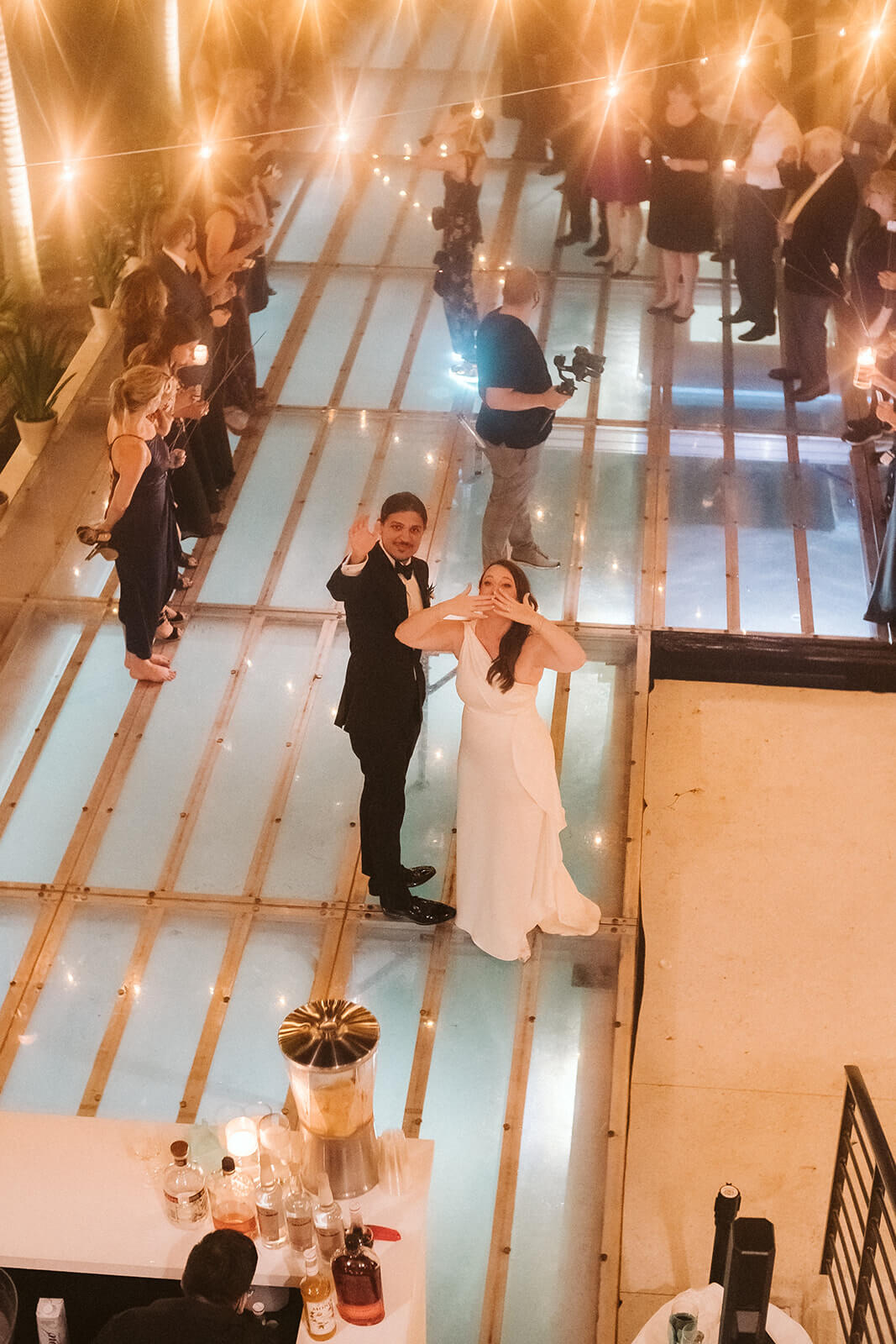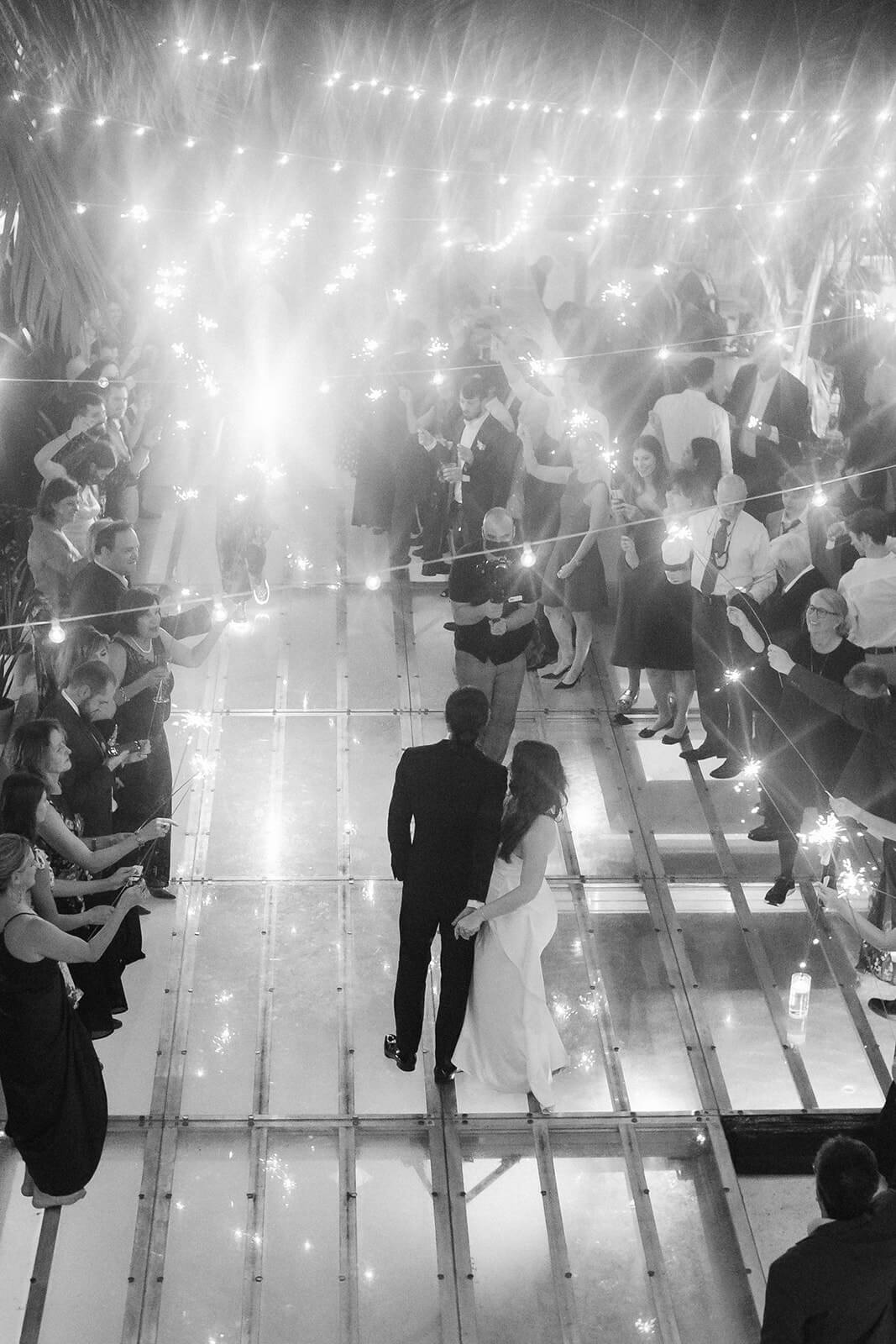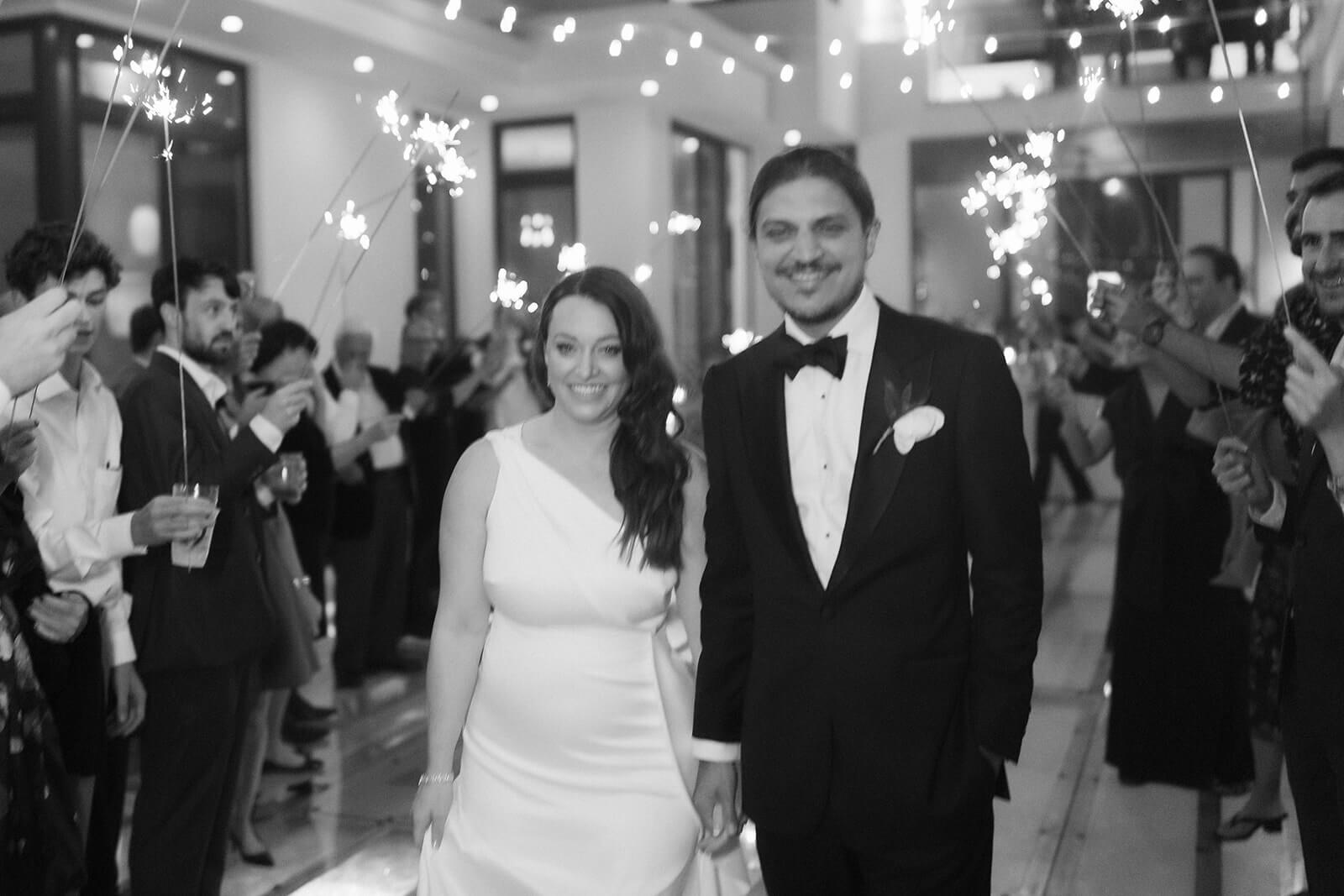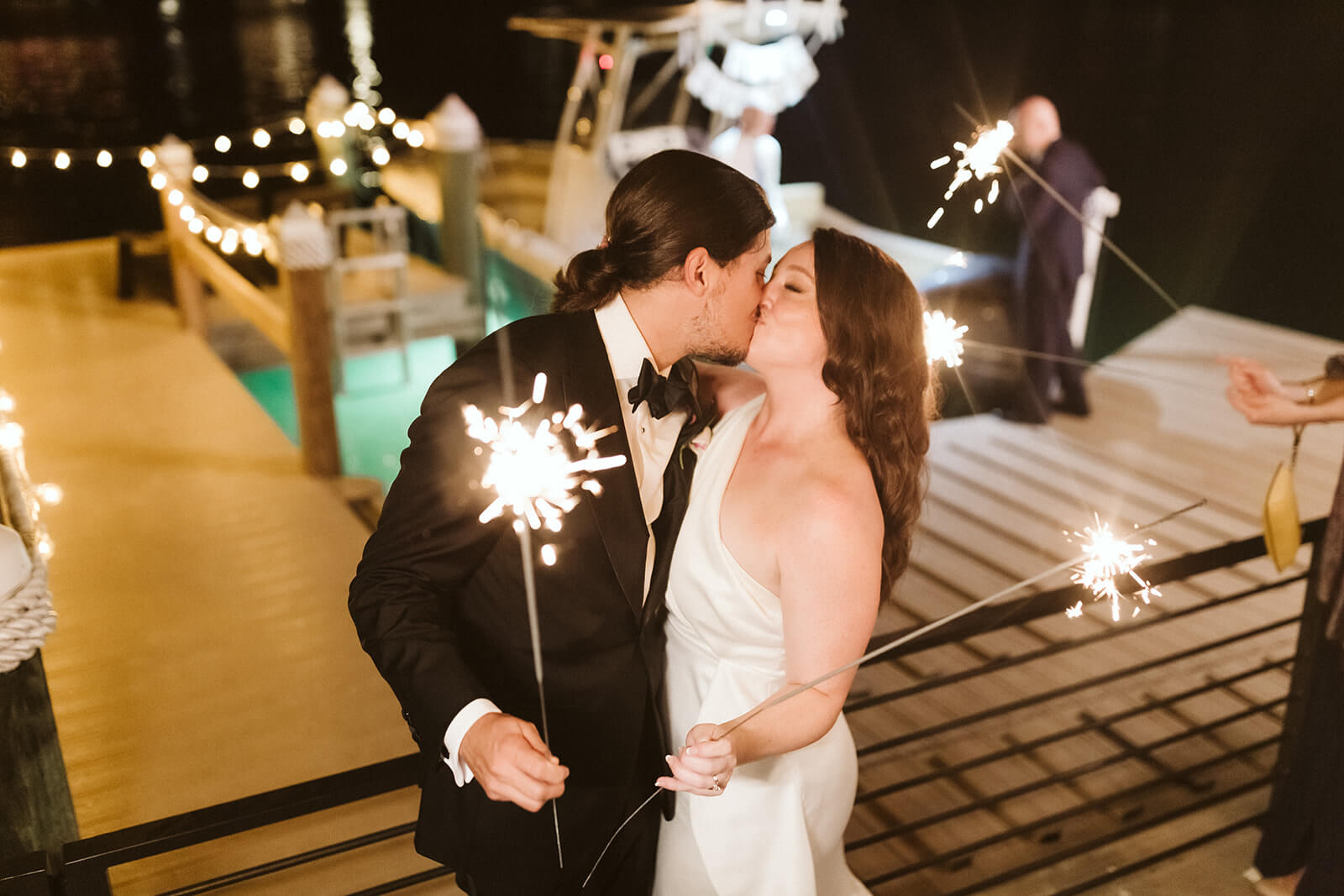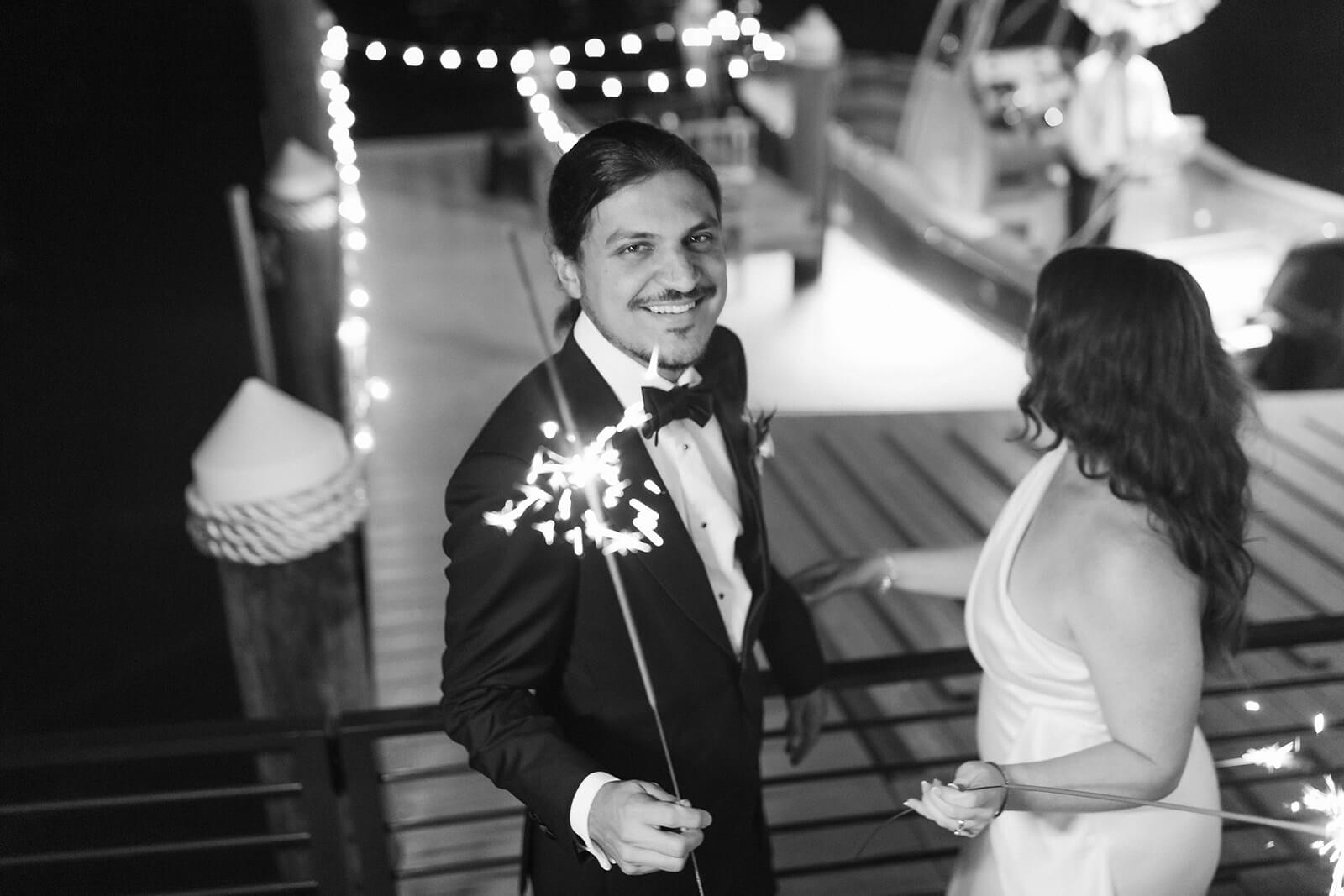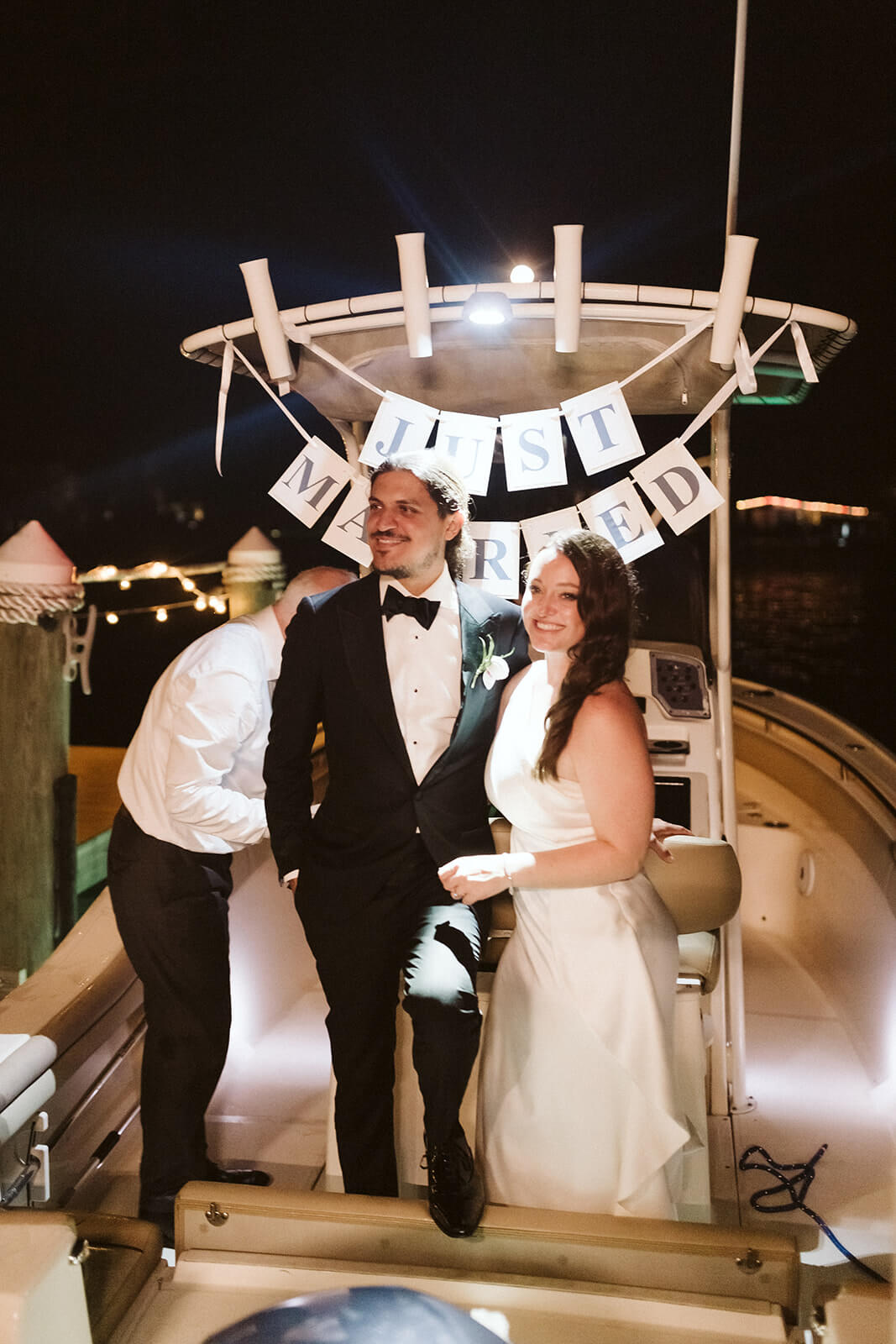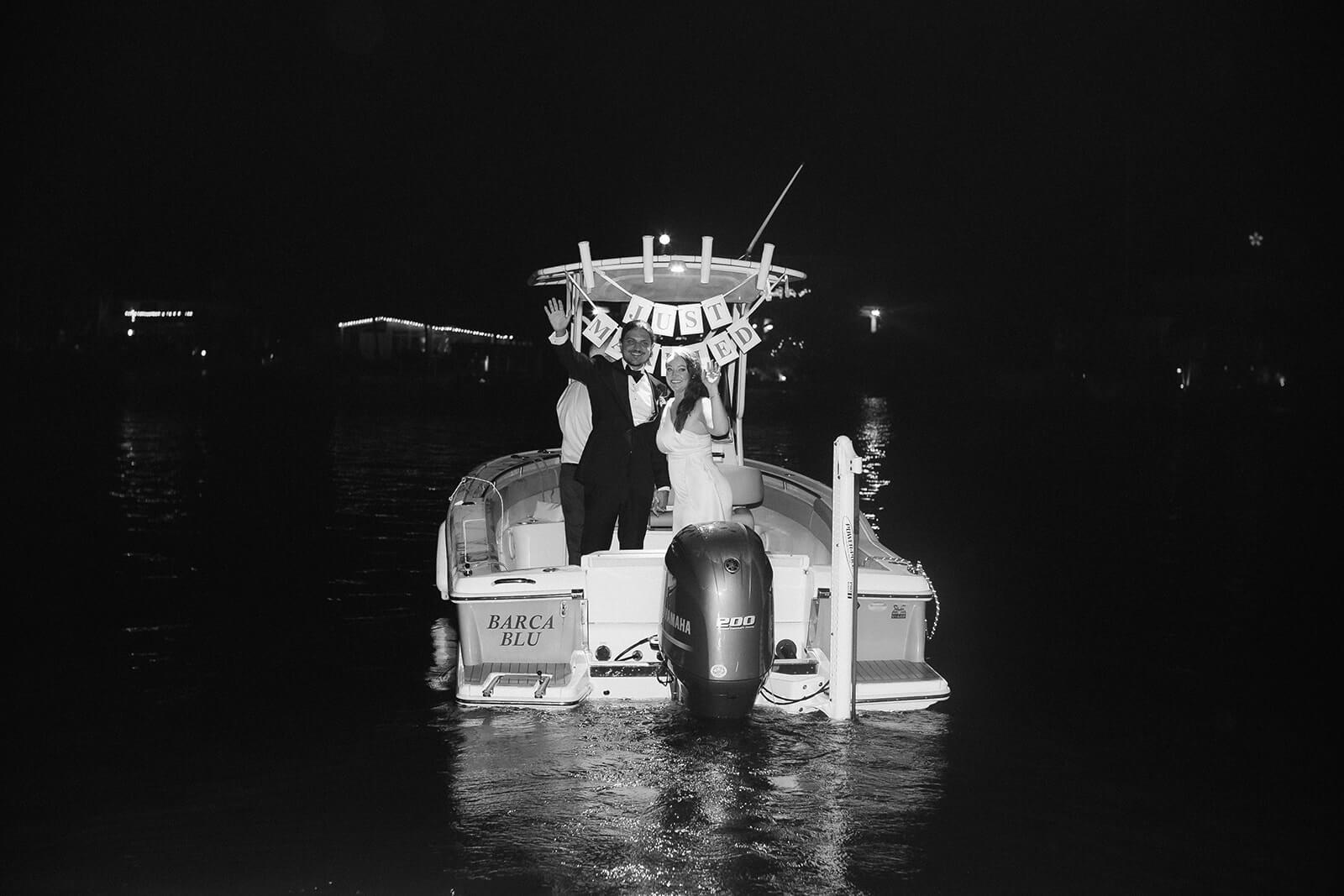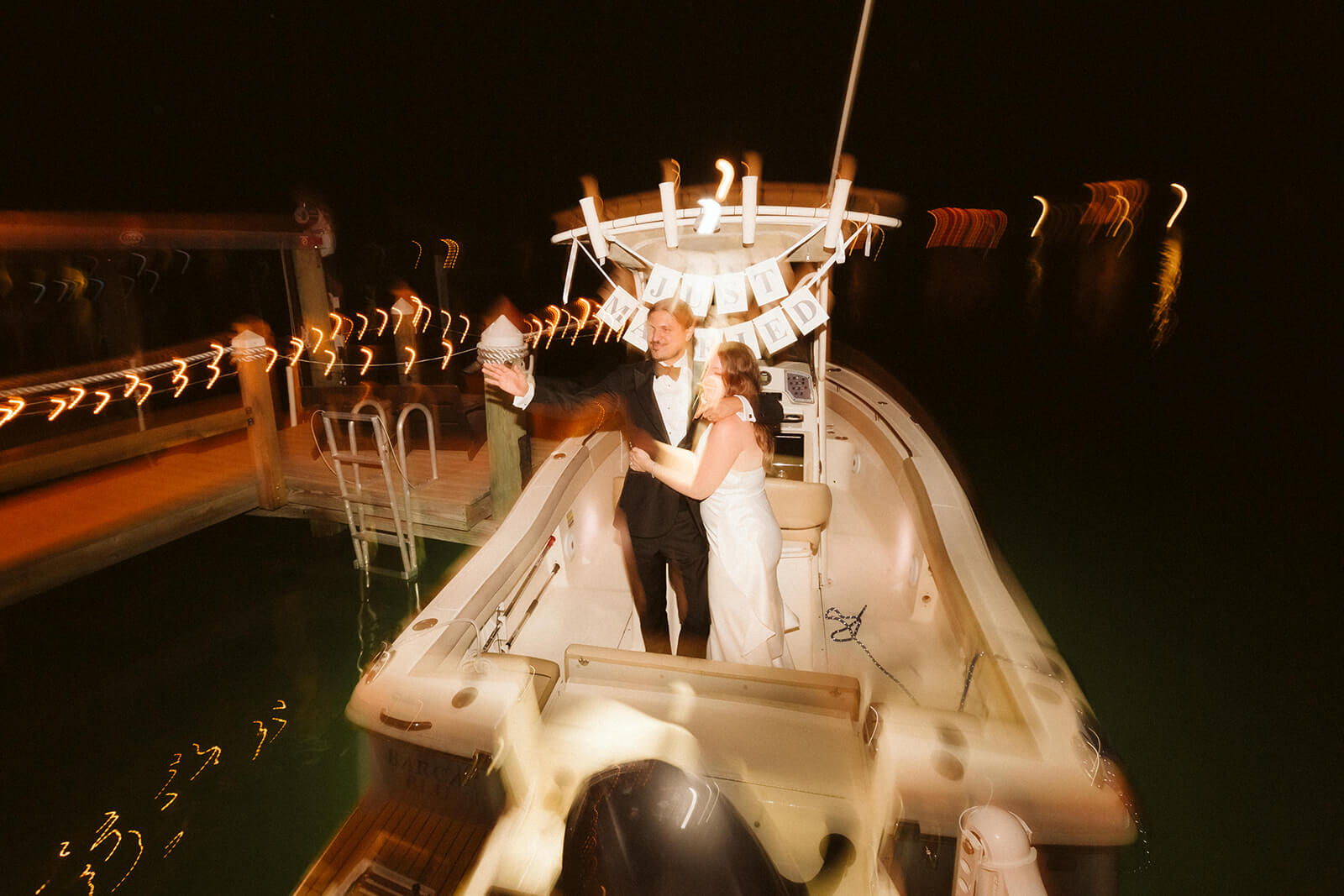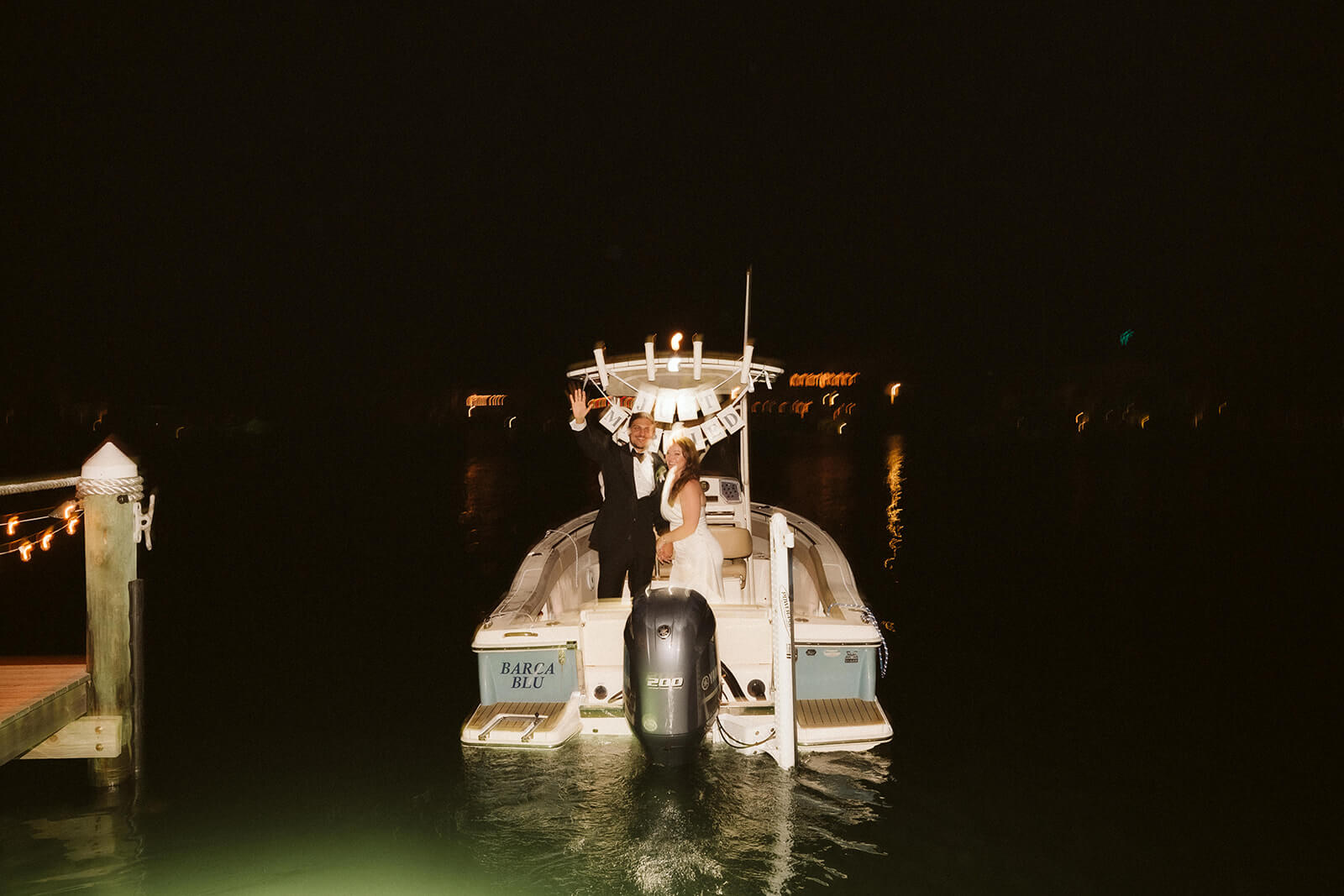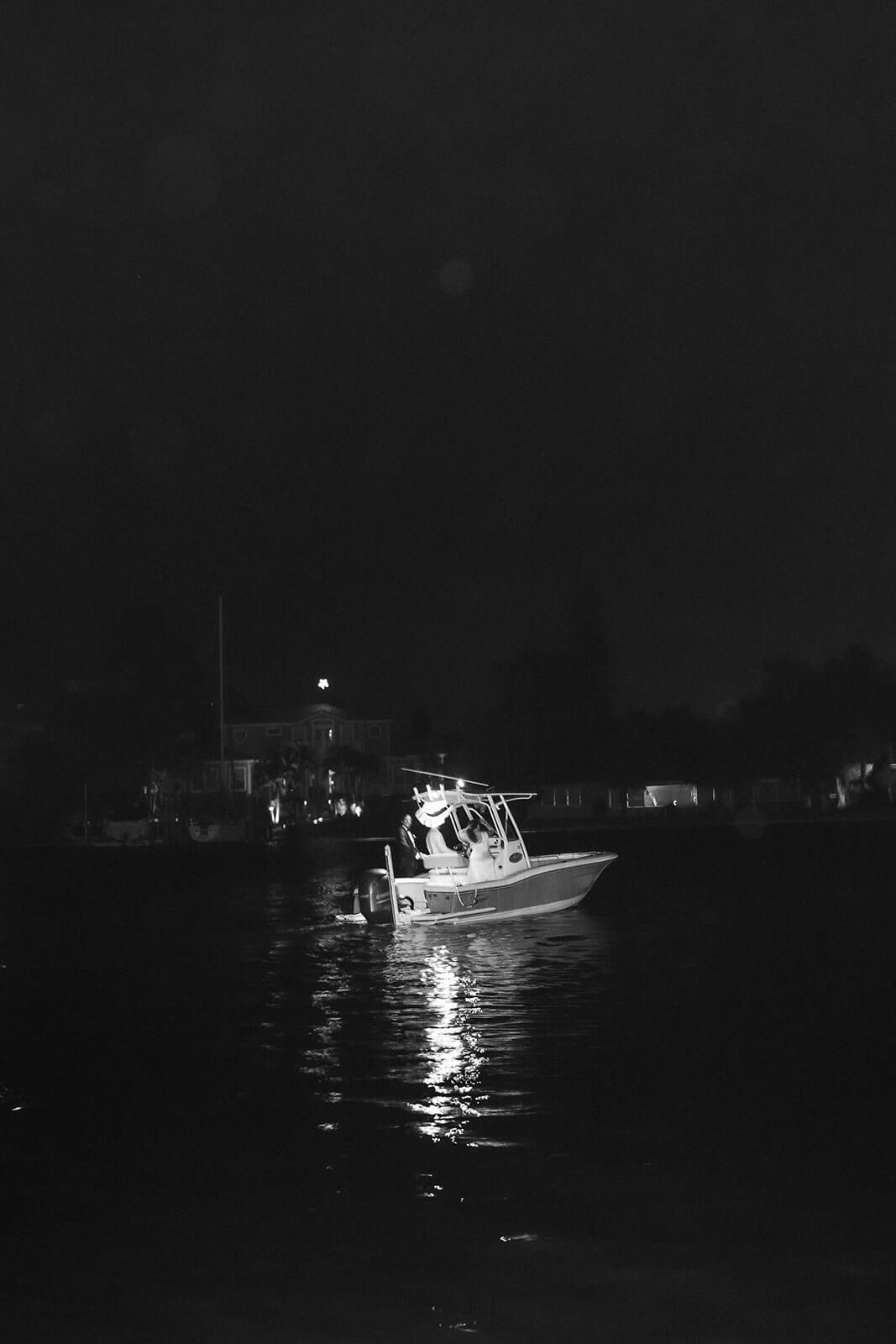 A Beautiful Nighttime Backyard Reception
As the sun started to set over the wedding, the backyard transformed into an even more magical space. With string lights hung delicately overhead and the pool lights glowing beneath the dance floor, the couple and their guests were enveloped in a soft ambient glow throughout the night.
Candles decorated the stairs and the wedding cake table pairing wonderfully with the outdoor lights of the house to tie the elegant and sophisticated look together. A live band was set up on the second floor balcony, out of the way of the dance floor. While many couples may want to have a live band but may be concerned about space, Sarah and Sebastian's innovative use of the property ensured that they were able to have live music and plenty of room to dance and party the night away.
Finally, as the celebration came to a close, guests held up sparklers to light up the night sky and send Sarah and Sebastian off as they traveled down to the dock and sailed off on their getaway boat.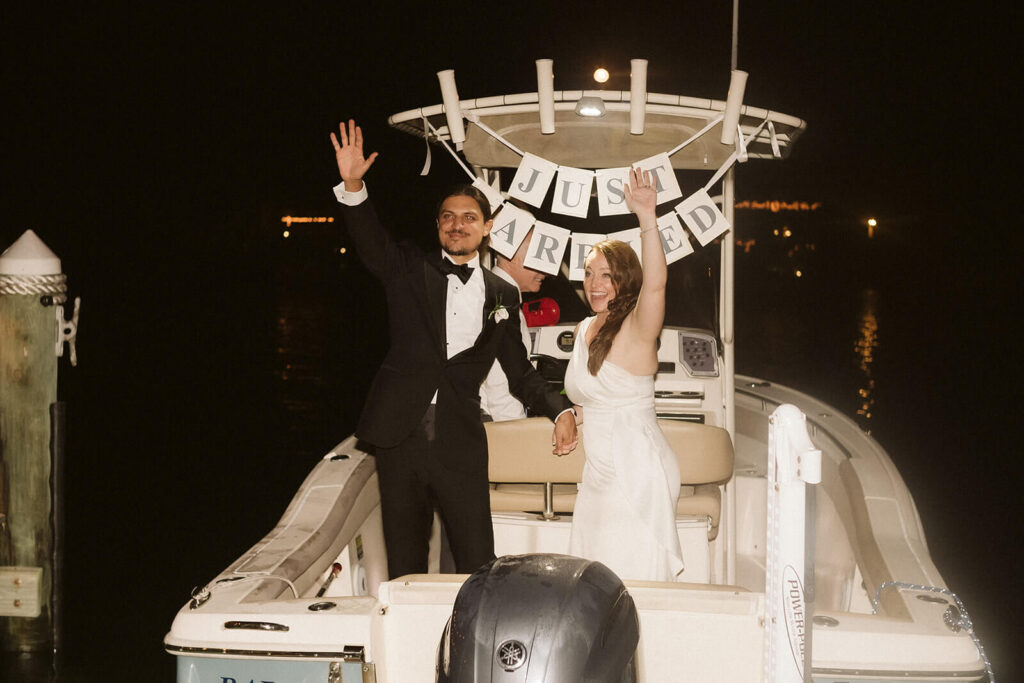 Whether you're planning a wedding in your backyard or in one of Sarasota's beautiful venues, I would love to be there for your special day!
Hi! I'm Rachael Crowe of OkCrowe Photography. I'm a wedding photographer based in Chattanooga, Tennessee, but Sarasota is like my home away from home! If you're planning a wedding in Sarasota, I'll be more than happy to hop on a plane to make sure your wedding photos and videos are as beautiful as you've always imagined. Just send me a message through my contact form to get the conversation going!
Pin this blog for later! ↓