If you're looking for a location that's totally "Chattanooga," you really can't go wrong with shooting your engagement photos in Coolidge Park or Renaissance Park.
These two parks sit on opposite sides of the Market Street Bridge in downtown Chattanooga. While they have different vibes, they're both classic **engagement photo destinations. Plus, since they're so close to each other, we can hit both during your engagement session!
Here's everything you need to know about shooting your engagement photos in Coolidge Park and Renaissance Park. If you're still looking for a photographer, I'd love to hear from you!
COOLIDGE PARK, A CHATTANOOGA CLASSIC
When locals think about downtown Chattanooga, they most likely envision Coolidge Park. It's a classic landmark downtown and a popular destination for both tourists and Chattanooga natives. On a sunny day, it'll be full of families on picnics and friends grilling out.
Of the two parks, Coolidge is the more manicured one. It features tons of paved paths, lush landscaping, and stone fountains. It's also super accessible, offers plenty of parking, and provides a great view of the city and the Market Street Bridge. We can get a wide variety of shots in the park itself, and then we can dip under the Market Street Bridge or hit the Walnut St pedestrian walking bridge for a different backdrop.
The only downside to shooting engagement photos in Coolidge Park is that they don't allow dogs or alcohol in the park itself. (Sad, I know.) If you want to include your pup in your engagement photos, we'll probably have to go slip over to the Renaissance Park side.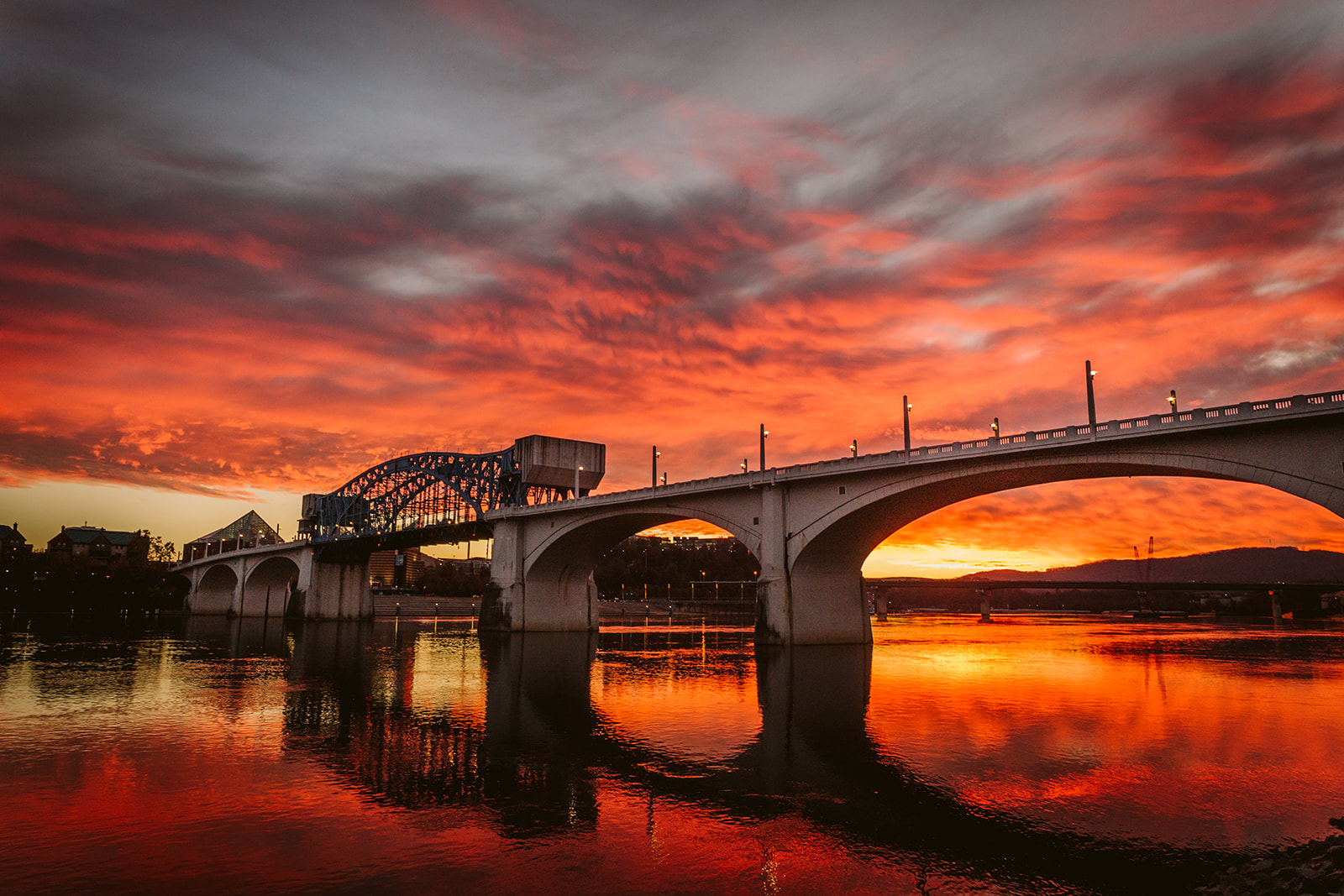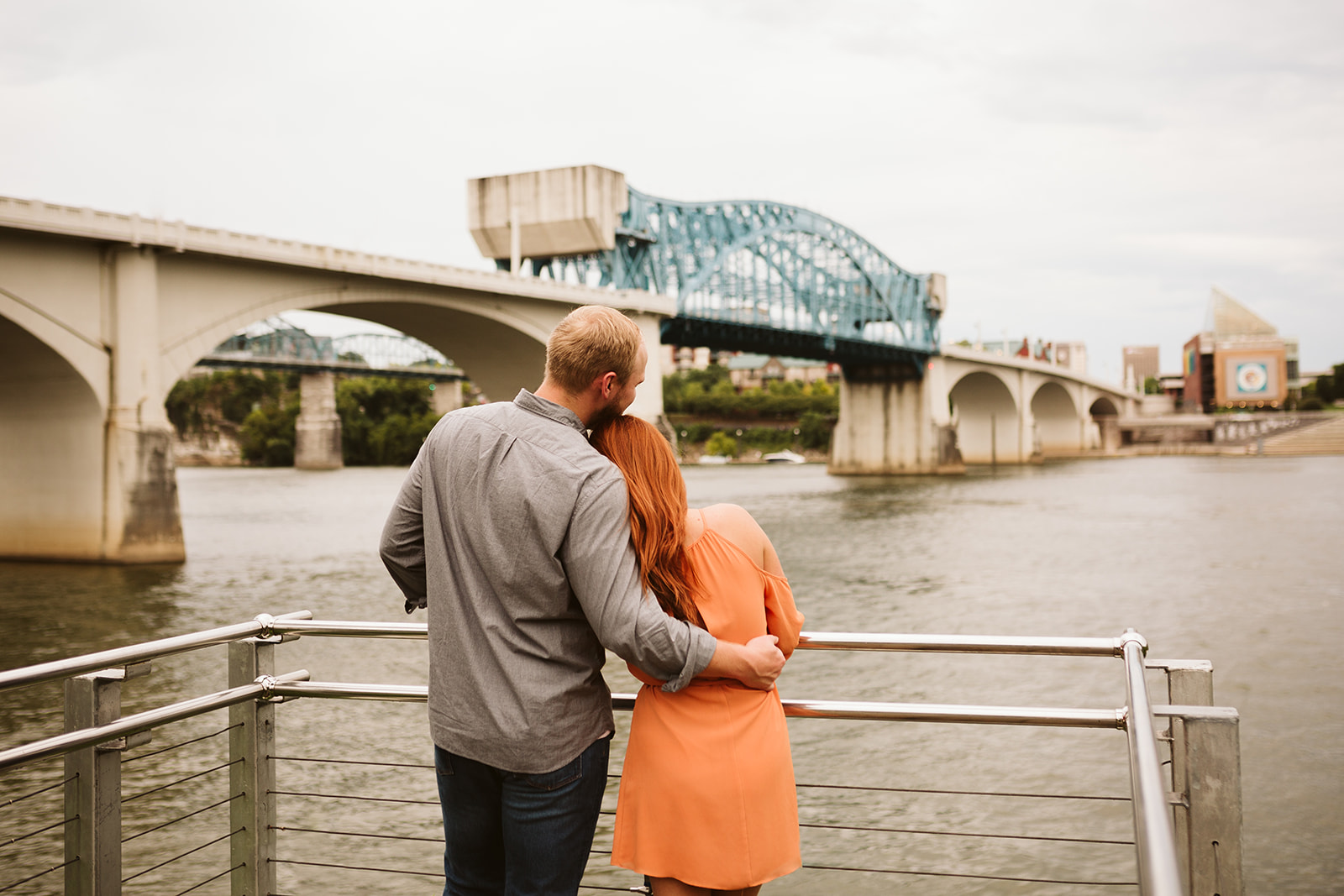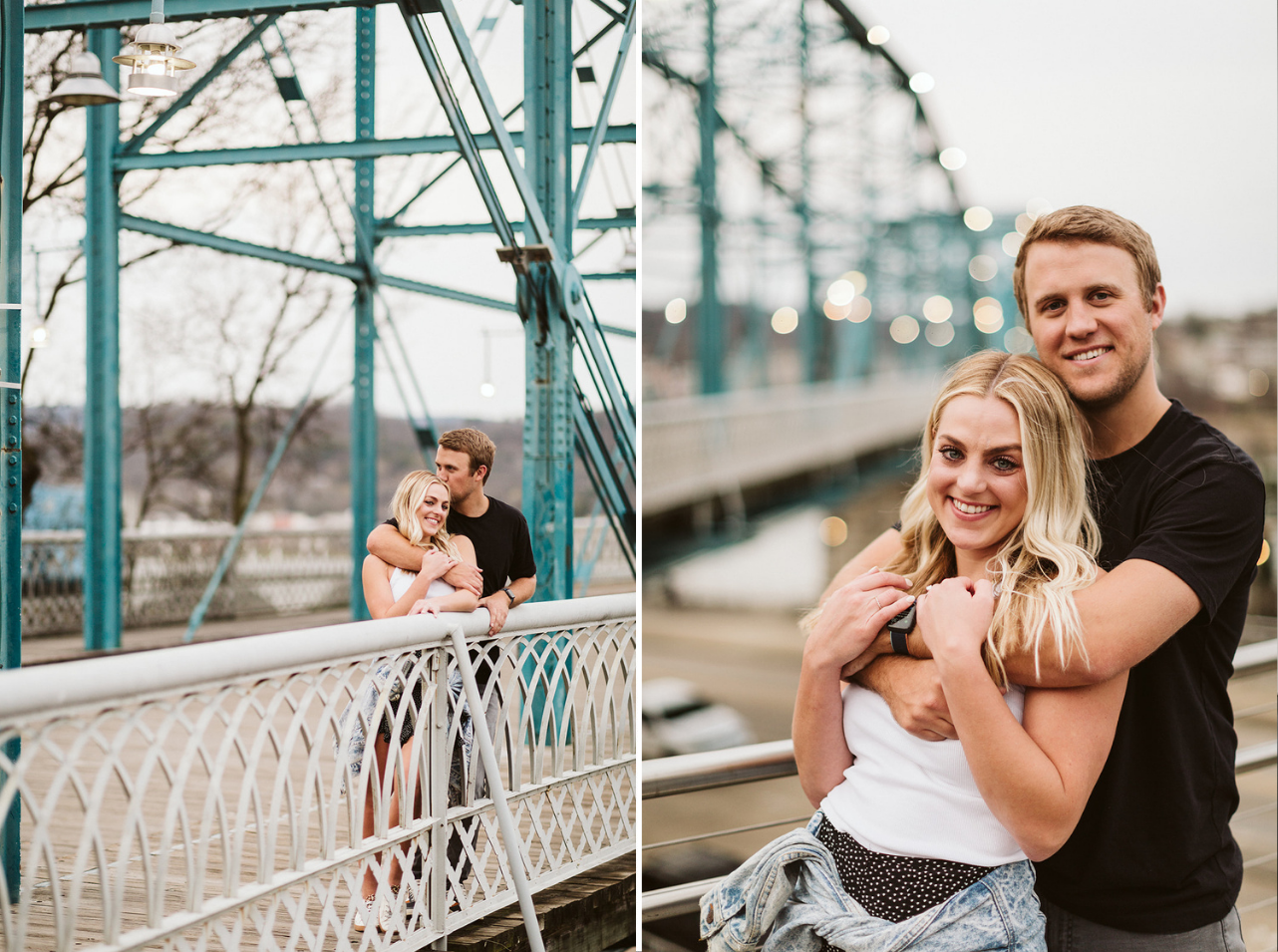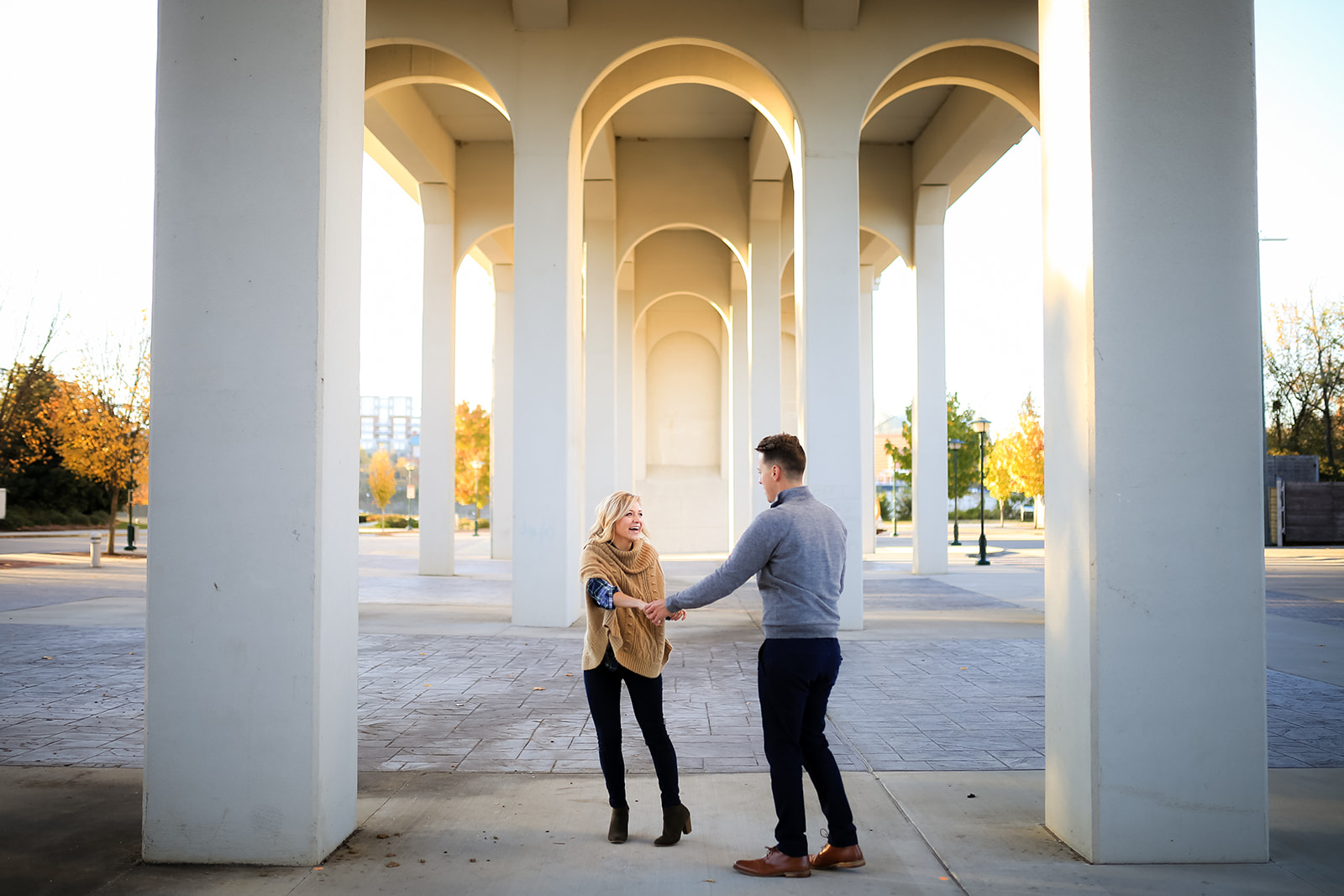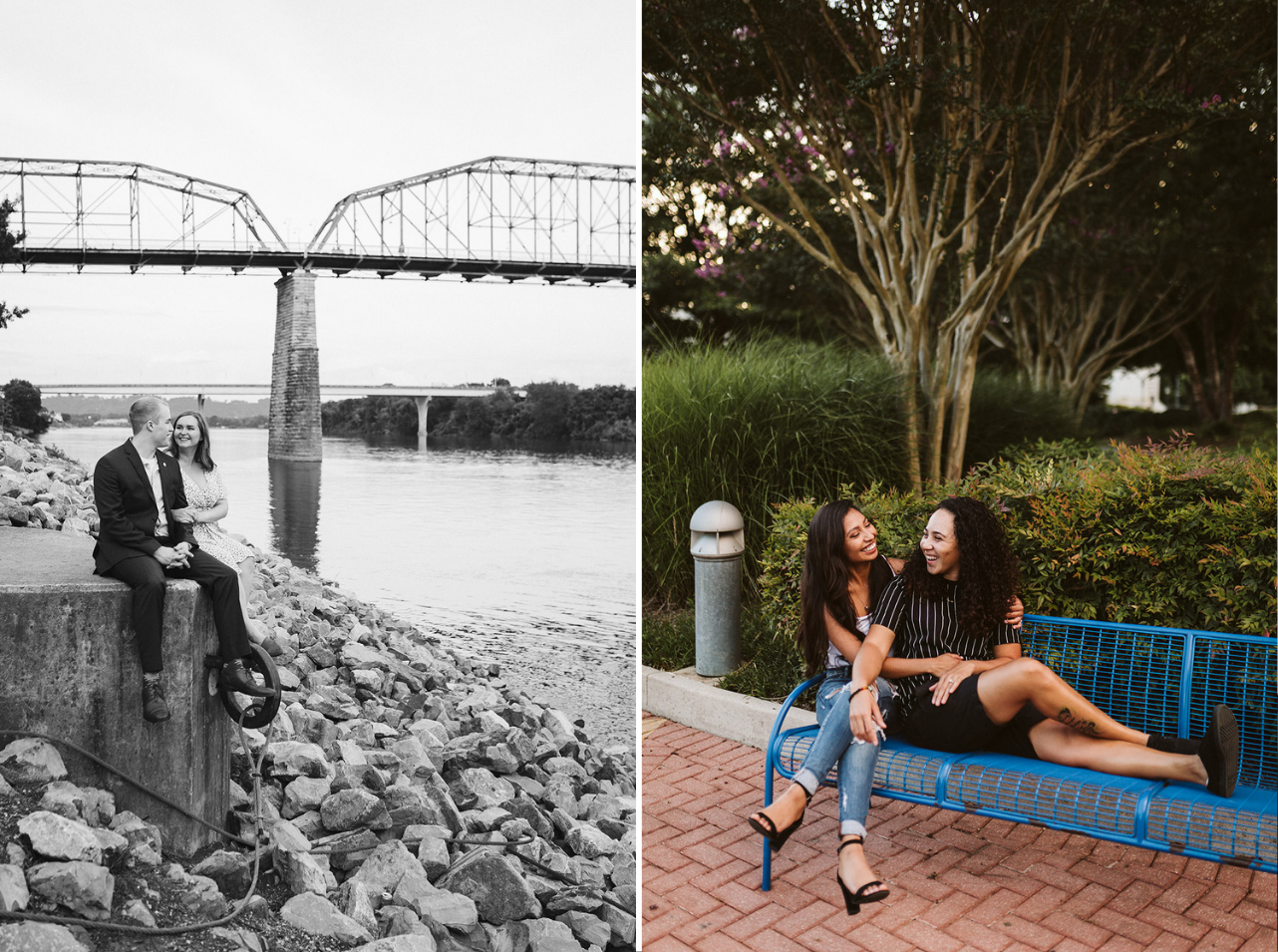 FUN ENGAGEMENT PHOTO IDEAS IN COOLIDGE PARK
As if the landscaping wasn't pretty enough, Coolidge Park is also home to a few interactive elements that can make your engagement photos even more dynamic.
My favorite (and everyone's favorite, really) is the carousel. The antique carousel was built in 1894, and it still features over 50 hand-carved wooden animals. Plus, you can ride it for $1! I love taking my couples on a ride on the carousel for some fun, playful images with tons of rich colors.
If you're really down for an adventure, we can also visit the fountains. I usually shoot my family photo sessions here, but it's fun for all ages! You can kick off your shoes, run through the fountains, and splash around for a while at the end of your session. No judgement here!
If you're down for a more chill experience, you can always pack a picnic, grab an ice cream cone at the local shop, or go for a stroll along the river. Whatever you do, the city views are unmatched and the park is gorgeous. You can't go wrong!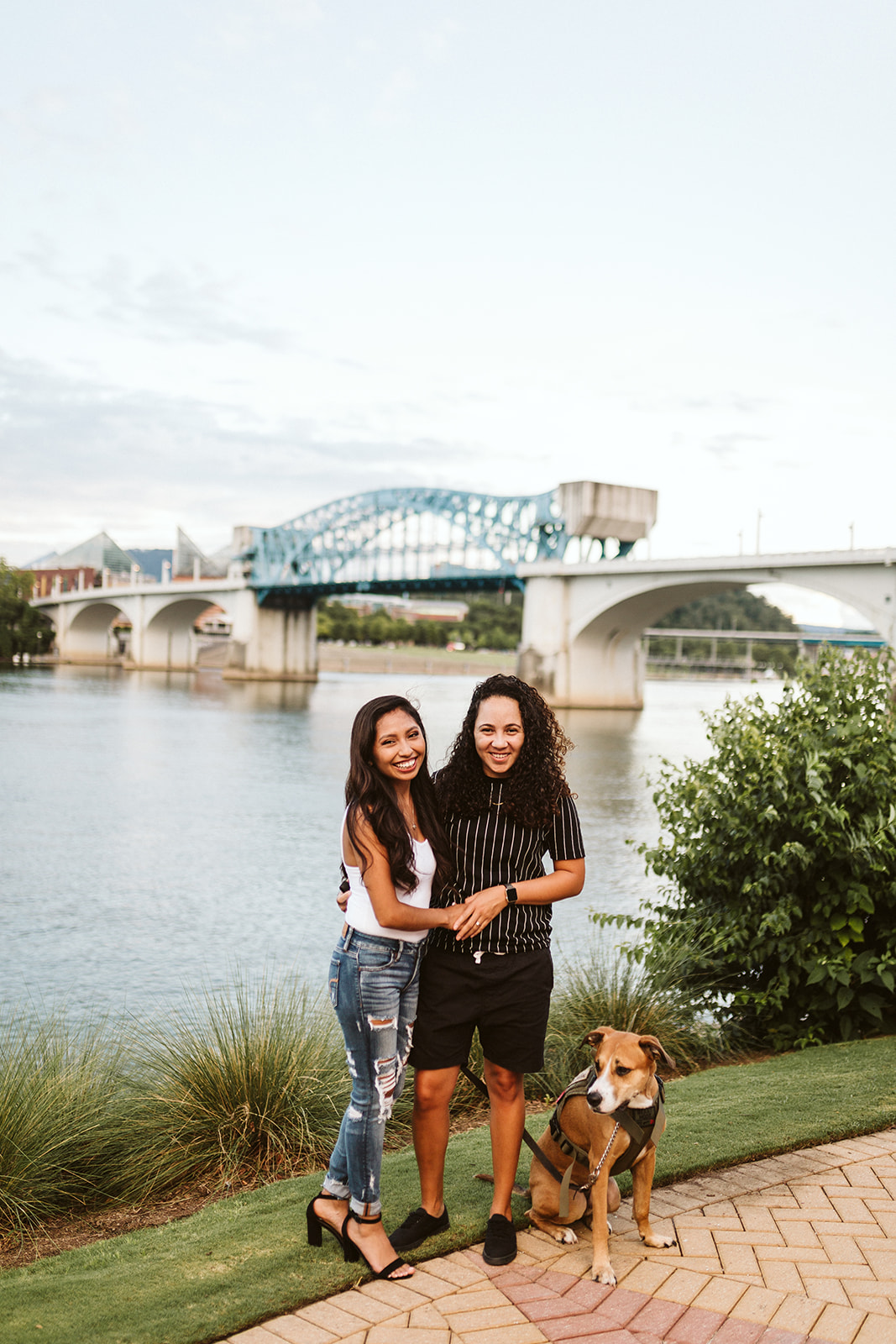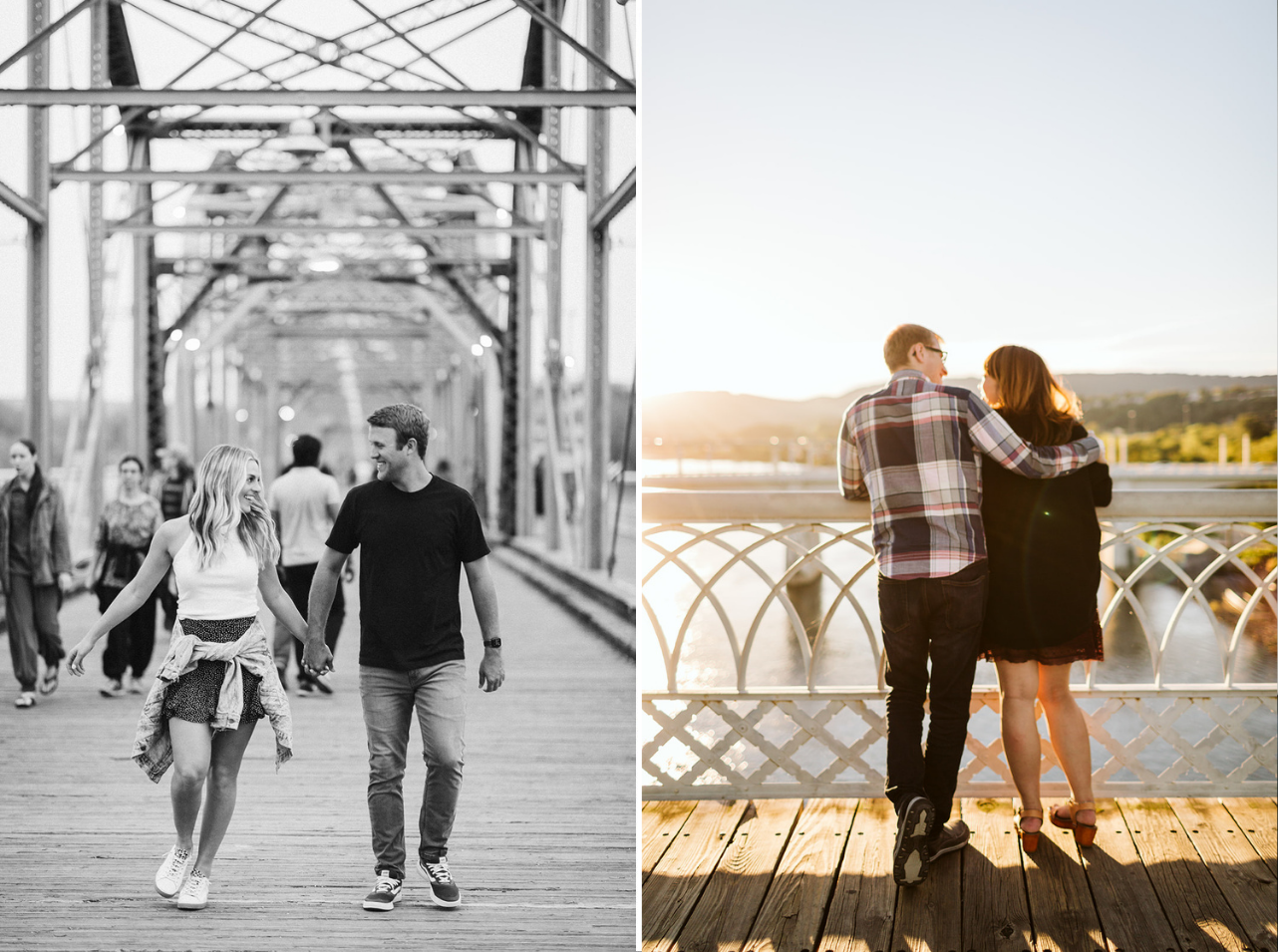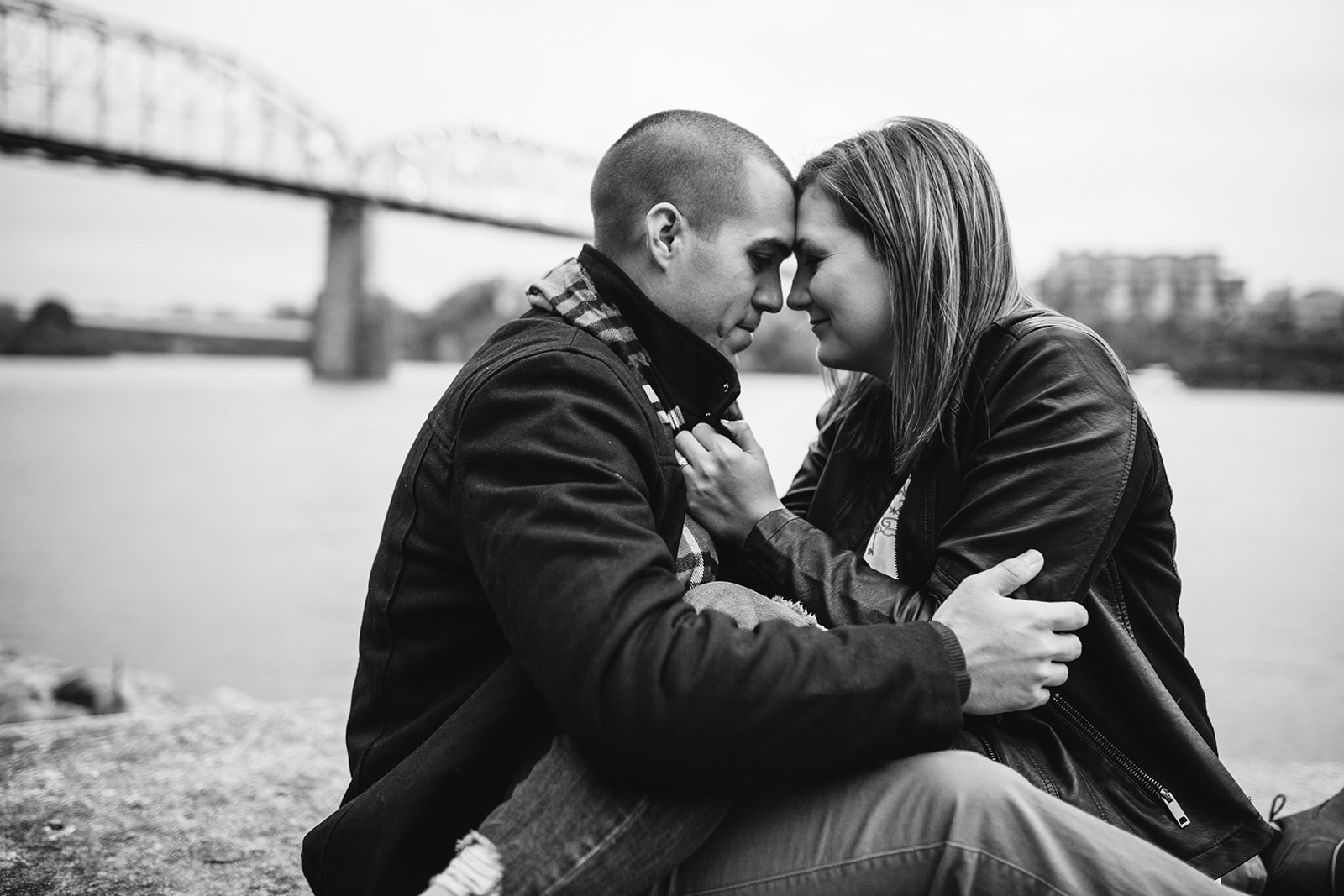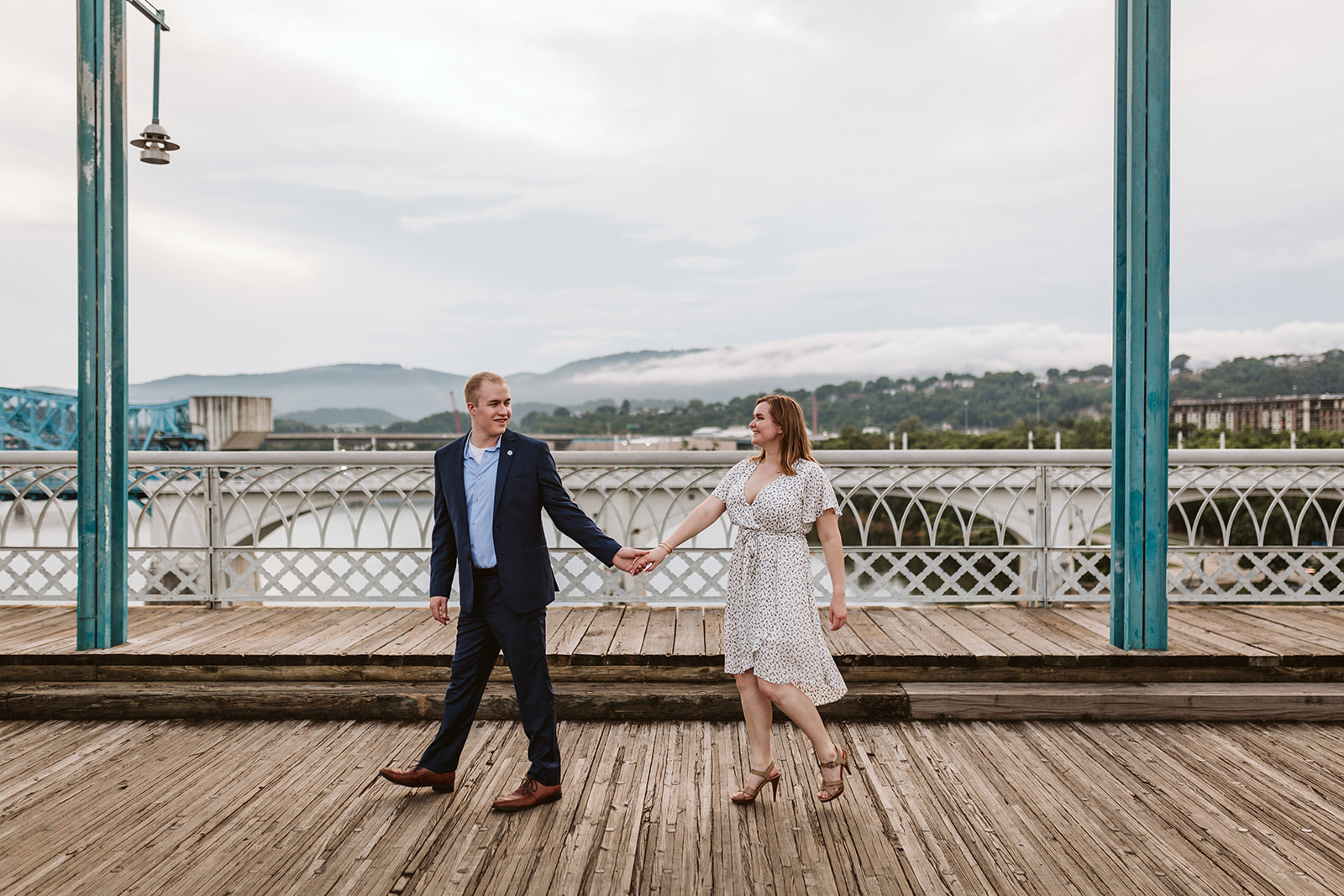 RENAISSANCE PARK, A LITTLE SLICE OF WILDERNESS
On the other side of the Market Street Bridge, there's Renaissance Park. It's not as manicured as Coolidge Park, but in my opinion, that's what makes it so cool. If we shoot your engagement photos in Renaissance Park, you can get those outdoorsy, middle-of-nowhere vibes without ever leaving downtown.
If you're the kind of couple who loves grabbing a beer downtown just as much as you love a hike in the woods, let's hit up Renaissance Park. Since it's in the heart of Chattanooga, we can start at your favorite bar, snap a few photos on the streets downtown, and at sunset end your engagement photo session in Renaissance Park. You get all the good vibes – urban and rural – without driving an hour outside of town or hiking up a mountain.
And even better, you can bring your dog! Seriously, what more could you want?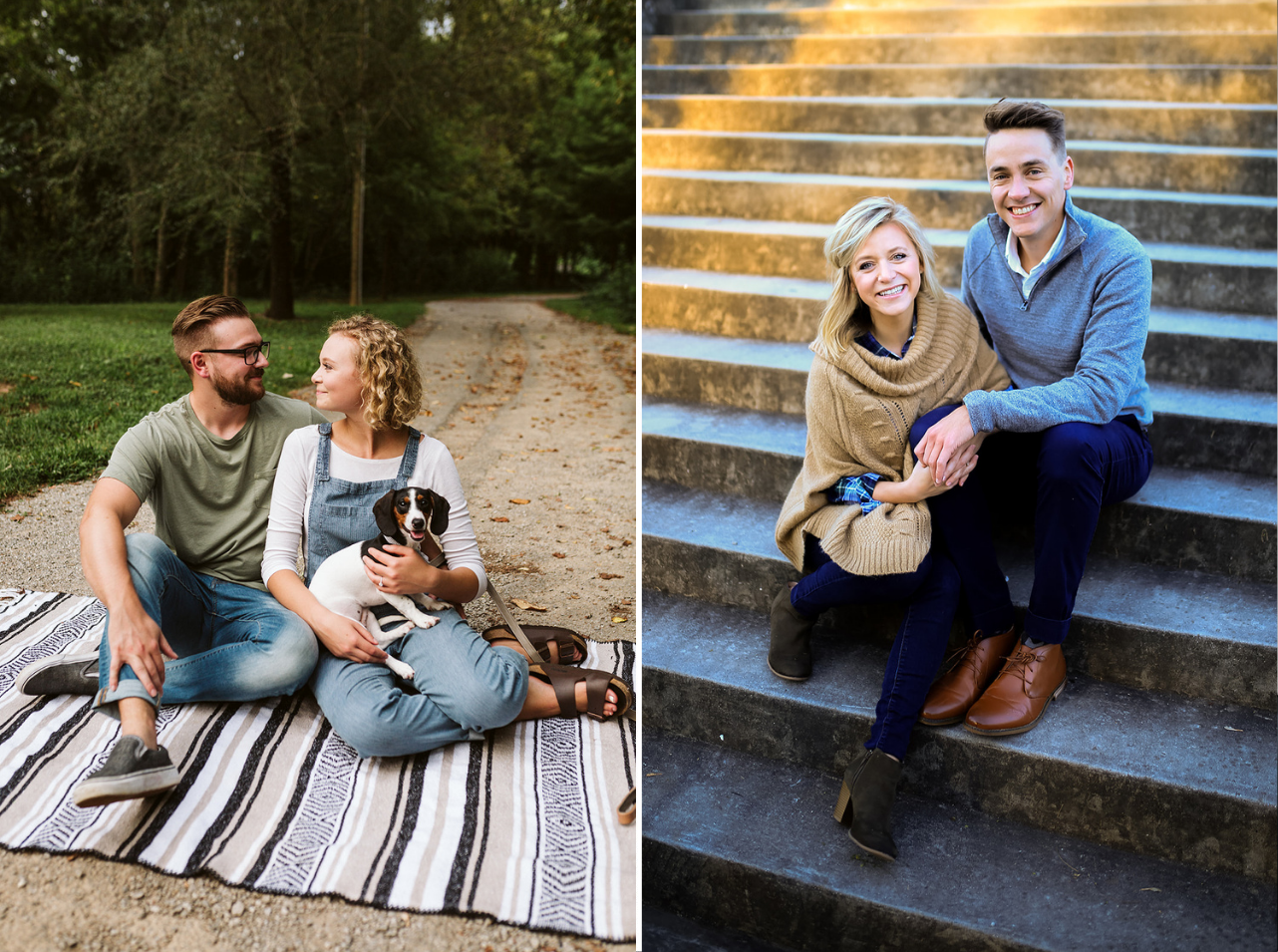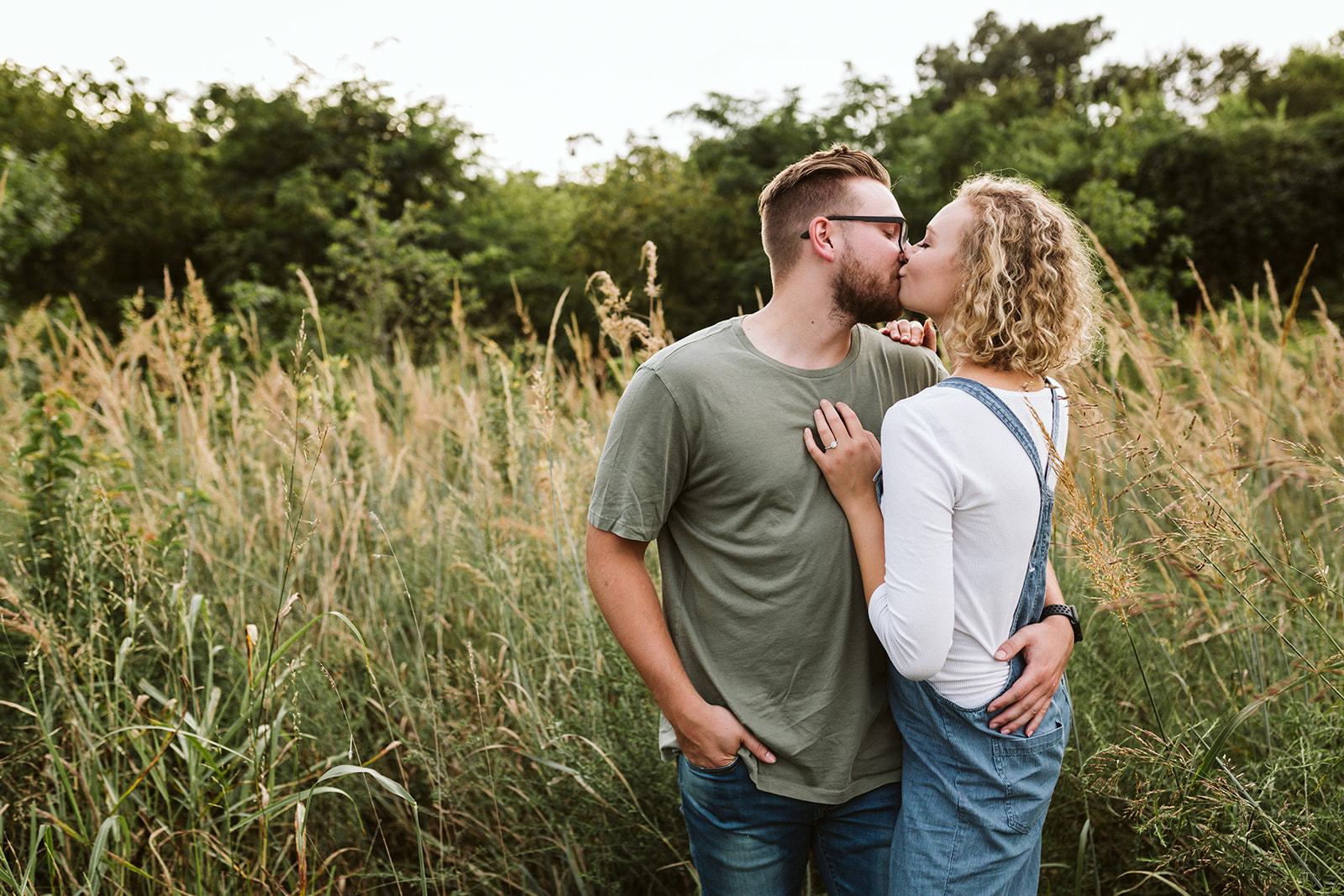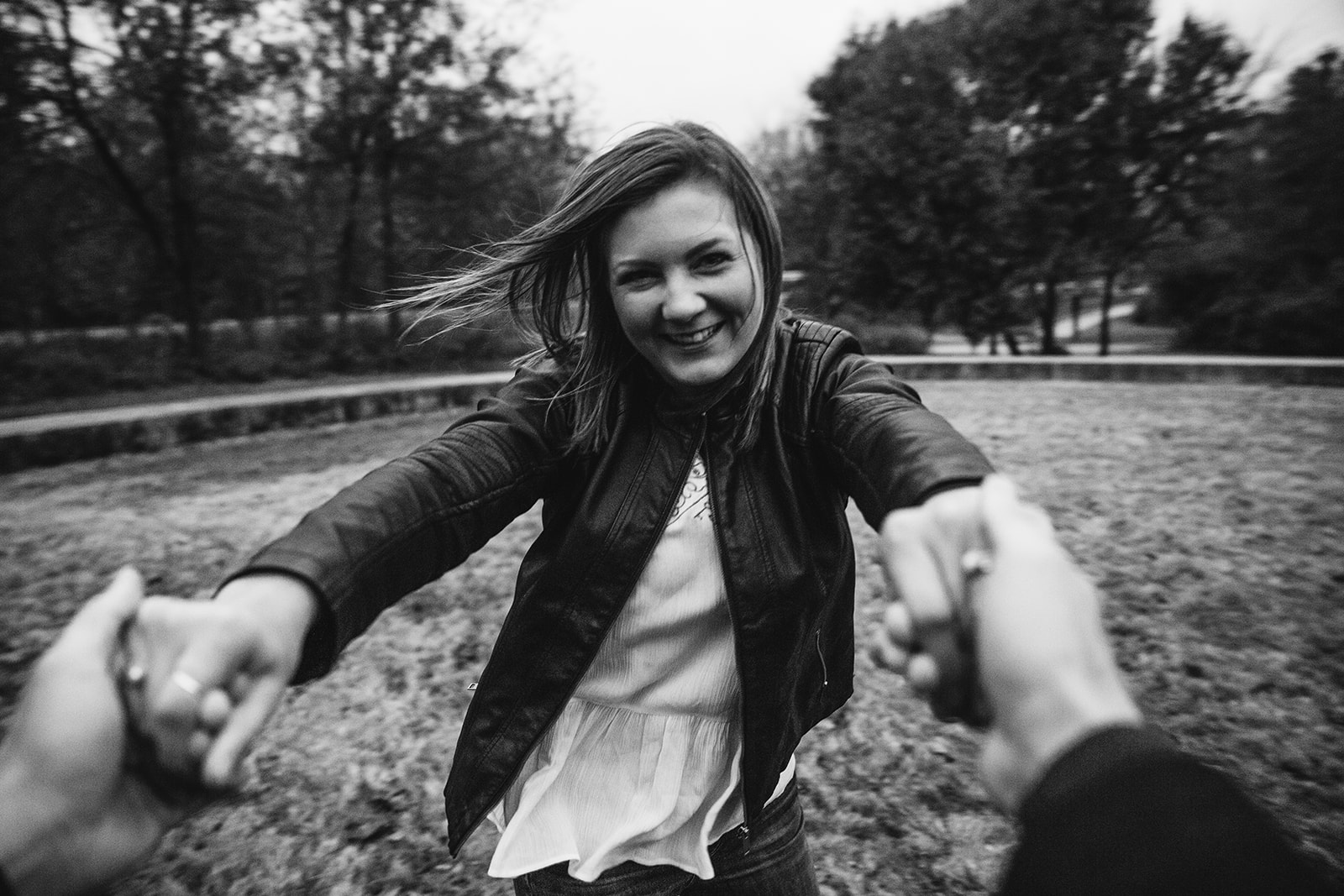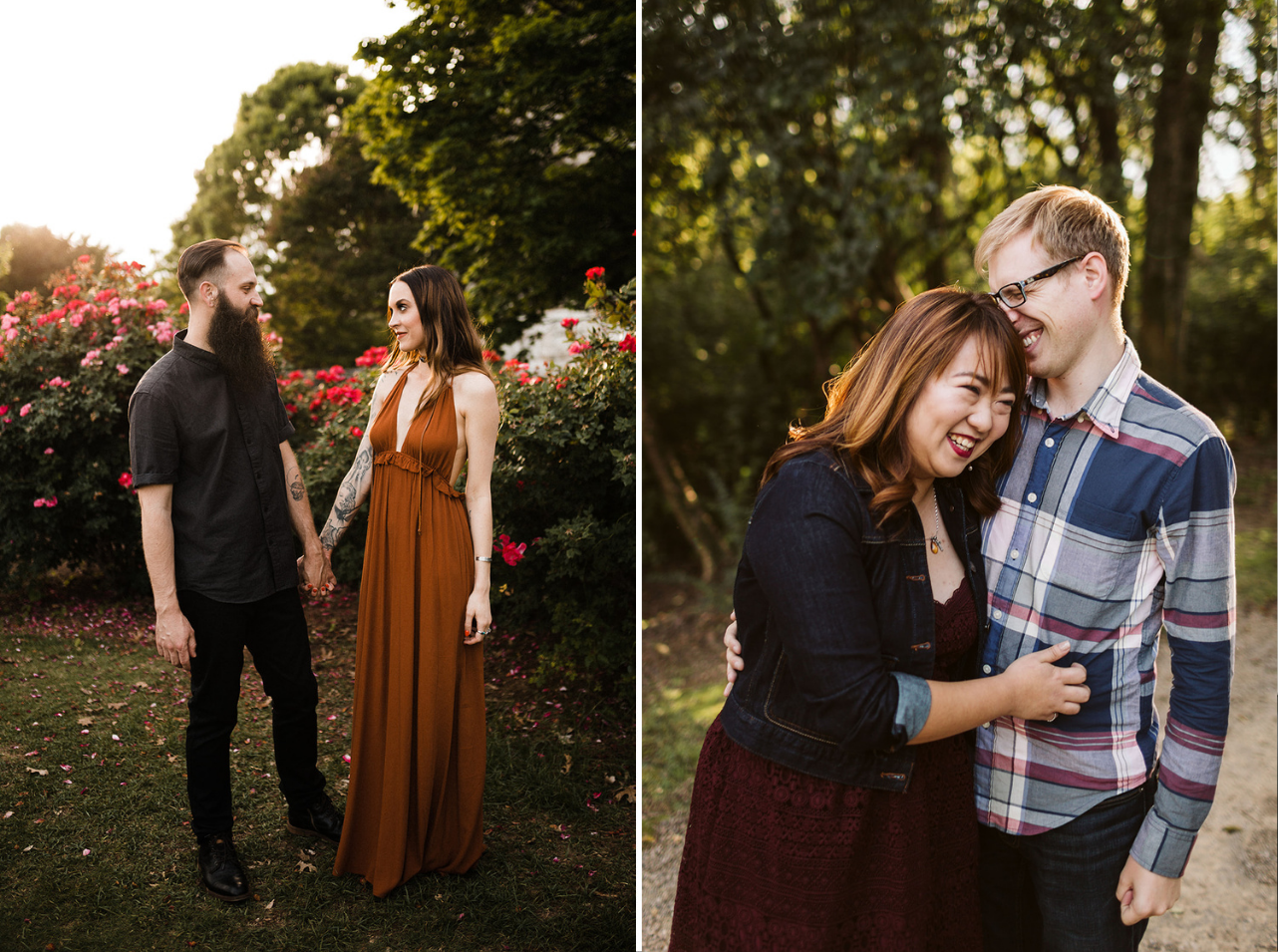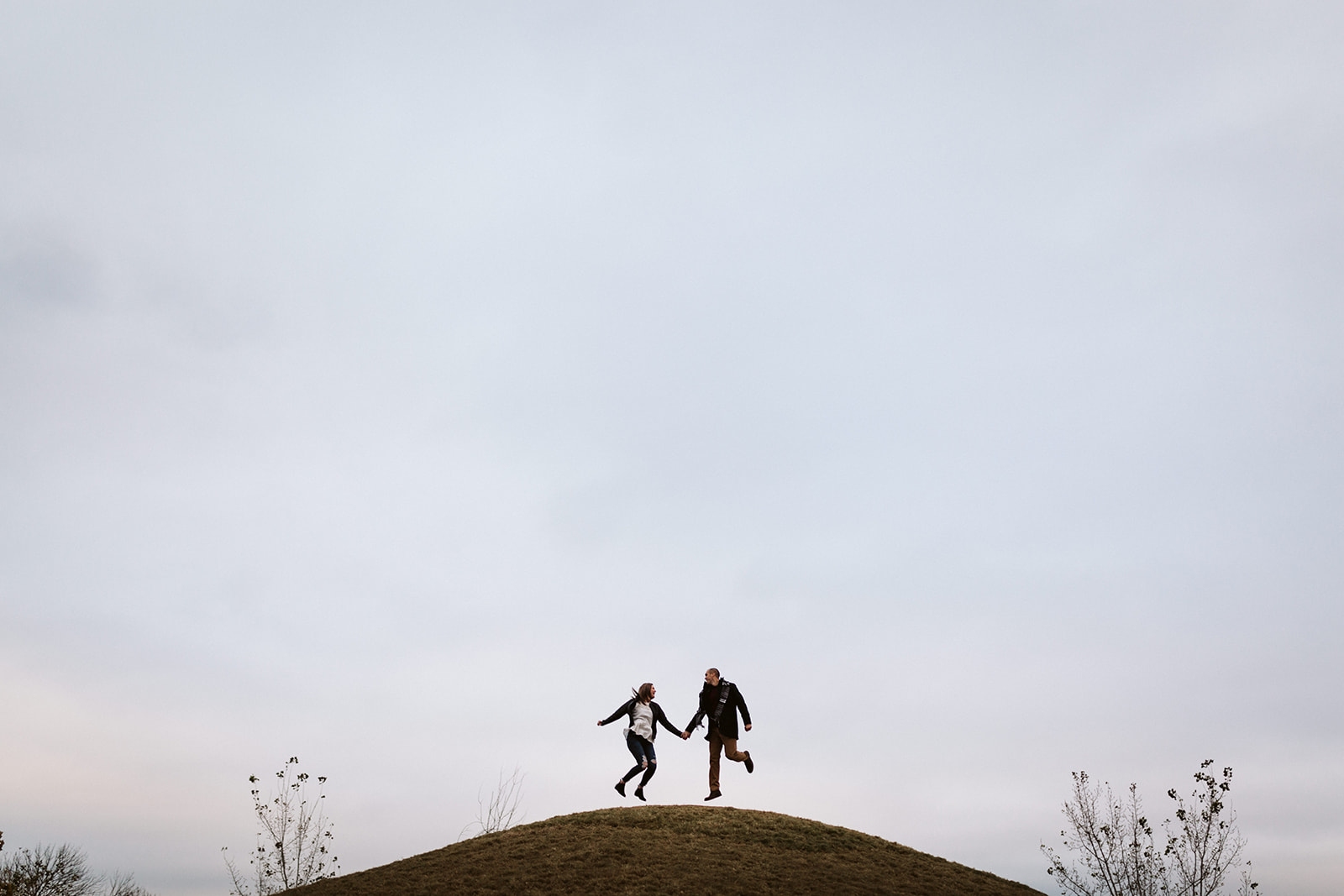 OUTDOORSY ENGAGEMENT PHOTO IDEAS IN RENAISSANCE PARK
If you saw some of my engagement photos from Renaissance Park, you'd never know they were taken in downtown Chattanooga. Because the park is so wooded, you get a lot more privacy than you would in Coolidge Park. It still gets busy on nice days, but you won't be fighting any crowds or dodging picnickers.
Like Coolidge Park, Renaissance Park has plenty of interactive elements to add some interest to your engagement photos. My favorites are the walking bridges and water features. Instead of fountains, Renaissance Park is dotted with natural ponds and streams. We might even spot some wildlife!
You can totally rock the picnic look in Renaissance Park, but it also makes for some great moody images. The dark woods, stone stairs, and overgrown grasses make for a rugged, edgy look that's totally different from the Coolidge Park vibe.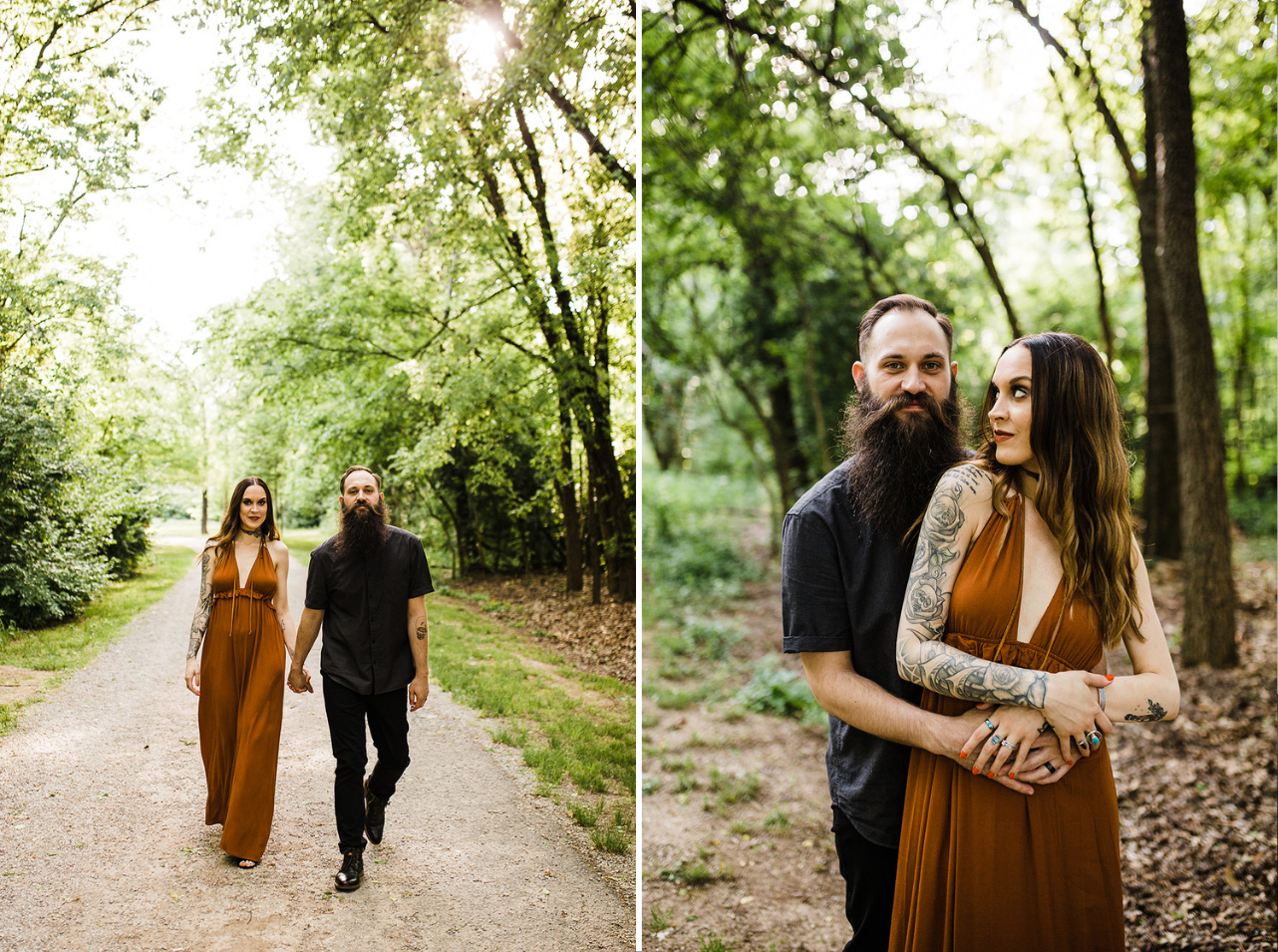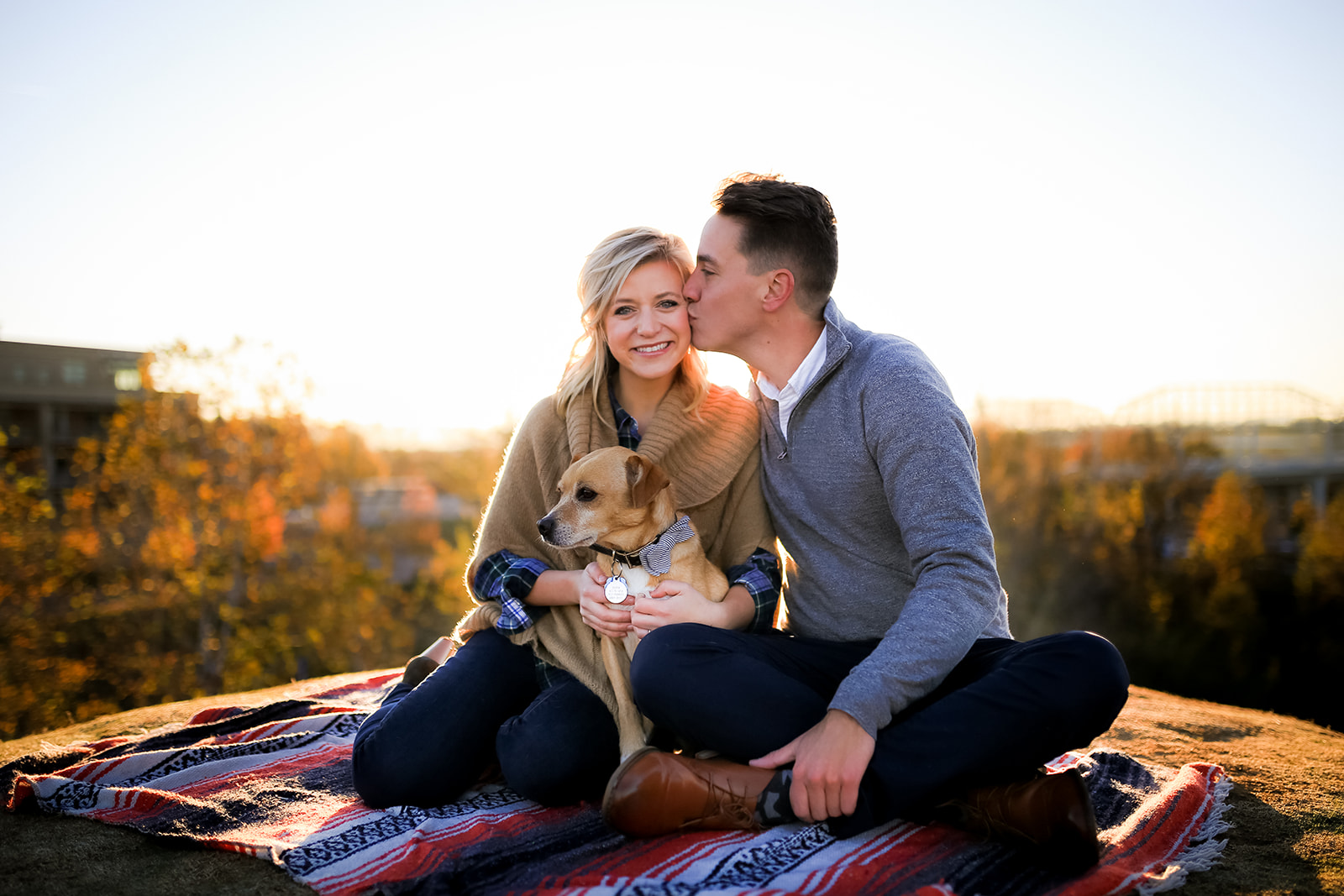 ENGAGEMENT PHOTOS IN COOLIDGE & RENAISSANCE PARK – THINGS TO REMEMBER
Coolidge Park gets busy on nice days, so if you're camera shy or nervous about crowds, this may not be the best spot.
There are no dogs allowed in Coolidge Park itself, but they are allowed in Renaissance Park.
Both parks are closed off once a year for the Moon River Festival. Check the Moon River Festival schedule to make sure it won't interfere with your engagement photo session.
Renaissance Park does offer some paved trails, but many of them are dirt. They're well-kept but not quite as accessible for wheelchairs or other medical devices.
We can visit both parks during your engagement photo session! They're close enough that we can start downtown and then hit the two parks as the sun starts to set.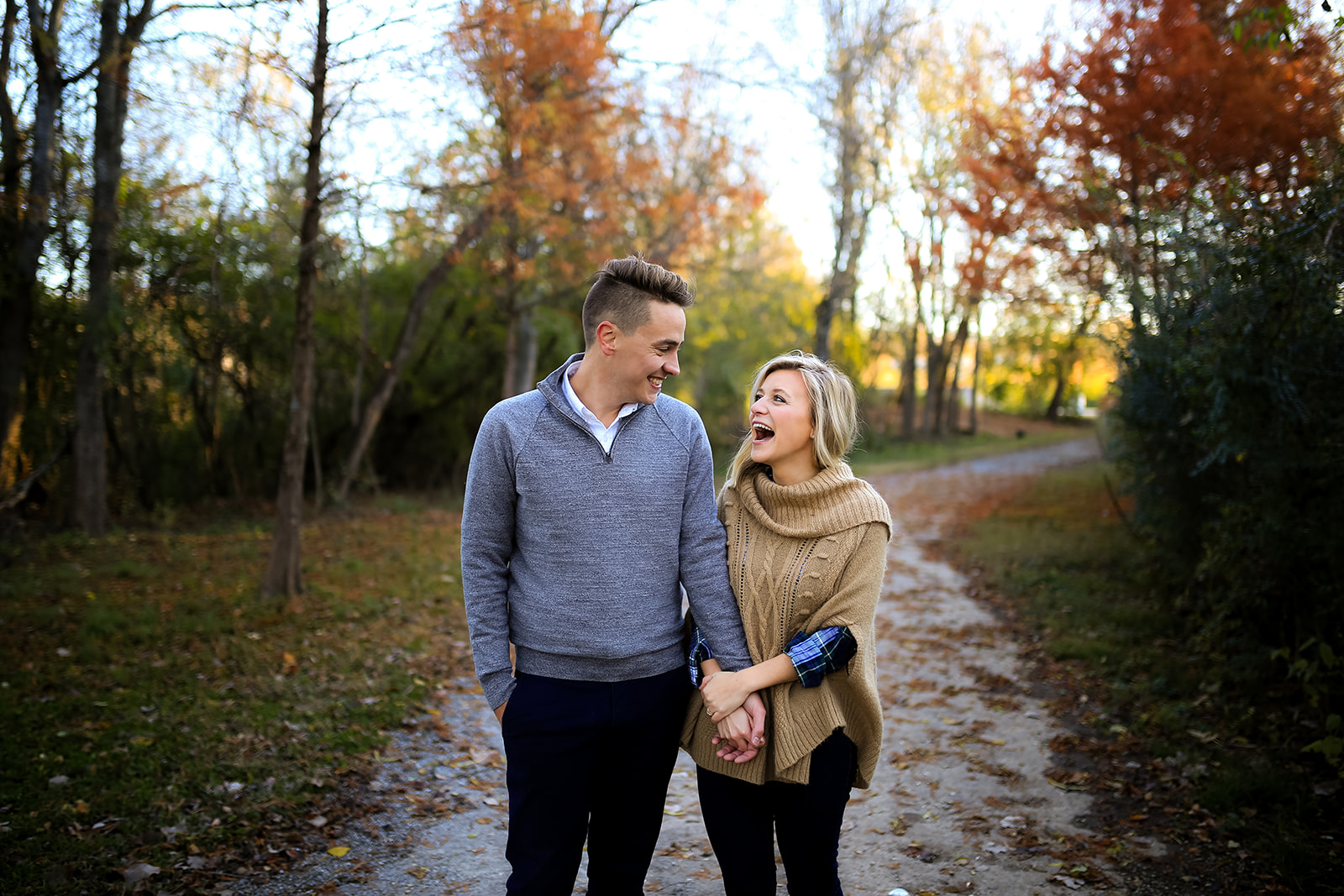 THANK YOU SO MUCH FOR CHECKING OUT THIS INFO ON ENGAGEMENT PHOTOS IN COOLIDGE PARK! I HOPE IT INSPIRED YOU FOR YOUR OWN PHOTO SESSION.
Hey, Chattanooga! I'm Rachael Crowe of OKCrowe Photography. Chasing a more rugged vibe for your engagement photos? Check out my recent post about engagement photo locations in the nearby mountains or contact me for other suggestions.
If you're still on the hunt for a wedding photographer, I'd love to chat! Visit my contact form, and let's start planning your dream wedding!