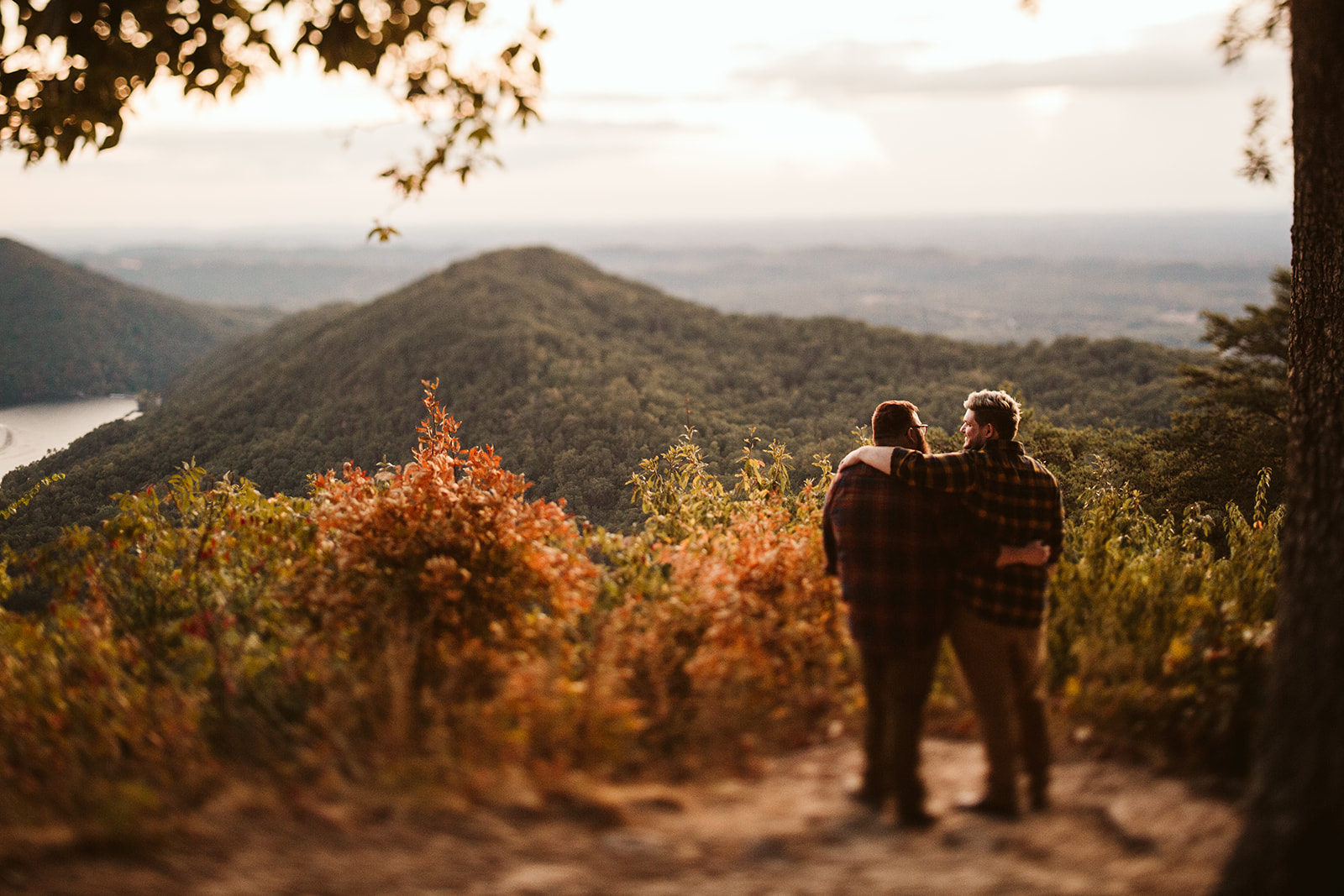 You can take engagement photos just about anywhere – your house, your favorite restaurant, even your grocery store – but you can't go wrong with the classic mountaintop look. Lucky for us, Chattanooga offers several mountain engagement photo locations, each with their own charm!
These are my favorite engagement photo spots with wide, open mountain views. If you want to shoot in one of these locations (or anywhere else for that matter), let's chat!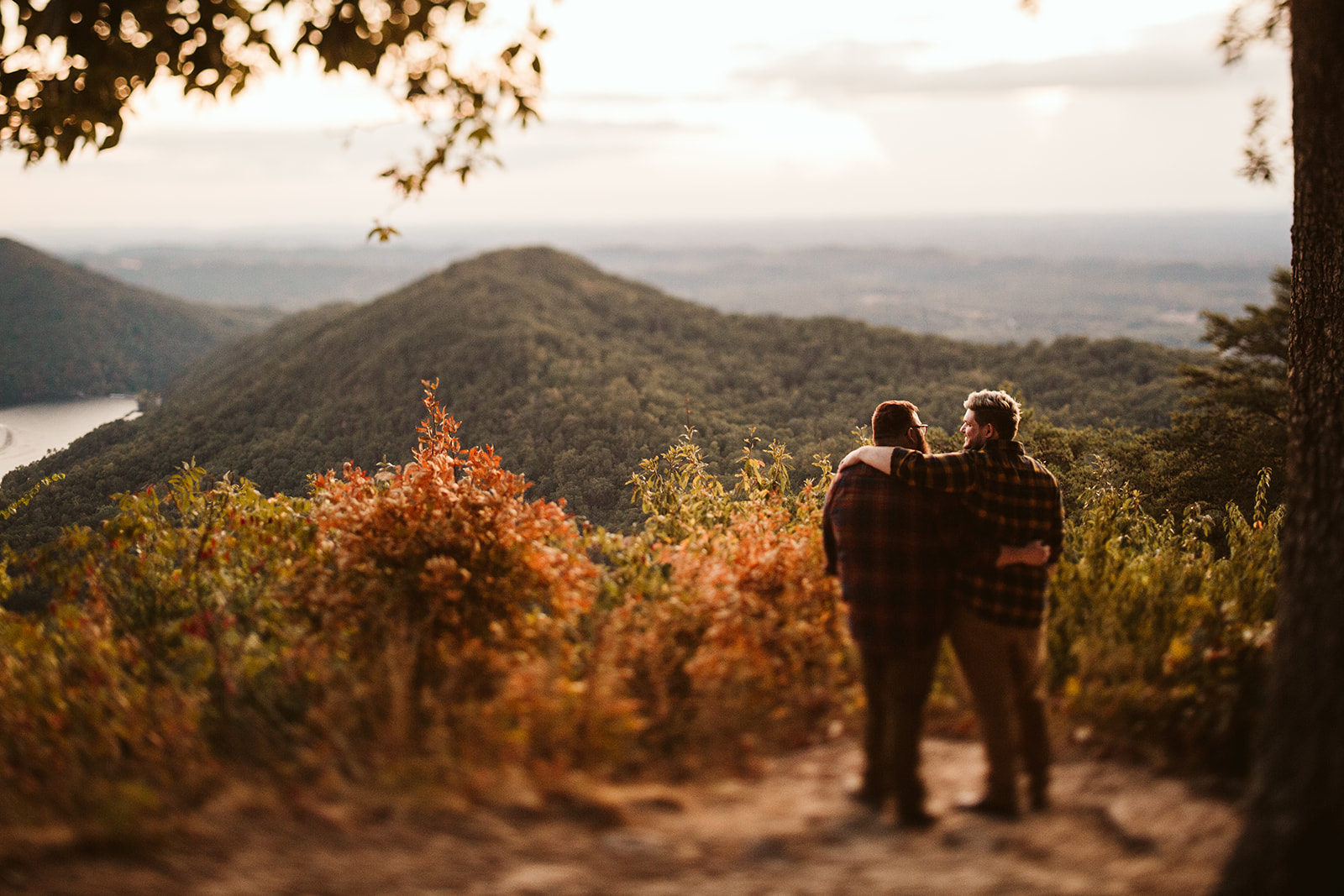 My Favorite Mountain Engagement Photo Locations in Chattanooga
Sunset Rock
The Sunset Rock overlook on Lookout Mountain has it all: mountain views, the winding river, and of course, gorgeous sunset light. It's one of my go-to spots no matter the season. The pine trees surrounding the rock are lush year-round, and the valley looks amazing even in winter. In fall, you get an entire array of colors spilled across the rolling hills.
Plus, the hike there and back is only 0.3 miles round-trip! That's short enough that you can get there and back in formalwear if need be. Caitlin and James went for a semi-formal look and rocked the sunset vibes. They even brought their pup!
Sunset Rock is also a great option if you want to hit multiple locations during your engagement session. It's only about 15 minutes away from downtown Chattanooga, so we can grab a drink and shoot some photos downtown before heading up the mountain.
The only downside is that this spot gets busy, especially when the weather is nice. I like to ask my clients to arrive early so we can get a spot in the parking lot and hang out until the light gets good. Expect a crowd, and if you don't want any eyes on you while you get handsy with your partner, let's pick a more private engagement photo location.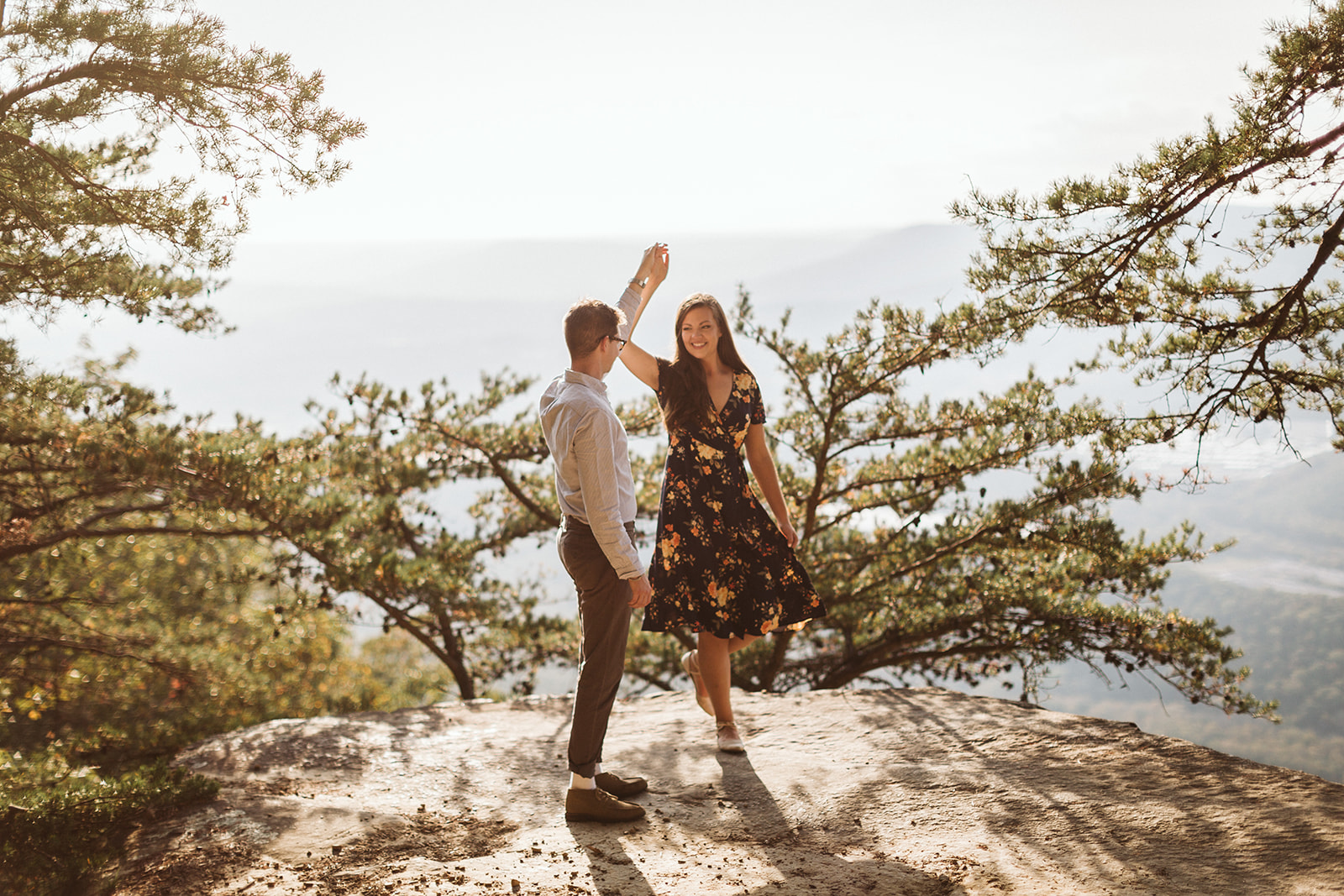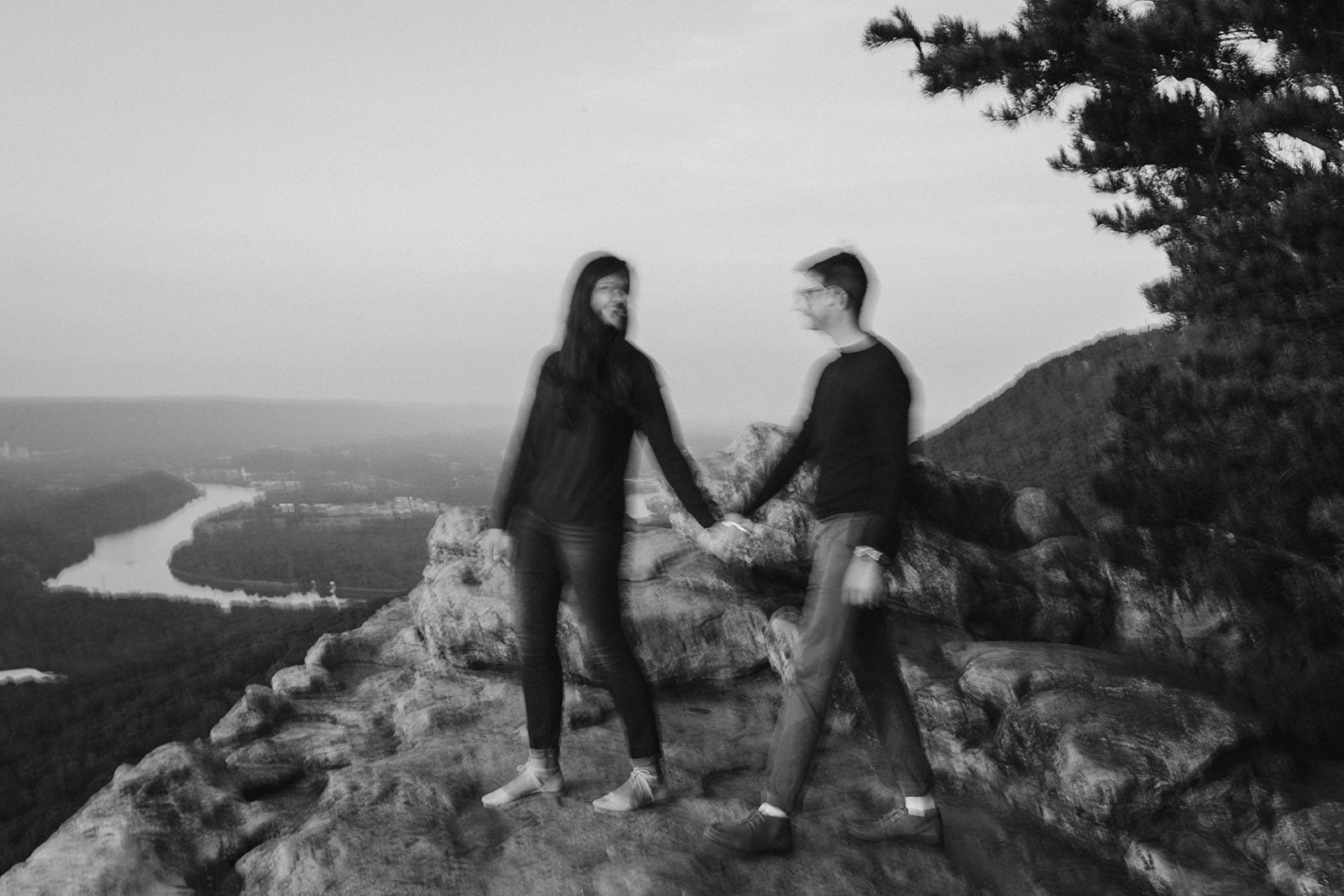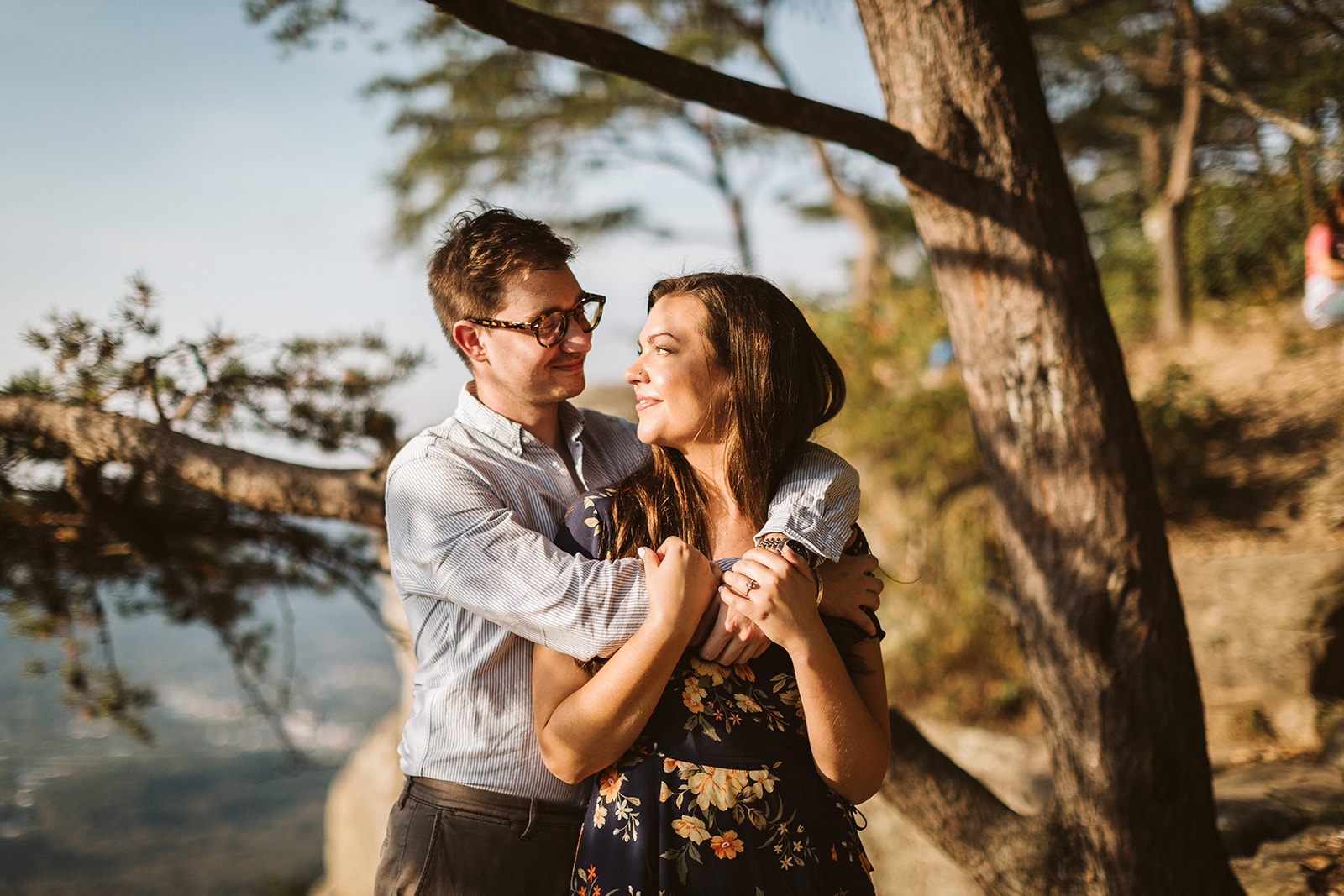 Hang Gliding Launch
You won't find this spot on Google Maps, and that's exactly why I love it!
Chattanooga has a huge outdoor sports scene, and it's a popular hang gliding destination. There's a hang gliding launch (basically a wooded ramp to nowhere) on the opposite side of Lookout Mountain as Sunset Rock. Just a ways past the launch, there's a pull-off where friends can gather to watch hang gliders take the plunge. This is where we'll be shooting!
This spot offers a beautiful view of the valley, and it's probably the most accessible of all the locations on this list. You pull over on the side of the road, walk about 10 feet, and you're there! The only downside is that there's not a ton of variety here. I'd recommend we get a few shots at this overlook and then head around the mountain to find some different backdrops.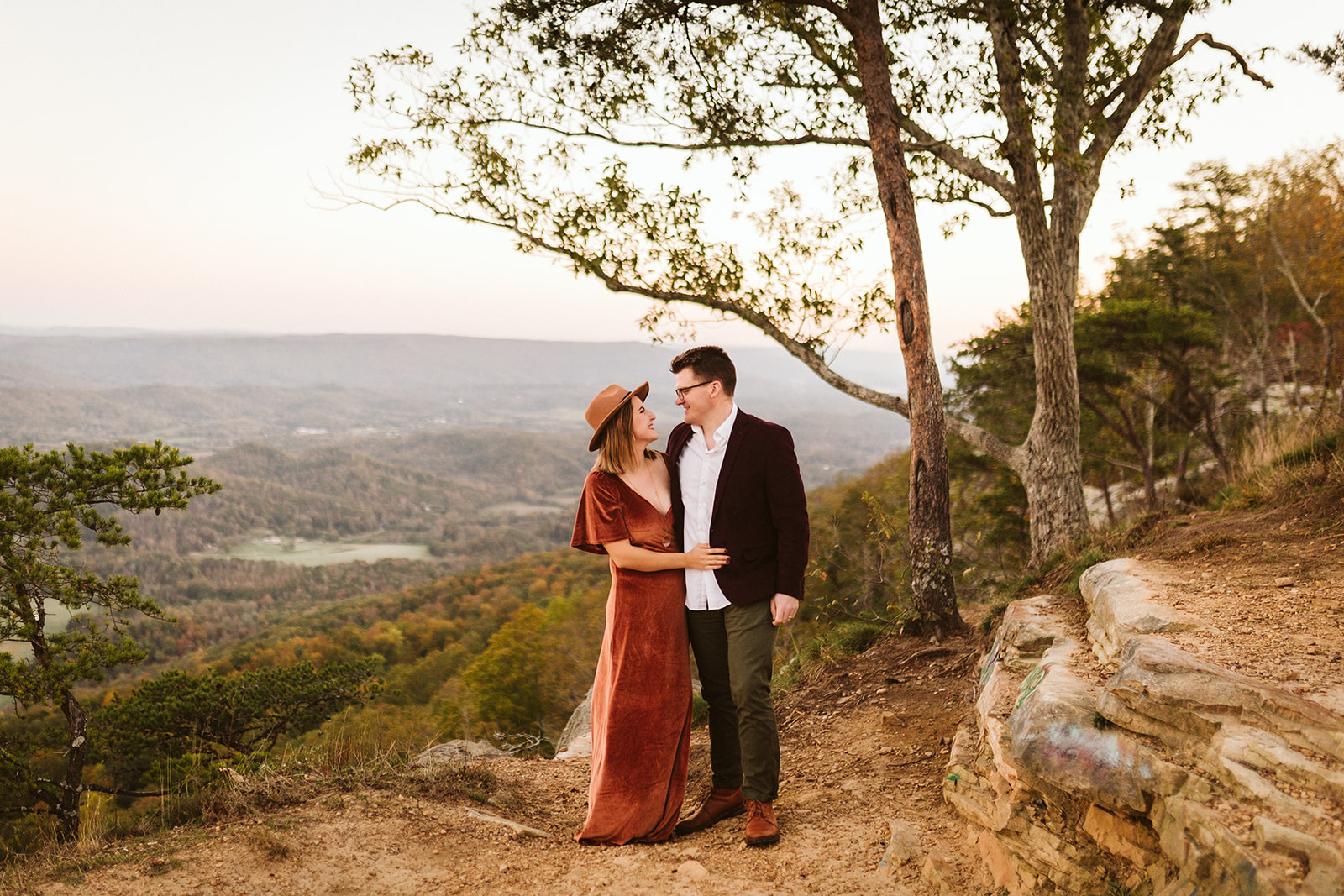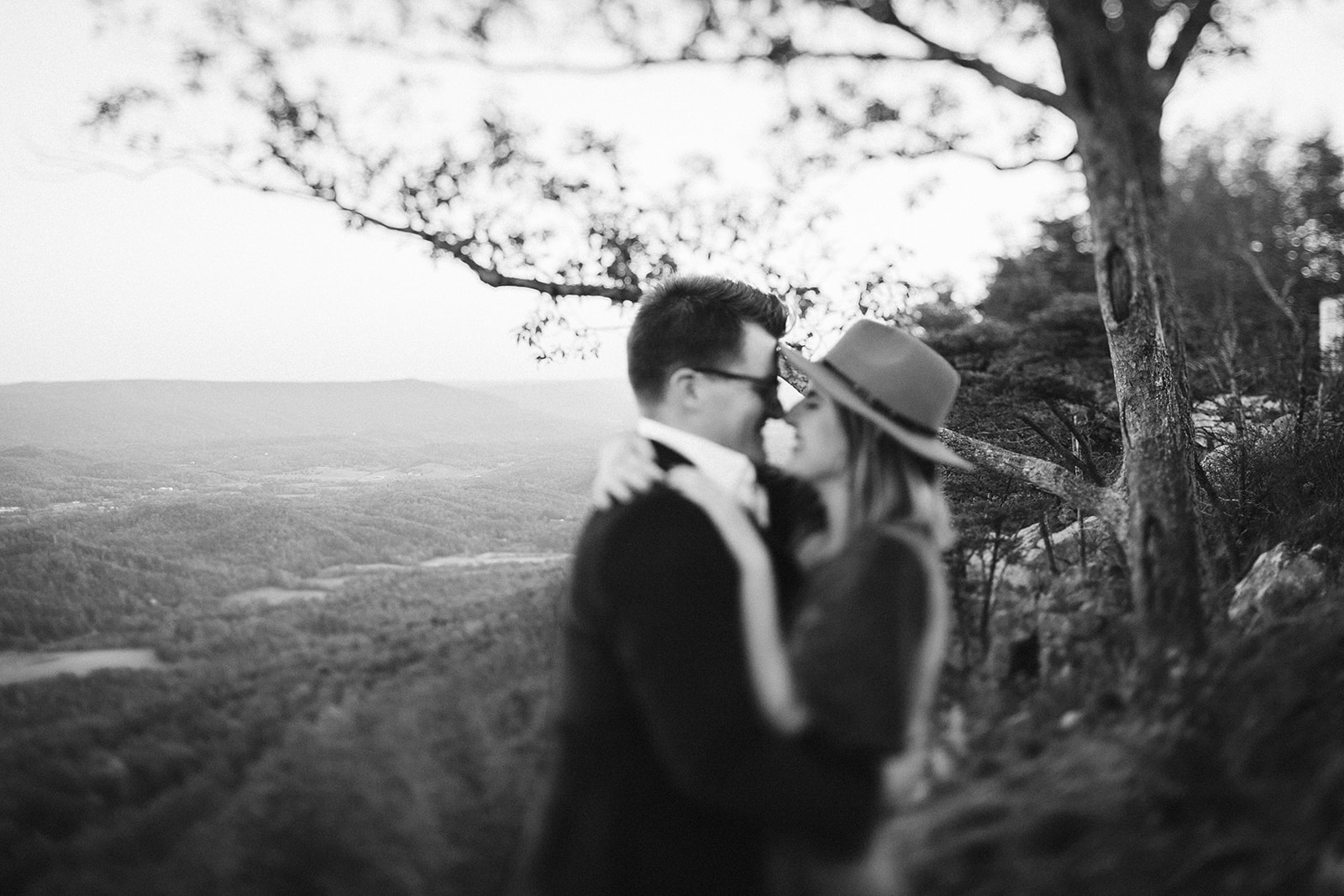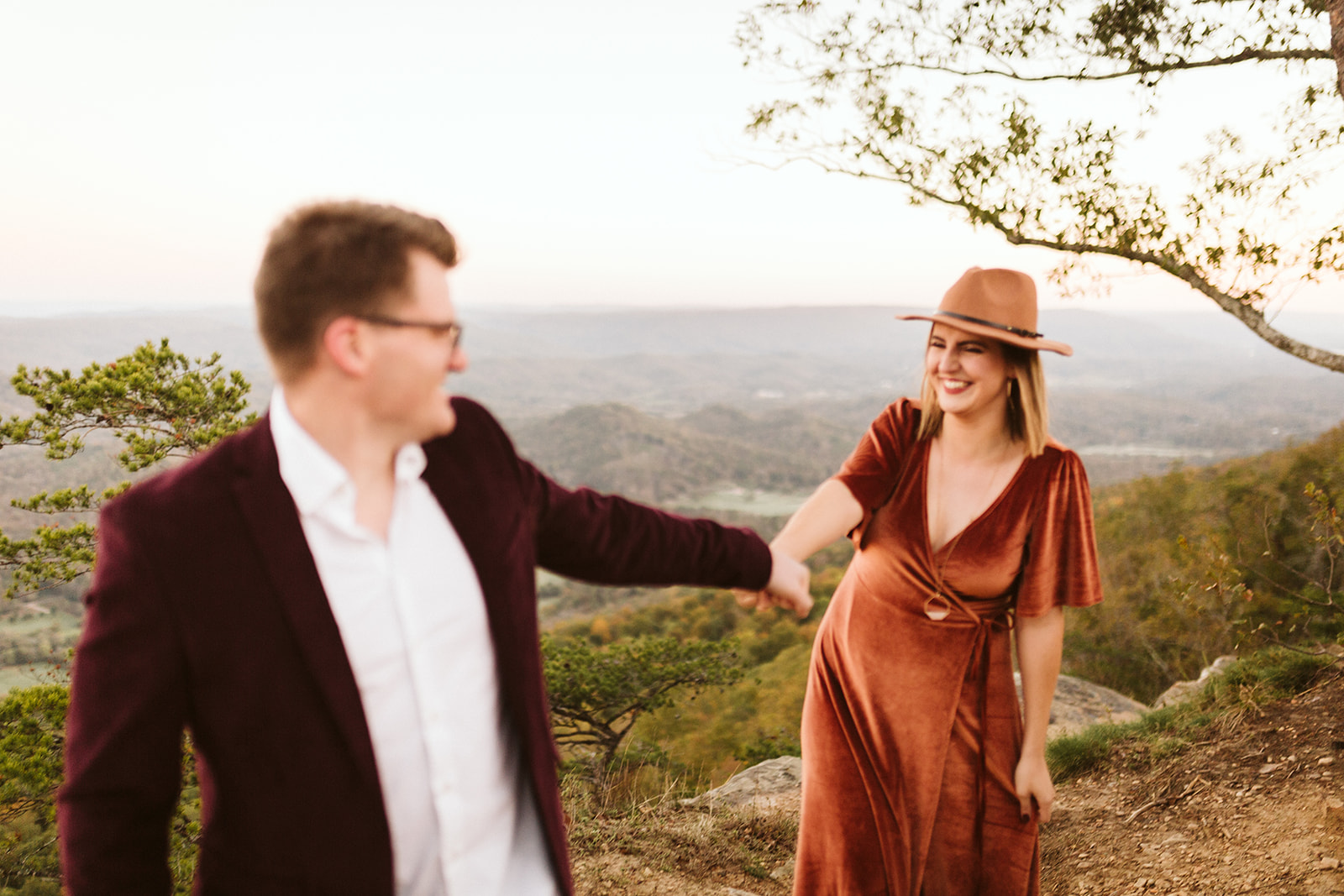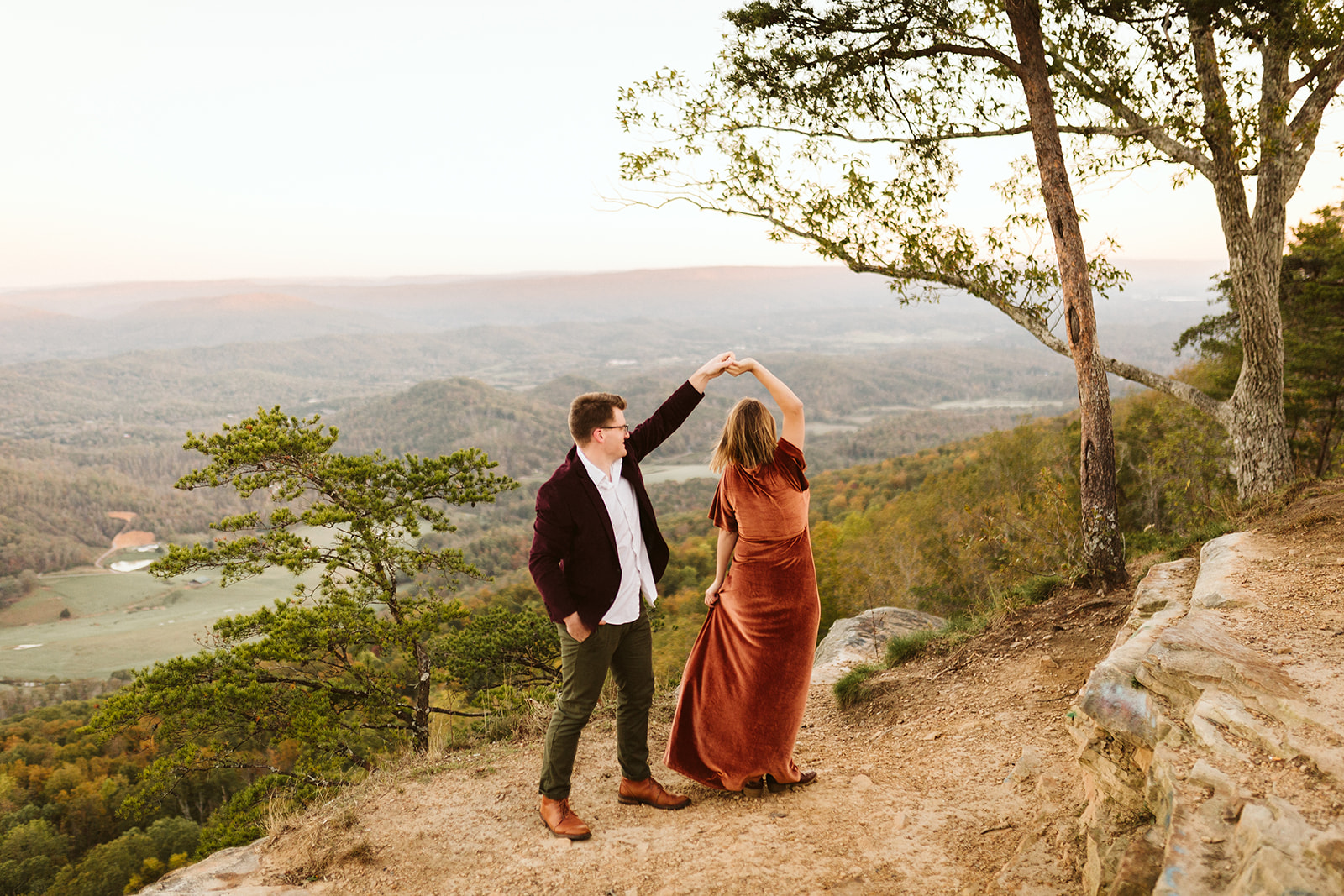 On the Ocoee
While this spot on the Ocoee River is technically in Benton, but it's close enough to Chattanooga that I make the drive with plenty of my couples. The fall colors were so rich during Chris and Brandon's engagement session, and the mist on the mountains made for a picture-perfect backdrop.
This is one of my favorite locations, and it's perfect for adventurous couples. There are docks, rocky rivers, mountain overlooks, watering holes, picnic areas, you name it. Whatever outdoorsy vibes you want, you can get them here.
Plus, unlike some of the spots closer to the city, this area looks wild in photos. Lookout Mountain is gorgeous, but if you're going for a more wilderness-y look, I highly recommend driving a bit outside the city.
Another bonus: This area is rarely busy. We might meet a few other hikers, but we won't be fighting crowds like we would closer to Chattanooga.
For my Chattanooga couples, you're looking at an hour's drive to this location. But if you want a great view that's different from the classic Chattanooga spots, it's definitely worth the drive! Just plan ahead as there aren't many gas stations on the mountain itself. (By the way, I'm always down to carpool!)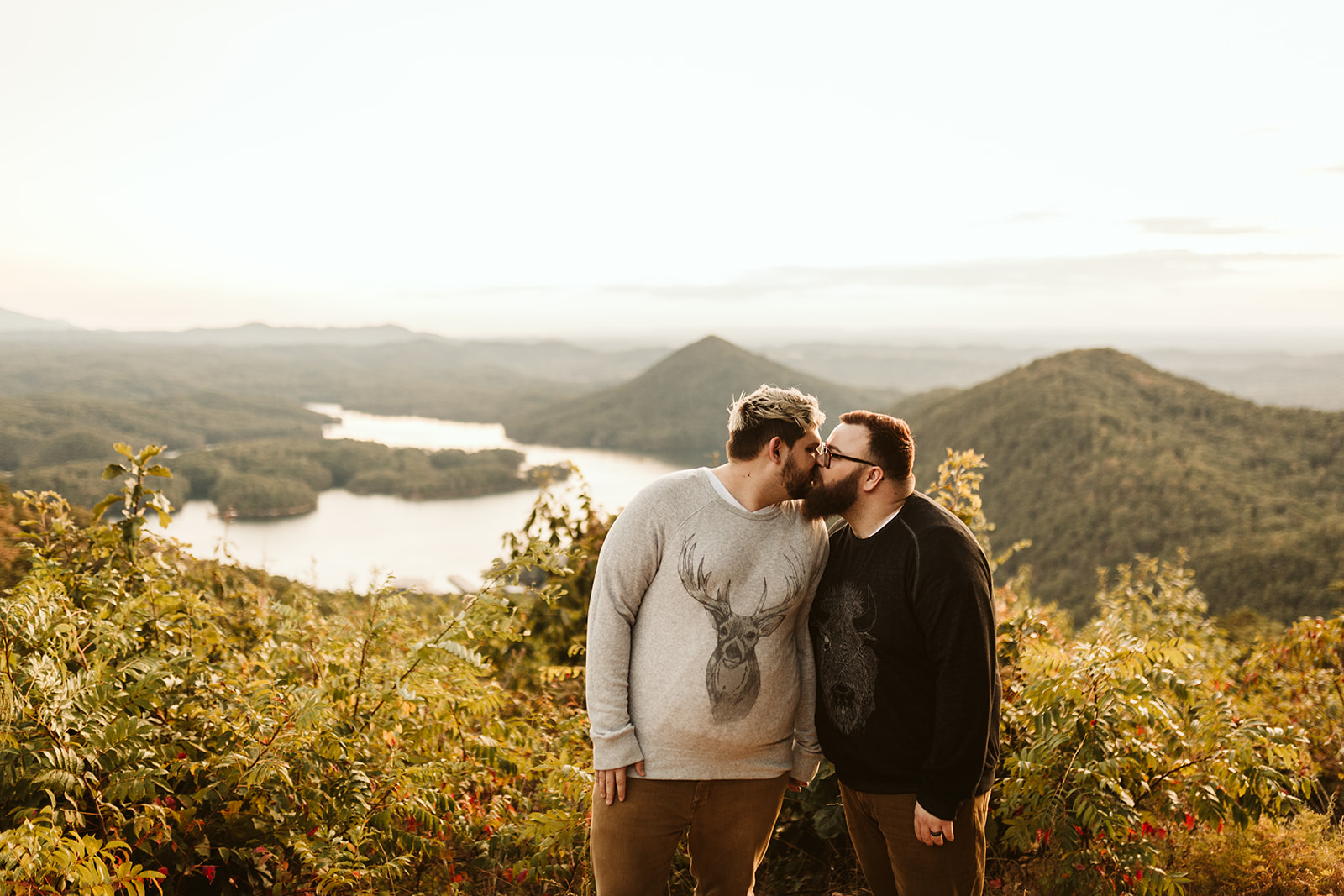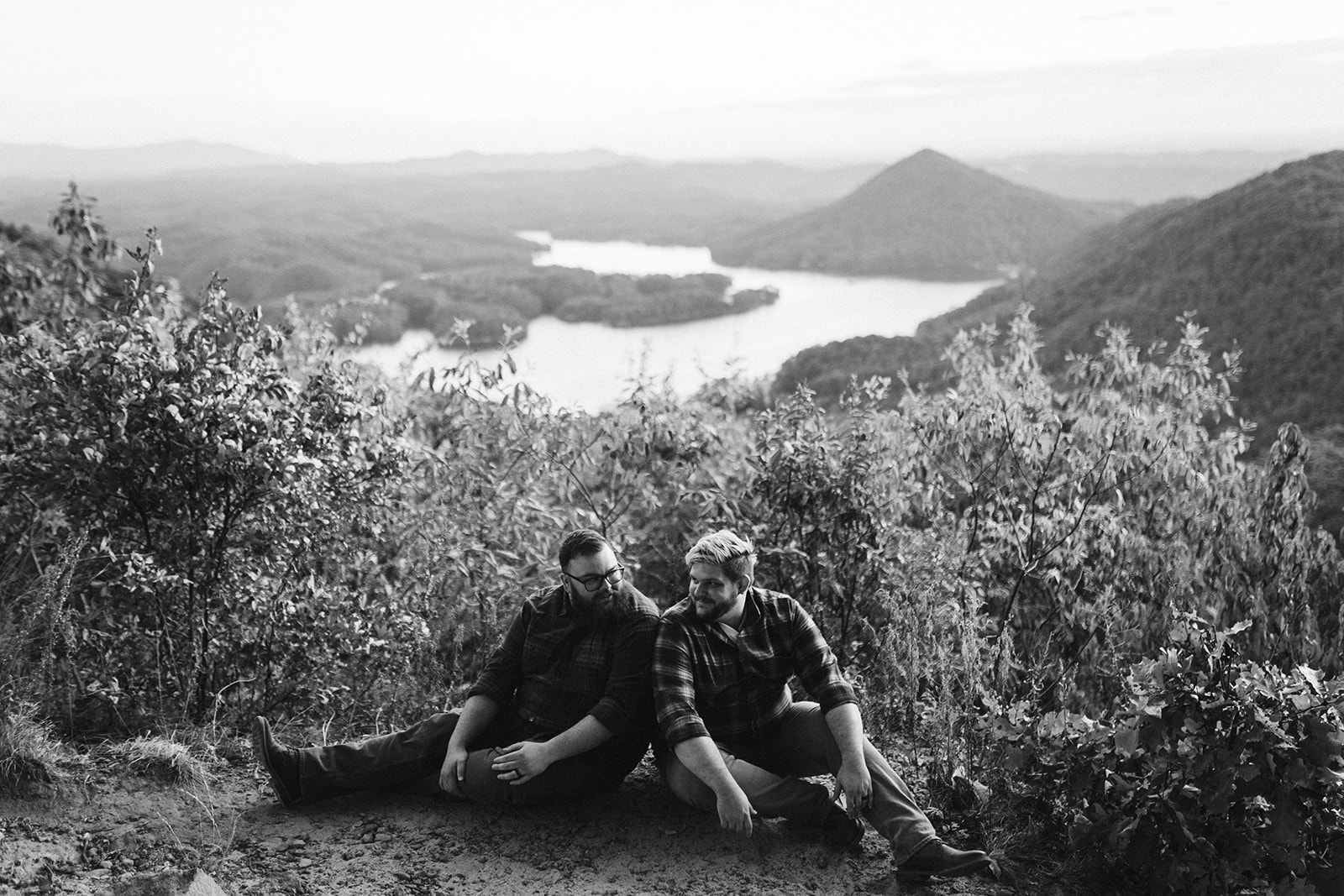 Prentice Cooper State Forest on Signal Mountain
One of my favorite areas for mountain engagement photos near Chattanooga is Signal Mountain. This particular spot offers a gorgeous overlook of the Tennessee River Gorge. This overlook is about a 30-40 minute drive from downtown Chattanooga. While it's not far mileage-wise, the reason this overlook takes a while to get to is that you have to follow a long gravel road up the mountain to the overlook. The view is definitely worth the trip though! And if you're worried about your car managing the gravel road, you're welcome to park your car at the base of the mountain and carpool in my SUV.
In the summertime, you might even get lucky enough to see a cloud inversion during your mountain engagement photo session. This weather phenomenon is pretty rare, and we're lucky to get it here in Chattanooga. During an inversion, the clouds and fog all fall into the valley, right above the river. The result is the otherworldly feeling of standing above the clouds. Ana and Paolo caught a cloud inversion during their sunrise elopement, and the images are stunning.
If you want to catch a cloud inversion during your engagement session, let me know! I've gotten pretty good at predicting when the weather will be just right.
Just a couple of notes: I only shoot here at sunrise. The angle of the light is perfect first thing in the morning, but it's not great for the rest of the day. But if you're down for a crack-of-dawn engagement photo session, this is the spot for you.
You'll also need a permit to have your engagement photos here. The permit is free, but we'll need to file for a permit about a month out. If you want your shoot here, let's plan it well in advance!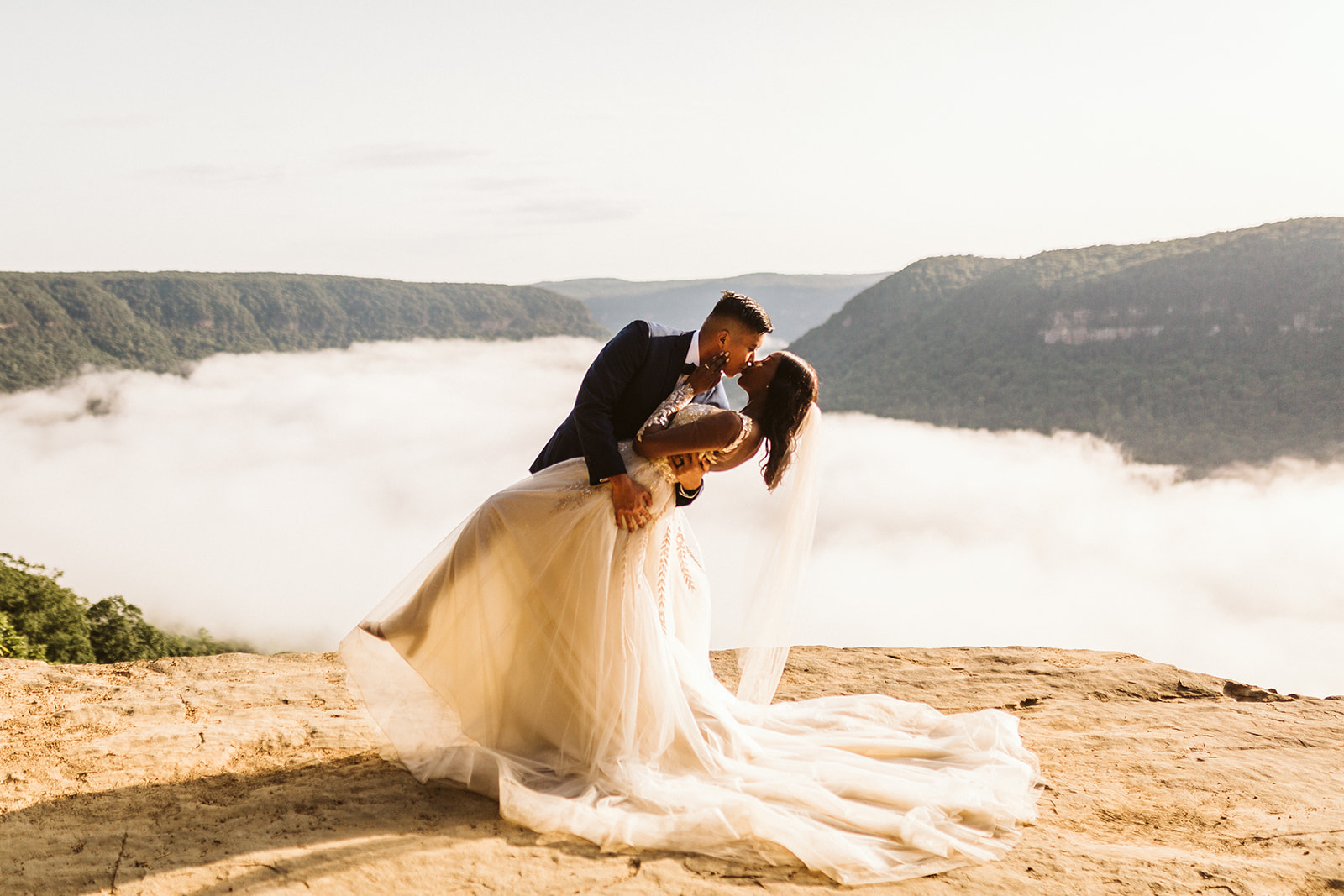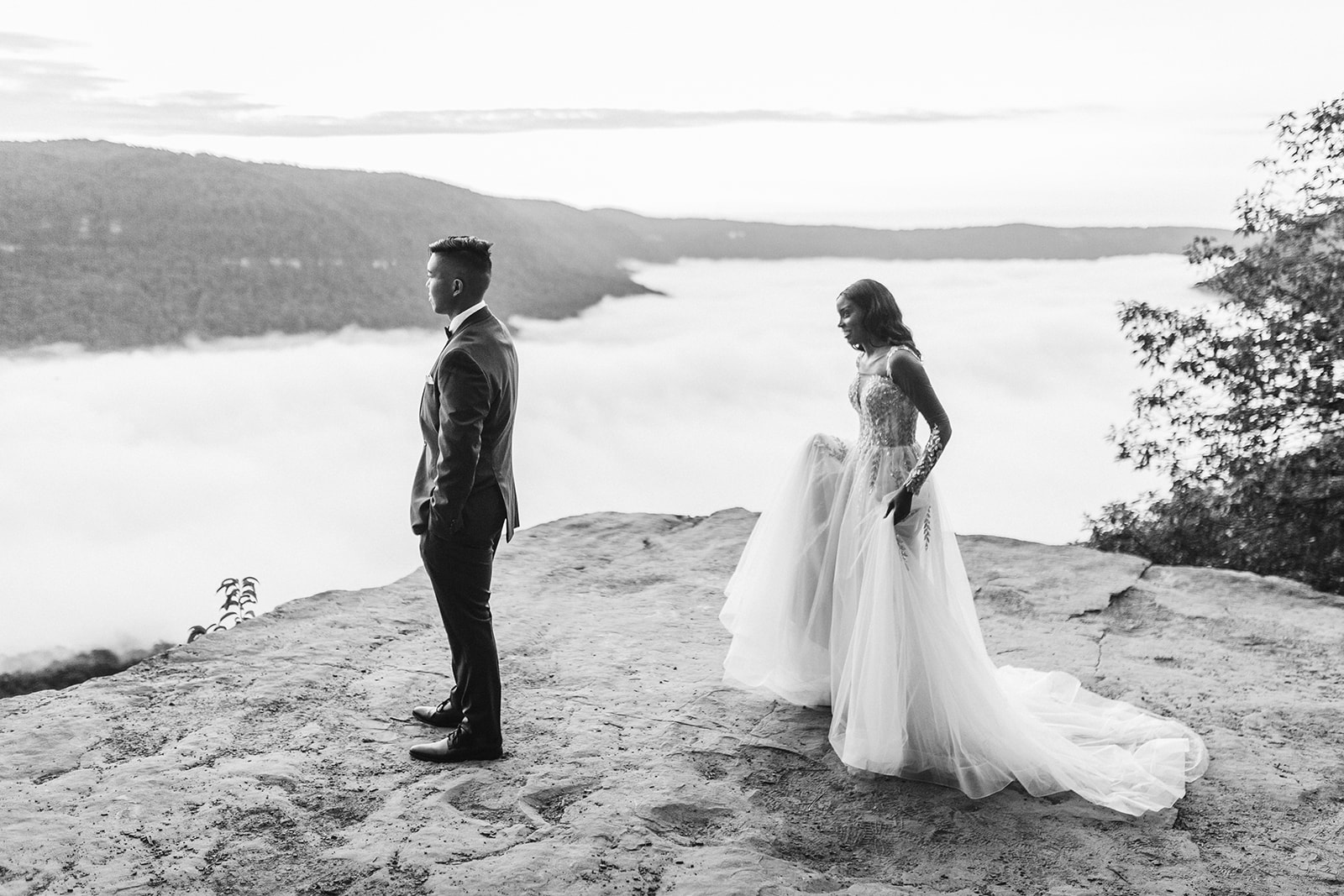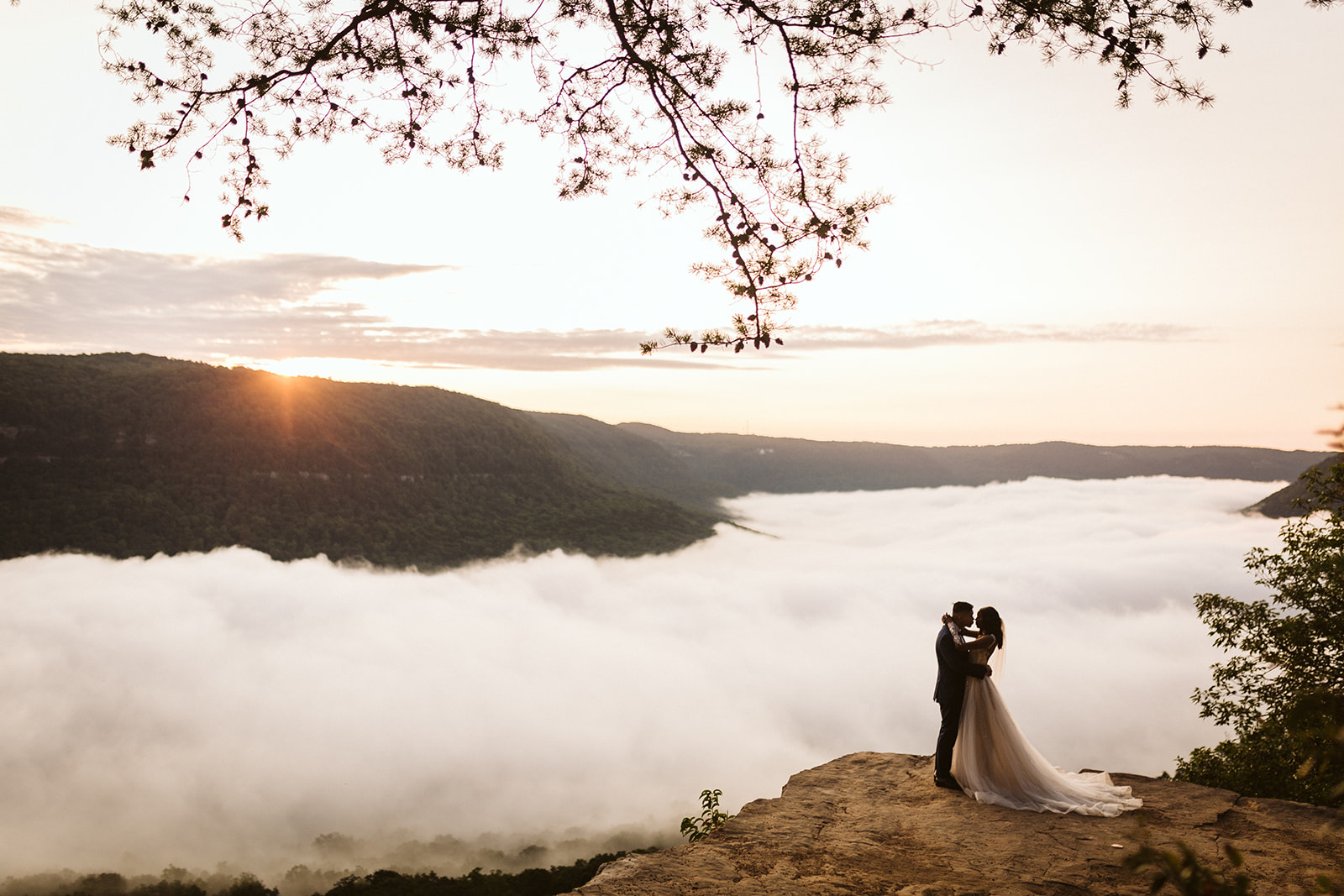 Point Park
Though it got its start as a Civil War battlefield, Point Park on Lookout Mountain is now a beautiful hiking destination. From the overlook, you get a view of Chattanooga and Moccasin Bend, the huge bend in the Tennessee River right outside the city. If you want a view of the city and mountain vibes, this is a great spot.
The backdrop here isn't as hilly as the other engagement photo locations on this list, but the flat landscape makes the sky look huge. The blue river, lush forests, and dappled city make for a super dynamic, colorful background – without taking the focus away from you and your partner.
Unlike some of the mountain spots, Point Park is super accessible. All the paths are paved, and there's tons of parking available.
Quick note: Point Park charges $10 per adult to get in – I'd say it's definitely worth the fee!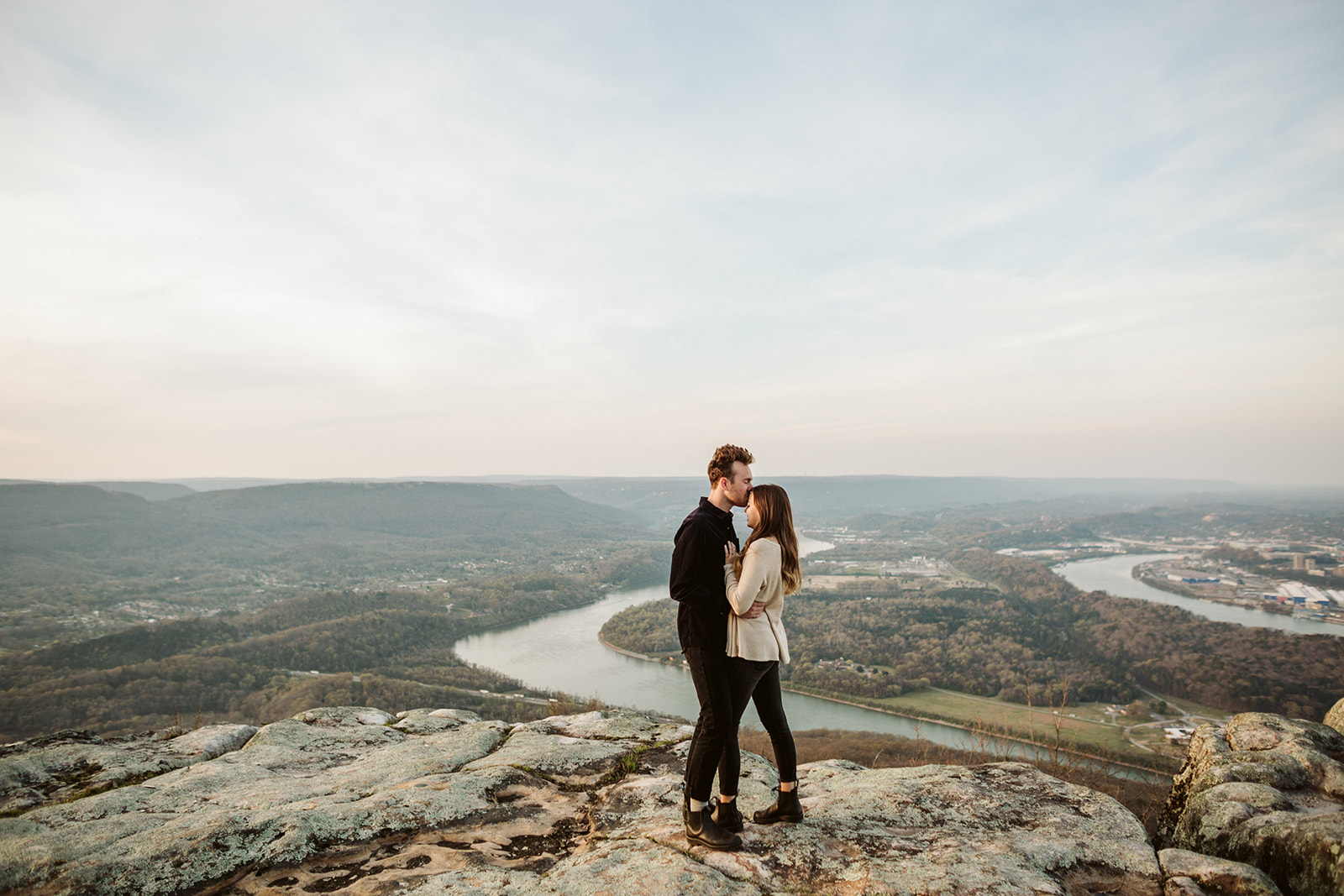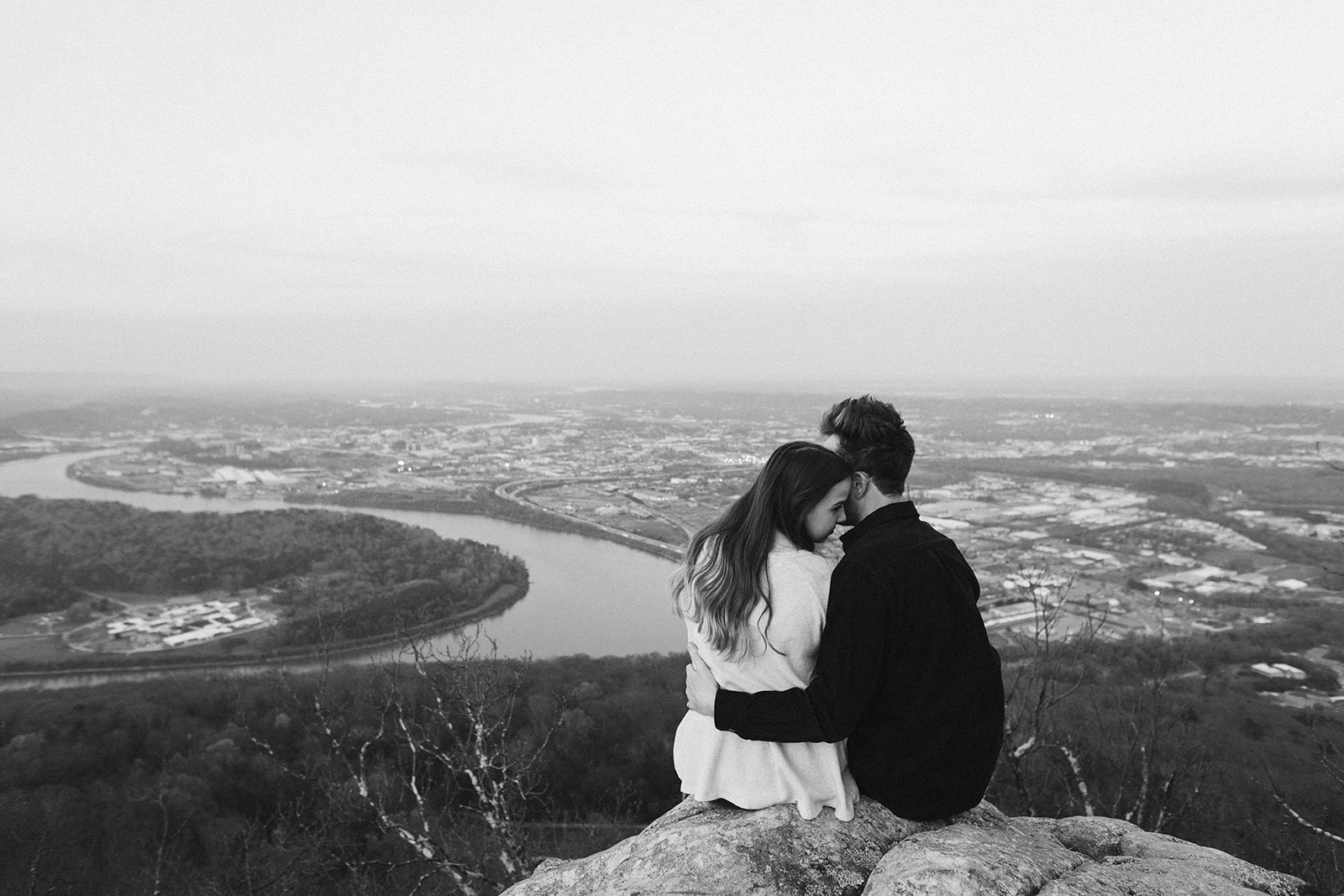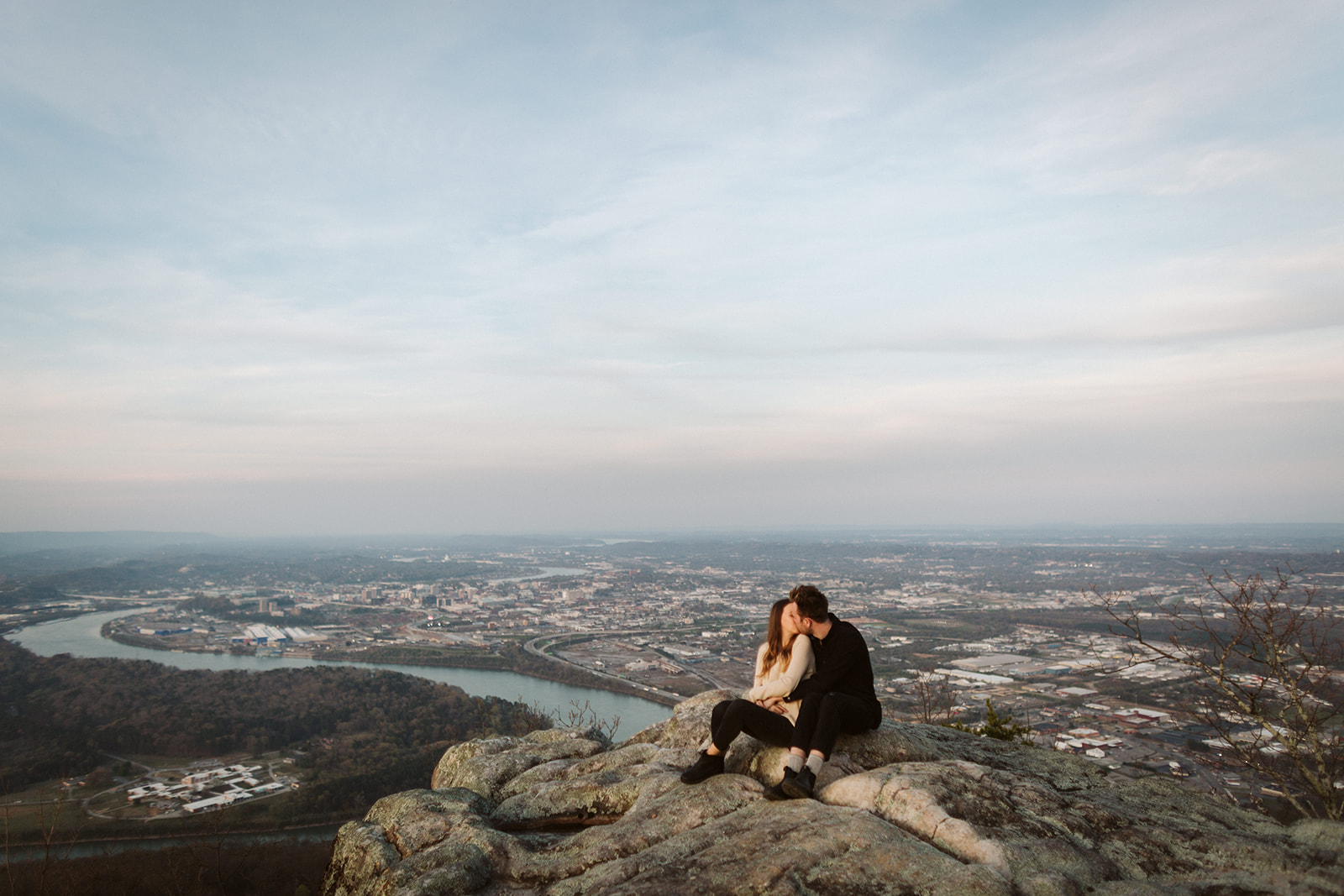 A Secret Spot
Want your engagement photos to be truly one-of-a-kind? I got you!
There are several mountain engagement photo spots near Chattanooga that either don't have names or that I keep to myself. If none of these locations jumps out at you, send me a message. I have a few secret locations up my sleeve!
Looking for your own mountain engagement photo location?
I'd love to help you get that on-top-of-the-world look! I'm Rachael Crowe of OkCrowe Photography, and I help couples in Chattanooga and beyond capture real (and really beautiful) images. Just reach out!
If you're looking for a wedding or elopement photographer, head over to my contact page, shoot me a message, and let's start planning!