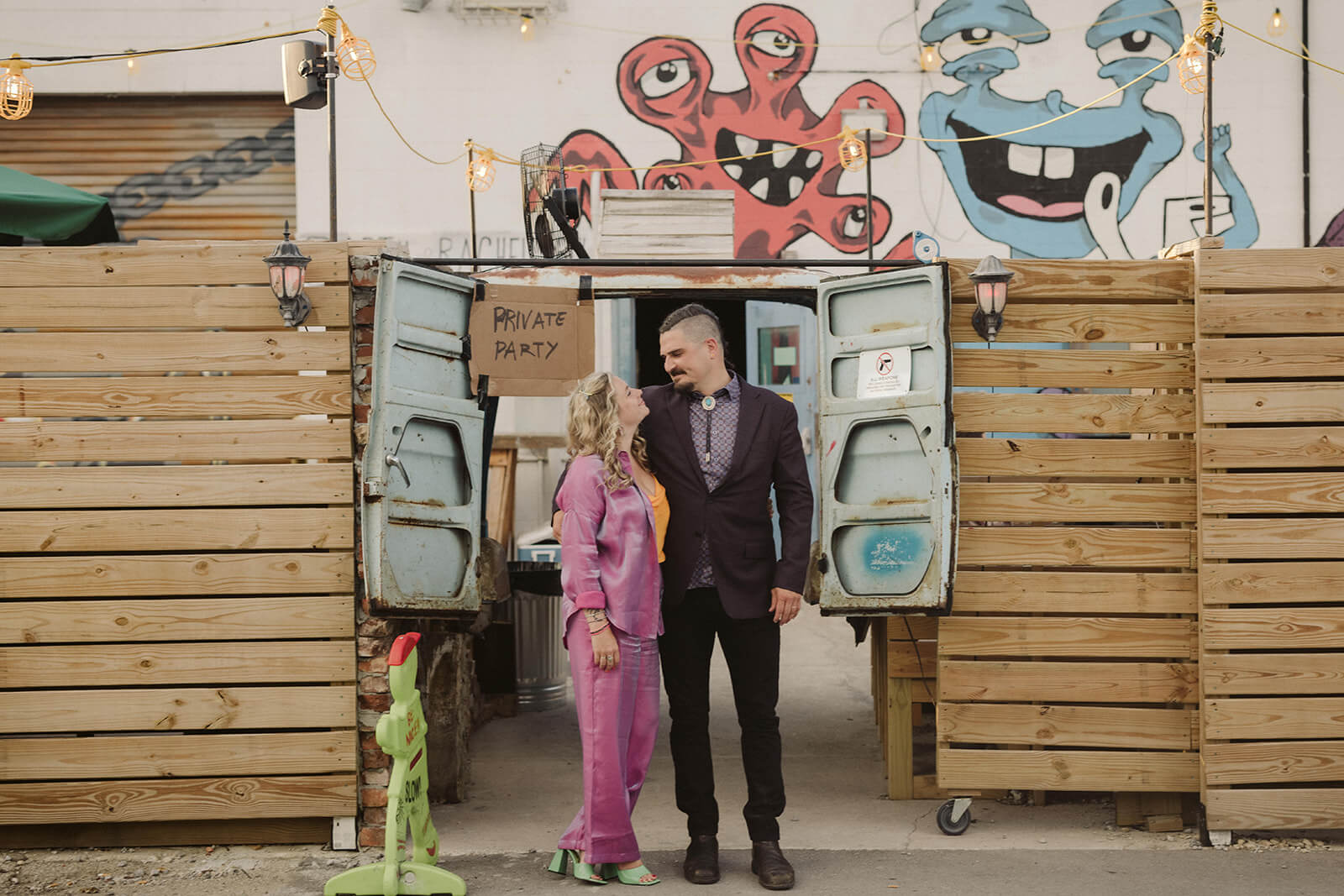 Oftentimes there is so much involved in planning a wedding that things become muddled, and you forget that, at the end of the day, getting married is really about two people choosing to embark on a new journey of love and life together. There is so much to plan and prepare for that it's easy to lose yourself in the planning and forget to make the day about the two of you. For Chattanooga couple Rachel and Garth, they weren't taking any chances of that happening to them. They took wedding planning traditions and shook them up to make sure their wedding matched their fun and funky personalities.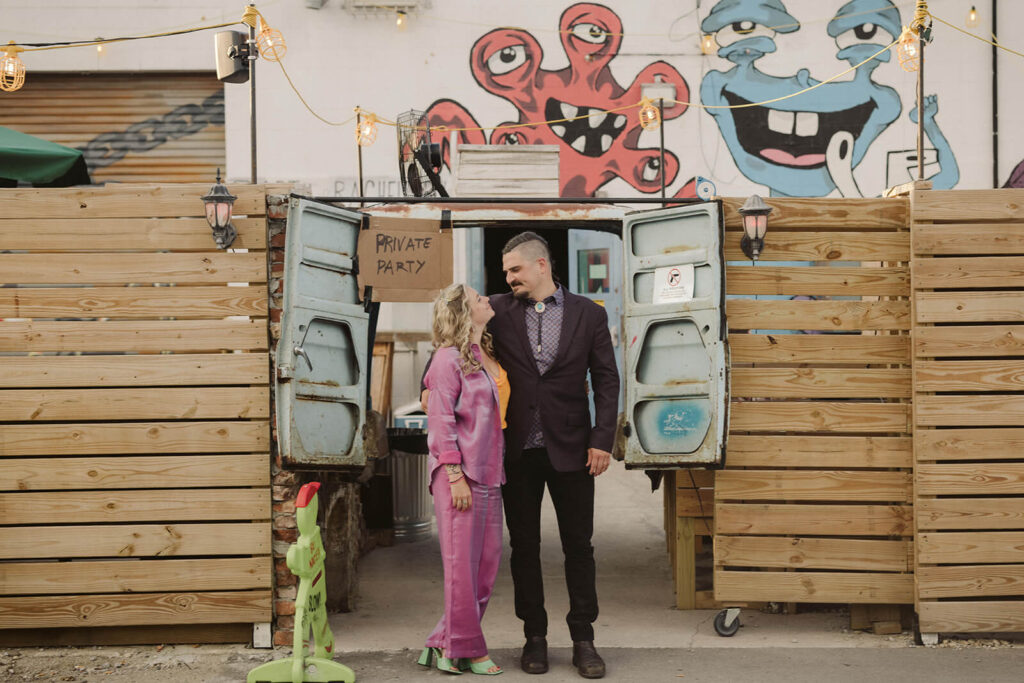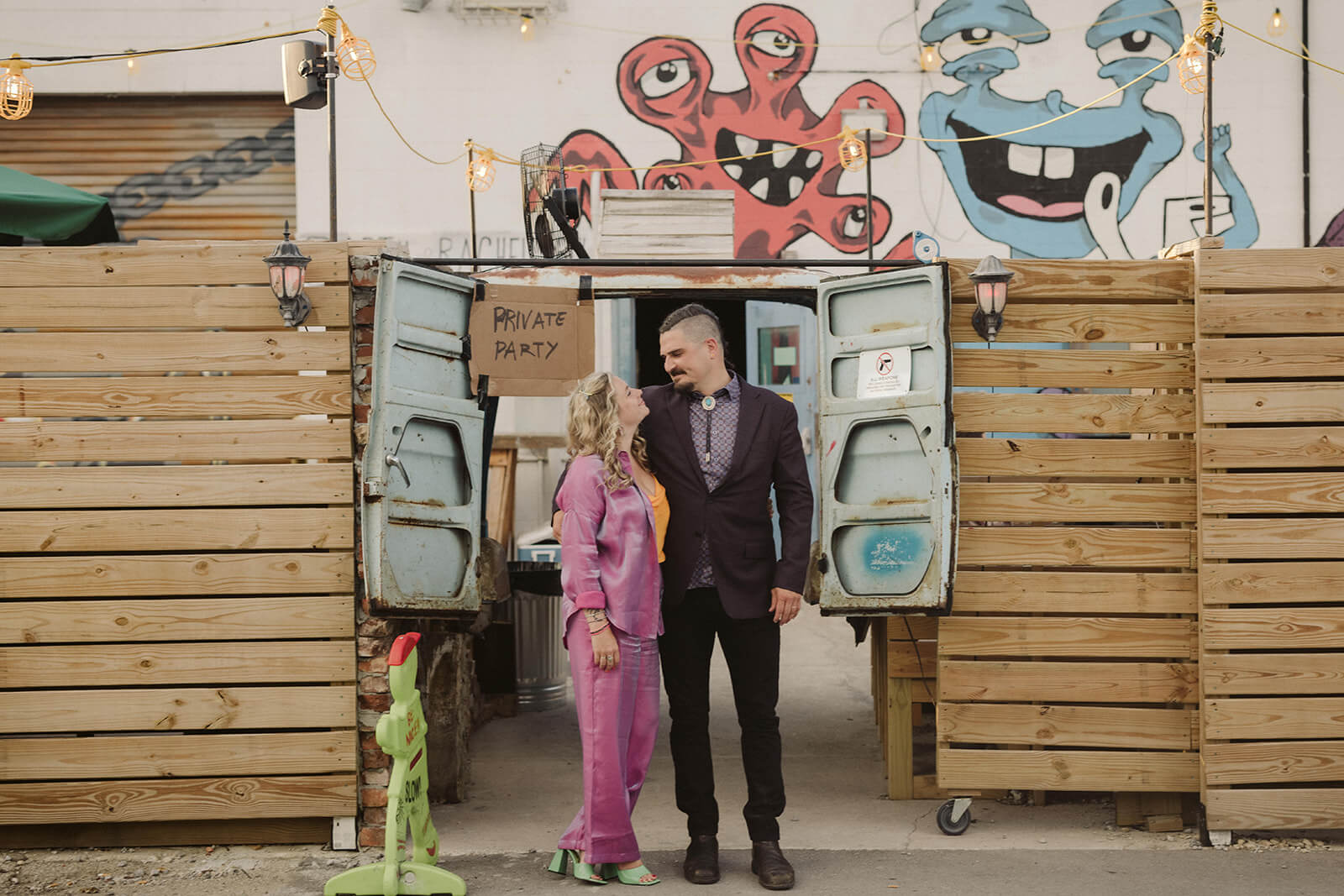 It All Started with a Simple Elopement at the Chattanooga Courthouse
To kick off their wedding celebration, Rachel and Garth decided to ditch the traditional big, white wedding and opt for a simple courthouse elopement. Both of them have always believed in forging your own path through life. Planning their wedding was no different.
One of the great things about planning a courthouse elopement in Chattanooga is you can knock two things off your checklist in one shot (actually, three things if you include returning your signed marriage license after your ceremony!). While some states have waiting periods between when you sign and receive your marriage license and when you can get married, Tennessee's martial laws allow you to get married as soon as that license is in your hands.
Since both Rachel and Garth work in the service industry, they scheduled their courthouse elopement on a weekday which made it easier for them and the small group of their friends who acted as their wedding party to request the day off. On the day of their elopement, Rachel and Garth quickly went into the clerk's office to receive their marriage license and immediately came back out to get married on the front lawn.
They chose one of their closest friends to officiate their ceremony and kept it casual and sweet without any overly fancy traditions that fill up traditional wedding ceremonies. After the ceremony, we took some quick wedding party portraits. I absolutely love the vibe this couple and their friends had together. They were so fun and simply radiated joy and happiness that surrounded Rachel and Garth from the start of their ceremony all the way to their first kiss.
Once we had a few good group shots of everyone, Rachel, Garth, and I took a walk around the grounds of the courthouse to capture their newlywed bliss in a quick portrait session. These two were naturals in front of the camera. The ease with which they played off of each other and even how easily they fell into more posed positions showed just how perfectly they were made to be together.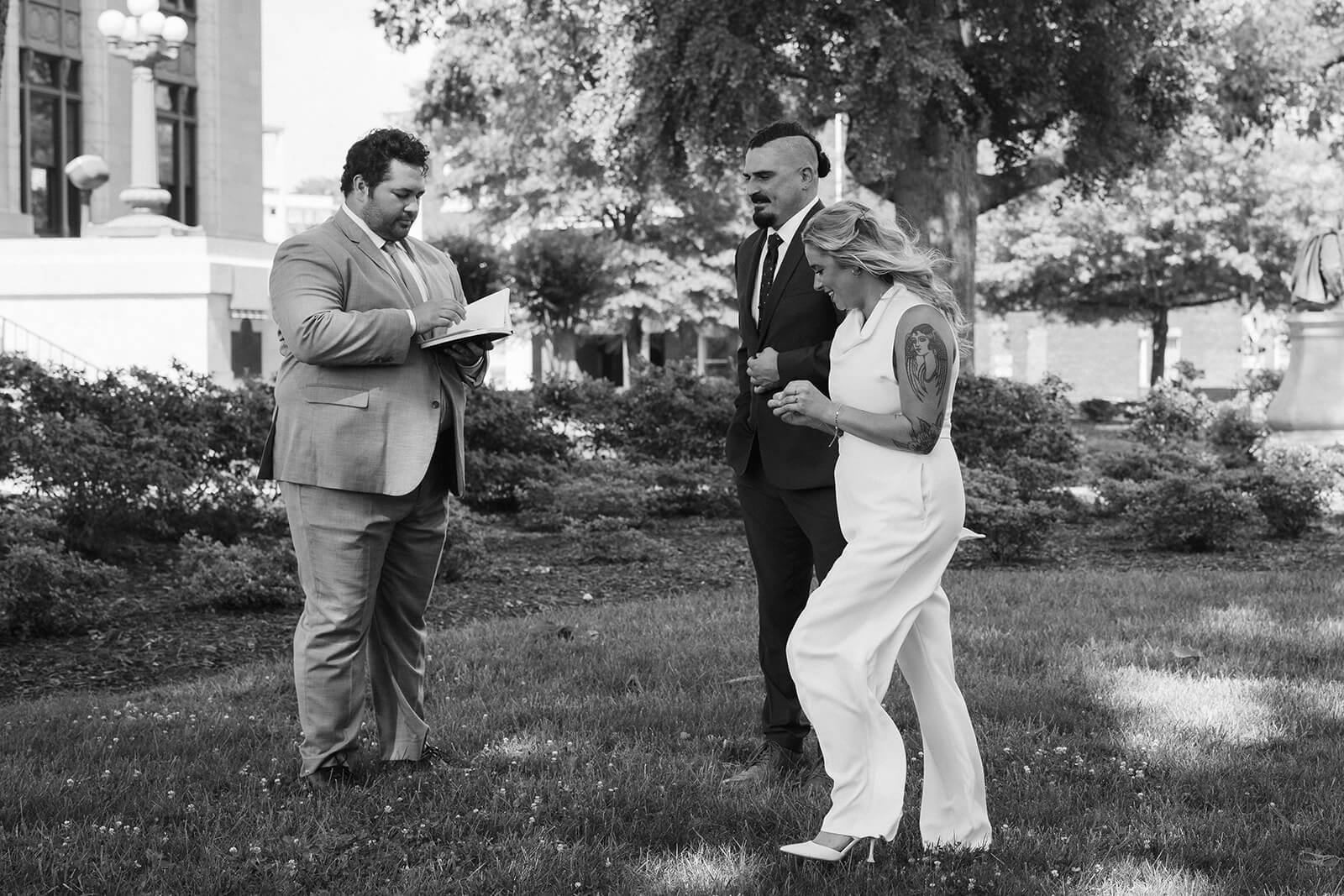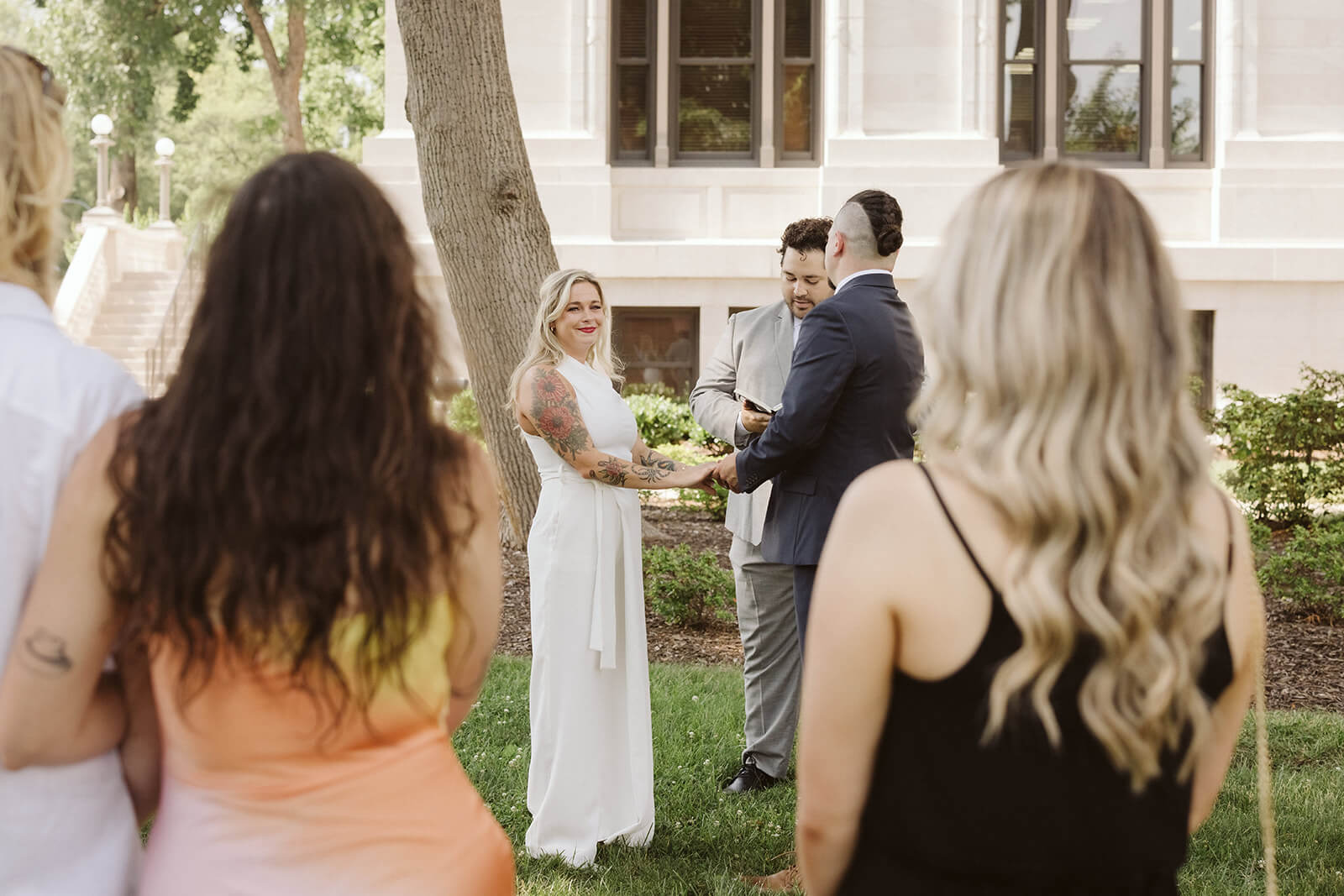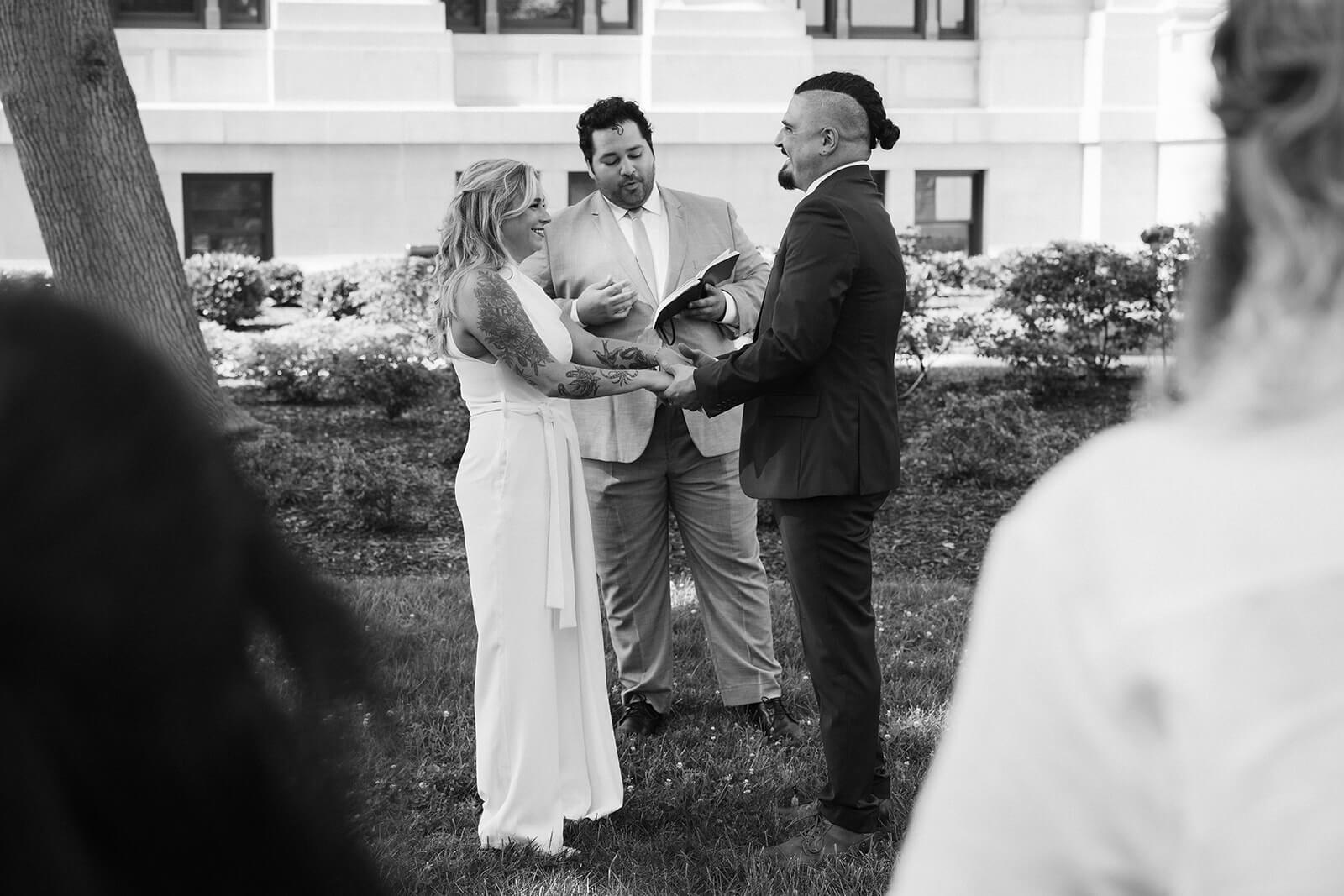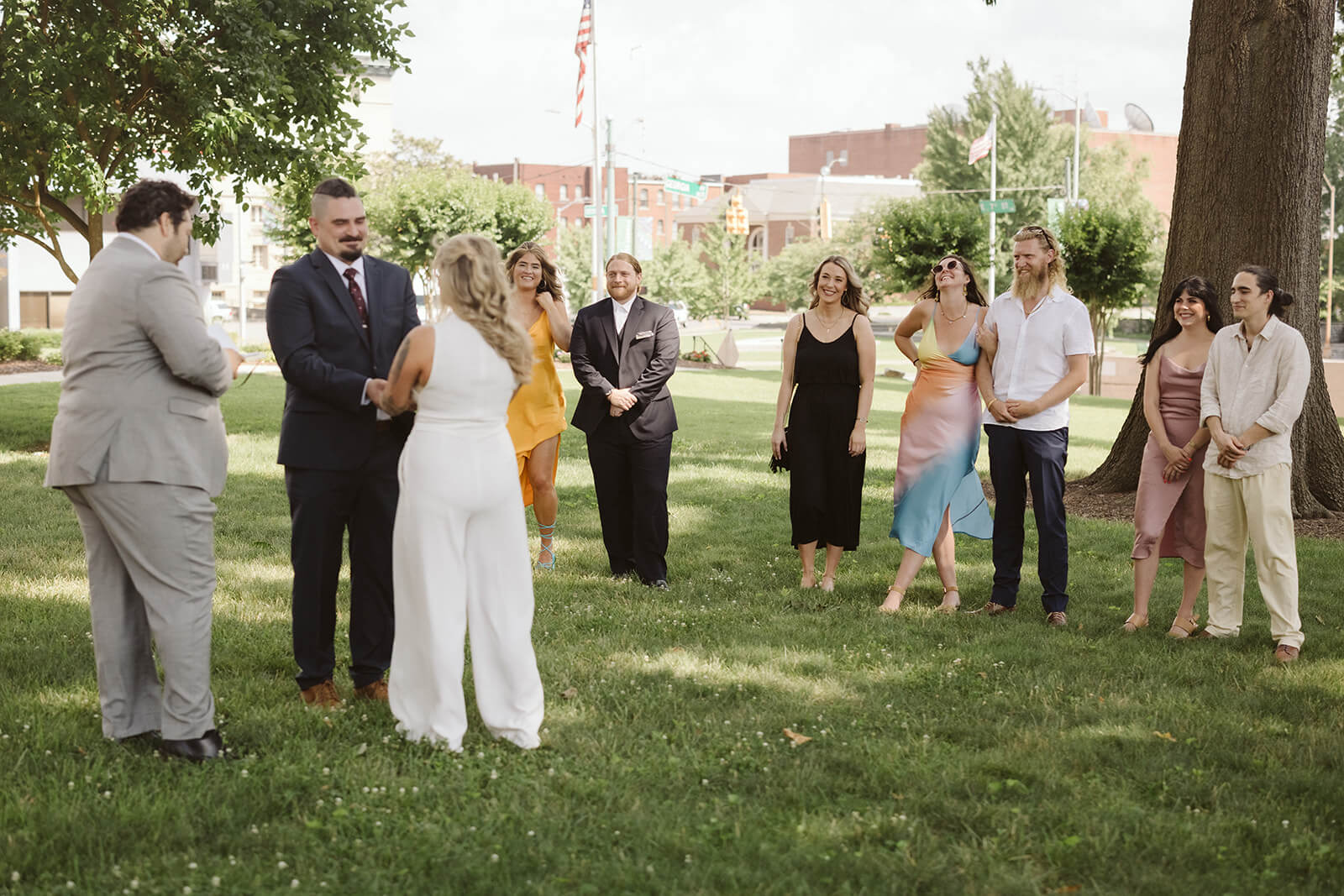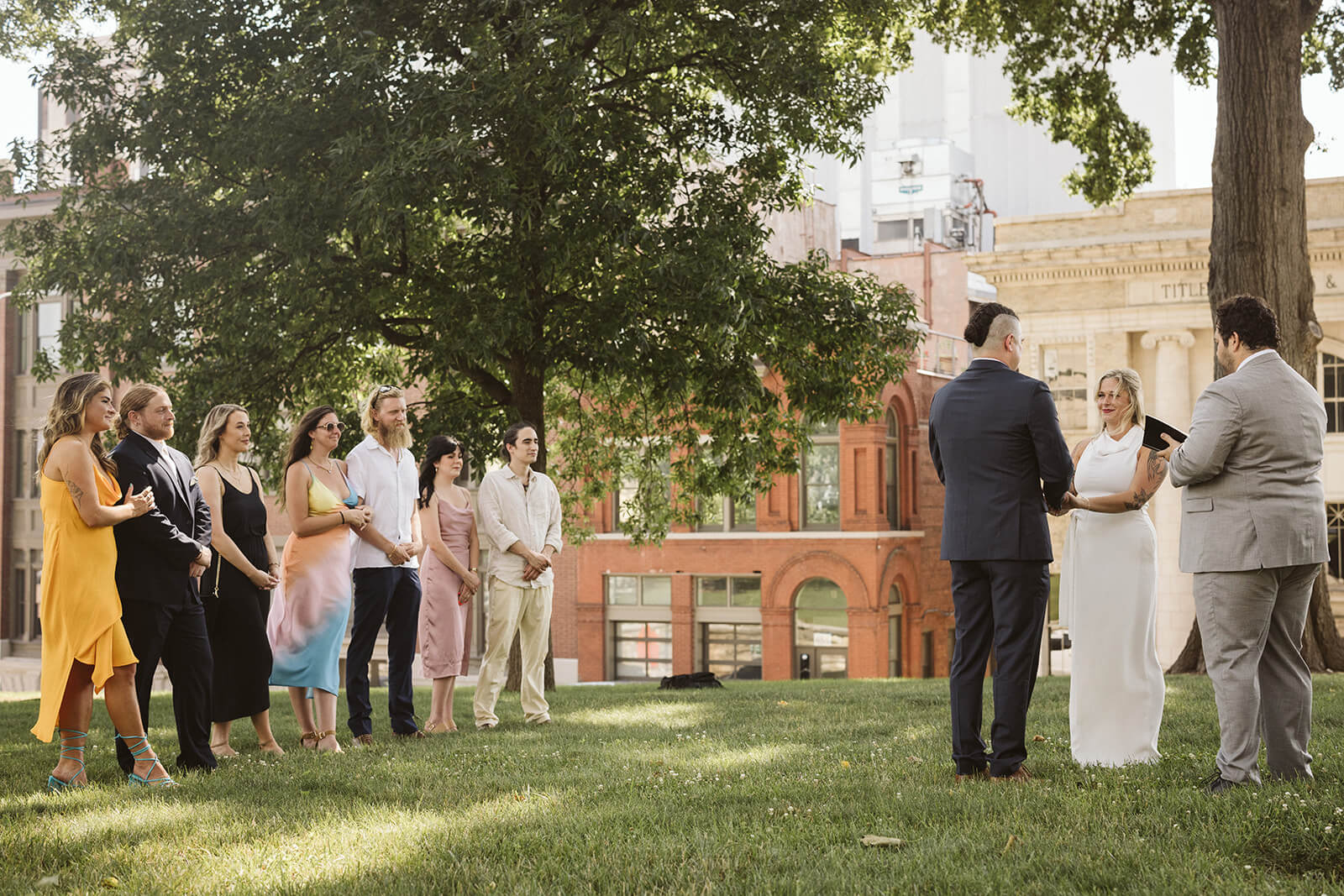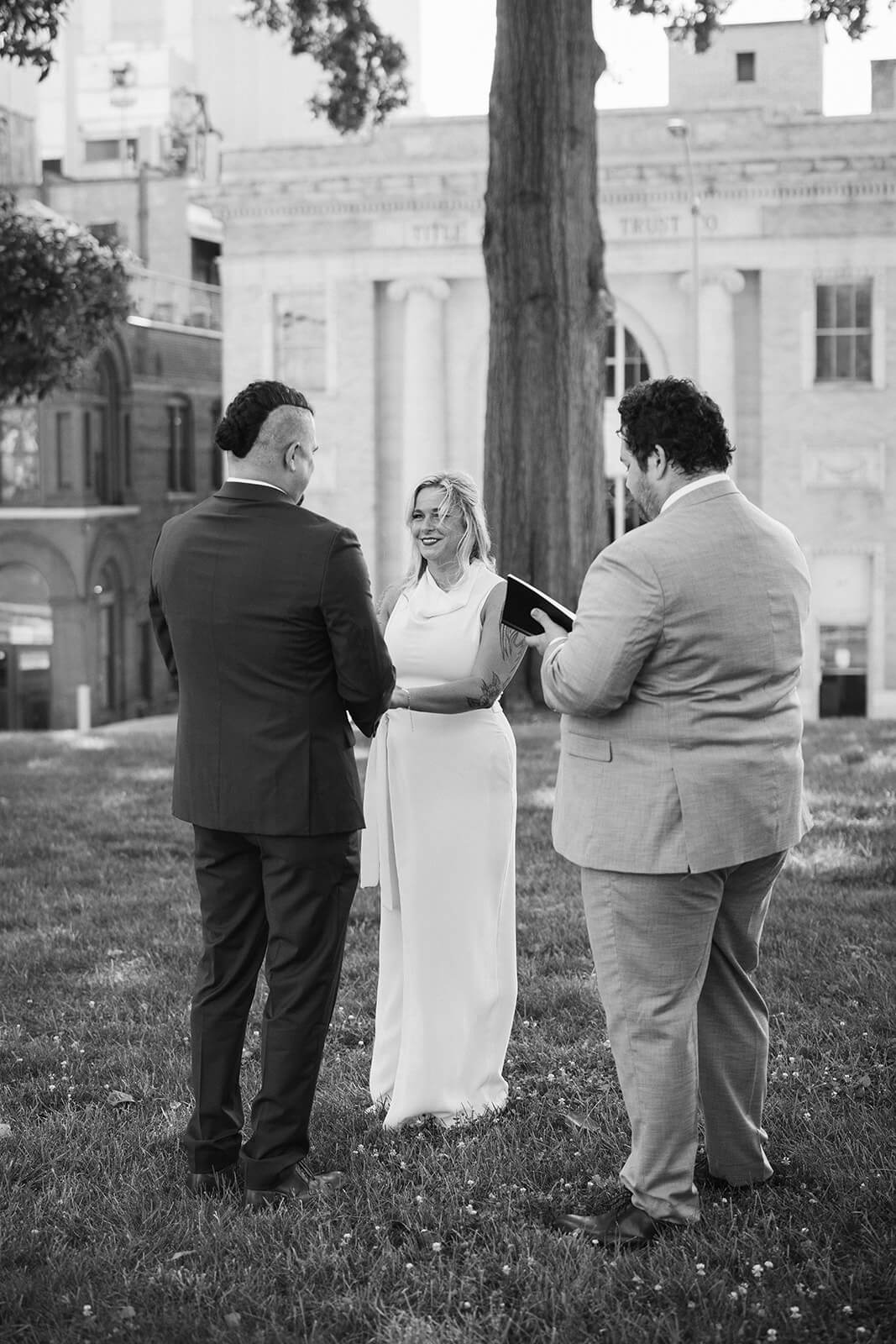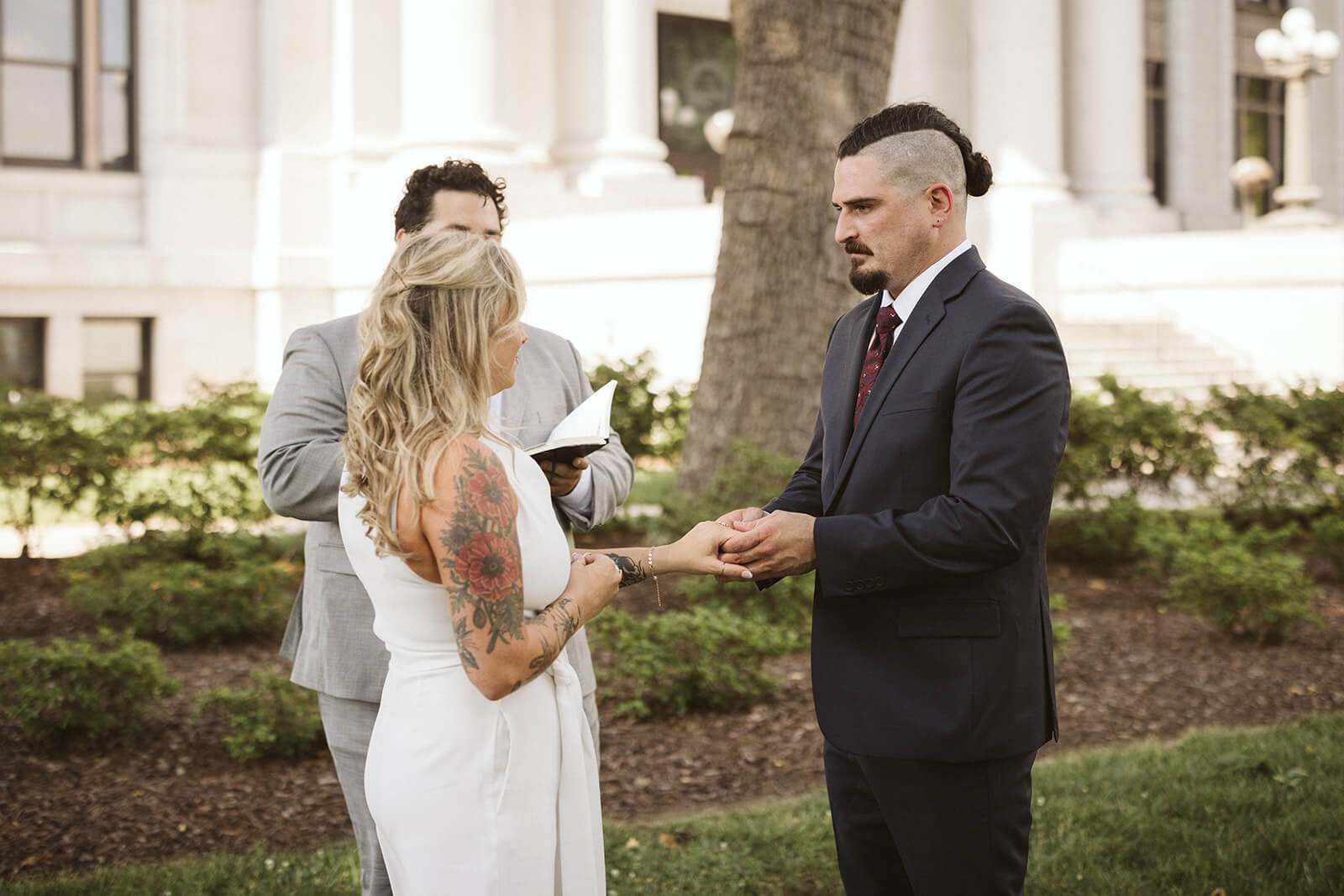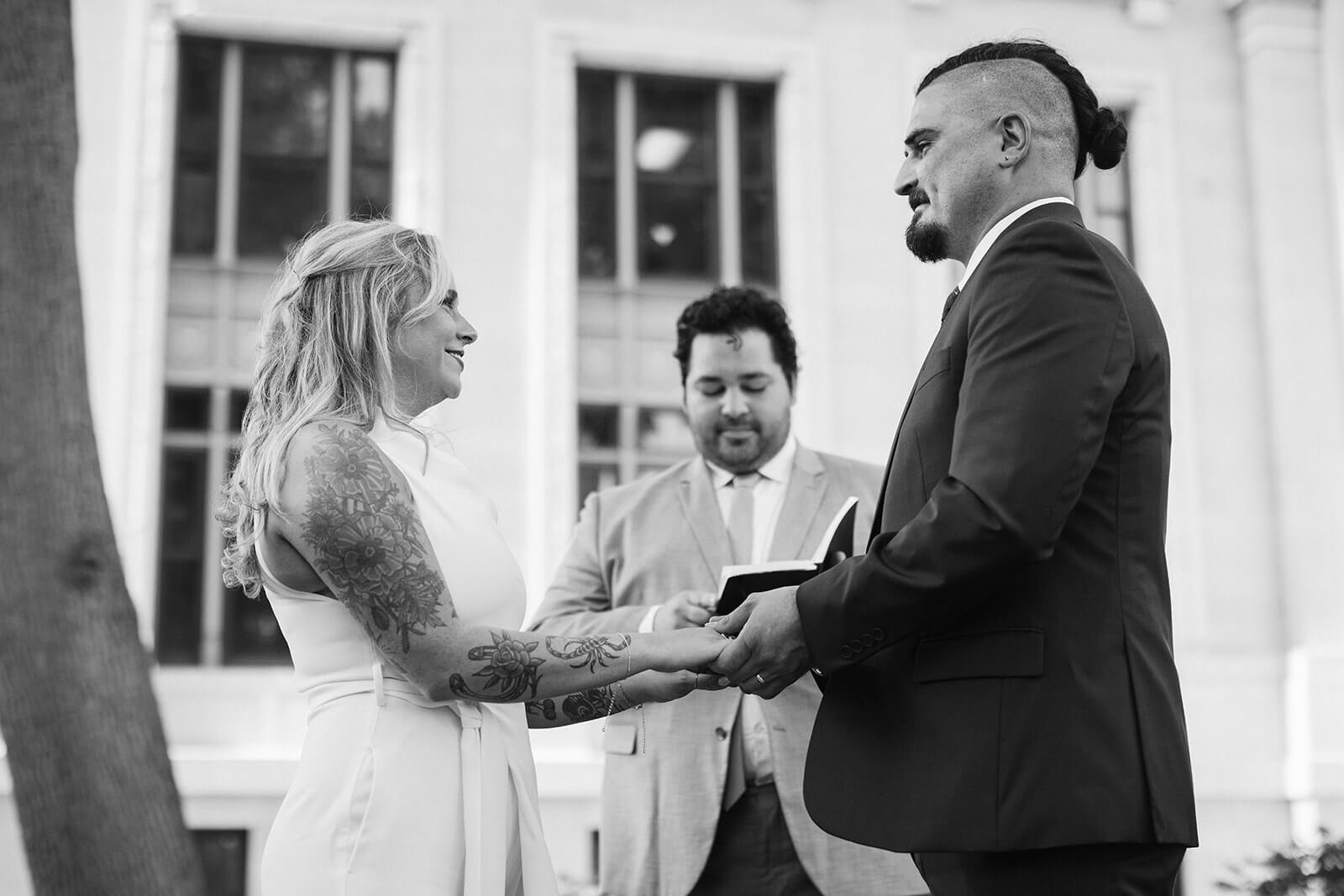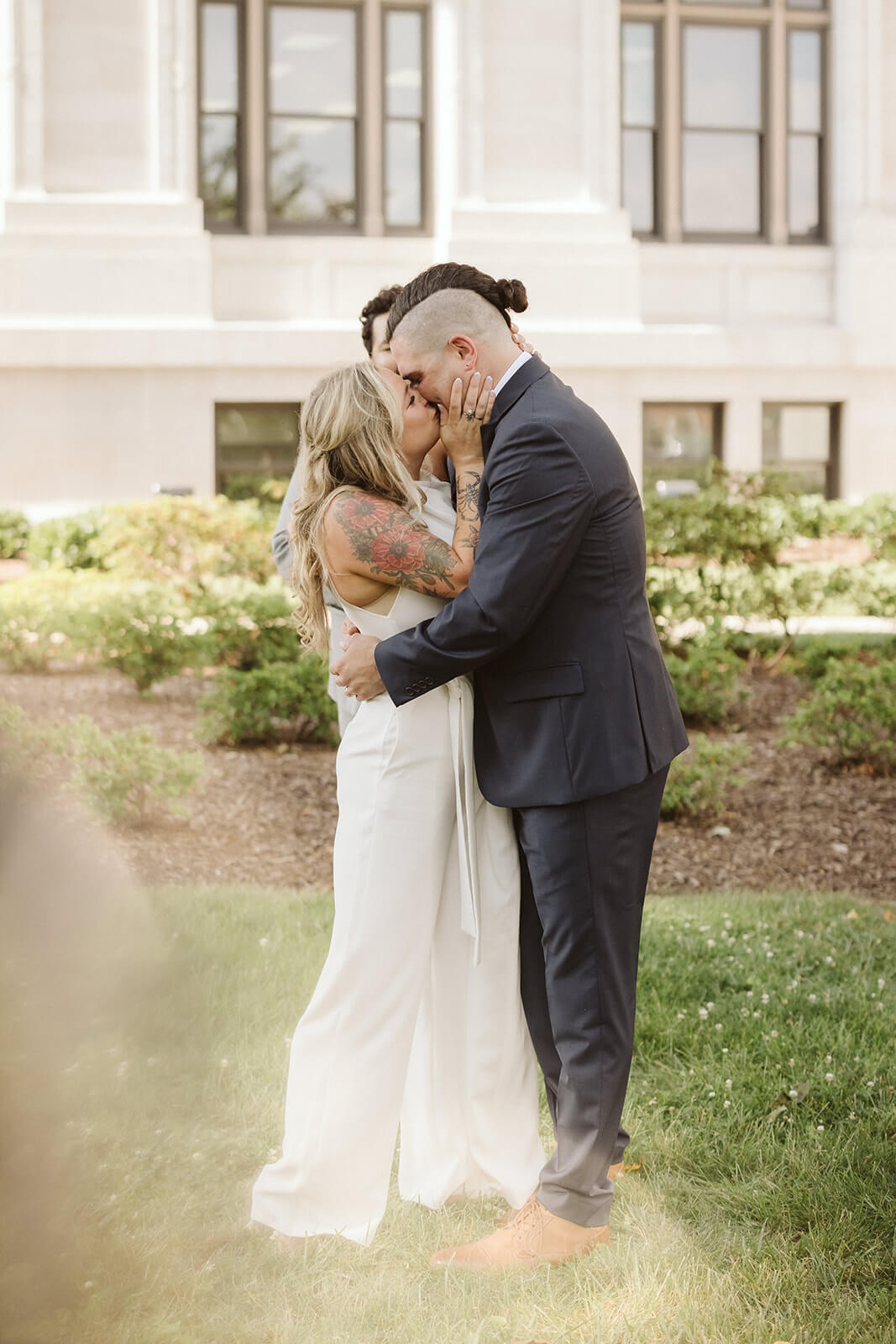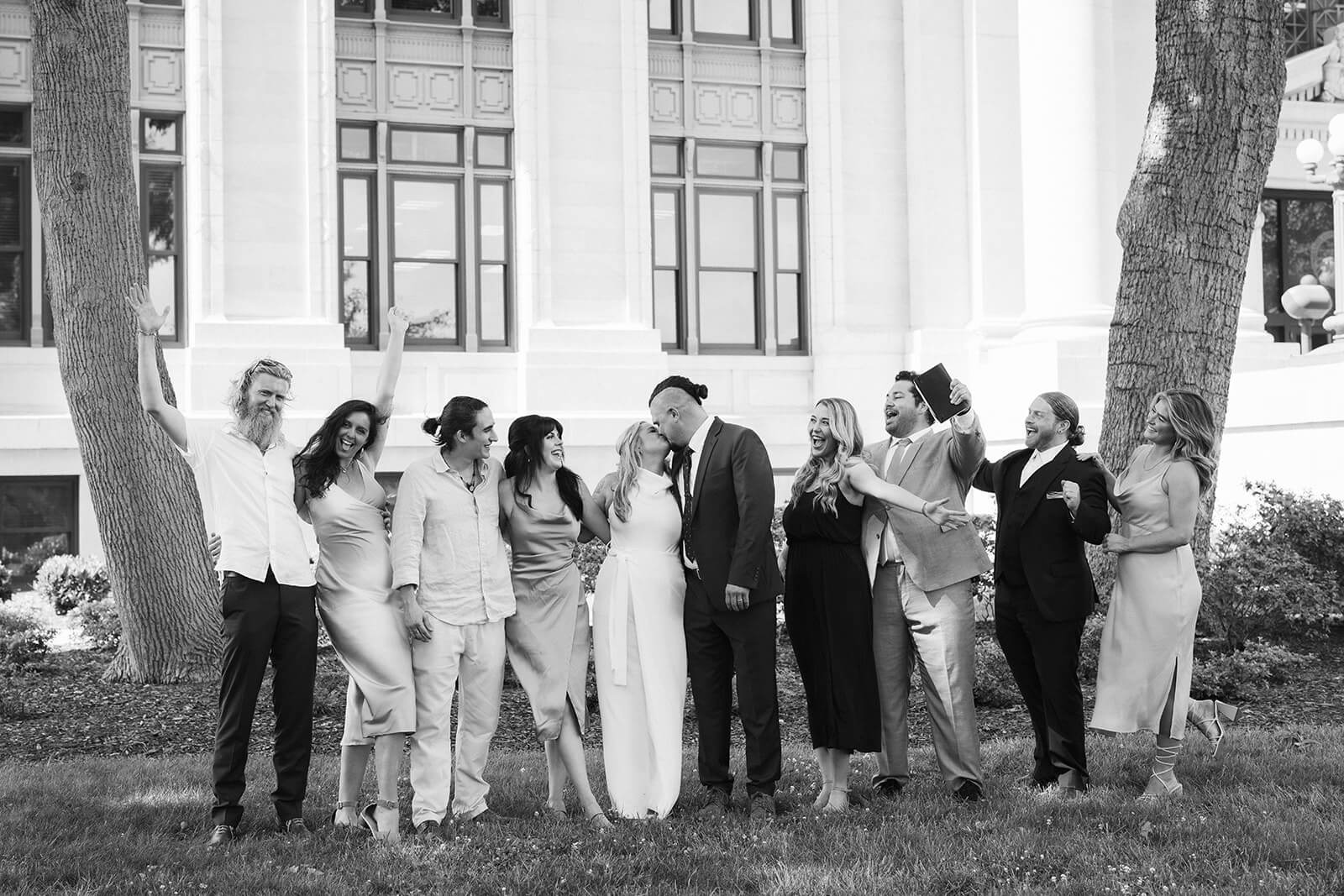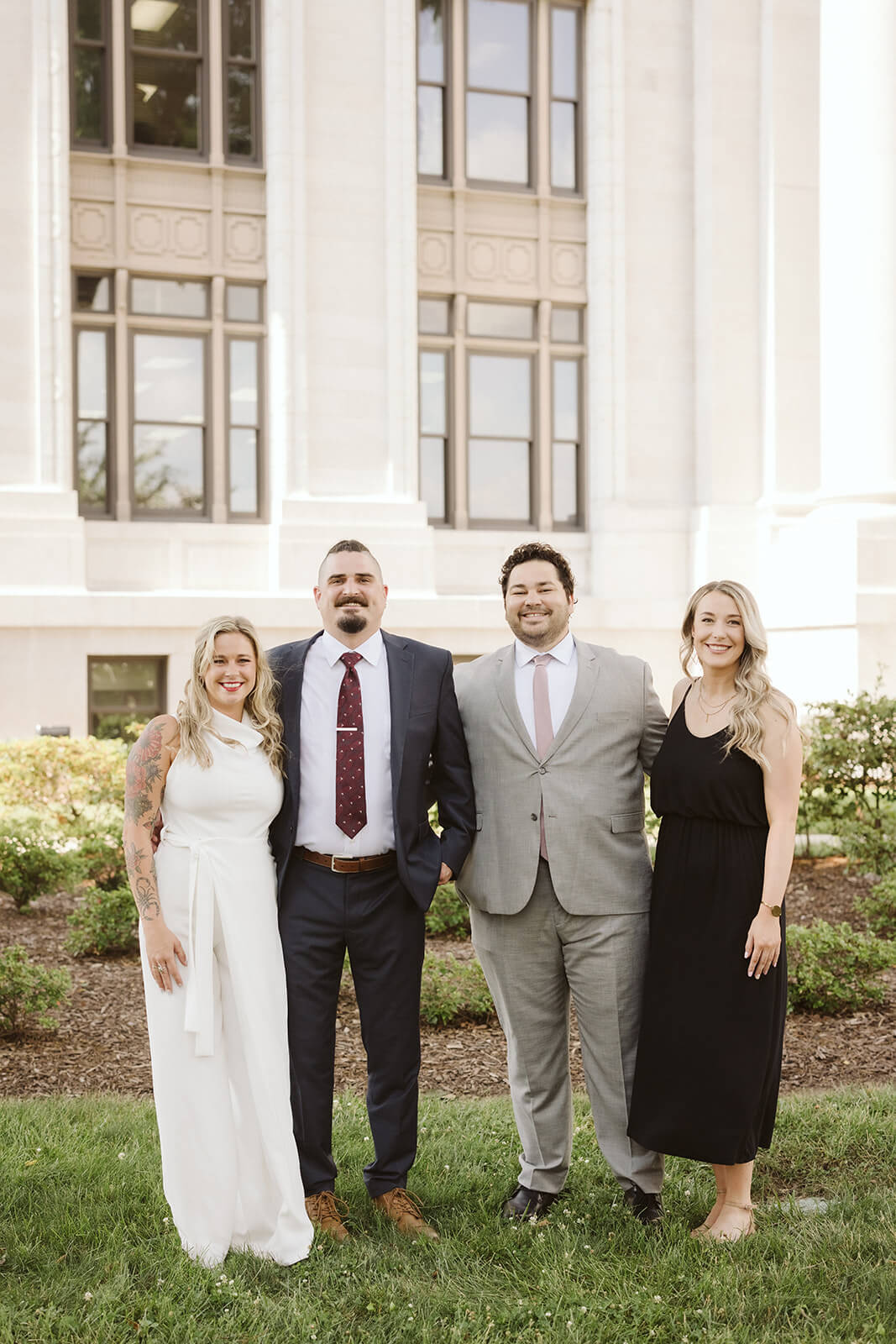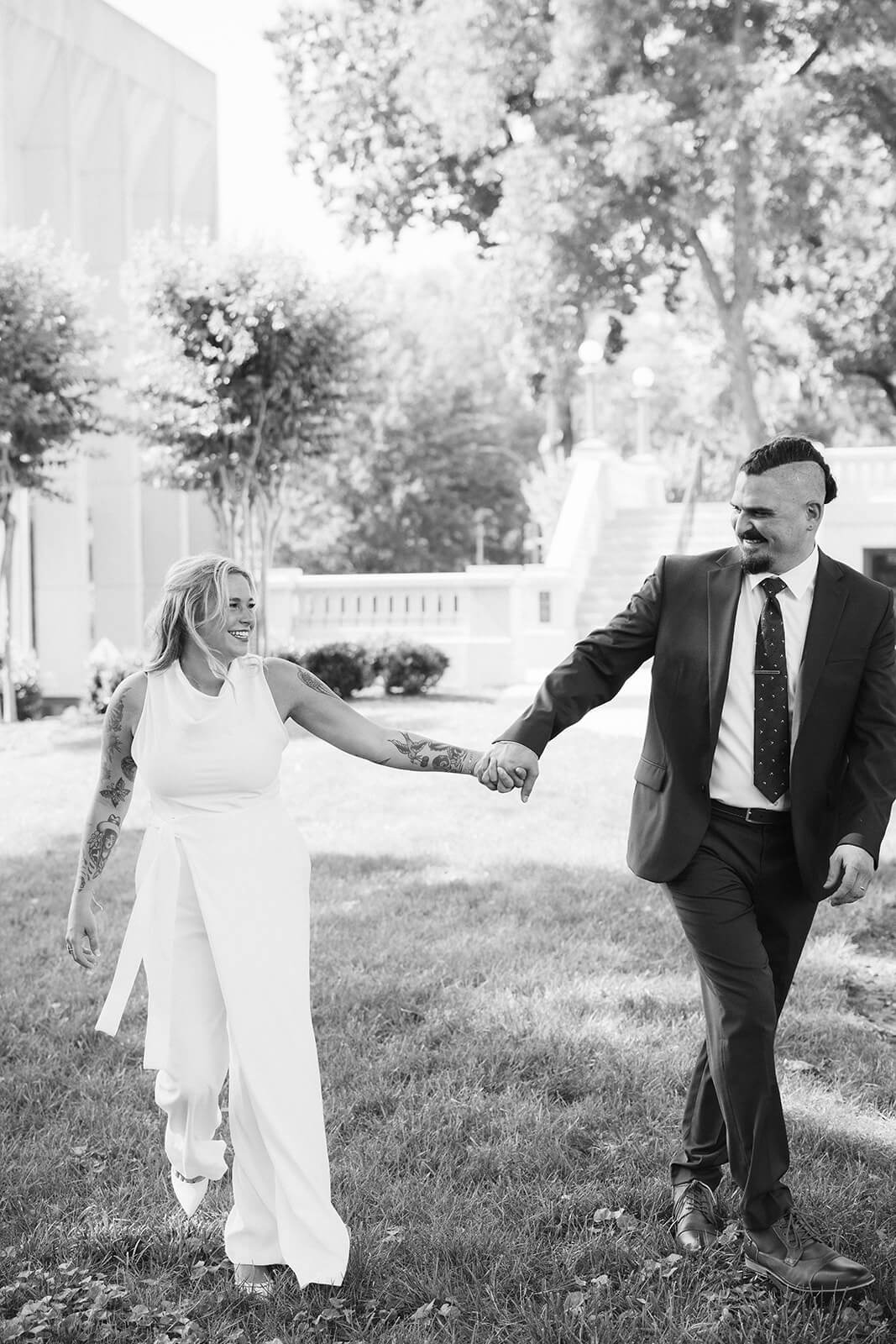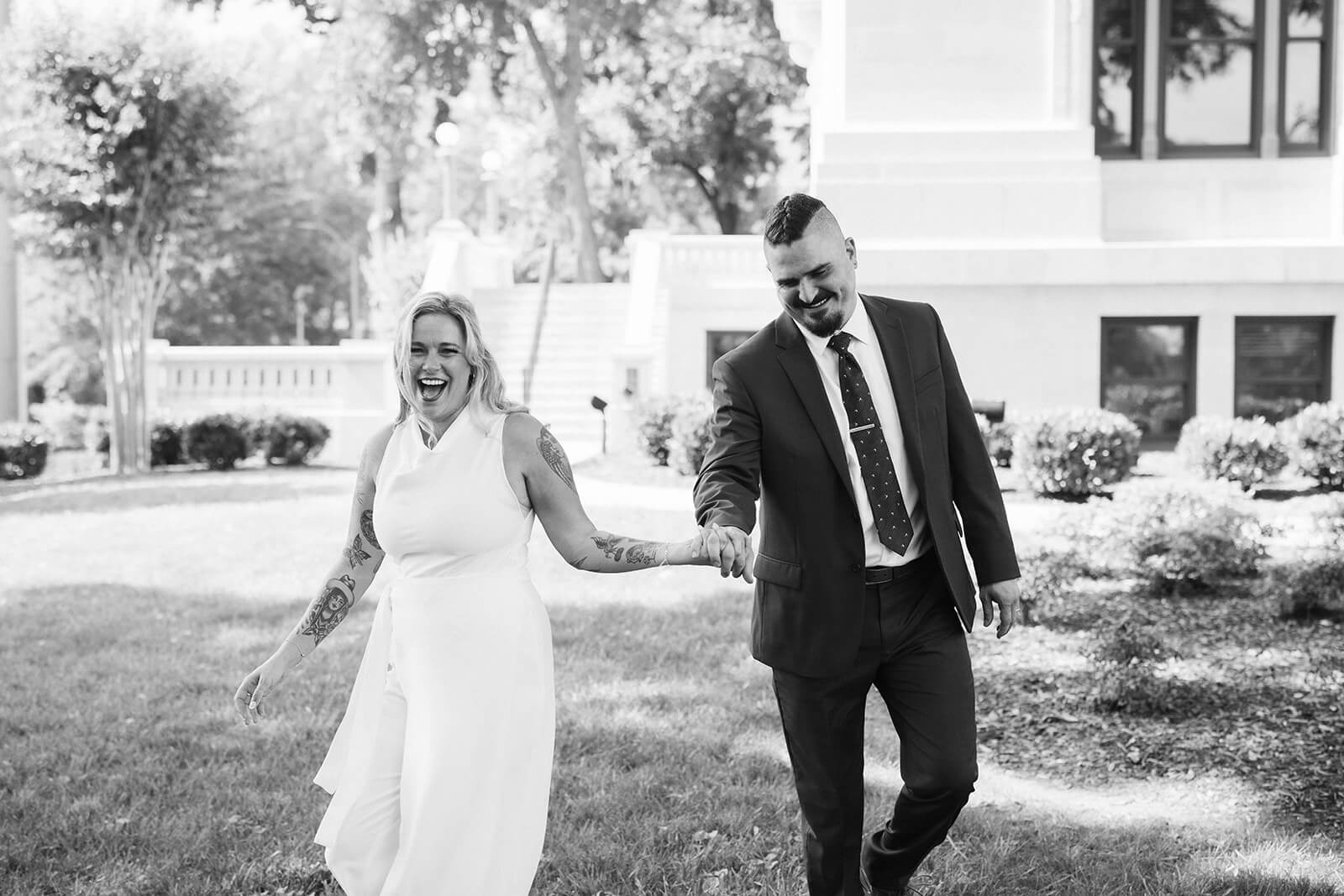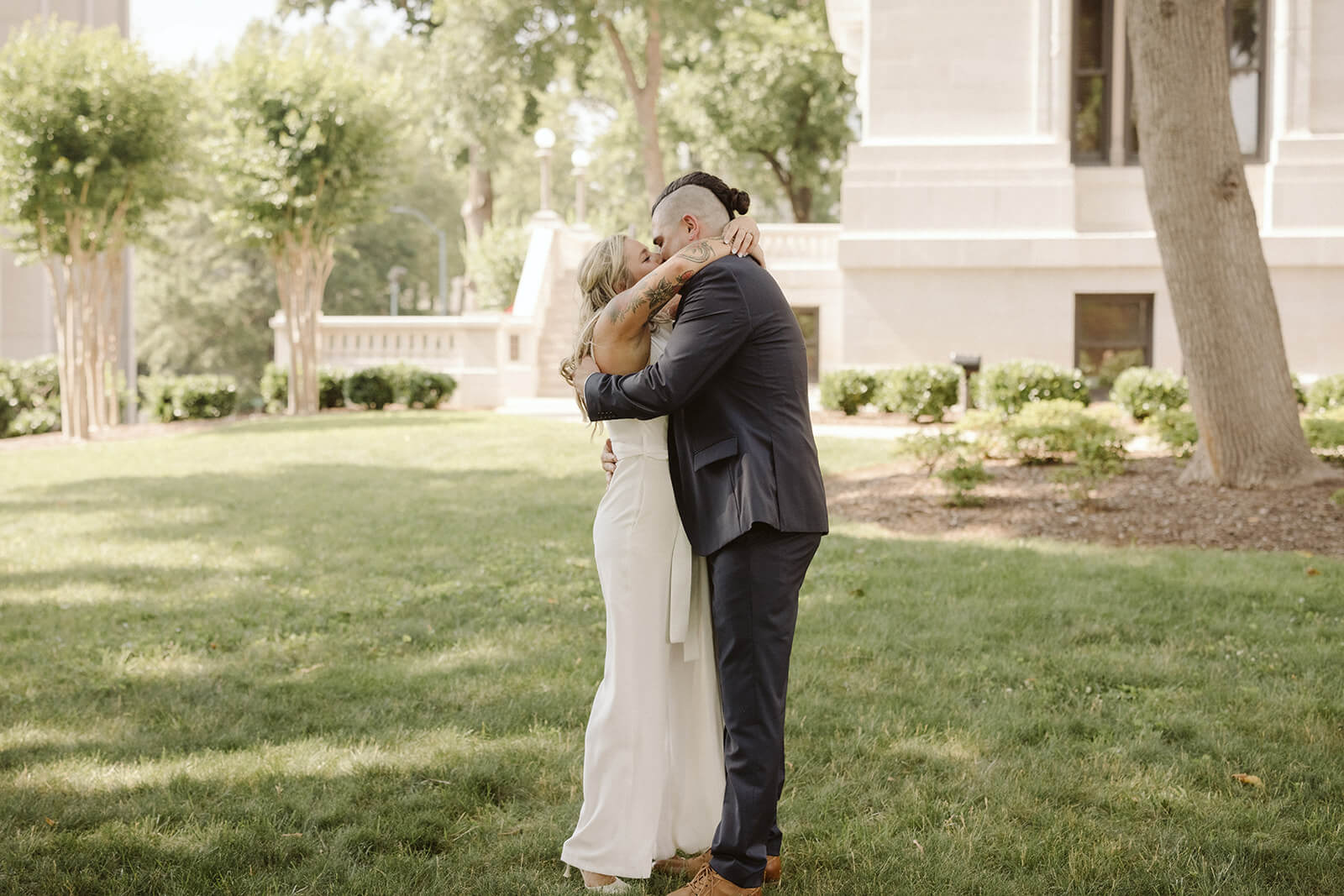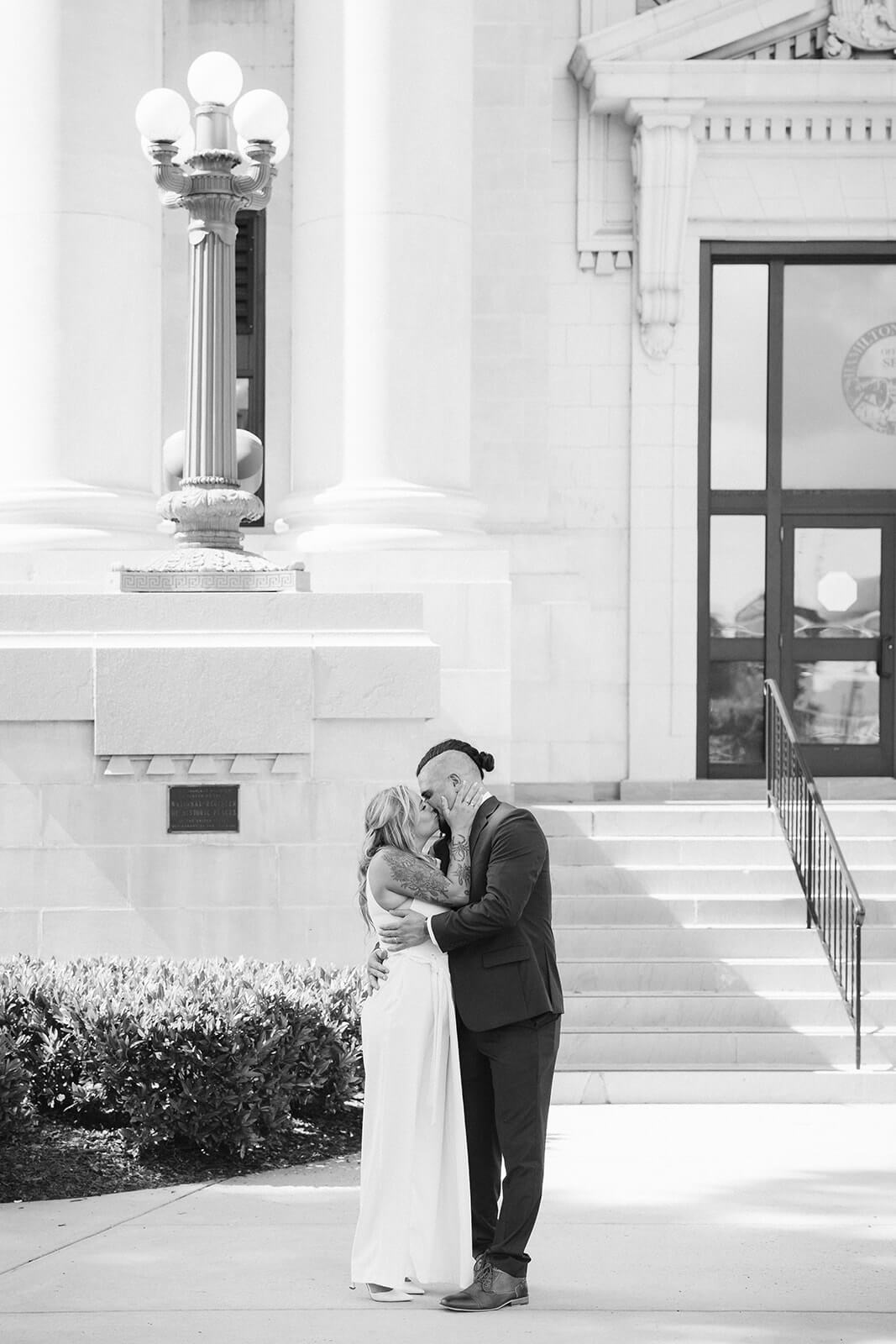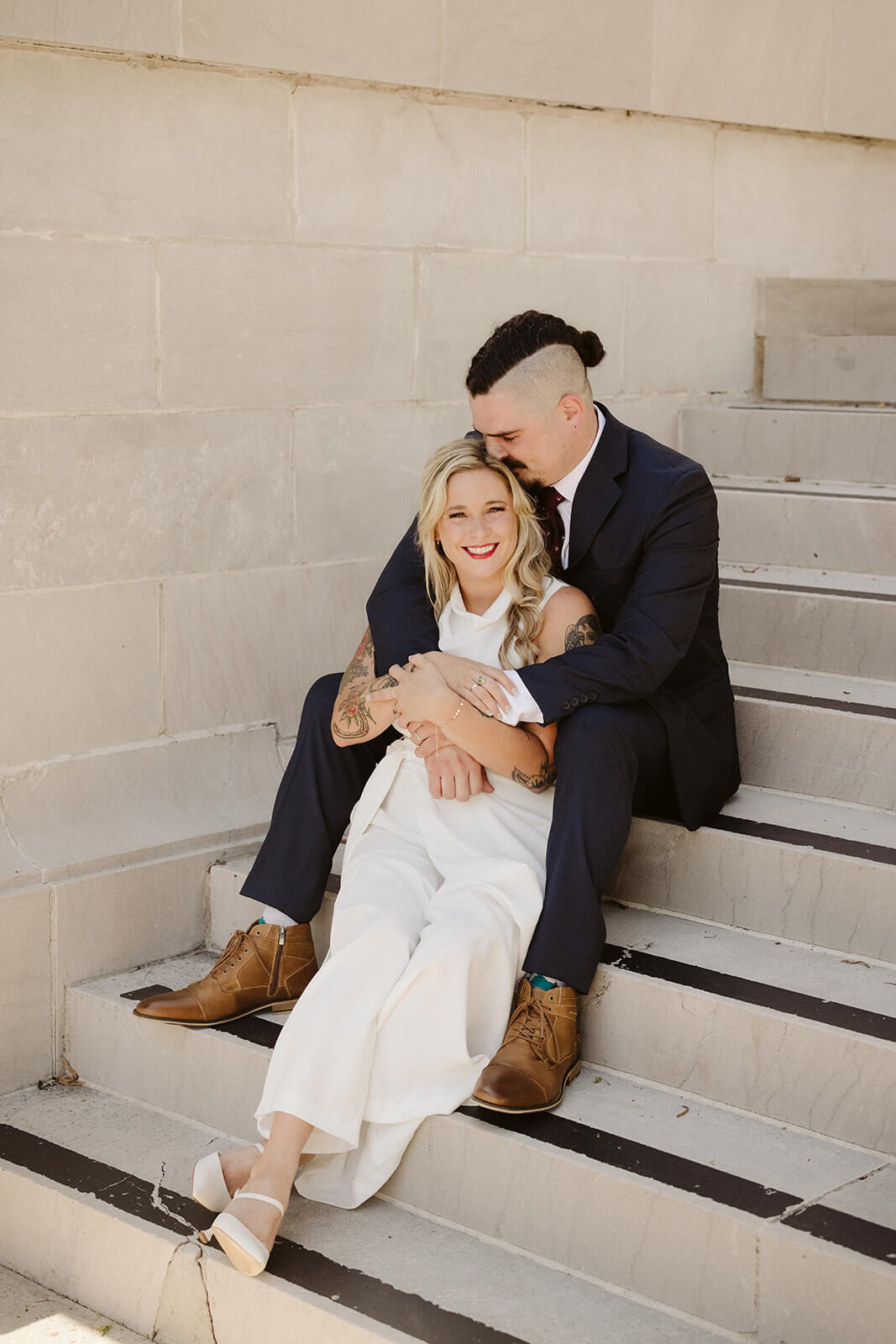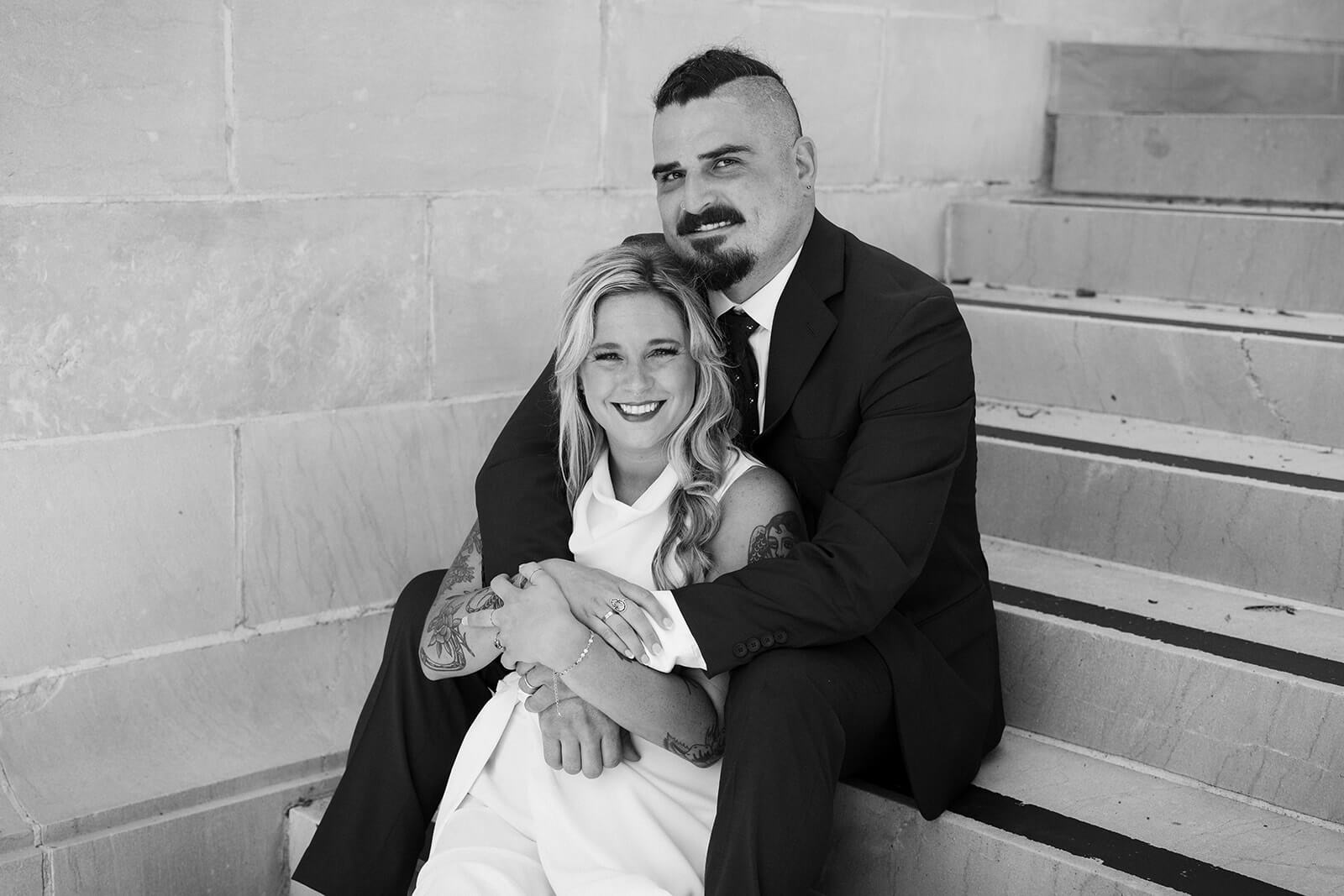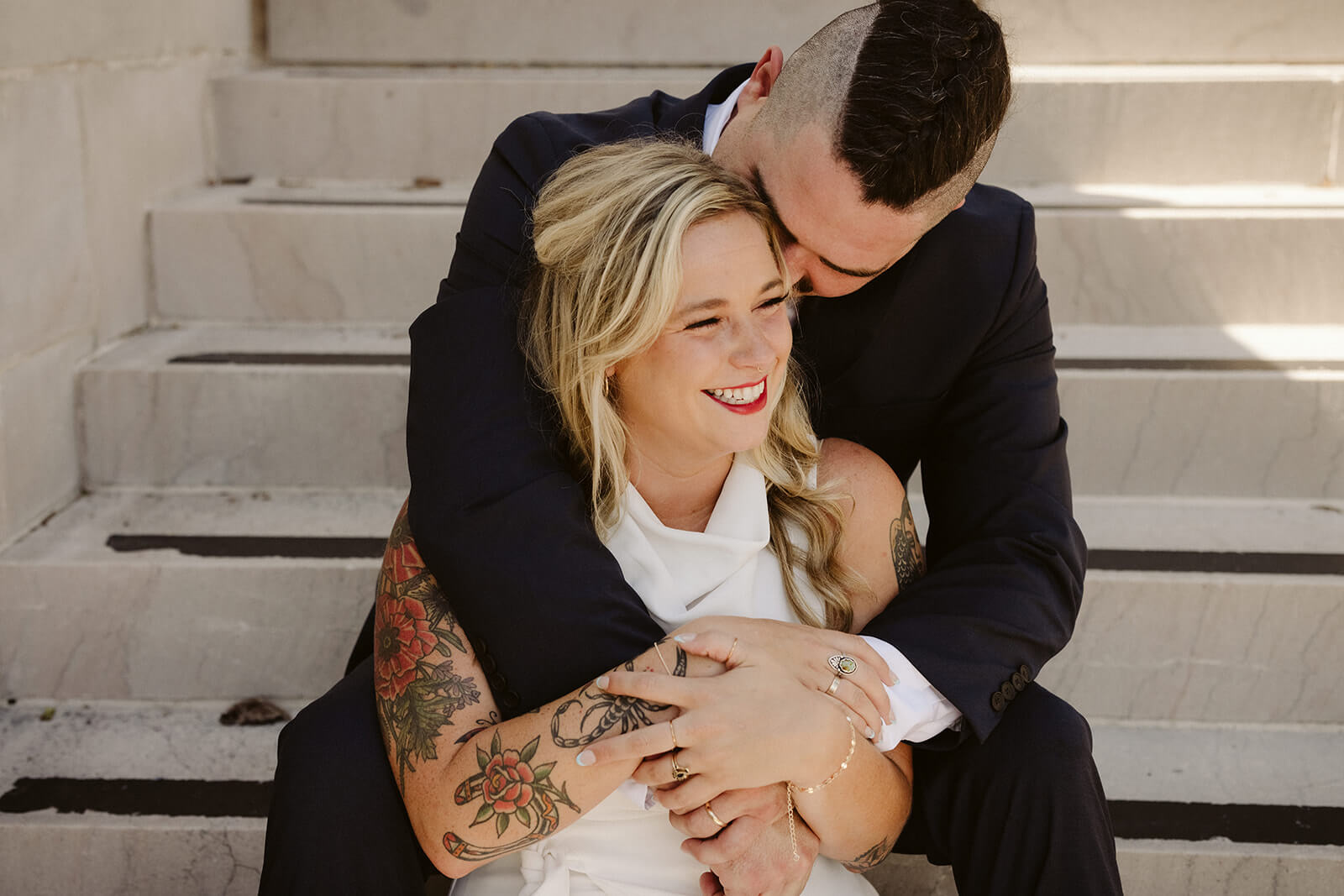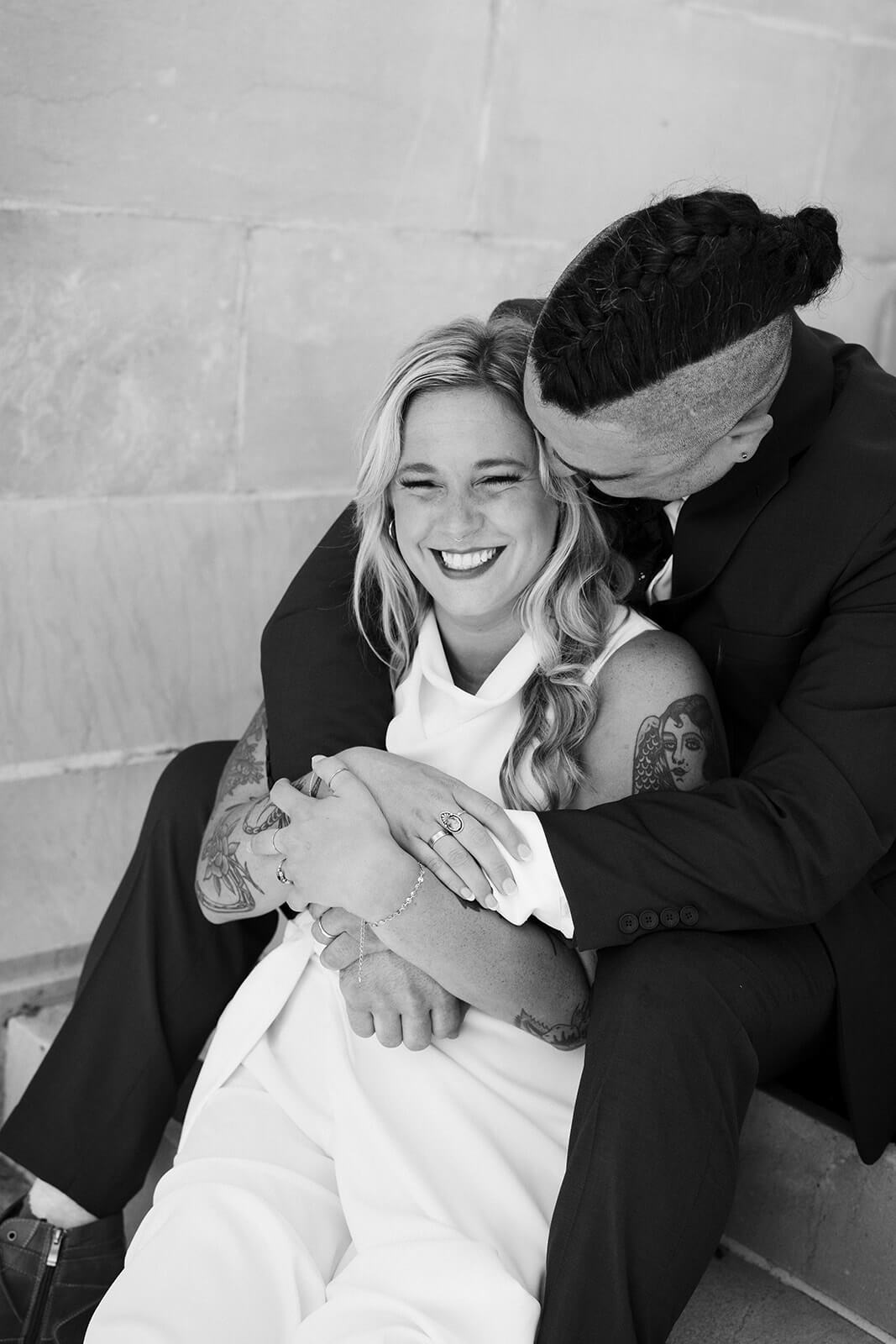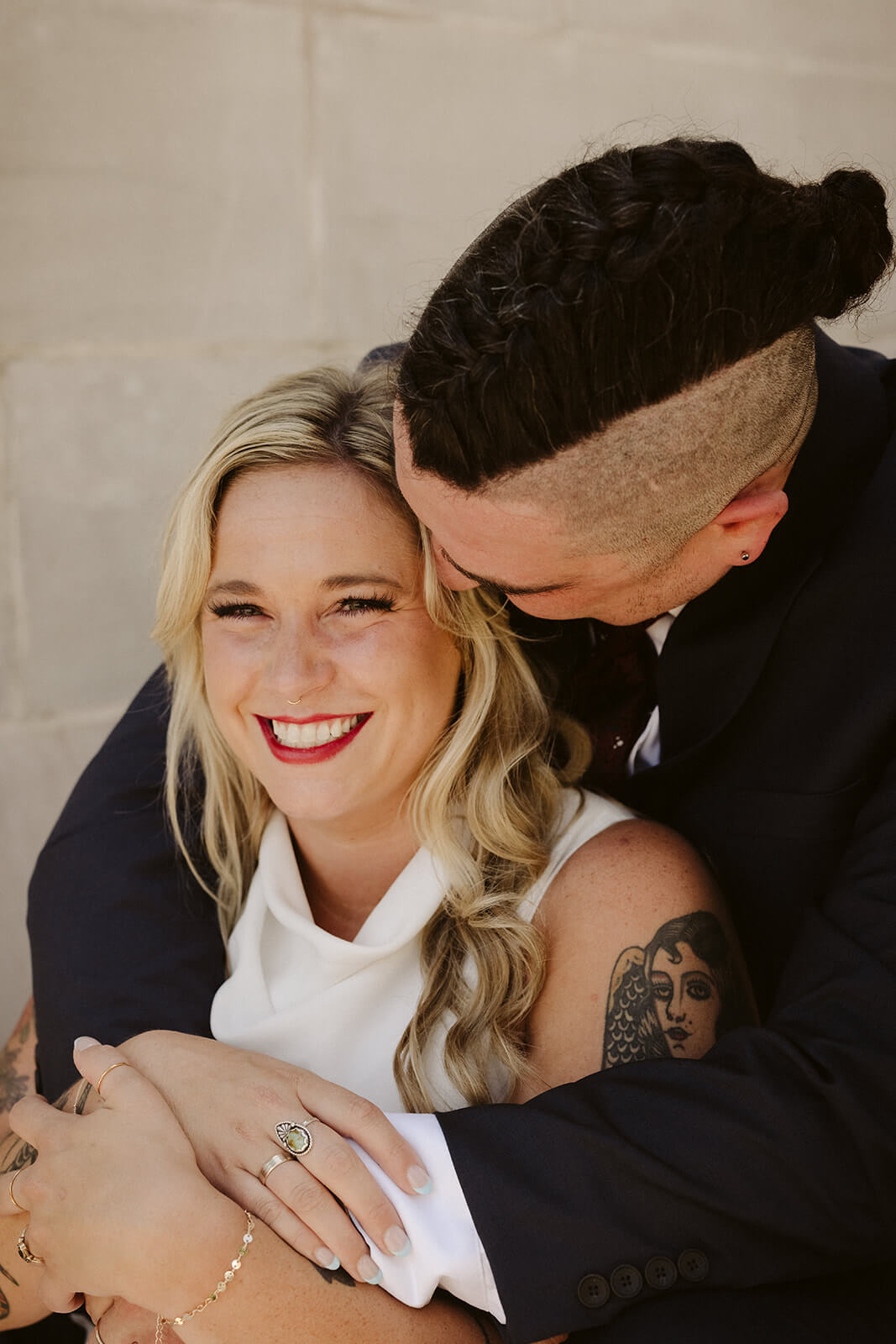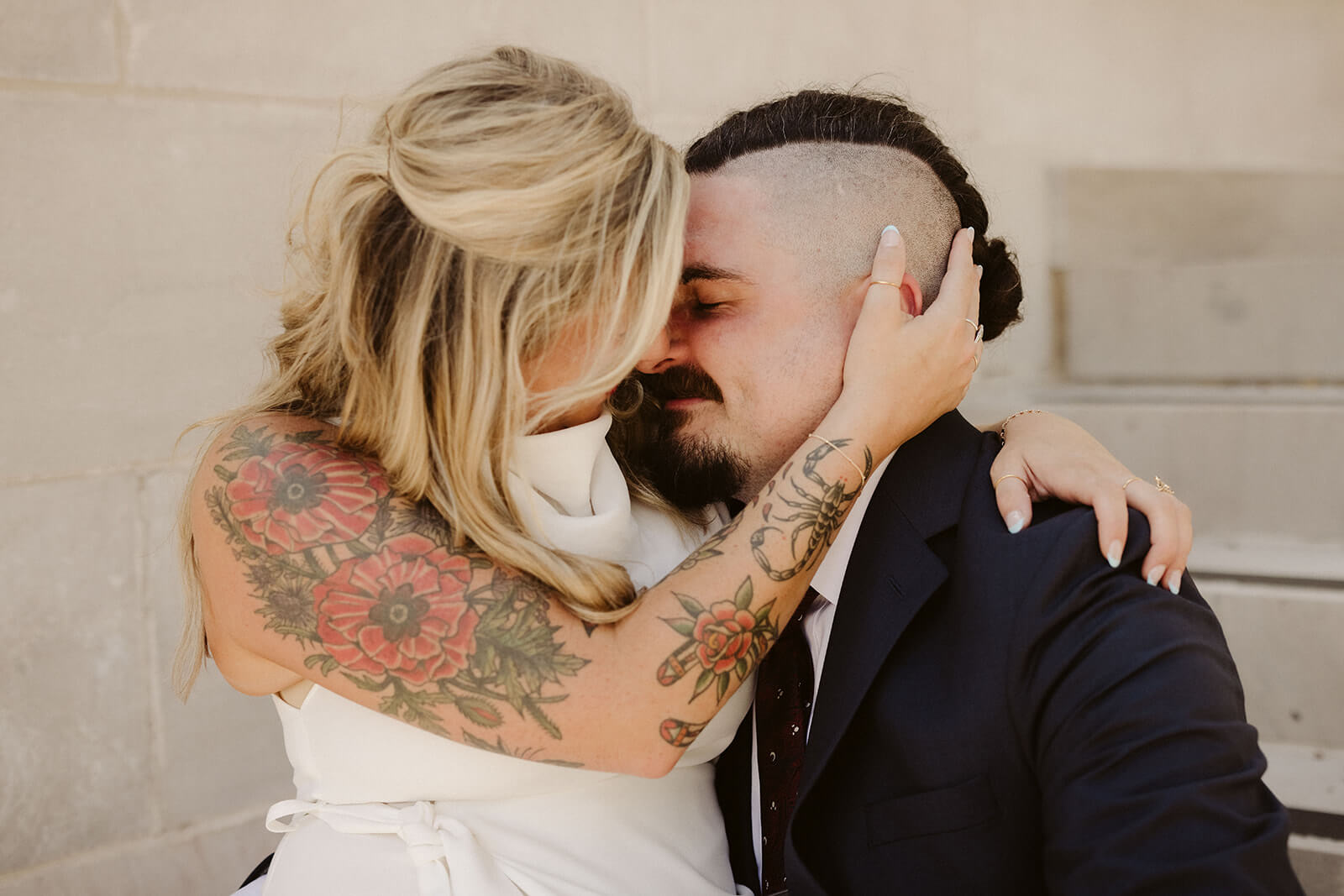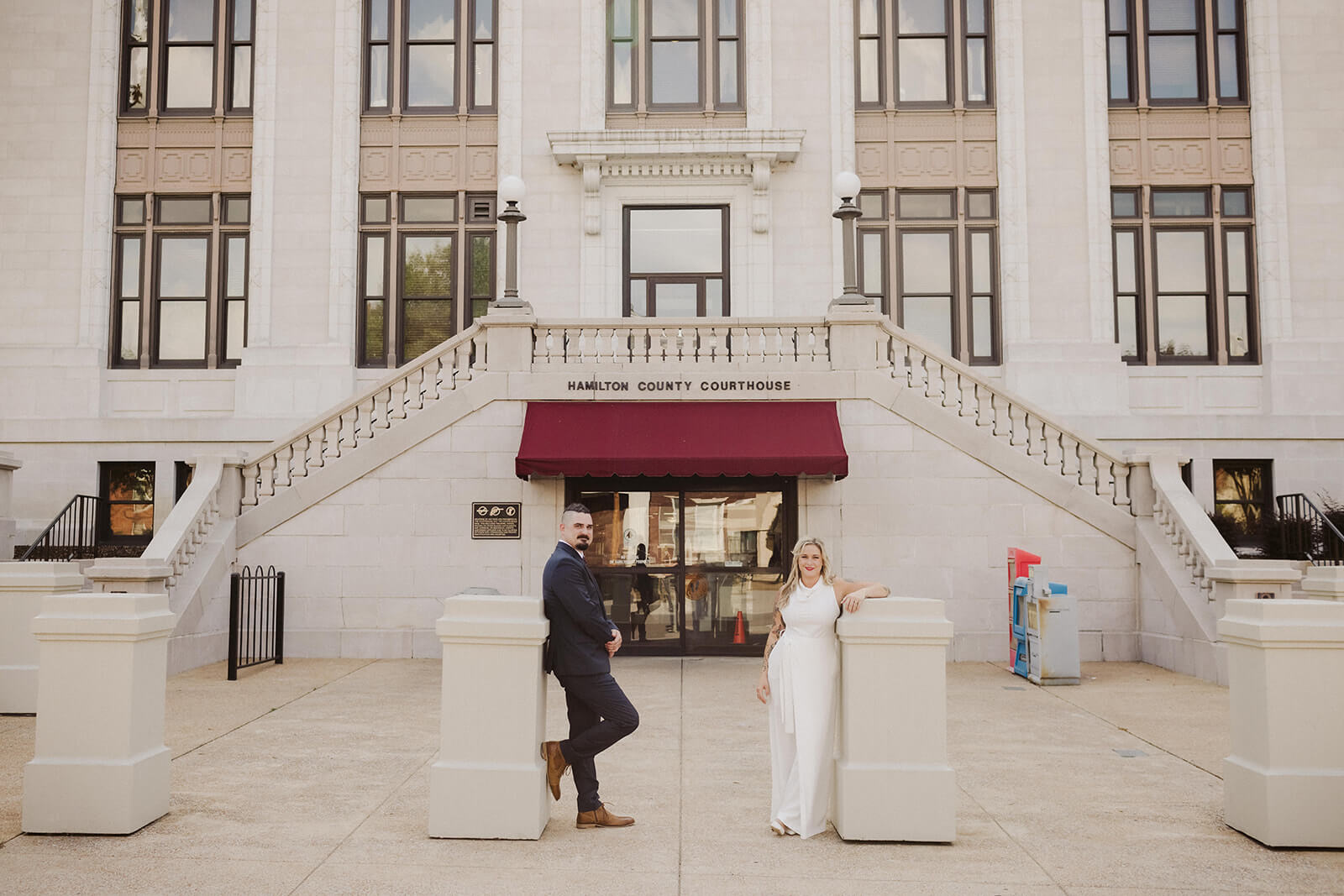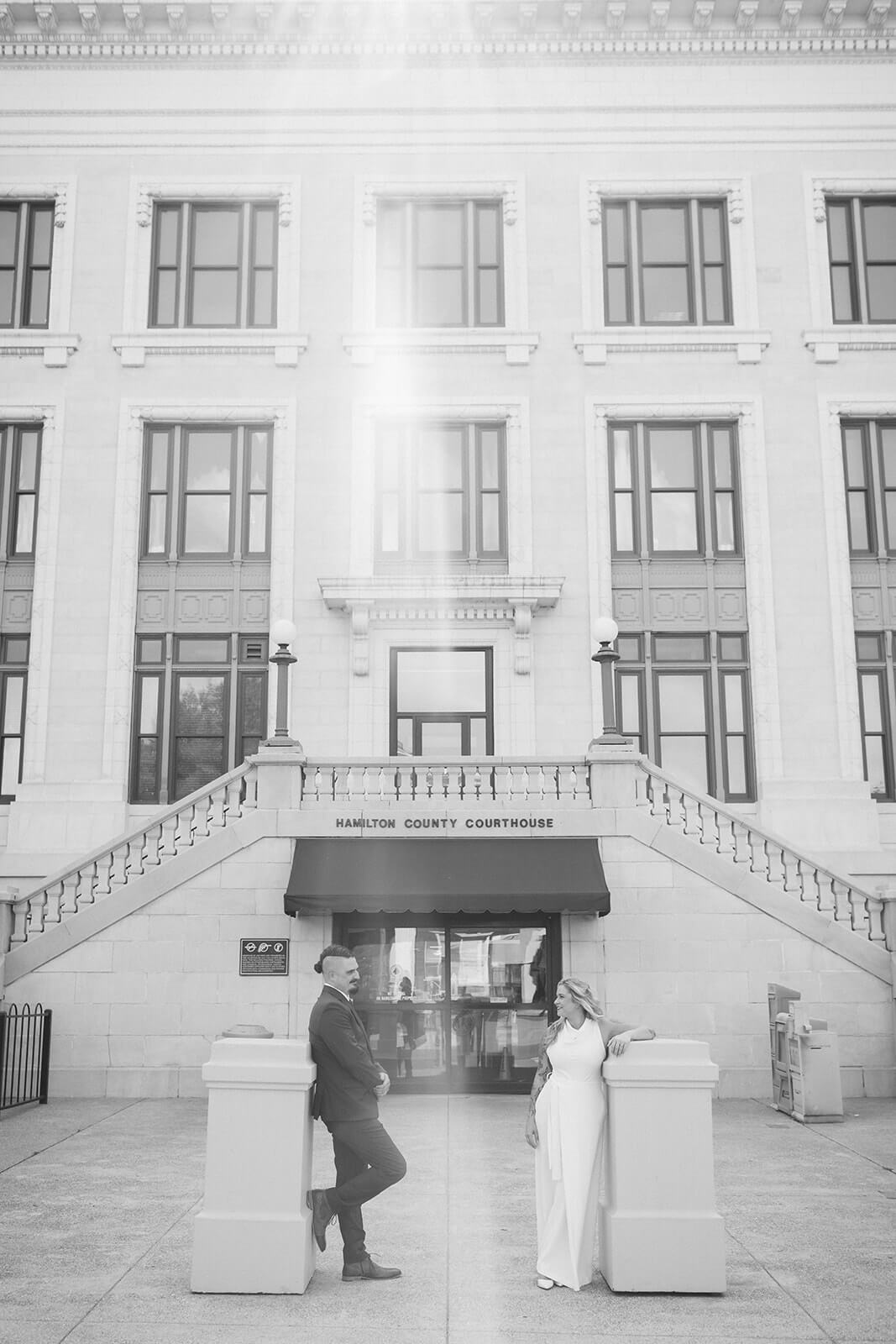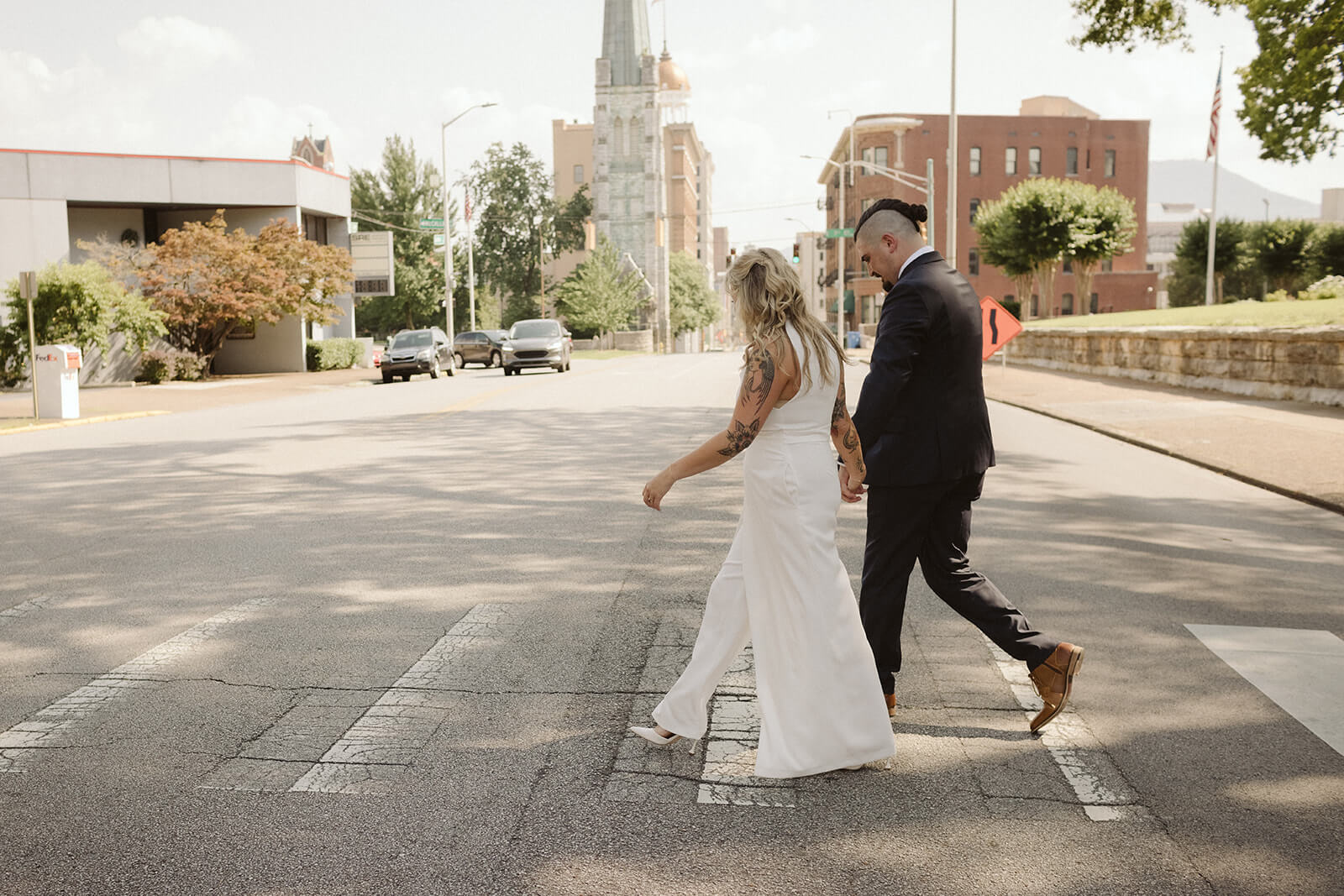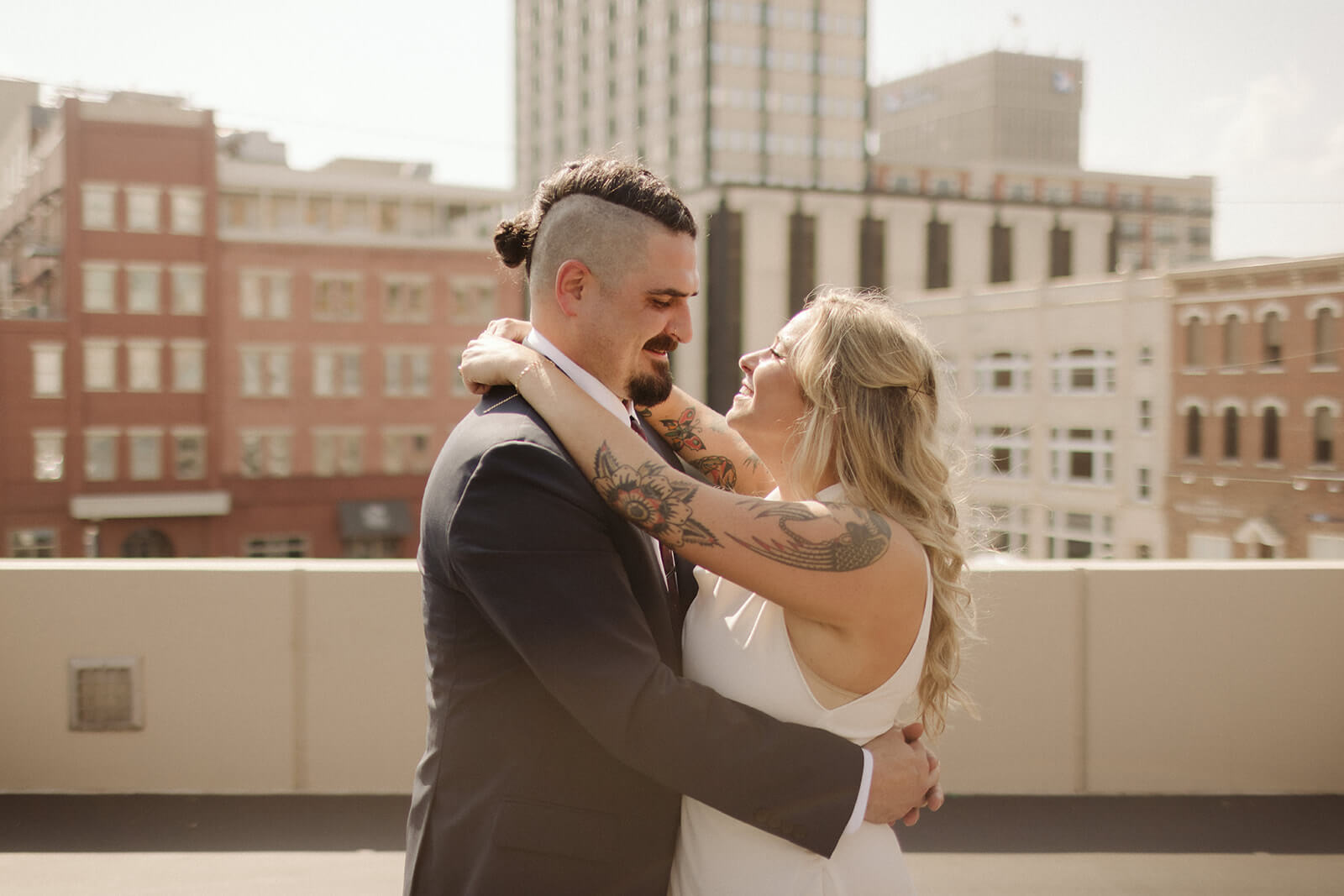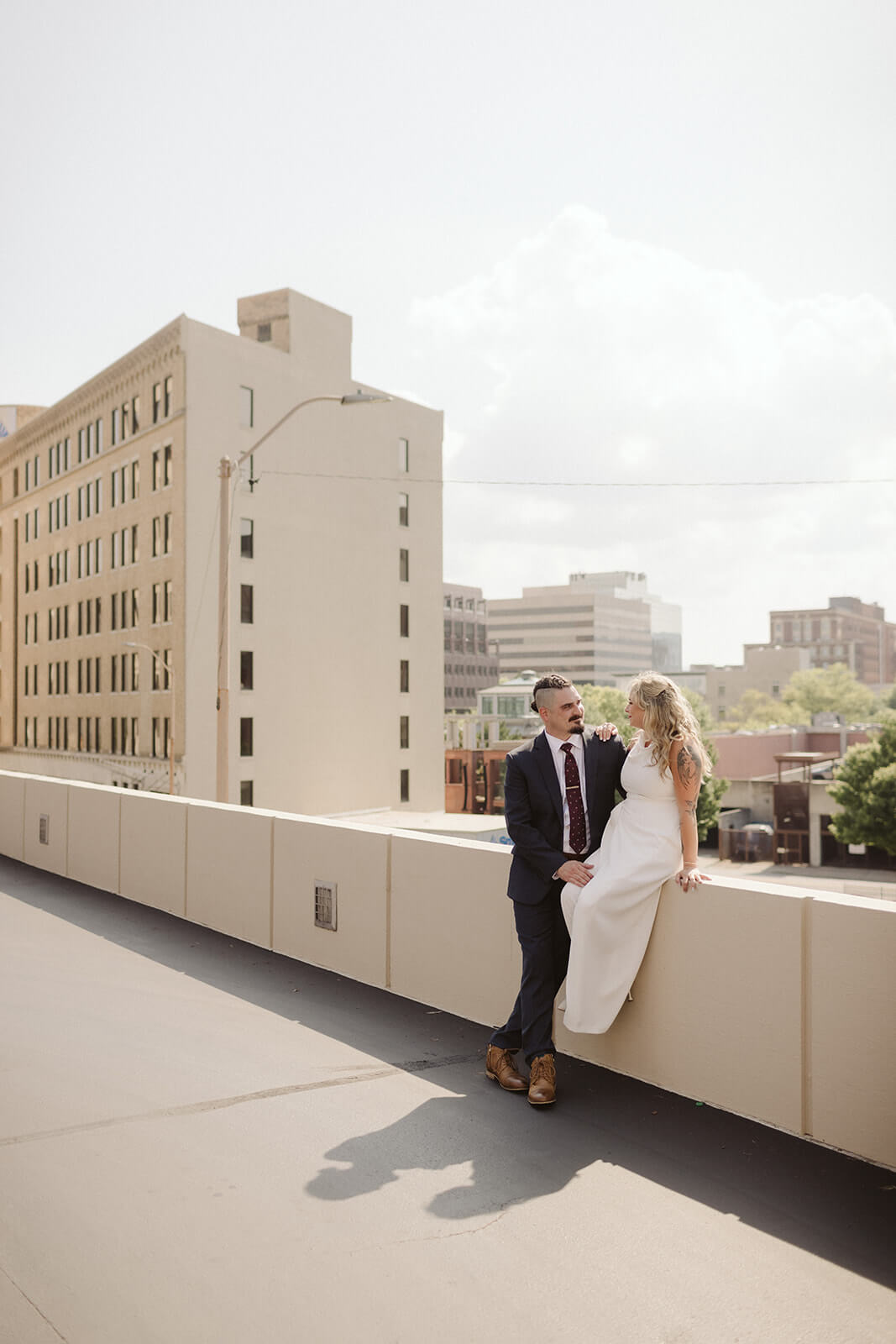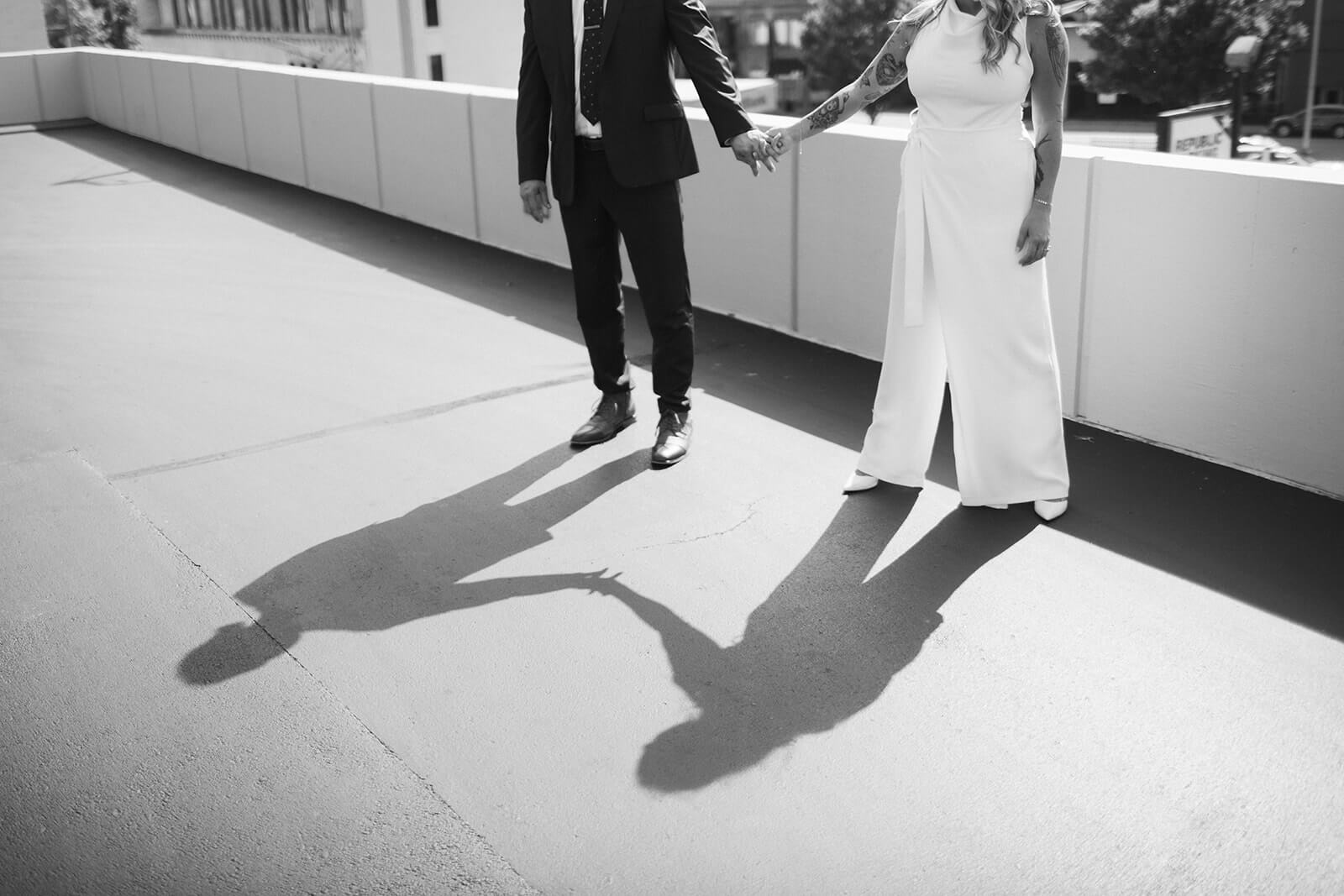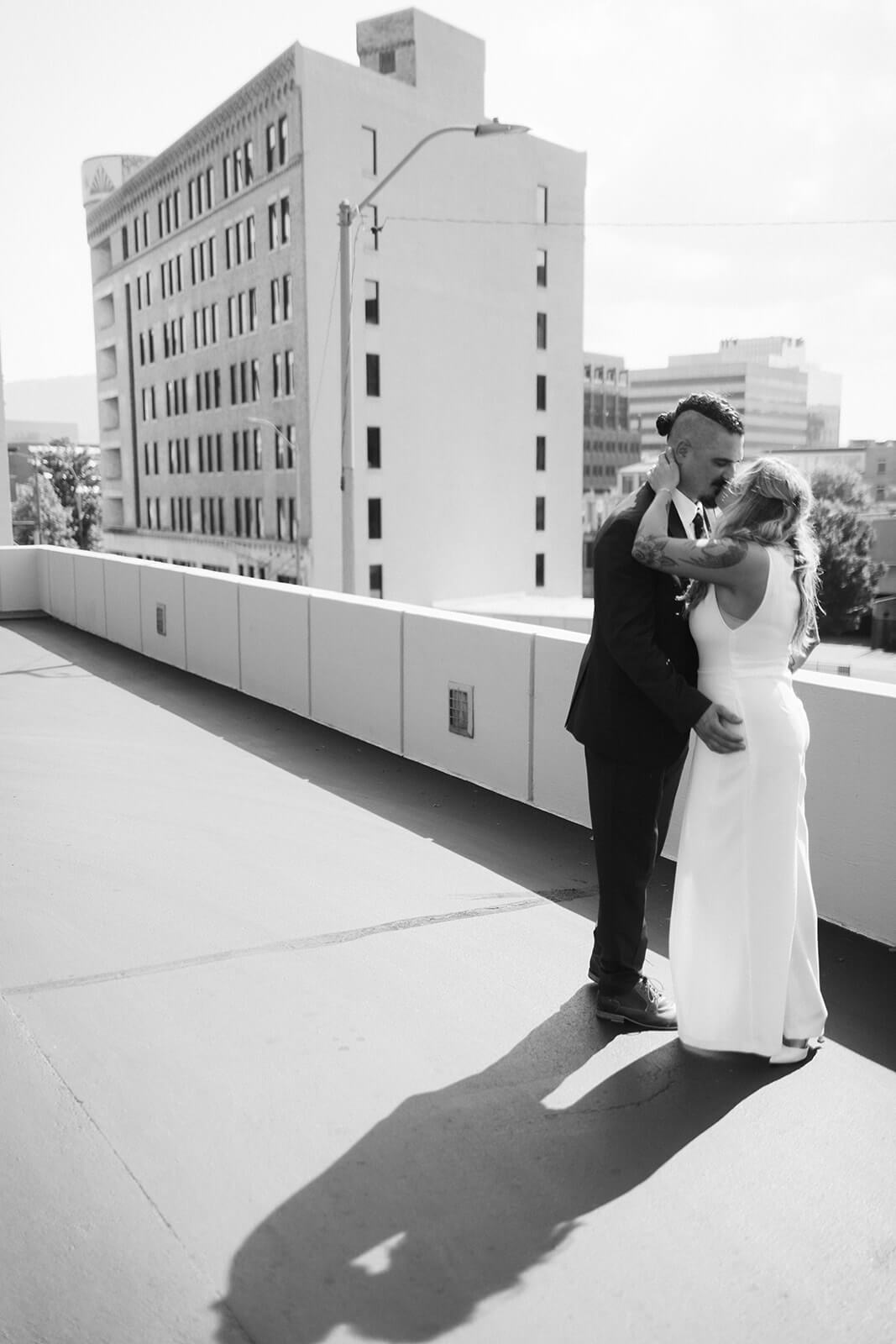 Mini After Party at Unknown Caller
After their newlywed session was done, Rachel and Garth reconvened with their friends at one of their favorite bars, Unknown Caller.
Although they've gone through a few different name and menu changes since they opened in 2018, Unknown Caller still sits near the top of the list of best bars in Chattanooga. They're most known for their constantly changing but always amazing list of cocktails and drinks and they even serve ramen/mac and cheese cups and gourmet hot dogs for when you need something else aside from drinks. From the outside, you would hardly even know the bar exists, which lends perfectly to its speakeasy theme. There is just a red door and payphone, and you even have to enter the secret code in the phone to get in! Once inside, you're met with a wall of pink neon lights illuminating a full bar while booths made of plush teal velvet and eccentric artwork hanging across the walls add to the unconventional atmosphere.
Even though the bar doesn't typically take reservations, Rachel, Garth, and their group basically had the whole place to themselves. They crammed together in one single booth and simply enjoyed each other's company. Then, later they headed out back to the newly refurbished patio for some fresh air. We took advantage of the bright sunlight and the colorful background to take a few more wedding party pictures. I particularly love how perfectly matched the ladies were with their multicolored dresses and Rachel's sleek and elegant white pants suit to the colorful background of the bar's new art installation.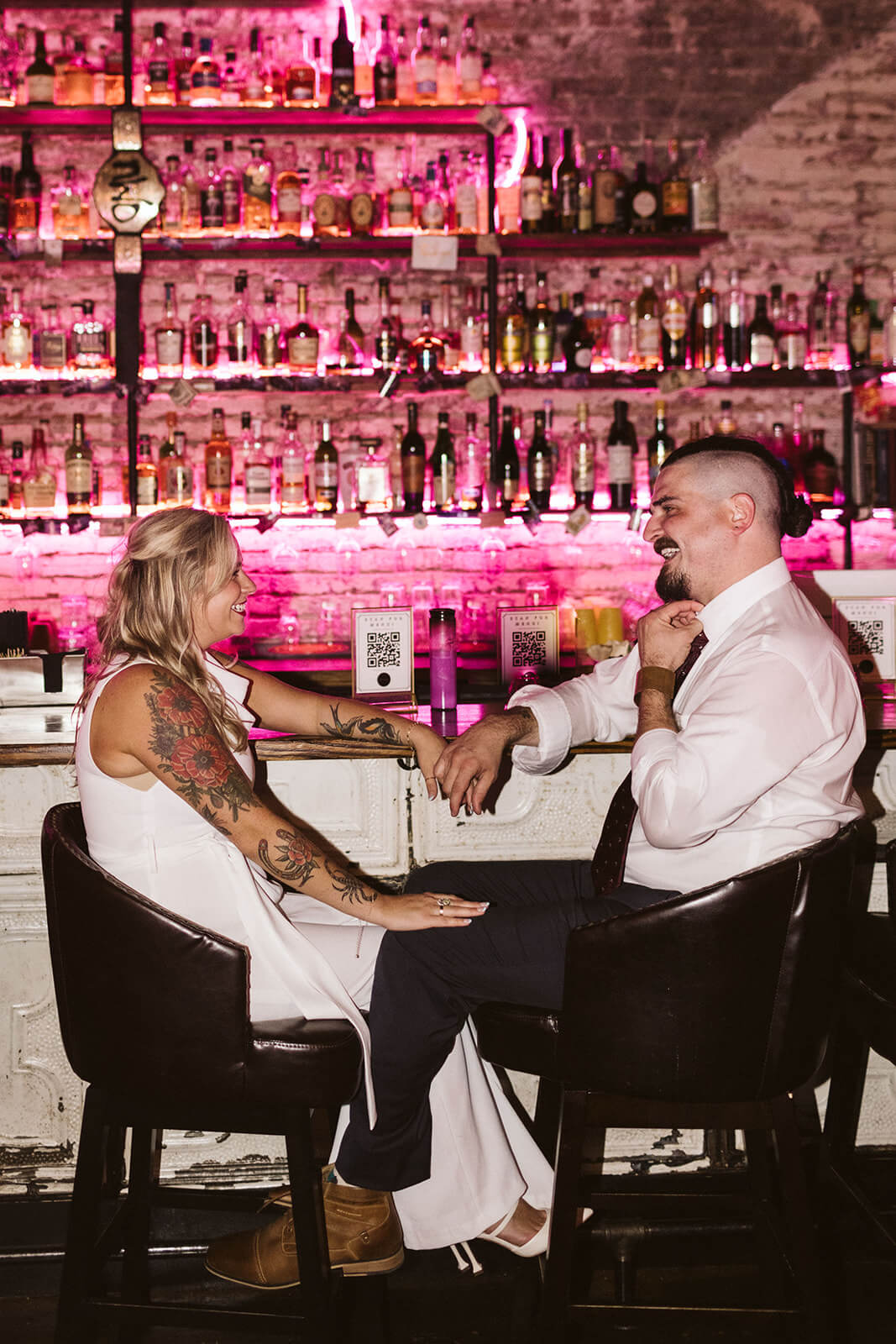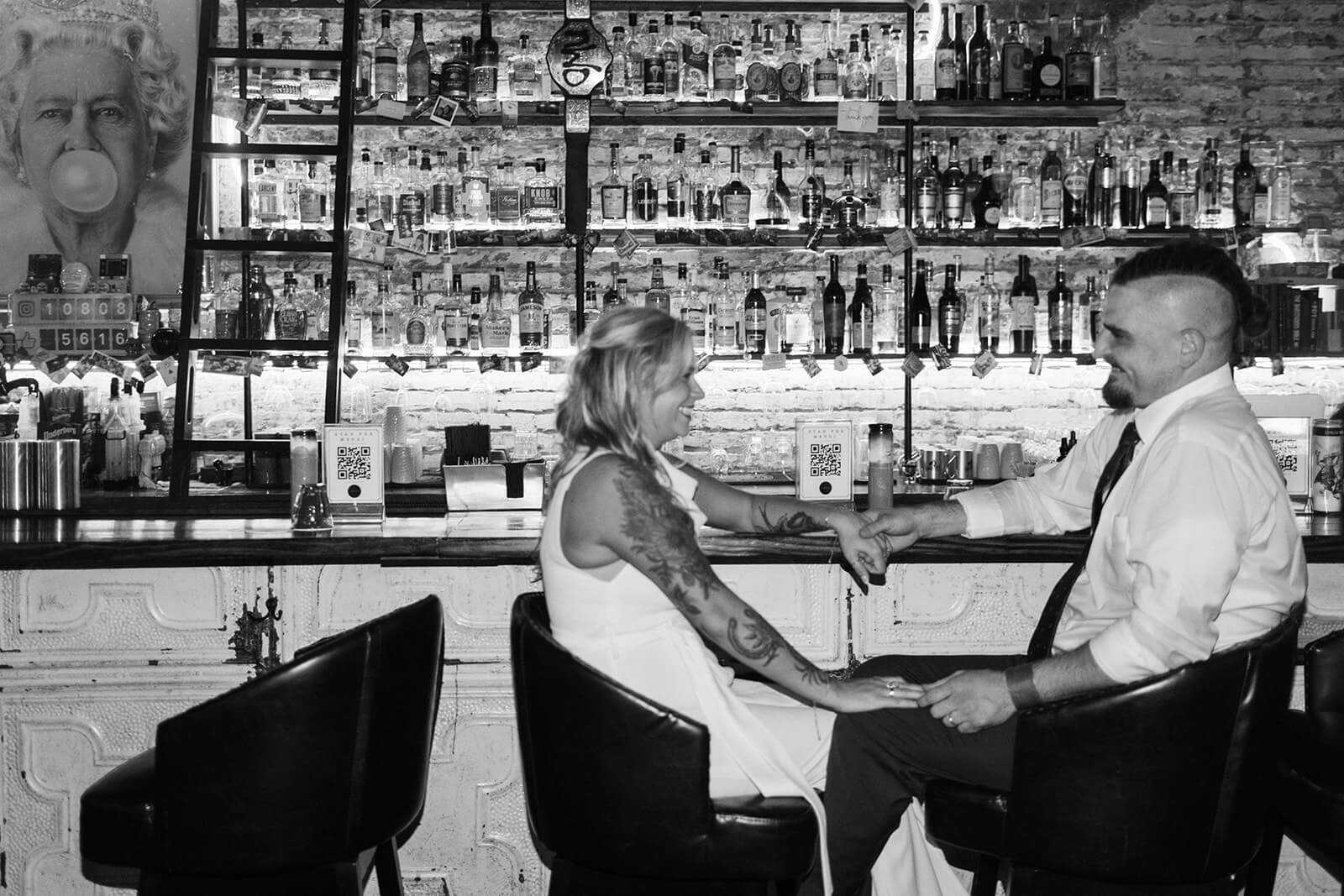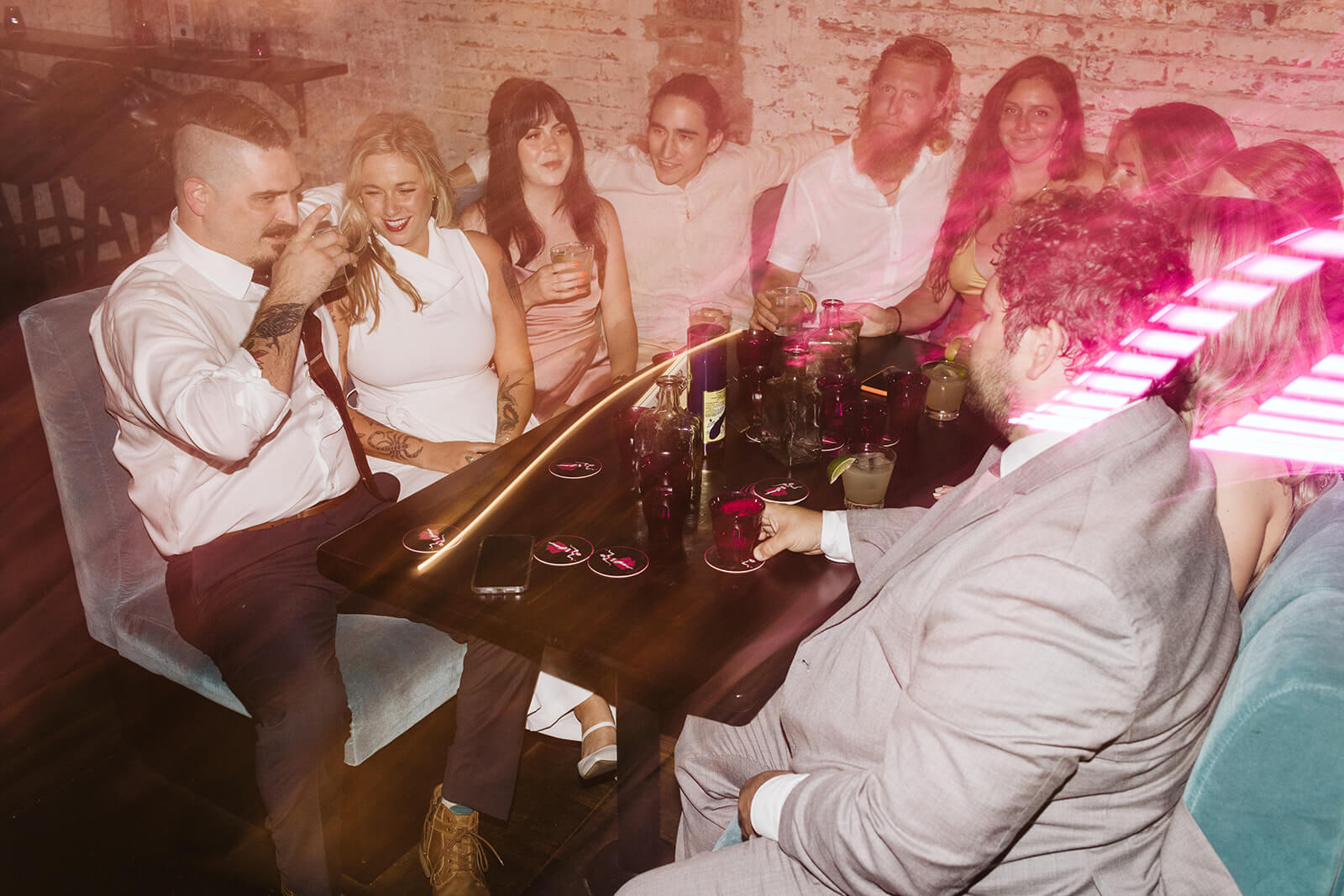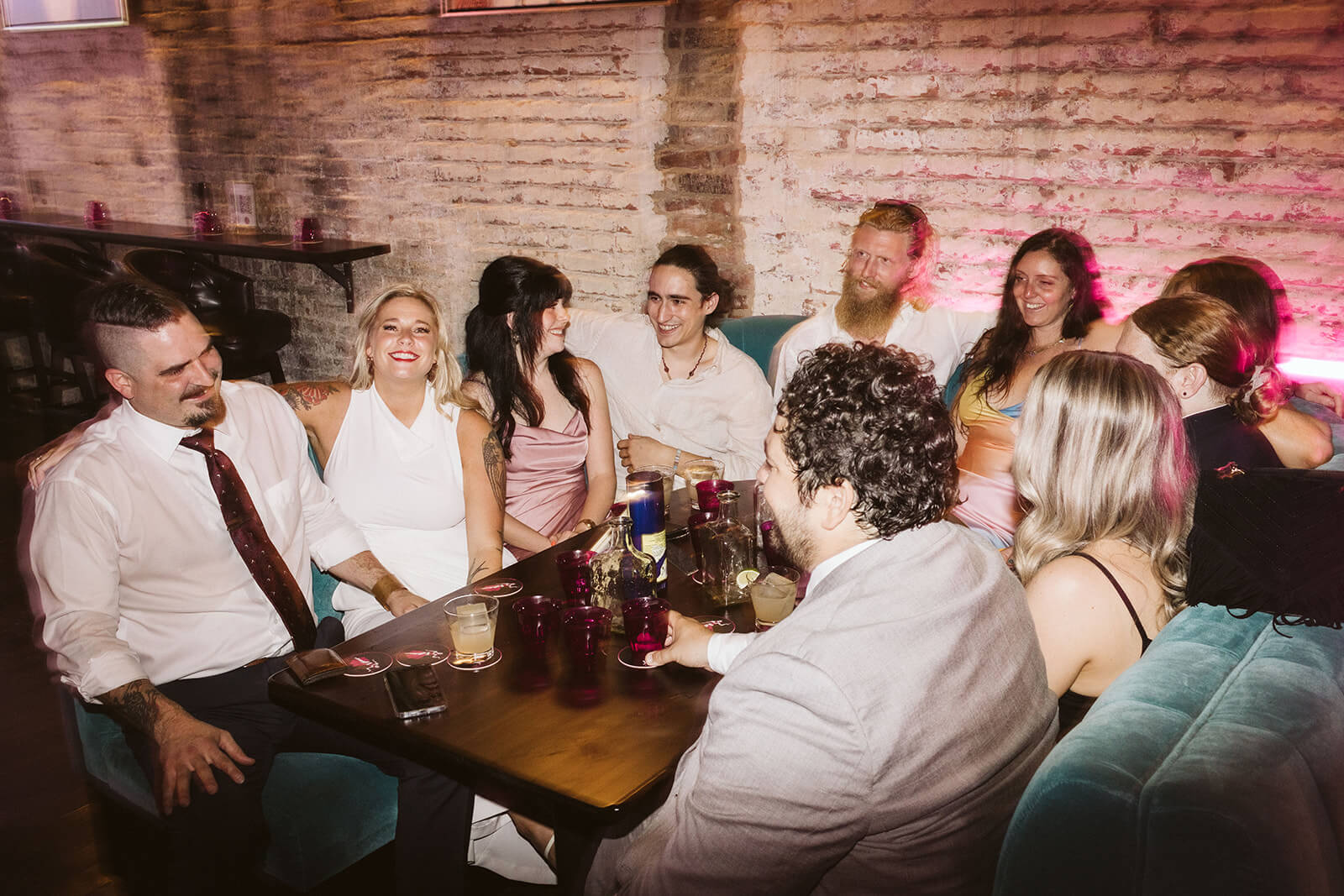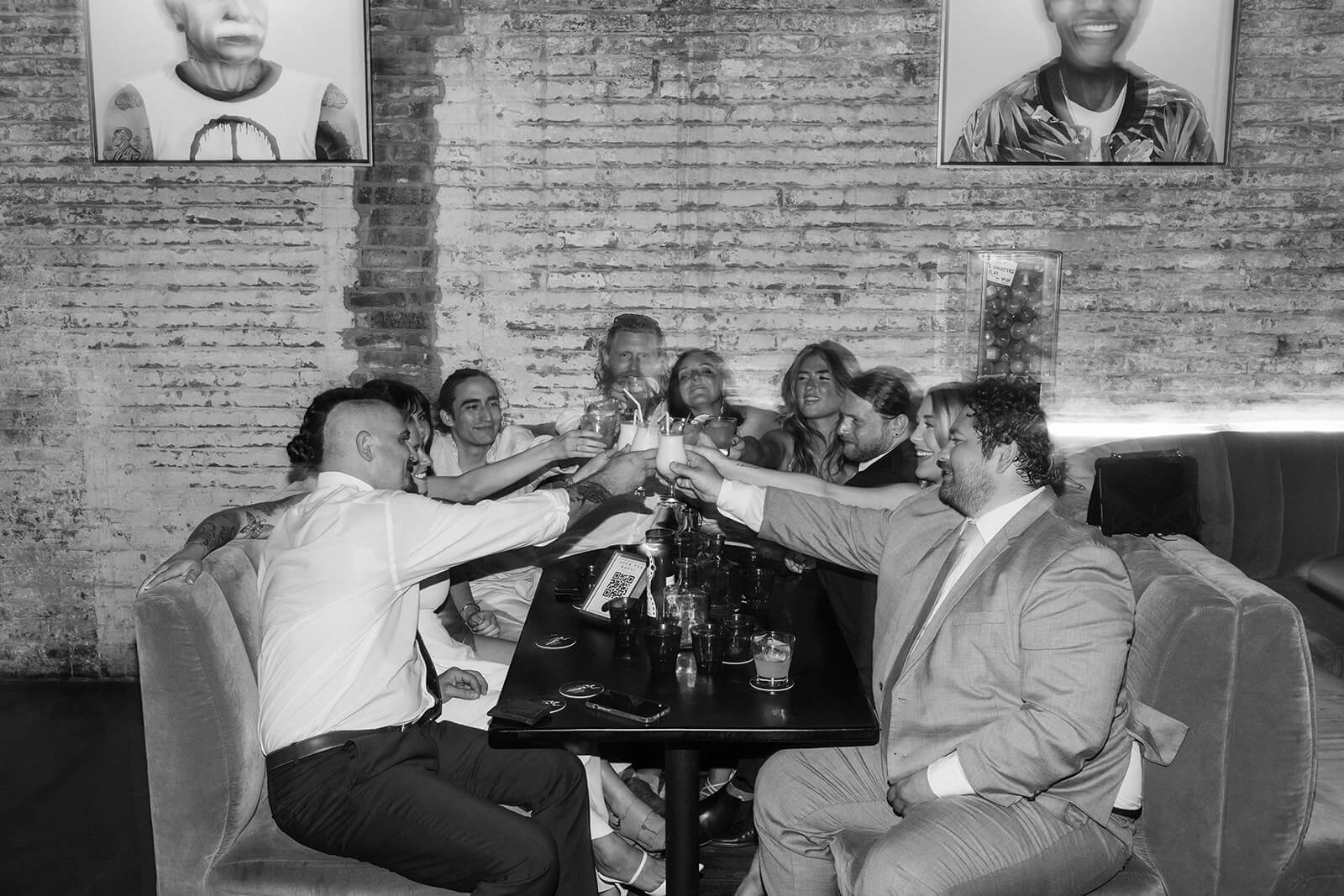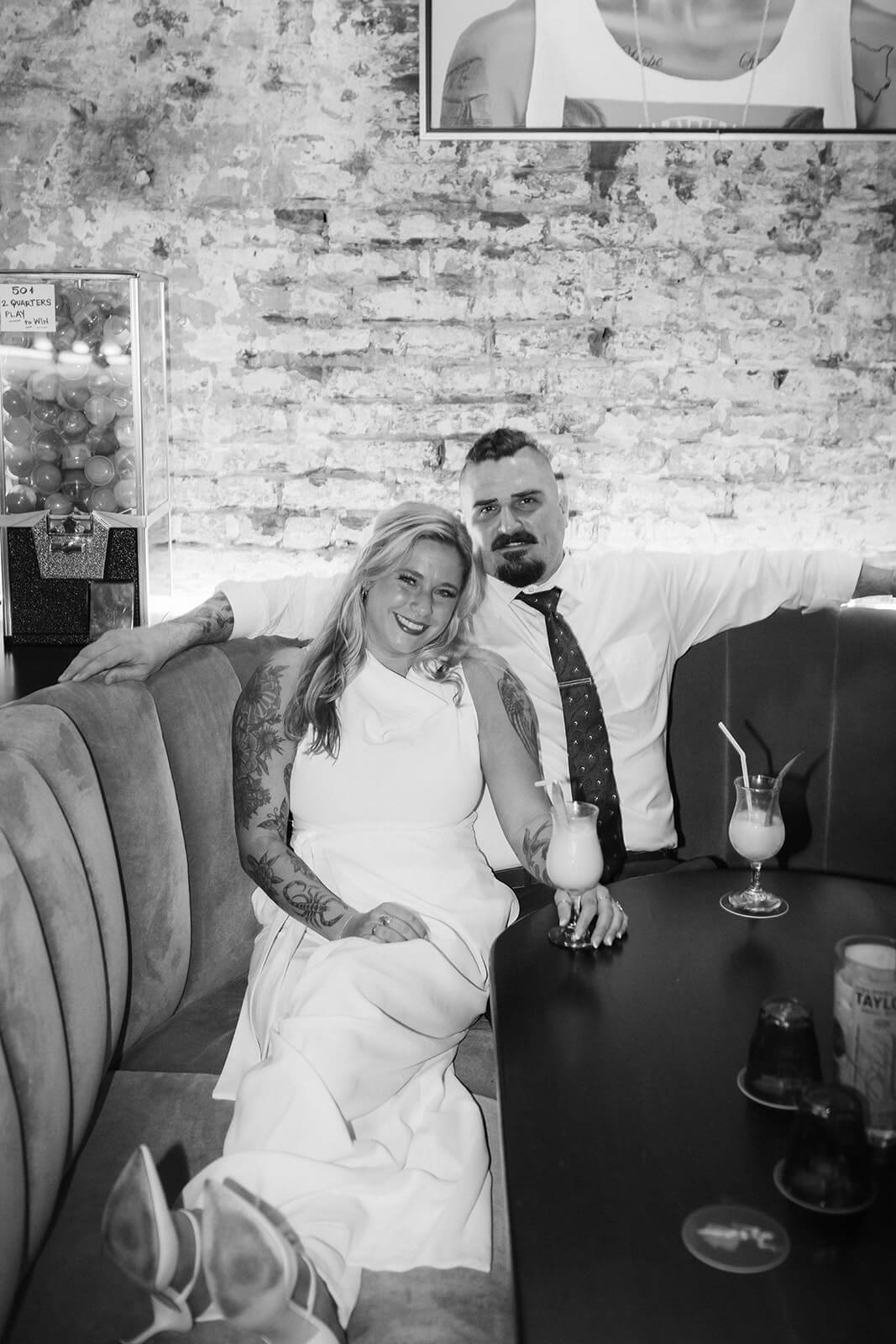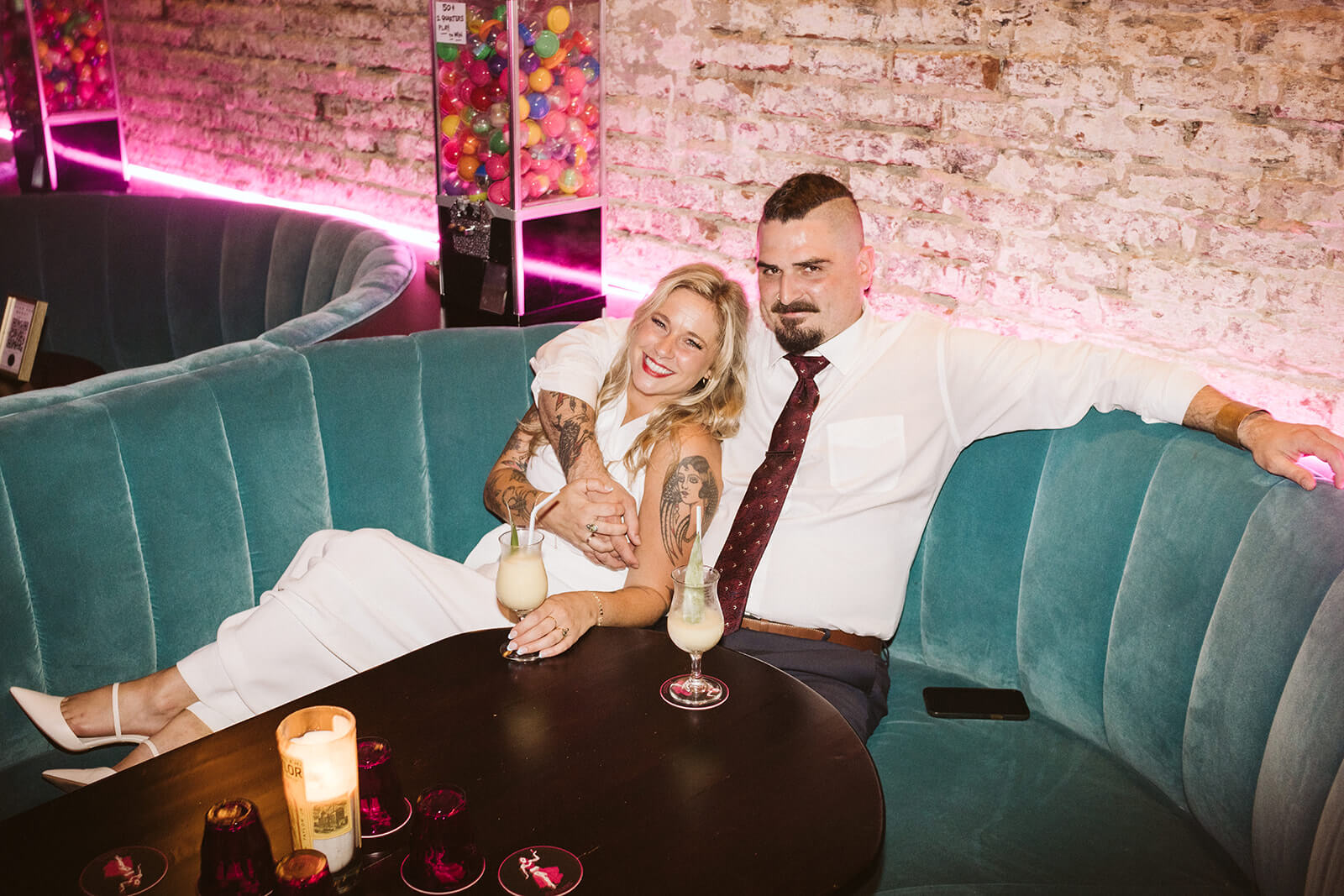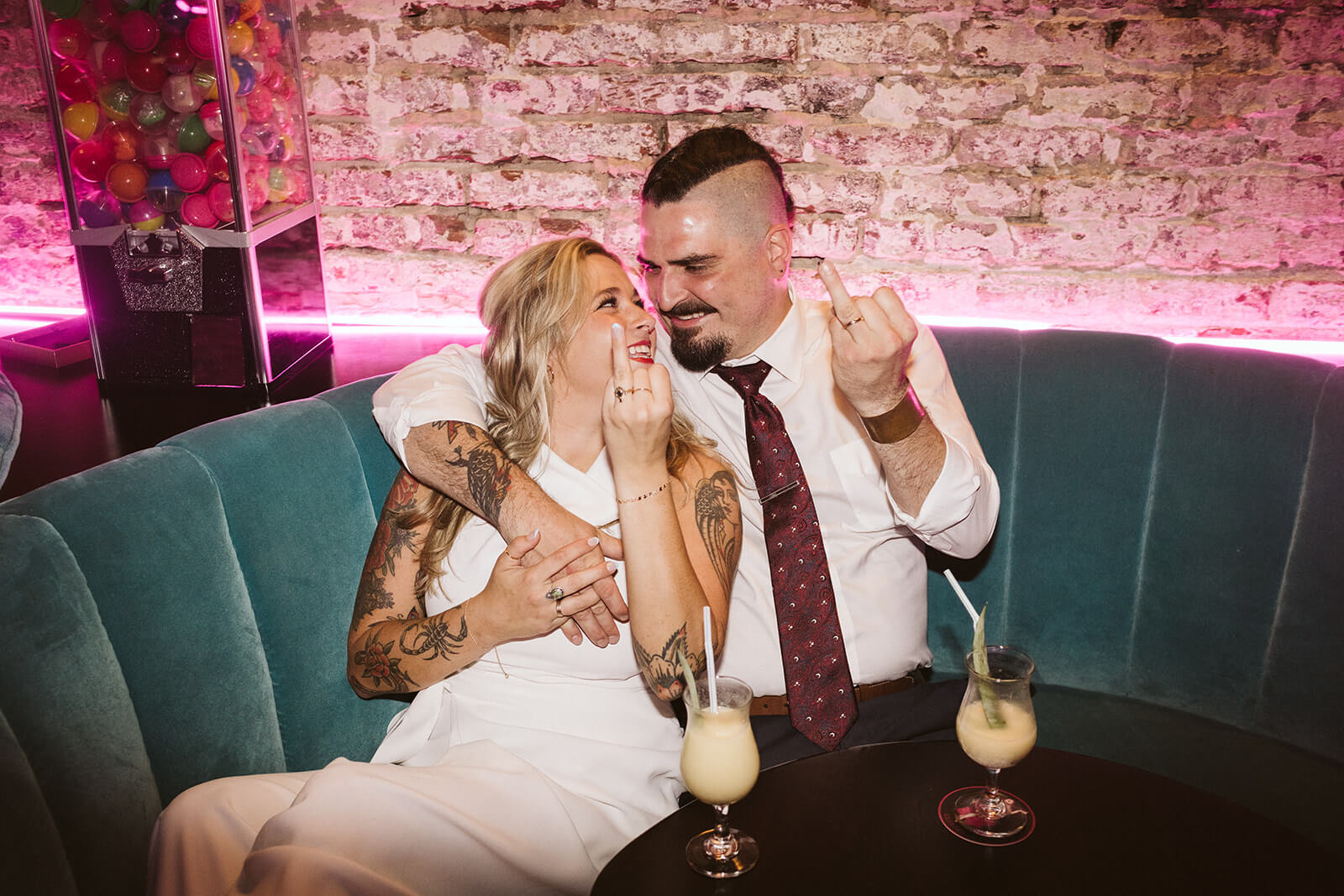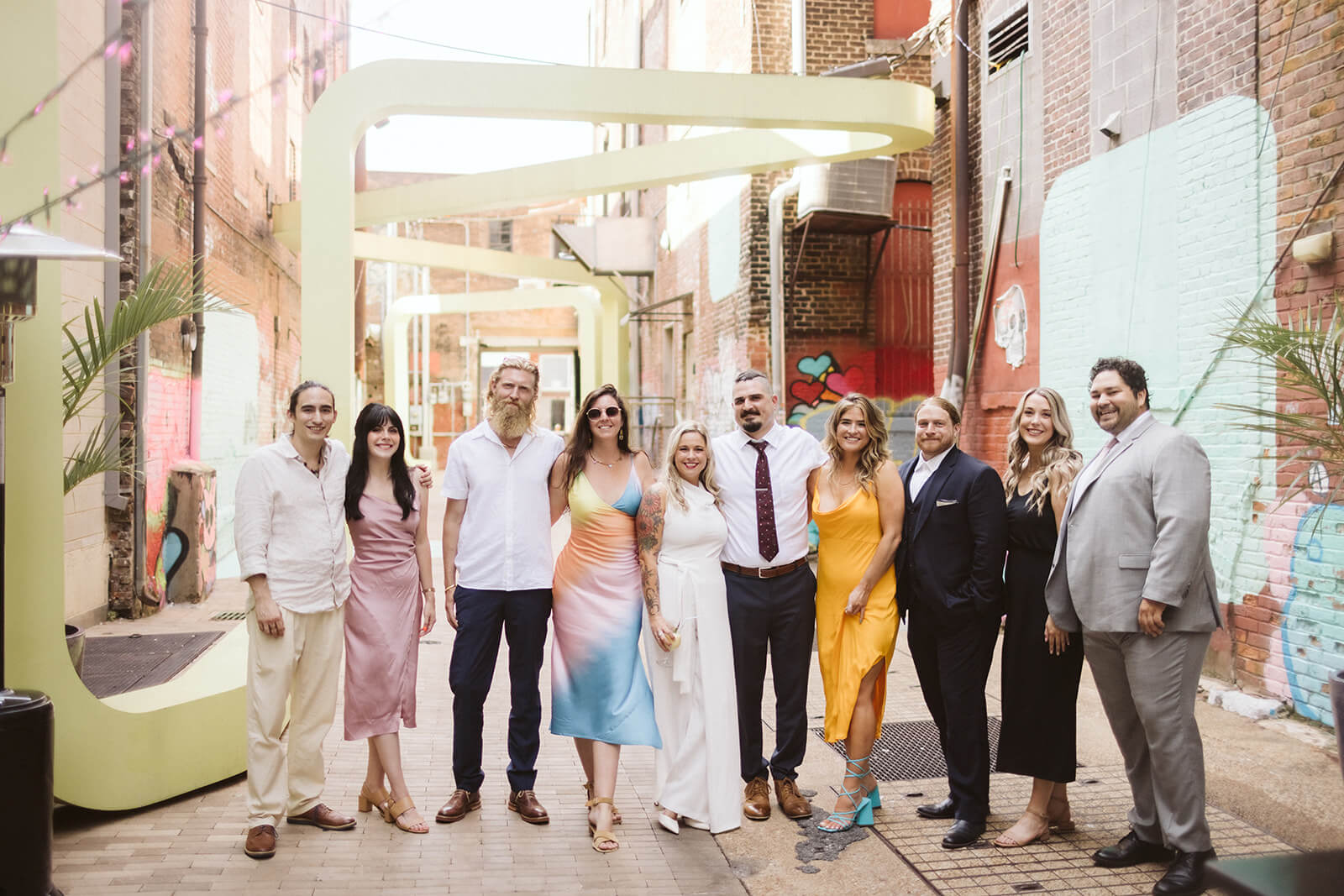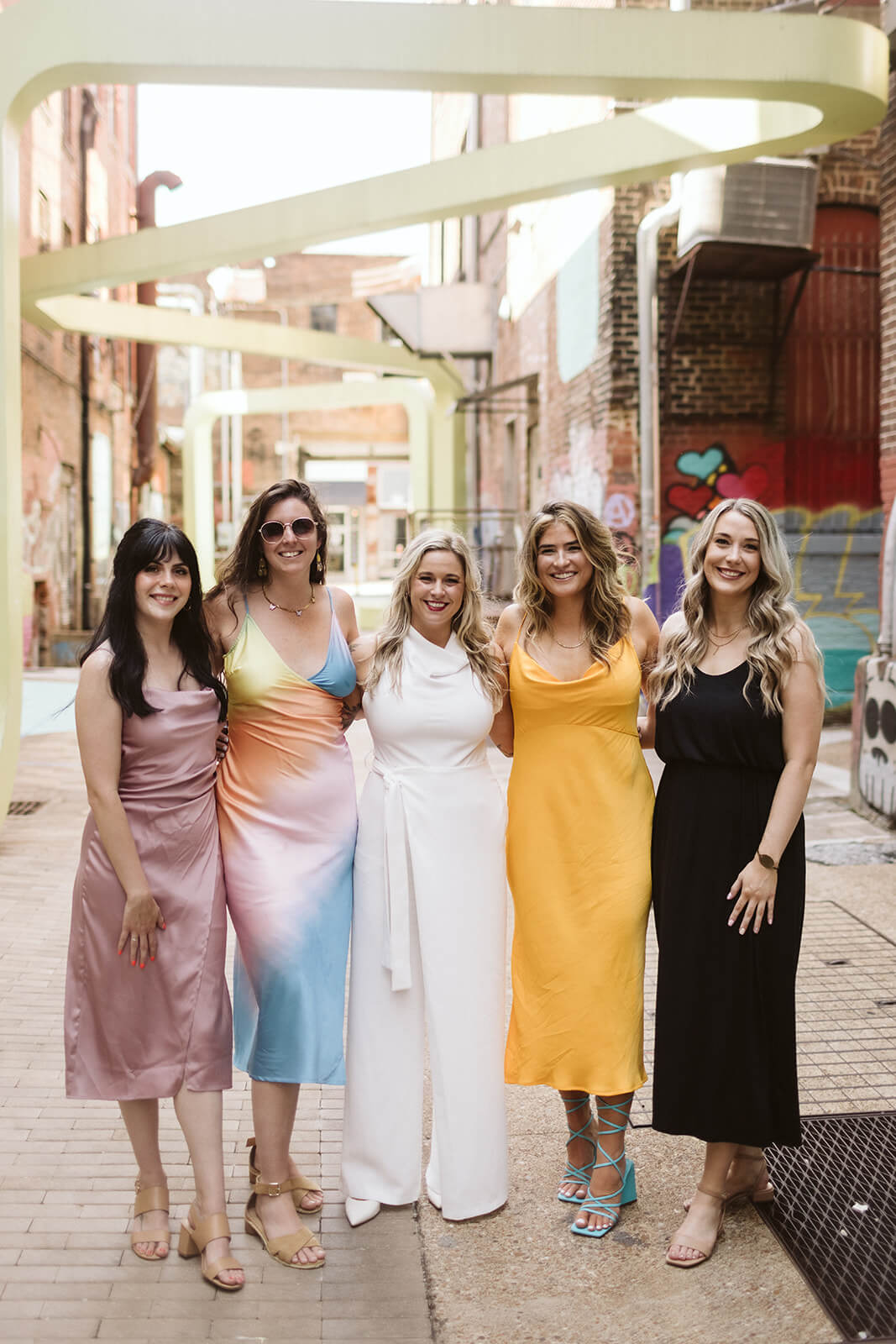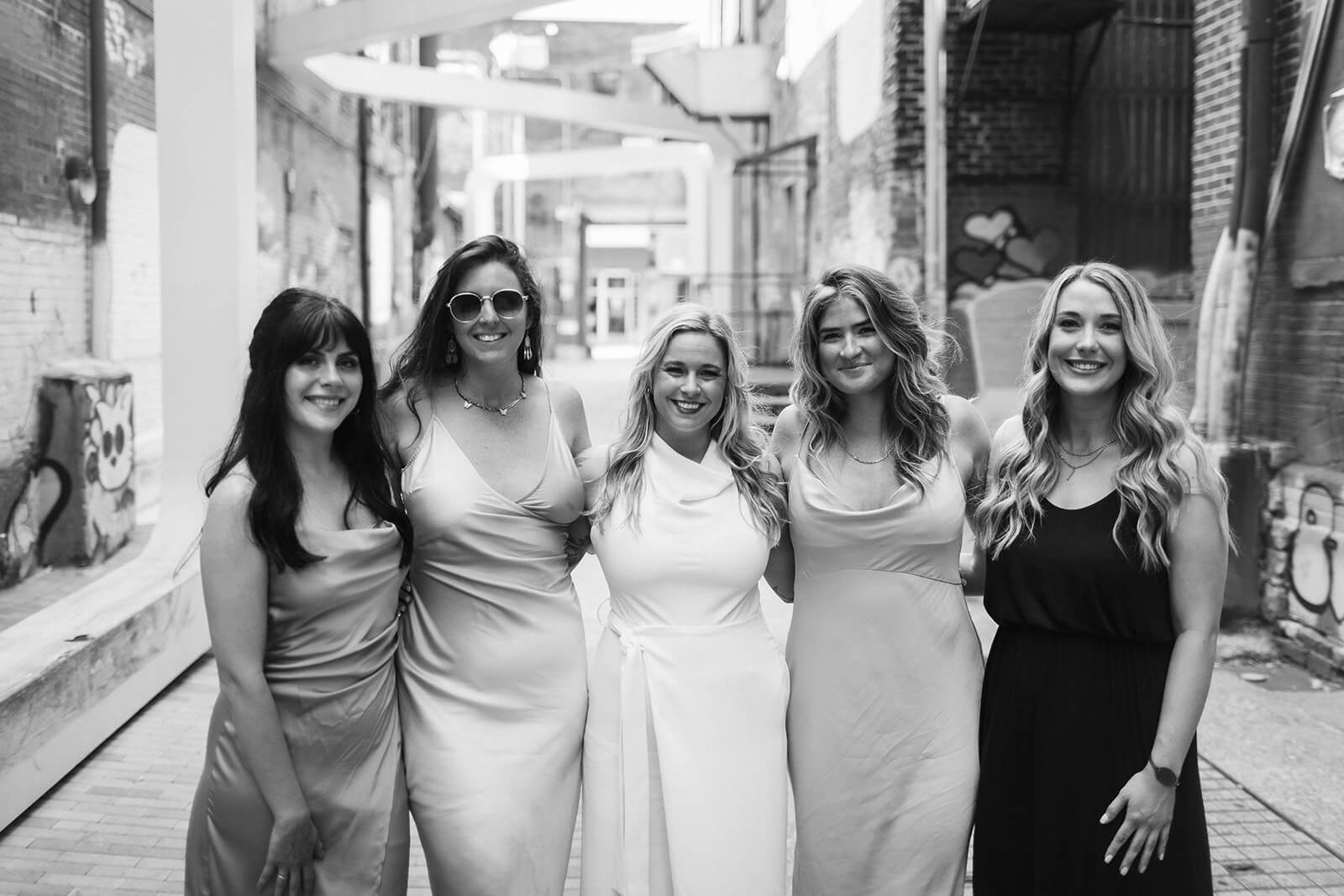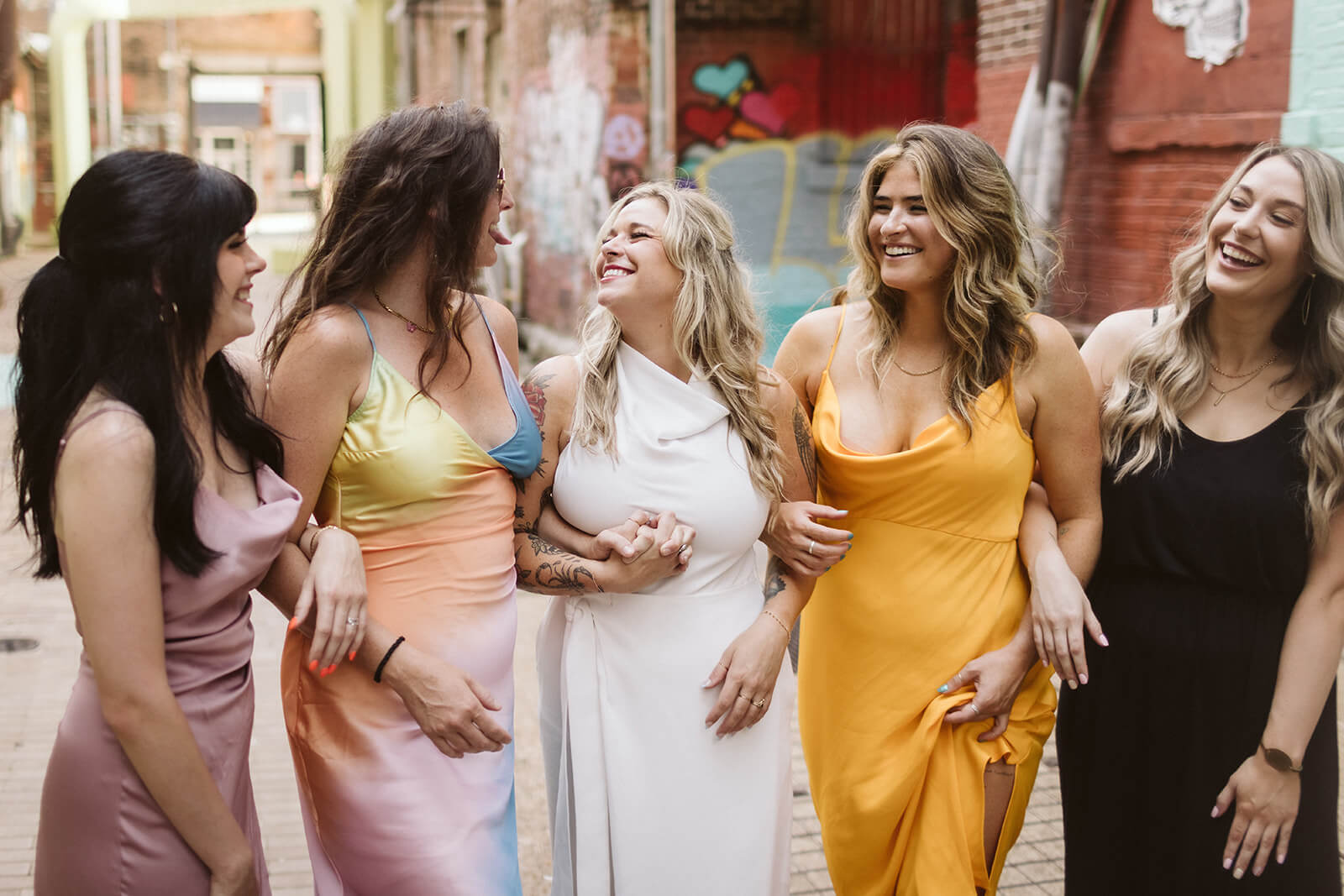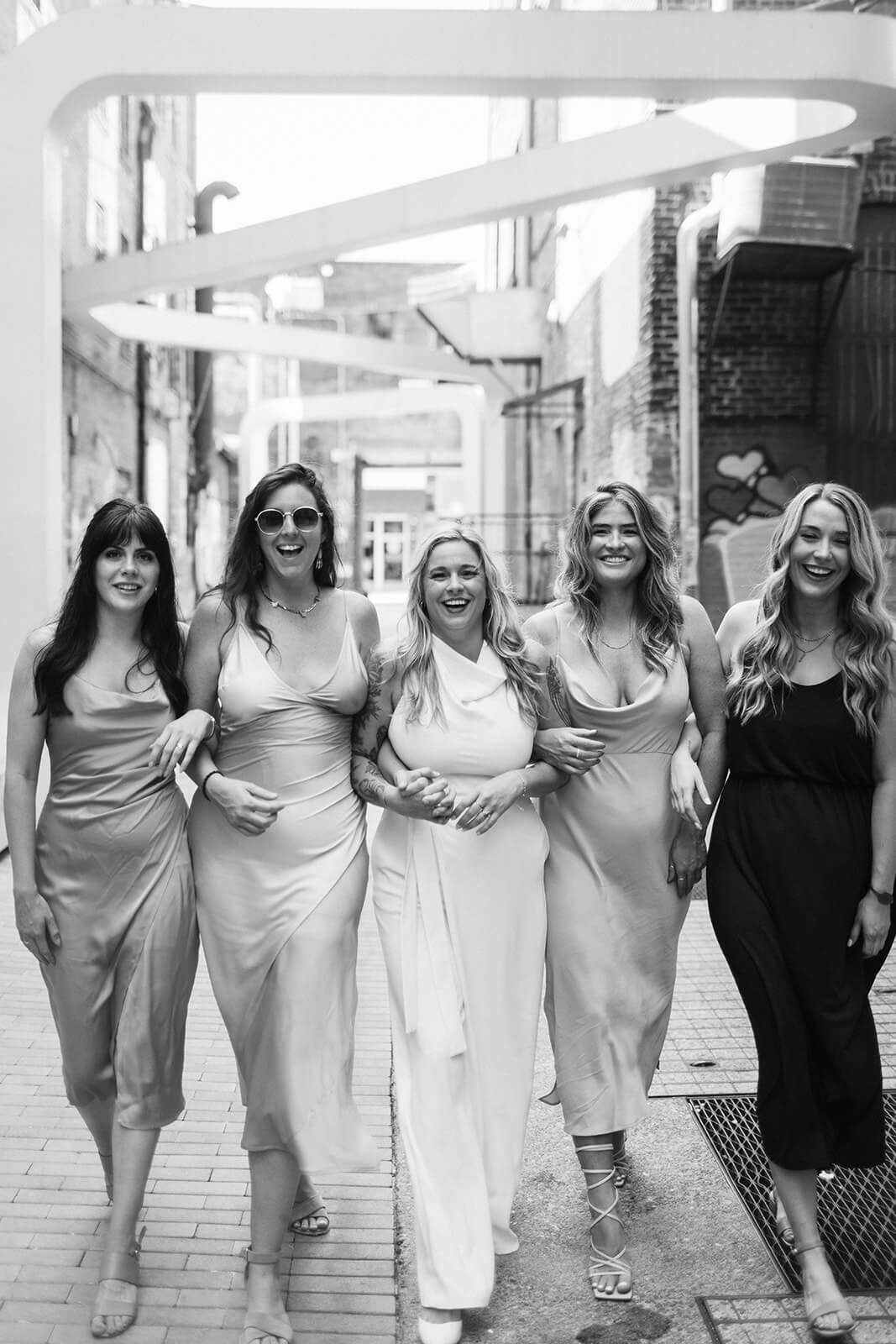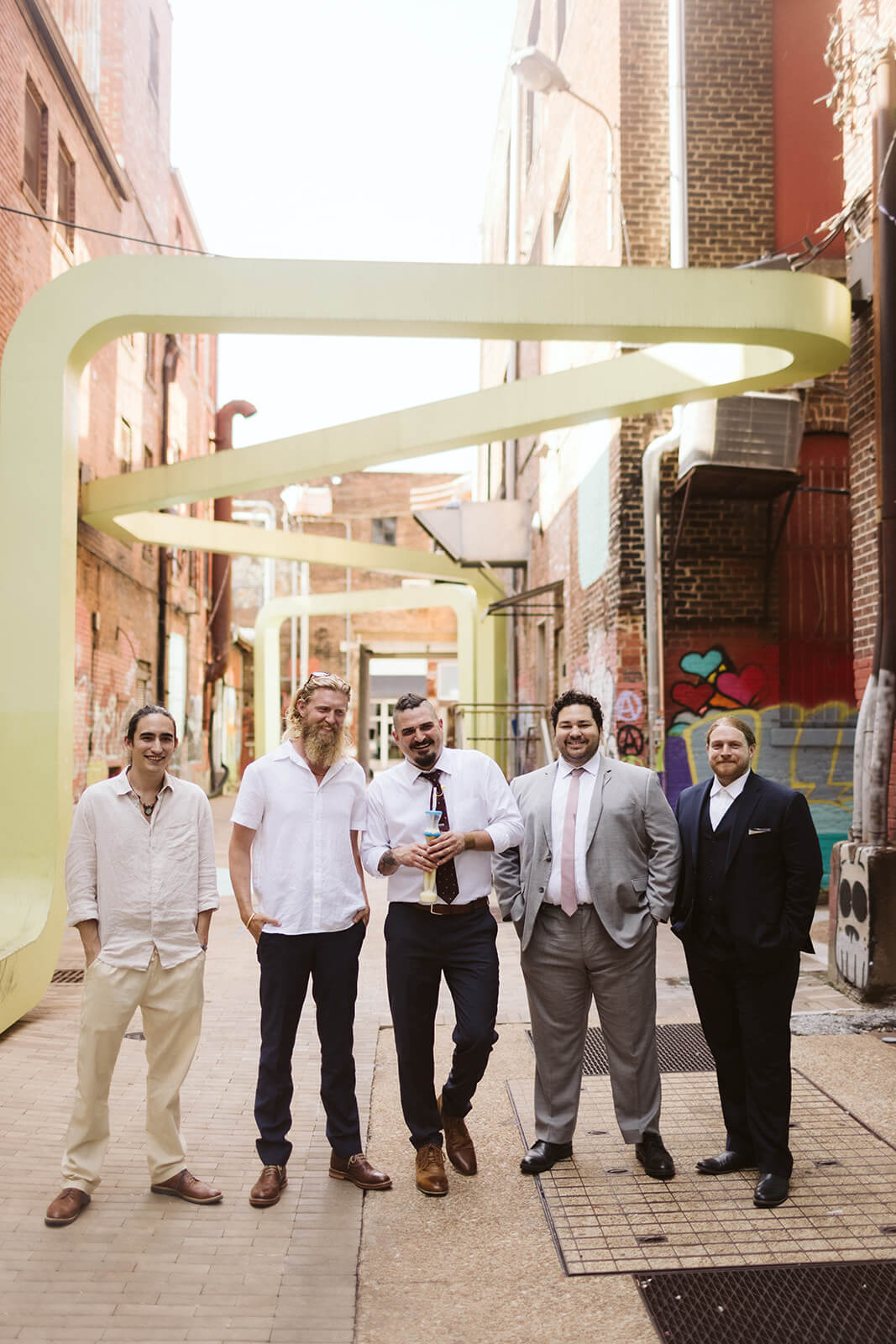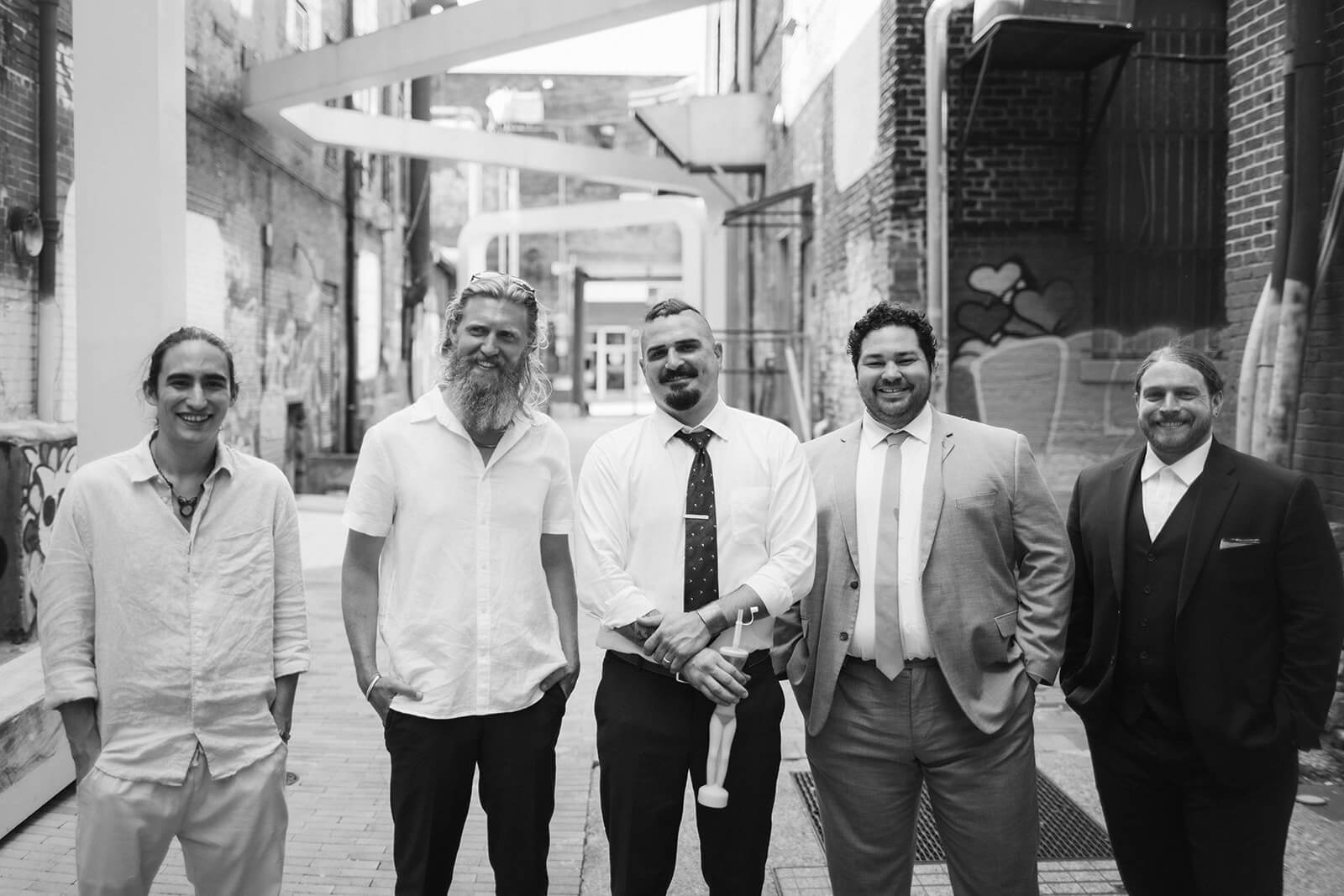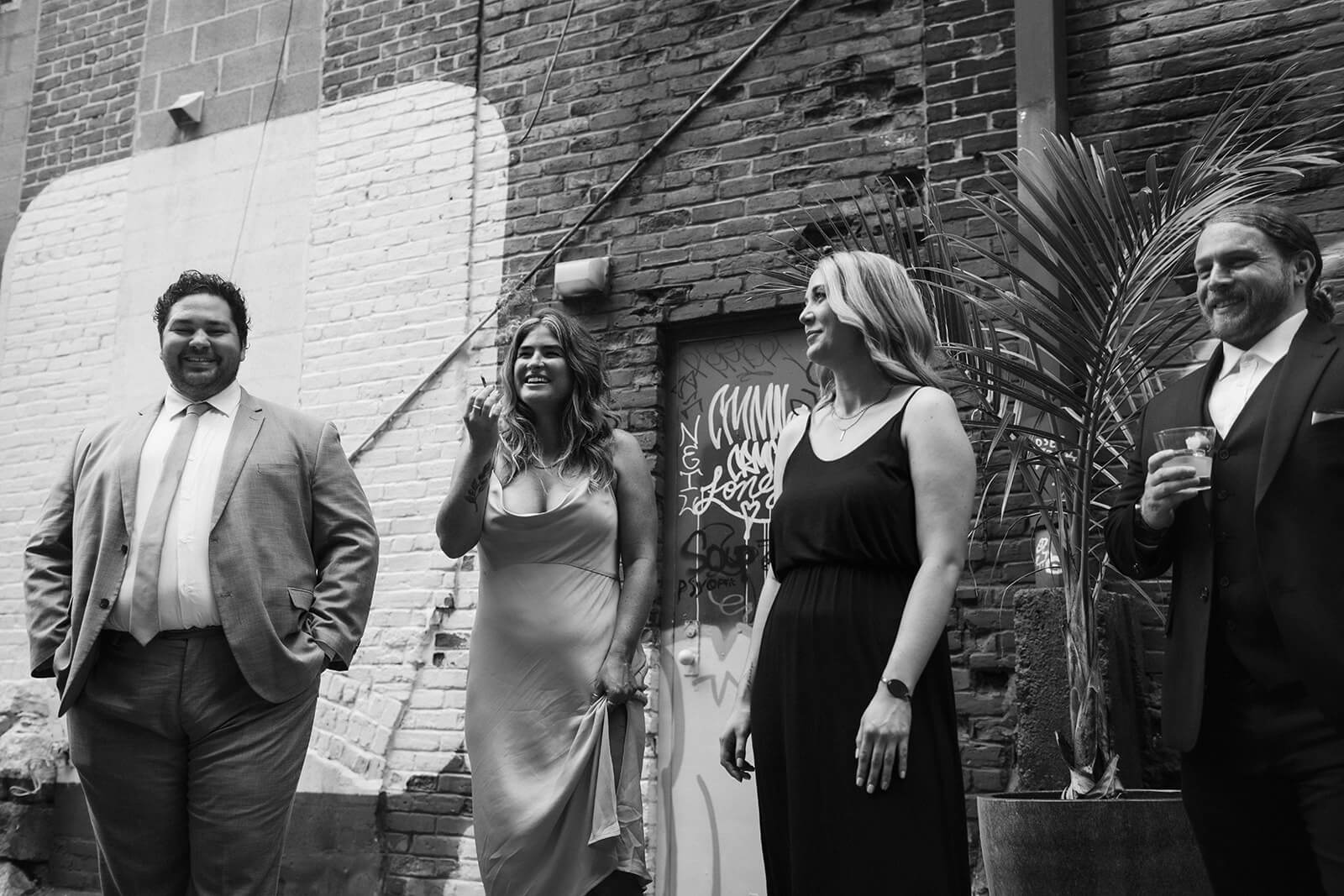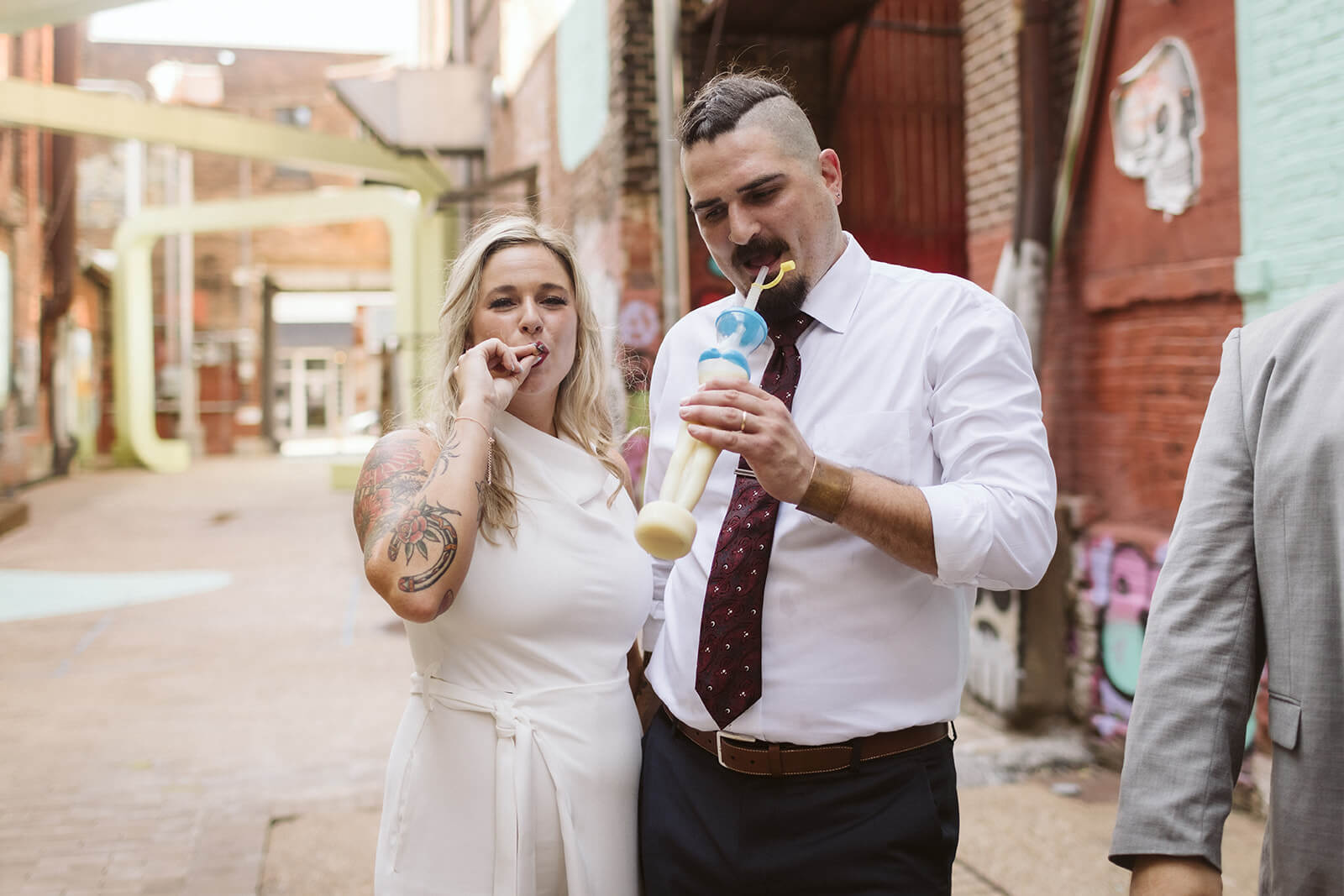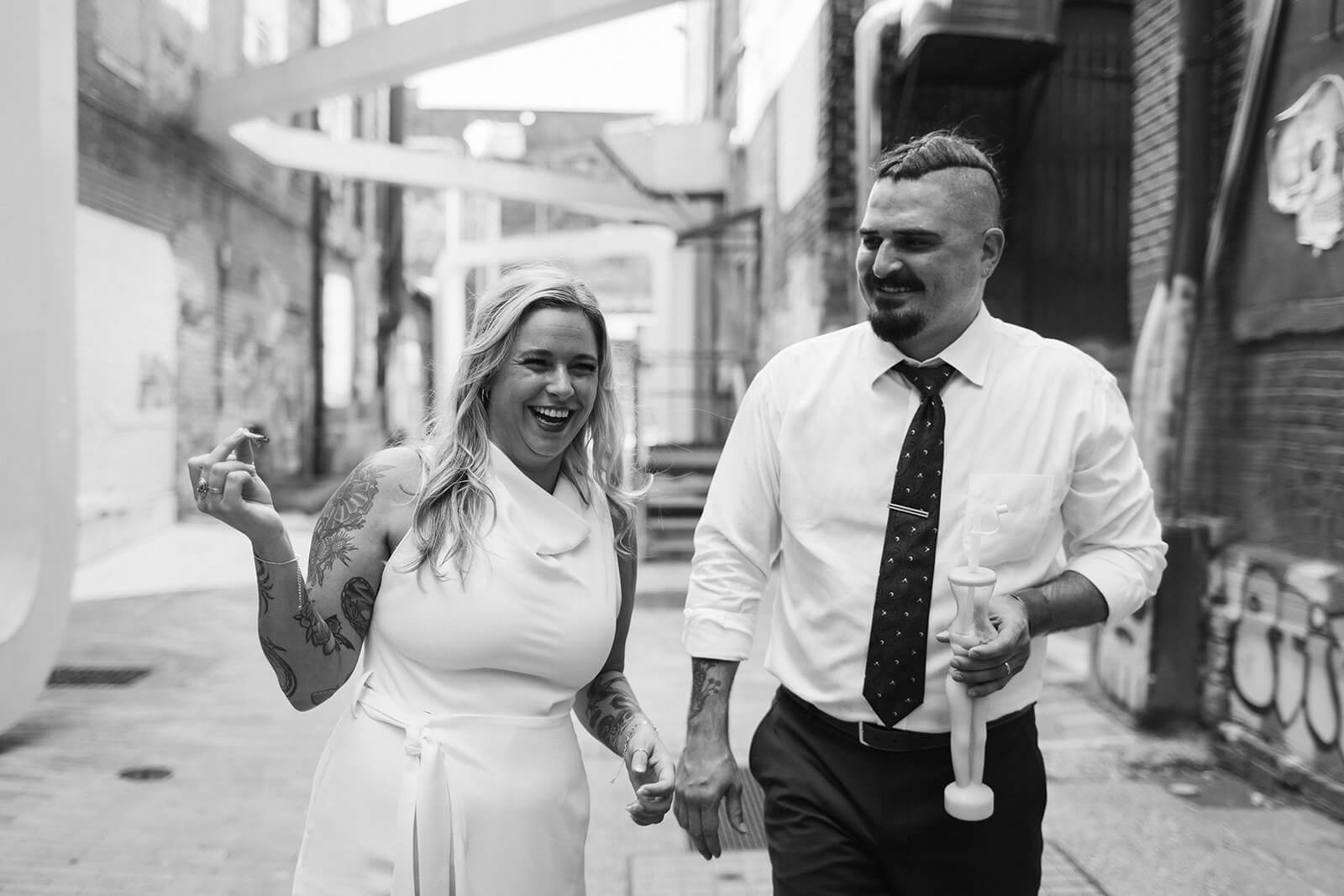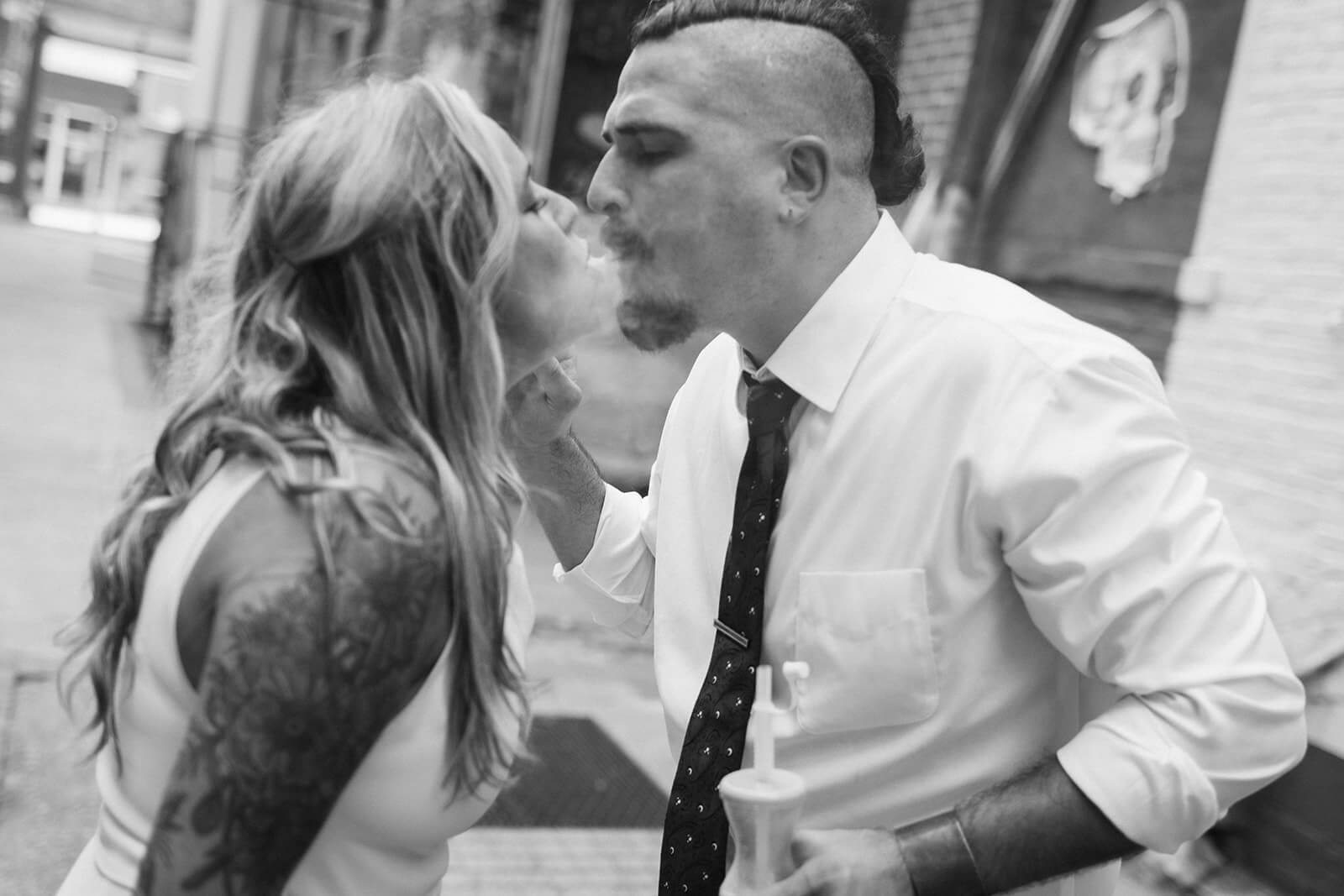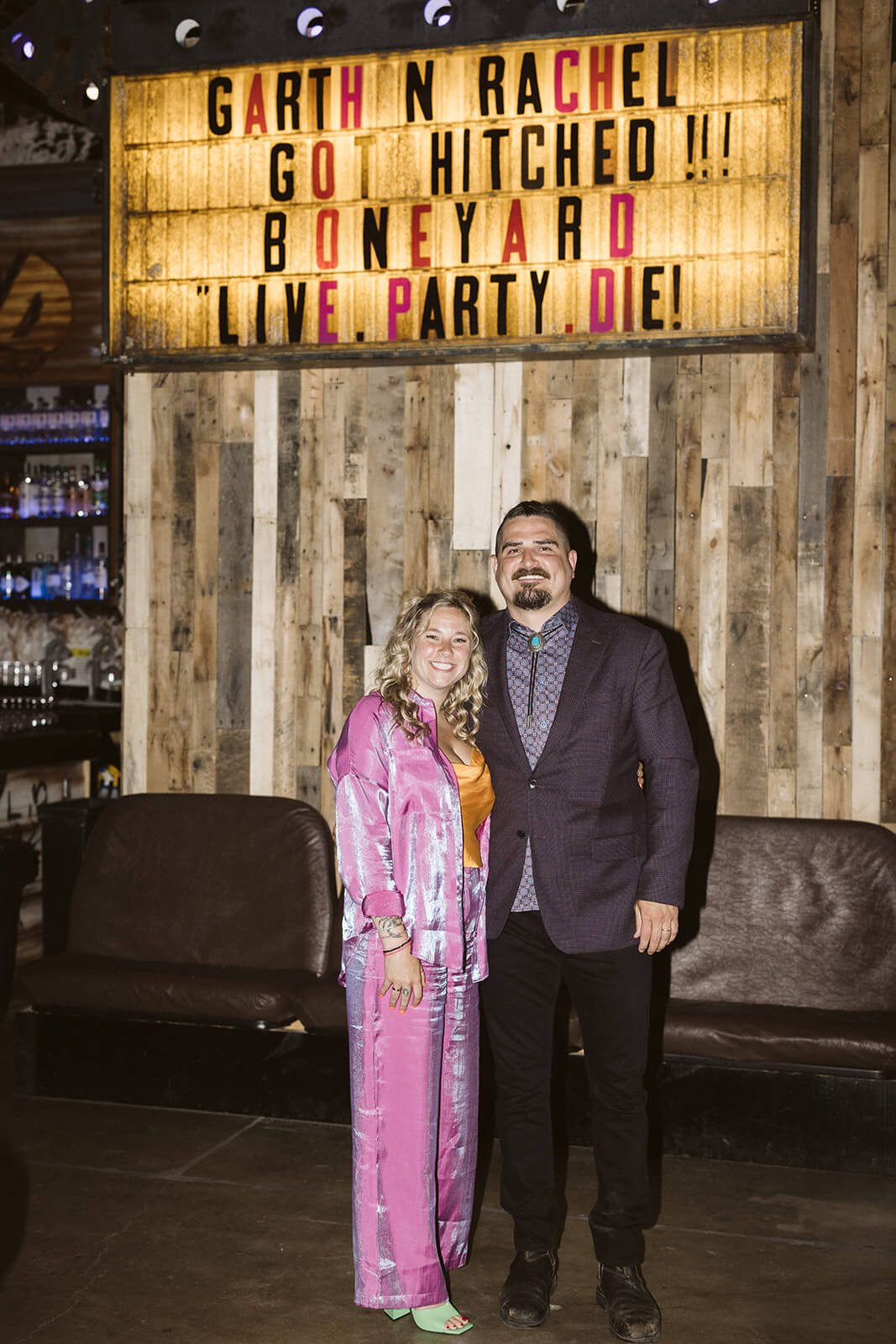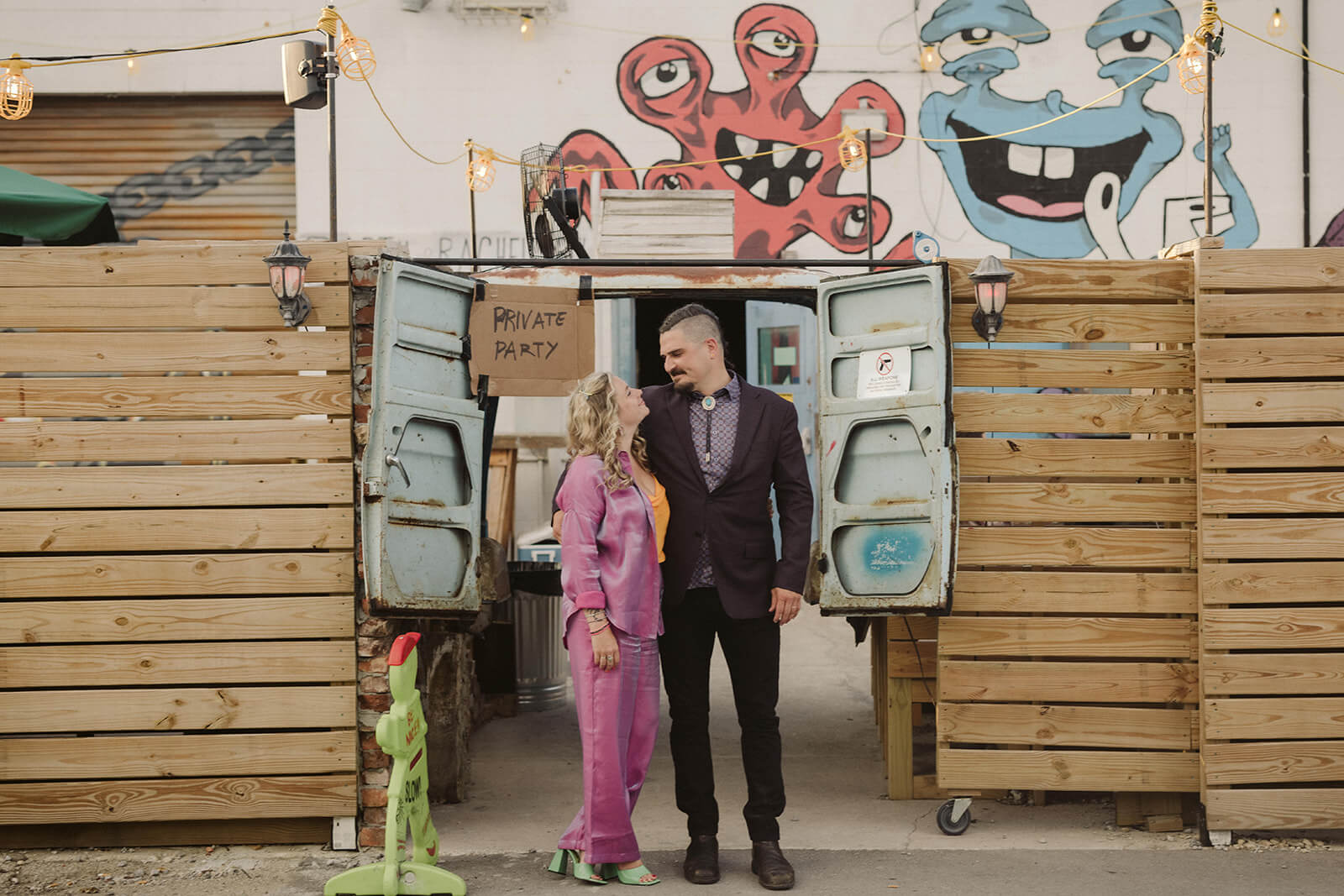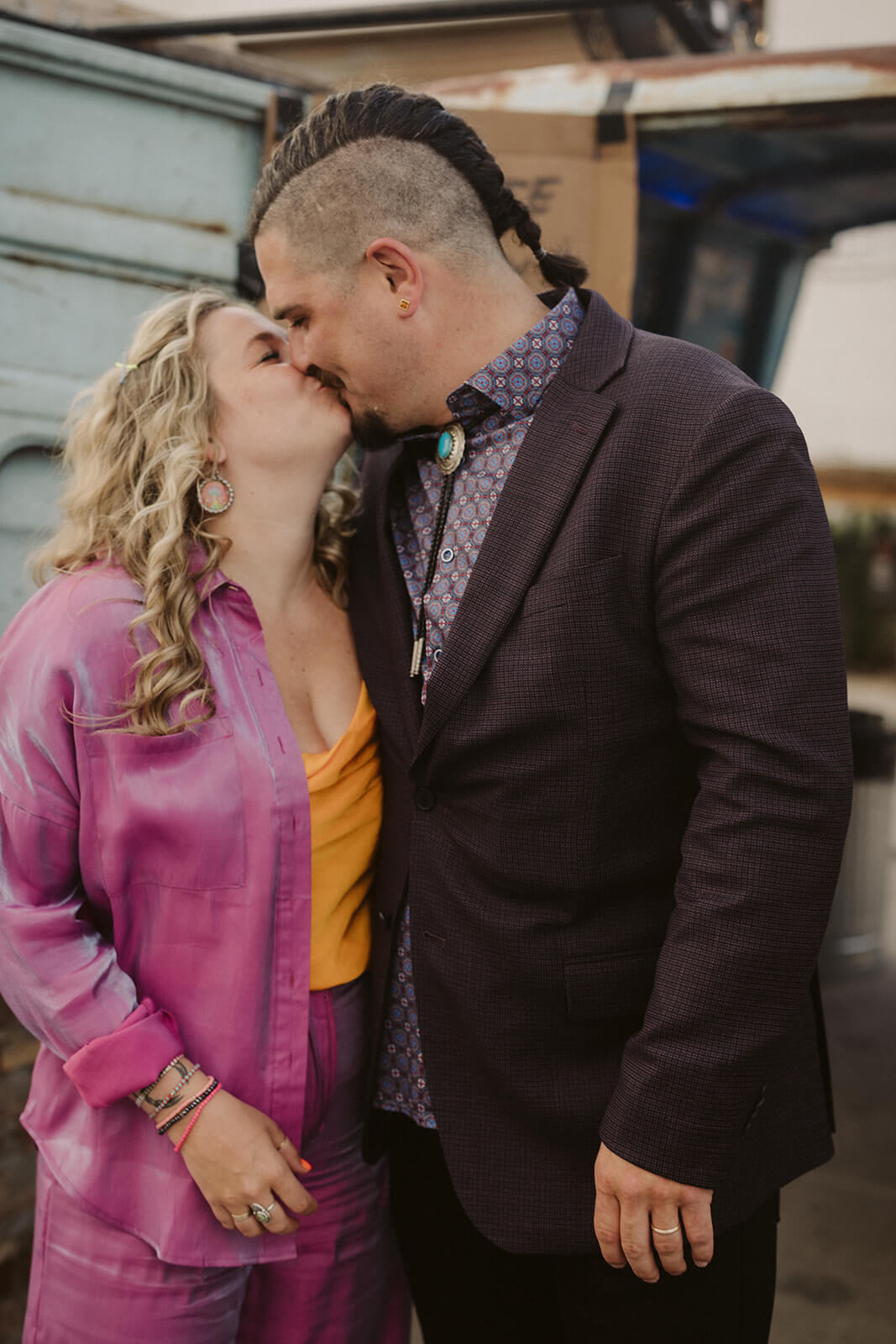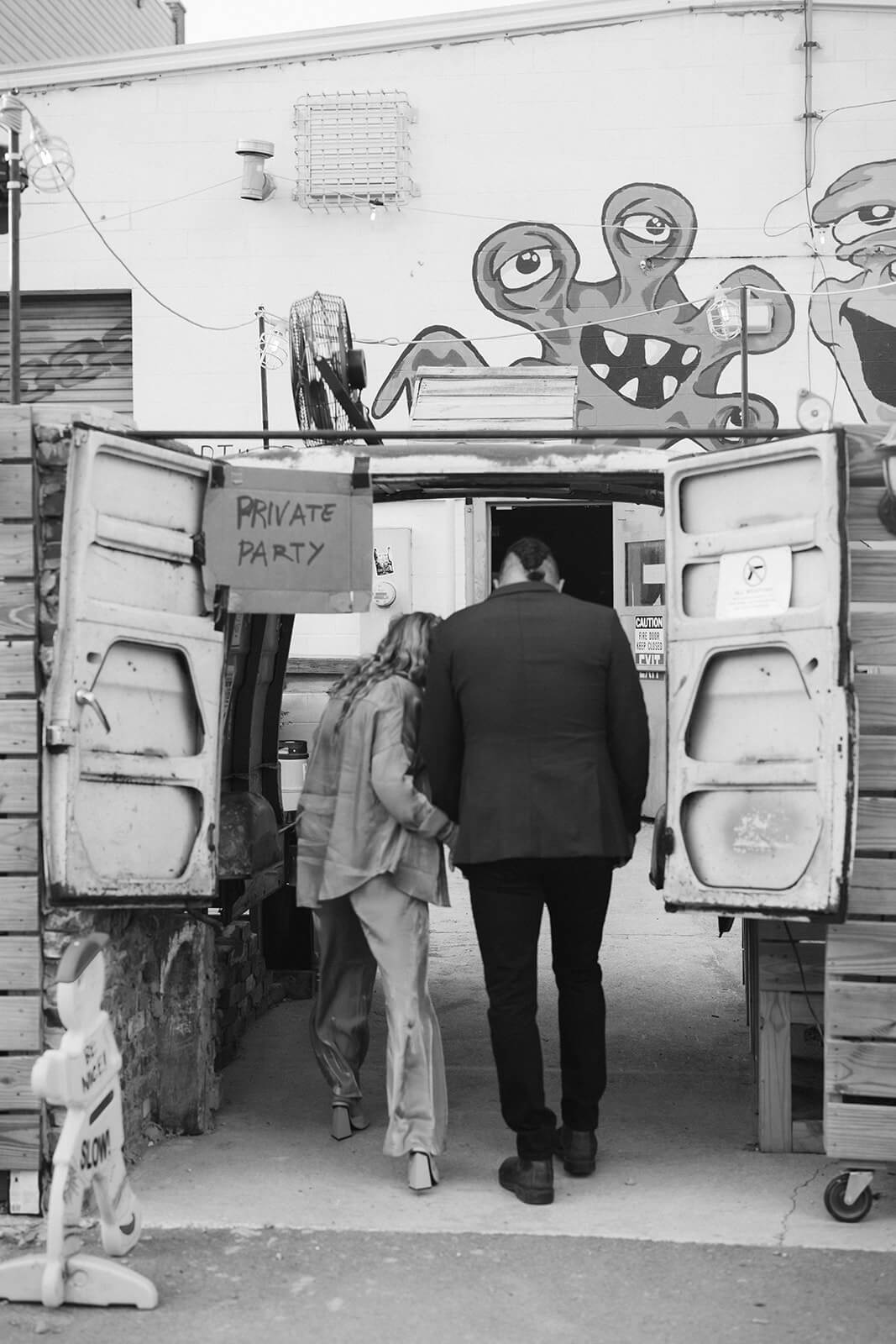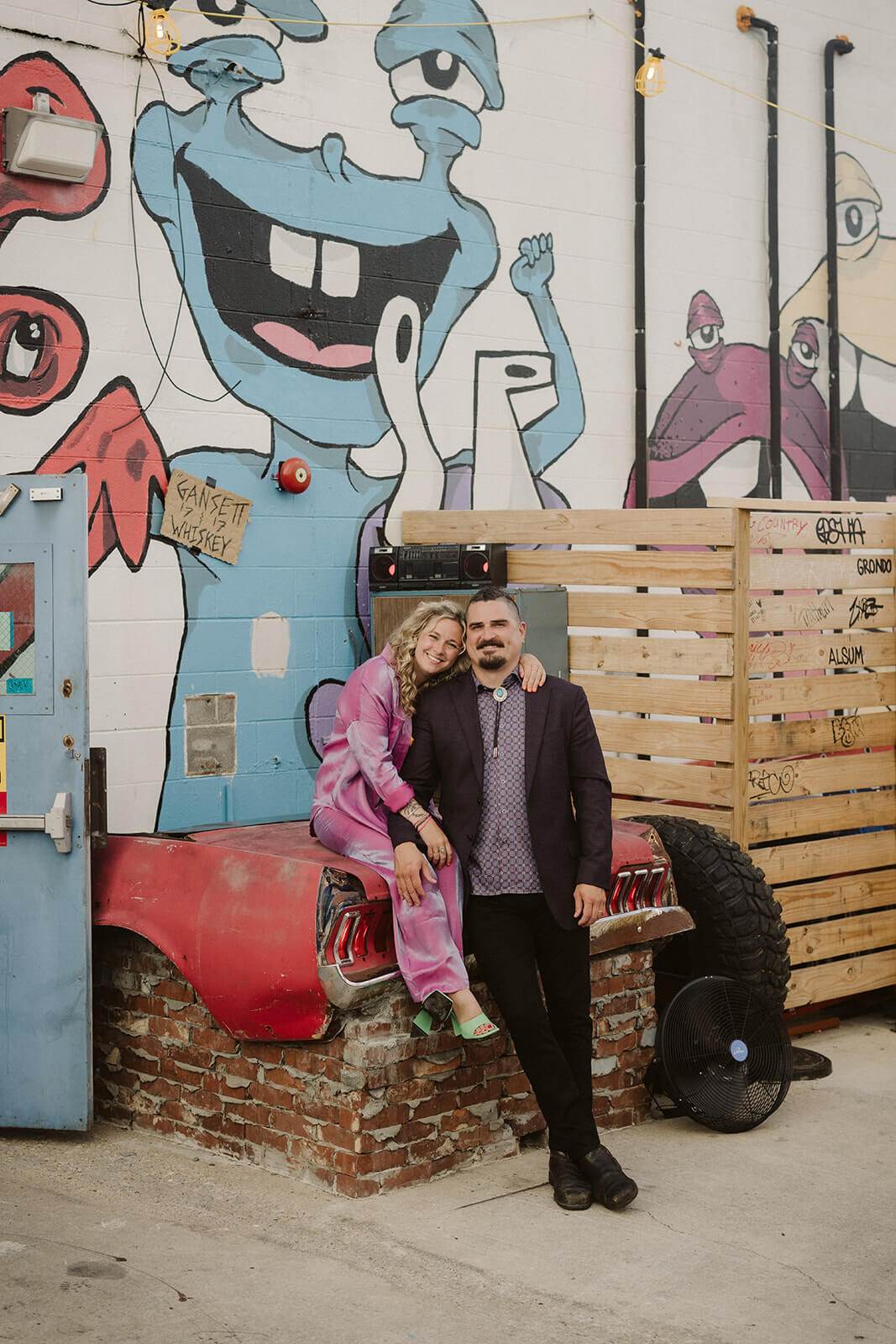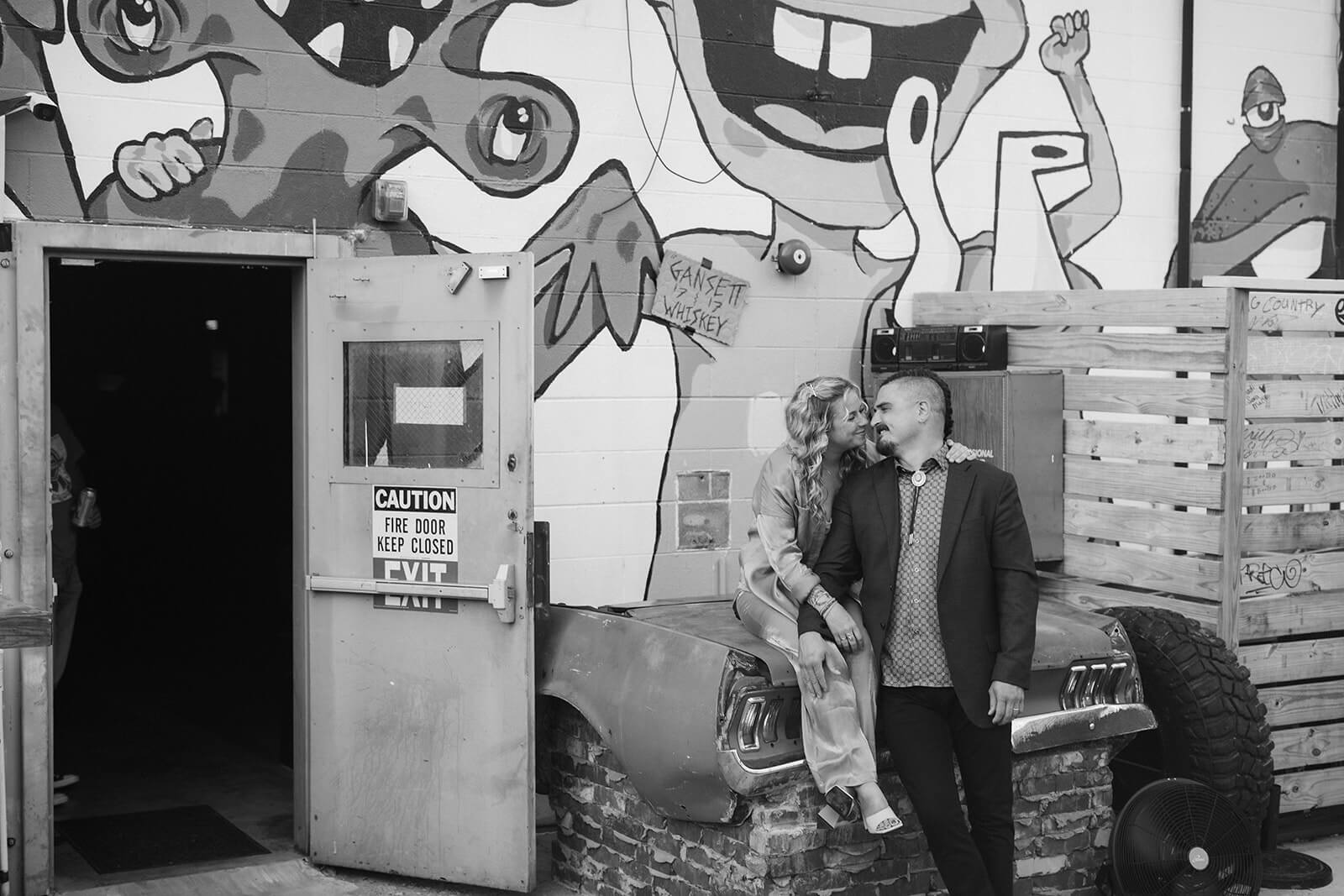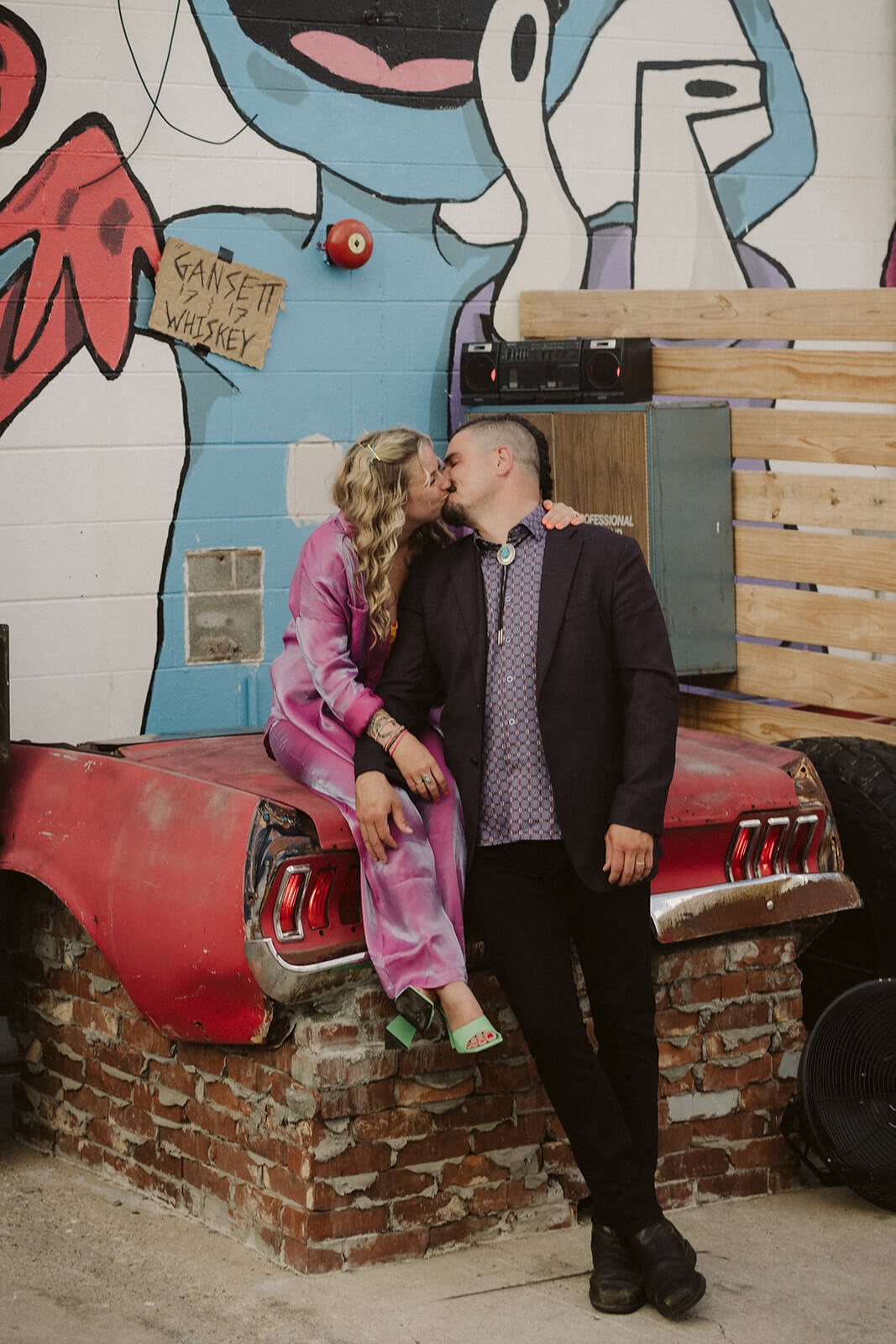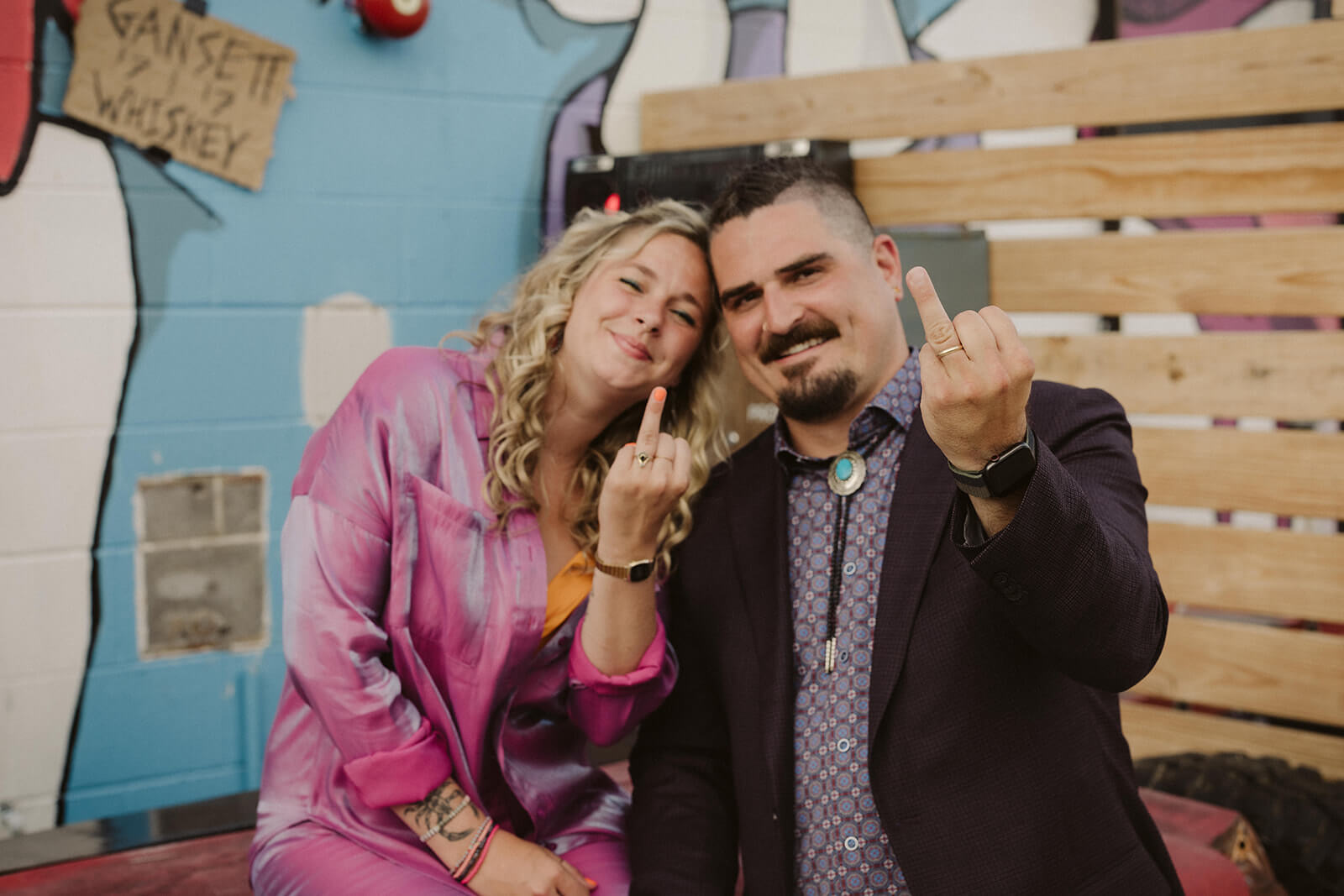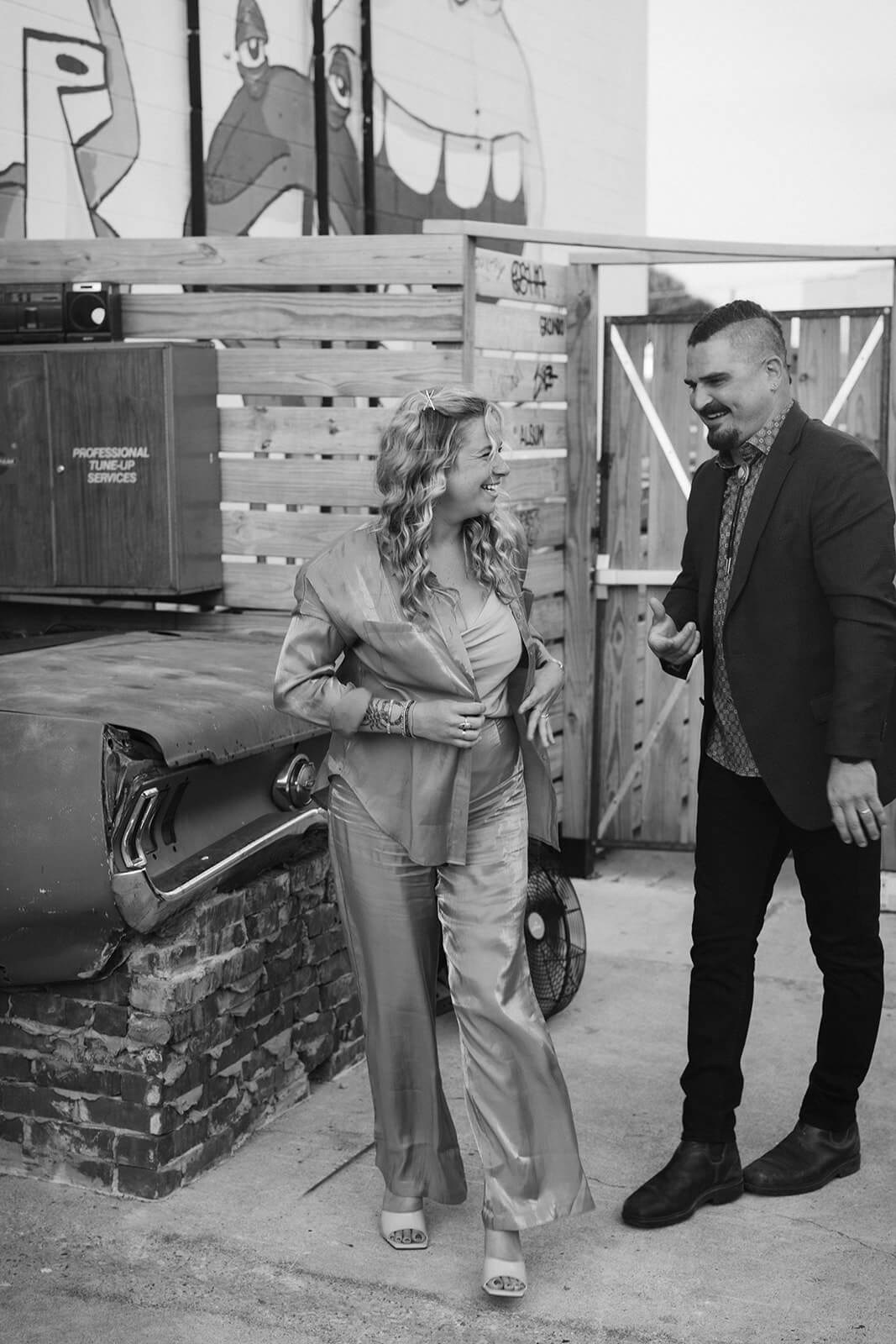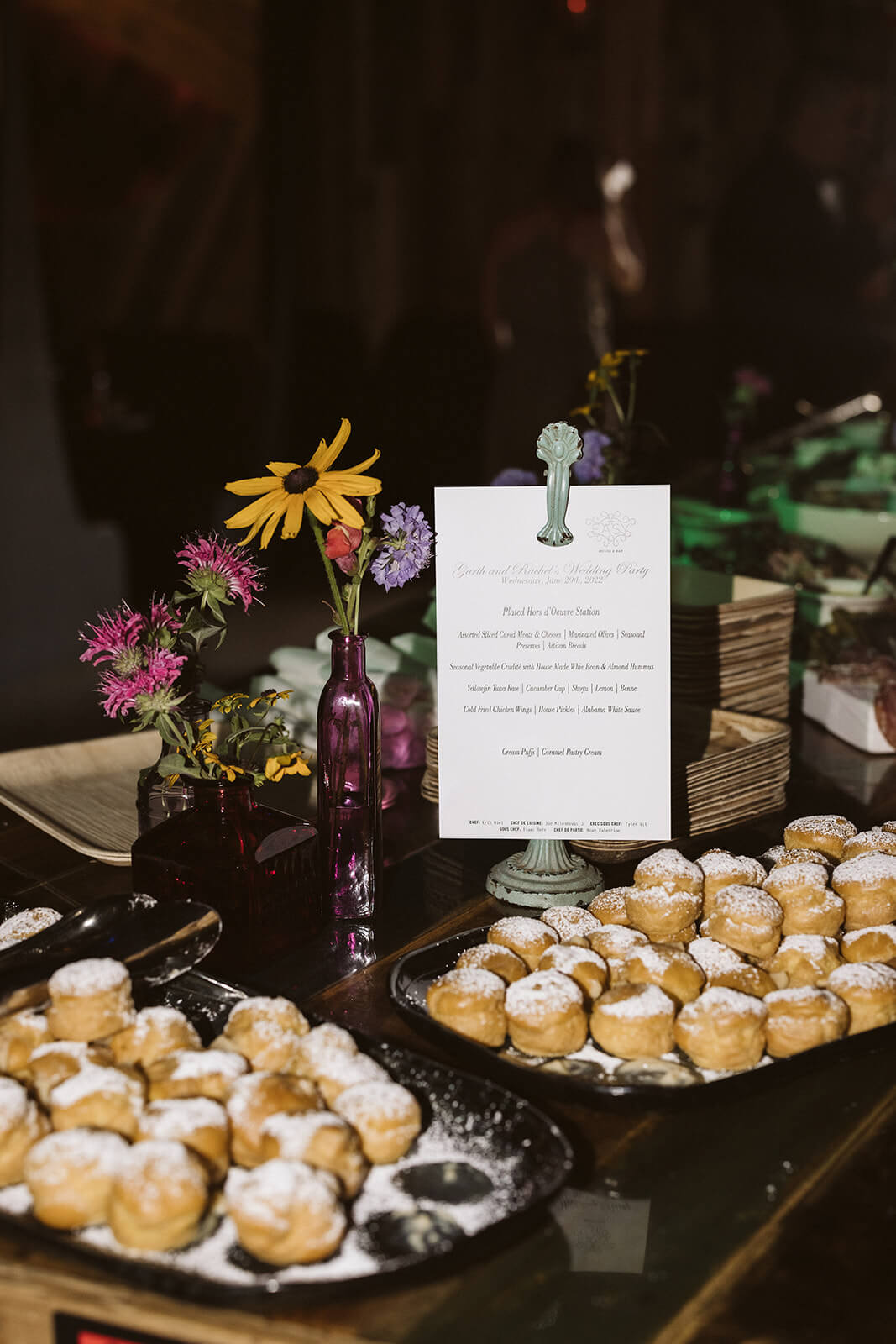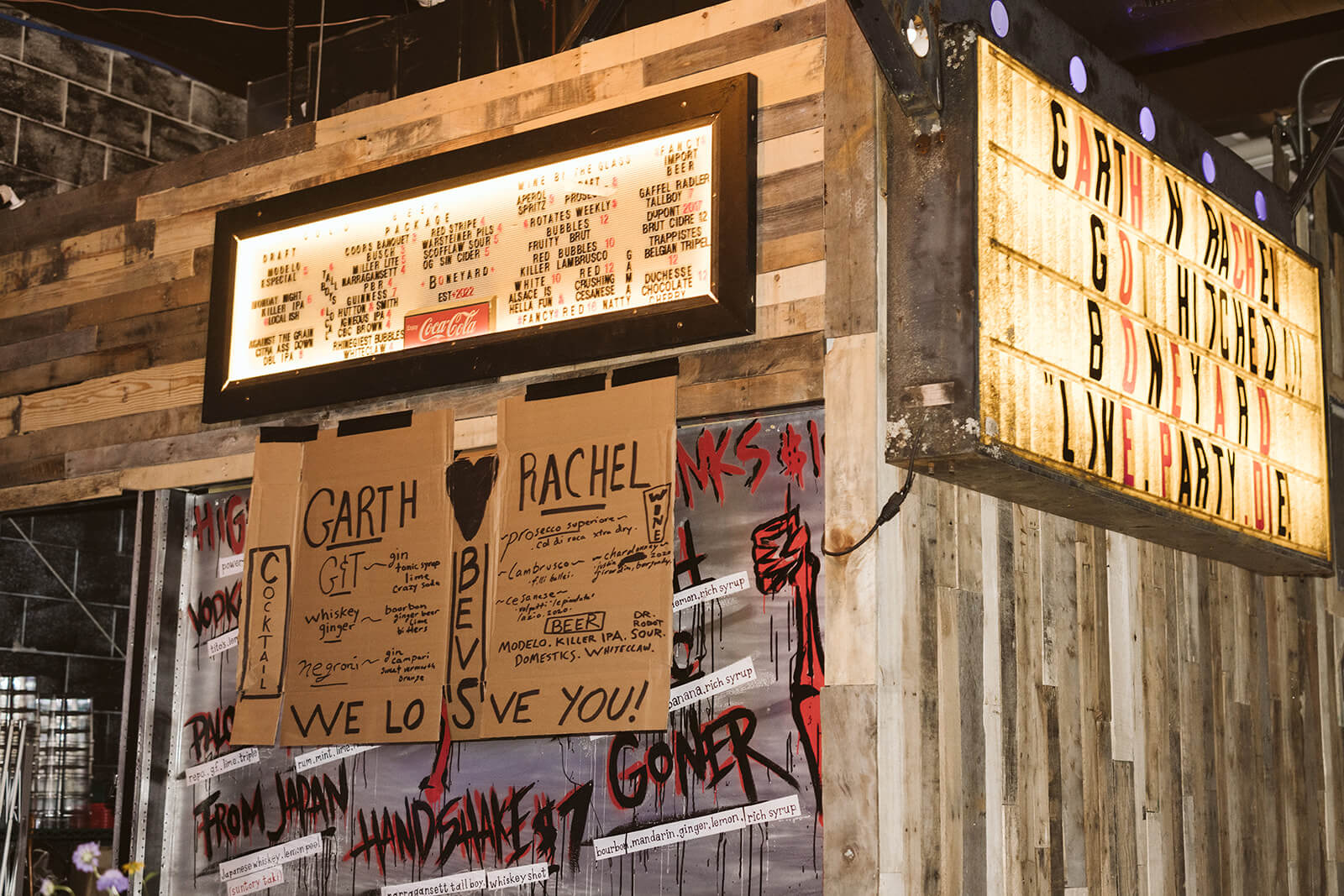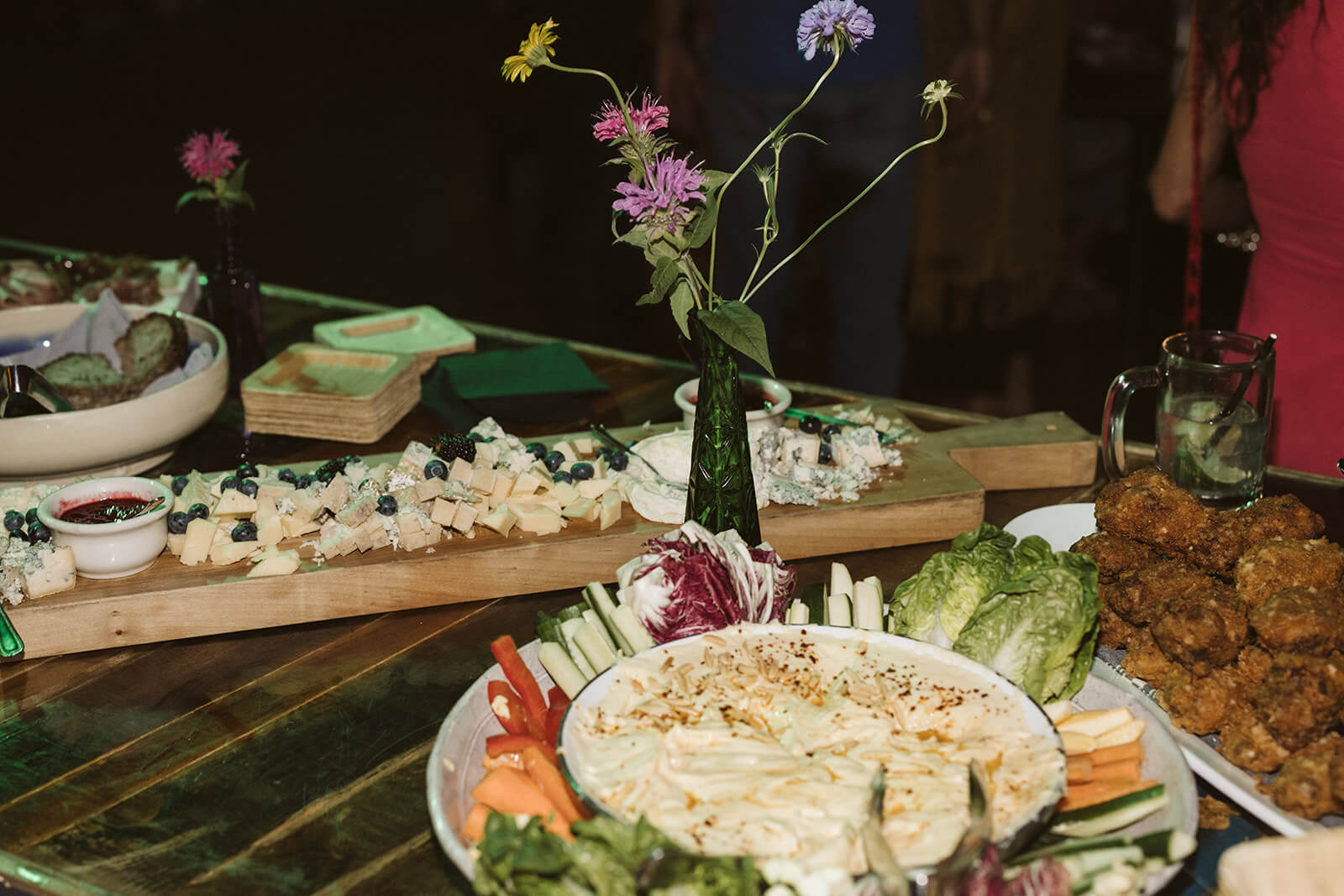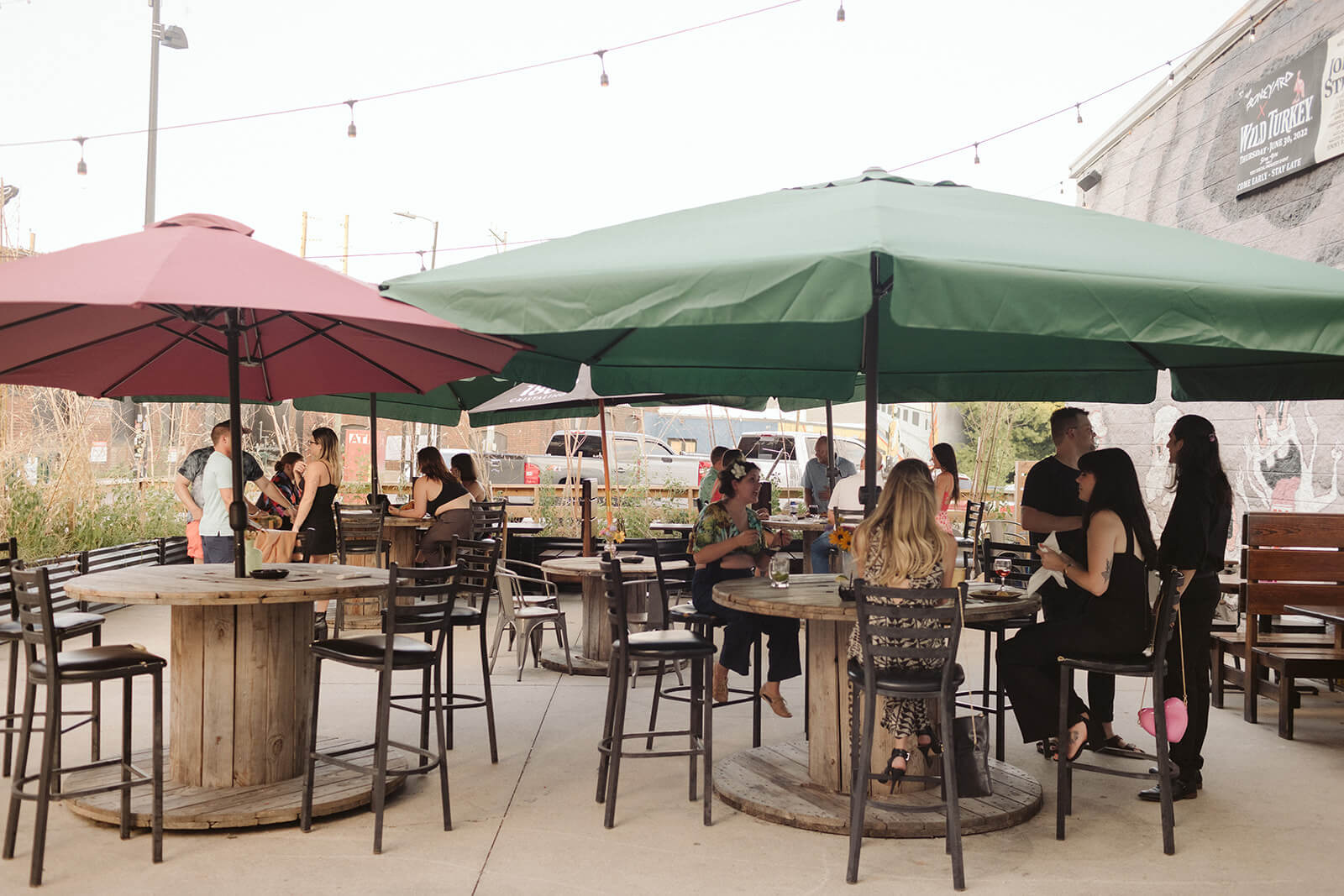 Hosting Your Reception at the Boneyard Bar
A few days after their elopement, Rachel and Garth hopped on a plane for a two week honeymoon in Greece. By the time they came back, everything was already planned for a full reception with their family and friends at the Boneyard.
The Boneyard is one of Chattanooga's newer bars. However, since they opened in 2022, they have quickly become a local favorite. The owners describe the bar's creation and building as a true group effort powered by a "community mind hive". Over the course of two years, the owners and their friends built the bar into what is today using repurposed, found, or handmade materials and adding them to the former auto shop location. The goal of their build was to bring old things and give them a new life in the bar which is part of how they came up with the name, "The Boneyard." The final touches to the bar were the graffiti by Chattanooga's anonymous graffiti artist, "Eric is dead," and the large alien murals done by local artist Sarah Hendrik.
While the Boneyard is host mostly to live music events, when it comes to new ideas – like hosting a wedding reception – the folks at the Boneyard are already all in and ready to do it. They kept the strong value of community, arts, and collaboration that built the bar even after they opened. So, if you have an idea or event that you want to happen, they are more than willing to help you bring that idea to life.
For events like wedding receptions, many things are covered under your rental fee. The Boneyard already has in-house catering and alcohol including beer, wine, and liquor and plenty of seating both inside and on their outdoor patio. Plus, with their setup already in place for concerts, there are several staging options with sound systems for DJ booths or a band. For Rachel and Garth's wedding reception, the owners even added in a few personal touches with handmade signs and artwork that really added to the industrial eclectic feel of the bar.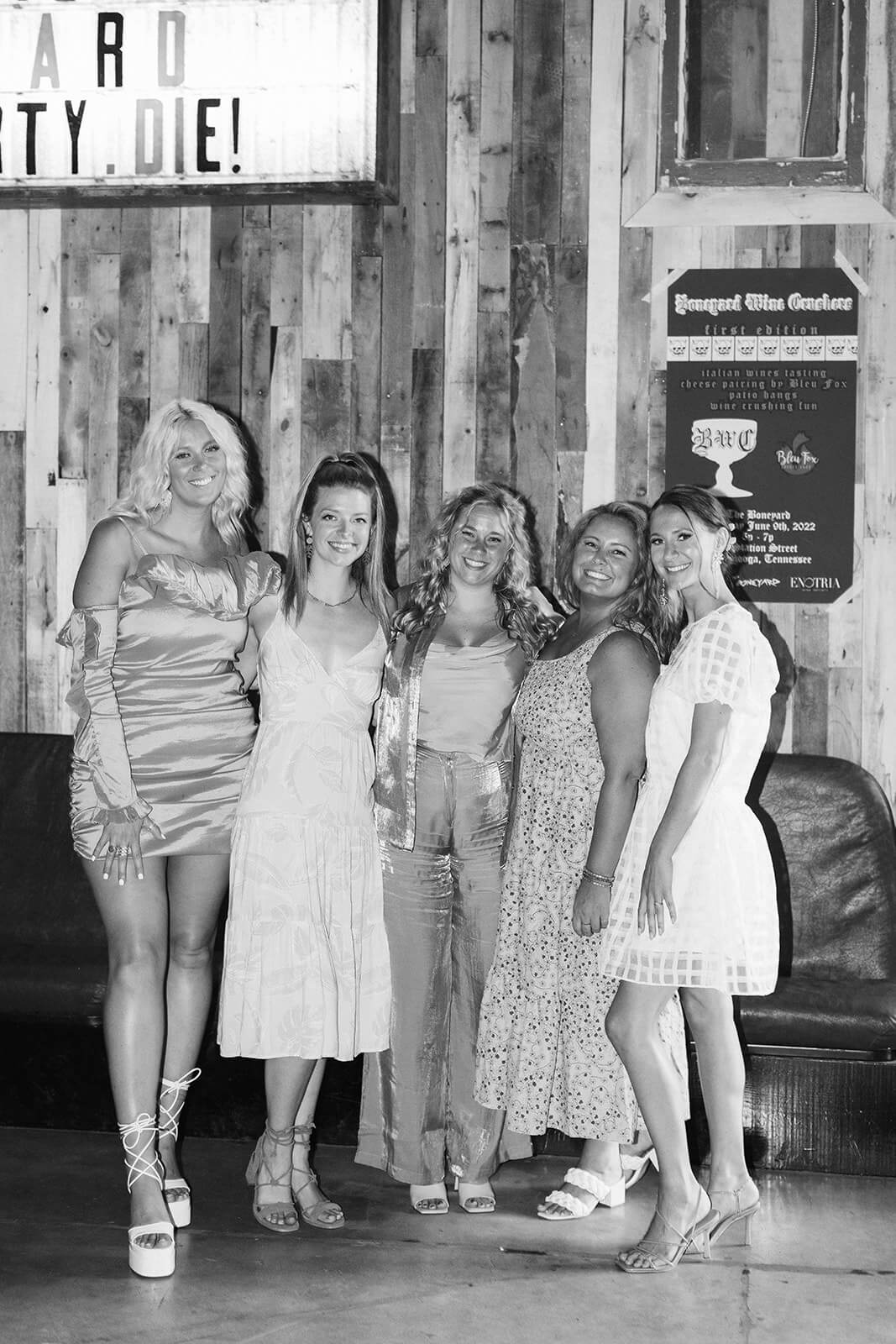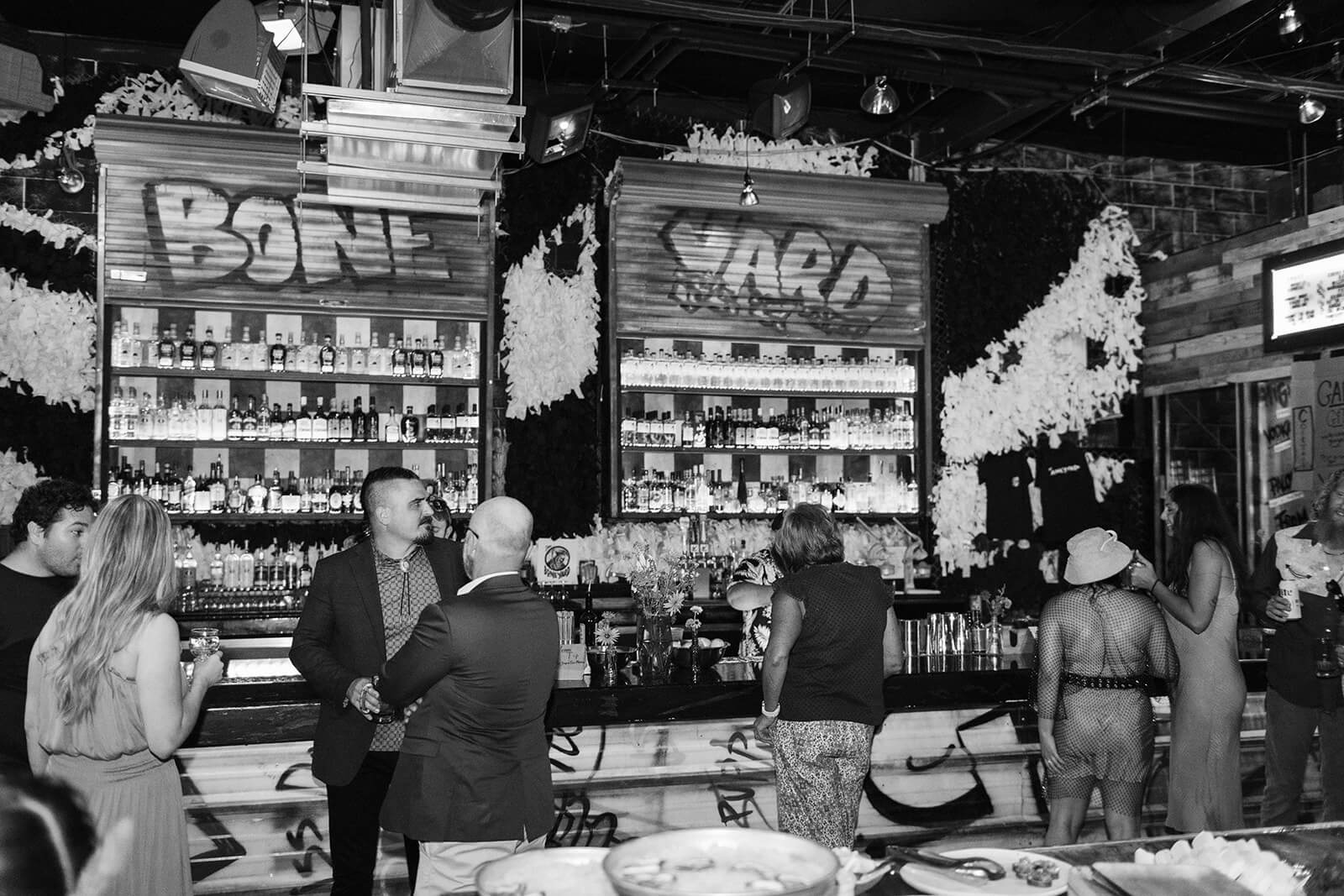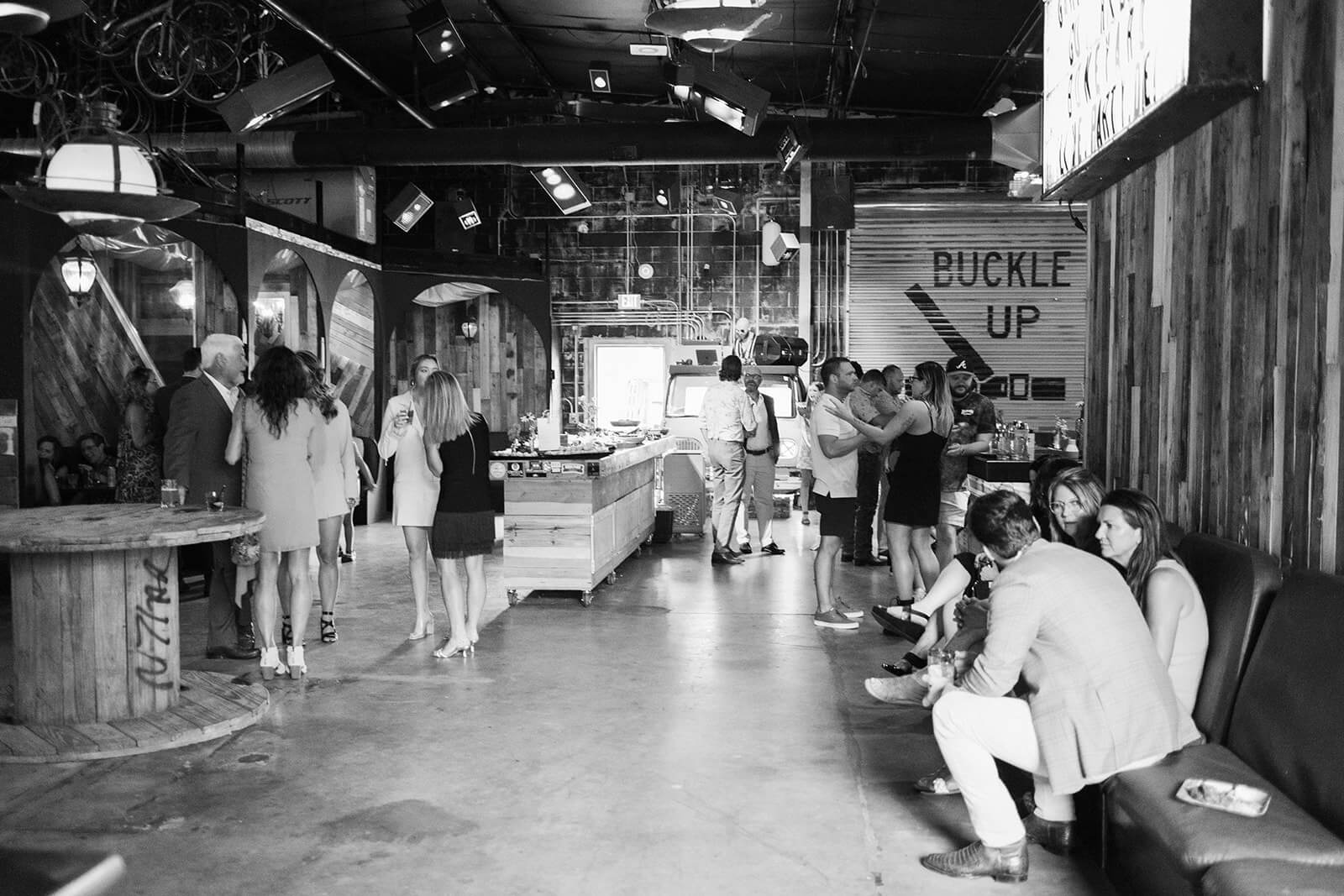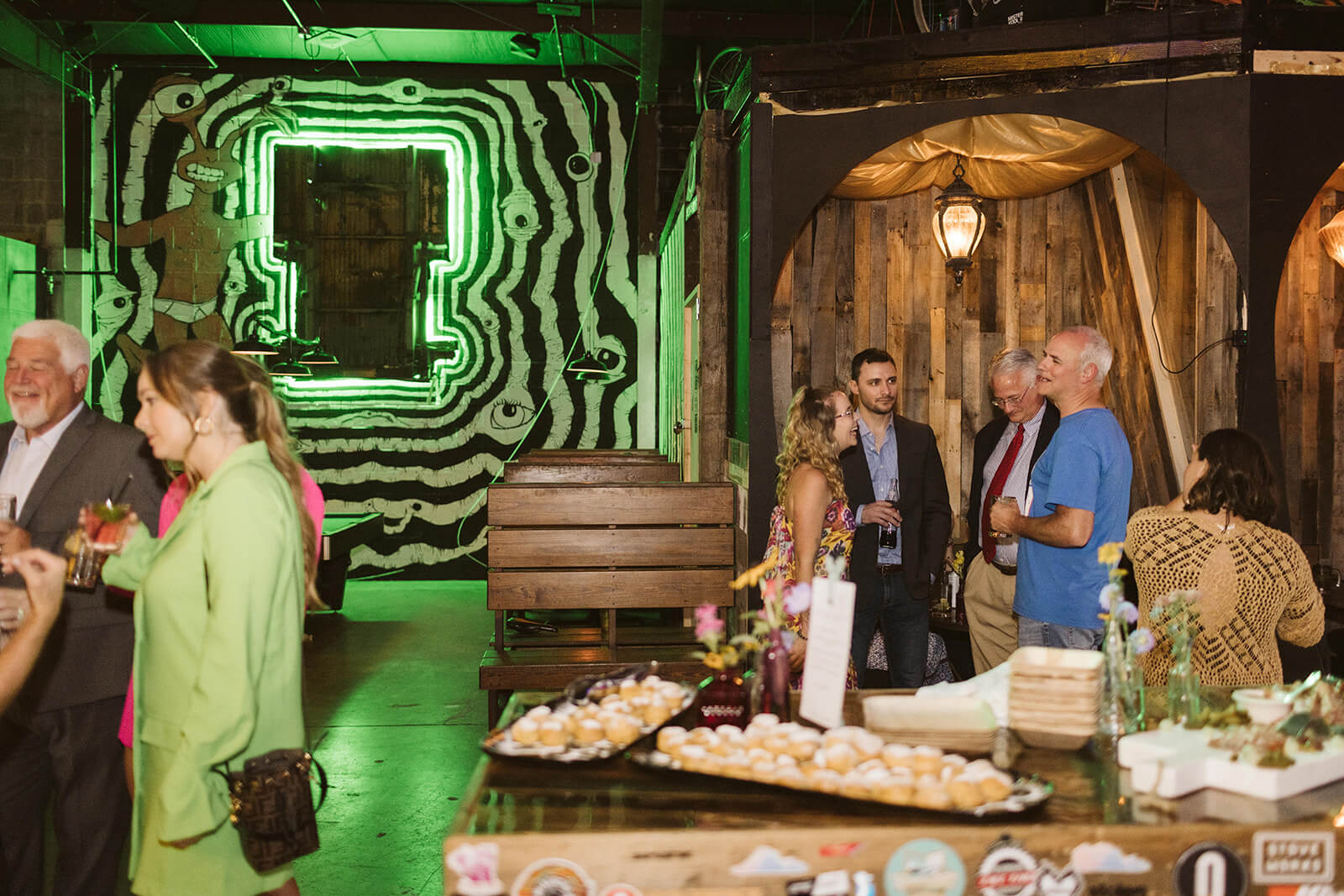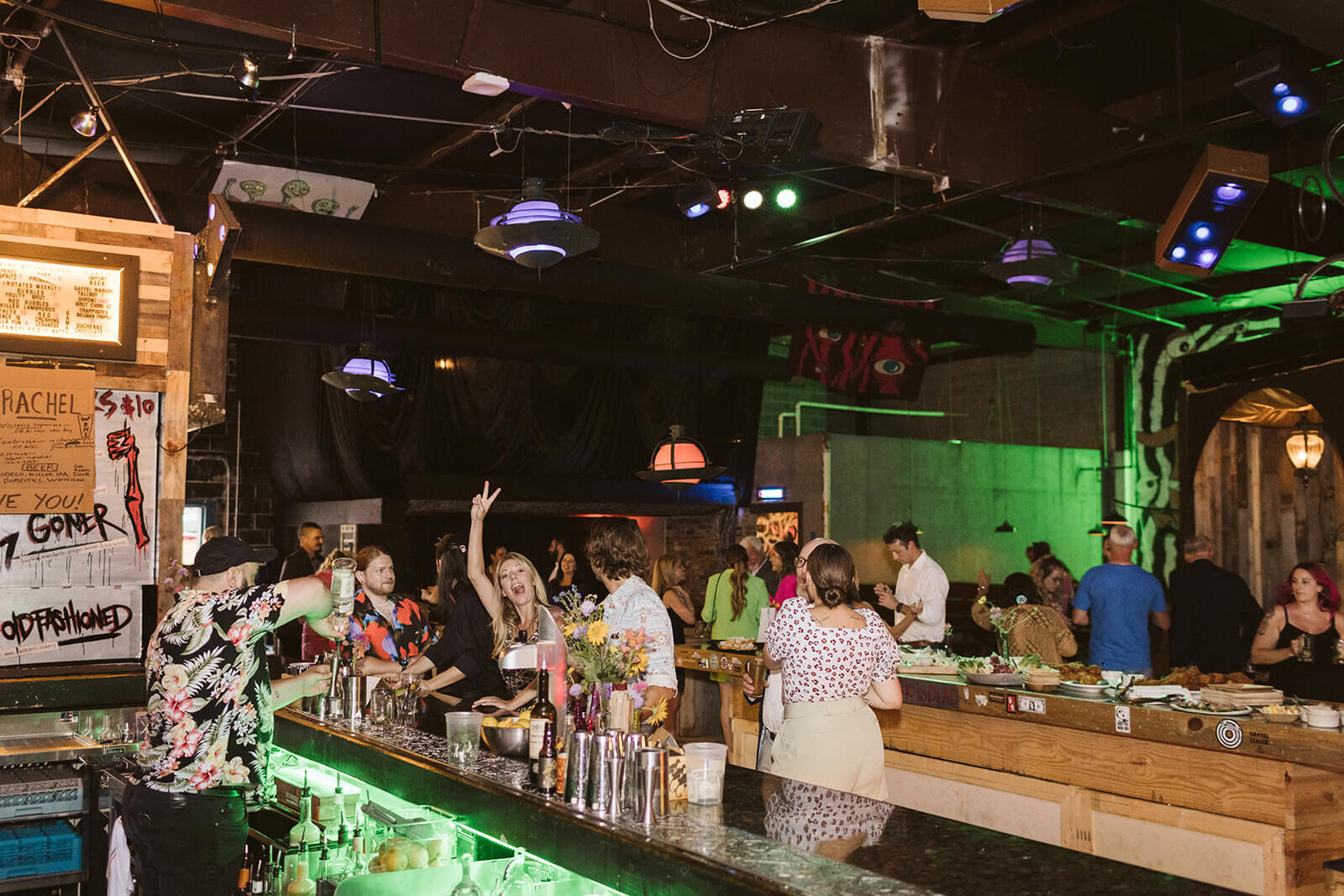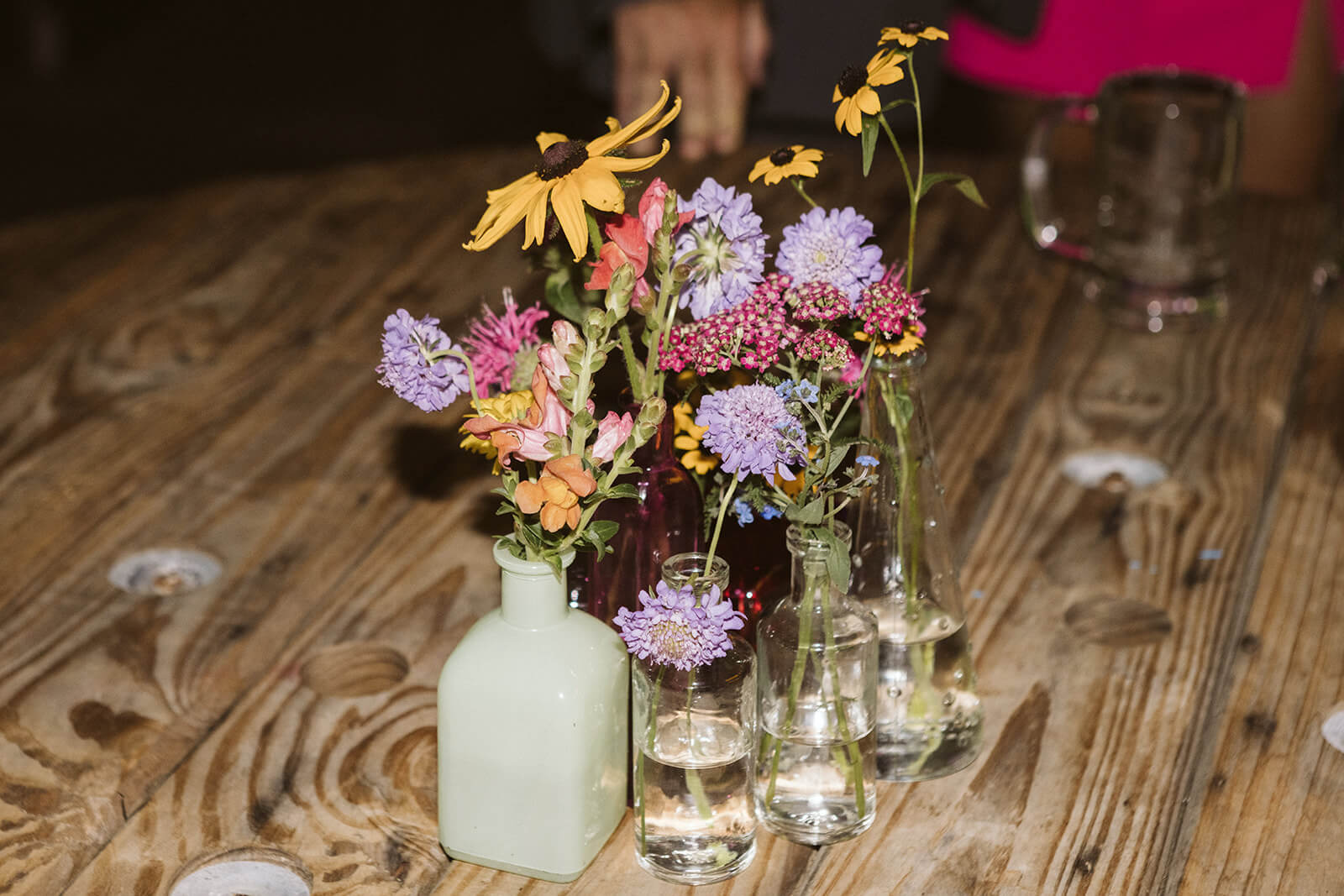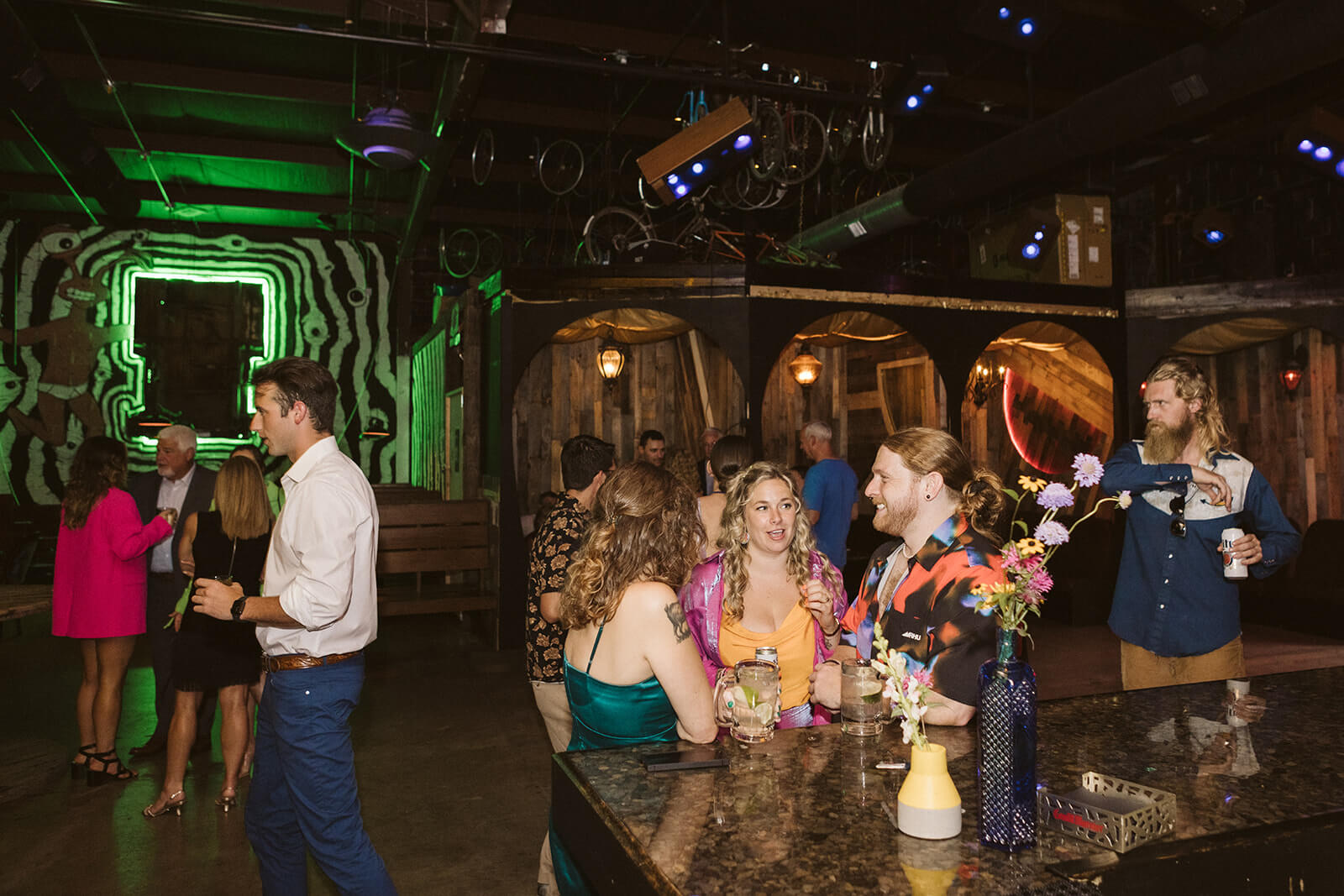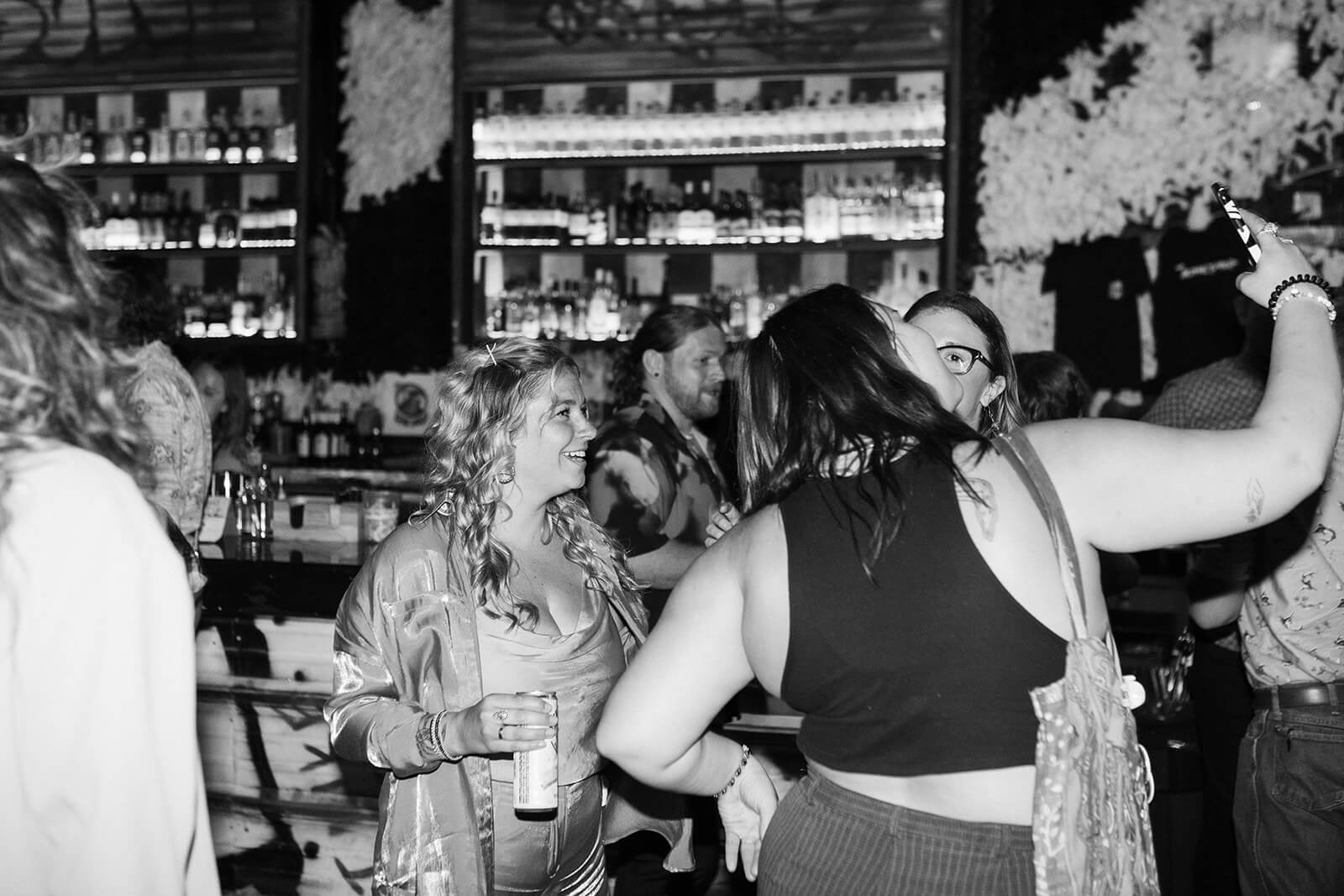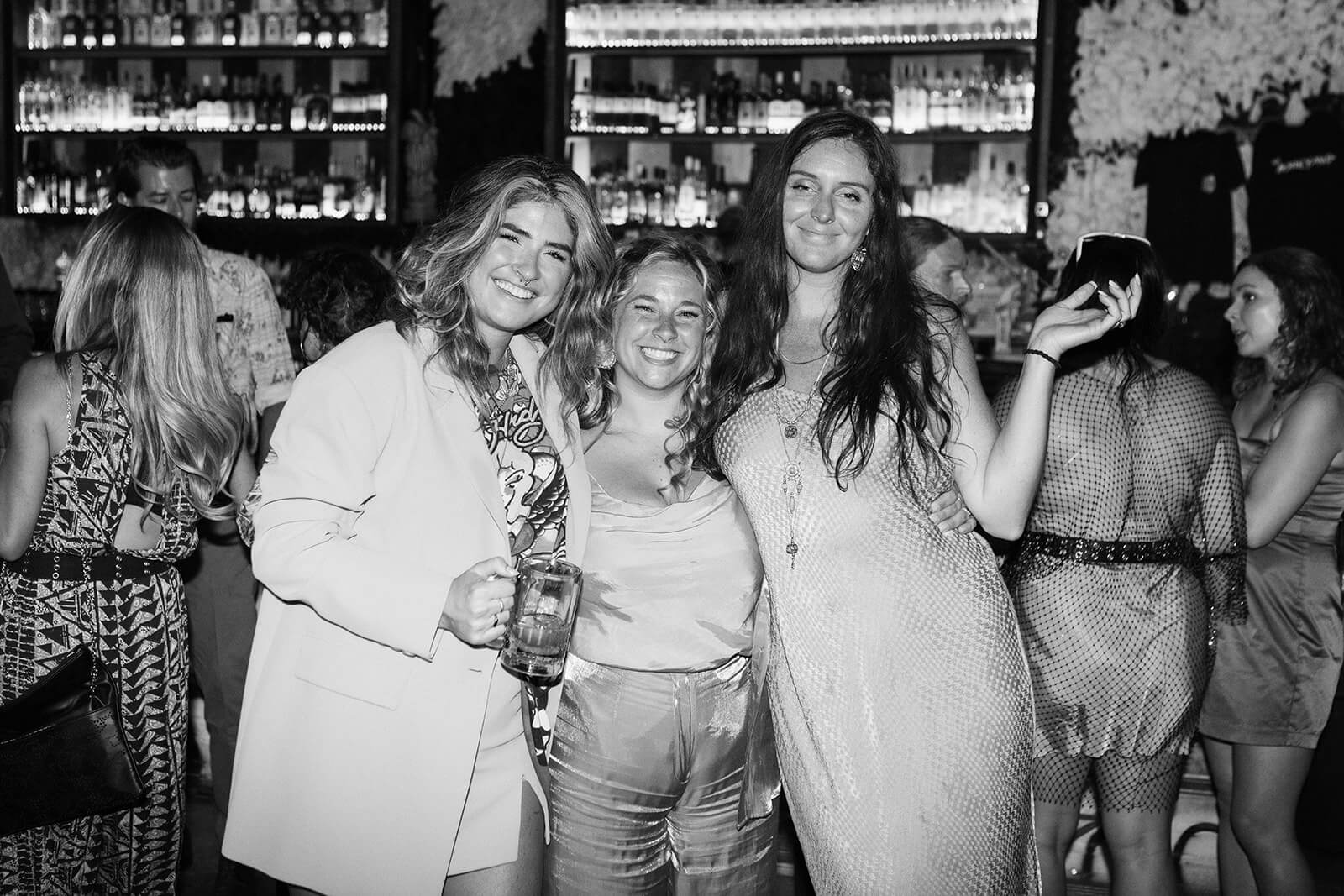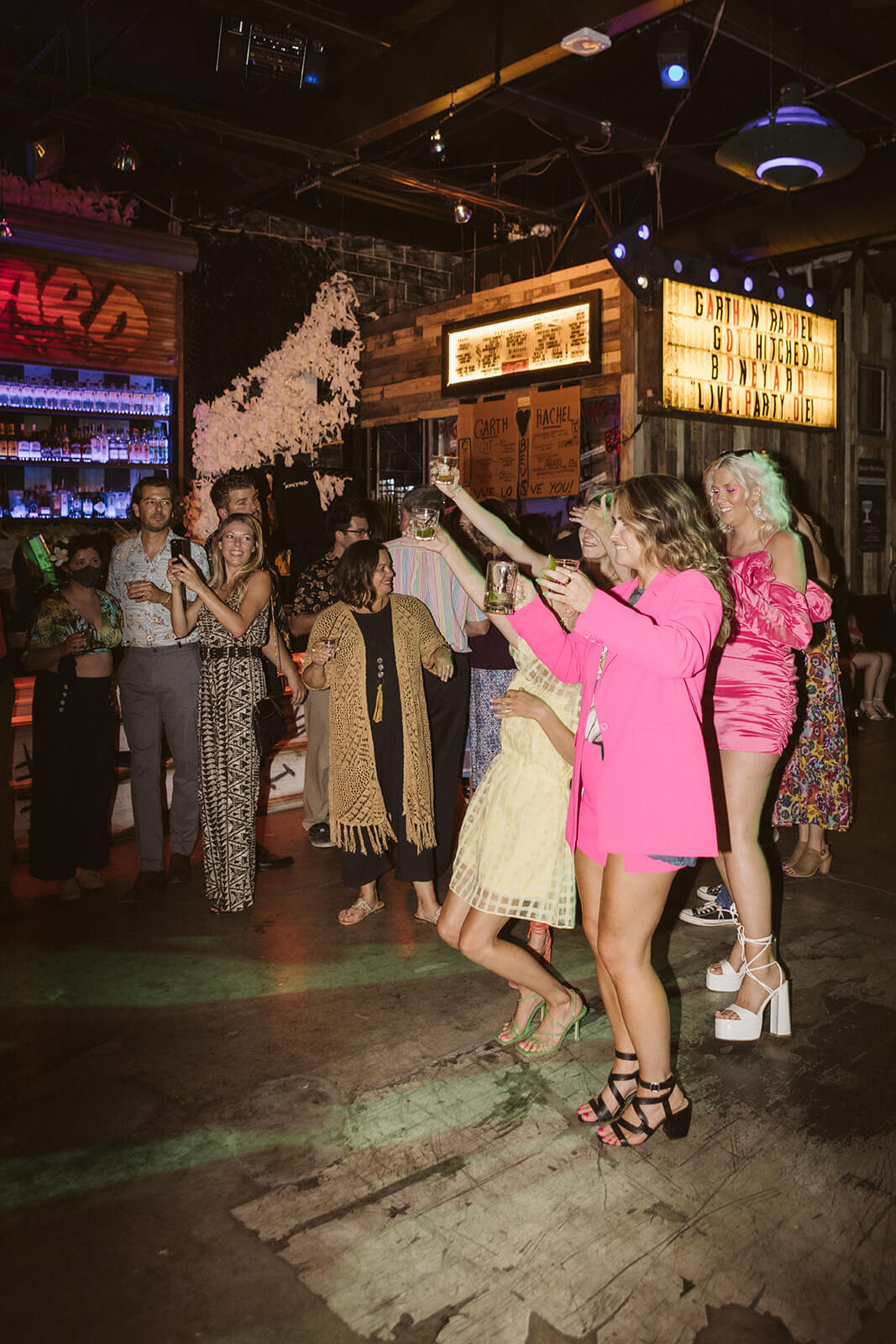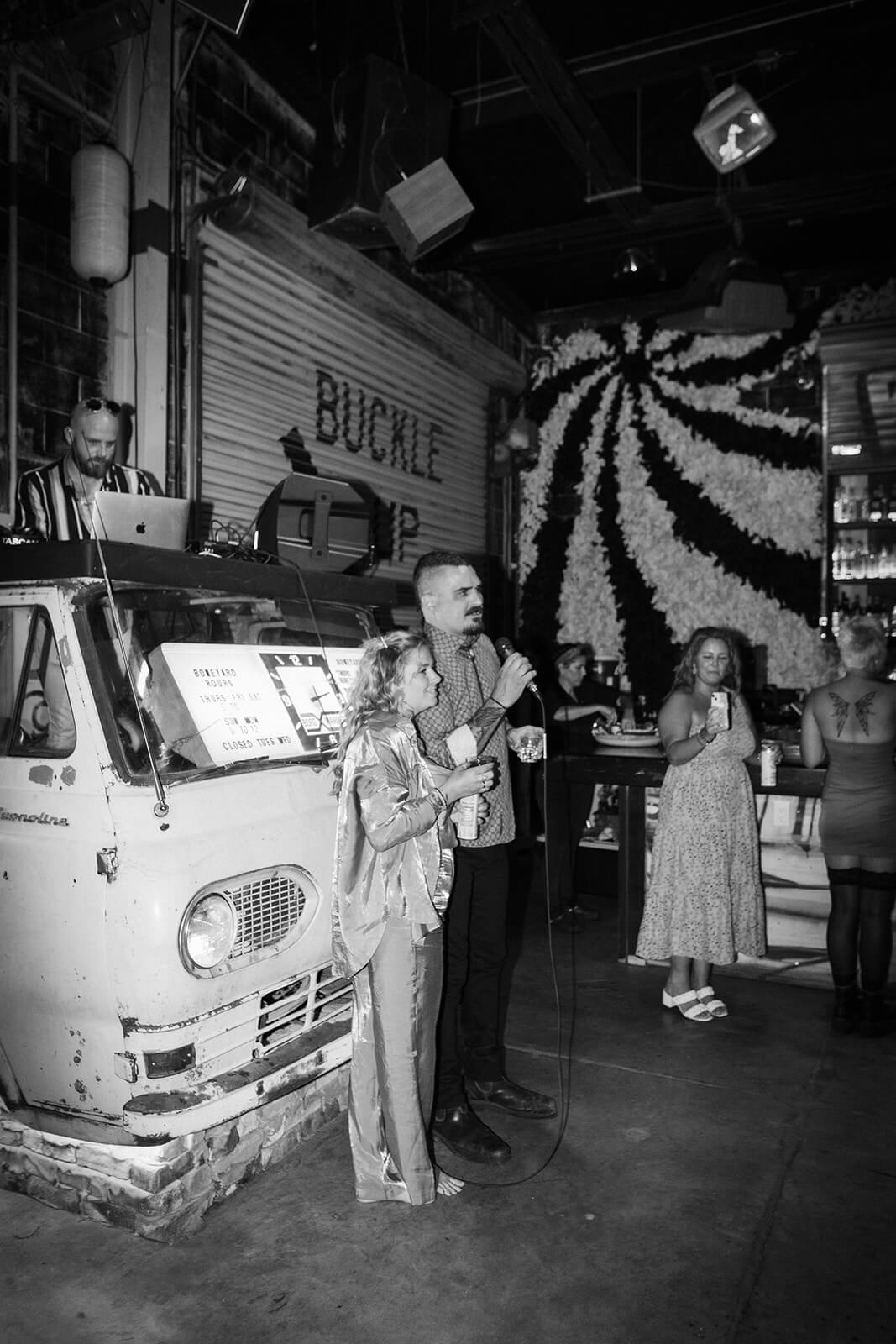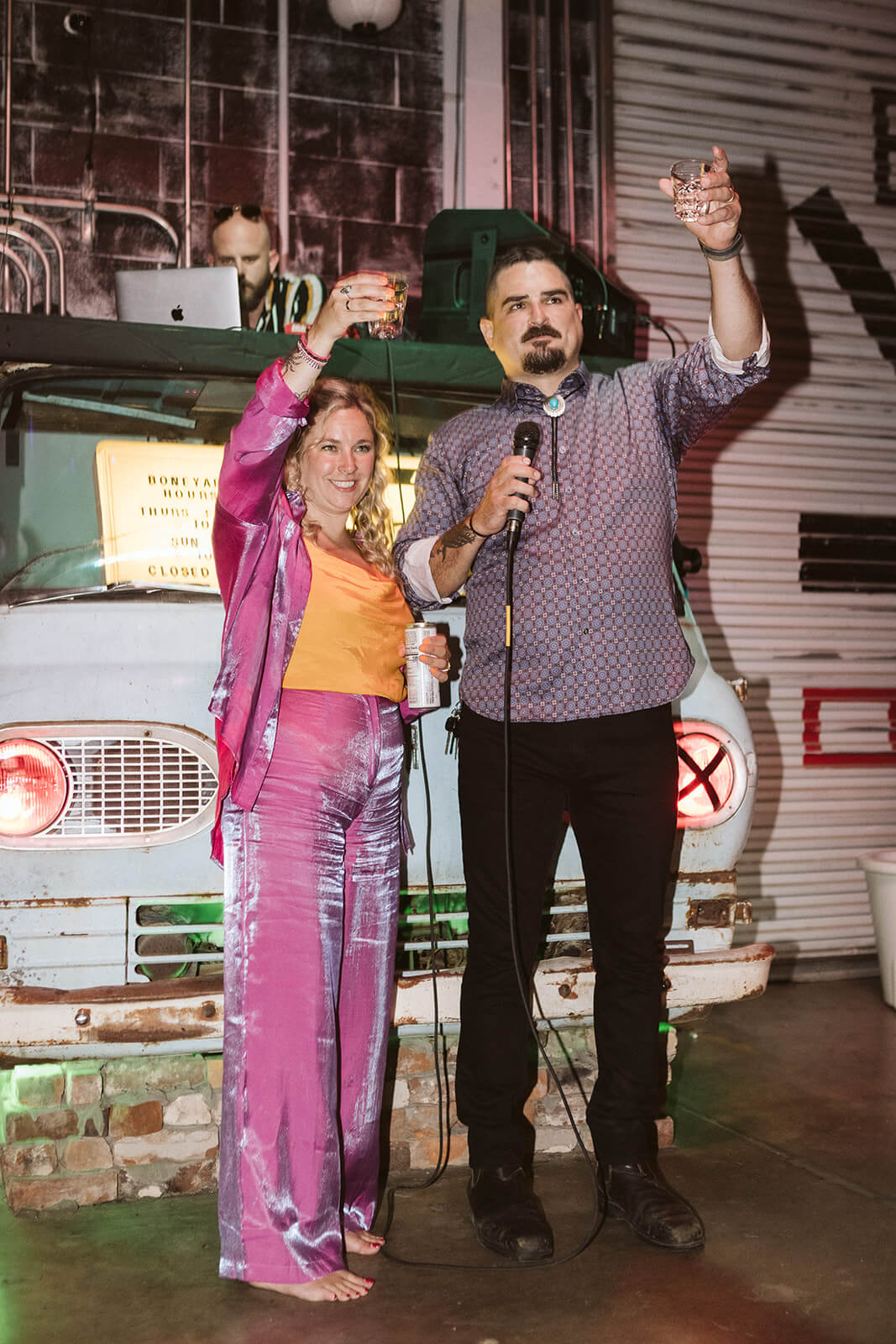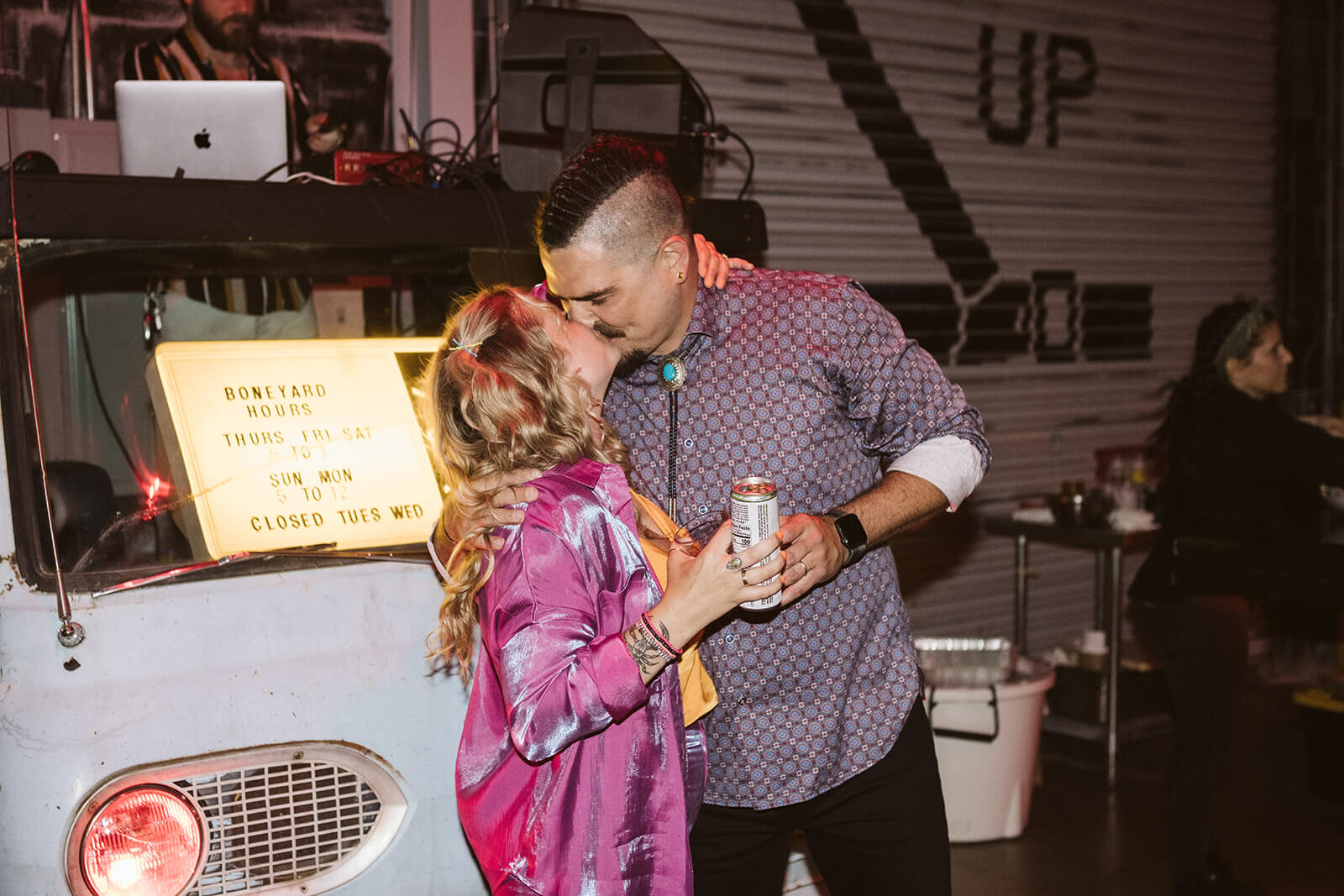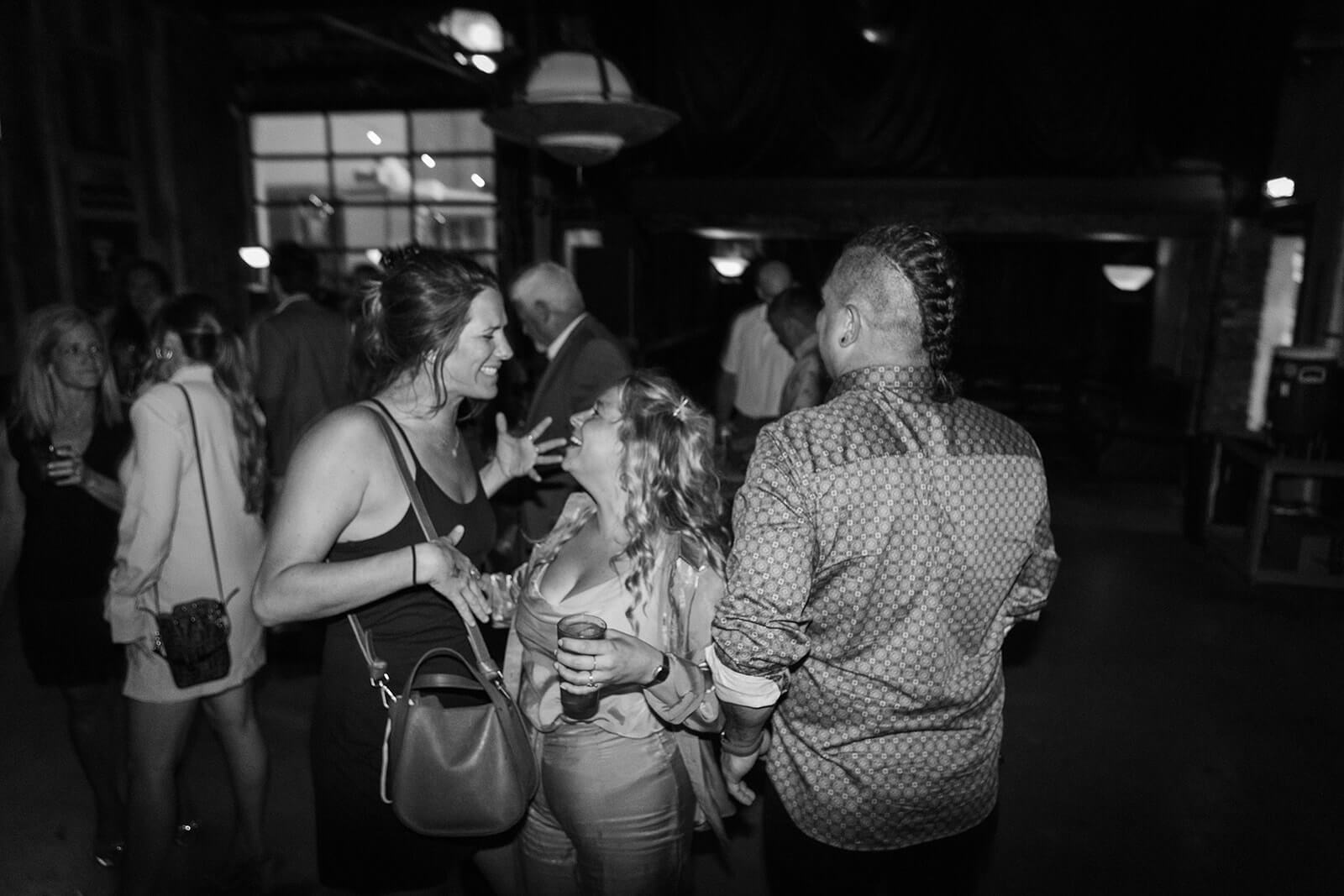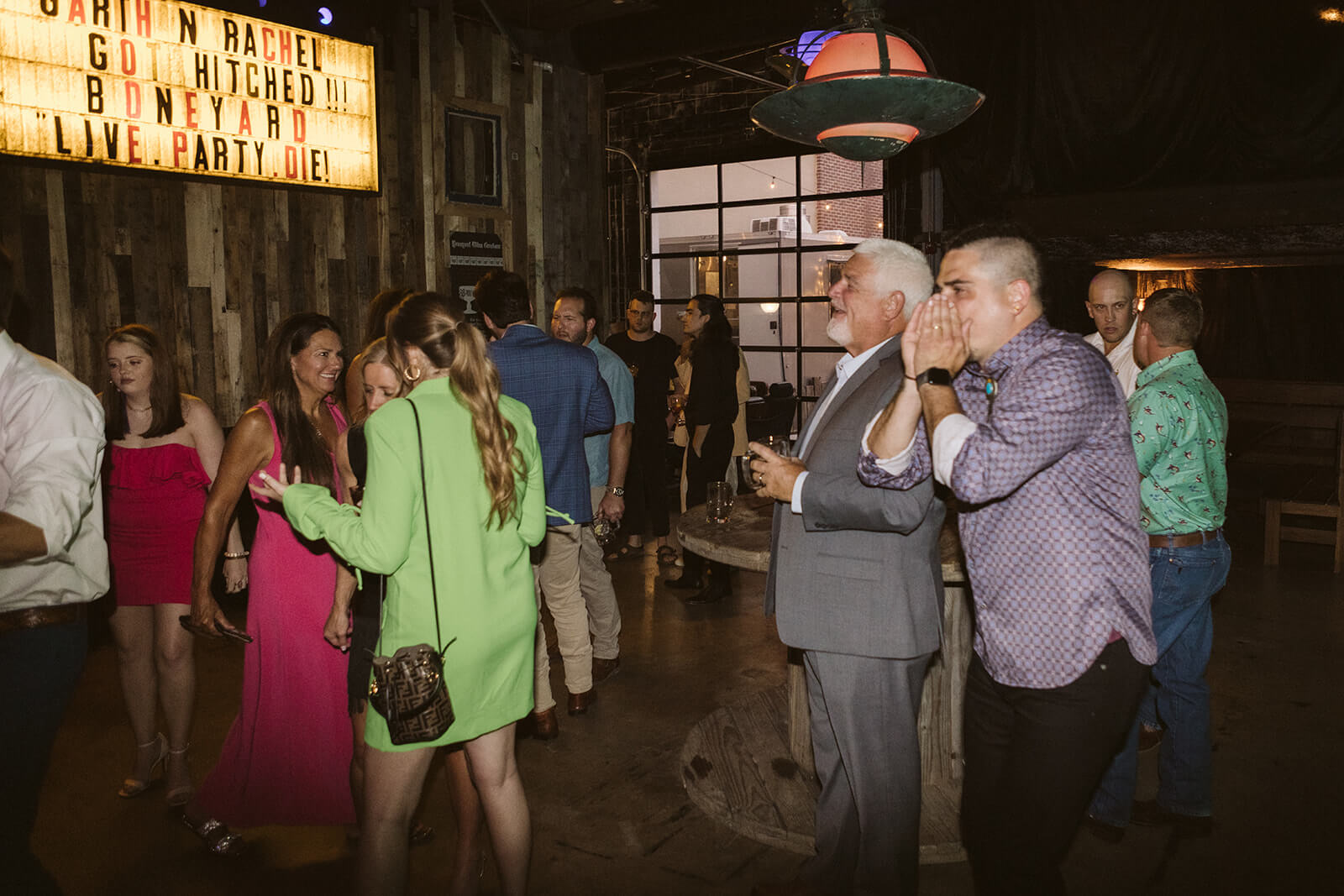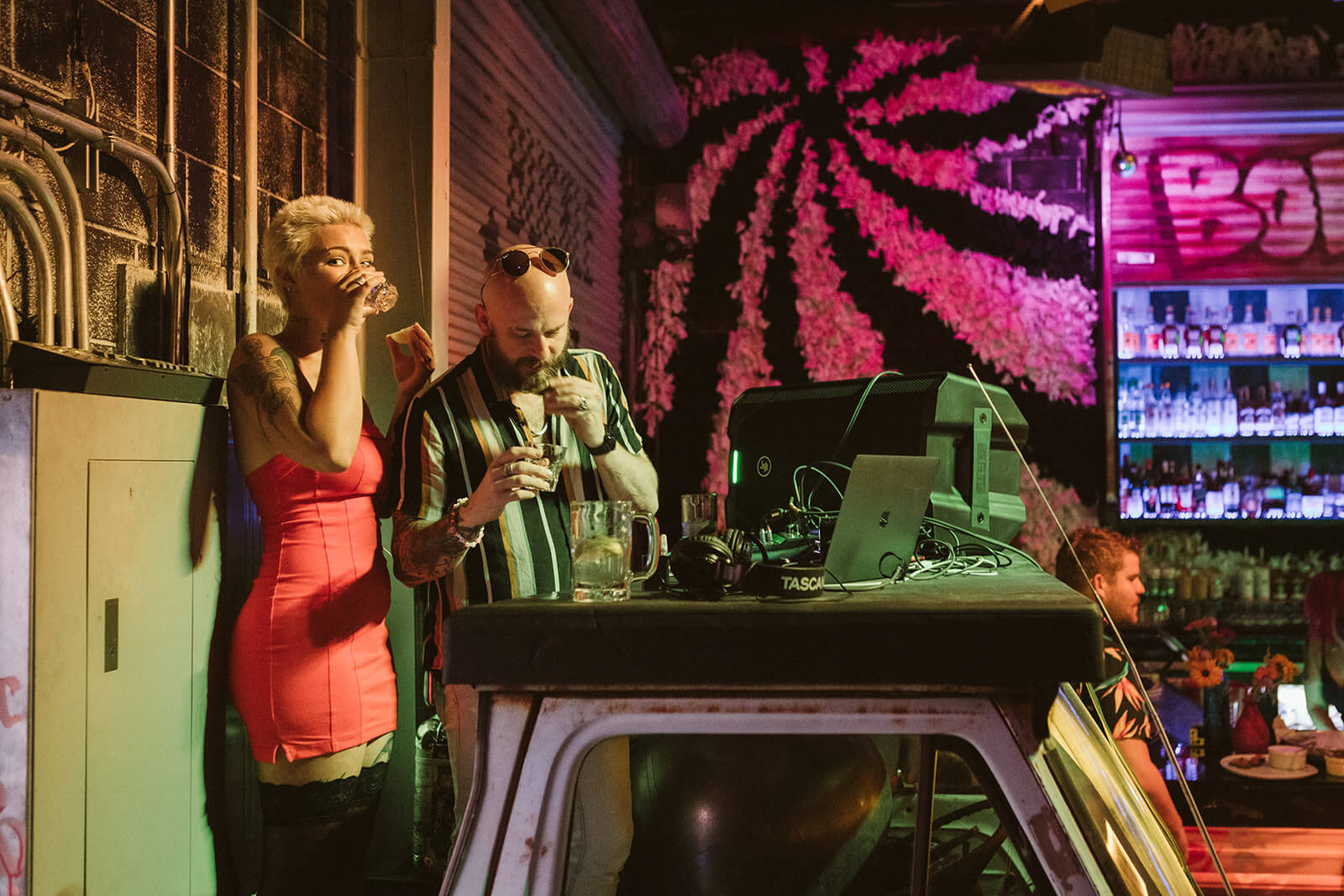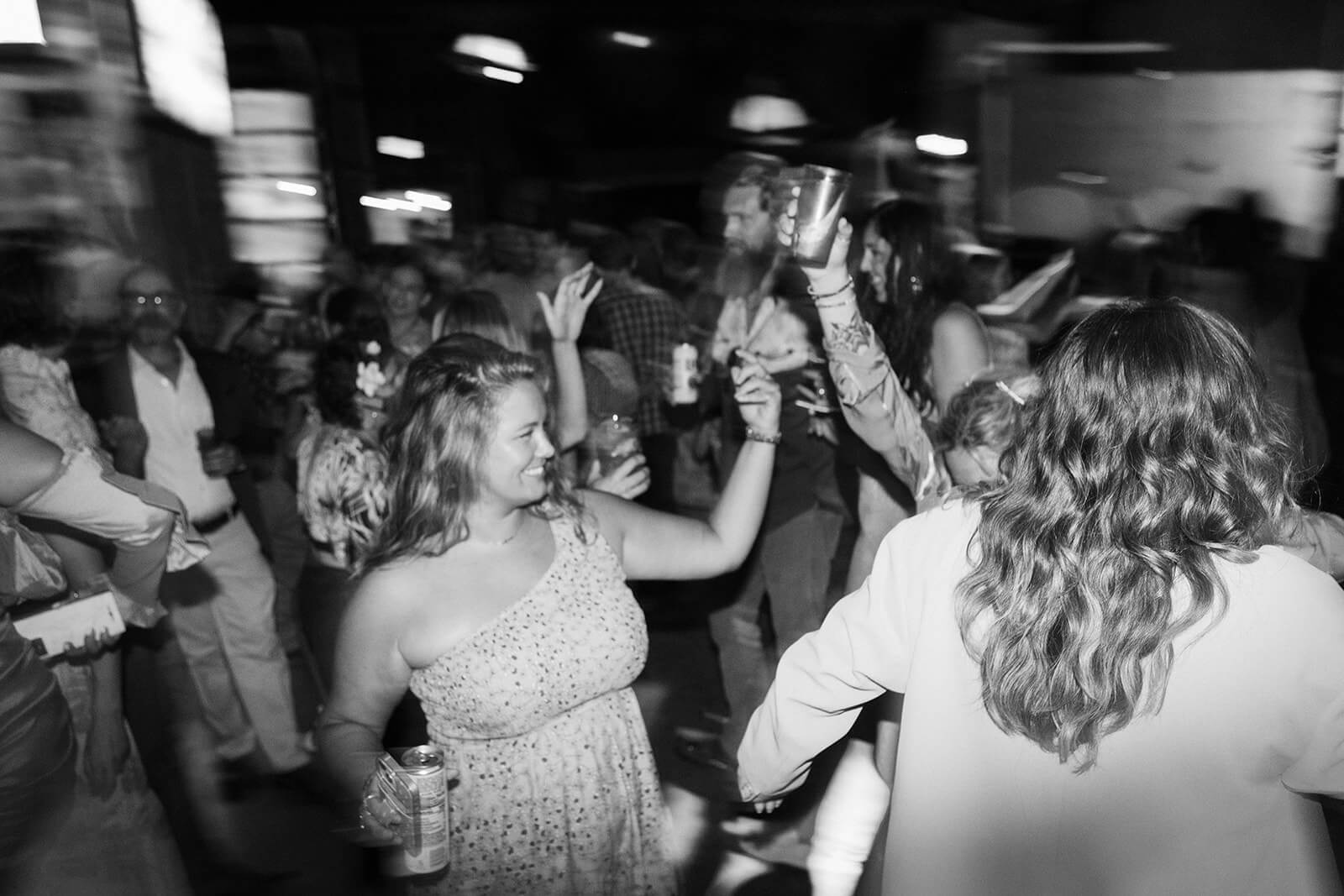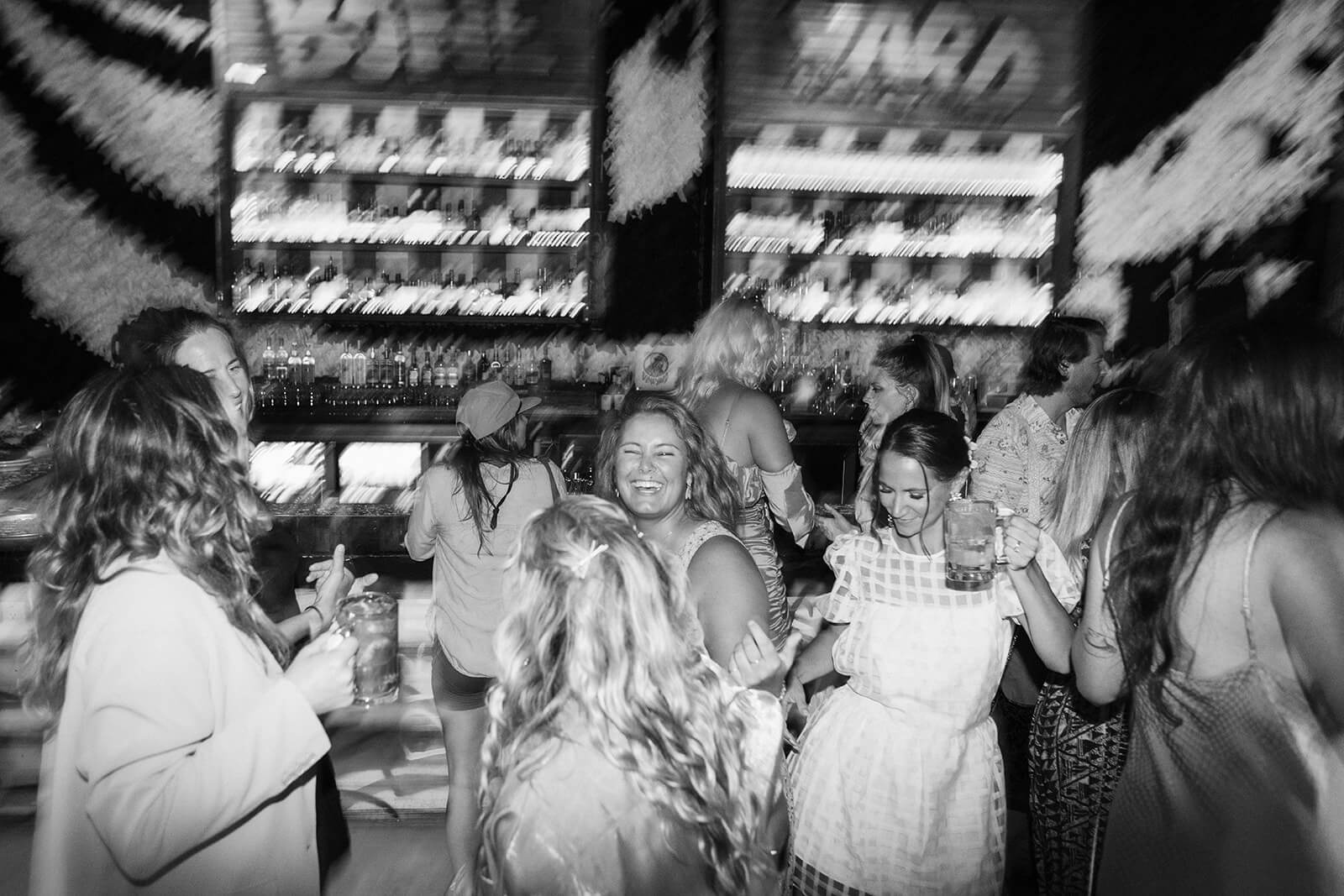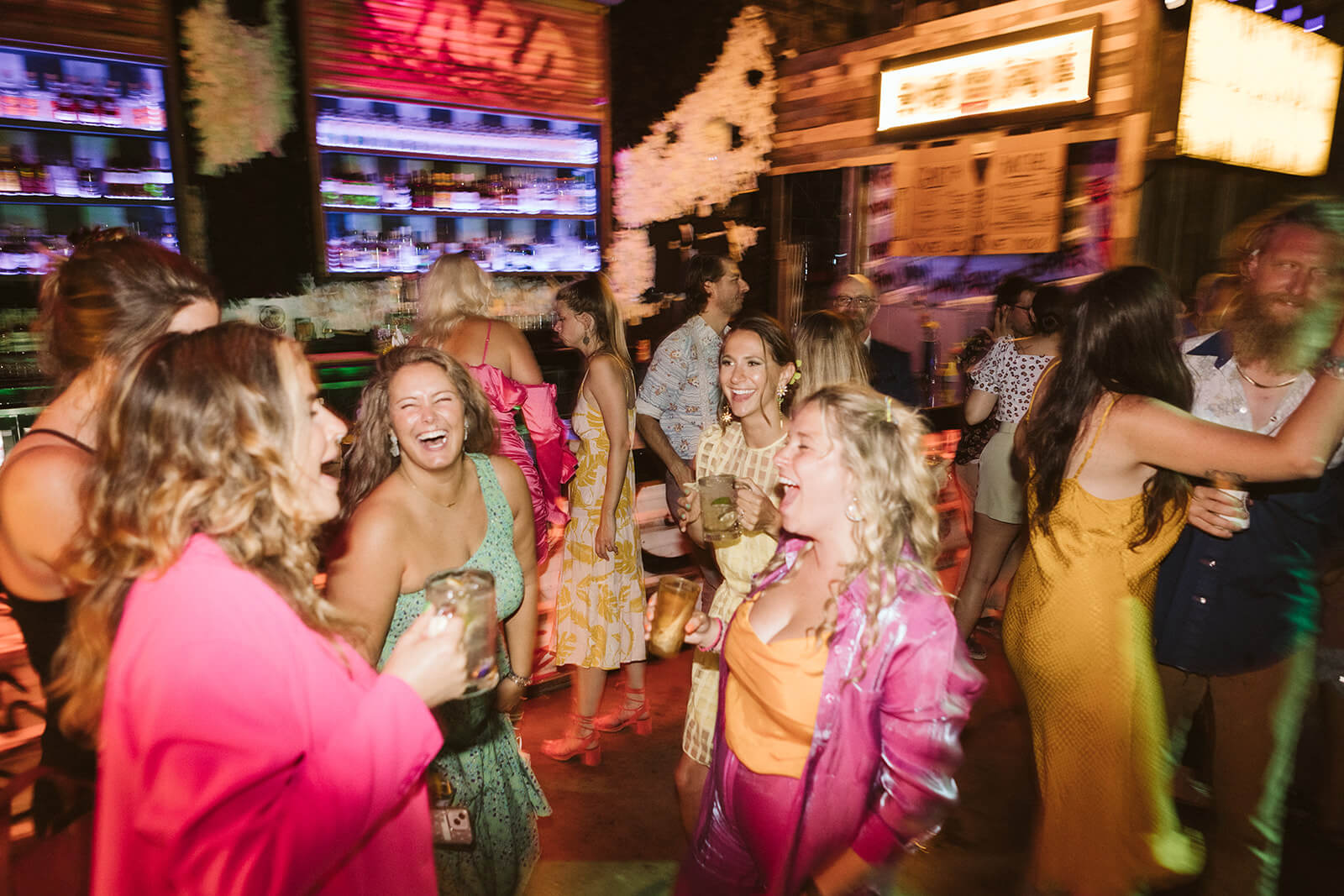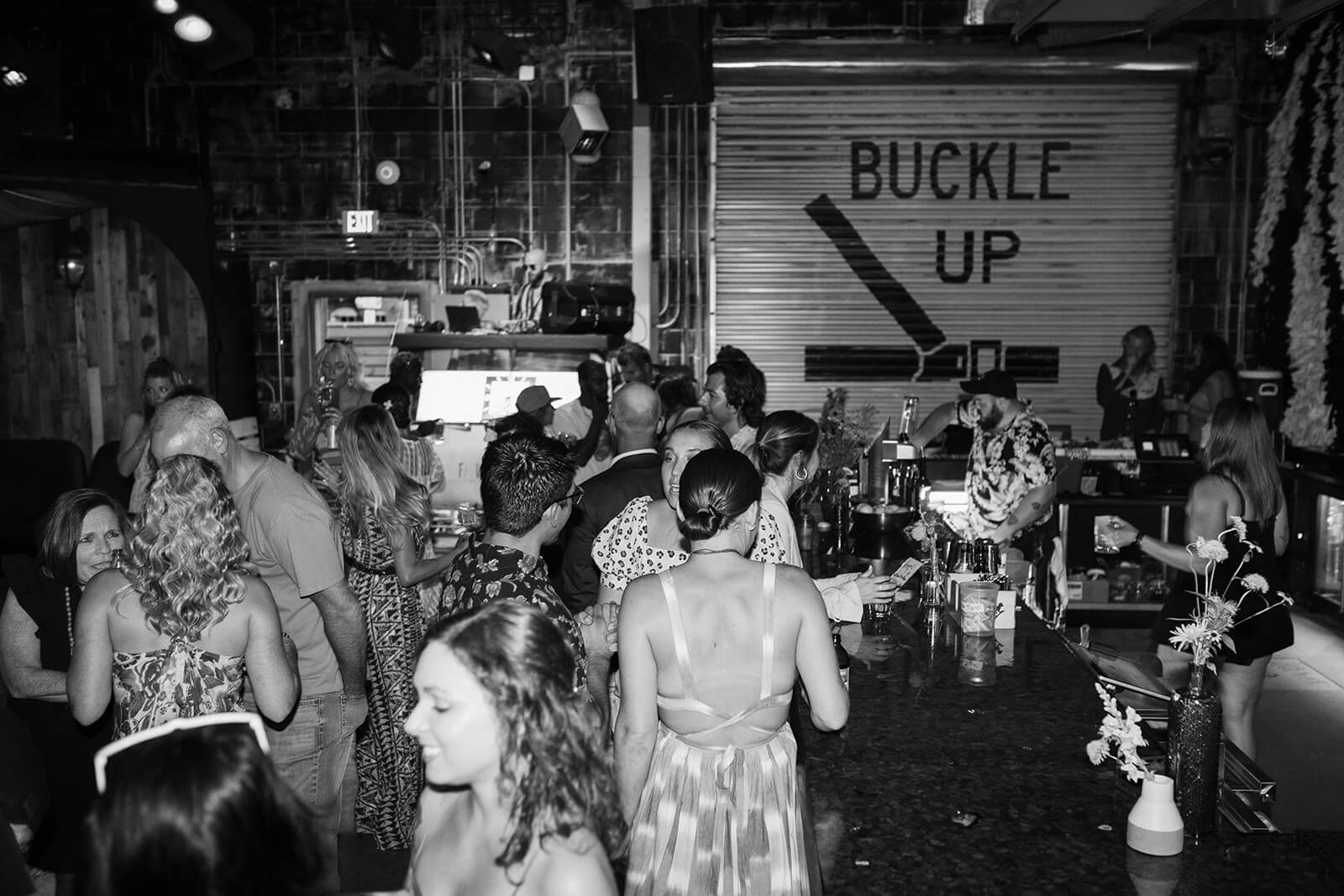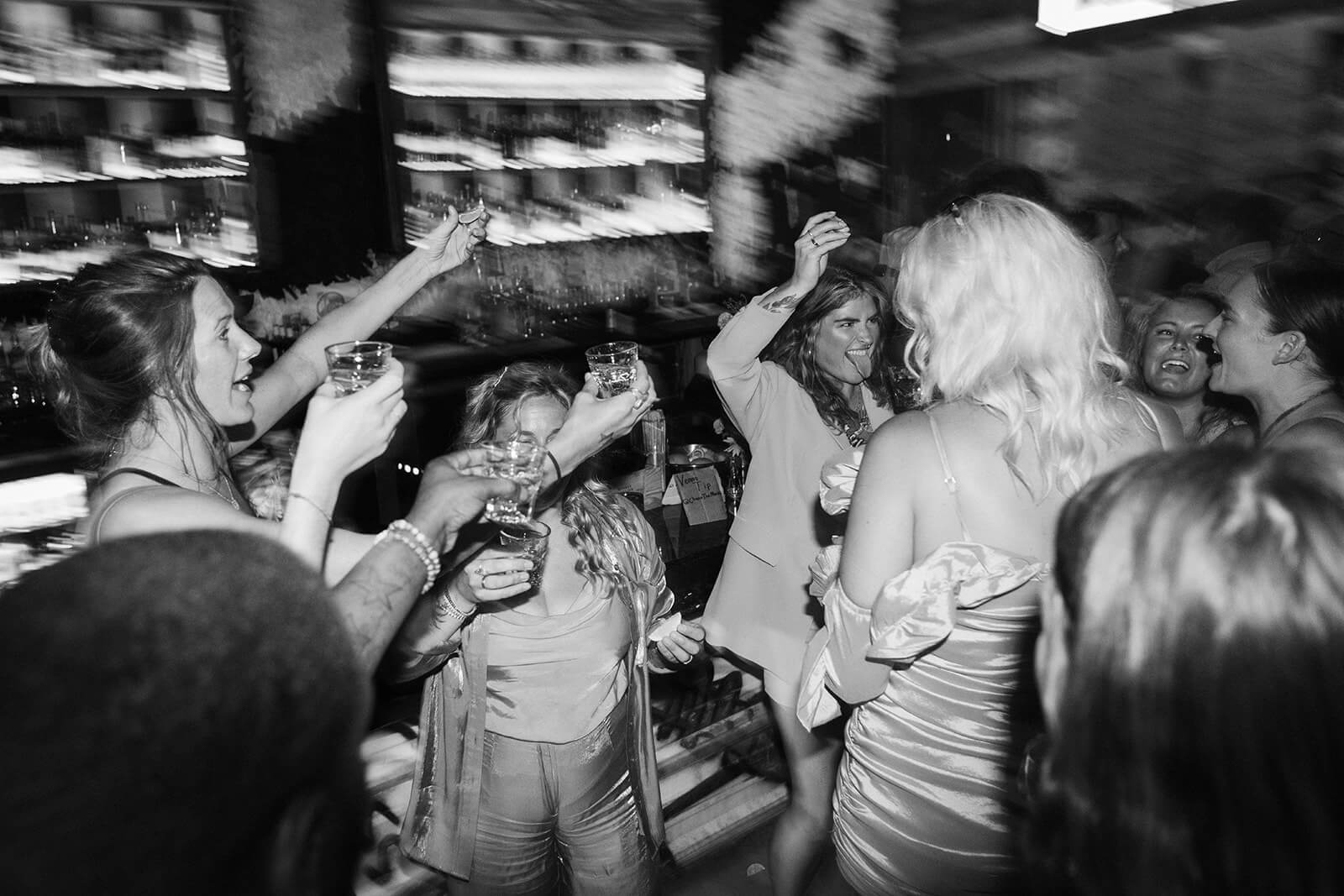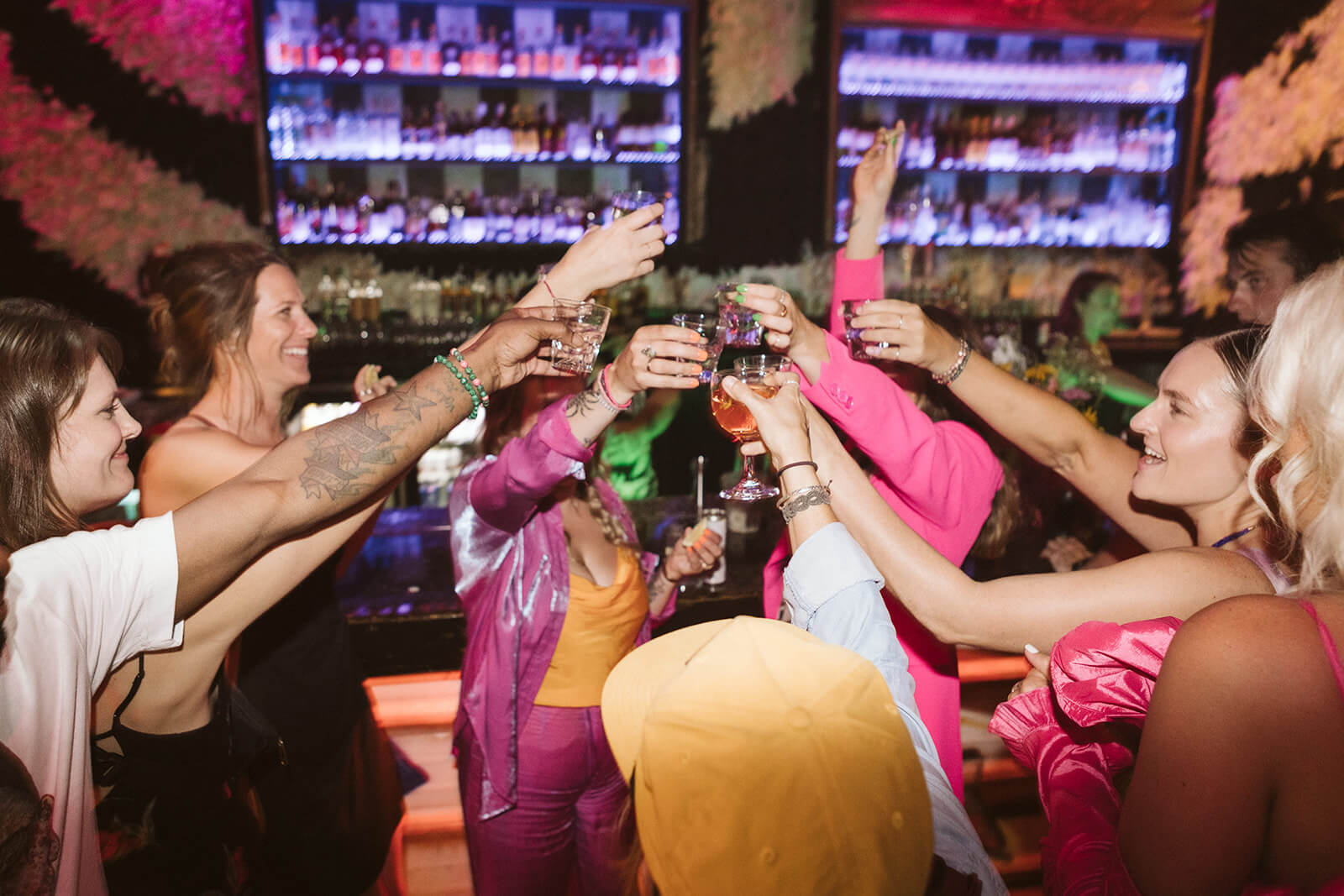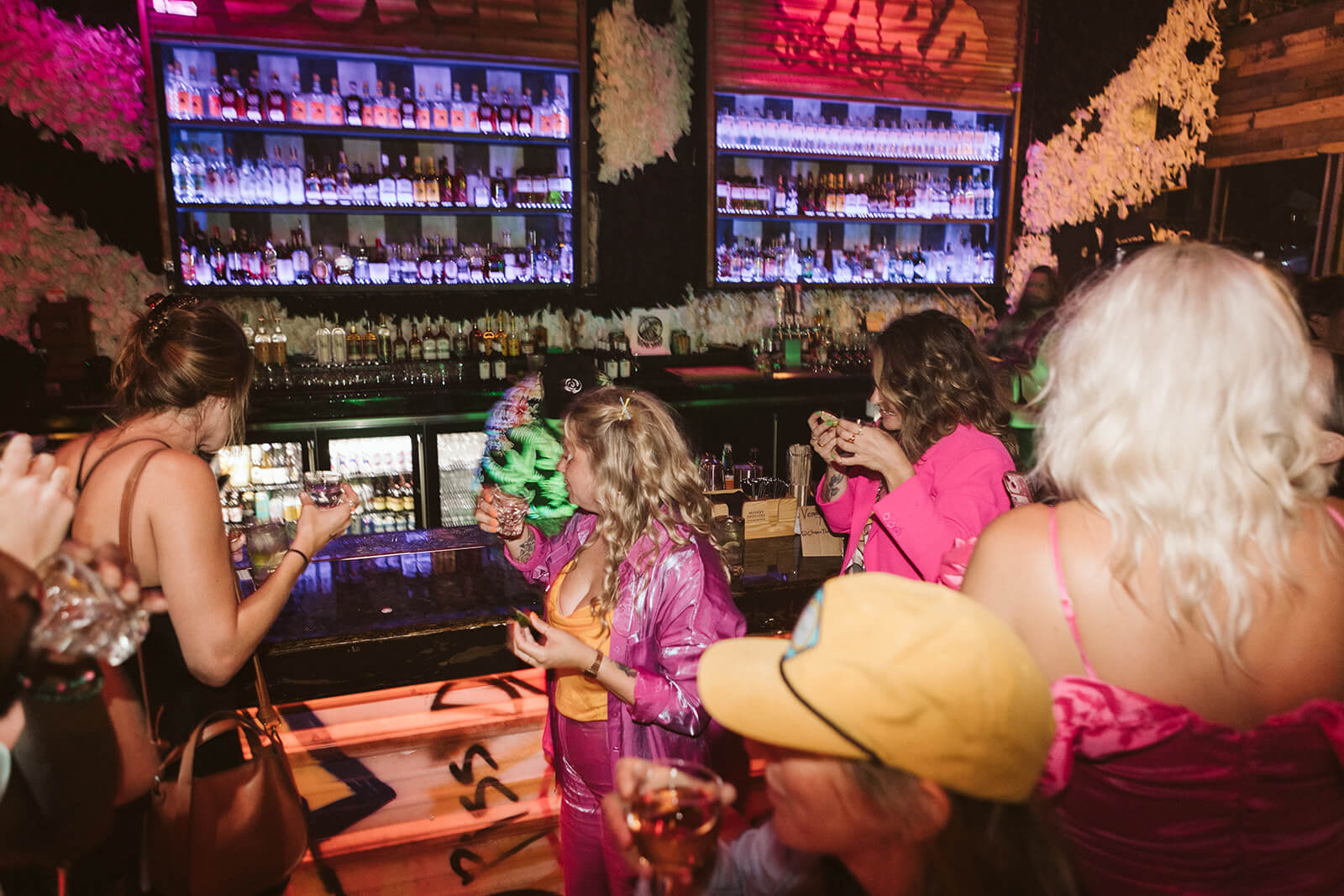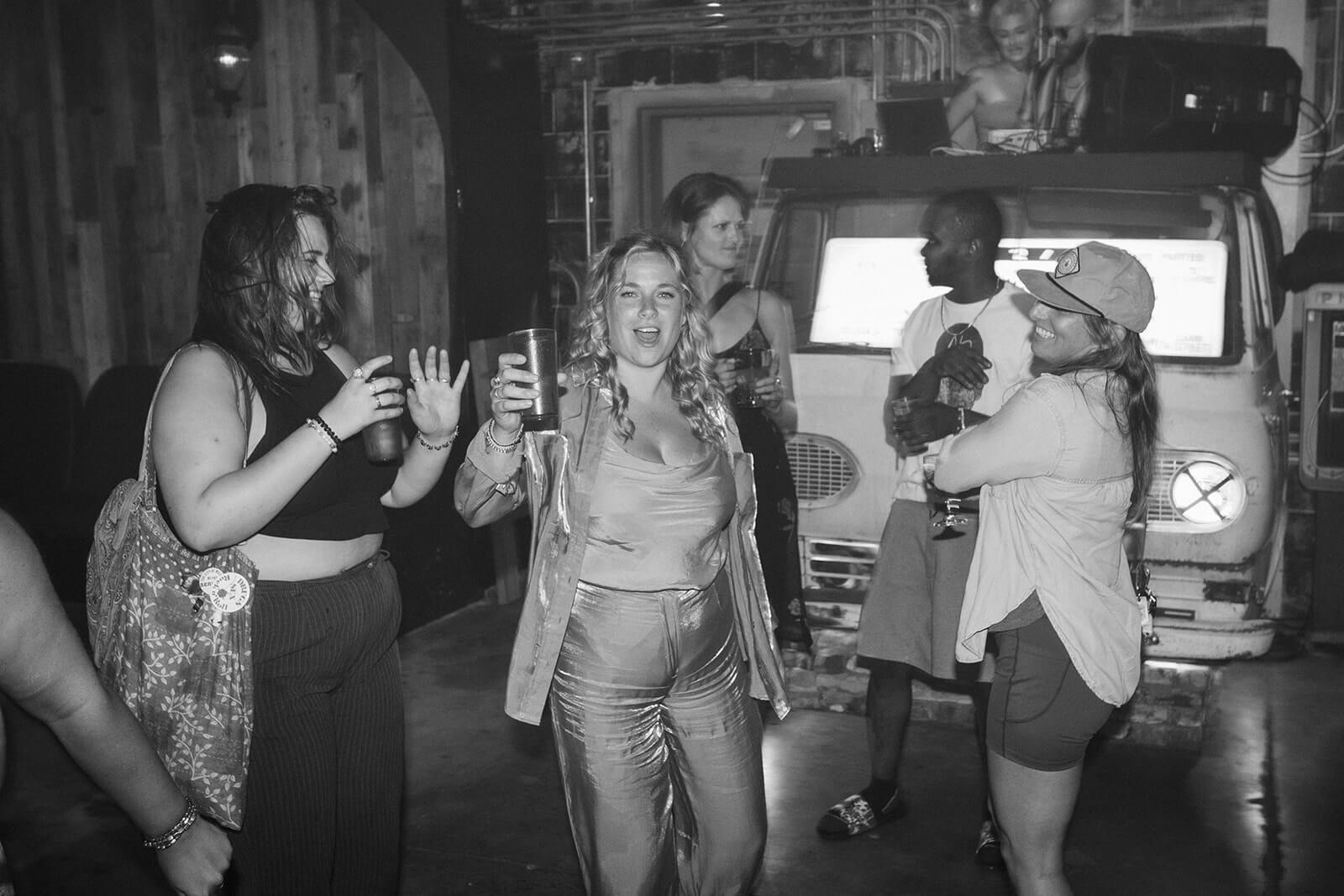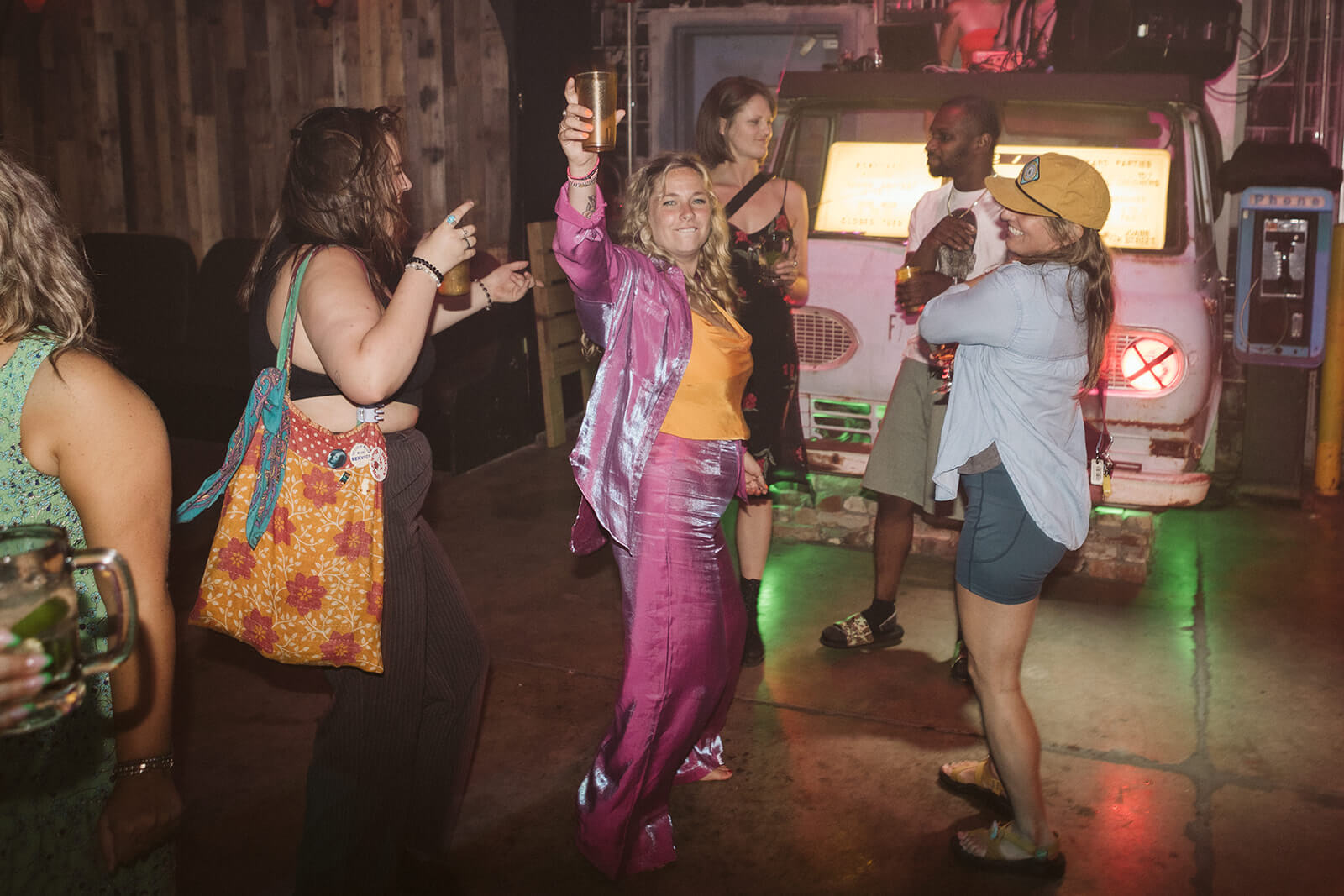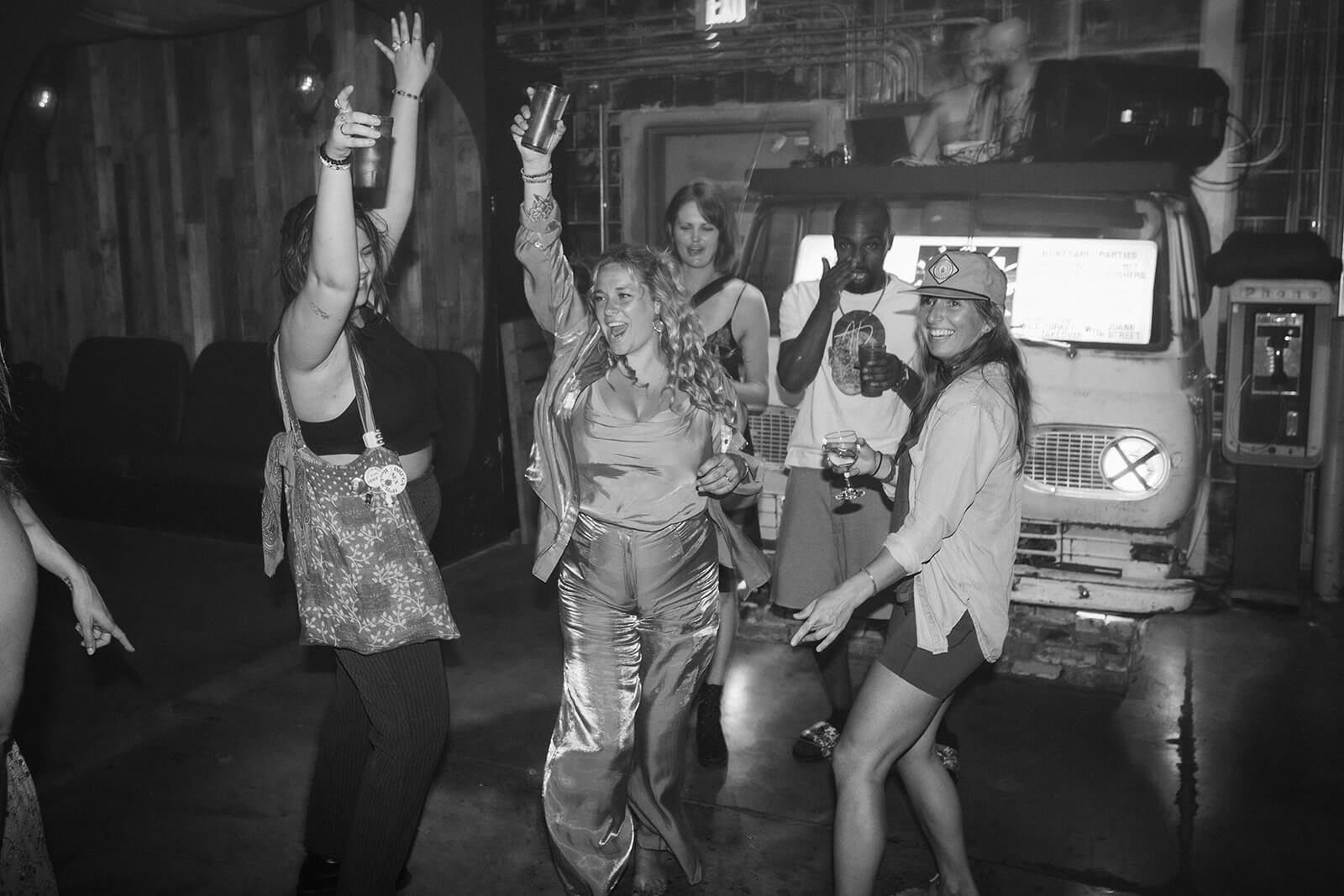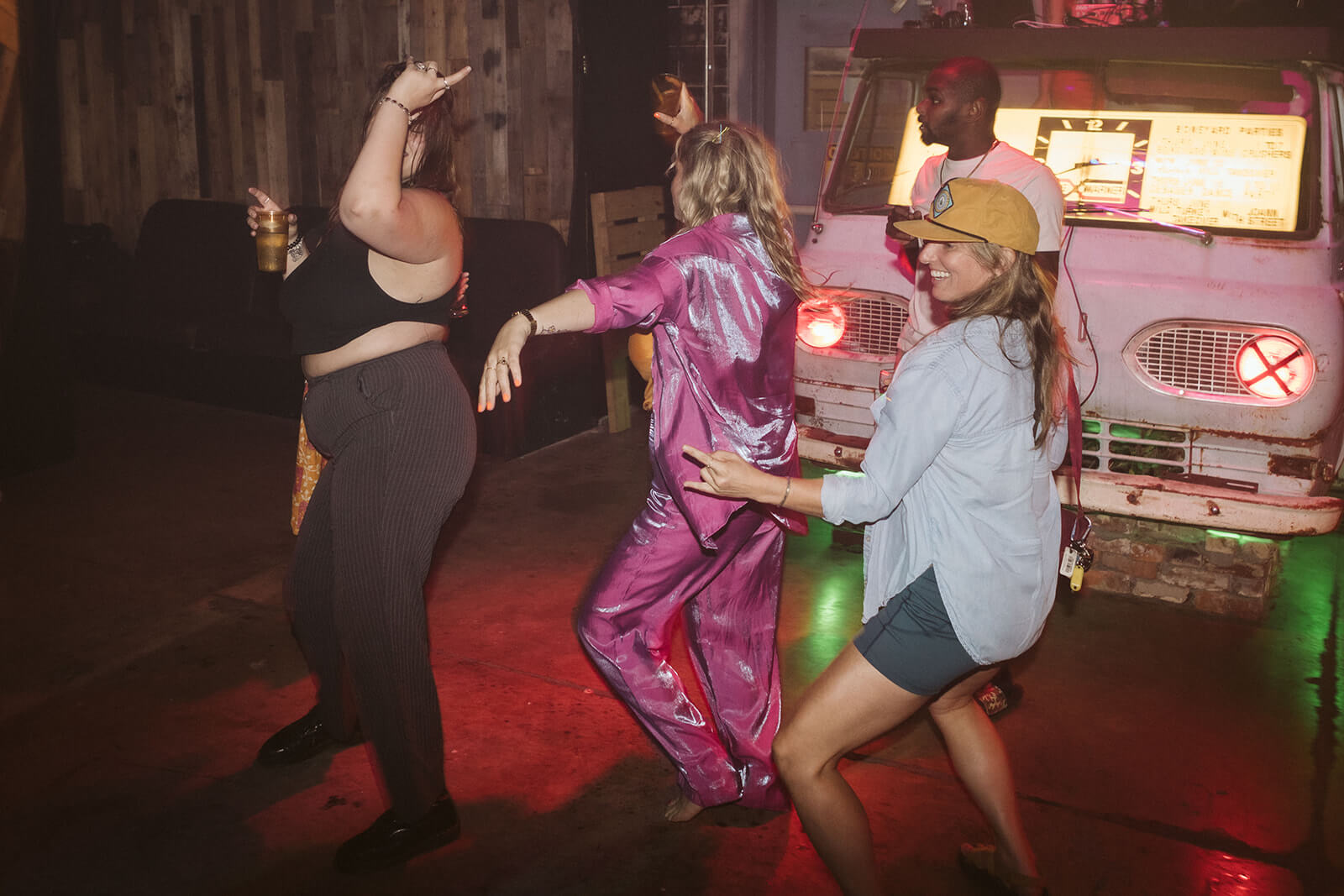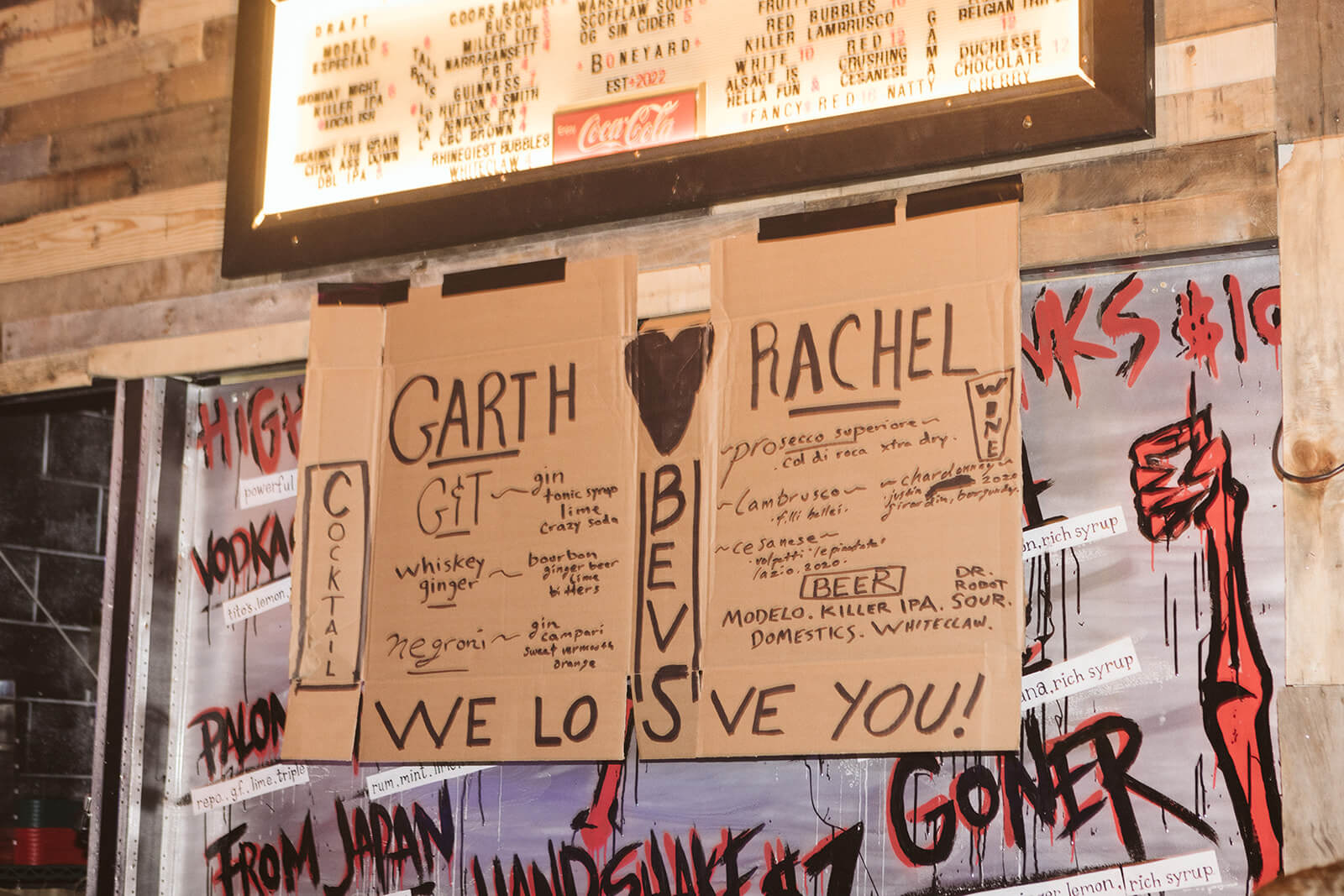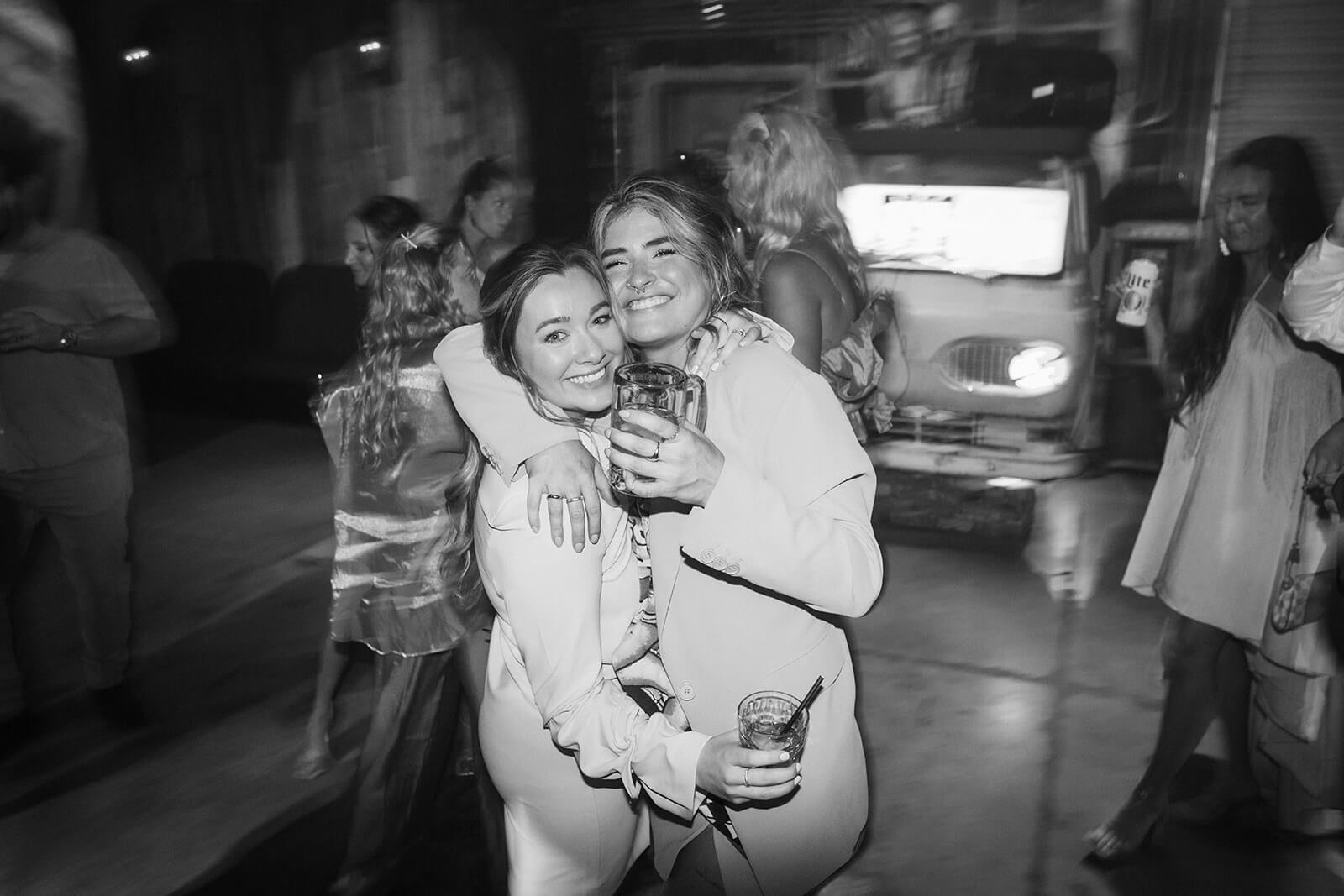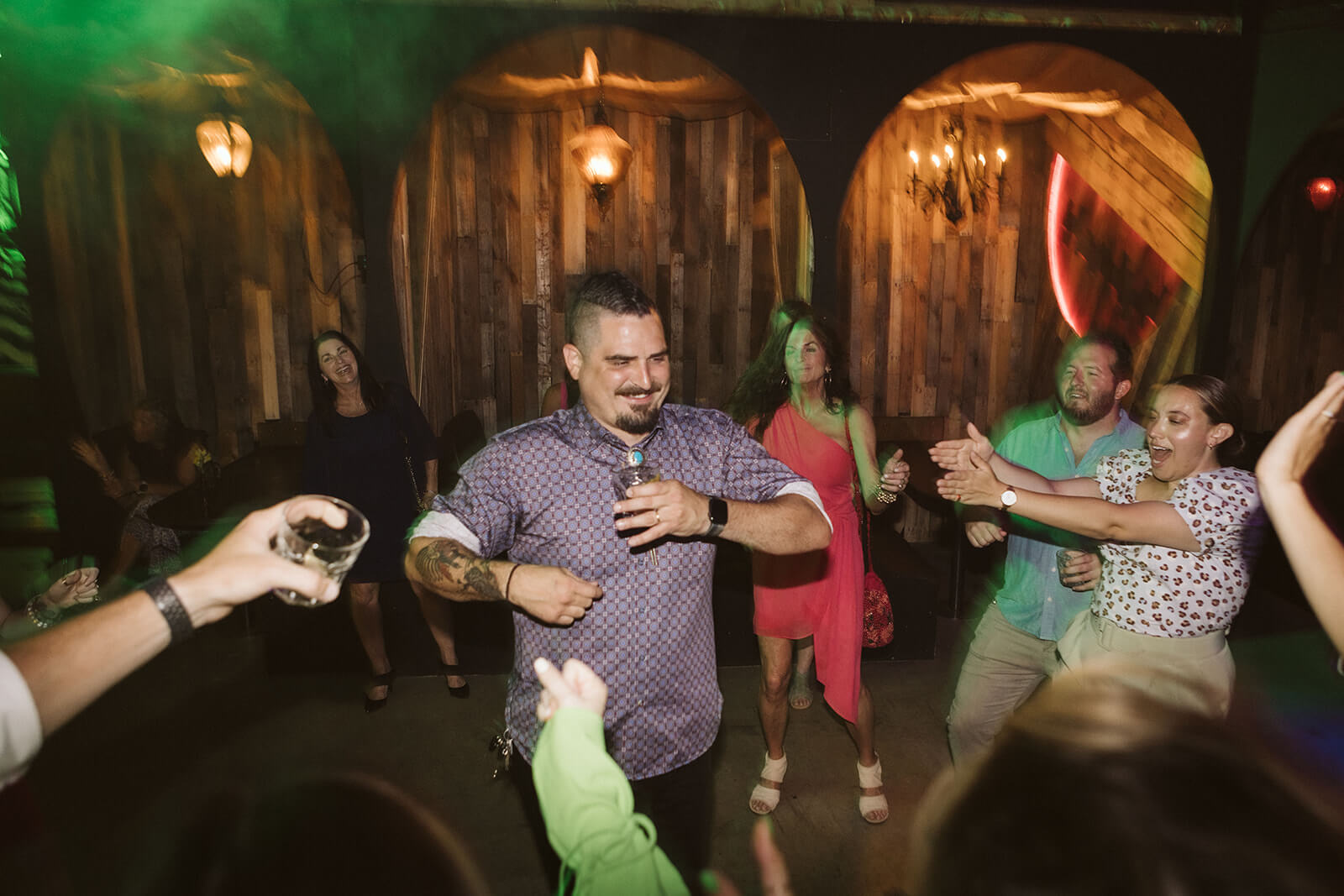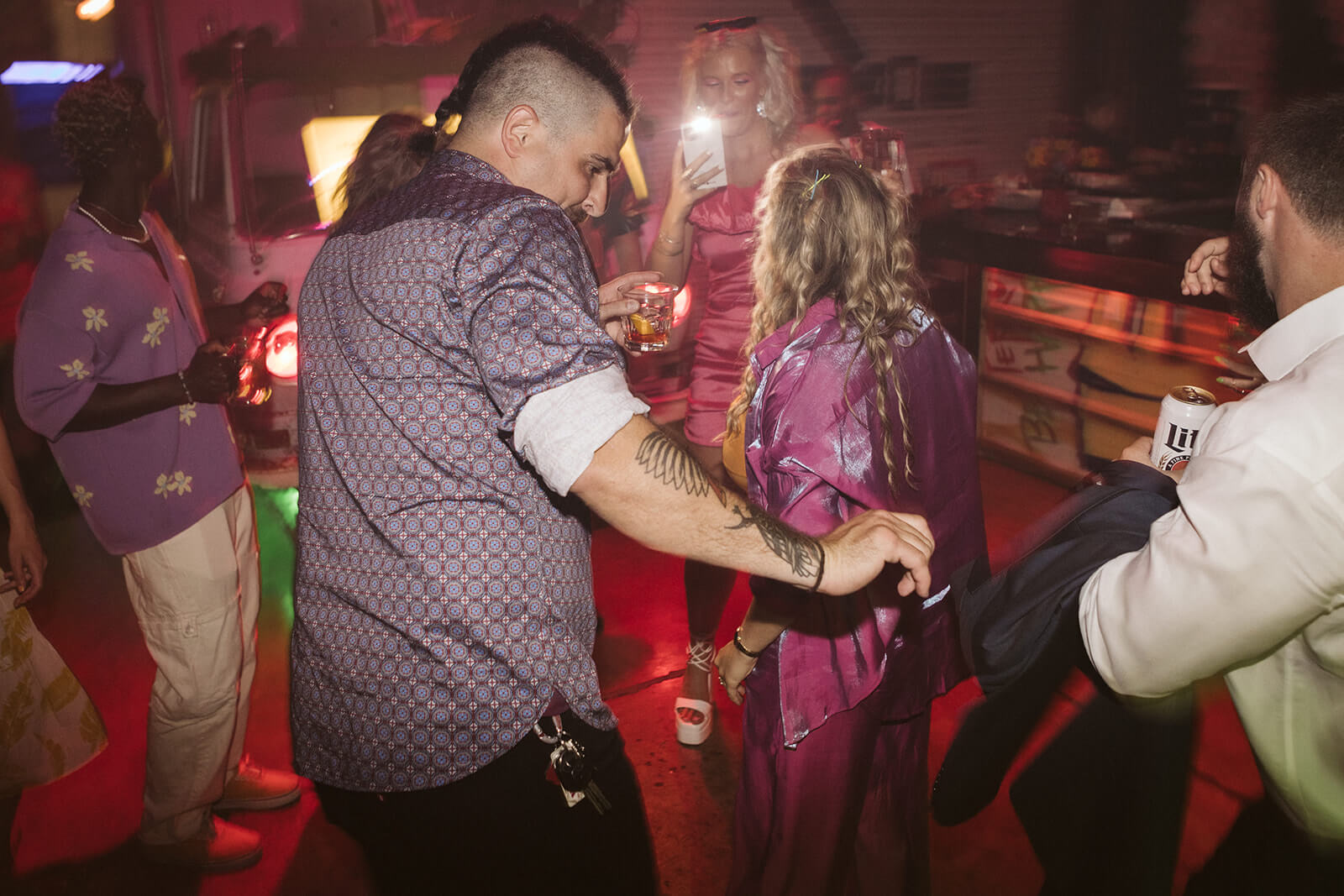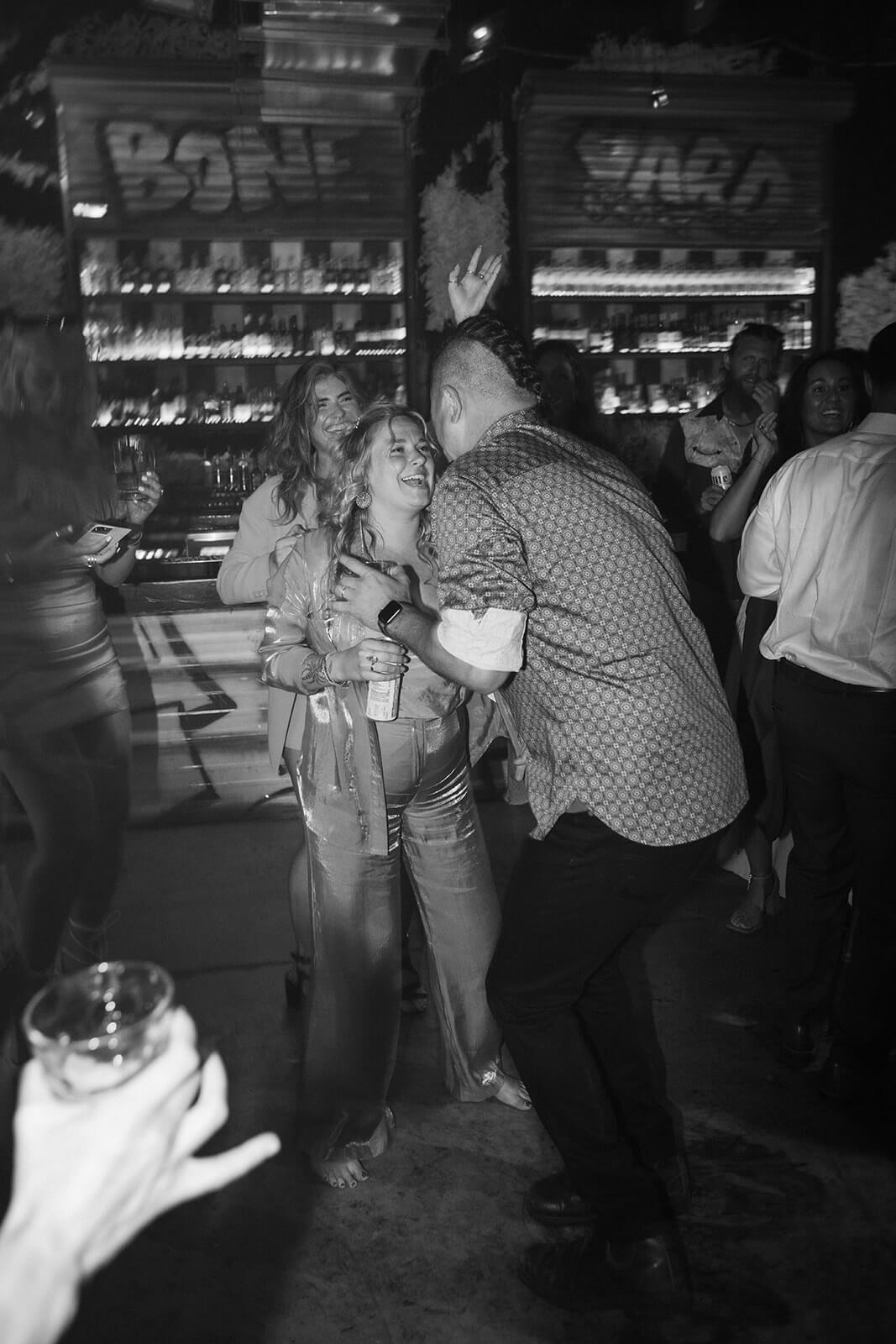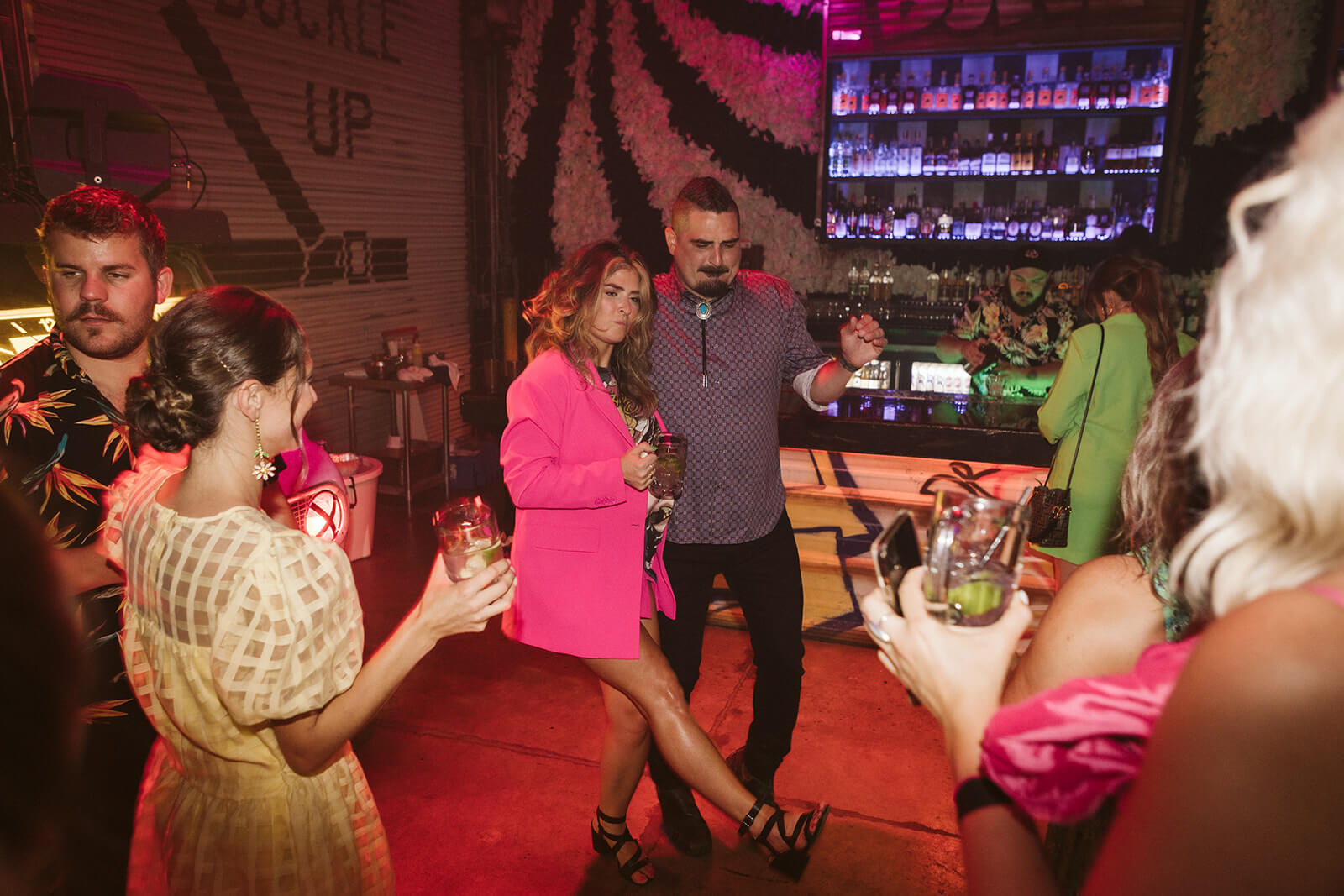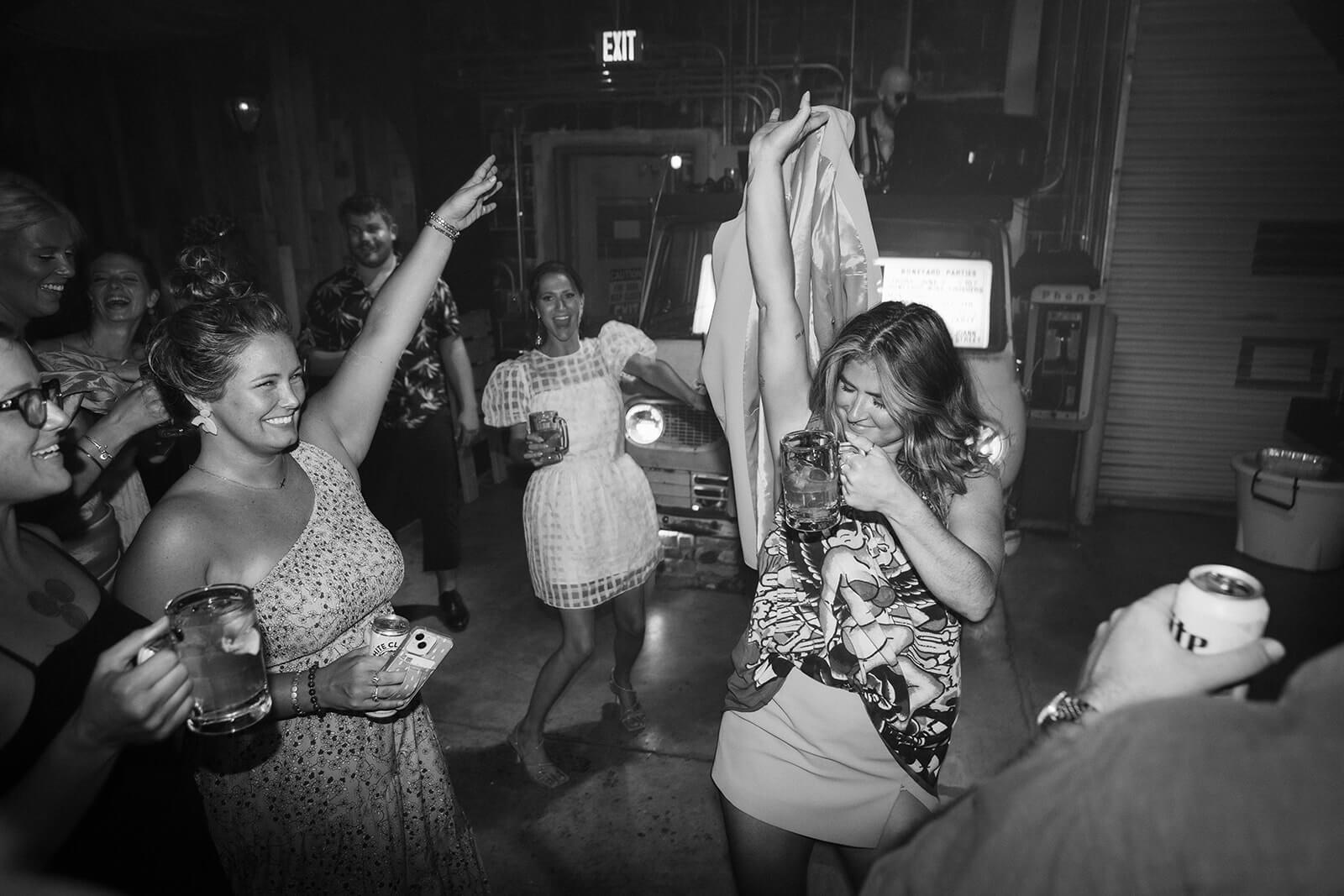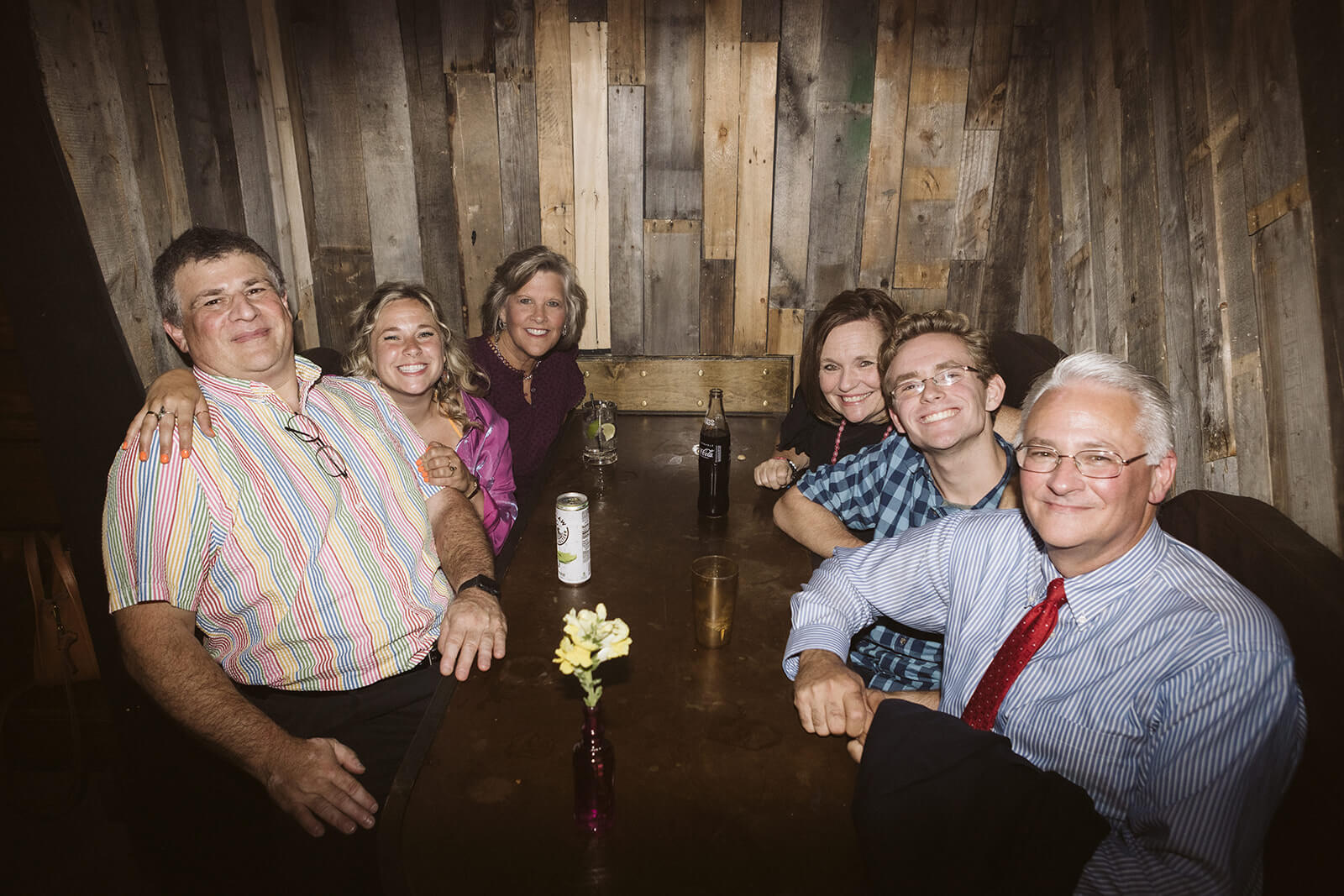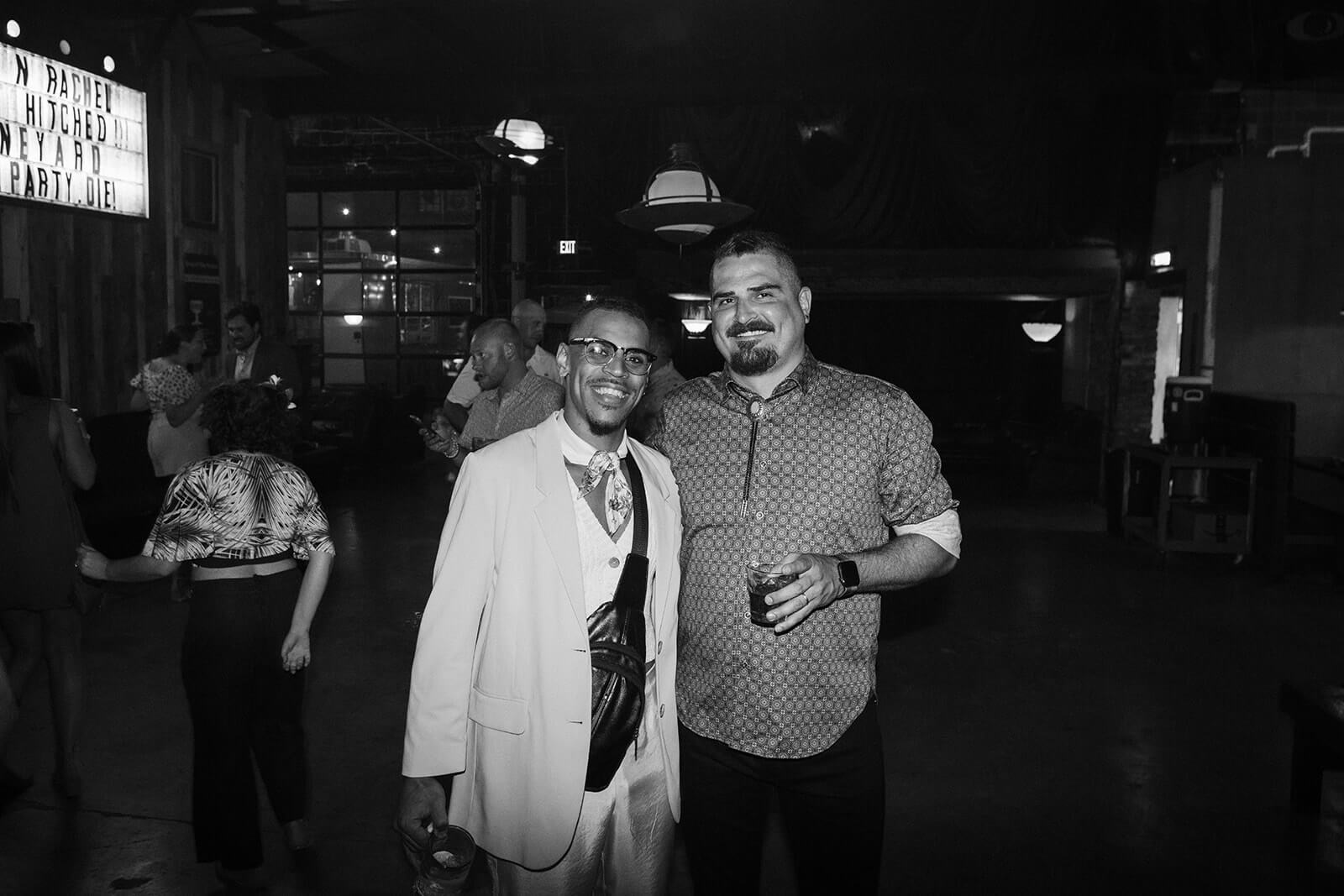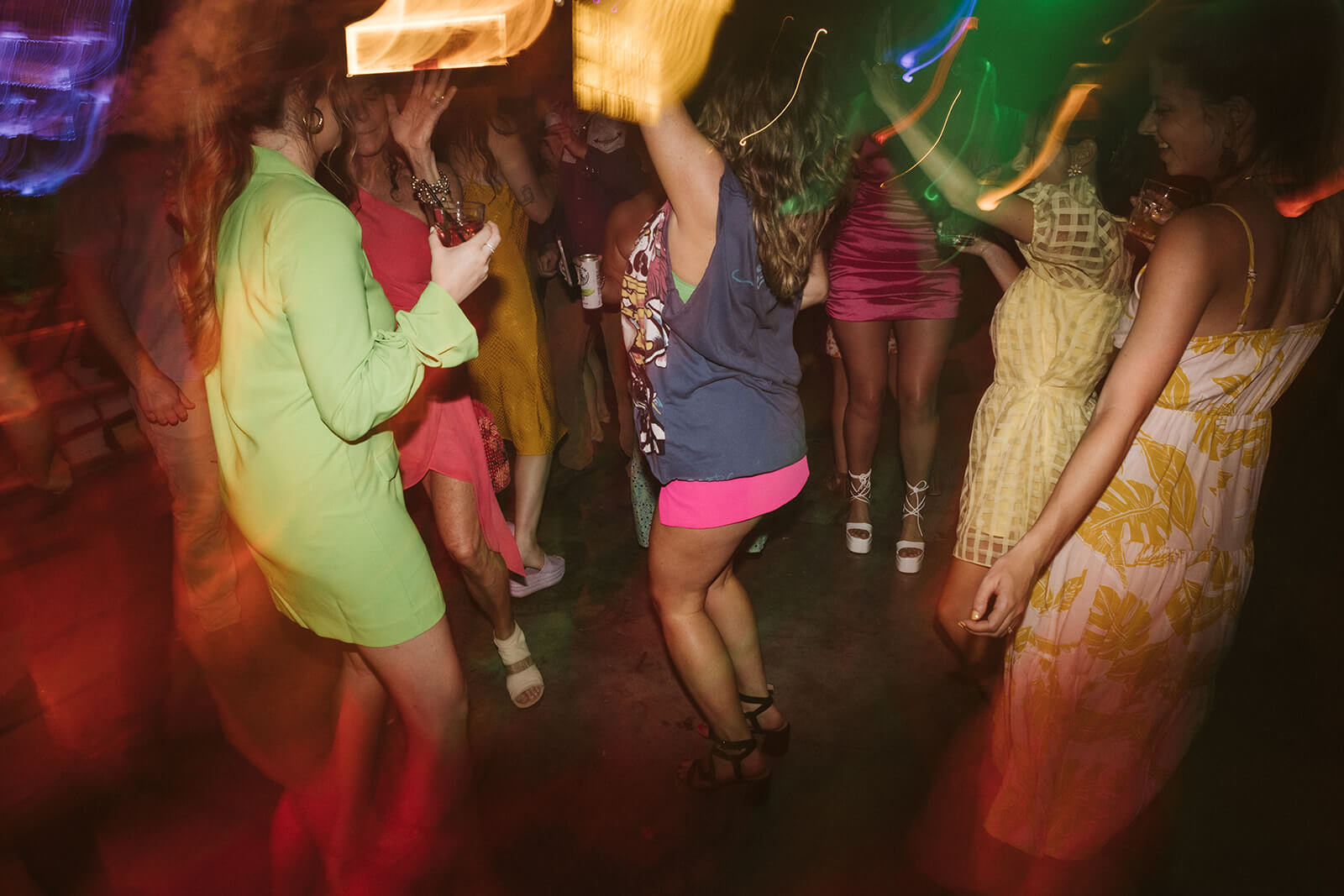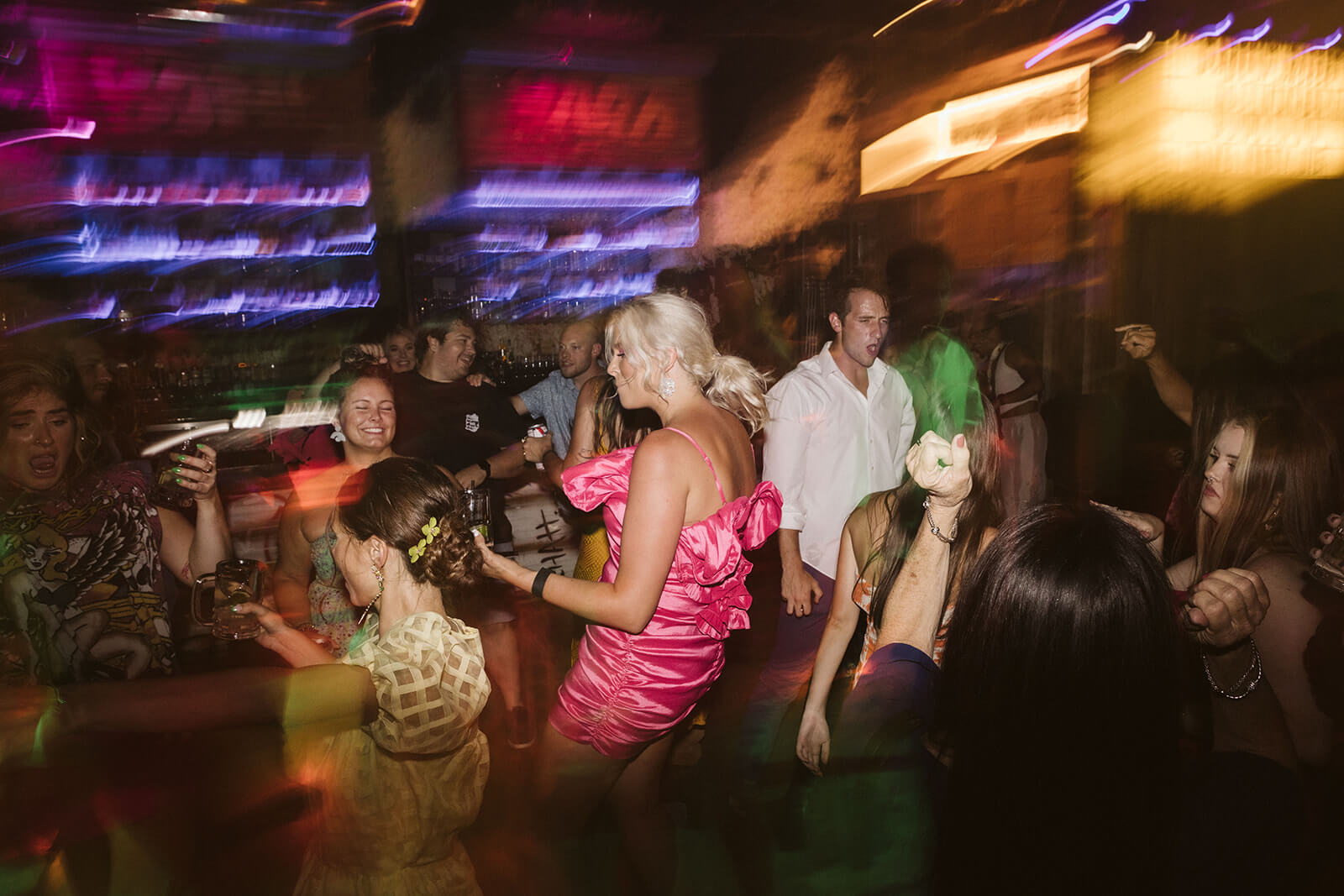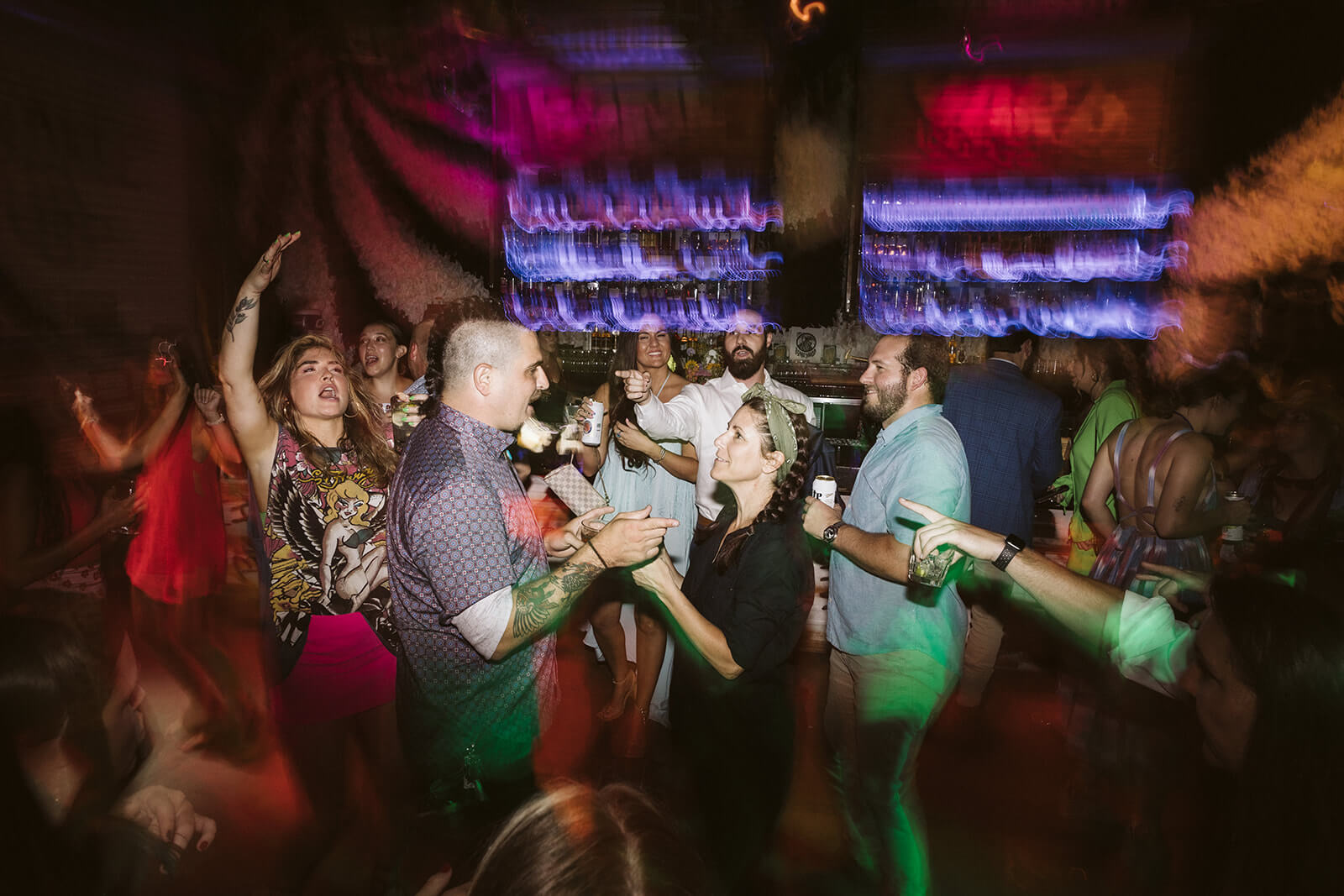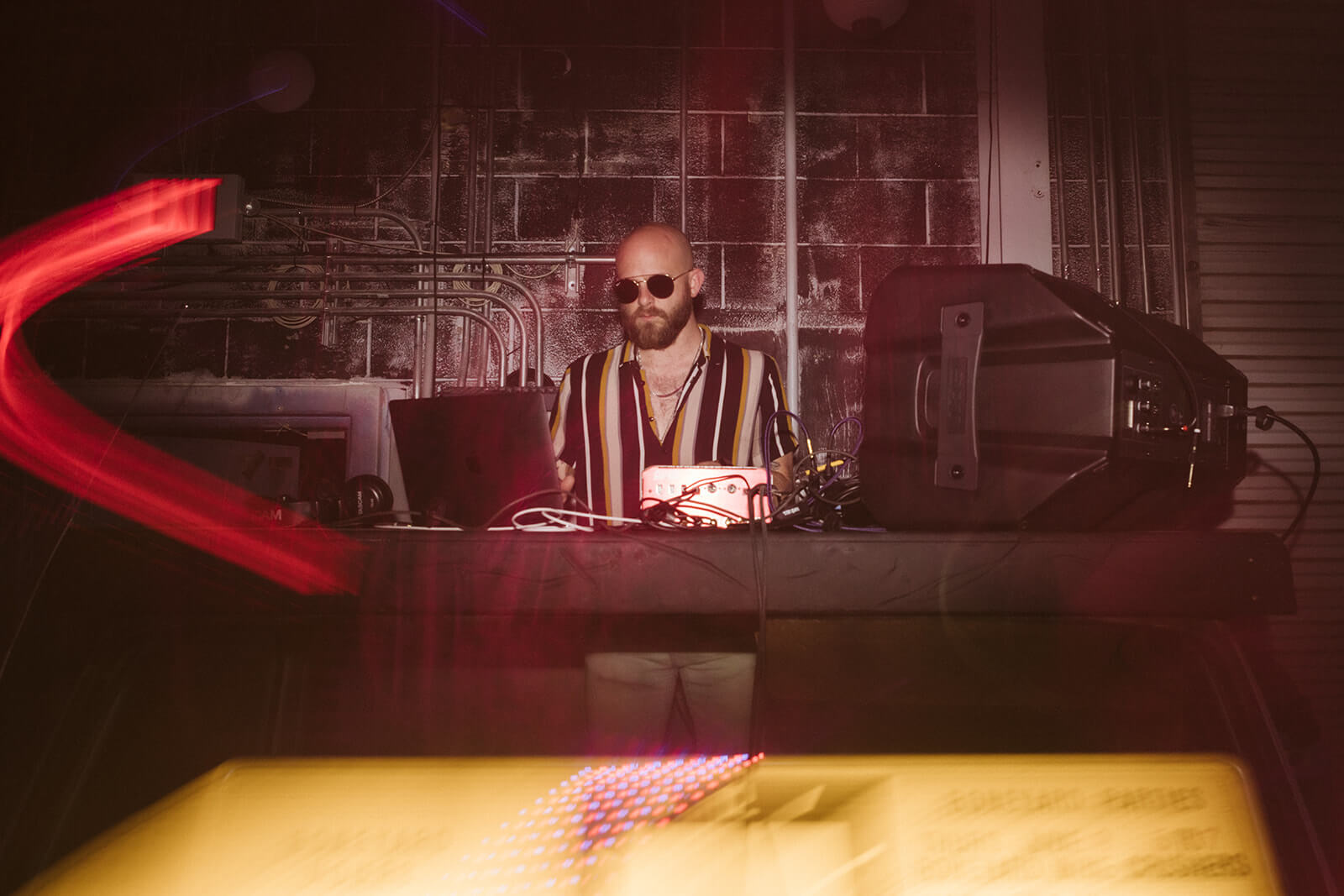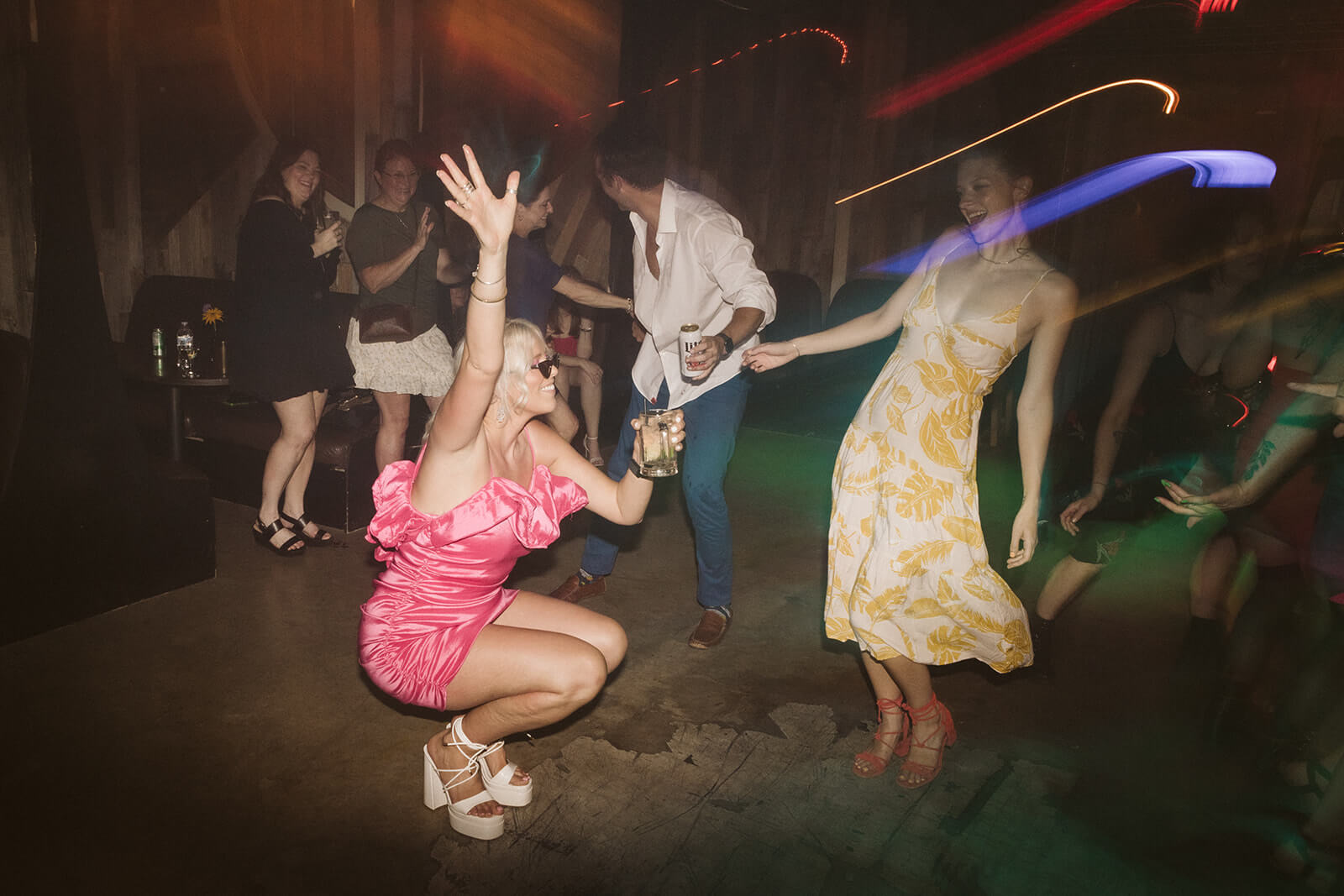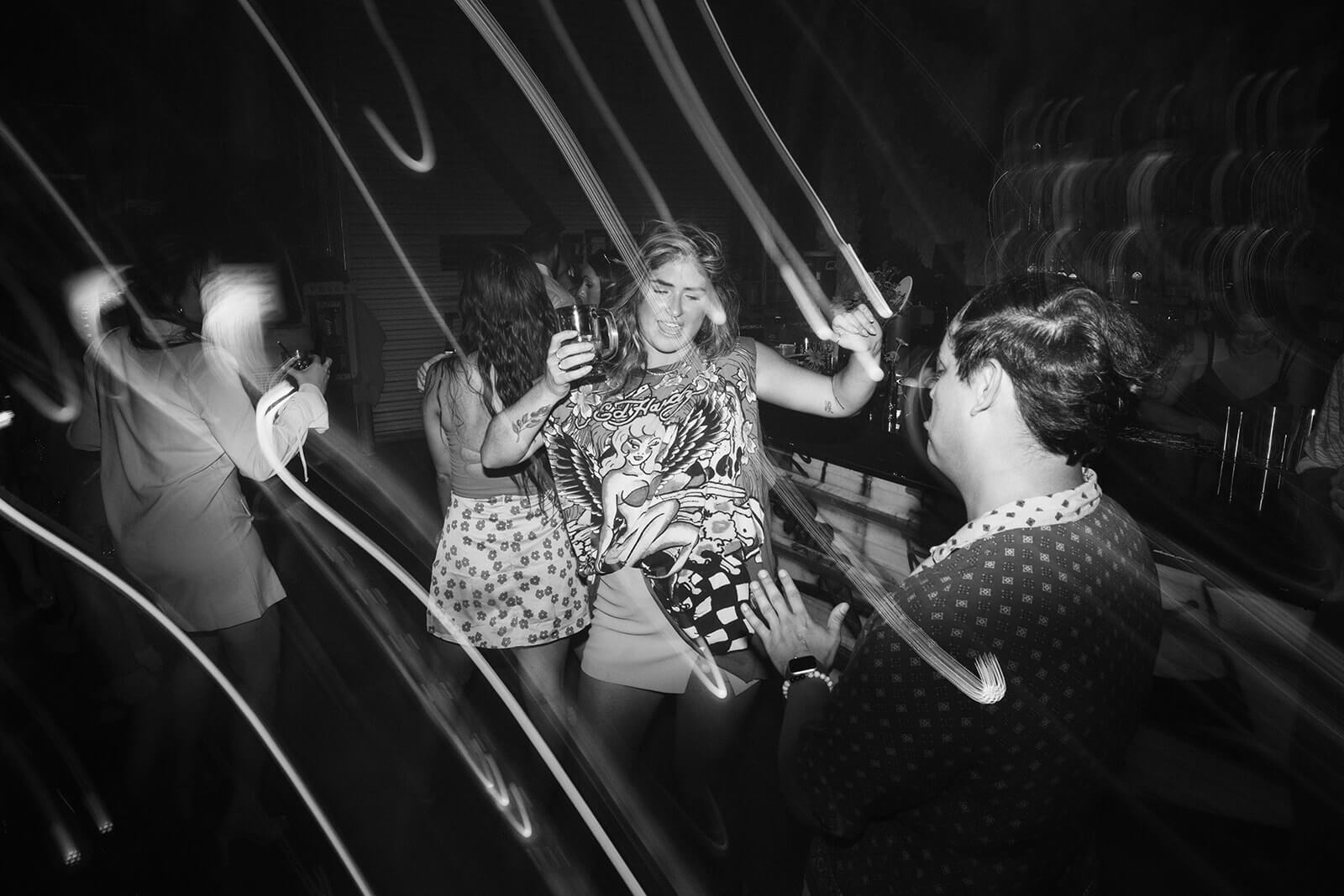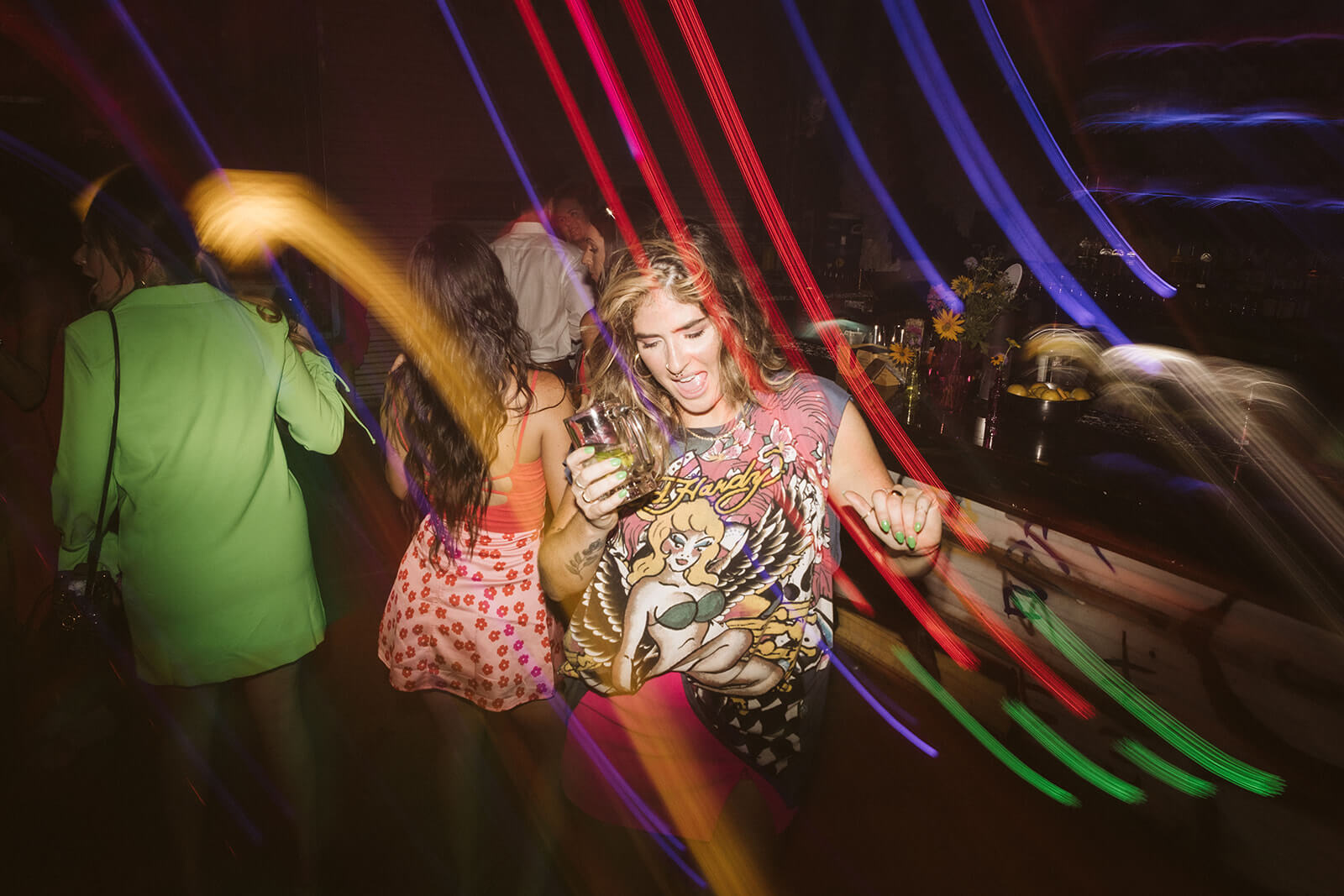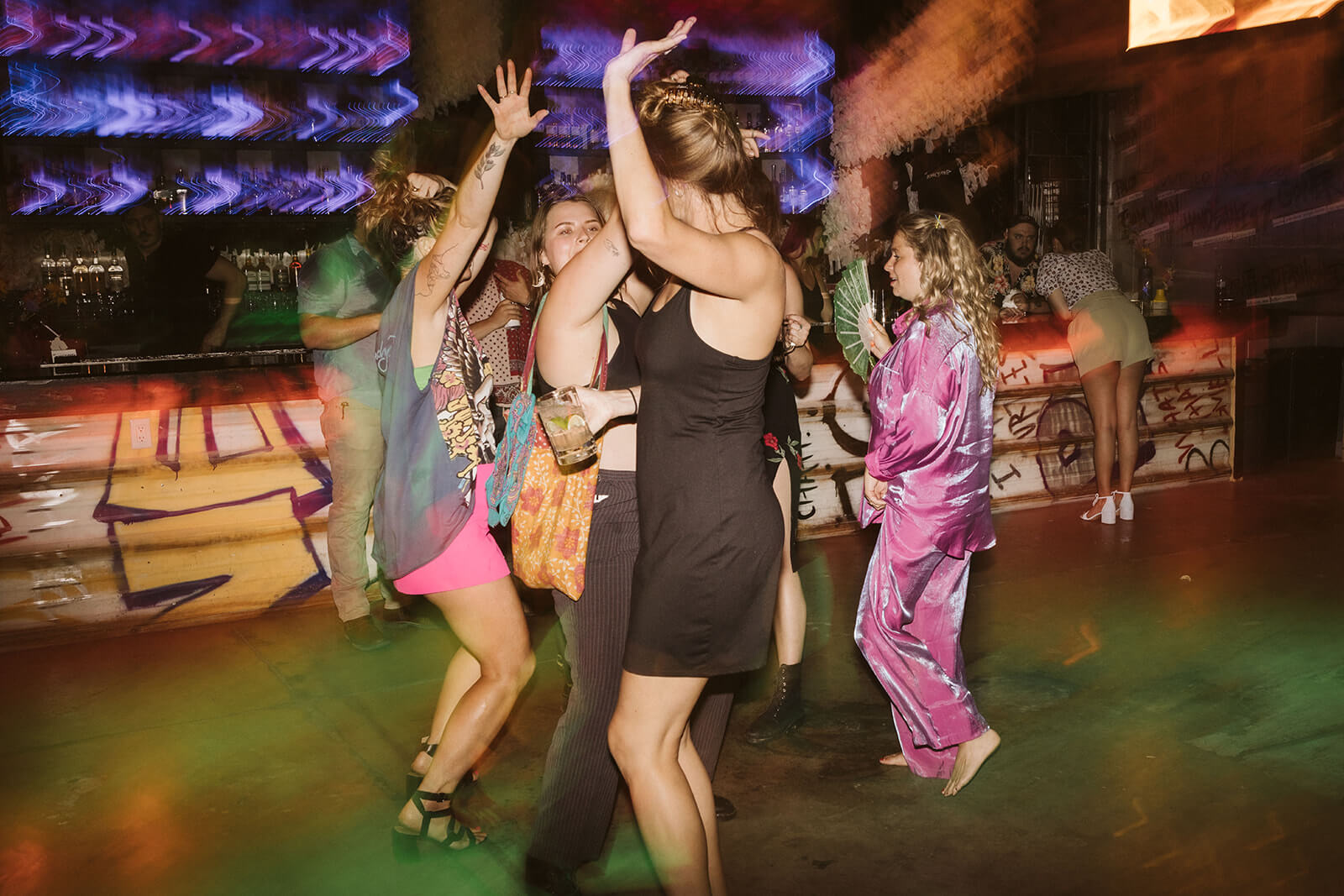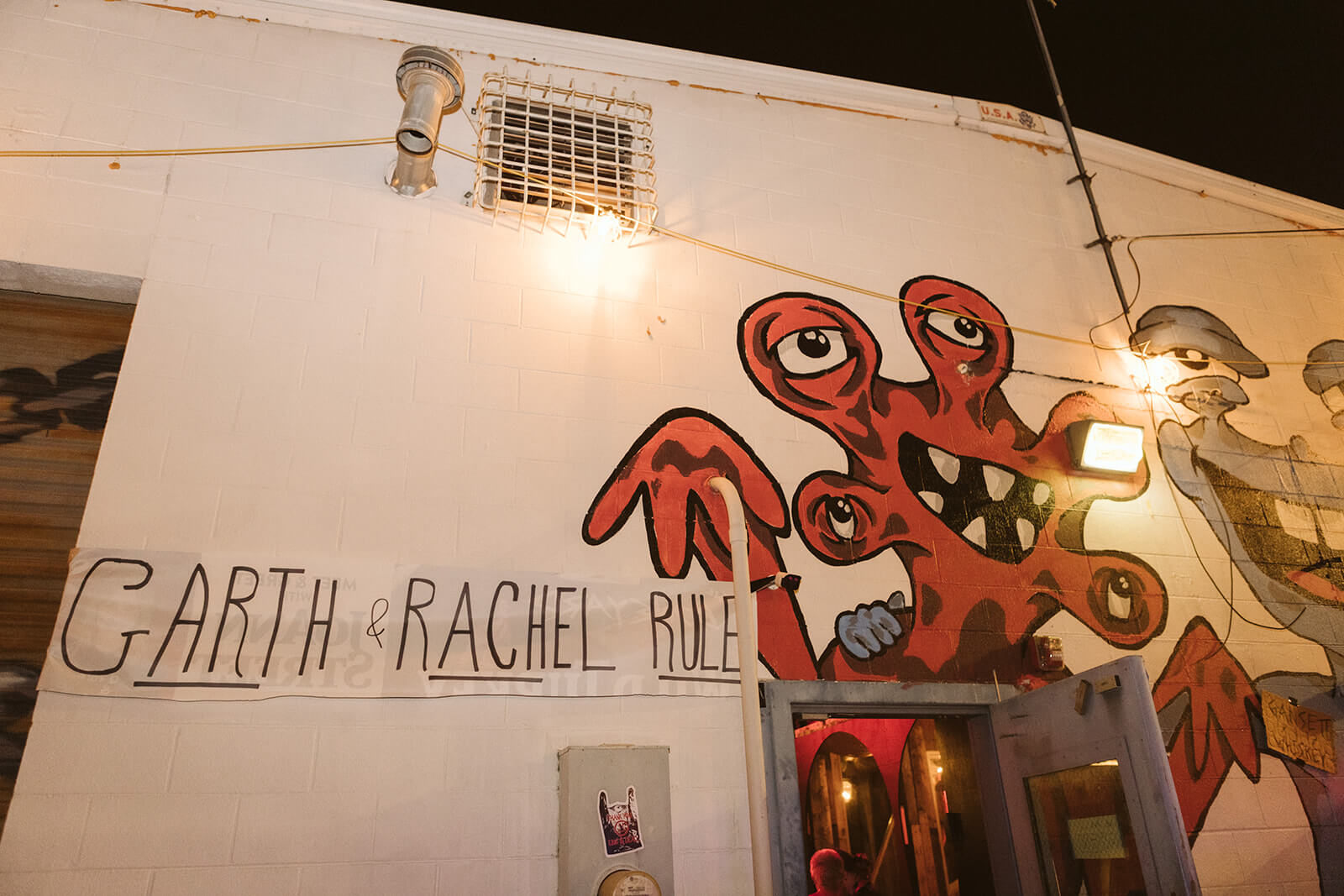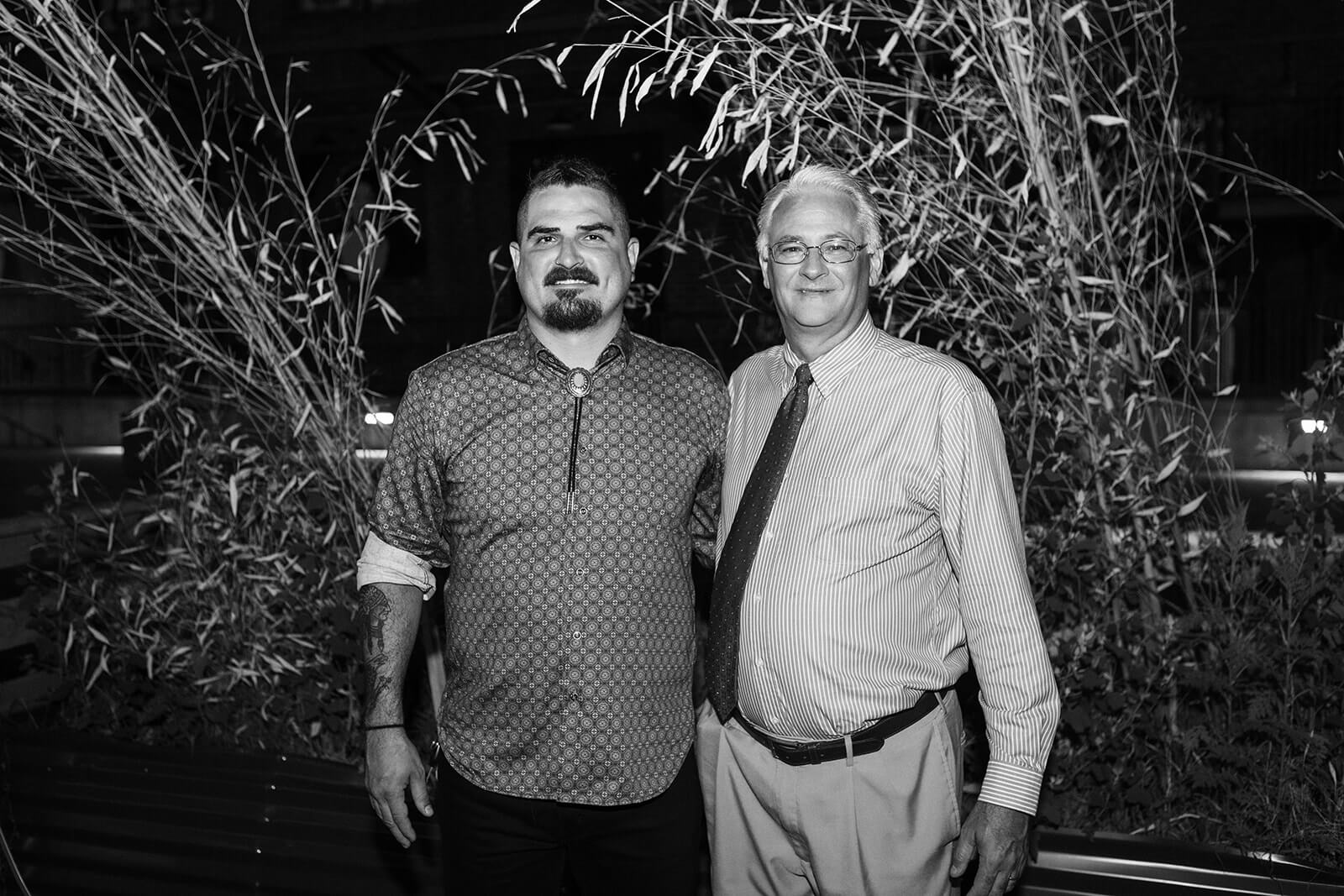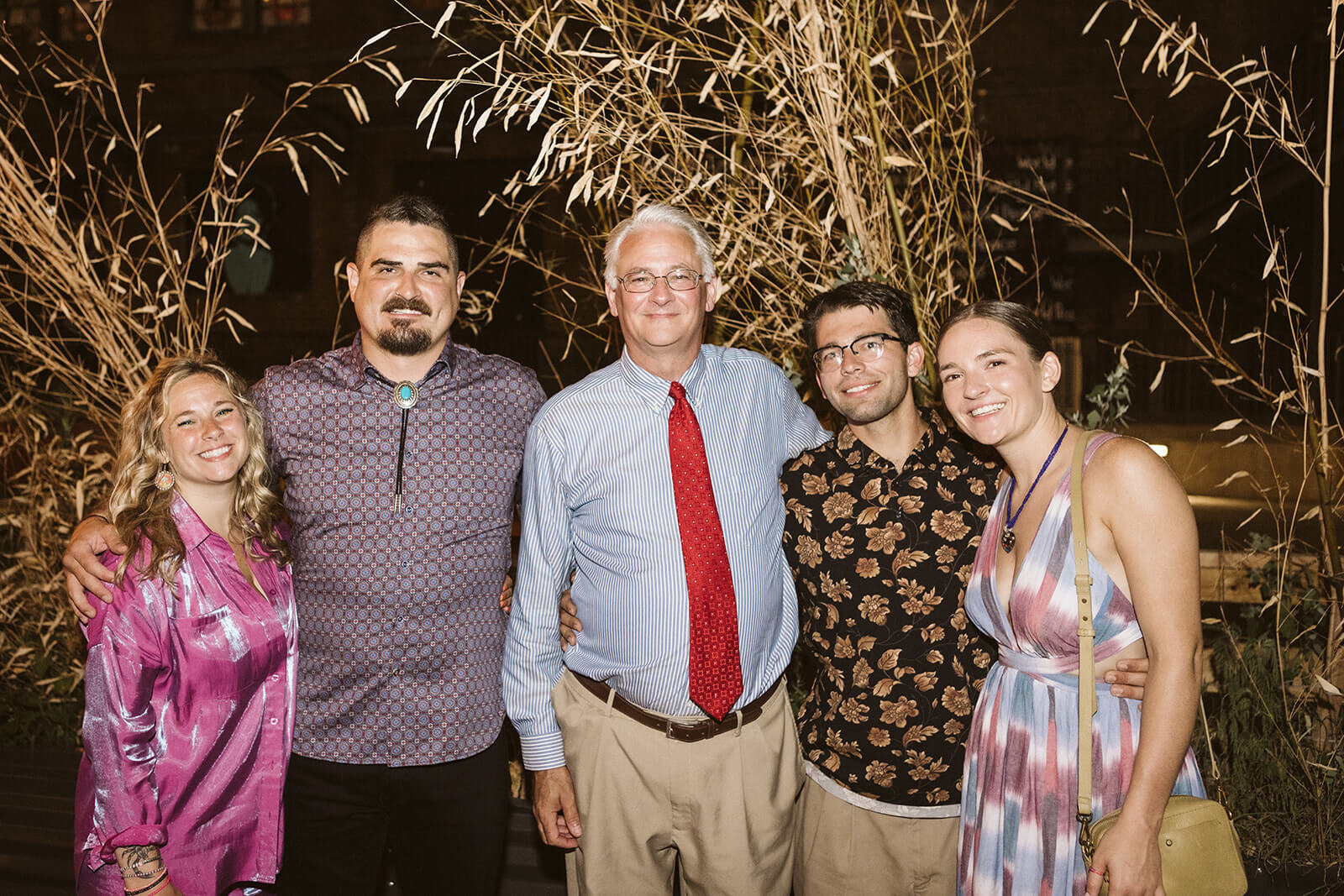 Celebrating with a Colorful and Camp Reception
On the day of their reception, I met Rachel and Garth at the Boneyard before their guests arrived. They were both fresh-faced and all smiles from their relaxing honeymoon and so excited to finally celebrate their marriage with all of their friends and family.
We started the evening off with a short portrait session outside the bar. The Boneyard's entrance is definitely a nod to the several types of repurposed materials that it's composed of. Instead of typical doors, reused van doors were attached to pallets marking the entryway. Rachel's shimmering pink and purple outfit with bright green heels perfectly fit their set "colorful and camp" dress code and were nicely complemented by the bright alien murals popping up the wall behind them.
As guests started to filter in, they were able to pick and choose from several rows of appetizers, charcuterie plates, and finger foods to whet their appetite or order from a custom Garth + Rachel drink menu. When everyone arrived, Rachel and Garth gave a short welcome speech and thanked them all for coming to celebrate with them. Then, with a kiss from the happy couple, the DJ took his cue and opened the dance floor.
To say that everyone had a great time honoring Rachel and Garth and the start of their new life together would be a severe understatement. Once the dance floor opened, the party never stopped. I love how the different colored neon lights enhanced the atmosphere and almost created a pseudo photo filter of colorful lights over all of their party pictures.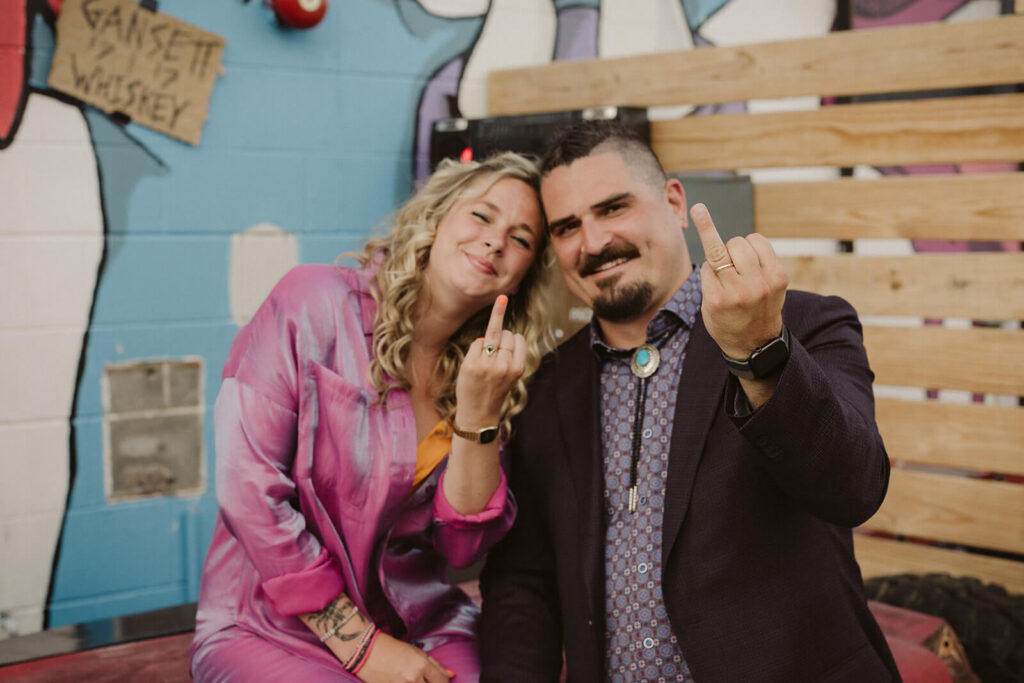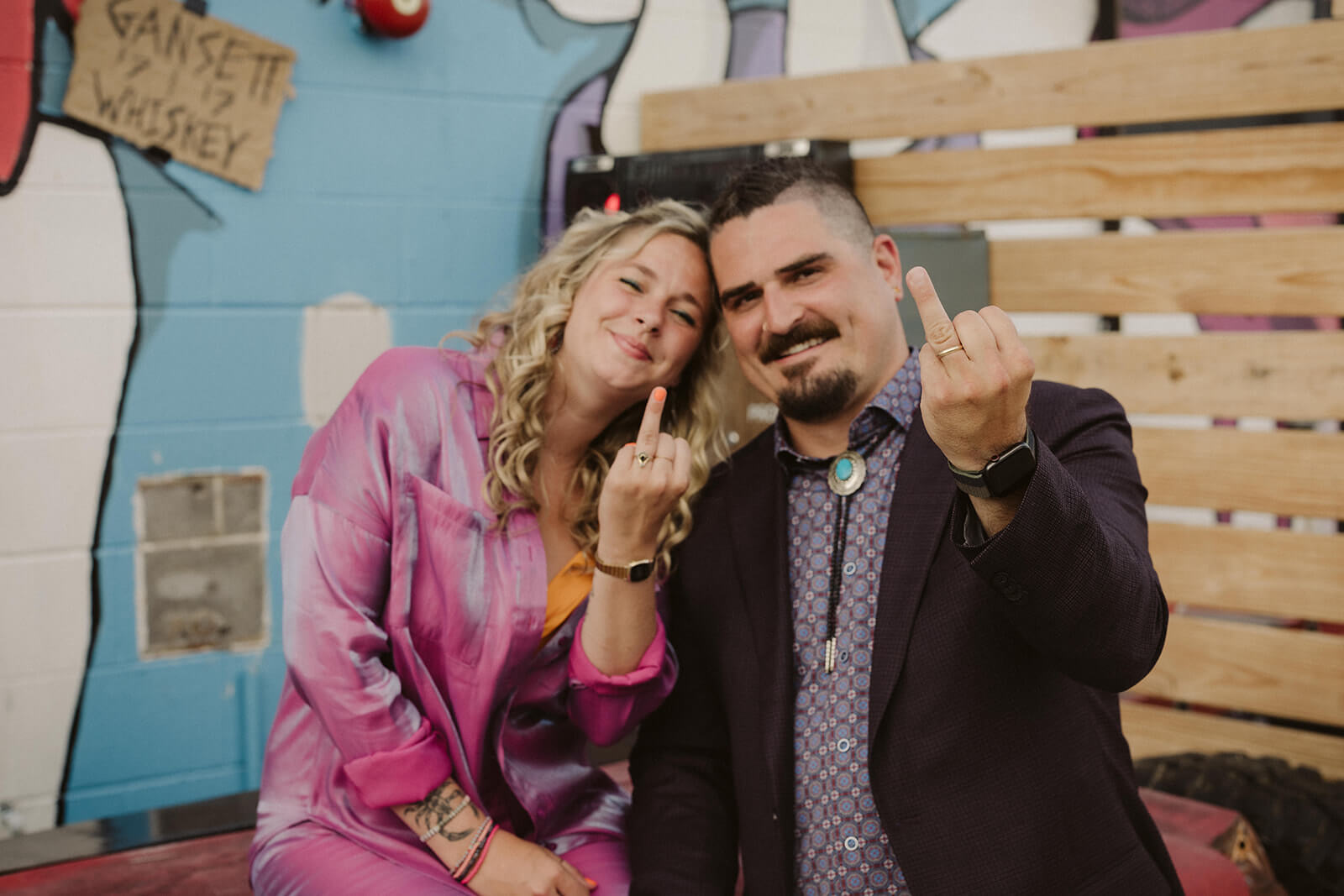 Have you been looking for a fun and vibrant venue for your wedding reception? I definitely recommend giving the Boneyard a try!
Hey y'all! I'm Rachael Crowe of OkCrowe Photography. I'm a Chattanooga-based wedding photographer and I am always up for a great party like Rachel and Garth's wedding reception! Whether you're looking for a photographer for your simple elopement, just for your reception, or for your whole wedding, I would love to be there! Just fill out my contact form and just like the Boneyard, I'm already all in and ready to do it!