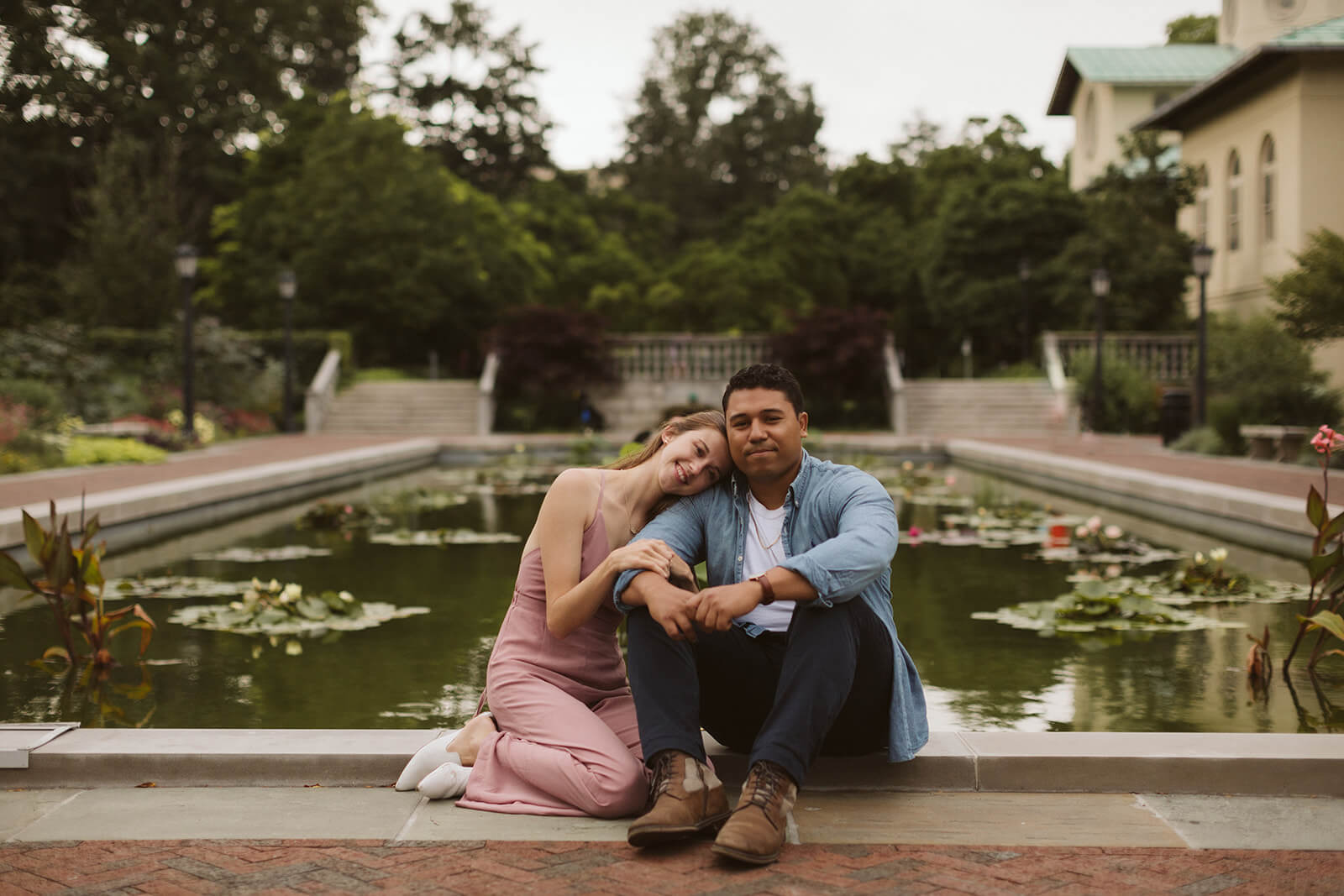 Although I have traveled to just about every corner of the country, one of my favorite places will always be New York City. NYC has such an energy that is just unmatched by almost any other place I've been to. During one of my trips to the Big Apple, I shot a styled engagement shoot for Brooklyn locals Sarah + Jeremy in Prospect Park.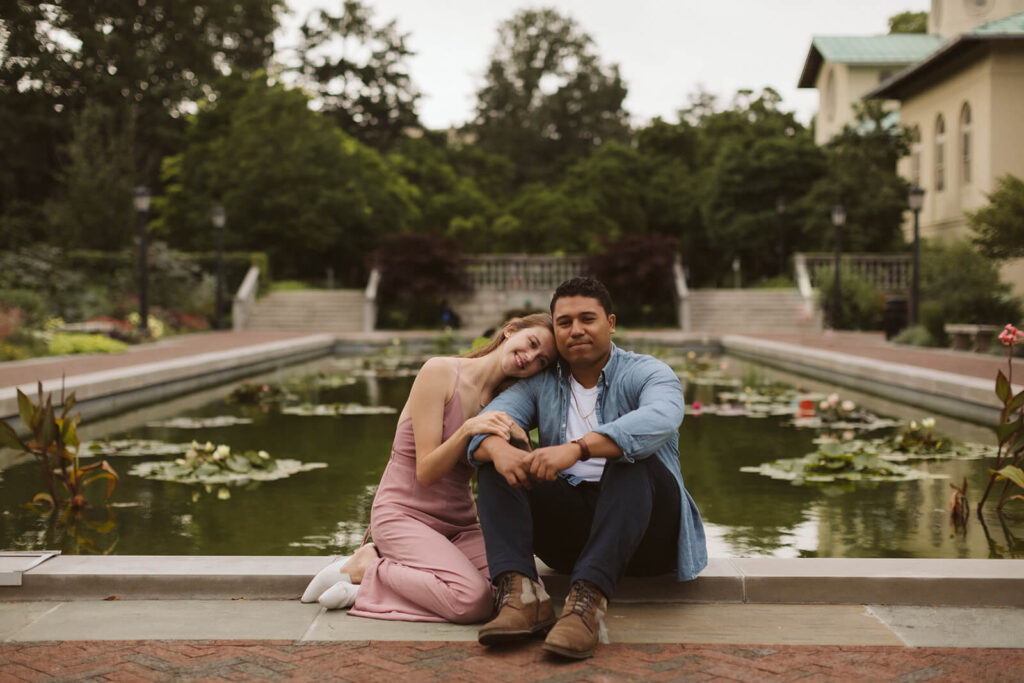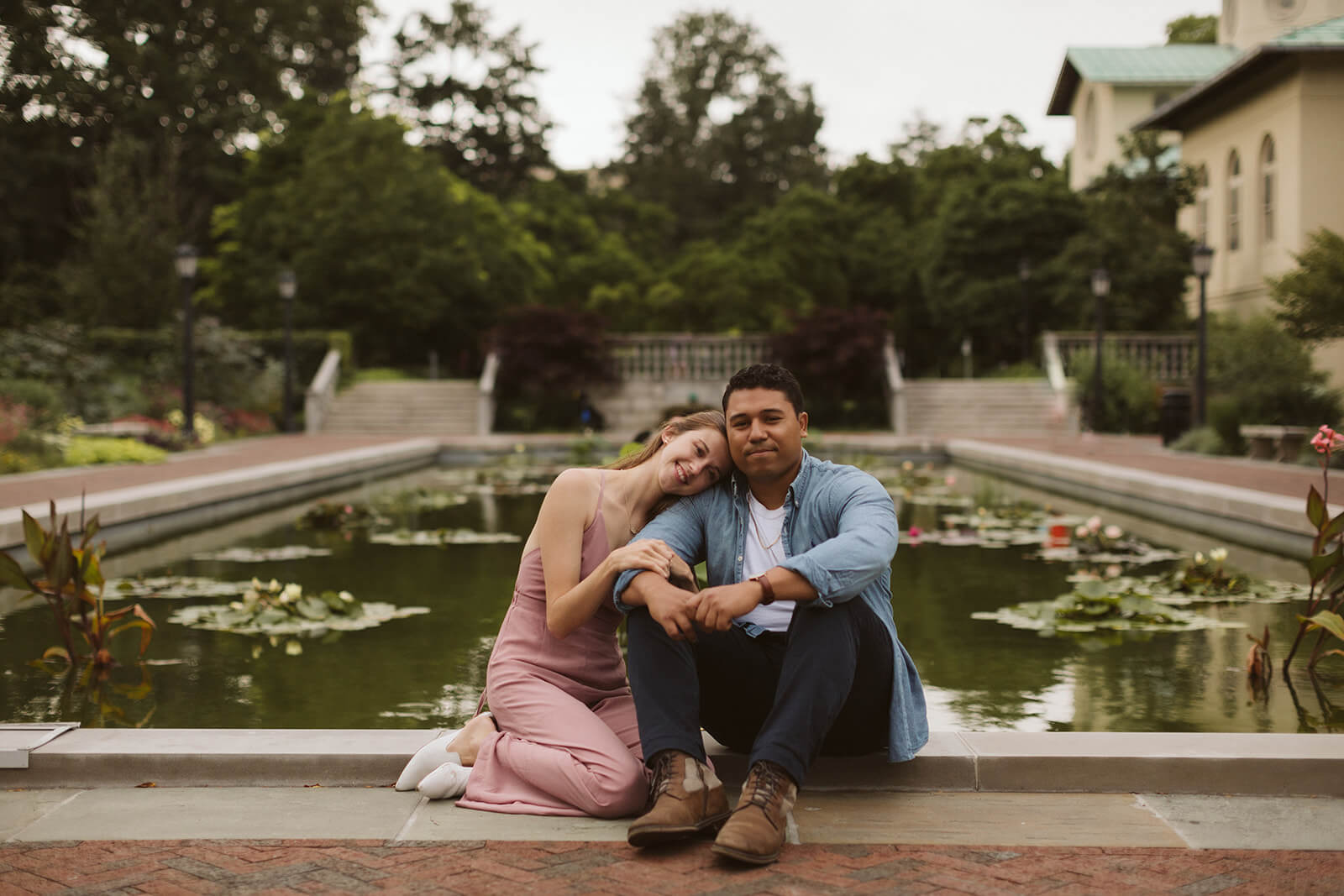 Heading to NYC for a Styled Engagement Shoot in Prospect Park
I've said it before, and I'll say it again: I LOVE New York City! So, whenever I come in for a visit or to shoot a wedding, I always try to make the most of my time and offer styled couple or engagement sessions to local couples for my portfolio. This allows me to capture this amazing city through my camera lens while also lending a helping hand to couples who may be in (or who are soon to be in!) the process of planning a wedding.
Like I've done in the past, before leaving for this trip, I asked on my Instagram if there were any local NYC couples who would be willing to model for me. To my surprise, Sarah and Jeremy responded. It turns out they were mutual friends with Emily and Jim, another NYC couple who I did engagement and wedding photography for.
When I flew to NYC for Emily and Jim's engagement session, our focus was to capture the essence of the DUMBO section of Brooklyn where they lived. For Sarah and Jeremy, I wanted to be able to give them something similar. However, where DUMBO is closer to the waterfront facing Manhattan, Sarah and Jeremy lived in the middle of Brooklyn. Because of that, when I was scouting out locations that would be perfect for their session, I realized there was no better place than Prospect Park in the heart of Brooklyn.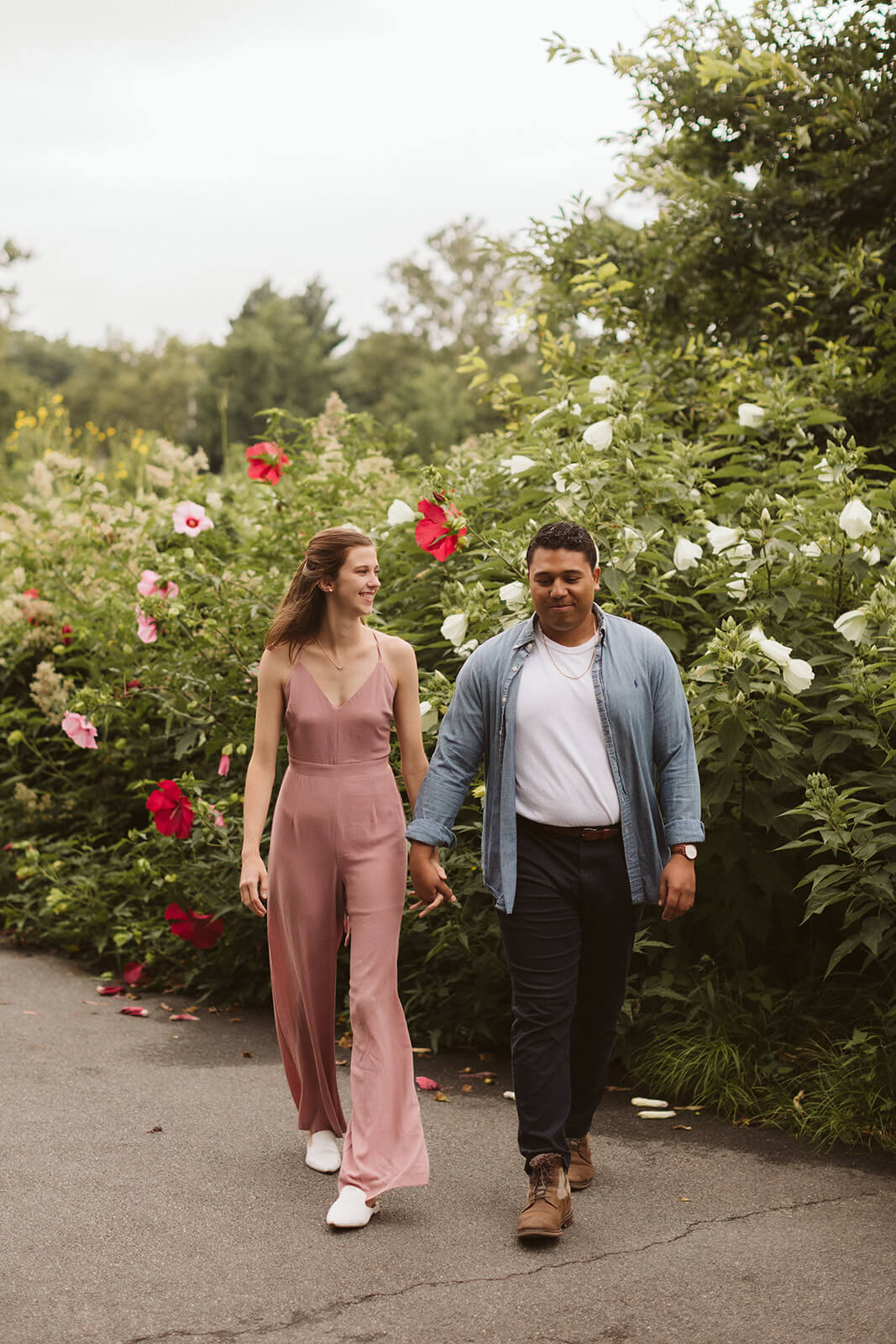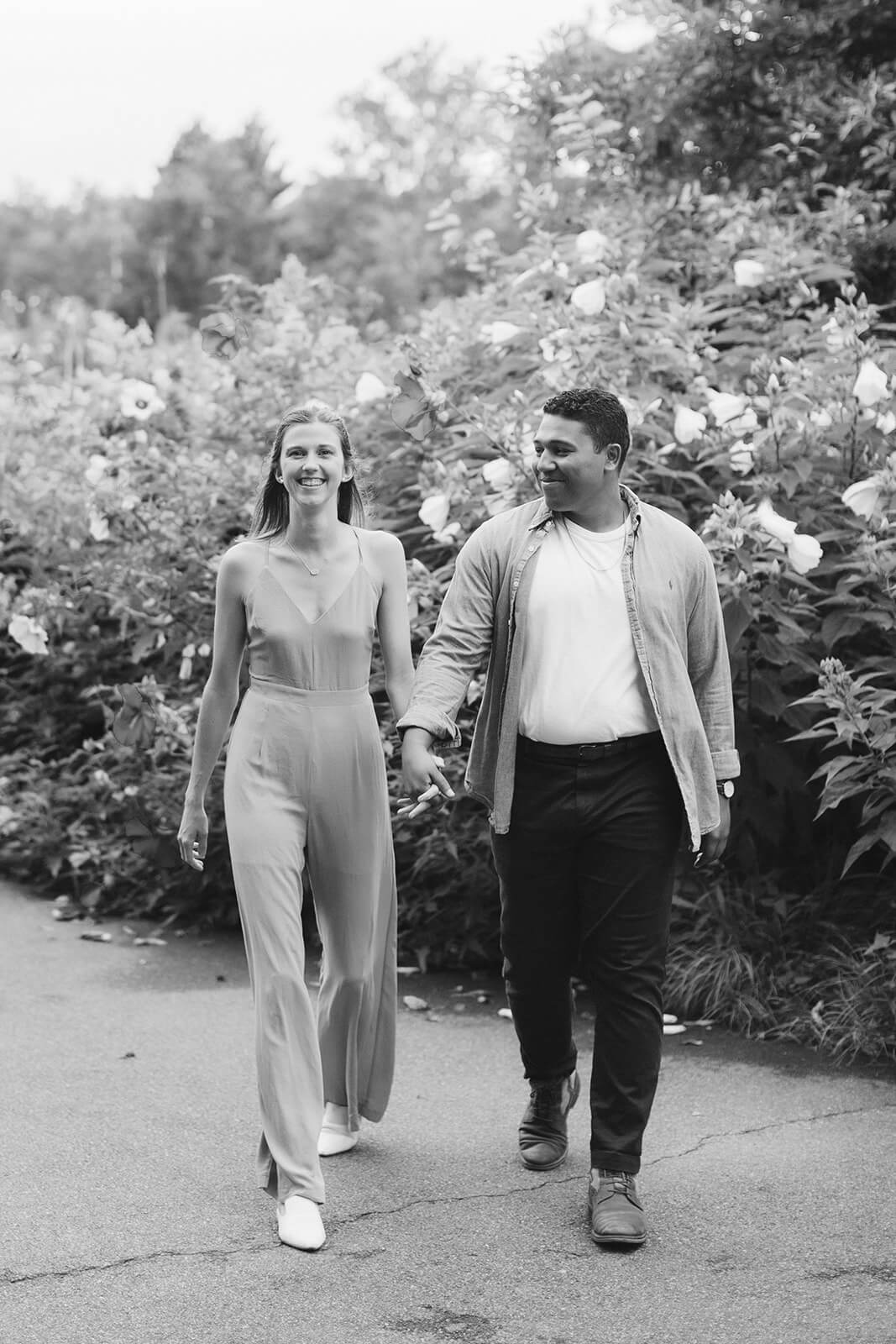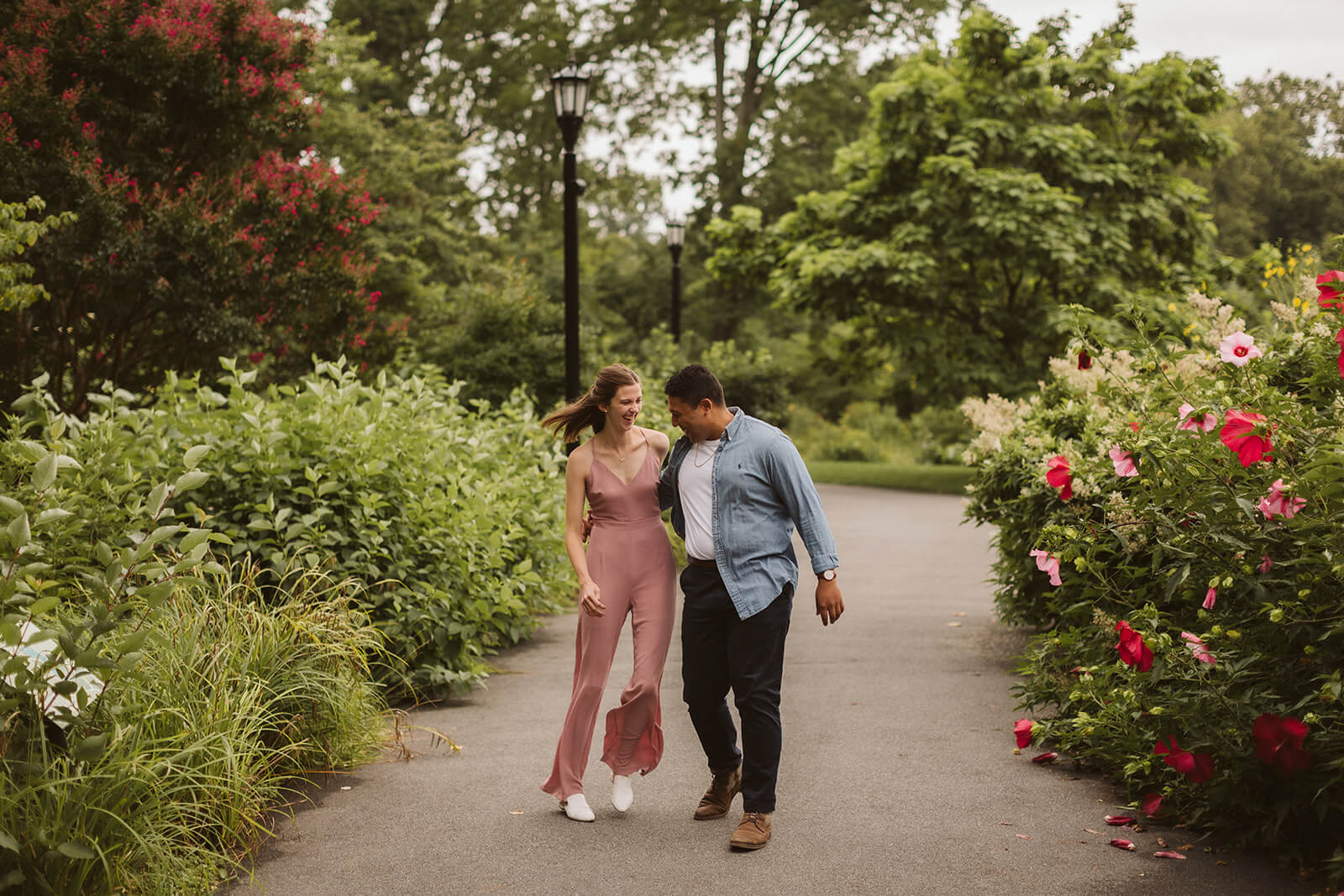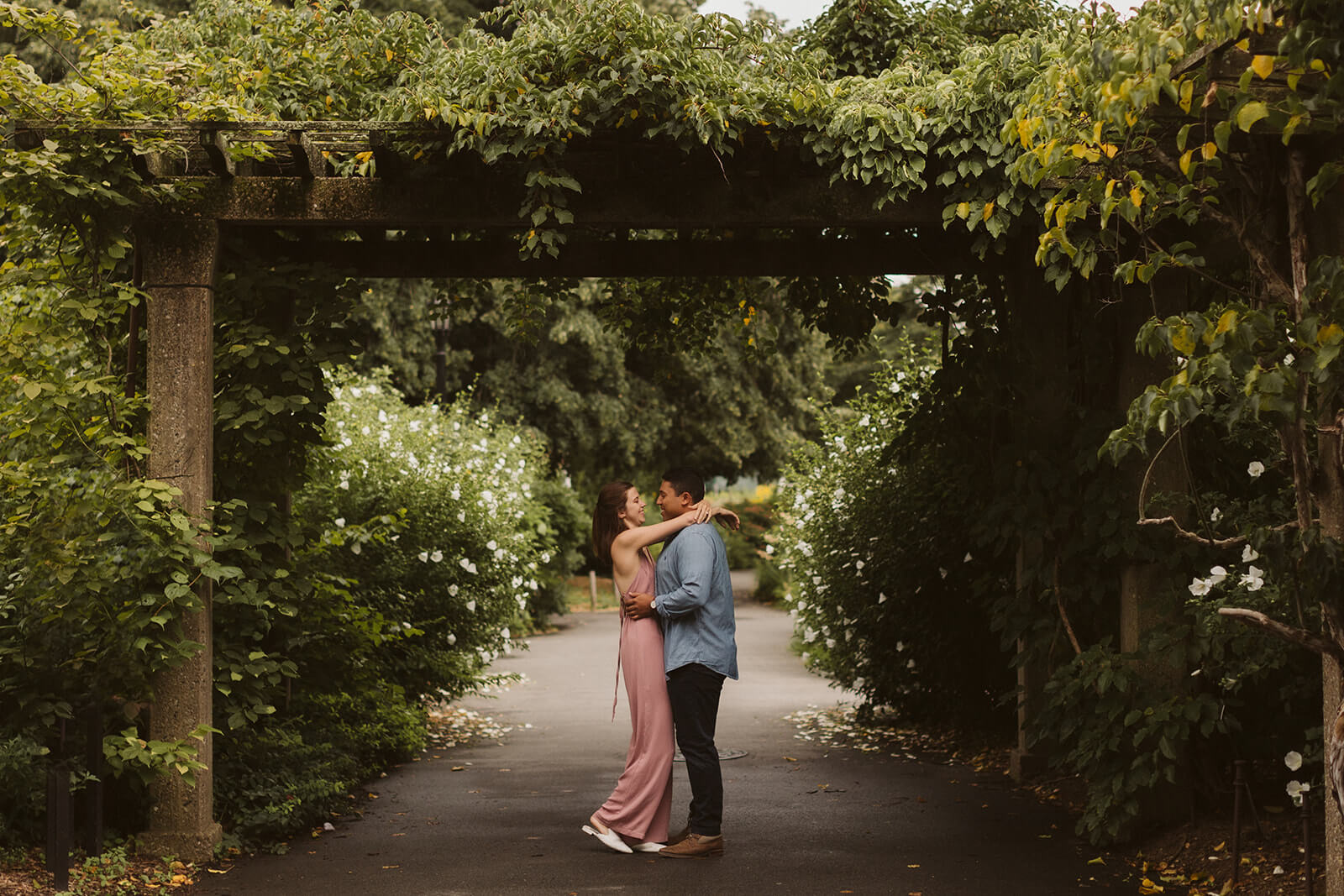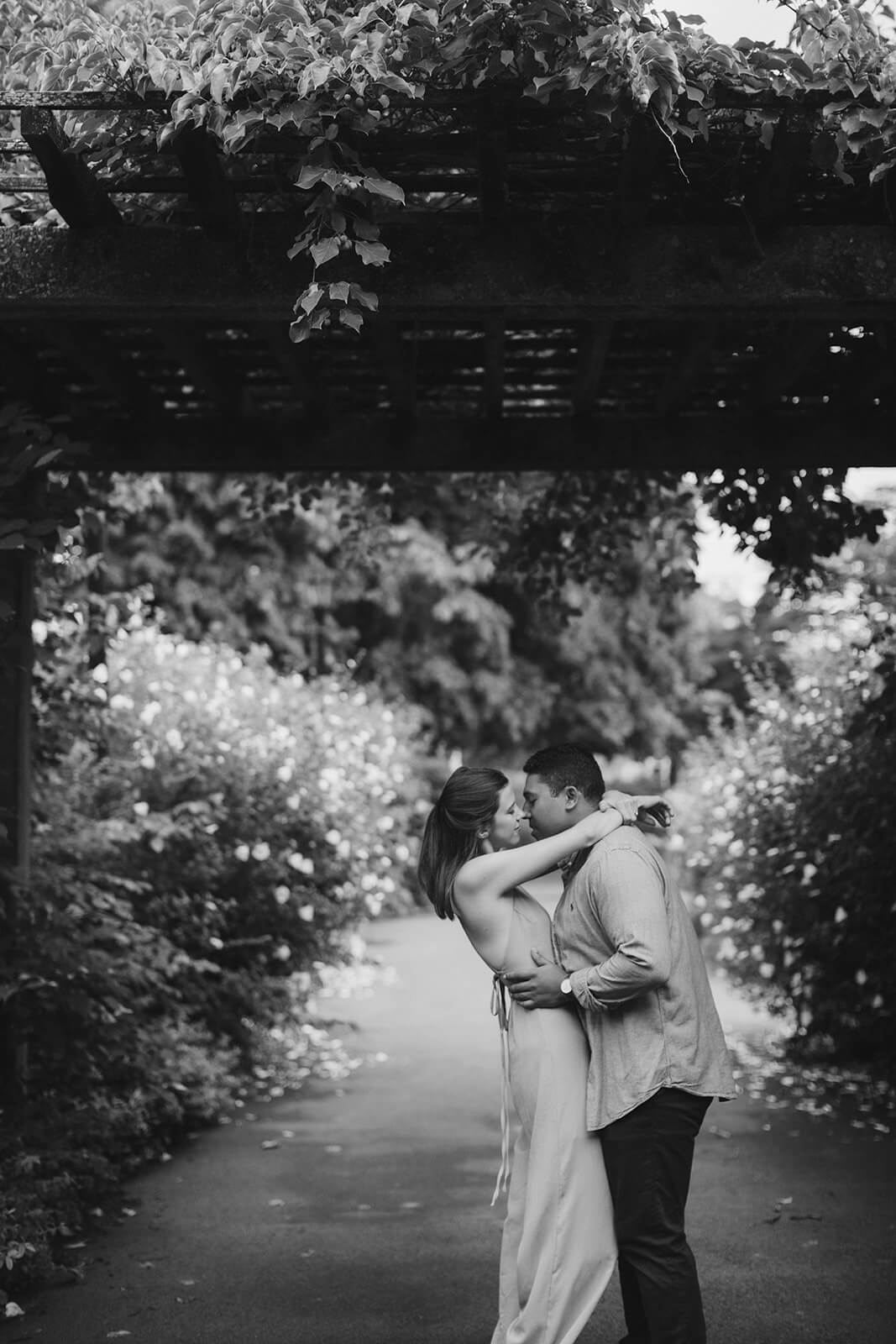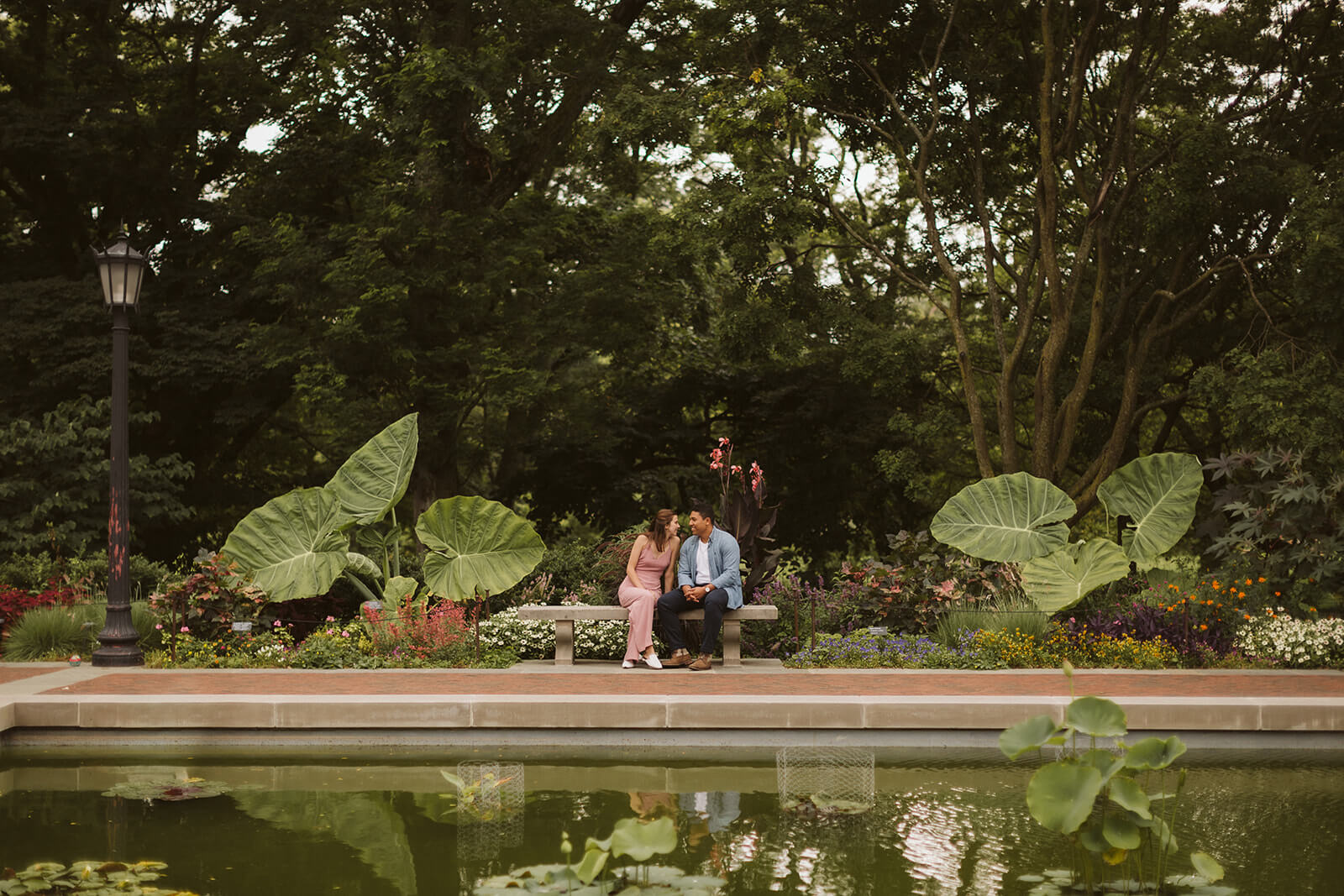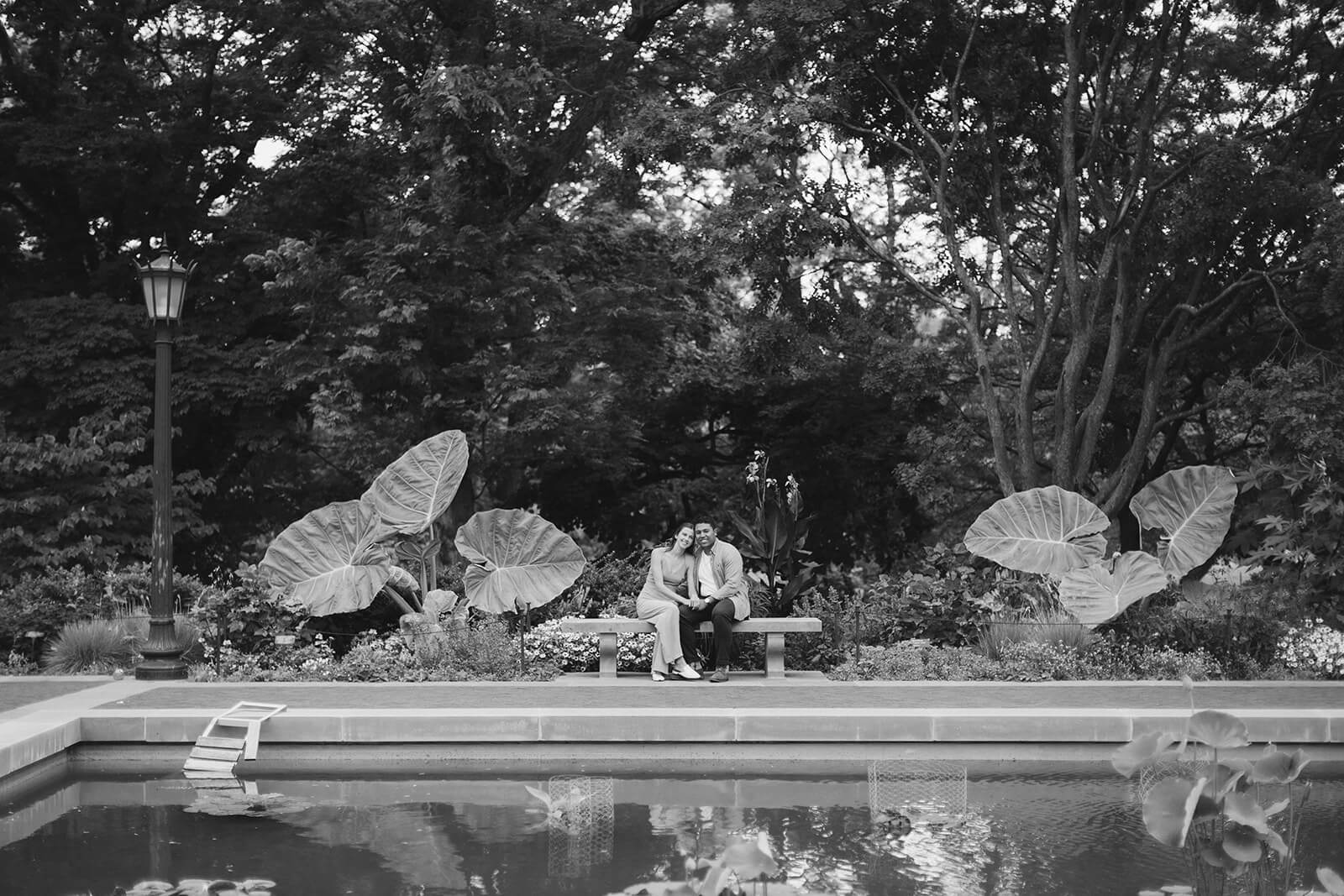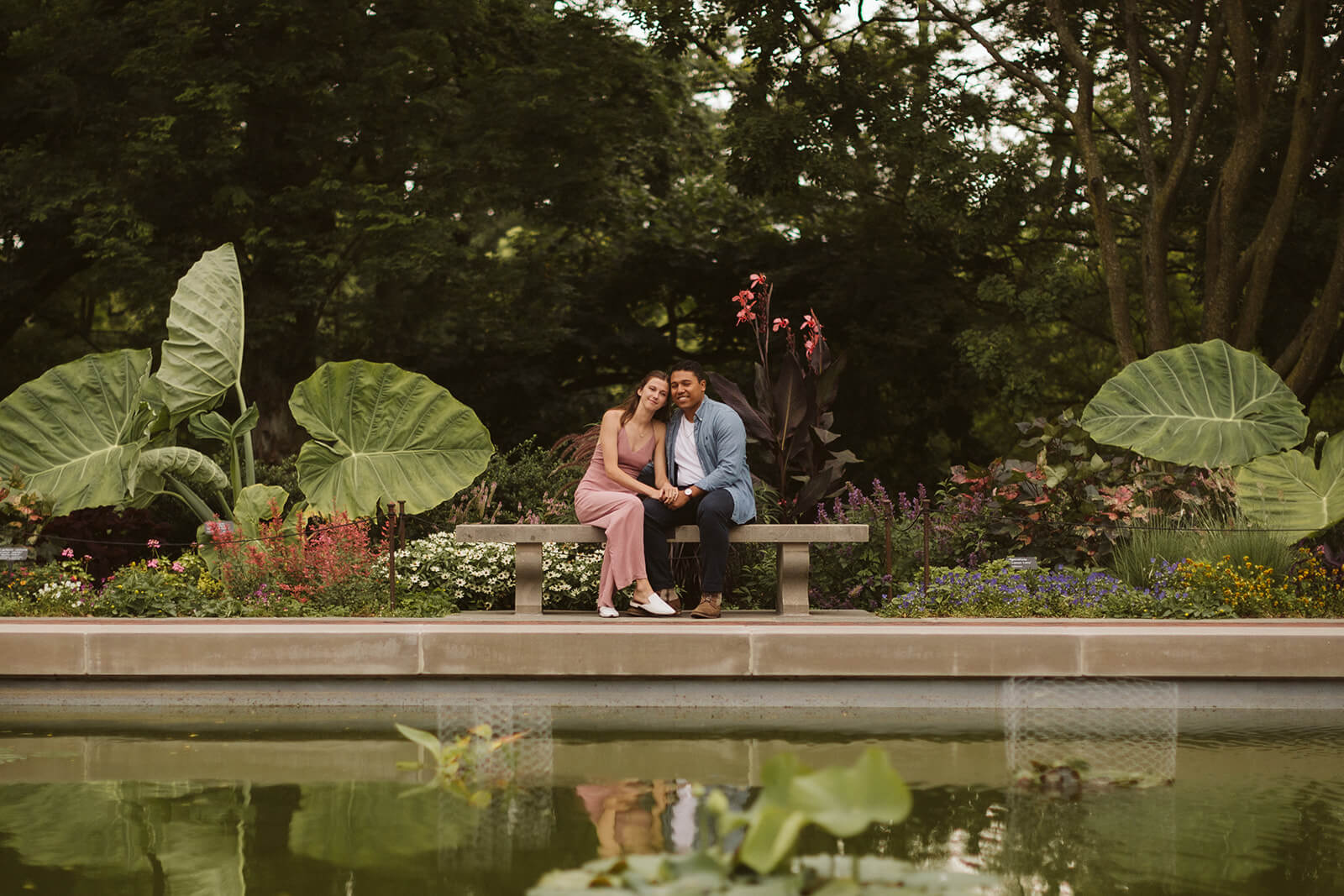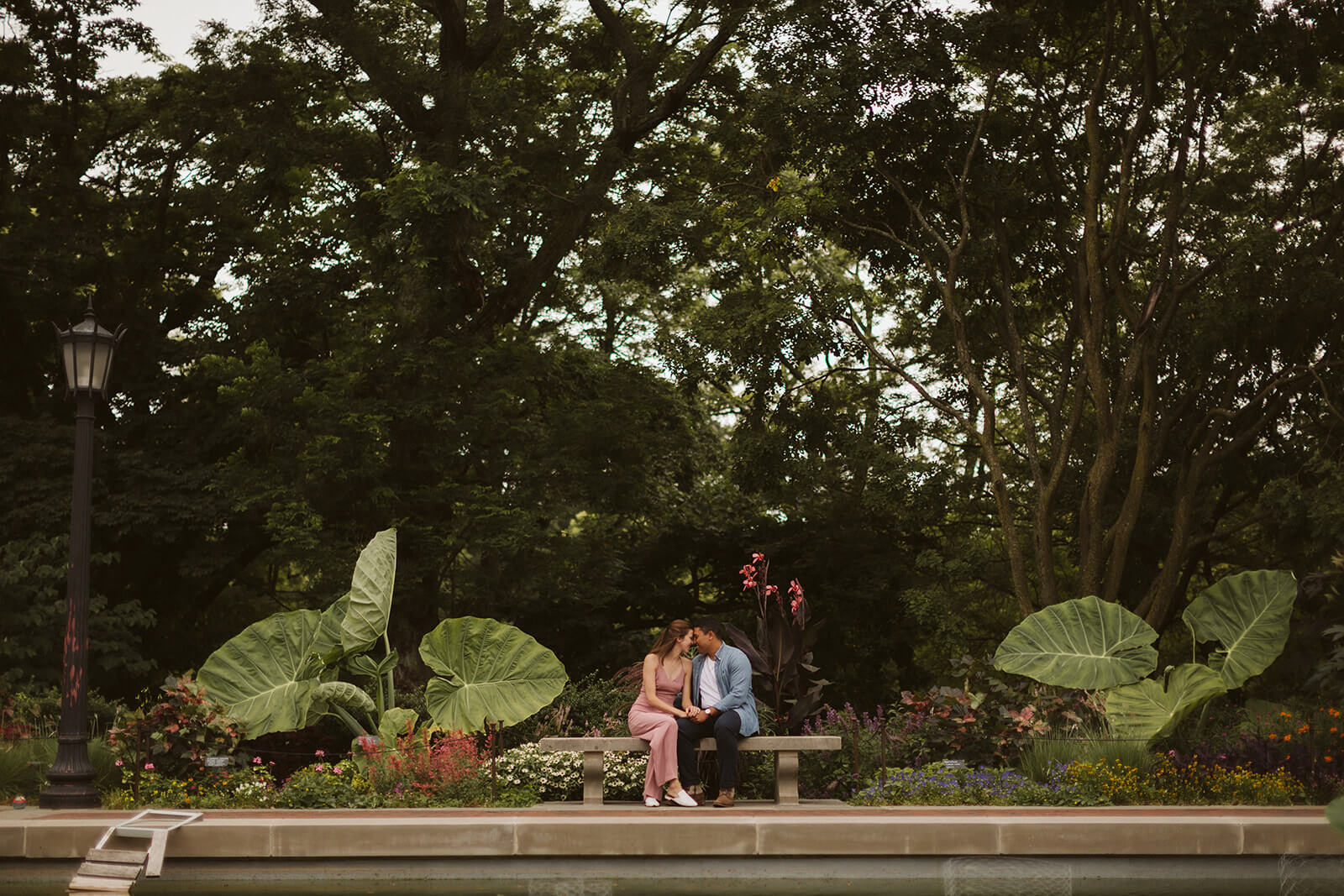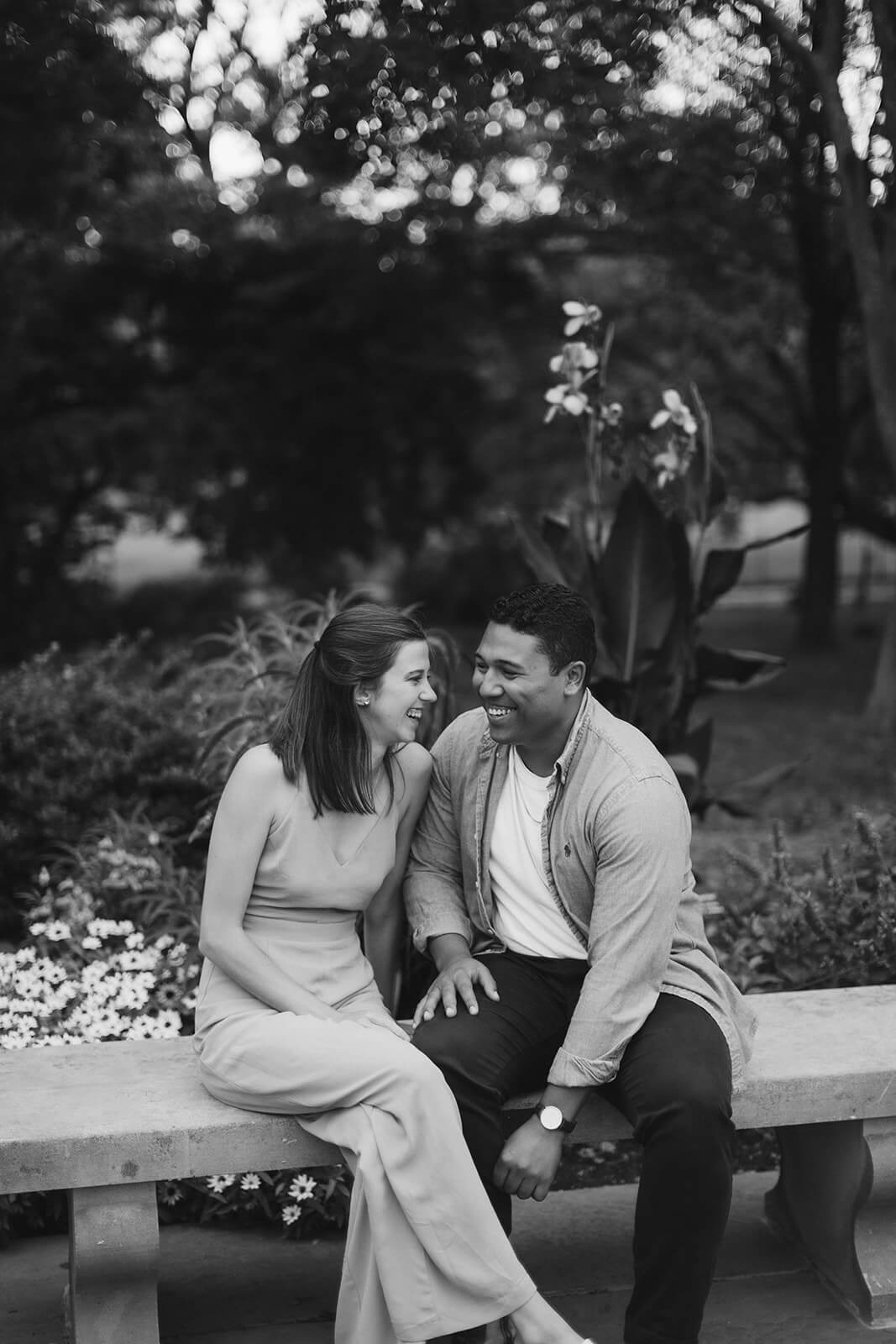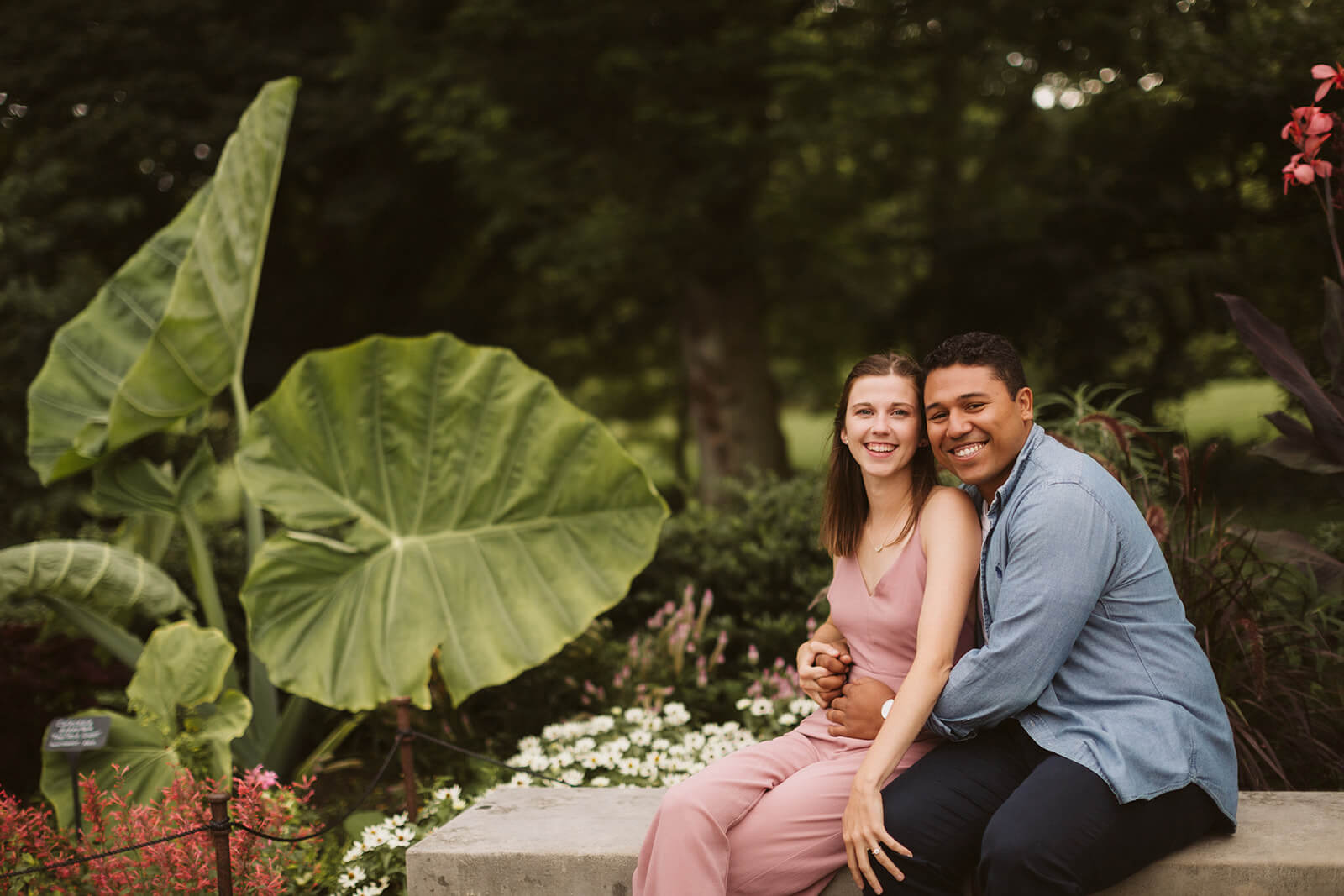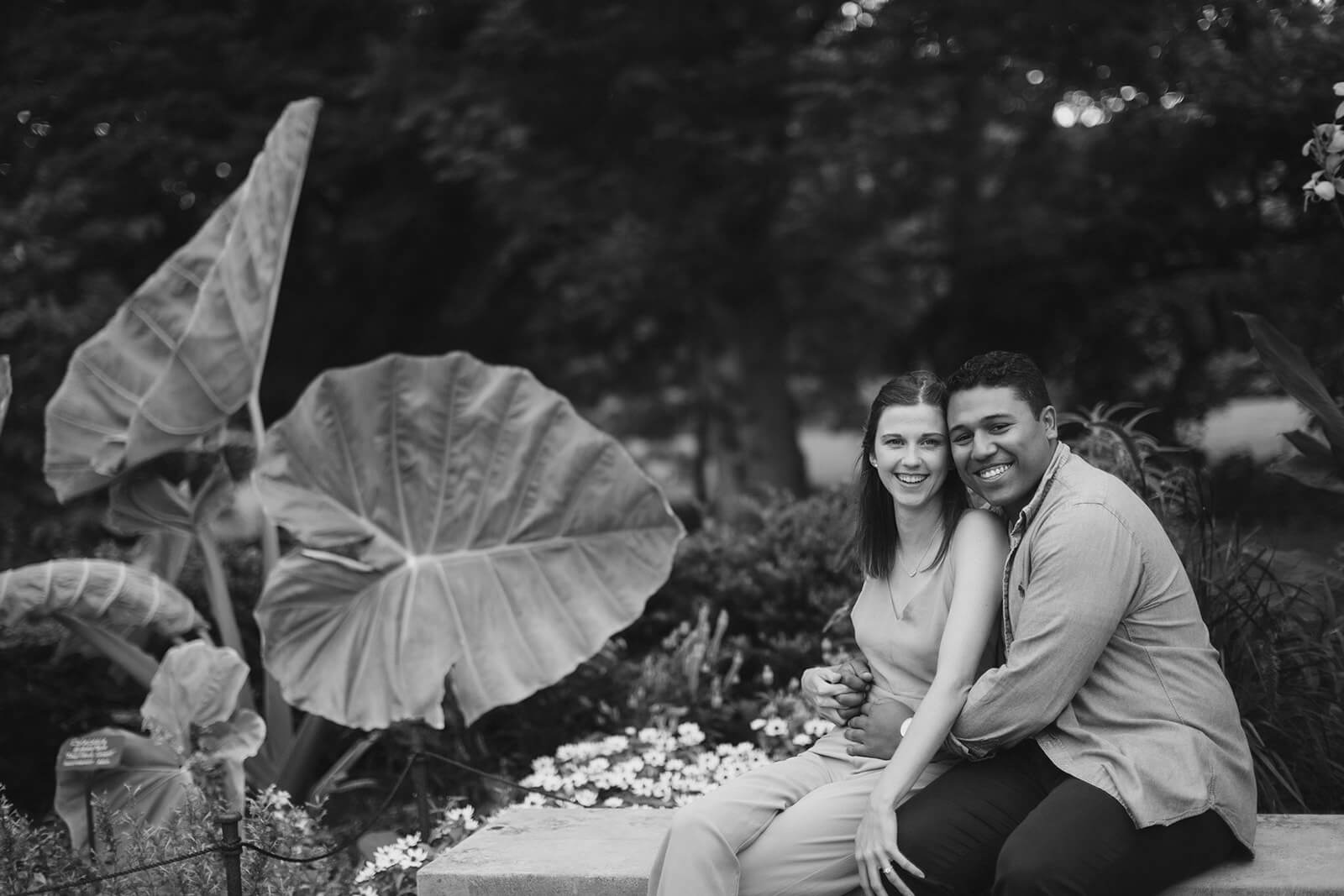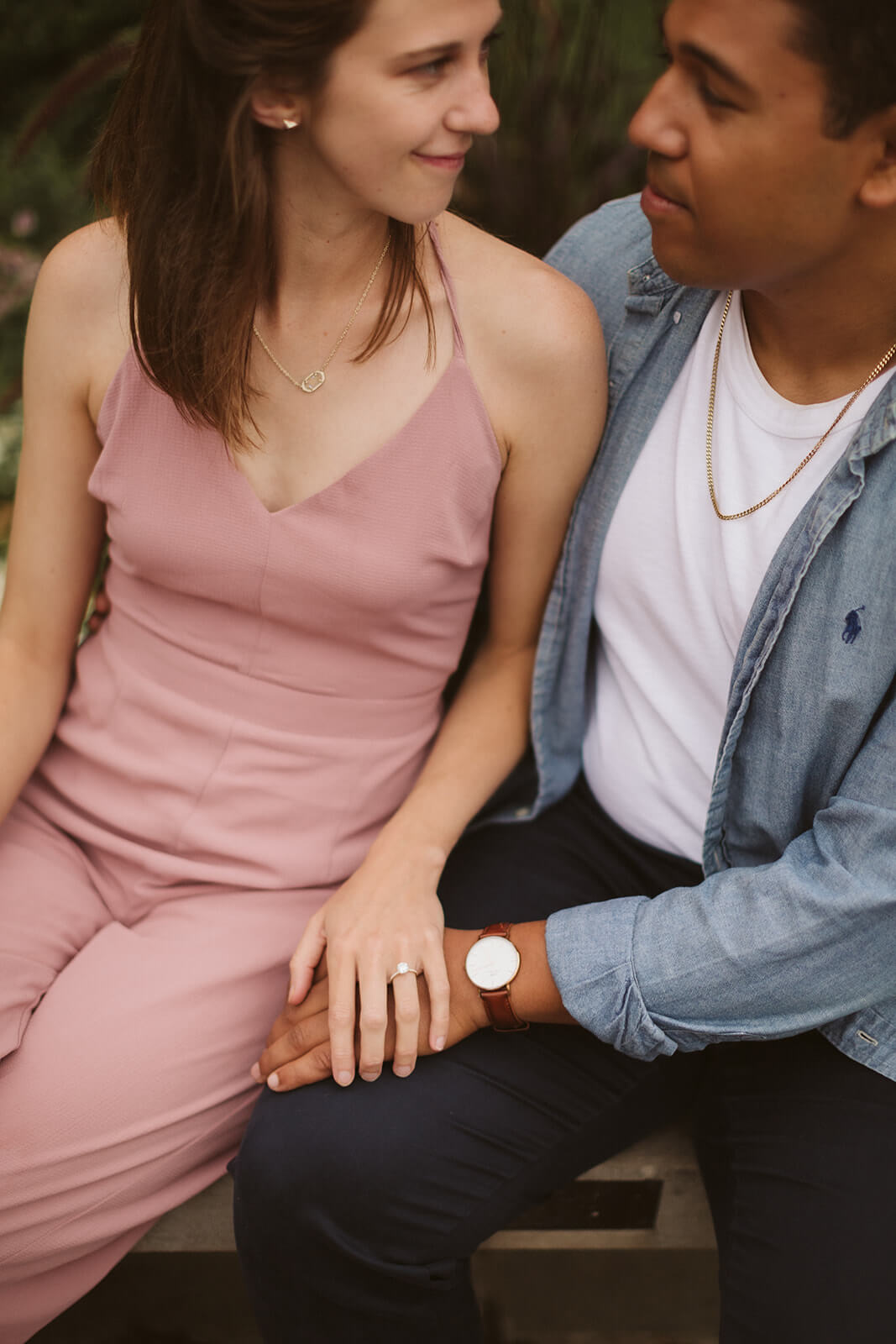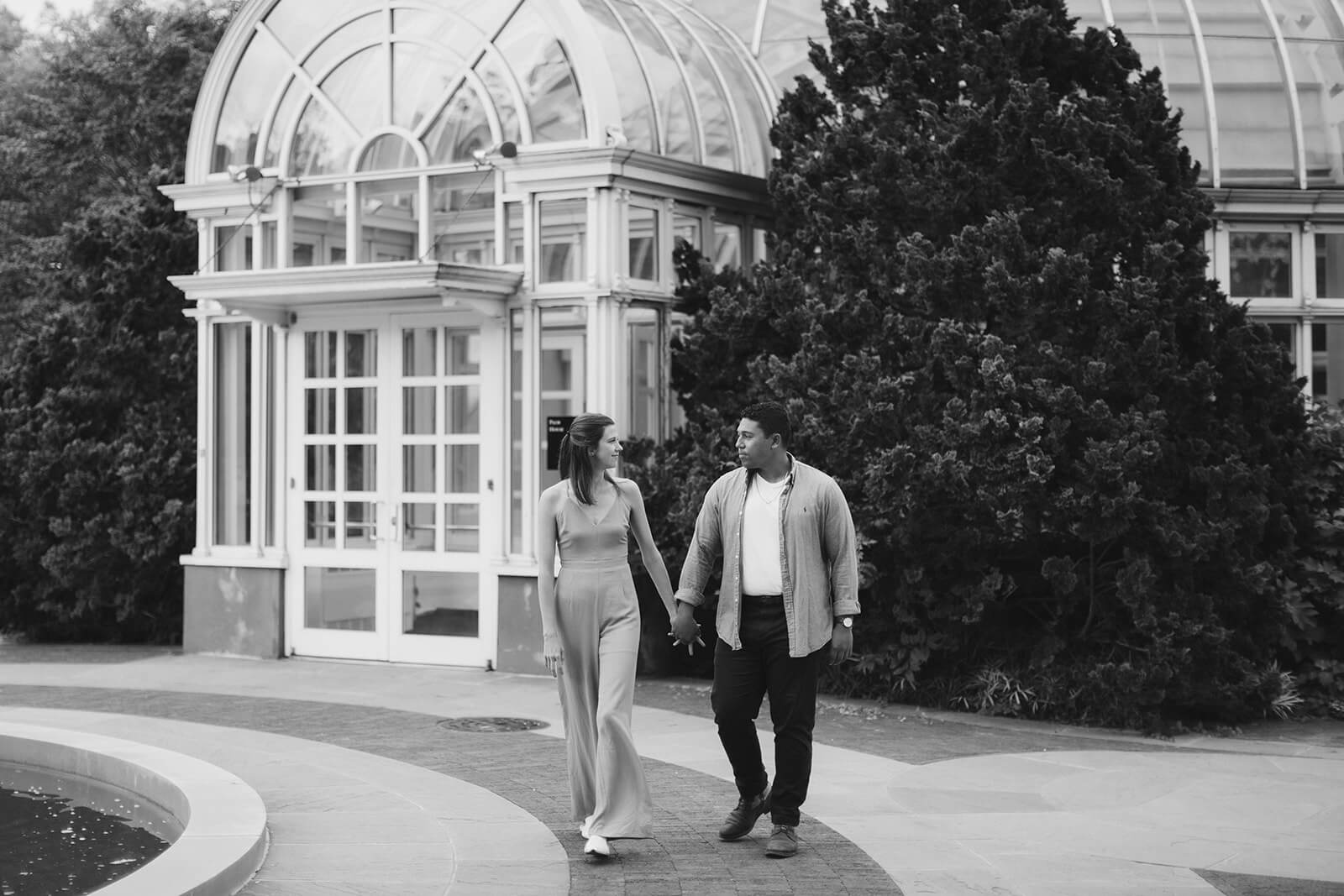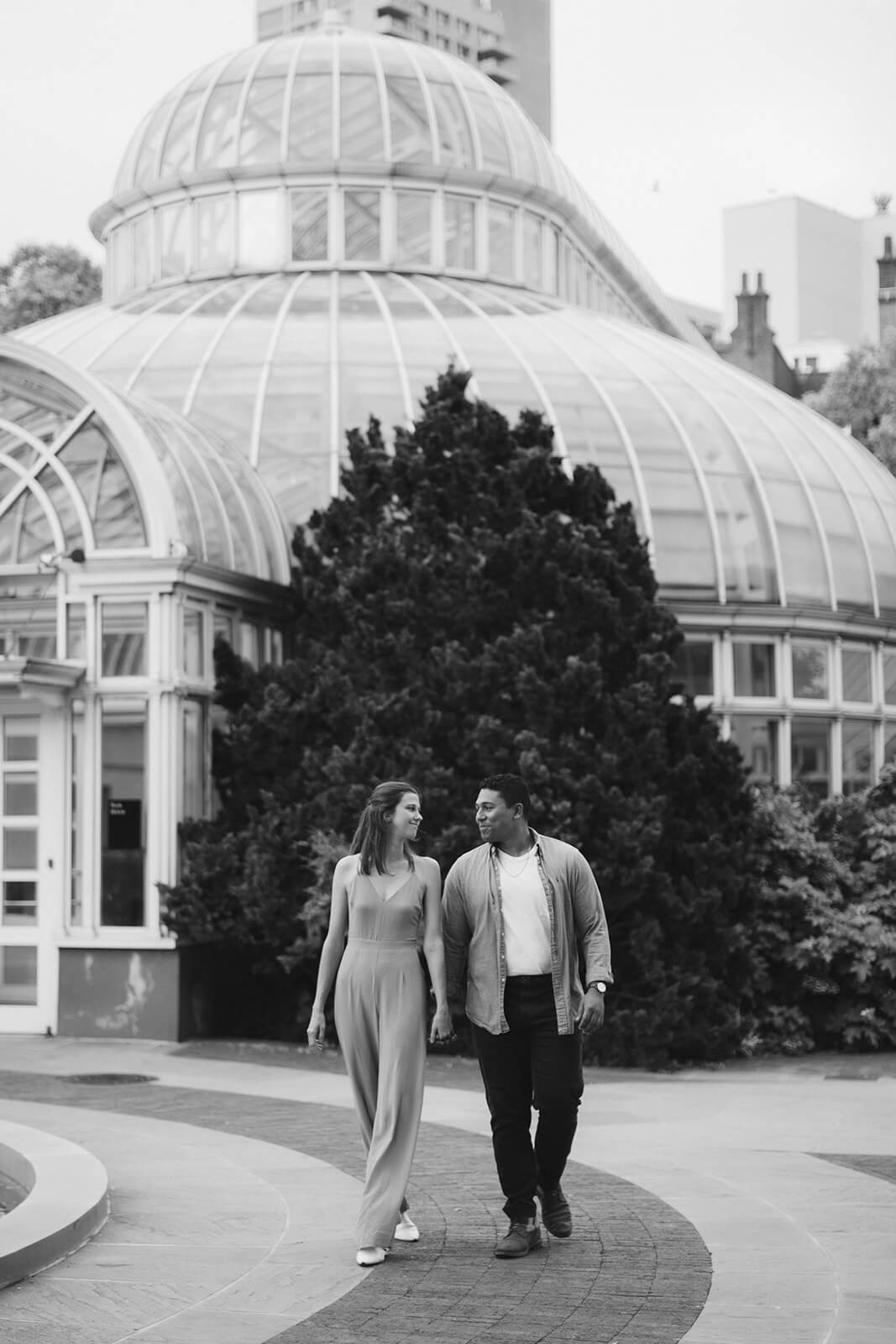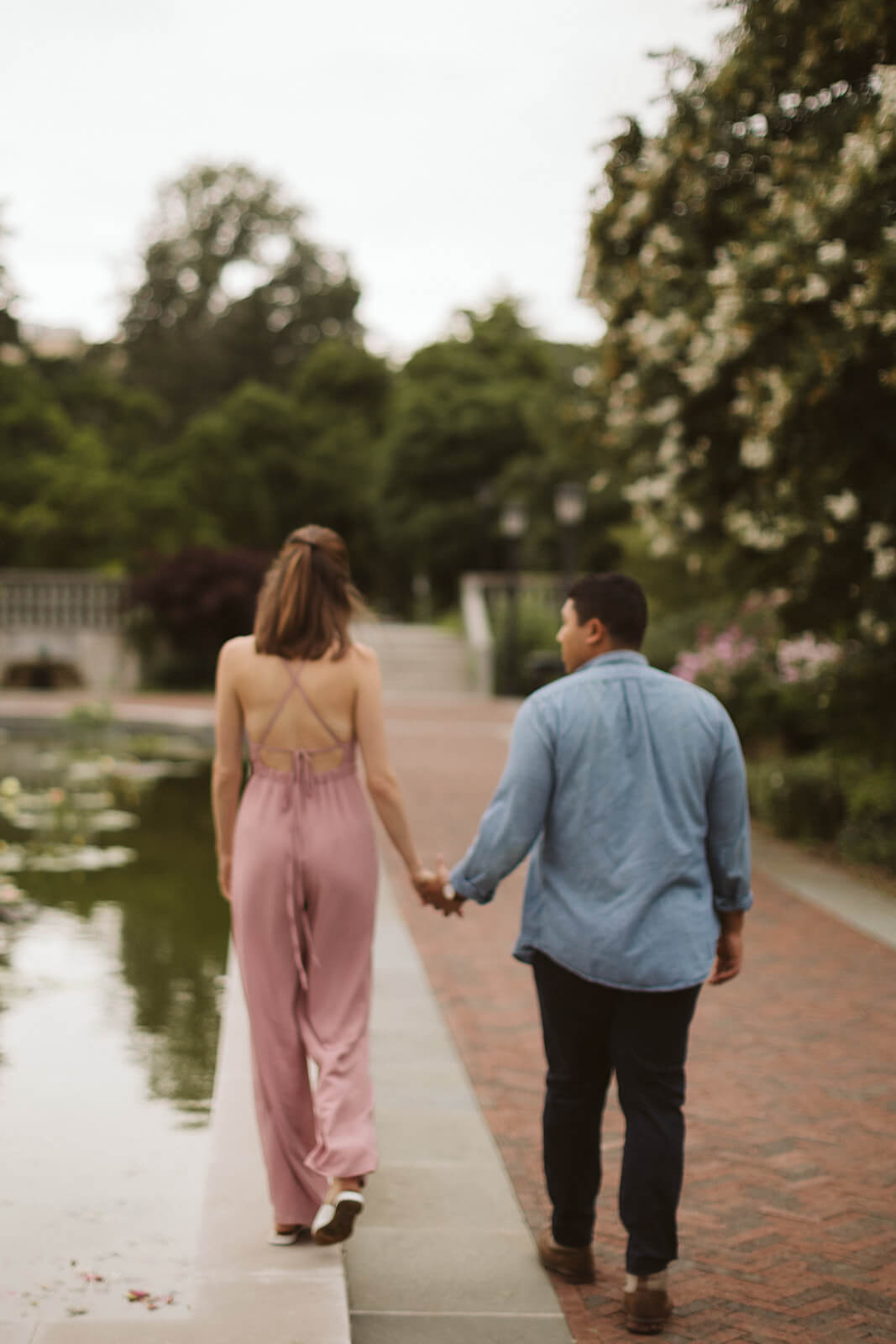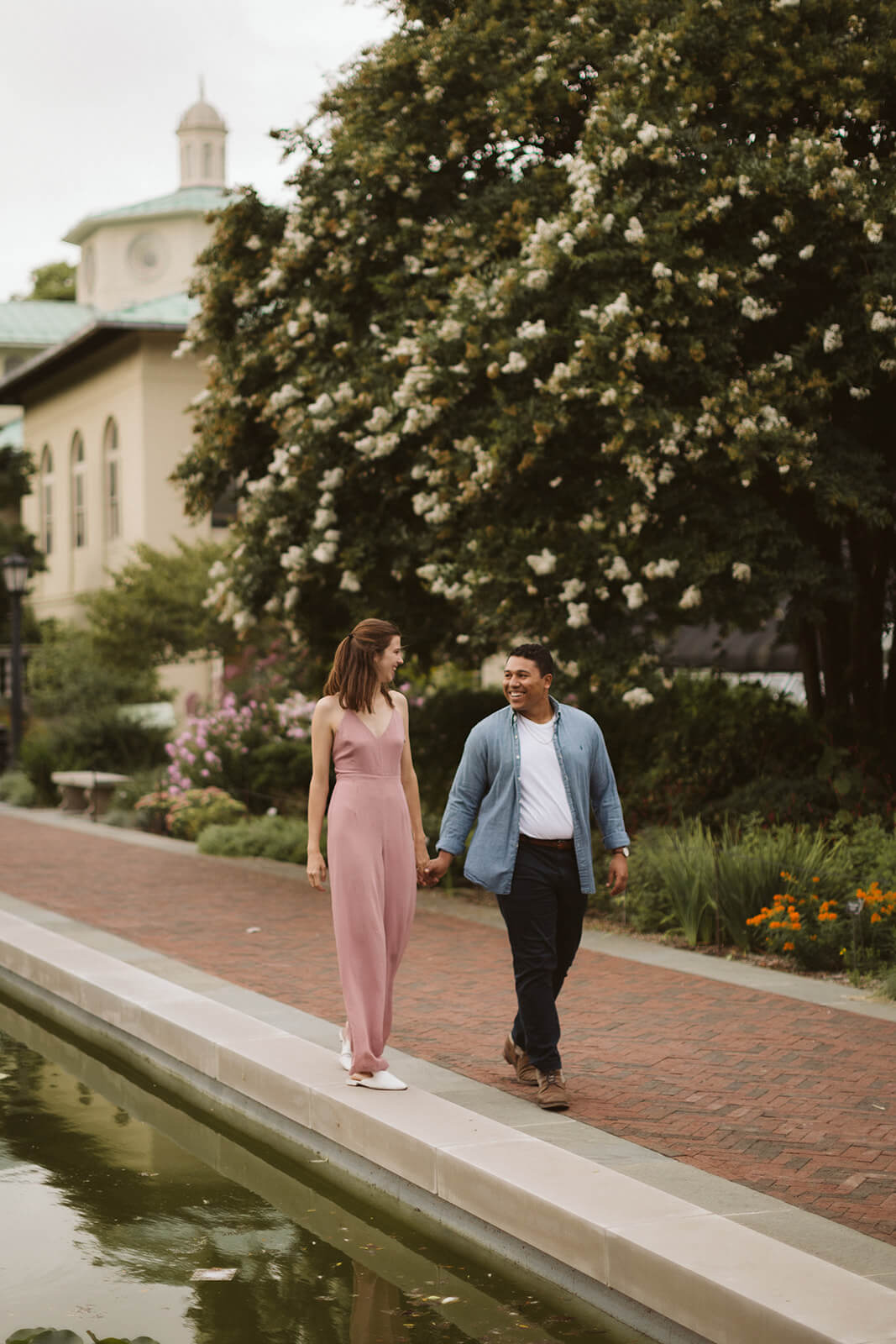 Having Your Engagement Session in Prospect Park
One of the best things about Prospect Park is that it offers all of the natural beauty that Central Park in Manhattan does but without the waves and waves of people crowding the area. If you've never been to Prospect Park, just think of it as a smaller version of Central Park. Not only is it also in the middle of a bustling area of Brooklyn, but once you walk onto the park grounds, Prospect Park gives you the same sense of leaving the busy city behind you as you walk into the natural world.
As a photographer, Prospect Park is a dream come true. There is such a diversity of backgrounds within the park that you can match just about any couple's style without having to travel out of the city. For a more urban style, areas like the Grand Army Plaza are great places to capture stunning sunset photos with visible buildings with cars and people rushing around in the background. While for more woodsy or enchanted forest styles, within the park itself, there are luxurious manicured gardens, lakes, waterfalls, and even rambling forested areas that make it seem like nature never let go of its grip on the land when the city was built around it. Prospect Park even has a zoo and a carousel for couples who are a little more whimsical at heart.
While prepping for Sarah and Jeremy's session, since there were so many to choose from, I researched and scouted out all of the best locations within the park that would have the best lighting and backdrops for their photoshoot. That's when I discovered the Brooklyn Botanic Gardens located within the park, and I knew that that was where we would be spending the majority of our day.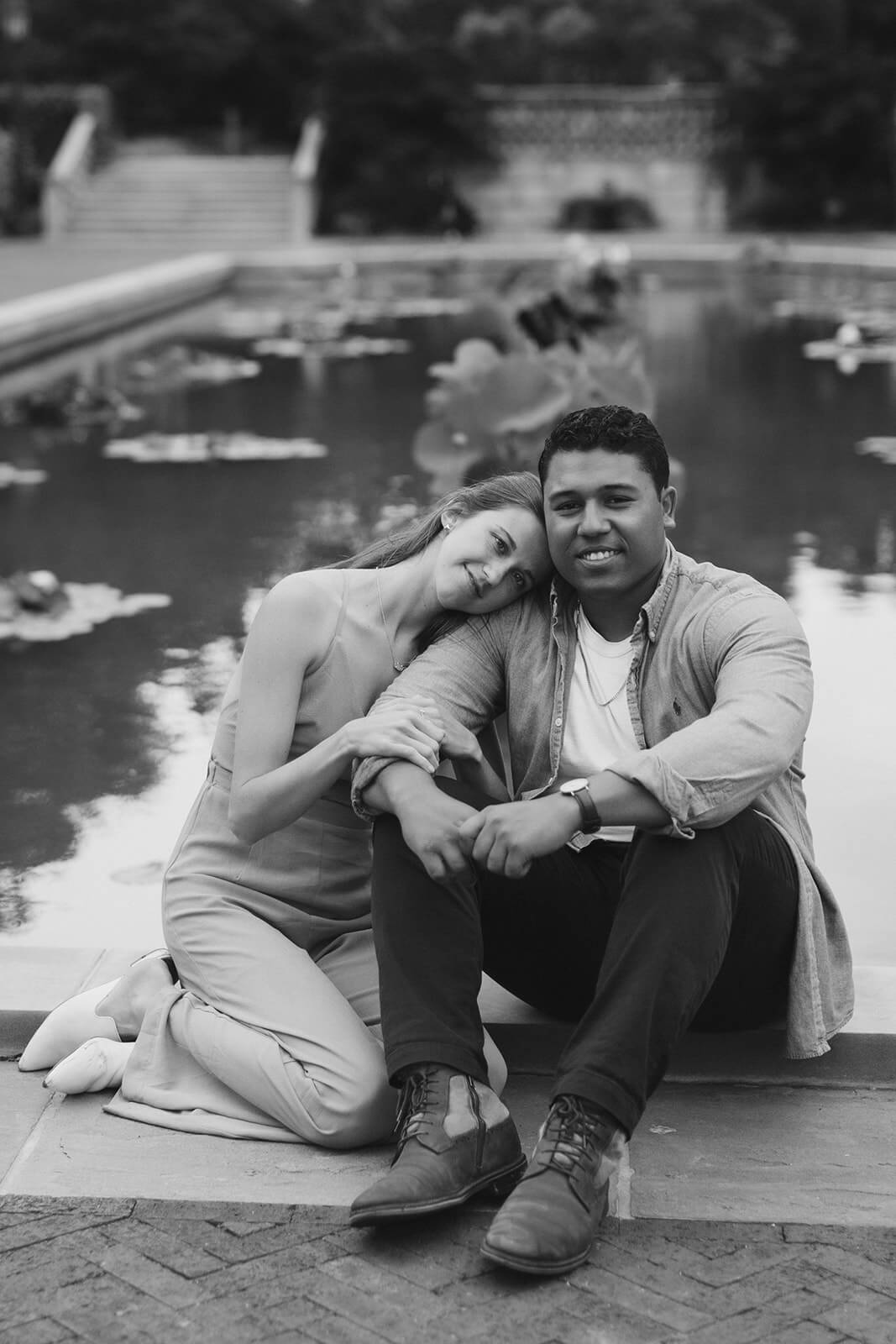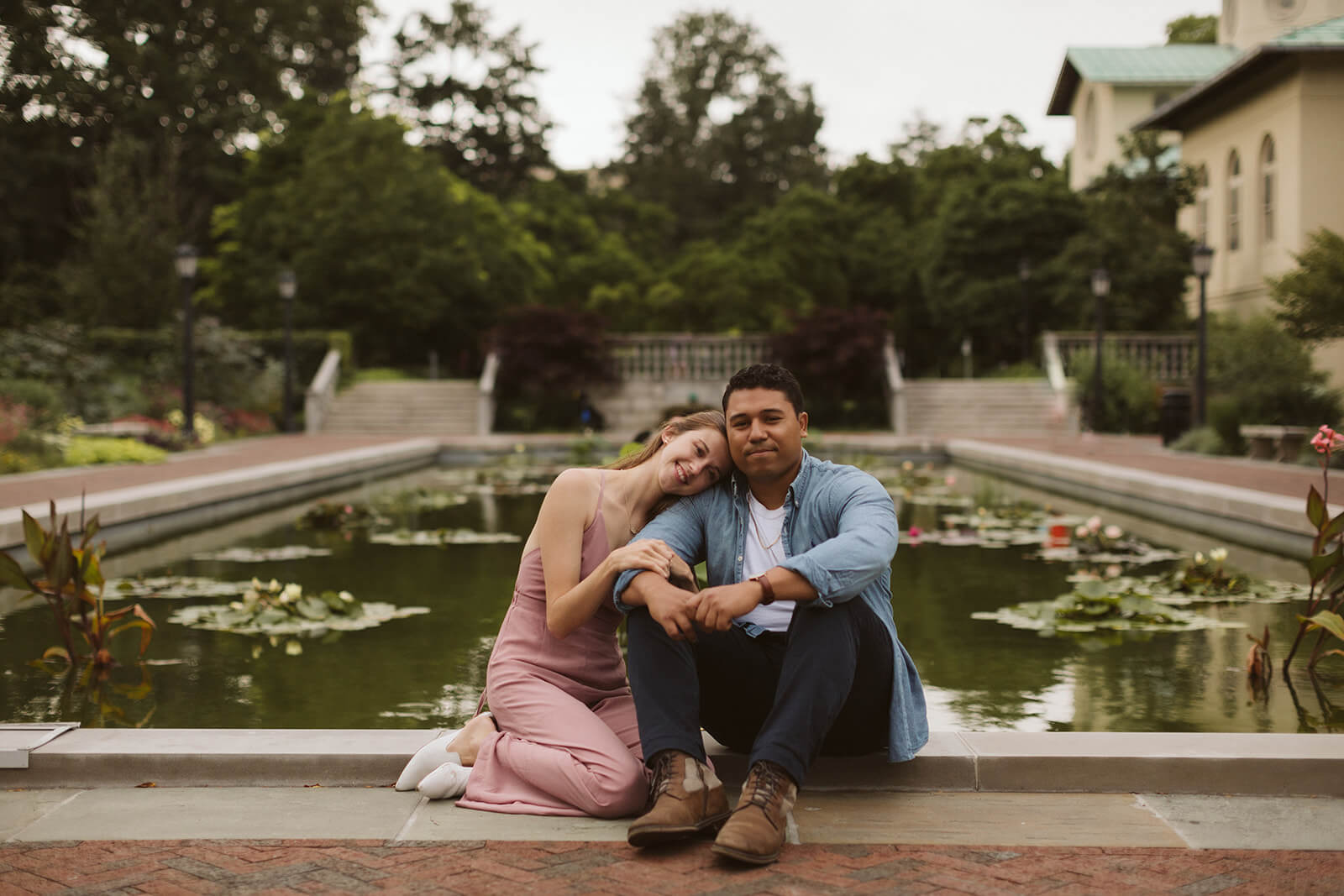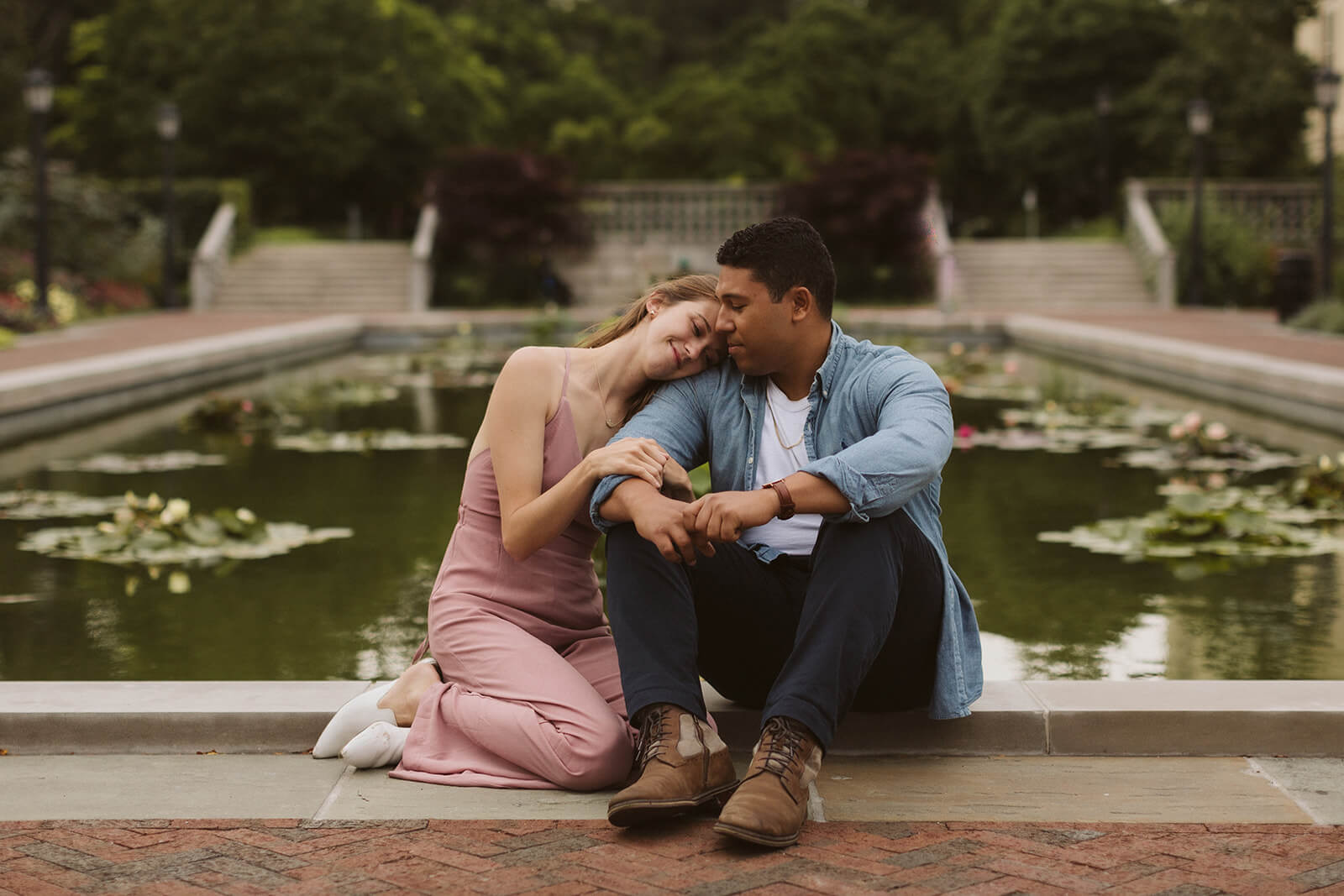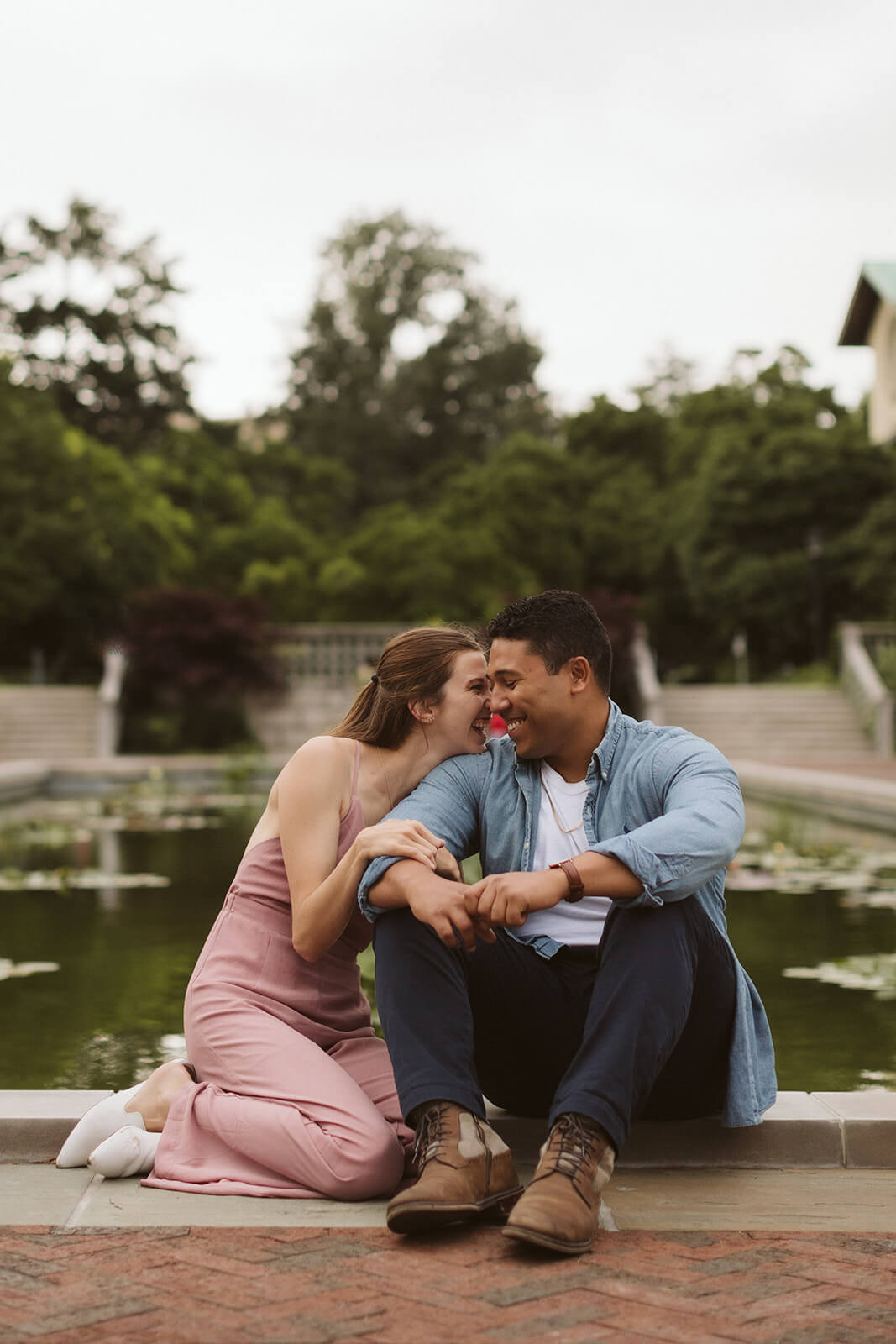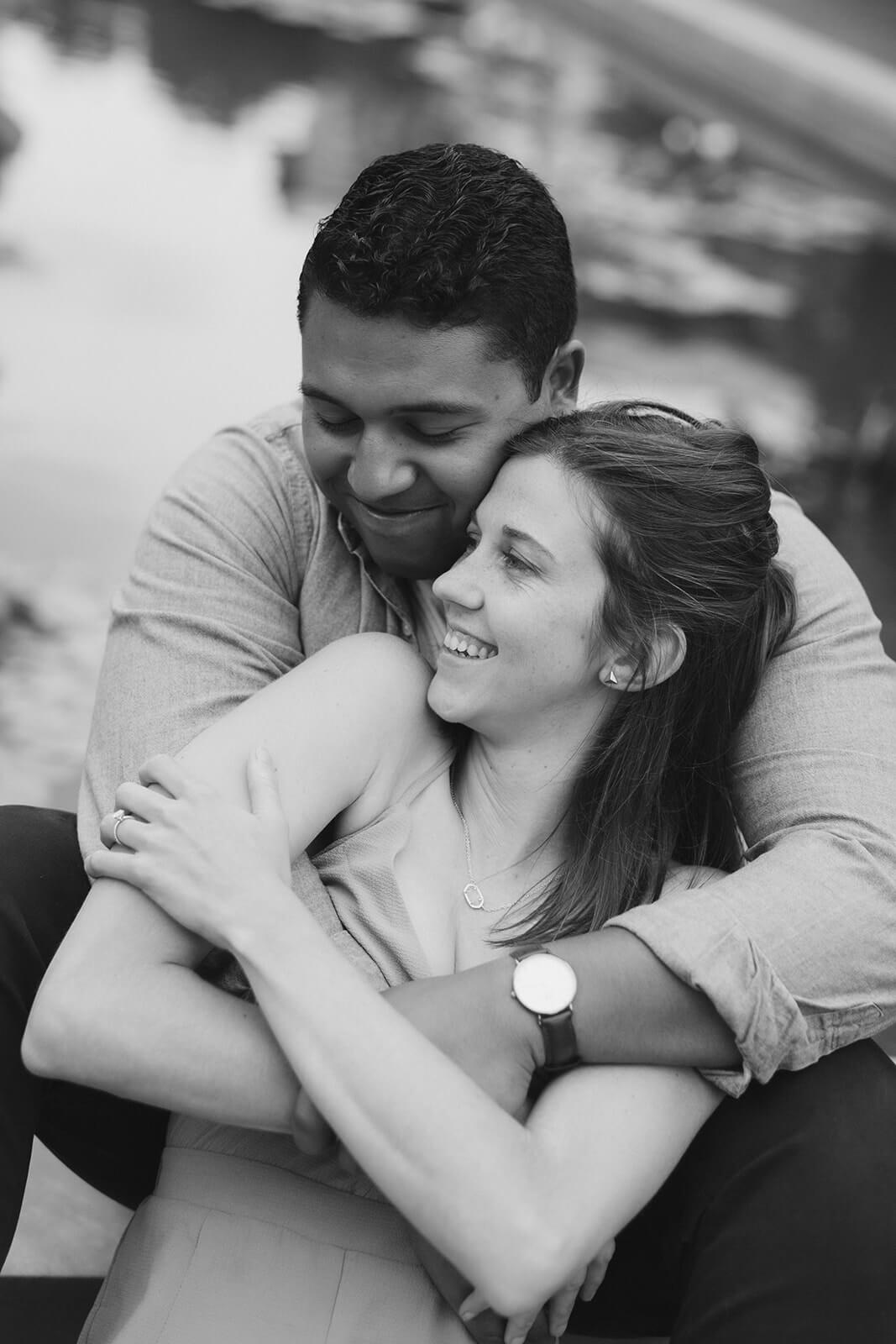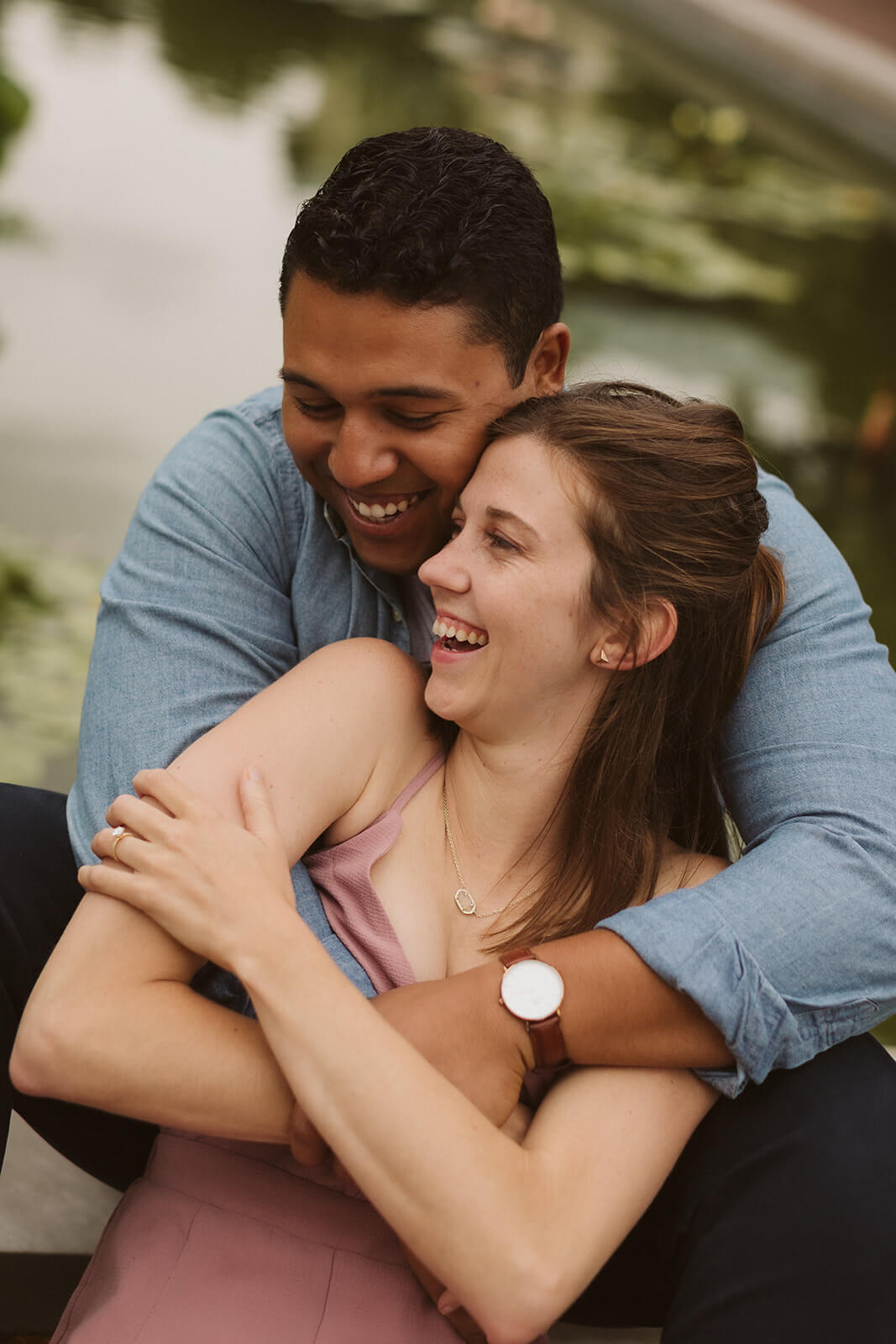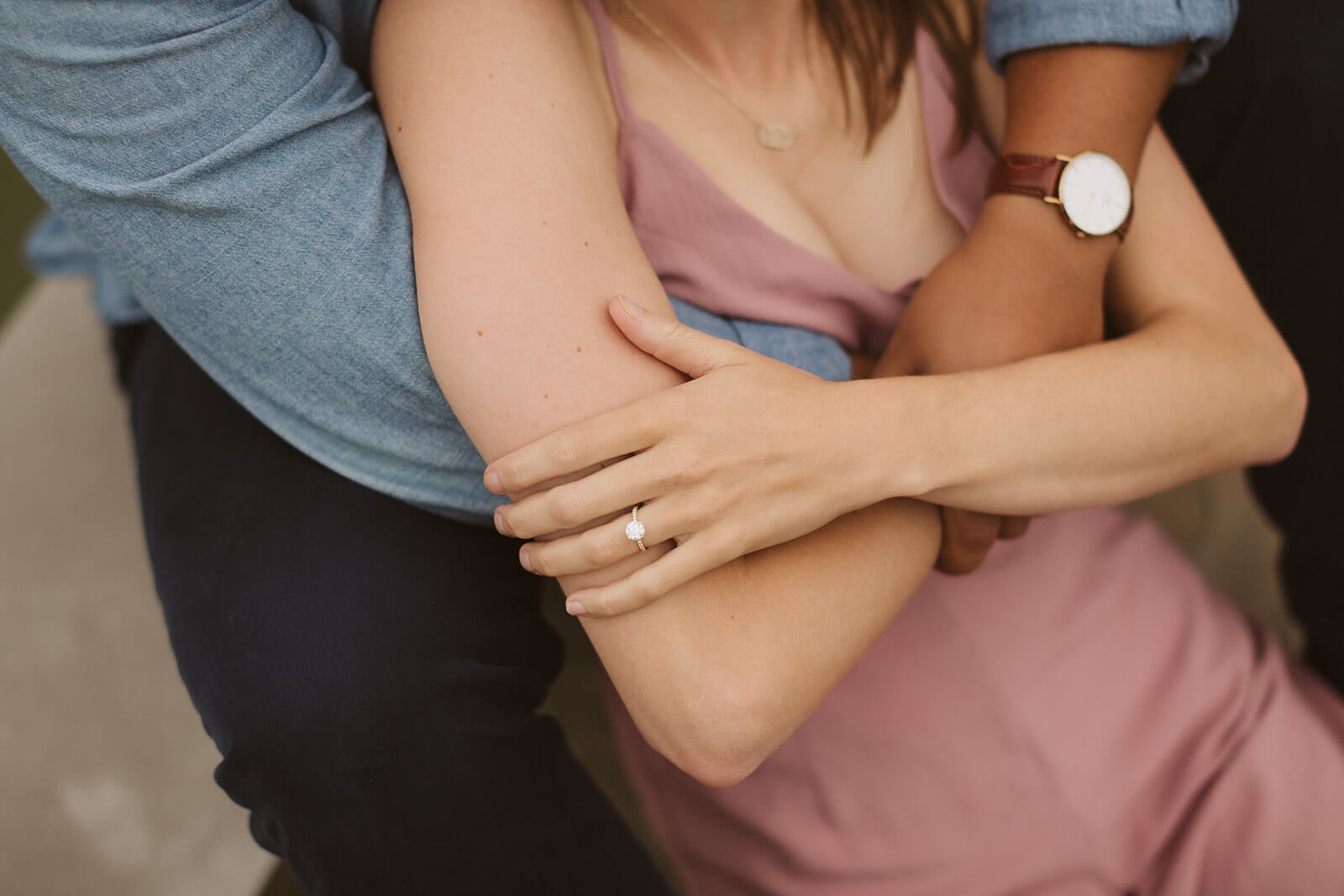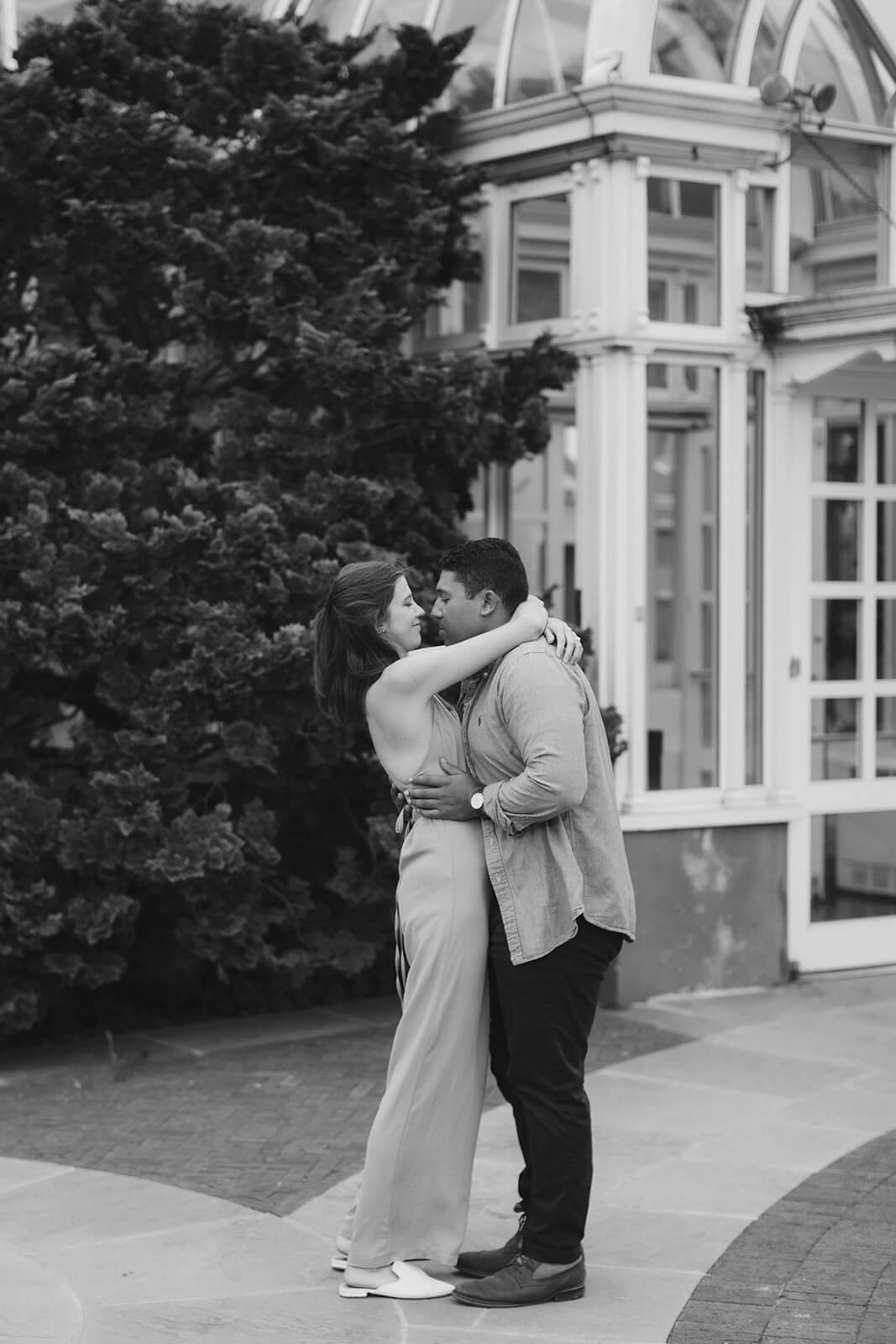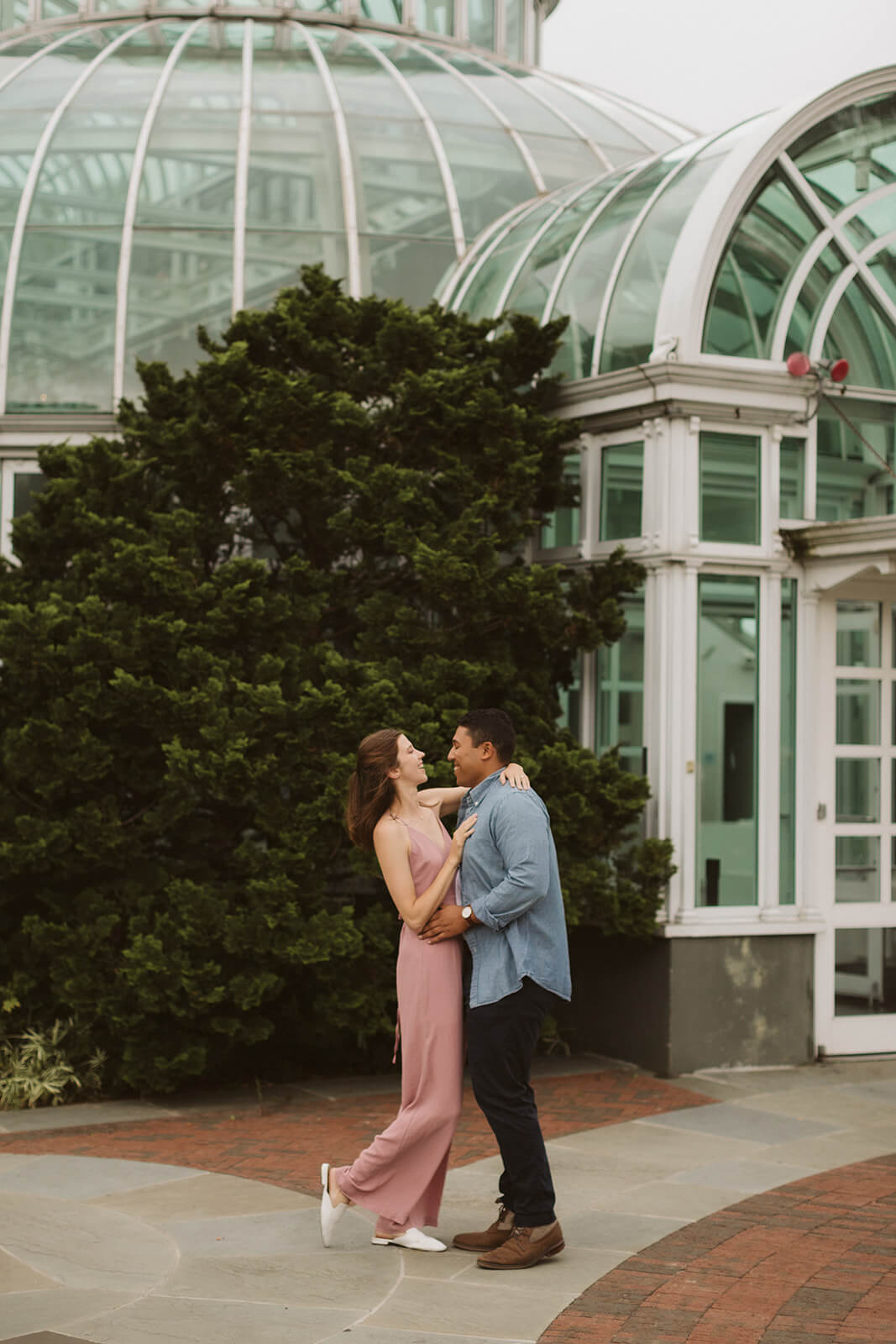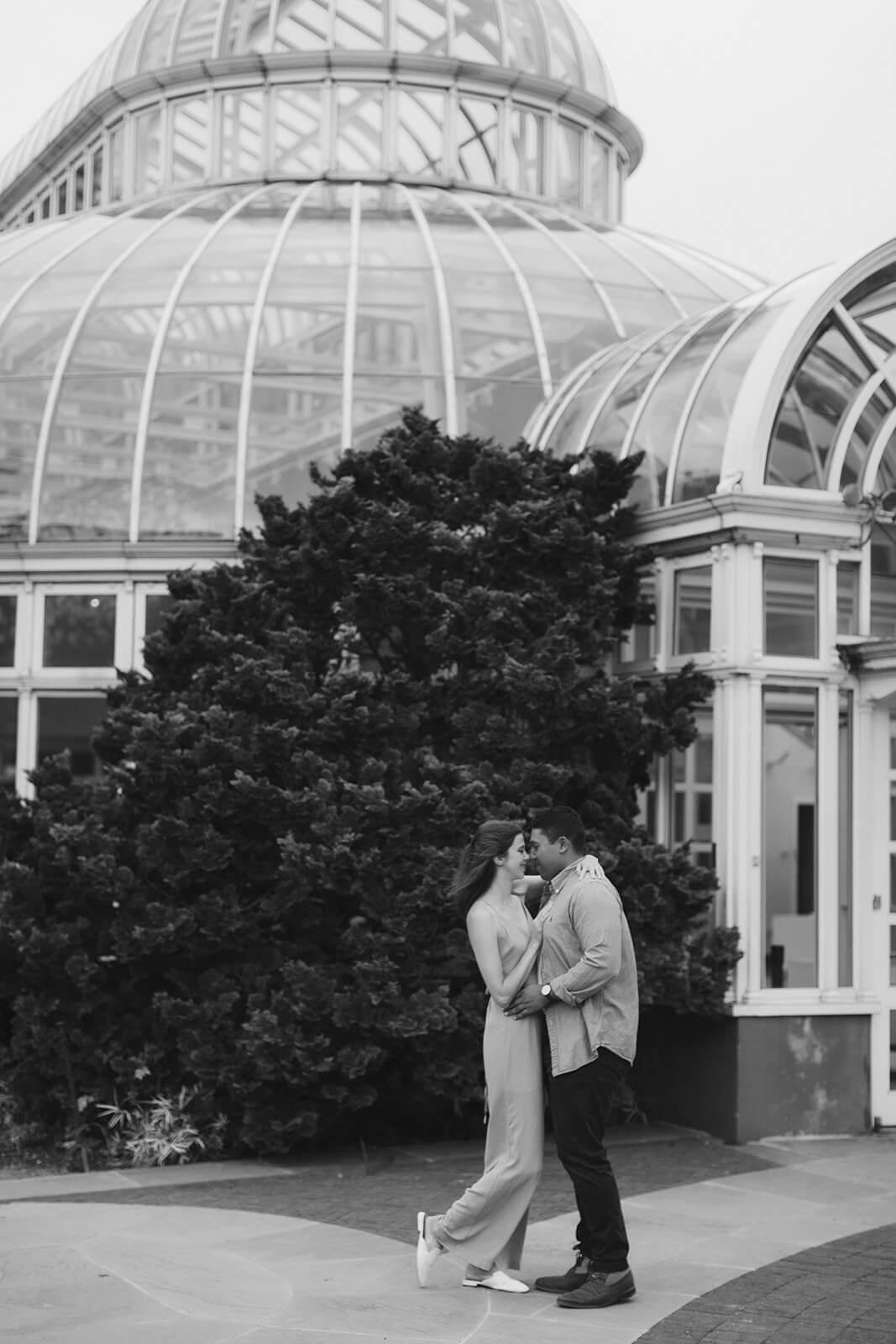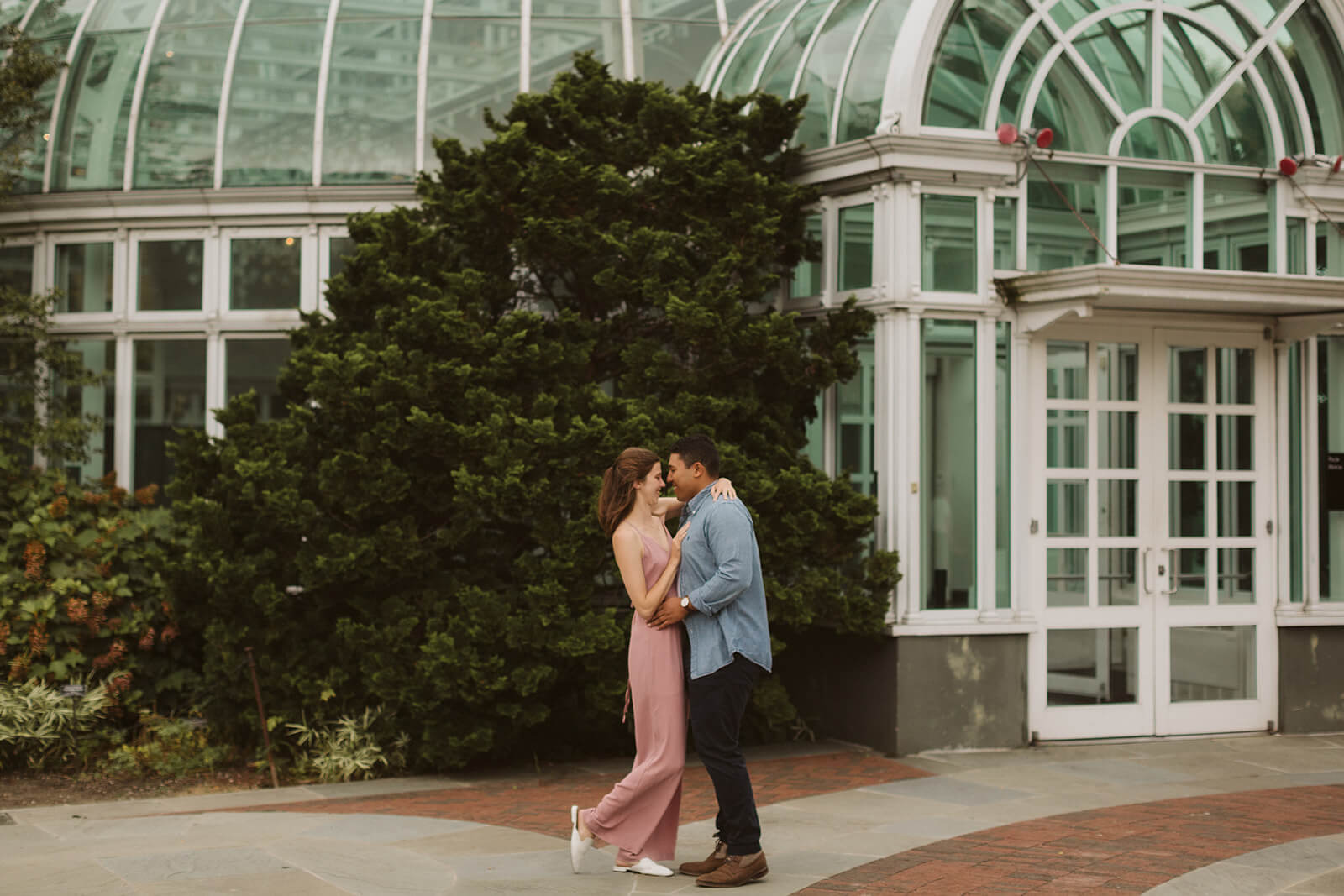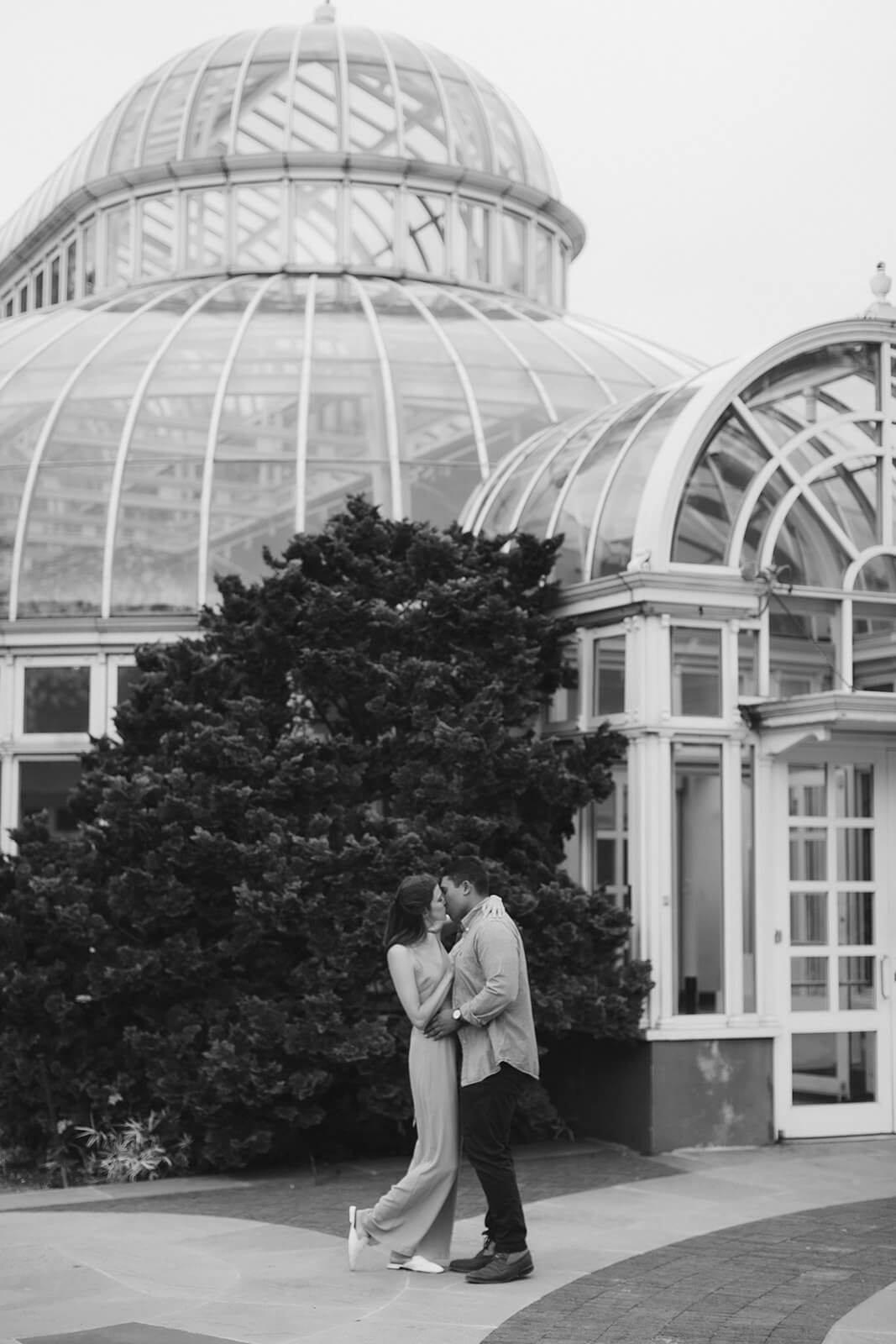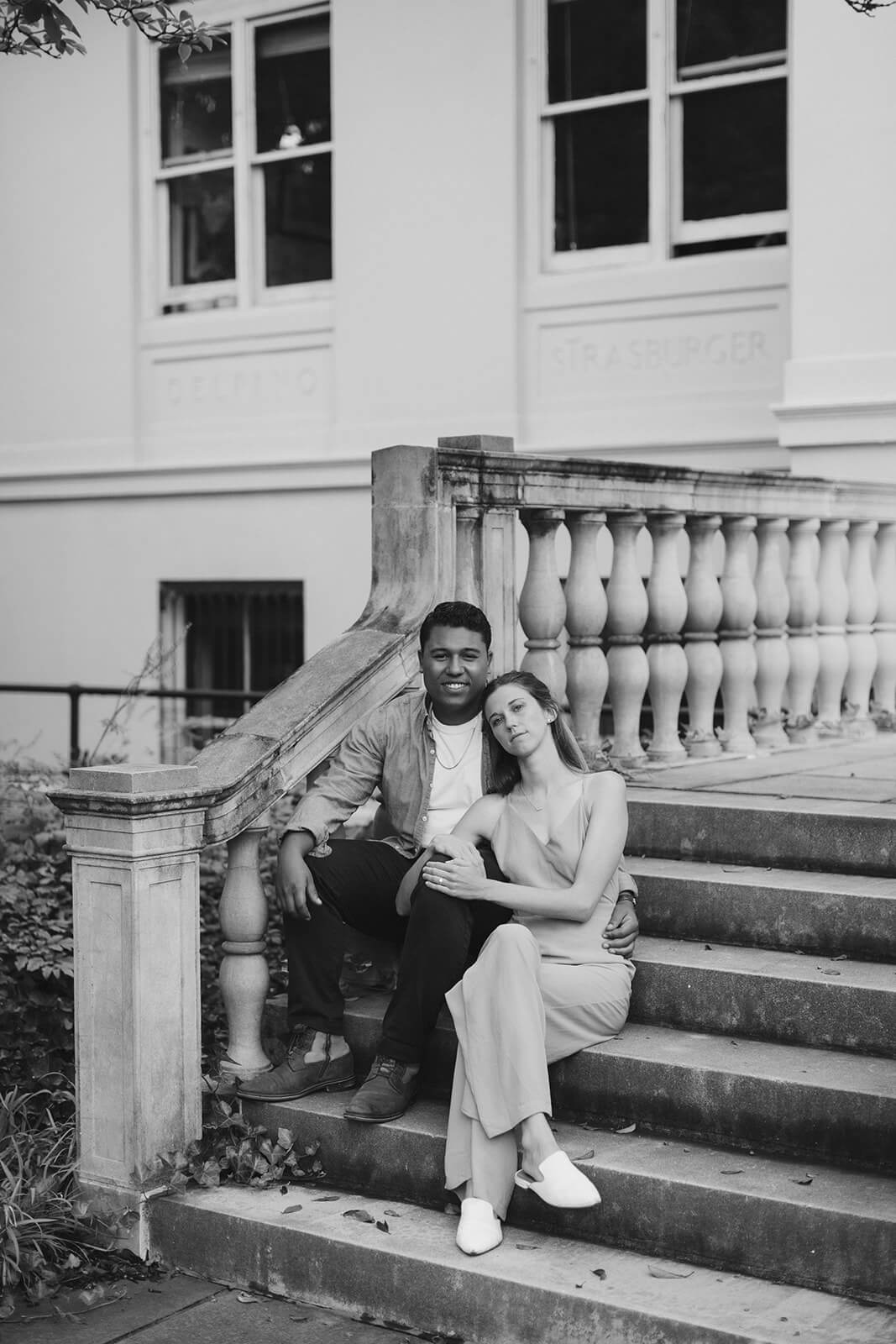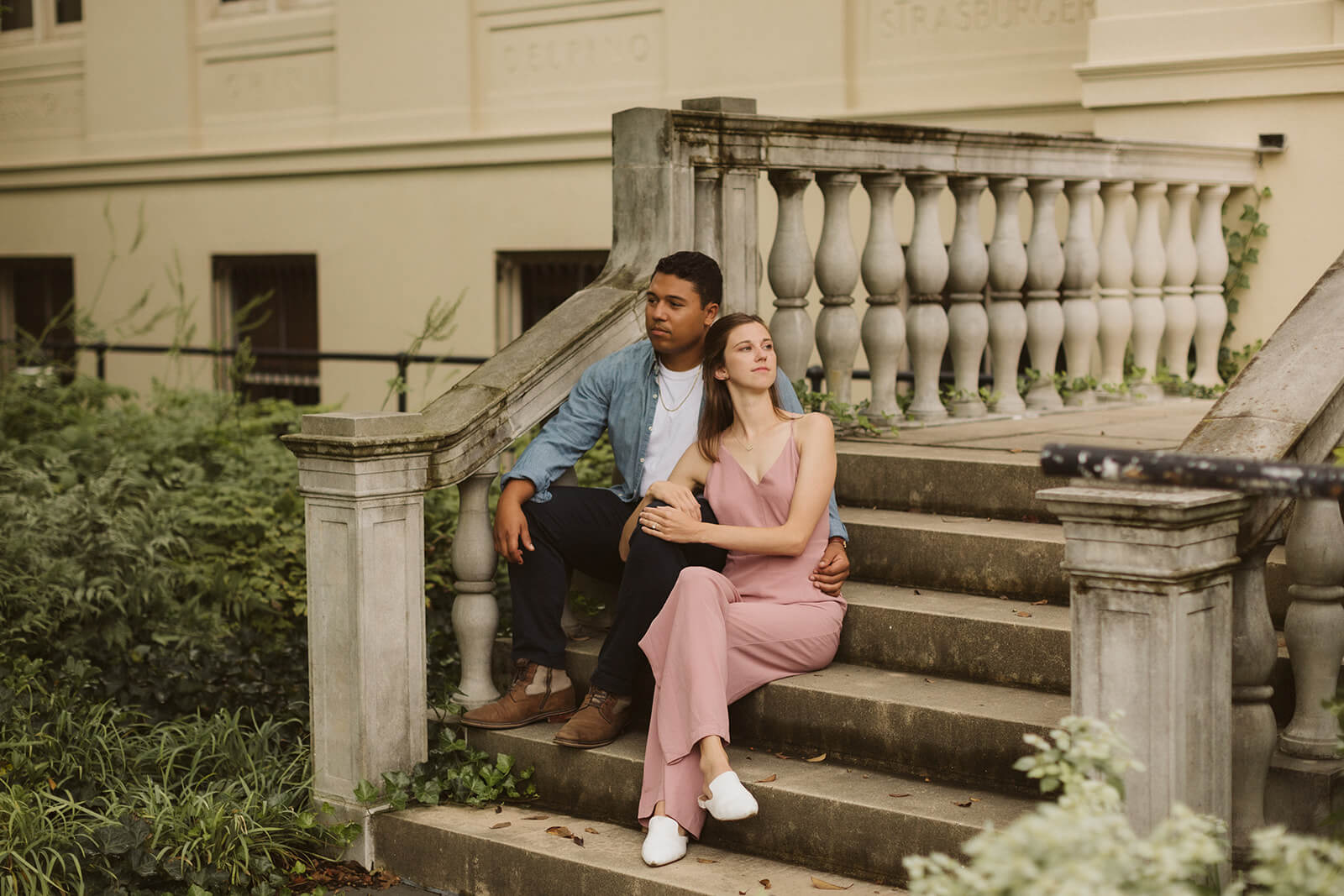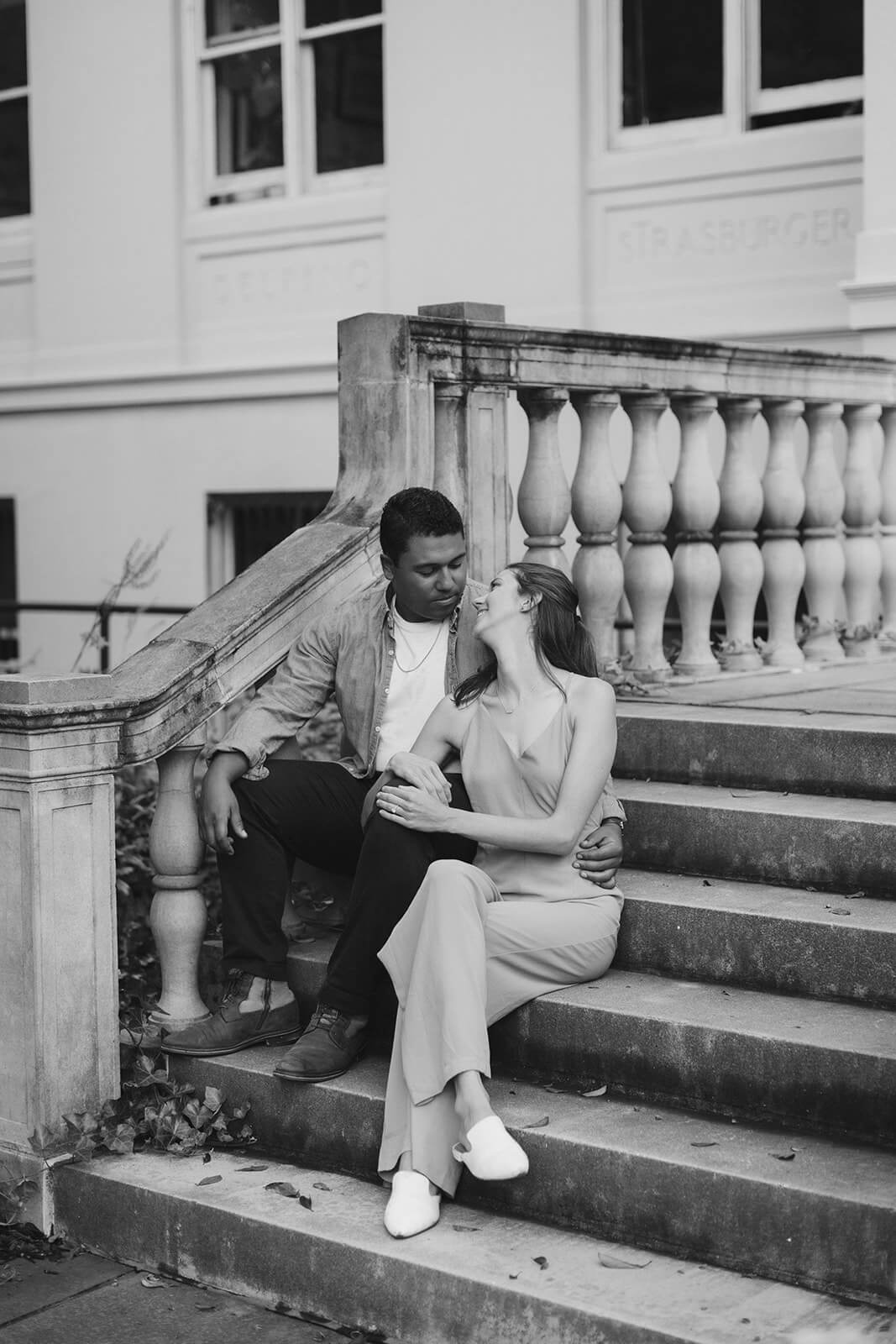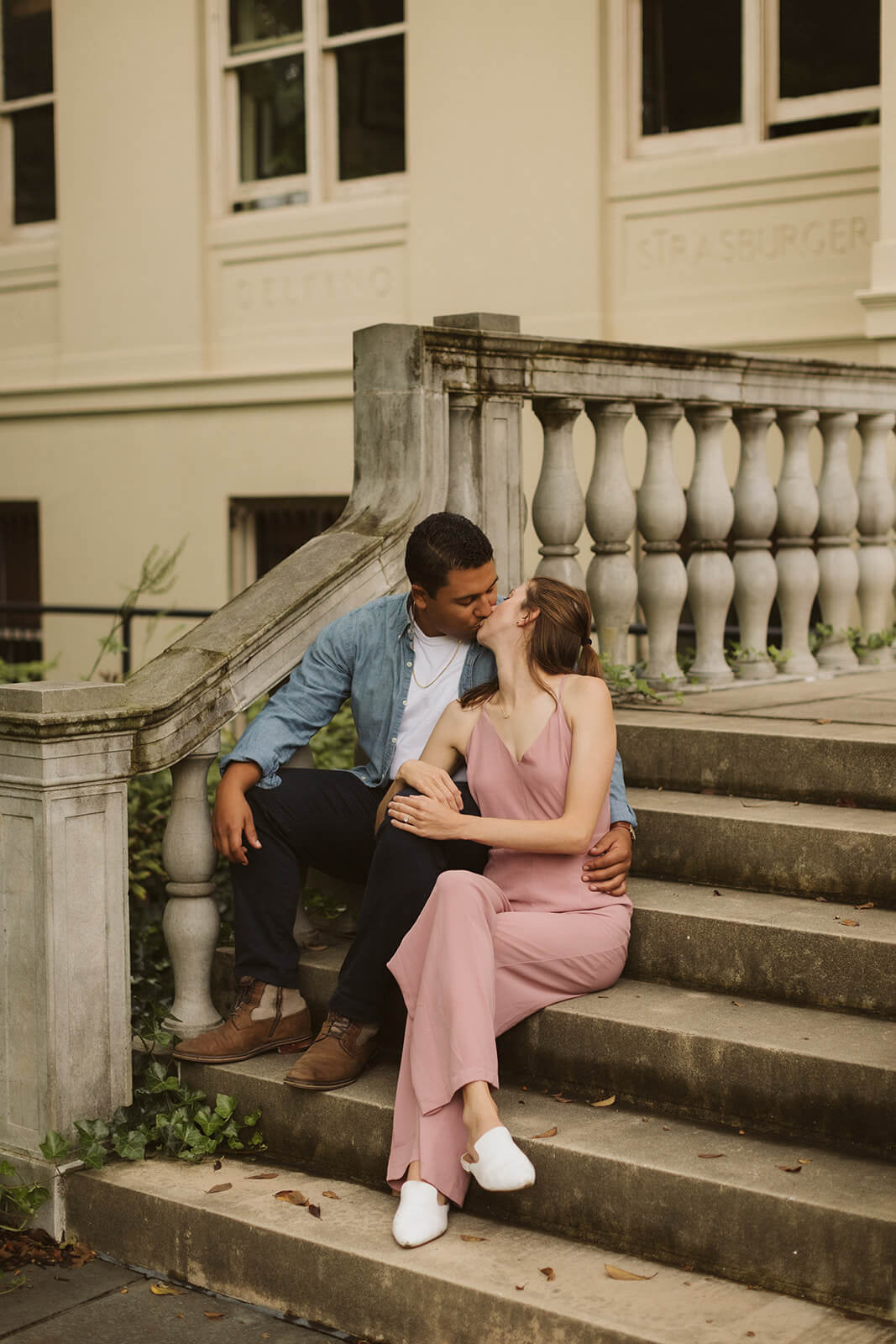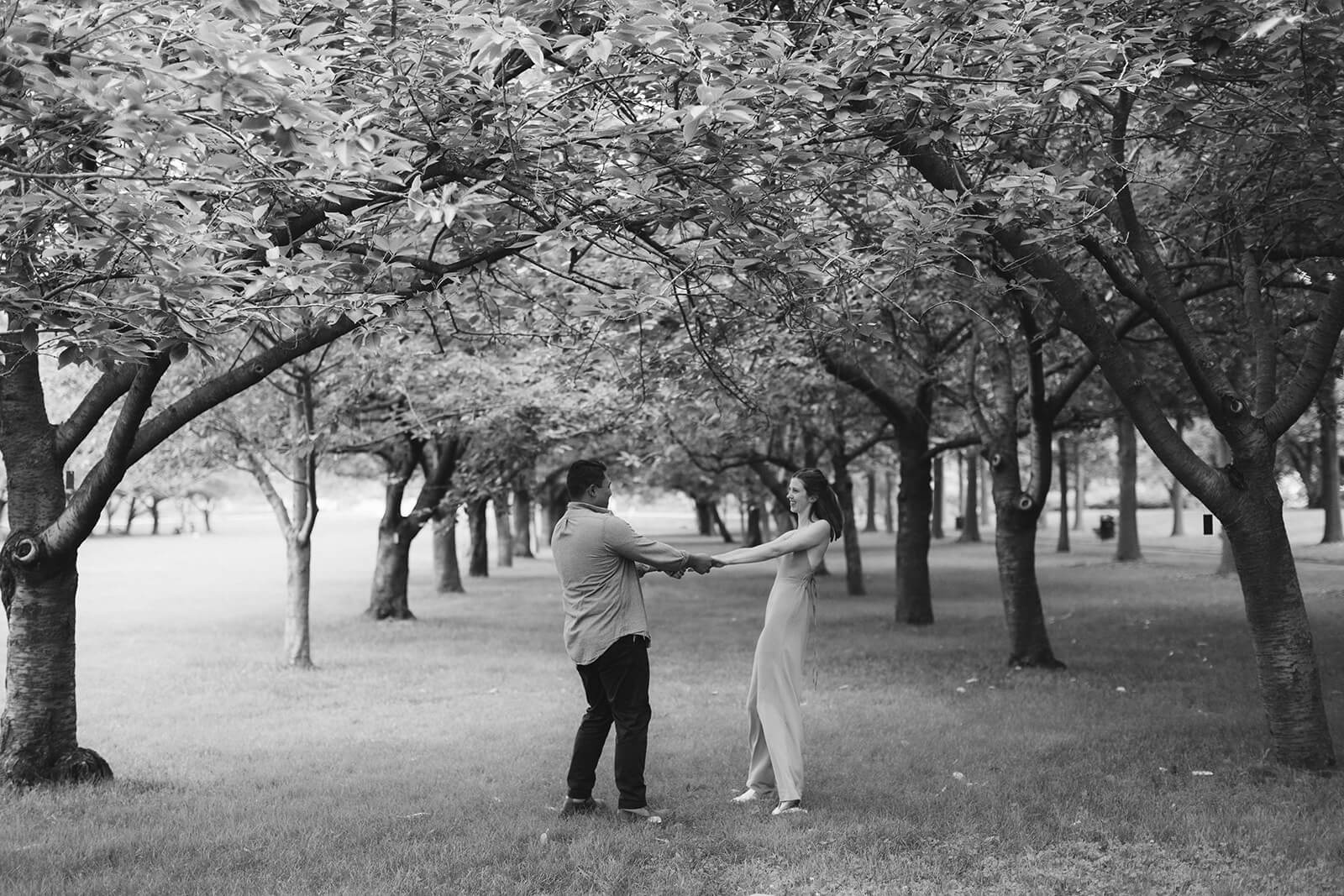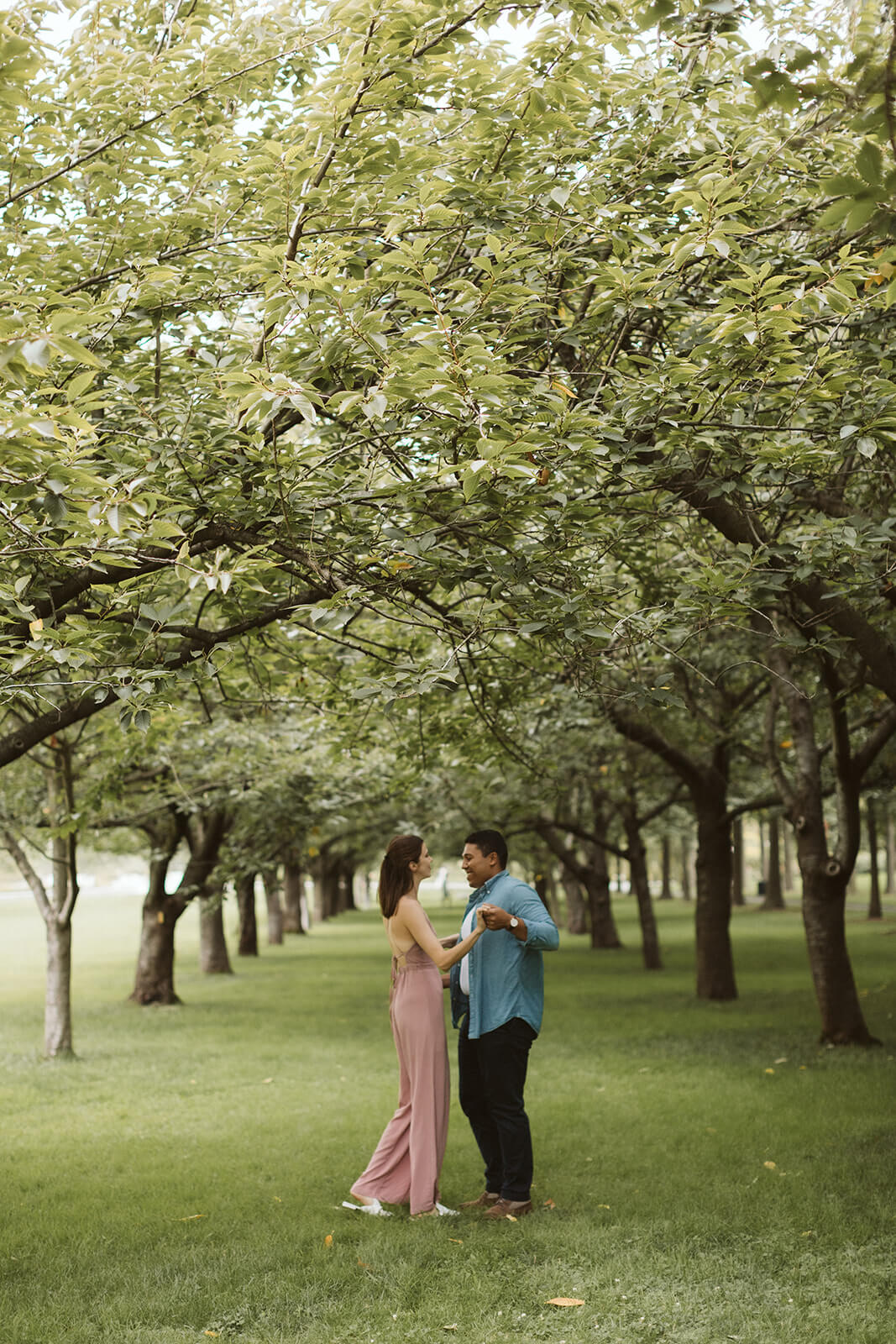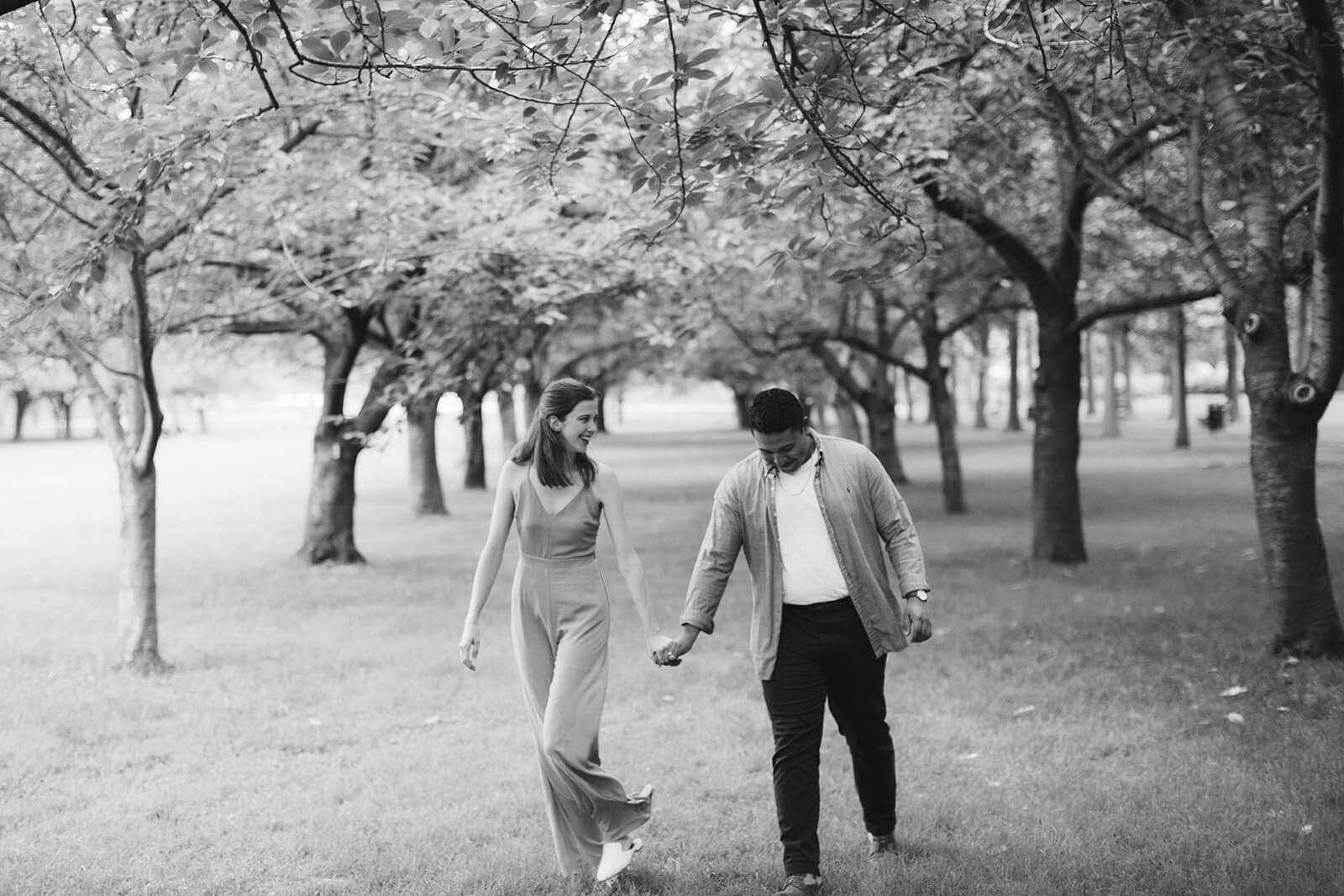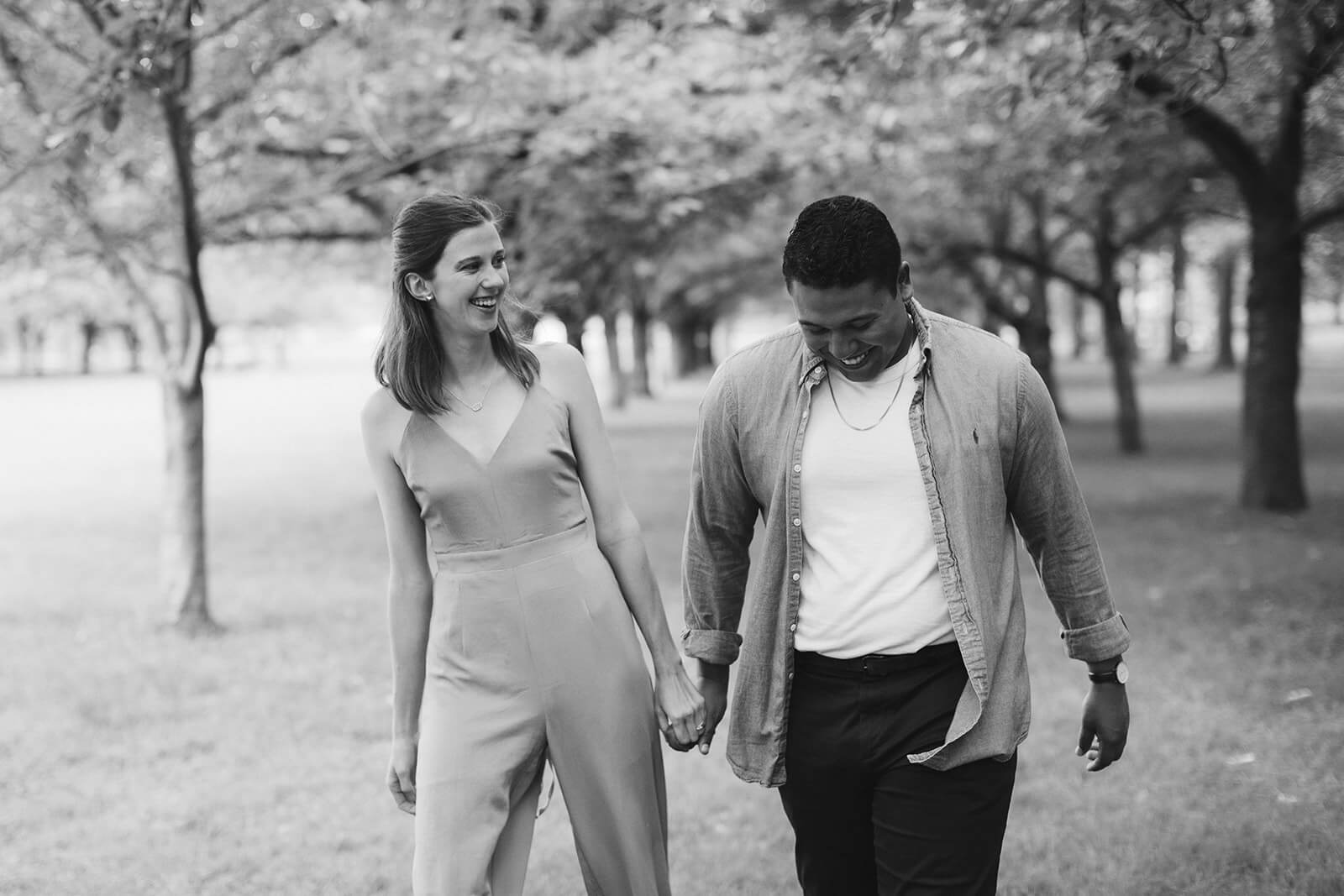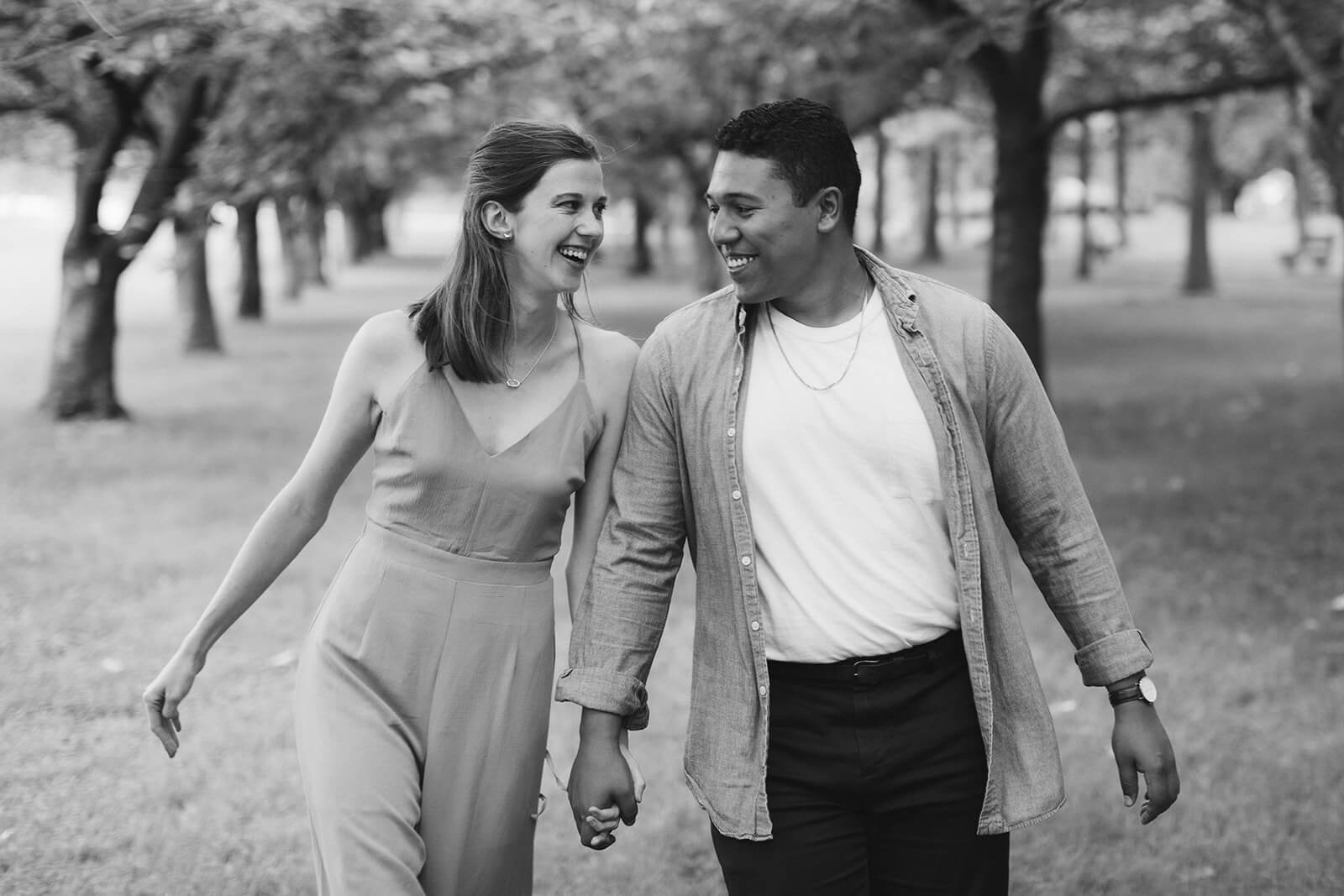 An Engagement Session Tour Through the Brooklyn Botanic Garden
On the day of their engagement session, we started bright and early to get the most out of the natural light. Even though the sky was overcast and seemed to be threatening to rain at any moment, Sarah and Jeremy were all smiles and were ready with their radiant and infectious energy for the camera.
The Brooklyn Botanic Garden is a 52-acre section of Prospect Park featuring both indoor and outdoor gardens, amazing architecture, and even two elegant venues for weddings and other celebrations. There is so much that this garden offers that we could have spent all day just here and still not have walked through the entire garden!
For Sarah and Jeremy's engagement session, we focused on the east end of the park, starting with the Osborne Garden right inside the Eastern Parkway Entrance. The Osborne Garden is a semi-formal, Italianate garden featuring a long lawn surrounded by wisteria-draped pergolas. Although the wisteria flowers weren't blooming when we visited, the greens draping over the sides of the pergolas, along with the other fully bloomed floral bushes around them, were the perfect romantic start to their session.
After the Osborne Gardens, we made our way to the Lily Pool Terrace, which is close to the Palm House, one of the garden's wedding venues. The Lily Pool Terrace is unique because the curator of this section of the garden creates a new design of colorful plants and foliage every summer. On the day we were there, the garden borders were filled with colorful flowers and large tropical plants making it seem like Sarah and Jeremy had their own private oasis. Meanwhile, the Palm House's full glass structure gave the area a breathtaking focal point as the two meandered down the brick-lined pathways.
As we began to head back to where we started, we took a different path to lead us through the Cherry Esplanade. During the spring, the trees in this area explode with beautiful cherry blossoms in varying vibrant shades of pink. Although the blossoms had already fallen for the season, the straight rows of trees created the perfect stage as Jeremy spun Sarah around in a sweet dance to the sound of birds singing among the leaves.
Finally, we made our way along a few unpaved paths throughout the garden and took a few more rustic, enchanted forest-style photos on our way out.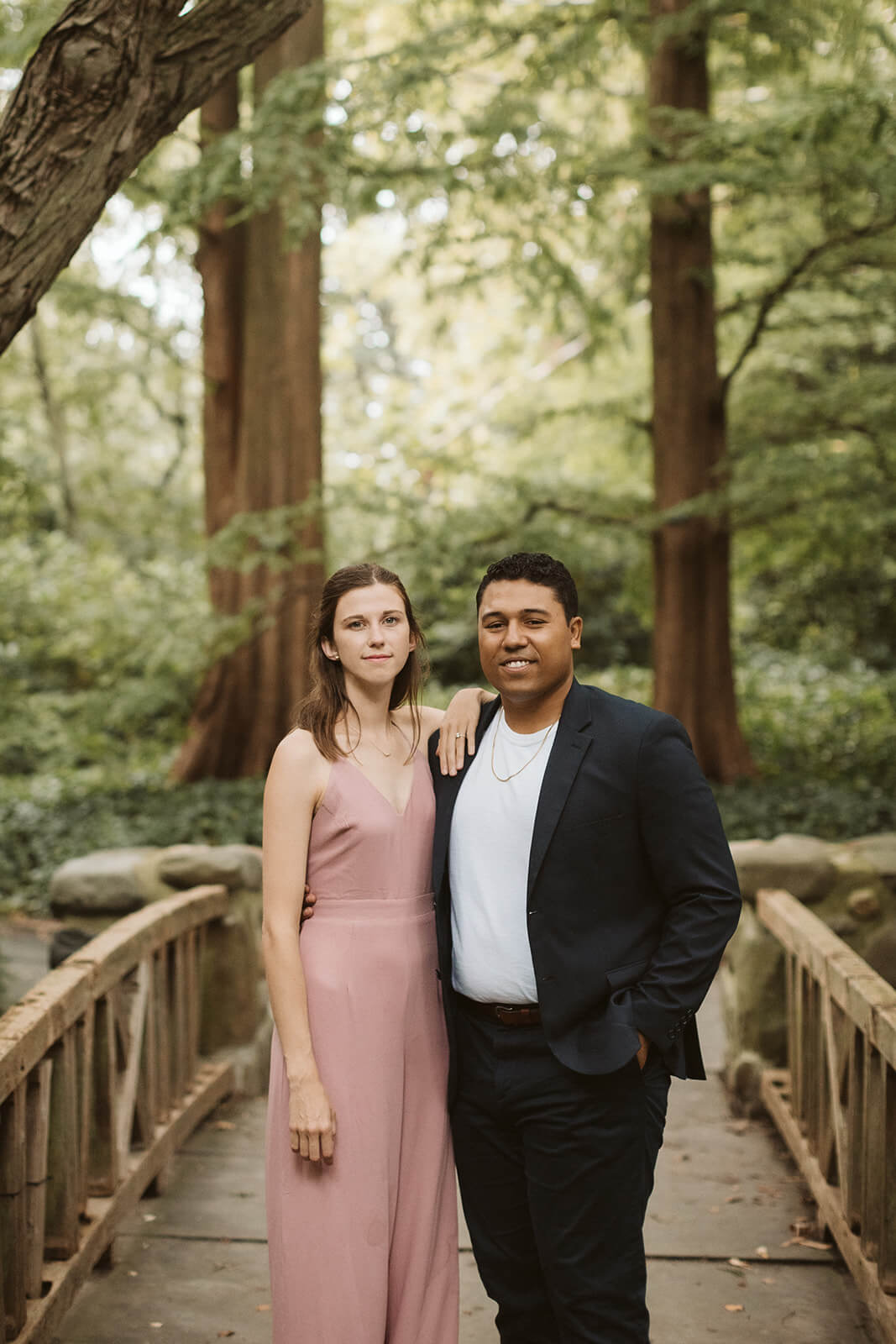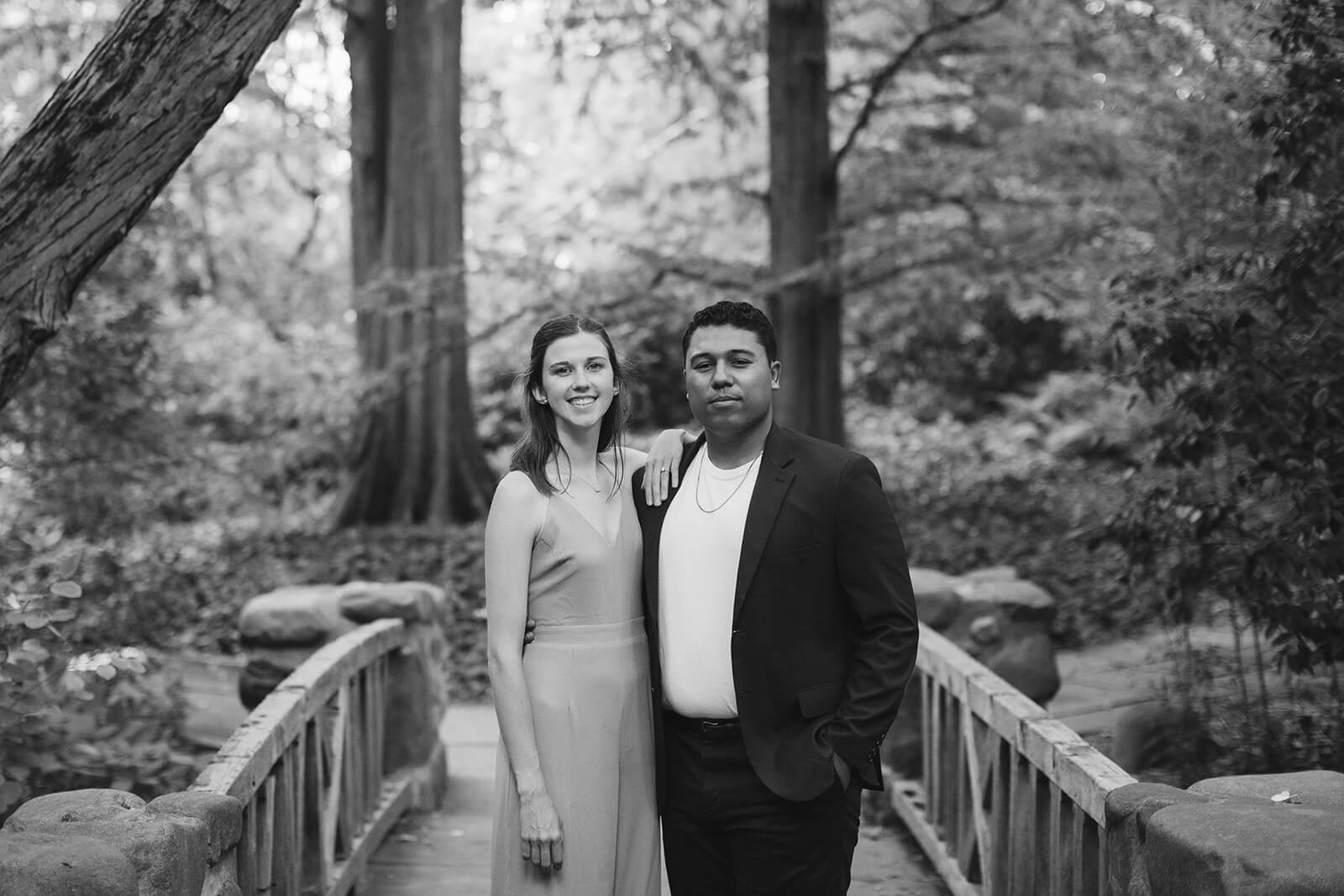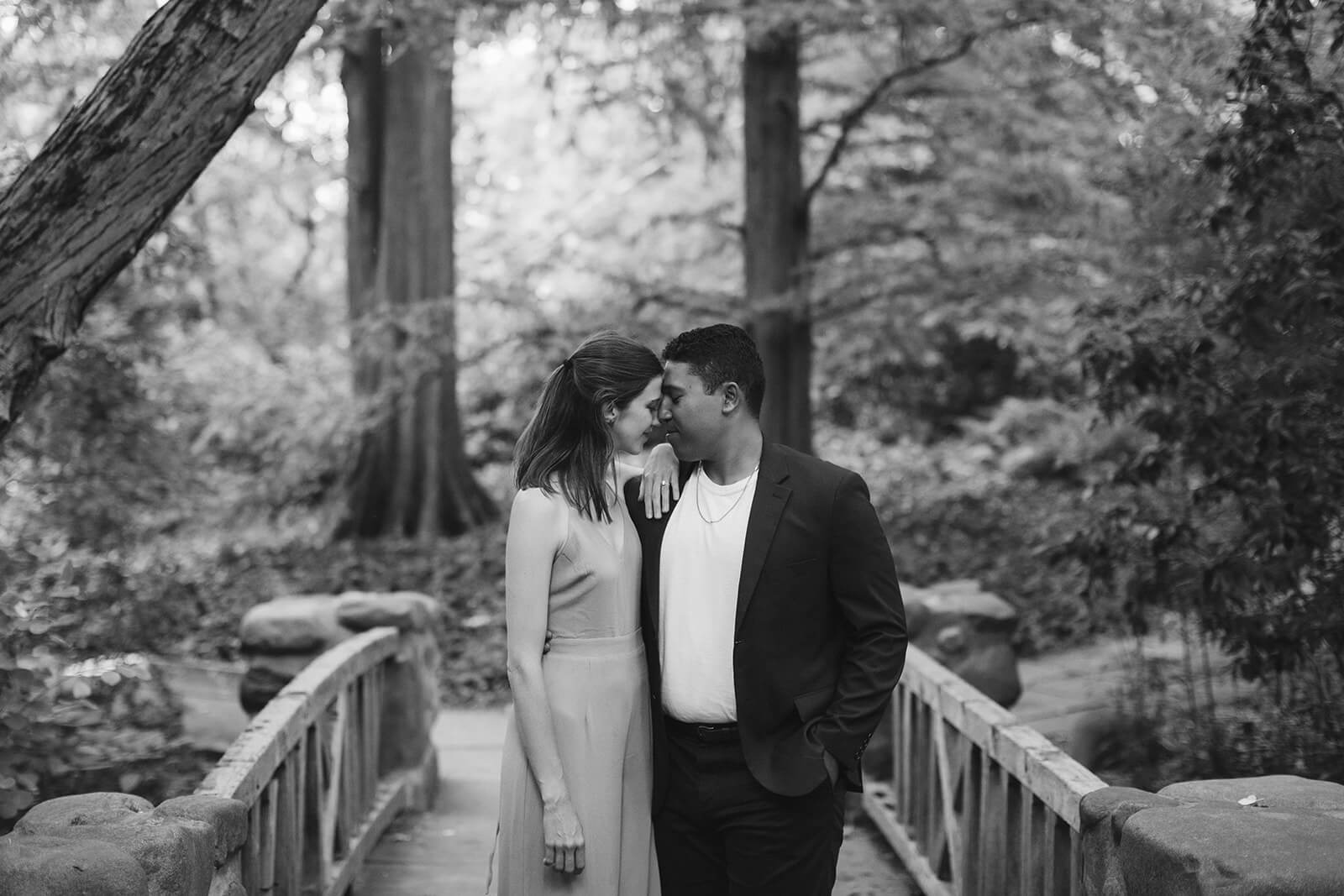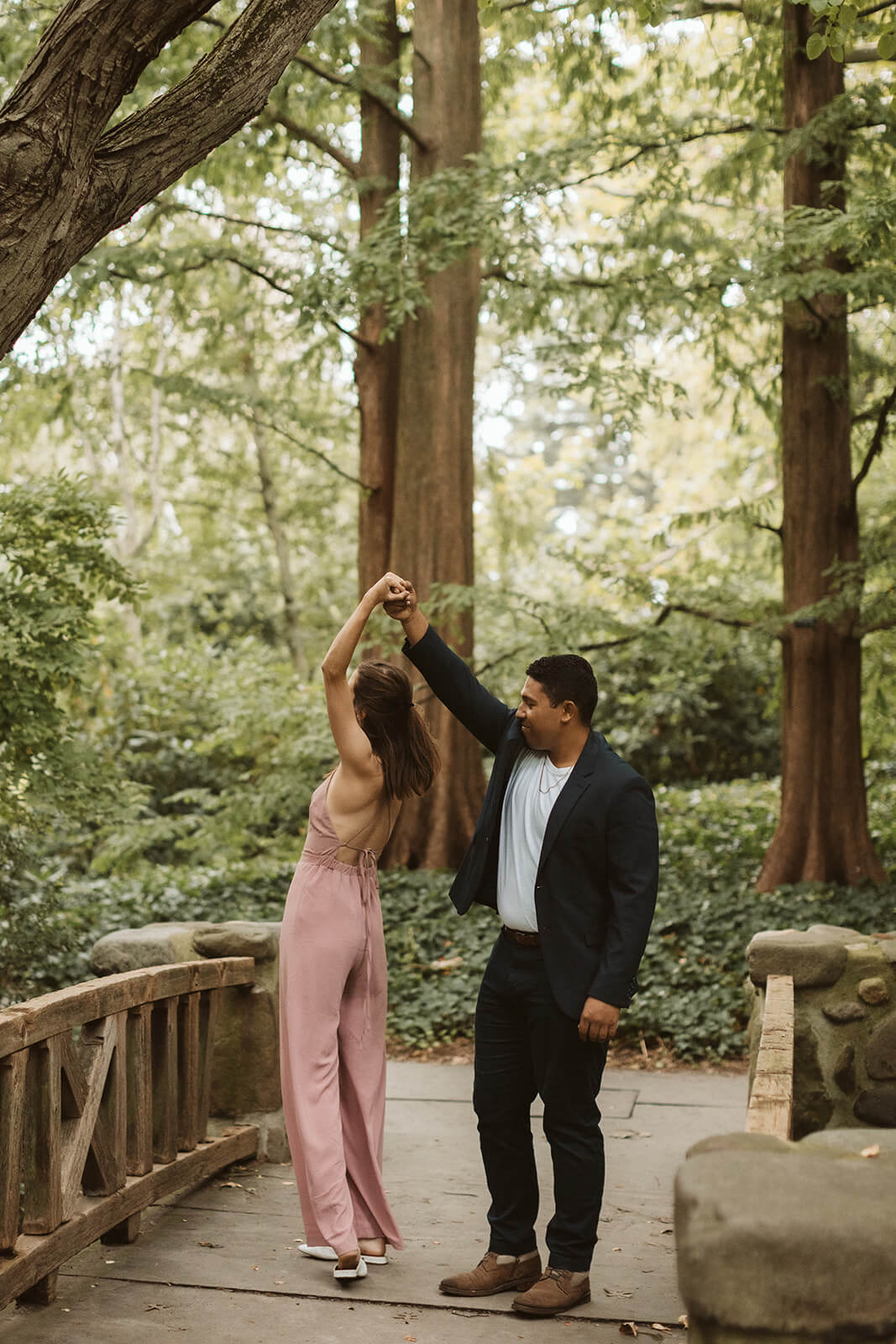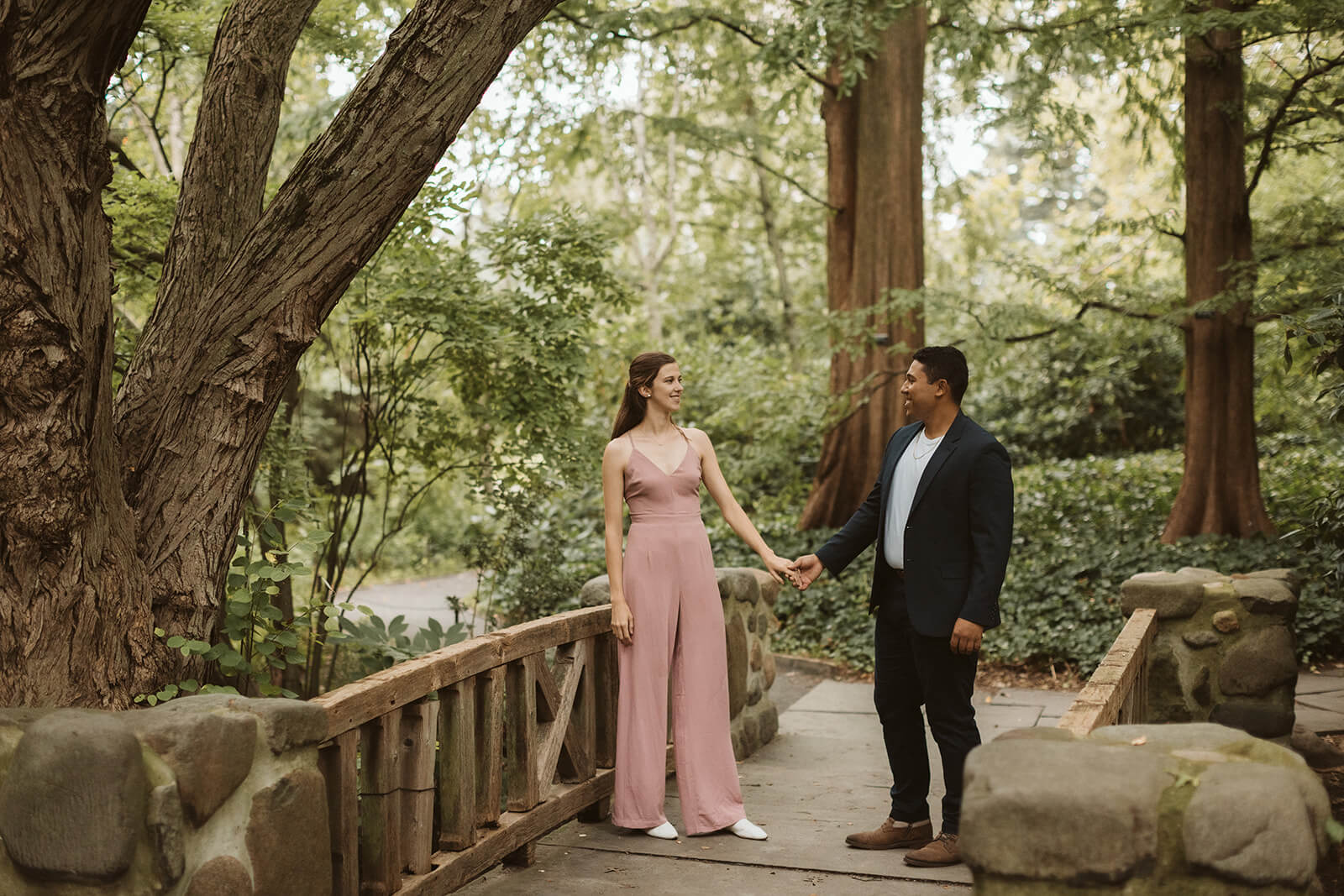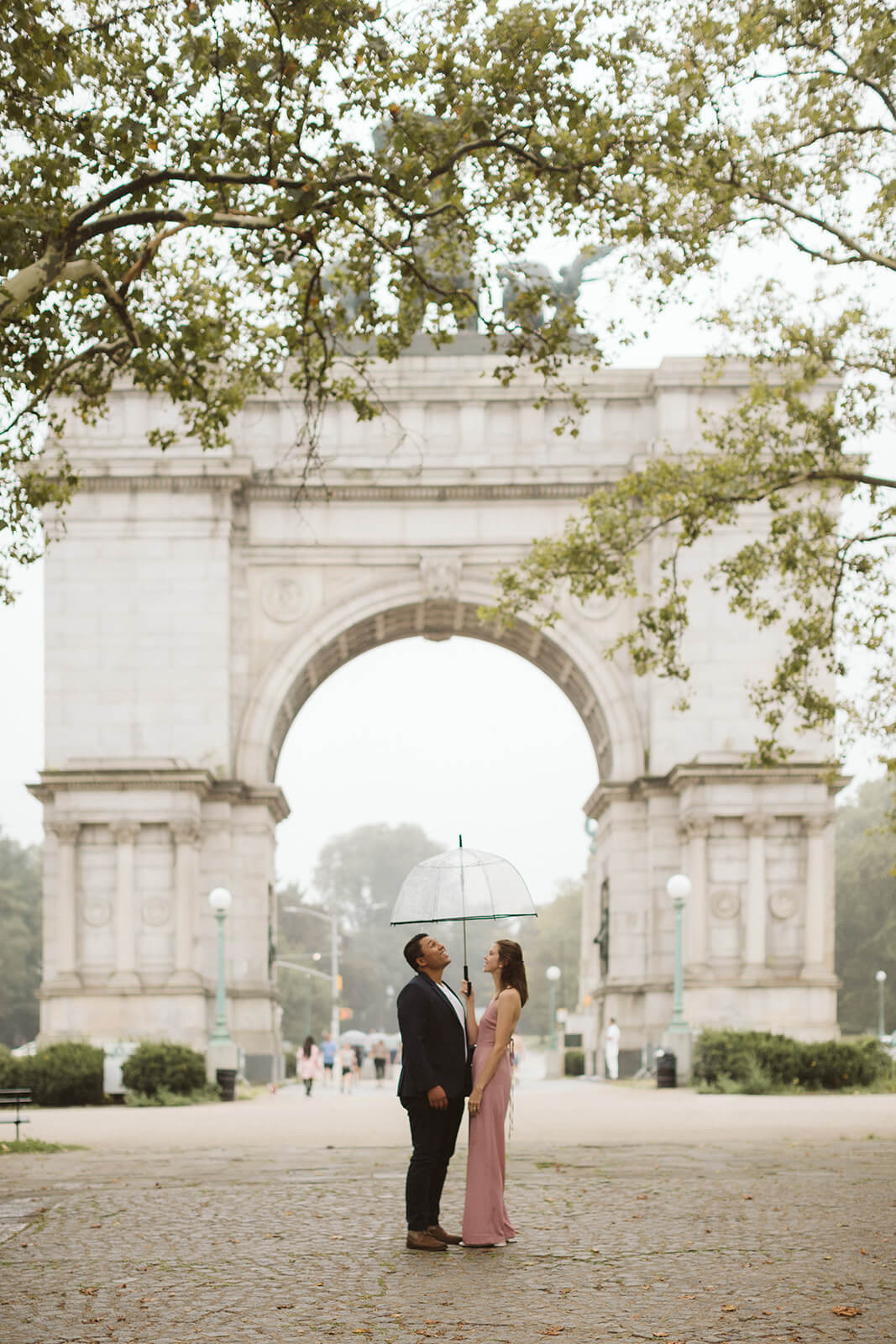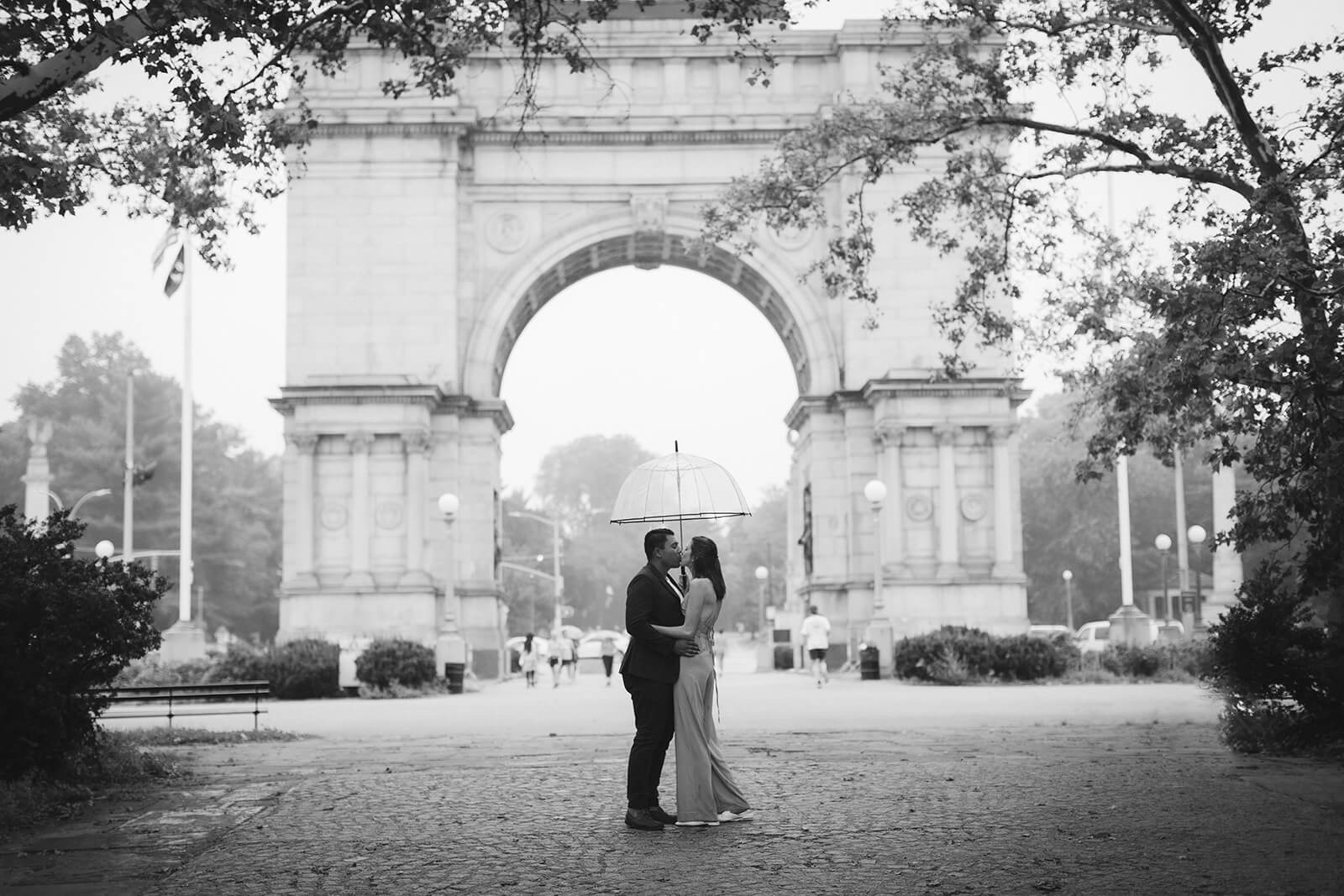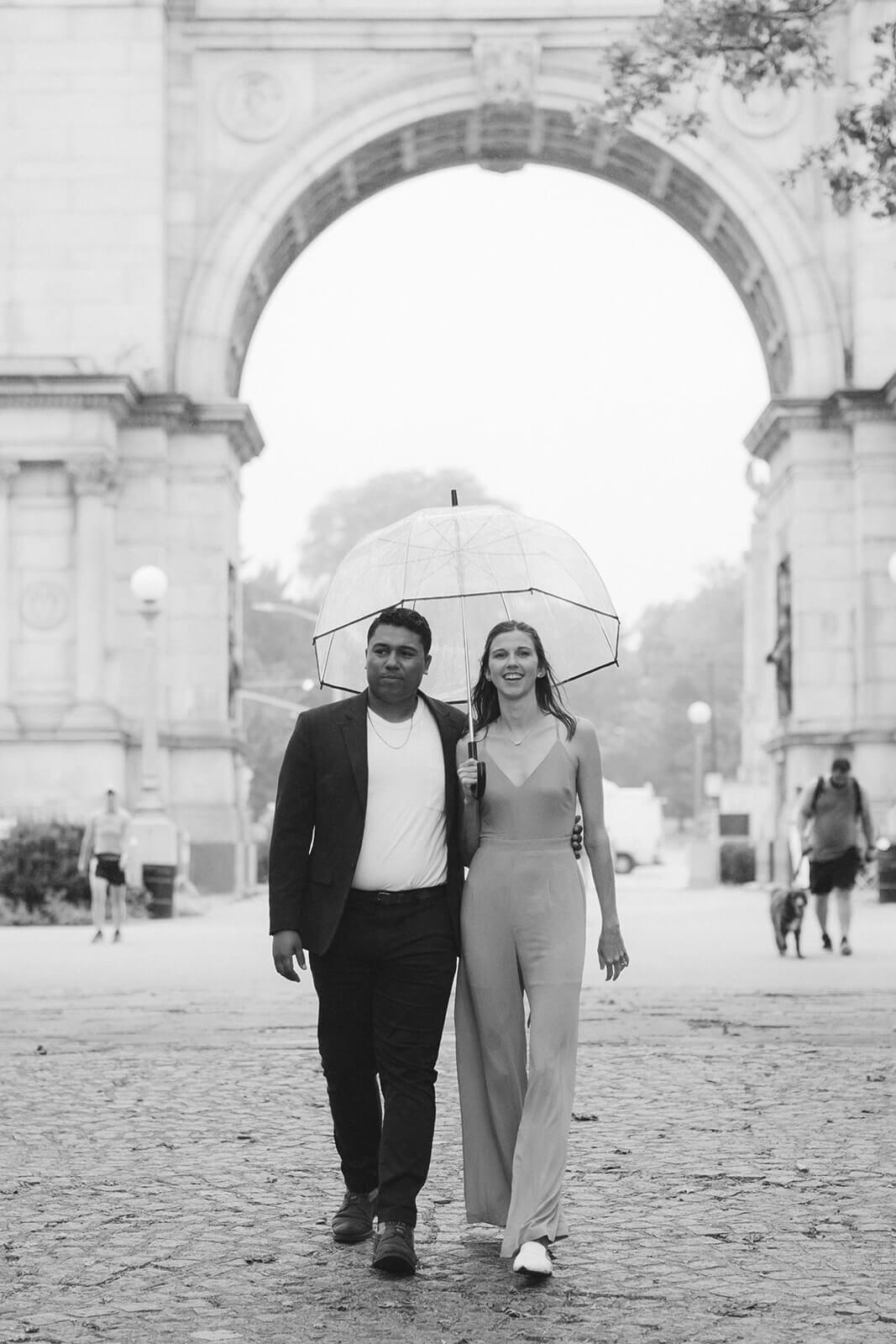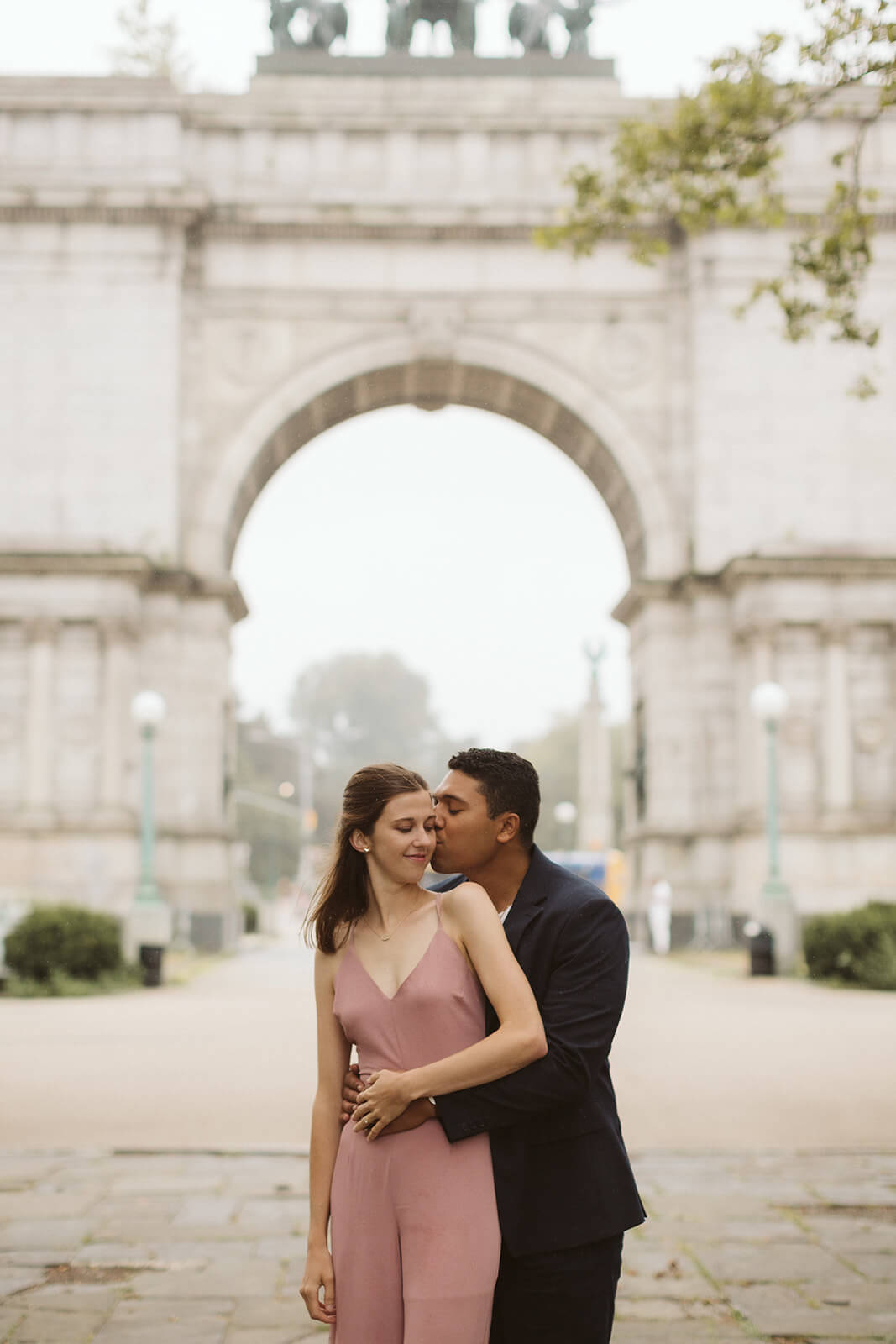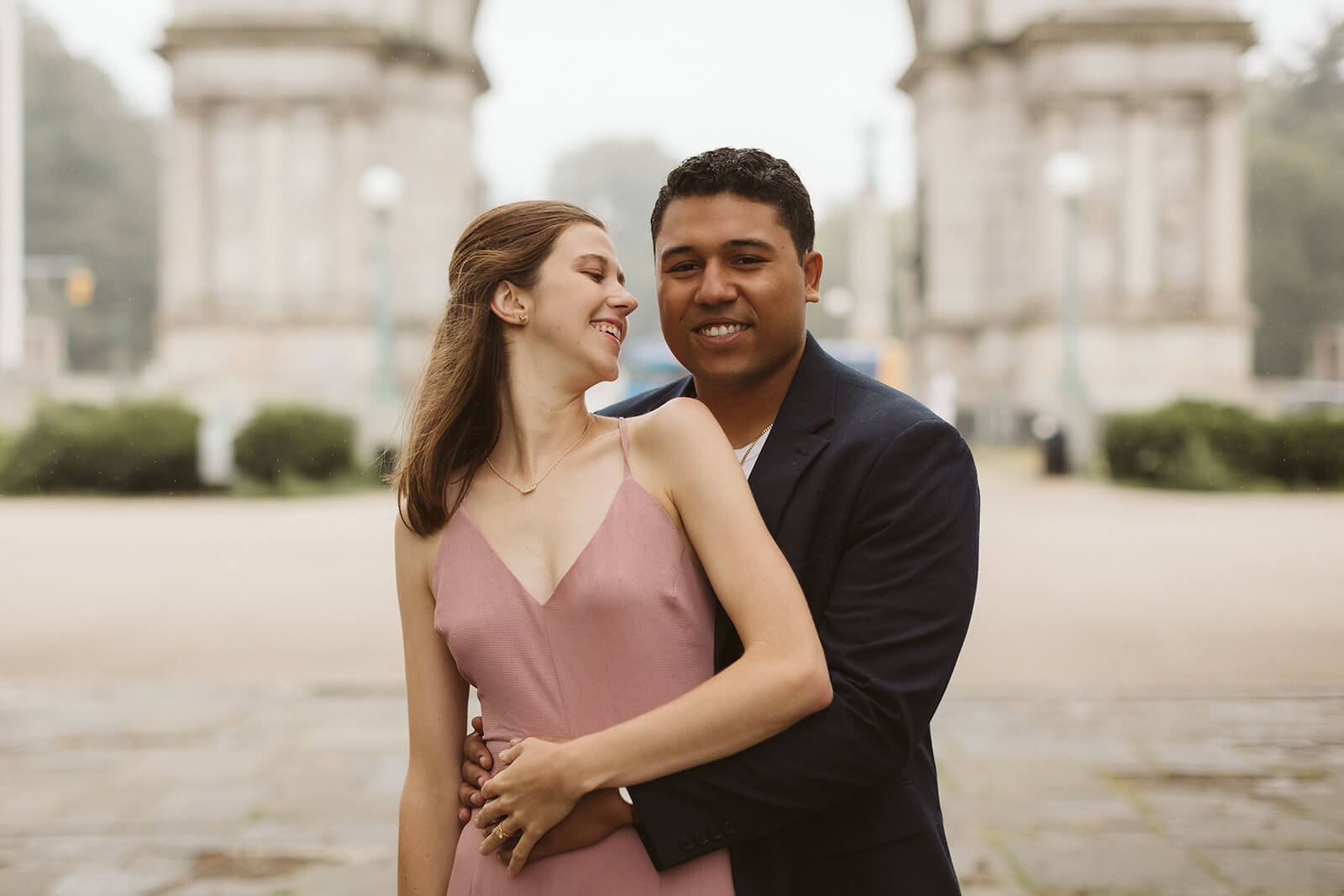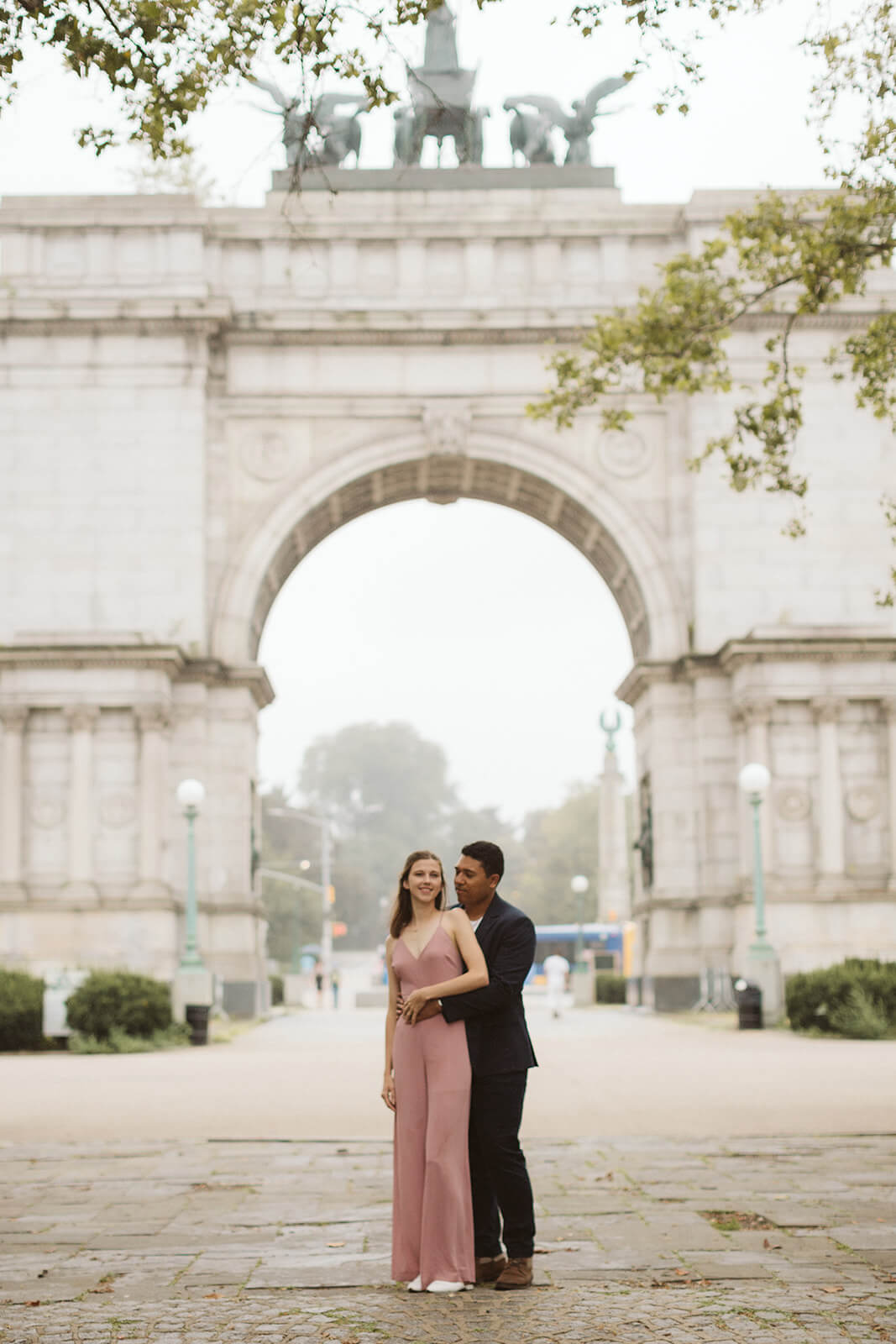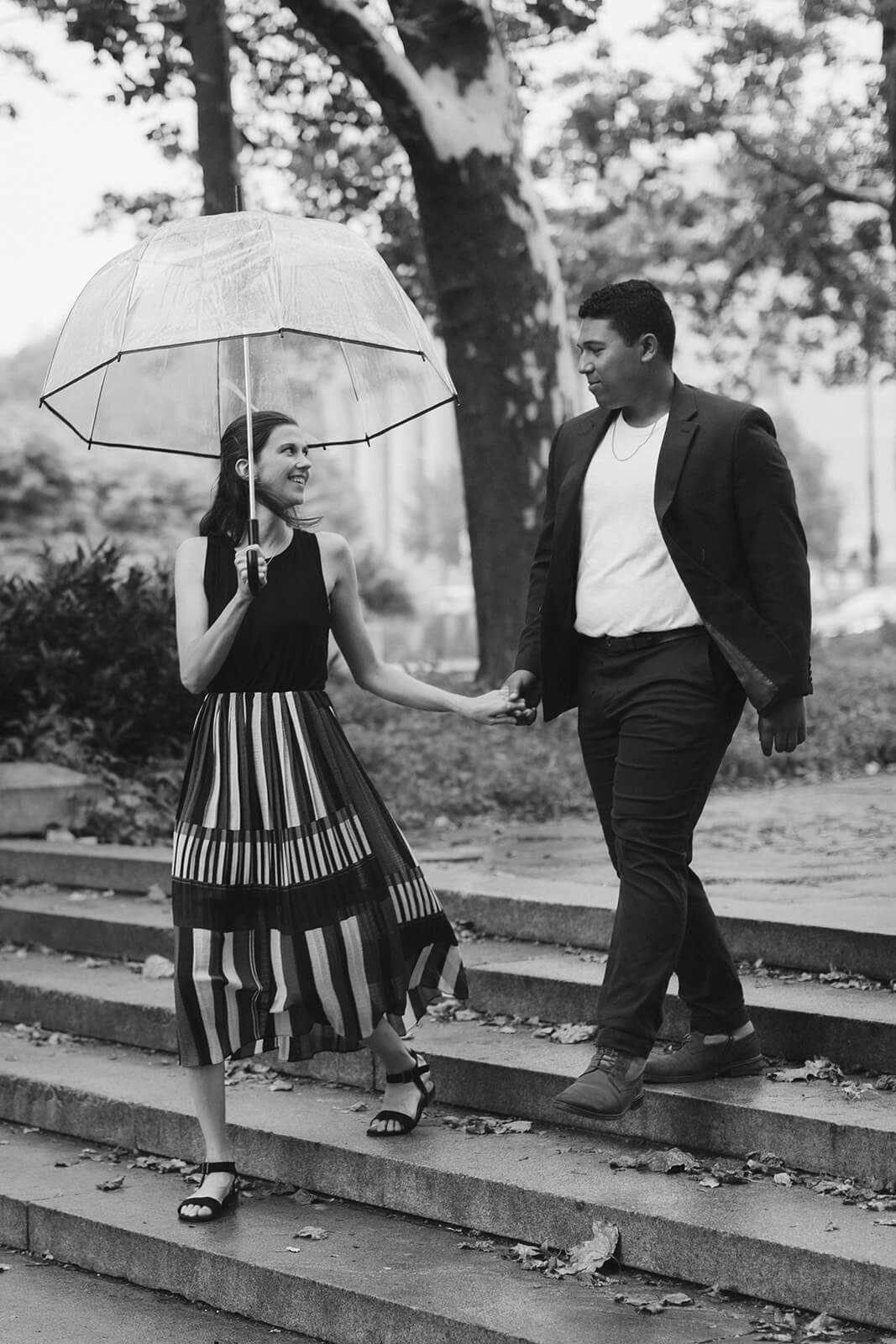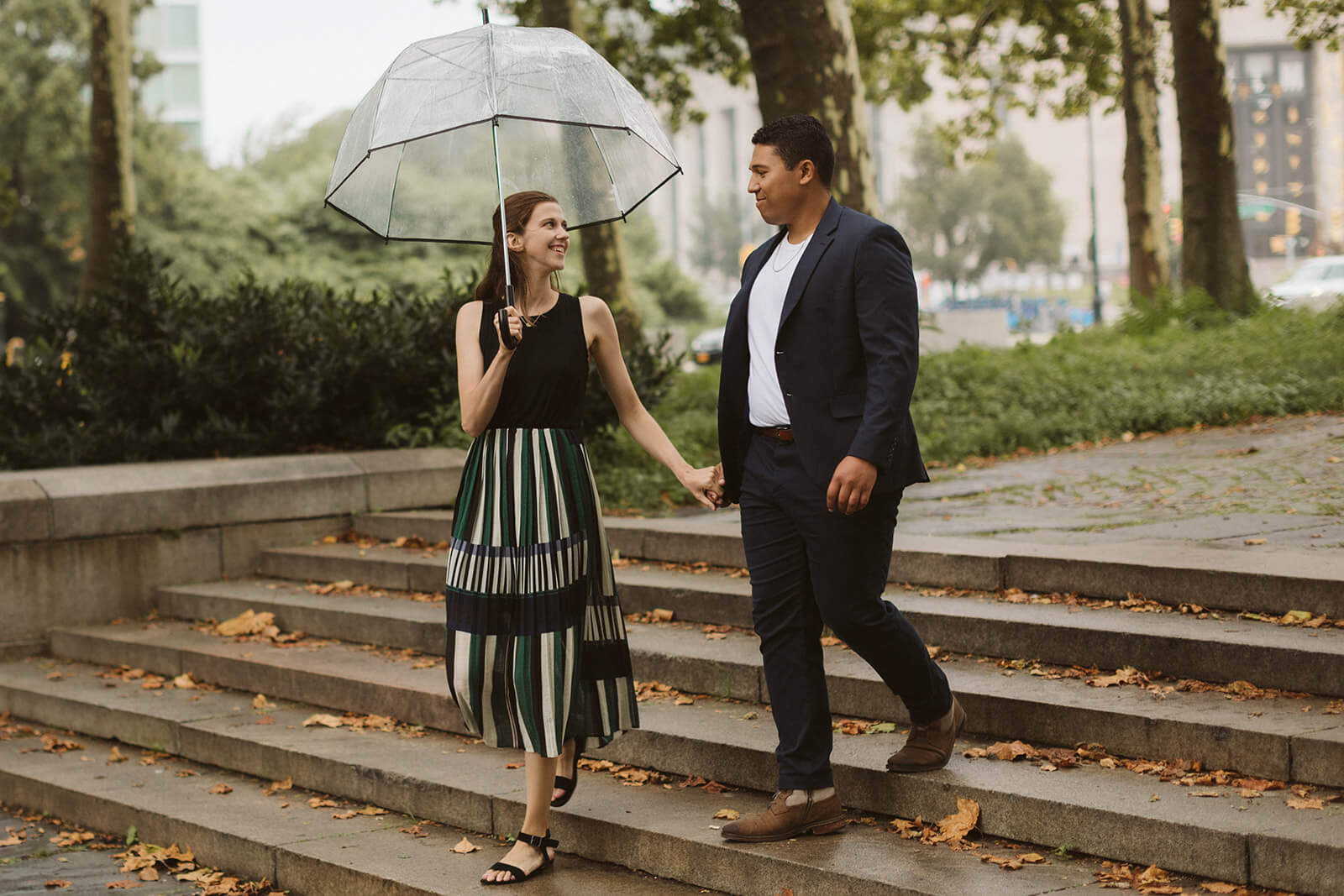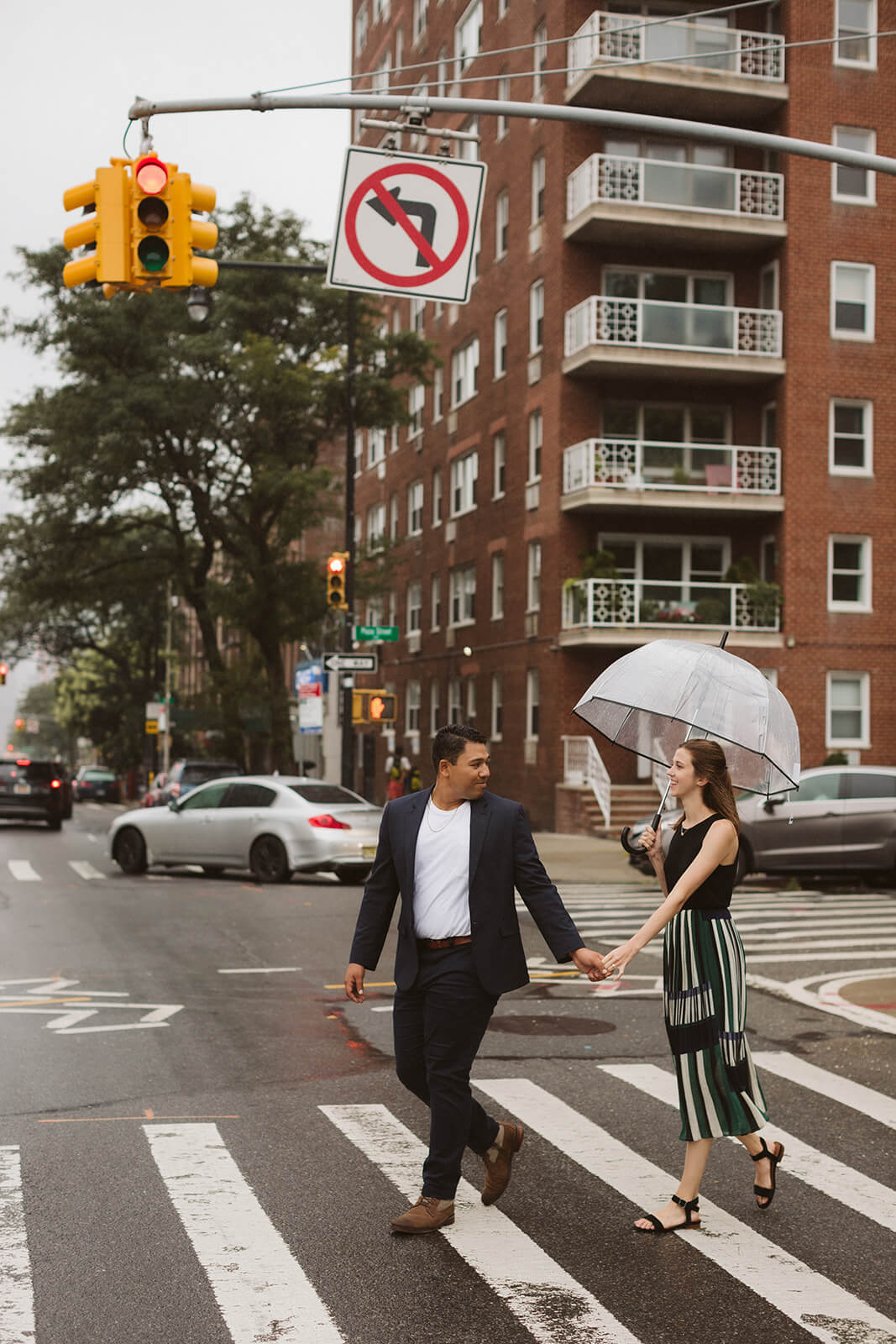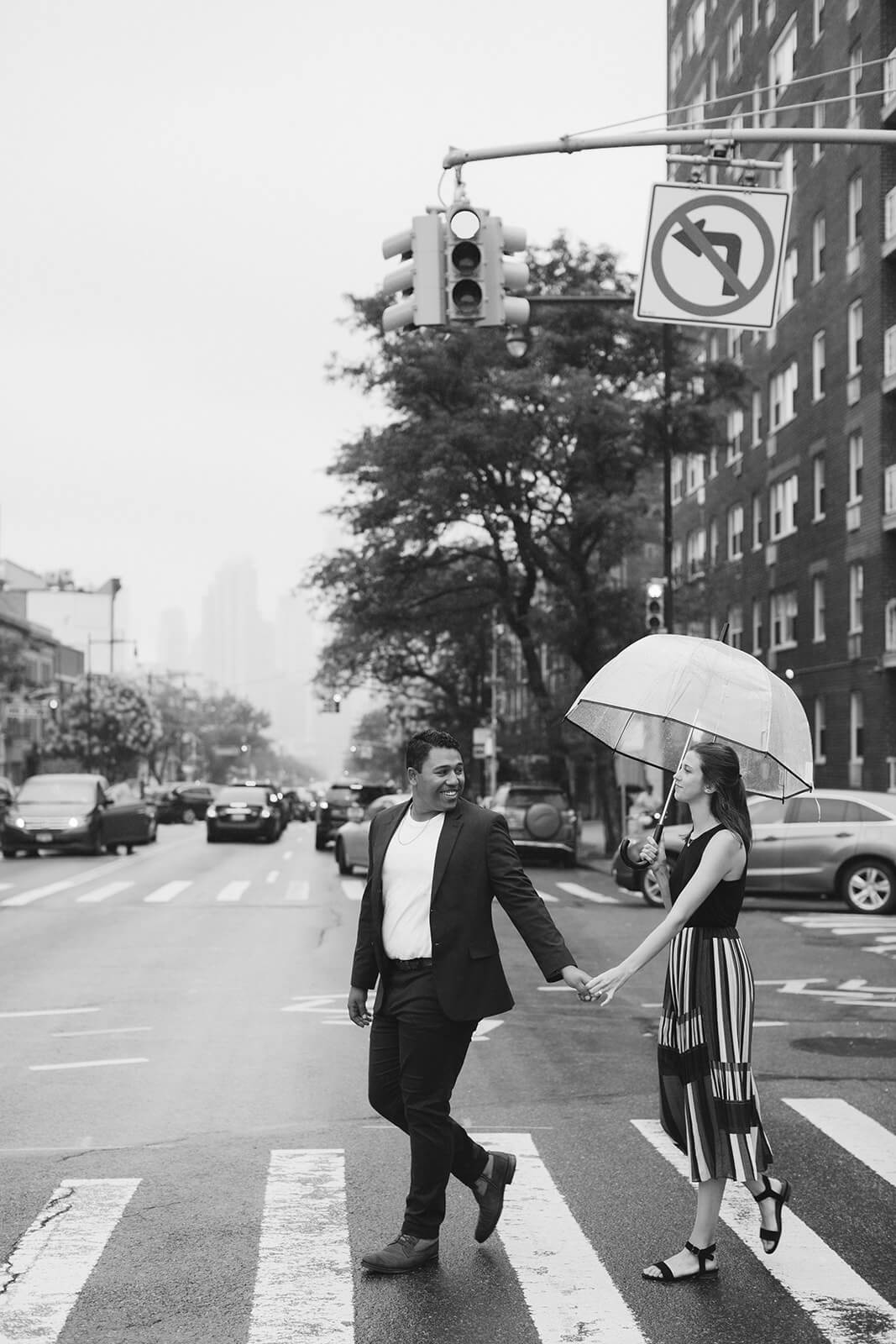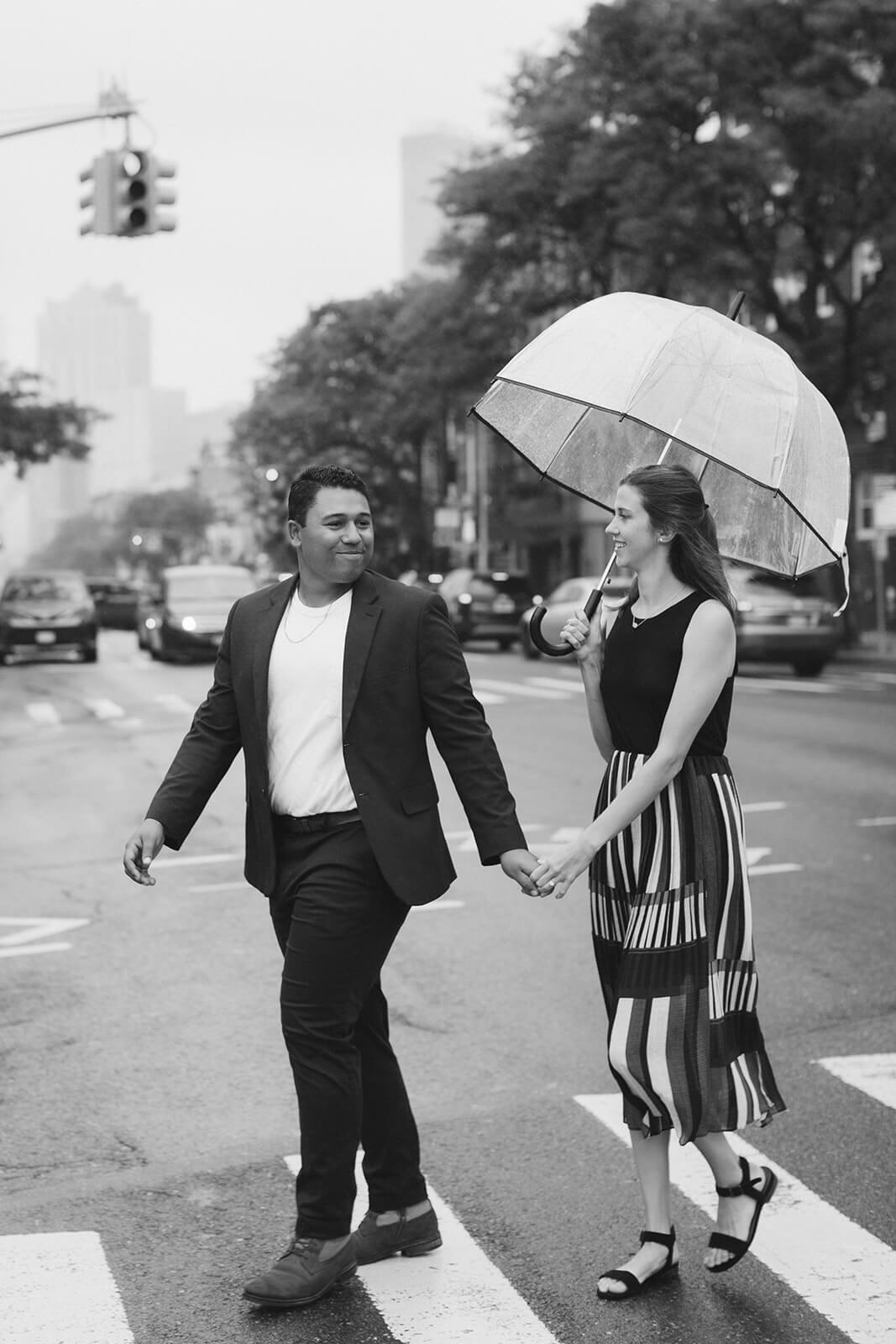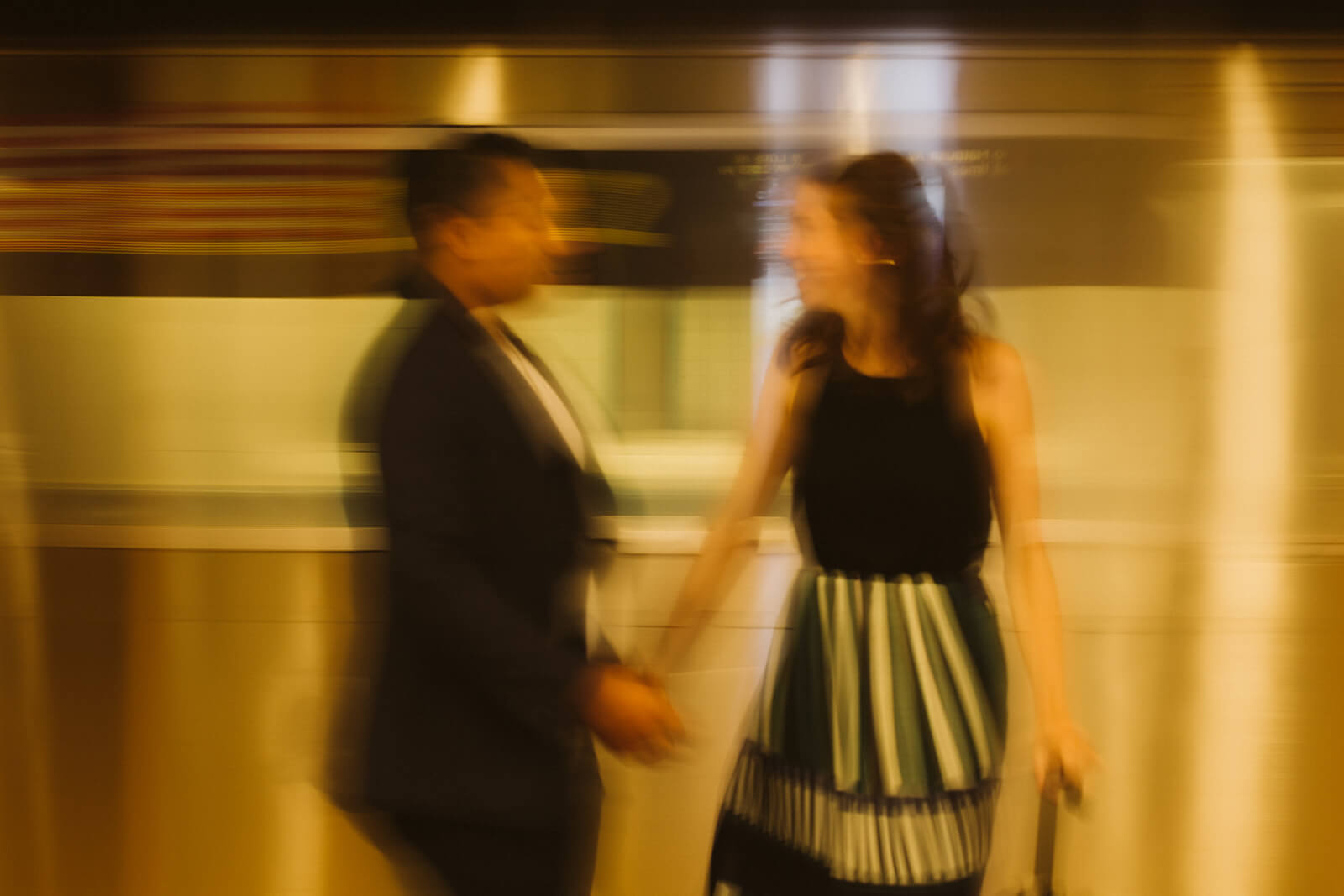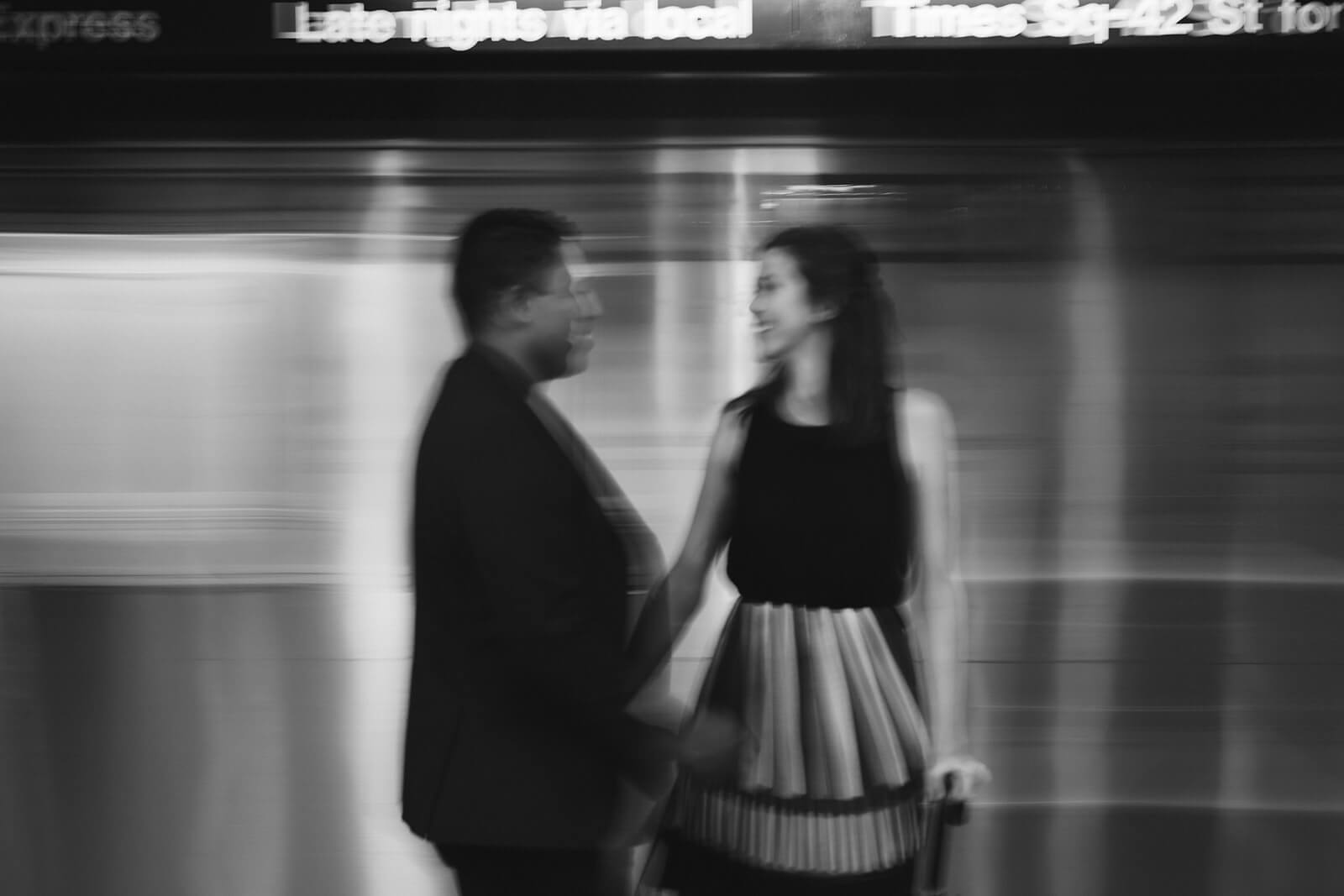 A Rainy Stroll through Brooklyn
By the time we made it out of the Brooklyn Botanic Gardens, the rain finally began. Thankfully, just like I do for all of my weddings, my photo session emergency kit was prepacked with a clear umbrella. I handed it over and the two just embraced the rain. We took a few adorable rainy day shots in front of the Sailors and Soldiers Memorial Arch in the Grand Army Plaza of Prospect Park.
Of course, a Brooklyn engagement session wouldn't be complete without a few photos in Brooklyn itself. After a quick outfit change into something a little more formal, we continued to brave the drizzle and took a walk through the area of Brooklyn closer to where Sarah and Jeremy lived. I particularly love the shots of Jeremy leading Sarah through the crosswalk as cars drove by. Somehow they just feel quintessentially New York City.
Finally, at the end of our session, we parted ways in the subway station, but not before I caught a few last photos of them as trains passed behind them.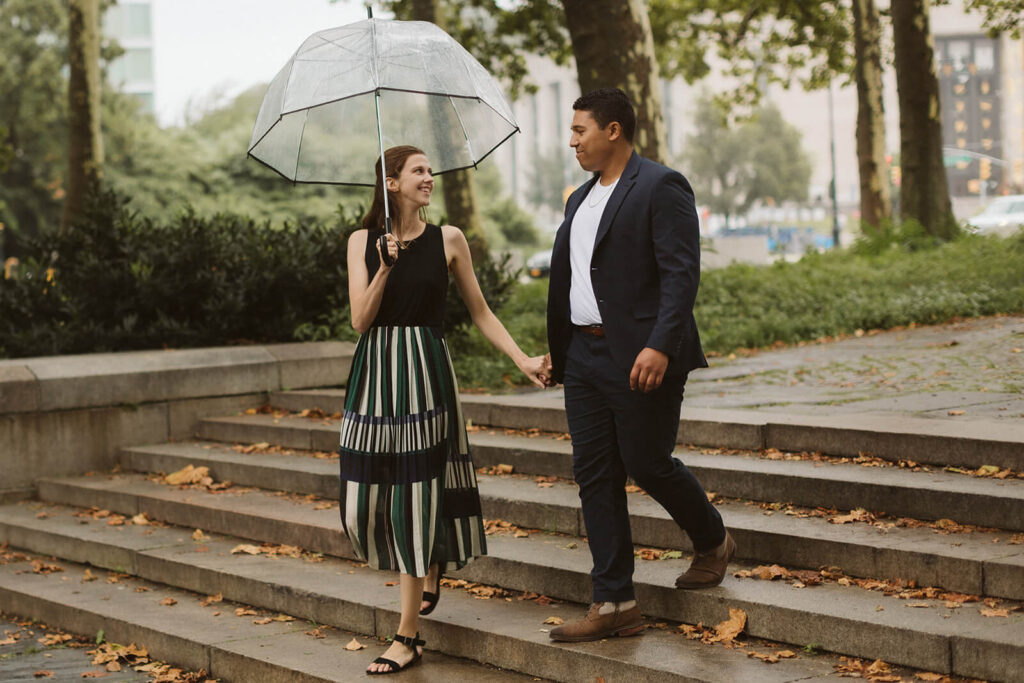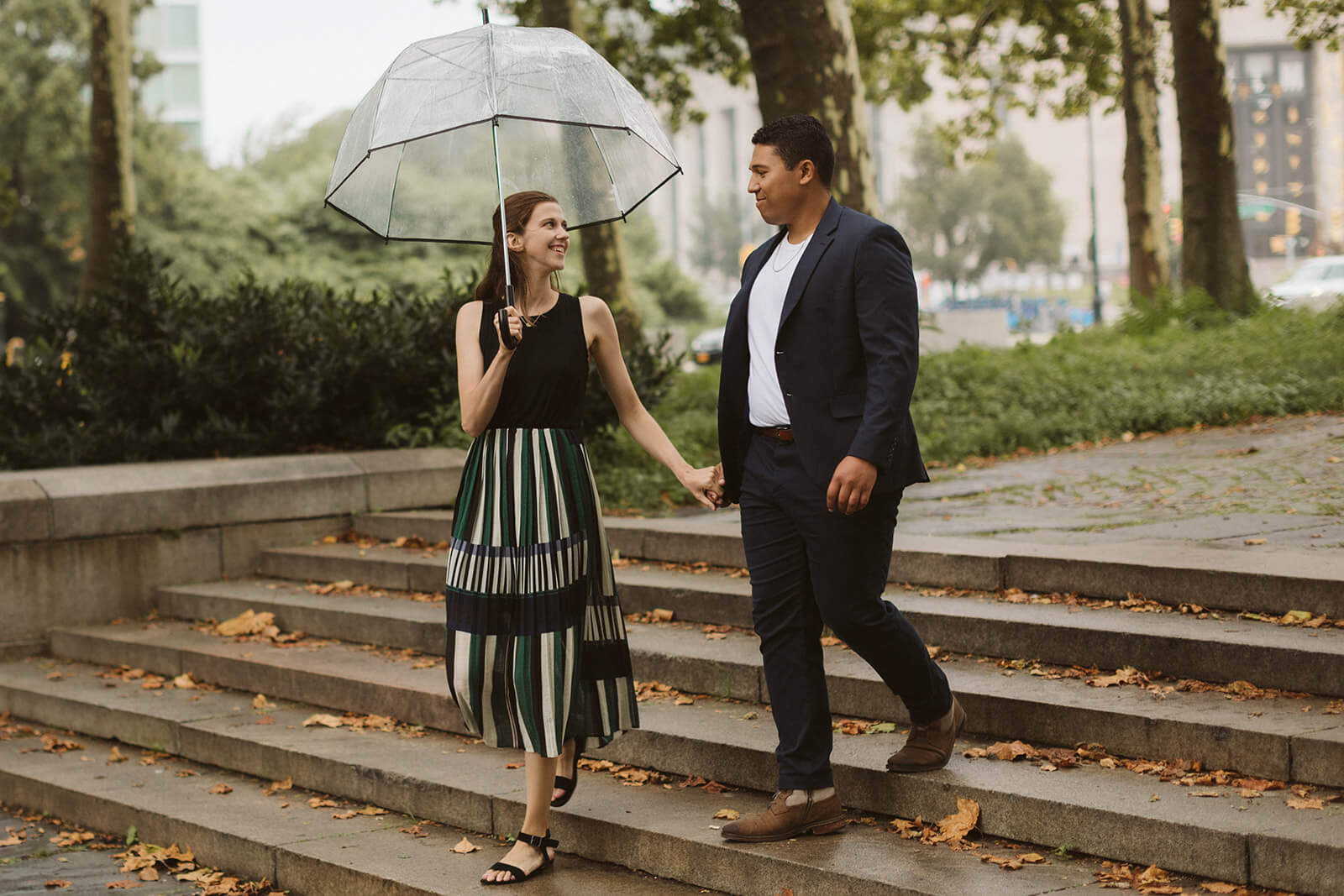 Are you a couple located in New York City? If you're looking for an engagement or wedding photographer, I would love to be there for you!
Hey, y'all! I'm Rachael Crowe of OkCrowe Photography. I'm a Chattanooga-based wedding photographer who will soon be officially moving to New York City! I love Chattanooga but I'm so excited to really experience the NYC wedding industry. Regardless of where I am, though, I'm more than willing to travel to wherever you need me to be in order to tell your love story! If there's a location that is special to you, just say the word, and we can make it happen. To see where I'll be throughout the year, you can always check my travel and availability schedule. Otherwise, just fill out my contact form and include the city or place you'd like me to travel to so we can start planning!