As a wedding photographer who is constantly hit with wanderlust, traveling to New York City to shoot an engagement session is a dream come true. Not only is the city filled with an array of such diverse and vibrant cultures, but the city itself has so many stunning layers to it. From the legendary skyline to the unique look and feel of each separate borough and neighborhood, there's so much for a photographer to explore. During my last trip to New York, I was lucky enough to have the chance to capture a beautiful couple's love story throughout New York's Chinatown and SoHo.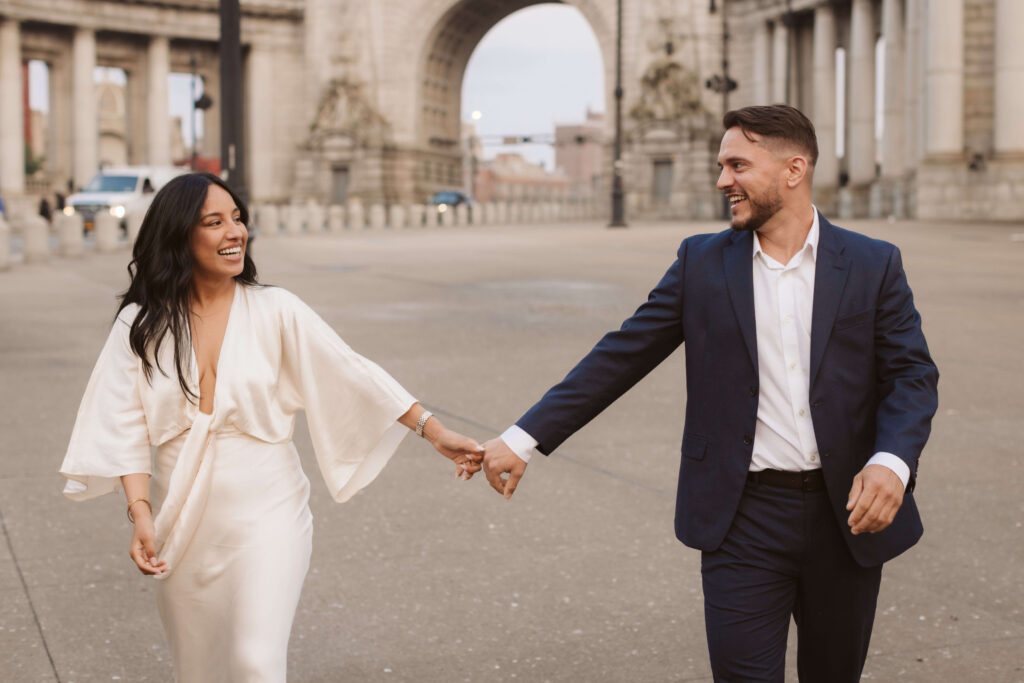 Coming Home After an Engagement Abroad
One of the amazing things about social media is its ability to let you reach people much further than just your local area. I absolutely love to travel and am more than willing to do so for all of my couples. So, while I'm currently based in Chattanooga, it's always exciting when a couple outside of the Chattanooga area reaches out wanting me to travel to them for a shoot.
In a twist of serendipity, a couple who had been following me on Instagram for a while saw a post I made about an upcoming trip I had planned to New York City. When they reached out to me, the timing could not have been more perfect. Carolina + Taylor had returned home just days prior to my post from a trip to Turkey, where they explored the surreal landscapes of Uchisar, Cappadocia. As travel lovers themselves, the two enjoy discovering new places and touring new countries together as often as possible. Knowing that, Taylor used their trip as the perfect opportunity to propose to Carolina. And, of course, surrounded by Uchisar's enchanting backdrop, Carolina said yes.
After their breathtaking engagement abroad, the two were so excited to book an engagement photography session in their hometown of New York City. As NYC natives, the vibrant city was just as much a part of their love story as their travels. With an international engagement already checked off of their bucket list, it was important to them to be able to document their story at home as well.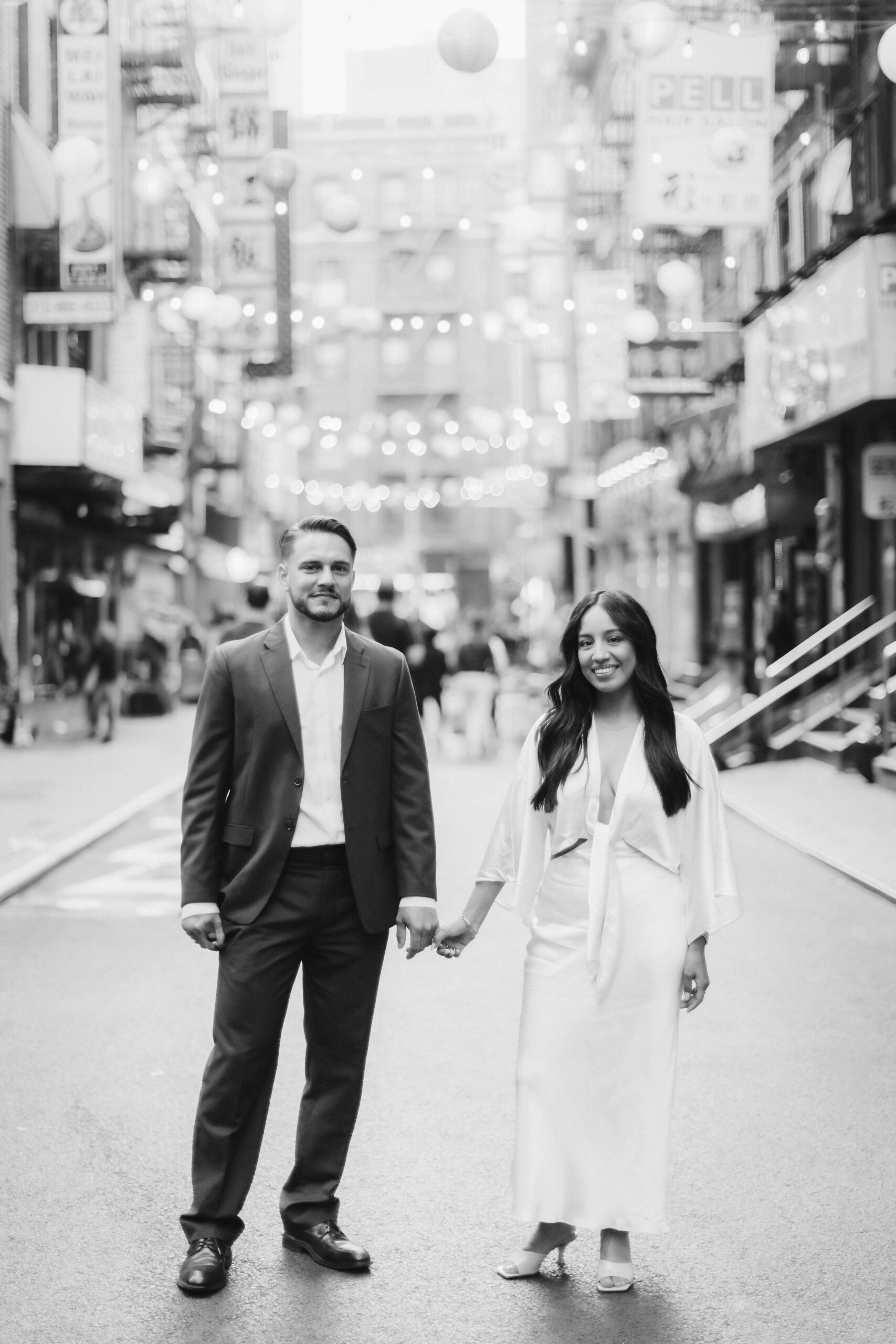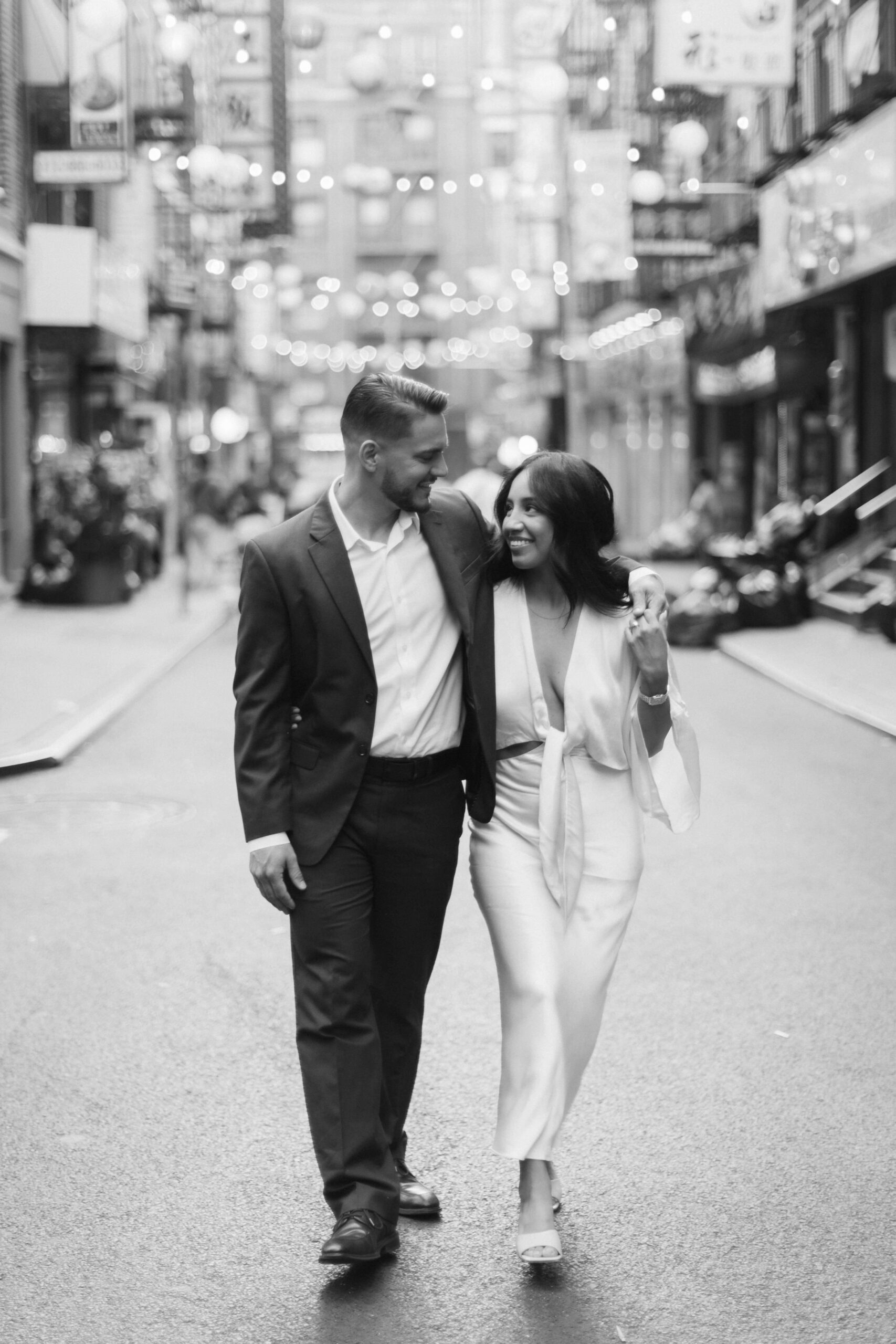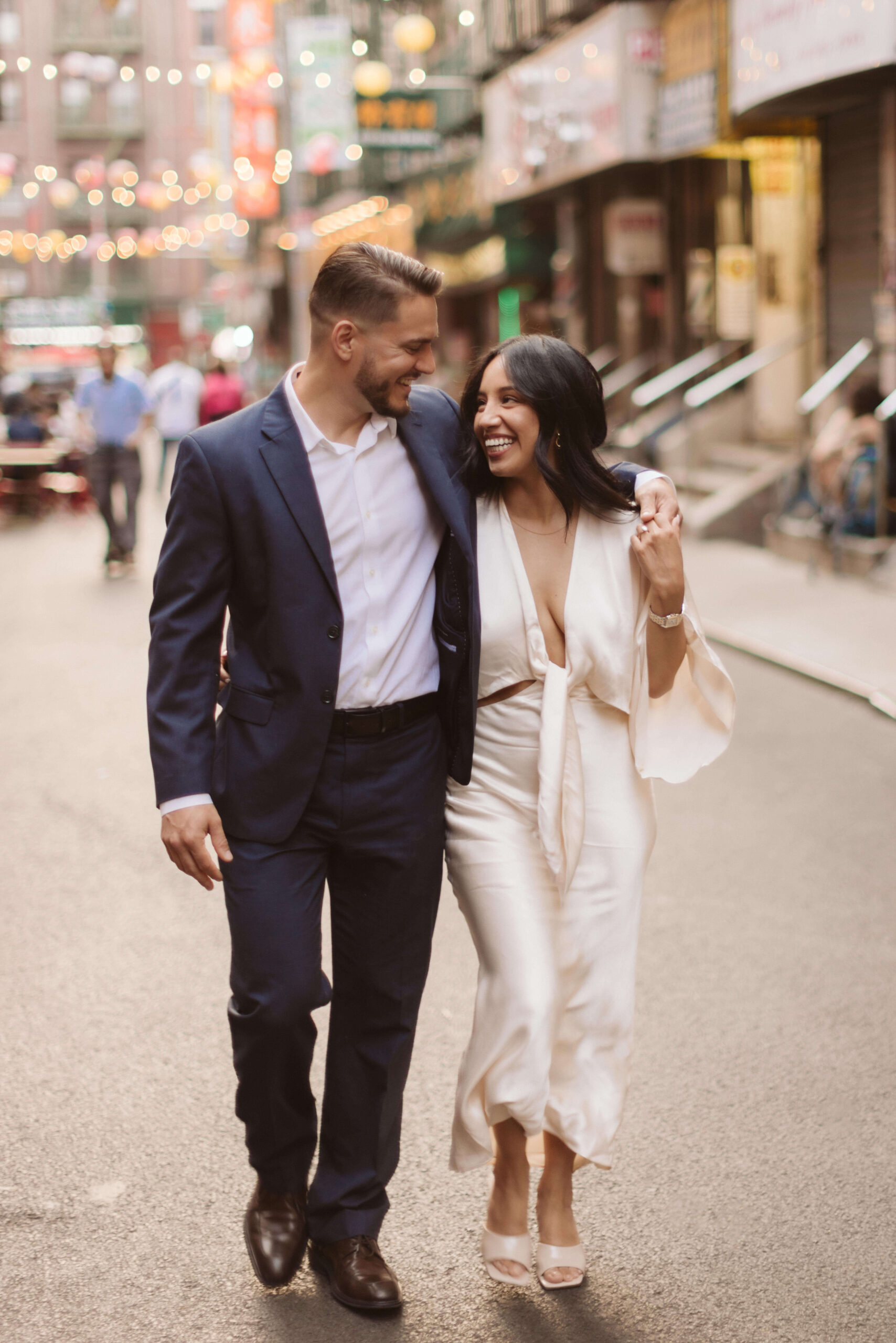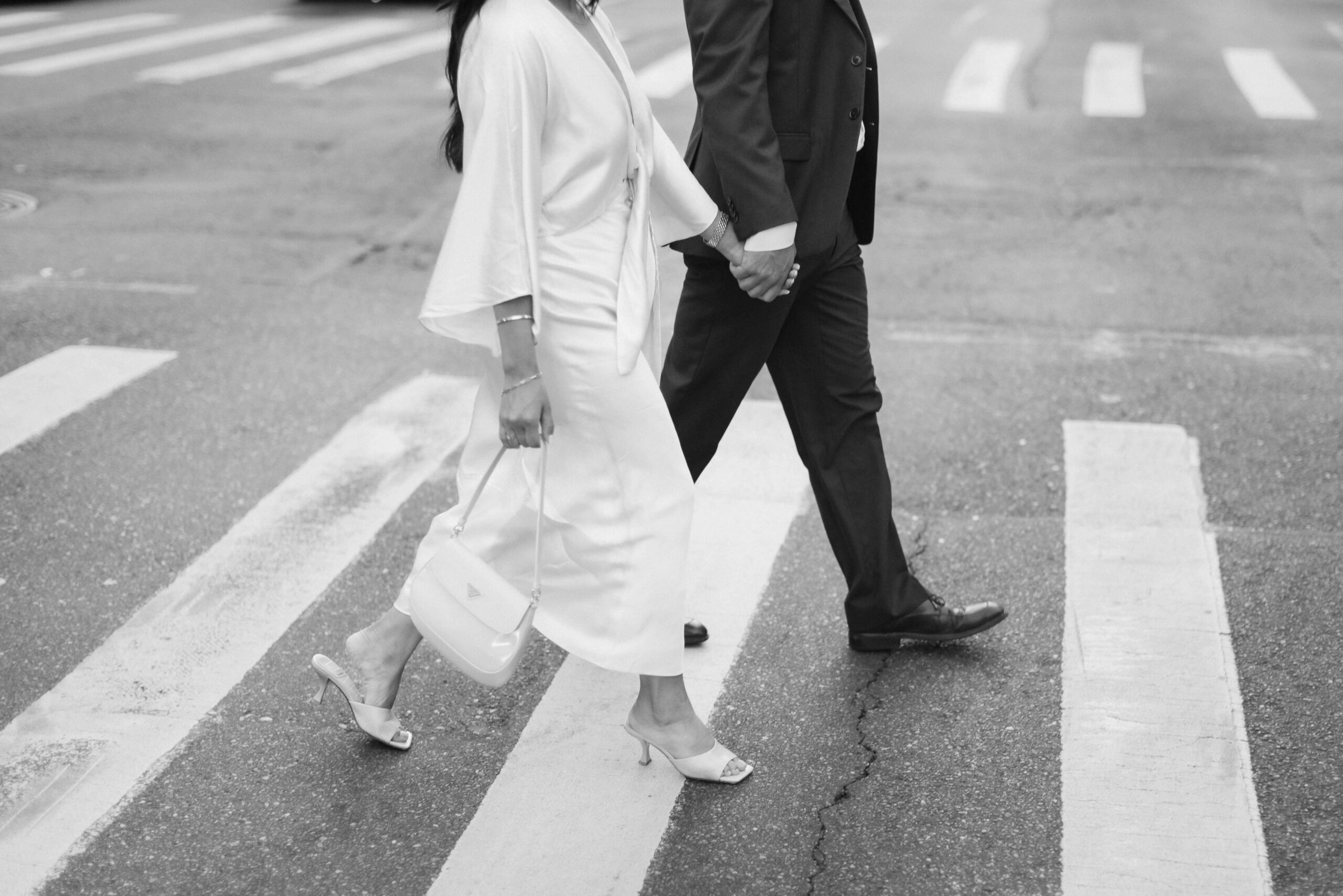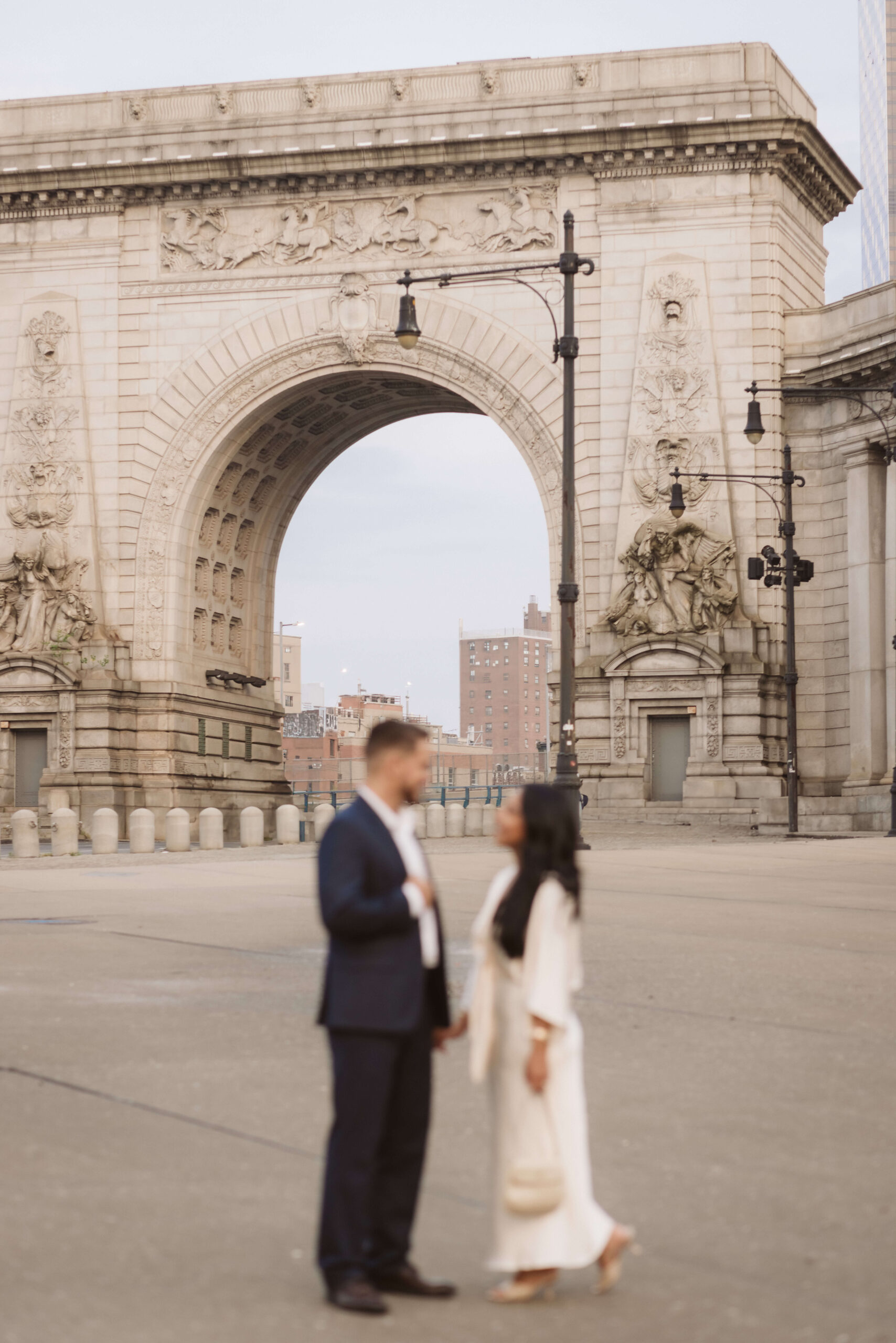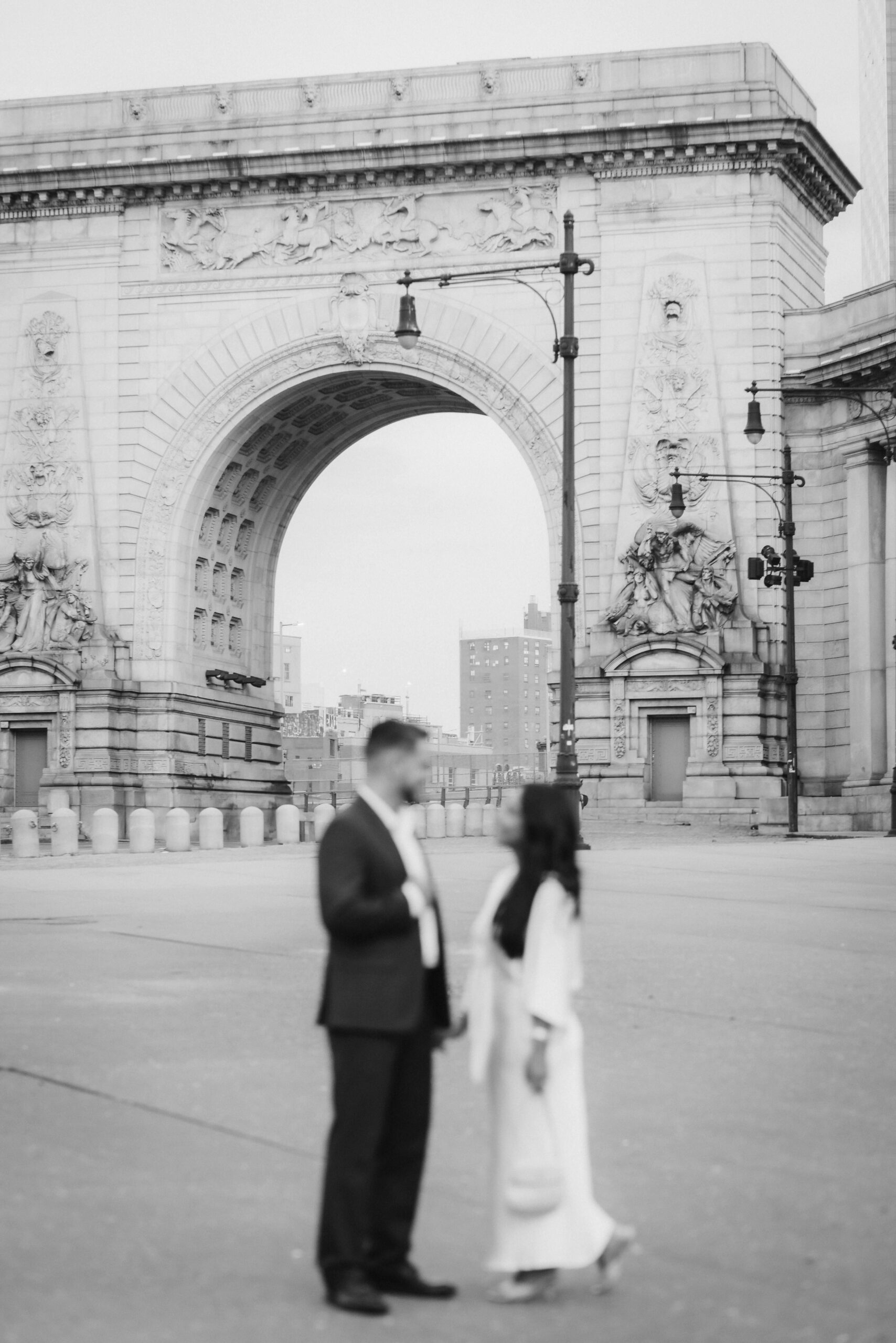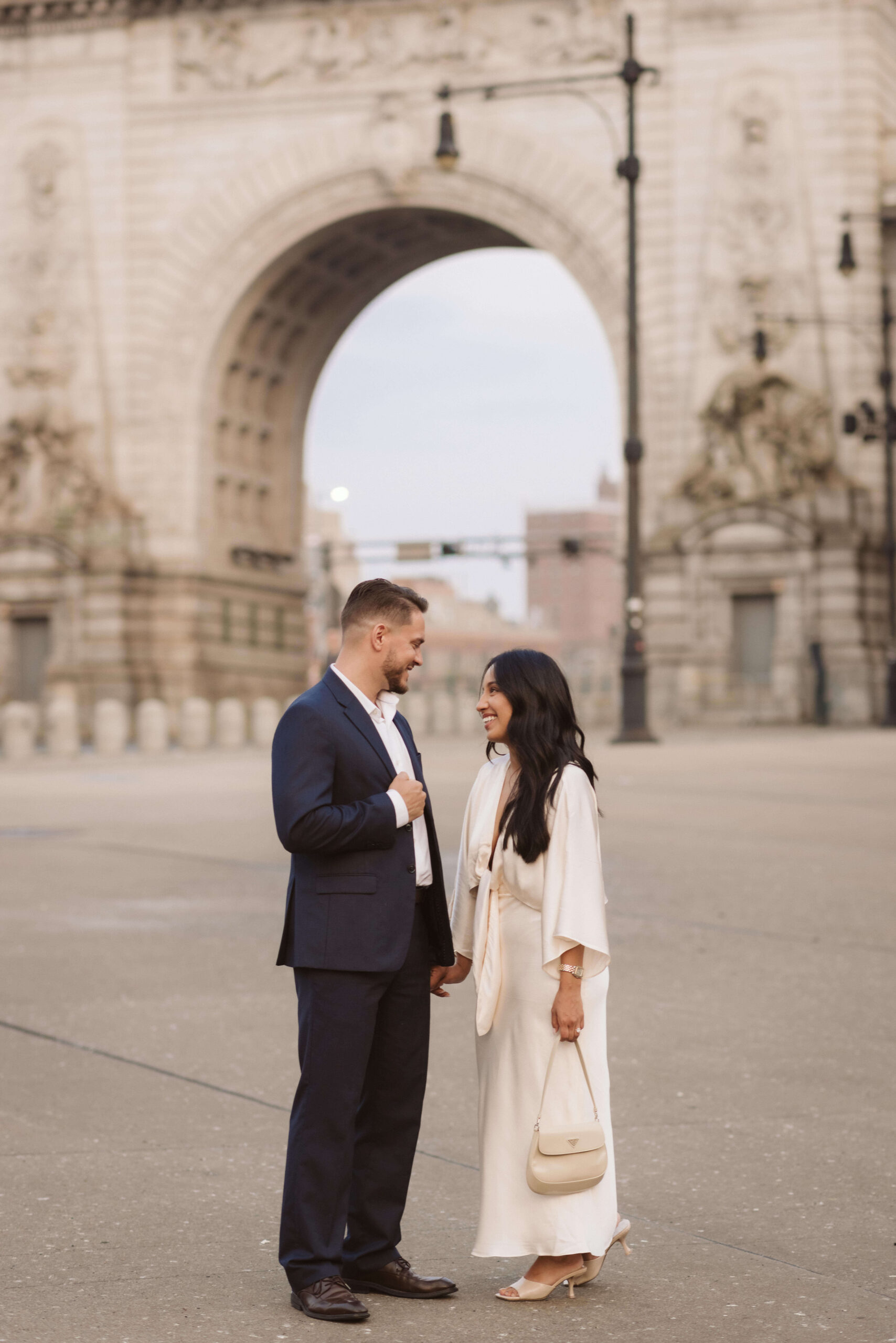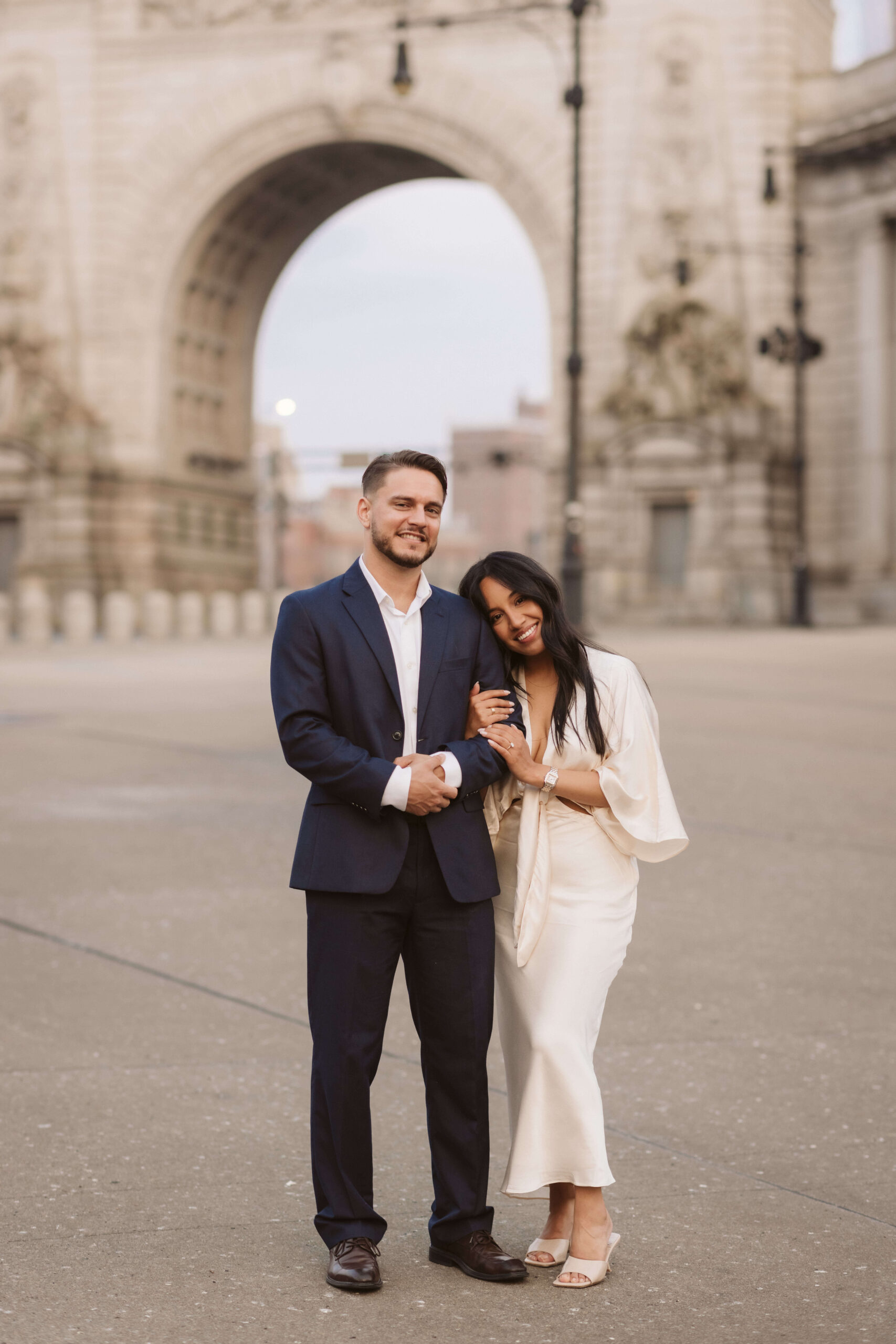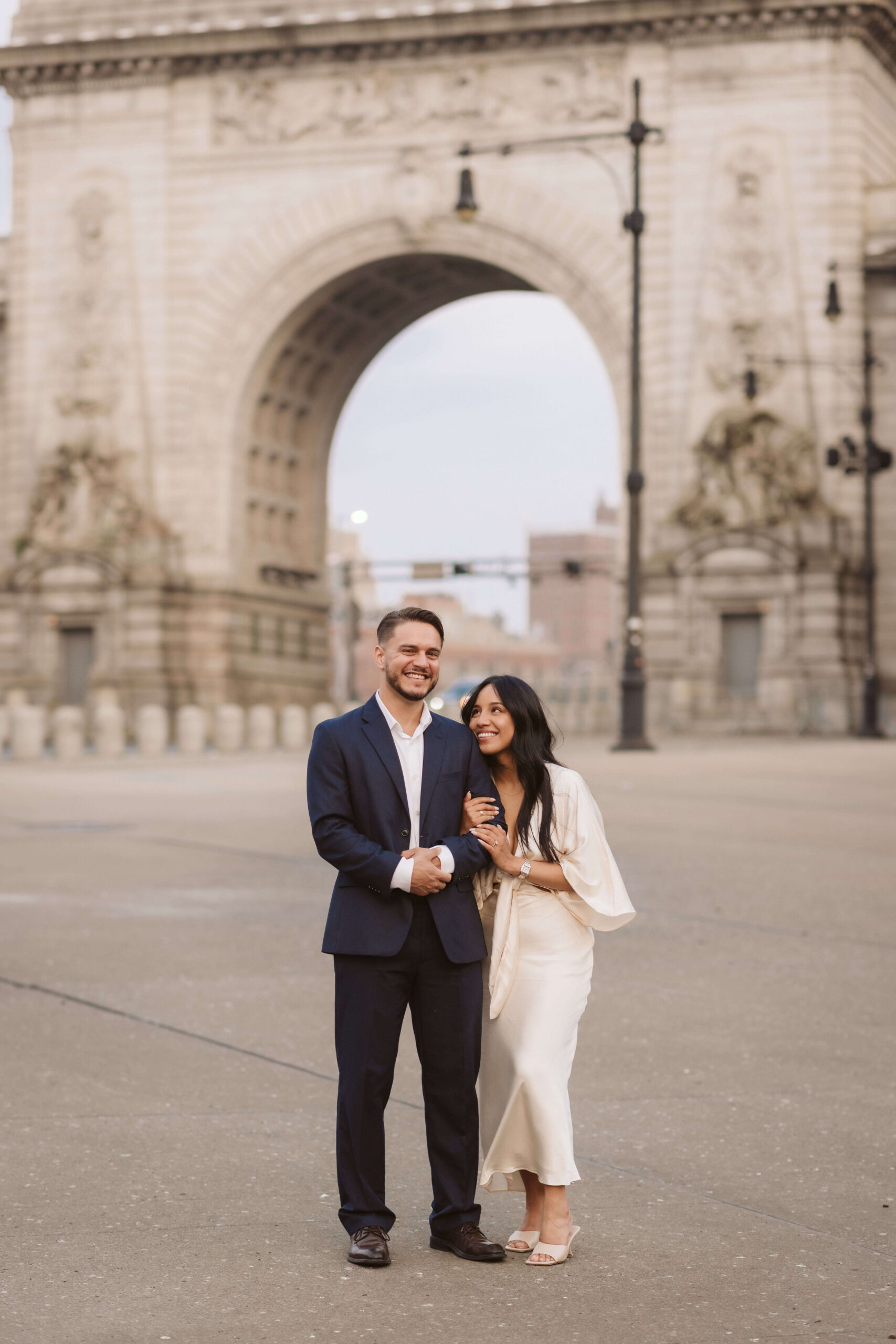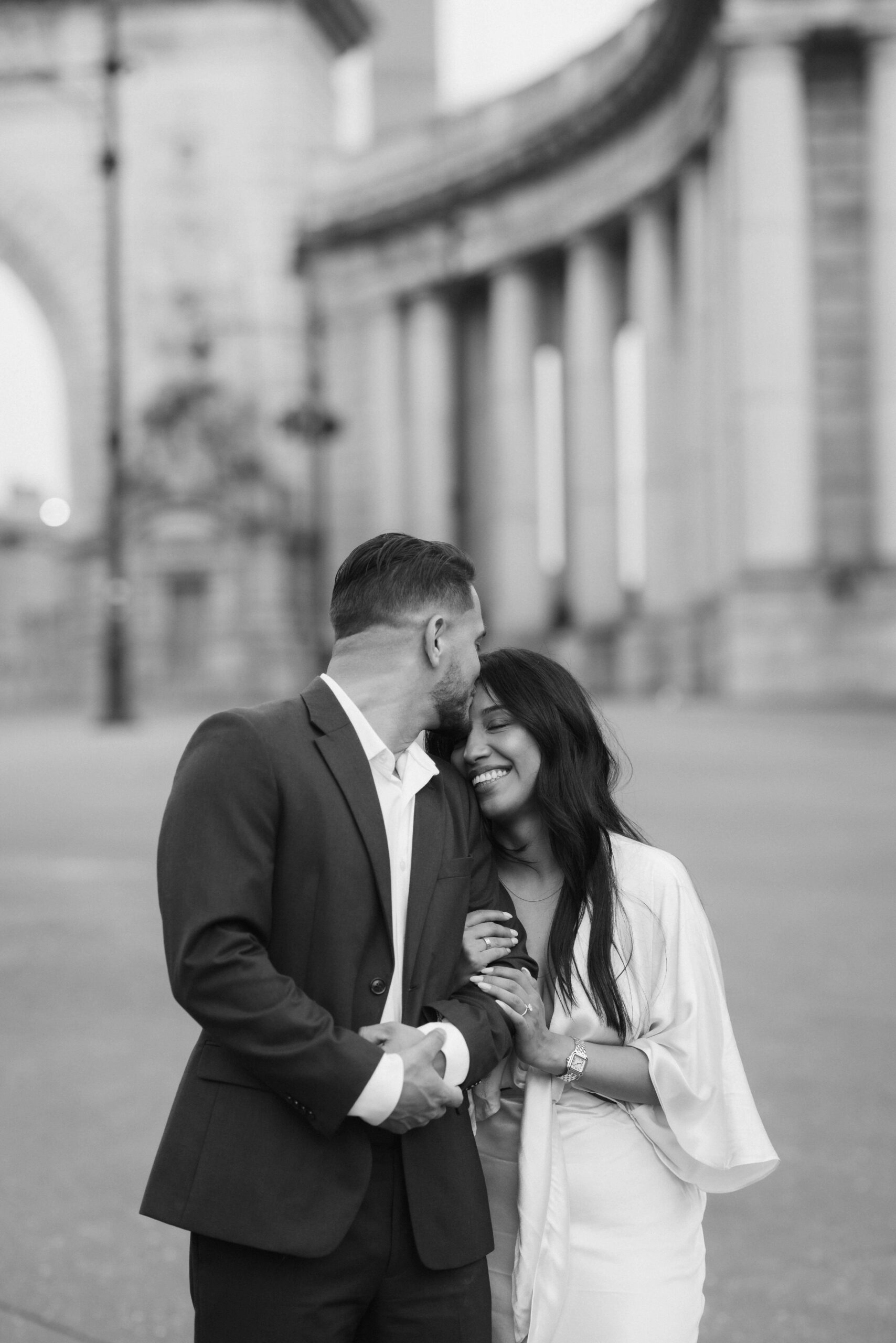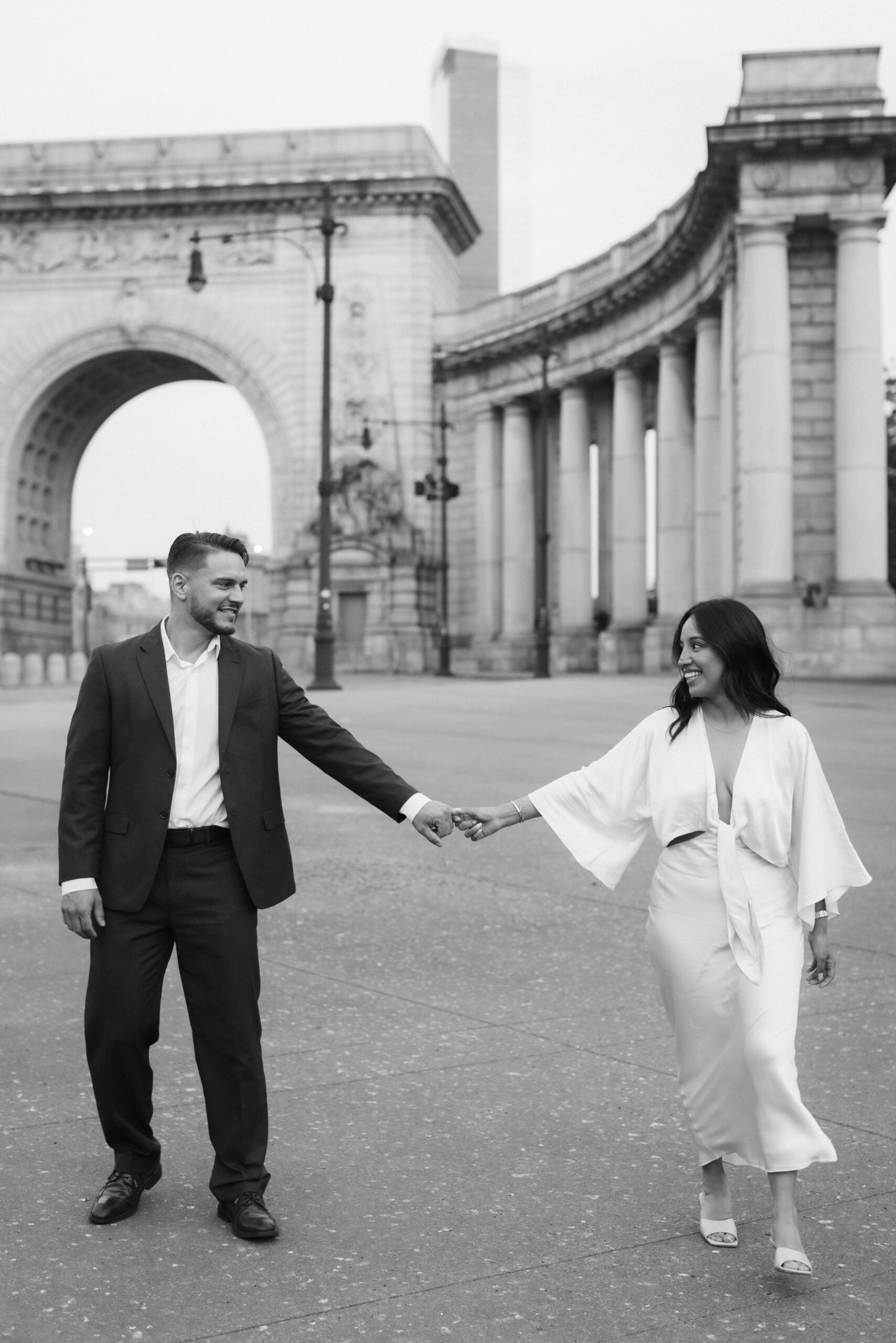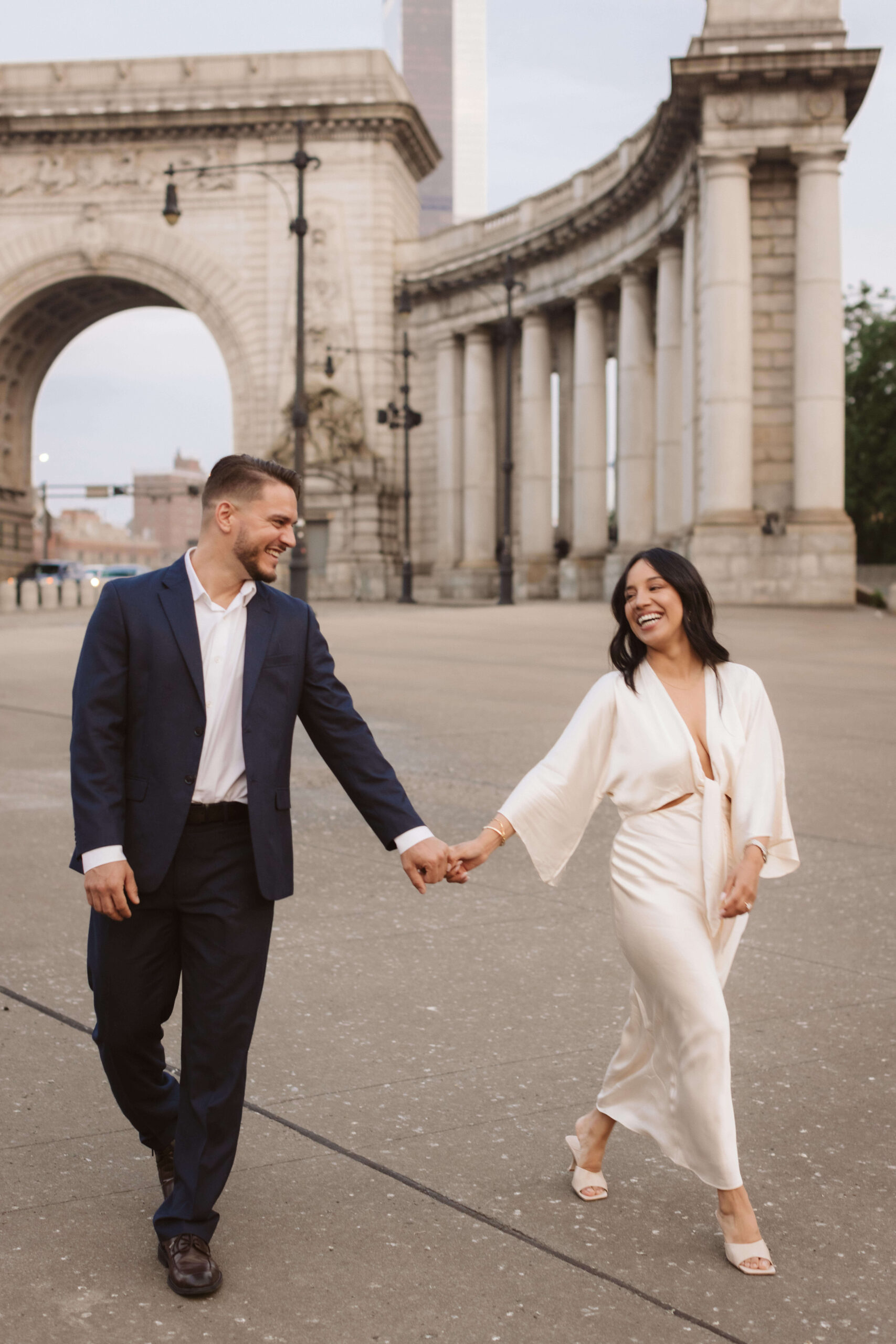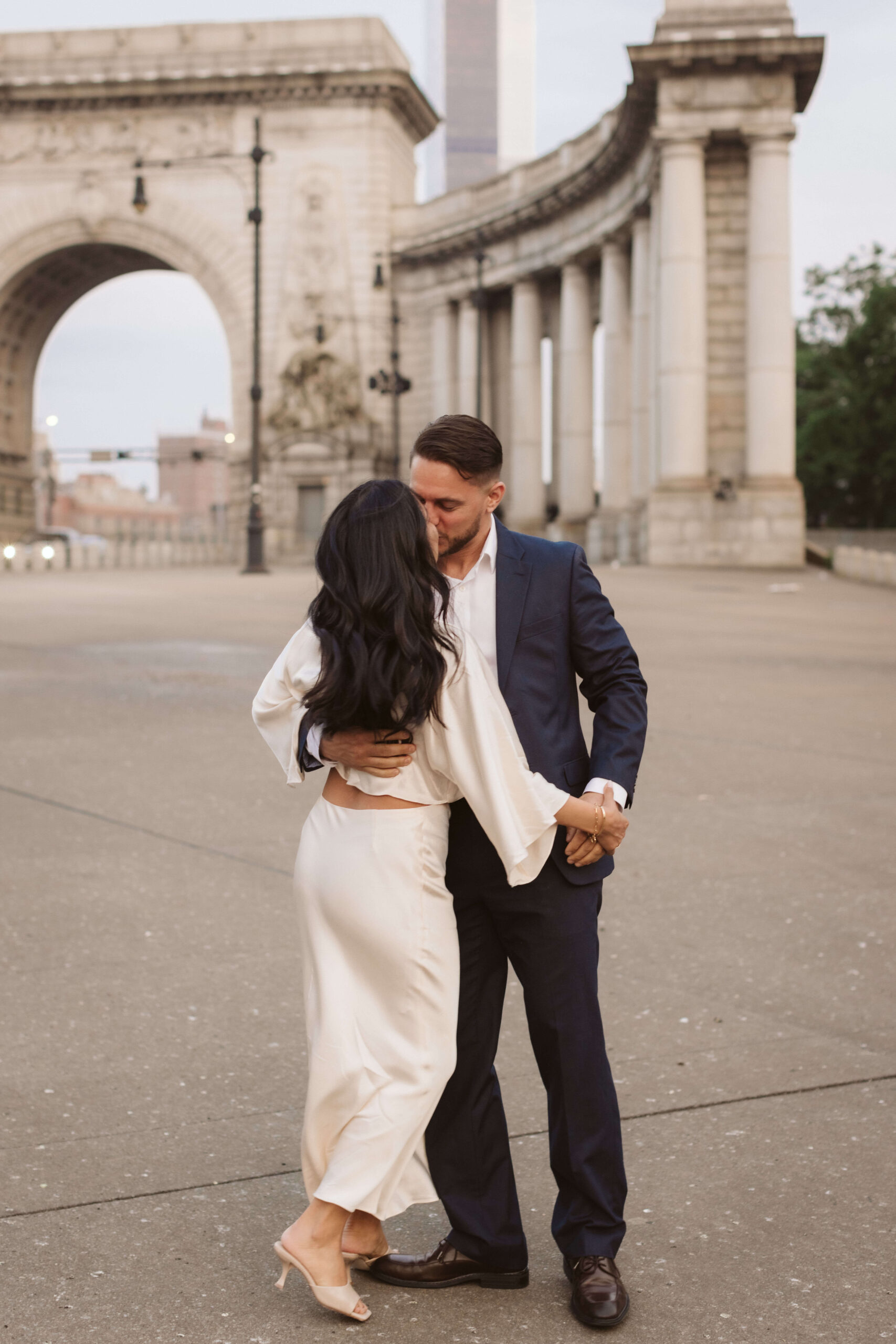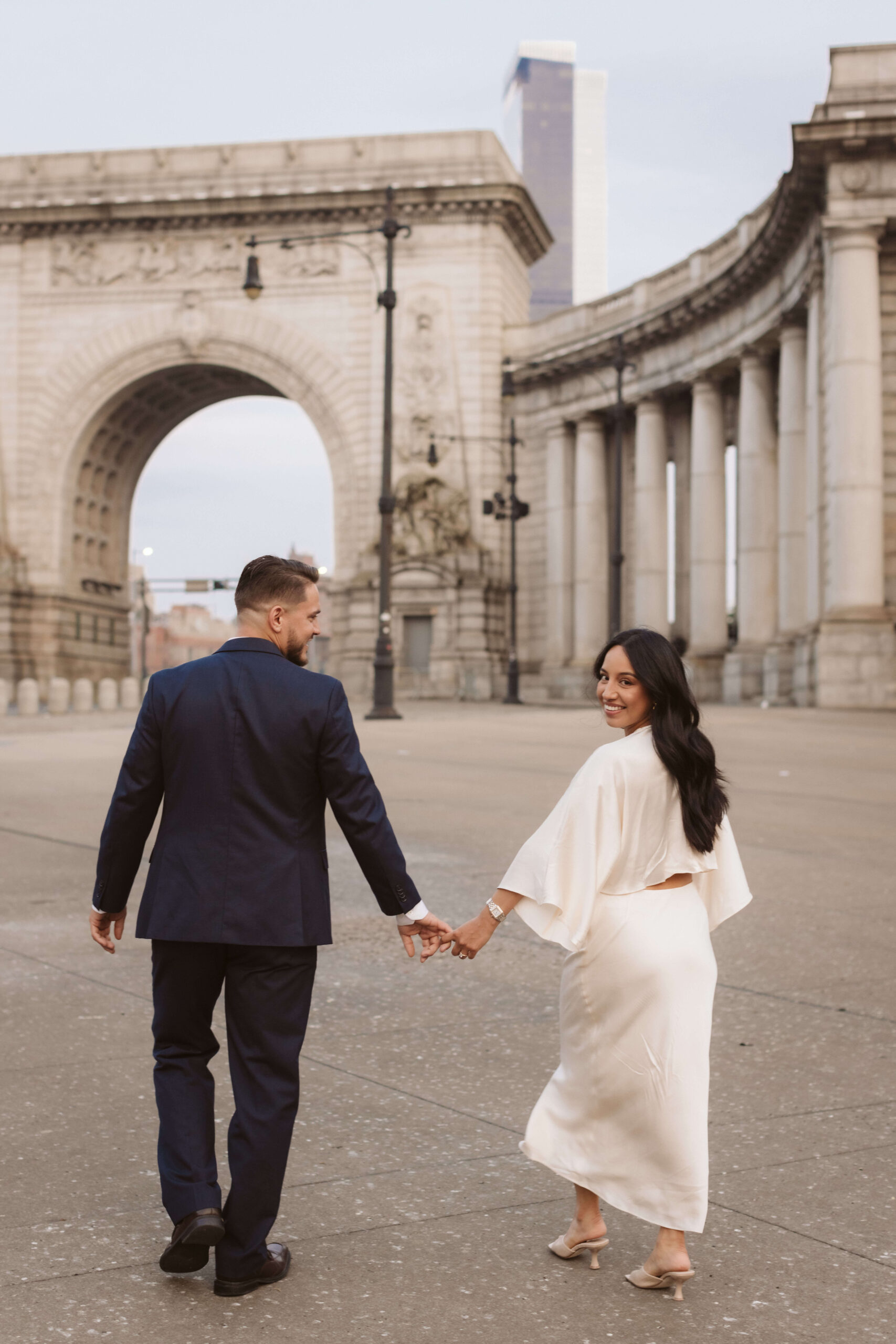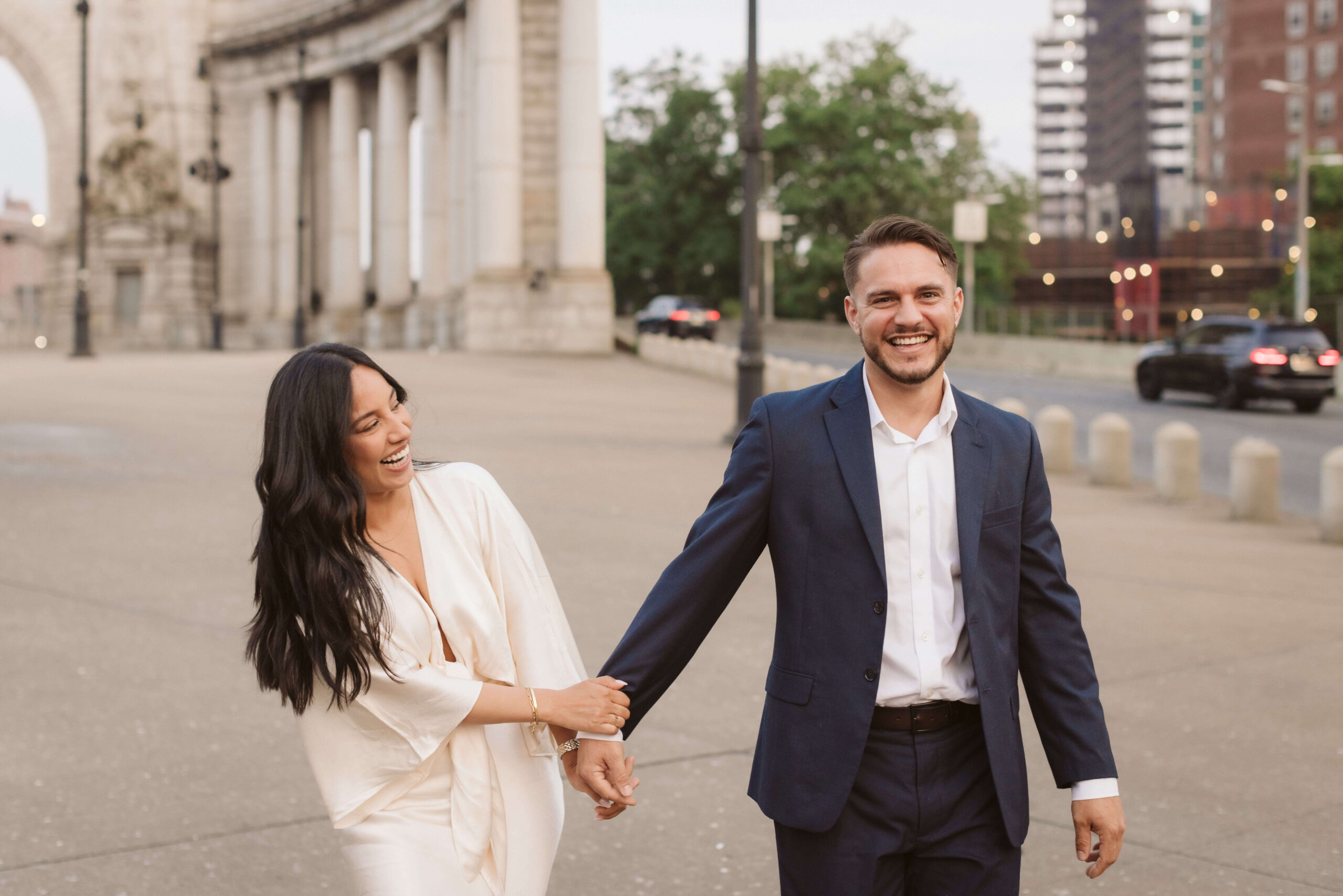 Scoping Out the Perfect Locations
For all of the photography sessions I work on, whether it's a wedding, an engagement shoot, or simply a couple photography session just because, if the couple doesn't already have specific locations in mind to shoot in, I always scope out the area beforehand. Between getting to know them a bit through our initial meeting and questionnaires, my goal is always to try to find areas that resonate with each couple's personal styles and preferences. This helps me map out our session to keep a calm and relaxed feel while also guaranteeing stunning backdrops that are sure to enhance the impact of their photos.
As I prepared for Carolina + Taylor's session, the two mentioned that they enjoyed unique architecture and fancy locations. Even with just this small piece of information about them, I was able to begin my search to find locations that matched their style. This little bit of groundwork is something that helps me to intertwine their style and personalities with their surroundings. In the end, I chose to take them on a walking tour of Pell Street in Chinatown, which was a subtle nod to their love of travel, and into SoHo, where the cast iron architecture of the buildings would become the grand backdrop for their session.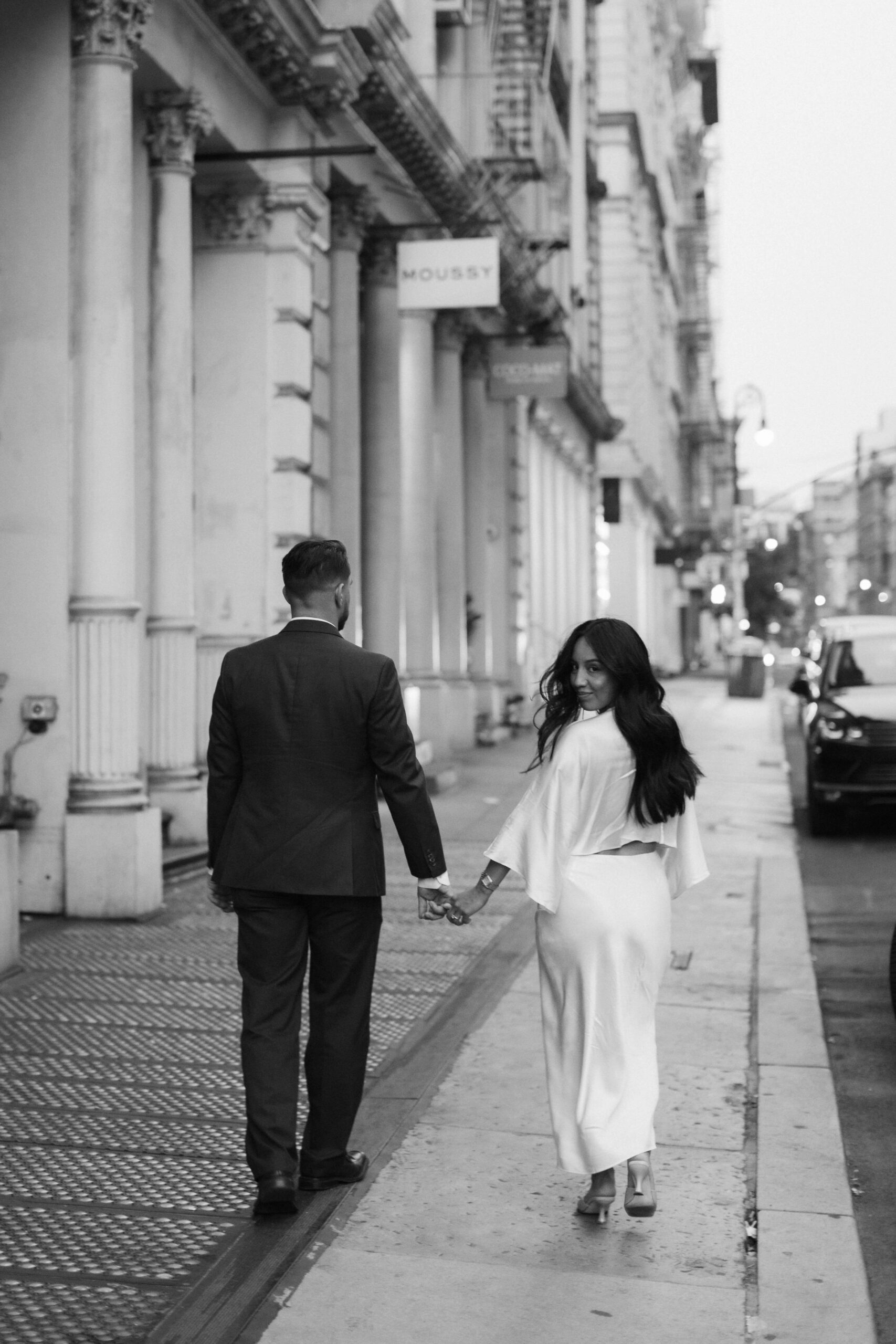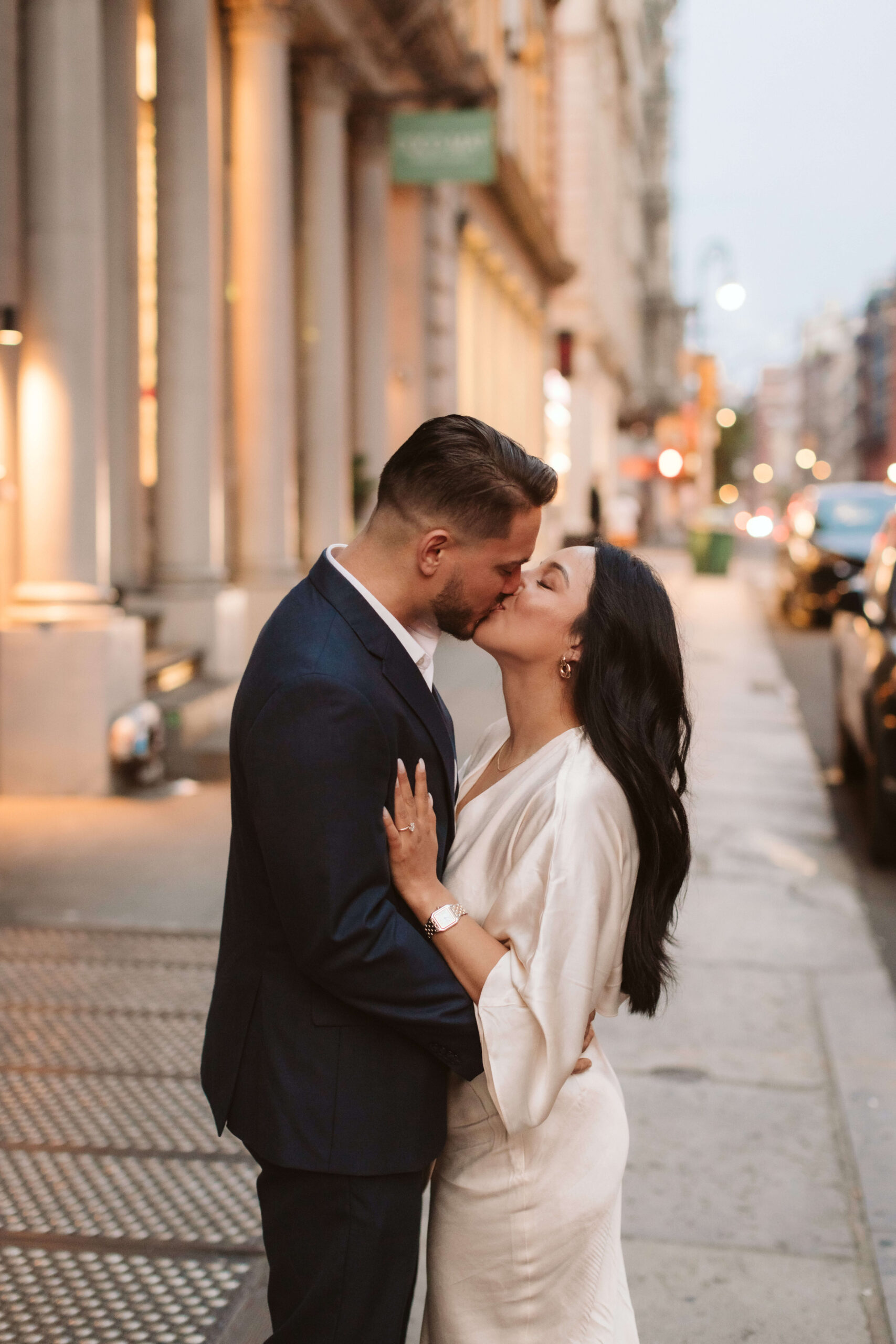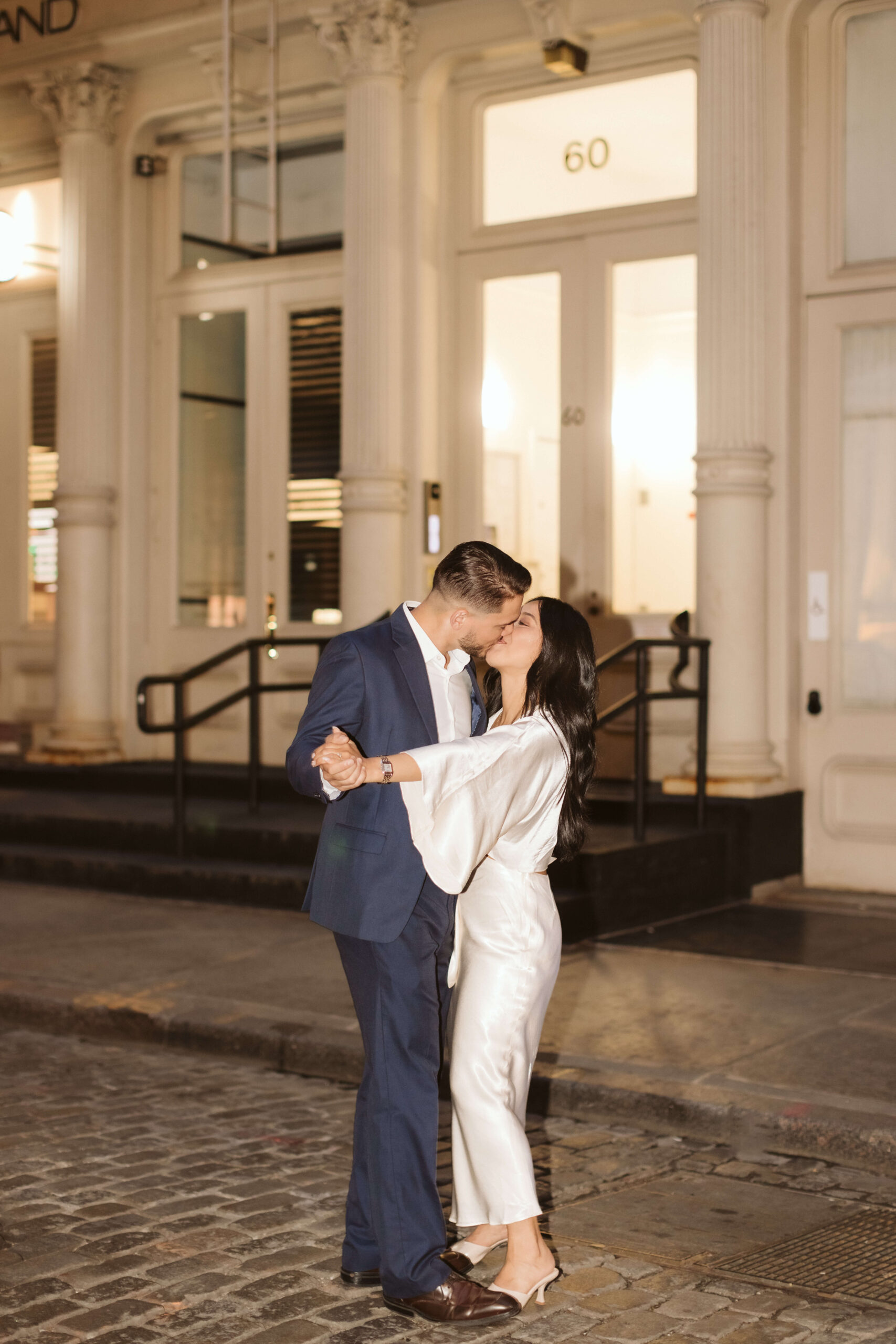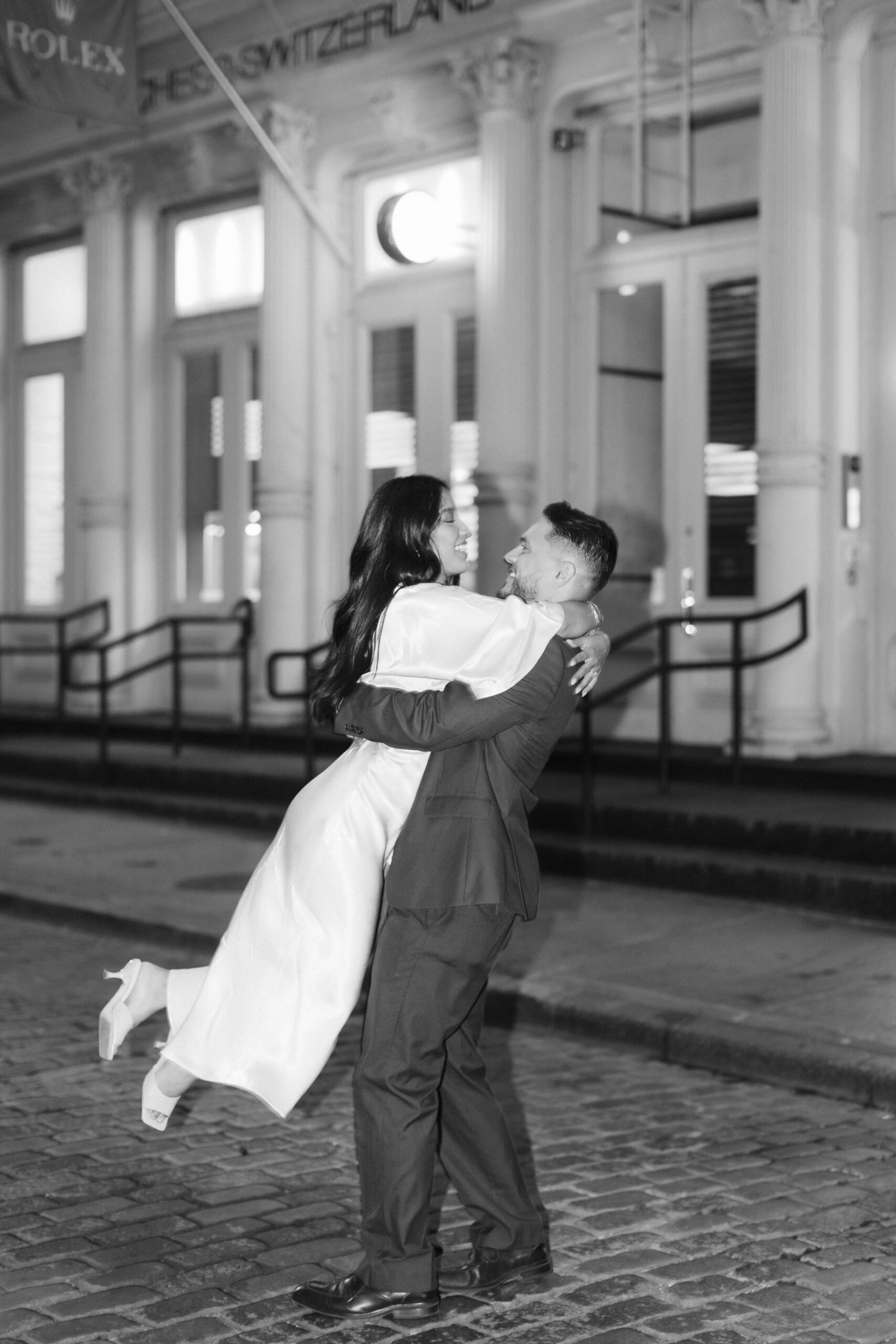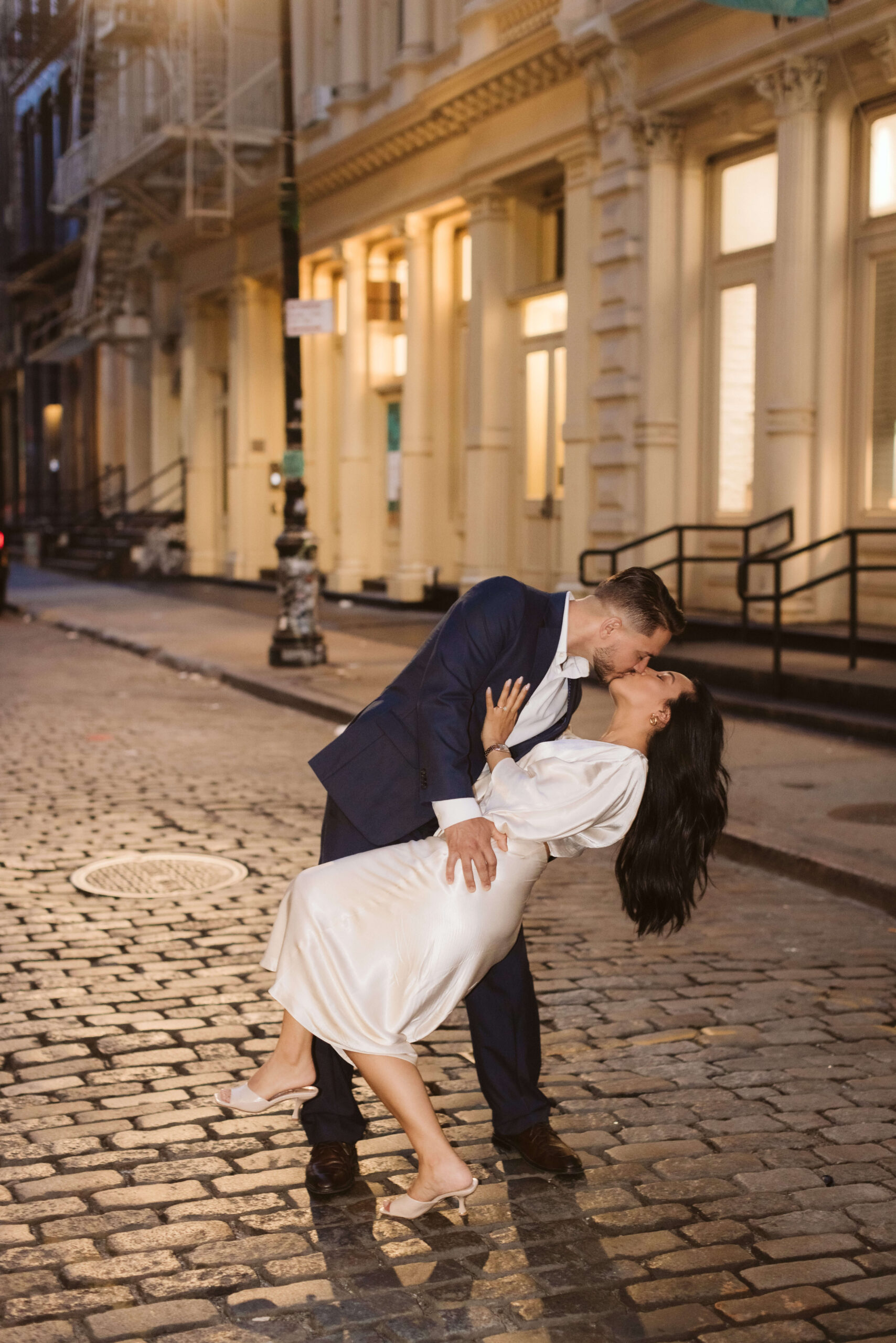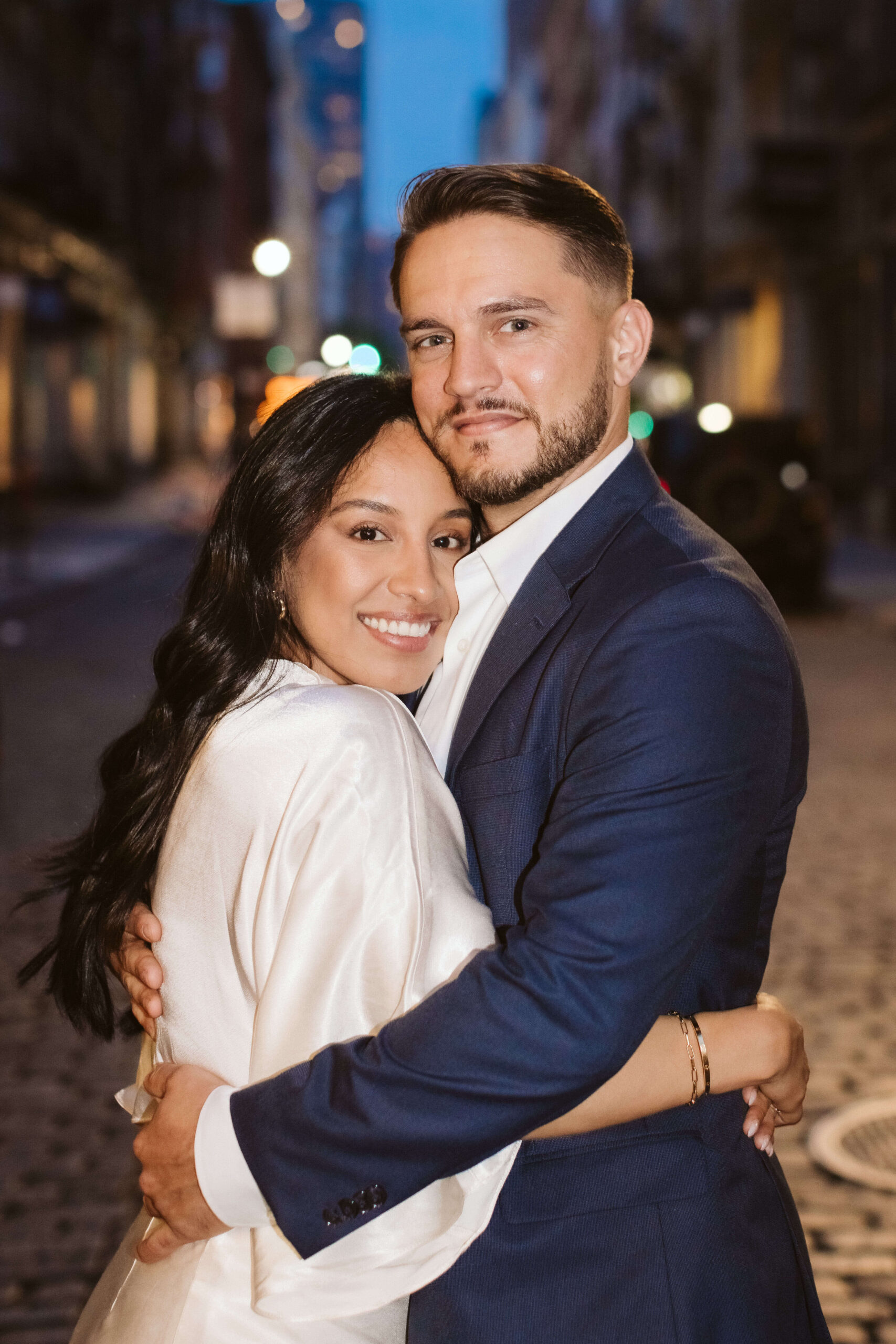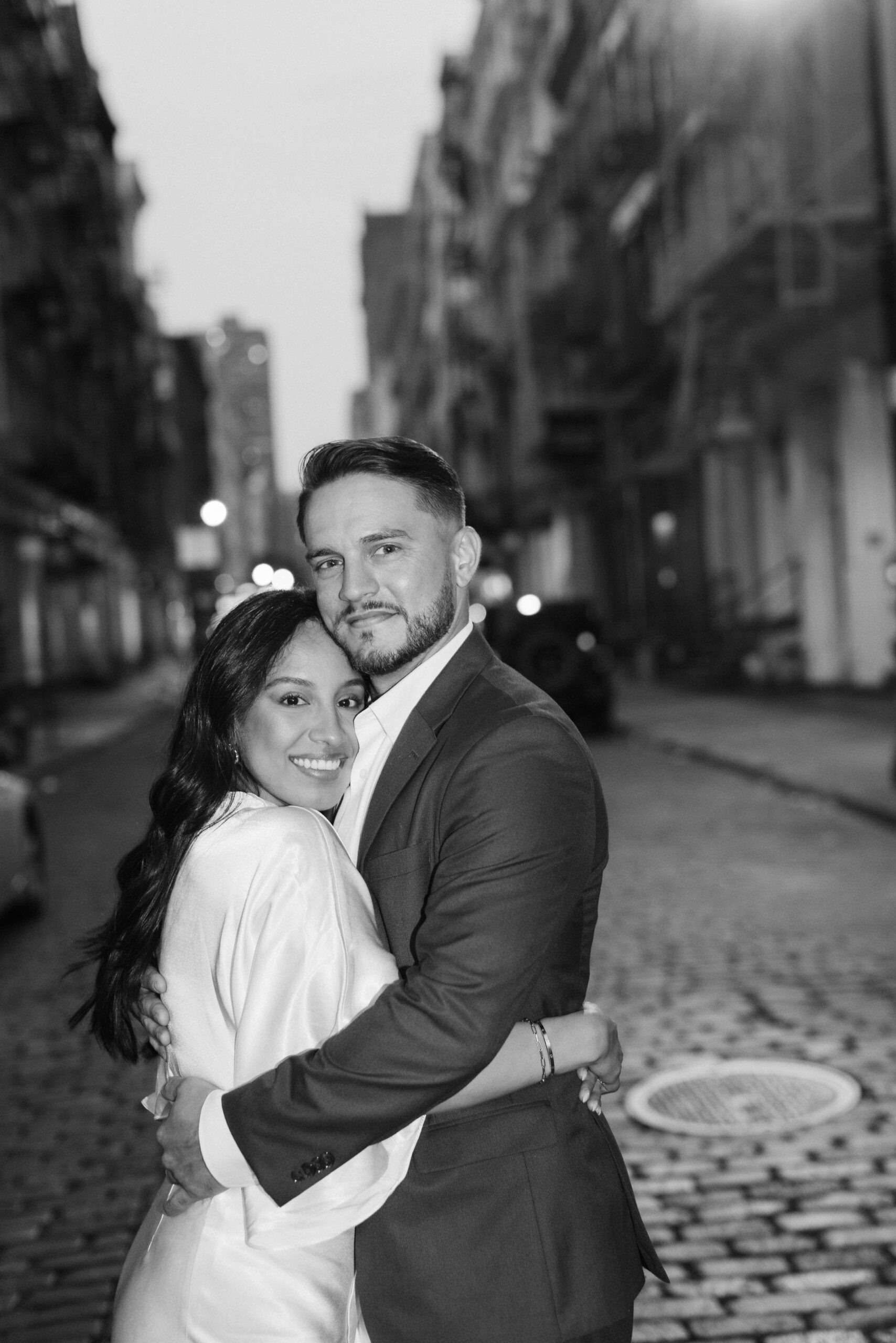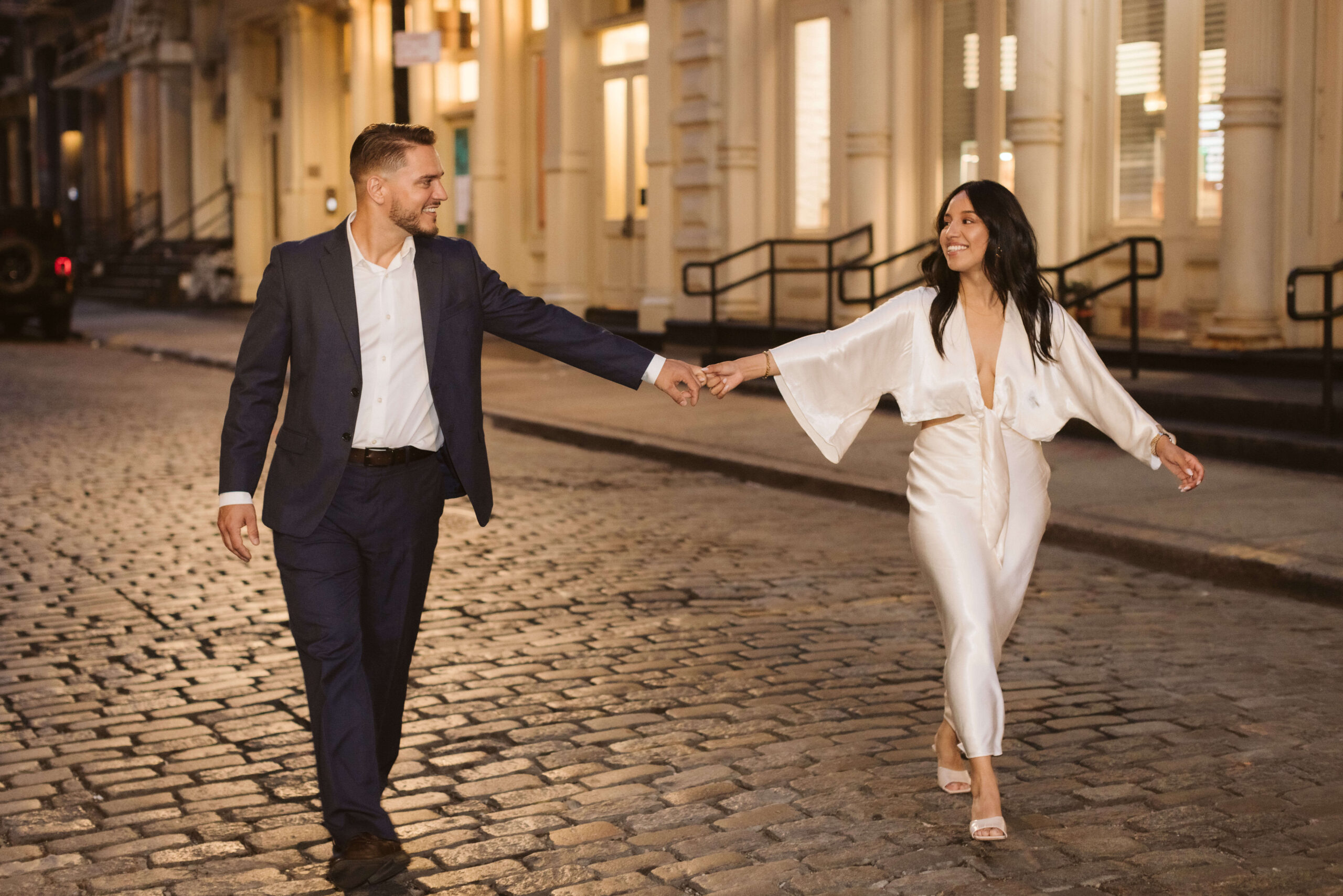 A Stroll Through Chinatown to the Manhattan Bridge
On the day of their engagement session, I met up with Carolina + Taylor in Chinatown. If there is any neighborhood in New York City that feels as though you've walked into a different country entirely, it would have to be Chinatown.
This vibrant section of Manhattan's Lower East Side is best known for its Chinese and South Asian community and family-run restaurants with delicious and authentic foods, markets, and souvenir shops. For their engagement session, I led Carolina + Taylor down Pell and Doyer Streets. The narrow, winding streets lined with people and vendors with traditional colorful paper lanterns and lights twinkling overhead made for the perfect ambiance for a couple who loves travel and experiencing other cultures.
On our way out of Chinatown, we passed through the historic Confucius Plaza with a grand statue of the notable figure, which led us to the Manhattan Bridge Arch and Colonnade. After beginning our day amidst the charm and vibrancy of Chinatown, the grandeur of the colonnade's granite architecture offered a captivating contrast as a backdrop. Carolina + Taylor made for truly elegant figures as they embraced and danced in front of the towering columns. Meanwhile, I clicked away to capture the romance and beauty resonating between the two in some lovely candid shots.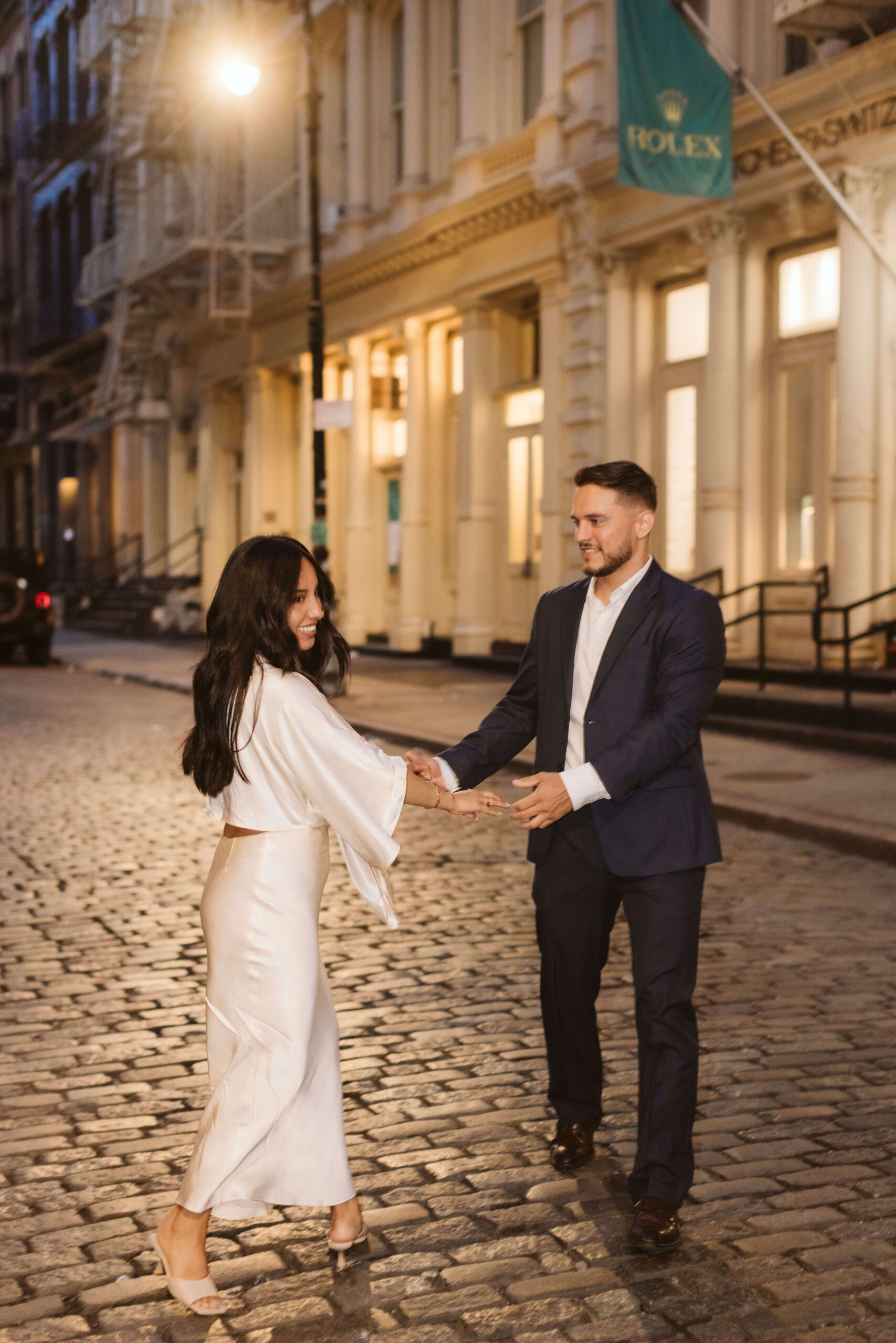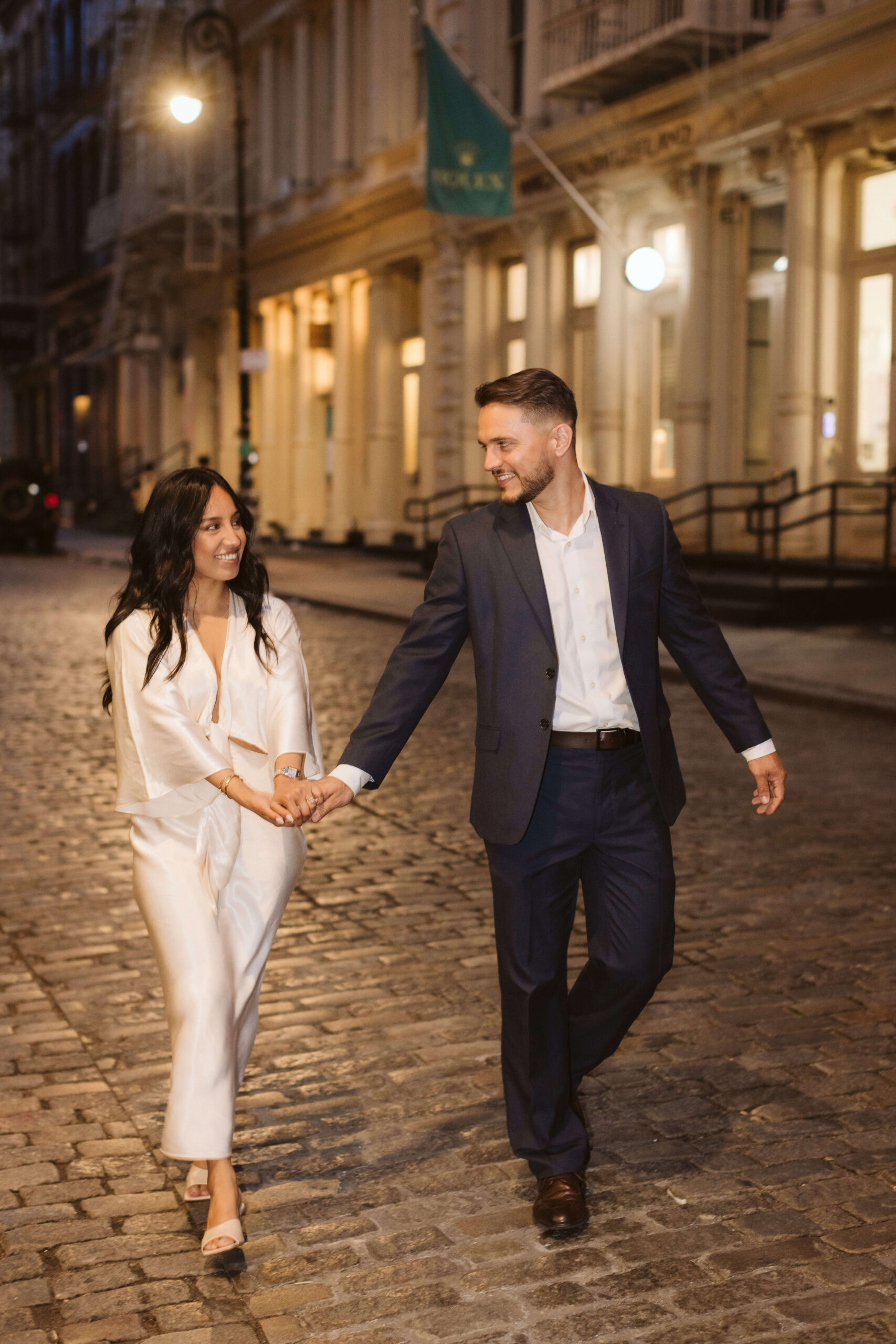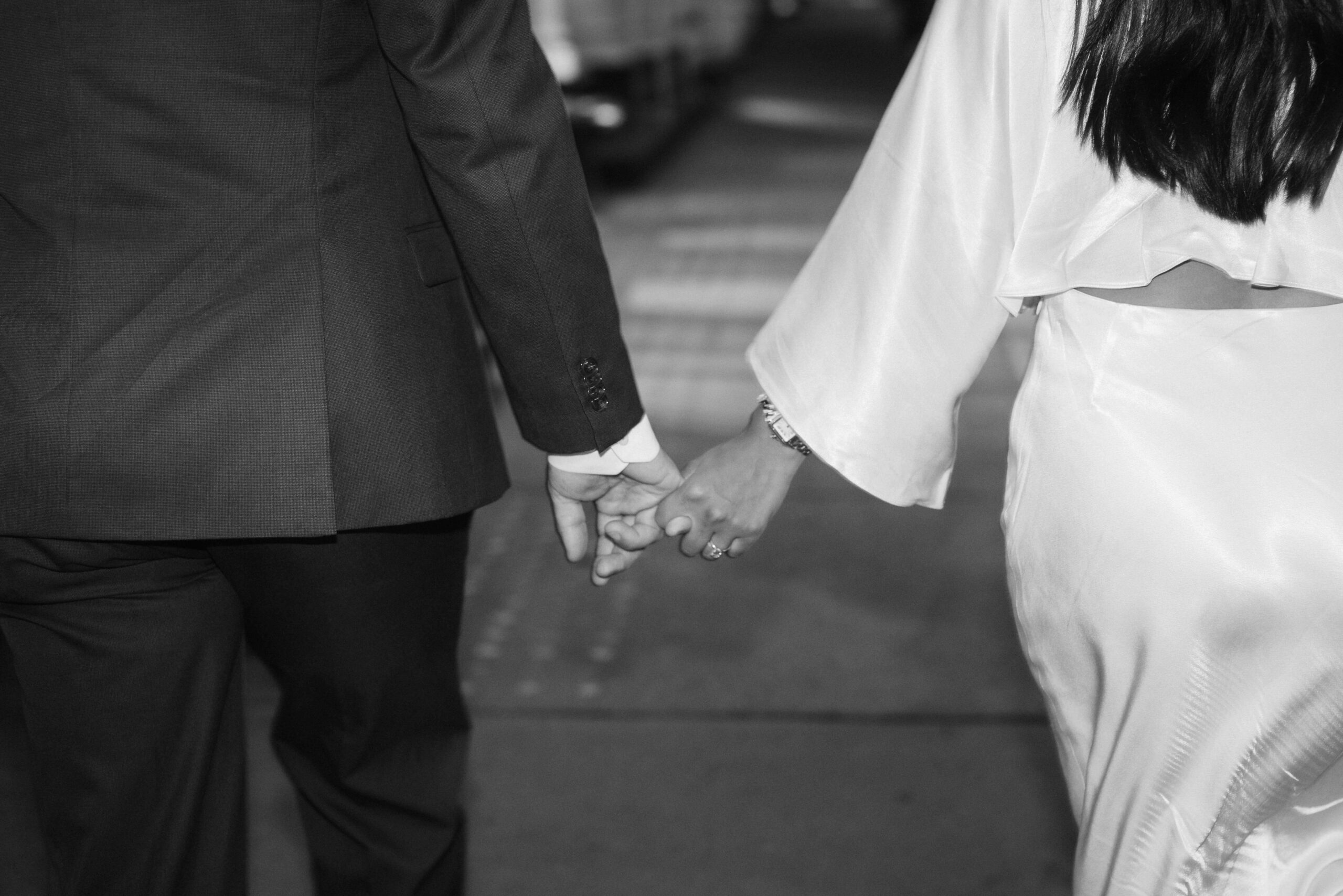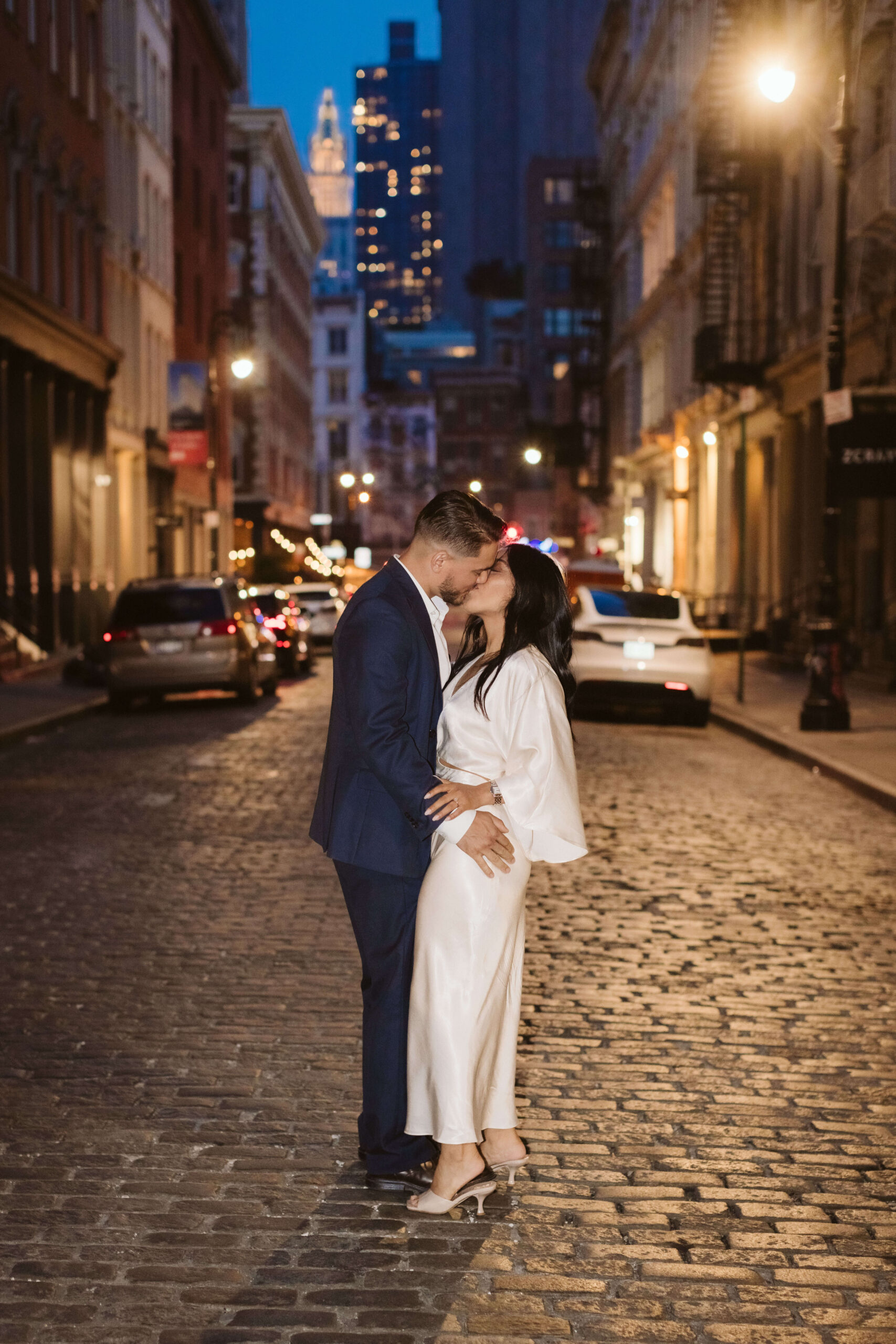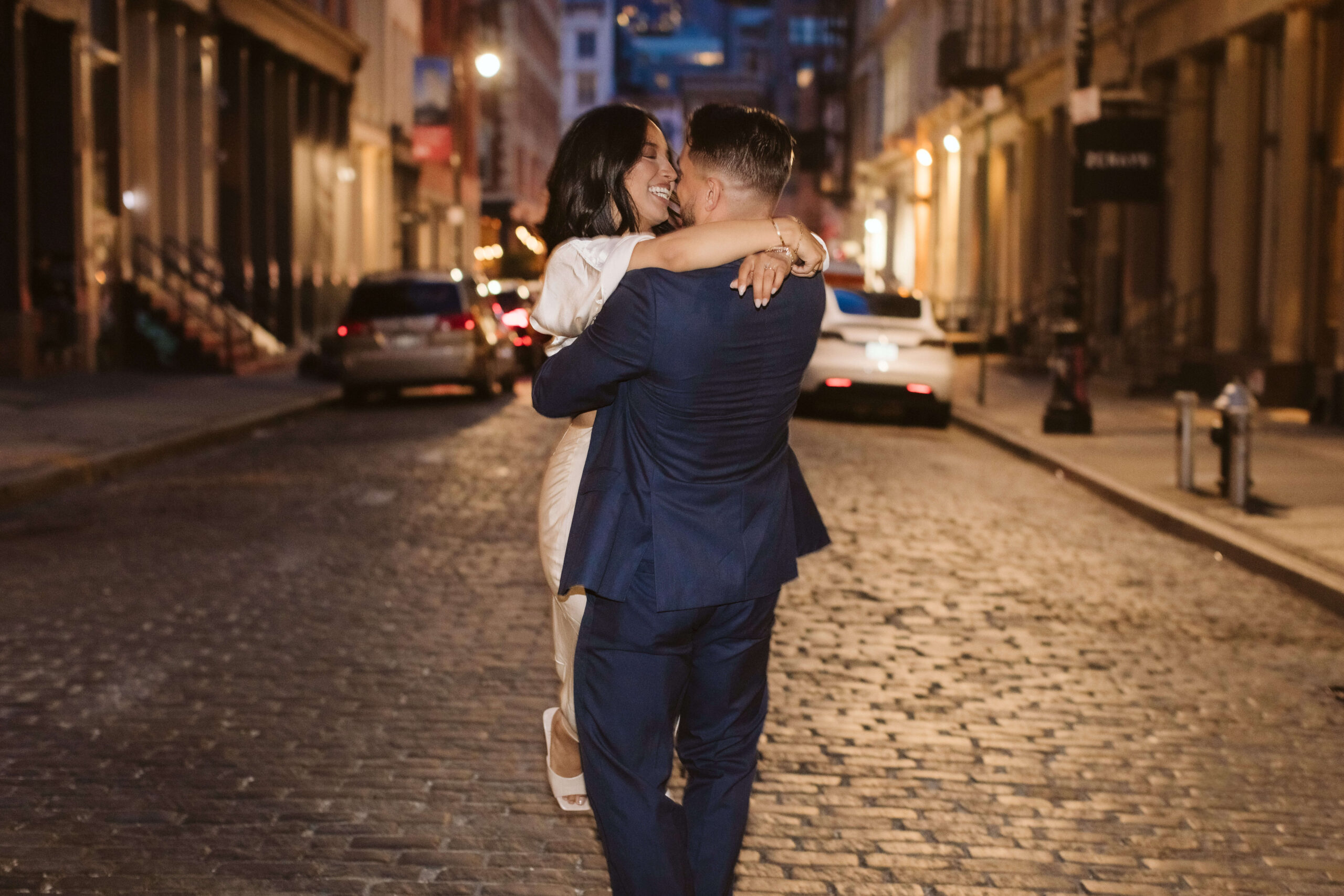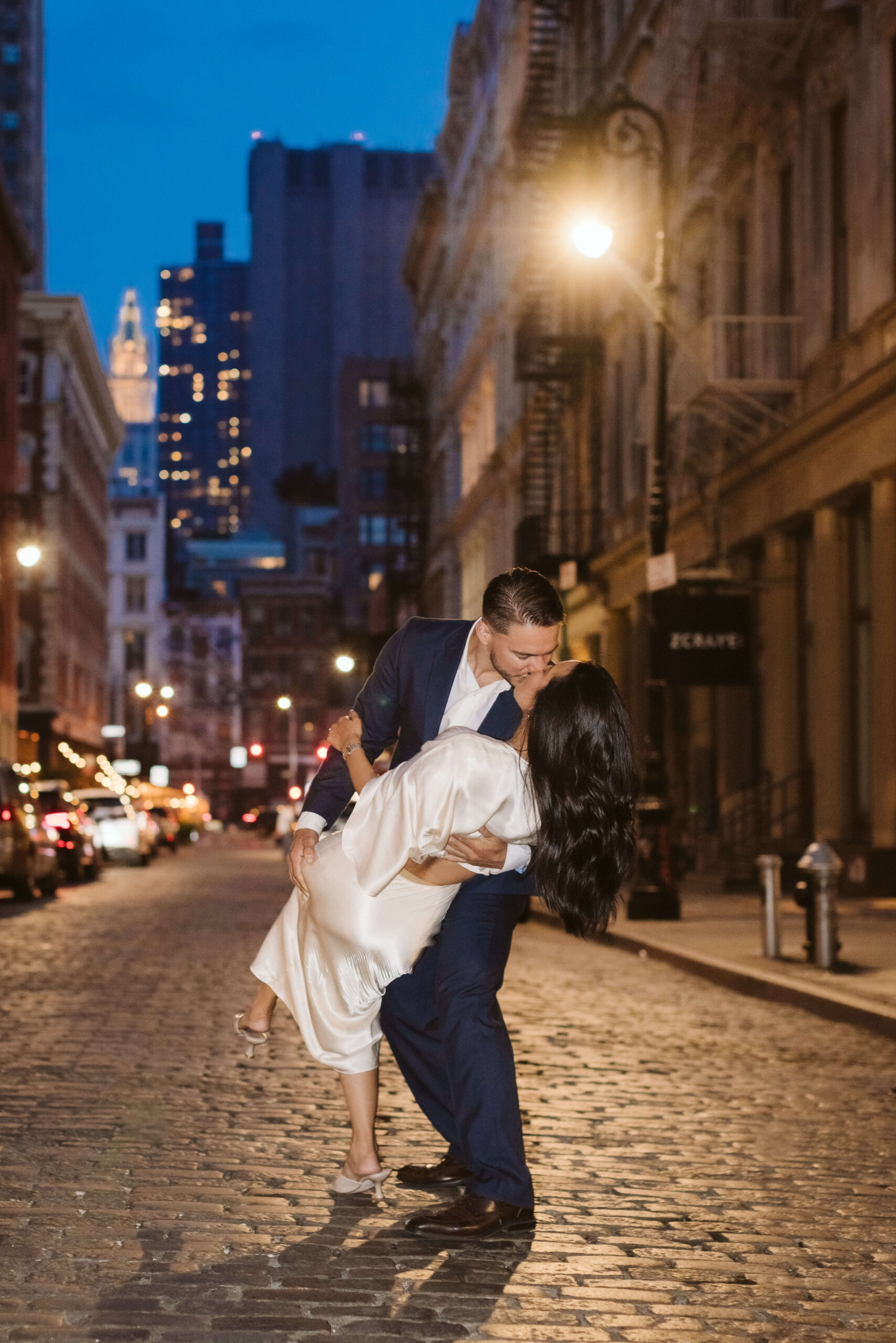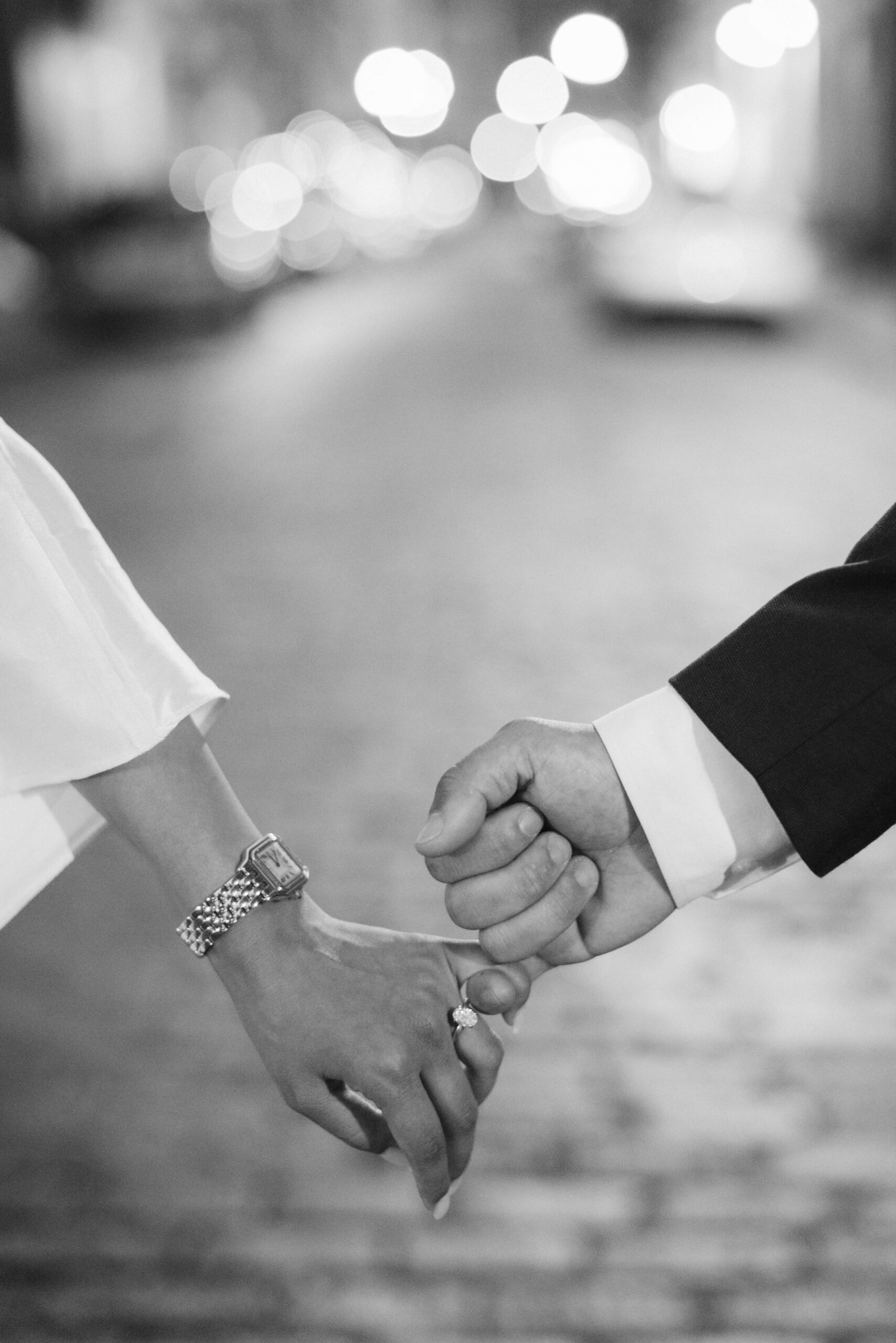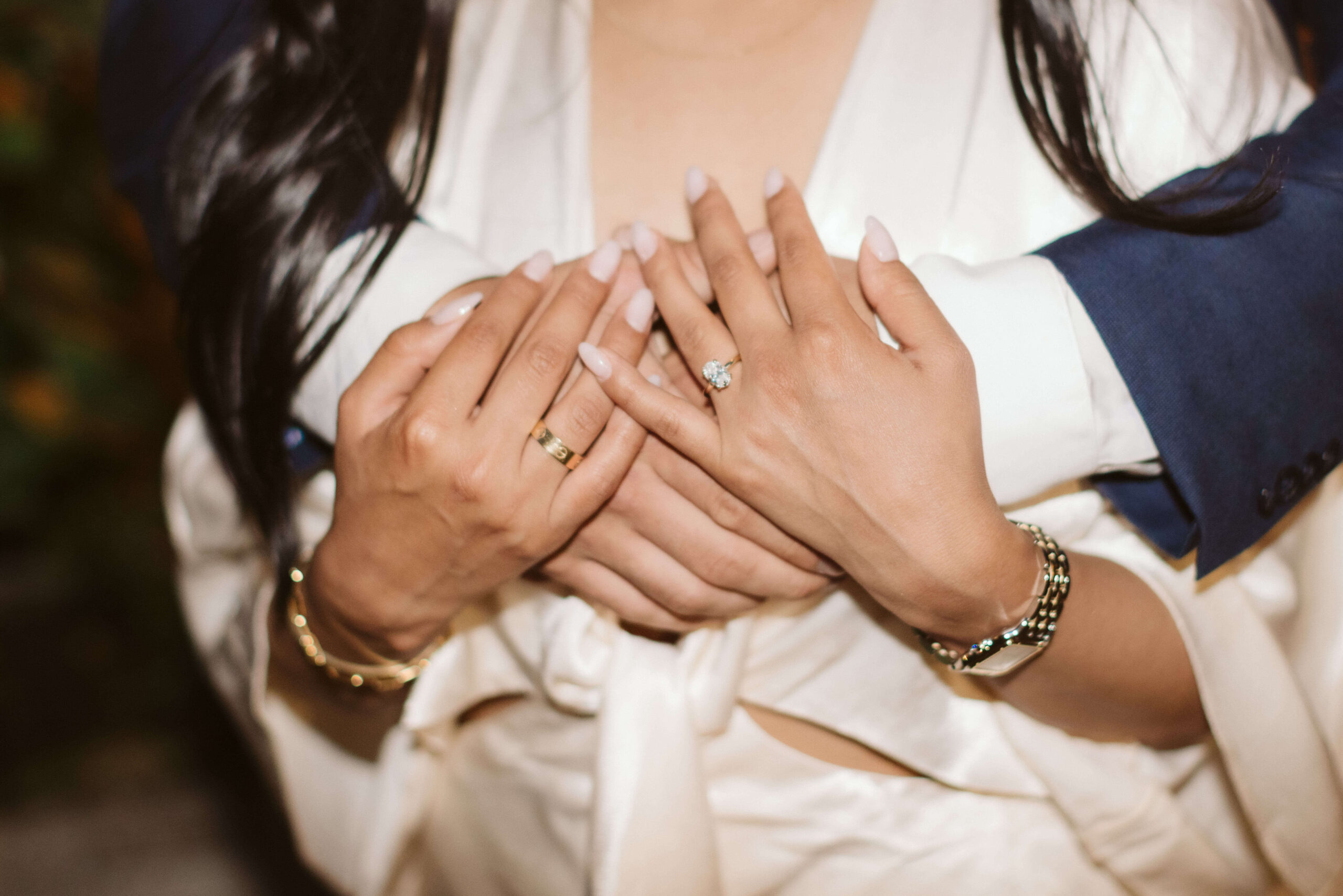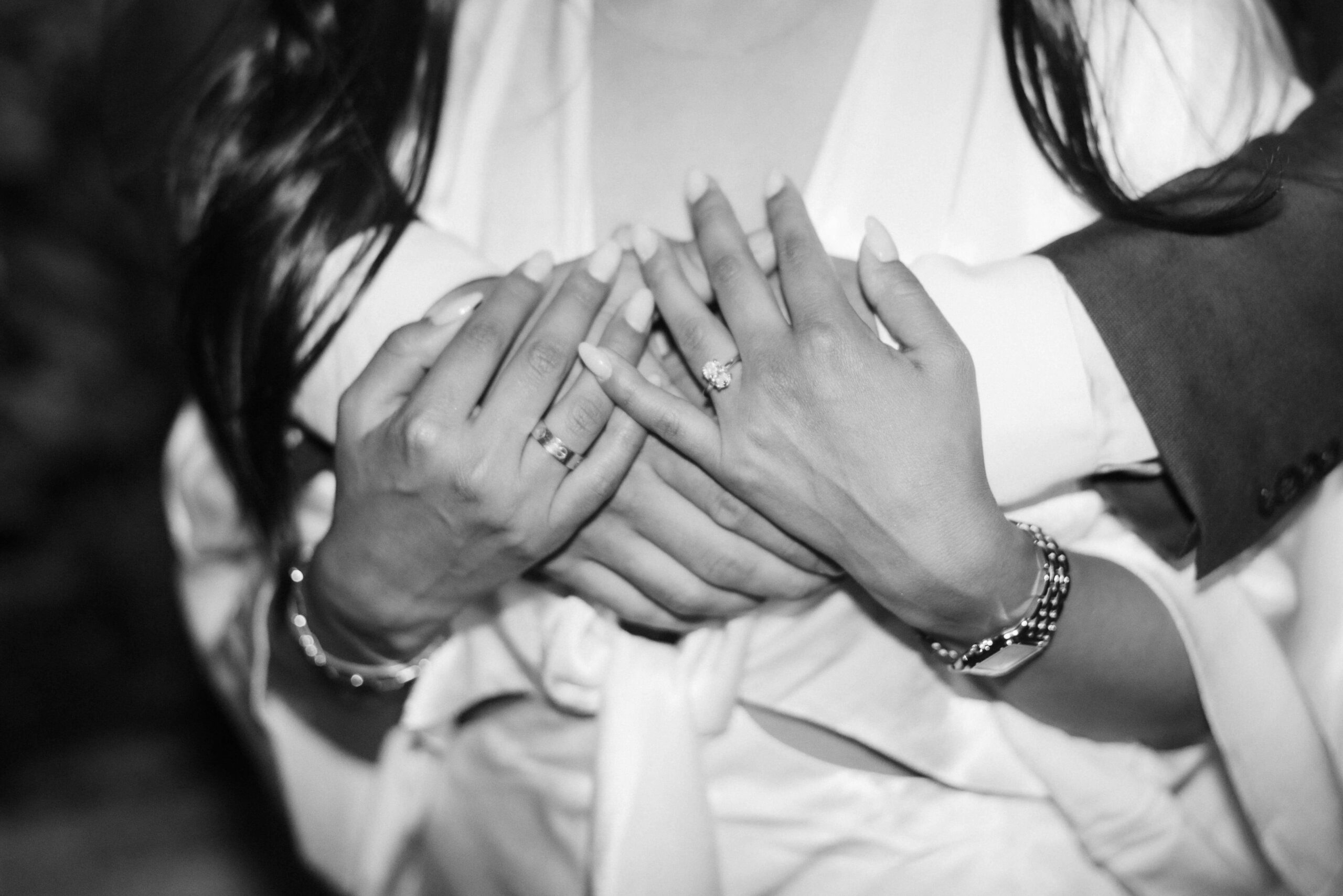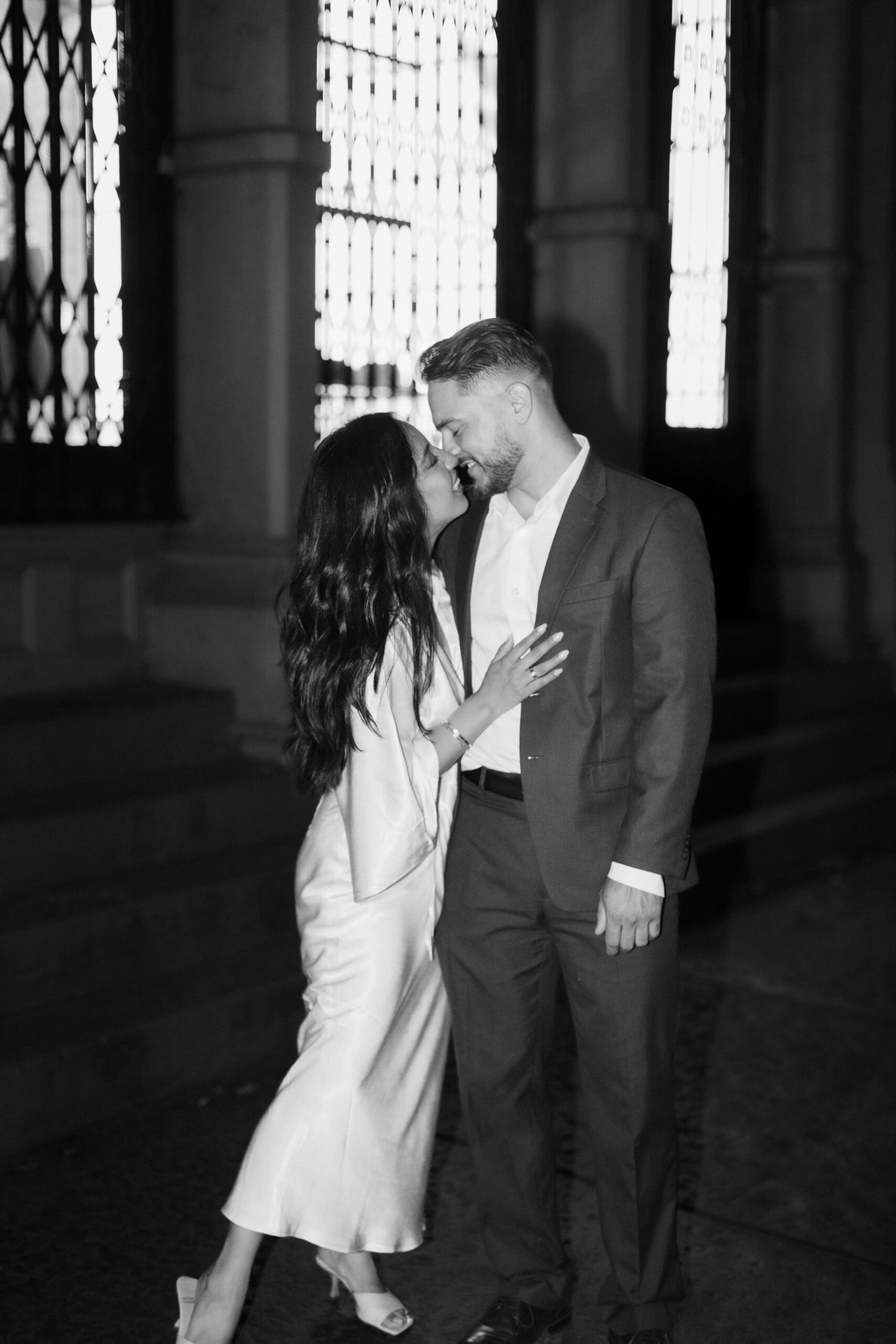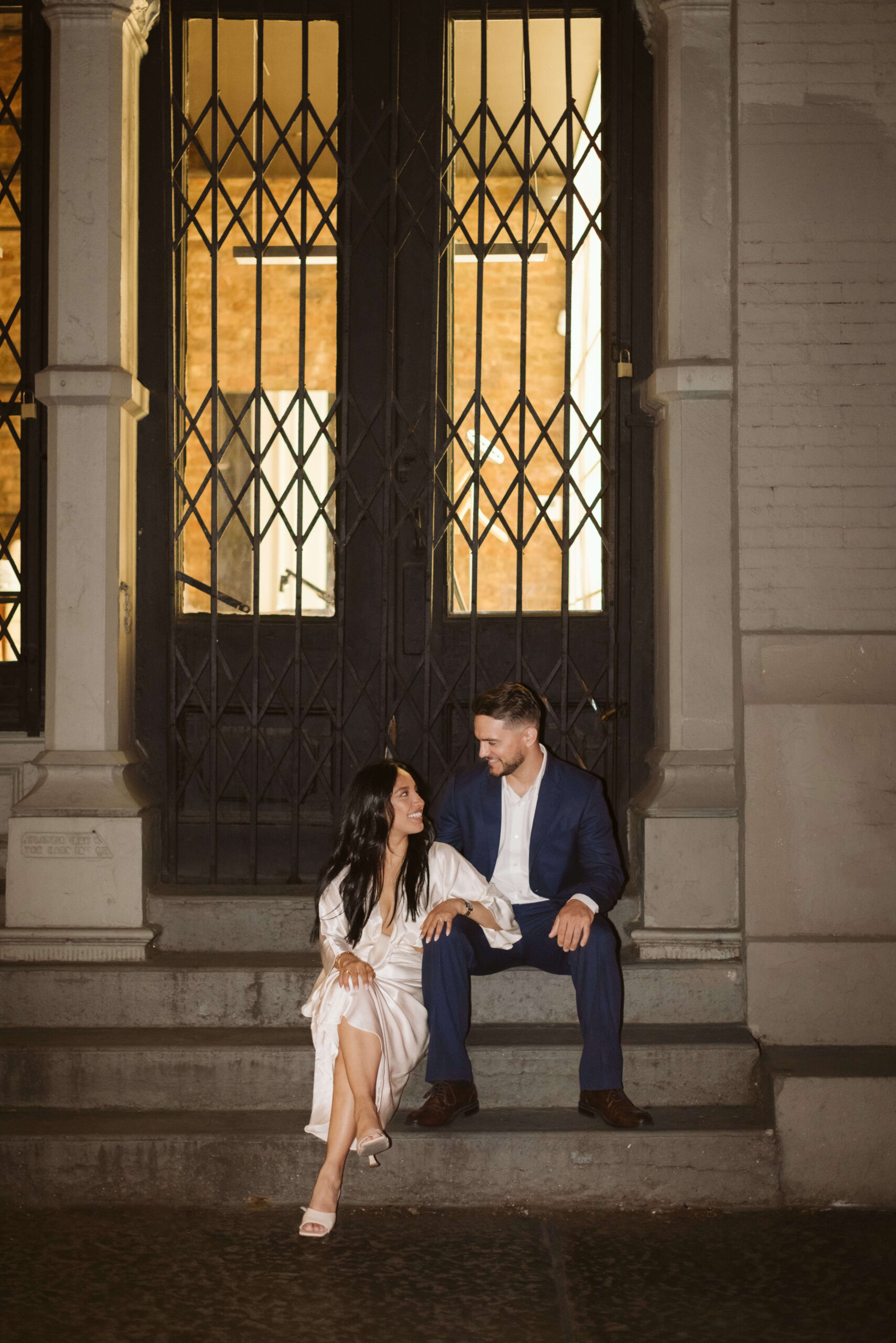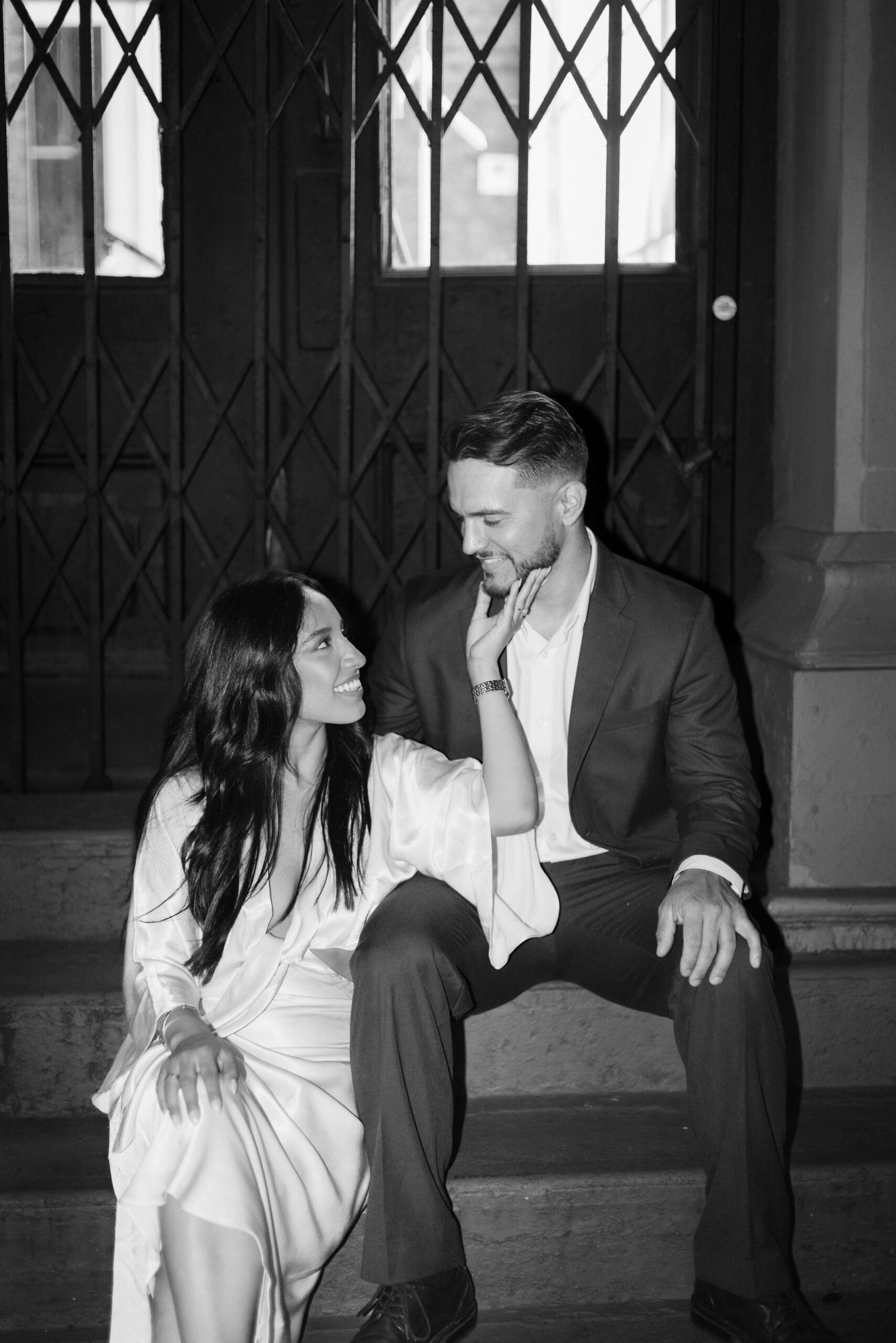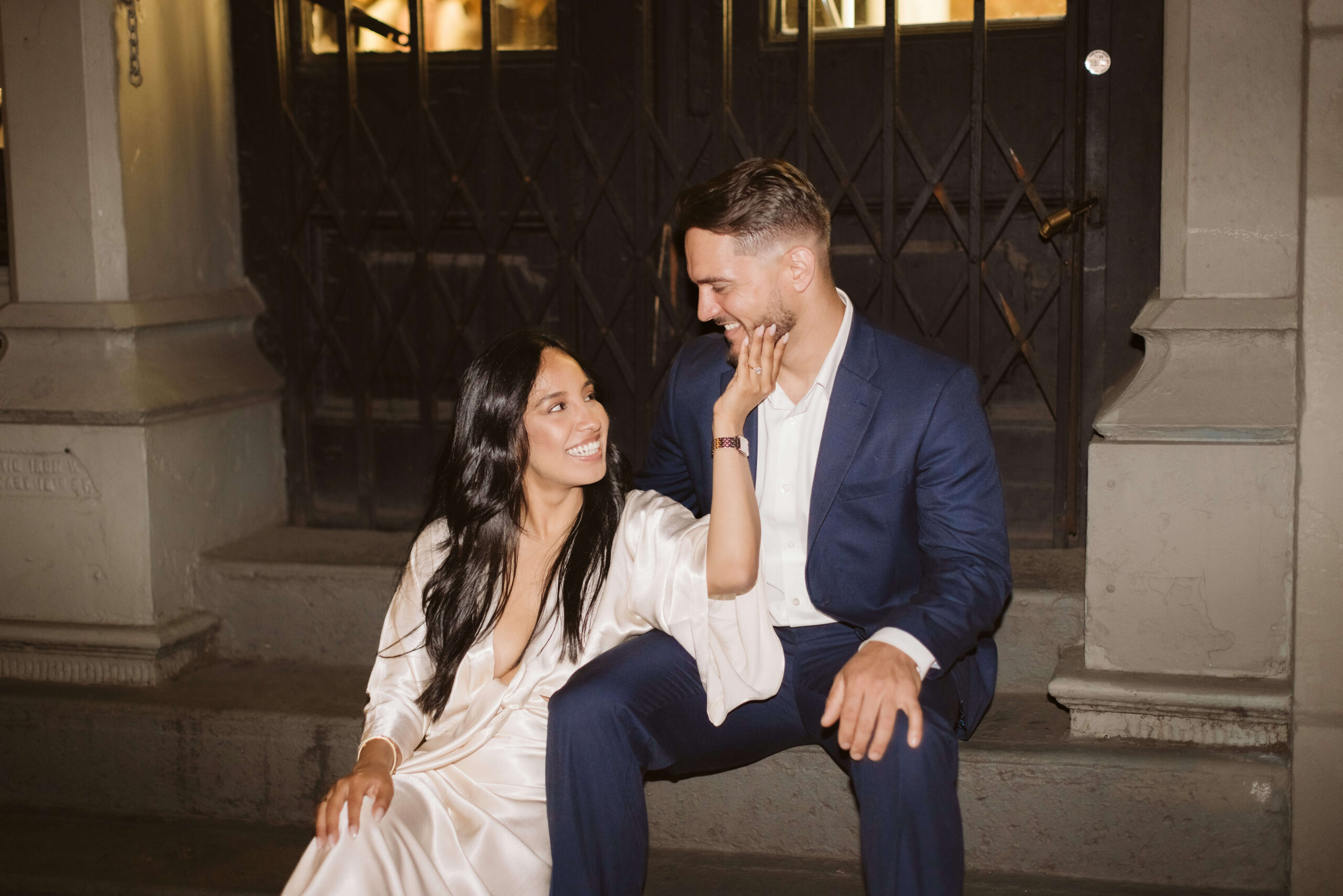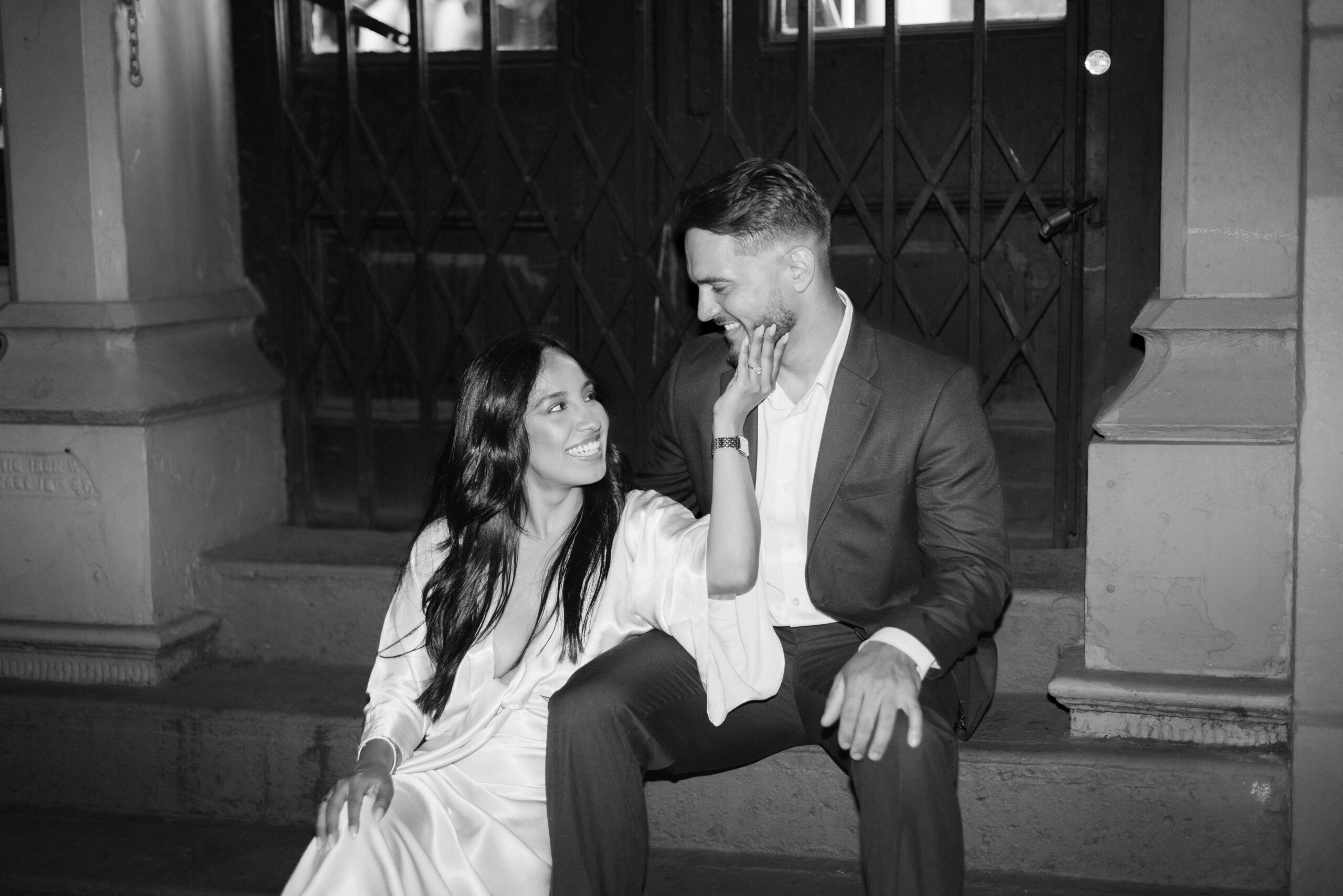 Experimenting with Direct Flash Photography in Soho
After snapping several photos in the Manhattan Bridge Arch and Colonnade, Carolina, Taylor, and I walked the approximately 20 minutes hike up Canal Street to SoHo. SoHo is best known for its trendy, designer boutiques and fashionable vibes. However, between the cute cafes, shops, and upscale hotels, SoHo is also home to examples of some of Manhattan's finest architecture.
Over time, SoHo has gone through many transformations in terms of architectural style. You'll find quaint cobblestone streets and beautiful bishop's crook lamp posts that are perfect for romantic NYC engagement sessions. In addition, you'll also see buildings designed in classical Italian, Greek, and French styles with intricate columns, arched windows, and second-floor balustrades, all crafted with precise symmetry and many times with complete cast iron facades. With Carolina + Taylor's love of architecture, it was only fitting that we ended their session with a quick tour through SoHo.
By the time we reached the heart of SoHo, the sun had almost fully set, leaving a deep blue sky peeking between the buildings and quickly fading dregs of sunlight. It was the perfect opportunity for direct flash photography to get truly dramatic nighttime photos.
Direct flash photography is exactly as it sounds: a flash directly faced towards the subjects to create a bright, evenly lit photo. While this can result in harsh contrasts, when done well and balanced properly with the ambient lighting, it can also add an immense amount of drama. In wedding and couple photography, the moment the flash hits the couple, you're able to capture the raw, authentic feelings and expressions of that specific point in time in sharp detail. For Carolina + Taylor, this style of photography perfectly immortalized the sweet, subtle glances between the two of them and their joyful expressions as they walked the streets of the city that they love.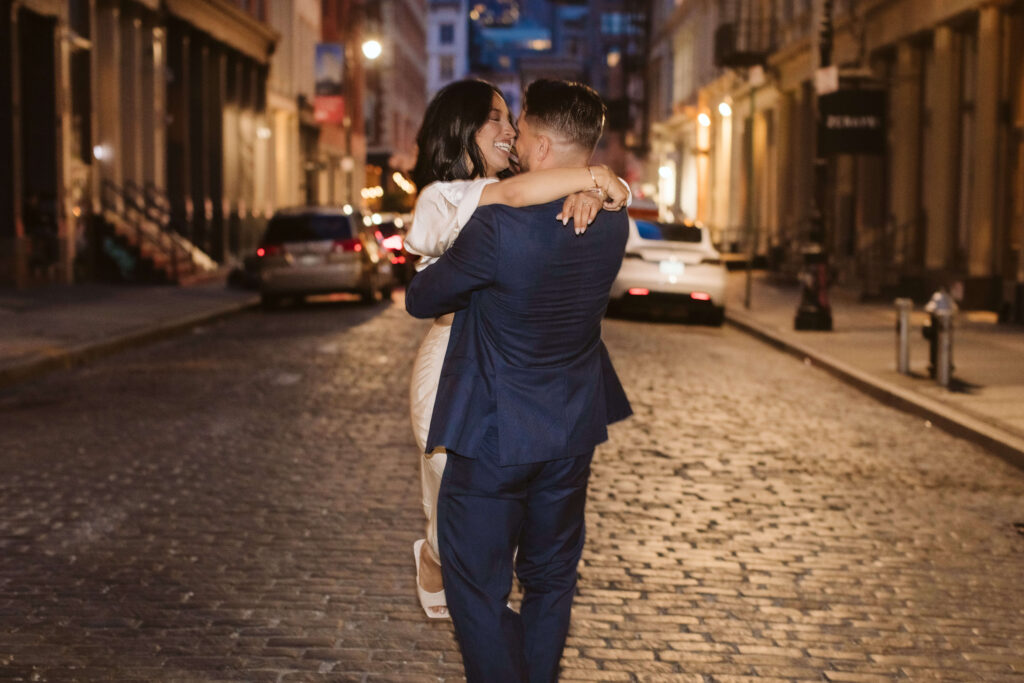 Are wedding bells in your future? Whether it's for an engagement session or on your wedding day, I would love to be there to photograph your love story!
Hey there! I'm Rachael Crowe of OkCrowe Photography. I'm a New York City-based wedding photographer though you'll find me traveling to photograph weddings, engagements, and more all over the country. No matter where you are, whether that's here in NYC or across the country in California if I can fly there, I'll be there for you! Just fill out my contact form and let's start planning!