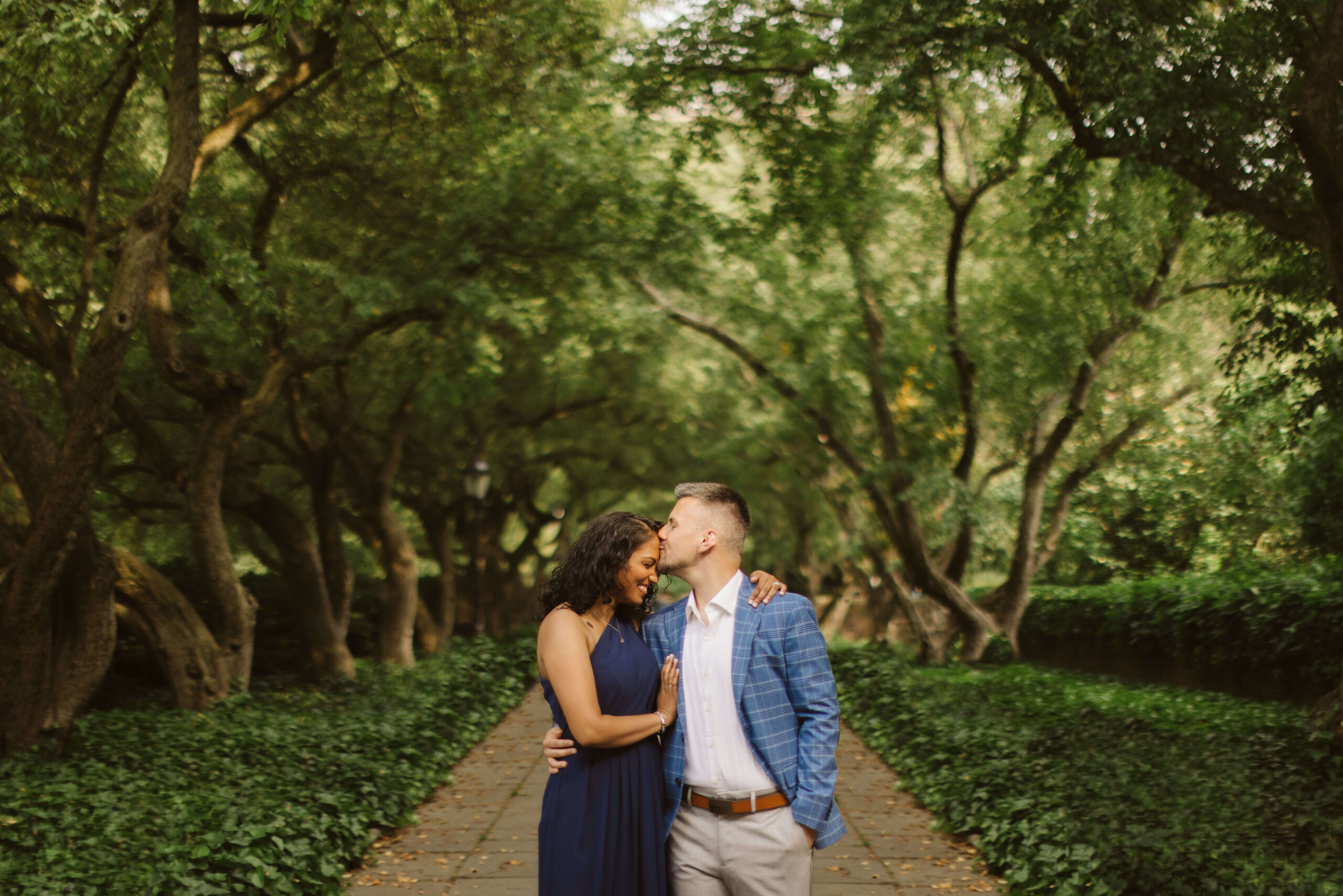 New York City is so full of beautiful and unique locations that it's no wonder that so many couples choose the city for their engagement photography sessions or to host their wedding. Whether you're looking for an elegant, sophisticated aesthetic, urban city vibes, or even a natural forest setting, NYC is sure to have the perfect backdrop for you. For Ranshitha + Josh's engagement photo session, the Central Park Conservatory Gardens ended up being the perfect location that fit their unique style.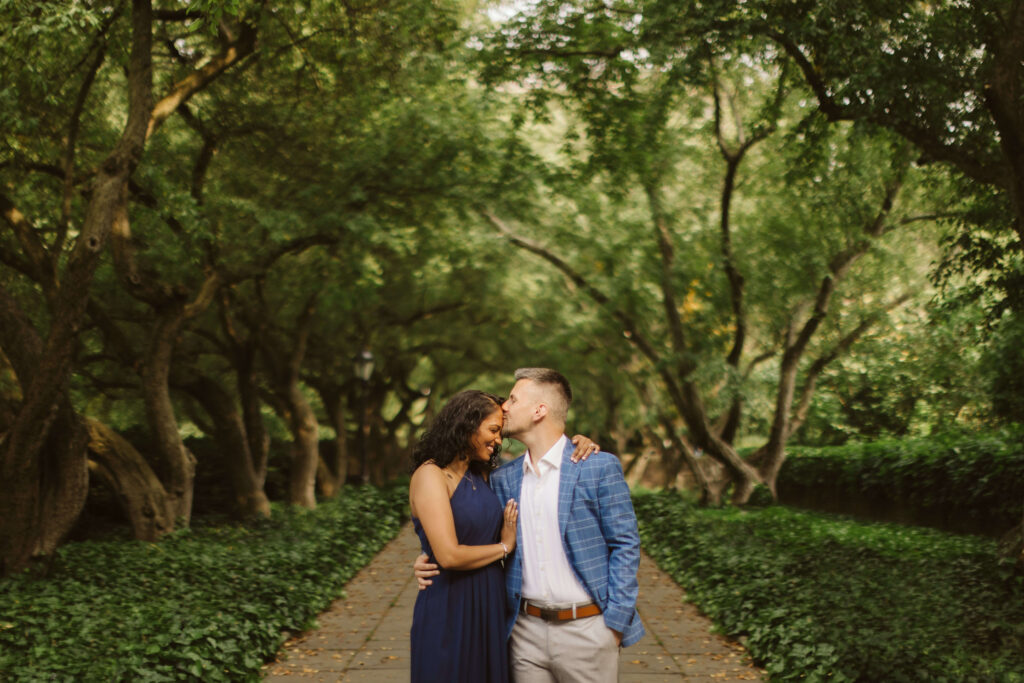 Waiting for the Stars to Align
New York City is one of those places that I will always keep coming back to. There's just a certain energy that this grand city has that can't be found anywhere else. From the vibrant pulse of the city itself to the quiet hum of the natural serenity in Central Park, it's a place that keeps calling me back, so much so that I'll actually be moving to New York City next year. It's a big change for me as a Chattanooga-based wedding photographer, but one that's been a long time coming.
Before my last visit, NYC couple Ranshitha + Josh reached out to me through Instagram. They had seen one of my posts that mentioned I would be traveling to the city soon and asked if I would be available to do their engagement session. Needless to say, of course, I said yes!
For Ranshitha + Josh, their engagement had been a long time coming. The two had been together for ten years but were waiting for the perfect moment to finally get married. With Ranshitha's family located all across the US, Canada, and Southeast Asia, it was hard to find a time when they all could come together to be present for the couple's wedding. However, the stars finally aligned, and with big plans to have all of her family fly in for their big day, they wanted to have beautiful engagement pictures to get their wedding celebration started off right.
As locals to New York City, Ranshitha + Josh wanted their engagement session to take place somewhere that encompassed the grandeur of their great city and there was no better place that did just that than one of Central Park's spectacular gardens.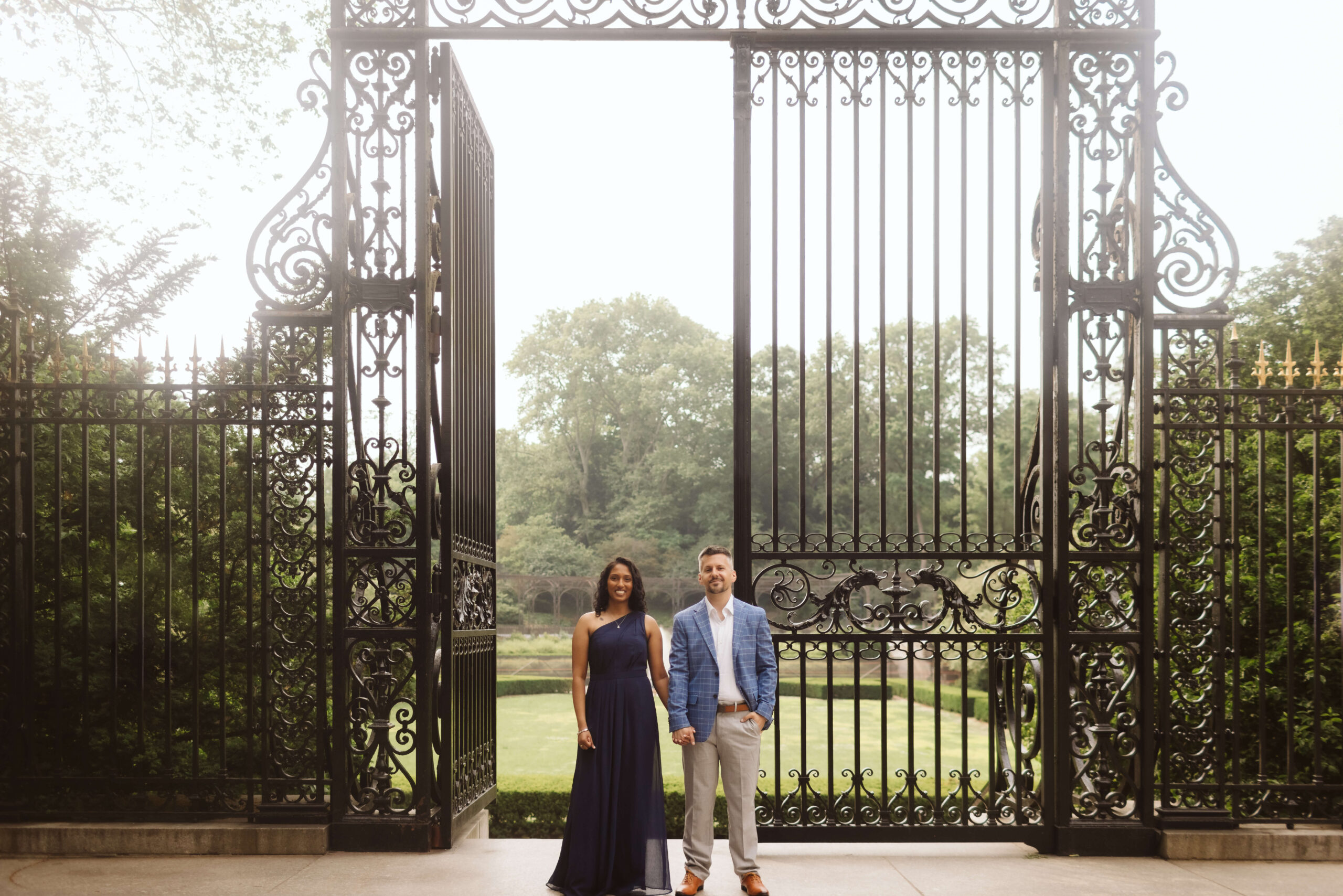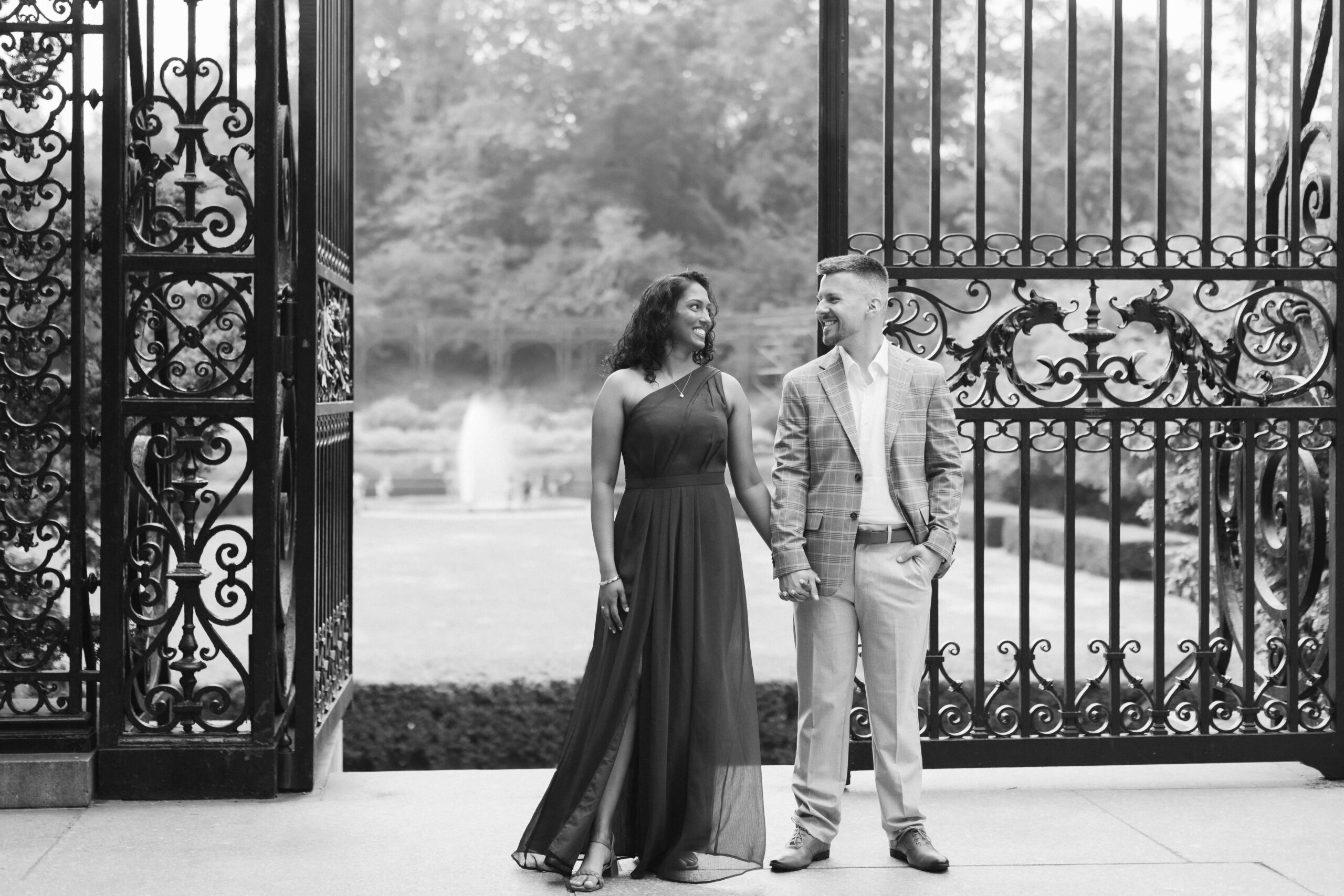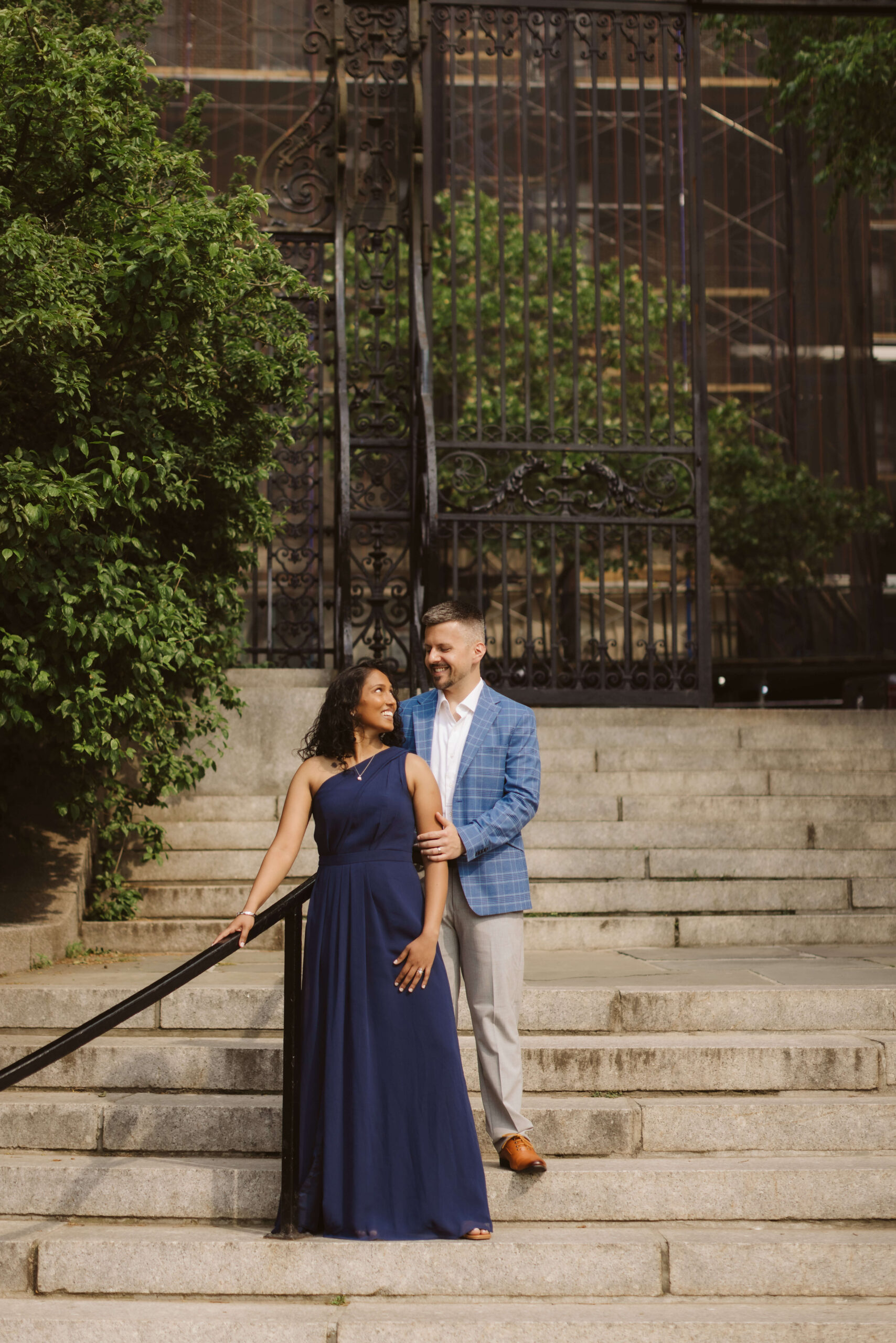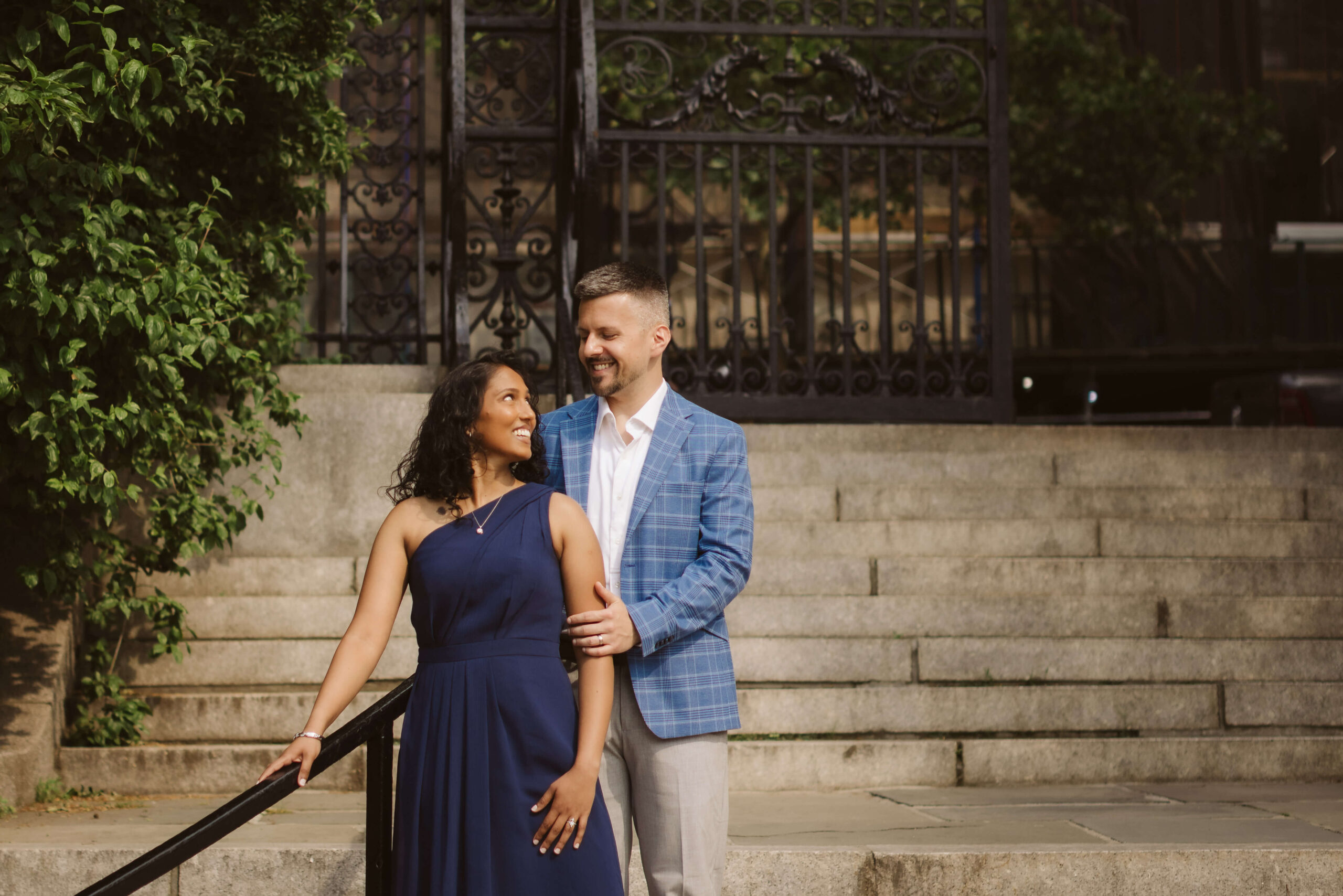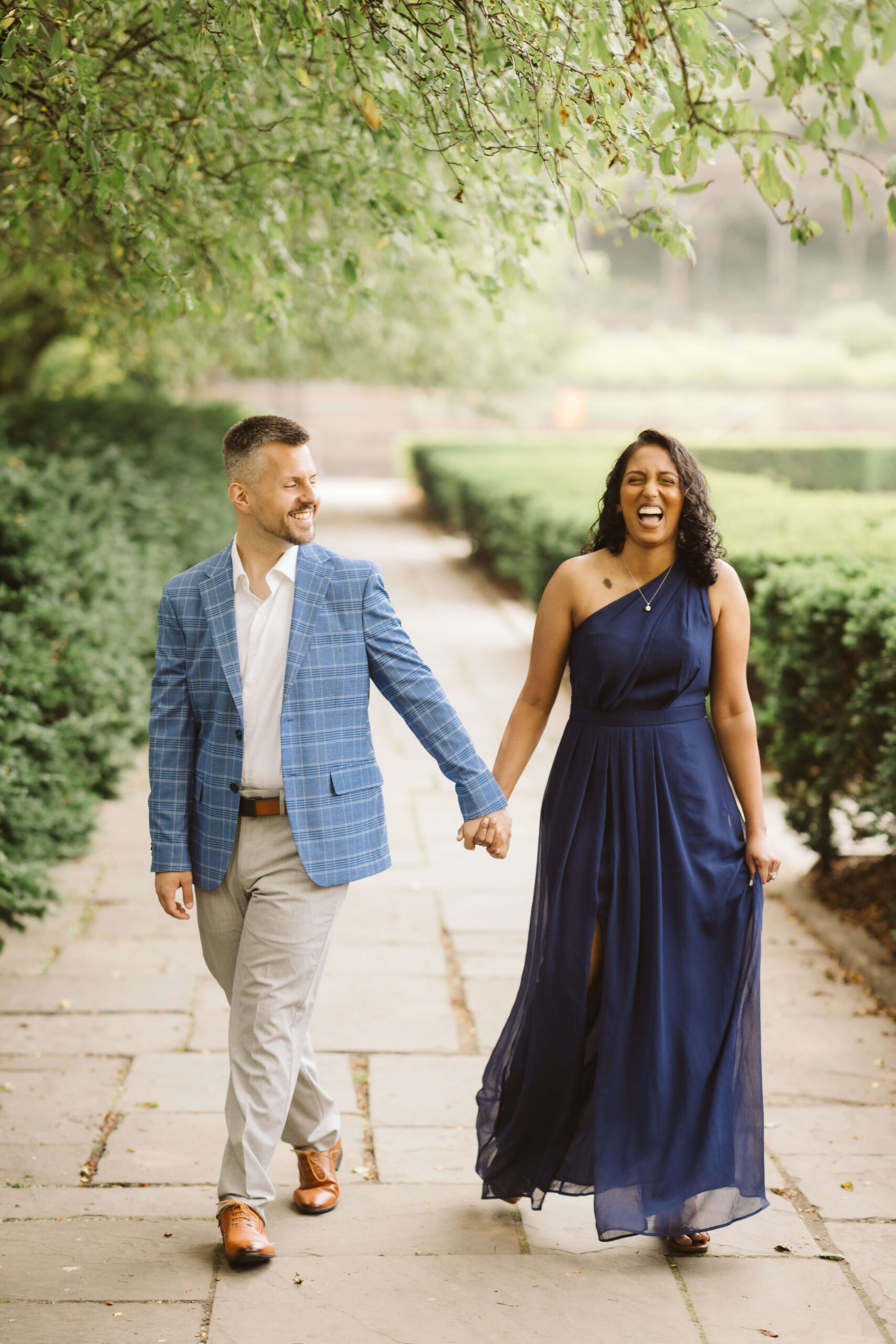 Engagement Session in the Central Park Observatory Gardens
Although Central Park is home to many beautiful floral beds and manicured landscaping, the Conservatory Garden is the park's only formal garden. Located on the East Side between 104th and 106th Streets, the Conservatory Garden is a six-acre outdoor garden that consists of three parts: the French-style North Garden, the Italianate Center Garden, and the English-style South Garden.
When the garden was first built, it was created as an arboretum and nursery used to grow plants and trees for the park. Later, greenhouses were built which then led to an all-glass conservatory for which the garden is now named after. Unfortunately, the conservatory itself was demolished after falling into disarray. However, after the demolition, the formal gardens that remain today were created in its place.
Now, the garden is best known for its different displays of seasonal blooms throughout the year, including tulips, lilacs, chrysanthemums, and wisteria. Although the gardens are currently in the process of being restored to their original 1930s glory and closed to events, in the past, the Conservatory Gardens has been a favorite spot for small outdoor weddings. Thankfully, the restoration process is happening little by little and still allows for pedestrian traffic, meaning we were free to roam the open areas of the garden to take Ranshitha + Josh's gorgeous engagement photos.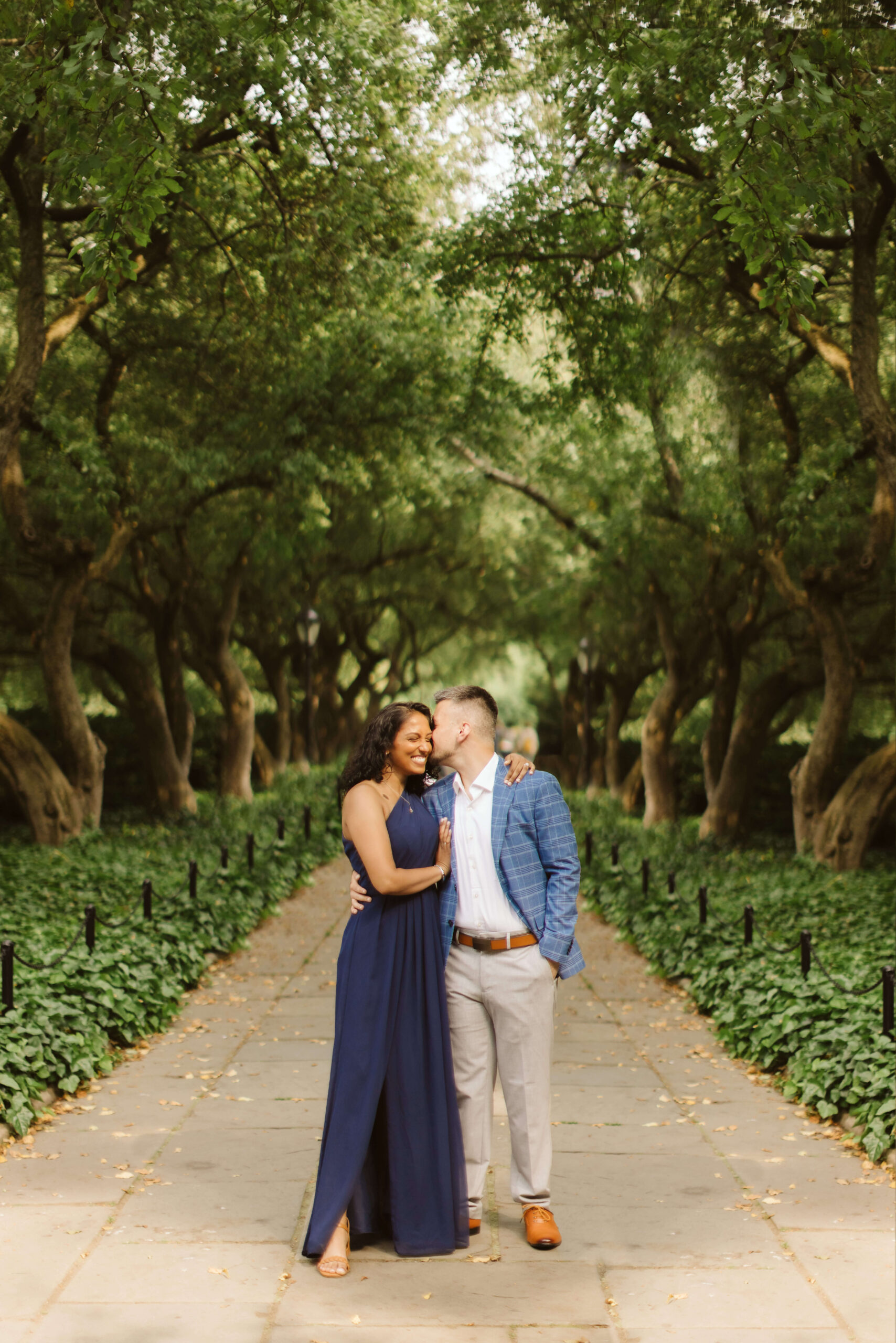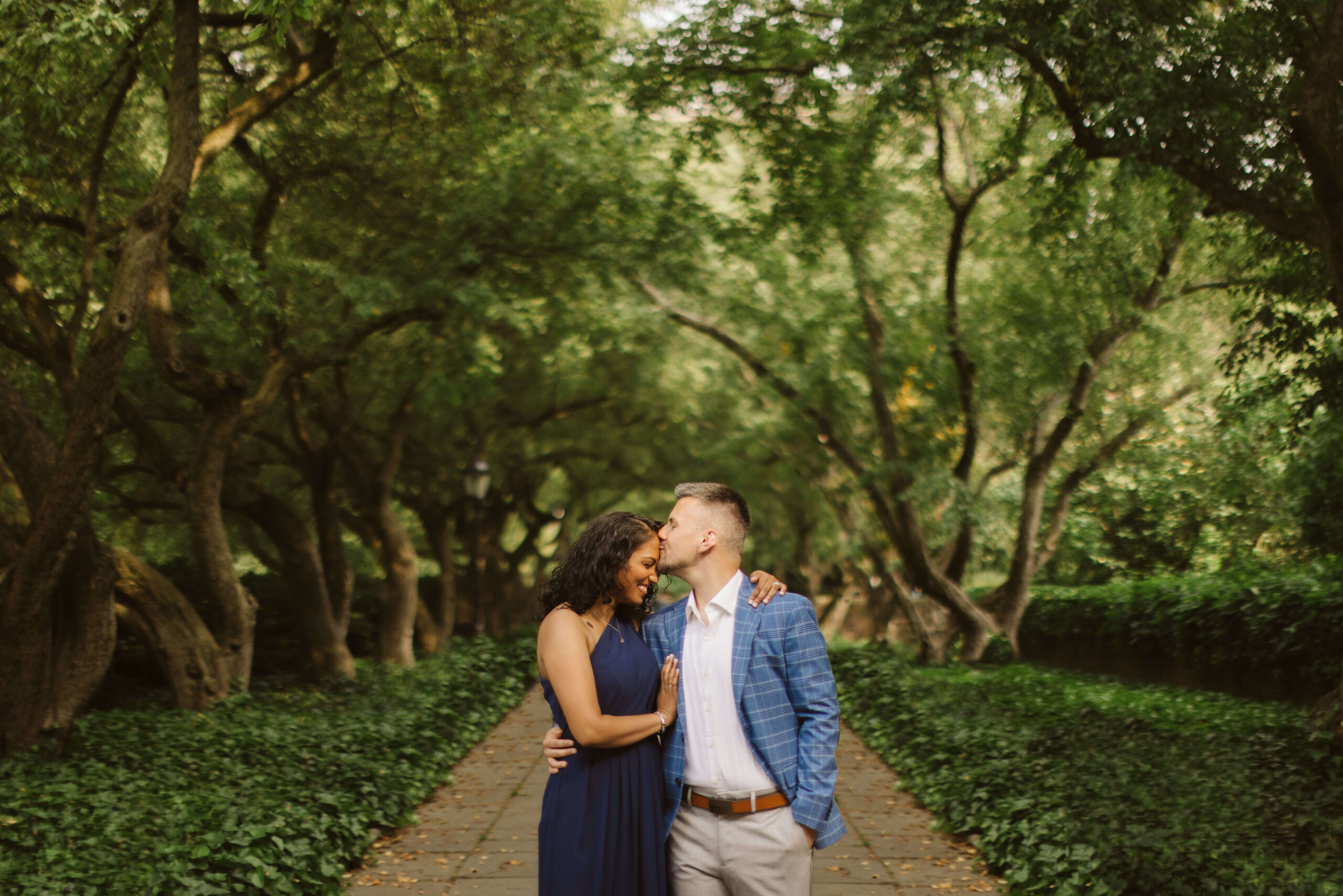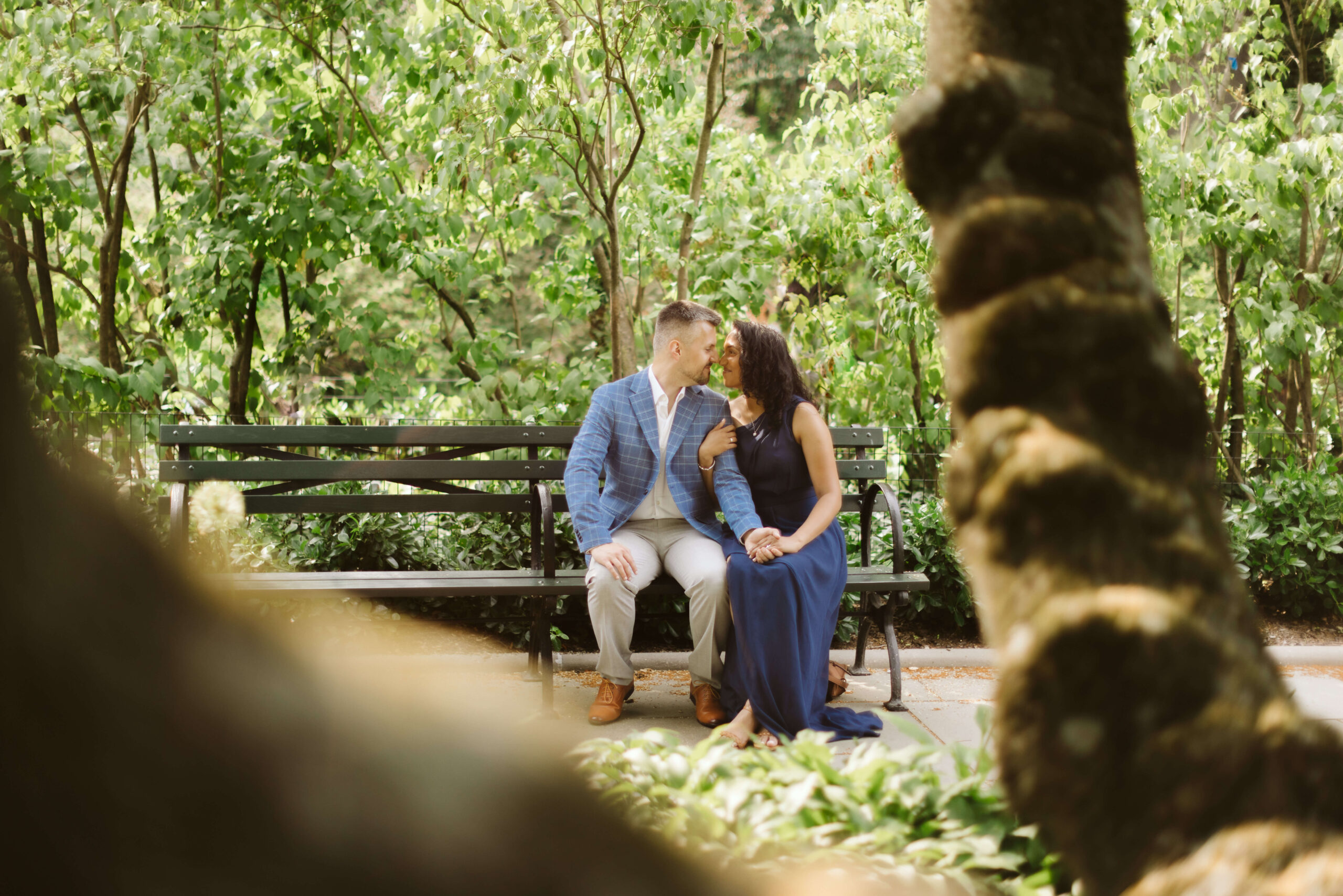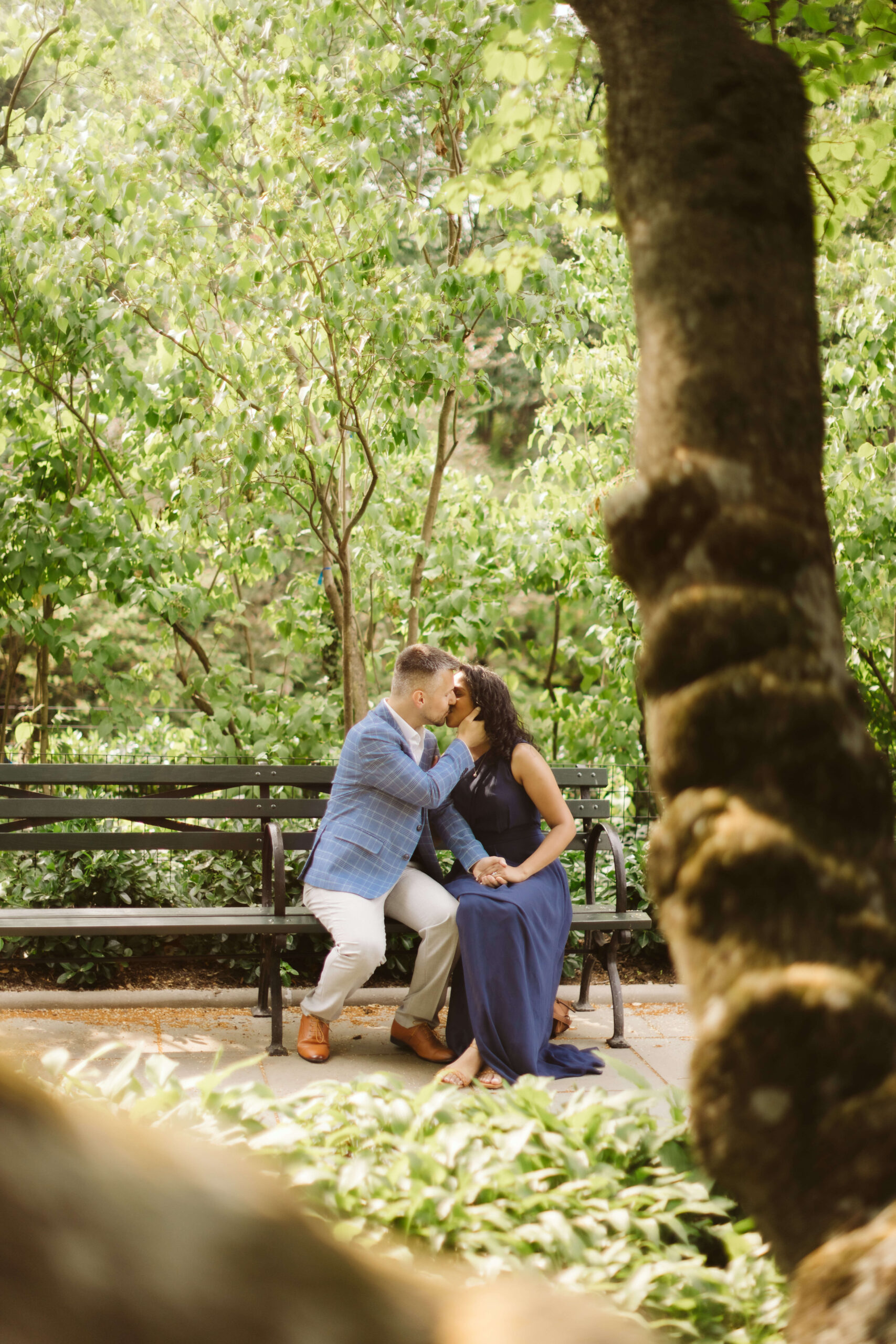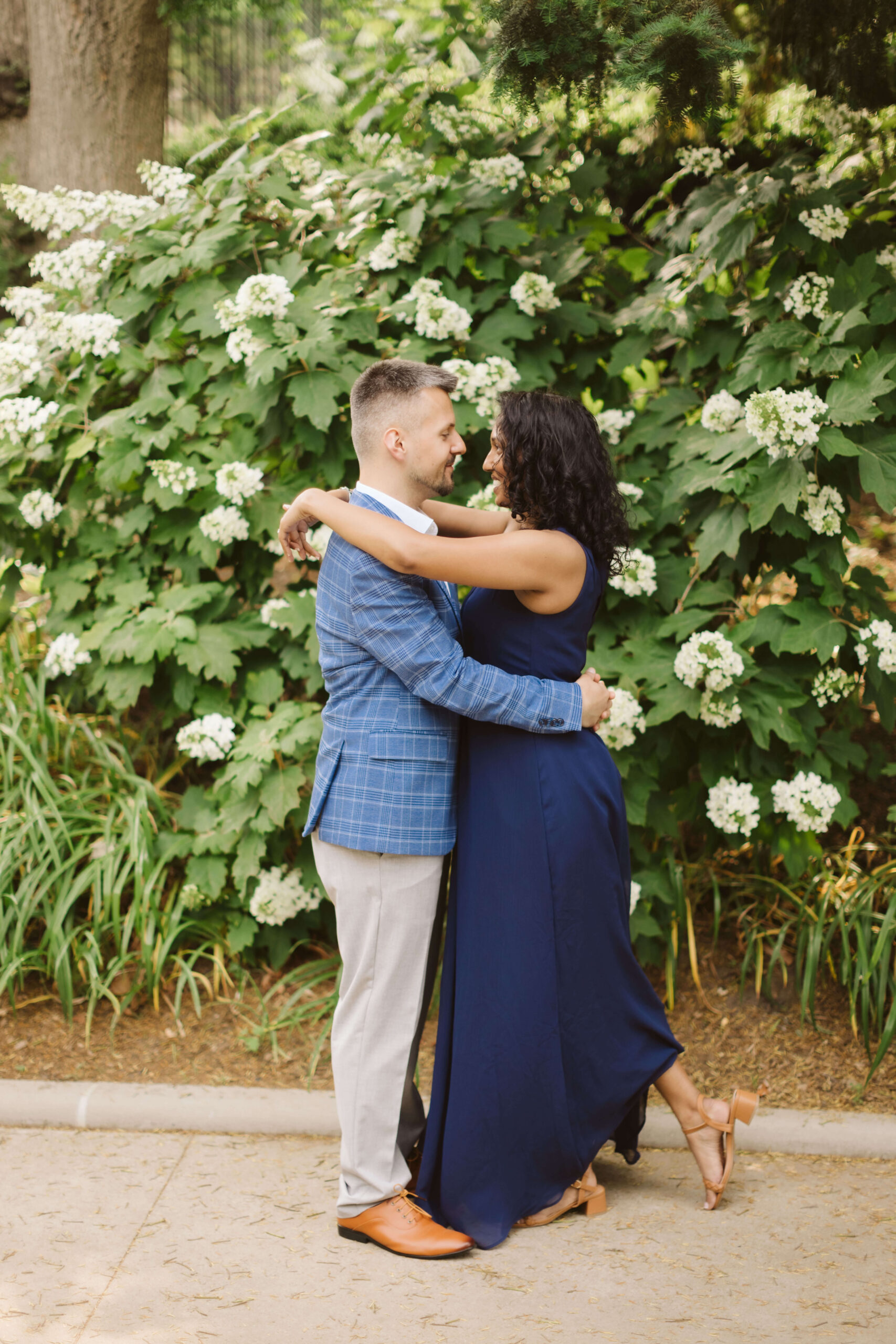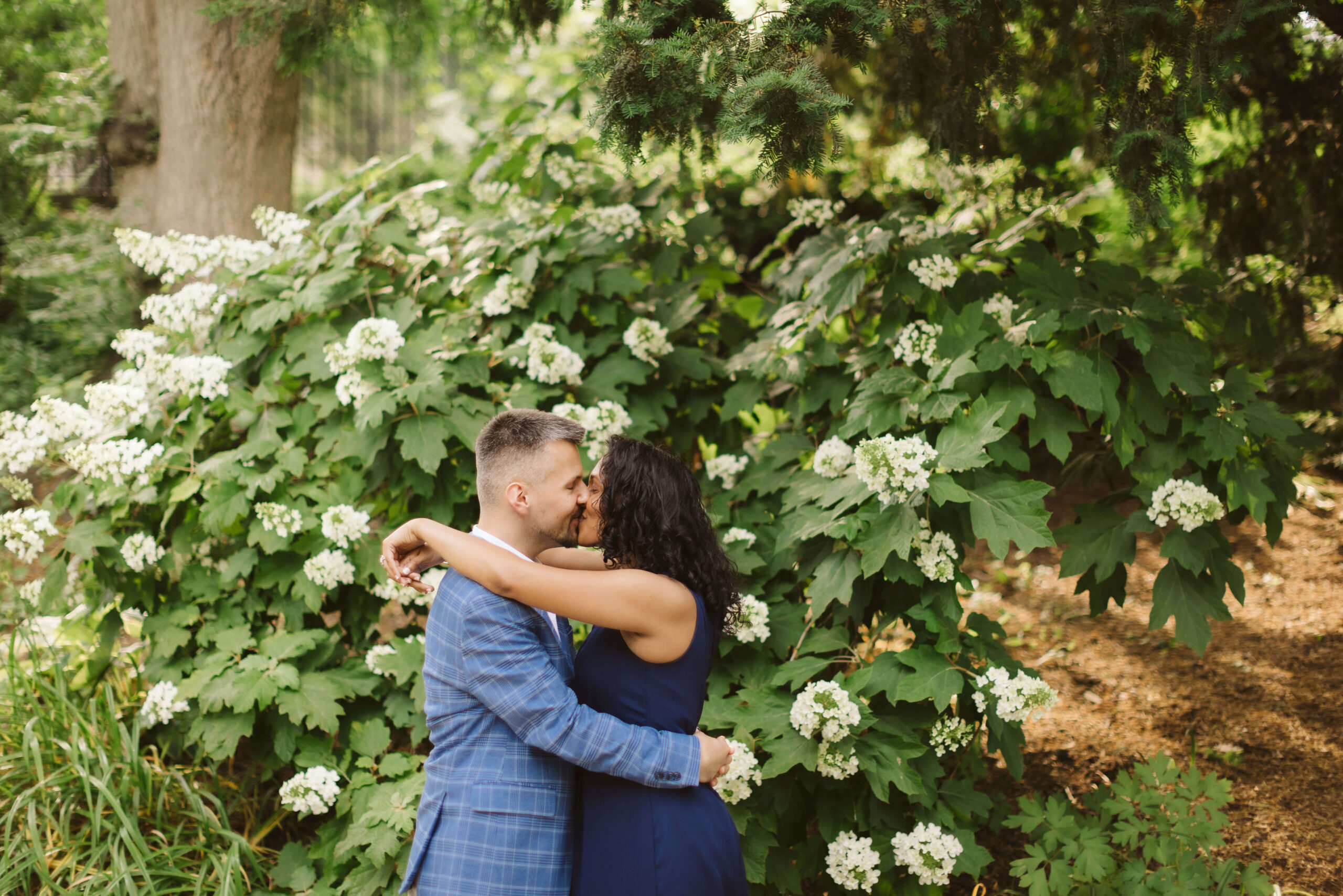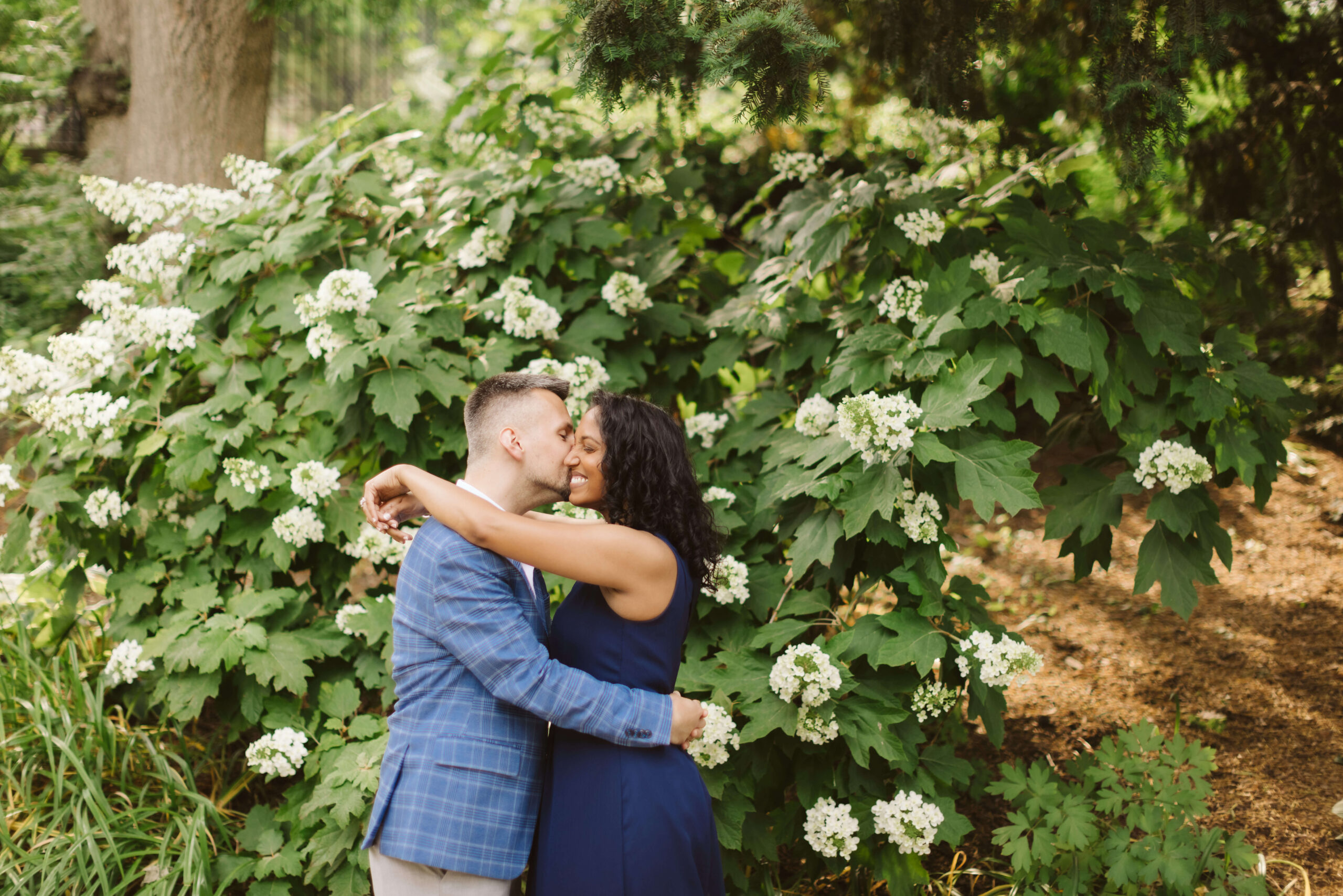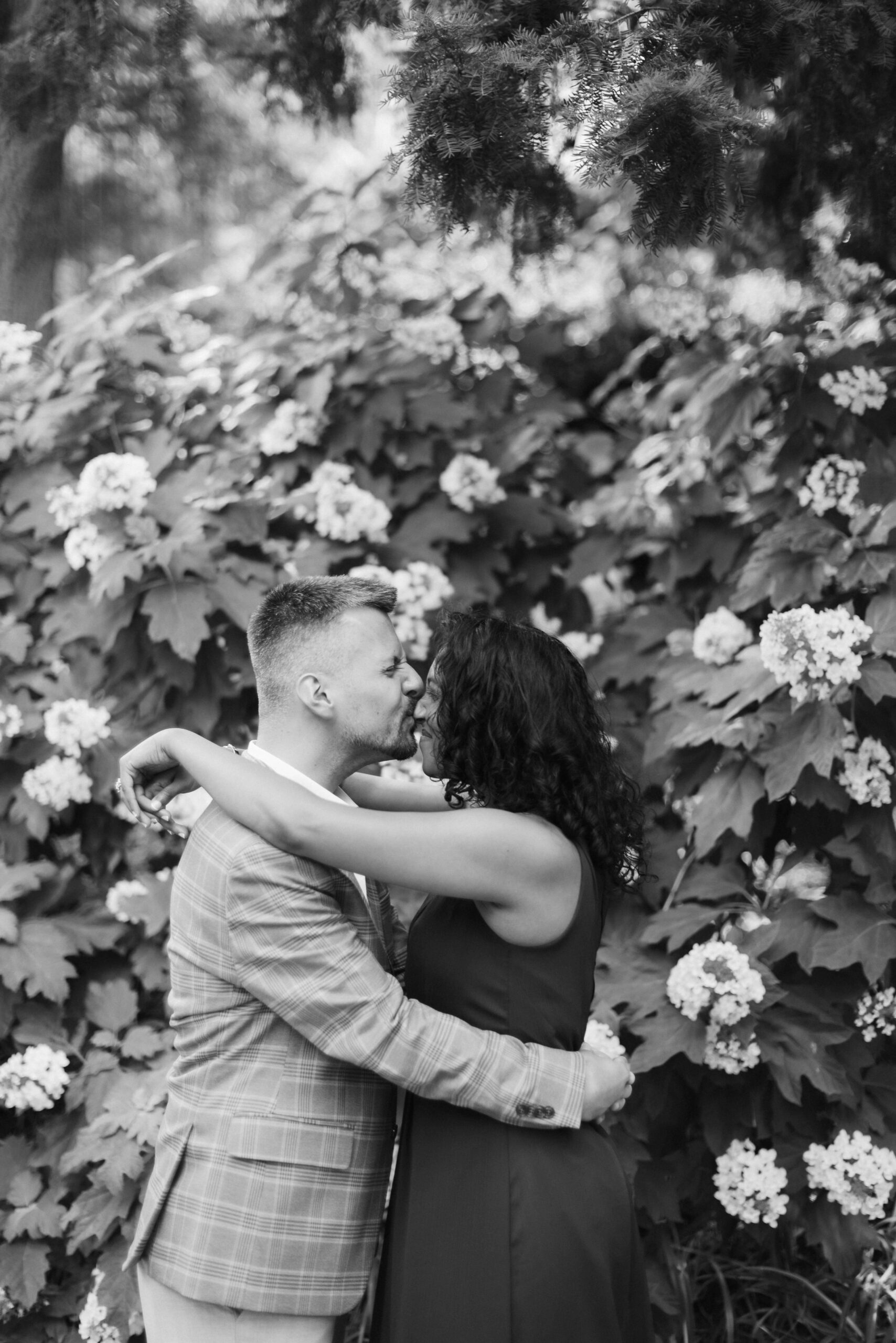 A Couple's Debut in Professional Engagement Photography
As a wedding photographer, I cannot stress enough the importance of having an engagement session before your wedding – especially for couples who have never had a professional photography session before. When Ranshitha + Josh first reached out to me, they mentioned that neither one of them had ever had a professional photographer take their pictures before, and understandably, they were a bit nervous. If there's one thing that engagement sessions are great for, it's to quell those nerves before your big day.
For many couples, their anxiety around getting their picture taken stems from not knowing how to pose and fearing that they'll end up looking awkward in front of the camera. The last thing you want going into your wedding day is to worry that all of your wedding photos will be filled with weird smiles and uncomfortable poses. That's where an engagement session comes into play. Engagement sessions are a great way for first-time couples to get used to being in front of a camera before they have to deal with one (or more!) pointing at their faces from start to finish on their wedding day.
While most professional photographers will guide you into poses and position you to help you feel less awkward, my approach is a little bit different. Instead of telling my couples what to do and where to stand, I prefer a more "guided candid" approach. I like to keep things playful and casual – especially during engagement sessions where we're getting to know each other. Instead of posing my couples, I like to give prompts that allow them to fall into poses naturally. Sometimes, I'll ask them to tell me a bit about their love story and end up capturing sweet, meaningful looks as they glance at each other as they fill in the blanks of their story. Other times, we'll play games, have a picnic, or try new dance moves – anything that keeps things moving naturally in ways that fit your personalities so you're never forcing laughs or stuck in "long stare" positions.
By the end of their engagement session, Ranshitha + Josh mentioned how much they enjoyed it and were happily surprised by how much fun they had.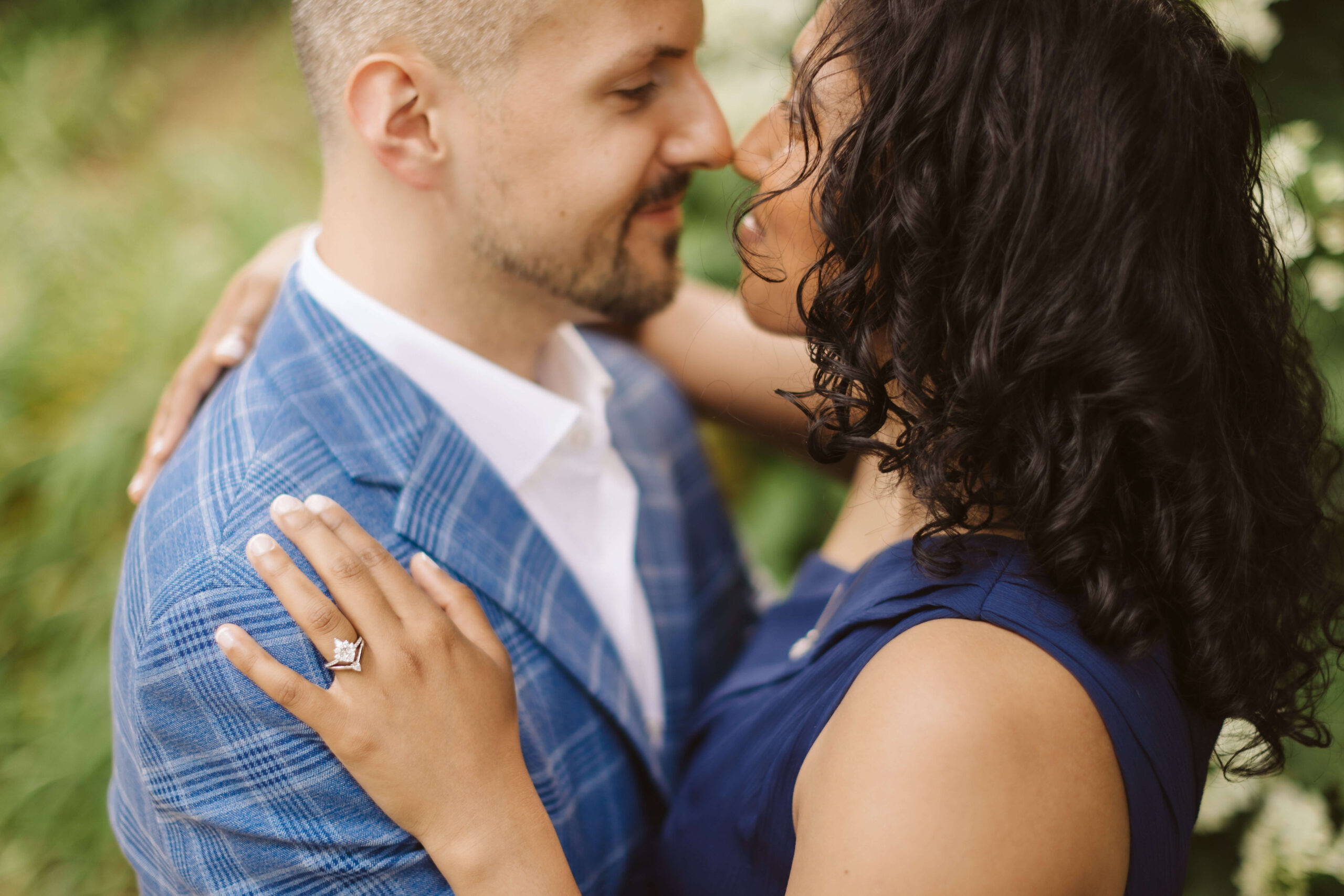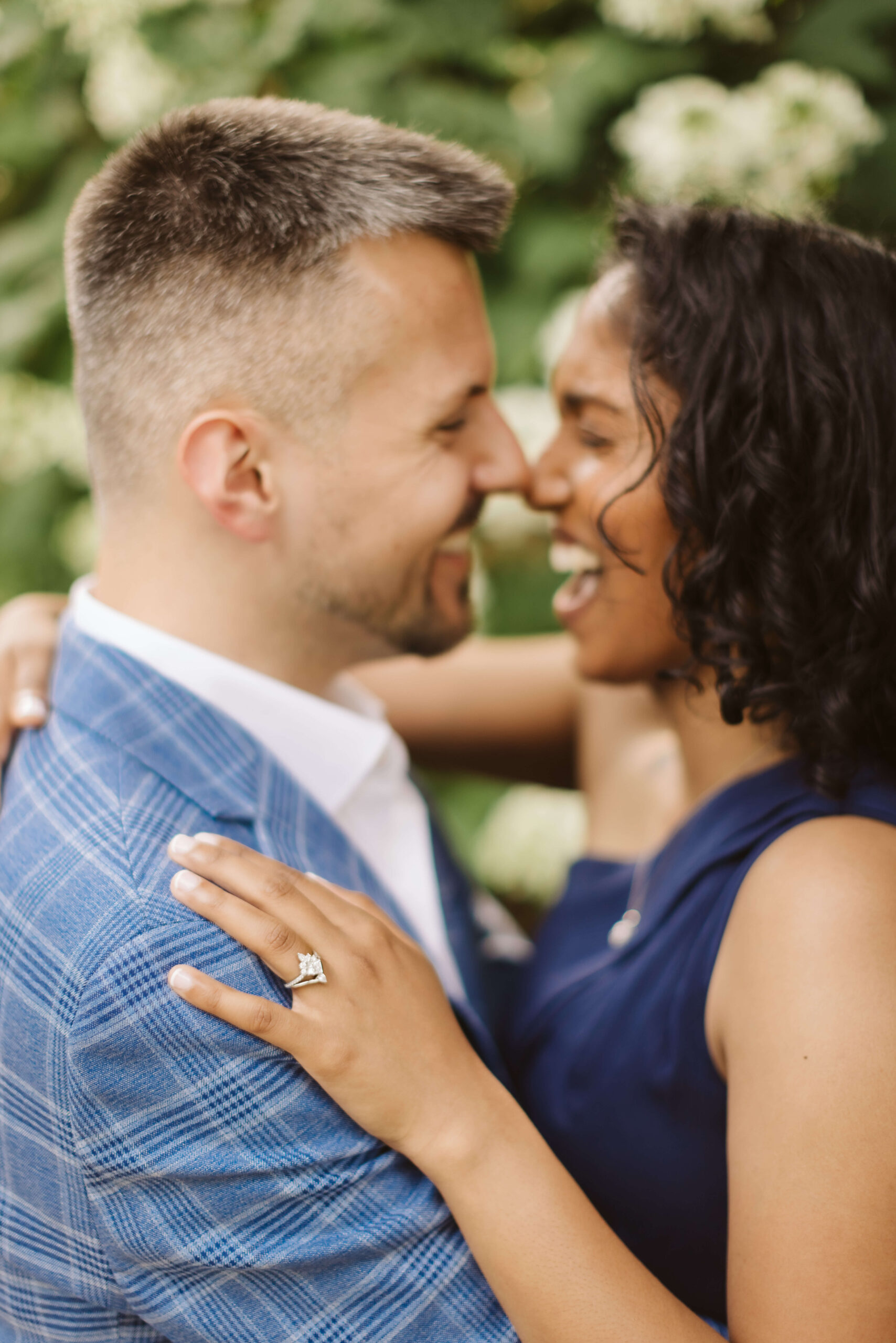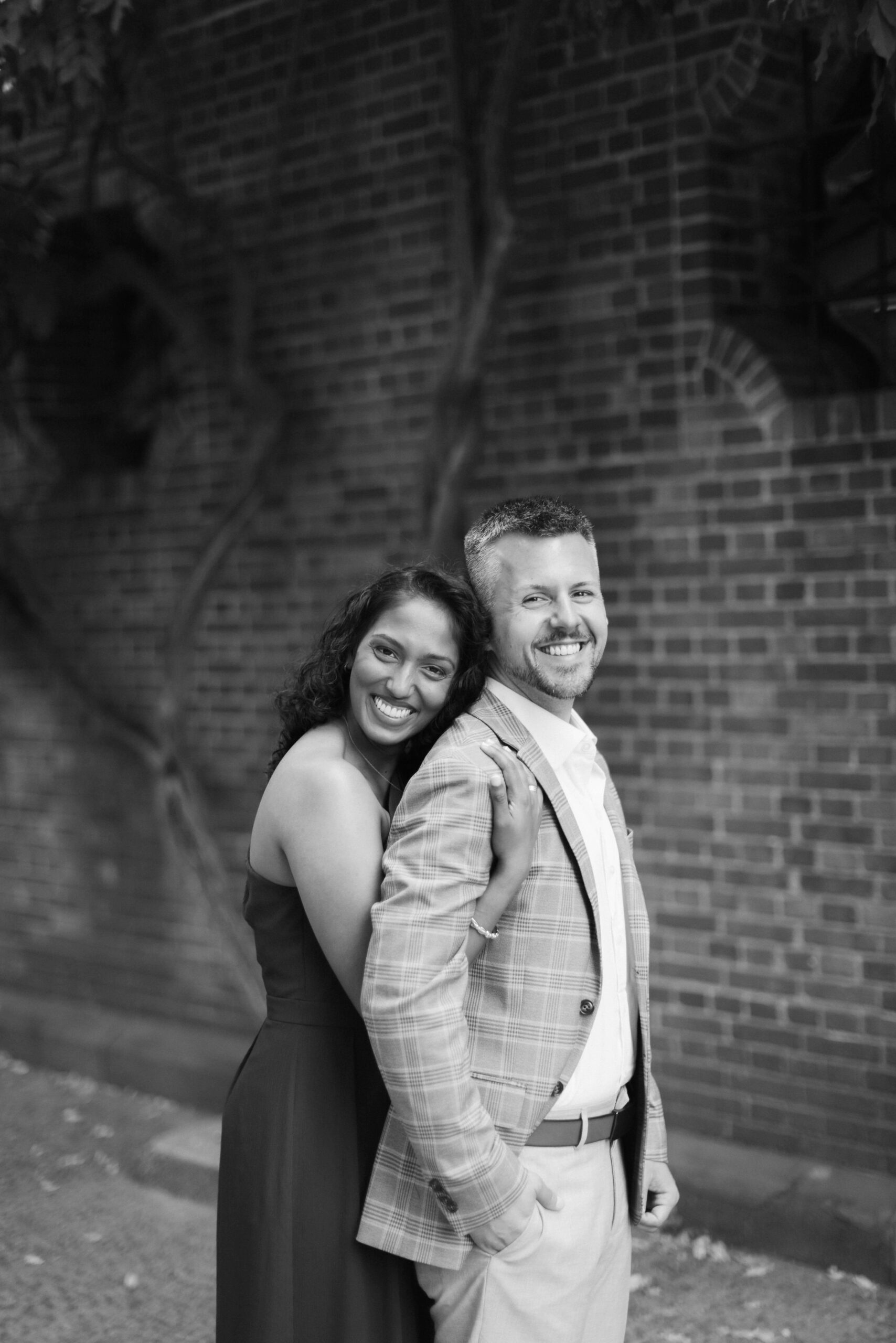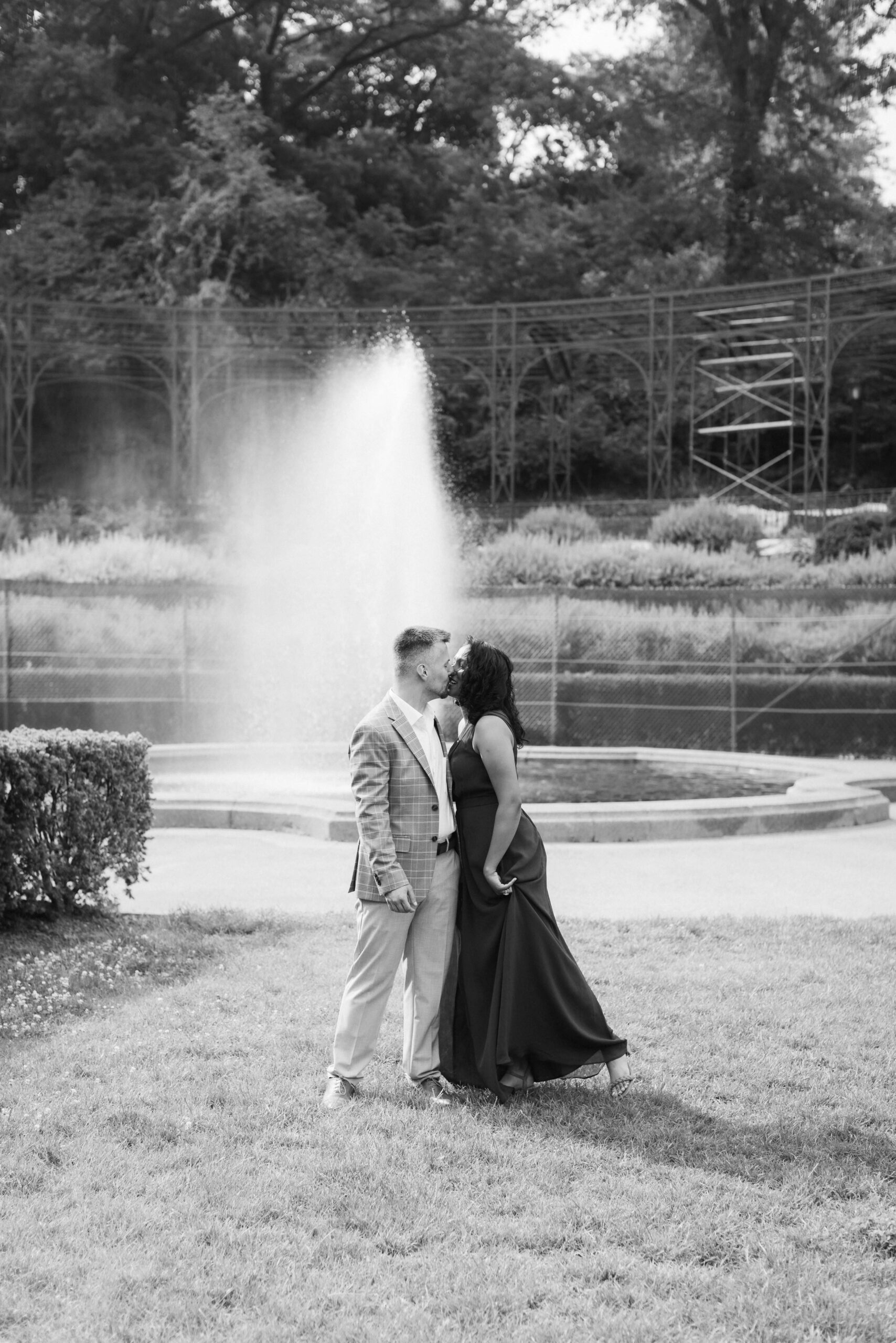 A Romantic Walk Through the Central Park Observatory Gardens
On the day of their engagement session, I met Ranshitha + Josh at the Central Park Conservatory Gardens' main entrance. The main entrance to the gardens is the towering Vanderbilt Gate – an ornate, wrought-iron gate that originally surrounded Cornelius Vanderbilt's mansion on Fifth Avenue. The elaborate gate, with all of its historic grandeur, was the perfect place to start their engagement session. Ranshitha + Josh posed just outside of this impressive entryway, while just beyond the gates, the beauty of the gardens could be seen behind them.
After a few pictures by the gate, we made our way into the actual gardens. If you've never been to the Central Park Conservatory Gardens before, be prepared to have your breath taken away. At the center of the Central Garden, just inside the gate, is an elegant fountain with a single jet of bubbling water shooting up from the center. Around it are paved pathways lined with neatly trimmed hedges with rows of luxurious green trees dripping their branches down to meet them. Honestly, stepping into the garden was like stepping into the pages of a classic romance novel.
Ranshitha + Josh casually strolled along the edges of the fountain and many pathways of the Central Garden. The lush flora of the gardens provided the perfect picturesque backdrop for their stunning photos. We kept things light and casual while the two laughed and danced throughout the garden and posed beneath the rows of crabapple trees. A woman just passing through even paused to say, "Look at those shining smiles!" while pointing to Ranshitha and Josh.
And it was true, their lovely smiles never left their faces for practically their entire session. It was simply a true testament to the aura of love and happiness that surrounded them.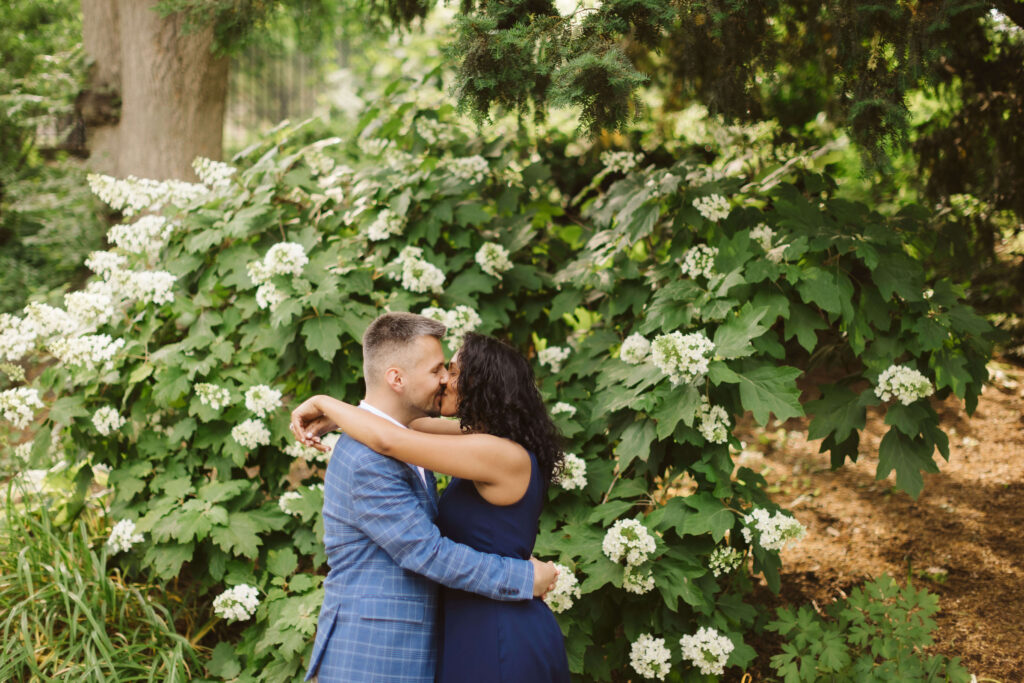 I hope you enjoyed Ranshitha + Josh's engagement session! If you're on the lookout for a photographer for your own engagement session or wedding, send me an email! I would be honored to be a part of your big day!
Hey there! I'm Rachael Crowe of OkCrowe Photography. I'm a wedding photographer who has been struck by wanderlust more times than I can count. Although I'm currently based in Chattanooga, Tennessee, I've shot weddings and engagements all across the country, and in Spring 2024, I'll be officially moving to New York City! But just remember, no matter where I am, just say the word, and I'll travel to wherever you need me to be. Visit my travel and availability page to see if I'll be coming to your area soon or just fill out my contact form to start planning!