For some couples, a big, elaborate wedding just isn't in the cards. Whether it's because you're on a budget or simply because you don't enjoy being at the center of all the attention, your reasons are perfectly justified no matter what. And when it comes to wedding planning, sometimes a sweet and simple elopement is all you need to celebrate your love.
Planning an Intimate Elopement
When it comes to eloping, movies and TV have led us to believe that it's as simple as running away to the courthouse and saying, 'I do.' However, that's not usually the case. Even a simple courthouse elopement usually requires some element of preplanning – at least to schedule an appointment at the courthouse. Nevertheless, elopements are becoming more and more popular with couples choosing to break tradition from having grand, elaborate weddings and getting creative with smaller, more intimate elopement ceremonies instead.
For Stefannie and Tye, having a huge wedding ceremony just wasn't something that interested them. They knew that they wanted to do something special to commemorate their marriage but did not want the hustle and bustle of planning a big wedding. Instead, they put their time and efforts into planning a sweet, intimate elopement with a small group of their closest family and friends.
Even though you're planning a smaller scale event when you choose to elope, you can still make the day as special as you want it to be. Stefannie and Tye decided they wanted to take elements of a big wedding and shrink it down to fit their needs. They planned to get ready and have a first look at Hemlock Falls before having their ceremony and then heading back into downtown Chattanooga to the Common House to have a small dinner and reception.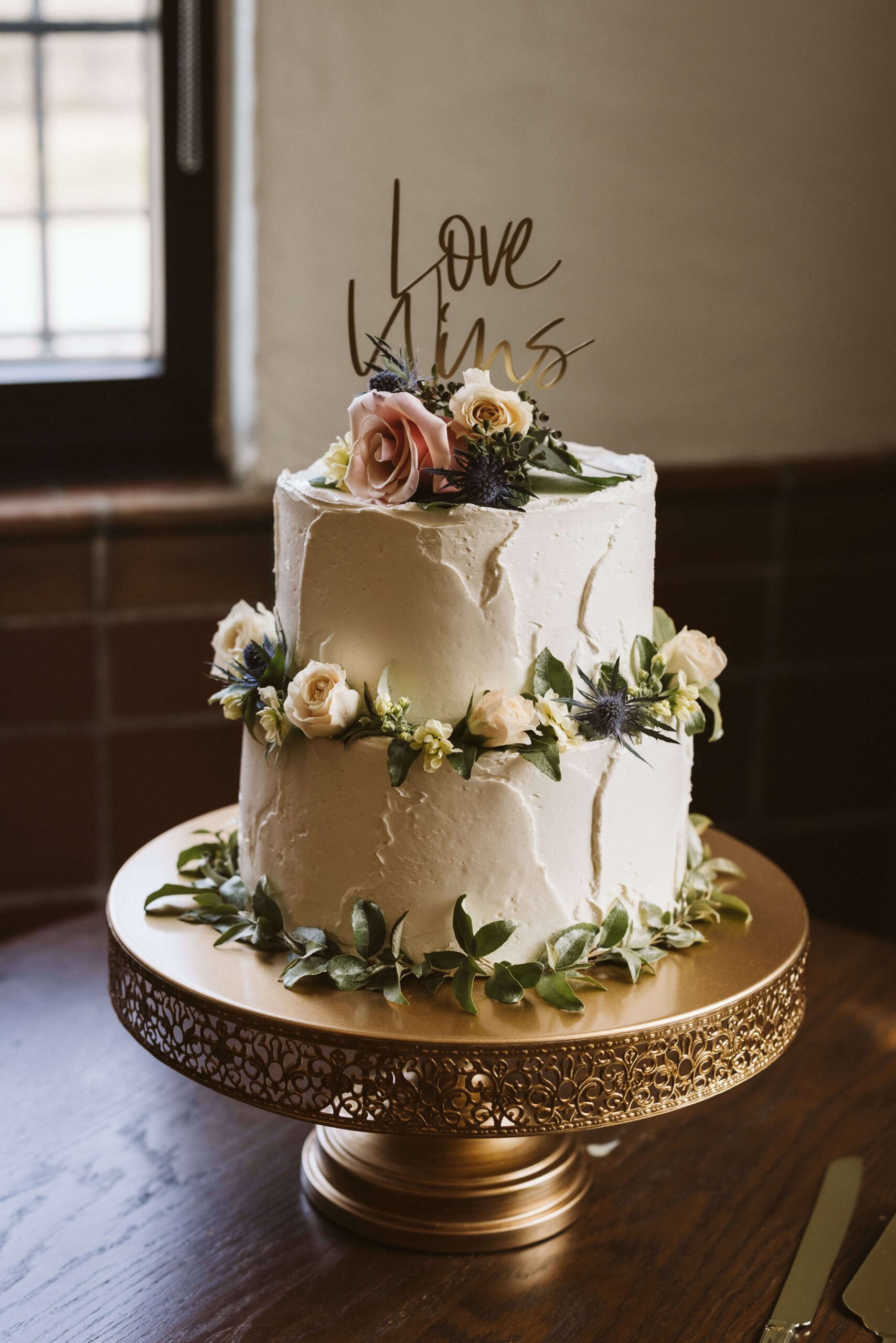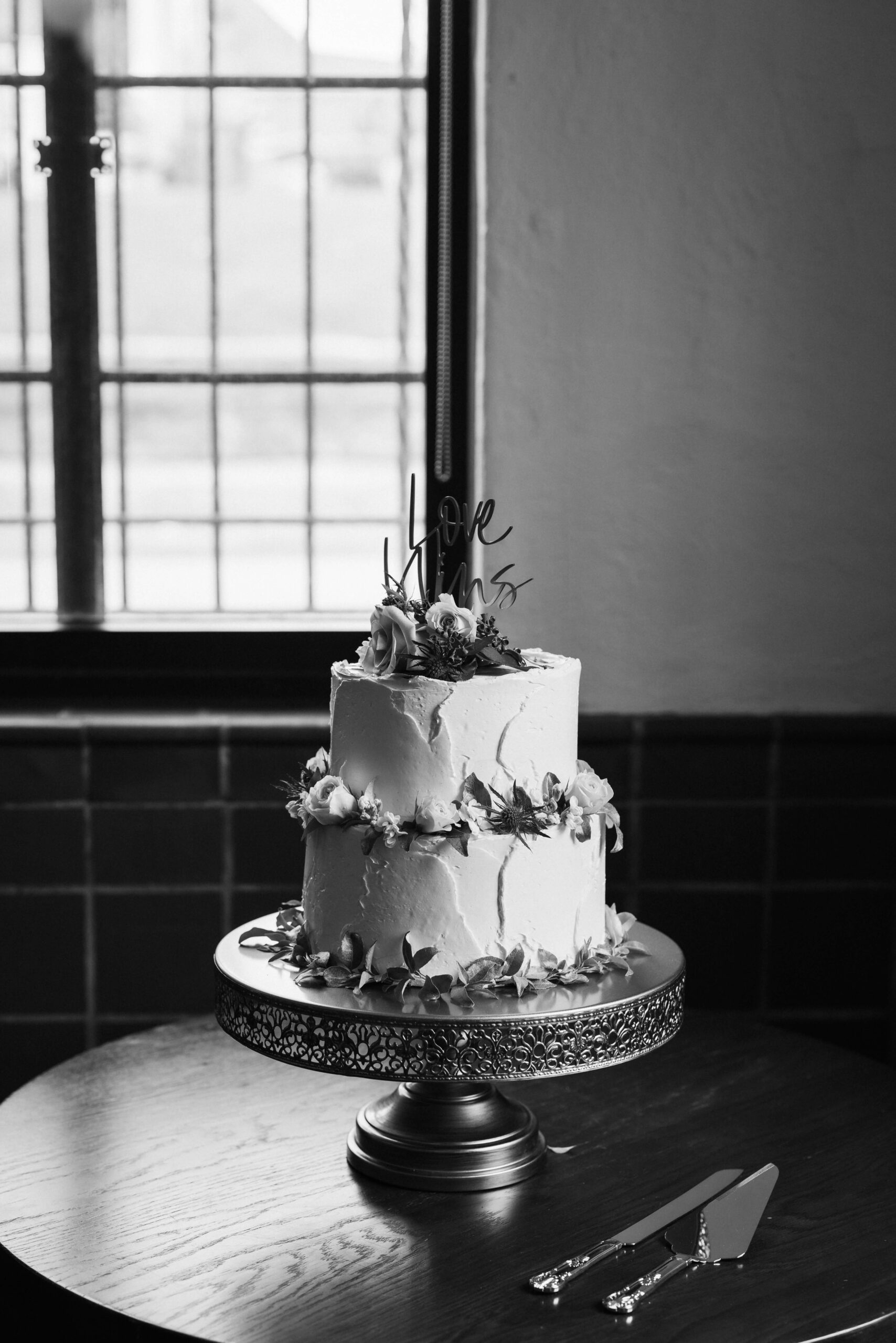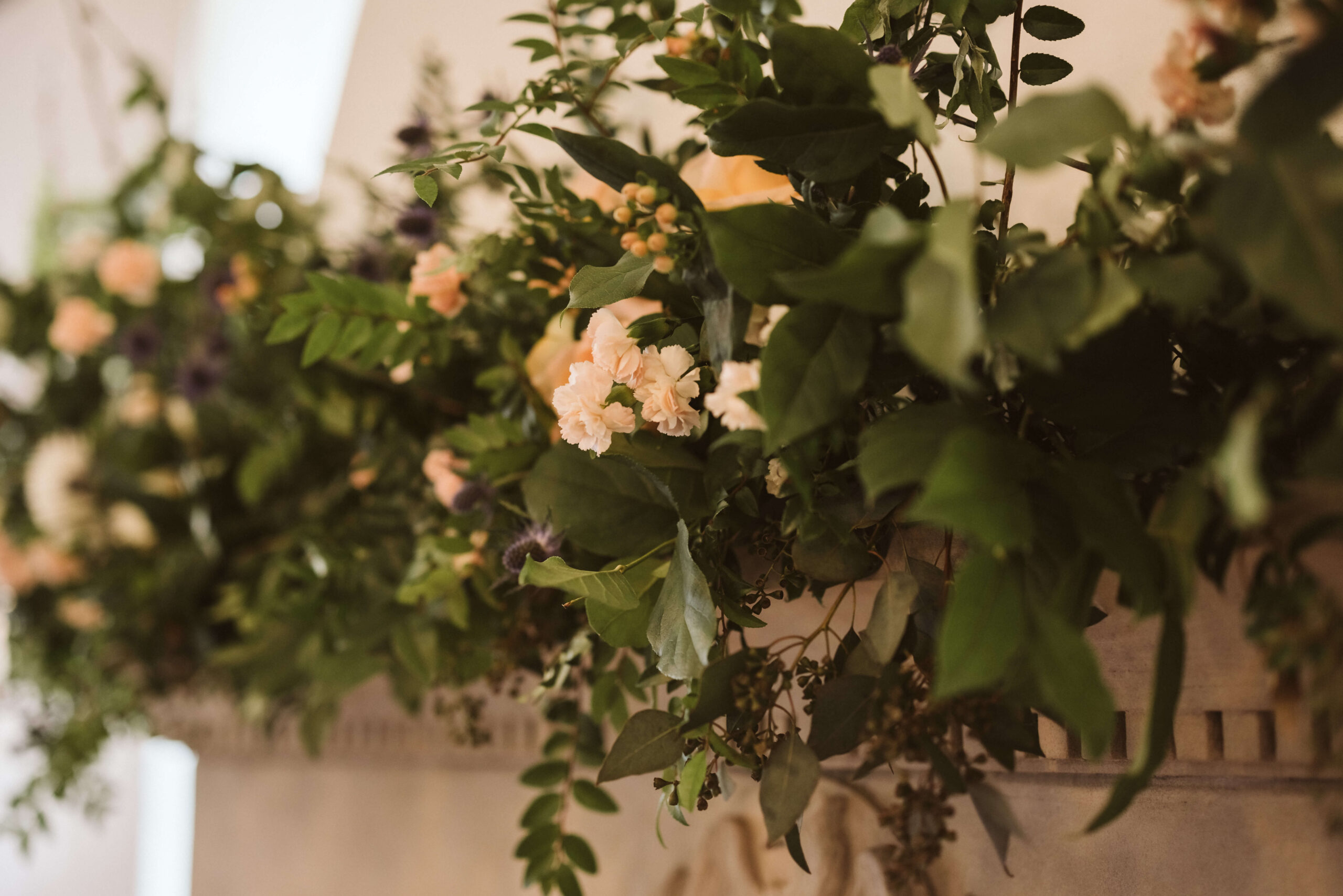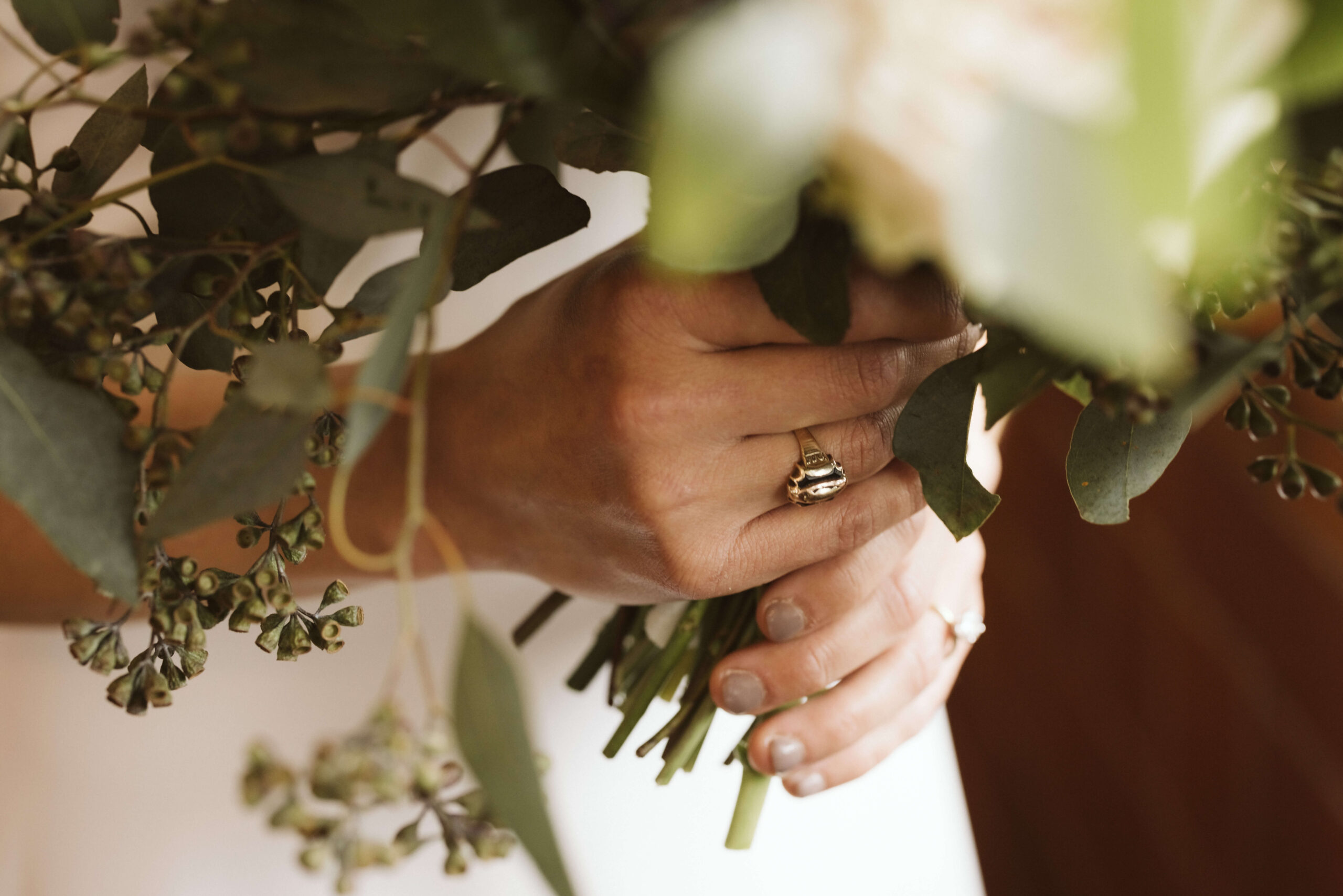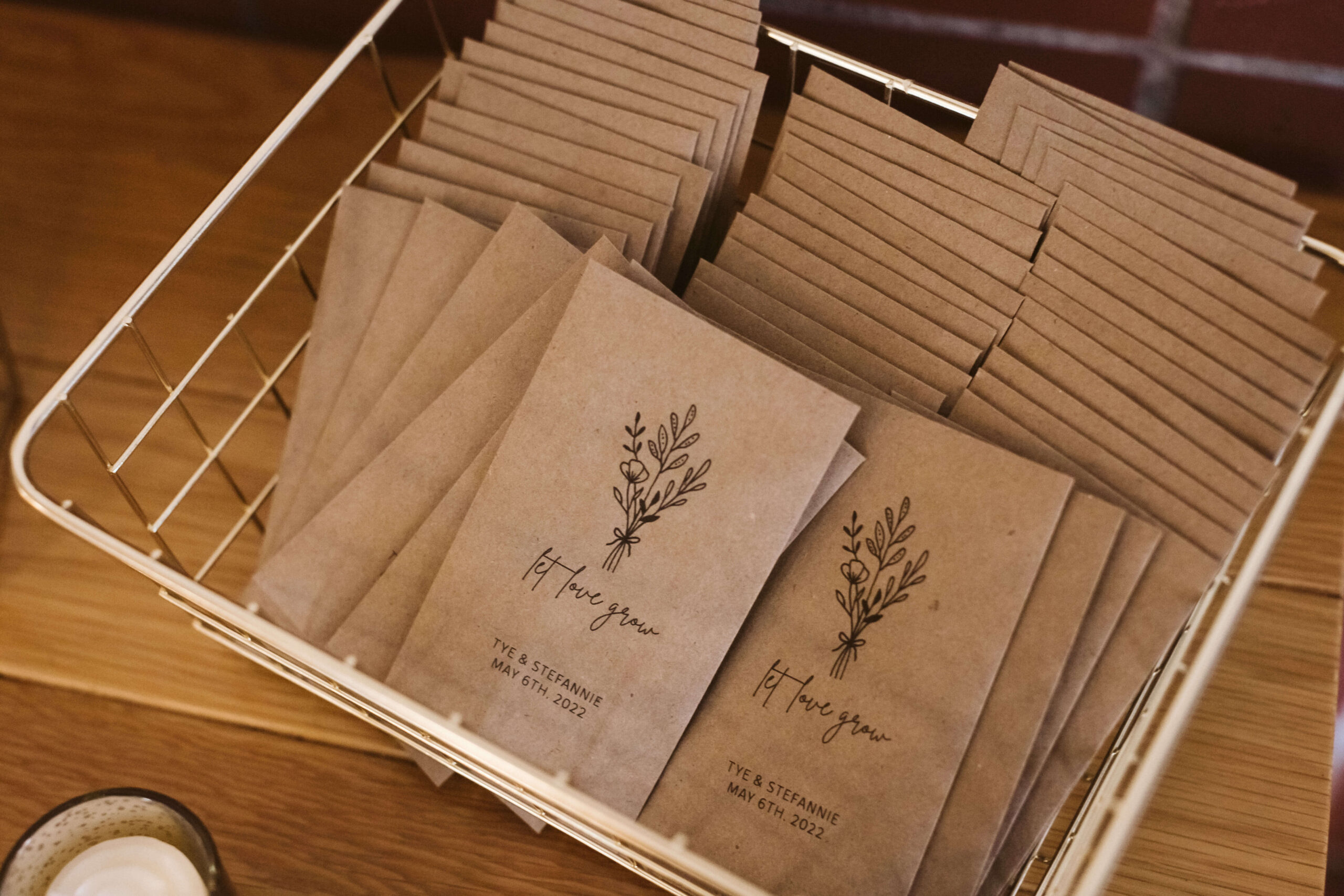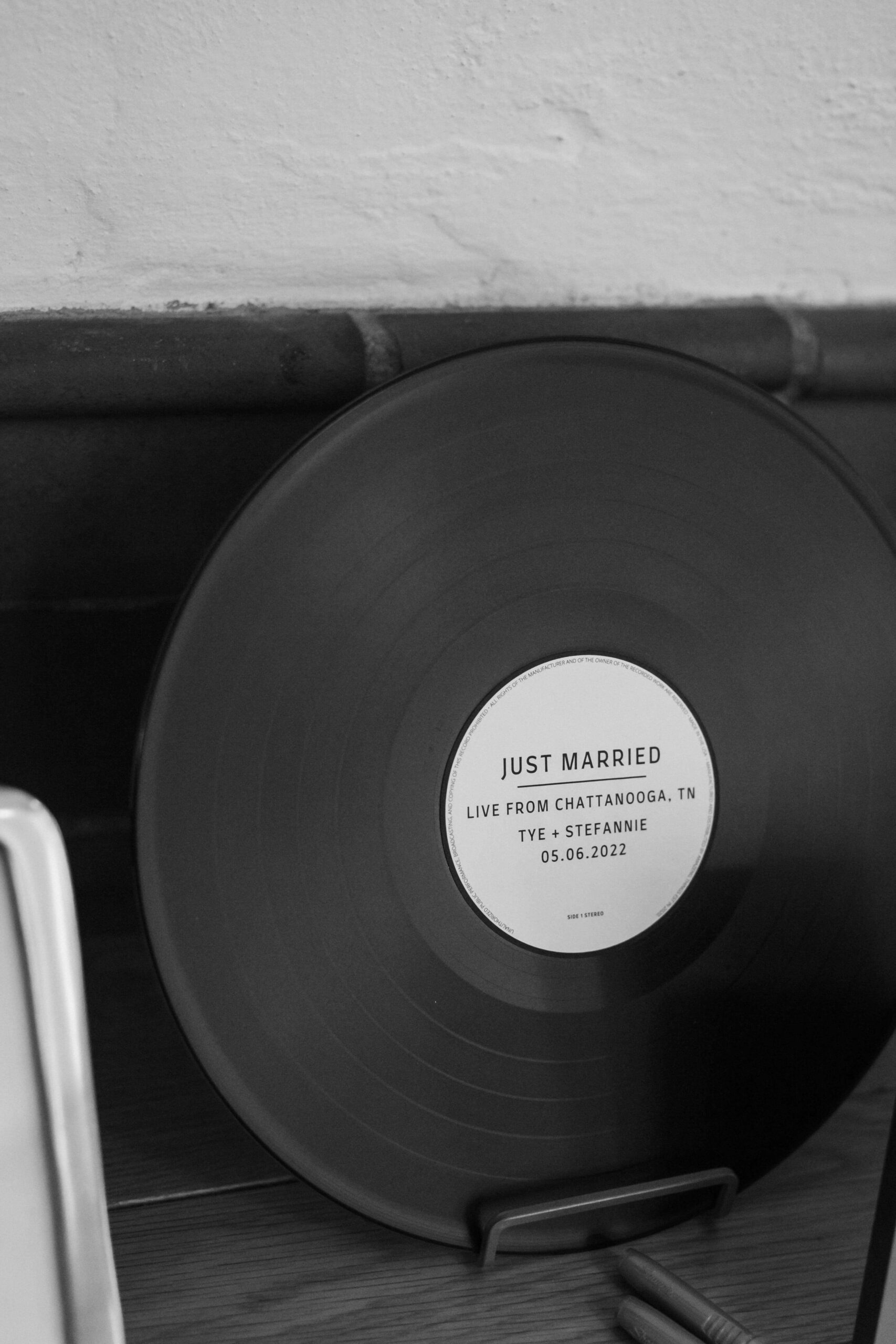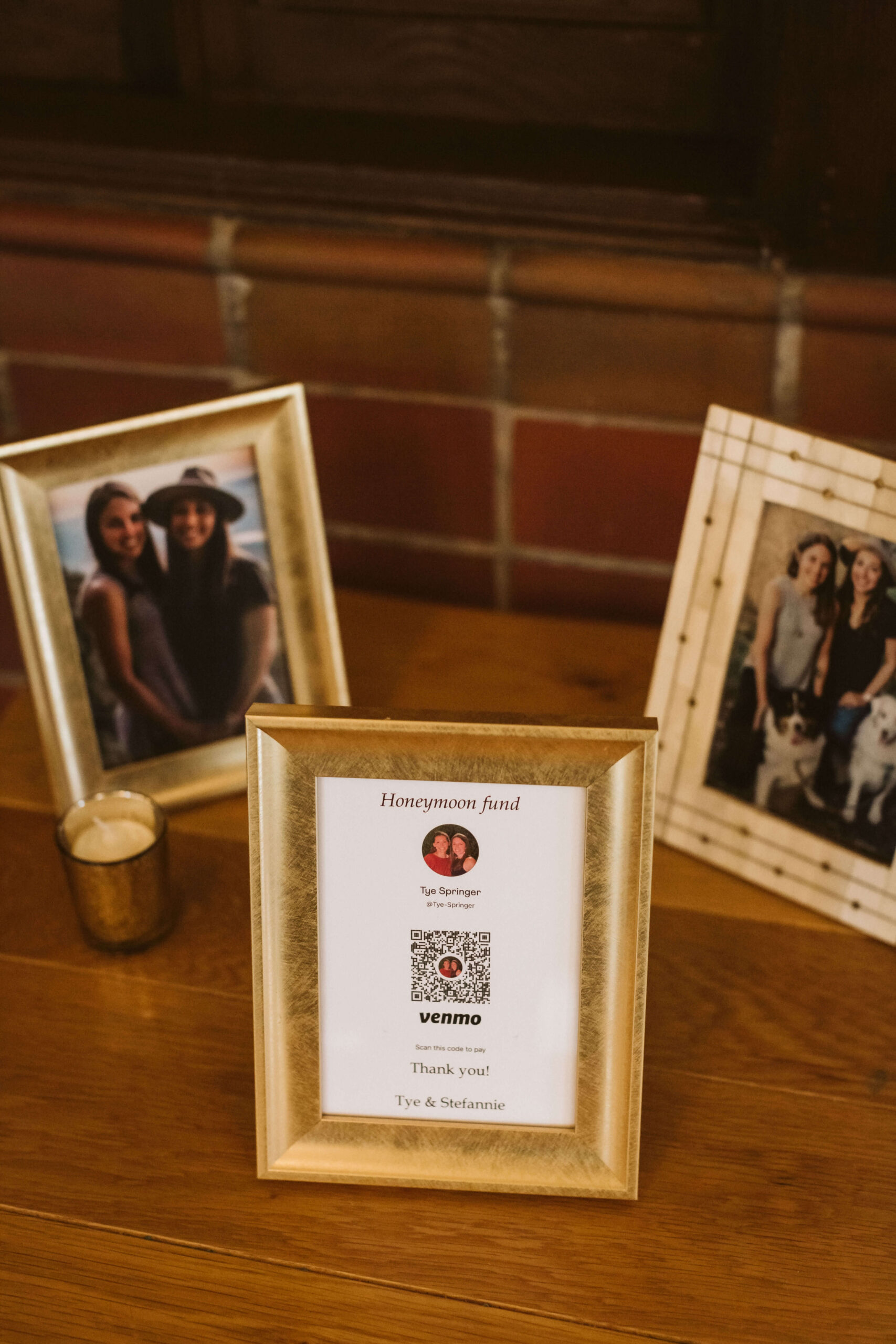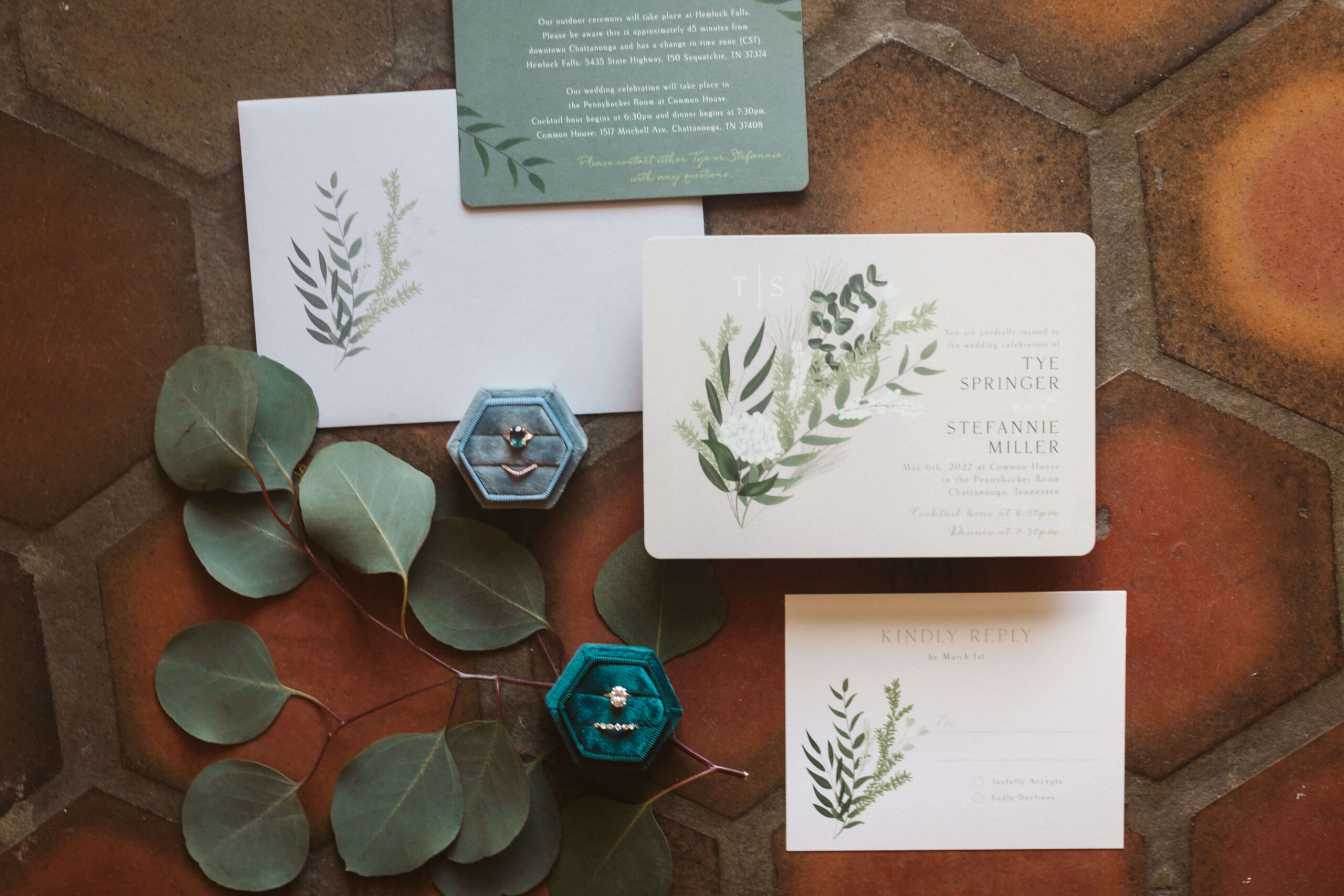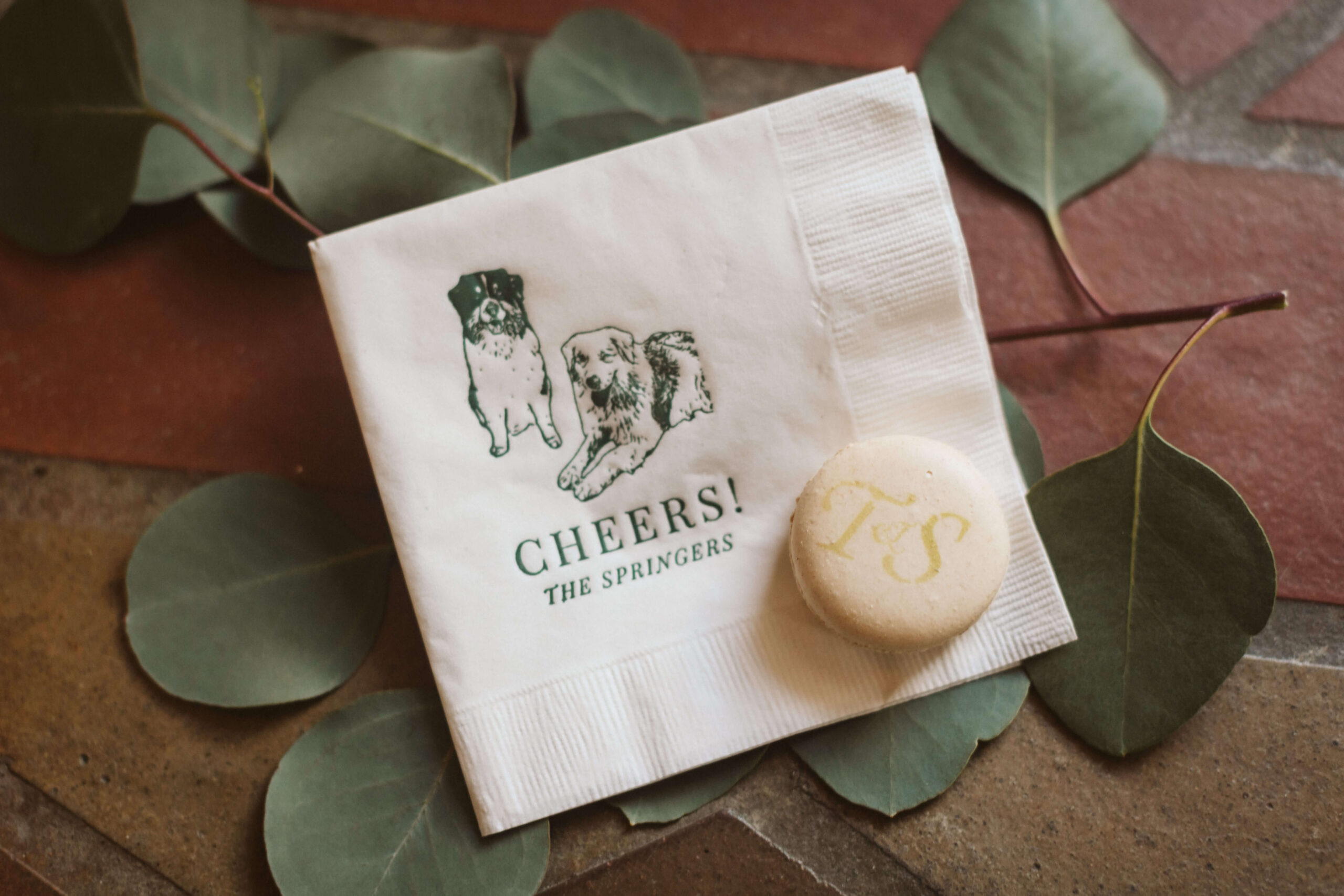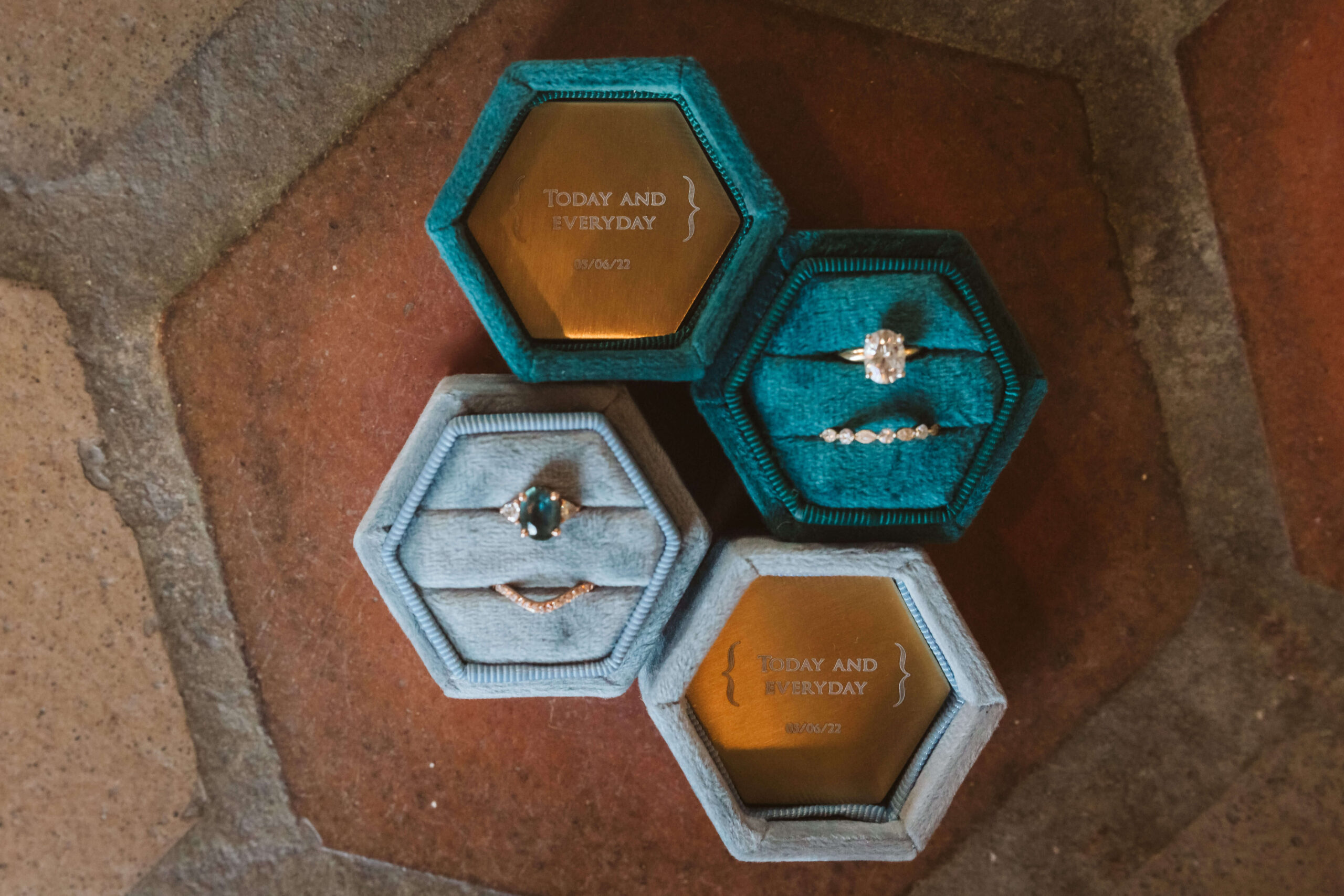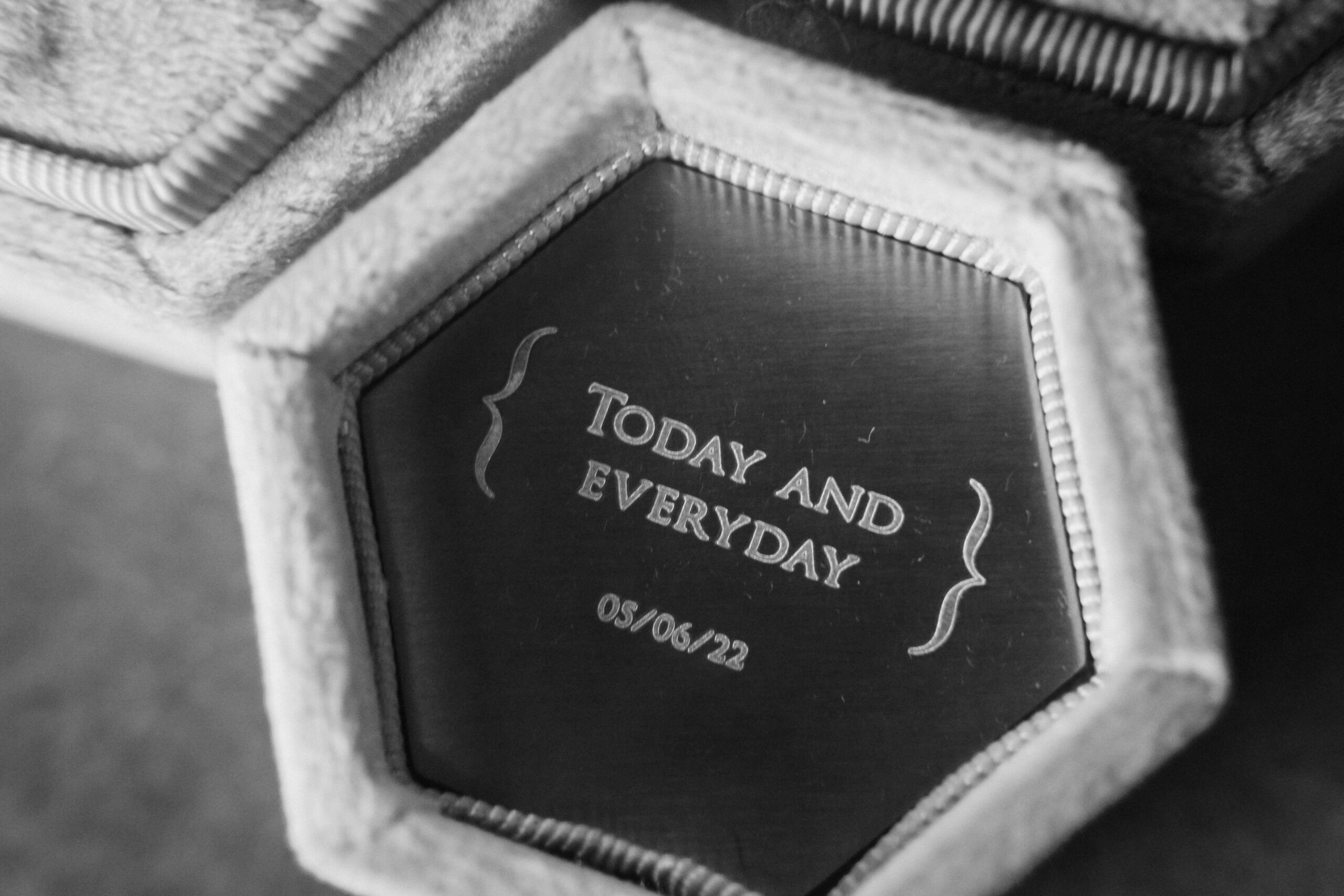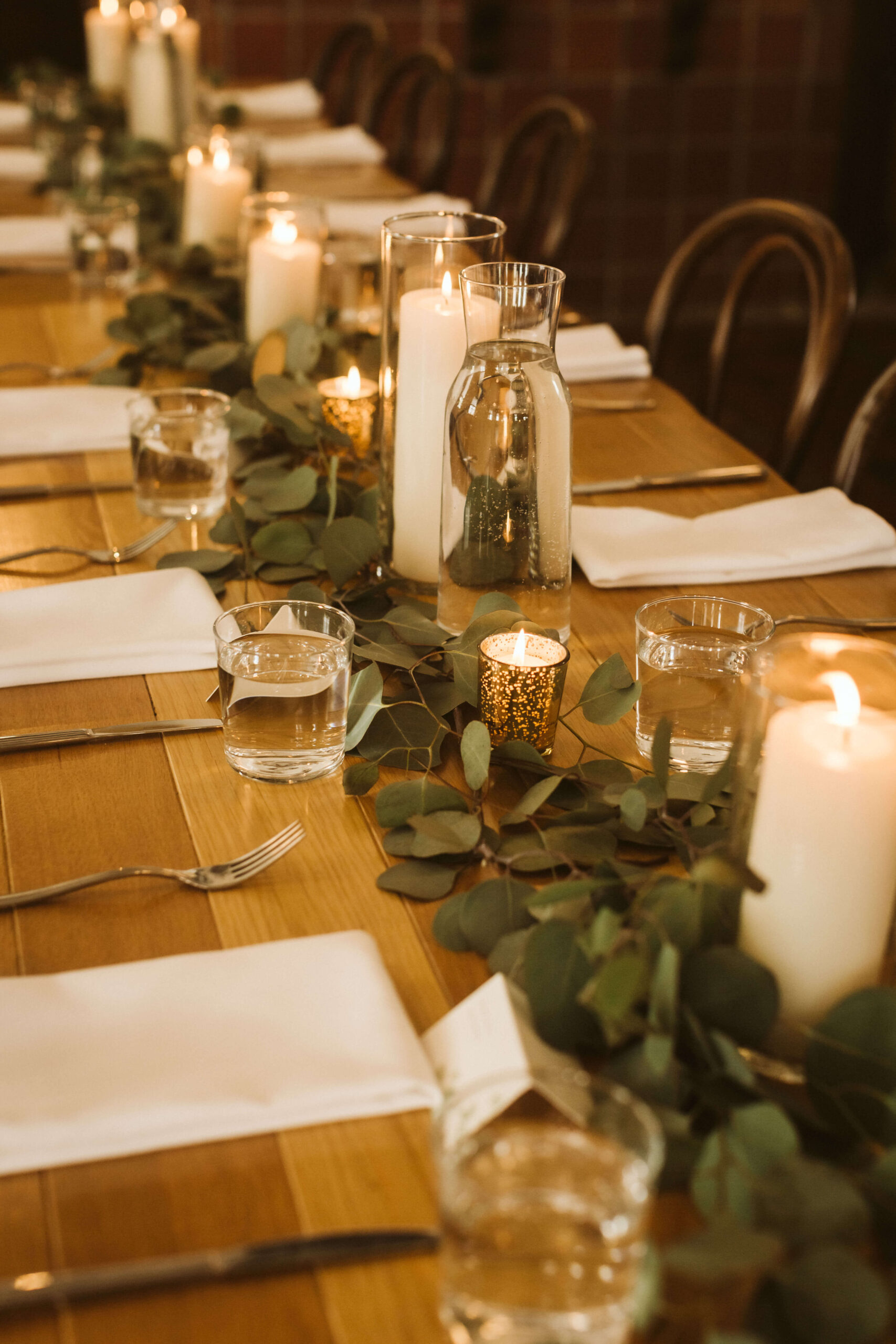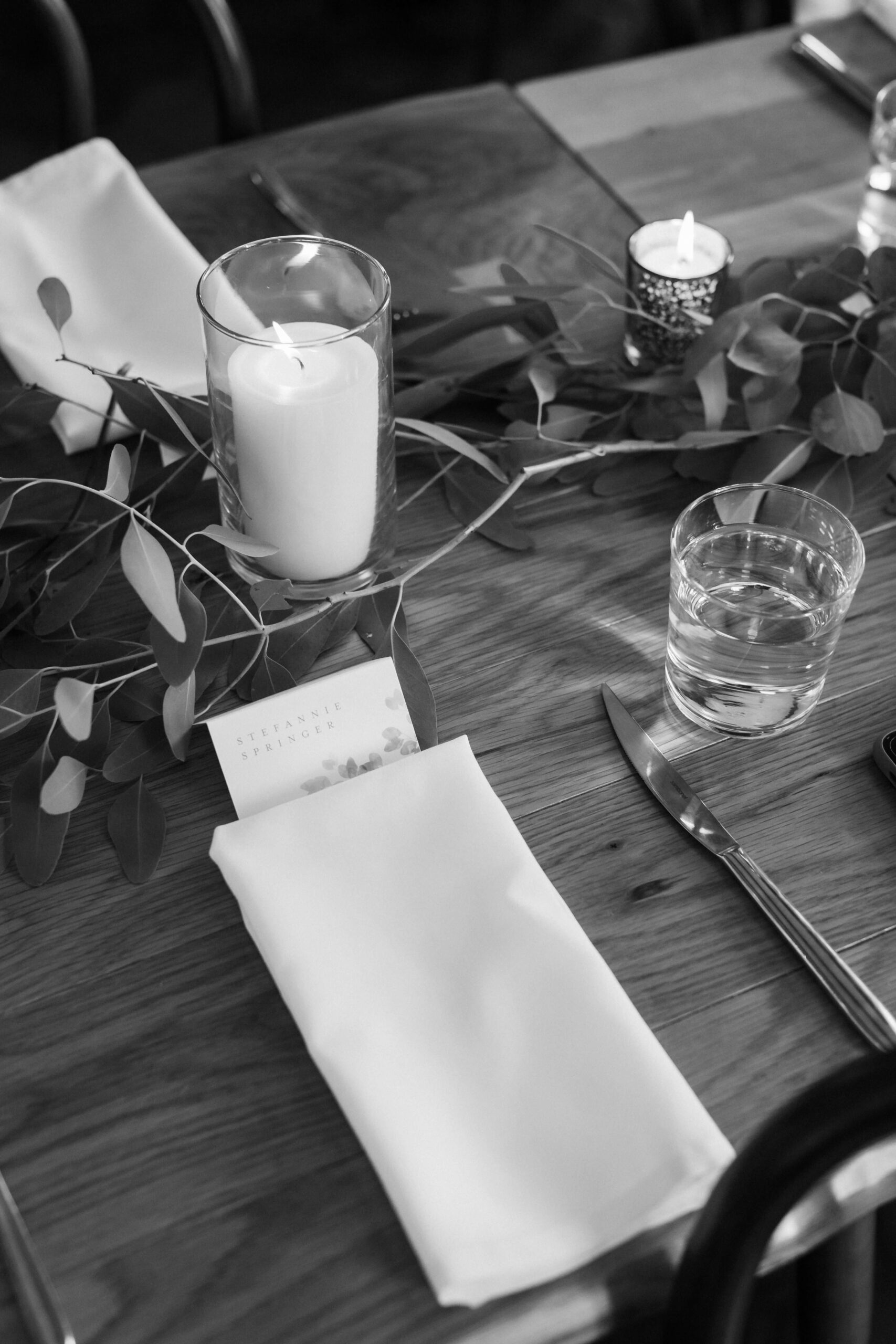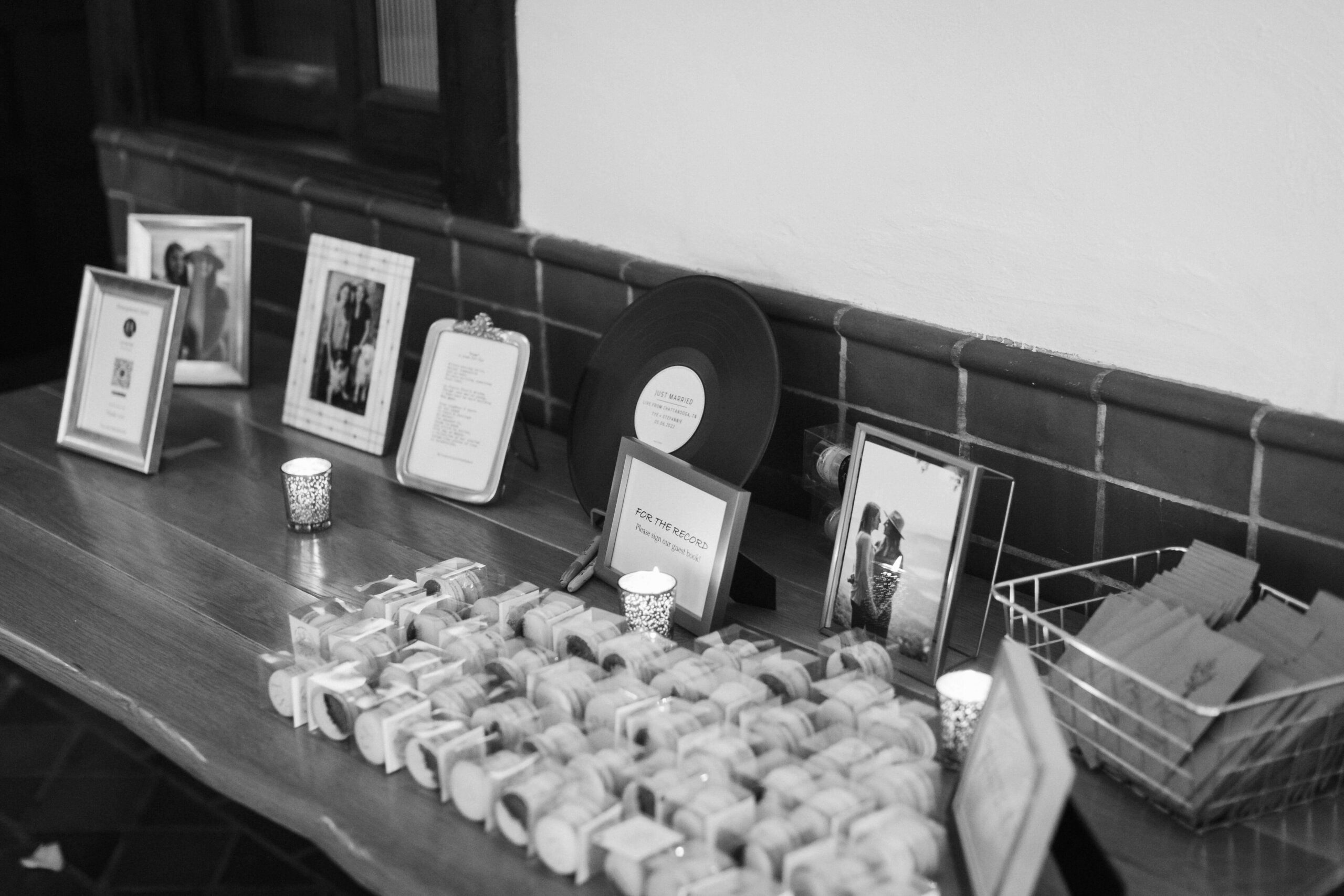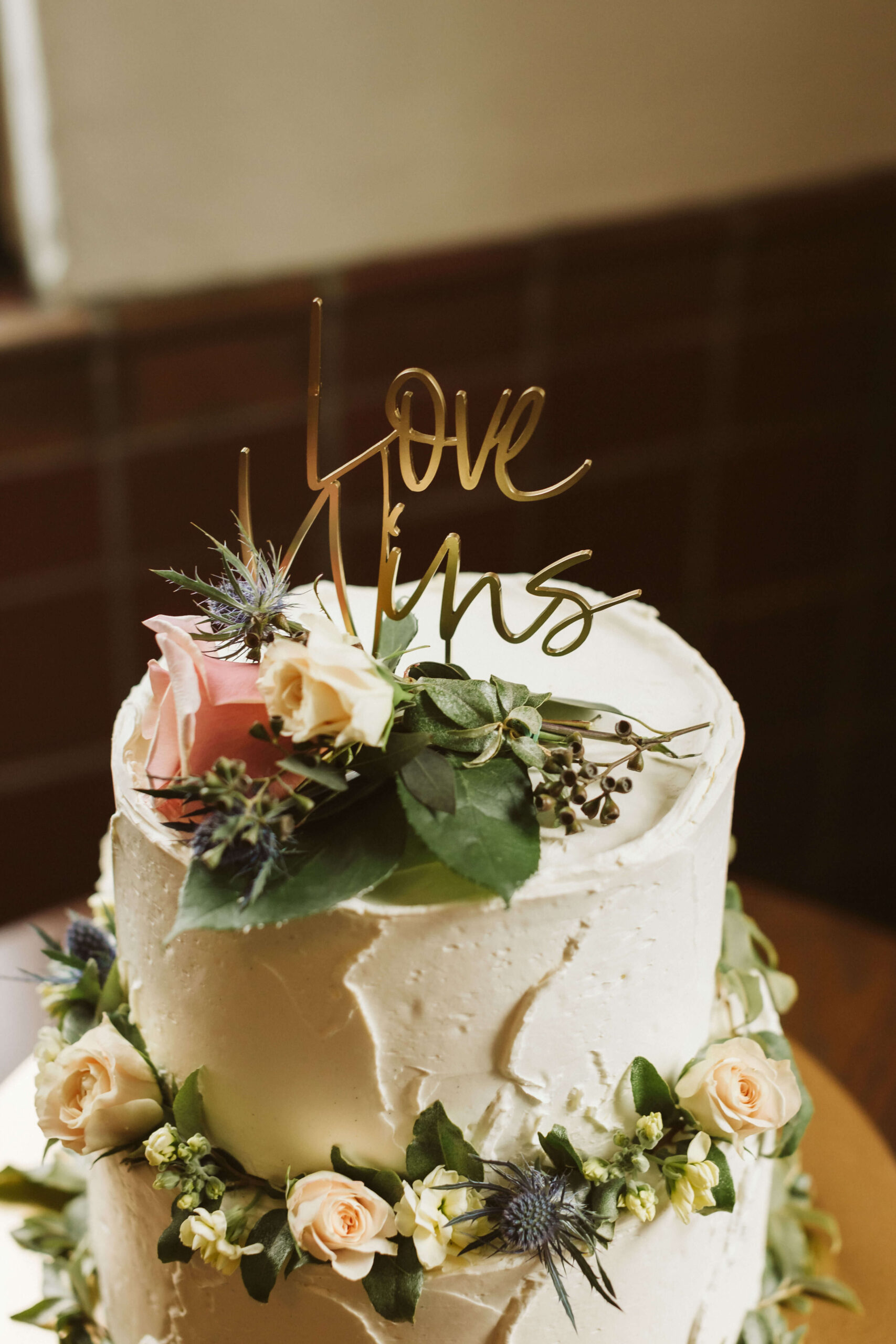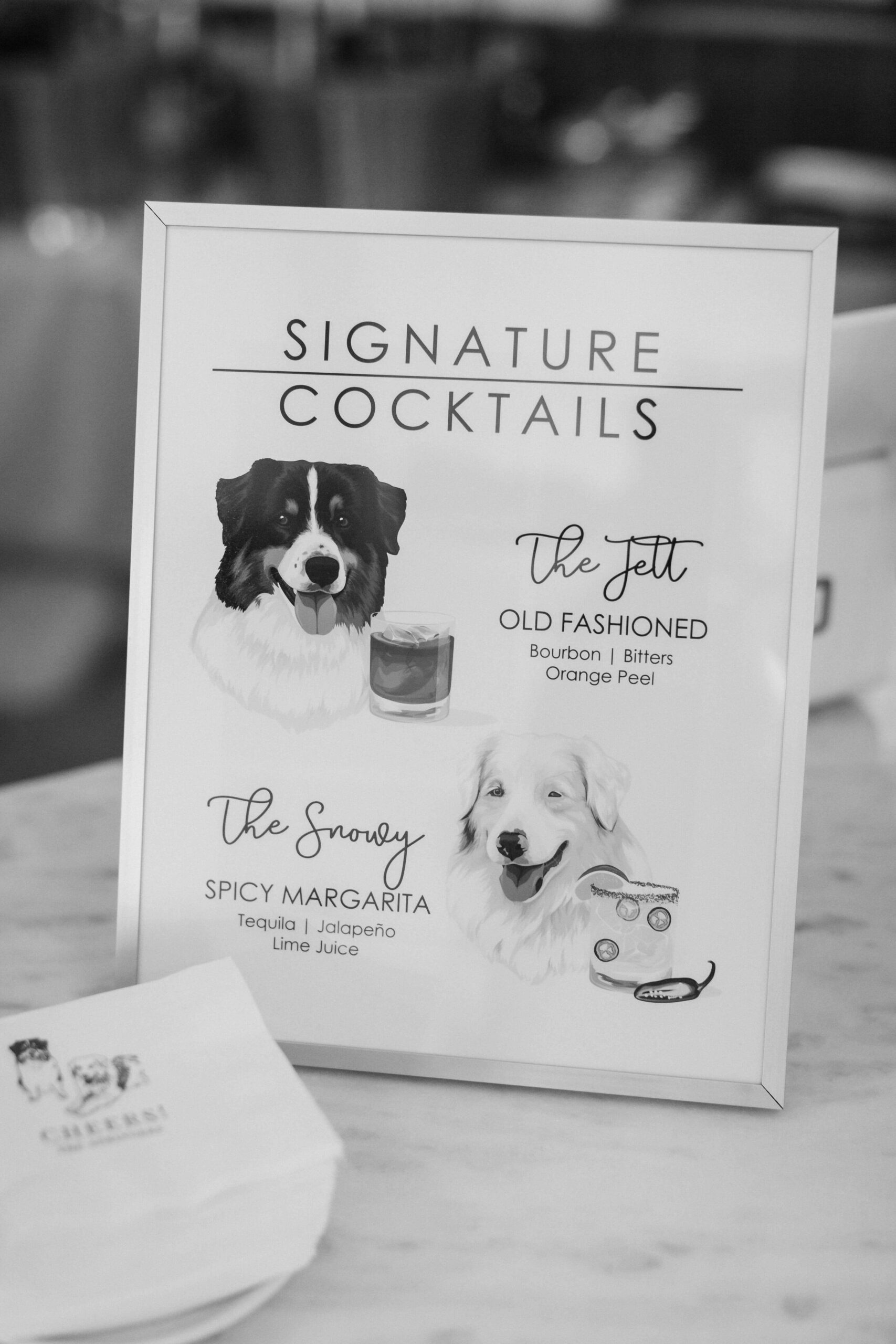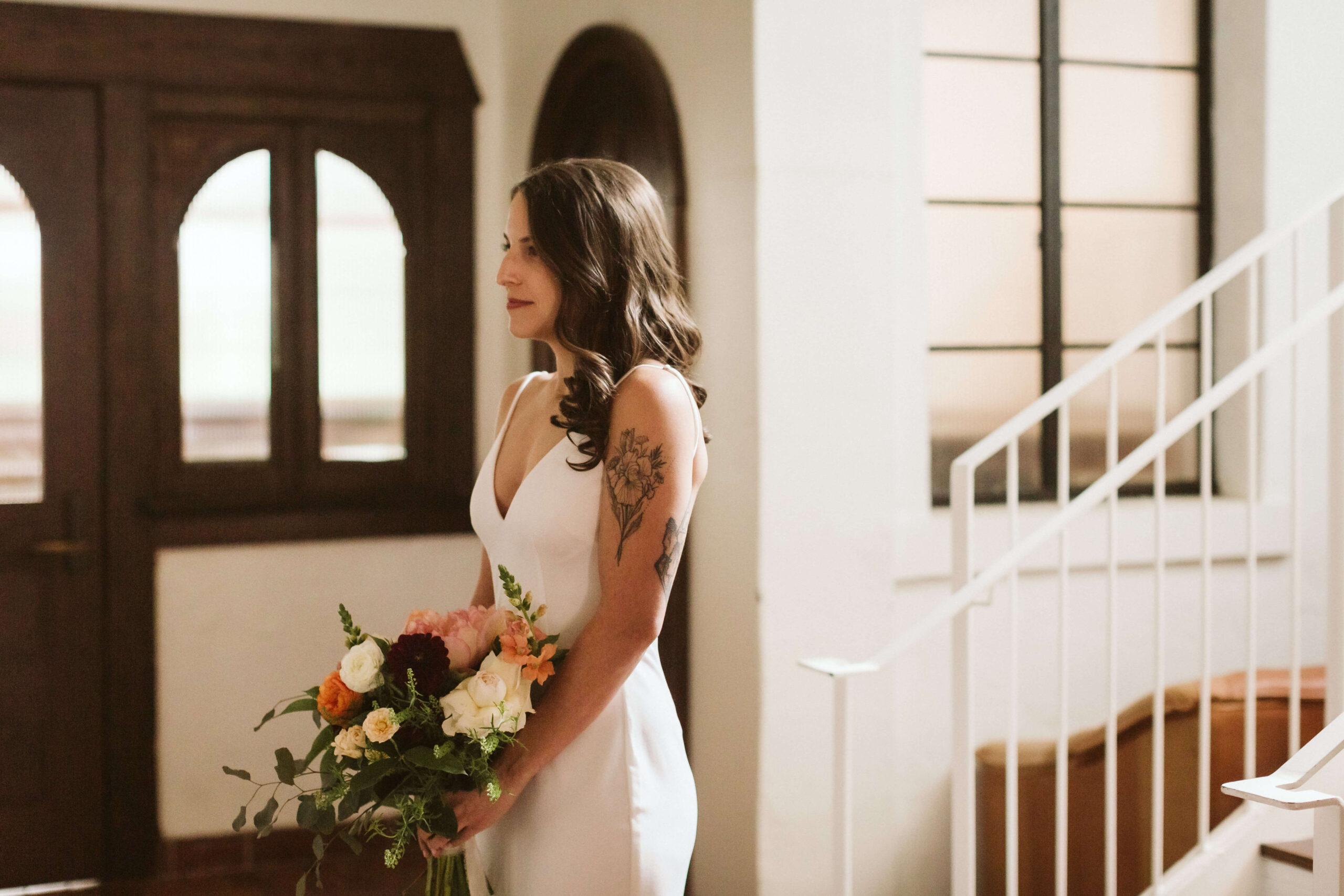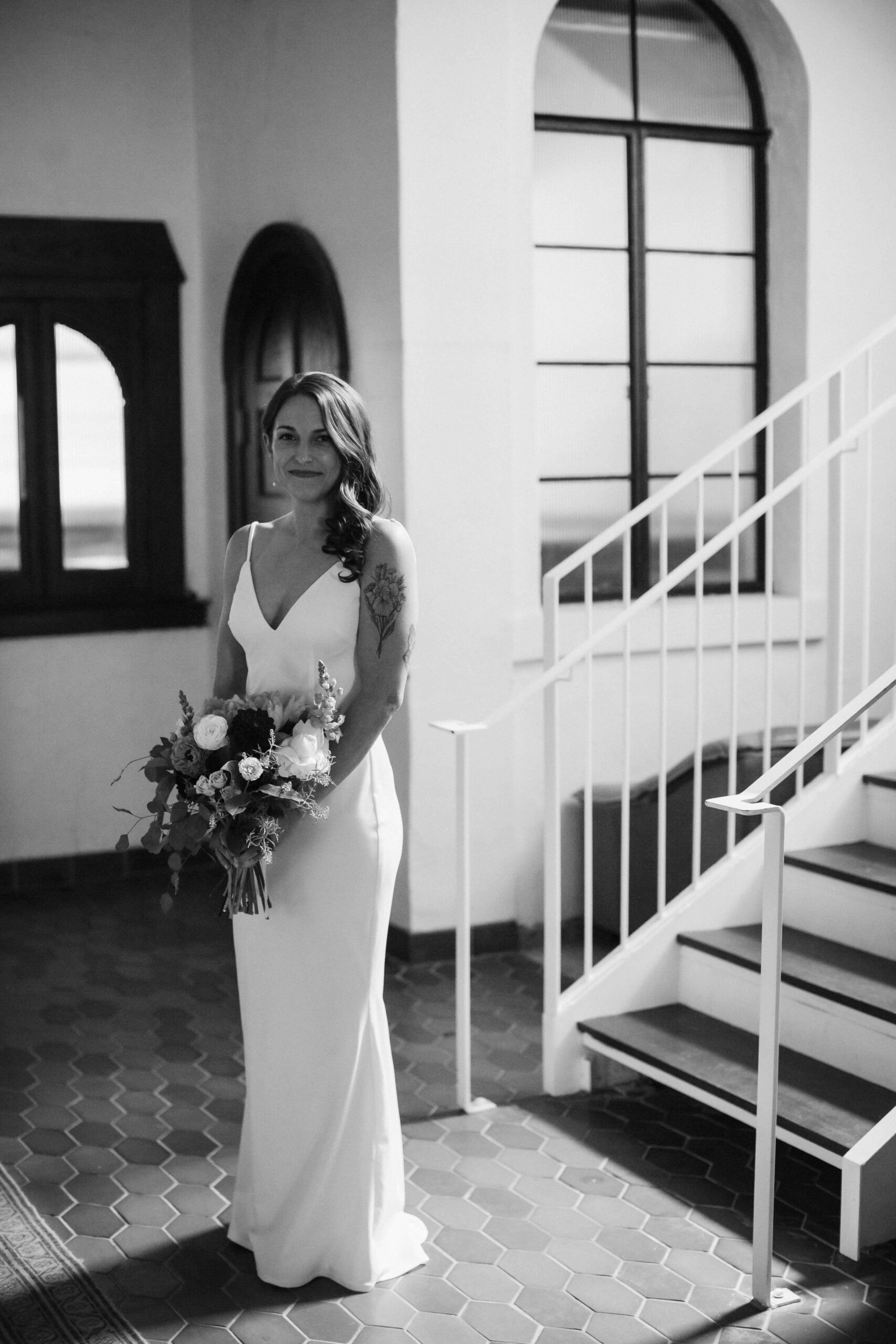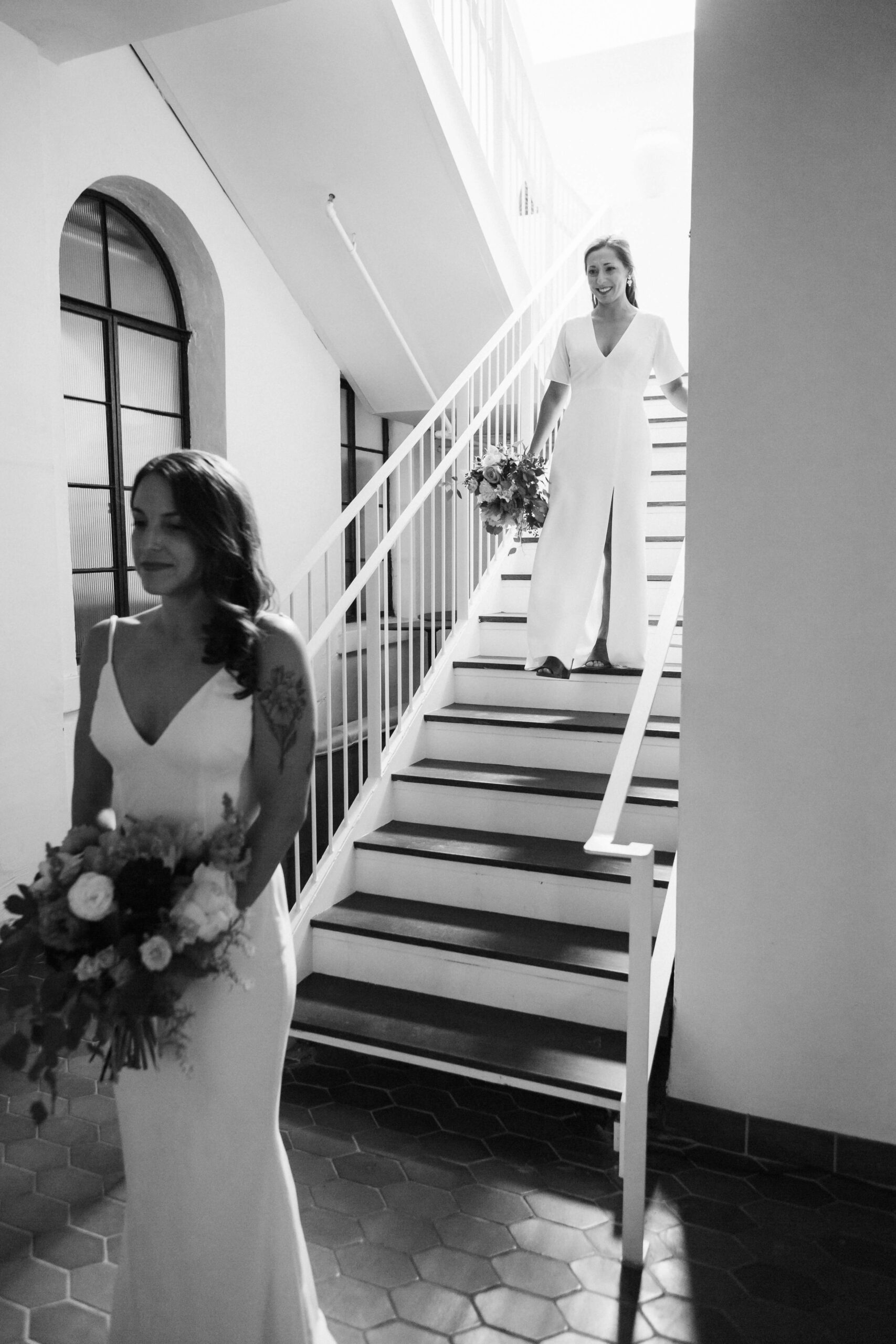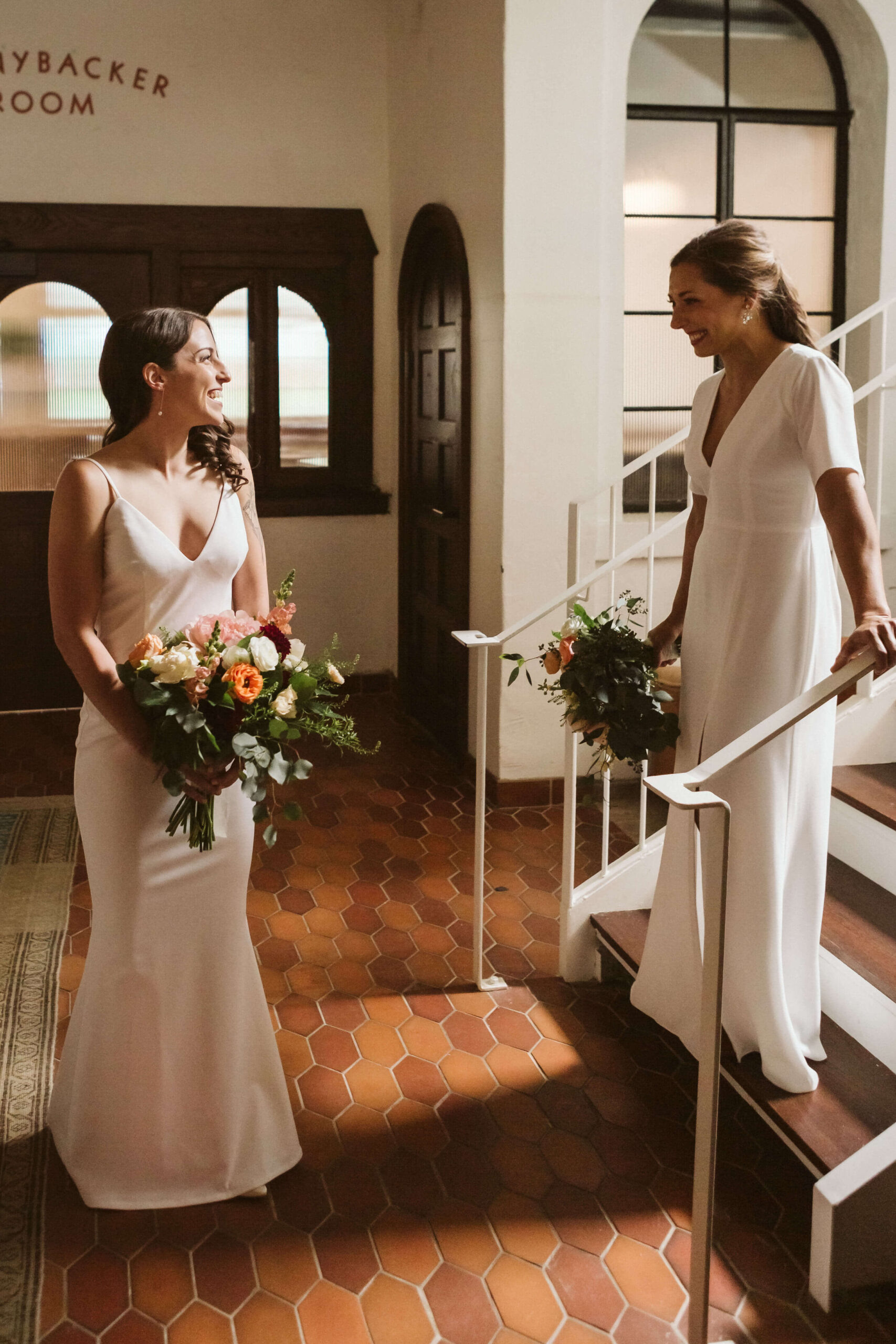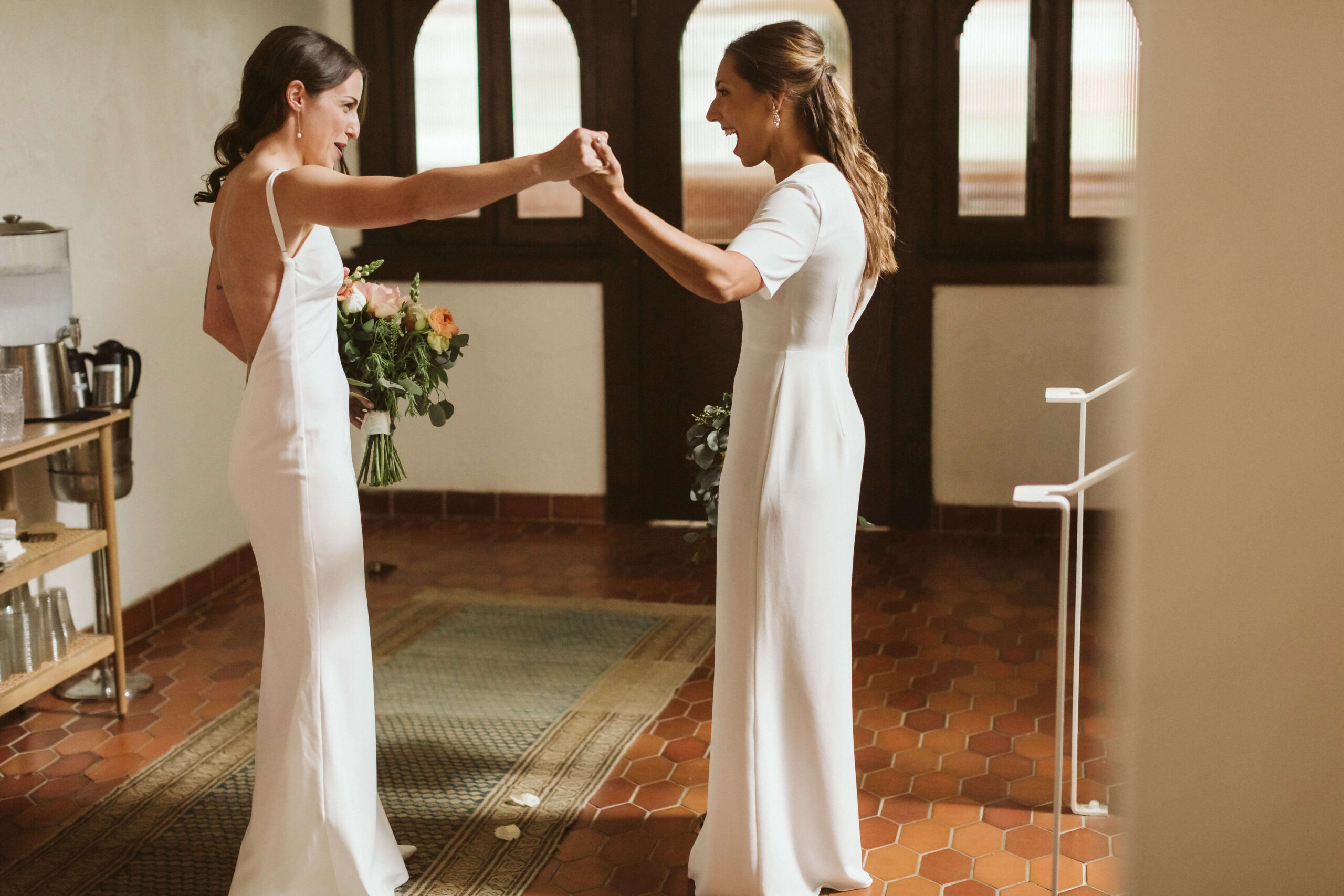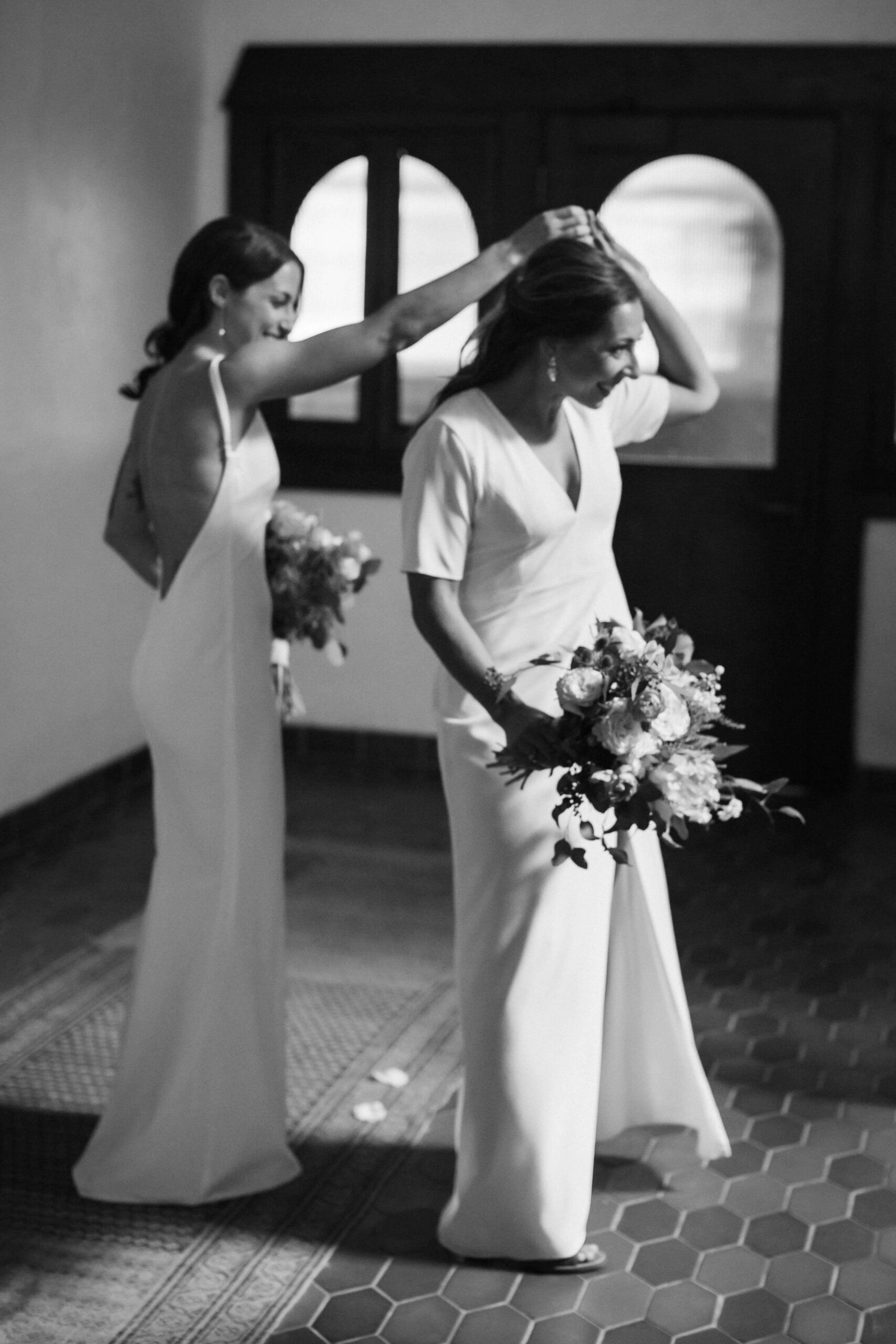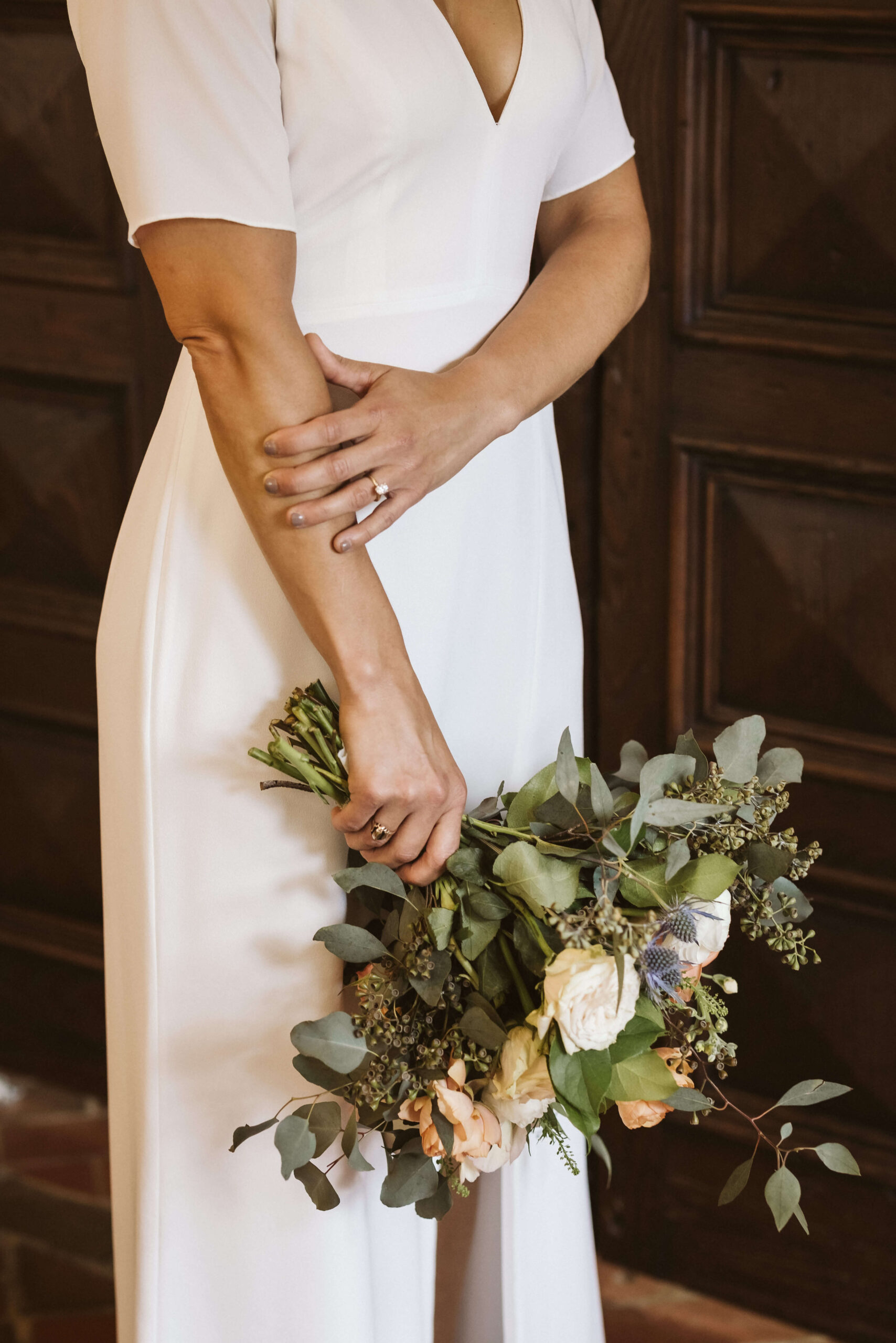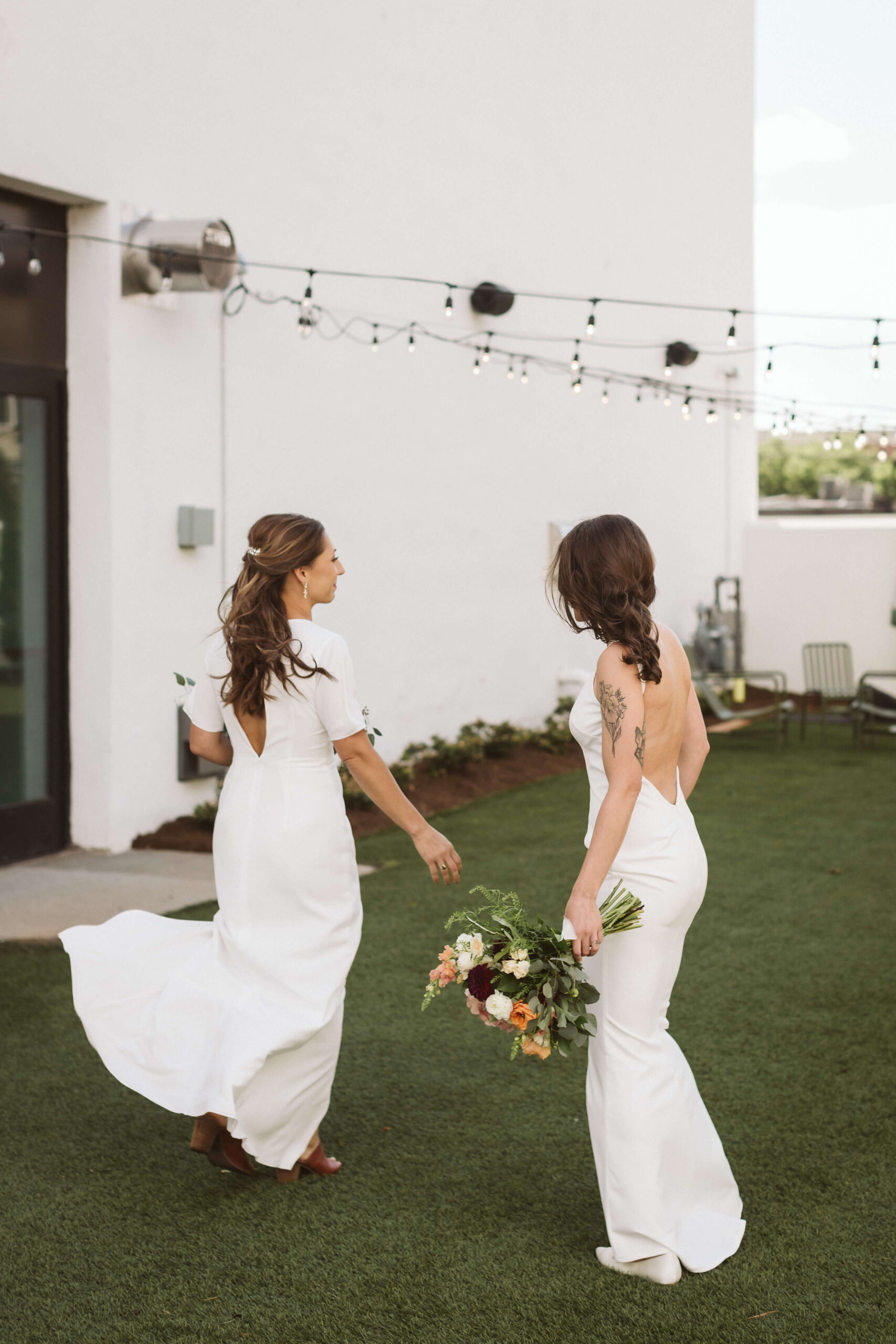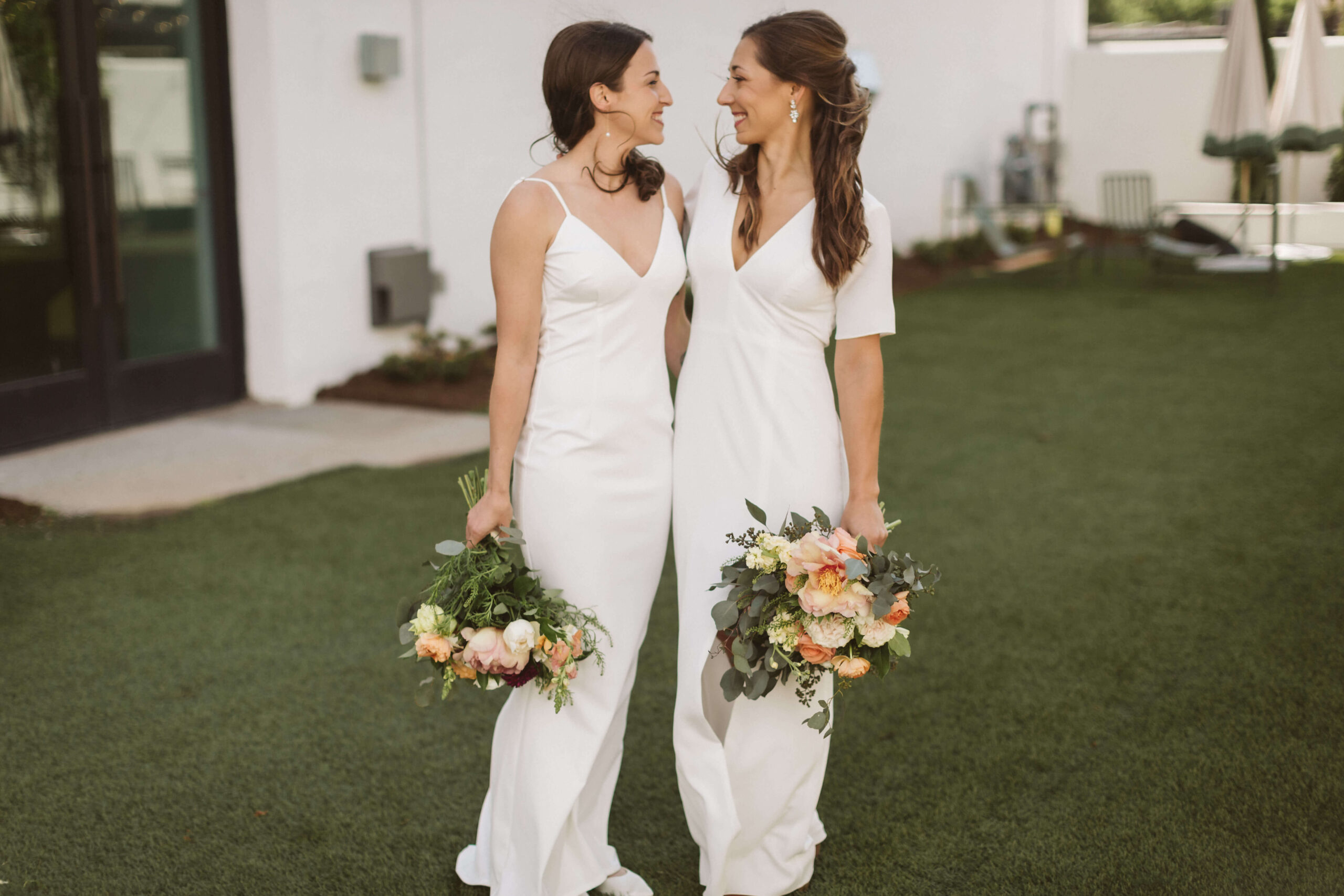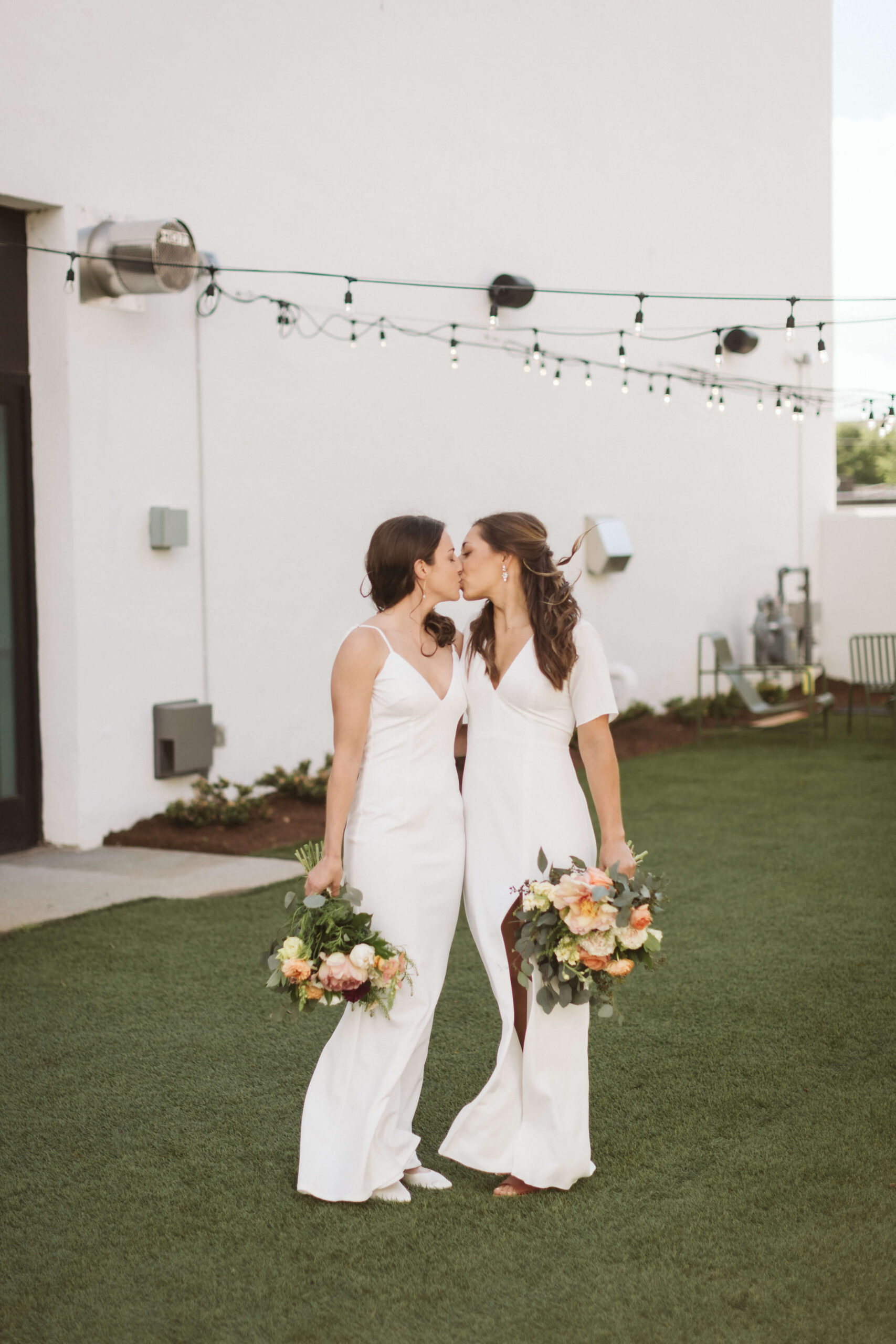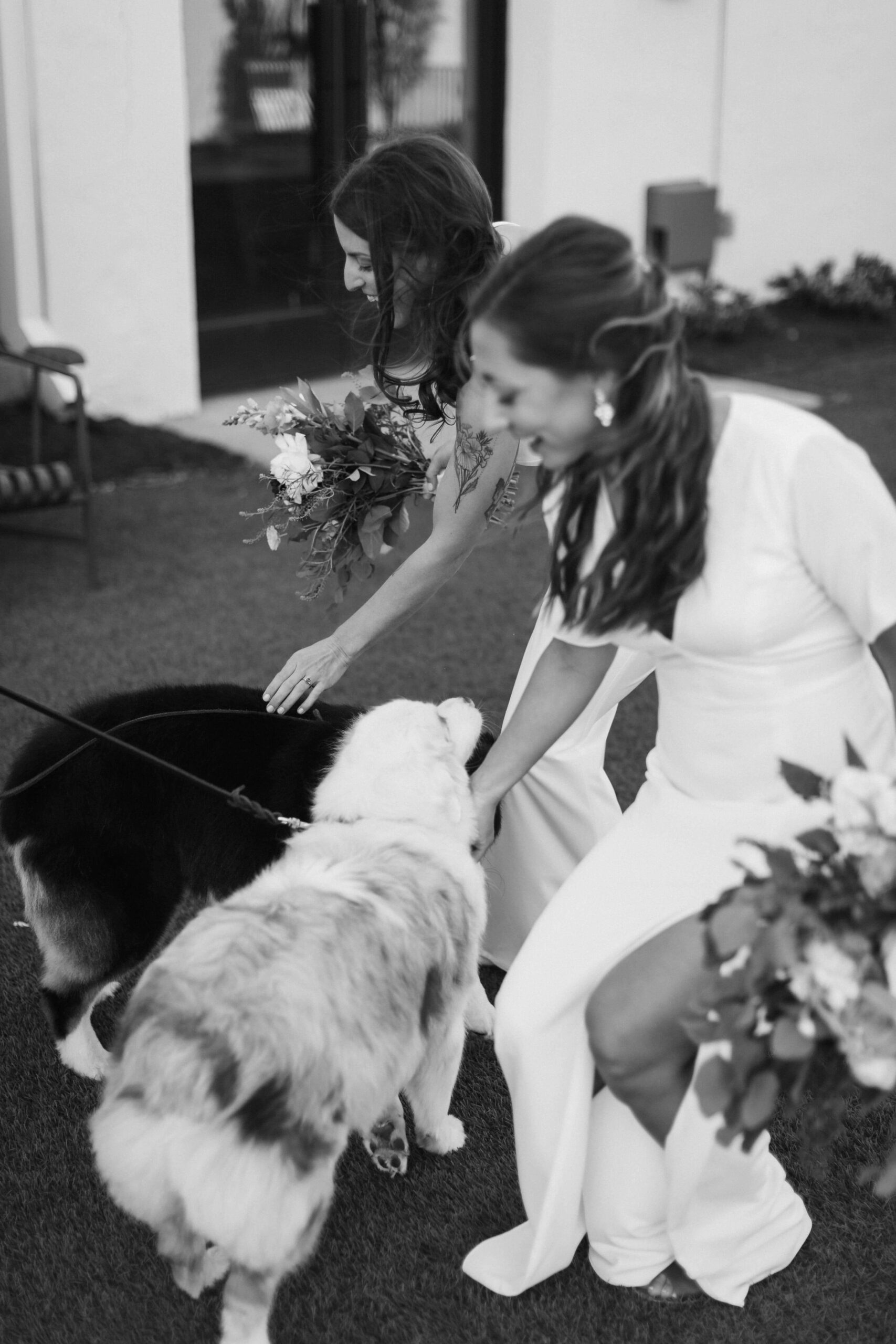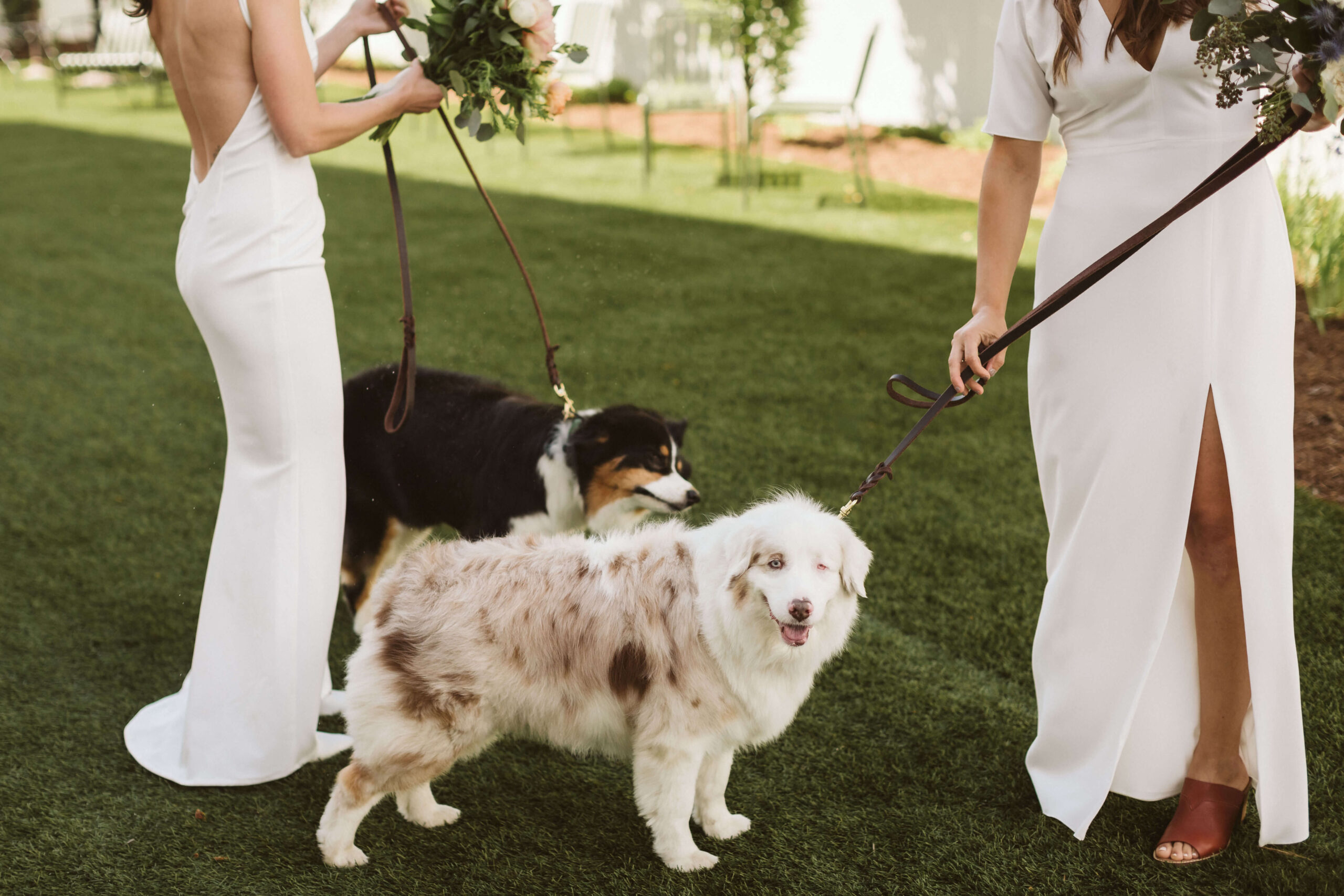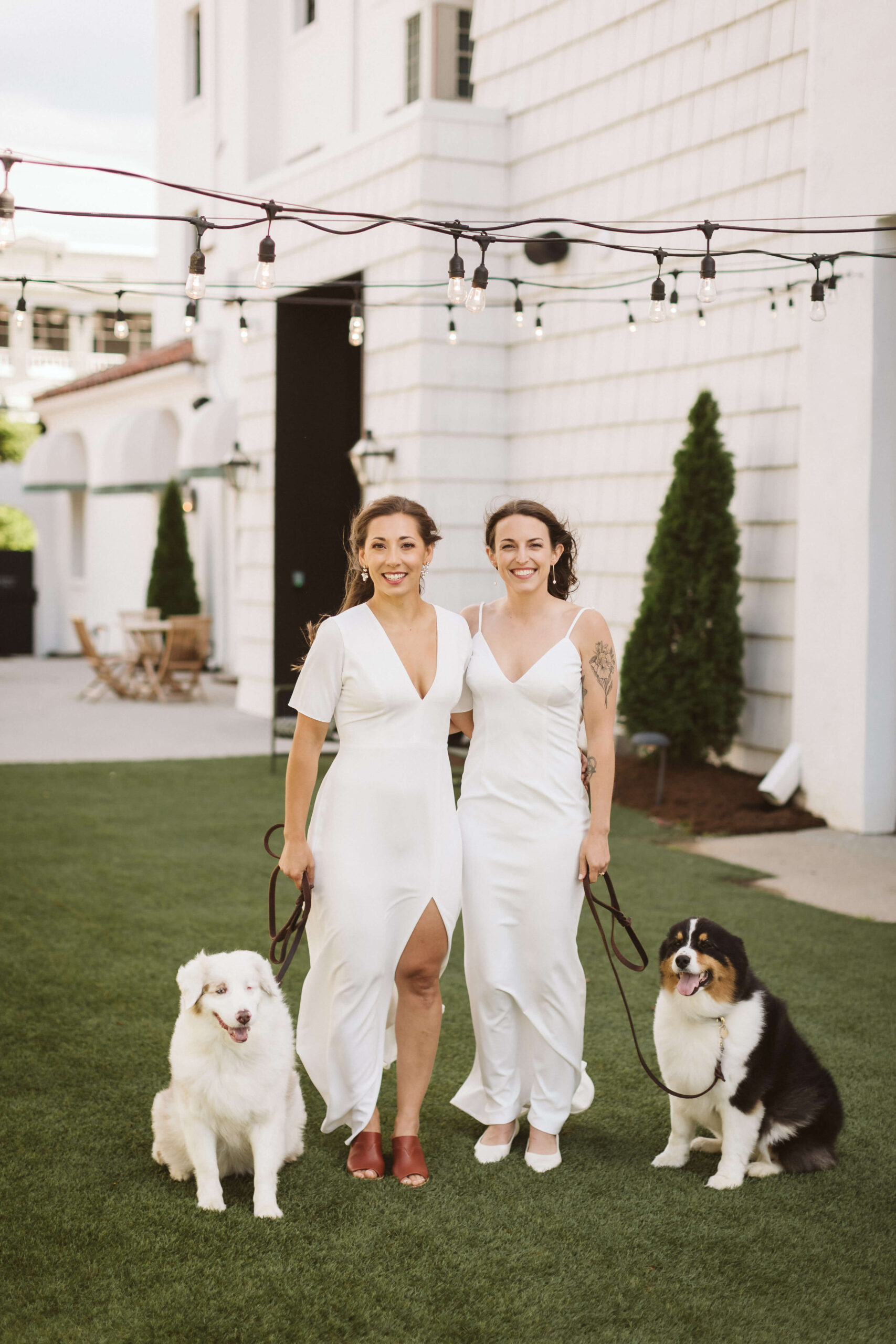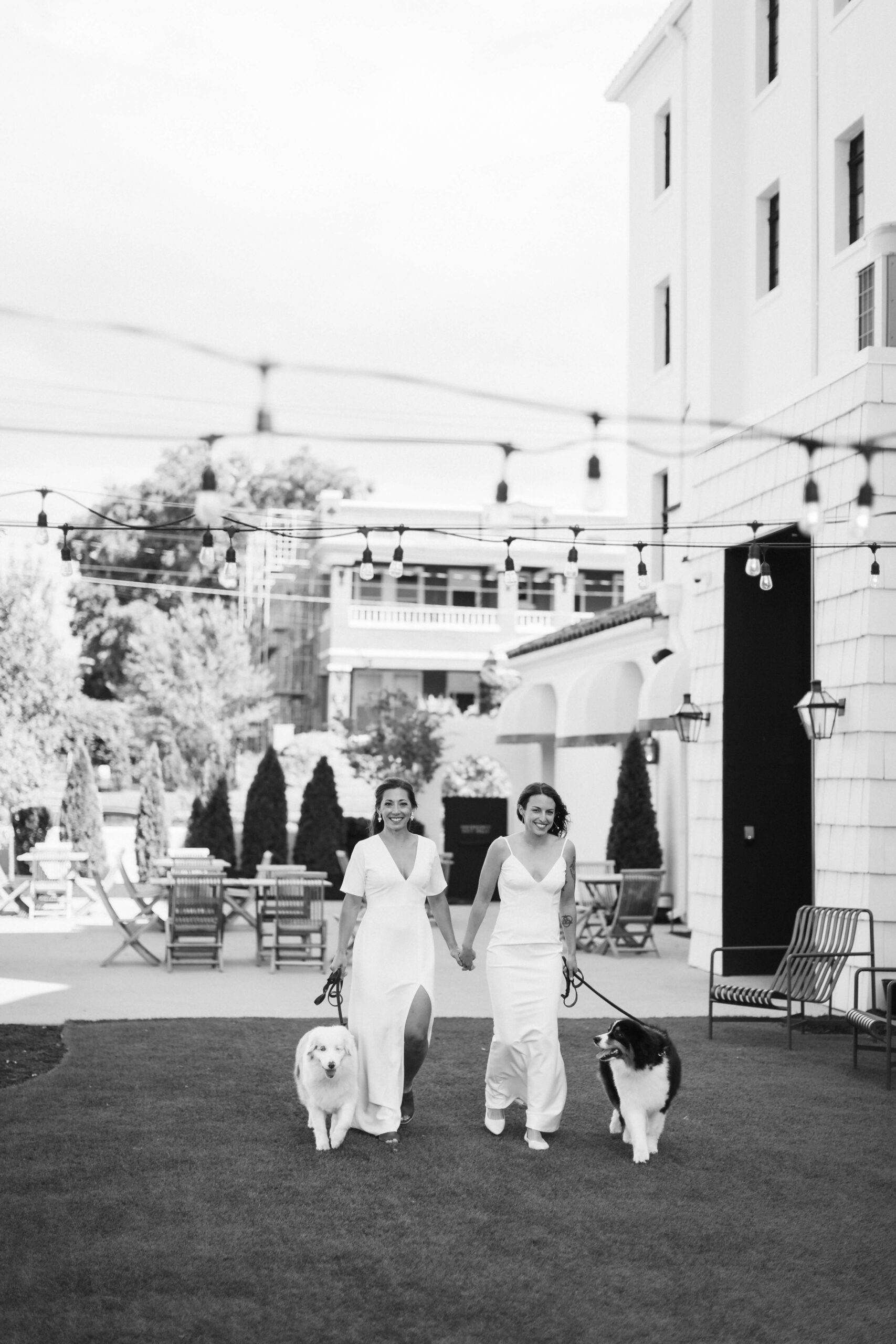 A Quick Change of Plans
If there's one thing that's entirely necessary when it comes to any kind of wedding planning – whether you're eloping or having a full scale wedding – it's to have the flexibility to plan for the best but prepare for the worst. When the day of Steffanie and Tye's wedding rolled around, a sudden hailstorm prevented them from having their ceremony at Hemlock Falls like they wanted.
Hemlock Falls is a small wedding venue about 45 minutes away from downtown Chattanooga in Sequatchie, Tennessee. This fully outdoor venue includes a small log cabin on the grounds that doubles as a vacation rental property when it isn't being used for weddings. While the mountain and waterfall views at Hemlock Falls are truly extraordinary, when it came to an unexpected hailstorm, even setting up a tent wouldn't keep Stefannie, Tye, and their guests safe from the elements and unfortunately, the log cabin was just right for getting ready in but too small for even a small elopement ceremony.
Since it didn't seem like the weather was going to cooperate for them any time soon, Stefannie and Tye called the Common House and asked to hold their ceremony there instead of just their reception. As they already had the Pennybacker Room reserved, it was only a matter of moving a few things around and the room was transformed into a perfect little ceremony space as well as still being their reception hall.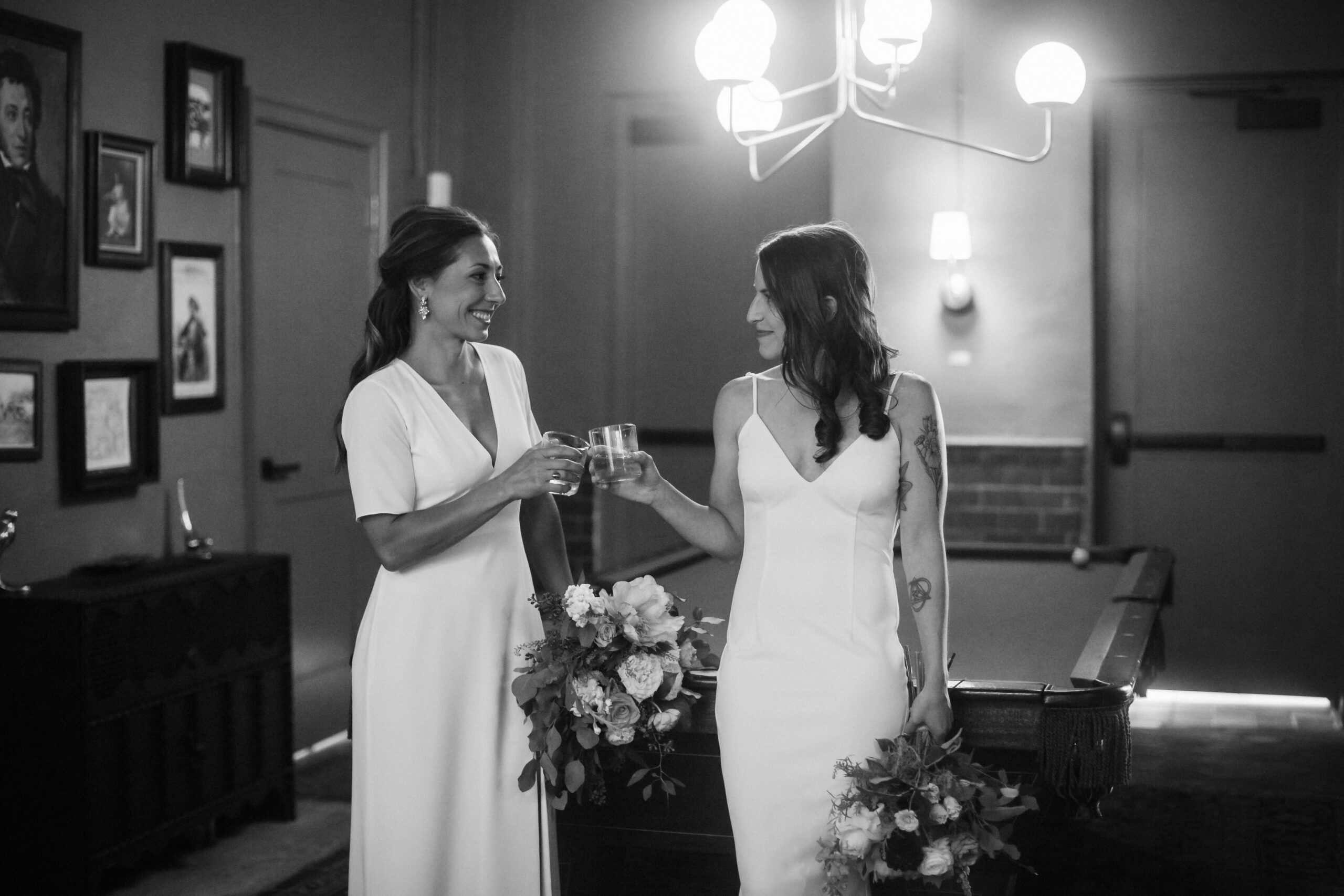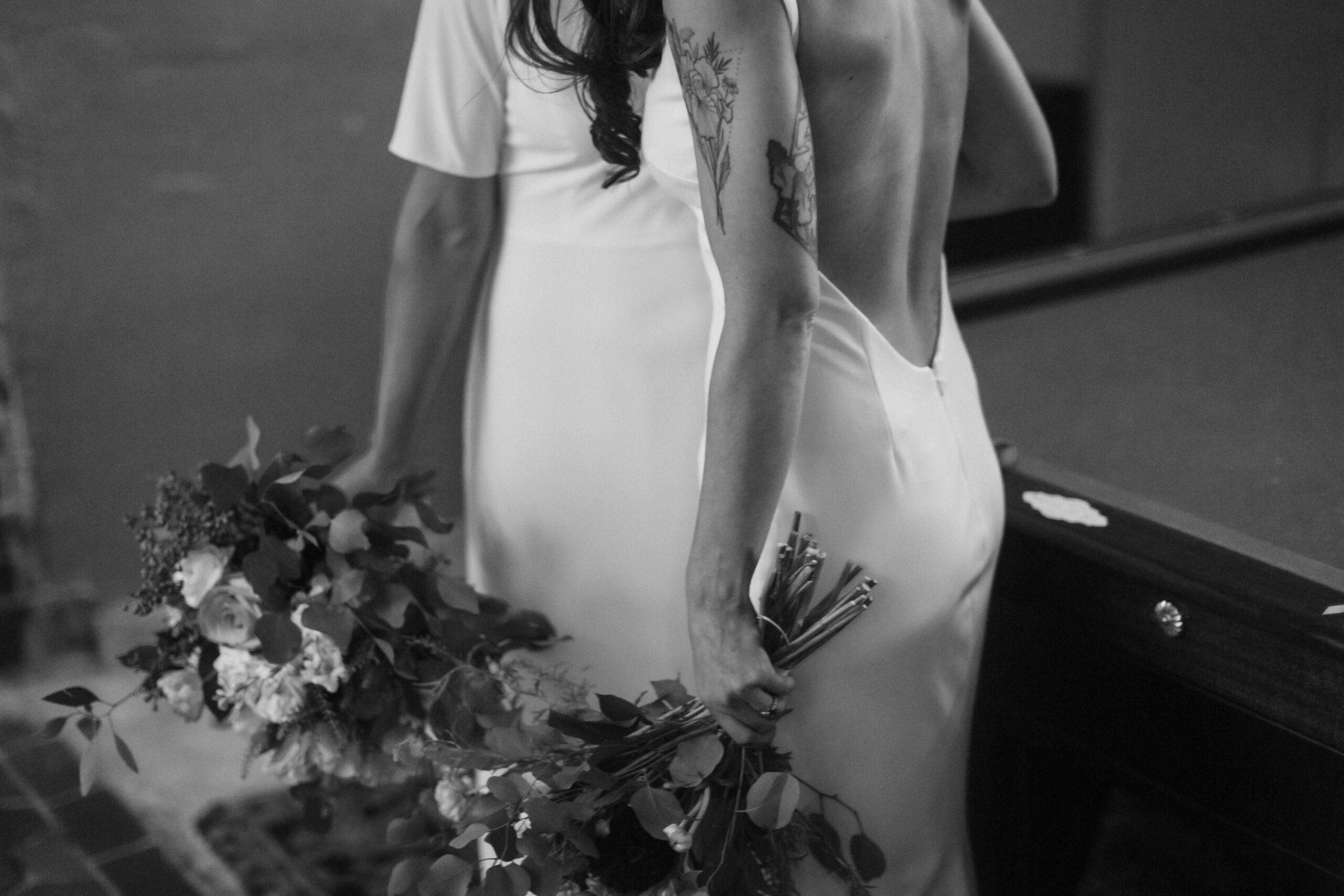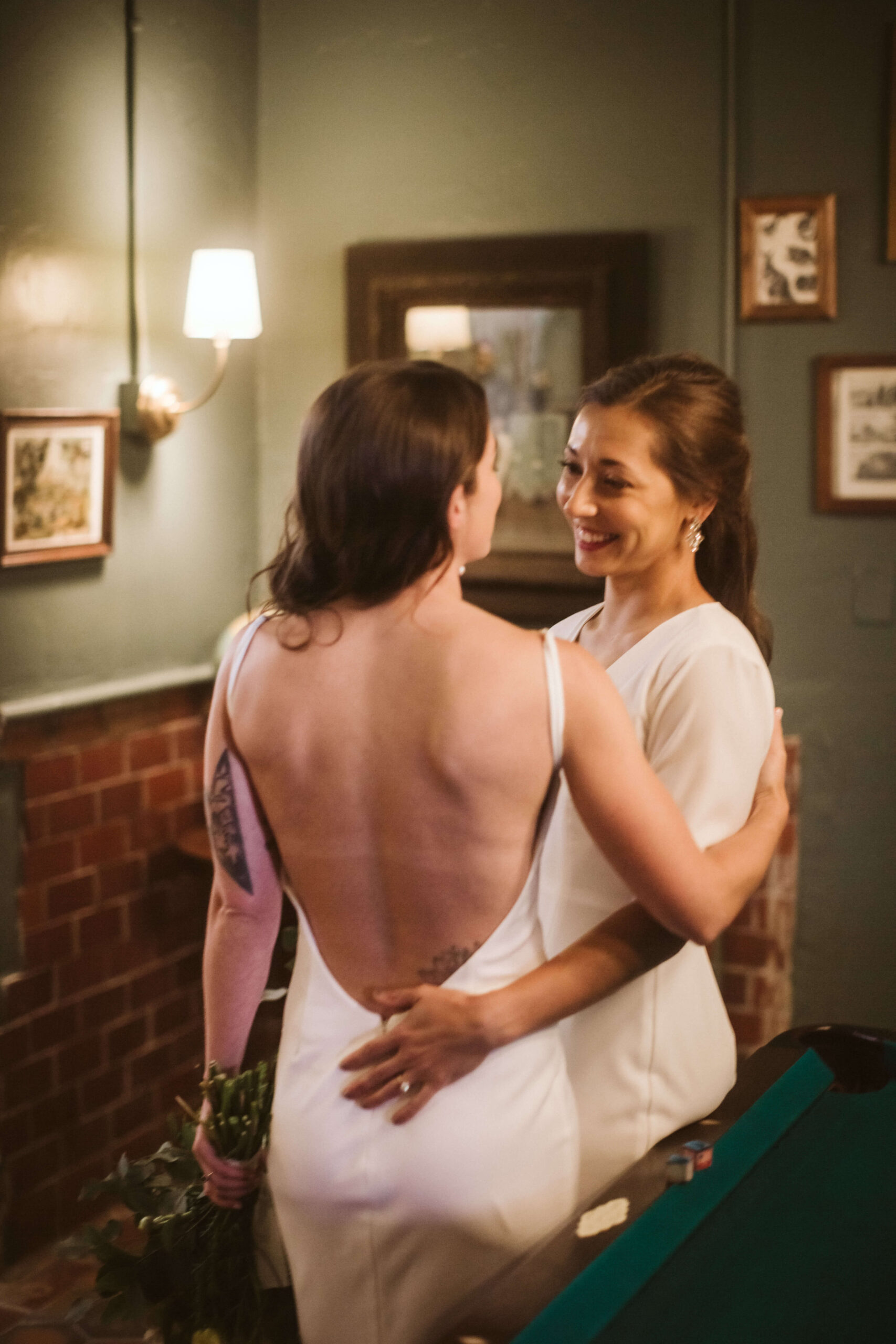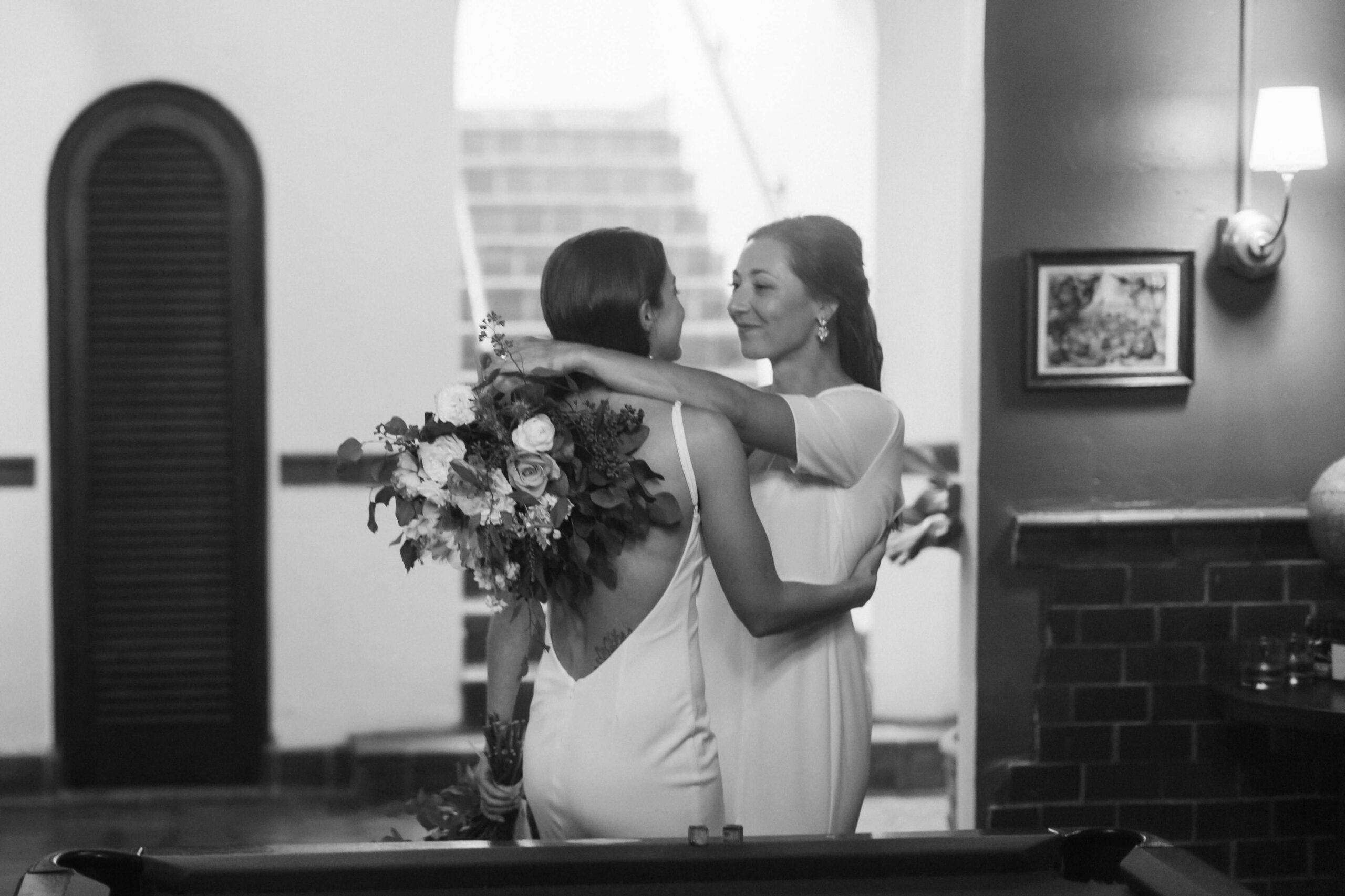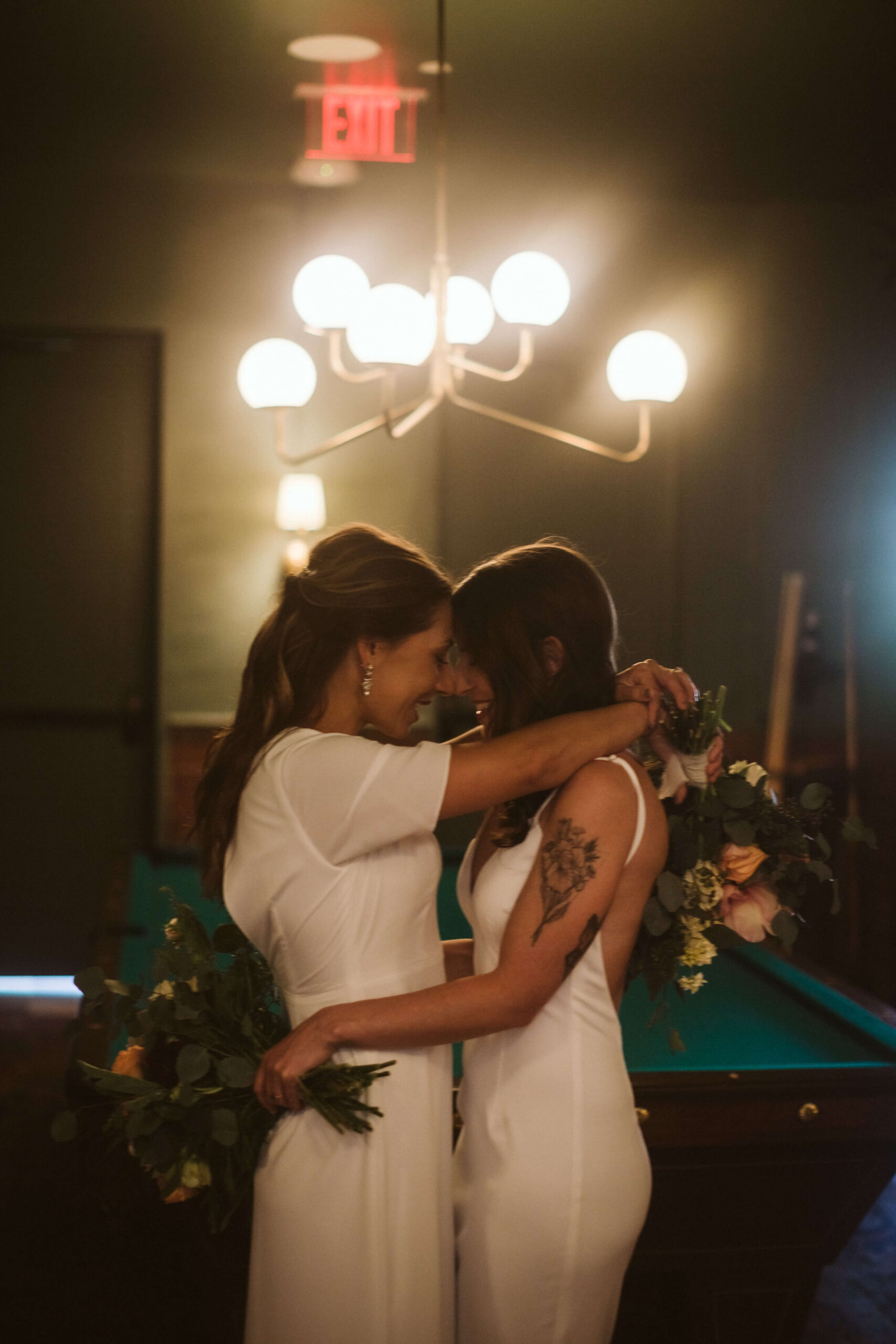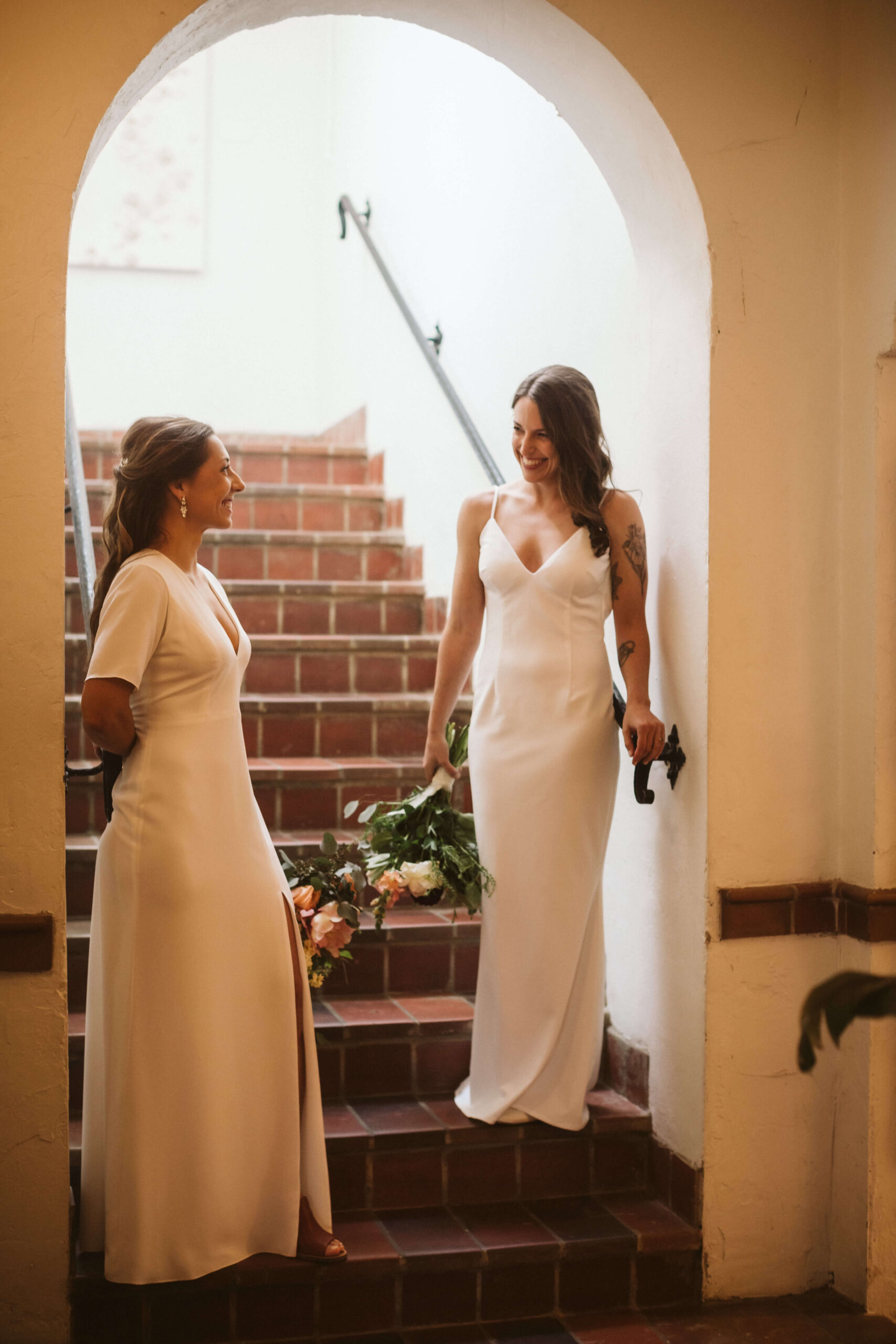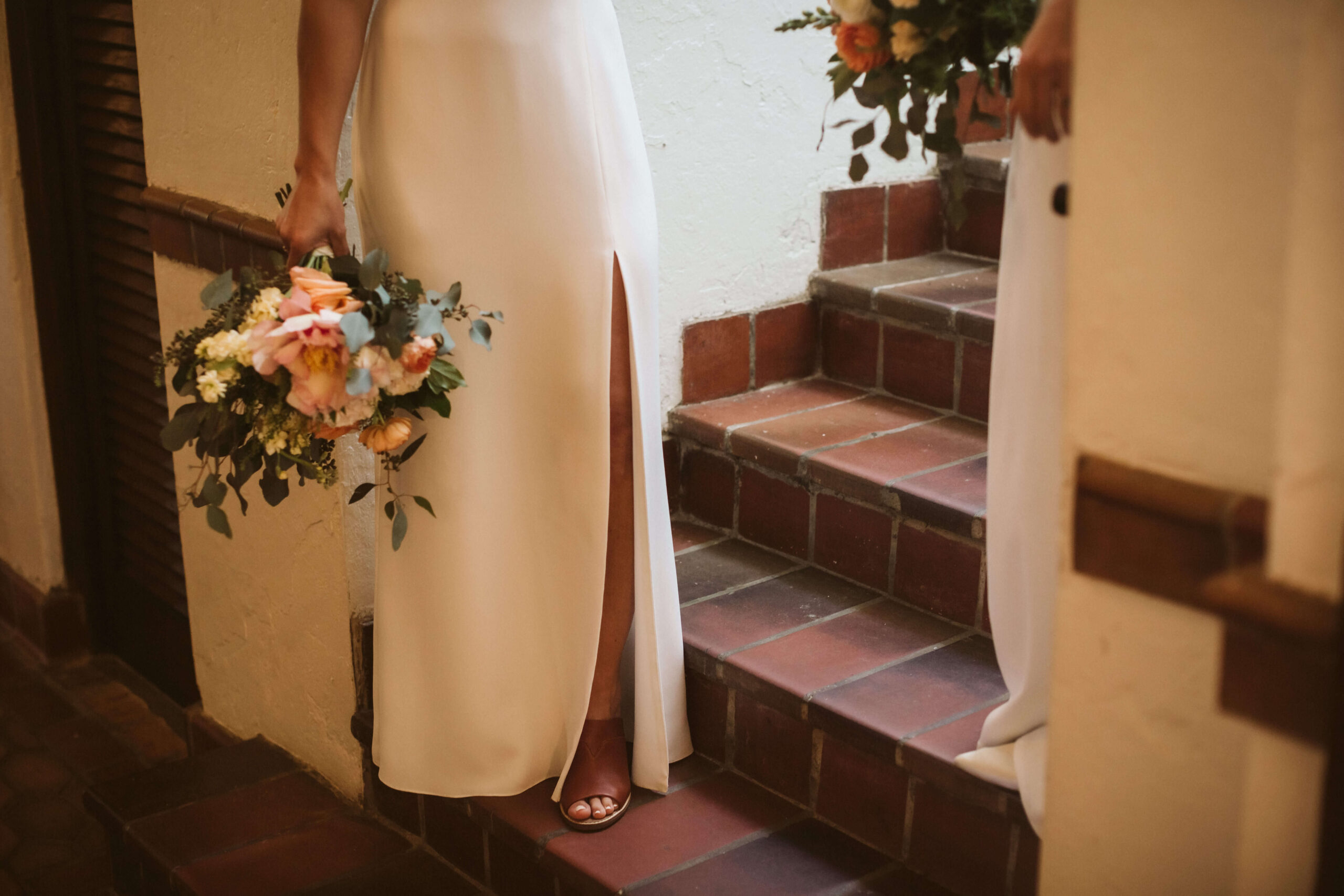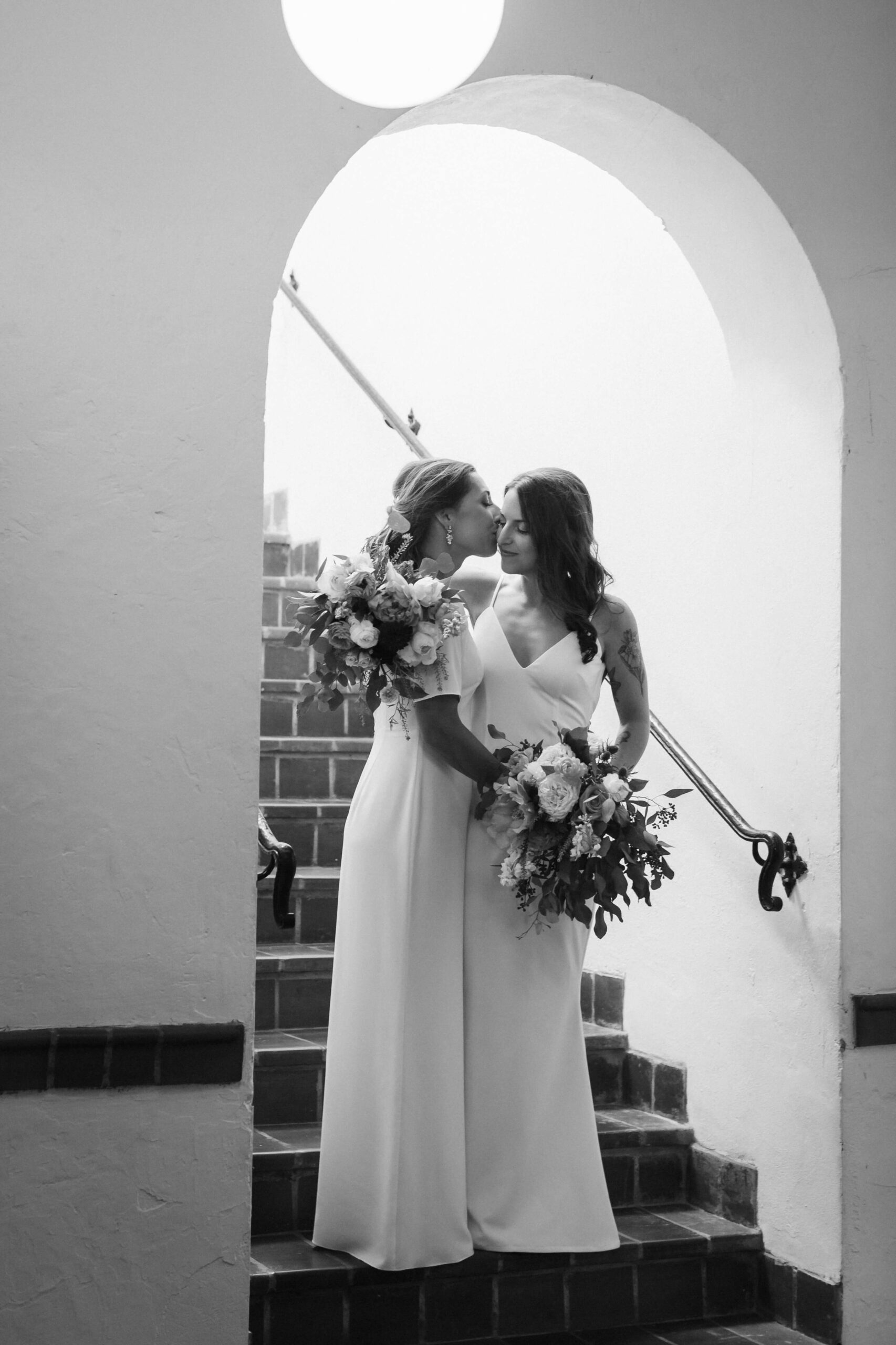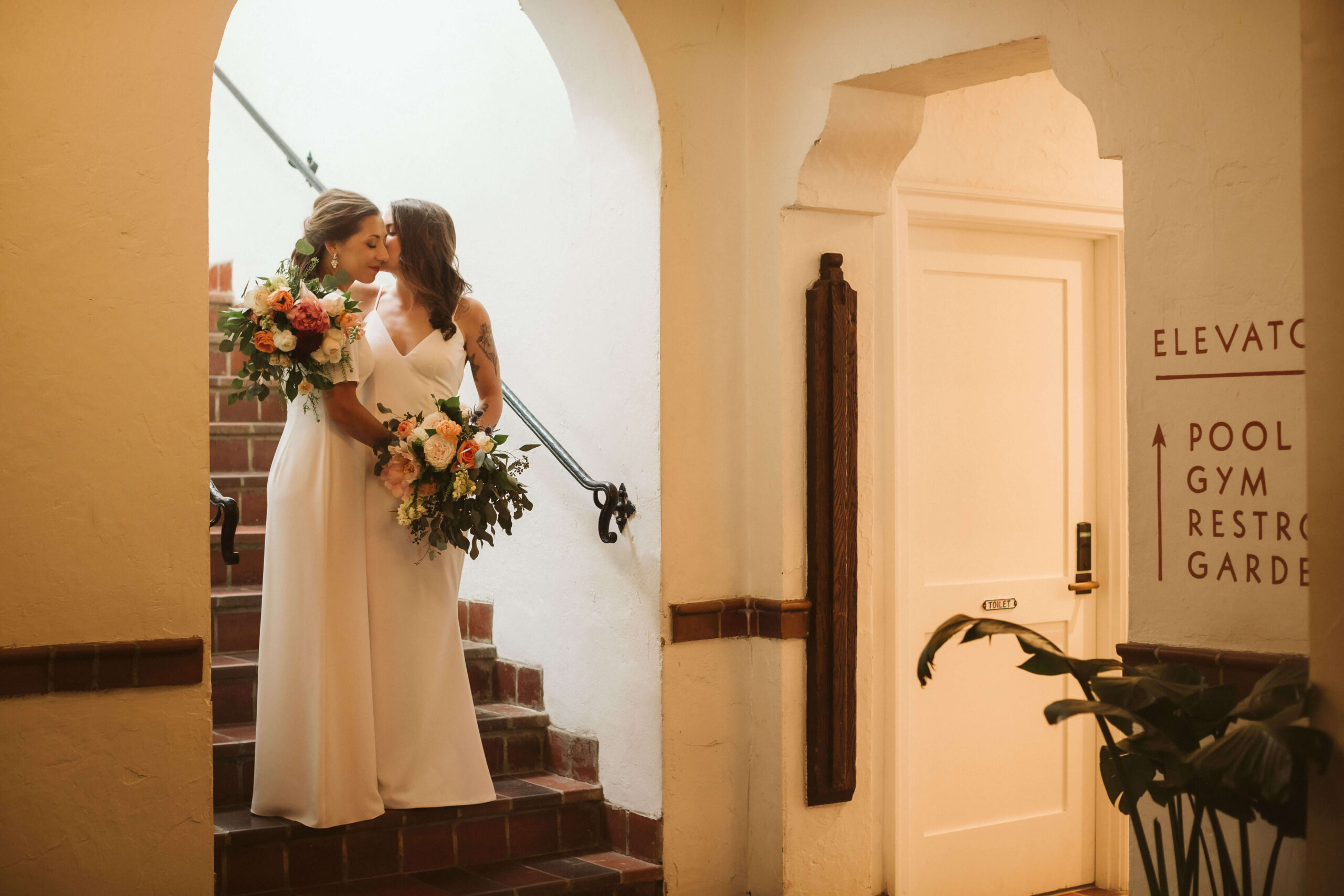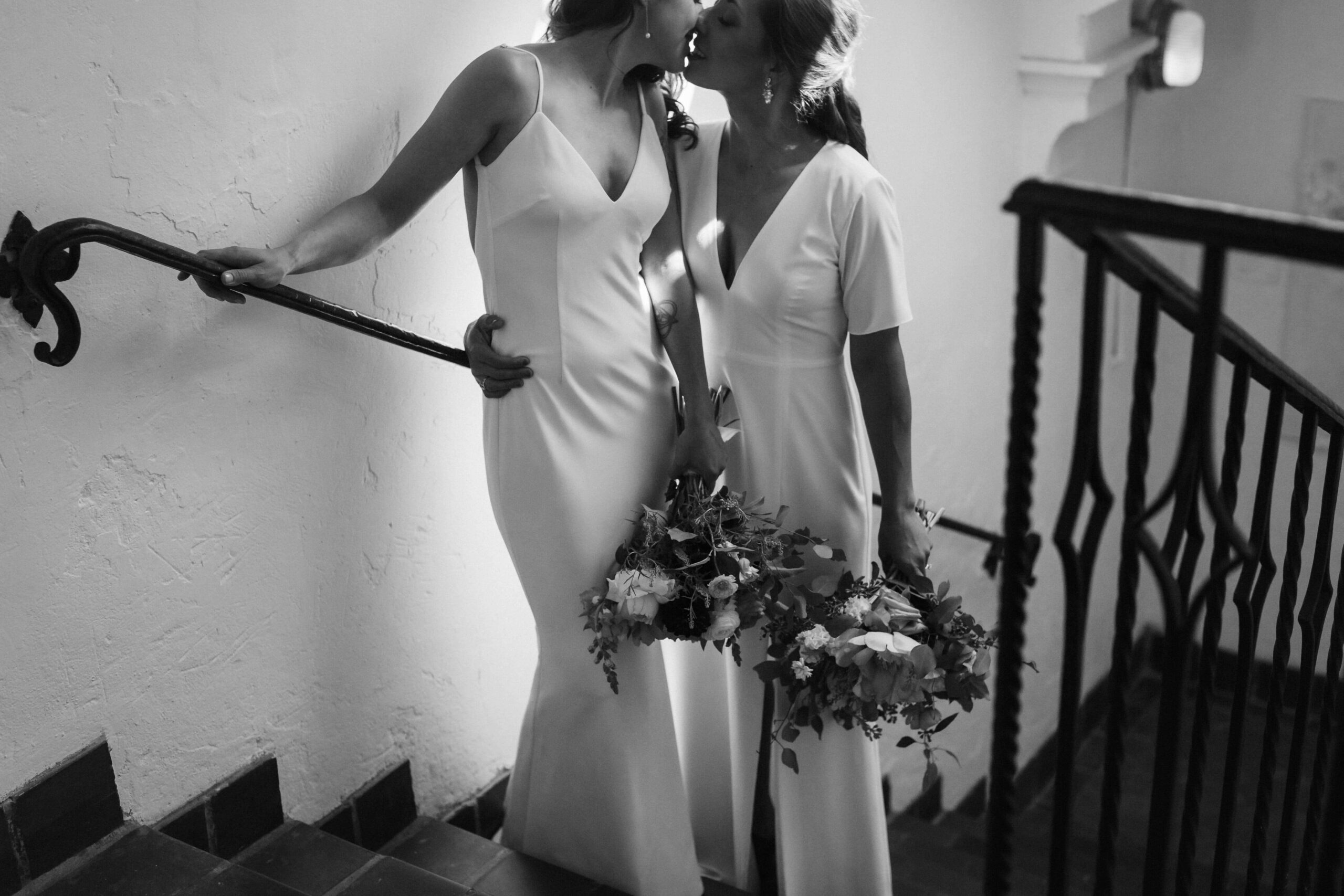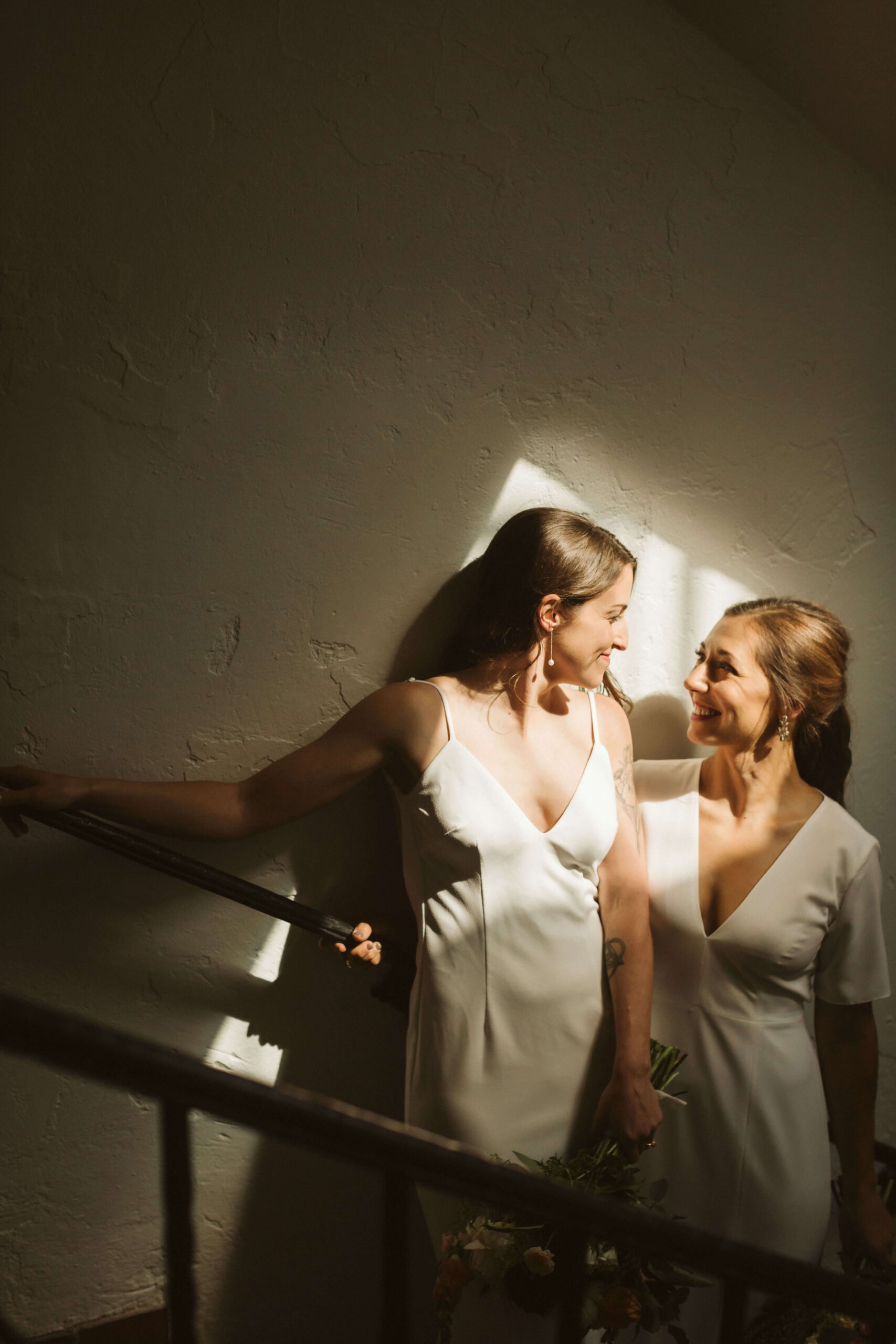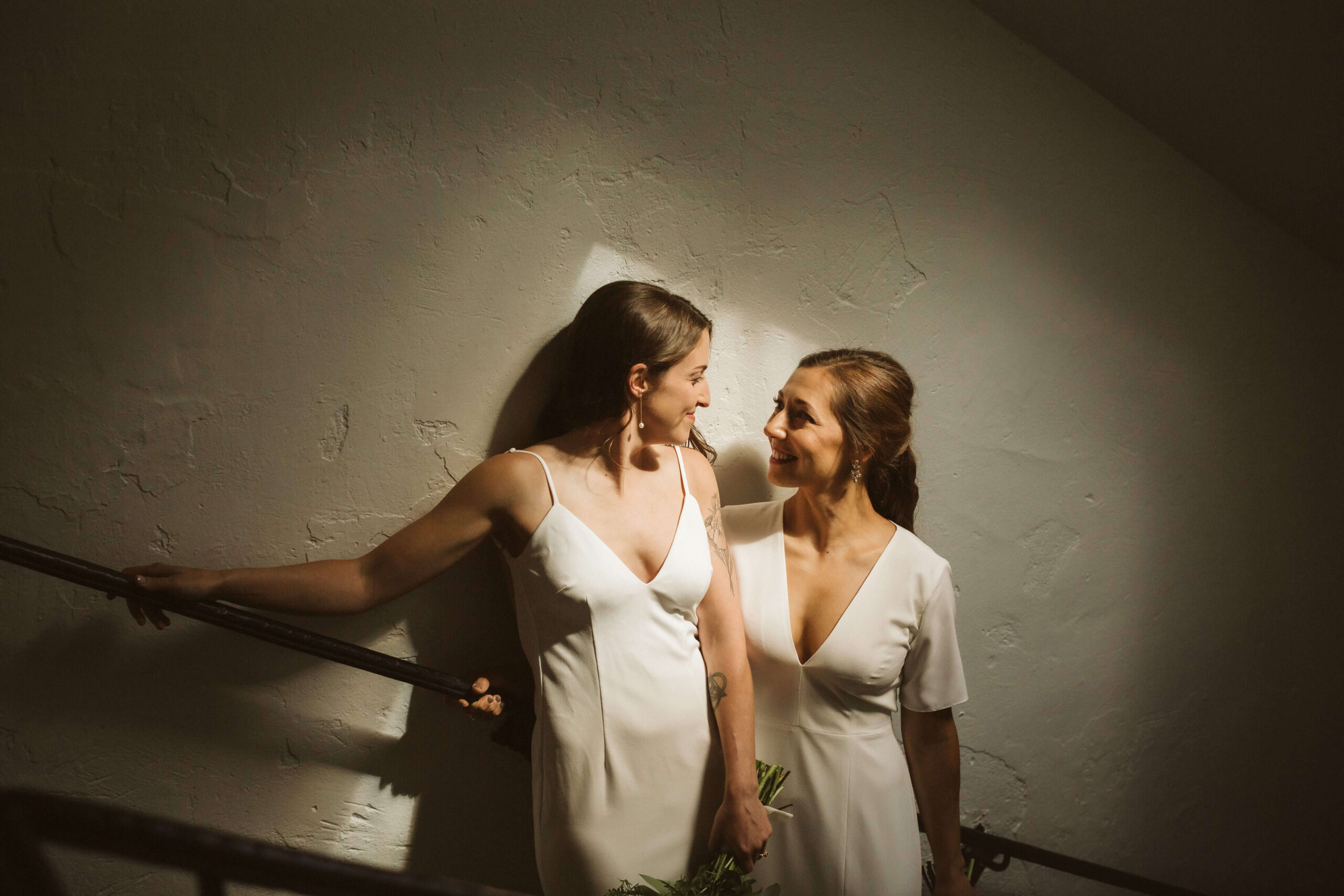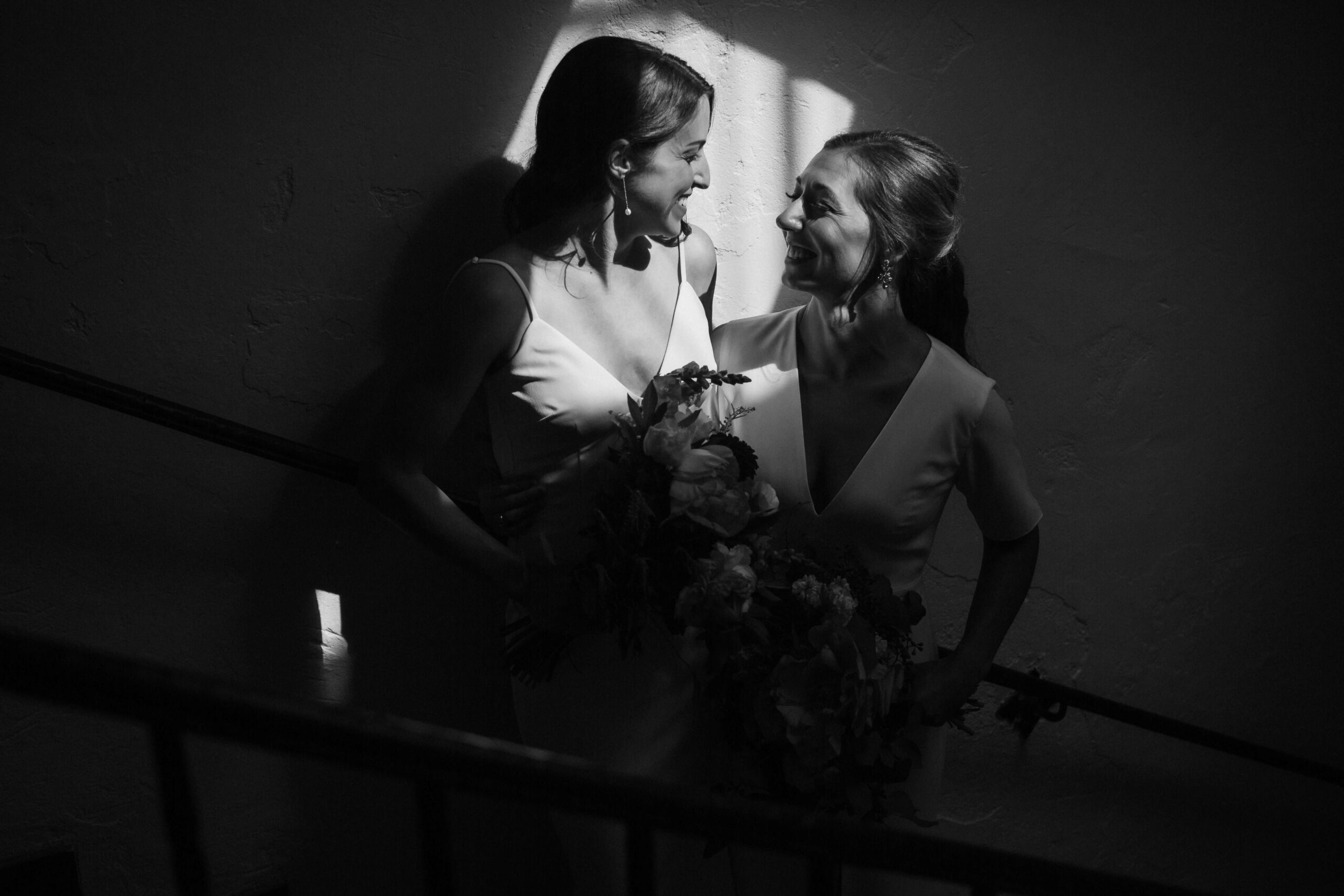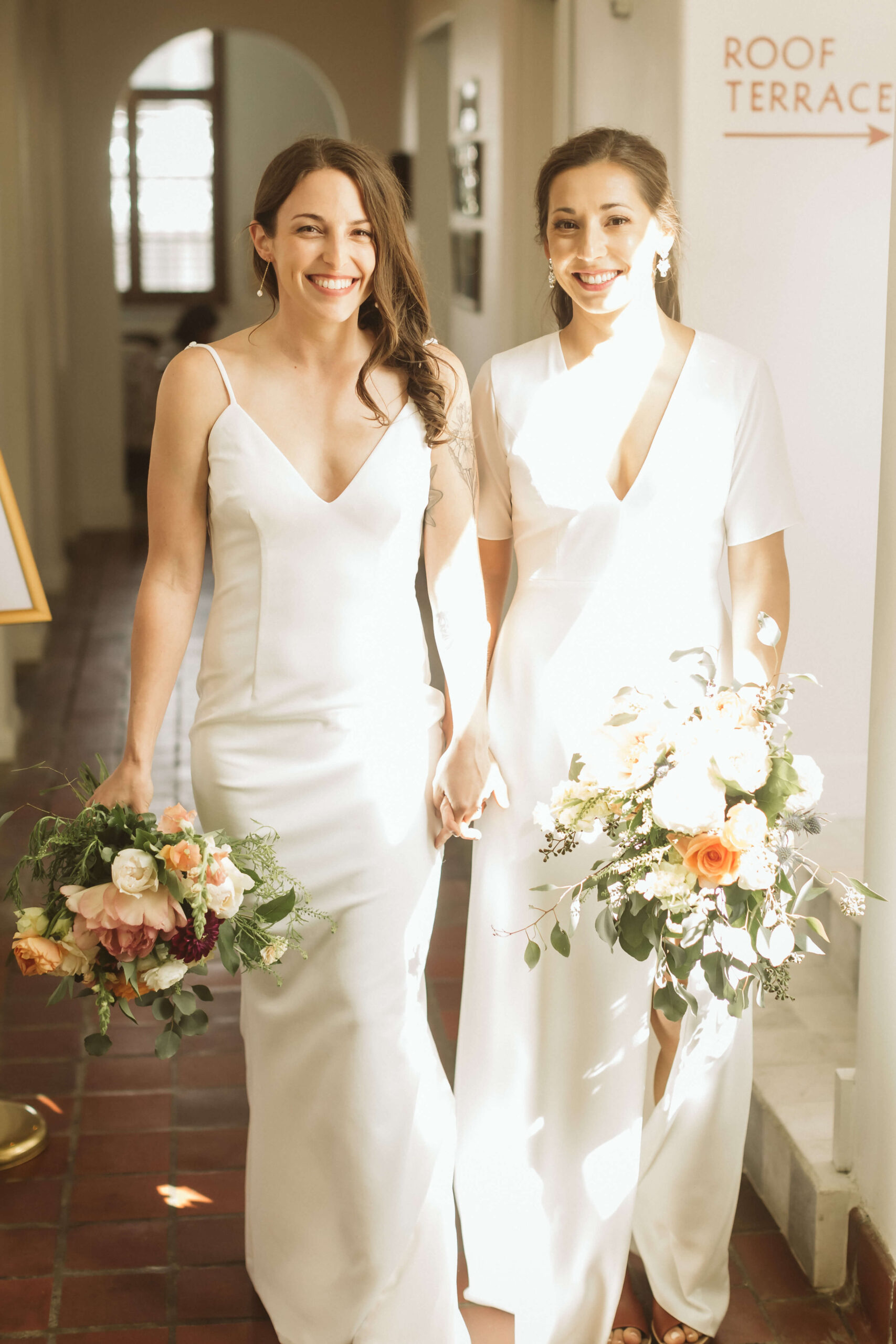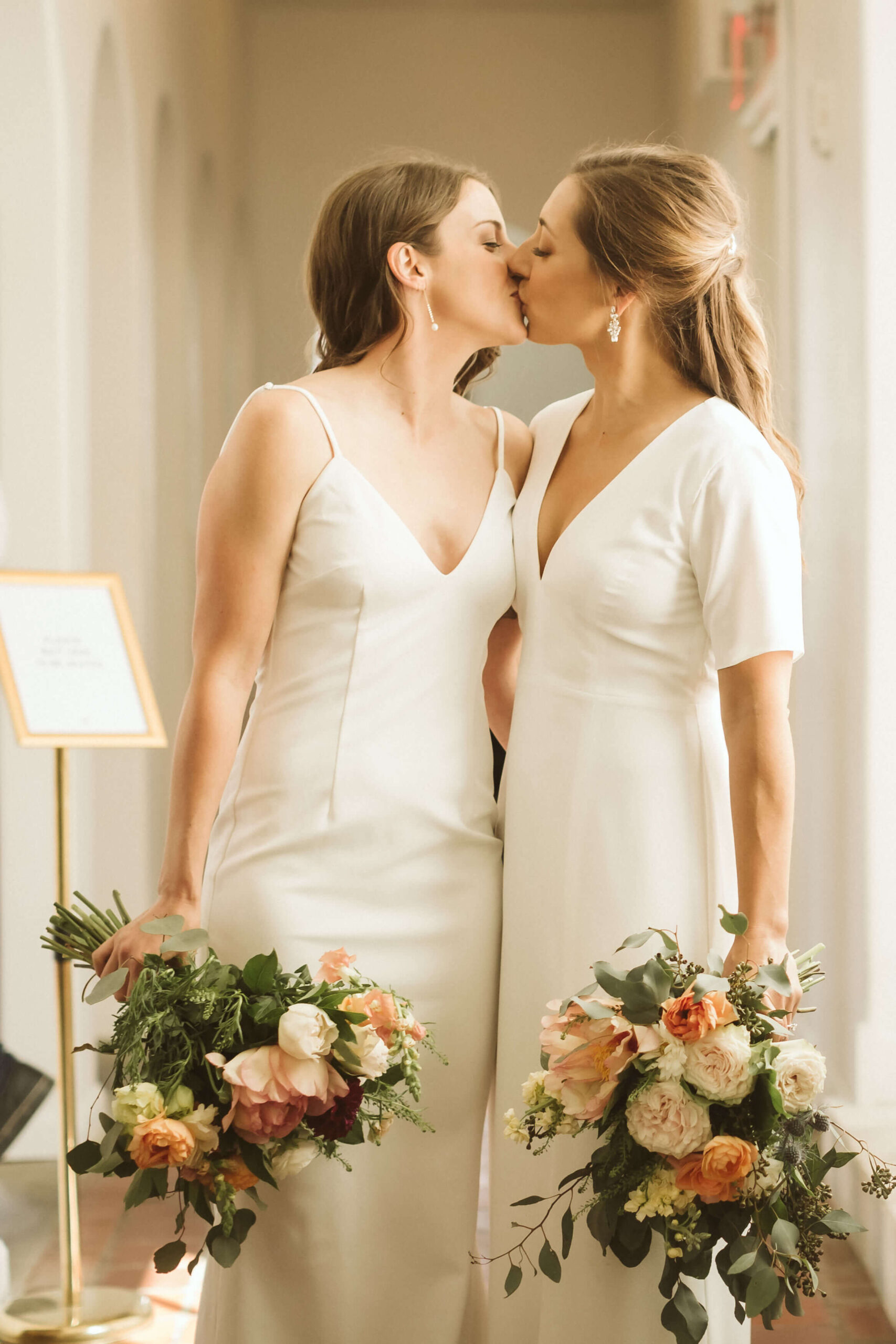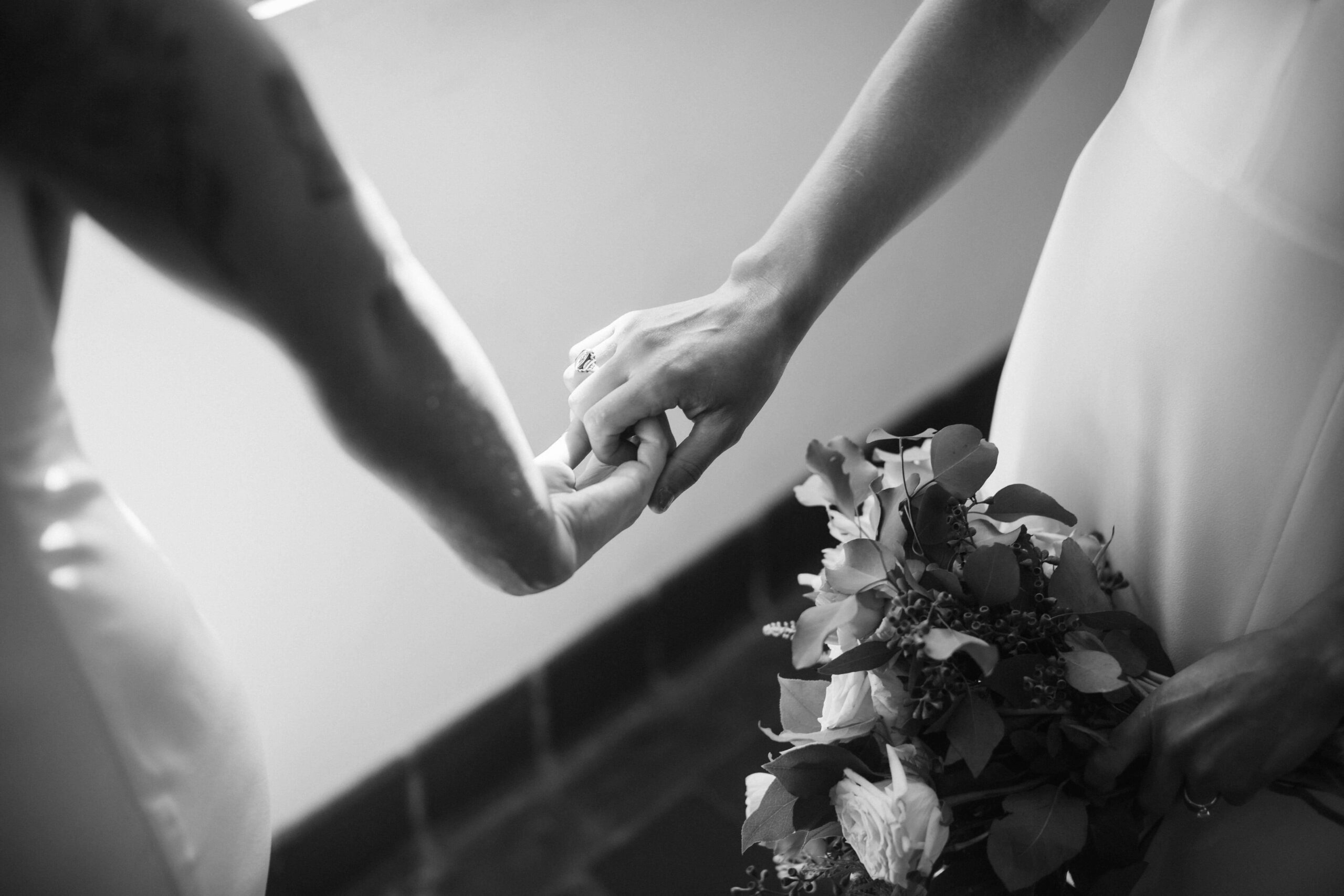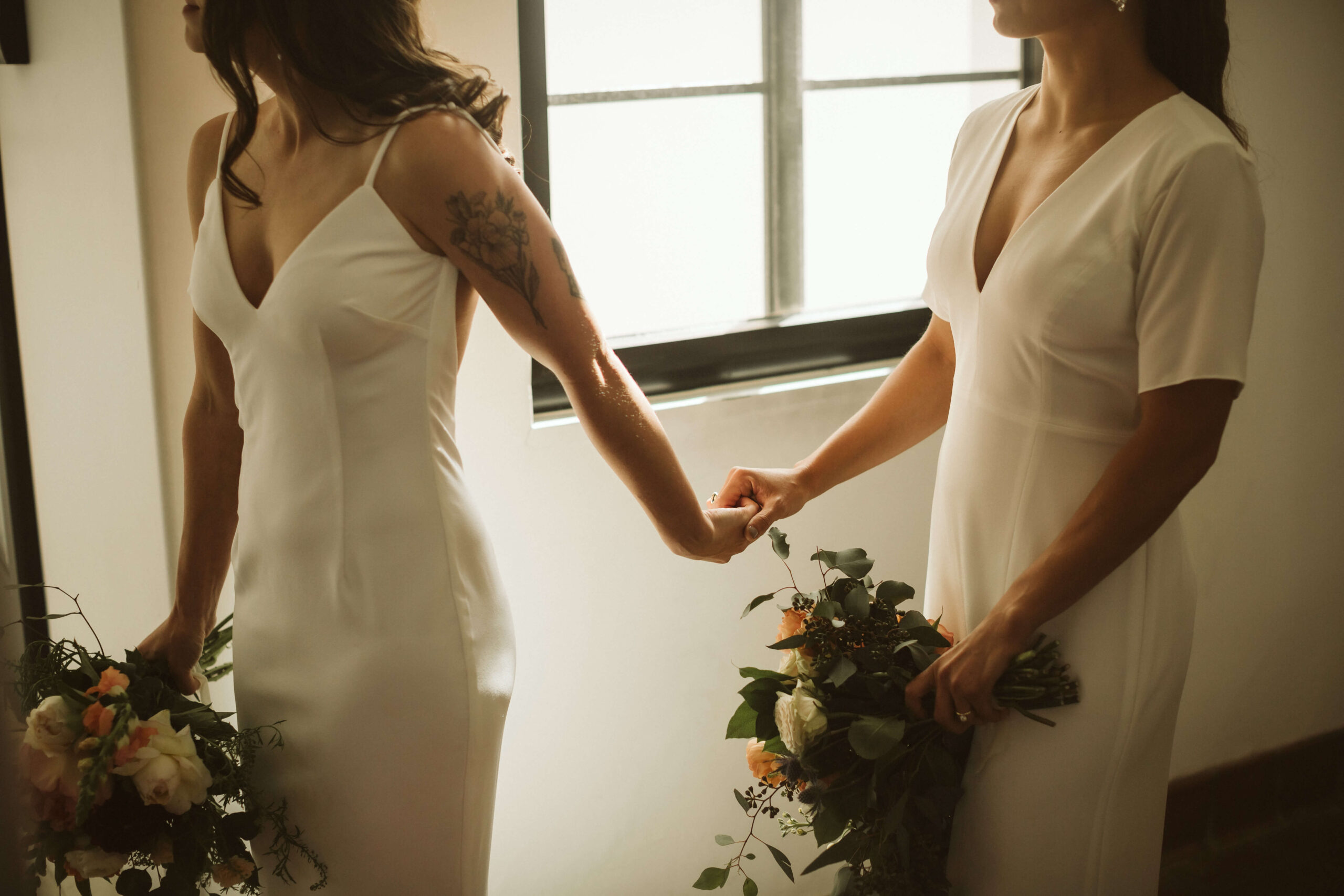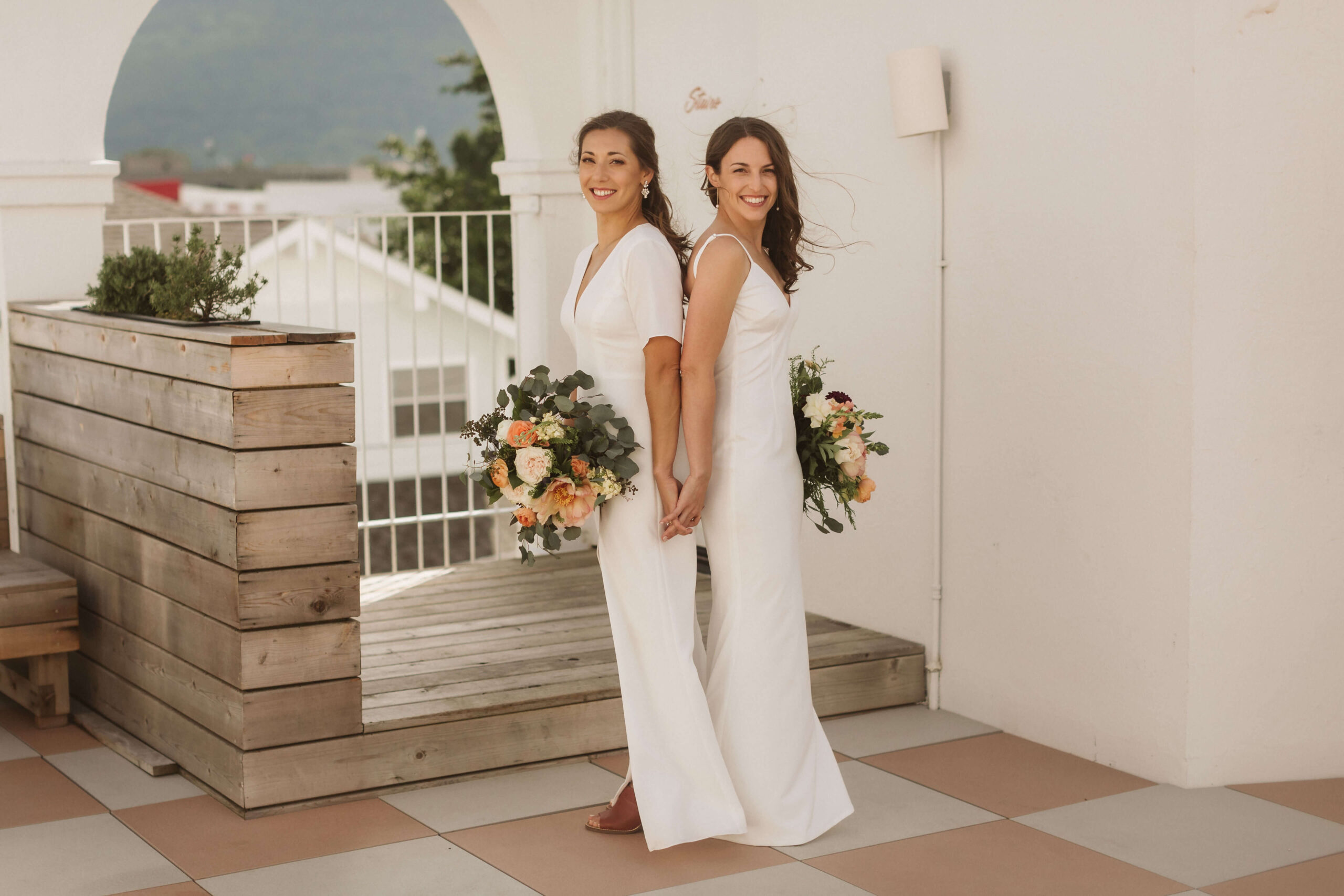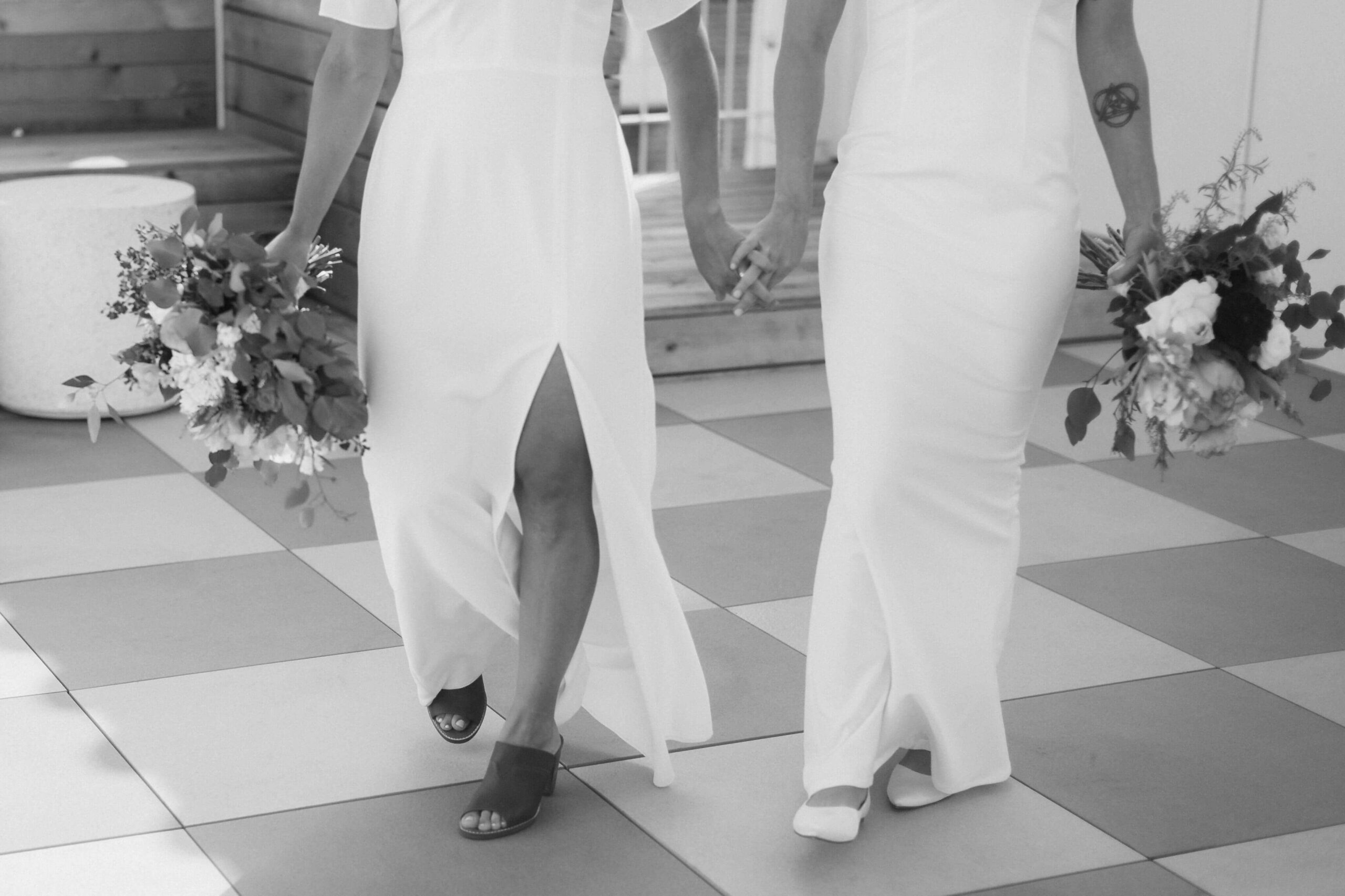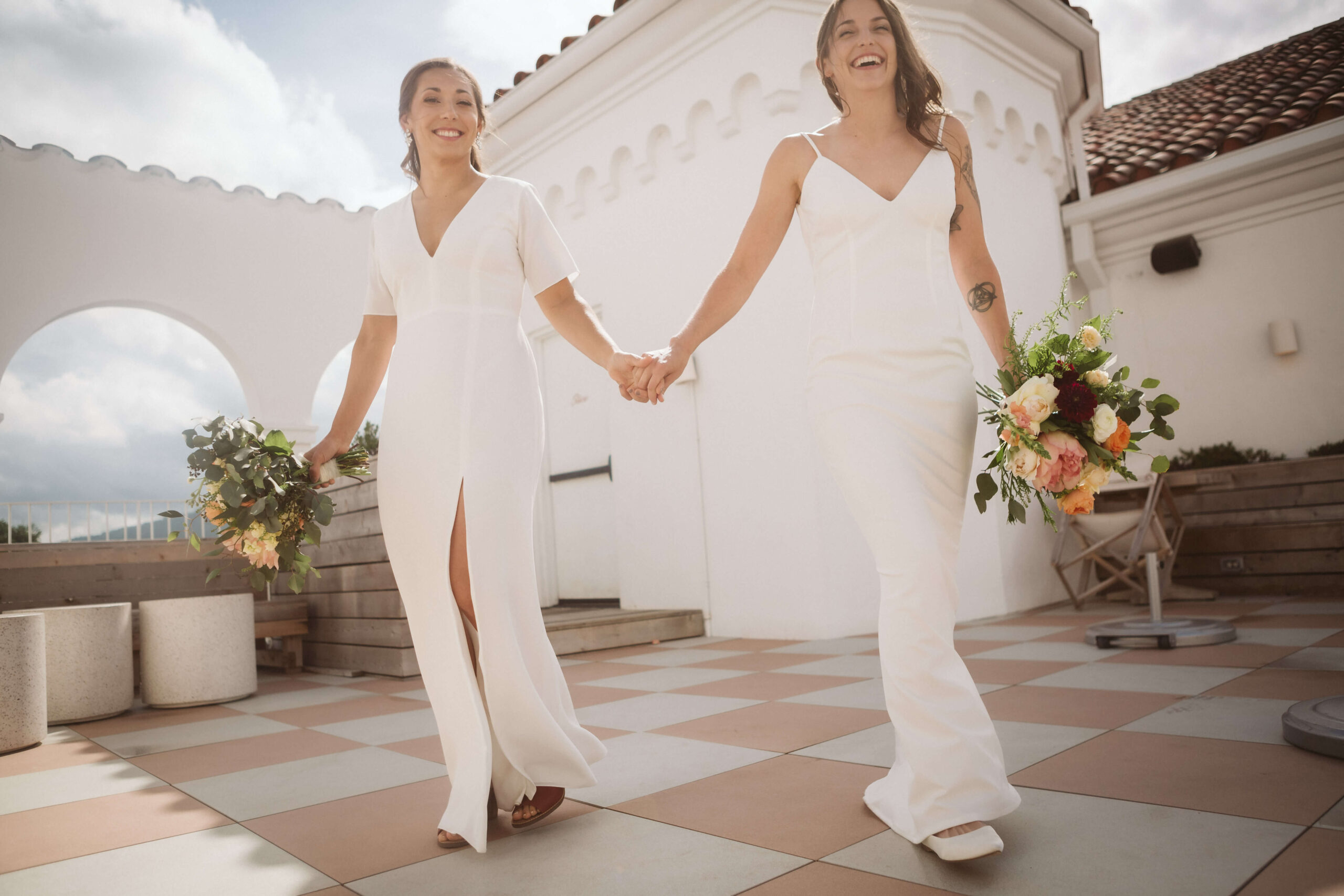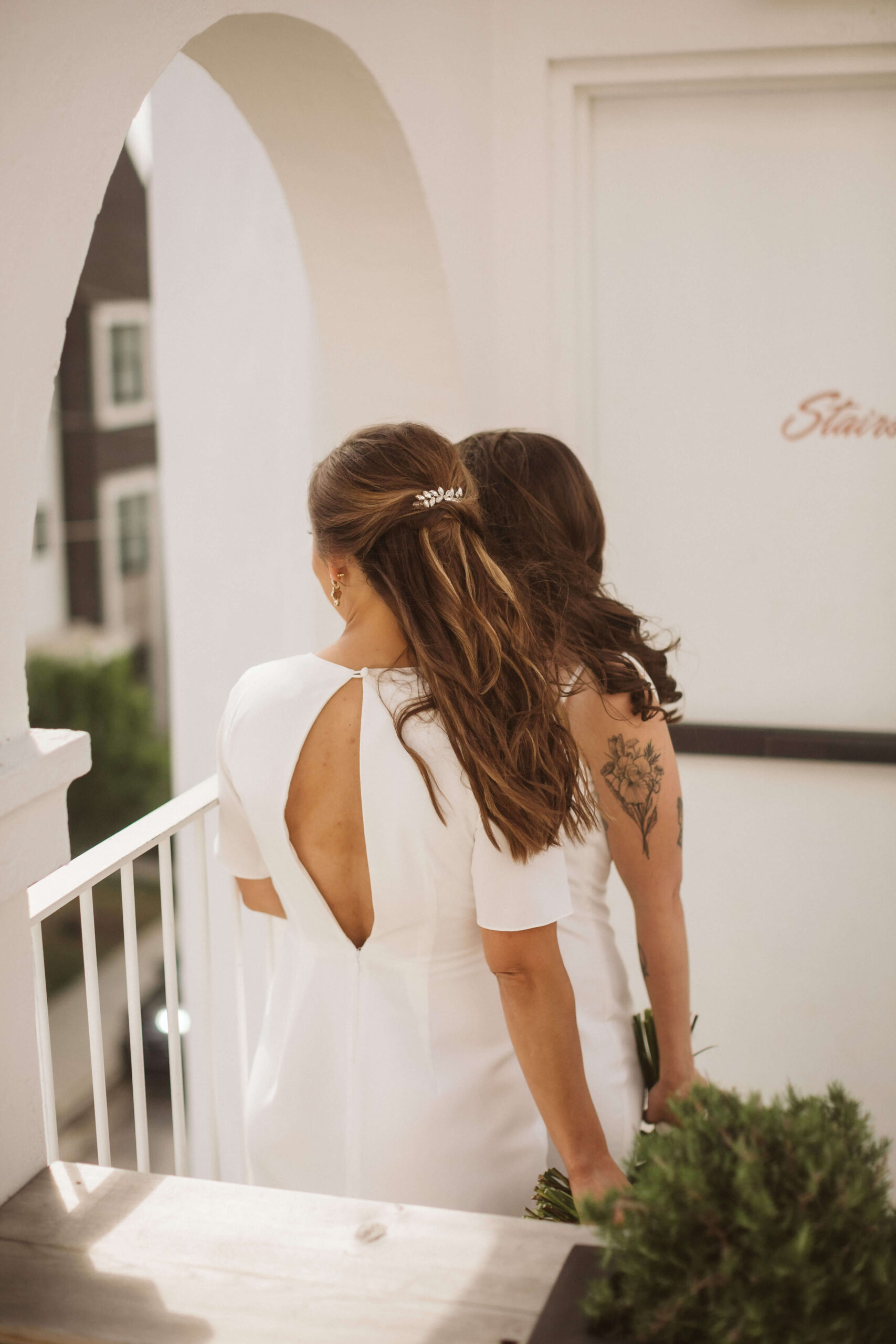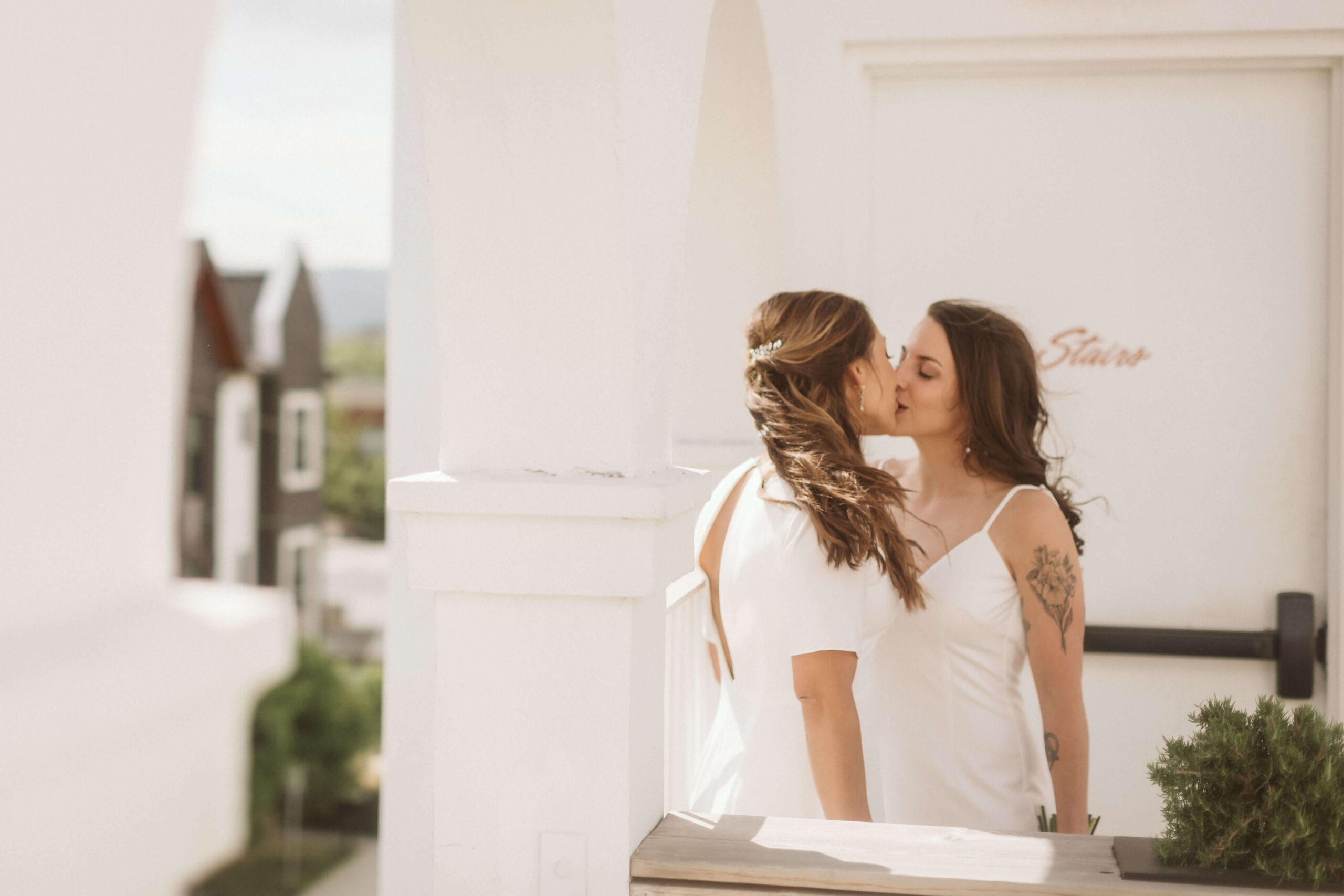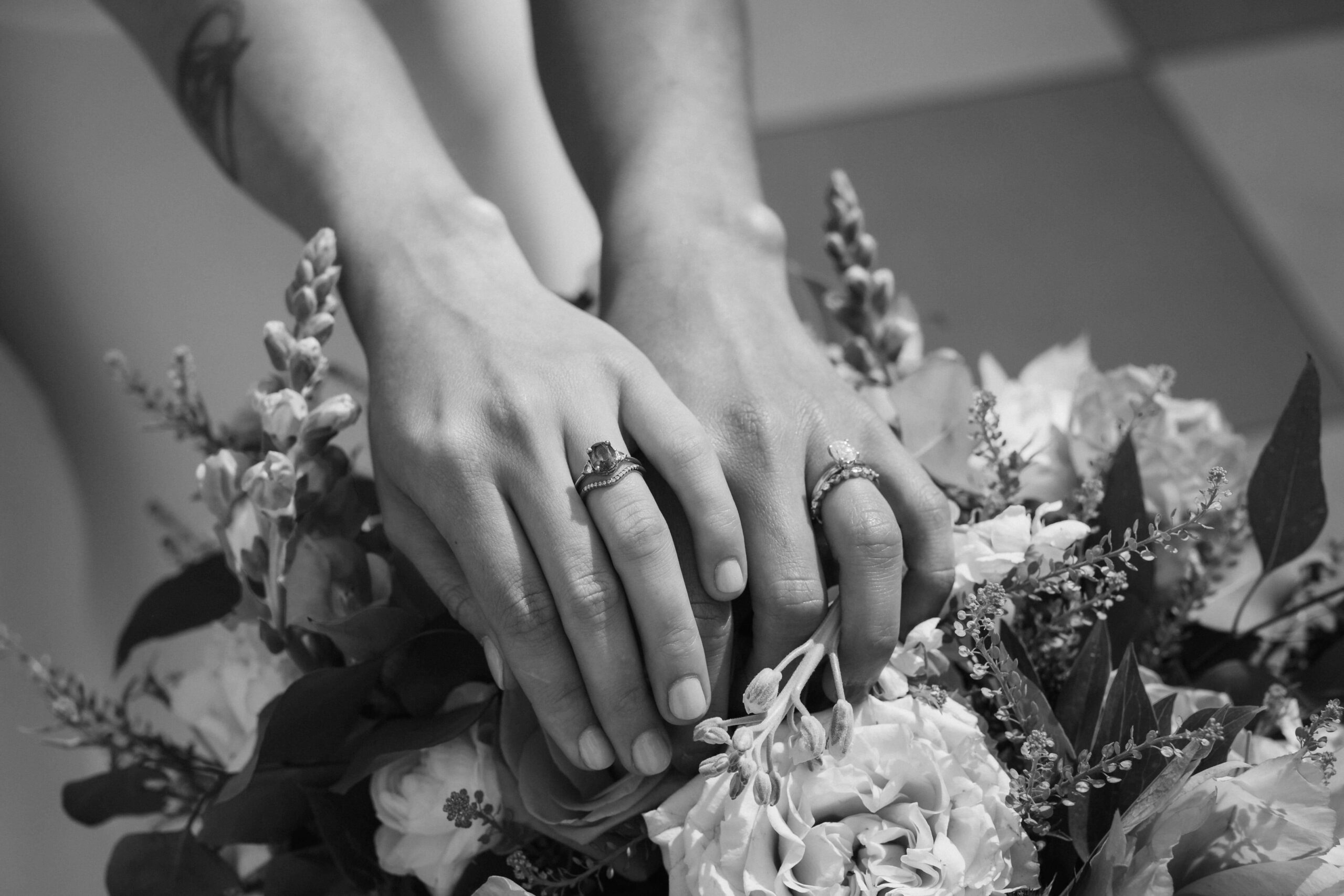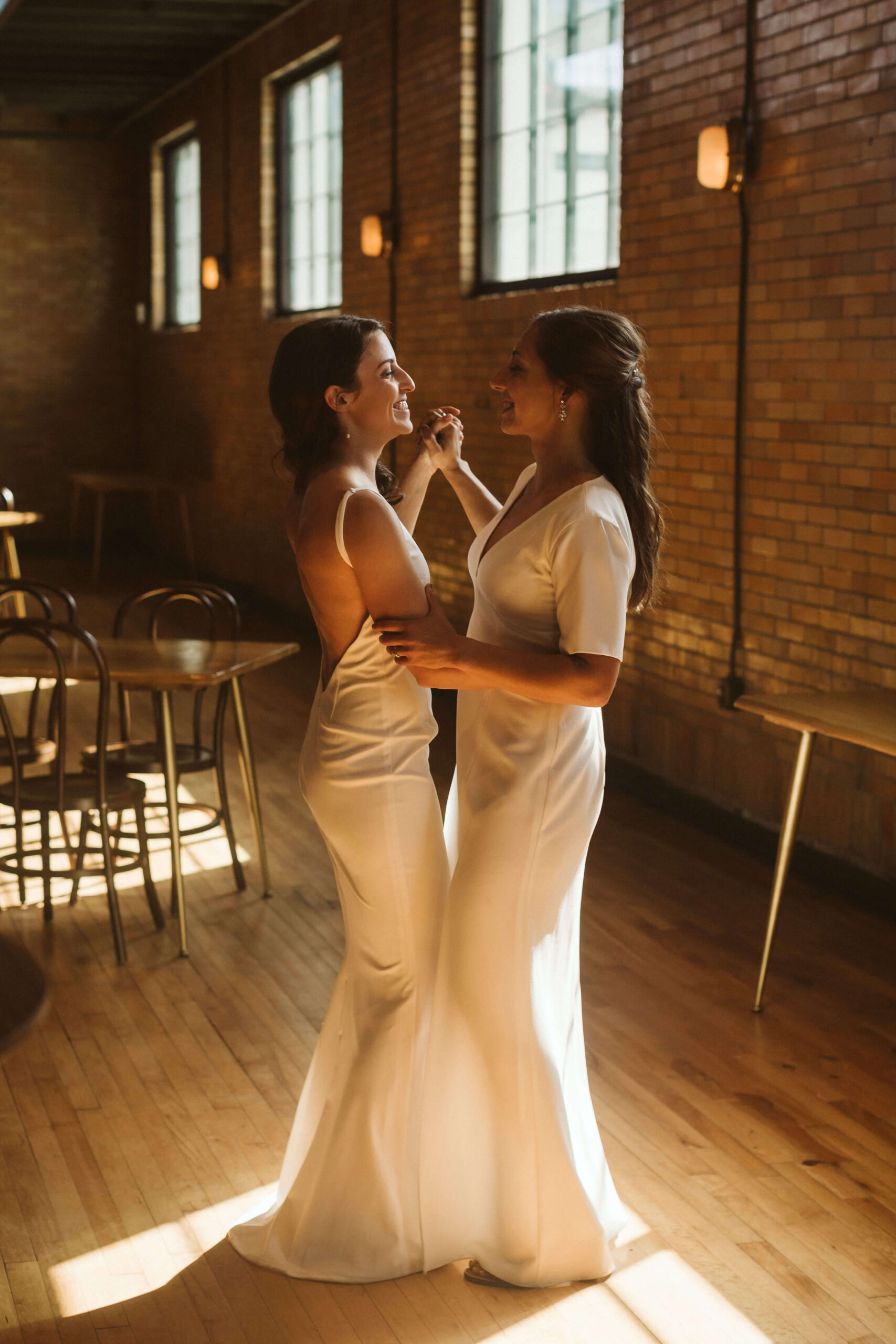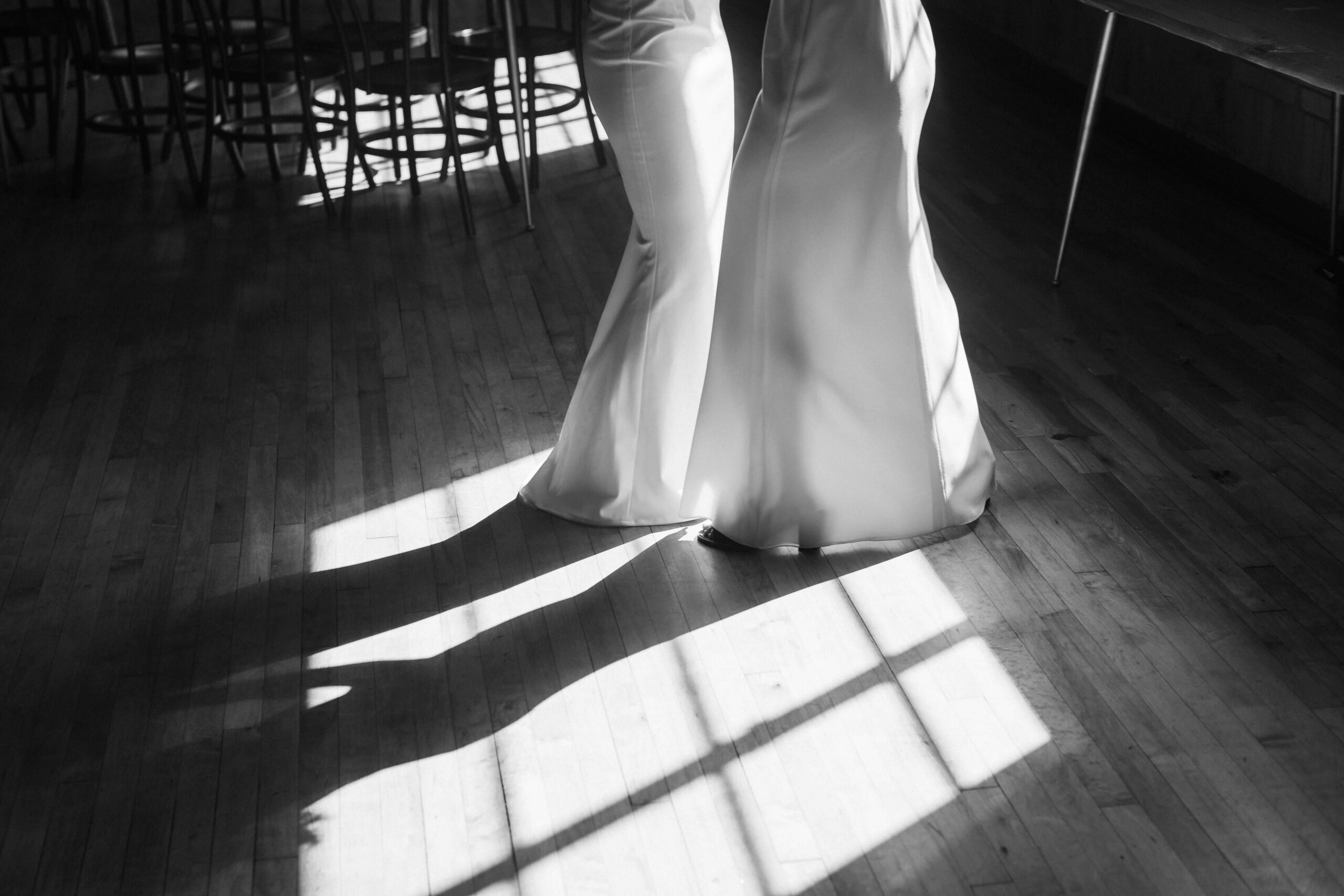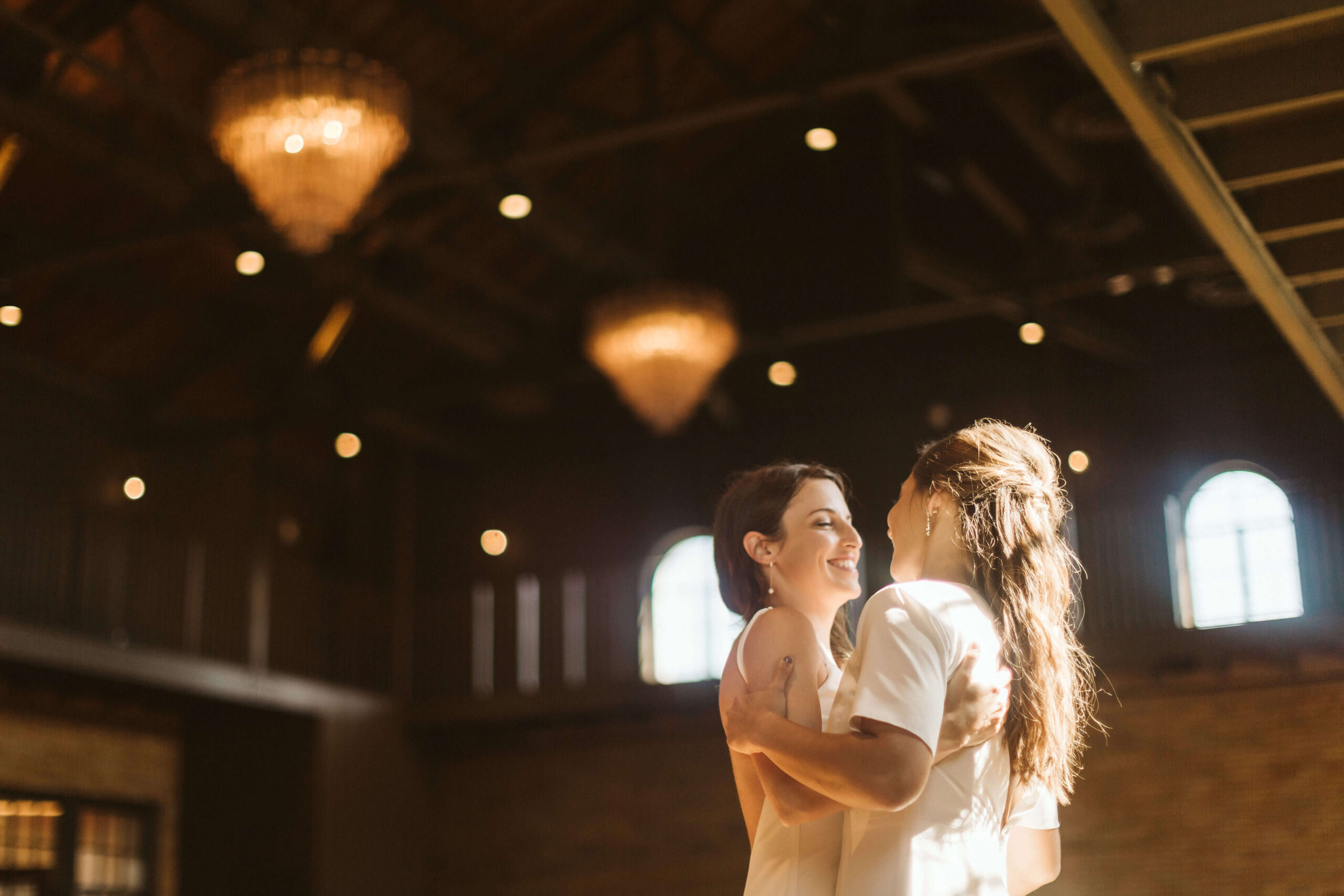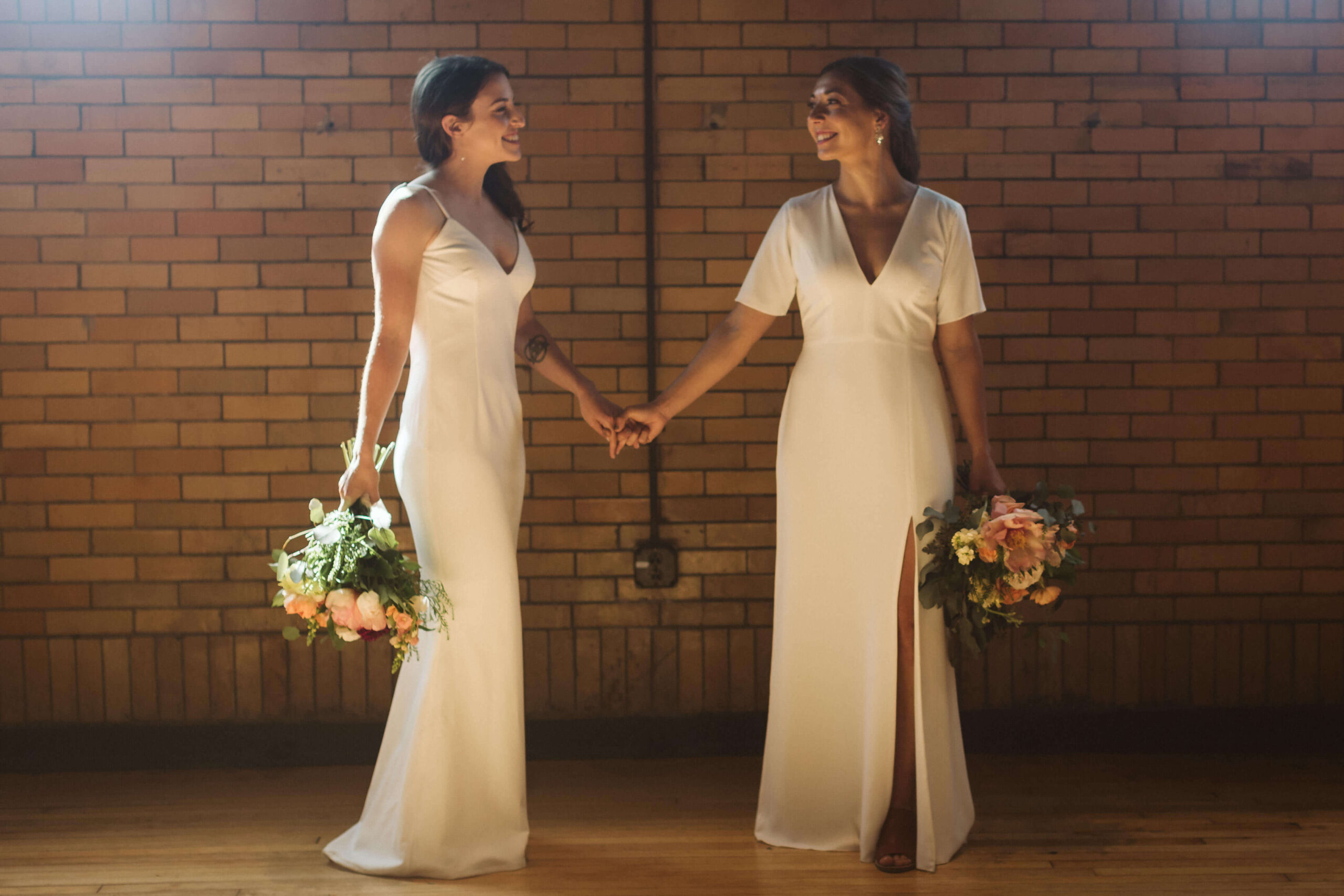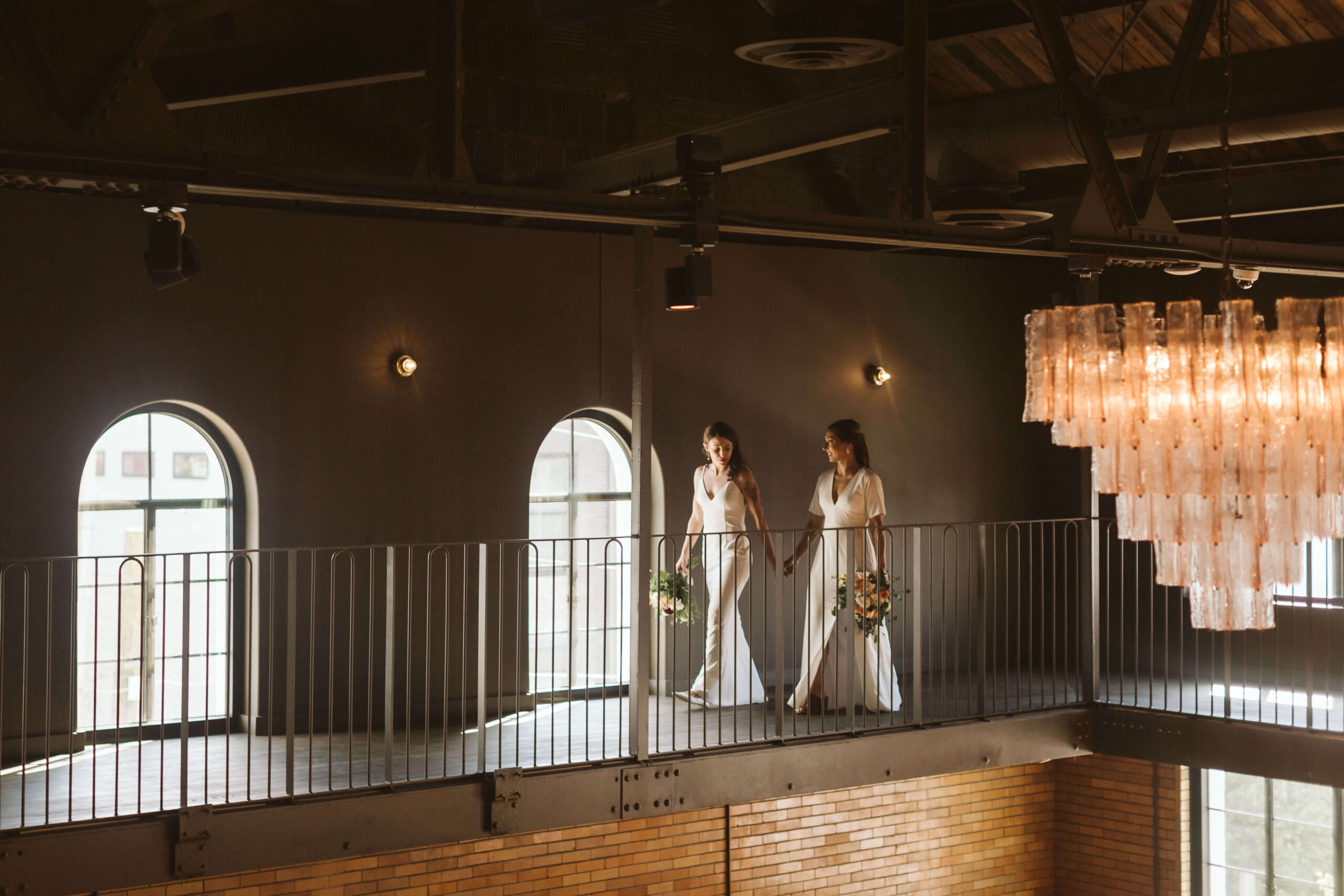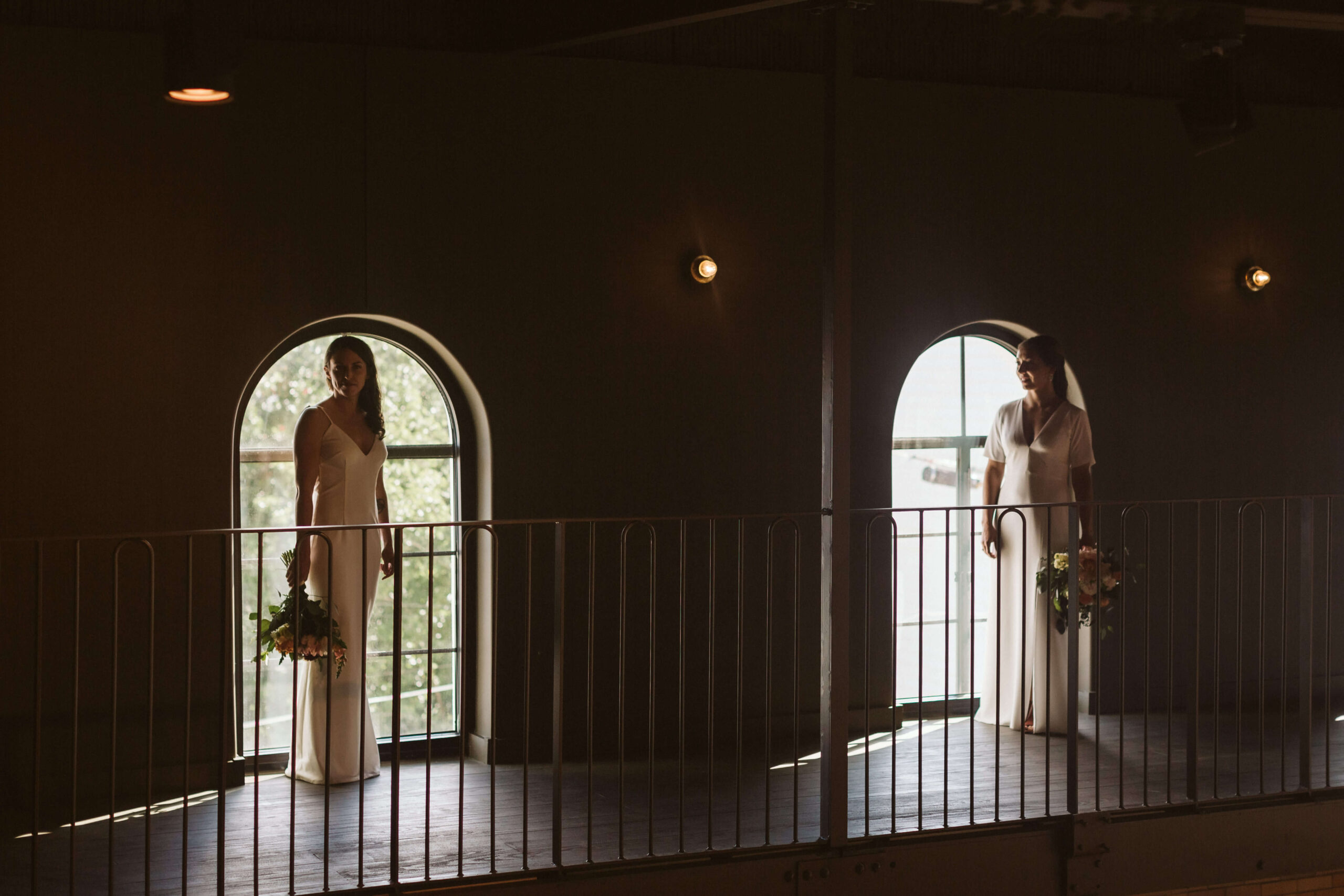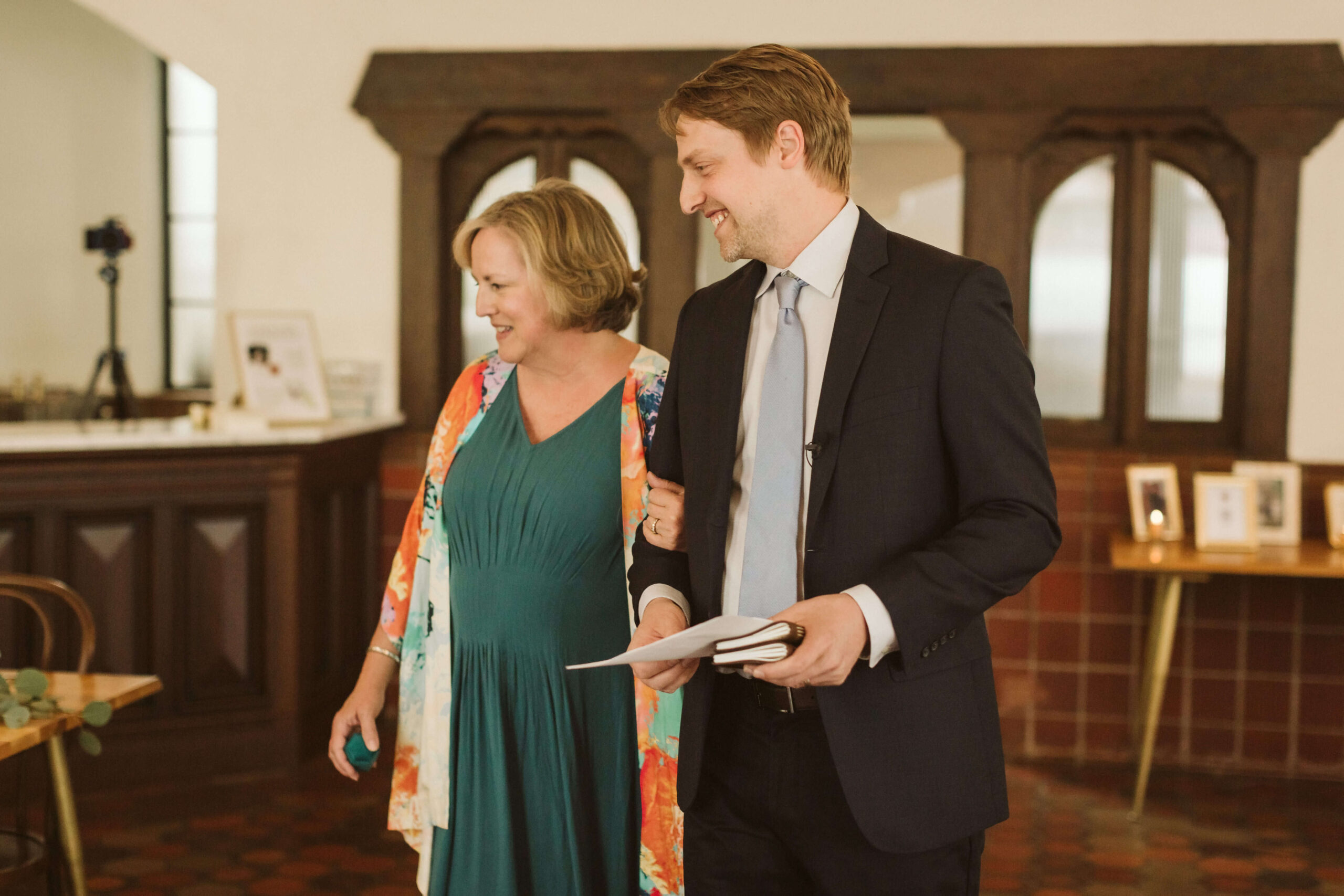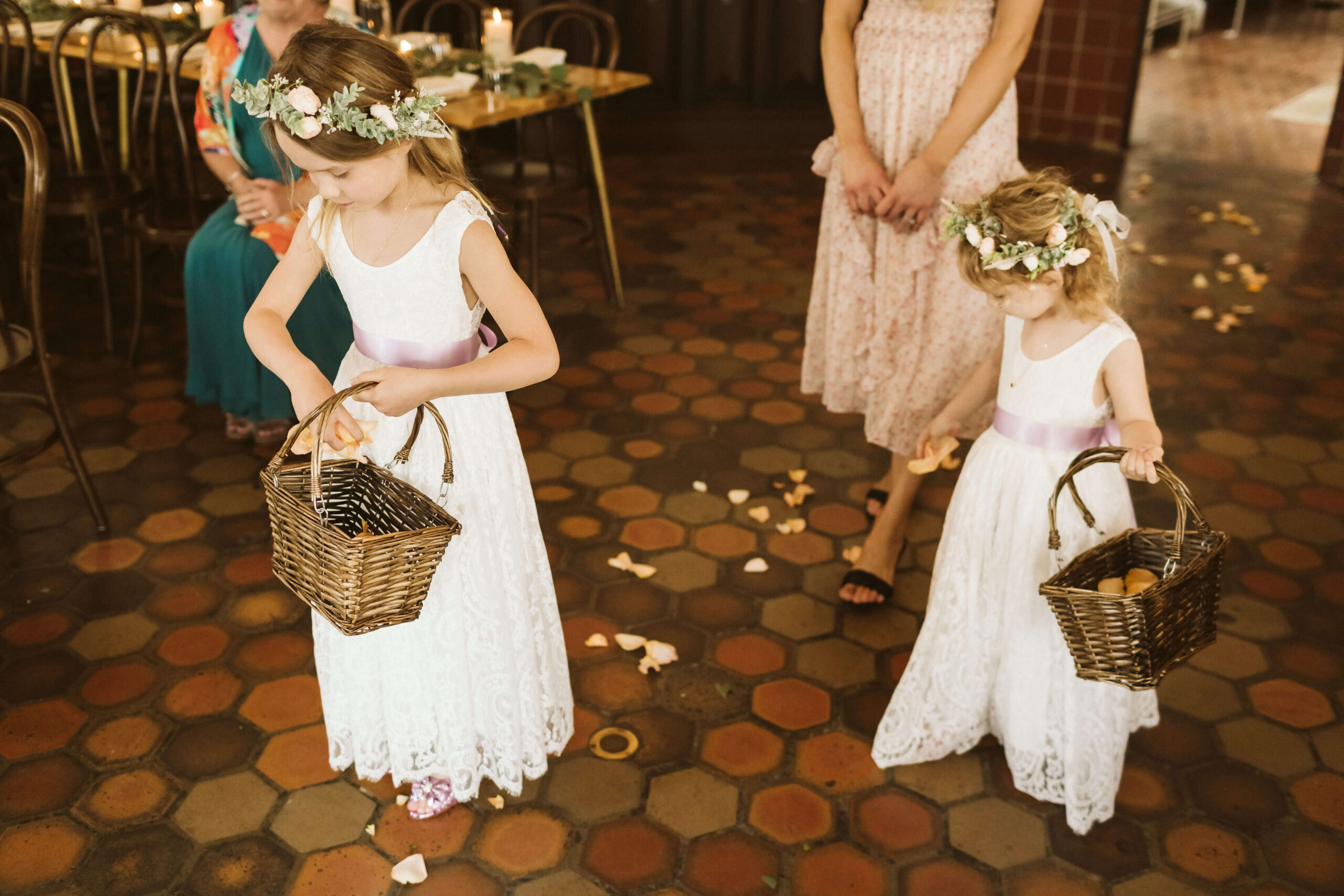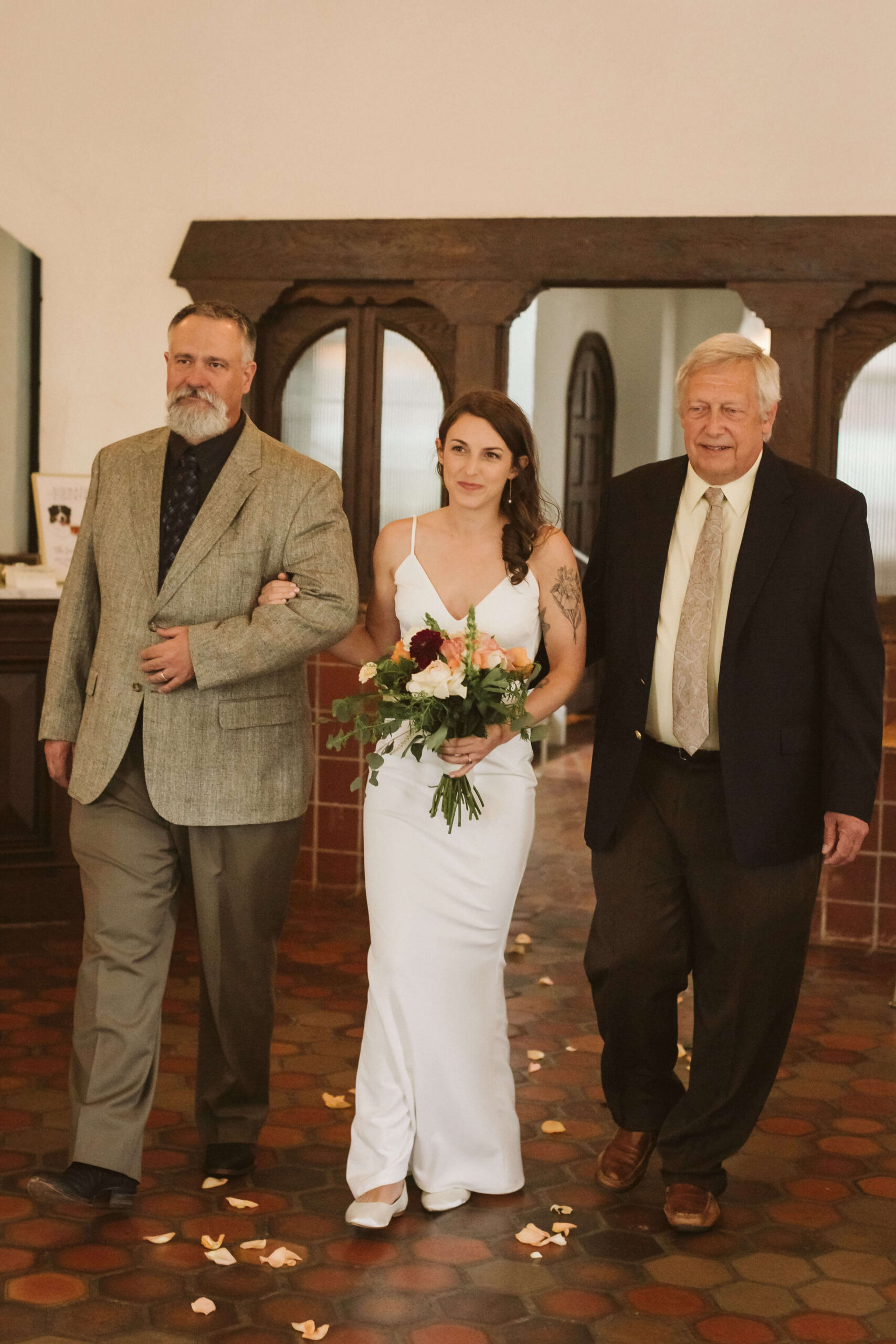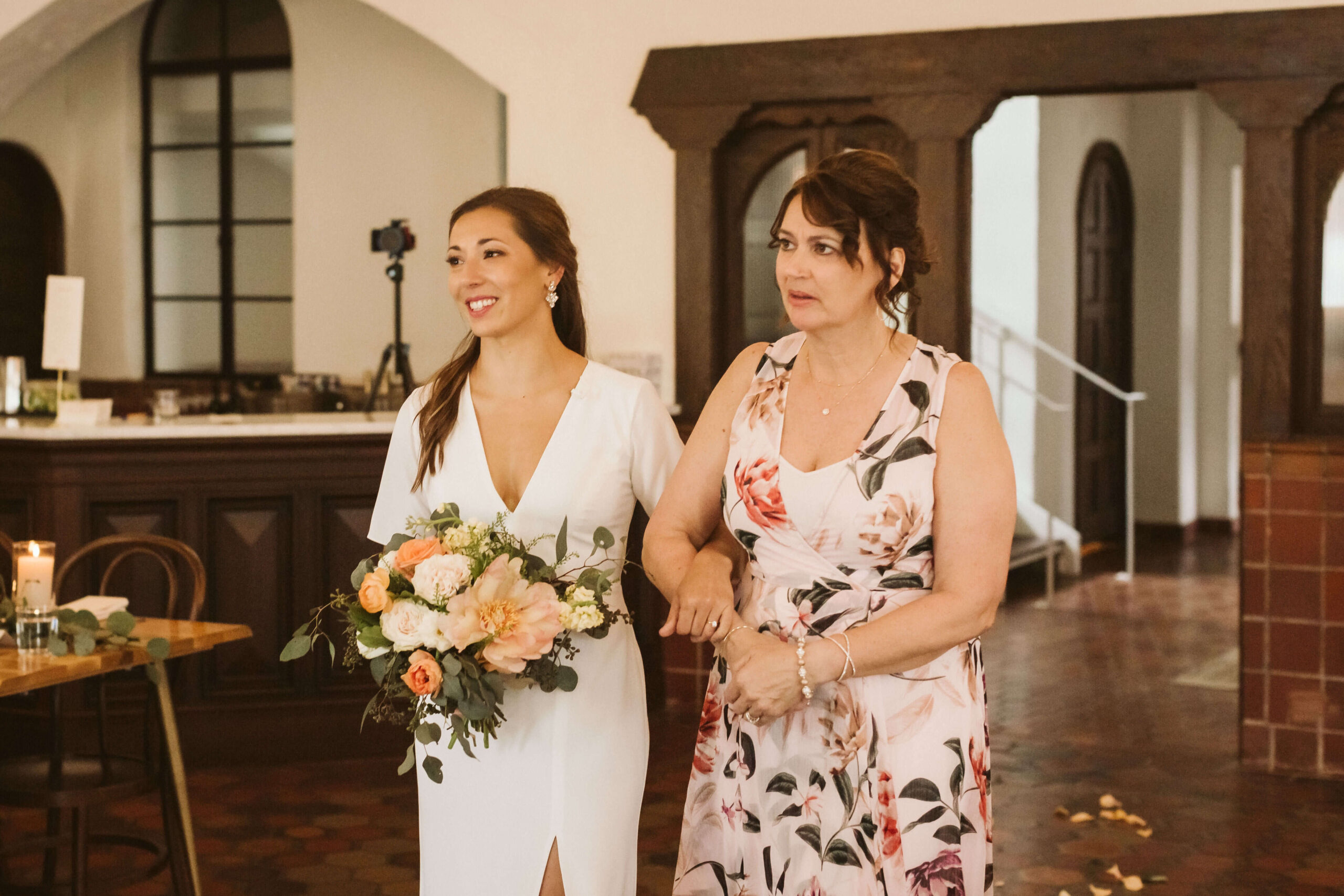 Hosting Your Elopement at the Common House
The Common House is a space that was created for making connections. The founders realized that there was something missing from our modern society: there were fewer and fewer places that were designed to bring people together. They set out to create that space in the centers of bustling cities like Chattanooga and in both Charlottesville and Richmond, Virginia so people had a place to come together to enjoy good food and good company.
Knowing that the Common House was built to be a place for people to come together, it's no wonder that it's become such a popular place for couples to vow to love each other for the rest of their days. As a wedding venue, the Common House is all-inclusive. The rental fee covers not only the rental space but any linens, table, glass, and flatware, servers, AV equipment, and more. Not to mention they have an in-house sommelier, amazing chefs, and mixologists on staff to bring your food and drink dreams to life.
After the change in plans, Stefannie and Tye headed to the Common House to get ready for their first look. Tye stood with her back turned at the bottom of the stairs outside of the Pennybacker Room and waited patiently for Stefannie to come down. At the sound of Stefannie's footsteps approaching on the final steps, Tye turned to see her beautiful partner standing there. The smiles that erupted on both of their faces were enough to banish any wedding day worries away. The two shared a dance and a quick drink together before heading off to take their bridal portraits.
For their bridal portraits, Stefannie and Tye toured the Common House. Although the Common House doesn't typically allow pets, their dogs Jett and Snowy came for a short visit to take pictures with them in the garden before being whisked back home by a friend. The industrial interiors and modern rooftop terrace served as the perfect canvas for photographing Stefannie and Tye and shadows contrasted by the light shining through several tall windows created a dynamic effect for gorgeous photos.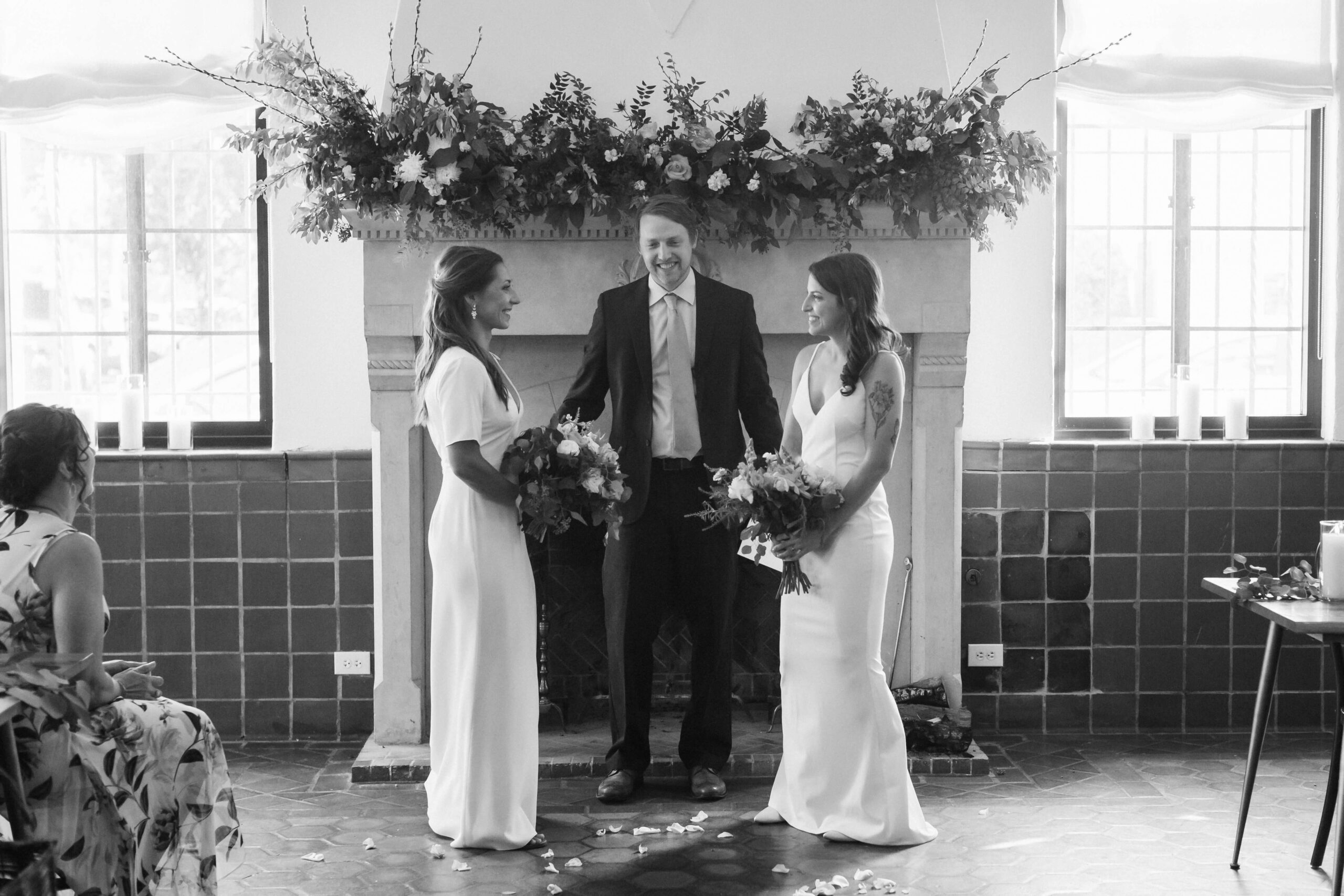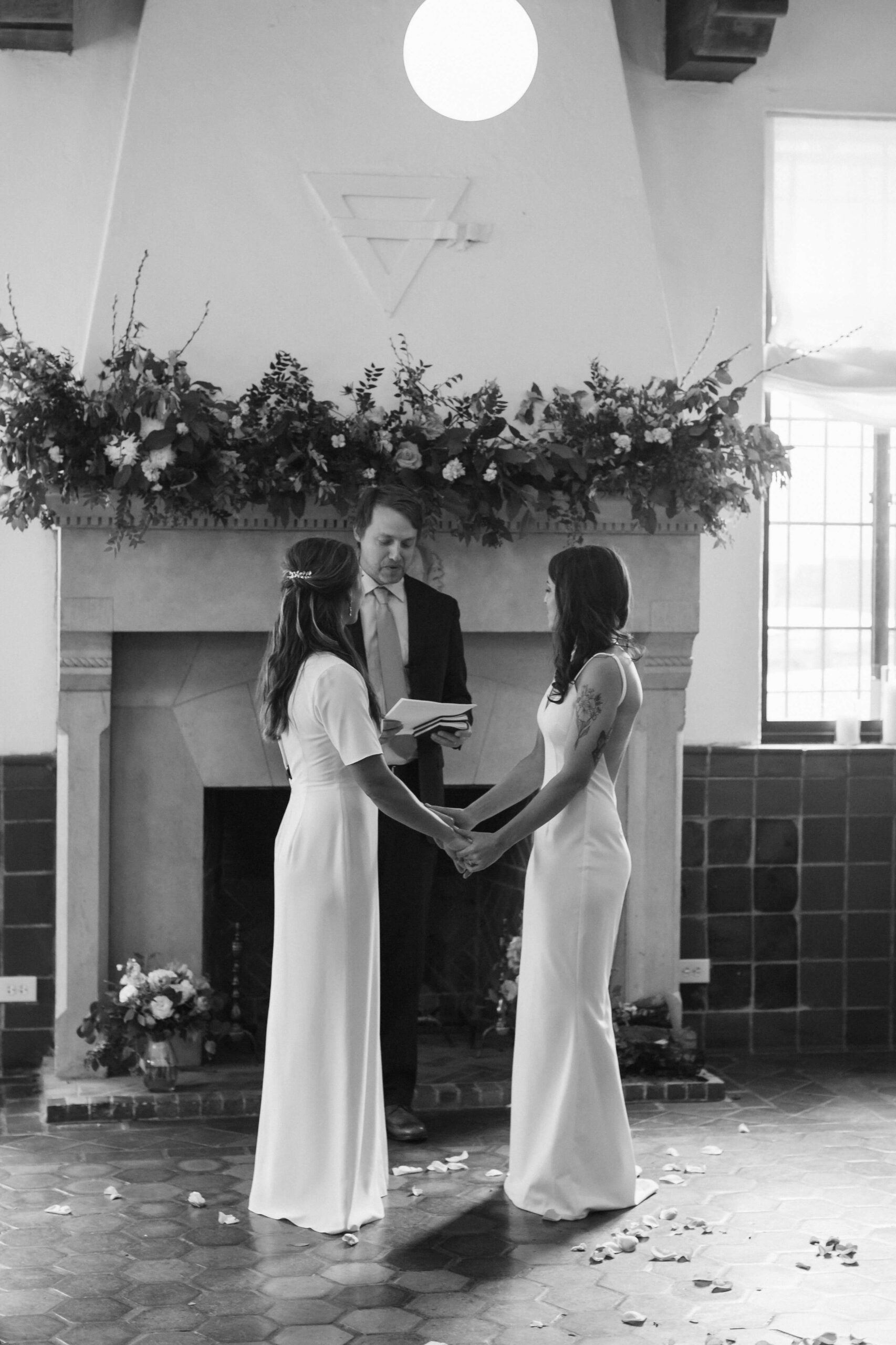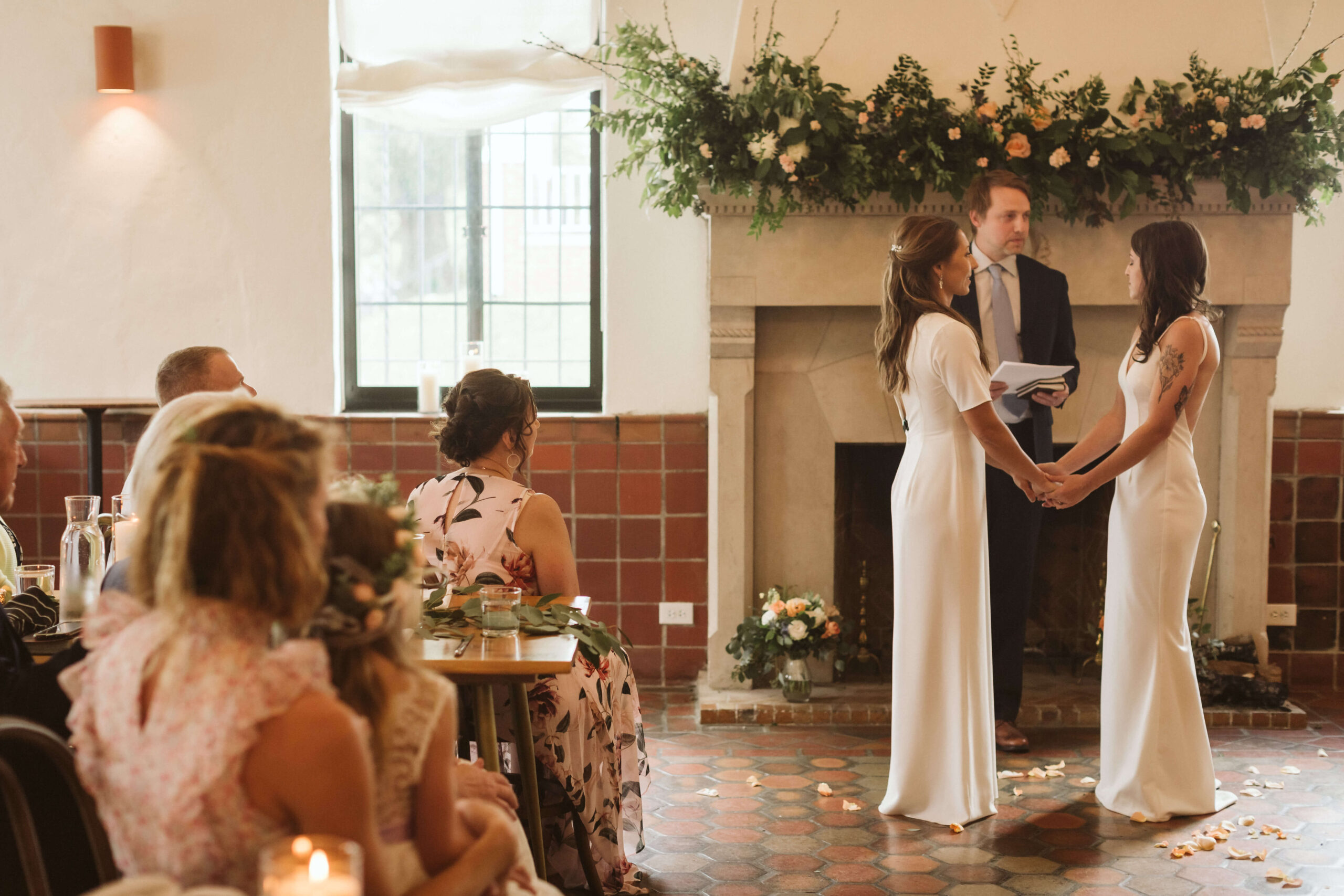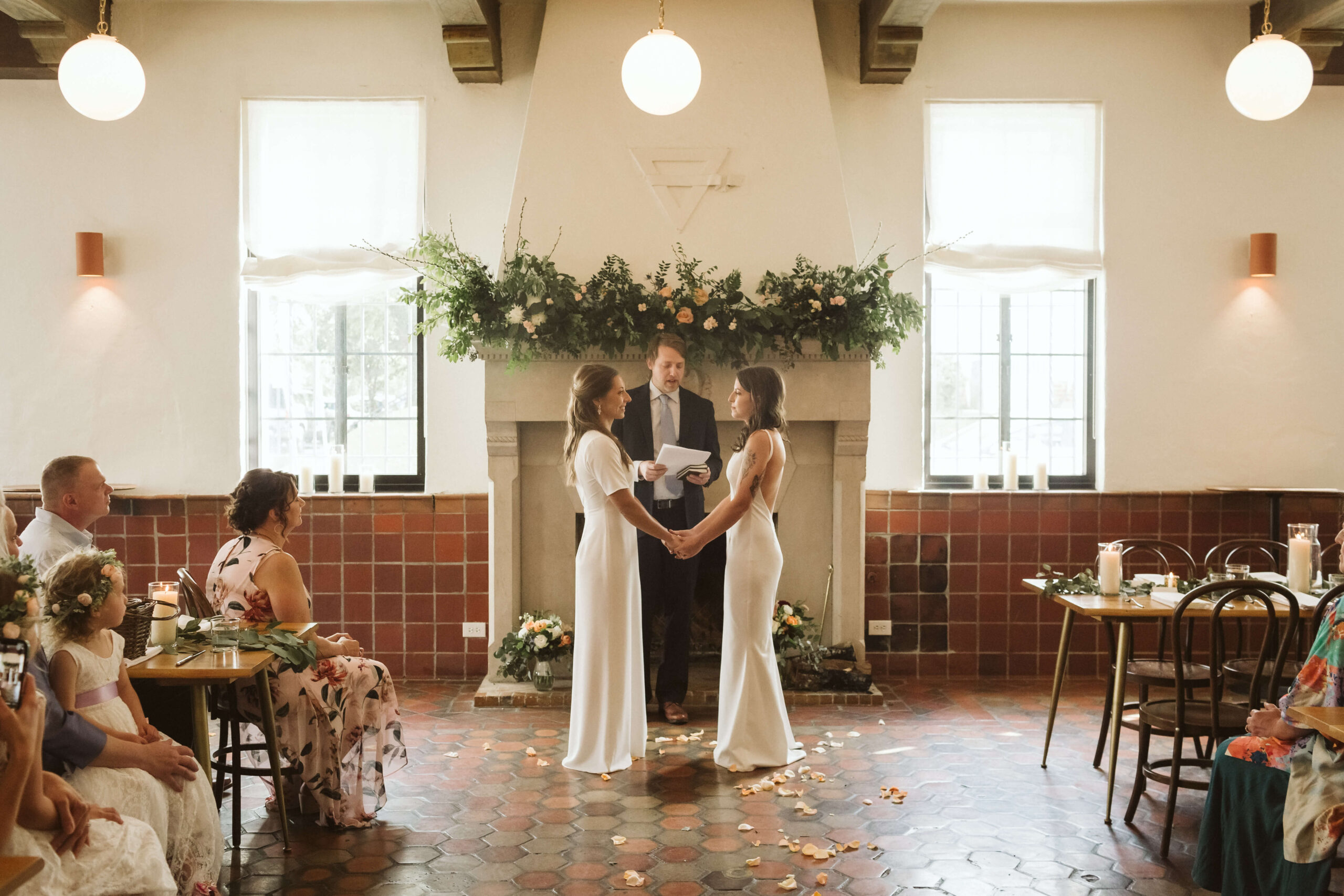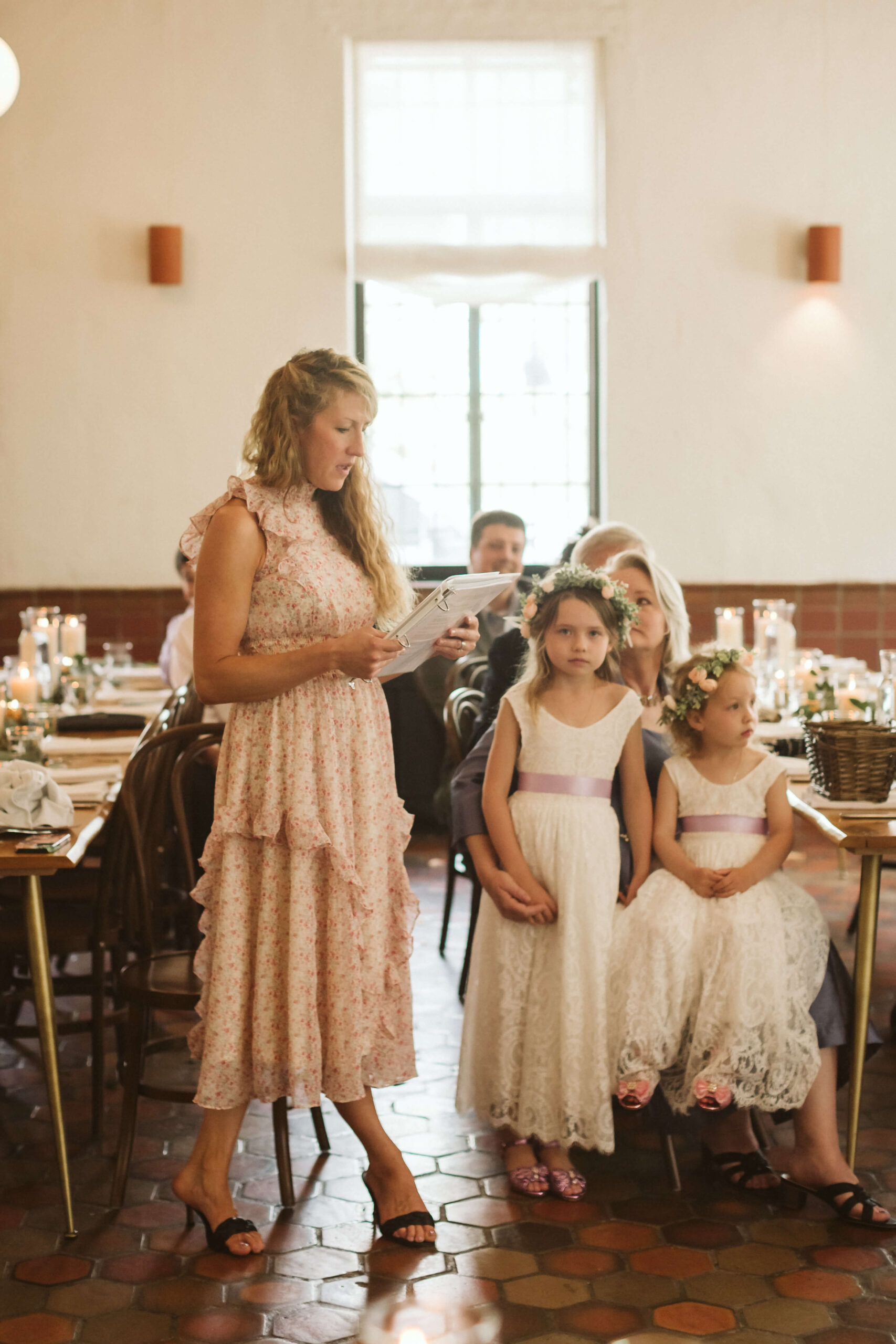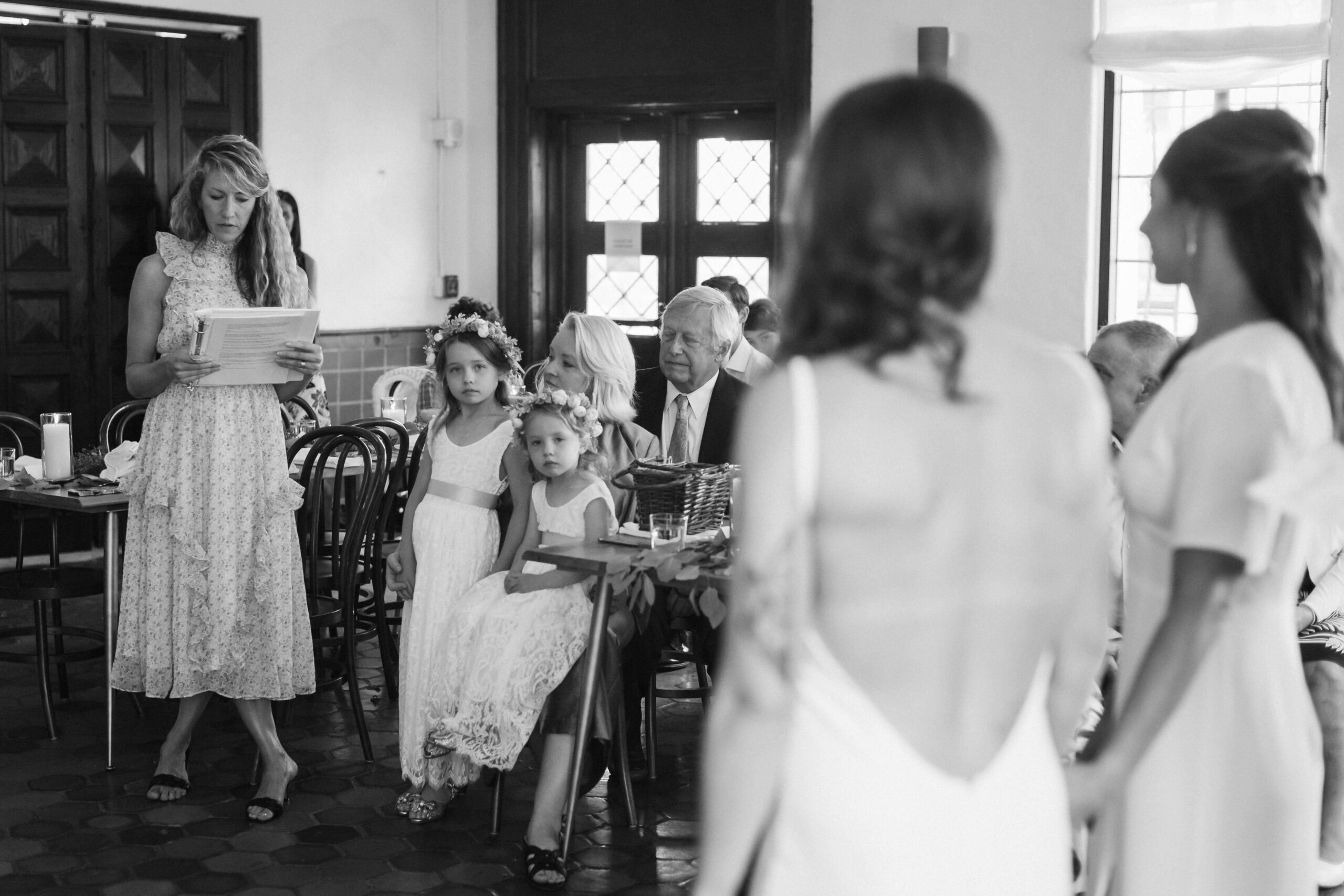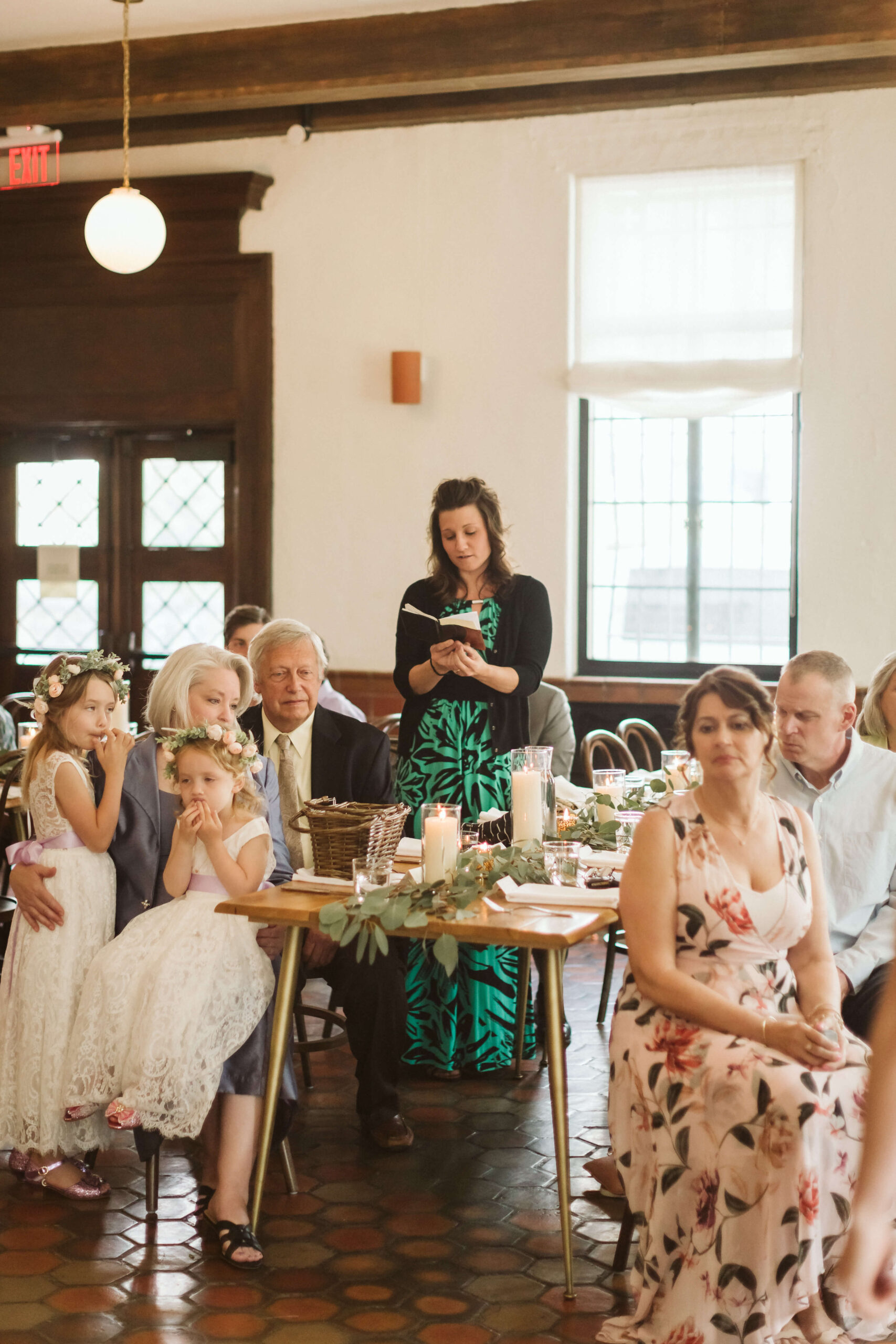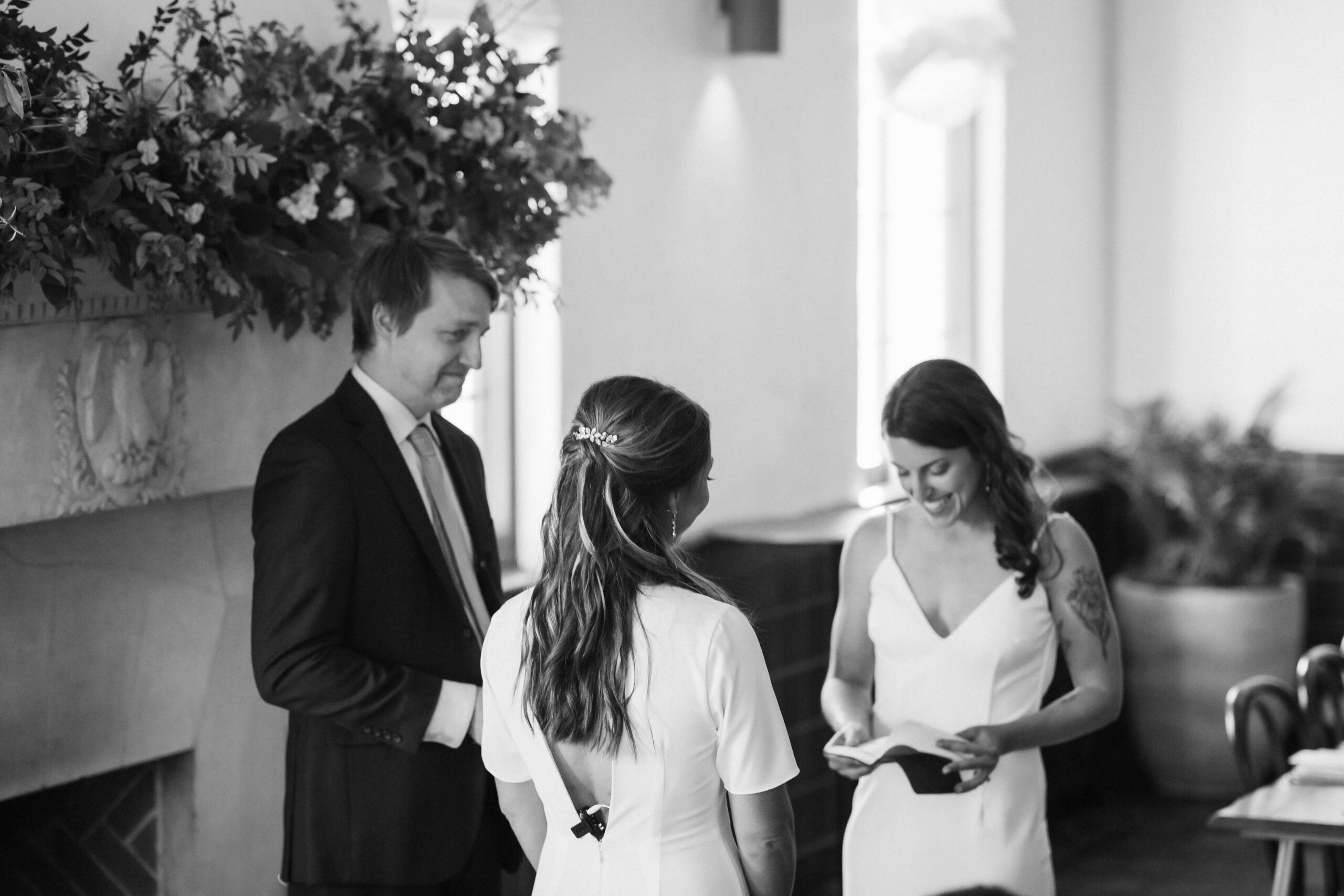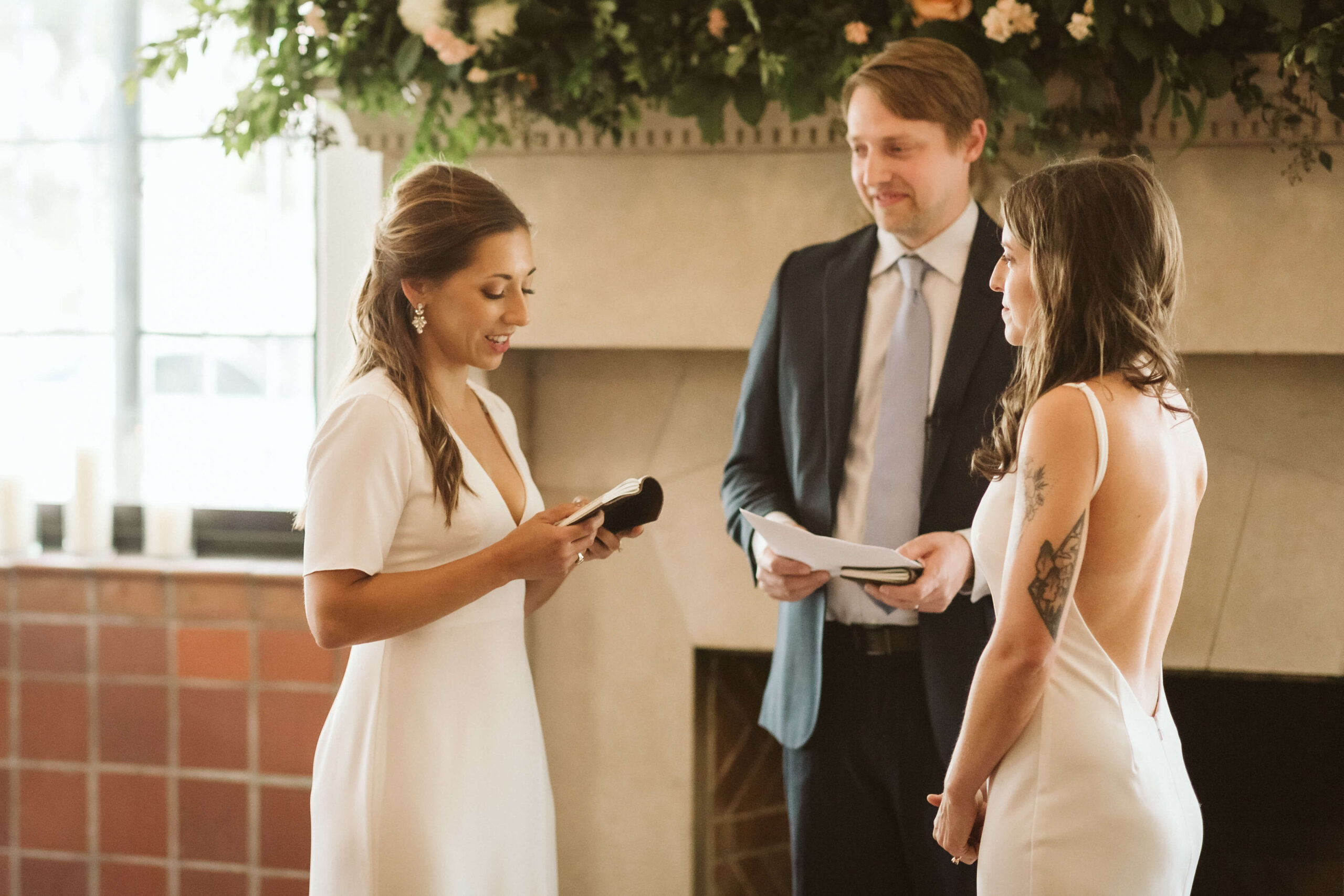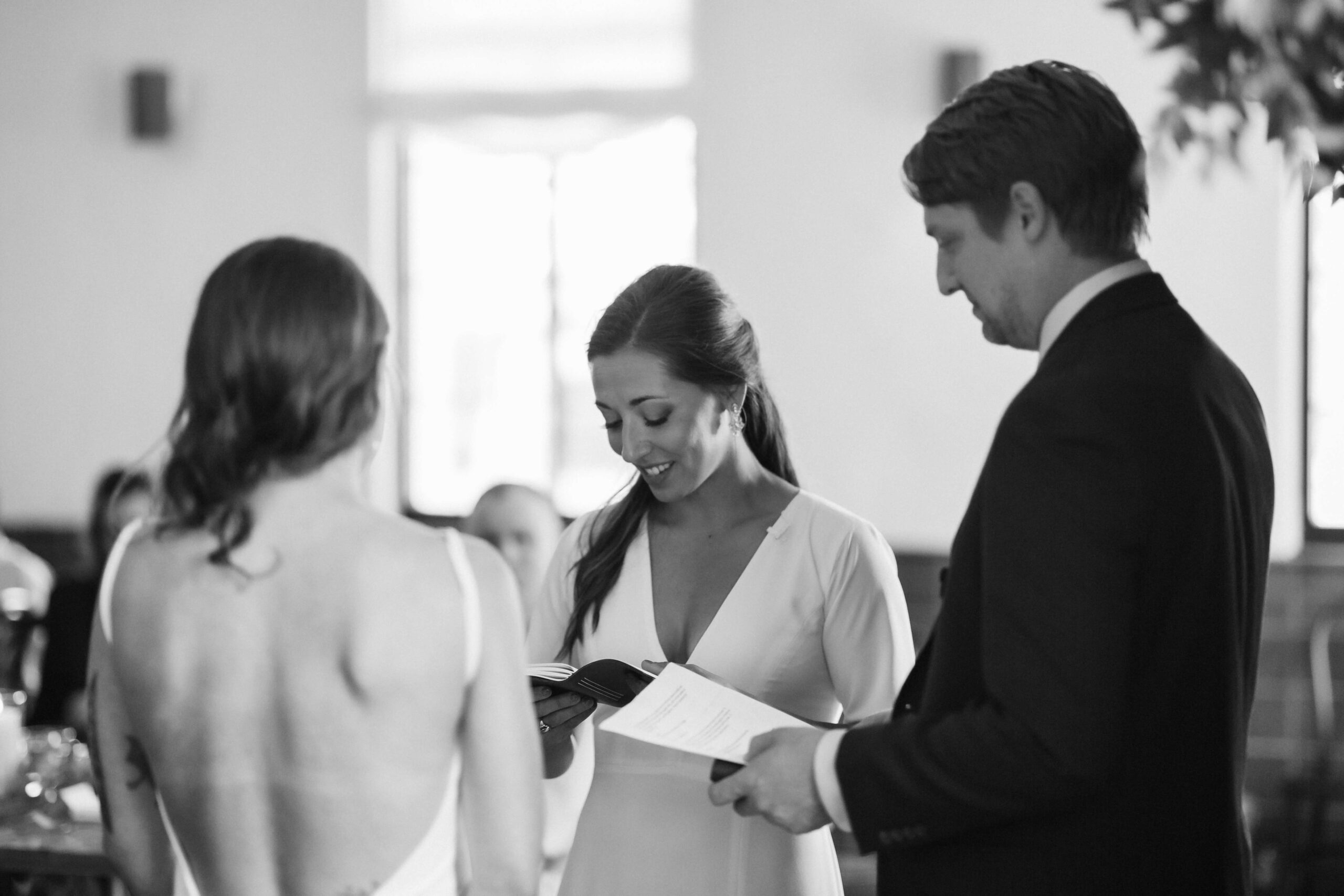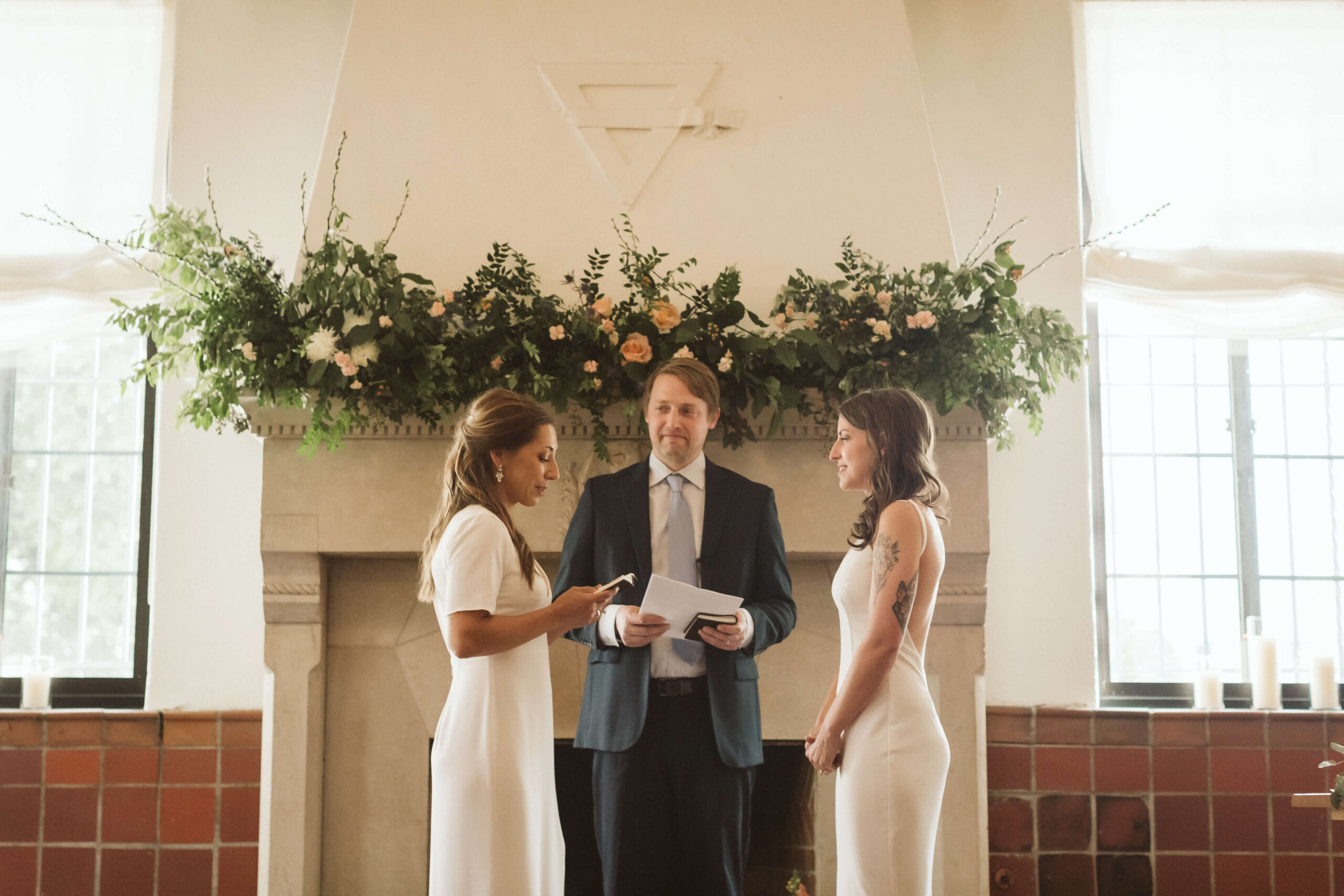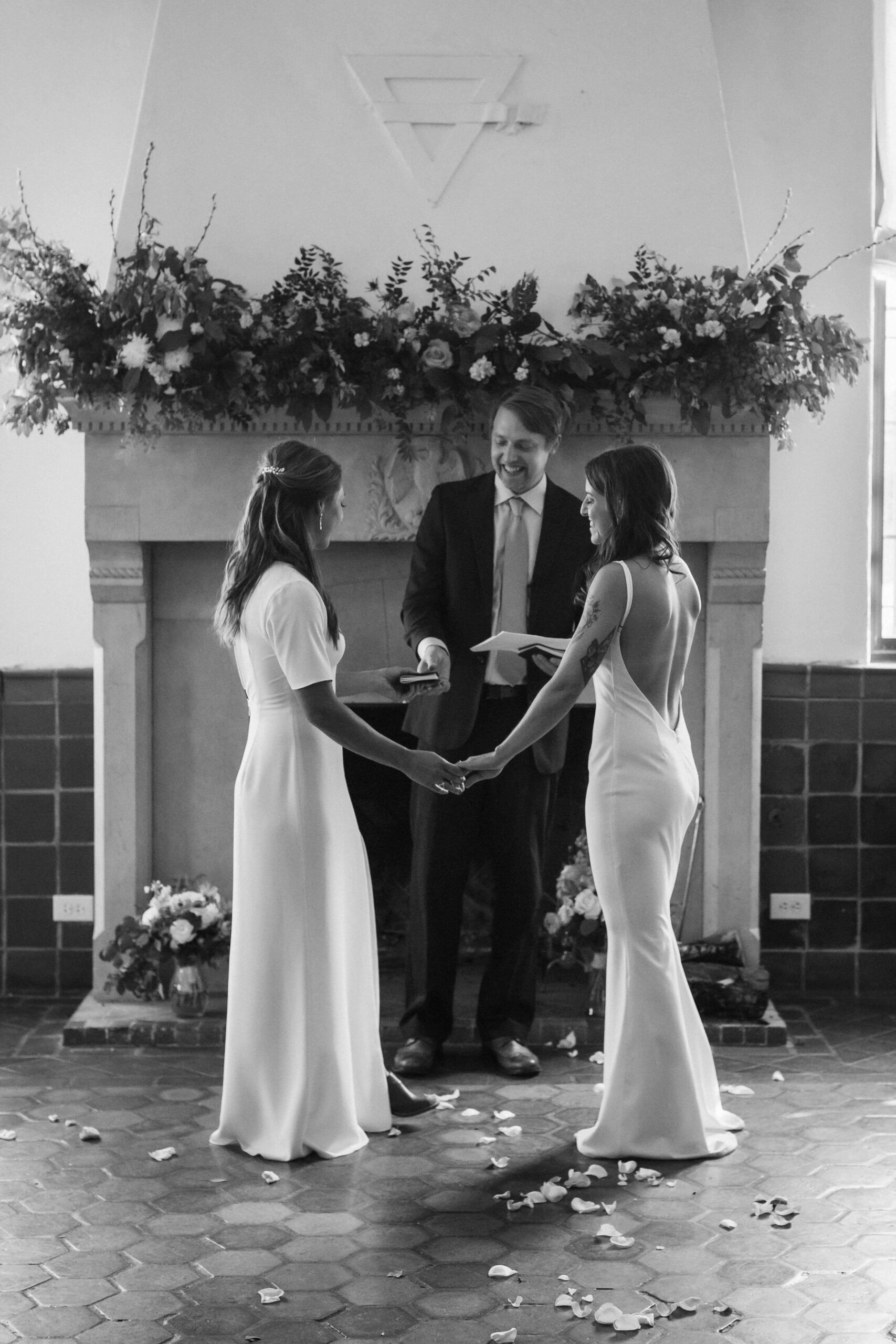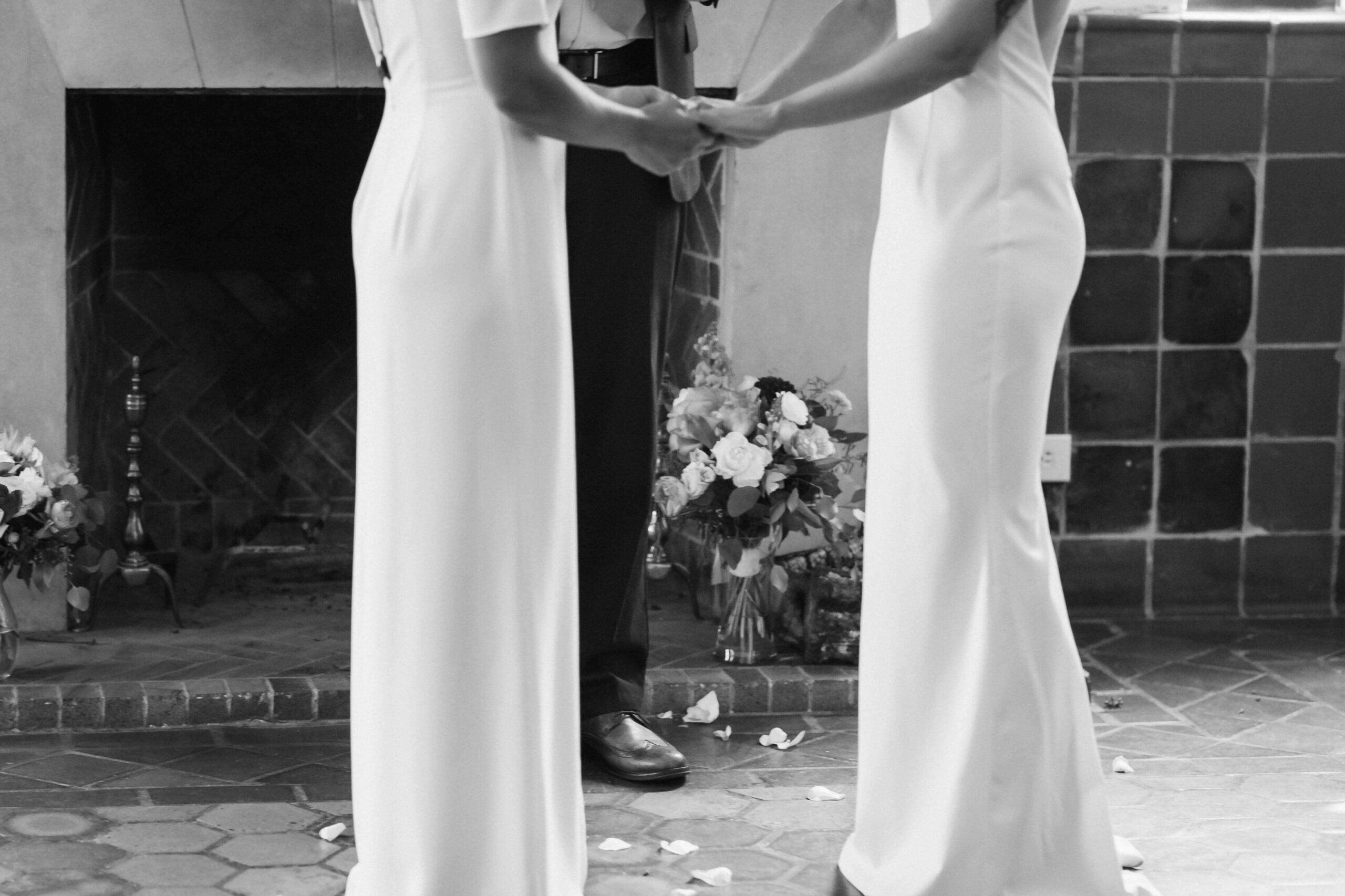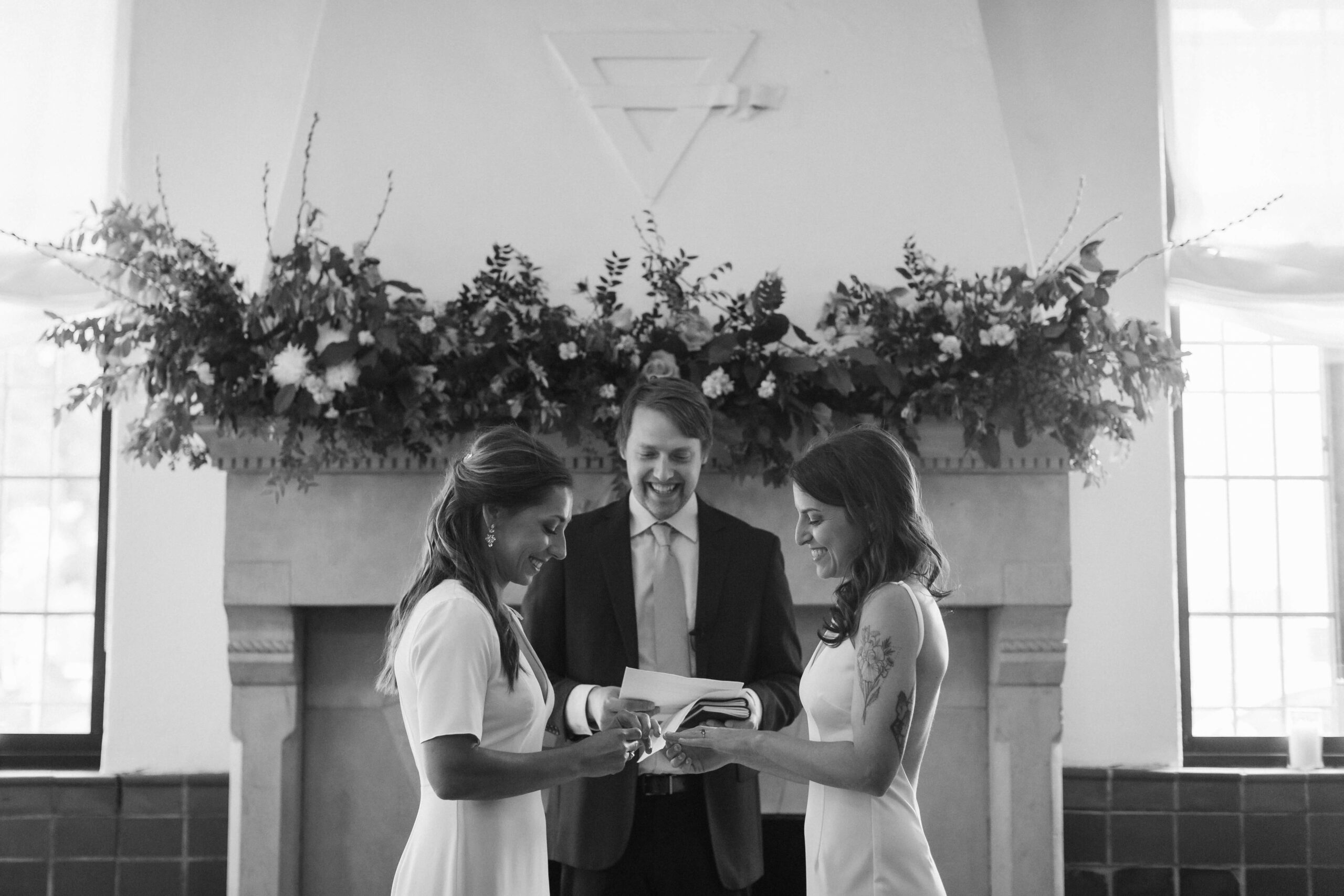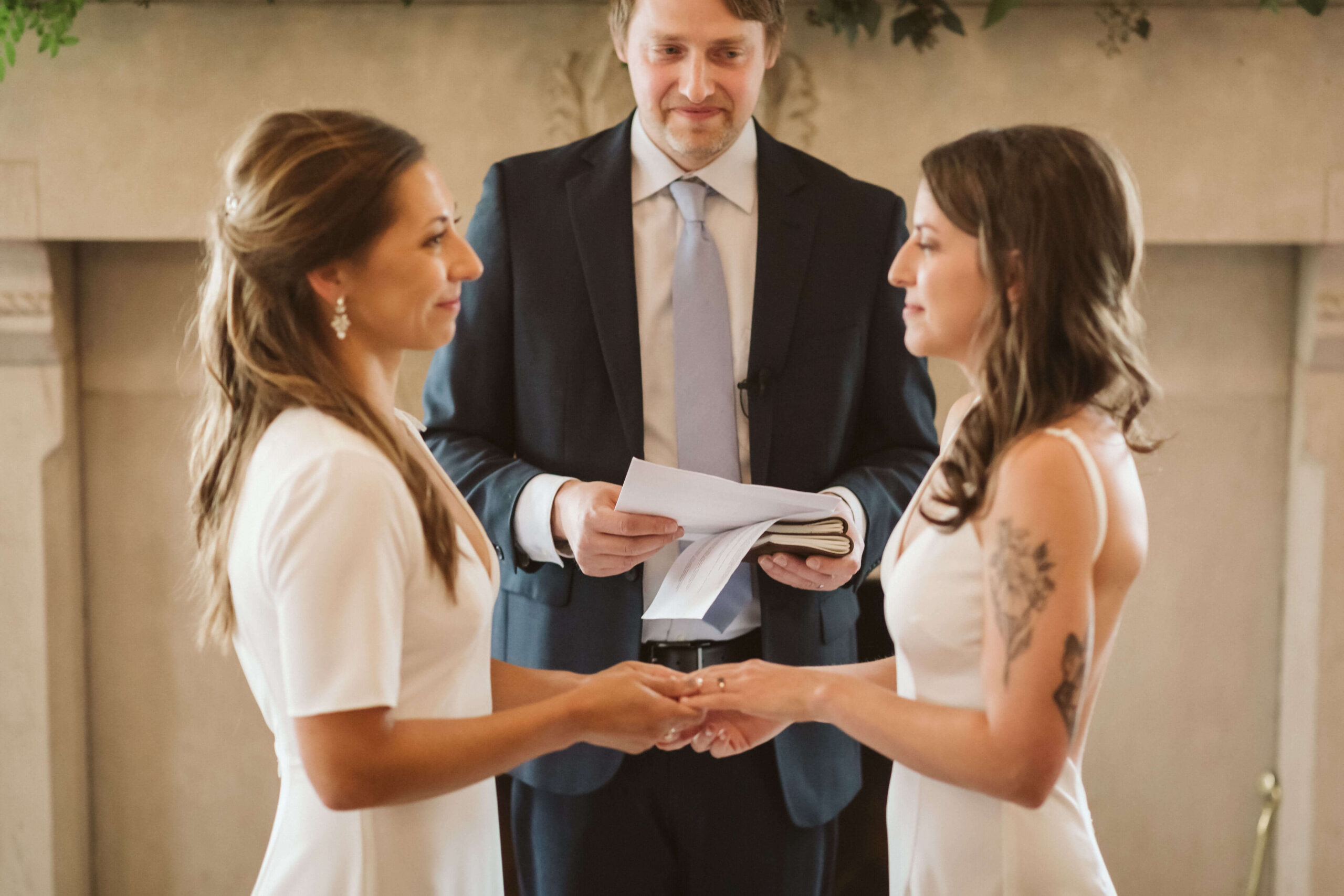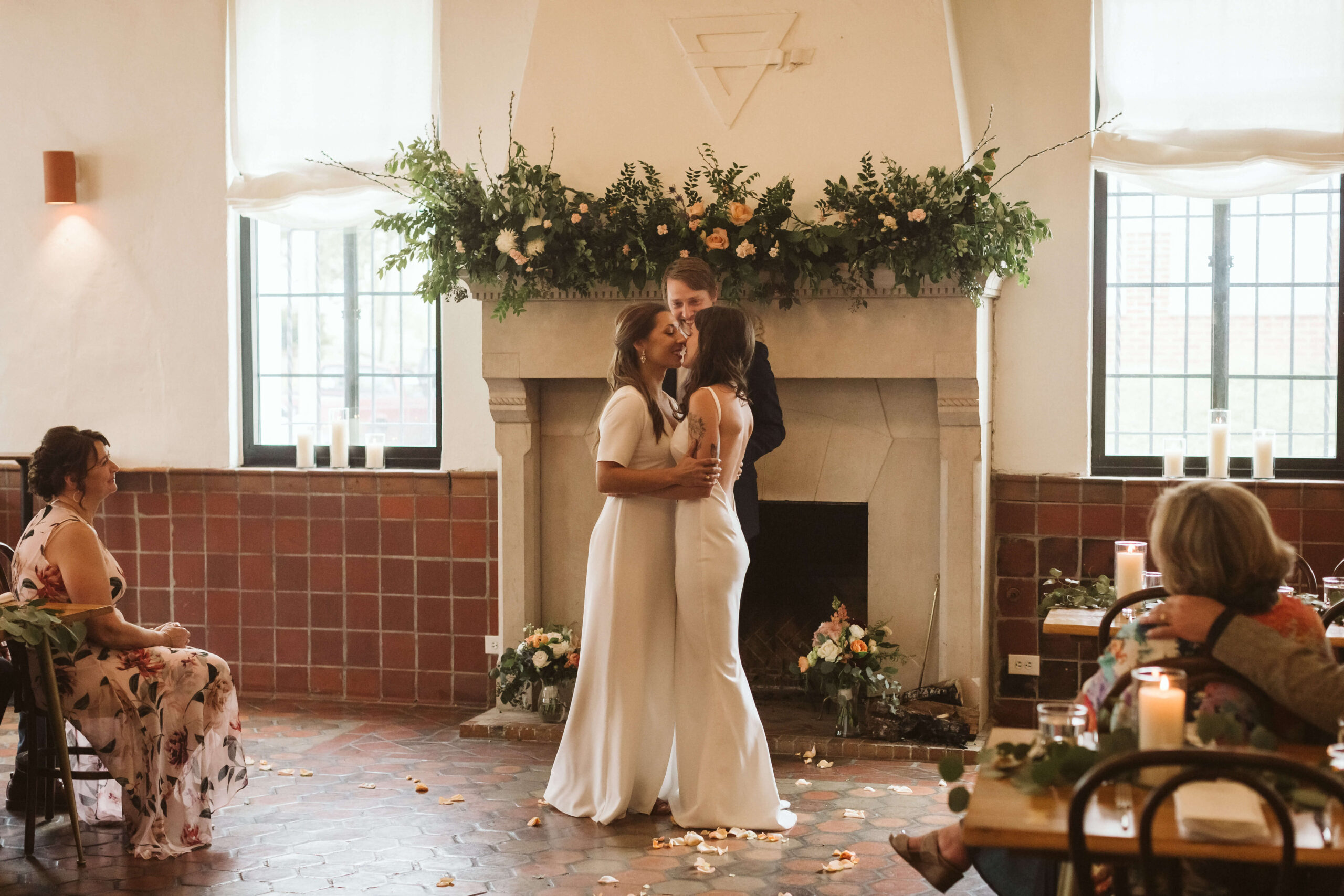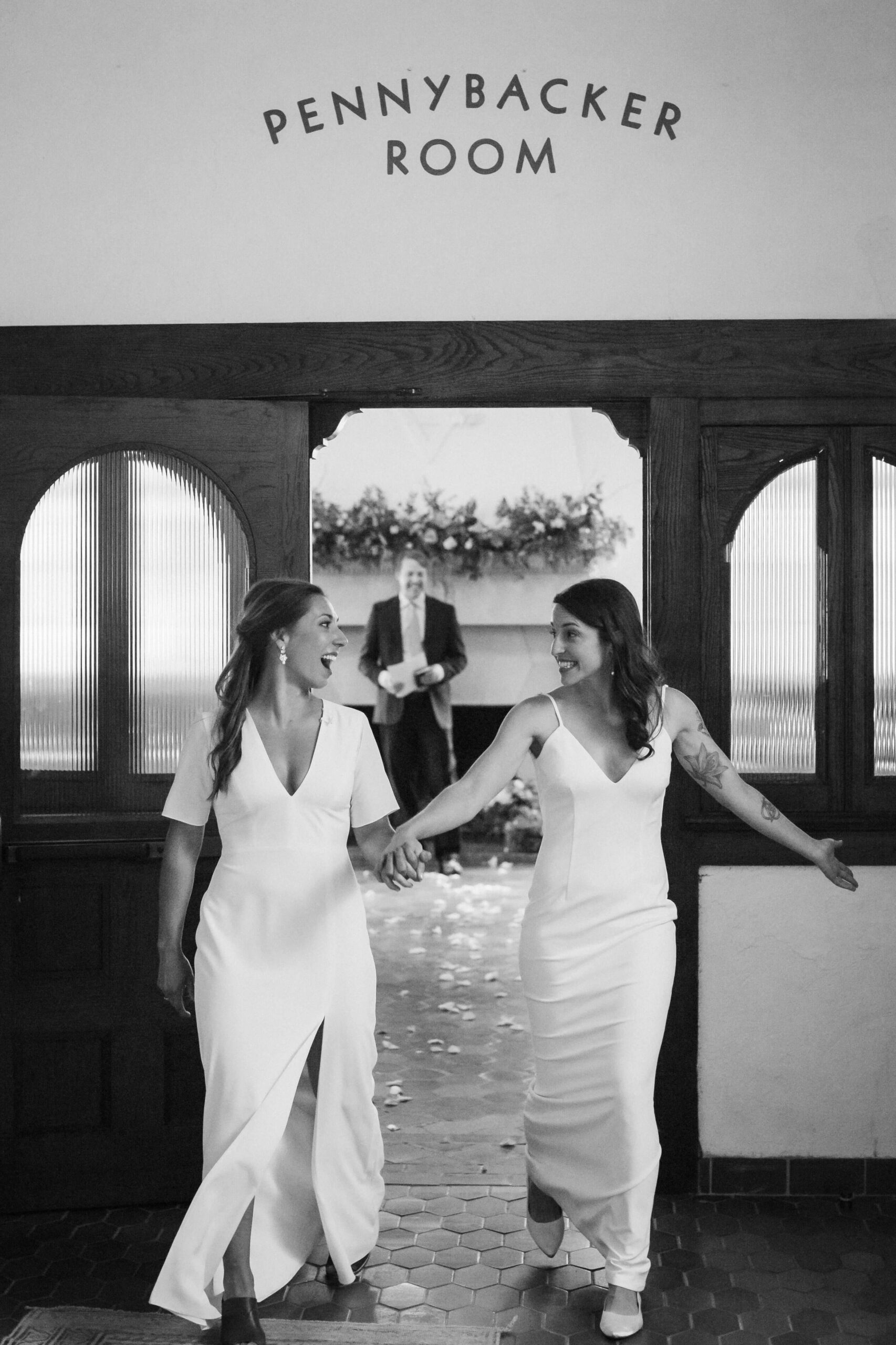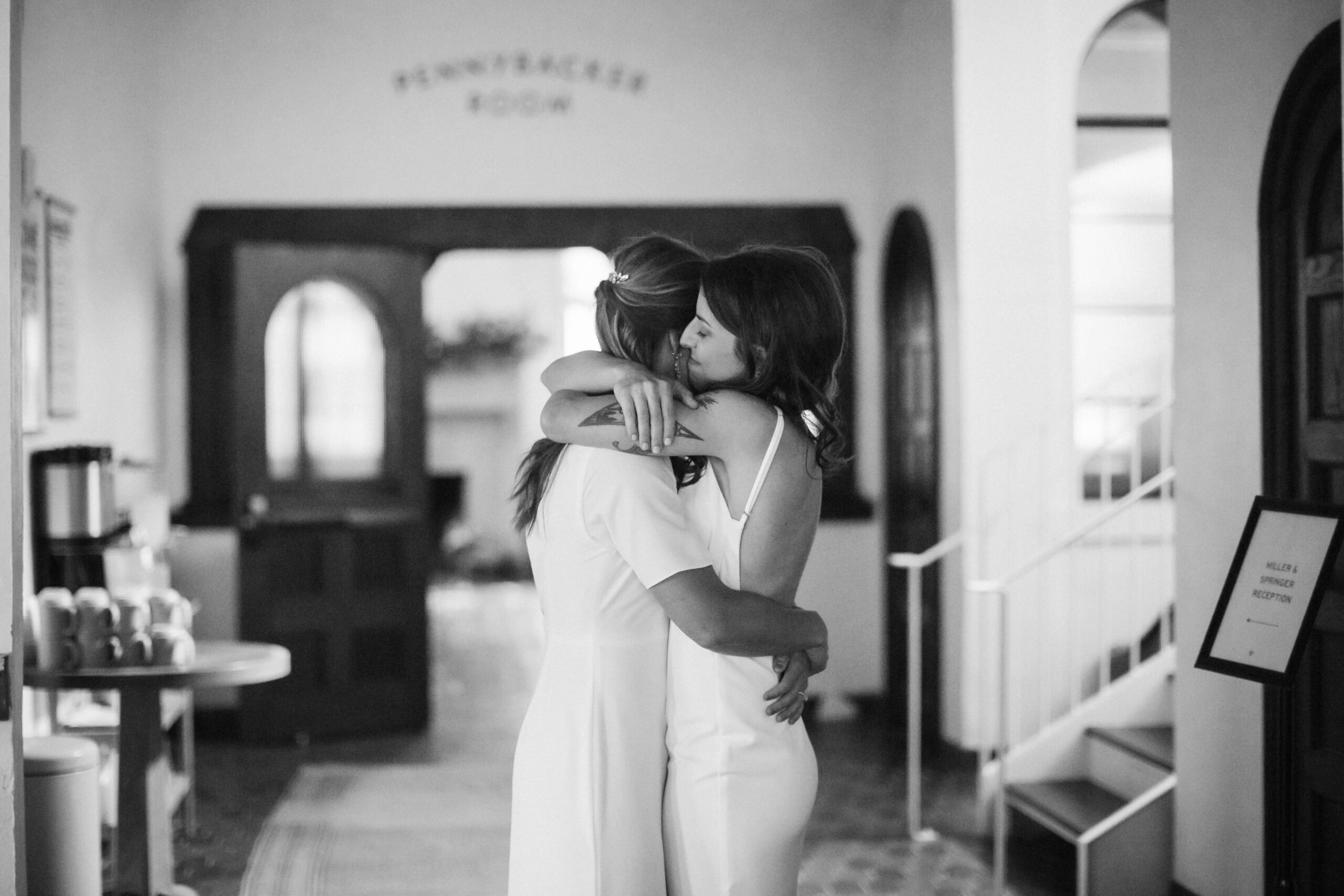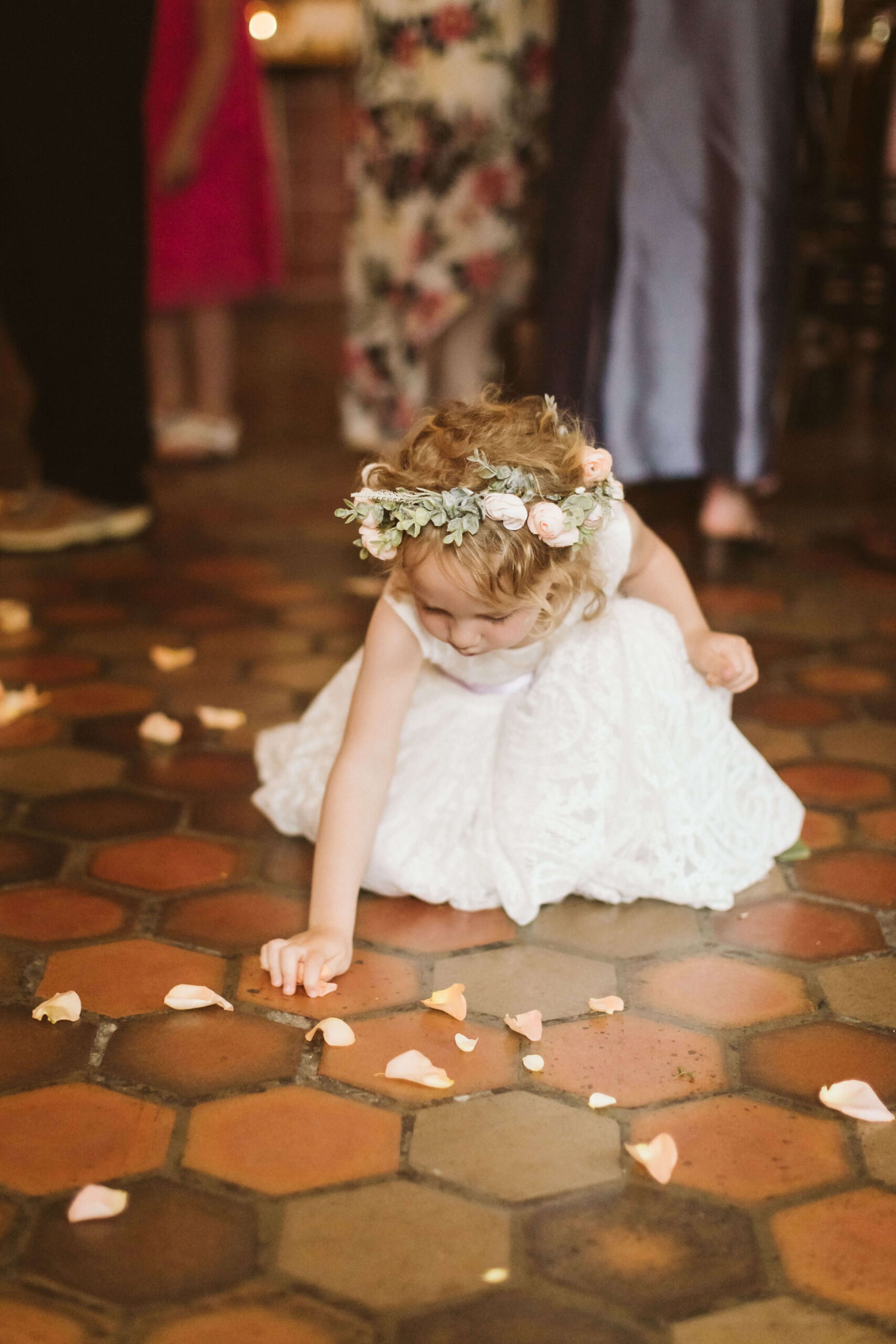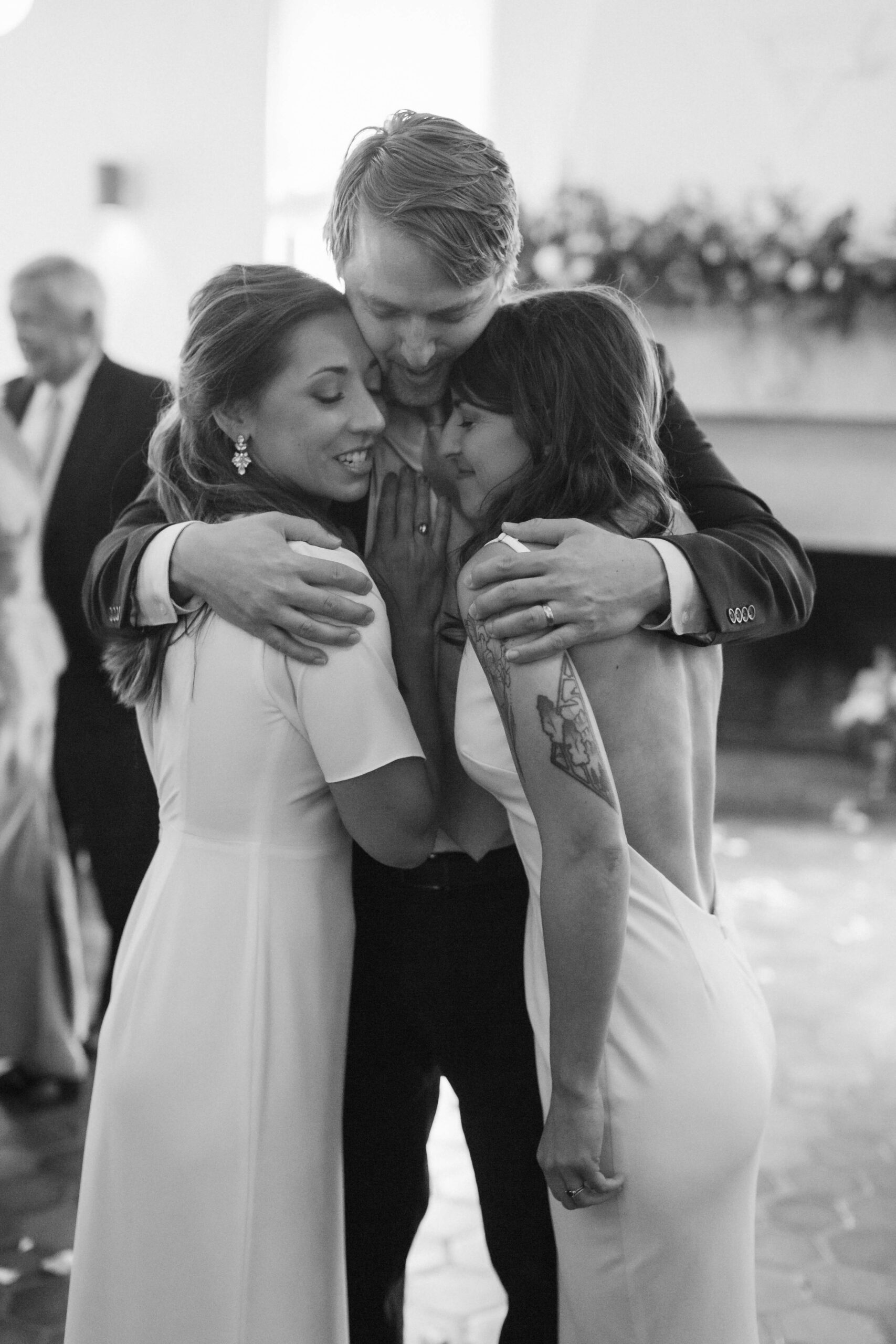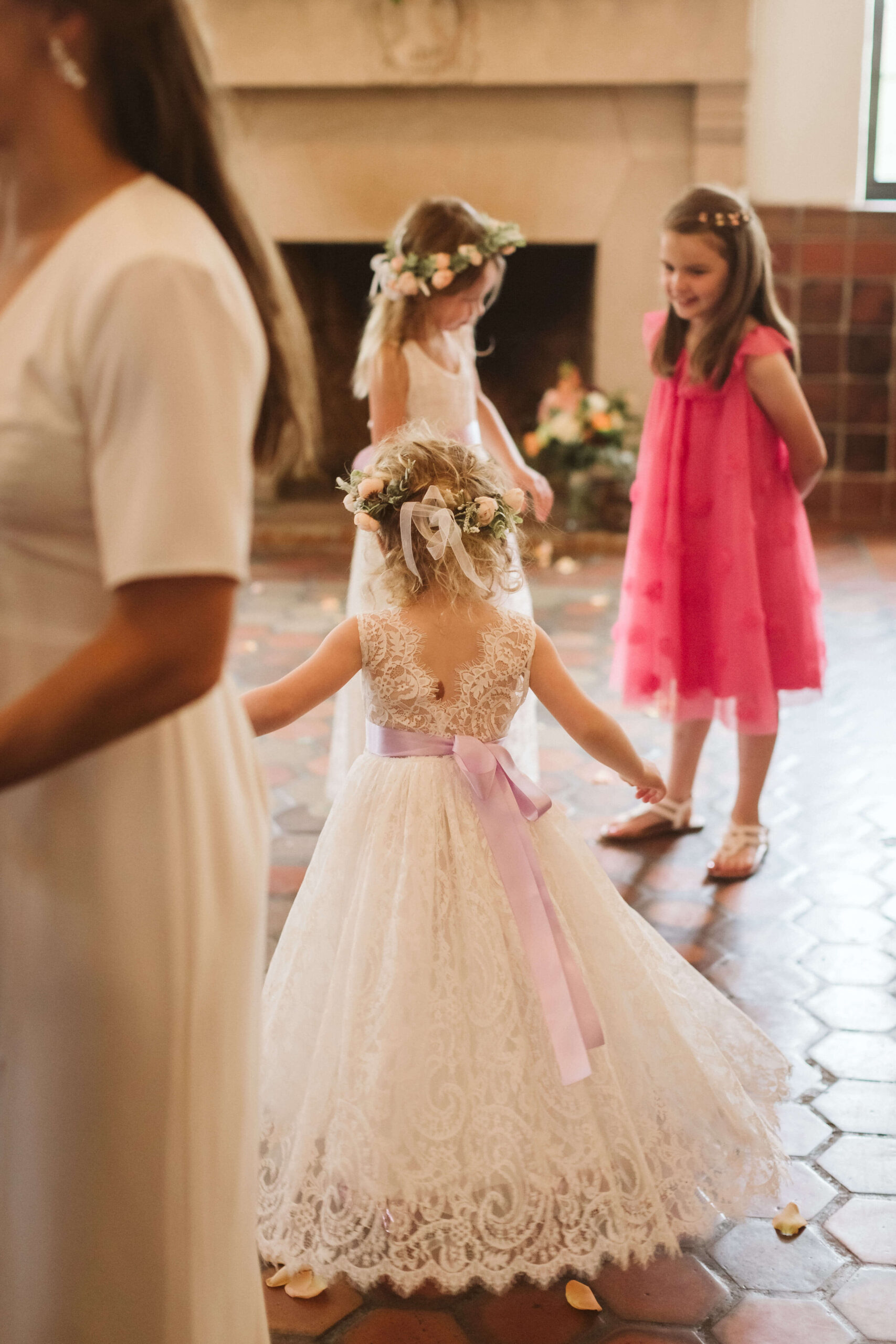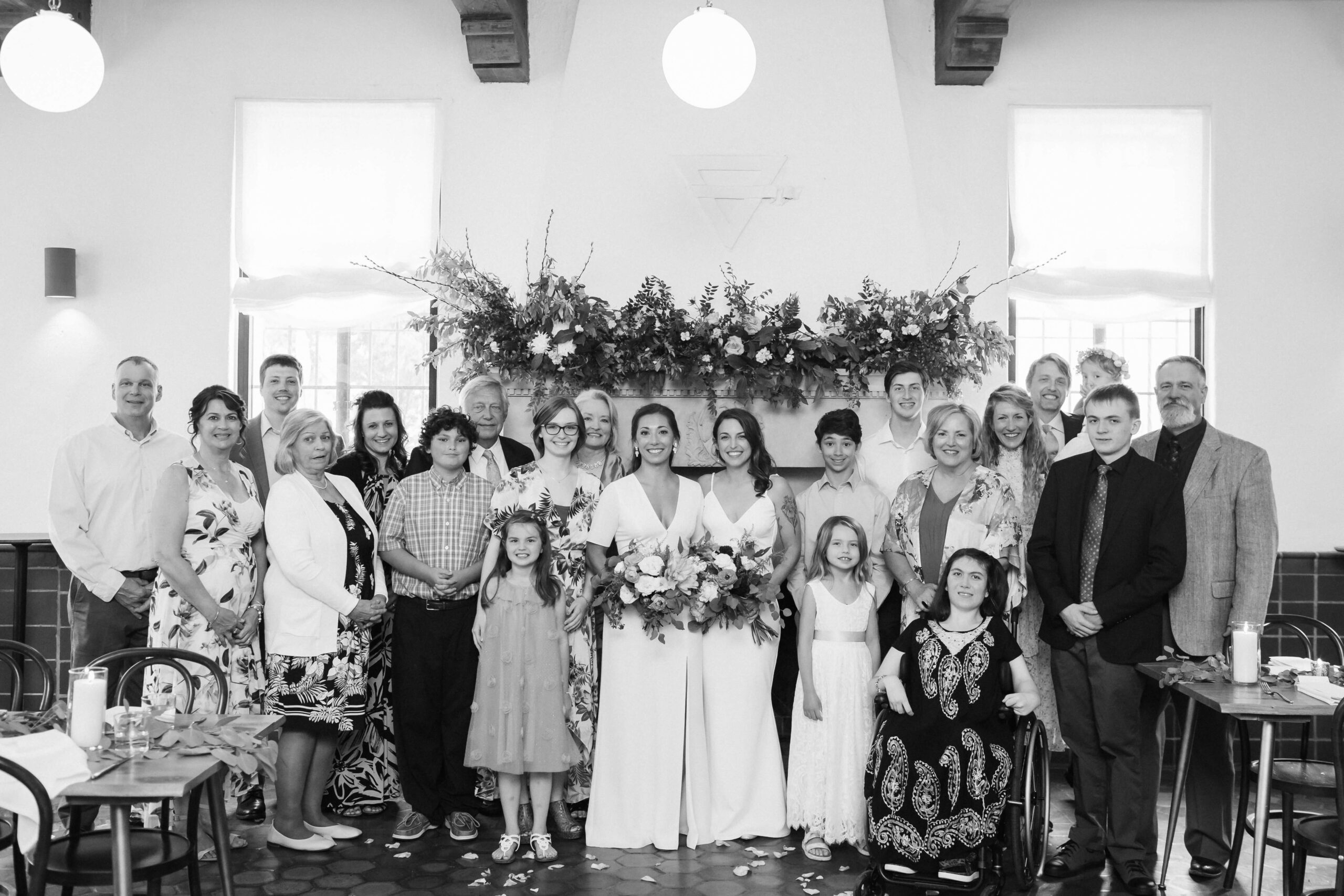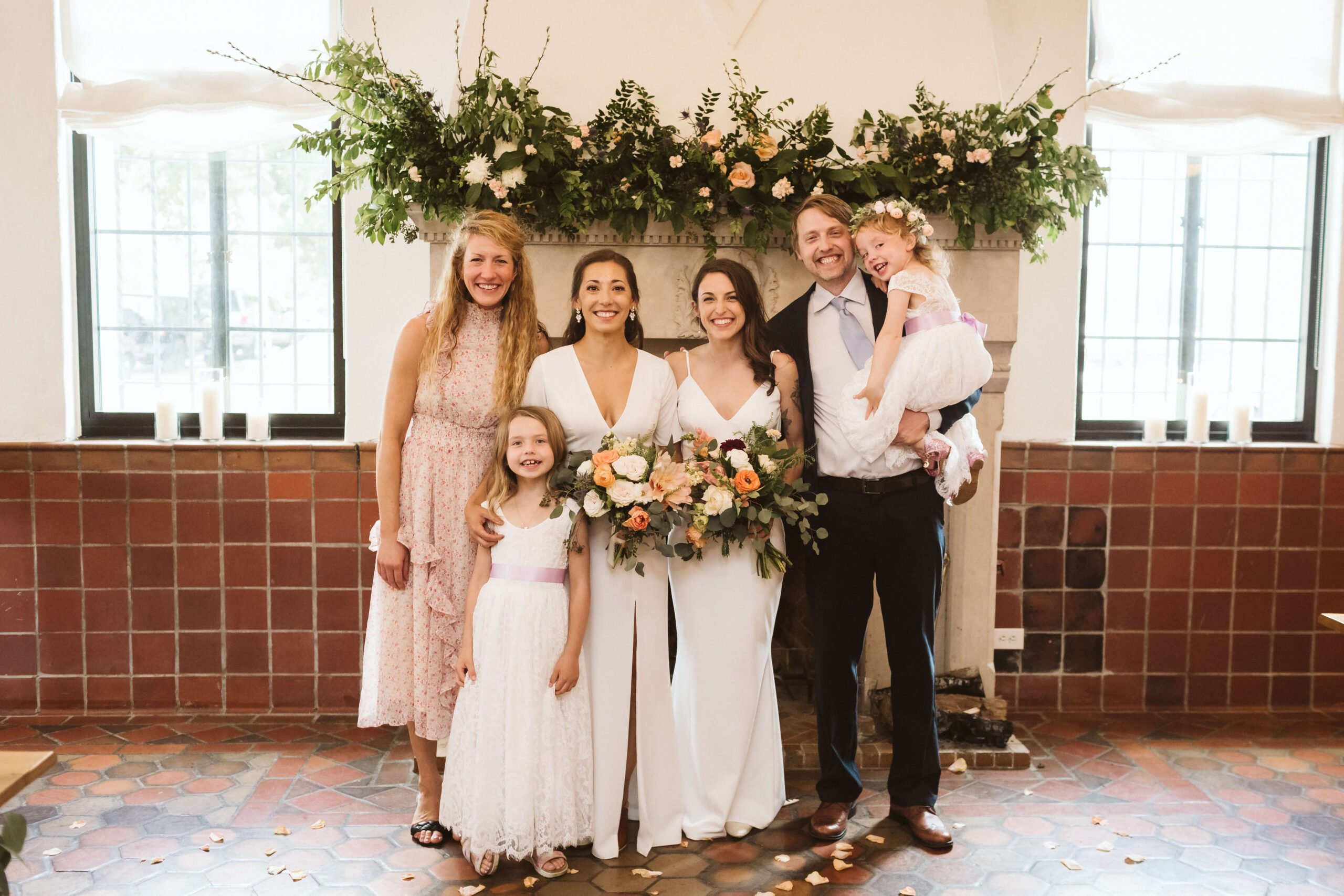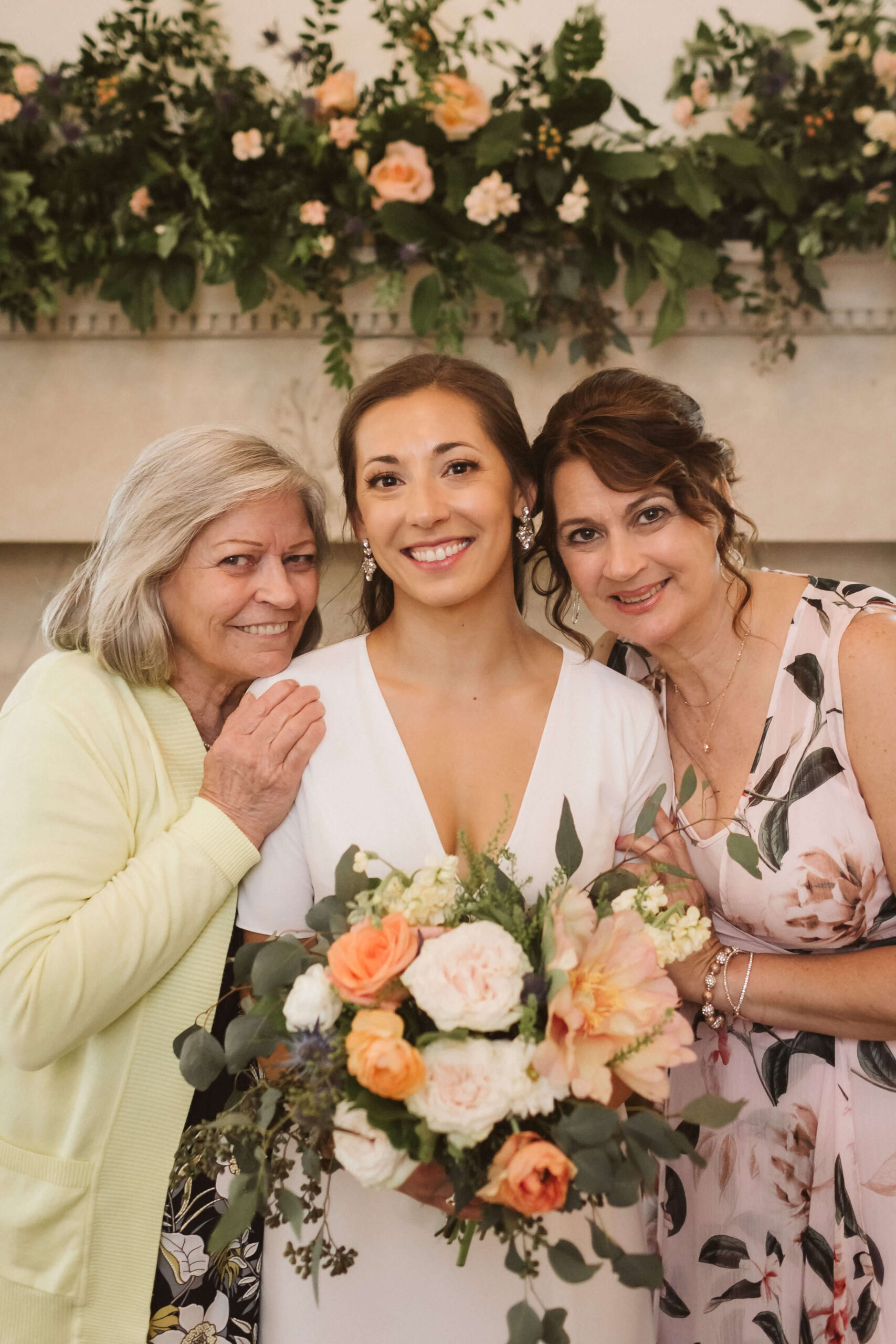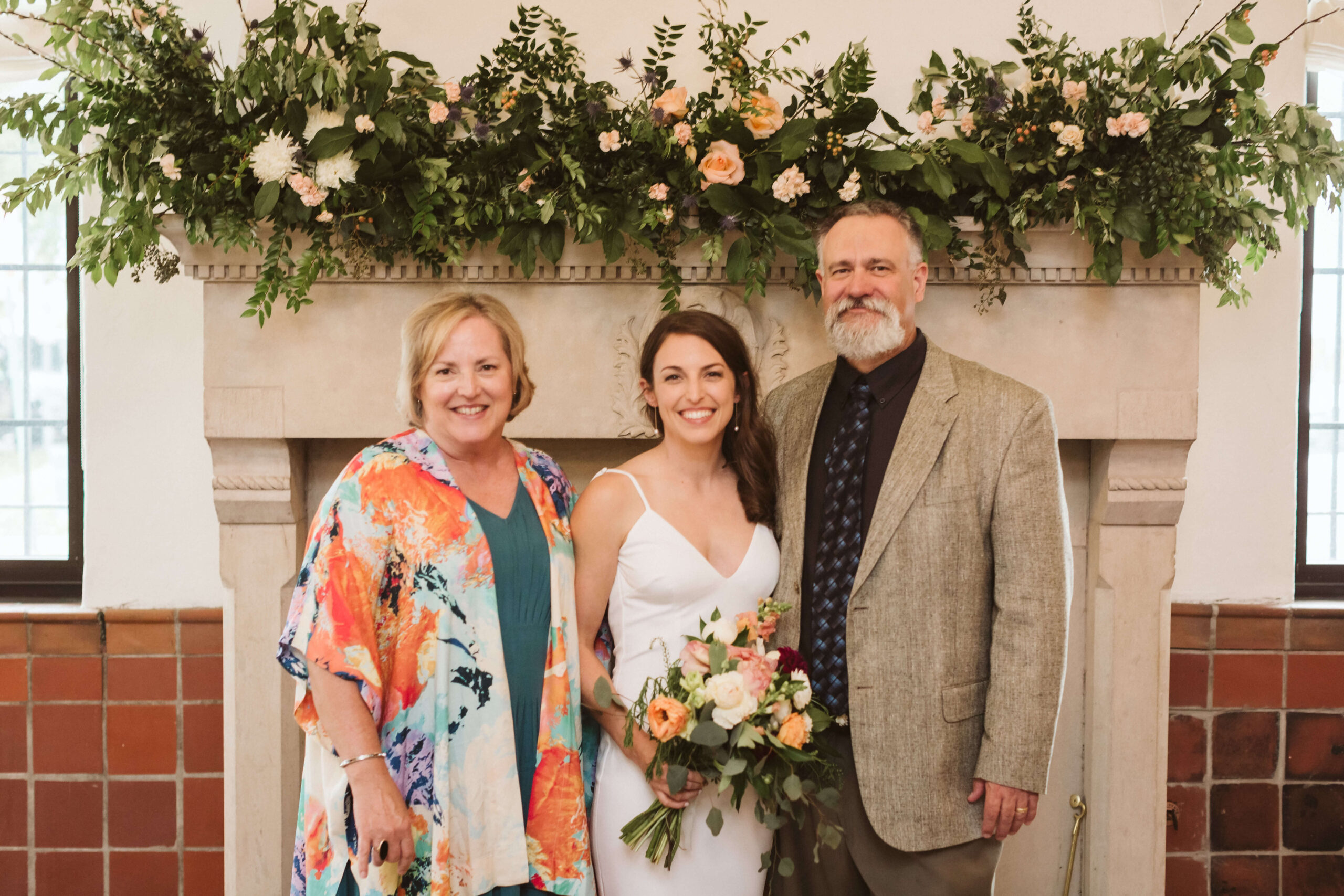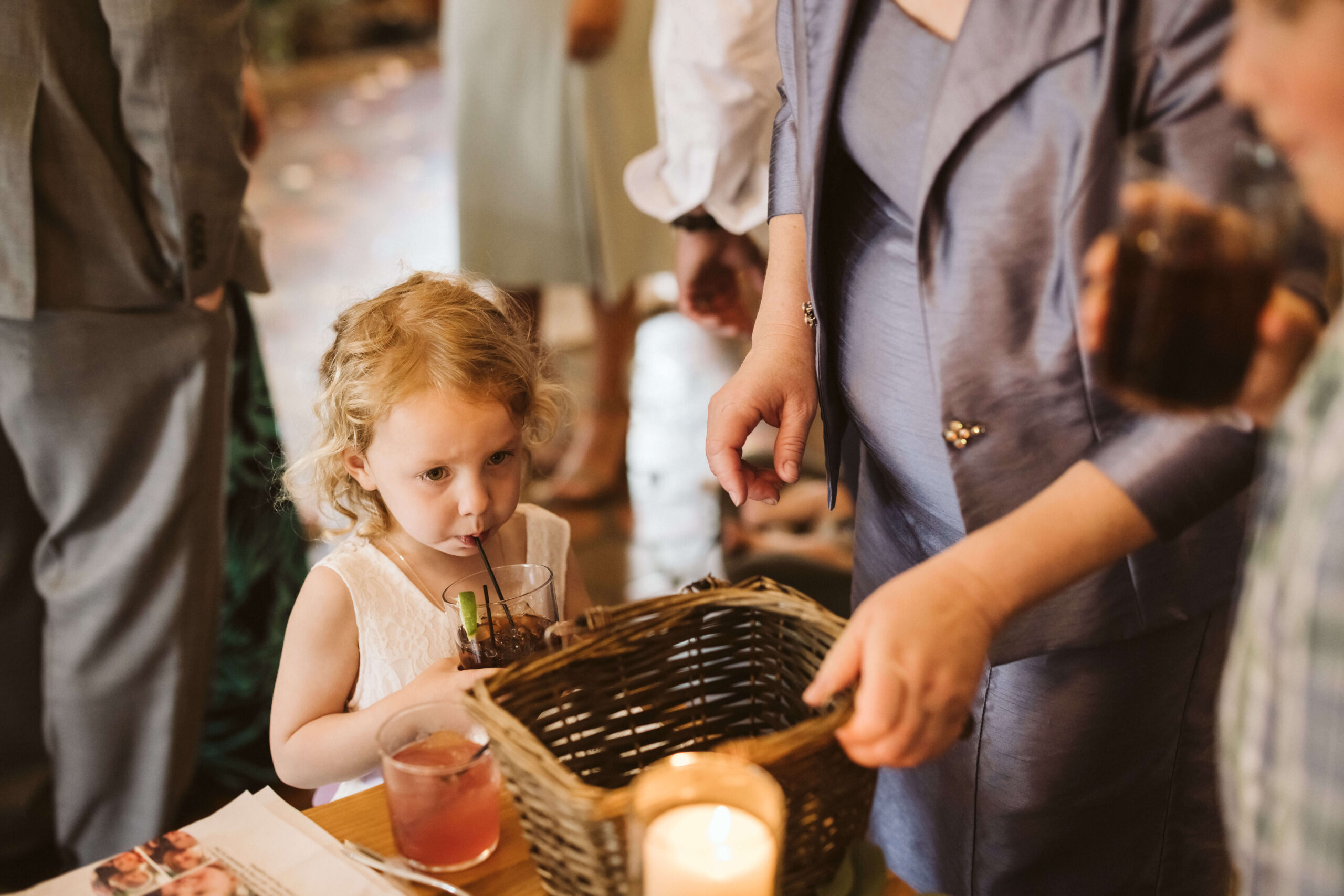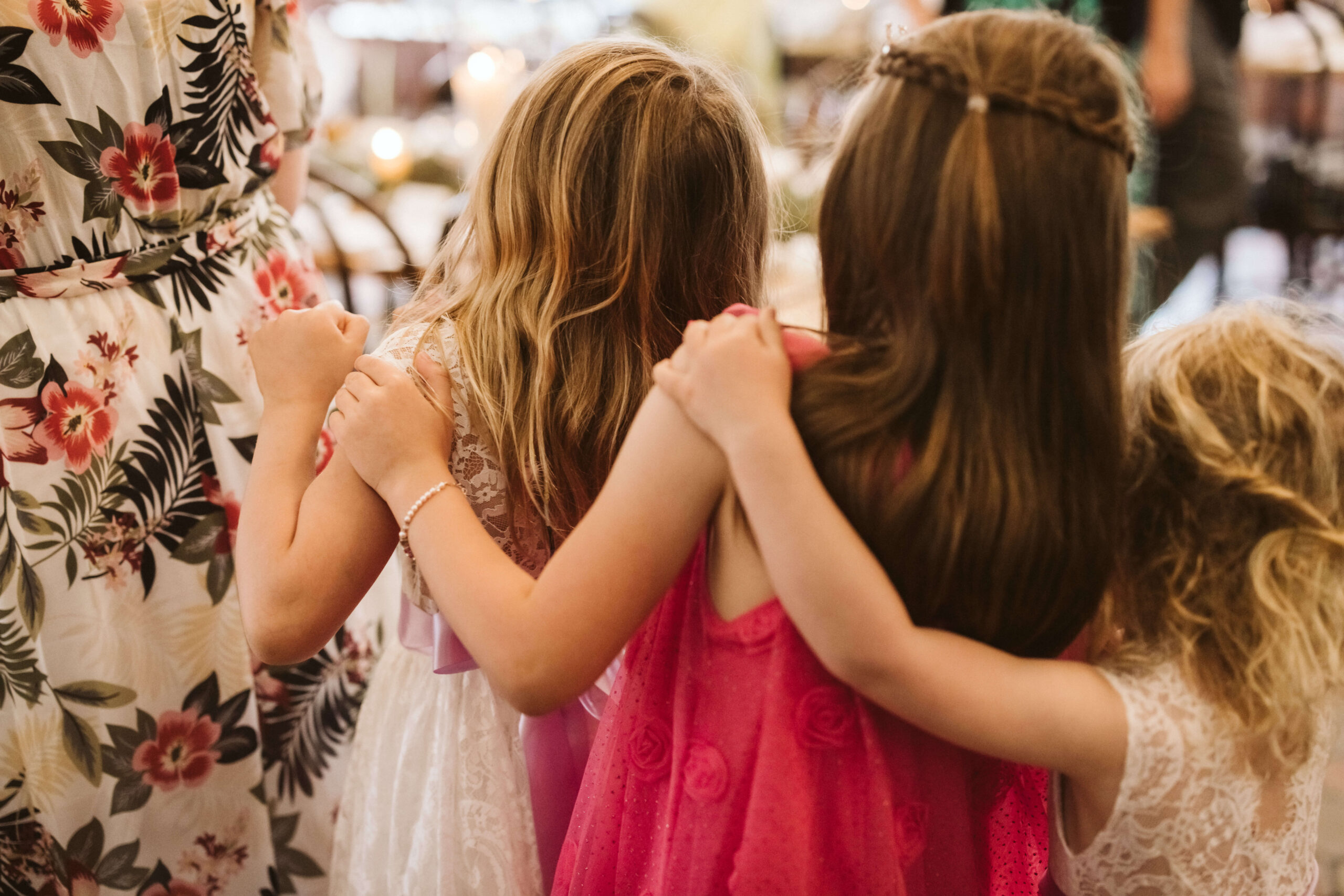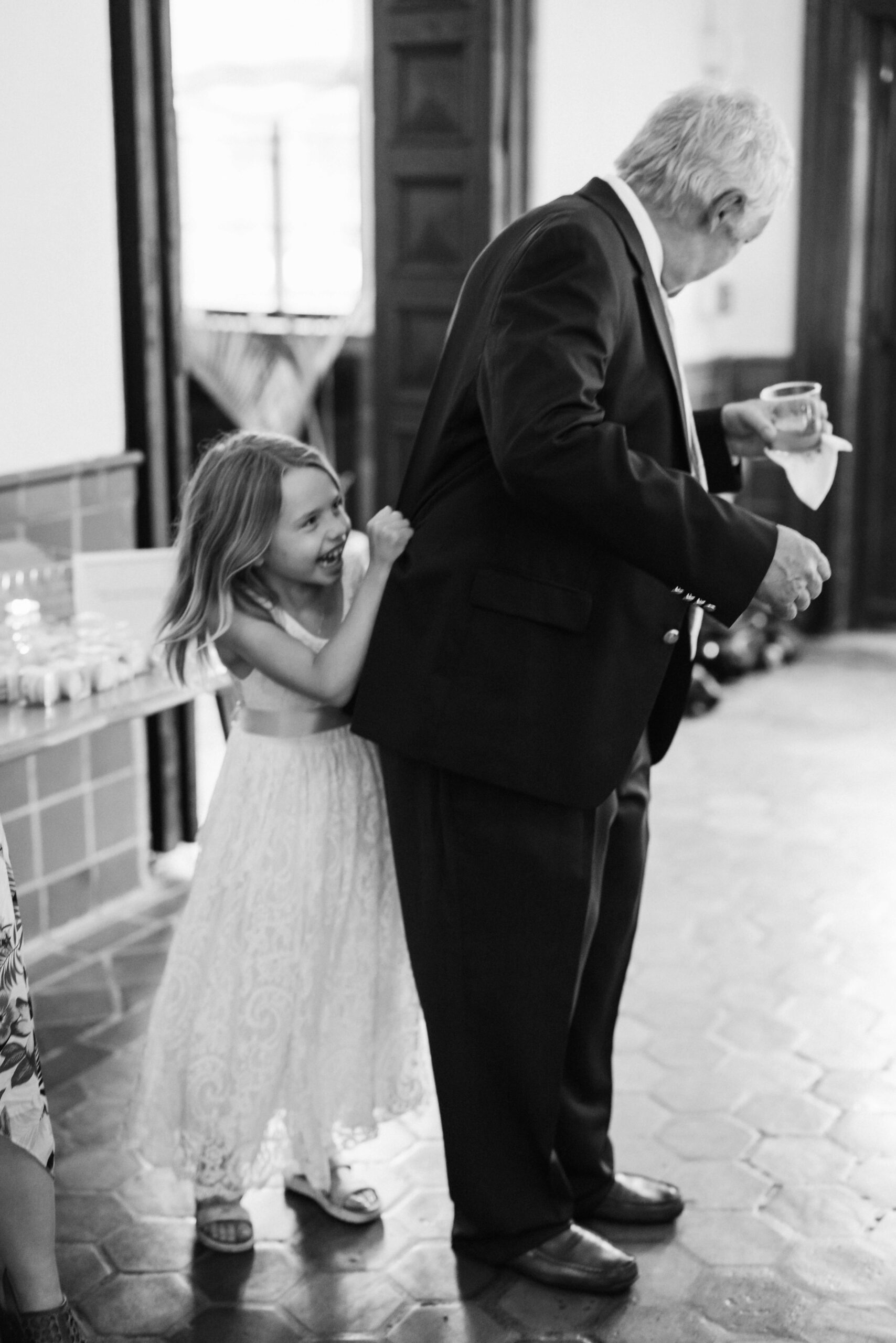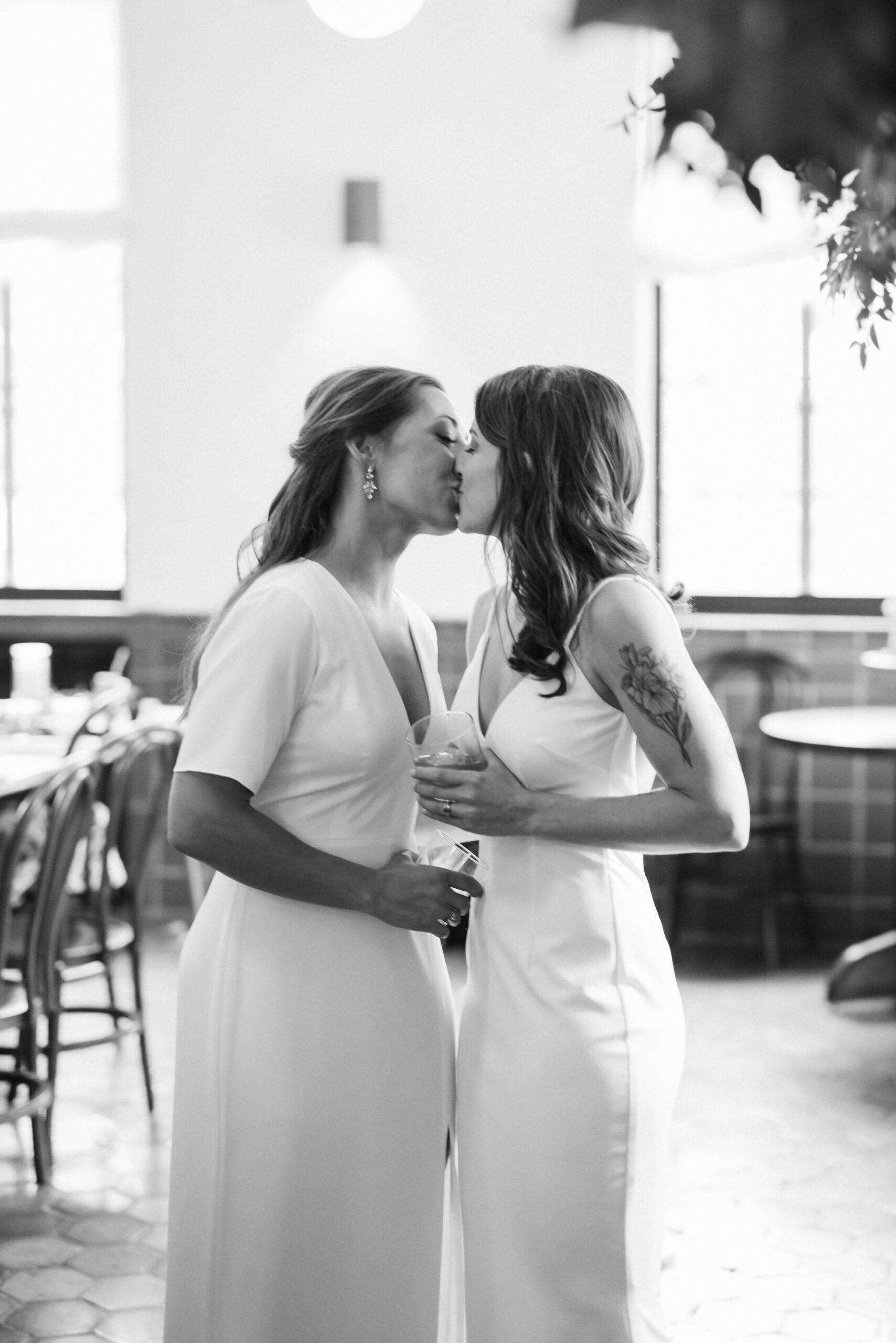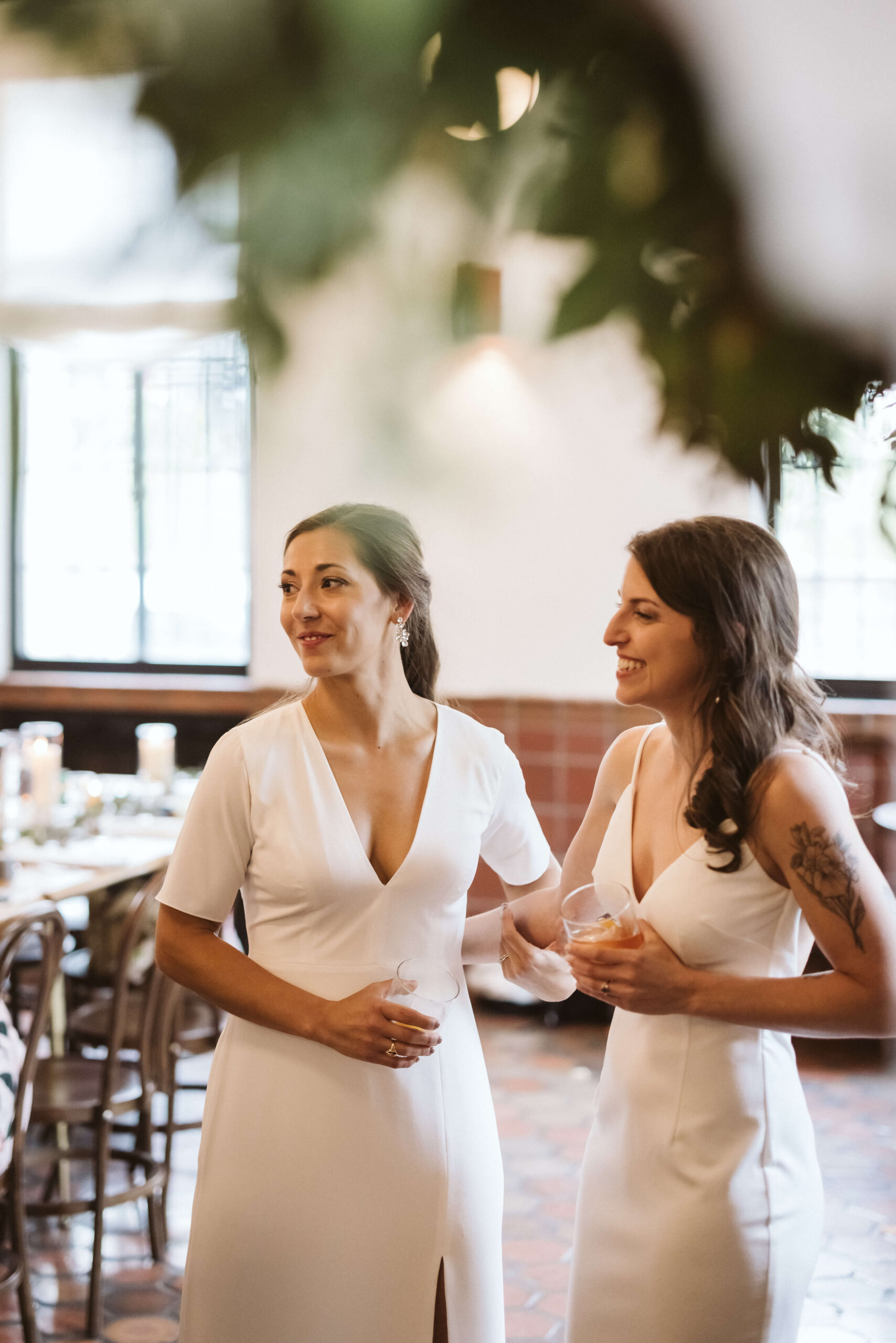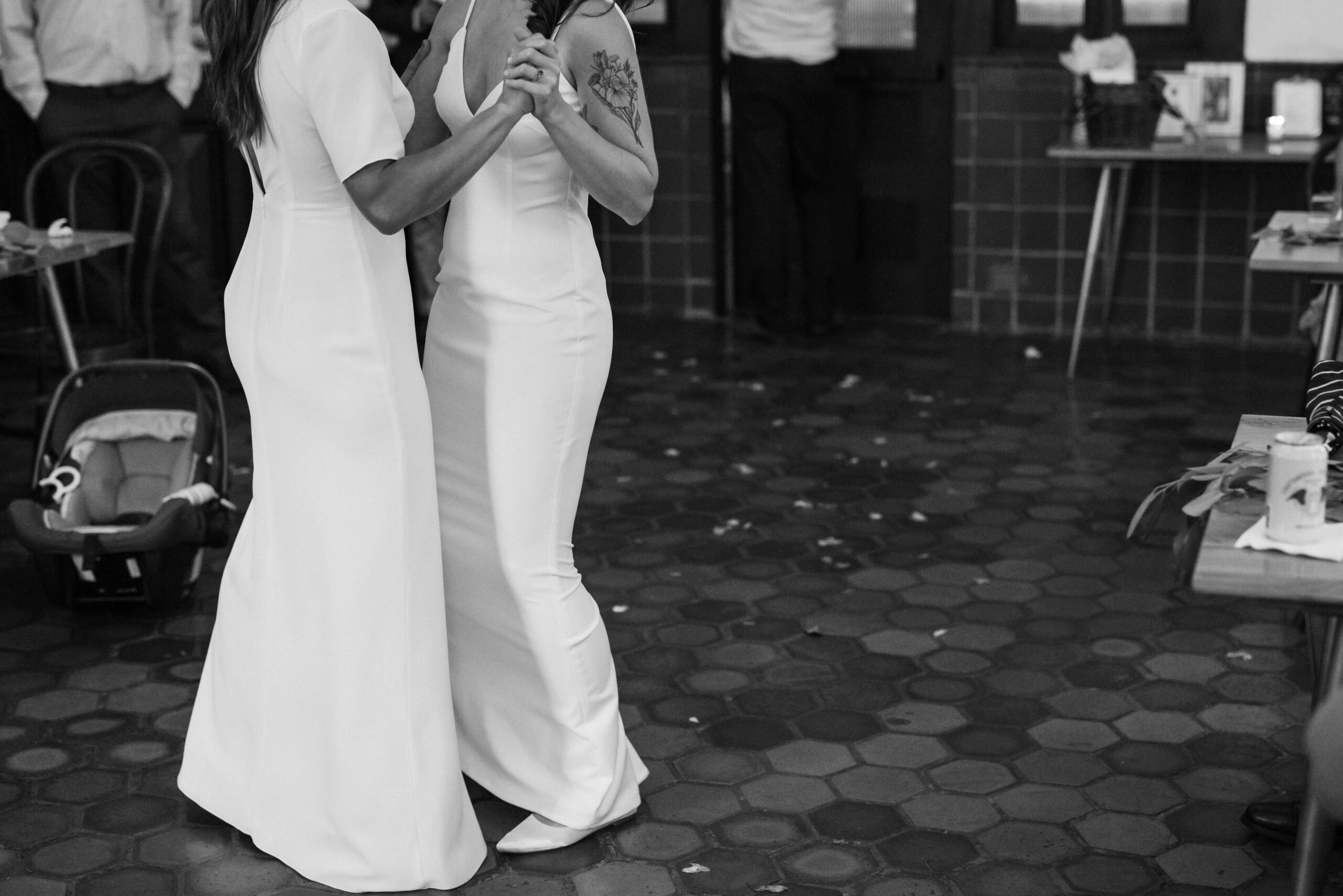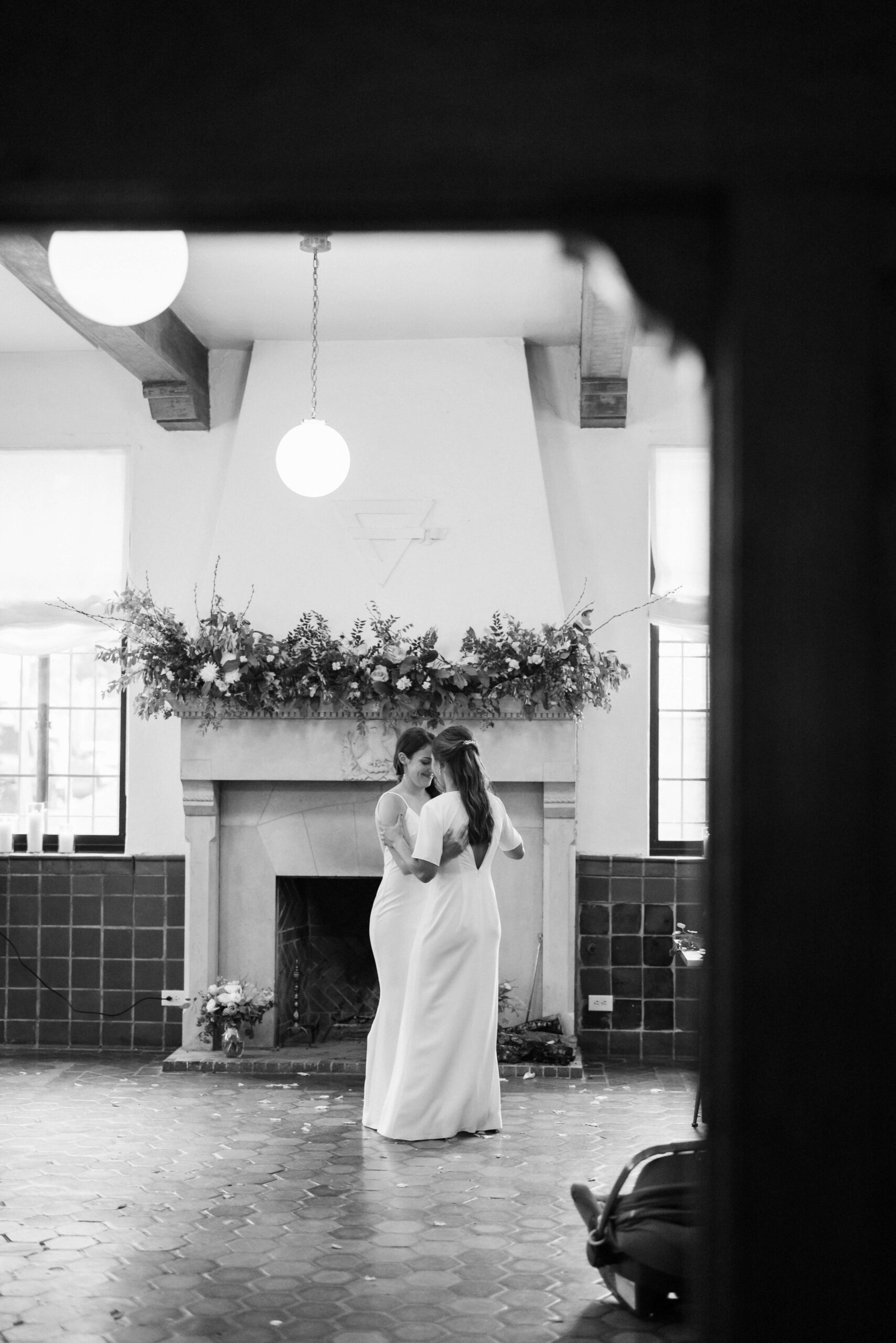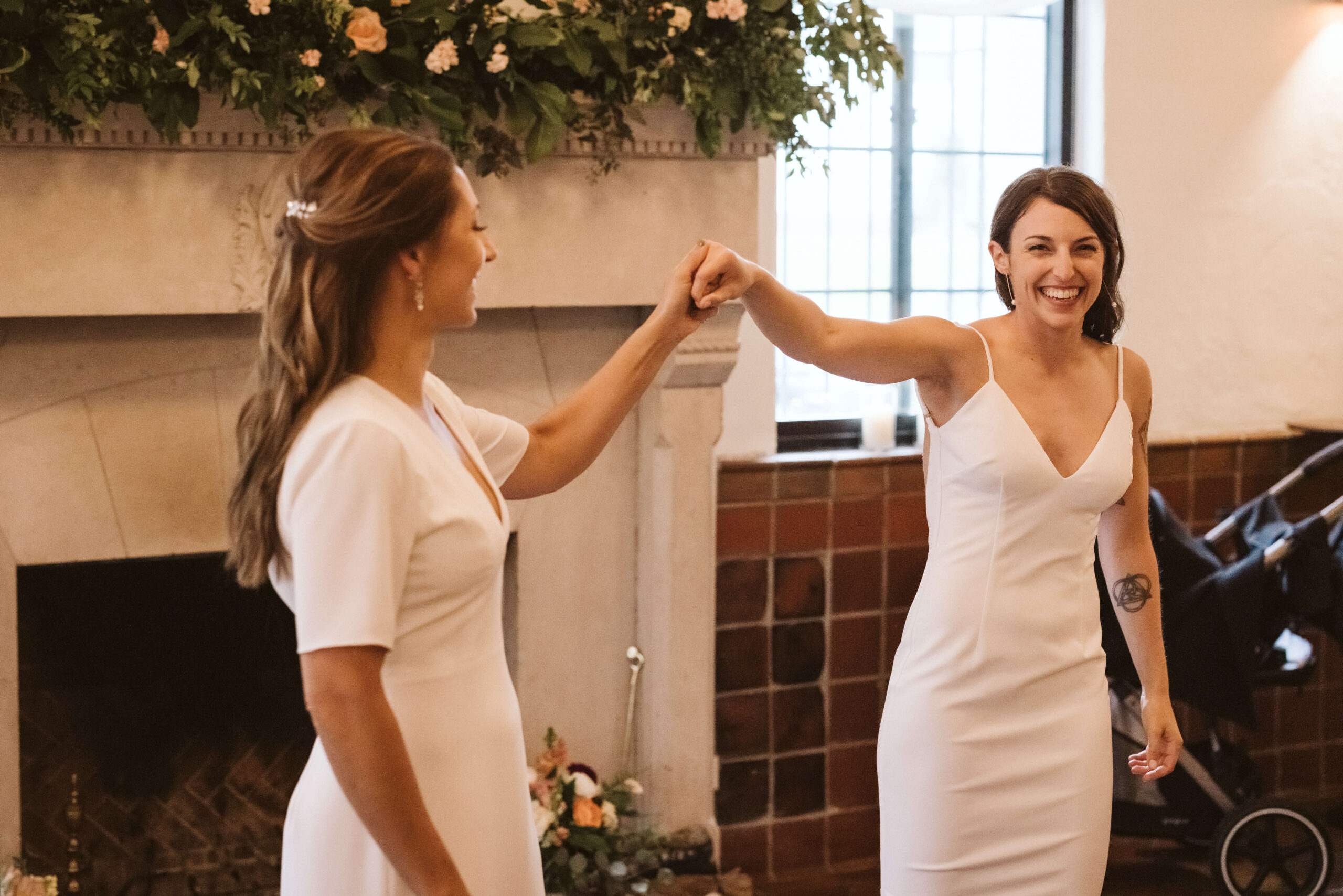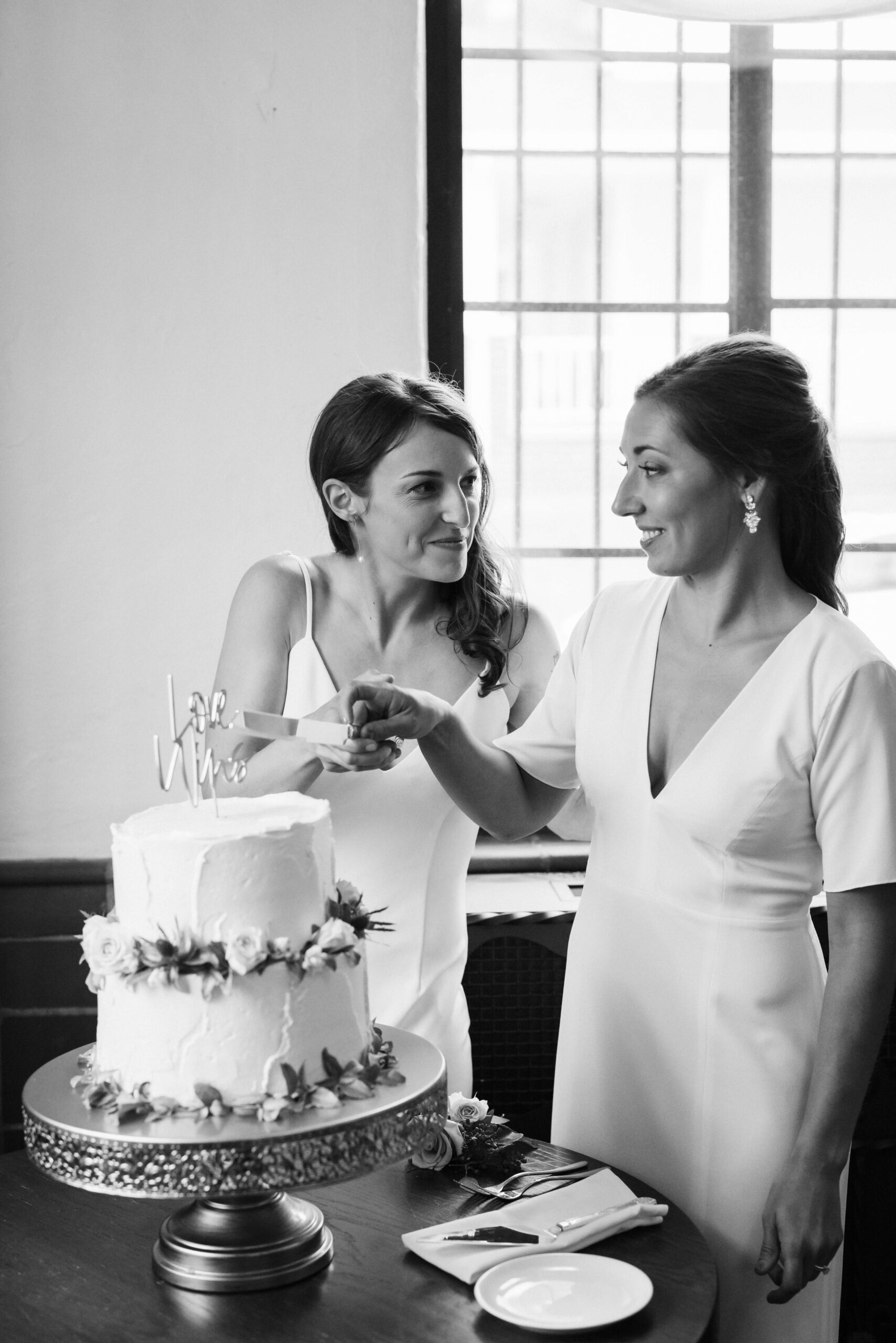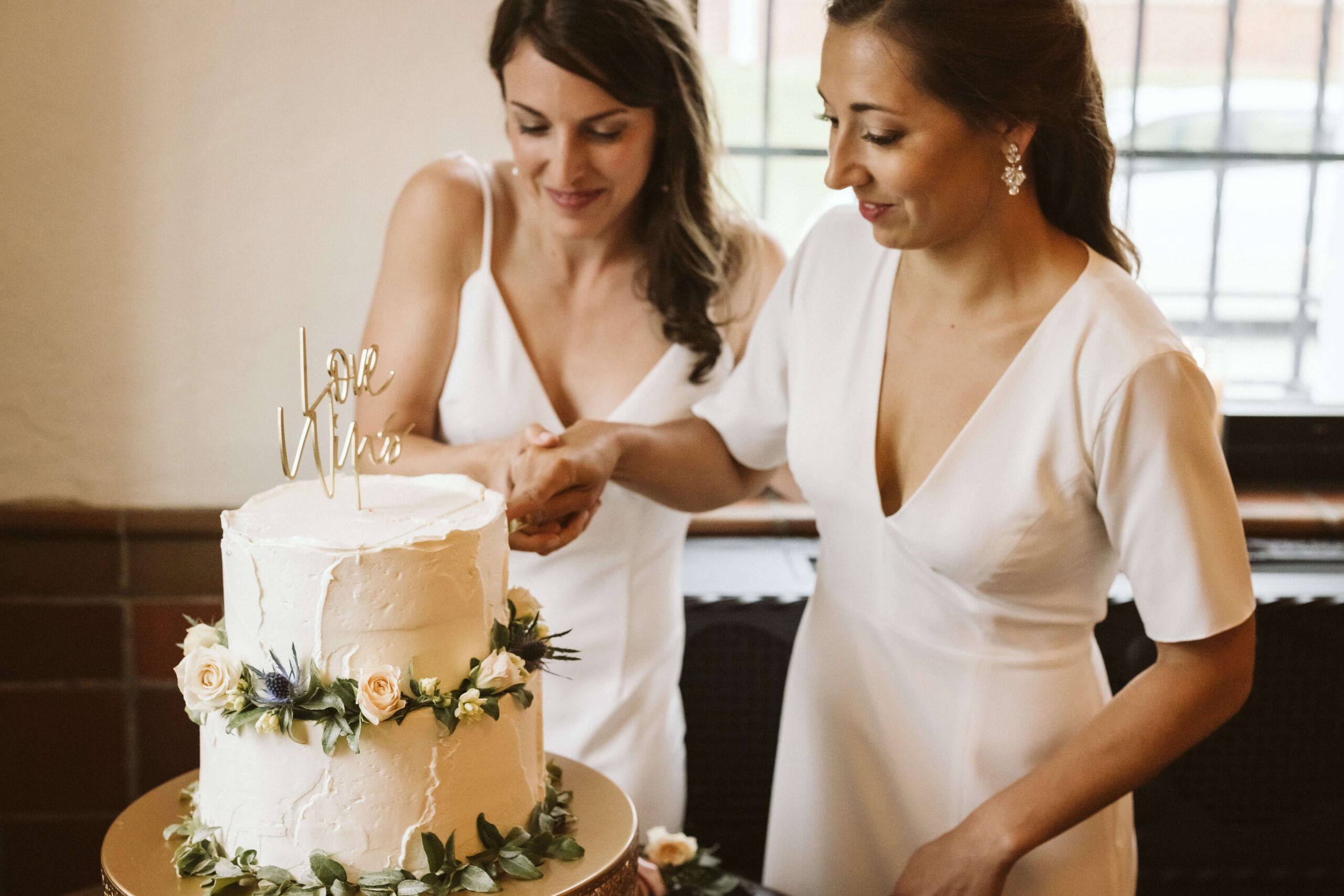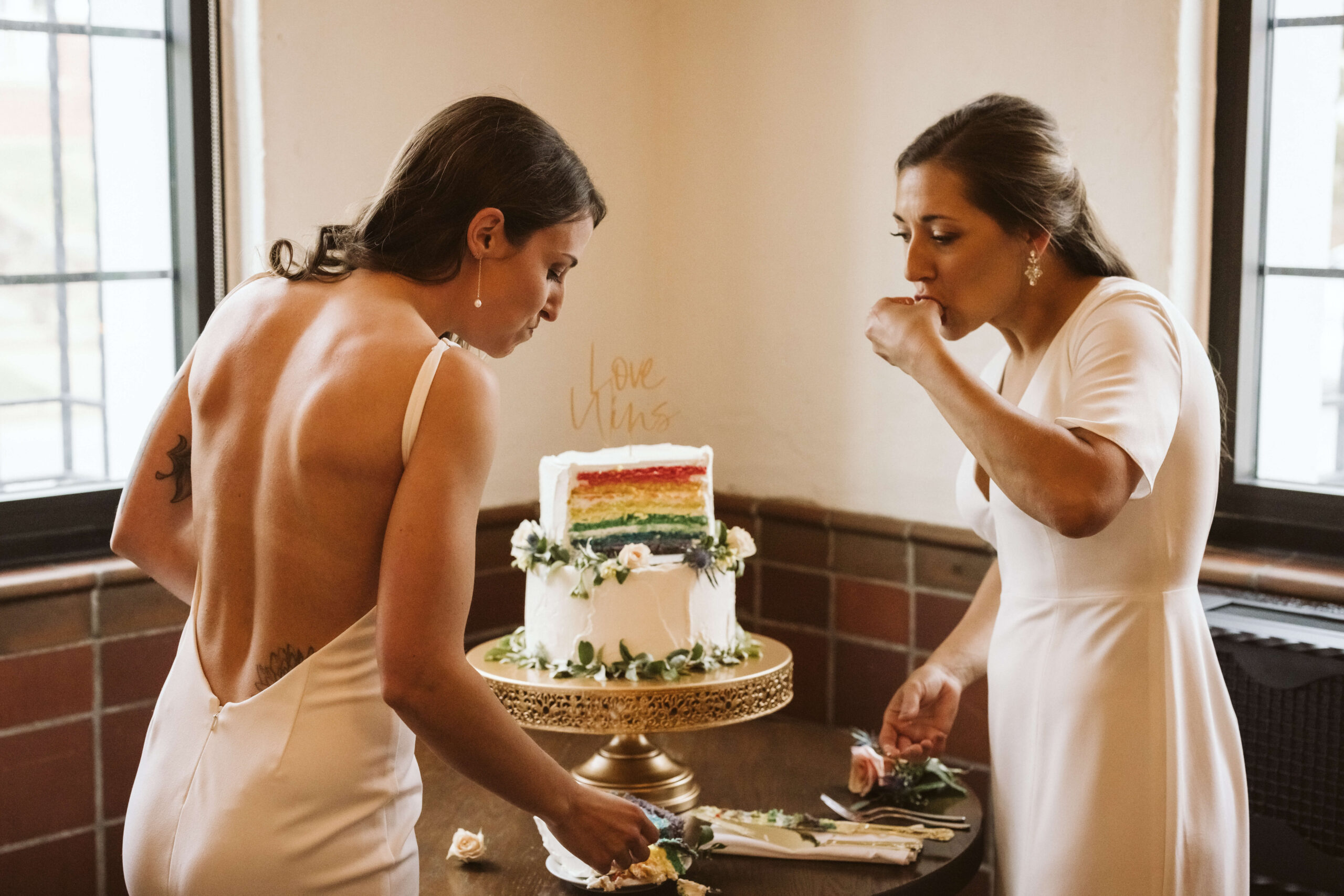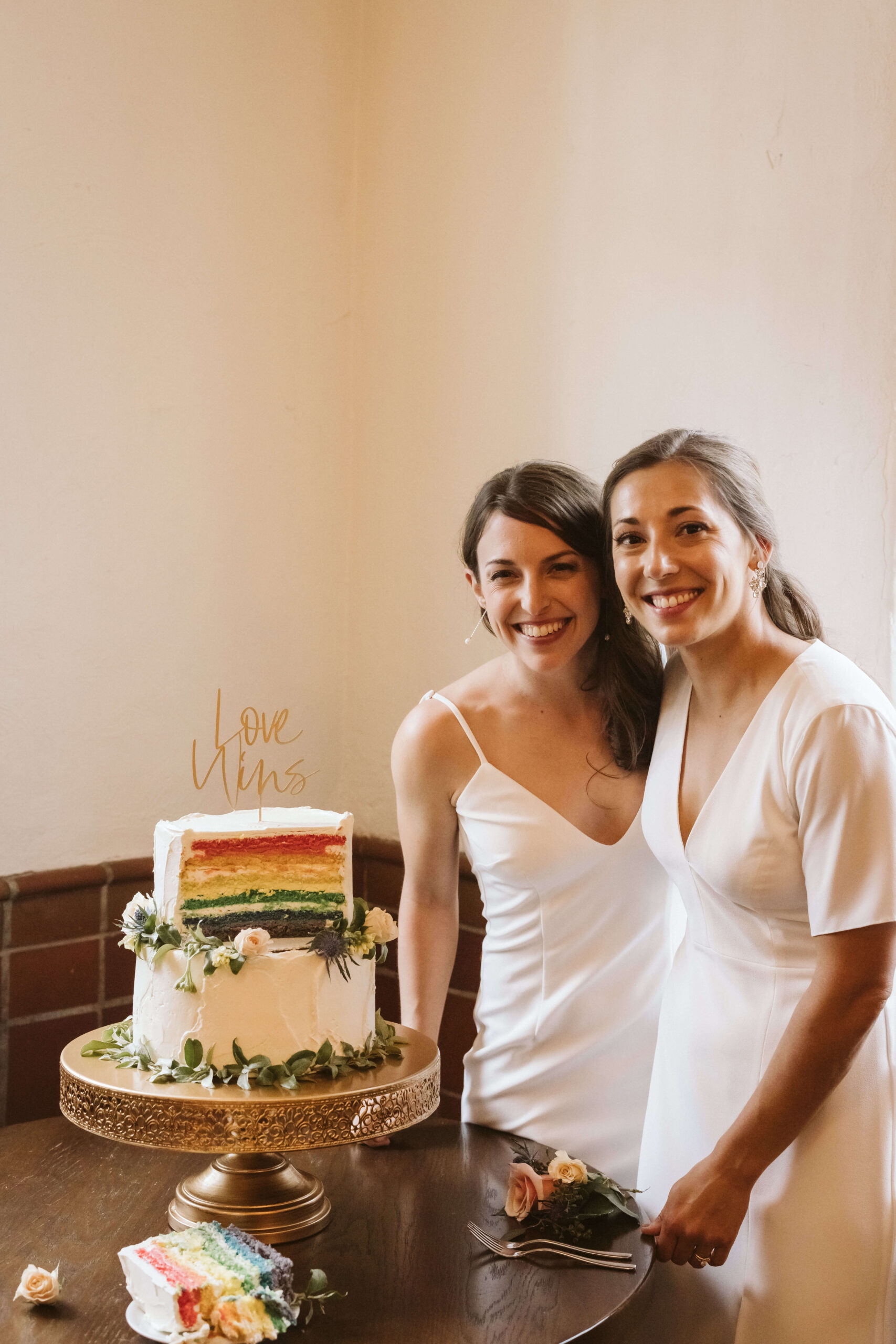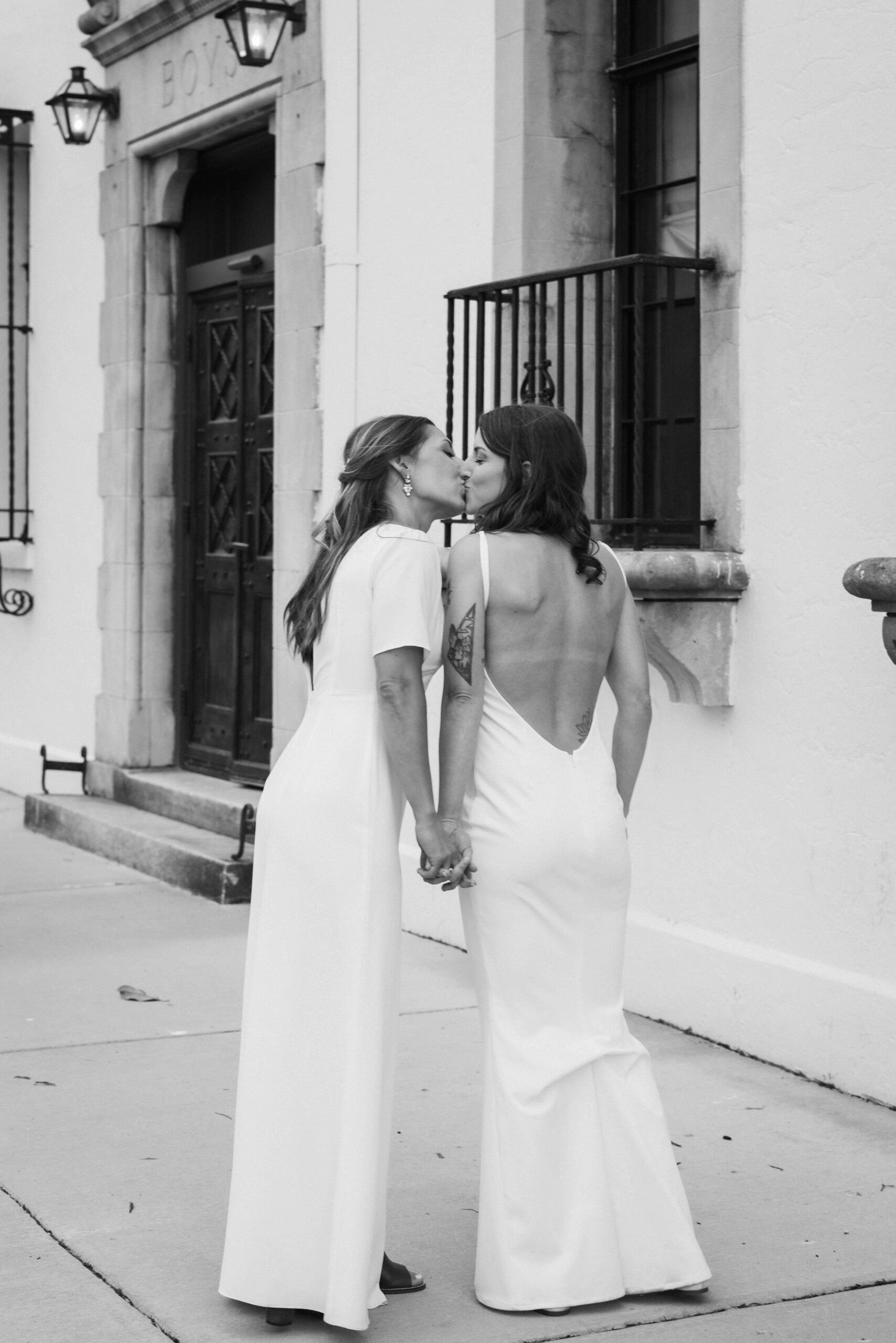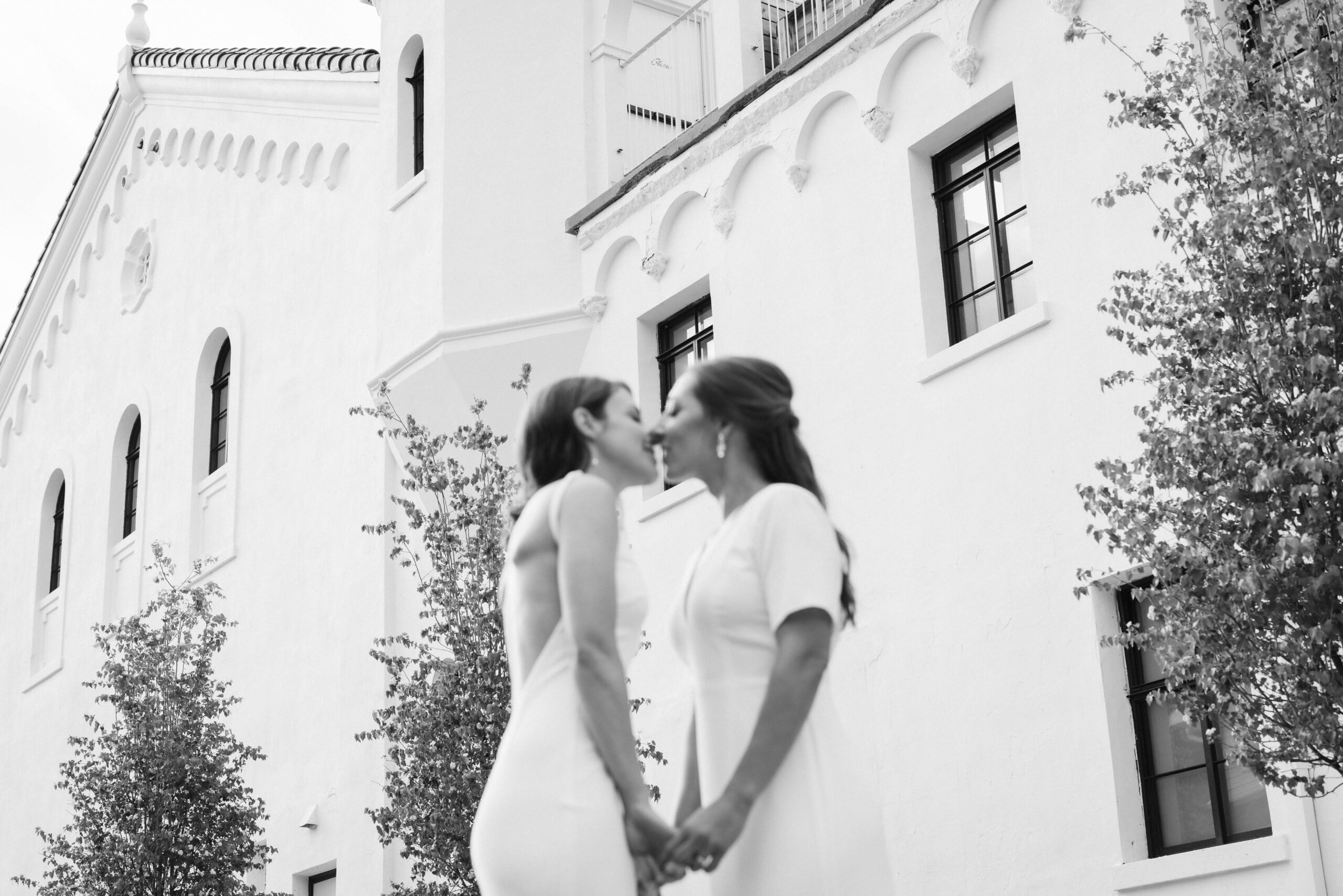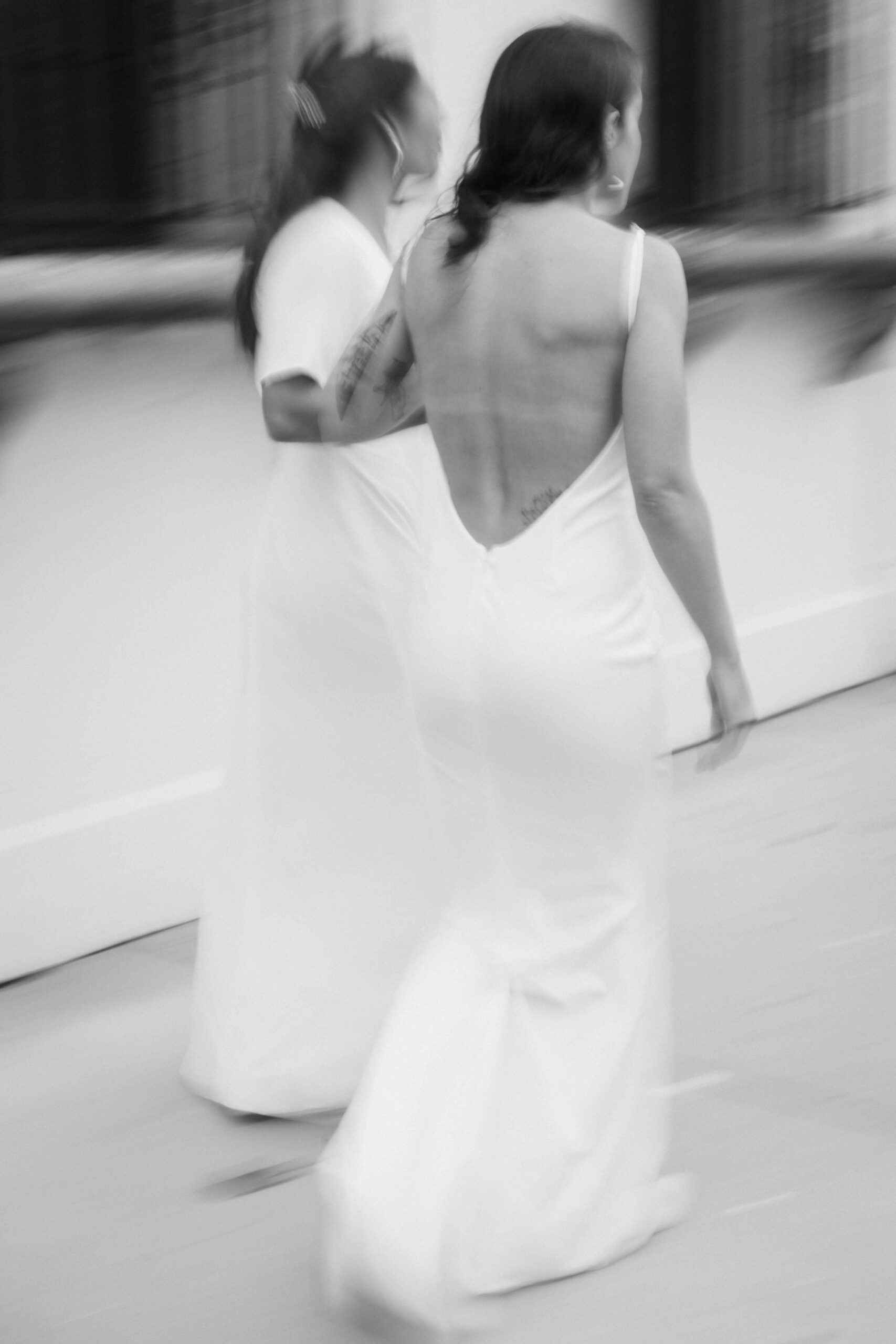 A Simple Ceremony & Reception in the Pennybacker Room of the Common House
When it came time for their ceremony, Stefannie and Tye chose to keep it simple. They had no formal wedding party except for two of their nieces who were adorable little flower girls while a good friend of theirs officiated the ceremony.
Stefannie and Tye kept their ceremony short and sweet. They listened to speeches written for them by other close friends and read their heartfelt vows to each other before finally sharing their first kiss as a married couple. It was a simple ceremony but a beautiful one that we not only photographed but did the videography for.
After their ceremony, Stefannie and Tye made sure to get pictures with all of the friends and family who came to celebrate with them. They had been together for four years and by the time they got married they already had their share of trials and hardship. These were the people who were always there to support them whenever they needed it and Stefannie and Tye wanted to make sure their love was honored through being a part of their wedding photographs.
Throughout both Steffanie and Tye's ceremony and the reception, it was clear that the overall theme for their elopement was how strong love can be. From wedding favors that were little seed packets with 'let love grow' printed on them to their wedding cake with a 'love wins' cake topper, love was truly at the center of this beautiful day. Even though it began with a big change in plans, by the time the reception ended, it had truly been a day dedicated simply to a celebration of love in its simplest and purest form.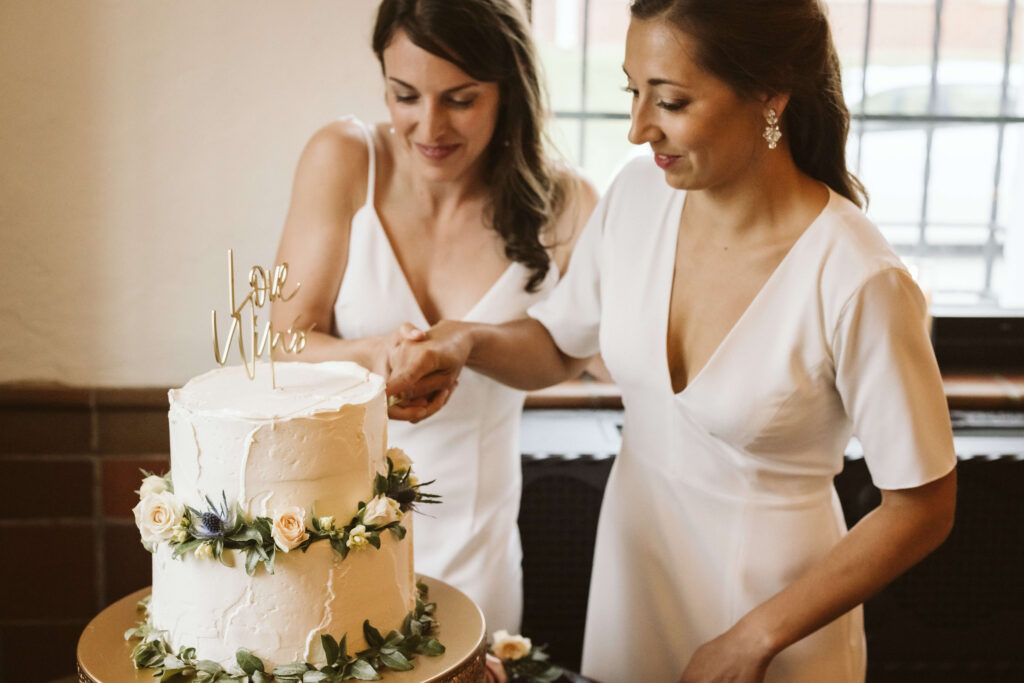 Have you been dreaming of a sweet and simple elopement as well? Whether your plans are big or small, I would be honored to be there to capture it all for you!
Hey y'all! I'm Rachael Crowe of OKCrowe Photography. From elopements to weddings to anniversary parties, I've shot hundreds of love stories across the Chattanooga area and all over the US. I'd love to be part of your story as well! If you've been searching for a wedding photographer (and maybe even a wedding videographer too!) head to my contact form, and let's get started!