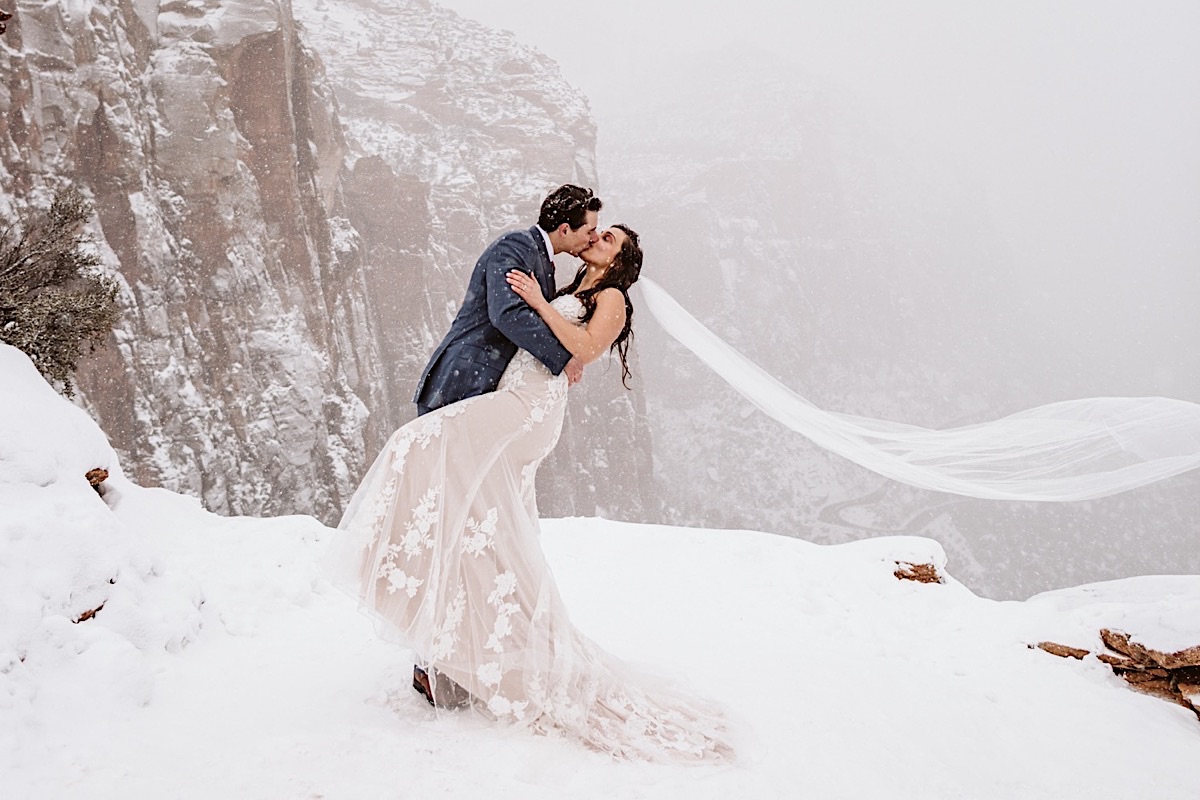 This wedding day totally affirmed my love for offbeat, out-of-the-ordinary weddings! Liz and Andrew's snowy Zion winter elopement was so incredible that I can't wait to experience more elopement days with my engaged couples! 
Liz and Andrew are the coolest, most easy-going and fun couple! We traveled to Zion National Park for their last-minute elopement. Even though it wasn't what they had originally planned, the day turned out to be so beautiful and so them.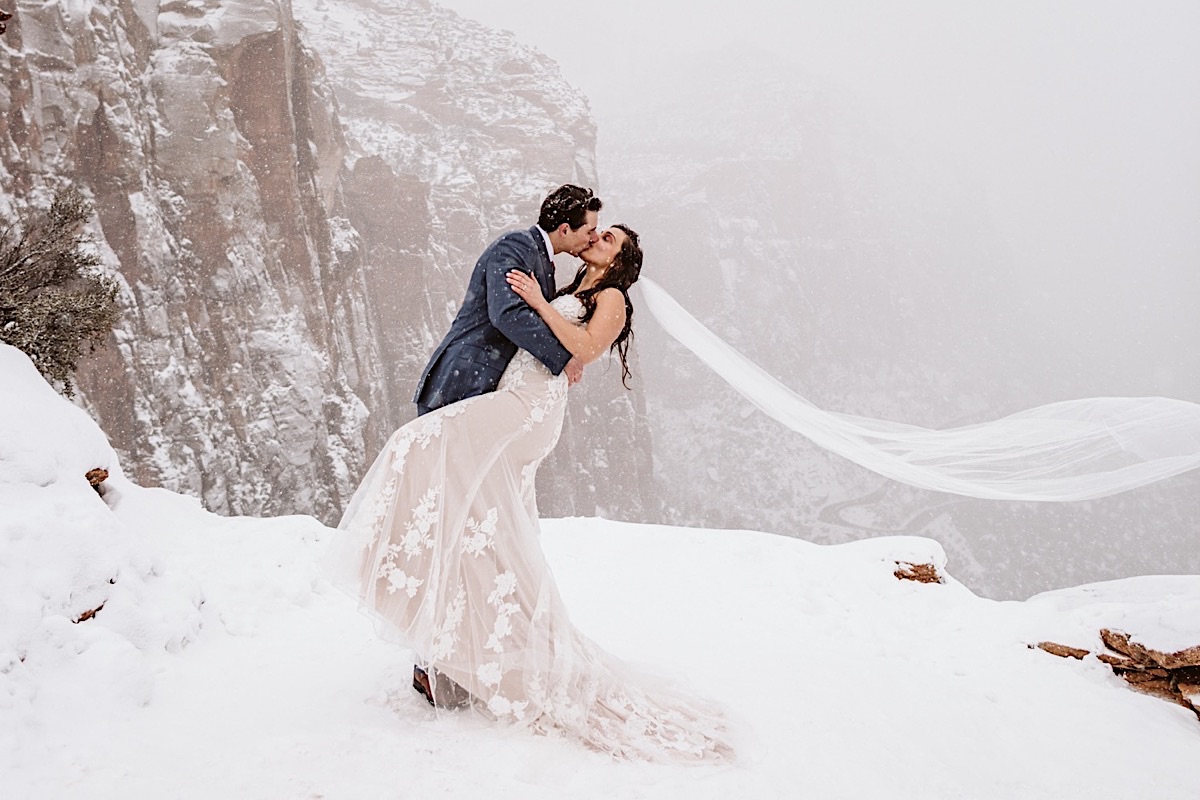 Traditional wedding plans become untraditional elopement plans
Liz had been following me on social media for awhile after she'd seen me in action shooting some of her friend's weddings. When she and Andrew got engaged, we started chatting back and forth about their May wedding plans. While they had considered eloping, they knew that their families would be sad about not being included. I gave her some tips and encouraged her to go with her gut and be untraditional, but she was still hesitant.
A little while later, when I was unable to attend a bridal show, I passed my tickets to Liz. She and Andrew walked into the show, and they immediately felt waves of overwhelm (holla if that's you!). They turned right around and walked out! In that instant, they decided that they would elope instead, so they went home and cancelled all of their wedding plans.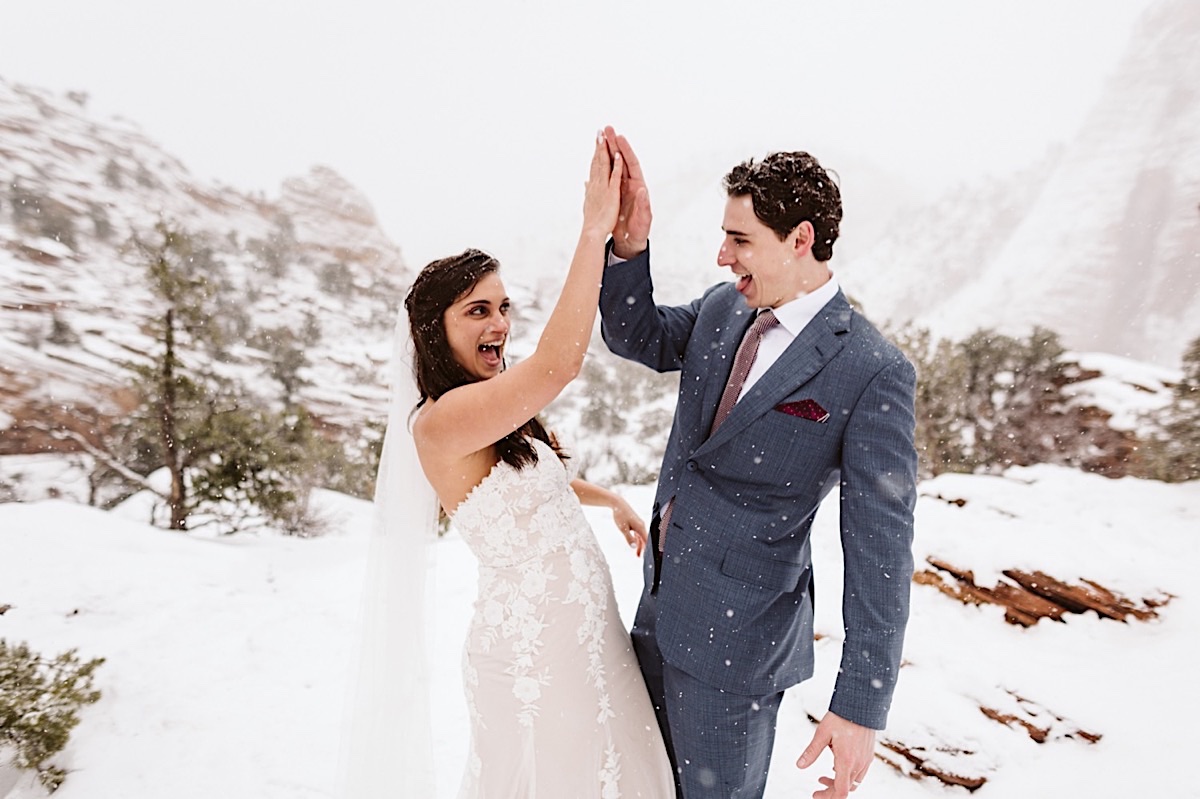 Planning a last-minute elopement
I was in Maine for a session when I got her email telling me that they were cancelling their May wedding and had decided to elope in Zion National Park the following month. I was like "WAIT…Hold up! WHAT?! Can you get married in Zion National Park?" After some quick research, I replied to her email with, "Uhhhh….I can shoot your elopement in Zion! And I'll help you plan it!"
With only three weeks' notice, we planned their whole elopement together: I bought my plane ticket, got permits to photograph inside the National Park, and sorted out a local officiant. Side note: Getting to add–and then check off–Zion National Park elopement photography to my bucket list was awesome!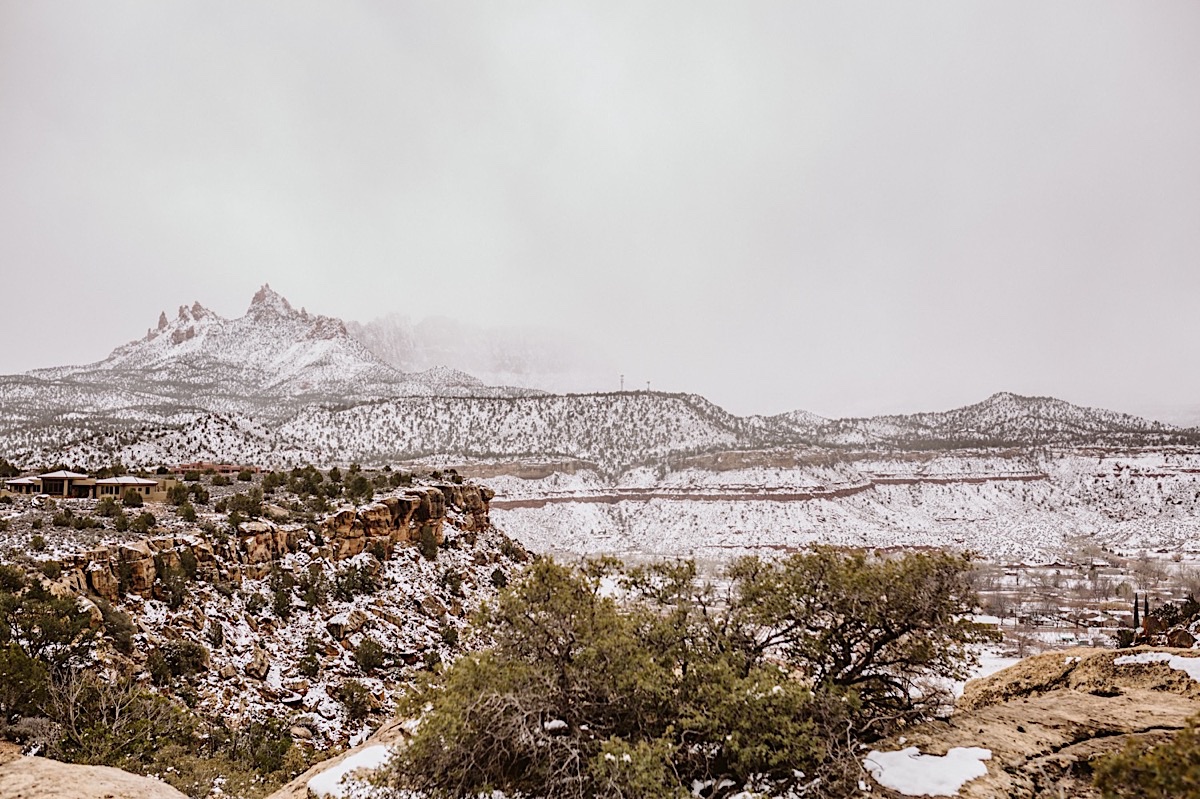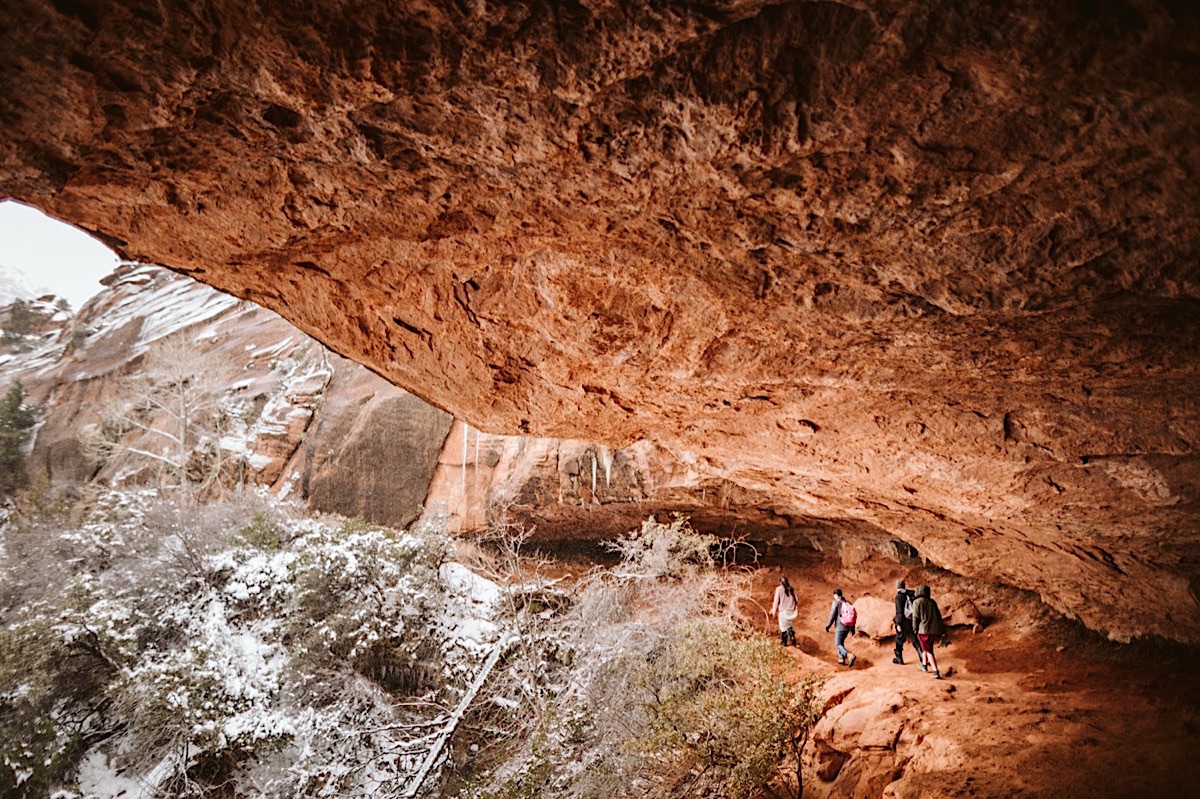 Zion National Park winter elopement
Also known as: Getting married in a snowstorm!
When I landed in Salt Lake City, I met up with Liz and Andrew and a few of the friends they'd invited out. Everyone was welcoming, easy going, and so chill. While they went skiing and snowboarding, I ran a few errands and picked up Liz's bouquet. 
On elopement day, we woke up super early to drive the five hours from Salt Lake City to Zion National Park. It was snowing hard on the way there, and quickly turned into a blizzard. Luckily, I come prepared for any weather situations, so I had thick socks, hand-warmers, extra gloves…you name it!
Once we arrived to a private property just outside of Zion National Park, we were struck by the gorgeous views. We met the officiant we'd hired, and Liz and Andrew got dressed–in the cold and snow–on either side of the car so they wouldn't see each other. The best part about an outdoor elopement in the winter? When you can pull up the hem of your dress to reveal your thick, wool socks and hiking boots underneath!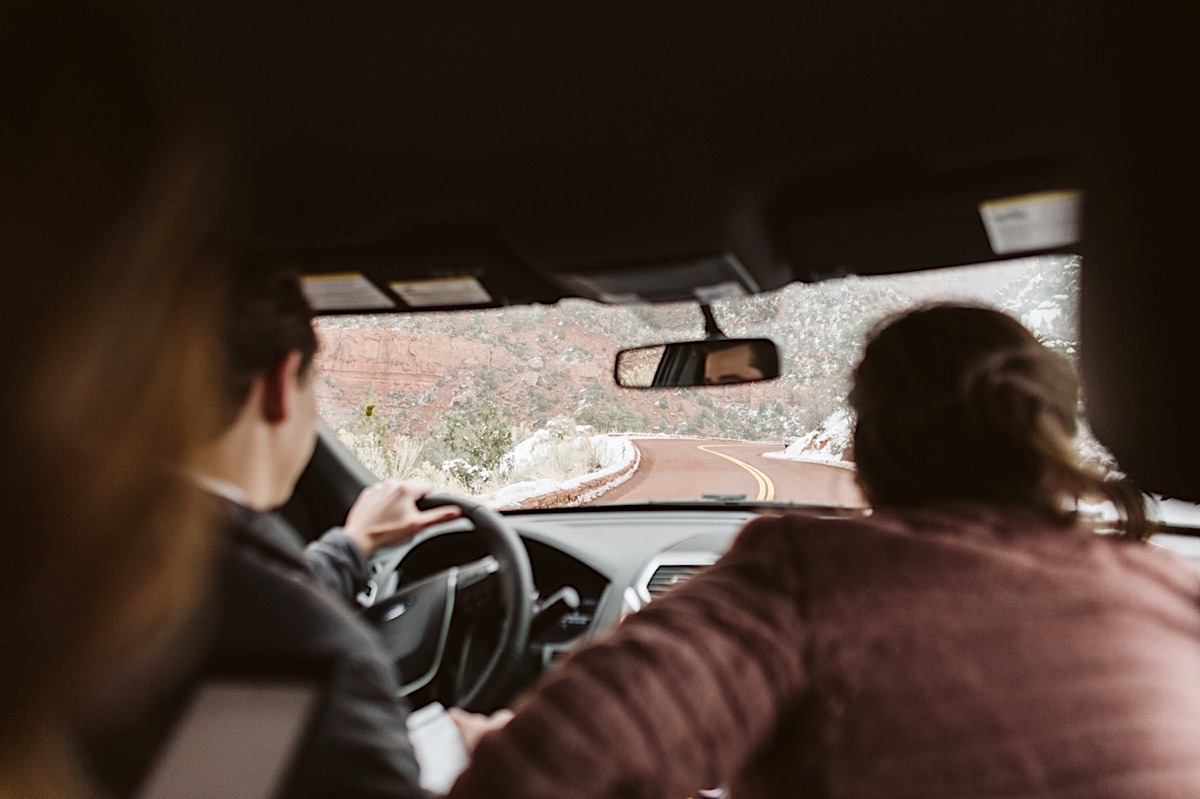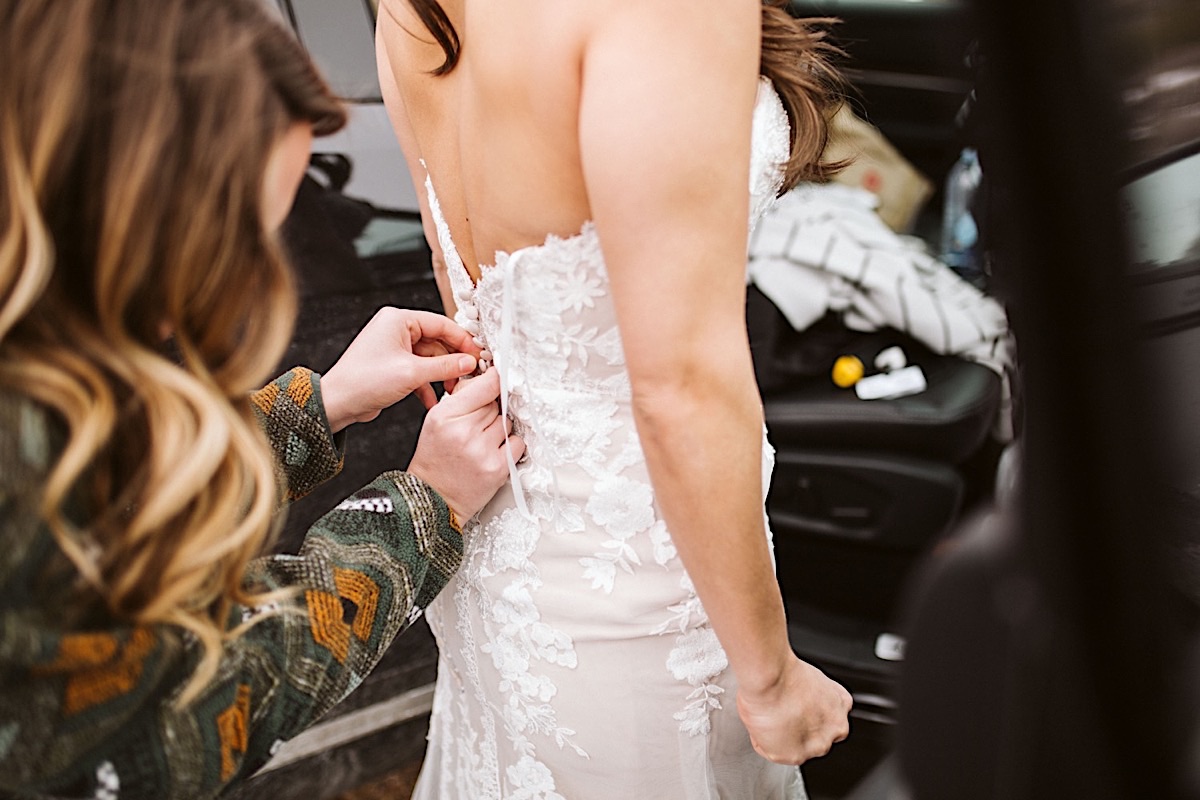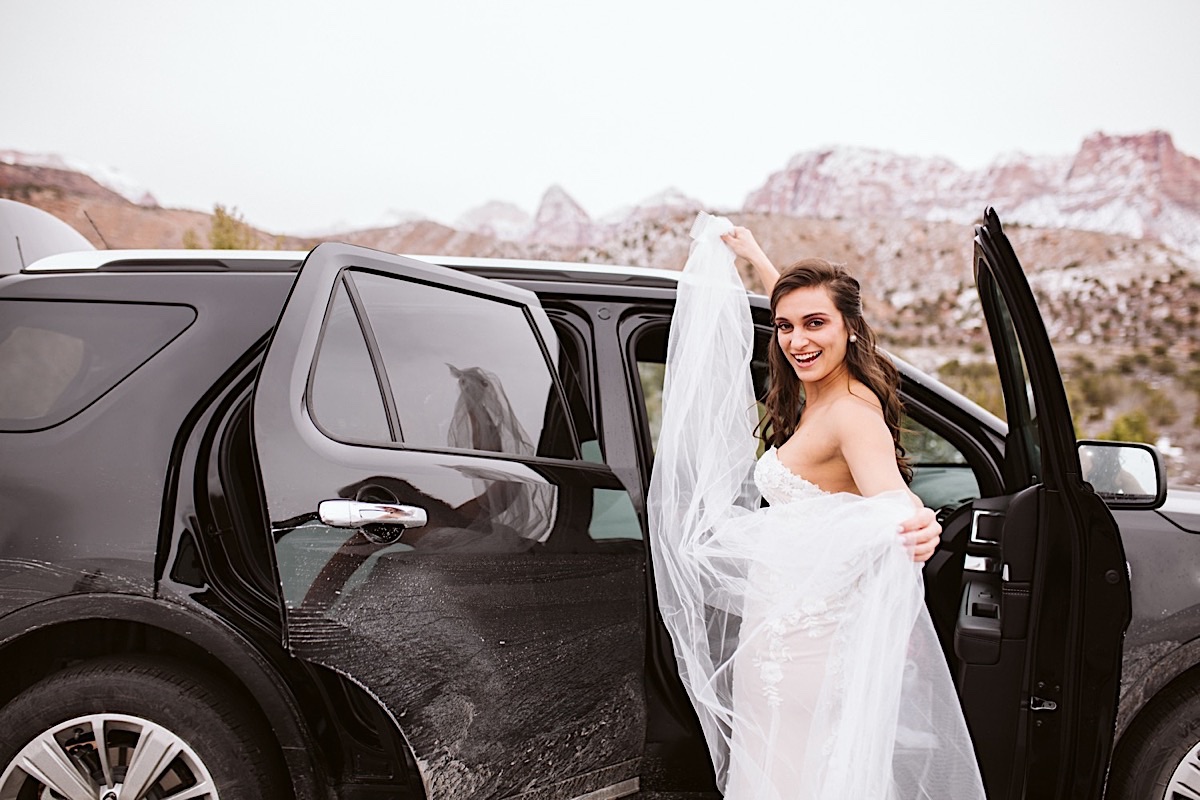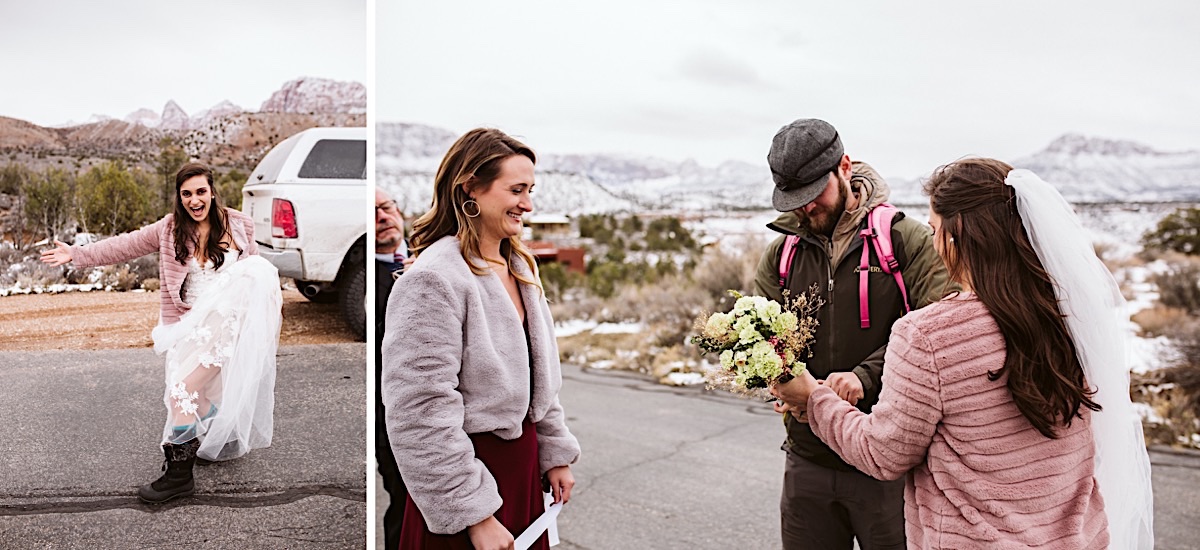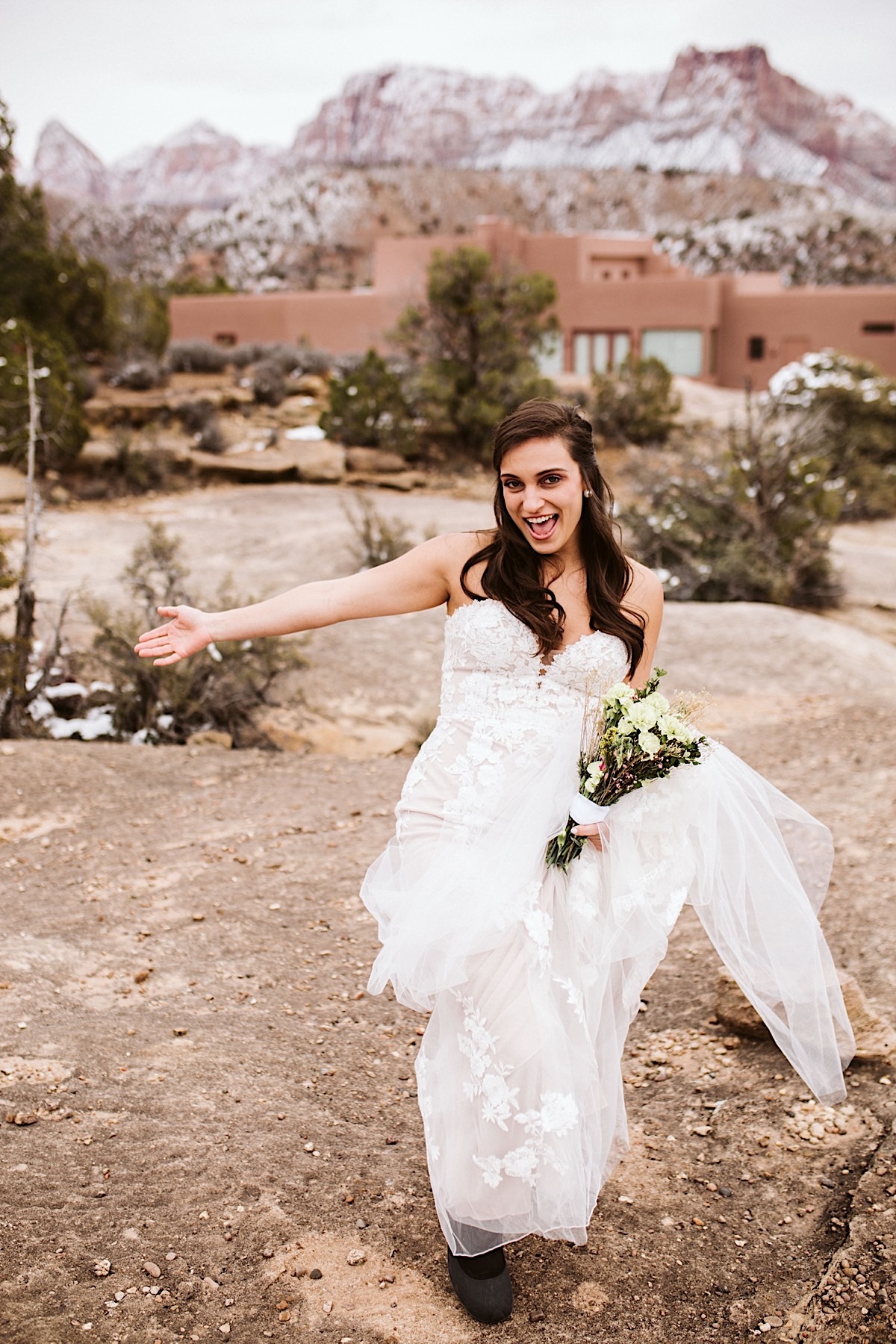 Bride and Groom First Look Surprise
The couple wanted to do a private first look, and, as I was telling Liz to go tap Andrew on the shoulder to signal to him to turn around, her eyes lit up and she said, "Can I slap him on the ass?!" I busted out laughing and said, "OMG, yes!" She responded with a "Hell yeah!" and smacked him hard! His reaction was sooo funny! He laughed and then teared up in the same moment. 
The officiant led us to the ceremony spot, and their elopement ceremony was so sweet and very super chill, just like them. It really fit their personalities so well, which was extra special. I loved being part of this wedding-turned-elopement for so many reasons, but these incredible moments when everything just feels…right…that's what it's about.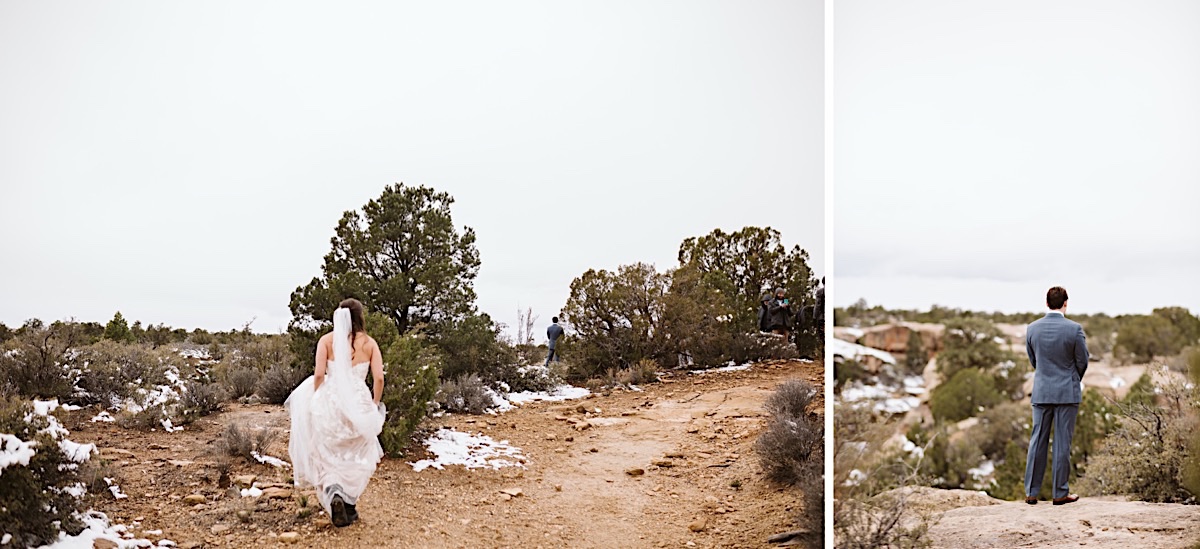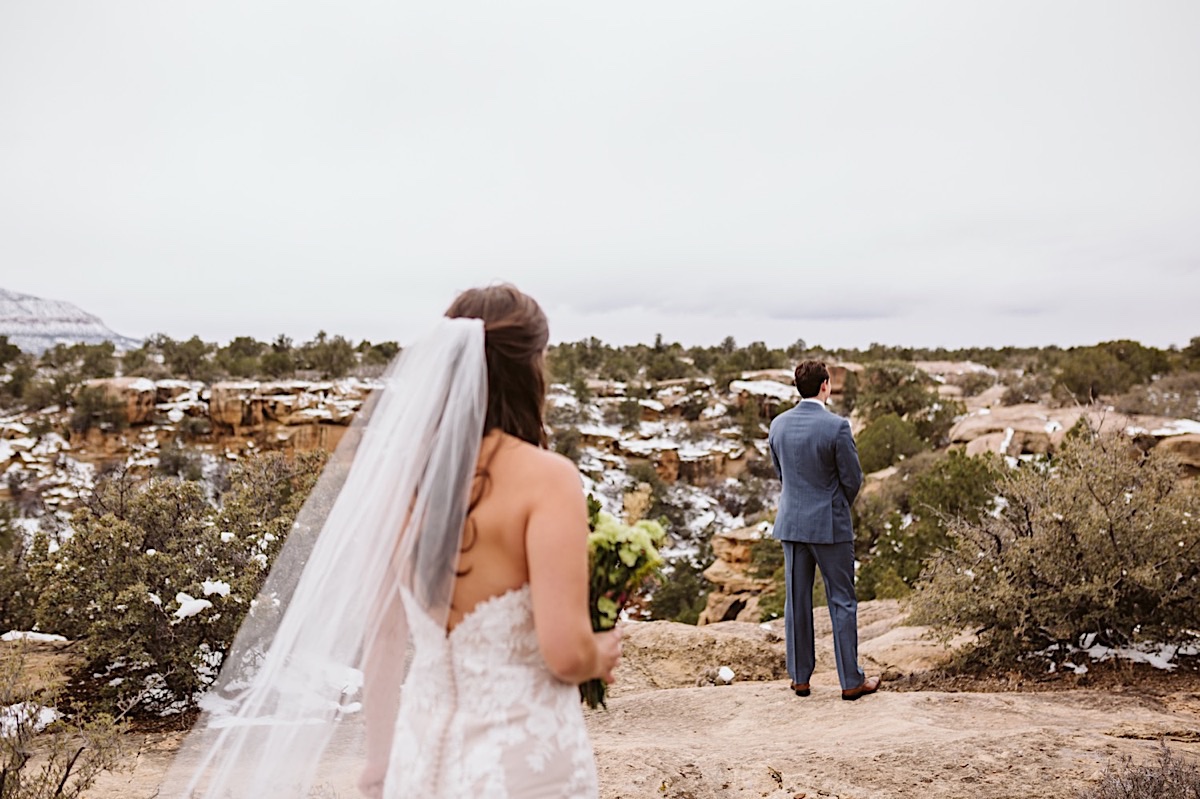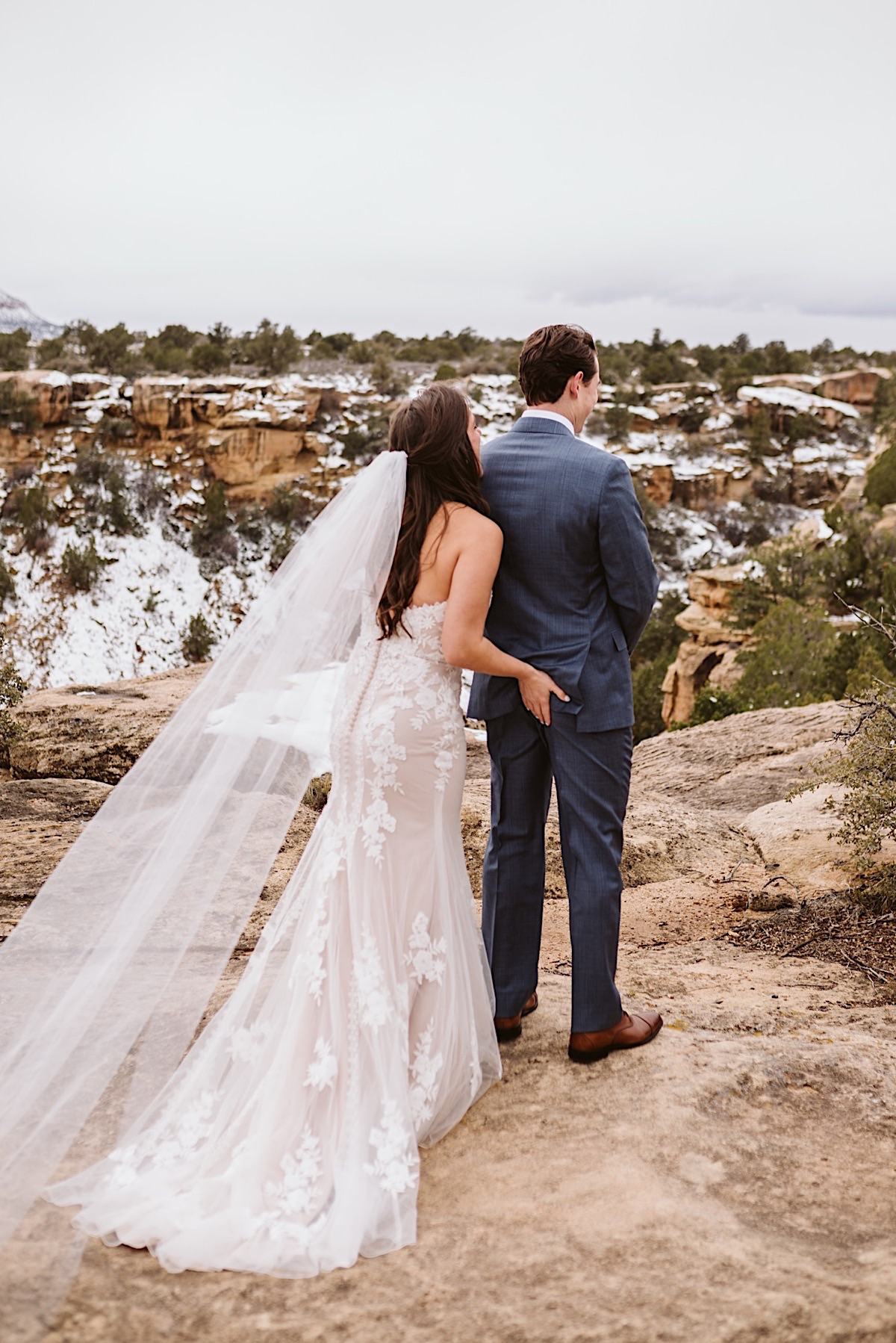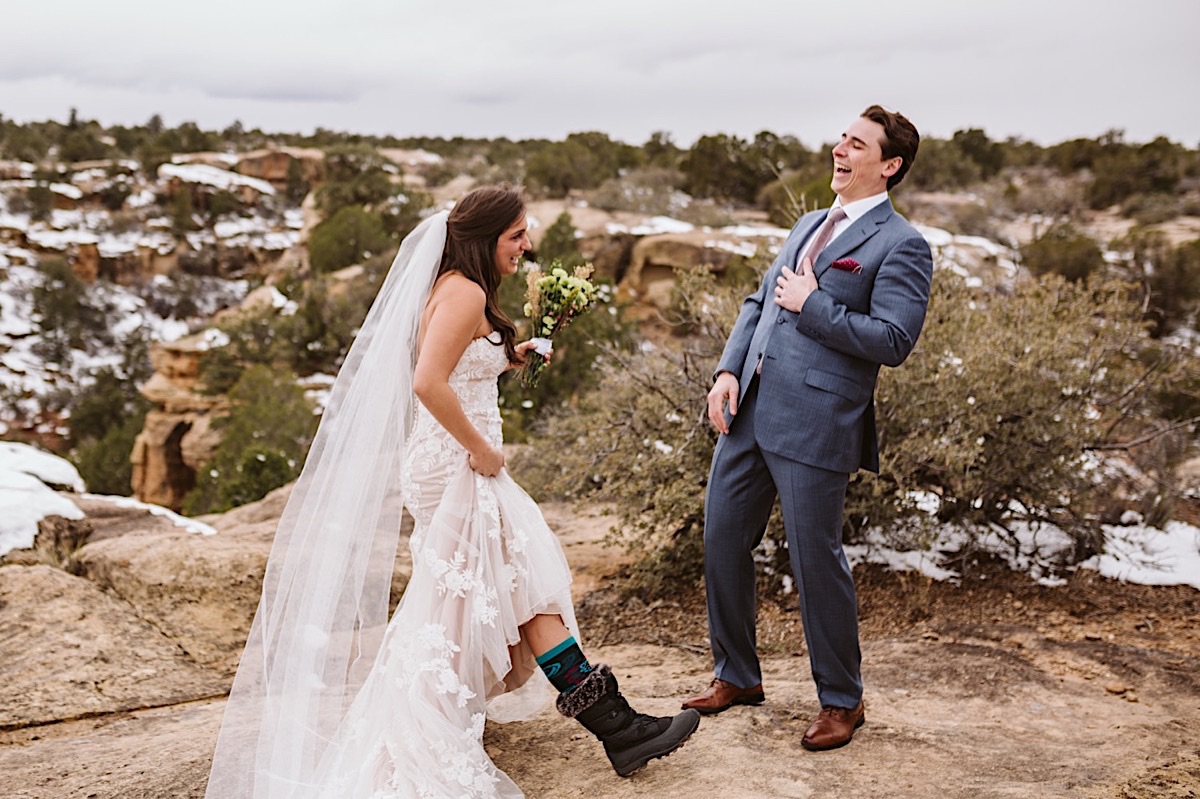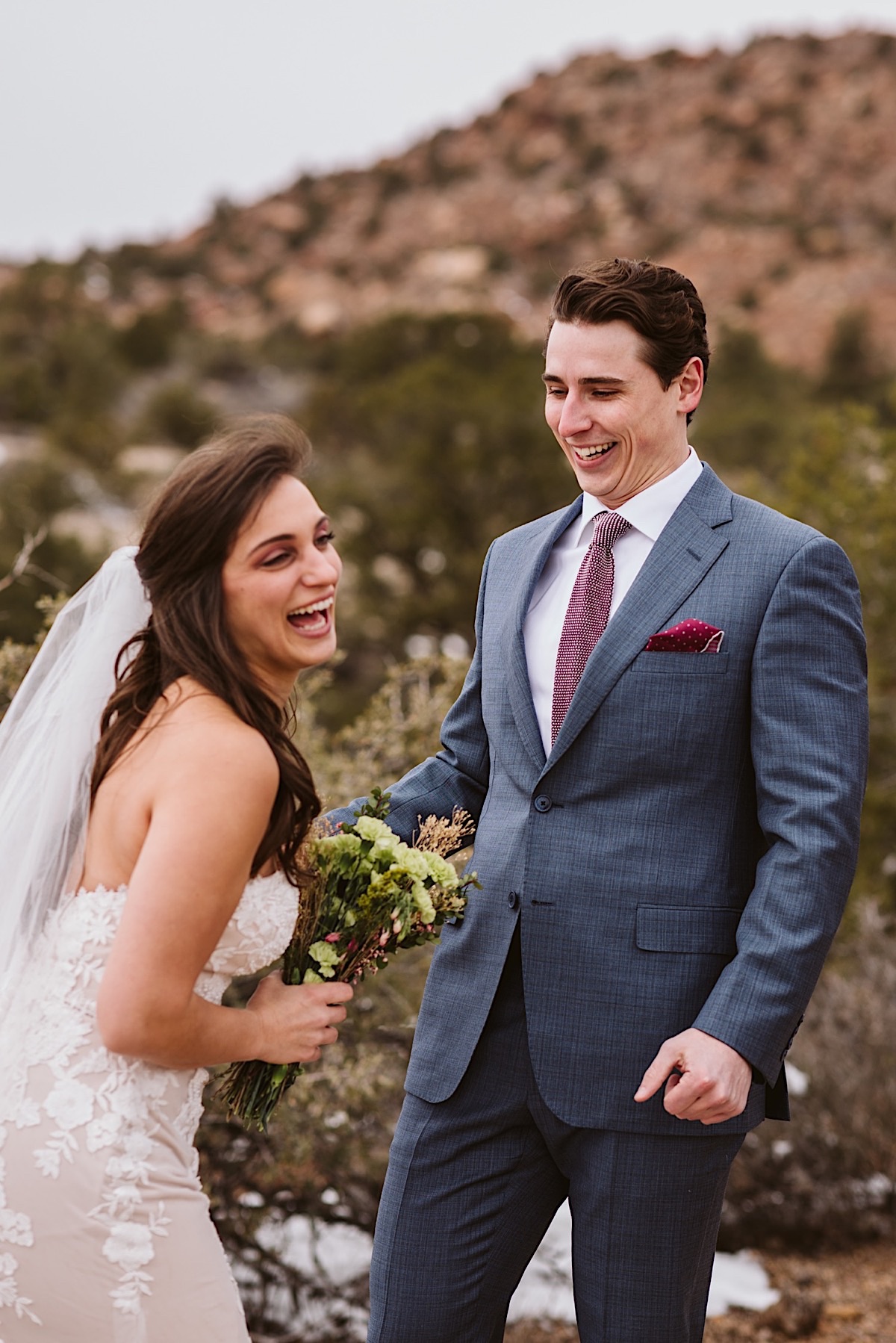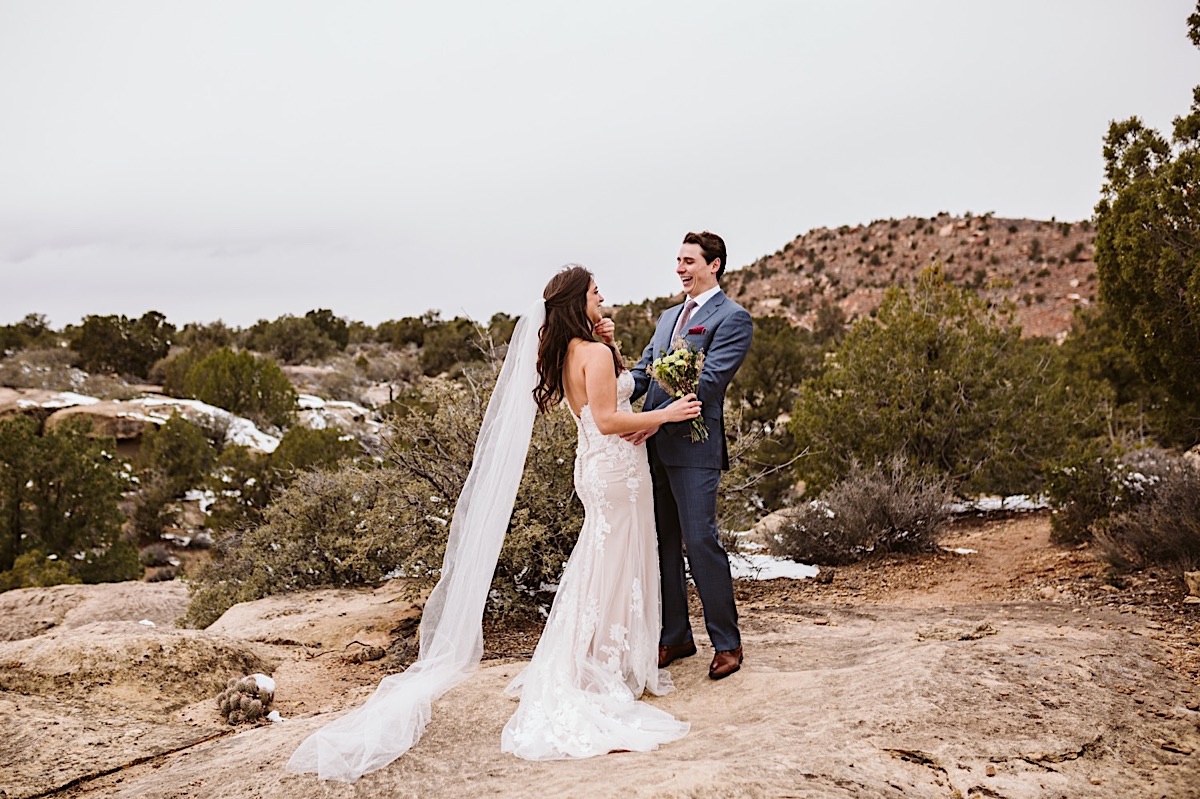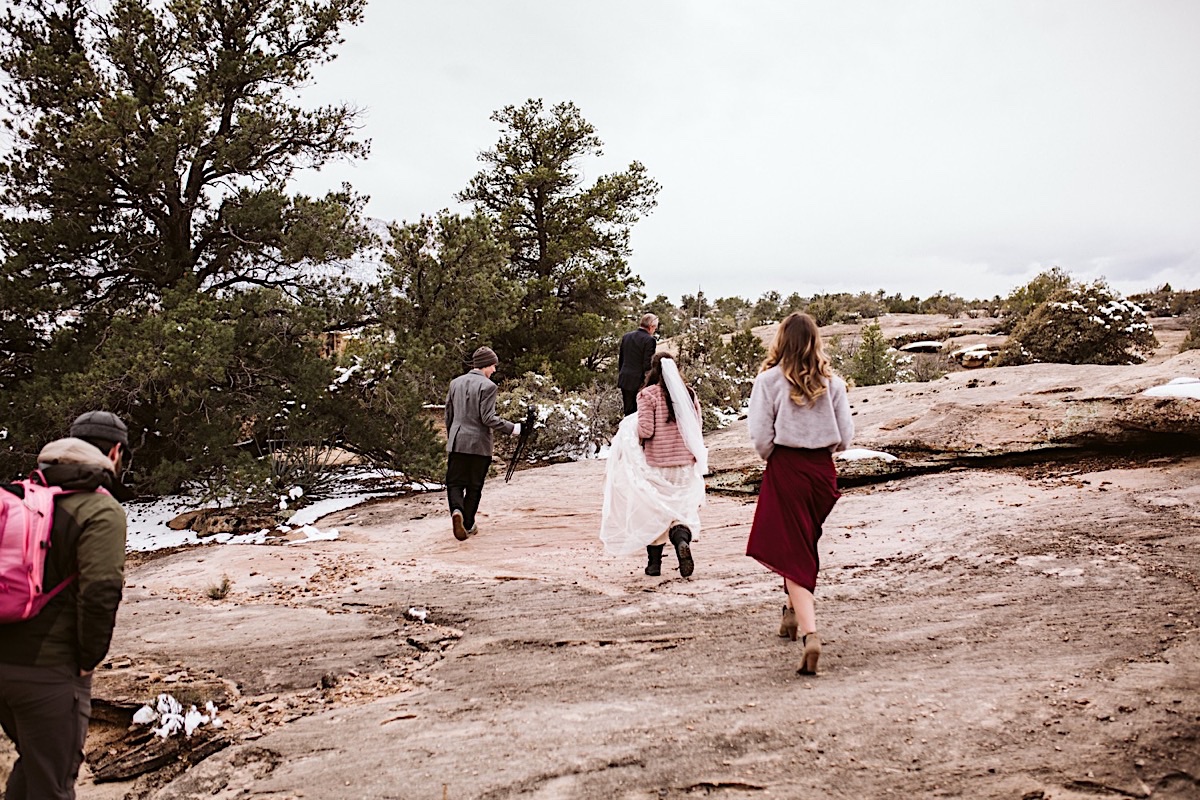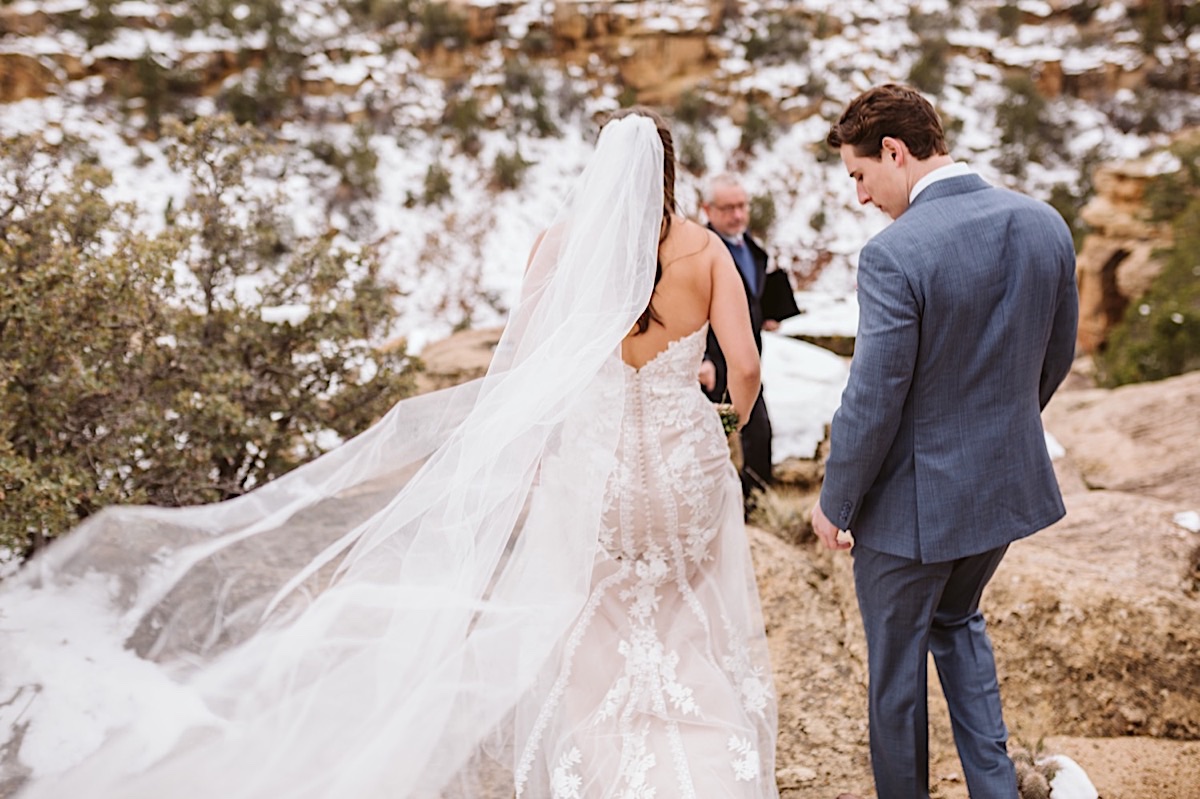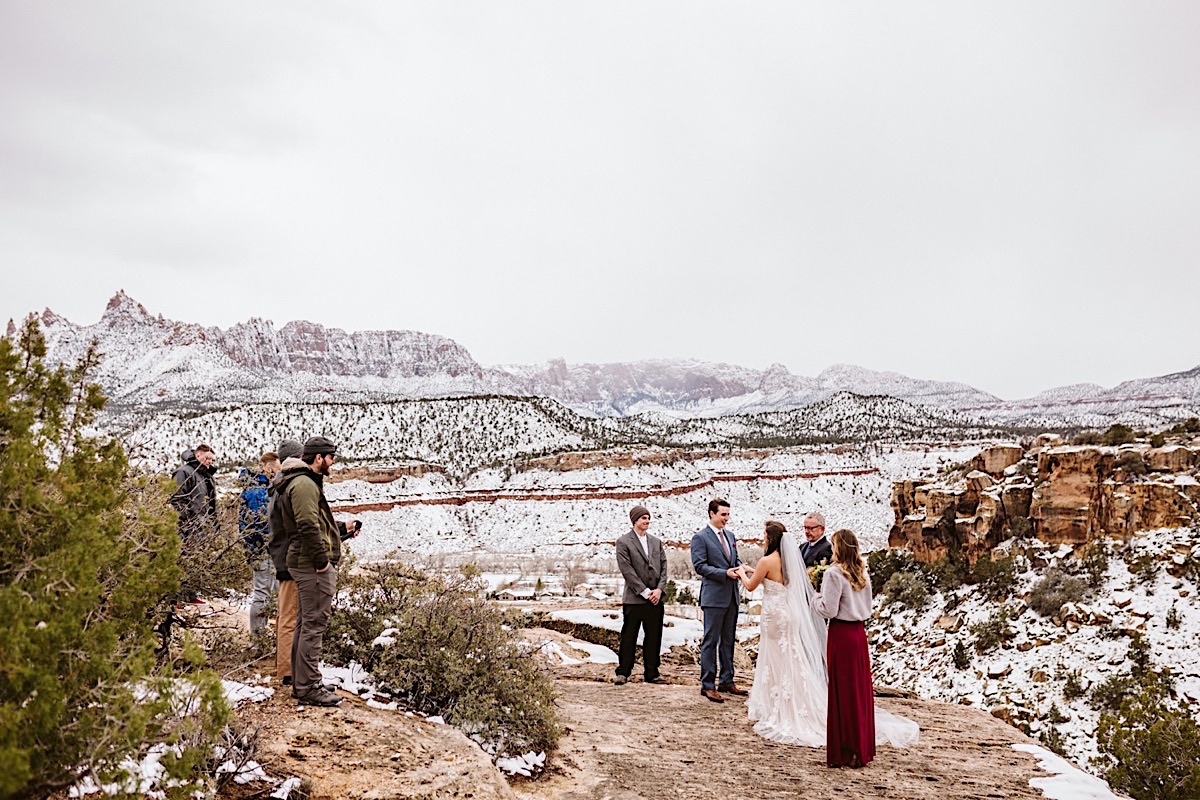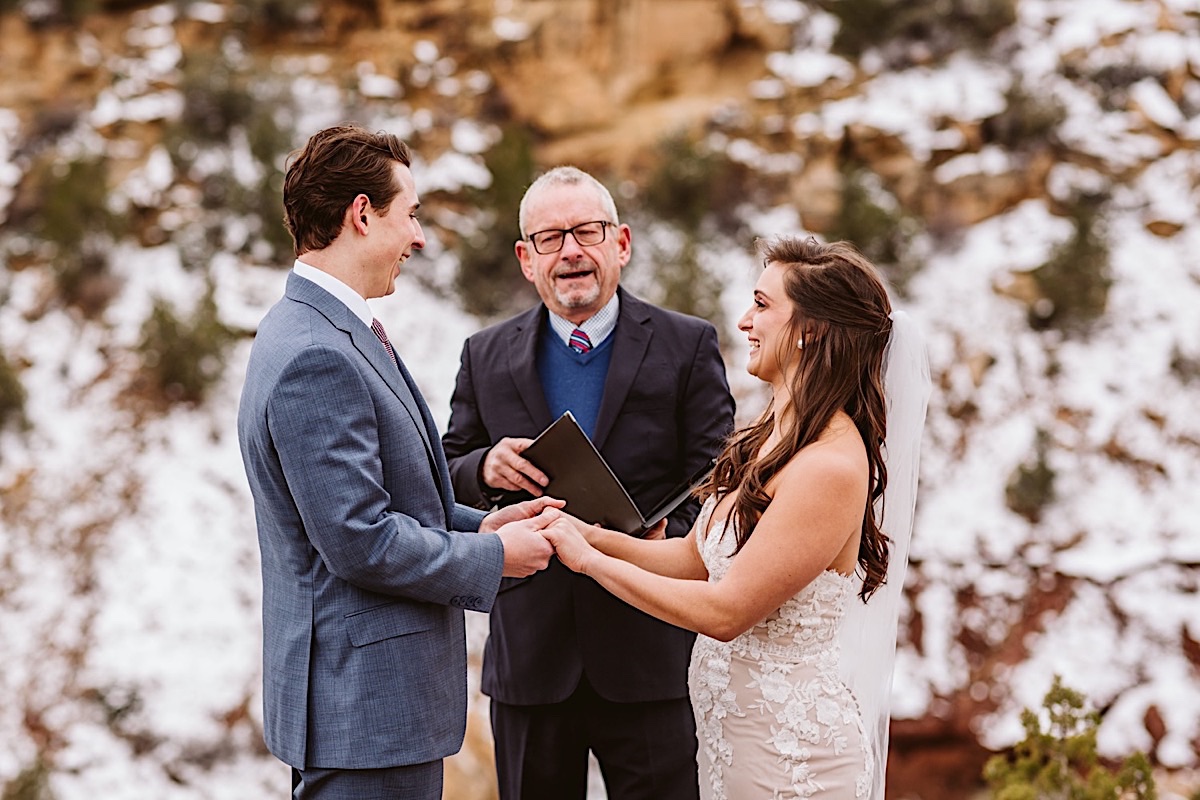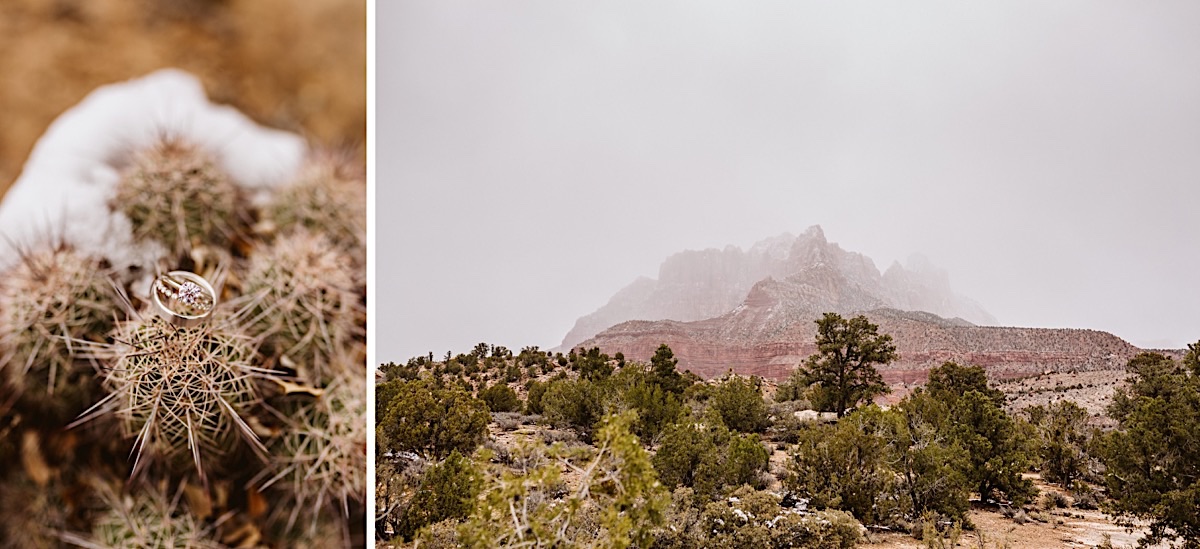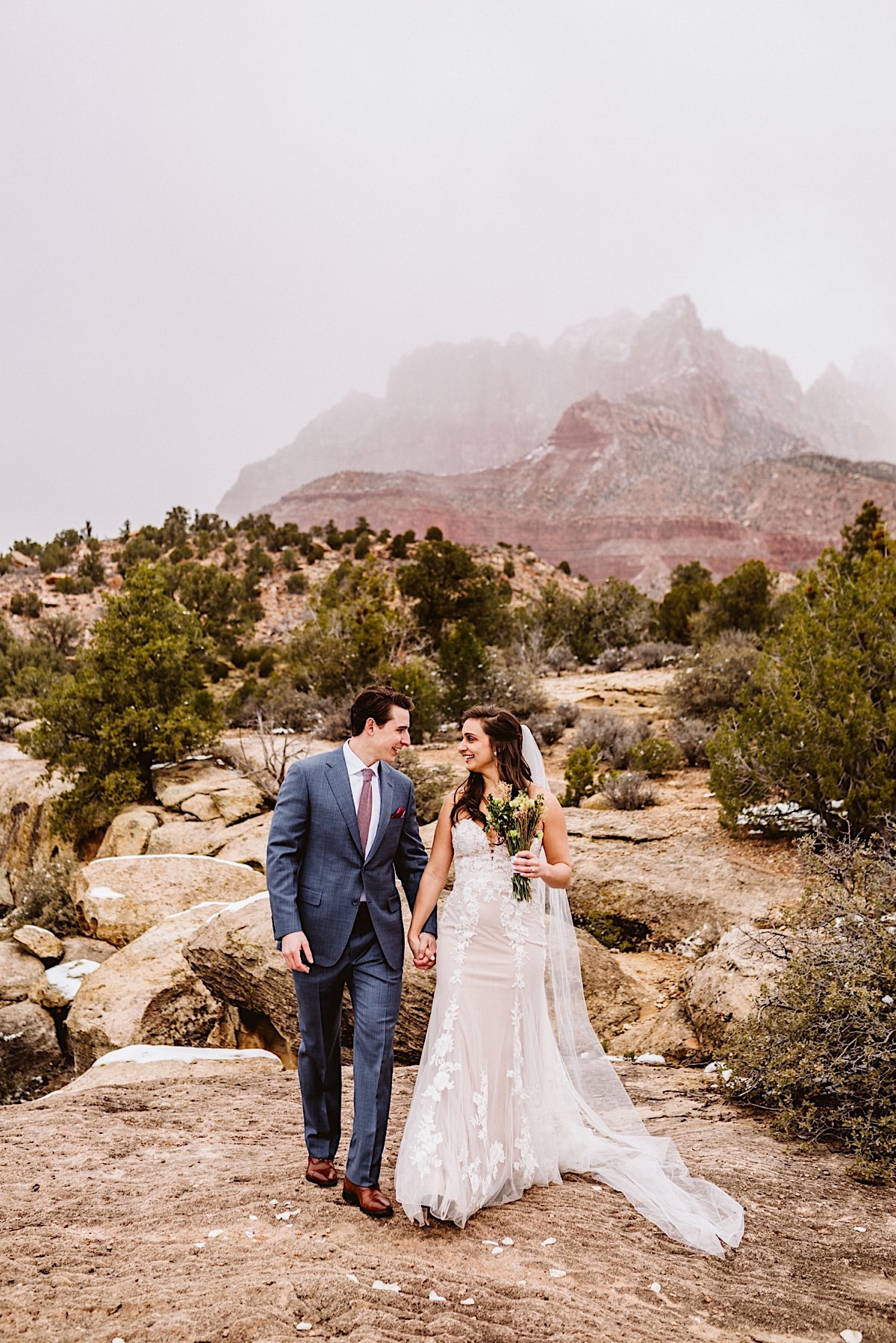 Bride and Groom Portraits at Canyon Overlook in Zion National Park
Also known as: Bride and groom portraits in a white-out! 
After the ceremony, we did some group portraits and then headed into Zion National Park. By this point, it was snowing pretty heavily. Originally, we'd planned to hike to Angels Landing, one of the top 3 viewpoints in Zion, but the snow and wind were crazy. So I did some quick research, and we found another overlook that was a shorter, safer hike. 
We grabbed our things and hiked over to Canyon Overlook. When we arrived at the overlook, it was a whiteout! As in: we couldn't see more than a few feet in front of our faces. The ground was also very slippery, which definitely leveled up the "adventure" part of "adventure wedding photography." Ha! After we took some photos and enjoyed the magic of winter in Zion, we hiked back to the vehicles and headed back to Salt Lake City….then onward home to Chattanooga.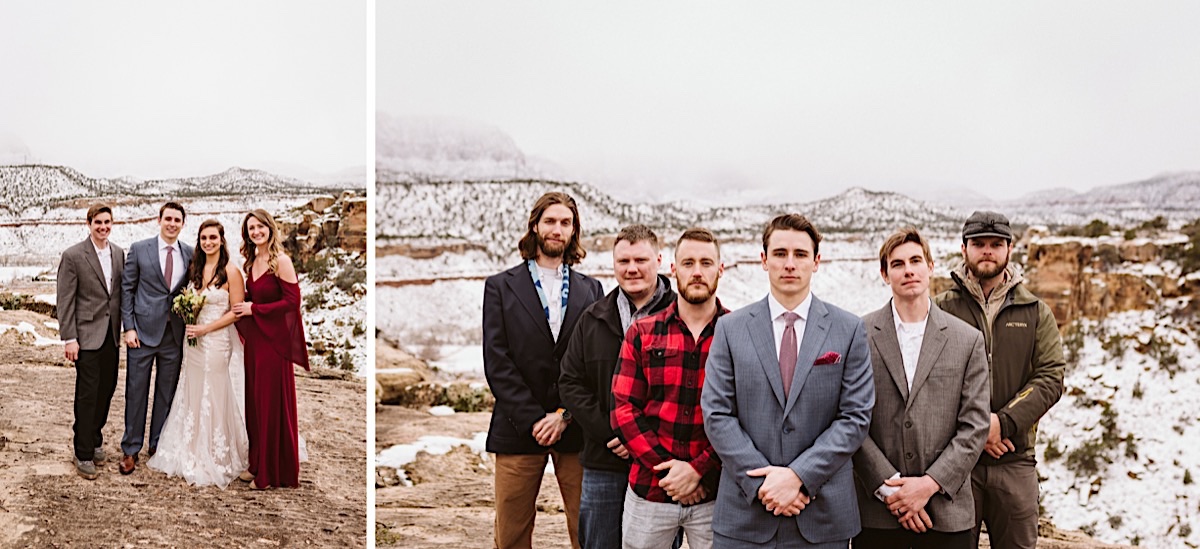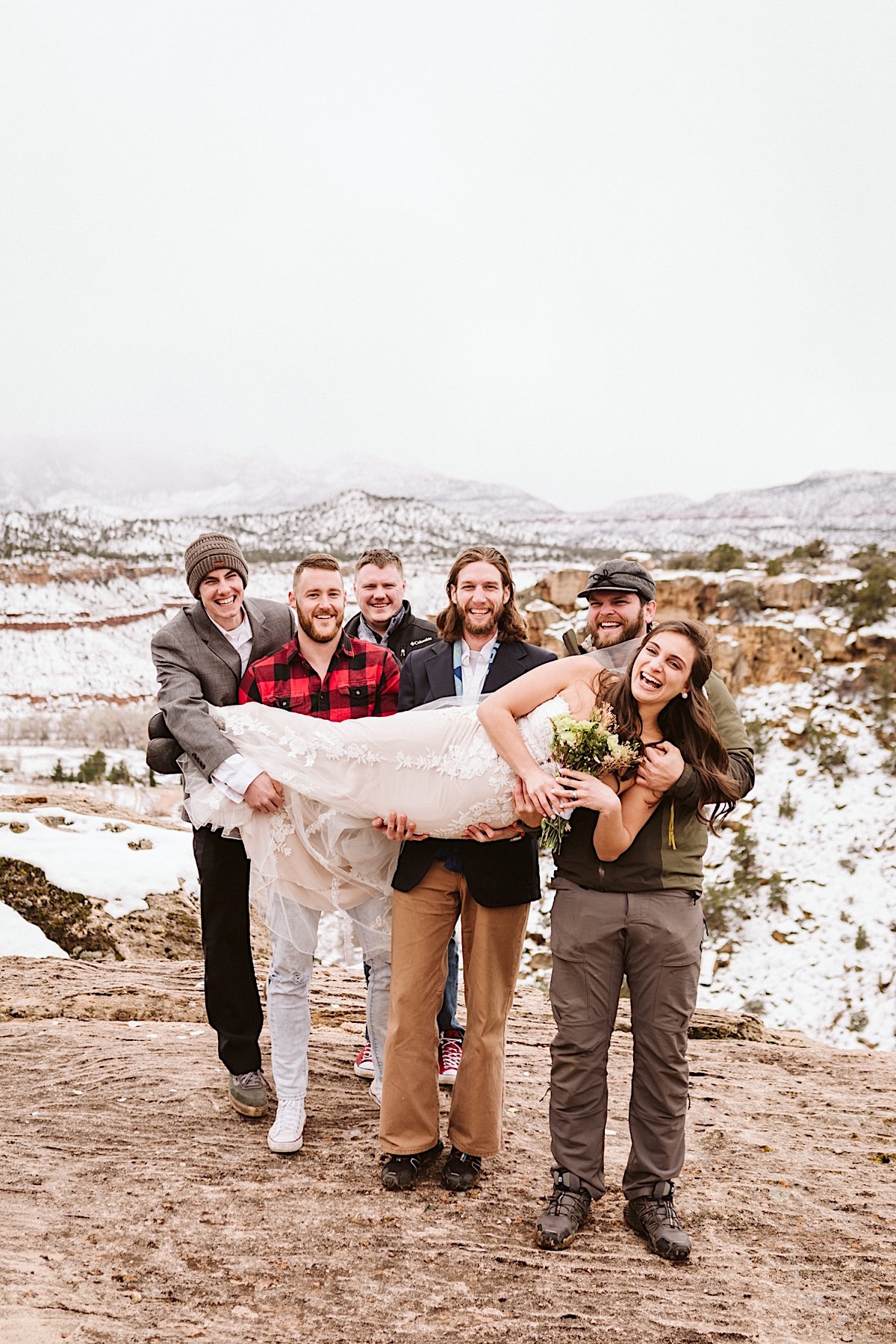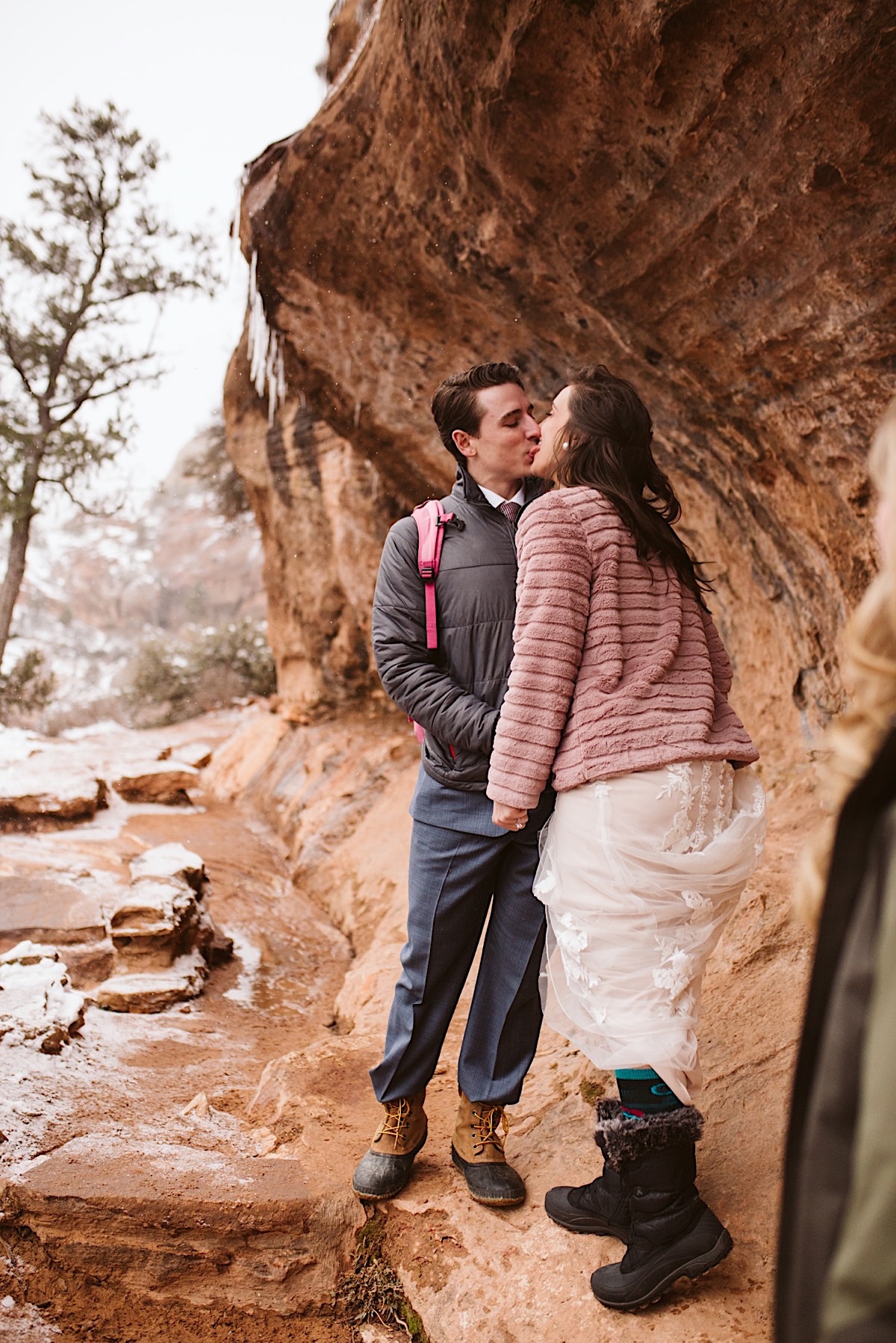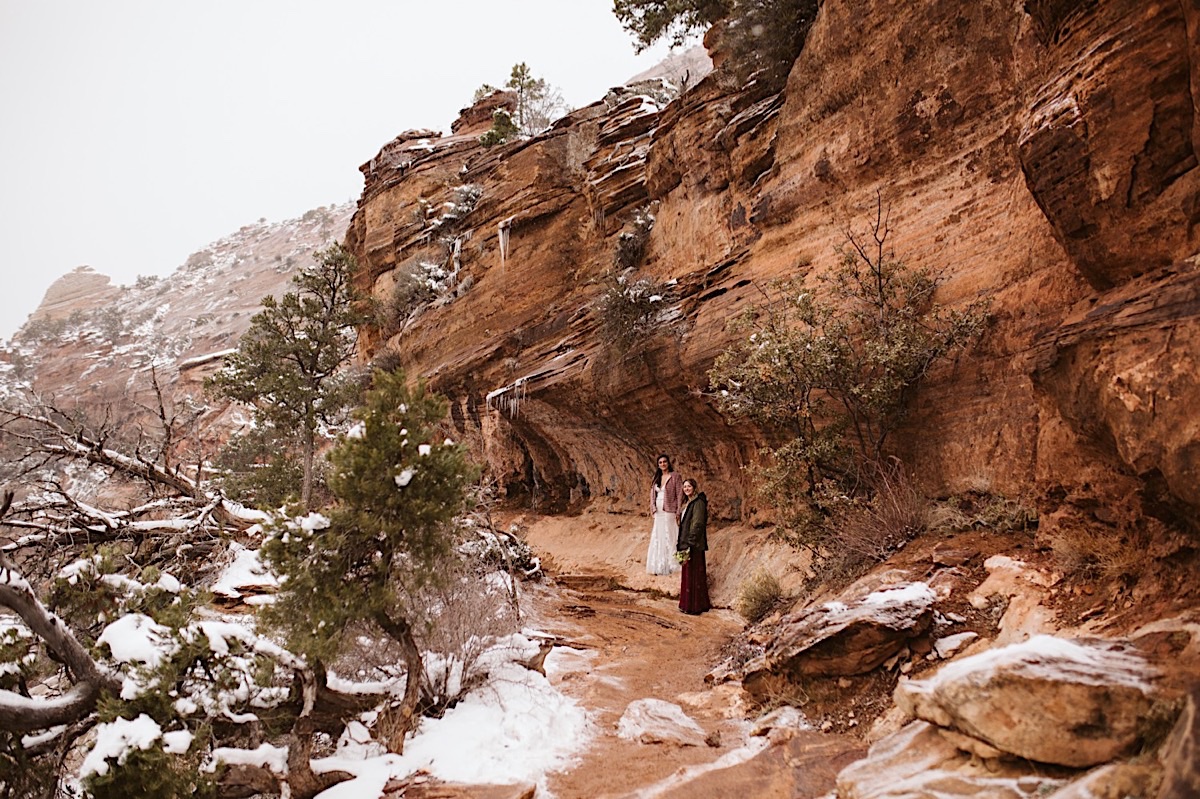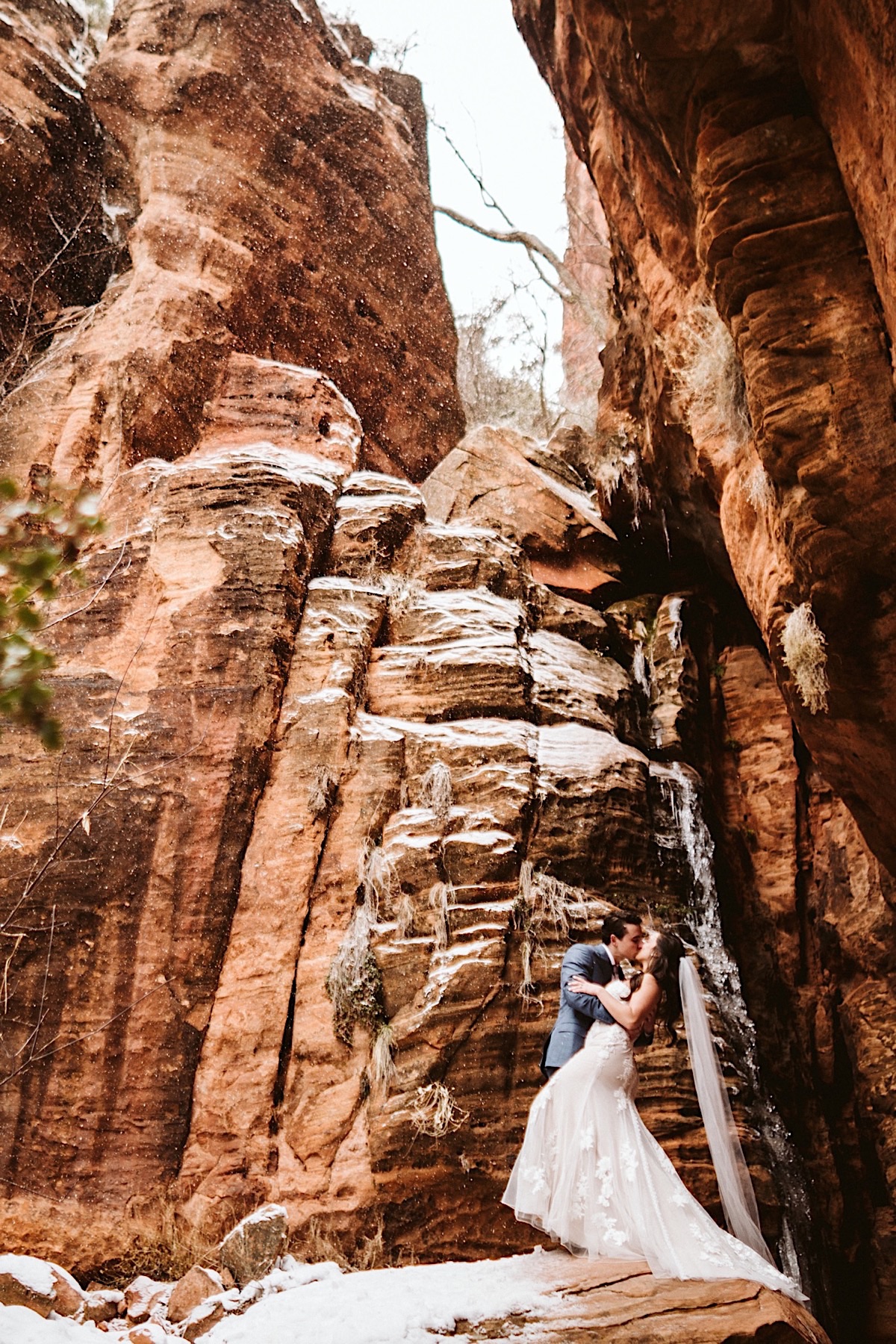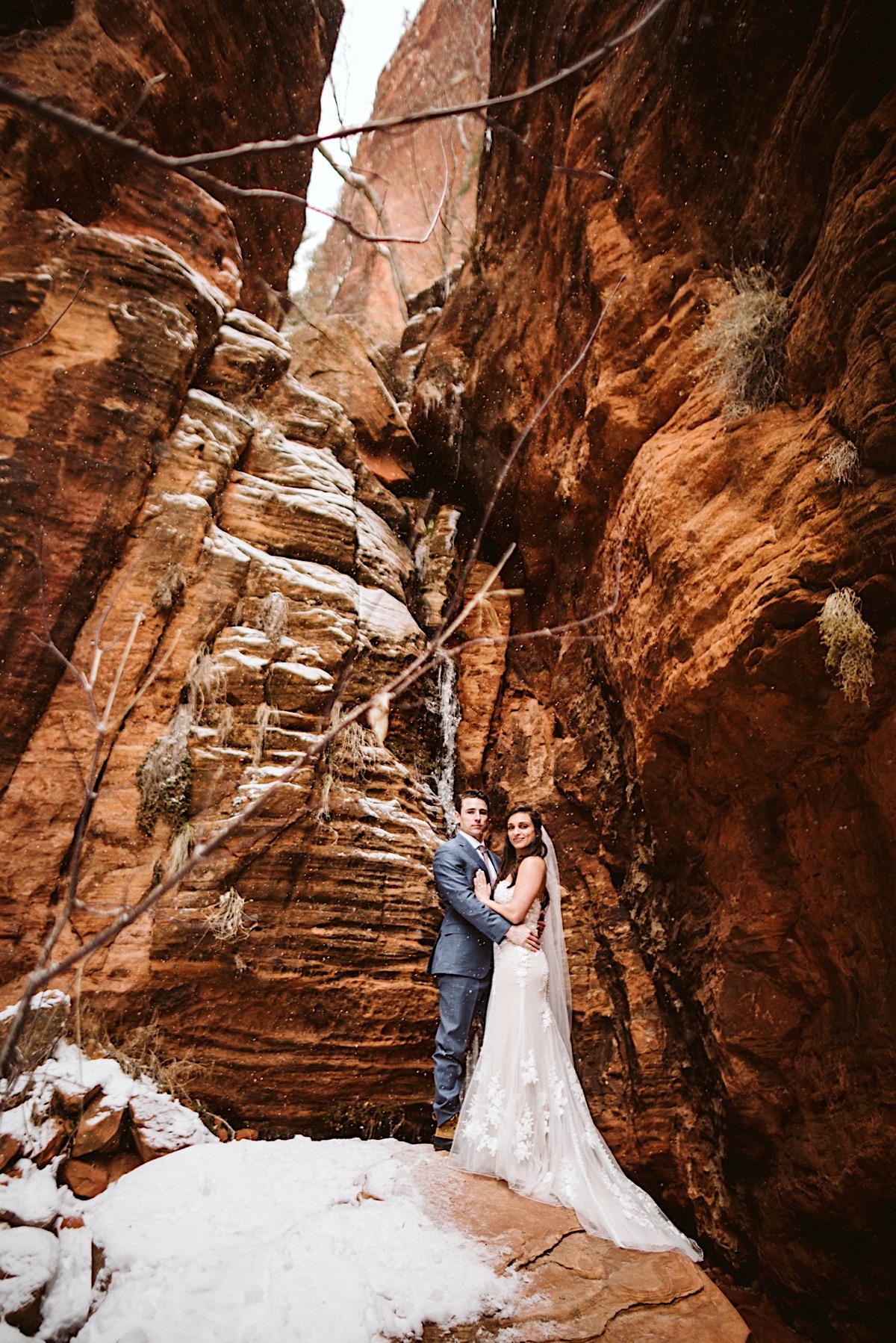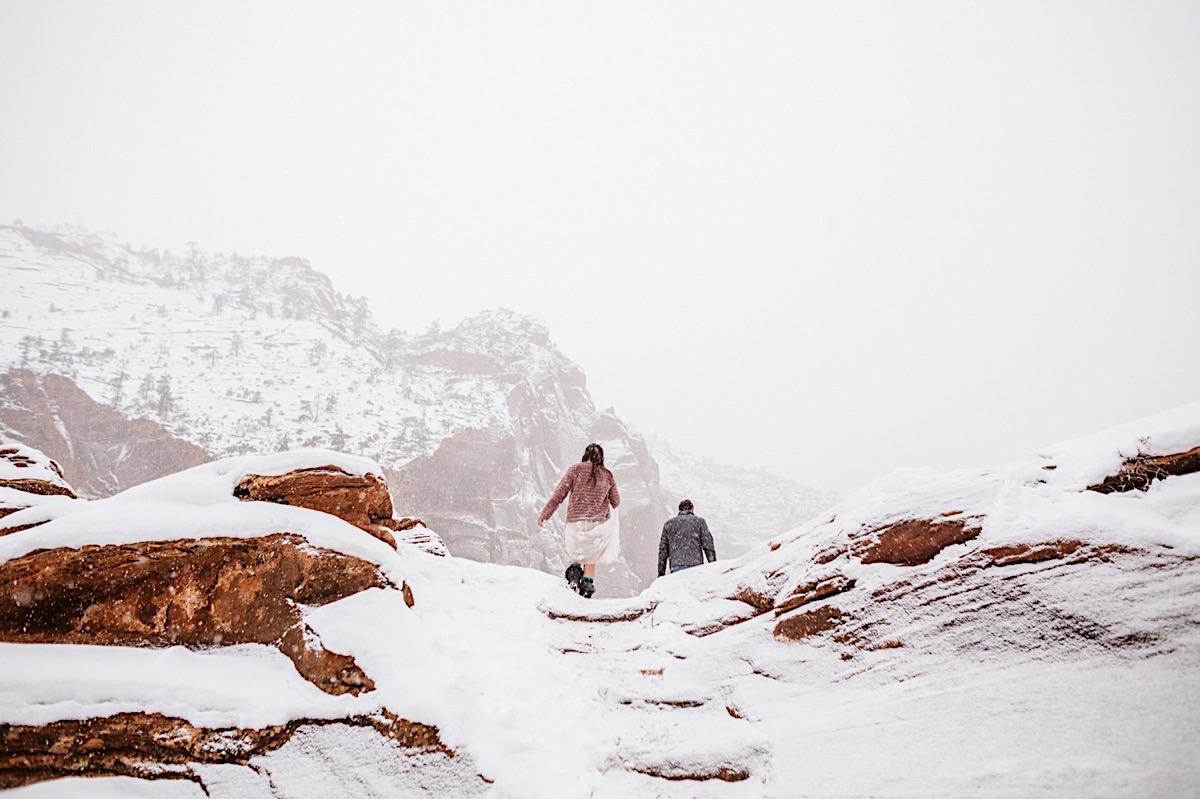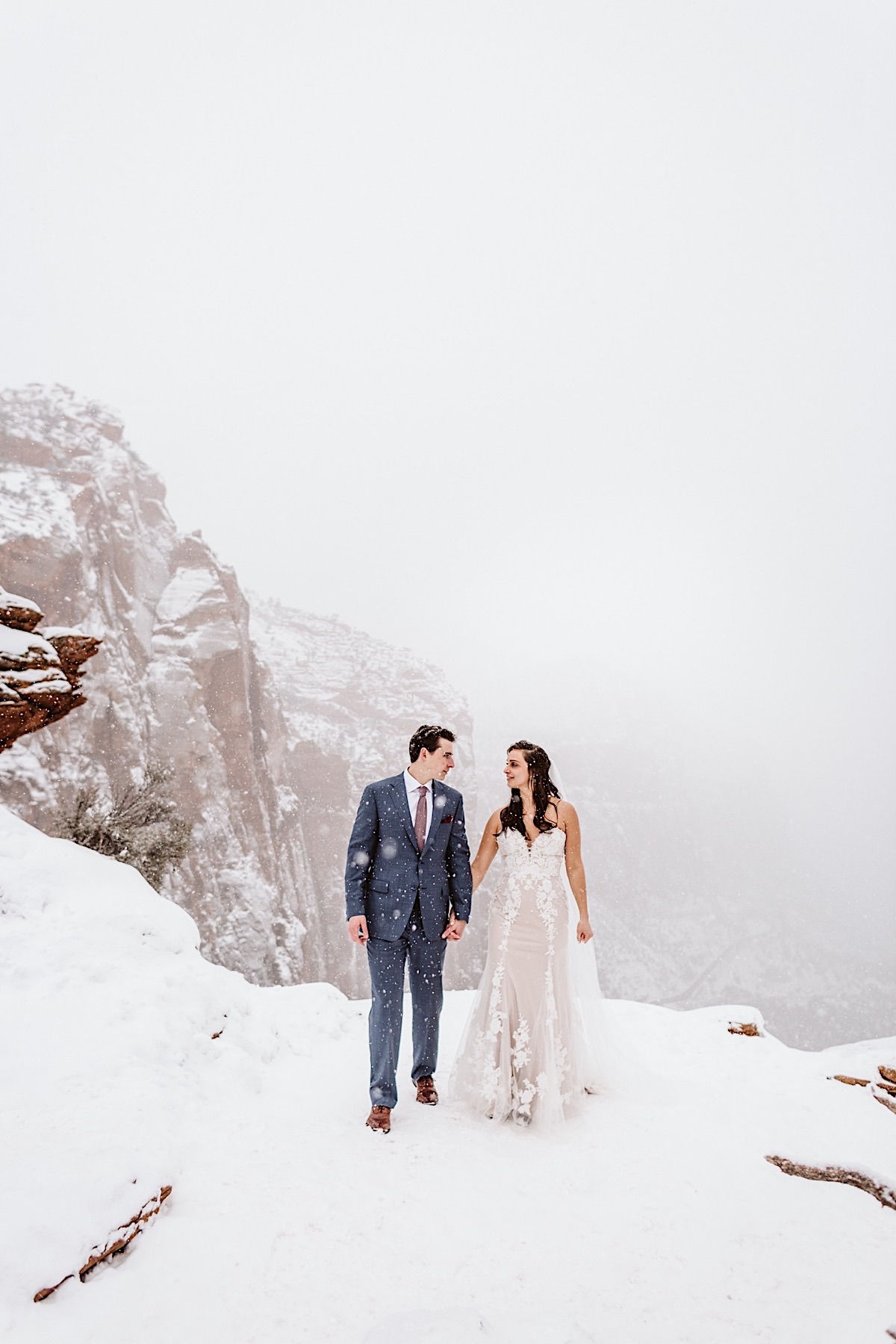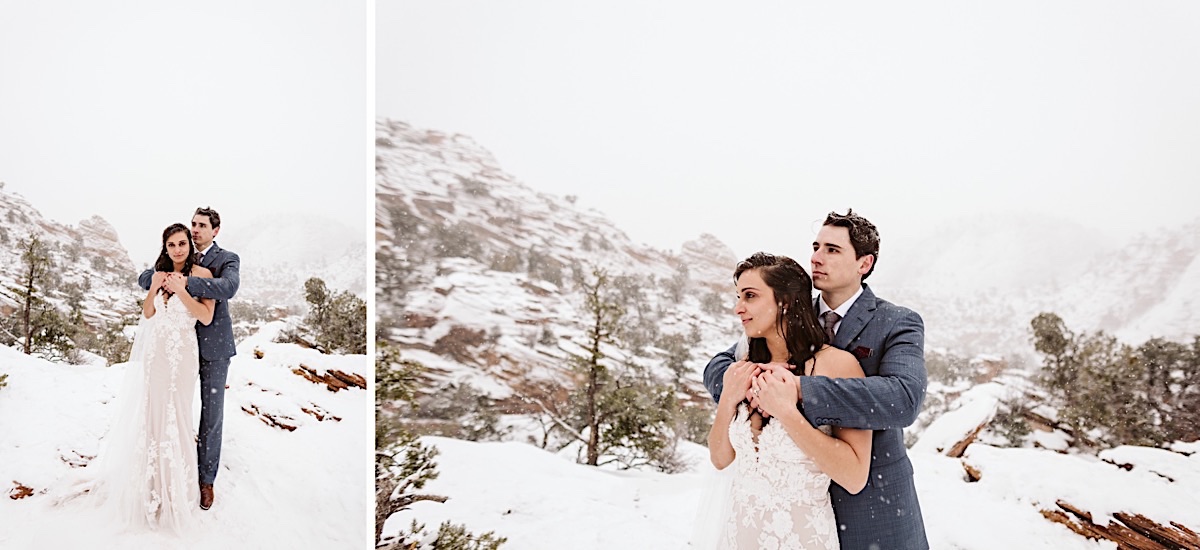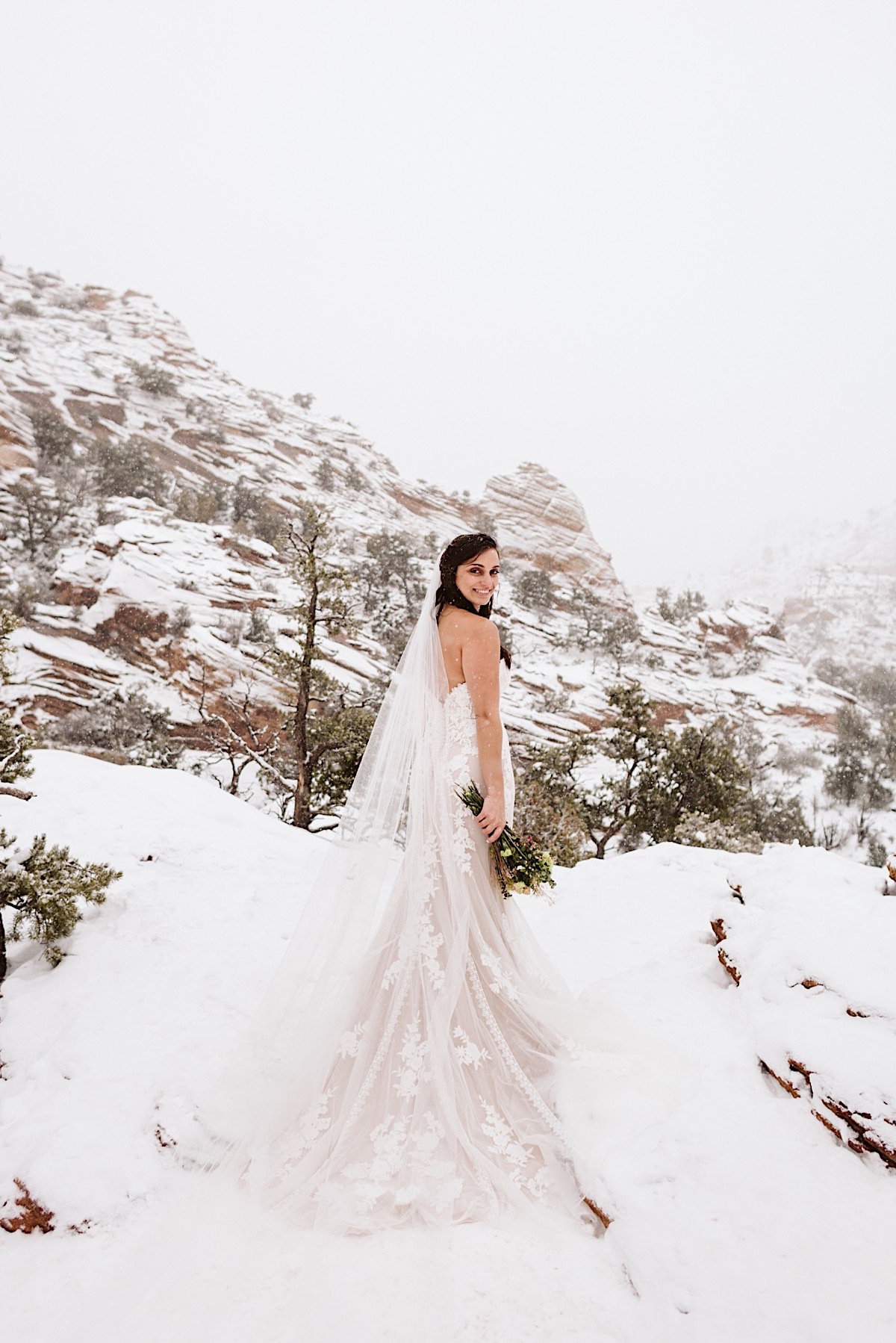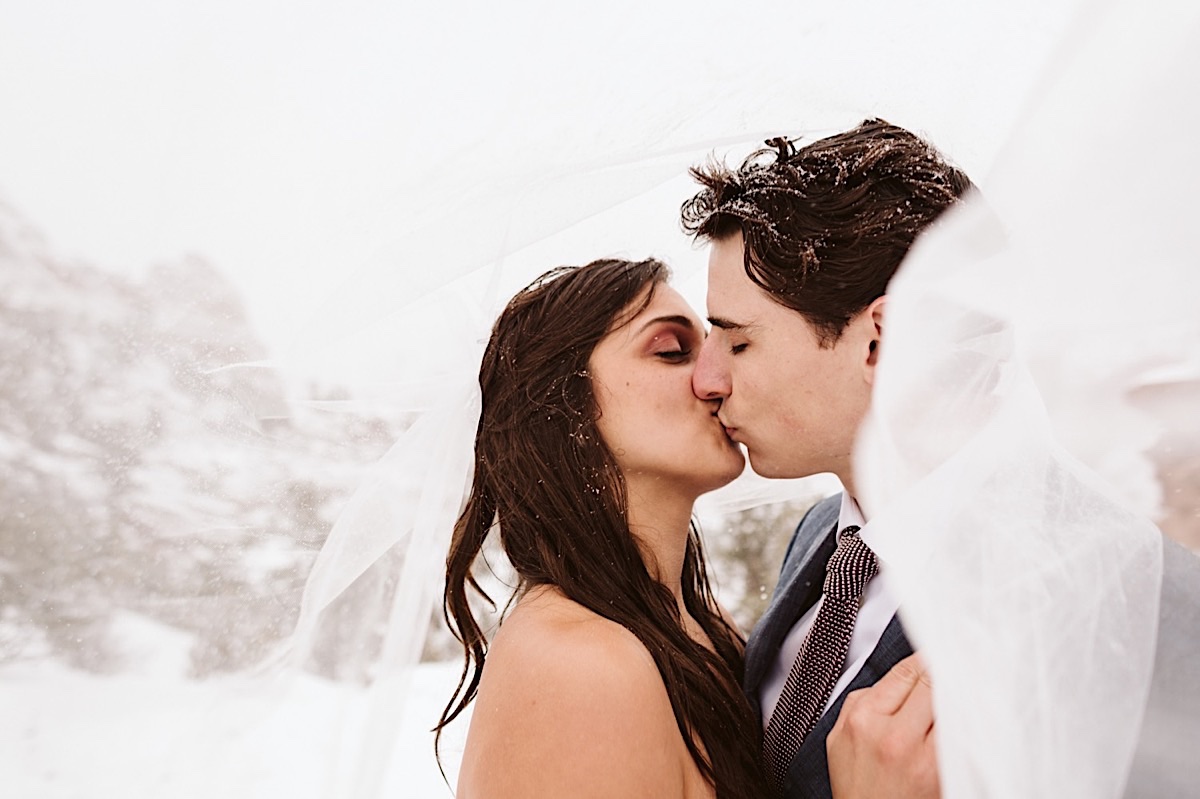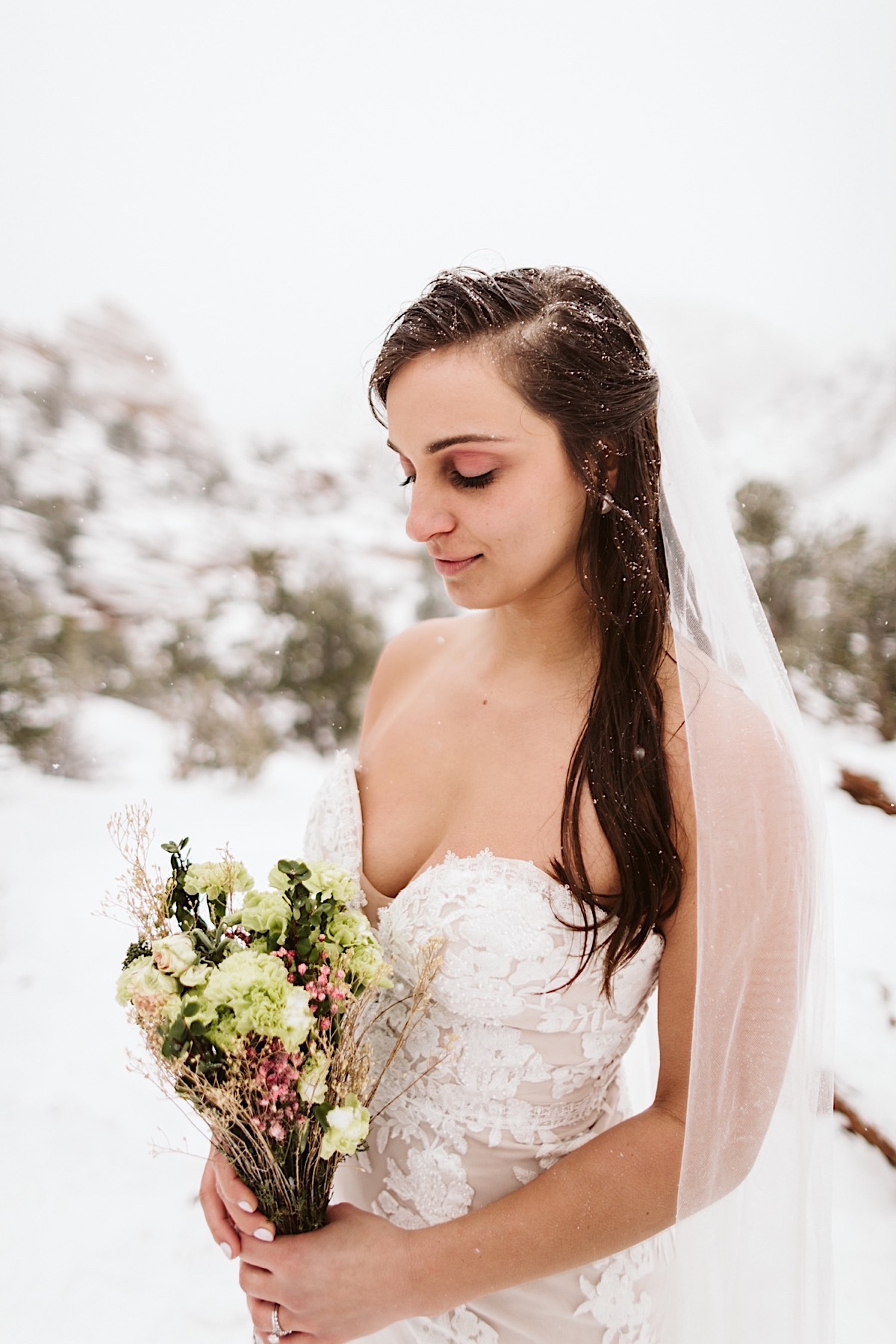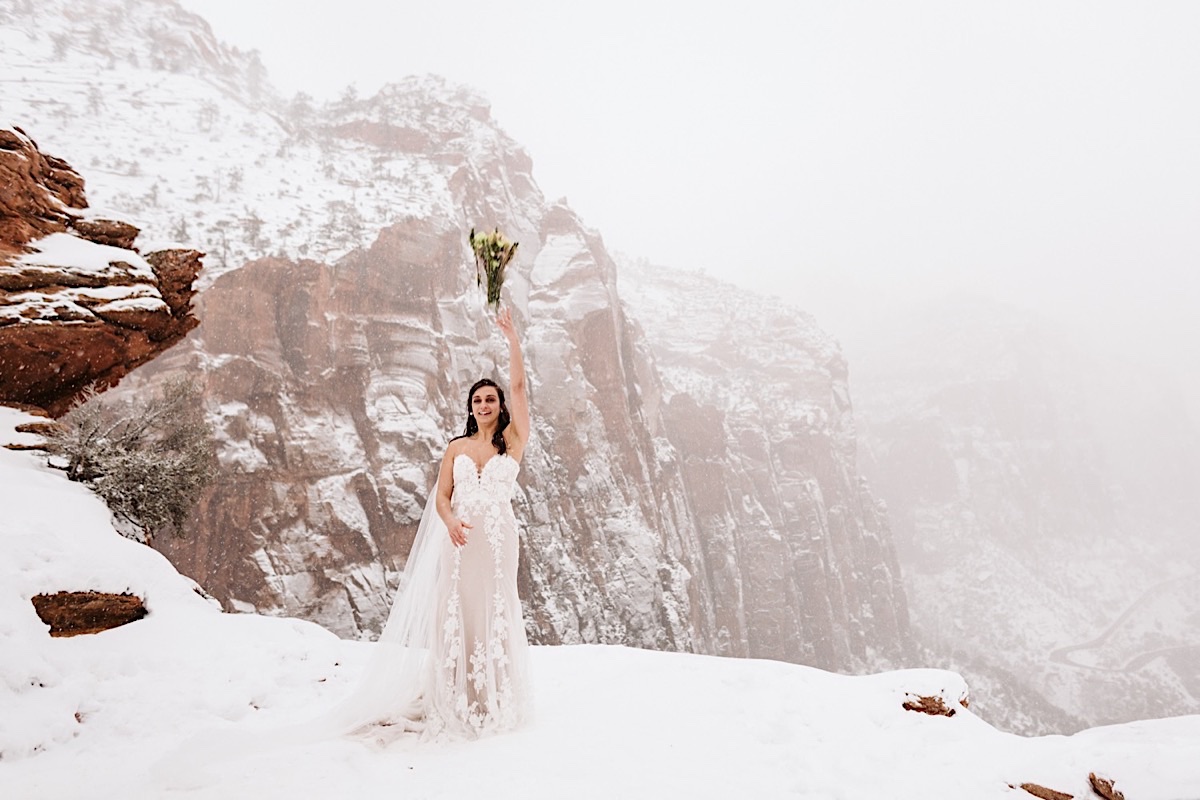 Considering a Winter Elopement in Zion National Park?
Liz and Andrew's elopement was one really long, awesome day. While it was challenging because of the weather, it was very special and perfectly them. I'm really glad they decided to do what felt true and right for them, including skipping the traditional wedding for an elopement.
Zion has some amazing hikes and unparalleled iconic viewpoints, even during a blizzard. One thing to know, however, if you're considering a winter elopement: you may not have the same views as other times of the year. That being said, as long as you're prepared for the cold and snow, a Zion winter elopement is totally worth it.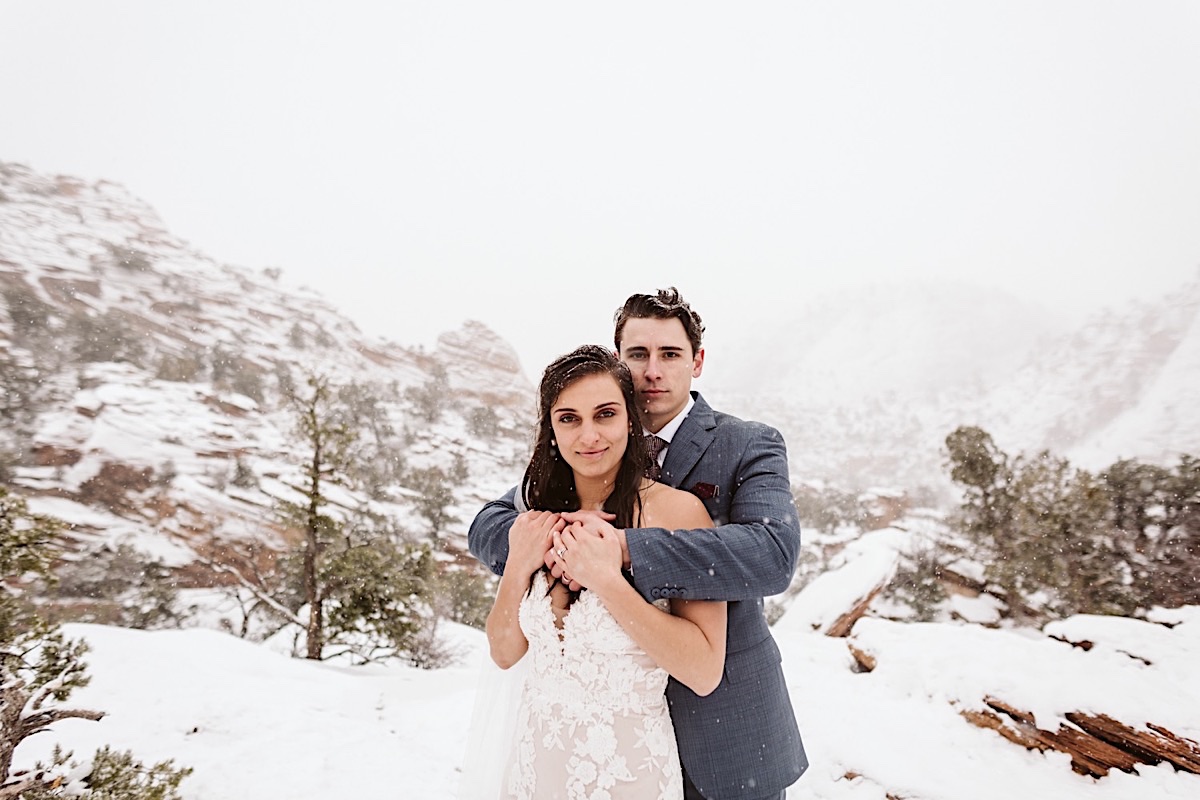 How to include family and friends in your elopement
Liz and Andrew's concerns about upsetting their family with an elopement are legitimate. Many couples face this same worry. But just because you elope doesn't mean you can't include your family and friends in celebrating! 
Besides inviting a select few family members or friends to attend your ceremony, consider a post-elopement reception for the whole crew at home. This is the direction Liz and Andrew took. A few months after their Zion winter wedding, they hosted a reception in Chattanooga, Tennessee with their family and friends. This way, everyone they loved back at home still got to spend time with them, celebrate their marriage, and enjoy a killer party!
---
You guys know I will travel wherever you want to take me for your elopement or wedding. I'm down to photograph pretty much any destination wedding or just about every adventure elopement you could imagine.
If you're thinking about planning your own elopement,

CONTACT ME

, your friendly Chattanooga wedding photographer, and I will help you plan! 
If you loved this Zion winter elopement, you might also like Liz and Brock's couples session in Joshua Tree National Park. Looking to stay a bit more "local" to Chattanooga with your destination wedding or elopement? Check out Bridget and Alex's Intimate Autumn Wedding at Fall Creek Falls, Tennessee!