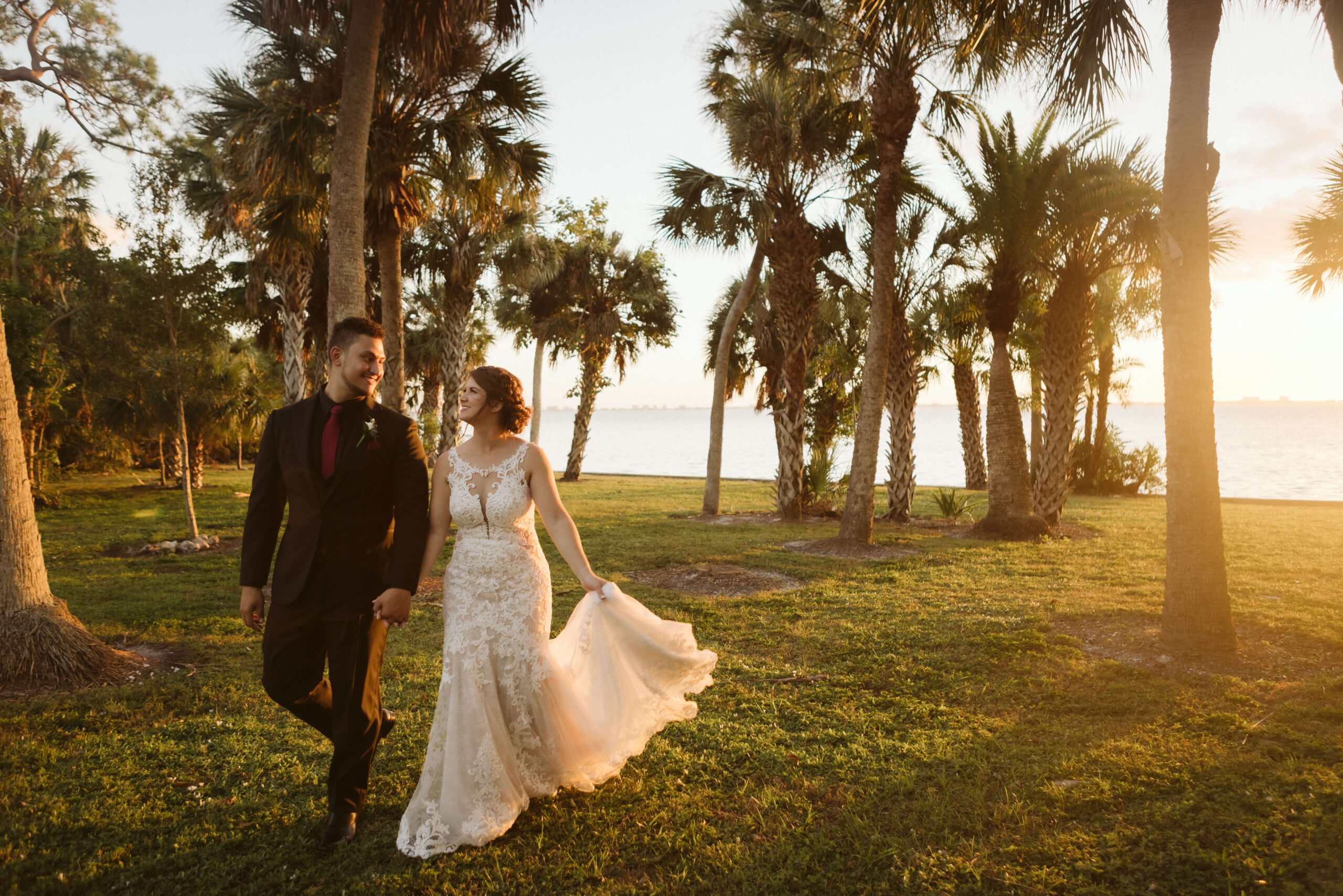 When I'm not shooting weddings in Chattanooga, chances are you'll find me in Sarasota, Florida. With the salty ocean breeze and the warm Florida sun, it's an exciting change of pace from the Tennessee mountains. I was down in Sarasota recently for Meghan and Mena's storybook wedding at the Powel Crosley Estate. There wasn't a single spot in this beautiful, historic venue that wasn't perfect for capturing wedding pictures.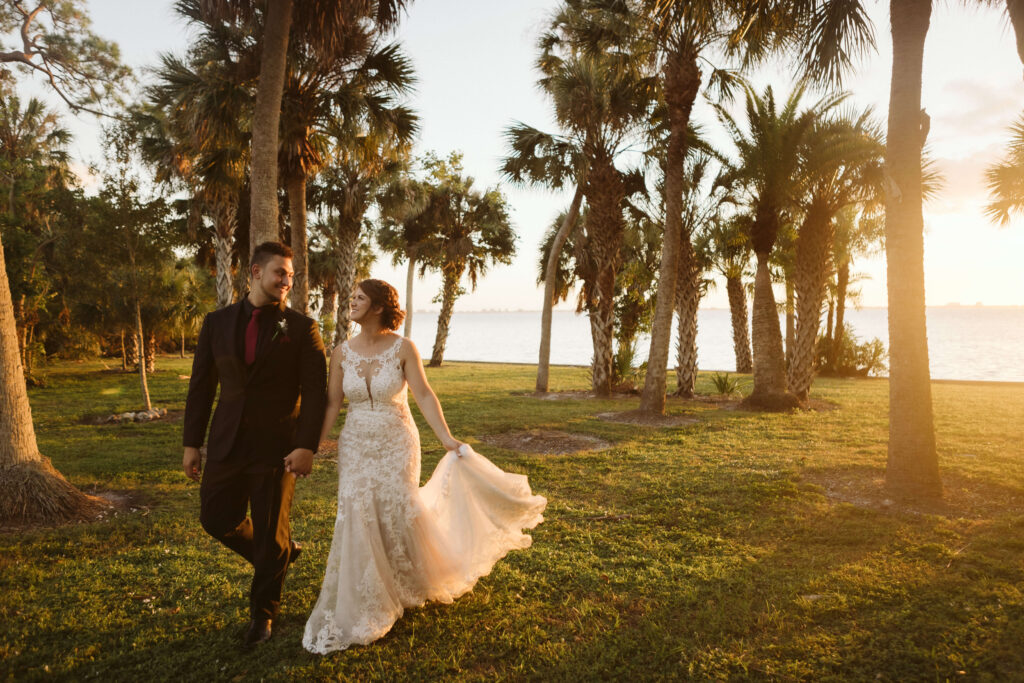 An Oceanfront Wedding at the Powel Crosley Estate
Can you think of anything more beautiful than an oceanfront wedding on a historic 1920s Mediterranean-style estate? Neither can I! The Powel Crosley Estate is a venue bursting with possibilities. This stylish 60 acre property was built by inventor Powel Crosley as a winter home for his wife. Today, the estate is an elegant venue steeped in history that's perfect for your special day. The distinctive Mediterranean-style architecture of the house is enough on its own to make guests' jaws drop but the scenic property with oceanfront views is truly what makes this wedding venue stand out.
The Powel Crosley Estate can hold anywhere from 100 to 1000 guests, making it the perfect venue for weddings big or small. There are many outdoor and indoor spaces to choose from when booking your event, such as the Bayside Lawn, the Pavilion, the Patio, or the Great Room – all of which have beautiful ocean views.
For their wedding, Meghan and Mena rented the full estate and the lawn for their ceremony. As a bonus, they were granted limited access into the Ship Room and the Balcony Room, two unique and beautifully photogenic spaces inside the estate that were perfect for capturing elegant portraits.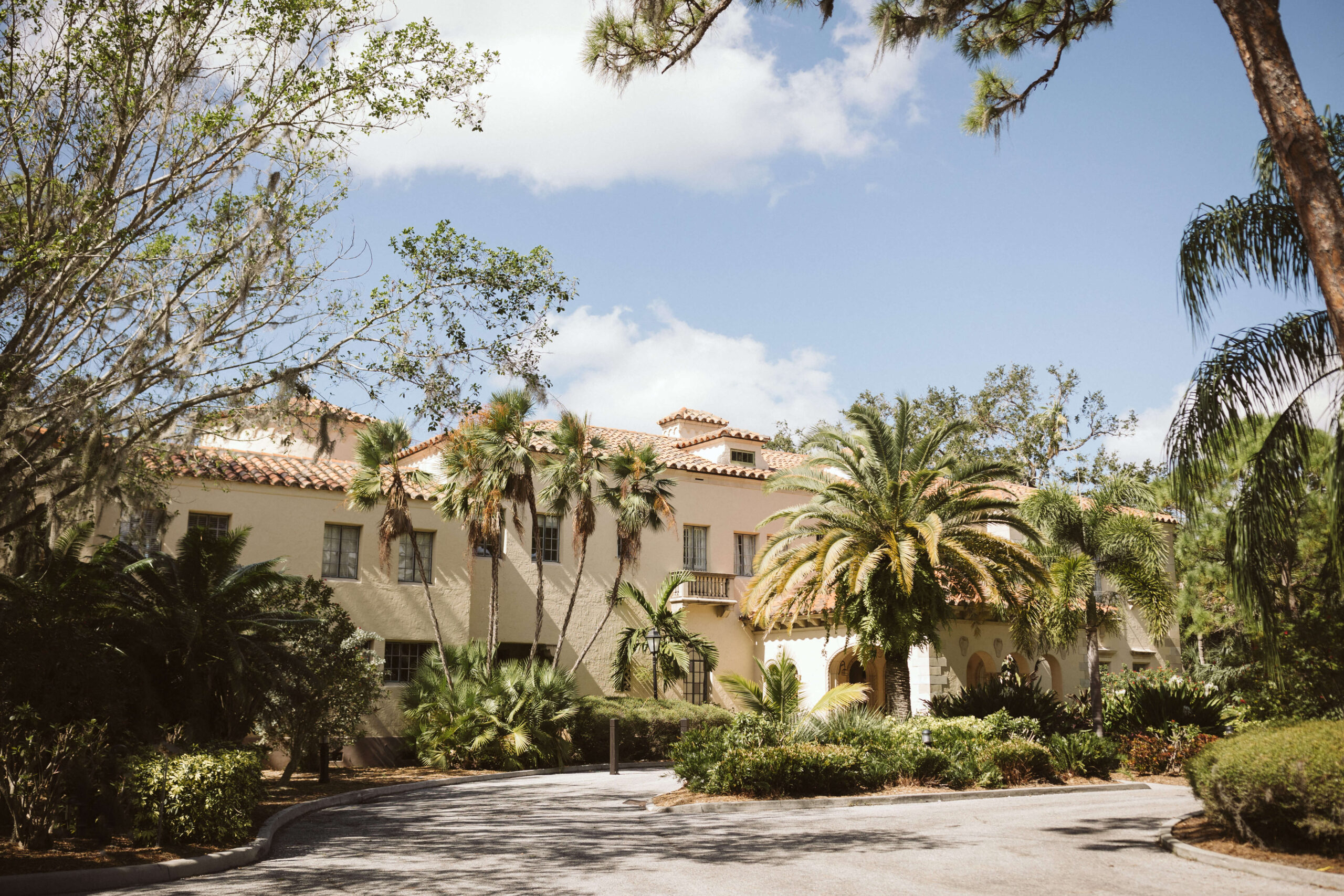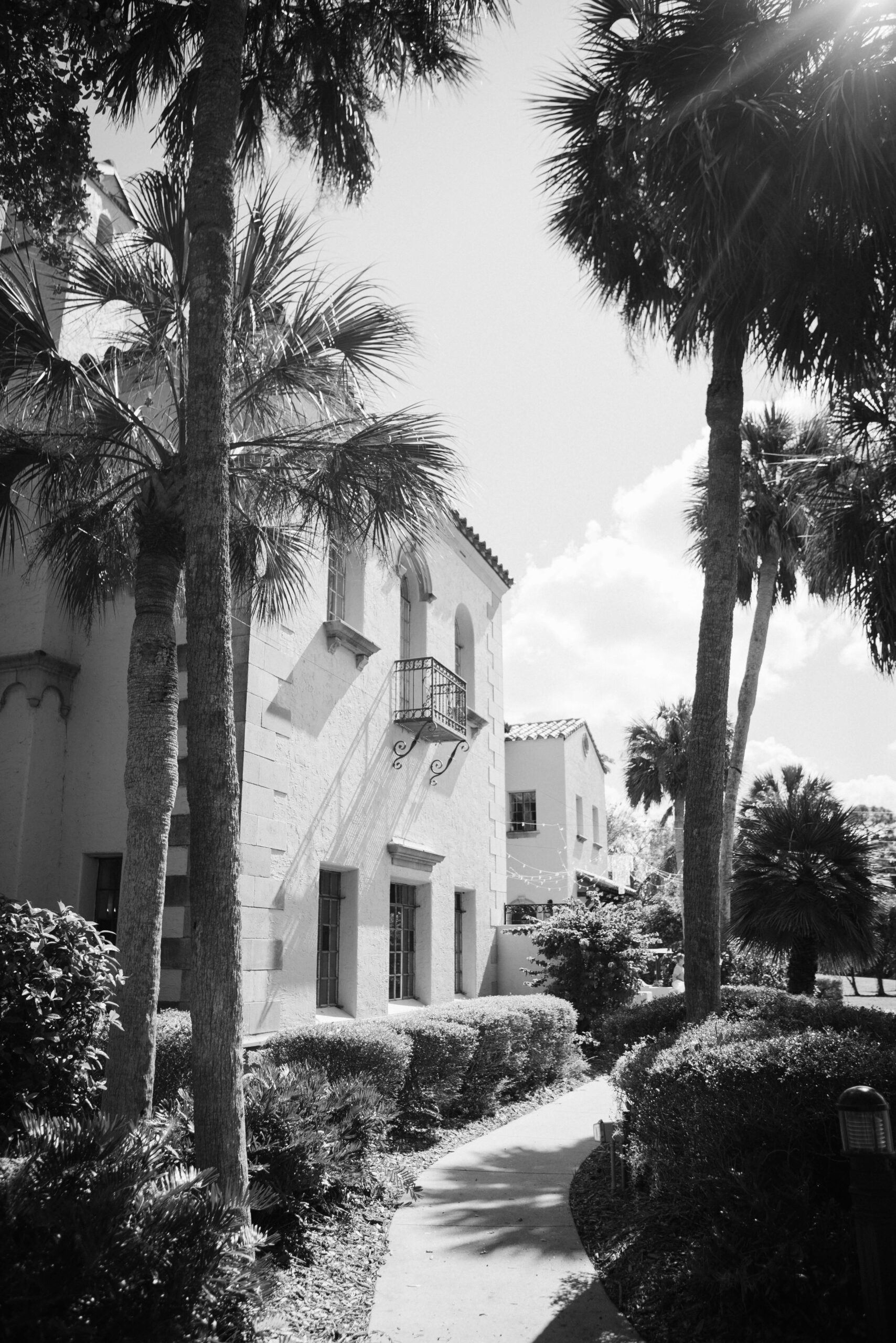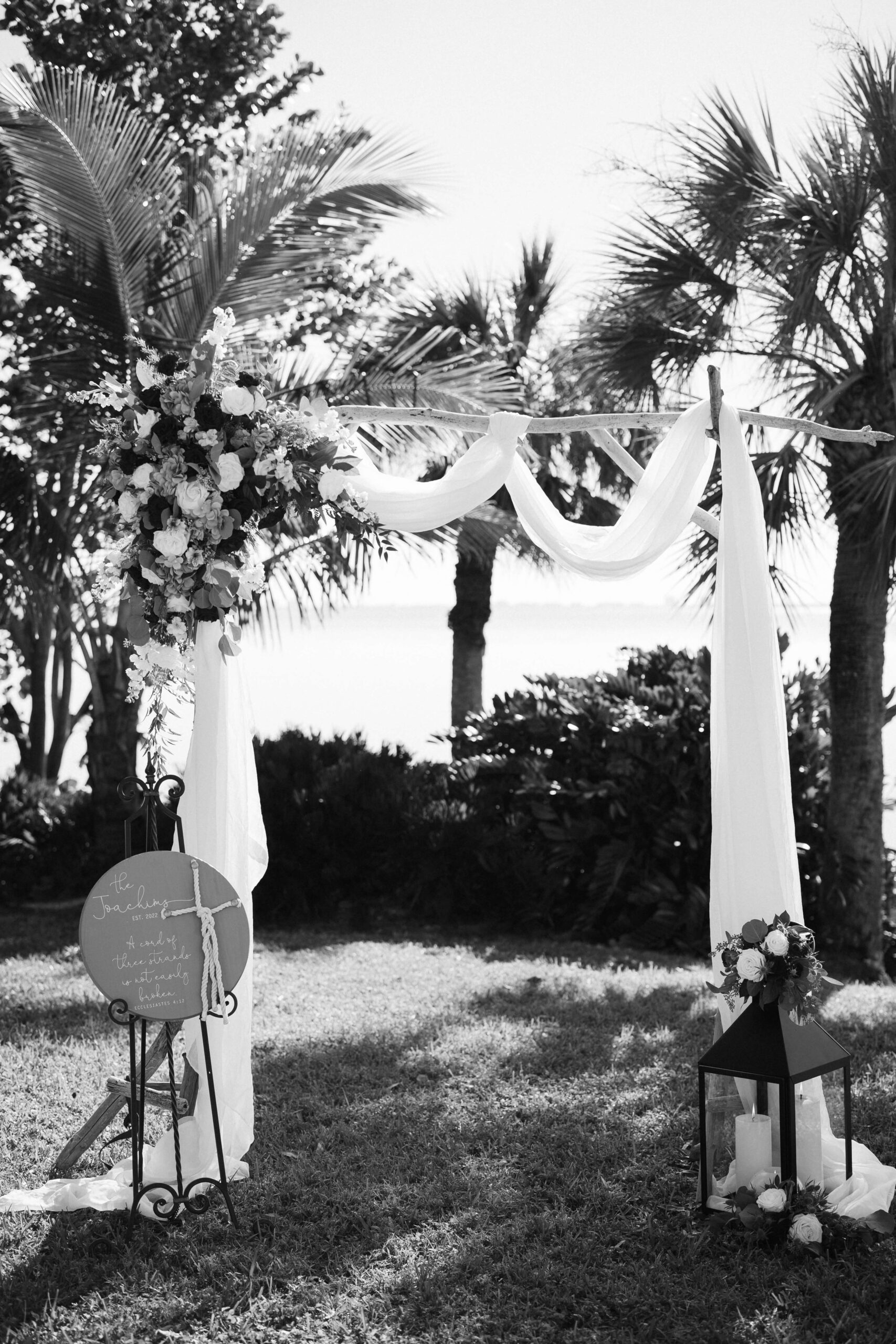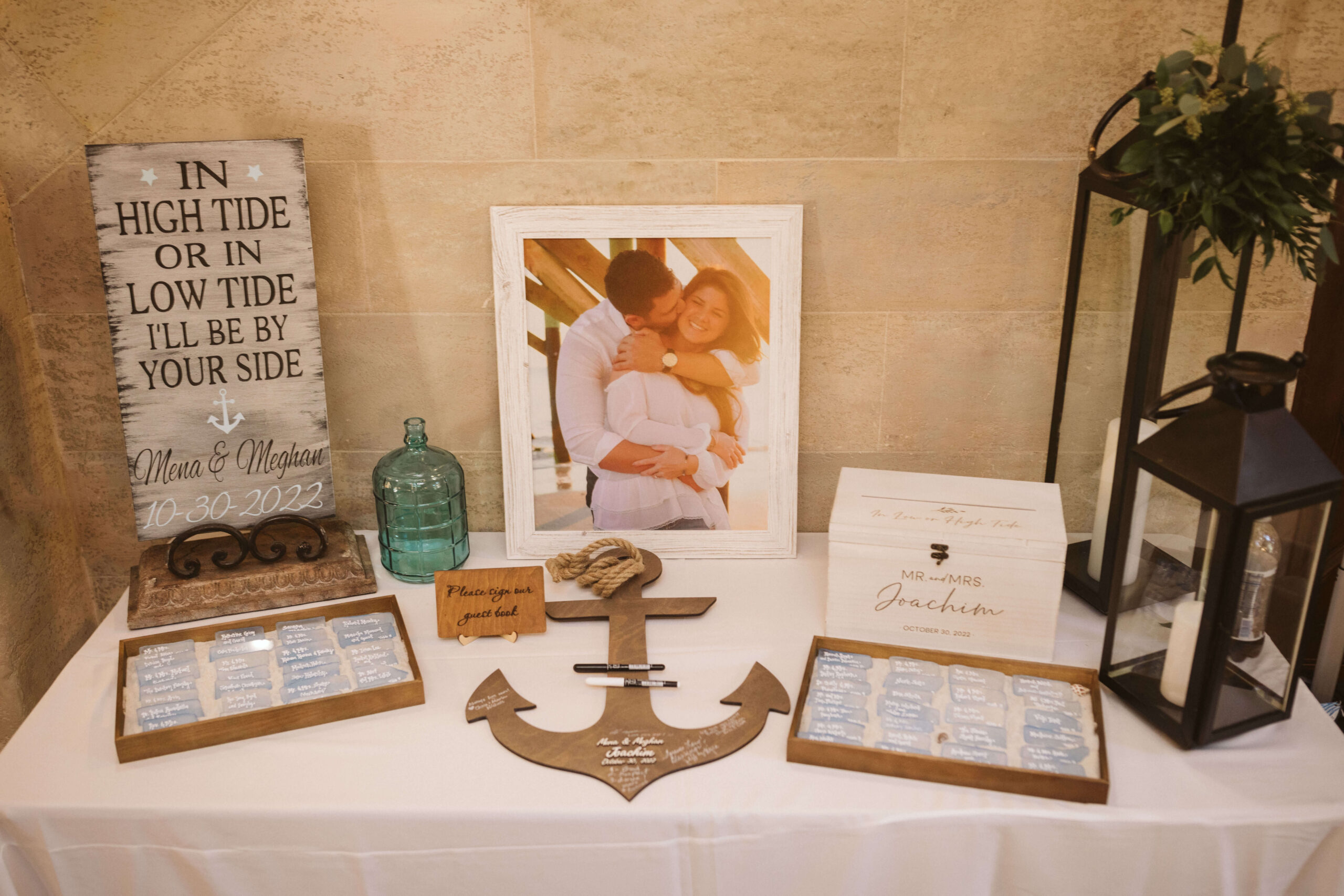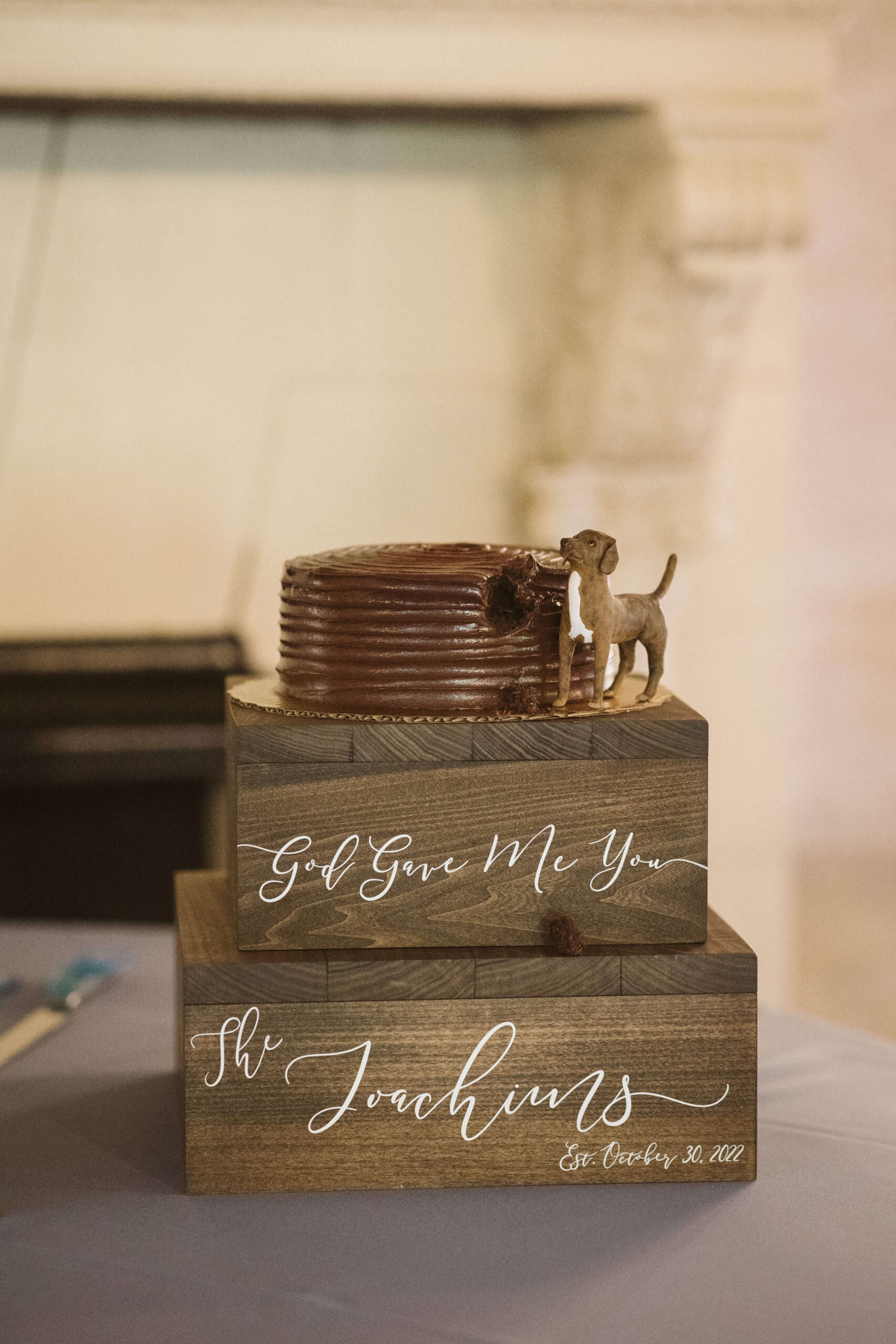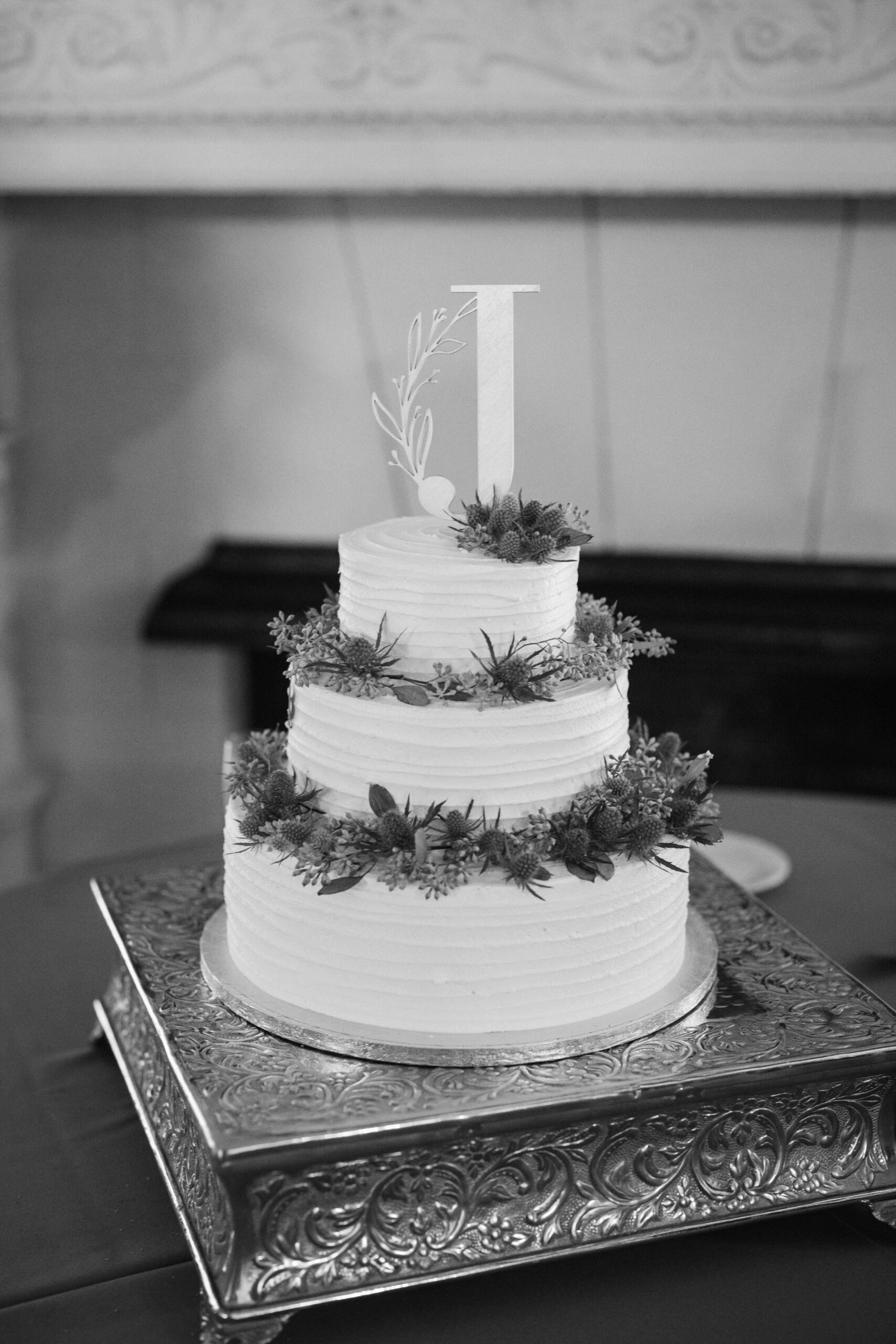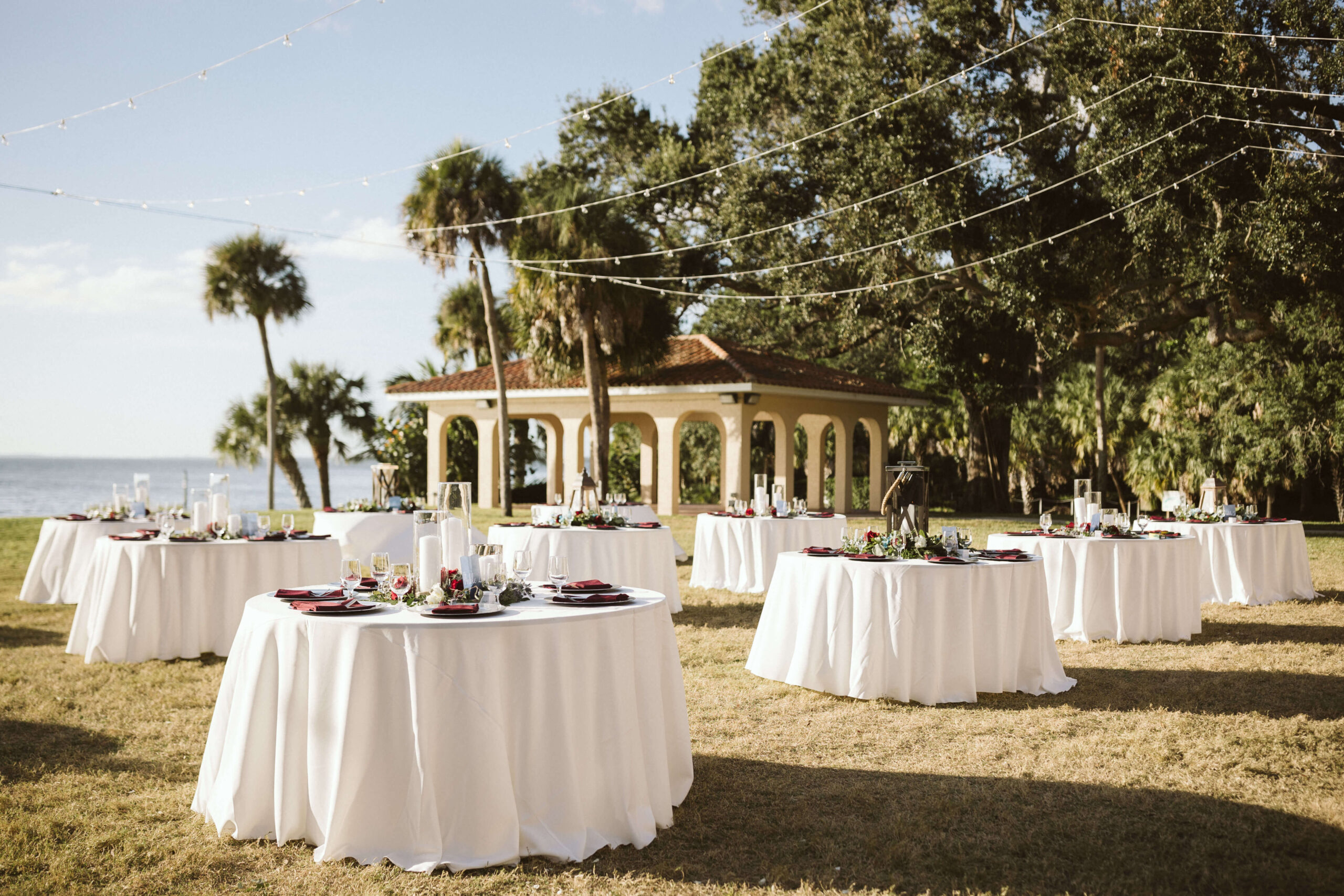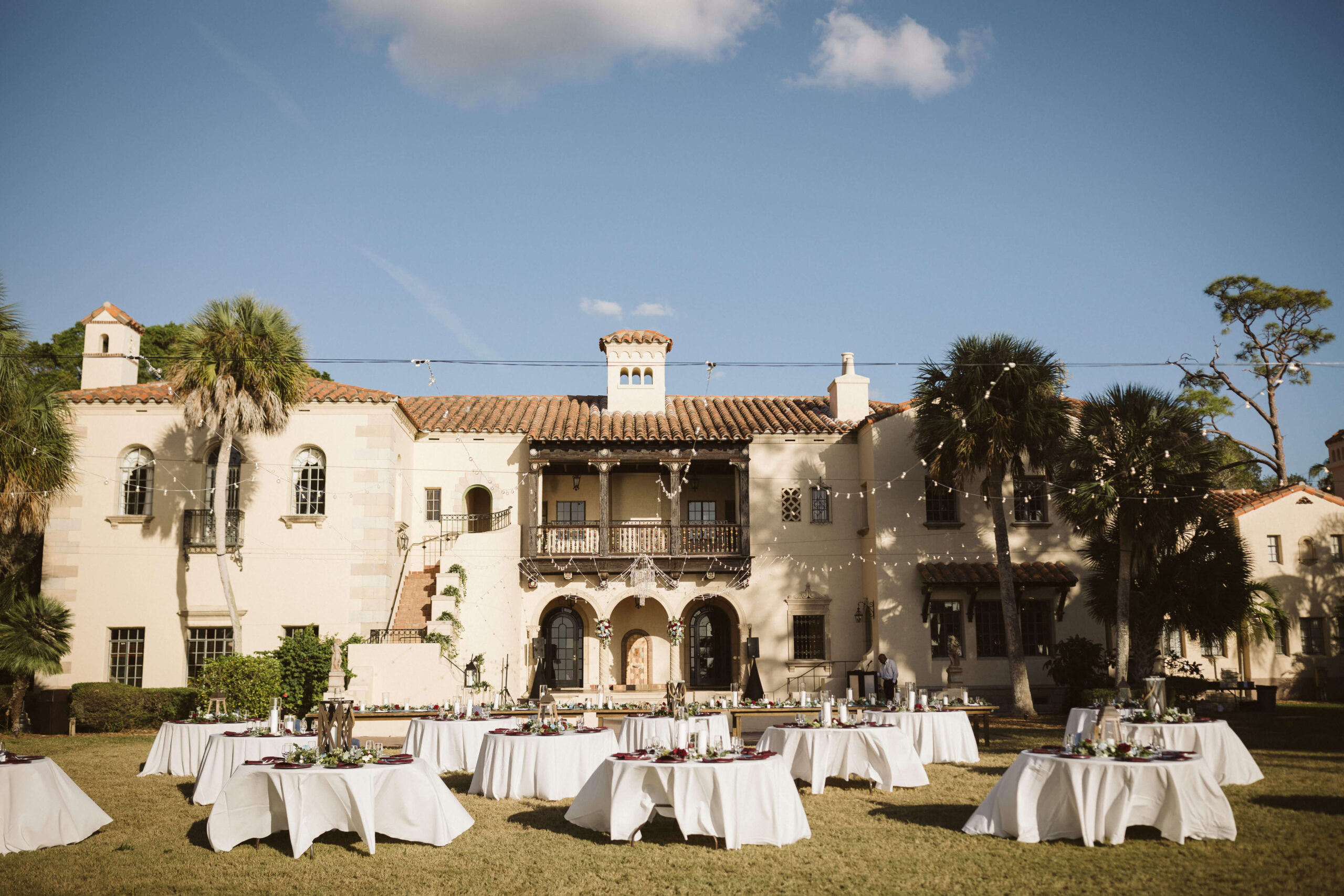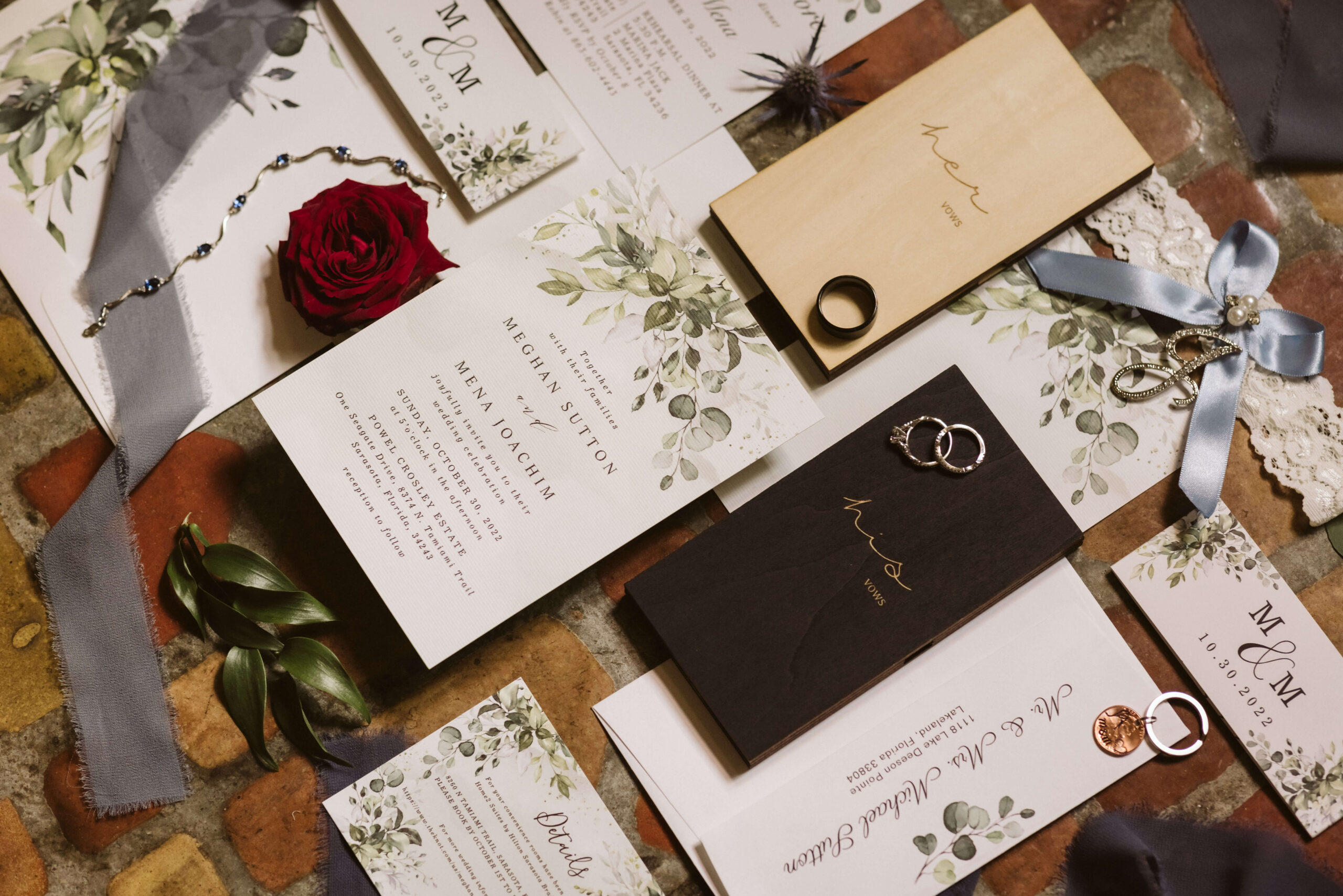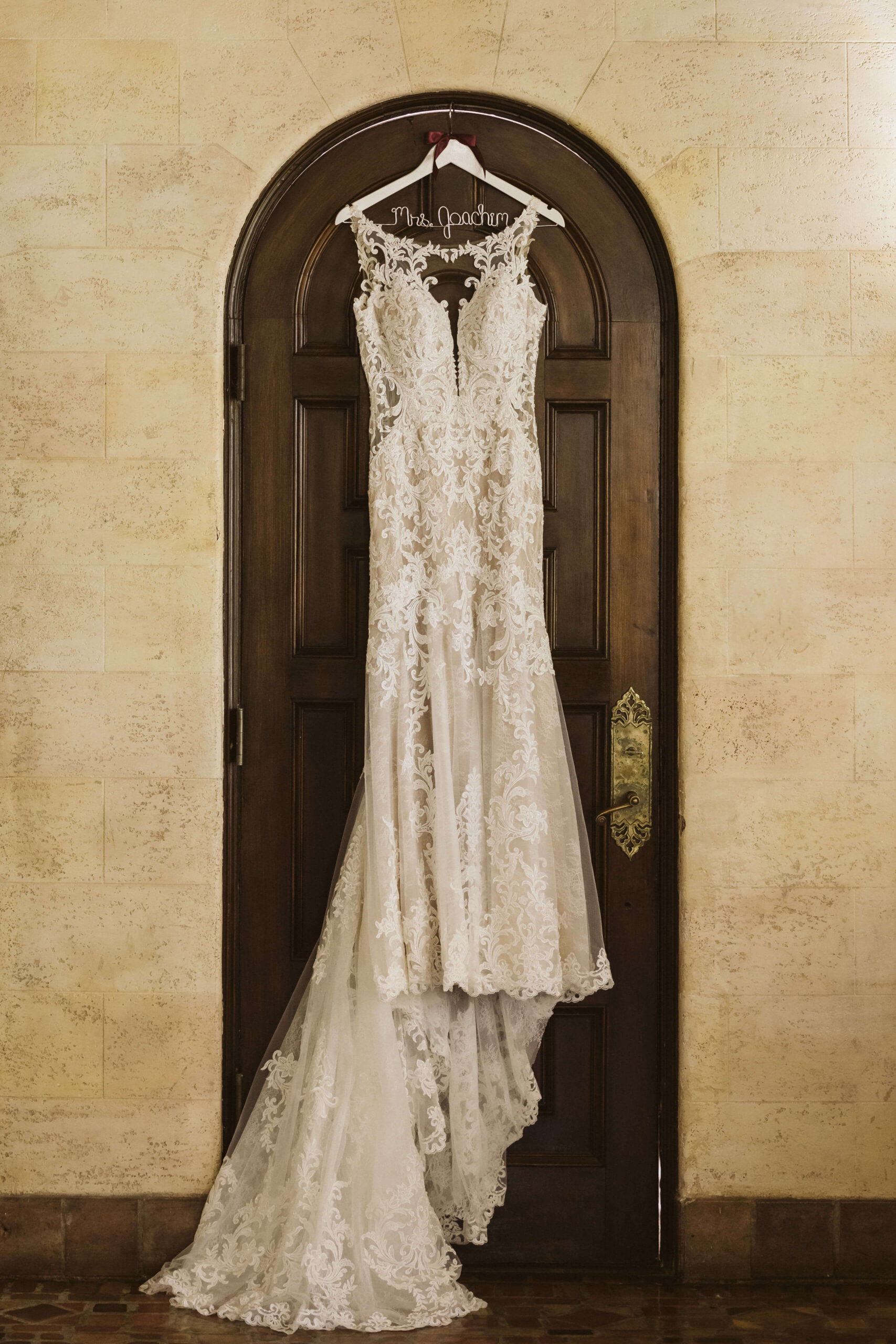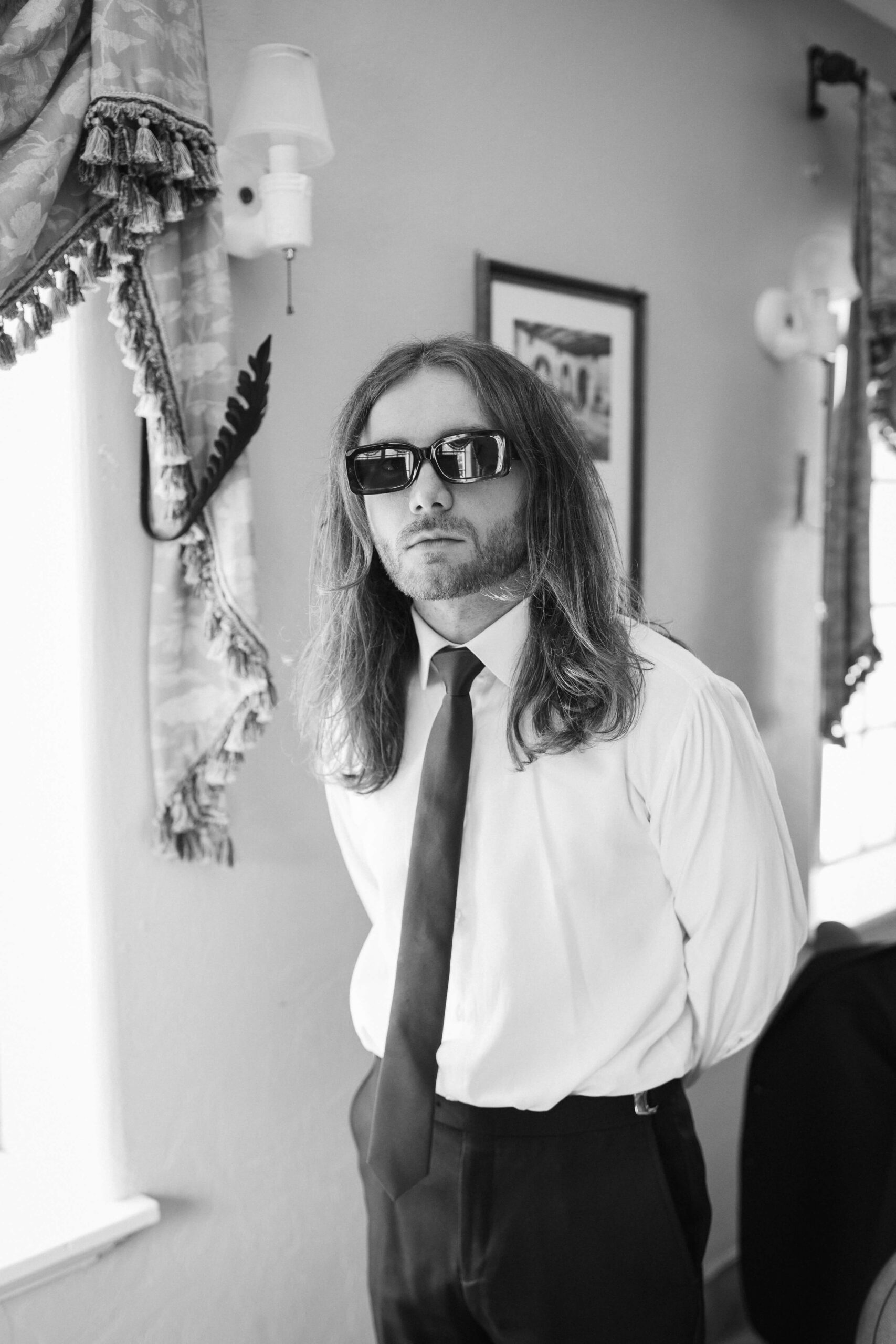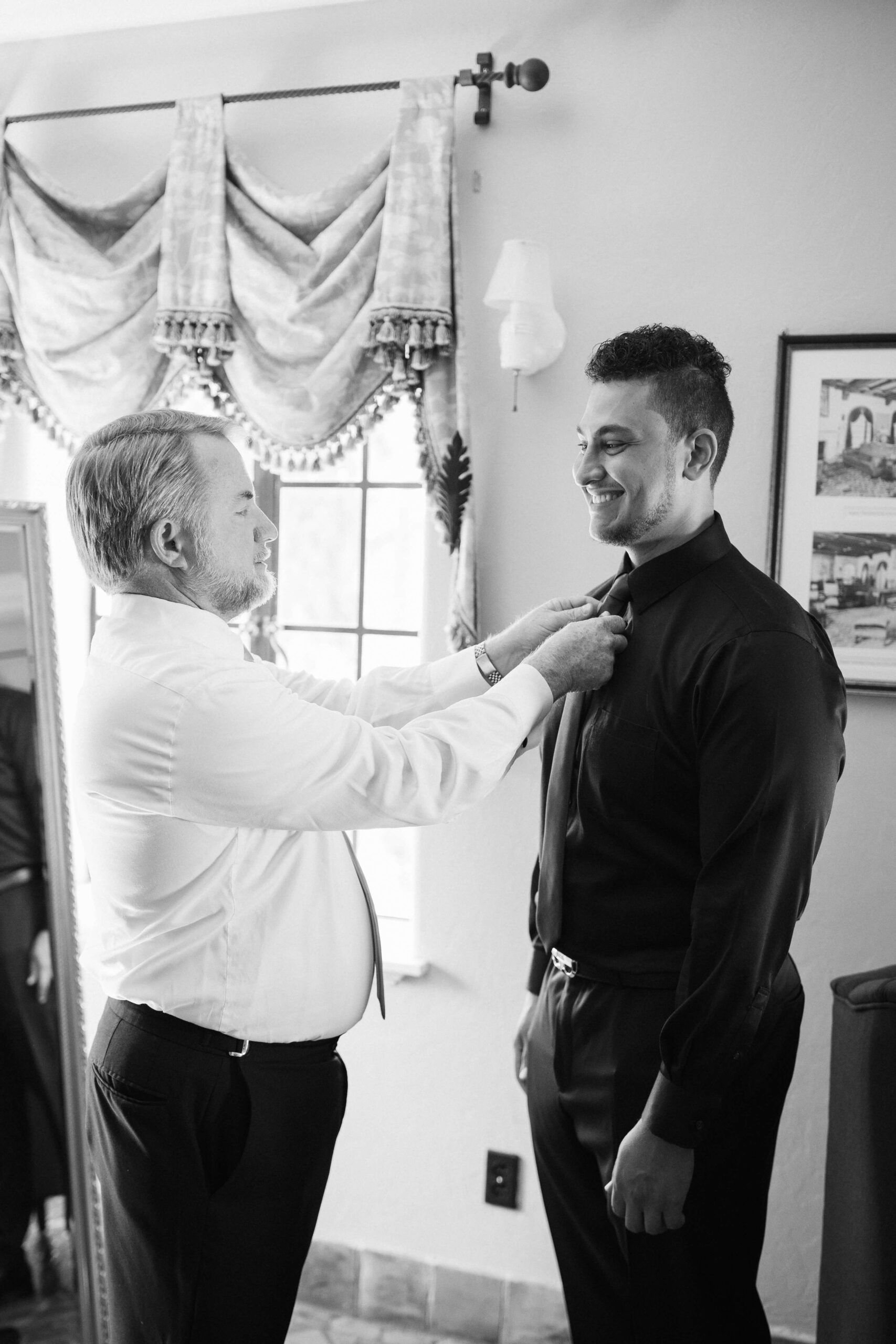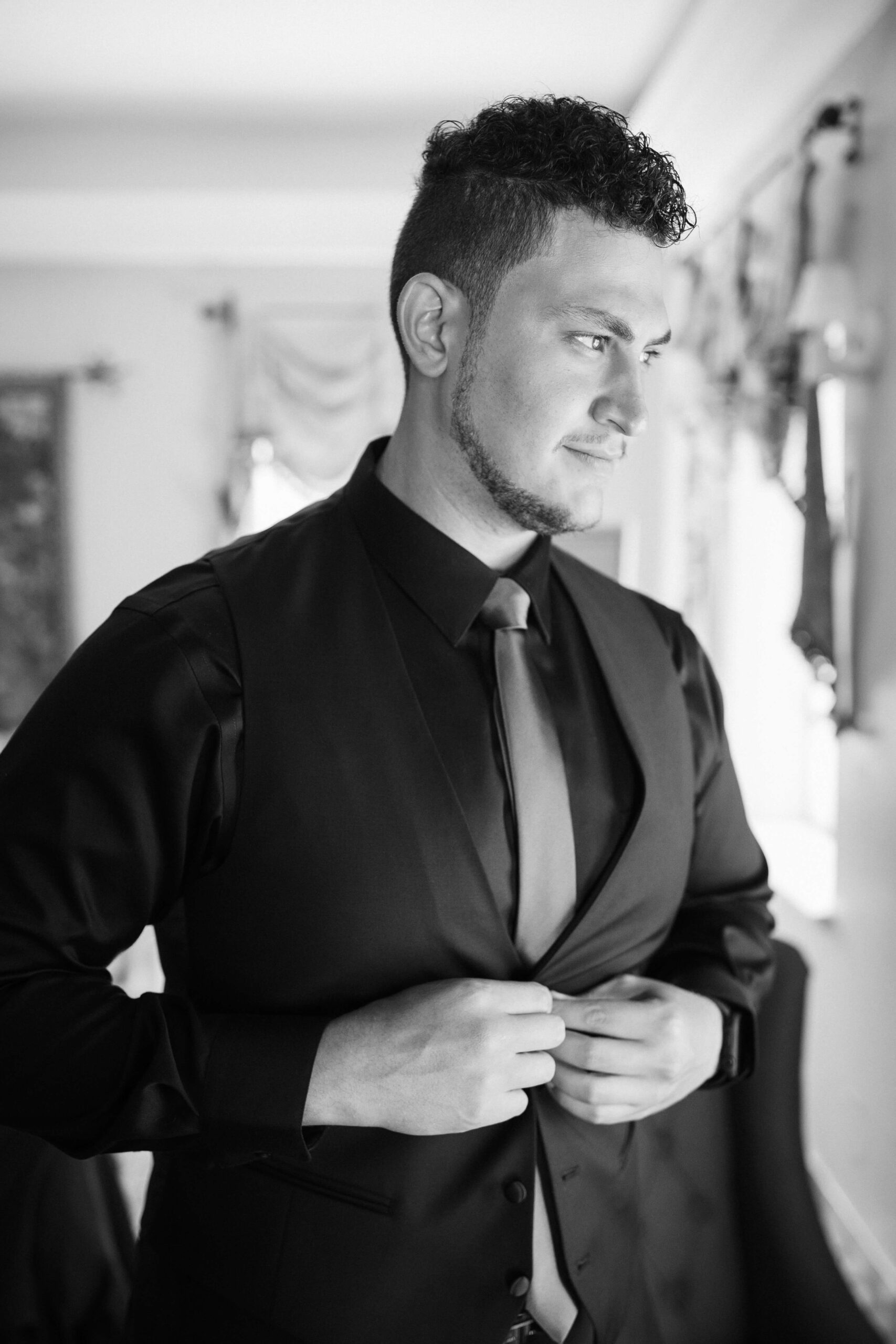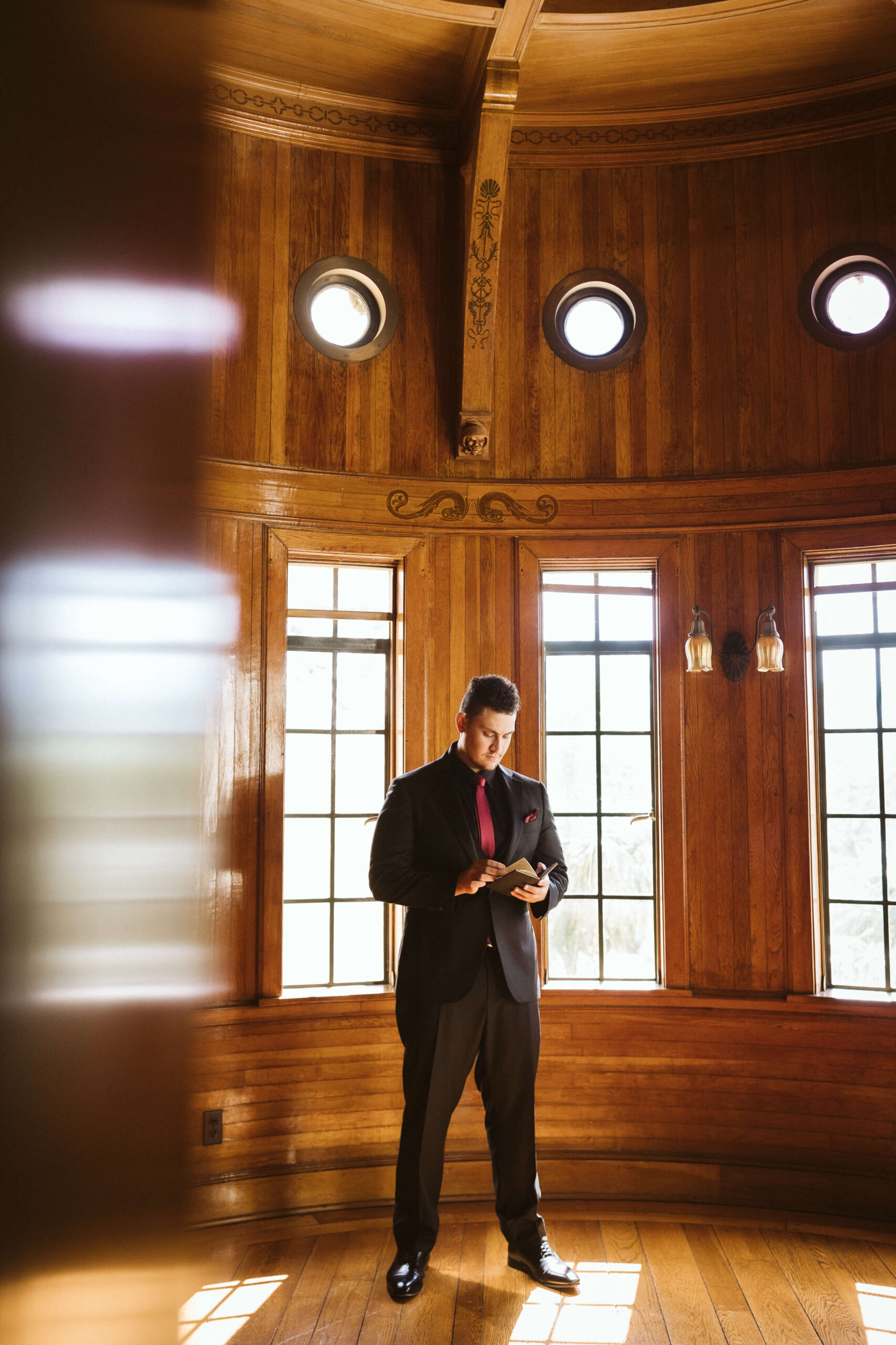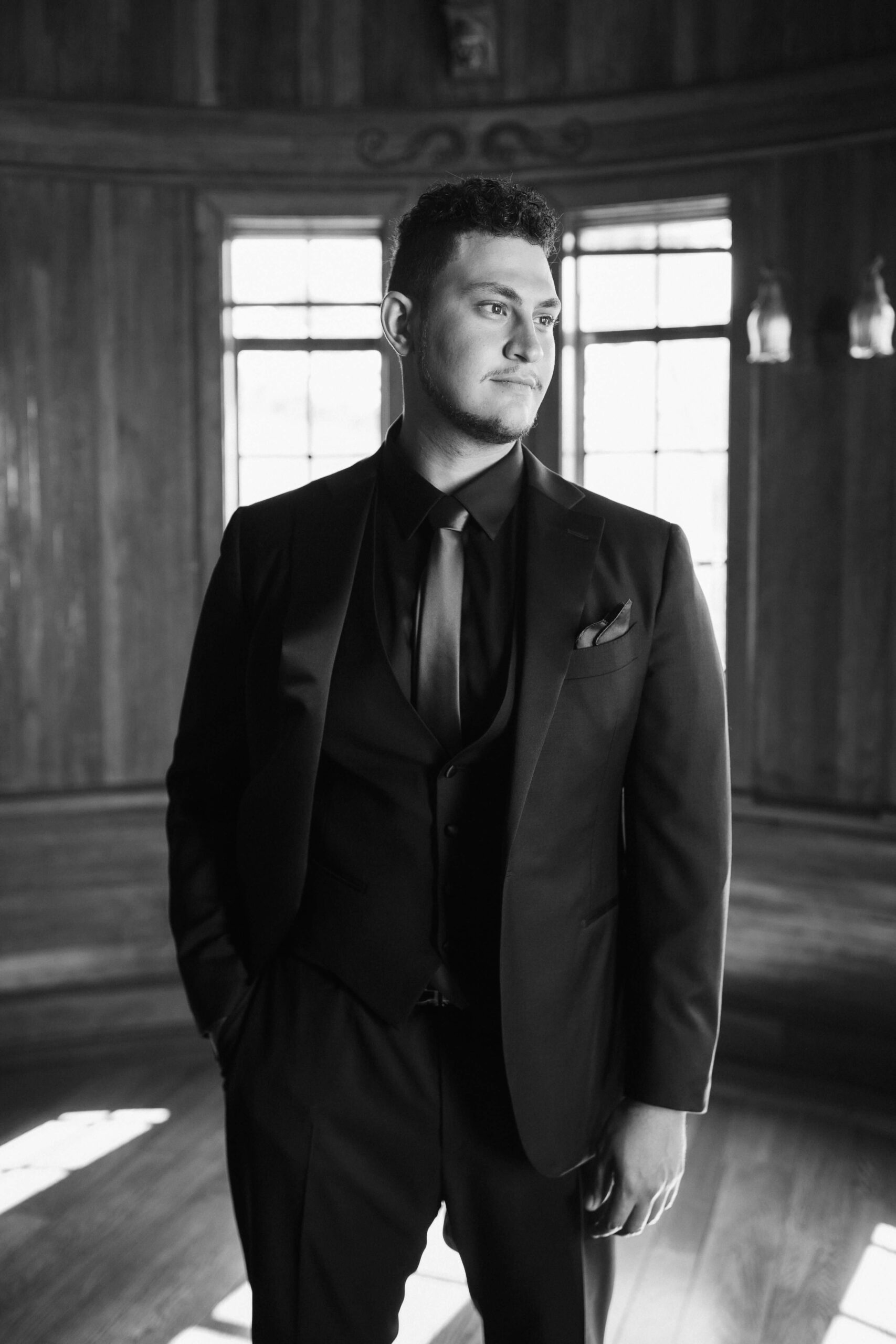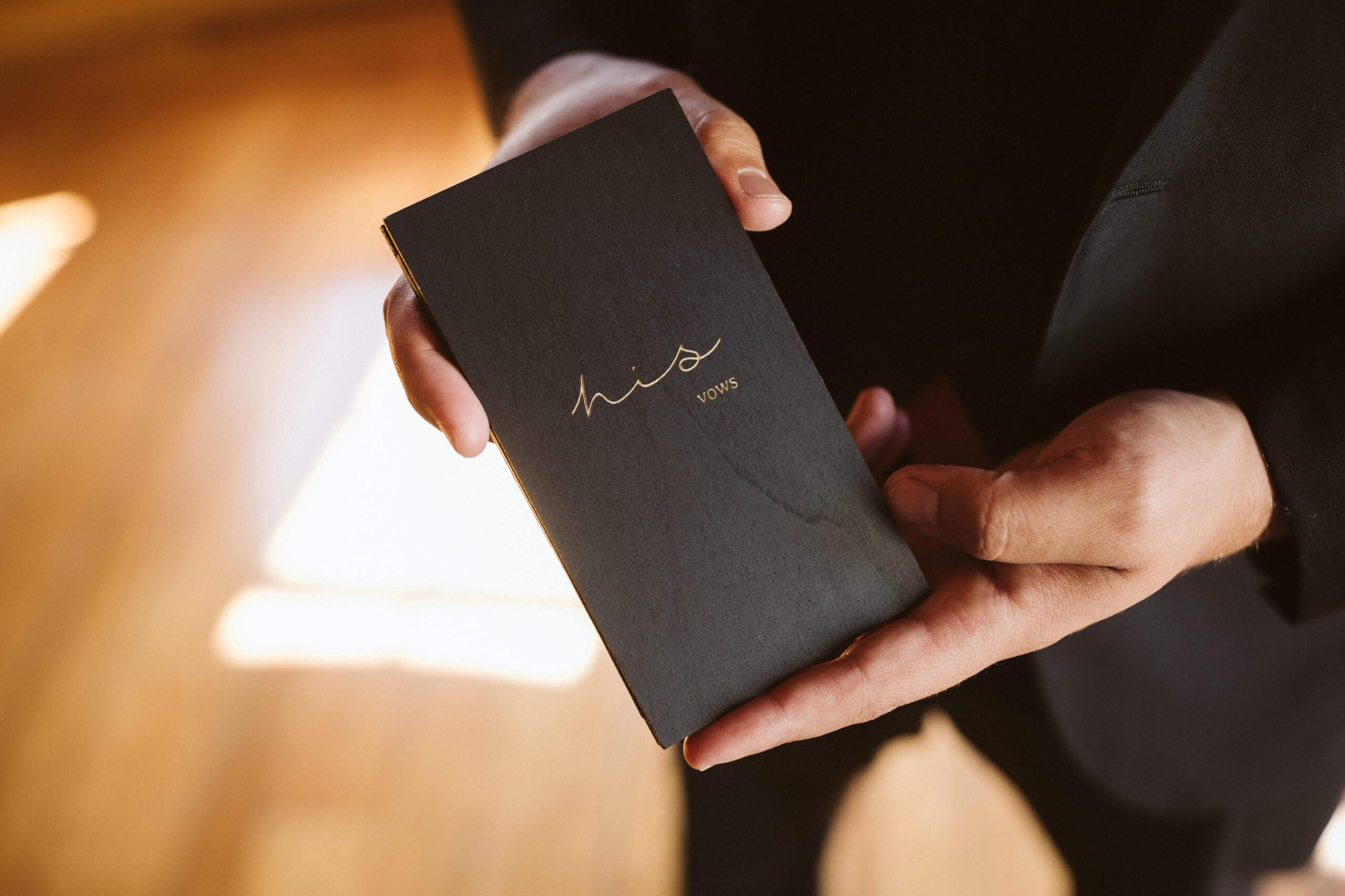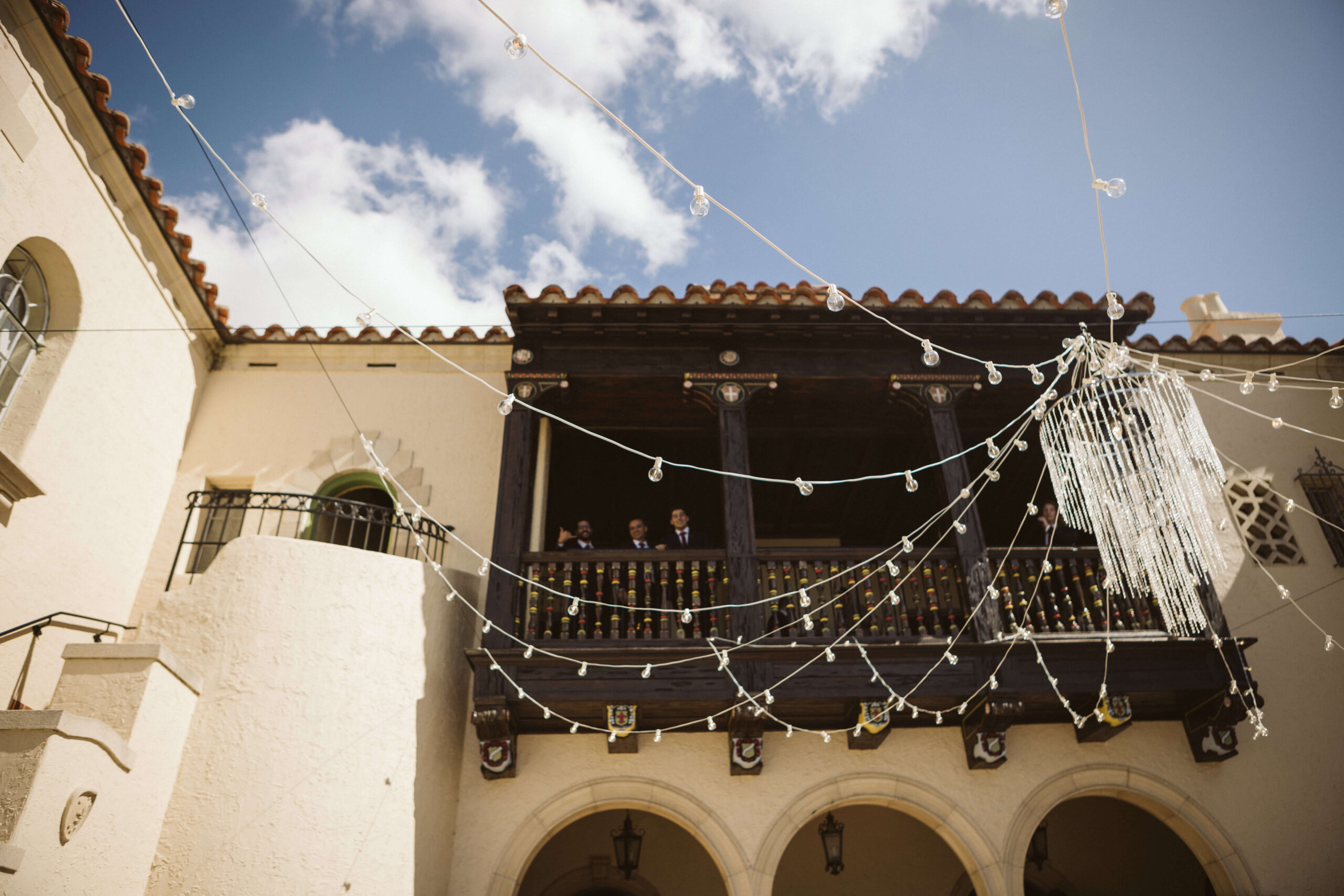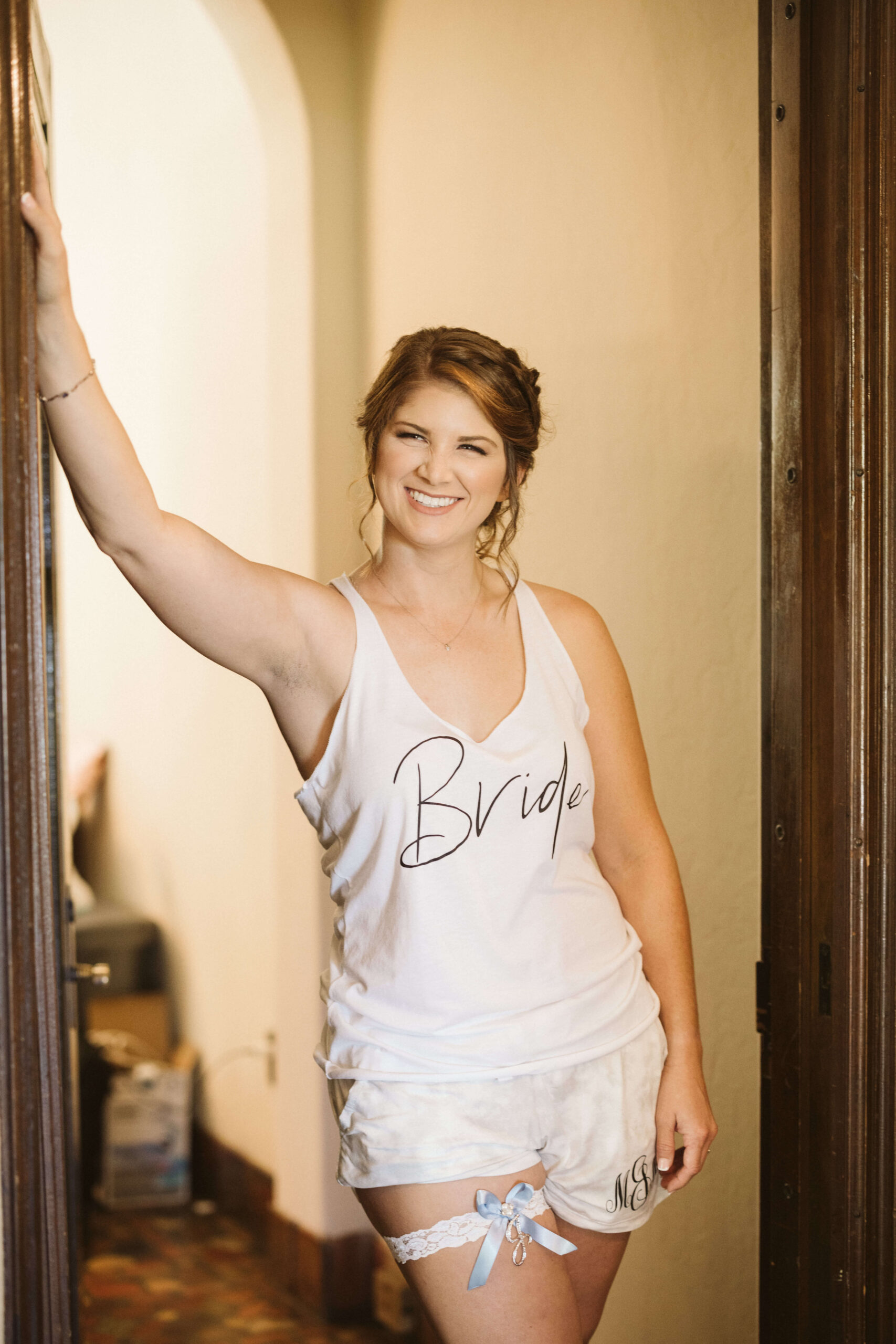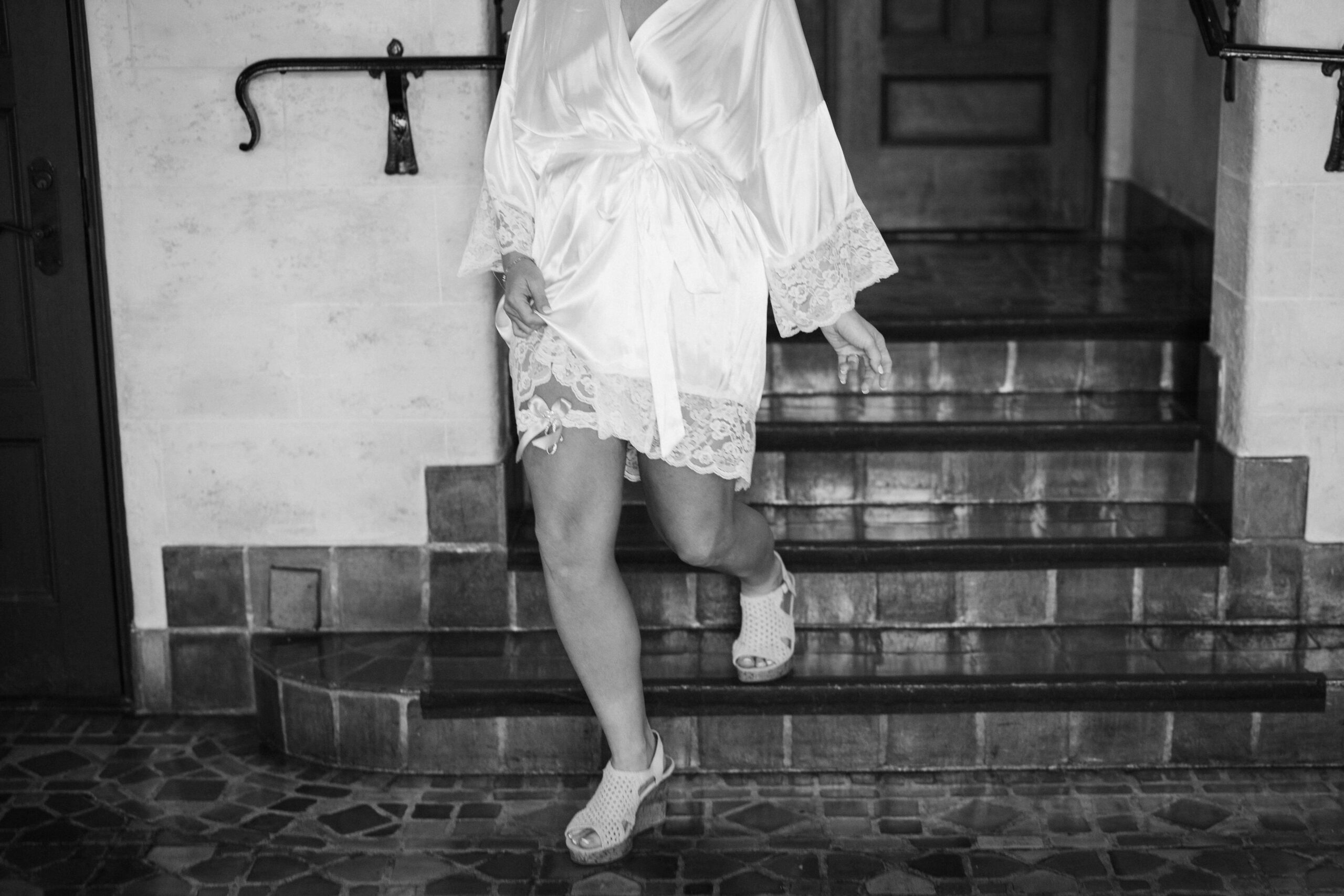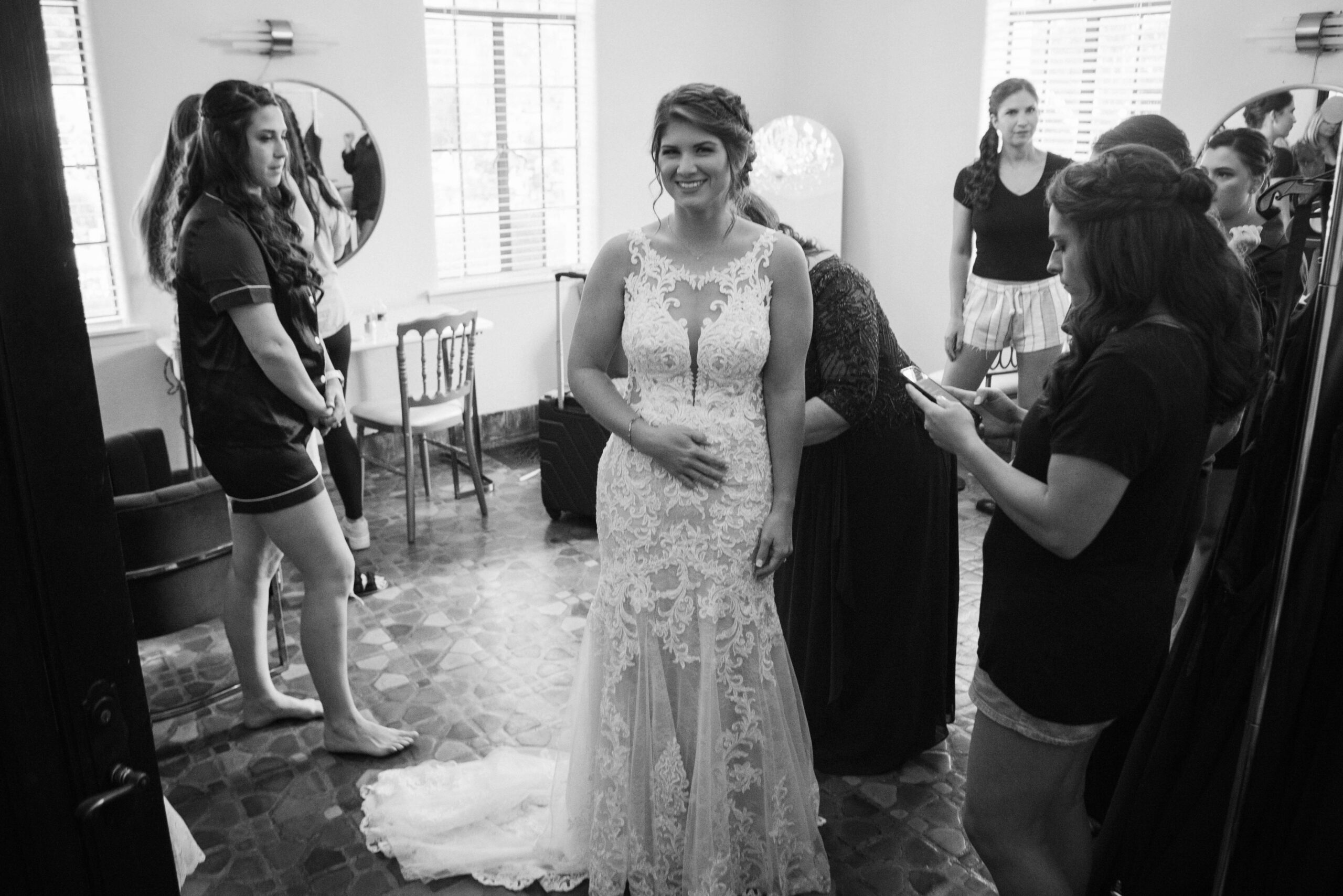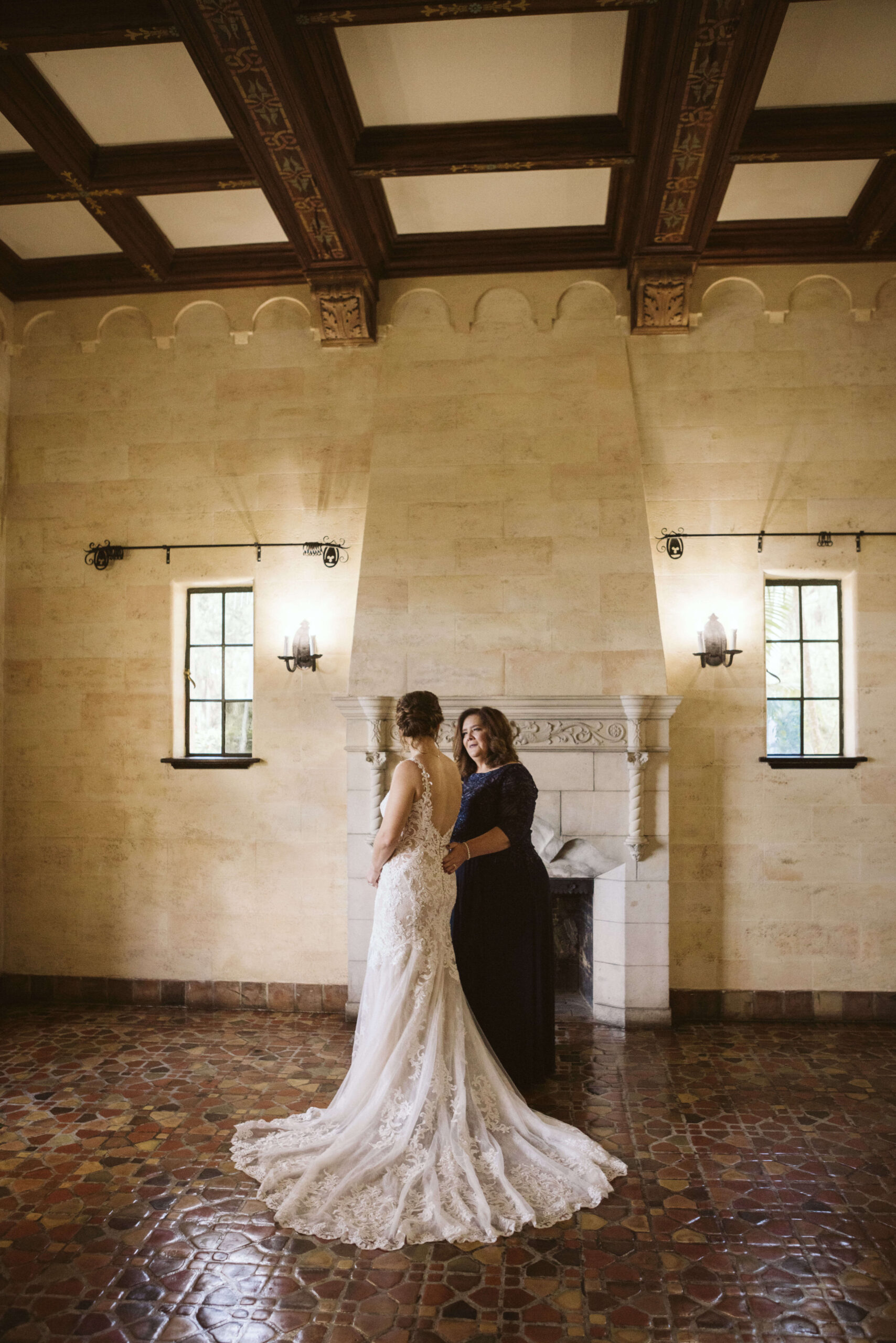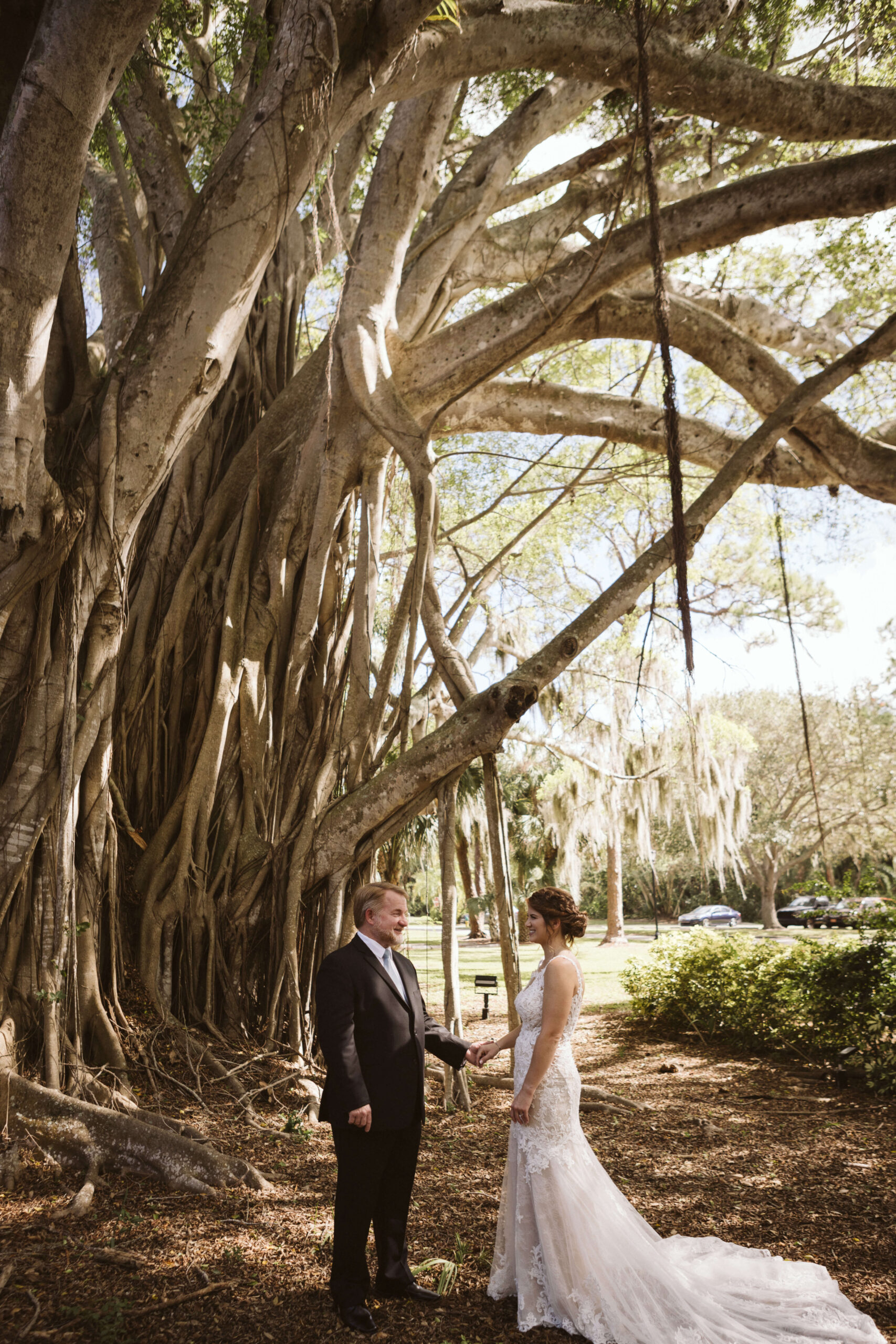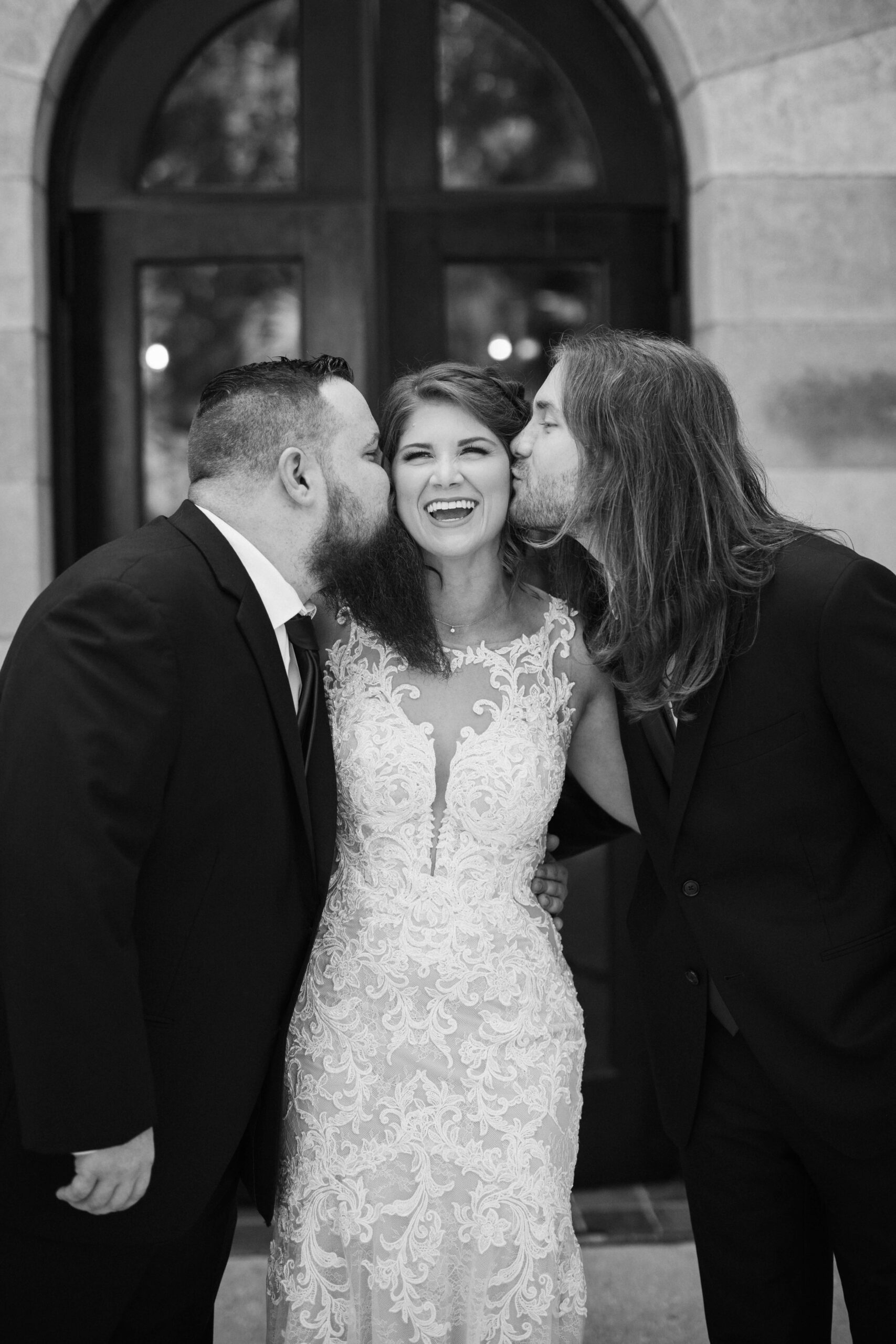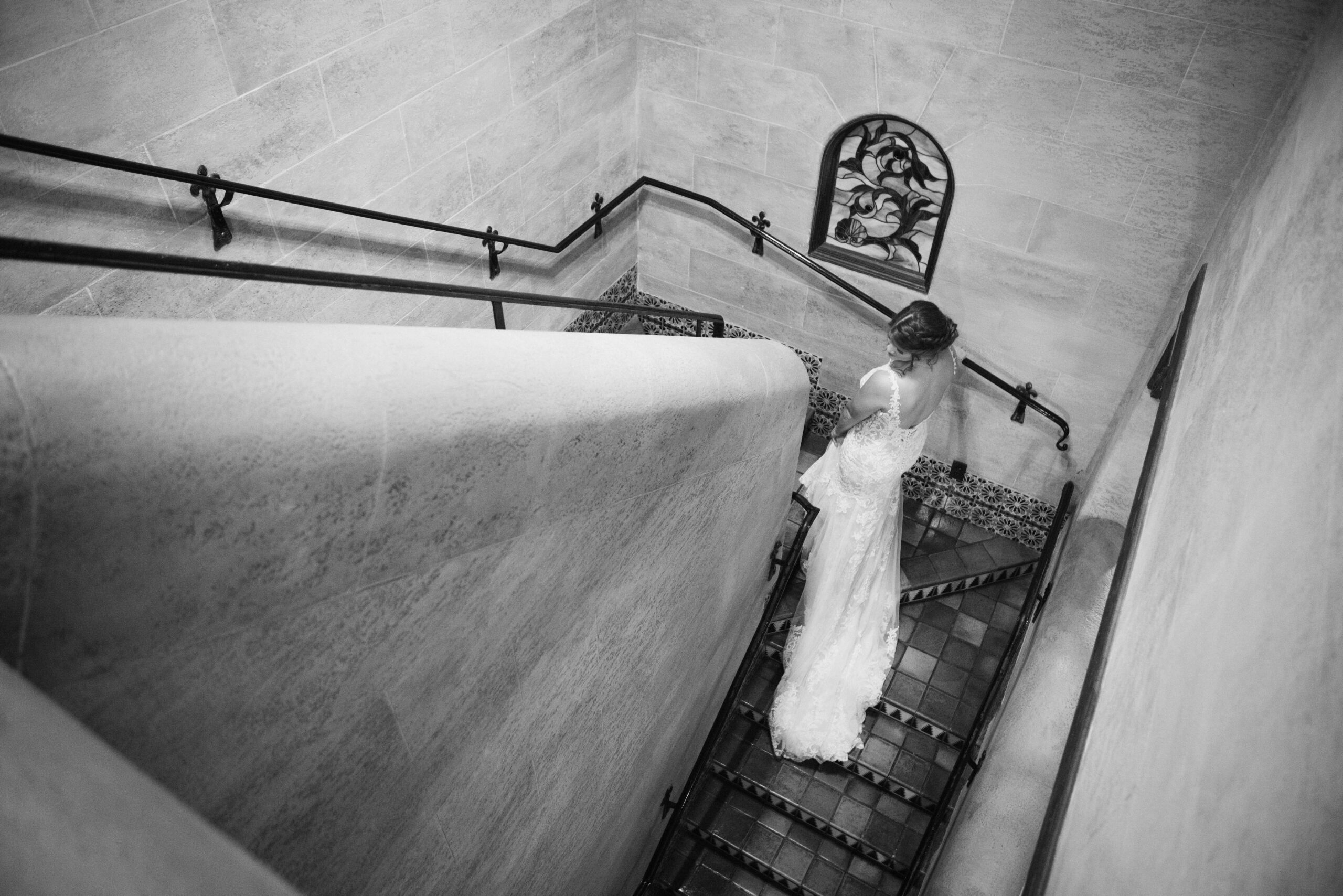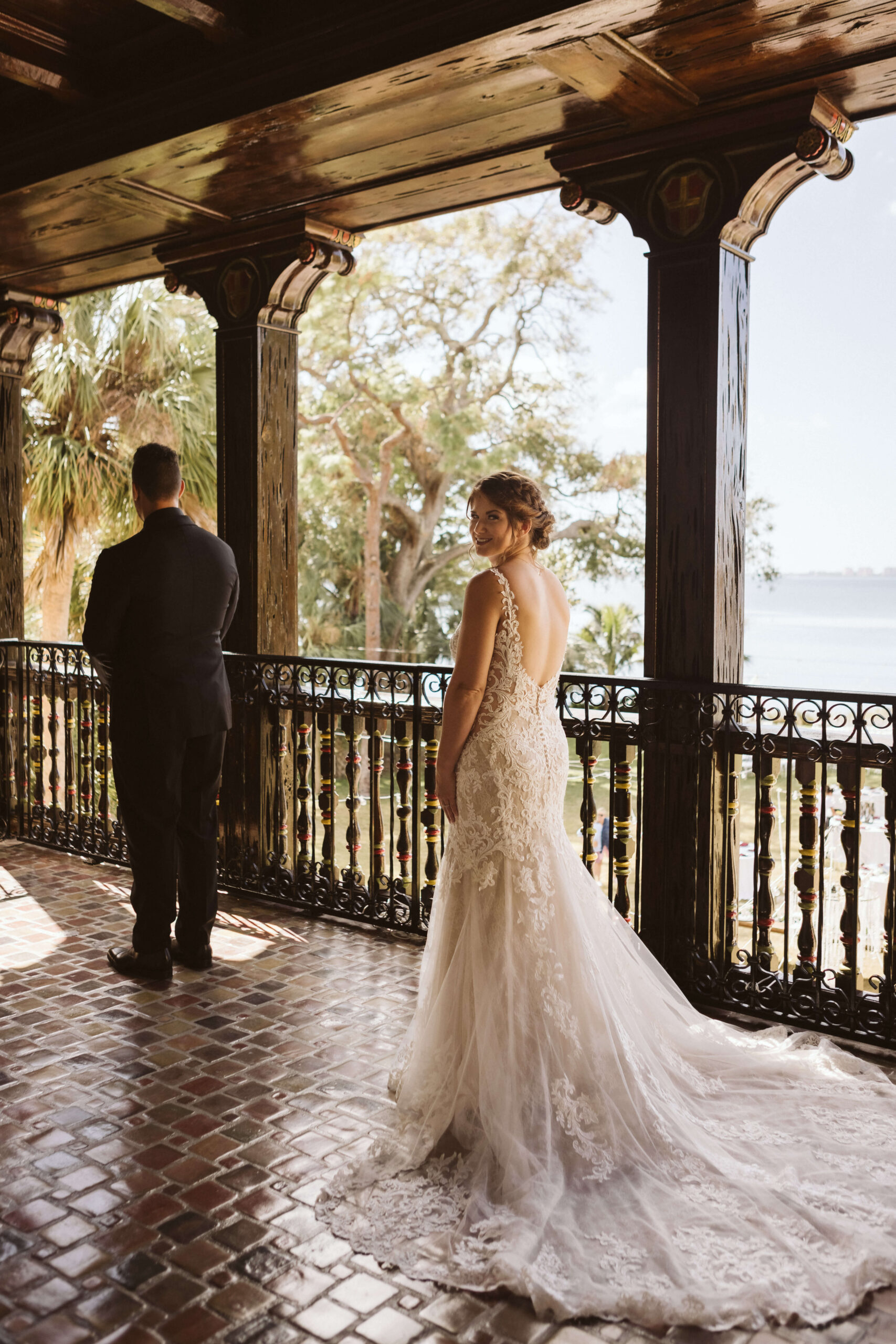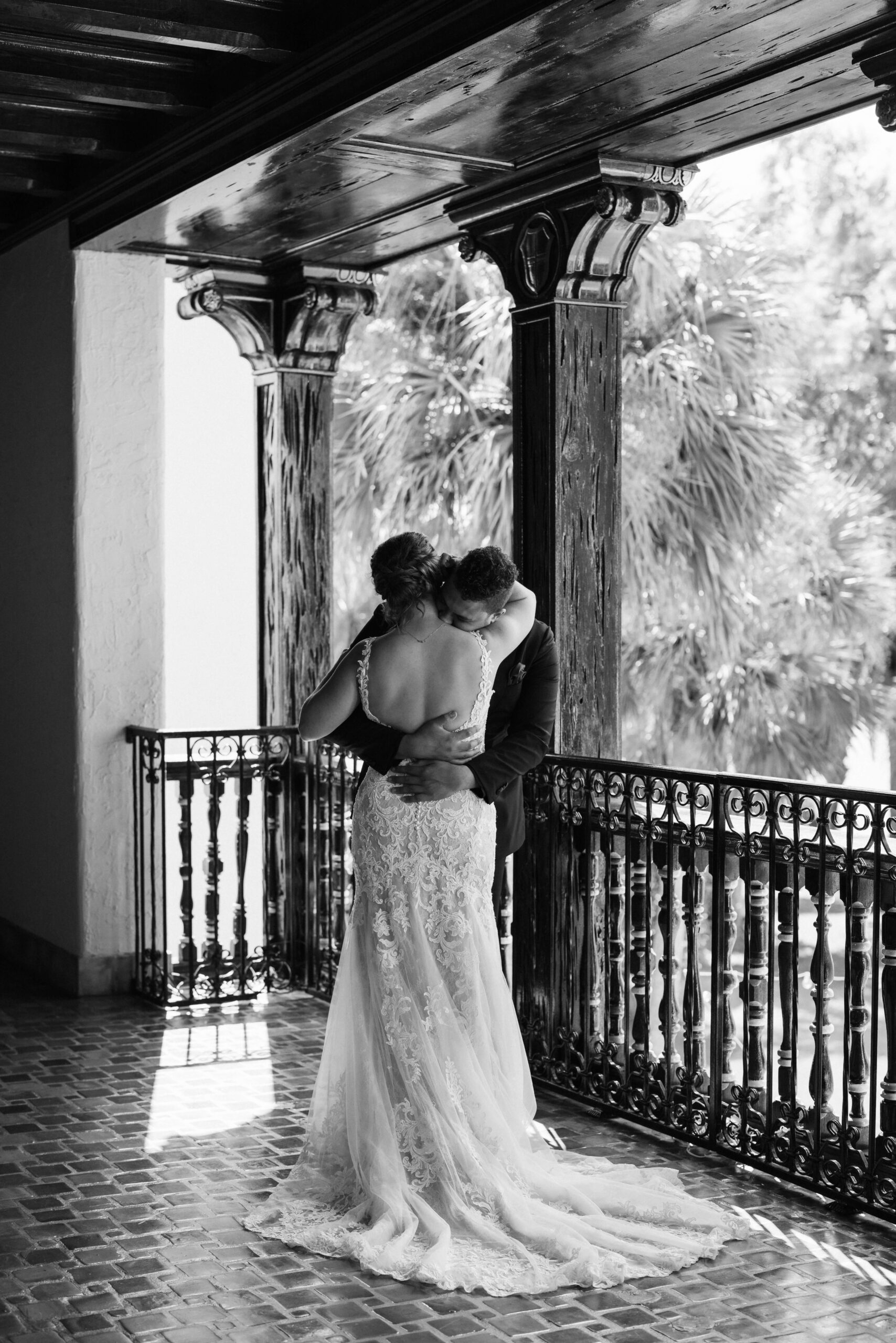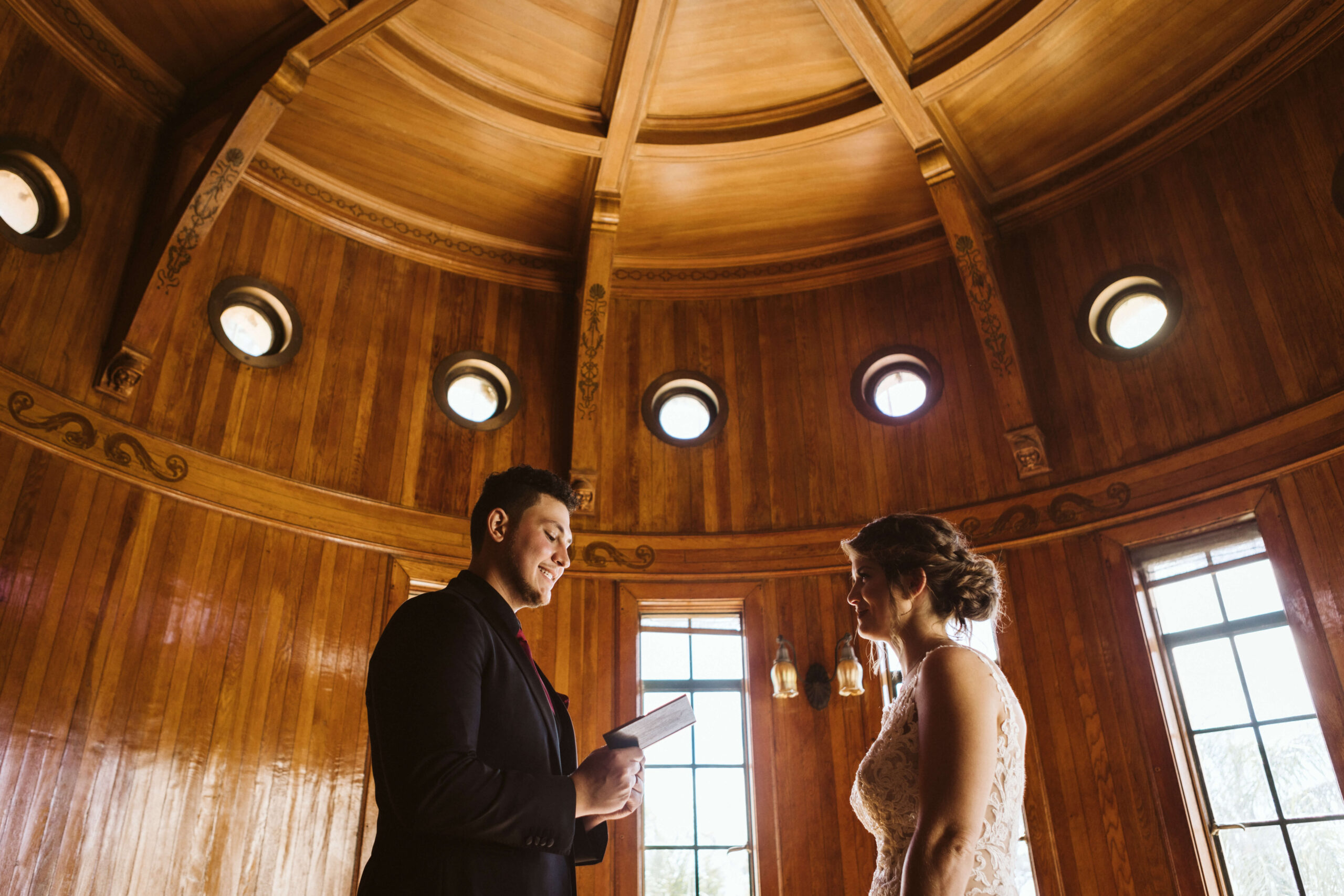 Planning a Beach Themed Wedding
A wedding in Sarasota, Florida naturally calls for a beach theme. To bring Meghan and Mena's dream beach wedding to life, they relied on the beauty of their natural surroundings ​​as well as perfectly picked decor. If you're ready to say your "I do's" with the salt wind in your hair and the ocean glistening in the distance, make sure to jot down some of Meghan and Mena's ideas!
Of course, any beach wedding should have an oceanfront view. Meghan and Mena's ceremony featured the bright, warm Florida sun and the soothing sounds of waves gently crashing onto the shore beside them. They even did a rope tying unity ceremony where they braided and tied a sailor's knot together onto a handcrafted wooden sign reading, "A cord of three strands is not easily broken" from Ecclesiastes 4:12.
The reception is where the beach theme truly came to life. For the seating arrangements, sea glass name cards in a shimmering light blue welcomed guests to their tables. An array of beach signs such as "In high tide or in low tide, I'll be by your side" sat on tables and provided a cute nautical touch. Even their guest book was a wooden anchor for guests to sign instead of an actual book! In honor of the ultimate beach wedding, at the end of the night, the happy couple said goodbye to their guests and sailed off into the sunset for their happily ever after.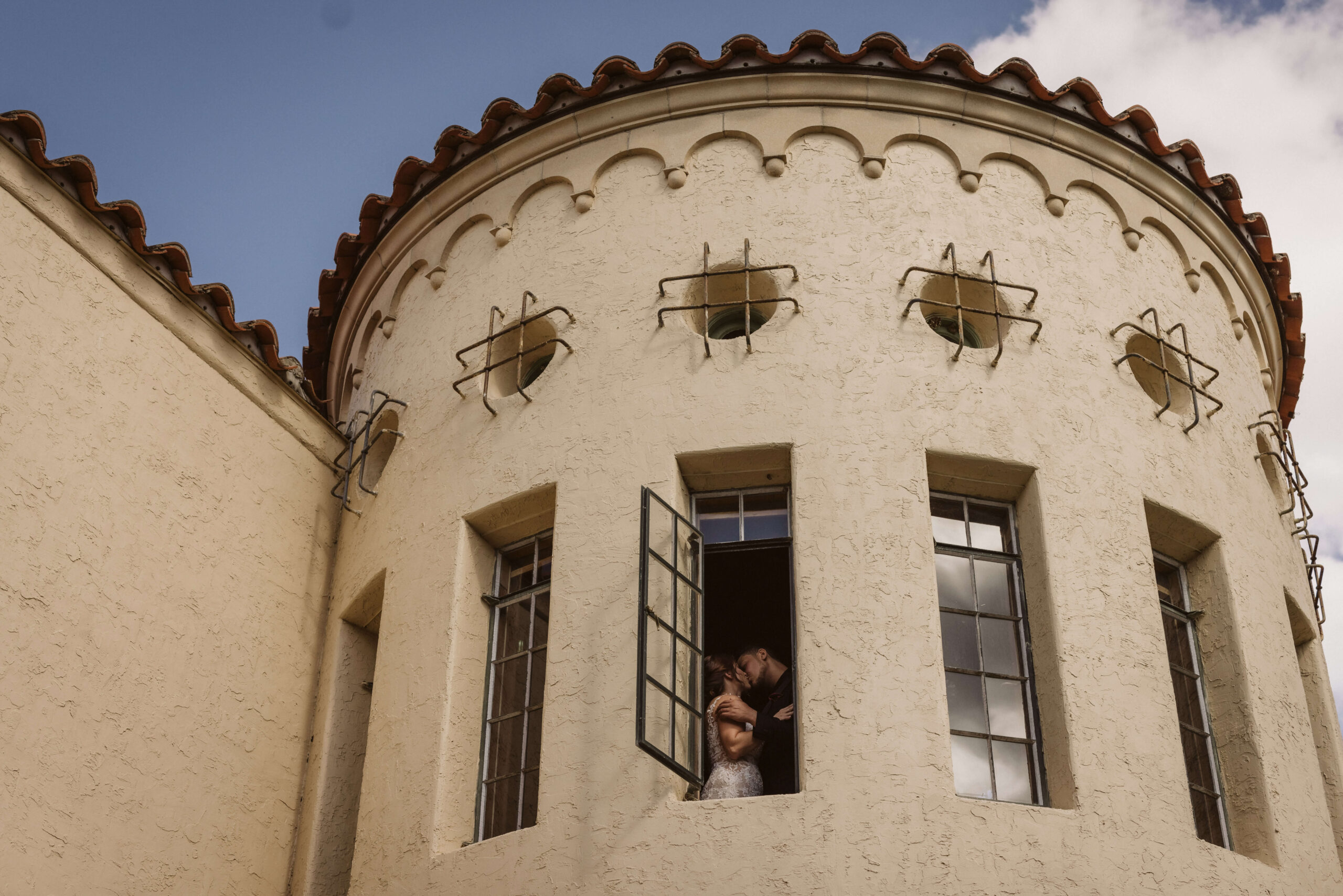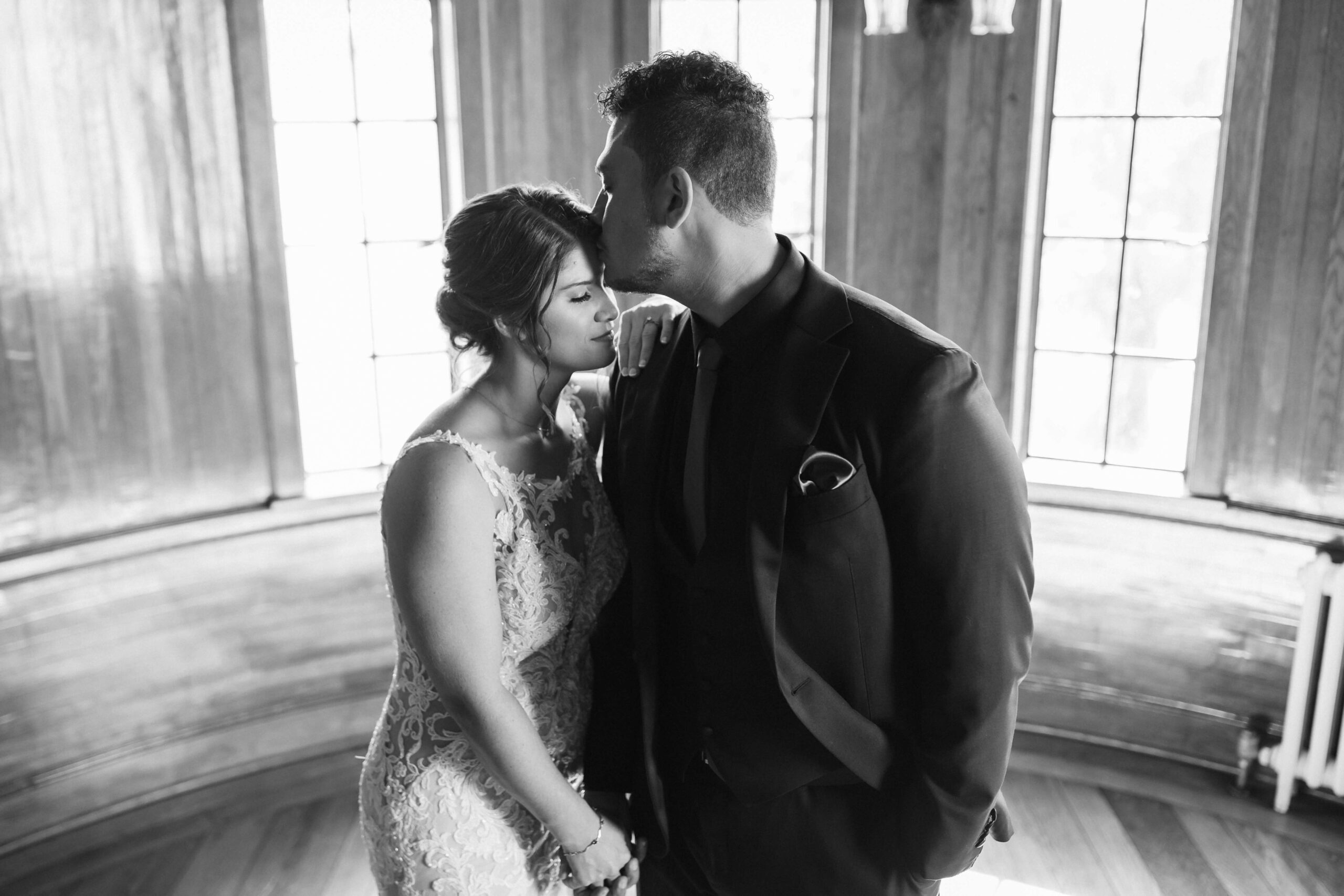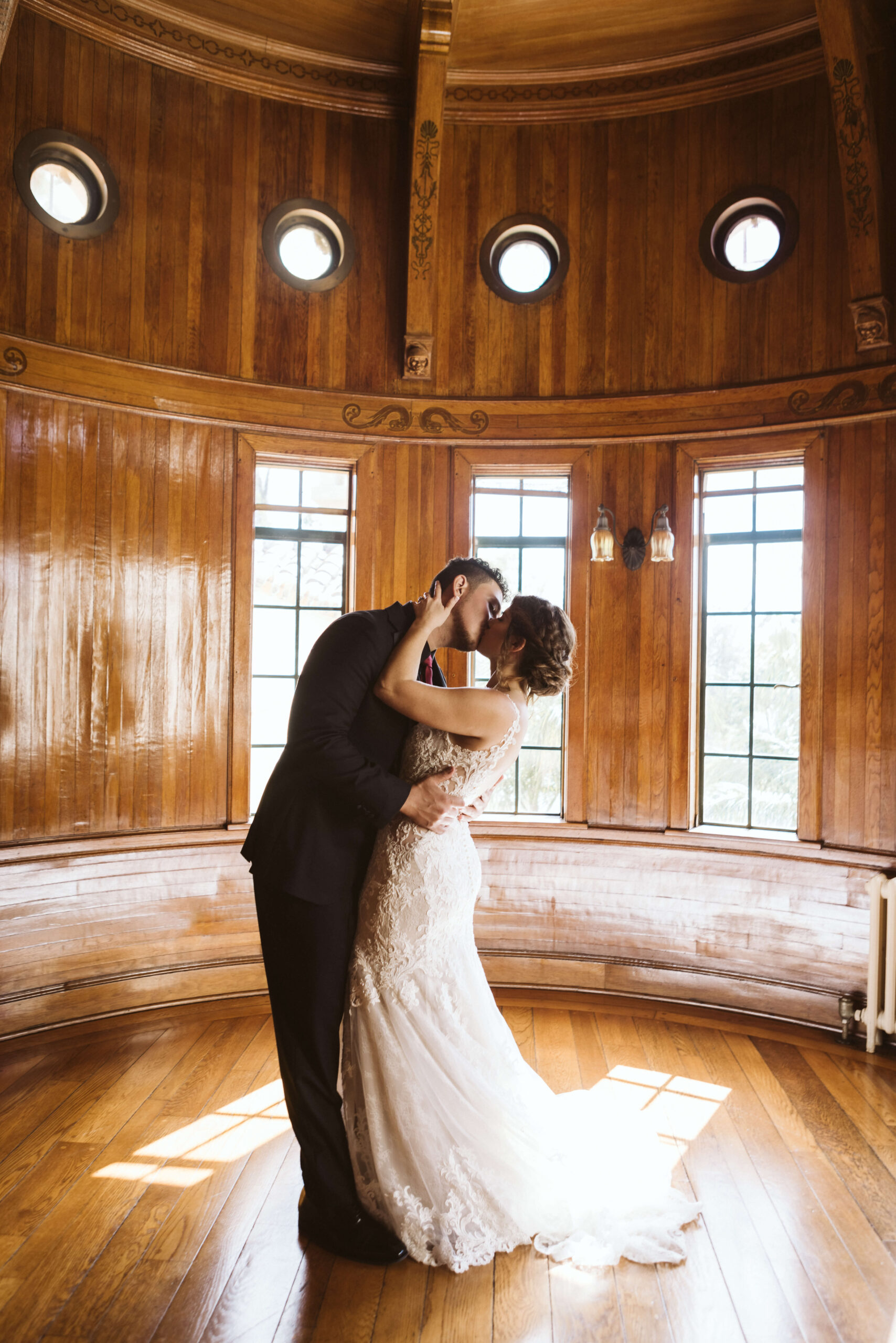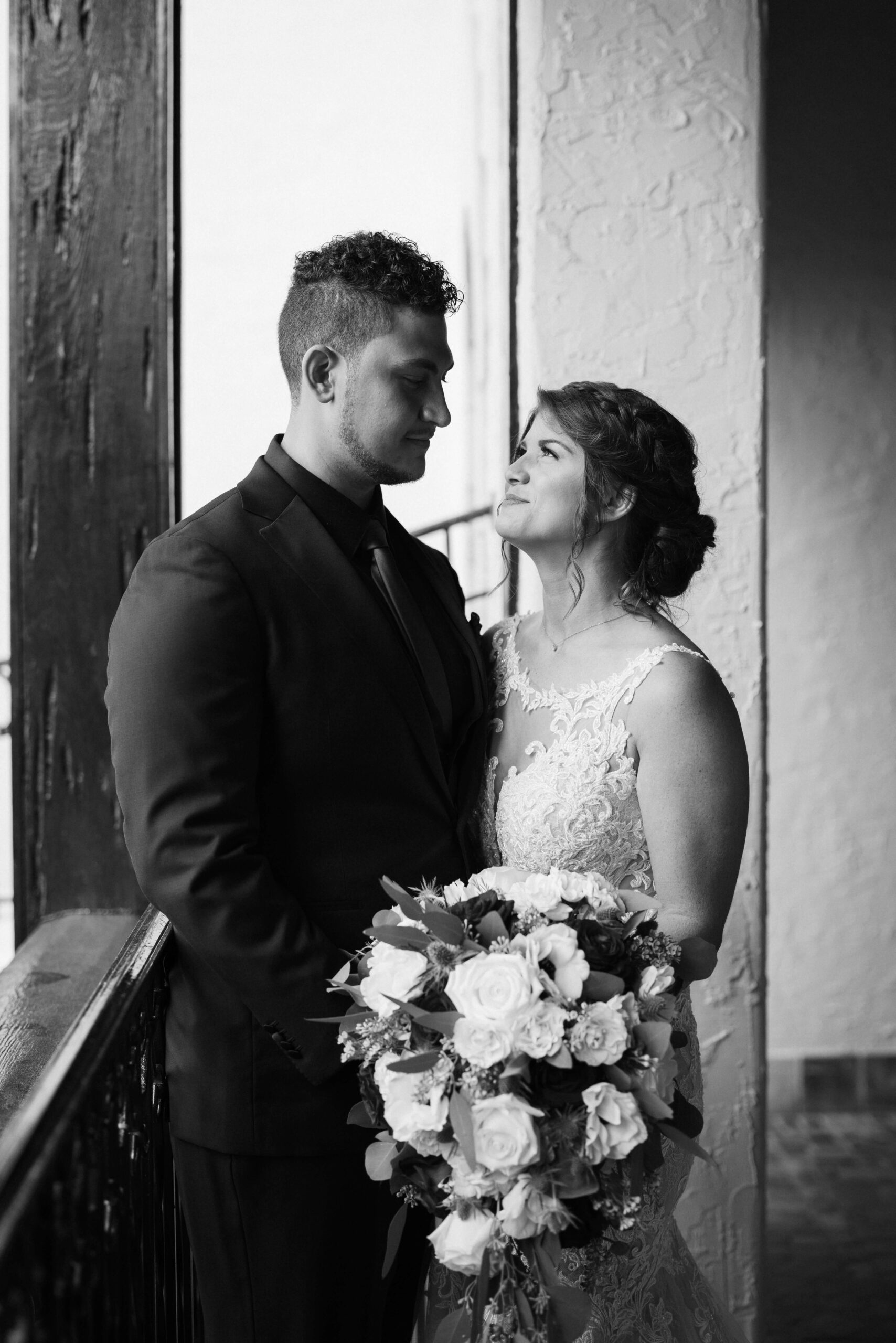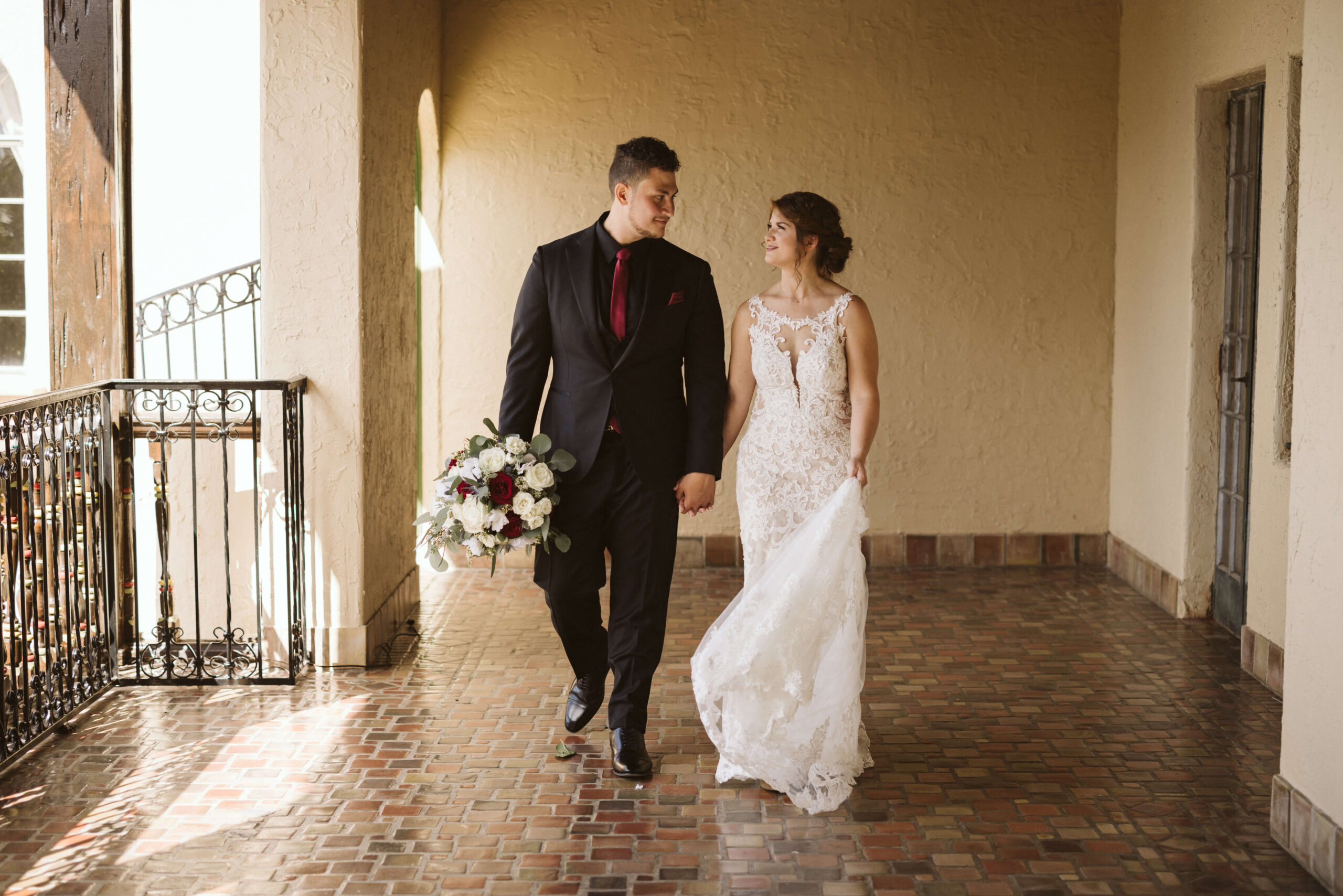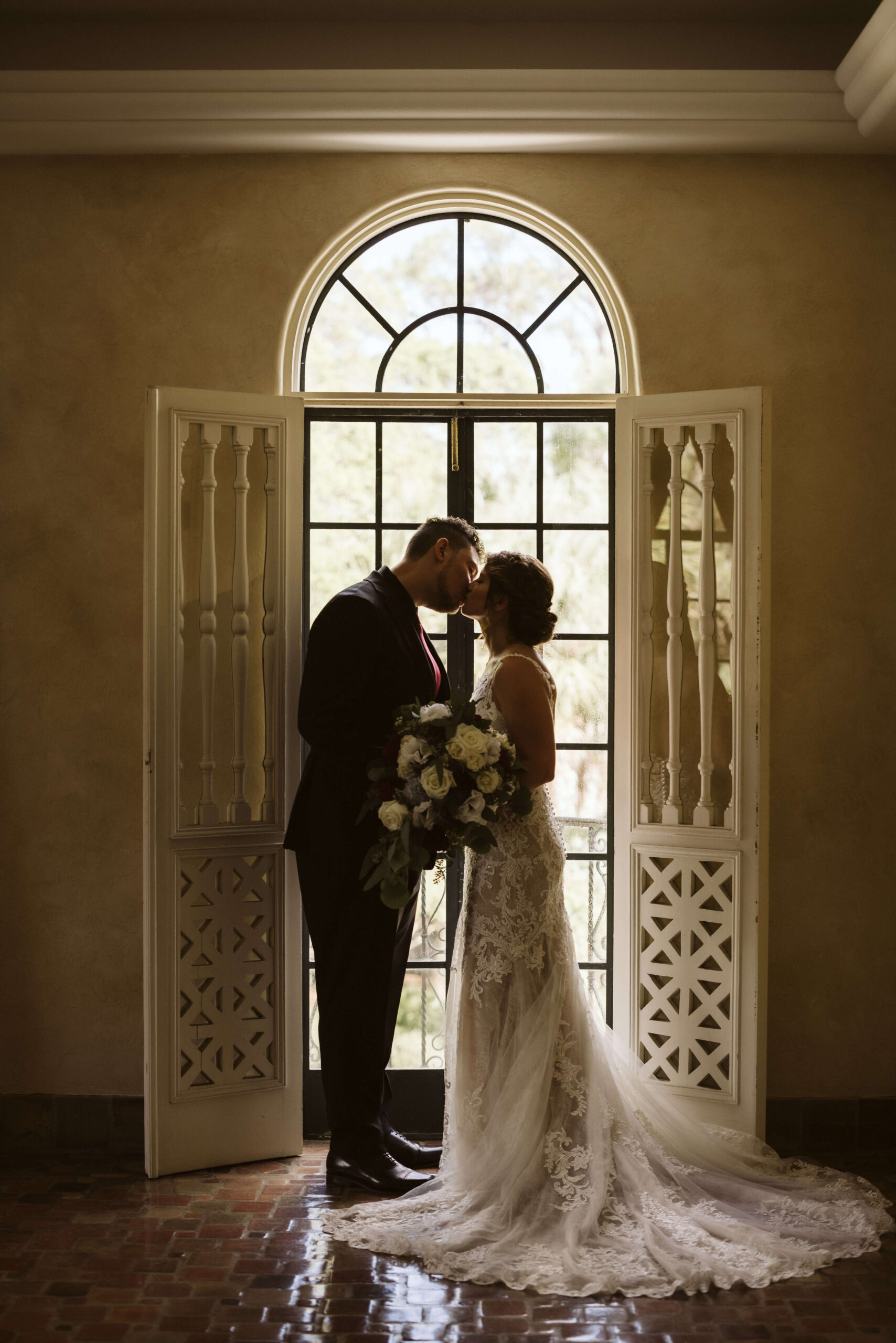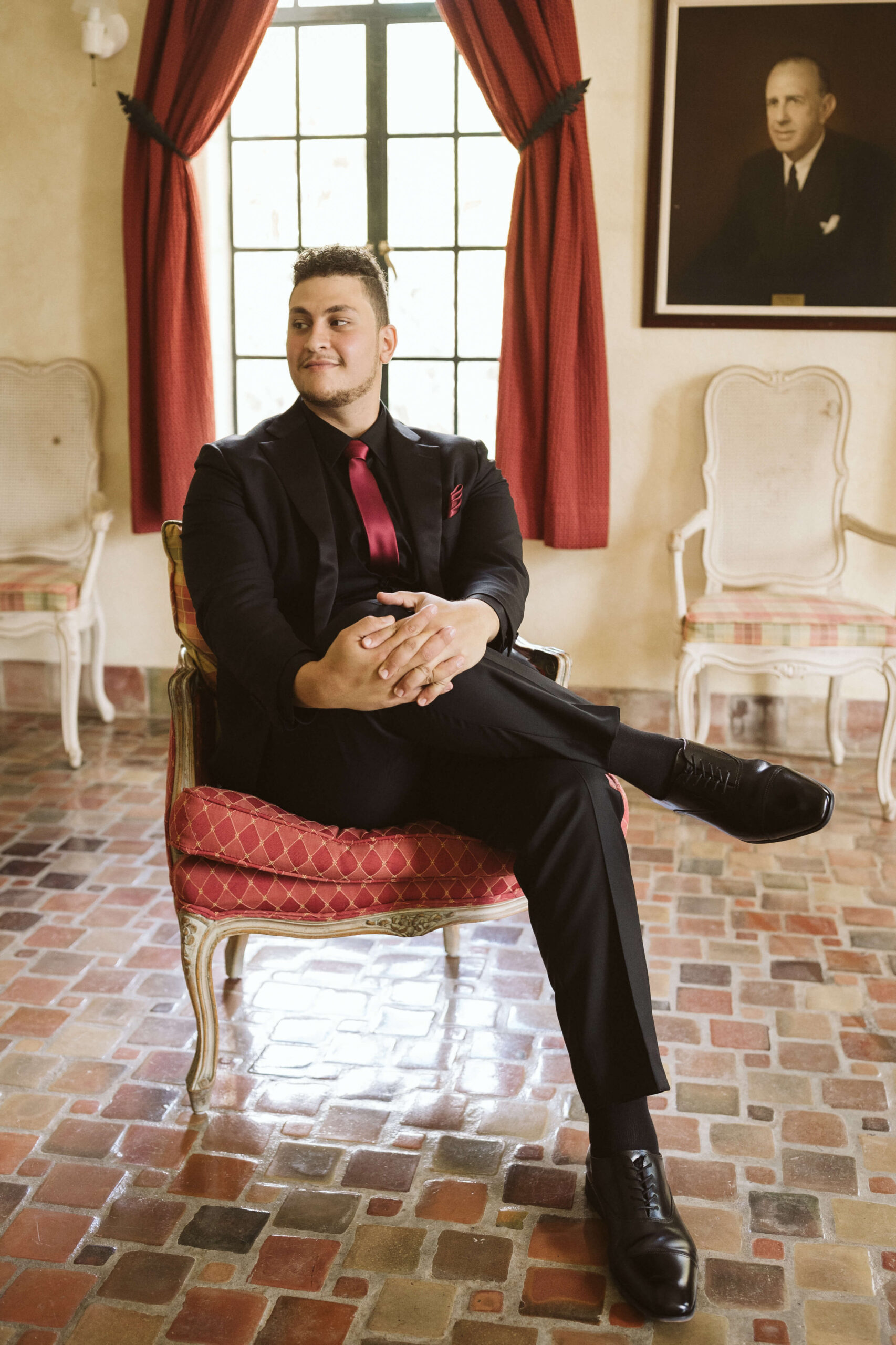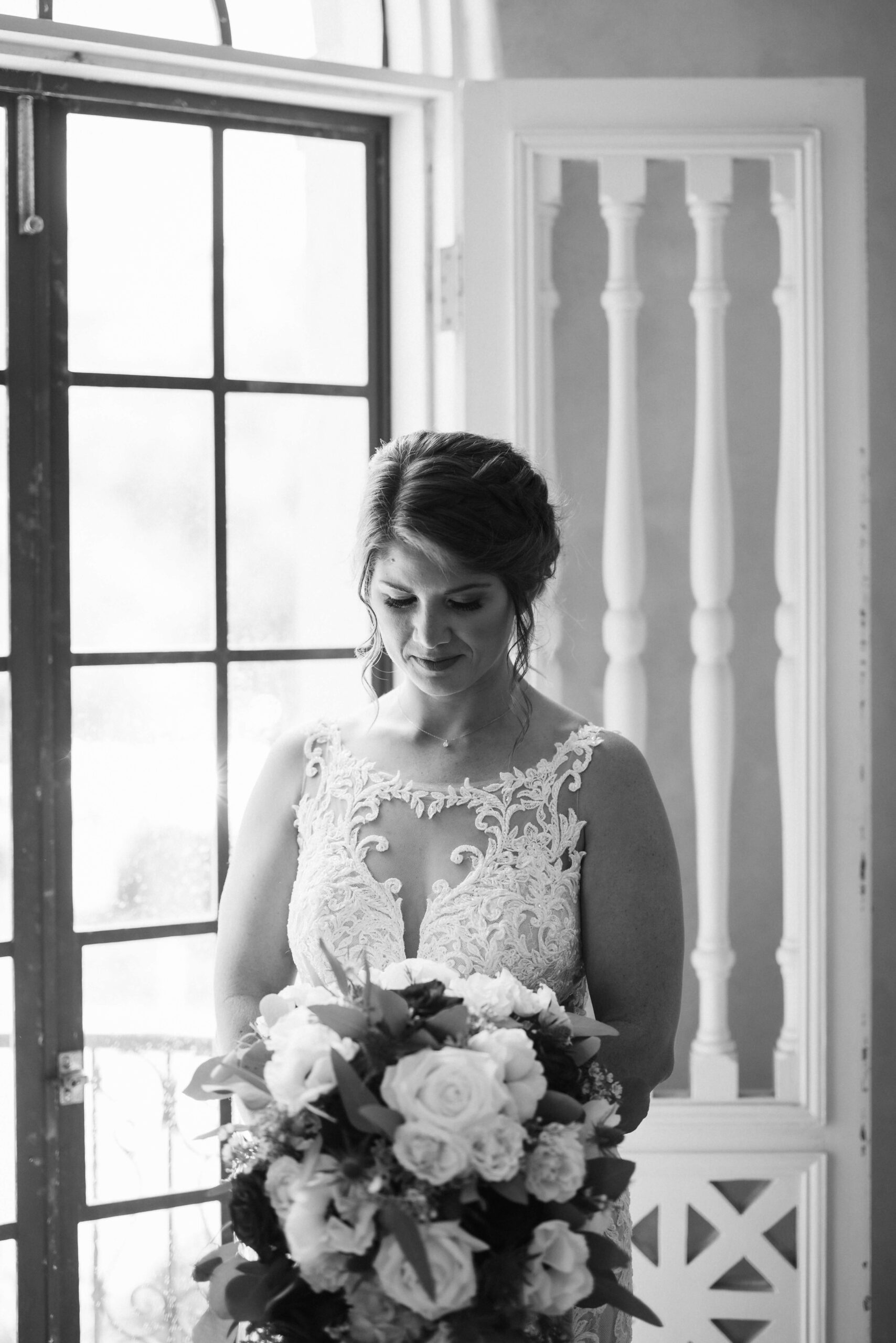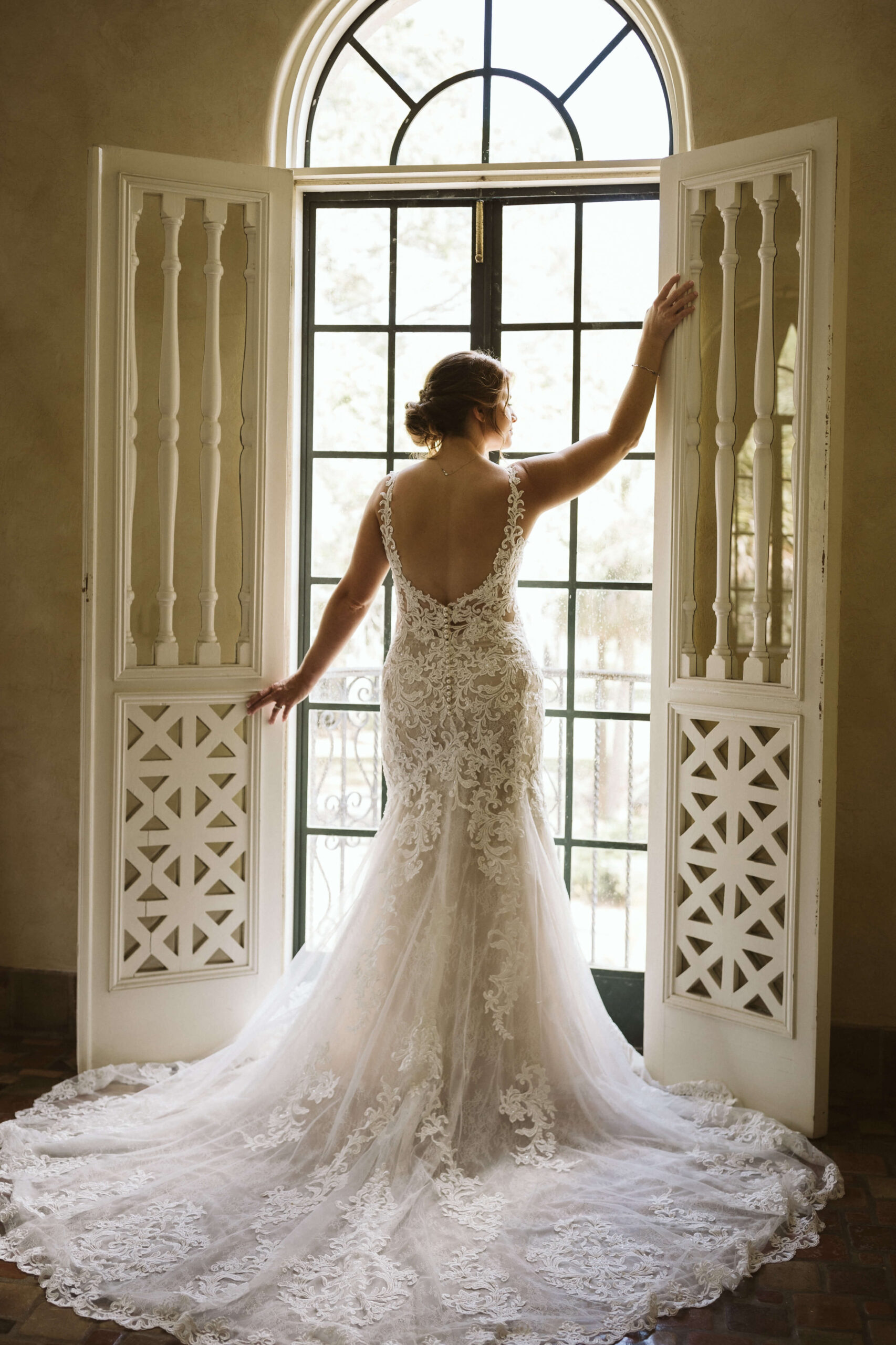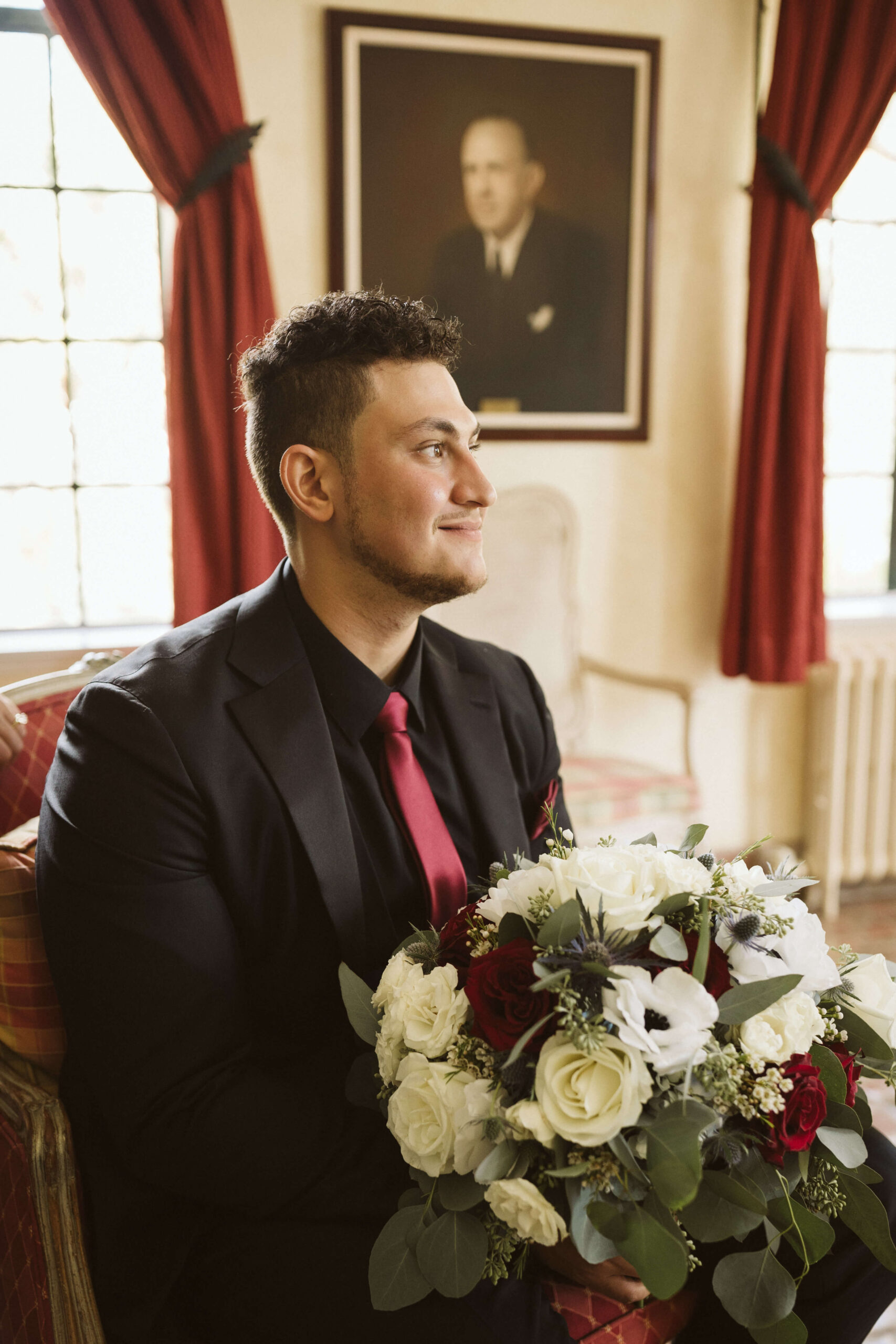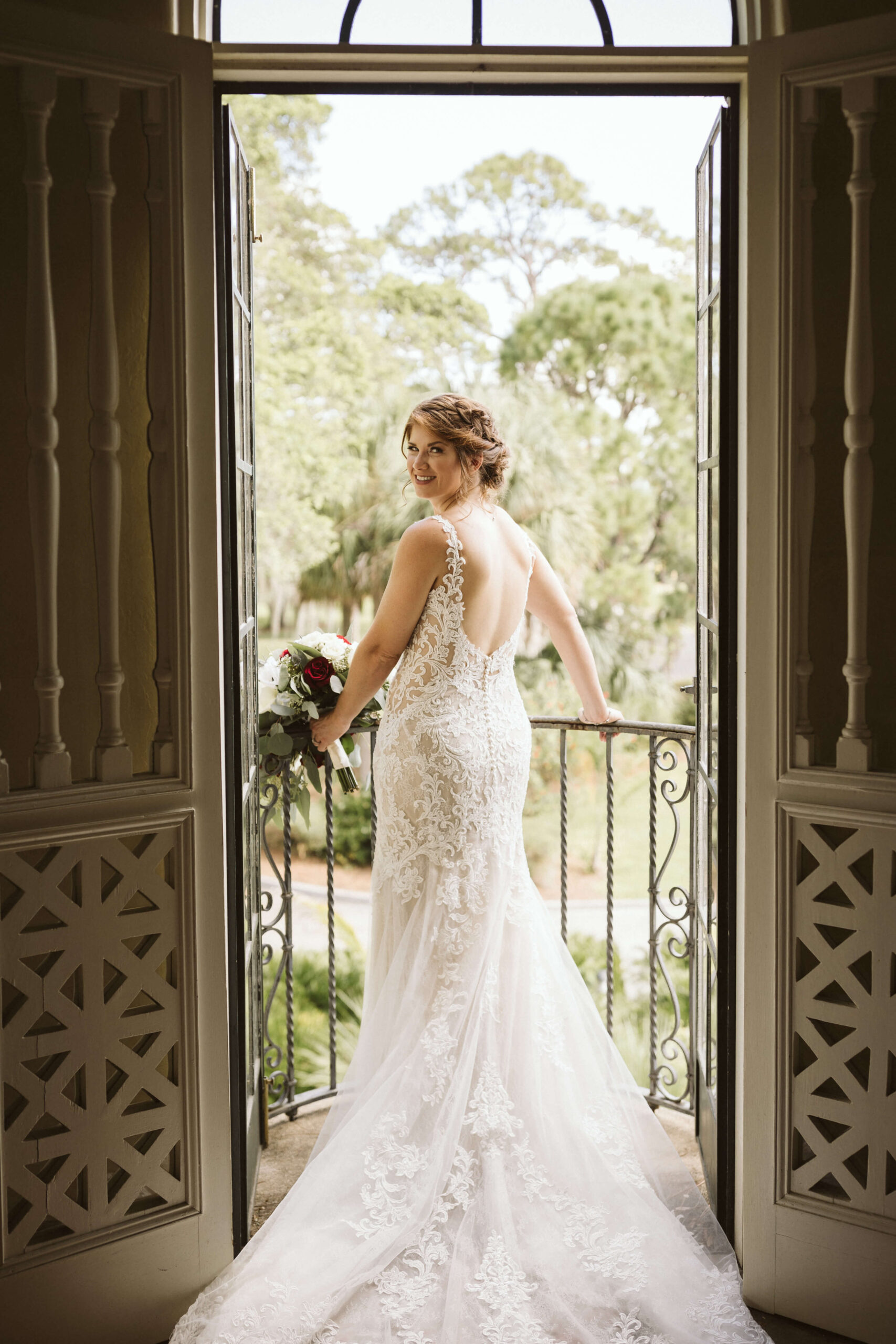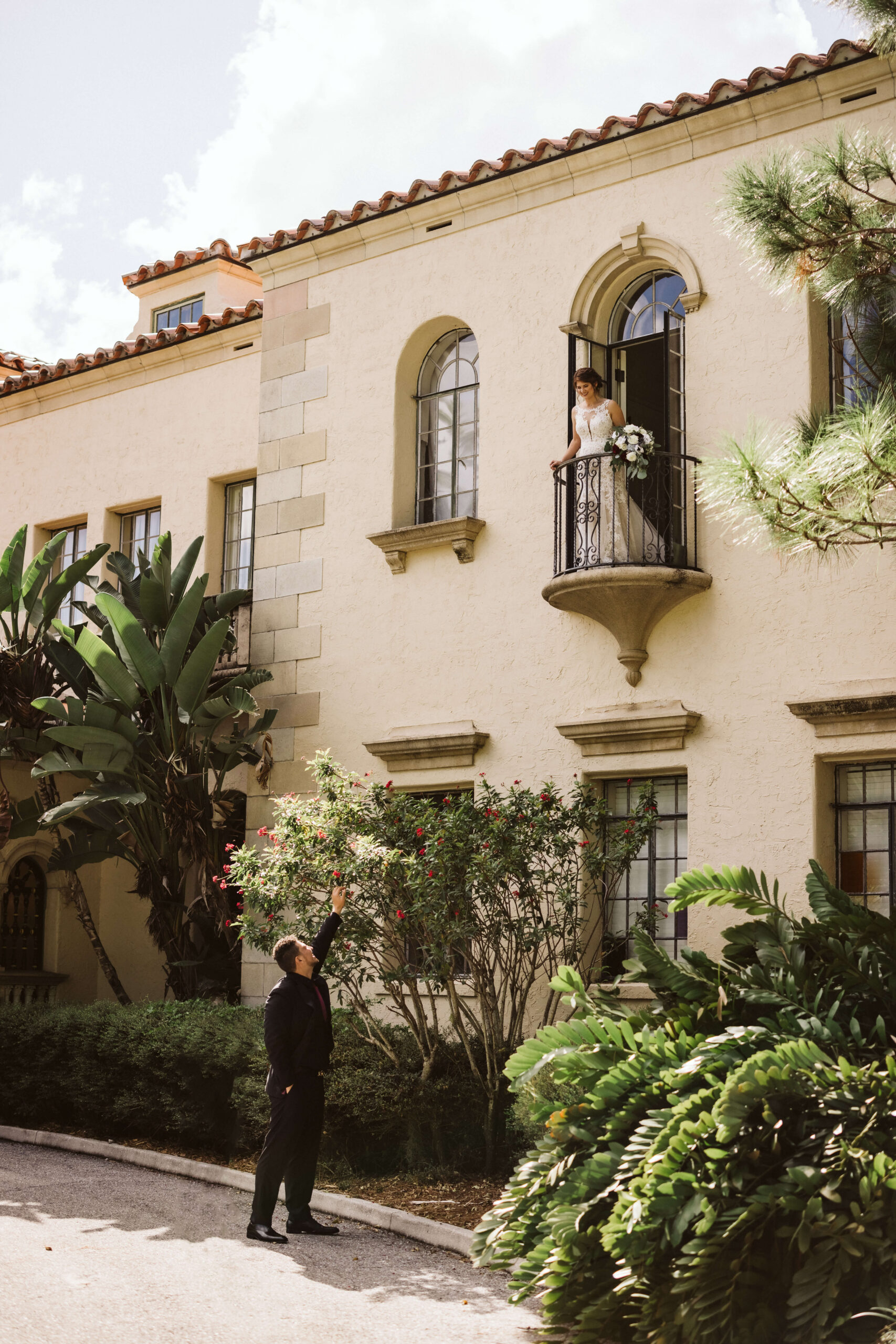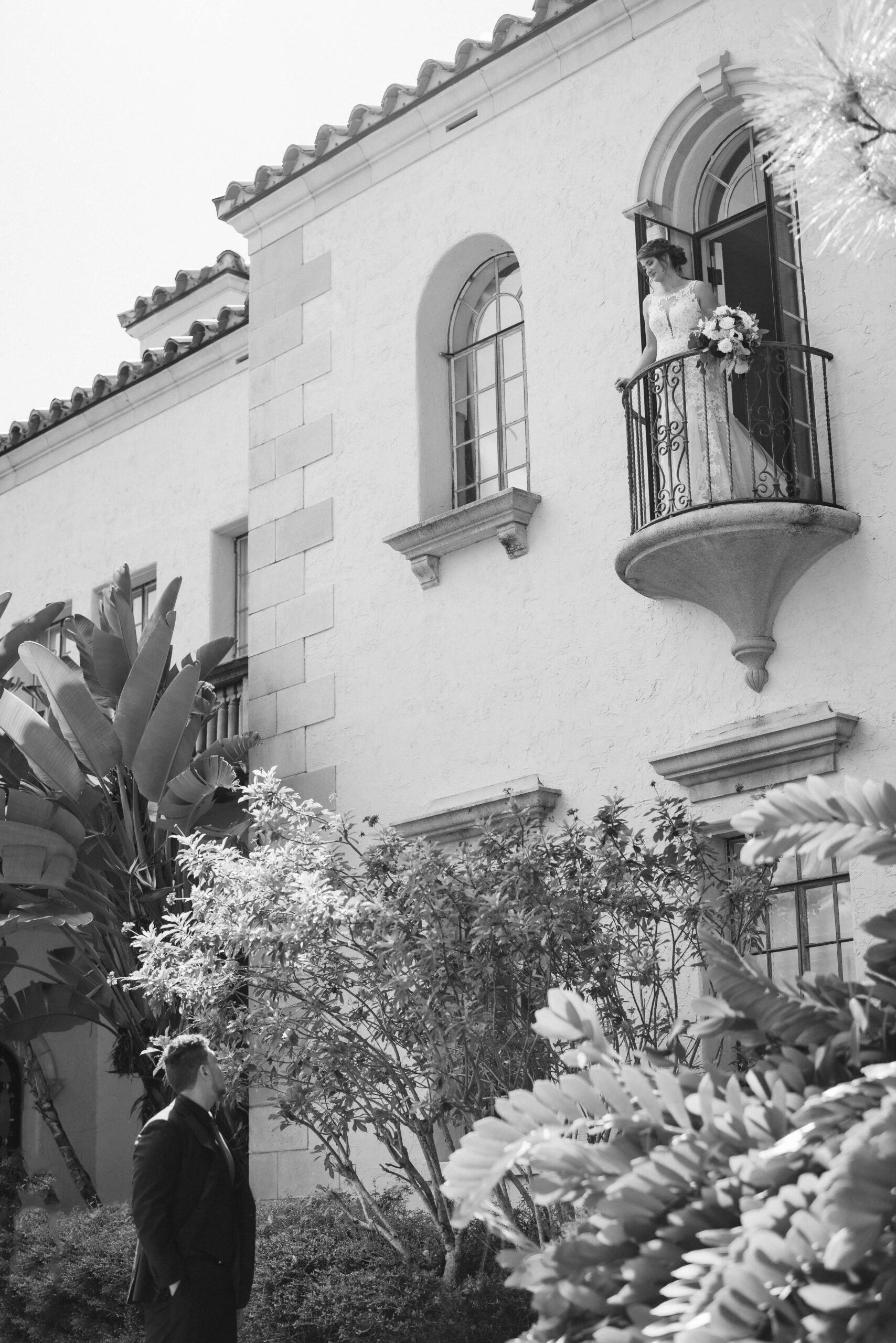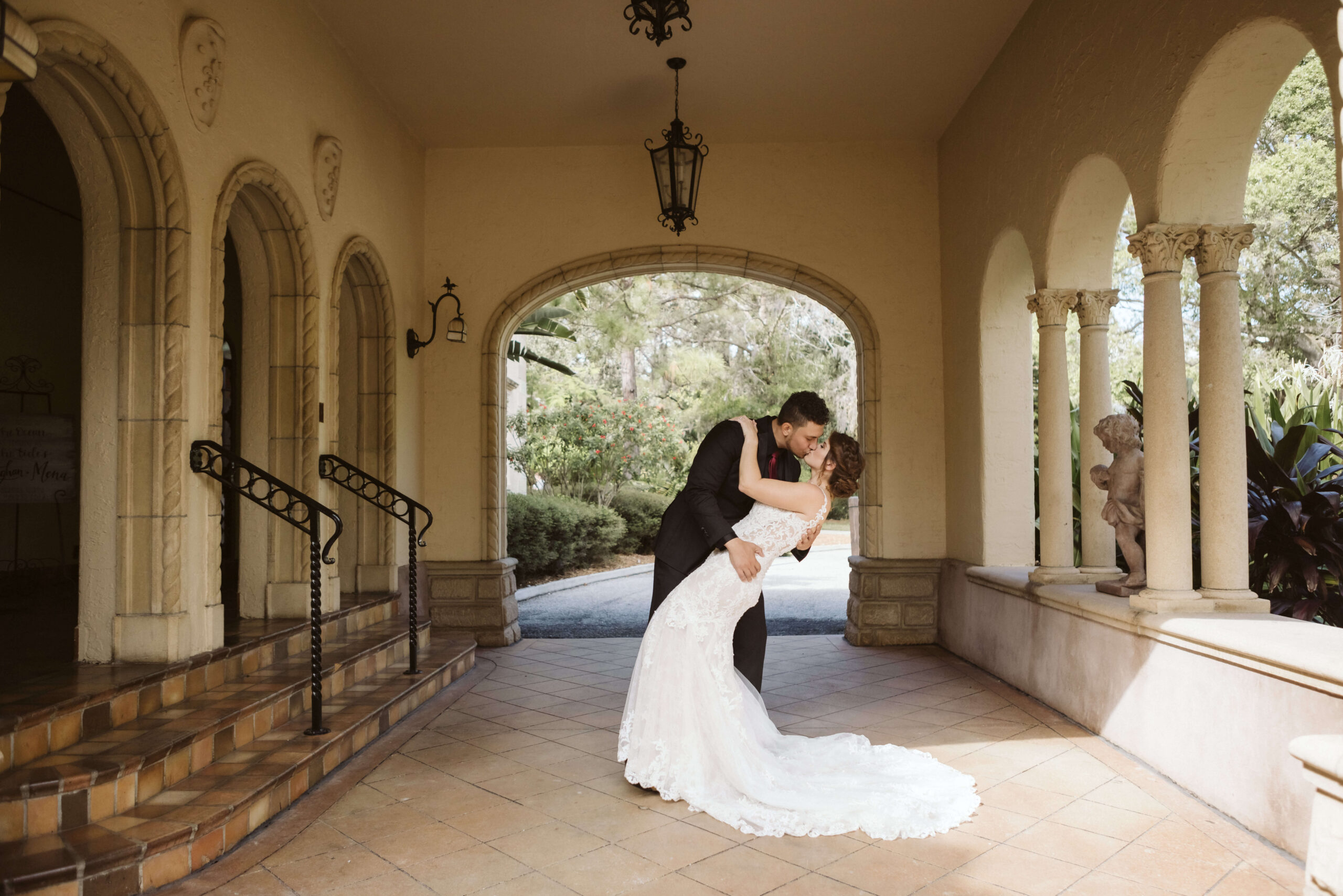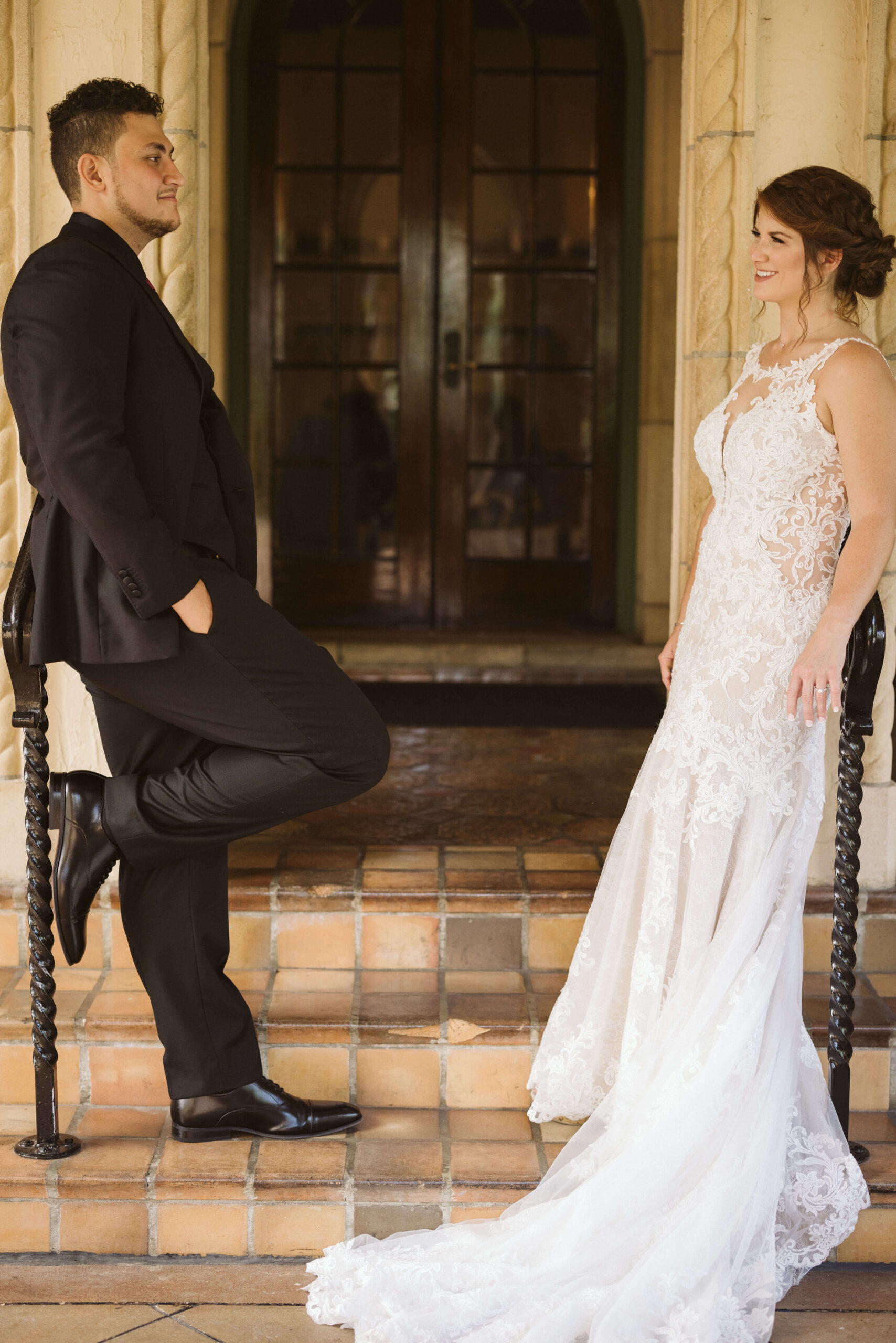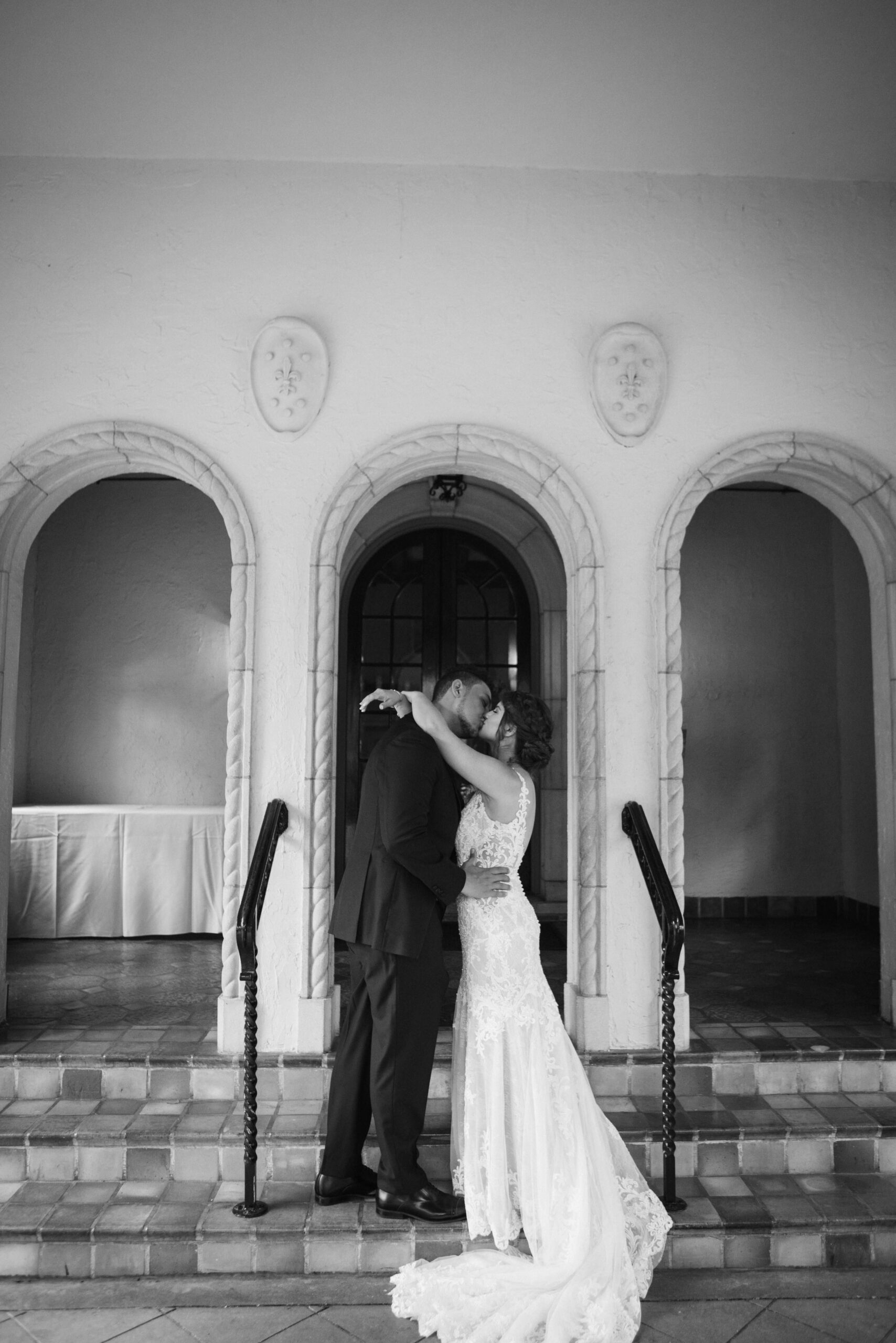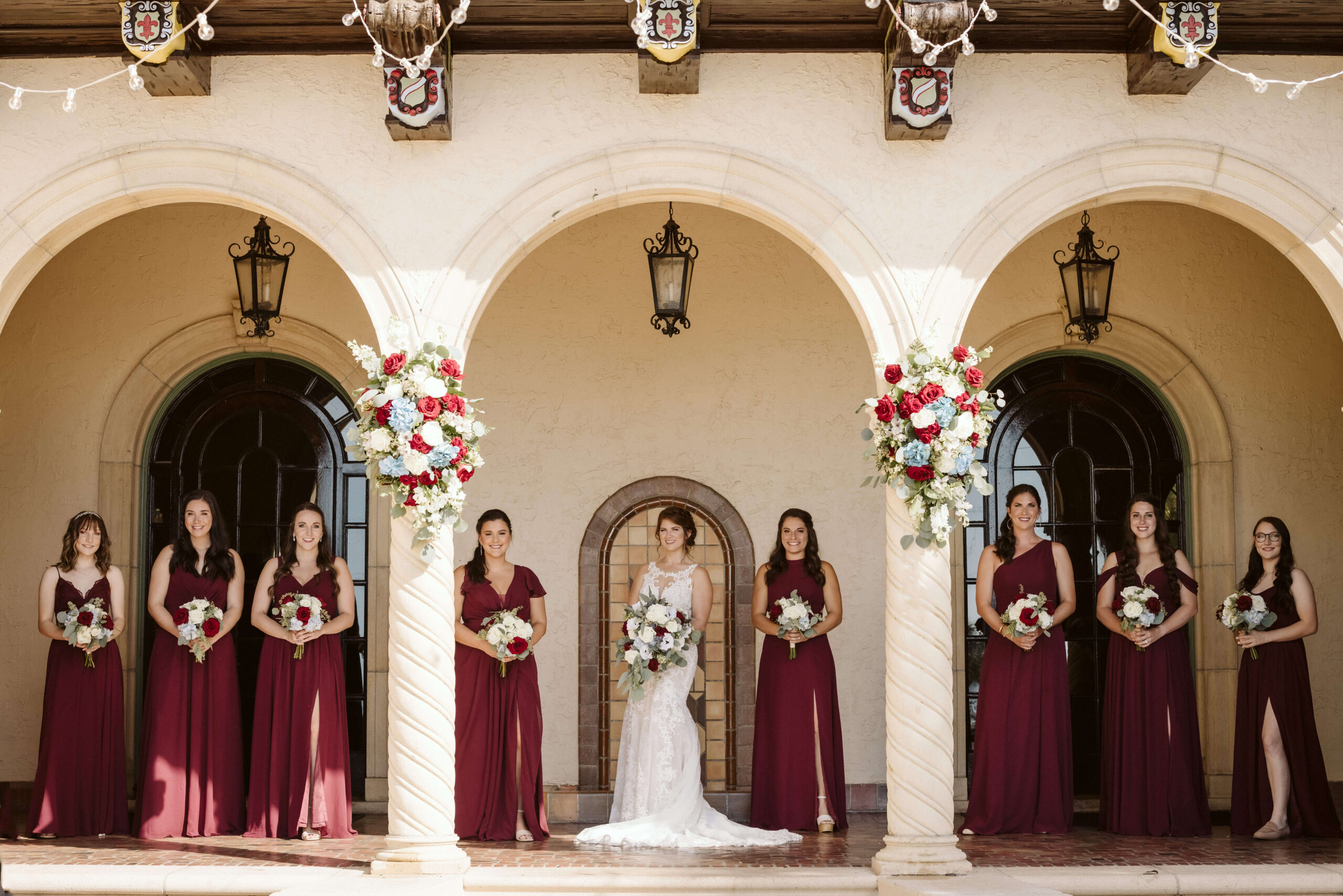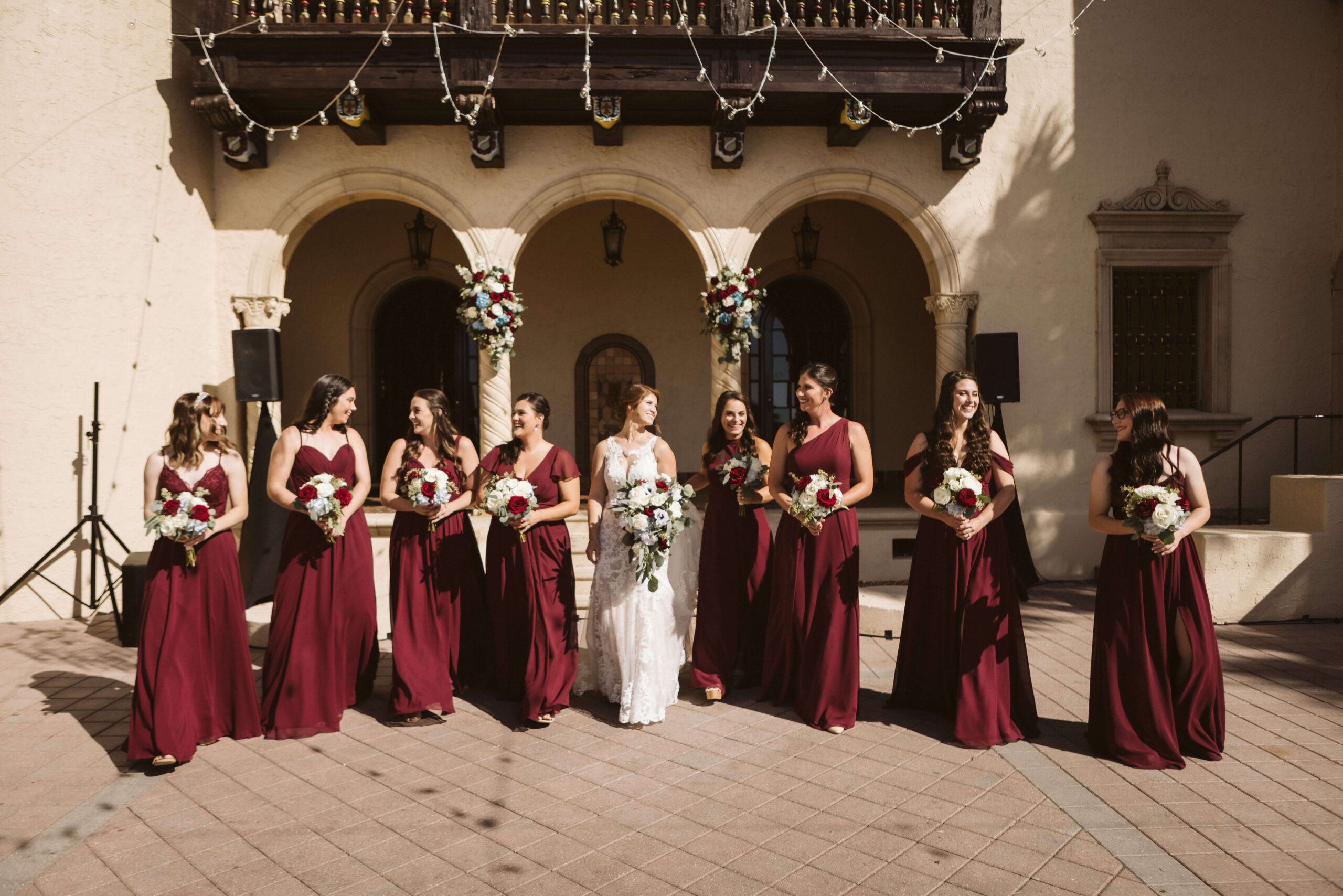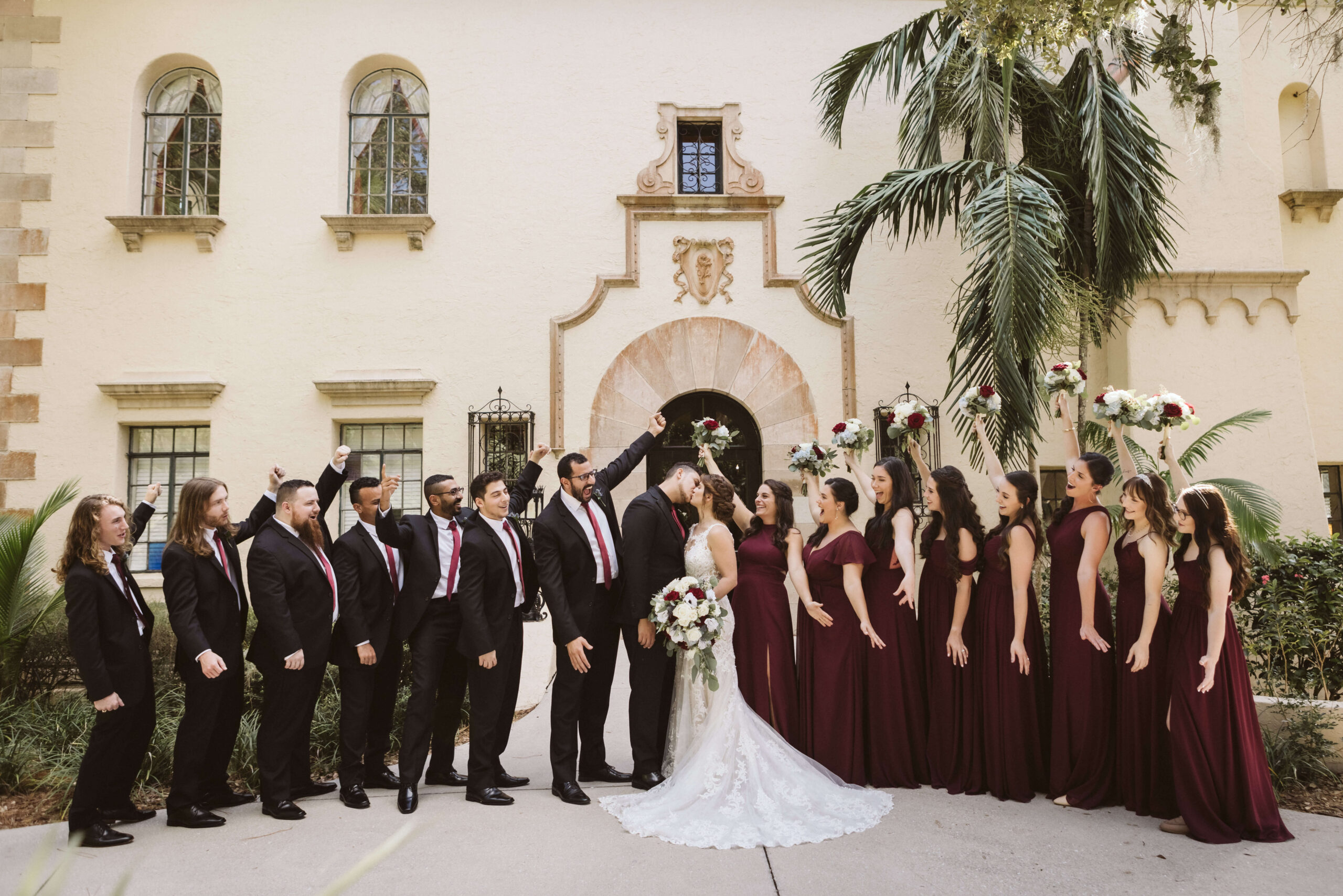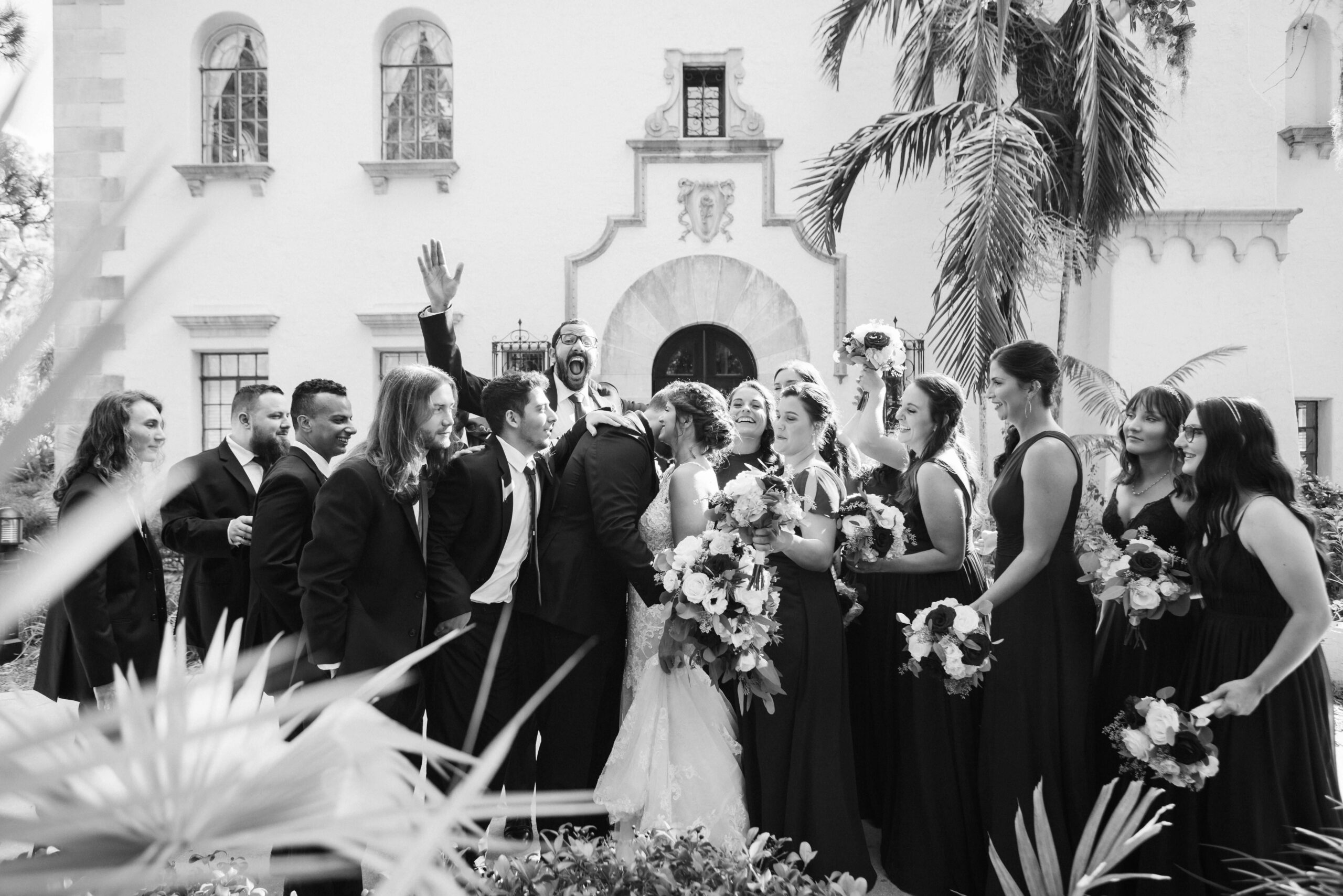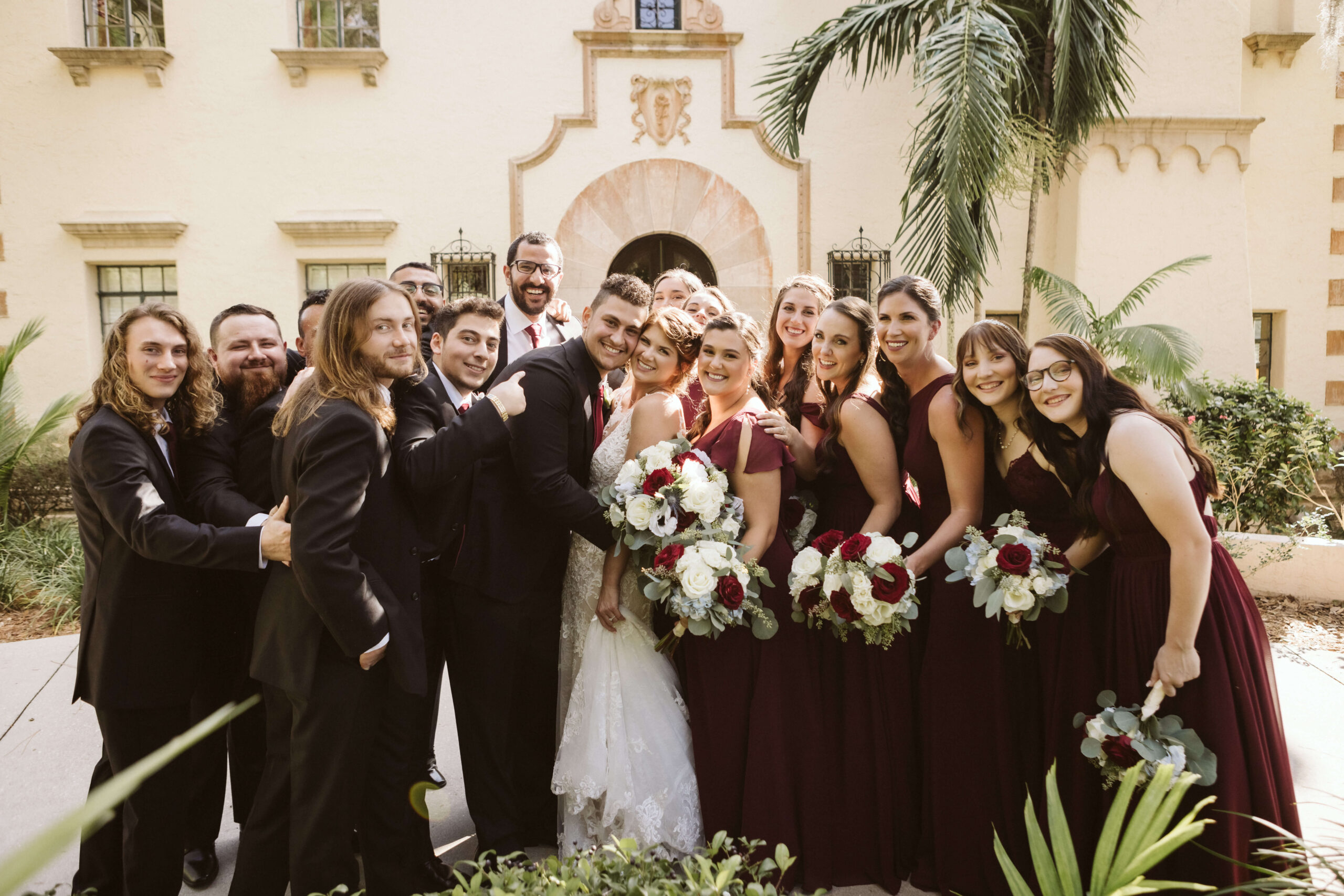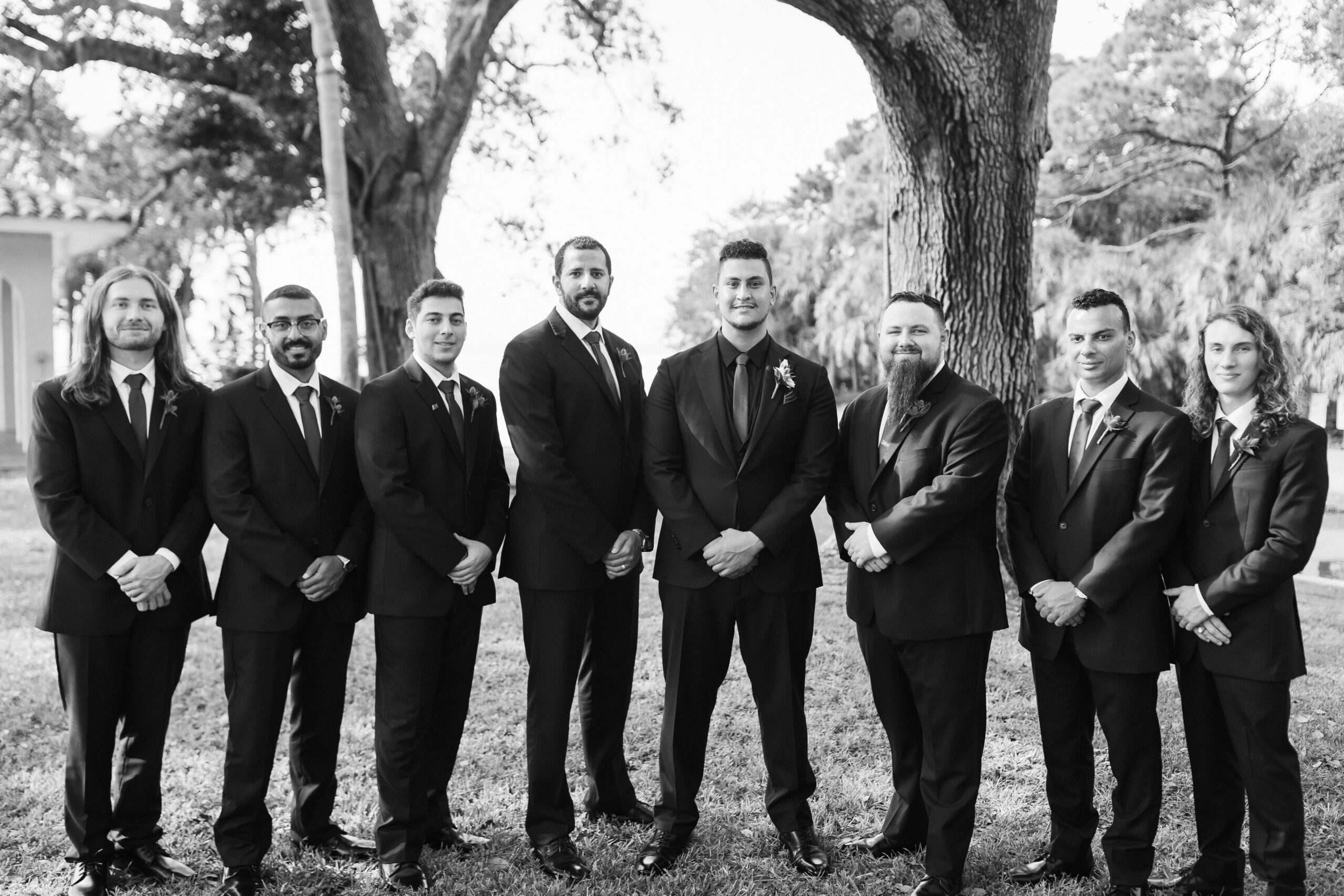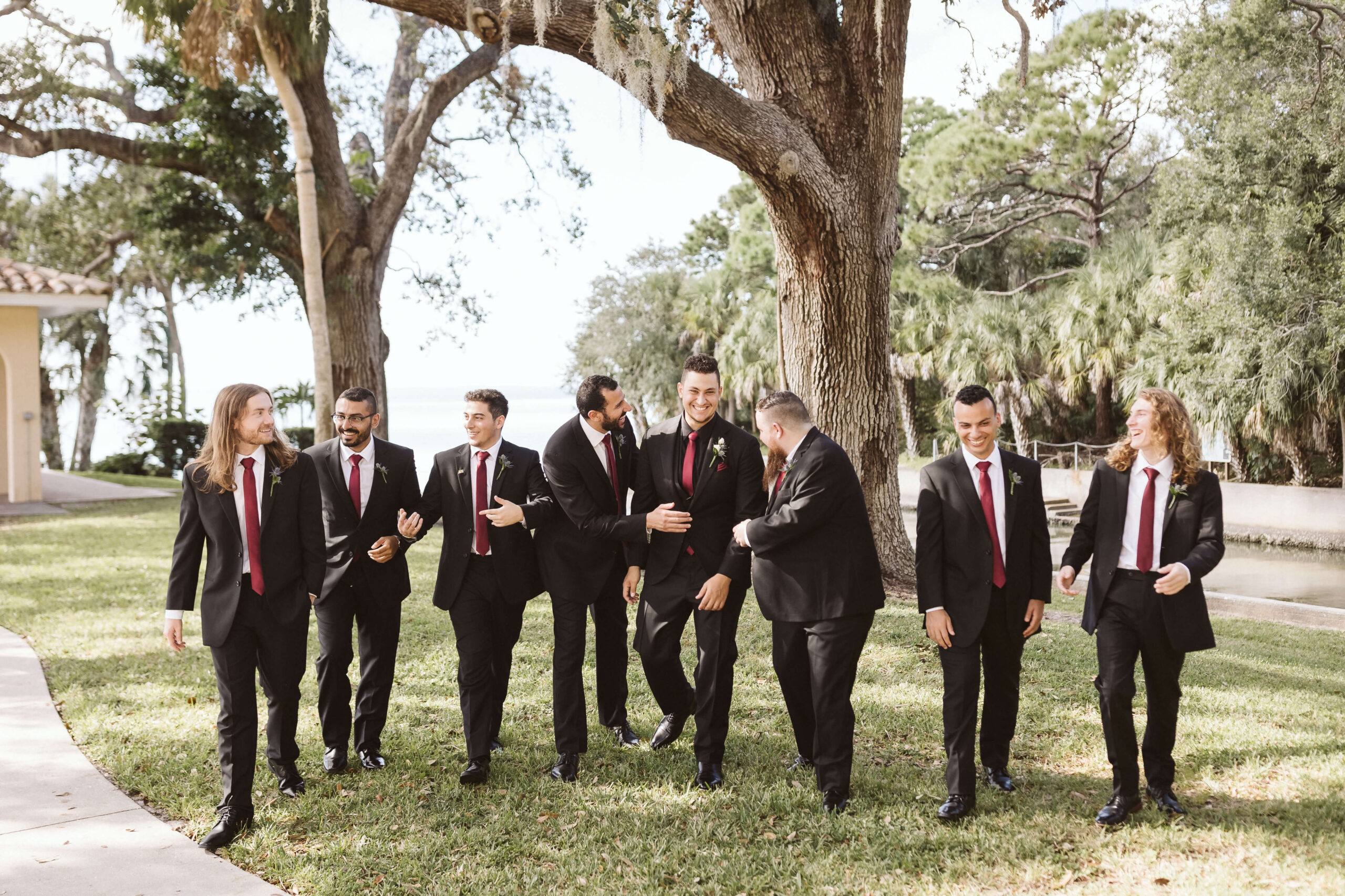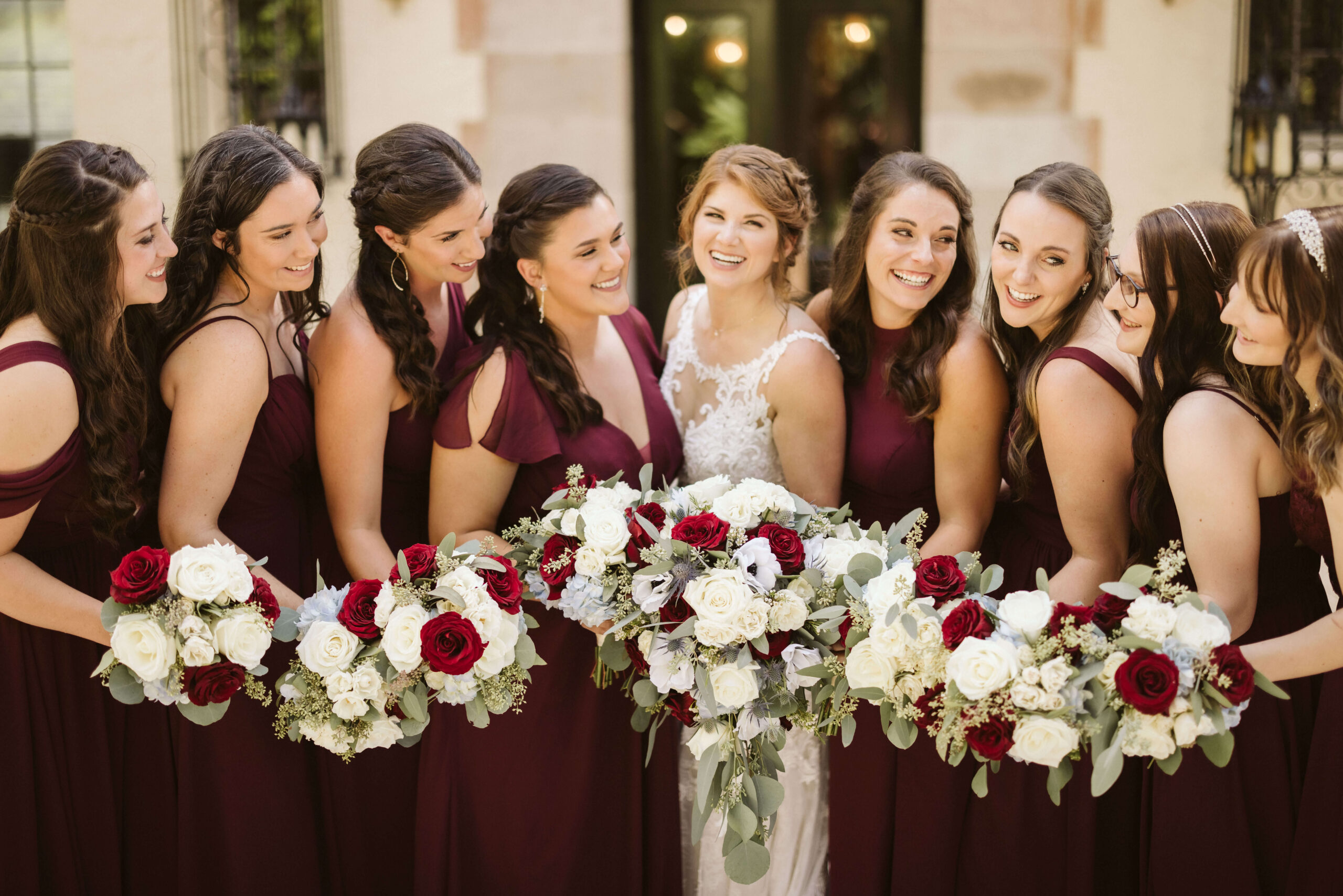 A First Look and Portraits in the Ship and Balcony Rooms
When capturing Meghan and Mena's oceanfront wedding, there were so many opportunities for gorgeous shots. The Powel Crosley Estate is truly a venue straight out of a fairytale and we definitely made sure to take full advantage of the estate's beautiful settings for Meghan and Mena's wedding photography.
For their first look photos, we headed into the Ship Room where not only did the two see each other for the first time but they also shared an intimate, personal vow reading prior to their ceremony. The room's architecture, with its wooden walls and dome ceiling, was a beautiful cozy atmosphere that enveloped the couple during their private moment.
Afterward, we headed to the Balcony room. With Mediterranean-style architecture, tall windows, and majestic balconies, you can almost imagine a princess wistfully gazing out at the water, waiting for her long-lost love to return from a voyage out at sea. That's exactly how Meghan looked as she posed, framed by sunlight, in front of an exquisite, intricate window. However, she did not have to wait long for her prince to join her. We took advantage of the balcony scene and took some Romeo and Juliet style balcony photos during their bride and groom session before heading to the lawn for their oceanfront ceremony.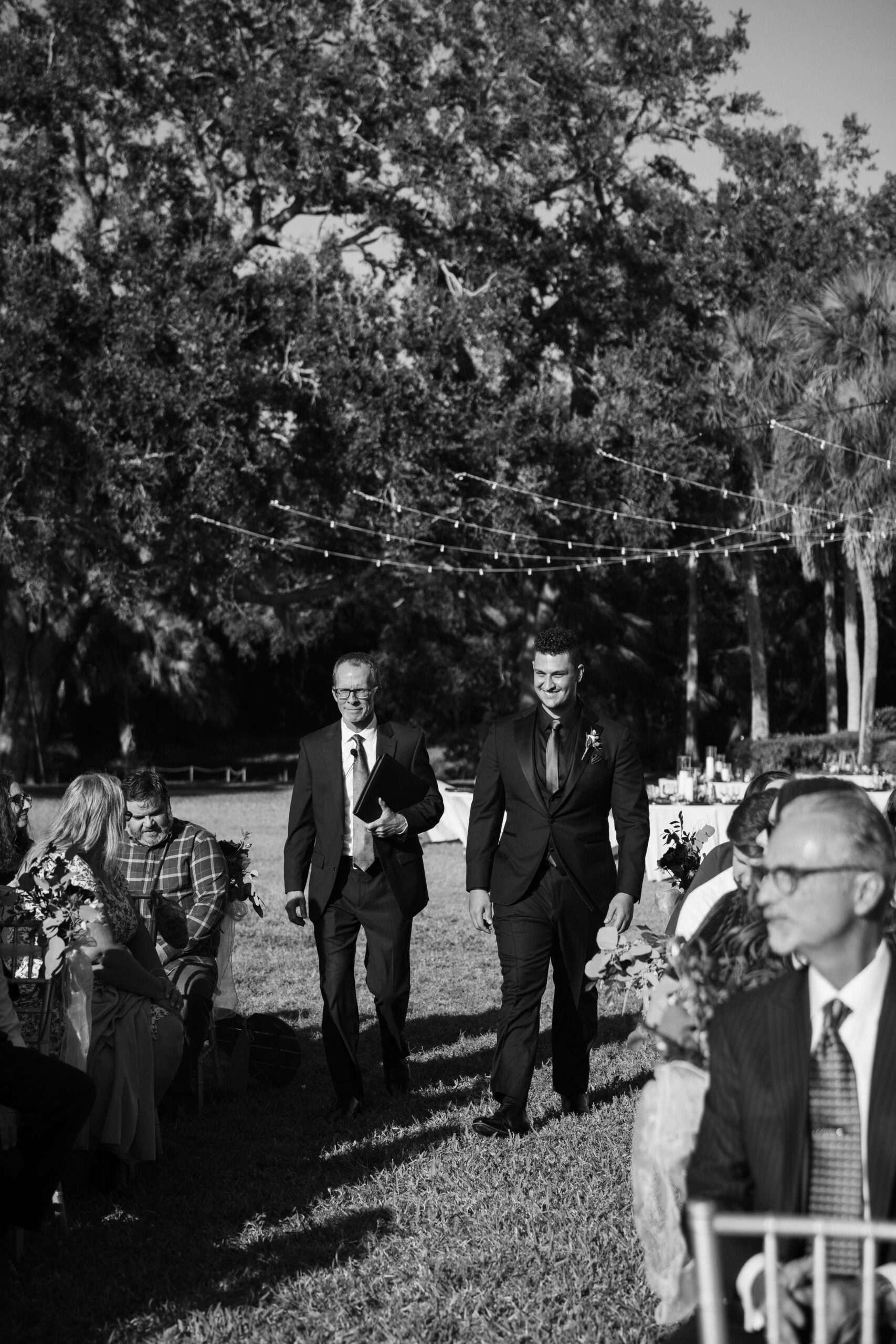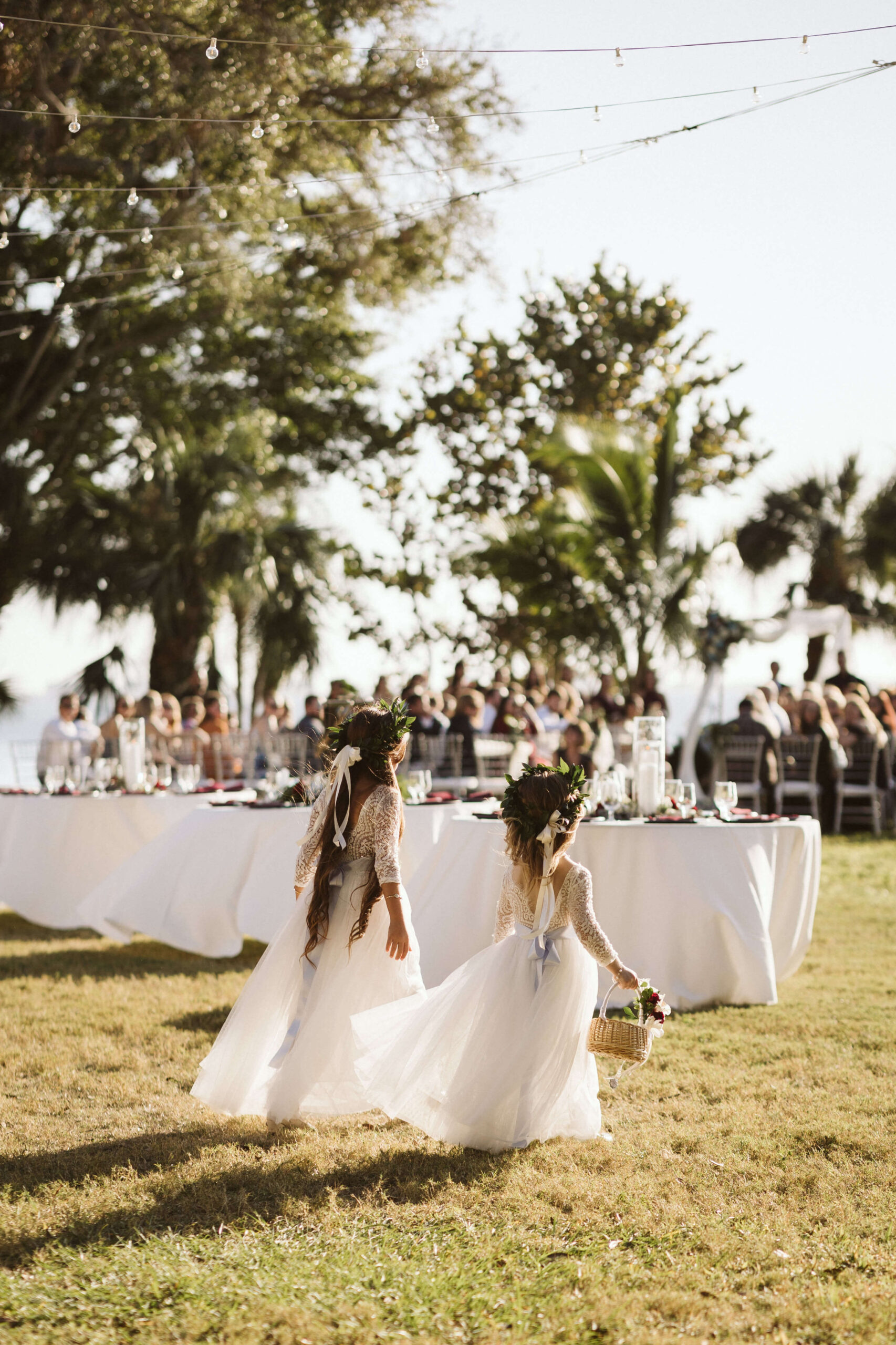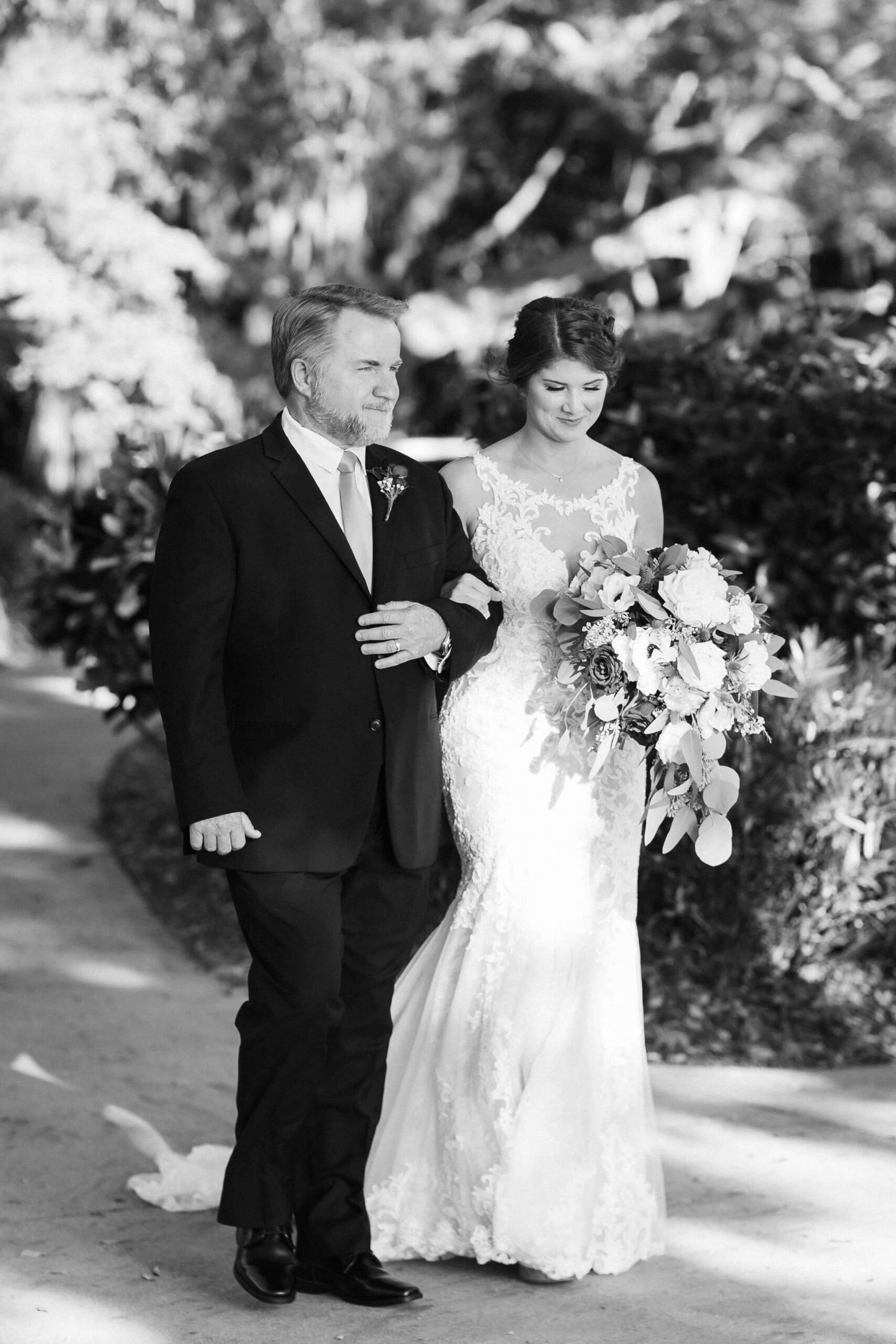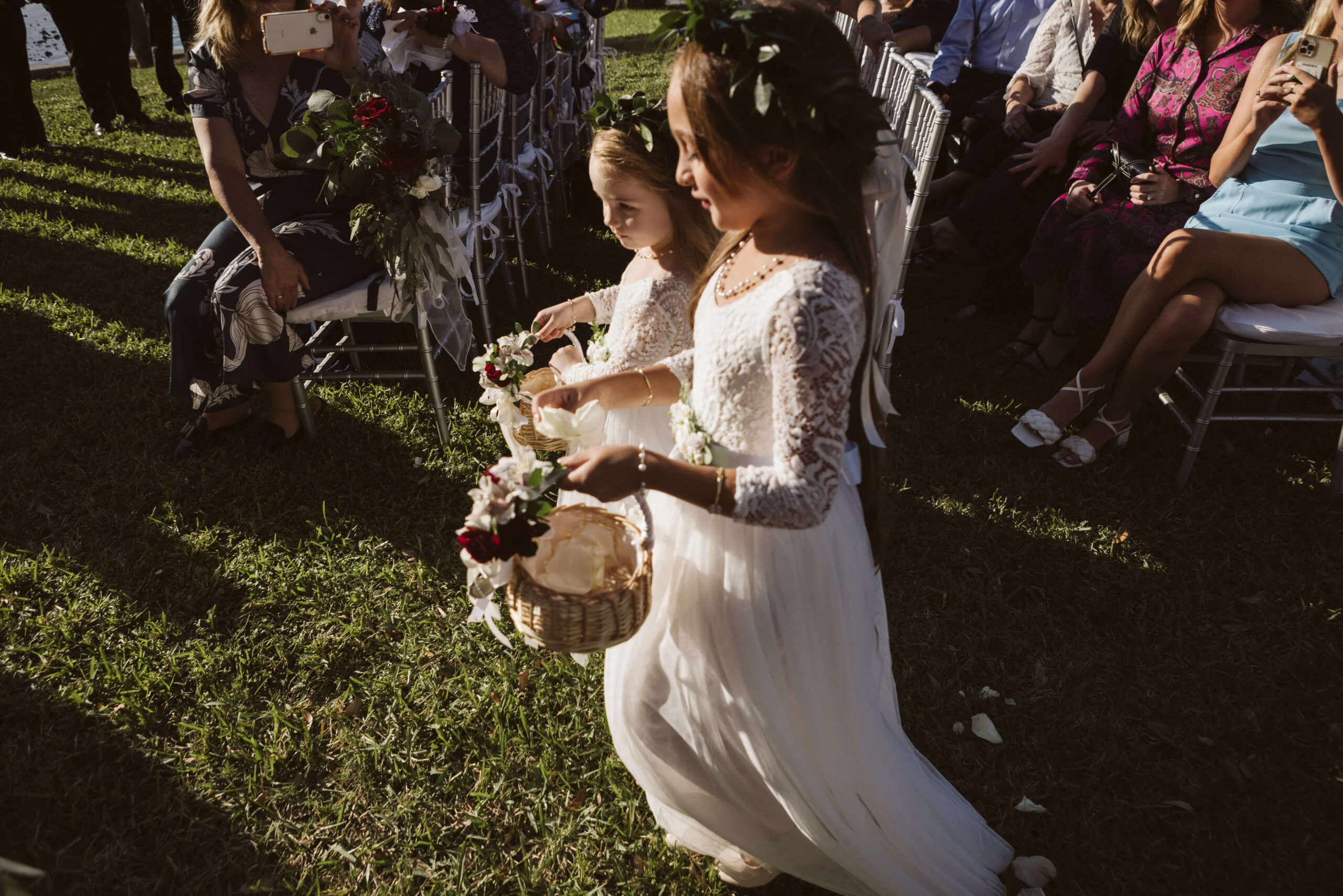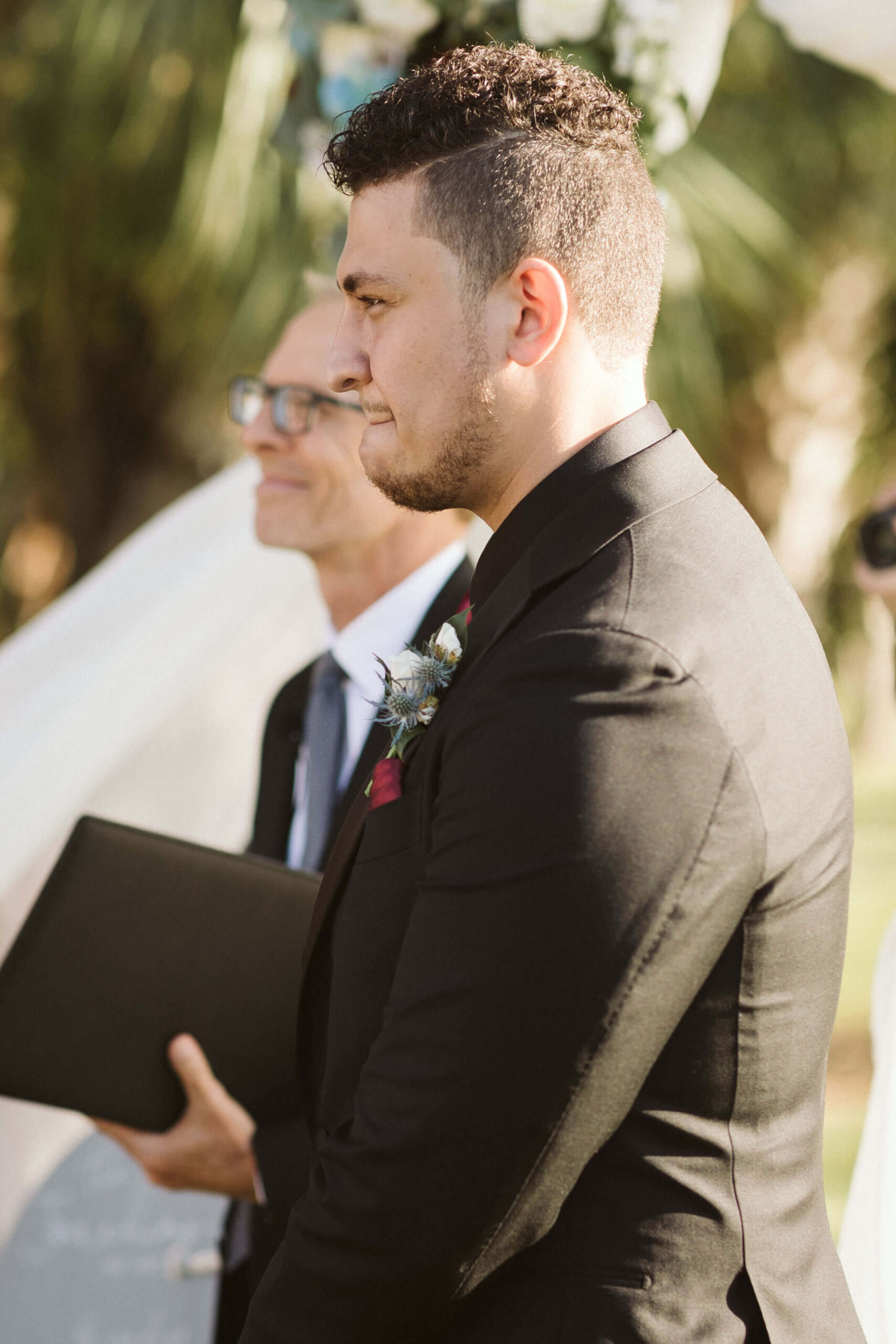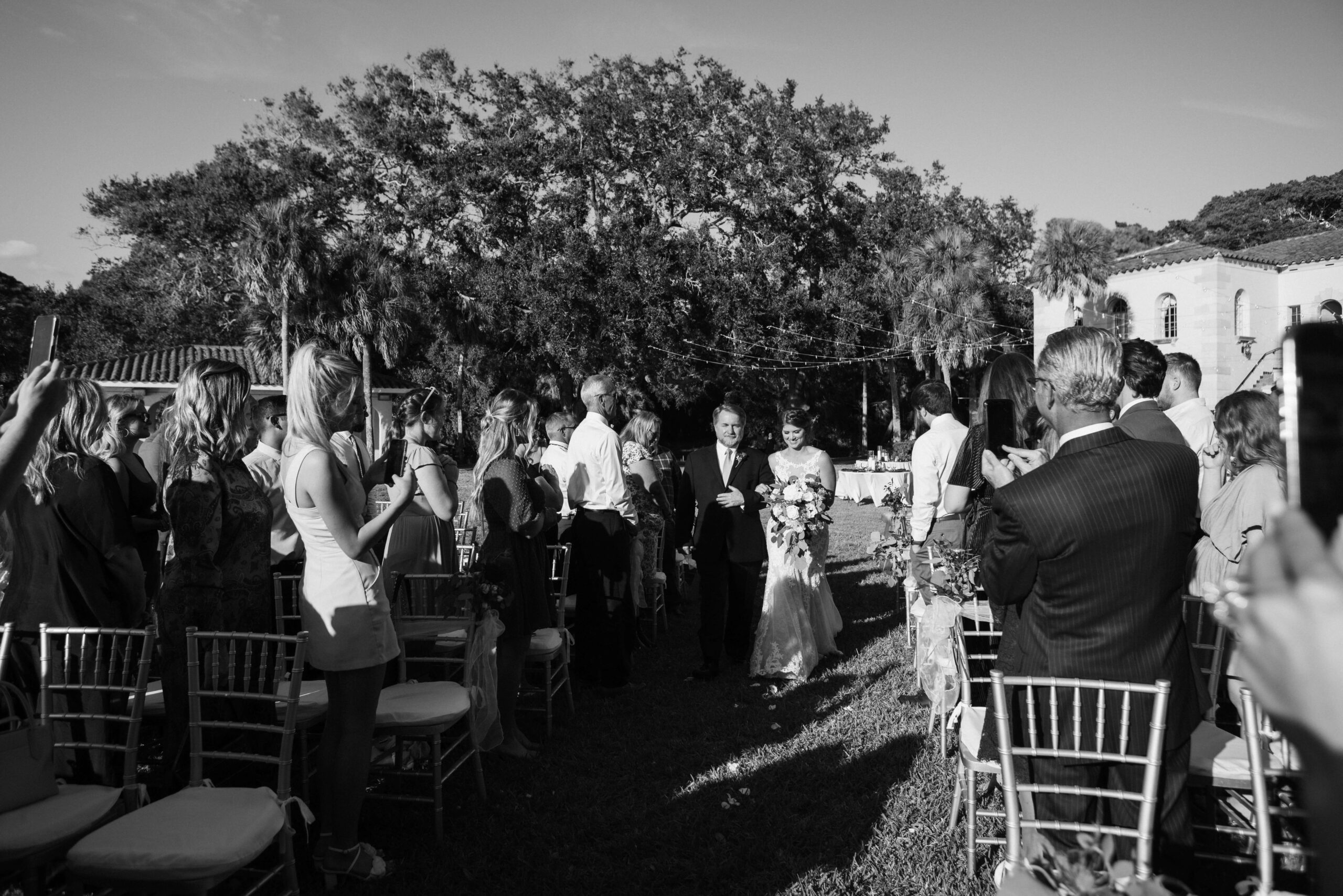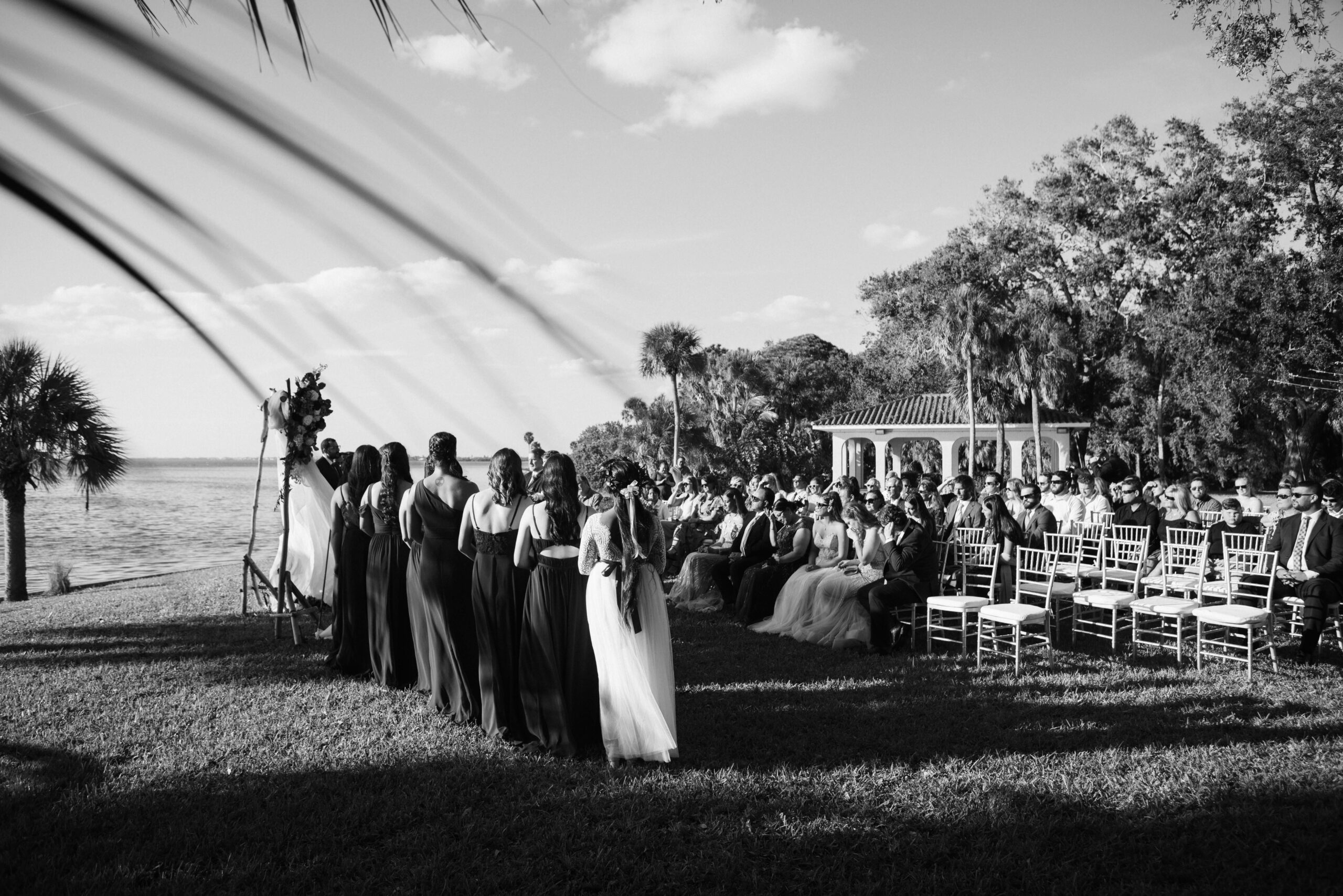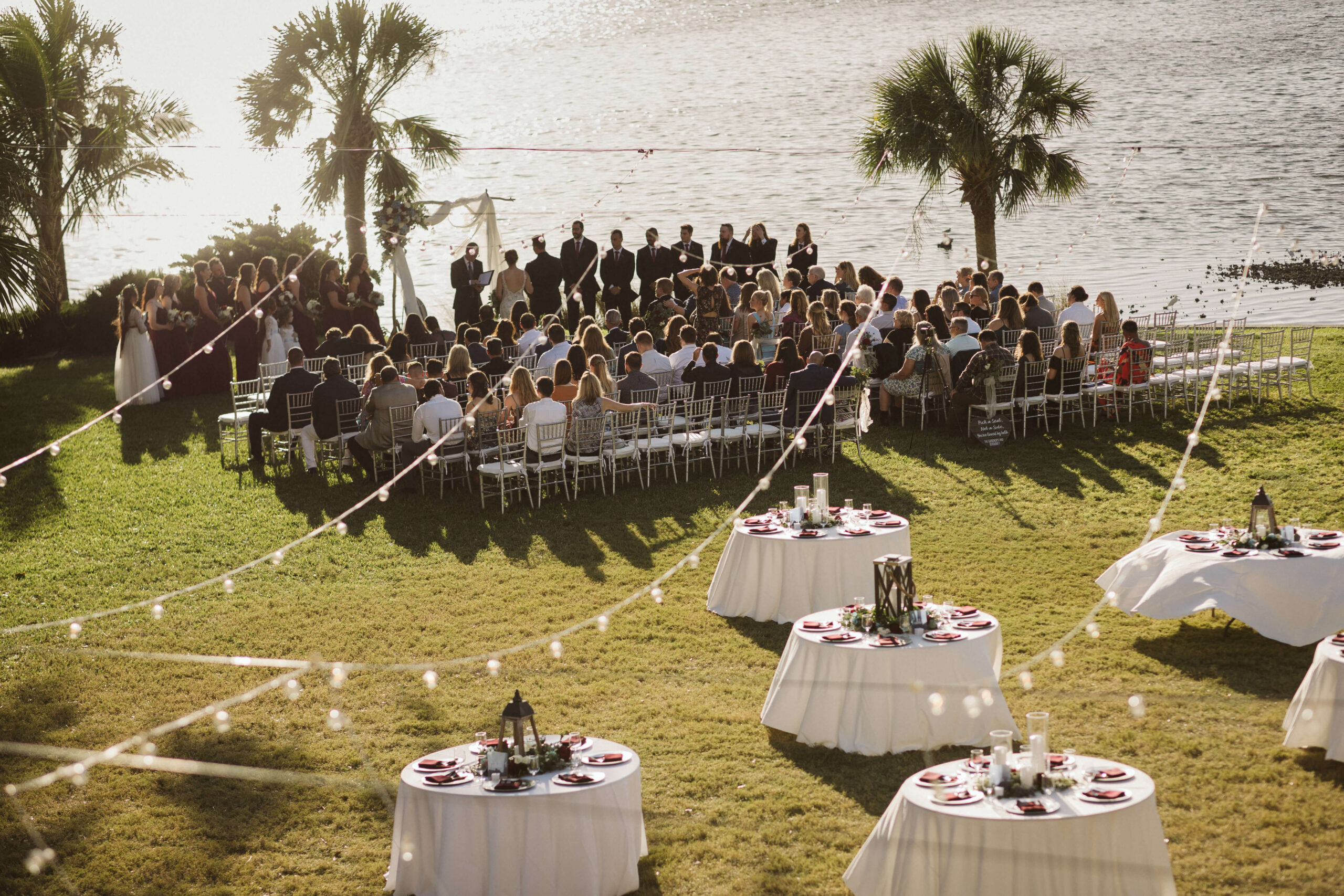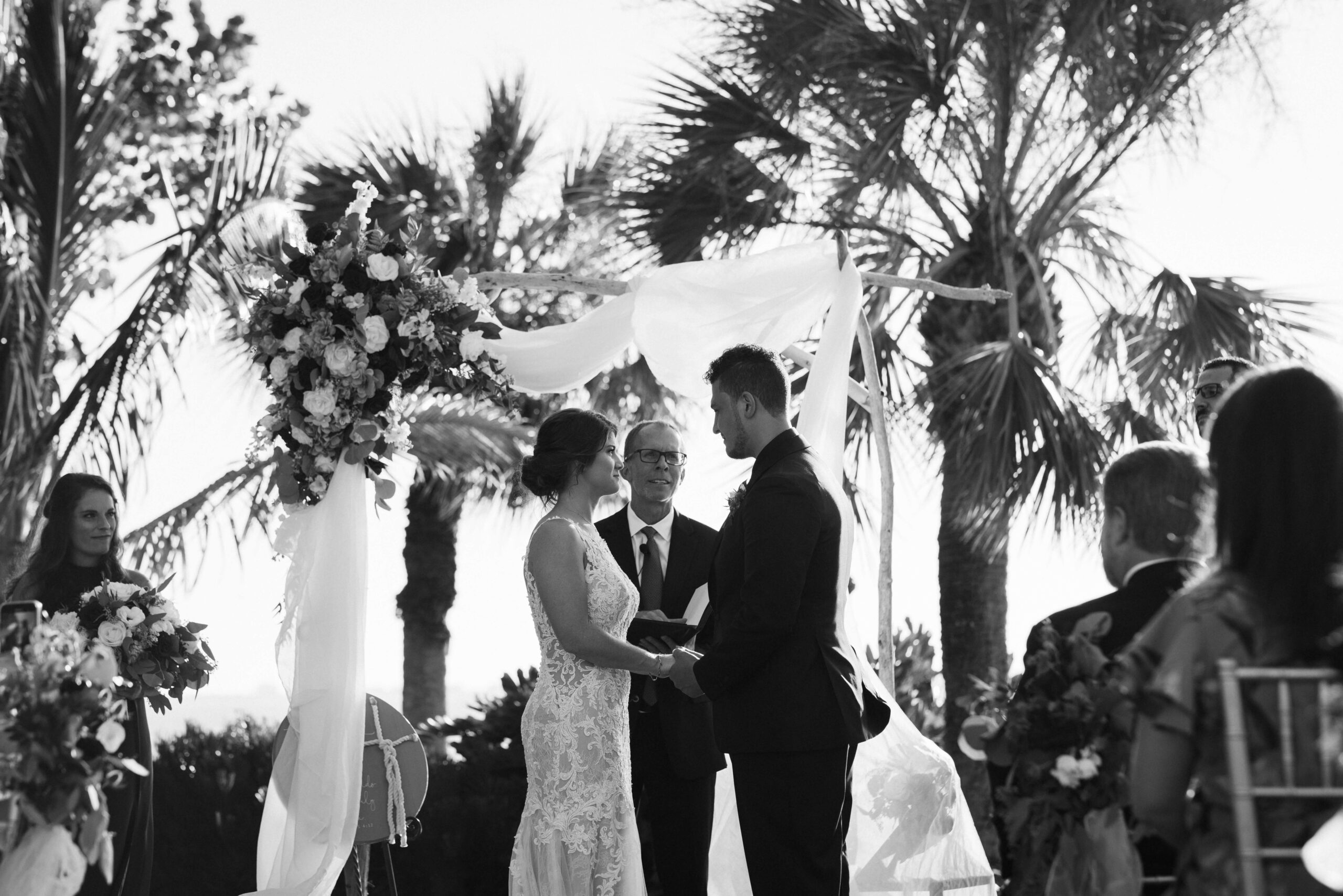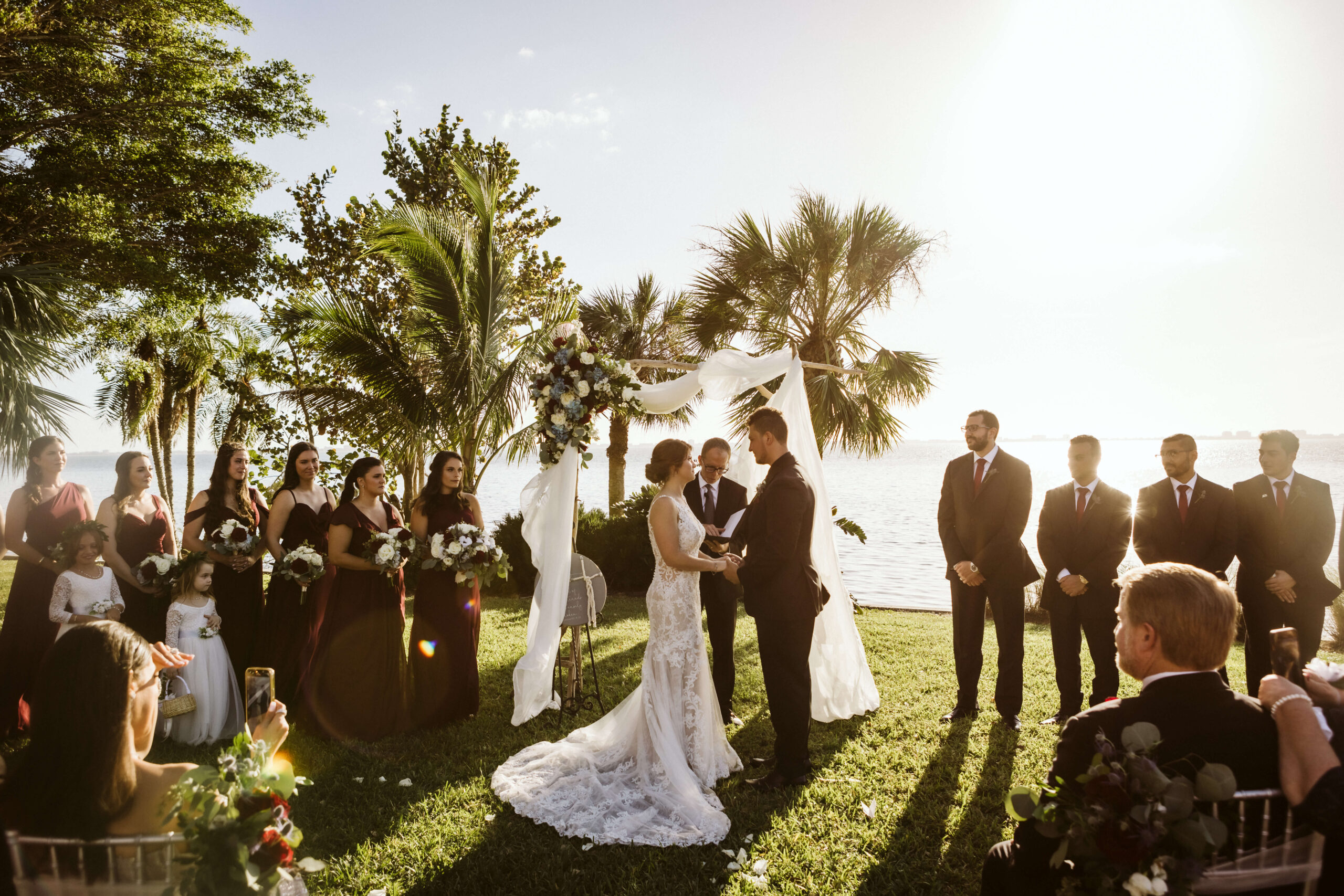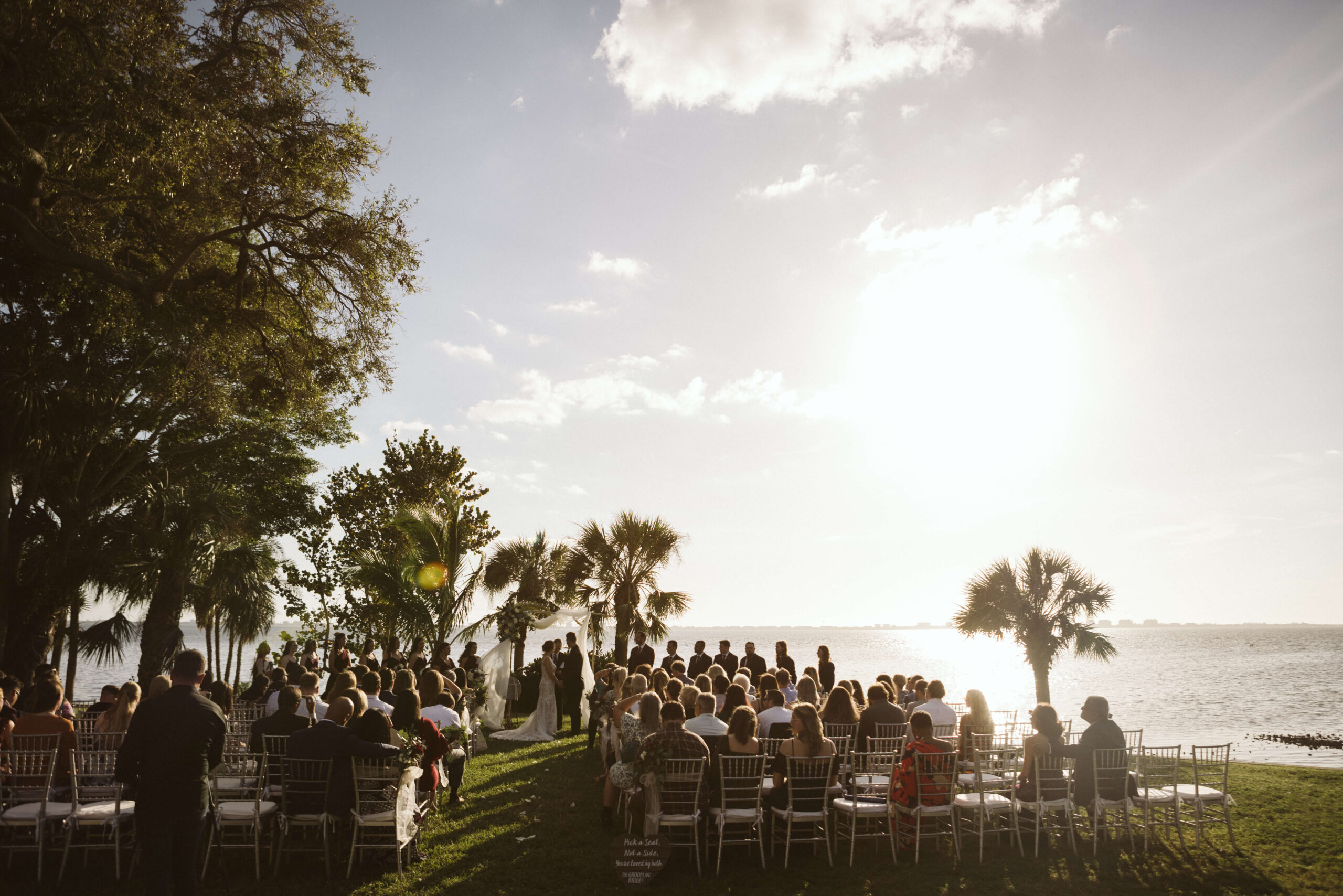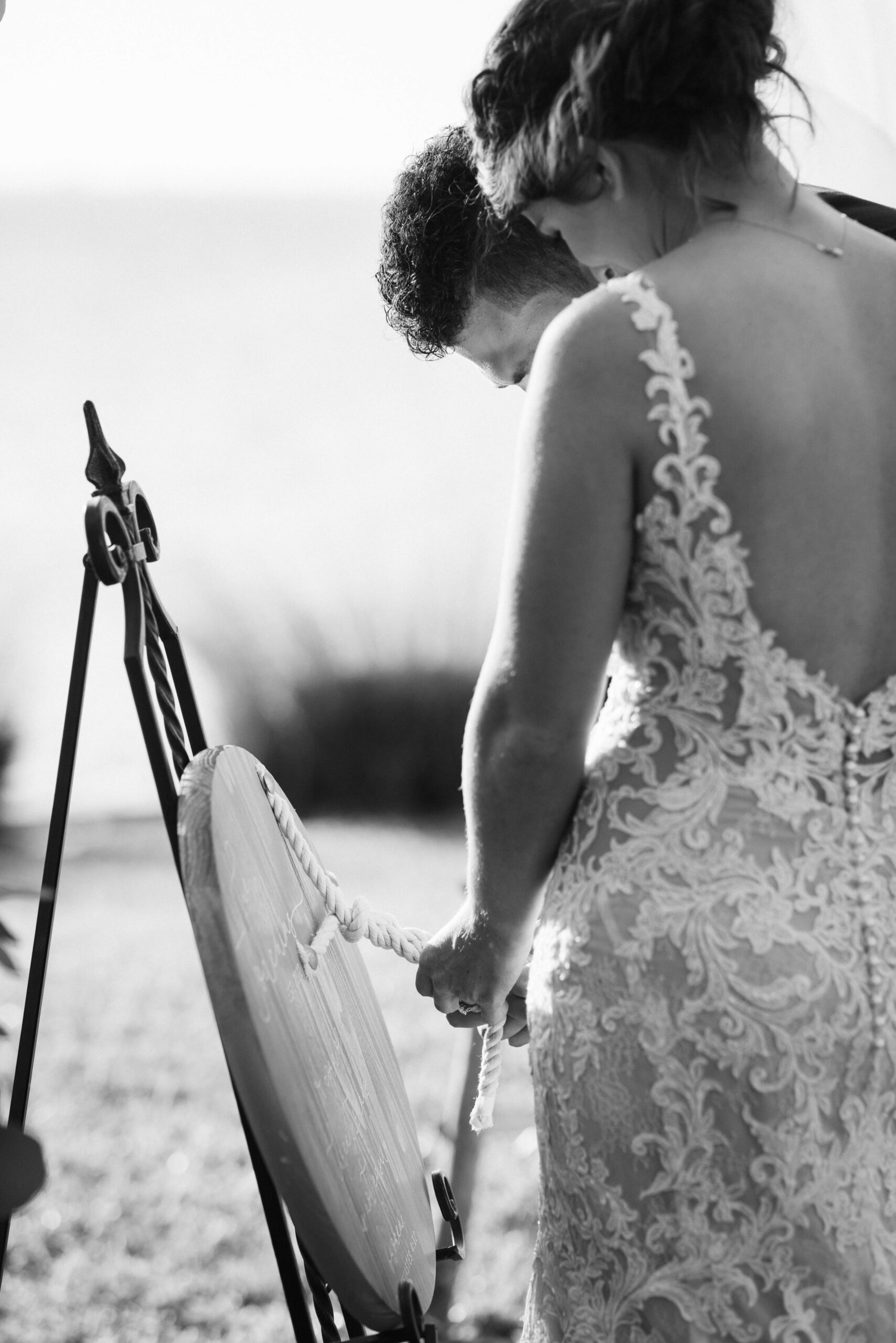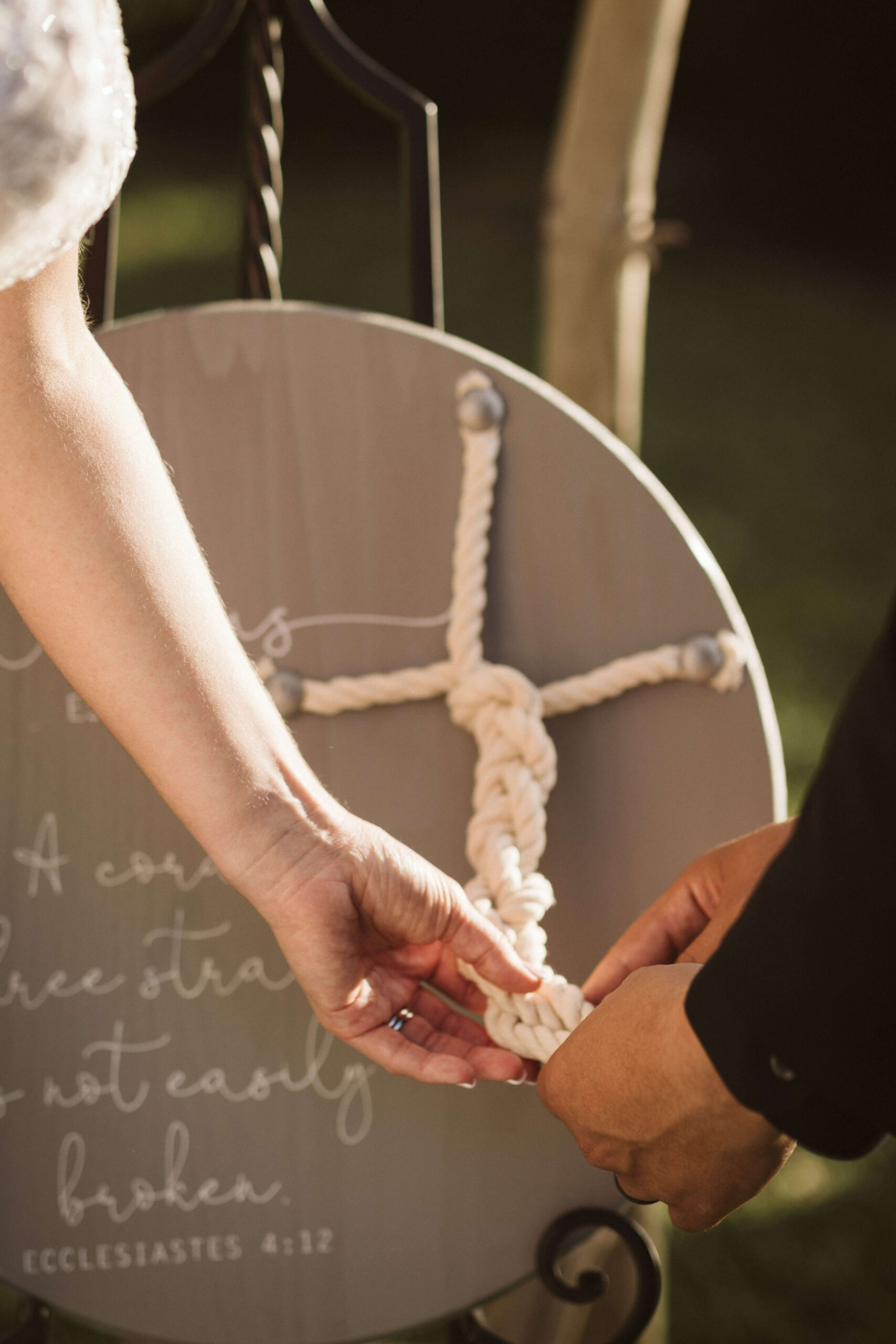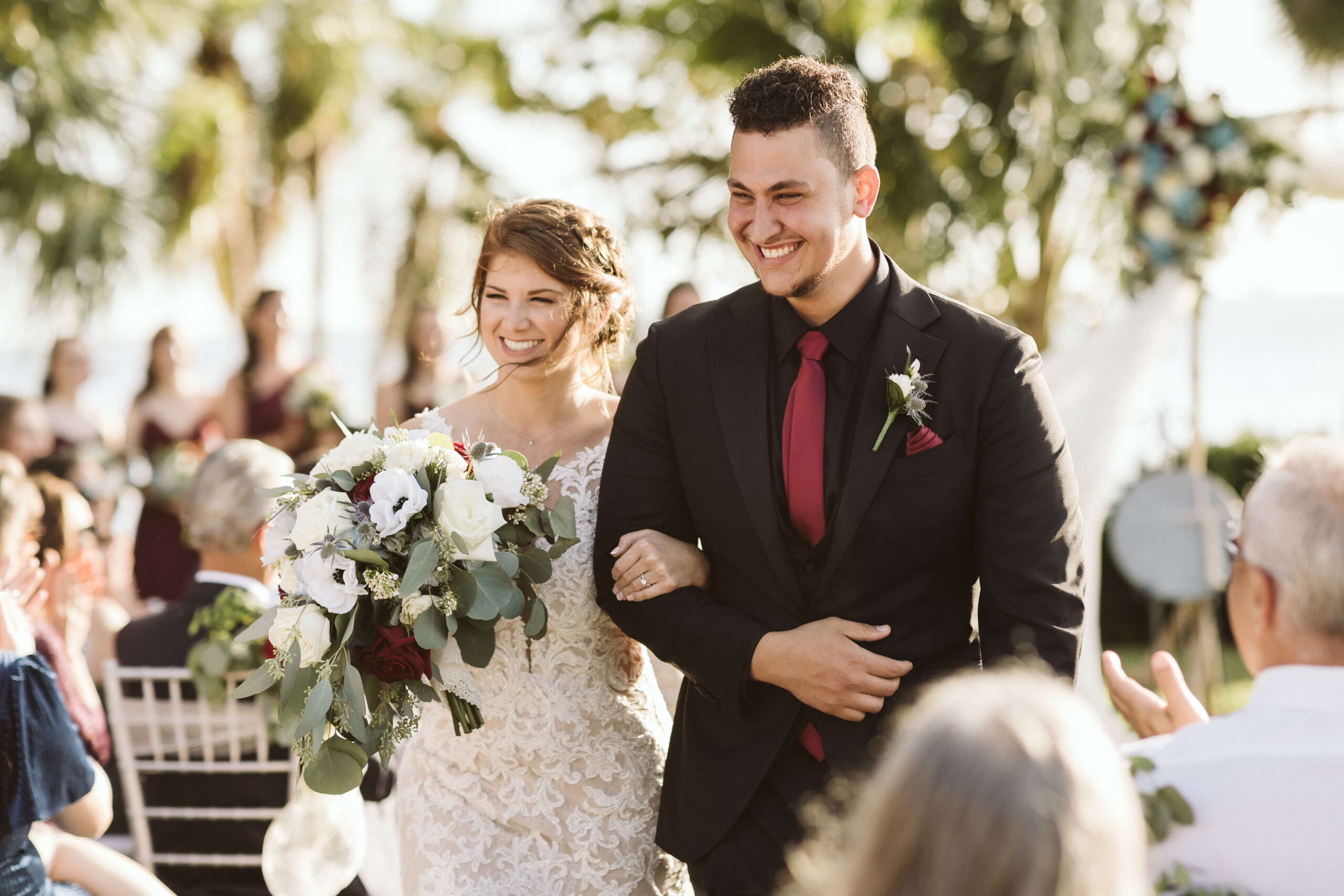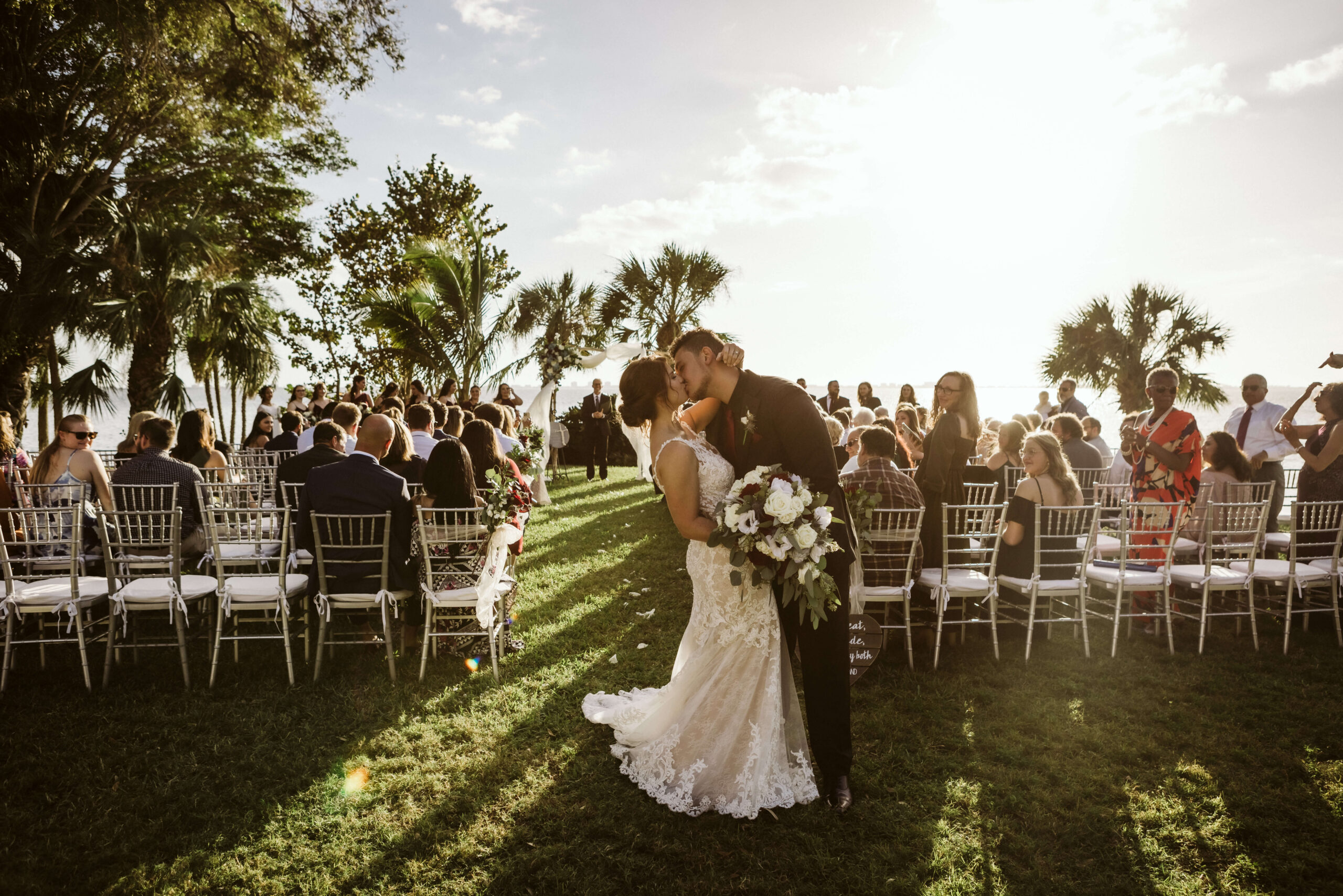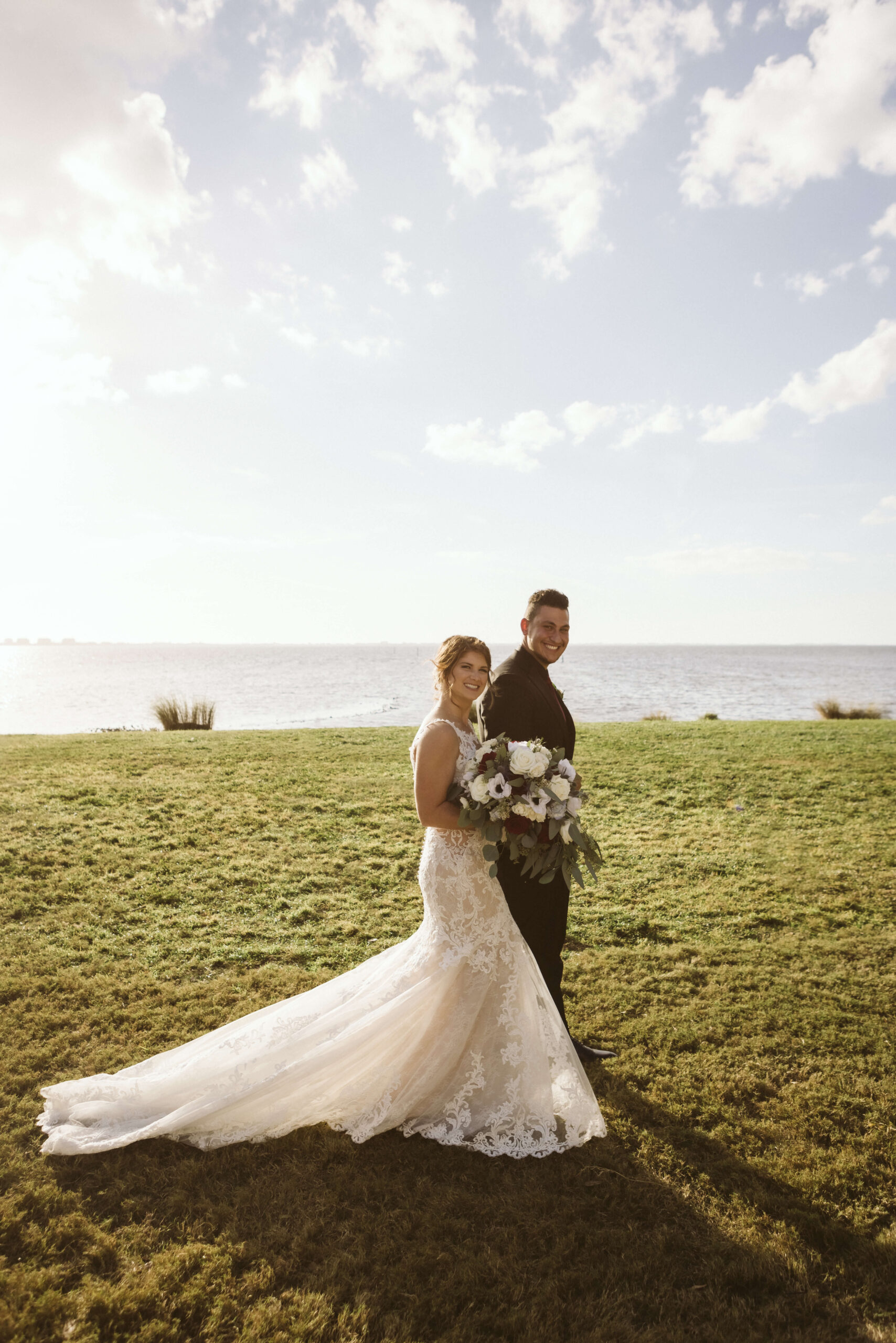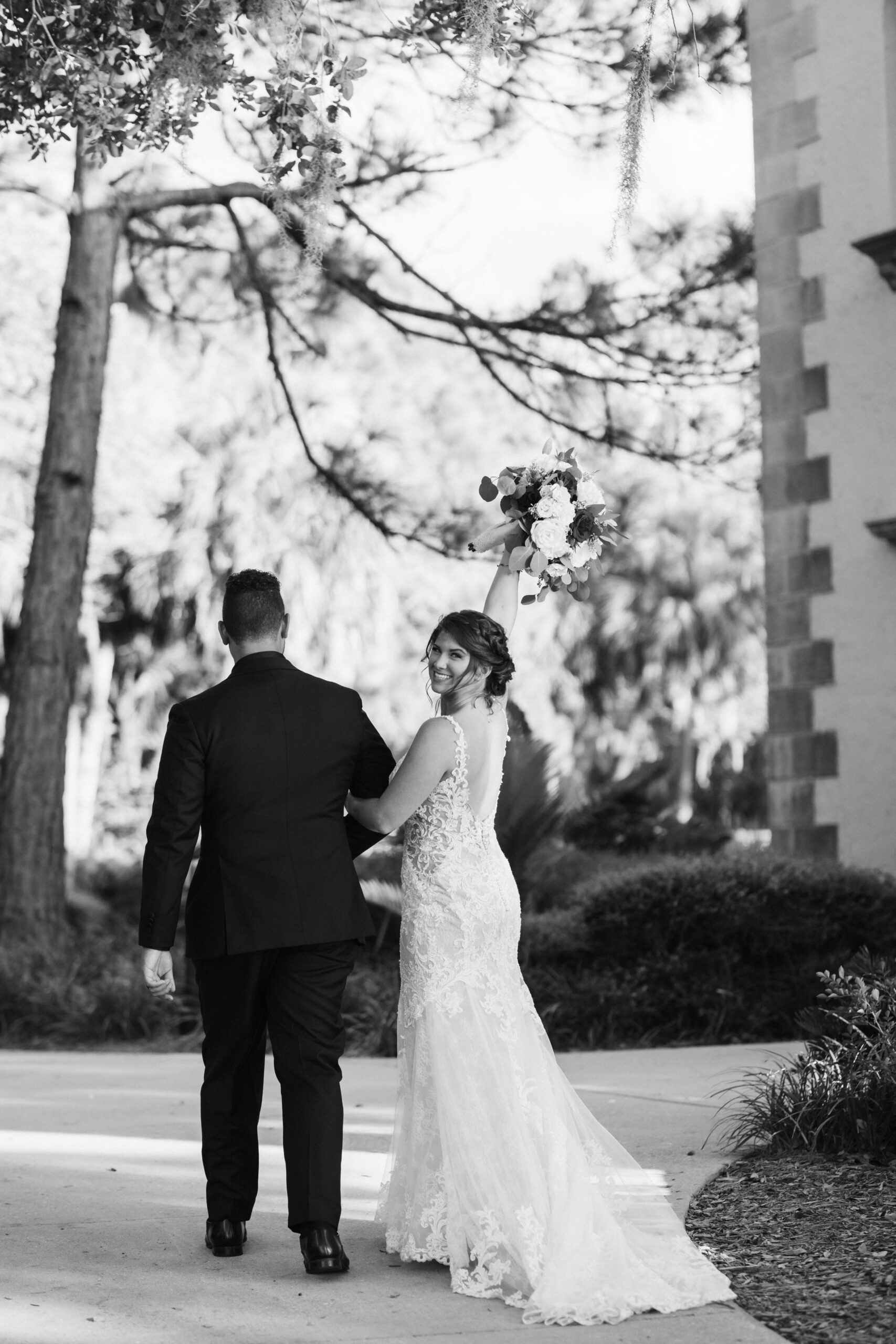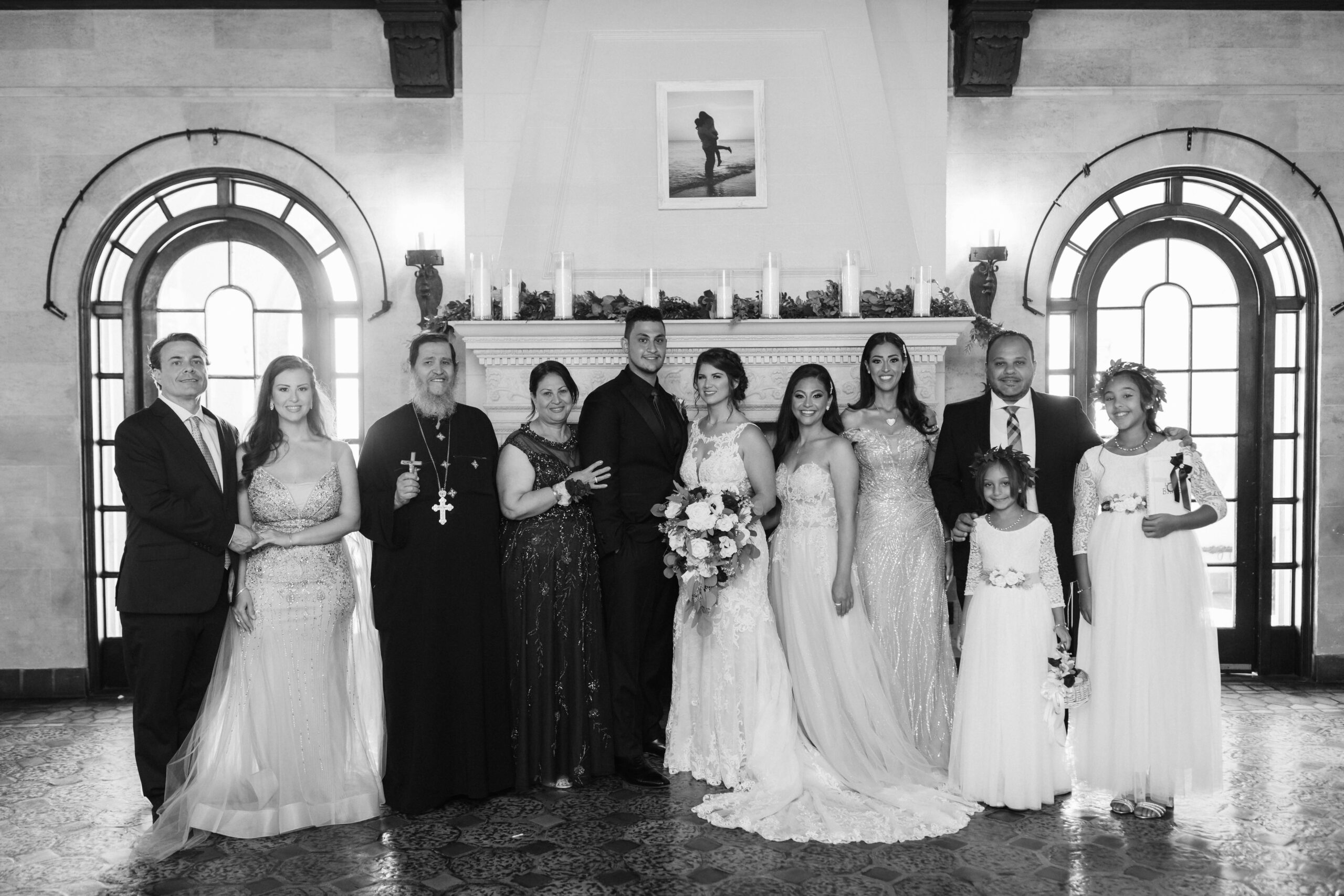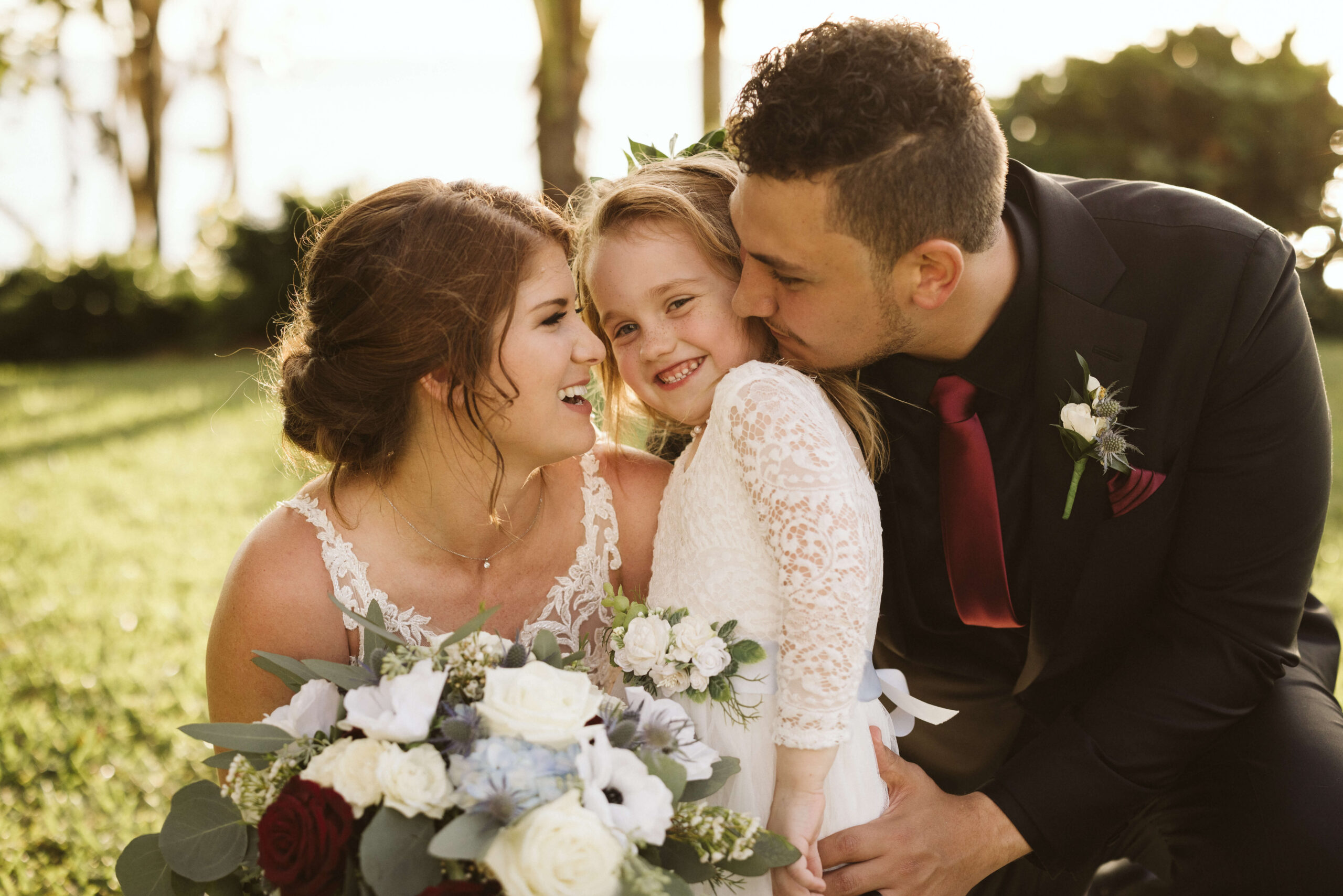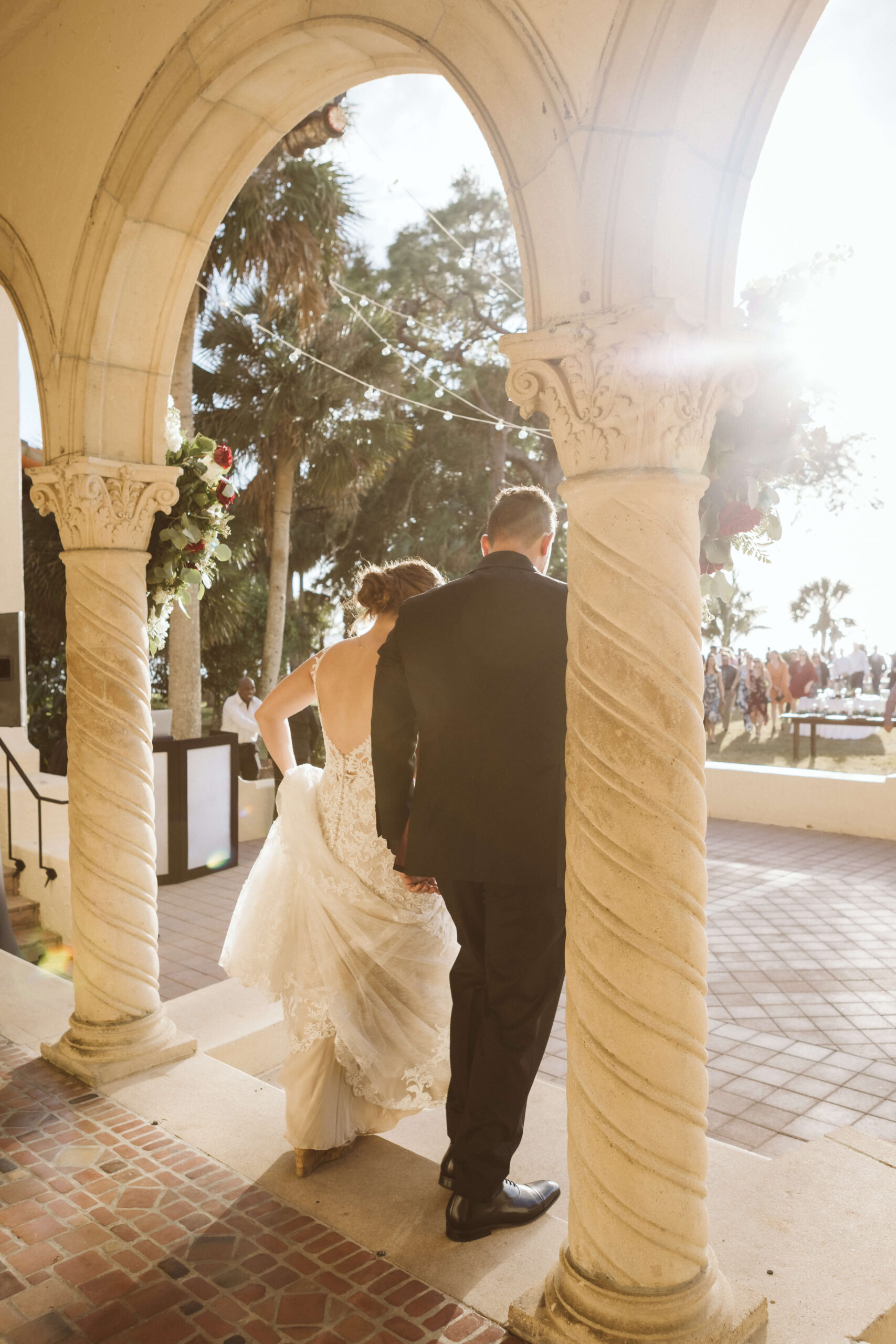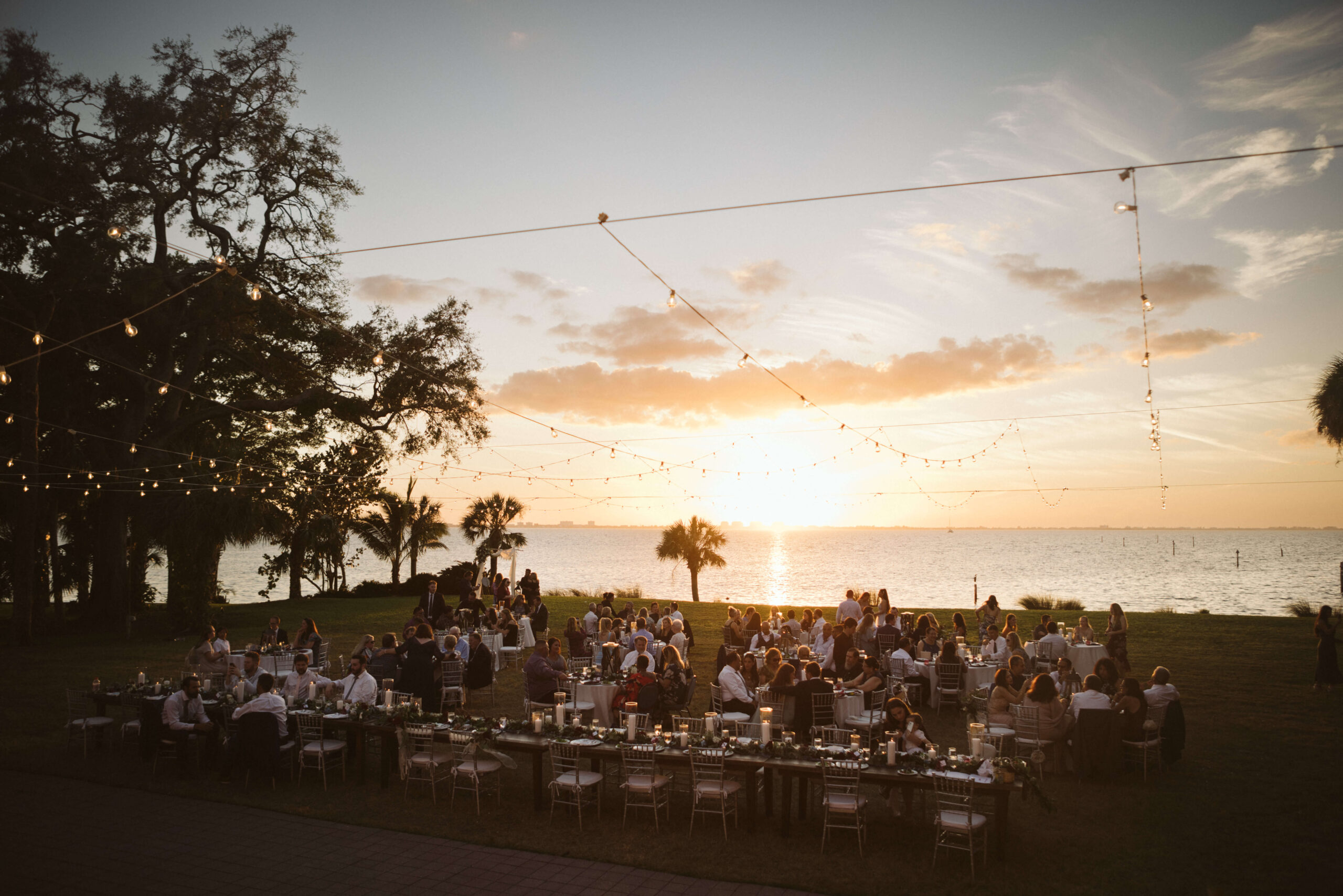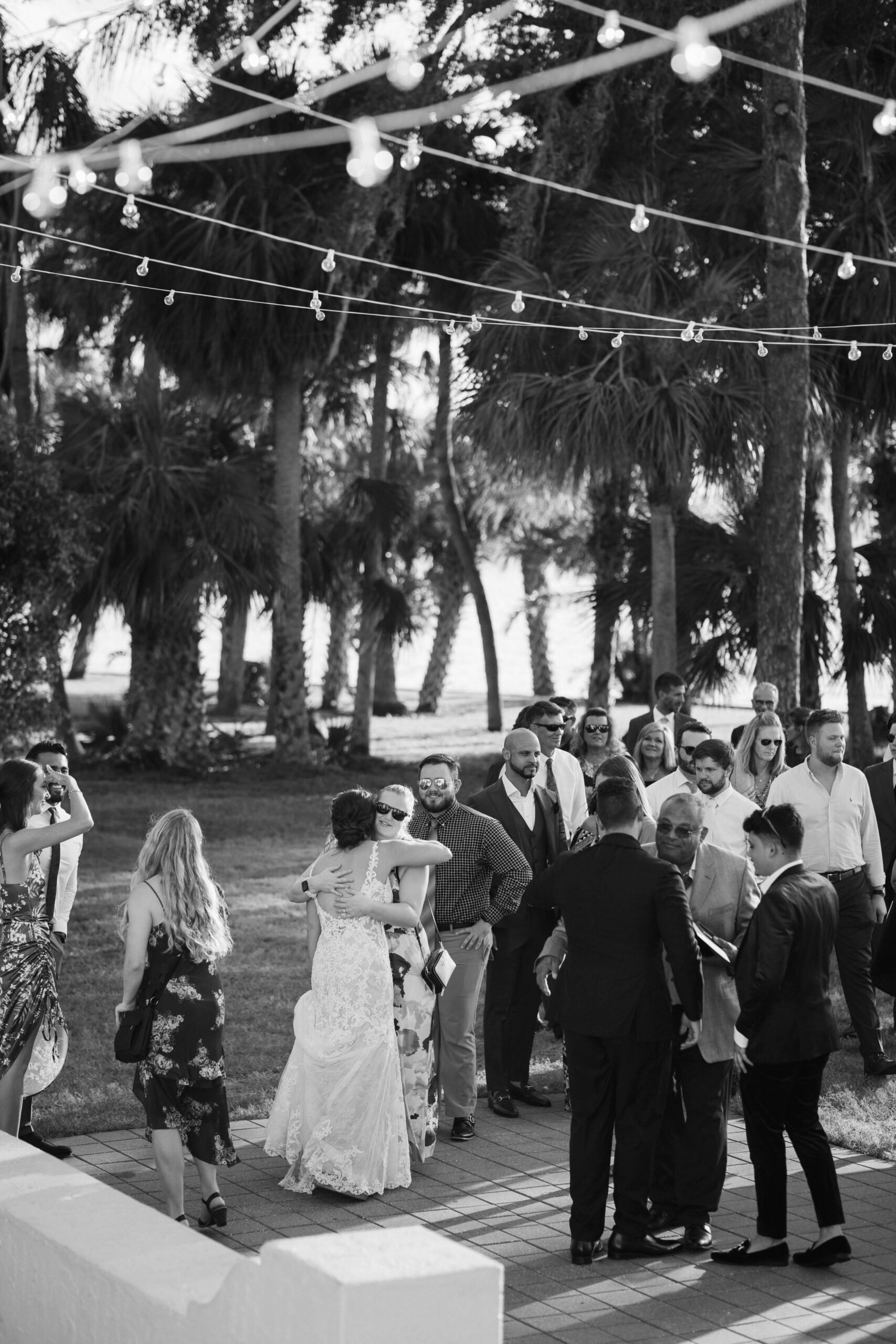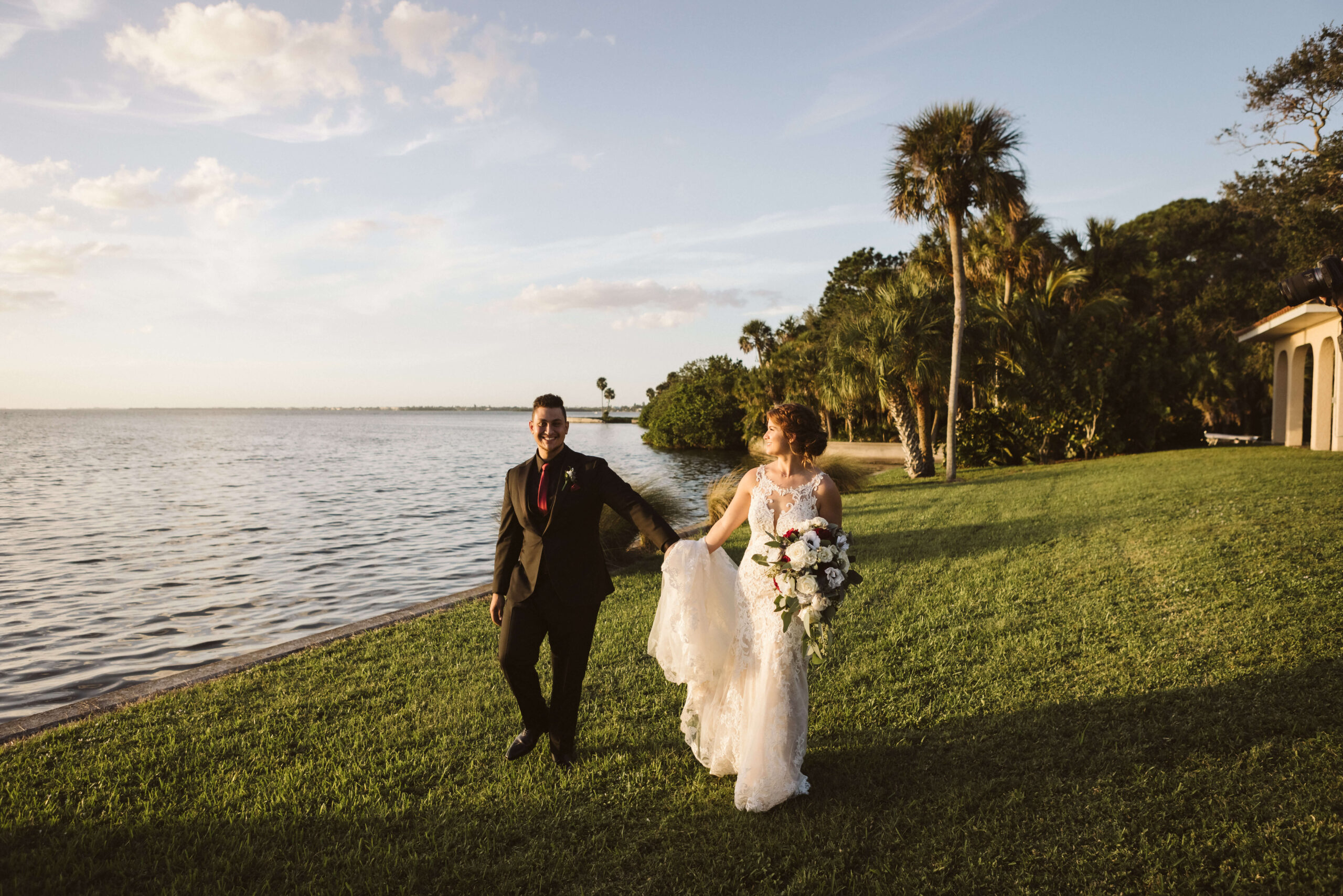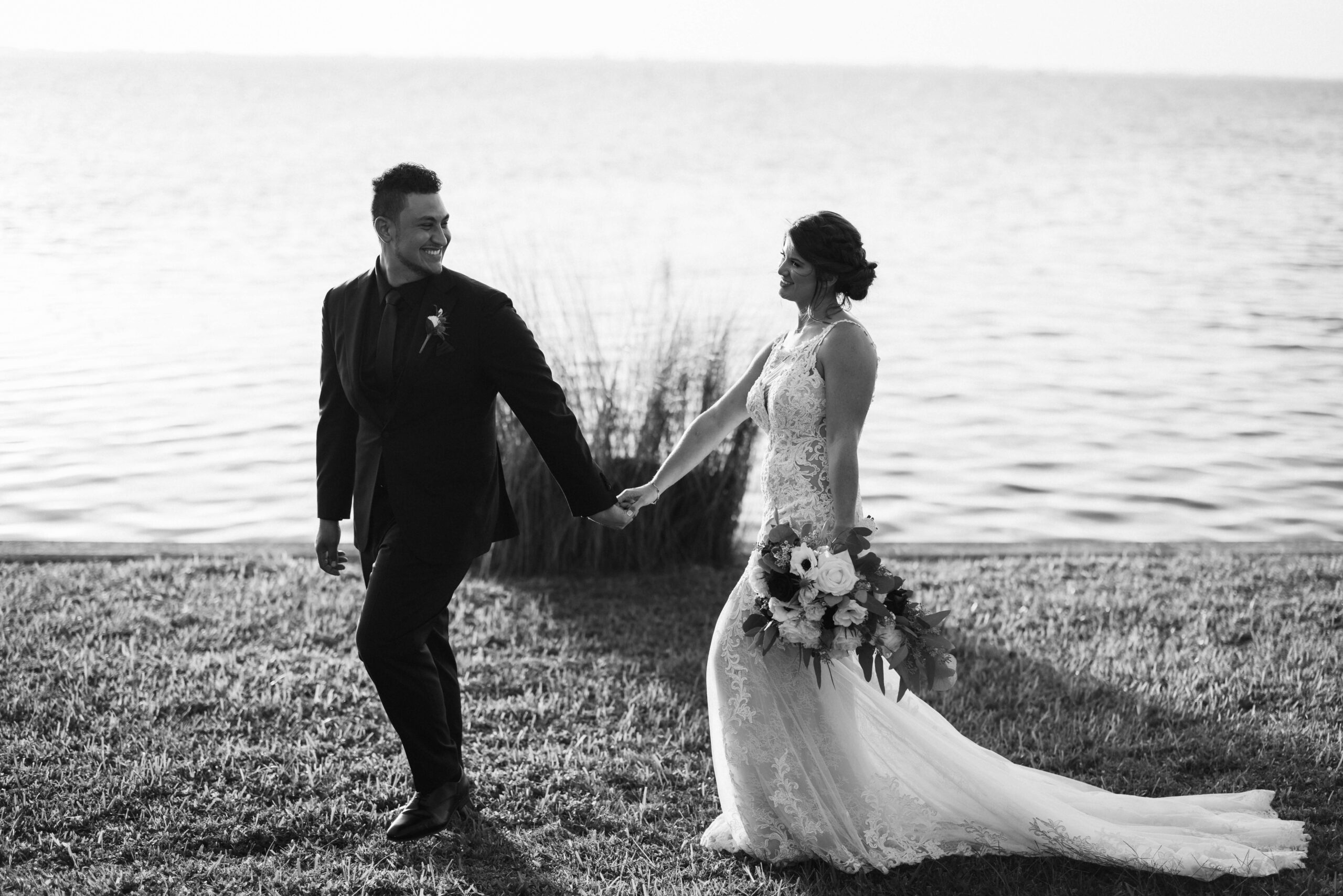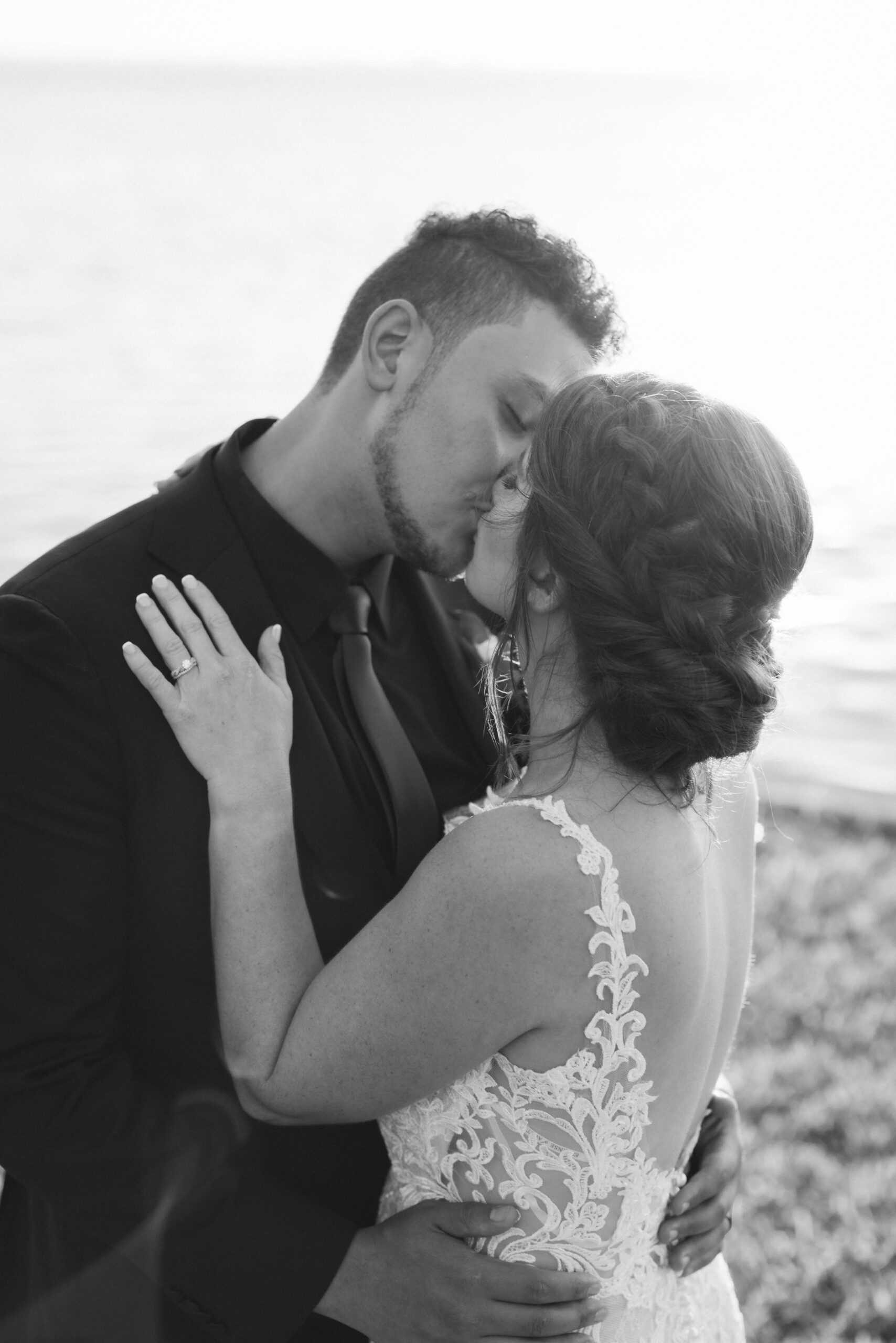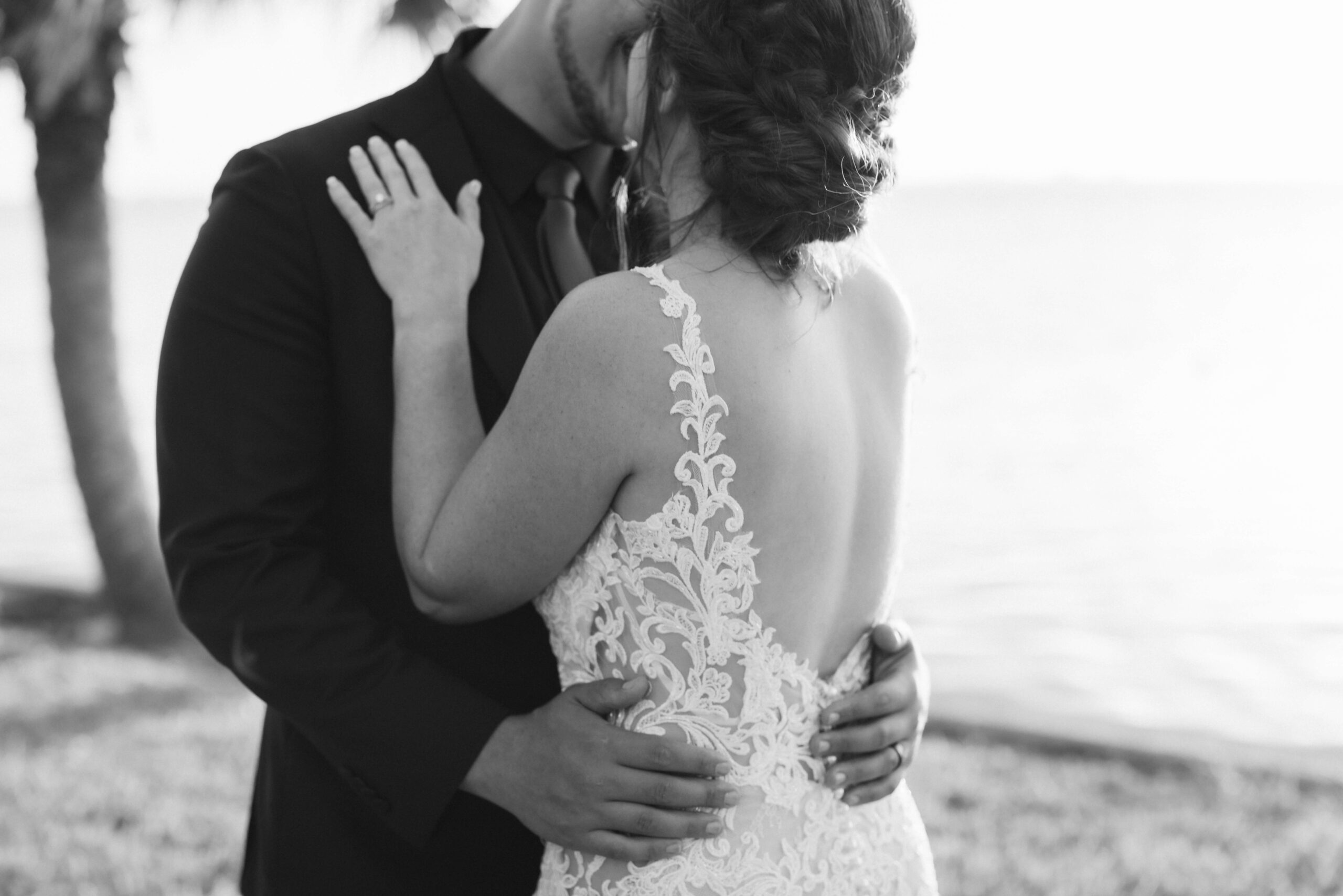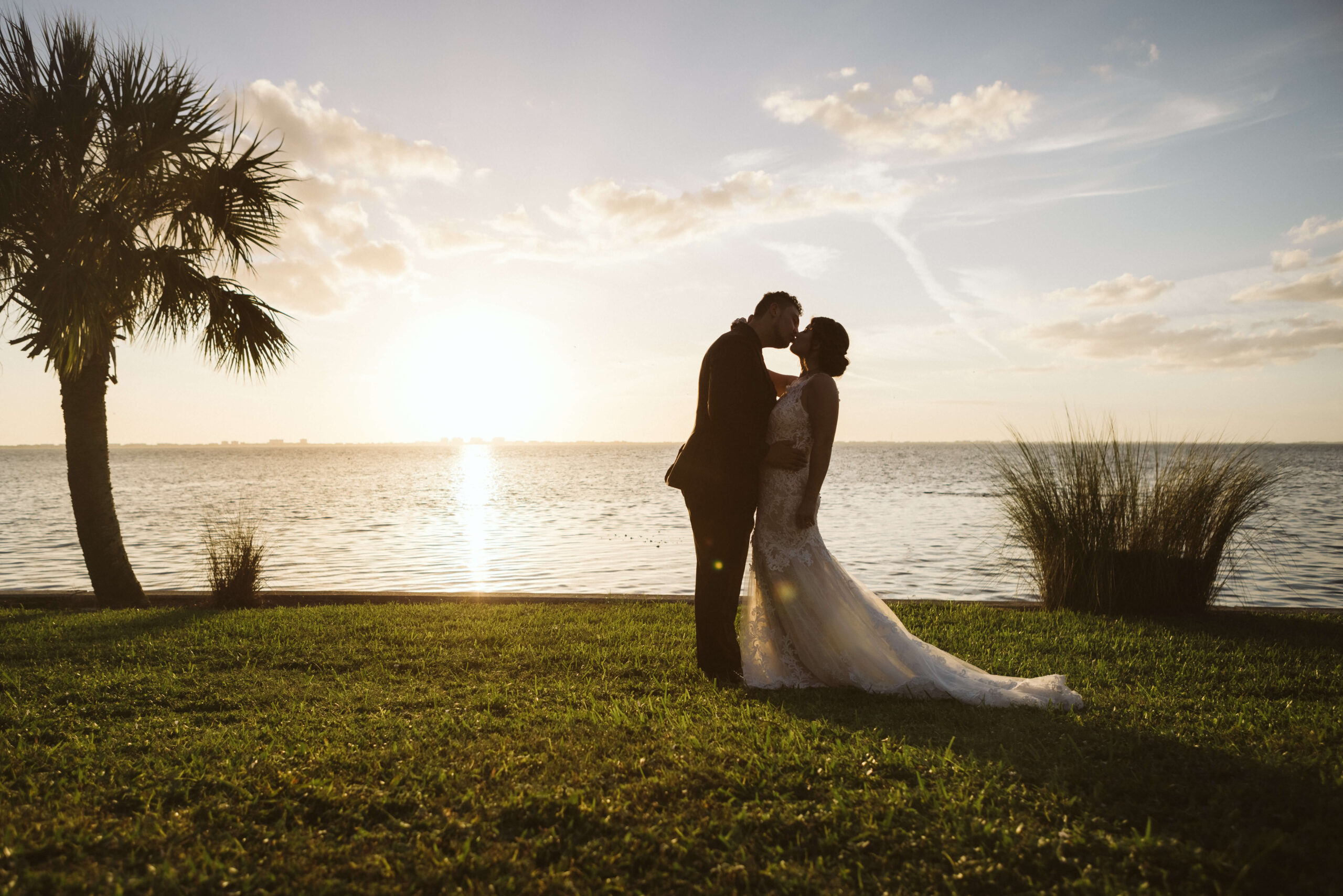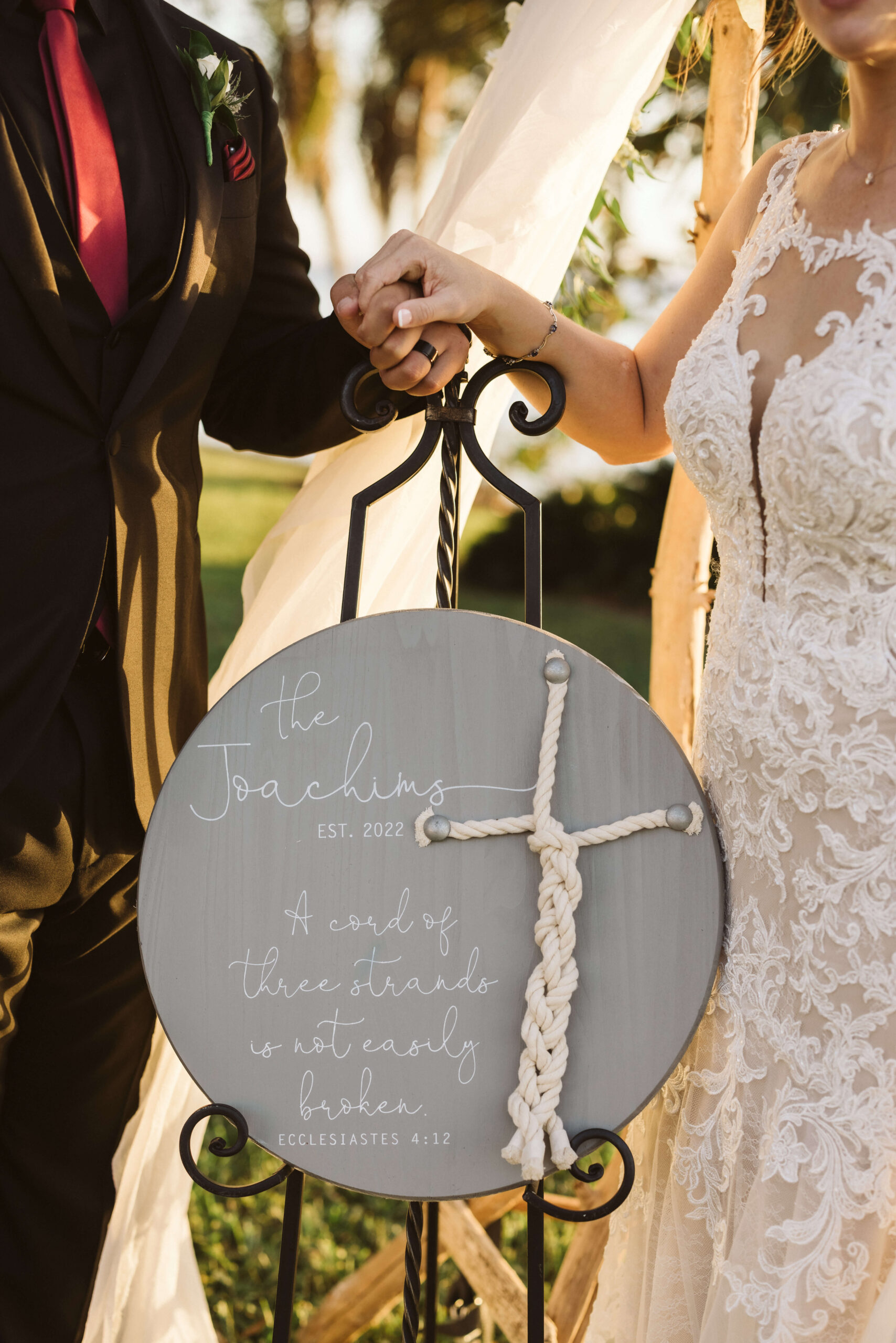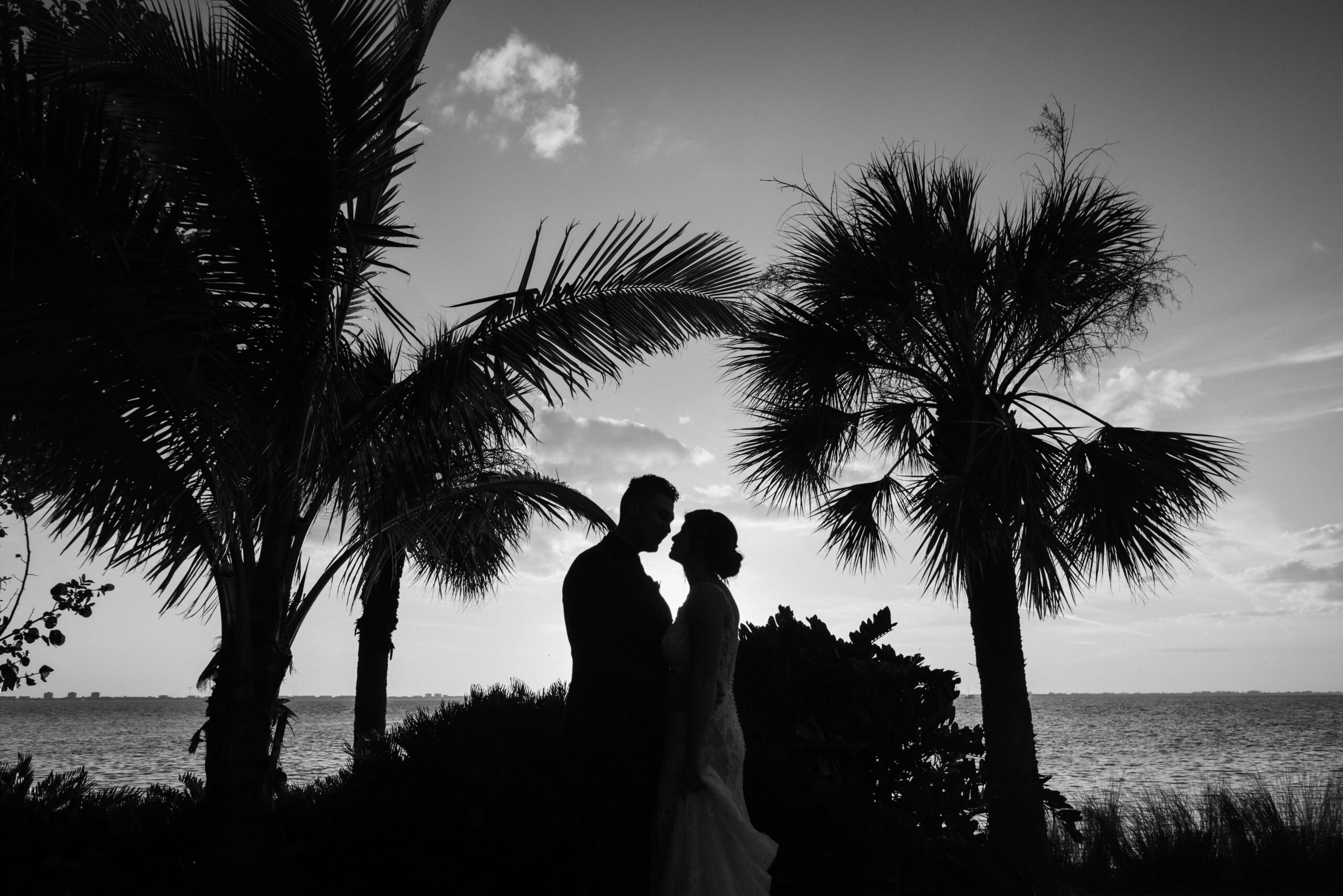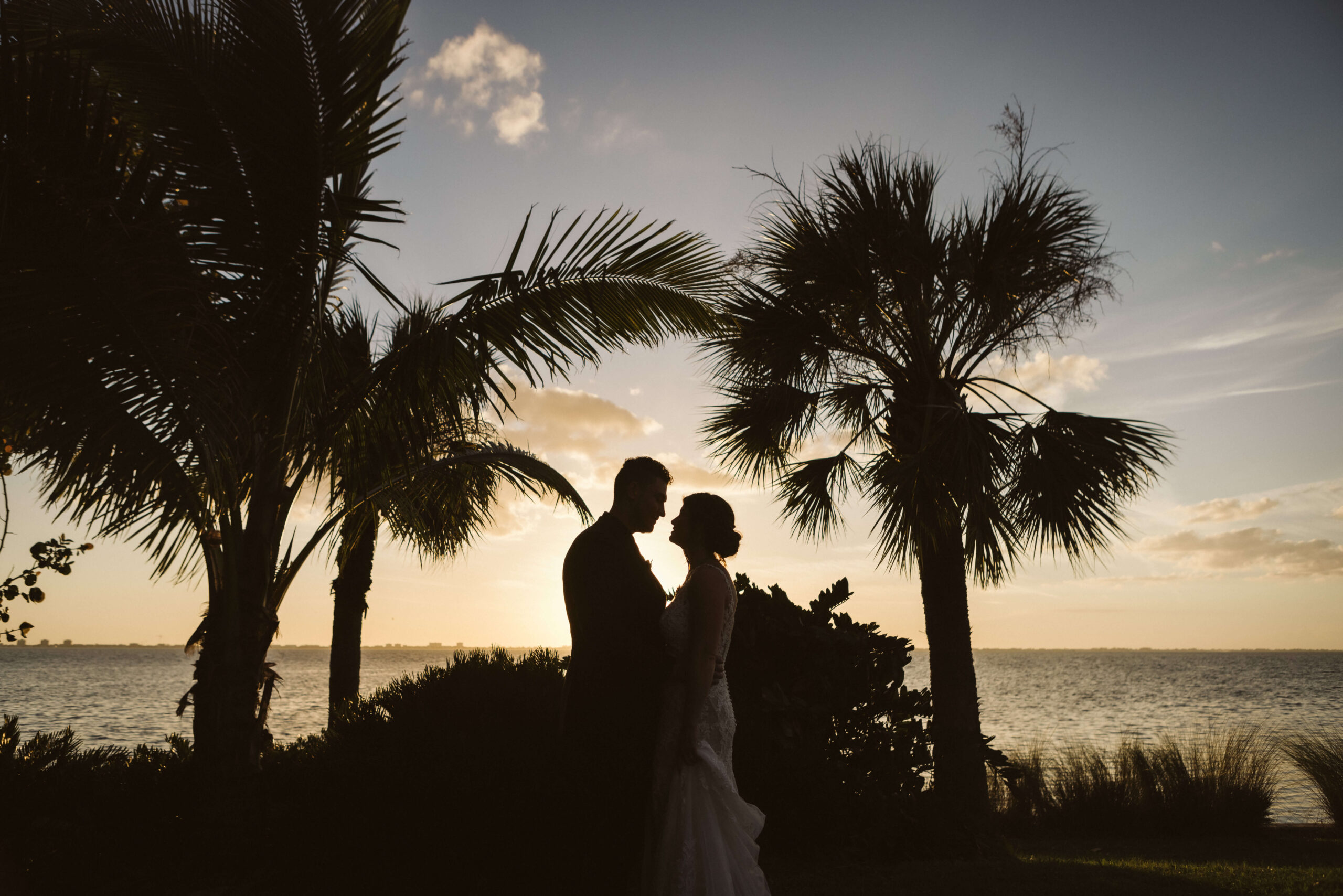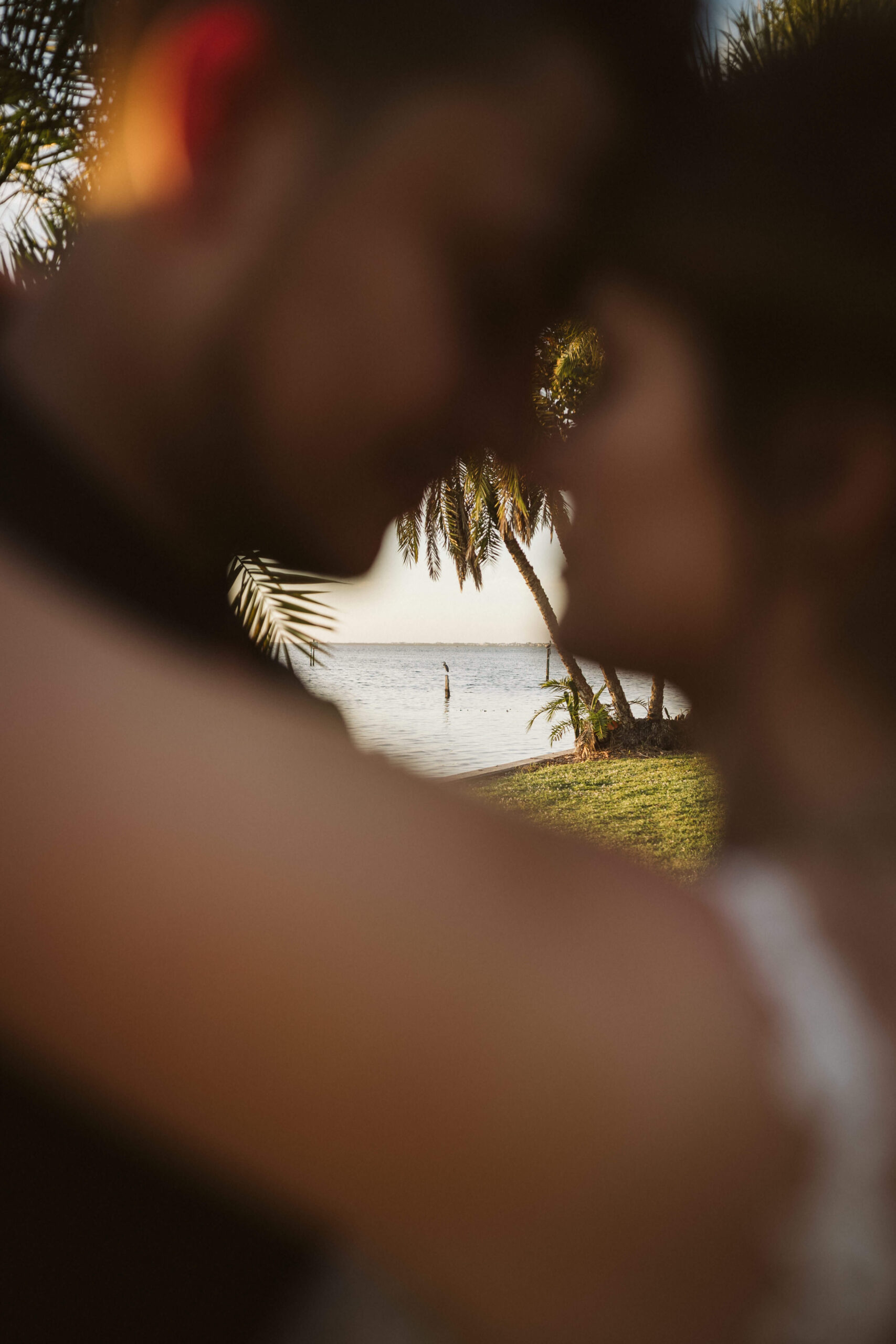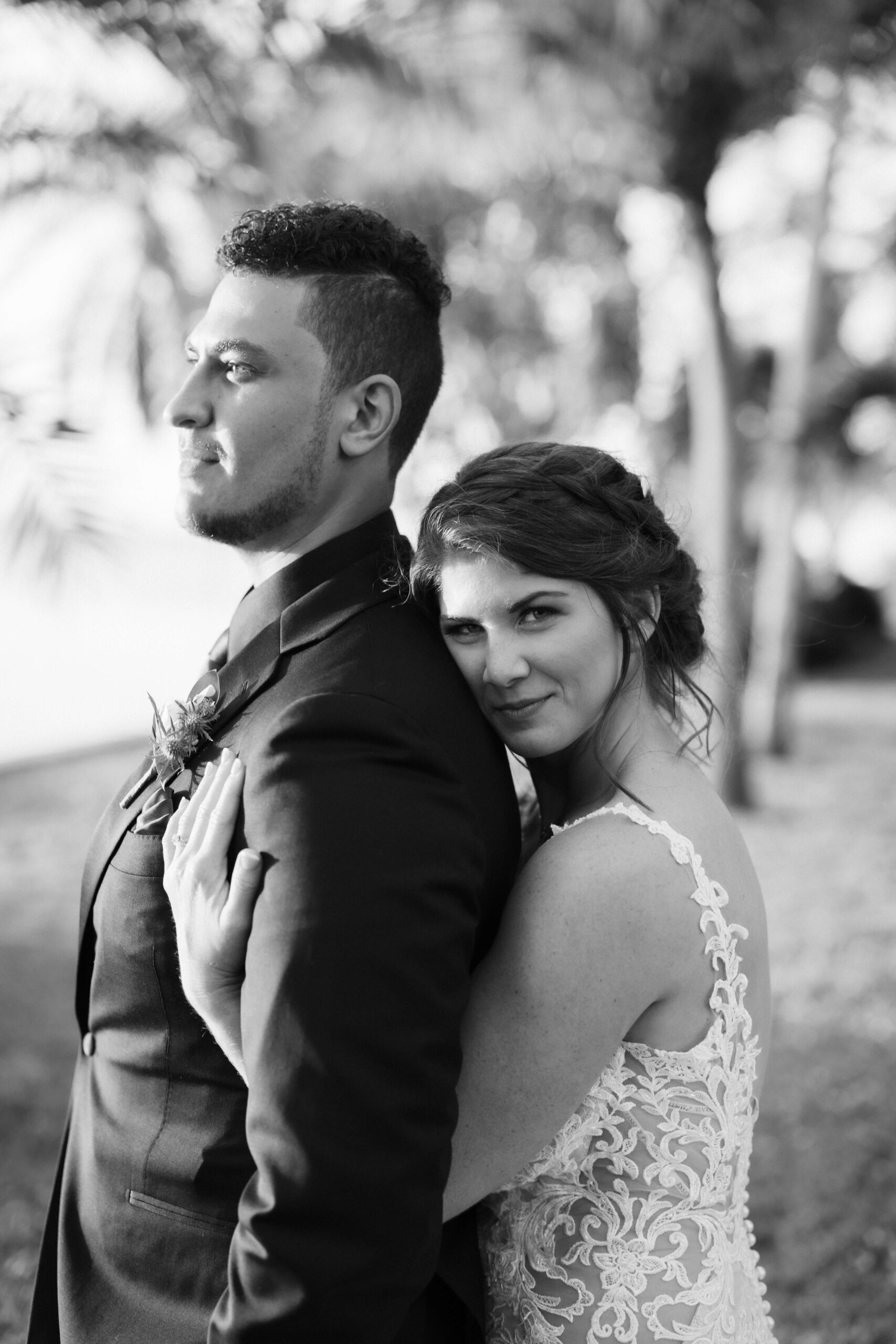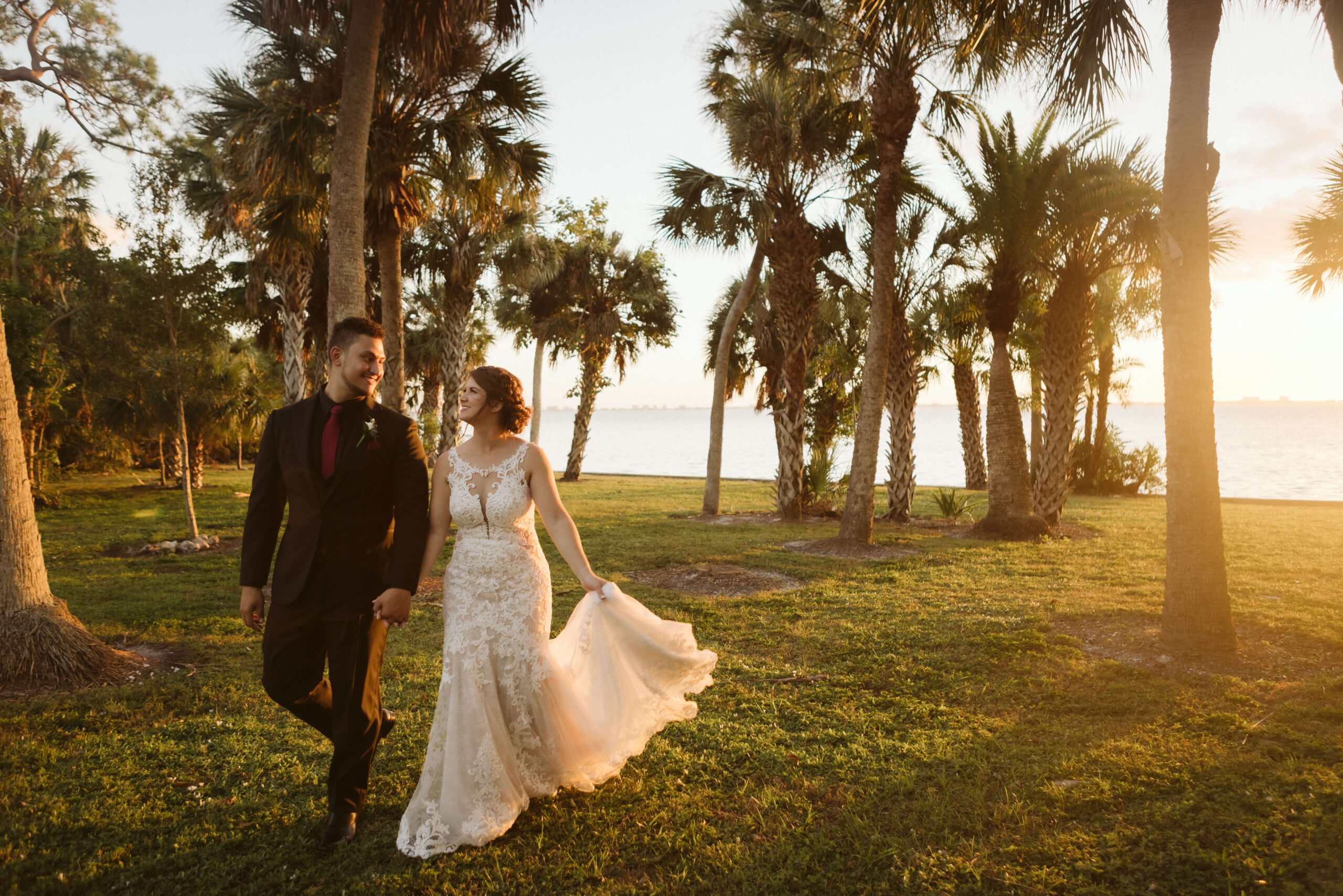 Trusting the Process with a Professional Wedding Photographer
One of Meghan and Mena's biggest priorities during wedding planning was making sure the timeline for the wedding day was flexible. They wanted to ensure there was enough time to breathe and just take in the moment. This meant that when it came to their photography, they were pretty laid back and just trusted the process. Having a trusted wedding planner by your side is key! With a trusted photographer, you'll be able to relax and feel comfortable knowing the pictures you'll receive fully capture your memories exactly as you want.
Weddings are typically the first time people experience professional photography. One of Meghan's notes to me mentioned to not be afraid to tell them if they look awkward on camera. It can be nerve wrecking getting in front of a camera for the first time – especially for something as big as your wedding! However, that's what I'm here for! I always help my couples through the photography process to ensure their photos don't look forced or fake and I'll always help out when you just have no idea what to do with your hands! Ultimately, a professional photographer knows exactly what to say and do to ensure your nerves are at ease during every aspect of your wedding photography.
As an added bonus, a photographer can even end up being a useful resource while planning other aspects of your wedding. For example, like with Meghan and Mena's wedding, one of the perks of having a first look is that the majority of your wedding portraits take place before your ceremony begins. This way, you'll have more time later in the day to enjoy every aspect of your wedding, and, of course, the party! Even though Meghan and Mena's wedding and photography timeline was full, they had the opportunity to enjoy their cocktail hour with their guests - something that doesn't always happen for the bride and groom! As a wedding expert, I'll be able to help you decide whether something like a first look would be right for you!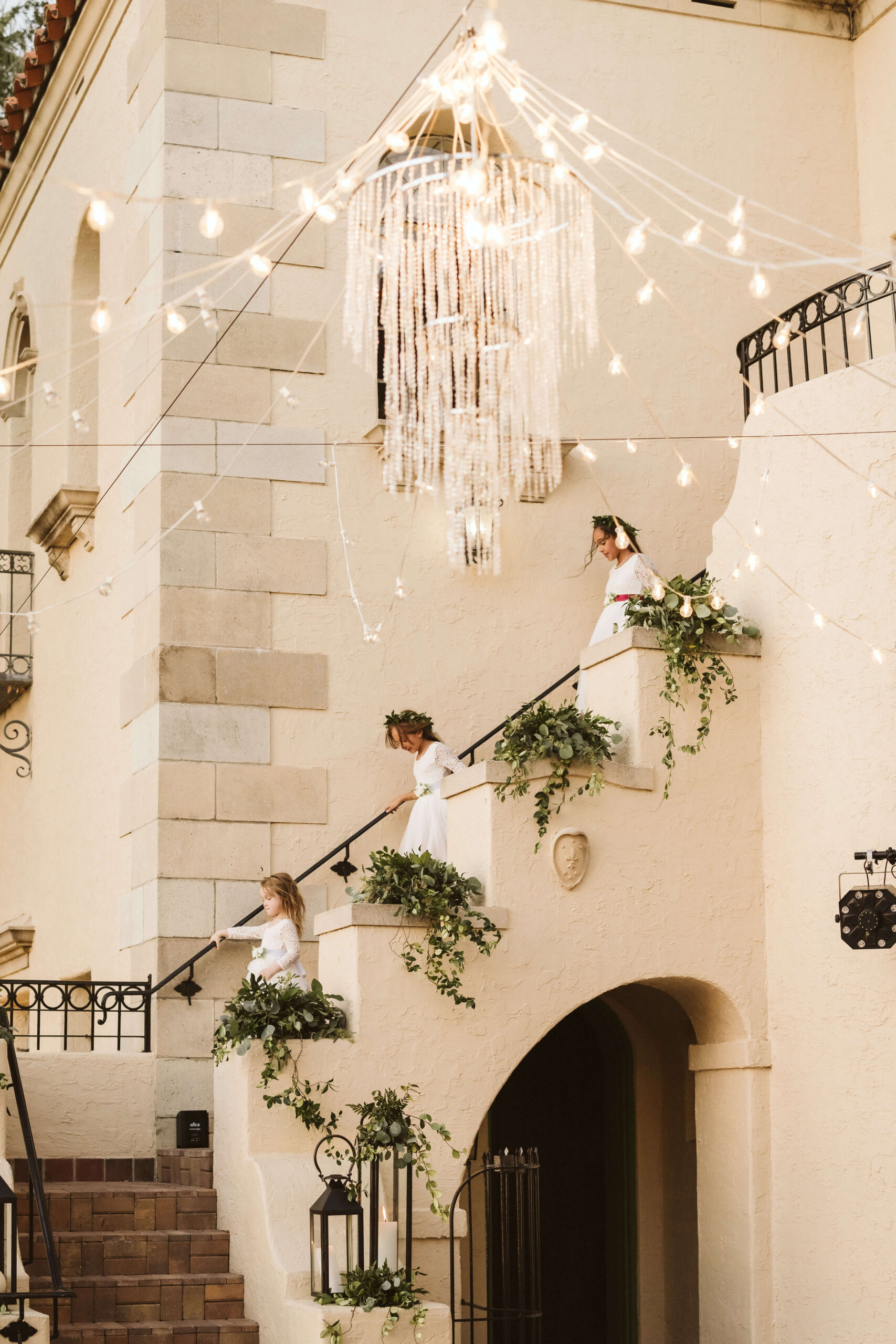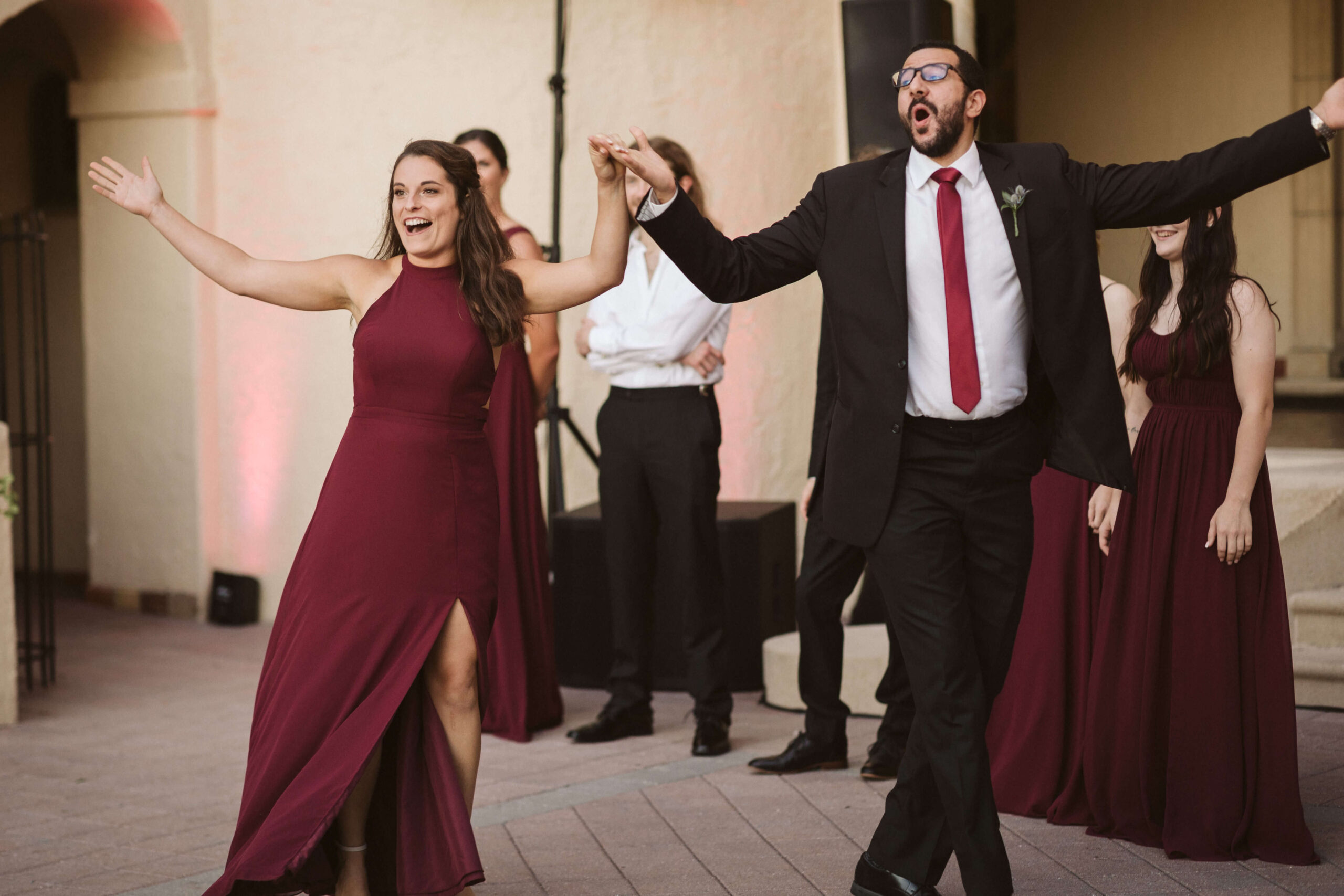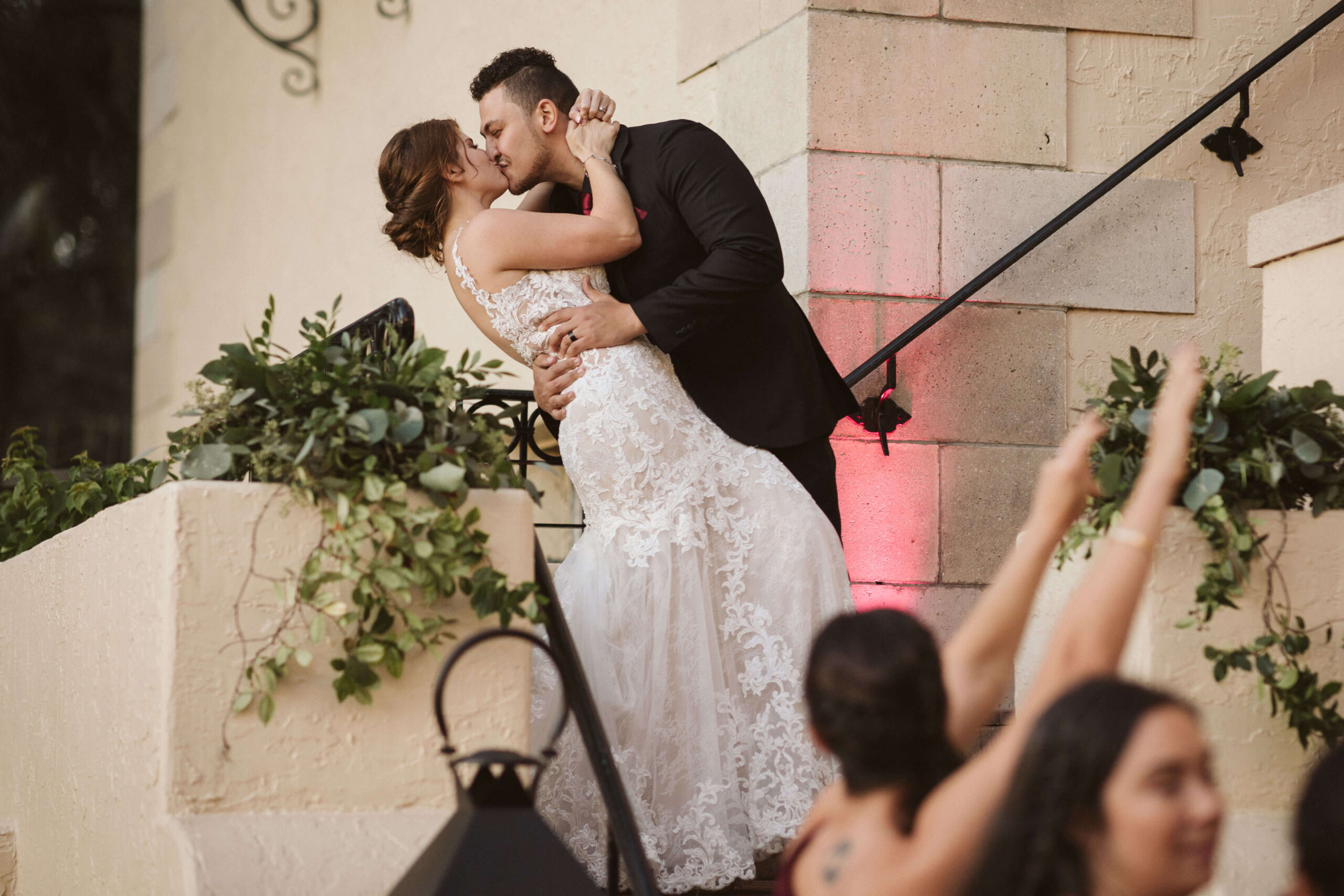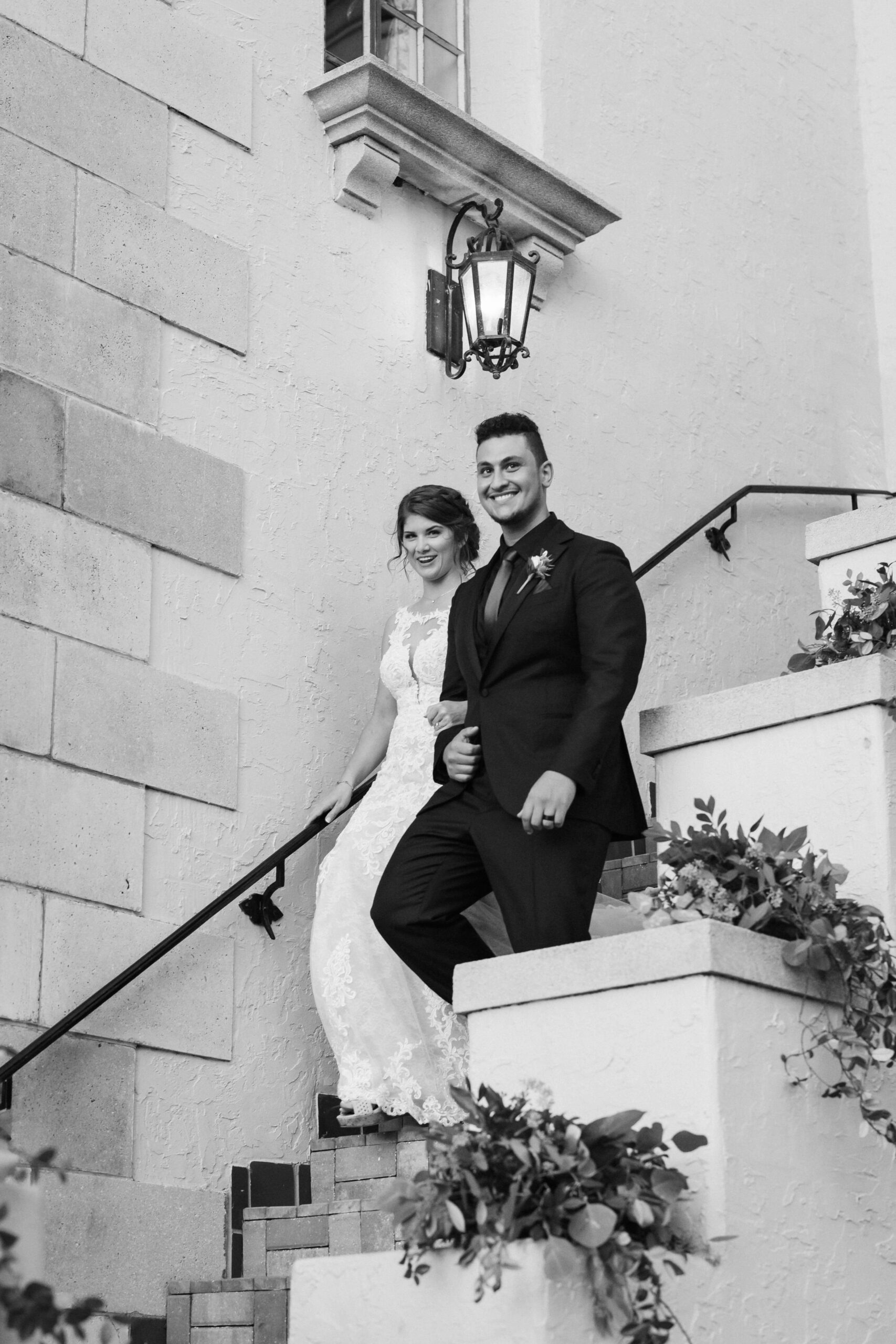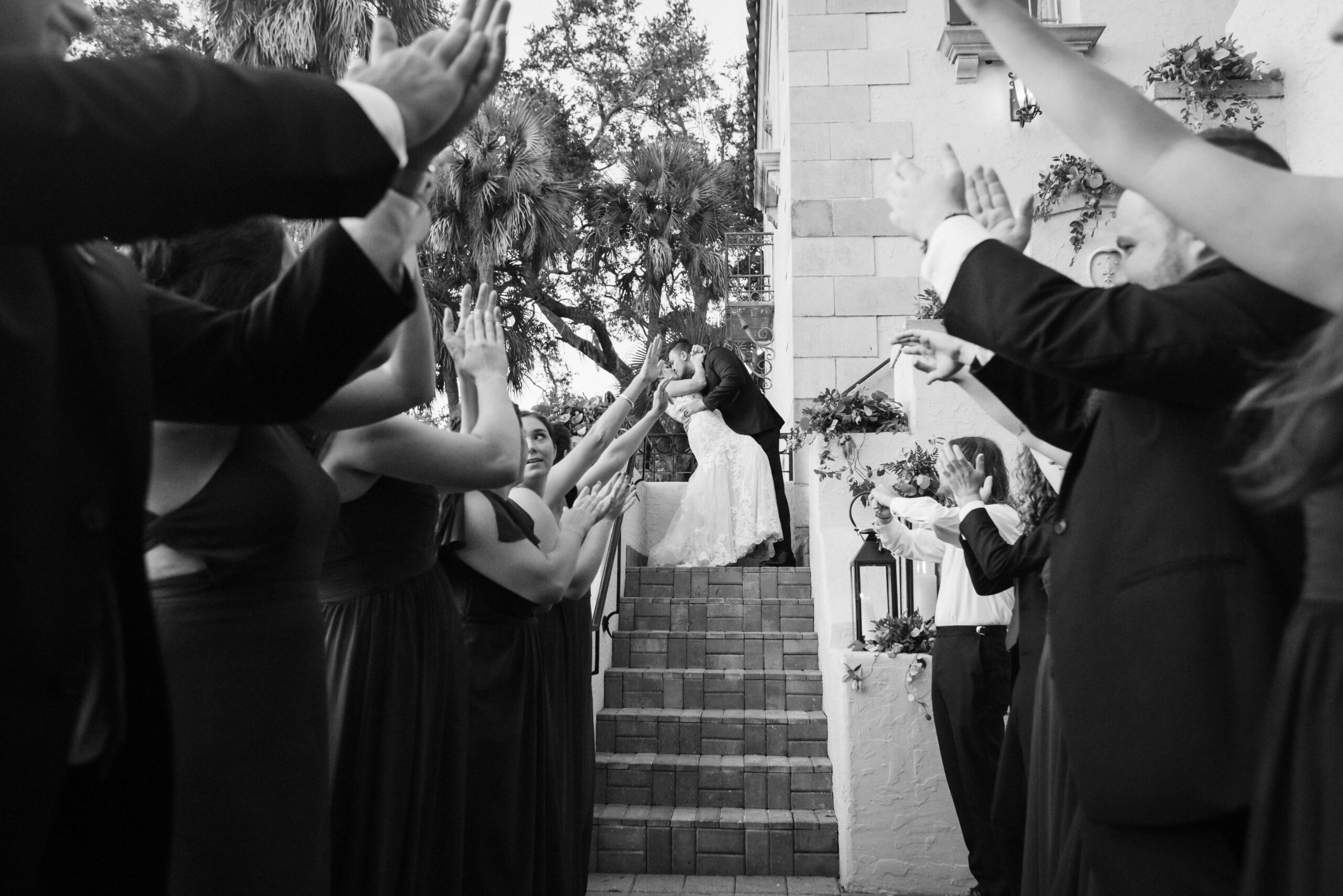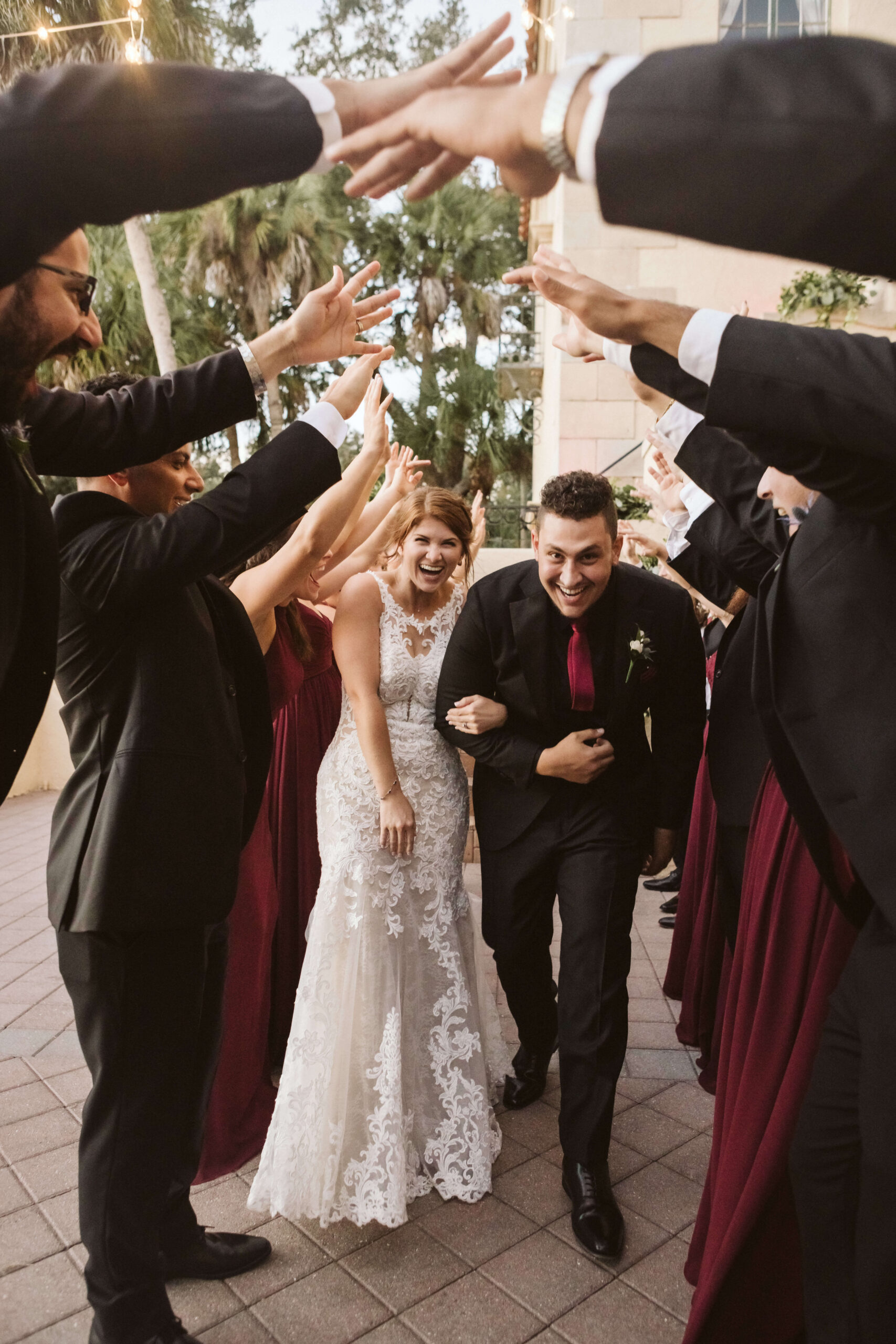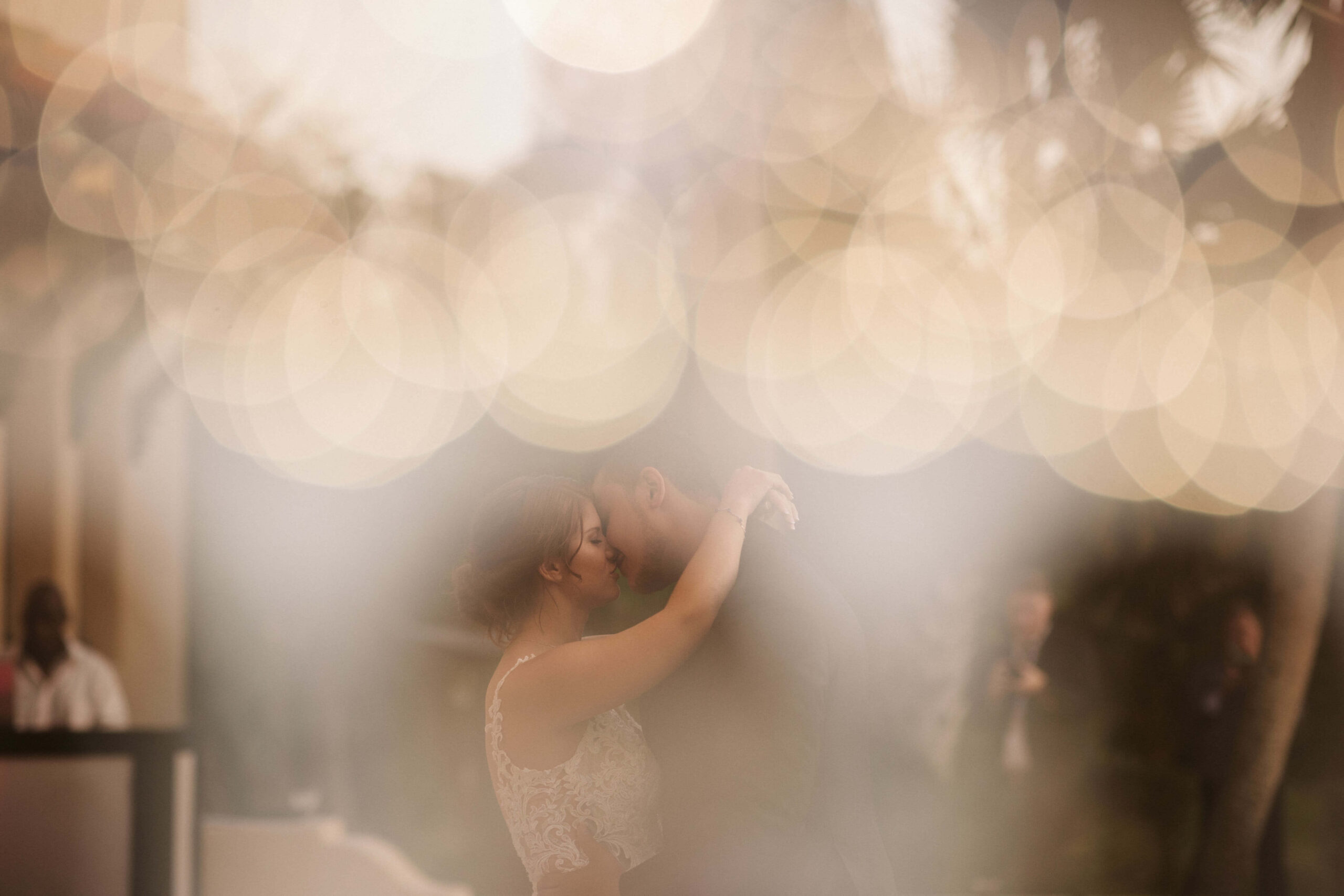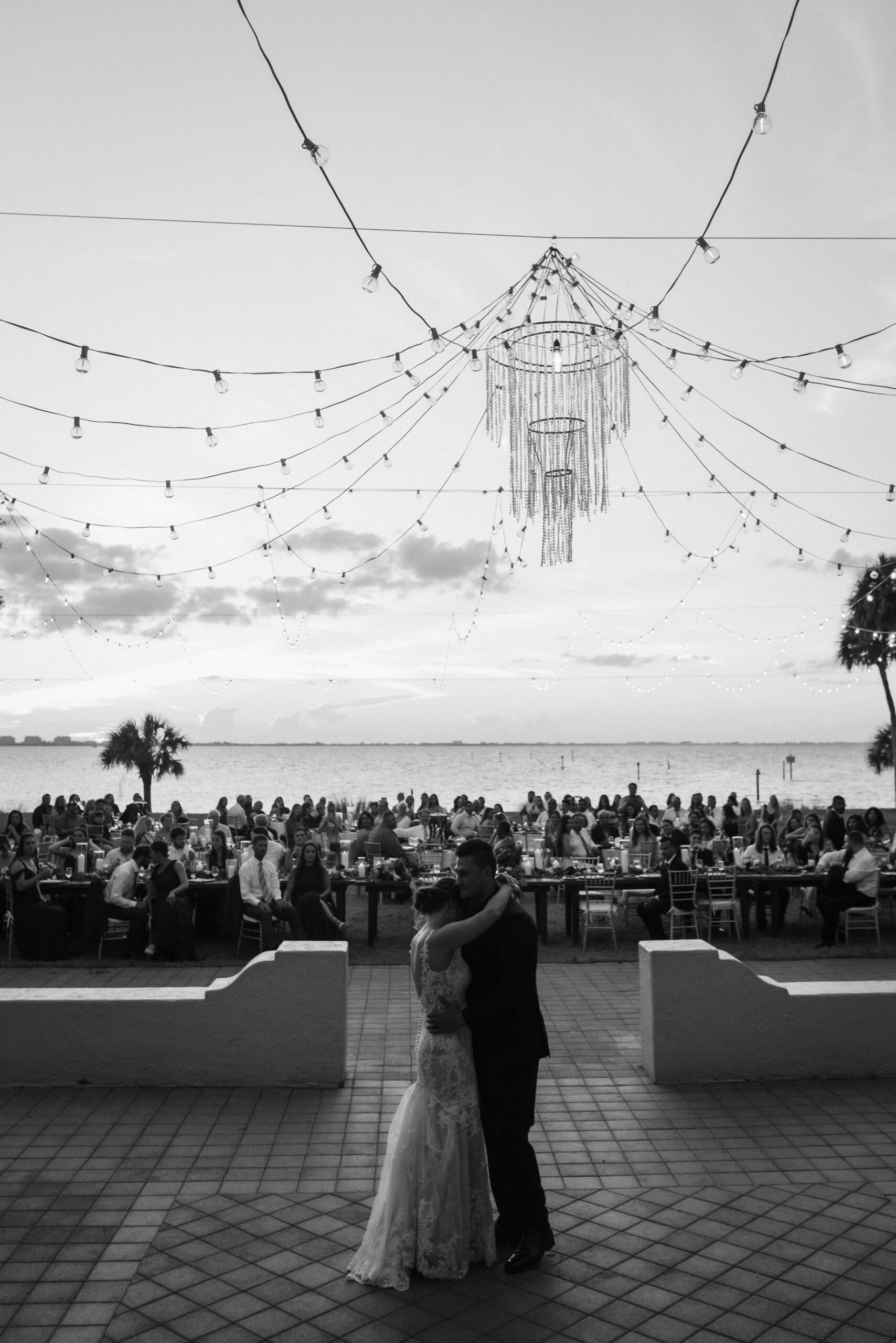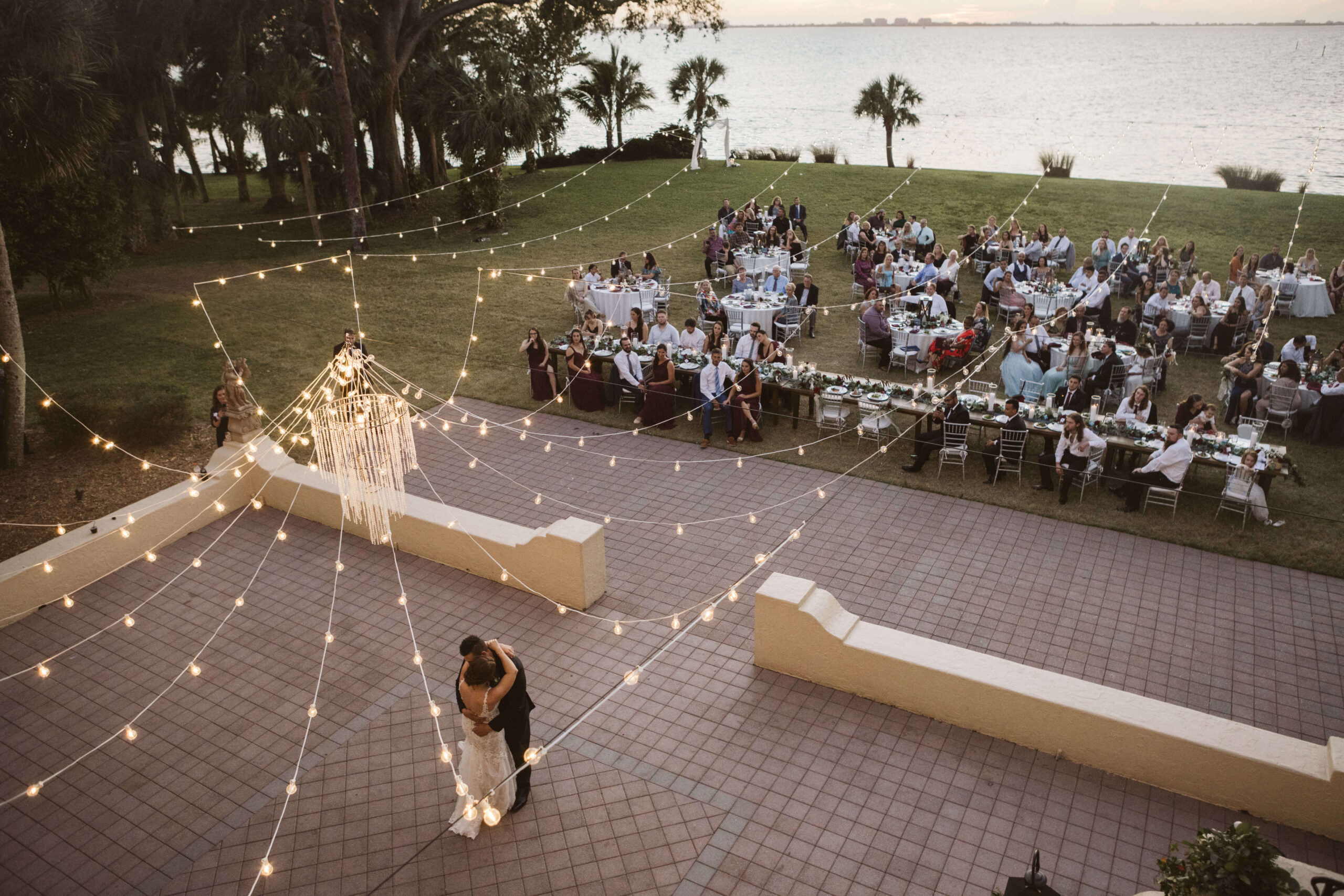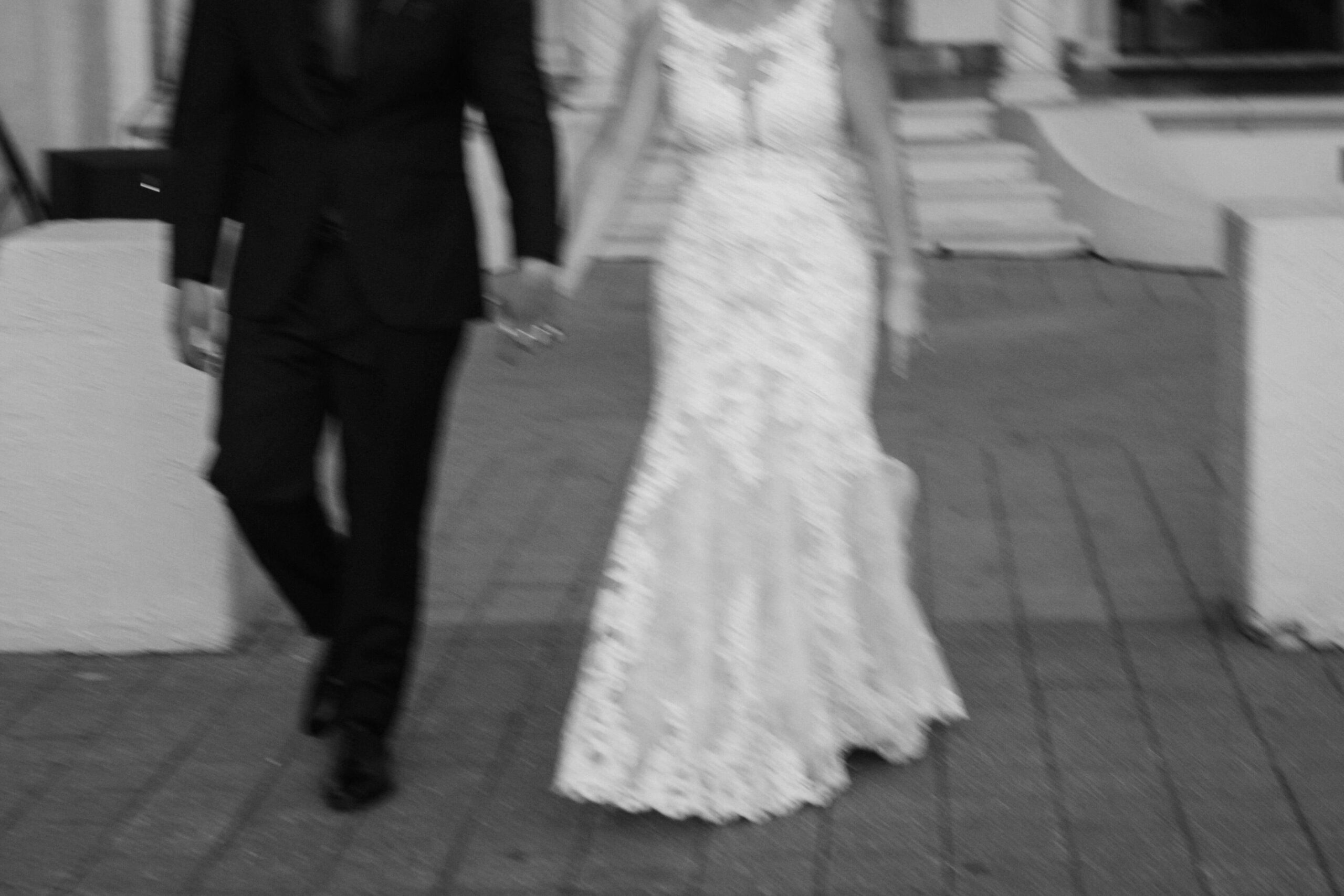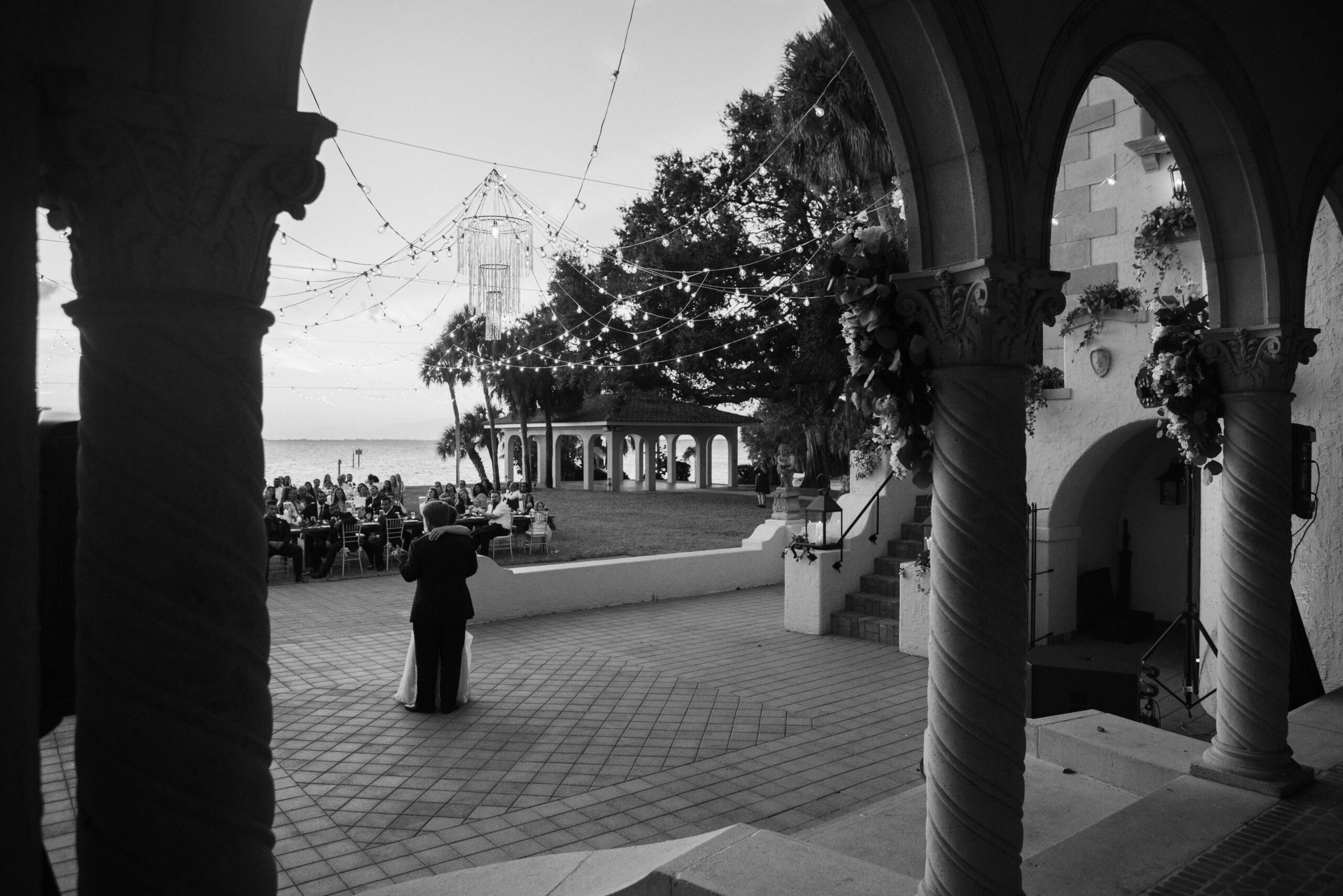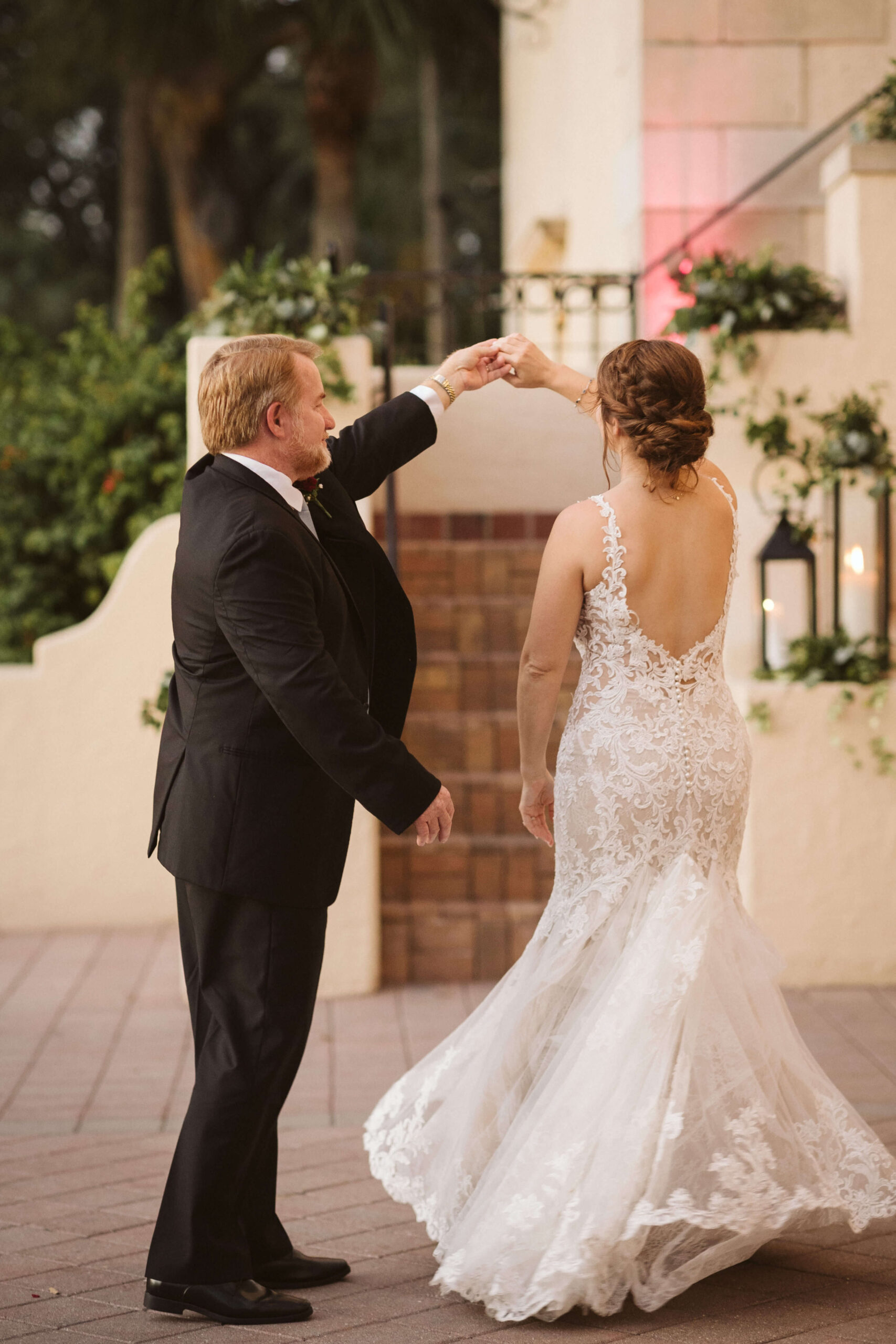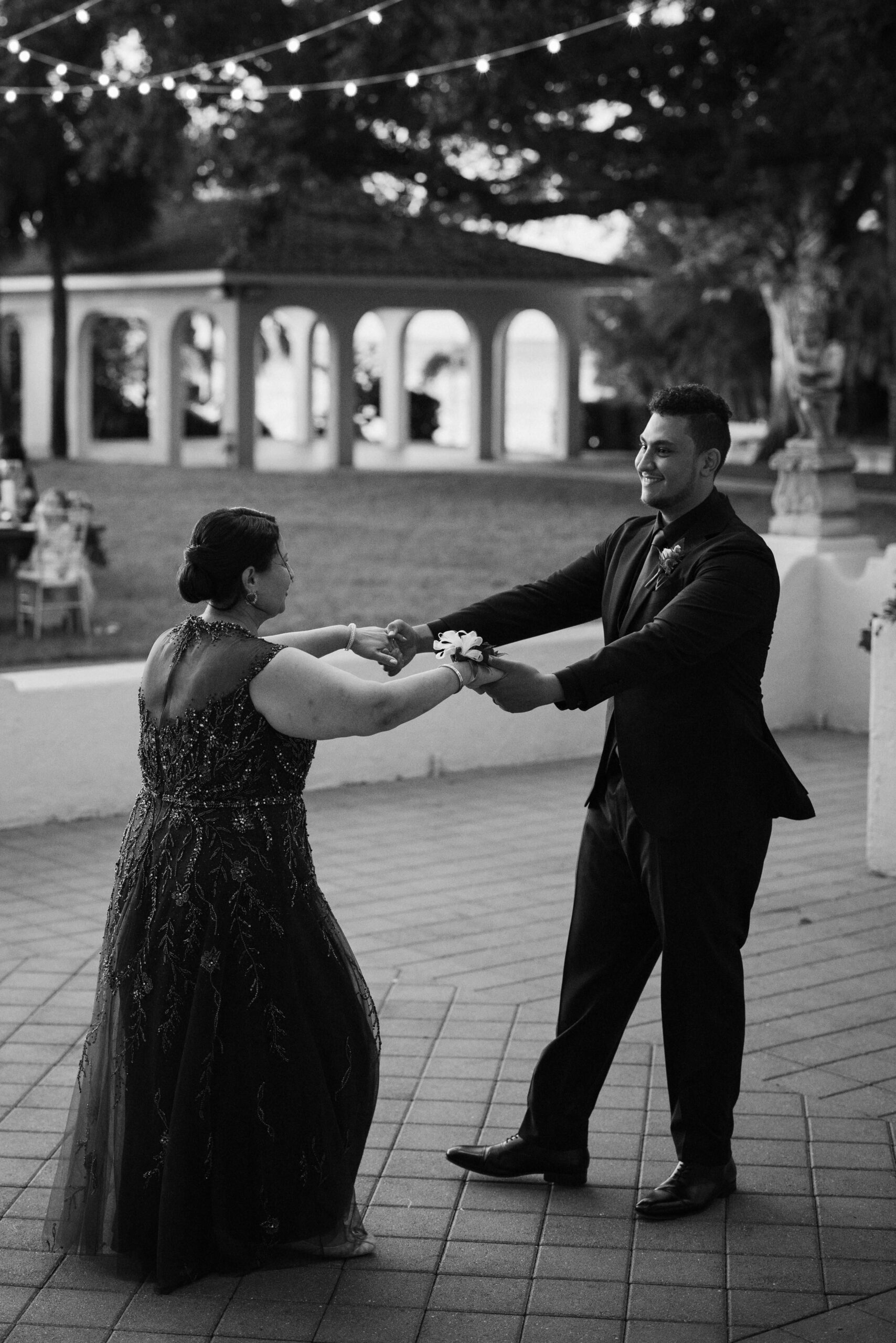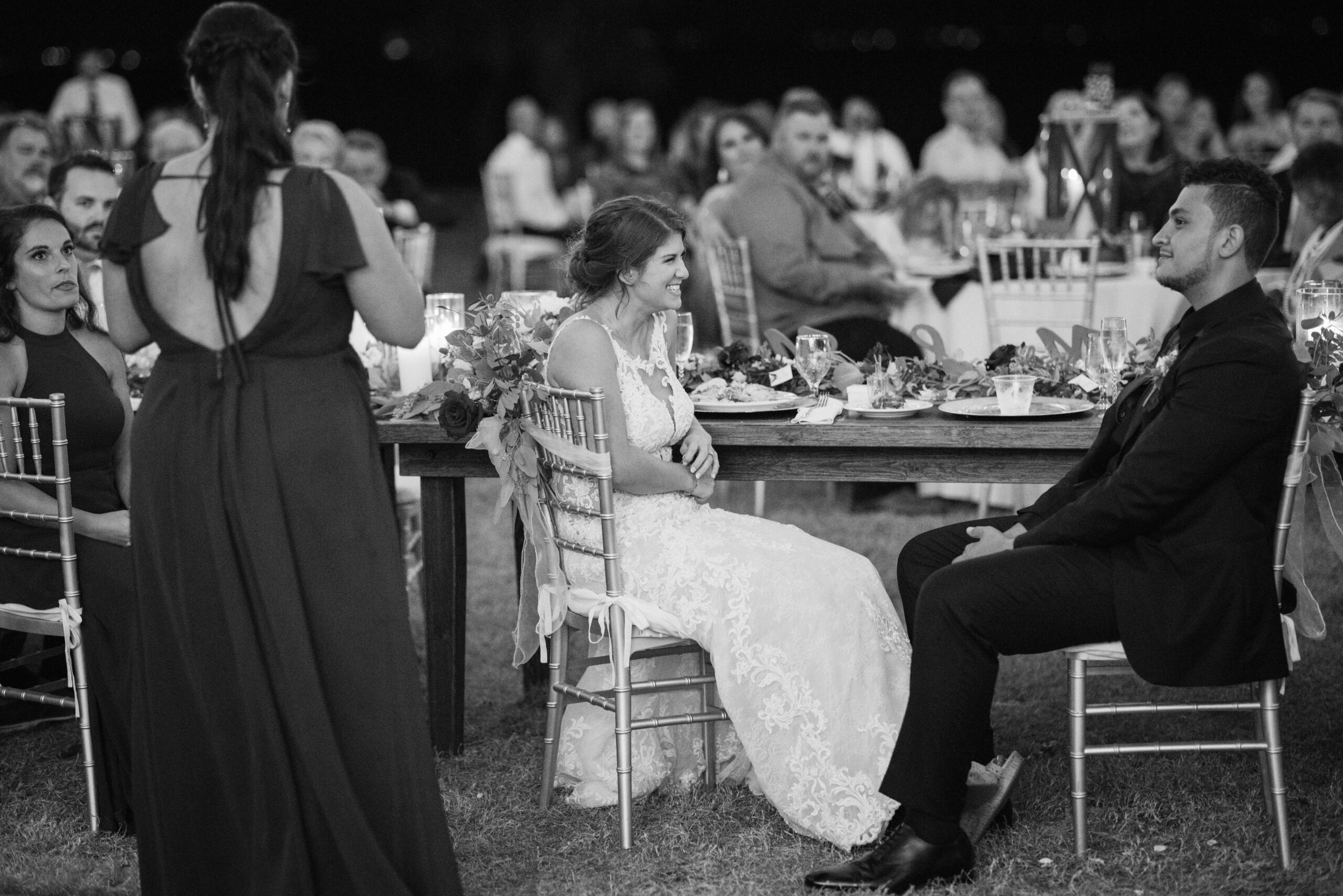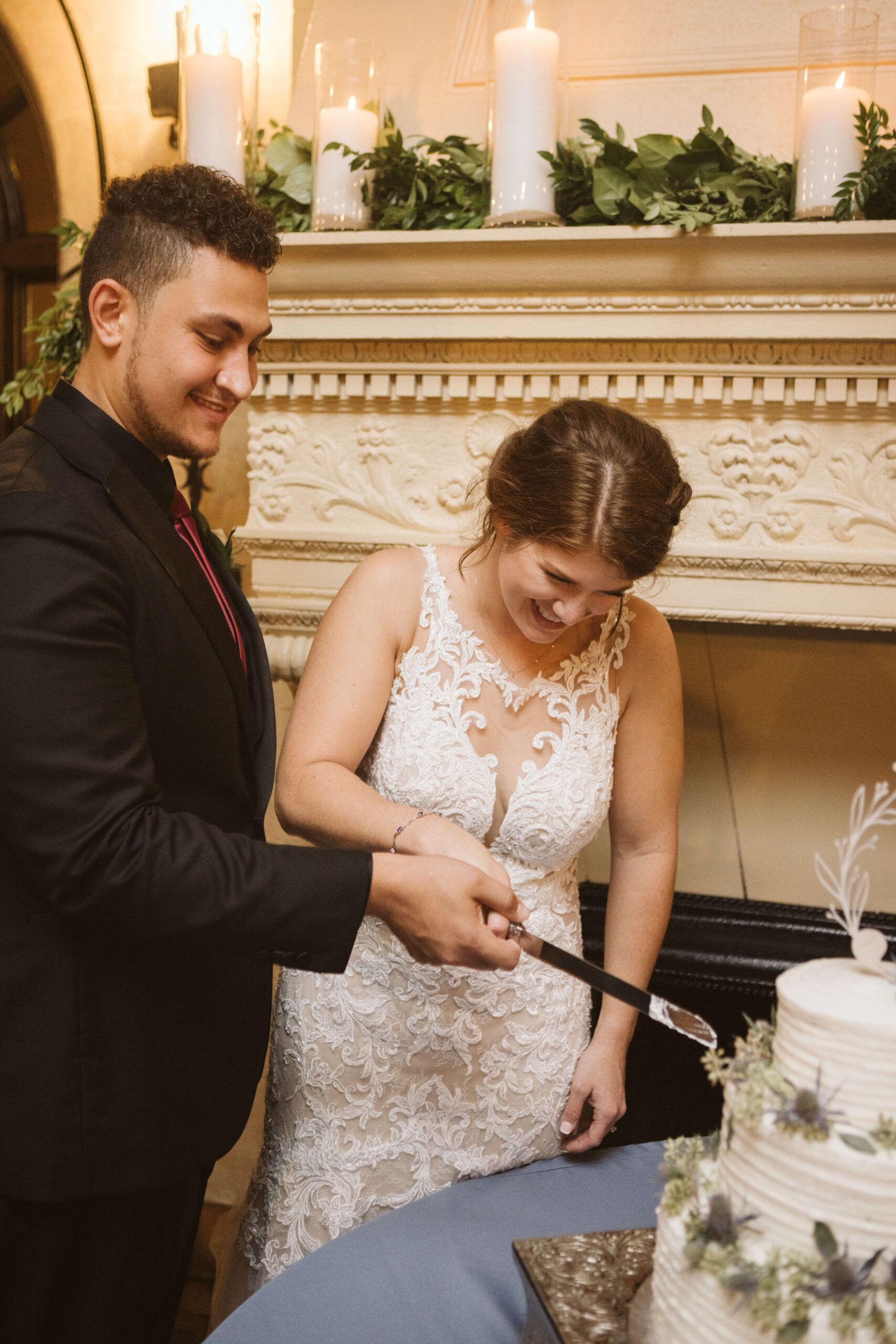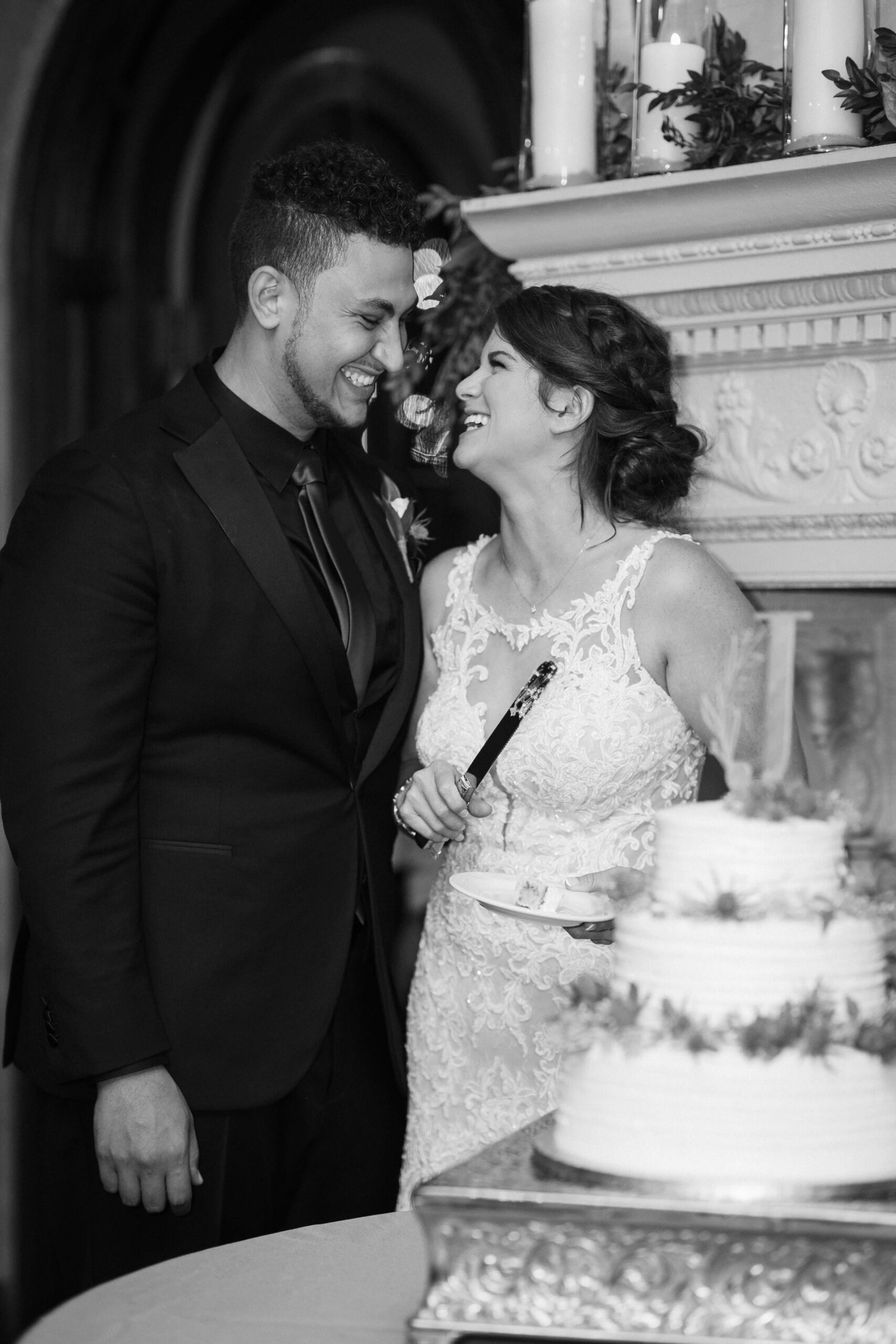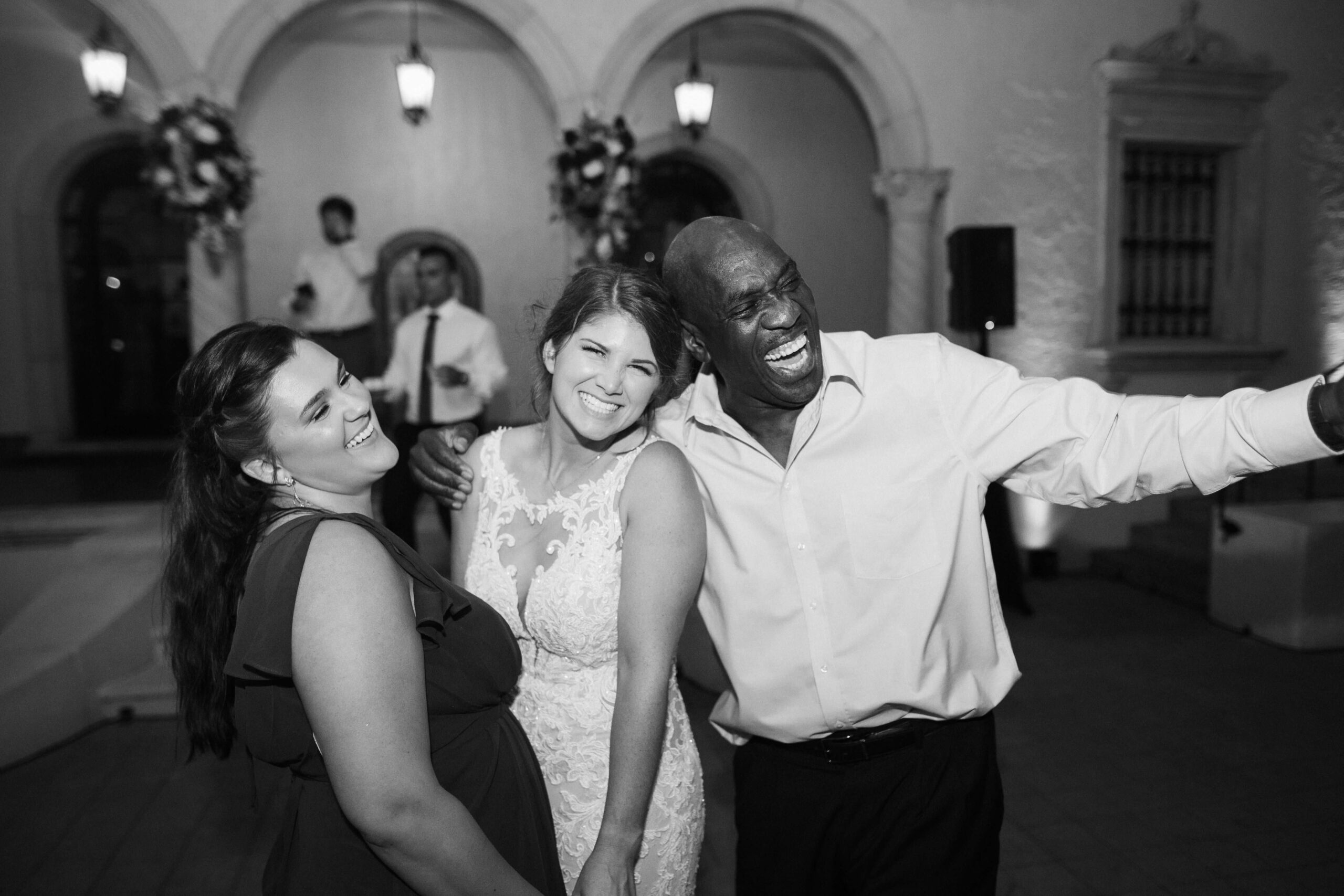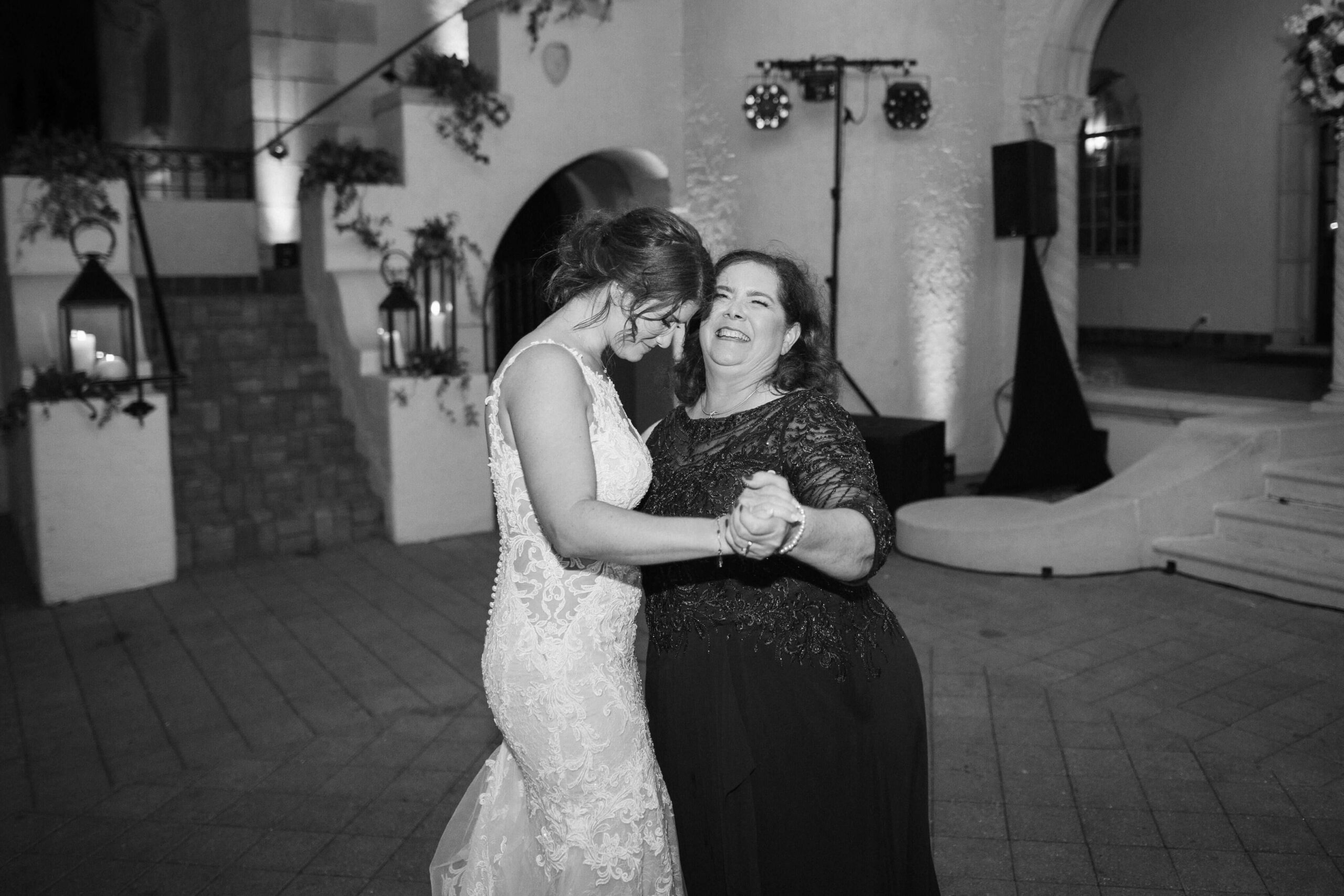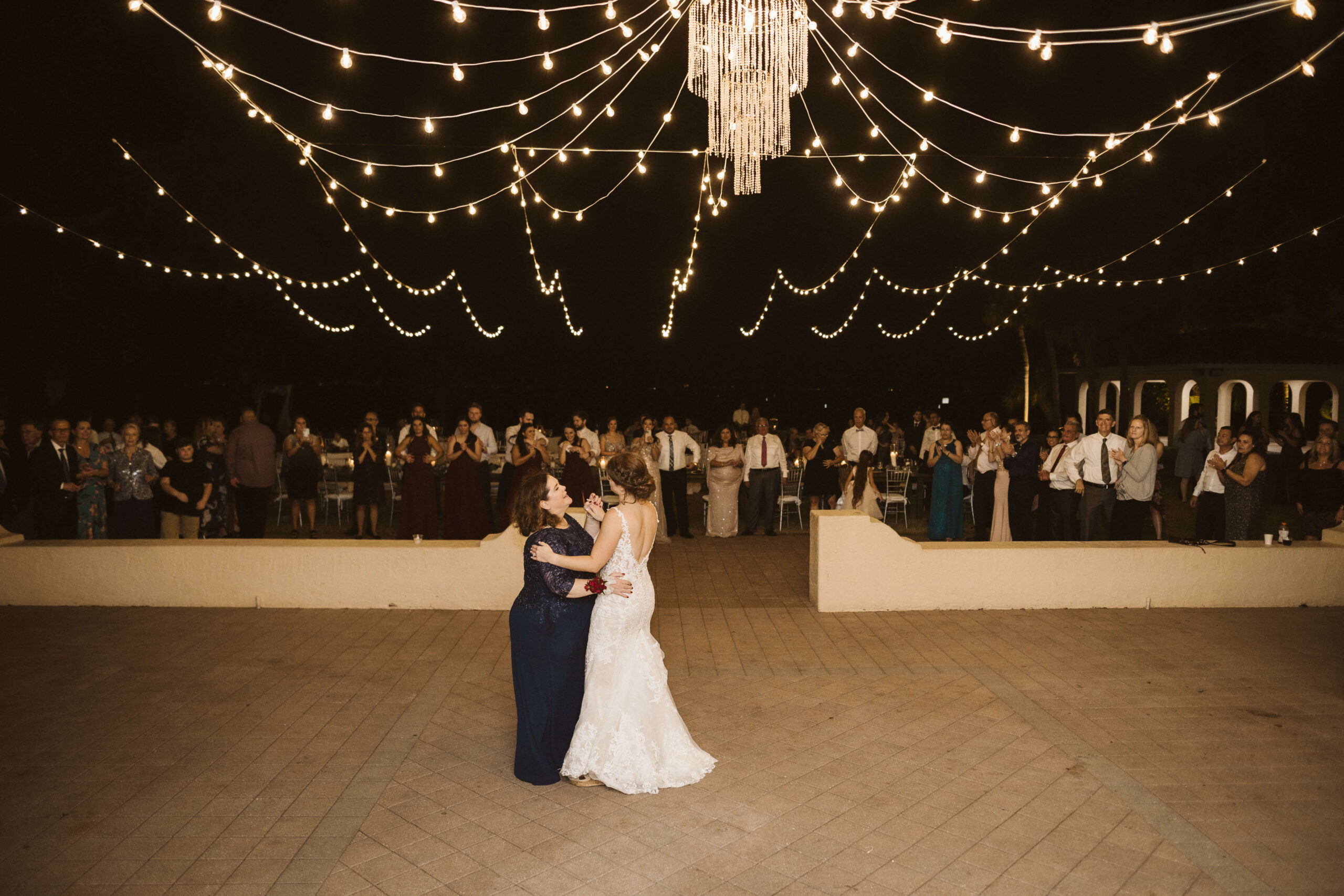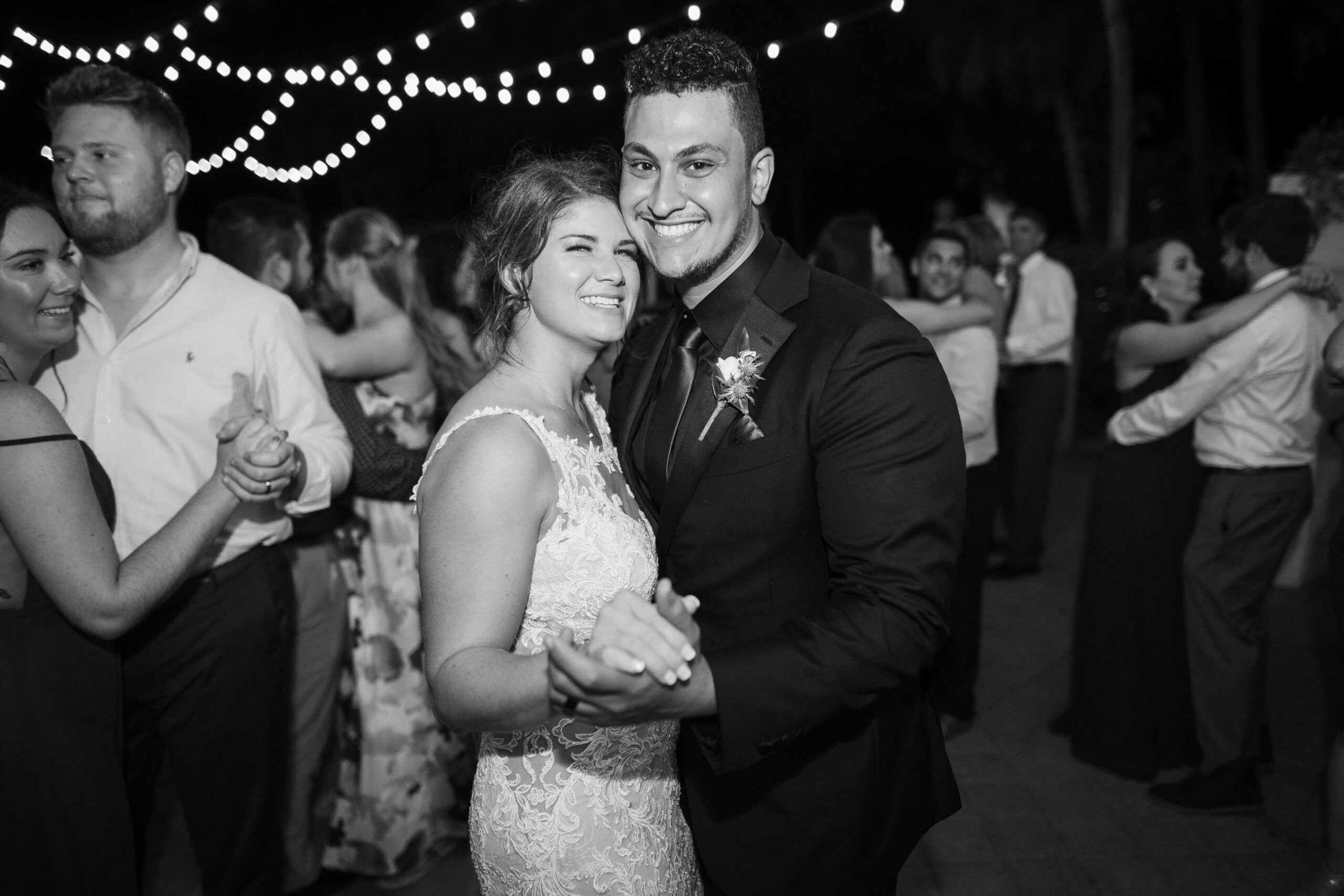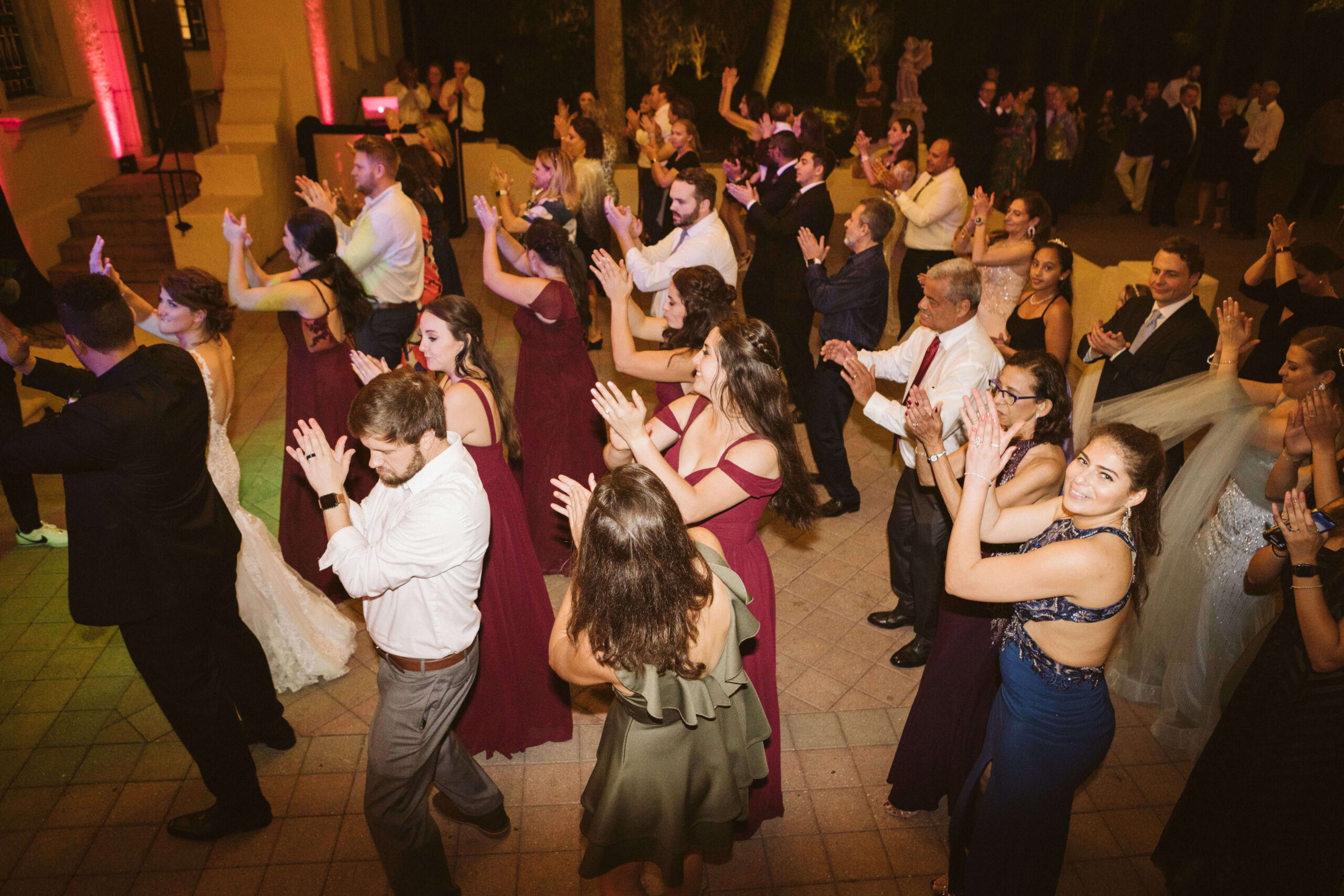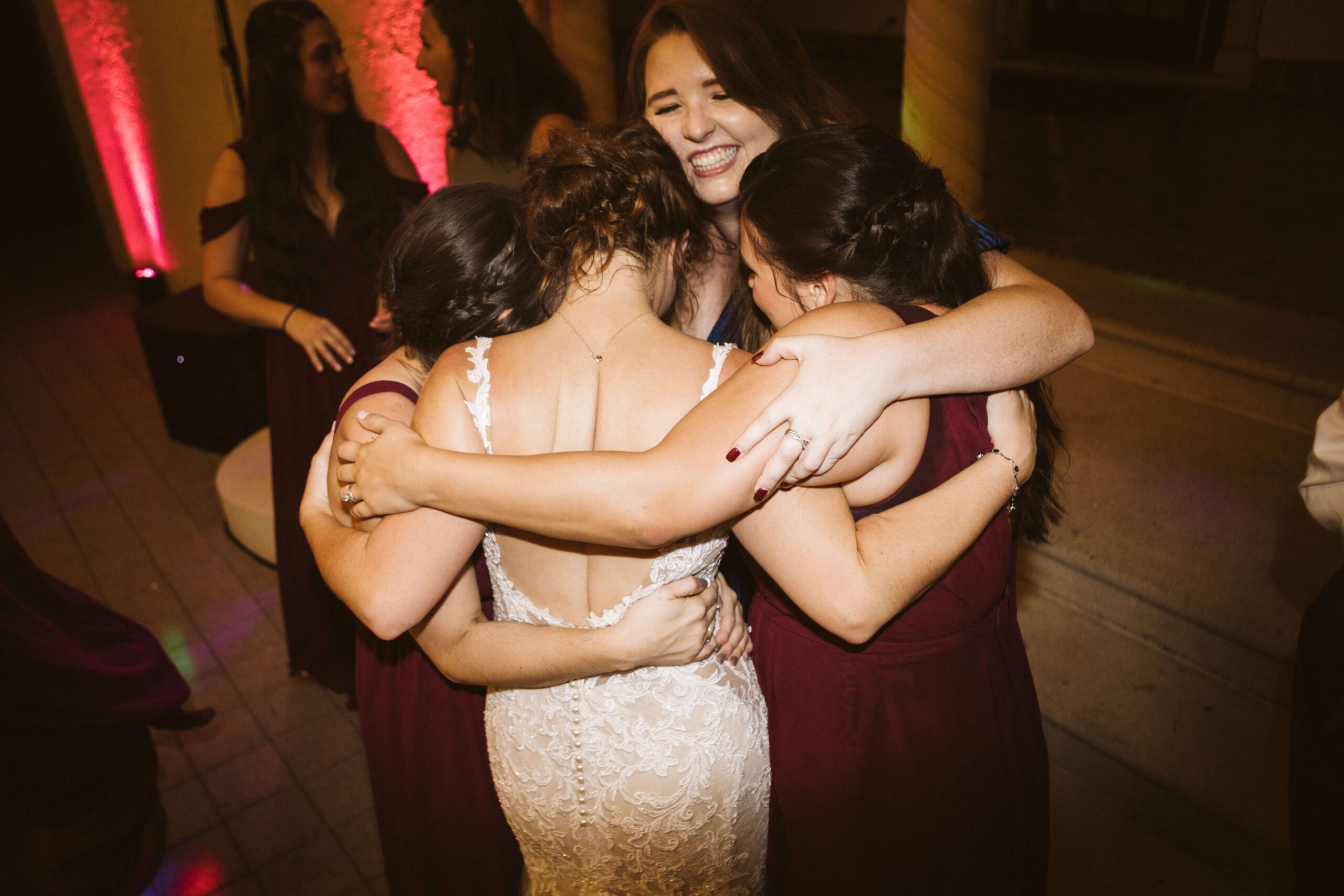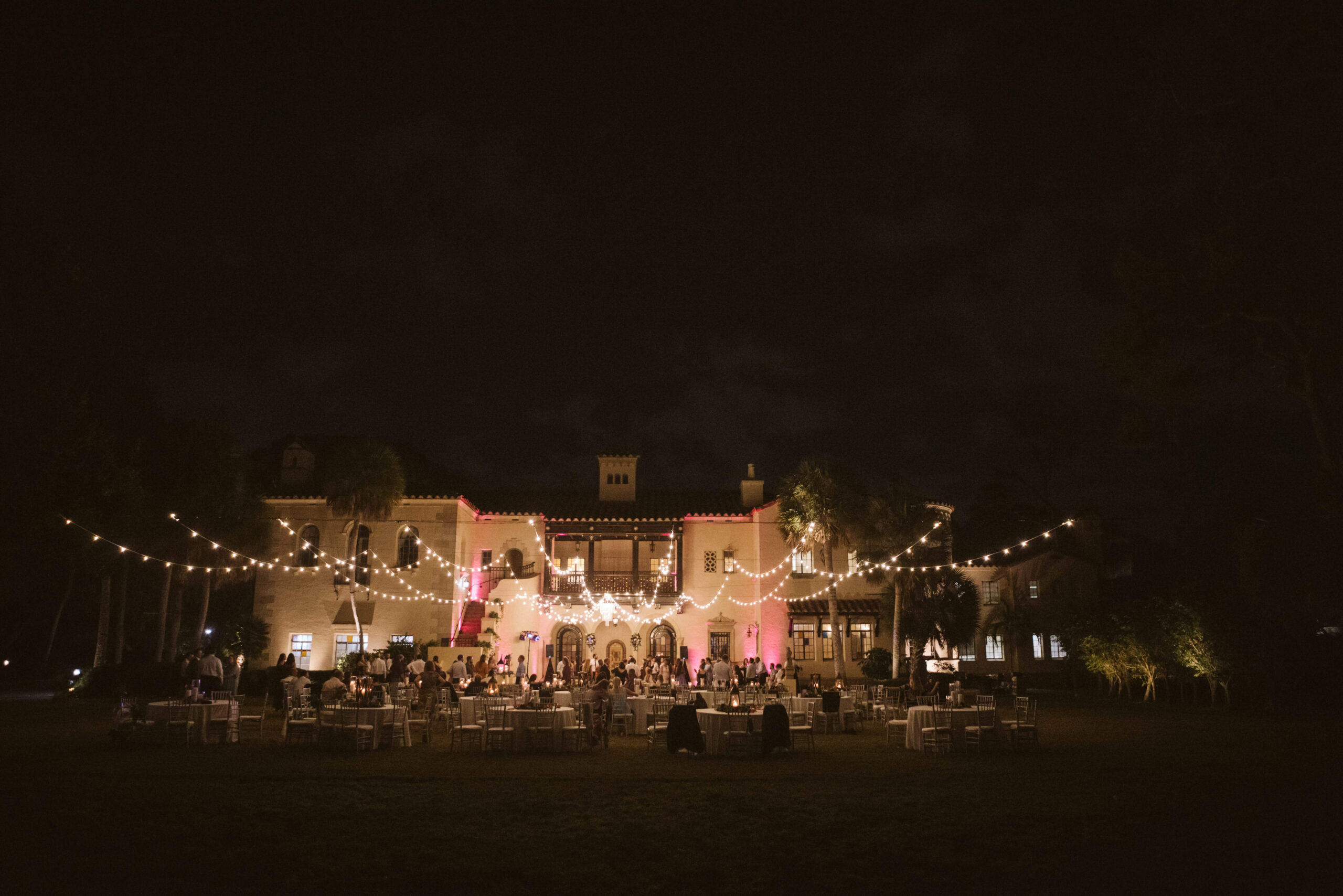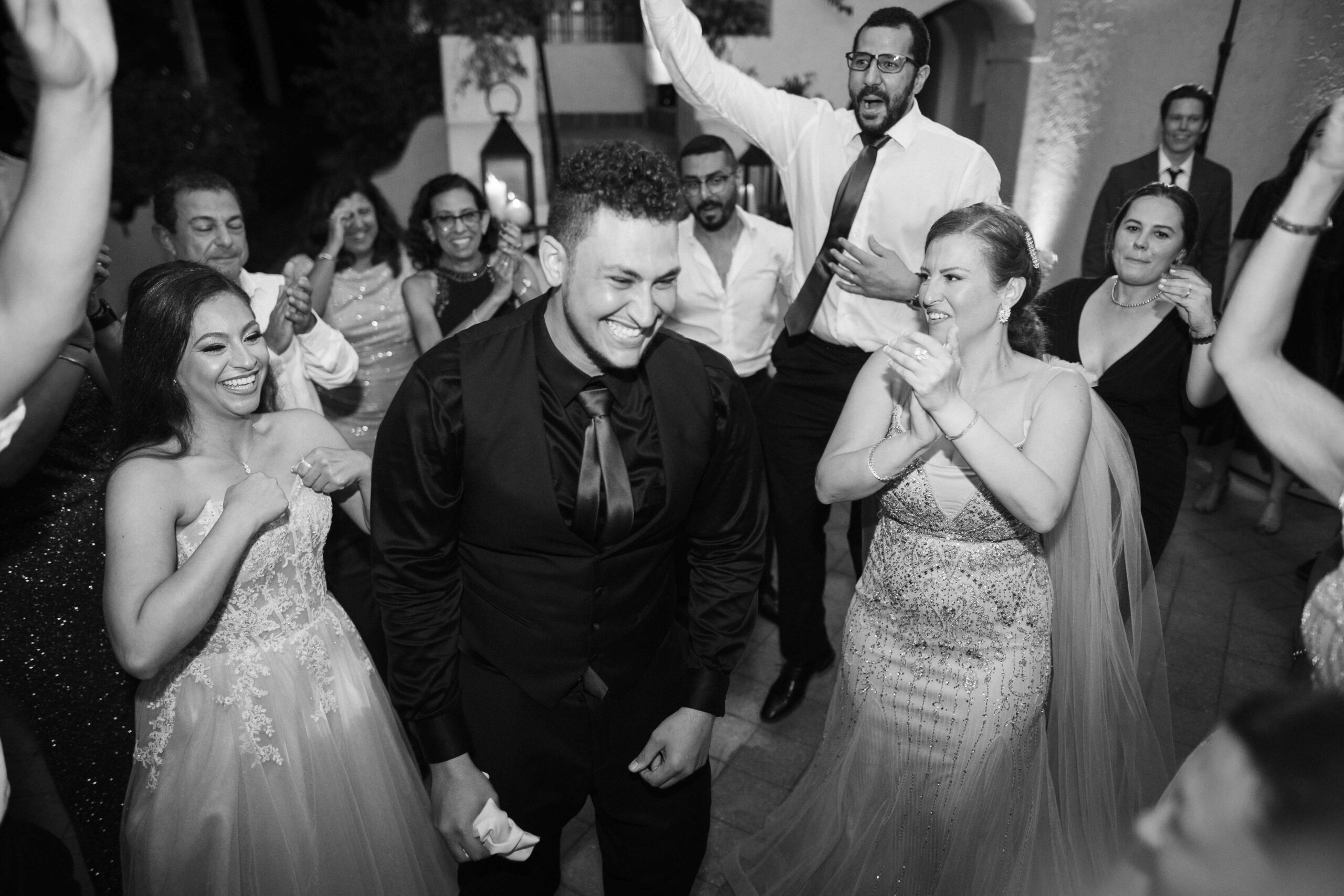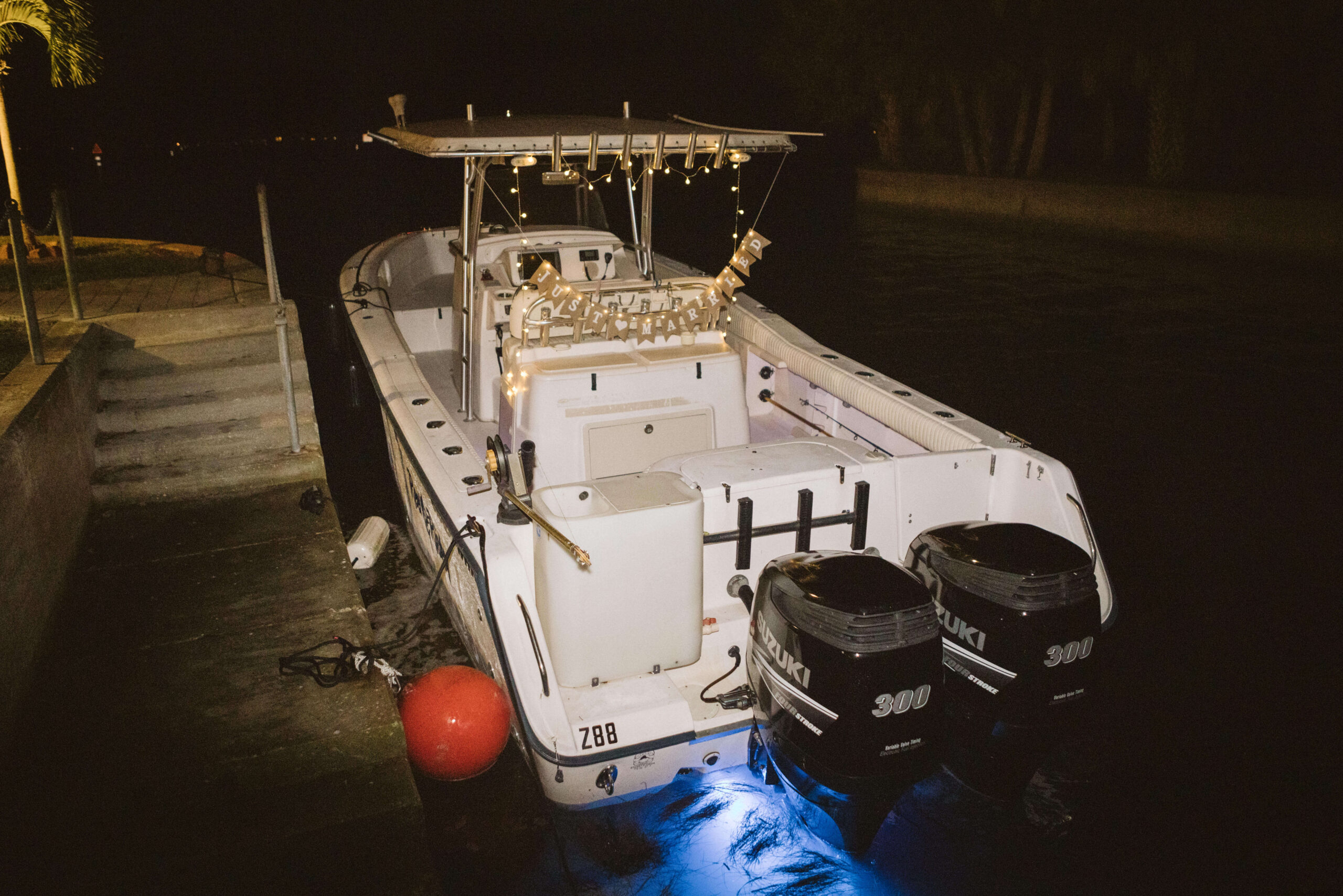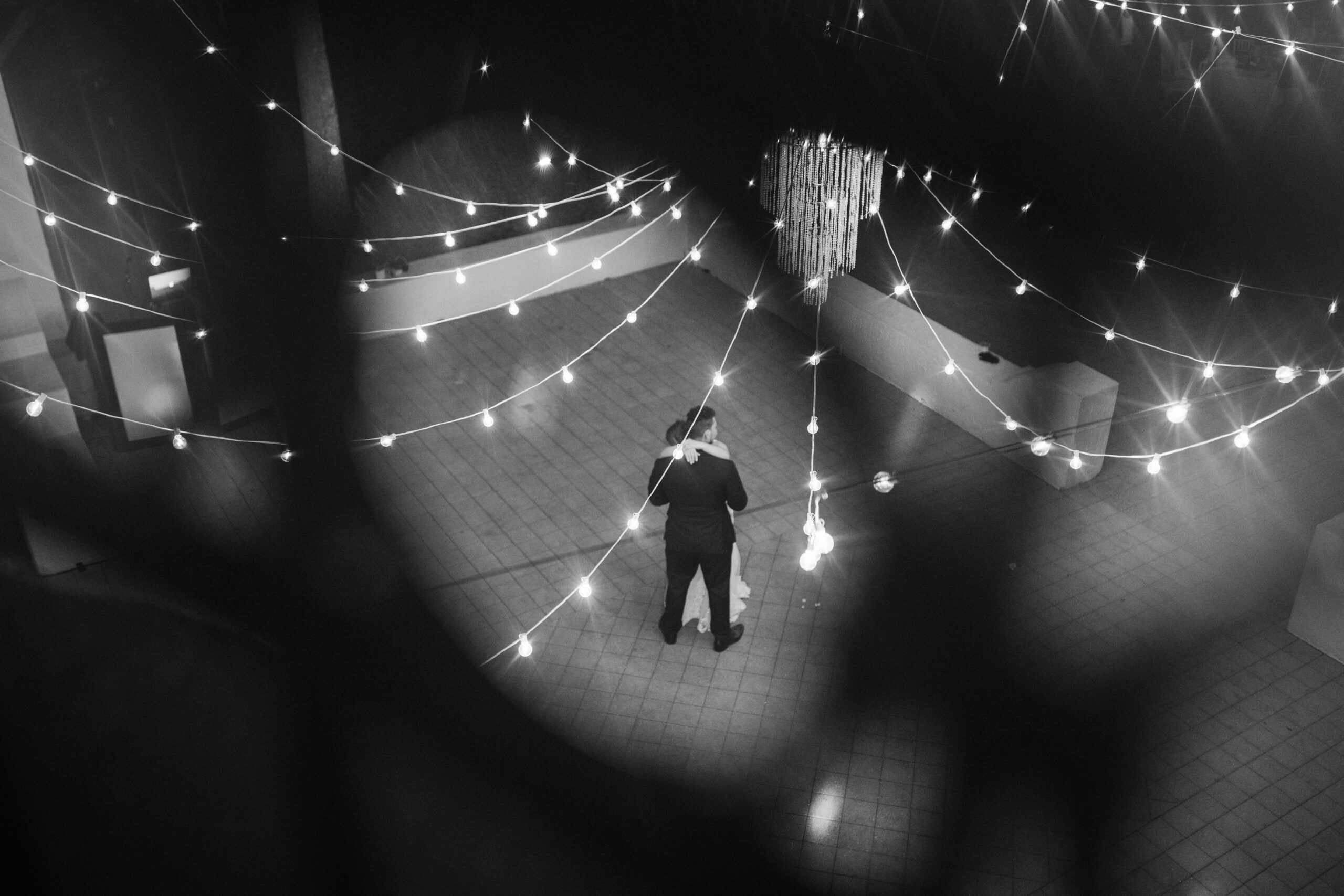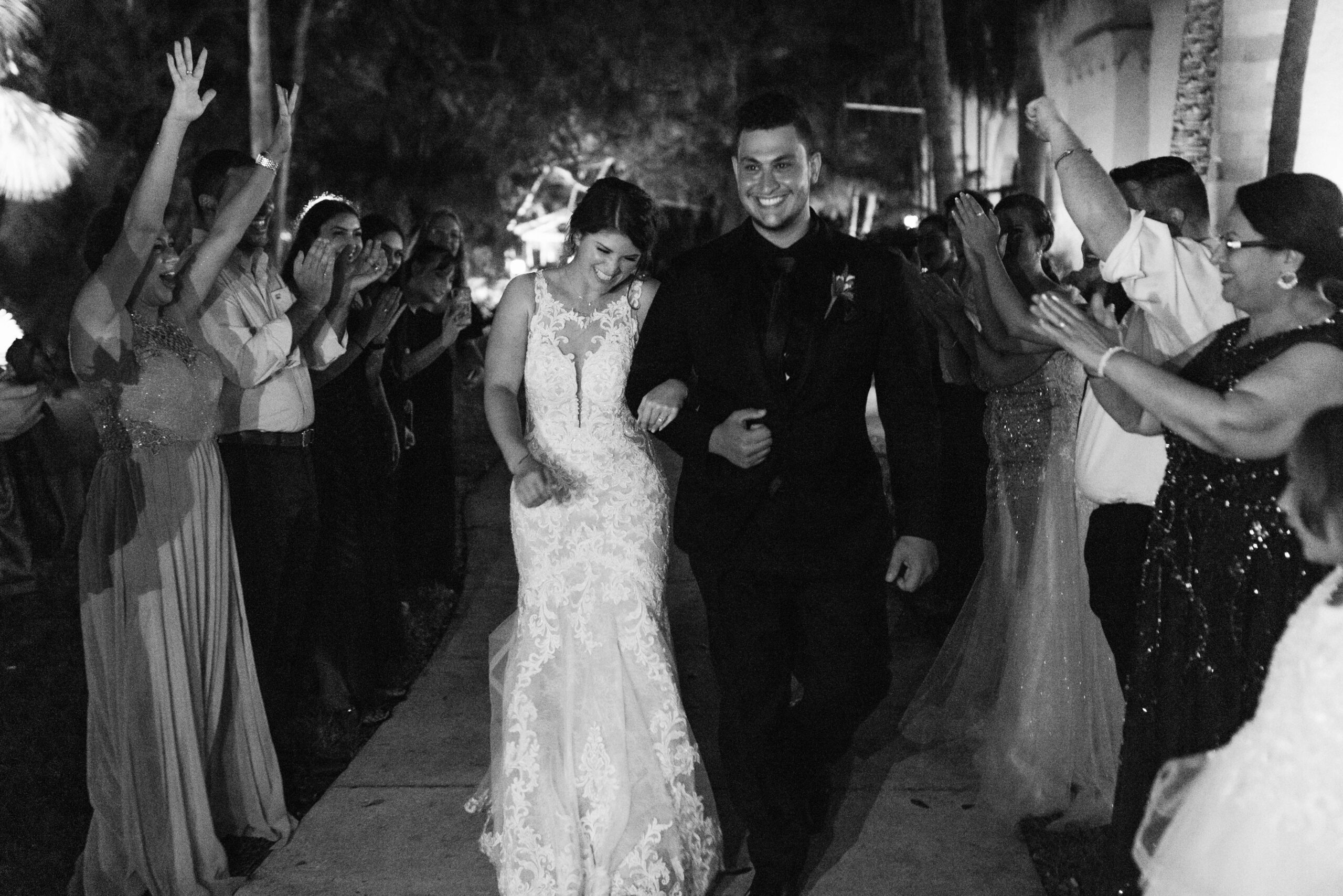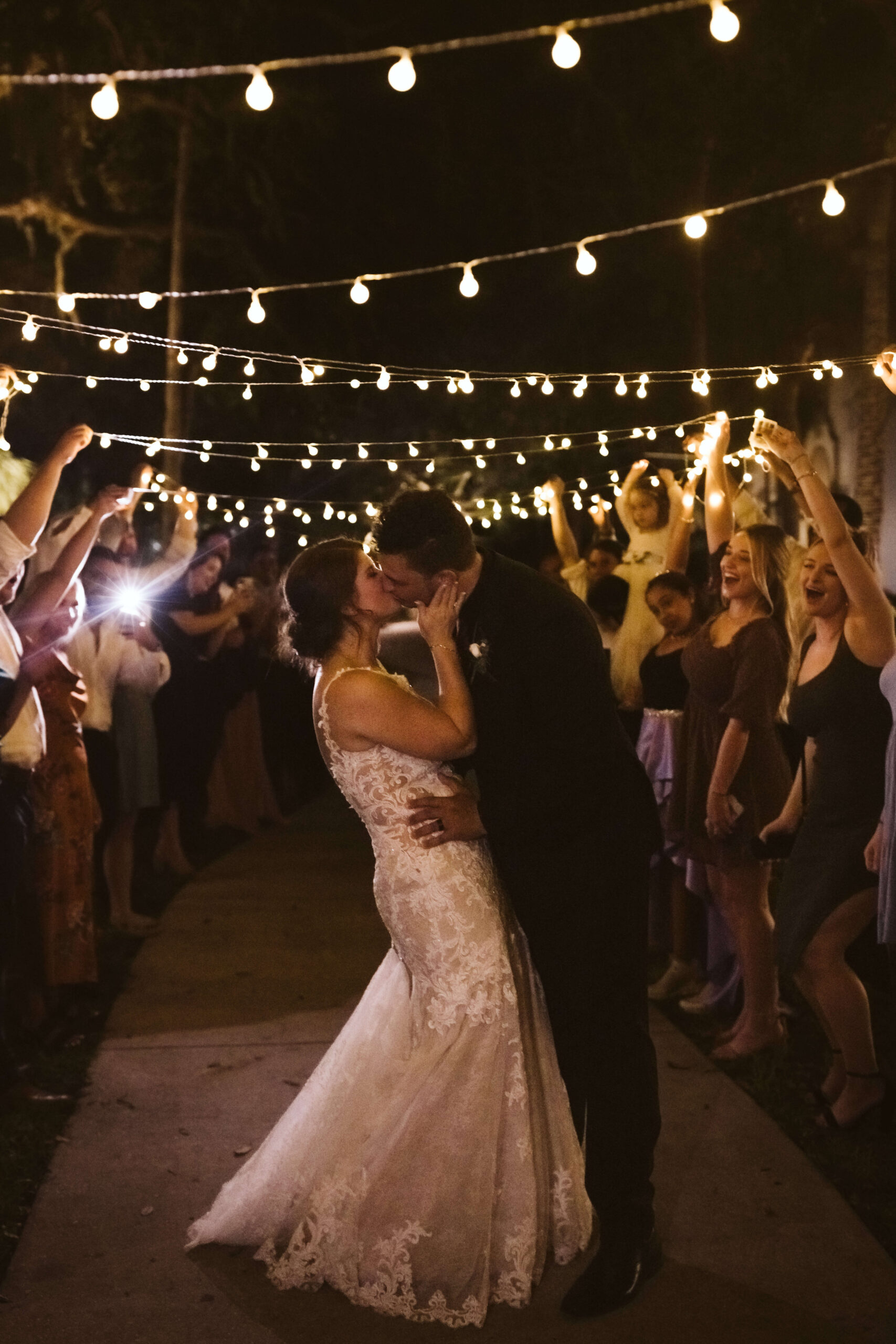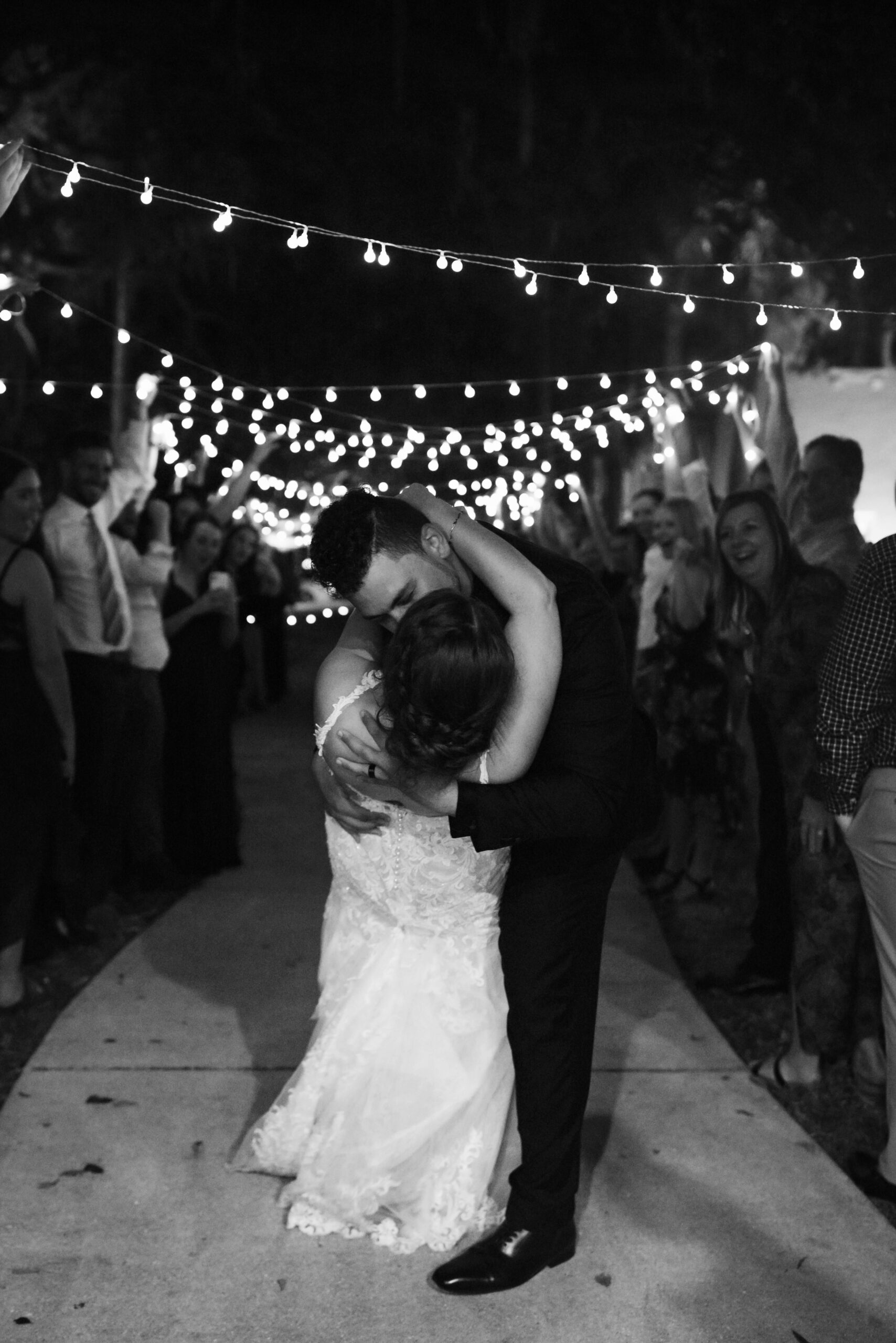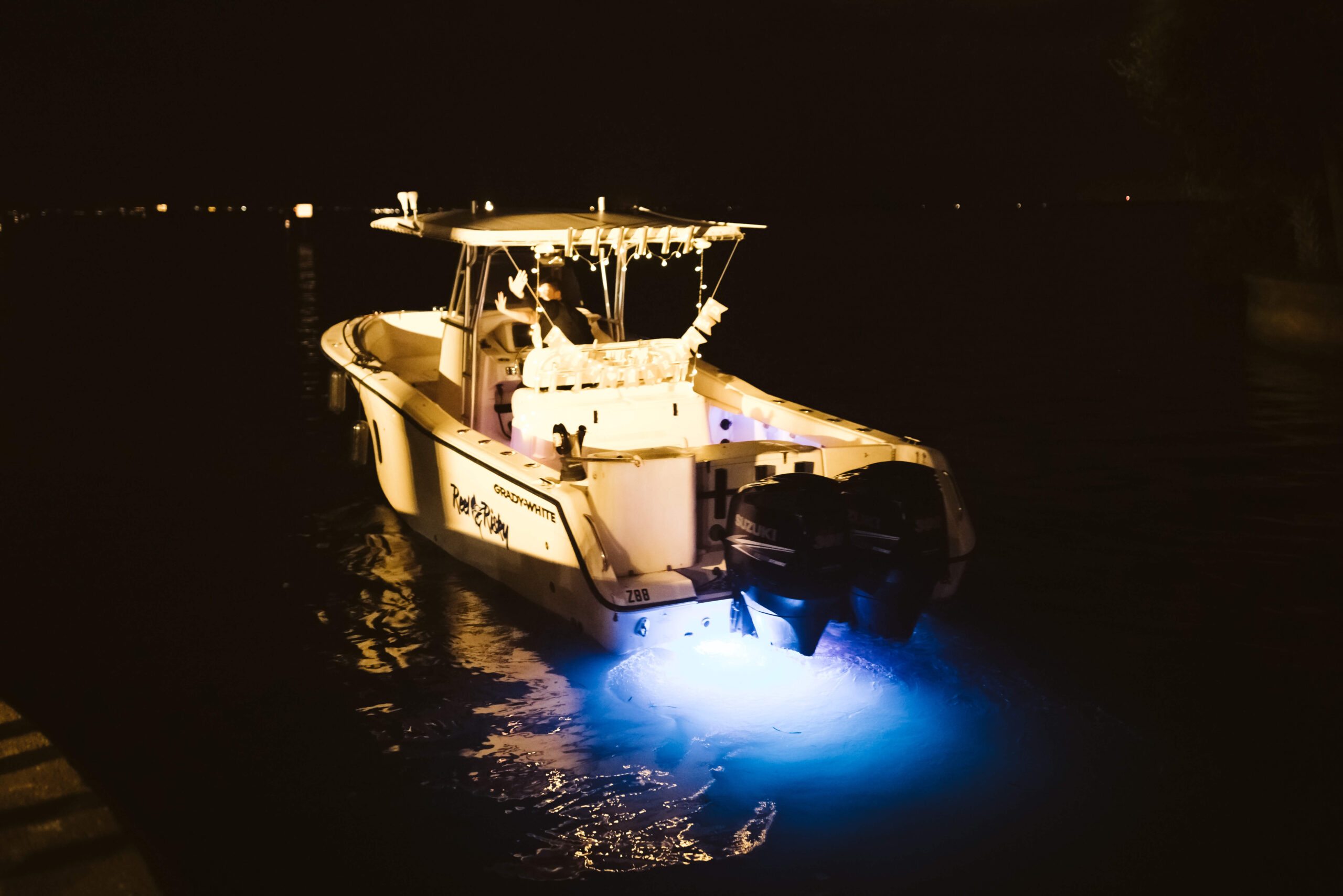 Reception at the Powel Crosley Estate
Unlike in my home base of Chattanooga, traveling to Florida meant that even in late October, the weather was still delightfully warm. For Meghan and Mena, this warm weather allowed them to have an outdoor reception on the estate's patio.
The Powel Crosley estate features a grand staircase adorned with greenery, where the wedding party and bride and groom entered the reception. They descended the stairs and had their first dance beneath twinkling string lights and a chandelier that provided an elegant touch to the already beautiful outdoor space. Not to mention, the orange sun painted the sky with a warm glow as it began to set over their first dance.
Meghan and Mena's reception was filled with lots of dancing, and, of course, delicious food from Milan Catering. They even had two cakes for dessert! Along with a classic wedding cake, they also had a mini chocolate groom's cake with a figurine of their dog who had taken a "bite" out of the side of the cake. It was just another cute little touch that added a bit of their love story into their wedding.
Before their send-off, Meghan and Mena shared a private last dance under the lights on the patio while their guests lined up by the dock. Then, they walked down a pathway lit by strings of light held up by their loved ones to illuminate the way to their getaway boat before they sailed off into the moonlight.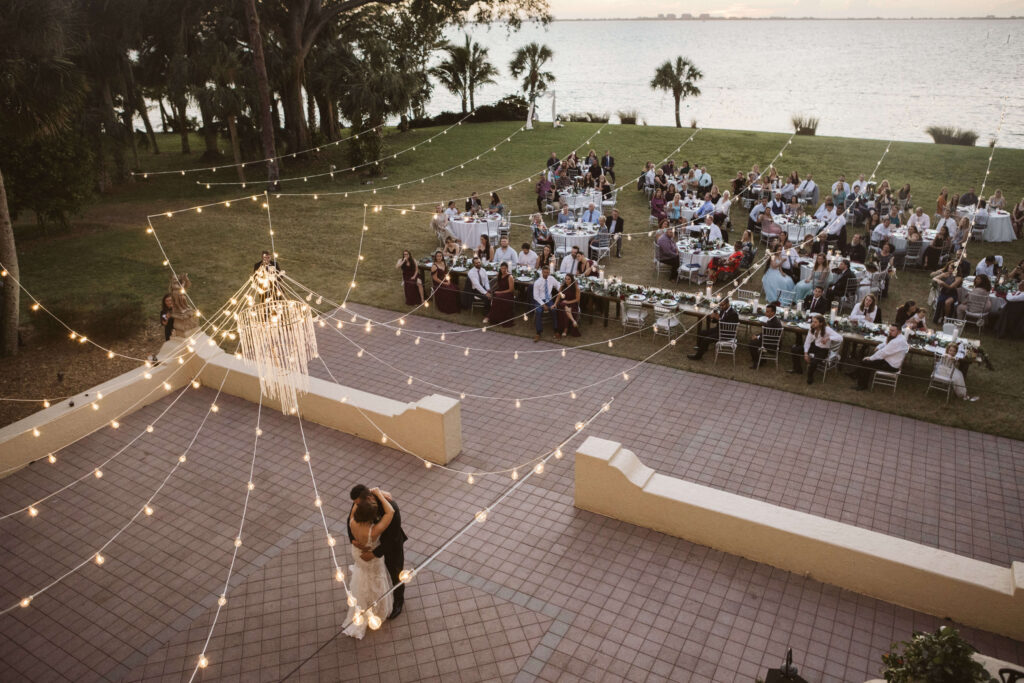 Are you a newly engaged couple in the Sarasota area? I would love to be there to photograph your wedding day!
Hey there! I'm Rachael Crowe of OkCrowe Photography. Although I'm normally shooting weddings in the Chattanooga area in Tennessee, you can often find me in Sarasota as well! Just head over to my availability page to see if I'll be around for your wedding date. Even if I'm not, I'll be more than happy to hop on a plane and fly back whenever you need me to! Just send me a message through my contact form and let's start making your wedding photography dreams come true!